You Made Me Famous Quotes & Sayings
List of top 100 famous quotes and sayings about you made me to read and share with friends on your Facebook, Twitter, blogs.
Top 100 You Made Me Quotes
#1. OUT OF AN INFINITE LOVE, you, O Lord, have made me an heir of your kingdom and joint heir with Christ. O Good Jesus, to whom else shall I go? You have the words of eternal life. I hope, and I believe in you. Lord keep me from despair. Amen. O - Author: Derek A. Olsen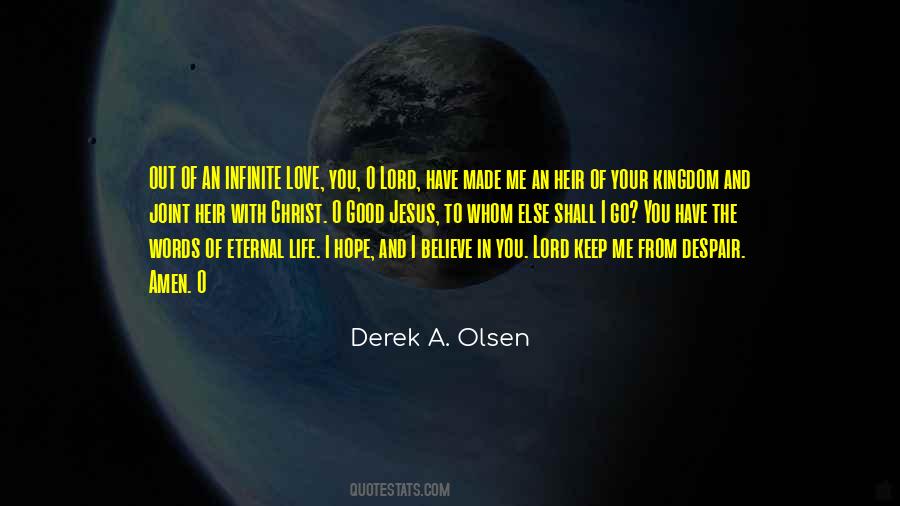 #2. You keep doing that, and you'll find yourself mated quick enough."
"It's no' for me. I'm perfectly content just as I am."
Ryder made a face. "Are you insane? why say something like that and temp the cosmos?"
Laith watch him walk away, wondering if he had just drawn the interest of fate. - Author: Donna Grant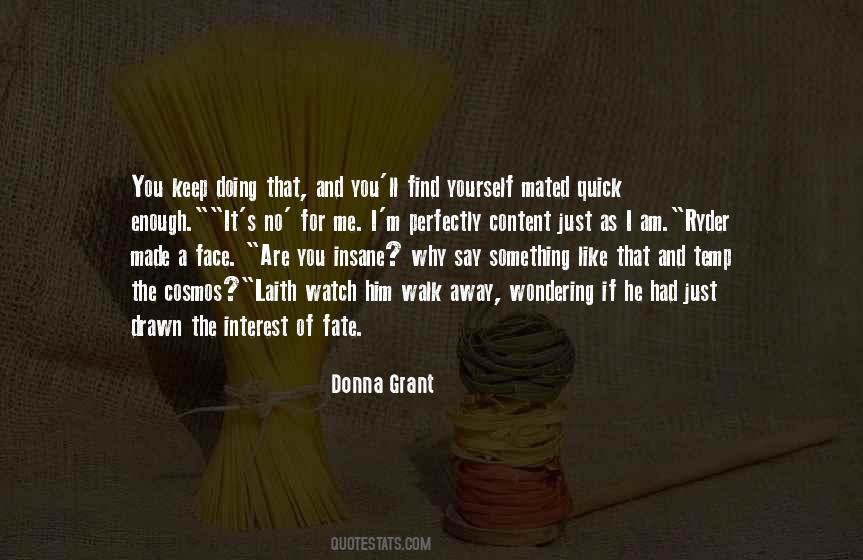 #3. Why do you always look like you just rolled out of bed?'
'Because usually I have.' And the way he raised his eye-brow at me made me blush.
'Classy,' I said. - Author: Michelle Hodkin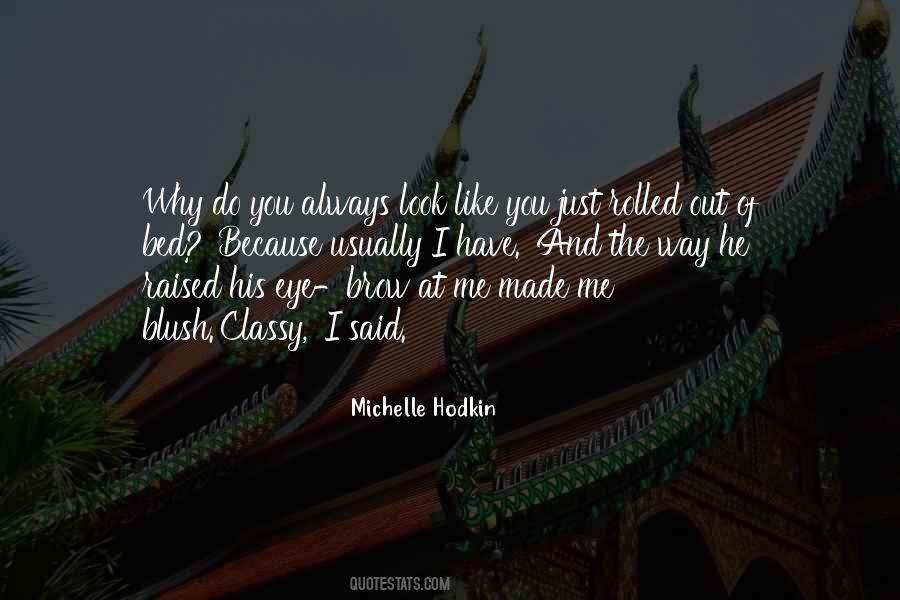 #4. Do not tell me what to do, tell me what you do. Do not tell me what is good for me, tell me what is good for you. If, at the same time, you reveal the you in me, if you become a mirror to my inner self, then you have made a reader and a friend. - Author: George A. Sheehan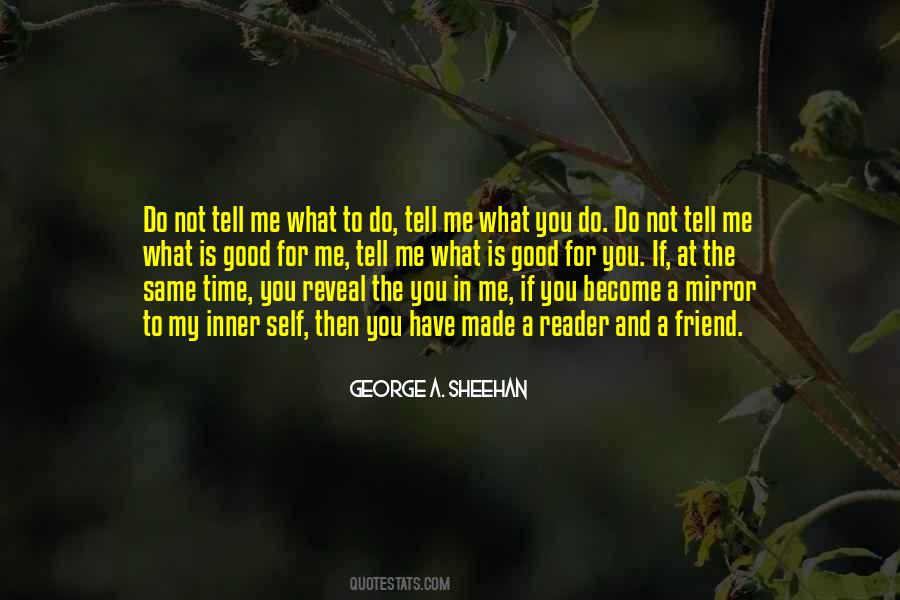 #5. Everything is your fault. You made me fall in love with you, and now I'm so upset I can't think or sleep or eat. - Author: Julie Garwood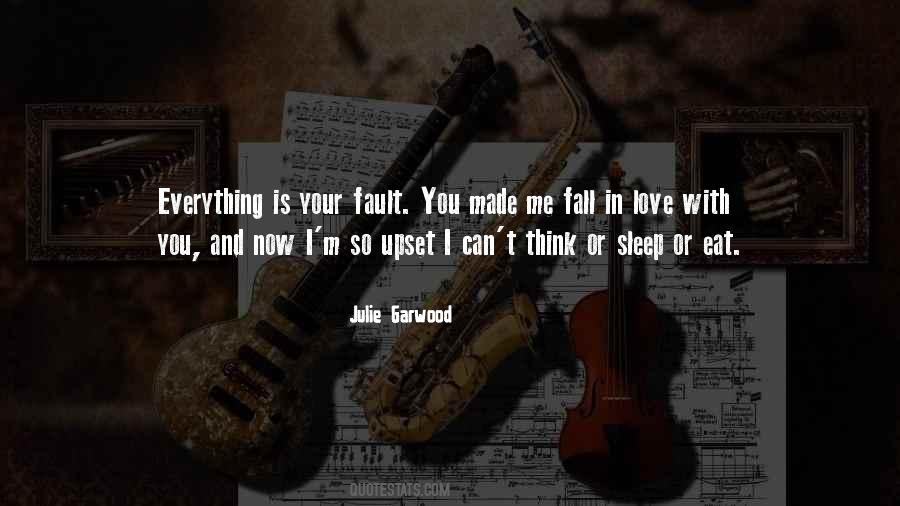 #6. It made you happy, to be used by me?" Perhaps not so promising. I raised my brows with amusement. "I orgasmed three times; you did once. Who's using whom, Siberian? - Author: Kresley Cole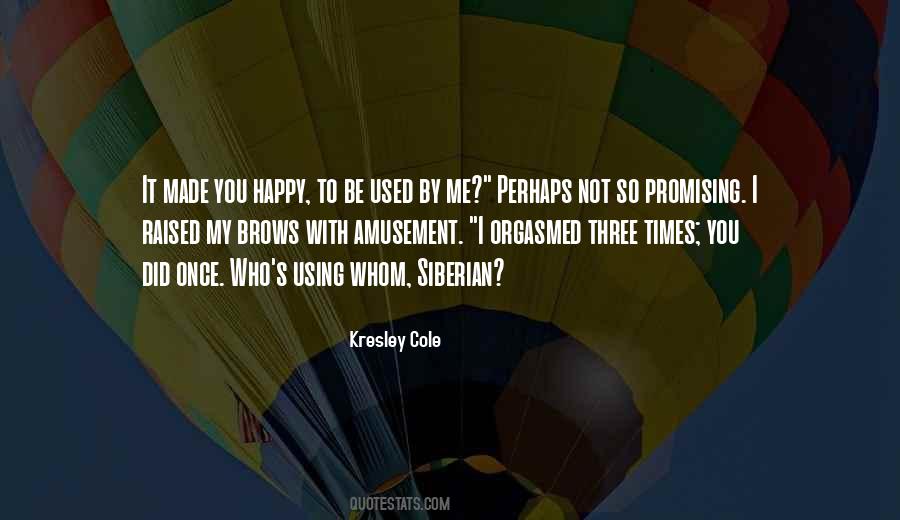 #7. He caught her eye. 'And? I'm jealous-minded and I sleep with too many women.'
Fire's smile grew. 'Luckily for you, I loved you long before either of those things.'
'But you don't love me as much as I love you,' he said. 'Which is what's made me this way. - Author: Kristin Cashore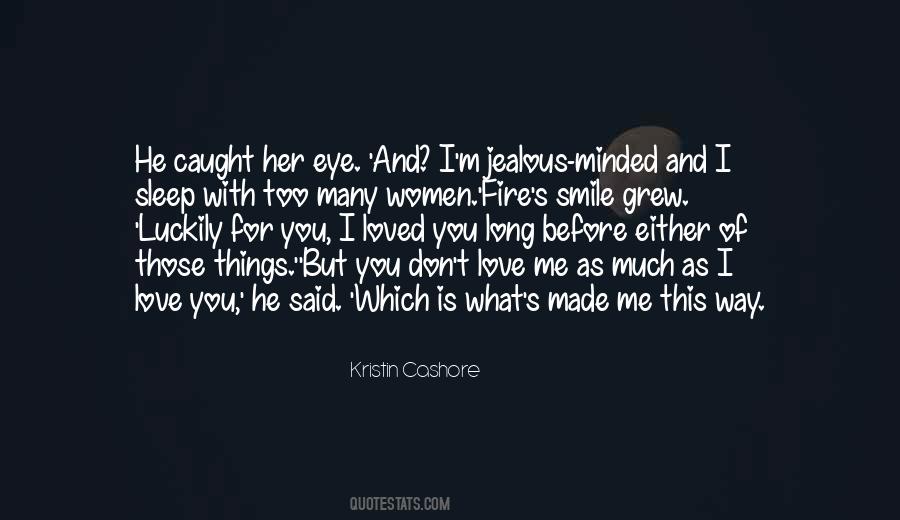 #8. When you made me into another, I left you with me. - Author: Antonio Porchia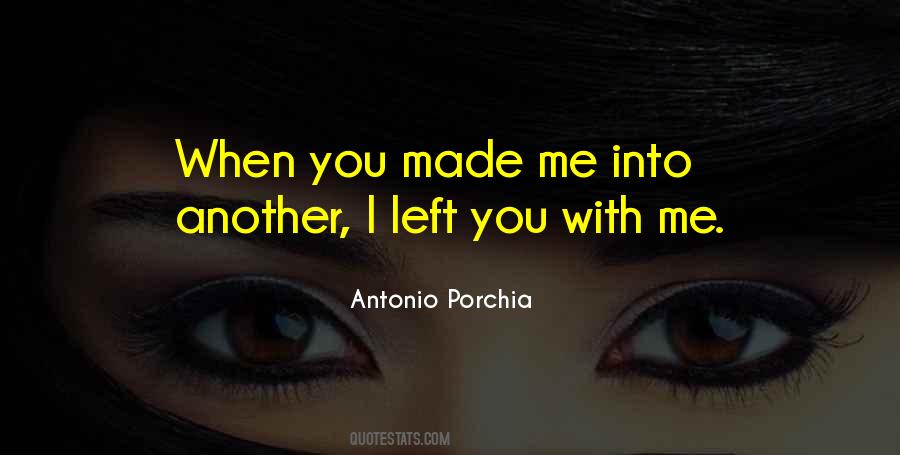 #9. Obviously, for the majority of parents and certainly me you gain a million worlds when you have a child. Certainly, it's the thing that's changed my life and made me unbelievably happy. - Author: Kate Winslet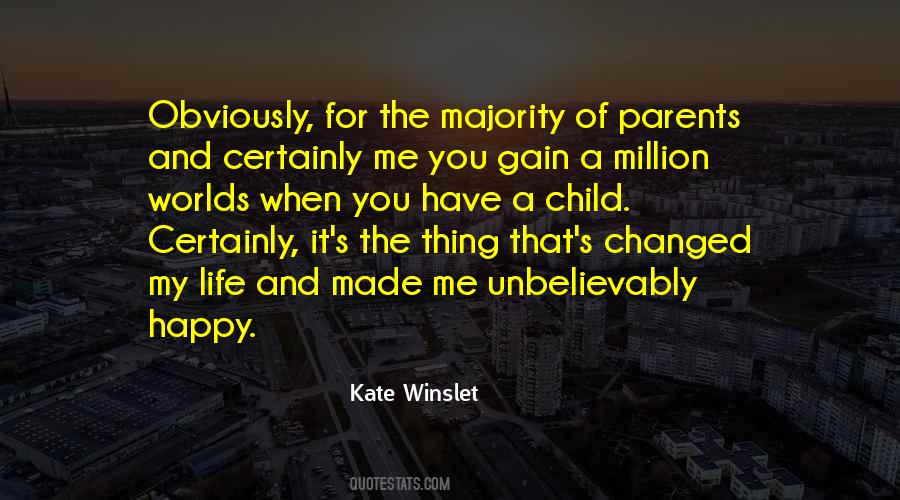 #10. Jeremiah 1:4-5 - 'Before I formed you in the womb I knew you, before you were born I set you apart....' ...God knew me before He made me. - Author: Francis Chan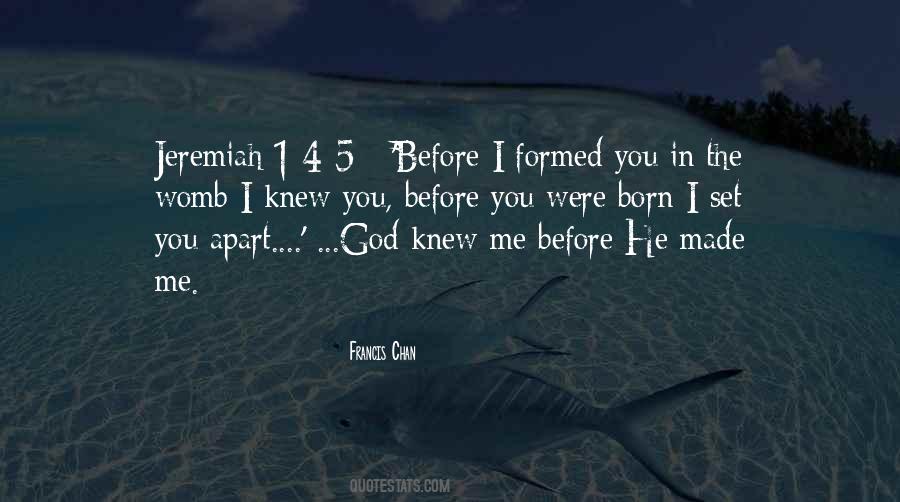 #11. I stayed there loving you, though the love made me, not sad but I guess melancholy, for a reason I couldn't point
to. - Author: Daniel Handler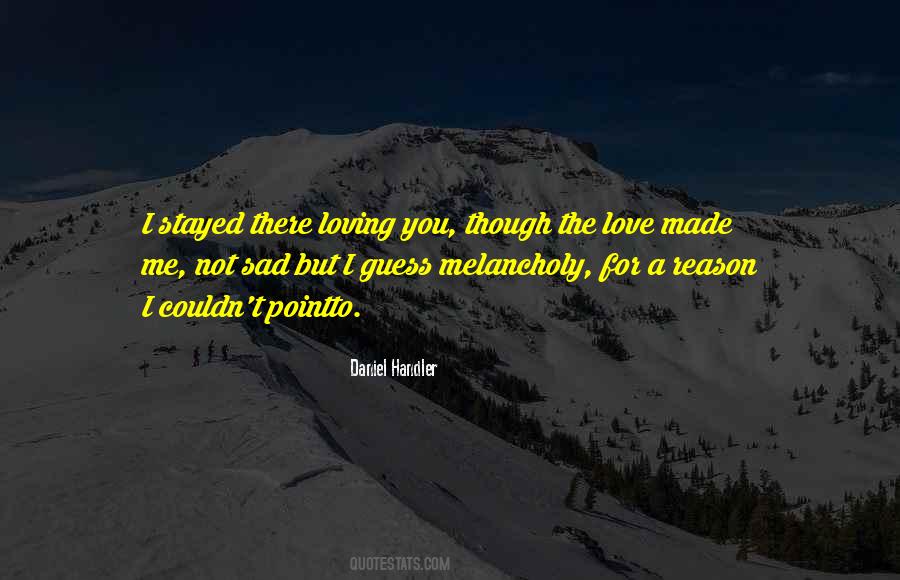 #12. Thank you," I said and then abruptly leaned across the counter and with two forked fingers poked him sharply in the eyes. Actually, I didn't do that. I just imagined it. But imagining it made me feel better. I - Author: Bill Bryson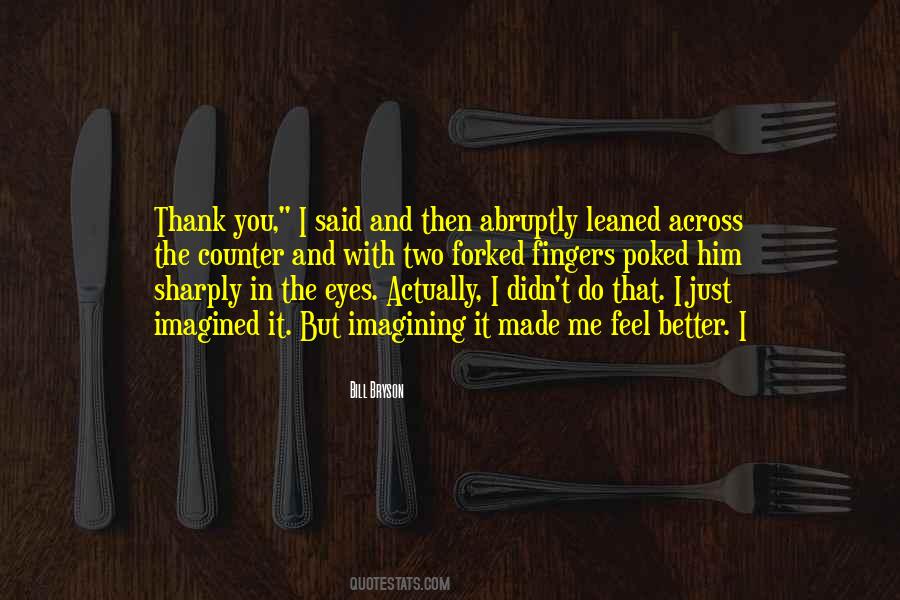 #13. I loved you, Tim. You were my first love. It was true. My father never changed that. He just made it impossible for me to see it through. - Author: Kindle Alexander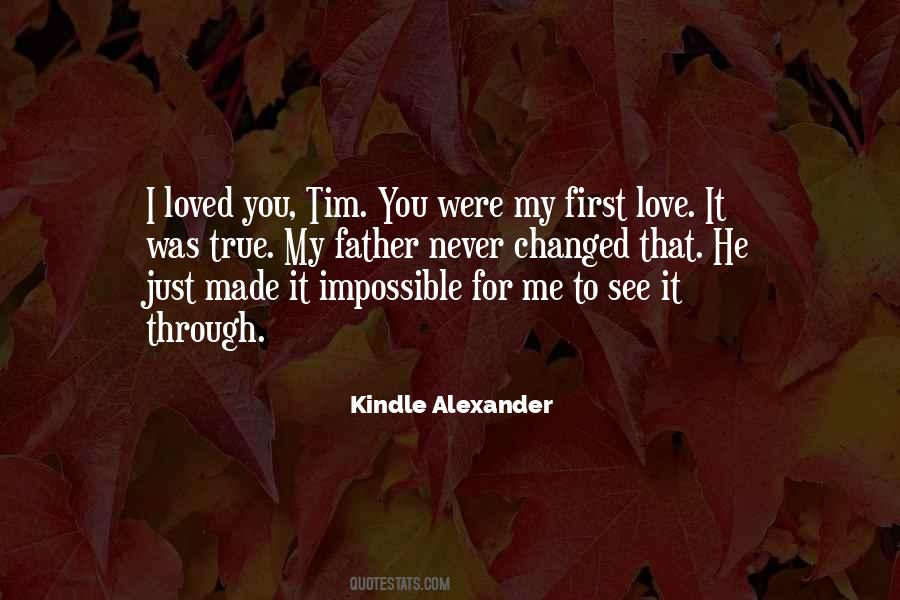 #14. Without thinking, I asked, "Are you afraid of temptation?"
He shook his head. "God, no. Just being with you, just seeing you. Fuck." He mostly swallowed the expletive, his hips rolling in a way that made me think the movement was instinctual, then added on a rush, "You breathing tempts me. - Author: Penny Reid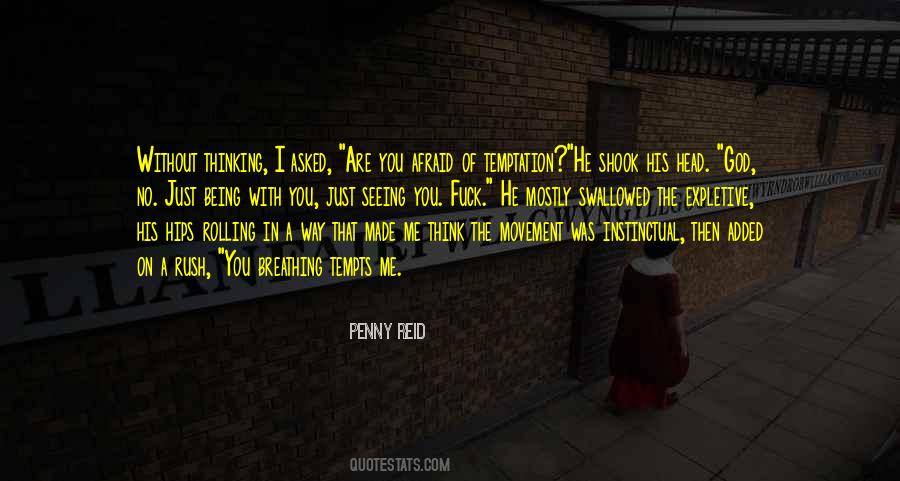 #15. That, and so many other smaller incidents in my life, made me realize that language, even more than color, defines who you are to people. I - Author: Trevor Noah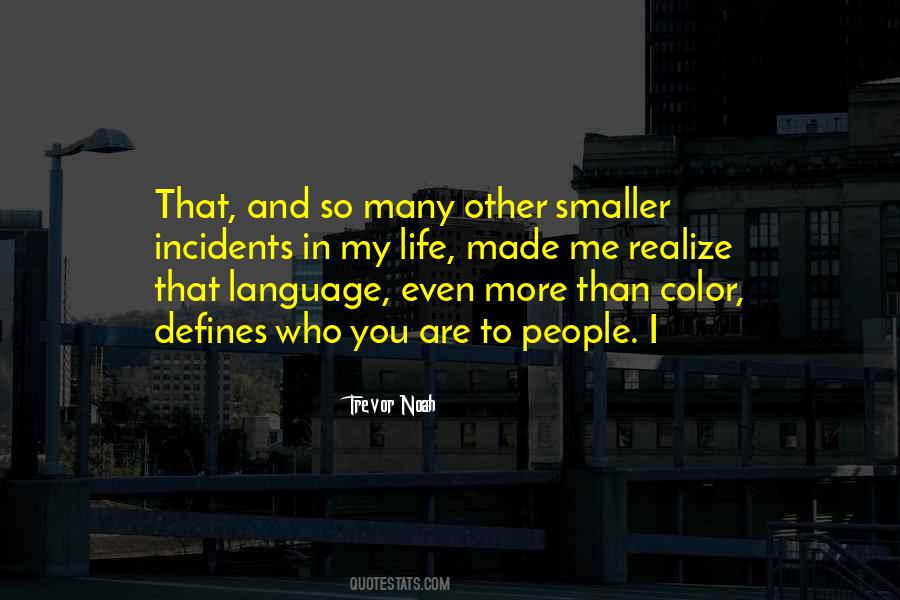 #16. I think it takes a lot of trickery to keep up with the media and its perception of you. I don't know if I have it in me most of the time to care. The music is made first, and the interviews or photos to keep it alive come later as a necessary evil, I suppose. - Author: Jack White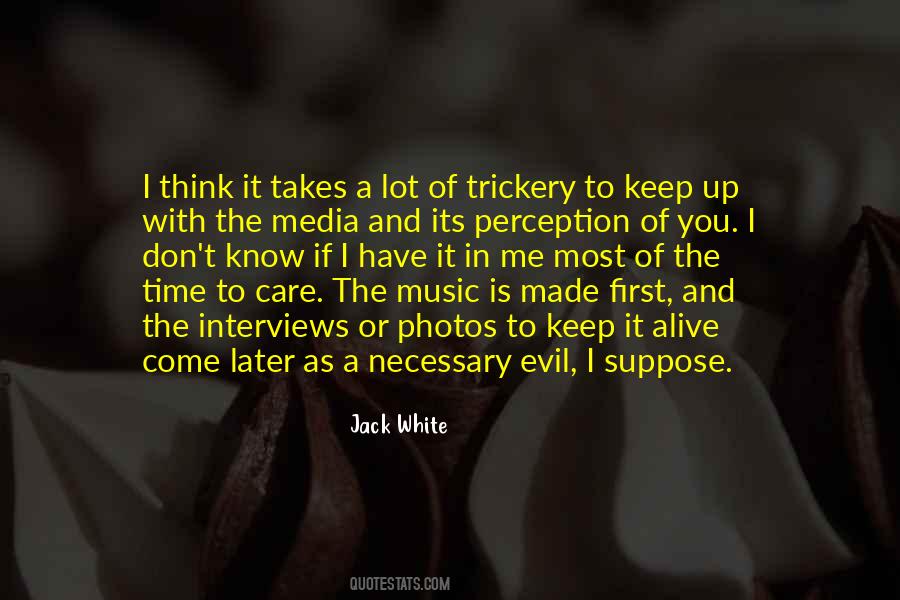 #17. You showed me what love truly is just by giving yours so selflessly. I wasn't made for love. It wasn't [woven]into the fabric of my being. I didn't know what it was, what I was looking for, what I needed. I had no point of reference, no examples, nothing. Until you. - Author: Sylvia Day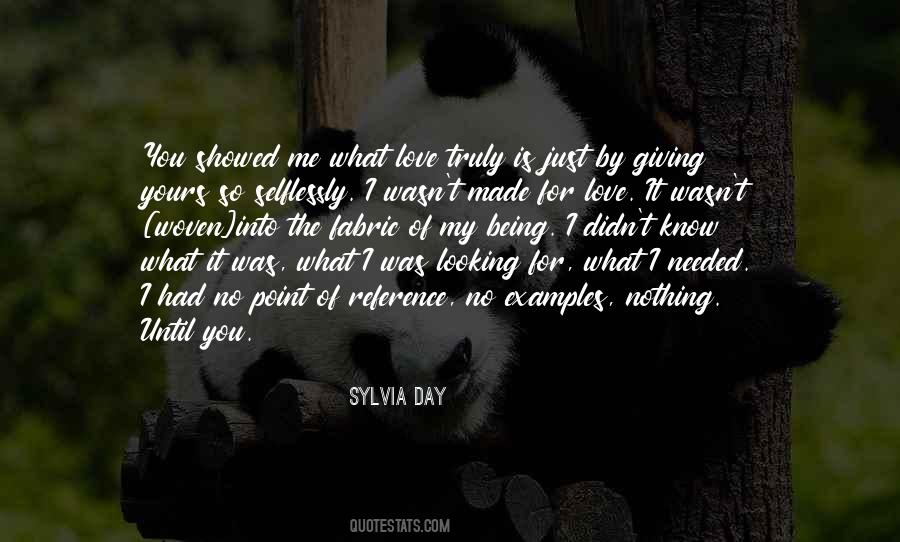 #18. They very seldom let me lose my cool. They made me like I was Polly Perfect, which was ridiculous so that when I bump into kids on the street they'd say 'I wish my Mom were like you.' - Author: Charlotte Rae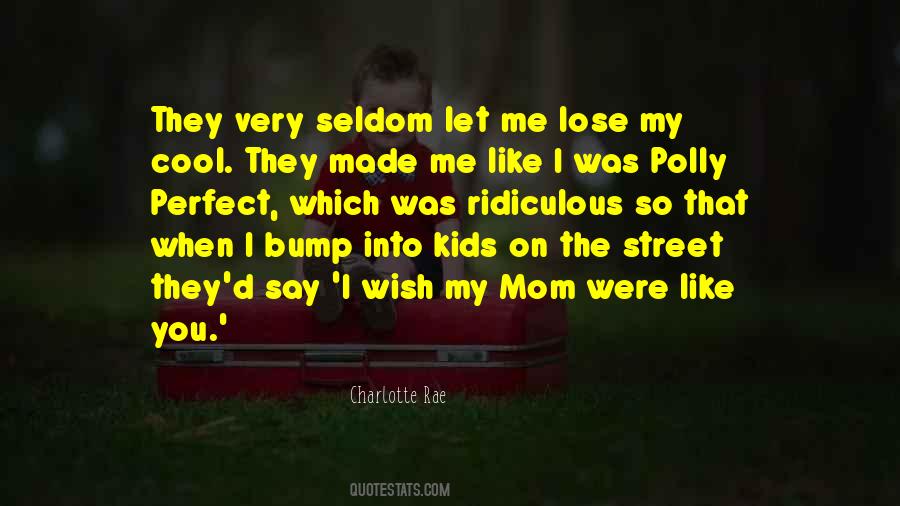 #19. I am my own woman ... and was, long before I became Prime Minister. Attending to my family's needs only made me stronger as a leader because if you know how to run a home and ensure each person's particular need is met, it's the best leadership training you can have. - Author: Kamla Persad-Bissessar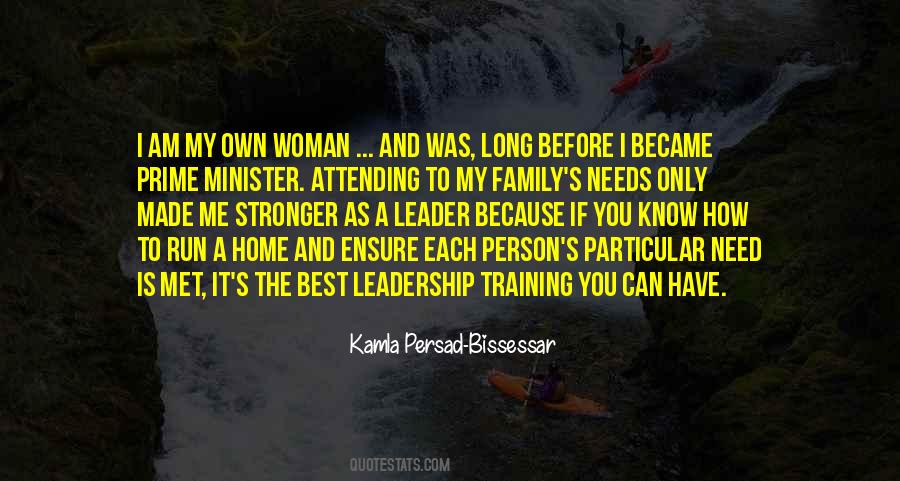 #20. I can't do this Ash. It's killing me. Having you this close and not touching you is driving me insane. You're his Ash. You're his. You made your choice and I understand why you chose him. I don't hold it against you but dammit Ash it hurts - Author: Abbi Glines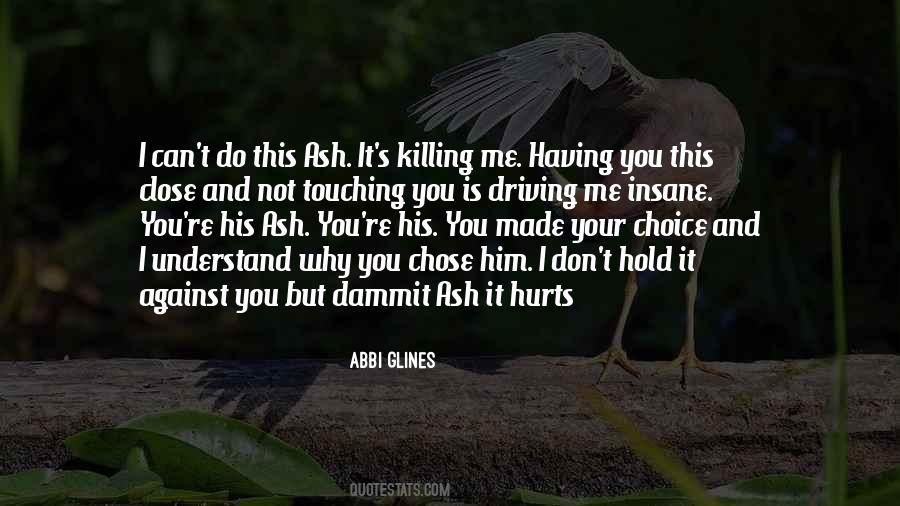 #21. I cried and cried in my Mad Men dress. Jon Hamm held me by the shoulders and looked at me and said, "I know this is very sad, but this is a really important show for me, so I'm going to need you to get your shit together." This made me laugh so hard I think I peed. - Author: Amy Poehler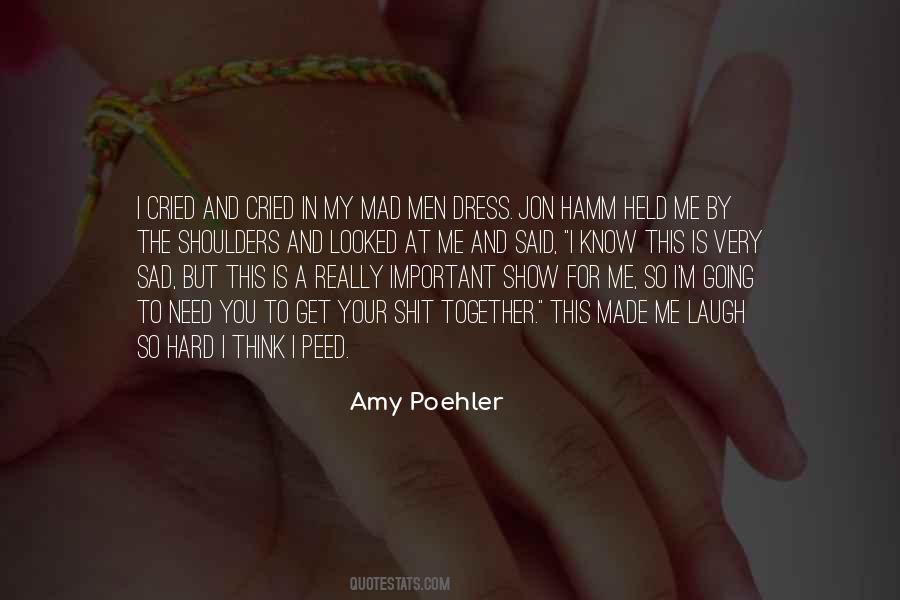 #22. I said to all the things that throng about the gateways of the senses: "Tell me of my God, since you are not He. Tell me something of Him." And they cried out in a great voice: "He made us." CS Lewis - Author: Philip Zaleski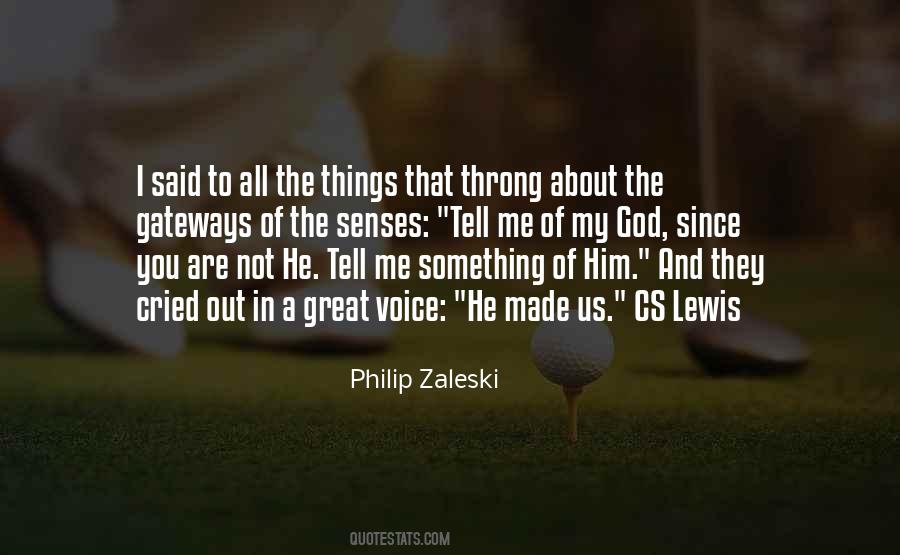 #23. When Ben came back to me, he said, "Why are you laying with your face in the sand?"
I made sure all the laughter was out of me before I rolled over. "I think it helps sunburn." I said. - Author: Audrey Couloumbis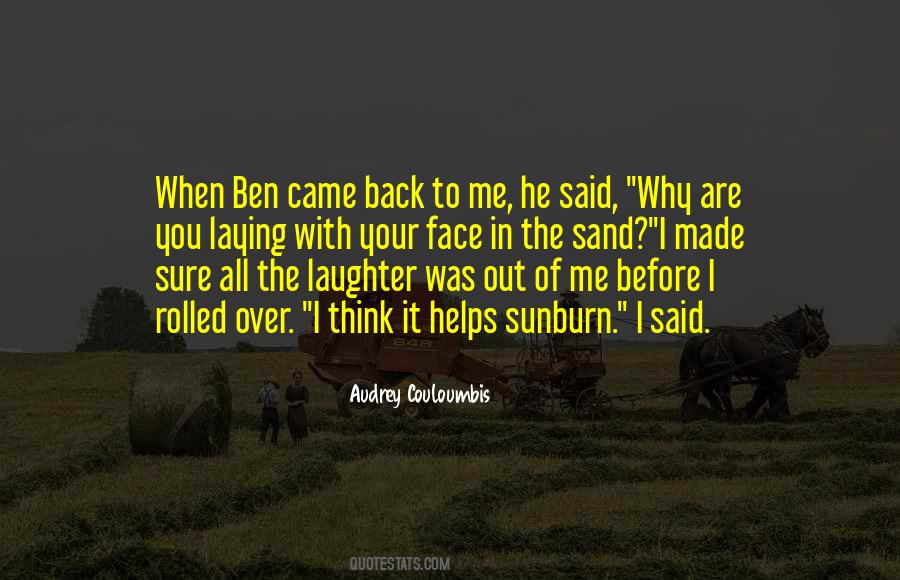 #24. Mama said it's probably because of Suzanne, and that you are never the same after a child dies. That made me wonder what she was like before Clover died, because I don't think I really knew my own mother until I had children, and if she was different before, I don't remember. - Author: Nancy E. Turner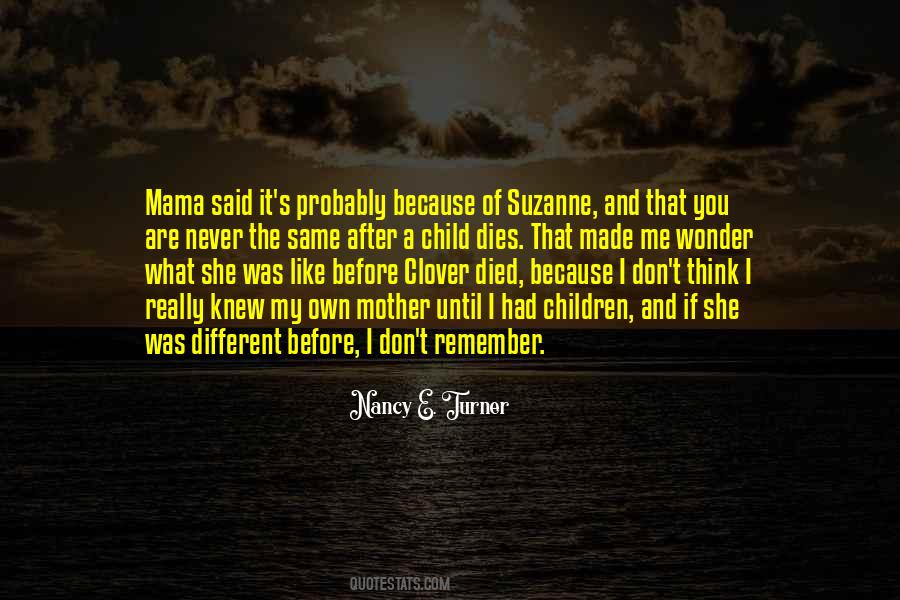 #25. So you have you price," I said with a mouthful of crumbs. "Your soul for a cookie." Fang made sure Dr. Martinez wasn't looking and then shot me the bird. - Author: James Patterson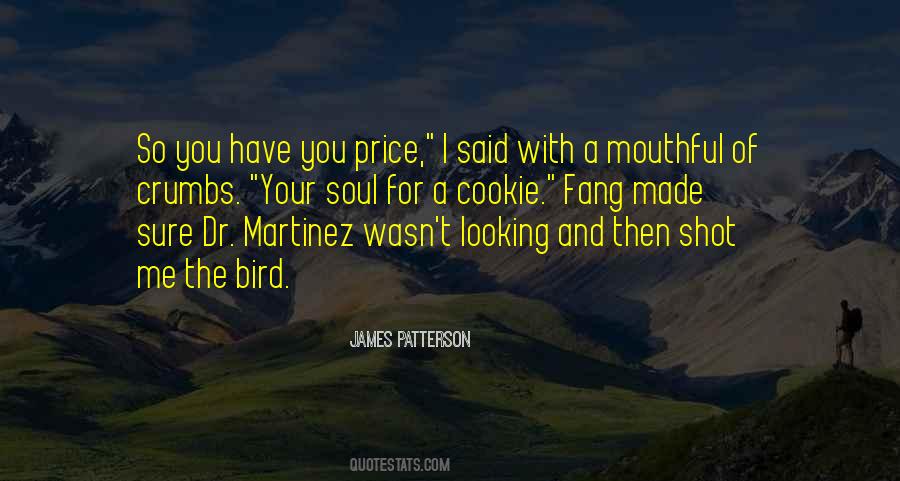 #26. Mr. Olsen in the fifth grade made me want to be a writer. He said, 'Chuck, you do this really well. And this is much better than setting fires, so keep it up.' That made me a writer. - Author: Chuck Palahniuk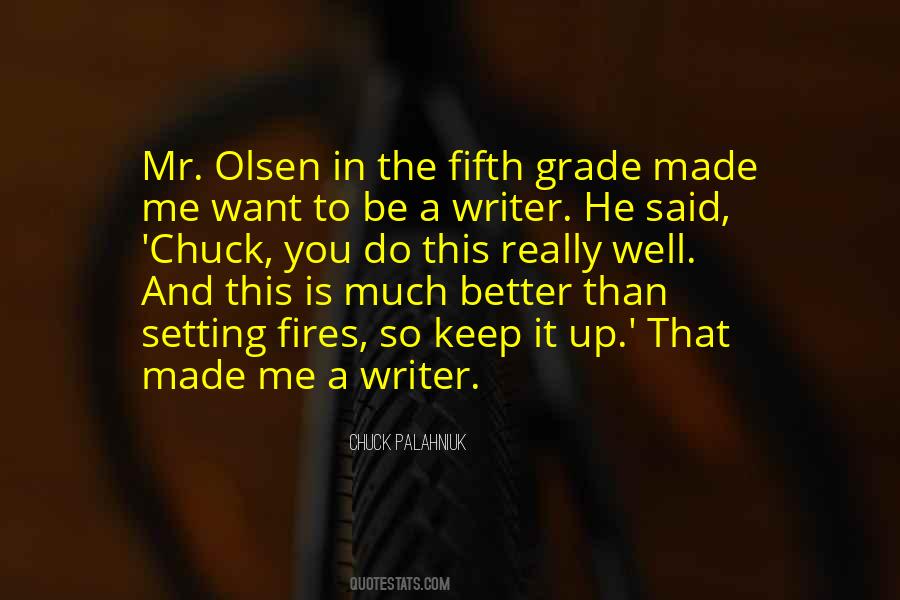 #27. In wrestling, my mustache made me look more like a villain. A good mustache can give you the look of the devil. - Author: Jesse Ventura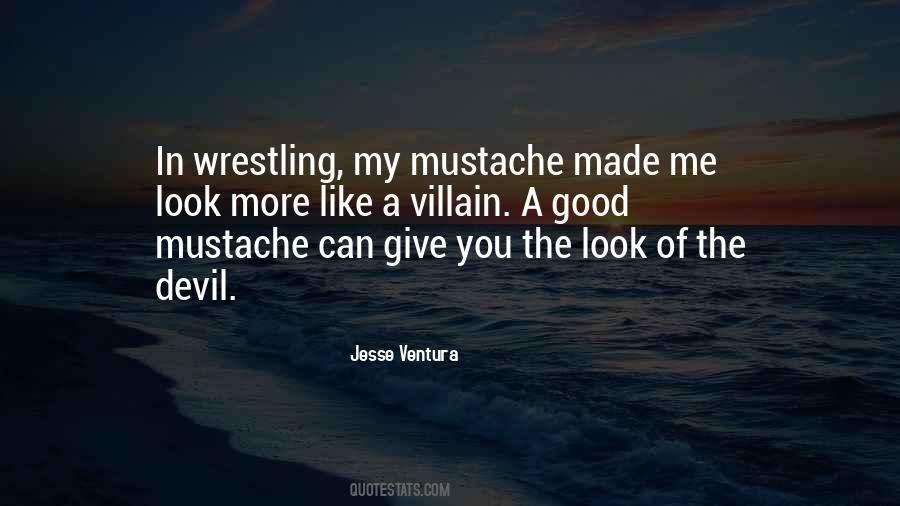 #28. I realized that what made me strong was living strength, given by Someone who could only supply it if He was alive. "You are Messiah!" I whispered. - Author: Audra Grace Shelby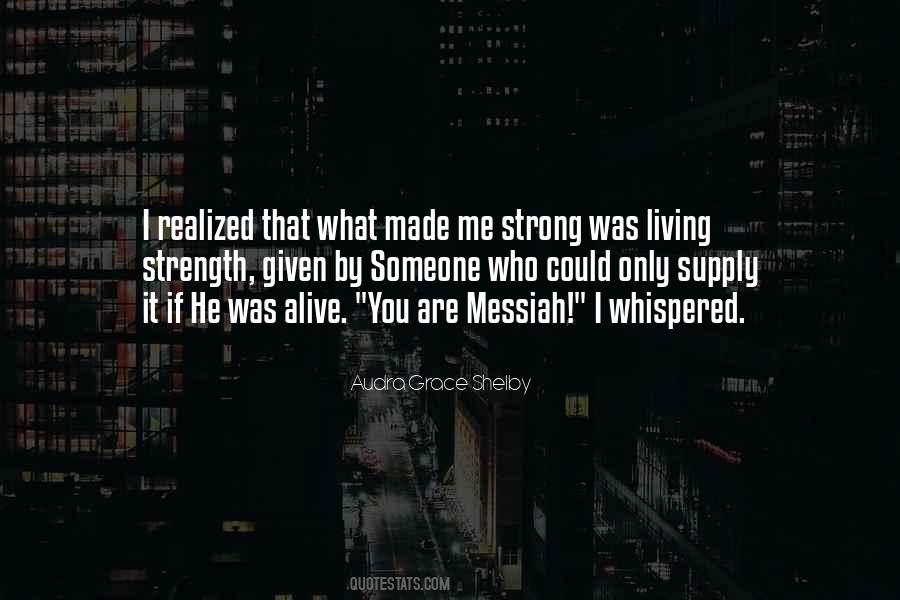 #29. Simply having the courage to say senseless things made me euphoric. I was free, with no need to seek or to give explanations for what I was doing. This freedom lifted me to the heavens - where greater love, one that forgives everything and never allows you to feel abandoned, once again enveloped me. - Author: Paulo Coelho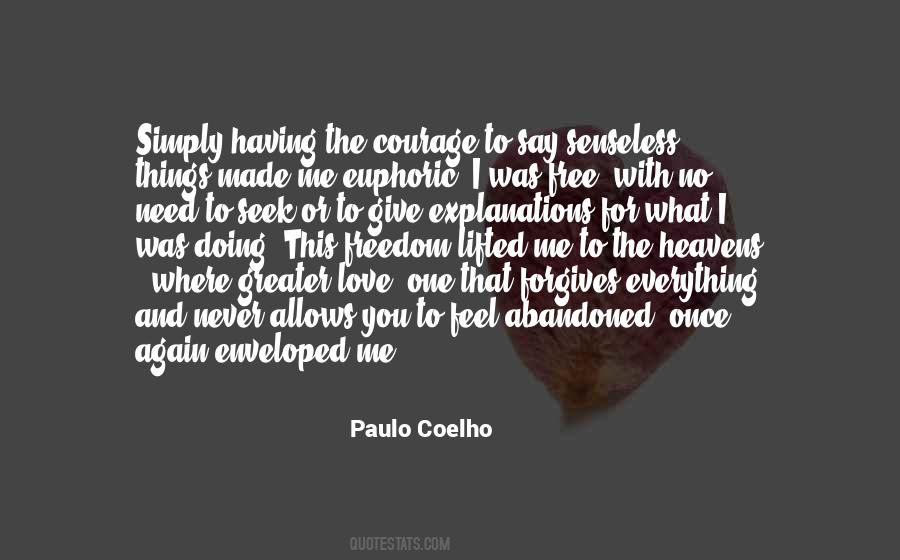 #30. You used to think your scars were your kryptonite. To me they've always made you seem like a superhero. - Author: Posy Roberts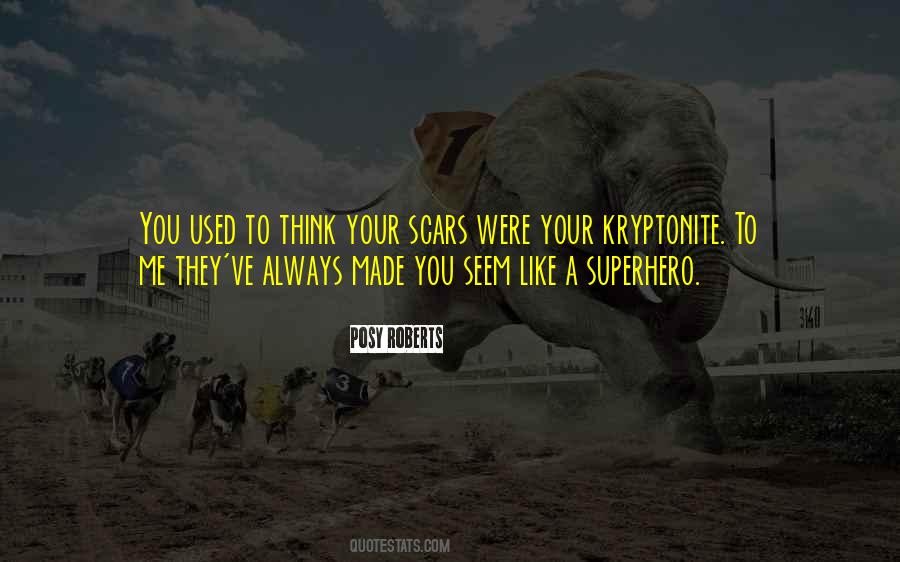 #31. My mom always wanted a bunch of kids, but they stopped after me. I never understood why."
His voice was wistful. Haven closed the distance between them and wrapped her arms around his neck. "Maybe they realized they created perfection when they made you and didnt need anymore. - Author: J.M. Darhower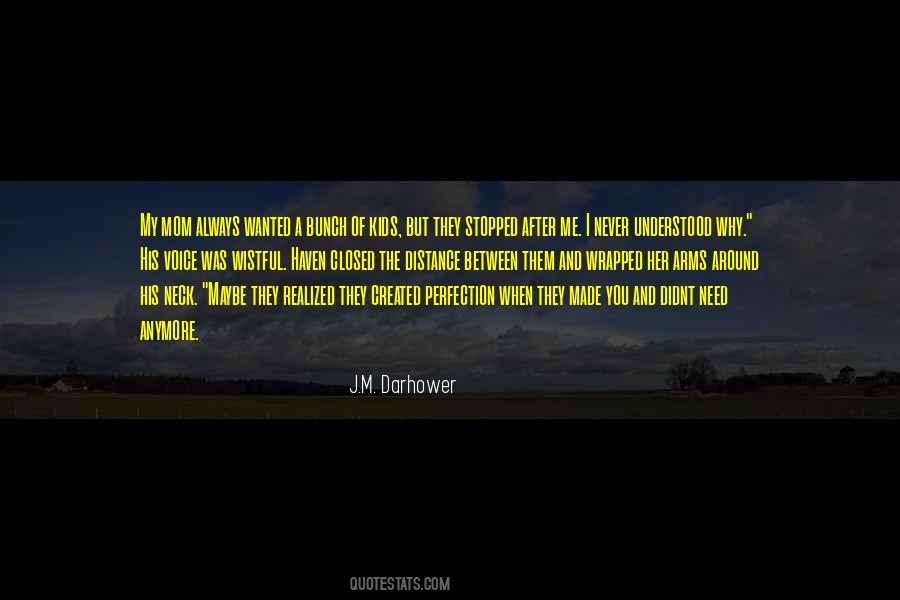 #32. Is that a pistol in your pocket or are you just glad to see me? (She made this remark in February 1936, at the railway station in Los Angeles upon her return from Chicago, when a Los Angeles police officer was assigned to escort her home) - Author: Mae West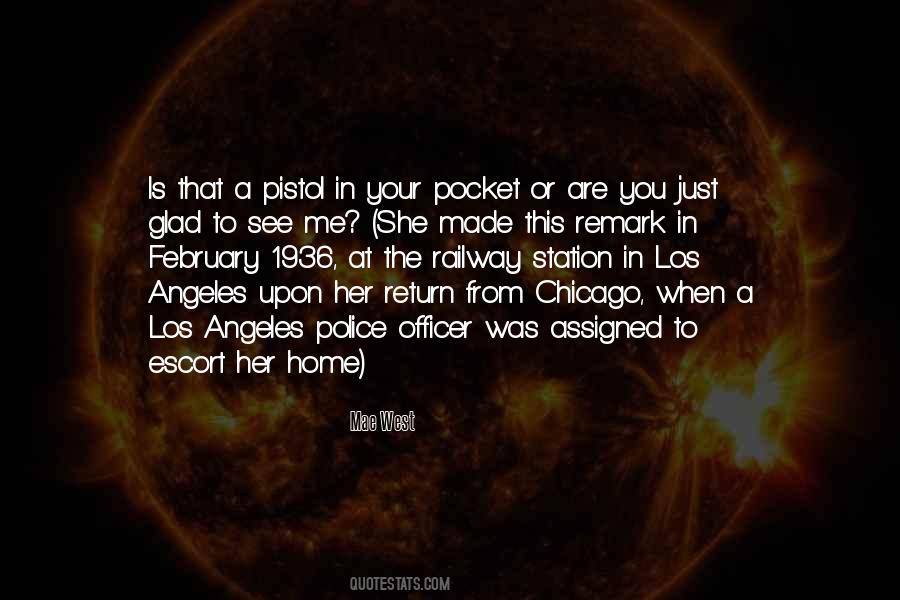 #33. To me, the excitement is in ordering a fine shotgun, going through the process that everybody who has bought one has gone through for 100 years. You order it, you make a significant down payment, and then you wait three or four years for the gun to be custom-made for you. - Author: Tom Selleck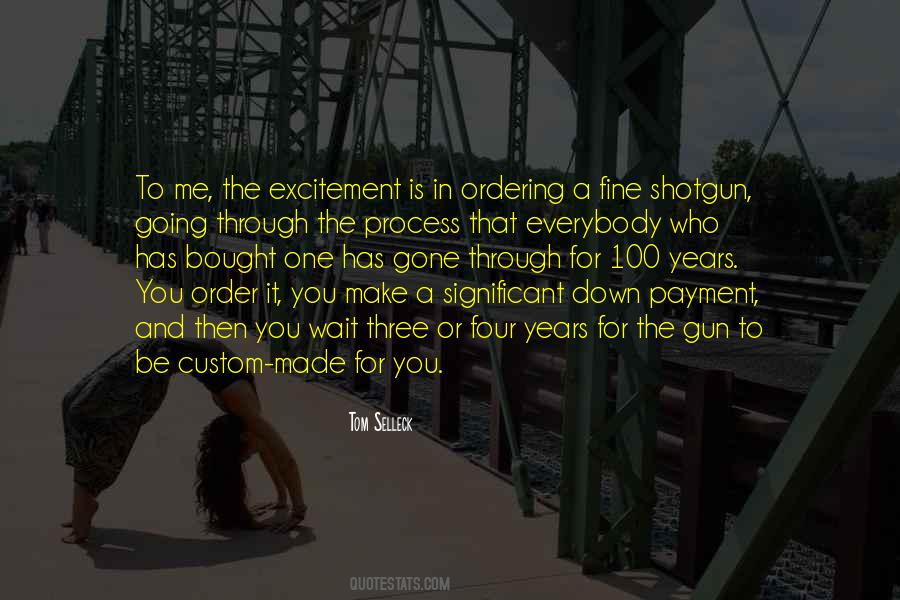 #34. One Christmas I had no money, and so I went home and just, like, wrote a poem; I mean, I didn't write them, but I just handed out poems as Christmas presents. Like, 'Here's a Pablo Neruda poem that really made me think of you.' - Author: June Diane Raphael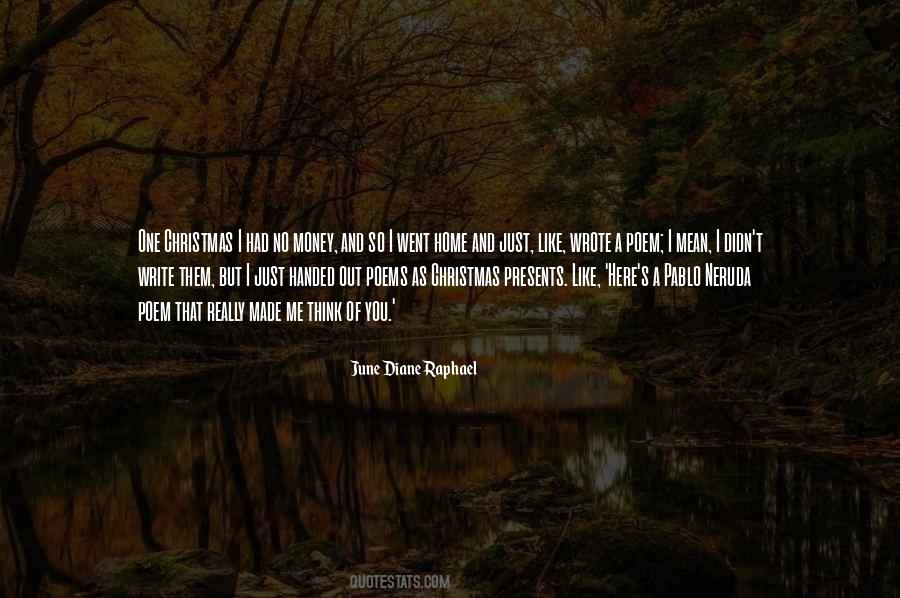 #35. You were able to kill him," Will said. You, a girl. That's what he meant. Like owning a vagina made me inferior in some fundamental way. - Author: Laura Thalassa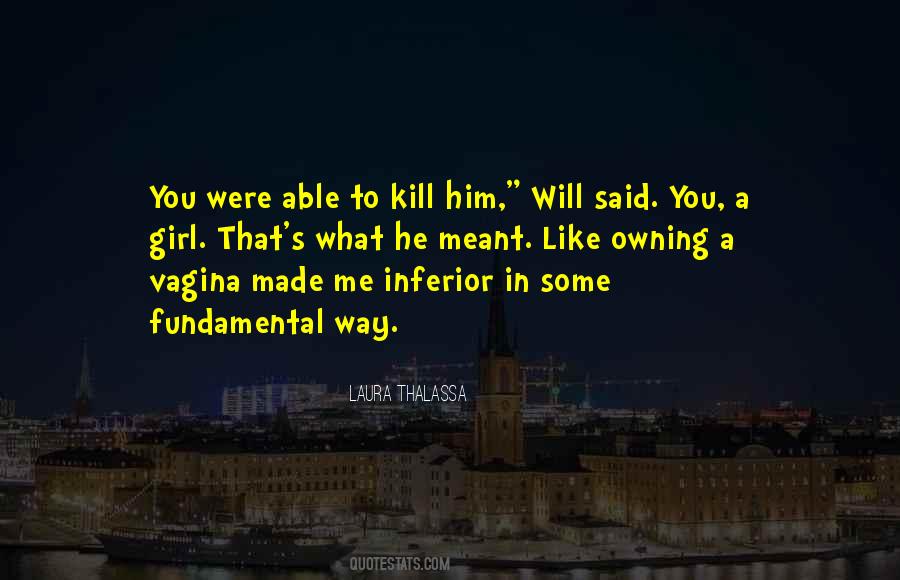 #36. I didn't want to kill them all. I didn't want to kill anybody! I'm not a killer! You didn't want me, you bastards, you wanted Peter, but you made me do it, you tricked me into it! - Author: Orson Scott Card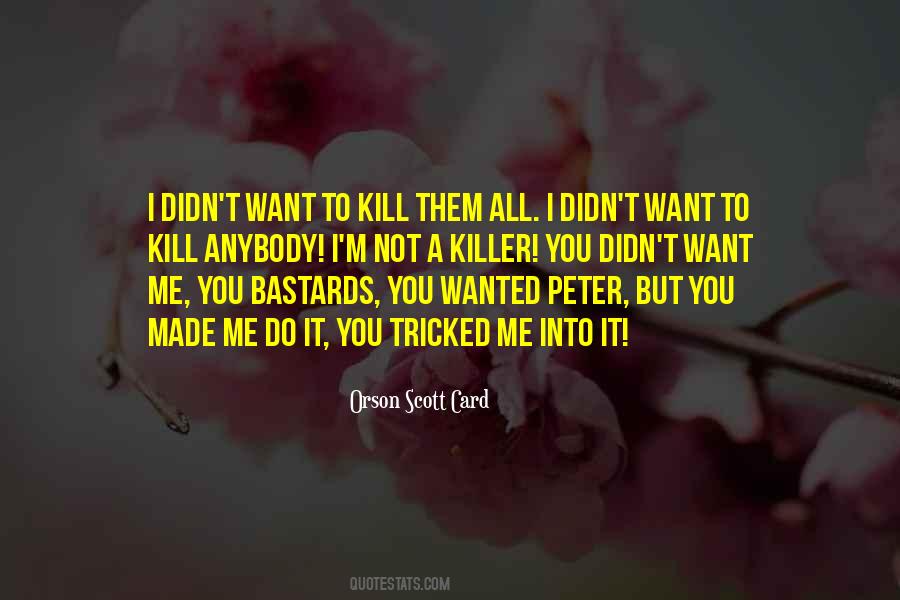 #37. I know it sounds strange to say, but the very technologies that have made traveling easier for most people - GPS, automated ticket machines, online schedules and ticketing, boarding passes you can print out at home - have actually made things harder for me. - Author: Philip Schultz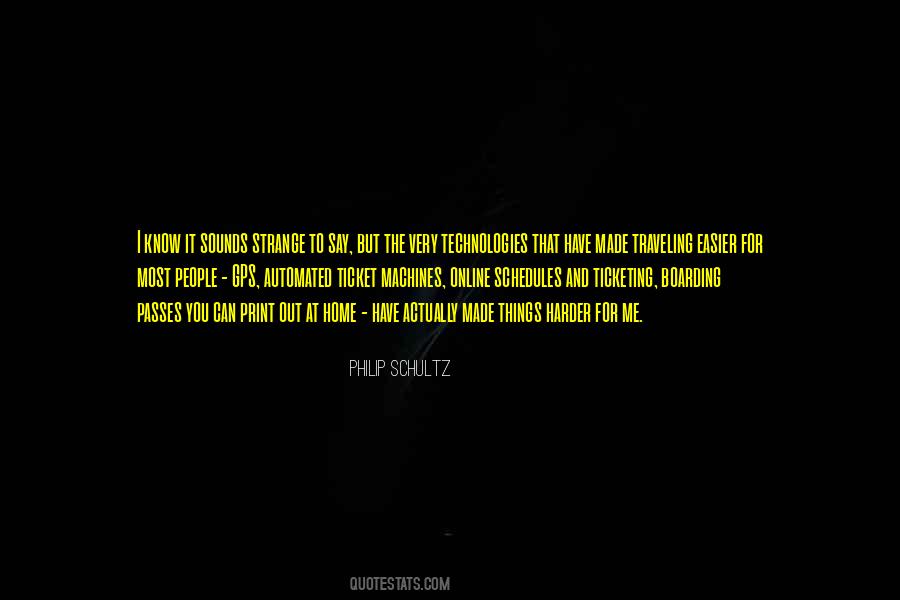 #38. every choice i have ever made after you existed
has been dependent on exactly
how close i can have you next to me
and how long i can get you to stay. - Author: AVA.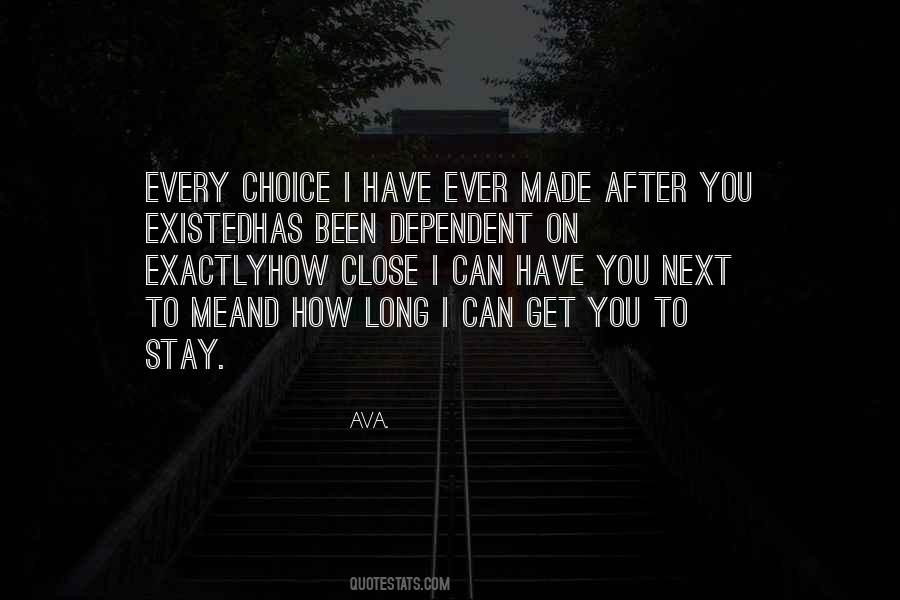 #39. David has asked me, a number of people have asked me and said, What performance do you like best or what's the best film you've made and so on and I don't really have any hesitation that the film I'm least embarrassed by and ashamed of or uneasy about is Shadowlands. - Author: Richard Attenborough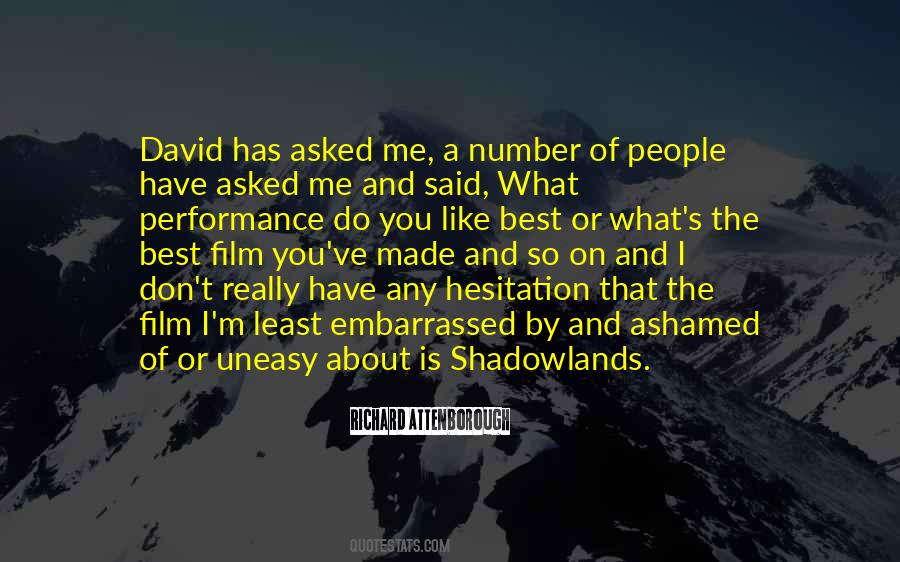 #40. Once upon uh time, Ah never 'spected nothin', Tea Cake, but bein' dead from the standin' still and tryin' tuh laugh. But you come 'long and made somethin' outa me. So Ah'm thankful fuh anything we come through together." "Thanky, Ma'am. - Author: Zora Neale Hurston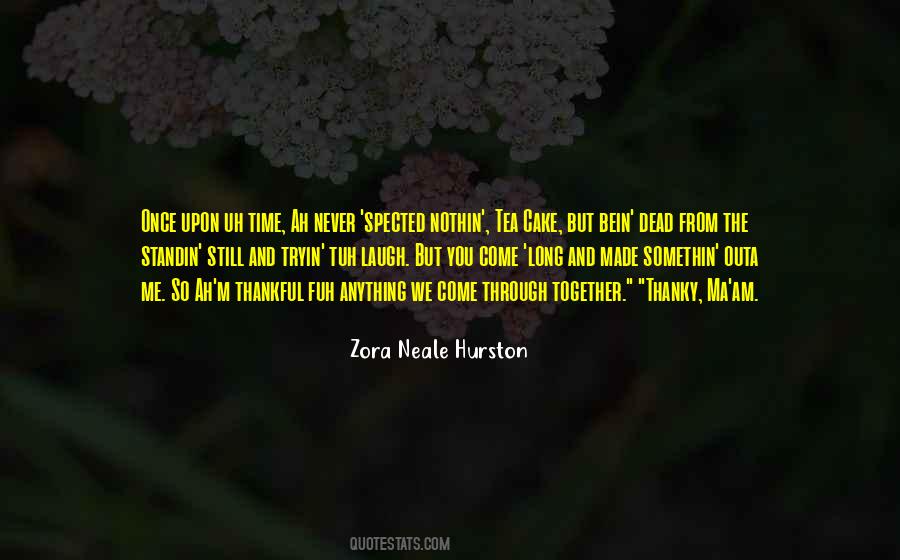 #41. You were made to love me." he said against my lips."Only me.I know. I whispered. - Author: Shey Stahl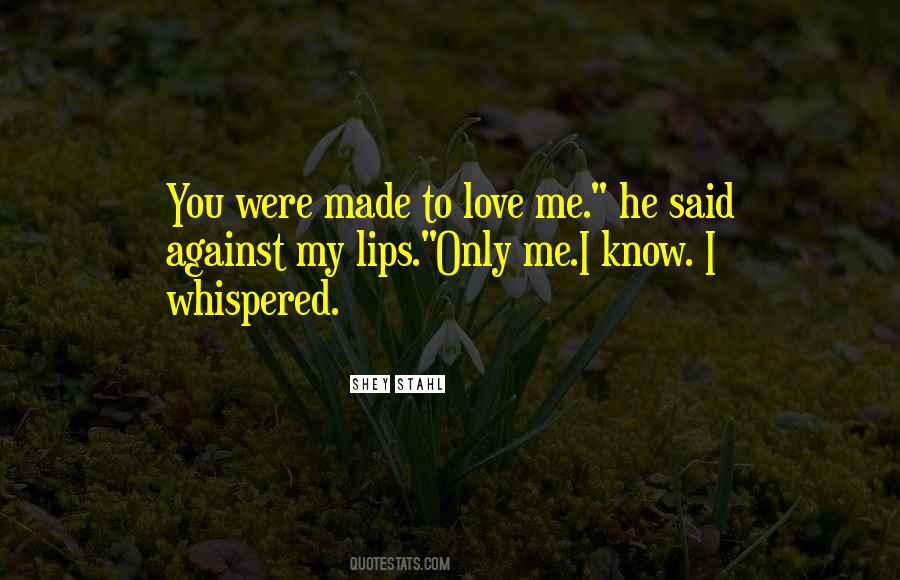 #42. It was one of those moments where you saved me, you made me laugh at just the right time. - Author: Gillian Flynn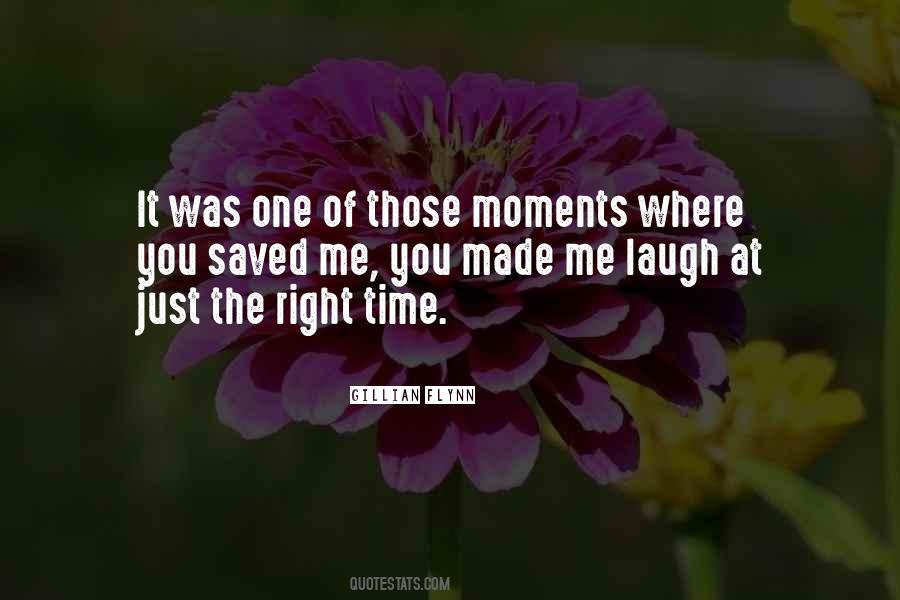 #43. I know it. Just as I know if you made it a choice between you and me, I wouldn't stand a chance. - Author: Nora Roberts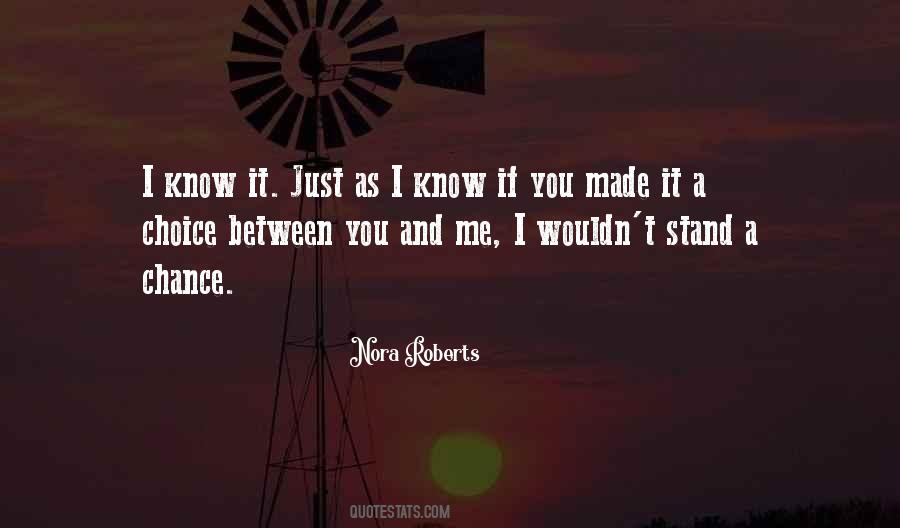 #44. My mom made me go to a Britney Spears concert when I was young. And I was like, 'No, I don't want to!' she was like, 'You're going to be a performer, you need to see other people.' - Author: Avril Lavigne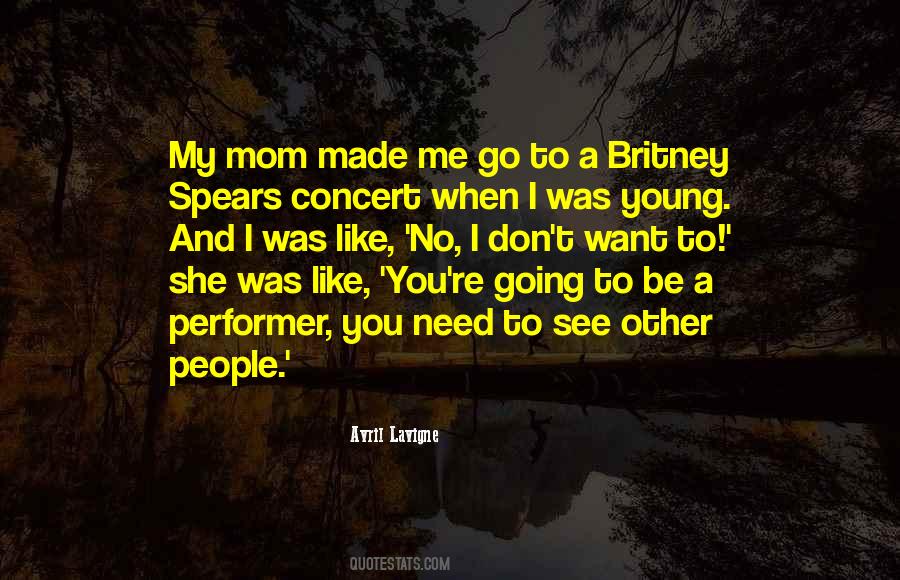 #45. even opened the box?" She parked her fists on her trim little hips. "I have had a very bad day." "Well, so have I." He grinned. "But you just made me laugh, so it's starting to improve." She gave him a glare. "I don't find this funny." He raised the can - Author: Shirley Jump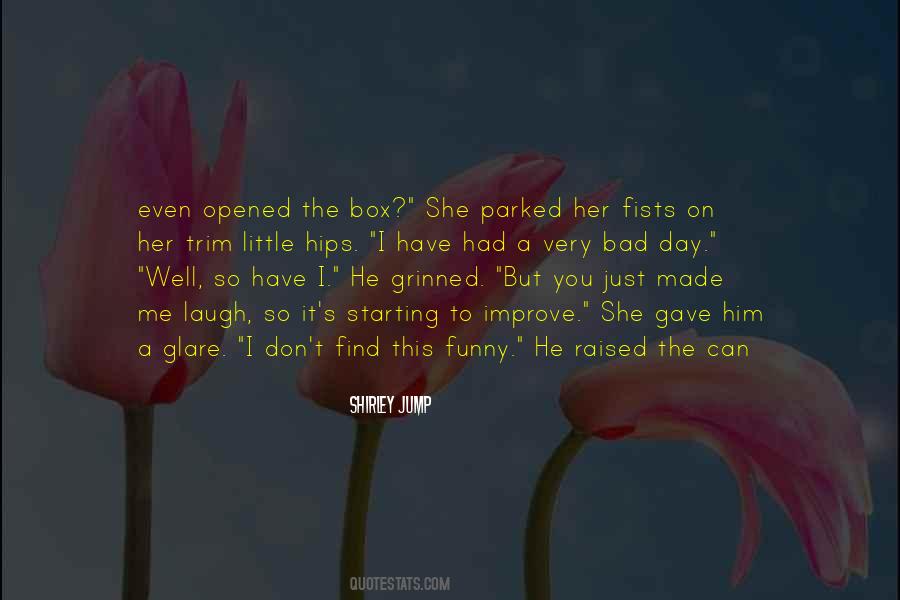 #46. I want to see a world in which every entrepreneur has access to the resources he or she needs to succeed, and where through the power of supportive communities - that means you and me - every resource can be made available. - Author: Jessica Jackley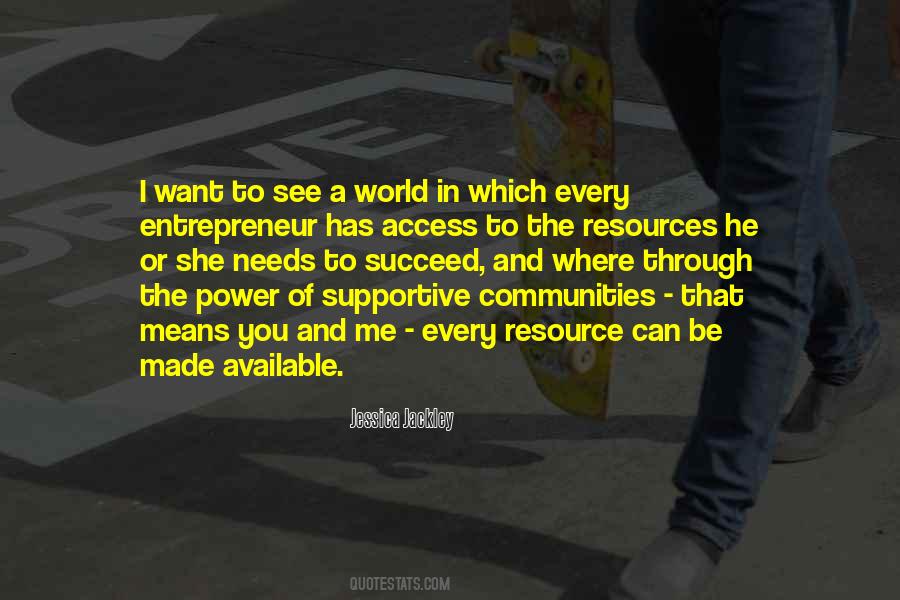 #47. With pop music and pop musicians, you know everything about everyone all the time, particularly their physical appearance. With female musicians, that's made a big thing of, and I think people, certainly with me, have appreciated a bit of mystery. - Author: Lorde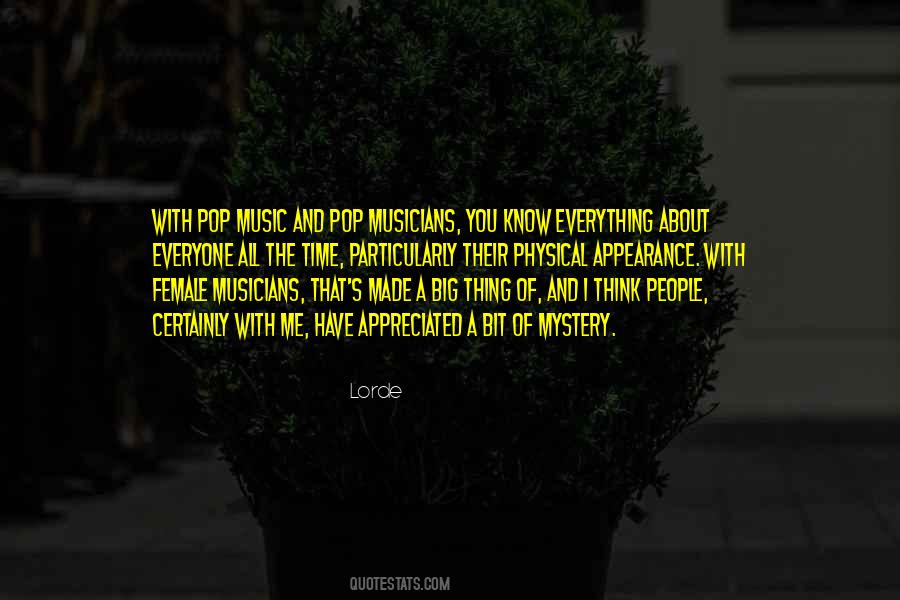 #48. And to whom were these bundles of unrecognizably mashed-up mortgages ultimately sold? Quite often, to you and me. Our pension funds, municipalities, and money-market accounts were made up largely of these mortgage-backed securities. - Author: Douglas Rushkoff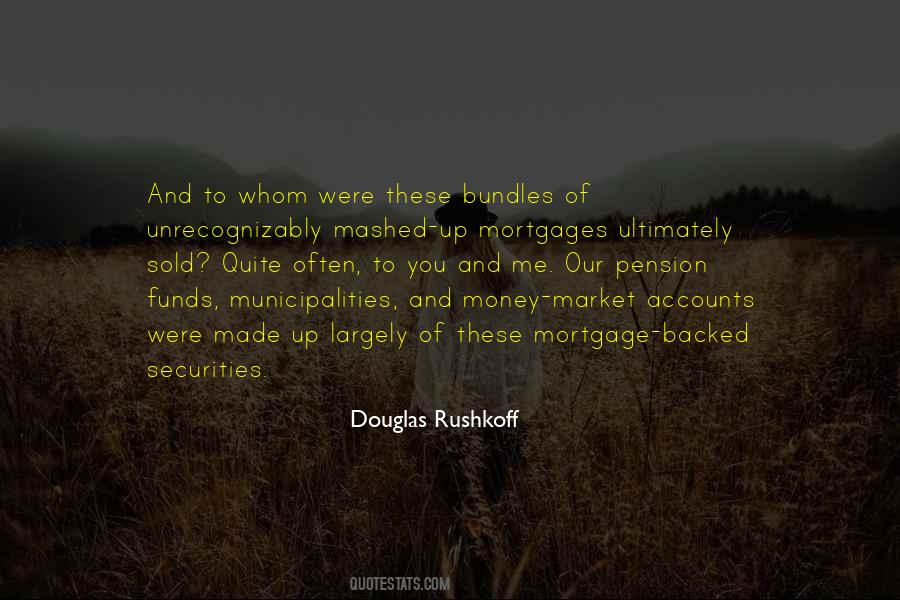 #49. You know that expression, 'wild horses couldn't drag me away'? Well, let me tell you, that was obviously made by someone who's never been on the other side of a lead rope when a wild horse starts running. - Author: Terri Farley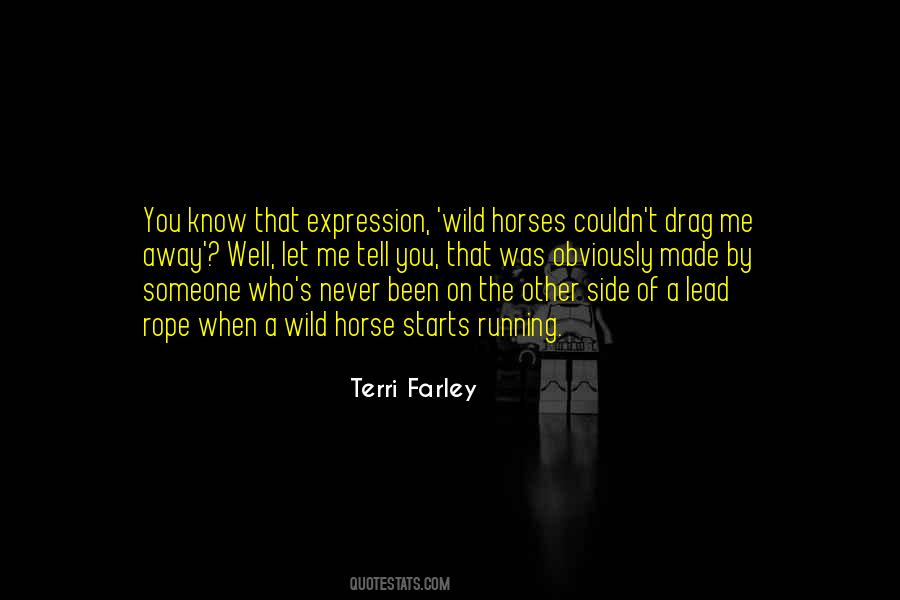 #50. If you know that I am genius
Then know that you made me genius
Everyone don't accept me as genius
Because they aren't genius to belief me as genius - Author: Hasil Paudyal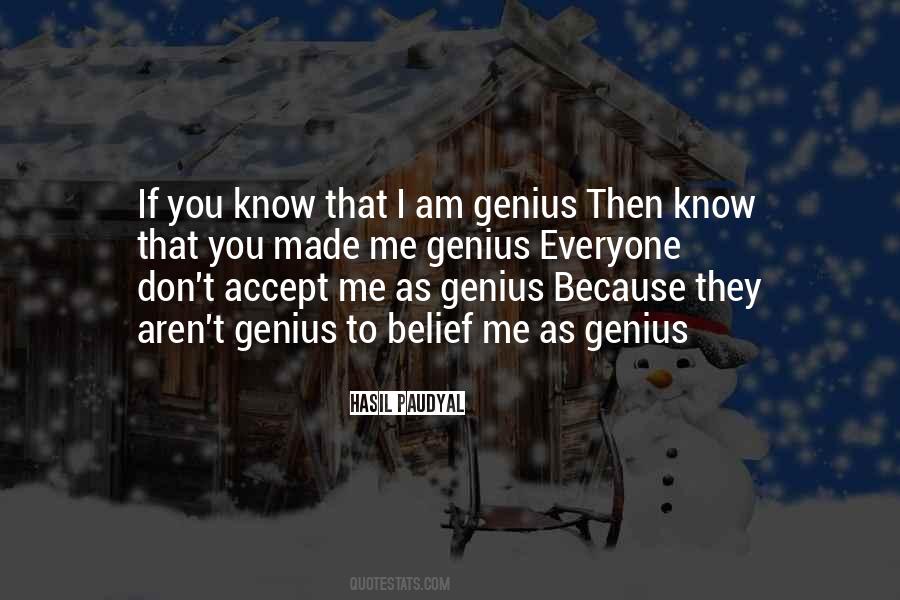 #51. The truly wealthy don't often pursue status. They don't need to. They have already made it. The pursuit of Rolex watches and $100,000 vehicles is for wannabes like you and me. Why pursue status when you've already achieved it? - Author: Erik Wecks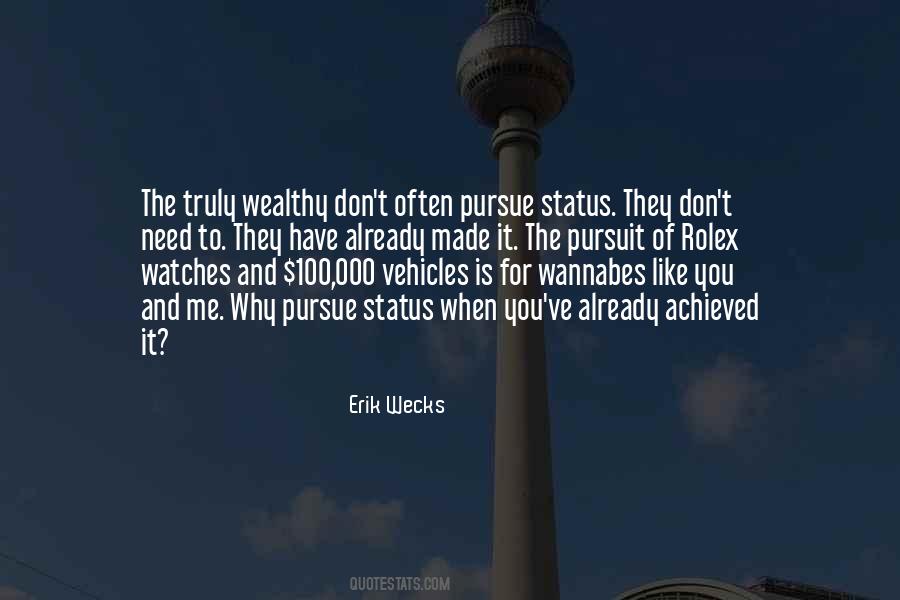 #52. They say you never grow poor taking profits. No, you don't. But neither do you grow rich taking a four-point profit in a bull market. Where I should have made twenty thousand dollars I made two thousand. That was what conservatism did for me. - Author: Jesse Lauriston Livermore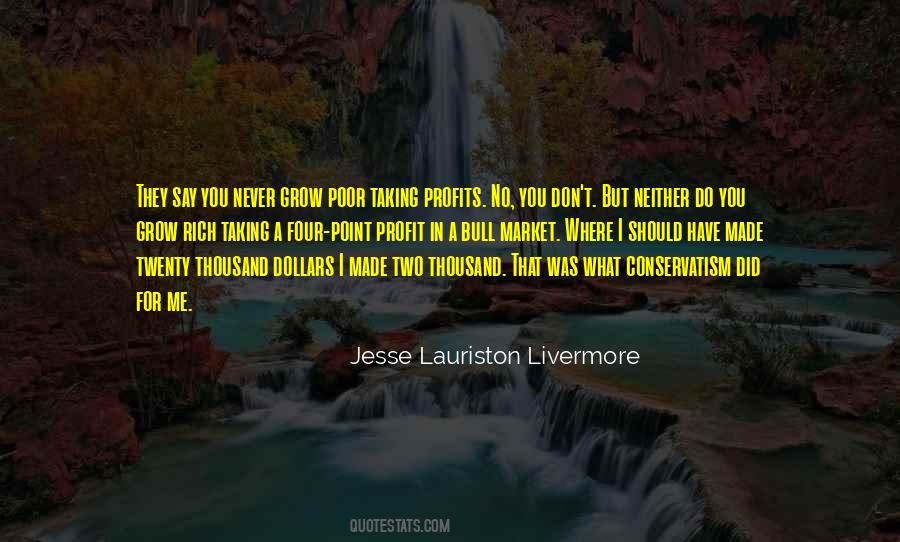 #53. I like to think that somewhere out there, on a planet exactly like ours, two people exactly like you and me made totally different choices and that, somewhere, we're still together. That's enough for me. - Author: Iain Thomas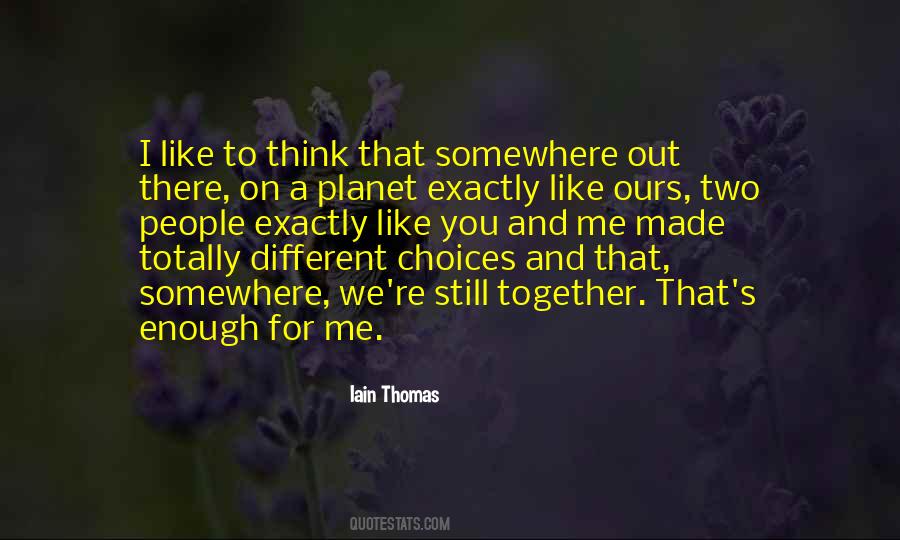 #54. Standing over her, I took the time to admire my handy work until I realized that I had just killed a potential meal.
"Damn it Bobbi," I snarled as I kicked her corpse. "Look what you made me do. - Author: Isaiyan Morrison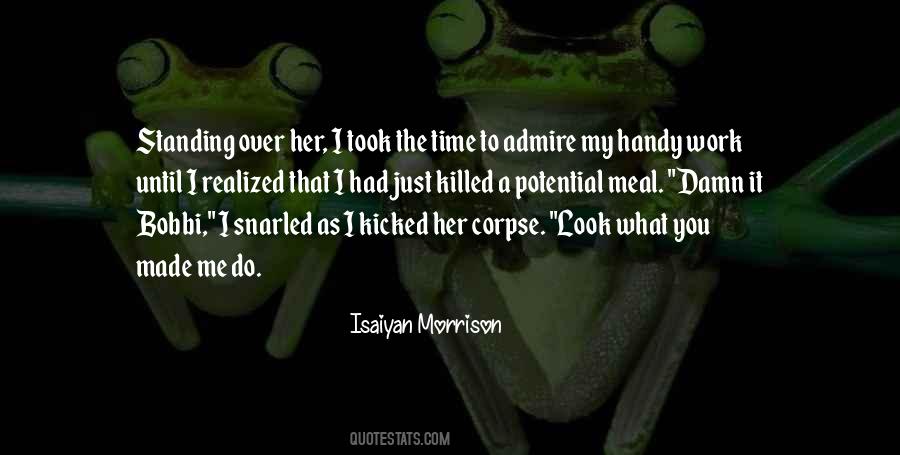 #55. Life experiences can, at times, be quite humbling, but you learn from them. But I like the changes in my life and what kind of person they've made me into. I'm very open, not as judgmental as I was in my twenties, and a lot more compassionate. - Author: Donna Air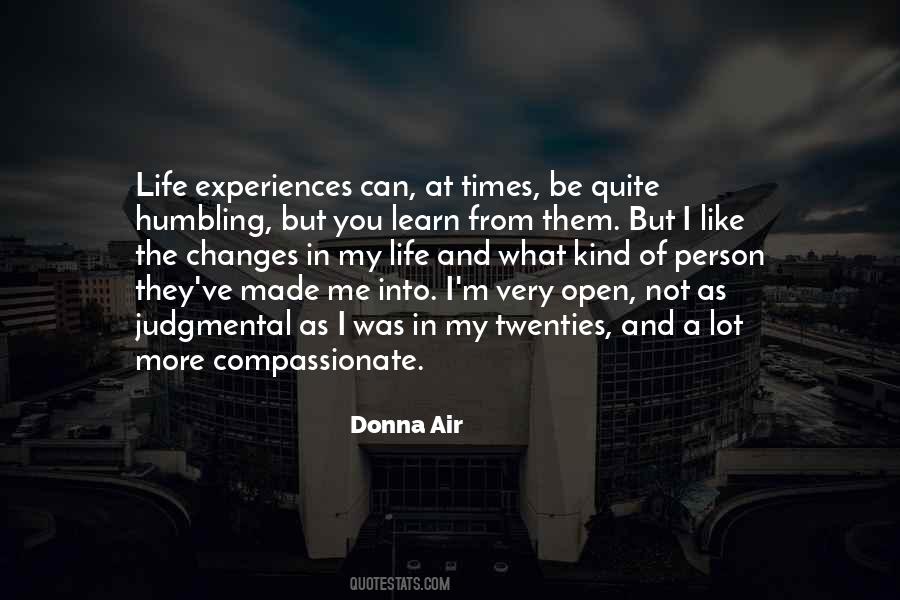 #56. You don't need to change one hair. One freckle. One little toe. And if its me thats made you feel you should do this..then there's something wrong with me. -Luke Brandon - Author: Sophie Kinsella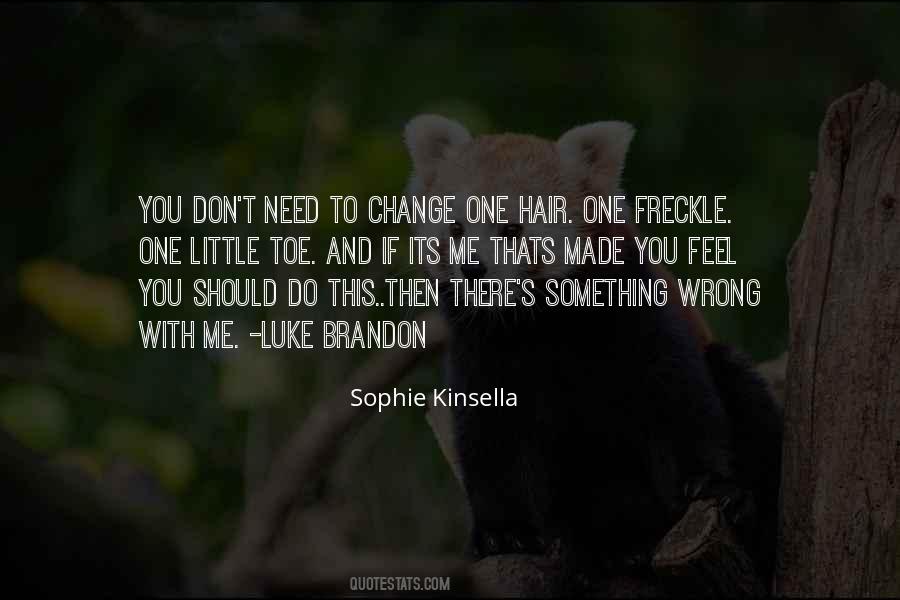 #57. Acting is a weird profession. It's very disquieting, and at the time it just made me so confused. It's only when you step away from a movie for several weeks or months that you start to put things in perspective. - Author: Jesse Eisenberg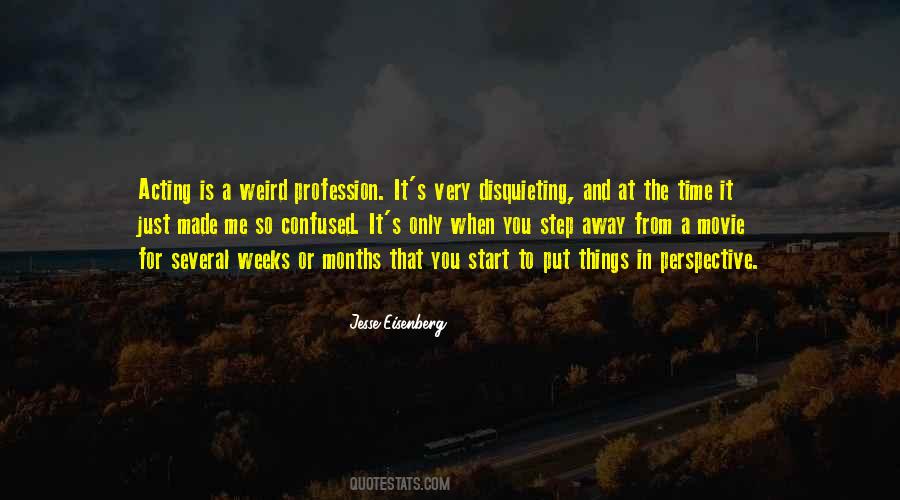 #58. It's possible that the name Bettini came up at some point during a conversation with the German Cycling Federation's anti-doping commission, but I certainly didn't claim that he gave me any drugs. They made that up. Bettini warned me: If you said that, then things could get dangerous for you. - Author: Patrik Sinkewitz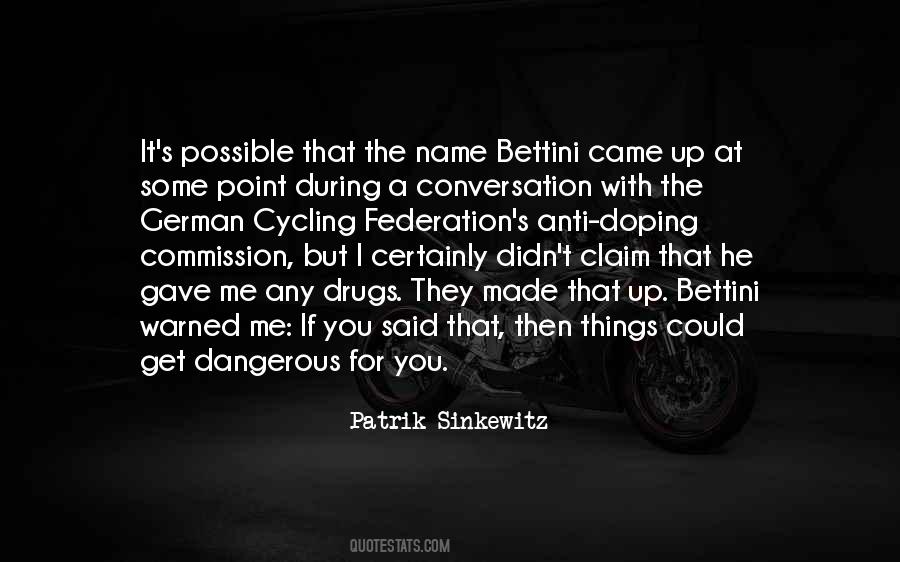 #59. I wanted it for how it made me feel, regardless of how little it cared for me. Do whatever you want -- just give me the bliss. - Author: C.M. McKenna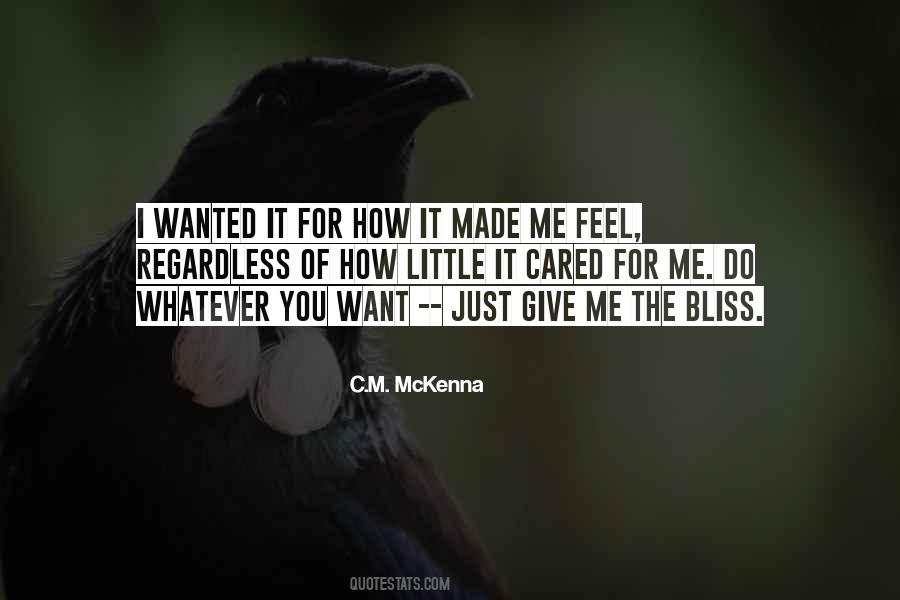 #60. You're not in a cult, are you, Mom?" "Of course not." She looks at me like I just insulted her. "Those people are all nuts. They'll regret having sold you out. I made sure of that. If Paige eats someone, it'll be someone outside their cult. It's the worst punishment they can imagine. - Author: Susan Ee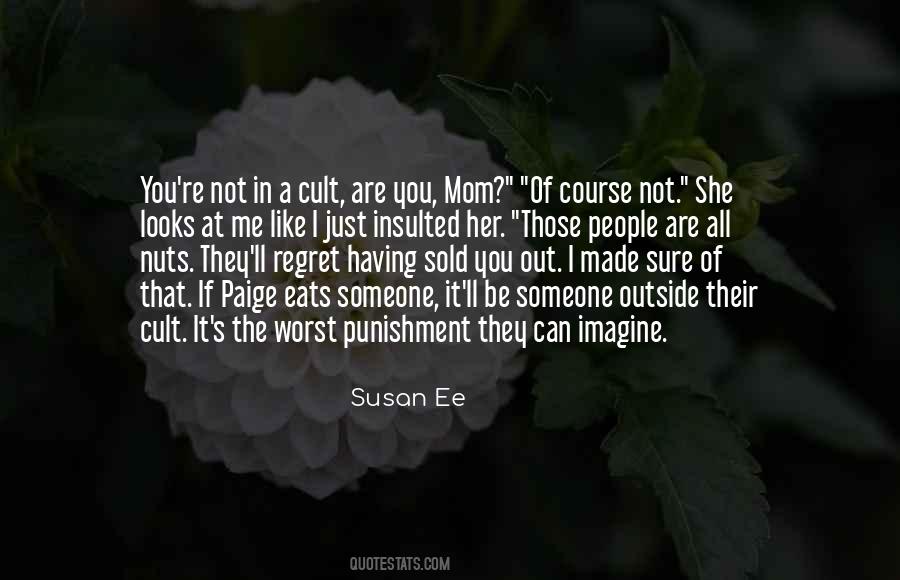 #61. I'm not worth it. But I want you to know, in case I ever do give you this letter and you read it first before you burn it or something, that for just a little while, you made me feel like I was really alive. Like I was special. - Author: Cynthia Hand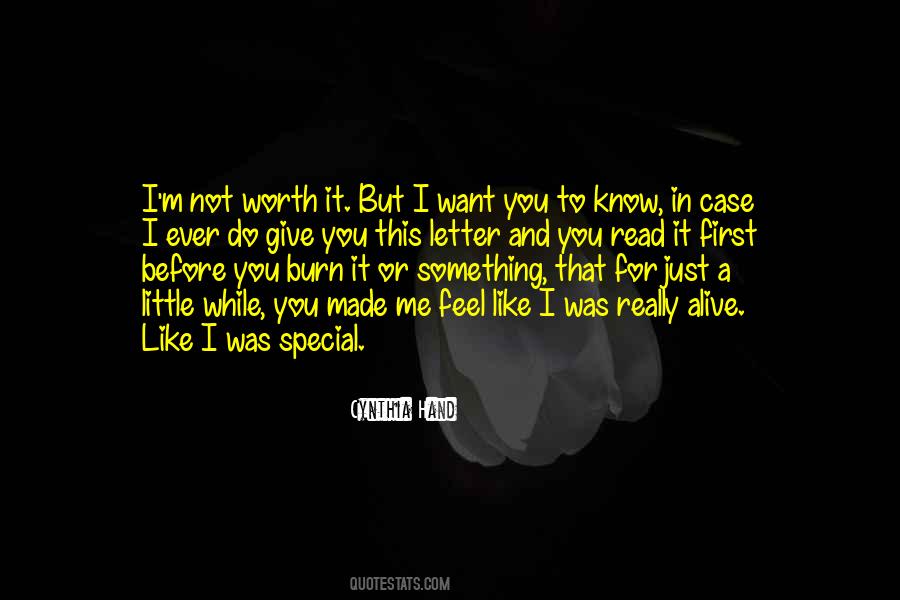 #62. It made me comfortable. It was a house where you could put your feet up and drink French champagne or Ballarat Bitter according to your mood. - Author: Peter Carey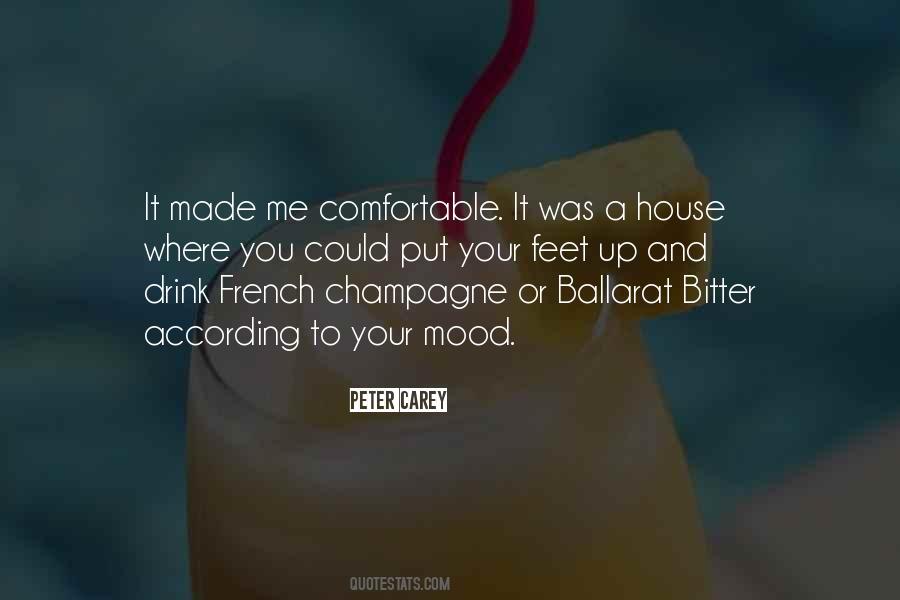 #63. Yes, you made me want my future again. The only problem is, he was my future first." ~ Jay - Author: Nicole Reed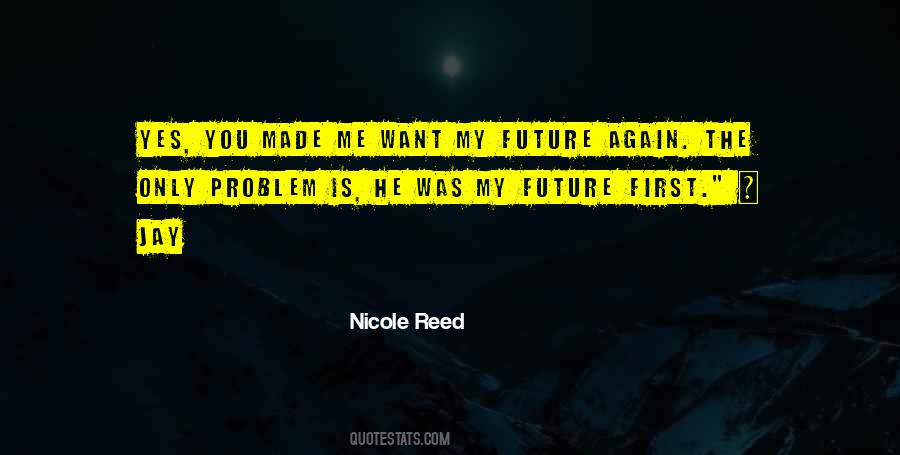 #64. You saved me, Nick. Sooner or later I would have lost my mind. I had to know, or I would have always felt like an outsider. You made me feel like I was part of something, part of a lot of things actually. I'll never be able to repay you for that. - Author: Samantha Shannon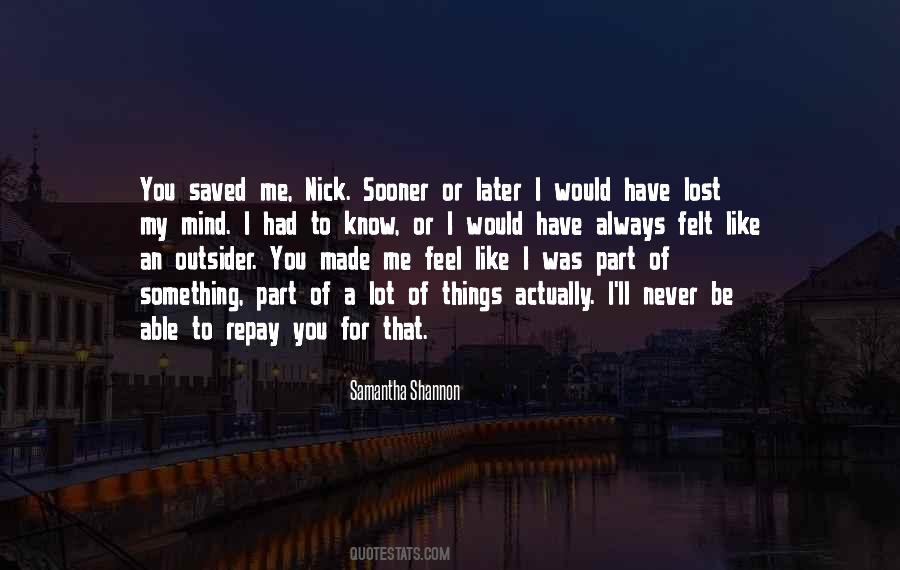 #65. What I've loved most after you, is myself: that is, my dignity and that strength which made me superior to other men. That Strength was my life. You've broken it with a word, so I must die. - Author: Alexandre Dumas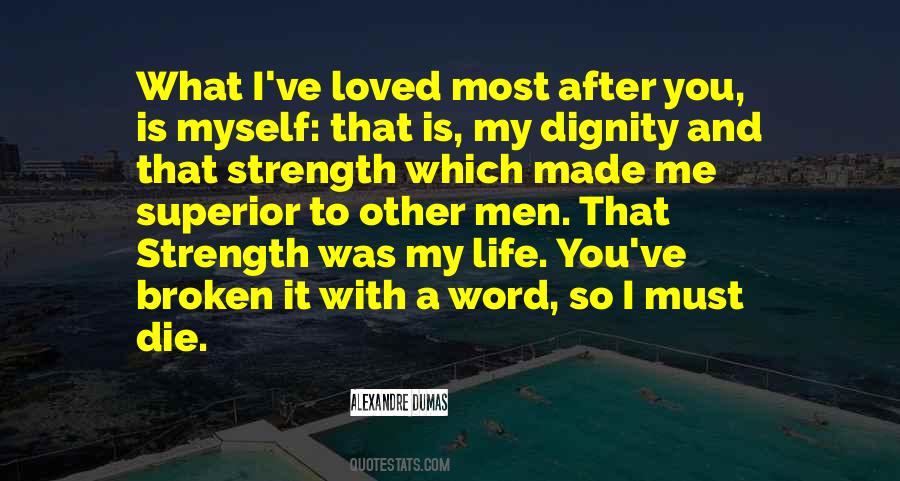 #66. The mystery of the artist is something that the 70's made, but it's not the same these days, and I don't know ... to me, I feel like letting your fans know about you is awesome. - Author: Ryan Follese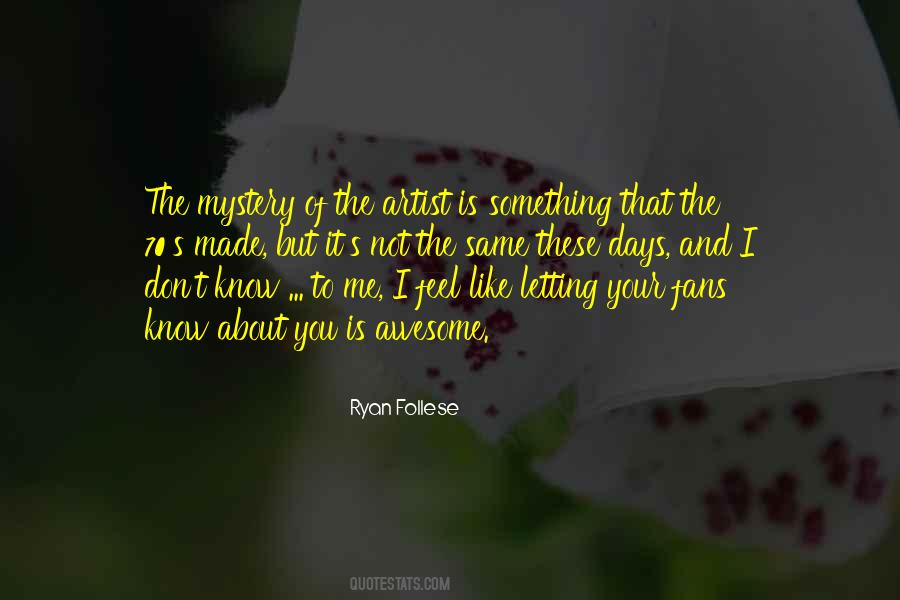 #67. I adore you because you made me a whore. - Author: Gabriel Garcia Marquez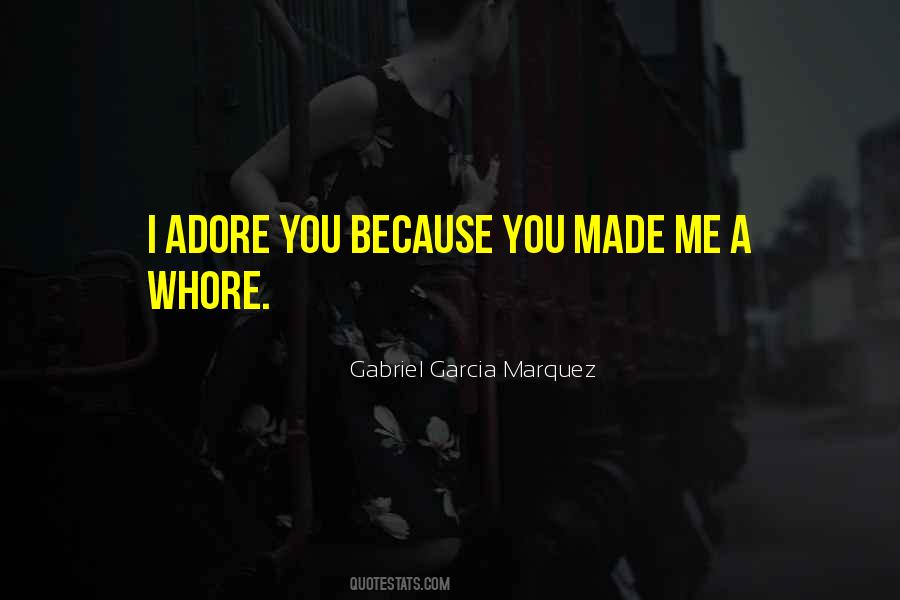 #68. It was a gift. You were a gift. A gift that made my life worthwhile. A gift that made life fun. A gift that filled me with music. A gift that filled me with love. A gift that inspired me to live on the bright side. - Author: Kim Holden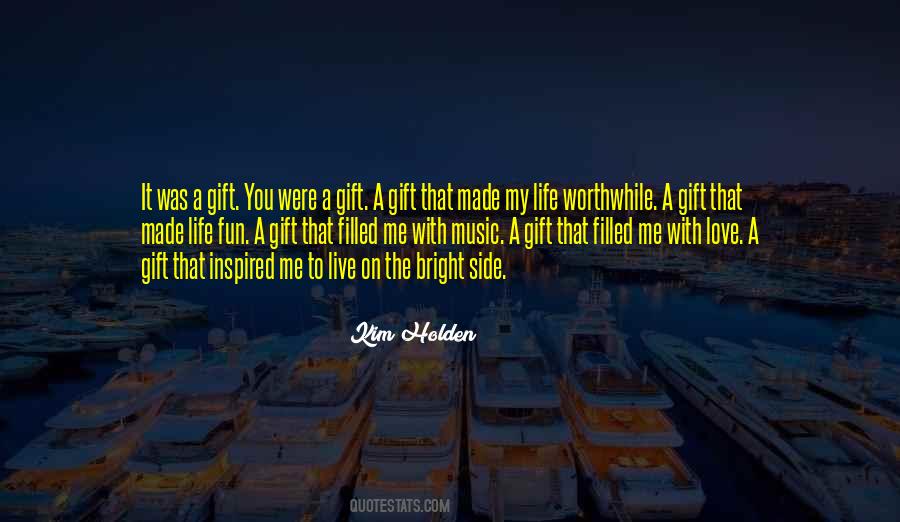 #69. I just loved performing. It just made me feel alive. It's scary, but that's part of it. I think it's important to have that extra adrenaline. It gives you that extra zing. - Author: Emma Watson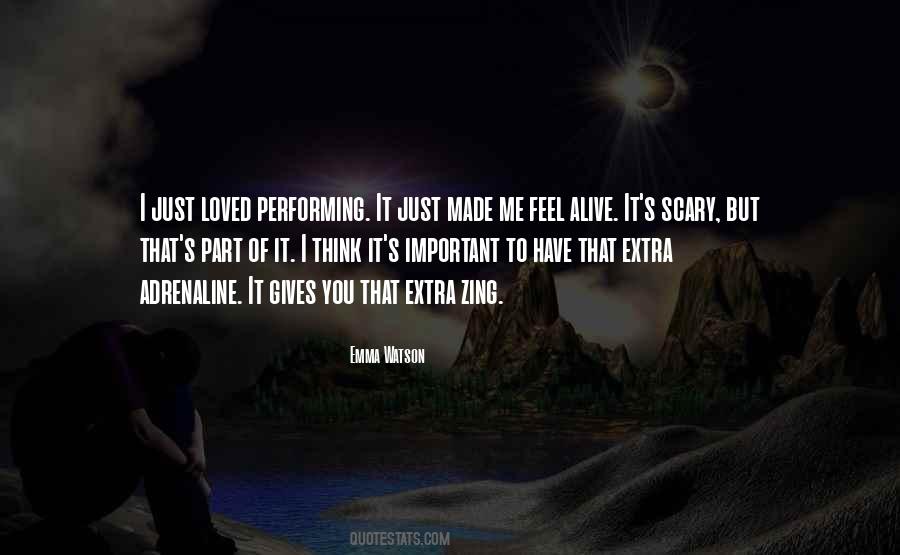 #70. You know, all spider-like and mother fucking huge and hairy, he made up for with how he behaved and how he treated me. - Author: Mark Alders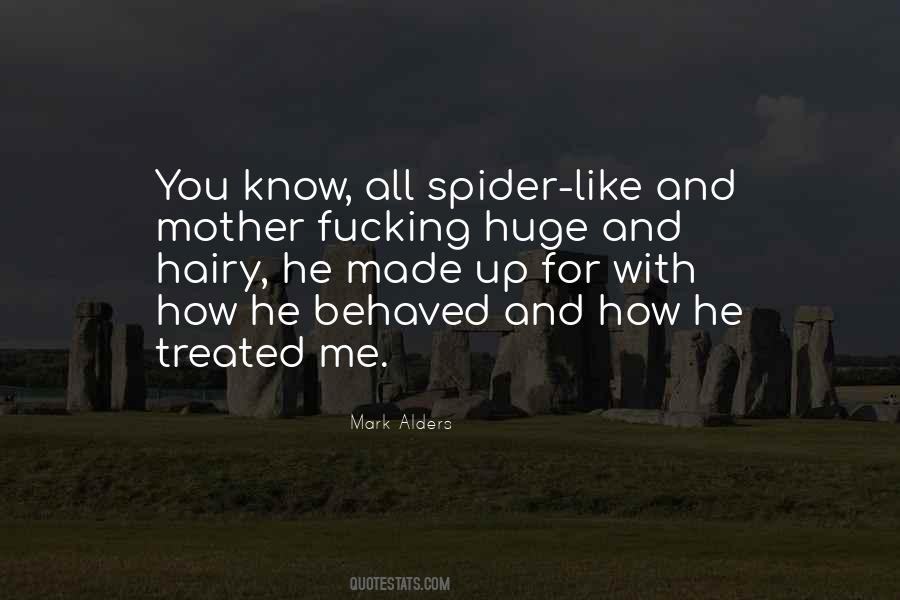 #71. One of the first things my father taught me was that the library was made for and available to me. It's a place where you not only learn from books but you learn responsibility - how to borrow, take care of, and give back. - Author: Marcus Samuelsson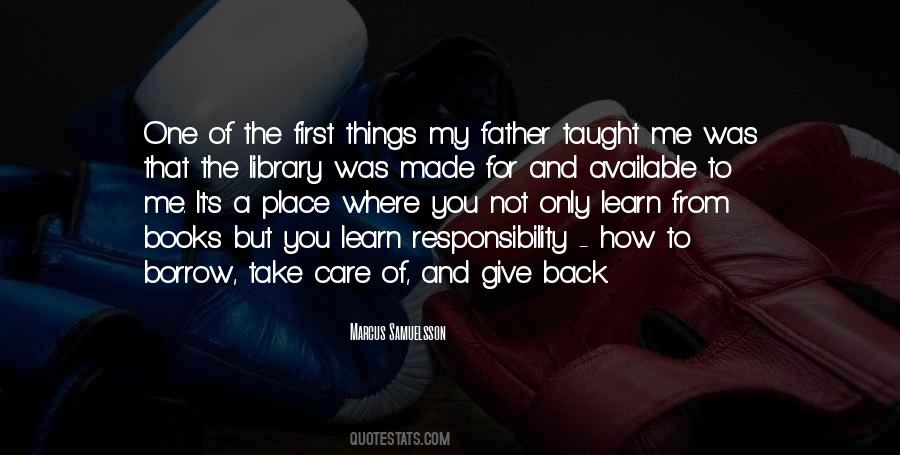 #72. I cannot look at you with anything other than abhorrence, much less affection! I couldn't bare your presence when we were children and, I'm afraid to say, the repulsive way at which you have grown to be has made it even worse! You have taken everything from me... - Author: Madeline Courtney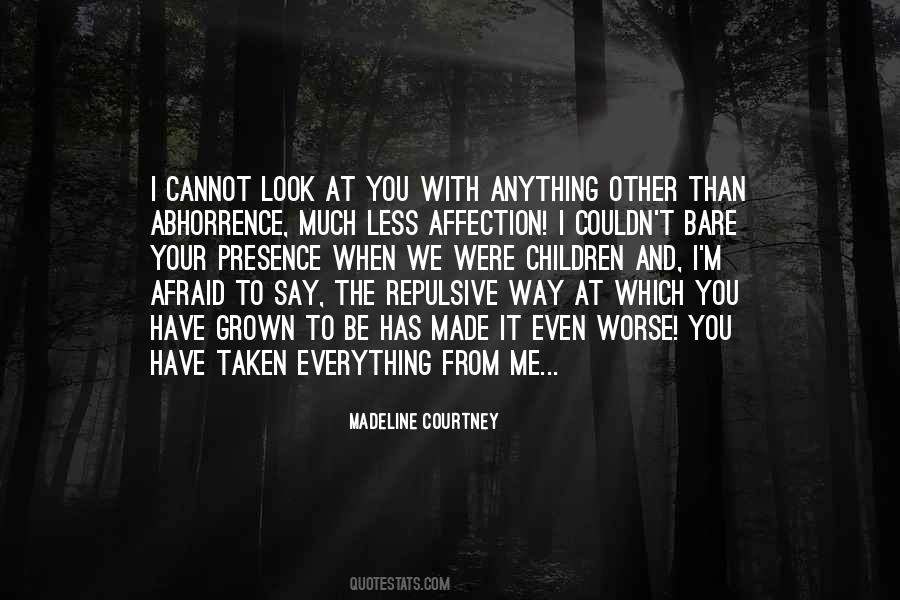 #73. You know why it didn't work out with him?" "Why?" "Because God made you for me." Not - Author: Penelope Ward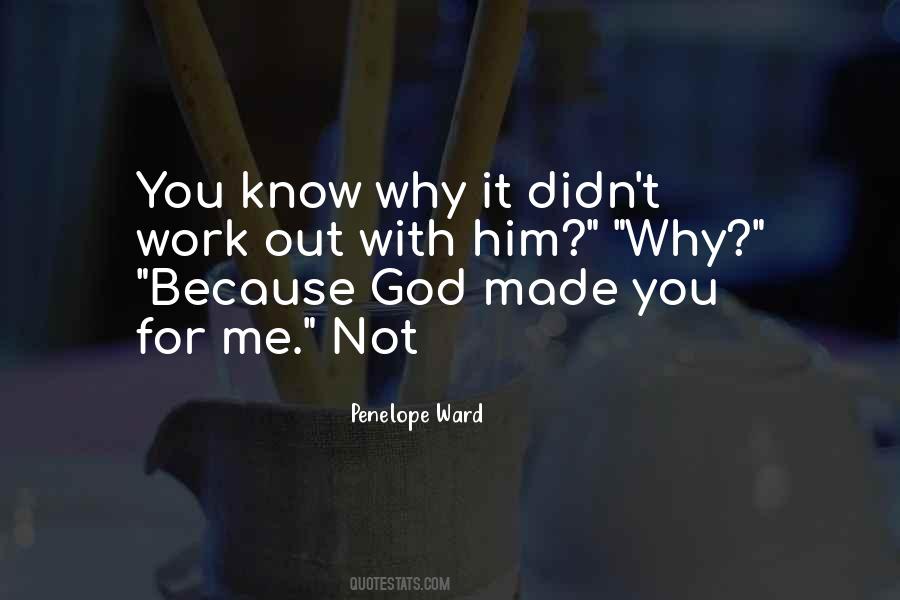 #74. You don't feel dead to me."
"That's all that matters," he said, turning his head to look at her. Worry darkened his eyes. "I know this isn't possible. What did you do, Helen?"
"I made you a world. - Author: Josephine Angelini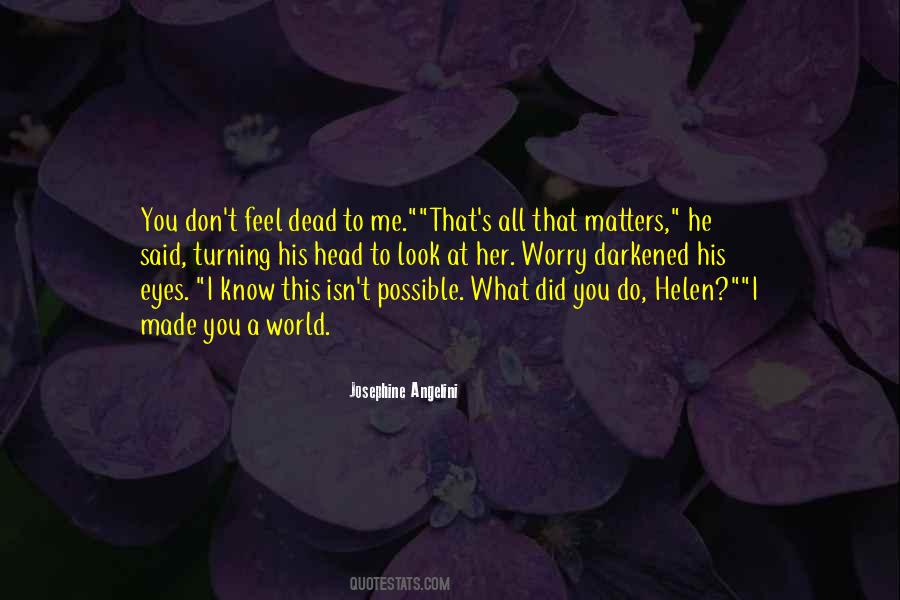 #75. We all did. But running away from it never made me feel better. Pretending it hadn't happened was slowly killing me." Sarah hugged the album to her chest, her eyes filling with tears again. "Thank you for this. Ignore the tears. You've made me - Author: Ruth Cardello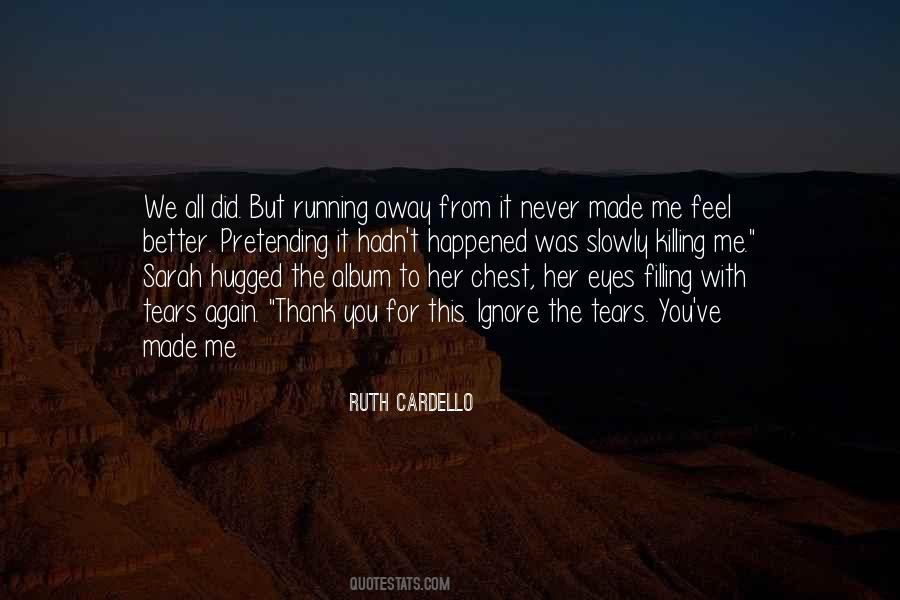 #76. I love the way you taste," she said as she licked her lips. And that made his erection flare in her hand. "Climb up on me," he said gruffly. "I want to be inside you - climb up." For - Author: J.R. Ward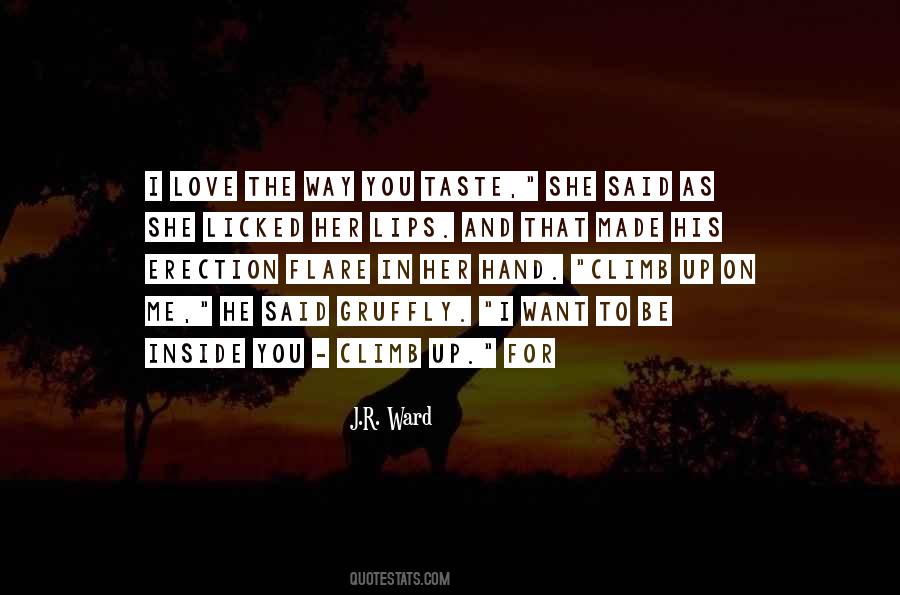 #77. I don't know what the fuck I'm doing with you, pup." King confessed. "You make me fucking crazy and I feel shit that I can't--" He paused. "Prison fucked me up, made me rethink things, but you're managed to fuck me up more than prison ever did. For some reason, I want you around. - Author: T.M. Frazier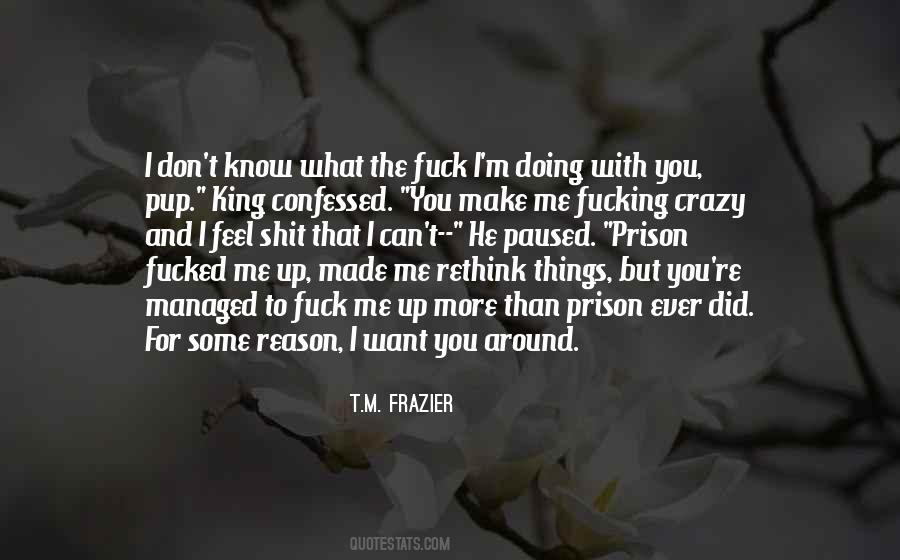 #78. The thought of not having a chance to kiss me again made you throw yourself off a roof. I should be more careful. I know the effect I can have on women. - Author: Eileen Cook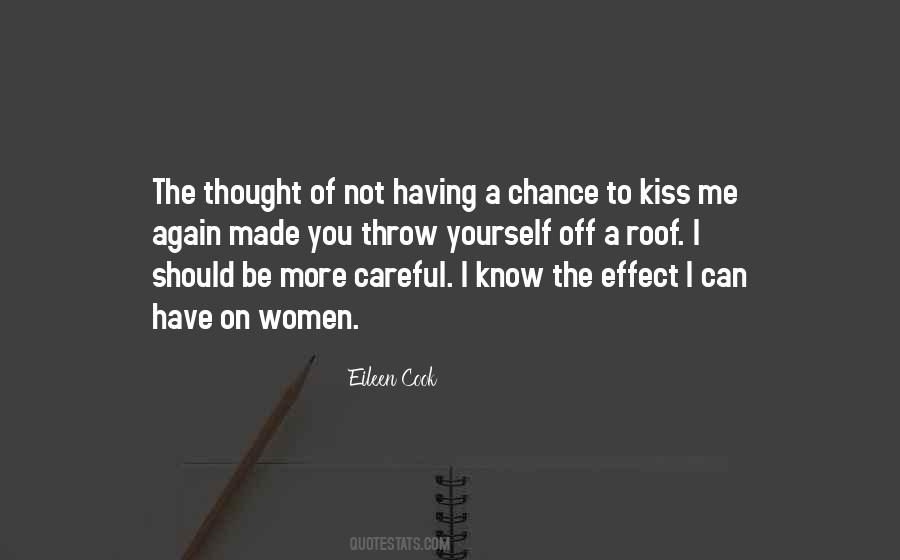 #79. I realised that you could easily turn any room into a cinema with a projector, so I went on and on at my parents for one. They eventually got me a projector for Christmas when I was ten, and I realised I'd made a ridiculous mistake - I'd forgotten to say 'movie' projector; I got a still one. - Author: Kevin Brownlow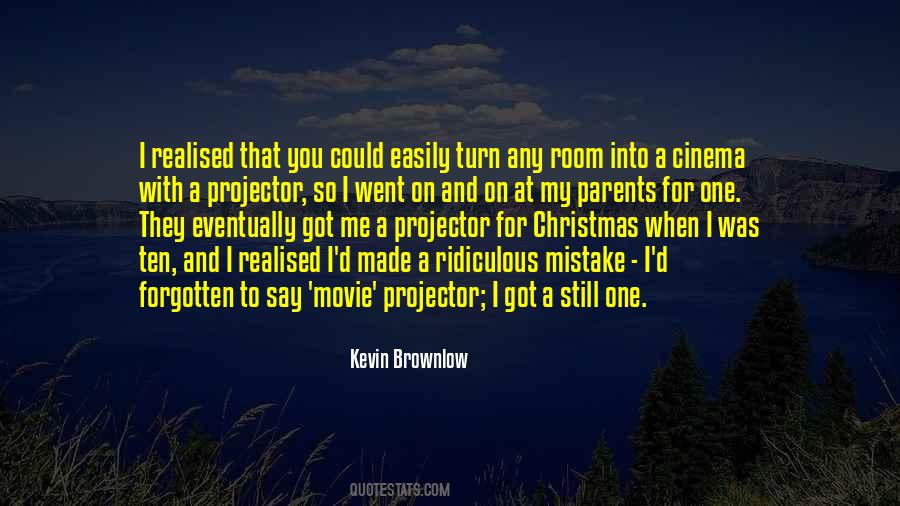 #80. My anger made me drink as an escape from reality, a way of forgetting. But you don't know when the medicinal effect ends and the poisoning begins ... This is my sixth year of sobriety. Overcoming alcoholism has been my greatest challenge and my greatest reward. - Author: Mercedes McCambridge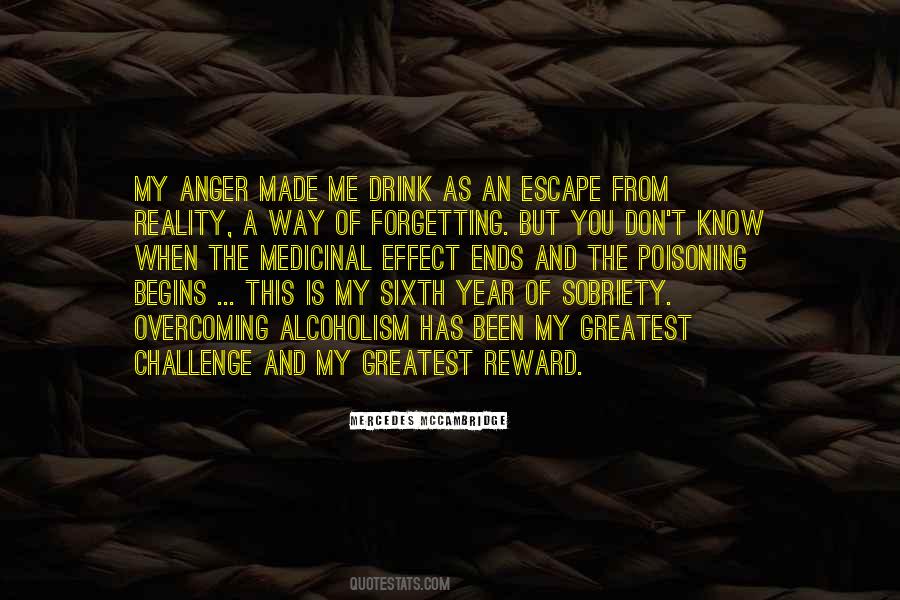 #81. I've always made it a rule to have a suit for every day of the week. Perhaps you'll tell me I'm vain, but you'd be surprised if you knew what it had meant to me, at critical moments of my life, to be dressed exactly in accordance with my mood. It gives one such confidence, I think. - Author: Christopher Isherwood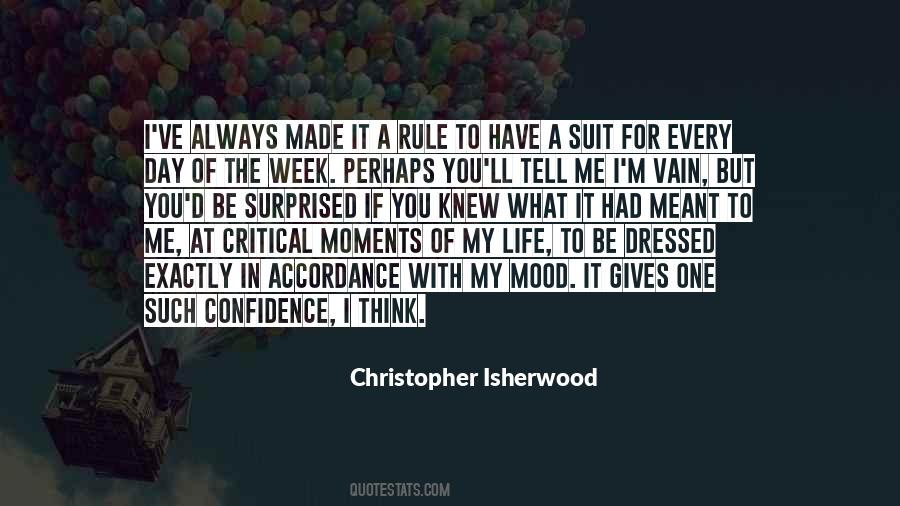 #82. I have to tell you I think you've substantially set back your progress, she told me, and though it sounds stupid, I felt tears pricking at the back of my eyes when she said that. I hadn't been aware I'd made any progress, and now I'd gone and set it back. - Author: Tamar Cohen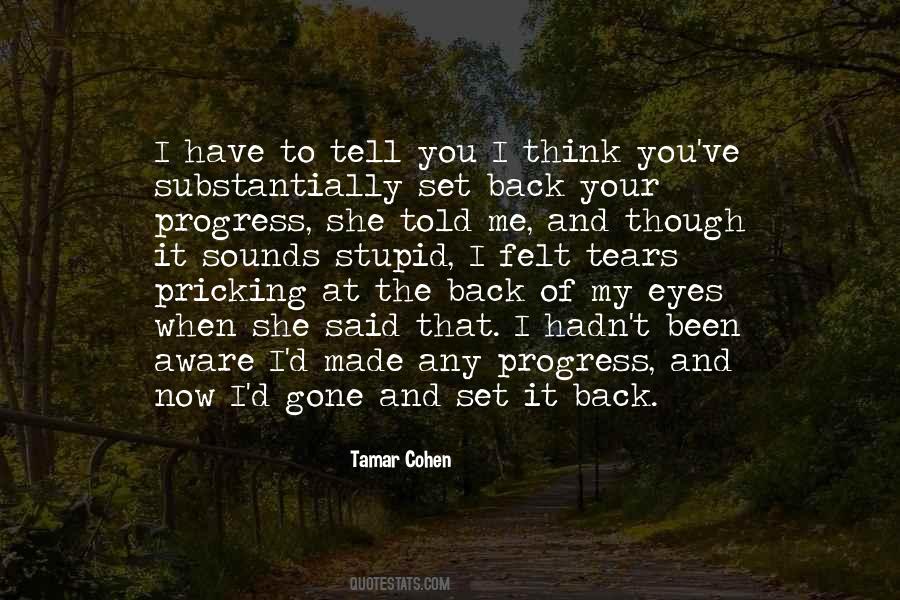 #83. They said I looked like a foreign devil; they said I spoke like a foreign devil. I made mistakes in manners, and I didn't know delicacies that had grown up since my father left. They wouldn't have me. You can believe it or not - I'm less foreign here than I was in China. - Author: John Steinbeck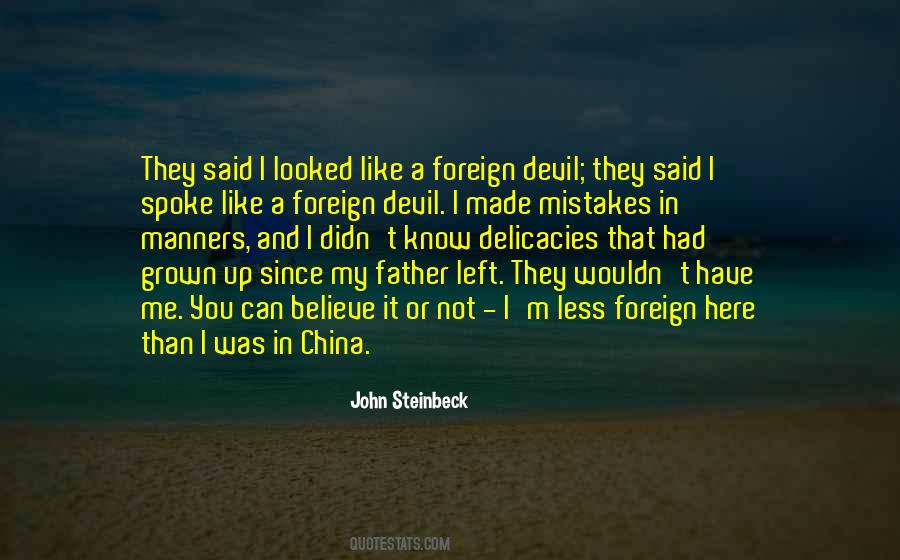 #84. All right, Emma. You brought me in. You made your move. Just like I knew you would. A nice move. Now it's my turn. - Author: Joss Whedon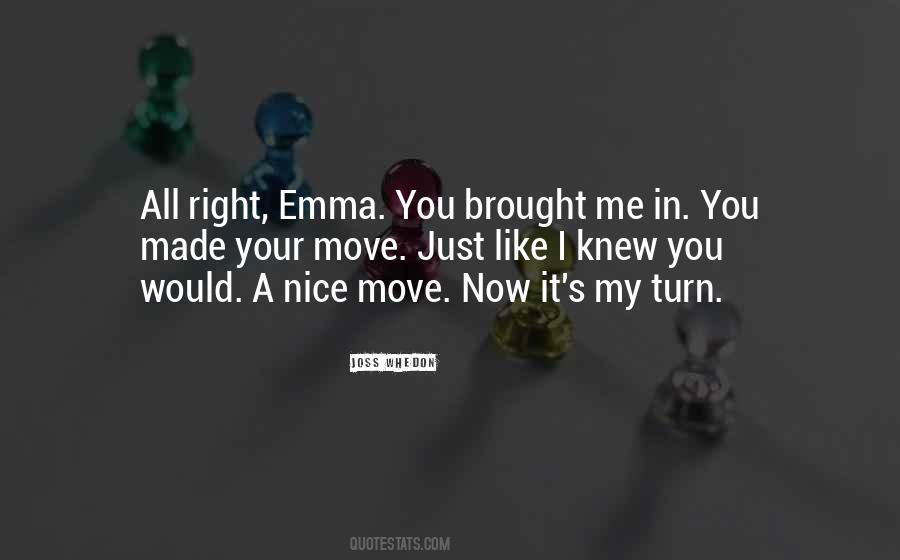 #85. Being Irish and a citizen of the world, has made me truly appreciate Irish culture, music and history. Whether you're first, second generation Irish or even with no connection to Ireland, you should visit in 2013 for a unique experience. - Author: Liam Neeson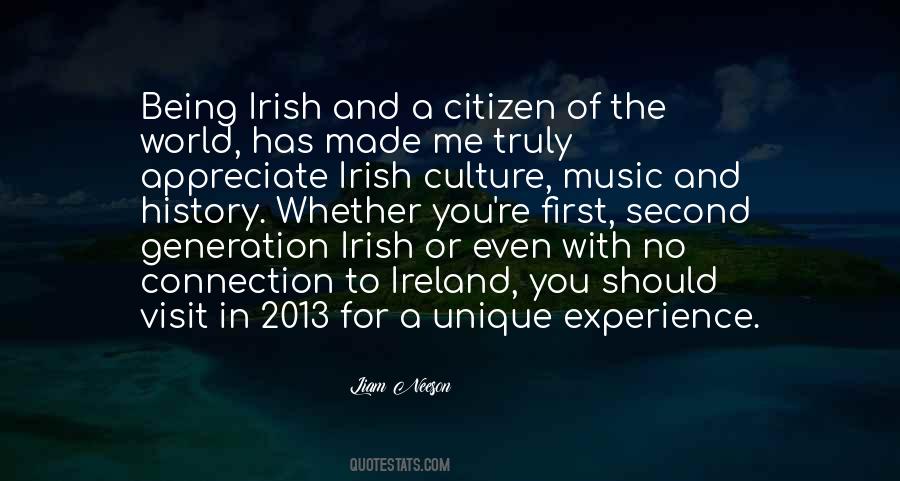 #86. That was just existing. That was just chasing down the next day so I could feel it pass under me." He placed his large hand over my heart. "You made me stop chasing the days. You made me hold onto them. - Author: Karina Halle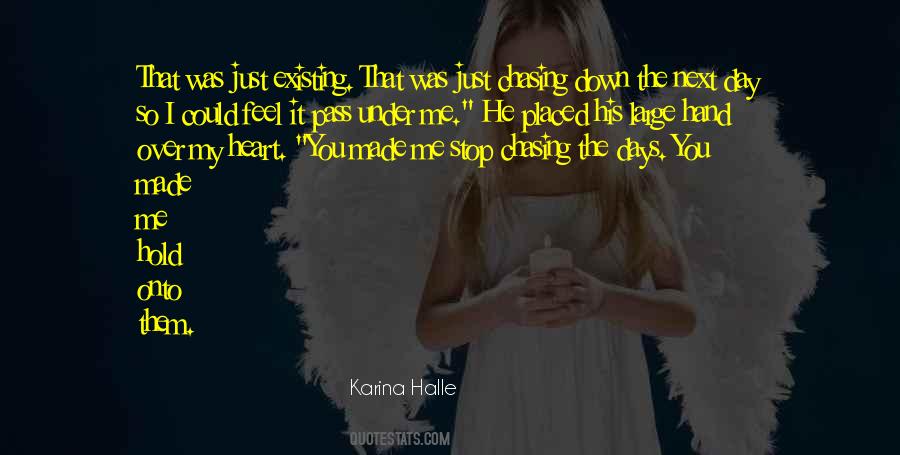 #87. If you look at any of the greats, from people like Paul Newman and Robert Redford to, you know, Brad Pitt - to get any of the kinds of roles like the ones that they've gotten, or just to be a part of any of the kinds of movies they've made, would be the end-all for me. - Author: Channing Tatum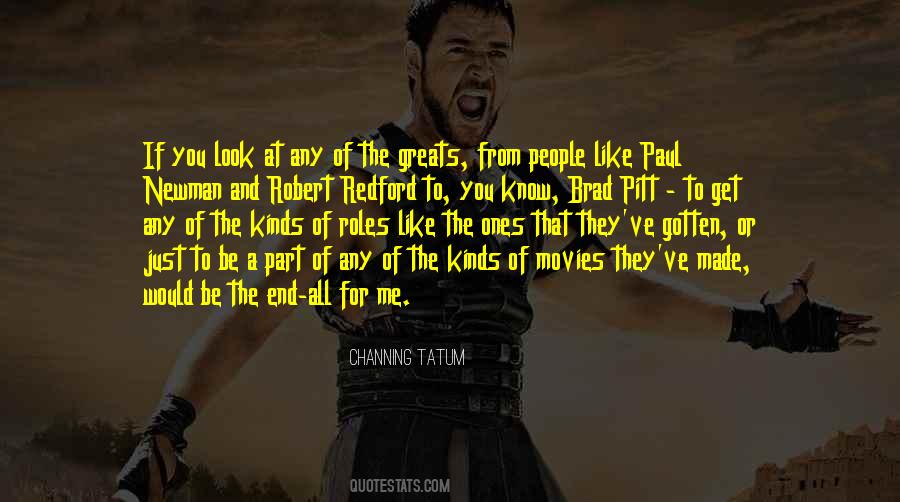 #88. I struggled to get through high school. I didn't get to go to college. But it made me realize you can do anything if you want to bad enough. - Author: S. Truett Cathy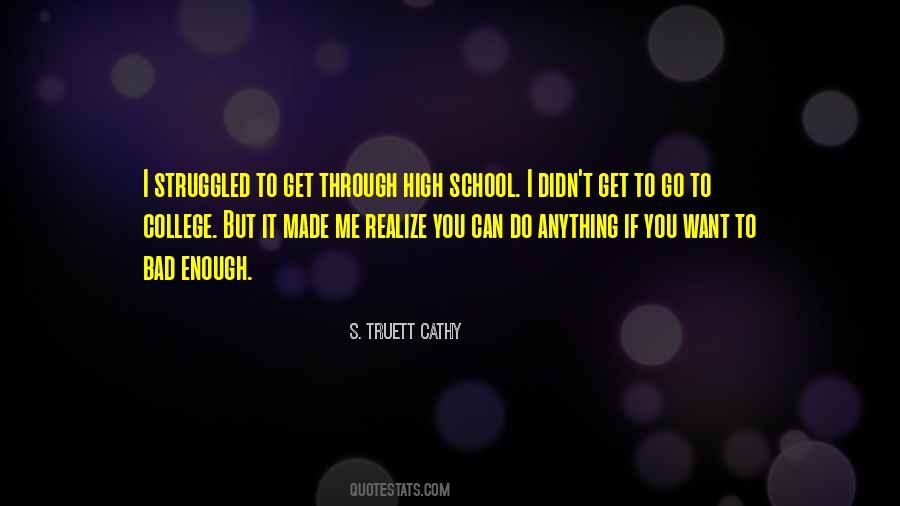 #89. Please don't miss me too much. Please don't be too sad. Find someone else to love, because you have much love to give and it's a gift that shouldn't be wasted. You , Jesse, were the rose that made my life sweet.I will wait for you in heaven. - Author: Lurlene McDaniel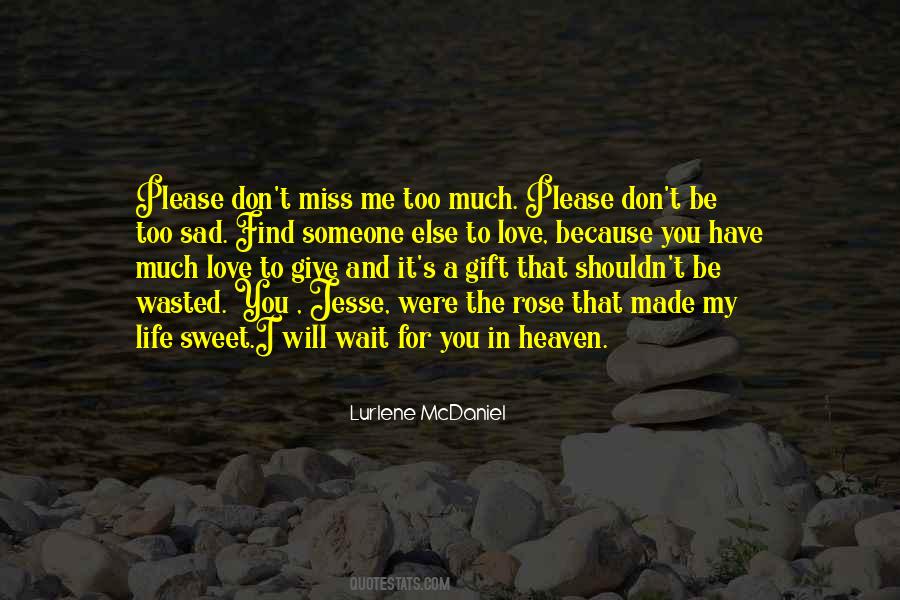 #90. Janie: Did you ever sell drugs?
Cabel: Yes. Pot. Ninth and tenth grade. I was, uh ... rather troubled back then.
Janie: Why did you stop?
Cabel: Got busted, and Captain made me a better deal. Janie: So you've been a narc since then? Cabel: I cringe at your terminology. - Author: Lisa McMann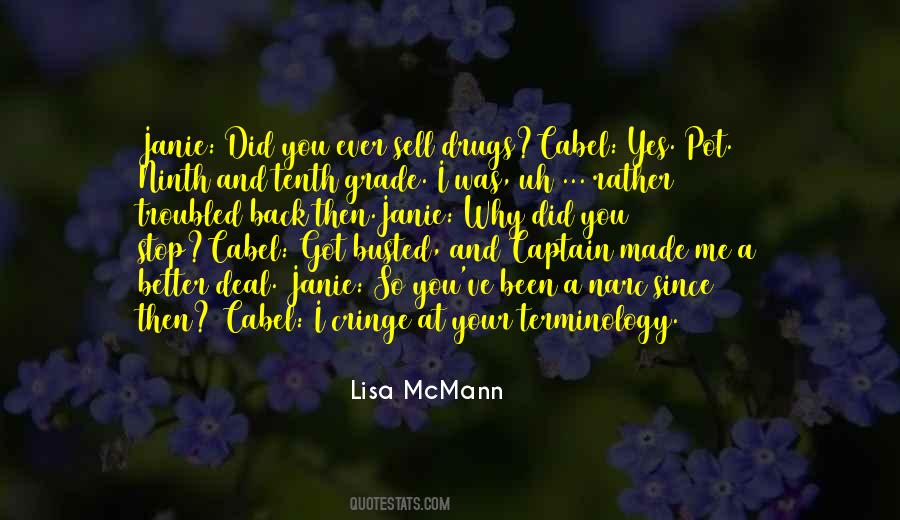 #91. She fist bumped me, I say, pointing at Six. It's not my fault. She hates purses and she fist bumped me, then made me push her on the damn merry-go-round ... I'm into you because you're awesome. And because you let me accidentally touch your boob. - Author: Colleen Hoover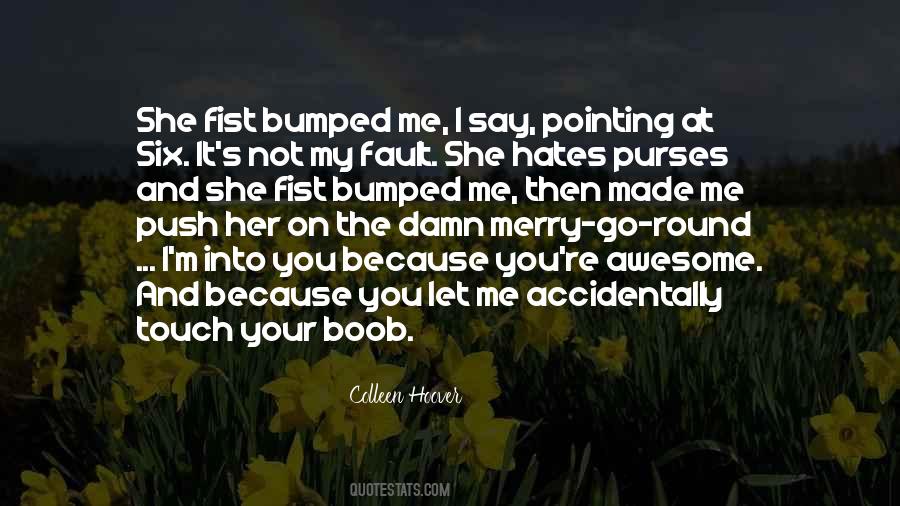 #92. You never made me weak," he said, giving her a little shake. "You make me strong." His big hands smoothed up her arms. "Just knowing you're in this world makes me want to live in it, makes me want to fight. - Author: Kristen Callihan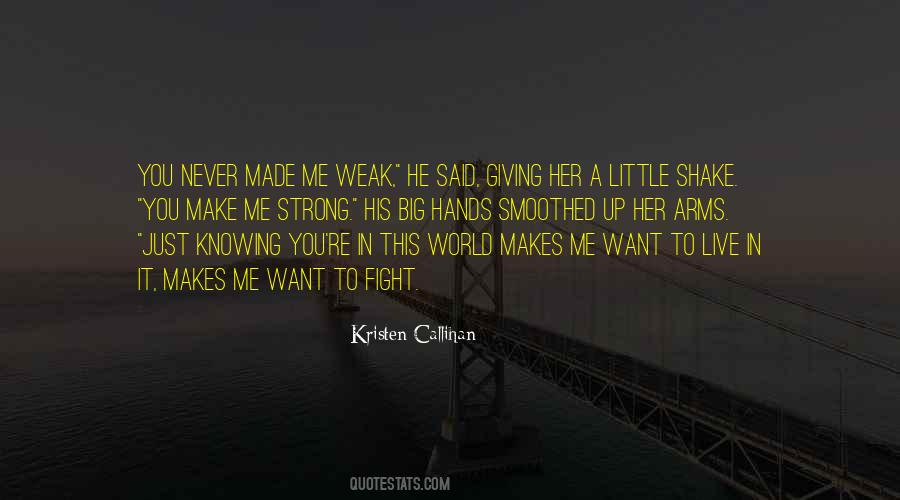 #93. If, like me, you suffer from lack of self-confidence you'll know that the term is made up of two conflicting words, and that confidence isn't easily found in the self. - Author: Fennel Hudson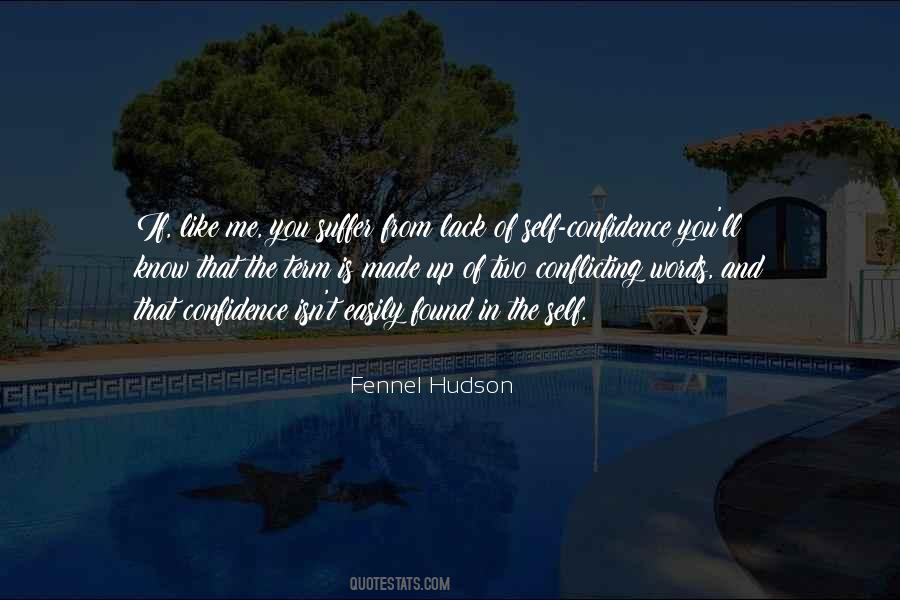 #94. The more confident you are, the more you can let go and believe that the people you've chosen to be in your circle are able to do what they say they're going to do and what they're really good at. It has made me a better band member, too. - Author: Nikki Sixx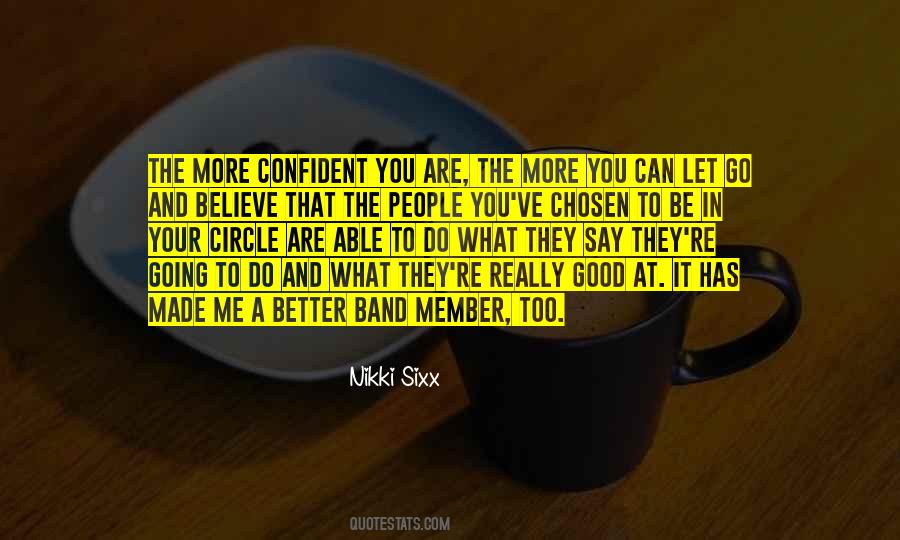 #95. Friends give me a hard time about the pants I'm wearing, which are made in China. Well, how do you find the right clothes? Or the right movie studio? The right people giving you checks? Good luck doing the right thing all the time. - Author: Adam McKay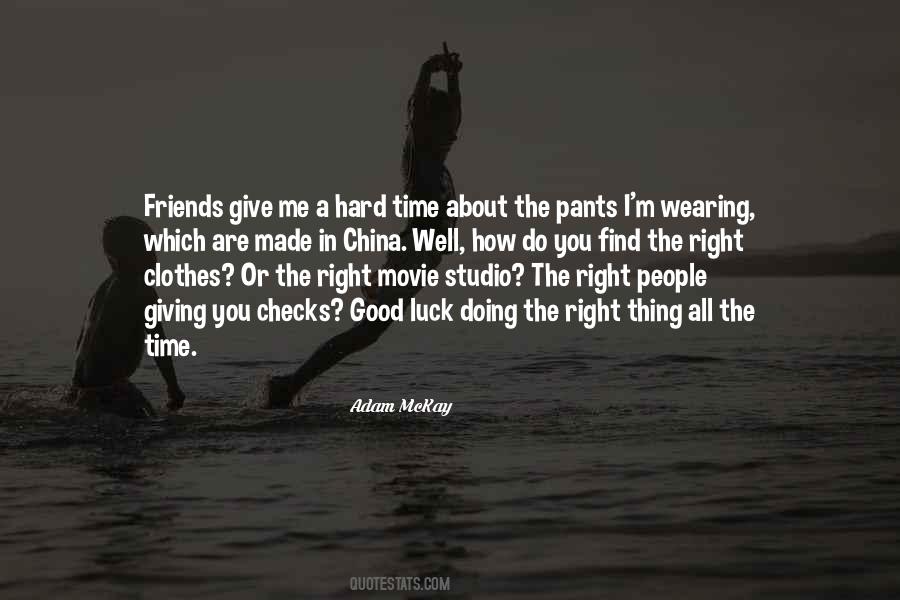 #96. To answer your question, you want me because I'm made of awesome. - Author: Gena Showalter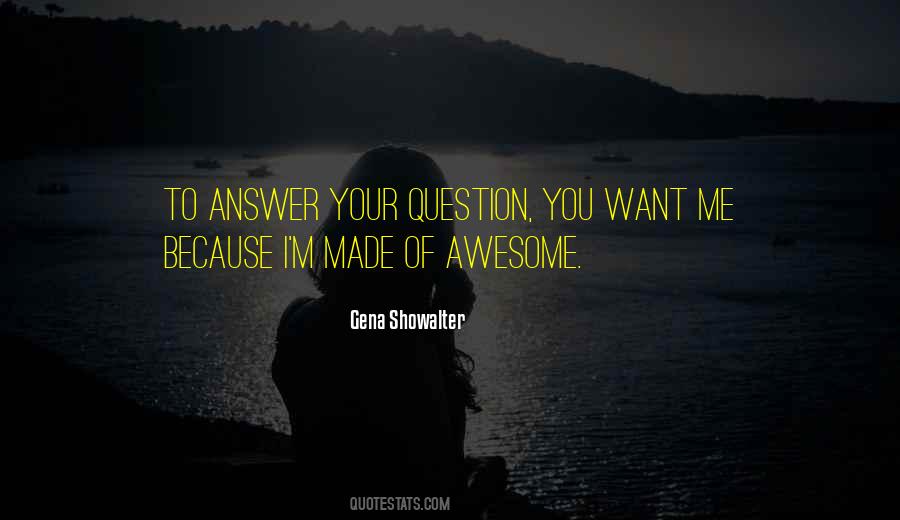 #97. A misperception about anorexia is that you don't eat. Not true. Maybe you eat just 500 calories a day. It would be easy for me to say, 'Why didn't my parents notice?' But I didn't want them to. I made sure to eat half a sandwich around my parents. - Author: Brittany Snow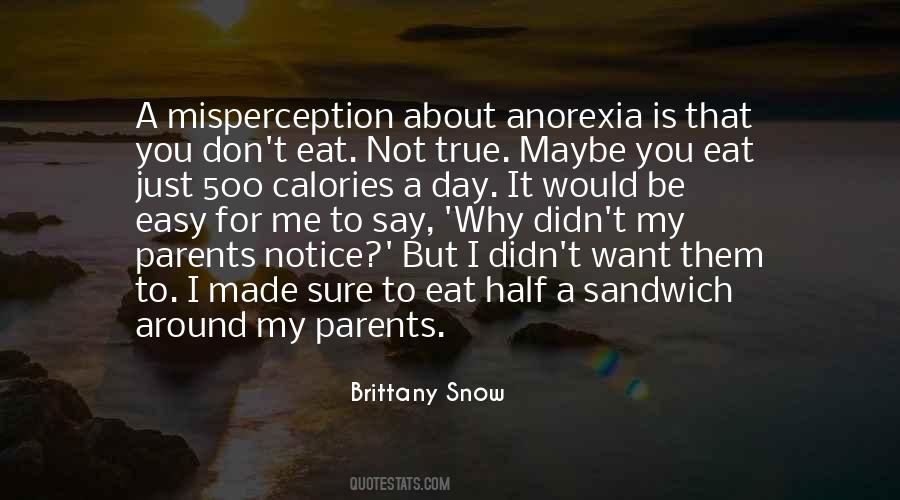 #98. His door is closed behind me. It's staying closed. He's letting me go. I think I've made myself very clear, but no ones stepping forward to stop me. A lot of you cared, just not enough. And that ... that is what i needed to find out. And I did find out. And I'm sorry. - Author: Jay Asher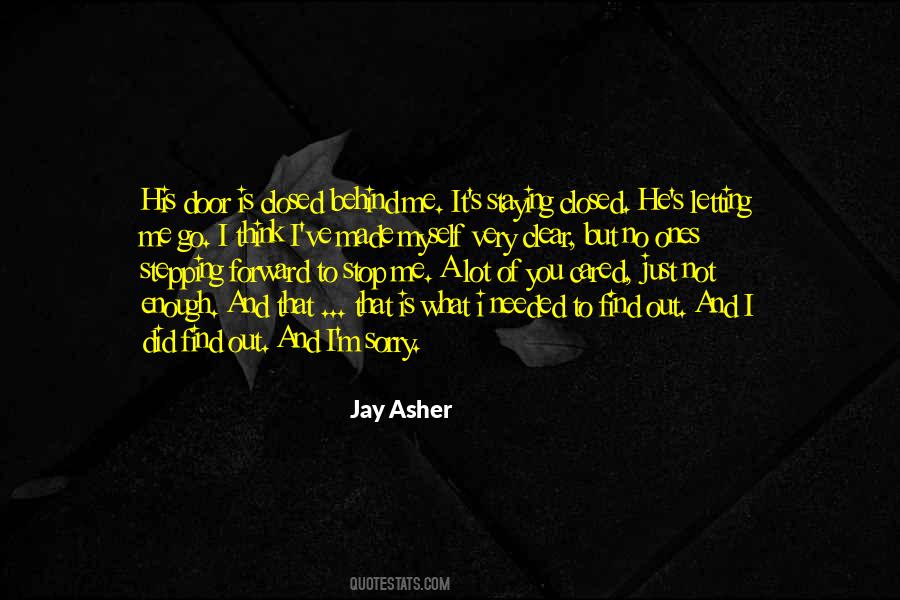 #99. Kiss me as if you made believe
You were not sure this eve,
How my face, your flower, had pursed
It's petals up ... - Author: Robert Browning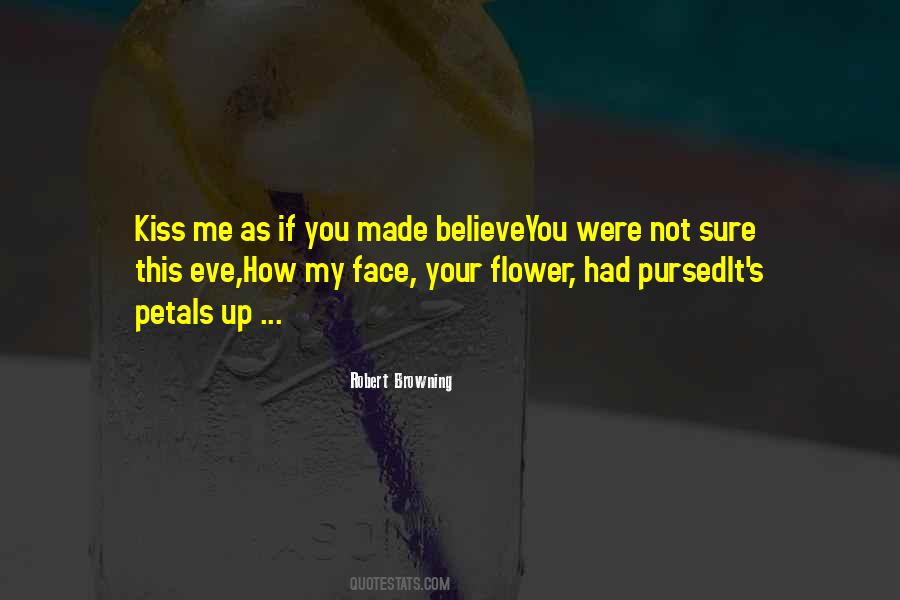 #100. So then, in a pleading tone, he whispers: Why did you make me? I never wanted to be made ...
For propaganda, of course. It's all in your own book. How can we persuade others to be good, without evil we can point to? - Author: William T. Vollmann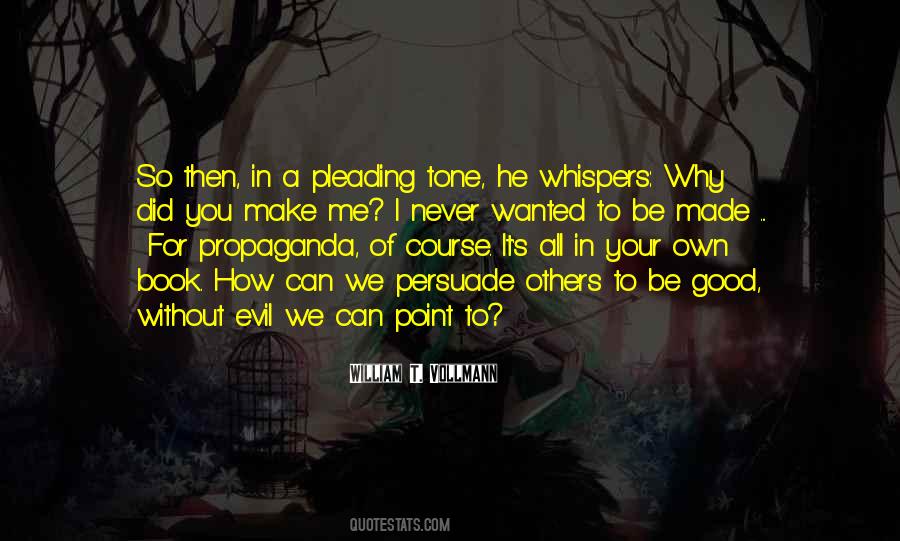 Famous Authors
Popular Topics