Winnie's Famous Quotes & Sayings
List of top 96 famous quotes and sayings about winnie's to read and share with friends on your Facebook, Twitter, blogs.
Top 96 Winnie's Quotes
#1. It's more fun to talk with someone who doesn't use long difficult words but rather short easy words like What about lunch?" - Winnie-the-Pooh - Author: Tony Hsieh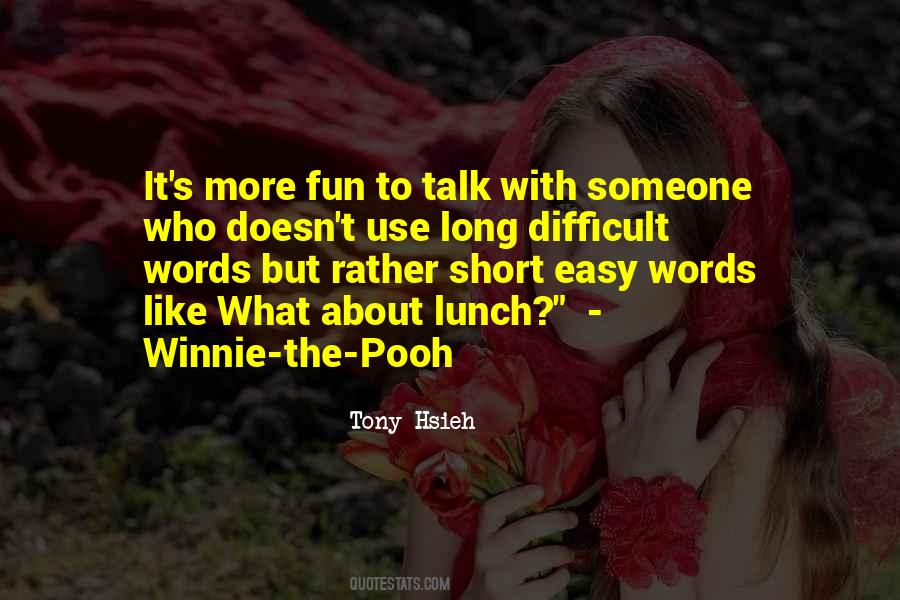 #2. Sterling Holloway, the actor who had originally voiced Pooh, decided to retire in the mid-1980s. Disney decided that they wanted to continue this character with their 'New Adventures of Winnie the Pooh' TV series. - Author: Jim Cummings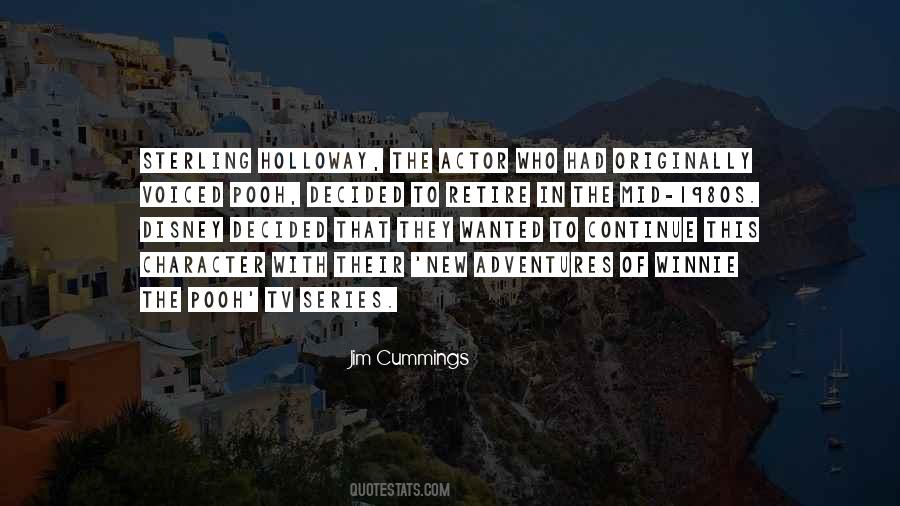 #3. I played Winnie the Pooh in first grade. I was an early adopter of standing in front of people and looking like an idiot. - Author: Jon Hamm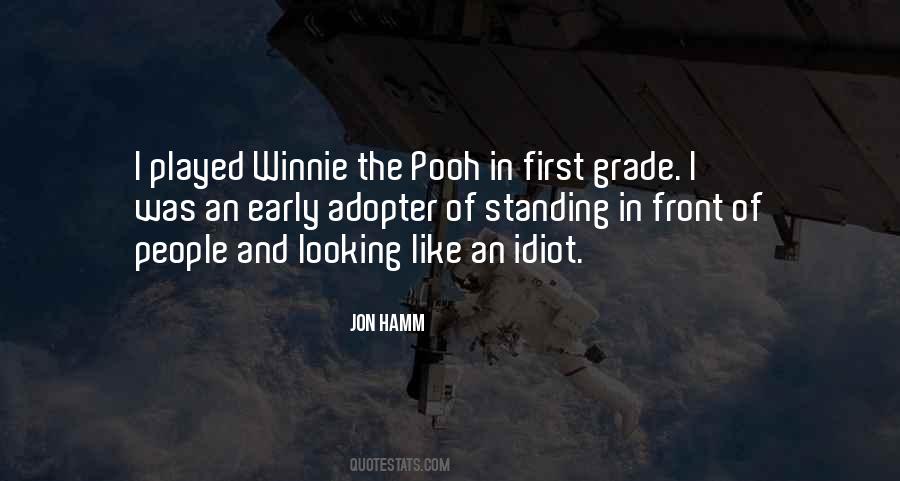 #4. I want to be a person that isn't surrounded by their mail and their cat. - Author: Winnie Holzman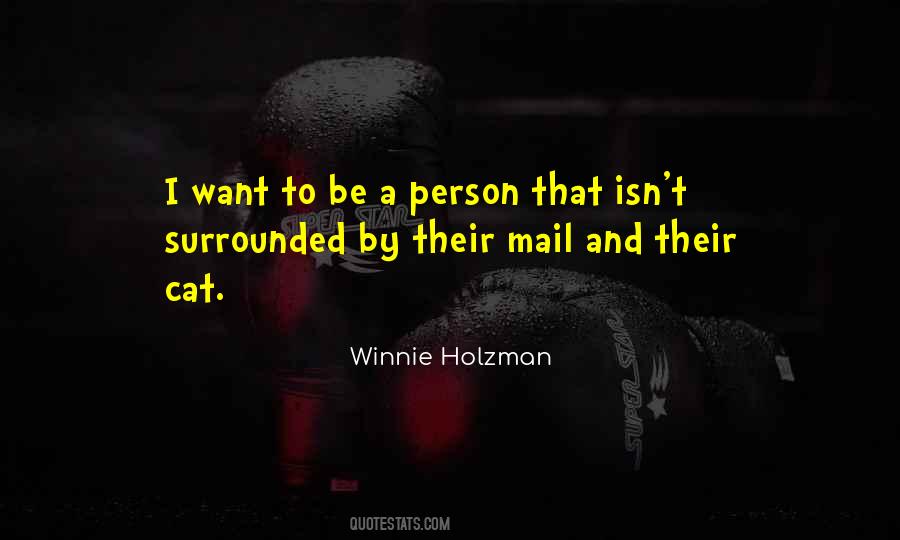 #5. A lot of things have changed and will change, I can only wish you the best as it happens.
Malice - Author: Courtney Winnie
#6. I felt like Winnie the Pooh trying to squeeze into the honey tree. - Author: Jamie McGuire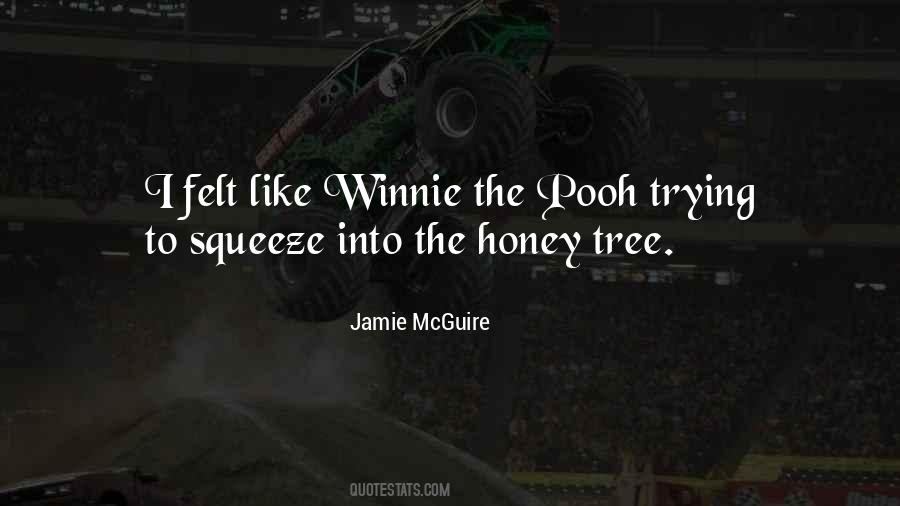 #7. Stop the world, Scotland wants to get on. - Author: Winnie Ewing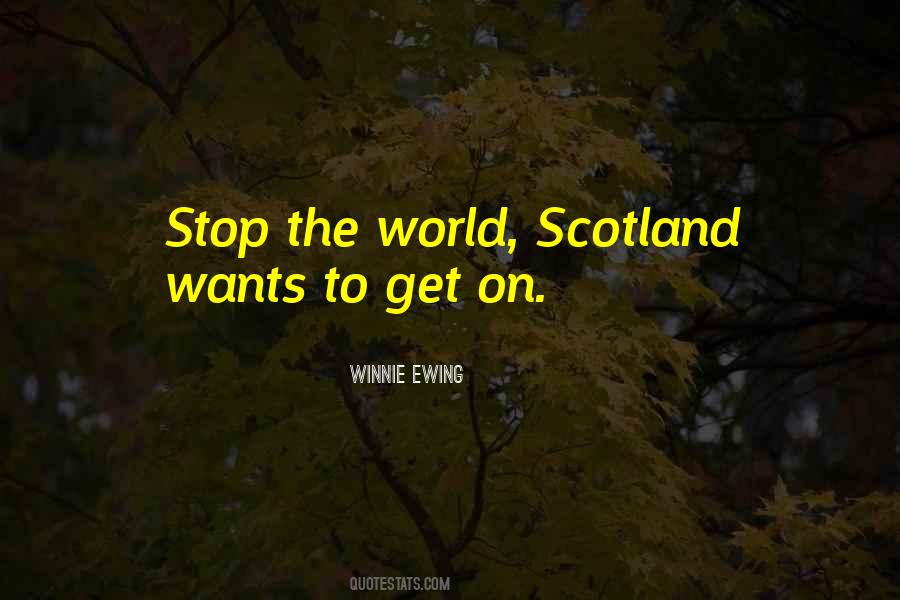 #8. I would do Winnie the Pooh. We would live in the tree house. We would hunt for honey. - Author: Jerusha Hess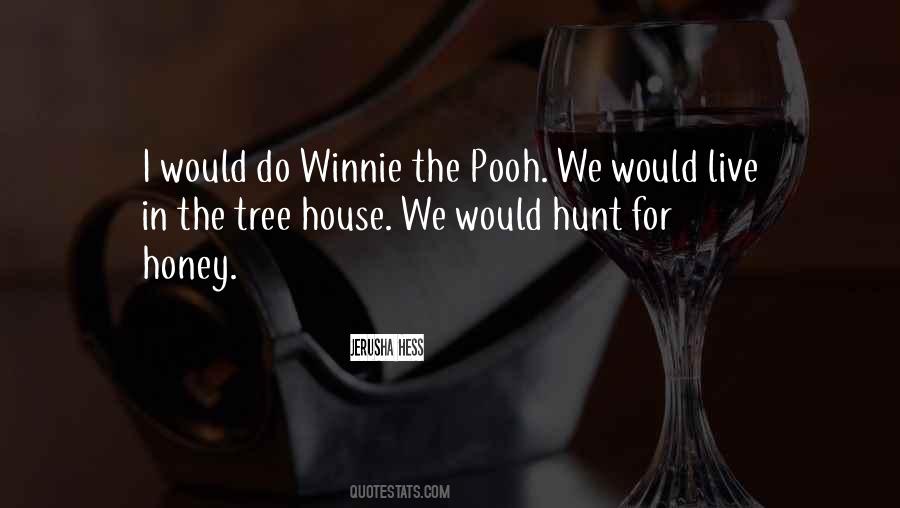 #9. They had the magic pill, the solution to the inertia and frustration that has plagued the great literary protagonists I'd related to all my life - be it Leopold Bloom, Alex Portnoy, or Piglet from Winnie the Pooh. As - Author: Neil Strauss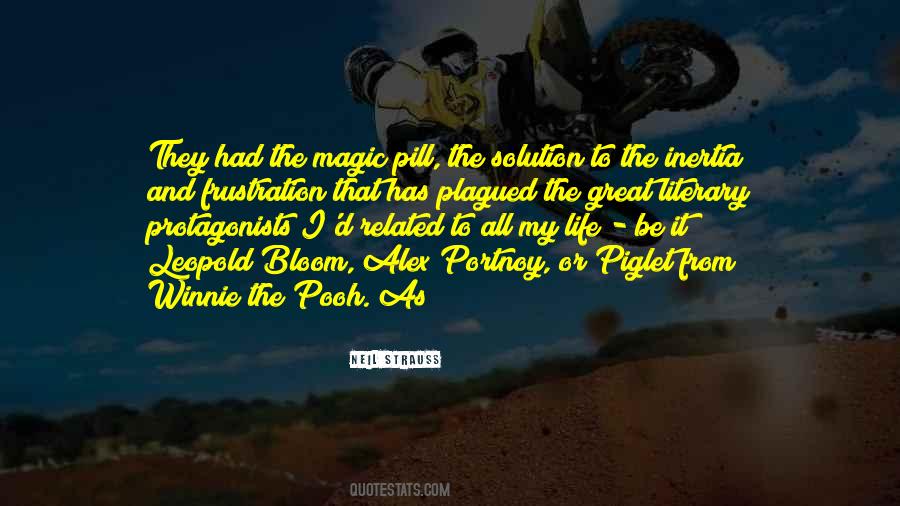 #10. Don't blame me if it rains. - Author: A.A. Milne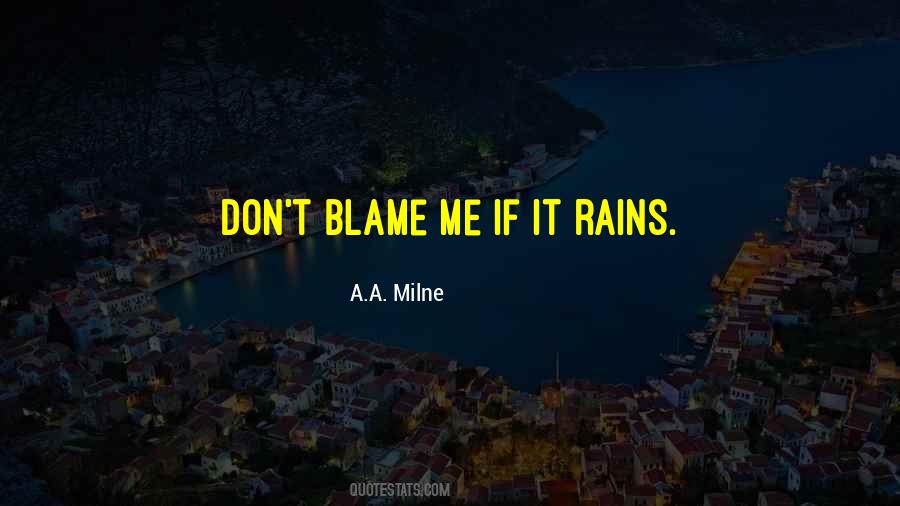 #11. And Winnie, laughing at him, lost the last of her alarm. They were friends, her friends. She was running away after all, but she was not alone. Closing - Author: Natalie Babbitt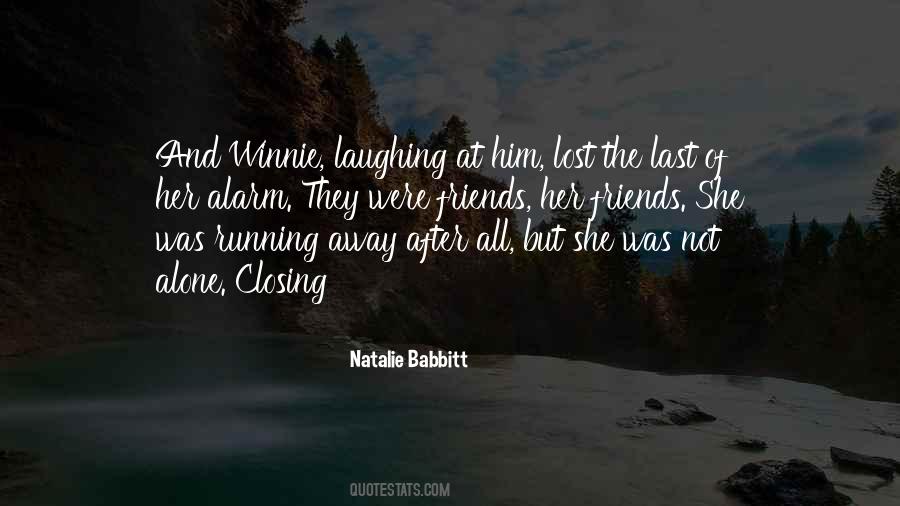 #12. I might have known," said Eeyore. "After all, one can't complain. I have my friends. Somebody spoke to me only yesterday. And was it last week or the week before that Rabbit bumped into me and said 'Bother!'. The Social Round. Always something going on. - Author: A.A. Milne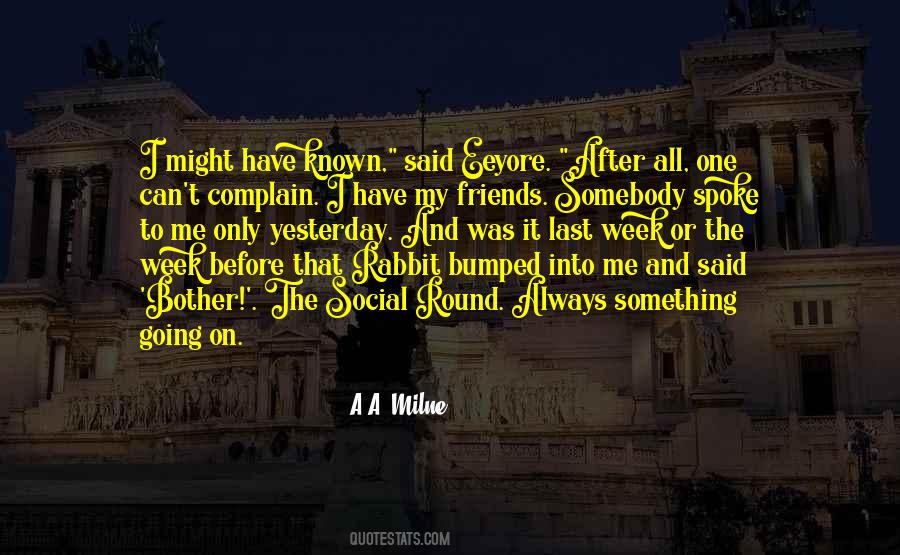 #13. Before beginning a Hunt, it is wise to ask someone what you are looking for before you begin looking for it. - Author: A.A. Milne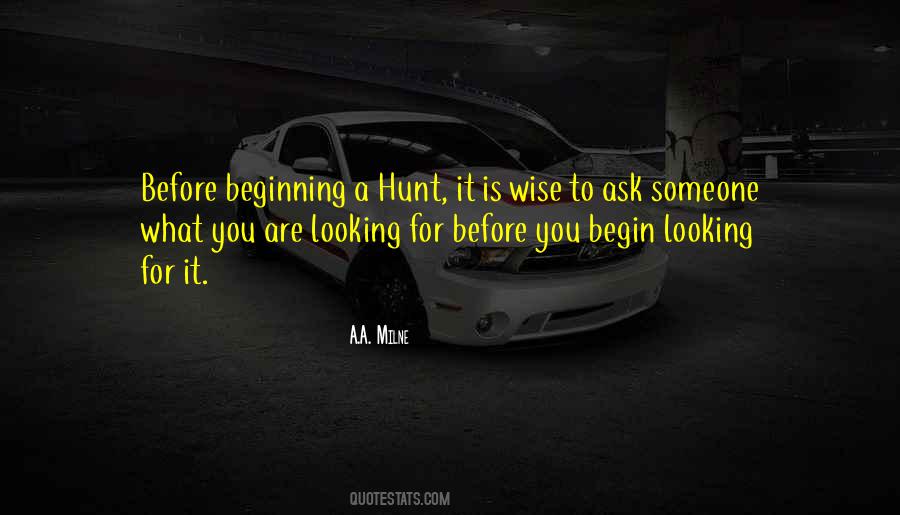 #14. Together, hand in hand, with our matches and our necklaces, we shall liberate this country. - Author: Winnie Madikizela-Mandela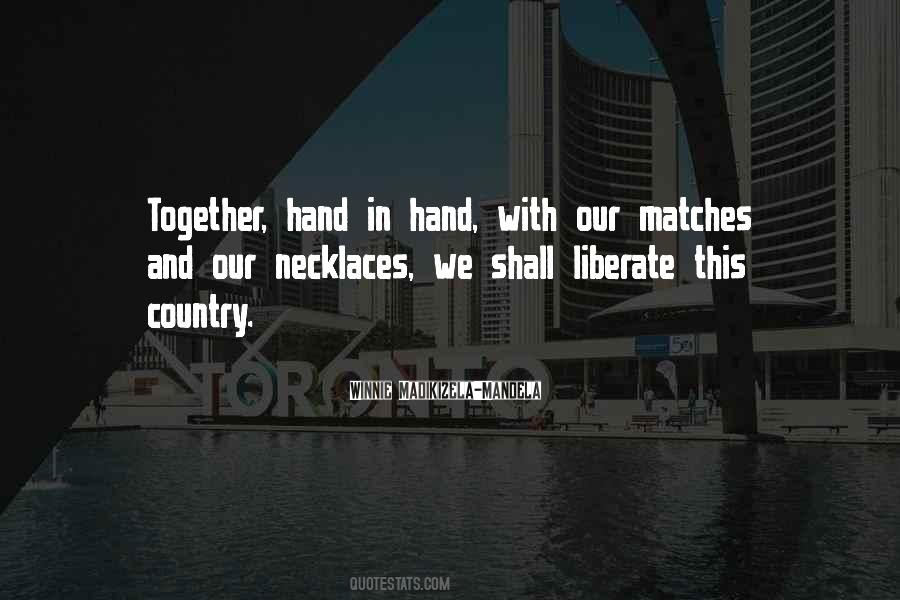 #15. Winnie, but I don't believe in sin." He smiled. It was a benevolent smile. Also unpleasant: sheep lips, wolf teeth. "That's fine. But sin believes in you. - Author: Stephen King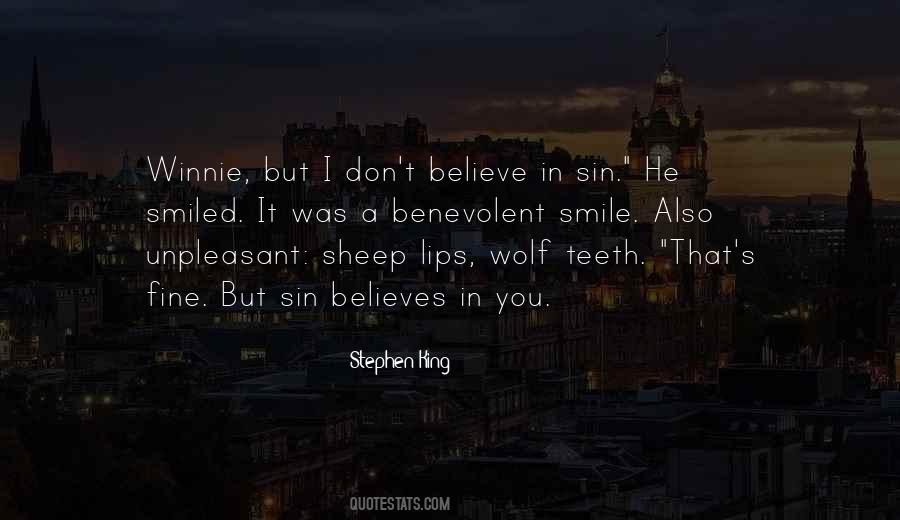 #16. I cannot say for certain if there is such a thing as love at first sight, but I do know that the moment I first glimpsed Winnie Nomzamo, I knew that I wanted to have her as my wife. - Author: Nelson Mandela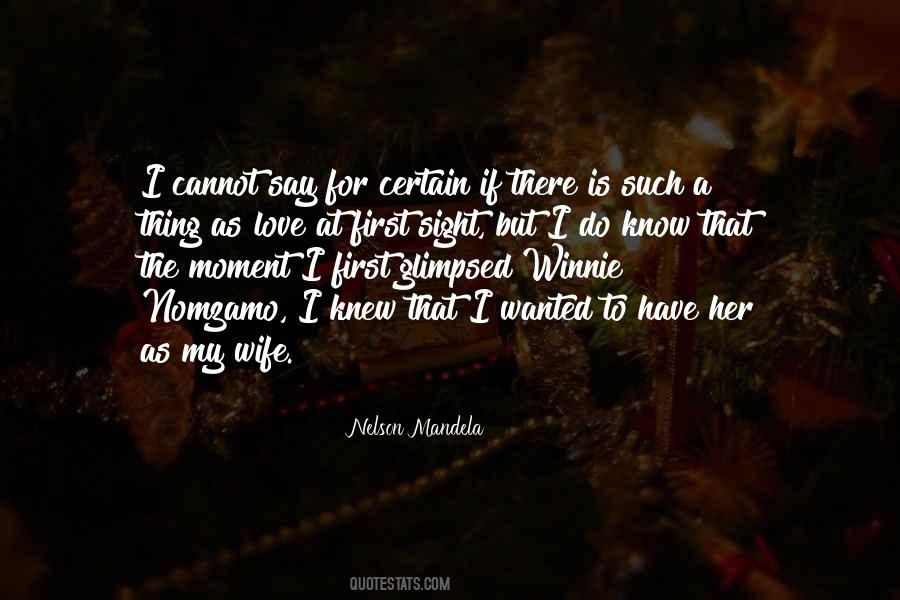 #17. I know people back in London who would sell themselves for a meal like that tonight."
Thaddeus Looked at her, his face impassive and said, "I'm sorry; perhaps we should Fed-Ex it to them - Author: Tim O'Rourke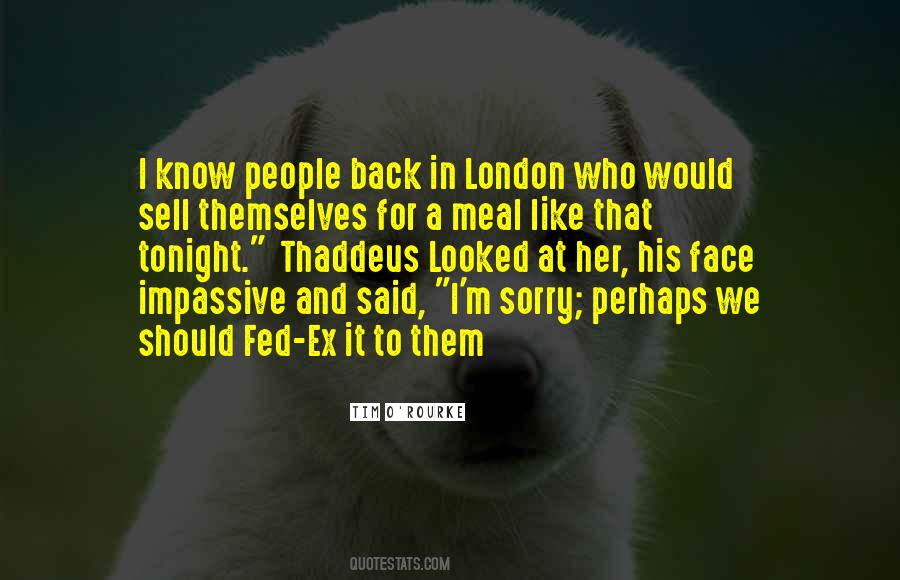 #18. I found that the majority of people who stopped at my table [ at the Comic Con] last didn't even know who Winnie the Pooh was, and the new feature was just opening in the theaters. - Author: Mike Royer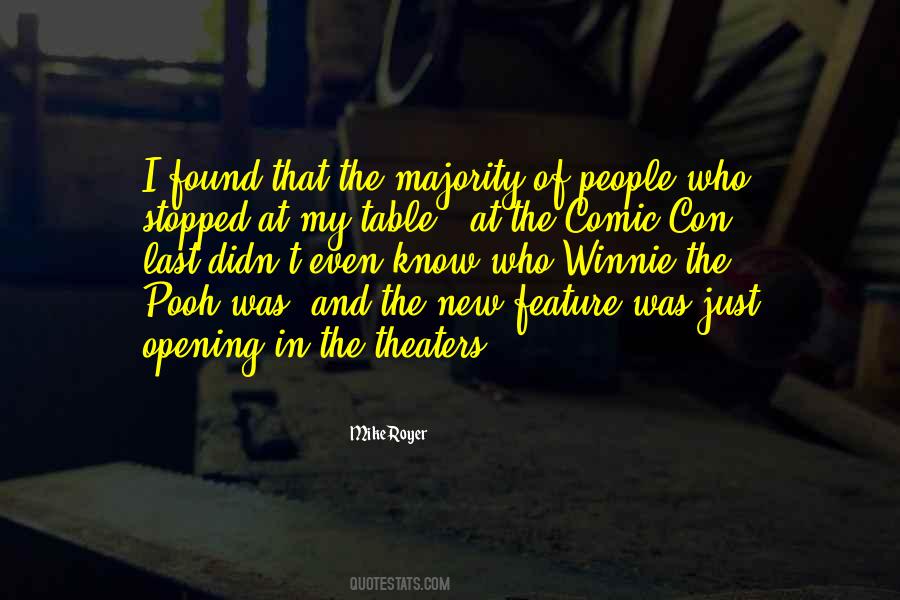 #19. I've always been really cautious about guys who have a Winnie Cooper fantasy, and I'm so glad about that. I mean, I can count on one hand the guys I've been with. It was really challenging, but I never gave it up too soon, if you know what I mean. - Author: Danica McKellar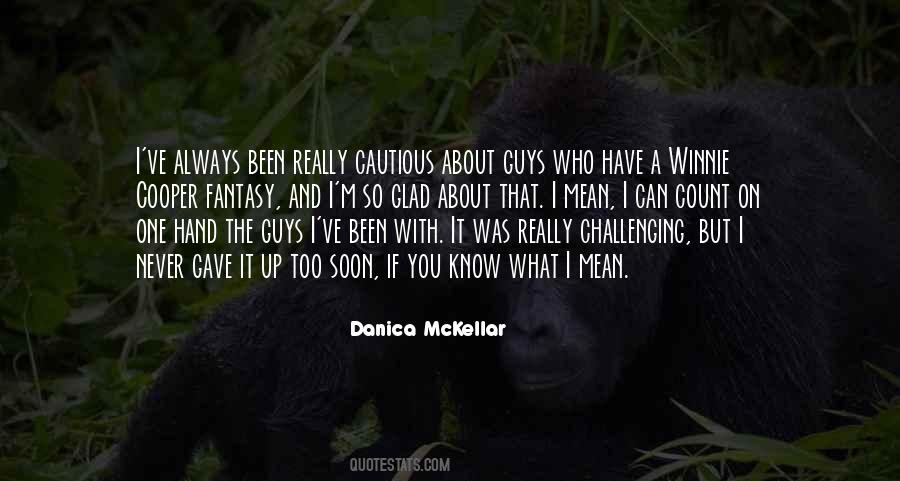 #20. Dutton, the home of Winnie the Pooh, would find a second identity as a home for gay fiction. - Author: Christopher Bram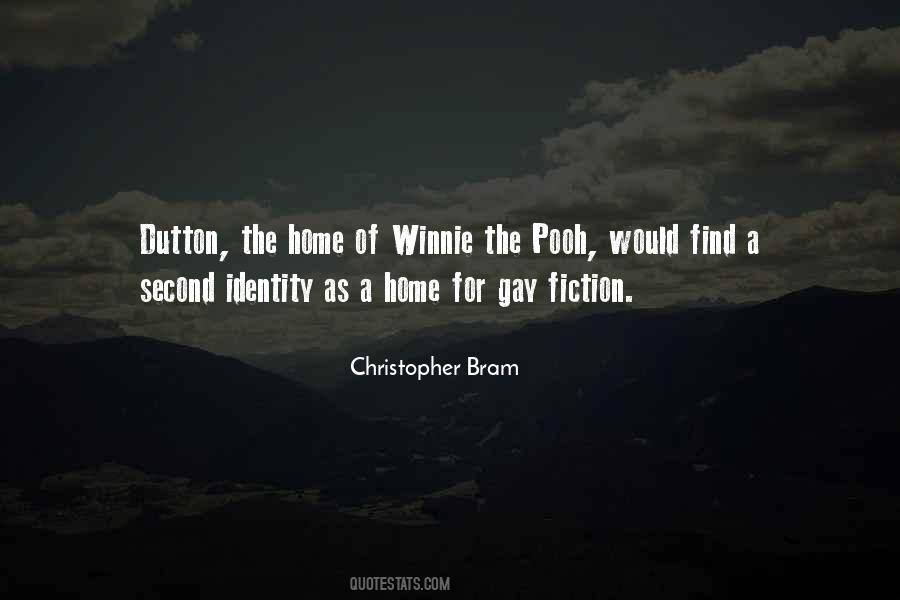 #21. Pooh hater,' I muttered under my breath.
'Winnie-the-Pooh was not a koala
why am I even arguing about this with you? - Author: Rob Thurman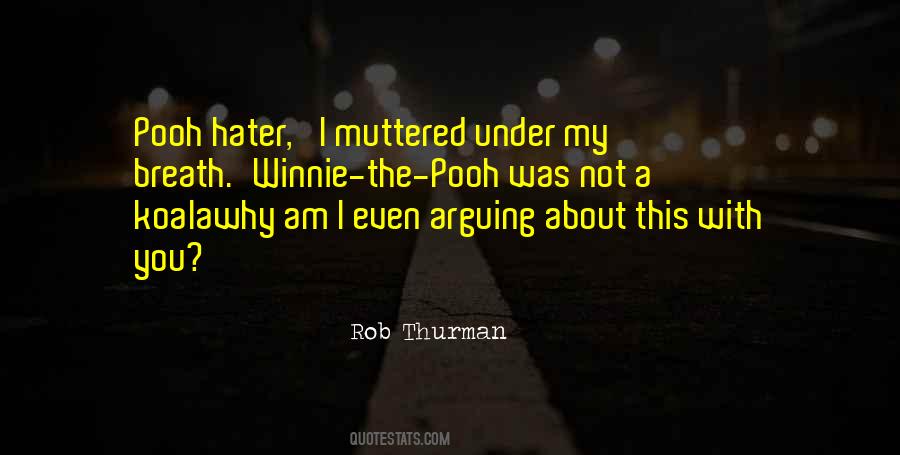 #22. Oh, help!" said Pooh. "I'd better go back."
"Oh, bother!" said Pooh. "I shall have to go on."
"I can't do either!" said Pooh. "Oh, help and bother! - Author: Milne, A. A.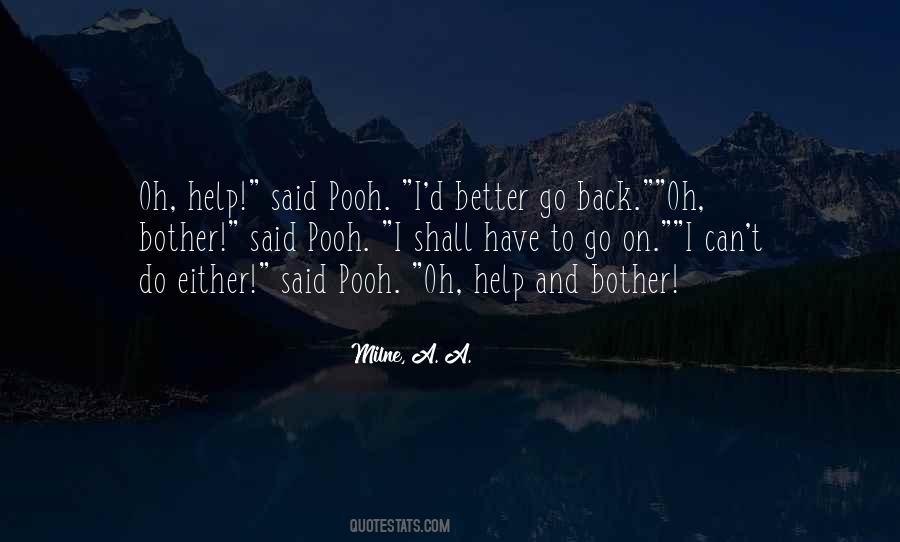 #23. I'm Winnie the Pooh - that's as sexy as I am. I meet ladies and they talk about their family and I talk about my family. It's about as sexy as a bag of Brussel sprouts. - Author: Bob Hoskins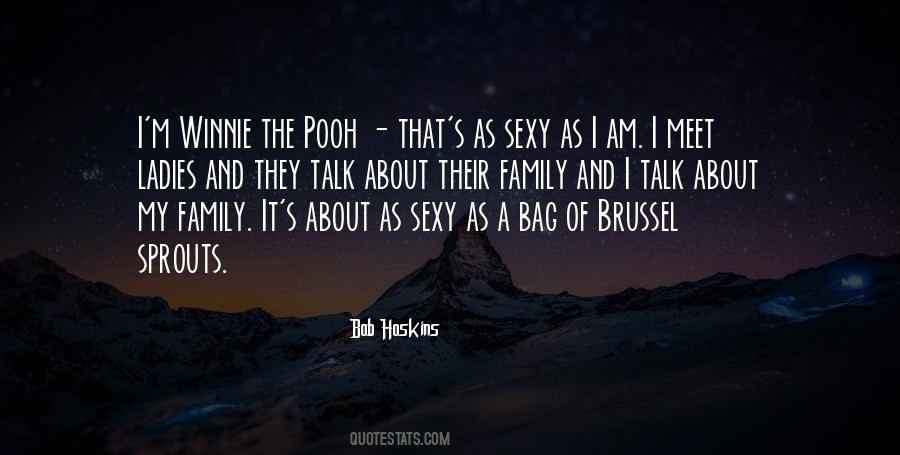 #24. You are braver than you believe,
Stronger than you seem,
And smarter than you think(: - Author: A.A. Milne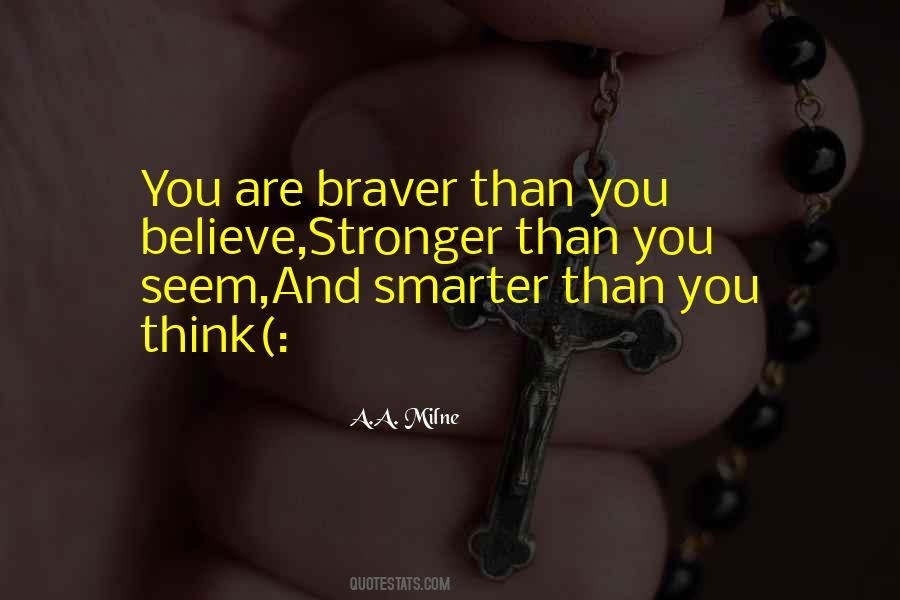 #25. A fresh breeze lifted Winnie's hair, and from somewhere in the village behind them a dog barked. - Author: Natalie Babbitt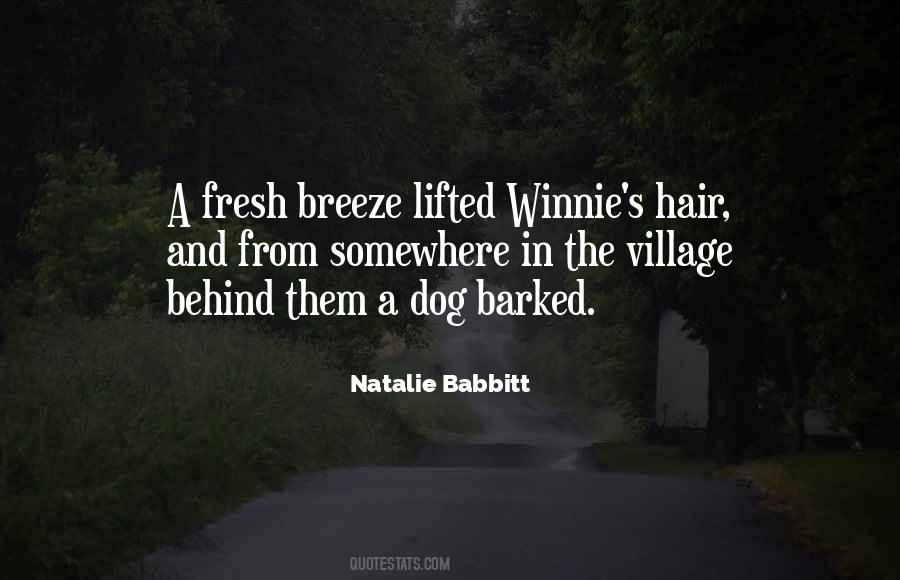 #26. 'Winnie The Witch' transgresses all cultural boundaries. Amusingly, there have been attempts to deconstruct the meaning of the books - that Winnie represents society and Wilbur the disabled - but I think it's just a great story. - Author: Korky Paul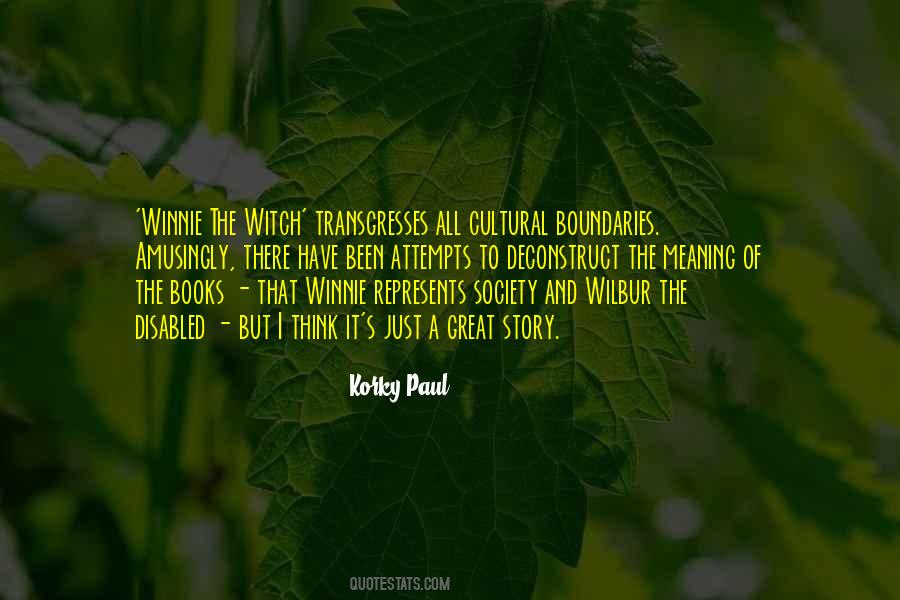 #27. There's the South Pole, said Christopher Robin, and I expect there's an East Pole and a West Pole, though people don't like talking about them. - Author: A.A. Milne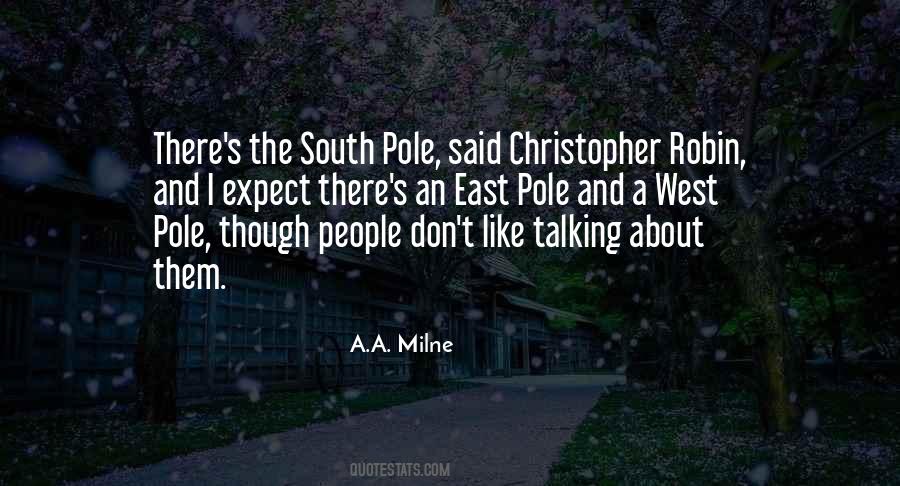 #28. It is the best way to write poetry, letting things come. -Winnie-the-Pooh - Author: A.A. Milne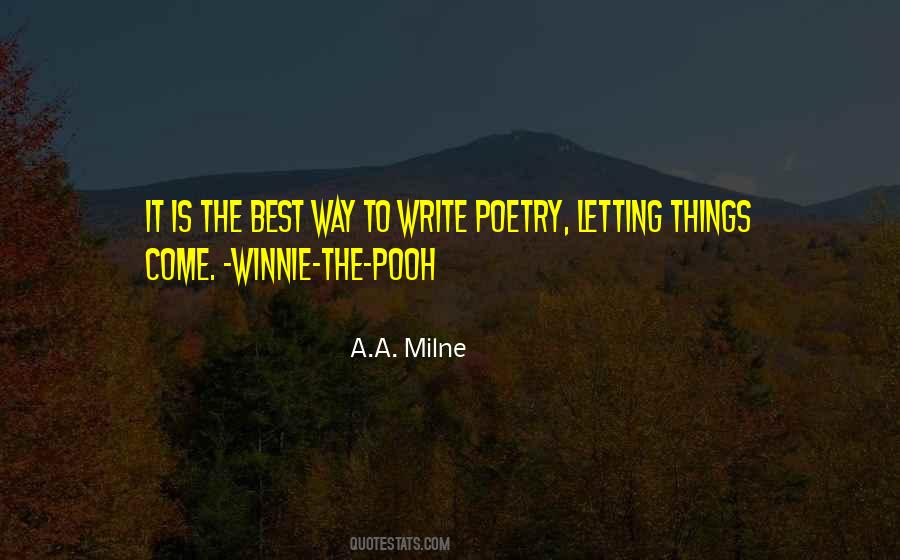 #29. Now I really have it all. I've been given some bullshit in my time, but that.... - Author: Tim O'Rourke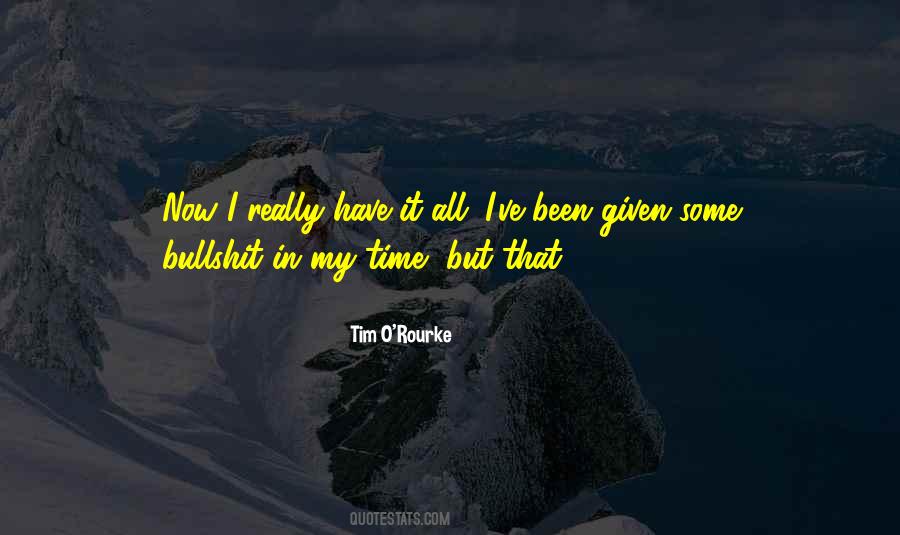 #30. There's something very disconcerting about a sock with Winnie the Pooh on it wriggling and squirming about my knicker drawer. Looking for its honey pot. - Author: Andrea Bramhall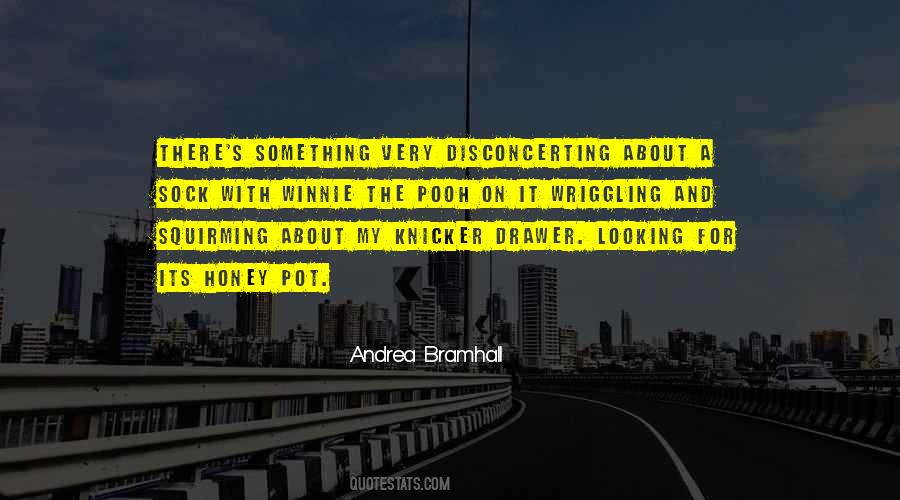 #31. This life has been a test. If it had been an actual life, you would have received actual instructions on where to go and what to do. - Author: Winnie Holzman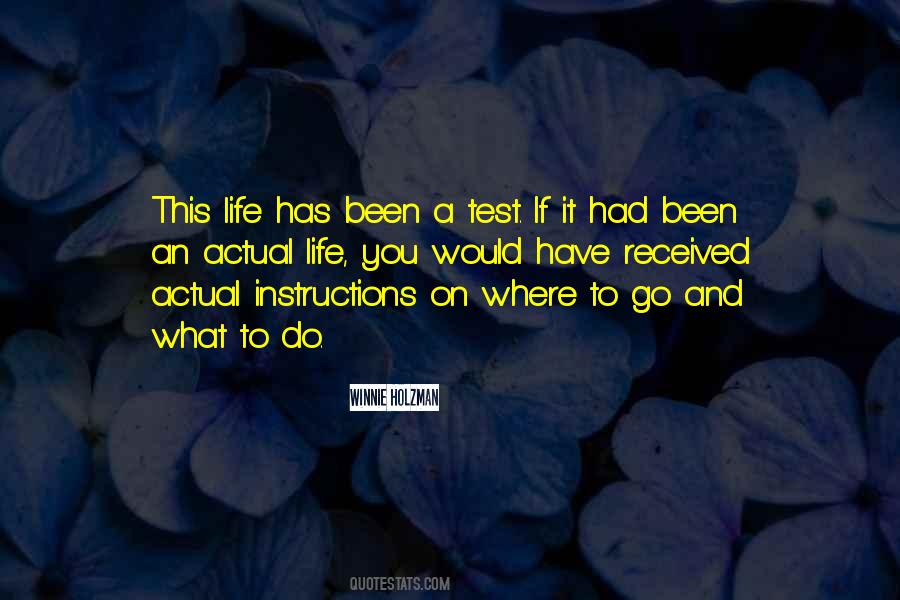 #32. The worst of getting old,' said Winnie, 'is the time one has to spend in patching oneself up. - Author: Miss Read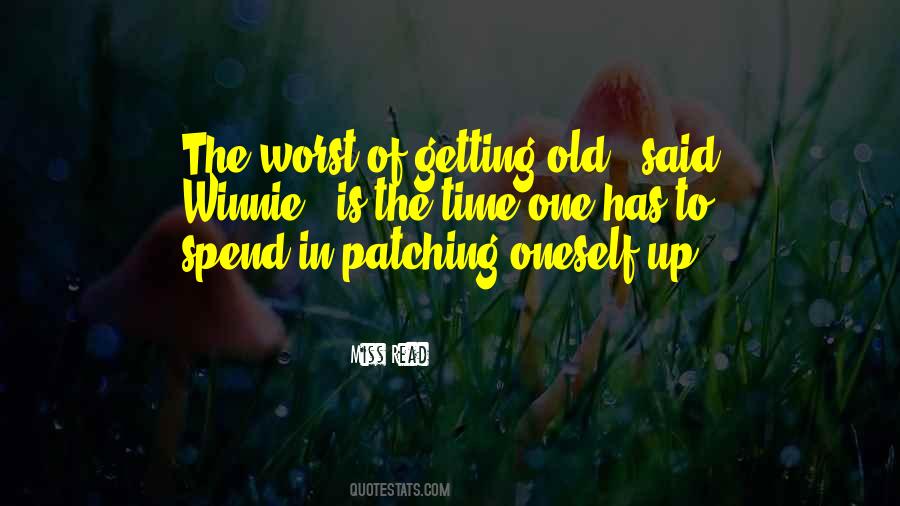 #33. My kids are too old to remember this now but, when they were much younger, I swore to them if this miracle ever happened, I would receive it in the spirit of Tigger from Winnie the Pooh, and thats what that was. - Author: Danny Boyle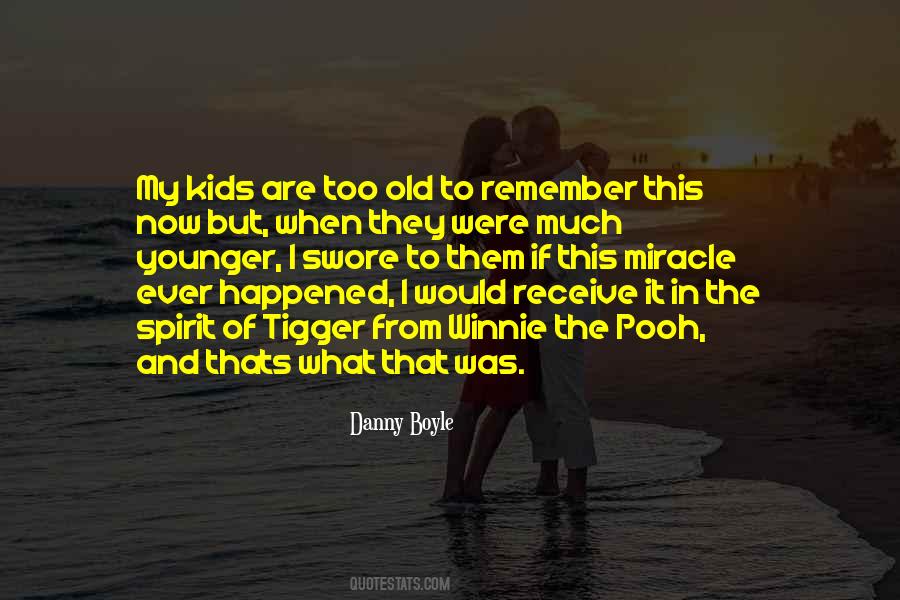 #34. You are braver than you believe, and stronger than you seem, and smarter than you think.

From A. A. Milne, author of Winnie-the-Pooh - Author: Susana Gordon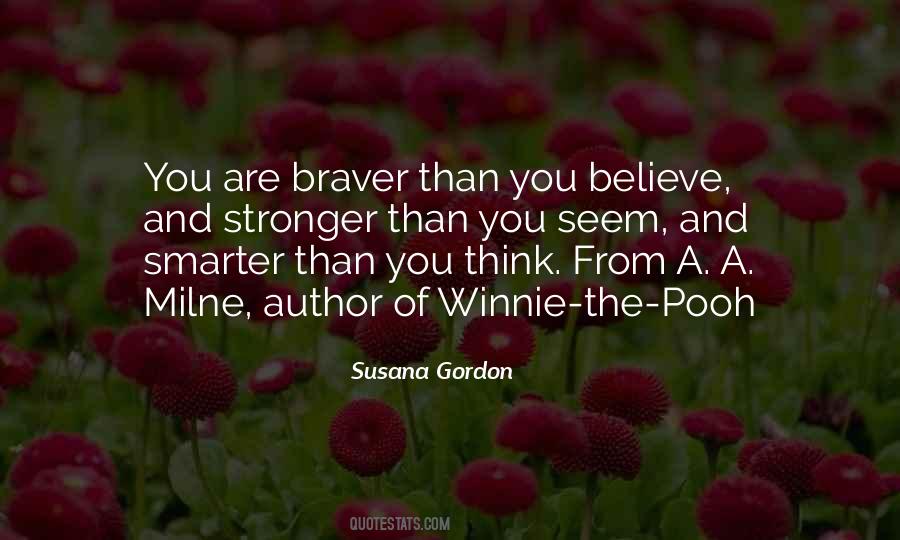 #35. Well, you can't know it without something having been sneezed. - Author: A.A. Milne
#36. The scale of global inequality is quite simply staggering. - Author: Winnie Byanyima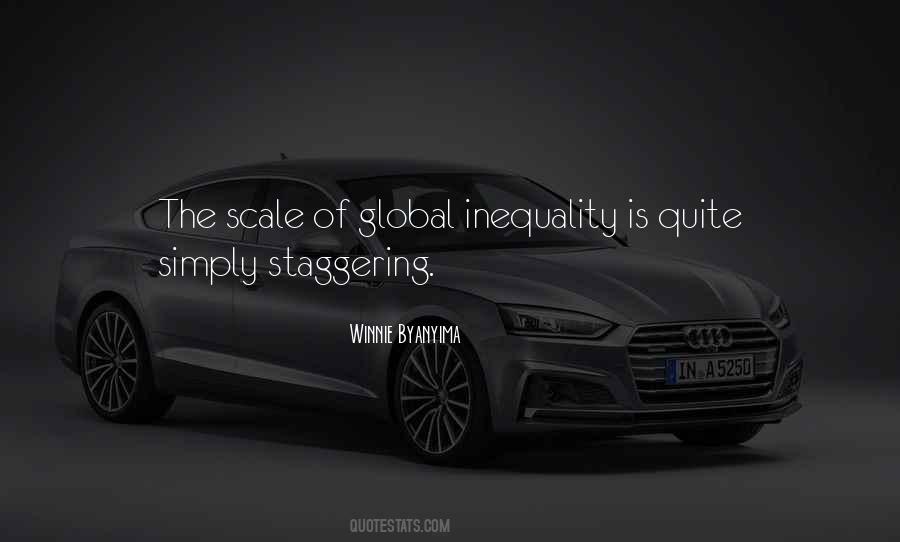 #37. I would love having Winnie-the-Pooh stay here at the house. We could talk of food and what we were eating next. Maybe ponder that over a little morsel ... and then take a little nap and dream of desserts. - Author: Tony DiTerlizzi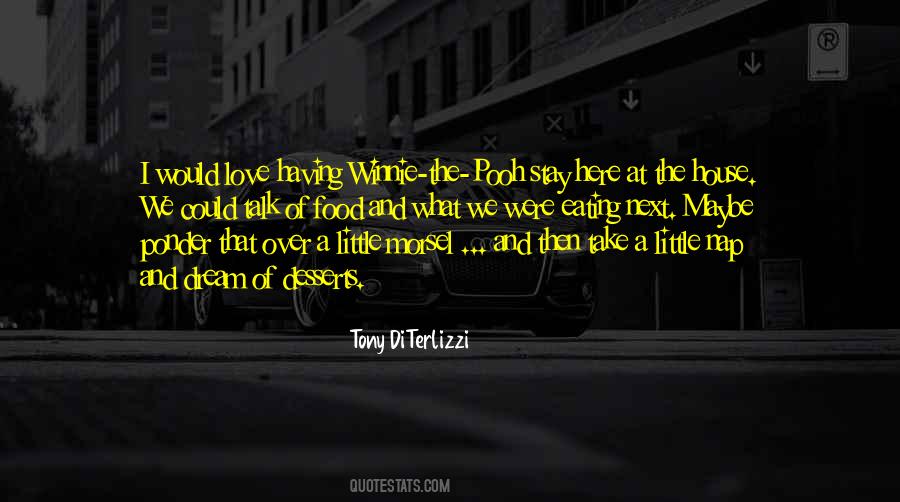 #38. Sometimes at drive-thrus I go into Winnie the Pooh and ask for a jar of honey. - Author: Jim Cummings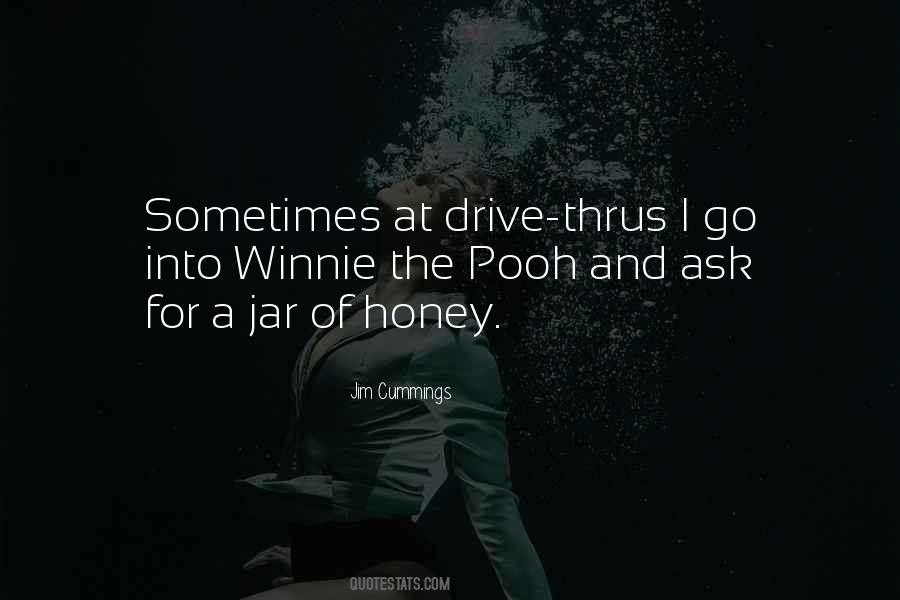 #39. "What's that?" the Unbeliever asked.
"Wisdom from the Western Taoist,"I said.
"It sounds like something from Winnie-the-Pooh ," he said.
"It is," I said.
"That's not about Taoism," he said.
"Oh, yes it is," I said." - Author: Benjamin Hoff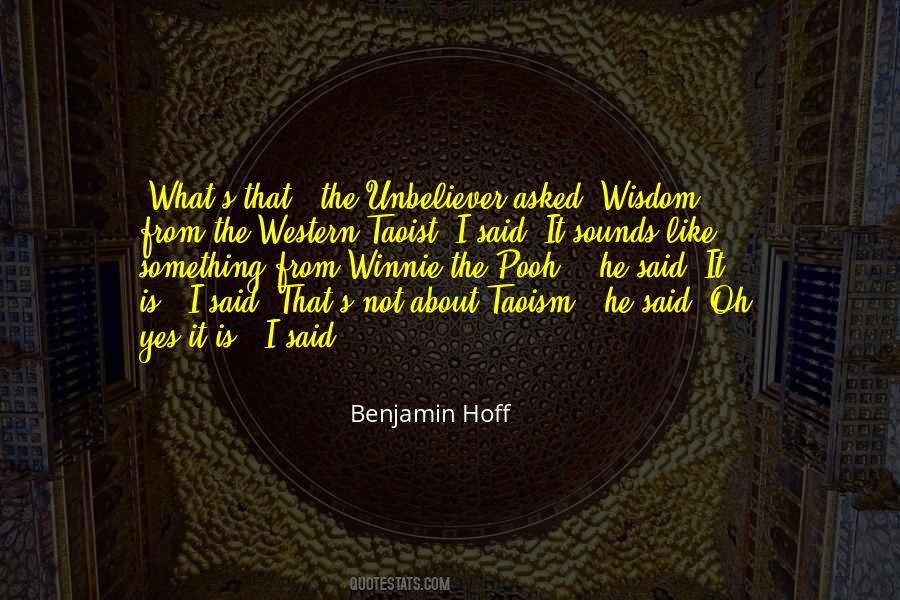 #40. And how are you?" said Winnie-the-Pooh.
Eeyore shook his head from side to side.
"Not very how," he said. "I don't seem to have felt at all how for a long time."
"Dear, dear," said Pooh, "I'm sorry about that. Let's have a look at you. - Author: A.A. Milne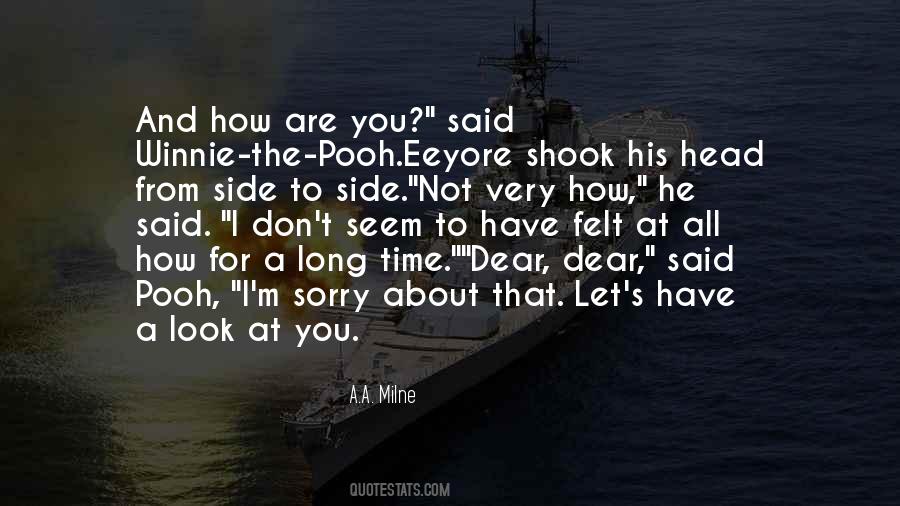 #41. On Wednesday, when the sky is blue,
and I have nothing else to do,
I sometimes wonder if it's true
That who is what and what is who.
- Winnie-the-Pooh - Author: A.A. Milne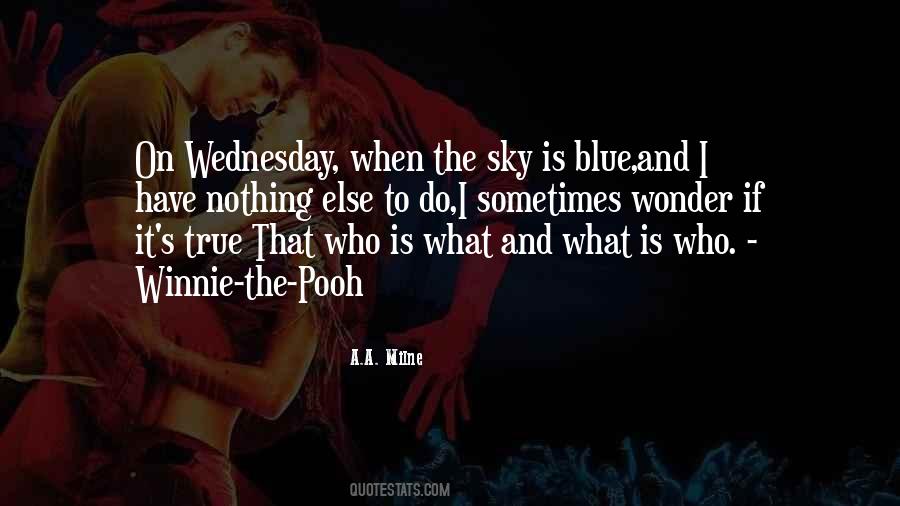 #42. We can't all, and some of us don't. - Author: A.A. Milne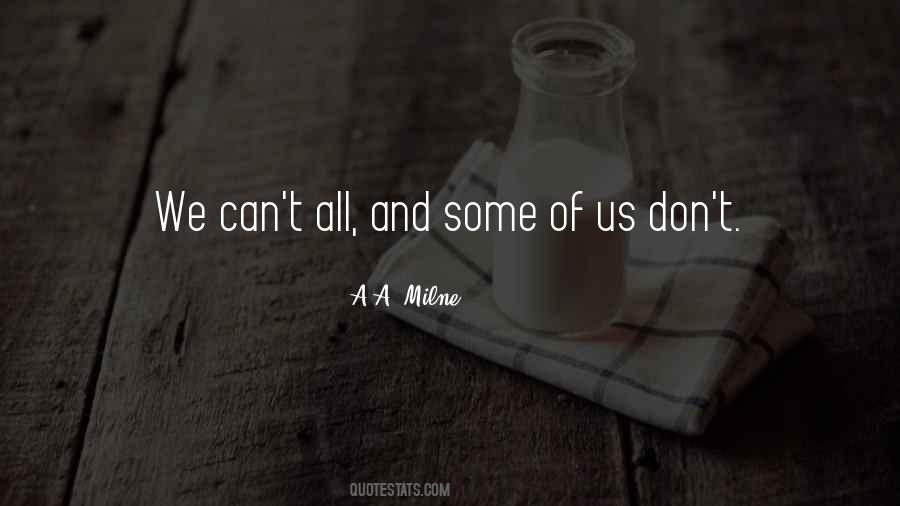 #43. Suspected everyone did - from Winnie, the least pulchritudinous, - Author: Kate Atkinson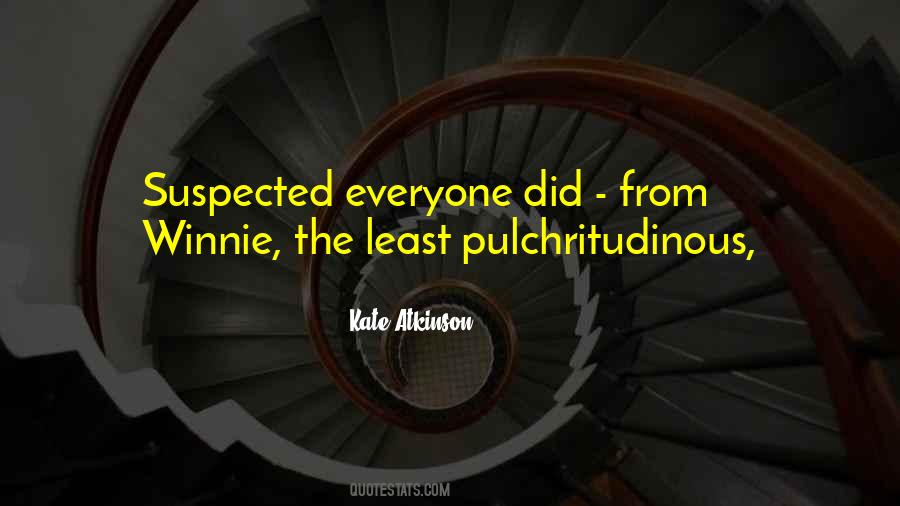 #44. In the US a child born into a poor family will become a poor adult. The american dream is just that - it is not true, because of the level of extreme inequality. - Author: Winnie Byanyima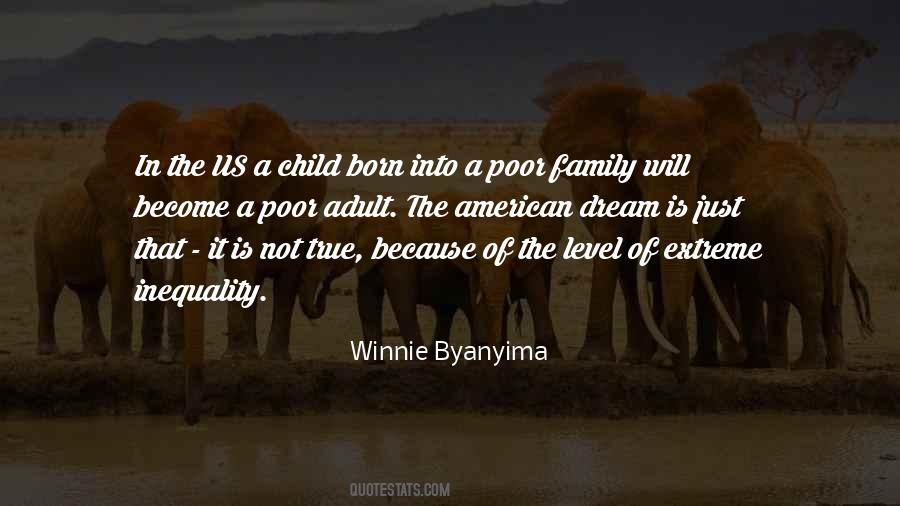 #45. I played Winnie Cooper on 'The Wonder Years' from ages 12-18, and did a few other movies during some of the summers. - Author: Danica McKellar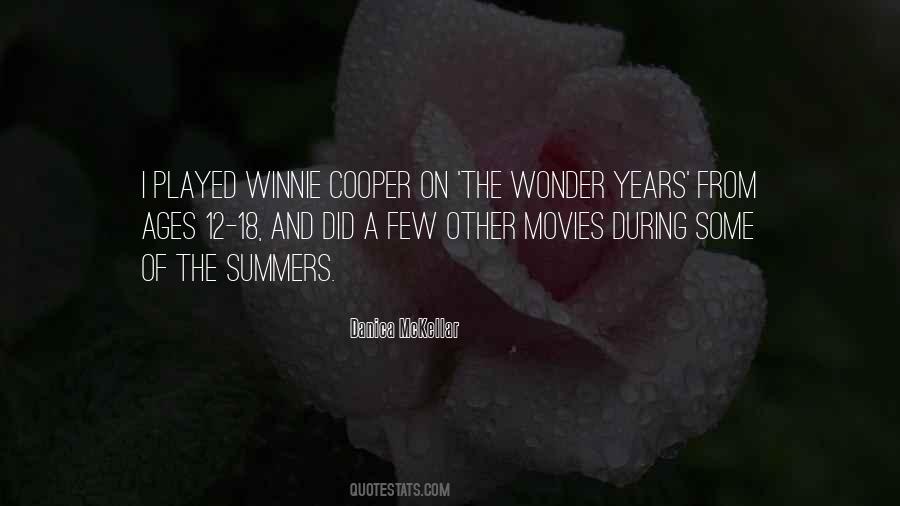 #46. We'll be Friends Forever, won't we, Pooh?' asked Piglet.
Even longer,' Pooh answered.
Winnie-the-Pooh - Author: A.A. Milne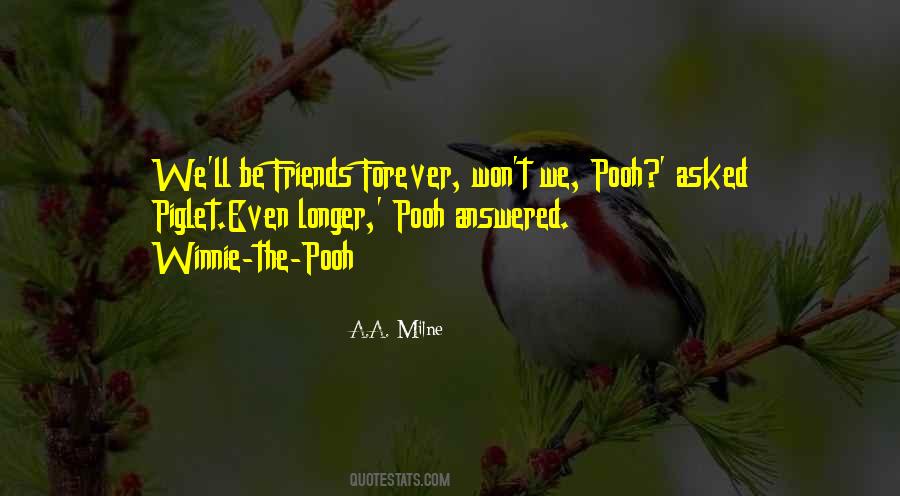 #47. Climate change is the biggest threat to our chances of winning the fight against hunger. - Author: Winnie Byanyima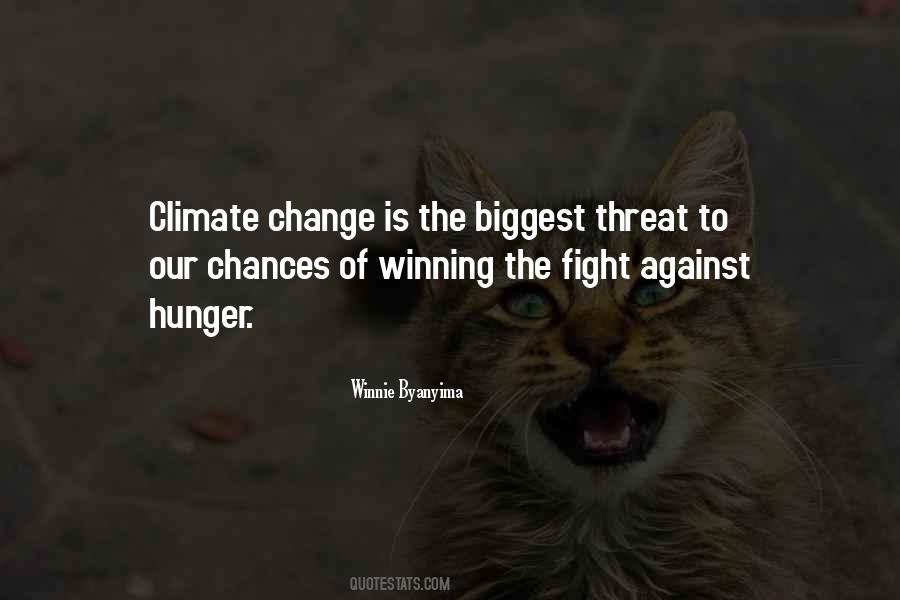 #48. What I like doing best is Nothing. - Author: A.A. Milne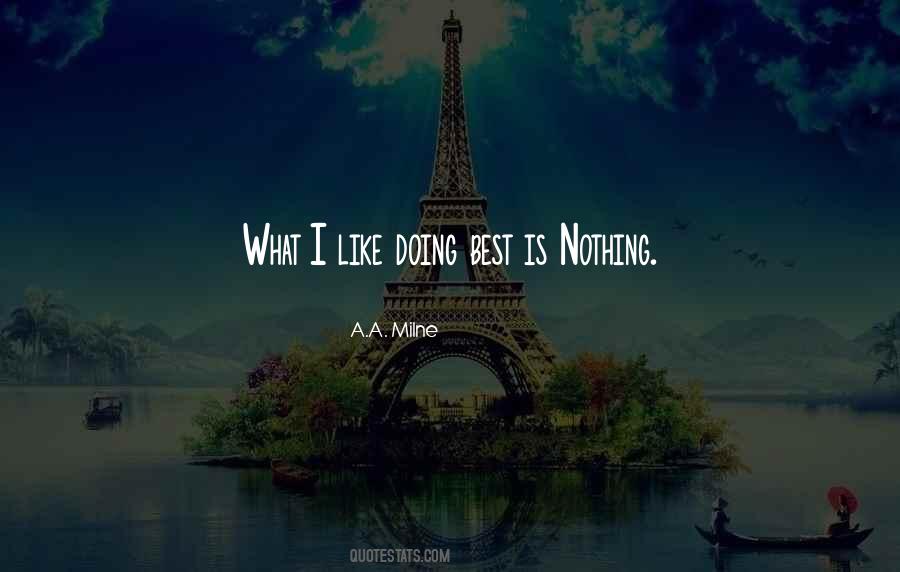 #49. Another World Is Possible, Without the 1%. - Author: Winnie Byanyima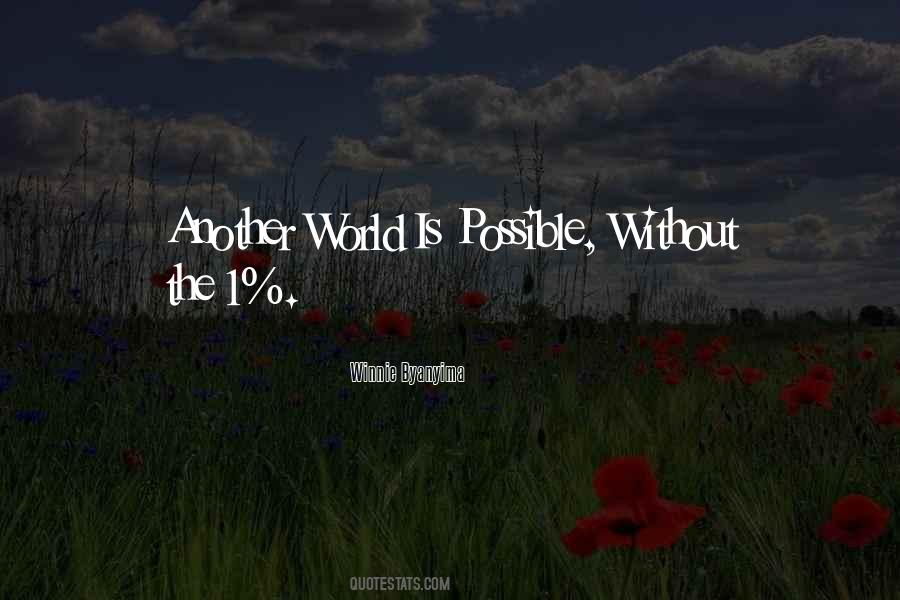 #50. Piglet: "How do you spell 'love'?" Winnie the Pooh: "You don't spell it ... you feel it." - Author: A.A. Milne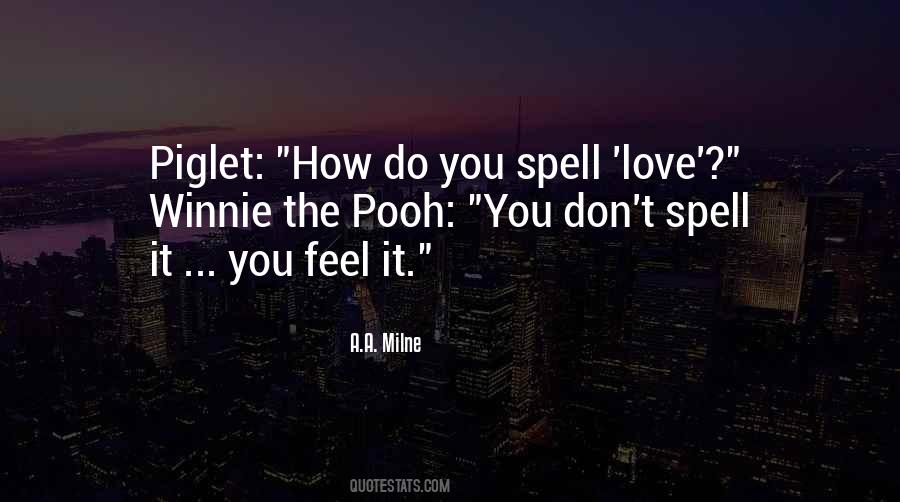 #51. Would you mind coming with me, Piglet, in case they turn out to be Hostile Animals? - Author: A.A. Milne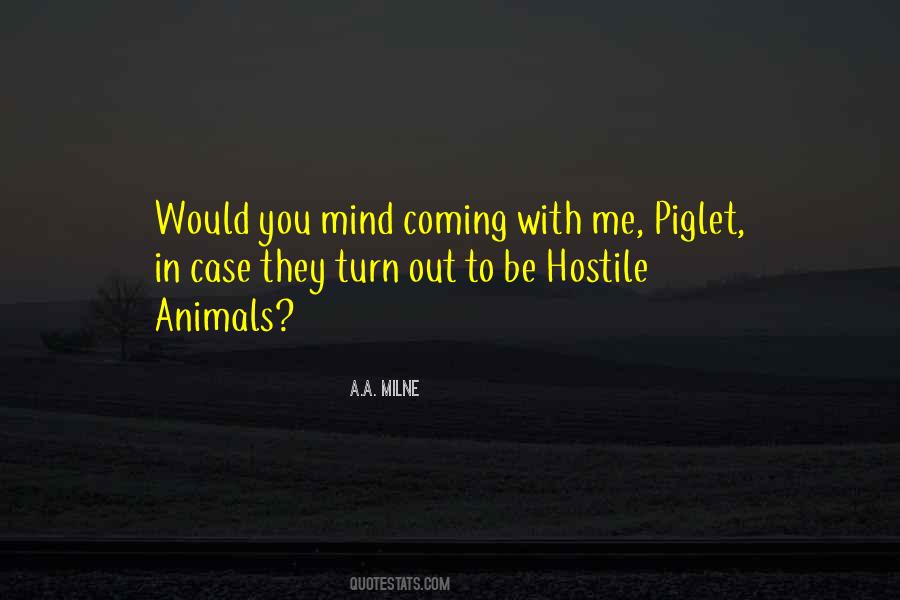 #52. You are stronger than you seem,
Braver than you believe,
and smarter than you think you are. - Author: A.A. Milne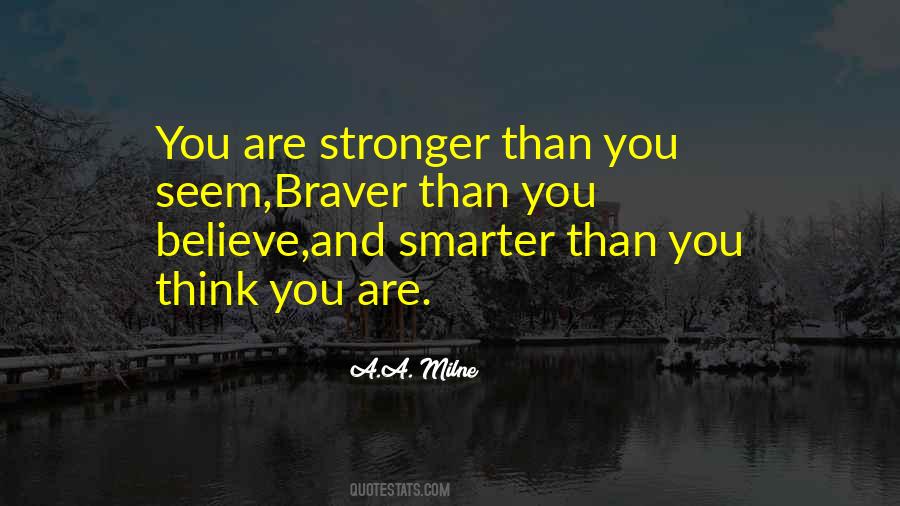 #53. Nelson Mandela was in jail when I was really young, and Winnie Mandela was one of the biggest faces of the movement. In South Africa we have a common phrase - it's like a chant in the street and at rallies: "Wathint' abafazi, wathint' imbokodo." Which means, "You strike a woman, you strike a rock." - Author: Trevor Noah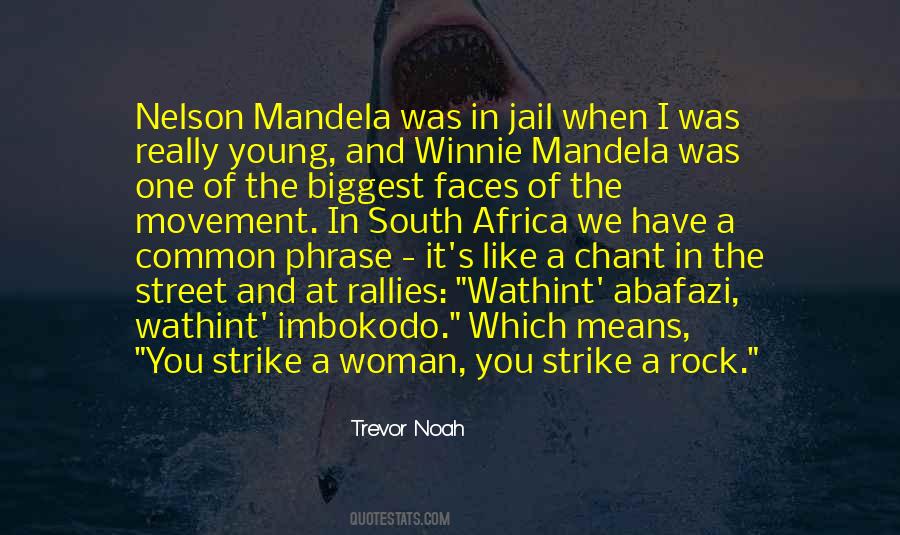 #54. I believe gender is a spectrum, and I fall somewhere between Channing Tatum and Winnie the Pooh. - Author: Stephen Colbert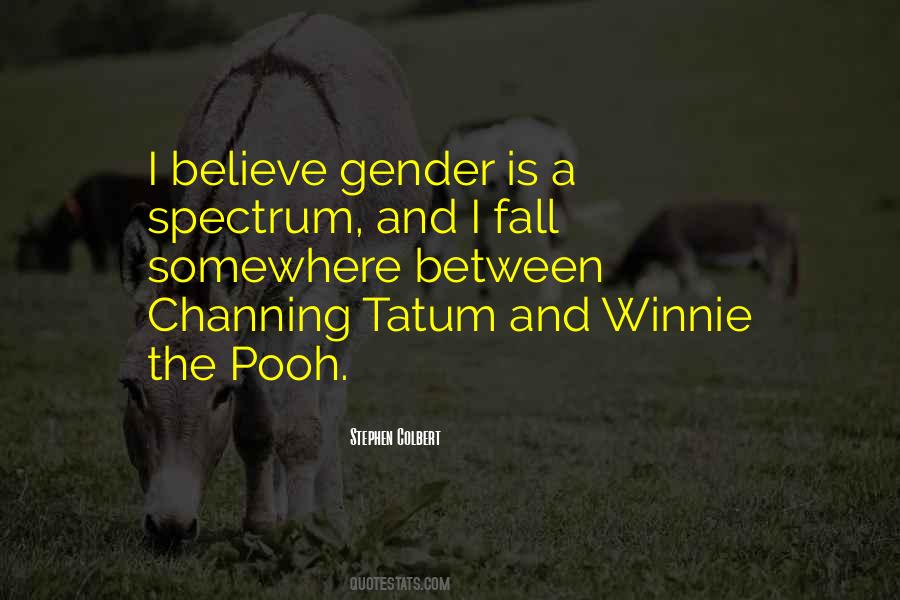 #55. The ferret didn't matter. Because there was something about Mick that wasn't a fake anything. And Winnie herself felt more real somehow, running around, looking for the little animal that meant so much to him. - Author: Judith Ivory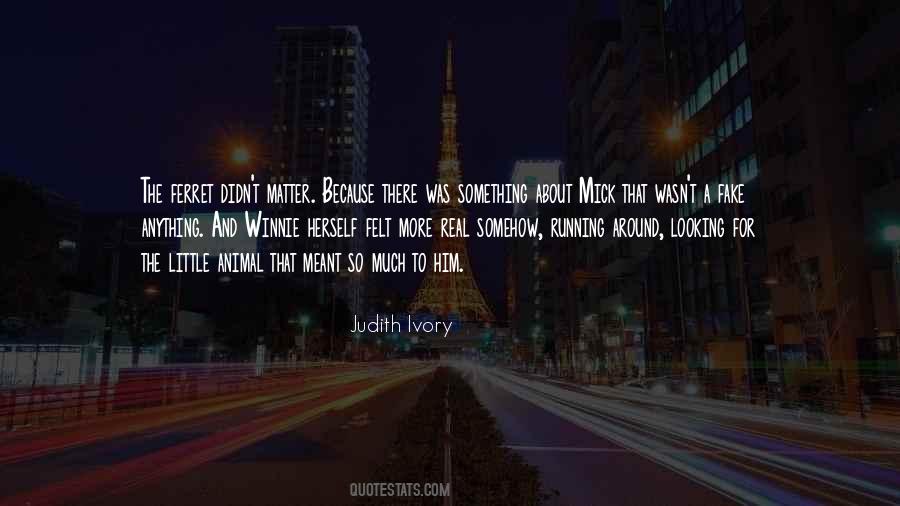 #56. A few years ago the idea that extreme poverty was harmful was on the fringes of the economic and political debate. But having made the case we are now seeing an emerging consensus among business leaders, economic leaders, political leaders and even faith leaders. - Author: Winnie Byanyima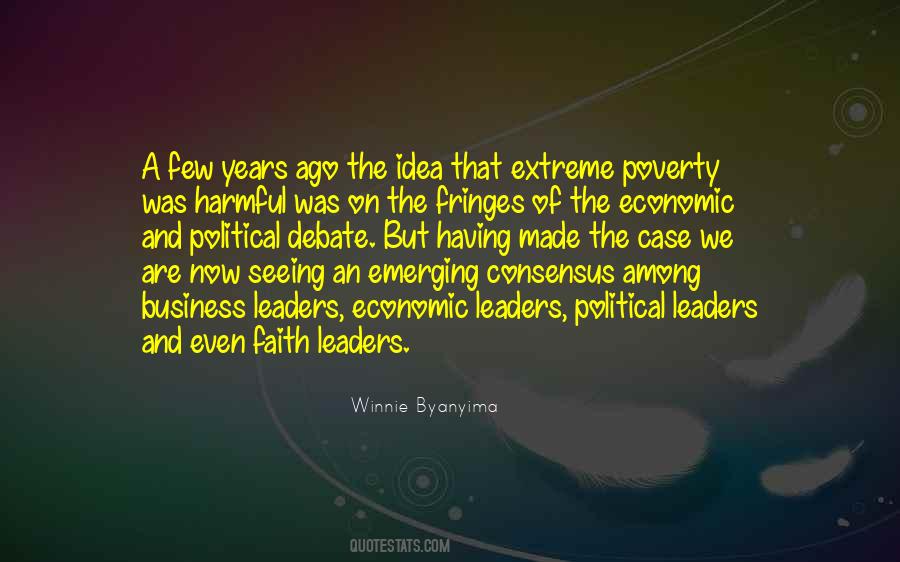 #57. He wasn't crazy. How could he be? He was just
amazing. But she was struck dumb. All she could do was stare at him. - Author: Natalie Babbitt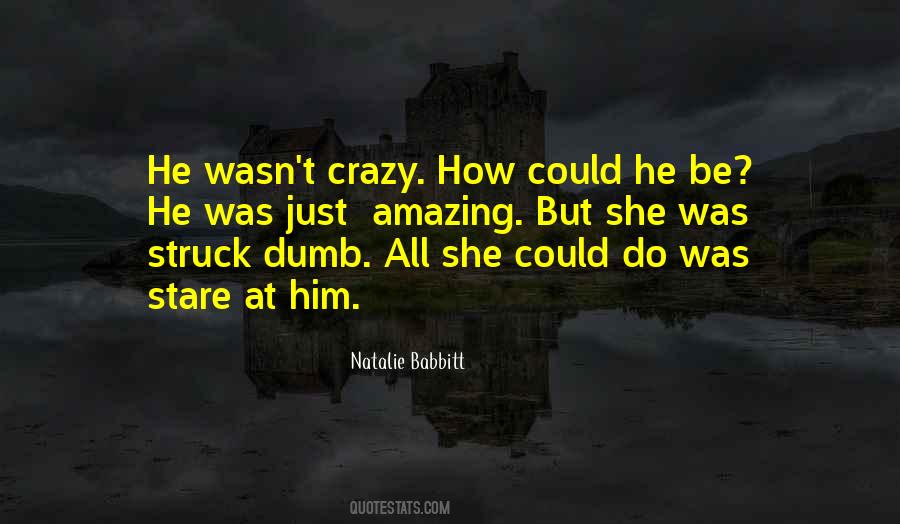 #58. A new world will be won not by those who stand at a distance with their arms folded, but by those who are in the arena, whose garments are torn by storms and whose bodies are maimed in the course of the contest. From a letter to Winnie Mandela, - Author: Nelson Mandela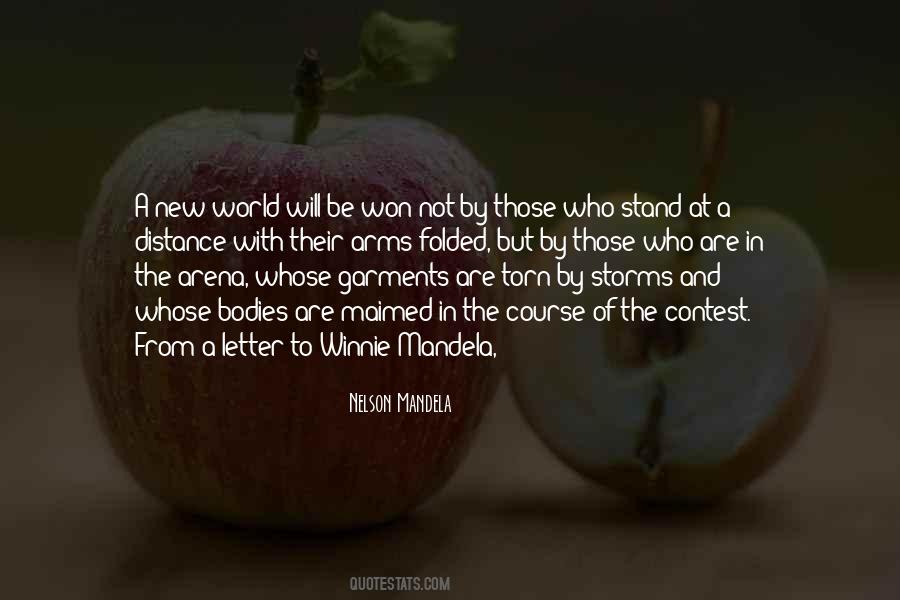 #59. You can't stay in your corner of the Forest waiting for others to come to you. You have to go to them sometimes. - Author: A.A. Milne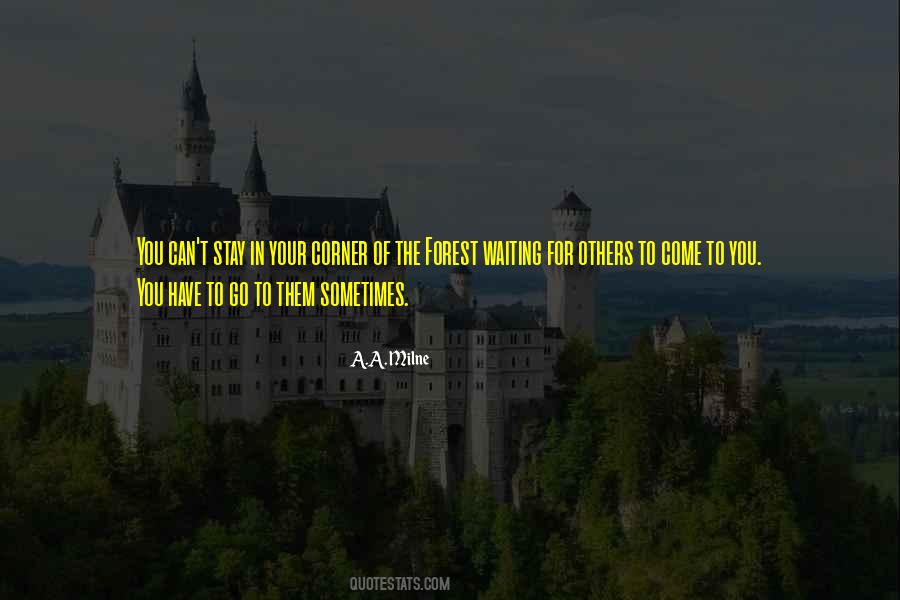 #60. Time after time, on matters great and small, we are still standing on the sidelines, mutely accepting what is decided elsewhere instead of raising our voices and making our own choices. Scotland's much vaunted partnership of Jonah and the whale. - Author: Winnie Ewing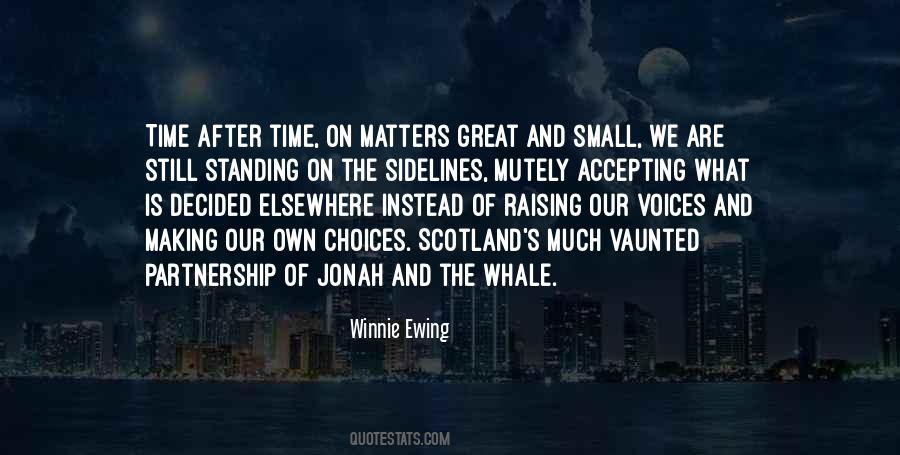 #61. What is concerning is that work in the informal sector is characterised by vulnerability, low wages and no rights. So it is not the way that we lift people out of poverty in Africa. - Author: Winnie Byanyima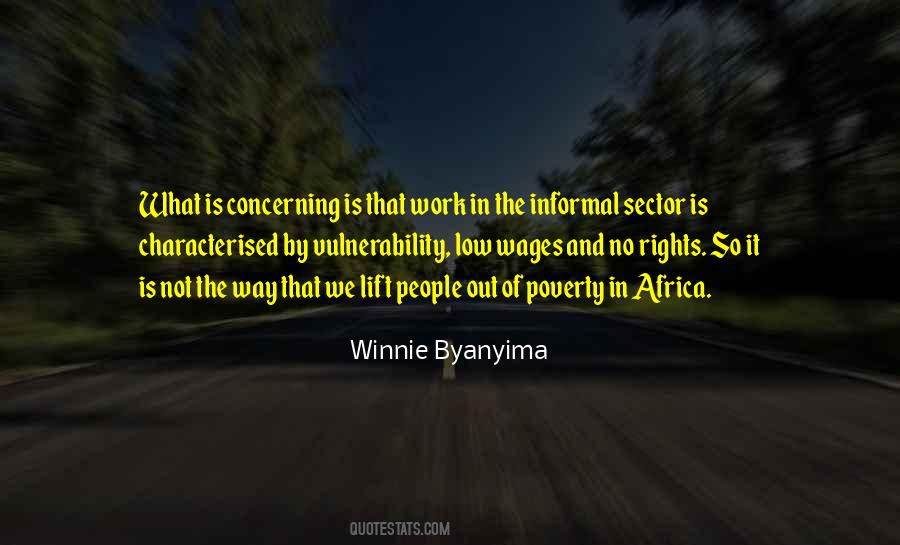 #62. NOTPOHL
Endtegt vohn
PU
PU had in
gefuhnden - Author: A.A. Milne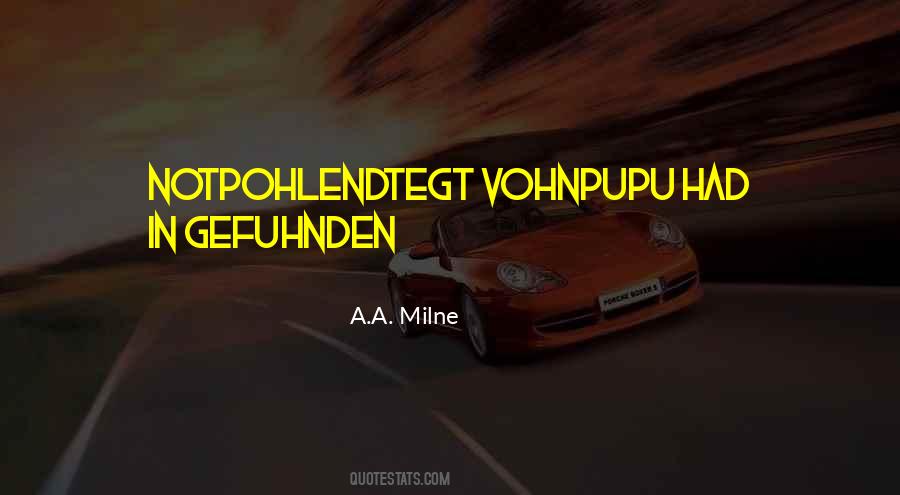 #63. Let's begin by taking a smallish nap or two. - Author: A.A. Milne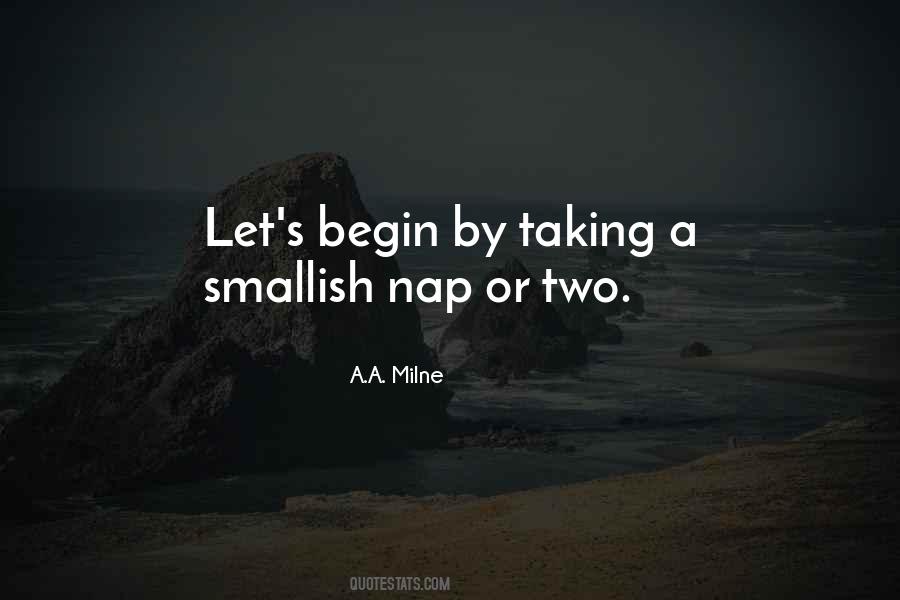 #64. And if you don't know Which to Do Of all the things in front of you, Then what you'll have when you are through Is just a mess without a clue... - Winnie the Pooh in The Tao of Pooh by Benjamin Hoff - Author: Iggy Fernandez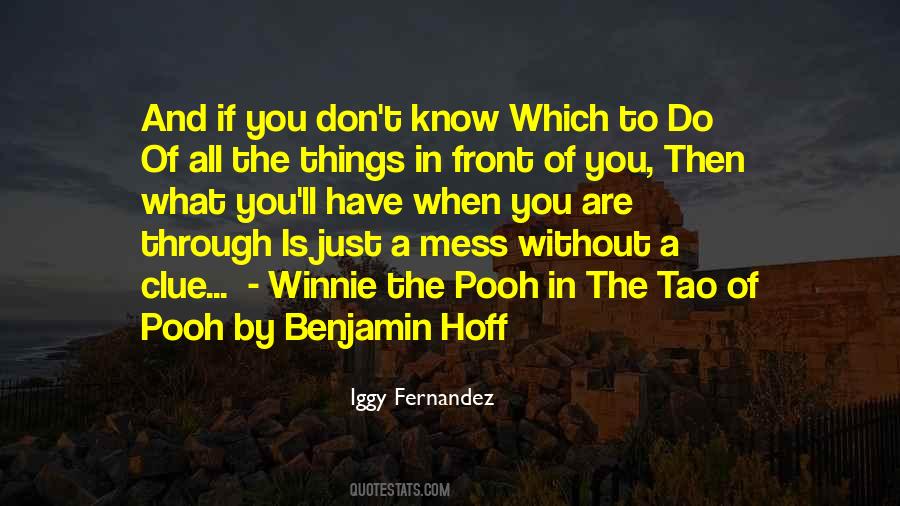 #65. I'm a little Jewish girl from Long Island, but when I listened to Tina Turner, I pictured myself in a mini-dress, dancing like Tina Turner. It's inevitable. - Author: Winnie Holzman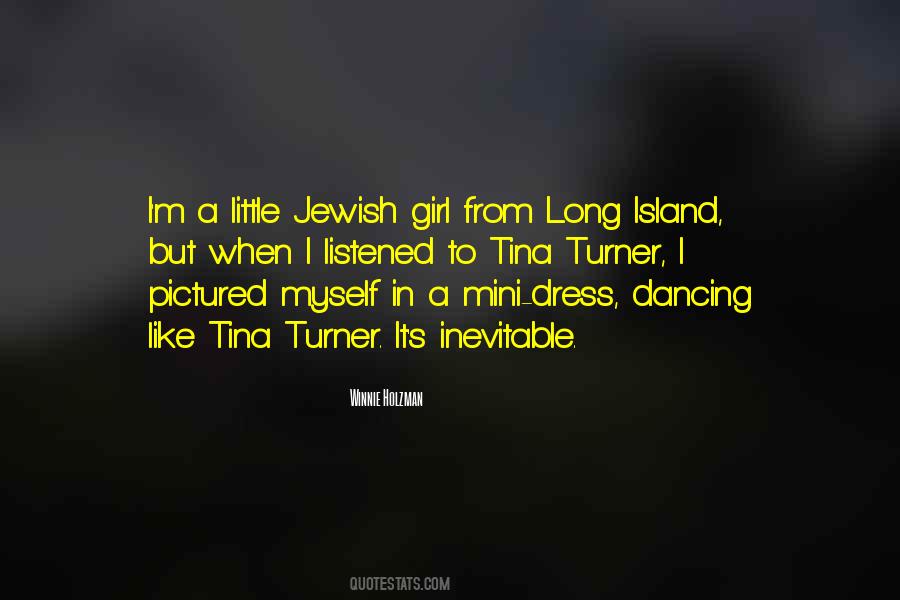 #66. I have depth. I've read Proust. No, wait, that was Pooh. Winnie the Pooh. My bad
Charley Davidson. - Author: Darynda Jones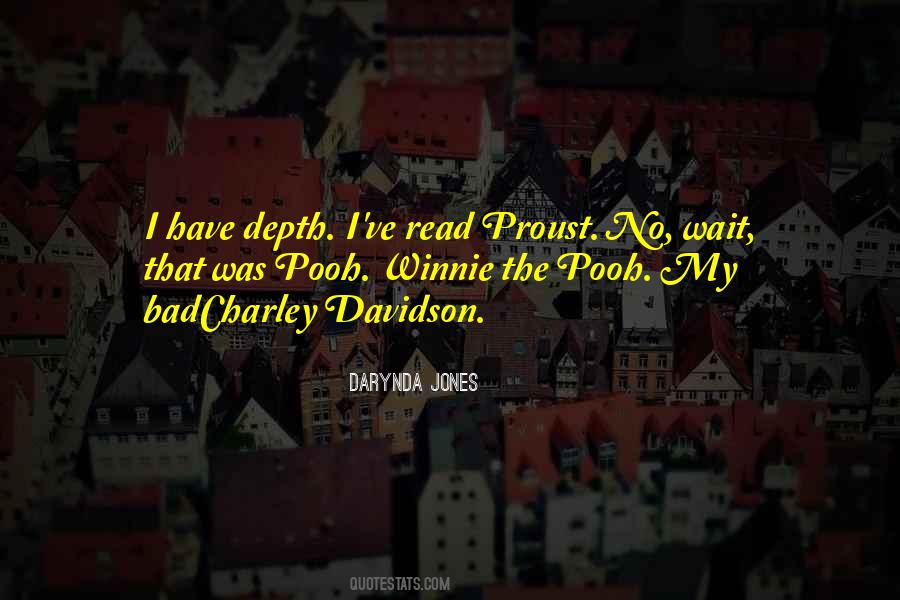 #67. We drank from paper Winnie-the-Pooh cups - Author: John Green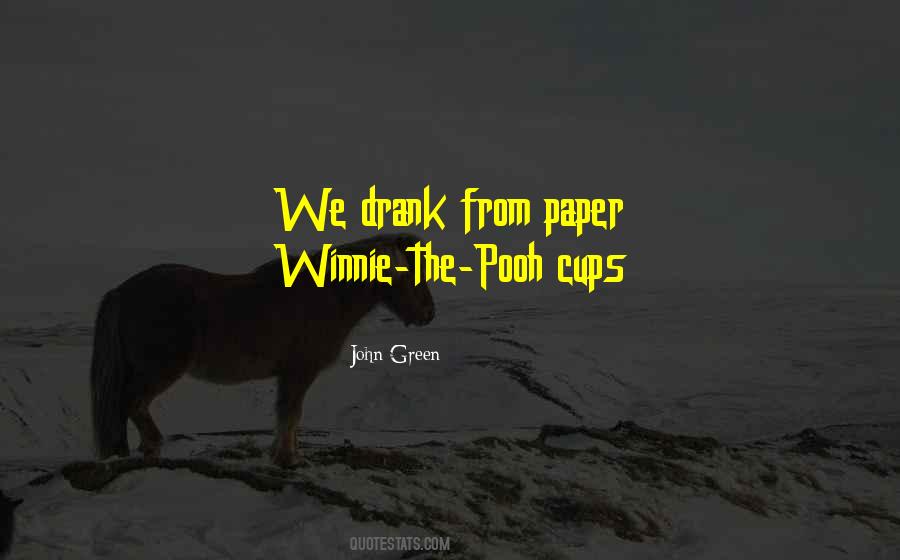 #68. My friend Winnie is a procrastinator. He didn't get his birth mark til he was eight years old. - Author: Steven Wright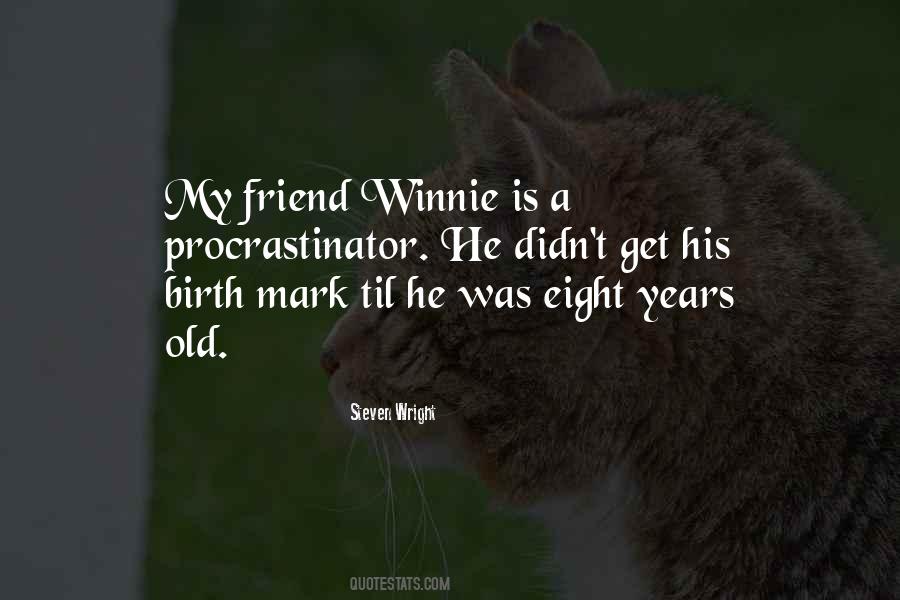 #69. Do you really want to be happy? You can begin by being appreciative of who you are and what you've got. - Author: Benjamin Hoff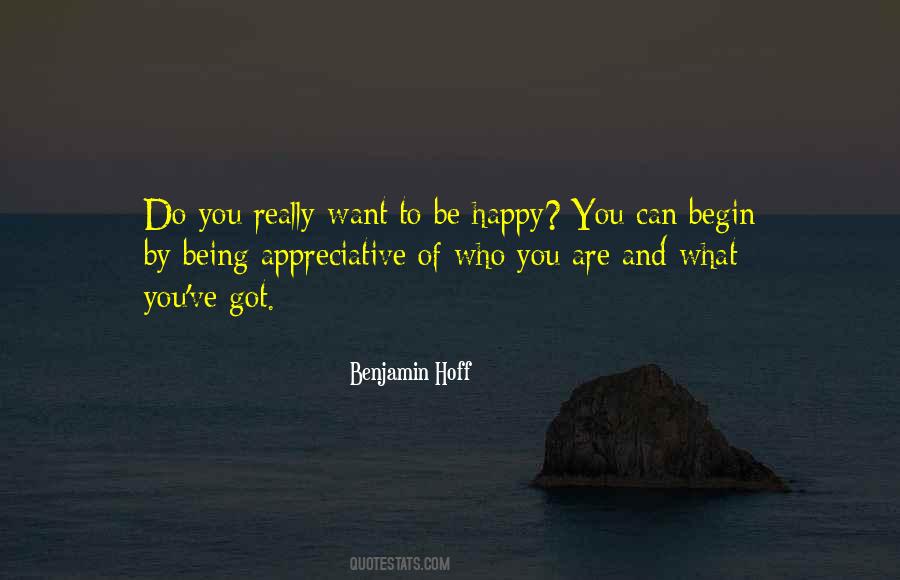 #70. Life would never be easy for Winnie, but my job was to make her feel as safe as possible. Whether beating down a loud college idiot or keeping my mom states away, I'd do whatever necessary to protect what was mine. - Author: Bijou Hunter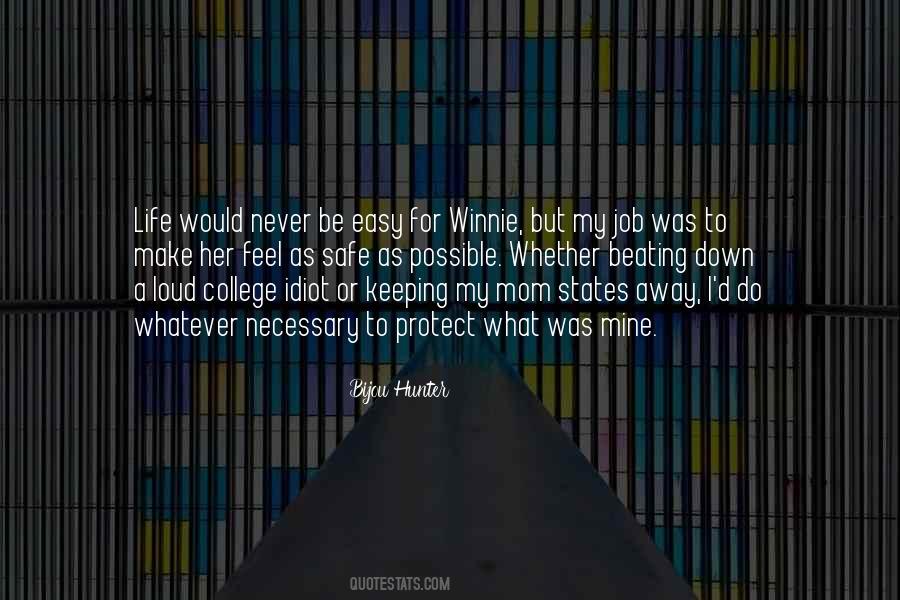 #71. Byron says he won't go there. He give Kenny and Joey a story about "Wool Pooh," the supposed evil twin of Winnie-the-Pooh. They believe him, but Kenny still wants to go. - Author: Christopher Paul Curtis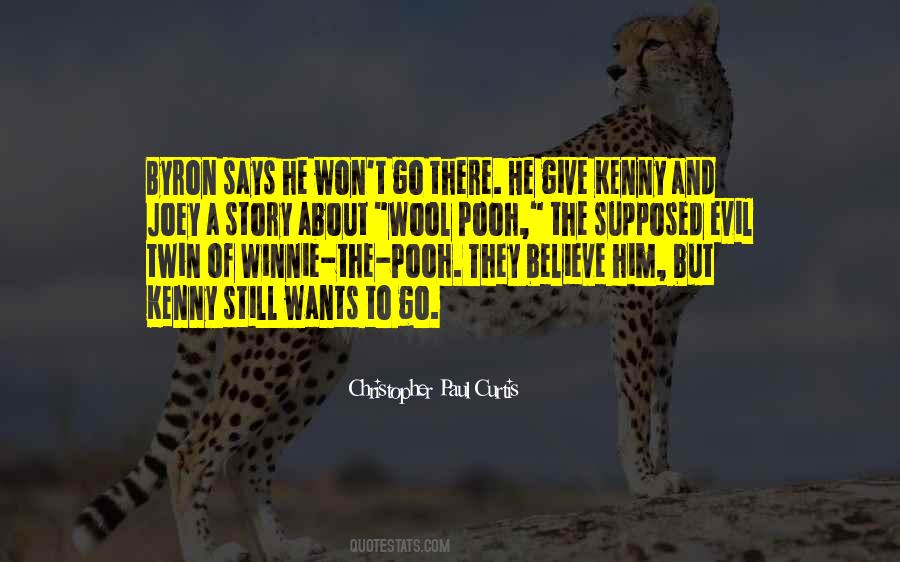 #72. I maintain that the greatest crime committed by America - with the possible exception of the carpet-bombing of Laos - was the Disneyfication of Winnie The Pooh. - Author: Robert Wyatt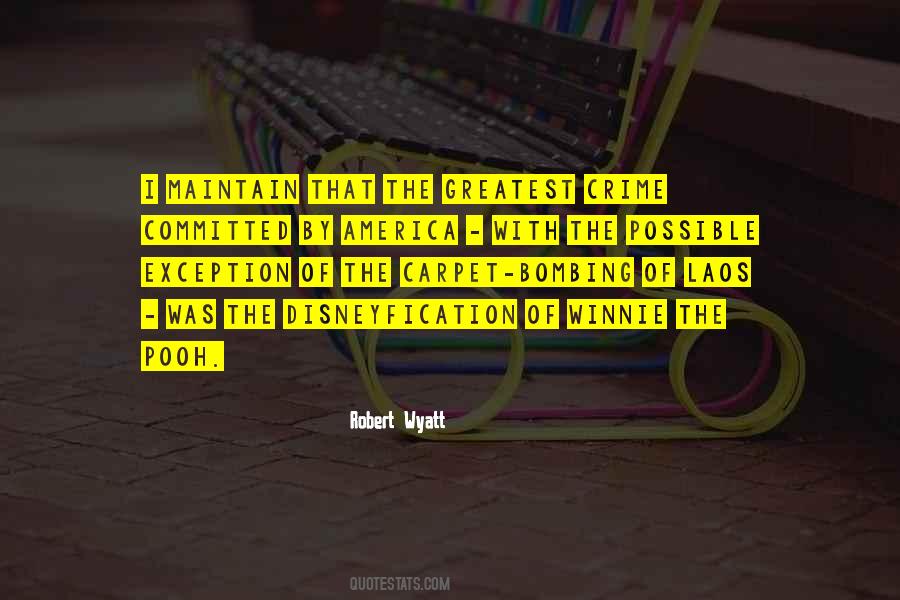 #73. What day is it?', asked Winnie the Pooh.
'It's today,' squeaked Piglet.
'My favorite day,' said Pooh."
- The Adventures of Winnie the Pooh - Author: A.A. Milne
#74. It does not in any way, shape, or form resemble Winnie the Pooh. - Author: Anna Carey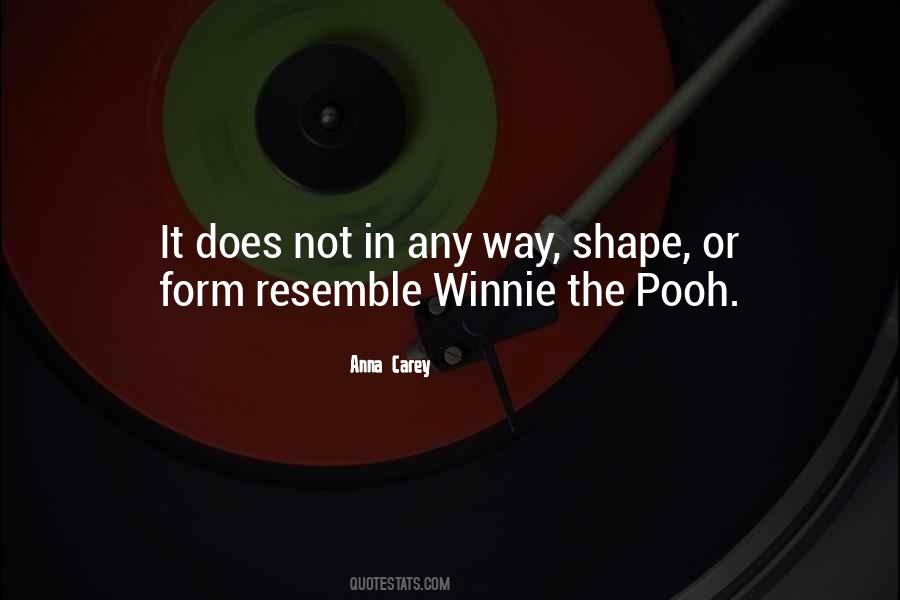 #75. No brain at all, some of them [people], only grey fluff that's blown into their heads by mistake, and they don't Think. - Author: A.A. Milne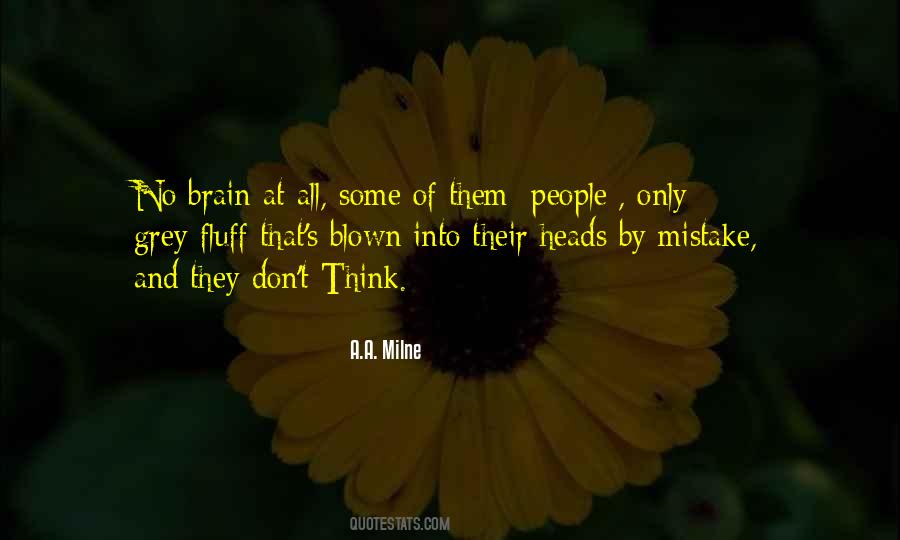 #76. Being black and speaking properly are not mutually exclusive. My father was an African, and he spoke beautifully at home. Nelson Mandela speaks beautifully. Should Mandela put his hat on backwards and say, 'Yo, homey, this is Nelson. Yo, Winnie, yo, this is def'? - Author: Franklyn Ajaye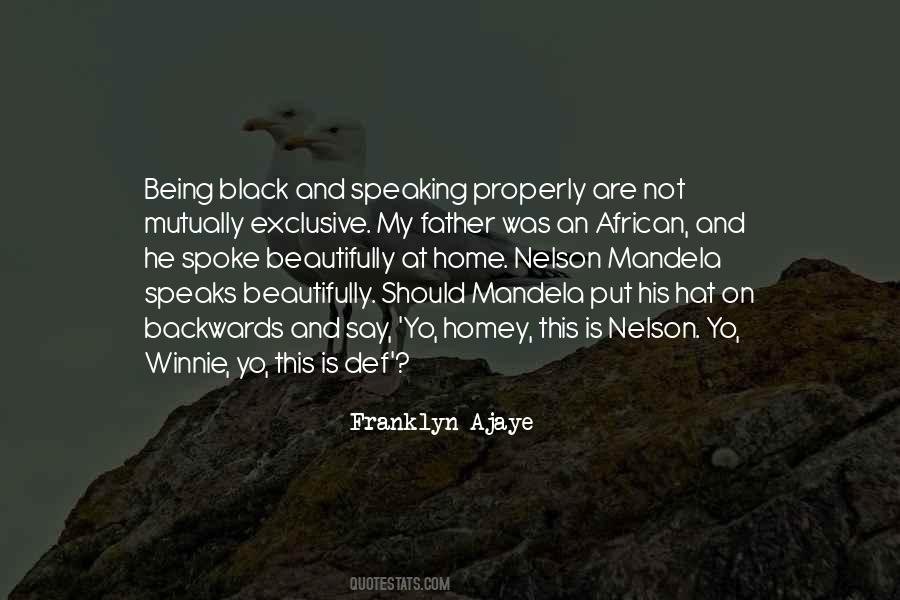 #77. Those who are clever, who have a brain, never understand anything. - Author: Walt Disney Company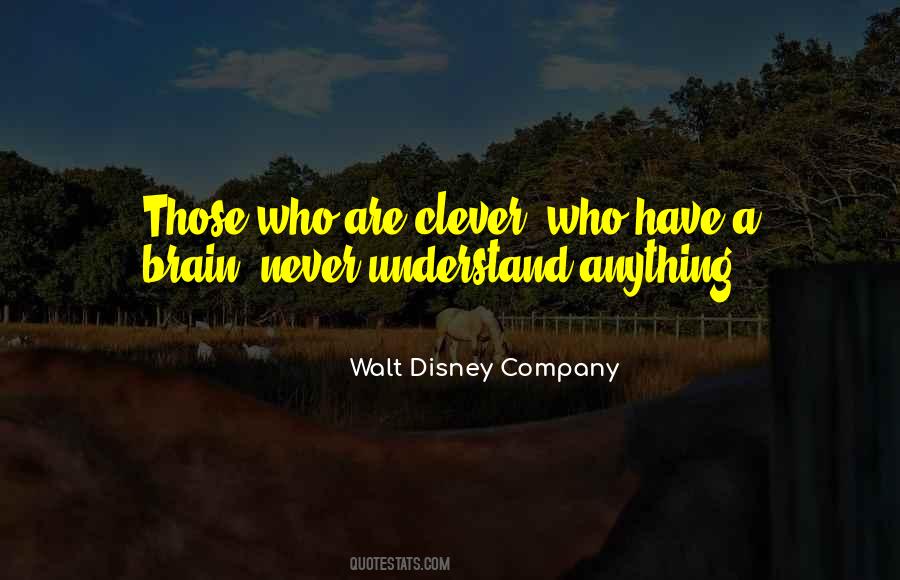 #78. Winnie, don't you ever think you're selling yourself short?"

"Nope. Never. I'm really good at picking quality dick. - Author: Elizabeth Brown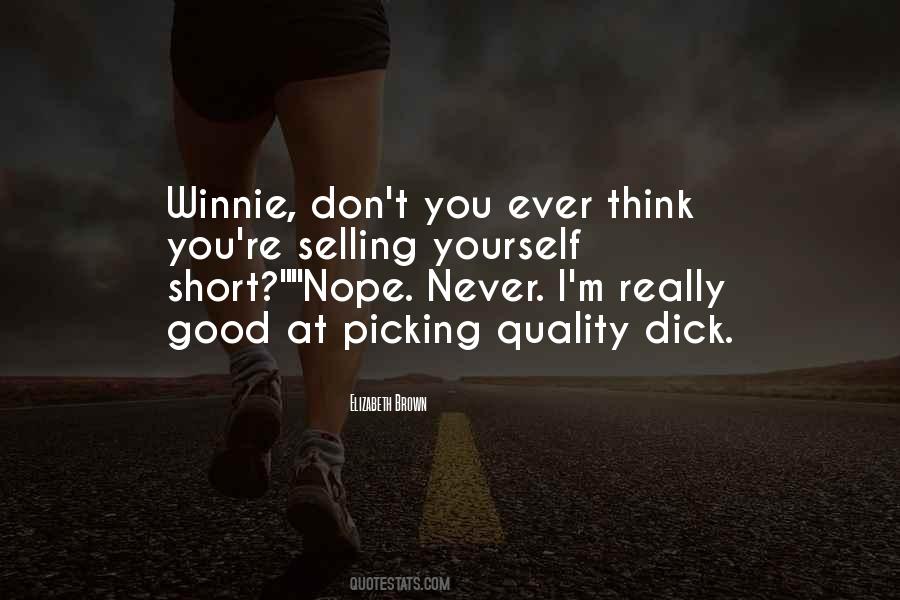 #79. WINNIE: Sometimes I am wrong. (Smile.) But not often. (Smile off.) Sometimes all is over, for the day, all done, all said, all ready for the night, and the day not over, far from over, the night not ready, far, far from ready. (Smile.) But not often. (Smile off.) - Author: Samuel Beckett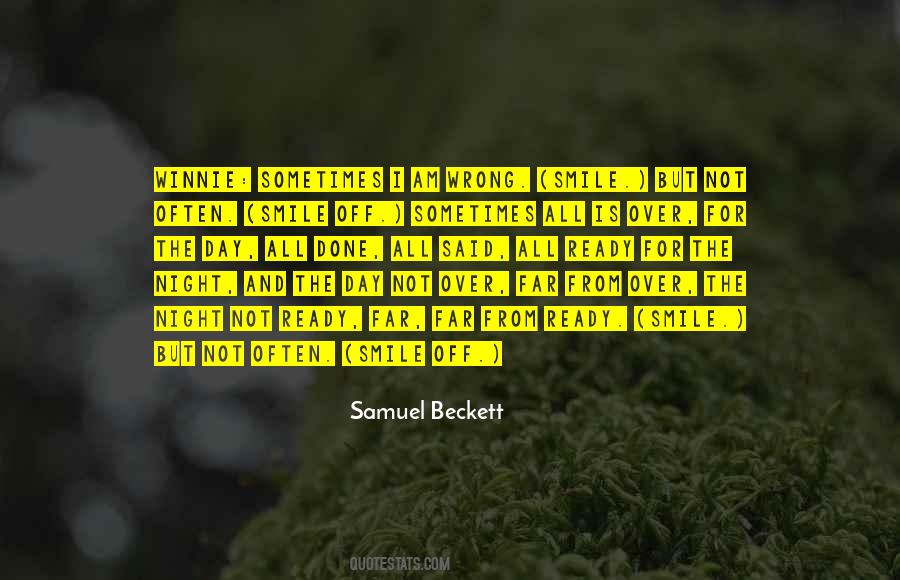 #80. How do you spell 'love'?" - Piglet
"You don't spell it ... you feel it." - Pooh - Author: A.A. Milne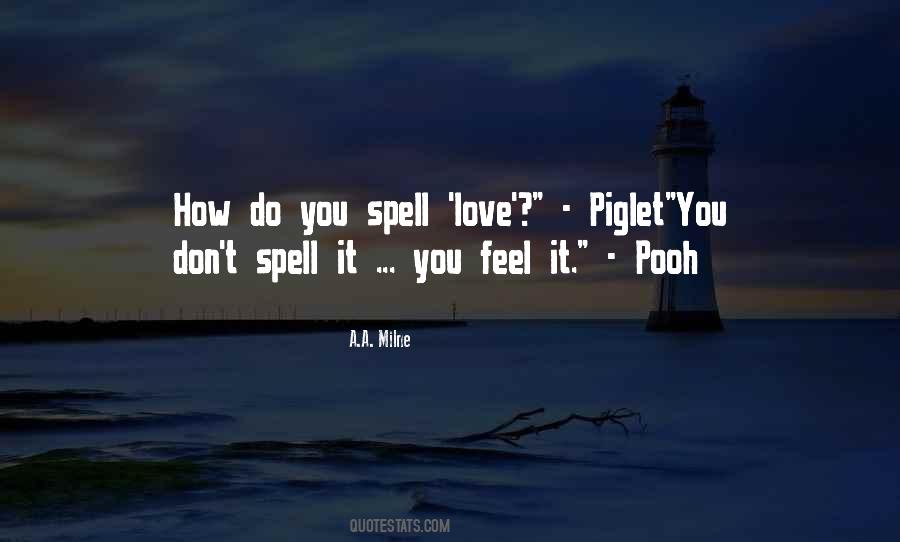 #81. He dropped his pants and went at it looking like Winnie-the-Pooh in his red polo shirt. - Author: Jodie Beau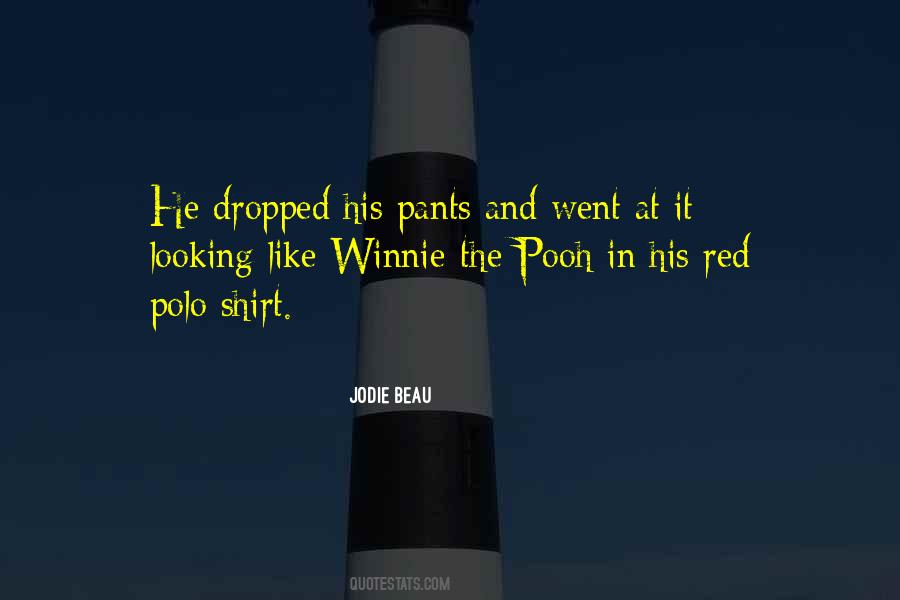 #82. It is staggering that in the 21st century, half of the world's population - that's three and a half billion people - own no more than a tiny elite whose numbers could all fit comfortably on a double-decker bus. - Author: Winnie Byanyima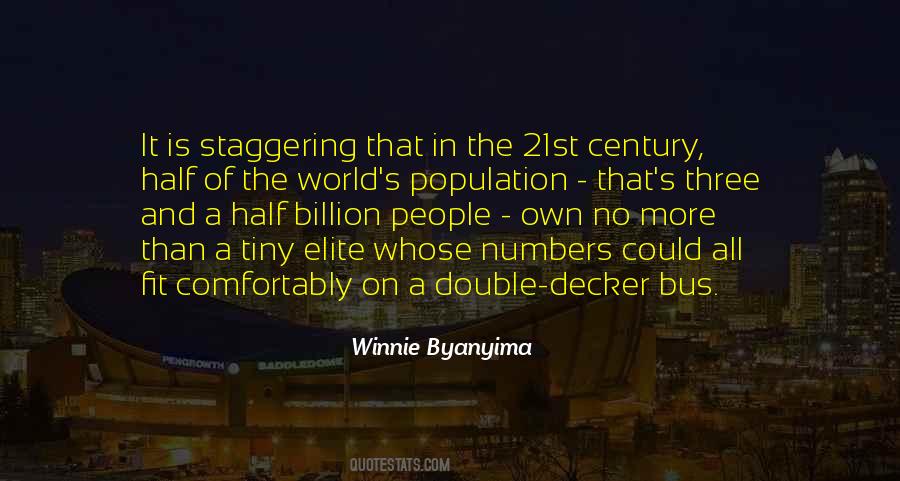 #83. And if anyone knows anything about anything," said Bear to himself,
"it's Owl who knows something about something," he said, "or my name's not Winnie-the-Pooh," he said. "which it is," he added. "so there you are. - Author: A.A. Milne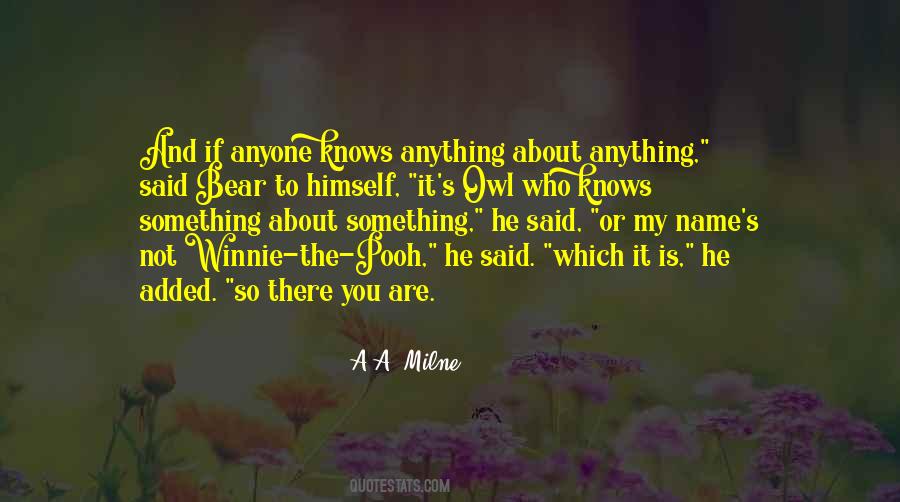 #84. By empowering a woman, we empower a child. By educating a girl child, we make it possible for her to grow up to become an empowered woman. - Author: Winnie Byanyima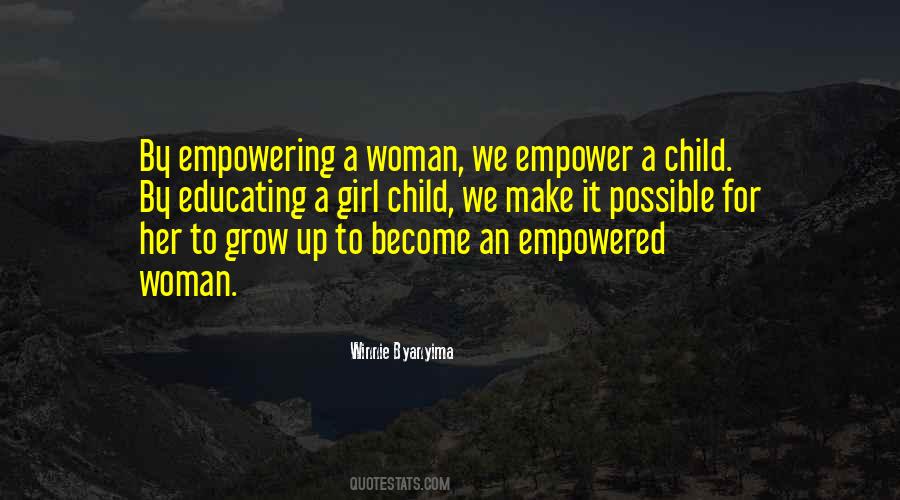 #85. The Scottish Parliament, adjourned on the 25th of March 1707 is hereby
reconvened. - Author: Winnie Ewing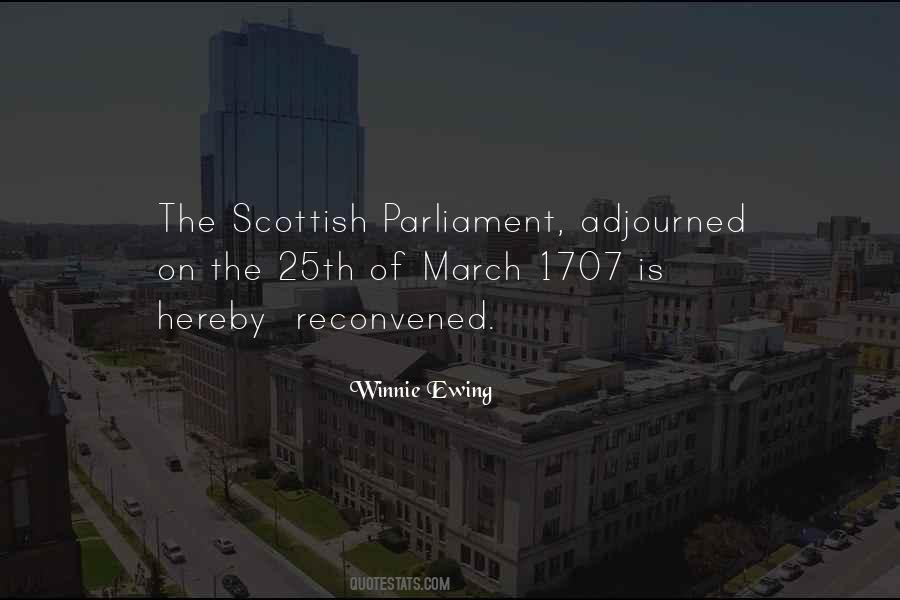 #86. I am the product of the masses of my country and the product of my enemy. - Author: Winnie Madikizela-Mandela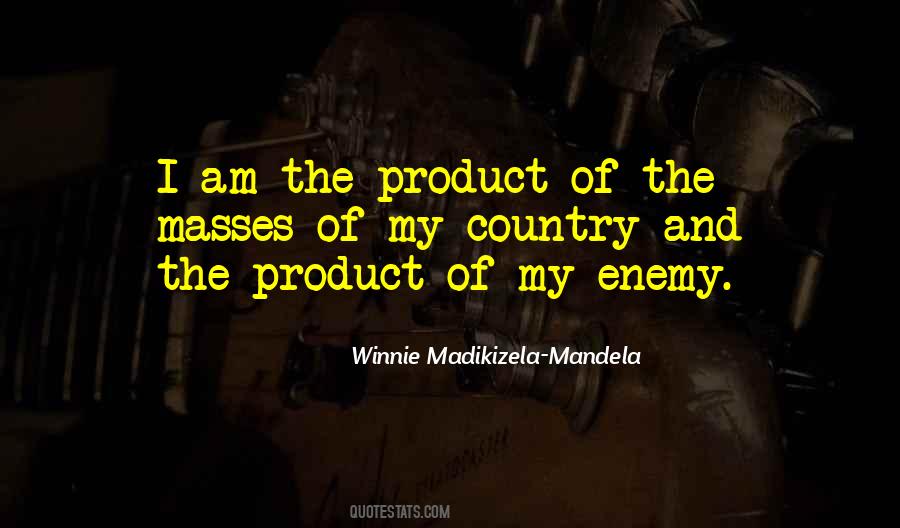 #87. That's what us Tucks are, Winnie. Stuck so's we can't move on. We ain't part of the wheel no more. Dropped off, Winnie. Left behind. And everywhere around us, things is moving and growing and changing. - Author: Natalie Babbitt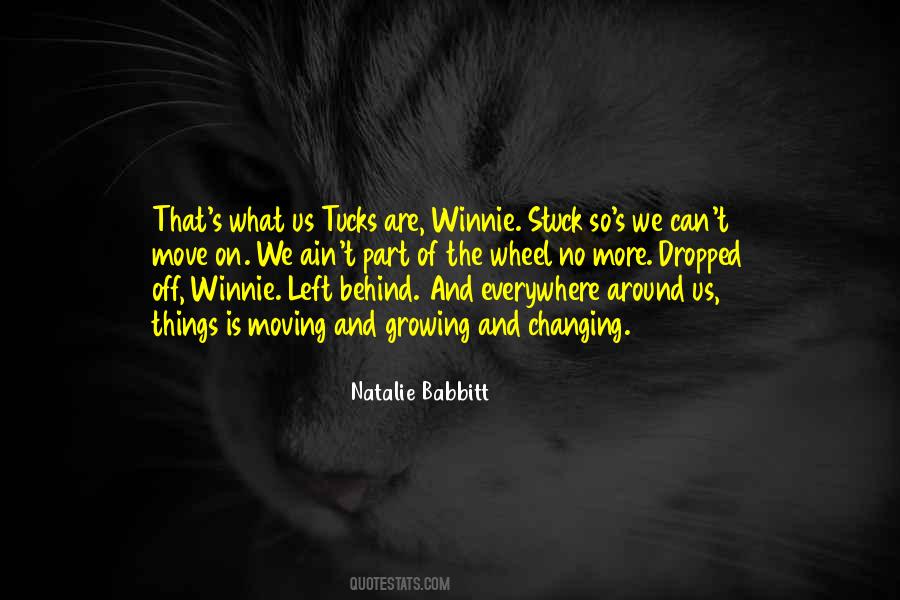 #88. Winnie the Pooh seems to me to be a fundamental text on national security. - Author: Barack Obama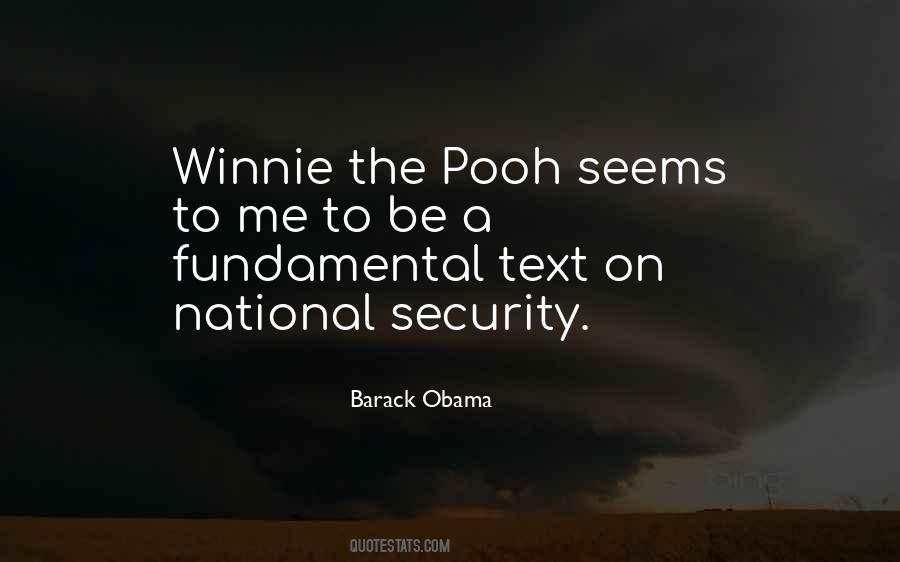 #89. Sometimes,' I said, 'you have to let one story end so the next one can begin.'
'How do you know when that will happen?'
'You don't,' I said. 'Which is why you should always carry on. - Author: Lindsay Mattick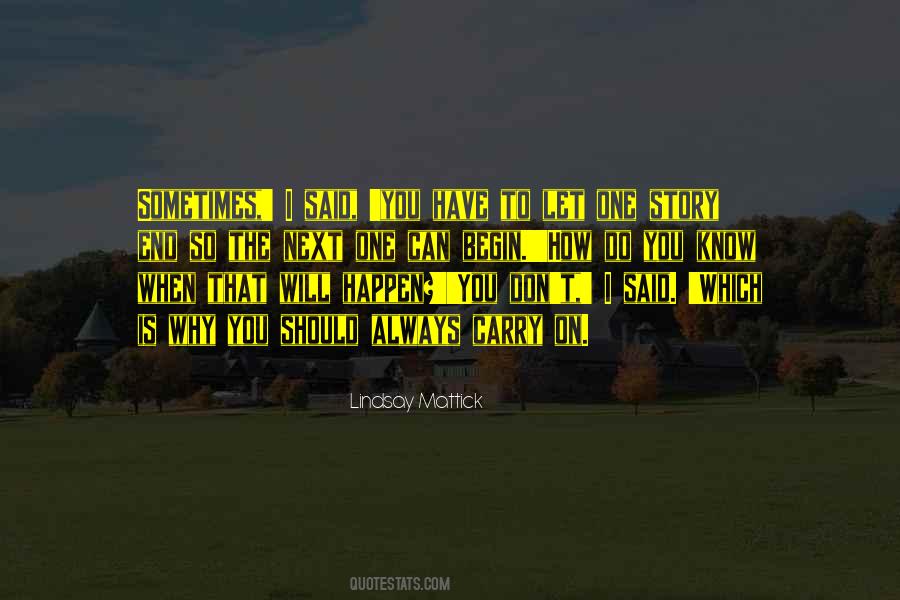 #90. Did I miss?" you asked.
"You didn't exactly miss," said Pooh, "But you missed the balloon."
"I'm so sorry," you said, and you fired again, and this time you hit the balloon and the air came slowly out, and Winnie-the-Pooh floated down to the ground. - Author: A.A. Milne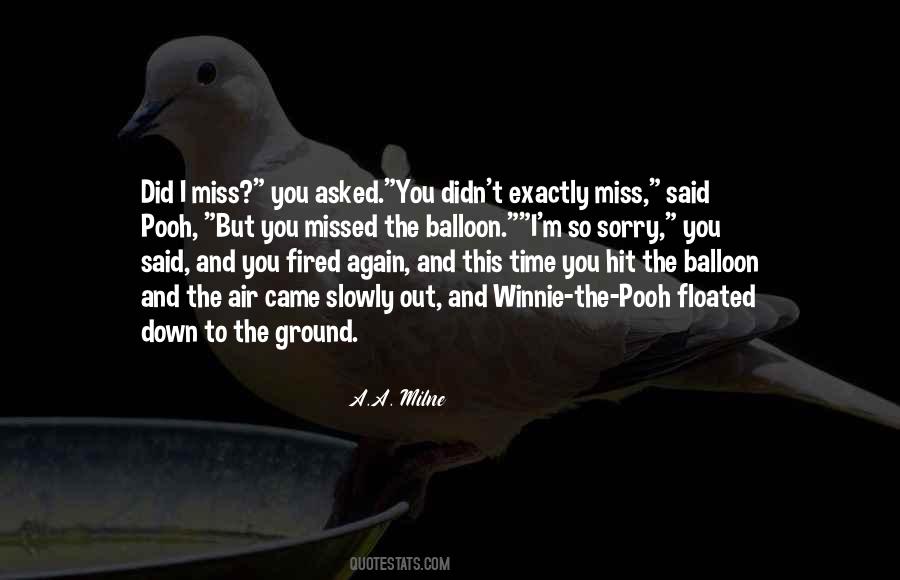 #91. I think [Winnie the Pooh] just looks at the world through honey-colored glasses, and everything is honey-fied and sweet for him, and that's not a bad outlook. - Author: Jim Cummings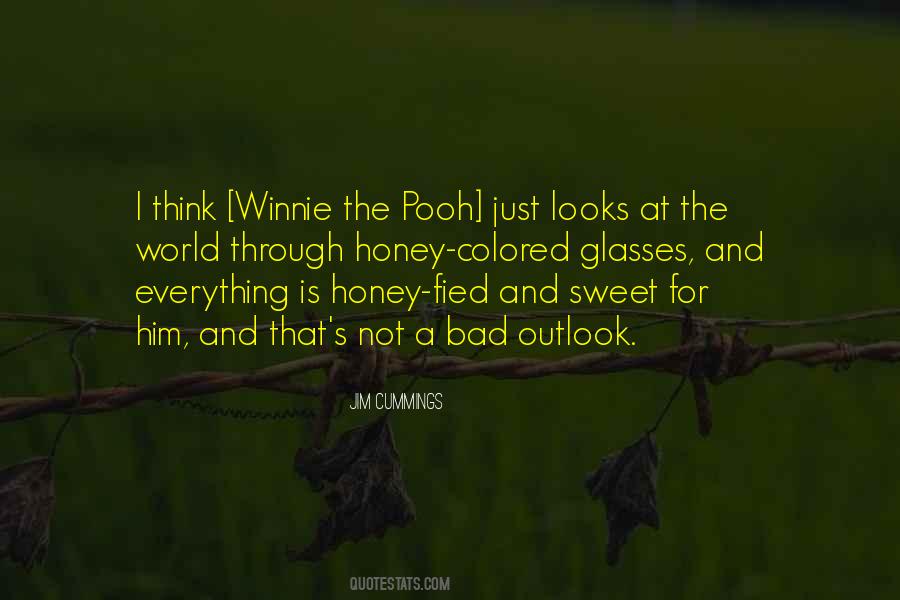 #92. We can't have sex at my parents' place," I said, giving him a grin.
"You are so sex obsessed," he said, sighing dramatically. "I blame myself for being that good. - Author: Bijou Hunter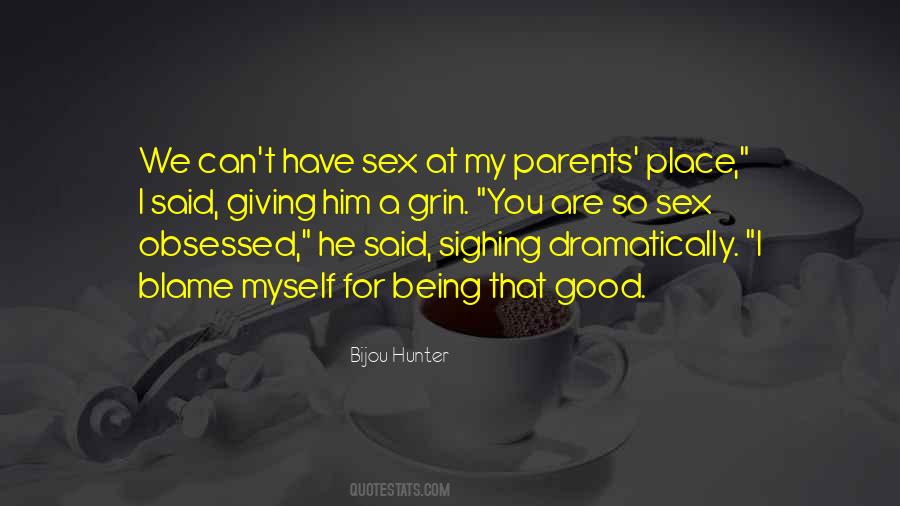 #93. We need a race to the top so that we have policies and regulations that protect human rights, the environment and that reduce poverty. - Author: Winnie Byanyima
#94. Any day spent with you is my favorite day. So today is my new favorite day. - Author: A.A. Milne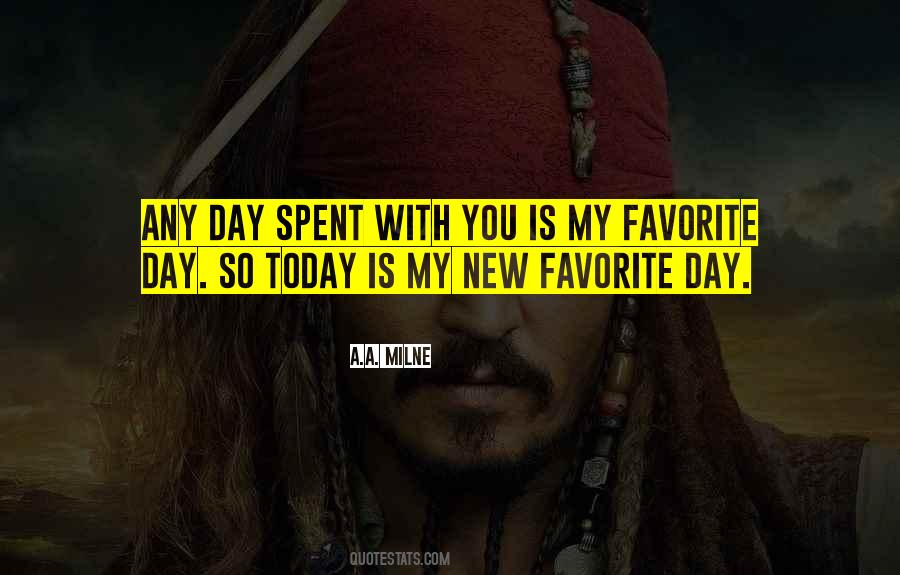 #95. Non apibus dubitandem est.
(You never can tell with bees.)
~ Winnie ille Pu - Author: A.A. Milne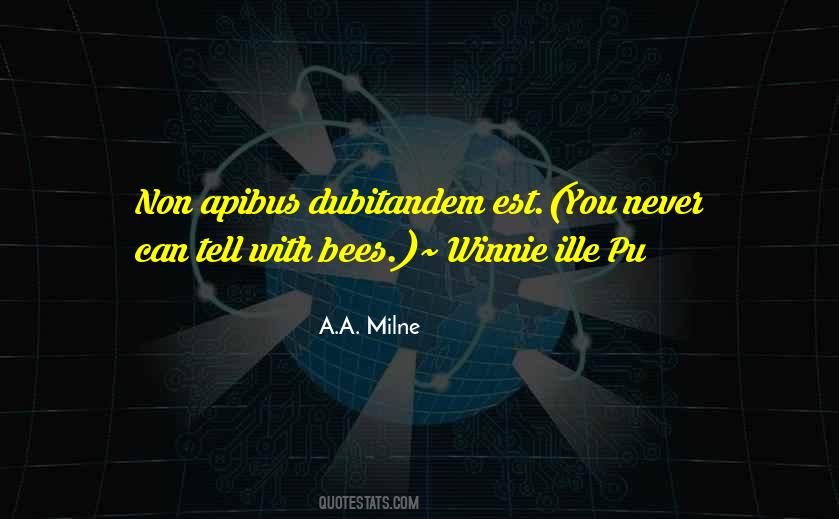 #96. Winnie the Pooh and his friends from the Hundred Acre Wood are among the most entertaining and beloved characters ever animated by Disney. - Author: John Lasseter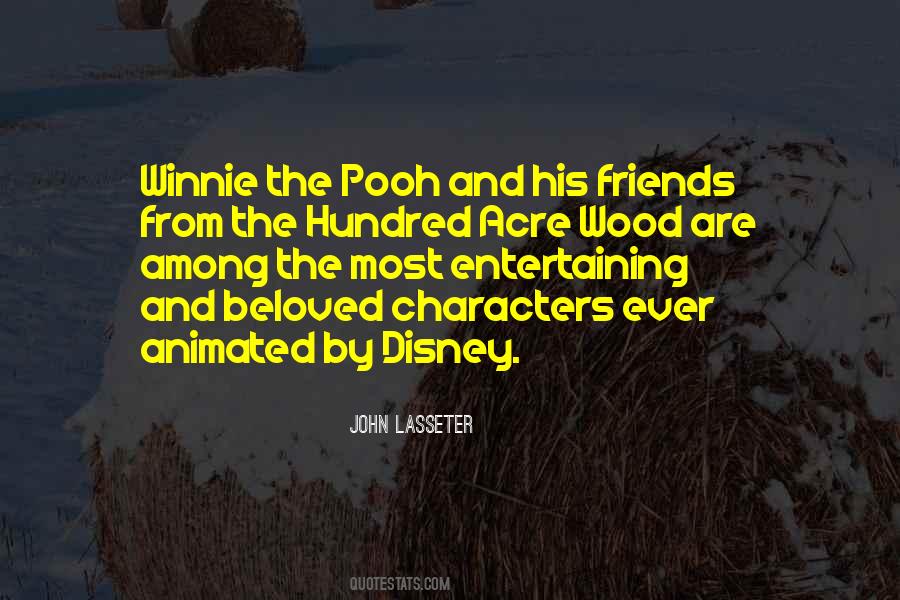 Famous Authors
Popular Topics