We Laugh Because Famous Quotes & Sayings
List of top 59 famous quotes and sayings about we laugh because to read and share with friends on your Facebook, Twitter, blogs.
Top 59 We Laugh Because Quotes
#1. As a comedian, I think we all look for those areas where the truth diverts from what people are saying. That's why politics is such a rich area for us, because politicians make promises, and they don't keep them, and when we point out the difference, we get the laugh. - Author: Bill Maher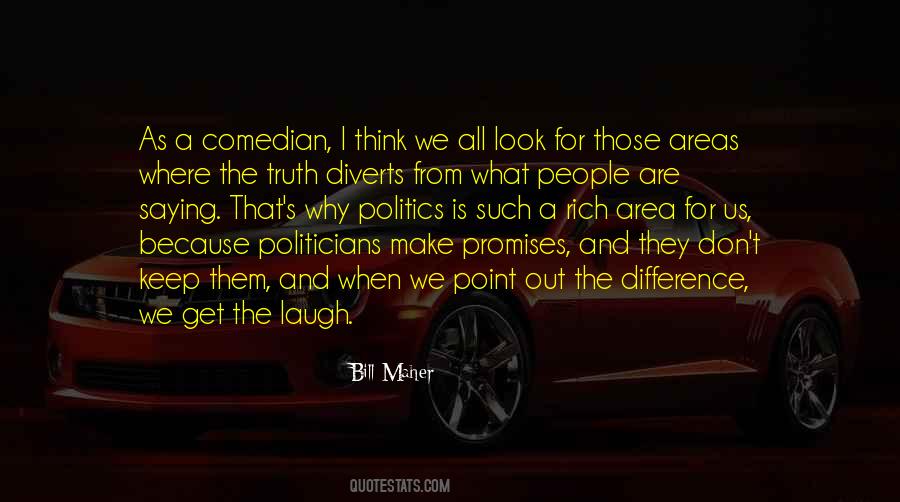 #2. We are the only creatures that both laugh and weep. I think it's because we are the only creatures that see the difference between the way things are and the way they might be. - Author: Robert Fulghum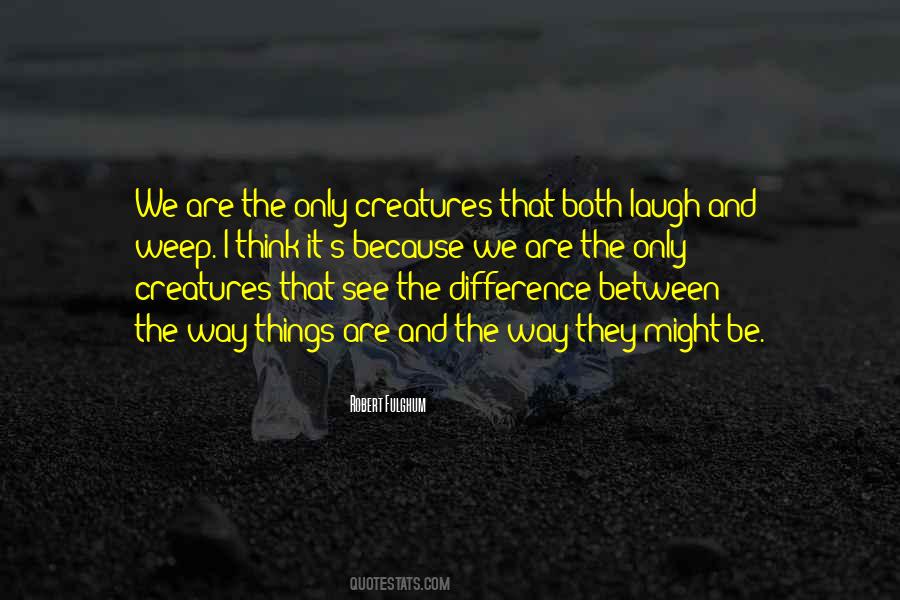 #3. It only works because we still amuse each other. After we have been working with other people, it is so refreshing to laugh unreservedly when we are back together again. - Author: Adrian Edmondson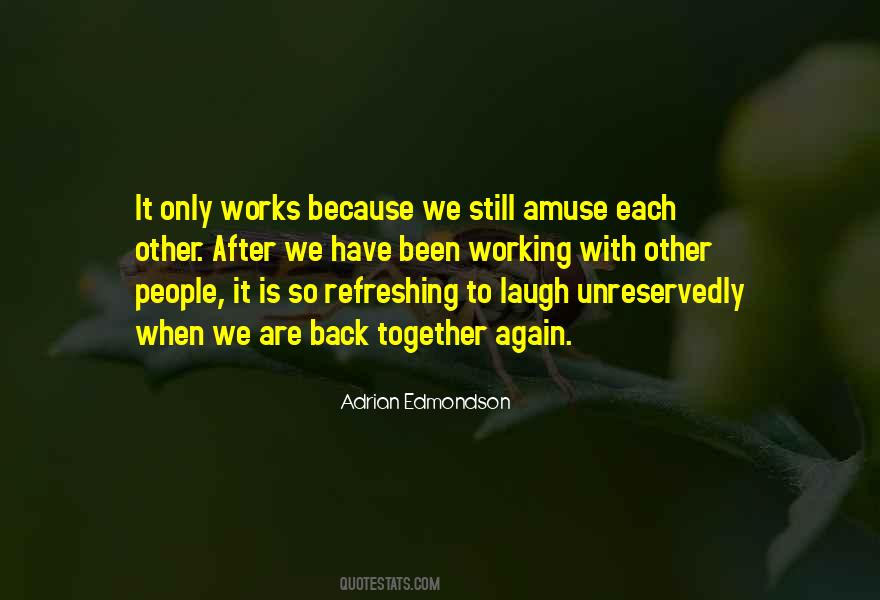 #4. Soren huffed. "I saw her looking at me when we were changing into our uniforms."
"She was looking at you because you're built like a bull."
Soren's laugh was nervous, clipped. "Is that good?"
"It'd be great if she were a cow. - Author: Veronica Rossi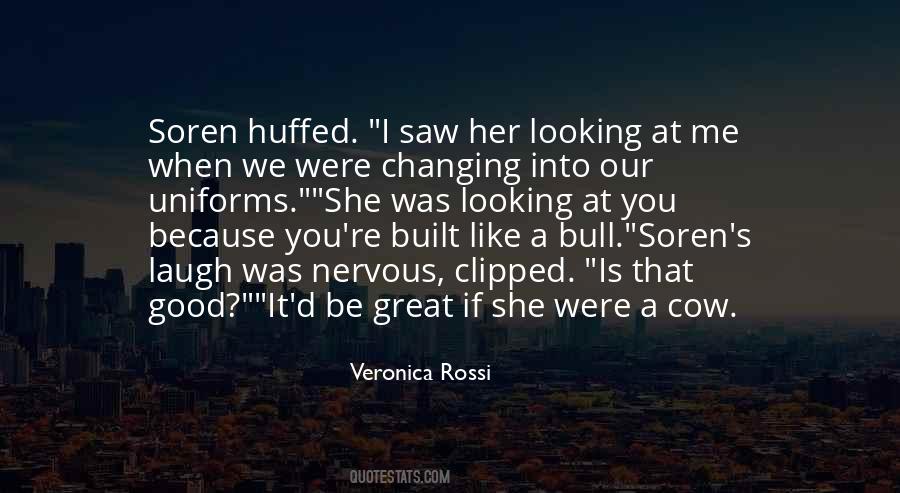 #5. Because I'm around comedians all the time, in my downtime I tend not to watch comedy. Something the whole family enjoys is 'You've Been Framed!' It satisfies all of us. It's universal, and we all laugh a lot. - Author: Nina Conti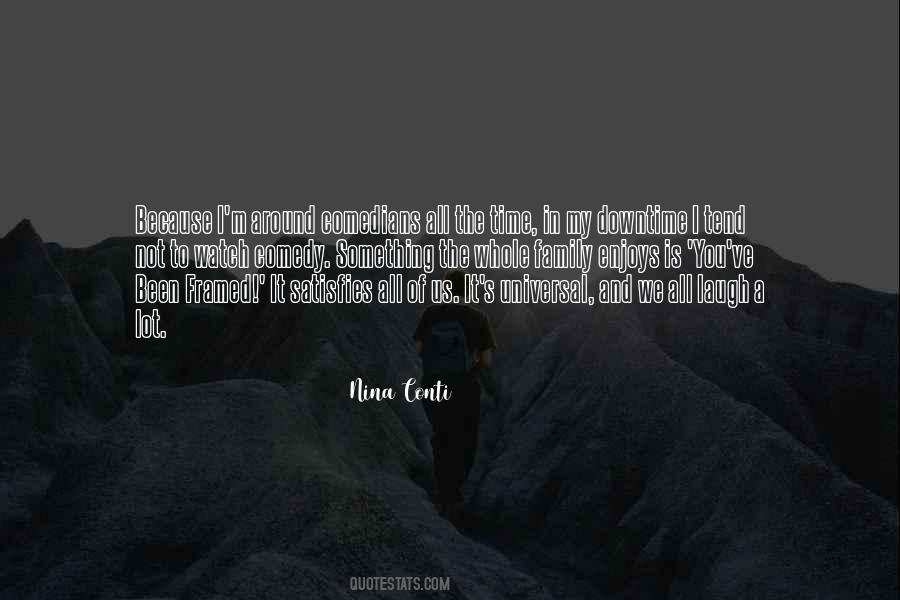 #6. What makes me laugh about politics, sometimes, is it seems like once we get to a point where our problems are seemingly unsolvable, it's because we're looking through a wrong point of view. If we turn the thing on its head, then maybe we might see it differently. - Author: Dave Davies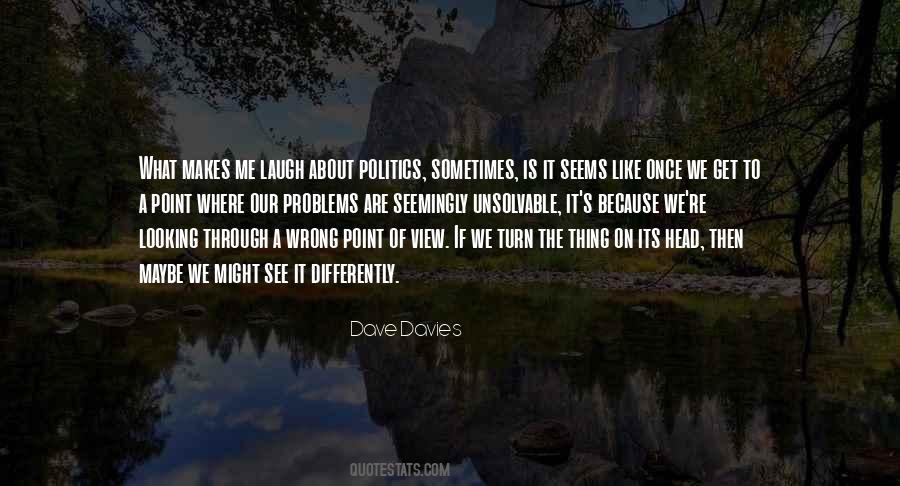 #7. She kind a laugh and it hurts my heart. Because everbody care. Black, white, deep down we all do. - Author: Kathryn Stockett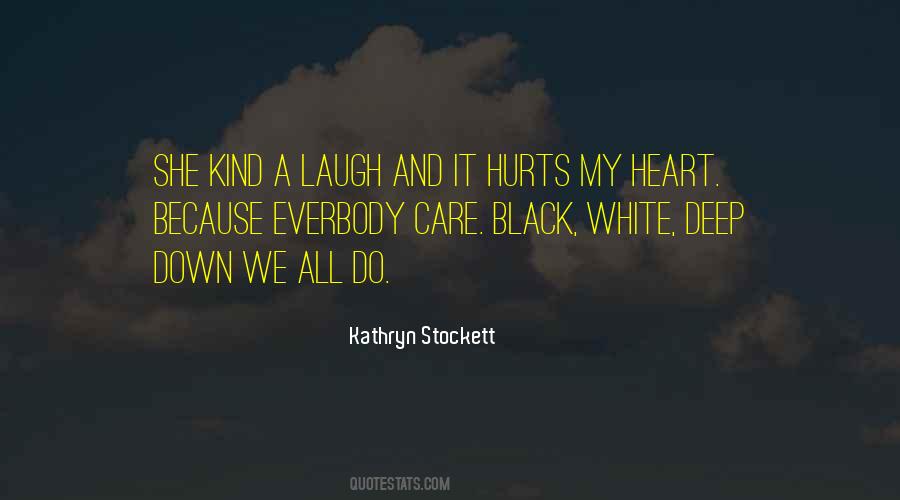 #8. We laugh at liberals who declare that their favorite spending programs should be exempt because the spending is for a noble cause. - Author: Grover Norquist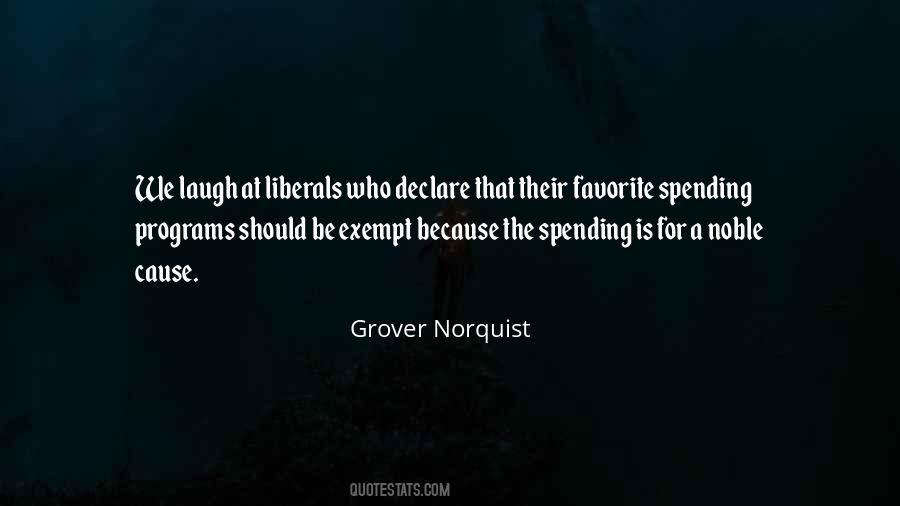 #9. My eyes are filling fast with tears and I blink and blink but the world is a mess and I want to laugh because all I can think is how horrible and beautiful it is, that our eyes blur the truth when we can't bear to see it. - Author: Tahereh Mafi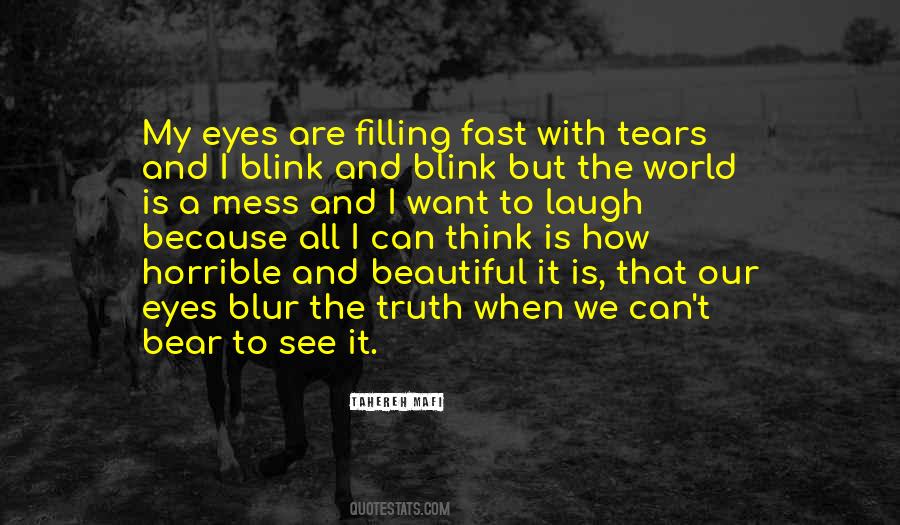 #10. Regardless of what I do, whether I write a book or whether I act or whether I host, I'll always do stand-up comedy because those moments, that's what I crave. If I do something funny, and I hear a crowd laugh in that moment, we're all sharing the exact same experience and the exact same feeling. - Author: Howie Mandel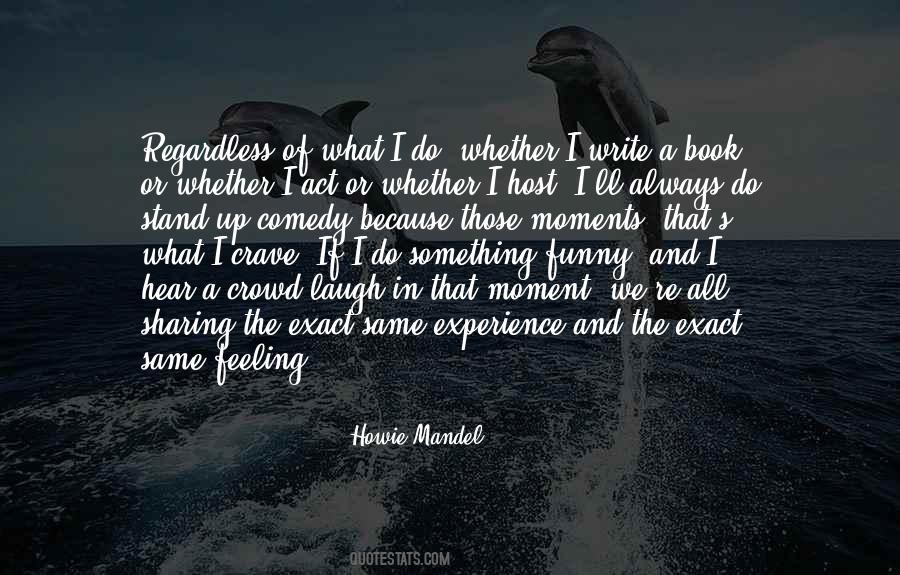 #11. People expect us to be different, but we're not. We're very similar people, and it's because we're so similar and close to each other that we make each other laugh - in fact we make each other laugh more than we make anyone else laugh. - Author: Adrian Edmondson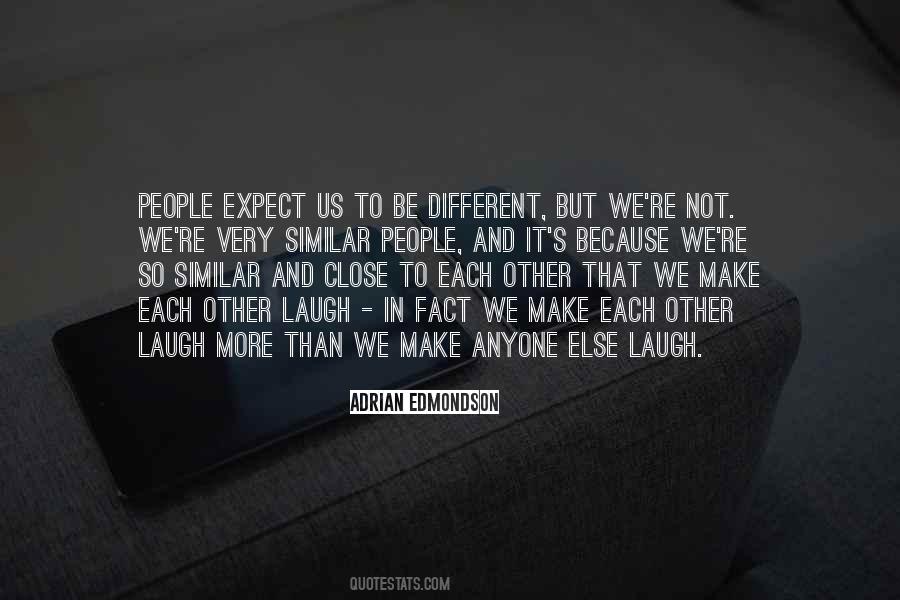 #12. His green-flecked brown eyes twinkle, and we laugh together, easy and light. He opens the door for me, and I say goodbye, floating over to where my family waits in our Winnebago. And I can't tell you if my feet actually touch the ground, because at this very moment, this Bird, well, she flies. - Author: Alecia Whitaker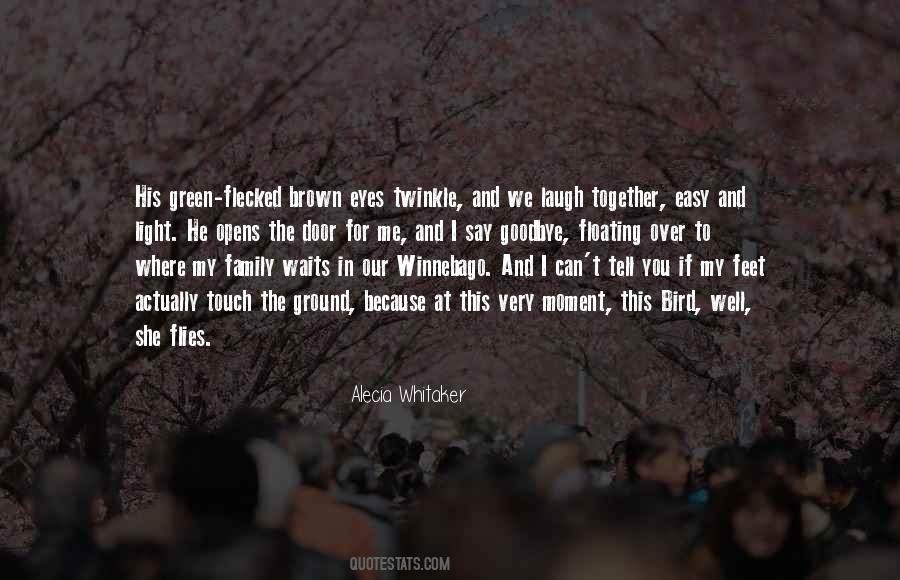 #13. We'd get in the car and i'd look over at John and say 'Christ. Look at you. You're a bloody phenomenon!' and just laugh because it was only him. - Author: Ringo Starr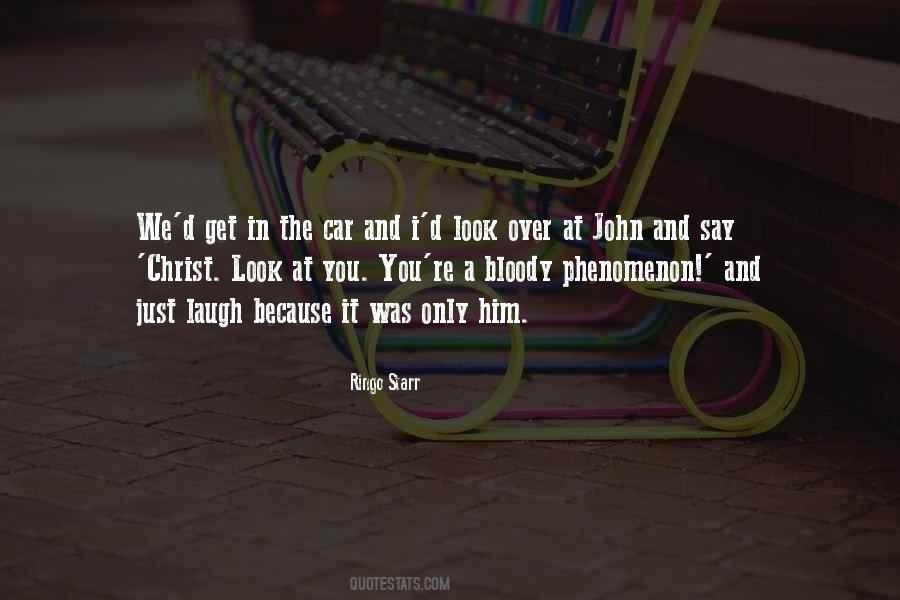 #14. Why do we laugh at such terrible things? Because comedy is often the sarcastic realization of inescapable tragedy. - Author: Bryant H. McGill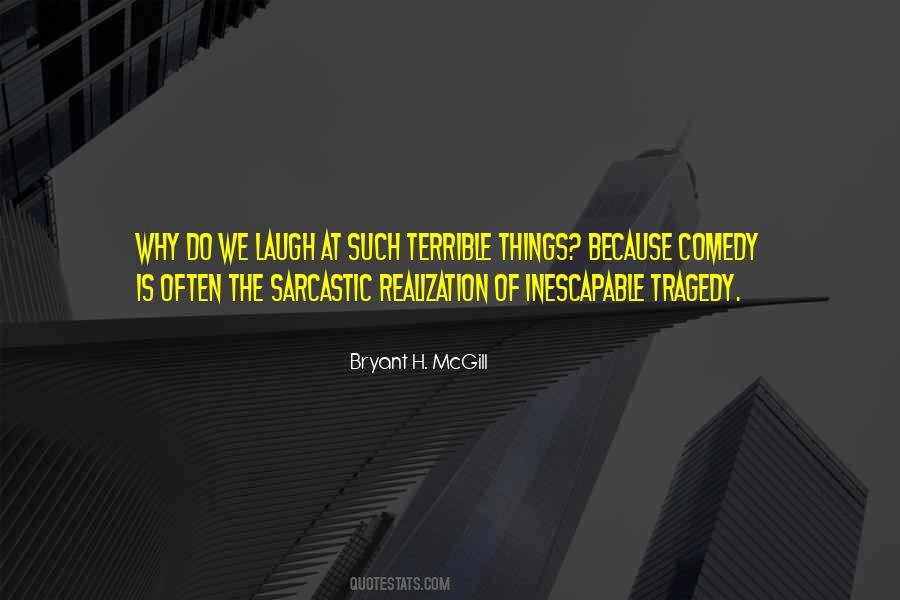 #15. We don't laugh because we're happy, we're happy because we laugh. - Author: William James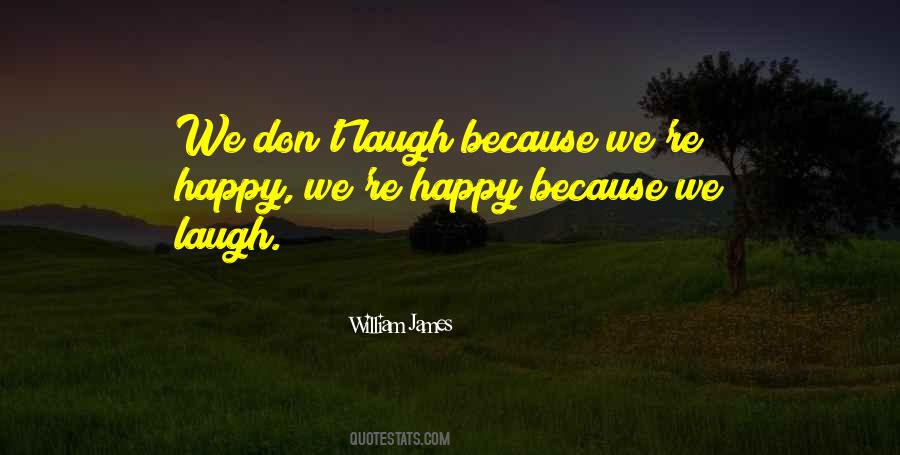 #16. When there's characters out there that don't have humor, I don't find them as believable, because we all have humor, no matter what level it is, we all use it every day, no matter what situation we're in, we'll try and have a bit of a laugh even if it goes wrong. - Author: Rhys Darby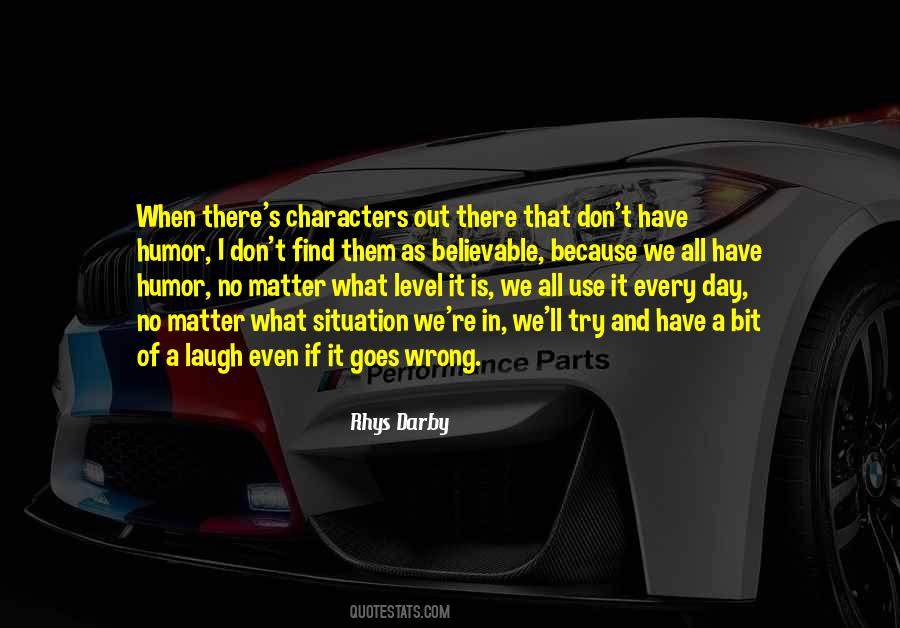 #17. You need to laugh more. Life is filled with too many problems, to not laugh every day ... We need to have a sense of humor going into this because it's too tough without it. - Author: Ysabella Brave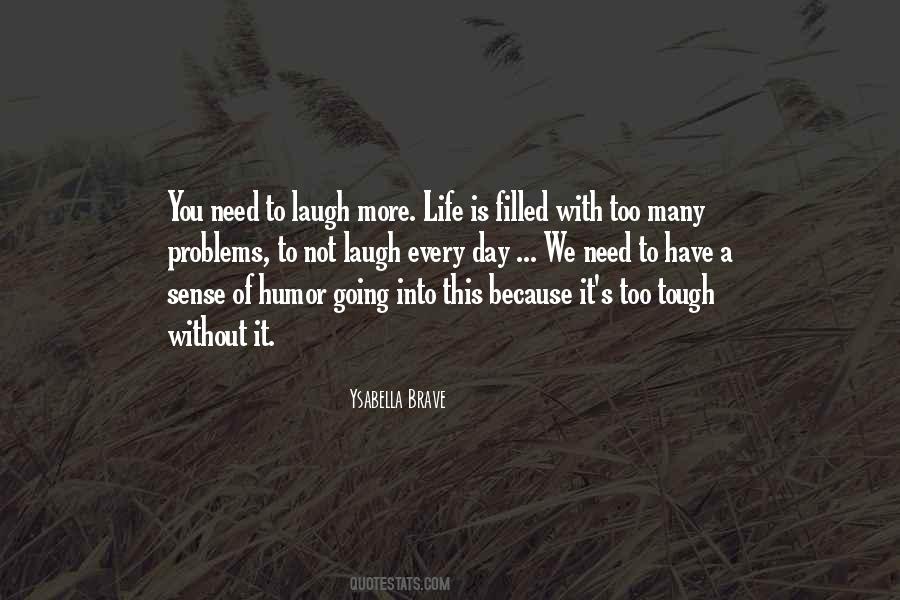 #18. We are always more disposed to laugh at nonsense than at genuine wit; because the nonsense is more agreeable to us, being more comfortable to our natures. - Author: Margaret Of Valois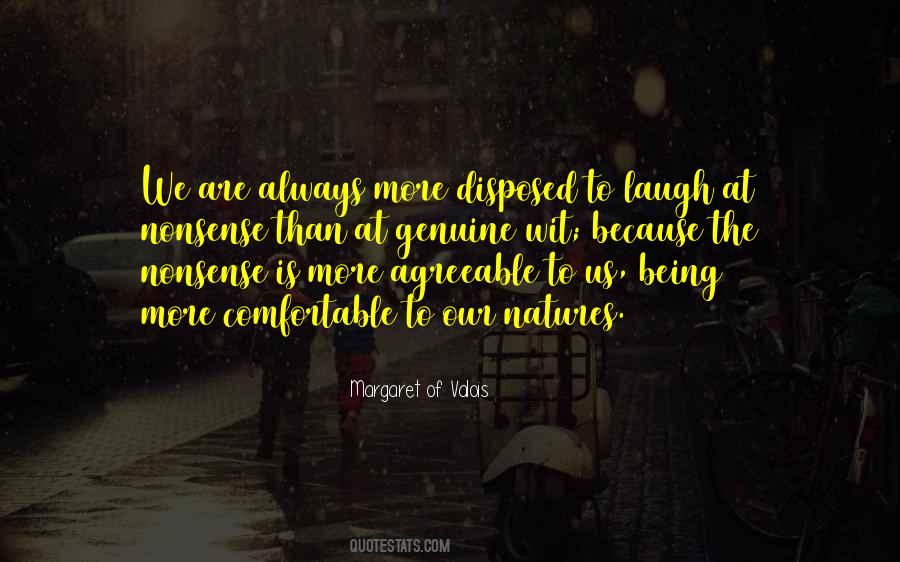 #19. He thinks I'm beautiful and told me so. He thinks I'm funny because I make him laugh all the time. He's fantastic in bed and when I say that not once, not even once have we been together where he's not taken care of me and it's not unheard of he takes care of me twice in one go. - Author: Kristen Ashley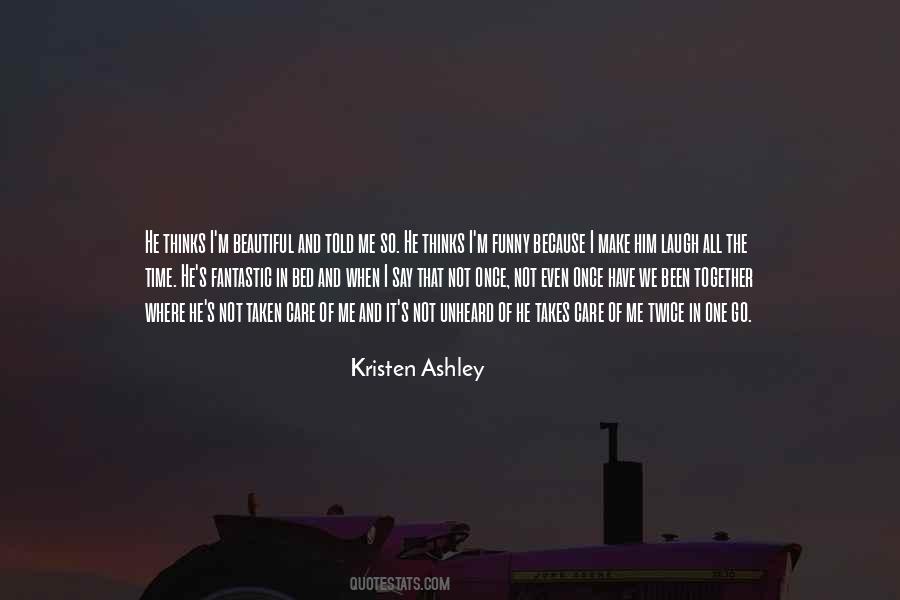 #20. I don't know if we will ever try again because those sort of things are very hard to organise but yes, I've known Doon for years and John as well but I hadn't met Will before, and he turned out to be a good laugh. - Author: Jo Brand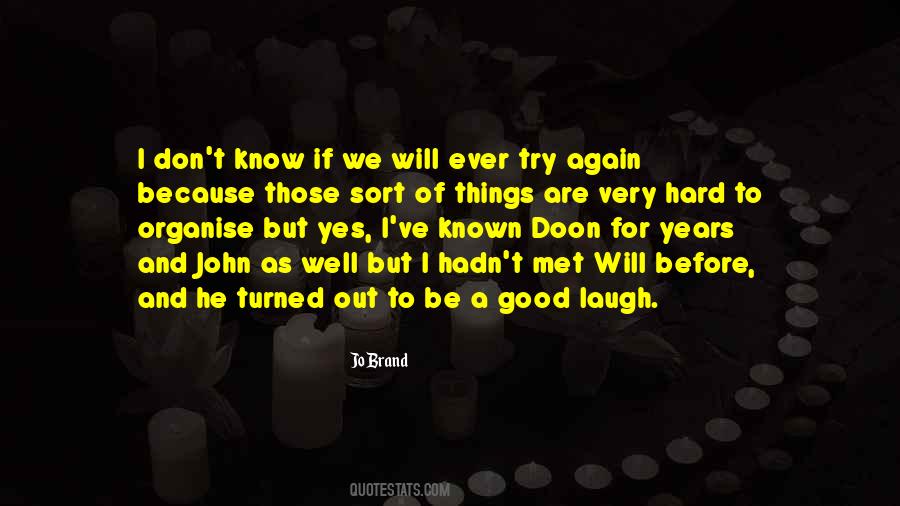 #21. If we hear a joke so awful that we laugh at how bad it is, we are taking part in the irony; in other words, the joke did not contain irony; irony was provided by our response. Why is it ironic? Because the intent of the joke was to get laughter, and it did - but for the wrong reason. - Author: Dan O'Shannon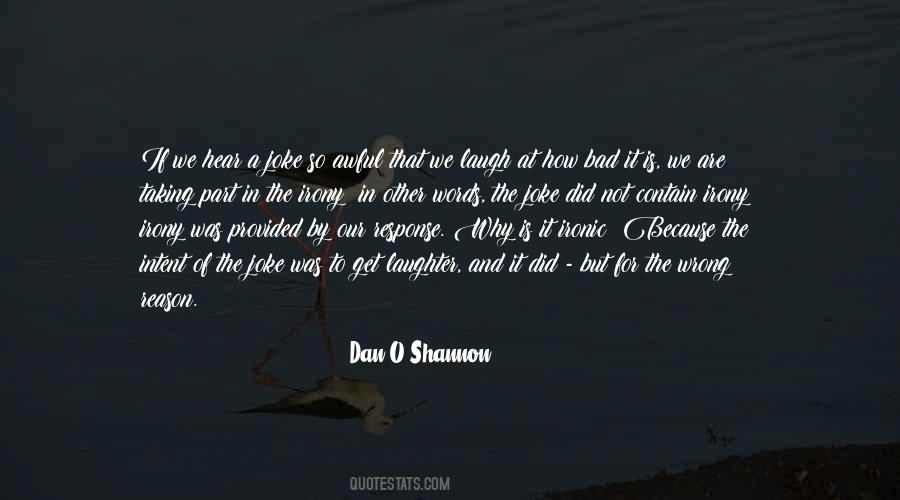 #22. The things we laugh at are awful while they are going on, but get funny when we look back. And other people laugh because they've been through it too. The closest thing to humor is tragedy. - Author: James Thurber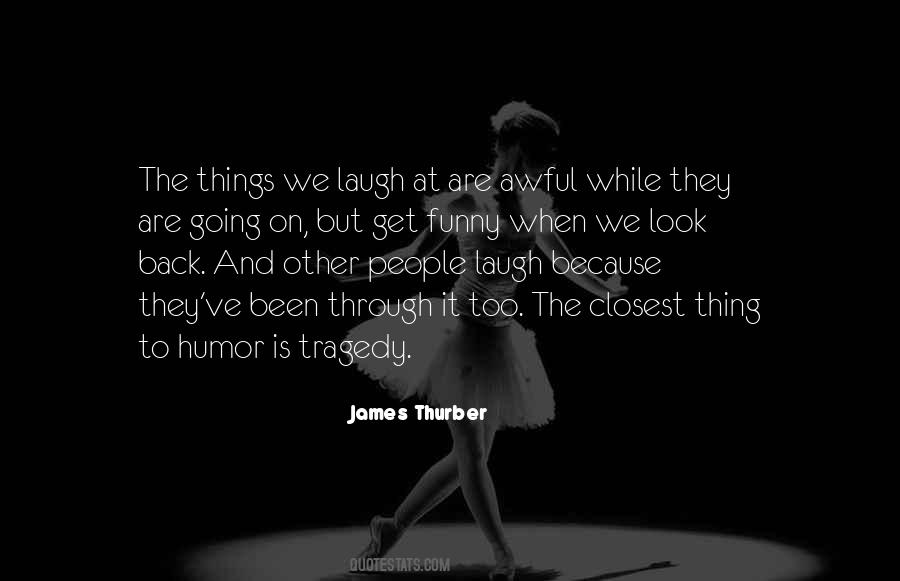 #23. 'Last Man Standing' has been an amazing treat because it is the best day job you could have because we laugh every day. It lightened me up a bit because I tend to go to some dark places. - Author: Amanda Fuller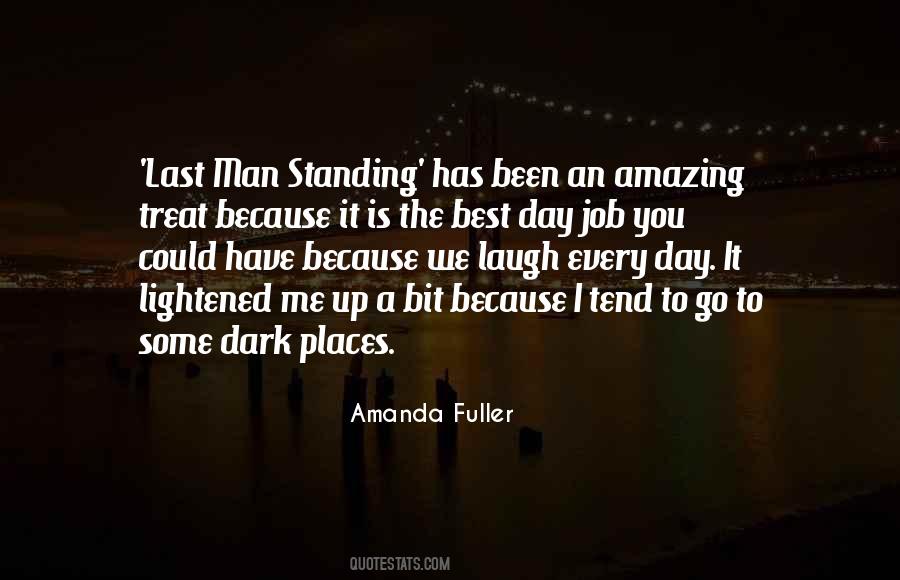 #24. Al and Tommy and I sharing the biggest laugh because it was predicted by everything we did in the first three or four records in my career. It was predicted in the grooves that we would be here sometime later on down the road. - Author: Al Jarreau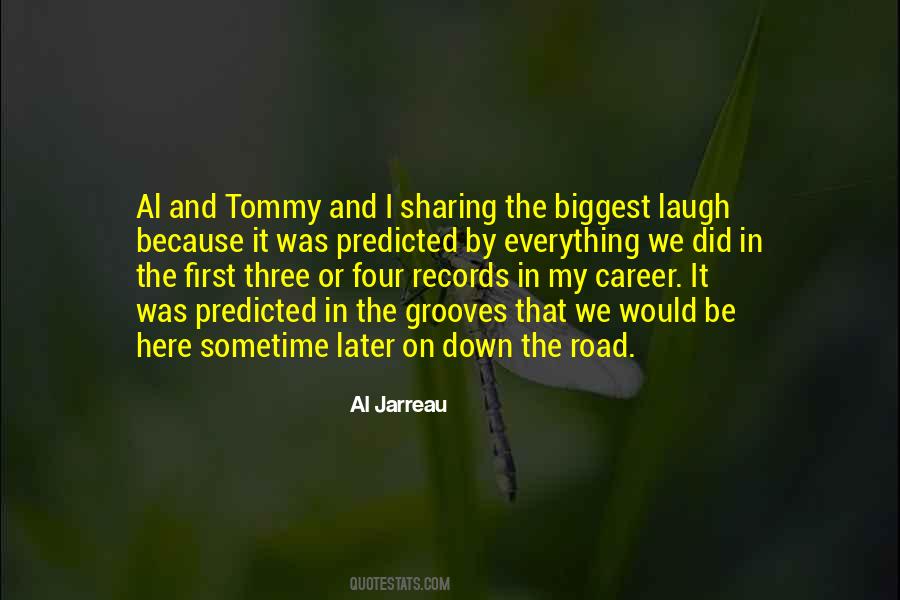 #25. In the creation of comedy, it is paradoxical that tragedy stimulates the spirit of ridicule; because ridicule, I suppose is an attitude of defiance: we must laugh in the face of our helplessness against the forces of nature - or go insane - Author: Charlie Chaplin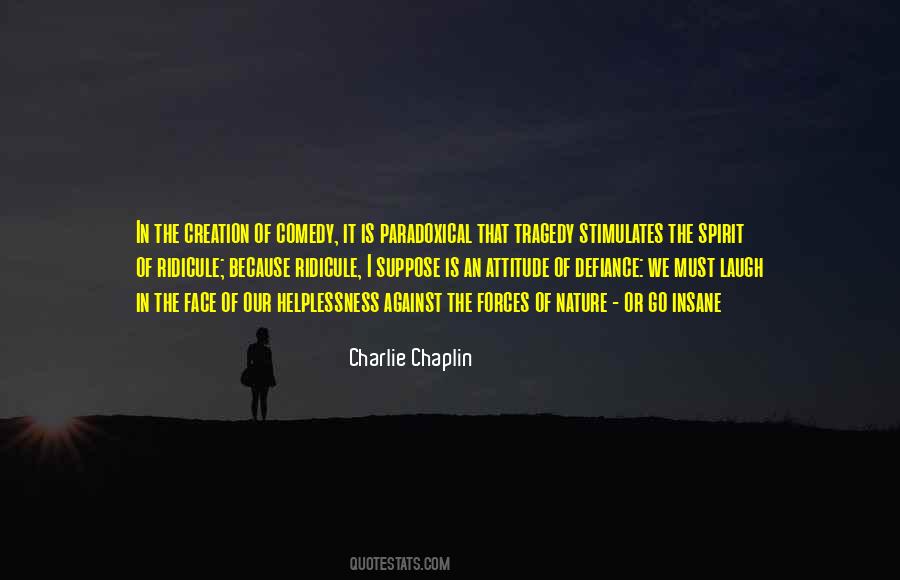 #26. Because humor brings us back to earth, it helps us to use well what is left to us even when we are keenly aware of what we have lost or been denied. Only those who know how to weep can also laugh heartily. - Author: Kathleen R Fischer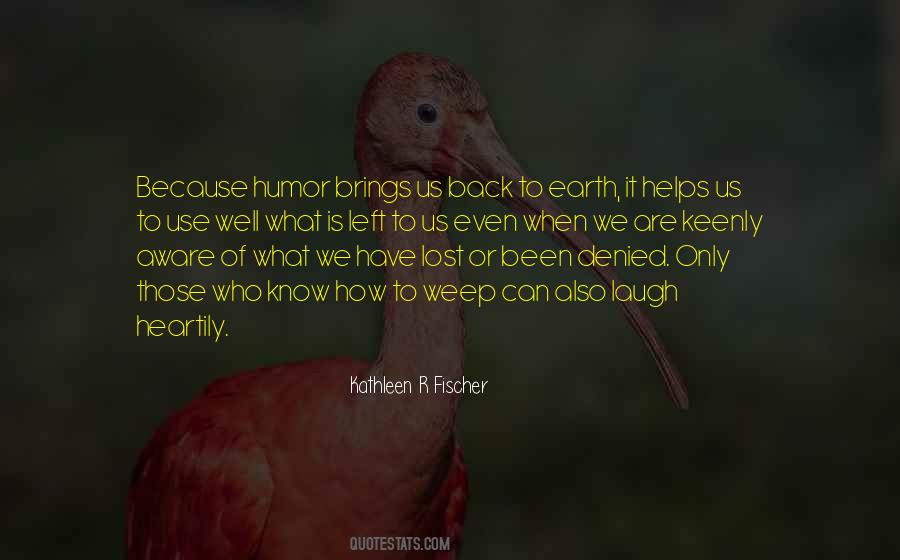 #27. Because, life's too short, my friends. Let's squeeze in as many laughs as we can get. - Author: Neil Pasricha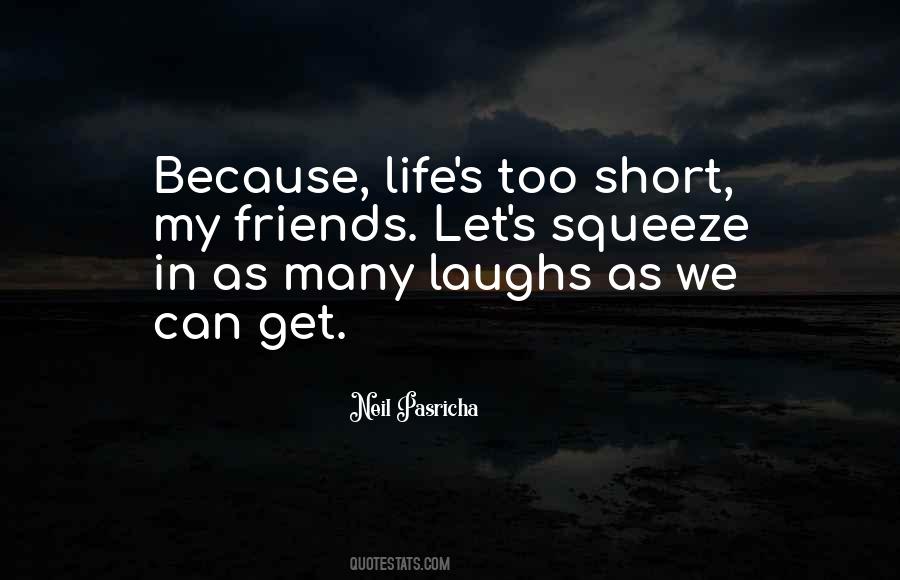 #28. For instance, we need to look with our eyes to laugh," he said, "because only when we look at things can we catch the funny edge of the world. On the other hand, when our eyes see, everything is so equal that nothing is funny. - Author: Carlos Castaneda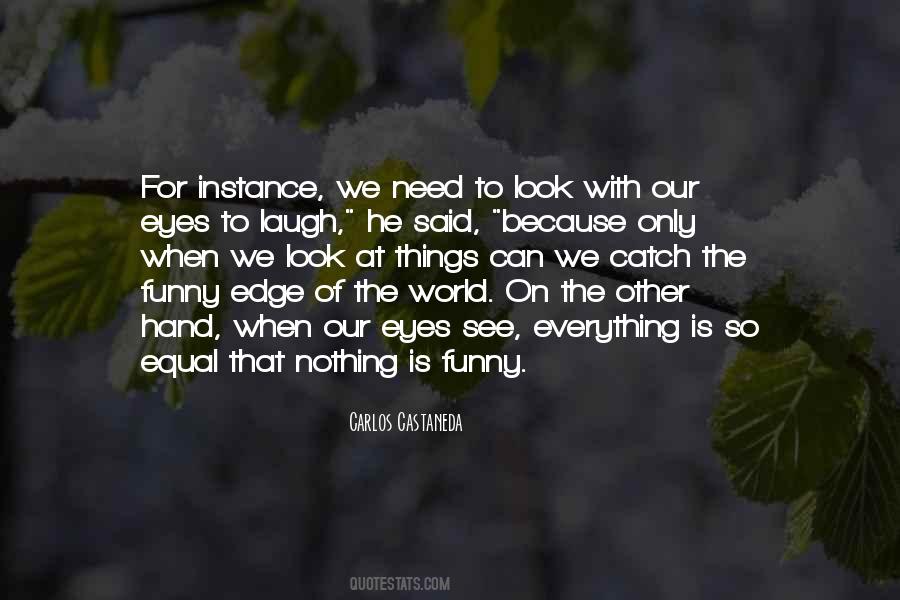 #29. Friends are helpful not only because they will listen to us, but because they will laugh at us; Through them we learn a little objectivity, a little modesty, a little courtesy; We learn the rules of life and become better players of the game - Author: Will Durant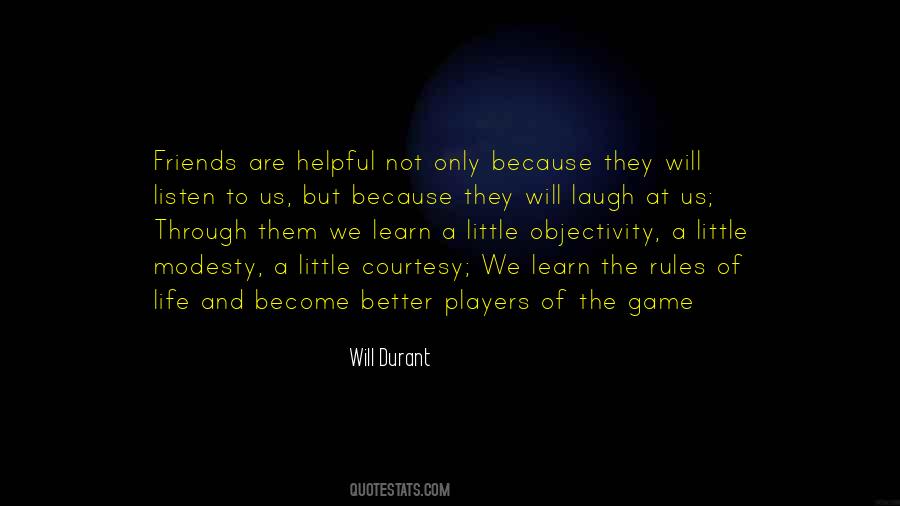 #30. William James said, 'We don't laugh because we are happy. We are happy because we laugh. - Author: Robin S. Sharma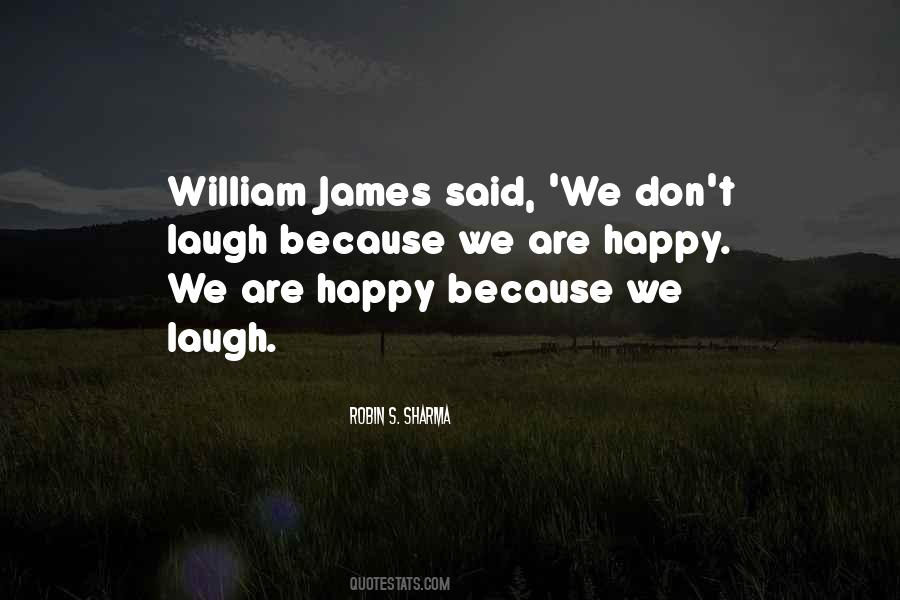 #31. Sometimes living can be hard, but it's only because we're alive that we can make each other laugh,cry ... be happy! In this world, if that's not a reason for being born in this world ... I don't know what is! - Author: Natsuki Takaya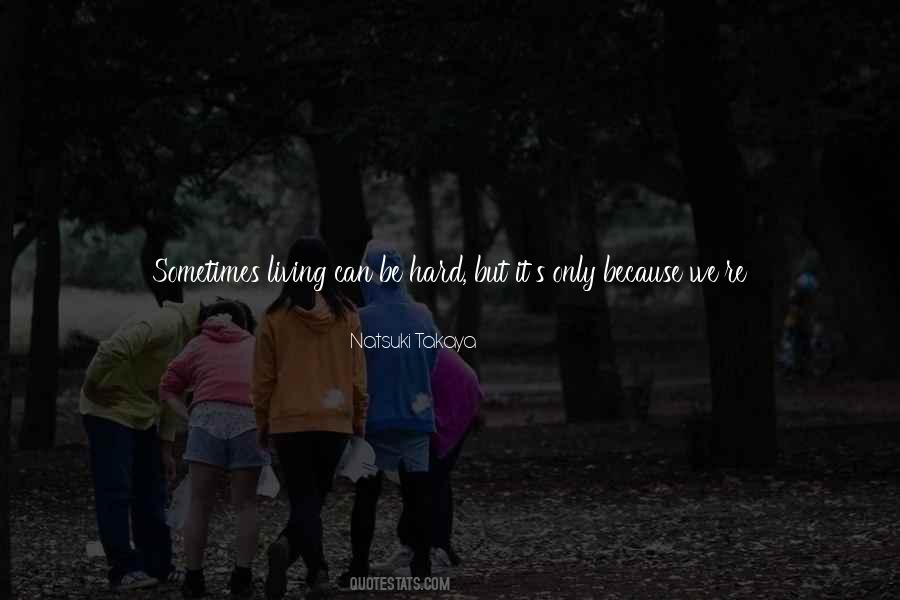 #32. I would be sad if it ended now. It's been the best job I've had by a long shot, especially creatively because the writing is so good. Every week I get the script and I laugh out loud and get excited for the different stuff we get to do. - Author: Sarah Chalke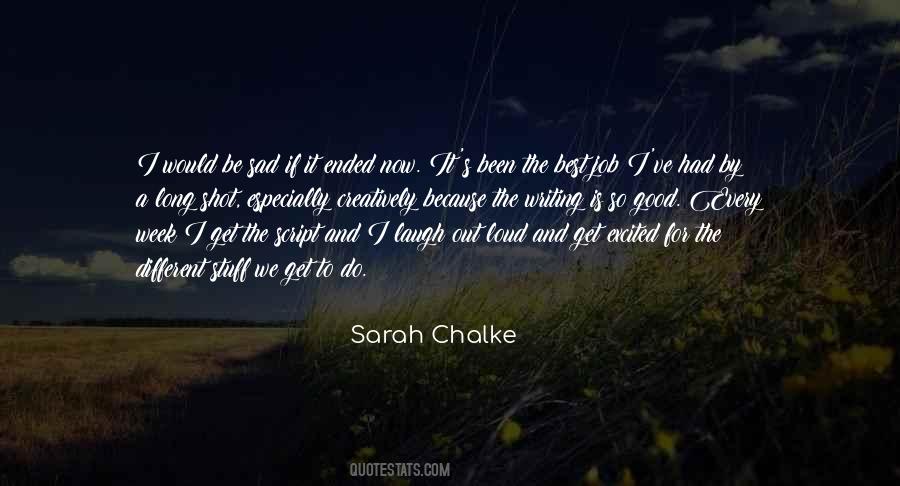 #33. We could make this work, you know."
"I will knee you in the groin."
"I could give you a night you will never forget."
"Because you will be writhing in agony all night and I will laugh unmercifully. It will be unforgettable. - Author: Darynda Jones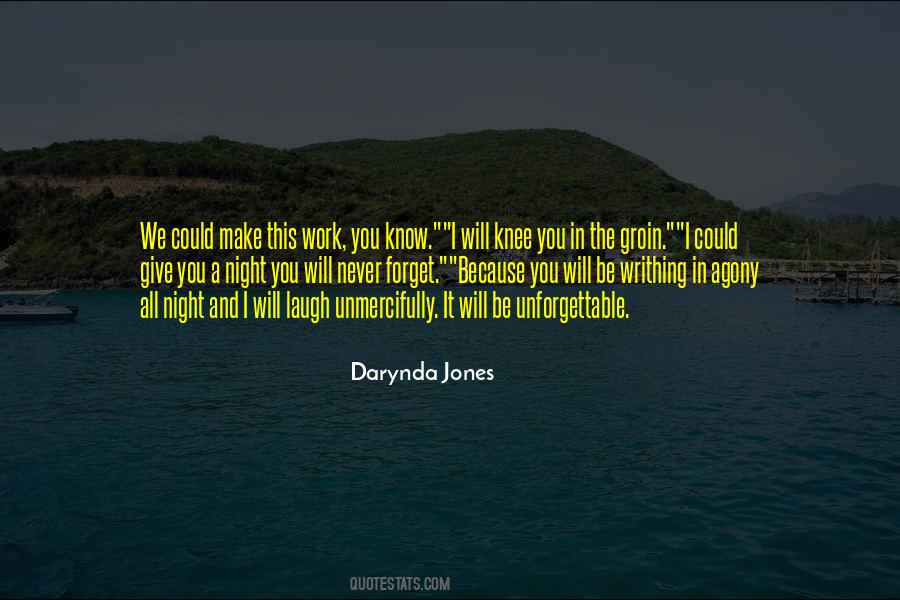 #34. I have to laugh because despite the destruction, we cannot let 'them' steal our pleasure. That is always the theme of my performances: I'm here to thrive, not just to survive. - Author: Lydia Lunch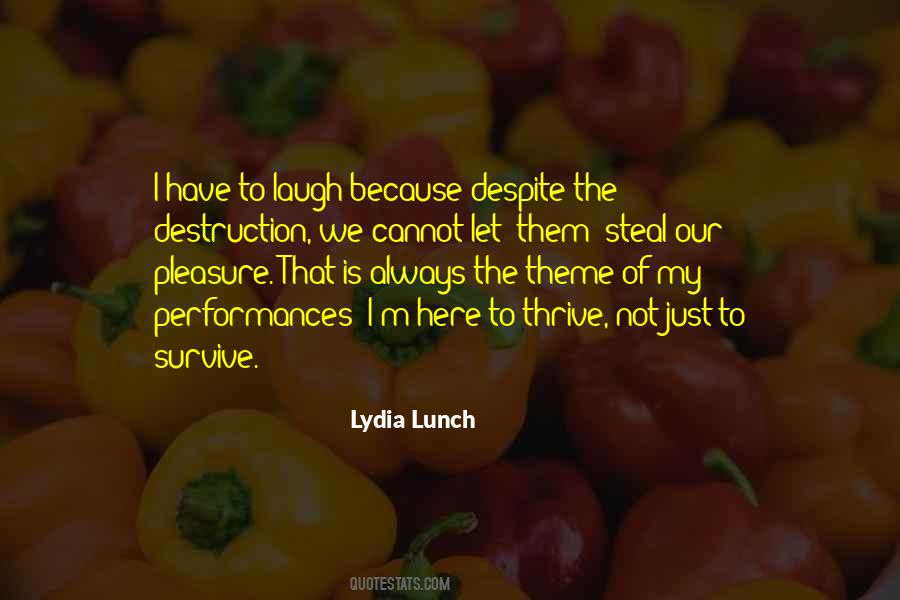 #35. It's human nature to not say everything that's on your mind at the time you think it. Because we fear saying something that people will laugh at, people will think is dumb. We're afraid of being embarrassed. - Author: Taylor Swift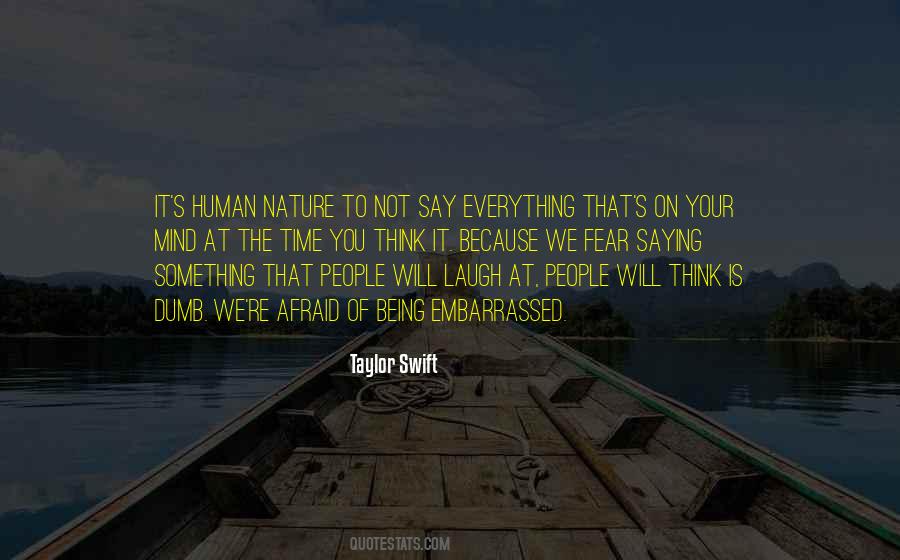 #36. I really like 'Shameless' because it brings up important issues, but we get to talk and laugh and look at something that's really important that's a problem, like alcoholism and bad parenting. It's done in a funny, smart way. - Author: Justin Chatwin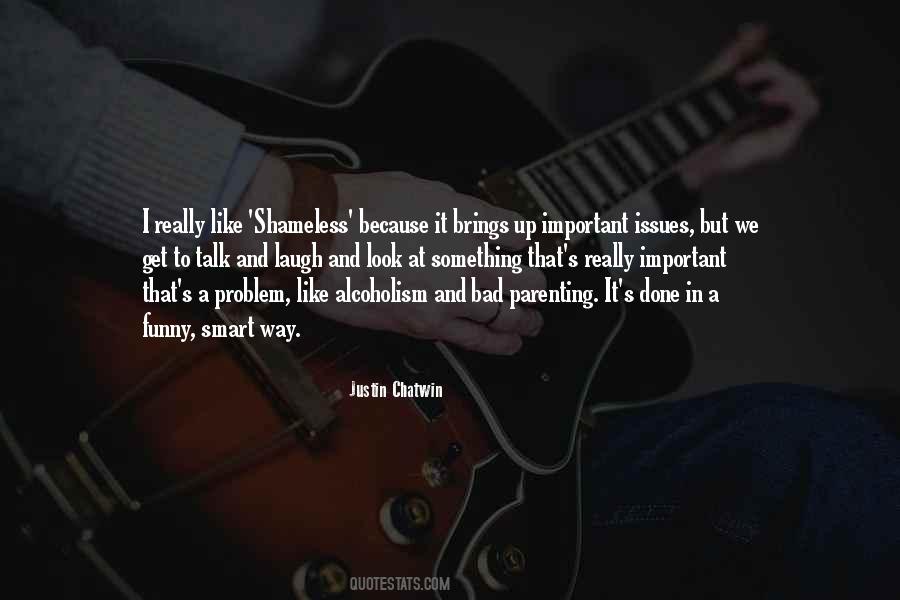 #37. A teacher is there to laugh at you because you have such a high opinion of yourself that you need to be laughed at. You need to sense how small we all are. - Author: Frederick Lenz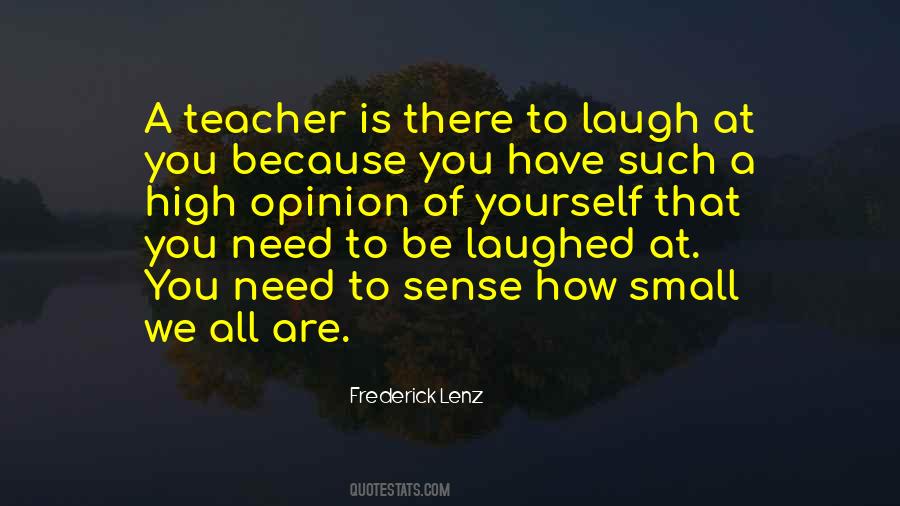 #38. Laughter is one of the great beacons in life because we don't refract it by gunning it through our intellectual prism. What makes us laugh is a mystery - an involuntary response. - Author: Dennis Miller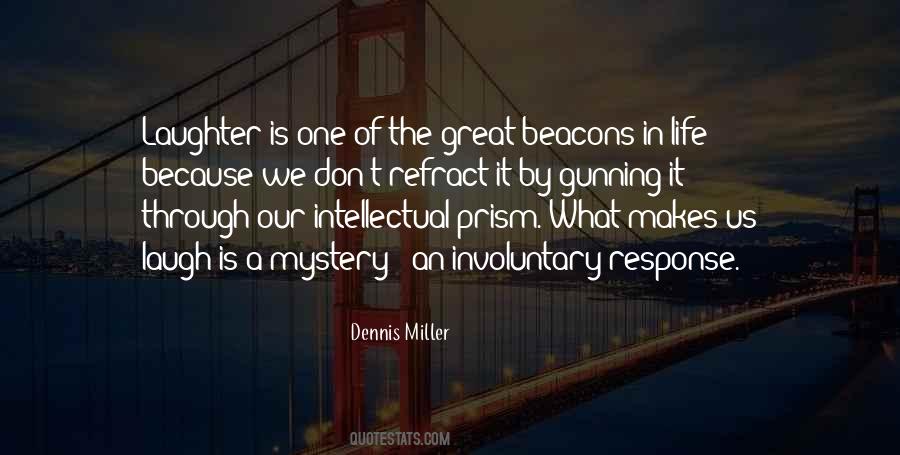 #39. Because our hearts are frivolous and because we ignore our faults we never discover the sickness in our souls, but idly we laugh when we have full reason to weep. - Author: Thomas A Kempis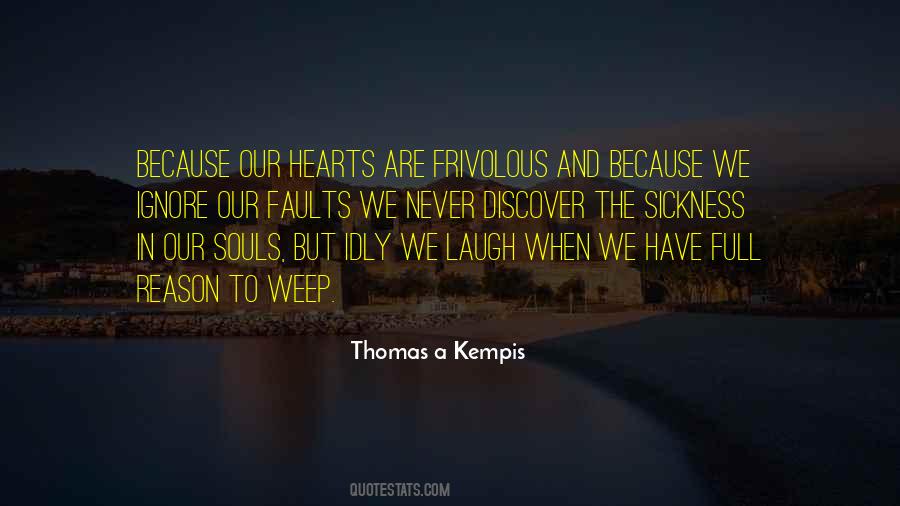 #40. I knew it was love because it was easy to talk about a load of bollocks and laugh until we hurt. - Author: Lucy Robinson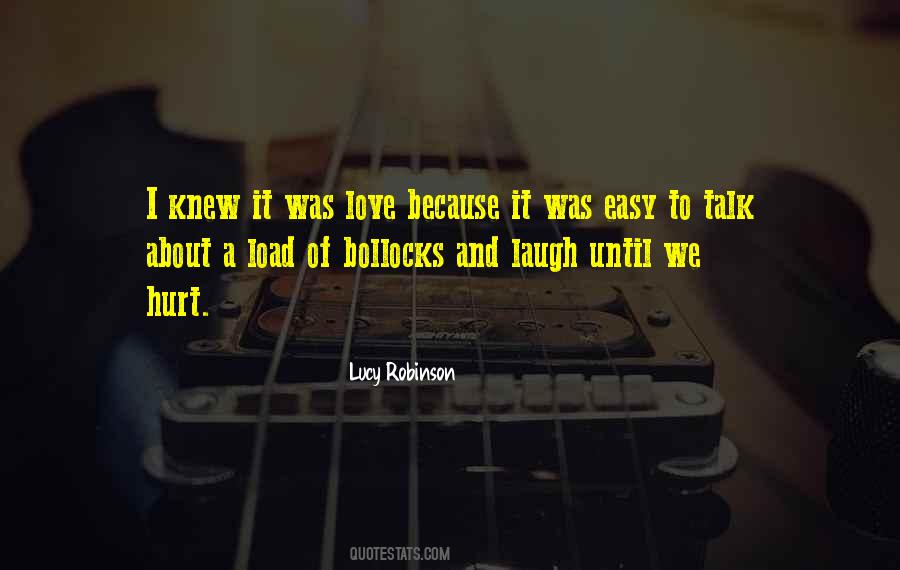 #41. We don't laugh because we feel good; we feel good because we laugh. - Author: Bob Ross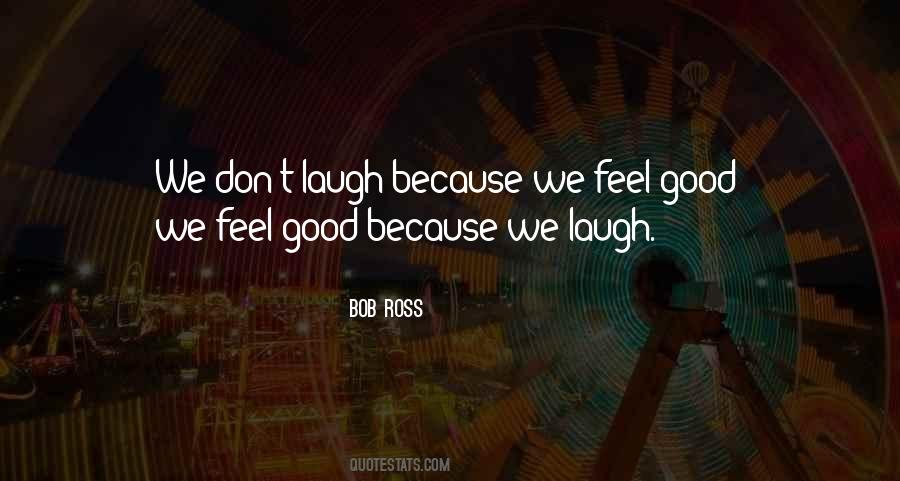 #42. So Dorothy said we might was well go out to Fountainblo with Louie and Robber if Louie would take off his yellow spats which were made of yellow shammy skin with pink pearl buttons. Because Dorothy said, 'Fun is fun but no girl wants to laugh all the time. - Author: Anita Loos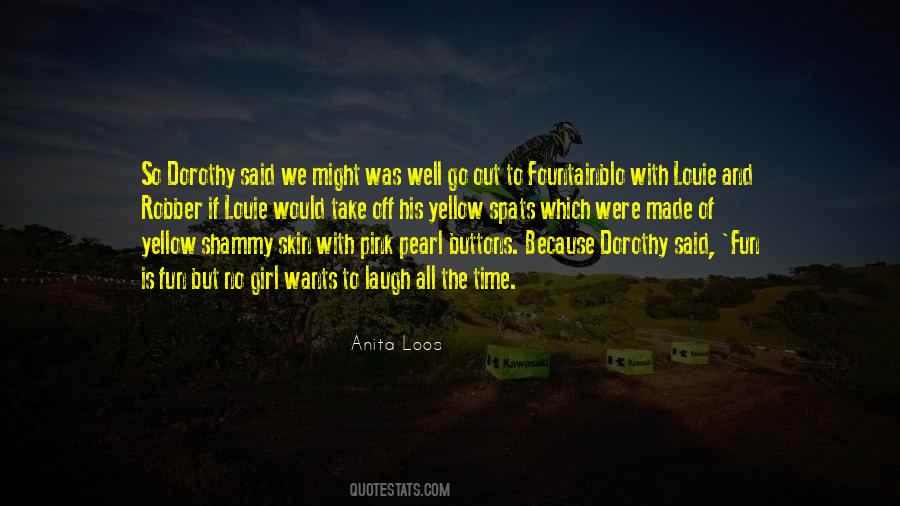 #43. People place so much value on thought, but feeling is as essential. I want to read books that make me laugh and cry and fear and hope and punch the air in triumph. I want a book to hug me or grab me by the scruff of my neck. I don't even mind if it punches me in the gut. Because we are here to feel. - Author: Matt Haig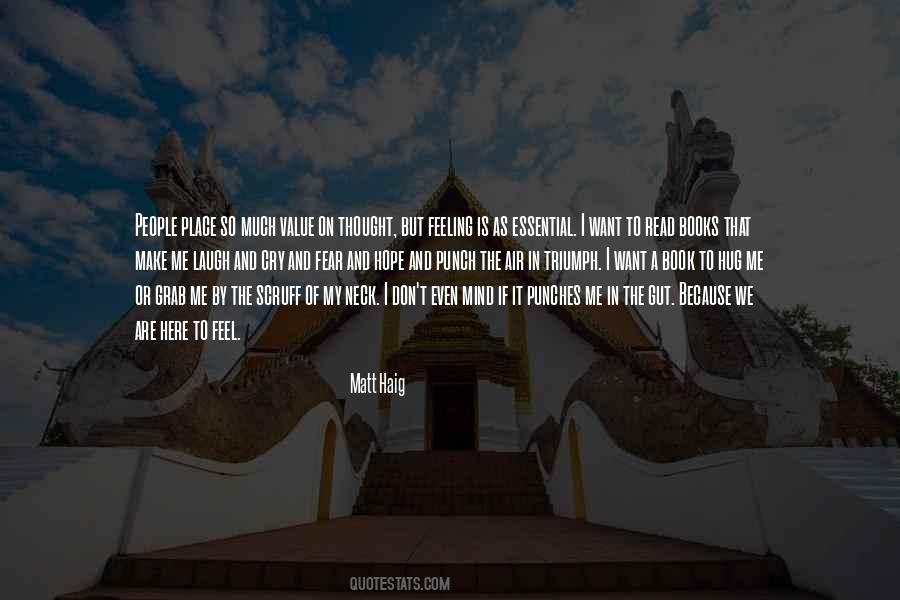 #44. We need to learn to laugh at ourselves because when you don't laugh, you cry. And I don't feel like crying. - Author: Tracy Morgan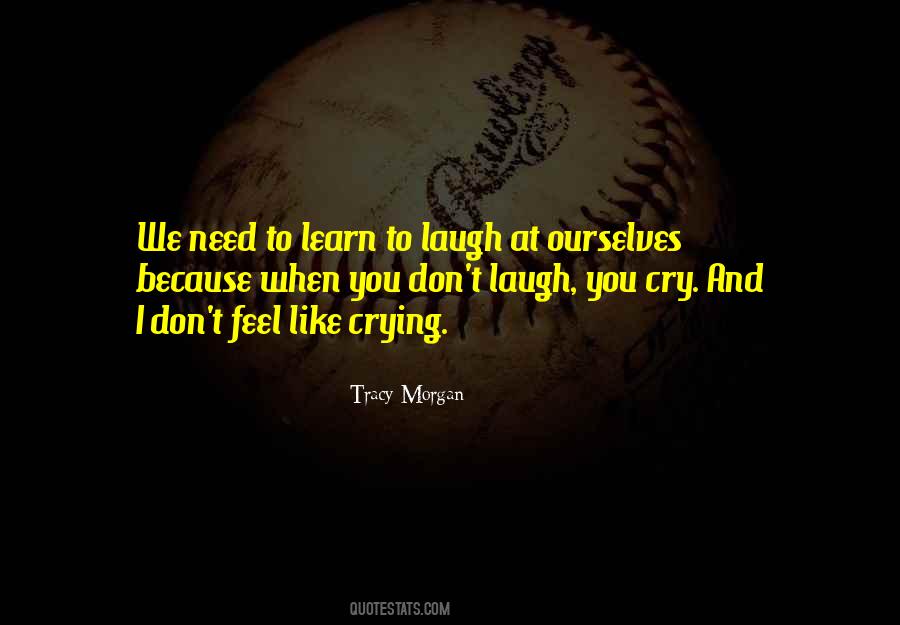 #45. I ALWAYS HAVE DONE WELL HOWEVER IN BLUE STATES AND RED STATES. IVE NEVER REALLY ALIGNED MYSELF WITH ALL THAT RED STATE BLUE STATE DR. SUESS CRAP BECAUSE WERE ALL AMERICANS AND WE ALL LIKE TO LAUGH. - Author: Larry The Cable Guy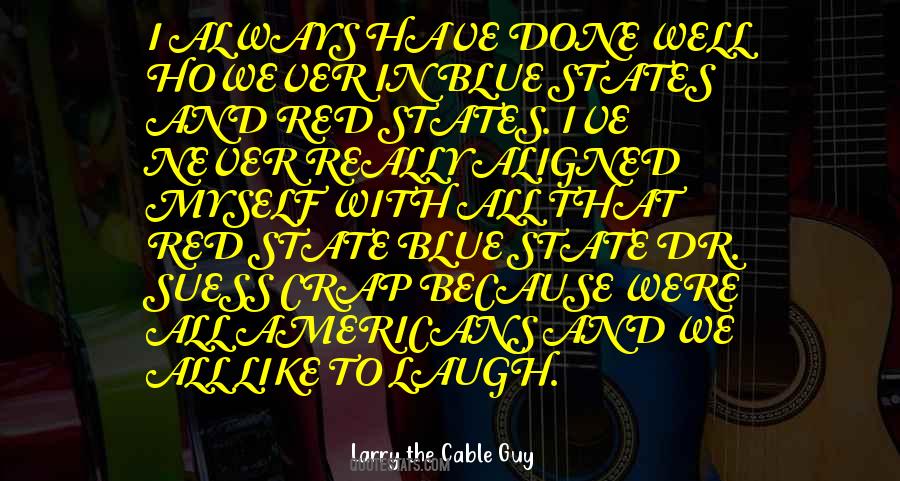 #46. I notice you didn't laugh, Mr. Black!
No, Your Majesty. We are forbidden to laugh at the things kings say, sire, because otherwise we would be at it all day. - Author: Terry Pratchett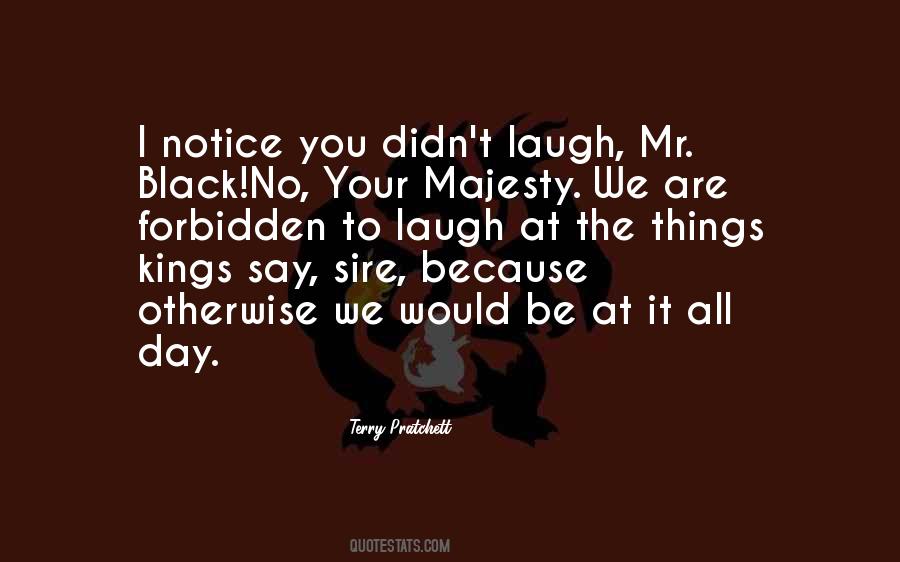 #47. We're not alive to be alone on the planet. We're alive to share, to eat together and love together and laugh together and cry together. If you can never love because you will always lose, what reason is there to live? - Author: Jackie Kay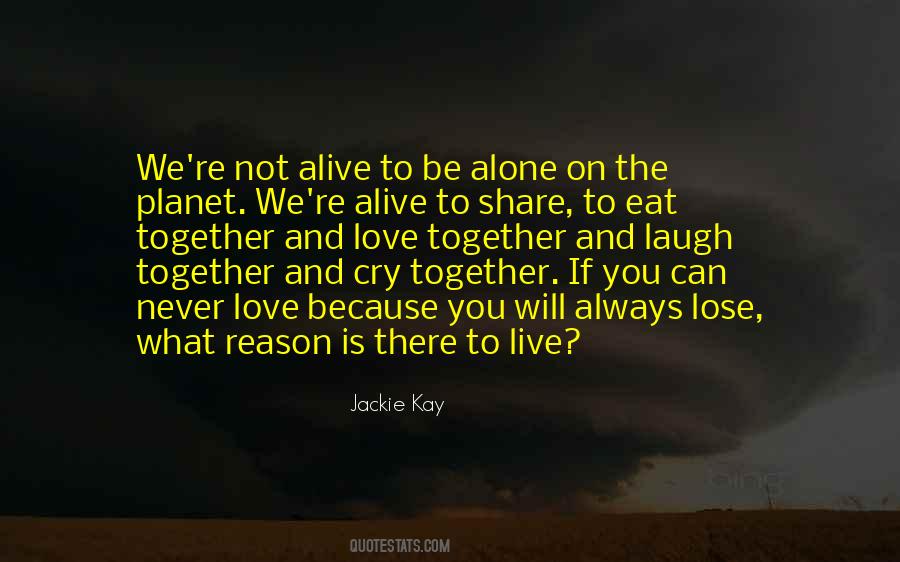 #48. There's death and life, you see. We all shine on. A leaf, a star, a song, a laugh. Notice the little things, because somebody is reaching out to you ... Somebody loves you. - Author: Ben Sherwood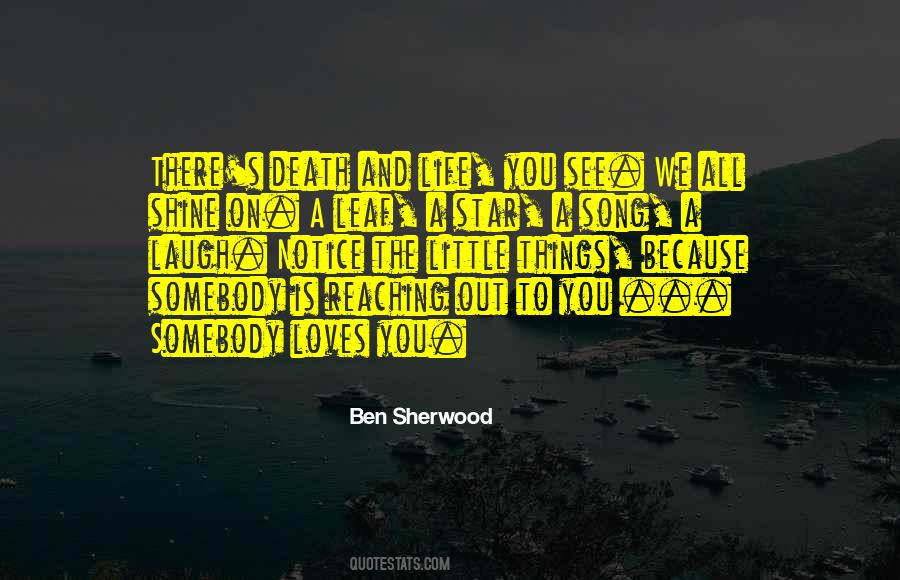 #49. I know why we laugh. We laugh because it hurts, and it's the only thing to make it stop hurting. - Author: Robert A. Heinlein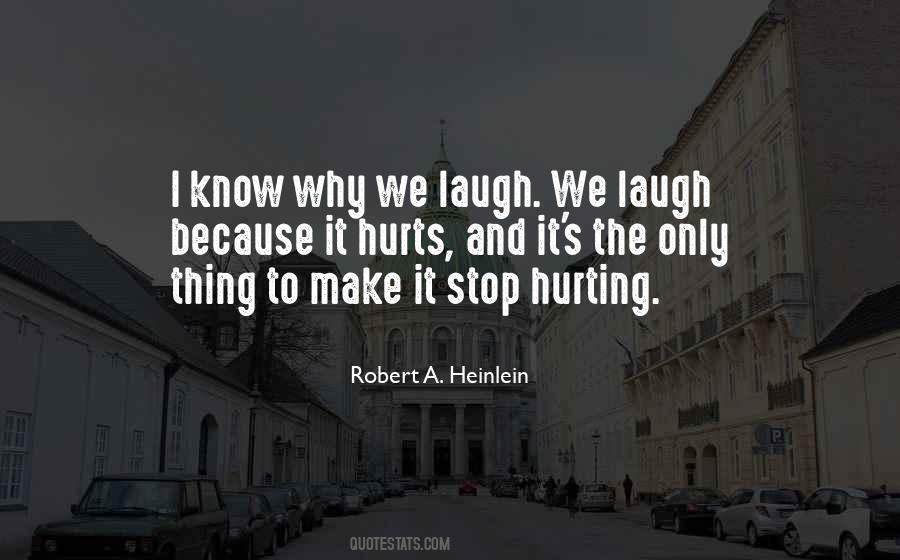 #50. We laugh at inferior or ugly individuals, because we feel a joy at feeling superior to them. - Author: Aristotle.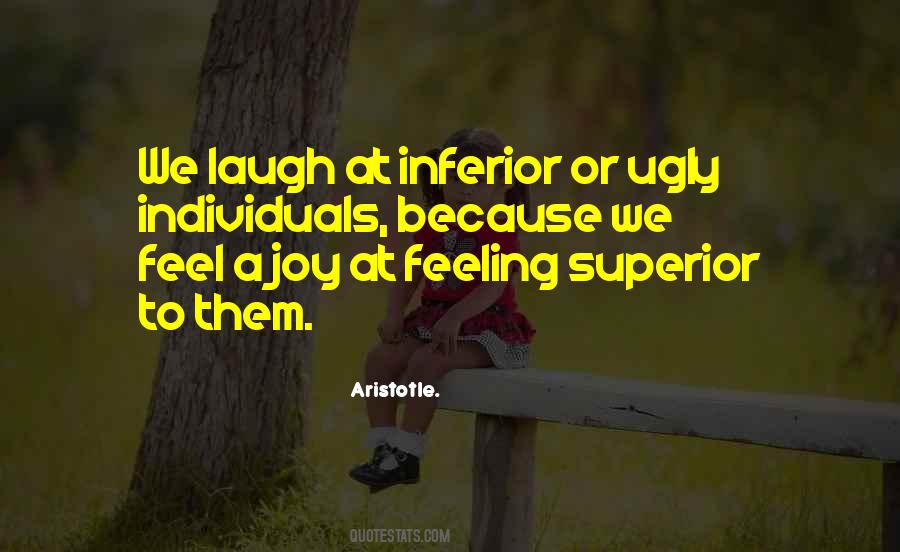 #51. I'm not a mess but a deeply feeling person in a messy world. I explain that now, when someone asks me why I cry so often, I say, 'For the same reason I laugh so often--because I'm paying attention.' I tell them that we can choose to be perfect and admired or to be real and loved. We must decide. - Author: Glennon Doyle Melton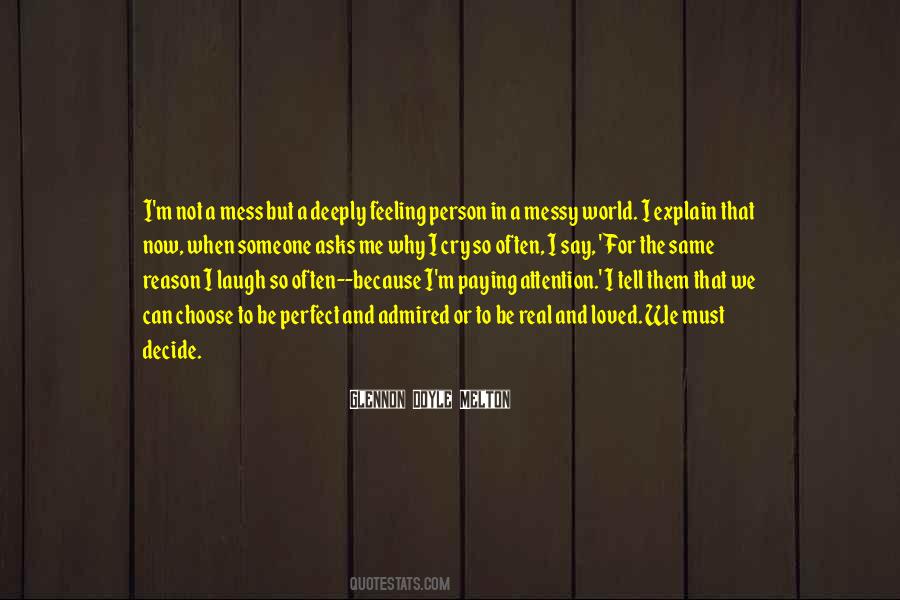 #52. It's so great to be able to make people laugh, because this is so often how we get our selves back. - Author: Anne Lamott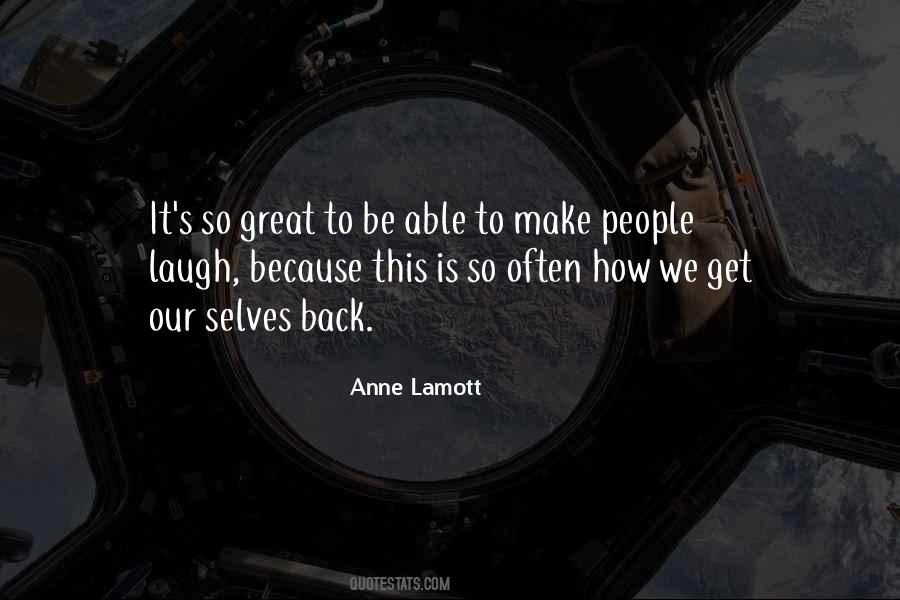 #53. Because that's how snobs deal with uncomfortable subjects. We belittle their importance, laugh at them, and change the subject to weather or sport. - Author: L. H. Cosway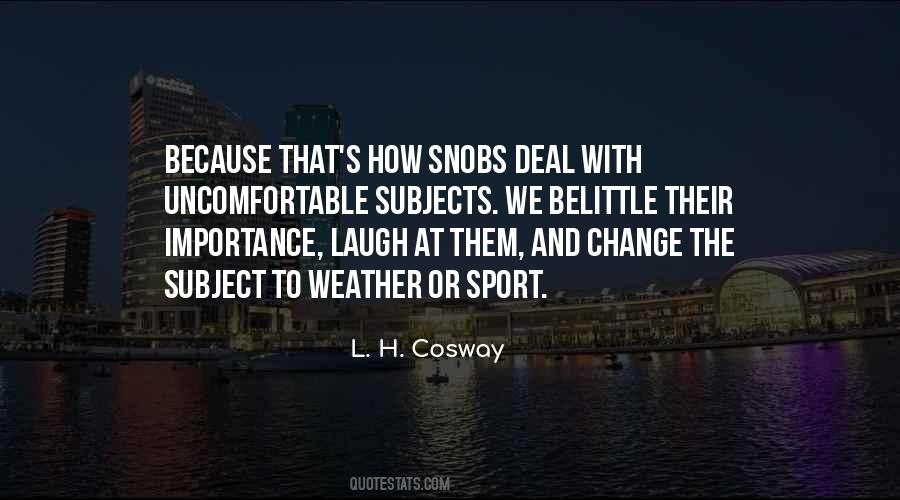 #54. That's death and life, you see. We all shine on. You just have to release your hearts, alert your senses, and pay attention. A leaf, a star, a song, a laugh. Notice all the little things, because somebody is reaching out to you. Qualcuno ti ama. Somebody loves you. - Author: Ben Sherwood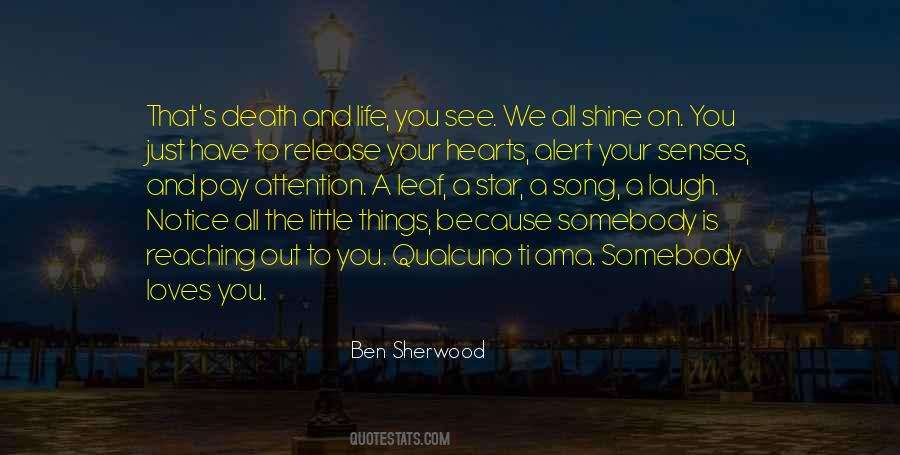 #55. We have to laugh. Because laughter, we already know, is the first evidence of freedom. - Author: Rosario Castellanos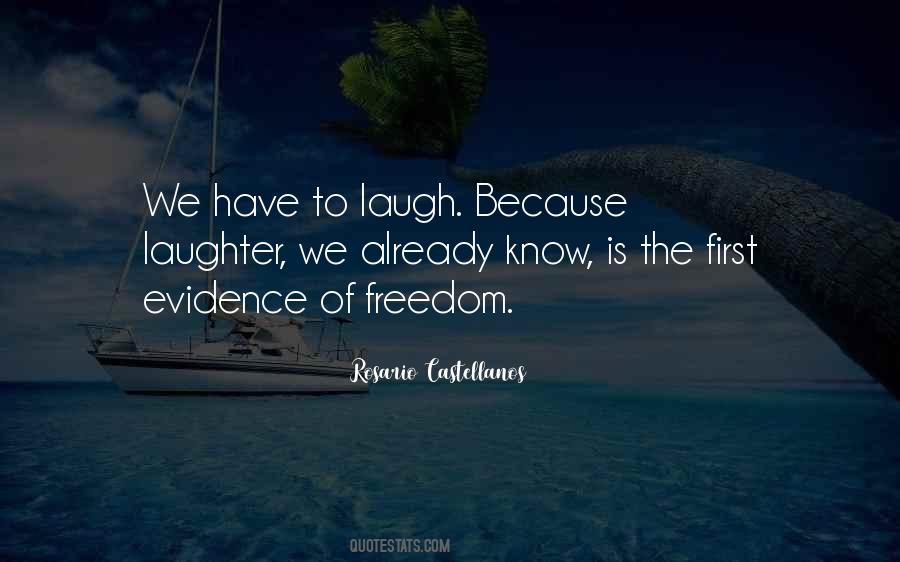 #56. War is good for absolutely nothing, because no matter how far and wide apart we may live, we're all the same under the skin. We all want to live, laugh and love. - Author: Cherie Lunghi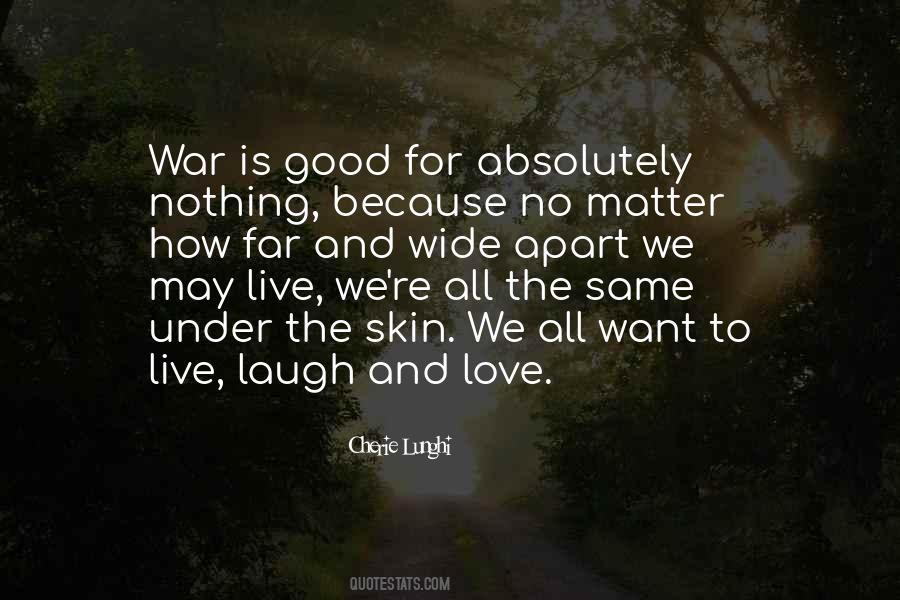 #57. I laugh because me been dancing with shadow in the dawn and in the night. Even in broad, bright daylight we searching for the dark. - Author: Marlon James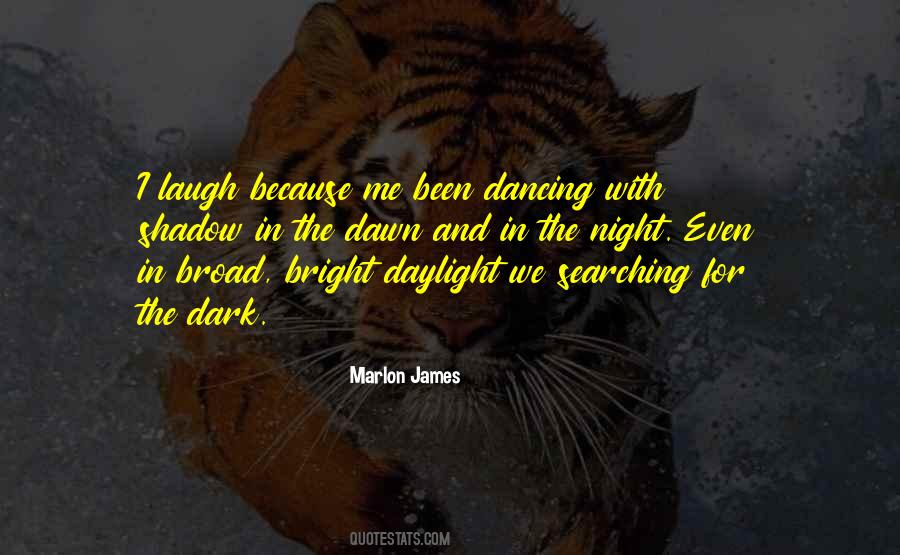 #58. Humor is a wonderful way to deal with our suffering because if we can laugh at our troubles, we can feel better. Thich Nhat Hanh is a special man who has helped millions with their suffering with incredible technique. But he doesn't know real suffering, because he has not dated as much as I have. - Author: Garry Shandling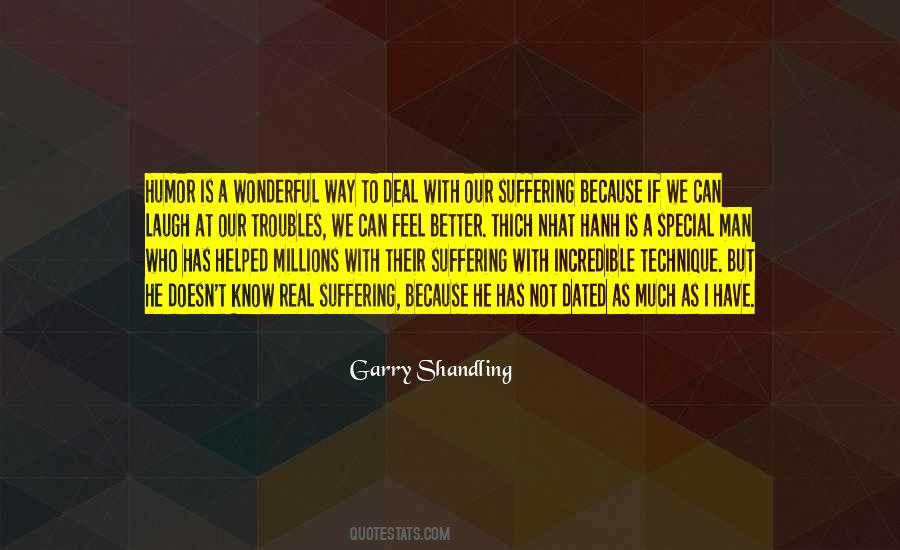 #59. We laugh heartily to see a whole flock of sheep jump because one did so. Might not one imagine that superior beings do the same, and for exactly the same reason? - Author: Sir Fulke Greville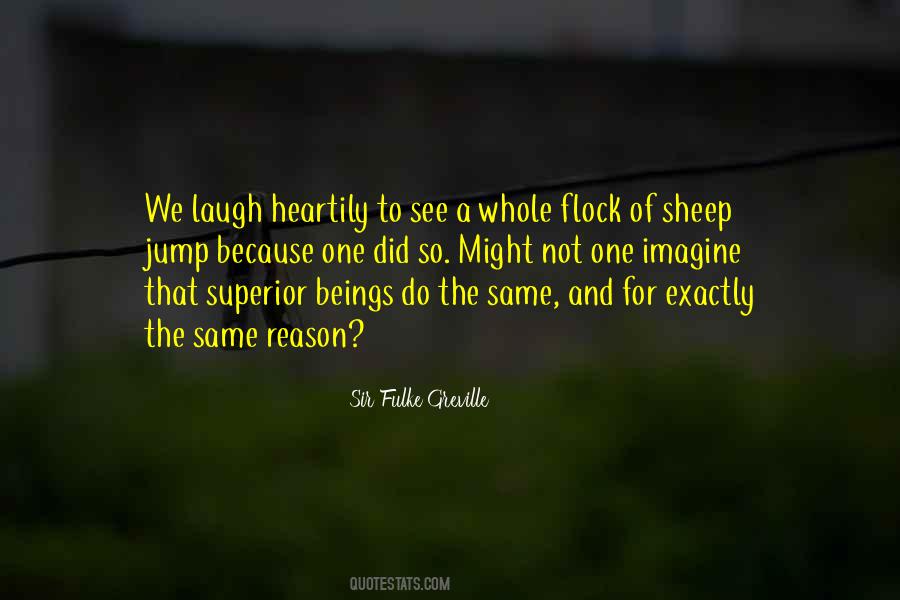 Famous Authors
Popular Topics