To Know Your Worth Famous Quotes & Sayings
List of top 79 famous quotes and sayings about to know your worth to read and share with friends on your Facebook, Twitter, blogs.
Top 79 To Know Your Worth Quotes
#1. What are we playing for? This needs to be worth my while."
"Honour?" Steve suggested. "Let me know if your universal translator got that one. I know it may be a tough concept for your species. - Author: David Liss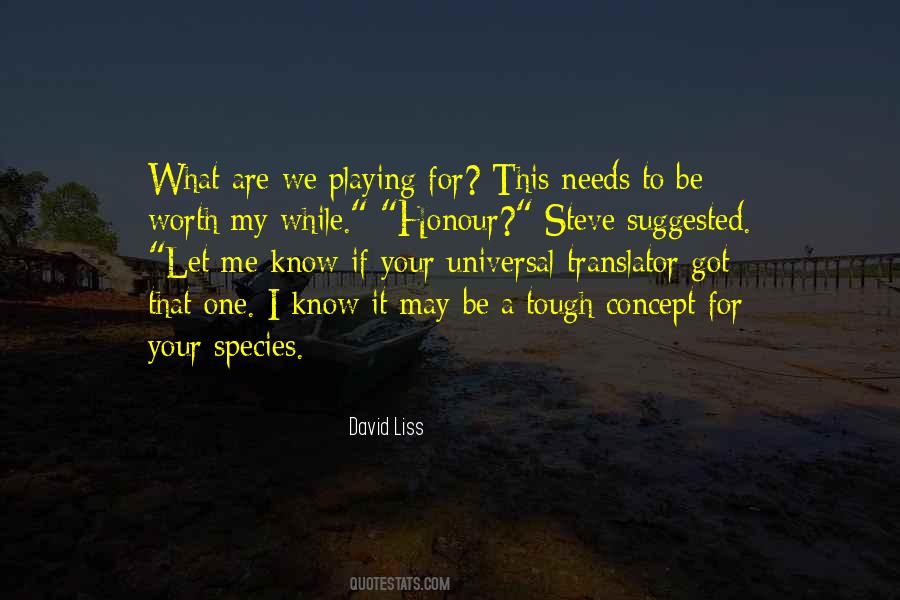 #2. I know that homes burn and that you should think what to save before they start to. Not because, in the heat of it, everything looks as valuable as everything else. But, because nothing looks worth the bother, not even your life. - Author: Amy Hempel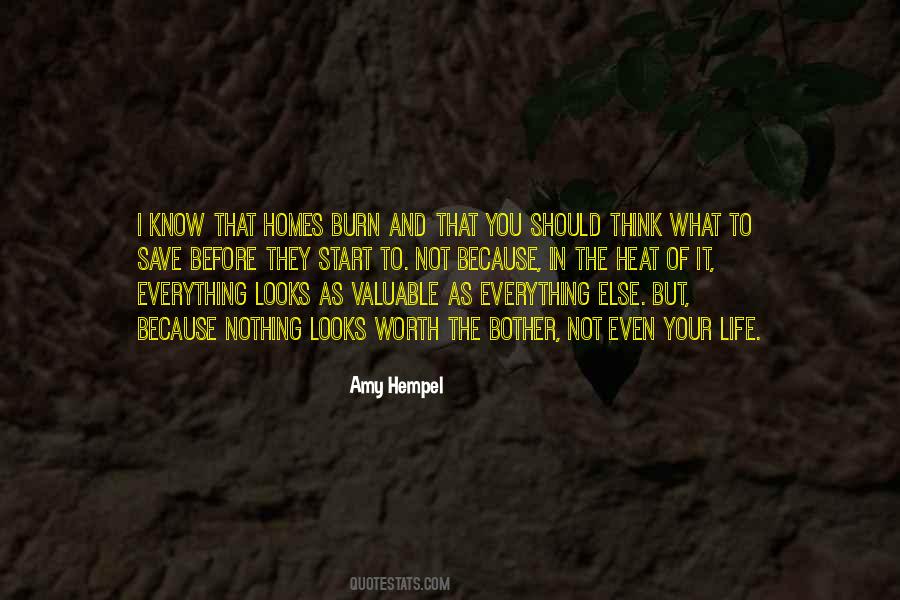 #3. You seem to like everybody. It's unnatural. It's also unfortunate. You're going to waste so much time before you've worked out who the people are it's worth your while to know. - Author: Paul Scott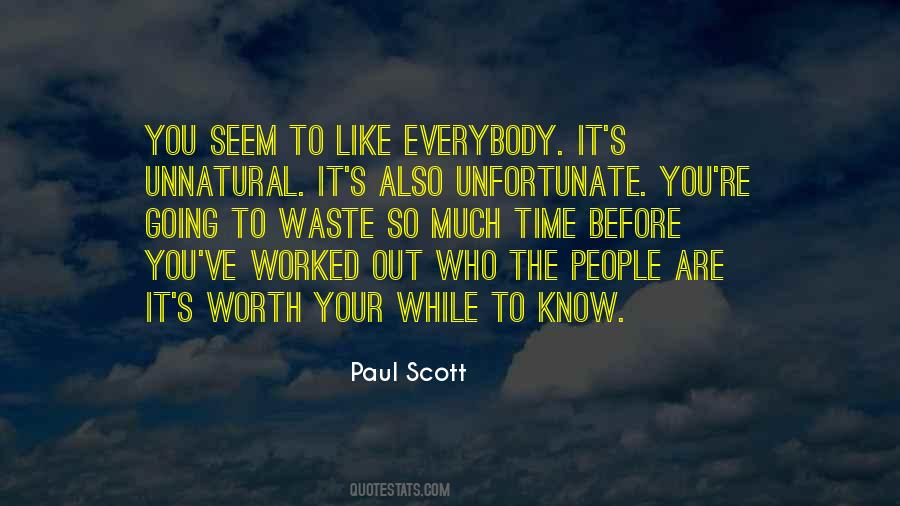 #4. Your worth is not determined by your appearance, and your worth is not determined by what others think of you. I know those are easy words to say, and hard to feel. I am still working on this myself. But I am here working on it alongside you. - Author: Kristin Kreuk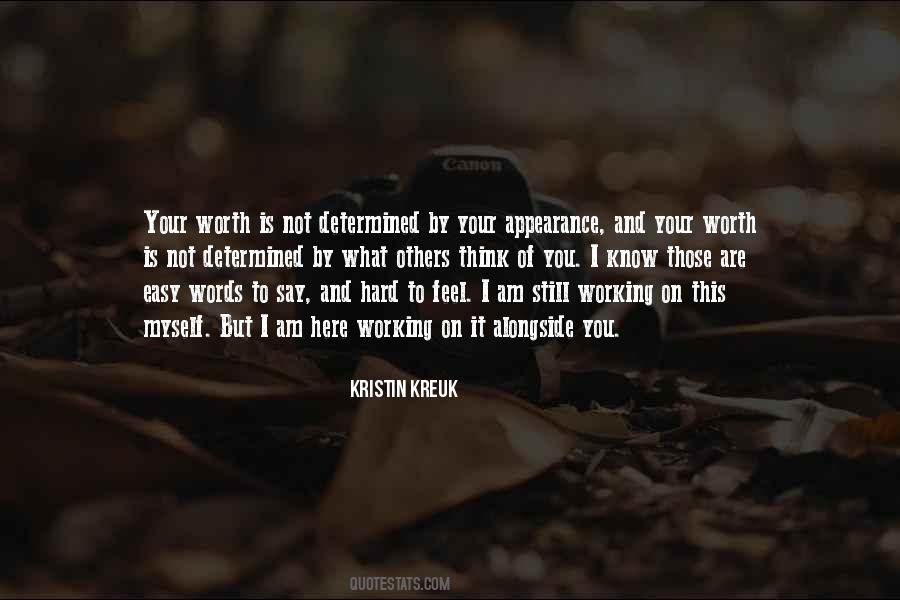 #5. How do you get motivated? By knowing your worth. Americans do not know how worthy they are. You deserve to be healthy, but a lot of times, people have, as childs been told - as a children been told that they're no good, that they're never going to be anything else. - Author: Richard Simmons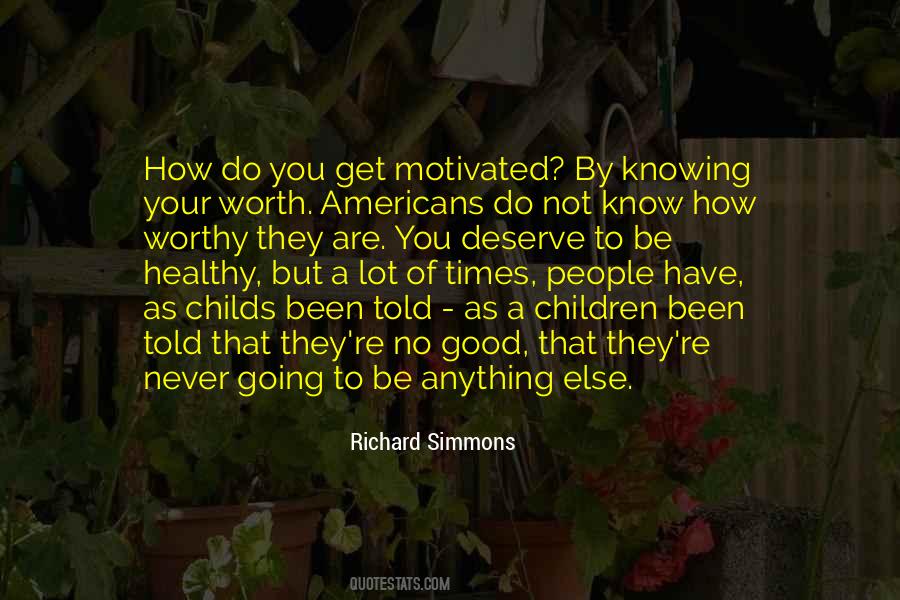 #6. The more you know your beauty, power, and worth, the less you NEED others to VALIDATE you. The less you know your beauty, power, and worth, the more you NEED others to VALIDATE you. The more you know, the less you NEED. - Author: Alan Cohen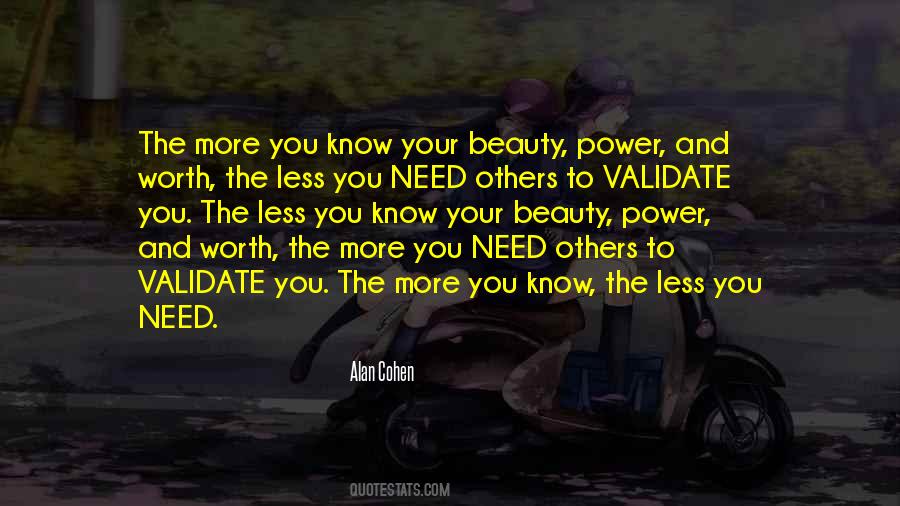 #7. If you have the door to your office closed, you get more work done today and tomorrow, and you are more productive than most. But ten years later somehow, you don't quite know what problems are worth working on. - Author: Richard Hamming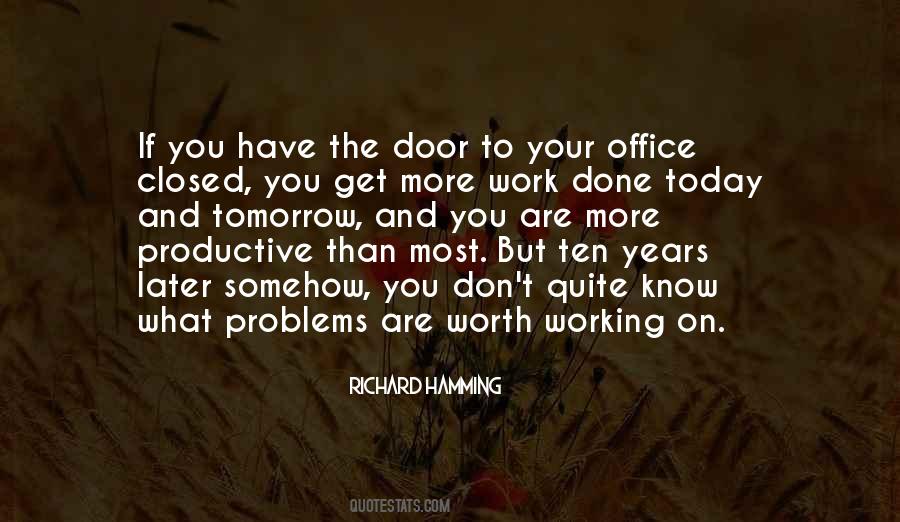 #8. What people ask for has nothing to do with the value of a property. You might see a listing for $300,000 and think you should make a $250,000 bid. But hyper-focus on what the house is worth. You should know what the house is worth by looking at comparable properties. Base your bid on that. - Author: Barbara Corcoran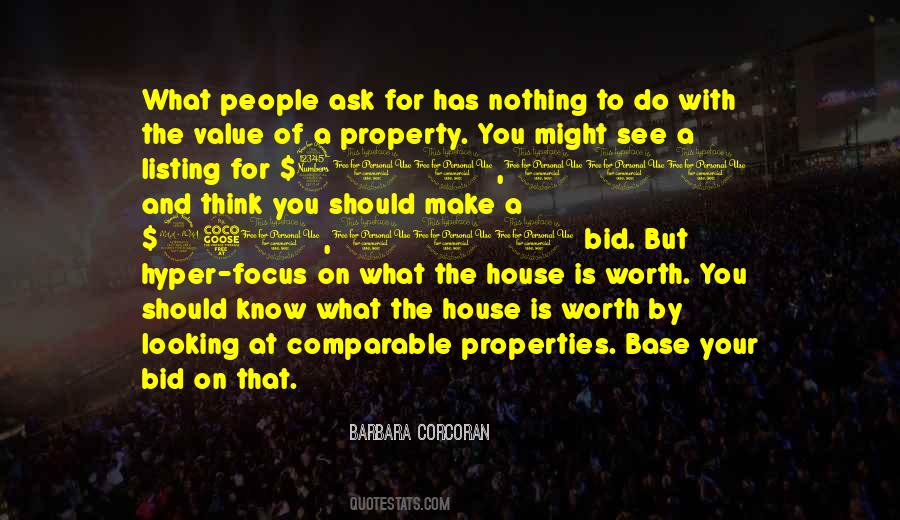 #9. I had to make a living. I had the mortgage to pay, I had the school fees to pay. I had bread and butter to put on the table. You know your worth as an actor, but you have to get a job. - Author: Pierce Brosnan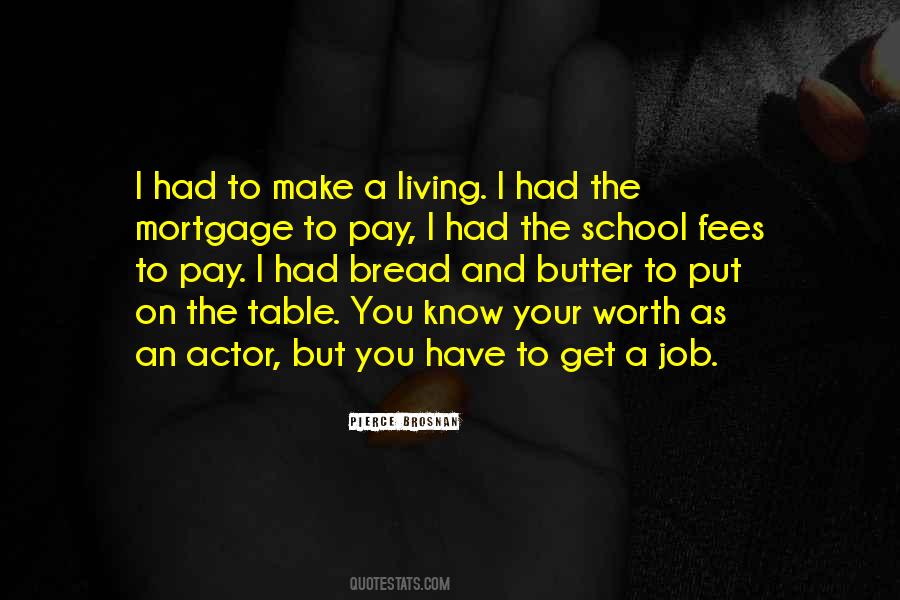 #10. Stop waiting for someone else to say that you count, that you matter, that you have worth, that you have a voice, a place, that you are called. Don't you know, darling? The One who knit you together in your mother's womb is the one singing these words over you, you are chosen. - Author: Sarah Bessey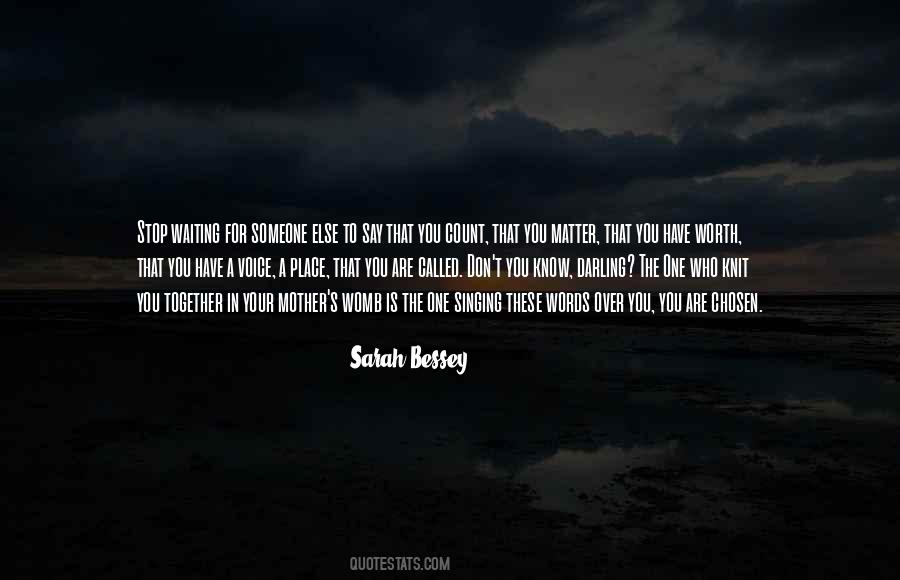 #11. I like when you look at me like you can't figure me out. You're considering getting to know me, but you're not sure I'm worth your time. - Author: Kate Angell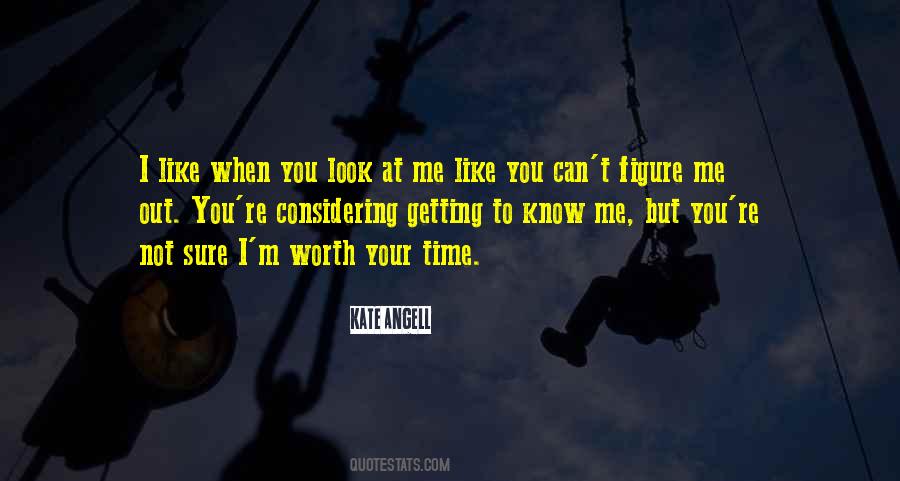 #12. Do not settle for people who do not appreciate you, who do not know how lucky they are. Remember it is a privilege to be loved by you or even just to be touched by you. And the warmth of another body does not define your worth. - Author: Sade Andria Zabala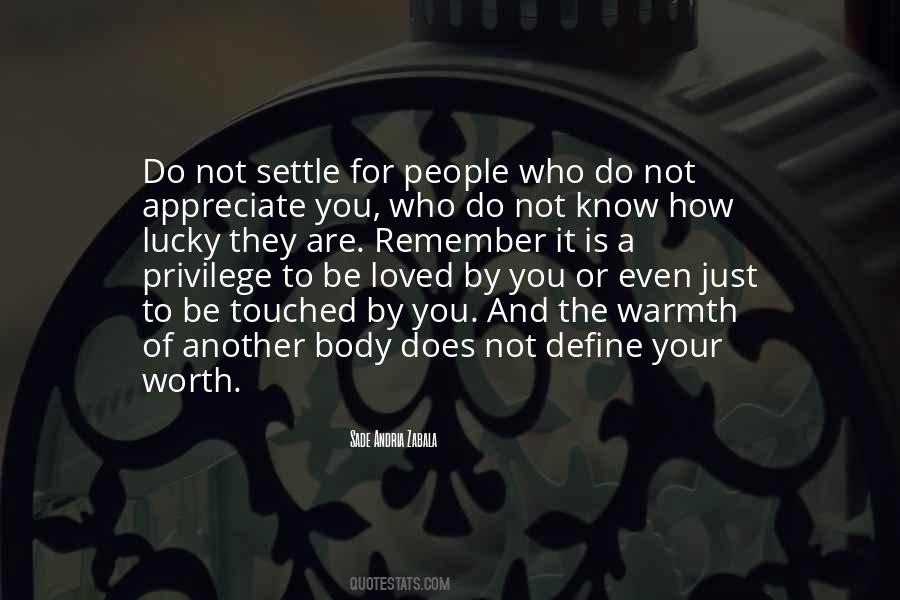 #13. Sometimes we need to examine who we are,
what we stand for and the people we allow in our lives. - Author: Christine Willson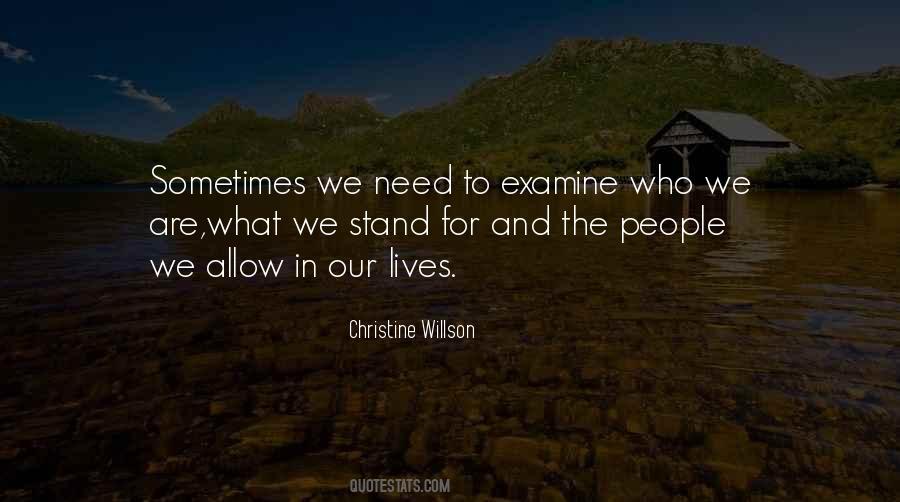 #14. Honestly, connecting once at the deepest level with someone, you know, once you've done that, even if your life goes to hell, man, it was really worth living. - Author: Junot Diaz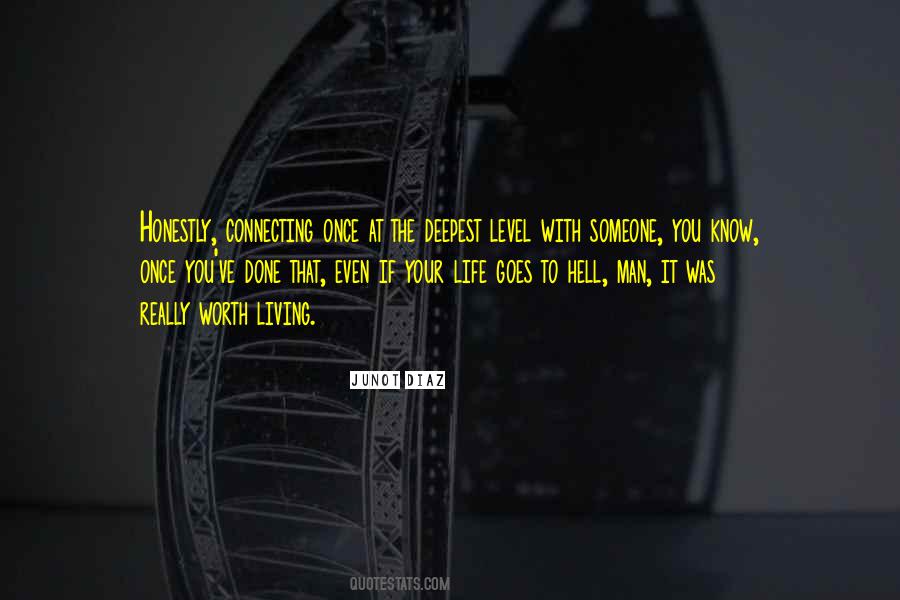 #15. Do you ever get the urge to get in your car and keep driving?" I ask, focused on the water shimmering in the light of the moon.
"How'd you know when to stop?" Cole challenged, sitting next to me so our arms barely touched.
"I guess when you find something worth stopping for. - Author: Rebecca Donovan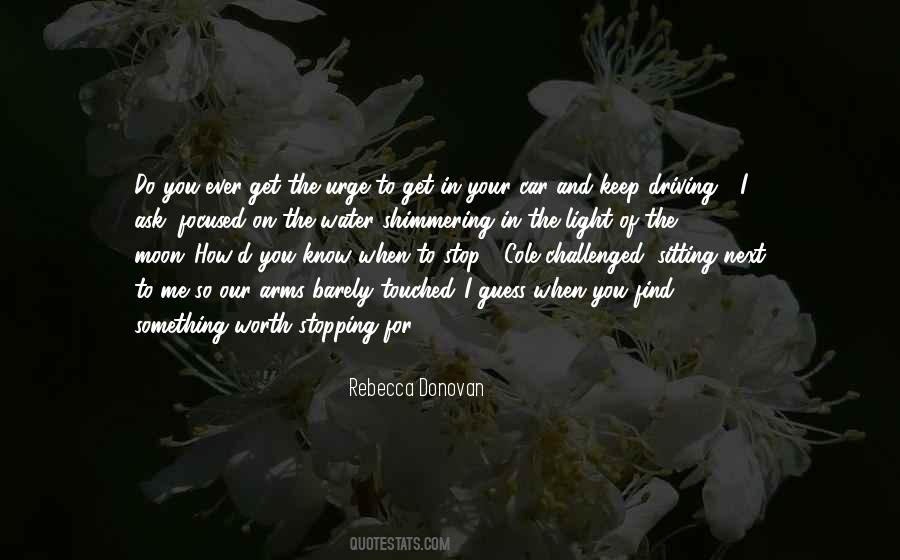 #16. Be a bit of a challenge; not because you're playing games but because you realize you're worth the extra effort. - Author: Mandy Hale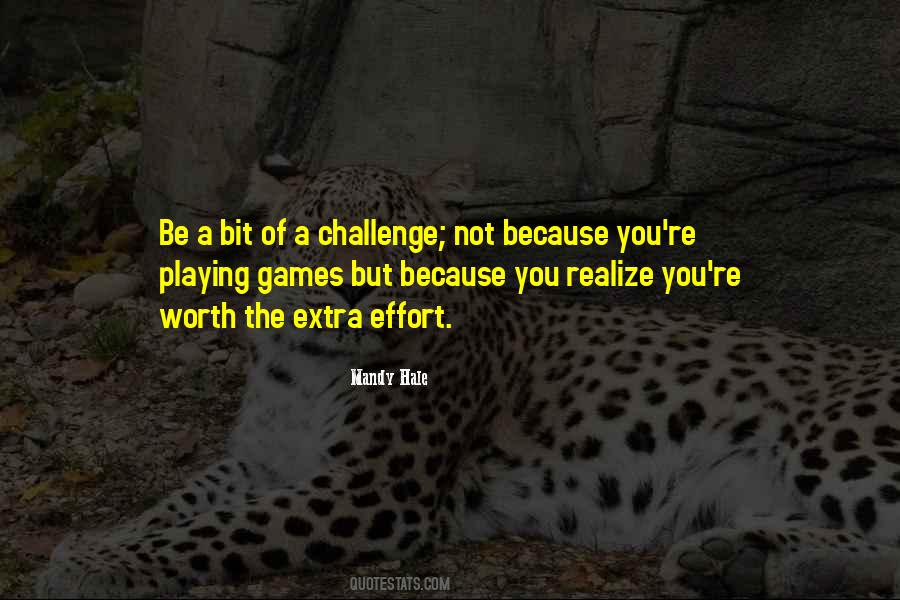 #17. The three most important things in life are these: (1) Come to know the God who created you; (2) discover why he created you; and (3) then do it for all you're worth for the rest of your life. - Author: ChiLibris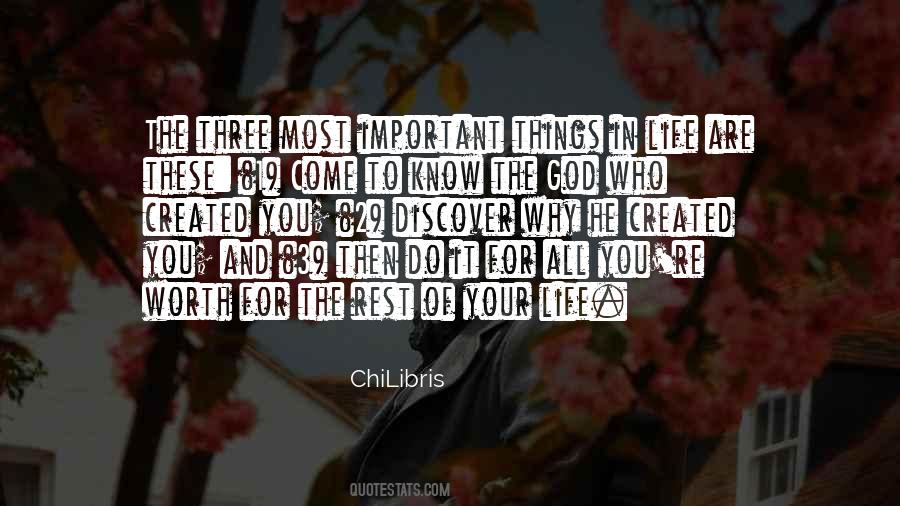 #18. Once you know who you really are, being is enough. You feel neither superior to anyone nor inferior to anyone and you have no need for approval because you've awakened to your own infinite worth. - Author: Deepak Chopra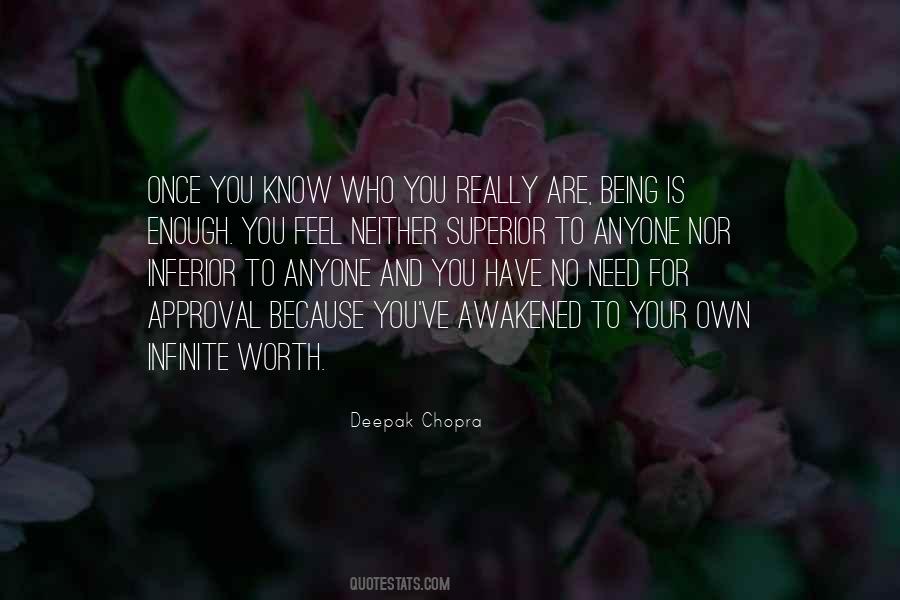 #19. The day you lose your ability to make me laugh, I'll know that life isn't worth living. - Author: Paul Pilkington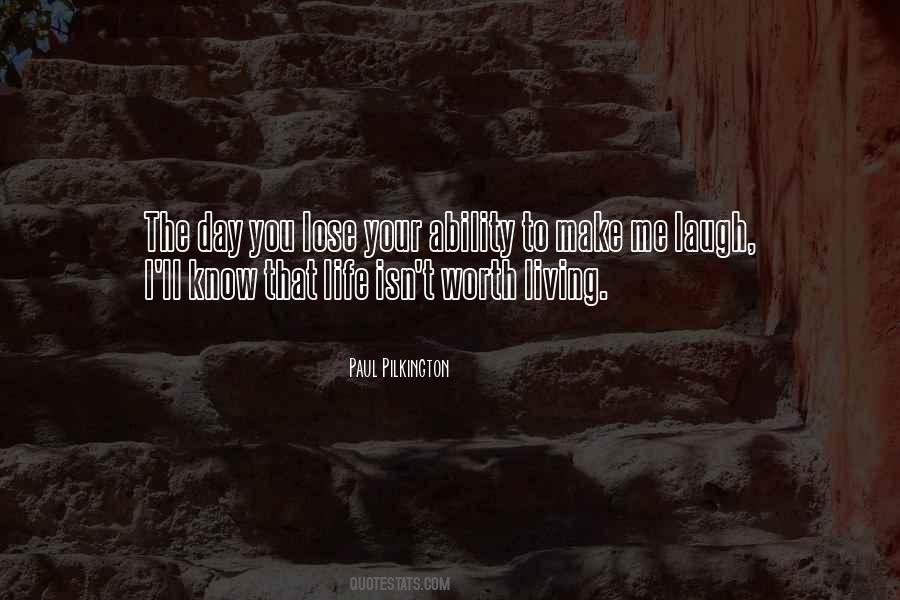 #20. There is nowhere for this to go that's good and you know it, just like me."
"The only thing I know is, what's at the end of the road we're on is unknown. Along the way, I break through that fortress you've built around you and manage to extract your head from your ass, it'll be worth the trip. - Author: Kristen Ashley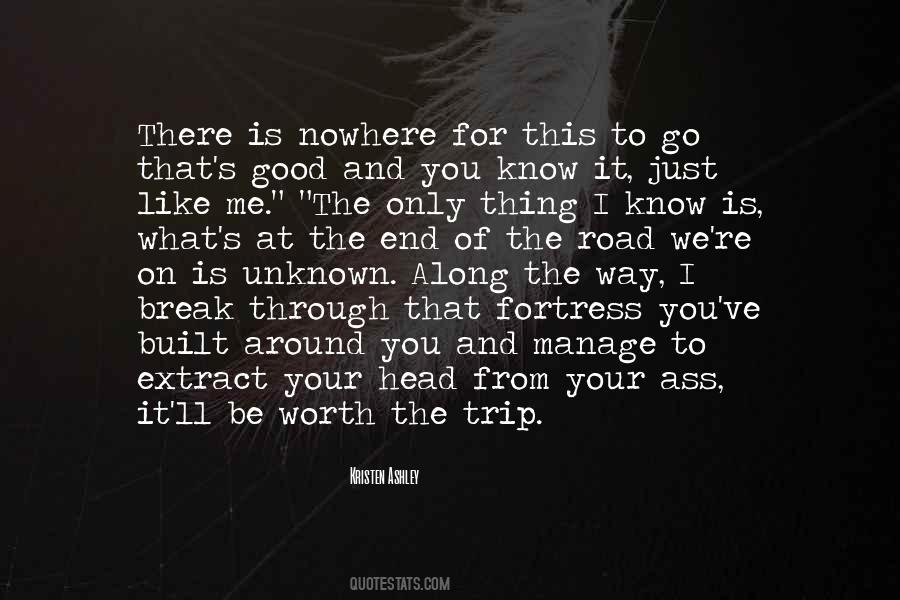 #21. One of the lessons of leadership worth emphasizing is that you want to get to know other great leaders and take their advice. At some point in your development, it's only people who've been in the seat of having to be leaders who can help you in a deep way. - Author: Jim Yong Kim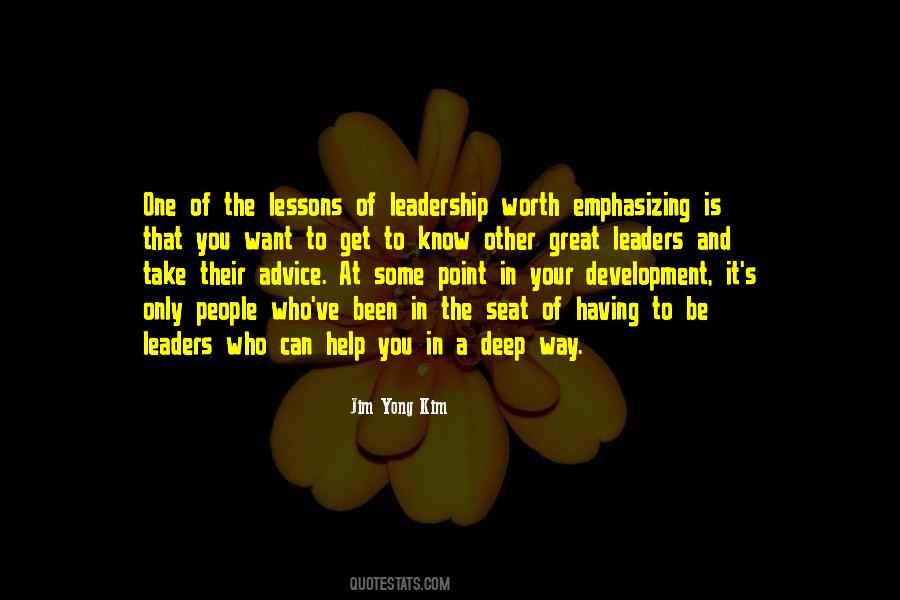 #22. When you know you are of worth, you don't have to raise your voice, you don't have to become rude, you don't have to become vulgar; you just are. And you are like the sky is, as the air is, the same way water is wet. It doesn't have to protest. - Author: Maya Angelou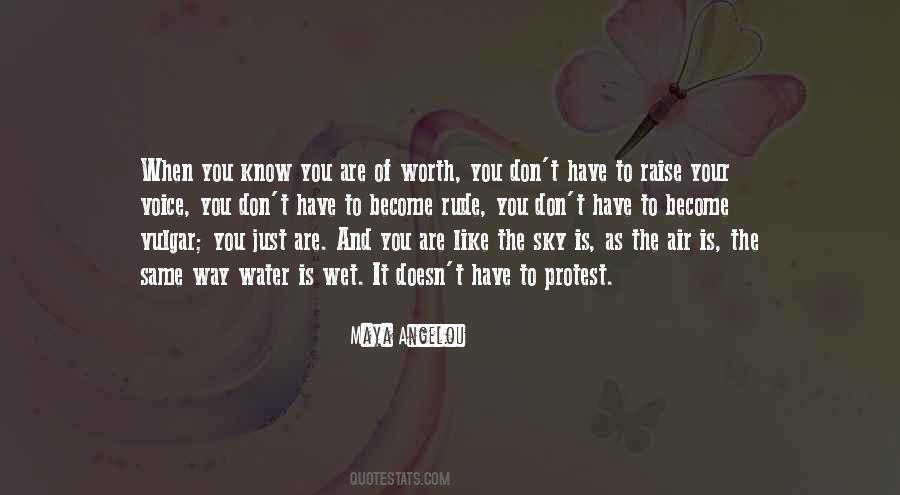 #23. You see it everywhere and everyone seems to be doing it but you. You could have had it as well, and you know it, and that's what bothers you. Your worst enemy is yourself, and sadly, you know that what you did wasn't worth what you lost. - Author: Donna Lynn Hope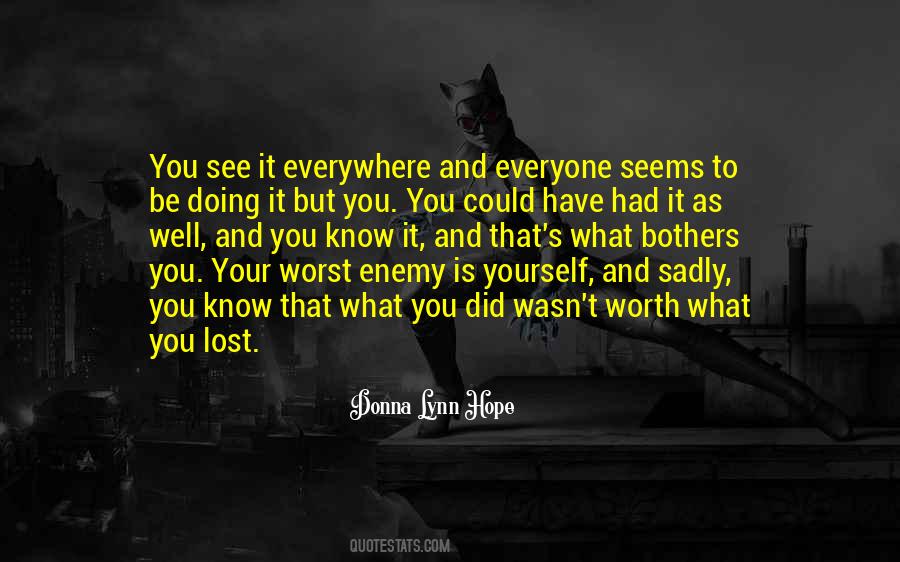 #24. People are too quick to give their hearts away, i mean, be fearless; run wild into their arms, but for goodness sake know your worth. A being of wisdom knows their heart is the breath of their existence and only a honorable love deserves to feel it at its purest form. - Author: Nikki Rowe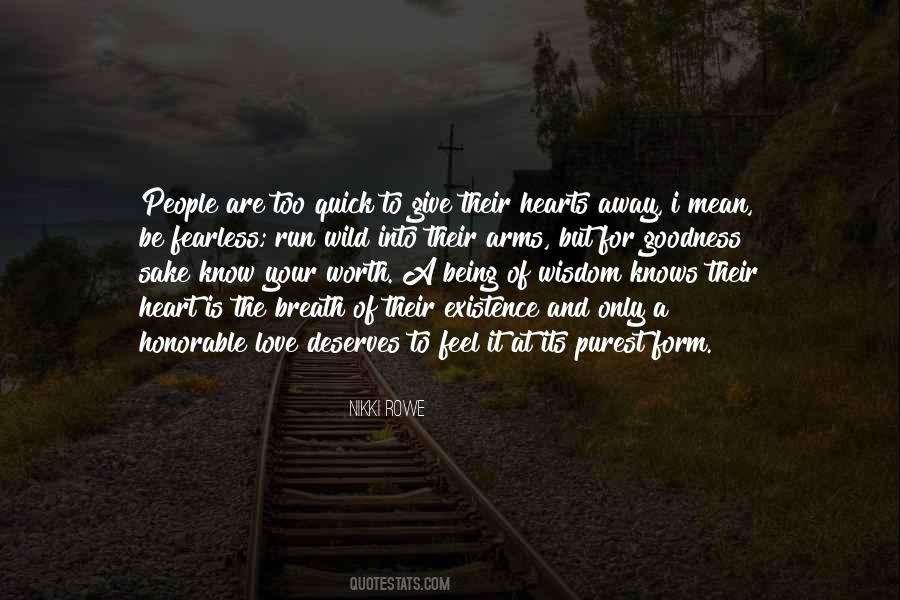 #25. Learn to say no, know when to say yes, and use the words 'I choose.' It is the key that will open you to limitless manifestation of your beingness. - Author: Rene Gaudette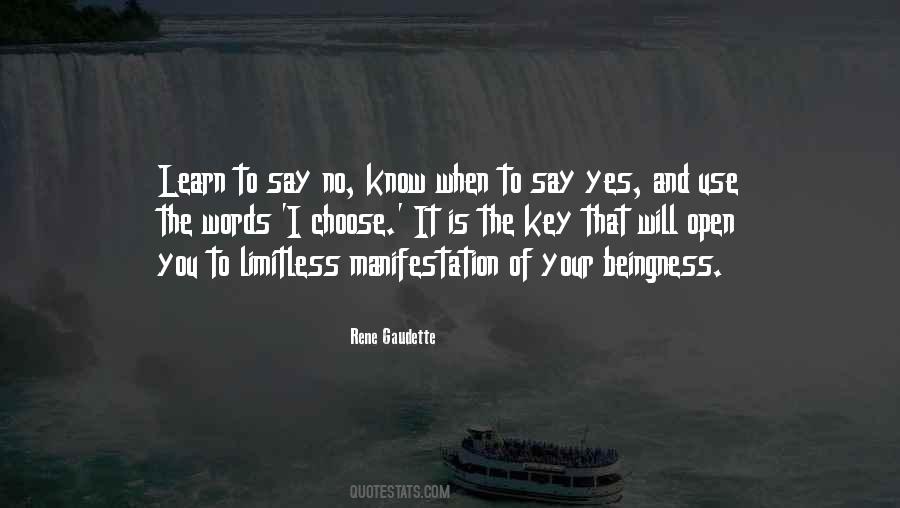 #26. To make the child in your own image is a capital crime, for your image is not worth repeating. The child knows this and you know it. Consequently you hate each other. - Author: Karl Shapiro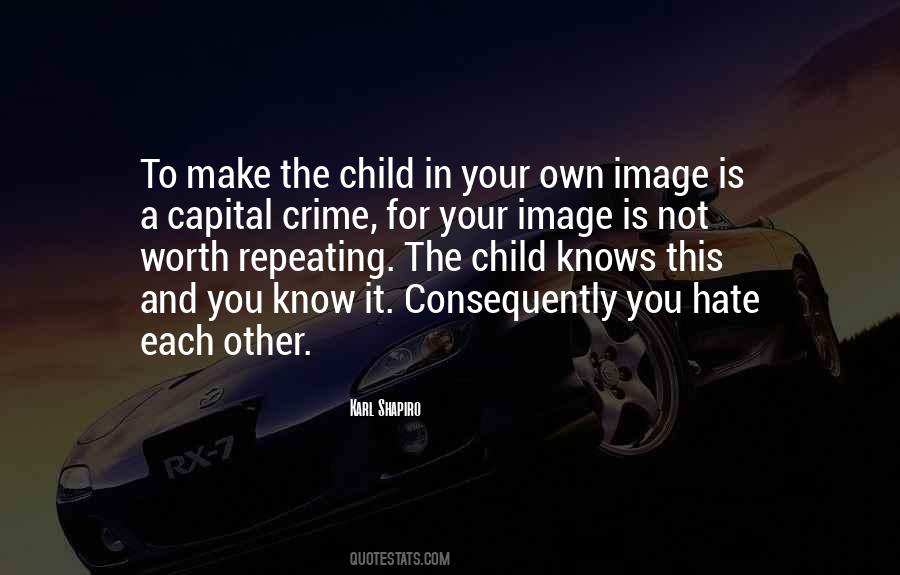 #27. Make it a policy to know your net worth to the penny. - Author: T. Harv Eker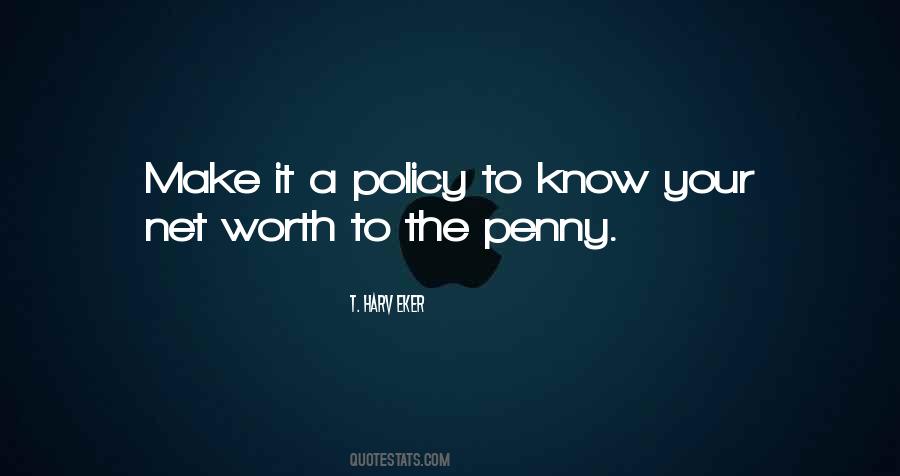 #28. I am a financial planner, not a psychiatrist, but I do know that your net worth will rise to meet your self-worth only if your self-worth rises to accept what can be yours. - Author: Suze Orman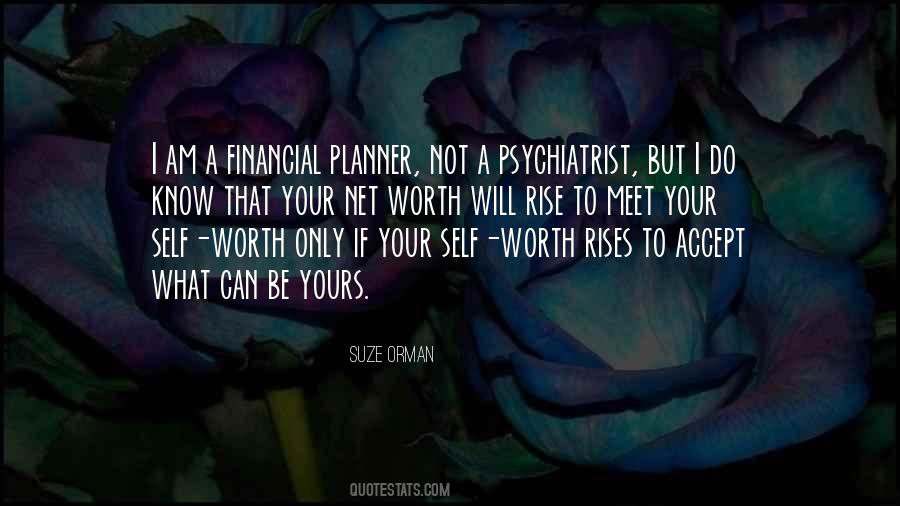 #29. I will never be scared to love me.
I am a force to be reckoned with.
I am beautiful. - Author: Alexandra Elle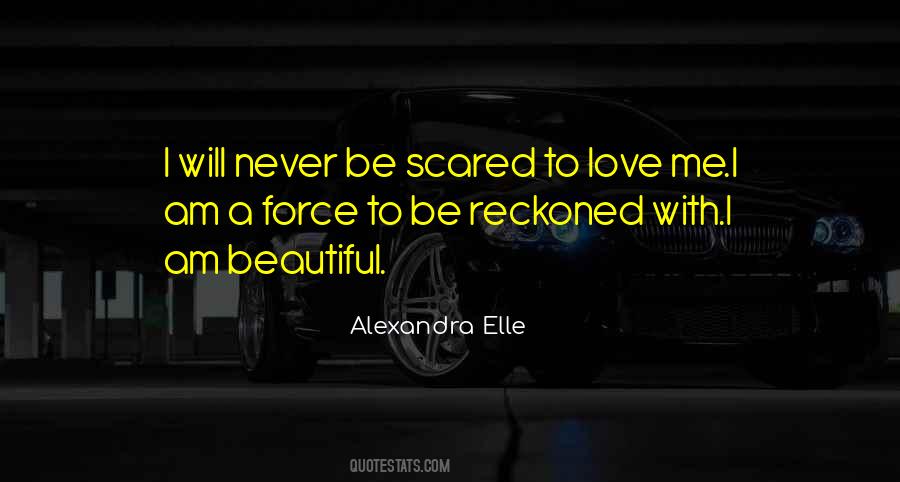 #30. If you're willing to take the humiliation of sticking your head above the crowd, maybe it's, you know, the pleasure will be worth the pain. - Author: Sylvester Stallone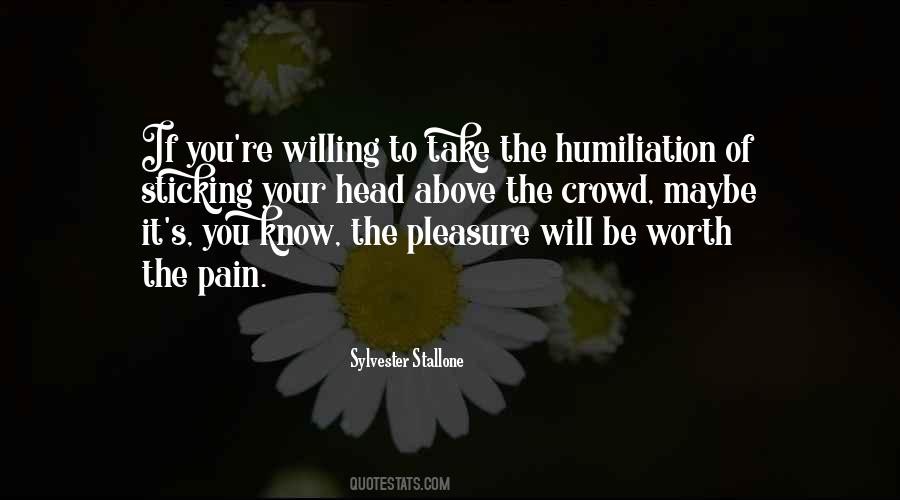 #31. So to "love God with all your mind" means engaging all your powers of thought to know God as fully as possible in order to treasure him for all he is worth. - Author: John Piper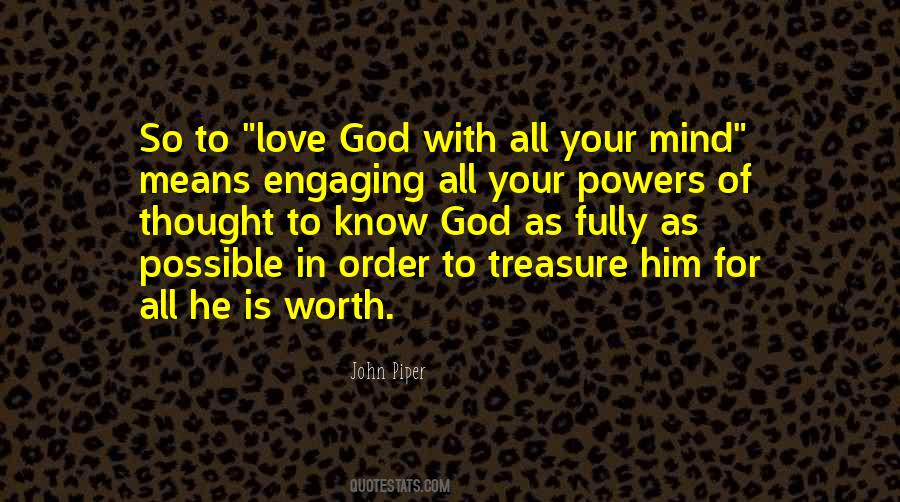 #32. Nothing destroys self-worth, self-acceptance and self-love faster than denying what you feel. Without feelings, you would not know where you are in life. Nor would you know what areas you need to work on. Honor your feelings. Allow yourself to feel them. - Author: Iyanla Vanzant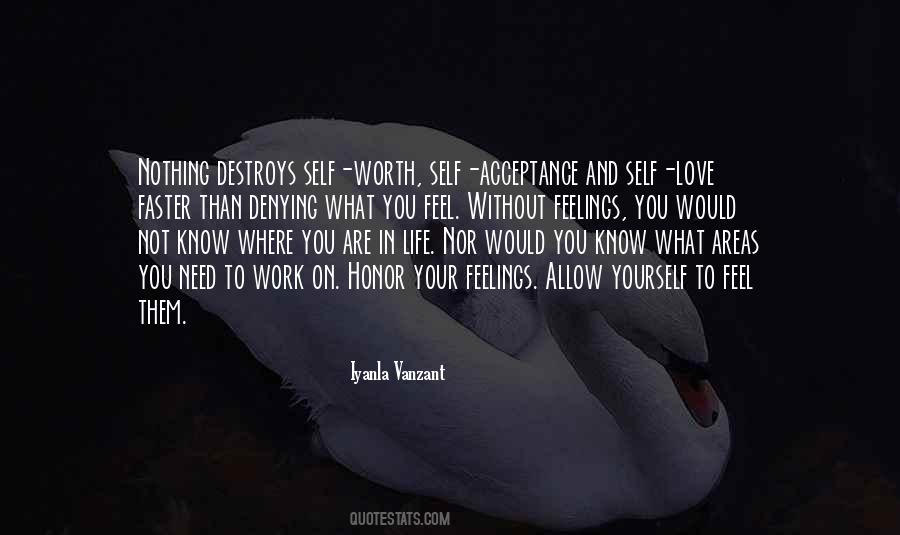 #33. I already know your sister is smarter. She's prettier than me too, but I didn't bet on that. I just wanted you to call her in here so she'd look at me again. It was worth the five bucks. - Author: Suzanne Young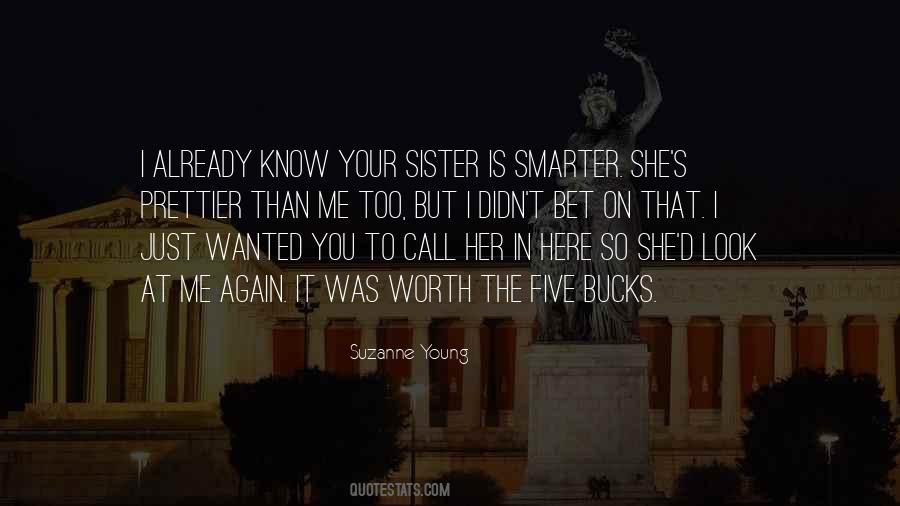 #34. If you've got a regular feed of winners, you control your mind to do it. It becomes a must. If you didn't have that regular flow of winning, whether you could get yourself to do that, I don't know. It's a lot easier when you know the next day you can win and you can win and win, it's worth doing it. - Author: Tony McCoy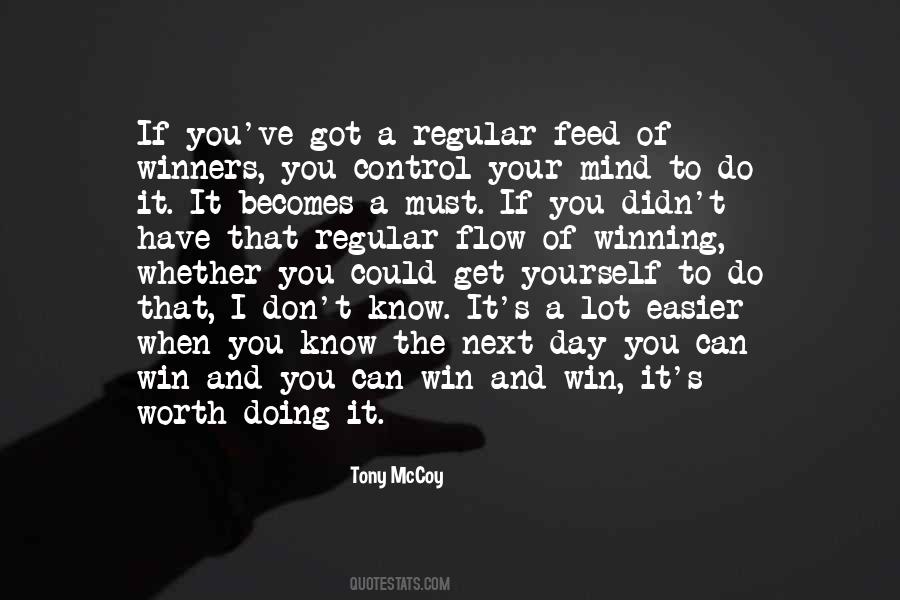 #35. I did not come this far to settle for less than I deserve. - Author: April WIlliams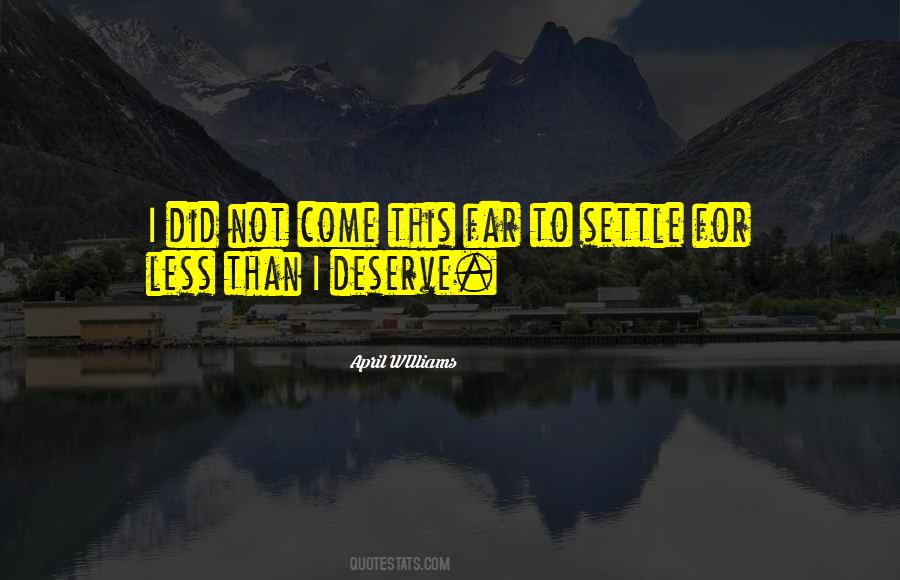 #36. I can sit here and say I've survived heart break and all those nights I thought I couldn't bare to live without you, yeah I just want to thank them, because I did & now I couldn't imagine a life with you. - Author: Nikki Rowe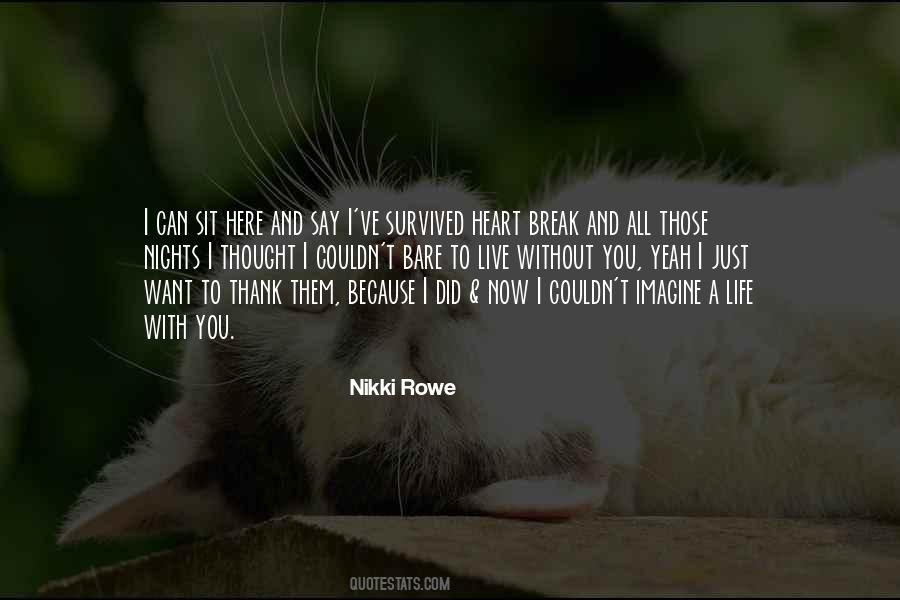 #37. Do you want to look back and wish you'd handled this differently? Most of us go through life feeling invincible, but none of us know what day will be our last. Is holding on to your anger truly worth it? - Author: Michelle Madow
#38. We know it's all just daydreaming ... But sometimes, it'd be nice just to hold something real in your hands that felt like a measure of your worth. - Author: Shannon Hale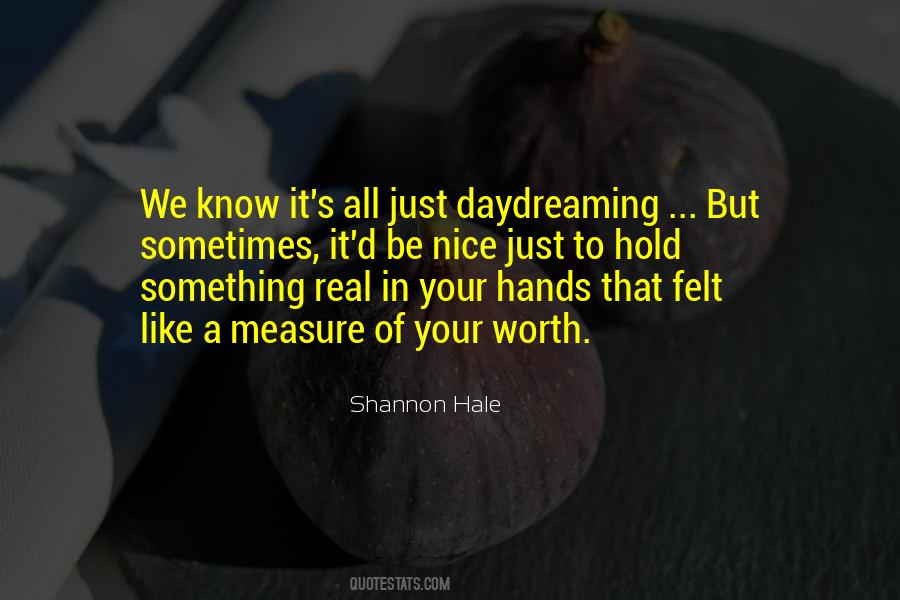 #39. With Jerry Bruckheimer, you know you'll get your money's worth. You're getting huge action sequences, it's going to be funny, and you know it's going to look great. - Author: Jerry O'Connell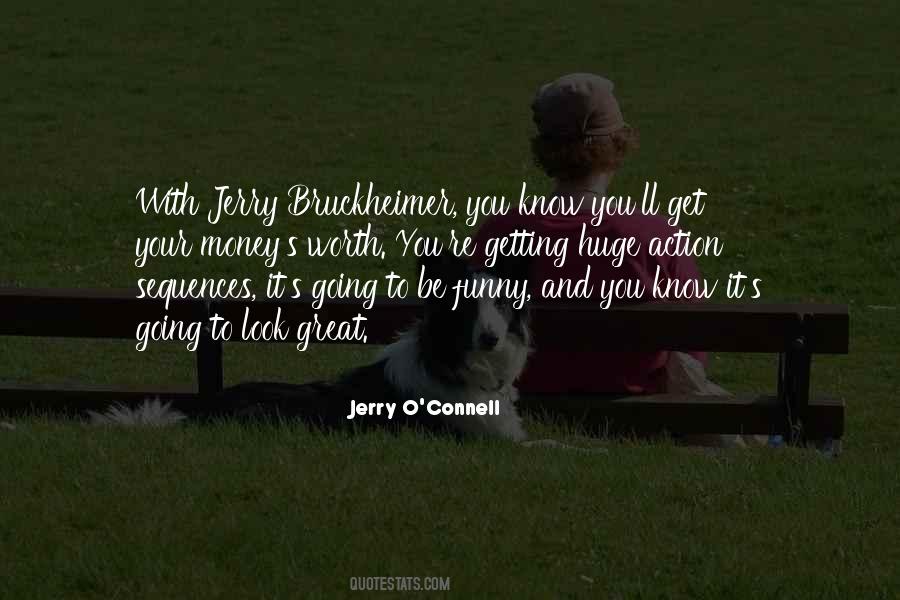 #40. If you don't know why you like a thing, it is usually worth your while to attempt to find out. - Author: Paul Bowles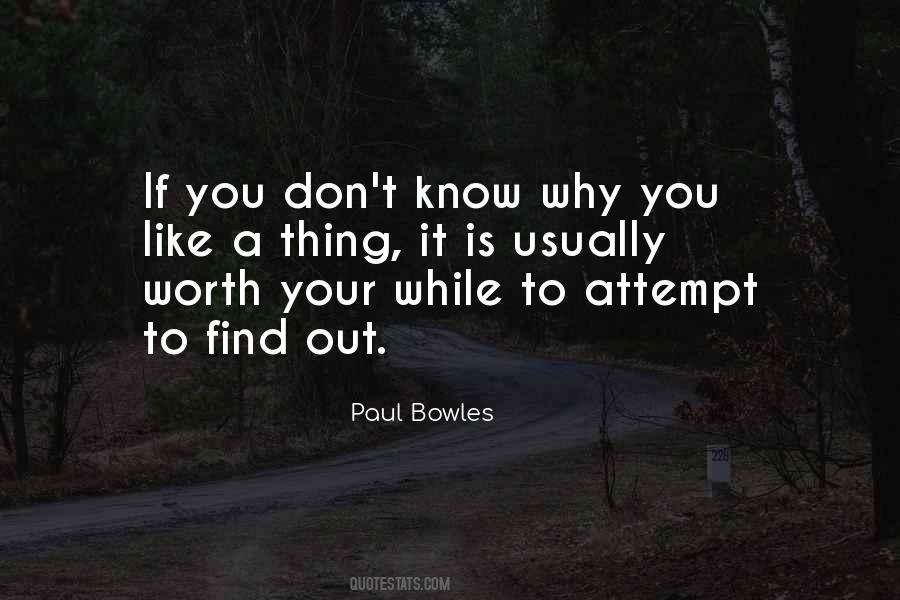 #41. The thing that drives me and my colleagues at both Apple and Pixar is that you see something very compelling to you, and you don't quite know how to get to it, but you know, sometimes intuitively, it's within your grasp. And it's worth putting in years of your life to make it come into existence. - Author: Steve Jobs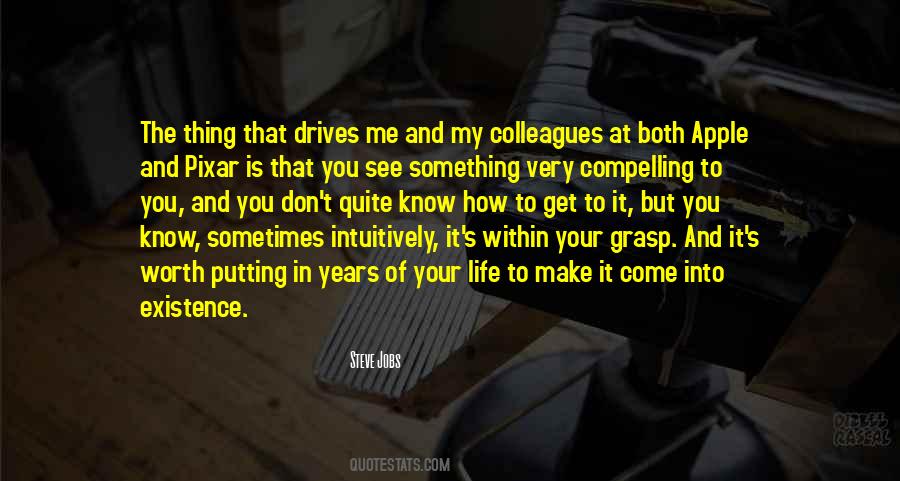 #42. Well there you go. Even a psychopath recognized your worth enough to want to kill someone else first.
I didn't know whether to laugh or cry. - Author: Richelle Mead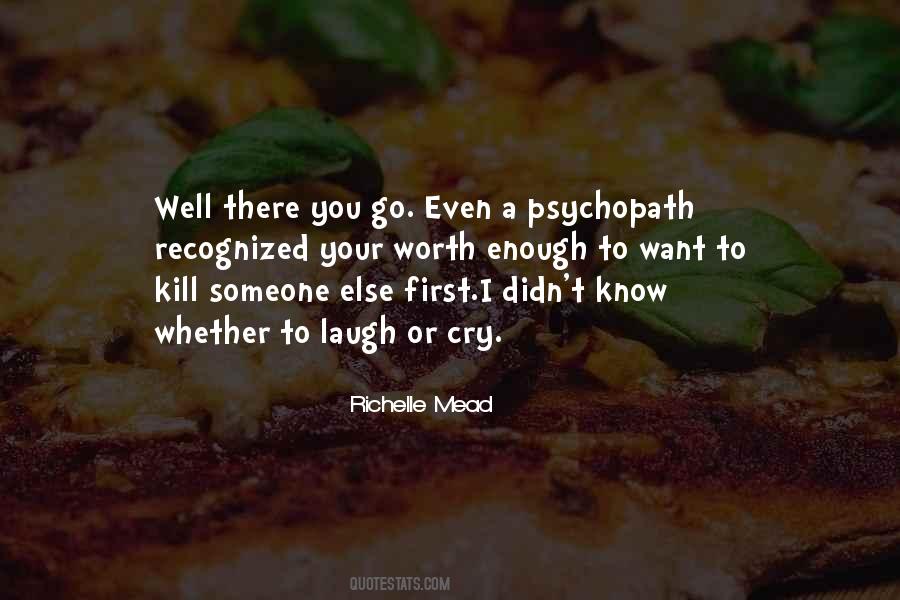 #43. When you look at your passions, your interests, and your own self, and see nothing of worth, then know that life will feed this belief back to you. If you can find a way to value yourself without exerting your will or your effort anymore, you will find that you need to do less, to shine more. - Author: Kelly Martin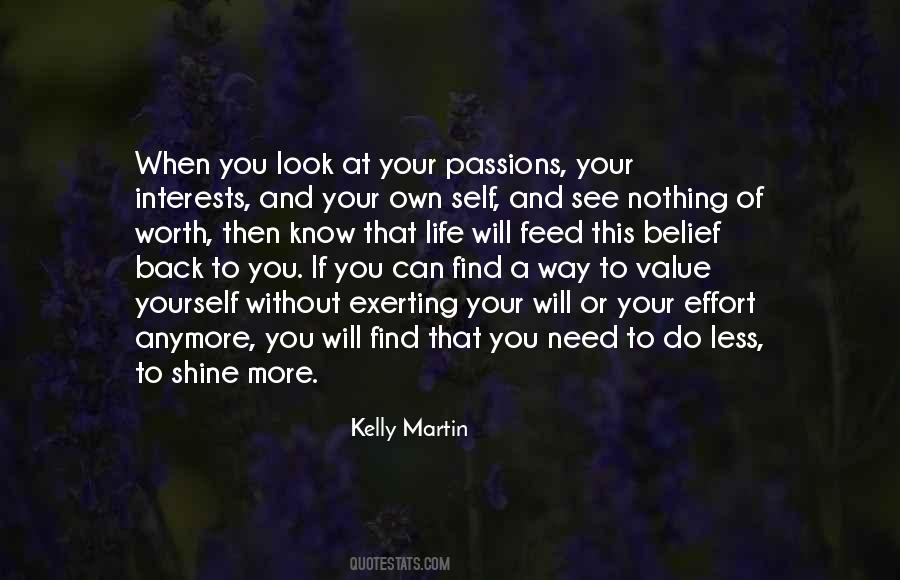 #44. When you are in alignment with your life purpose; there will be a knowing in your heart that is so strong; that it will let you know your true calling. This will provide you with all the energy you need to fulfill your mission. - Author: Renae A. Sauter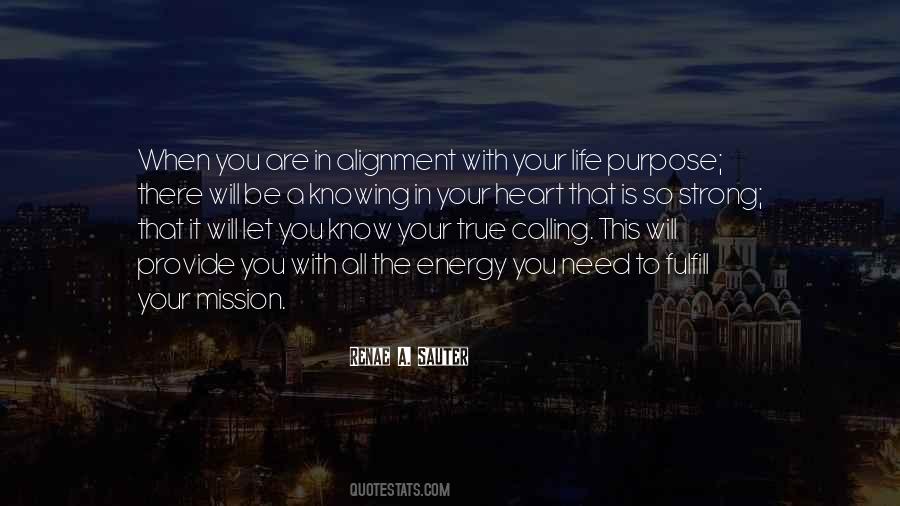 #45. You are the one who knows yourself - which is to say, you know how much you are worth in your own estimation, and therefore at what price you will sell yourself; because people sell themselves at different rates. - Author: Epictetus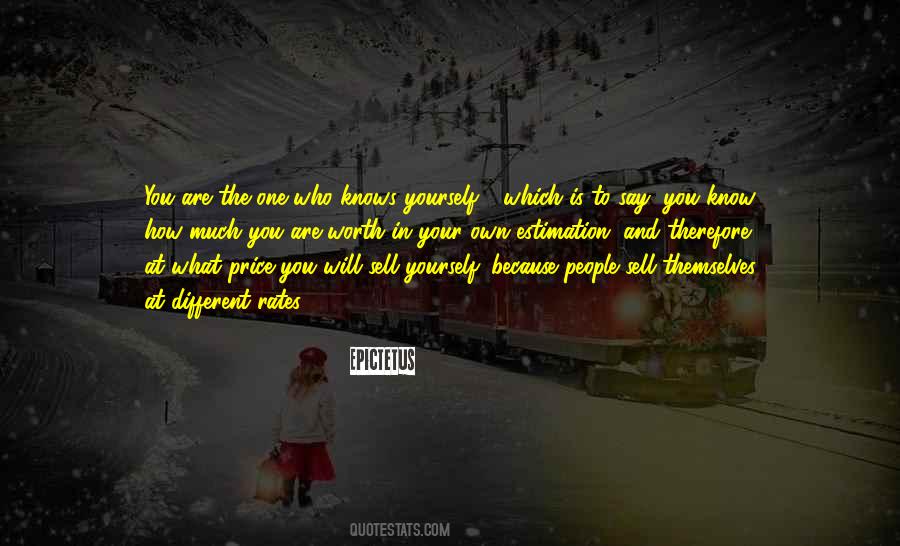 #46. I want to know what your skin
feels like after three days
of traveling and no bother
of a shower because what
we see is more and worth
more than how we feel. - Author: Tyler Knott Gregson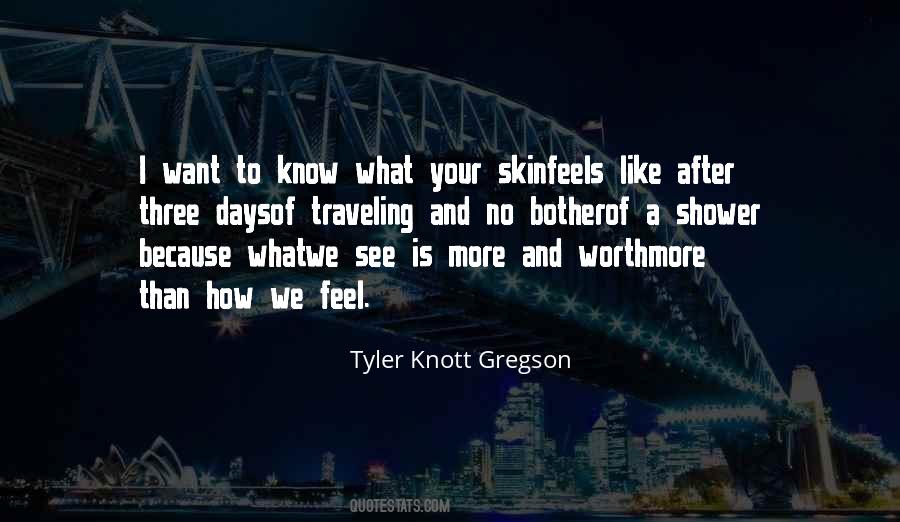 #47. Don't be afraid of your fears. They're not there to scare you. They're there to let you know that something is worth it. - Author: C. JoyBell C.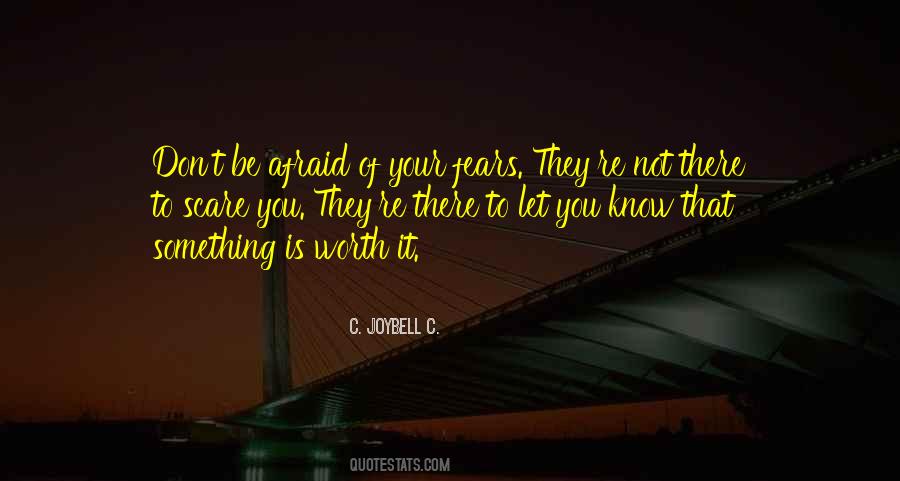 #48. Life offers no guarantees, so I can't offer them to you either. But when you meet someone you want to share your life with, the guarantees won't matter to you. You'll look at that person and know that being with them is worth the risk, and only then will you be willing to take it. - Author: Cassie Cross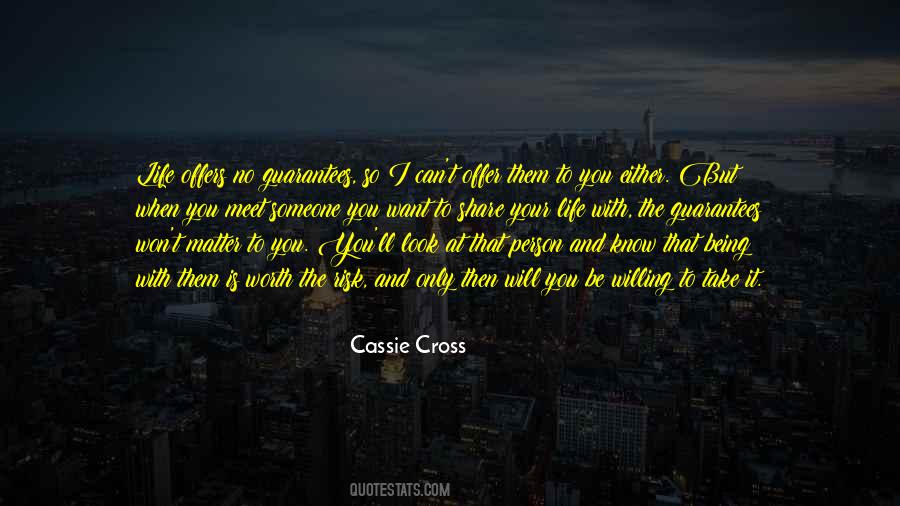 #49. You are worthless to others if you don't know your own self and self-worth. - Author: Bryant McGill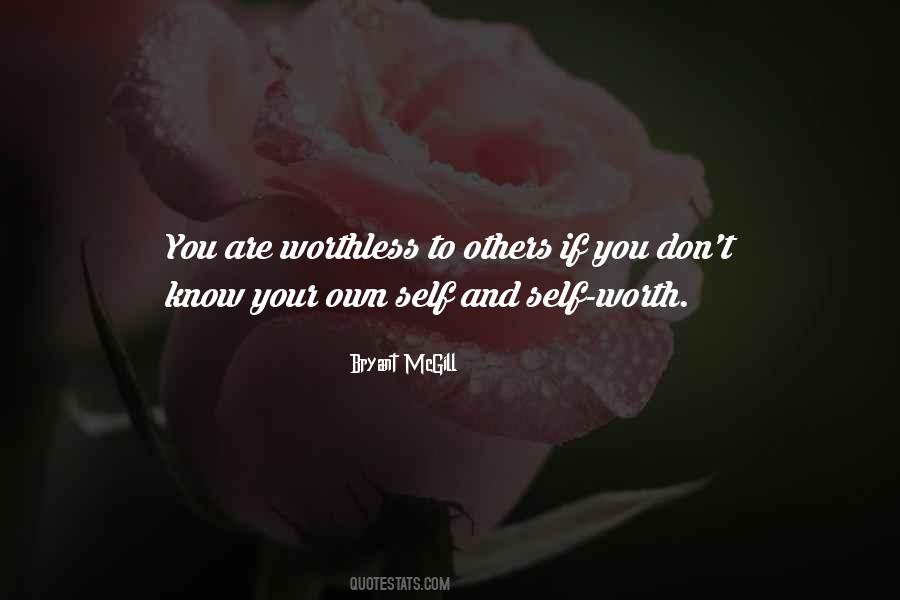 #50. Loving someone is taking a constant risk with your emotions. When you find the right person,the one you know you want to be with, that person becomes worth the risk. - Author: Monica Murphy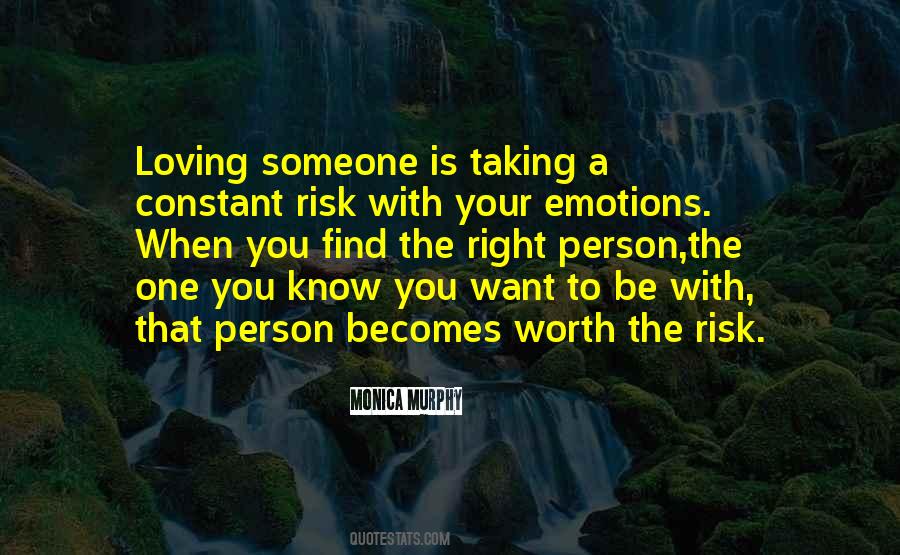 #51. Answer me something. This life, where you get to meet people and know them, and become friends, and then in a few days or a few weeks, either they leave or you do...is it worth it? I am not sure. I think so. Maybe having your heart broken like that is what keeps it open. - Author: James Maskalyk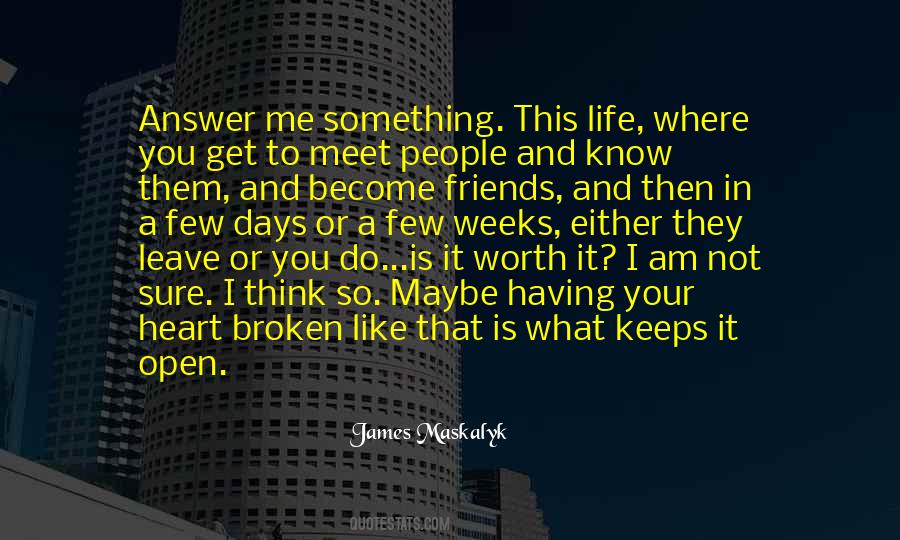 #52. God makes each one of us for the time into which we are born. He creates us for a purpose. Our job is to know Him well, discover what He created us to do, and then do it for all we're worth for the rest of our lives. Ask God to show you your purpose. He will answer. - Author: Robin Lee Hatcher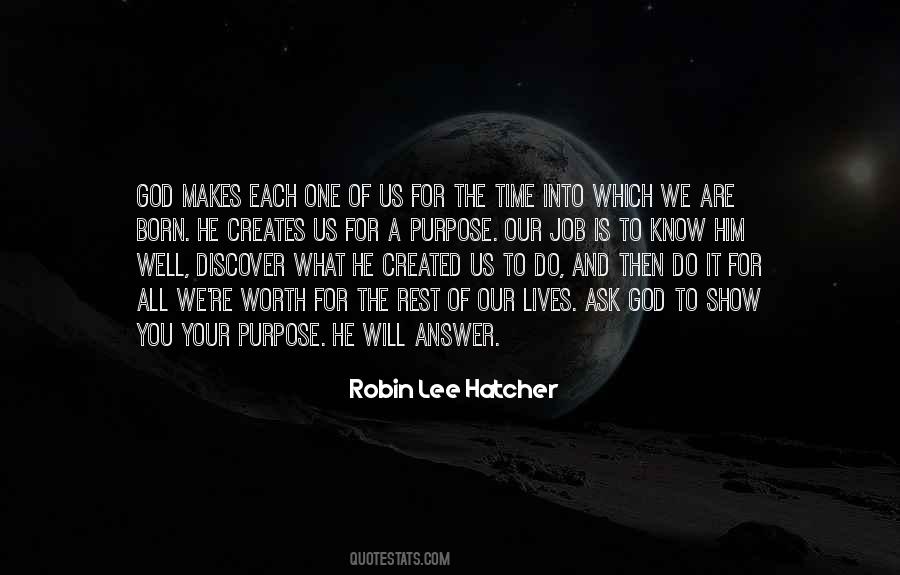 #53. It's almost like a sign of mental illness to base your self-worth on the opinions of complete strangers, you know? - Author: Moby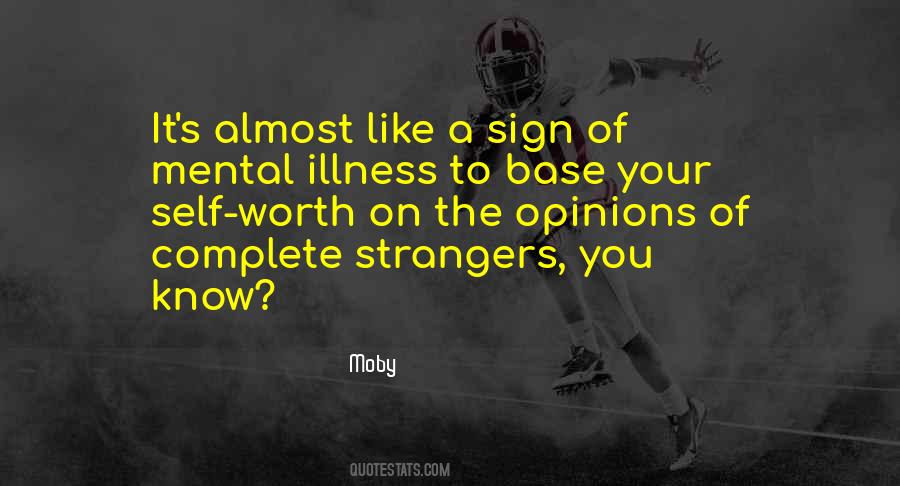 #54. No, I'm not mistaken. I know you don't love me. But I'm going to fight for your love. There are some things in life that are worth fighting for to the end. You are worth it. - Author: Paulo Coelho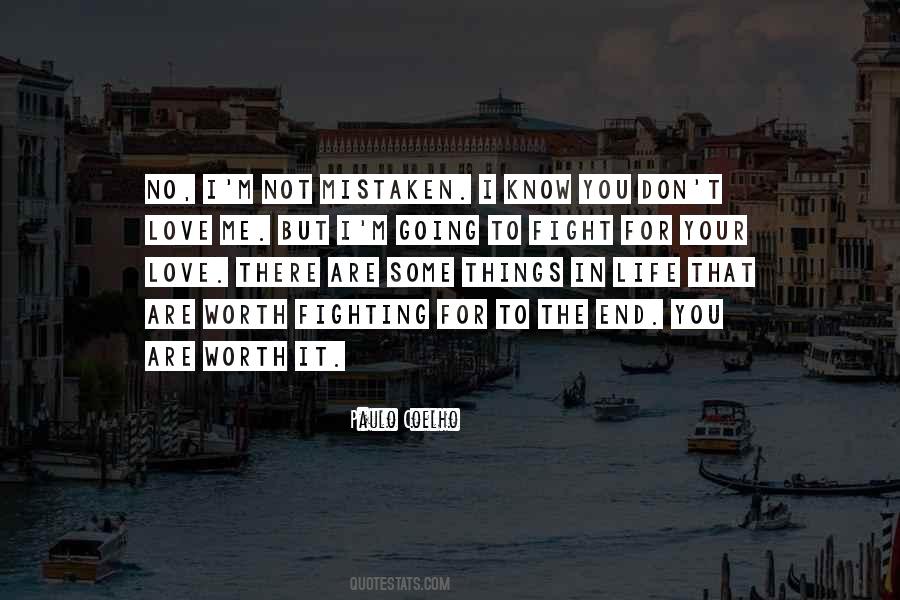 #55. She closed one eye and looked at me and said, "I know there is a blessing in this somewhere."
It is worth living long enough to outlast whatever sense of grievance you may acquire. Another reason why you must be careful of your health. - Author: Marilynne Robinson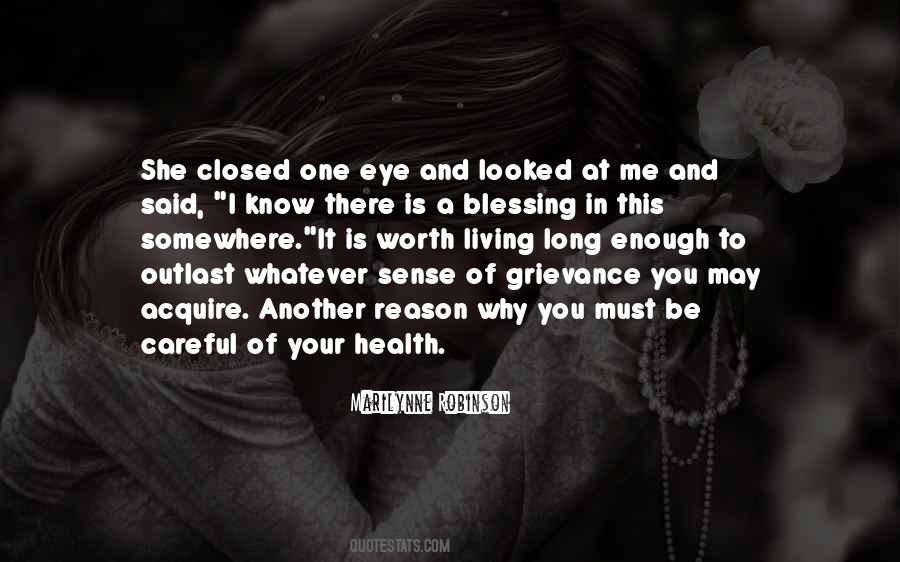 #56. Don't let the low standards and expectations of the world and others cause you to aim beneath your nobility and ability-dream big! What I know and have learned is that anything worth doing is not easy and that we can do anything that is not easy if we believe. - Author: Elaine S. Dalton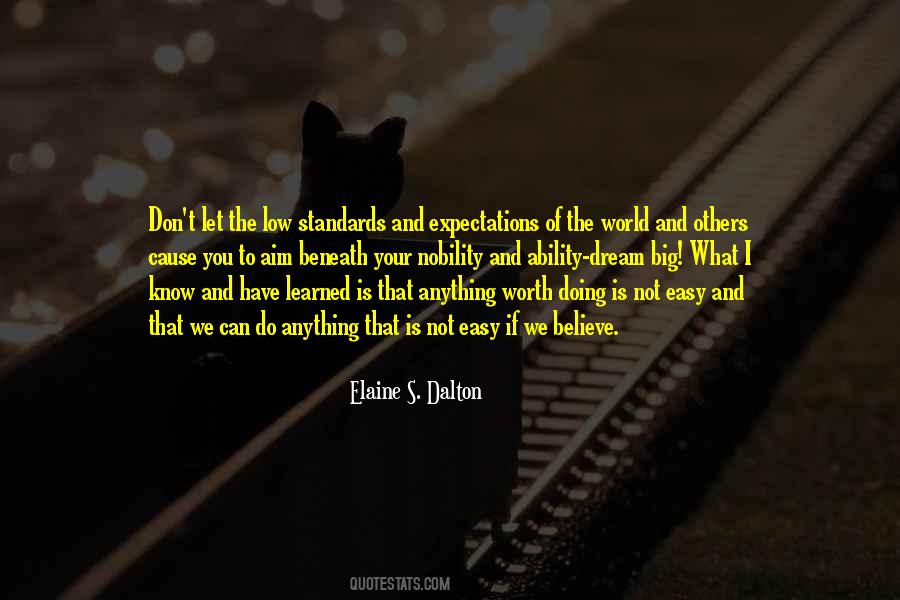 #57. Have patience when it is really worth doing so, no matter what, and notwithstanding how hard impatience knocks at your door, and you will know patience better - Author: Ernest Agyemang Yeboah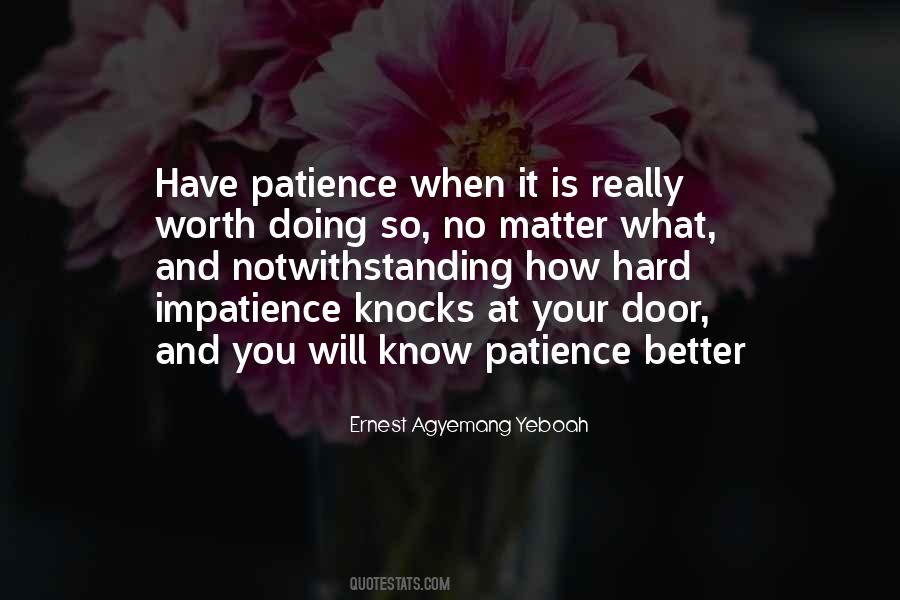 #58. Know your worth so you know when to say, "Yes", and when to say, "Thank you but no thank you. - Author: Sam Owen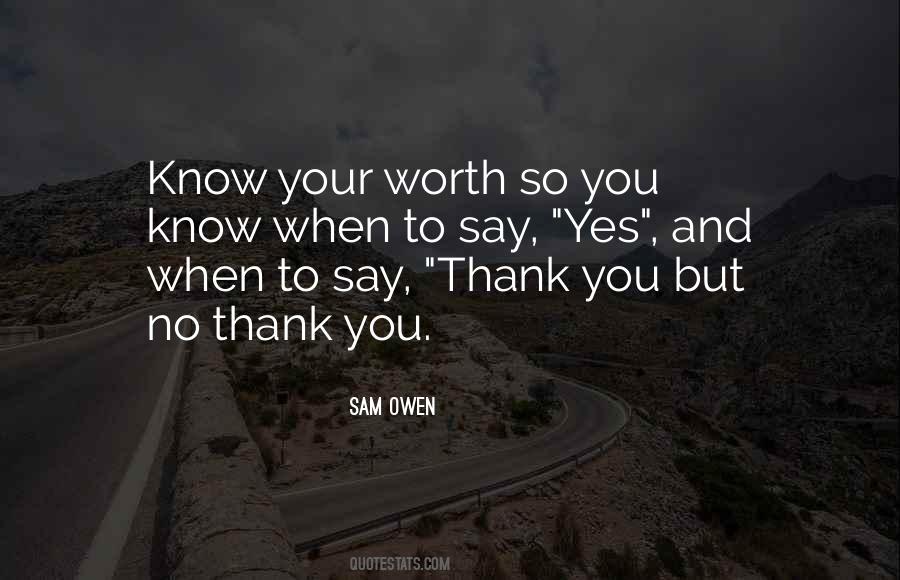 #59. I know you don't love me. But I'm going to fight for your love. There are some things in life that are worth fighting for the end. You are worth it. - Author: Paulo Coelho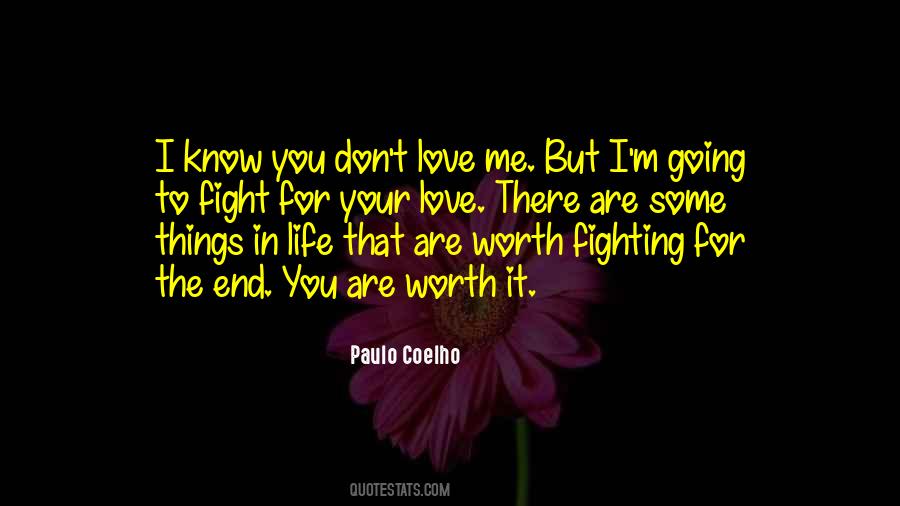 #60. Sign your work ... If you're not proud of it, don't ship it. If you are, sign your work and own the results. We'll know who to thank. If you work for a place where work goes unsigned (internally, in particular) it's worth asking why. - Author: Seth Godin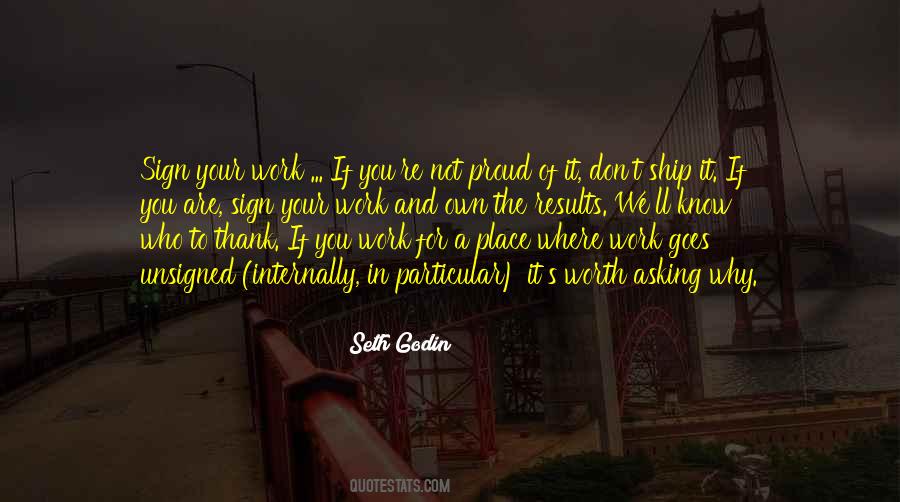 #61. He who understands you is greater kin to you than your own brother. For even your own kindred neither understand you nor know your true worth. - Author: Khalil Gibran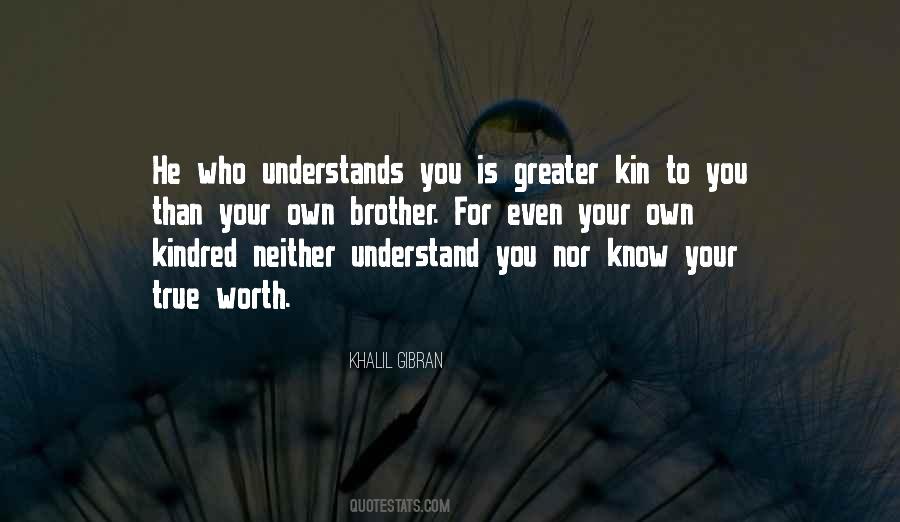 #62. If you want to know how little your dignity is worth, take it to the pawnbroker. - Author: Evan Esar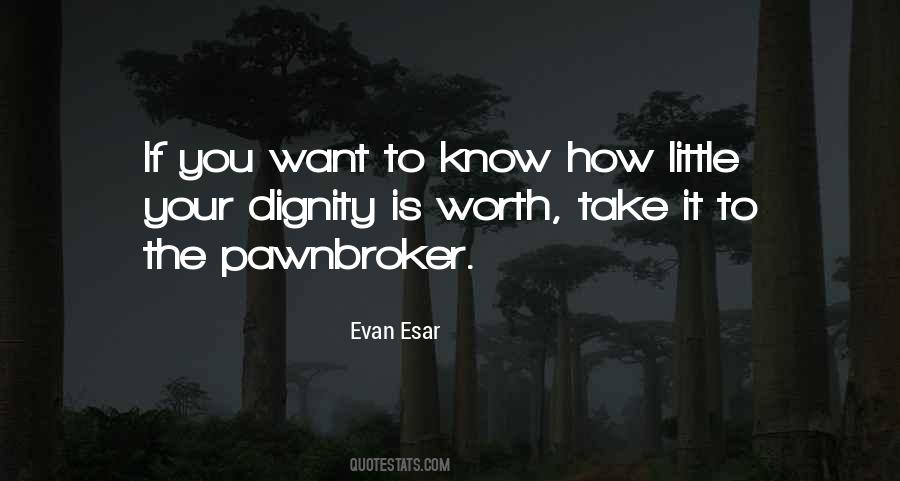 #63. If you don't know your worth, if you don't know your value, if you don't know how fantabulous you are - it's going to be hard for other people to see it. Being appreciative of self is beauty to me. - Author: Kelly Rowland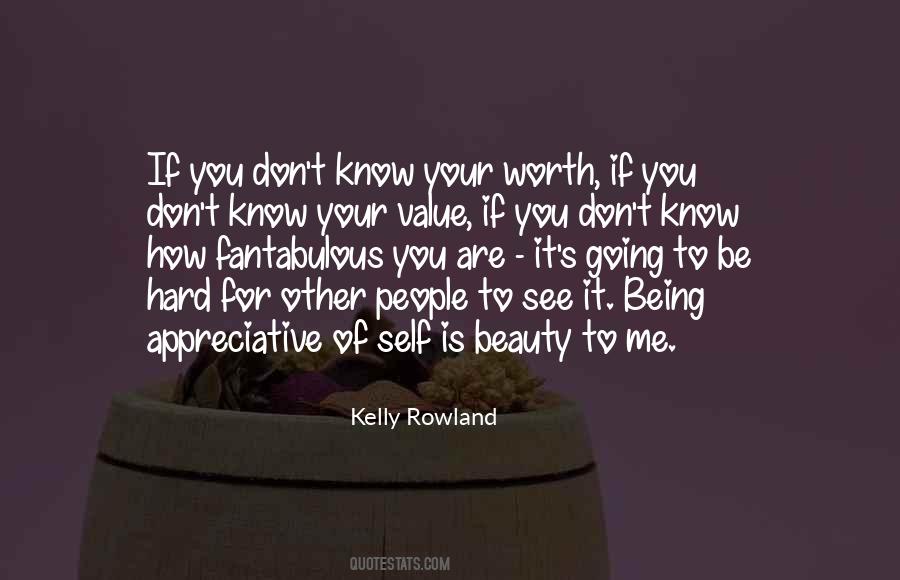 #64. But giving up's easy. You know what's hard? To believe in your own worth, to know you've got something special in you even if nobody else can see it. Even when you can't. - Author: Ryan North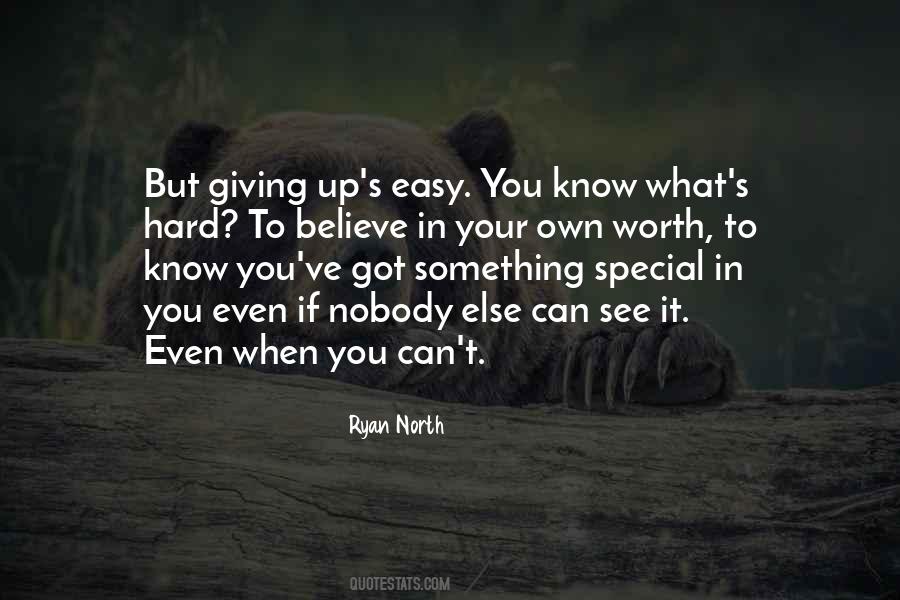 #65. I want to know what the hell made you think this was your job to do? Who made YOU the moral compass of us? How could you lay down with the people you've laid down with?? Tell me, 'Director Stark', was it worth it??

Was it WORTH it?!

TELL ME! - Author: Brian Michael Bendis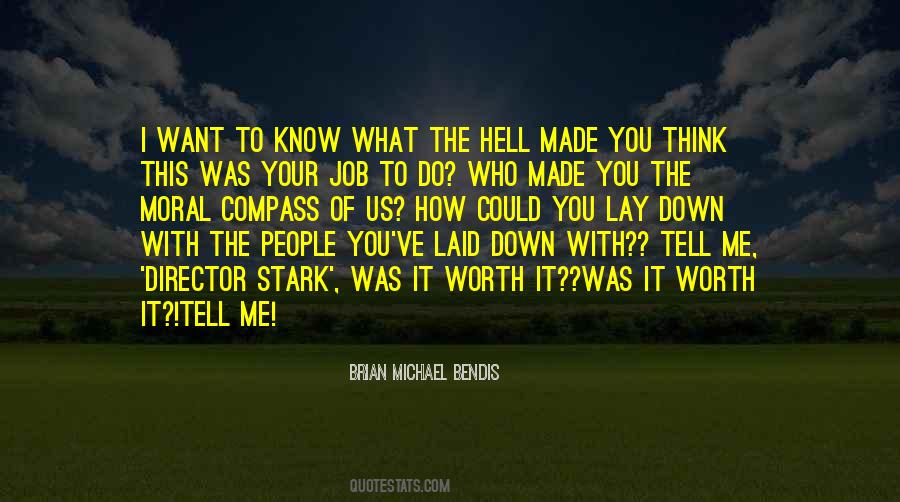 #66. When someone's success makes you as happy as if it were your own, you know you've found someone worth holding on to. - Author: Charlotte Eriksson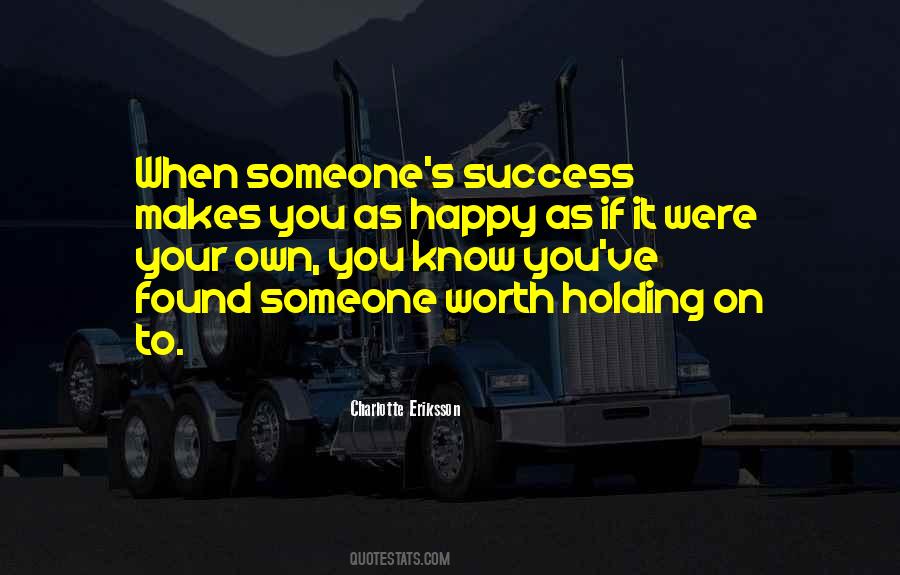 #67. So, I may not be an expert on fathers, but I know that anyone who makes you feel less than worthy, especially someone who I believe is supposed to love and protect you, is not worth your effort. - Author: Anna Hackett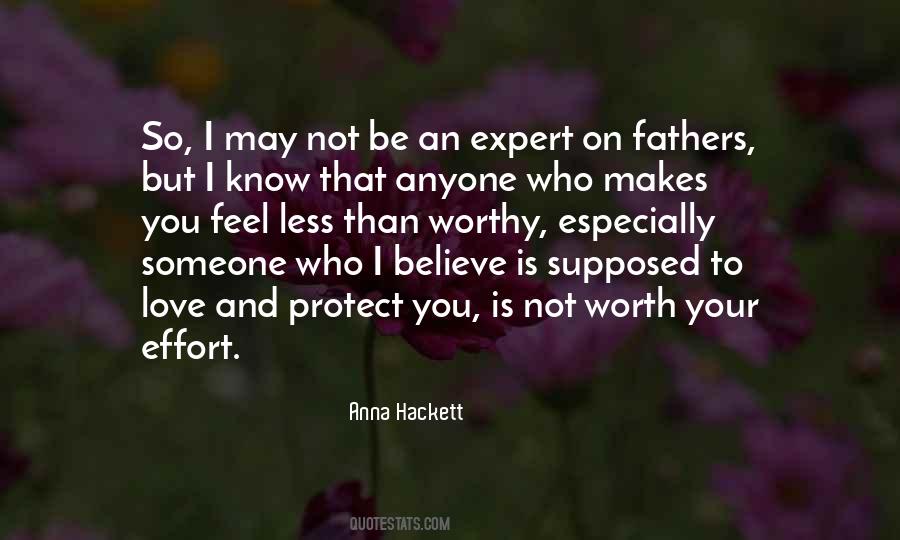 #68. When I get asked the question, "Do I want to loan you money?" I want to know, how much do you earn? How much do you owe? What is your net worth? When people talk about countries for some reason they only ask how much did you earn and what's your debt? - Author: George Friedman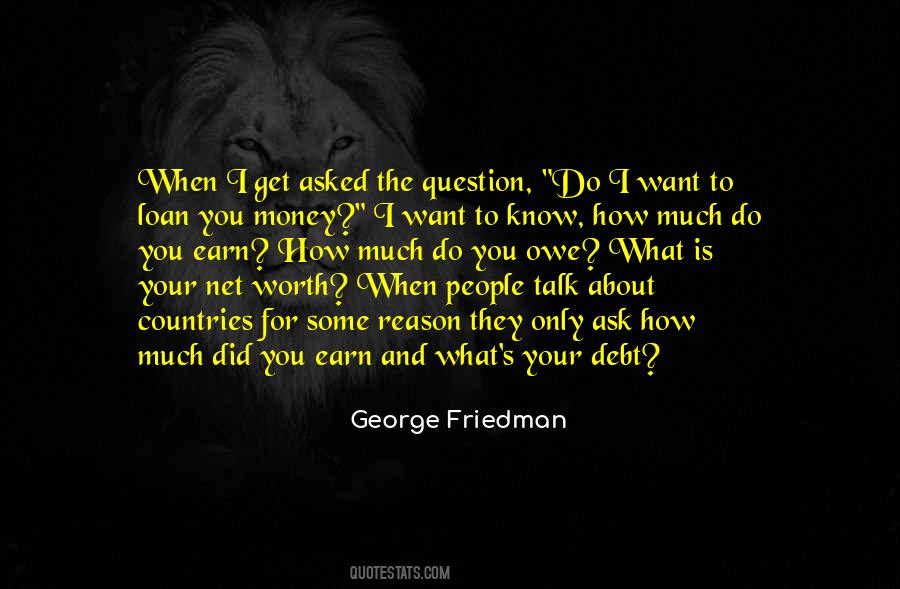 #69. My God, thank you. Thank you very much. I'm almost embarrassed by the response, but when I see this, I know that the twenty five years that I've spent trying to make you happy every night
of your life was worth every damn minute of it. - Author: Ric Flair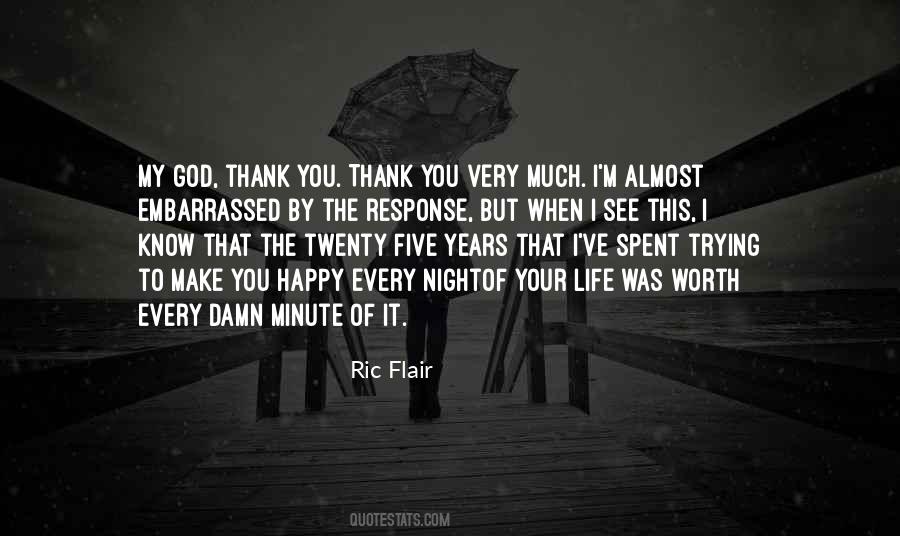 #70. We spoke once about lovers who kept finding each other, no matter how many times the world came between them. And I think I had to break your heart, and you had to break mine. How else could we know the worth of what we were given? - Author: Lang Leav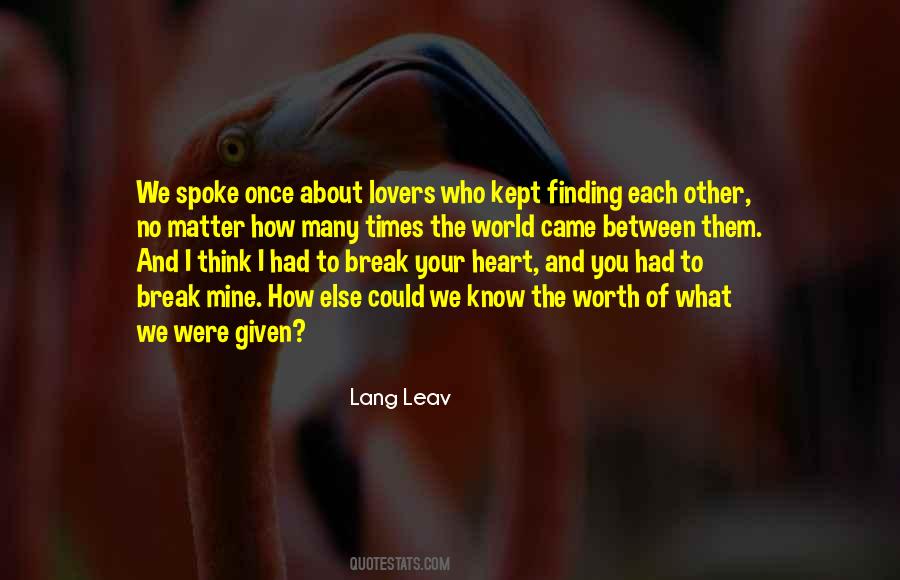 #71. It is not enough to know your craft - you have to have feeling. Science is all very well, but for us imagination is worth far more. - Author: Edouard Manet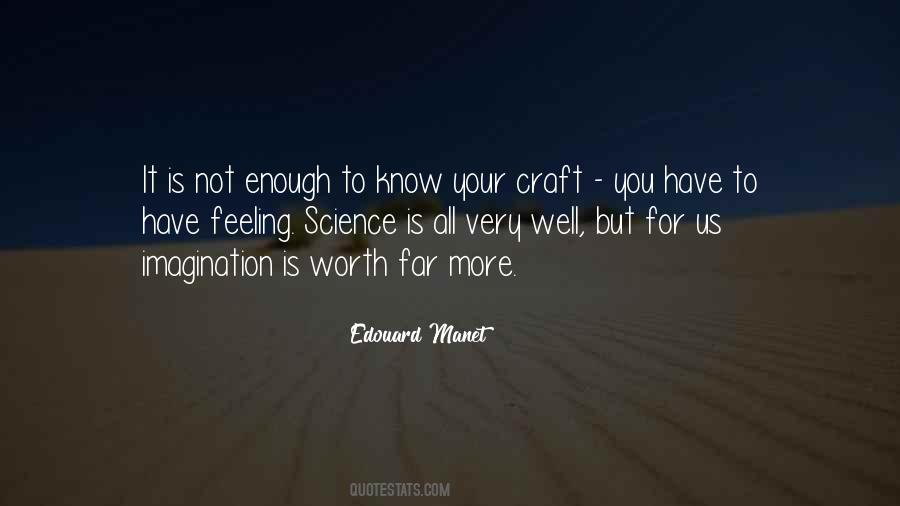 #72. Ego very much wants to make you think that your self worth is all about what you possess, what you've accomplished, and who you know. - Author: Taite Adams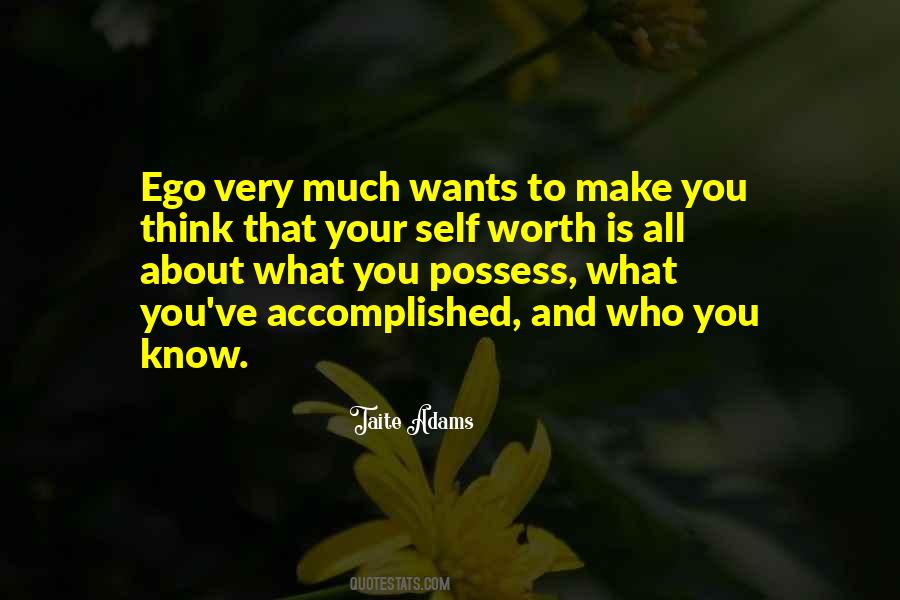 #73. The great spider never worries itself chasing after its prey with all of its energy and strength. It only exerts its energy each morning to build its web in a magnificent way; relaxes in it and awaits its prey that will miss its path into the web - Author: Ernest Agyemang Yeboah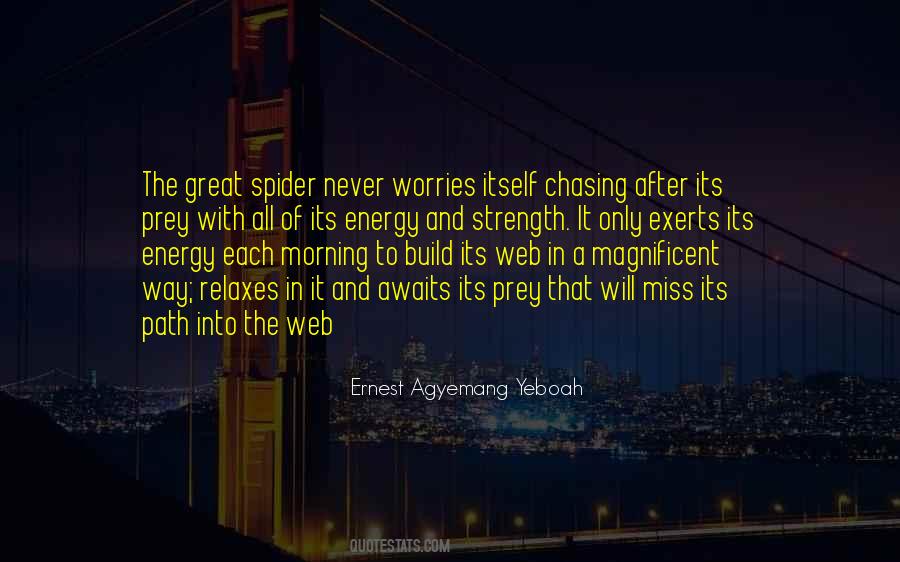 #74. You have have to know your worth in order to know you're worth investing into. Take a chance on your dreams and future. - Author: Stephen D. Matthews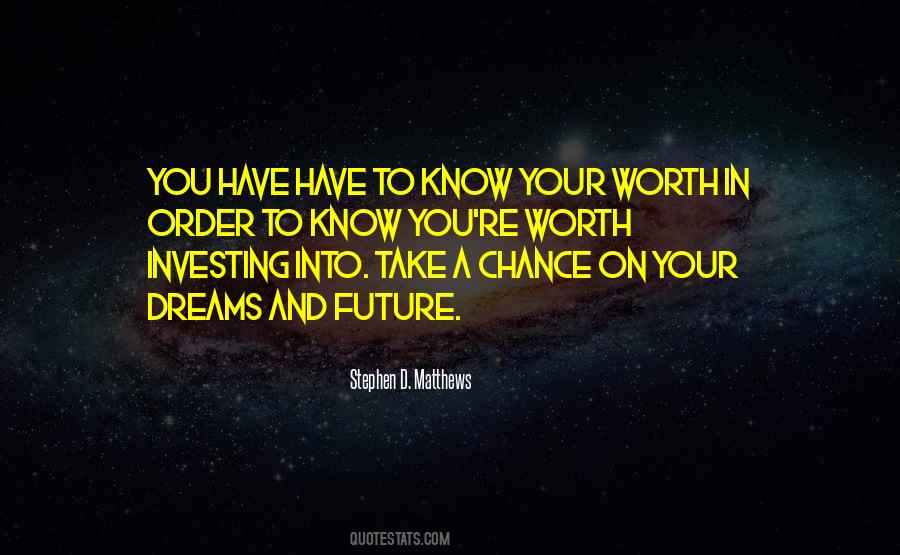 #75. Life is messy though, you know? Sometimes it's worth it to jump in and get your hands dirty. Happiness and contentment don't come along very often, so when they do, you need to hold on with everything you've got. If it doesn't work out, it doesn't work out, but at least you can say you tried. - Author: Cate Ashwood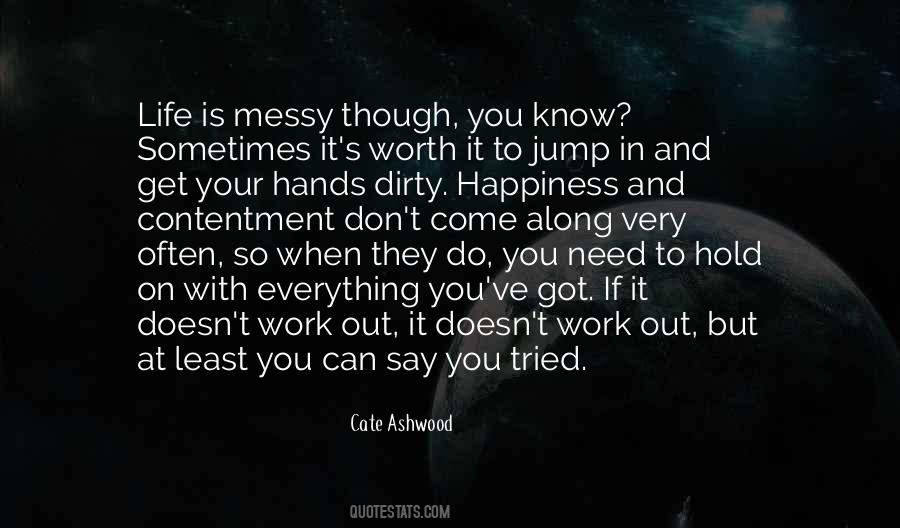 #76. You have to have a vision and know that it's worth seeing it through. Other than that, just be true to your heart. - Author: Jason Reeves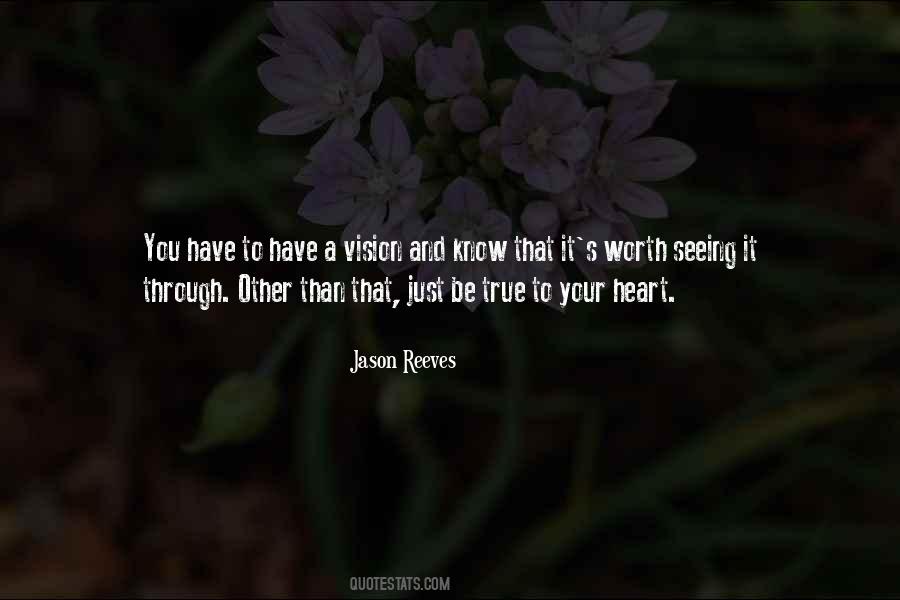 #77. It's very important for people to know themselves and understand what their value system is, because if you don't know what your value system is, then you don't know what risks are worth taking and which ones are worth avoiding. - Author: Ben Carson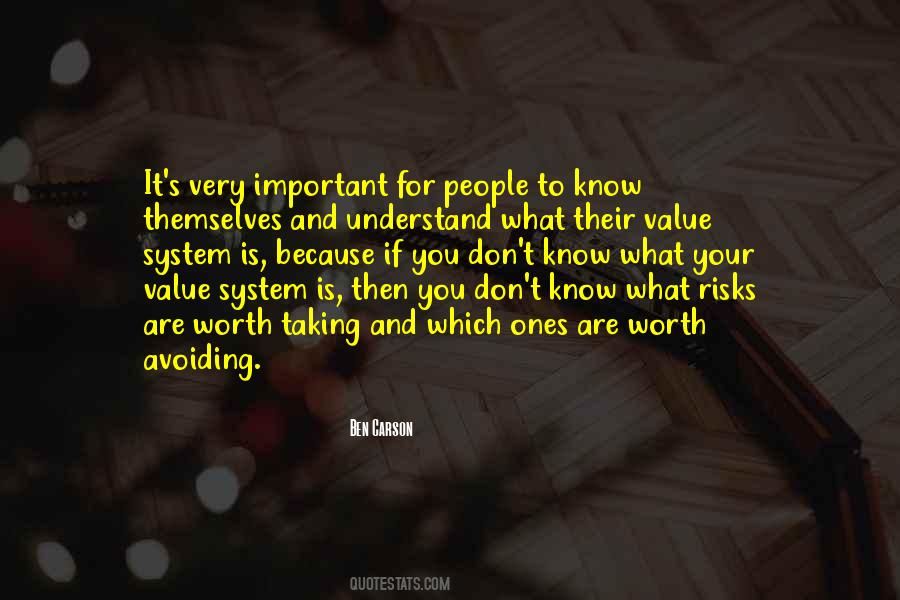 #78. That isn't about money, fame, or power. It's about will, dedication, commitment, and knowing your self-worth. You can be poor as dirt and have those traits. Money can't buy you values. You just need to know what is important to you and then feel secure in your pursuit to achieve that. - Author: Jennifer Hudson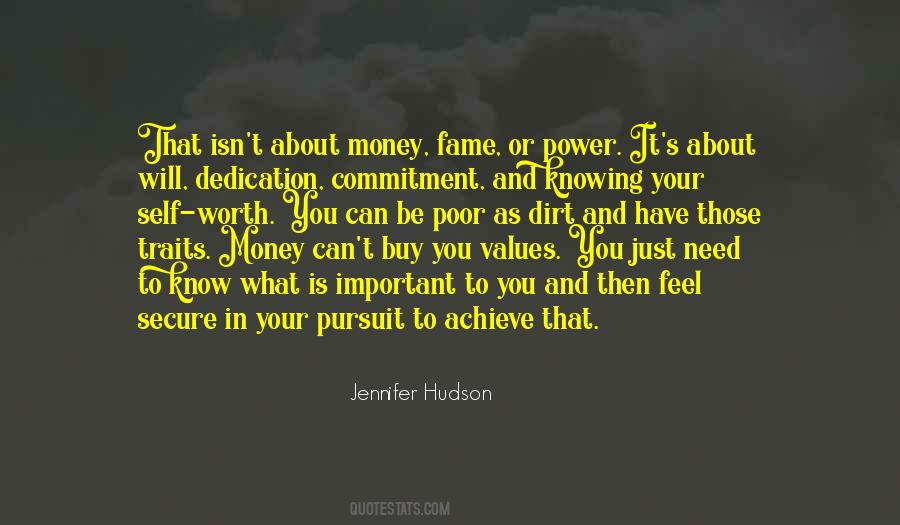 #79. There is only one person in the world, aside from your dog, who has any hope of liking you regardless of your success or failure. That's you. I think it's worth a little of your time to get to know that person better. - Author: H.L. Stephens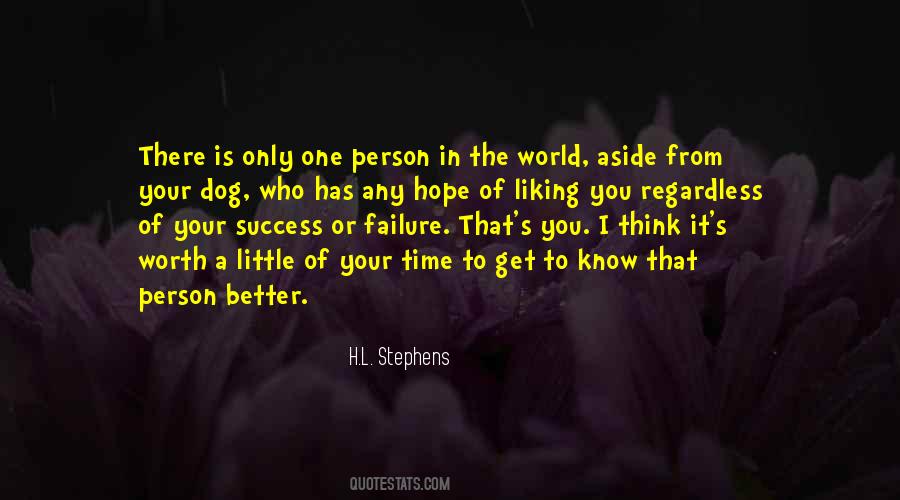 Famous Authors
Popular Topics