Talking With Each Other Famous Quotes & Sayings
List of top 88 famous quotes and sayings about talking with each other to read and share with friends on your Facebook, Twitter, blogs.
Top 88 Talking With Each Other Quotes
#1. When people start talking of man's inhumanity to man it means they haven't actually walked far enough. - Author: Bruce Chatwin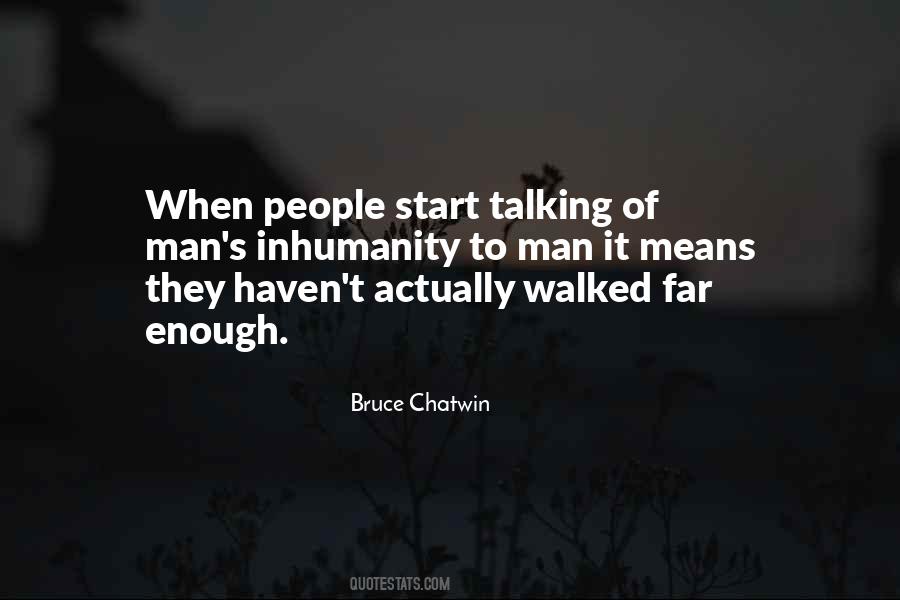 #2. It's important to make sure that we're talking with each other in a way that heals, not in a way that wounds. - Author: Barack Obama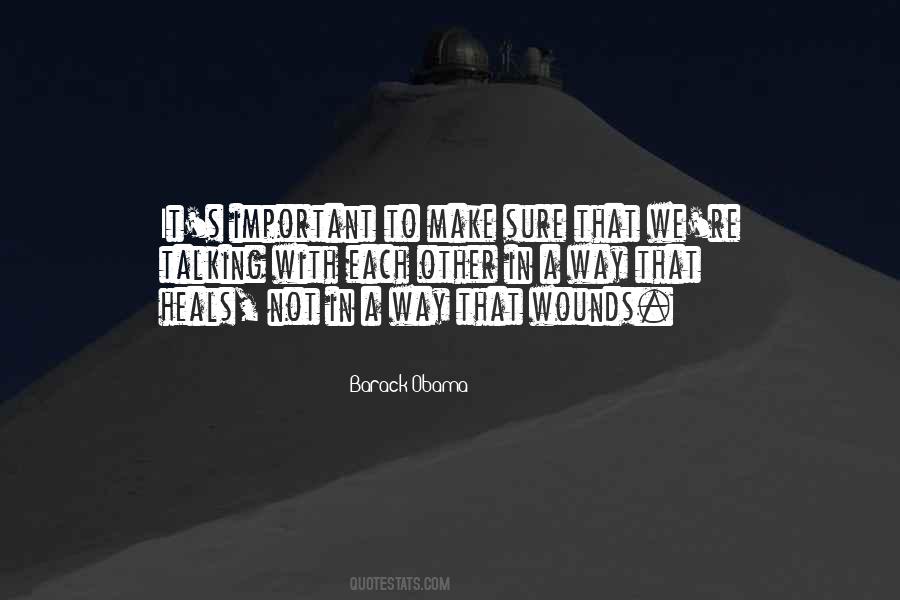 #3. We now have a political process, we've had a period of parties that have been fighting each other quite literally with bombs and bullets, talking to each other, and having sat together in the assembly and sharing government with each other. - Author: Peter Hain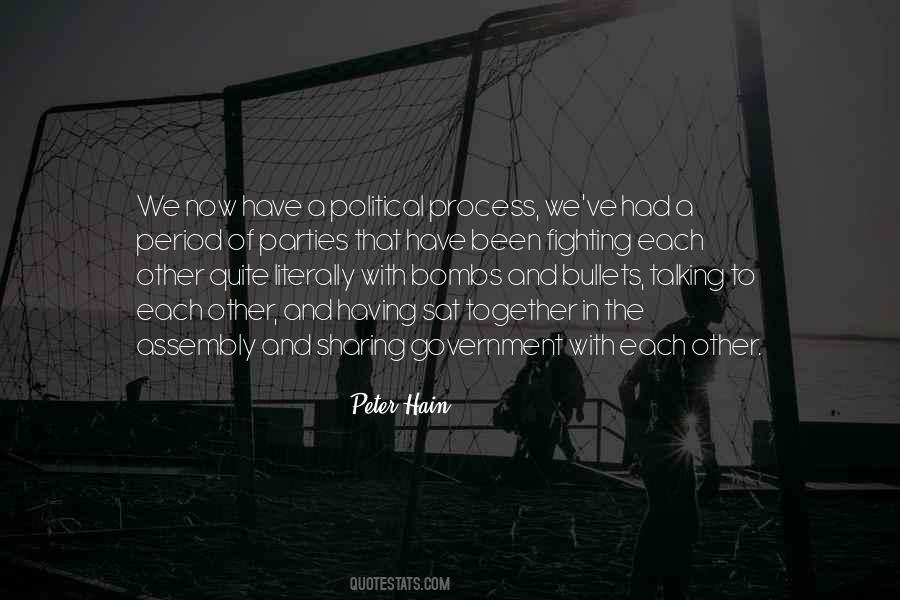 #4. I grew up in a household that was very close, very open, and always talking about what was going on with each other. - Author: Tyler Ritter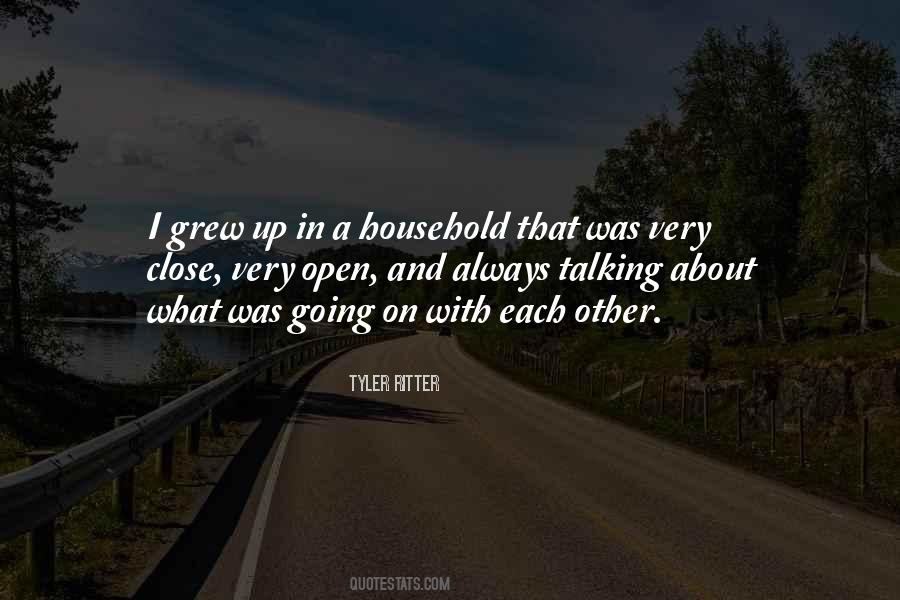 #5. When I stay with the couple who are my closest friends, I hear them laughing and talking in bed, and sometimes in the middle of the night one of them goes down and makes tea, and when the clock goes off in the morning, they start again, talking to each other. - Author: Nuala O'Faolain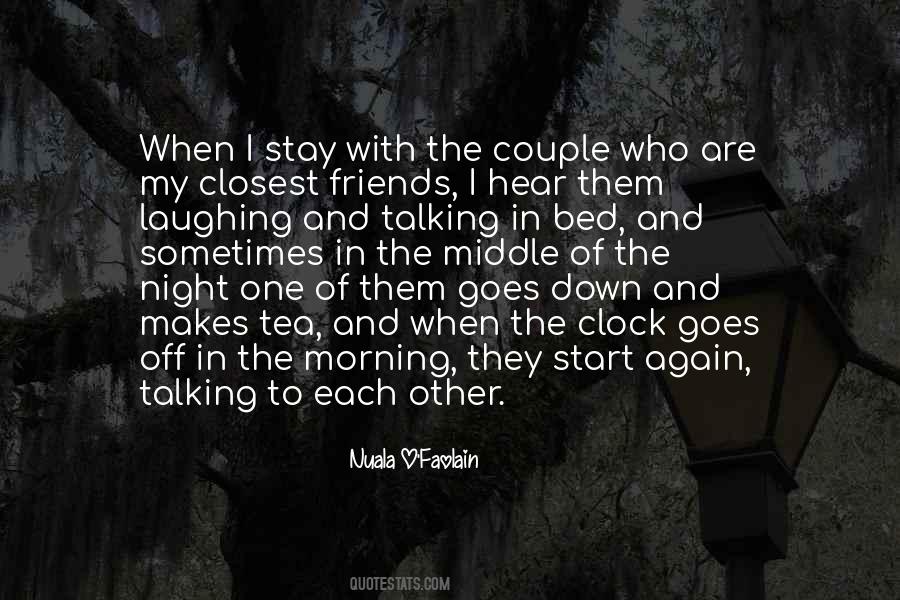 #6. On average, Australians watch more than three hours of television a day, compared with 12 minutes a day spent by the average couple talking to each other. - Author: Hugh Mackay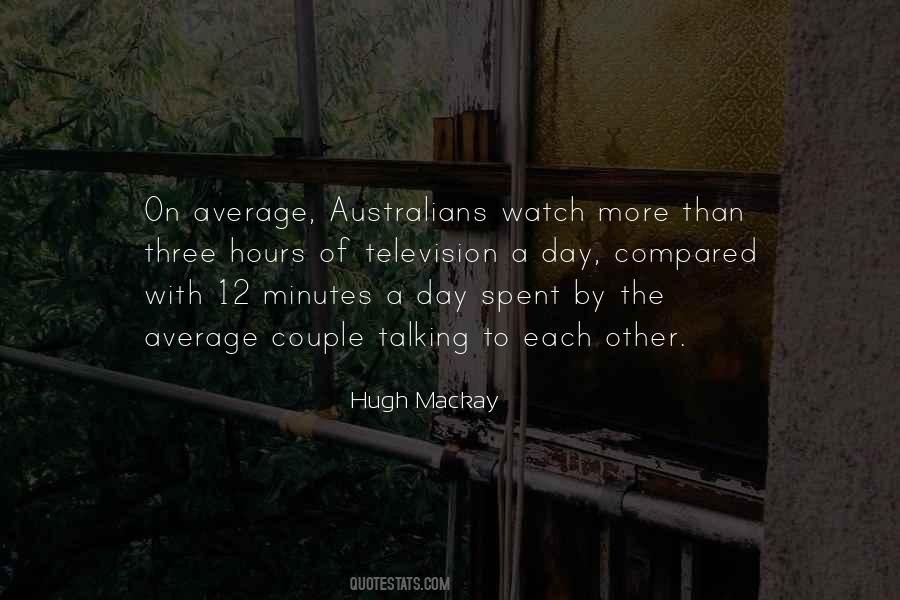 #7. With some people ,the minute you start talking, it feels like you've known them for years. It only means that you were supposed to meet sooner. You're feeling all the time you should have known each other, but didn't. That time still counts. You can definitely feel it. - Author: David Levithan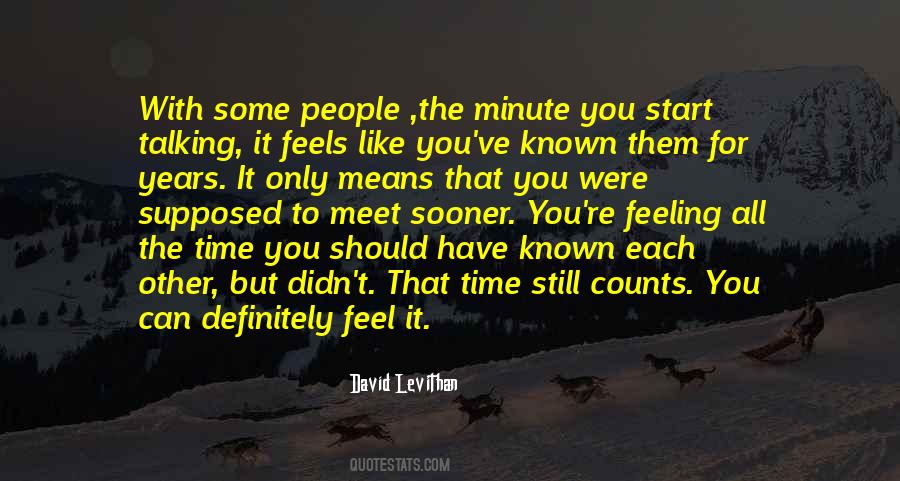 #8. We need to be more supportive with everything. With body images, especially with women, showing that all sizes are beautiful. And I'm talking about in magazines, advertisement in regard to what's sexy and what's not sexy. We all need to be a little more supportive of each other. - Author: Tia Mowry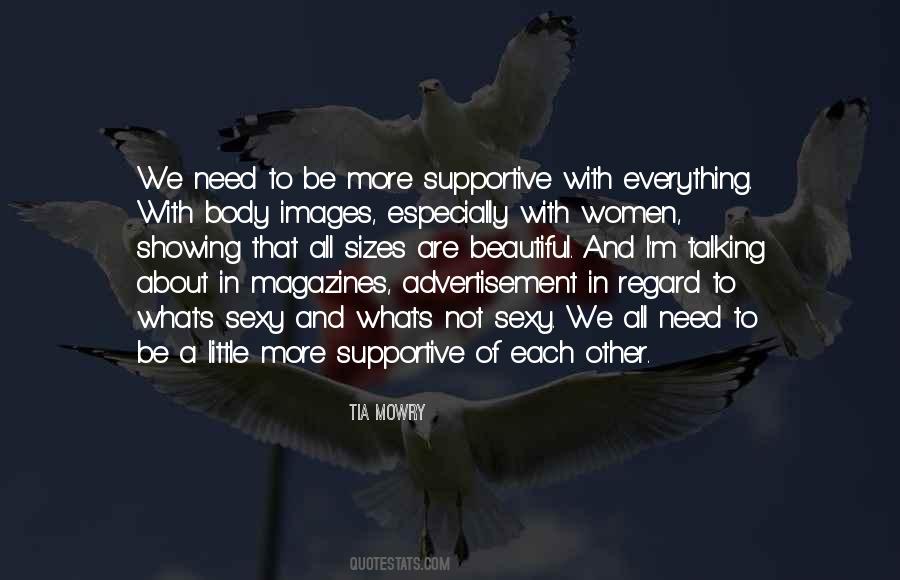 #9. I don't want to misrepresent who I am personally. I don't want my kids to see me on a talk show and say, "You're talking different" or "You look different, dad." I'm not gonna be an animal; I know how to conduct myself. - Author: Michael Rapaport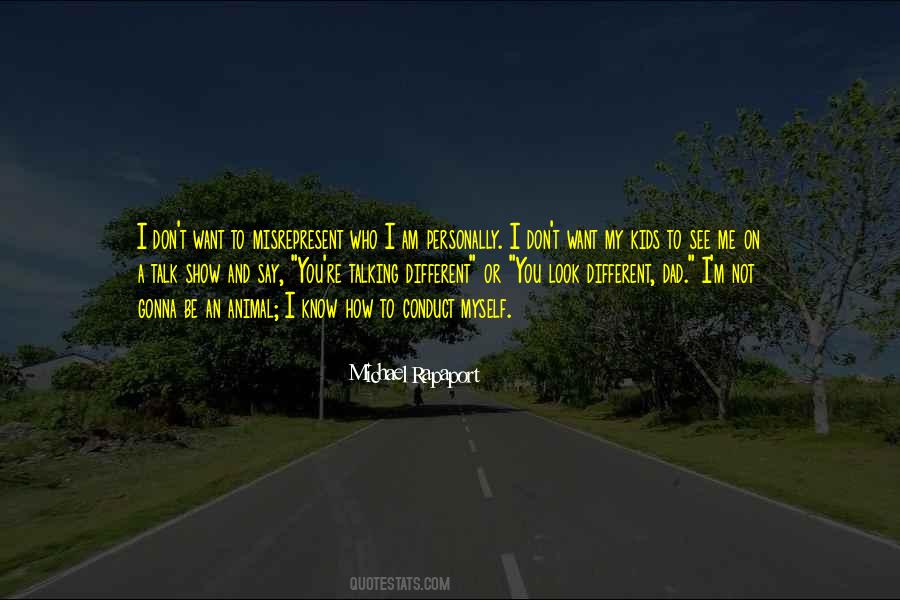 #10. What is word knowledge but a shadow of wordless knowledge? - Author: Kahlil Gibran
#11. Every time I flicked channels, there I was, talking. I was talking too much and writing too little. So Naomi and I went to Hawaii. The phone was cut off and we lost touch. This gave me the chance to have a good think about my life. - Author: Joe Eszterhas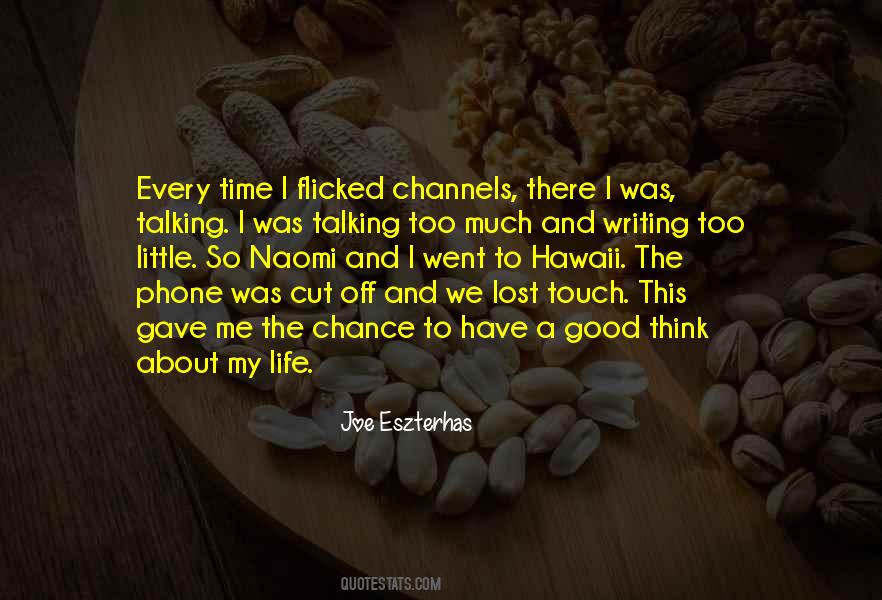 #12. Tony Benn and I were very close, very close friends for 30, 40 years. We talked to each other a great deal, and we were great friends. And I was with him shortly before he died, talking about prospects of the world and prospects for peace. And I'm very sad that he's gone. - Author: Jeremy Corbyn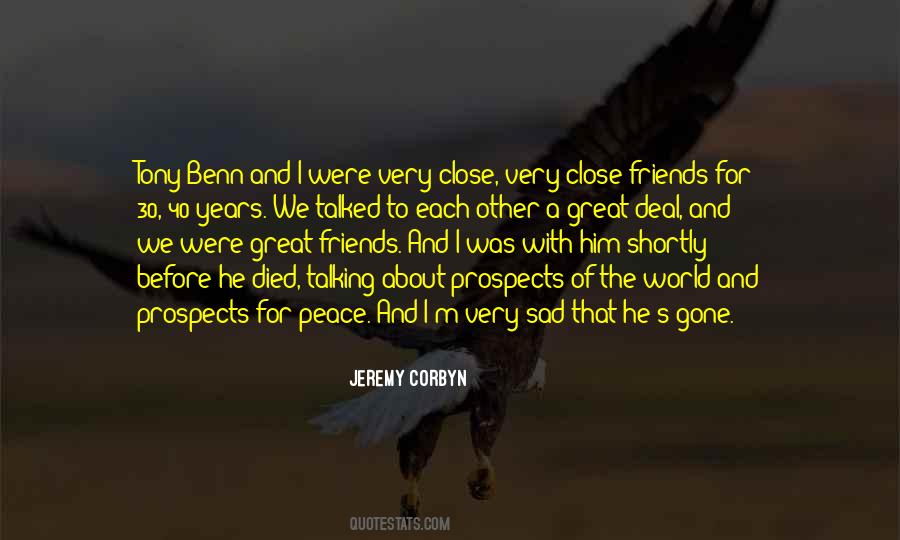 #13. You are to make your own way prosperous ... Even God cannot do it for you; you will have to do it yourself by doing the right things; taking right decisions, talking right, thinking right, being at the right place with the right-kind of people and by reading the right materials. - Author: Jaachynma N.E. Agu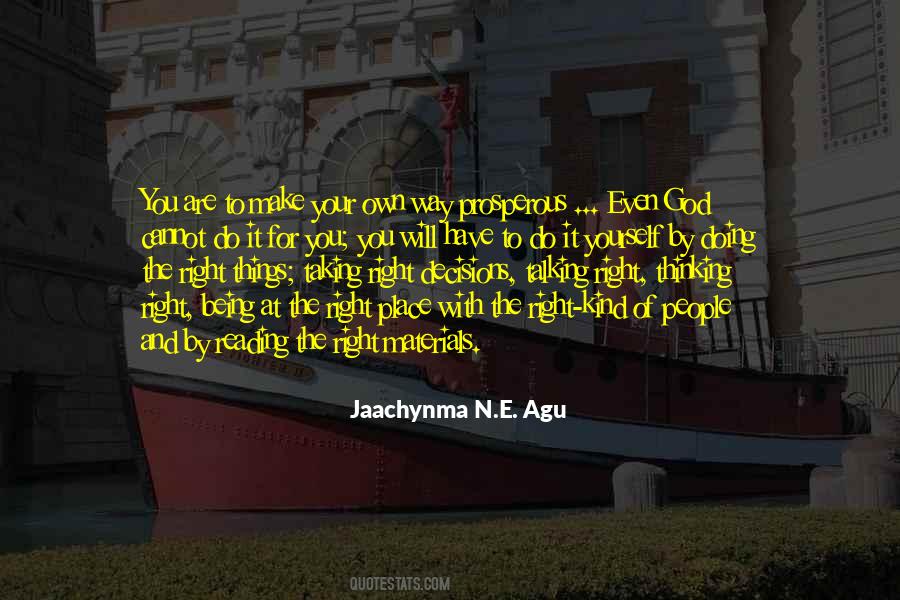 #14. You're an expatriate. You've lost touch with the soil. You get precious. Fake European standards have ruined you. You drink yourself to death. You become obsessed with sex. You spend all your time talking, not working. You are an expatriate, see? You hang around cafes. - Author: Ernest Hemingway,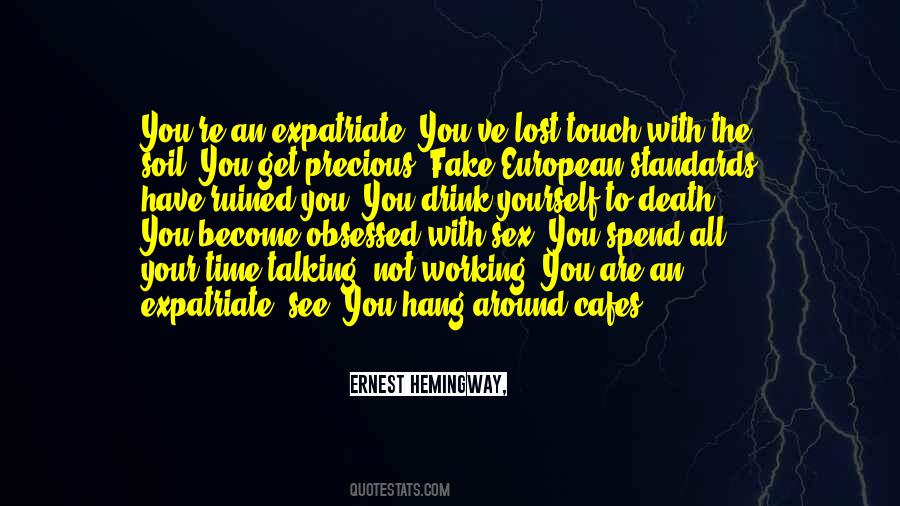 #15. The idea of a hypnotic riff as the prime mover of a piece of music has been around for a long time, whether you're talking about the Delta blues or music from Middle Eastern and African cultures. - Author: Jimmy Page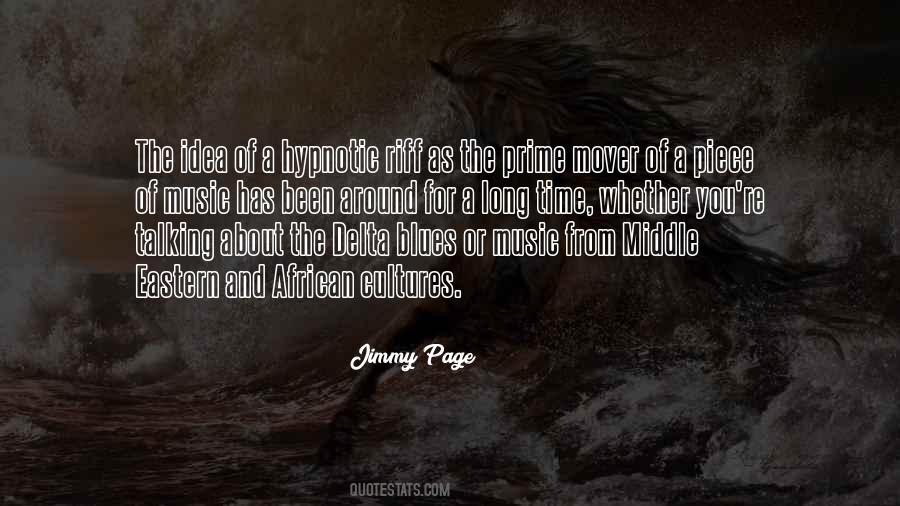 #16. Talking to Lee Child and discovering, from his chapter in The Chopin Manuscript, that he's even more of an audio geek than I am (as his chapter in Chopin proves). - Author: David Hewson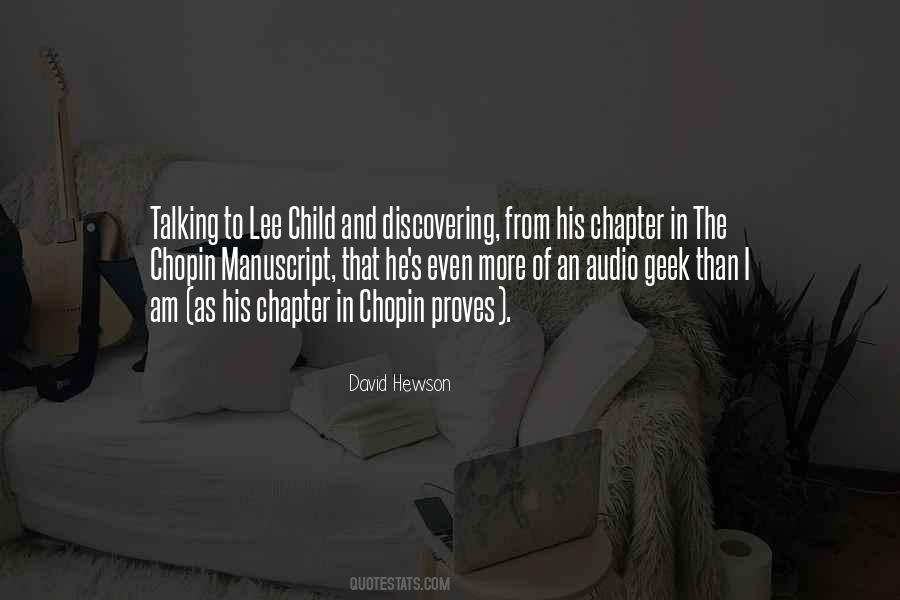 #17. If I describe a person's physical appearance in my writing, which I often do, especially in fiction, I never say someone is "black" or "white." I may describe the color of their skin - black eyes, beige skin, blue eyes, dark skin, etc. But I'm not talking about race. - Author: Jamaica Kincaid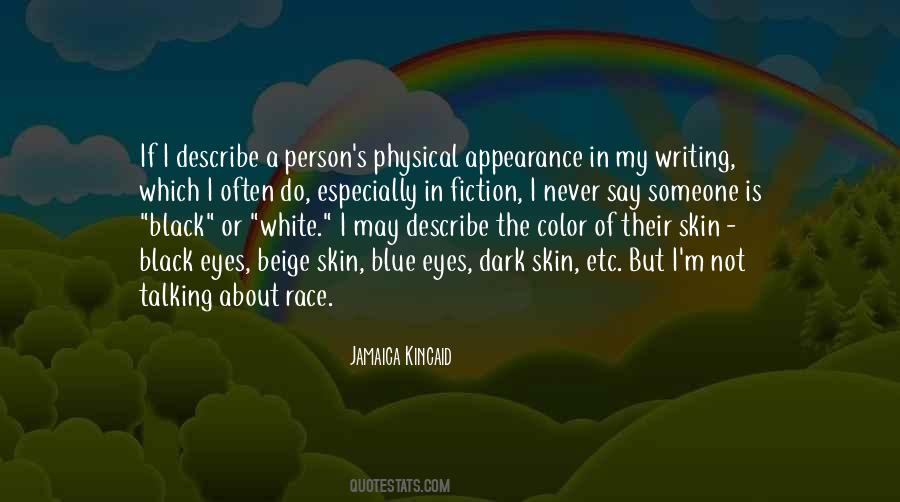 #18. I could hear you, talking to the daffodils and tulips, whispering to the fairies that lived inside their petals. Each separate flower had a different family inside it. - Author: Lucy Christopher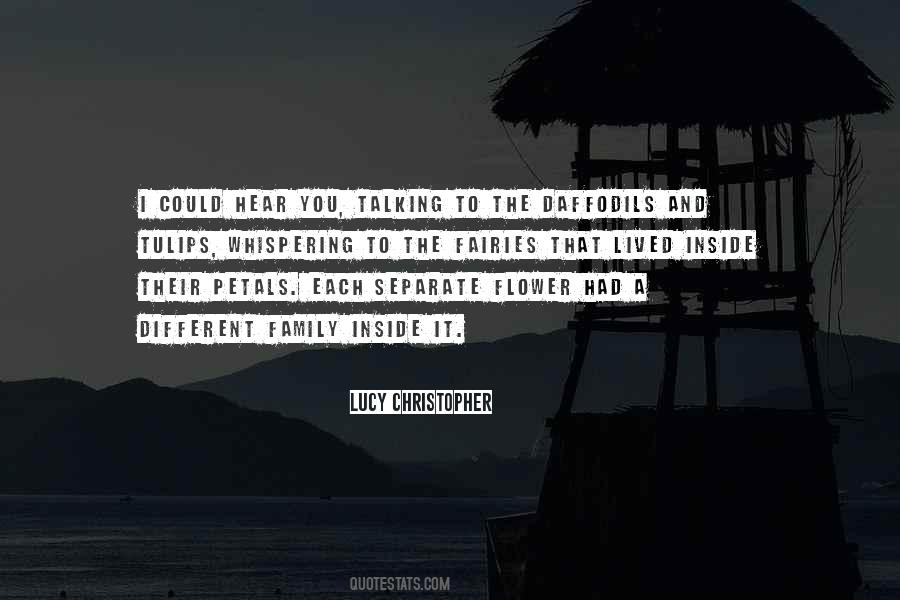 #19. It was always this way: The more people talked, the more they obscured. You didn't need to argue for the truth. You could see it. - Author: Max Barry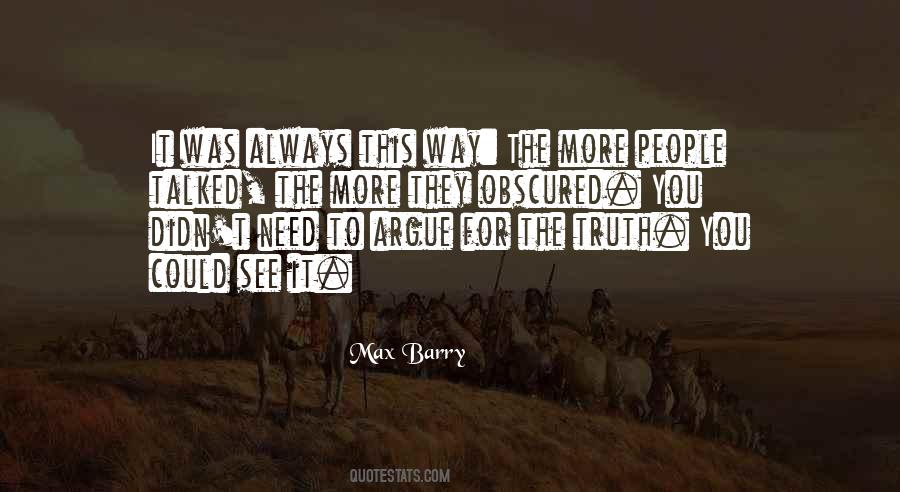 #20. I went to a military school, so I'm always talking like 'Yes, sir,' or 'No, ma'am.' I was doing that even before military school, so I've always had it, I guess. - Author: Larry Fitzgerald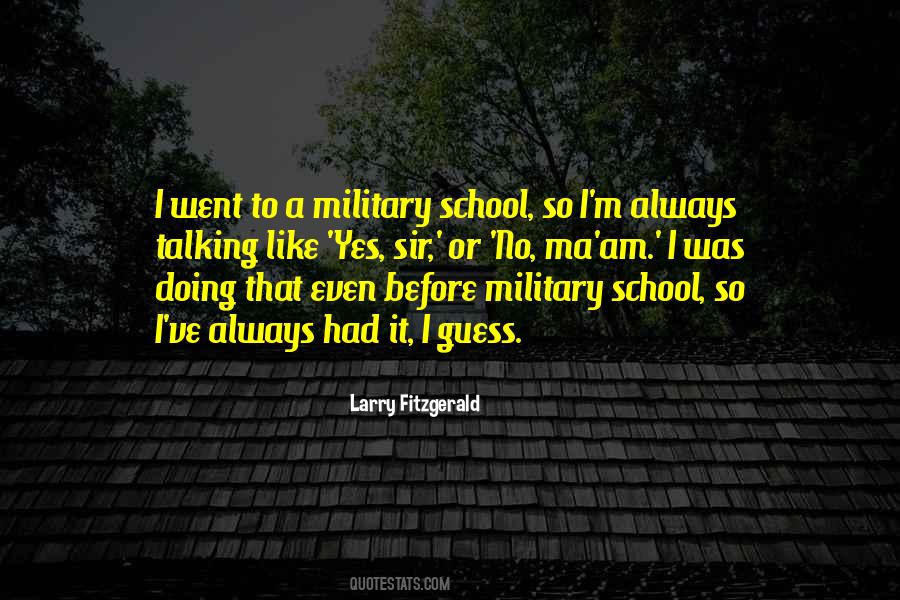 #21. Let's do, let's get some handles. I don't know why I'm talking about this stuff. Look, I love you and I miss you and you're doing the right thing. It's costing you too, I know that. I'm here and I'll be here whenever you come home, or I'll meet you anywhere, anytime. That's what. - Author: Thomas Harris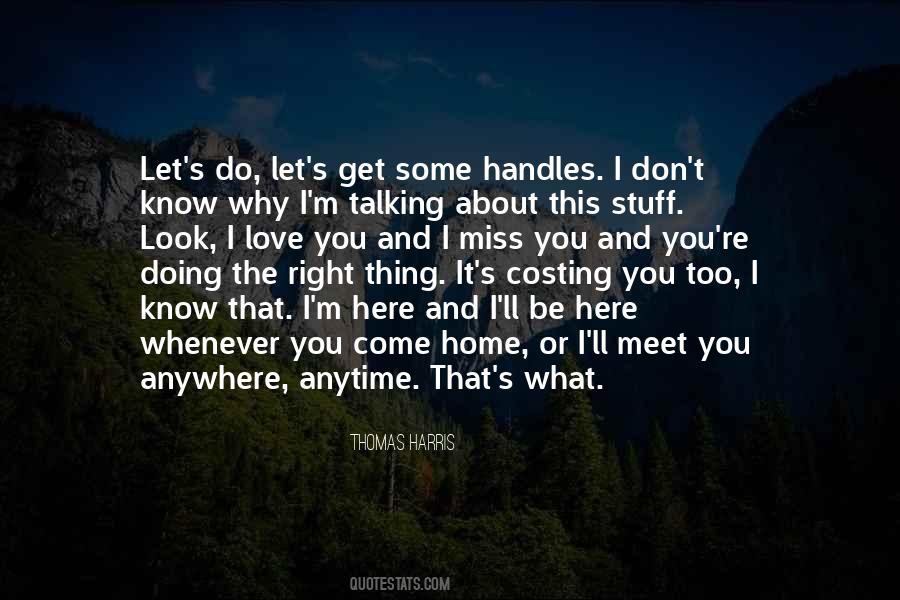 #22. She's talking about herself in the third person because the idea of being who she is, of acknowledging that she is herself, is more than her pride can take. - Author: Sarah Kane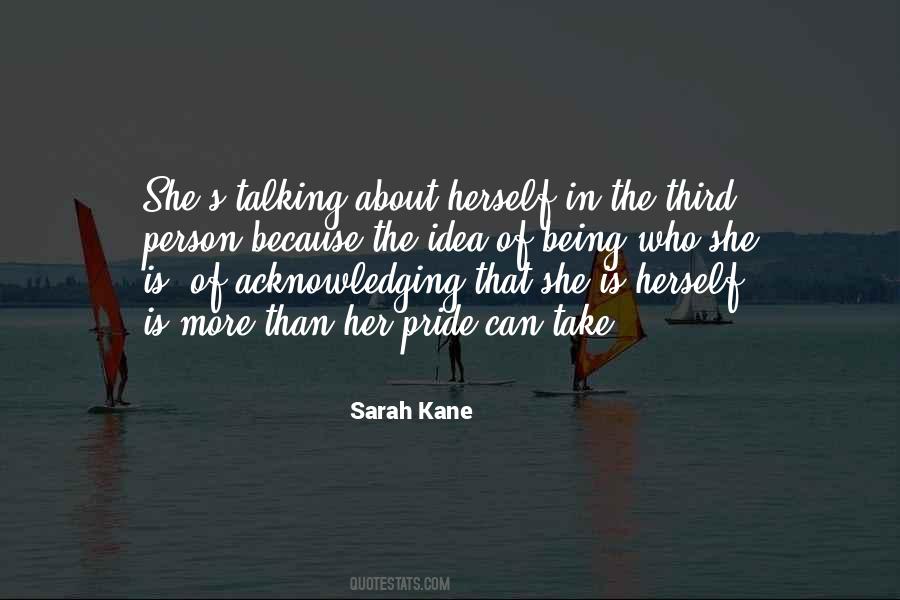 #23. Now, there are so many movies, so many festivals, and so many awards going on, each judged with each other, like your work is worse than others and that's not fair. How can you tell what's best and what's worst from these awards? We're talking about art. - Author: Javier Bardem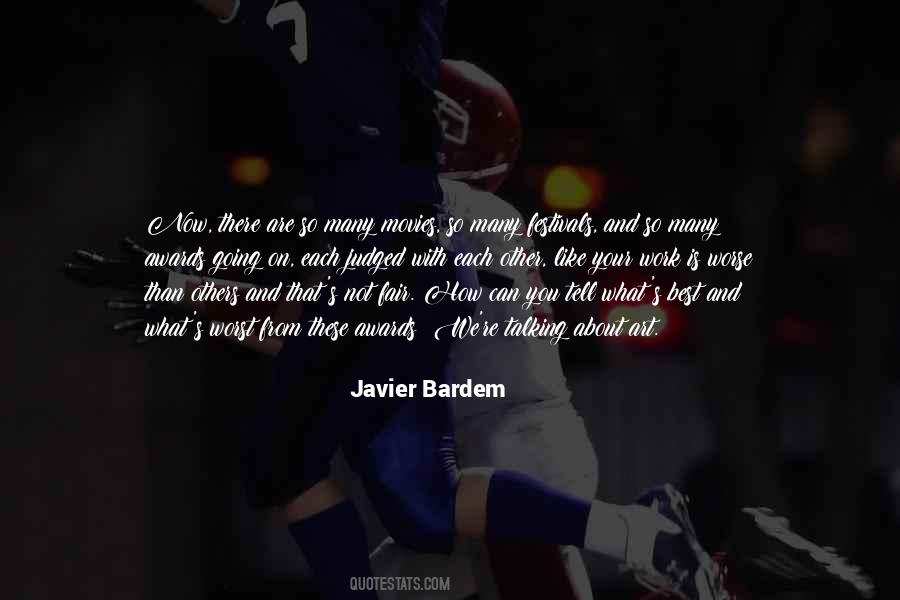 #24. We work in this cave, and we speak to each other sort of subconsciously and with like, weird cues and tangential brother speak, but it really comes down to if you are the person who is moving amongst the actors and talking to people more, the other one can have a little more time to really watch. - Author: Mark Duplass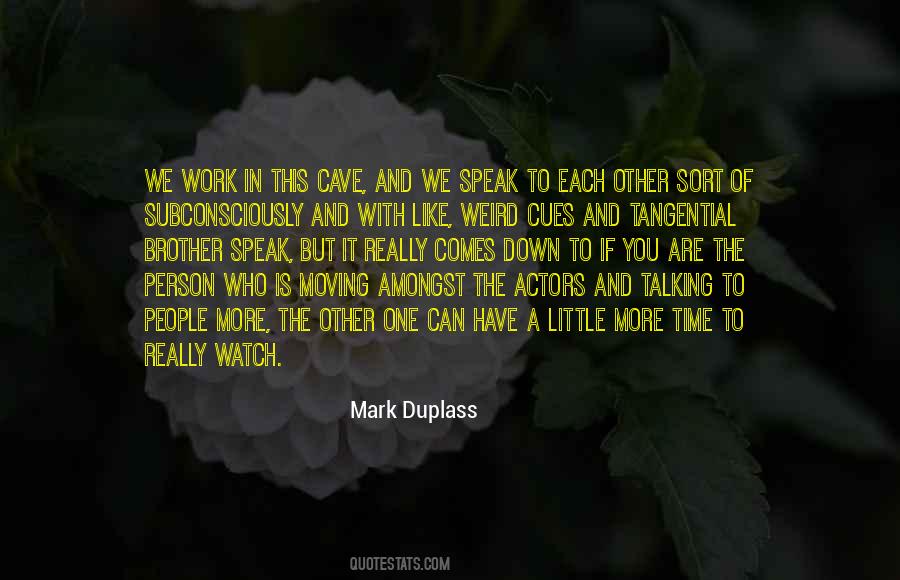 #25. We spend our time sending messages to each other, talking and trying to listen at the same time, exchanging information. This seems to be our most urgent biological function; it is what we do with our lives. - Author: Lewis Thomas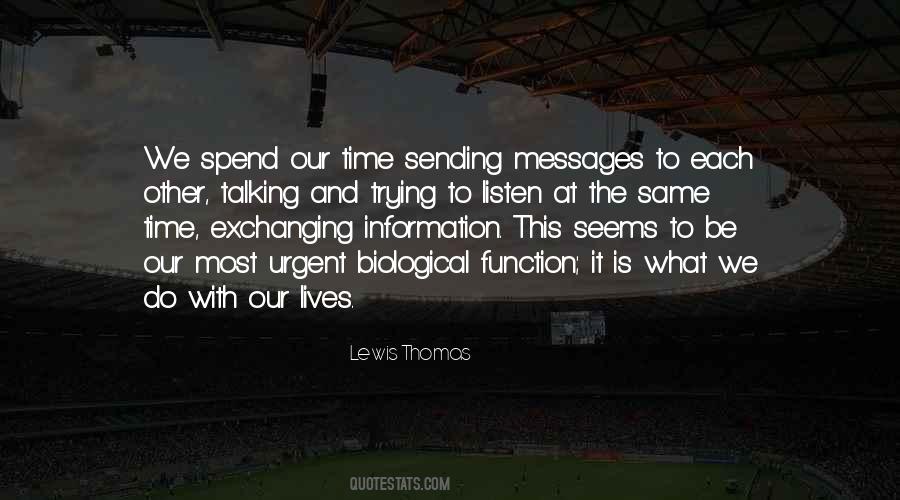 #26. It really hurts when I see two good friends are
not talking to each other from long ago. Life is
just for once. There are so many arguments you
can win with but you are gonna lose the person - Author: Pawan Mehra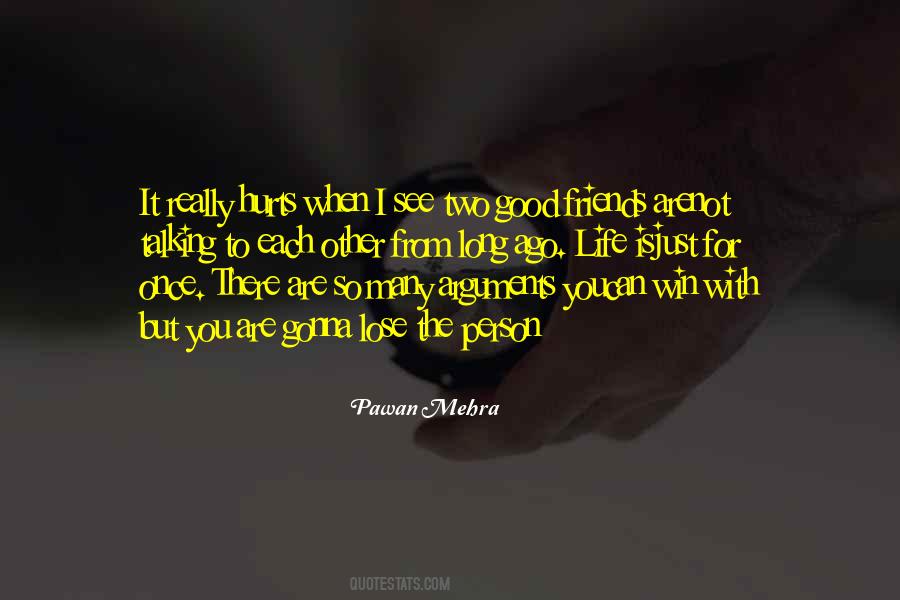 #27. [People] need to find words that can reconnect them with each other. That is the gift of good liturgy, yeah. We're not talking about fluffy stuff. We're talking about real life for people around the world. Our prayers should be said like the daily breath that gives us life. - Author: Shane Claiborne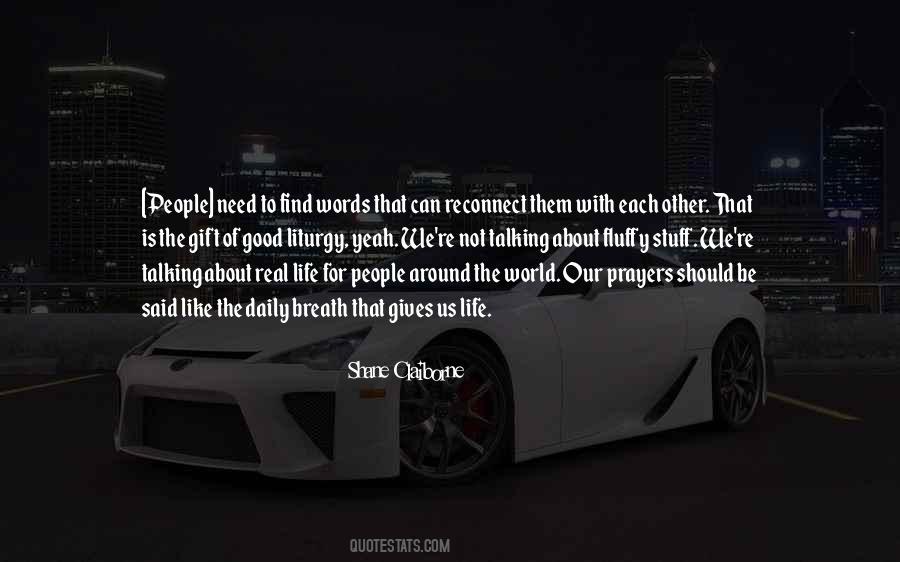 #28. I like comedy that's not political but social, dealing with issues of people talking to each other. No matter what your politics, we still have to live with each other. Politics is taking a side. I'm not running for office, you know? - Author: Michael Che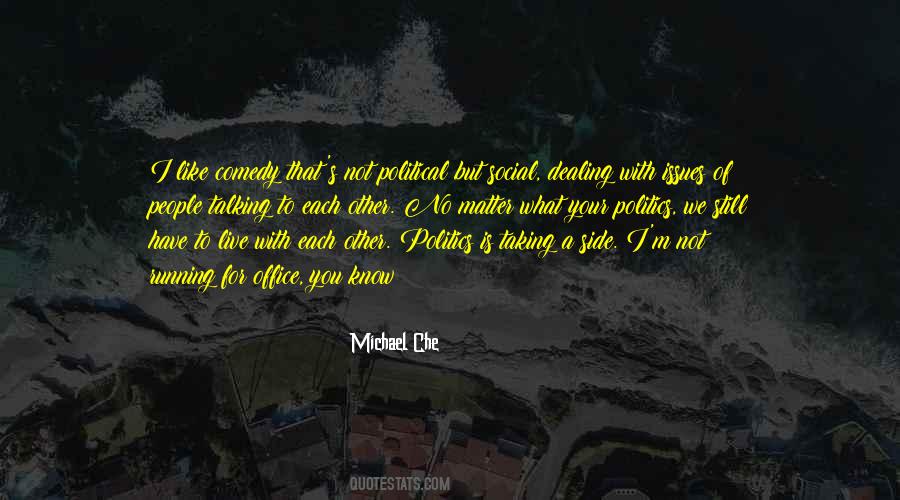 #29. Maybe they were back to not talking. That's what she missed the most: talking. Serious, silly, bone-deep, flippant, all their words and thoughts like gifts to each other, the only gifts they, with their hobbled hearts, could give. - Author: Julia Spencer-Fleming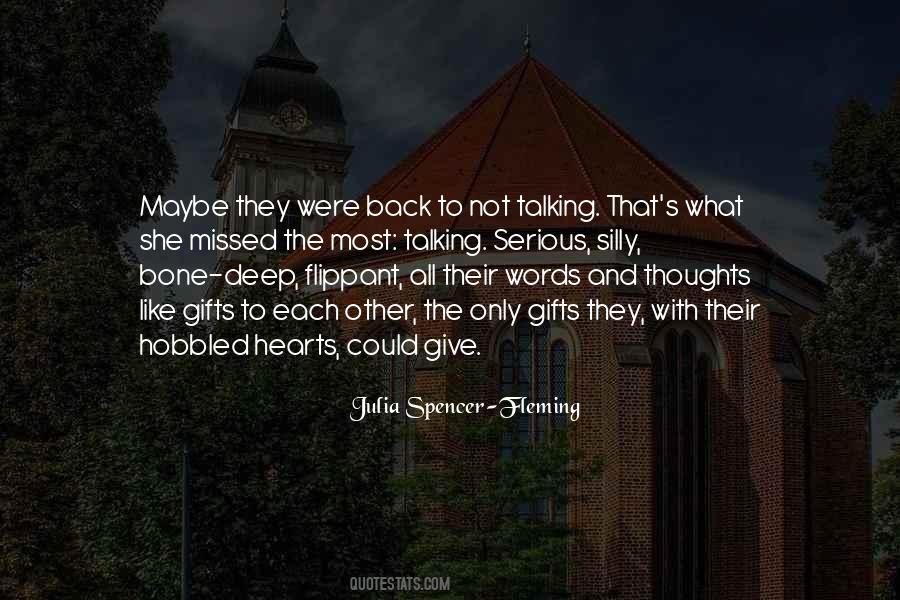 #30. A steady flow of complaints about the proliferation of books reverberated into the late 1600s. Intellectuals warned that people would stop talking to each other, burying themselves in books, polluting their minds with useless, fatuous ideas. - Author: Daniel J. Levitin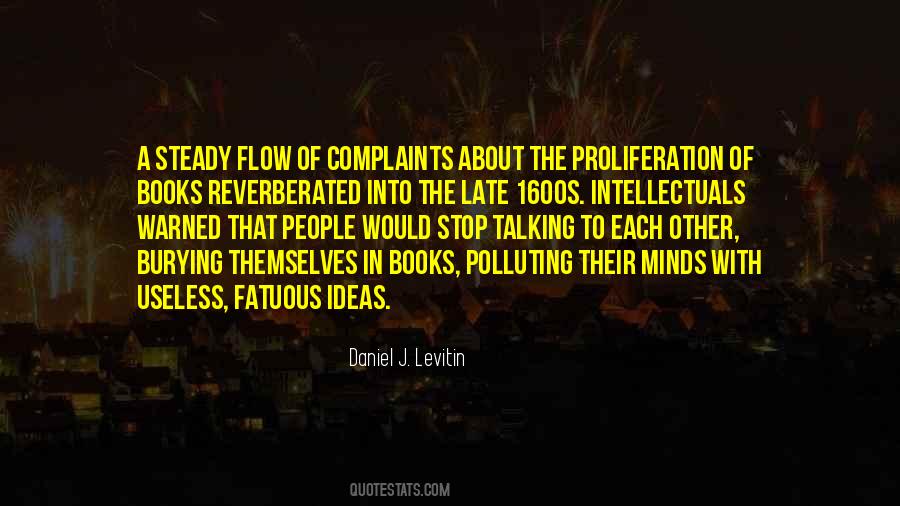 #31. Americans no longer talk to each other, they entertain each other. They do not exchange ideas, they exchange images. They do not argue with propositions; they argue with good looks, celebrities and comercials. - Author: Neil Postman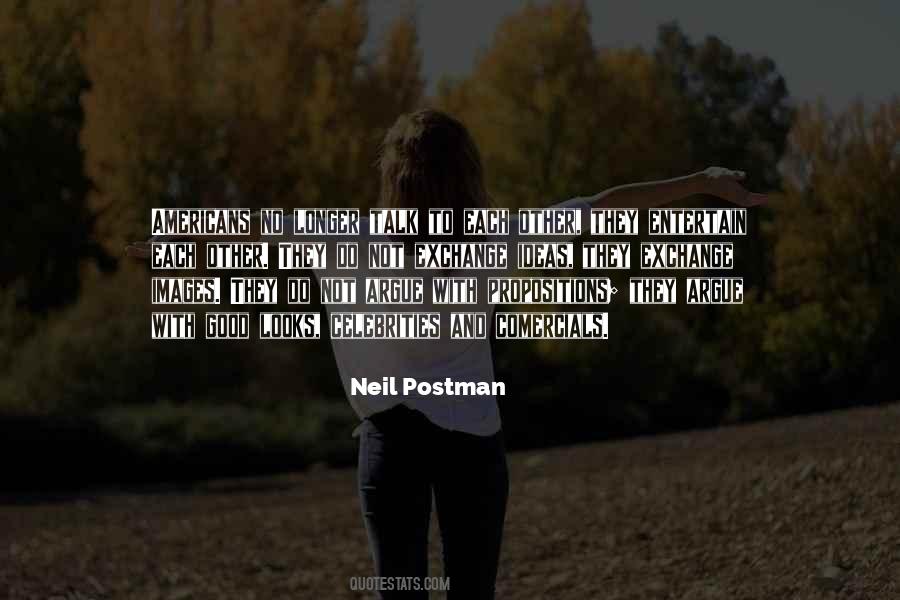 #32. But we always avoided talking about these things - difficult things - and I wondered if that meant we'd be a little uncomfortable with or disappointed by each other for the rest of our lives. - Author: Catherine Lacey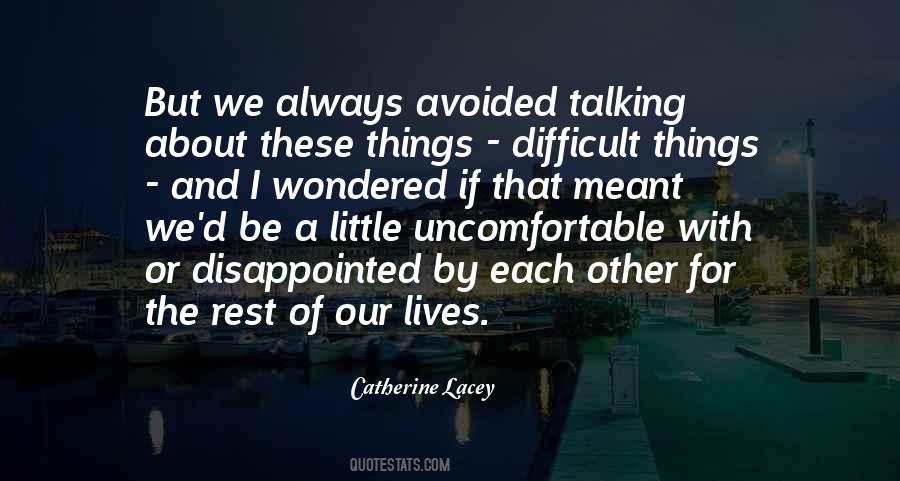 #33. They're just talking. They're flirting kind of like they're strangers, but at the same time they also seem to know each other really well. I don't get it."
"So they're taking it slow. What's wrong with that?" Bill asked. "Kids today, they just want things to go fast
boom boom BOOM. - Author: Lauren Kate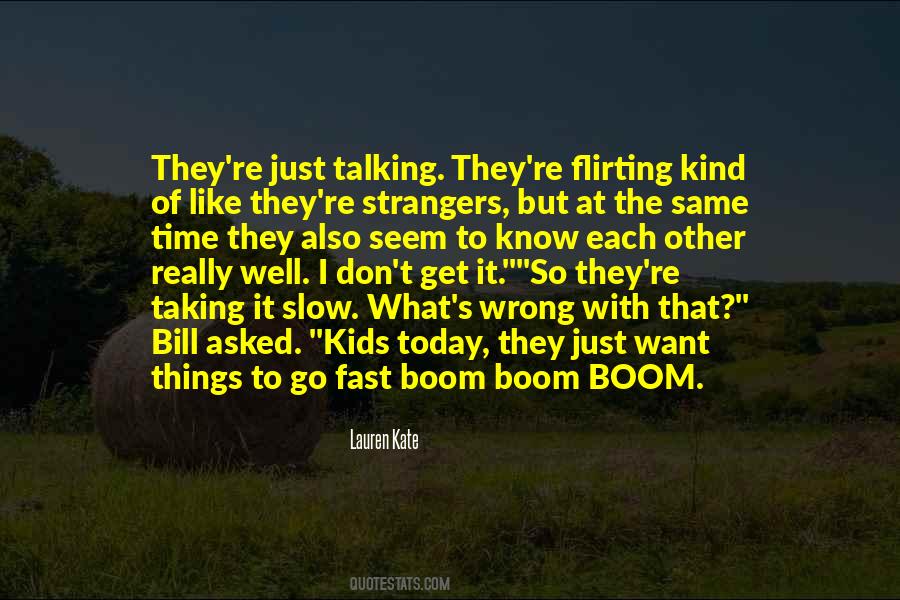 #34. There was tremendous affection in Billy's eyes, or at least they held a tremendous offer of affection, a tremendous willingness to find whomever he was talking to bright and witty and better than most - Author: Alice McDermott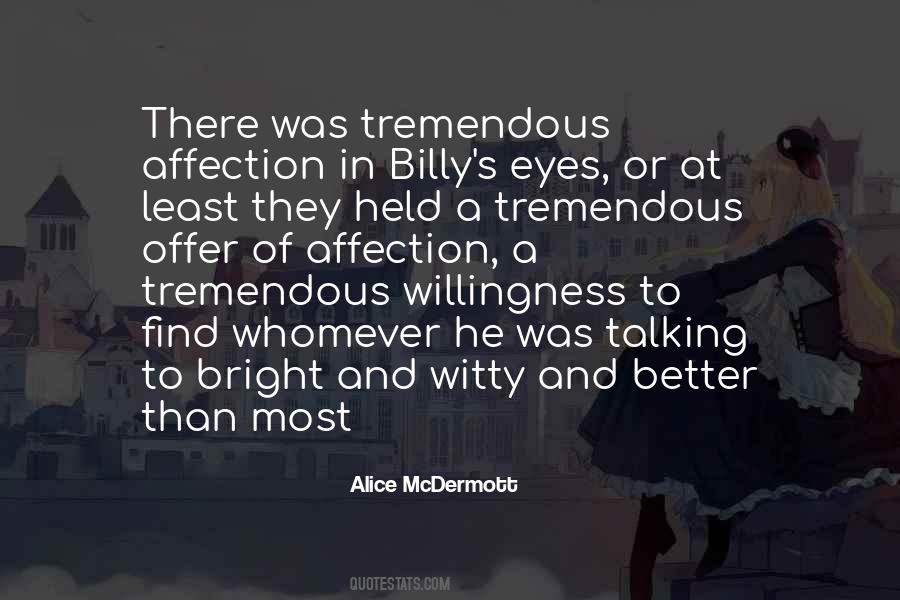 #35. Nate had realized a while back that nobody talked with each other at such gatherings. People just took turns talking at each other. He never got the sense anyone was listening. - Author: Peter Clines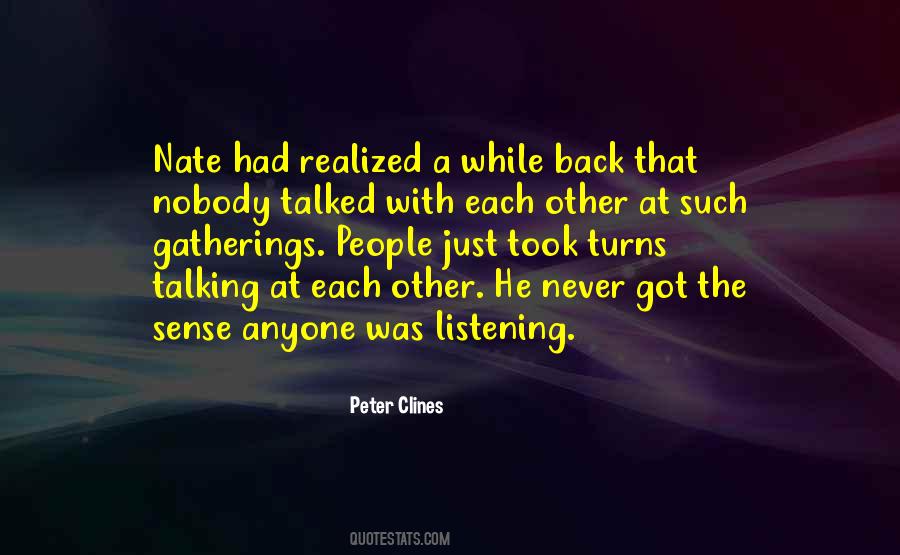 #36. They talked so, with secret hearts, without needing words, talking of other things ... They could have suddenly continued their confessions aloud, without ceasing to understand each other. - Author: Emile Zola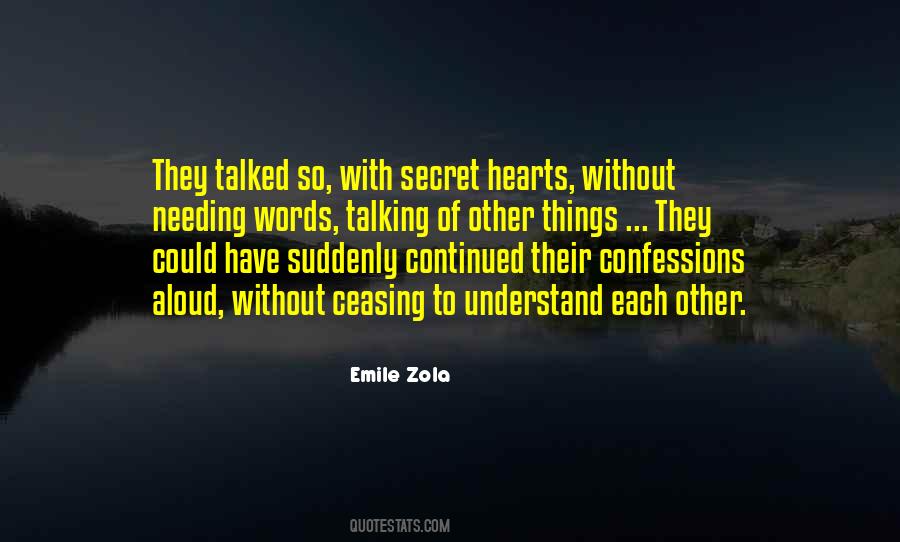 #37. Grown-up politicians talk to each other across party lines. Over the last few weeks I have had lengthy conversations with Ed Miliband, David Miliband, with Tony Blair, with Peter Mandelson ... talking about Europe, talking about political reform. - Author: Nick Clegg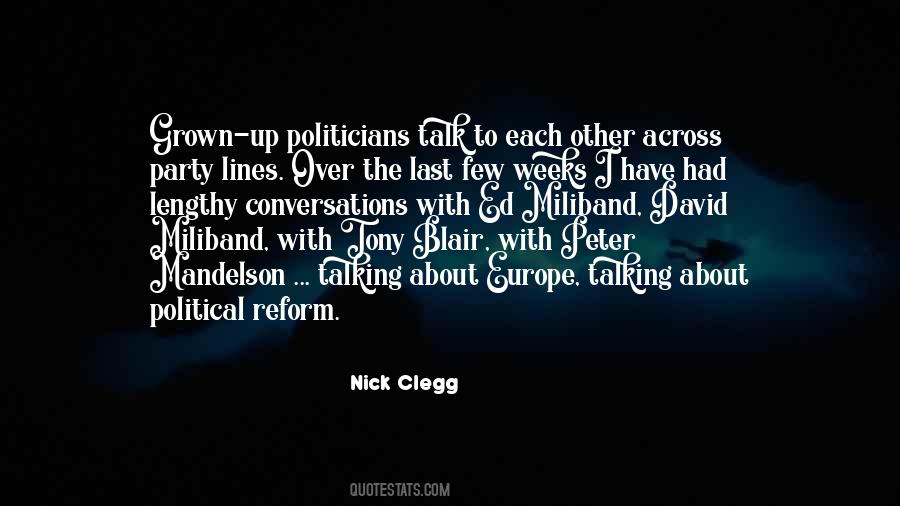 #38. Actors don't listen to each other. You're so obsessed with what you're saying or doing that the other person could be talking in Swahili and you wouldn't know. - Author: Toby Stephens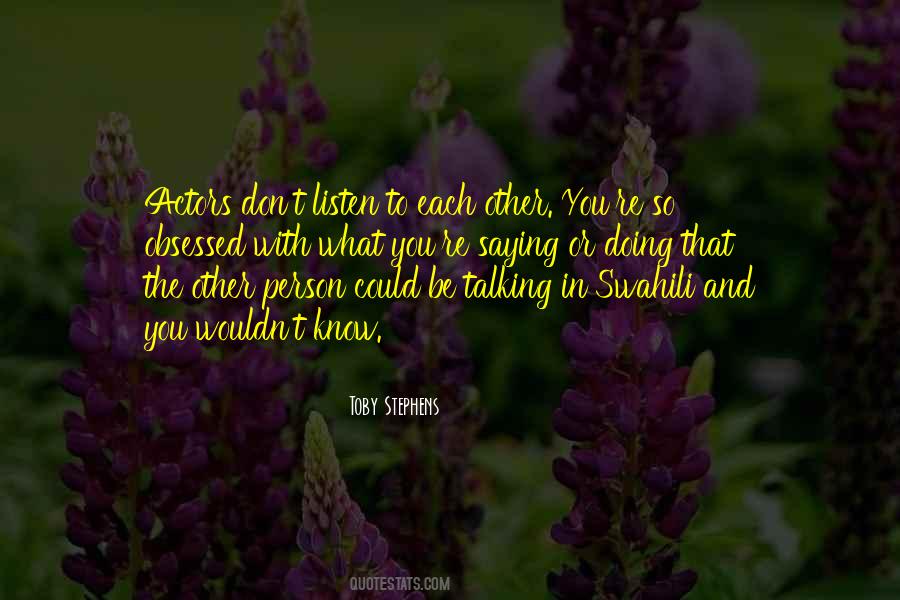 #39. You've got to keep close to your spouse I think, which is a very hard thing to do in America, with everything always pulling you away. I would advise all married people to spend two hours talking to each other. That's my moral for the day. - Author: Robert M. Pirsig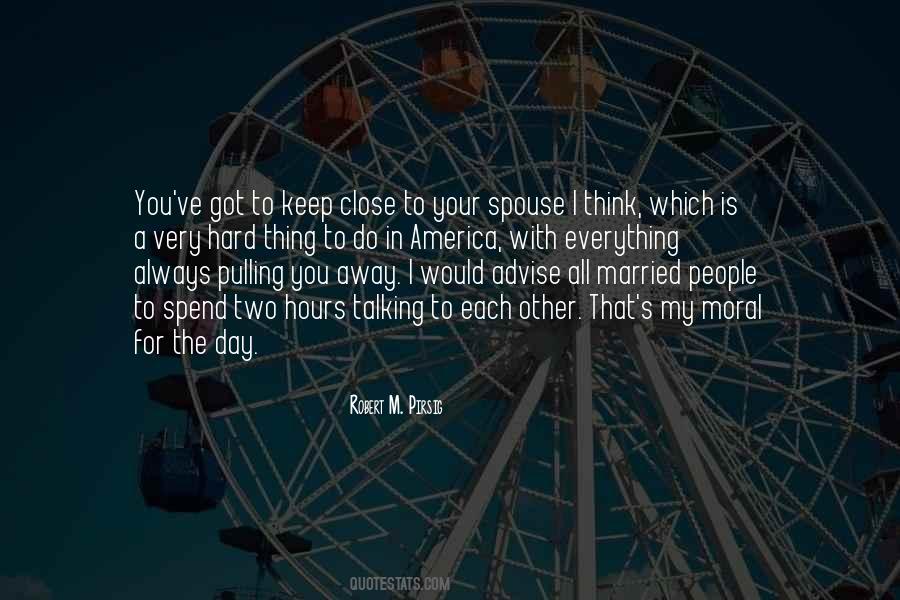 #40. Everyone is on the internet but they're not all talking with each other. There are groups upon groups out there, but they don't talk to one another. So while the internet brings everyone into a shared space, it does not necessarily bring them together. - Author: David Lynch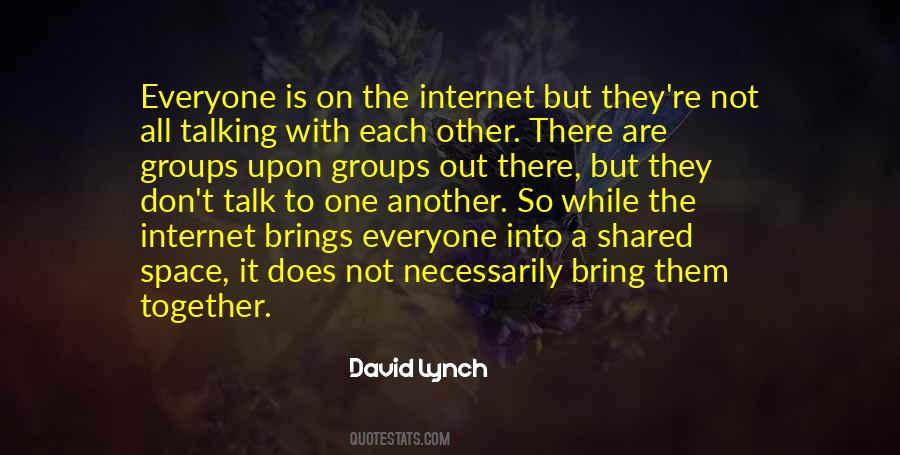 #41. The families in positions of great financial power obsessively interbreed with each other. But I'm not talking about one Earth race, Jewish or non-Jewish. I'm talking about a genetic network that operates through all races, this bloodline being a fusion of human and reptilian genes. - Author: David Icke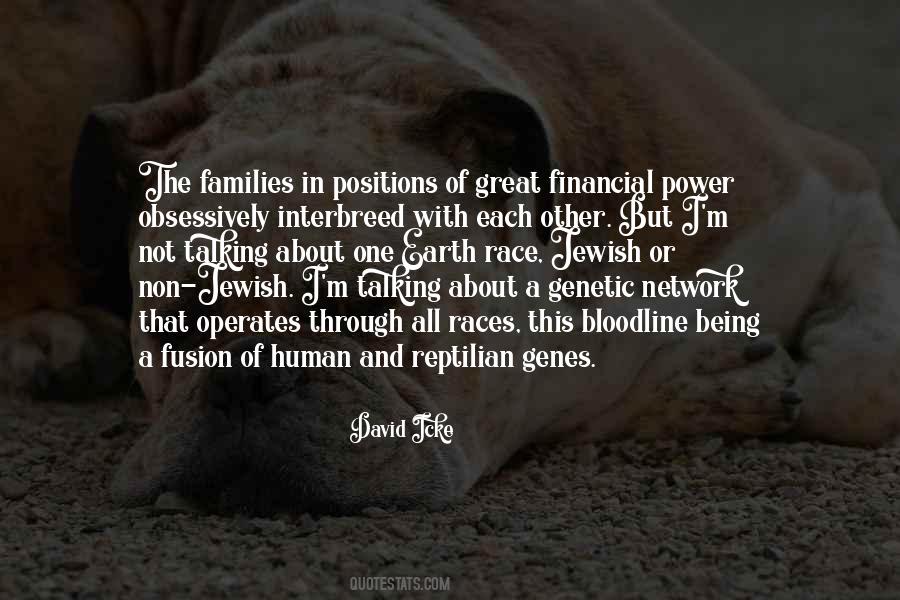 #42. I like playwriting because it's rooted in a single location with actors standing talking to each other. - Author: Amanda Peet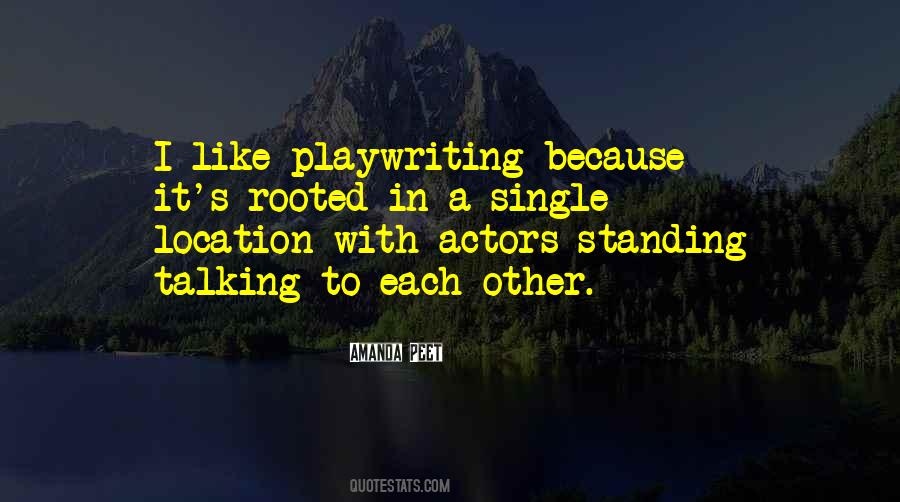 #43. One of the greatest experiences I ever had was listening to a conversation with Joni Mitchell and Wayne Shorter. Just to hear them talking, my mouth was open. They understand each other perfectly, and they make these leaps and jumps because they don't have to explain anything. - Author: Herbie Hancock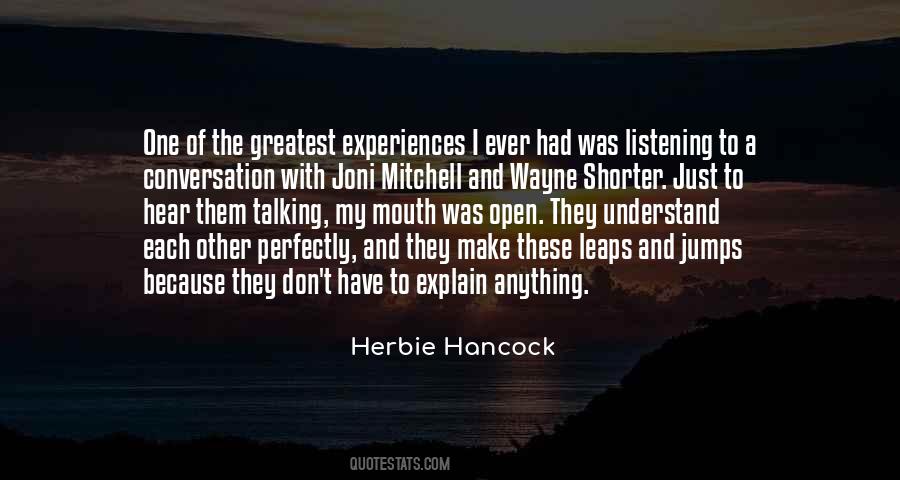 #44. We sat on the picnic bench, not talking, not looking at each other, but being quiet and okay. The rain was almost gone, nothing but a thin chilly fog. For now, I just wanted to sit on the picnic bench with him and not be anything but fine and uncomplicated. - Author: Brenna Yovanoff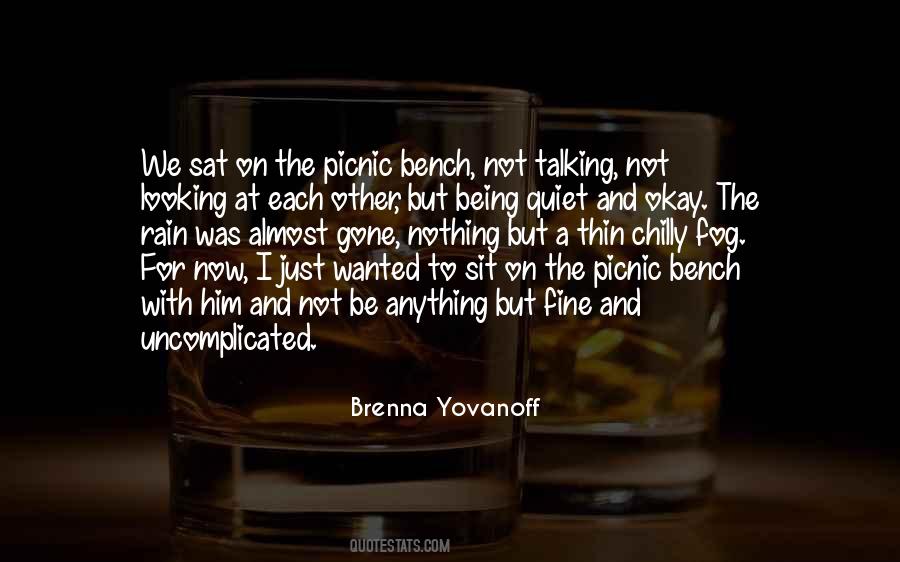 #45. When a woman starts talking about her duty, her regard for appearances, and her respect for religion, she raises so many bulwarks which she delights to see captured by storm. - Author: Honore De Balzac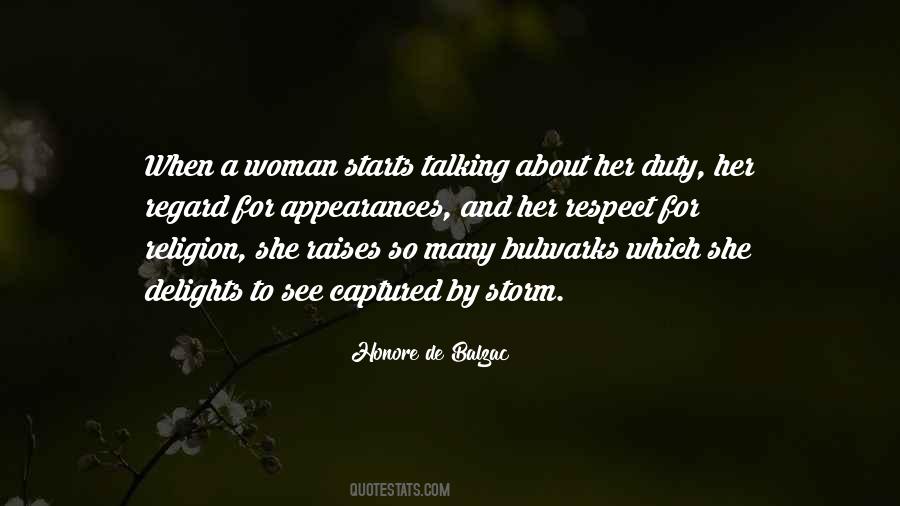 #46. It's hard talking about acting, in a way, because it's like explaining a joke: I do think it loses something in the telling. - Author: Martin Freeman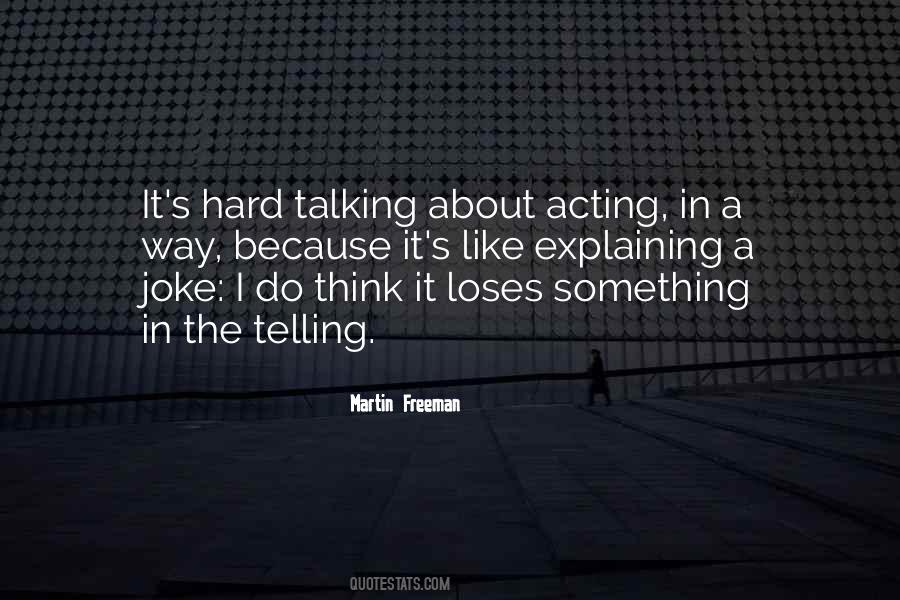 #47. Everybody now seems to be talking about democracy. I don't understand this. As I think of it, democracy isn't like a Sunday suit to be brought out and worn only for parades. It's the kind of a life a decent man leads, it's something to live for and to die for. - Author: Dalton Trumbo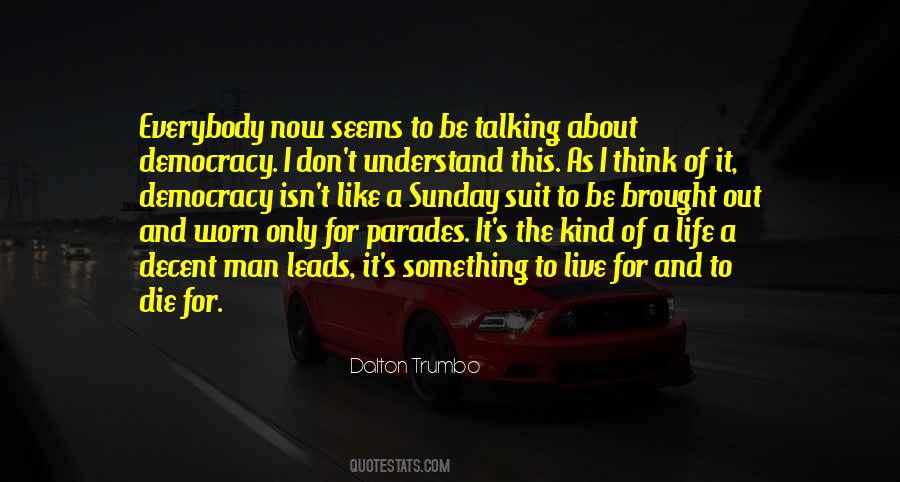 #48. You know, Roland and I were just talking about how we don't have any pyromaniac friends. And everyone knows you need a good pyro to pull off any reform school prank worth the effort. - Author: Lauren Kate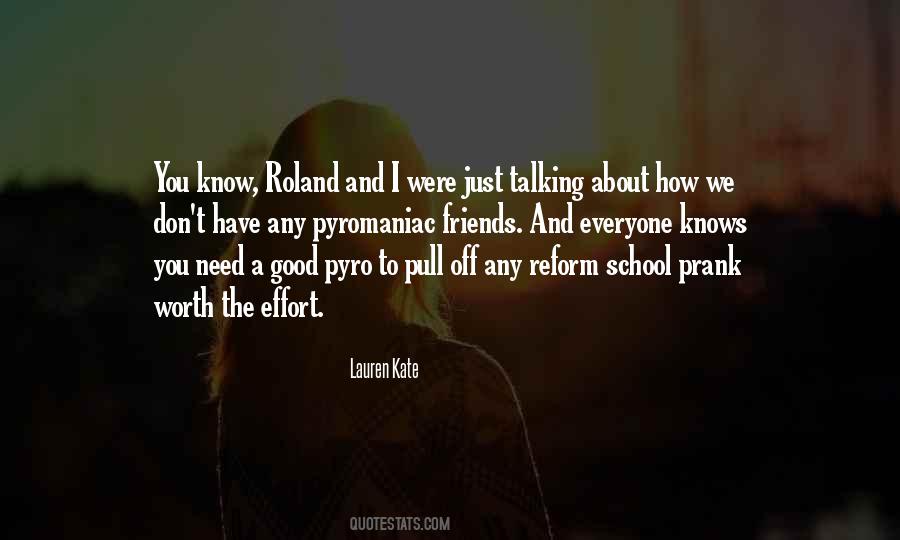 #49. People kept on talking about the true king of Ankh-Morpork, but history taught a cruel lesson. It said - often in words of blood - that the true king was the one who got crowned."
- Author: Terry Pratchett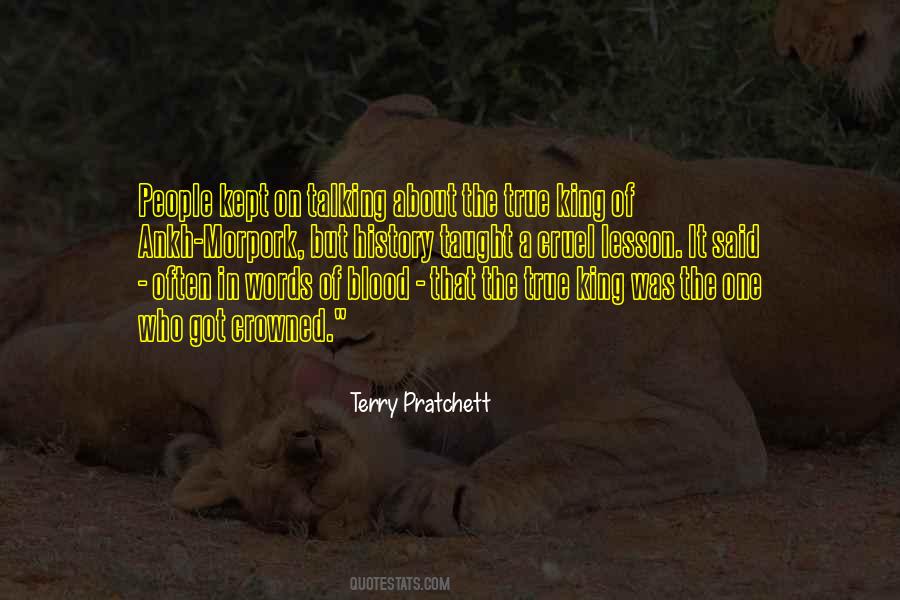 #50. We're communal animals. If we're by ourselves, we can feel wrong and crazy and out of step with society. We really need those talking circles. - Author: Gloria Steinem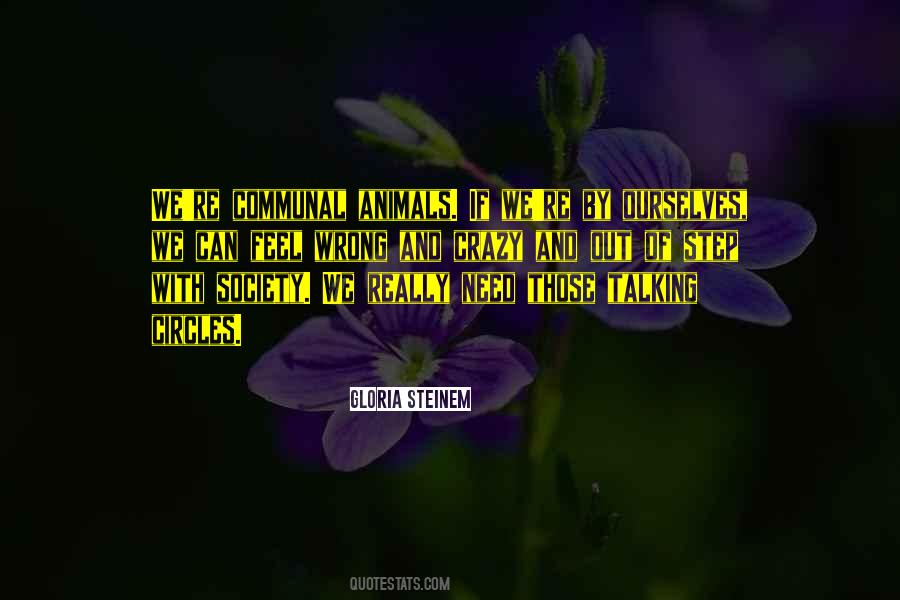 #51. I am talking about misery and all of its implications. - Author: Juan Rulfo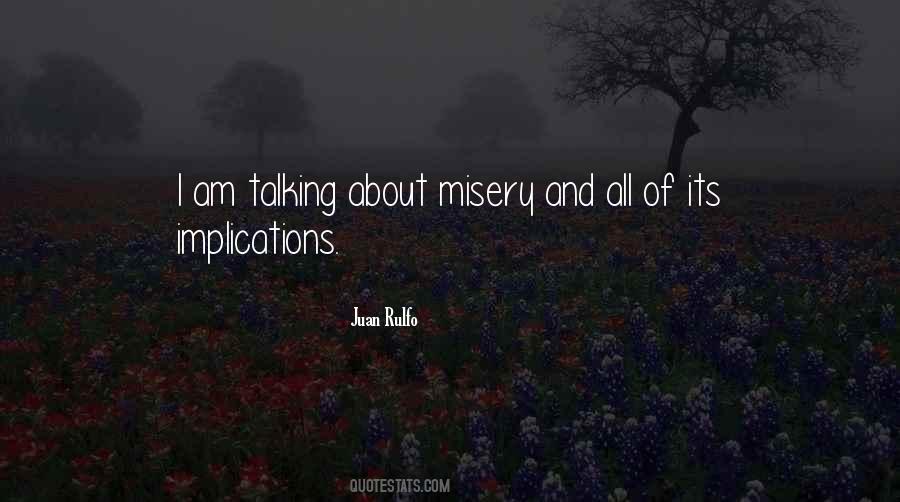 #52. I never took my SAT's. I never applied to college. I moved right out here and jumped into the thick of things. Whether that was the smart move or not, I'm sitting here talking to you now, so it paid off. - Author: Scott Foley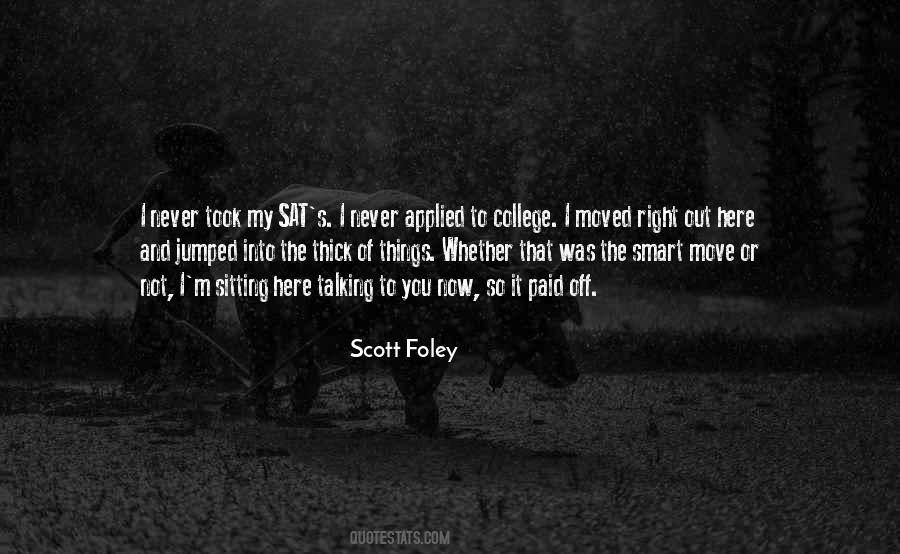 #53. When you're as tall as I am, you have no public privacy. People are constantly coming up and talking to you. Constantly. You have one of two ways to go: you engage with people, or you become really bitter. I choose to engage. - Author: Mark Bradford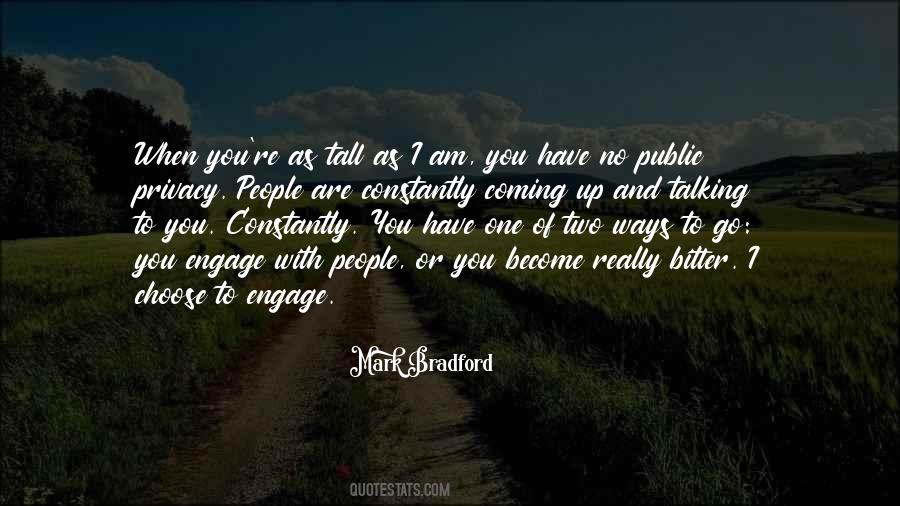 #54. I see all these people talking about acting as a great spiritual thing. It's not. There's no great mystery to acting. It's a very simple thing to do, but you have to work hard at it. It's about asking questions and using your imagination. - Author: Eddie Marsan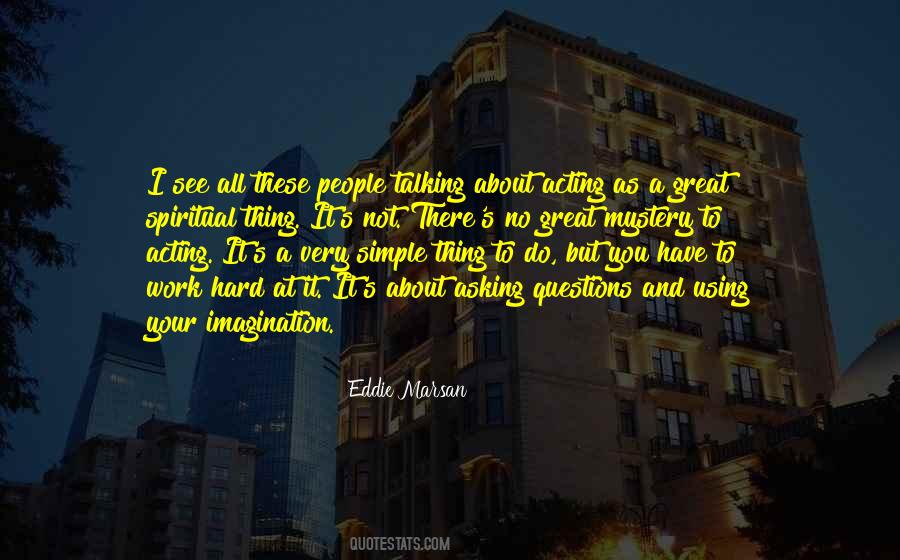 #55. It used to be that phrases and lines would come into my head, often many of them in a period of five days or a week, and maybe I didn't know what I was talking about, but the words had a kind of heaviness or deliciousness to them. - Author: Donald Hall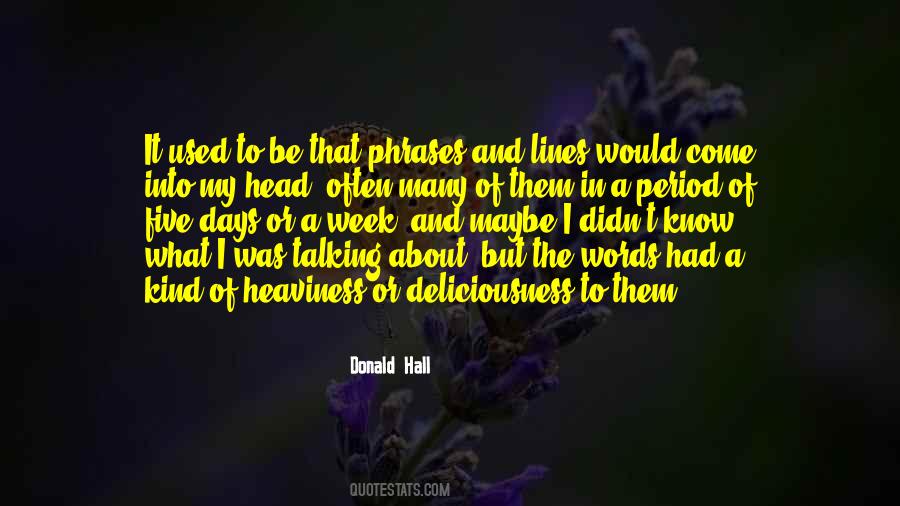 #56. People in the eastern regions [of Ukaraine] are talking about federalisation, and Kiev has at long last started talking about de-centralisation. Order in the country can only be restored through dialogue and democratic procedures, rather than with the use of armed force, tanks and aircraft. - Author: Vladimir Putin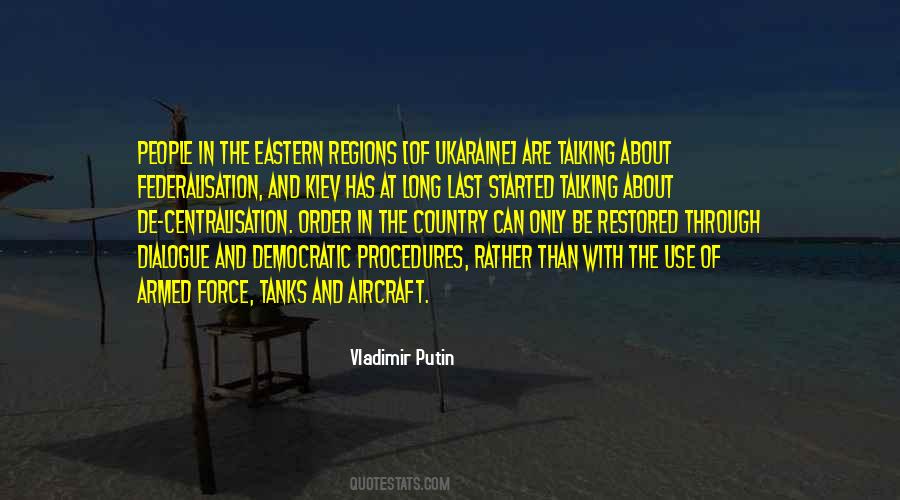 #57. Everybody has unattainable crushes too and imaginary friends. Some part of their mind that they talk to when they can't deal with talking to real people. - Author: Kate Hattemer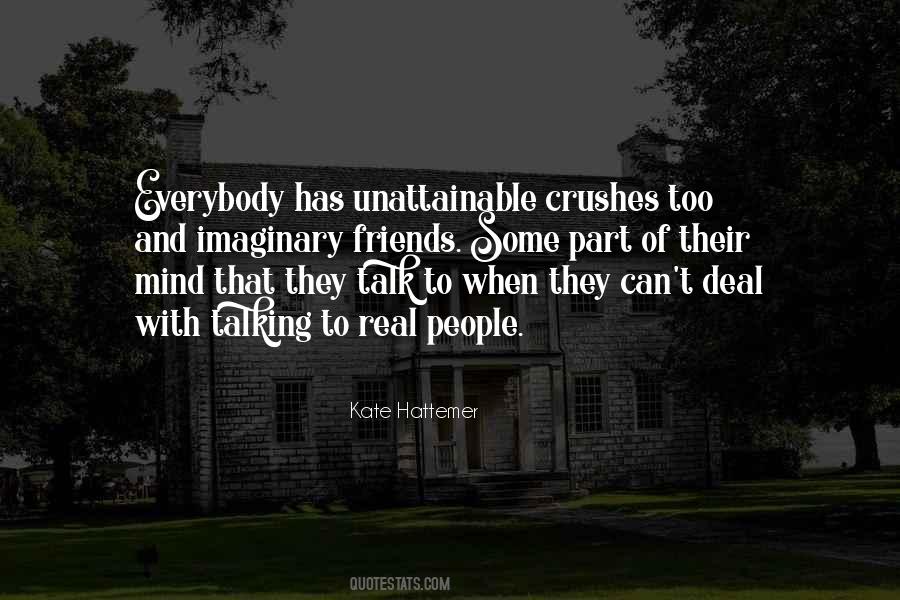 #58. Them haters in your face you just ignore them. Don't know what they talking sh-t for. - Author: Wiz Khalifa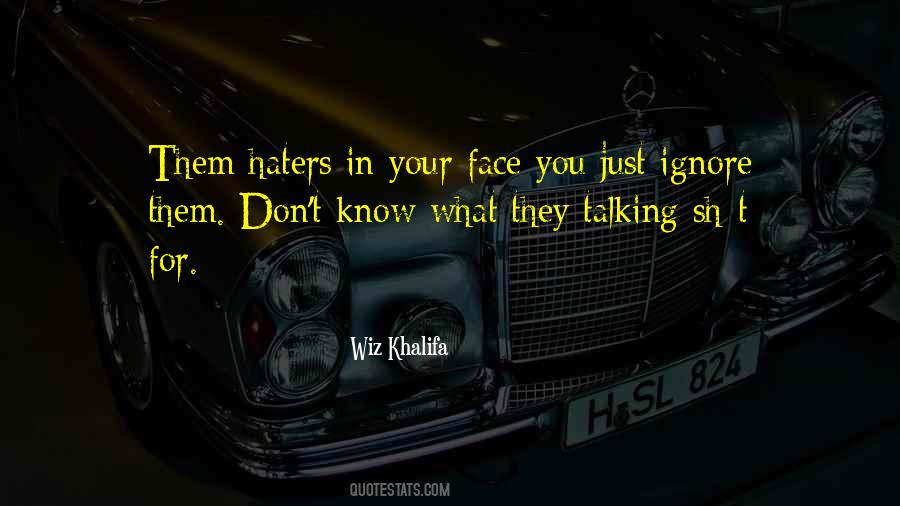 #59. I would say I don't like people who are really into themselves or are very materialistic. Just always talking themselves up. Not being real is the pet peeve. Be true to yourself. - Author: Austin Stowell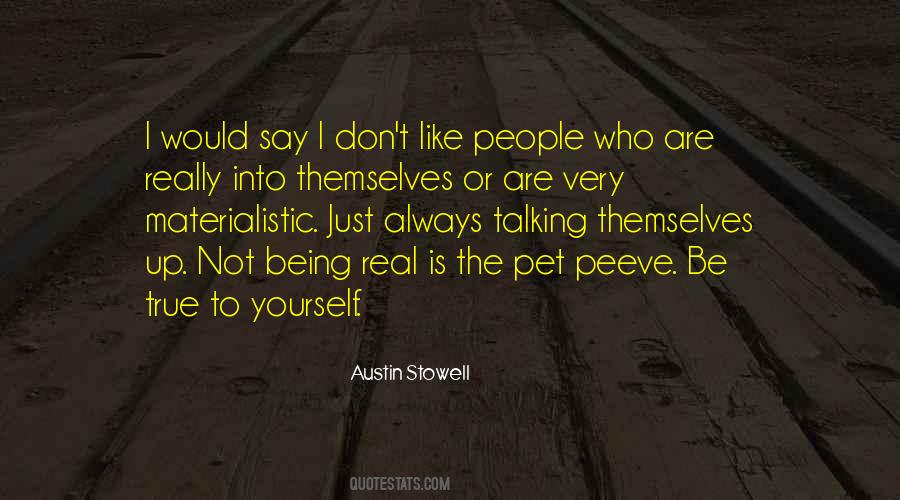 #60. Sturmhond had a way of talking that made me want to shoot someone. Preferably him. - Author: Leigh Bardugo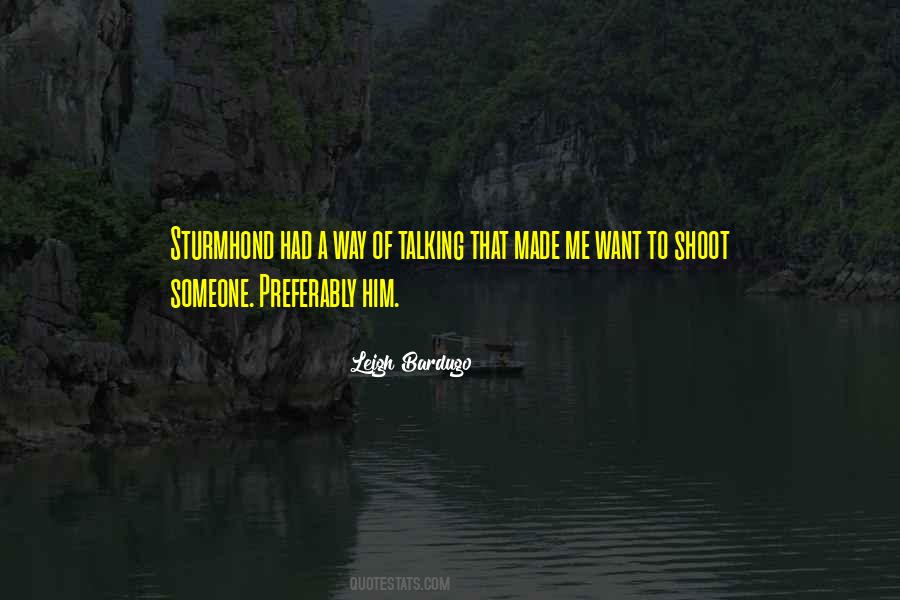 #61. I'm exhausted from not talking. - Author: Samuel Goldwyn Jr.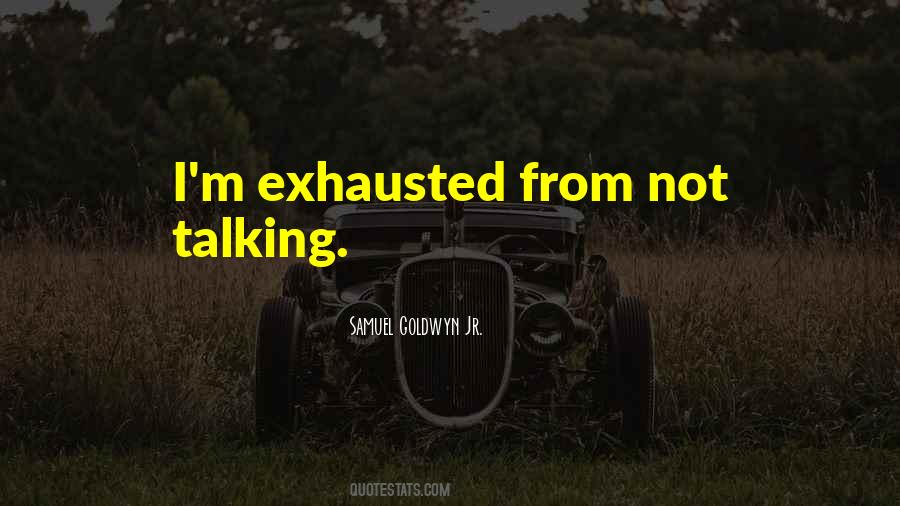 #62. I am AFRAID OF TALKING WITH PEOPLE... MAINLY BECAUSE WORDS LOSE WEIGHT... MAINLY BECAUSE PEOPLE DON'T PUT VALUE ON THEM. - Author: Deyth Banger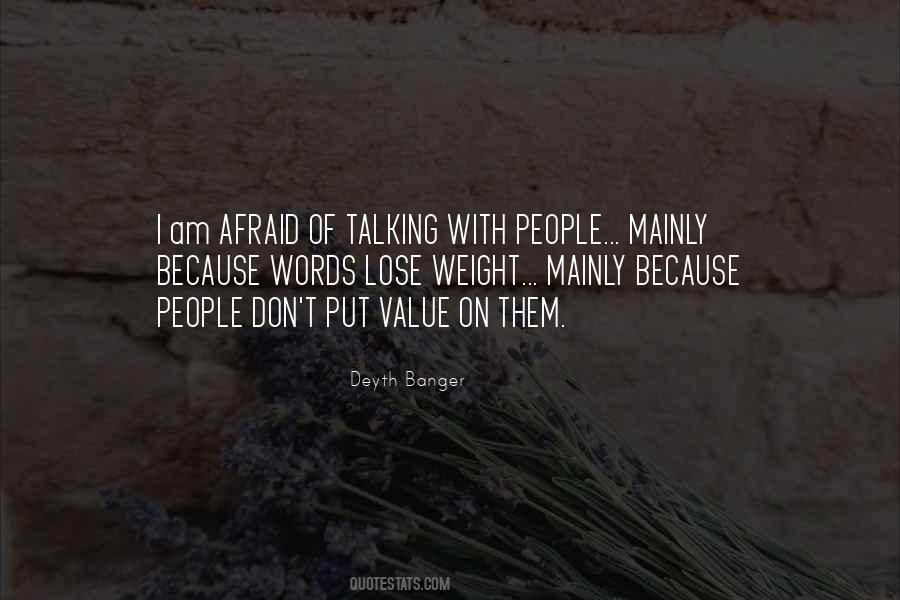 #63. I'm having this conversation with you now. I'm talking, but I'm thinking, feeling, smelling, and moving. Yet I'm concentrating on what you're saying. So that means there's more things going on in the body than just the present thing that the person's got you doing. - Author: Ornette Coleman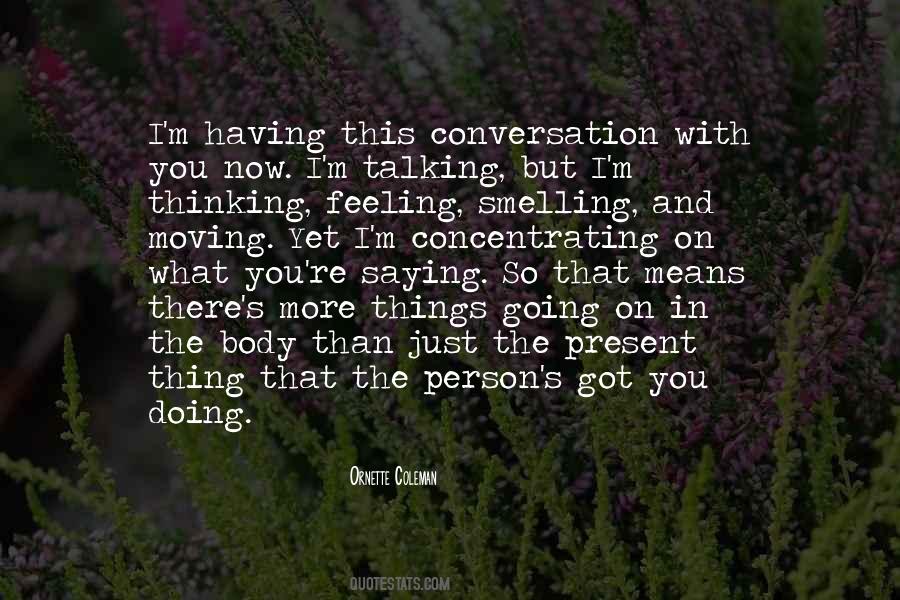 #64. And when they start talking, and they always do, you find that each of them has a story they want to tell. Everyone, no matter how old or young, has some lesson they want to teach. And I sit there and listen and learn all about life from people who have no idea how to live it. - Author: Paul Neilan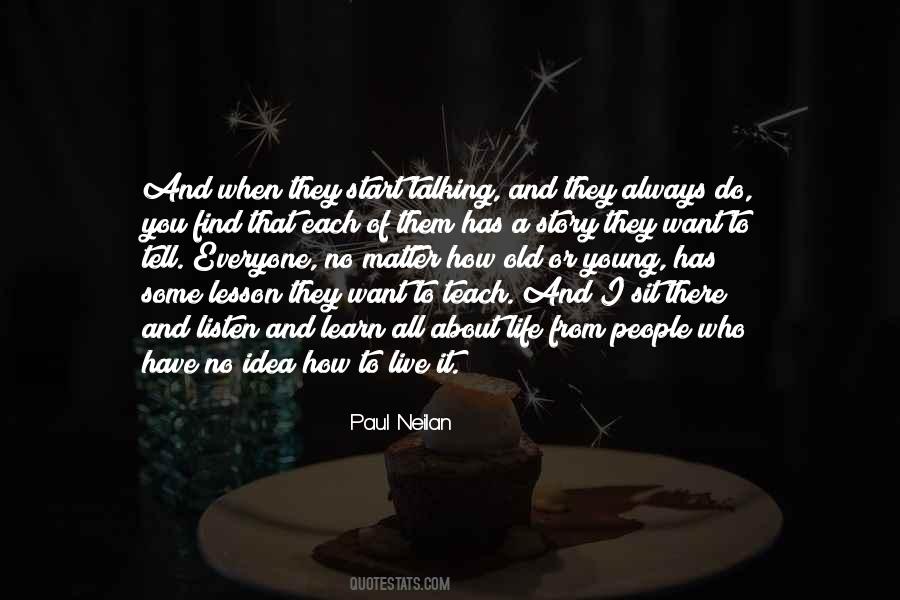 #65. My friends like to play as me in the baseball games, and they call to tell me about every bag I steal. And you know, every time a new game comes out, I check to make sure my speed is up to par. But to me, when you talk video games, you're talking 'Madden.' - Author: Carl Crawford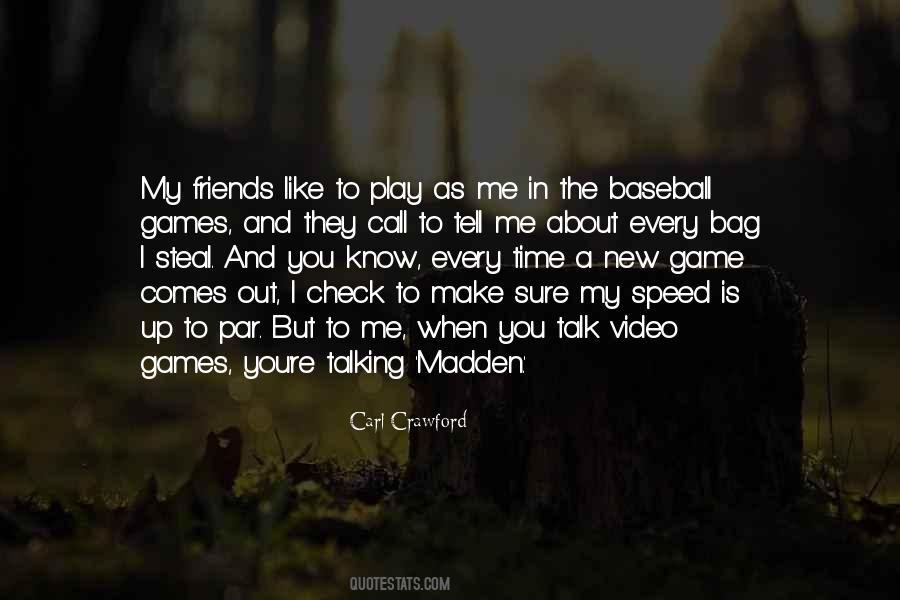 #66. Thinking about writing isn't writing. Planning to write isn't writing. Neither is talking about it, posting about it, or complaining how hard it is. These may be part of the process. But only writing is writing. - Author: Jack Ketchum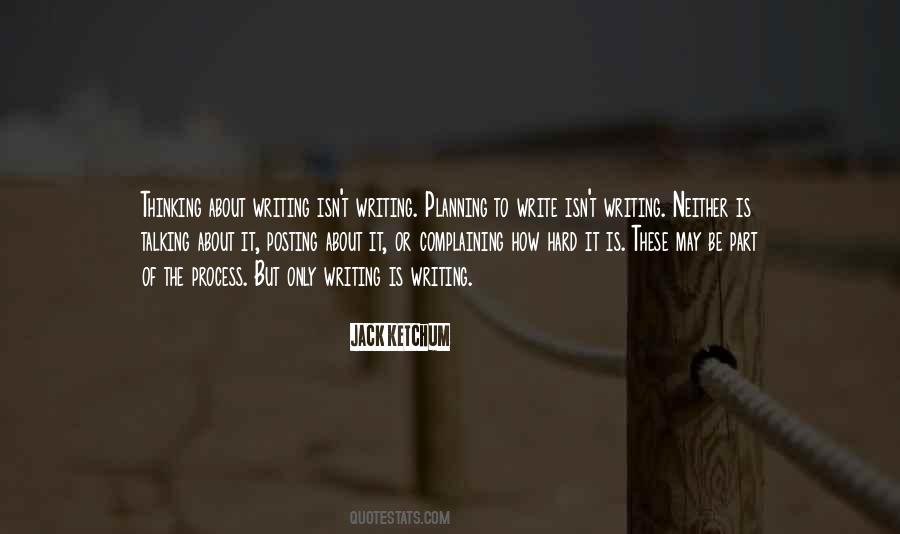 #67. When you are doing one thing - talking on your phone, texting, whatever - you are automatically not doing something else. What is the greatest scarcity in the world today? It's not oil. It's time. Time is precious. Don't throw it away. - Author: Martin Cooper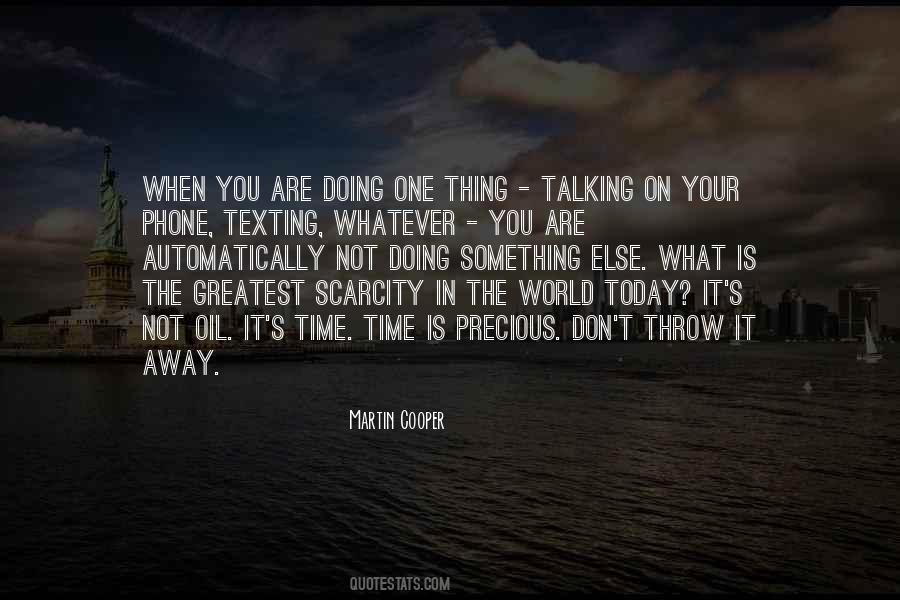 #68. A married couple never seem so married as when viewed from the back seat of a motor car, talking quietly together in the front. Polly and Marcus might have been in their bedroom already, so soft and intimate their converse sounded to me, as I sat there alertly mute behind the backs of their heads - Author: John Banville
#69. Lots of time you don't know what interests you most till you start talking about something that doesn't interest you most. - Author: J.D. Salinger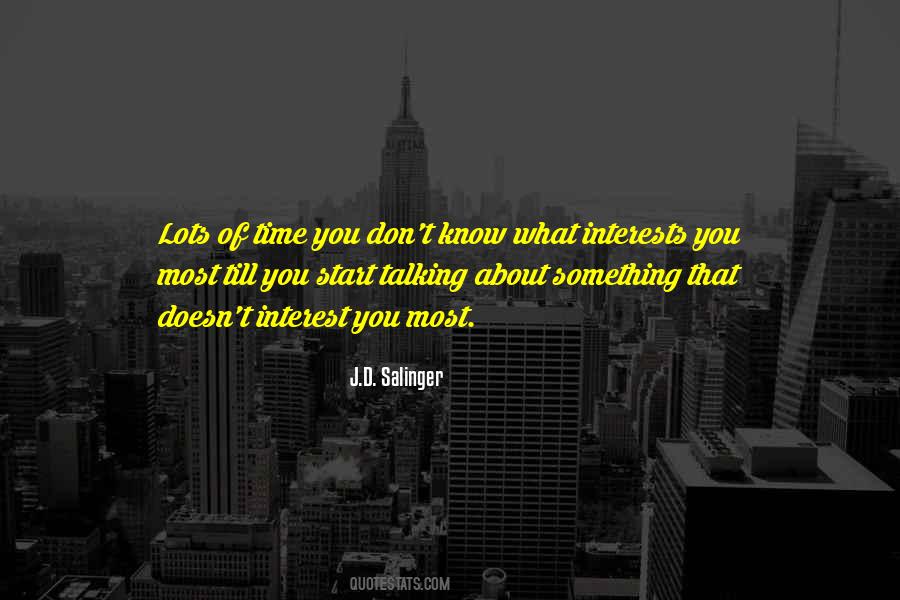 #70. It's about you putting in the work, practicing every day, and hopefully one day you write the song the whole world wants to get down to. And one day you're going to be sitting next to Ellen DeGeneres talking about how you broke records and rocked the Super Bowl! - Author: Bruno Mars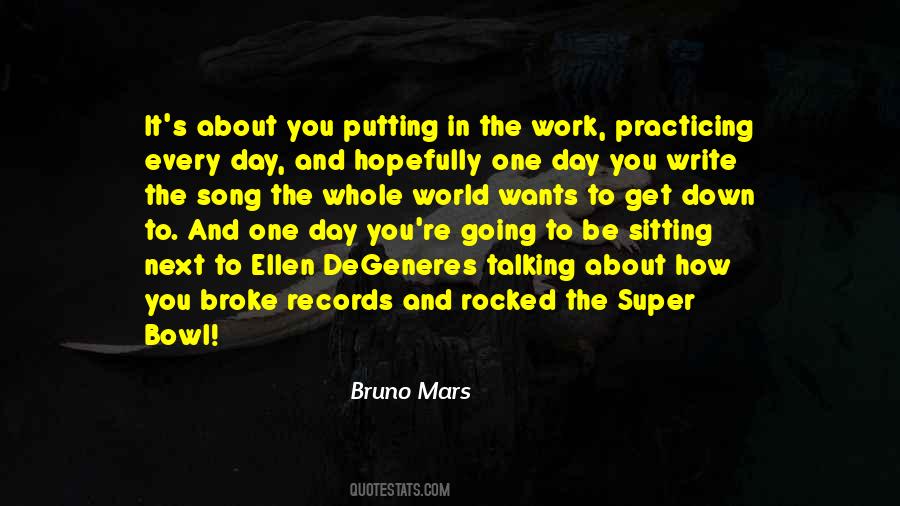 #71. I mean, you can't have sex until you're married if you're Mormon. The first time I had sex, my parents found out. They were listening in on the phone while I was talking about sex to my girlfriend. They freaked out, man. They both cornered me in my bedroom. - Author: Bert McCracken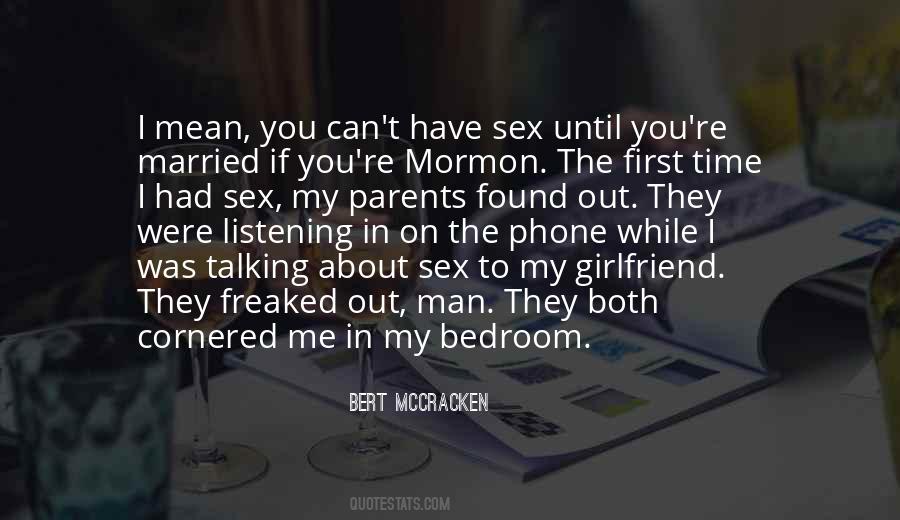 #72. Talking to spirits is how you free them. Listening to them is how you help them crossover. - Author: Zak Bagans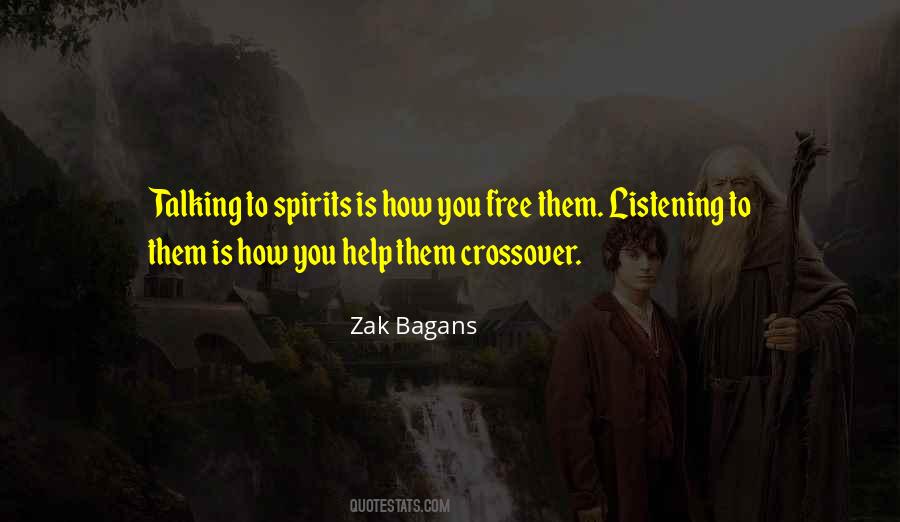 #73. There's nothing like sitting back and talking to your cows. - Author: Russell Crowe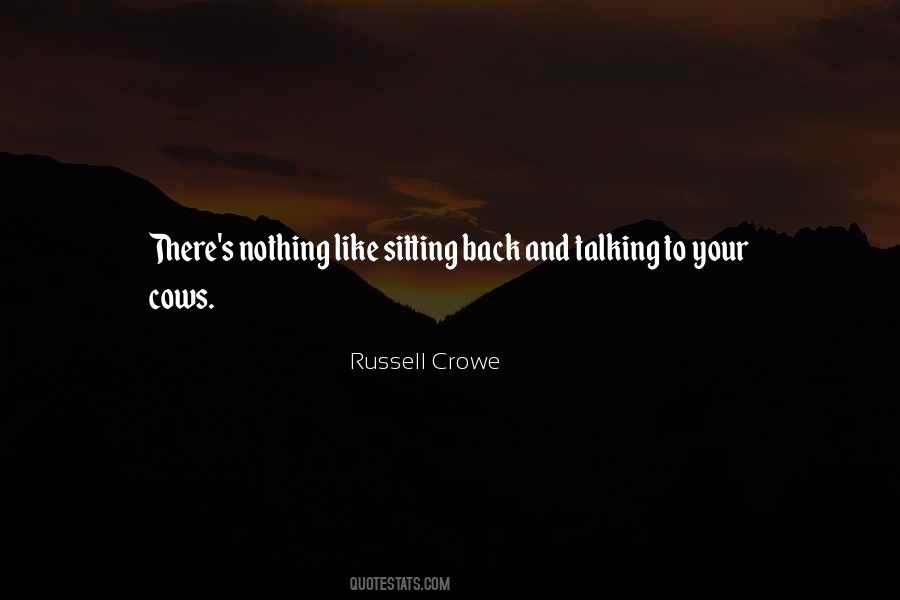 #74. I don't know why you're talking about Sweden. They're the neutral one. They don't have an army. - Author: George W. Bush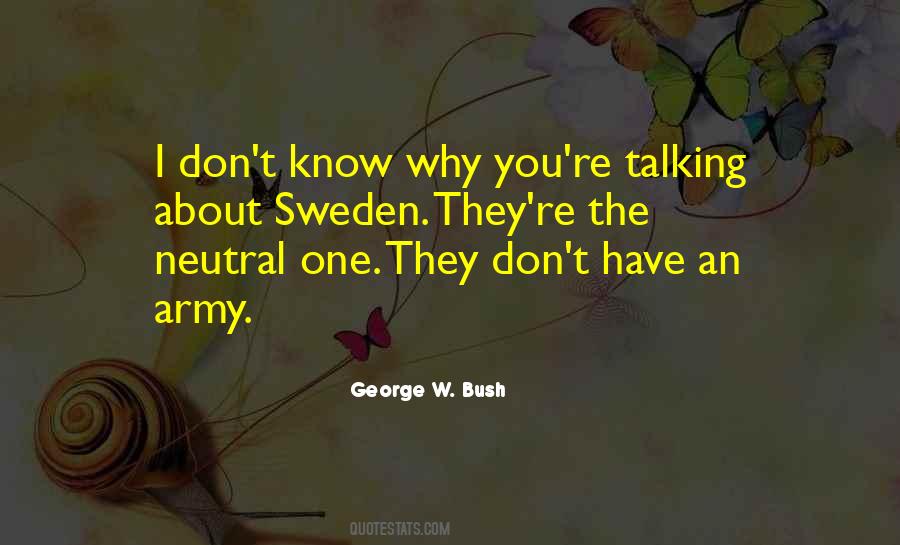 #75. I have rather a strange objection to talking from the back platform of a train ... It changes too often. It moves around and shifts its ground too often. I like a platform that stays put. - Author: Woodrow Wilson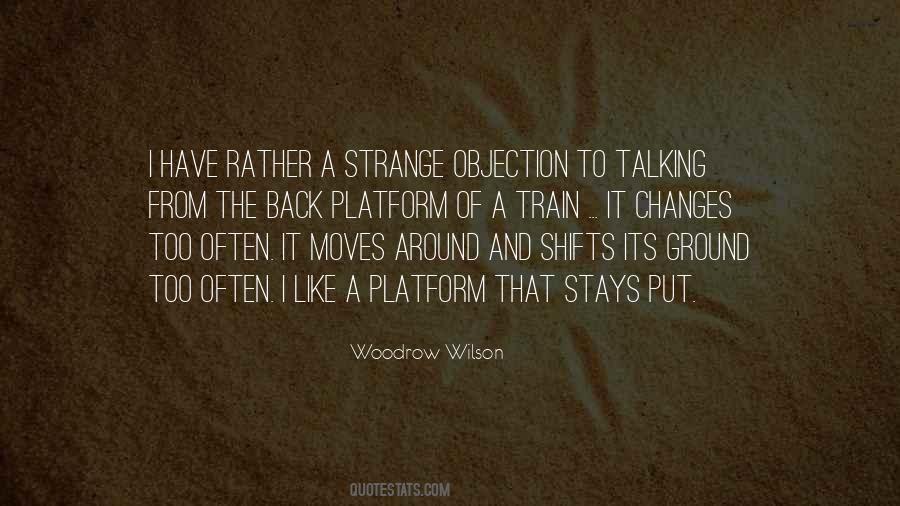 #76. Cadence, n.
I have never lived anywhere but New York or New England, but there are times when I'm talking to you and I hit a Southern vowel, or a word gets caught in a Suthern truncation, and I know it's because I'm swimming in your cadences, that you penetrate my very language. - Author: David Levithan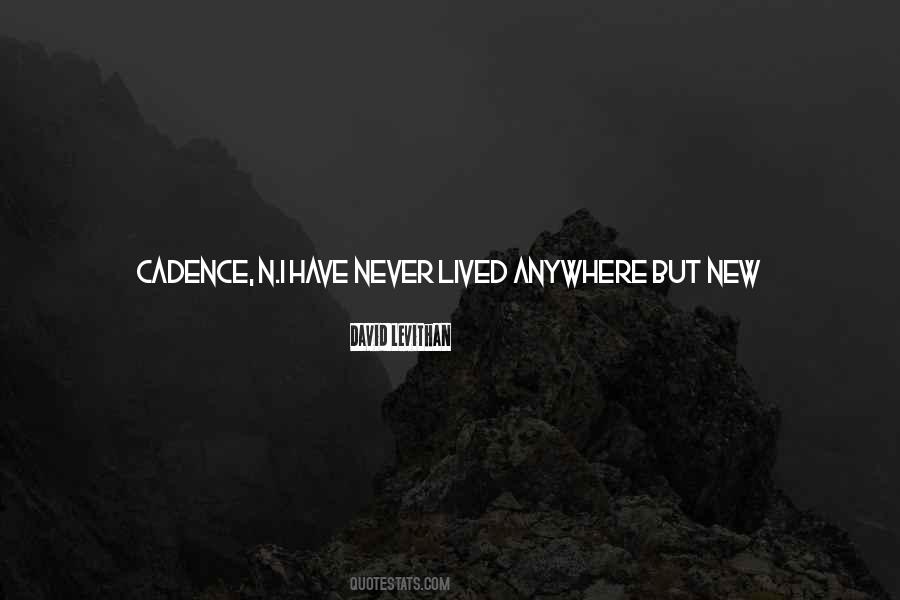 #77. When I say I have a big dick, it's not a shit-talking attention-seeking ploy to impress a girl. - Author: Charisse Spiers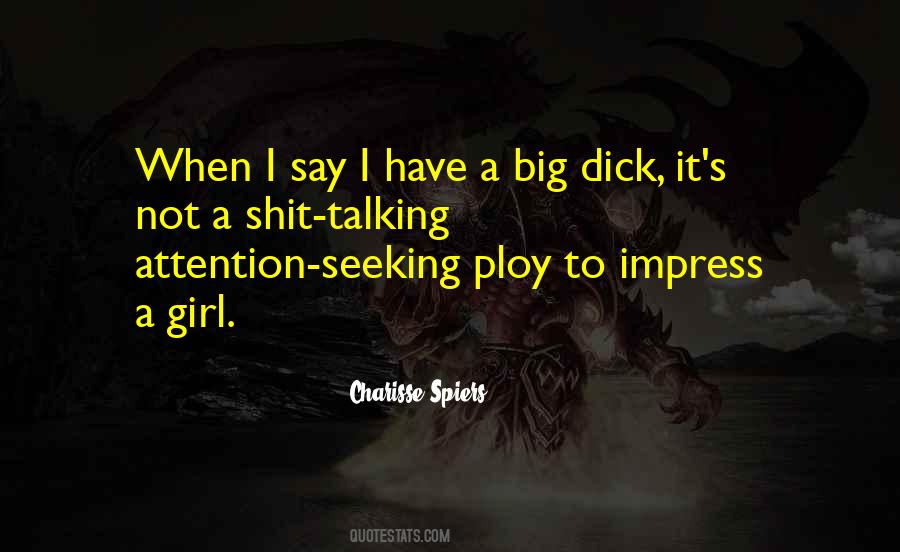 #78. Sometimes writing is like talking to a stranger who's exactly like yourself in every possible way, only to realize that this stranger is as boring as shit. - Author: Chuck Klosterman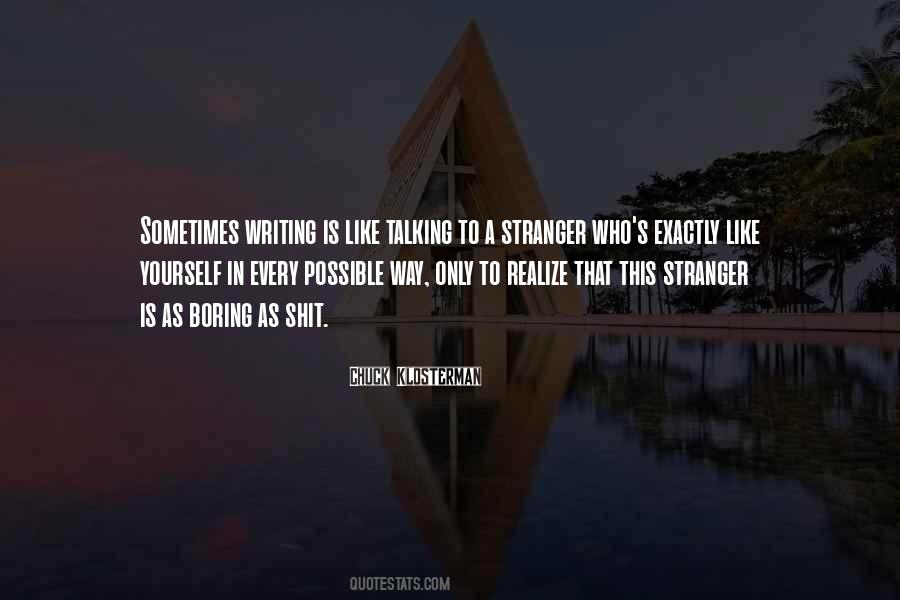 #79. Do you understand what I'm saying?
Pardon? I just wanna hear you talking. - Author: Toba Beta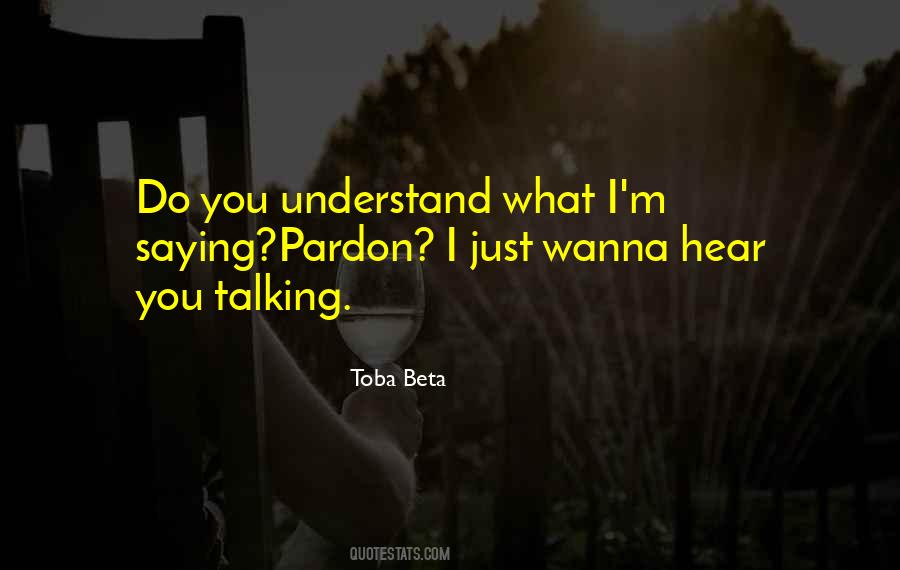 #80. I'm not trying to overcome my father or fill his shoes or reach any kind of level that he did. We're talking about a Mozart of rock music. - Author: Sean Lennon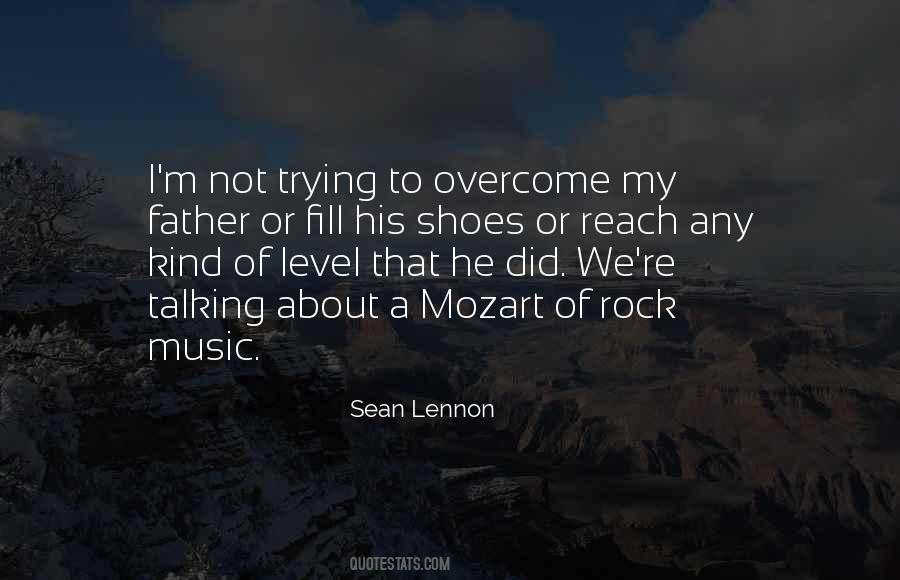 #81. Time is the most valuable thing you have - and I'm not just talking about the minutes for which you're paid. - Author: Eli Broad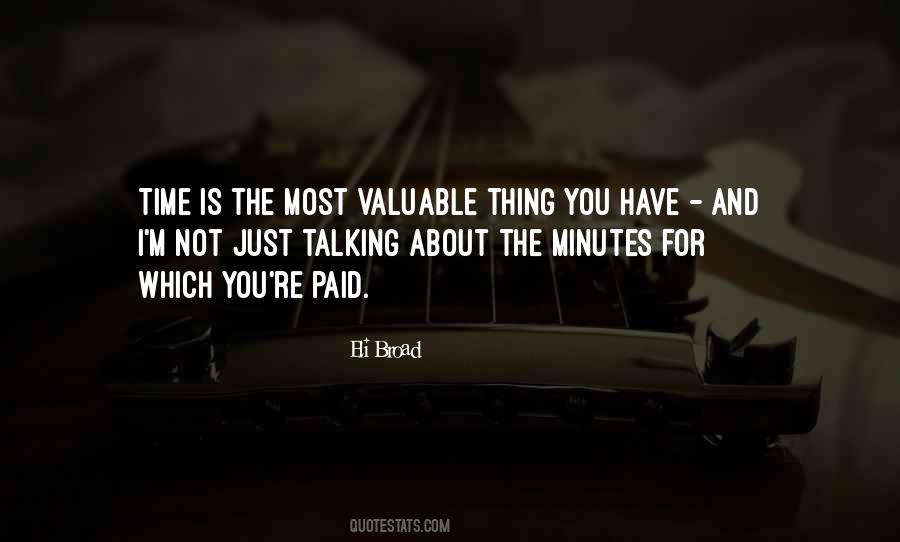 #82. I think in this country [UK] we could do with rather less political correctness and more straight talking across the board. - Author: Philip Davies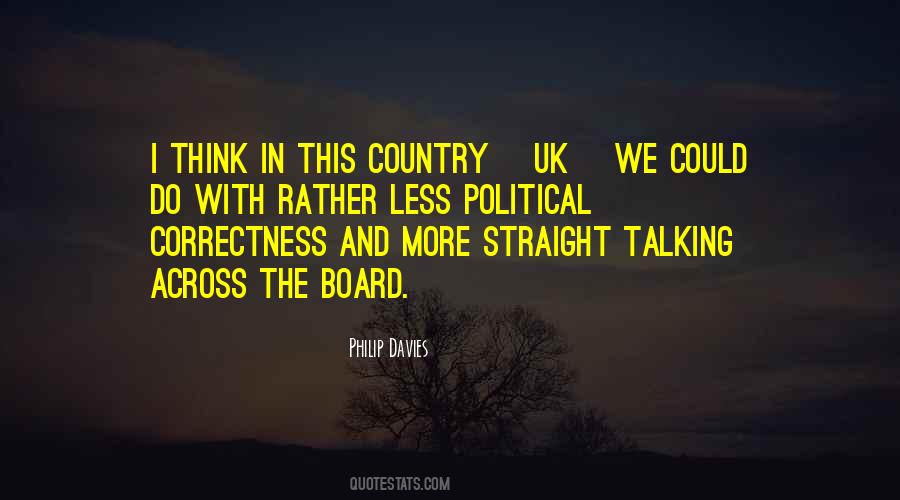 #83. I want
you to have
this,

all the beauty in my eyes, and the grace of my mouth,
all the splendor of my strength,

all the
wonder of the musk parts
of my
body,

for are we
not talking about real love, real
love? - Author: Mirabai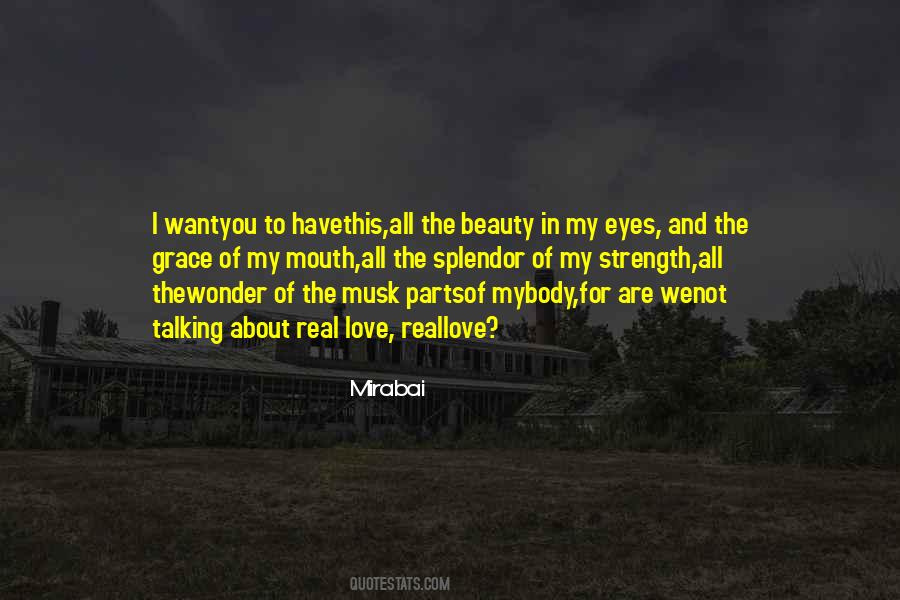 #84. Is it too much?"
"No. It's like you completed the circuit," I say, gripping his other hand. "I feel kind of drunk, though."
"Drunk on power?" he asks.
I giggle. "Shit, Snow. Stop talking. This is embarrassing. - Author: Rainbow Rowell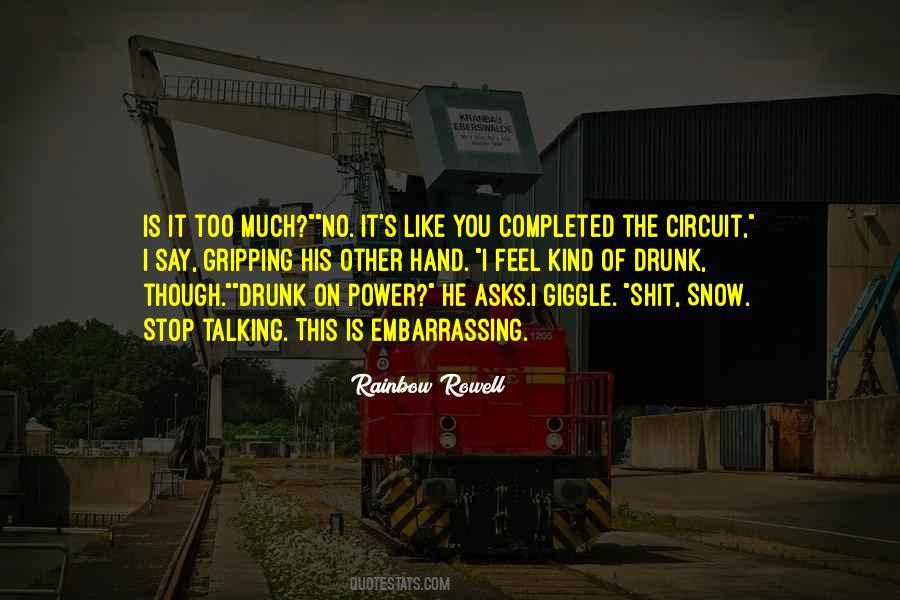 #85. The dead are dead, and talking won't bring them back to life. - Author: Otfried Preussler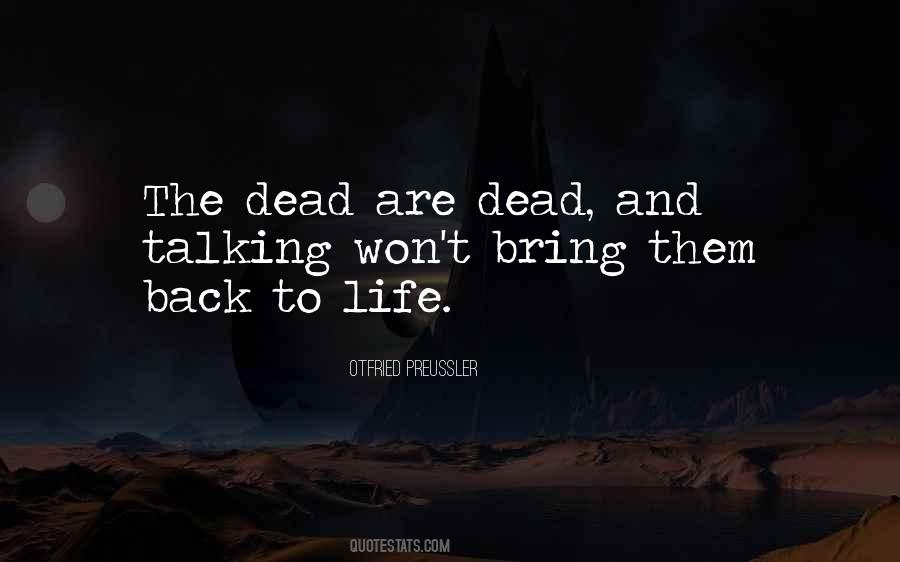 #86. I had been an activist on the issue of HIV, primarily in the African American and Latino communities here in the U.S. for many years. It was horrifying to me how the pandemic was raging right here in this country but no one was talking about it. - Author: Gloria Reuben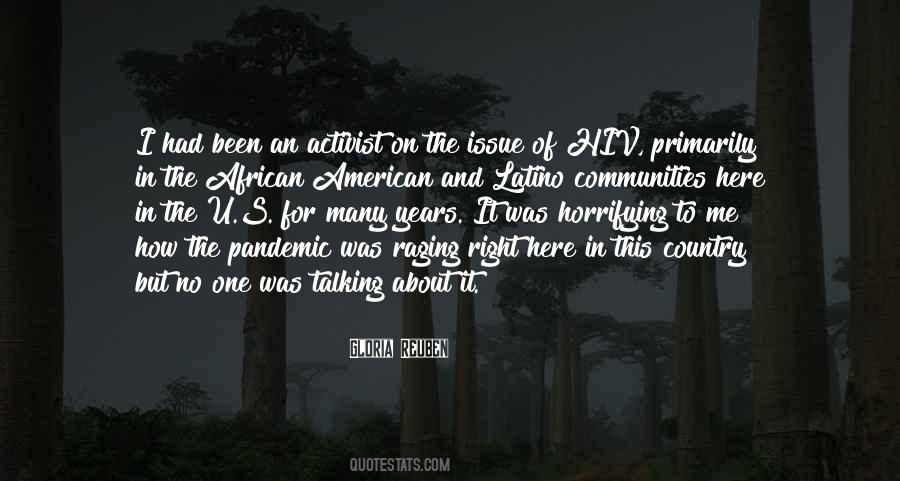 #87. It's silly talking about how many years we will have to spend in the jungles of Vietnam when we could pave the whole country and put parking stripes on it and still be home by Christmas. - Author: Ronald Reagan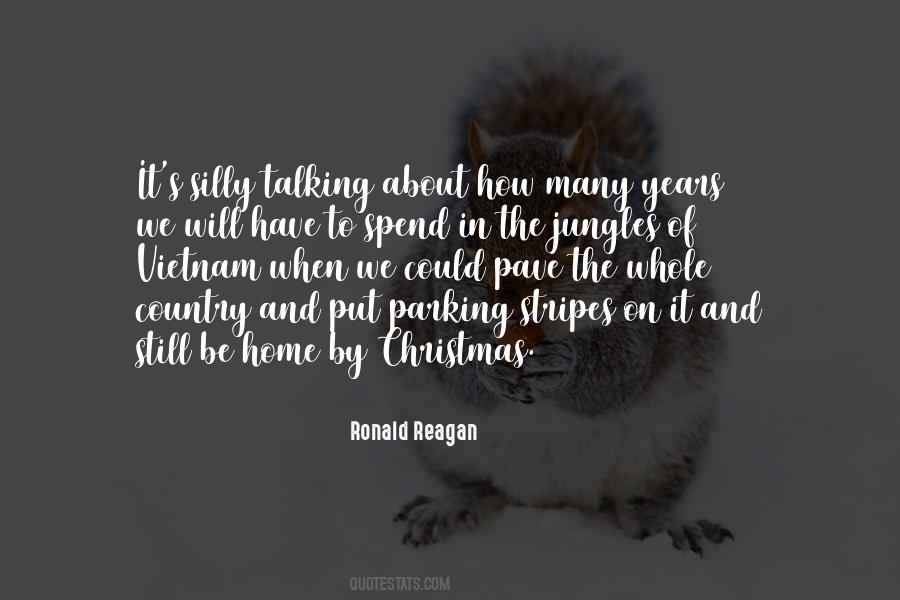 #88. You can't take no Chinese man and give him no Puerto Rican woman and talking like they're in love and emotionally in love and physically. - Author: Muhammad Ali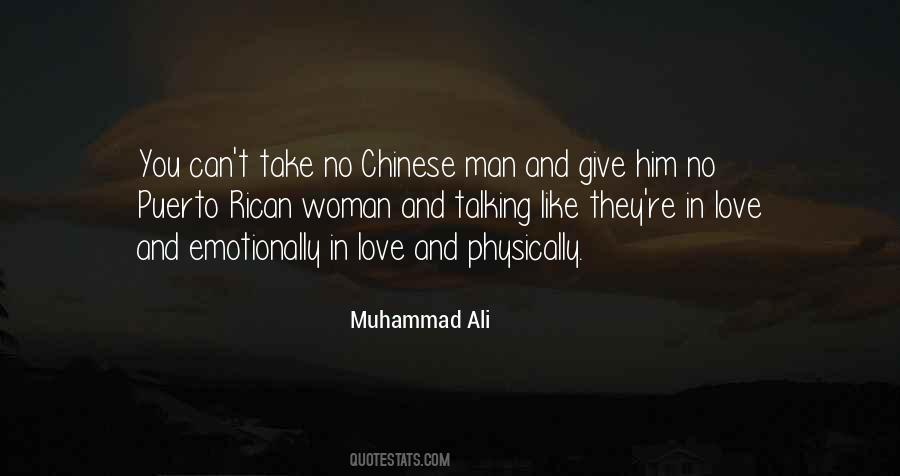 Famous Authors
Popular Topics