Can't Stop Talking Famous Quotes & Sayings
List of top 49 famous quotes and sayings about can't stop talking to read and share with friends on your Facebook, Twitter, blogs.
Top 49 Can't Stop Talking Quotes
#1. If you're going to learn a new language, you can't try to be perfect. You'll stop yourself from talking. You just have to let go. - Author: Yao Ming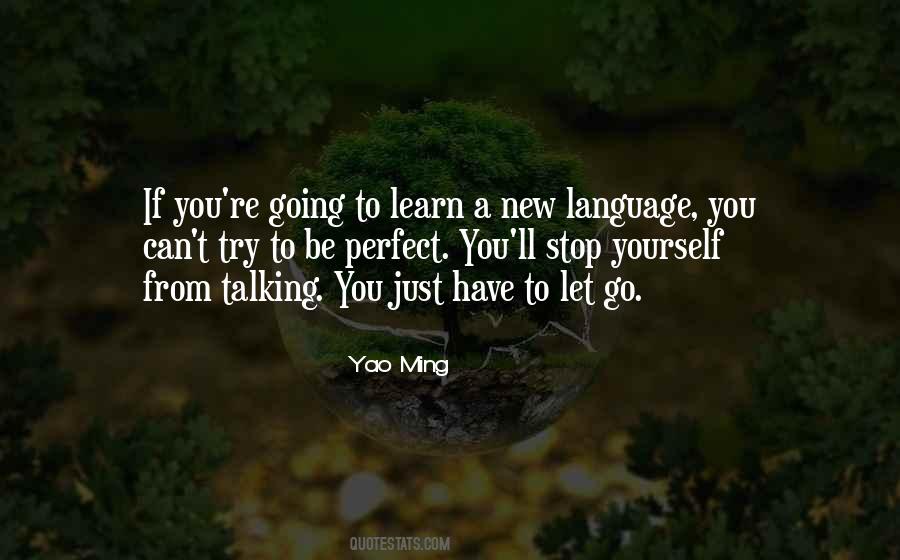 #2. God, it's like talking to a cyborg sometimes. You pretend to listen, but really, you've just gone on pause, waiting for me to stop so you can reiterate your original point. - Author: Kelley Armstrong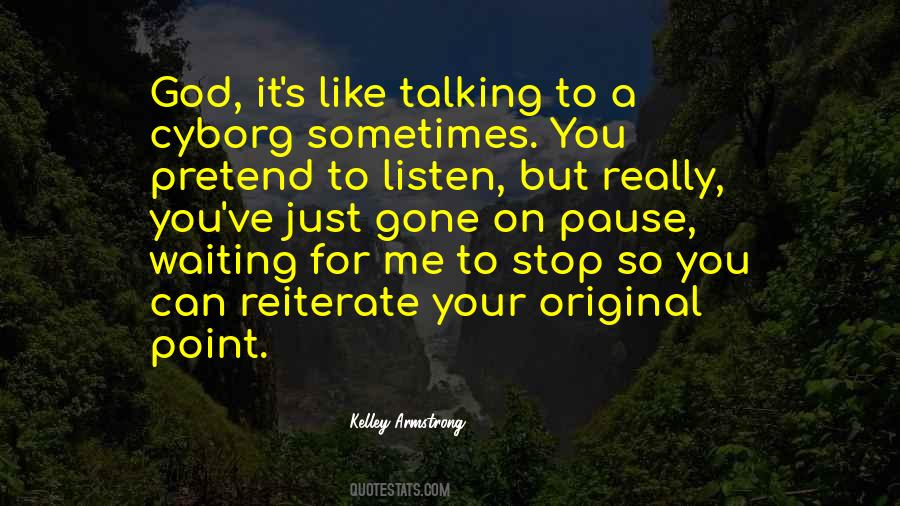 #3. A second even more obvious sign is that the person will stop talking. If we are uncertain as to whether we have stayed long enough in the process, we can always ask, "Is there more that you wanted to say"? - Author: Marshall B. Rosenberg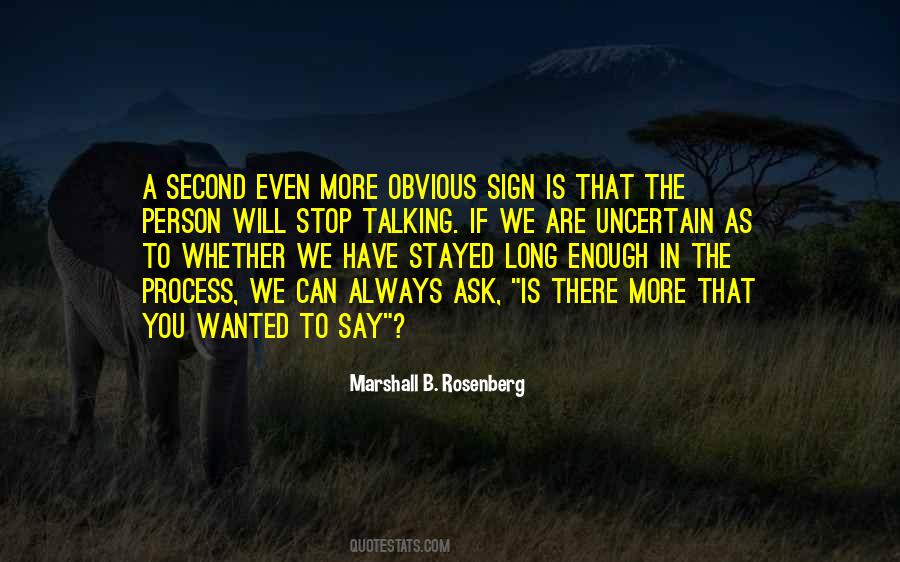 #4. Democracy means government by discussion, but it is only effective if you can stop people talking. - Author: Clement Attlee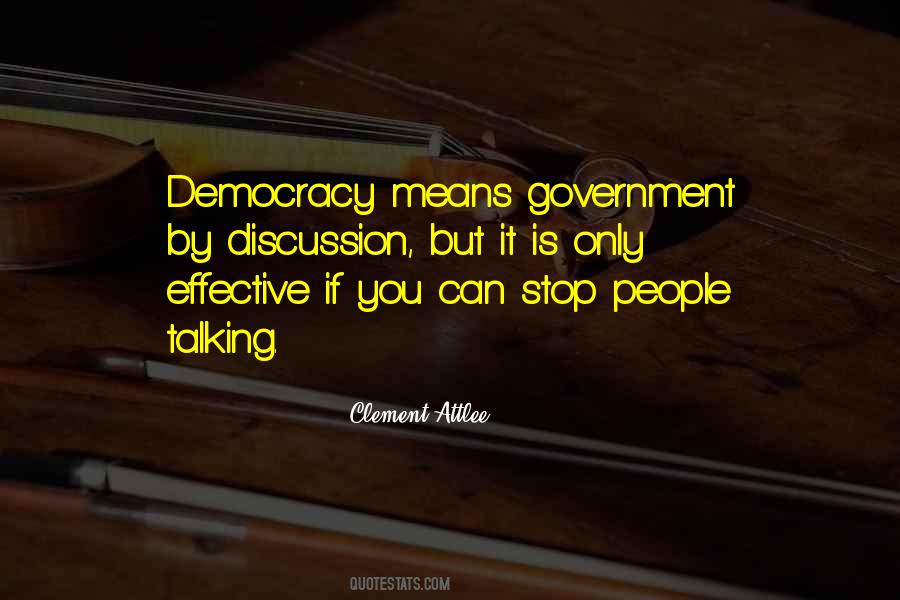 #5. Stop talking," she said boldly as she closed the distance between them until they were touching. "We can walk to the bedroom or you can carry me but if you don't decide soon I may just go insane. - Author: Samantha Chase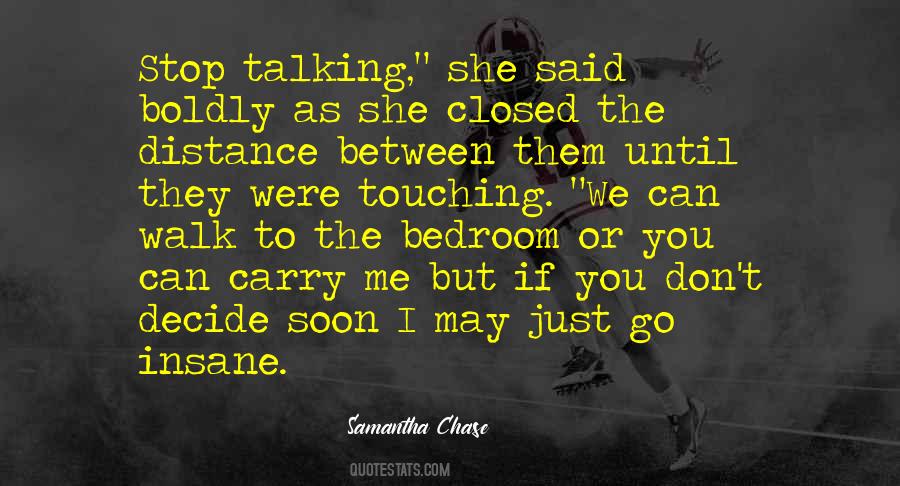 #6. It's much better when I go out with my mates and we stop talking about me like I'm some sort of egomaniac. It's great when we can just have a drink. - Author: Dido Armstrong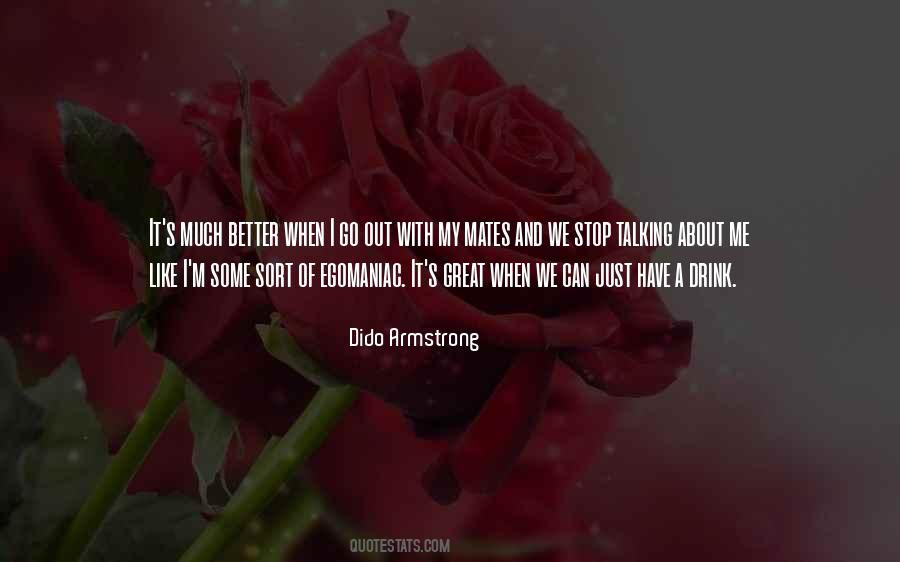 #7. Why can I not stop talking? Livia watched as Cole set the dripping candles on a small table. If I die of embarrassment, they can have my funeral right here. - Author: Debra Anastasia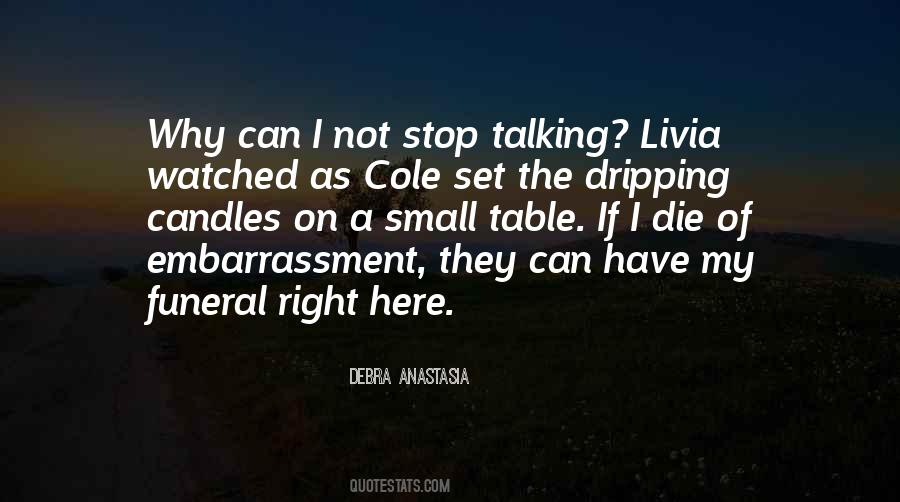 #8. She's not talking now," muttered the Rani's aunt, wagging one stick-like finger. "That tiger is throwing his voice."
"Can no-one get that woman to stop talking?" asked the Rajah of the room.
"Easier to stop 'em than start 'em," said the tiger, and he dealt with the matter. - Author: Neil Gaiman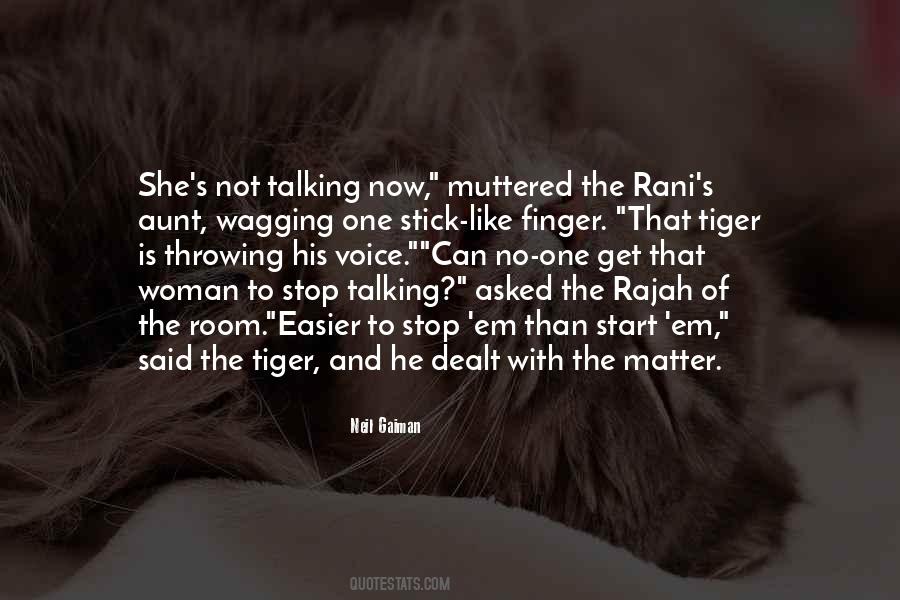 #9. You can get to where you want to be from wherever you are - but you must stop spending so much time noticing and talking about what you do not like about where you are. - Author: Esther Hicks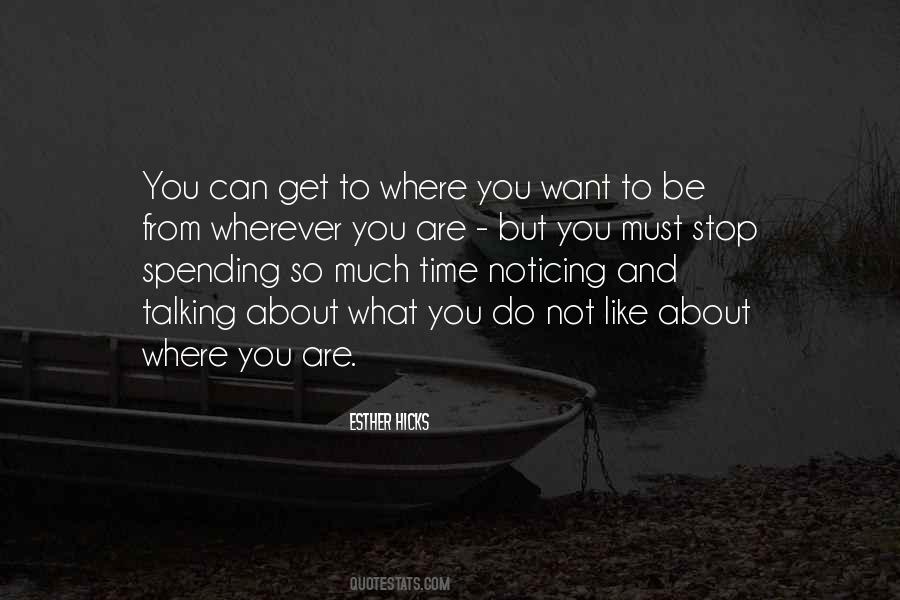 #10. Can we stop talking about penis fly traps for like two seconds? This is serious! - Author: Kandi Steiner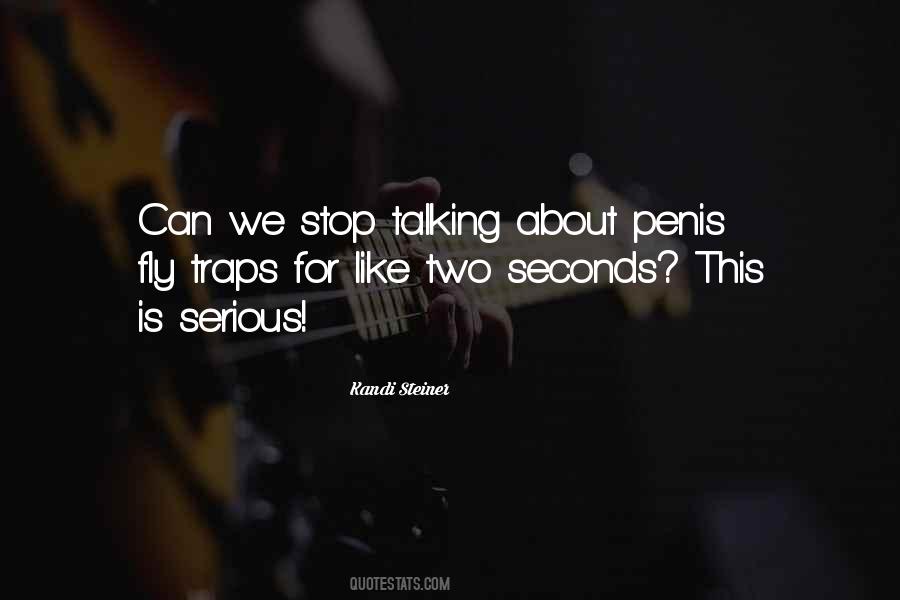 #11. We can't stop talking about the importance of our values and our culture. We can't stop talking about them because the moral well-being of our people is directly linked to their economic well-being. - Author: Marco Rubio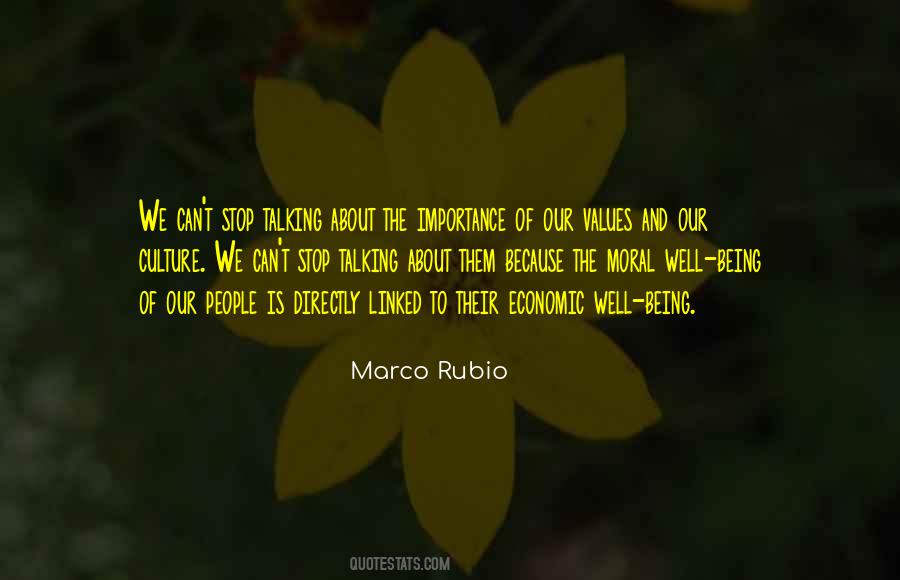 #12. When a reserved person once begins to talk, nothing can stop him; and he does not want to have to listen, until he has quite finished his unfamiliar exertion. - Author: Phyllis Bottome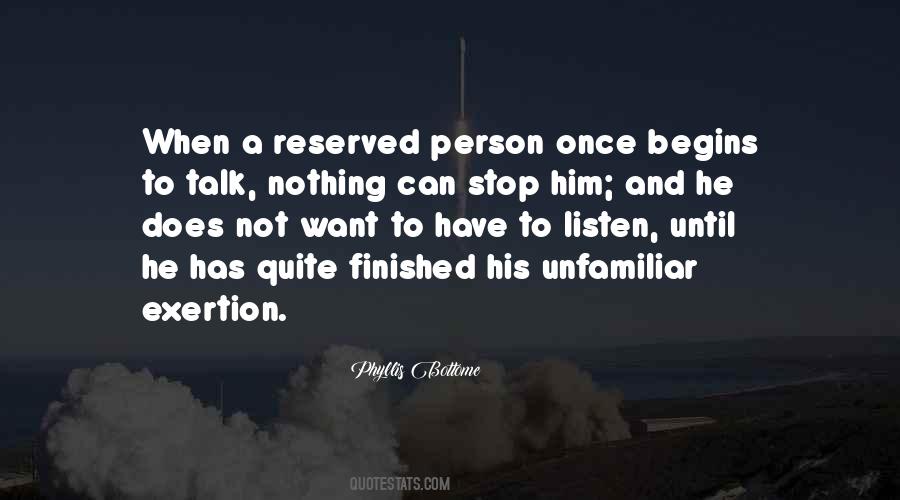 #13. And I'm not talking about becoming a millionaire and living happily ever after. I just mean reaching a point in my life that I can stop what I'm doing, take a look around me, breathe a sigh of relief, and think I'm where I want to be now. - Author: Cecelia Ahern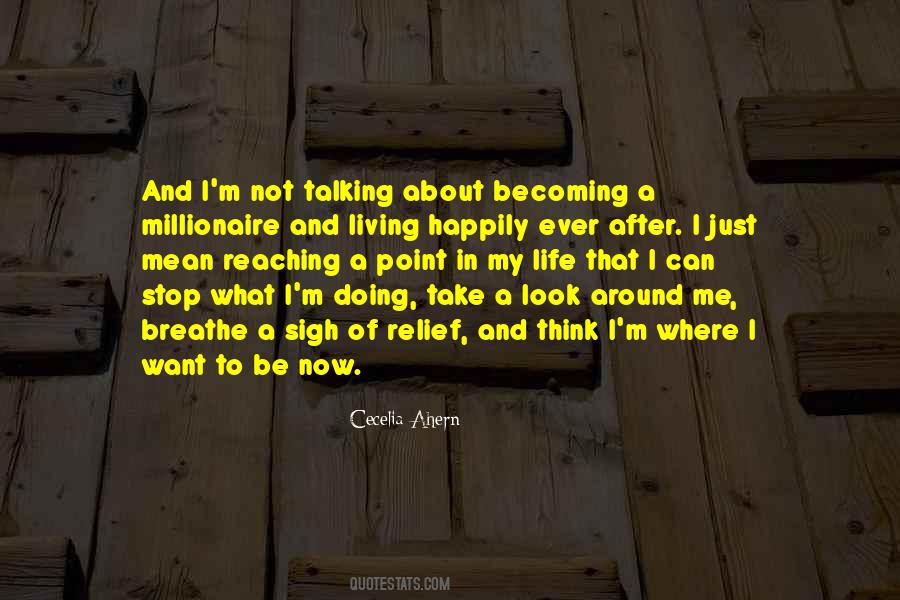 #14. Stop talking about tomorrow. You owe it to yourself to do whatever you can to live you can to live a better life today. - Author: Bob Harper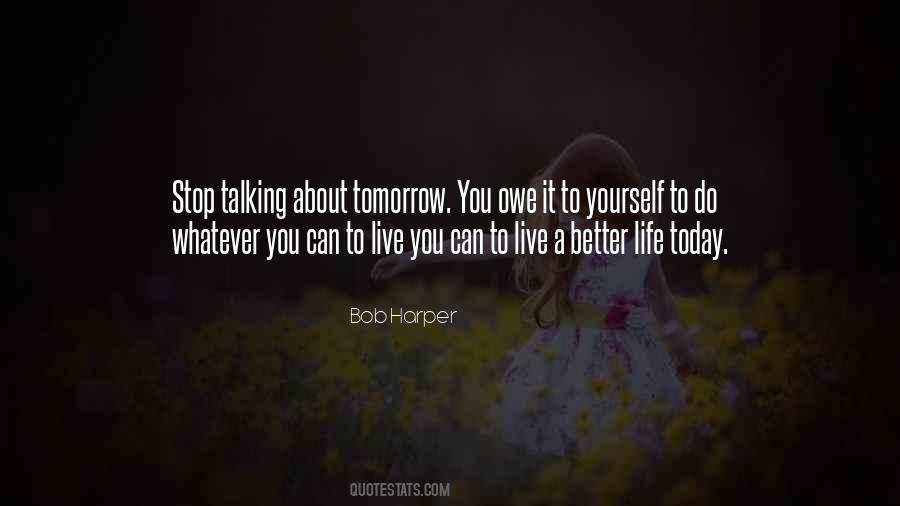 #15. Ty tapped Nick's knee. "Do you really want him left behind knowing you did this? It can wait until we get back."
"Just stop talking, Beaumont," Nick grunted. "You're like the Bermuda Triangle of morals."
Zane snorted and covered it with a cough. - Author: Abigail Roux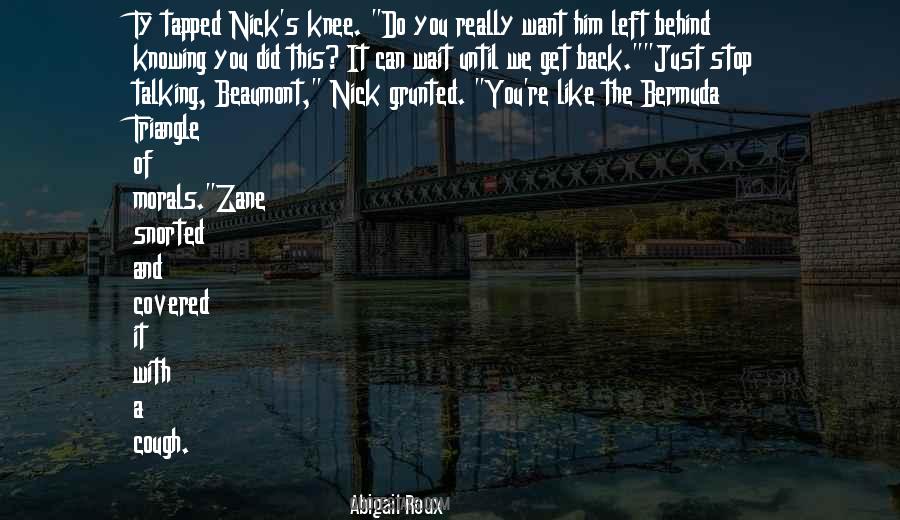 #16. It seems strange to the rest of the world, but we Americans can't seem to stop talking about how other countries should be democratic like we are. - Author: Noah Feldman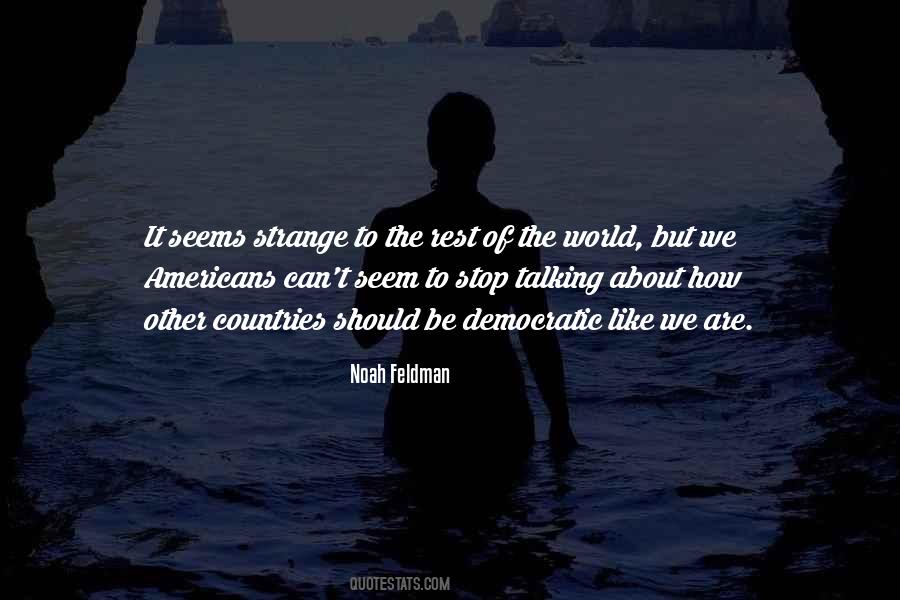 #17. I would just like to throw out there that we can all stop talking about putting things up my ass. No fly zone. Do not enter. No parking. - Author: Dani Alexander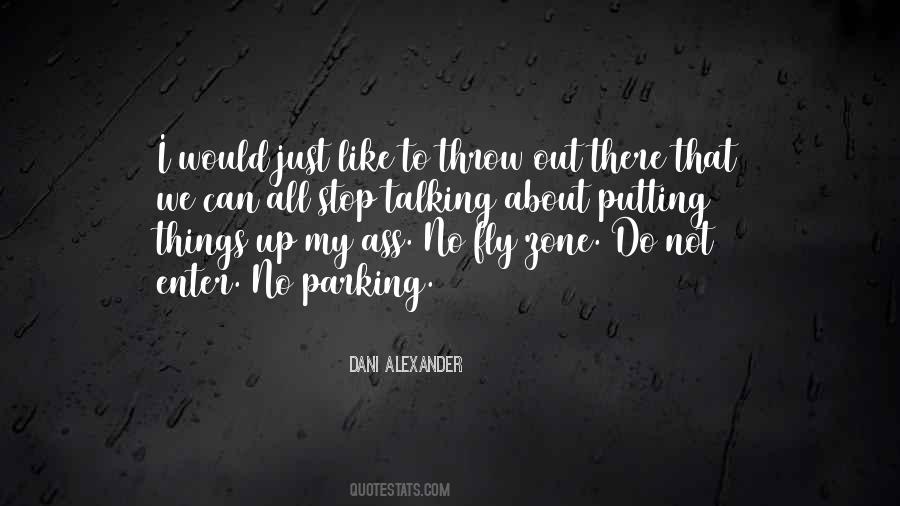 #18. A woman's past need not predict her future. She can dance to new music if she chooses. Her own music. To hear the tune, she must only stop talking. To herself, I mean. We're always trying to persuade ourselves of things." I - Author: Lisa Wingate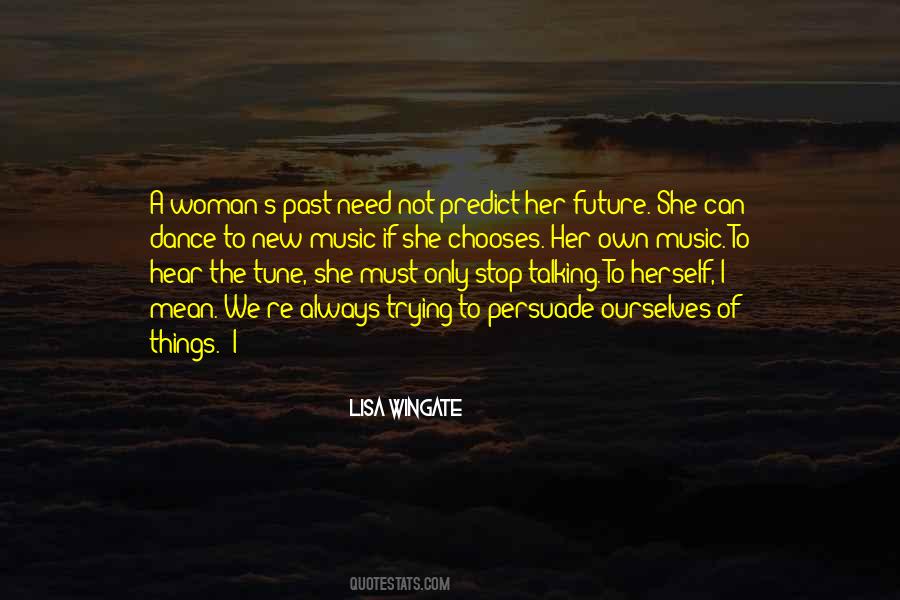 #19. Criticize me if you can, but that won't stop me from saying what i like, my mouth is mine, and not yours. - Author: Michael Bassey Johnson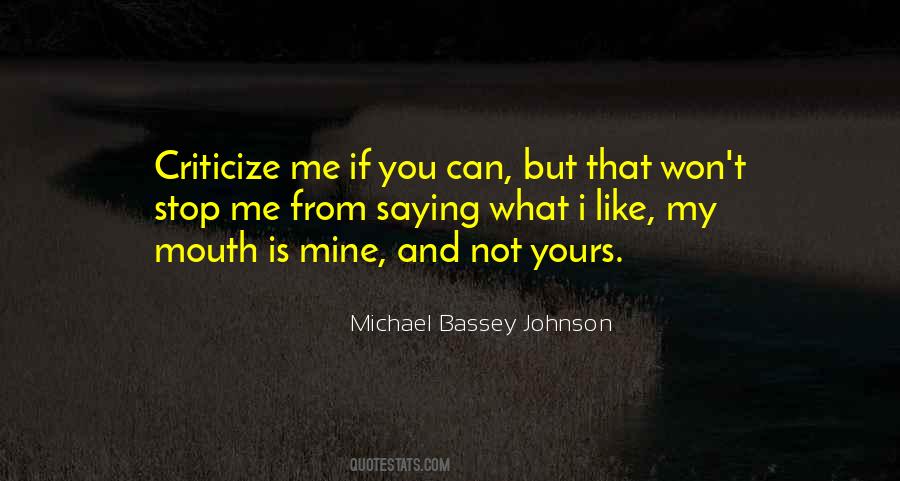 #20. They've been talking about their prom nonstop. Even the people that think it's a "joke" like Mary Elizabeth can't stop talking about what a "joke" it is. It's all very fun to witness. - Author: Stephen Chbosky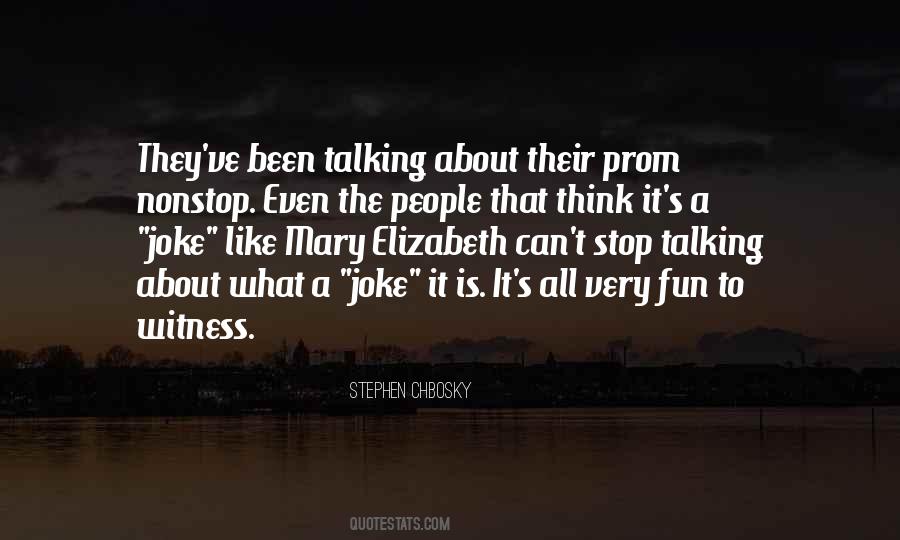 #21. You can't stop people from talking about you, but you can stop giving them something to talk about. - Author: Miley Cyrus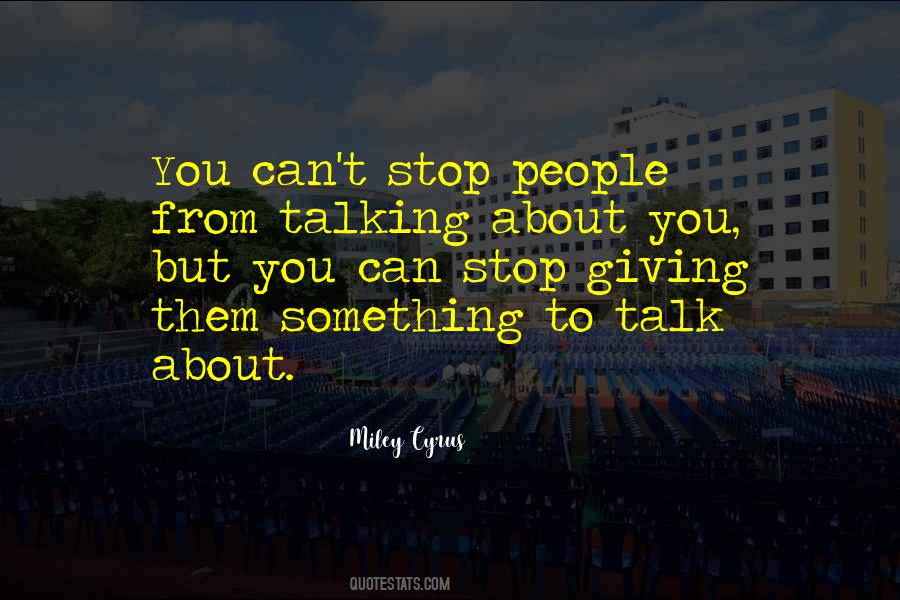 #22. Do I know what people say? Sure. I shrug it off. what else can you do? Stop people from talking? You might as well try to stop the wind from blowing. - Author: Stephen King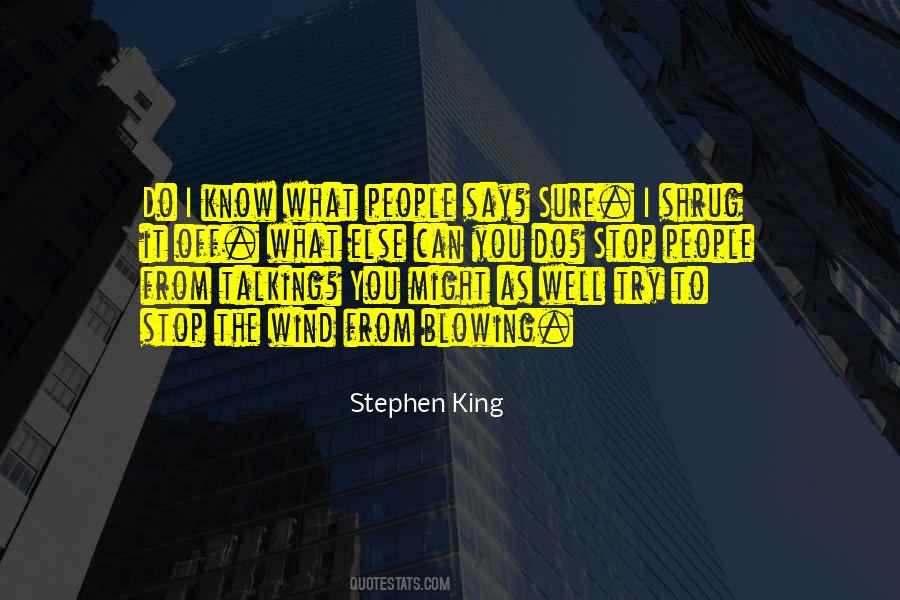 #23. None. They should just go out and photograph and stop talking about it. That's the only way they are going to find themselves. They can't do it in their heads - they have to go out and do it in the camera and get it on film. - Author: Berenice Abbott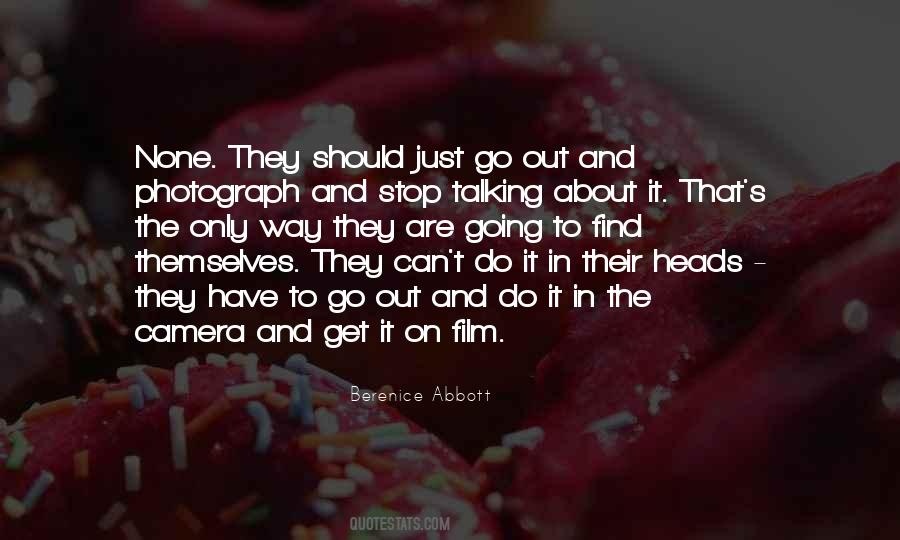 #24. I am not sure what it is that finally allows people to just turn to each other and touch. There is some hidden trigger. There is a secret language people learn, so they can signal to stop talking and just move. I don't know it. - Author: M T Anderson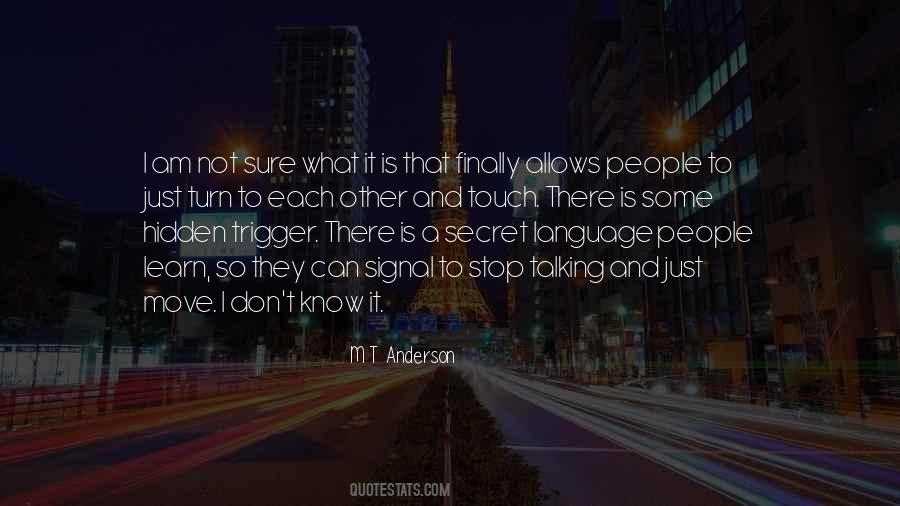 #25. Stop talking about the murders, and we won't know they're happening. And then we can all just live in a bubble that isn't reality. - Author: Kimberly Guilfoyle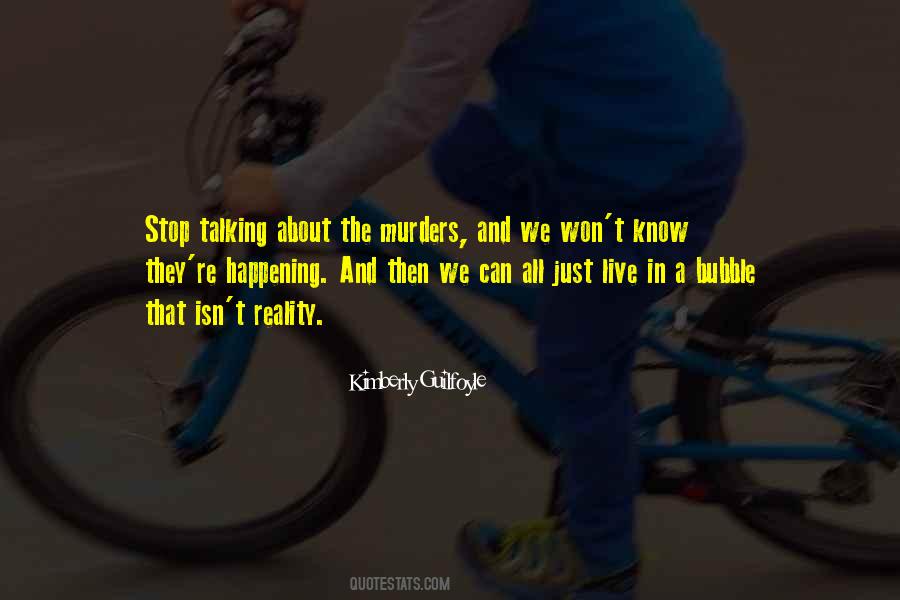 #26. There's a thing - I've noticed it often. When I first say something, it's as if people don't hear me, they can't believe I'm saying it. Then they start to actually pay attention, they stop noticing that a teenage girl is talking and start to believe that it's worth listening to what I'm saying. - Author: Jo Walton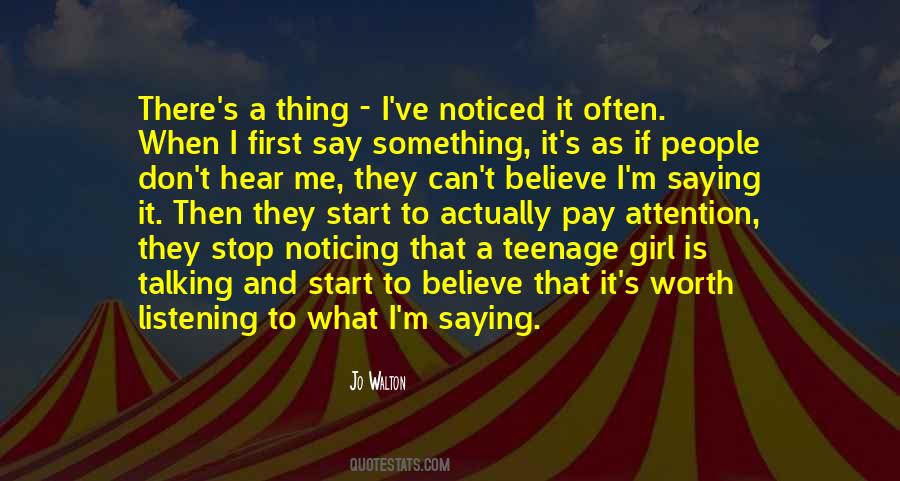 #27. They will never stop talking about you! No one can tell your story like you can! - Author: Latasha Wakefield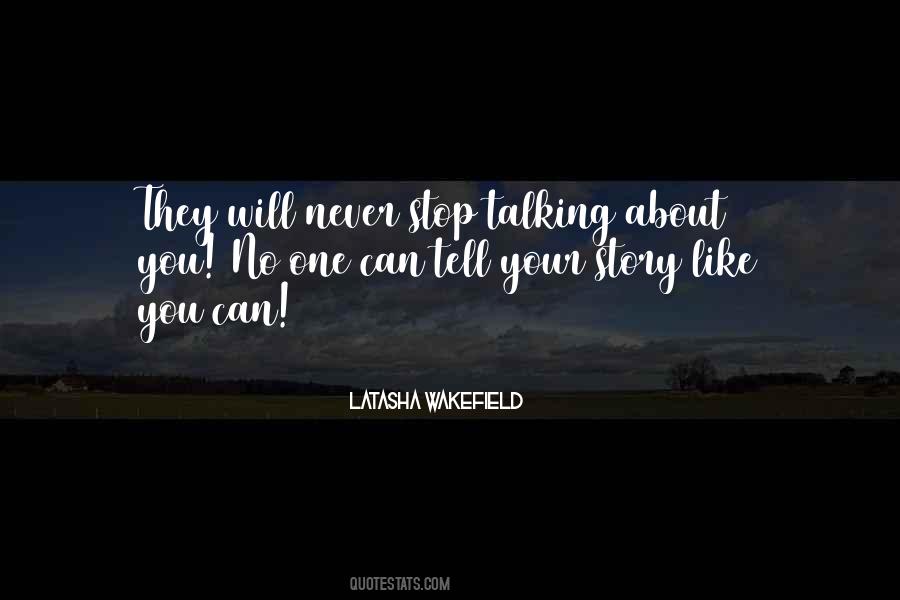 #28. Whenever I've encountered a Christian saying, 'Why don't you stop talking like that so I can hear you?' I think, 'Well you're the one putting the earmuffs on, but I wish you could hear me because I like you.' - Author: Louis C.K.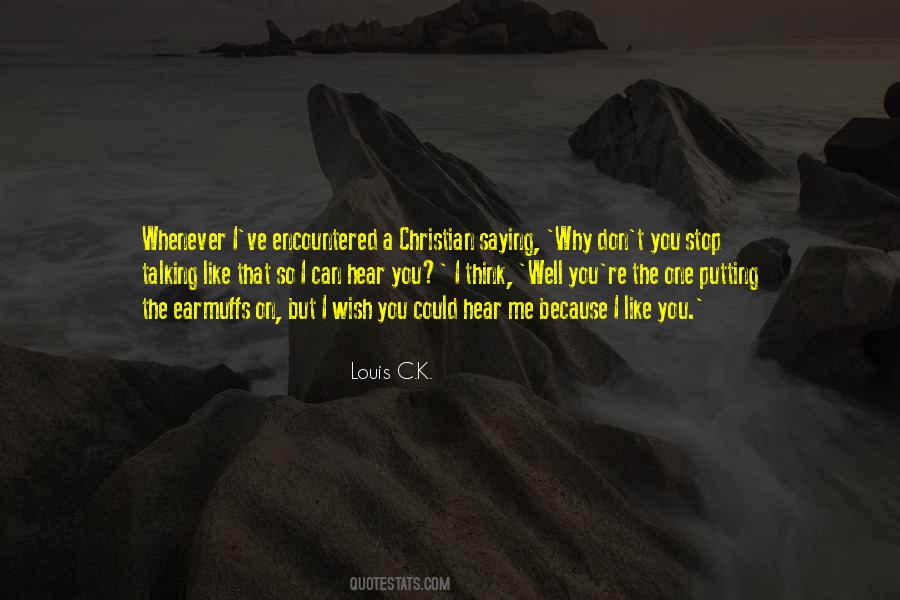 #29. Nothing I say can explain to you Divine Love
Yet all of creation cannot seem to stop talking about it. - Author: Rumi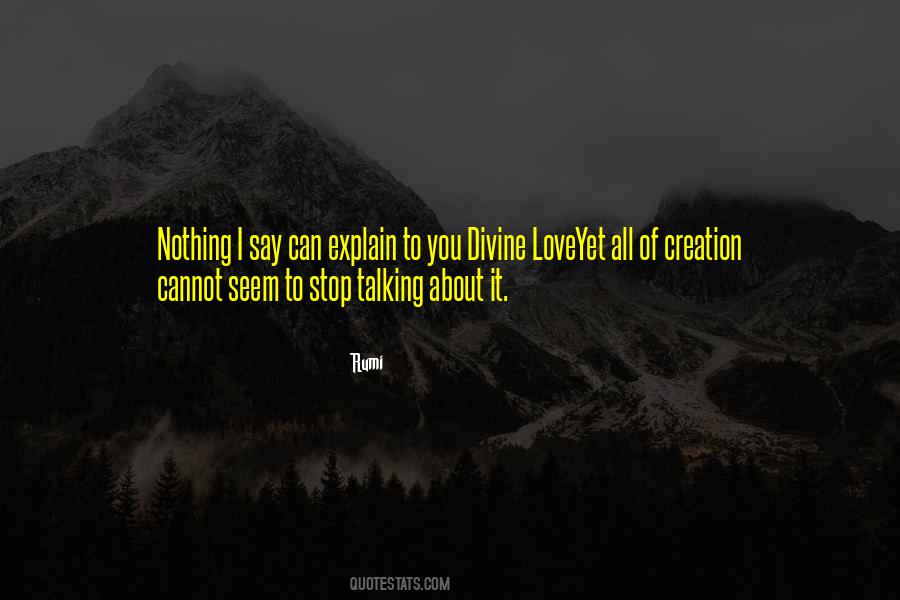 #30. If you fall out of favor, you quickly stop being part of the conversation. But it can take one great project to turn things around. All you need is one hit or one great idea well-executed, and everybody's talking about you again. - Author: Chris O'Donnell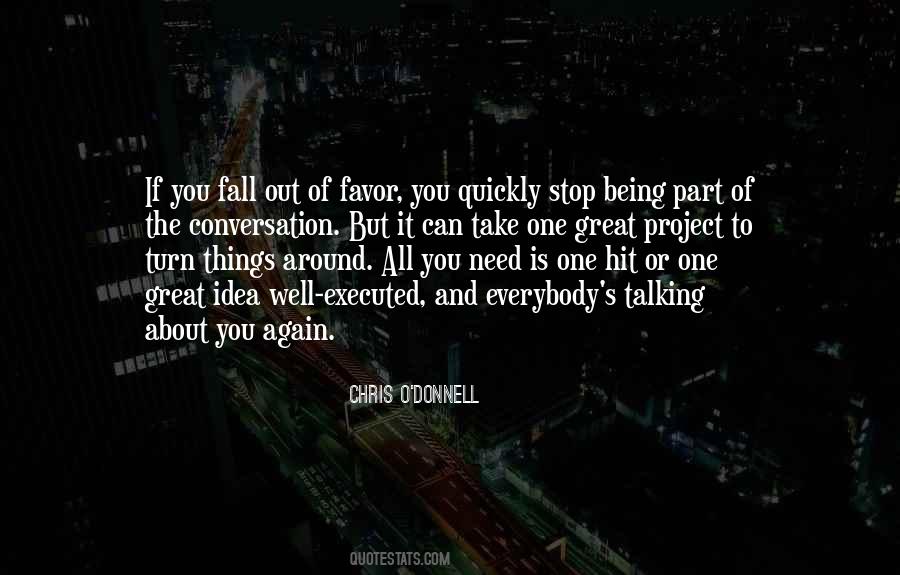 #31. She was a shrewd woman, and knew that the art of life is to know when to stop talking. What words have accomplished, too many words can undo. "Good-bye. - Author: P.G. Wodehouse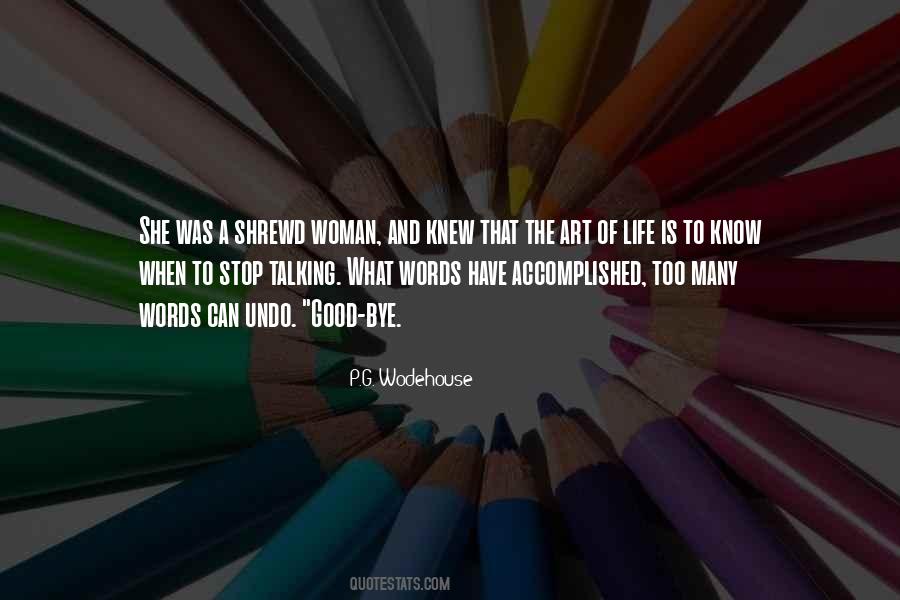 #32. That's enough. You can stop now: the phrase Sedgwick said she longed to hear whenever she was suffering. (Enough hurting, enough showing off, enough achieving, enough talking, enough trying, enough writing, enough living.) - Author: Maggie Nelson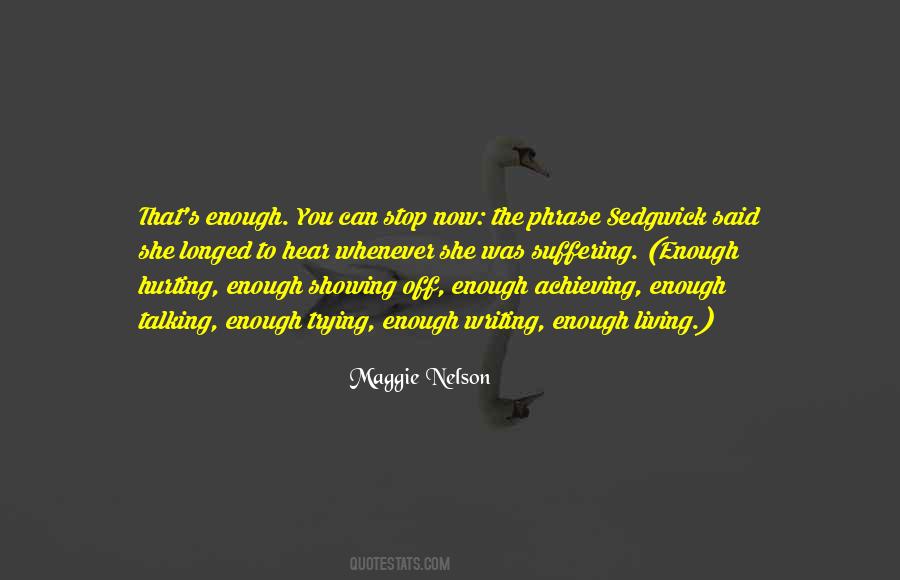 #33. I can't see myself not rappin' and not talking the bullshit I'm talking. I love that! I can't lie. Once I stop I'm just going to stop all the way. - Author: Sean Price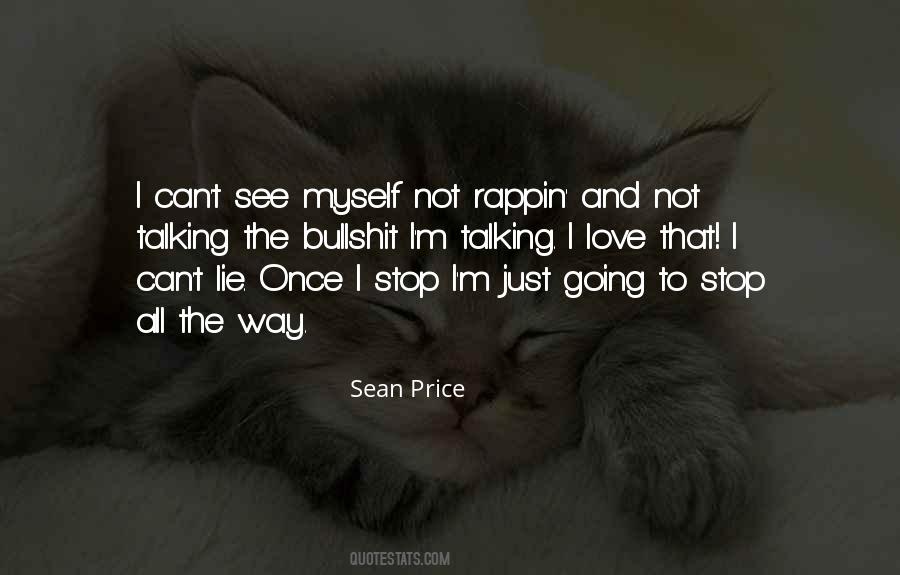 #34. No one can stop me from talking about my movie. - Author: Abel Ferrara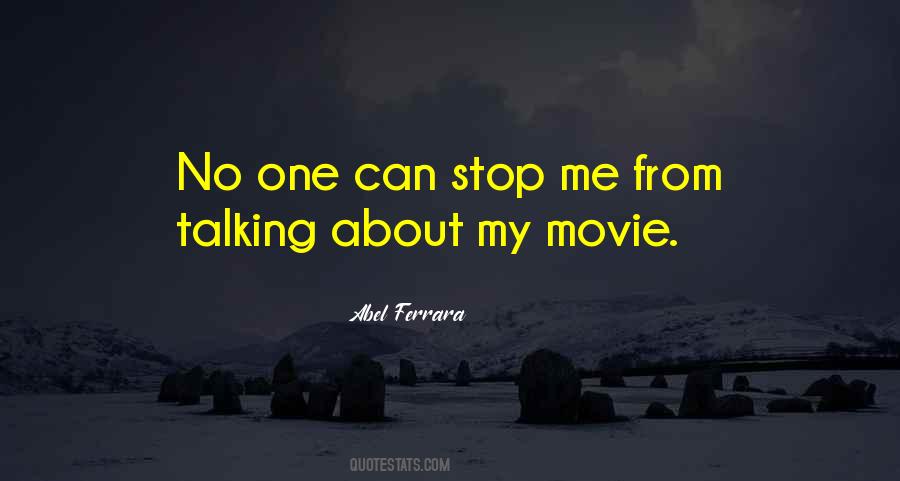 #35. Writers are socially observant. We find people endlessly fascinating, and real life is mysterious. Sometimes it's hard to stop staring at the strut and squawk of my fellow man. They can be quite inspiring. Sometimes it's hard to stop talking to them to see what in the world they're thinking. - Author: Julianna Baggott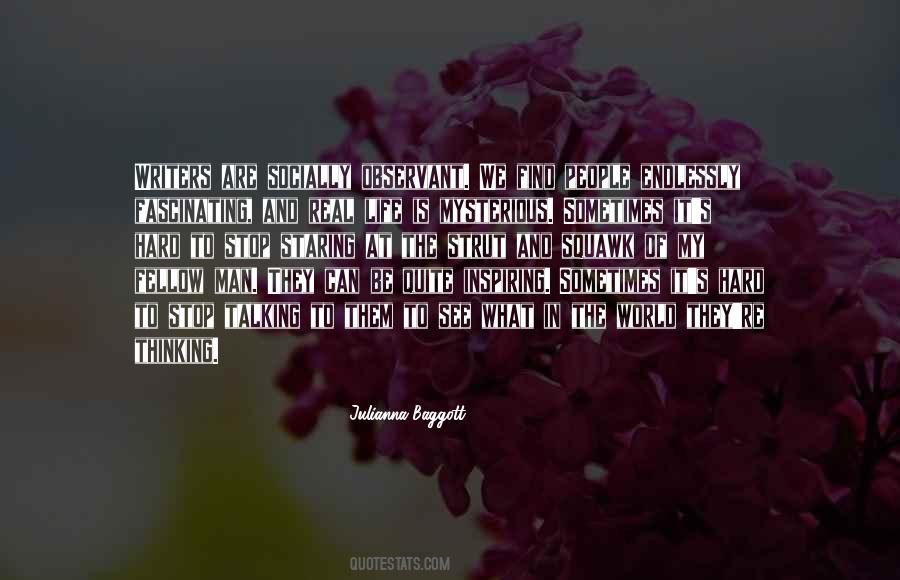 #36. It is hard to stay focused with so much swirling around me. God is distracting. He never stops talking, and I can never stop listening. There is a reason we sleep. - Author: N.D. Wilson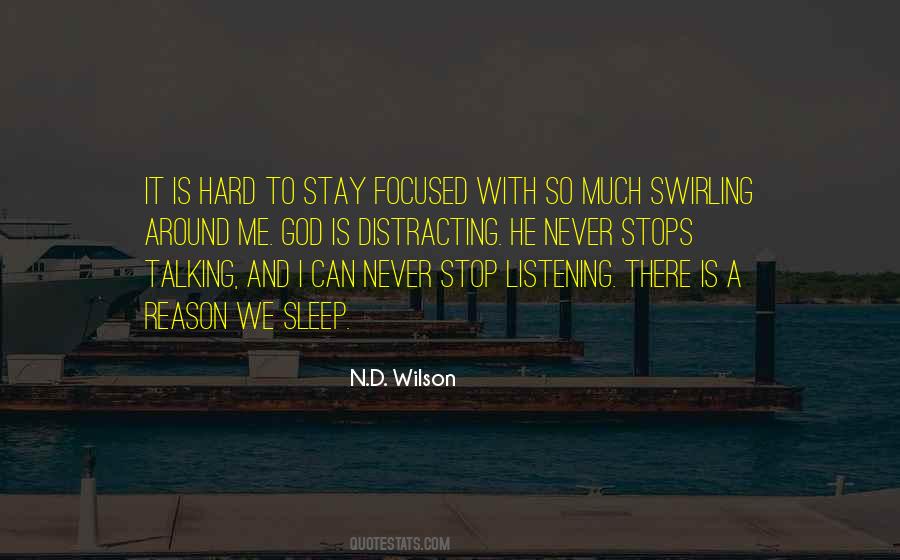 #37. Anything so that we can stop talking about me and what an utmost disappointment I am. - Author: Mary Kubica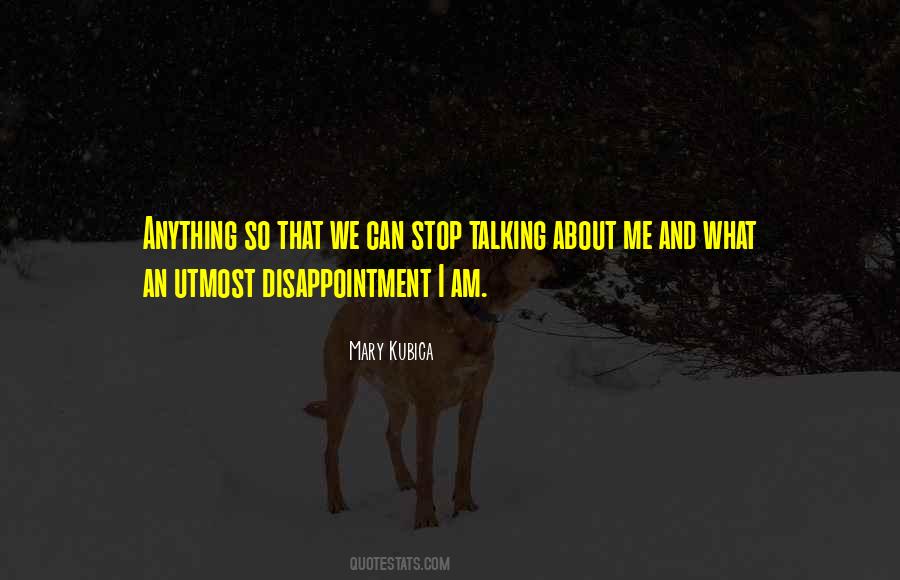 #38. You listen to me now and stop cutting me off. It's rude." She stopped moving and dropped her hand. "You can't tell me what I can and can't do; where I can go and who I can see."
She stopped talking so he requested, "May I speak?"
"Only if you don't piss me off when you do it, - Author: Kristen Ashley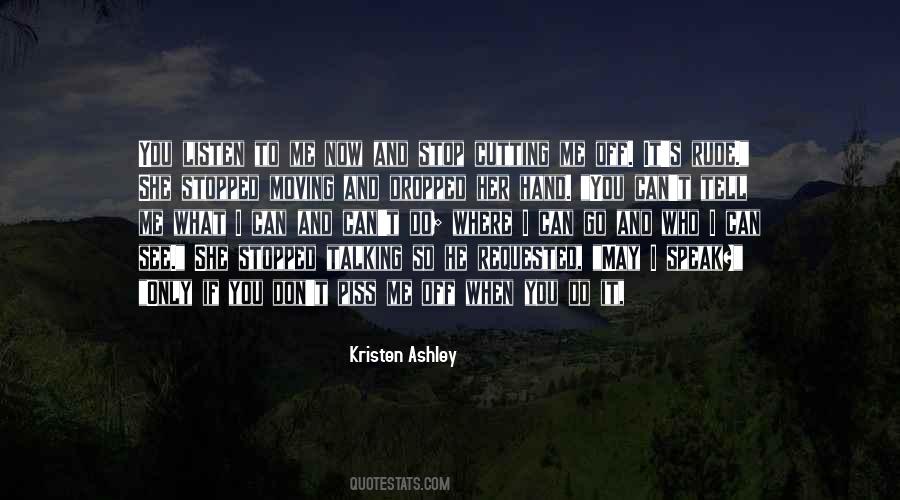 #39. Sorry - I get word vomit. You know, where you can't stop talking? It's like diarrhea, but vomit? You know? - Author: Sara DiVello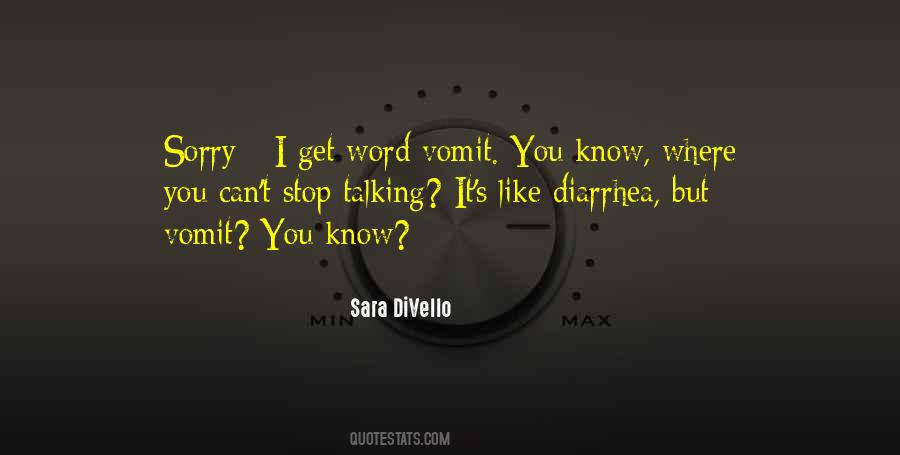 #40. When she is happy, she can't stop talking, when she is sad she doesn't say a word. - Author: Ann Brashares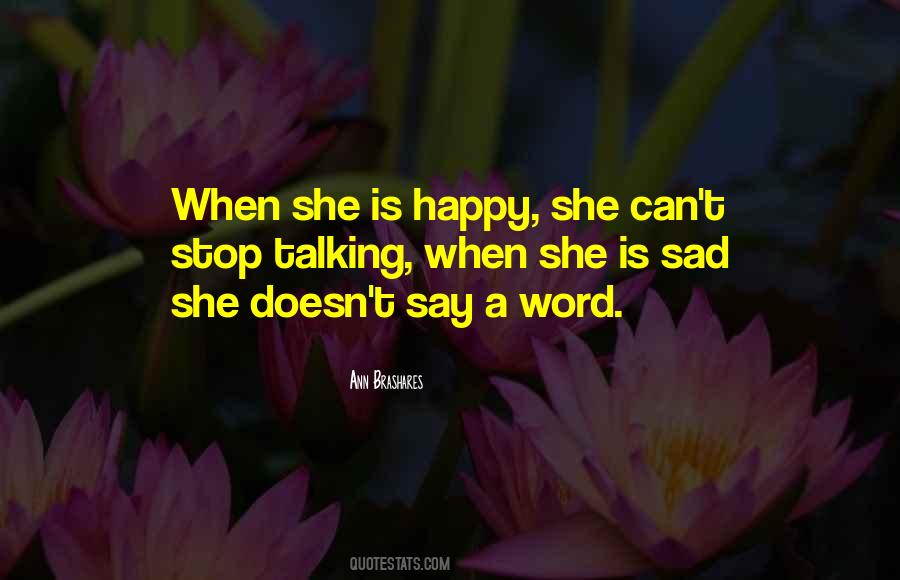 #41. (A point of view of a stupidy of mankind)...
Hey... did you check out the book by Stephen King in 7 June published??
... (I was talking to one friend if I can put him as a friend...)
The teacher says "Stop with this books.."... pff I said once not twice, why to stop? - Author: Deyth Banger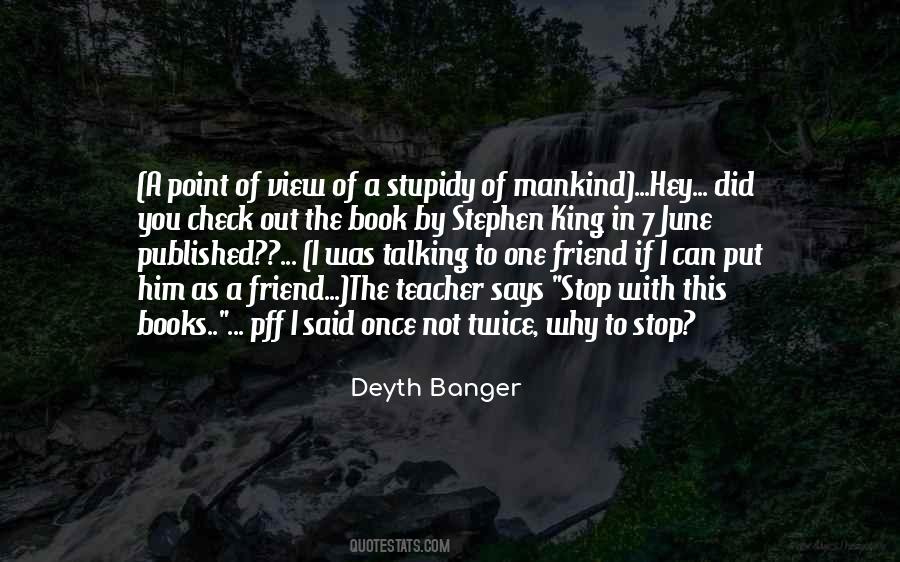 #42. Mother Russia is on the move, she can't stand still, she's restless and can't find rest, she's talking and she can't stop. - Author: Boris Pasternak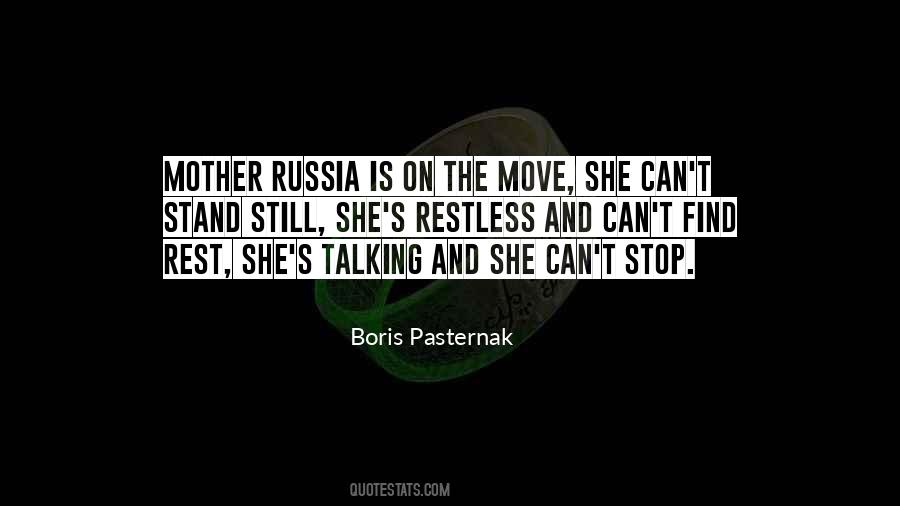 #43. You know that book 'Quiet: the Power of Introverts in a World That Can't Stop Talking', by Susan Cain? That's like my manifesto. The older I get, the more I think I could be a hermit. - Author: Jessica Raine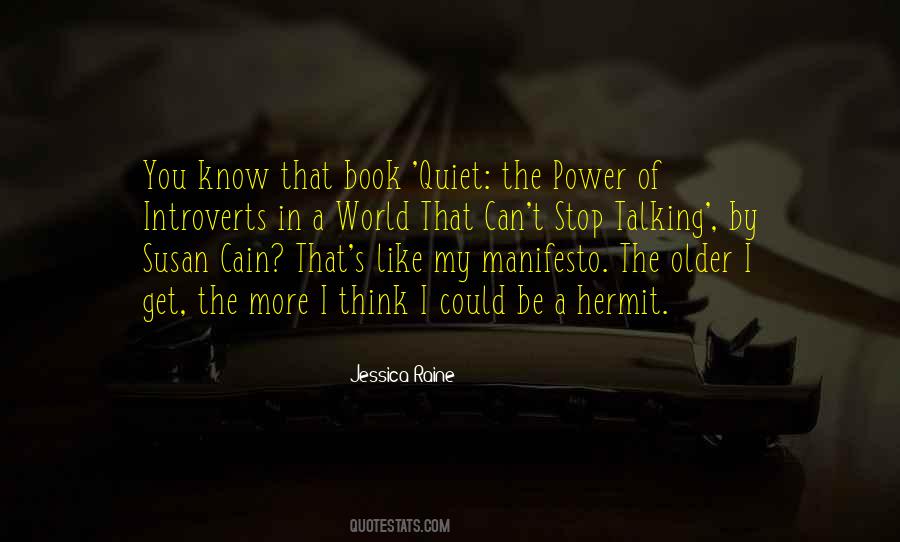 #44. I'm nutty for nutrition. I've become one of those people who can't stop talking about the connection between food and health. Now that I know how much changing what you eat can transform your life, I can't stop proselytizing. - Author: Robin Quivers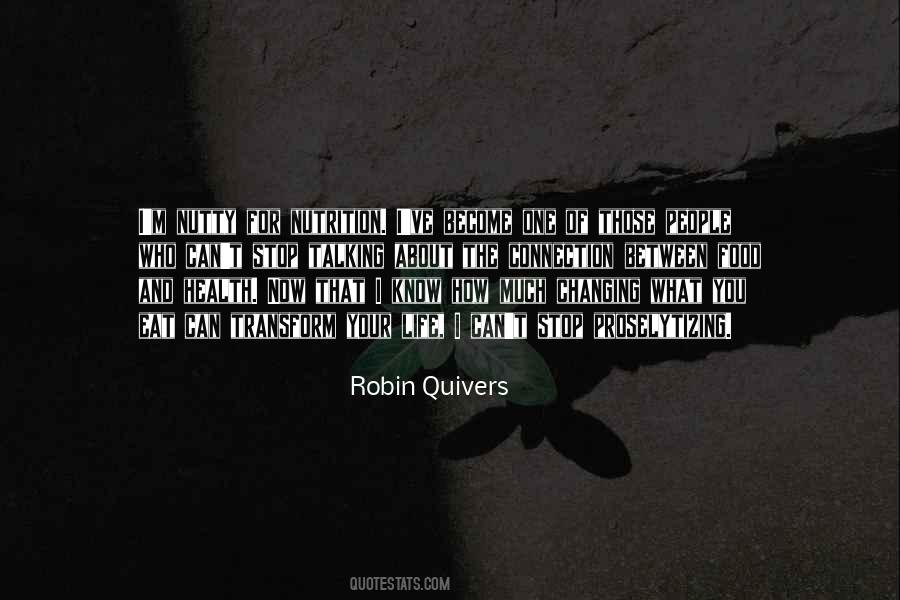 #45. My wife can look at me in a certain way and I can tell by her eyes how she's feeling about me or when I should stop talking about something. It's kind of the way twins have their own thing. - Author: Pete Wentz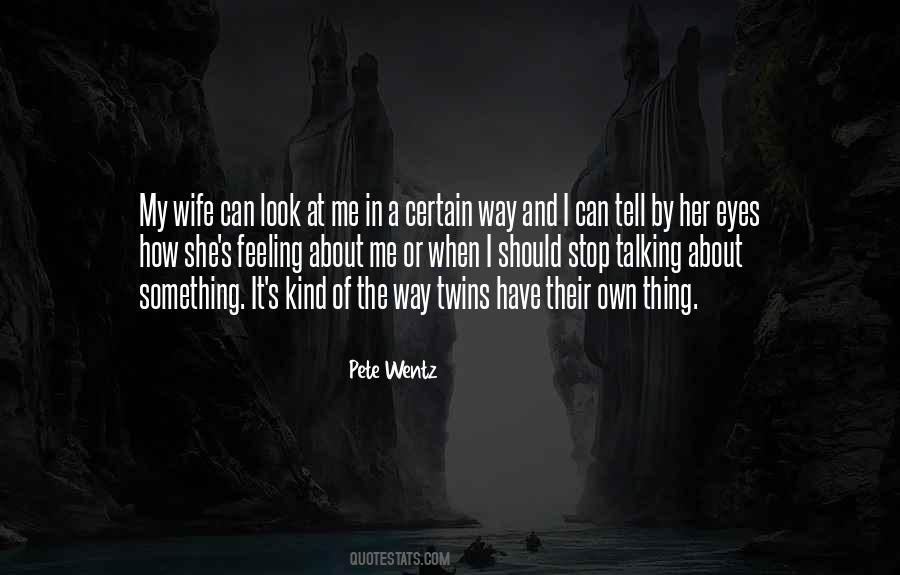 #46. I believe that if we stop talking at one another, and start talking with one another, we can get a lot done. - Author: Barack Obama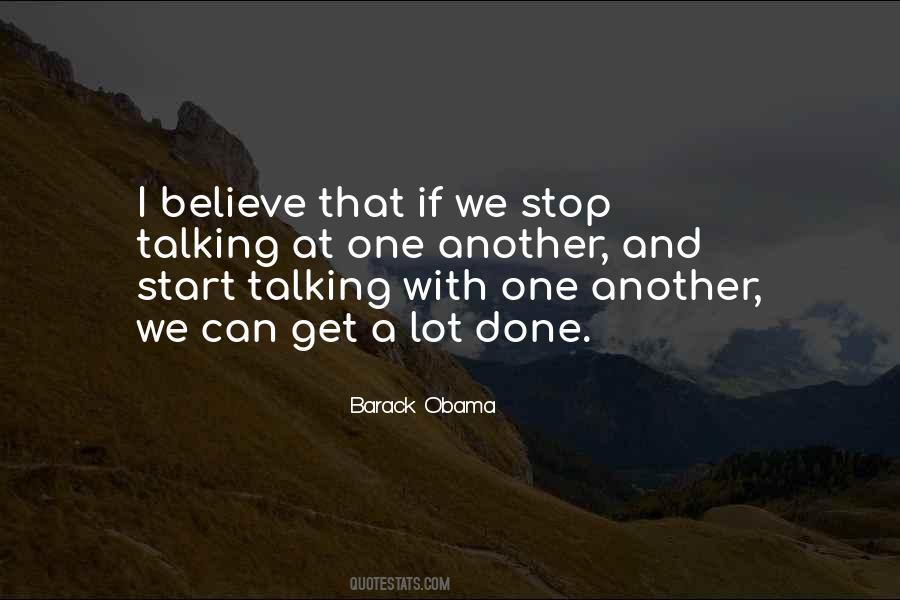 #47. I'll never stop dreaming that one day we can be a real family, together, all of us laughing and talking, loving and understanding, not looking at the past but only to the future. - Author: LaToya Jackson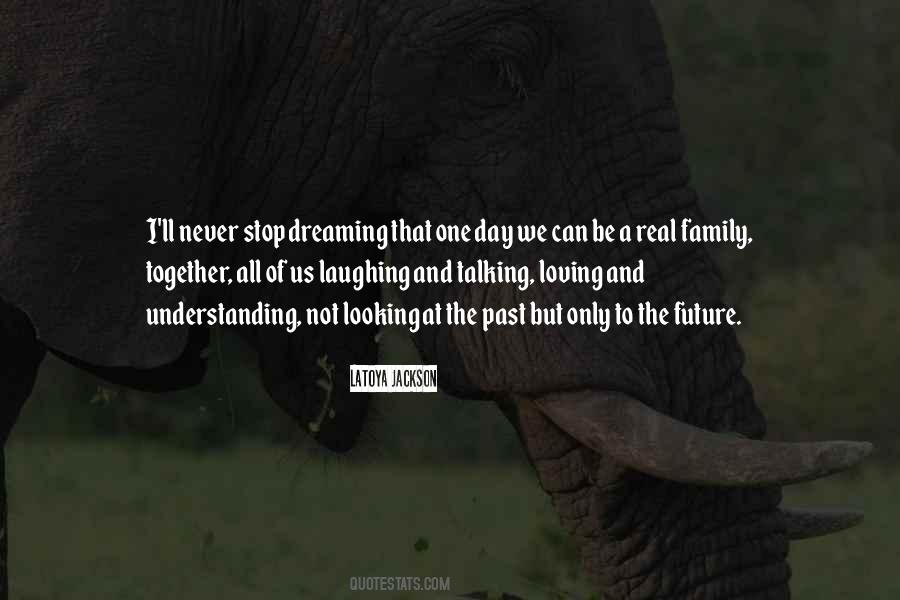 #48. We don't stop talking about how the world might be better just because we have no chance of making it to Prime Minister. We are all politicians. We are all artists. In an open society everything the mind and hands can achieve is our birthright. It is up to us to claim it. - Author: Stephen Fry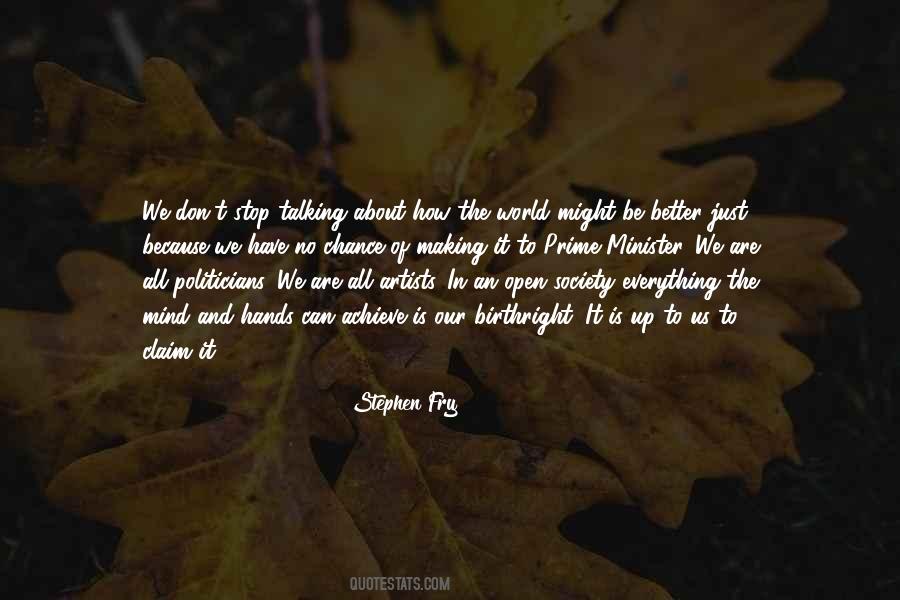 #49. I'd like to go to New Society Village someday and find out exactly how far I can walk before people stop talking like me. - Author: Maxine Hong Kingston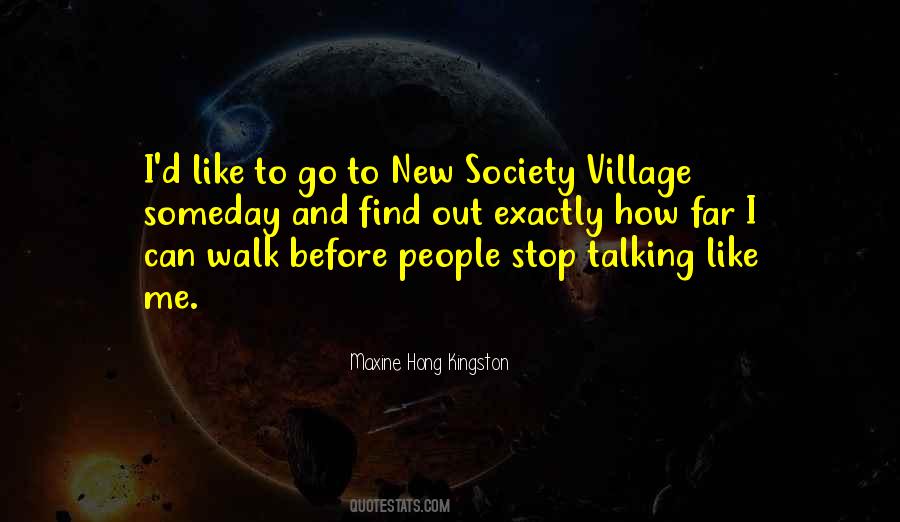 Famous Authors
Popular Topics