Short Reading Famous Quotes & Sayings
List of top 61 famous quotes and sayings about short reading to read and share with friends on your Facebook, Twitter, blogs.
Top 61 Short Reading Sayings
#1. It's a great blessing if one can lose all sense of time, all worries, if only for a short time, in a book. - Author: Nella Last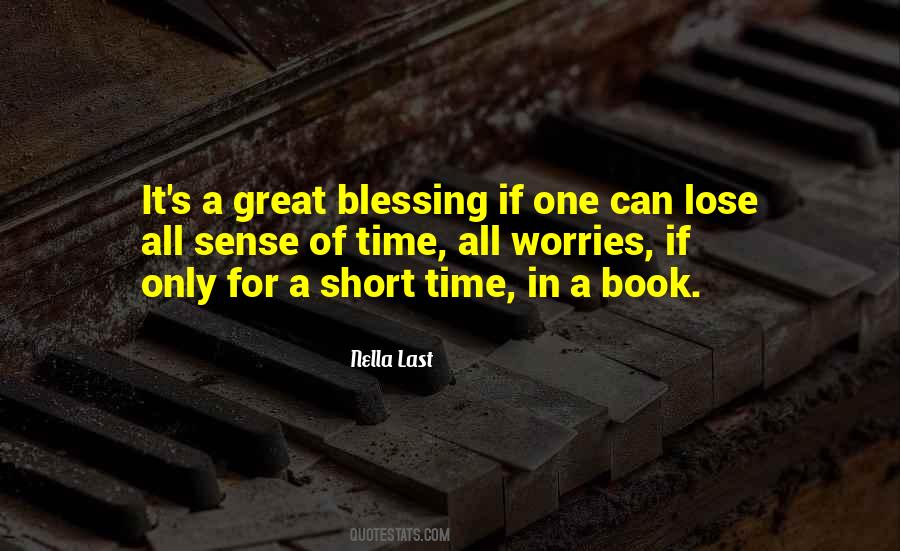 #2. Life isn't really short. There are just too many good books to read in one lifetime. - Author: Mokokoma Mokhonoana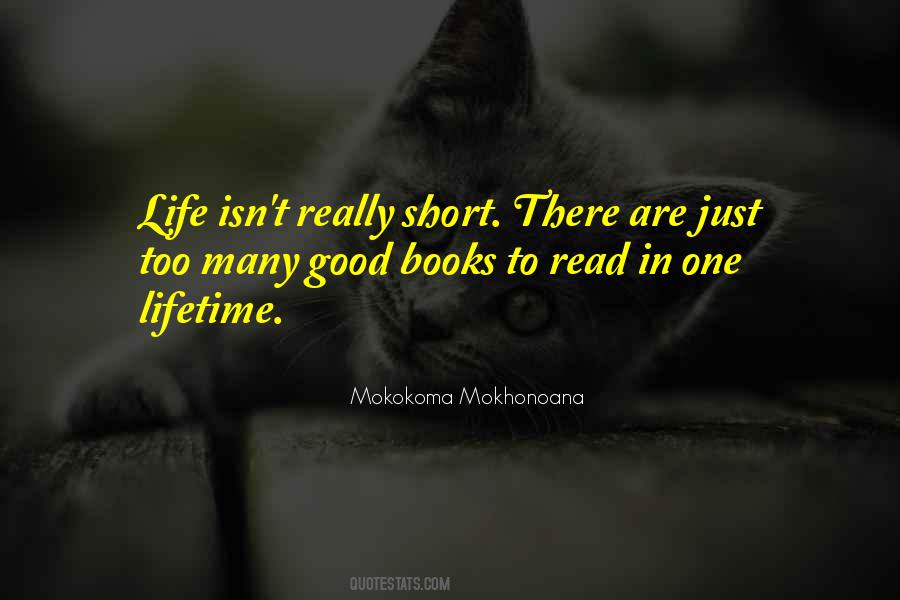 #3. I think the few writers who influenced me most in writing short stories are Alice Munro and Grace Paley. They're very different, and I can't do what they do, but reading them gives me hope that I'll learn something from them. - Author: Nell Freudenberger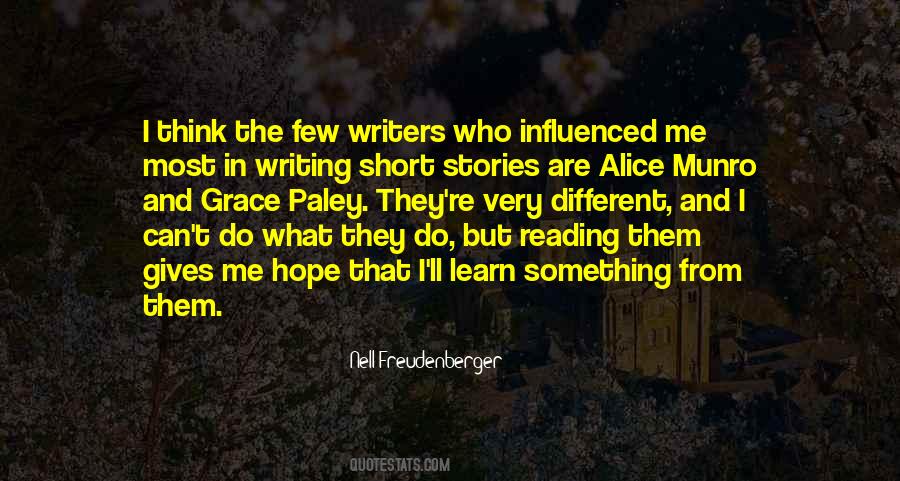 #4. One can never read too little of bad, or too much of good books: bad books are intellectual poison; they destroy the mind.
In order to read what is good one must make it a condition never to read what is bad; for life is short, and both time and strength limited. - Author: Arthur Schopenhauer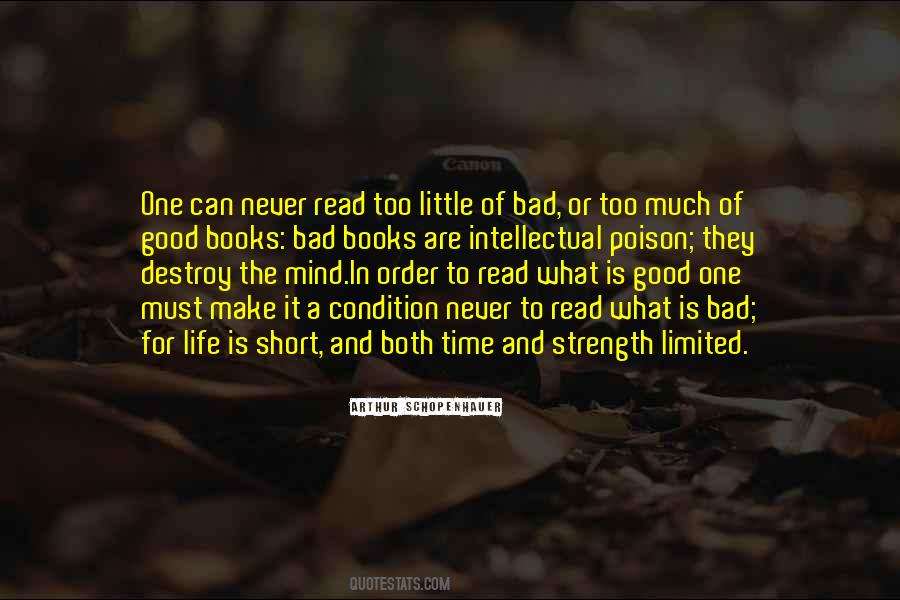 #5. The art of reading, in short, includes all of the same skills that are involved in the art of unaided discovery: keenness of observation, readily available memory, range of imagination, and, of course, an intellect trained in analysis and reflection. - Author: Mortimer J. Adler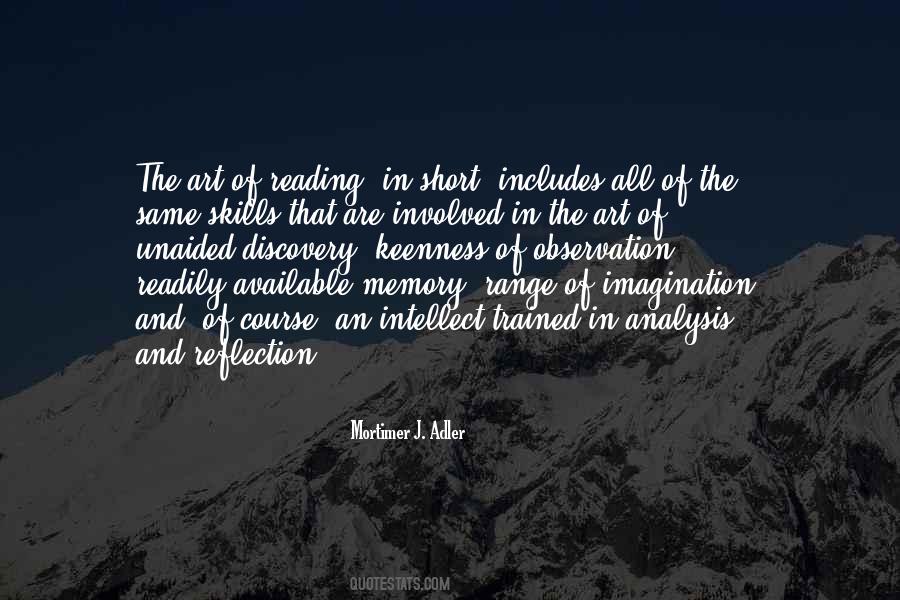 #6. Thus, words being symbols of ideas, we can collect ideas by collecting words. The fellow who said he tried reading the dictionary but couldn't get the hang of the story simply missed the point: namely, that it is a collection of short stories. - Author: James Webb Young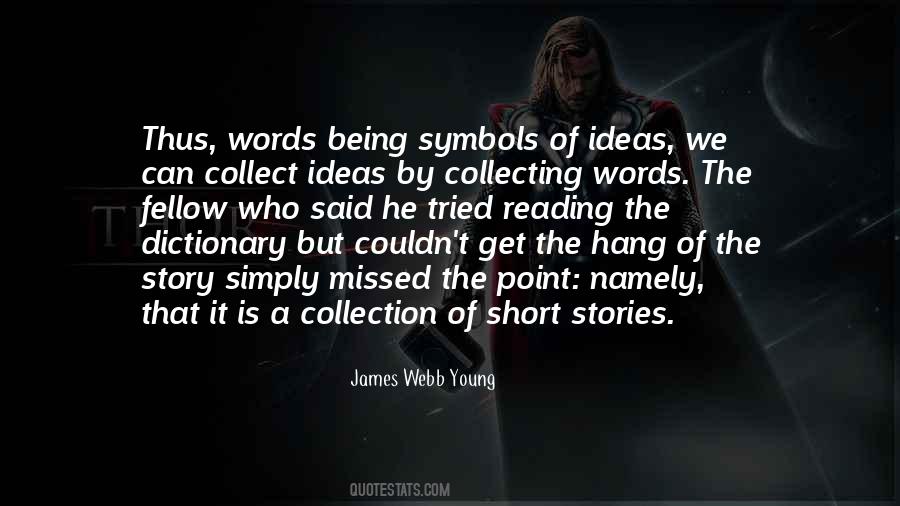 #7. Time is a great teacher, but unfortunately it kills all its pupils ... - Louis Hector Berlioz - Author: William L.K.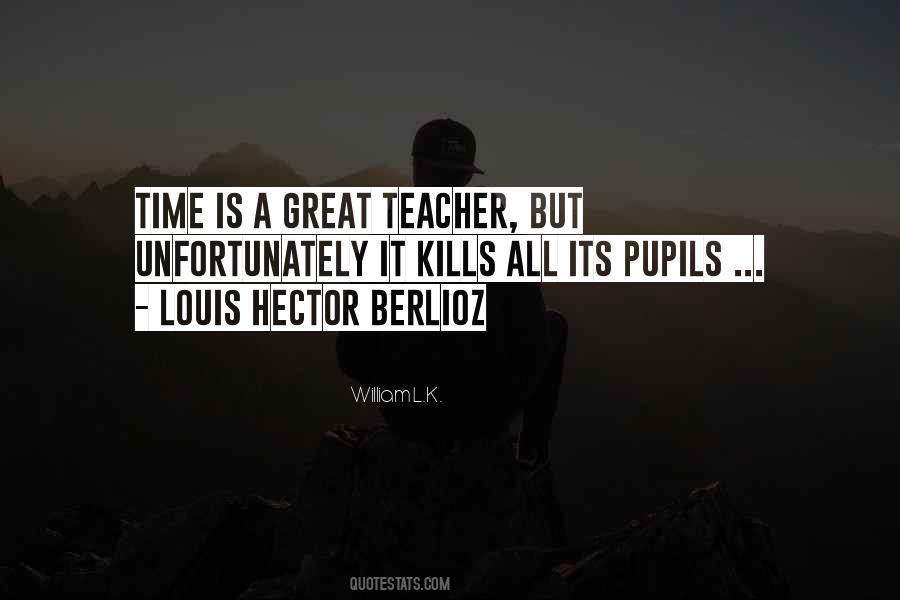 #8. Reading fiction - excerpts from National Book Award finalists, winners of the Pen/O. Henry Prize for short stories, or even Amazon bestsellers - has been shown to enhance theory of mind: - Author: Margaret Heffernan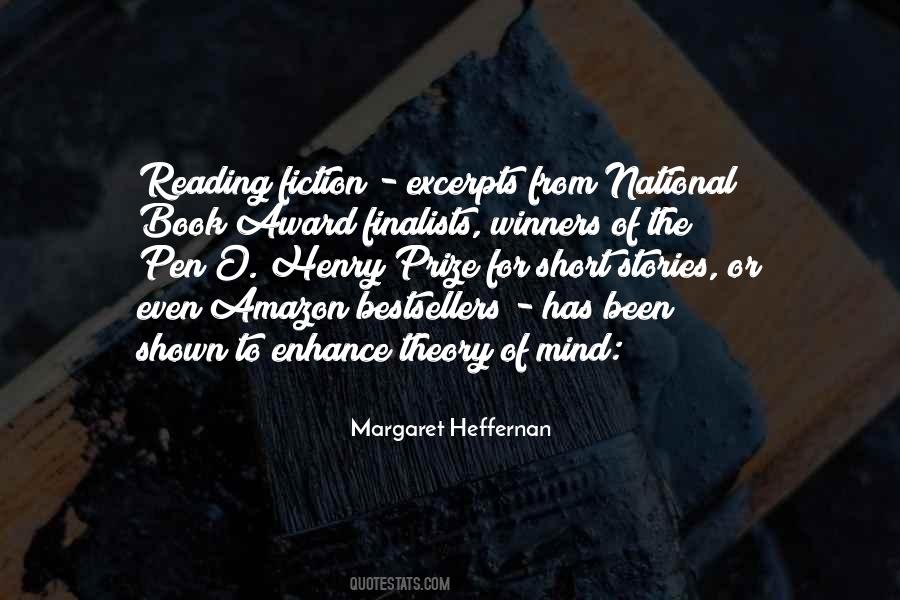 #9. You were alive for such a short time and then you went back into the great silence. The only ones who didn't vanish were the artists. While you were reading their words and looking at their pictures they were still alive, and you shared some of their life too. - Author: Kate Grenville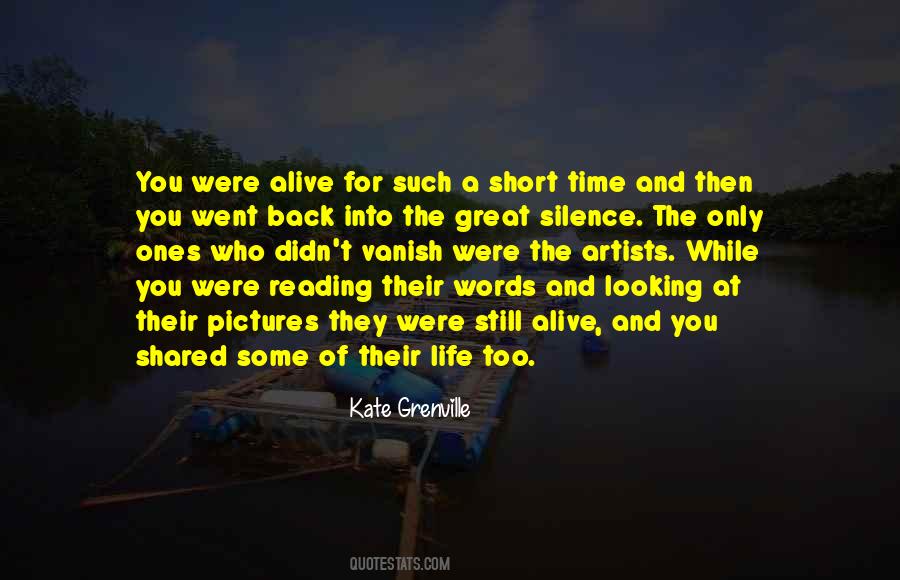 #10. I love fiction. I like reading short stories. Cupcakes, pop songs, Polaroids, and short stories. They all raise and answer questions in a short space. I like Lorrie Moore. Amy Hempel. Tim O'Brien. Raymond Carver. All the heartbreakers. - Author: Laurel Nakadate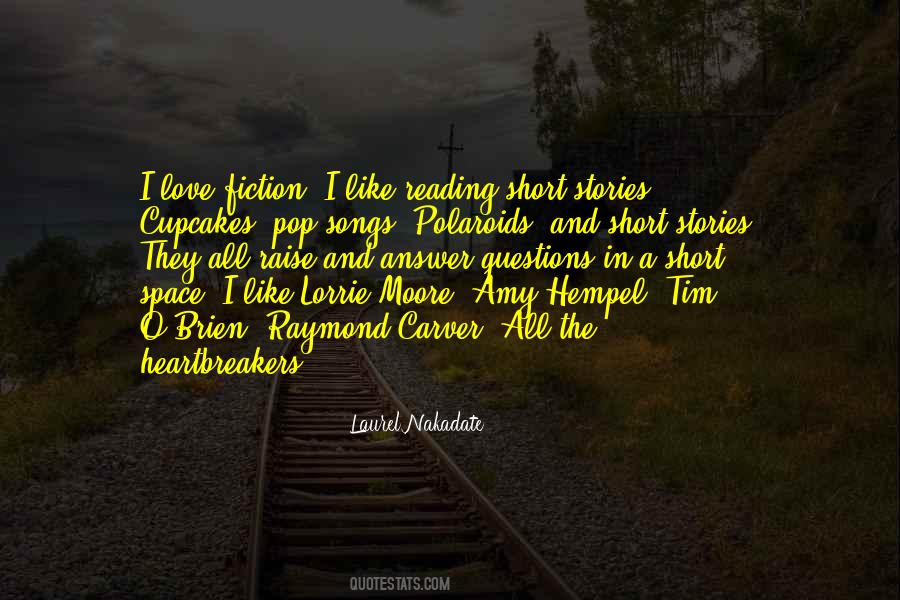 #11. Love does not choose belief, place, time, situations, or race. love happens between two souls. - Author: Haidji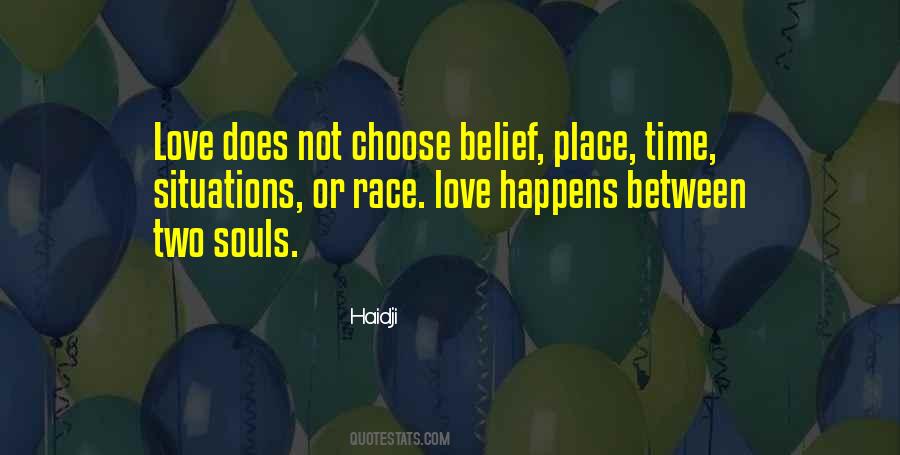 #12. Intelligence is attractive, but so is life experience. You can't amass it just by reading a ton of books. But you can live a lot of life in a short time. Travel. Talk to everyone. Collect adventures, and use them to understand the world. That's how you learn to treat people well. And that's sexy. - Author: Nicole Lapin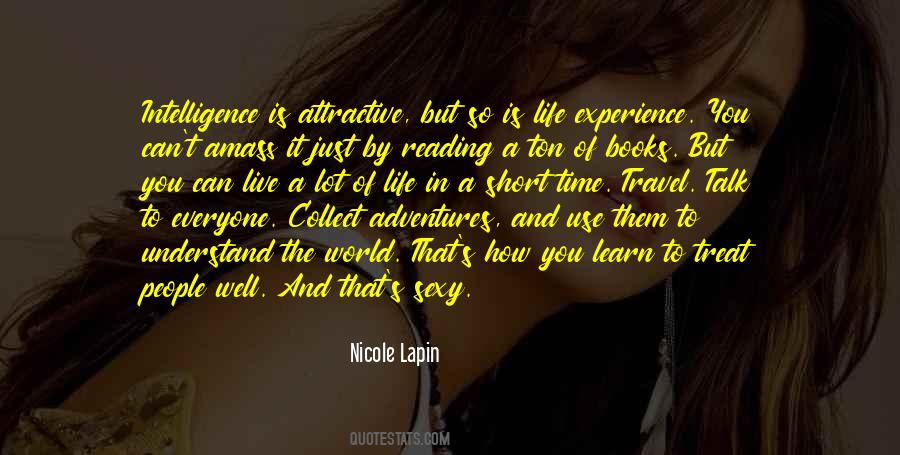 #13. In short, we can only learn from our "betters". - Author: Mortimer J. Adler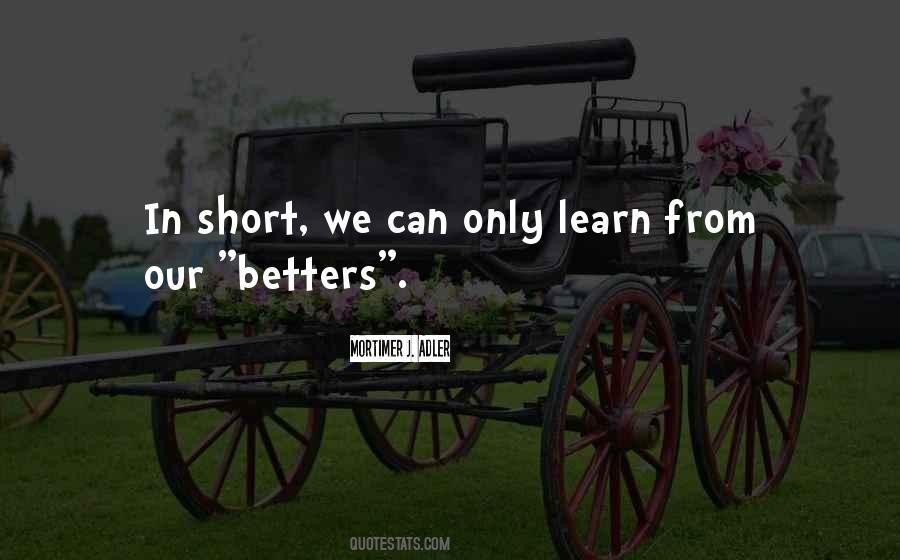 #14. A writer is first of all a reader. It is from reading that I derive the standards by which I measure my own work and according to which I fall lamentably short. - Author: Susan Sontag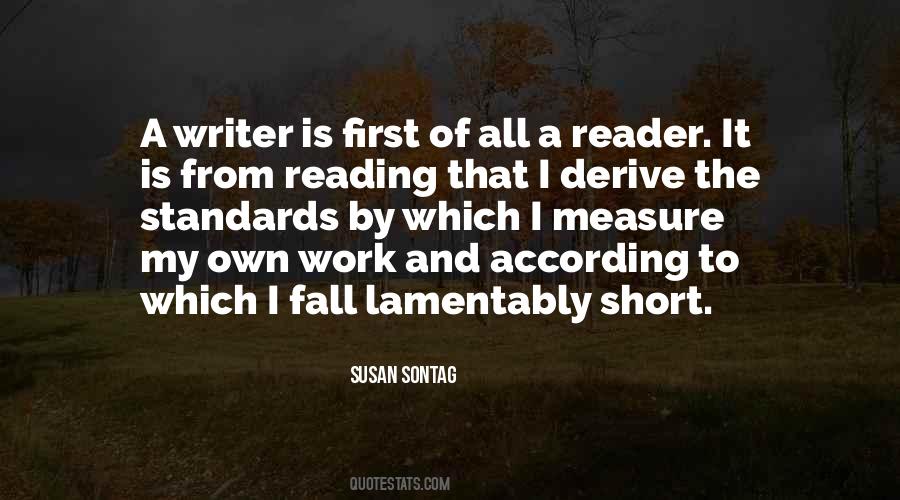 #15. I'm willing to show good taste, if I can, in somebody else's living room, but our reading life is too short for a writer to be in any way polite. Since his words enter into another's brain in silence and intimacy, he should be as honest and explicit as we are with ourselves. - Author: John Updike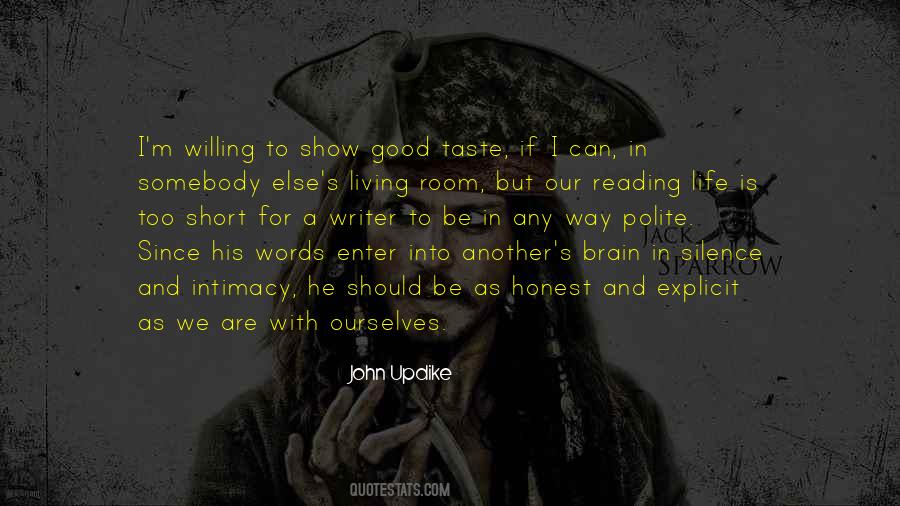 #16. Reading a book, and taking the time to ruminate and make inferences and engage the imaginational processing, is more cognitively enriching, without a doubt, than the short little bits that you might get if you're into the 30-second digital mode. - Author: Ken Pugh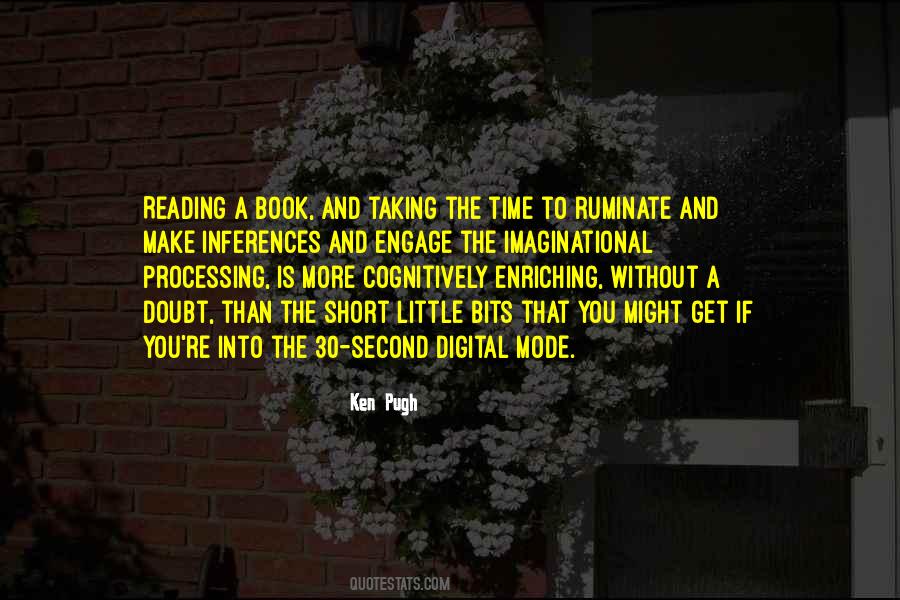 #17. I do not write for the reader to come, but for him who is here, short of reading the text on my shoulder. - Author: Mario Benedetti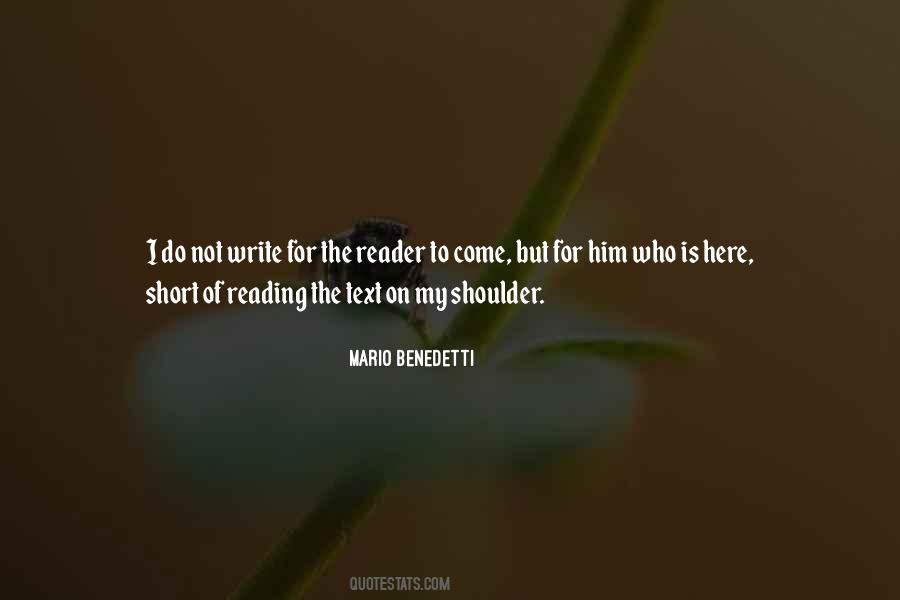 #18. Not only are we reading life code, we're beginning to copy it through cloning, and we're beginning to write, and in the measure that we do that, boy, you can build a lot of very powerful companies in a short period of time. - Author: Juan Enriquez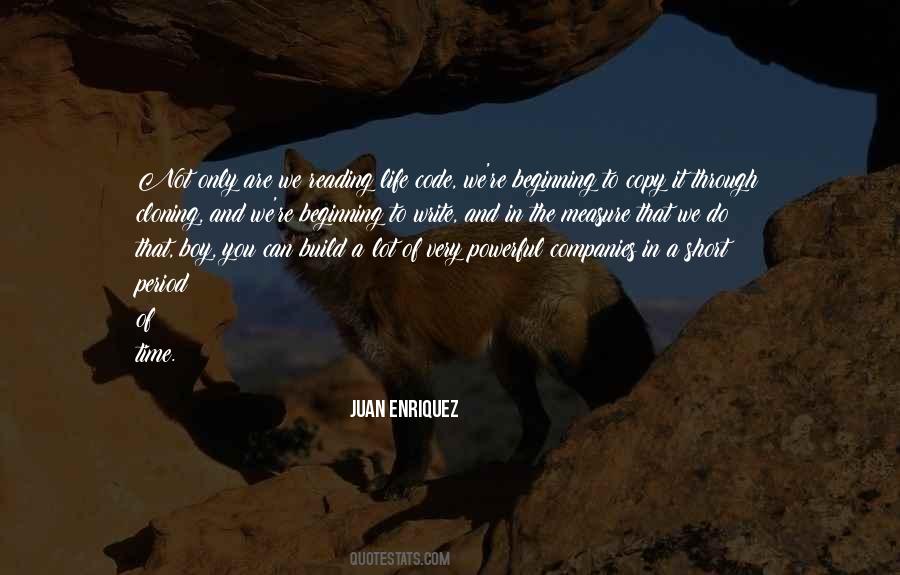 #19. Short stories are often strong meat. Reading them, even listening to them, can be challenging, by which I do not mean hard work, simply that a certain amount of nerve and maturity is required. - Author: Sarah Hall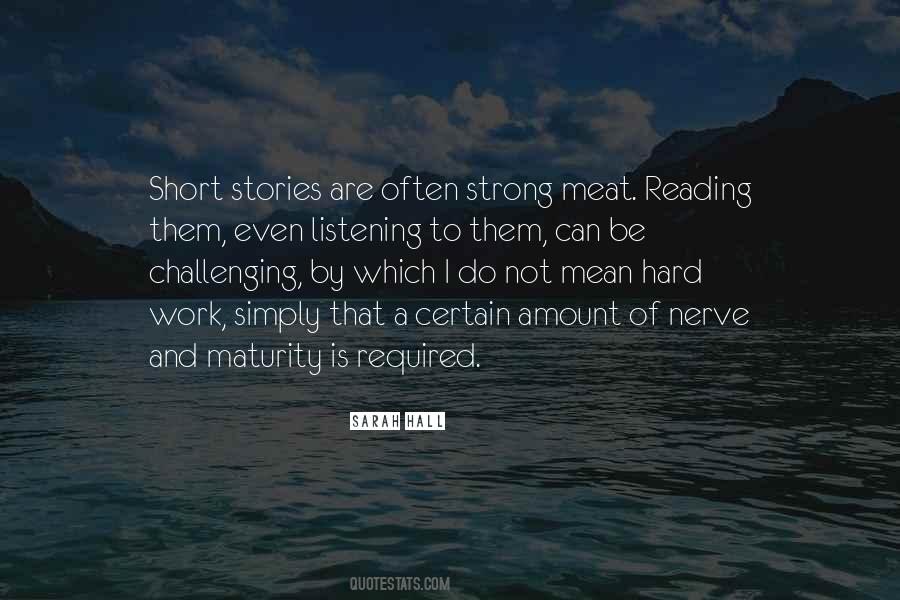 #20. I read usually in the morning, in my kitchen at breakfast - a short reading time, usually poetry. I read in bed every night. I usually get in bed pretty early with a book, and I read until I can't prop my eyes open anymore - sometimes rather late. - Author: Sue Monk Kidd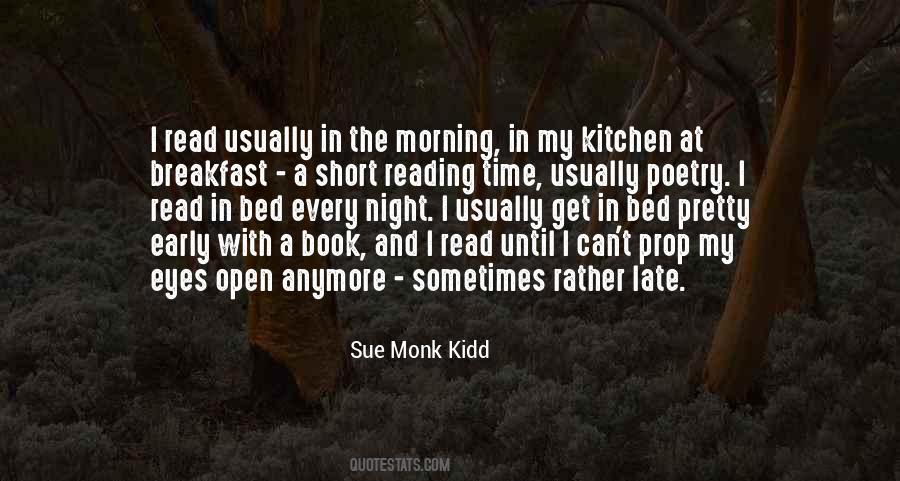 #21. Life is too short to read books that I'm not enjoying. - Author: Melissa Marr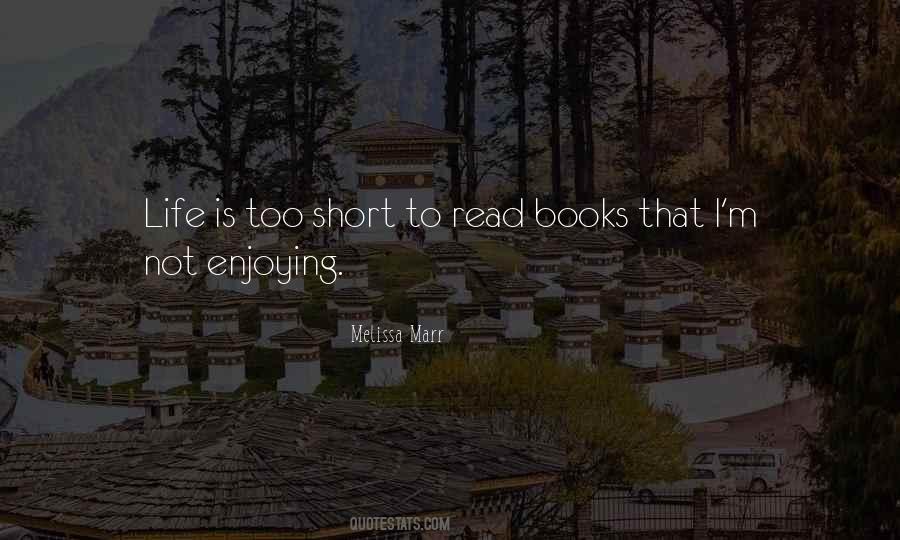 #22. I've always loved short stories. Even before I was a writer, I was reading short stories - there were certain writers where I just felt like they could do in a short story what so many writers needed a whole novel to do, and that was really inspiring to me. - Author: Molly Antopol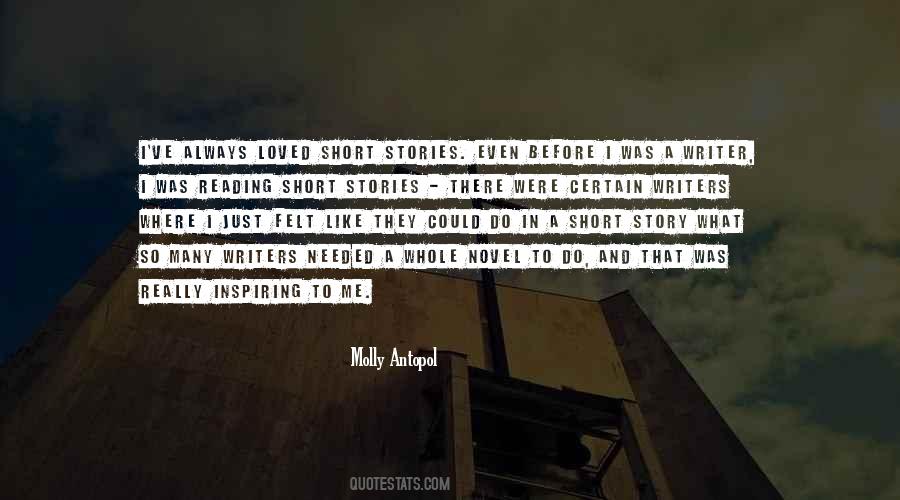 #23. I don't read the papers; I stopped reading the papers. I read the papers only during periods of crisis, and I think papers are too long on a regular day and too short days when we have a crisis. - Author: Nassim Nicholas Taleb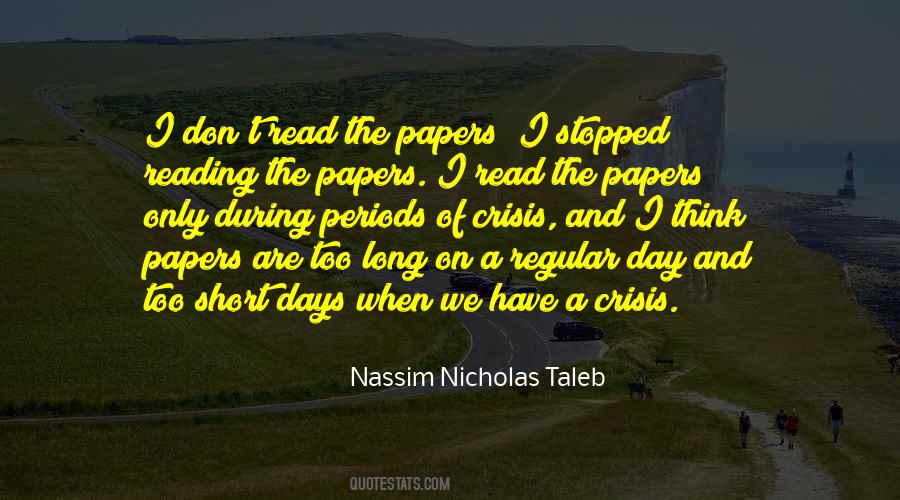 #24. The cool thing about reading is that when you read a short story or you read something that takes your mind and expands where your thoughts can go, that's powerful. - Author: Taylor Swift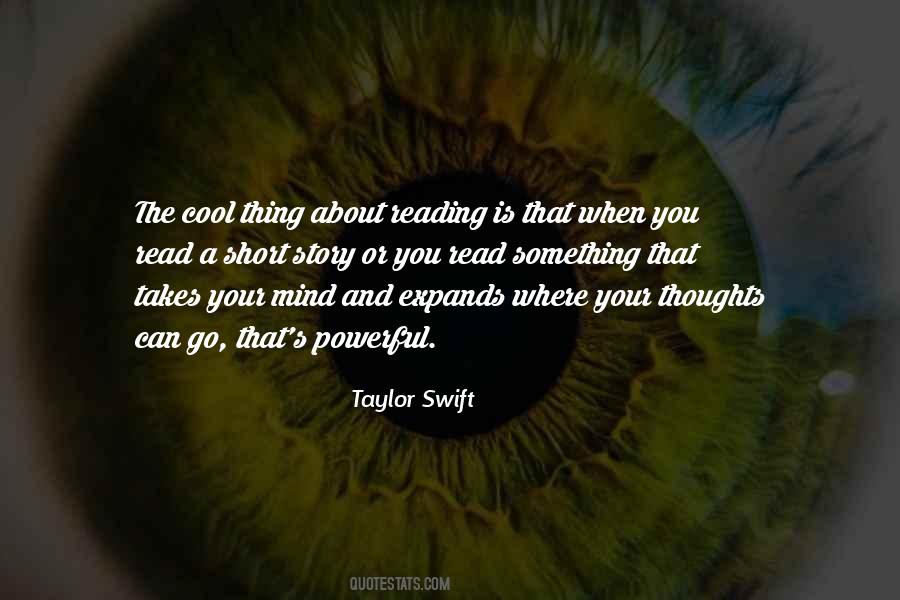 #25. I was well traveled, and I created this illusion of literacy through reading and writing. I wrote a book of short stories. - Author: Tom T. Hall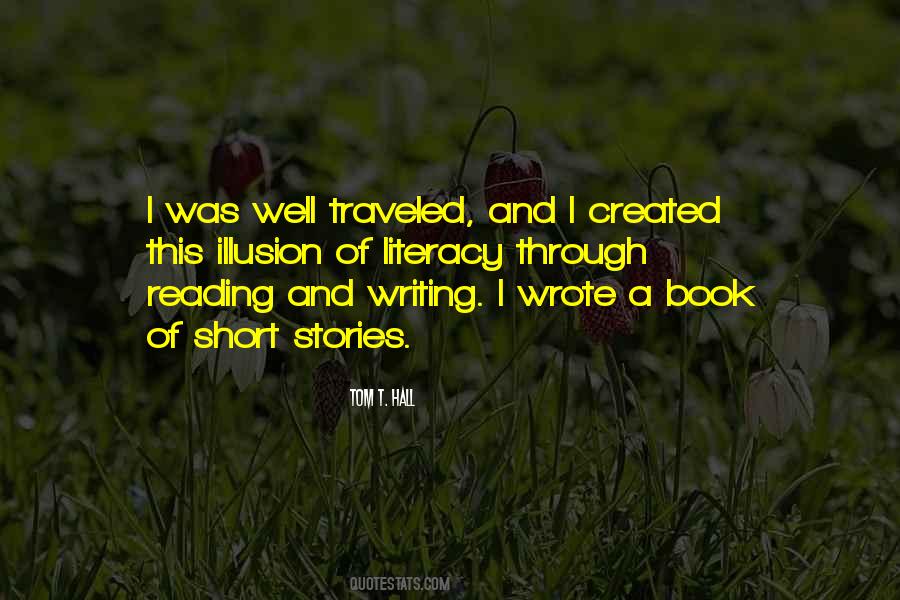 #26. I can't be reading novels when I'm writing a novel, because somebody's voice creeps in. The hardest thing to do is keep the tone and your attitude over the course of a year or however long it takes.But when I'm writing short stories, which I will be doing shortly, I can read anything I like. - Author: T.C. Boyle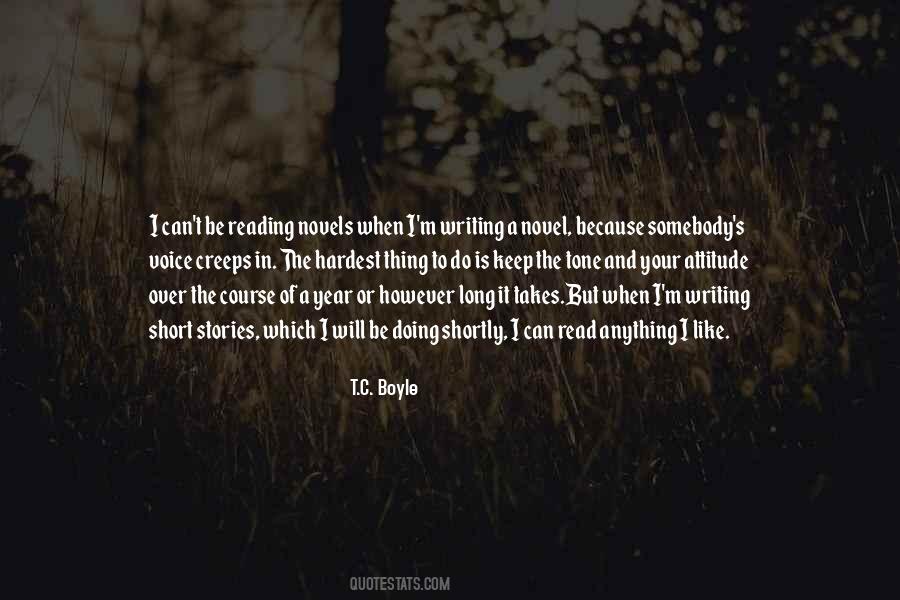 #27. Life is too short to be reading shitty books. - Author: Unknown Author 386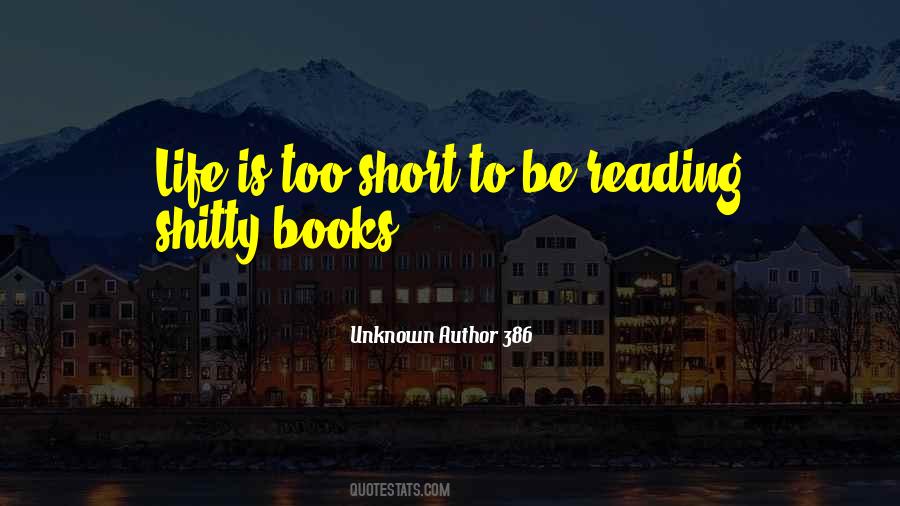 #28. In short, our gentleman became so caught up in reading that he spent his nights reading from dusk till dawn and his days reading from sunrise to sunset, and so with too little sleep and too much reading his brains dried up, causing him to lose his mind. - Author: Edith Grossman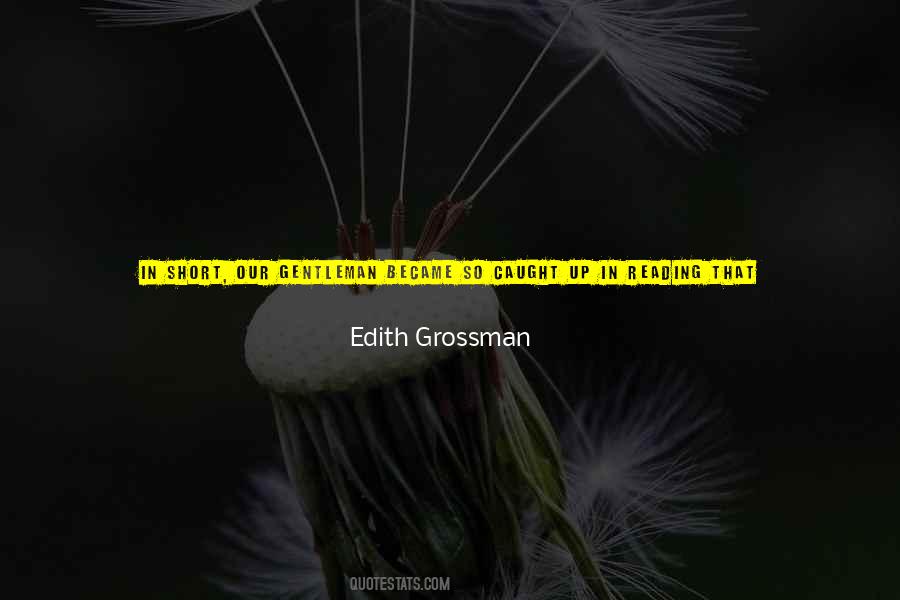 #29. If you are dyslexic, your eyes work fine, your brain works fine, but there is a little short circuit in the wire that goes between the eye and the brain. Reading is not a fluid process. - Author: Caitlyn Jenner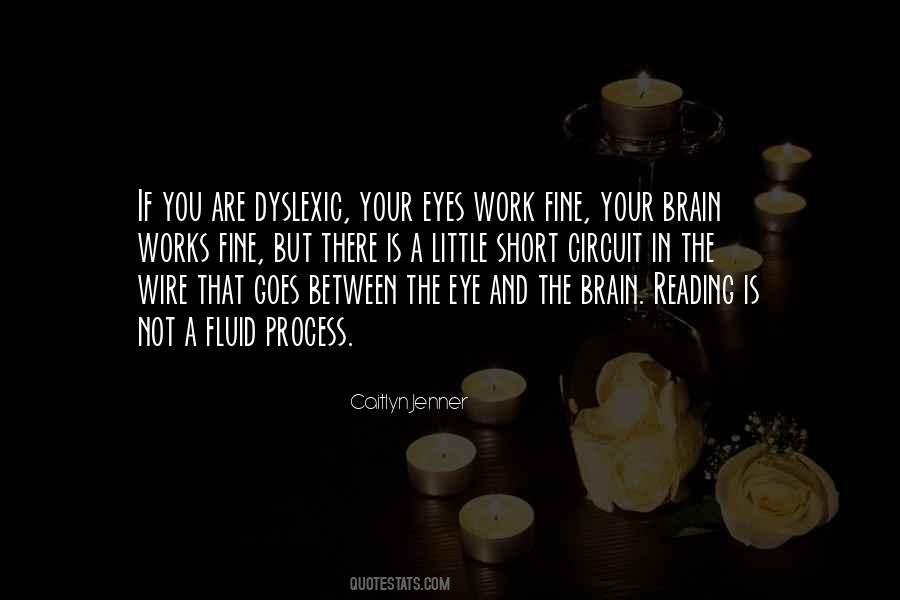 #30. Life is too short to waste your time with bad books. - Author: Michael Kruger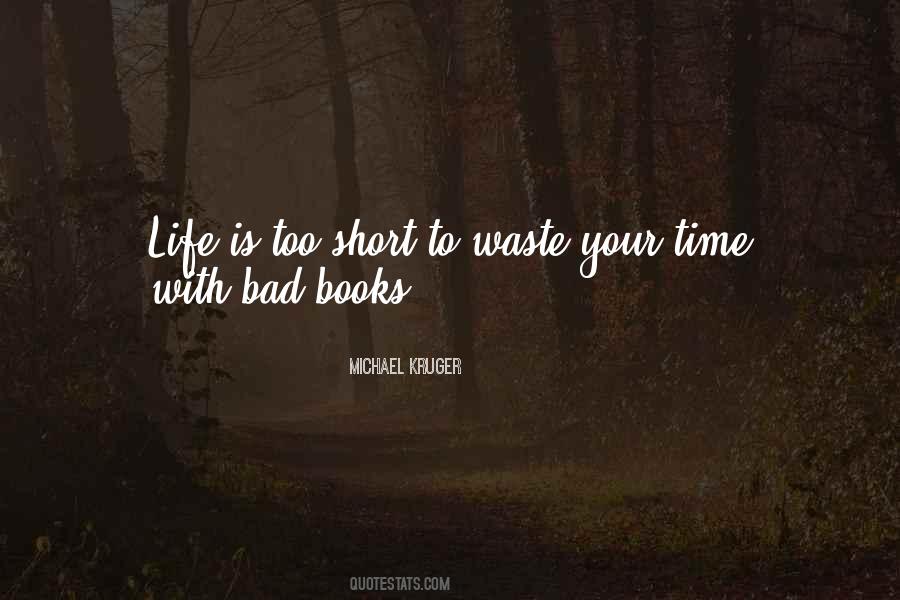 #31. I've heard people speak of themselves as addicted to reading, but I think those people never stole from their family so they could afford this month's serial, or sucked off a sailor for a new book of short stories. - Author: Daniel Polansky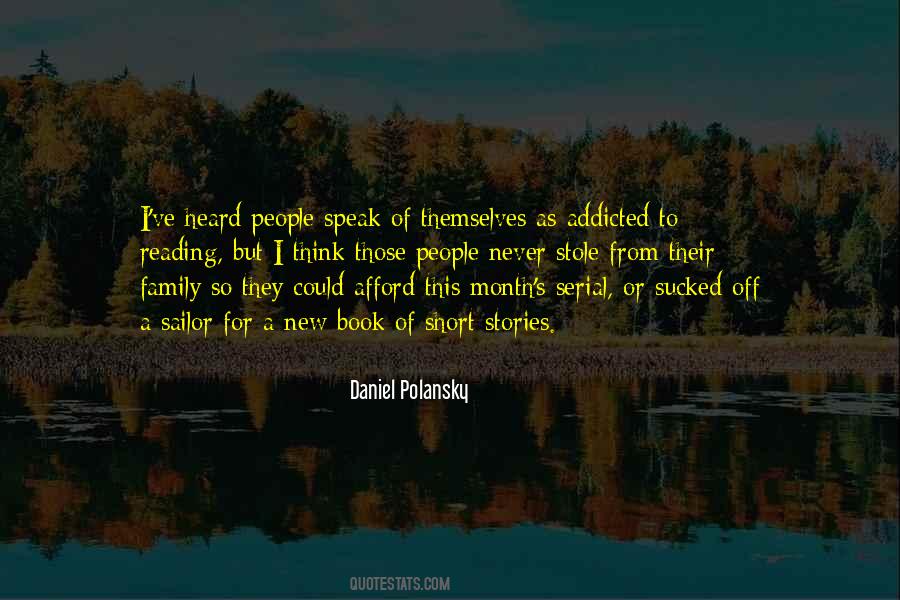 #32. Read a short story every day. - Author: Lailah Gifty Akita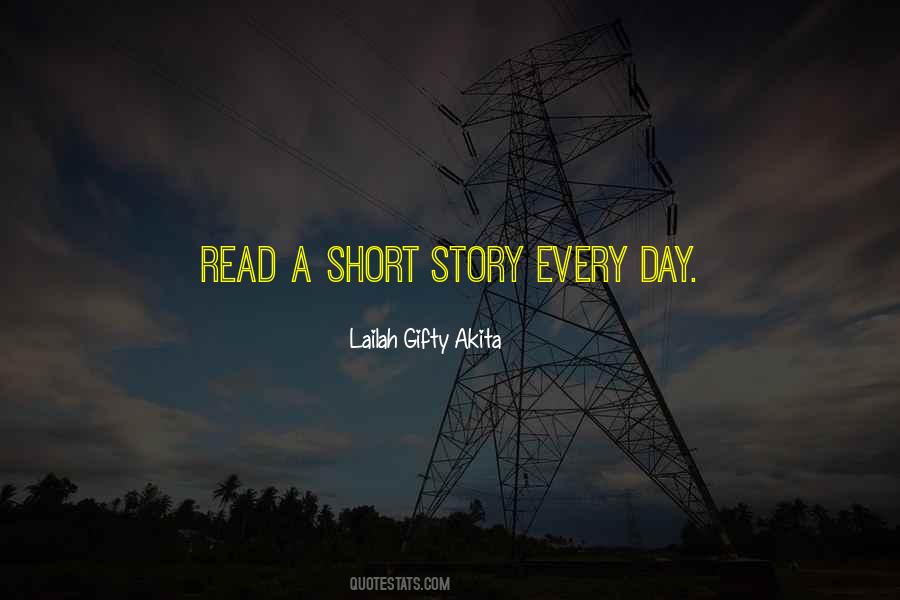 #33. I don't have a lot of time. I can give a poem a couple of lines, a short story a paragraph, and a novel a few pages, then if I can stop reading without a sense of loss, I do, and I go on to something else. - Author: Flannery O'Connor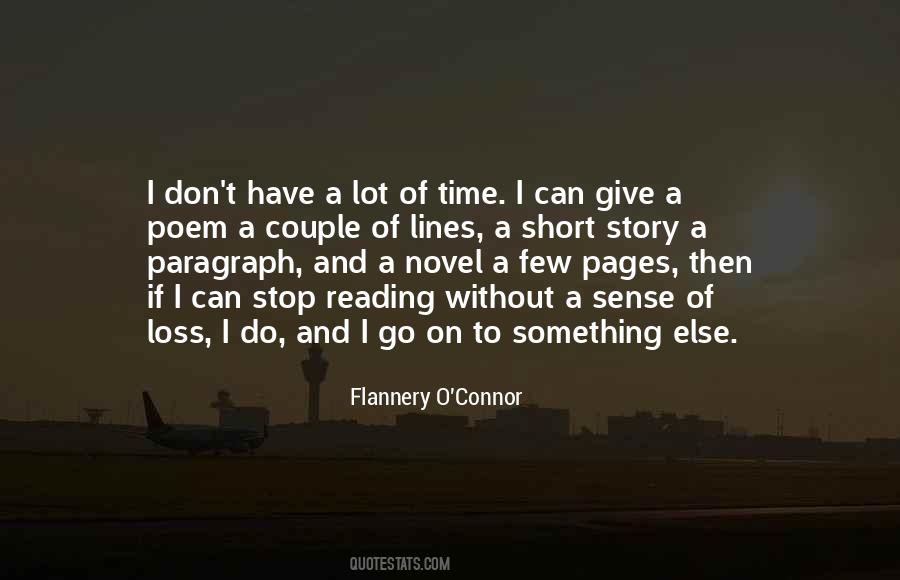 #34. Given that life is so short, do I really want to spend one-ninetieth of my remaining days on earth reading Edward Gibbon? - Author: Elizabeth Gilbert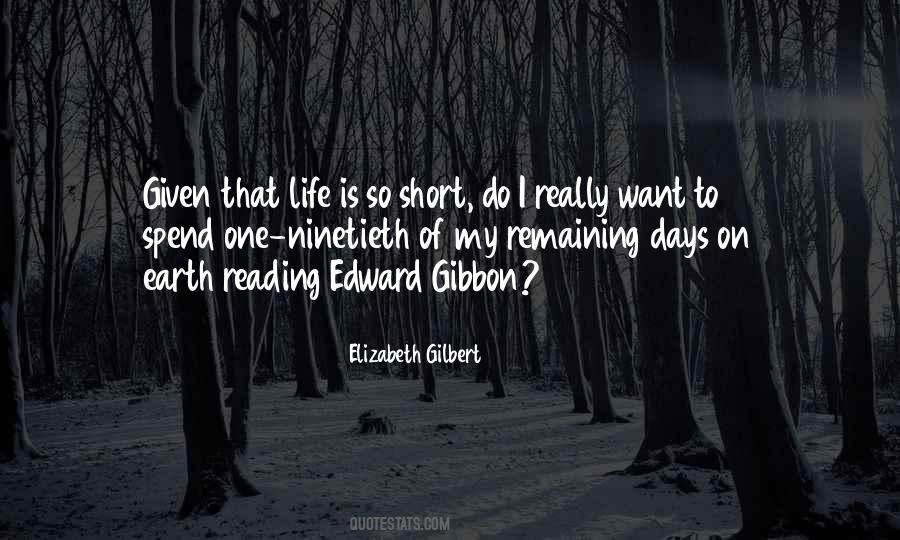 #35. The stories in Get In Trouble confirm once again that Kelly Link is a modern virtuoso of the form-playful and subversive required reading for anyone who loves short fiction. - Author: Jeff VanderMeer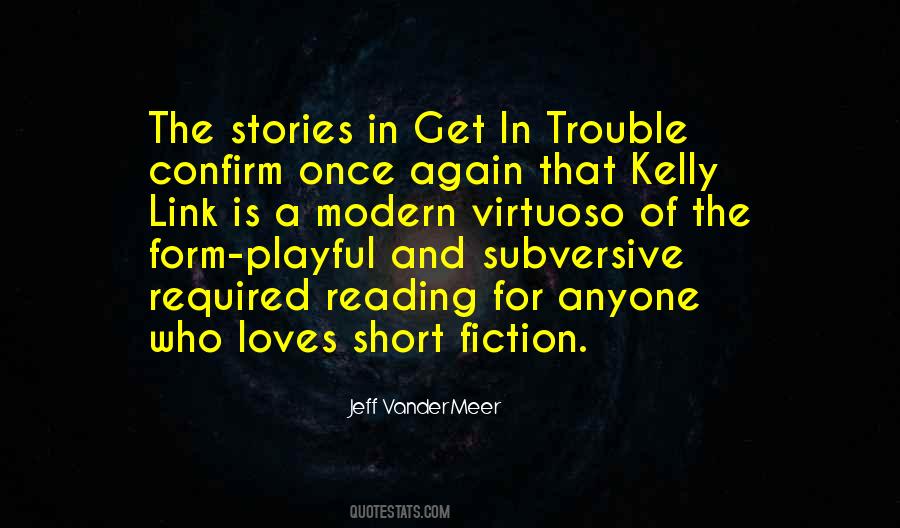 #36. Life is too short for reading inferior books. - Author: James Bryce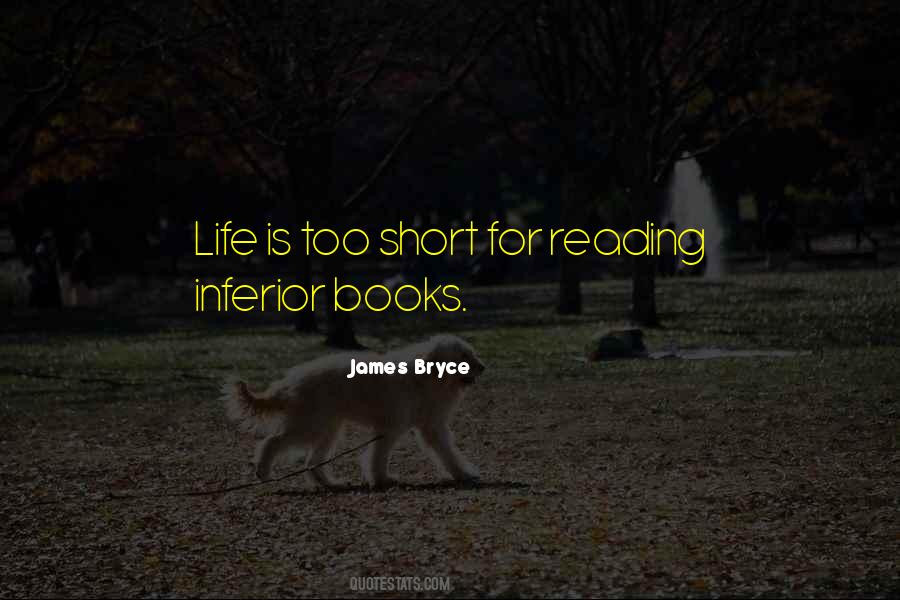 #37. I used to take my short stories to girls' homes and read them to them. Can you imagine the reaction reading a short story to a girl instead of pawing her? - Author: Ray Bradbury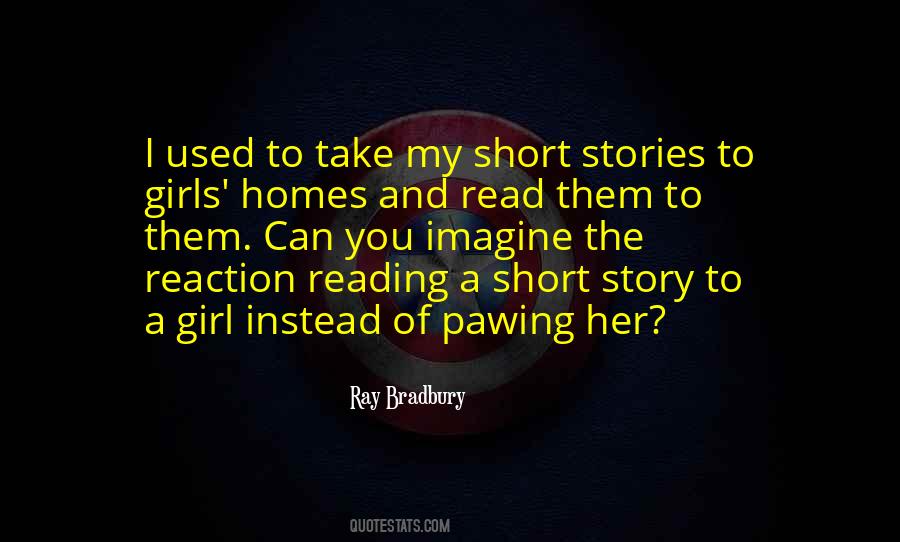 #38. The Snow Leopard's Tale is mesmeric. Tom McIntyre has compressed so many things into so few pages that I can think of only a few other short books that can compare. It was worth the wait for all of us who look forward to reading anything with his name under the title. - Author: John Barsness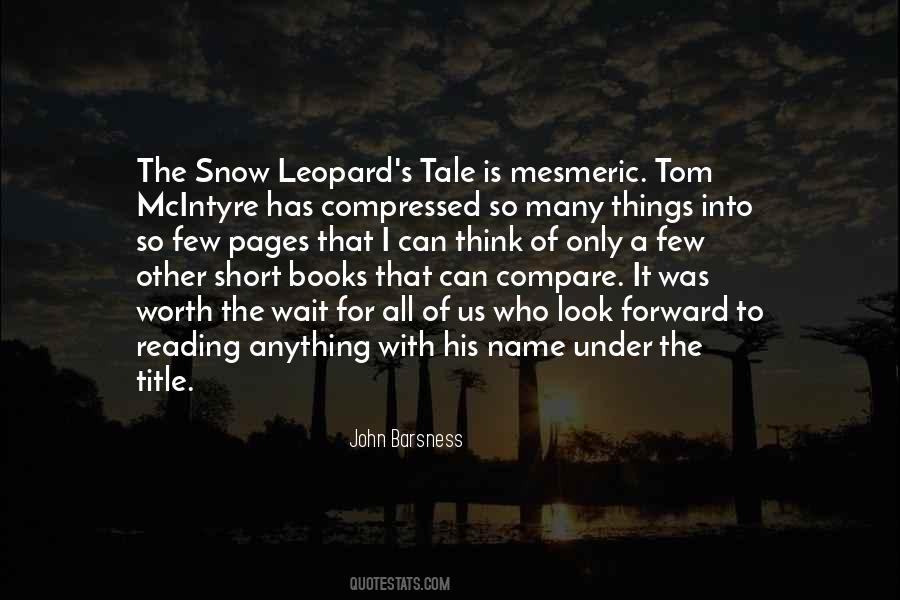 #39. In 1970, at the age of 14, I entered a short story contest offering a grand prize of one dollar. I won. This was my first foray into writing fiction. I loved reading and thought that it shouldn't be so hard to write a story. - Author: David Bergen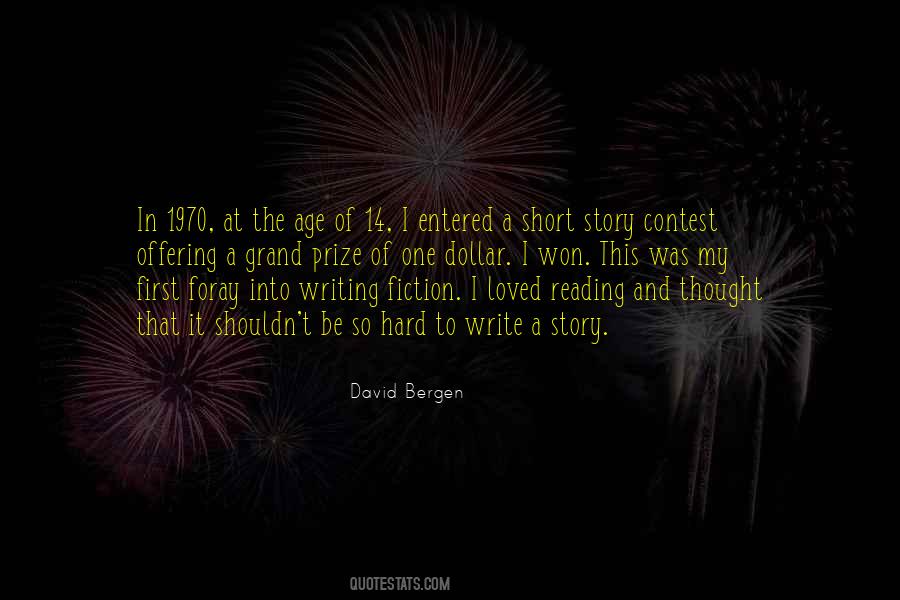 #40. These people were smiling because they were where they wanted to be. They understood that life is too short for what-ifs and complications. Life, they found, can be as simple as reading the wind. - Author: Brad Herzog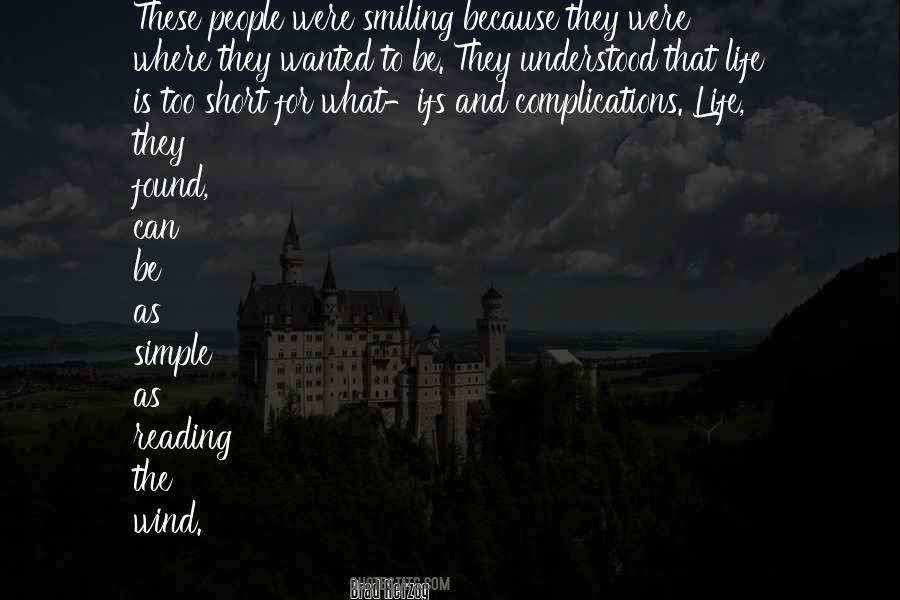 #41. If you've got short, stubby fingers and wear reading glasses, any relaxation you would normally derive from fly fishing is completely eliminated when you try to tie on a fly. - Author: Jack Ohman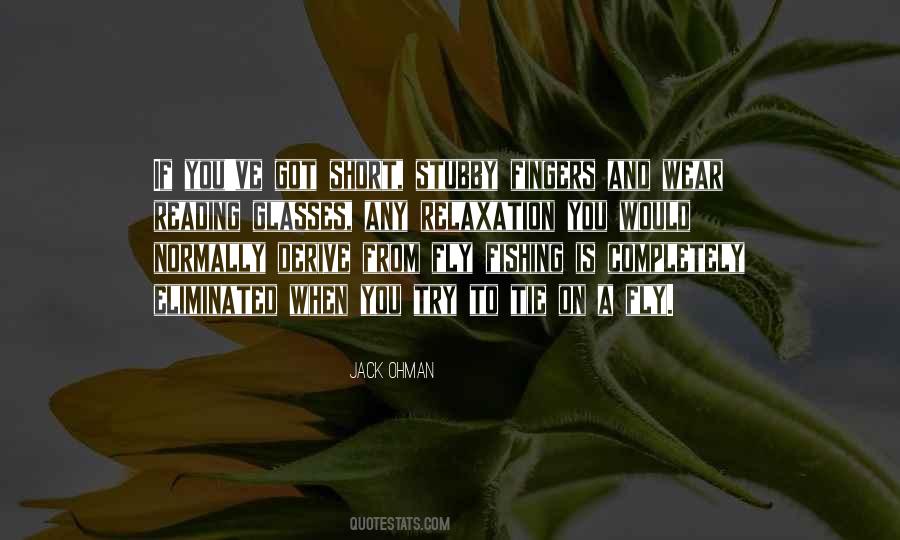 #42. Life being very short, and the quiet hours of it few, we ought to waste none of them in reading valueless books. - Author: John Ruskin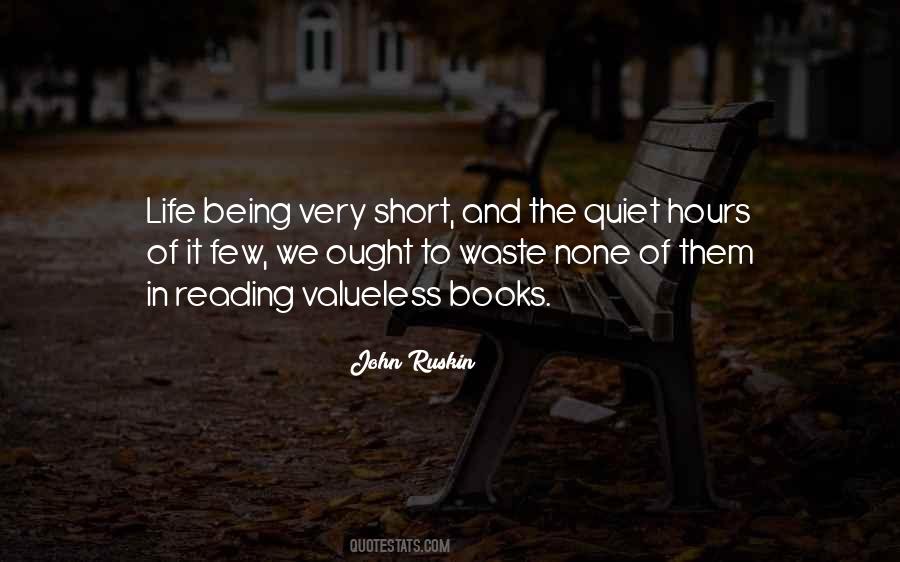 #43. Life is short, but art is long. Sophocles is dead, but Oedipus lives on ... Each of us when we read a great piece of literature is a little more human than befor - Author: James W. Sire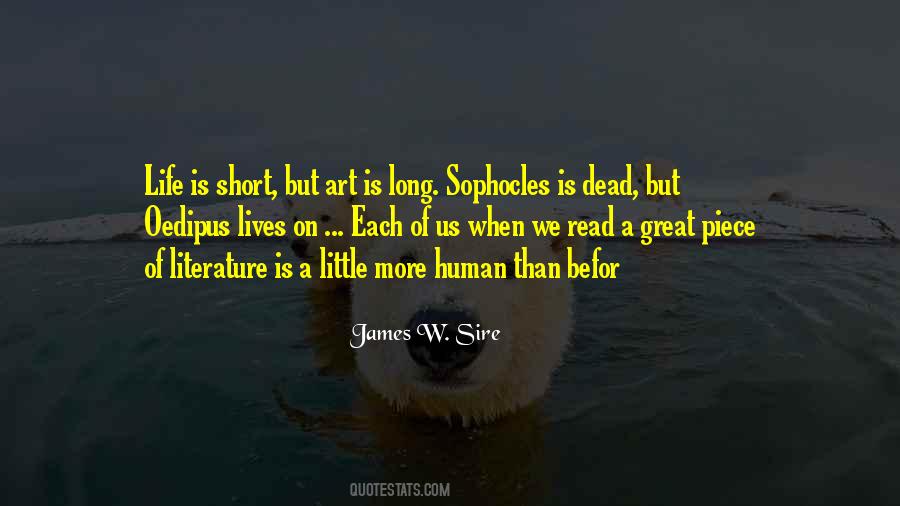 #44. Travel stories teach geography; insect stories lead the child into natural science; and so on. The teacher, in short, can use reading to introduce her pupils to the most varied subjects; and the moment they have been thus started, they can go on to any limit guided by the single passion for reading. - Author: Maria Montessori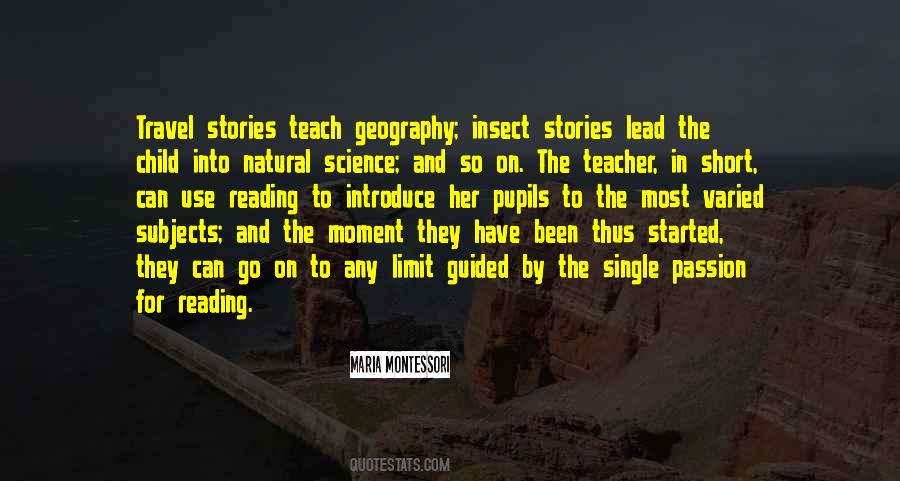 #45. The celebrity aspect is nothing short of ridiculous, and auditioning is brutal and dehumanizing. Every time I see a pretty young girl on the subway reading sides for an audition, my only thought is, 'Man, am I glad I'm not doing that anymore.' I never feel nostalgia, just relief. - Author: Mara Wilson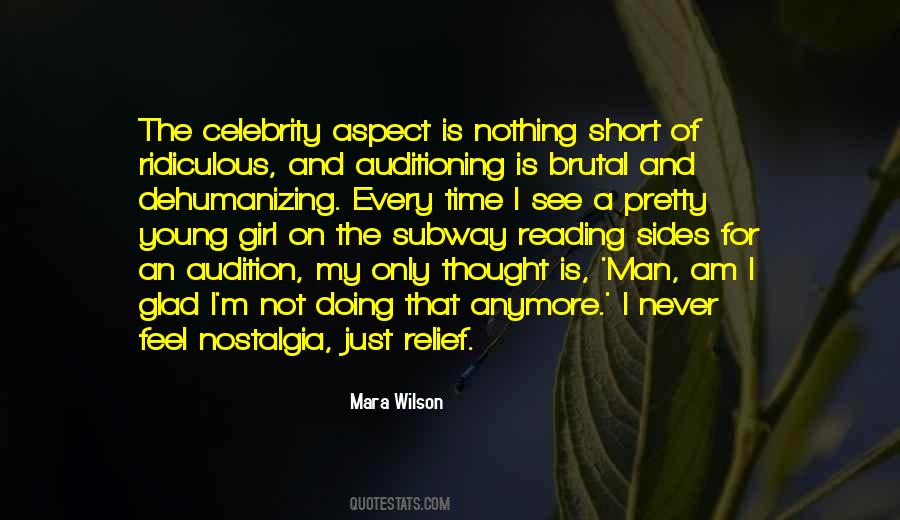 #46. A good [short story] would take me out of myself and then stuff me back in, outsized, now, and uneasy with the fit. - Author: David Sedaris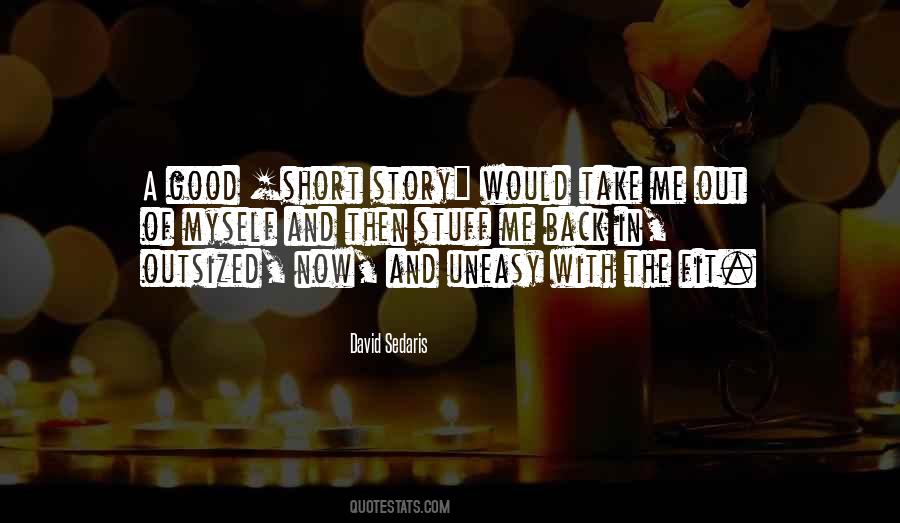 #47. It should be possible to exist with only a short shelf of books, to read and give away. After all - we may not open a book, once read, for ten years or more. But the act of reading has made it part of us - to relinquish it would be to lose an extension of our being. - Author: Pam Brown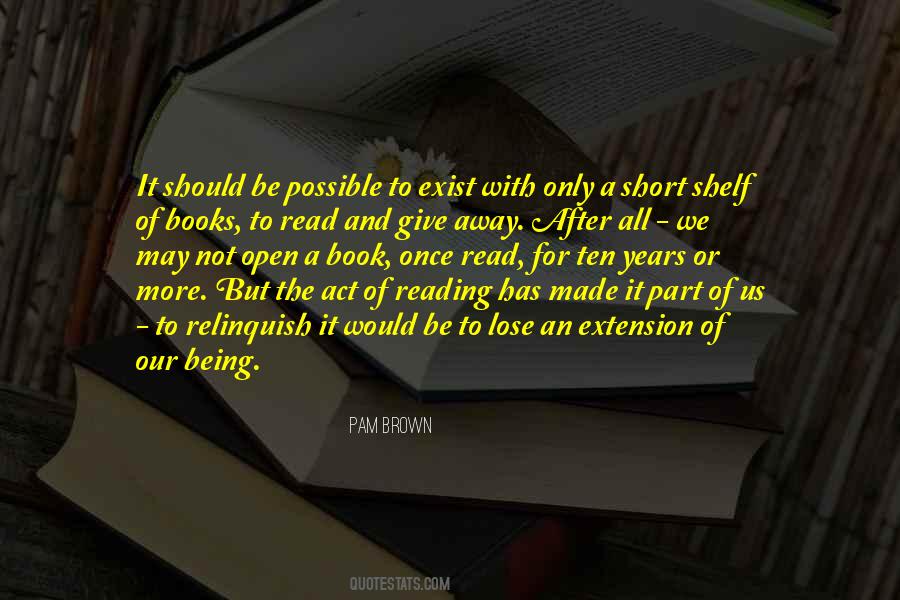 #48. We get so many people saying short fiction is not economical, that it doesn't sell; but there are so many of us enjoying writing it and reading it. So it's wonderful to be around people who love short fiction too - it's like hanging around with my tribe. - Author: Junot Diaz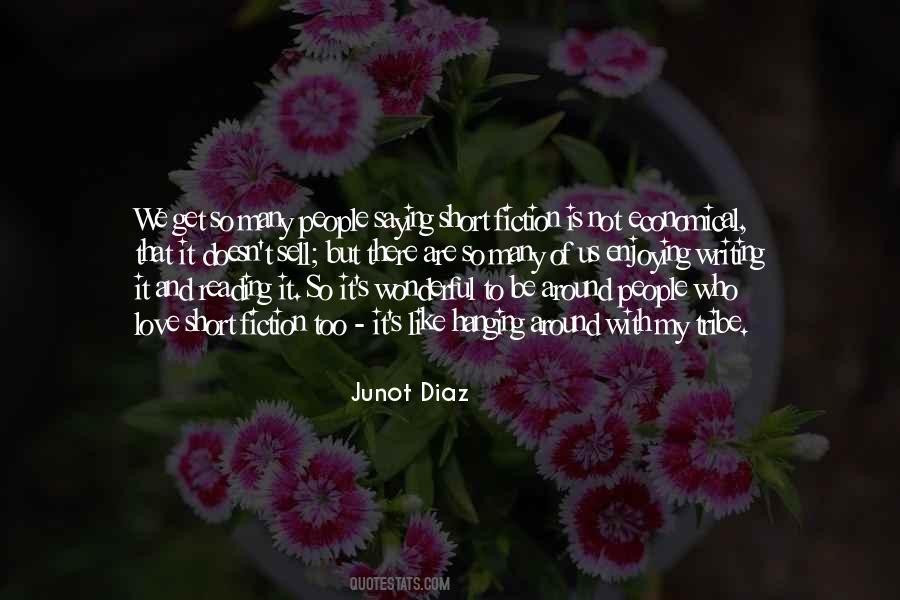 #49. A practical problem can only be solved by action itself. When your practical problem is how to earn a living, a book on how to make friends and influence people cannot solve it, though it may suggest things to do. Nothing short of the doing solves the problem. It is solved only by earning a living. - Author: Mortimer J. Adler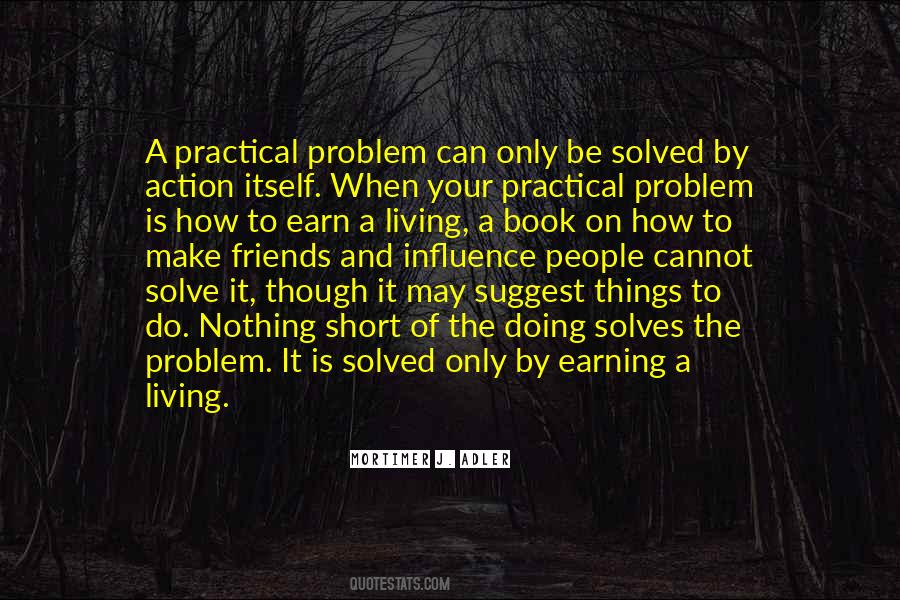 #50. READING, n. The general body of what one reads. In our country it consists, as a rule, of Indiana novels, short stories in "dialect" and humor in slang. - Author: Ambrose Bierce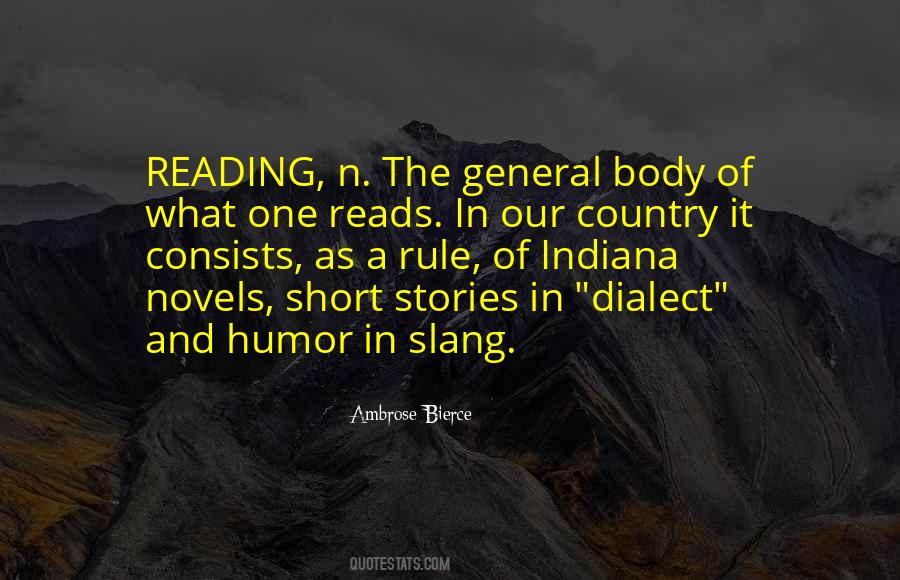 #51. Before World War II, I was living a very cloistered existence, as most cartoonists do. The work I was pouring out did not come from any real, personal life experience; this was all the residue of the accumulation of Rafael Sabatini, O. Henry, all the short-story writers that I'd been reading. - Author: Will Eisner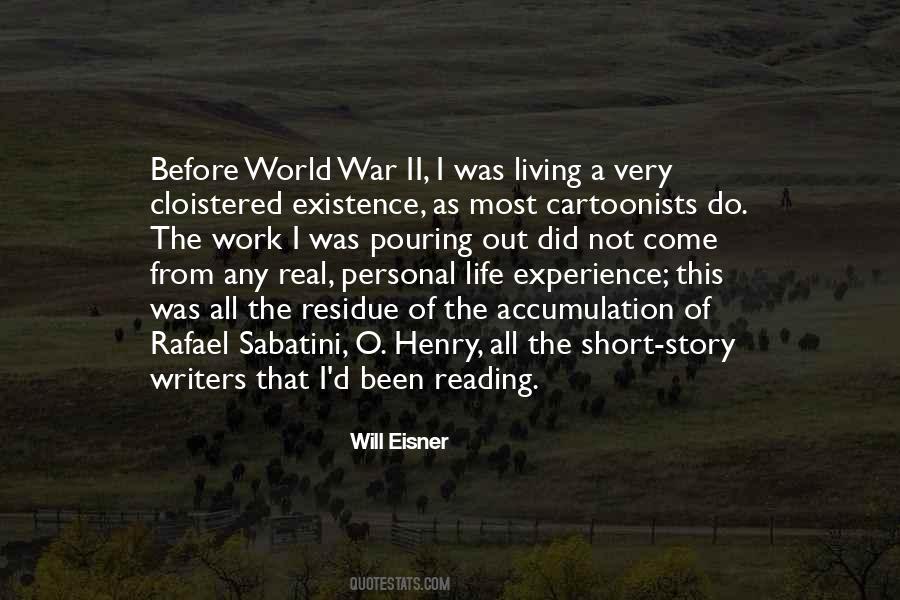 #52. Holly Barker series was a great read for me. Stuart gives short chapters and continued action all through his books. - Author: Stuart Woods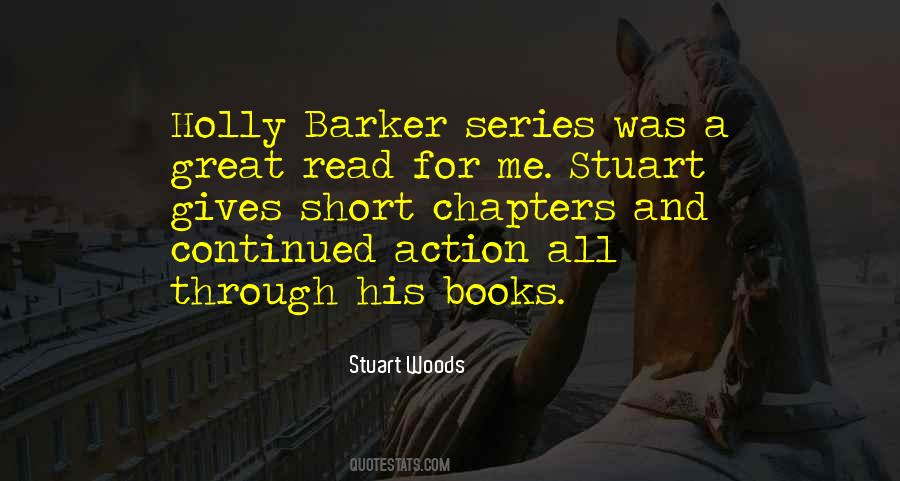 #53. V. Grant, Lord, a blessing. Benediction . May almighty God grant us a quiet night and a perfect end. Amen. Short reading 1 Pet 5:8-9 Brothers: Be sober and watch: because your adversary the devil, as a roaring lion, goeth about seeking whom he may devour. Whom resist ye, strong in faith: - Author: V. Rev. Gregory Bellarmine SSJC+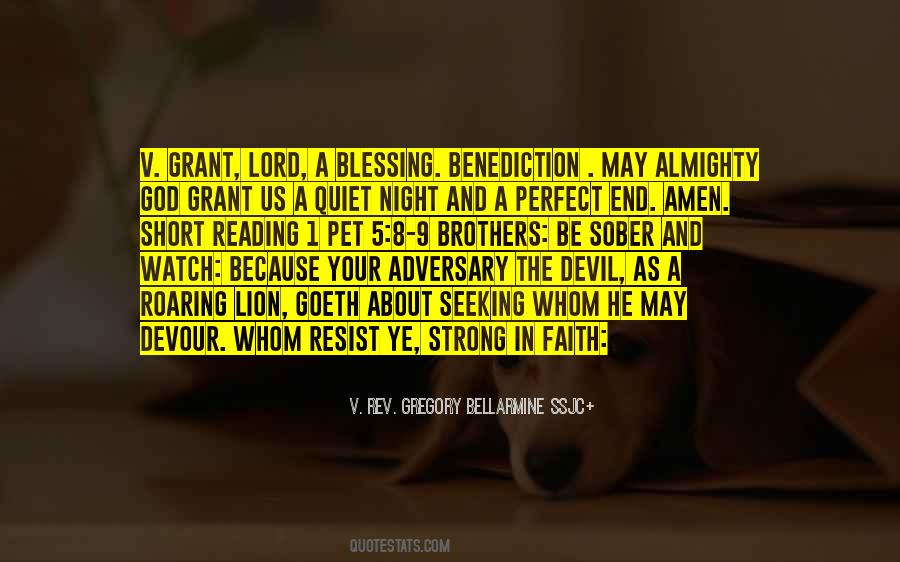 #54. When you stack up all the years we are allowed against all there is to read, time is very short indeed. - Author: Stephen King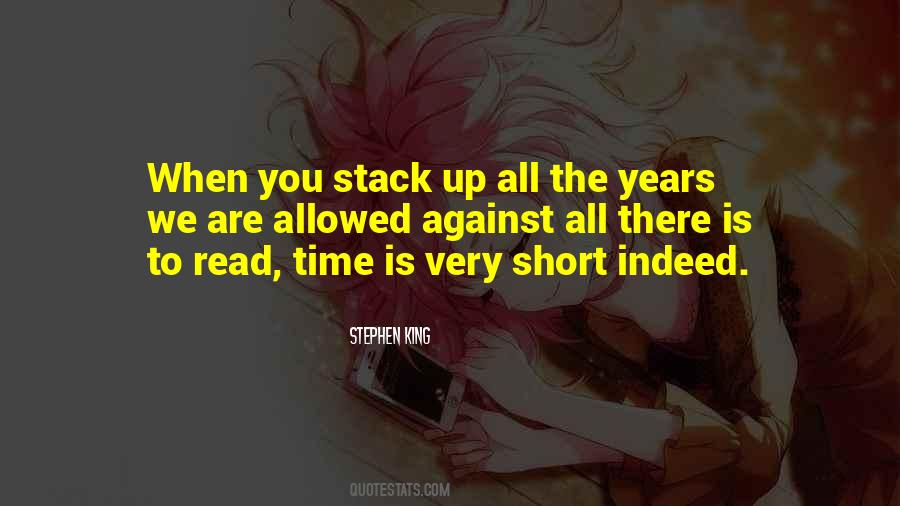 #55. There is so much to read and the days are so short! I get more hungry for knowledge every day, and less able to satisfy my hunger. - Author: George Eliot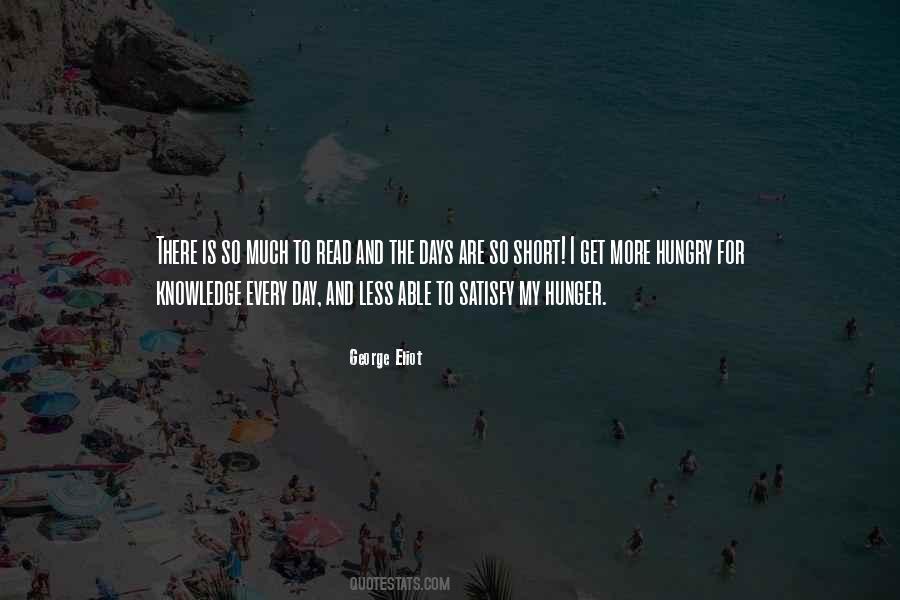 #56. Any room in our house at any time in the day was there to read in or to be read to. - Author: Eudora Welty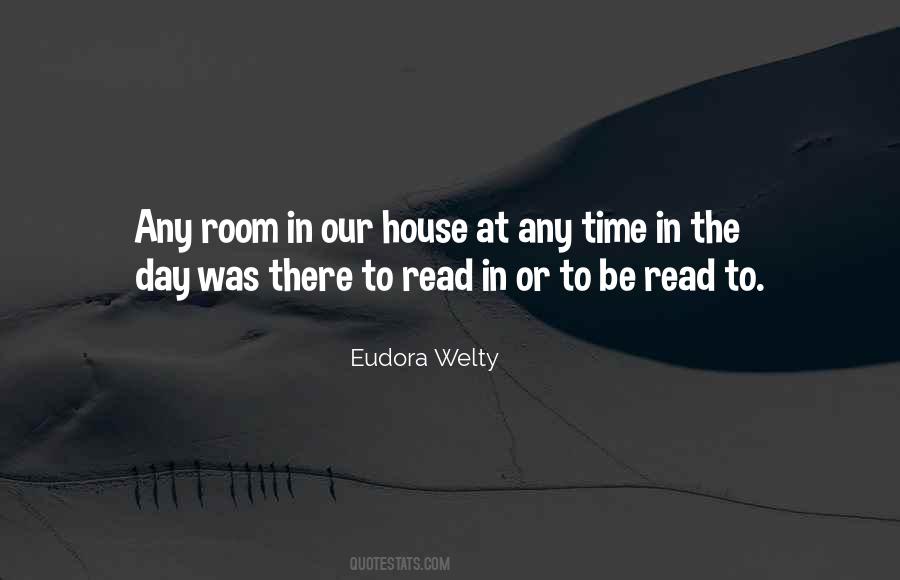 #57. In short, he became so absorbed in his books that he spent his nights from sunset to sunrise, and his days from dawn to dark, poring over them; and what with little sleep and much reading his brains got so dry that he lost his wits. - Author: Miguel De Cervantes Saavedra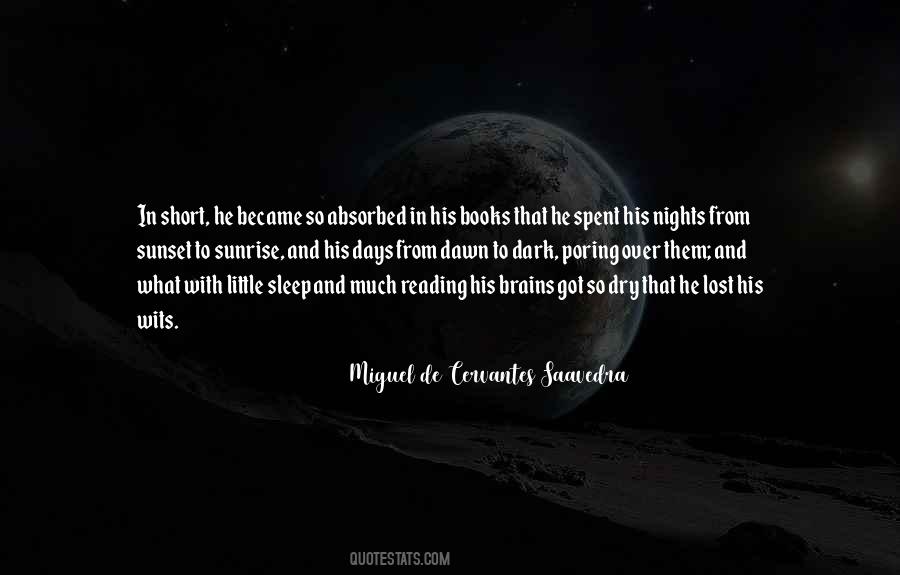 #58. Since you are my readers, and I have not been much of a traveler, I will not talk about people a thousand miles off, but come as near home as I can. As the time is short, I will leave out all the flattery, and retain all the criticism. - Author: Henry David Thoreau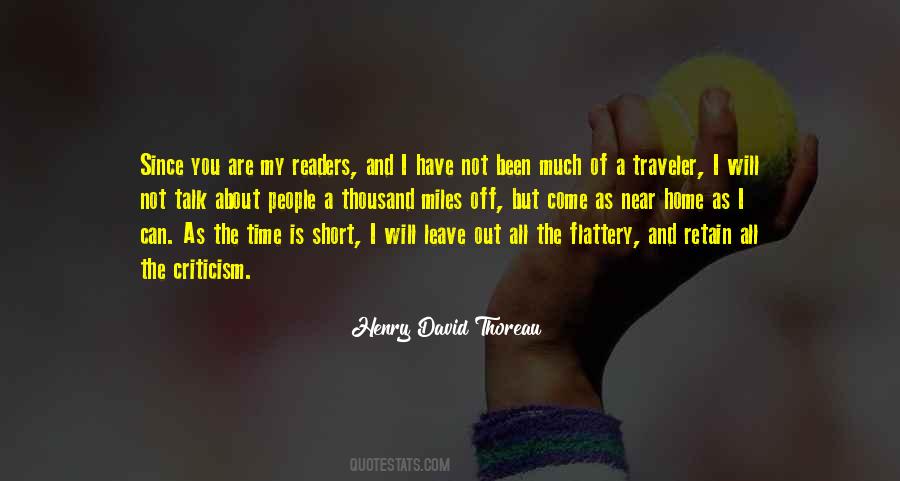 #59. Reading the e-mail was like getting an ice pick to the brain. I stared blankly at my computer, all higher mental functions short-circuited, and resisted the urge to punch the screen. - Author: Phil Klay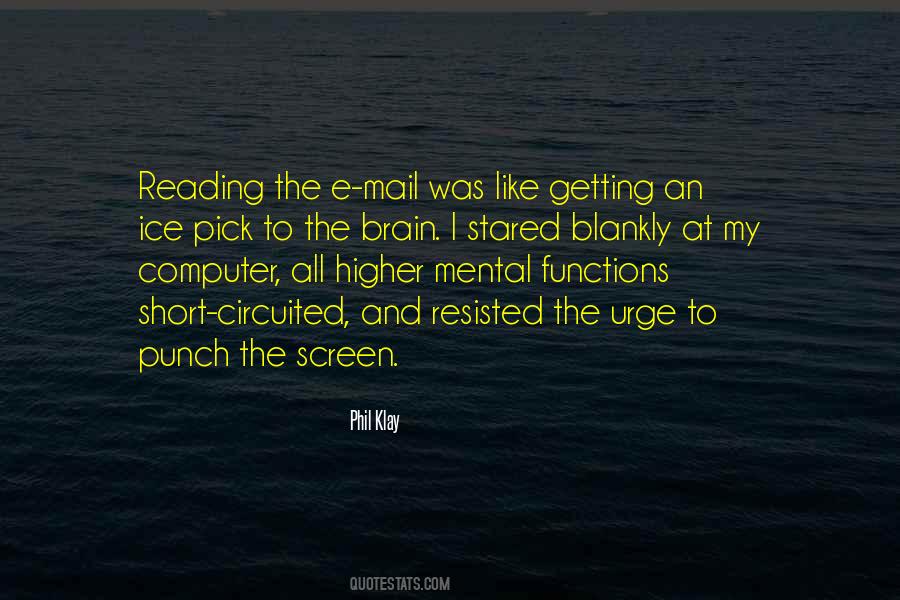 #60. And because the world is too big and time is too short and you only have one life to live, read! - Author: A.A. Patawaran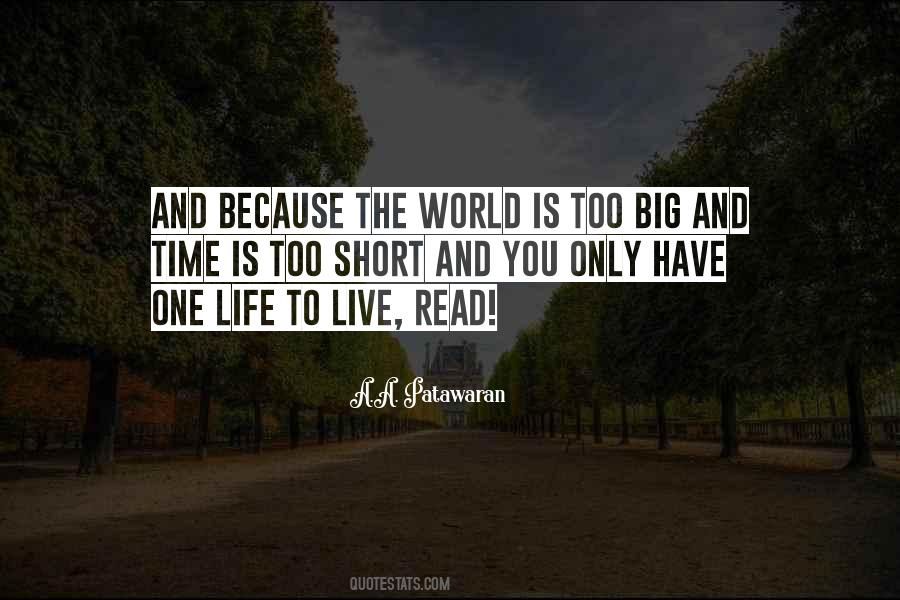 #61. Everybody should read something. Otherwise we all fall down into the pit of ignorance. Many are down there. Some people fall in it forever. Their lives mean nothing. They should not exist. (From the short story, "Charity".) - Author: Charles Baxter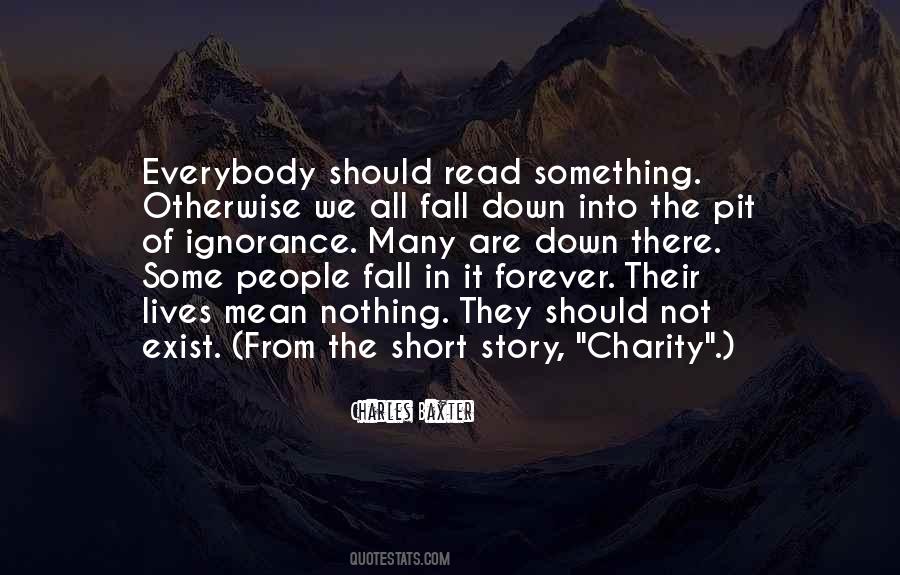 Famous Authors
Popular Topics