A Sad Life Famous Quotes & Sayings
List of top 100 famous quotes and sayings about a sad life to read and share with friends on your Facebook, Twitter, blogs.
Top 100 Sayings About A Sad Life
#1. It is sad that unless you are born a god, your life,from its very beginning, is a mystery to you. - Author: Jamaica Kincaid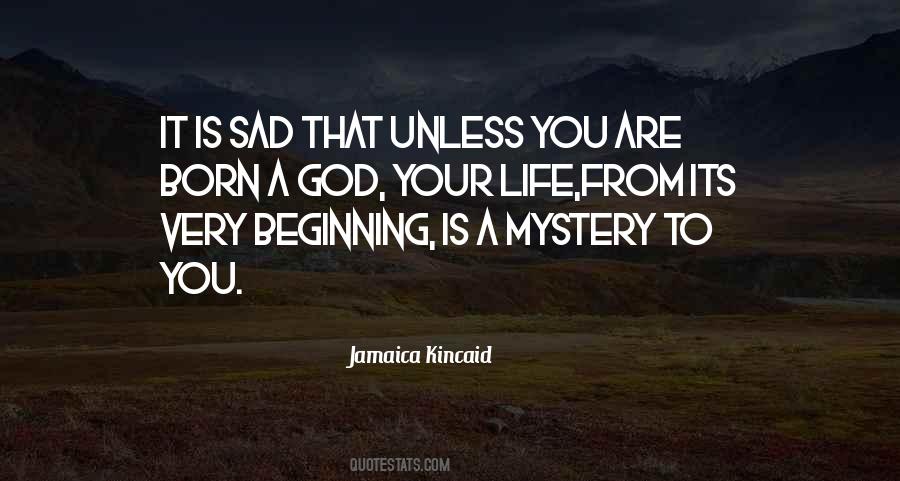 #2. She is no longer a person in his life; instead, she is a person that other people will remind him of. - Author: David Levithan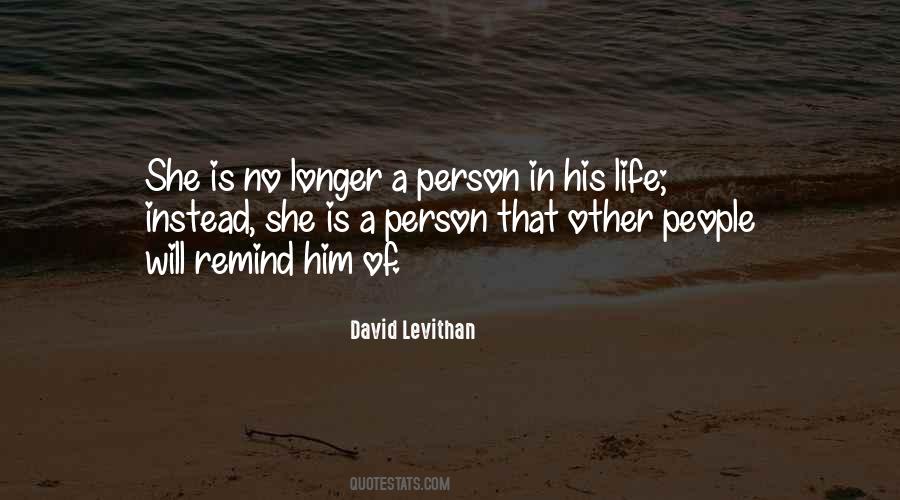 #3. She dumped me for the quarterback after she'd played my body like a banjo. So Sad."
"I bet"
"I'm serious. I was heartbroken."
"For how long?"
"A whole week." An eternity in the life of a teenage boy. - Author: Nalini Singh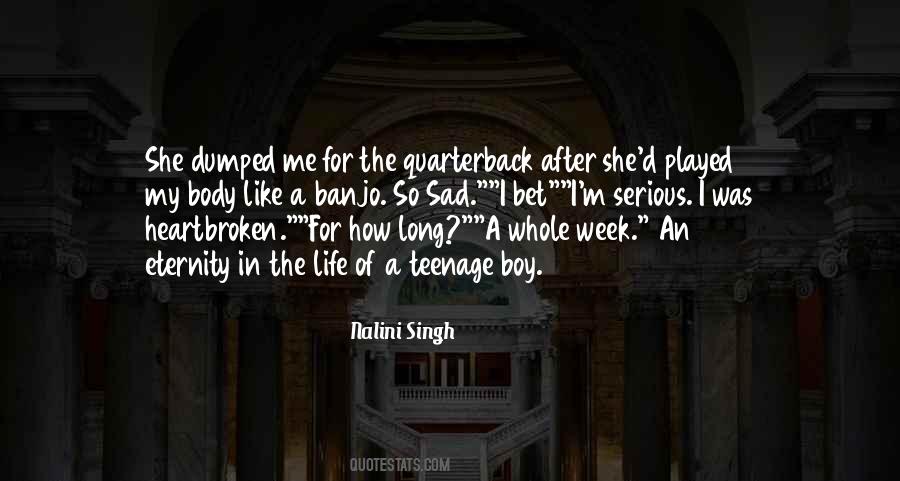 #4. Those social networks, there's something sad about them. Is it because they don't have enough knowledge about friends and people? I don't understand it. It's like a talkative mirror where people talk to themselves. And what I hate most in life is selfies. - Author: Karl Lagerfeld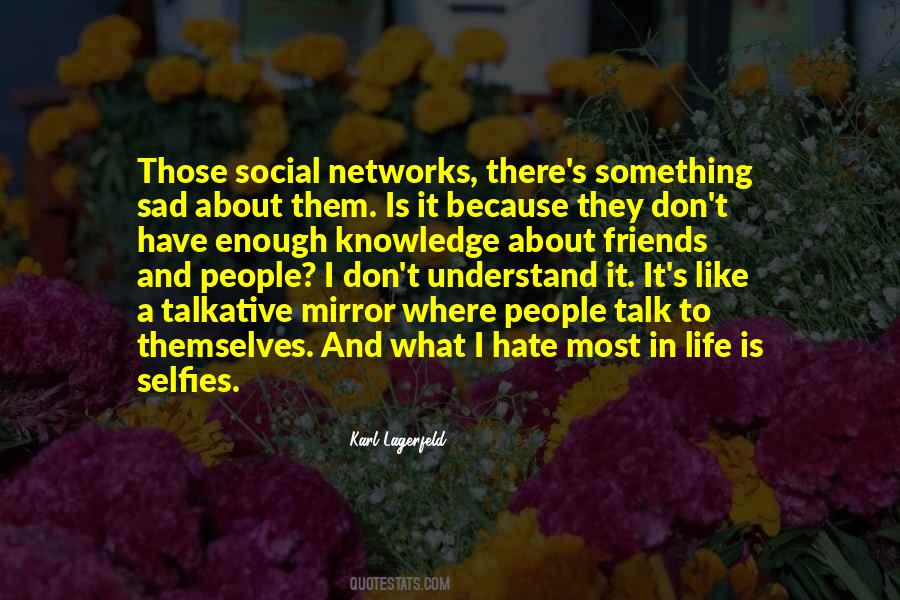 #5. I'm so busy trying to breathe through the pain that I'm breathing through the pain of being with people, and that is no way to spend a life. Eventually, they'll just go away, because you will make them sad. That's something I've proven quite adept at doing over the years. - Author: Adam Duritz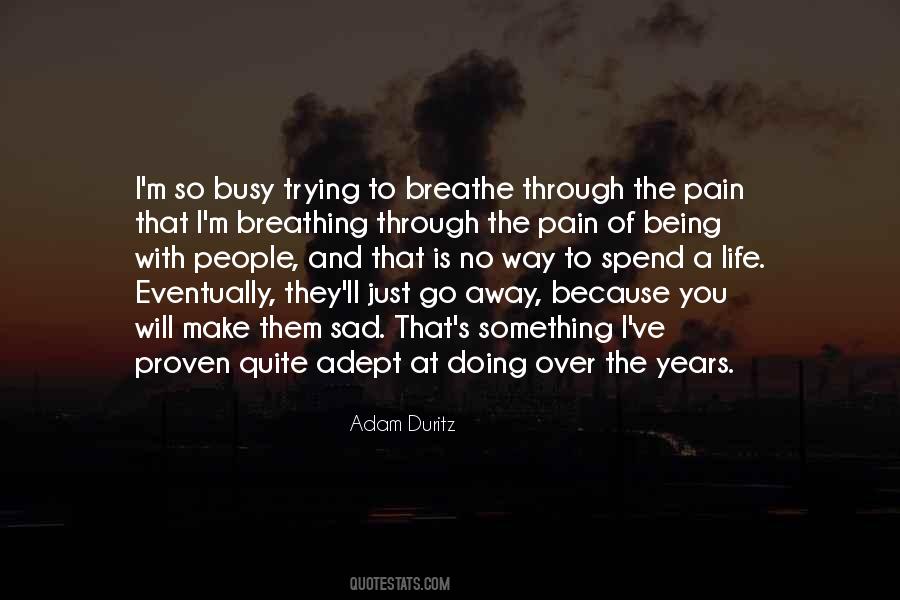 #6. There is some kind of a sweet innocence in being human- in not having to be just happy or just sad- in the nature of being able to be both broken and whole, at the same time. - Author: C. JoyBell C.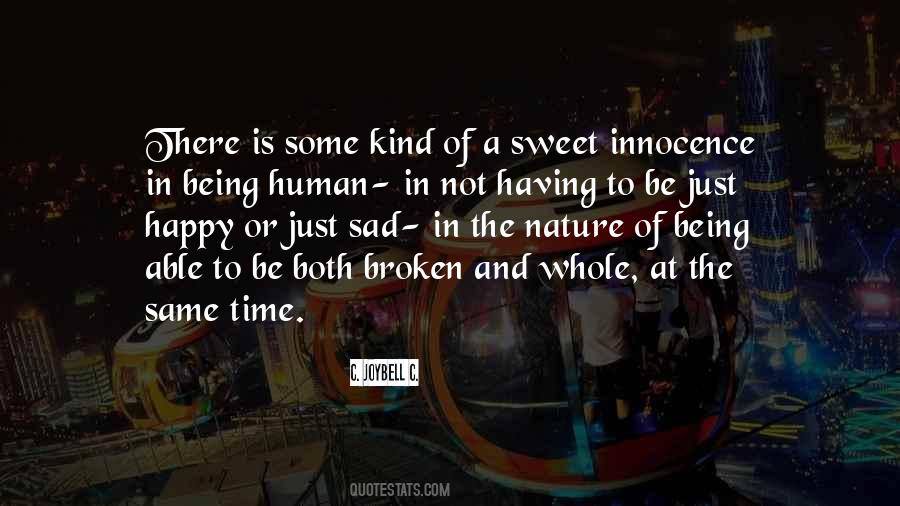 #7. At the outset, I think that one should be natural, not just when it comes to writing but in every area of life. If you try to be something that you are not just to impress others, then it's a rather sad life. - Author: Amish Tripathi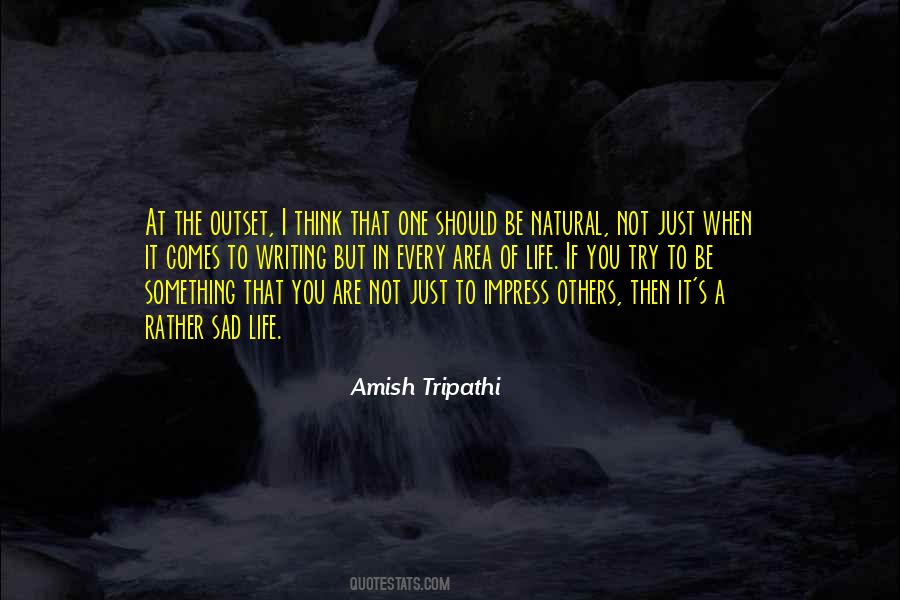 #8. The tragedy of life is in what dies inside a man while he lives - the death of genuine feeling, the death of inspired response, the awareness that makes it possible to feel the pain or the glory of other men in yourself. - Author: Norman Cousins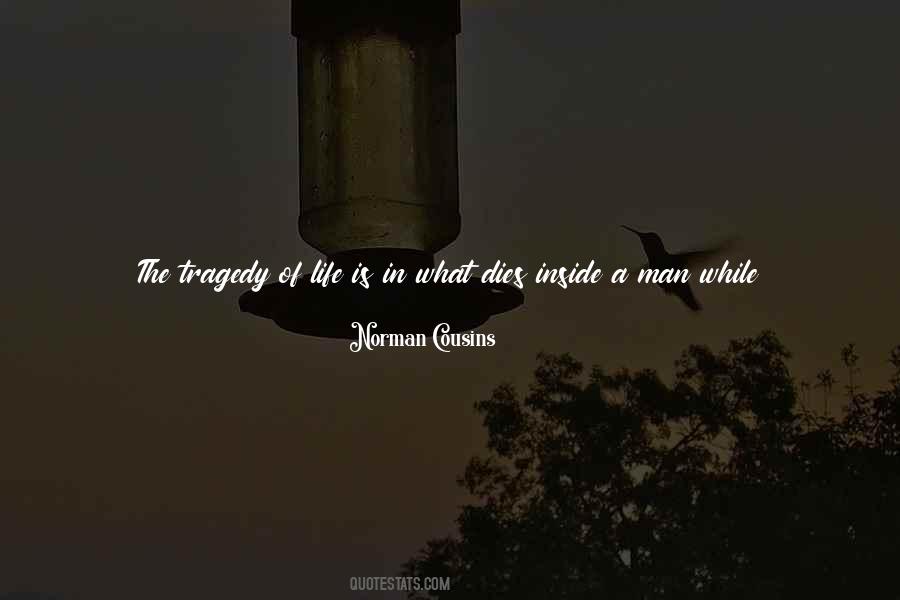 #9. Child of the kindly West, I have come to know, if more of us valued your ways - food and cheer above hoarded gold - it would be a merrier world. But sad or merry, I must leave it now. Farewell. - Author: J.R.R. Tolkien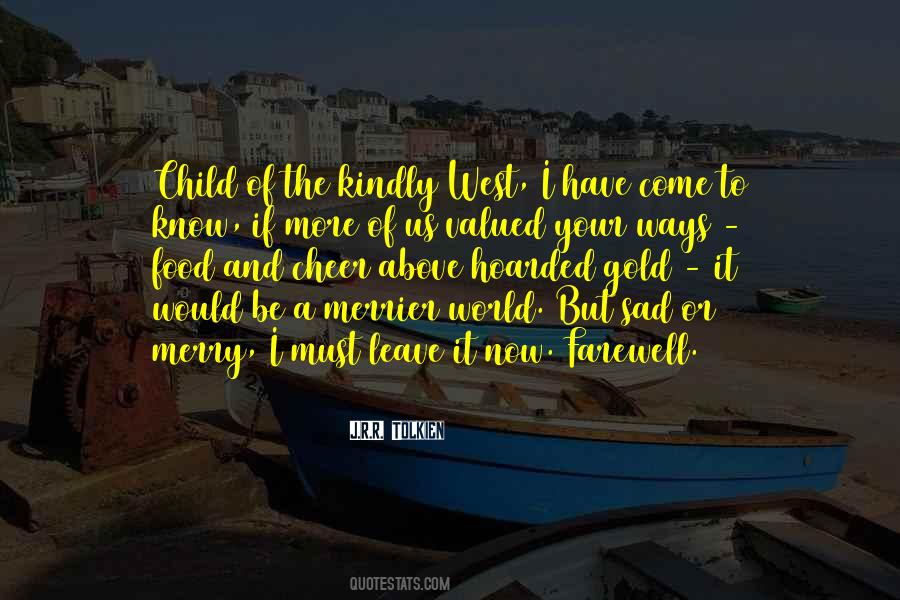 #10. And now a hundred subjective years had passed in those hundred objective hours and he could no longer clearly visualize the university at all or the life of sad frustration he had been leading there toward the end. - Author: Isaac Asimov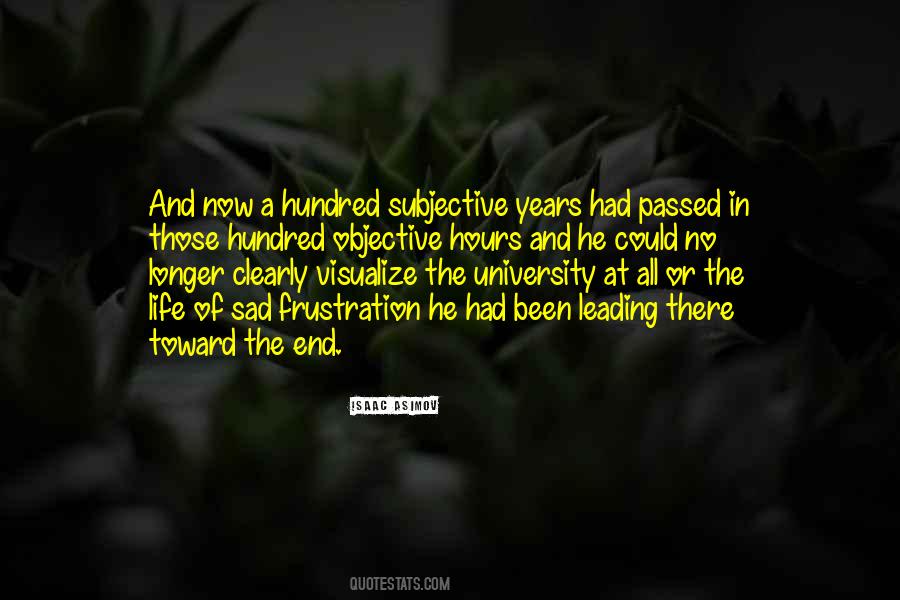 #11. Everyone deserves a sad day once in a while," Calista told me. "Sometimes things are too big for cheering up. Sometimes the best way to make things better is just to let yourself be sad for a little bit. - Author: Lisa Graff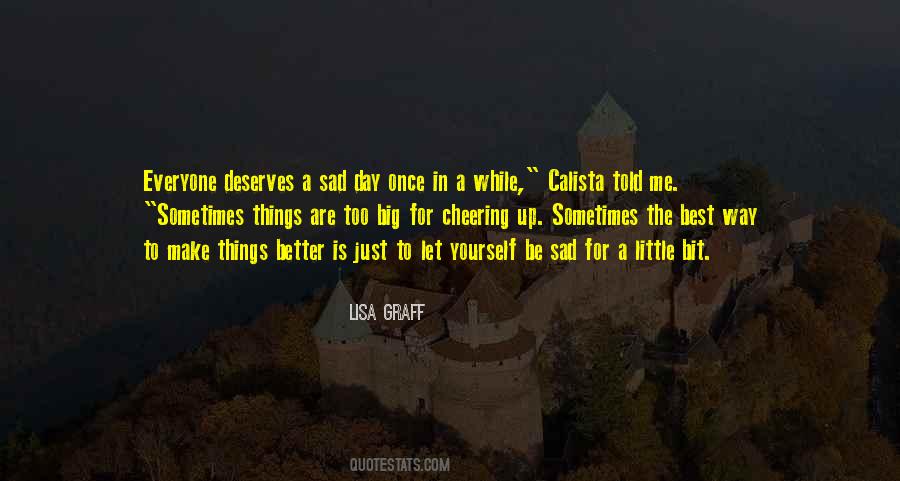 #12. Death isn't sad. There's nothing sad about it. Living a shitty life, that's sad. - Author: Mac Danzig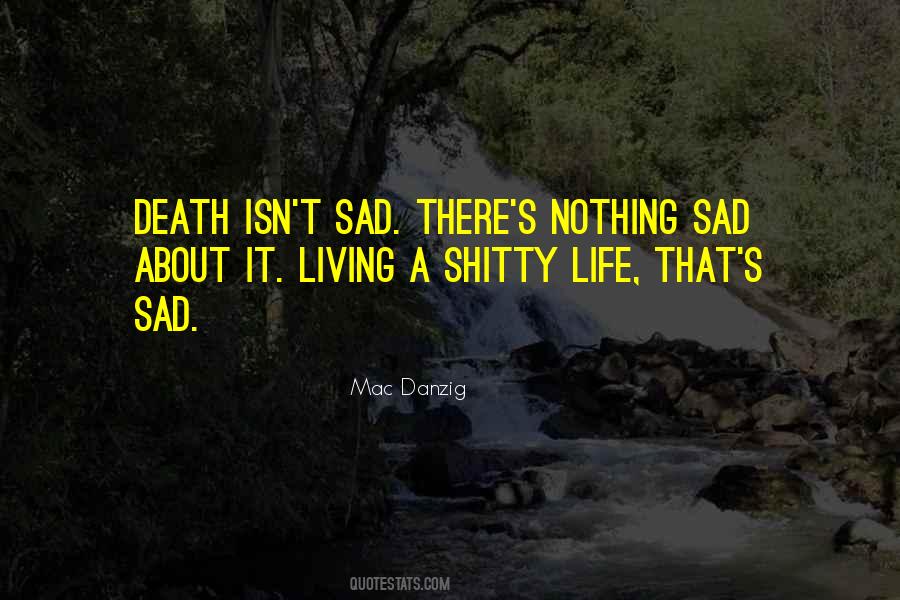 #13. After a year in therapy, my psychiatrist said to me, 'Maybe life isn't or everyone. - Author: Larry Brown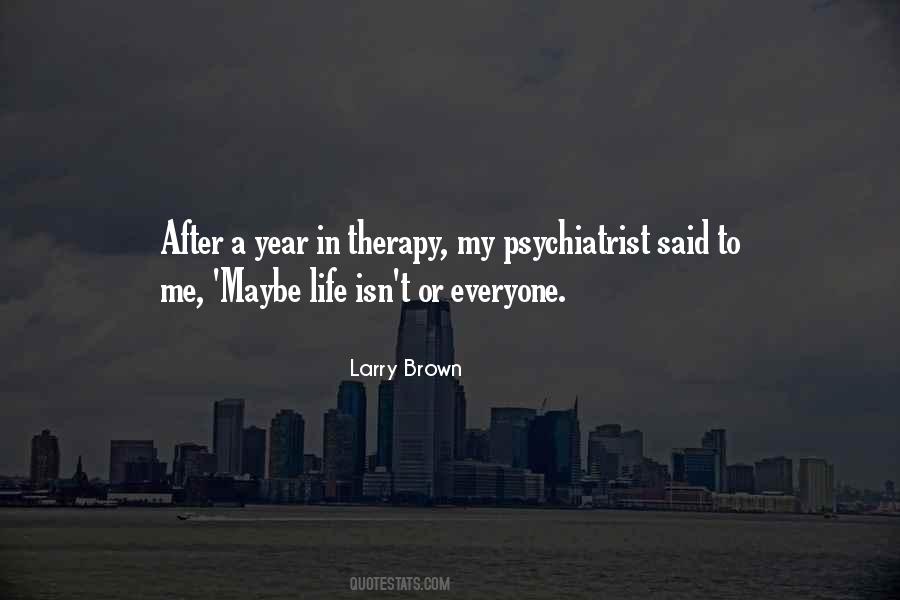 #14. I'm so fucking tired of being alone. I was scared that he'd tell me to fucking leave. Because that means going back to a life I can't see for myself anymore. - Author: Krista Ritchie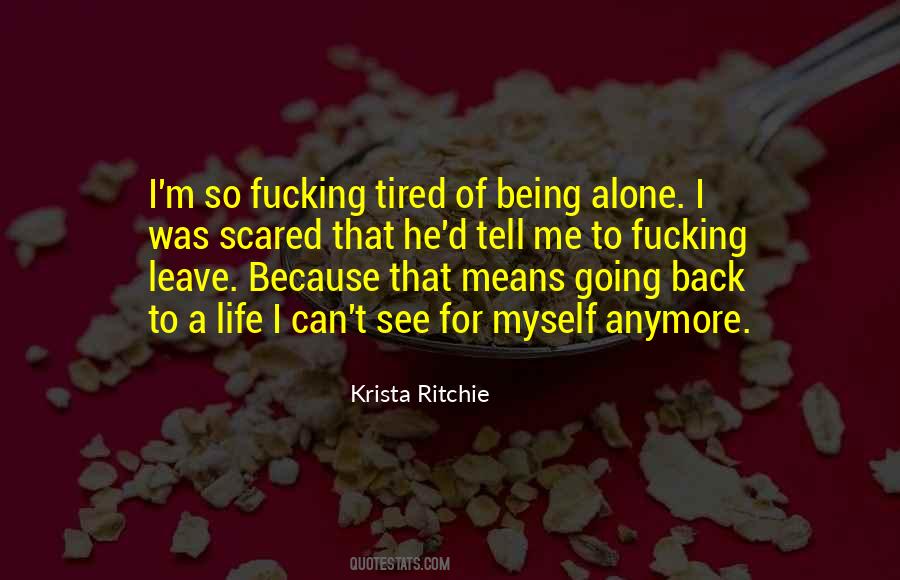 #15. There are happy blues, sad blues, lonesome blues, red-hot blues, mad blues, and loving blues. Blues is a testimony to the fullness of life. - Author: Corey Harris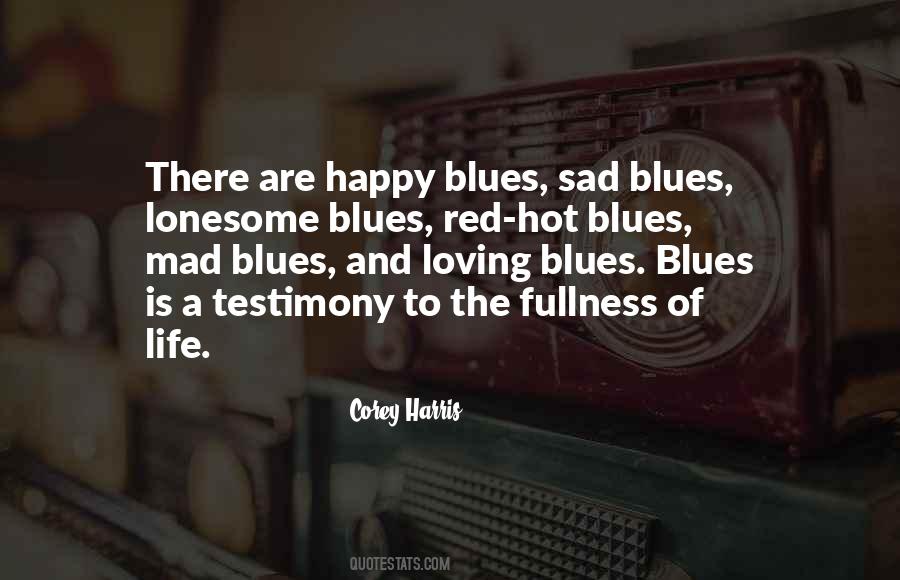 #16. I was just another sad, lost, lonely soul, wasting his life on a glorified videogame. - Author: Ernest Cline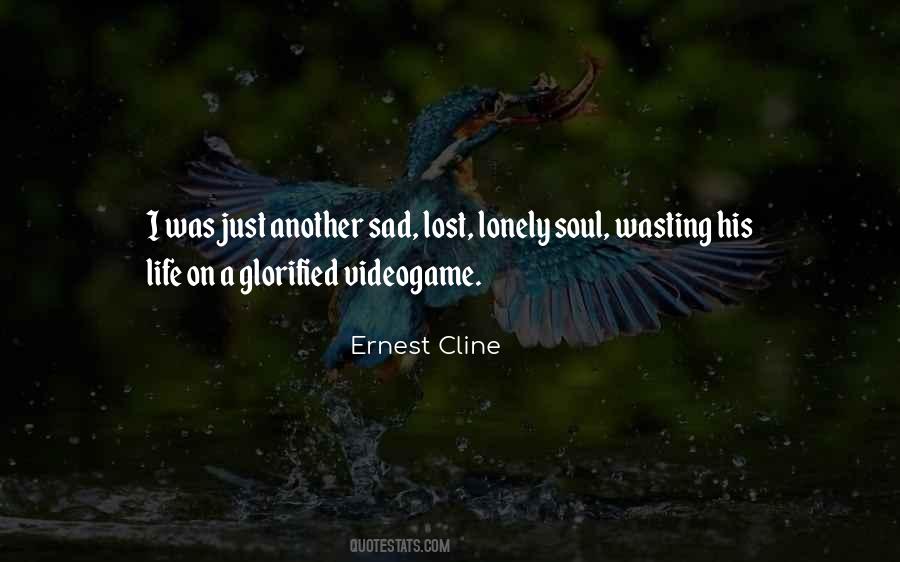 #17. We start our sometimes tedious, sometimes exciting, often times sad and stressful march to the grave the moment we're born, so it might as well be a march worth remembering. - Author: Donna Lynn Hope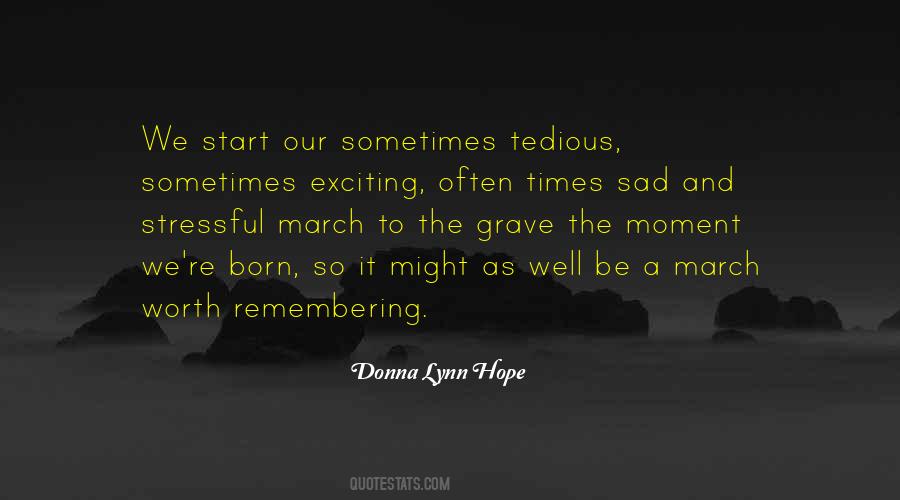 #18. I was always spiritual, even as a child. I was taught to pray, show gratitude. We had an attitude of gratitude. Even if life was ugly, bad or sad - we prayed. - Author: Shilpa Shetty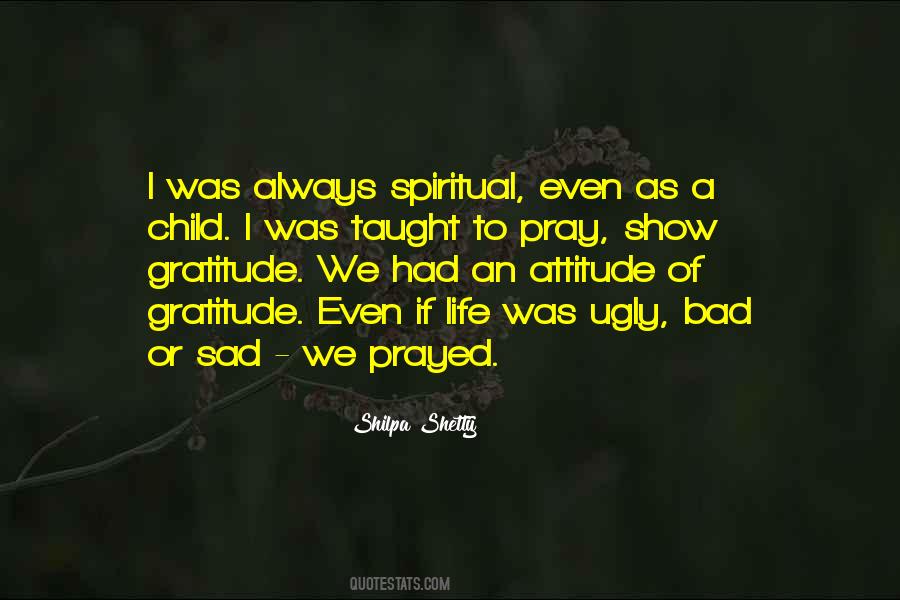 #19. The old life is gone, my days are new,
but time is still a mystery
of wishes, and this sad, confusing fragrance.
- Rosa - Author: Margarita Engle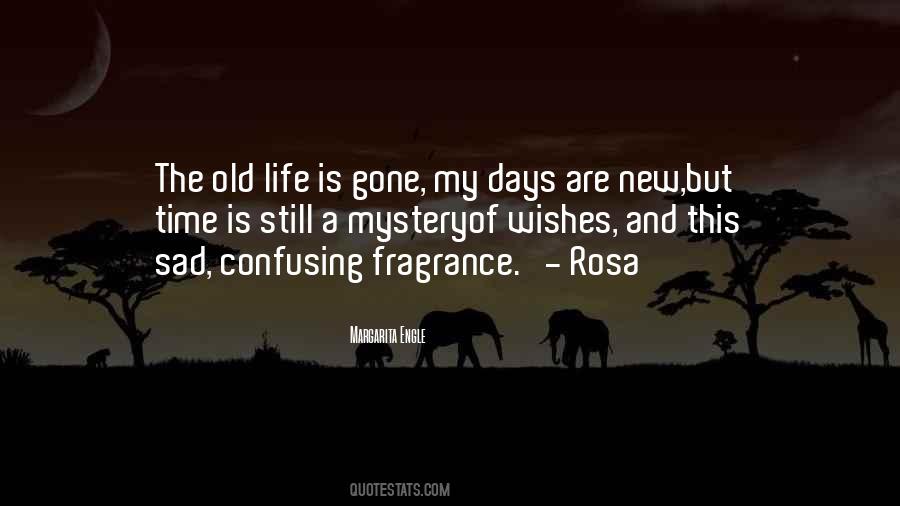 #20. Life is sad enough, Magir. Laughter is a thing to be treasured. - Author: David Gemmell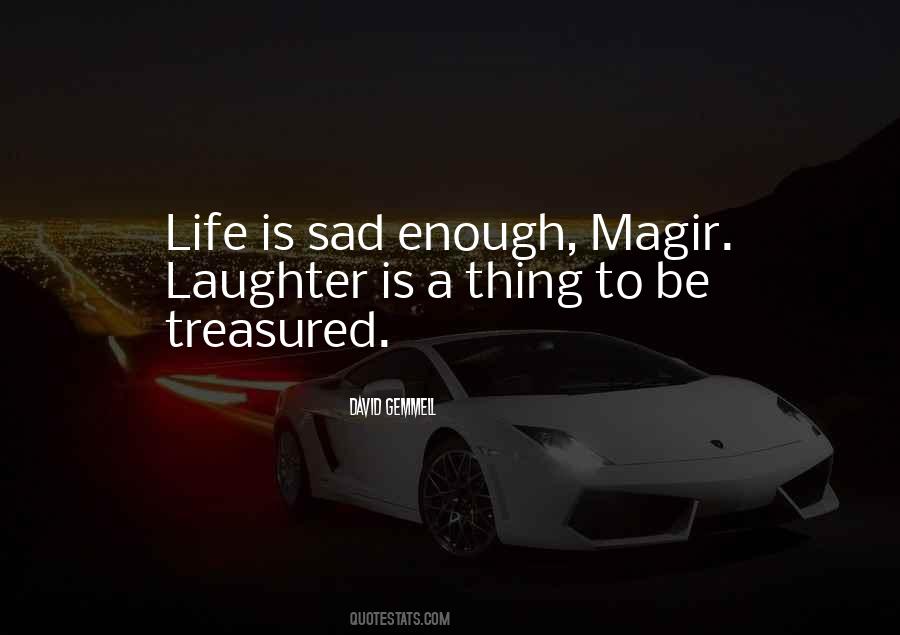 #21. Please don't miss me too much. Please don't be too sad. Find someone else to love, because you have much love to give and it's a gift that shouldn't be wasted. You , Jesse, were the rose that made my life sweet.I will wait for you in heaven. - Author: Lurlene McDaniel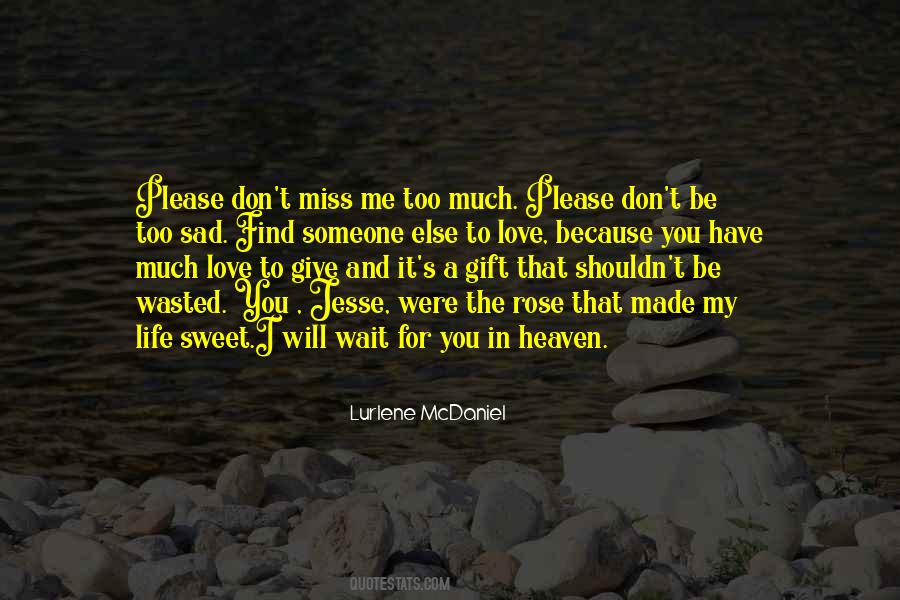 #22. The banishment for life of Pete Rose from baseball is a sad end if a sorry episode. One of the game's greatest players has engaged in a variety of acts which have stained the game, and he must now live with the consequences of those acts. There is absolutely no deal for reinstatement. - Author: A. Bartlett Giamatti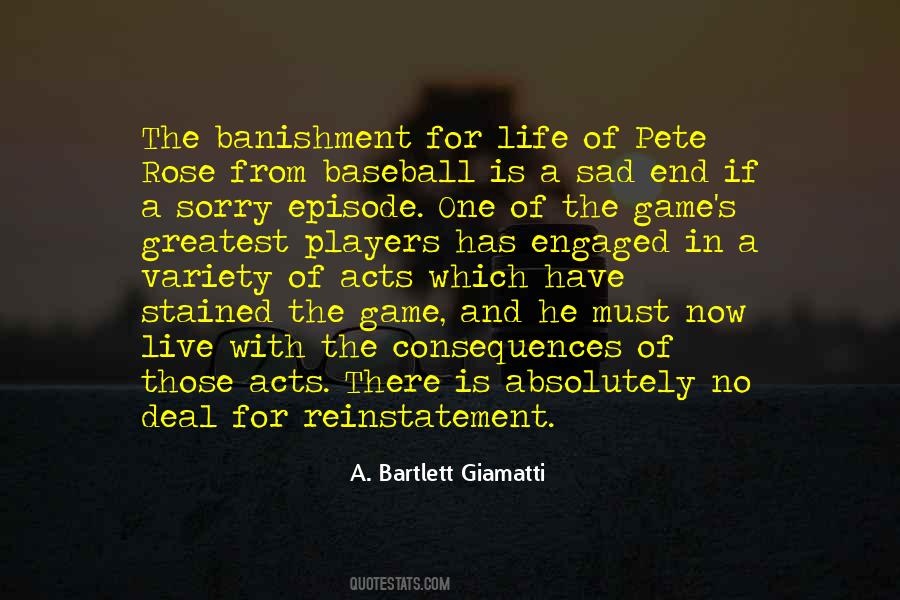 #23. She's a sad, lonely bitch who needs to eat a sandwich and get a life." It - Author: Kristen Ashley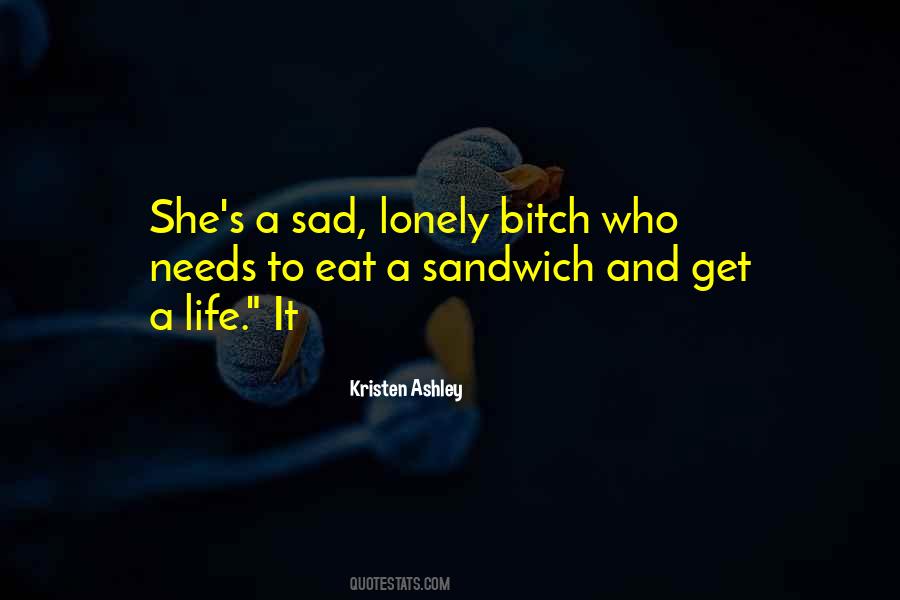 #24. Why is it that when your life is at a breaking point, every freaking song on the radio relates to it. If I heard one more sad song, I was going to rip the radio out of the dash and toss it out on the road. - Author: Jennifer Foor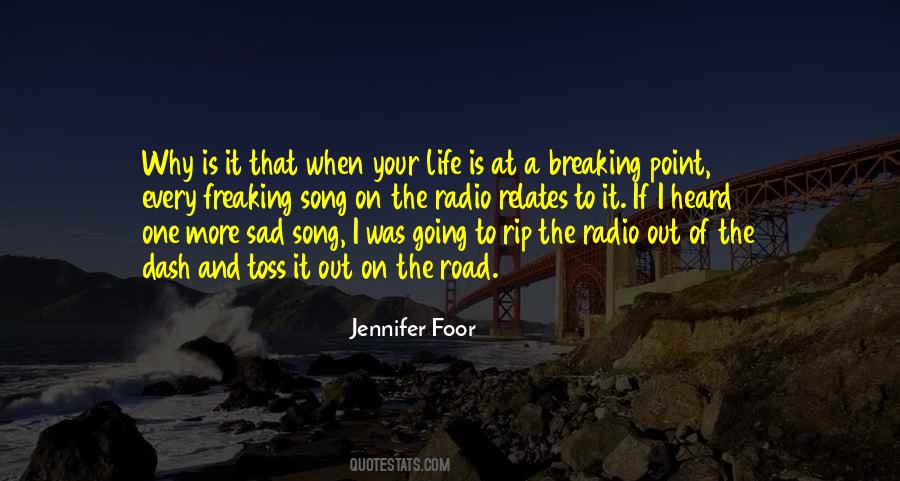 #25. let the sad take over your life or make you afraid. Don't let it stop the words. - Author: J.A. Huss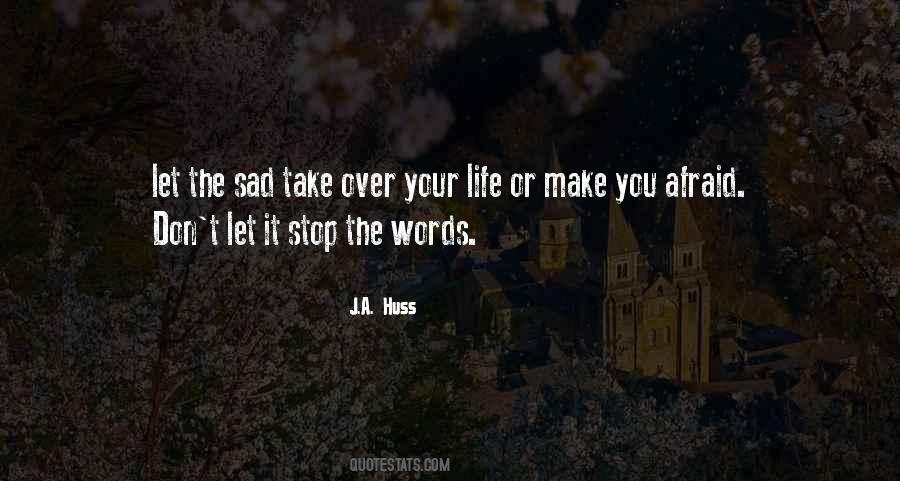 #26. There's nothing in the world so sad as talking to a man who never knew his life was his for making. - Author: Ray Lamontagne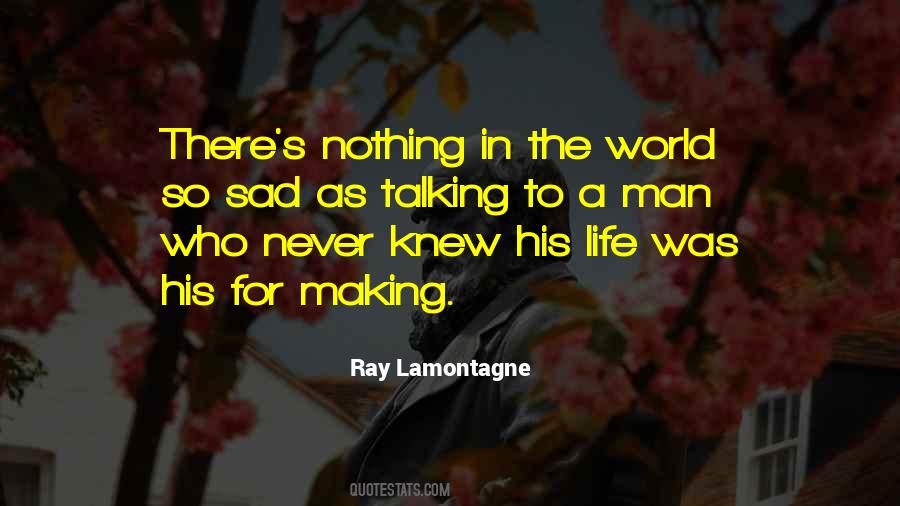 #27. There is still so much drama in my life, but I'm not a sad person anymore. - Author: Nikki Reed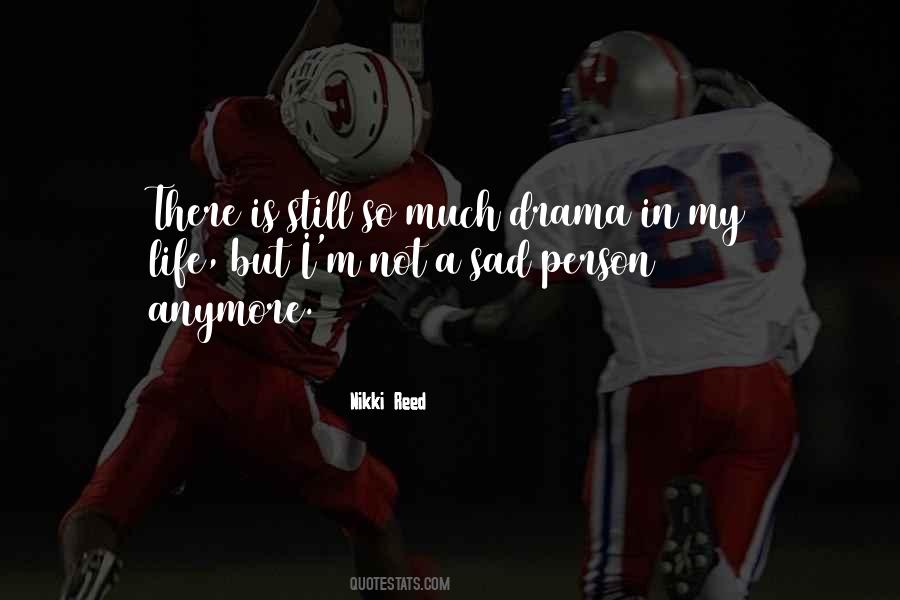 #28. There had been a time in Godfrey's life when, had she stood before him in all her splendor, he would have turned from her, because of her history, with a sad disgust. Was he less pure now? He was more pure, for he was humbler. - Author: George MacDonald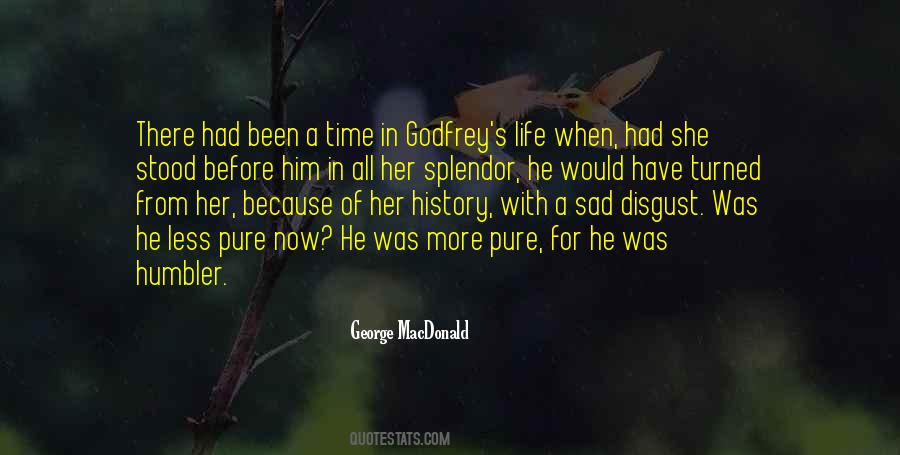 #29. I think he Oswald felt he was a failure and for the United States and for President Kennedy and all of us. He knew he was a failure at everything he tried, frustrated, with a very sad life, but he was a Marxist. - Author: John Sherman Cooper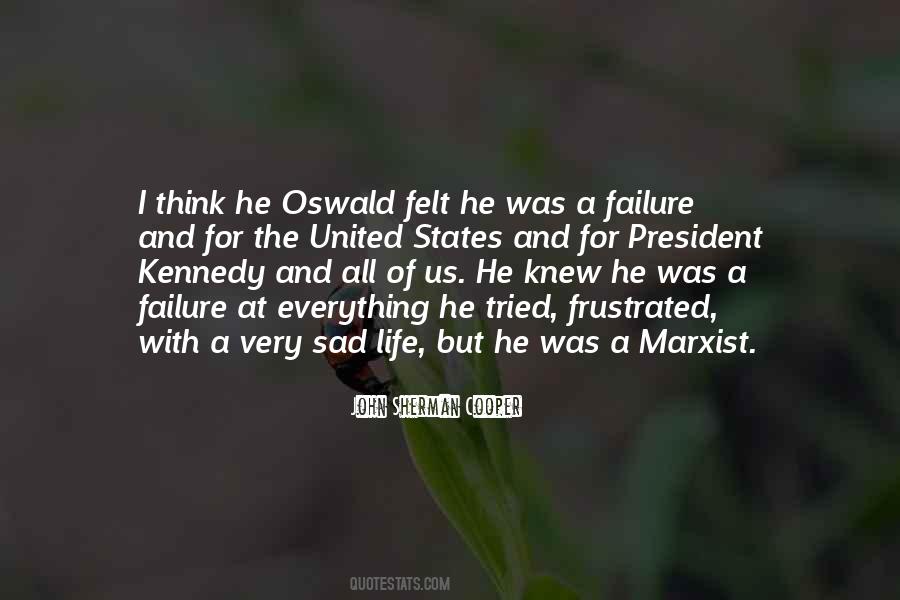 #30. Live by this credo: have a little laugh at life and look around you for happiness instead of sadness. Laughter has always brought me out of unhappy situations. - Author: Red Skelton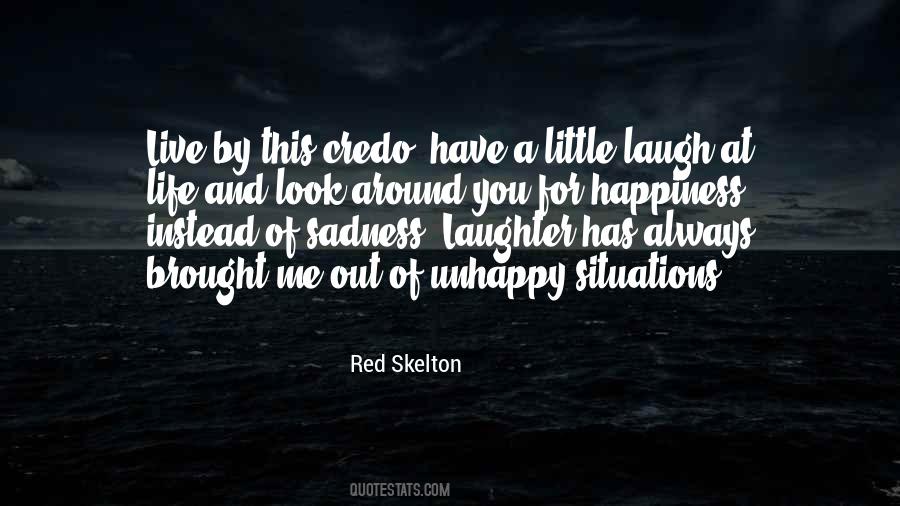 #31. Many of us live that life where we are only happy when there's a good day passing by, instead of being sad when there's one bad day passing leaving us confused. - Author: Auliq Ice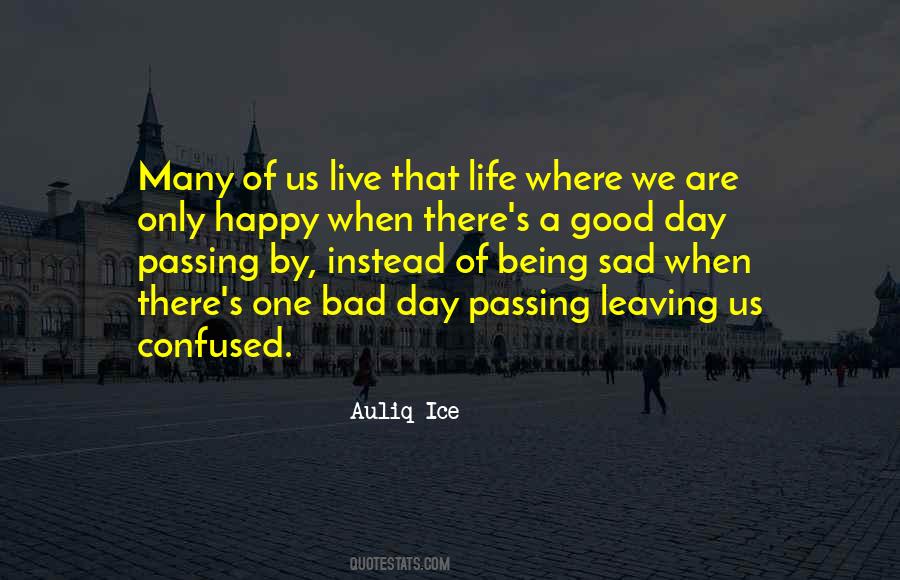 #32. There are some things in life a person just cant know - Author: Sarah Weeks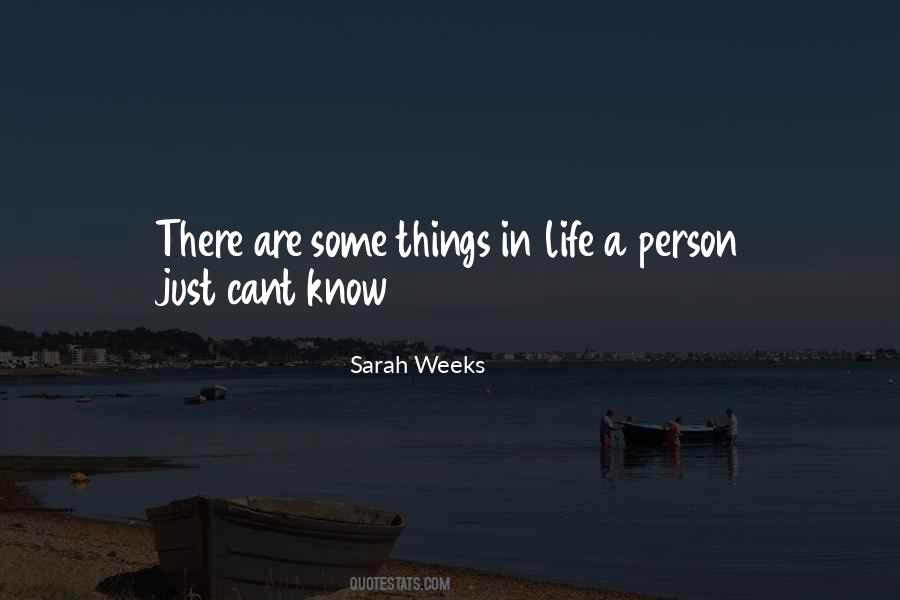 #33. I get really sad when people say, 'I'm no good. I haven't been cast in a pilot.' It doesn't mean you're not good; it just means someone hasn't seen you yet. It doesn't mean that in real life you're not the greatest actor. - Author: Matthew Gray Gubler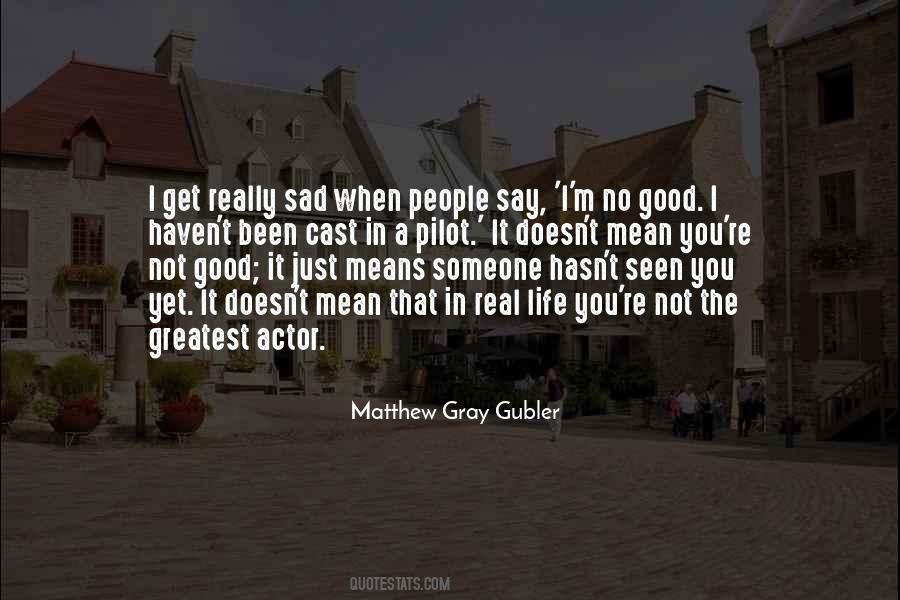 #34. Mr. Young observed that life was a sad, sad thing - "because the joy of every new marriage a man contracted was so apt to be blighted by the inopportune funeral of a less recent bride. - Author: Mark Twain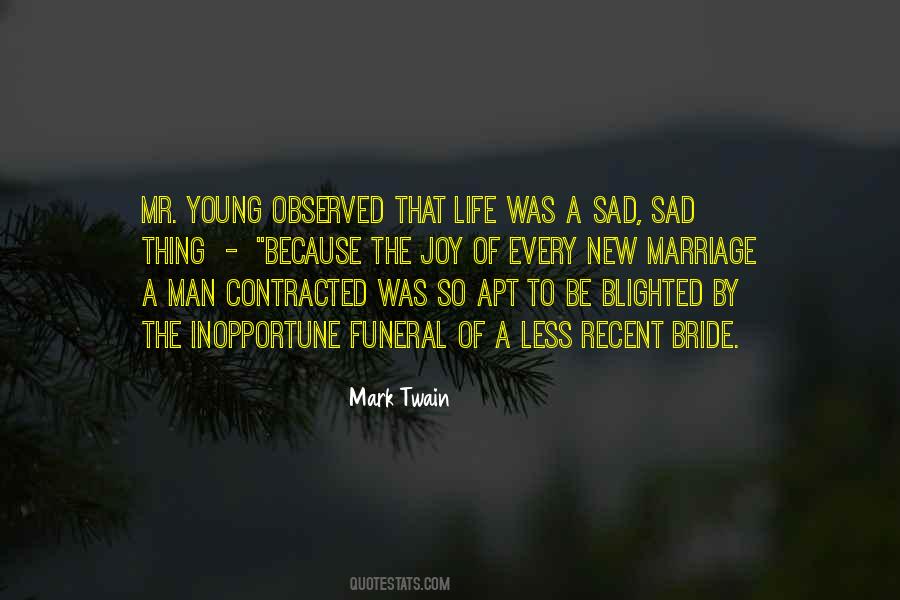 #35. Life is like a good book... some chapters engaging, some funny, some sad and some challenging...However, its all left to the design of fate in which order they are arranged... - Author: Nirmala Kasinathan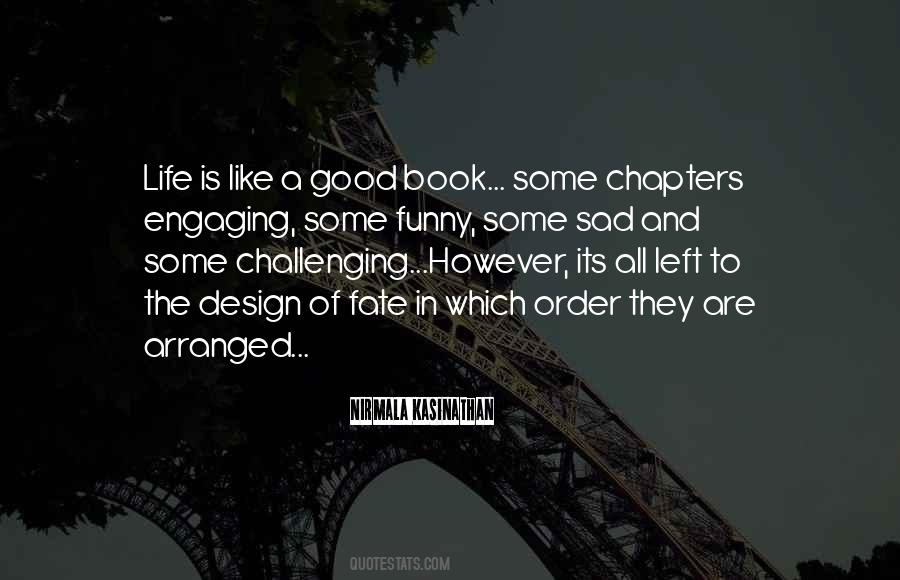 #36. A lady who sets her heart upon a lad in uniform must prepare to change lovers pretty quickly, or her life will be but a sad one. - Author: William Makepeace Thackeray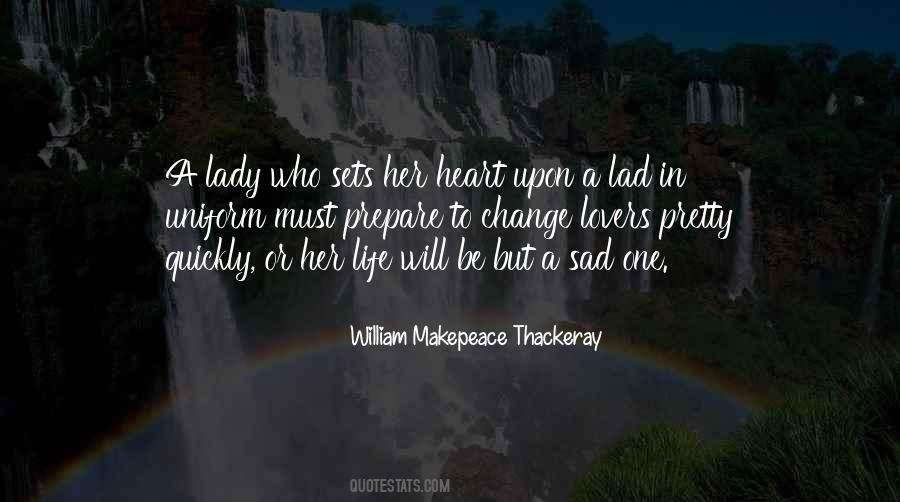 #37. And a flower, doesn't even know it's own beauty it's entire life. Sad, huh? - Author: Miyavi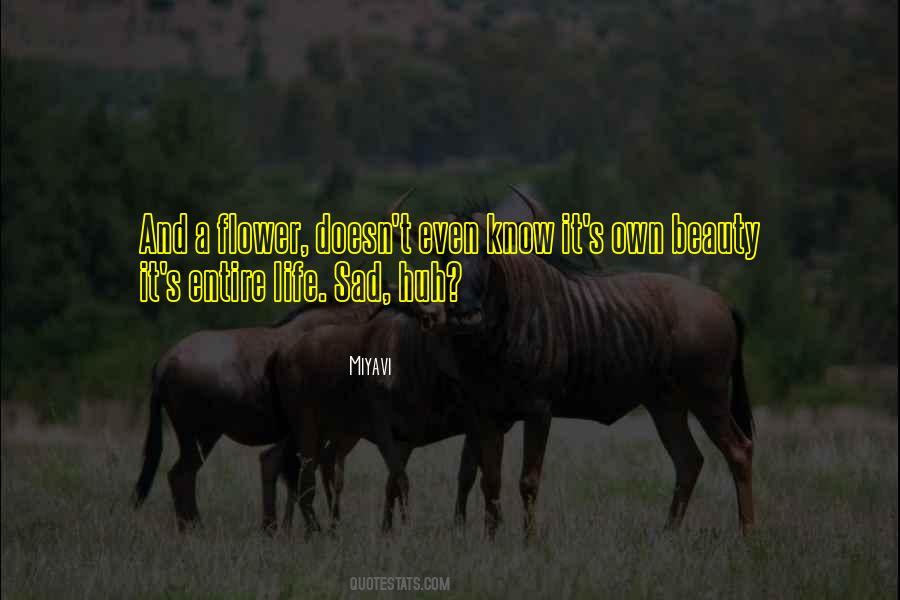 #38. You asked why I couldn't forgive you," Nick said, very quietly, and I jumped a little. "It was because you were the love of my life, Harper. And you didn't want to be. That's hard to let go. - Author: Kristan Higgins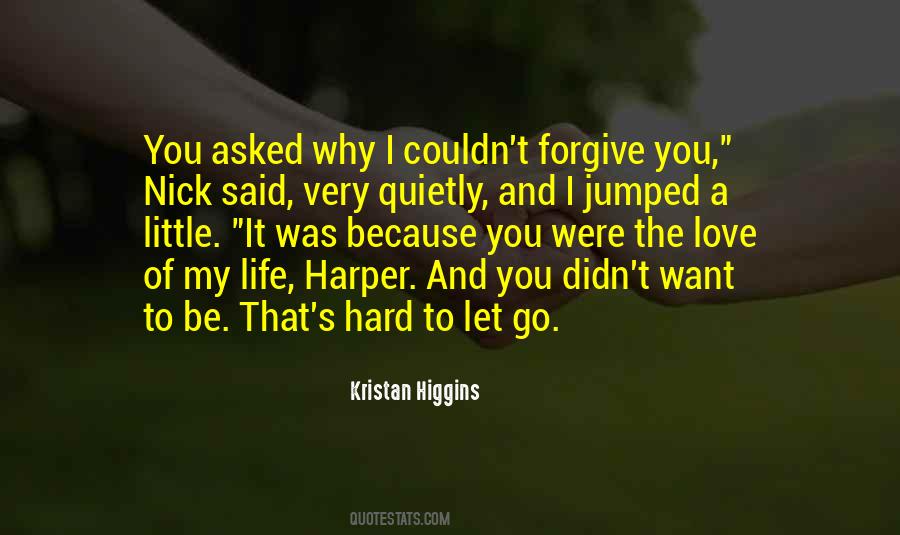 #39. Mourn, cry, be sad god doesn't give a fuck. The life has been taken in one or other way and it can't be done anything that's all, it's not big philosophy - it's short and it can't be more longer than this! - Author: Deyth Banger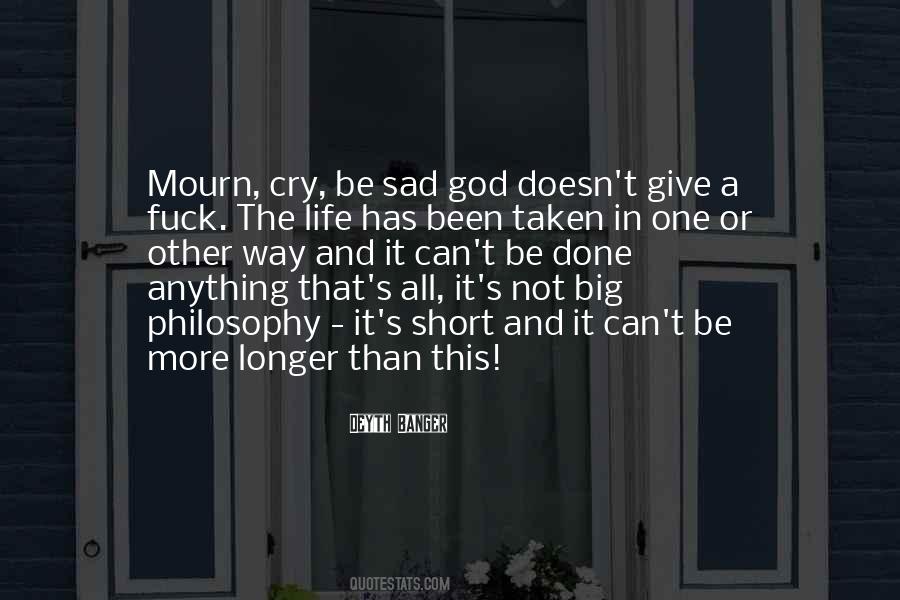 #40. He watched the scene and thought of life; and (as always happened when he thought of life) he became sad. A gentle melancholy took possession of him. He felt how useless it was to struggle against fortune, this being the burden of wisdom which the ages had bequeathed him. - Author: James Joyce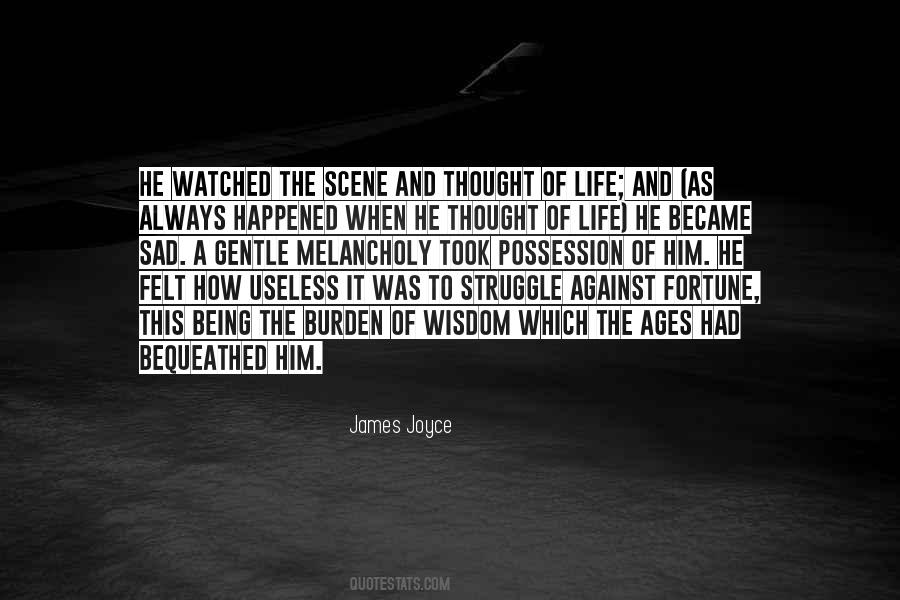 #41. It's a sad day when your iPhone becomes a horcrux, witches hunt your soul and you have to seek the resurrection stone just to find yourself. I was hardly Harry Potter. There was no lightening bolt on my forehead, but if you knew my life you would have met a storm. - Author: Shannon L. Alder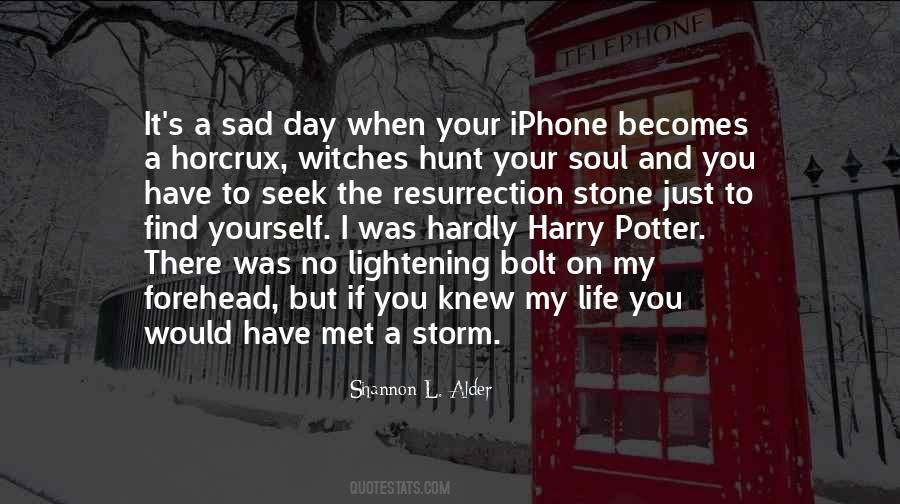 #42. It is a sad thing to begin life with low conceptions of it. It may not be possible for a young man to measure life; but it is possible to say, I am resolved to put life to its noblest and best use. - Author: Thornton T. Munger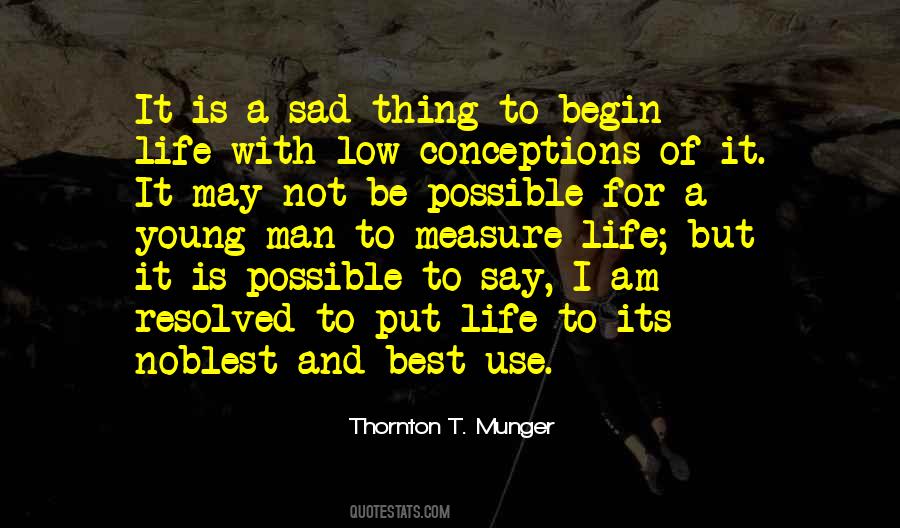 #43. Before the battle they had been discussing whether there might be life after death, and Windham and Rochester had made a pact that if there was, the first to die would come back and tell the other. But, said Rochester, he [Windham] never did. - Author: Jenny Uglow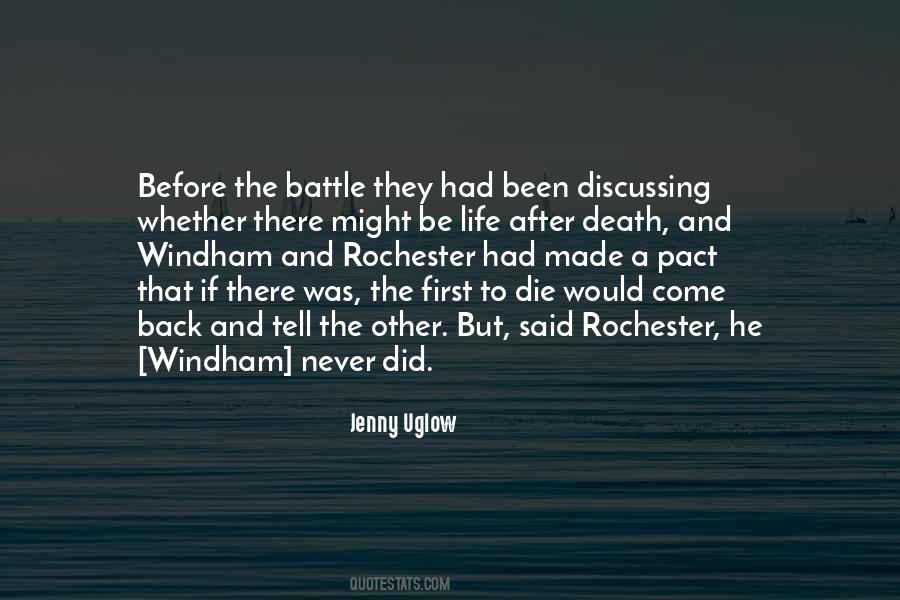 #44. What will life be like without her? I am dreadfully sad she is leaving. What if she just disappears; gets tired of all this trouble at home? What if she leaves me too? How heavy is a dresser when you're the only one pushing it against the door? I feel truly on my own. - Author: Mira Bartok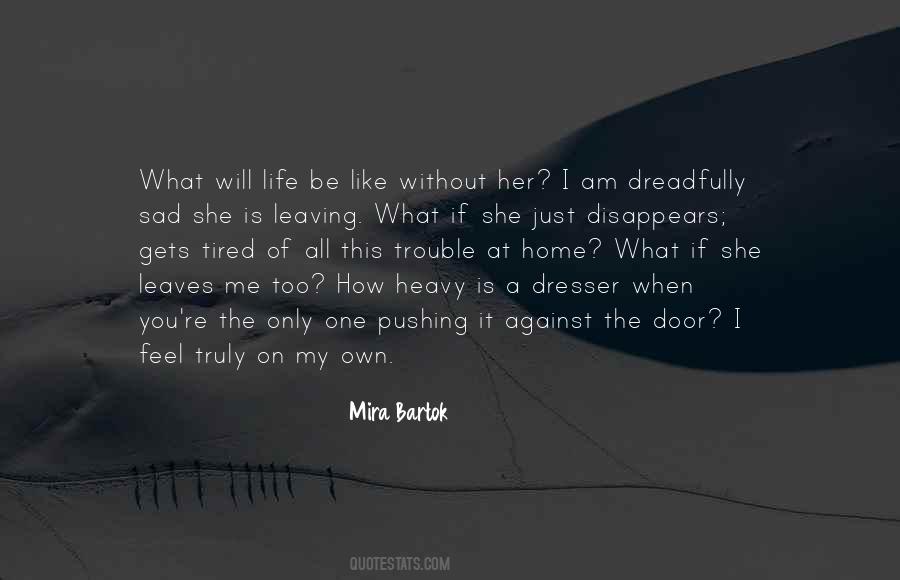 #45. However, we might oppose it, abortion is a sad feature of modern life. - Author: Robert Casey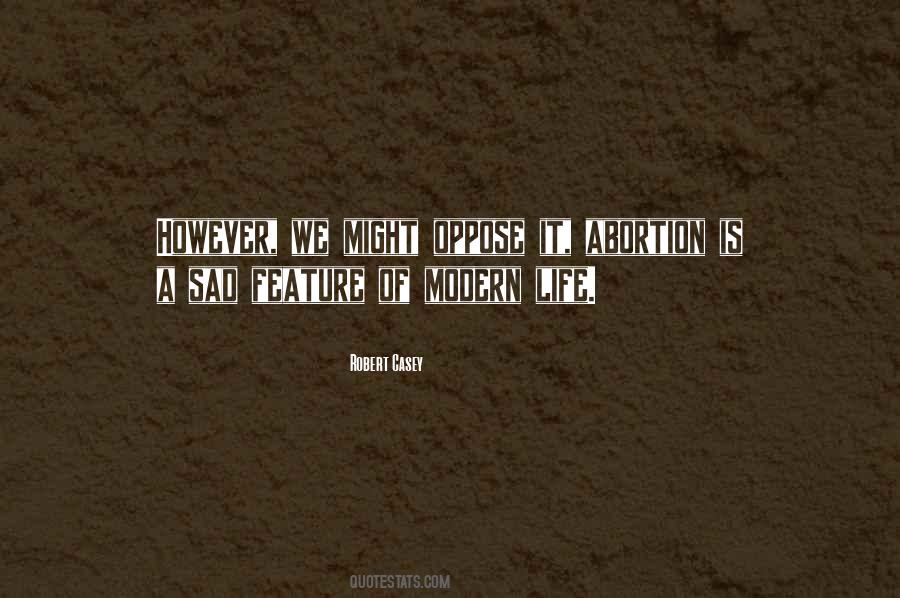 #46. Before my unfeeling eyes, the repressed bitterness of my whole life peels off the suit of natural joy it wears in the prolonged randomness of every day. I realize that I'm always sad, however happy or content I may often feel. And the part of me that realizes this stands a little behind me ... - Author: Fernando Pessoa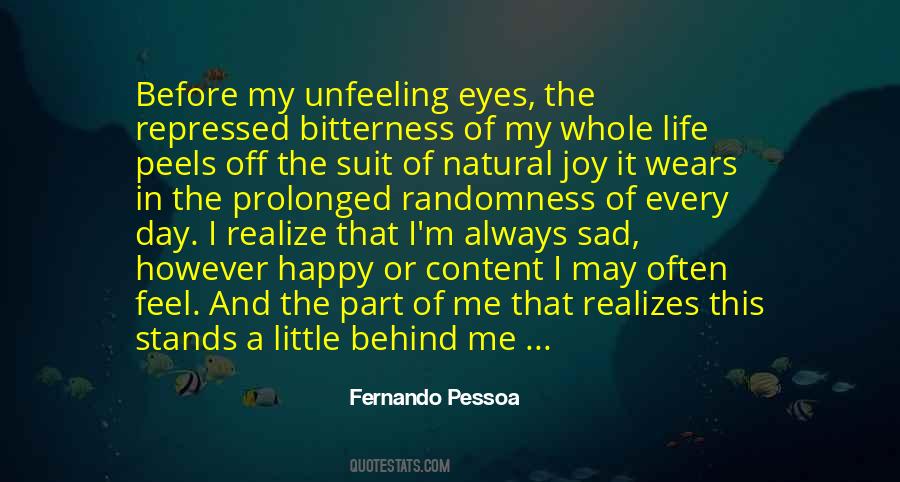 #47. Then a hundred sad voices lifted a wail,
And a hundred glad voices piped on the gale:
'Time is short, life is short,' they took up the tale:
'Life is sweet, love is sweet, use to-day while you may;
Love is sweet, and to-morrow may fail;
Love is sweet, use to-day. - Author: Christina Rossetti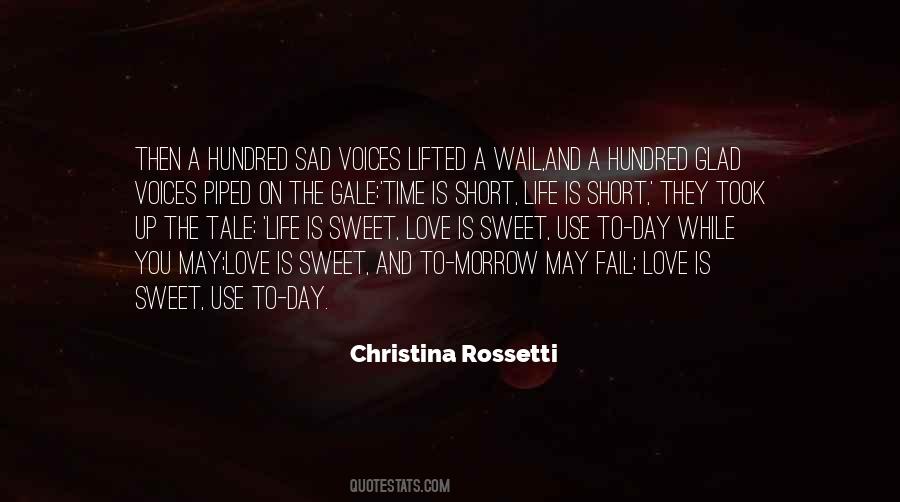 #48. I have been told the best things in life are free ~ I found them very expensive. - Author: E.A. Bucchianeri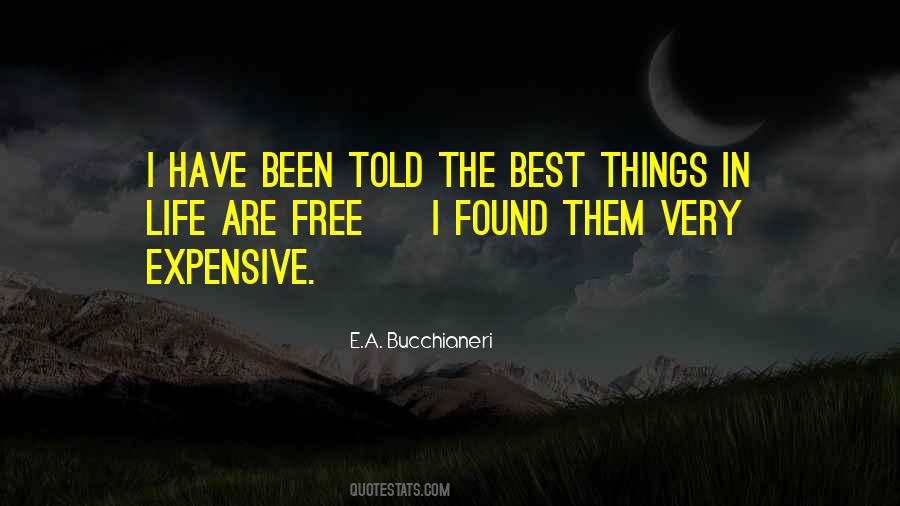 #49. Love makes us happy and that is also a love which makes us sad and keeps in trouble. - Author: Minesh Shakya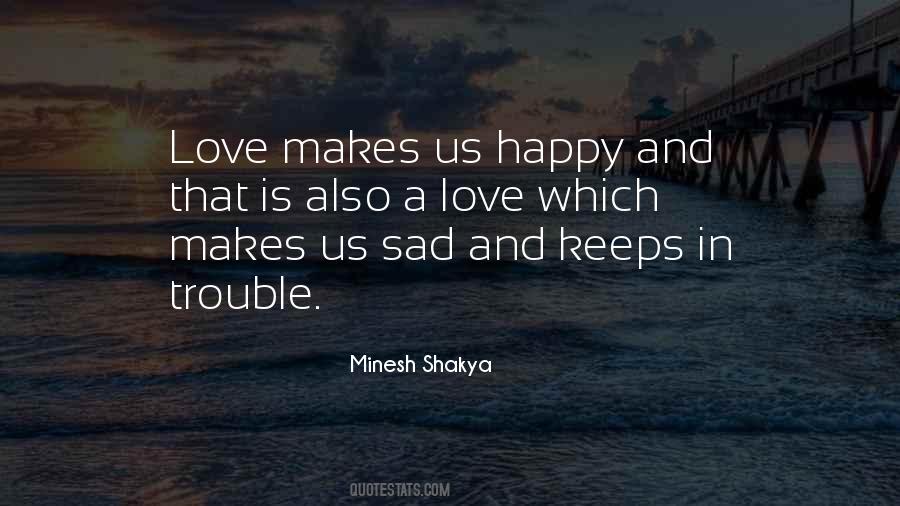 #50. And I had the feeling he was far out ahead of me then and in many things. Any time spent with your child is partly a damn sad time, the sadness of life a-going, bright, vivid, each time a last. A loss. A glimpse into what could've been. It can be corrupting. I - Author: Richard Ford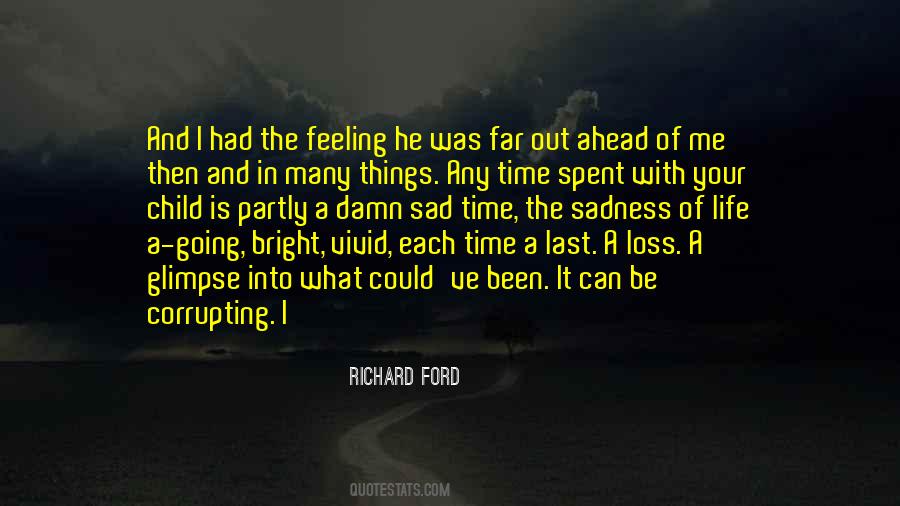 #51. Thinking has, many a time, made me sad, darling; but doing never did in all my life ... My precept is, do something, my sister, do good if you can; but at any rate, do something. - Author: Elizabeth Gaskell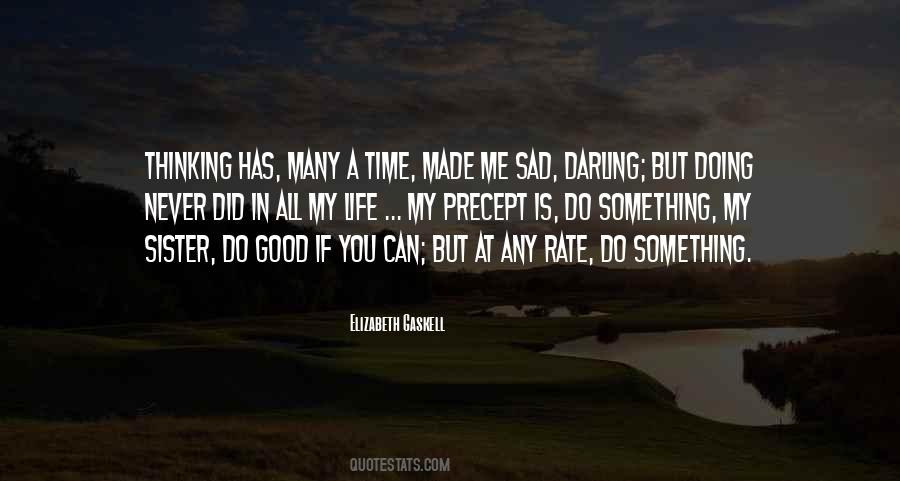 #52. She knew for a fact that she wasn't going to sit around and wait for some miracle to happen. She wasn't going to watch the storm in front of her and pretend like nothing had happened. Yes, Allah is expecting her to be patient and keep on marching forward - Author: Diyar Harraz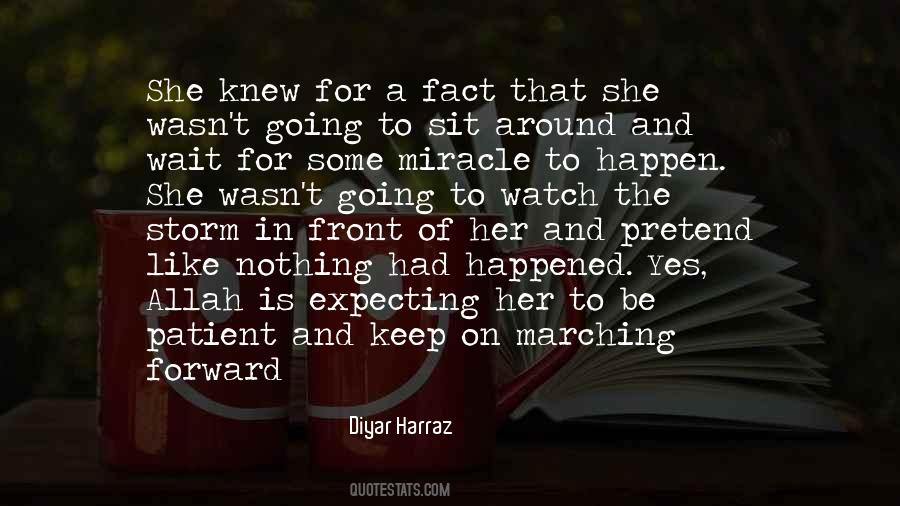 #53. Sometimes I feel like all the crap in the world is building up inside me, like all the bad is just filling me like a balloon. I push it all back, live my happy life.
But sometimes that balloon exposed and all the crap lands on everything around me. - Author: Keary Taylor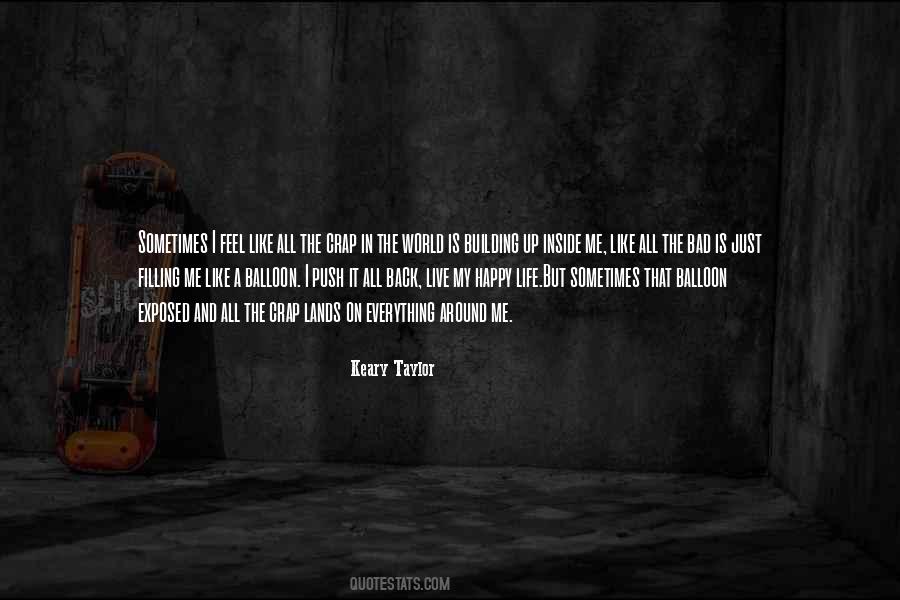 #54. Whenever you are depressed ,write your signature on a paper and write and write finally you ll have pain in you hand than your mind. - Author: Pavankumar Nagaraj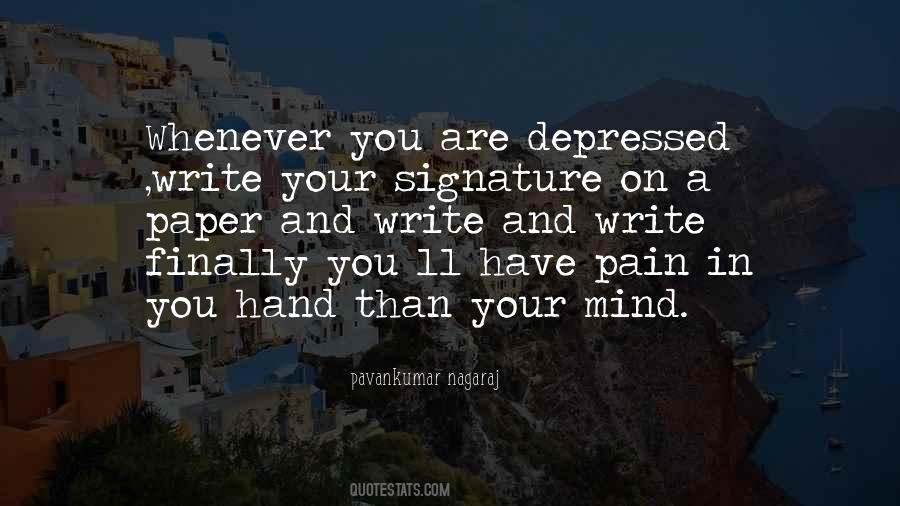 #55. I am no nihilist. I am not even a cynic. I am, actually, rather romantic. And here's my idea of romance: You will soon be dead. Life will sometimes seem long and tough and, god, it's tiring. And you will sometimes be happy and sometimes sad. And then you'll be
old. And then you'll be dead. - Author: Tim Minchin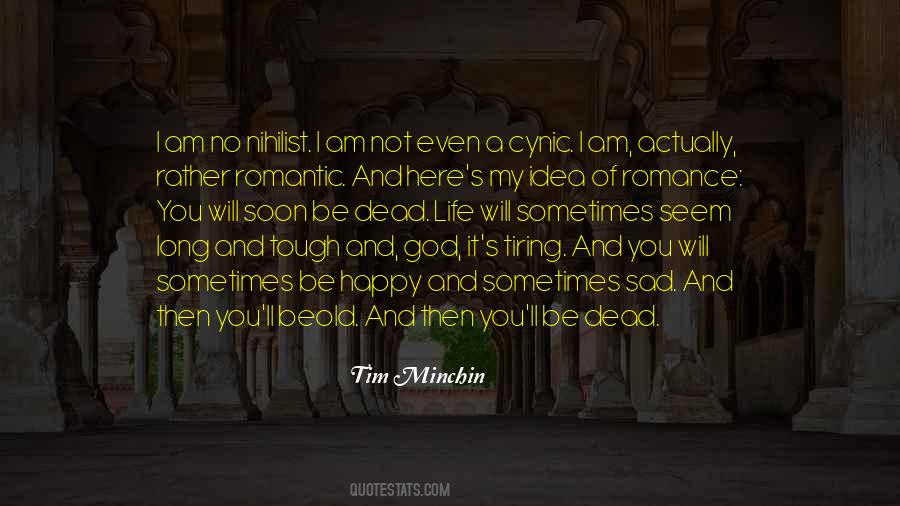 #56. But good girls dont do that, dont make a fuss, dont upset parents. and i was a good girl so i curled up on the floor and sobbed silently instead - Author: Laura Jarratt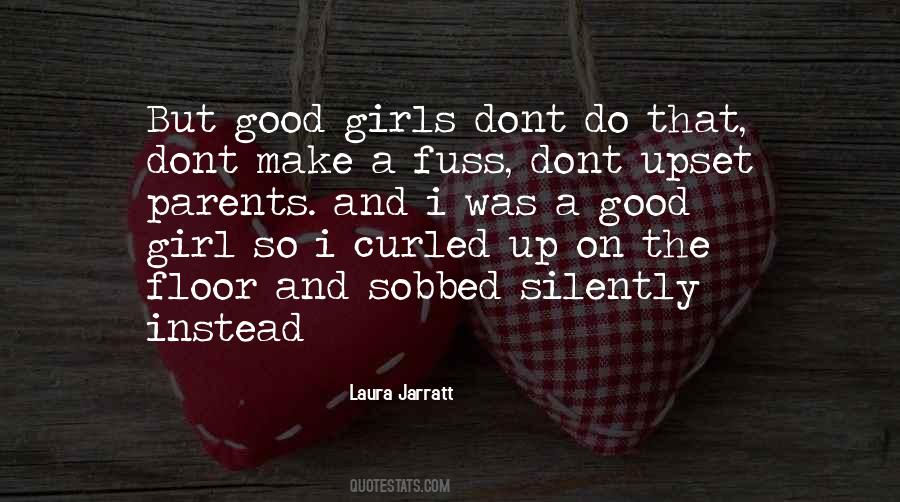 #57. A Godly Person Is Living Simple And Yet Happy
An Ungodly Person Is Living Luxuriously And Yet So Sad - Author: Baba Tunde Ojo-Olubiyo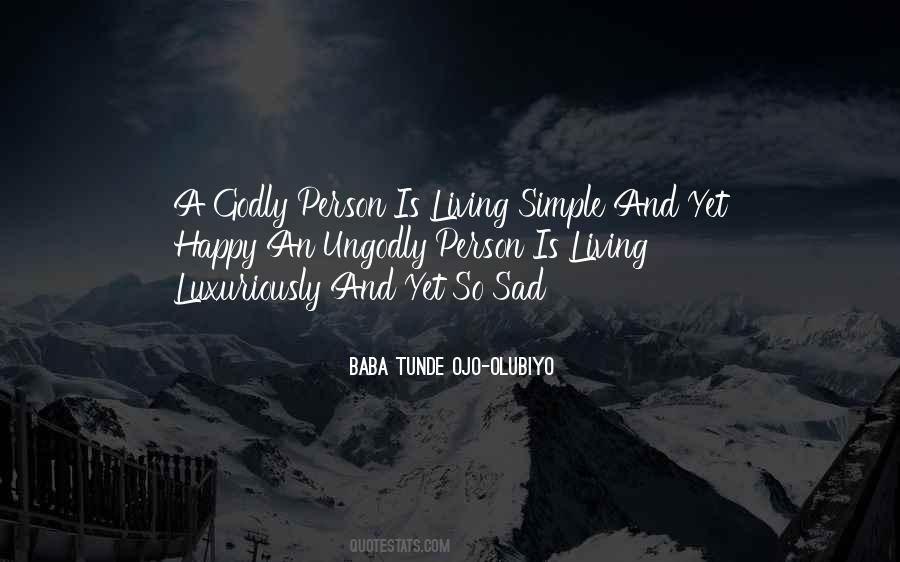 #58. Don't be sad that it's over.
Be glad that you ever lived to see it. - Author: A.J. Beirens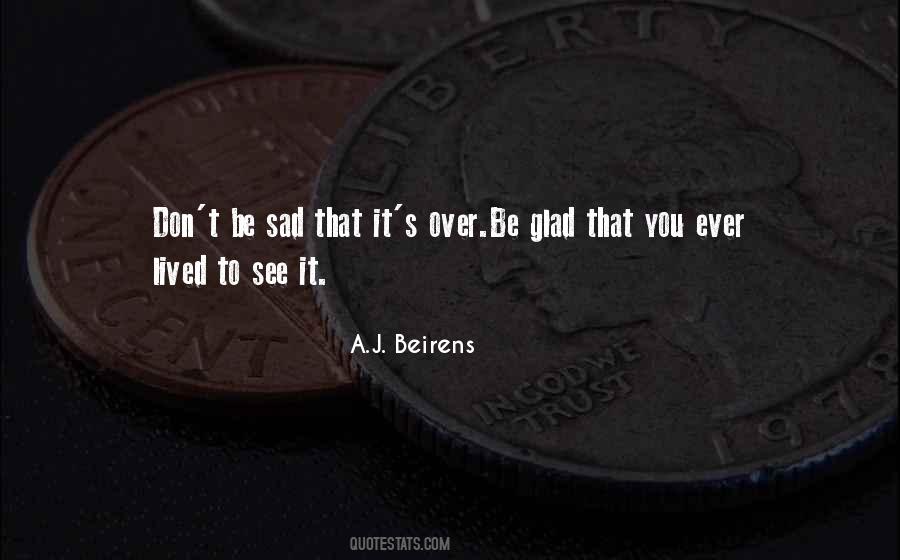 #59. But touch me, and no minister so sore.
Whoe'er offends, at some unlucky time
Slides into verse, and hitches in a rhyme,
Sacred to ridicule his whole life long,
And the sad burthen of some merry song. - Author: Alexander Pope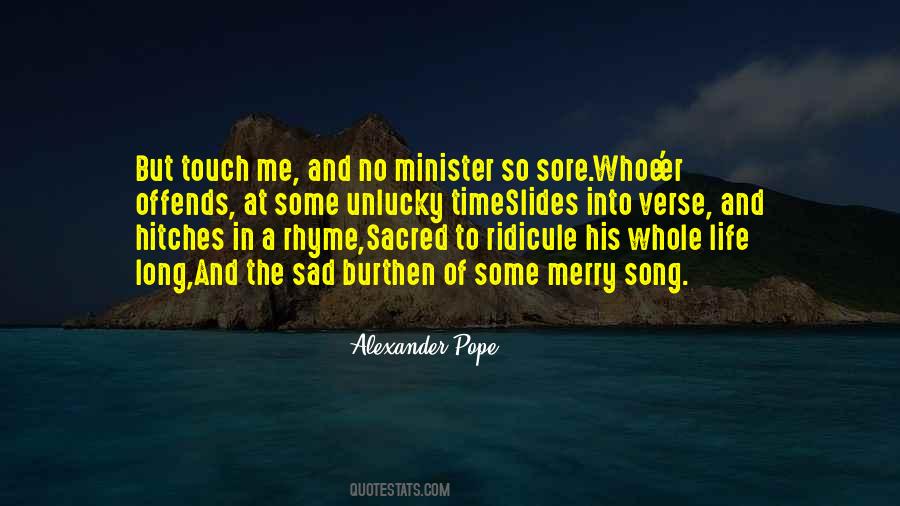 #60. I am convinced that material things can contribute a lot to making one's life pleasant, but, basically, if you do not have very good friends and relatives who matter to you, life will be really empty and sad and material things cease to be important. - Author: David Rockefeller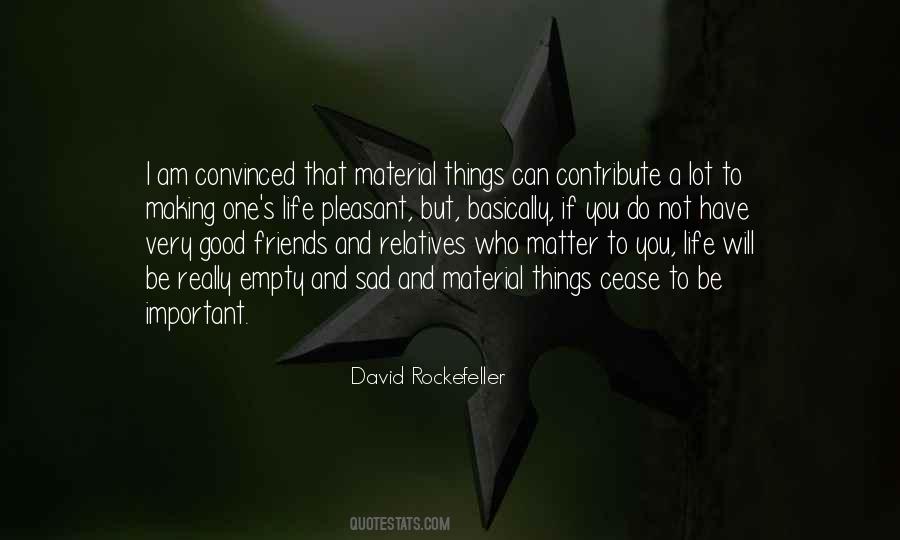 #61. It's a good story,' he said. He even grinned at me. 'I'll tell you.'
'Please,' I said.
And then he did. - Author: Hanya Yanagihara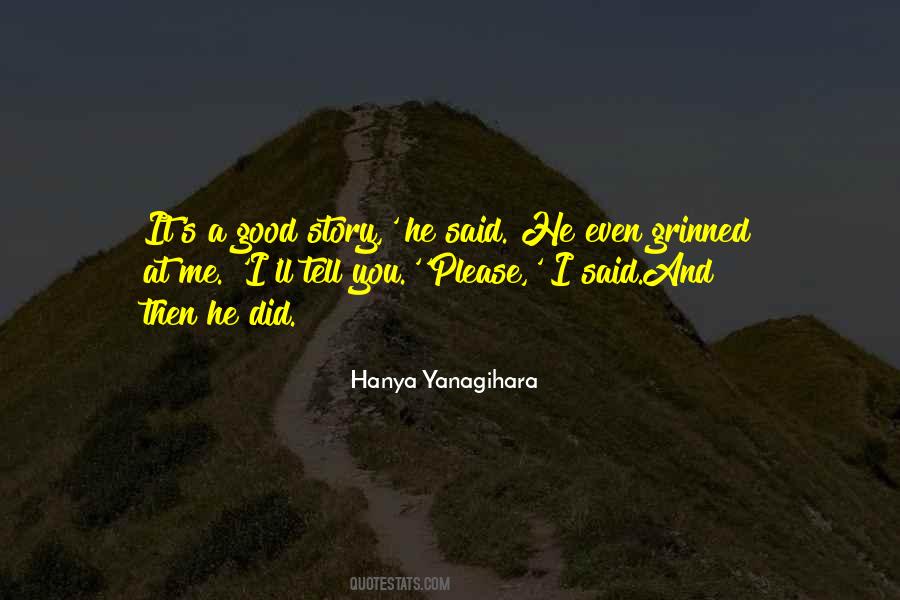 #62. Sometimes I think life is a sad, sad business, Doc. I really do. - Author: Stephen King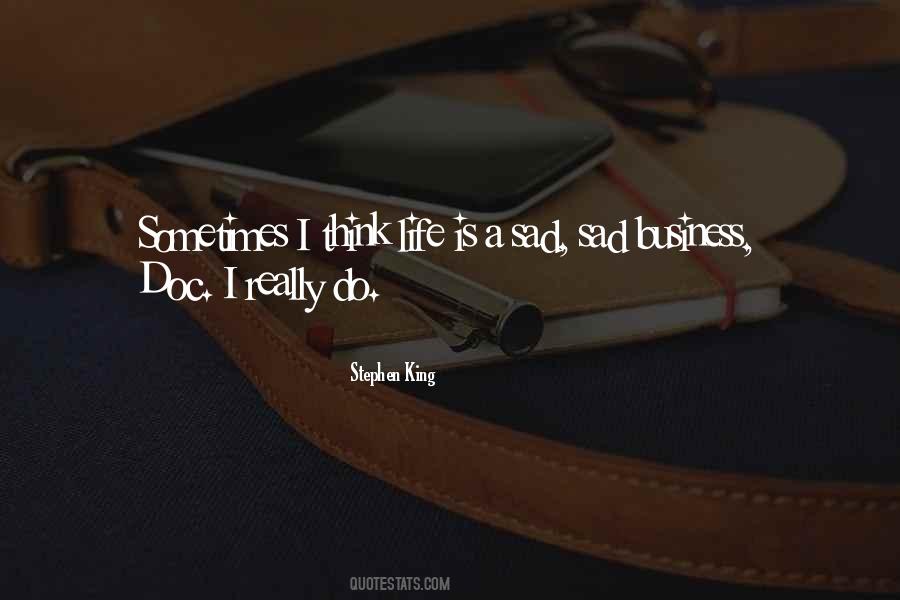 #63. Learn from what's behind you but look forward to what's ahead. It would be a sad, sad existence if you believed your best had already come and gone. Believe instead the truth ... that the best is yet to be because that part's up to you. - Author: Toni Sorenson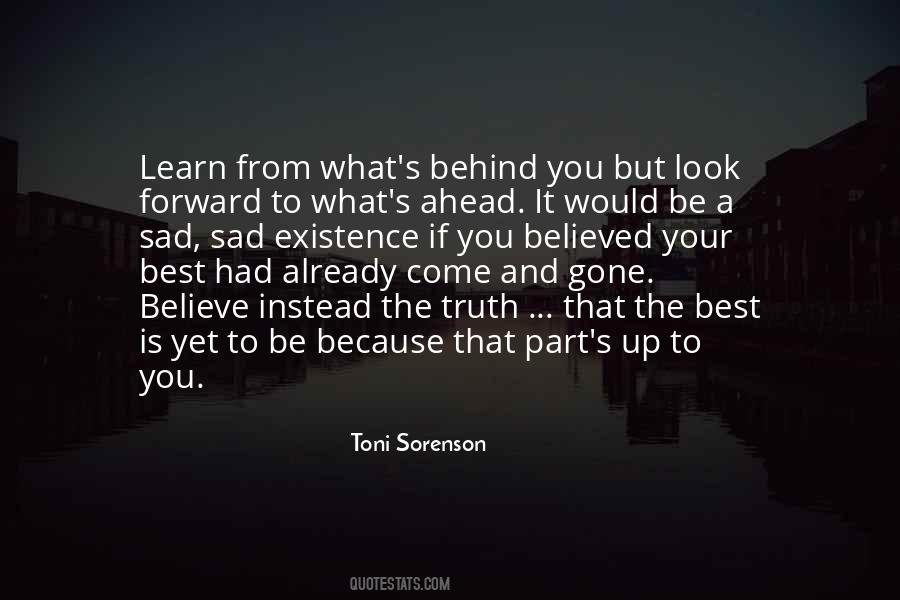 #64. The sad fact is, there are 7.220.400.641 people on the planet, but right now I haven't got a single one to talk to. - Author: Holly Smale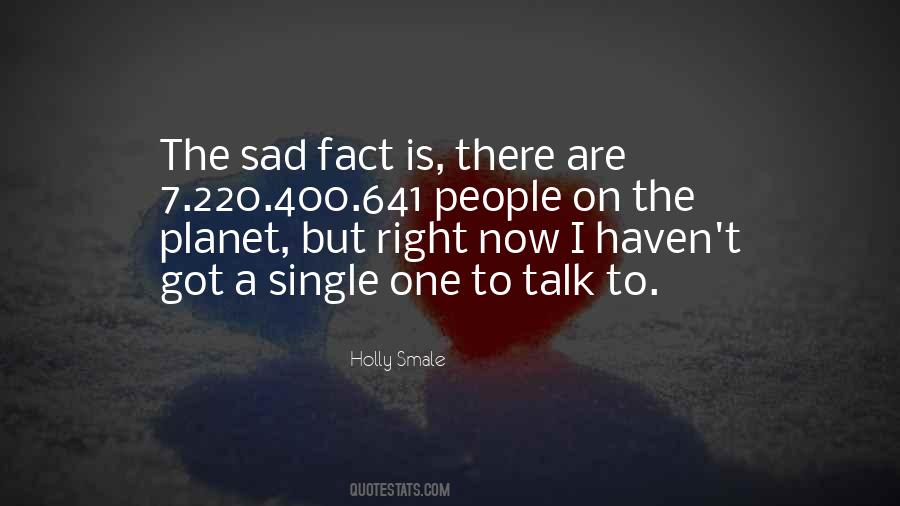 #65. Of course it's true: the public want to see young people - young people are the people who go to the cinema. It's a sad fact of life, but you've got to accept it and not whine about it. - Author: Joan Collins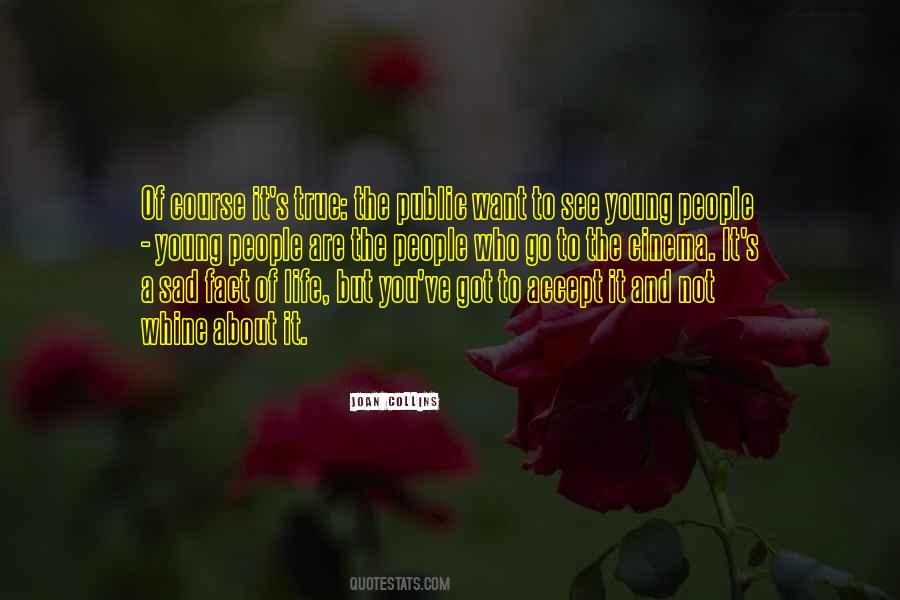 #66. Women will always choose the man over the best friend. This is a sad but true fact of life, and it's only this certitude that makes me unashamed to admit it. - Author: Megan McCafferty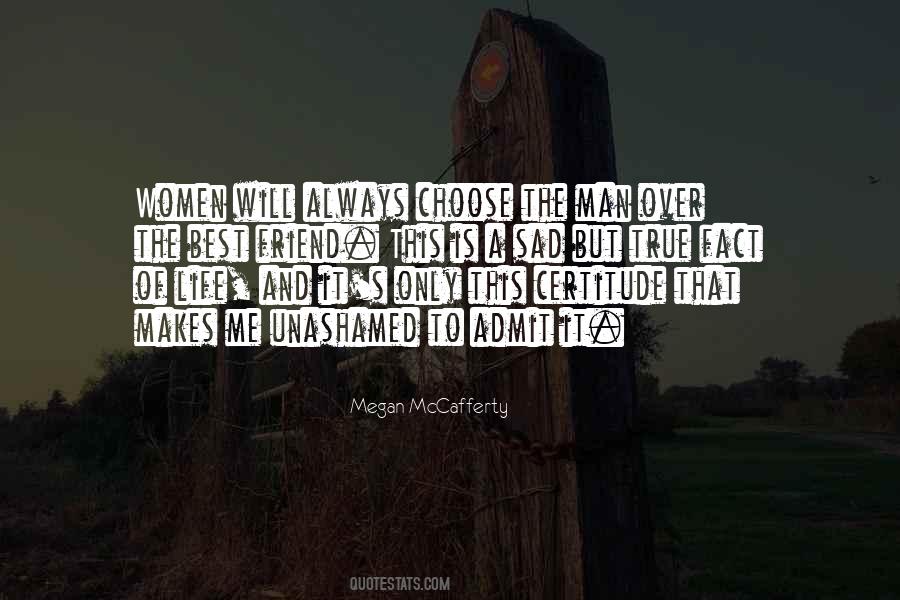 #67. The life's story of great geniuses is a sad one, without much tangible reward, which does not inspire future generations to face a similar fate. Alas also, it stands to reason why so many talent will not come to sparkle on the artistic firmanent. - Author: Joseph Haydn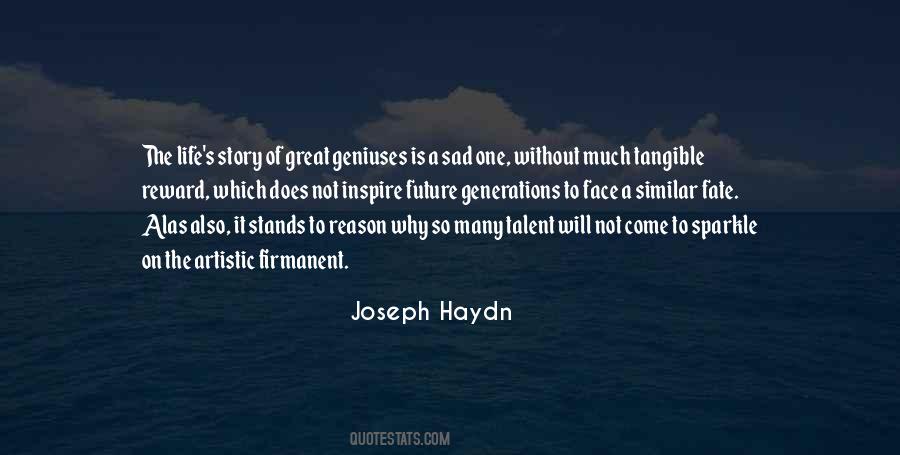 #68. I thought, Love gives light to darken life.
But now i realized ...
Love gives a light to darken life and later it takes the light and make it as a darkest life. - Author: Saravanan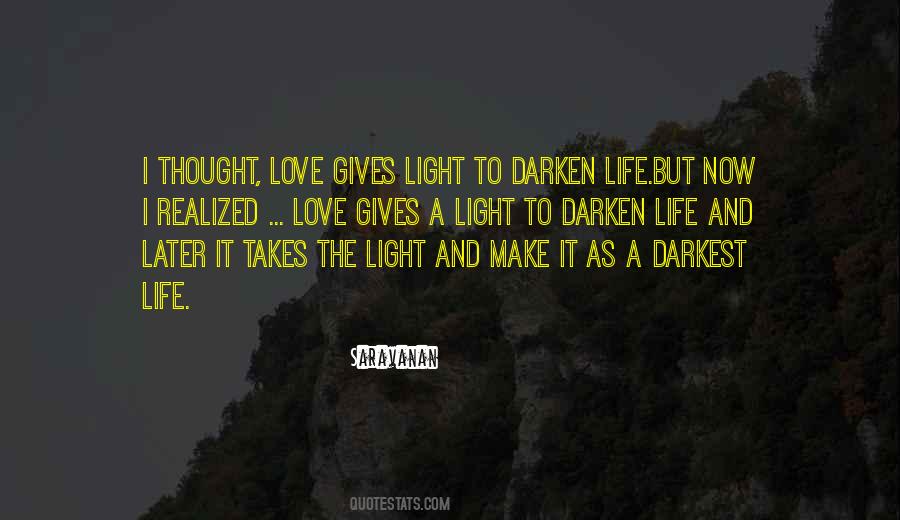 #69. Among the many signs of a lively faith and hope we have in eternal life, one of the surest is not being overly sad at the death of those whom we dearly love in our Lord. - Author: Saint Ignatius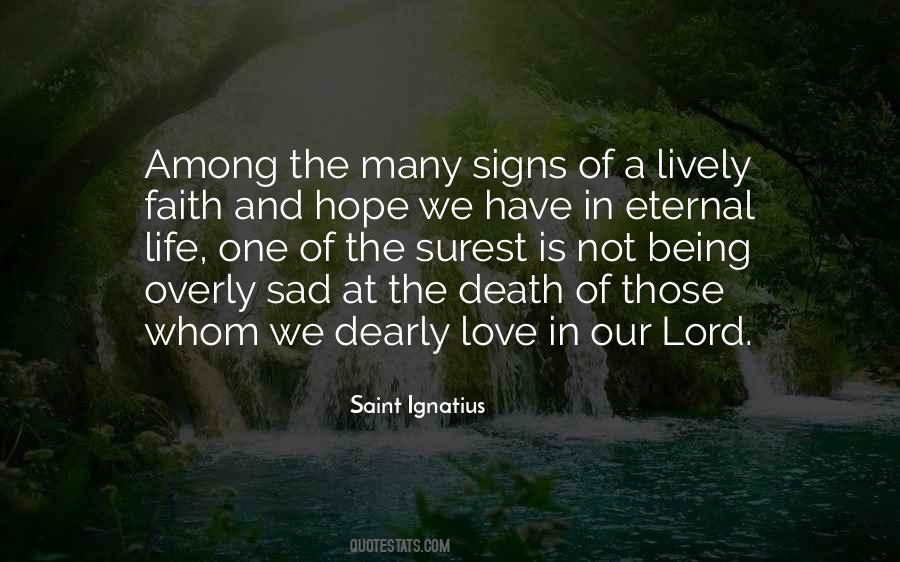 #70. Lincoln-sad, patient, kindly Lincoln, who after bearing upon his weary shoulders for four years a greater burden than that borne by any other man of the nineteenth century laid down his life for the people whom living he had served as well-built upon his early study of the Bible. - Author: Theodore Roosevelt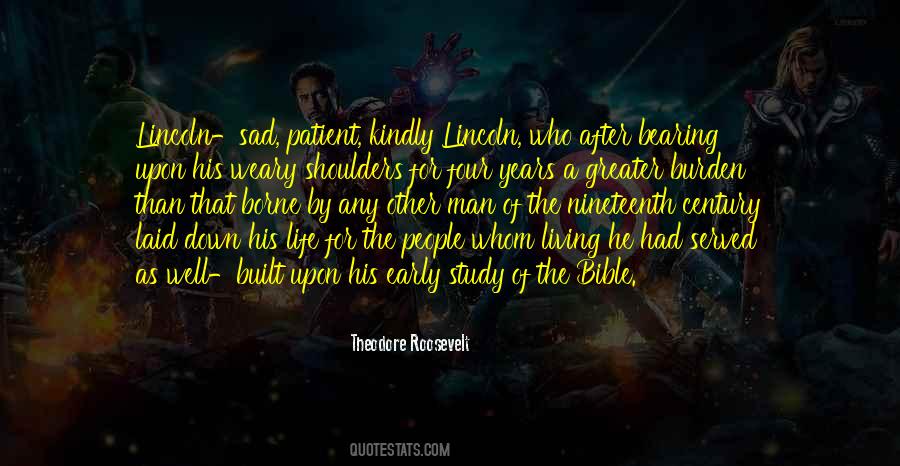 #71. I think the bottom line is that if you get through a childhood like mine, it's not at all bad. Obviously, you come out a pretty tough turkey, and you have had all the inoculations you need to keep you on a level keel for the rest of your life. The sad part is, most of us don't come out. - Author: James A. Michener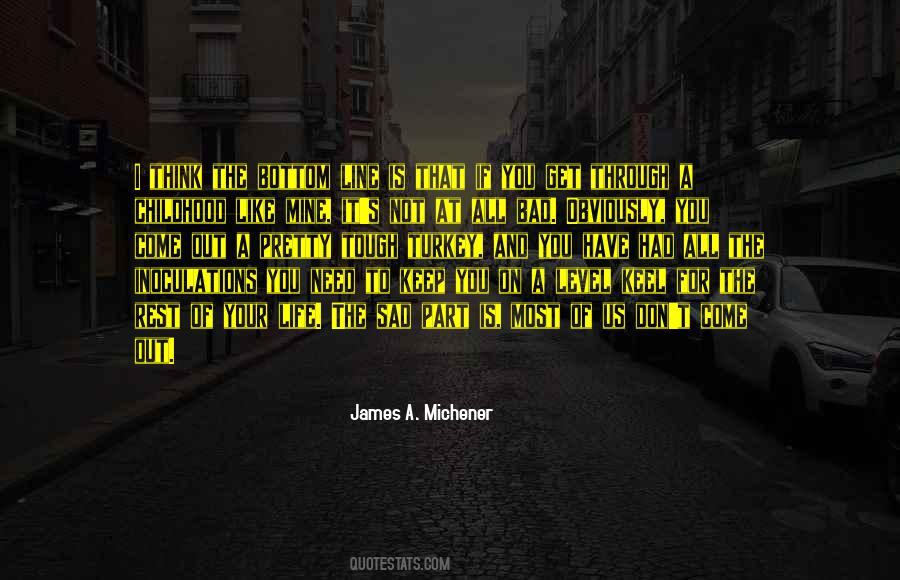 #72. The first thing many tourists see in Hawaii is concrete - a long dreary stretch of it through landscapes dominated by sad, cheap apartment buildings and almost entirely denuded of plant life. - Author: Hanya Yanagihara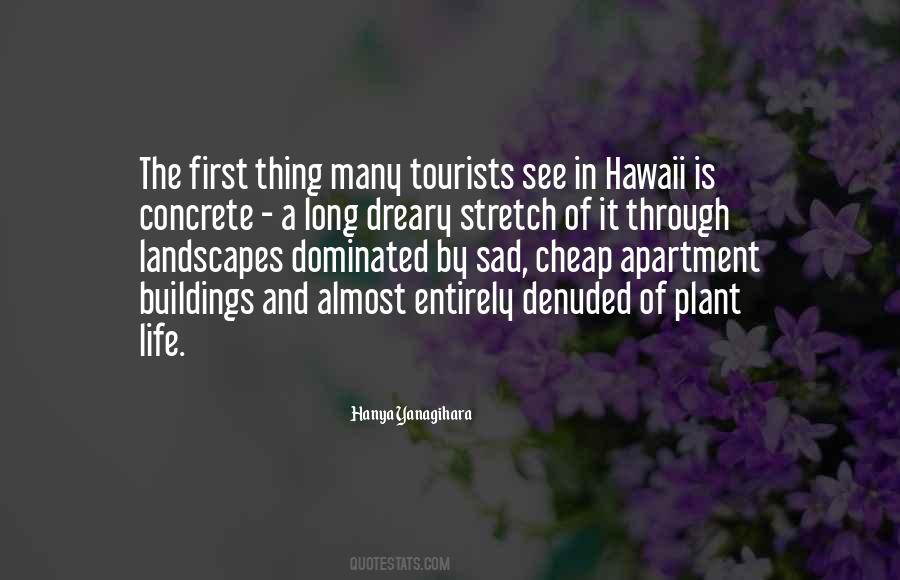 #73. One of the many sad ironies of African-American life is that every banal dysfunctional social gathering is called a "function. - Author: Paul Beatty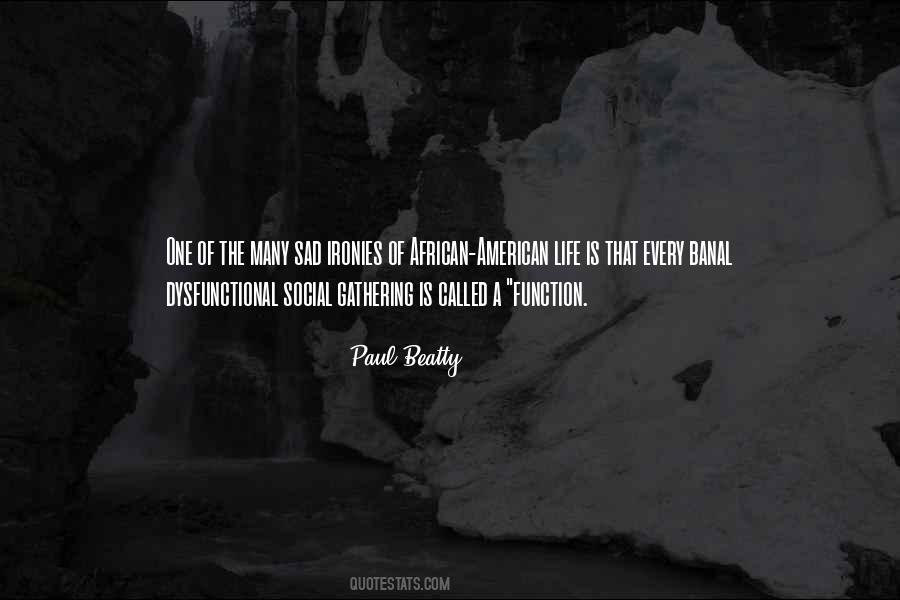 #74. A sad fact of life lately at the Museum of Modern Art is that when it comes to group shows of contemporary painting from the collection, the bar has been set pretty low. - Author: Jerry Saltz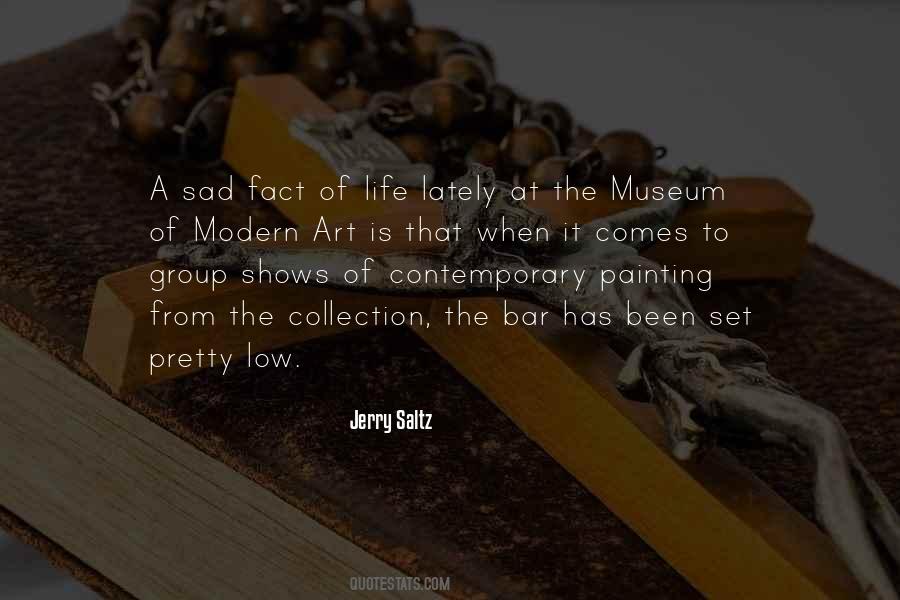 #75. It is important to look at death because it is a part of life. It is a sad thing, melancholy but romantic at the same time. It is the end of a cycle - everything has to end. The cycle of life is positive because it gives room for new things. - Author: Alexander McQueen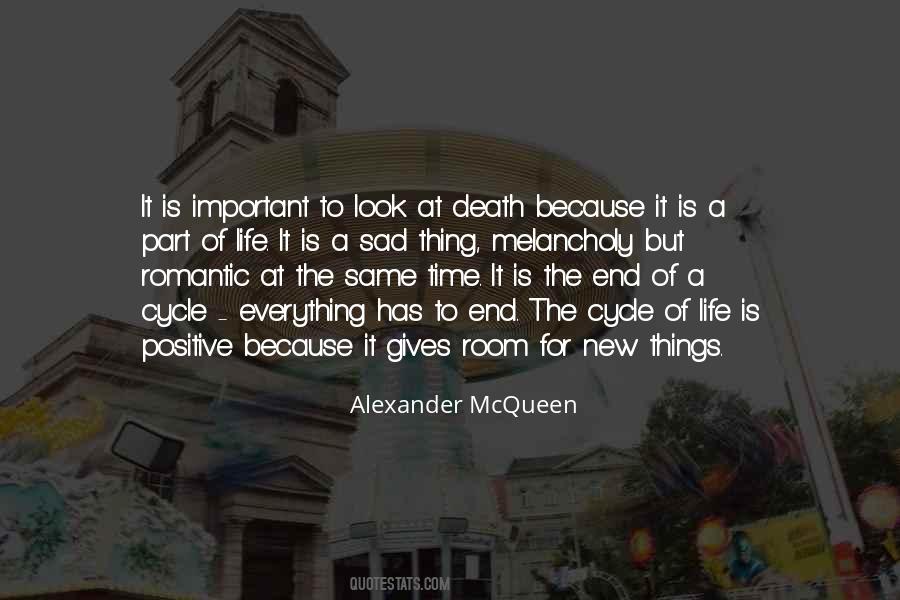 #76. It is true when you are by yourself and you think about life, it is always sad. All that excitement and so on has a way of suddenly leaving you, and it's as though, in the silence, somebody called your name, and you heard your name for the first time. - Author: Katherine Mansfield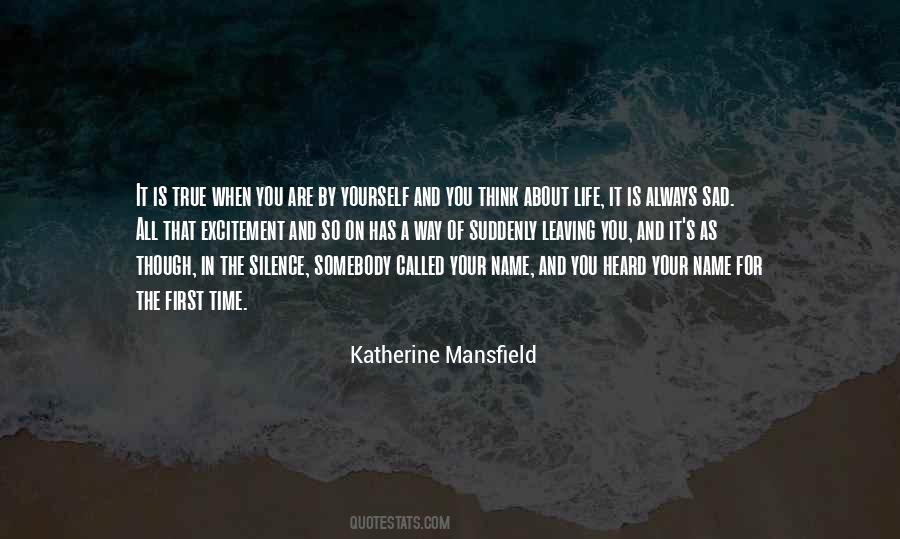 #77. A shadow has no relatives
he is universally orphan - Author: Yarro Rai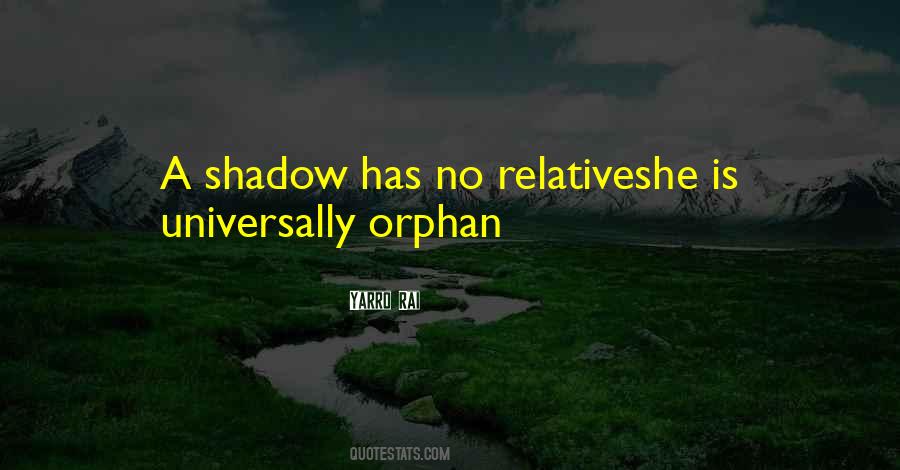 #78. A dog reflects the family life. Whoever saw a frisky dog in a gloomy family, or a sad dog in a happy one? Snarling people have snarling dogs, dangerous people have dangerous ones. - Author: Arthur Conan Doyle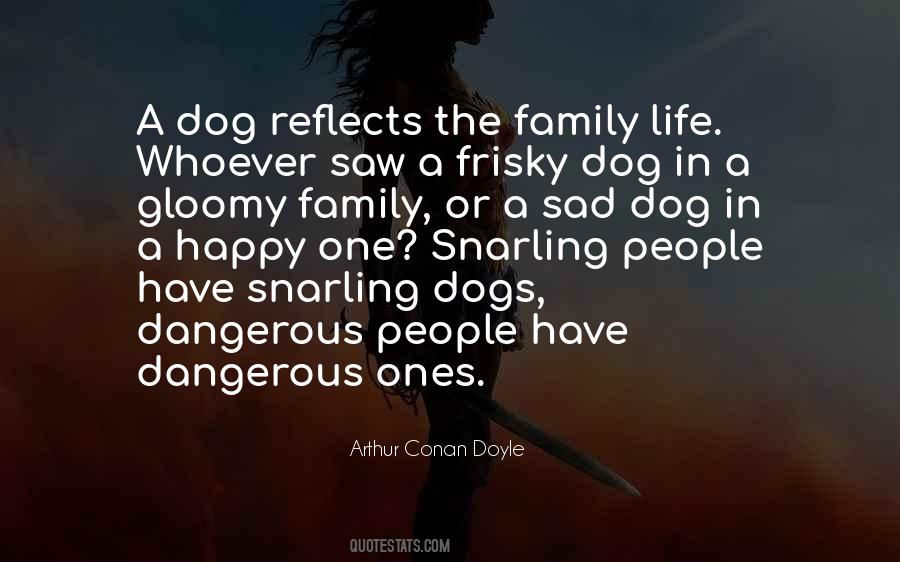 #79. Why does truth carry such a dreadful face? Why does subjugation carry such a happy mask? It becomes sad when people understand that they can lead a better life as long as they bow their heads, ignoring the truth. - Author: Lionel Suggs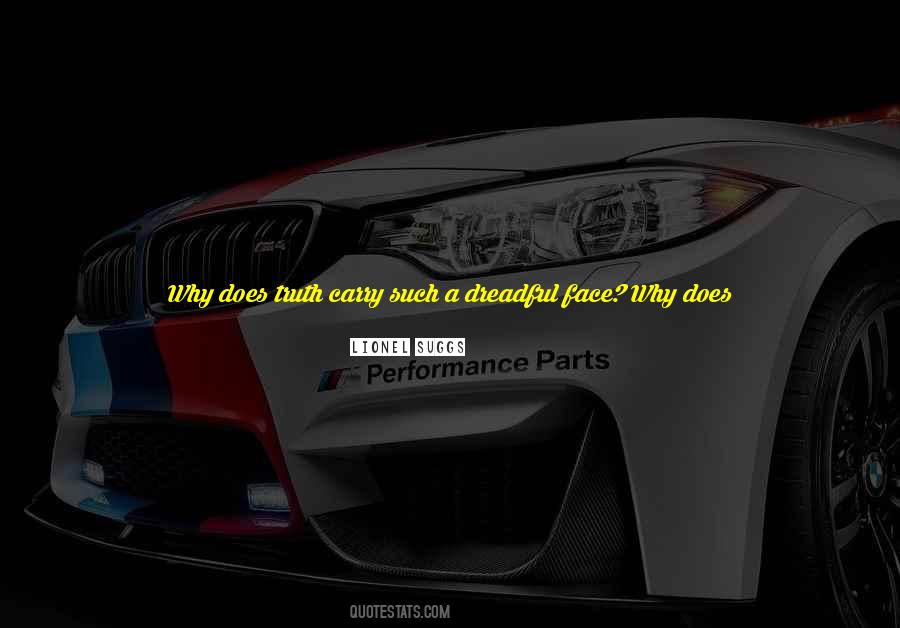 #80. Sad is his lot, who, once at least in his life, has not been a poet. - Author: Alphonse De Lamartine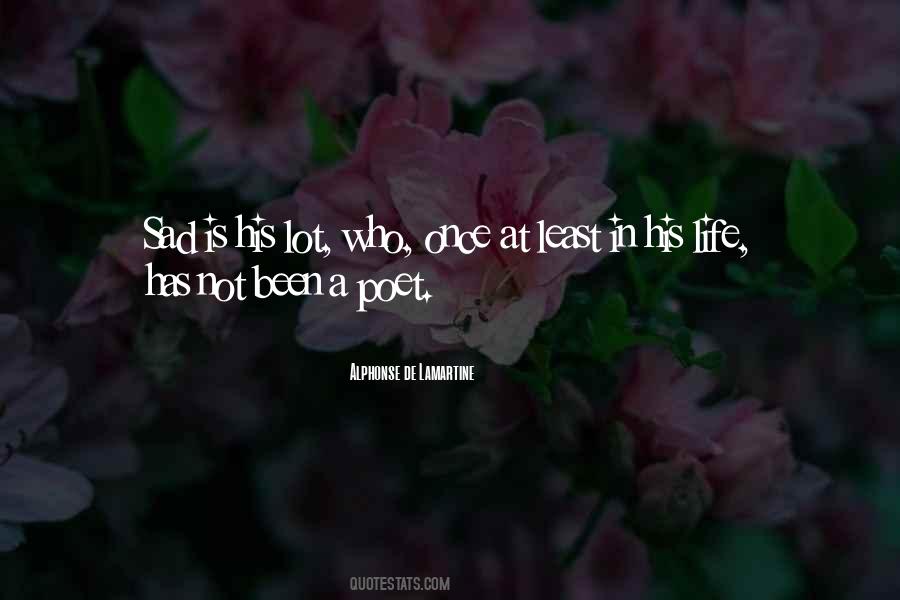 #81. It is only by enlarging the scope of one's tastes and one's fantasies, by sacrificing everything to pleasure, that the unfortunate individual called Man, thrown despite himself into this sad world, can succeed in gathering a few roses among life's thorns - Author: Marquis De Sade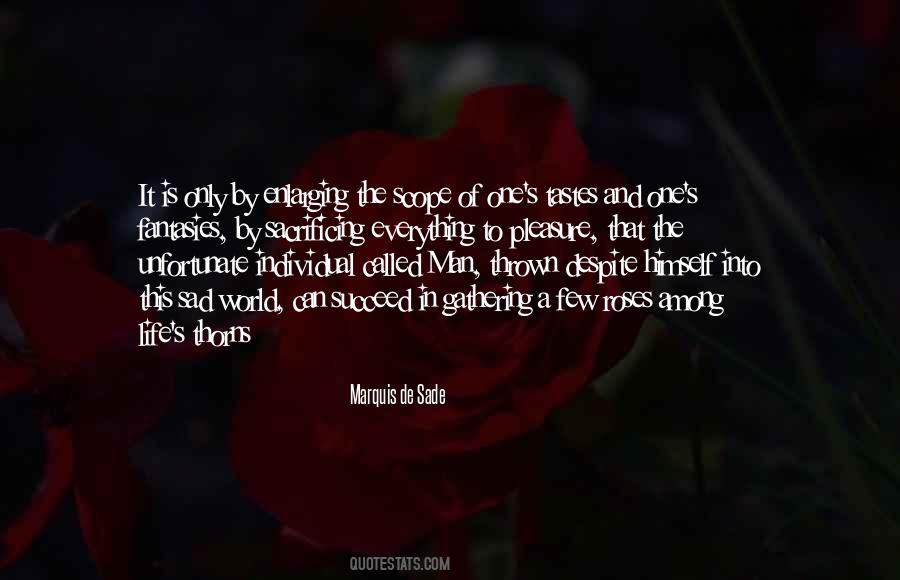 #82. [I]f you are truly a man, sure of yourself and confident of your strength, you may taste of life without fear and without reserve; you may be sad or joyous, deceived or respected; but be sure you are loved, for what matters the rest? - Author: Alfred De Musset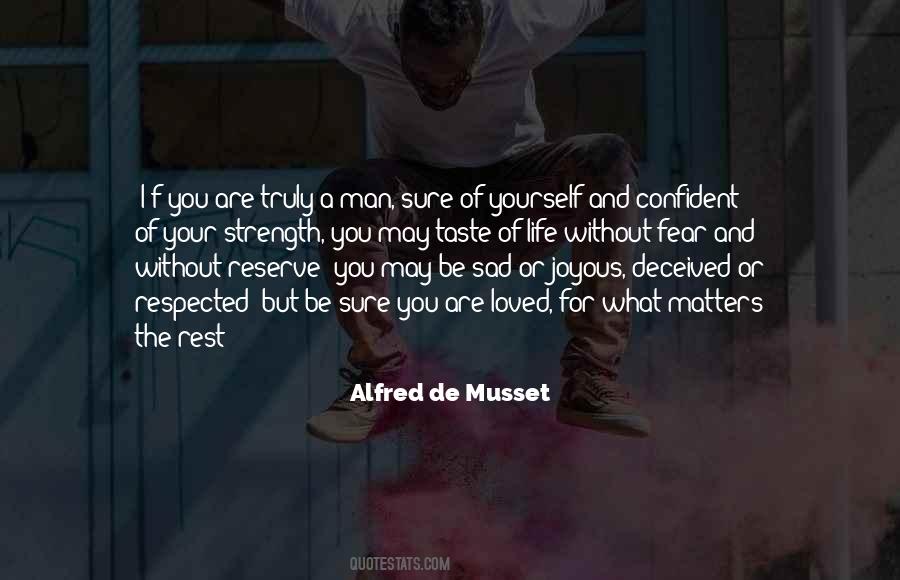 #83. Life is a series of decisions that cuts off infinite possibilities at every turn. Most people look at that as a sad unfortunate fact of life. Successful people see it as a source of tremendous power. - Author: Mark Joyner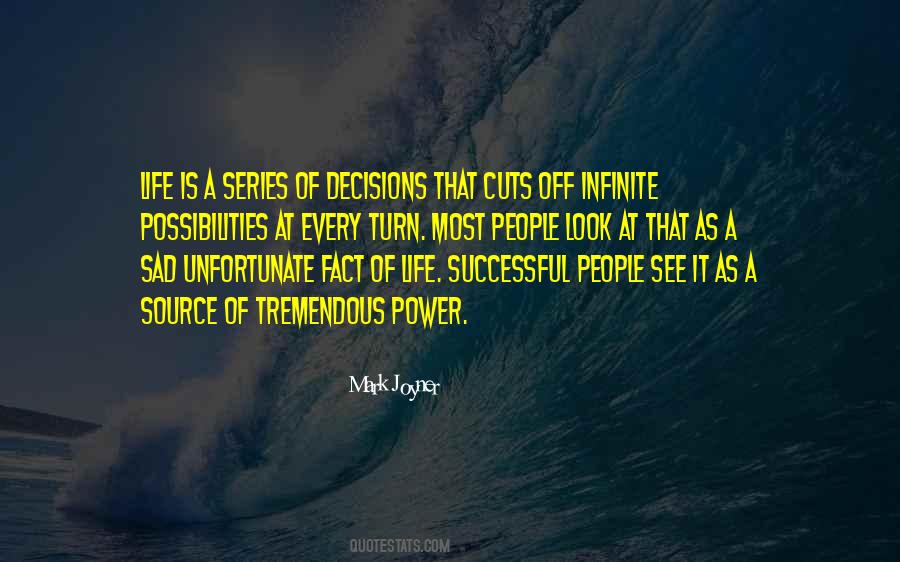 #84. He had never done it before, and so he had no real understanding of how slow, and sad, and difficult it was to end a friendship. - Author: Hanya Yanagihara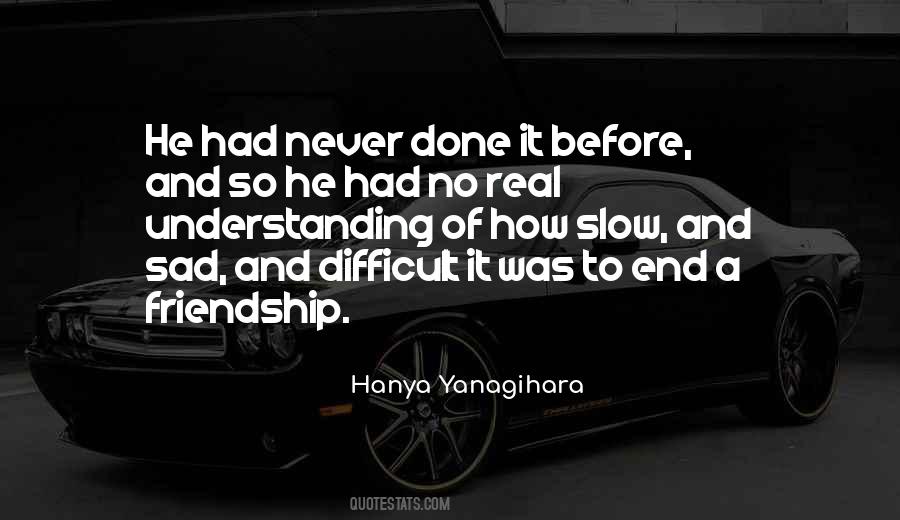 #85. The past is only making you to spill tears, tears of joy or tears pain. But anyway they are making you sad, for the things you had and will never have again. - Author: T.A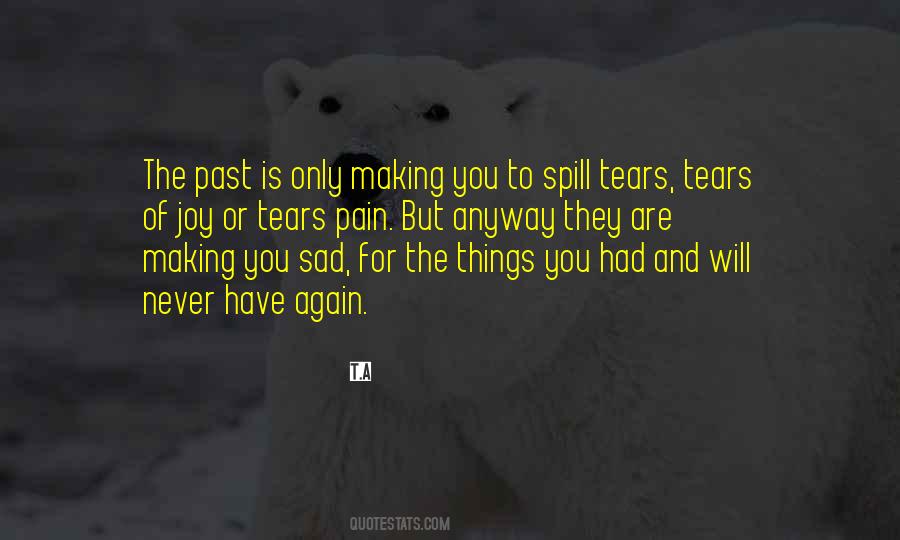 #86. You will find a blissfulness which contains in it sadness also, because that sadness gives it depth. Watch Buddha's statue - blissful, but still sad. The very word sad gives you wrong connotations - that something is wrong. This is your interpretation. To me, life in its totality is good. - Author: Rajneesh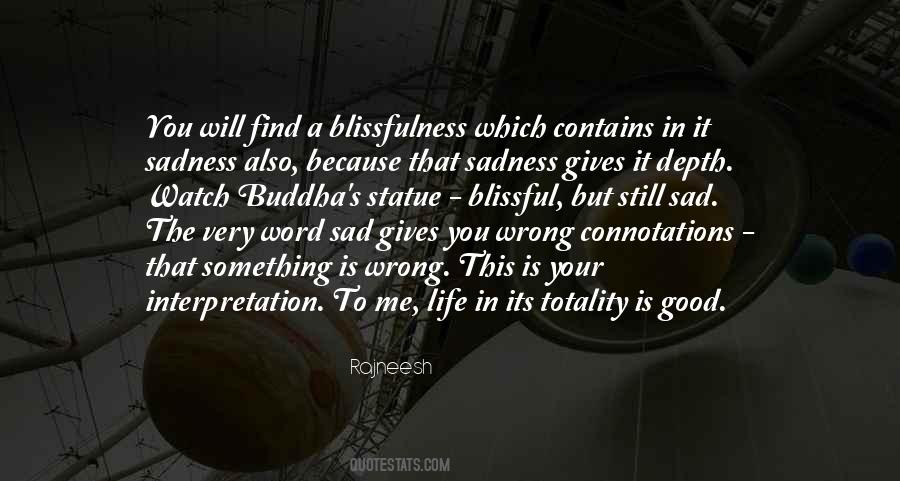 #87. They weren't nice words he said. He could've lived a good life and died never having made a person feel rubbed down to bones and too sad to hold together. - Author: Shannon Hale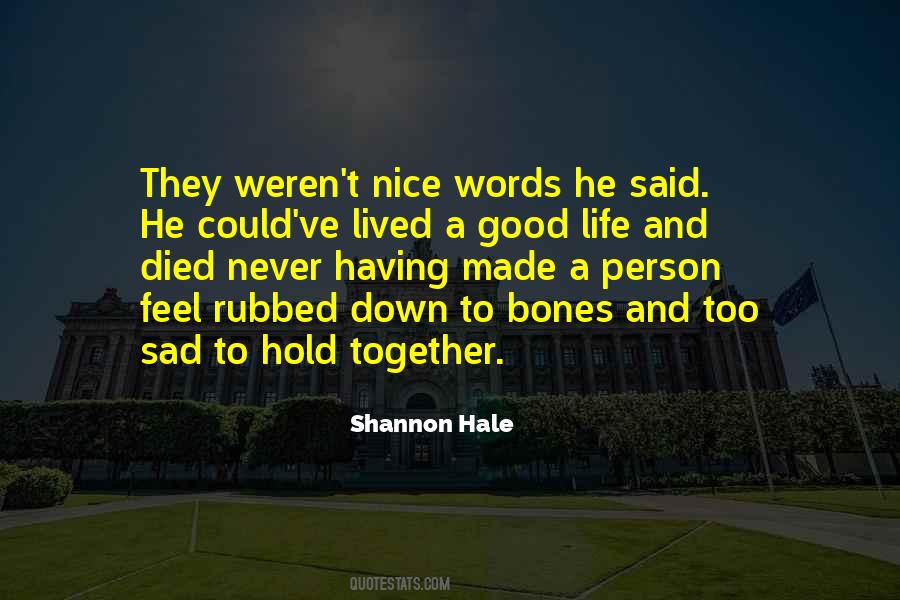 #88. Strange how when you're young you have no memories ... Then one day you wake up and BOOM, memories overpower all else in your life, forever making the present moment seem sad and unable to compete with a glorious past that now has a life of its own. - Author: Douglas Coupland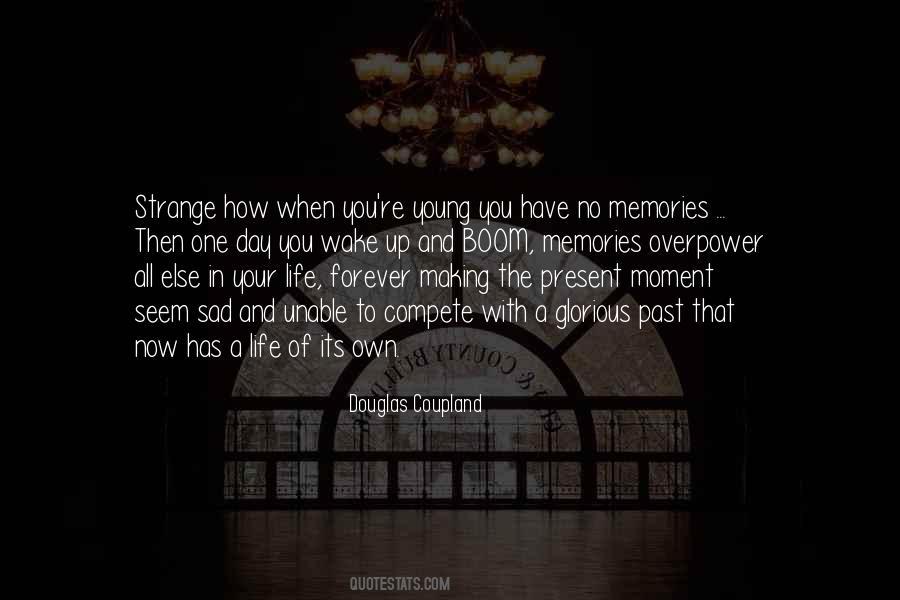 #89. It is a sad but unavoidable fact of life," he began, "that as we age our social circles grow smaller. Whether from increased habit or diminished vigor, we suddenly find ourselves in the company of just a few familiar faces. - Author: Amor Towles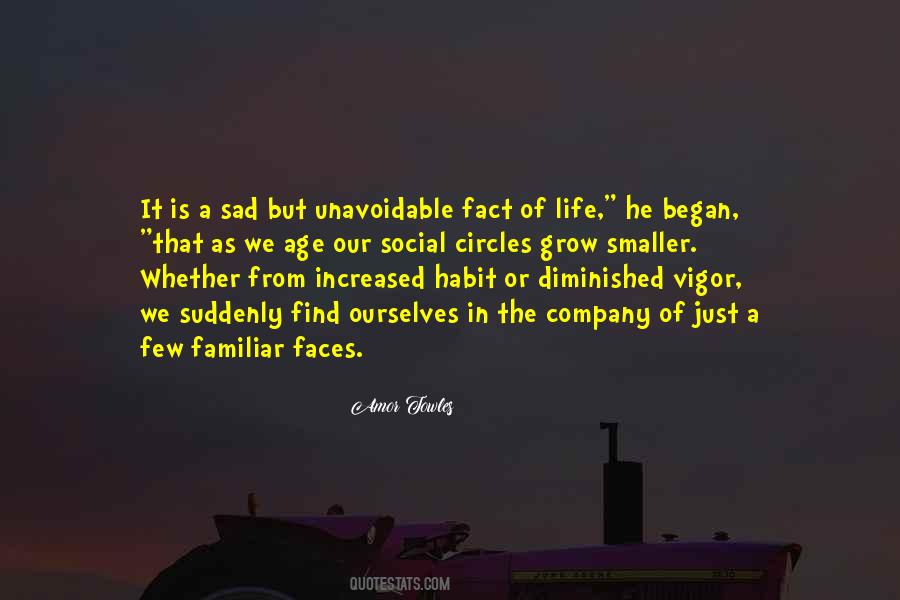 #90. Meanwhile, life passes on and time runs out. The culture of wanting more simply for the sake of more can occupy a person for an entire lifetime. But in the end, life is over. It terminates for the beggar and the affluent just the same, whether one is old or young, rich or poor, happy or sad. - Author: Hamza Yusuf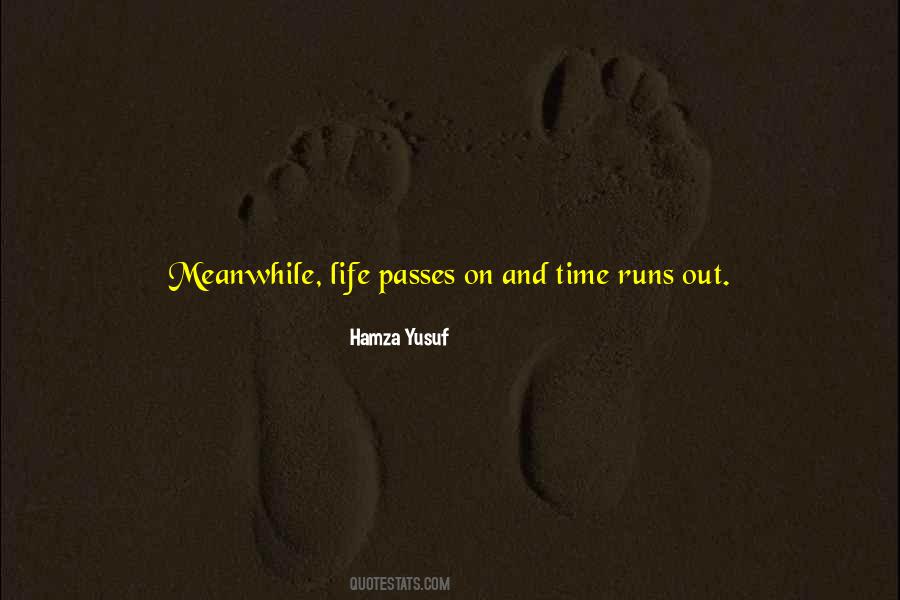 #91. I wanted to capture time through how food and I were getting along at any given moment. That necessitated writing some dark stuff, some sad stuff, and a lot of painful memories, because my life has often been dark, sad, and painful. I didn't want to sugarcoat anything. - Author: Kate Christensen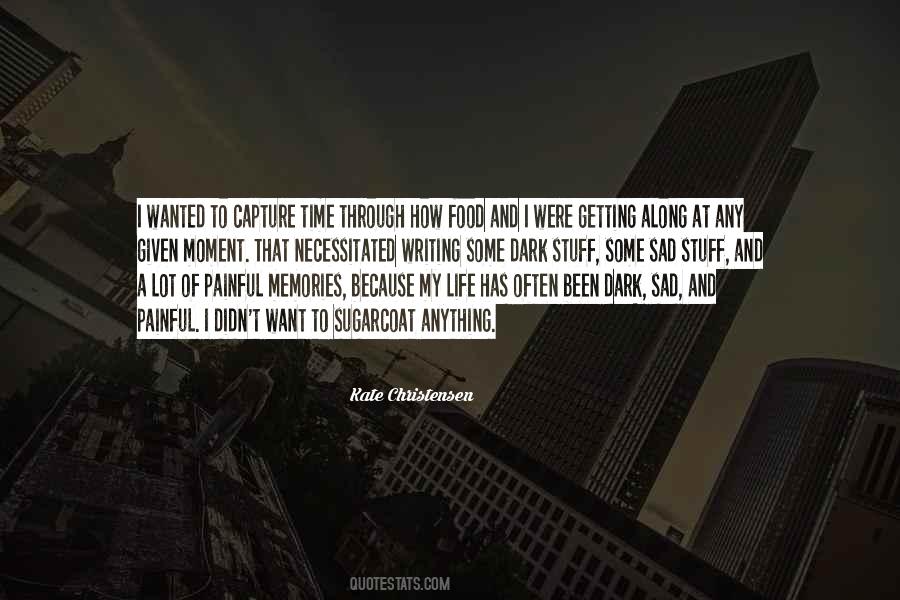 #92. I lay there and thought how life was like a Littmus Lozenge, how the sweet and the sad were all mixed up together and how hard it was to separate them out. It was confusing. - Author: Kate DiCamillo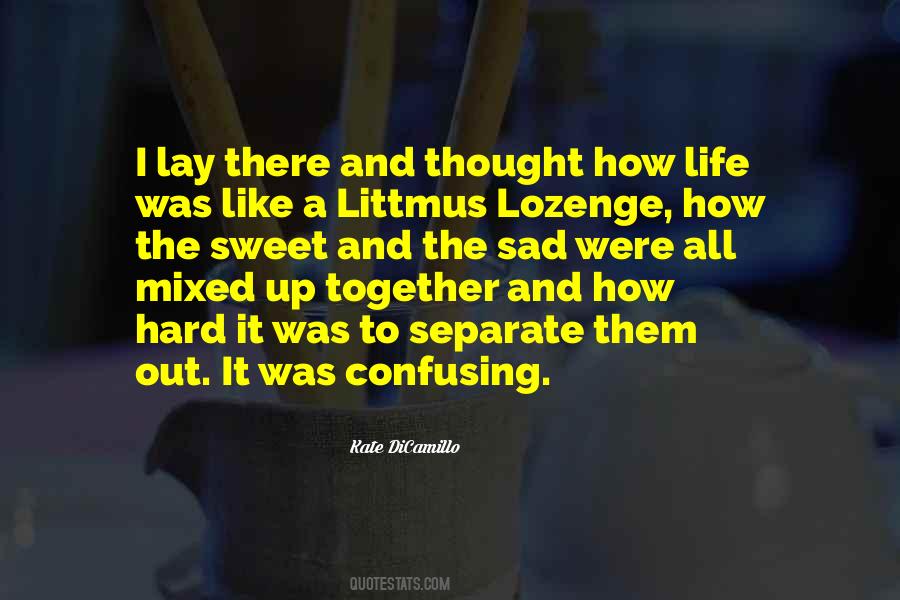 #93. I've got a great support group, real and true friends and I'm moving forward with my life. I was sad and wanted to make things work but I'm completely fine now. I'm moving on. - Author: Camille Grammer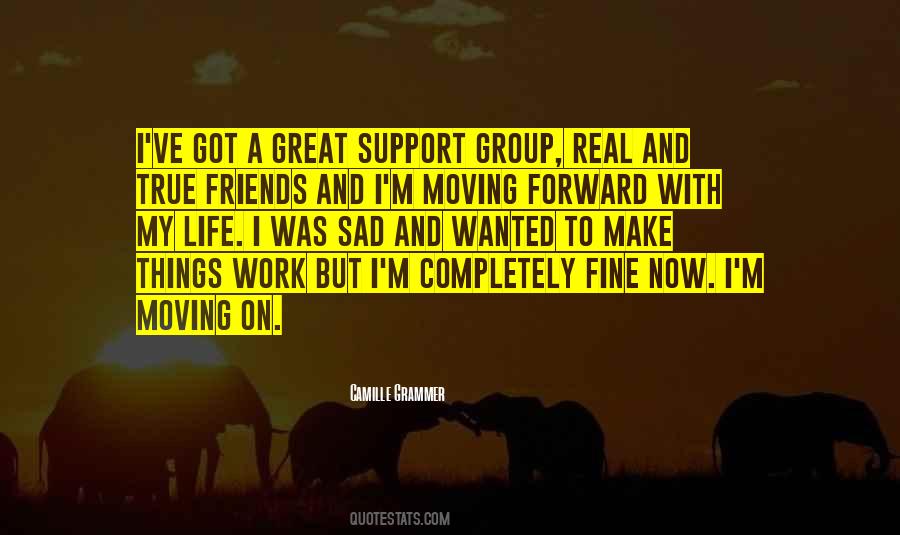 #94. Every story is part of a whole, entire life, you know? Happy and sad and tragic and whatever, but an entire life. And books let you know them. - Author: Sarah Ockler
#95. We live in a vale of tears ... We can have all the dreams we like, but life is hard, implacable, sad. - Author: Paulo Coelho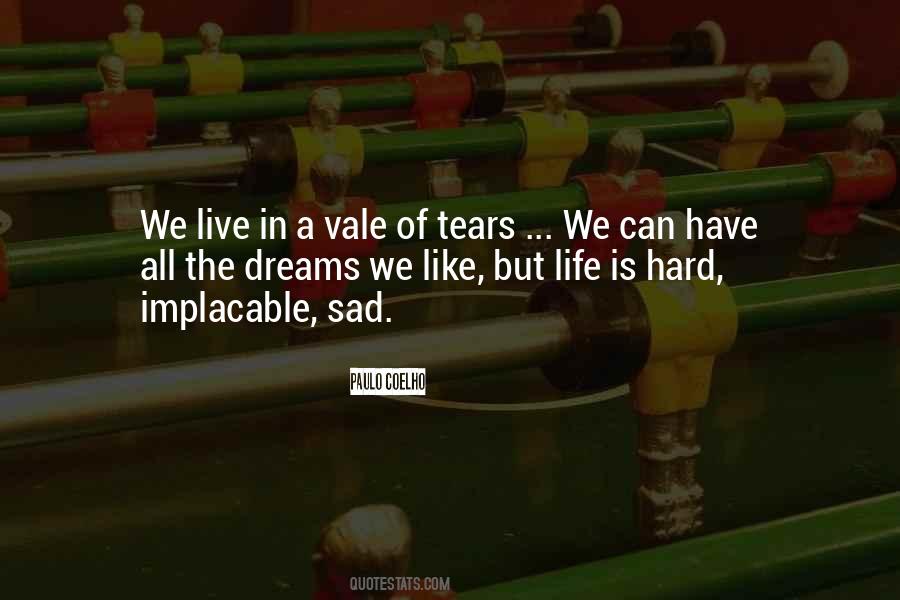 #96. Goddam life, I say, if you can't laugh you might as well laugh anyway. That's my goddam attitude, and I stick by it; this ain't a sad world unless you're sane. - Author: Stephen King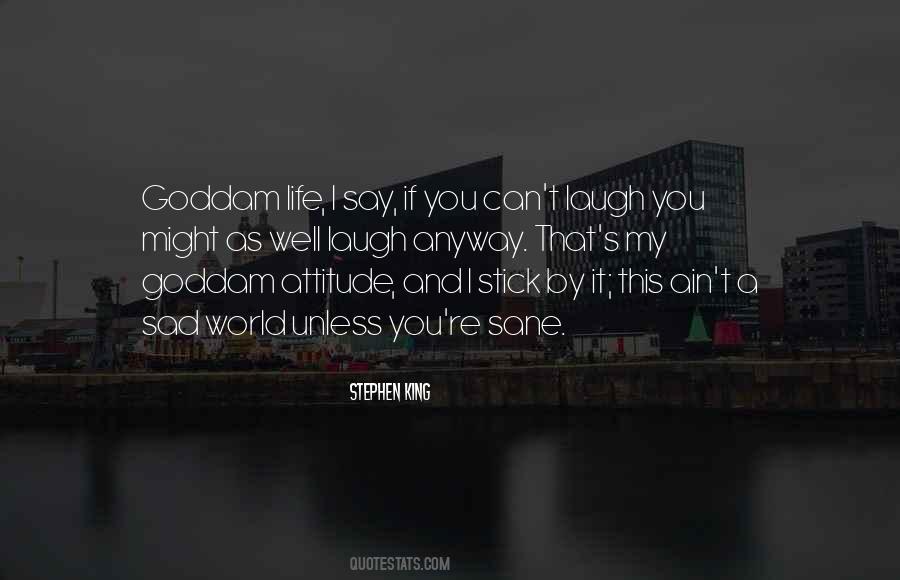 #97. Truthfully, there're only a handful of people in this world who really get joy from seeing you happy. Most won't care if you're happy, only if you're miserable like they are. They eat that shit up. - Author: Crystal Woods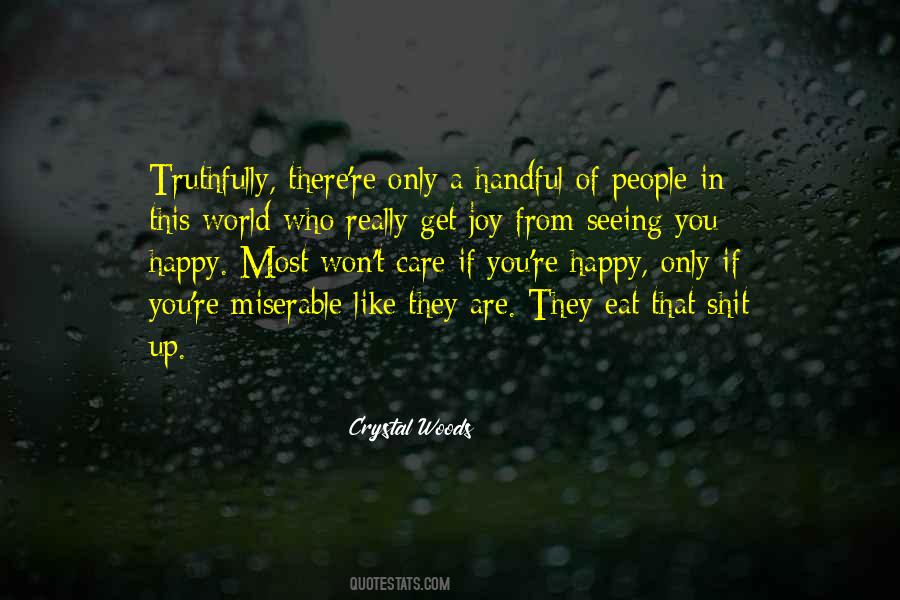 #98. I saw, in gradual vision through my tears,
The sweet, sad years, the melancholy years,
Those of my own life, who by turns had flung
A shadow across me. - Author: Elizabeth Barrett Browning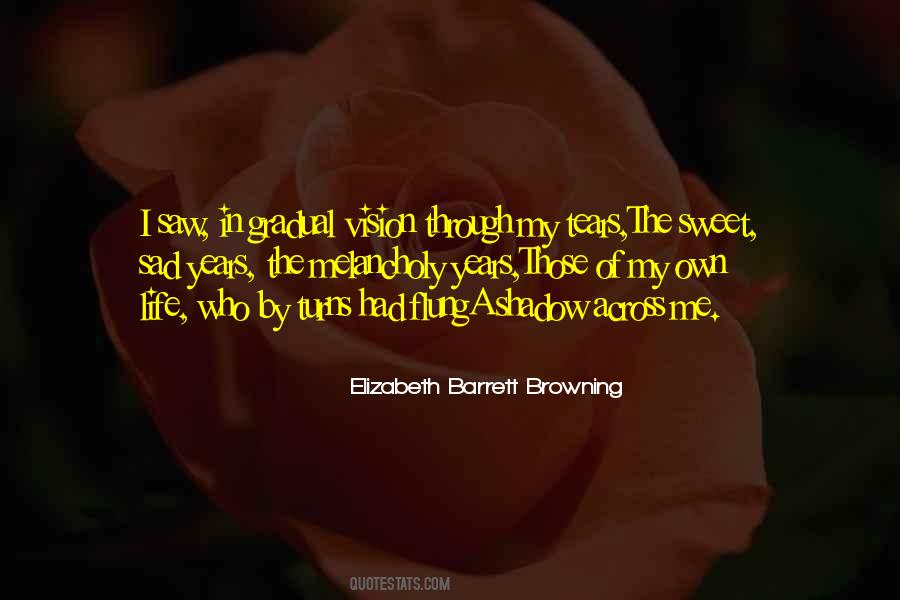 #99. I was too busy writing sad ballads to unrequited love in my head and planning a life where my hand would be my boyfriend. - Author: T.J. Klune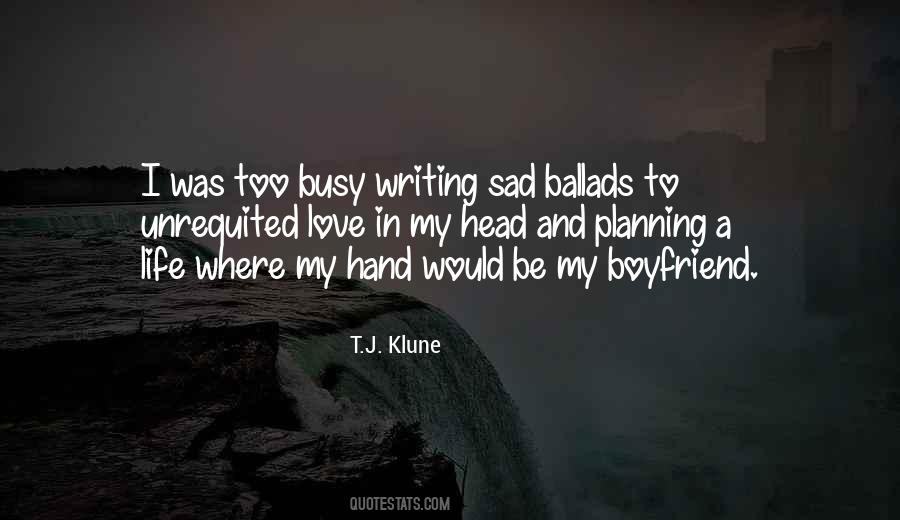 #100. Understanding life is like trying to put together a puzzle with pieces that don't fit. - Author: Dave Guerrero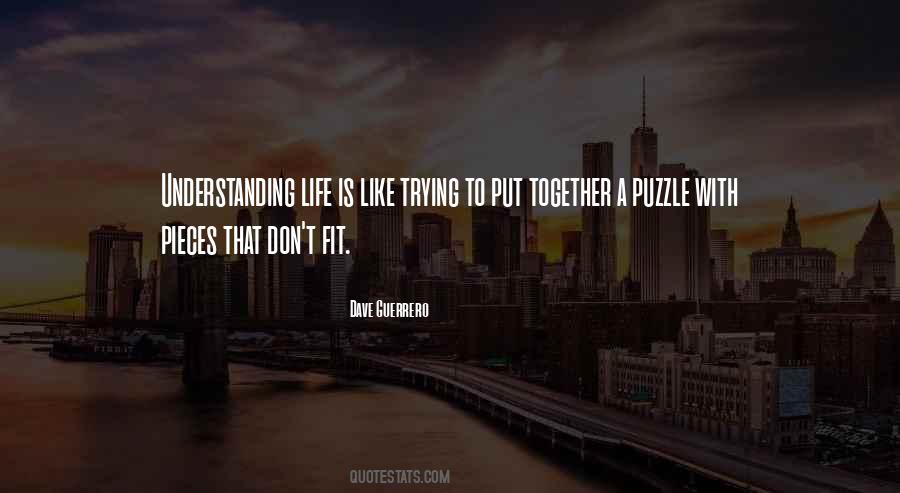 Famous Authors
Popular Topics