Re Encounter Famous Quotes & Sayings
List of top 37 famous quotes and sayings about re encounter to read and share with friends on your Facebook, Twitter, blogs.
Top 37 Re Encounter Quotes
#1. Yes, you don't have to collect conversations when you travel, but if you encounter that rare soul with whom you share a connection, no matter where they're from, you'll know what to do. - Author: Wya Soquiet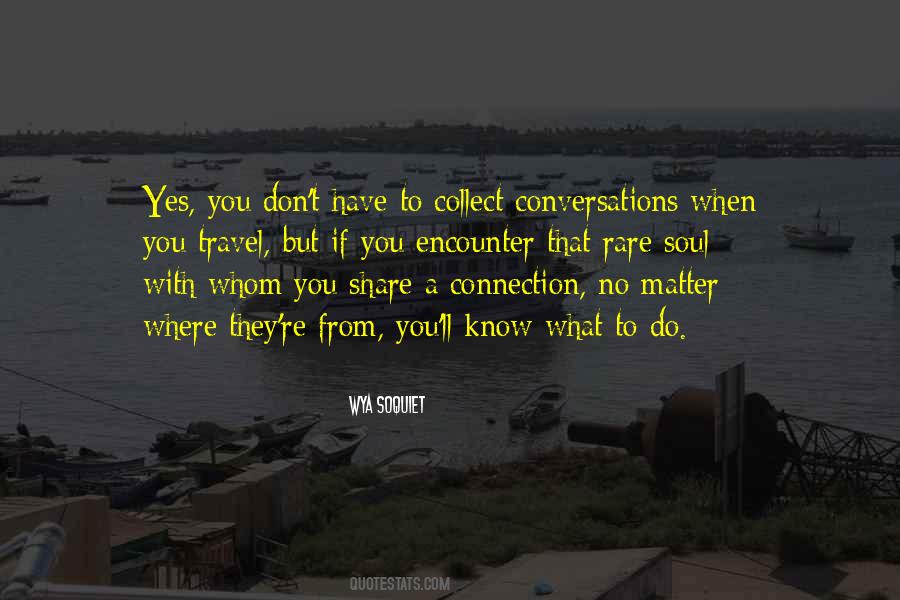 #2. I've always found allegories kind of comforting. When you encounter people named Liar and Abstinence, you might not be crazy about them, but you know exactly what you're getting into. - Author: Marisa De Los Santos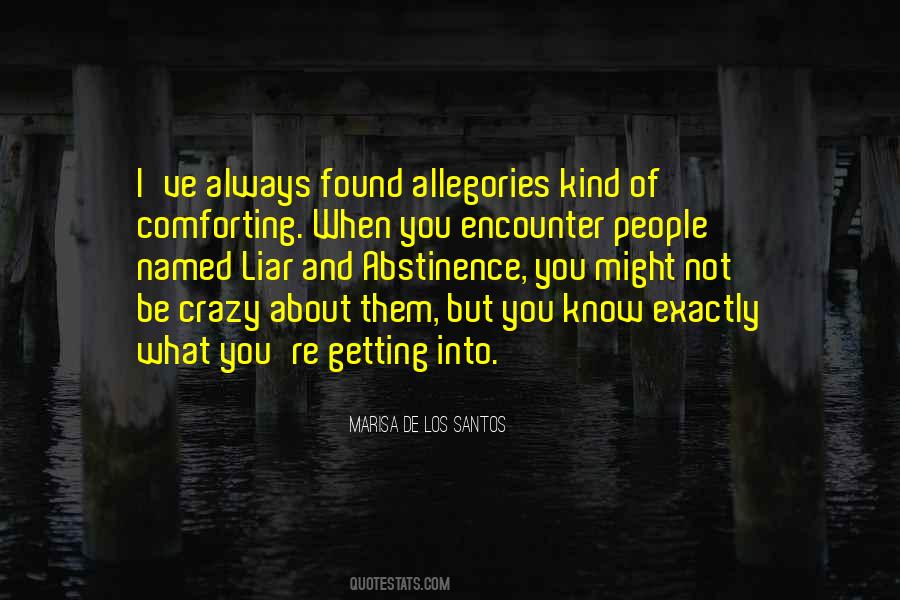 #3. 'The Rime of the Ancient Mariner' had a formative effect on me. I think it's one of those works that if you encounter it very early you're doubly enchanted by the beauty of the language and the strangeness of the vision. It stays with you. - Author: Ben Okri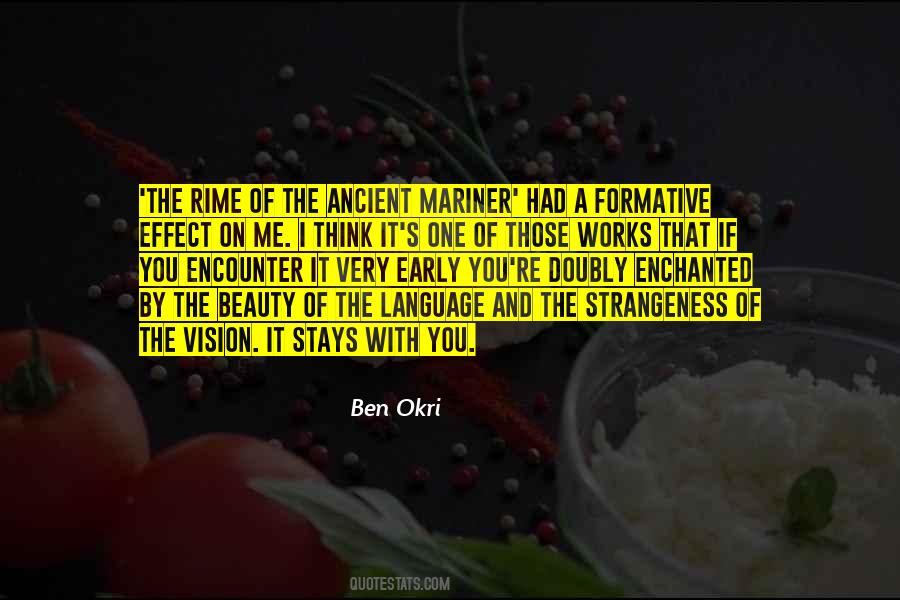 #4. It was the single best sexual encounter I've ever had. We were in the Soho Grand Hotel, and there was a mirror, and I was like, 'Oh my God, you're banging the girl of your dreams and you're watching it right now.' - Author: Pete Wentz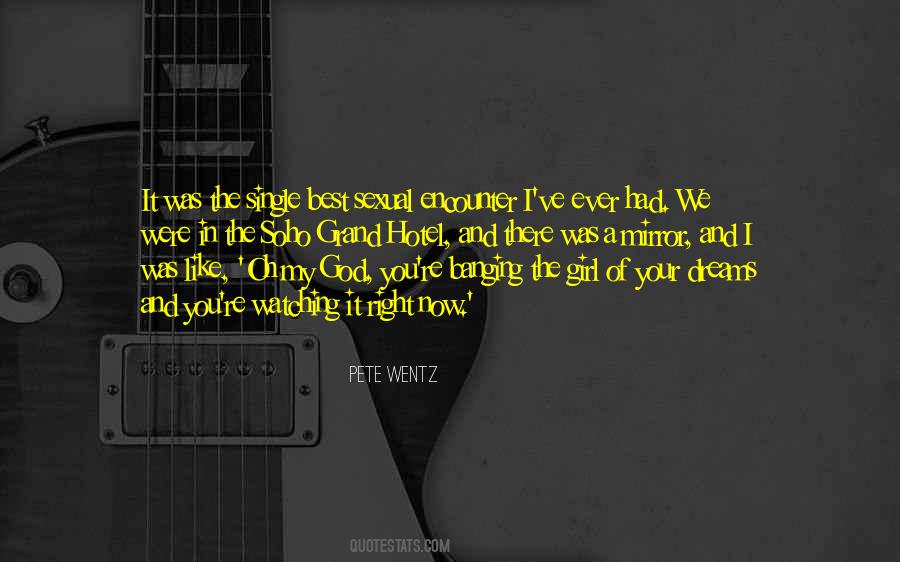 #5. If somebody would come and they're not playing music, they would encounter certain people on another level. - Author: Billy Higgins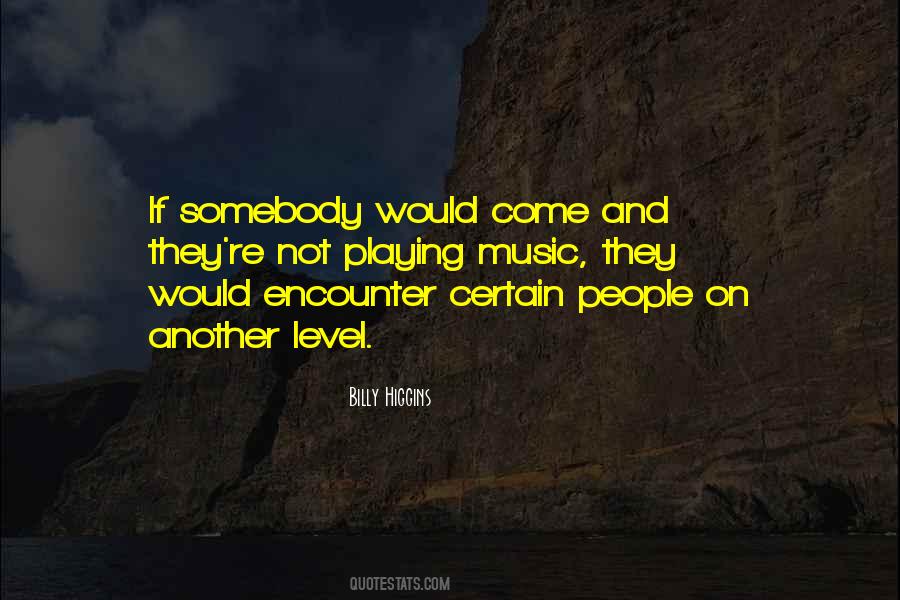 #6. You create your characters, set things in motion, and then let those characters and the situations they encounter tell you how they're going to end up. - Author: Laird Barron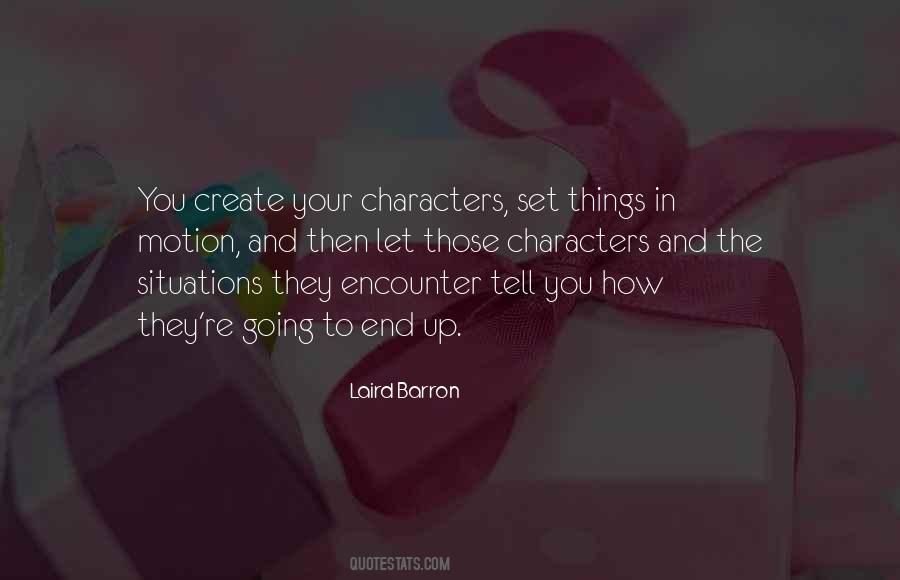 #7. I want to bring back the human encounter into places where material things have a prime status. In a museum, you're supposed to look at things and not talk to other people. - Author: Tino Sehgal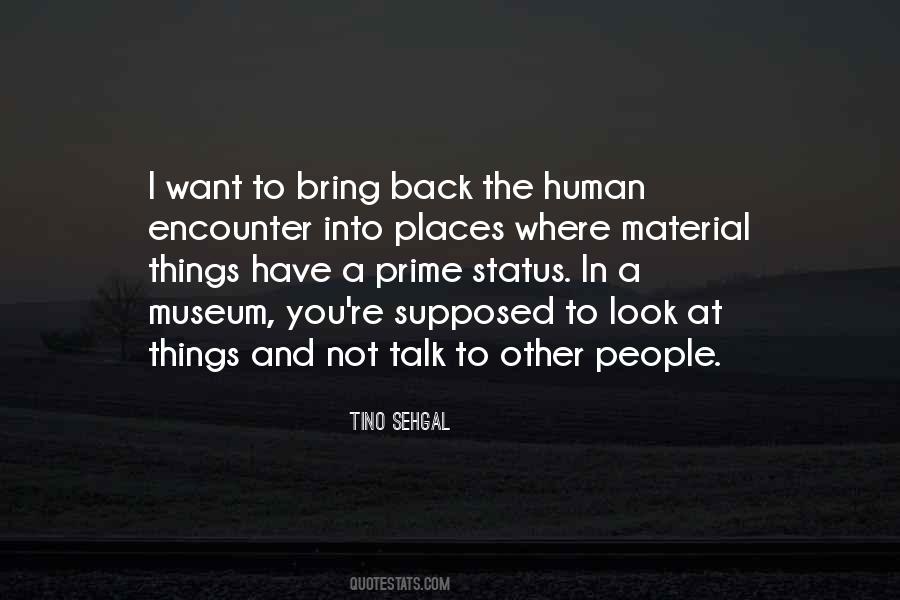 #8. You can't anticipate in the room the riches of what you encounter when you're location hunting for a movie. - Author: Woody Allen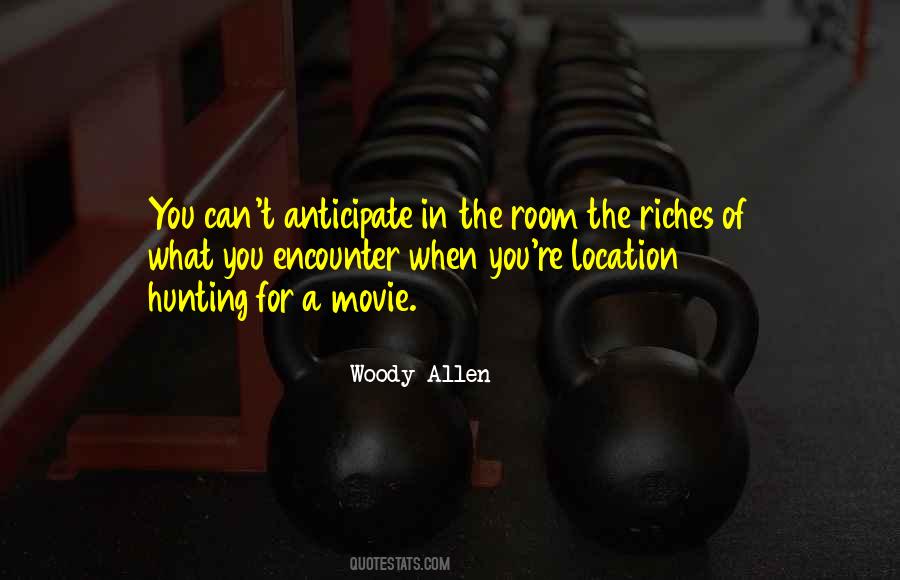 #9. With four-to-one odds against us, our ability to leave the encounter without serious damage becomes seriously impaired." "Spock," McCoy said gently, "your bedside manner is flawless. You mean, we're all going to be blown to hell." Spock hesitated, then nodded. - Author: Diane Duane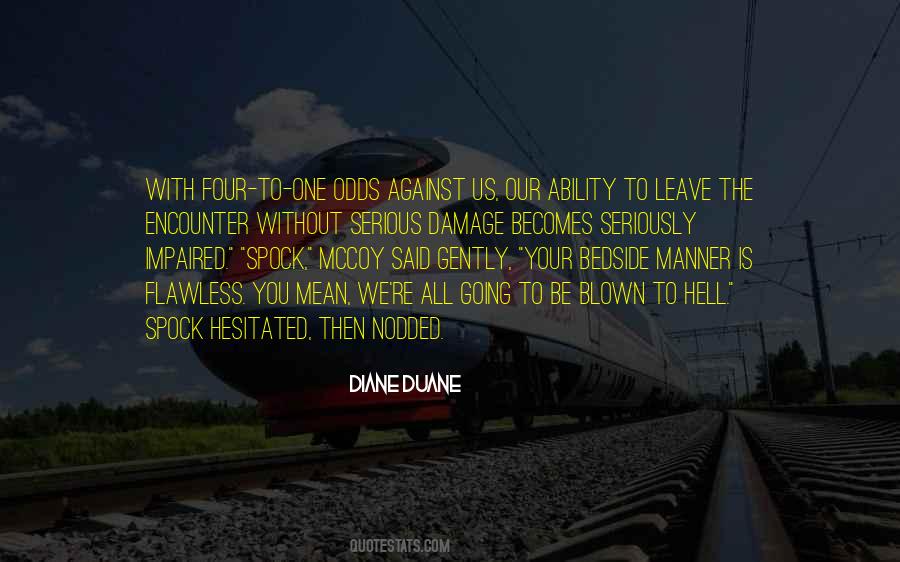 #10. You know that split second? The one where you decide if you're going to just smile and continue looking around, or chance an encounter with a stranger? It's a dangerous moment. It changes absolutely everything. - Author: Andrea Randall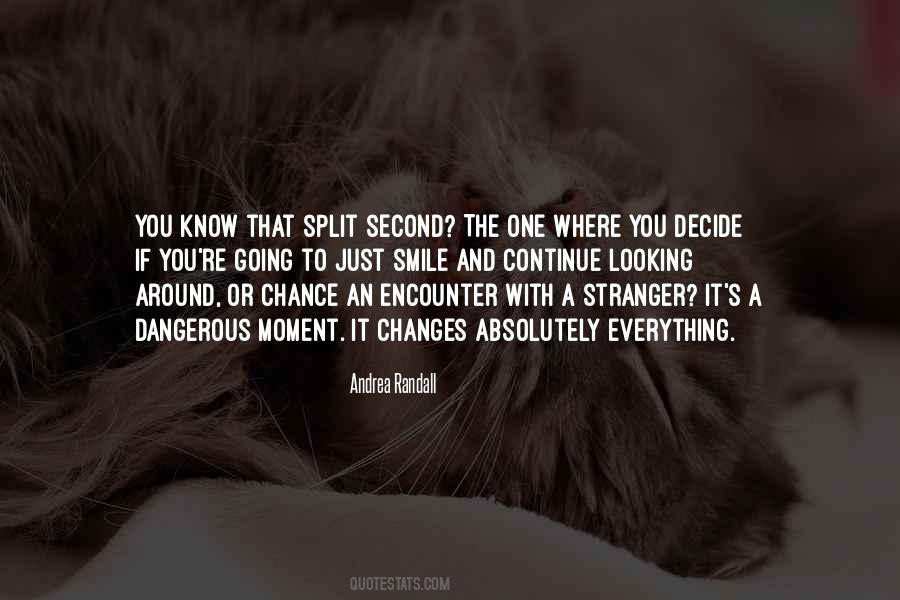 #11. Your life is not so complicated. God has already written the script, casted the key players. It is when we try to re-write the plot that we encounter unnecessary drama. Accept the role God has chosen you to play. Faith in his direction will assure an Oscar worthy performance! - Author: Carlos Wallace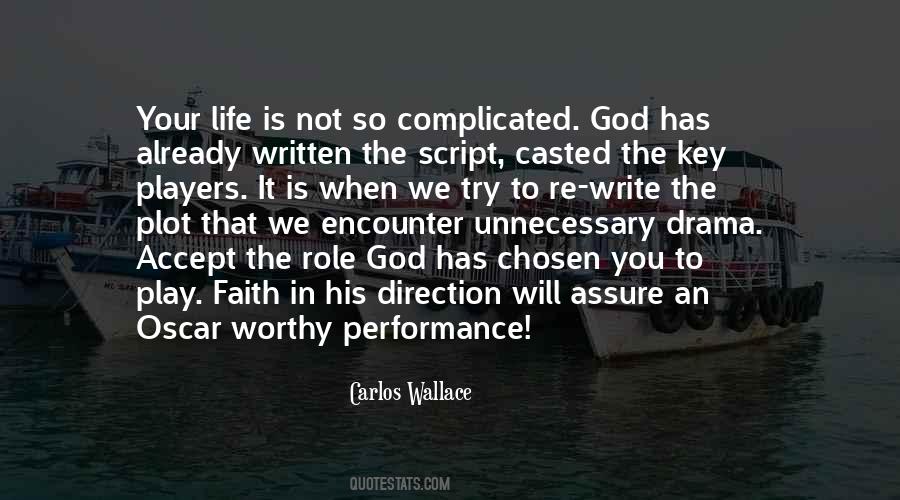 #12. The things I encounter that I call elves or gnomes, it's just a gloss. I mean, they're small, and they have the archetype. They're more like leprechauns, and this maybe raises a racial issue. - Author: Terence McKenna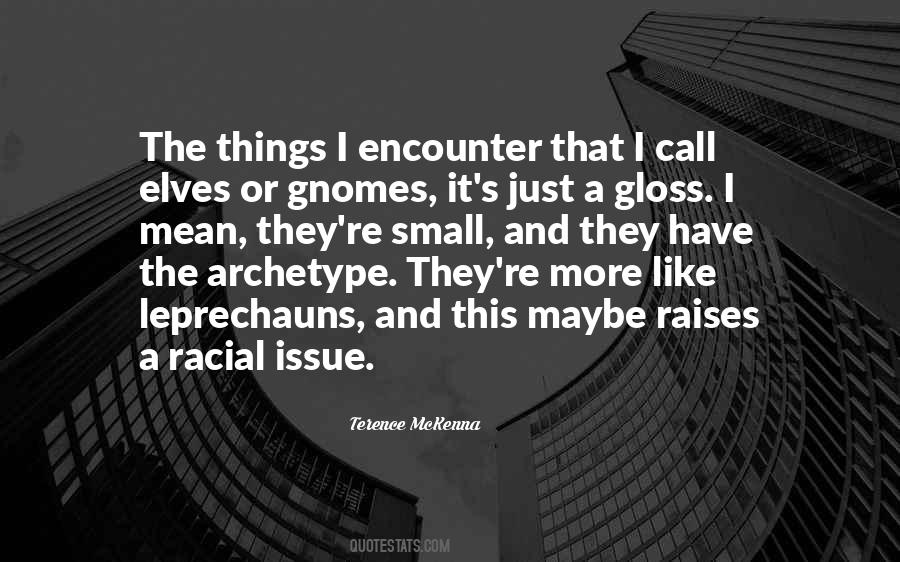 #13. Over the years you encounter just about every kind of crime. It doesn't harden you, but you become capable of reporting on just about anything human beings can do. However, any time we're dealing with the murder of a child it is always difficult. - Author: Catherine Crier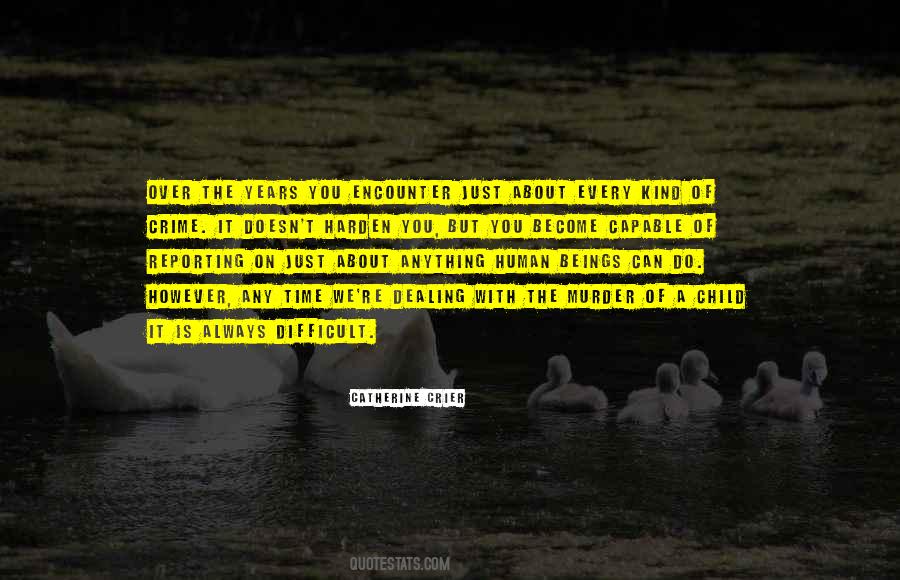 #14. They're people who probably imagine that they would have had a better time in the past. I wouldn't imagine you'd encounter a lot of black people saying 'Oh, the '50s, that was when America was great.' It's very dangerous because the past was imperfect, and you can't go back anyway. - Author: Christine Jennings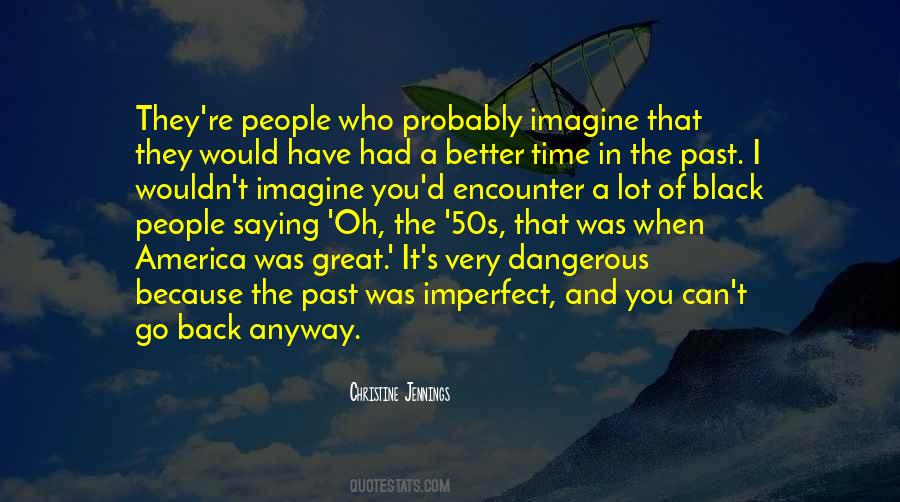 #15. As a researcher, every once in a while you encounter something a little disconcerting. And this is something that changes your understanding of the world around you, and teaches you that you're very wrong about something that you really believed firmly in. - Author: Sendhil Mullainathan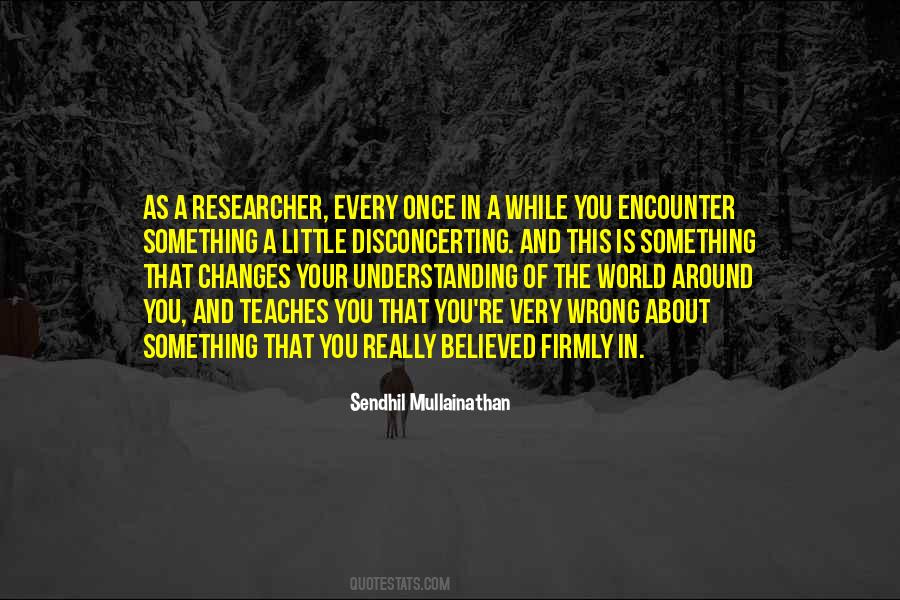 #16. In Los Angeles, you drive around, and you're coming back from a club or something, and all of a sudden, you'll encounter a coyote. And they're very lean, hungry-looking animals. - Author: Dan Gilroy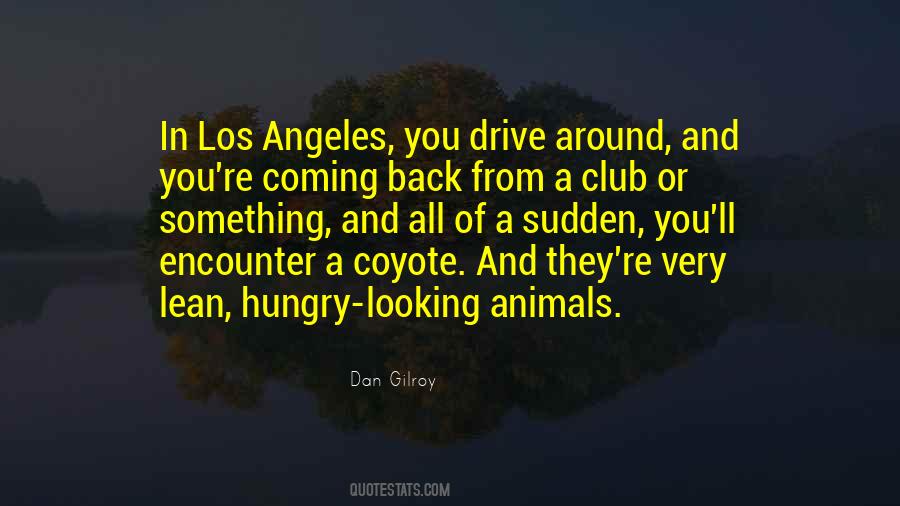 #17. I like playing that character who brings love to people, who puts people in a place where they're apt to encounter love. - Author: Jane Fonda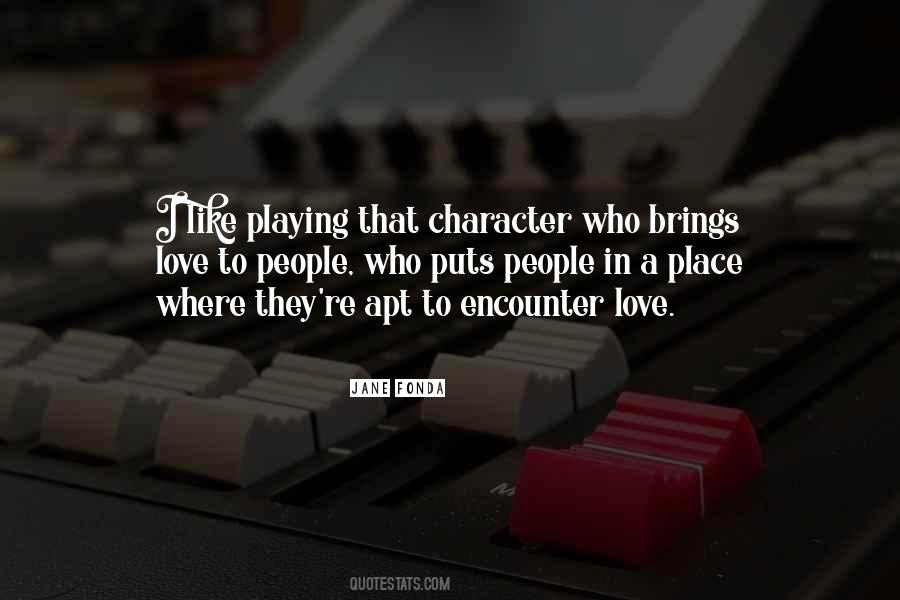 #18. The rules of Canadian engagement say that if we encounter a celebrity, we have to pretend we're not encountering a celebrity. - Author: Stephanie Pearl-McPhee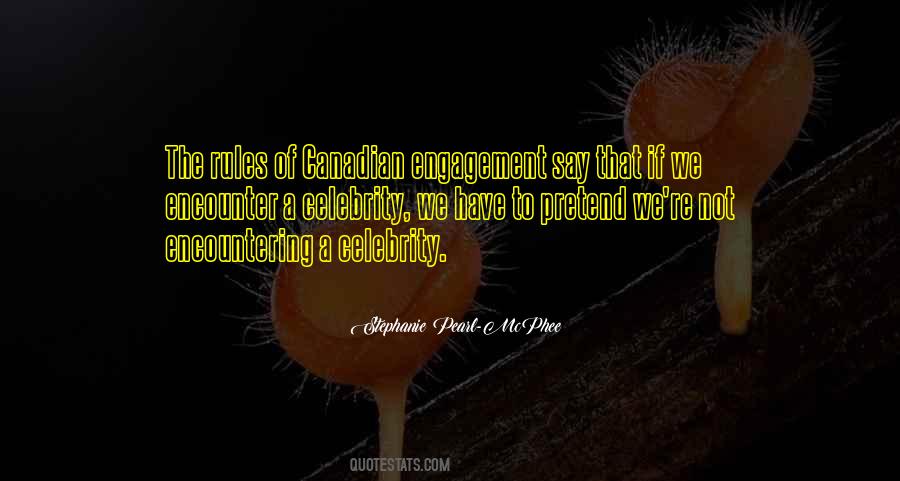 #19. Sloths have no real natural body odor, which helps hide and protect them from potential predators. As a result, their natural smell is a projection of whatever you're feeling at the moment you encounter one. - Author: Ann Burton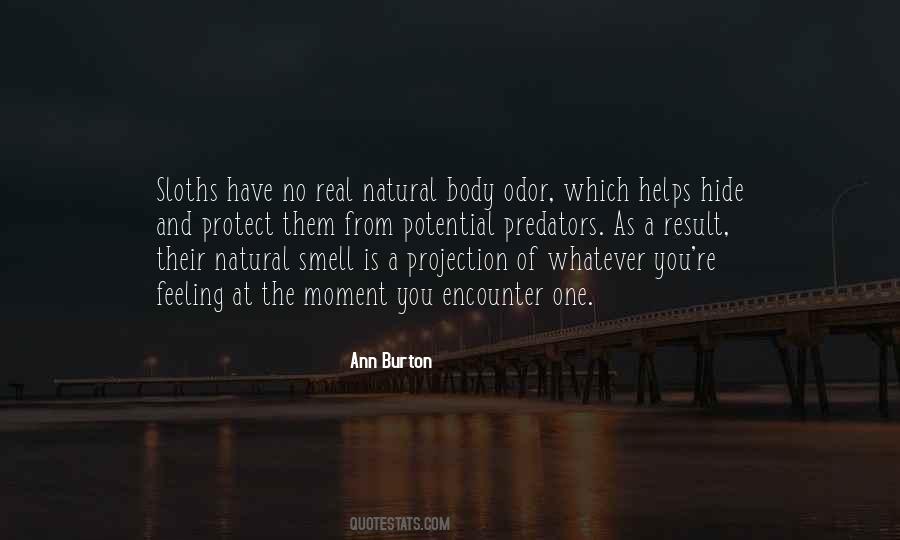 #20. Sometimes when we're focused on quickly getting to our destination, we'll encounter unexpected roadblocks and detours. Always remember that there's more than one path that will lead you to where you're going. Who knows? You might just enjoy that new, more scenic route! - Author: Clifton Anderson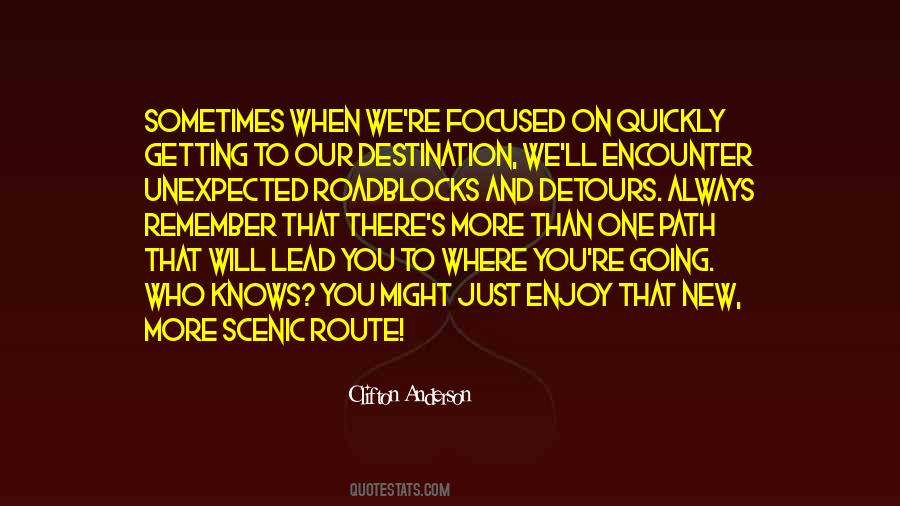 #21. You're after something - not a story, but a certain, exquisitely intense encounter with beauty - and the only way to find it is to tiptoe past the dragon's cave. - Author: William Finnegan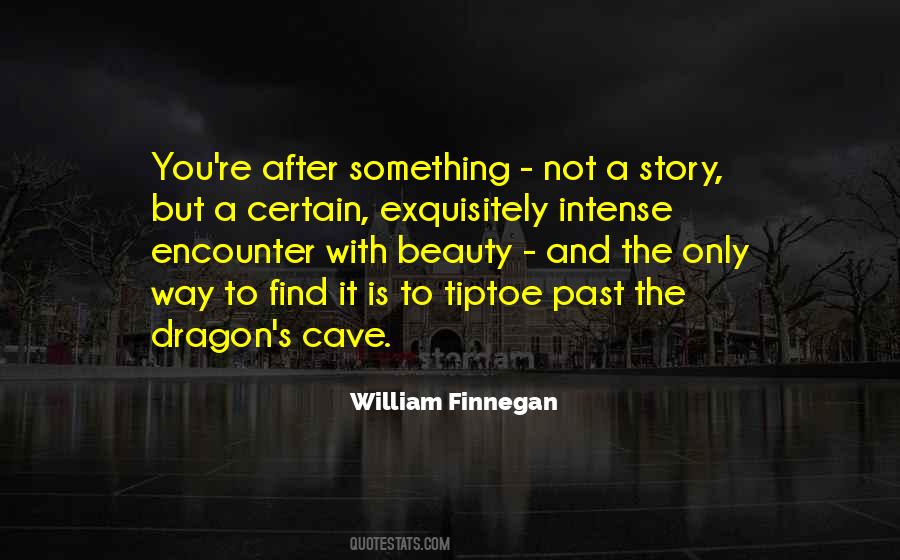 #22. Headed to the top. The only question as I meet you on my way is if you're coming with me or not. - Author: Iveta Cherneva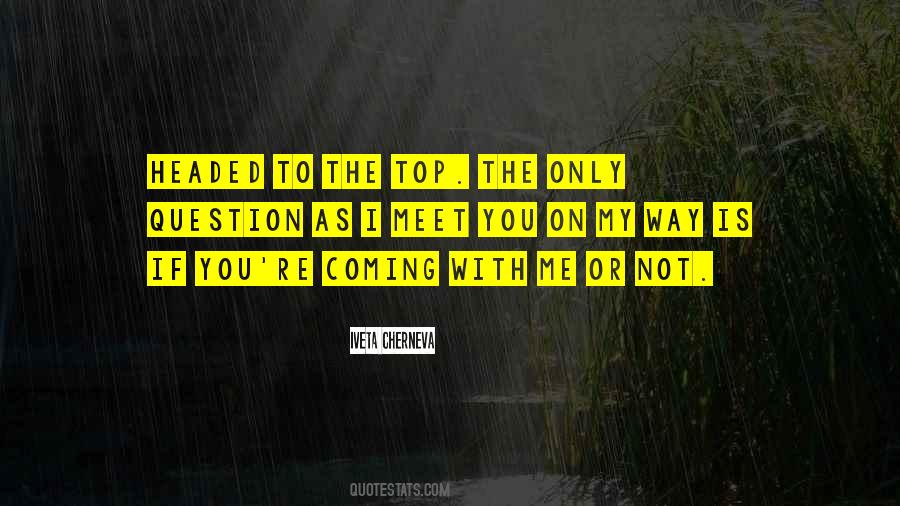 #23. If you encounter someone who pronounces the t in often, odds are they're a douchebag. - Author: Dana Gould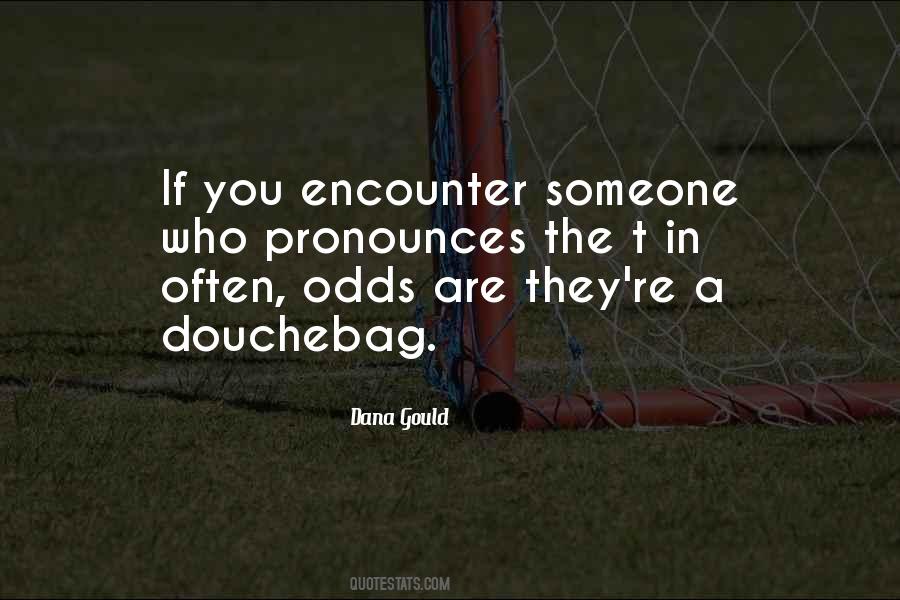 #24. As leaders, we're giving out grades in every encounter we have with people. We can choose to give out grades as an expectation to live up to, and then we can reassess them according to performance. Or we can offer grades as a possibility to live into. The second approach is much more powerful. - Author: Benjamin Zander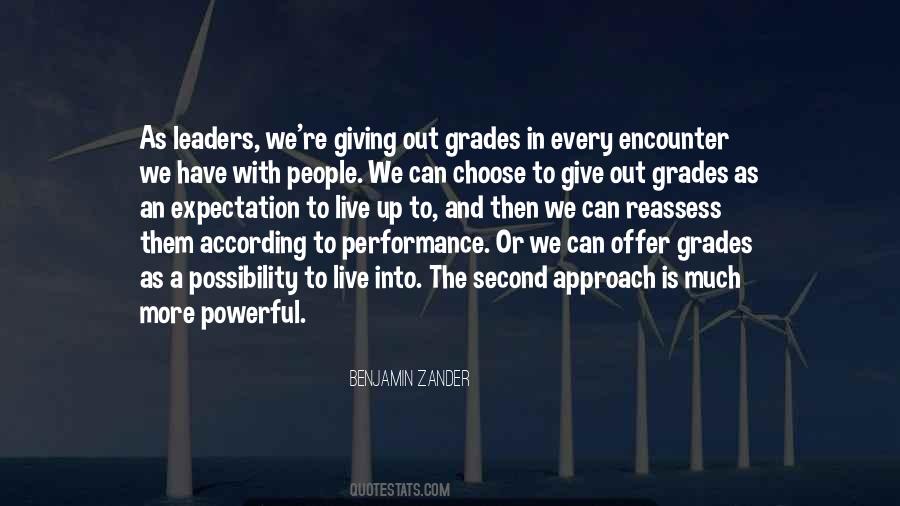 #25. - Whenever we roam be beside me.
When you're allone. When you go.
When no one comes along. And for all we
Wander. Encounter and open
Allways curl up with me.
Give me pain, past and fury.
Betray my way. I won't abandon you.- - Author: Mark Z. Danielewski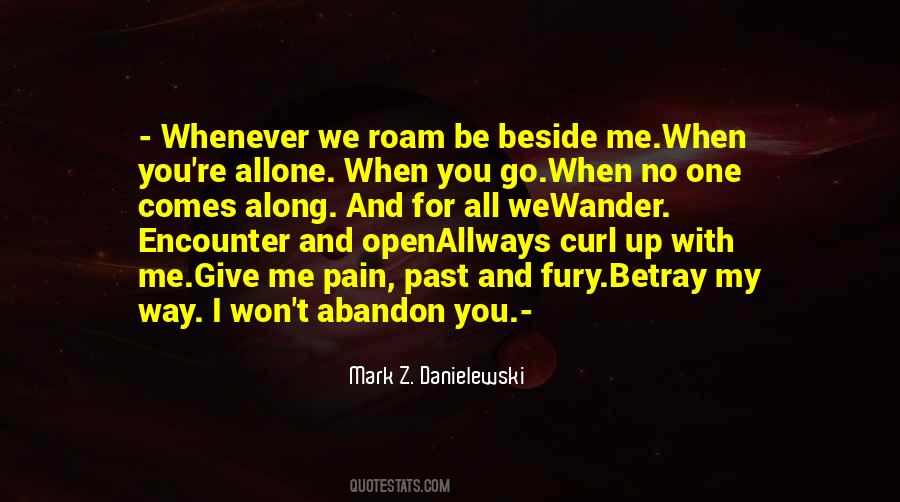 #26. When you encounter unpleasantness from the human population, try to keep in mind that you will be able to dance on their graves long after they're dead. It's a cheering thought. - from The Guide for the Newly Undead. - Author: Molly Harper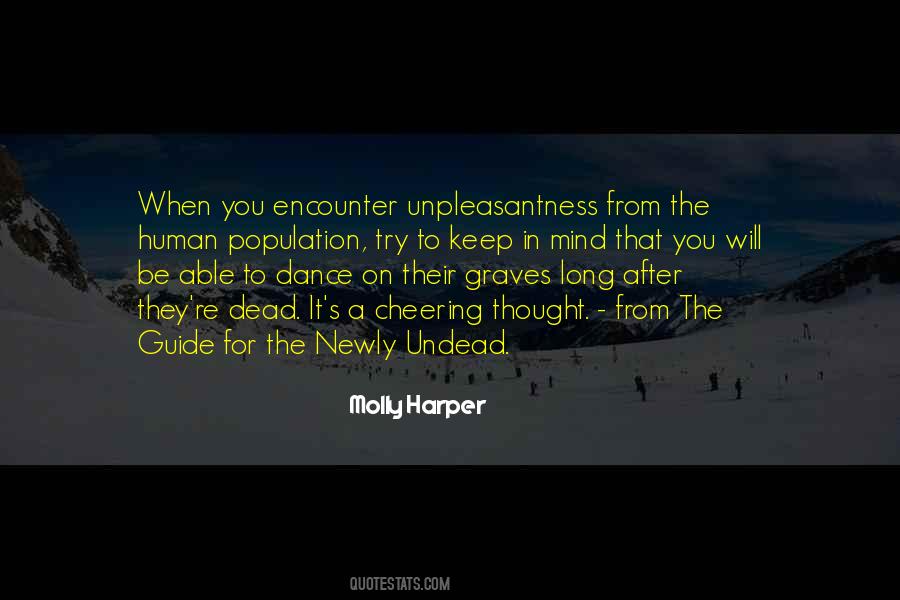 #27. Are you worthy of realizing your dream? If you said yes, there is no short cut. You're going to encounter setback after setback until you realize your dream. - Author: Assegid Habtewold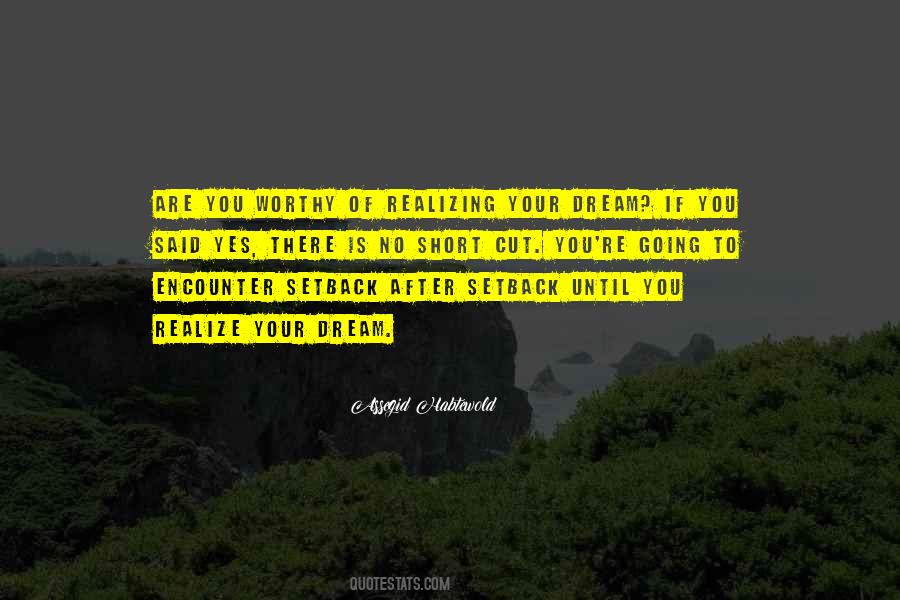 #28. When you have police officers like Office Encinia who is a trained professional, who is trained to de-escalate a situation where a motorist may not be in the best of moods because of an encounter that they're having with you, you are trained to respond differently. - Author: Sharon Cooper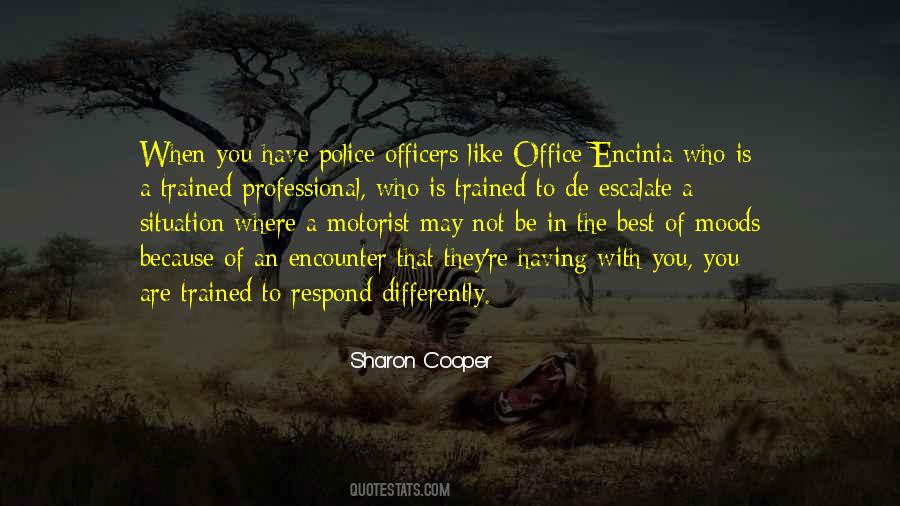 #29. It's very disheartening to encounter a fearful twenty-one year old. They haven't earned the right to be that afraid. It's not like we're living in war-torn Bosnia or something. - Author: Fran Lebowitz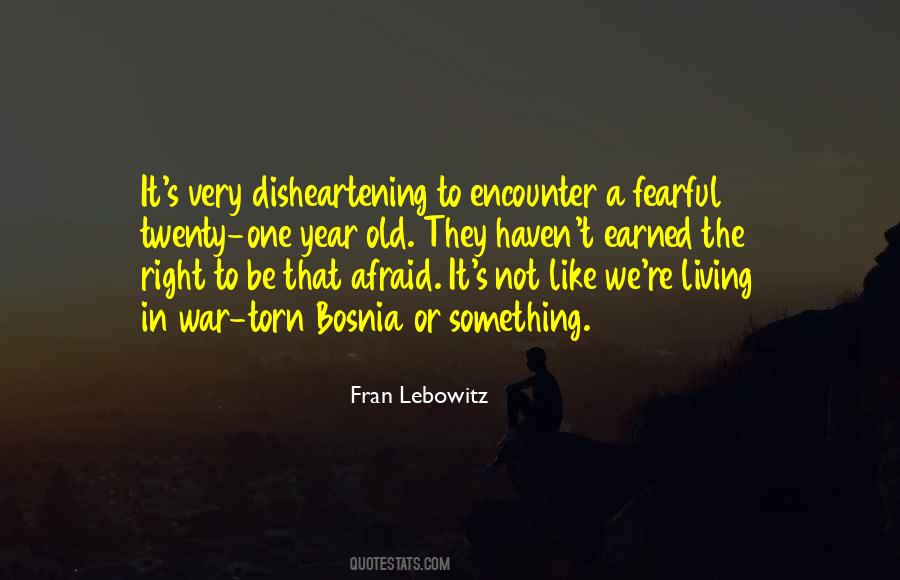 #30. Whether you're writing television or movies, at some point you're going to encounter a male executive or investor who's going to say, 'I don't like that woman. She's unlikable.' And often, it's literally for being a regular human woman as opposed to an attracting human woman. - Author: Jill Soloway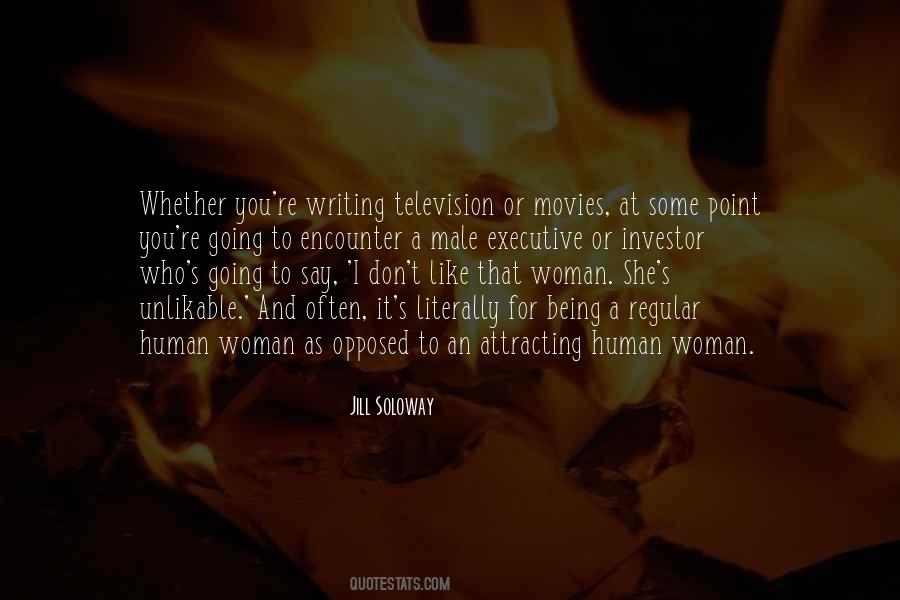 #31. I'm a great believer that the Lord provides us specific experiences to prepare us to deal with some of the challenges that we're going to encounter in our own period of service. - Author: Thomas S. Monson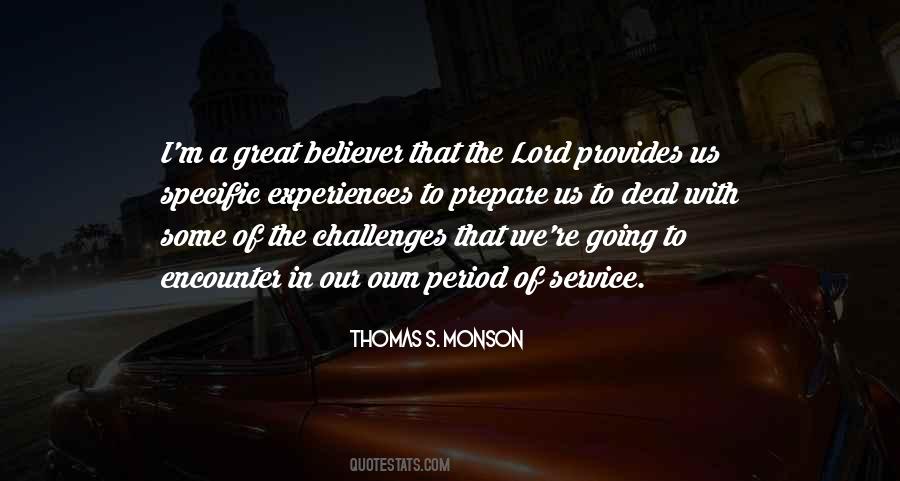 #32. They don't want to hear how Octavia is different from us. They want to know how we're the same. They know what it's like to have an itch. They can imagine what it's like to be a mother. This brief encounter has changed them. Now they can identify with an octopus. They - Author: Sy Montgomery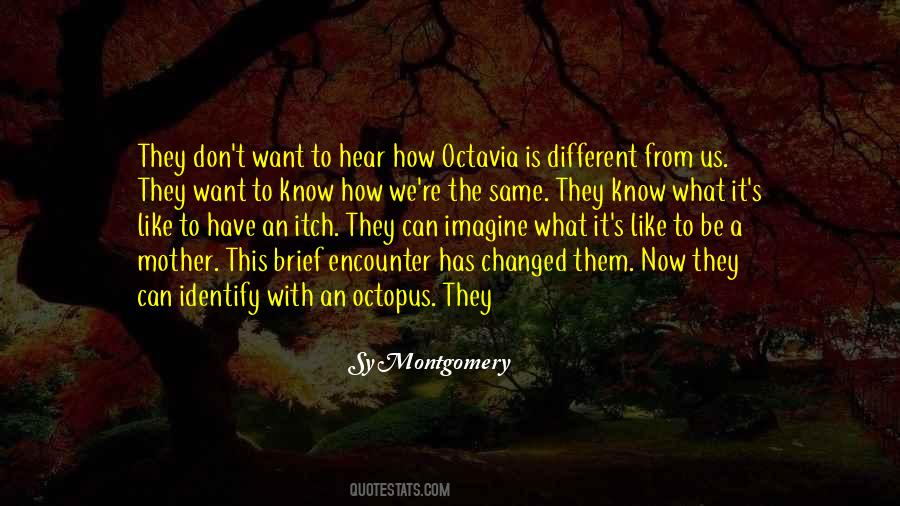 #33. If you don't encounter setbacks in your career, if you don't have doubts and disappointments , let me tell you, you're not dreaming big enough. - Author: Michael Bloomberg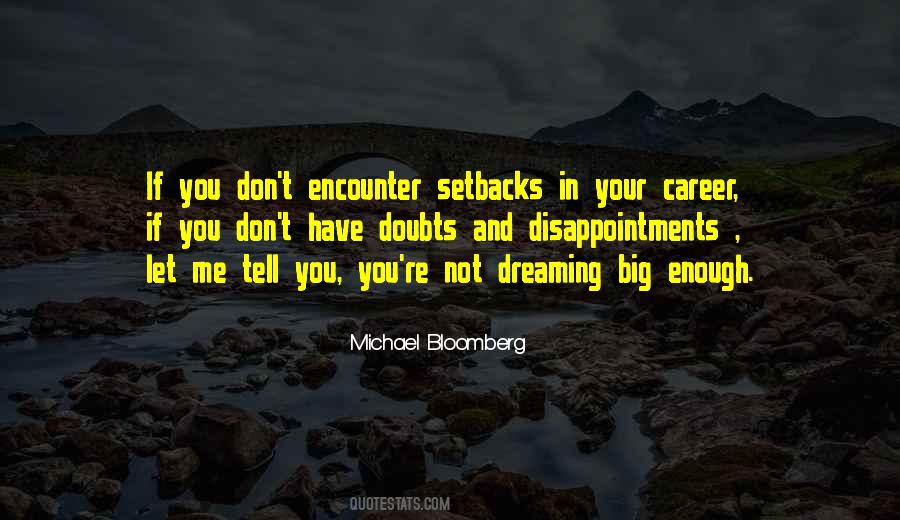 #34. Sometimes we can't enjoy the bloom of a rose because we're too busy crying over being pricked by the thorn. - Author: Suzannah Daniels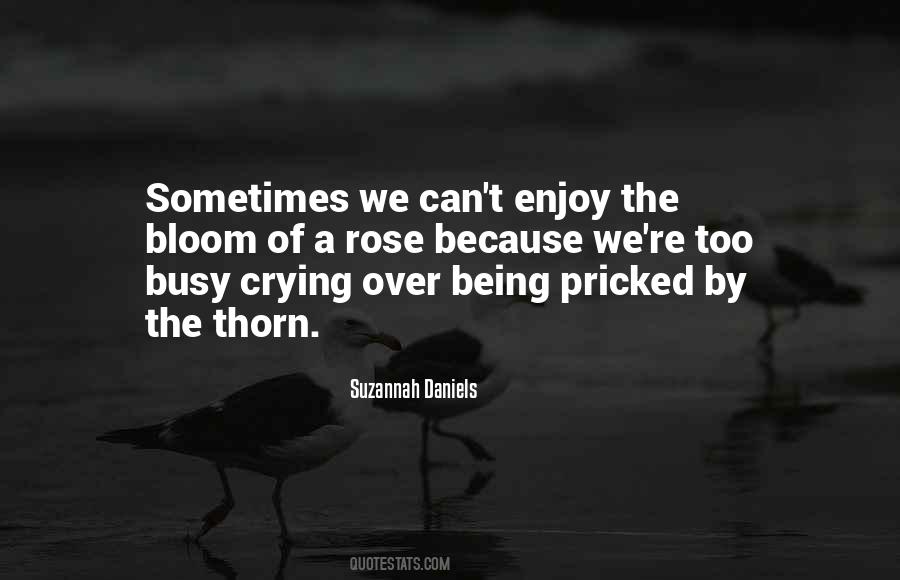 #35. Human kindness has no reward. You should give to others in every way you see. expect absolutely nothing from anyone. It should be your goal to love every human you encounter. All human suffering that you're aware of and continues without your effort to stop it becomes your crime. - Author: Louis C.K.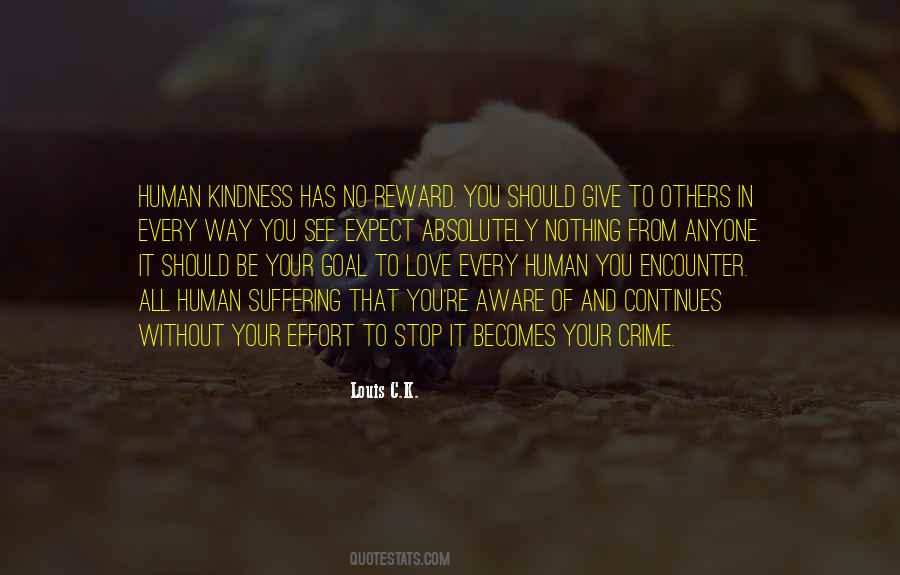 #36. You discover how confounding the world is when you try to draw it. You look at a car, and you try to see its car-ness, and you're like an immigrant to your own world. You don't have to travel to encounter weirdness. You wake up to it. - Author: Shaun Tan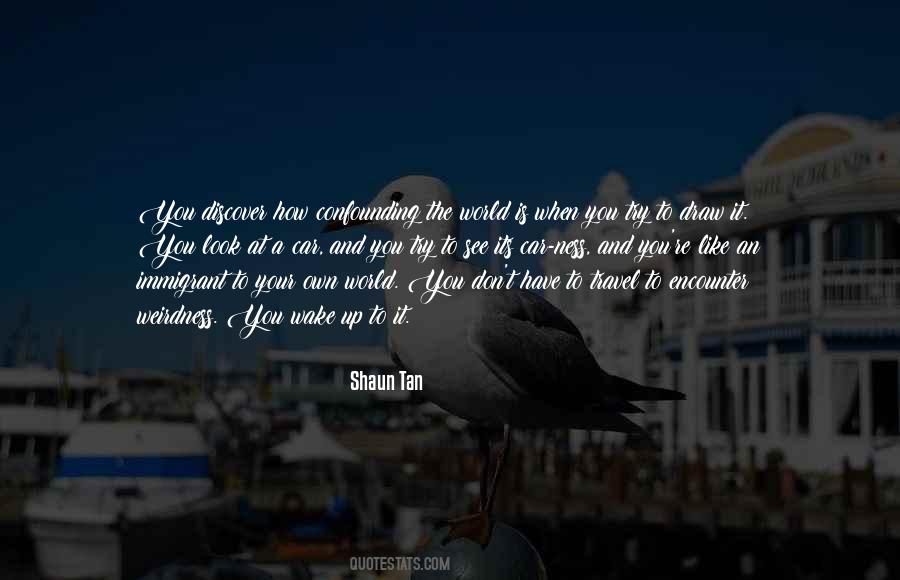 #37. If you consider all the unpleasantness you encounter while you're alive, it seems improbable that it would all come to an end simply because you're dead. - Author: Peter Hoeg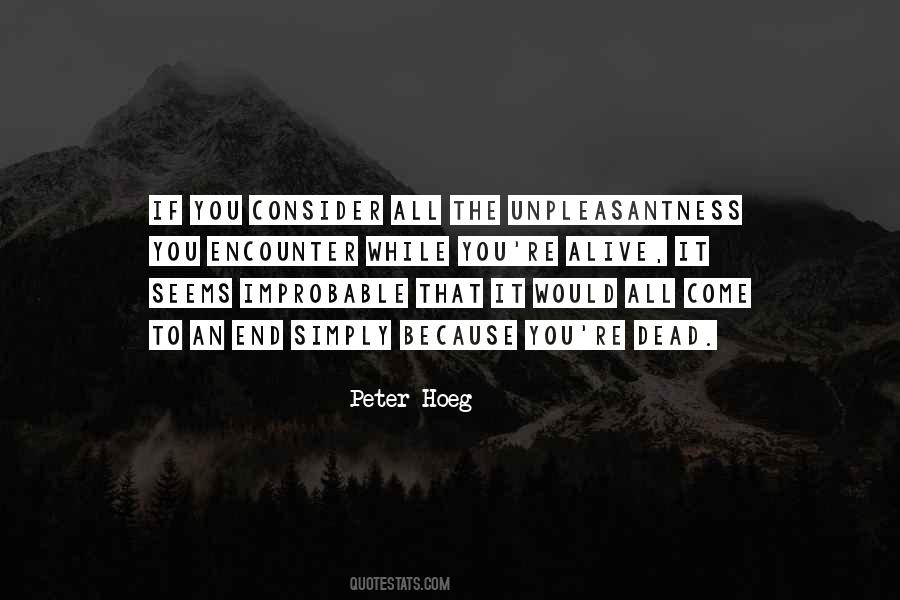 Famous Authors
Popular Topics