In A Relationship Famous Quotes & Sayings
List of top 100 famous quotes and sayings about in a relationship to read and share with friends on your Facebook, Twitter, blogs.
Top 100 Quotes On In A Relationship
#1. These are times when sympathetic joy comes naturally, but in a complex relationship the heart may not leap up so easily. - Author: Sharon Salzberg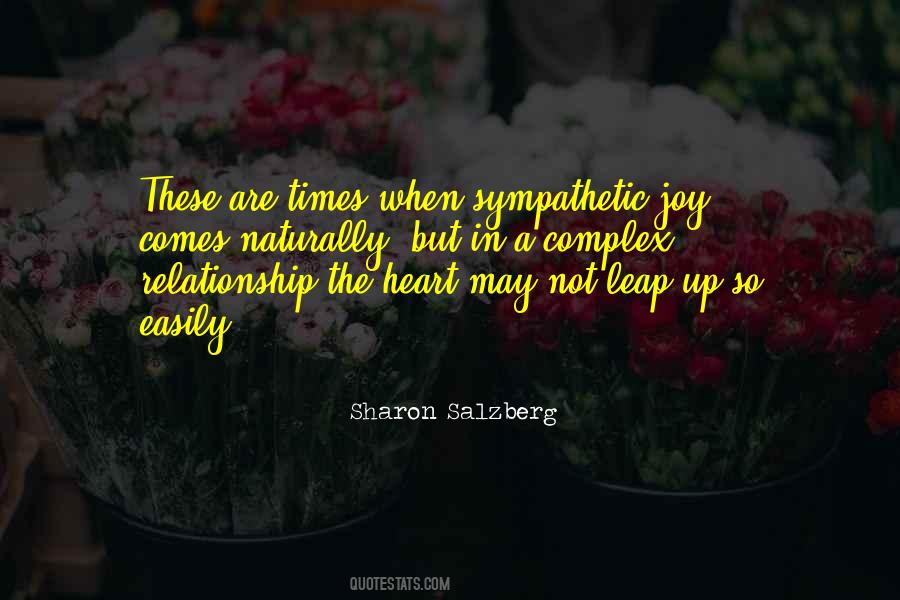 #2. I would say that I have a love-hate relationship with almost everything in my life, including stand-up. - Author: Chelsea Peretti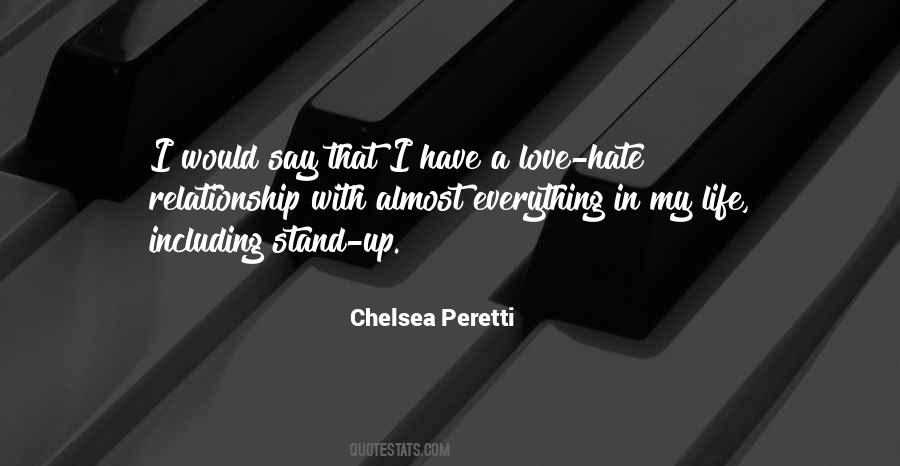 #3. Stewart loves me with a tiger's intensity, his need taking my breath away, his confidence in our relationship strong enough to not be bothered by the presence of another man. He stares into my soul as if he owns it, and shows his love with money, sex, and rare moments of time. - Author: Alessandra Torre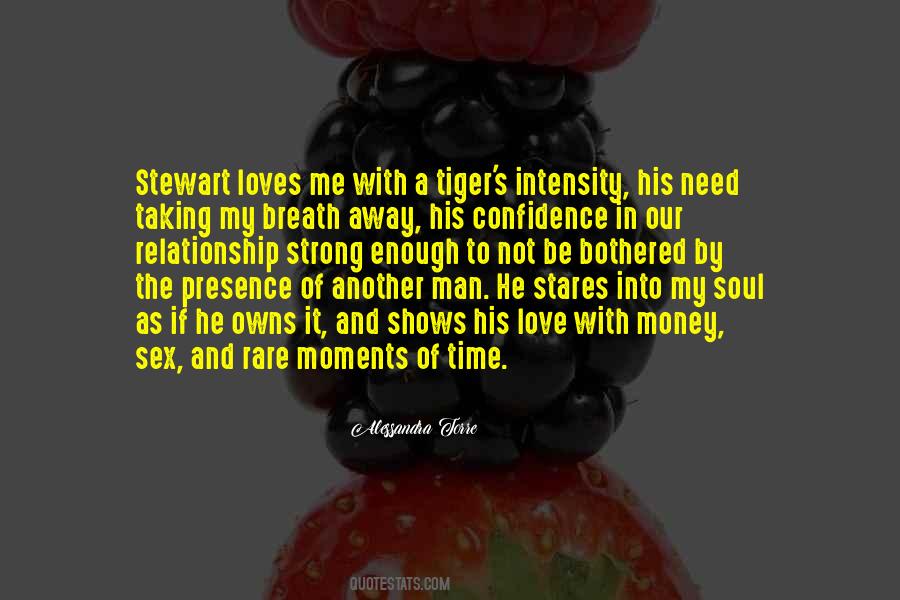 #4. Her smile and voice suggested the kind of excitement that comes when the first words in a long, silent relationship are spoken at last - a subtle excitement secretly incorporating into this one moment everything that has happened until now. - Author: Thomas Mann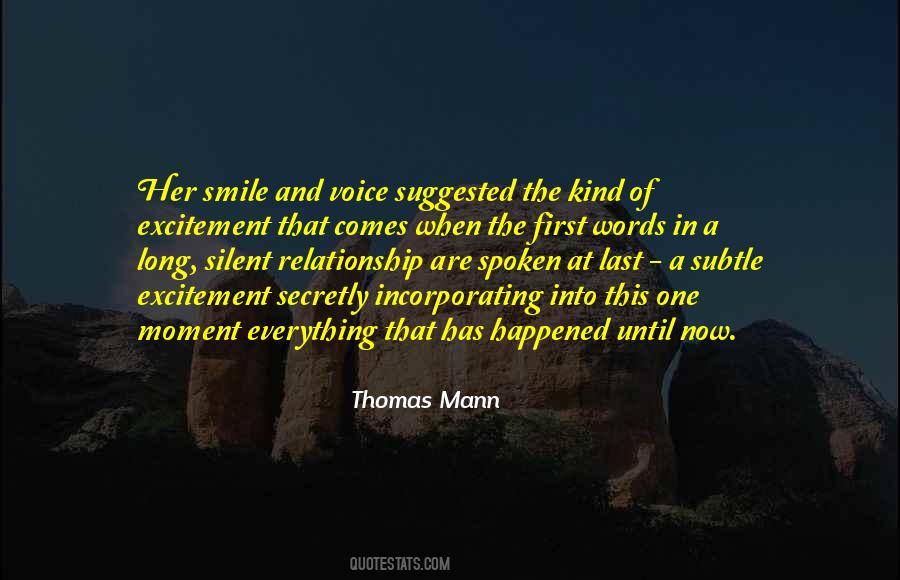 #5. There is no love in war but there is a lot of war in love. - Author: Katja Michael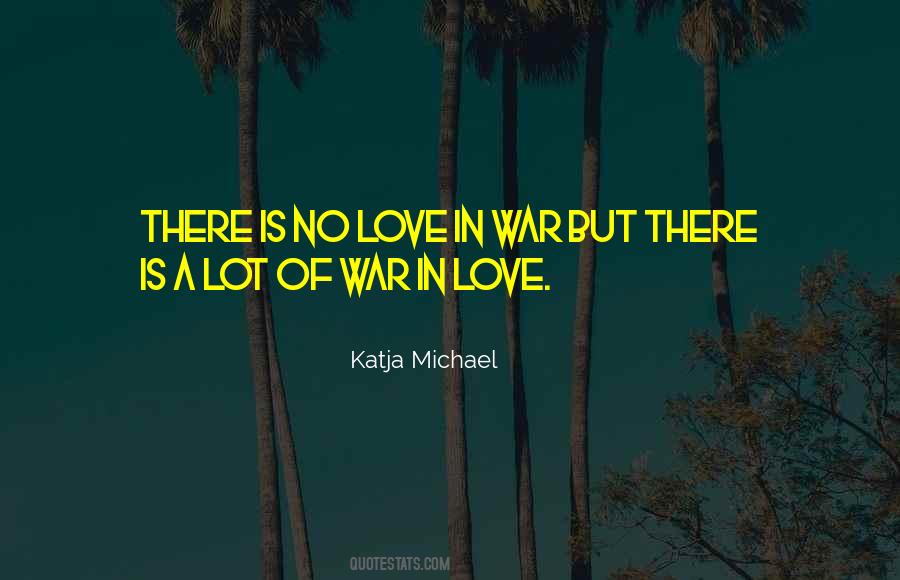 #6. If you cannot be yourself in a relationship, you no longer have one. - Author: Shya Kane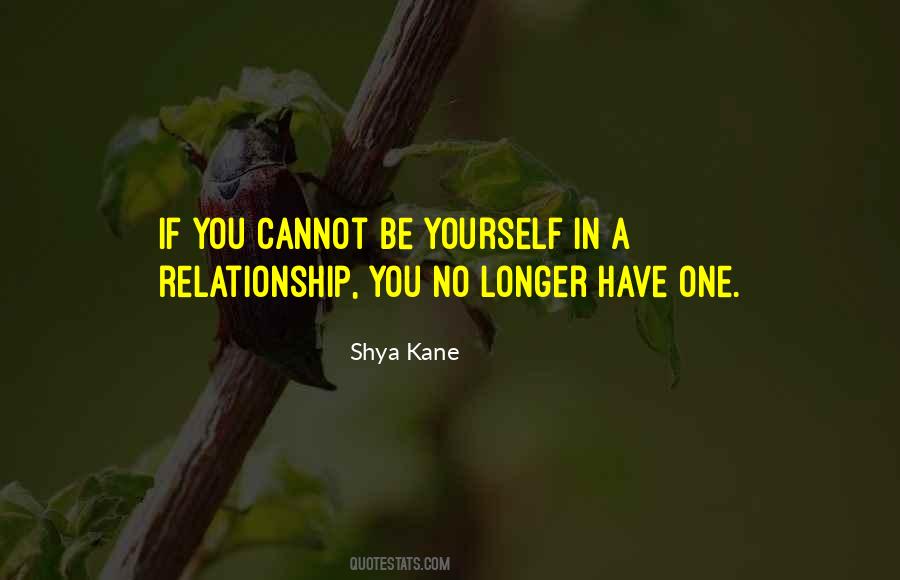 #7. This life we have is a process of becoming holy. Though Christ is the redeemer, it's up to us to have a relationship with God. Without a relationship, we'll always be lacking and trying to find fulfillment in this world, and we know what the world offers can never satisfy our need. - Author: T.K. Chapin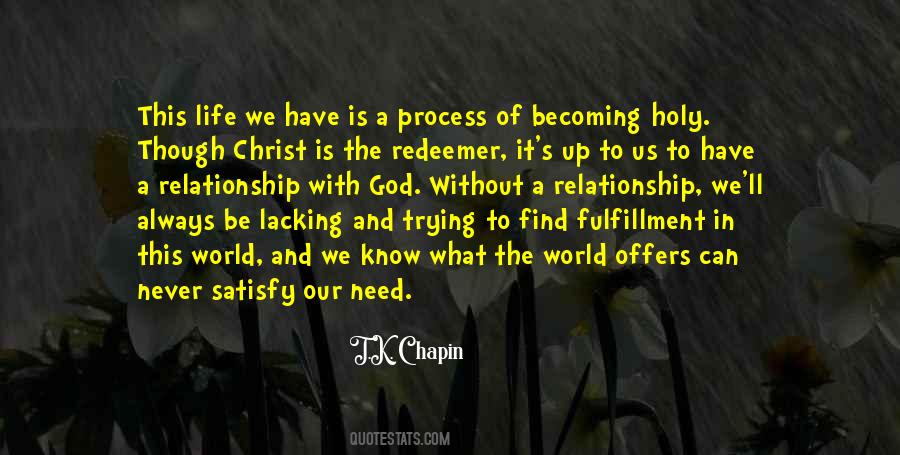 #8. The goal of Christian dating is not to have a boyfriend or girlfriend but to find a spouse. Have that in mind as you get to know one an- other, and if you're not ready to commit to a relationship with the end goal of marriage, it's better not to date but simply to remain friends. - Author: Mark Driscoll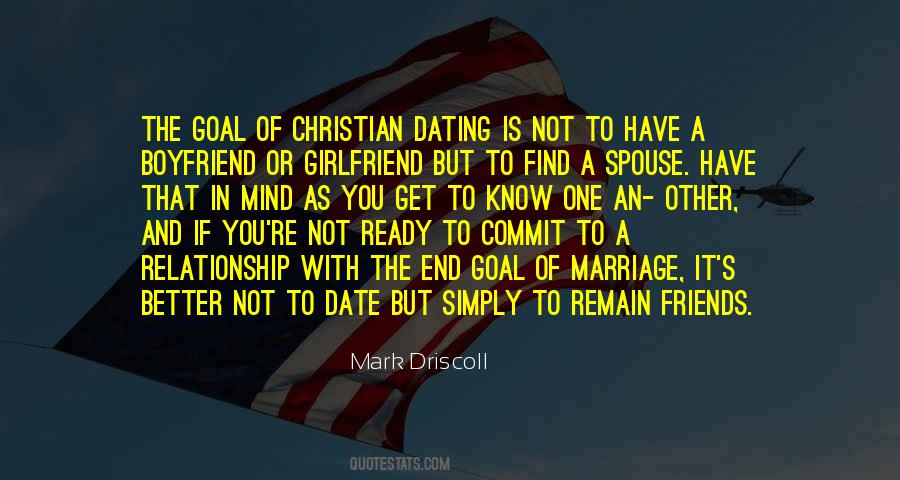 #9. A ruse. That's all it was. Pretend to like this girl. Pretend to have feelings, to pursue some kind of relationship. Earn her friendship and trust, knowing I might have to destroy it, and her, in the end. - Author: Julie Kagawa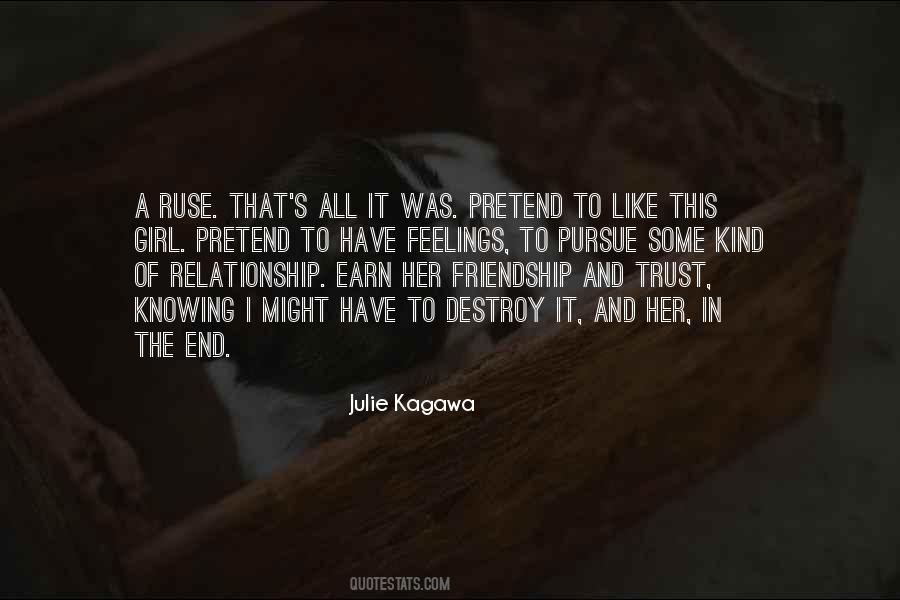 #10. In the best case, notions of God's love and grace provide some relief - but the central message of these faiths is that each of us is separate from, and in relationship to, a divine authority who will punish anyone who harbors the slightest doubt about His supremacy. - Author: Sam Harris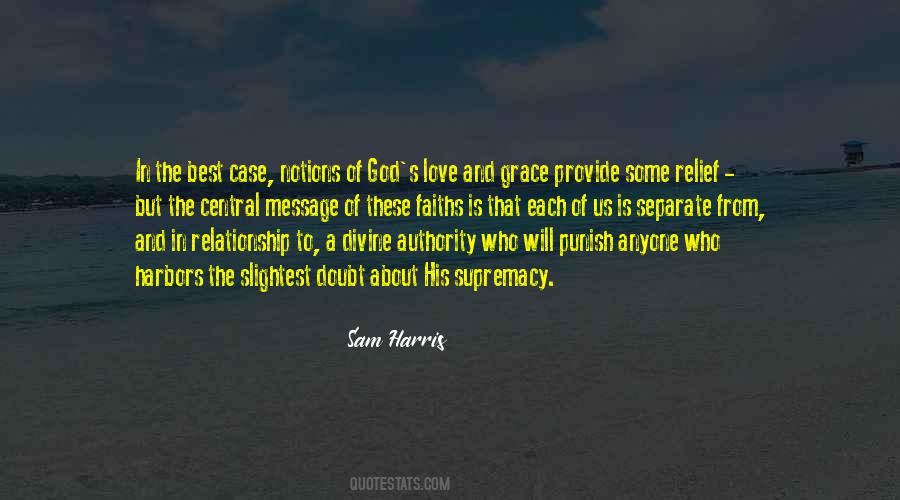 #11. In Los Angeles ... was the thinking-est crowd on earth: how to get ahead, how to mold a better body, how to have a better relationship, how to score, earn, fight, win, get published, be a star. - Author: Caroline B. Cooney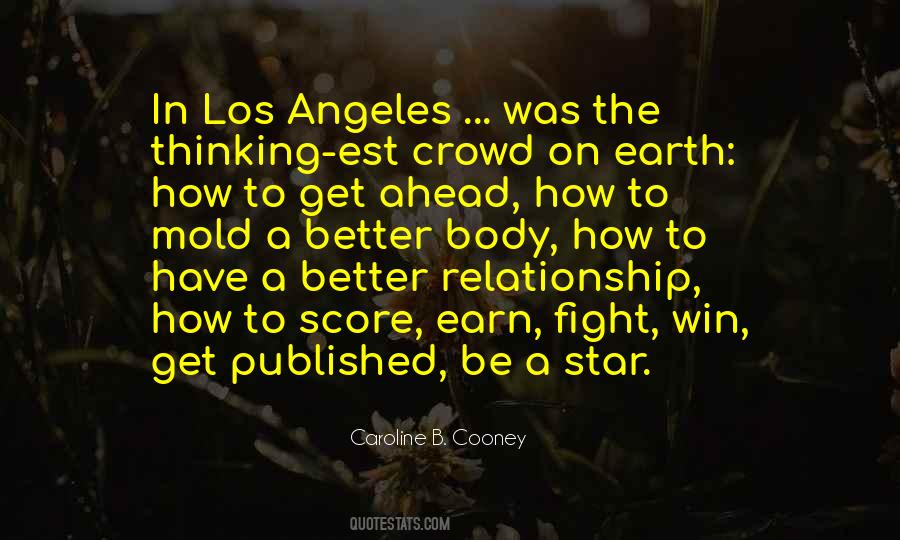 #12. I had a very, very difficult relationship with my mother, who was supremely self-centred. She was hilariously self-centred. She did not really take interest in anything that didn't immediately affect her. - Author: John Cleese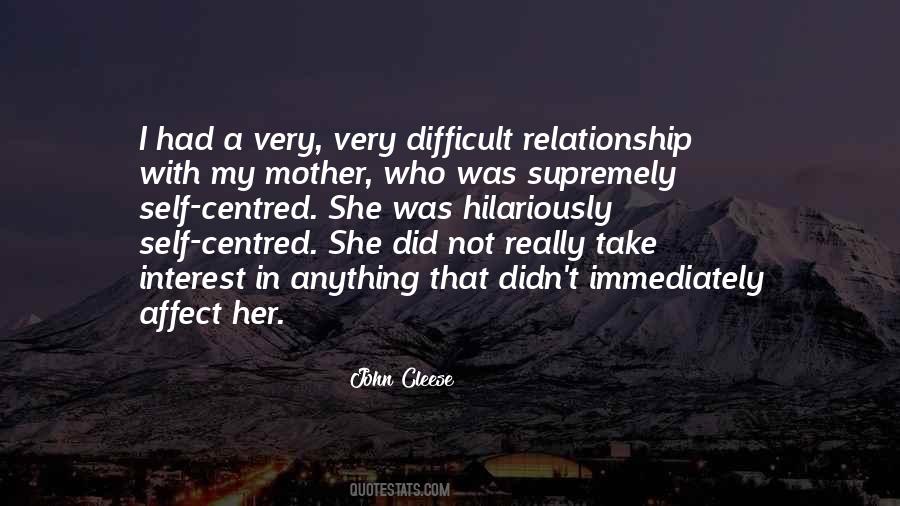 #13. Because as any writer will tell you, an IDEA for a book is like falling in love, it's all wild emotion and headlong rush, but the ACTUAL ACT of writing a book is like building a relationship: it is joyous, slow, fragile, frustrating, exhilarating, painstaking, exhausting, worth it. - Author: Ben H. Winters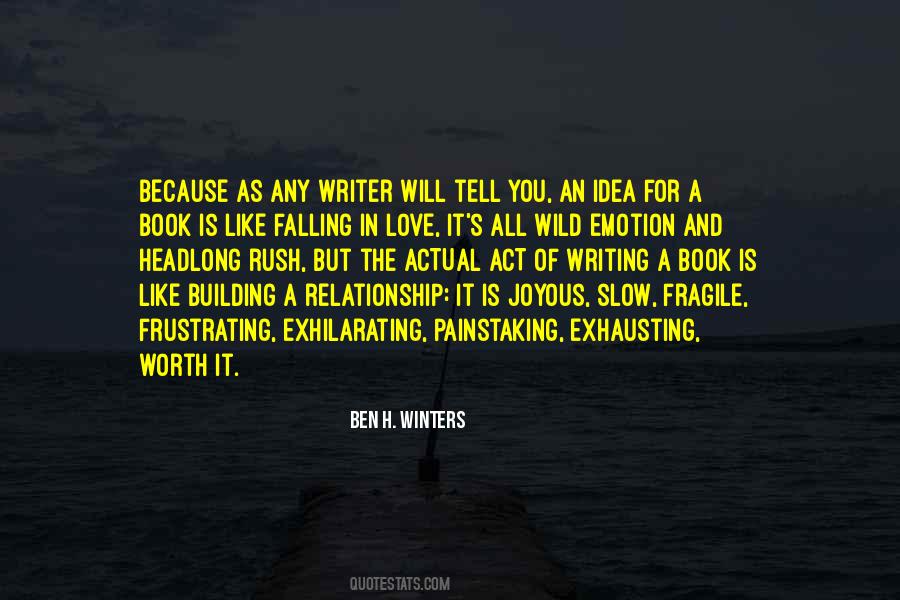 #14. Sharing pillow talk with the wrong people can make a hard bed to lie on, and will surely lead to nightmares in your relationship. - Author: Carlos Wallace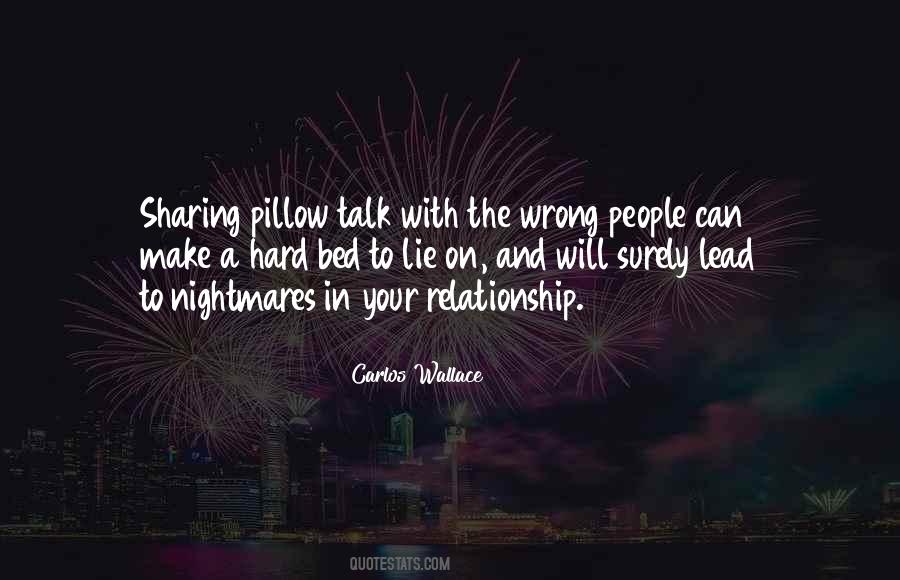 #15. Helping professionals, therapists, life coaches, healers can greatly assist you in changing your life for the better, but they pale in comparison to the power thats gained from developing a relationship with yourself. It's you that holds the power for change - Author: Renae A. Sauter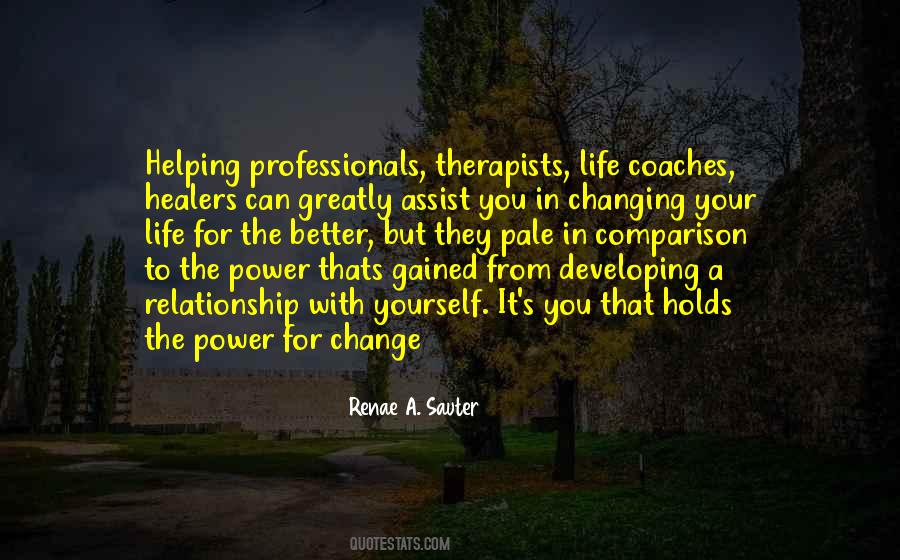 #16. I do not think that Mulder trusts any one other than Scully. He s very solitary. She is the only one who takes him seriously. I don t know if they re in love. In a way, their relationship is deeper than that, because they cannot live without each other. - Author: David Duchovny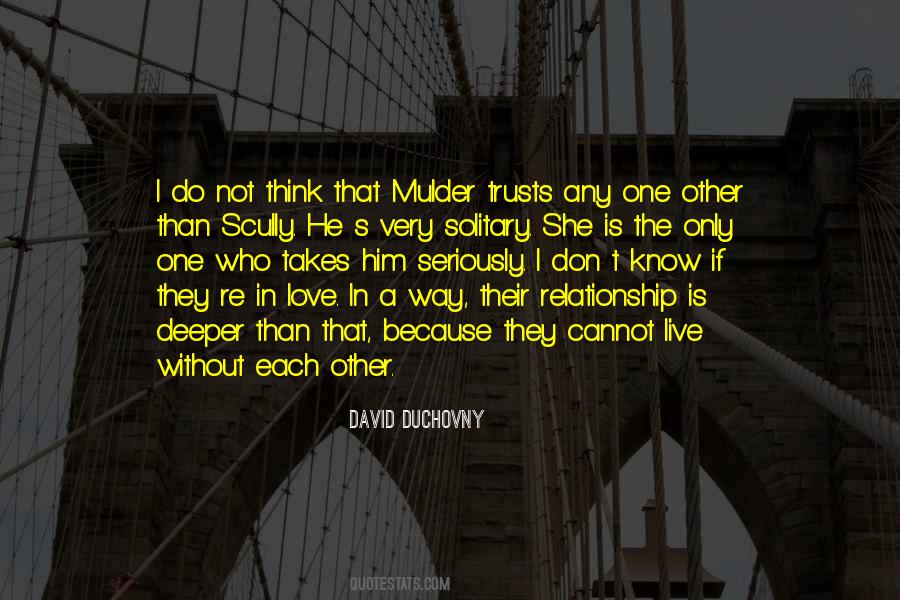 #17. When you make his sandwiches, put a sexy or loving note in his lunch box. - Author: Anne Rice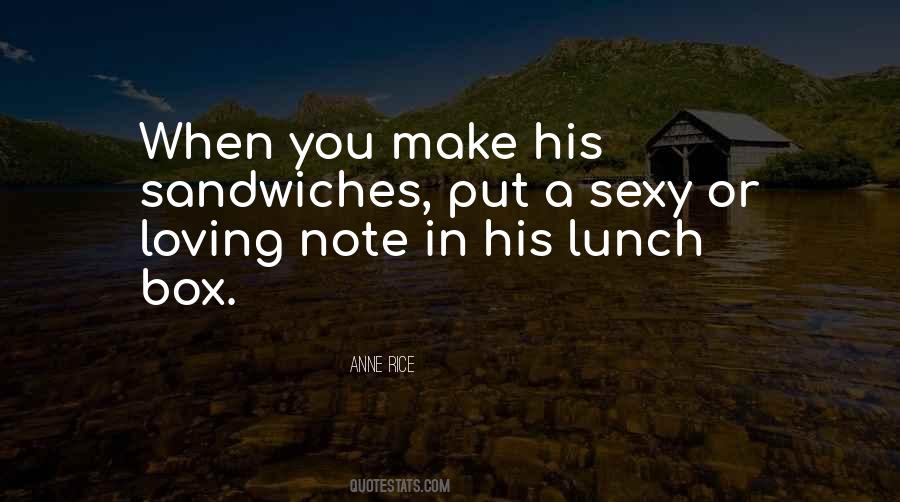 #18. Love; I consider true love happens once in a lifetime. I really don't understand when people love someone and marry someone else. Either they never loved anyone at first place or they befool themselves by saying that we have moved on. - Author: Ritu Chowdhary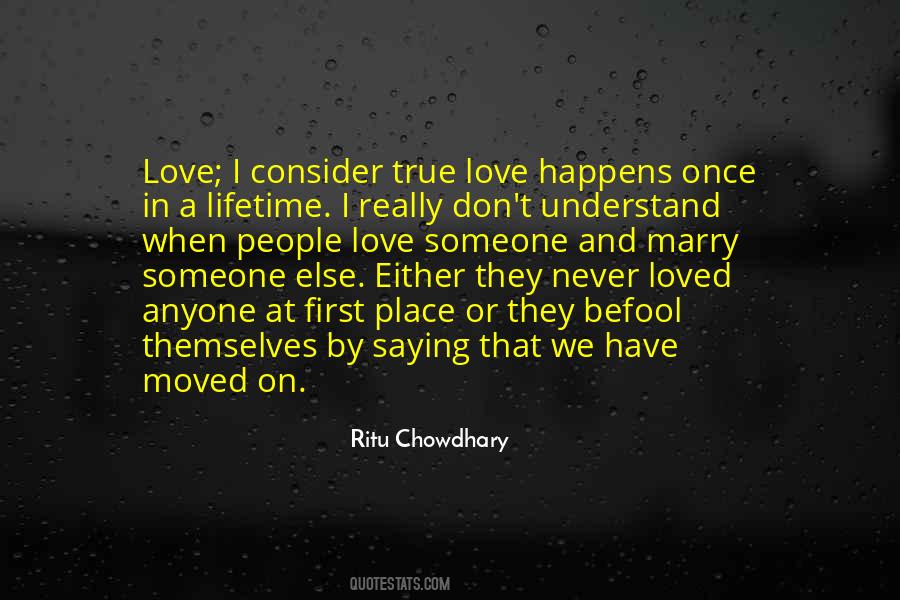 #19. So I developed very early a massive inferiority complex, and I've told the story often about how that inspired me later in life to get involved in other things, because I couldn't out-do my brothers in sports, and it's a very competitive relationship. - Author: George J. Mitchell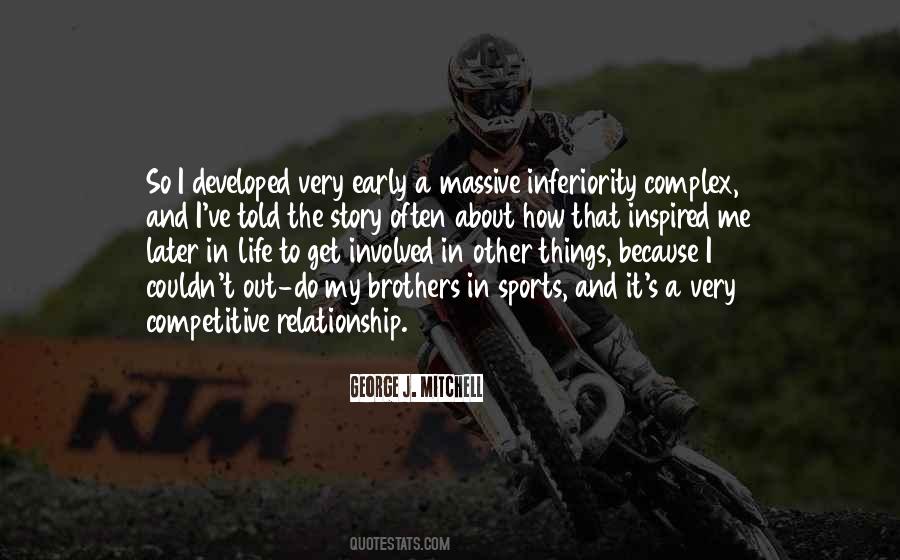 #20. I believe wholeheartedly in marriage. I don't exclusively mean a marriage with a legal contract, but any relationship that constitutes a marriage because of the quality of their relationship. - Author: Helen Reddy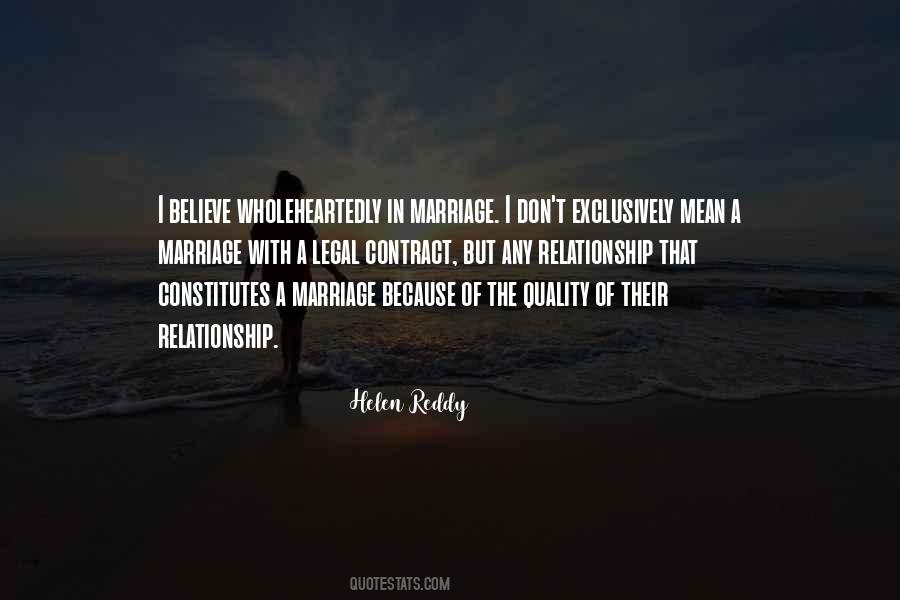 #21. A record company used to be a very good thing, but they ended up soul-destroyingly trapping people in the accounting department. And you couldn't get any further, and the heads of each department were changing all the time, so you couldn't have any permanent relationship within the corporation. - Author: John Lydon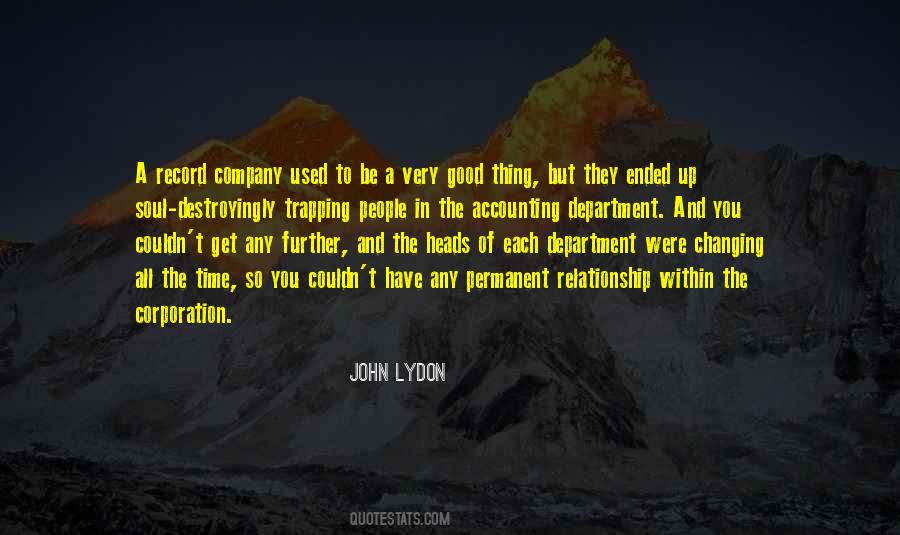 #22. Rejection Is God's Protection
When someone rejects or breaks up with you, it may be a blessing in disguise. The person was not right for you. Or maybe you would have eventually been miserable with them. Now the door is open for someone else much better to come into your life. - Author: Pamela Cummins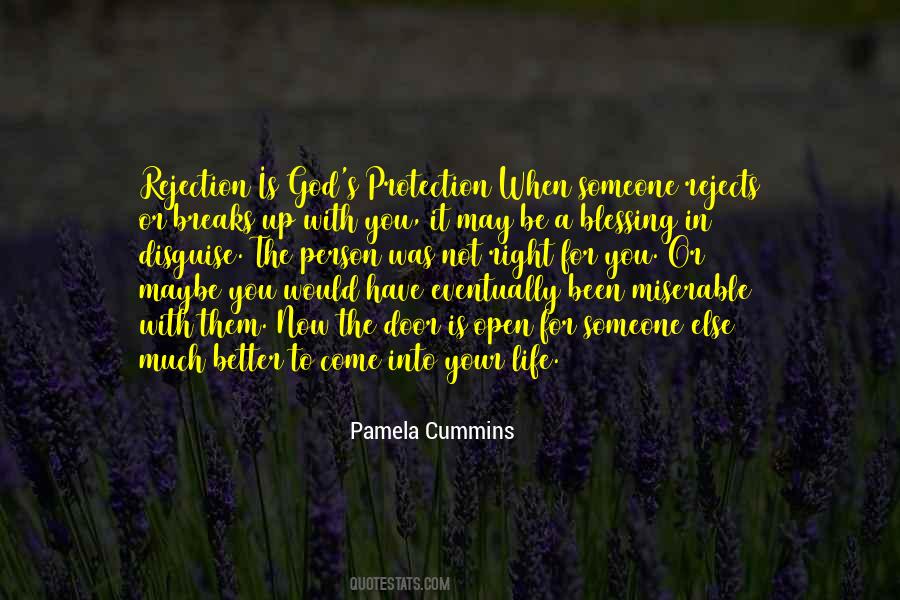 #23. But in Japanese, there's actually not much of a relationship between the music and the words. - Author: Utada Hikaru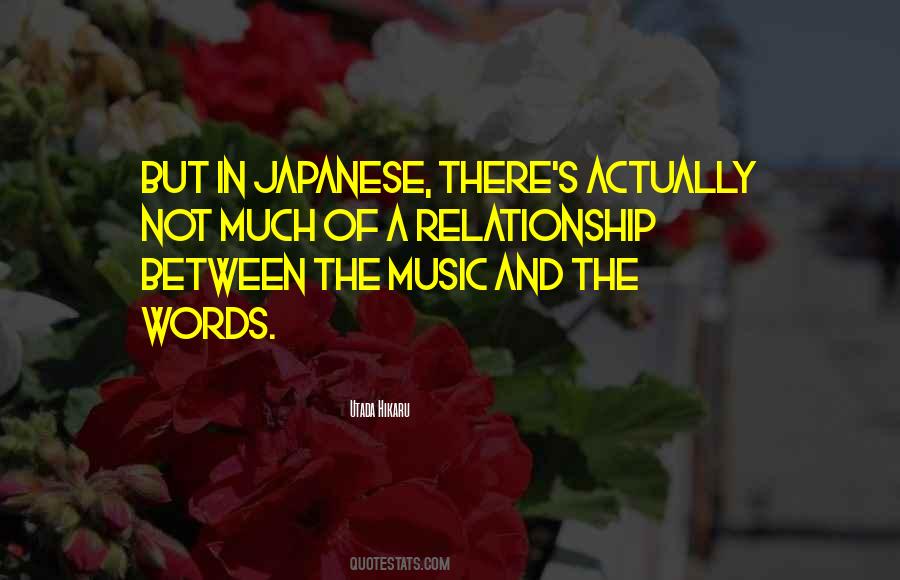 #24. In a relationship there is the information that we need and do not ask for, and the information we have but choose to ignore. - Author: Debra L. Kaplan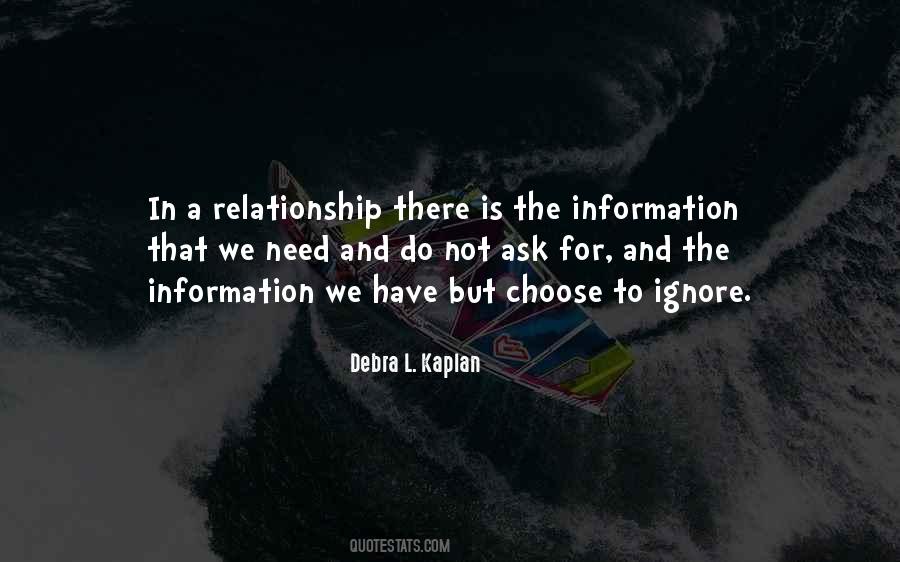 #25. First you will feel your inner transformation in your outer relationships, and then you will go deep. Then only will you begin to feel something inner. But we have a settled attitude about ourselves. We don't want to look into relationship at all, because then the naked face comes up. - Author: Rajneesh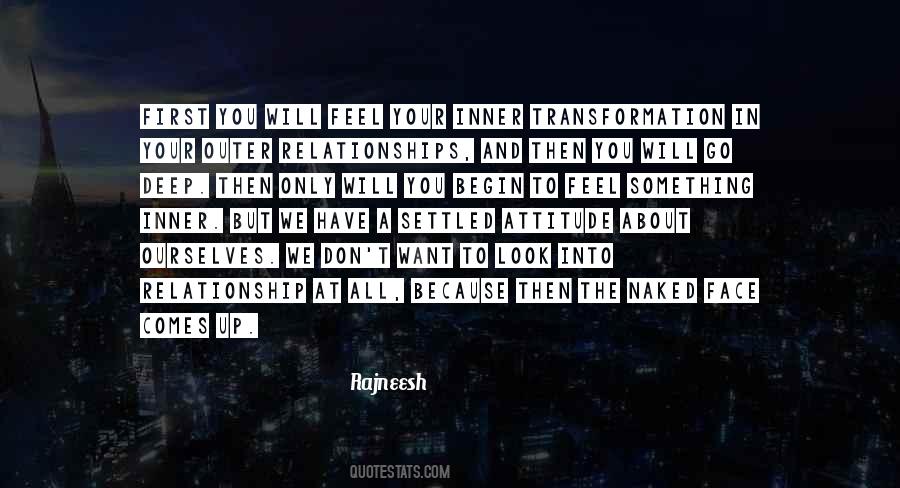 #26. Emotional sympathies just dry up and die as we change, and they are as mysterious in friendship as in love. It's a relationship like any other. - Author: Vivian Gornick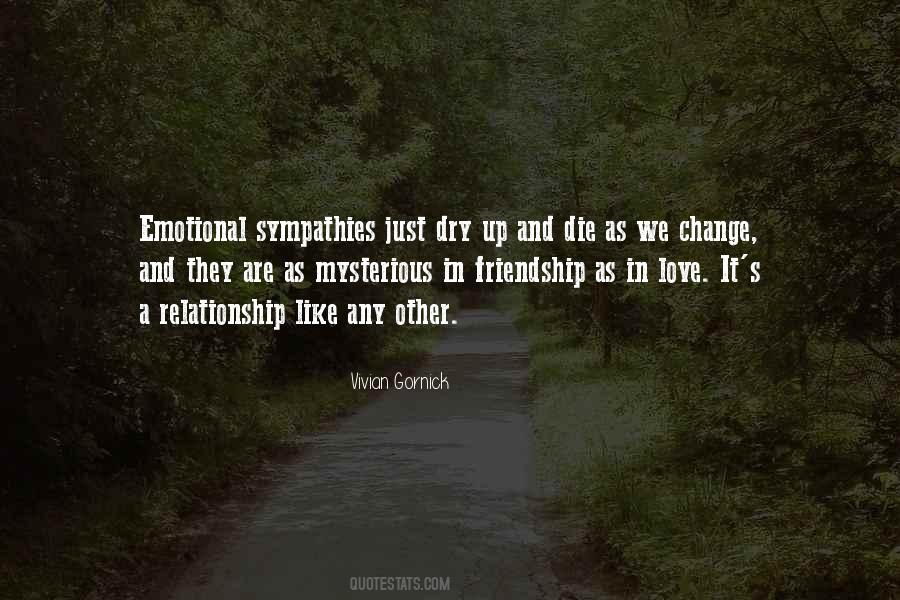 #27. Ninety-nine percent of everything you do in life is attitude. If you have a relationship with God ... you're going to learn to ask the one question in life that covers everything: How can I help you? - Author: Walter Levine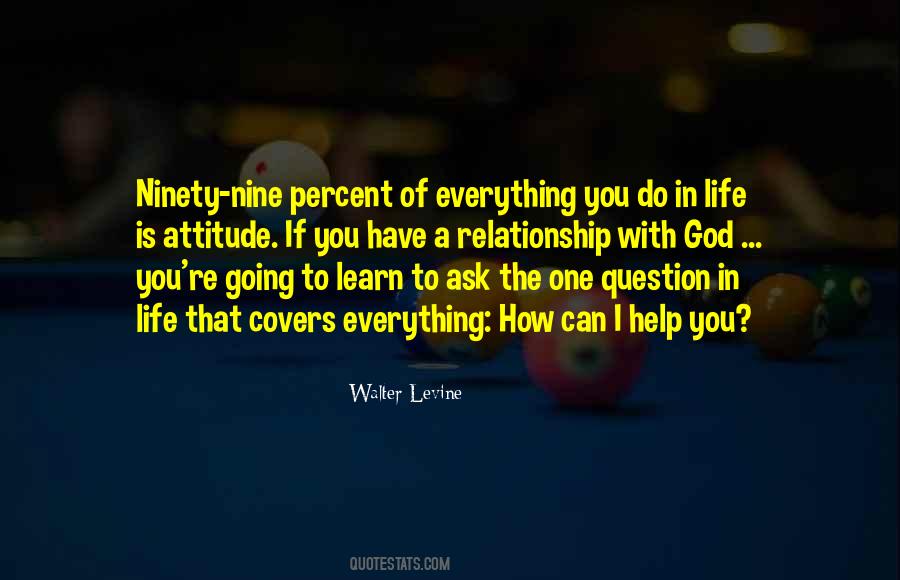 #28. On the most elementary level, you do not have to go to church to be a Christian. You do not have to go home to be married either. But in both cases if you do not, you will have a very poor relationship. - Author: R. Kent Hughes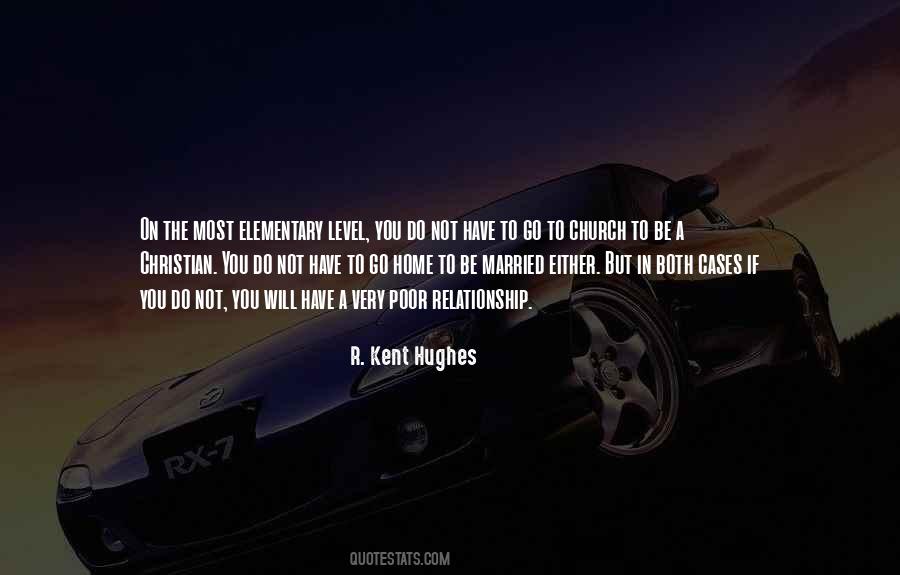 #29. Marriage is always something of a compromise, as I'm sure you're now aware. Any long-term relationship is - and one does have to see it in the long term, Charles. No, I expect your mother and myself will never divorce. It's uneconomic and, at my age, usually unnecessary. - Author: Martin Amis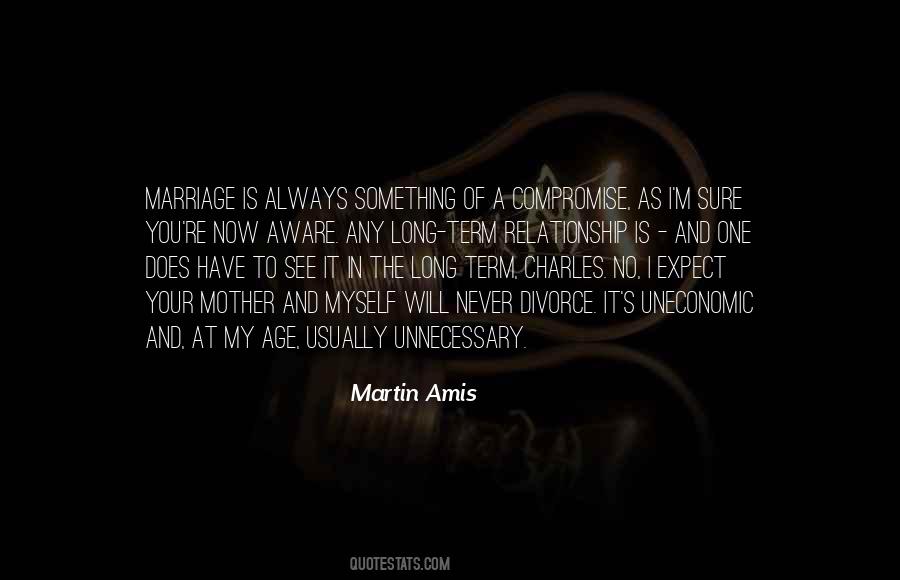 #30. If I'm in a relationship and my girlfriend is sleeping with other people, I don't need to know who it is; I just want to know how she feels about it. - Author: Ben Folds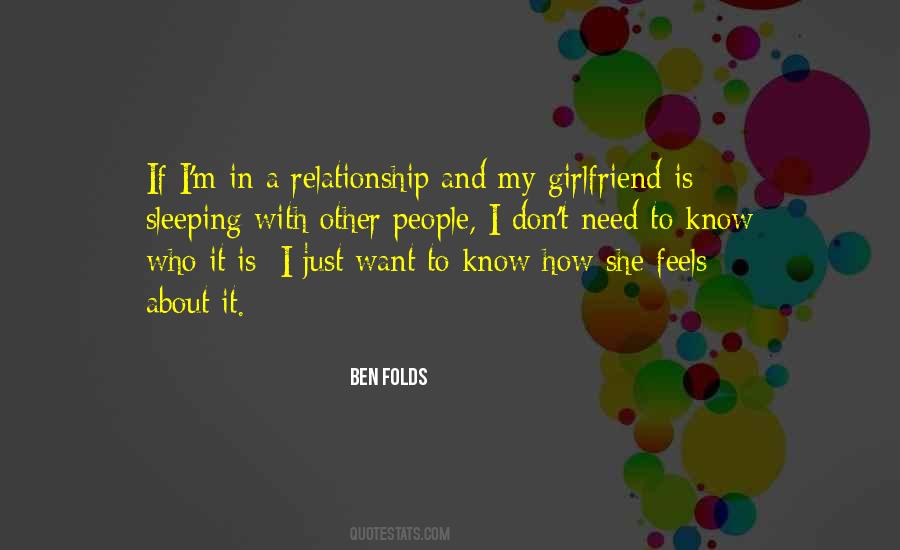 #31. As I said, relationship has true significance only when it is a process of self-revelation, when it is revealing oneself in the very action of relationship. But most of us do not want to be revealed in relationship. - Author: Jiddu Krishnamurti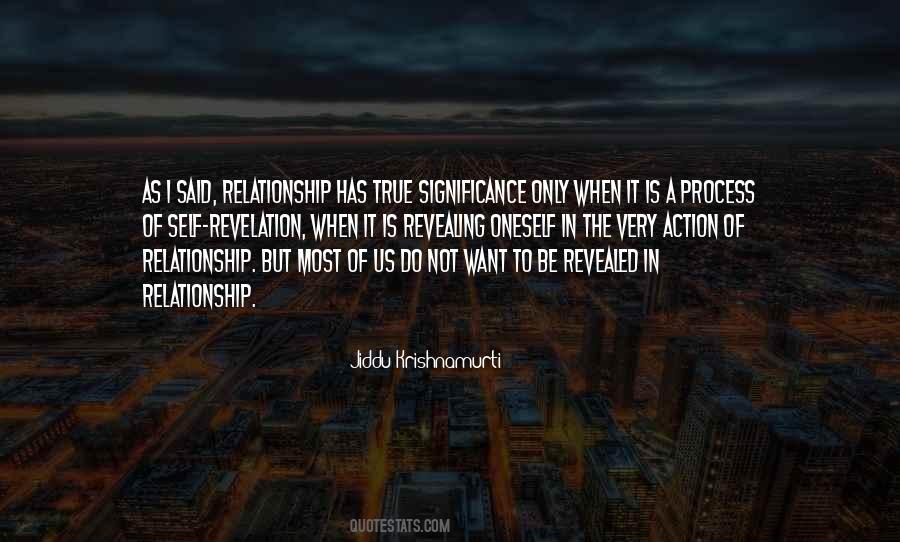 #32. I cannot copy nature in a servile way; I am forced to interpret nature and submit it to the spirit of the picture. From the relationship I have found in all the tones there must result a living harmony of colors, a harmony analogous to that of a musical composition. - Author: Henri Matisse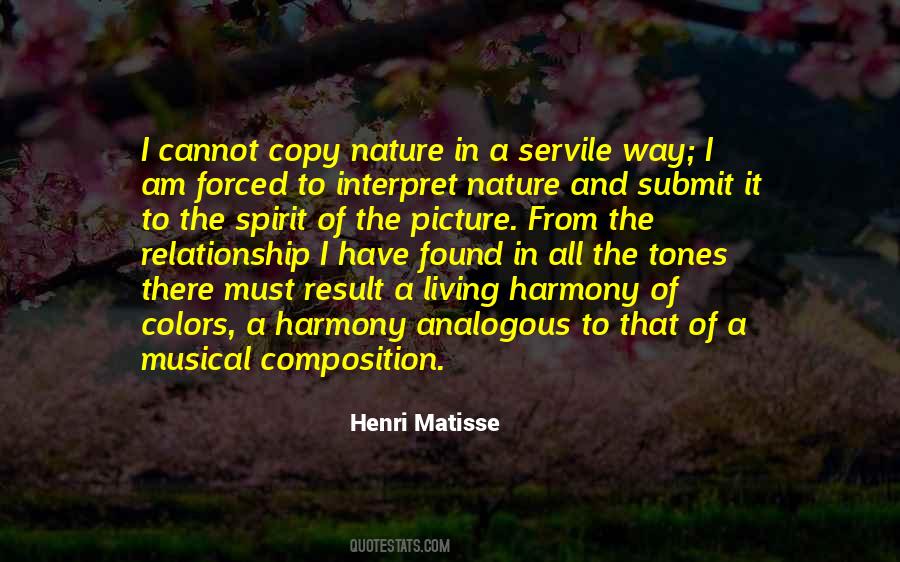 #33. A real relationship doesn't properly begin until the NRE burns away. That's when you have to start dealing with this person as an all-around human being, replete with irritating little habits. When disillusion sets in, love can begin. - Author: Anthony D. Ravenscroft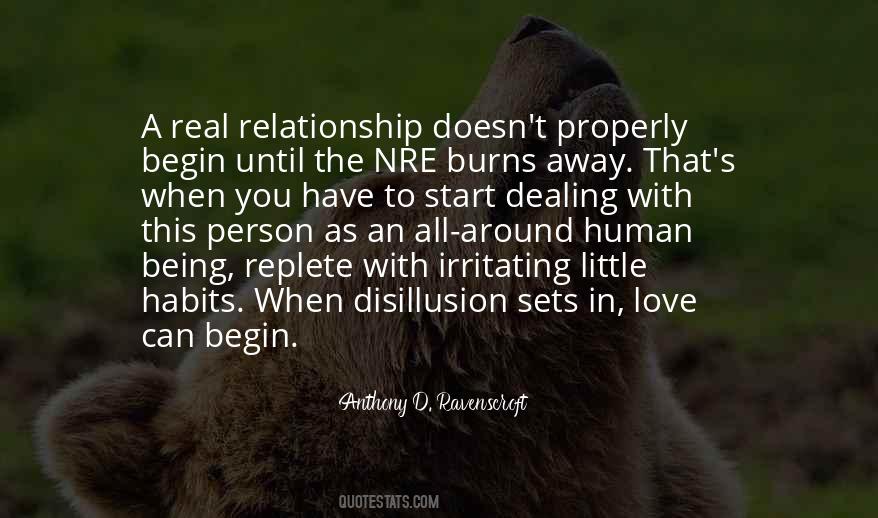 #34. Music and fashion have had a kind of incestuous relationship since the Fifties. It started with people like Elvis Presley and pop icons like James Dean. Then it exploded in the MTV days. Now, with the Internet, it's instantaneous. - Author: John Varvatos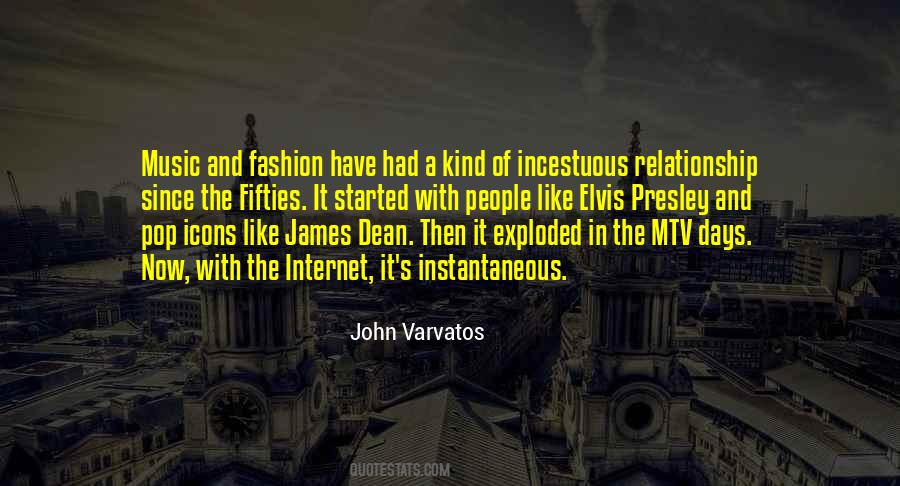 #35. He said he wants variety. The irony is that I wanted variety too. But I wanted variety in a solid, stable committed relationship where I would wake up each morning asking "What are we going to do today?" not asking "Who are you going to do today? - Author: Aimee Lane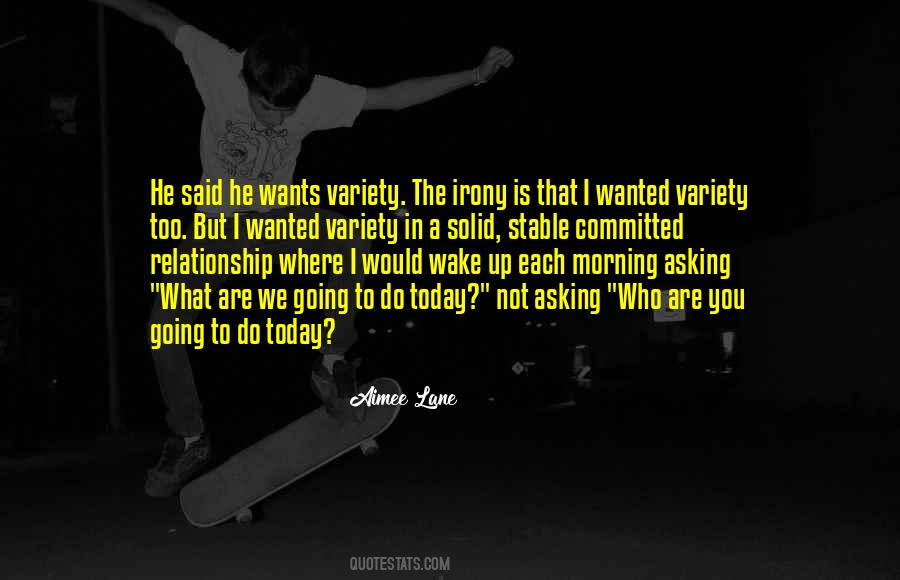 #36. Tech companies don't exist in a bubble; they draw from and feed into a larger community. Ideally, the relationship is symbiotic. - Author: Ryan Holmes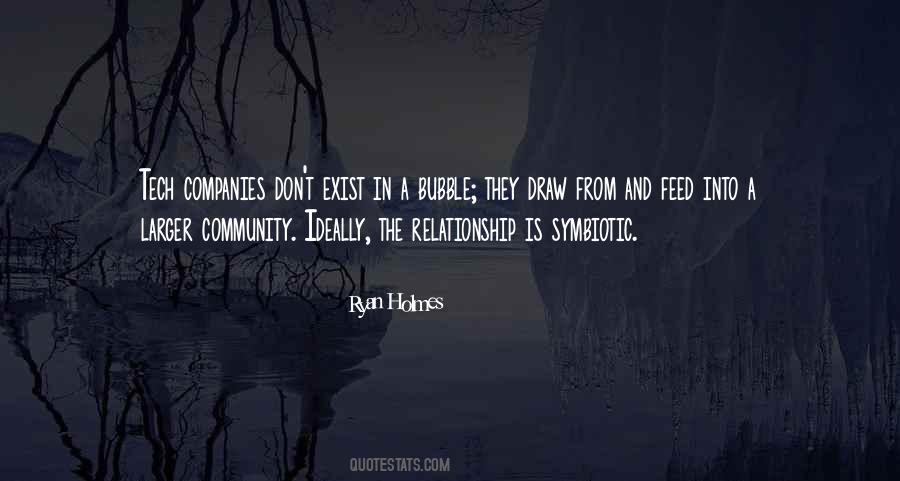 #37. What you're always trying to achieve in a creative relationship is one that is egoless ... ideas belong to the collective. If you can disassociate your own ego from your idea, then, almost always, everybody will arrive at the same decision as to what is best. - Author: Dave Genn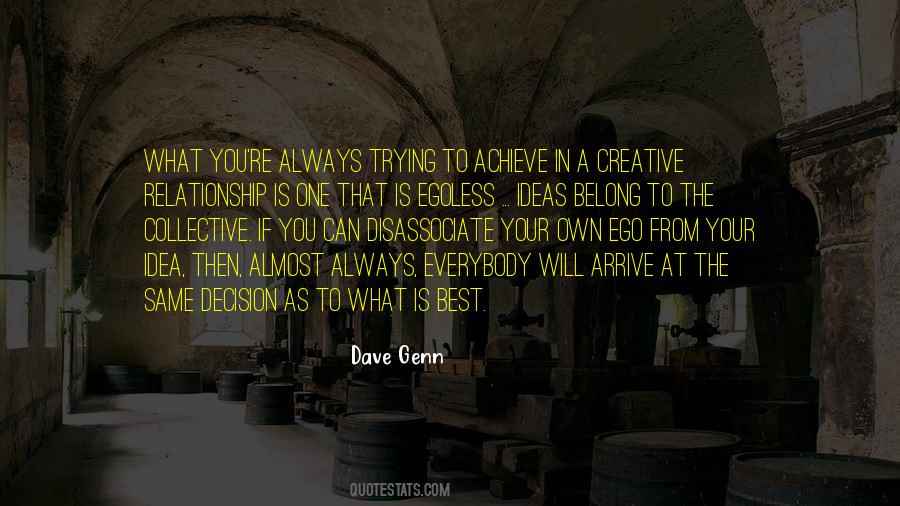 #38. Perhaps the depth of love can be calibrated by the number of different selves that are actively involved in a given relationship. - Author: Carl Sagan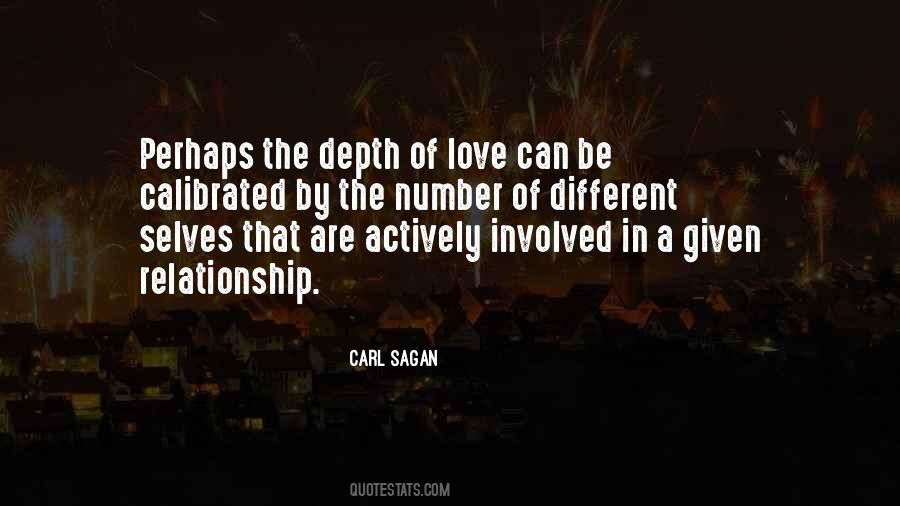 #39. In most relationships, somebody cares about the other one more and that's usually why you get out of a relationship because it's not reciprocated. - Author: Miles Teller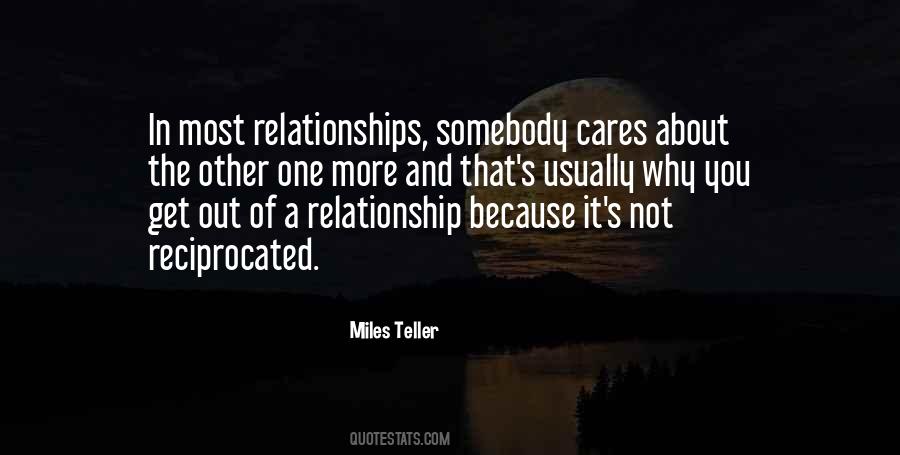 #40. There will be difficult moments in a five-gram trip, but on the other hand certain questions will be solved forever for you, because you will validate the existence of this dimension. You will see what your relationship to it is. - Author: Terence McKenna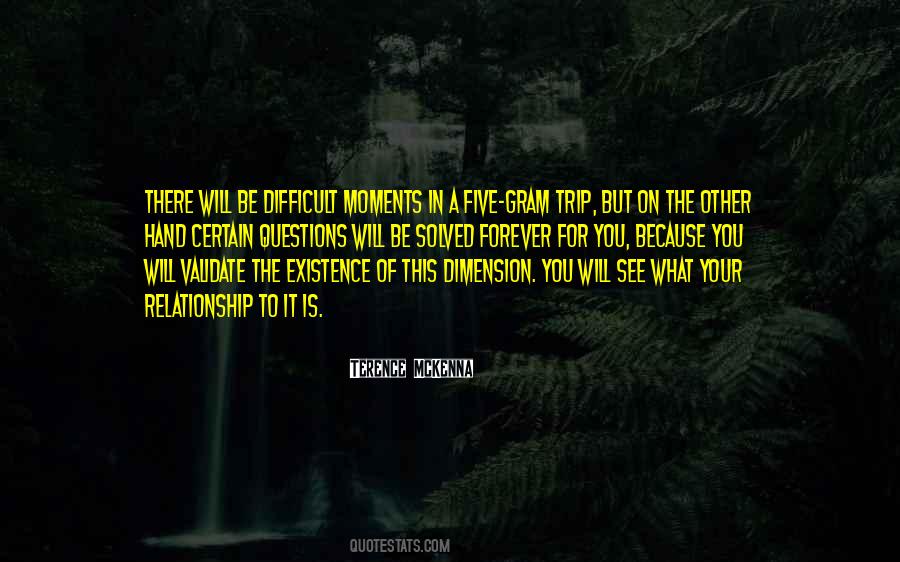 #41. Hearts everywhere bear scars of one form of hurt or the other, and it is necessary to keep this in mind when trying to understand why a person is the way he or she is. - Author: Innocent Mwatsikesimbe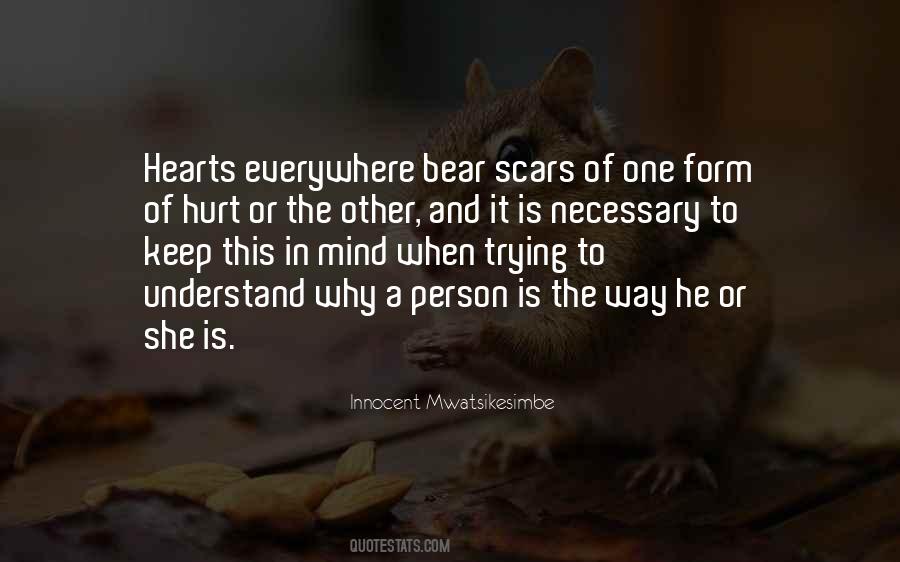 #42. Rider/Host relationship is not always one-sided. In fact, many benefits are extended to the Host as well. It can survive up to double the life expectancy of a normal human (between 150 and 200 years), depending on a number of - Author: Pete Kahle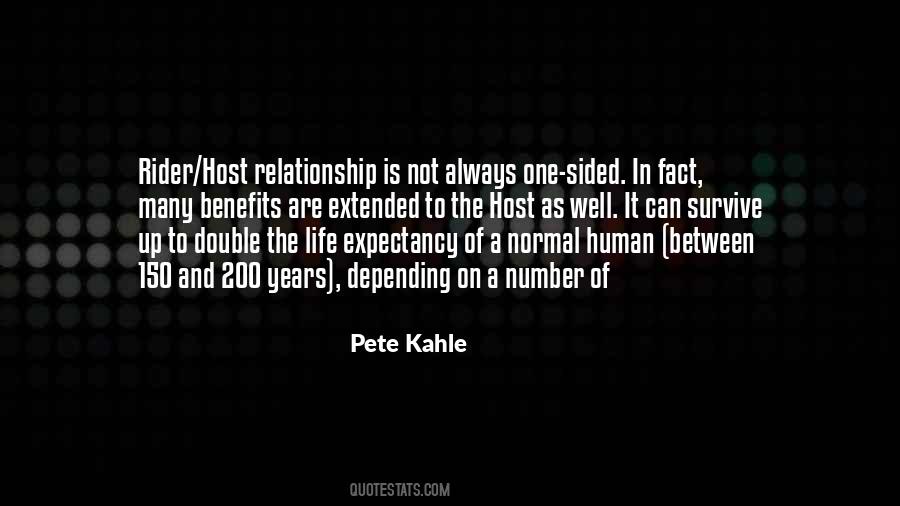 #43. You know why I like to talk to you, Delia? You never interrupt with your experiences. Not jiggling your foot till you get a chance to jump in with your life history. - Author: Anne Tyler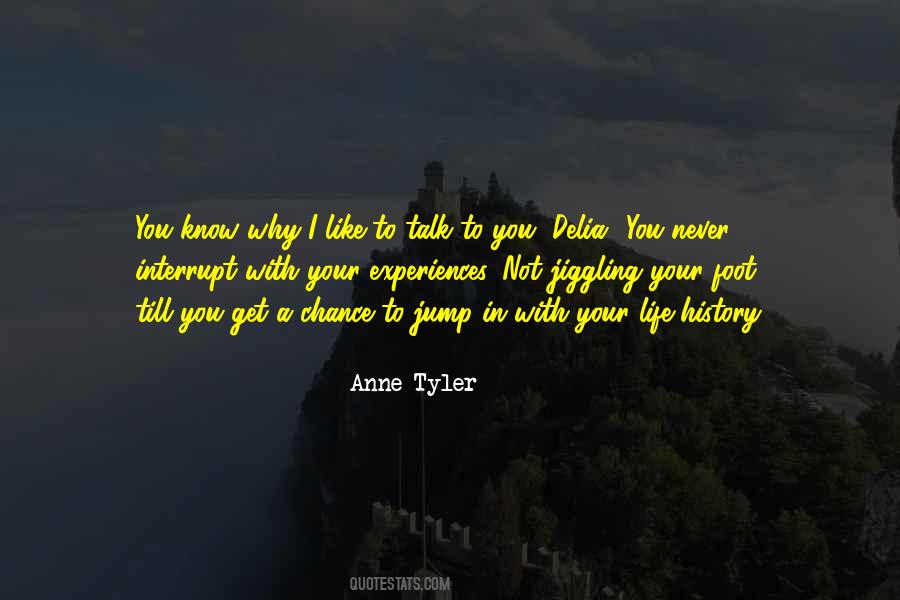 #44. It's like a person who gets a taste of Christ, falls in love with Him, and then casts Him aside. That love never lets go, that yearning to be with Jesus, and there's no rest until the relationship is restored." Nadia - Author: Brigette Manie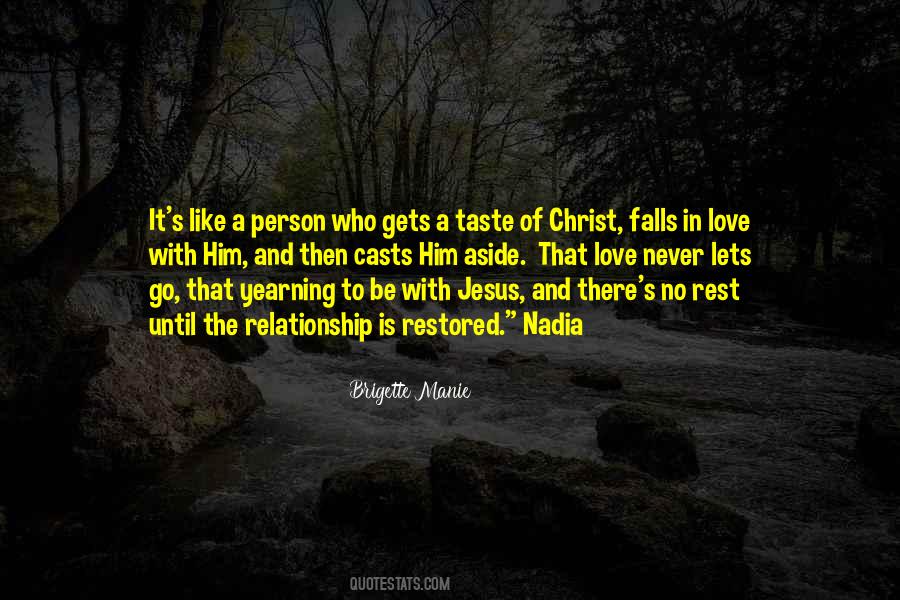 #45. I still have a very nonintellectual, nonjudgmental relationship with melody and the music as I hear it all in my head. - Author: Ariel Pink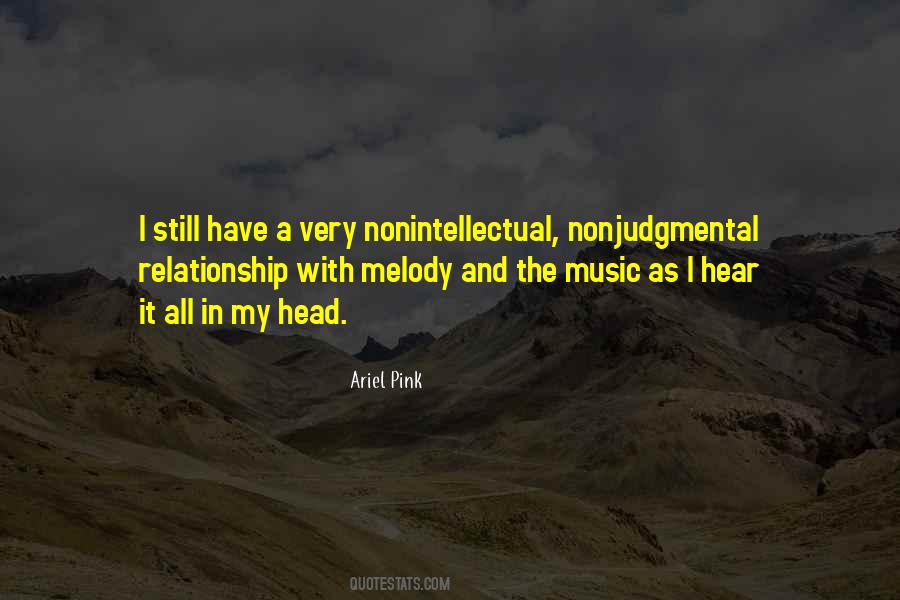 #46. In a relationship of any kind, if one person feels the other person isn't bringing anything to the table, he or she will begin to disrespect that person. - Author: Sherry Argov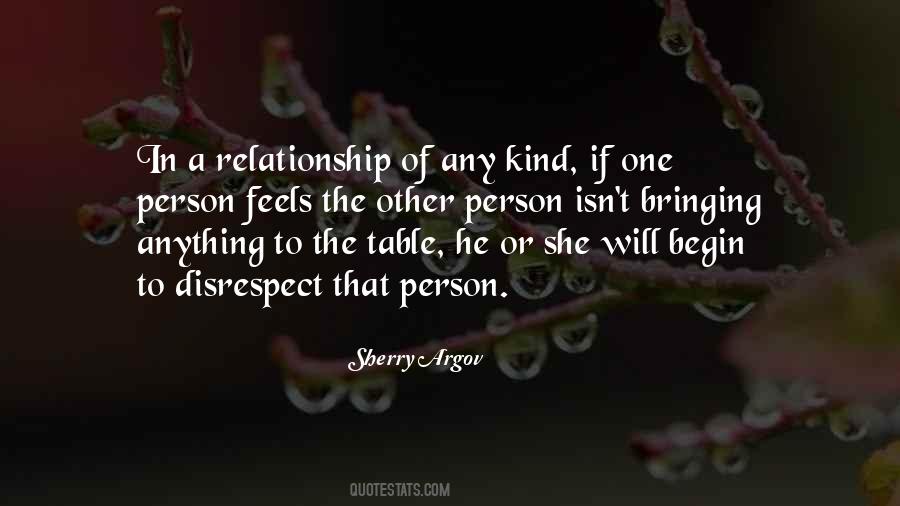 #47. One of the better guarantors of ending up in a good relationship: an advanced capacity to be alone. - Author: Alain De Botton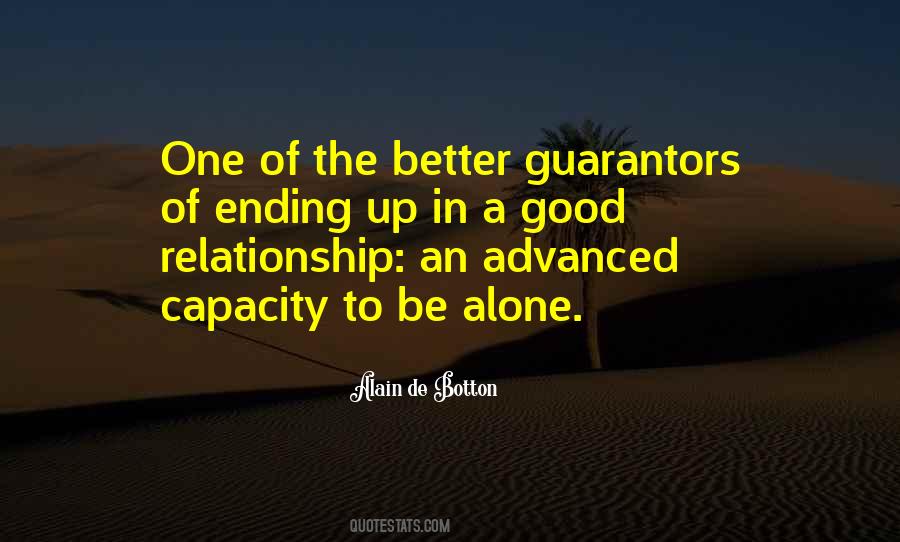 #48. One of my favorite things is when I'm listening to a song and I find my own meaning in it that I can relate to and I can create my own relationship and bond with the song. - Author: Ed Droste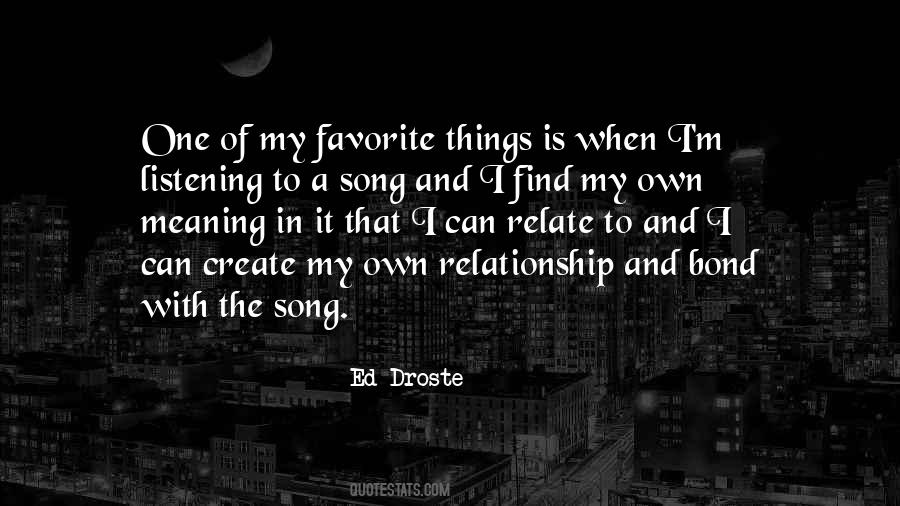 #49. I was always in trouble from an early age. I had a fraught relationship with my parents, who were very traditional. Doing plays at school was a joyous release. - Author: Naveen Andrews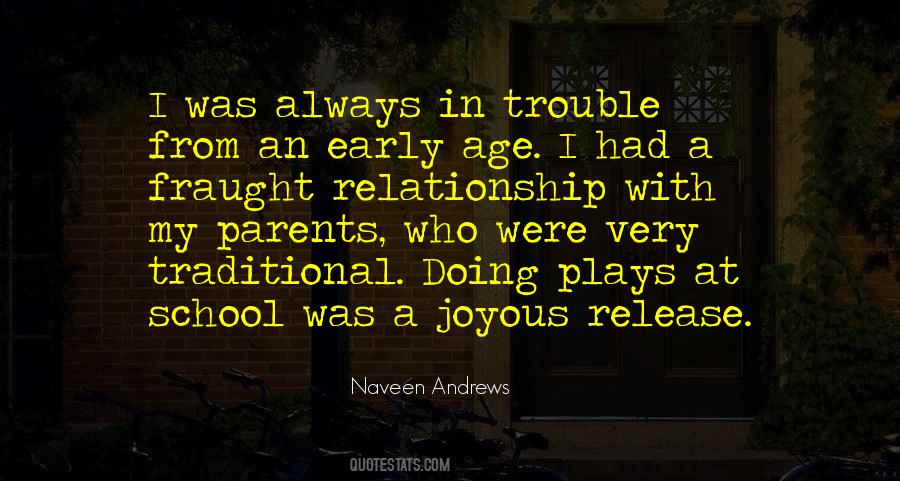 #50. Jesus didn't die on the cross so we can do something epic. He died so we can have a relationship with an epic God who moves in epic ways! - Author: Alisa Hope Wagner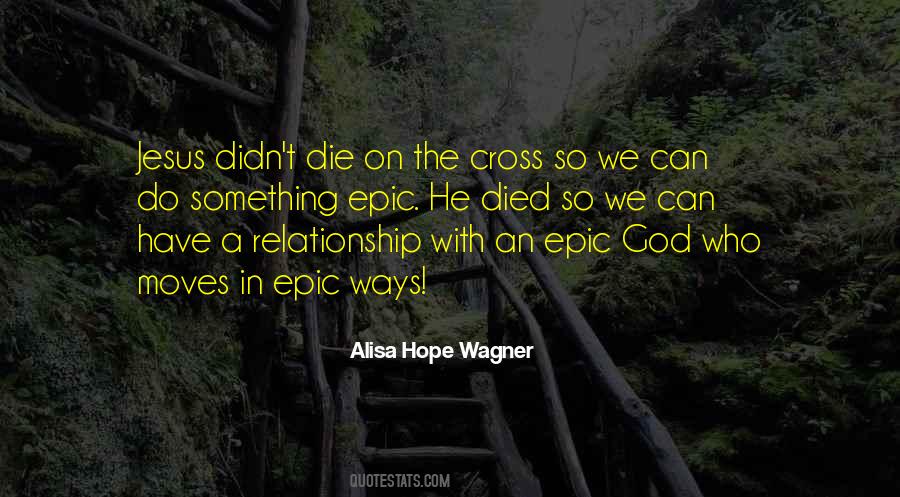 #51. I do think it's important to be honest about your feelings in a long term relationship because it's totally human to be attracted to other people. It's just about what you do about that attraction. - Author: Zoe Lister-Jones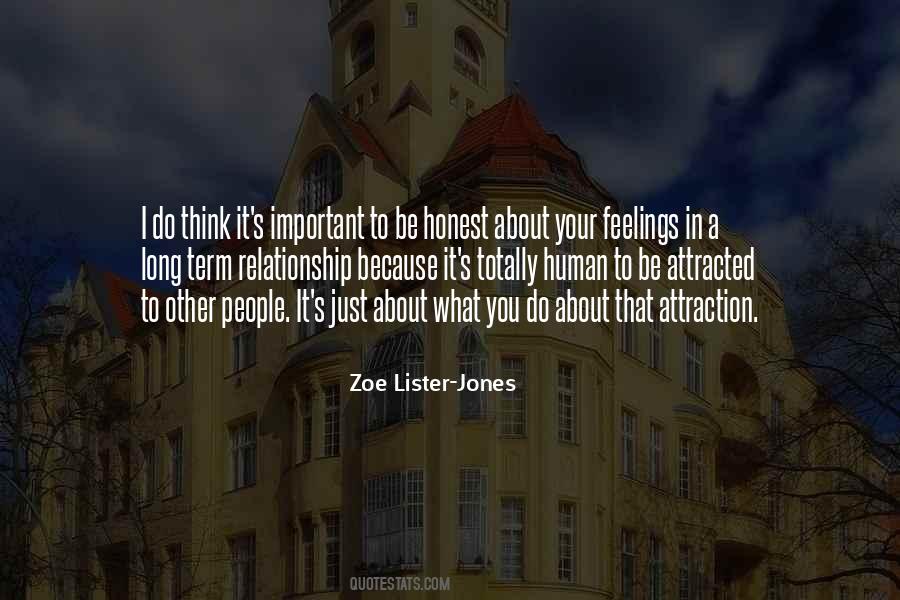 #52. The relationship between book and reader is intimate, at best a kind of love affair, and first loves are famously tenacious. [ ... ] First love is a momentous step in our emotional education, and in many ways, it shapes us forever. - Author: Laura Miller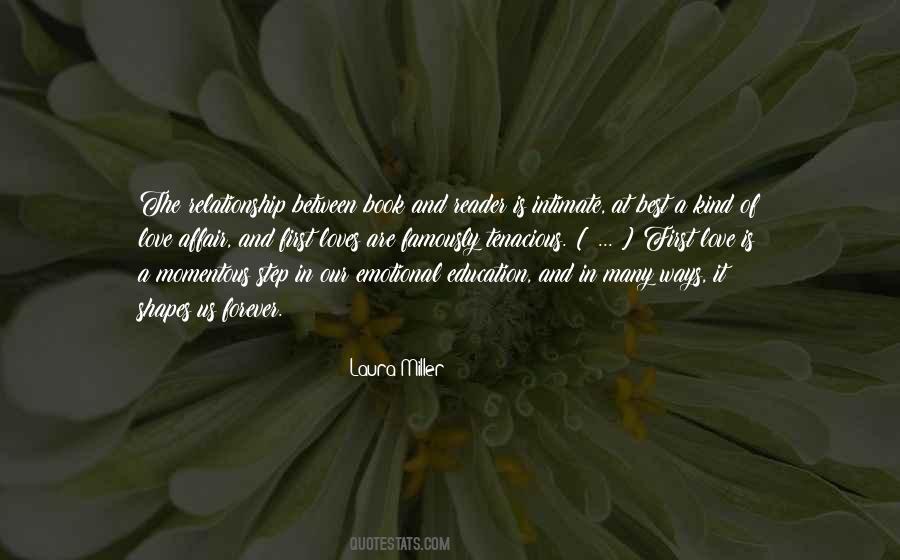 #53. Dogs are animals that poop in public and you're supposed to pick it up. After a week of doing this, you've got to ask yourself, "Who's the real master in this relationship?" - Author: Anthony Griffin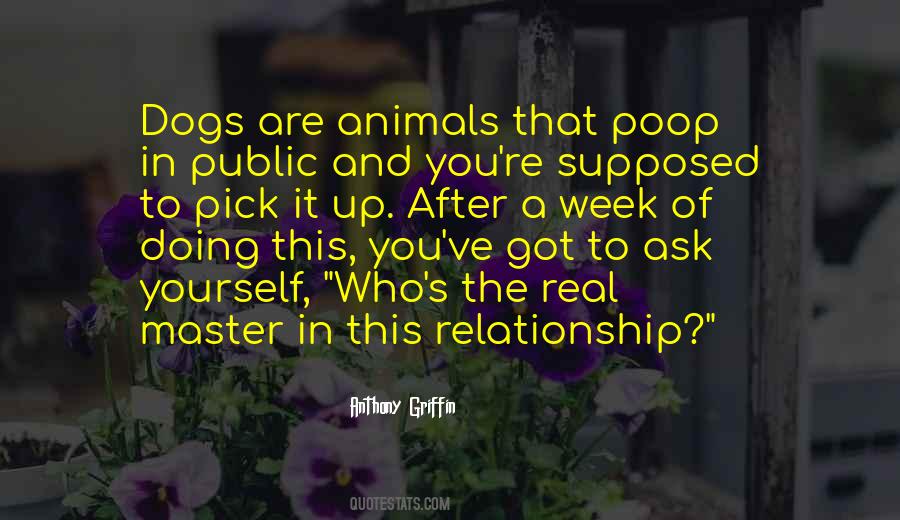 #54. The image a society evolves of the relationship between the living and the dead is, in the final analysis, an attempt, on the level of religious thought, to conceal, embellish or justify the actual relationships which prevail among the living. - Author: Claude Levi-Strauss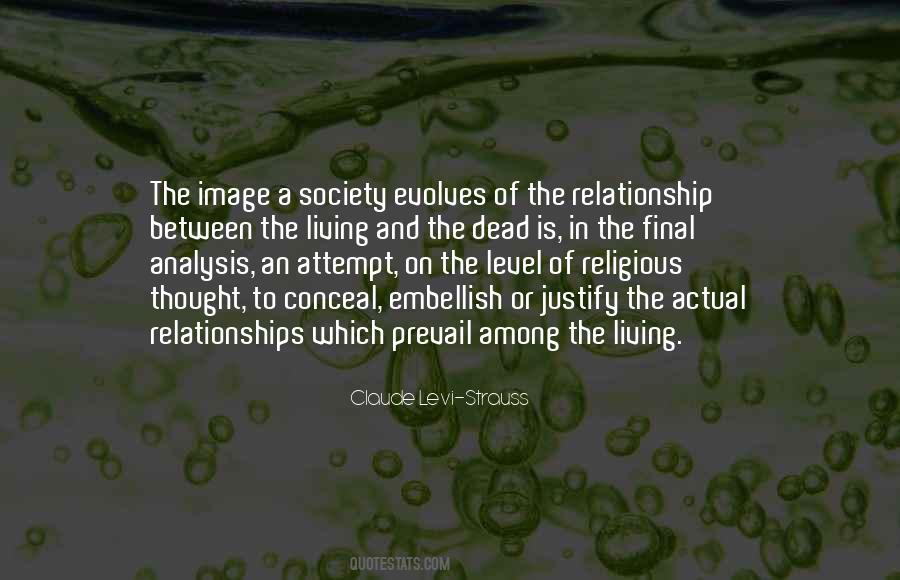 #55. It is not wrong to change in order to achieve certain goals in life. If you want a happy relationship, for example, you can't expect luck to bring it. You can't have something that implies you without being yourself there. - Author: Robin Sacredfire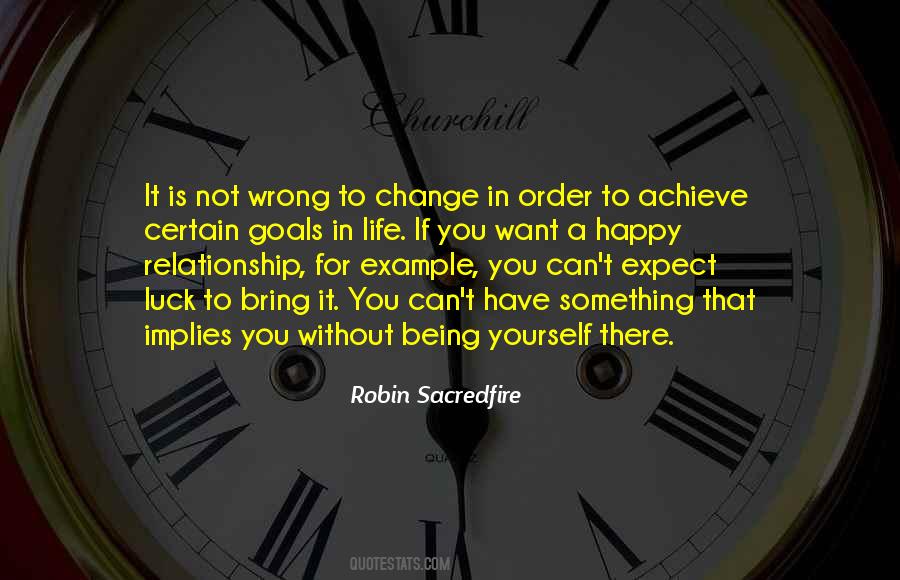 #56. You can put the girl in a relationship ... ," I began, putting my arm around her. "But you can't take the boy-crazy out of the girl," Cassie finished. - Author: Jocelyn Davies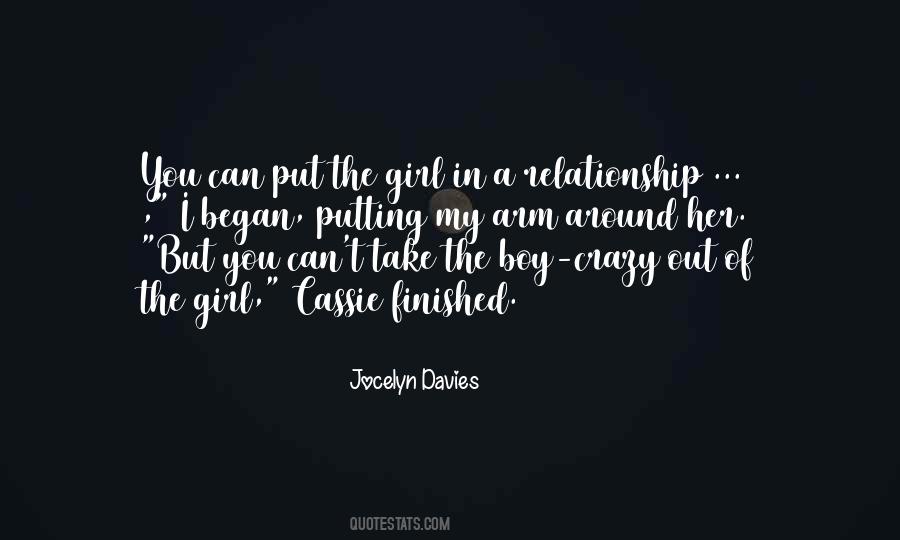 #57. It's important not to ditch your mates when you're in a relationship. Lots of girls do it, but you need to remember they will always be there for you. - Author: Rachel Bilson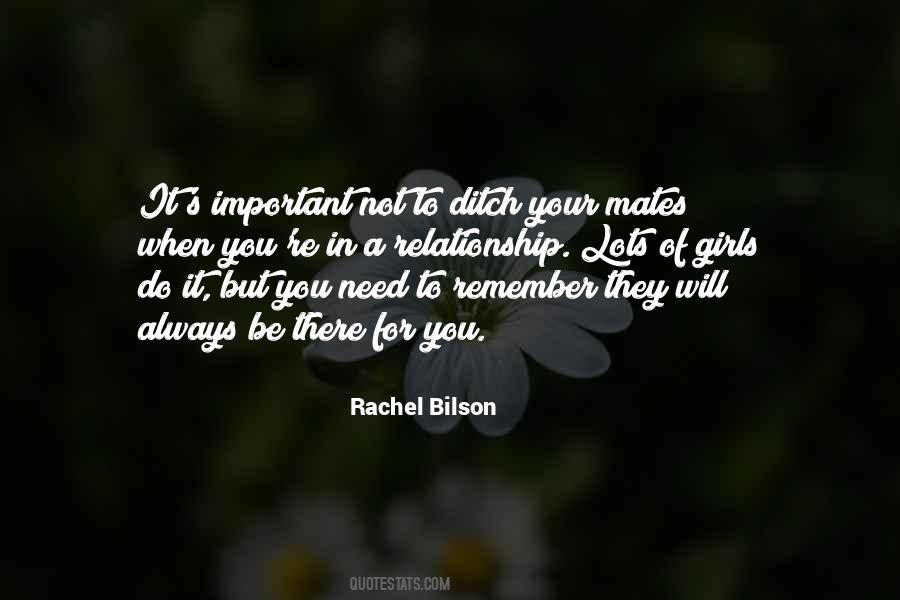 #58. Love respects the other. It is a give-and-take relationship. Love enjoys giving, and love enjoys taking. It is a sharing, it is a communication. Both are equal in love; in a sexual relationship both are not equal. Love has a totally different beauty to it. - Author: Rajneesh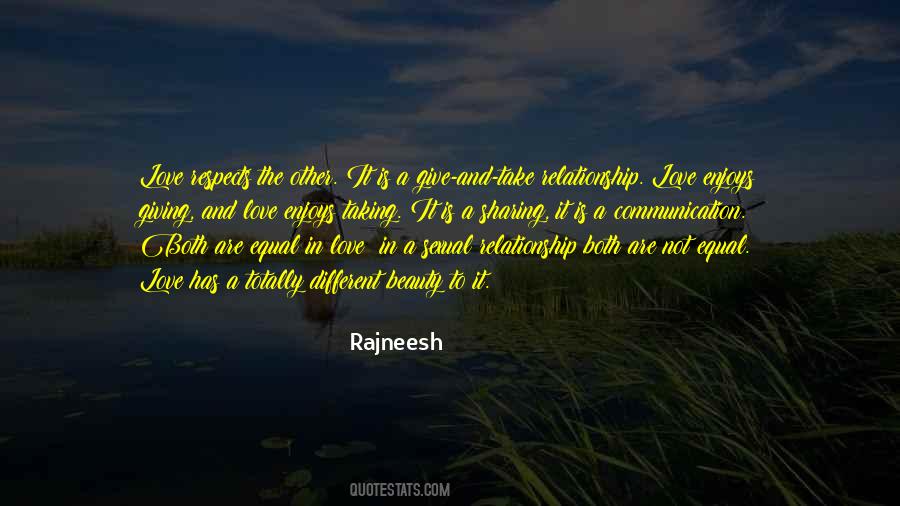 #59. I've had a long standing relationship with Gatorade, and they've been very, very good to me. And I believe in their products; I really do. - Author: Bill Parcells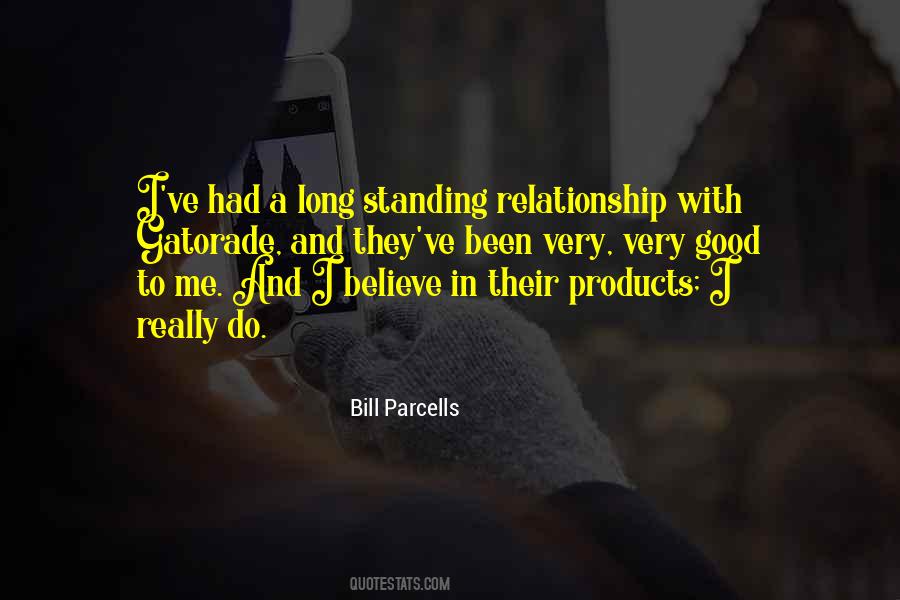 #60. Marriage is not a simple love affair, it's an ordeal, and the ordeal is the sacrifice of ego to a relationship in which two have become one. - Author: Joseph Campbell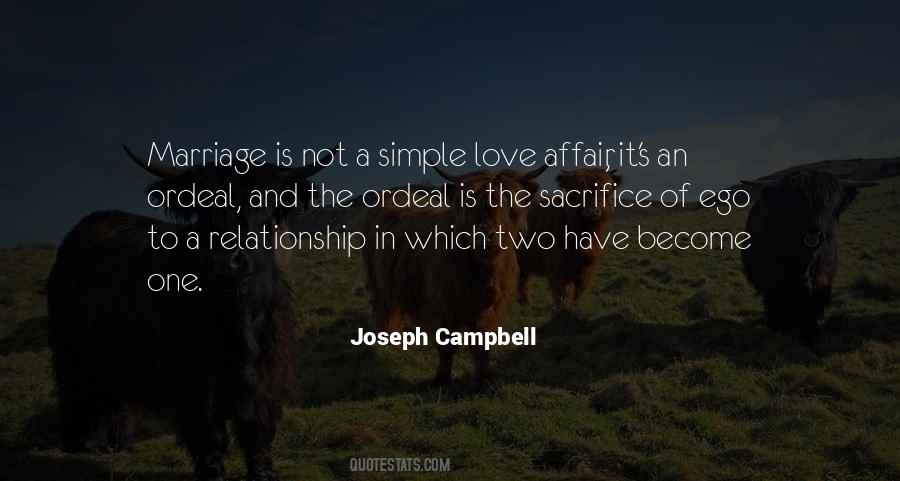 #61. Happiness in a family really revolves around how much money I have in my disposal. - Author: Vann Chow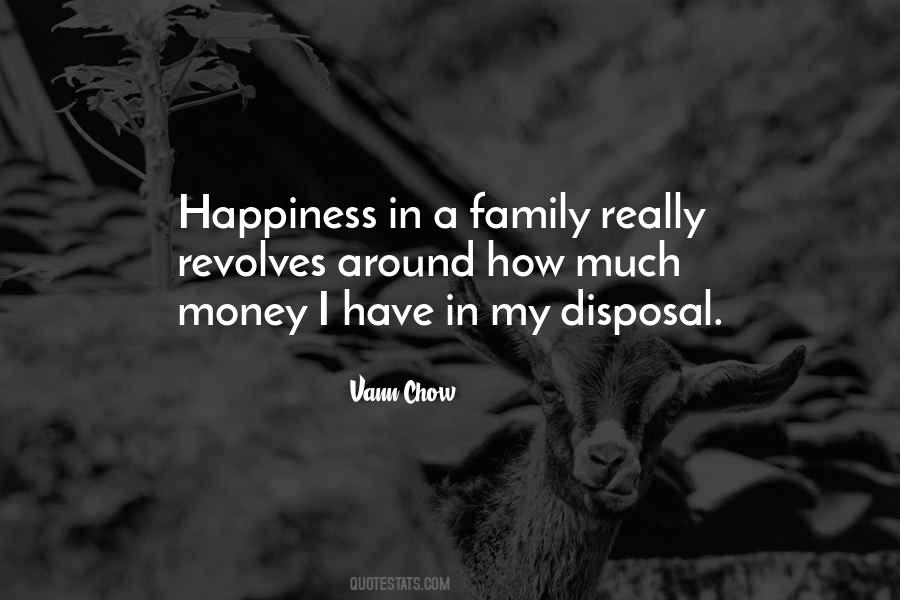 #62. I look for individuality in the artisans I work with for CoutureLab; a loving relationship with the product and care in the construction, along with the story behind it, make couture desirable to consumers looking for something that cannot be mass-produced. - Author: Carmen Busquets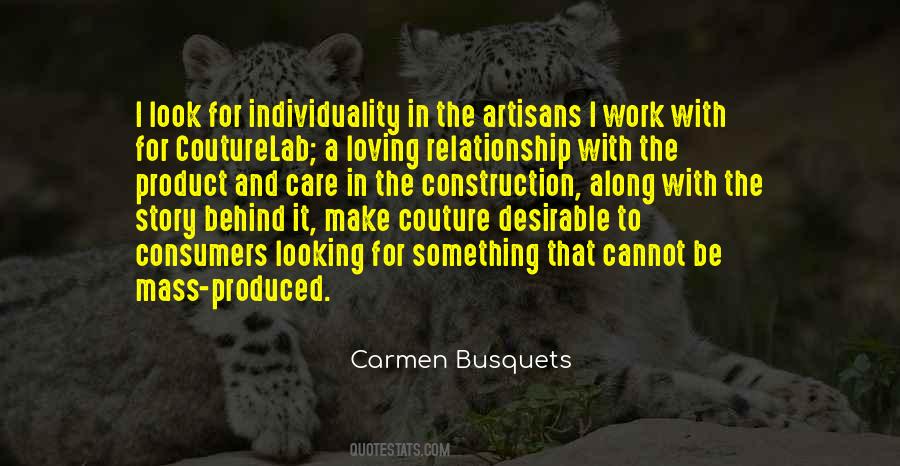 #63. I fervently believe that people shouldn't stay in bad relationships just because of some artificial rom-com notion of true love being "forever." In fact, I think that the pressure of conforming to that framework ruins-literally RUINS-a lot of people's lives. - Author: Lindy West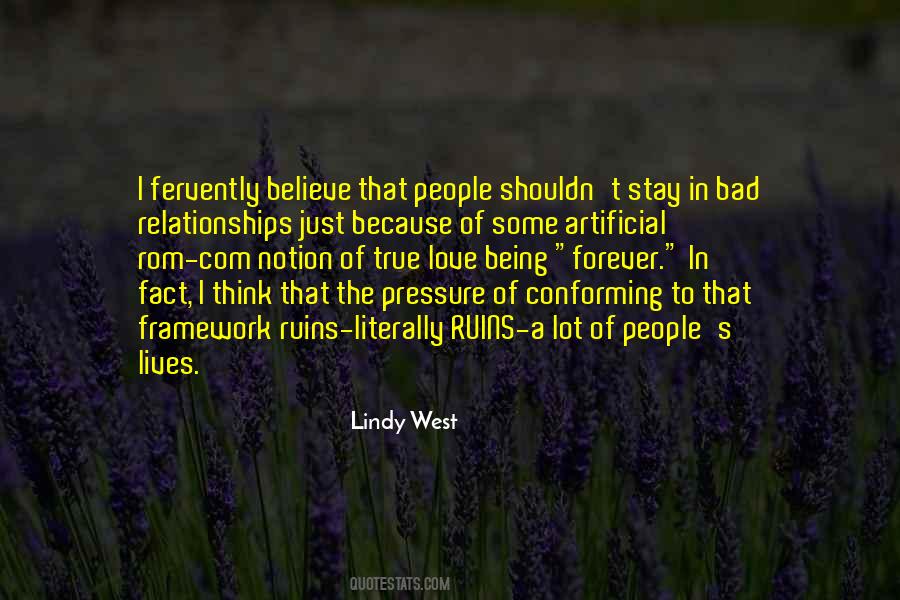 #64. Nonmonogamous folks recognize that during a lifetime you can and will be attracted to other people even if you are in a wonderful, fulfilling relationship; they make room in their relationship for these attractions rather than allow them to cause anxiety, jealousy, and unreasonable expectations. - Author: Tristan Taormino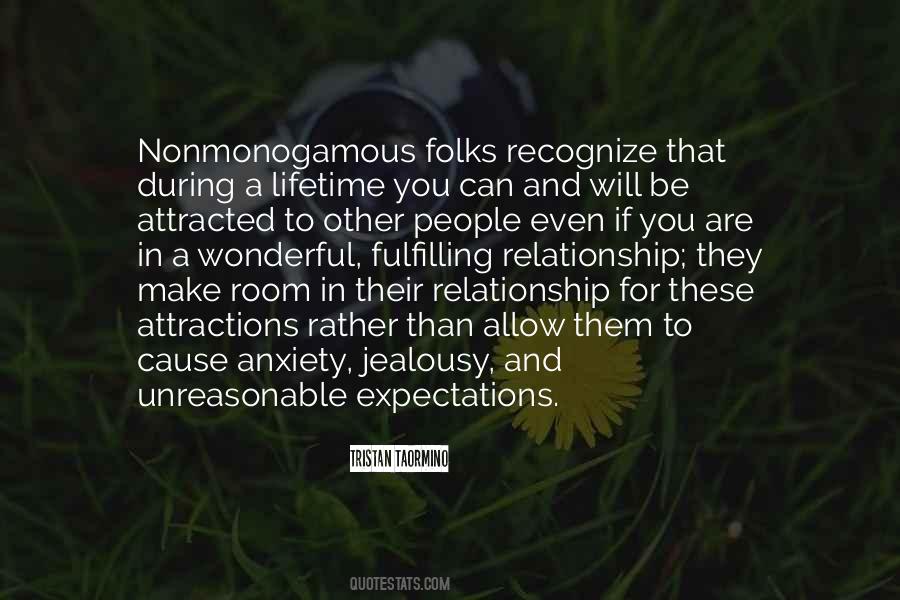 #65. T's really an encouragement of discipleship, it looks like anything else that we're offering to anyone else, any other person struggling with any other issue in their life. It's about pursuing a relationship with Christ. - Author: Alan Chambers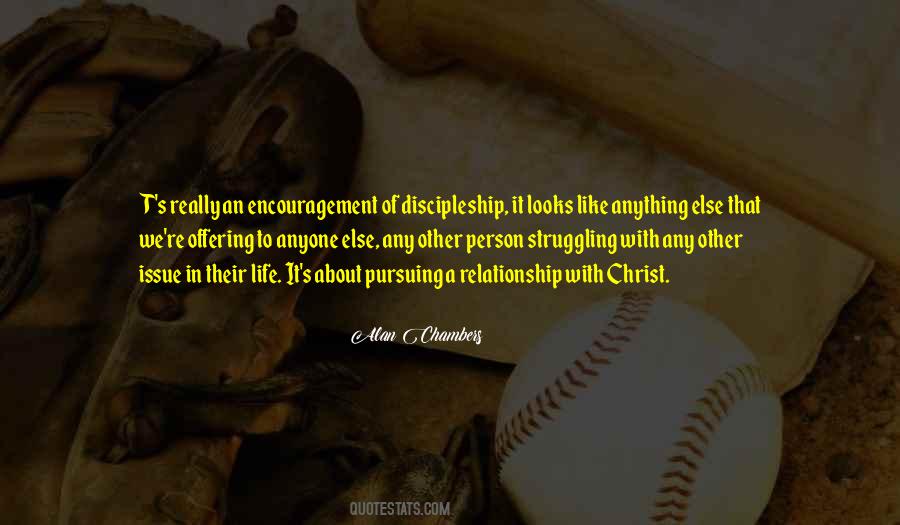 #66. In a relationship, when does the art of compromise become compromising? - Author: Sarah Jessica Parker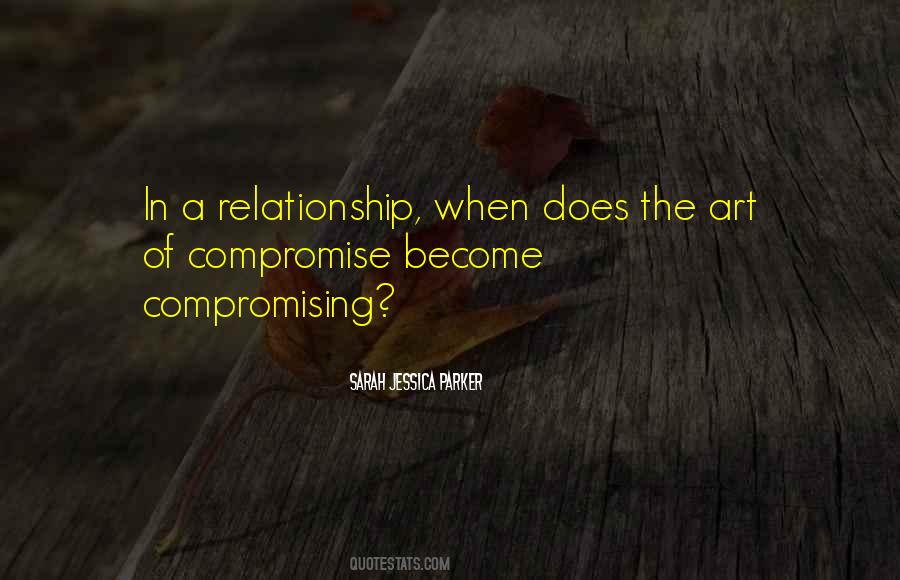 #67. I know some people find the idea of soul mates romantic, or comforting, but to me believing in soul mates means absolving yourself of any responsibility for your own happiness. If a relationship doesn't work out
whoops! It wasn't meant to be. Fuck meant to be. - Author: Anna Jarzab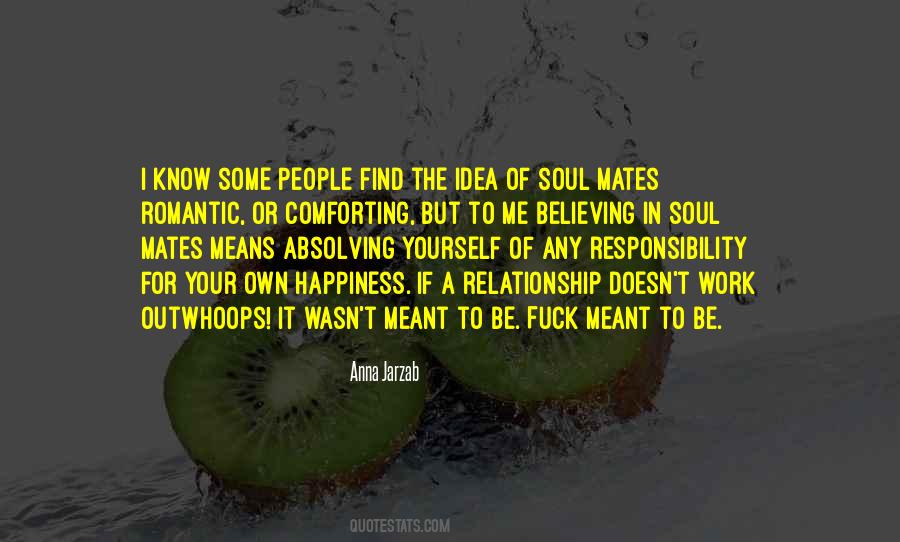 #68. In a relationship with God, our most secret places once thickly cloaked and meticulously hidden away now stand before us utterly and entirely exposed. And it may be that this dreaded fear is the single thing that keeps us an arm's length from God, and forever a single step away from His blessings. - Author: Craig D. Lounsbrough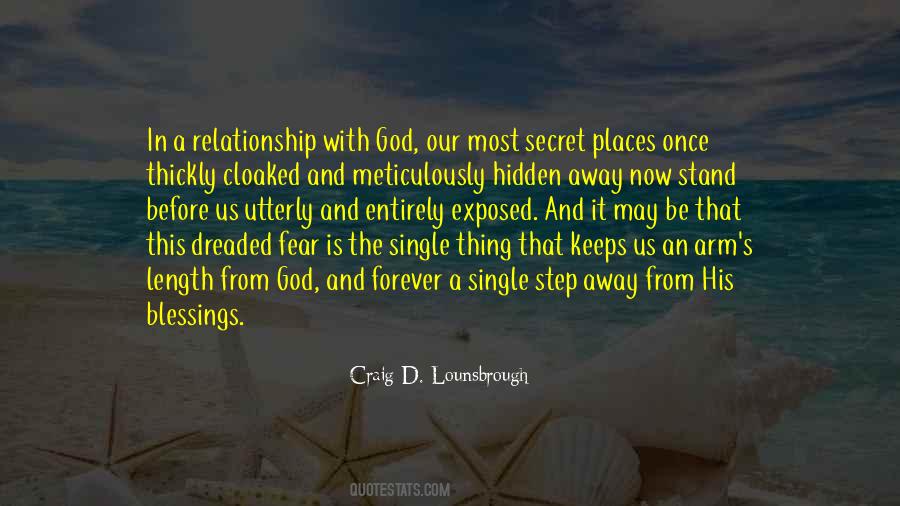 #69. The answer goes back to why God created us.He created us to be His loved ones,His family with whom He can share a relationship of mutual enjoyment. This shows the kind of God He is-a personal God who values loving relationships more than anything else in all the universe. - Author: Ruth Myers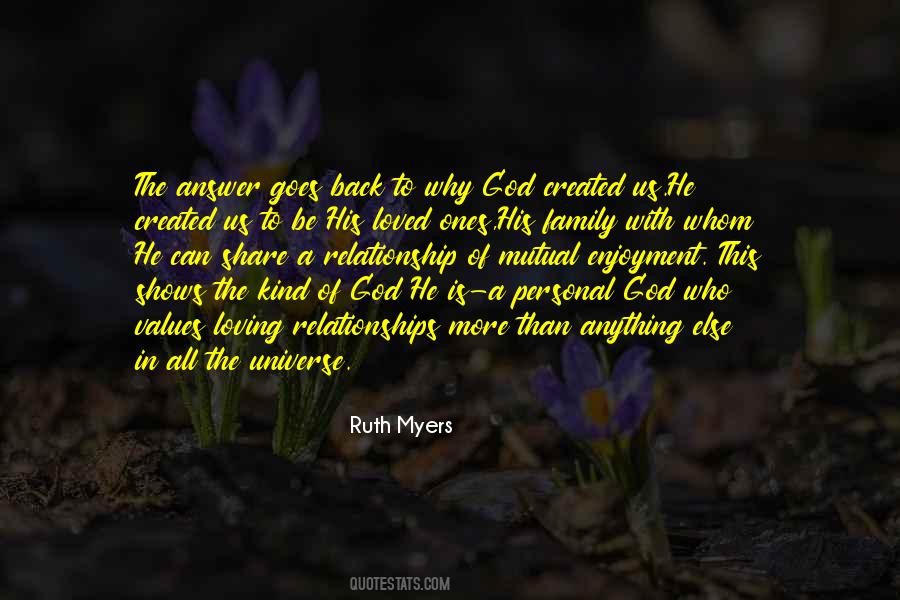 #70. I haven't had time to think about a relationship! I literally have not had a boyfriend in almost five years. I've never even hooked up with anybody I've worked on a movie with. - Author: Shailene Woodley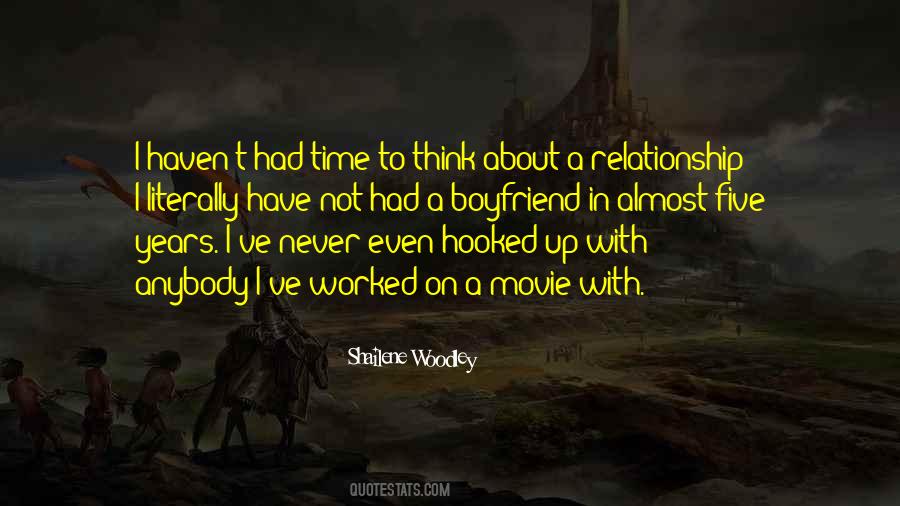 #71. Singles, too, must see the penultimate status of marriage. If single Christians don't develop a deeply fulfilling love relationship with Jesus, they will put too much pressure on their DREAM of marriage, and that will create pathology in their lives as well. - Author: Timothy Keller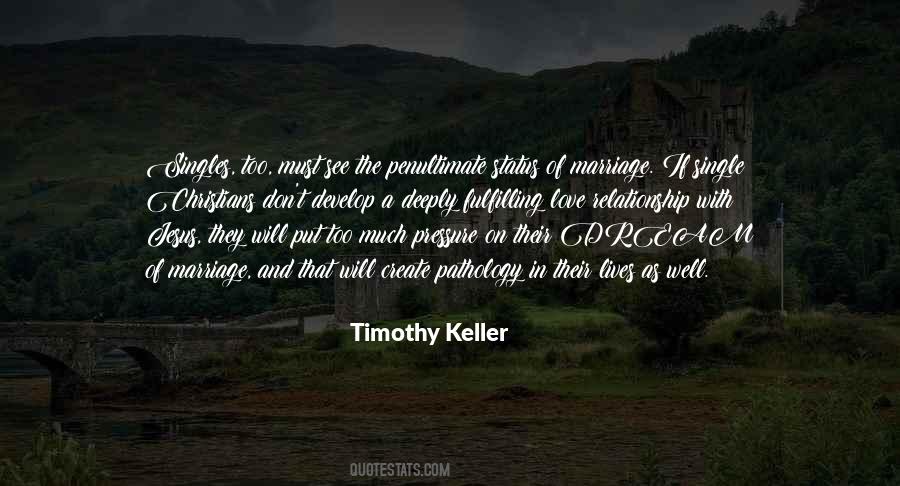 #72. There are moments in every relationship that define when two people start to fall in love.

A first glance

A first smile

A first kiss

A first fall ... - Author: Colleen Hoover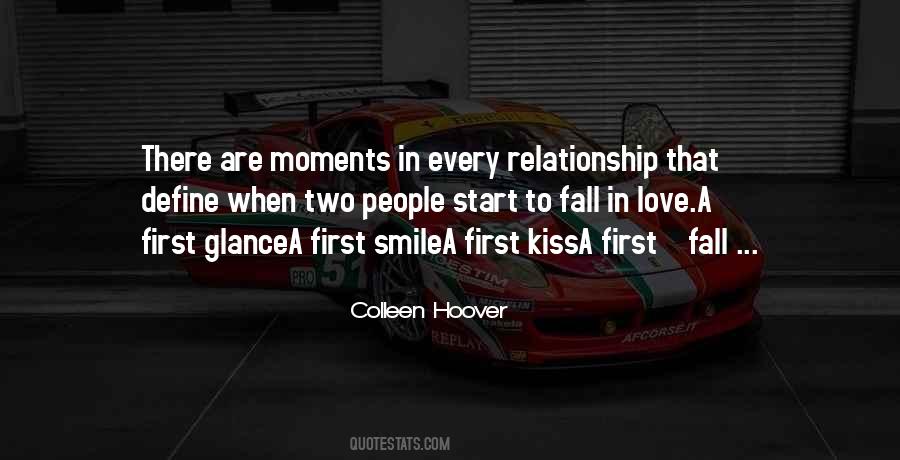 #73. Almost 30 years ago, I started seeking help from a counselor with a master's of social work in New York City, but we were never a good match. It was like being in a bad relationship, except the guy could actually bill my health insurance company for lousy dates. - Author: Gina Barreca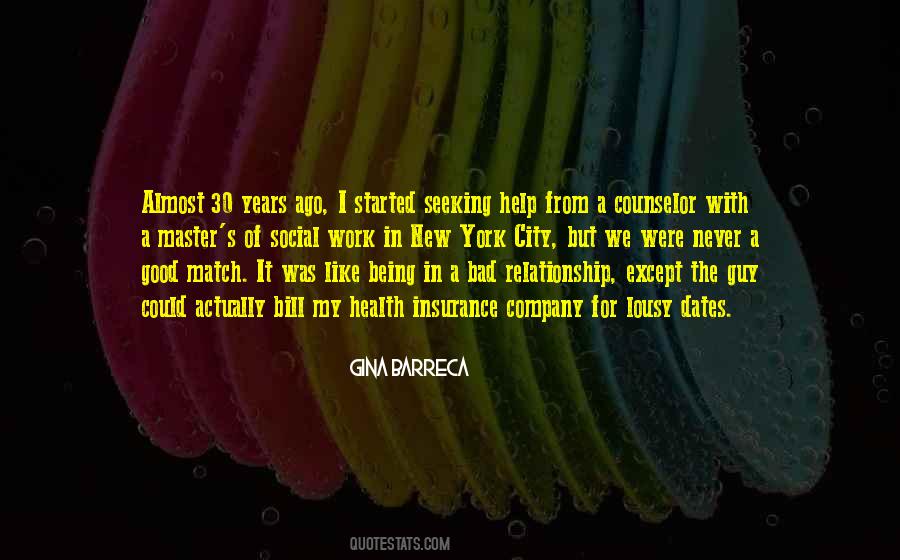 #74. At my age, people prefer to stay in a relationship that is not working. I do not understand that. I think it takes a lot of courage to separate. But it takes more energy to stay in something that is not working. - Author: Isabel Allende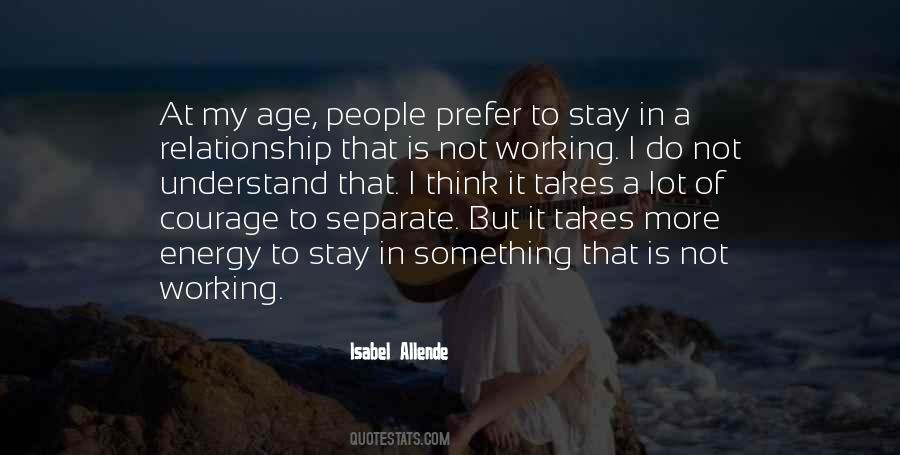 #75. Cherish every relationship in your life. There are certain things in life that can't be fixed if broken! - Author: Avijeet Das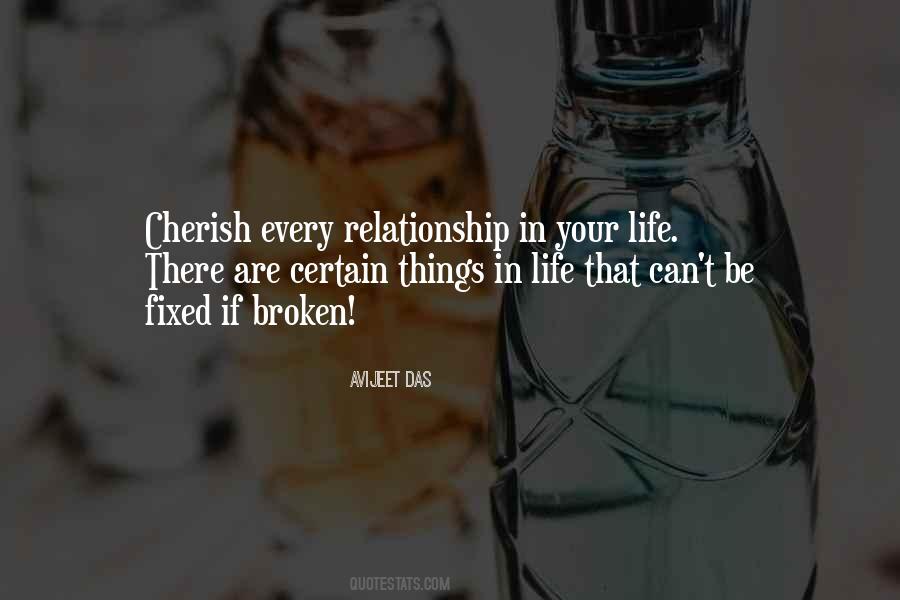 #76. One of these days, she'll let me perform a favor for her without calculating what she owes me, which is always going to be nothing. Except for maybe a kiss, if our relationship ever reaches that level - pinnacle? - where favors can be repaid sexually (in a respectful manner). - Author: Jay Clark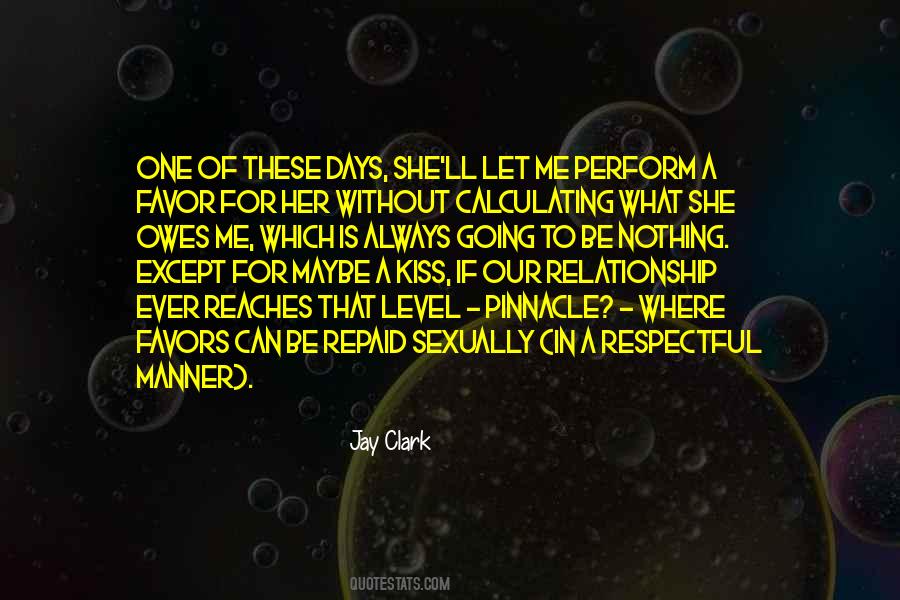 #77. There's nothing more narcissistic than being sure that you are built in the image of an all-powerful Creator-God, and that same God answers your prayers, knows your name, and has a personal relationship with you. - Author: David G. McAfee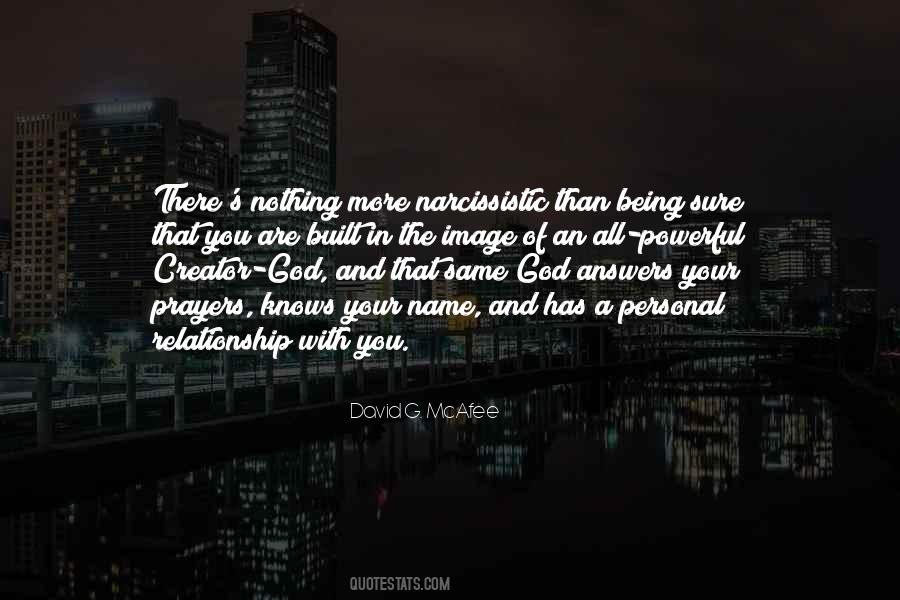 #78. Staying in an unhealthy relationship can keep a person from finding their own way and moving to the next level of their own path - and that person could even be you. - Author: Bryant McGill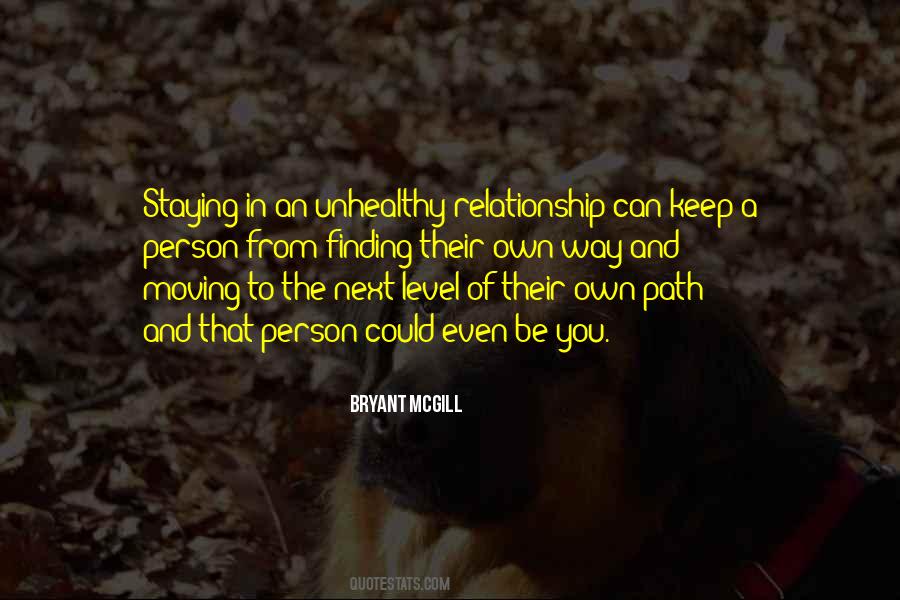 #79. He wanted slow. He wanted lingering and teasing, and she was not in a patient mood. As with so much in a relationship, compromise was key. - Author: Eileen Wilks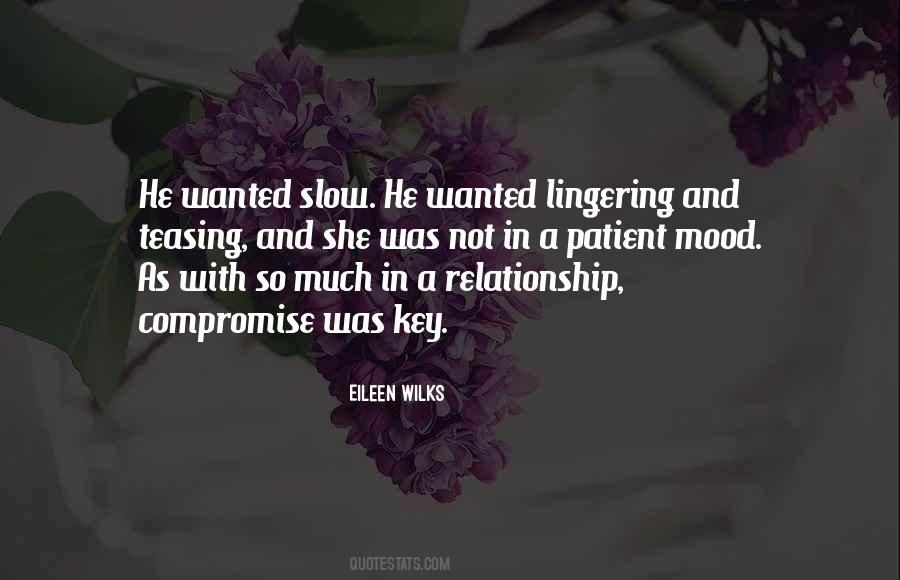 #80. I'm so single. It's funny. I'm usually a relationship girl. I love being in love and having a partner in crime. But it's good to be your own partner in crime. God, that makes me sound like I have multiple-personality disorder. - Author: Brittany Snow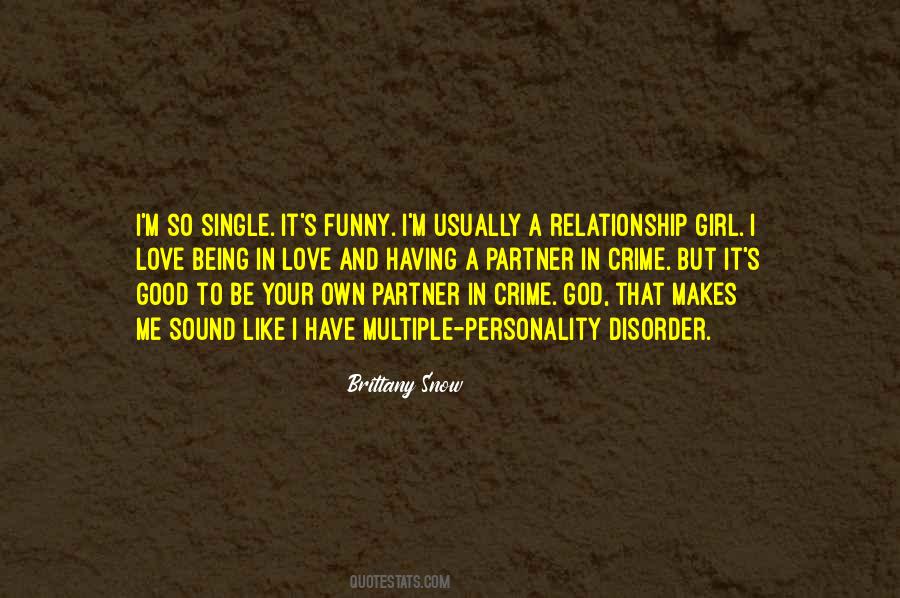 #81. I live in L.A., I go on tour all the time, I'm in New York half the year - it's very hard to be in a relationship. - Author: Aziz Ansari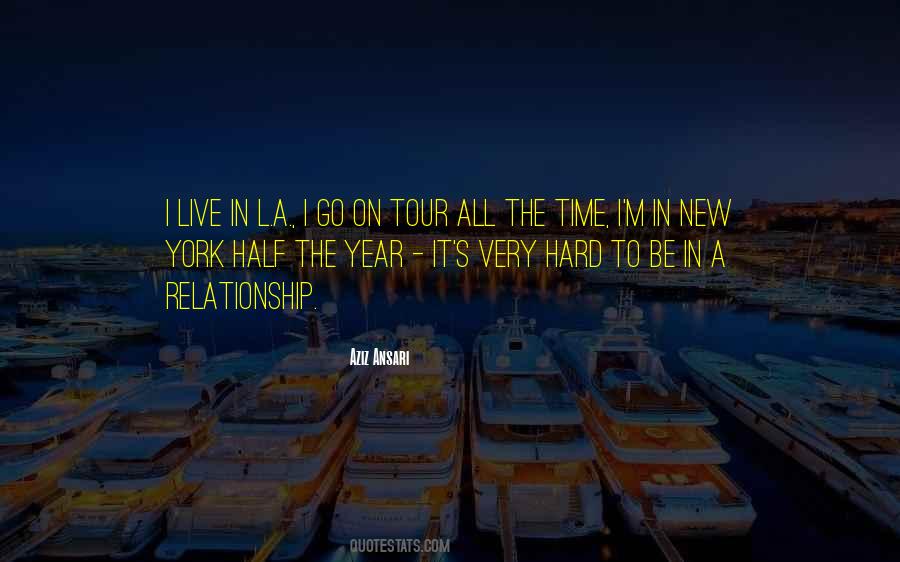 #82. Security in a relationship lies neither in looking back to what it was in nostalgia, nor forward to what it might be in dread or anticipation, but living in the present relationship and accepting it as it is now. - Author: Anne Morrow Lindbergh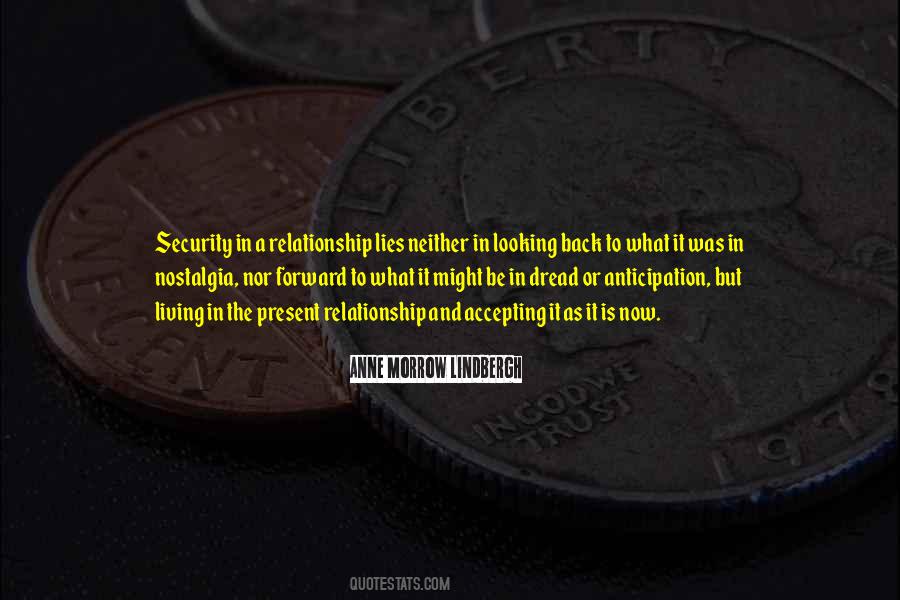 #83. When you are seeing somebody, then obviously it's a commitment. And if you don't want to commit, then don't be in a relationship. Every relationship deserves a certain credibility and respectability. For me, it's always been like that. - Author: Shahid Kapoor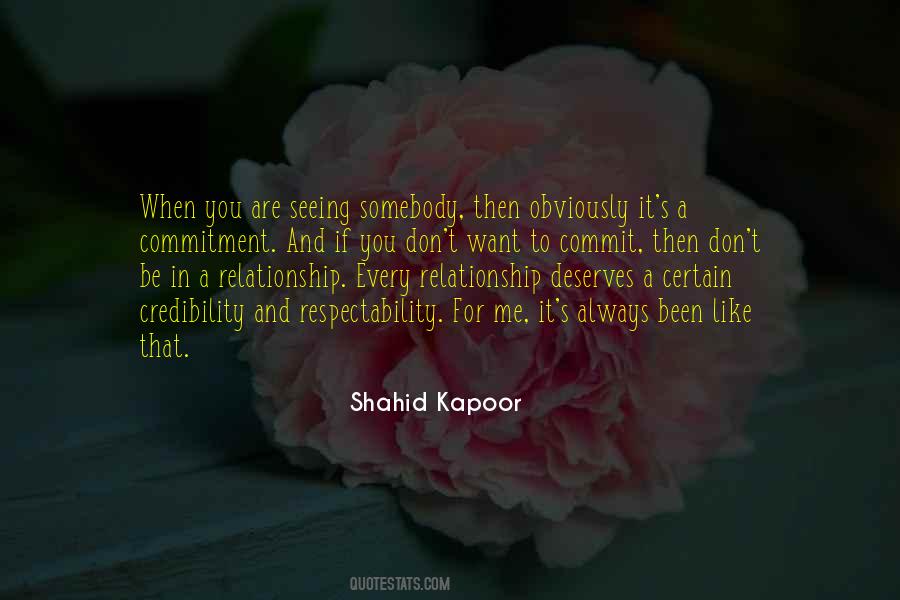 #84. For a group of people supposedly saved by grace, loved unconditionally, and secure in our relationship with Christ, we certainly carry a lot of guilt and baggage in our relationship with God. - Author: Will Davis Jr.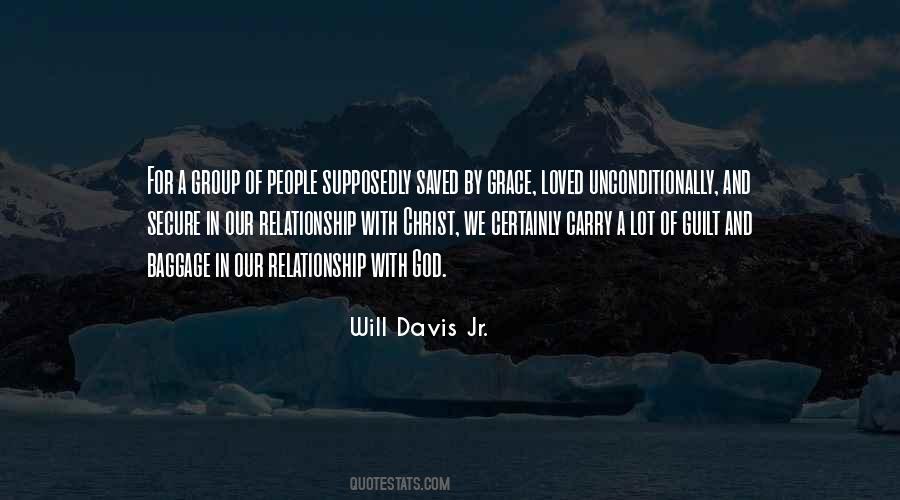 #85. When I began writing songs, there was a pretty direct line between what was happening in my life and what I wrote about. So my first album was really all about my failed attempts to make a particular relationship work. - Author: Erin McKeown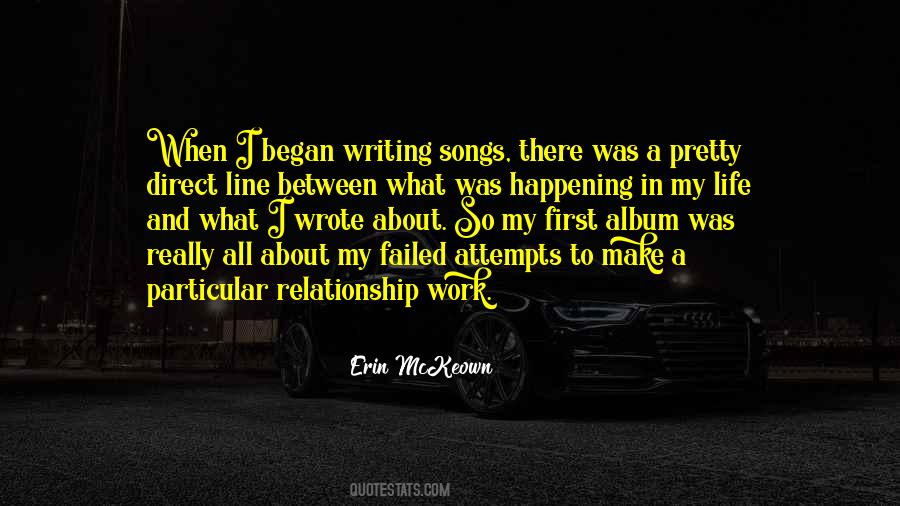 #86. Adultery is the ultimate deal-breaker for me. I would rather be alone than in a relationship that doesn't honor me. - Author: Garcelle Beauvais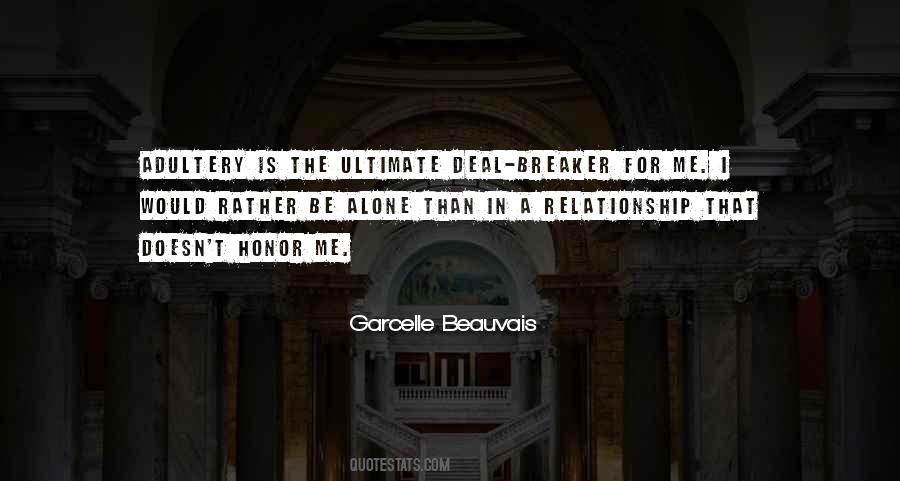 #87. It's a tricky art, working with them in their purest form," she mused. "Simultaneously simple yet infinitely complex." It sounded like my relationship with Adrian. - Author: Richelle Mead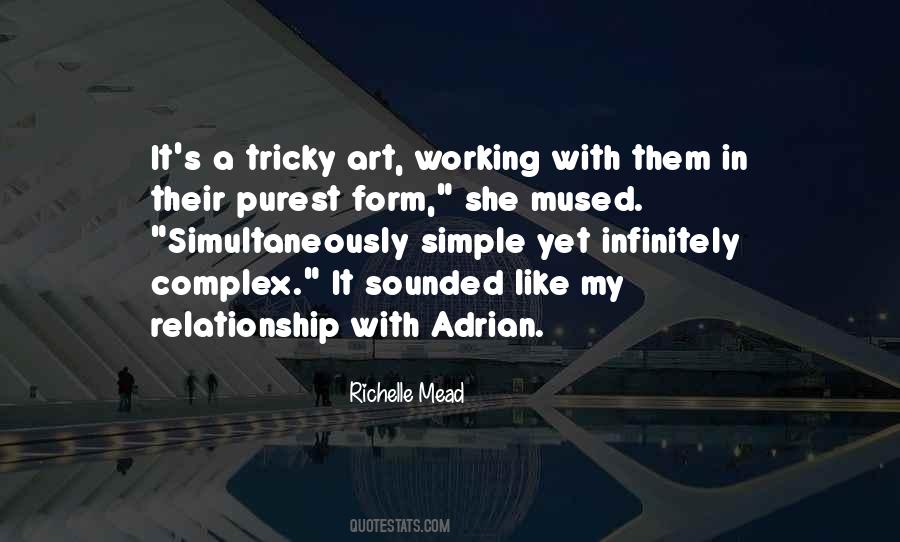 #88. All of us have areas of weakness. God wants these character flaws to show us how totally dependent we are upon Him. When we handle them properly, they drive us into a deeper, more intimate relationship with the Lord. But uncontrolled weakness wreaks havoc in a person's life. - Author: Charles Stanley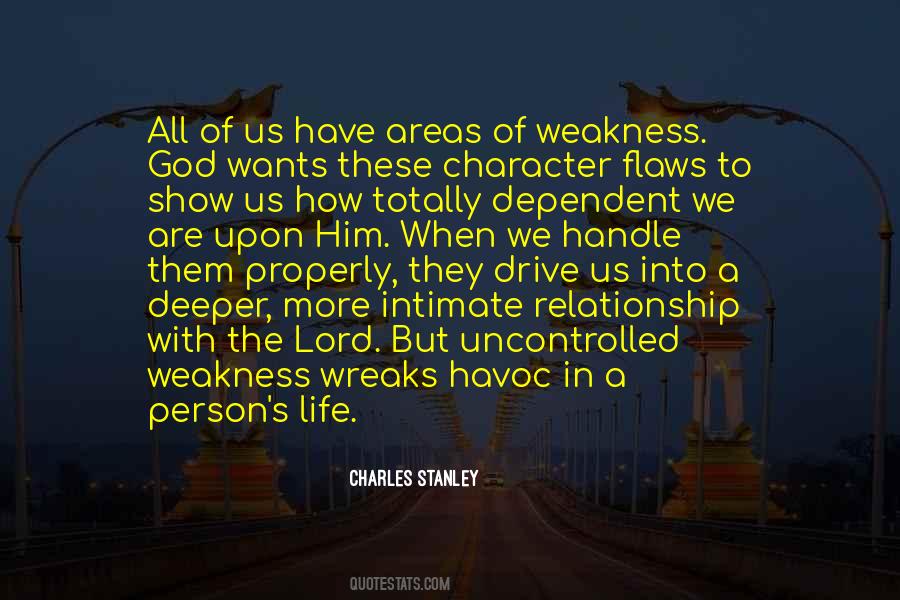 #89. That a healthy BDSM or kink relationship involves building a deep trust in each other, open and honest communication, using safewords, negotiating and sharing your hard and soft limits, and always involves activities mutually consented upon between adults. - Author: Kallypso Masters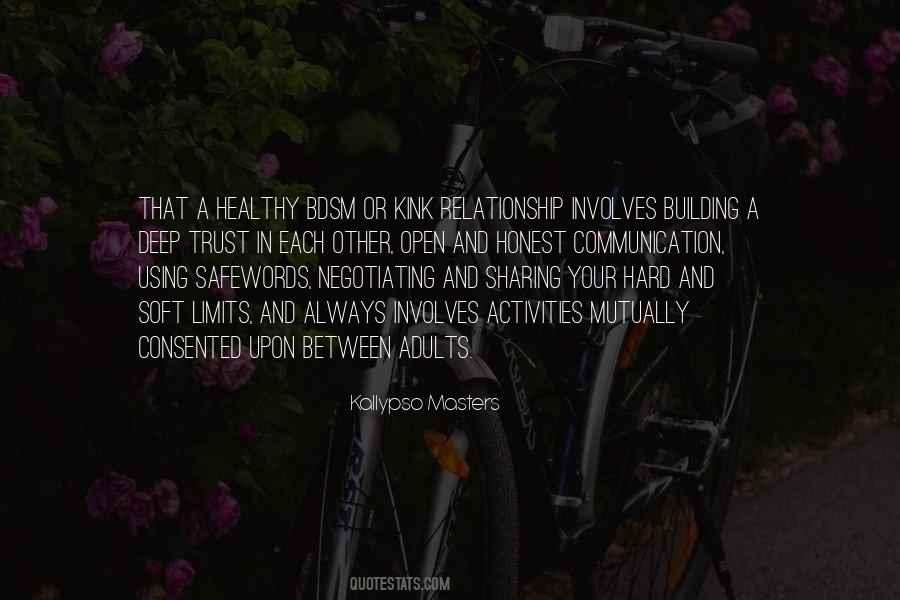 #90. Loving friendships provide us with a space to experience the joy of community in a relationship where we learn to process all our issues, to cope with differences and conflict while staying connected. - Author: Bell Hooks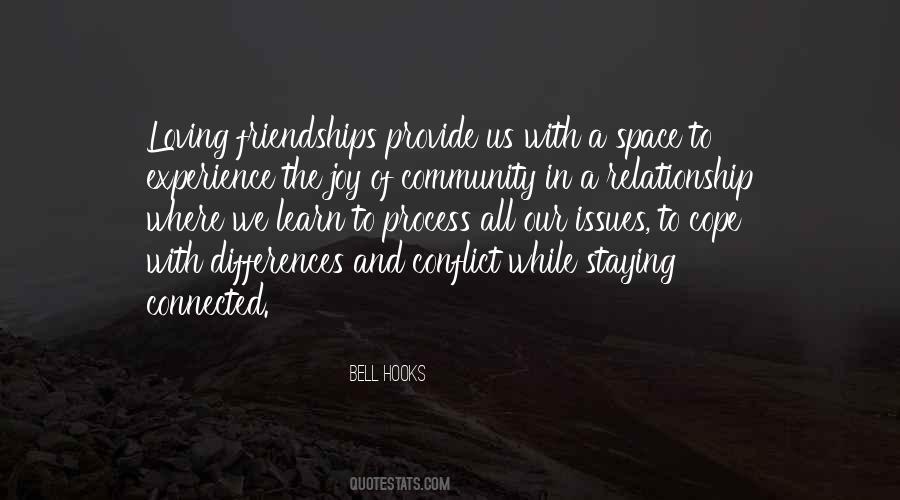 #91. Building a good, stable, and productive China-U.S. relationship is in our mutual interest of our two countries and our two peoples, and also contributes to peace and development. - Author: Hu Jintao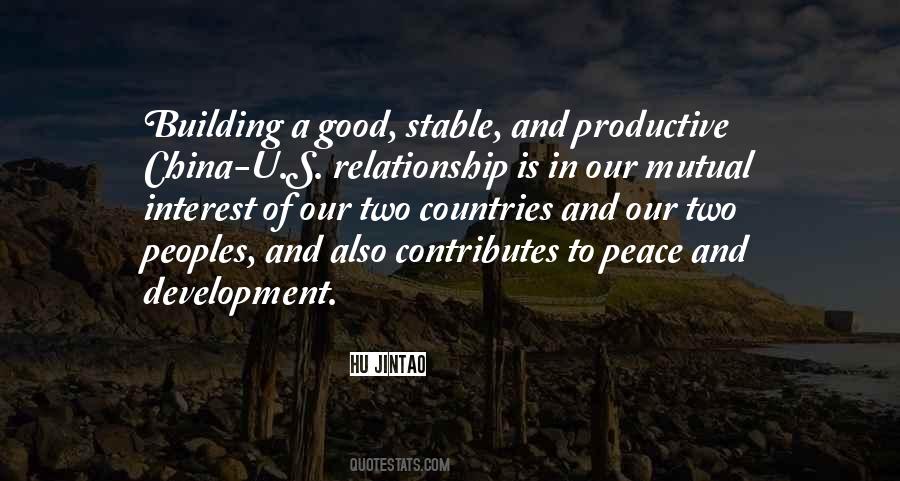 #92. Indeed I did have a relationship with Miss Lewinsky that was not appropriate. In fact, it was wrong - Author: William J. Clinton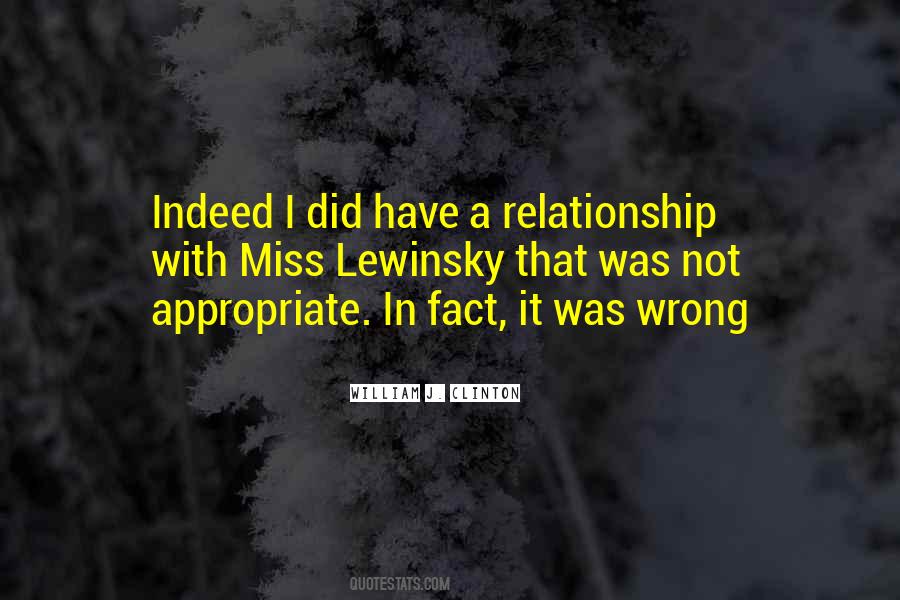 #93. Wasting time in a relationship that blows is just that - wasted time. - Author: Greg Behrendt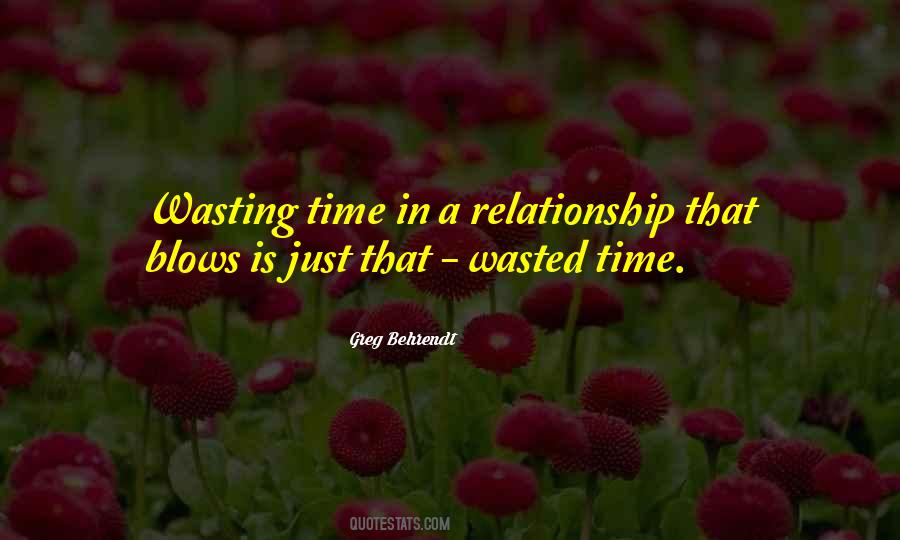 #94. Don't wait to be successful at some future point, have a successful relationship with the present moment and be fully present in whatever you are doing. That is success. - Author: Eckhart Tolle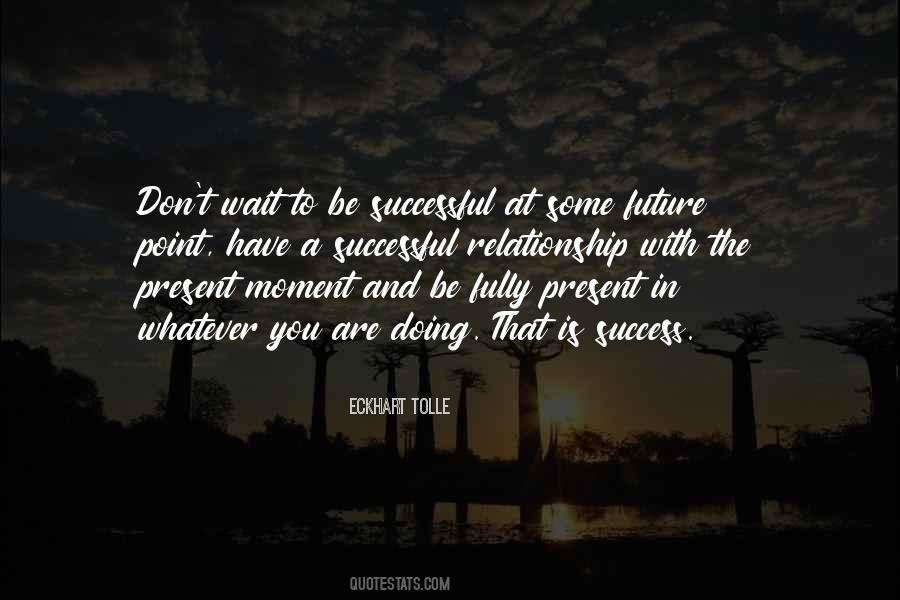 #95. You can't build a relationship with everybody in the room when you don't care about anybody in the room. - Author: John C. Maxwell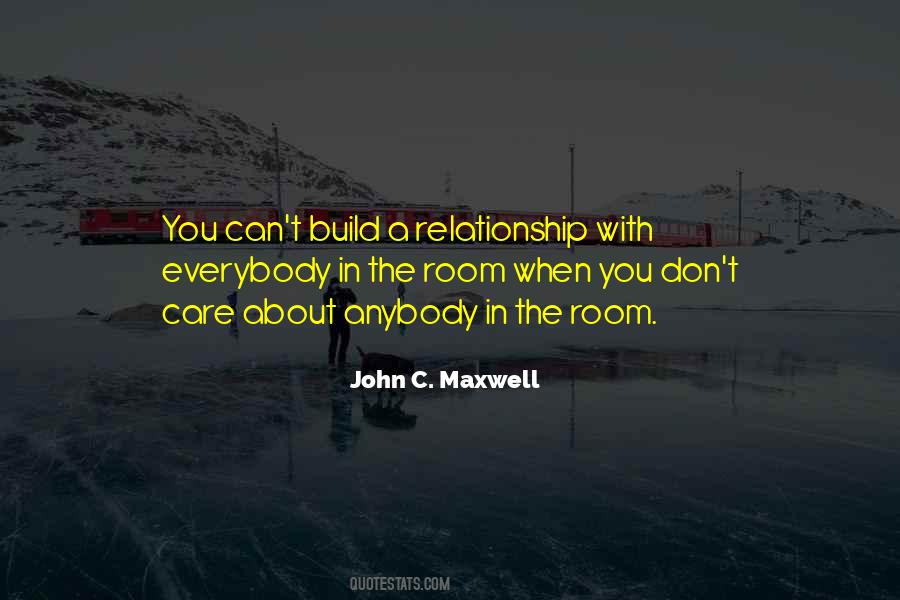 #96. If we have to get married and have a million babies, I hope our relationship will be built on mutual disgust and an endless barrage of ridicule and insults. It feels like the only thing I can count on right now. I don't want something dumb like respect and affection getting in the way. - Author: Michael Buckley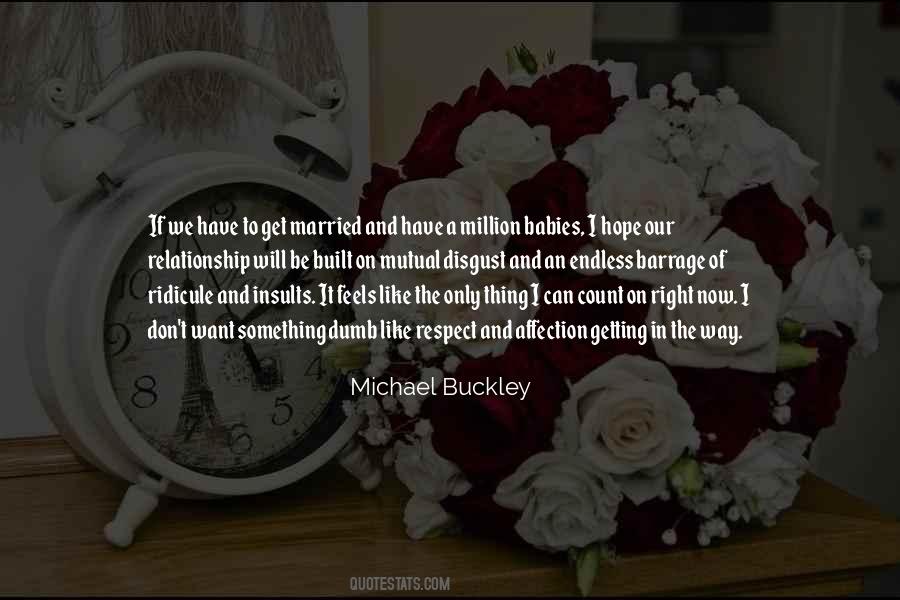 #97. Sometimes the comfort of being in a relationship lulls you into mundane complacency; you become irrelevant in each other's lives. We call this phenomenon
'growing apart'. - Author: Steve Maraboli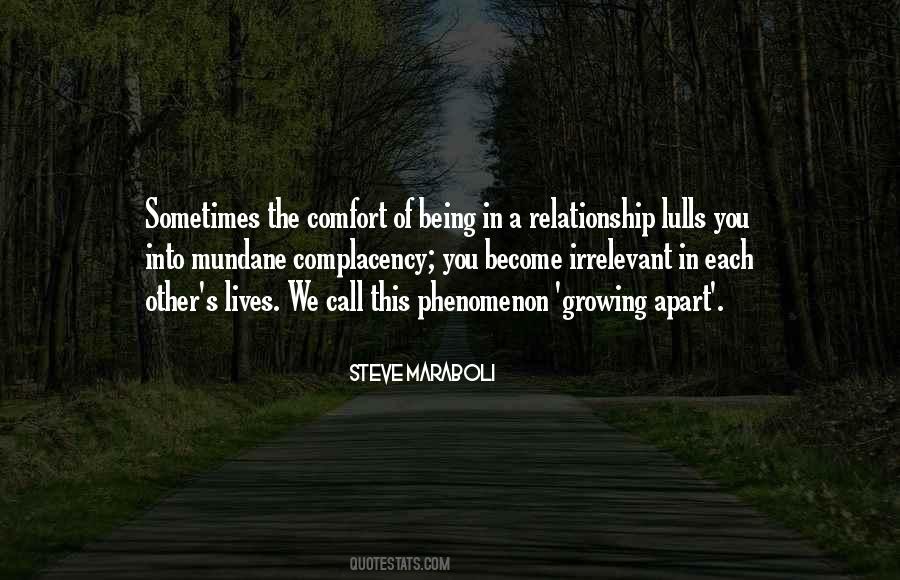 #98. You belong to me. We are not in a temporary relationship or whatever fucked up nonsense you want to call it. We are real, and you are mine. You became mine the first time I held you in my arms, and I swore to myself, I would protect you always." - Jackson Cole - Author: Sarah Curtis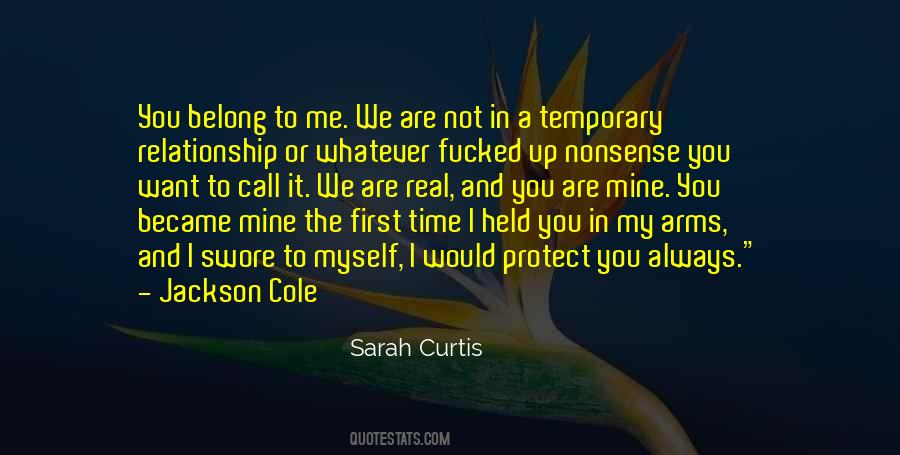 #99. If God lives in you and you have a relationship with Him, He will protect you - Author: Sunday Adelaja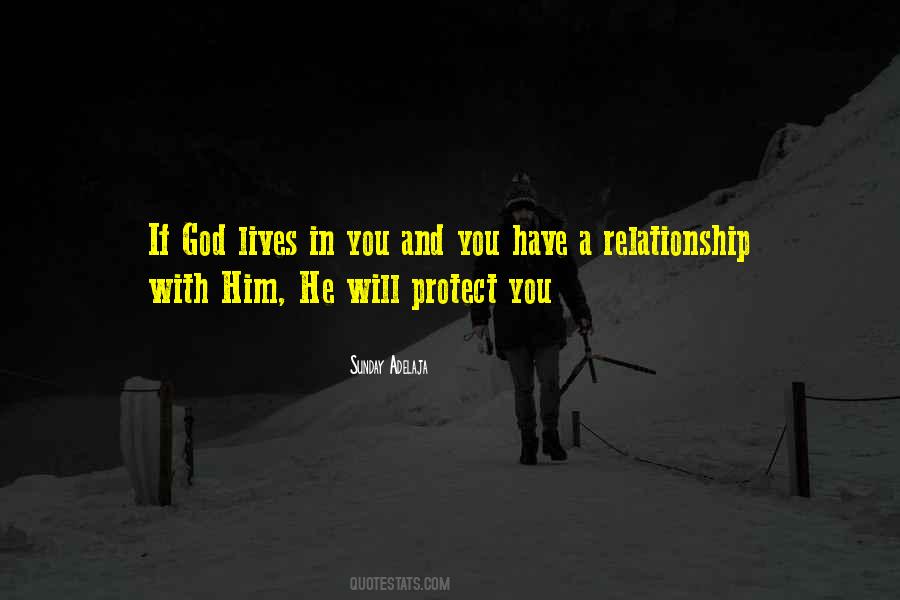 #100. So writing is not just writing. It is also having a relationship with other writers. And don't be jealous, especially secretly. That's the worst kind. If someone writes something great, it's just more clarity in the world for all of us. - Author: Natalie Goldberg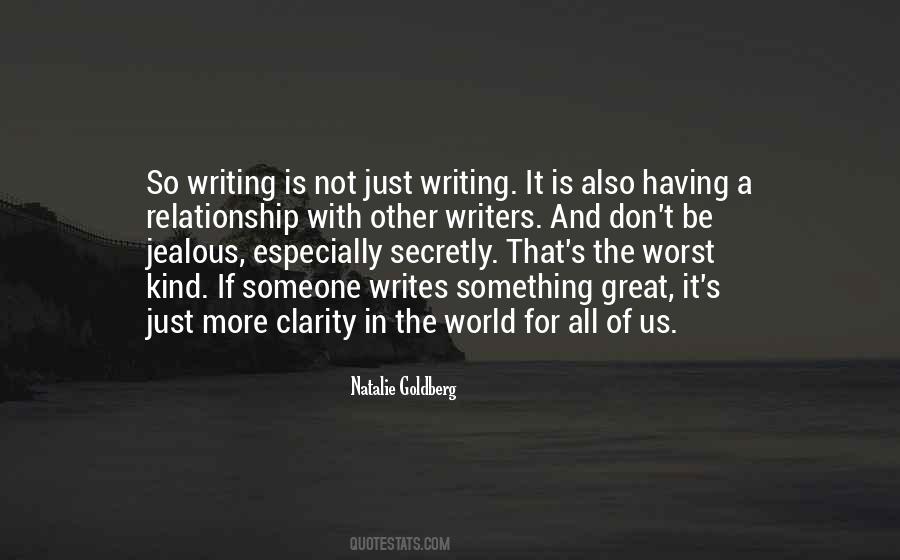 Famous Authors
Popular Topics