You Deserve More Famous Quotes & Sayings
List of top 92 famous quotes and sayings about you deserve more to read and share with friends on your Facebook, Twitter, blogs.
Top 92 Quotes About You Deserve More
#1. I'm not your destiny, or the Devil either!' I said. 'Look at you! Came to kill evil with your bare hands, and now away you go with no more glory than a man sideswiped by a Greyhound bus! And that's all the glory you deserve!' I said. 'That's all that any man at war with pure evil deserves. - Author: Kurt Vonnegut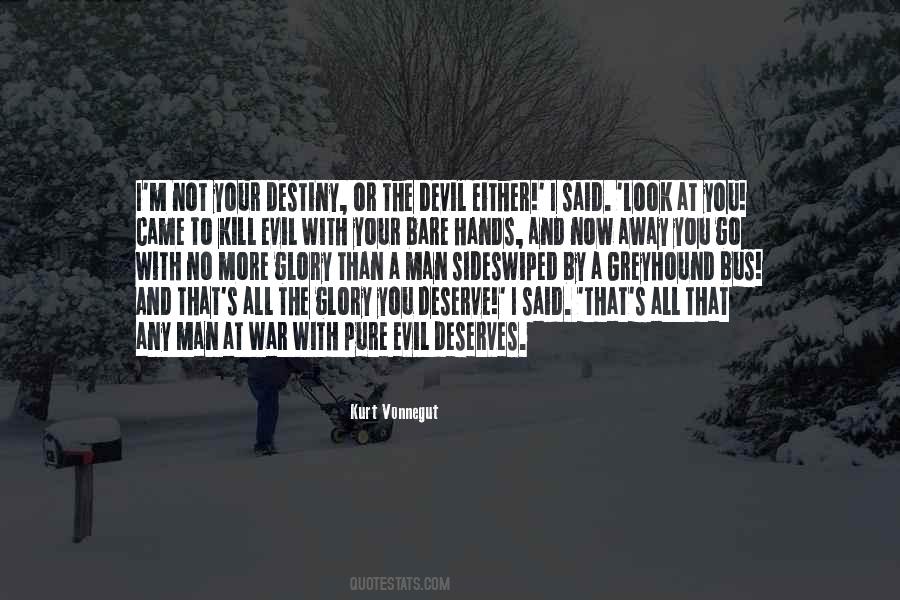 #2. A key point to bear in mind: The value of attentiveness varies in proportion to its object. You're better off not giving the small things more time than they deserve. - Author: Marcus Aurelius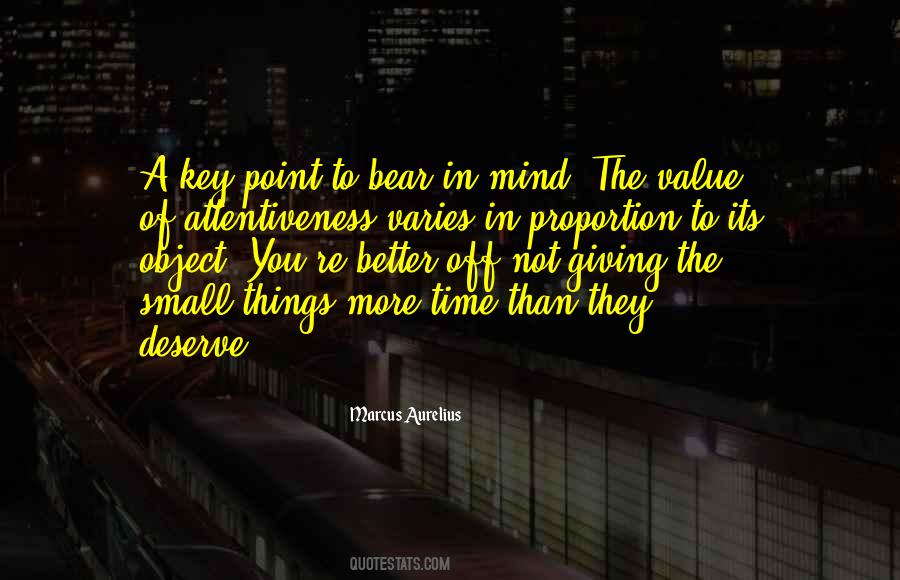 #3. Mags, I don't know how many more times I will have to say this, but here it goes. You're amazing, you deserve the best, and I want nothing more than to be whatever you need me to be. - Author: Kristen Hope Mazzola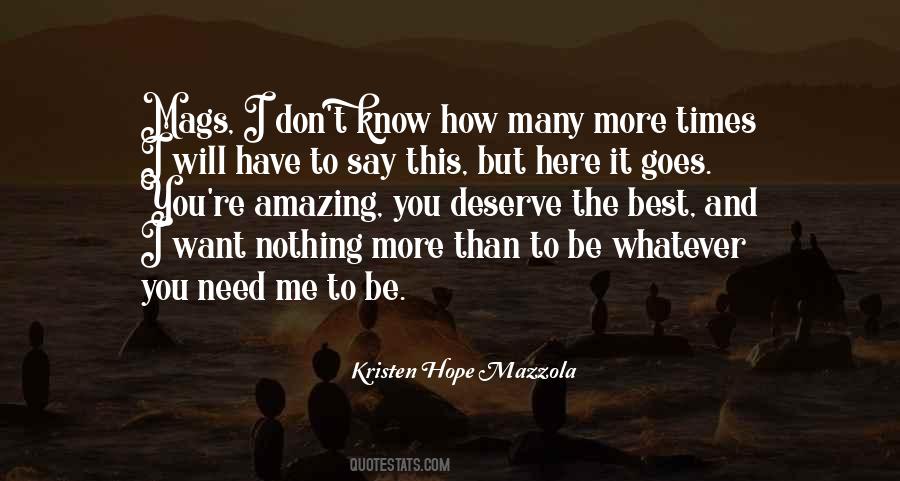 #4. You Norah, are going to be alright. You are going to find a new life, and a new happiness, without me. This is your chance Norah. You deserve this. Your freedom, your peace. No more darkness. No more demons - Author: Angela Richardson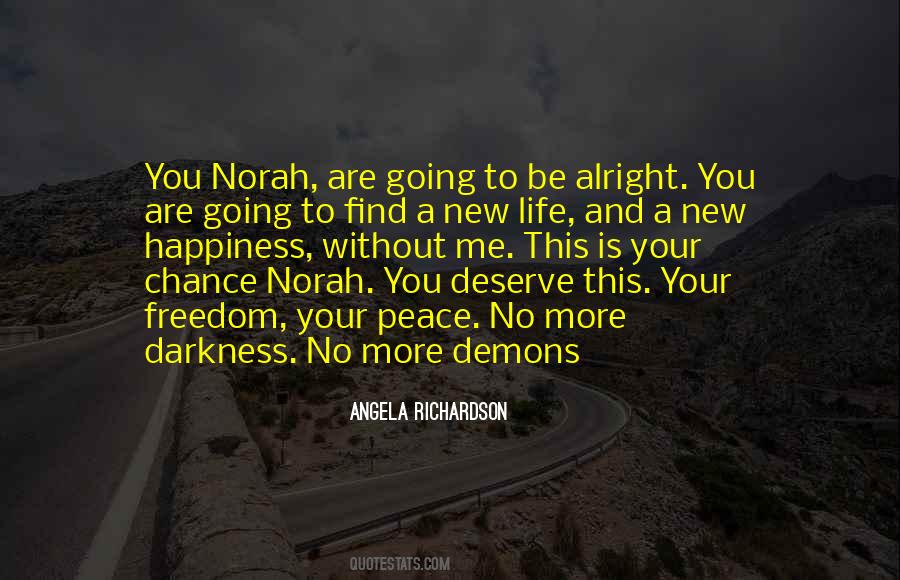 #5. Clifton, in life you get what you deserve, no more and certainly no less. - Author: Jeffrey Archer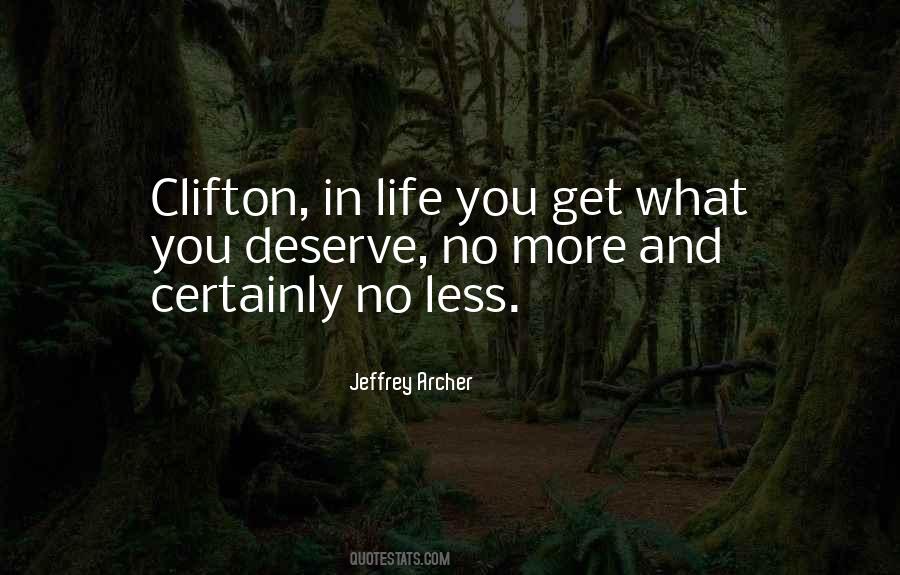 #6. At the front, people die for their mistakes. Why should politicians be more gently treated? They made the war. They deserve a dozen deaths, each of them. What can we try them for, except for treason, and how can you punish treason, except by death? - Author: Hilary Mantel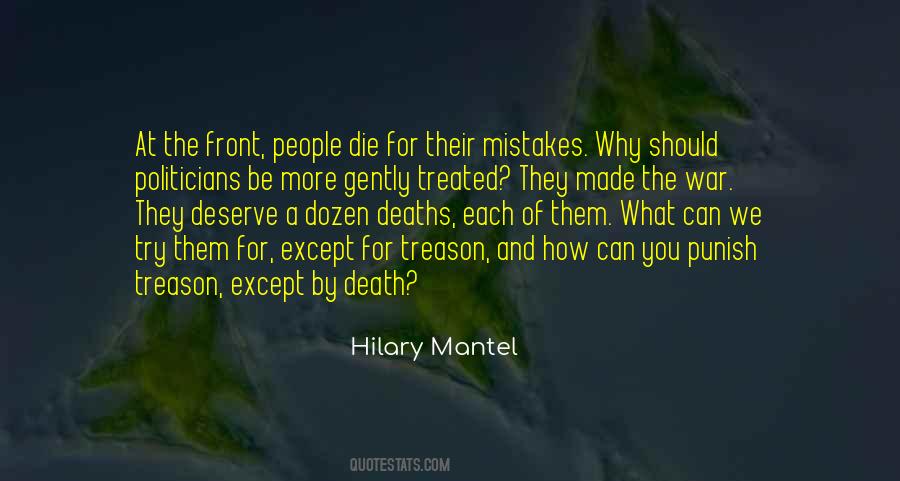 #7. Once someone loves you that much, loves you more than you deserve, you can't go back to being loved the normal way. - Author: Tiffany Reisz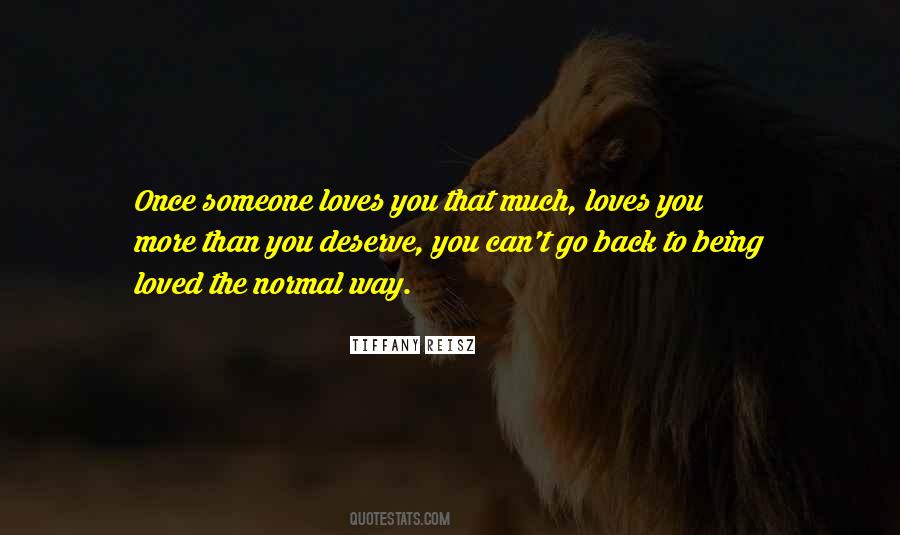 #8. If you deserve it, and repent in action - not in words. I want no more words. - Author: Charles Dickens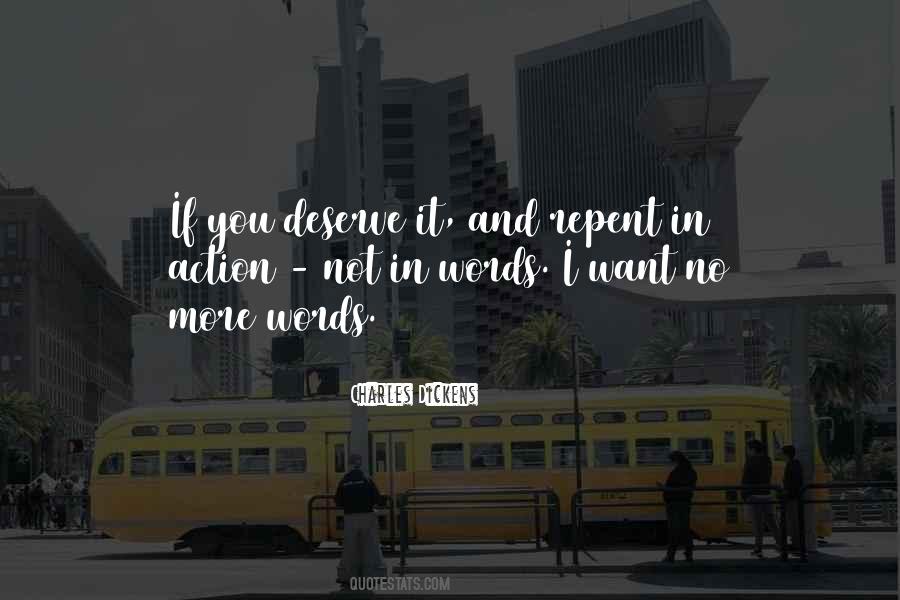 #9. Good heavens, man, give them more than that! If you pay everyone what they deserve, would anyone ever escape a whipping? Treat them with honor and dignity.
The less they deserve, the more your generosity is worth. Lead them inside. - Author: William Shakespeare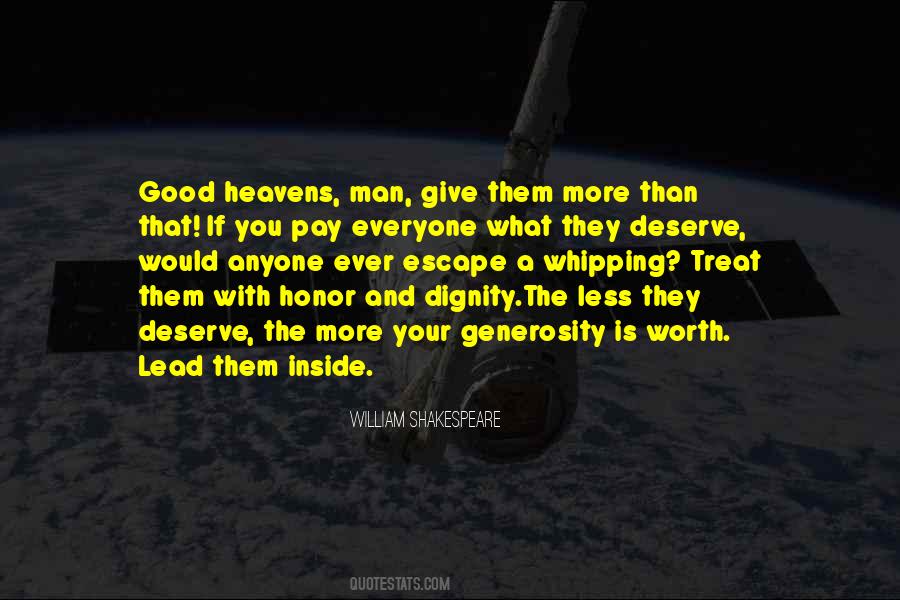 #10. Deserve your distrust, but can't you accept I want to help you? Haven't I given you proof?" "The more proof you show me, the closer I have to inspect the fine print." Rook had proven to me where his loyalties lay. - Author: Hailey Edwards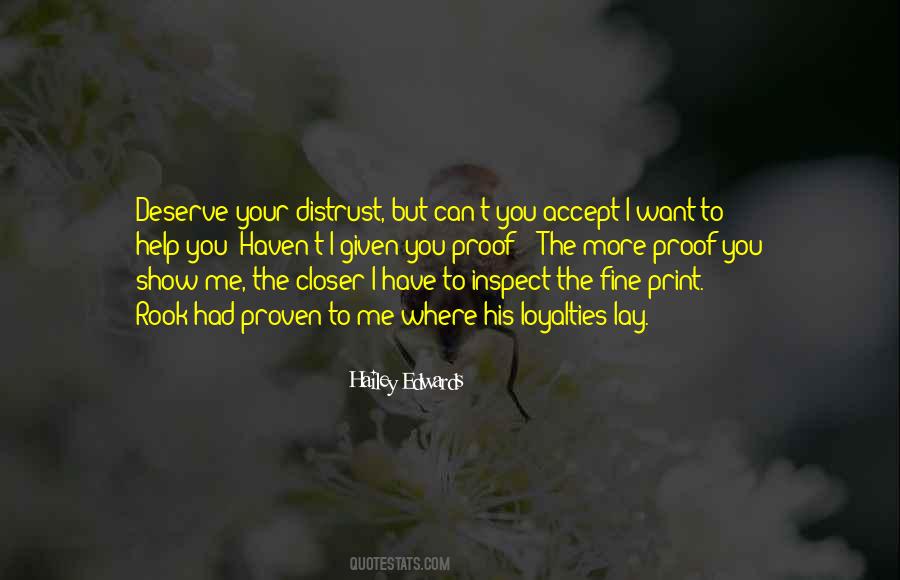 #11. It is easy to wish ill on others whom we feel deserve it, but remember that when you point a finger at another, three more are pointed back at you. - Author: Stephen Richards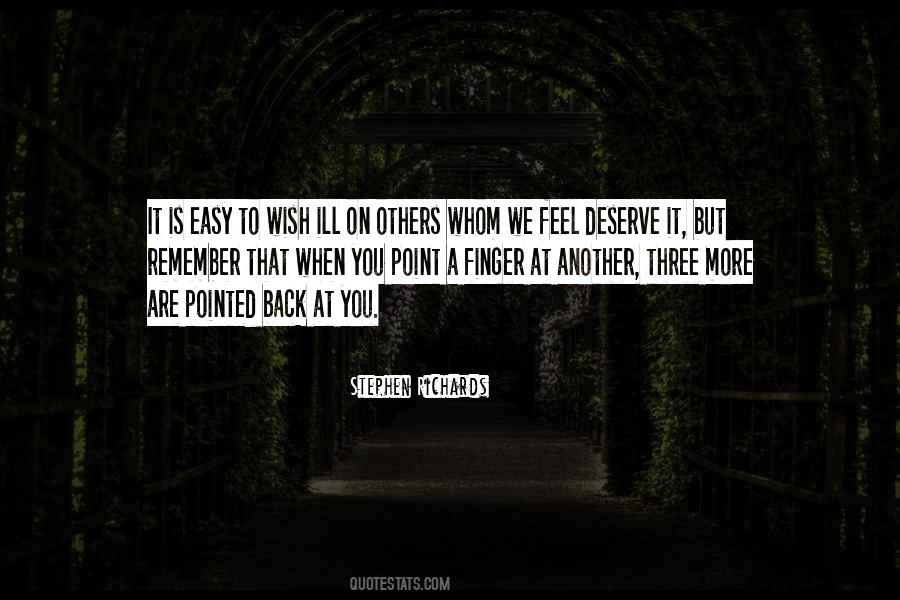 #12. You deserve your love more than anyone else. First fill your vessel with love and then give it away with joy. - Author: Debasish Mridha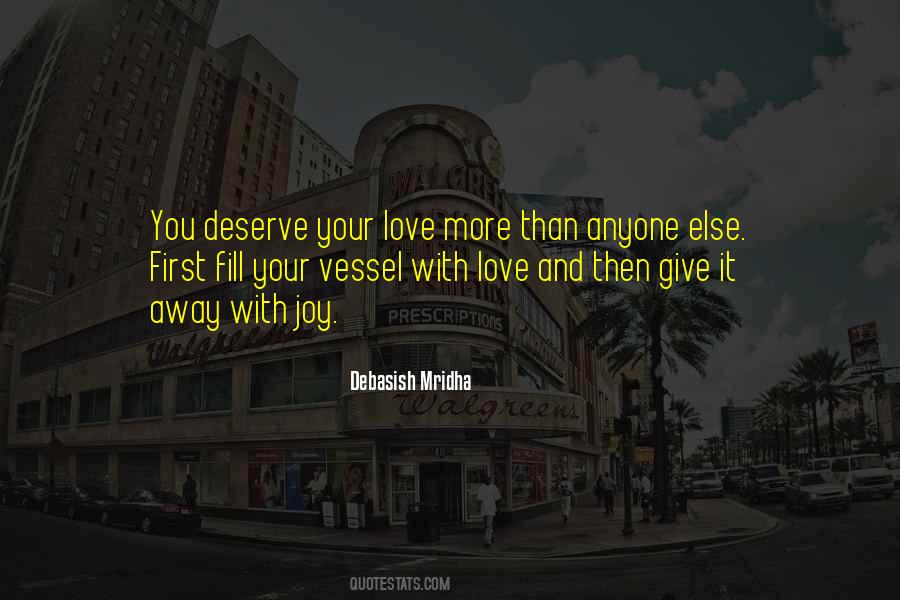 #13. The more love you get that you don't deserve, the more you can give it out without wanting anything back. - Author: Abby Rosser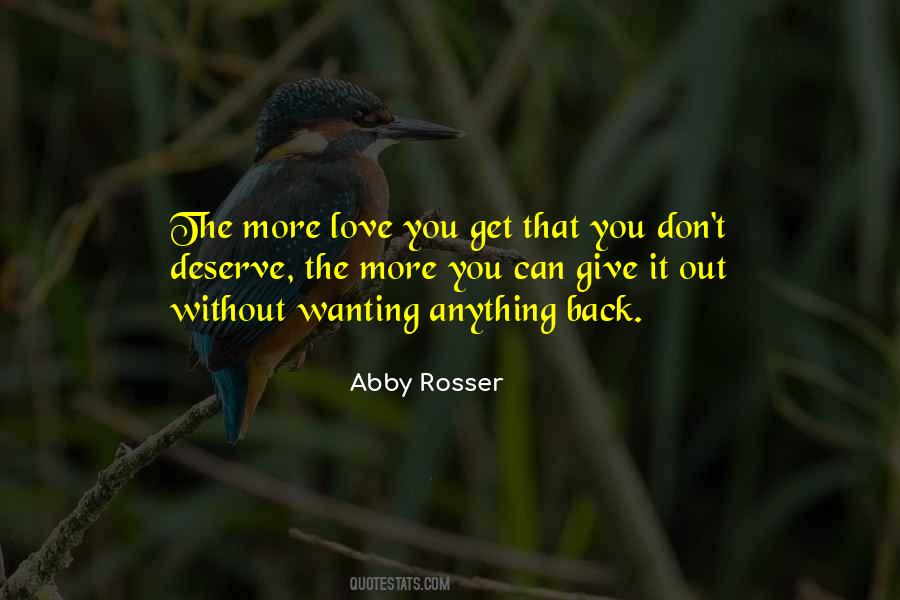 #14. You deserve so much more than what you're allowing yourself to have. - Author: Colleen Hoover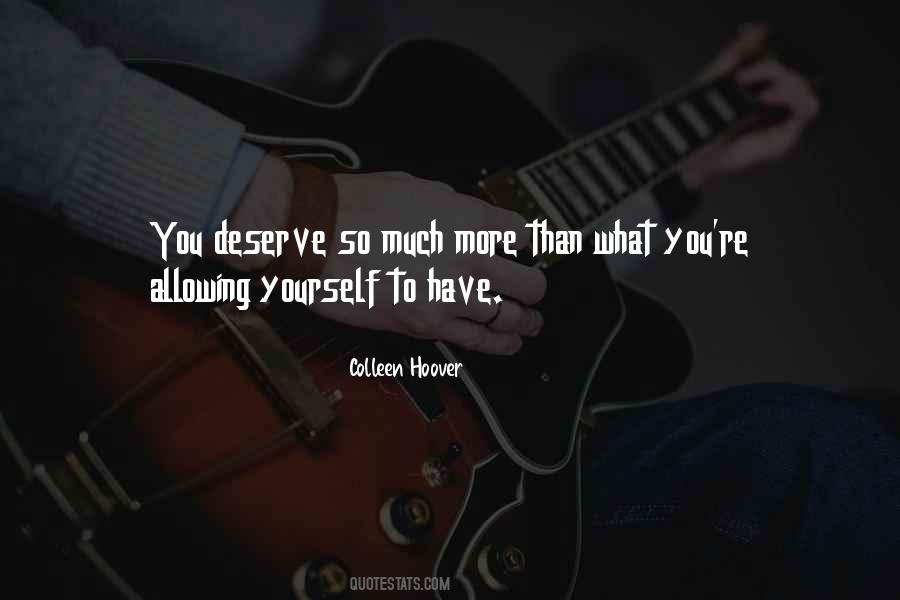 #15. If no one else has ever told you this before, I will tell it to you one more time and hope you believe it and never forget it for the rest of your life: You deserve to be treated well. - Author: Andrew W.K.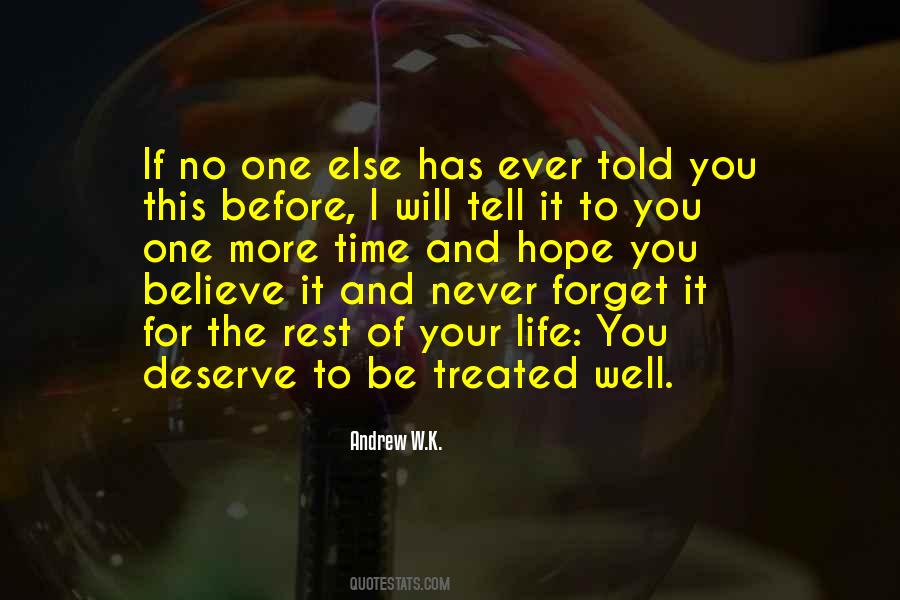 #16. Forgive not because the other person deserves to be forgiven but because you deserve to be at peace. Forgive because you love yourself more than the need to be "right. - Author: Mira Kelley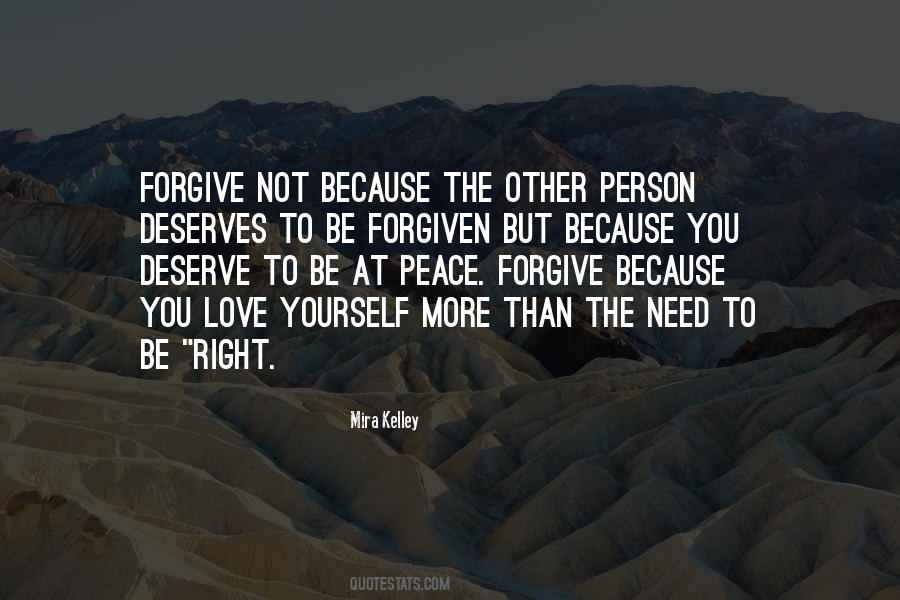 #17. Do not, for one more minute, spend your precious time and energy on or surround yourself with people who are less than you deserve. - Author: Tanya Masse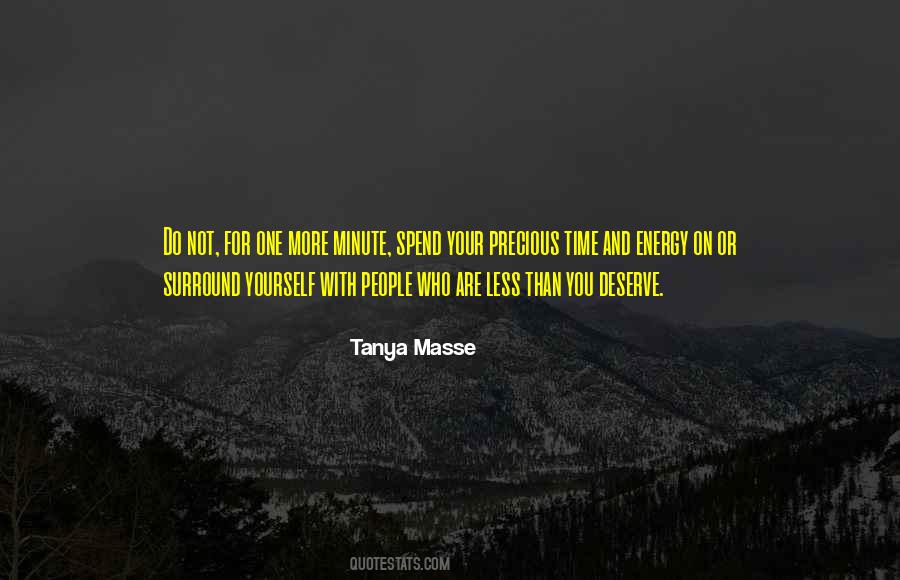 #18. In a world like this, you pay it forward, 'cause more than likely you didn't deserve it when you got it the first time. - Author: Mindy McGinnis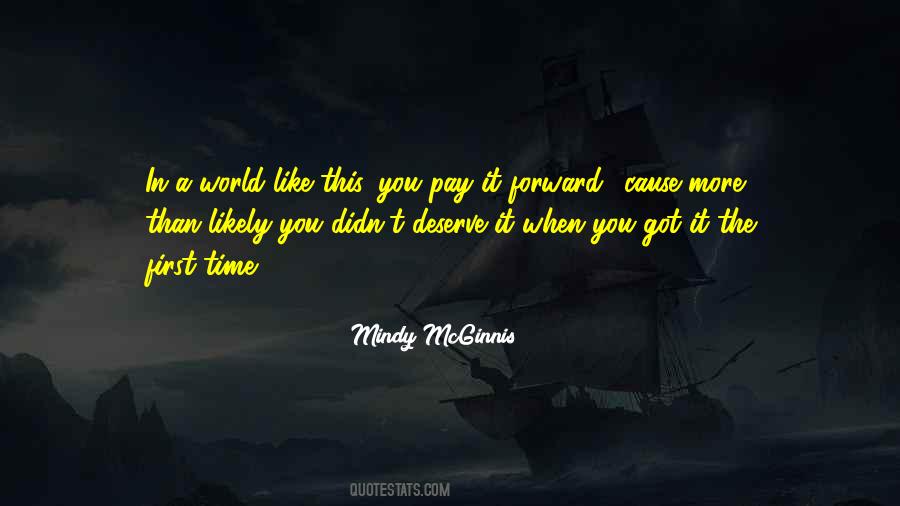 #19. Just being here is more than I deserve. There is no way you would fail to meet my expectations, they have been shattered in the face of the beautiful reality that is you. - Author: Alanea Alder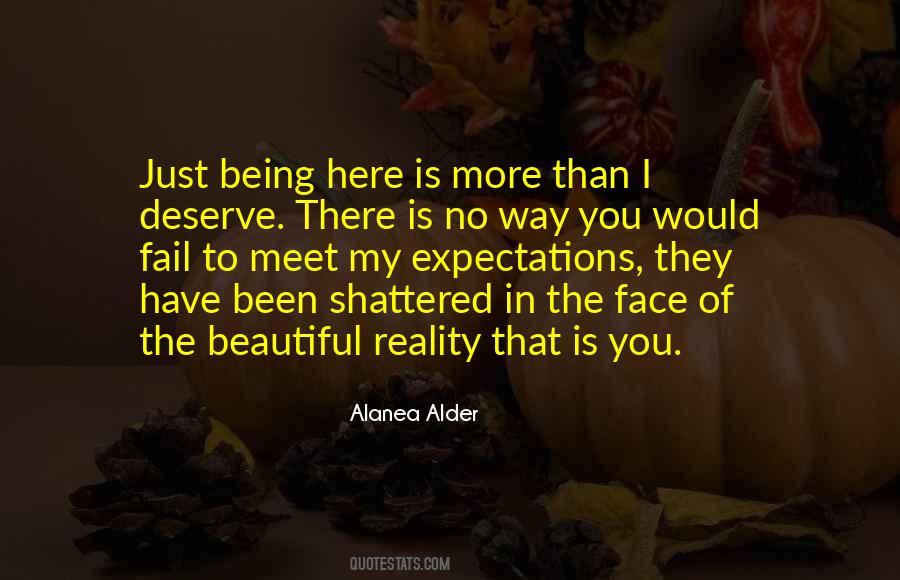 #20. I need you more, Anastasia. These last few days have been purgatory. All my instinct tell me to let you go, tell me I don't deserve you. - Author: E.L. James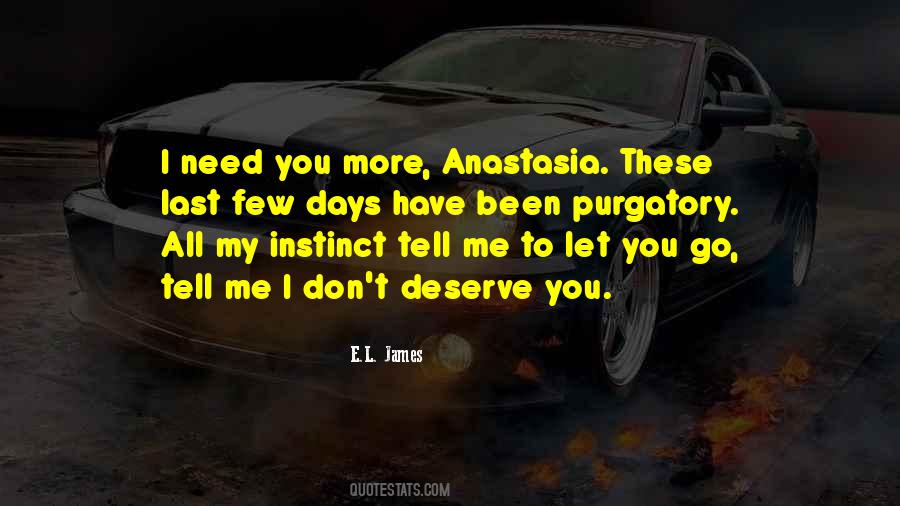 #21. Guarding your heart and protecting your dignity are a little bit more important than clarifying the emotions of someone who's only texting you back three words. I've learned that from trying to figure out people who don't deserve to be figured out. - Author: Taylor Swift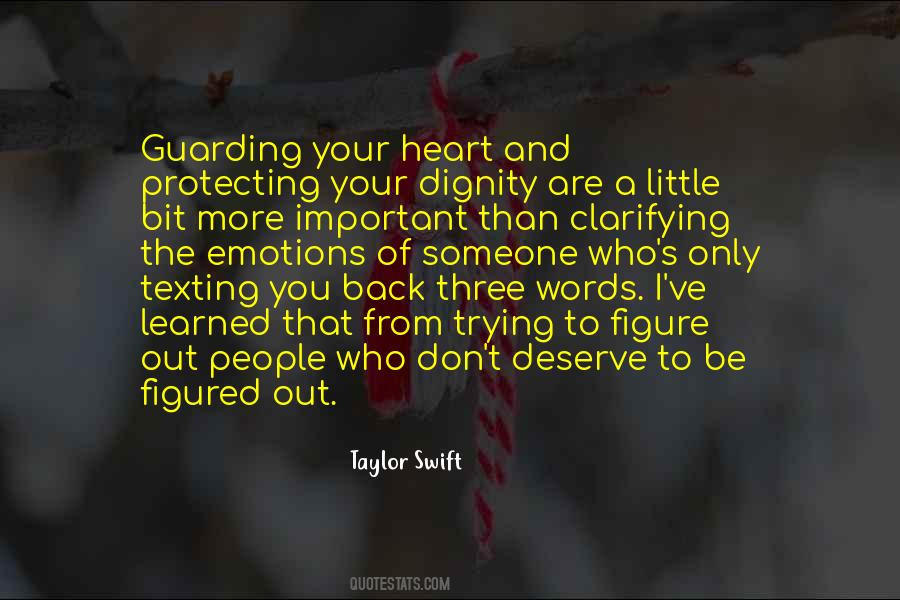 #22. You can search throughout the entire universe for someone who is more deserving of your love and affection than you are yourself, and that person is not to be found anywhere. You yourself, as much as anybody in the entire universe, deserve your love and affection. - Buddha - Author: Jay Crownover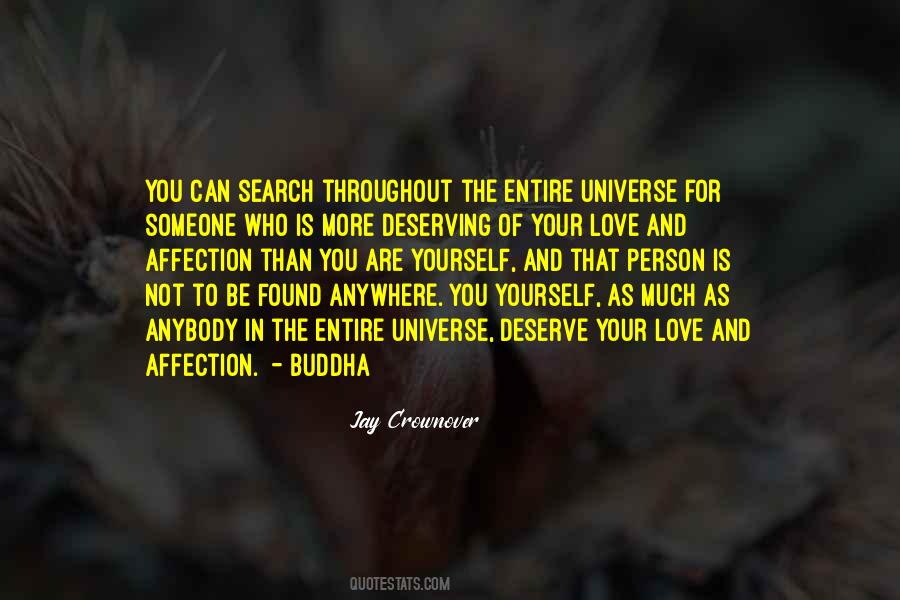 #23. I love you, Lauren Lindsay. I want to kiss you more than I want to breathe, but I don't want you to think you're just another notch in my belt. You're not. You're it for me. I want you to have everything and I want to make sure I'm good enough for you. You deserve more than who I was. - Author: Lily Paradis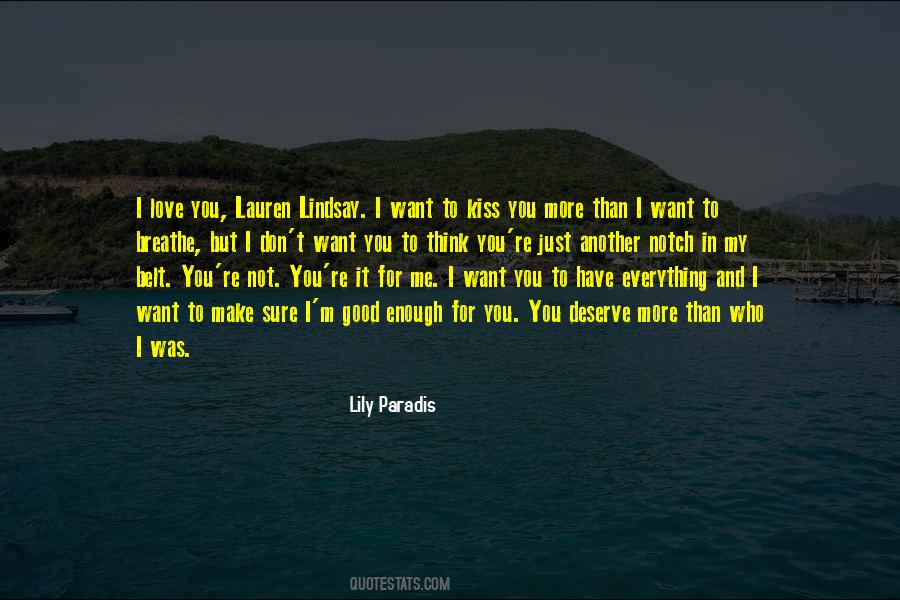 #24. If Playboy ever loses its editorial balls, then it will deserve to be knocked over by a younger, more vigorous magazine in the coming generation. But that won't happen so long as I'm alive, I can promise you that. - Author: Hugh Hefner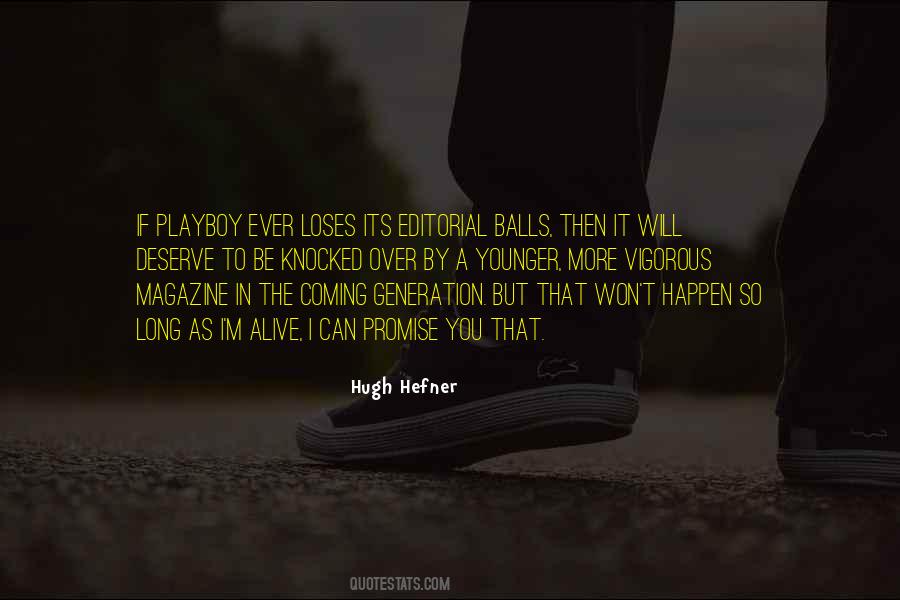 #25. I've already killed you and kissed you more times in my head than you deserve. - Author: Soman Chainani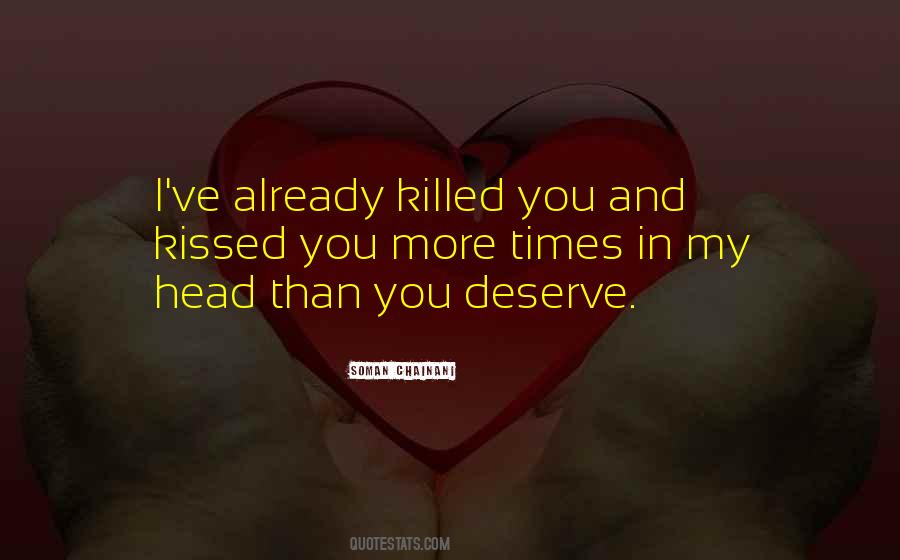 #26. It's time for you to move on and realize that there is so much more to your life than what you see. Let go of your past and never re-live it again. You must take a leap of faith and take hold of all the Amazing and Beautiful things you deserve in life! - Author: Theresa Lewis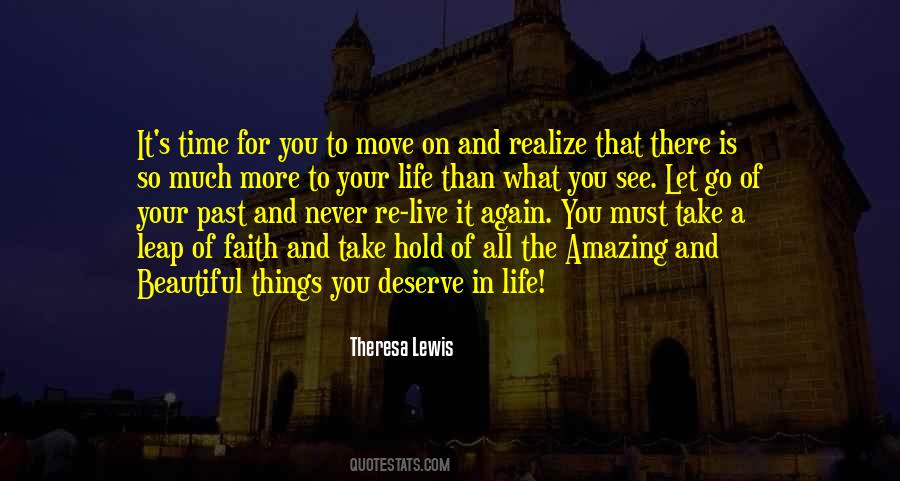 #27. Somewhere in this small world, you can find a place where everyone appreciates you more than you think you deserve. - Author: M.F. Moonzajer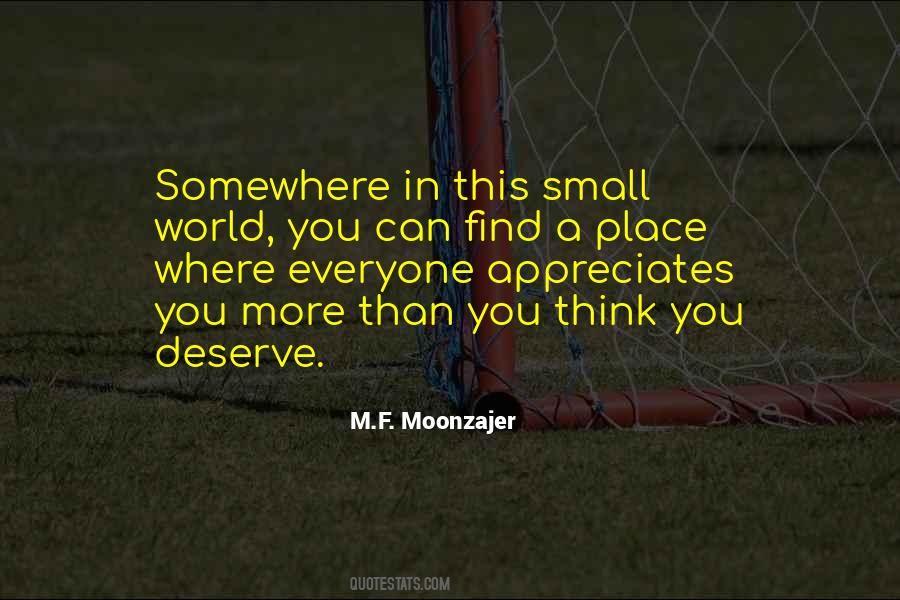 #28. He doesn't deserve to die," she said. Tears pricked at her eyes. "Does anyone? Whether he deserves it or not is neither here nor there; it's simply his fate. You can no more change that than you can change the course of the stars. - Author: Elizabeth Hoyt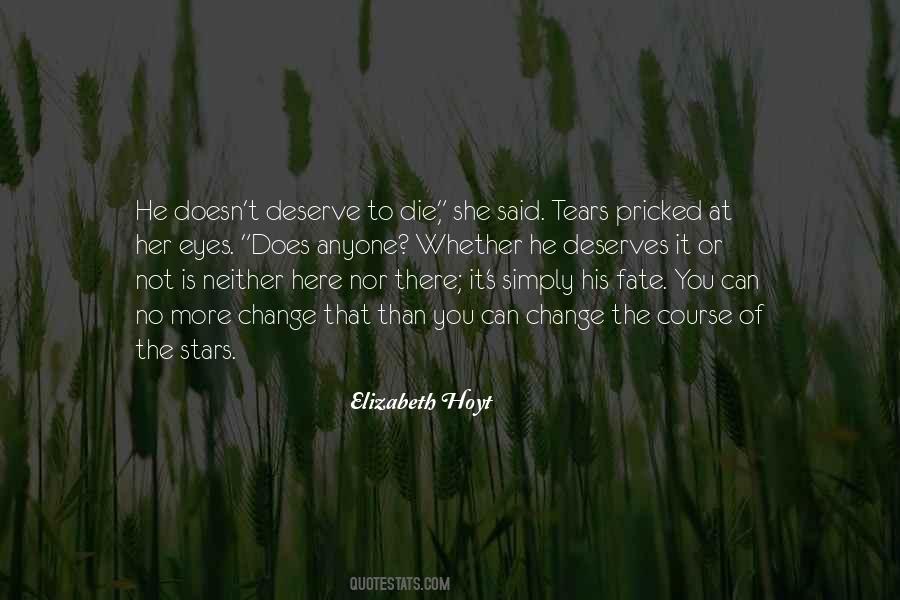 #29. accept that you deserve more
than painful love
life is moving
the healthiest thing
for your heart is
to move with it - Author: Rupi Kaur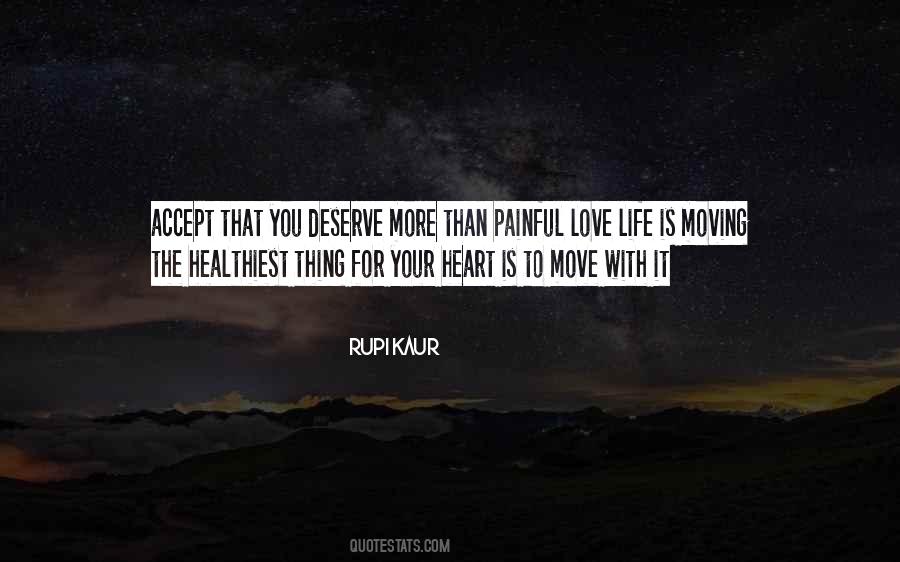 #30. If you decide to cut something out this year, try replacing it with something else to balance out the loss. If you stop drinking soda, for example, replace it with becoming more sedentary. You deserve it. You loved soda. - Author: Colin Nissan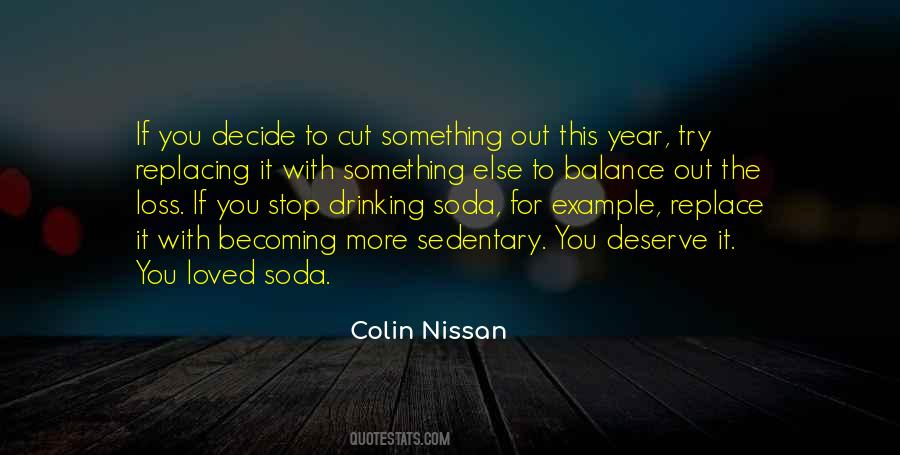 #31. You will never let yourself have more money than you think you deserve. - Author: Robert Anthony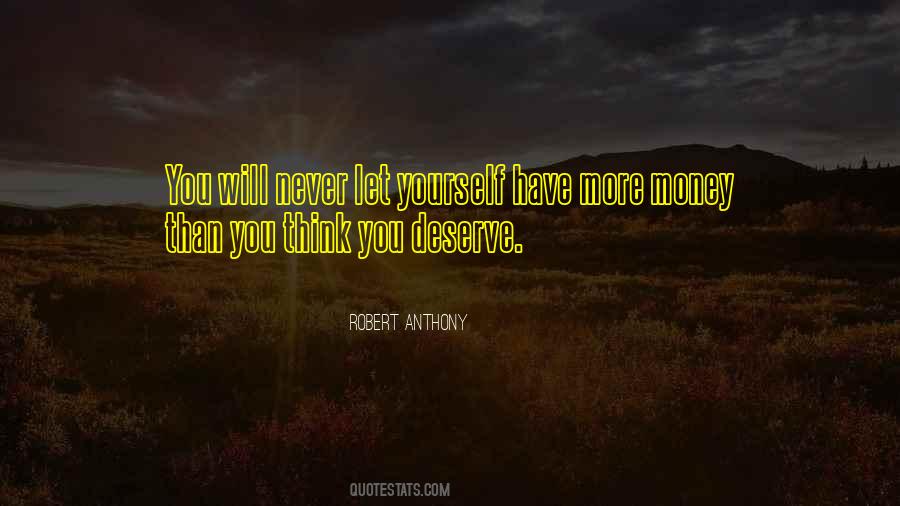 #32. I've realized that I'm more important than food is. I love a big slice of pizza, but I love myself more. Being thin is about changing the way you think about yourself. It's about saying that you deserve to be healthy. - Author: Valerie Bertinelli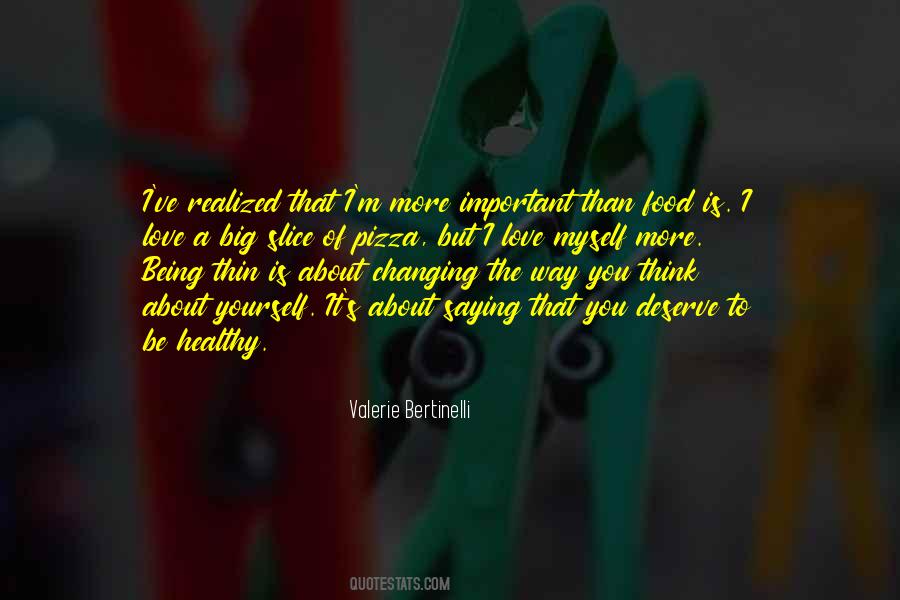 #33. Think before you speak. Don't be an asshole. Show kindness when it's warranted and walk away when it costs you more than you're willing to give. Don't be an ATM that people can take from but never deposit into. Be a depositor. And always, always give your best only to those that deserve it. - Author: Amber L. Johnson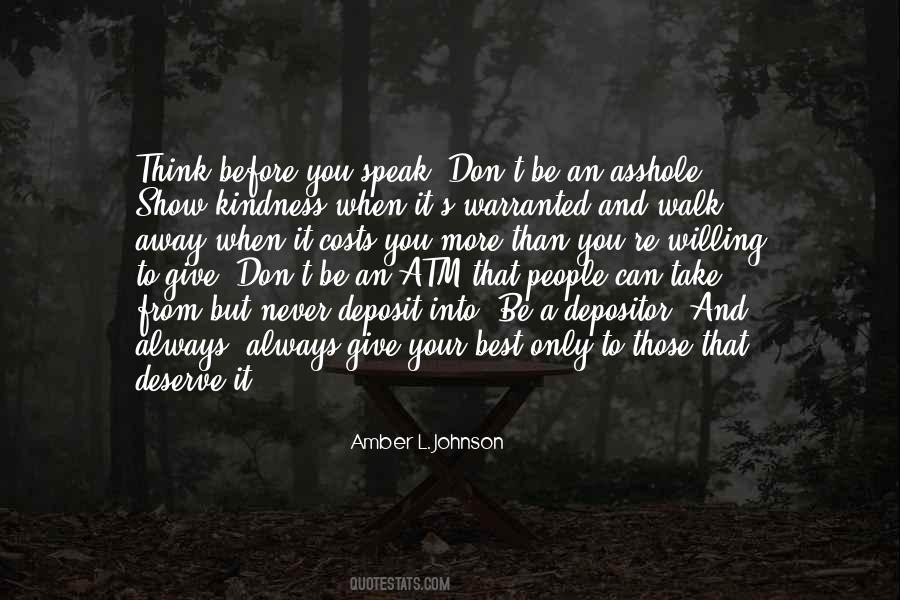 #34. You're a nice girl, Dovie. You should be anywhere but here with anyone but me. This shit with Race and Novak, your old man being the scum of the earth . . . you deserve so much more than all of it. Your life should look different than this, and sooner or later you're going to hate me. - Author: Jay Crownover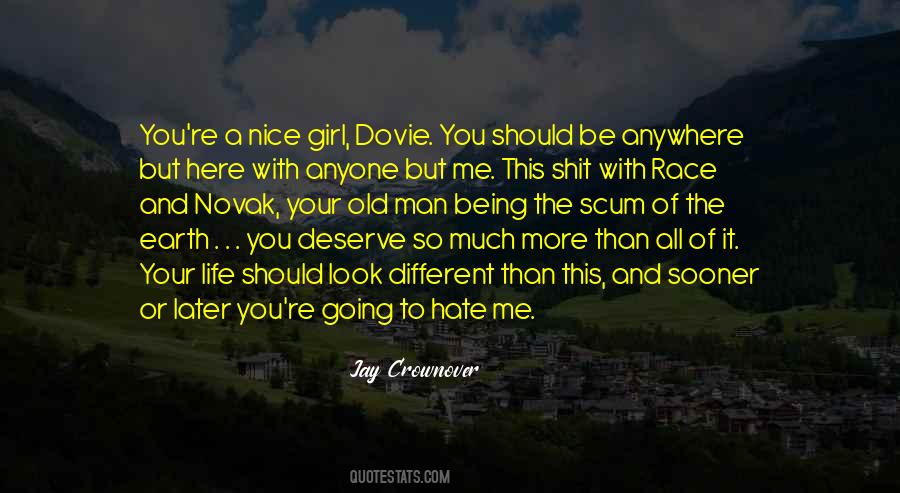 #35. I guarantee you there is someone in your life that deserves more appreciation. Who is it? Find that person and let them know! - Author: Andy Andrews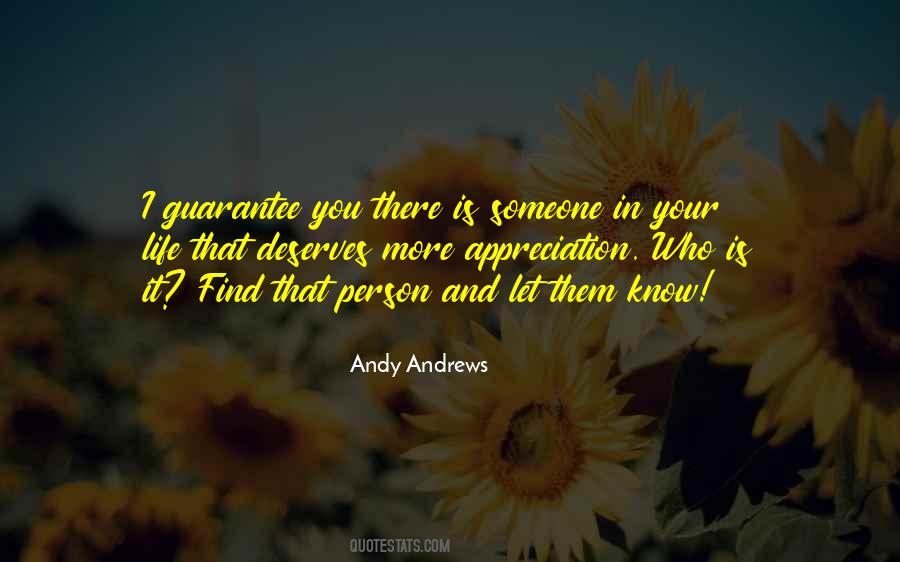 #36. -Wow. So what are you living on?
-Not much. I've sold some things. It's not a bad way to live once you let go of the idea that you deserve more. - Author: Doug Dorst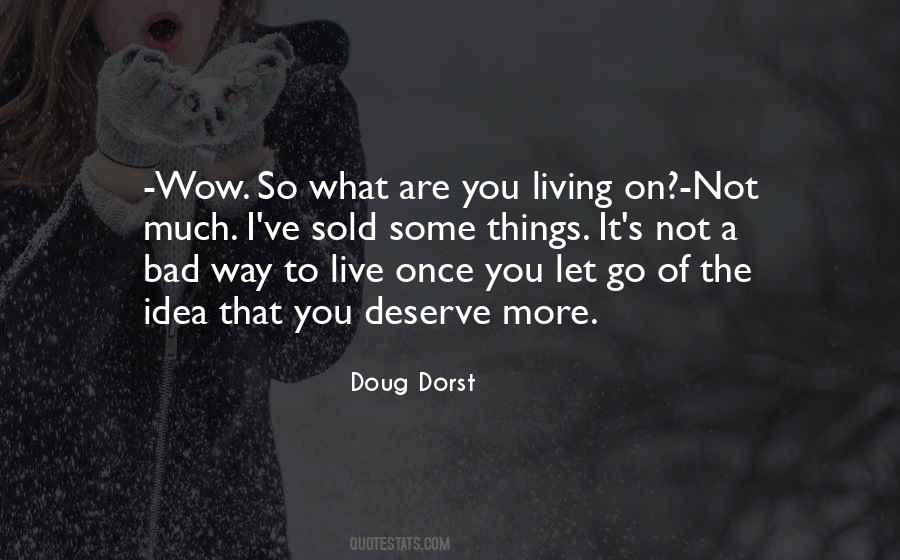 #37. Never love a person who does not deserve that. You will respect people more, and you will hate people less. - Author: M. T. Panchal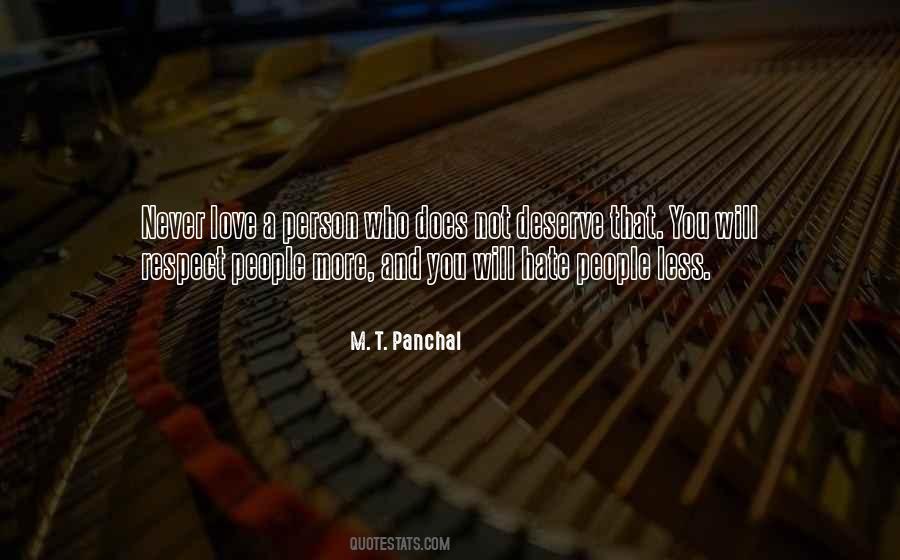 #38. You deserve someone better than me. Someone young and idealistic ... someone who can experience things for the first time along with you. I'm not always kind, and I have more faults than I'd care to name. All I can promise is that I'll want you until my last breath. - Author: Lisa Kleypas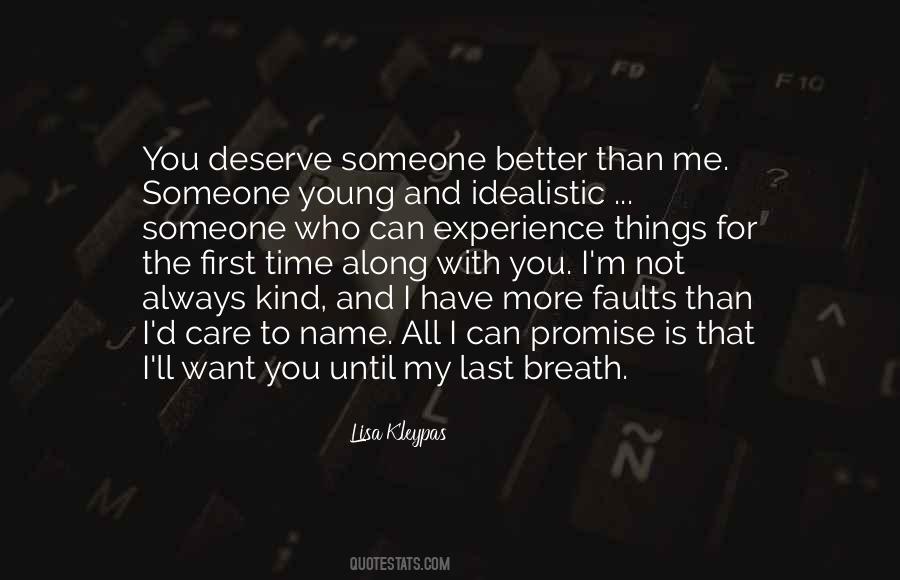 #39. I have no more to say. If this be the case, he deserves you. I could not have parted with you, my Lizzy, to any one less worthy. - Author: Jane Austen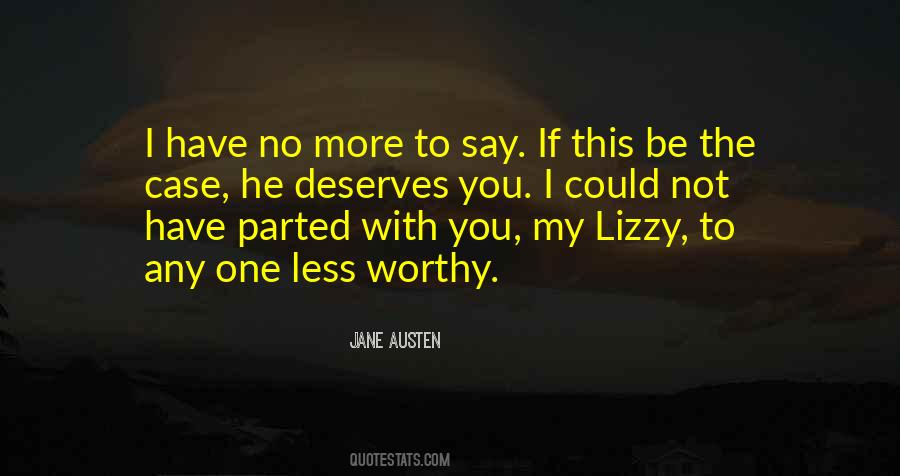 #40. Never settle for less when you deserve more - Author: Habeeb Akande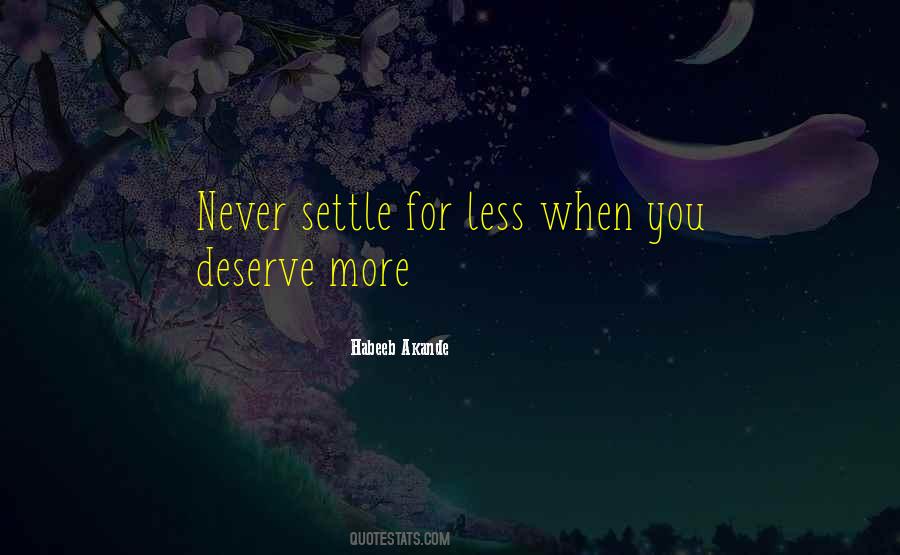 #41. You deserve more than just being our safety net - Author: Robin Benway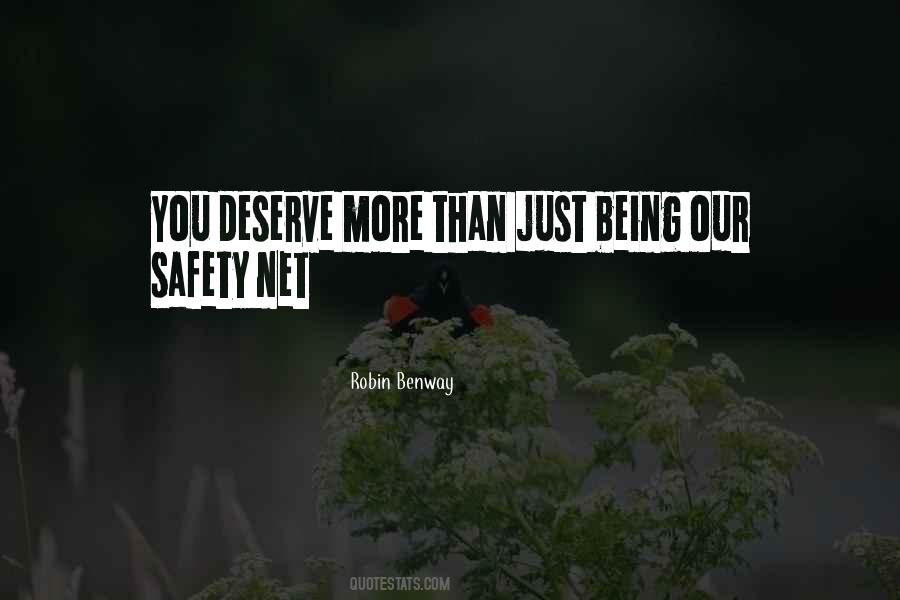 #42. I know you'll be a good Queen, a strong, noble leader, and that's more than these people deserve," she said. "But don't give too much. You need to keep some of yourself for you. And listen to your heart. - Author: Amanda Hocking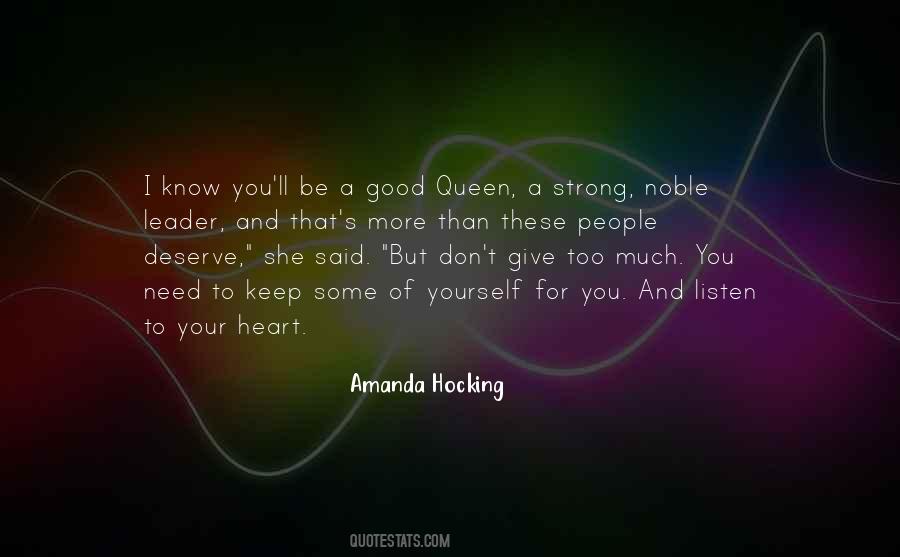 #43. There are no 'holds.' Everyday you're either willing to buy more at the current price, or, if you aren't, you should redeploy the capital to something you believe does deserve incremental capital. - Author: Lee Ainslie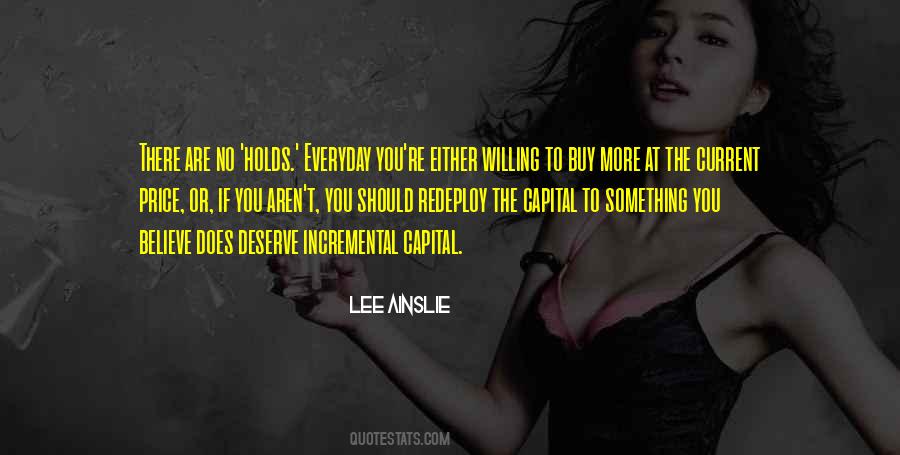 #44. It must be nice to be so strong and to think it's because you're so good, that you live right and eat right, so you deserve your health and happiness. But there is such a thing as luck, and there's more bad luck than good in this world. - Author: Laura Lippman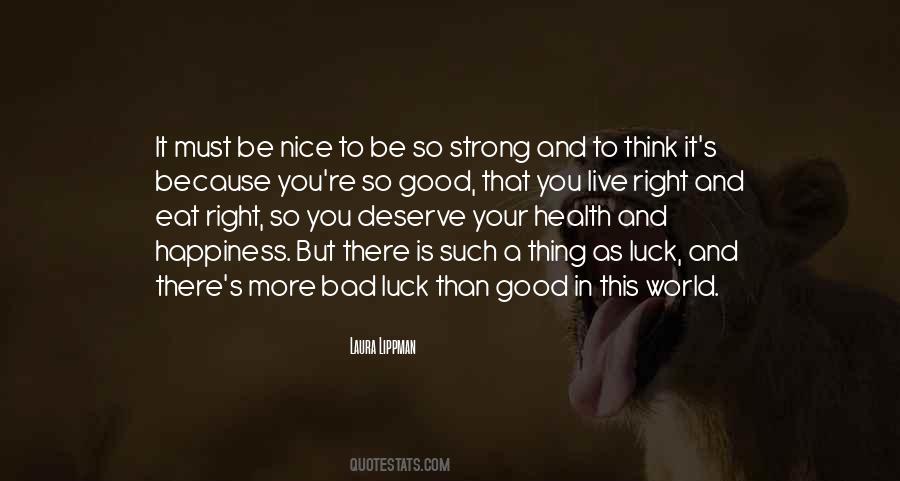 #45. If you are too weak to stand being hit and too stupid to avoid it, then you deserve more pain. - Author: Kiersten White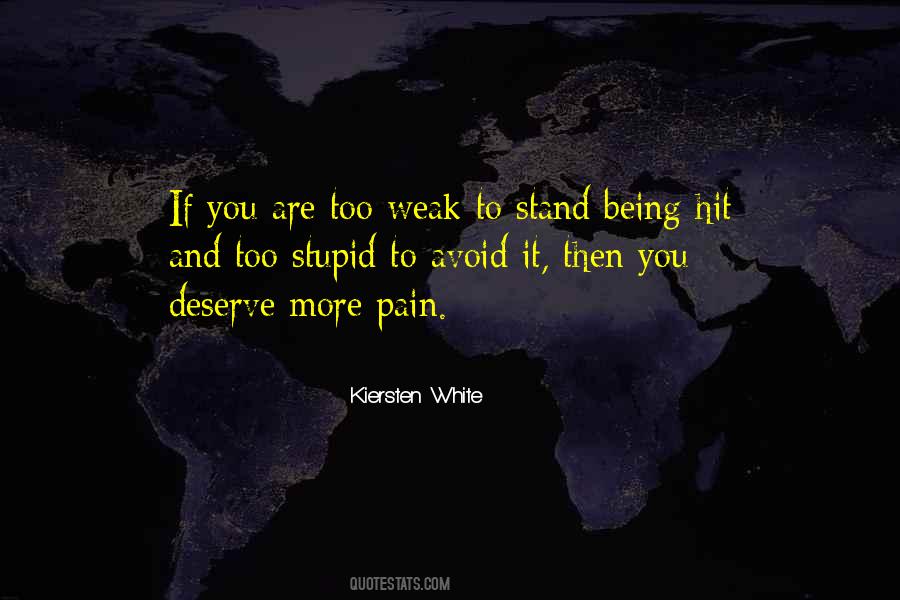 #46. You deserve so much more than hiding out in high school basements. You don't deserve to be someone's secret, Ashlyn. You deserve to be the chorus to a person's favourite song. You deserve to be the dedication in their favourite book. - Author: Brittainy C. Cherry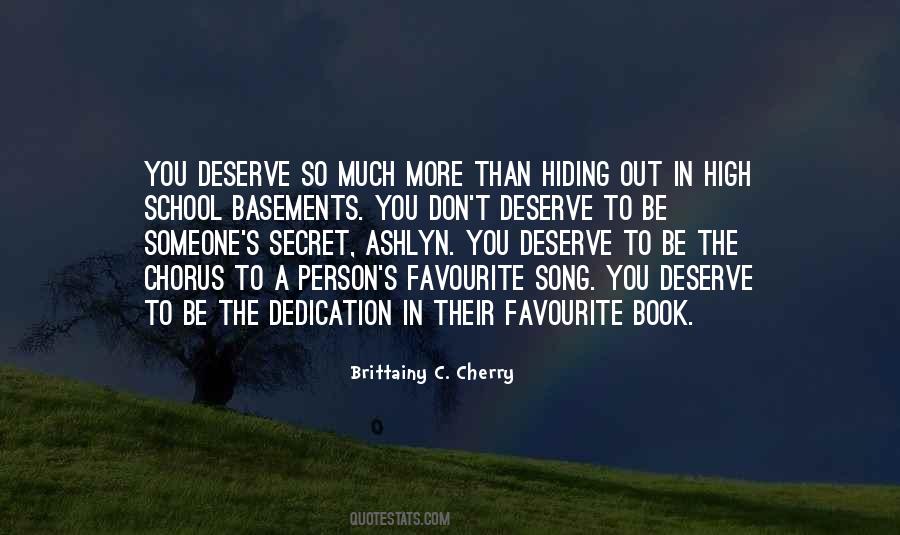 #47. I have been hired by Allah to get a wage, which if the space between the Earth and sky is filled up with pearls, still (the wage) would be more than it, for each of the questions I may answer you. Therefore, I deserve it that I must not feel tired or exhausted (in answering your questions). - Author: Fatima Bint Muhammad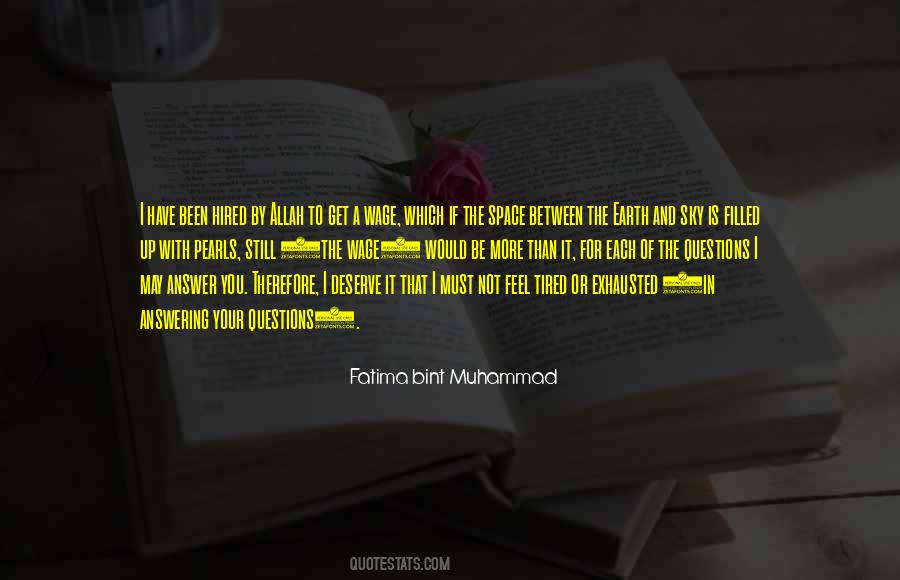 #48. There's no way to earn it or deserve it or bring it about any more than you can deserve the taste of raspberries and cream or earn good looks or bring about your own birth. - Author: Frederick Buechner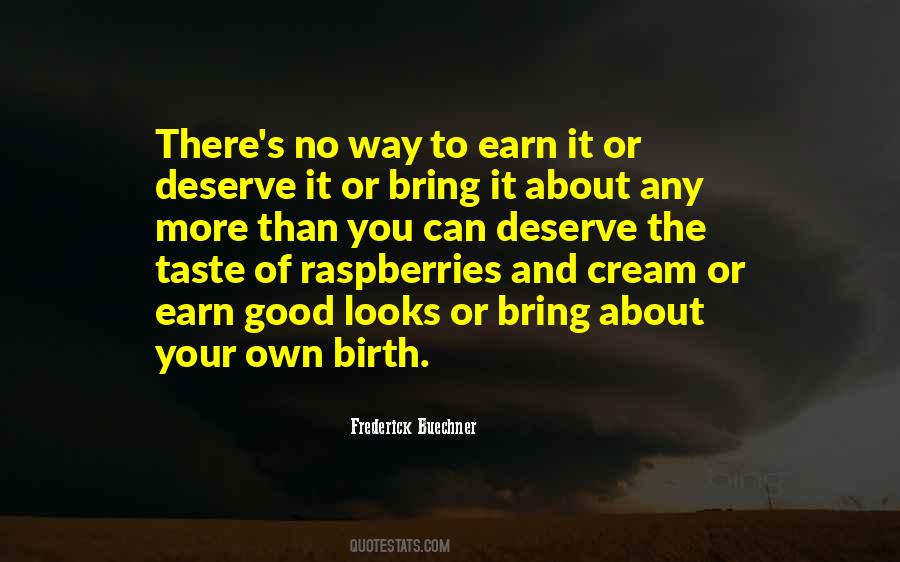 #49. If you spend more on coffee than on IT security, you will be hacked. What's more, you deserve to be hacked. - Author: Richard A. Clarke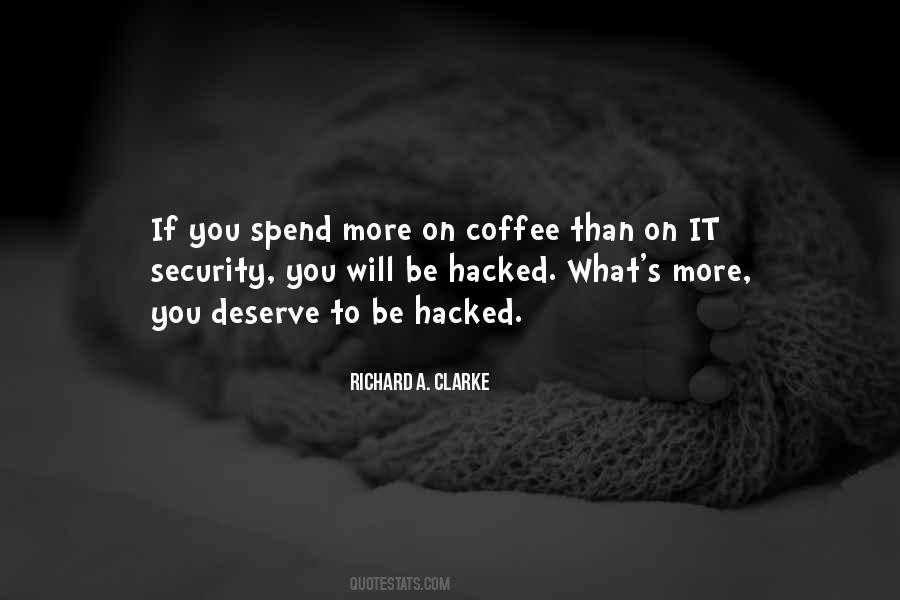 #50. I encourage you to live with life. Be courageous, adventurous. Give us a tomorrow, more than we deserve. - Author: Maya Angelou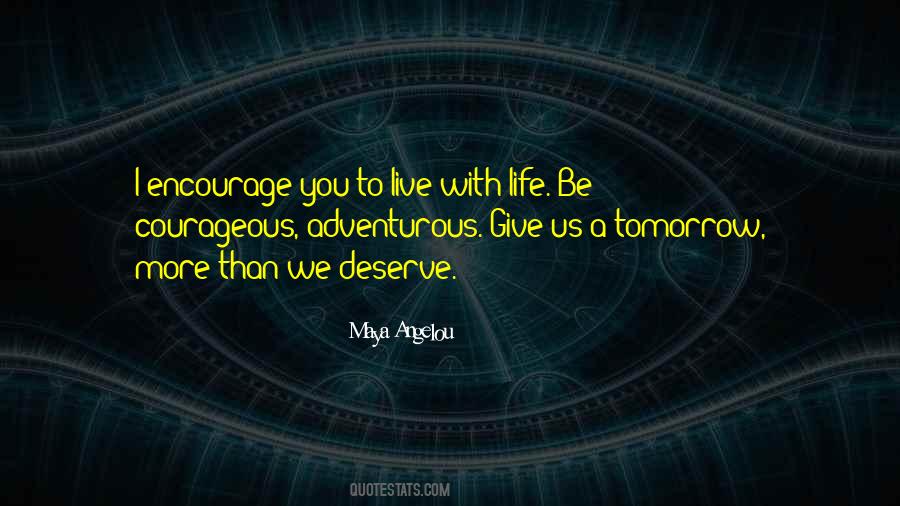 #51. You get no more and no less than what you believe you deserve. - Author: Dan Millman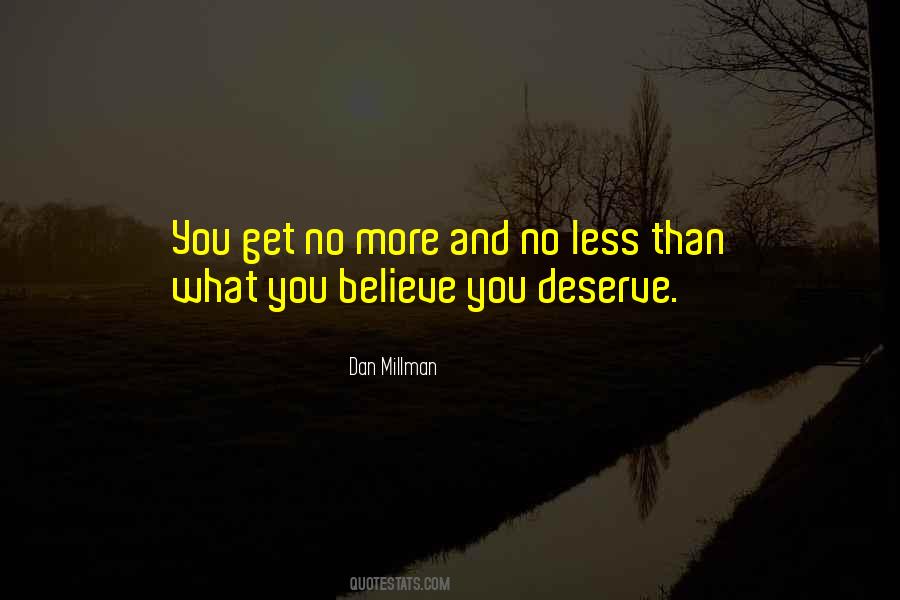 #52. Basically, it's in your best mental interest to release your anger so you can see the world more clearly around you and seek better solutions for finding the happy, love-filled life you desire and deserve. - Author: Karen Salmansohn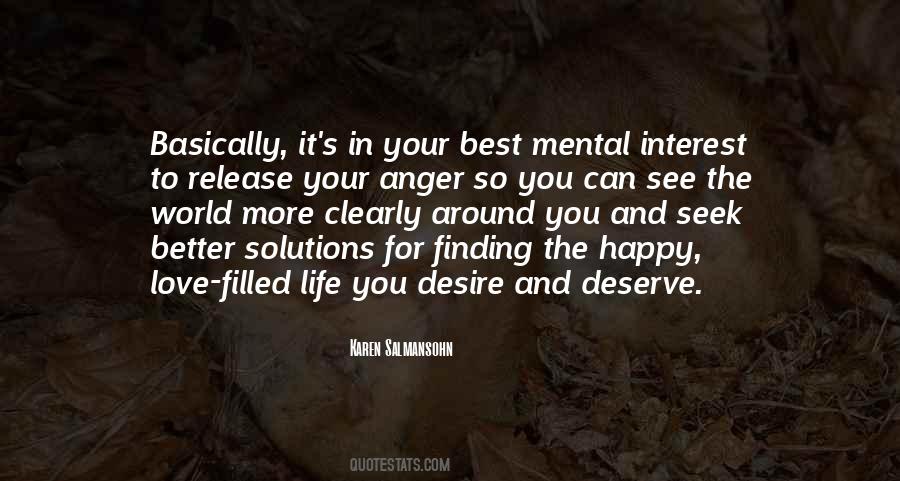 #53. Oh, dear God, you have given abundant blessings. I do not deserve them, and I cannot help but ask for more. - Author: Lori Smith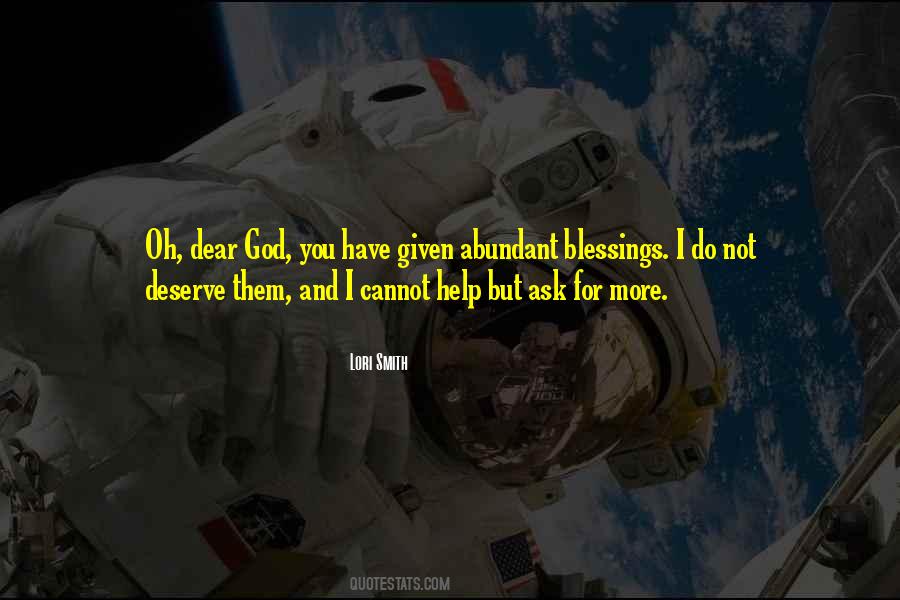 #54. You deserve to know that I love you, more than I ever intended to, more than I ever thought I could love someone whom I admittedly barely know. It's the dumbest love there is, love that doesn't come back
to you. - Author: Pamela Ribon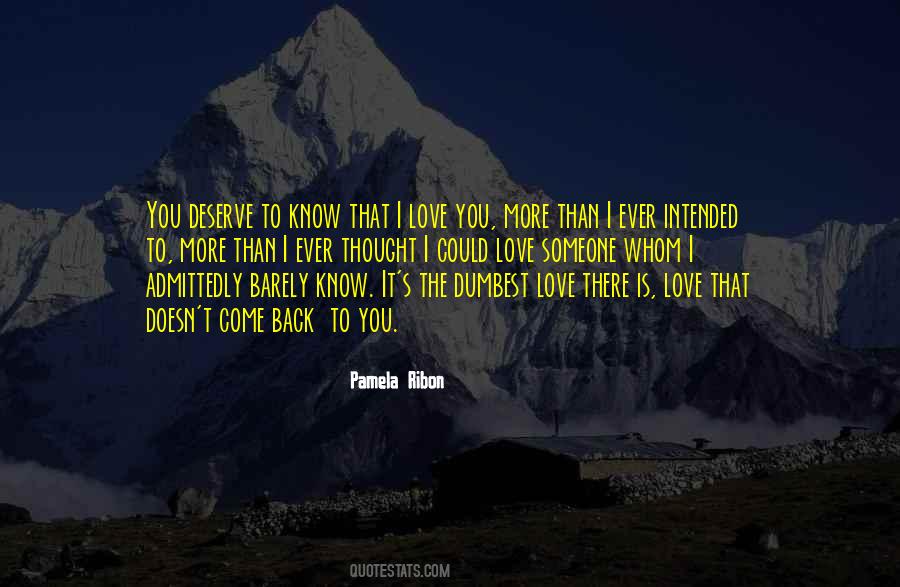 #55. I see you getting things you don't deserve, living it up. It fucking sucks. I feel resentful because I deserve it more than you do. I could be a better you, - Author: Tarryn Fisher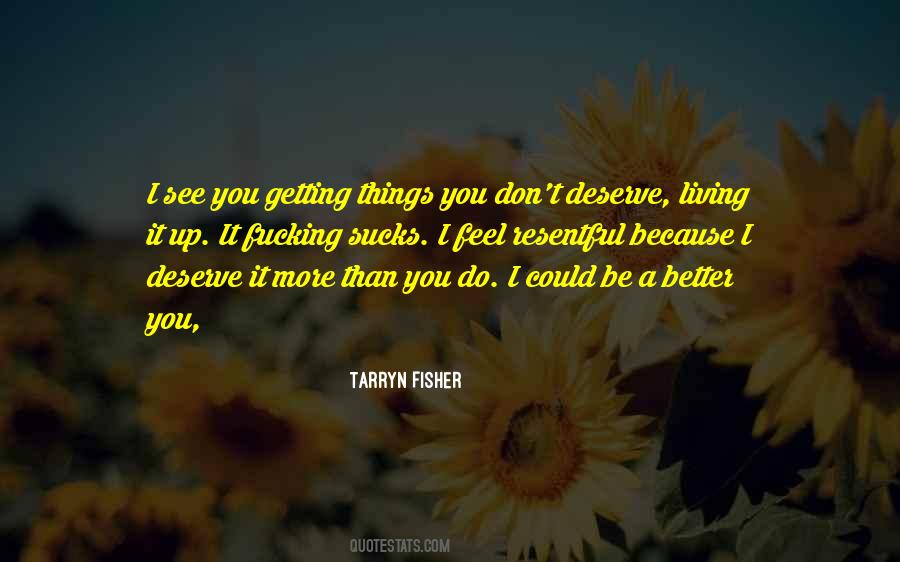 #56. Simple question,' Uncle Todd repeated. 'Do you deserve respect?'
'Yeah,' Dylan answered.
'Well, you're never deserving of any more respect in life than you give. I don't see you showing the world much respect. Until you show the world respect, the world won't respect you, and neither will I. - Author: Ben Mikaelsen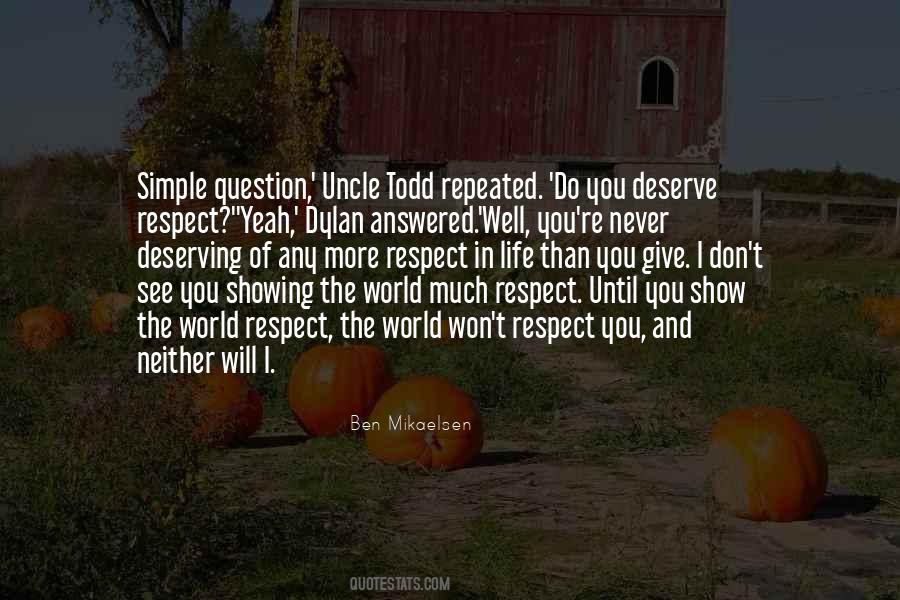 #57. You are worthy of love and you deserve to be happy. You have these beautiful qualities and many more because you are living the gift of a human incarnation. My hope is that you will embrace these truths and your birthright to live a life abundant in love, joy, and celebration. - Author: David Simon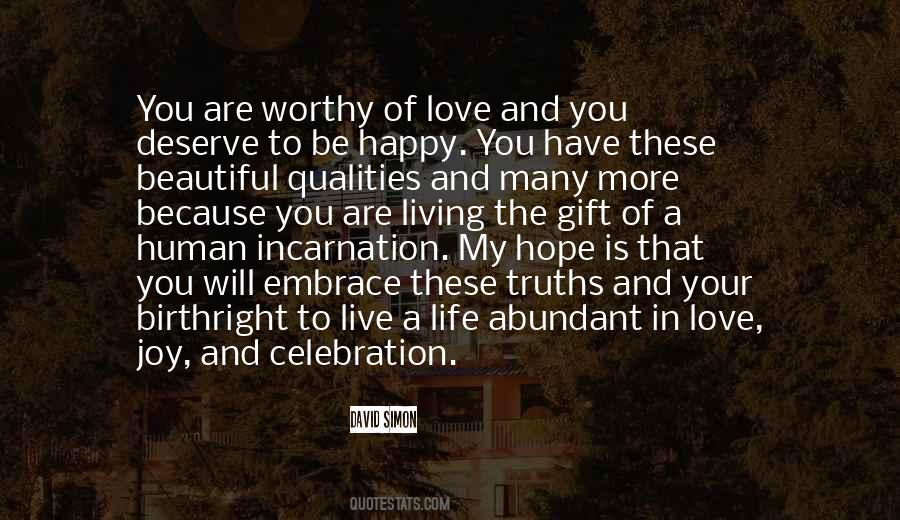 #58. There's this perception that if you worry a lot and if you look really busy and stressed out then you'll be more successful. You talk about how little sleep you get and how tensed you are and how you're not getting the appreciation you deserve. - Author: Nancy Meyers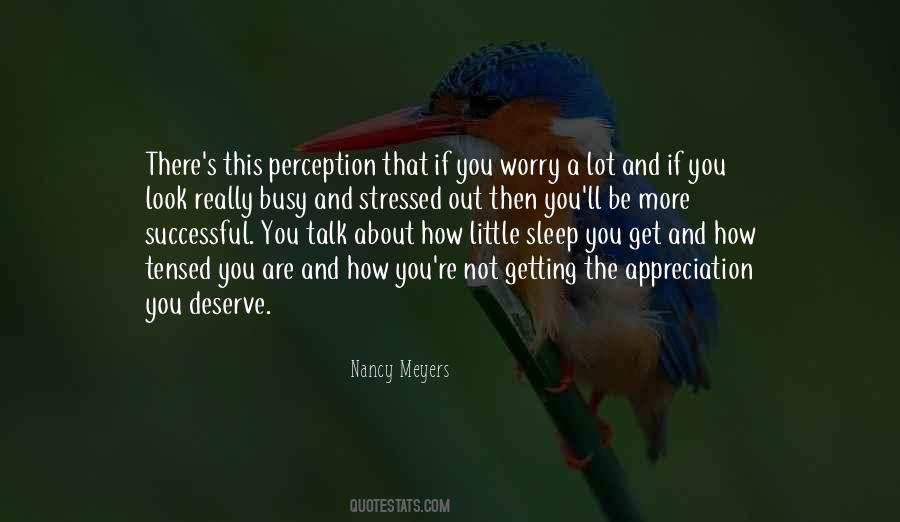 #59. When people say that students at elite schools have a sense of entitlement, that is what they are referring to: the belief that you deserve more than other people because your SAT scores are higher. Of course, your SAT scores are higher because you have already gotten more than other people. - Author: William Deresiewicz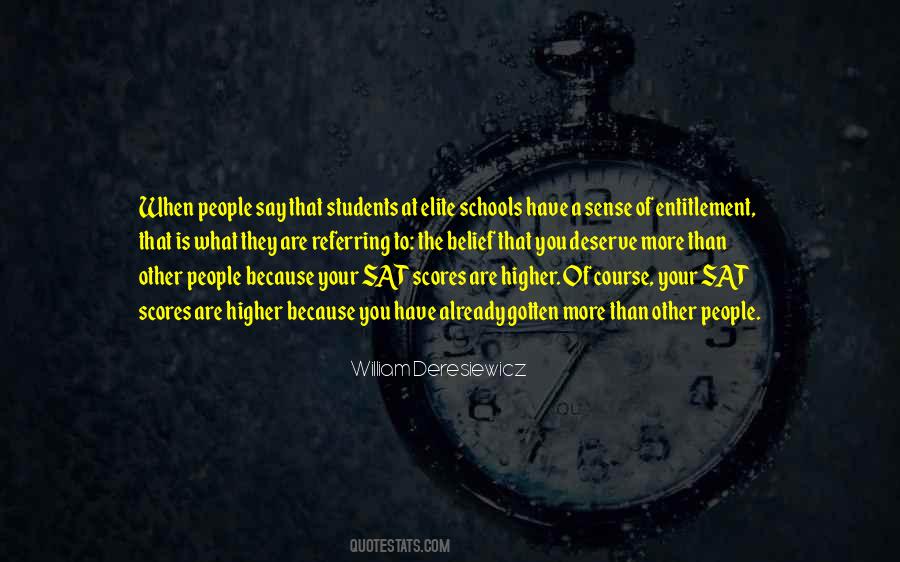 #60. To gain the respect of others, you must first think you deserve respect. And the more respect you have for yourself, the more respect others will have for you. - Author: David J. Schwartz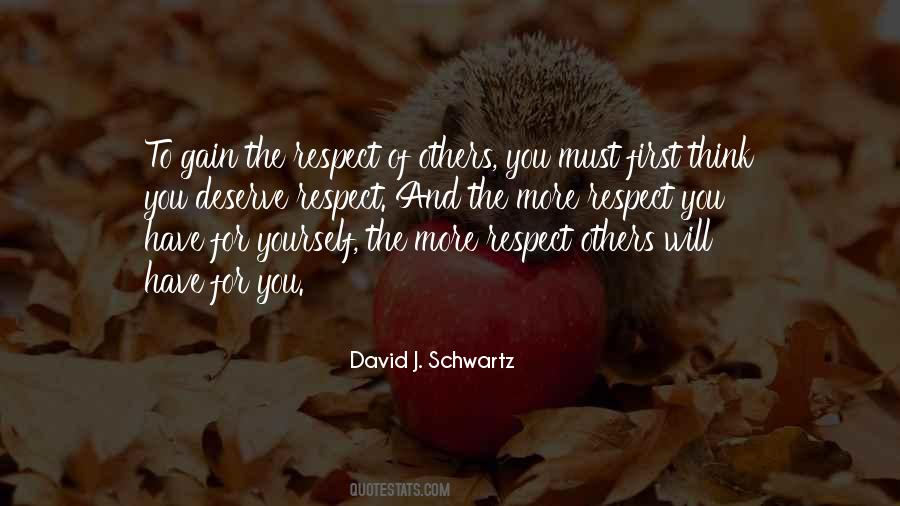 #61. I promised you I would fix all the broken pieces and I ended up just breaking them more. I don't deserve it but I'm asking anyway, let me in." Derek says to Addy in Lost in You. - Author: Angela L. Hansen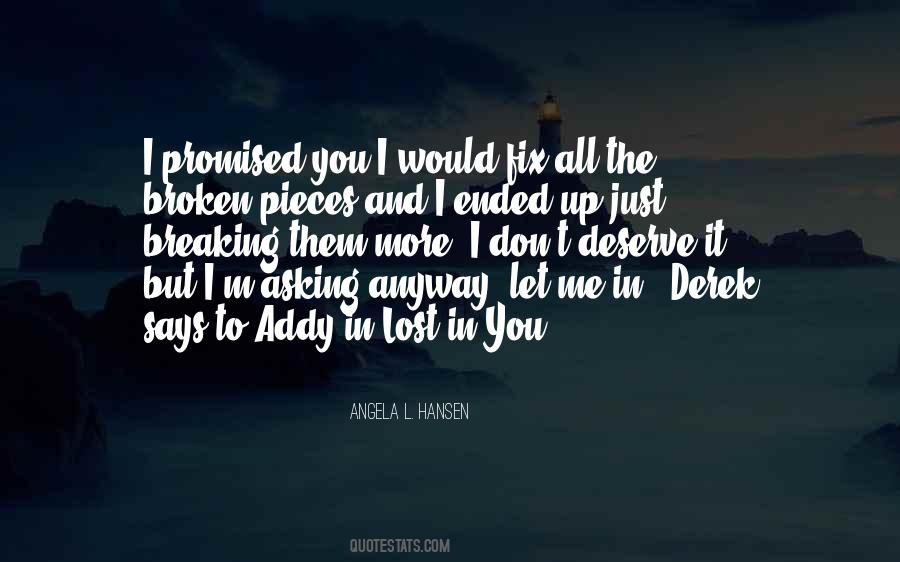 #62. What is closer to the truth is that when confronted with the love you deserve, it is easier to mock it than accept it. Especially when everything else you have experienced of love and connection is based on something more like control or disdain. - Author: Jessica Valenti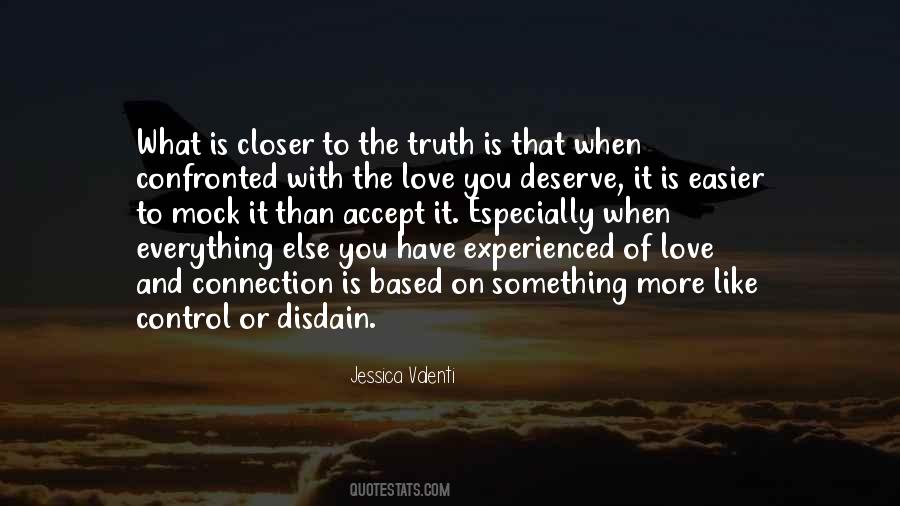 #63. When friends tell you how awesome you look, drop the "I still have more to go" crap. You worked hard and you deserve the compliment! - Author: Jillian Michaels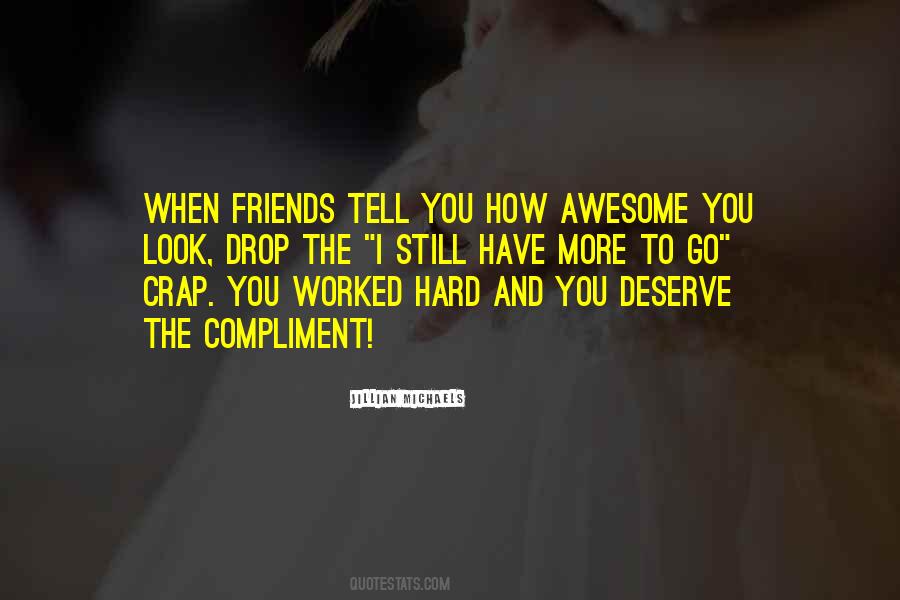 #64. Look, I don't know who has been telling you over the years that you aren't worthy of love and happiness, but they're idiots. We all deserve it. And if people get hurt along the way, that's life. We've all been hurt. Doesn't that make love more crucial to our lives? - Author: Karina Halle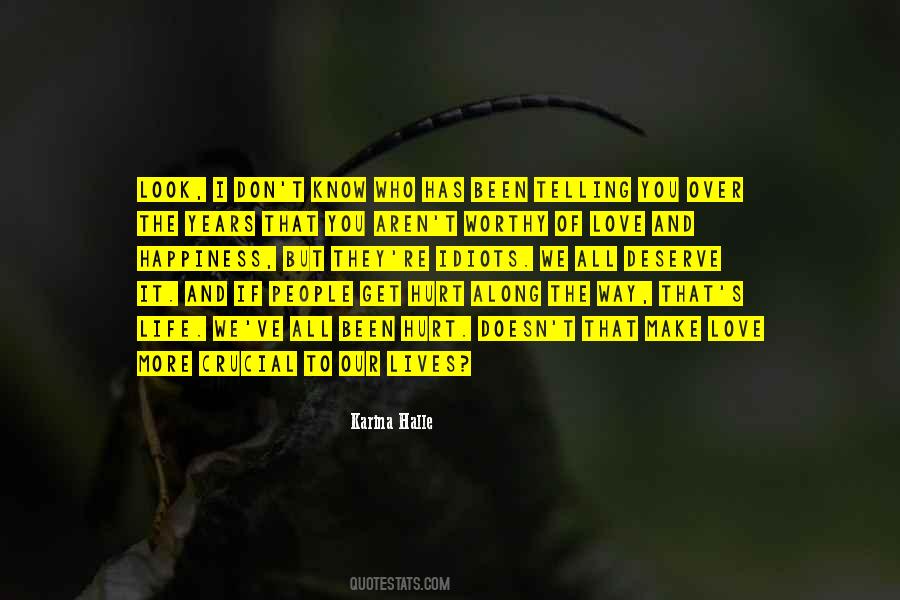 #65. I deserve all the love you can spare me. And I want a lot more than I deserve. - Author: Dashiell Hammett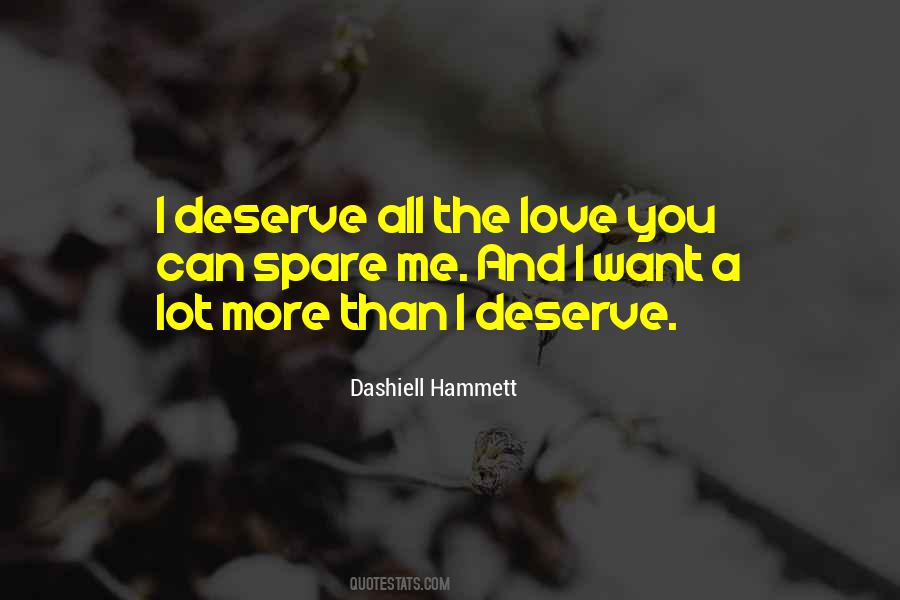 #66. The reasoning behind anyone trying to make you feel less than you are is simple; you are more than they deserve. - Author: Christina Moore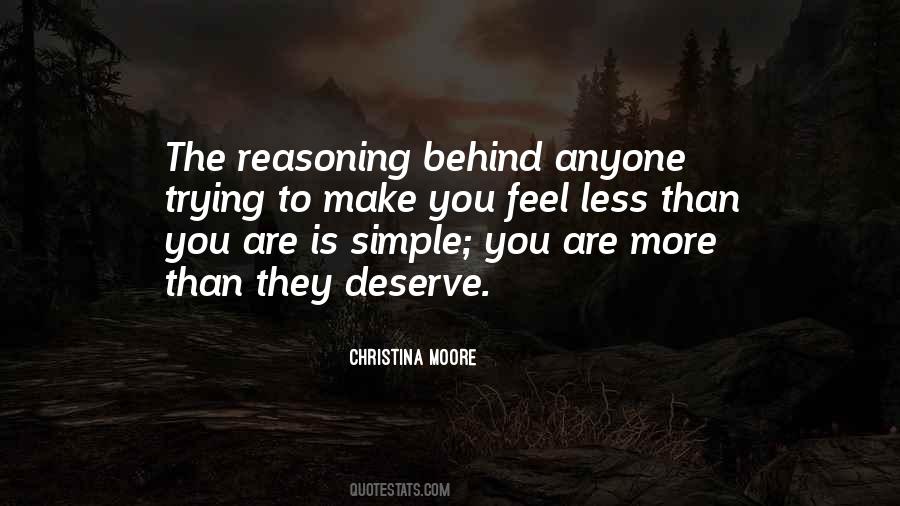 #67. The more you believe that you deserve healthy love, the more you will conquer and attract. - Author: Karen Salmansohn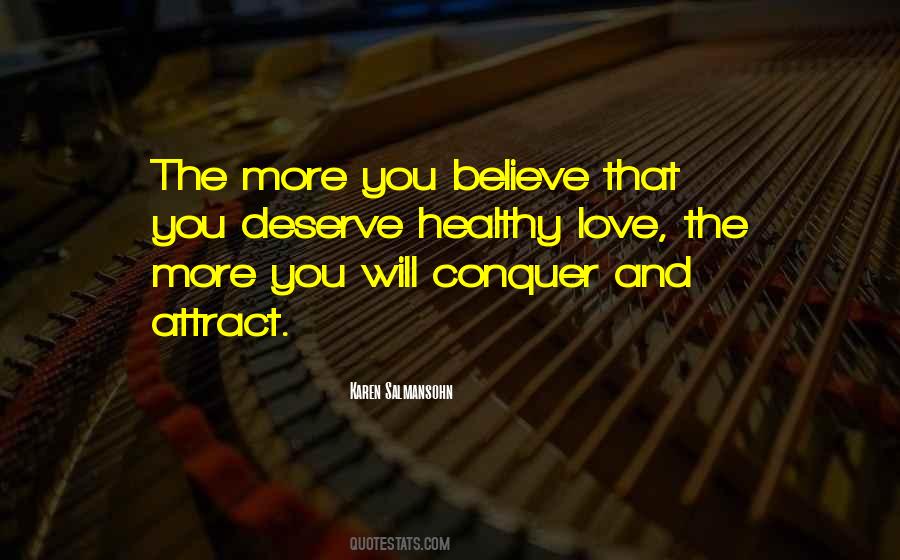 #68. Being content isn't good enough. You deserve so much more - passion, joy, and excitement... - Author: Nancee Cain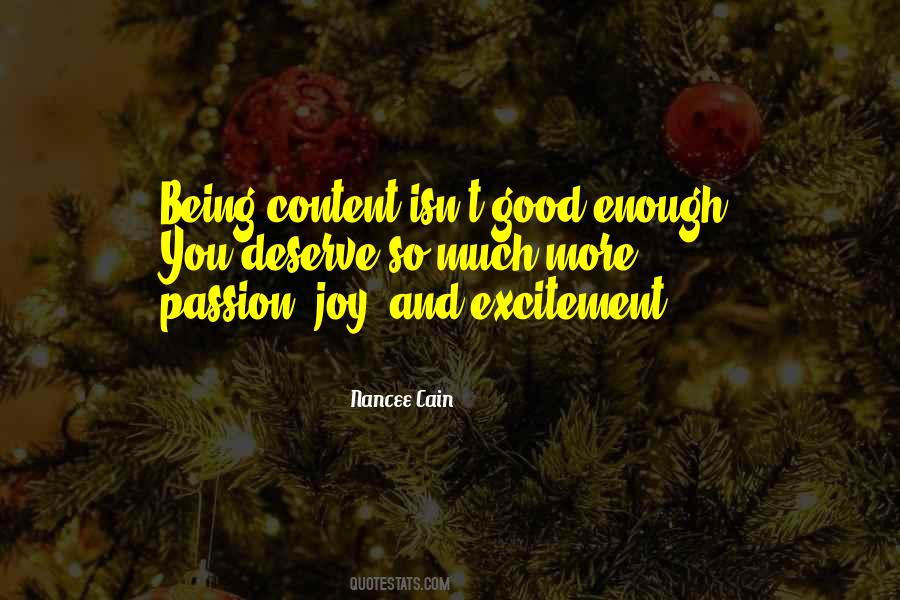 #69. You will never attain and maintain more than you think you deserve. - Author: Rob Liano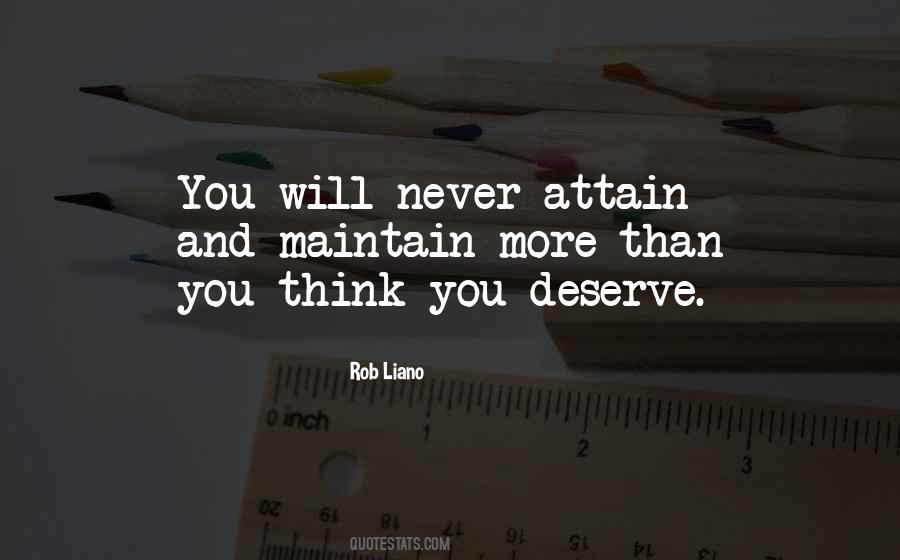 #70. You'll have to keep it up for longer than that, if you expect ecstatic moans," I answered. "Two minutes doesn't deserve any more than a giggle. - Author: Diana Gabaldon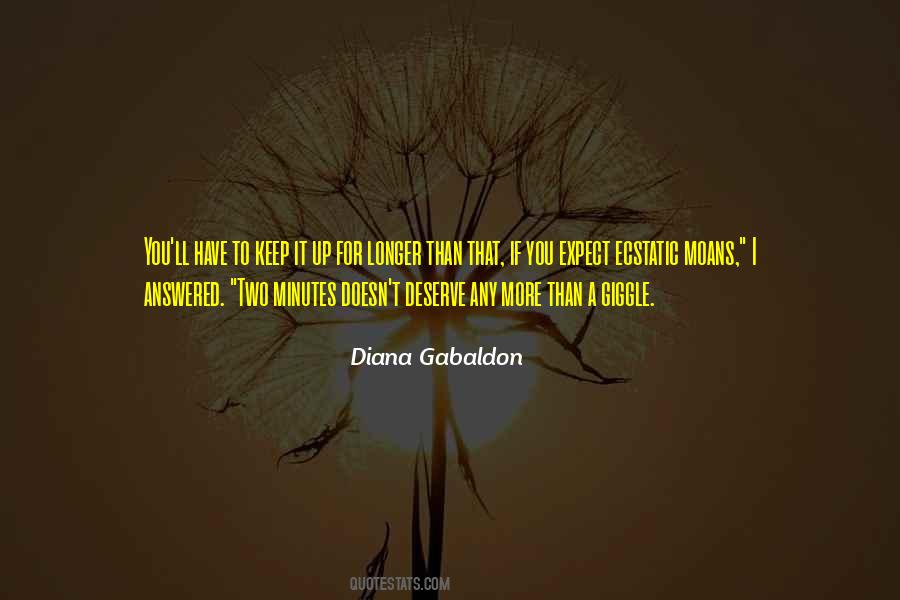 #71. I'm not leaving you. I'm just not going to sneak around with you. You have a life." She bit her lip, looking down. "I don't blame you for that. But - " "I know," I said, feeling as if my heart was breaking open in my chest. "We deserve more than that. - Author: Mia Sheridan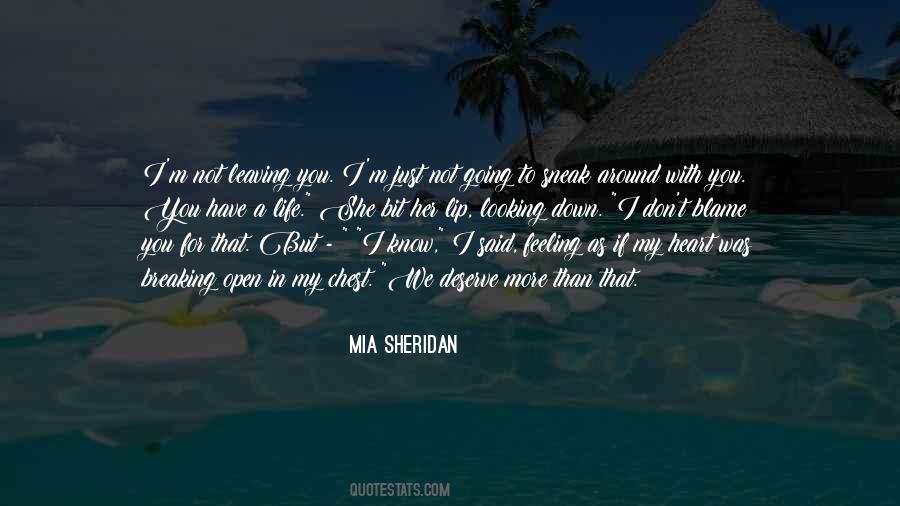 #72. Our first time," he said, "because there will be more than one time, won't be what you deserve. - Author: Aleatha Romig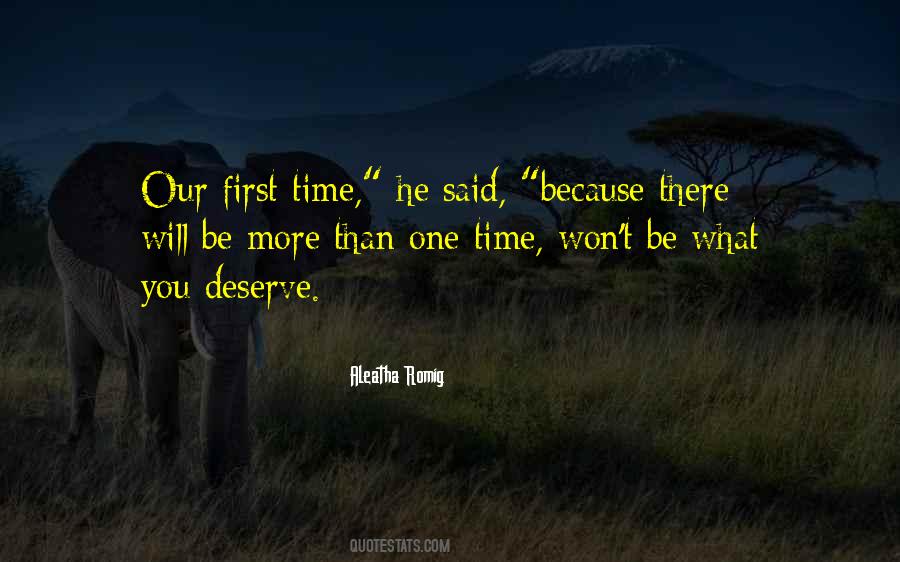 #73. Yes, yes," said the Beast, "my heart is good, but still I am a monster." Among mankind," says Beauty, "there are many that deserve that name more than you, and I prefer you, just as you are, to those, who, under a human form, hide a treacherous, corrupt, and ungrateful heart. - Author: Jeanne-Marie Leprince De Beaumont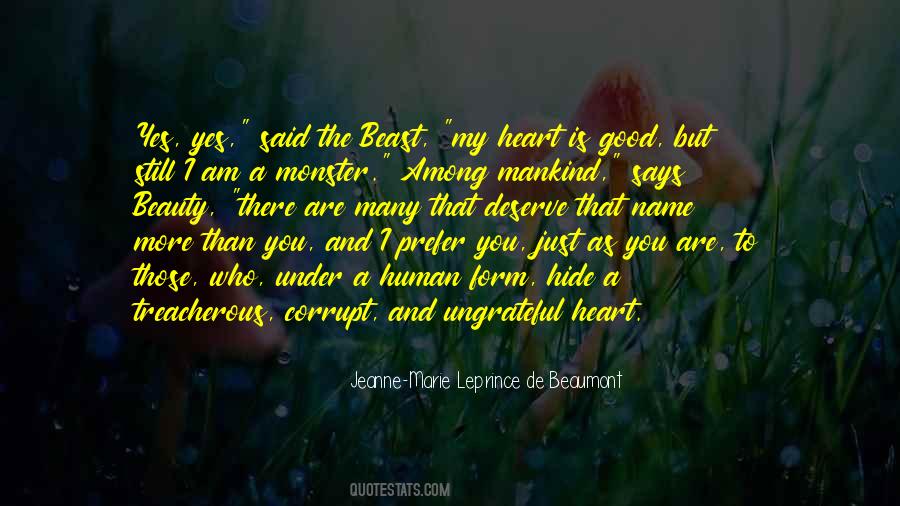 #74. We all make mistakes, Carol. Sometimes they're more expensive than others. But I don't deserve to lose you,' he said, spreading his hands in appeal. - Author: Val McDermid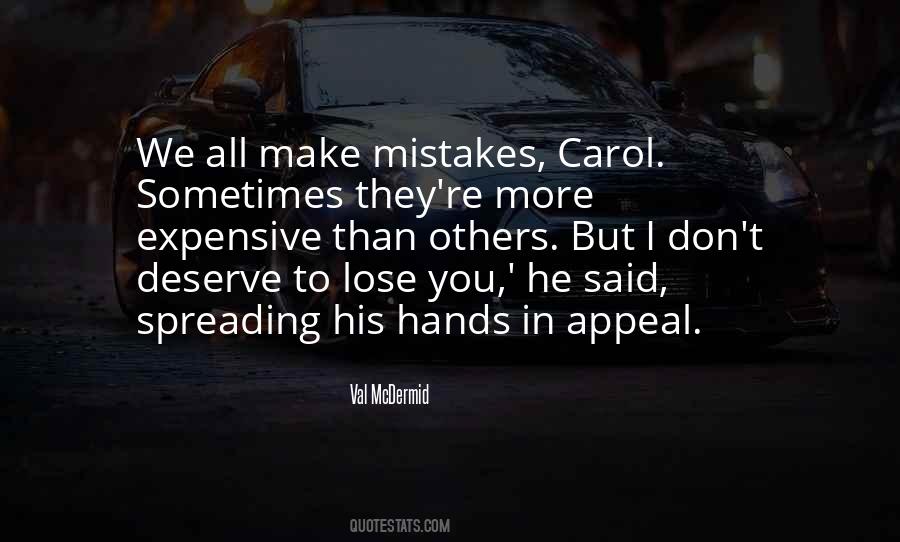 #75. The capacity to do something horrible to someone who doesn't deserve it is there in everyone, human or hybrid. Being human doesn't make you any less likely to kill someone; being hybrid any more. - Author: Addison Lane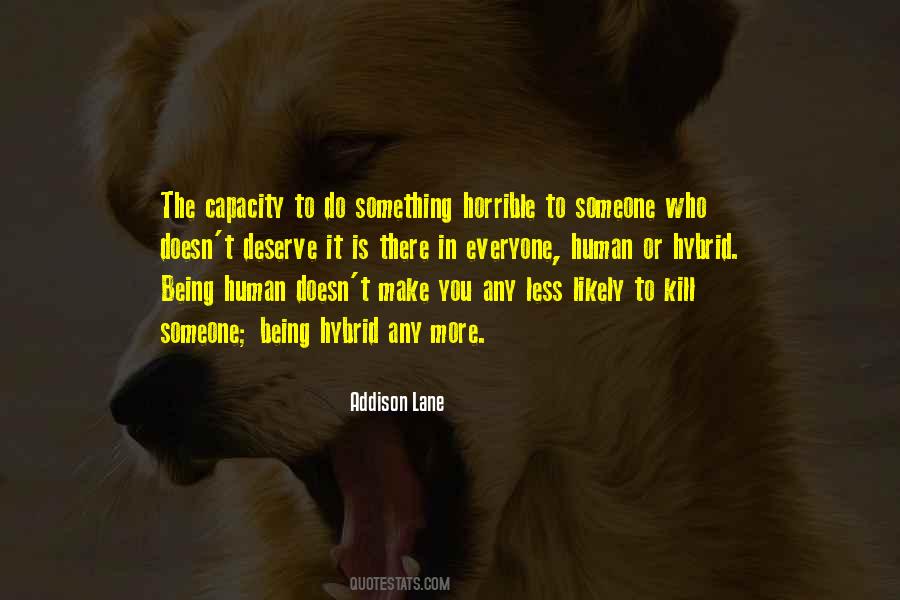 #76. Should is a dirty word. No one should do anything for you.You deserve nothing more then what you earn.
Reality Boy is not angry, though. Because Reality Boy knows he deserves all kind of shit he never got - Author: A.S. King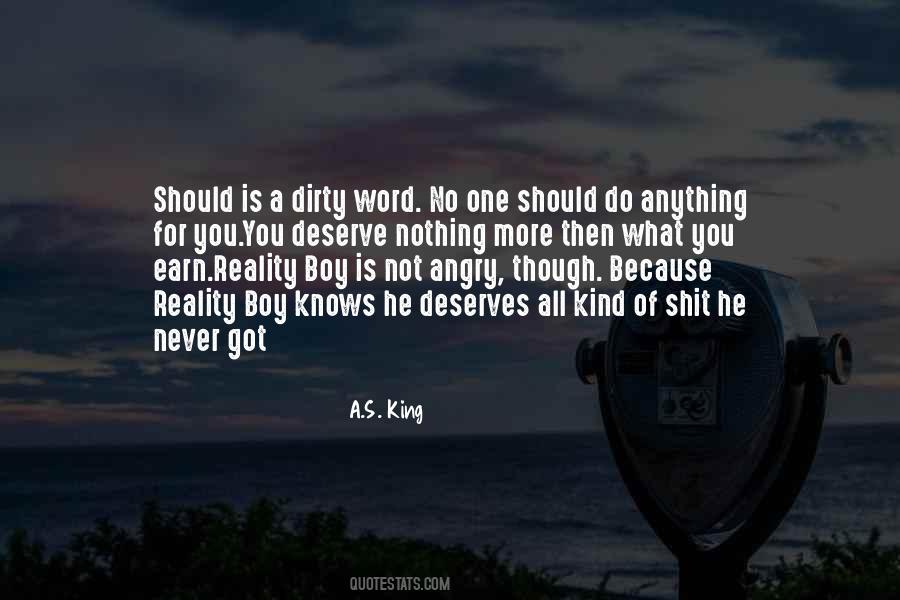 #77. Flattery in courtship is the highest insolence, for whilst it pretends to bestow on you more than you deserve, it is watching an opportunity to take from you what you really have. - Author: Sarah Fielding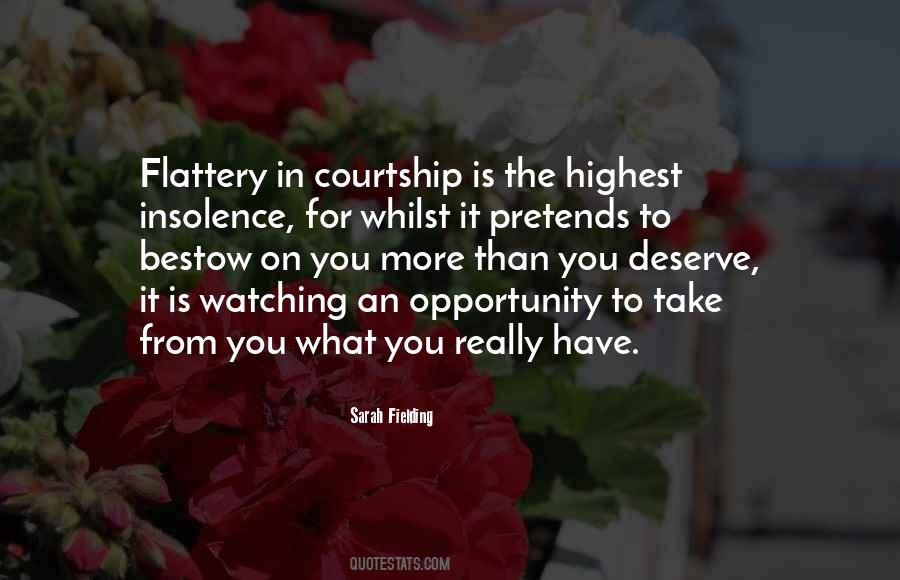 #78. I don't think I will ever believe I deserve you, but I love you more than I can even describe. I don't know if I can ever ... be better for you, but it you're willing to keep forgiving me for being a complete idiot, I'm willing to keep trying. - Author: Shay Savage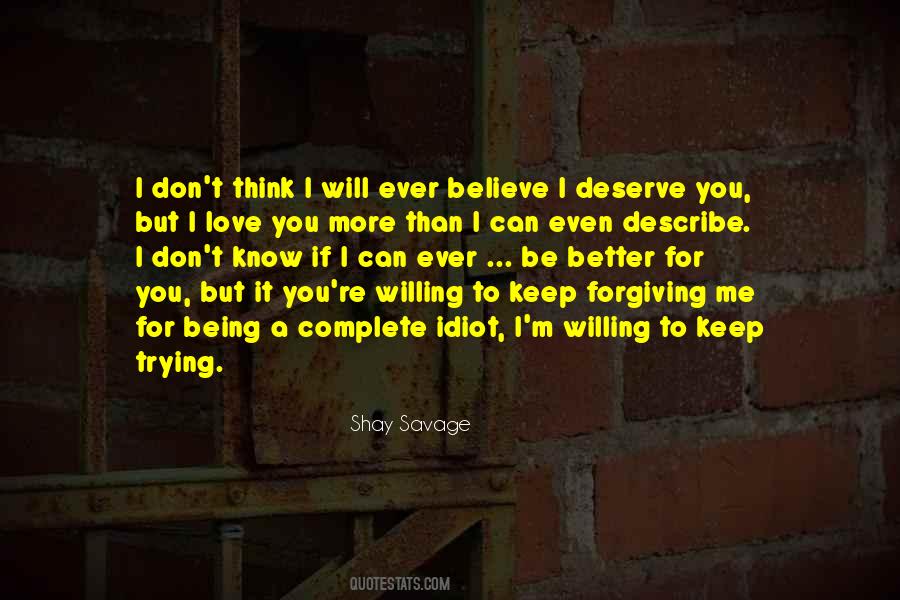 #79. You're so much more than I deserve, than I dared to want. This isn't about saving me, is it? It's about saving you too. - Author: K.L. White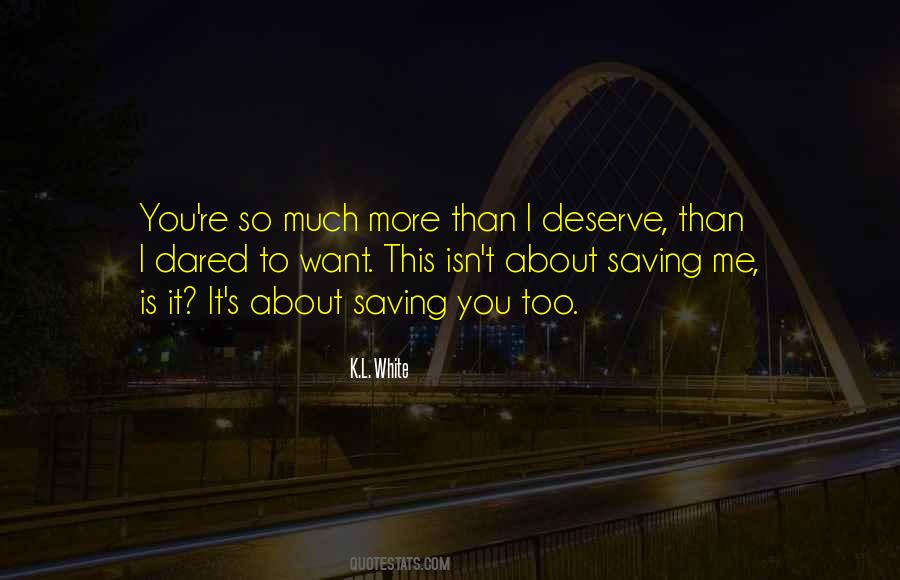 #80. You deserve so much more than charity," he said, his chest heaving. "You deserve to live, You deserve to be alive. - Author: Tahereh Mafi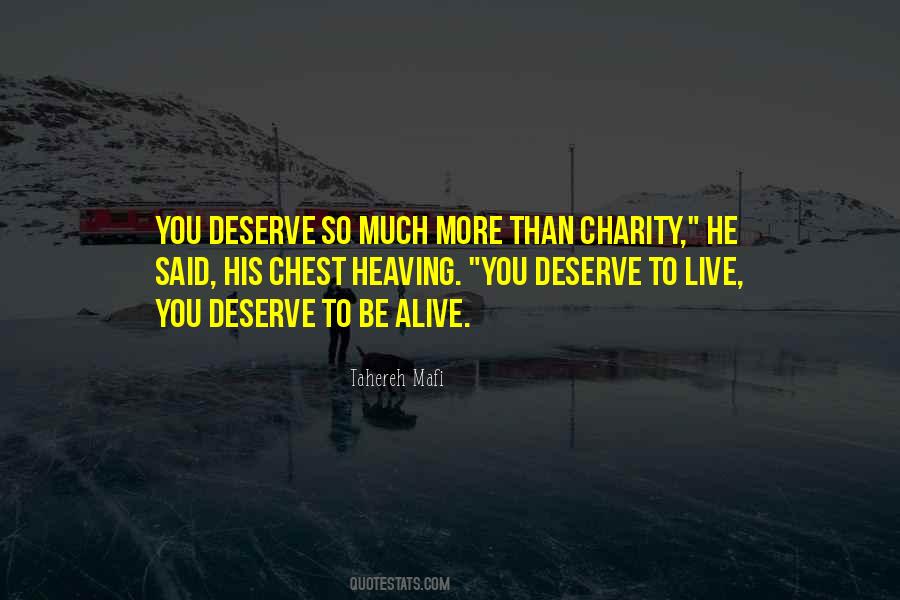 #81. It's not a matter of what you deserve -- and more to the point -- certainly not a matter of what you THINK you deserve. All that matters is what you're committed to, and how you honor that commitment, and -- sometimes -- what you are blessed by. - Author: M. Allen Cunningham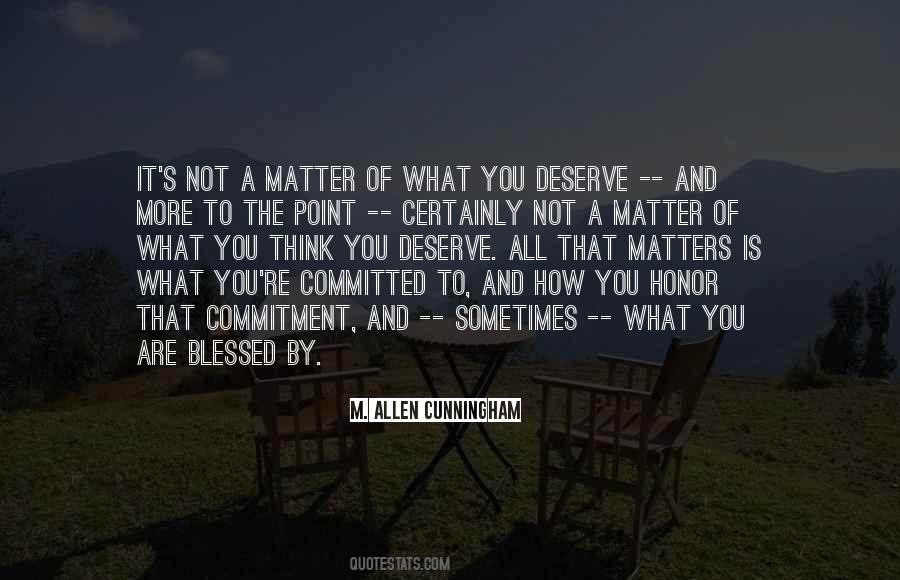 #82. I can say this: don't give up. Not on love but, more important still, not on you. Never let yourself believe that you are unlovable or flawed in any way. You deserve to be loved. You deserve kind words and an unwavering eye. - Author: Menna Van Praag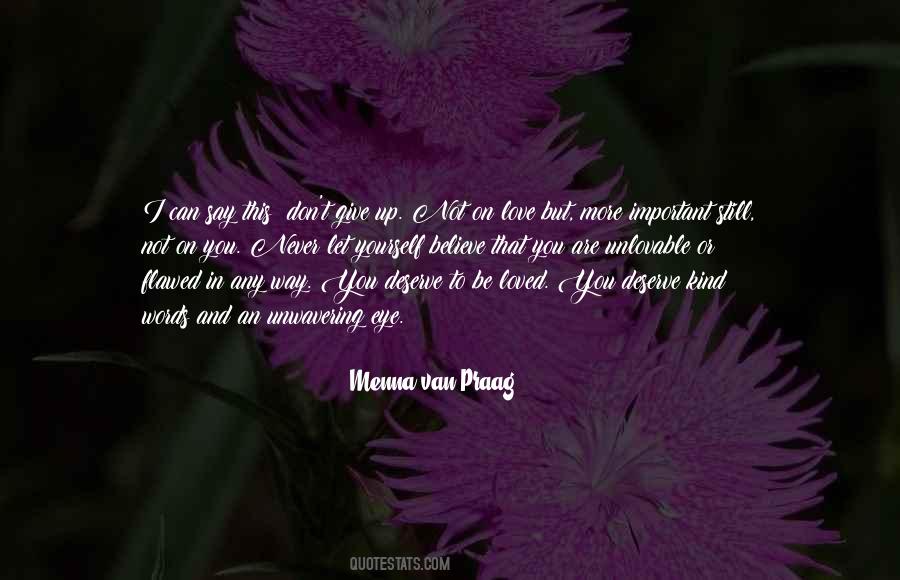 #83. I can't promise you forever, Blaine. Hell, I don't even know if I can promise you tomorrow. And you deserve so much more than a fling. - Author: Nya Rayne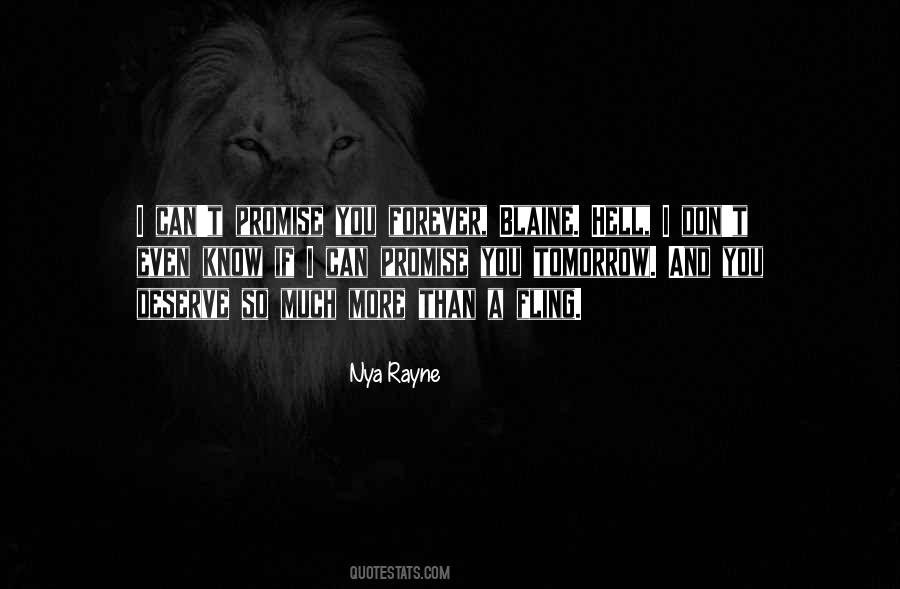 #84. If you ever get a high official position in your country, you must see the interests of the humanity much more important than the interests of your own country; only then you will deserve to be called a great man! - Author: Mehmet Murat Ildan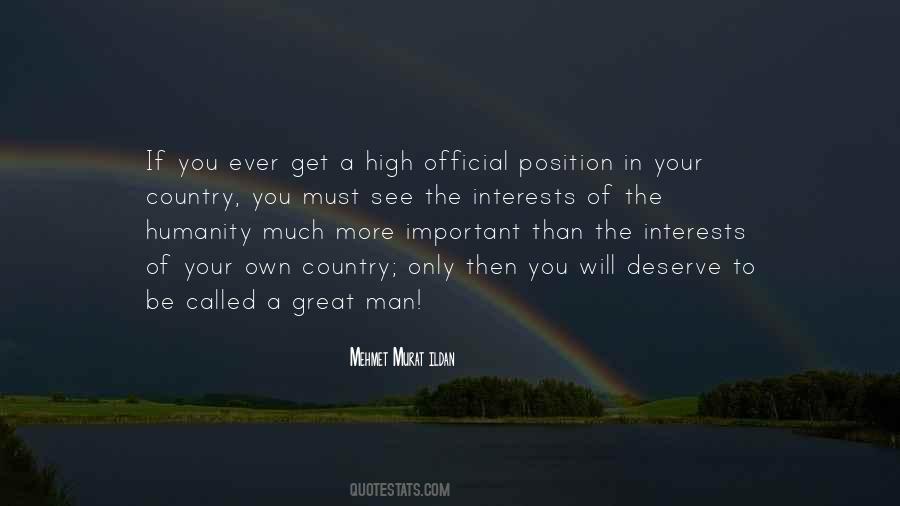 #85. Isn't it terrible the way some unworthy folks are loved, while others that deserve it far more, you'd think, never get much affection? - Author: L.M. Montgomery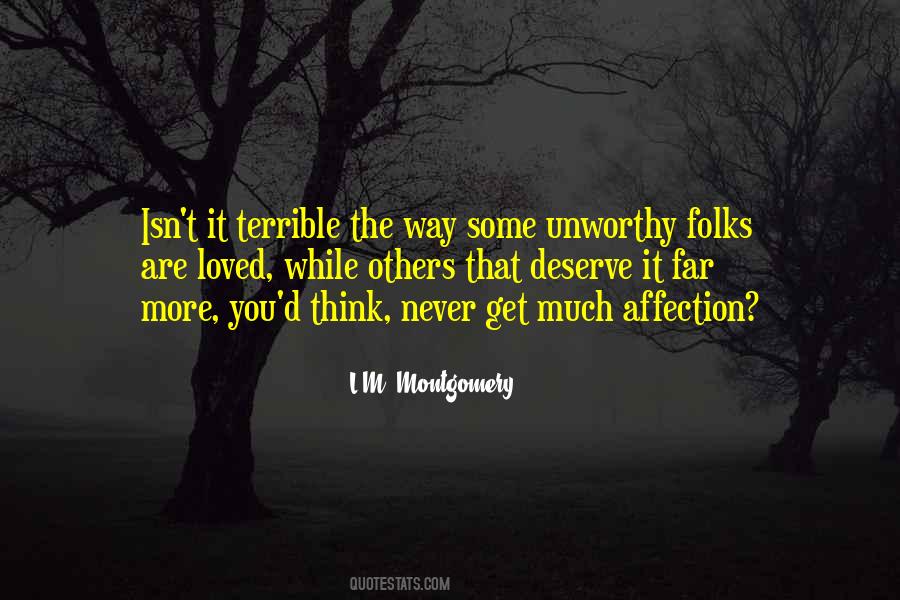 #86. You're the sun, babe, and I'm the fucking darkness. We come from completely different realities, and you deserve a fucking hell of a lot more than me. - Author: R.J. Lewis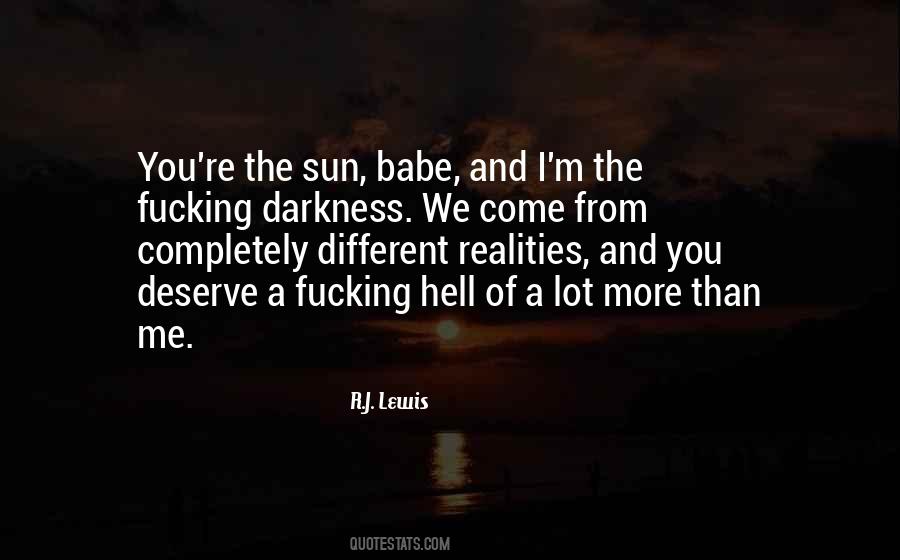 #87. If you don't pay attention to the things that have your attention, you'll give them more attention than they deserve. - Author: David Allen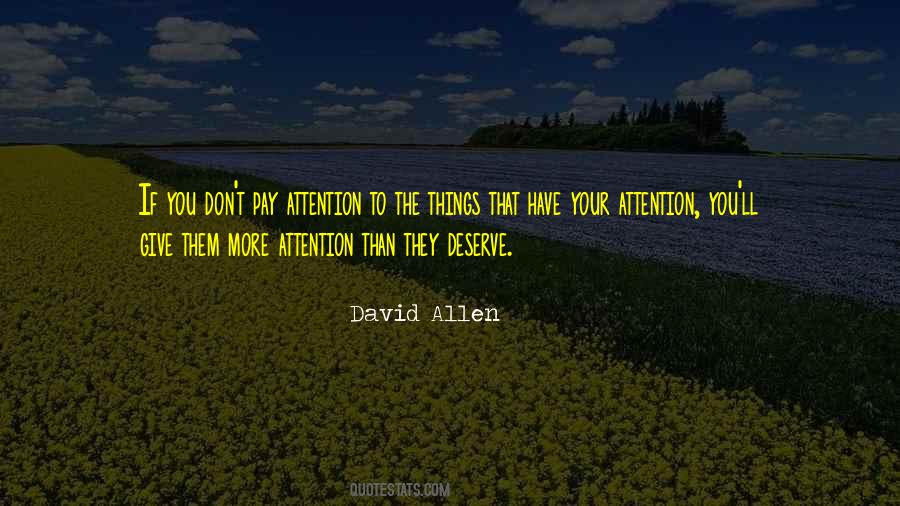 #88. Anyone who is suffering from shame and public humiliation needs to know one thing: You can survive it ... you can insist on a different ending to your story. Have compassion for yourself. We all deserve compassion, and to live both online and off in a more compassionate world. - Author: Monica Lewinsky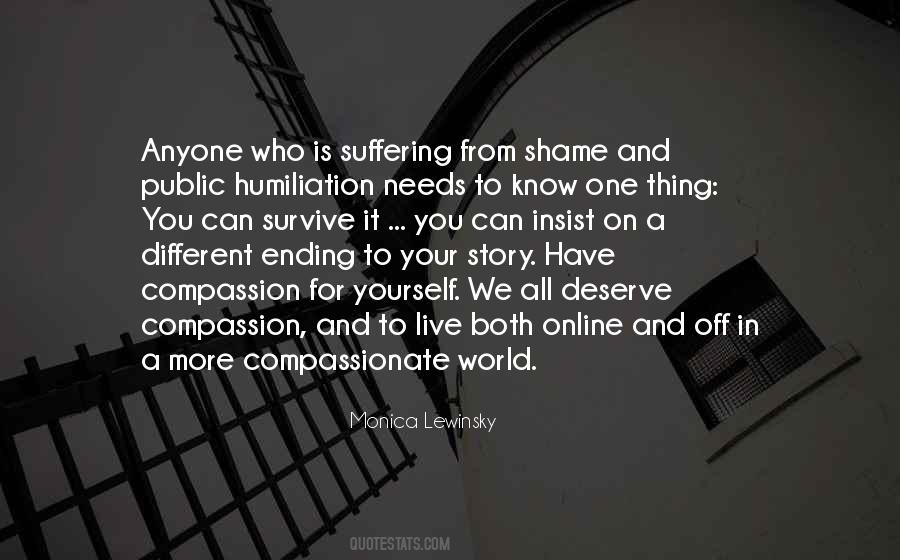 #89. I'm here to help you. You deserve more than this world will ever offer you. - Author: Liz Grace Davis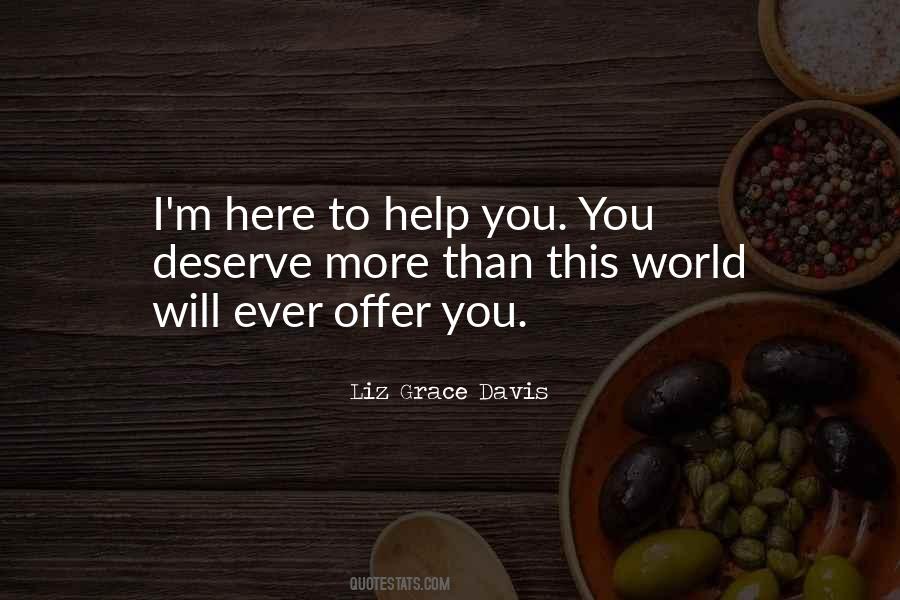 #90. You deserve to be happy, he said. And meant it. She deserved the joy he so often glimpsed on her face when Rowan was near - deserved the wicked laughter she shared with Aedion, the comfort and teasing with Lysandra. She deserved happiness, perhaps more than anyone. - Author: Sarah J. Maas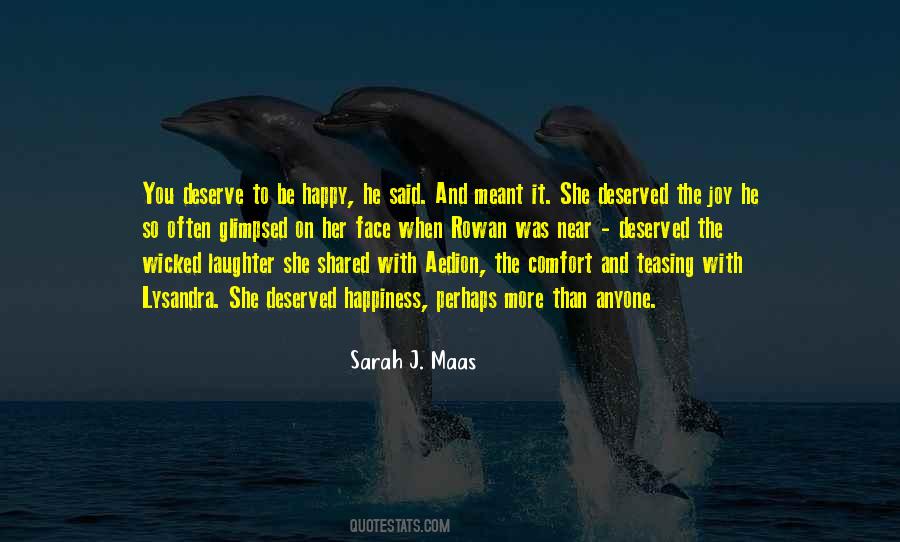 #91. You deserve more than a secondhand I love you. - Author: Colleen Hoover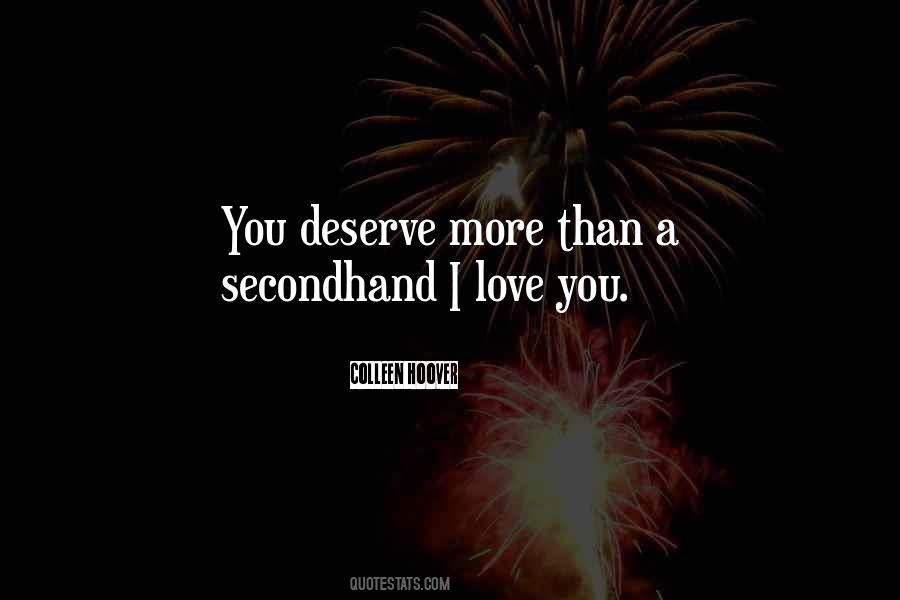 #92. You deserve more in your life. Think big. Love more and share beyond your limits. You will then become limitless. - Author: Steven Cuoco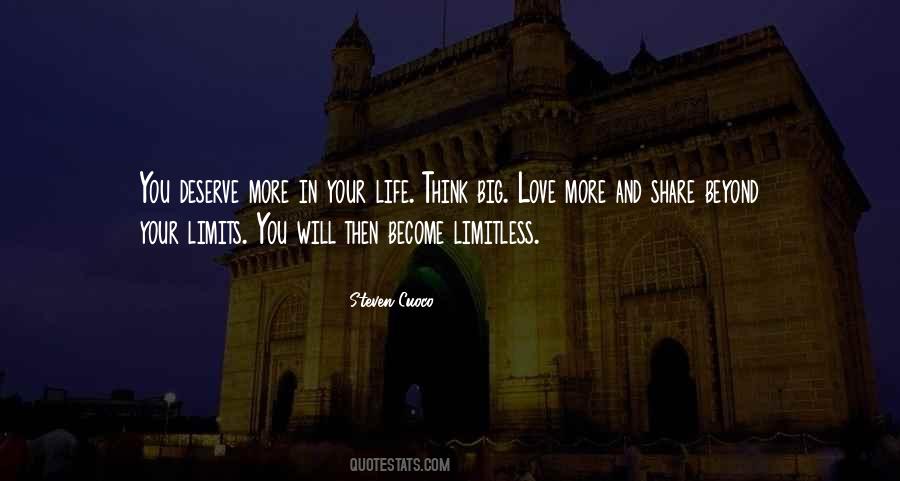 Famous Authors
Popular Topics