Writing Advice Famous Quotes & Sayings
List of top 100 famous quotes and sayings about writing advice to read and share with friends on your Facebook, Twitter, blogs.
Top 100 Quotes About Writing Advice
#1. The best advice on writing I've ever received was from William Zinsser: 'Be grateful for every word you can cut.' - Author: Christopher Buckley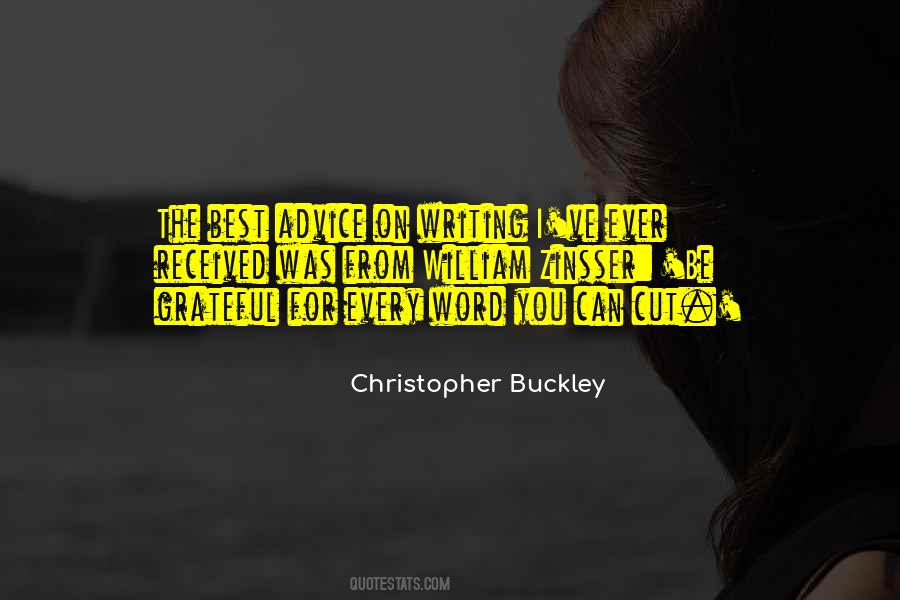 #2. Your writing should be filled with simple complexities and complex simplicities. Because that is life. - Author: Christy Hall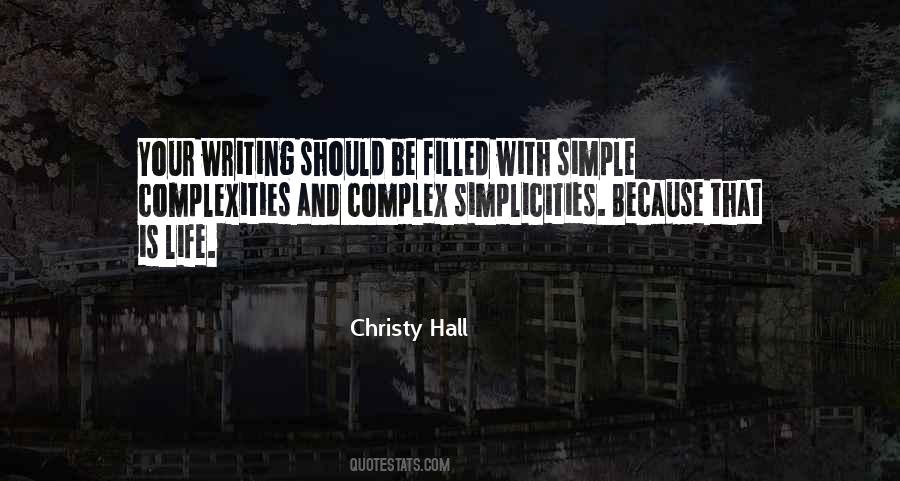 #3. Read a short story every day. By the end of the week you would have read volumes of stories. - Author: Lailah Gifty Akita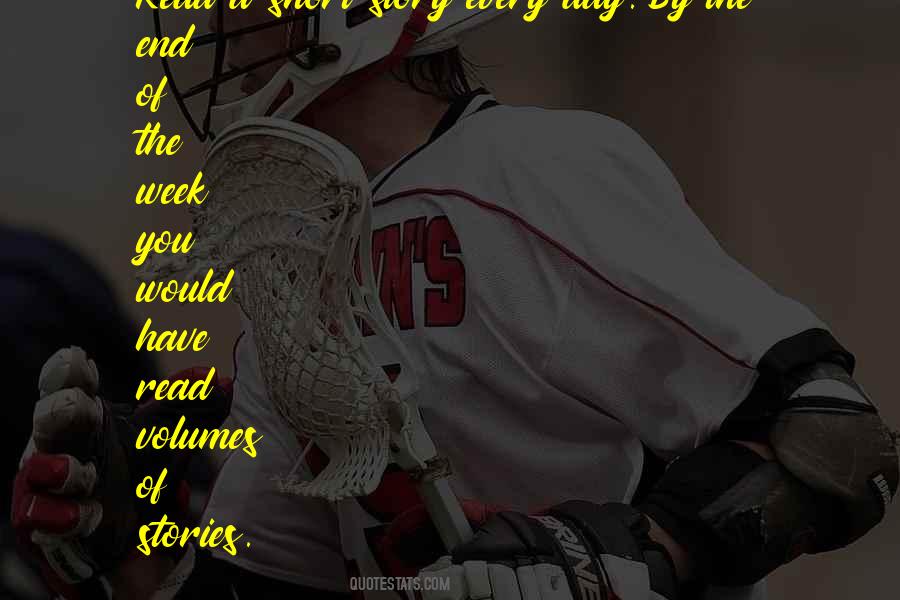 #4. Plot joined the expedition unwooed, as a necessary companion. It was not the scout. The scout was a certain mood. I followed that mood, and let the shape of the story flow from that. - Author: Bonnie Friedman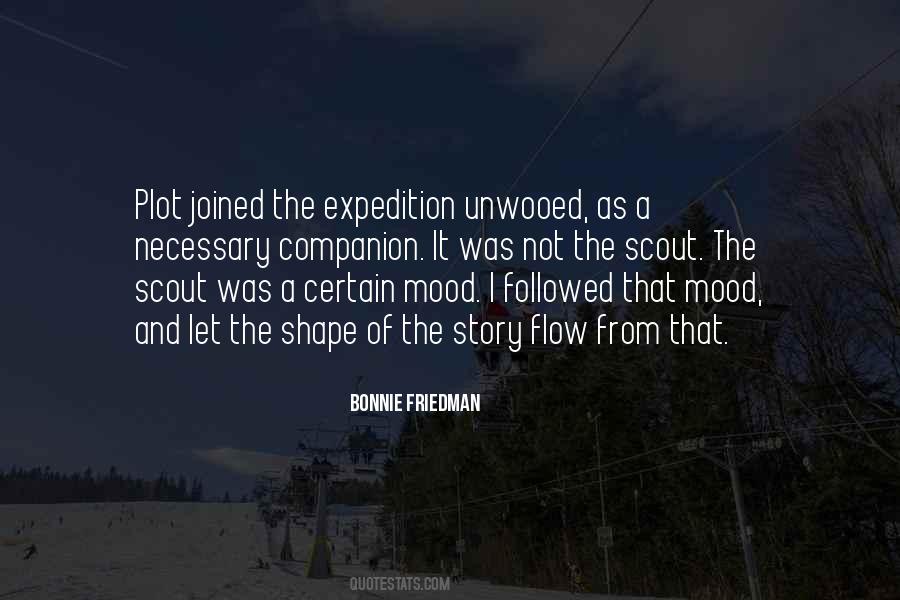 #5. What are minnows but brief flashes? And what are thoughts? And how do you capture a brief flash, even for a second? - Author: Dinty W. Moore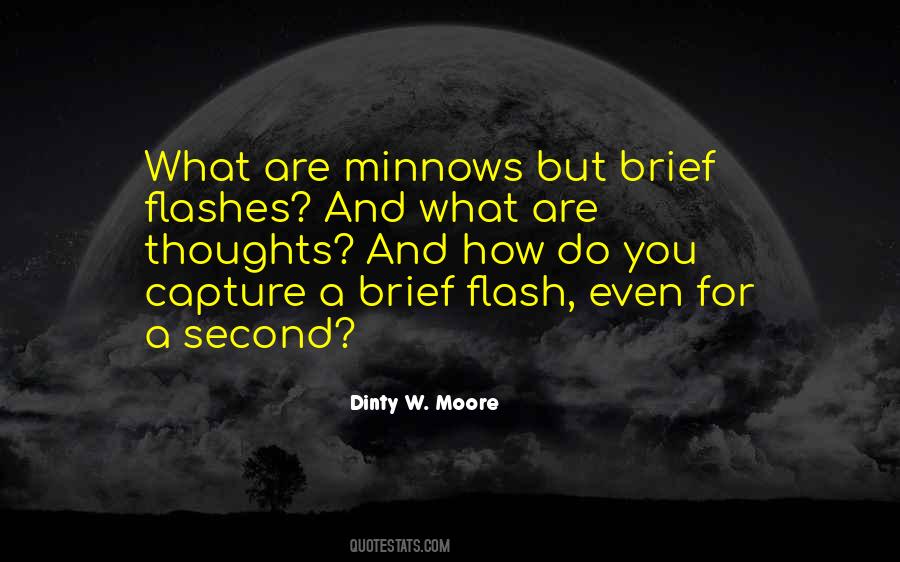 #6. How many writers still dare compare a woman to Nature, like Campion? - there is a garden in her face - how lovely ... - Author: John Geddes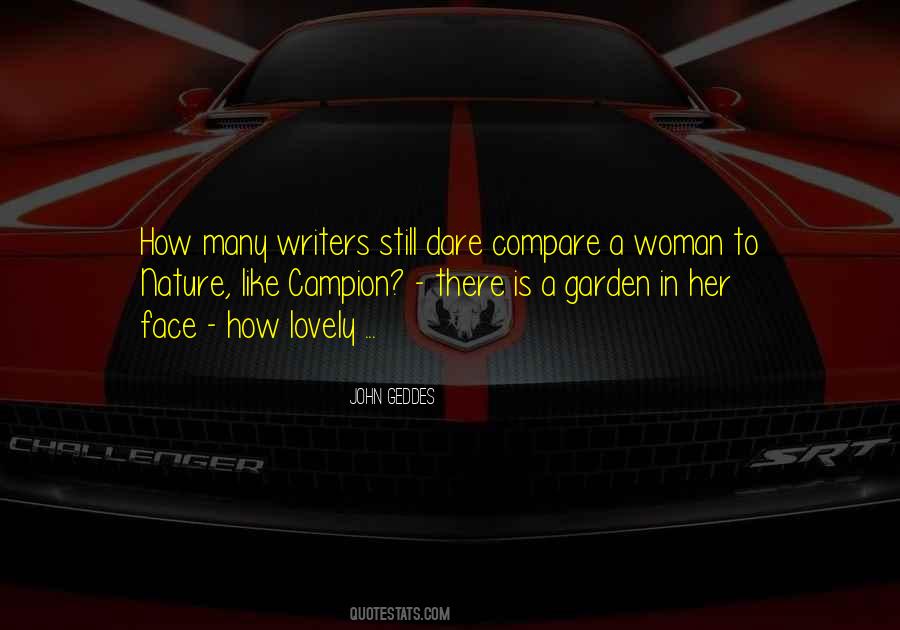 #7. Never give advice to your children unless you have it in writing and notarized. - Author: Marshall B. Rosenberg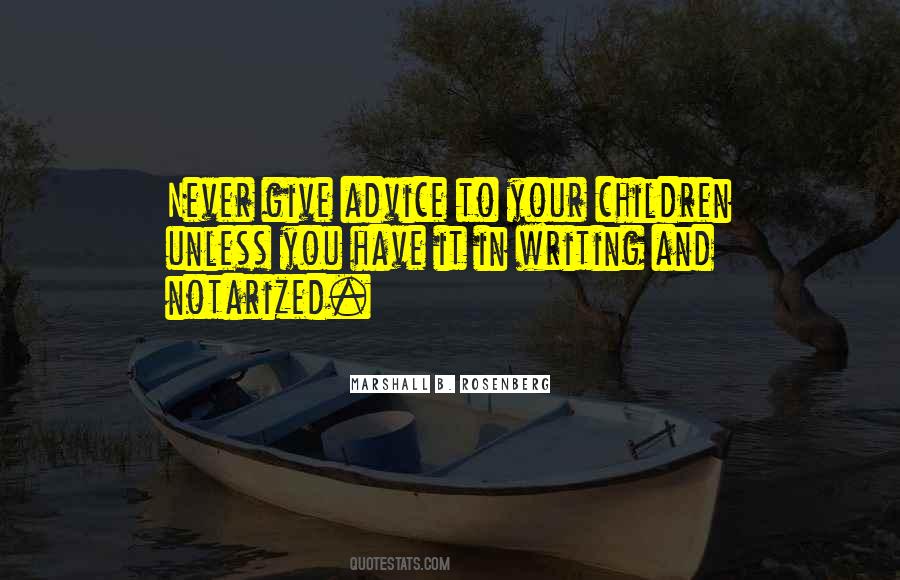 #8. Remember ... we don't see objects, we see light. [ ... ] Light can do anything water can do
flow, wash, trickle. It can do anything an artist can do
paint, burnish, carve. Candlelight falls, licks a face. There is always light in a room. - Author: Janet Fitch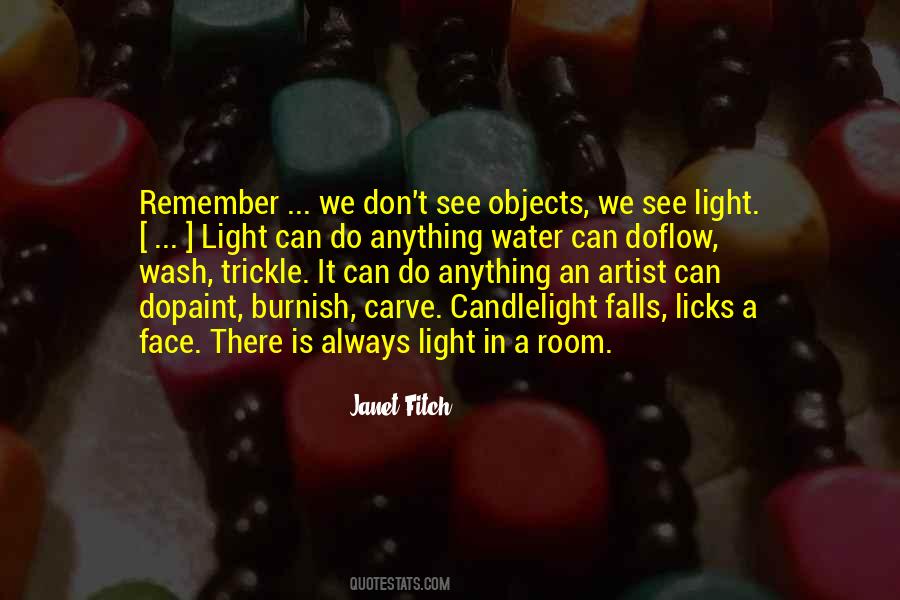 #9. Writing is more than just a method to tell stories. It's a way to find healing, and to healing others. - Author: M. Kirin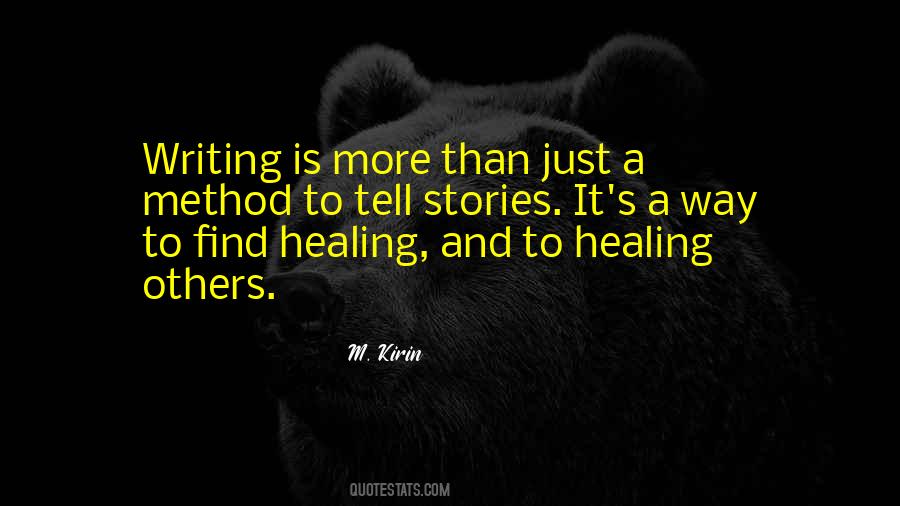 #10. Because as any writer will tell you, an IDEA for a book is like falling in love, it's all wild emotion and headlong rush, but the ACTUAL ACT of writing a book is like building a relationship: it is joyous, slow, fragile, frustrating, exhilarating, painstaking, exhausting, worth it. - Author: Ben H. Winters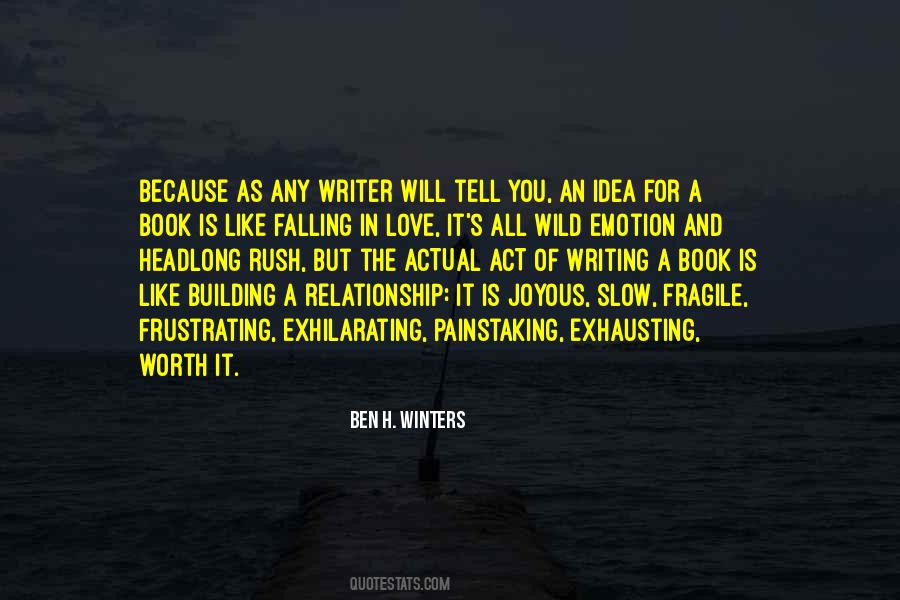 #11. When I am grown up I shall carry a notebook - a fat book with many pages, methodically lettered. I shall enter my phrases. - Author: Virginia Woolf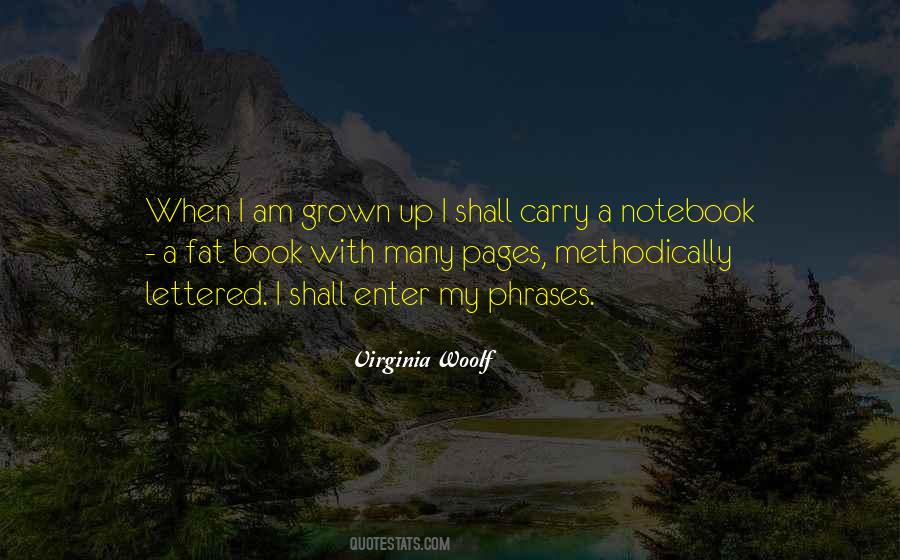 #12. When it comes to writing, clarity trumps all rules. - Author: C.E. McLean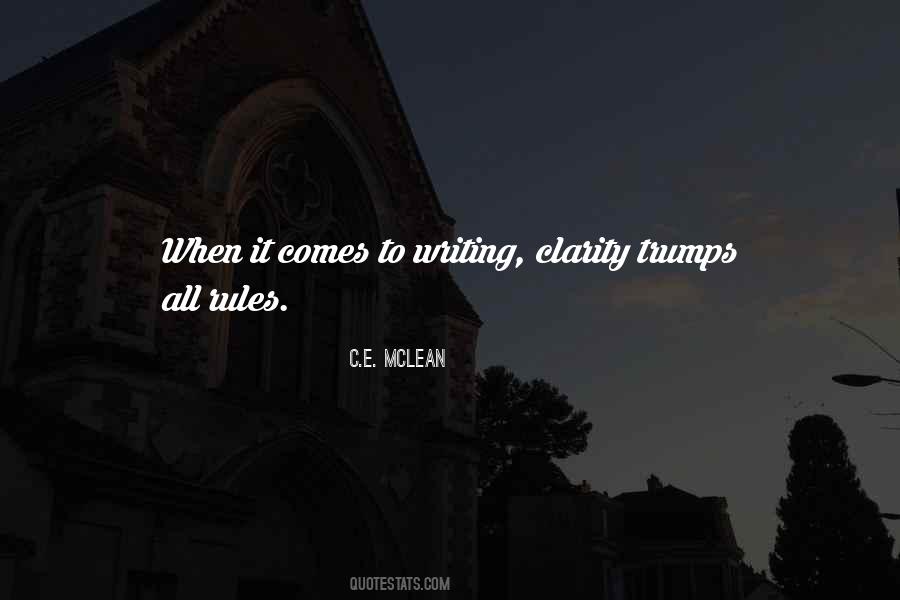 #13. Set fire to cities and nations, to hearts and minds, to the very core of every human spirit. Make sure your words seep into the skin of the reader, leaving trace minerals that sustain the ailing human shell. Make them pay attention. Set fire to the soul. Anything less is an abomination to creation. - Author: Susan Marie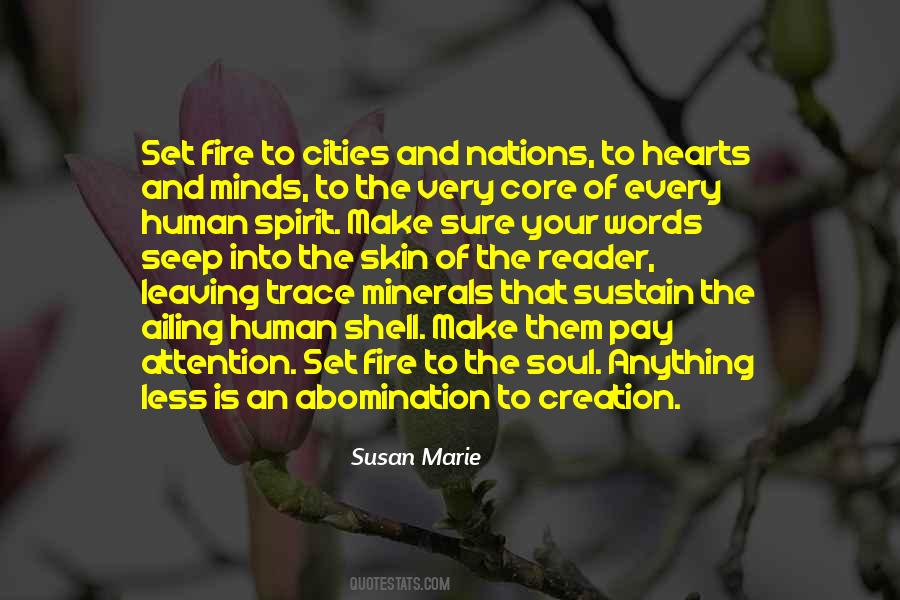 #14. I'm not talented or gifted. I'm a committed, meticulous workaholic. The only reason I succeed is because I refuse to fail. - Author: Jessie Snow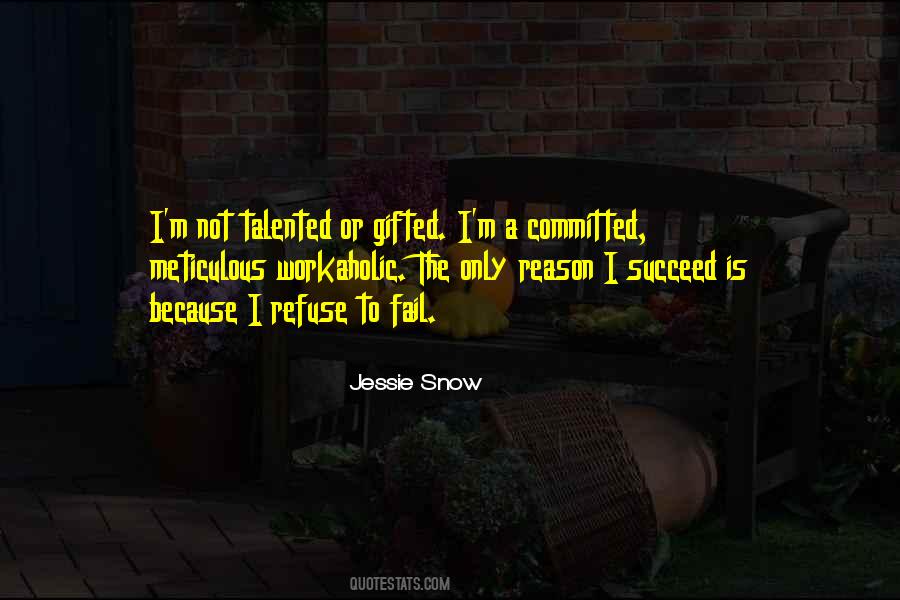 #15. Attempting to express a person's objective reality and subjective state of mind with the written word is an endless task because writing alters our perception of reality and amends our mental equilibrium. - Author: Kilroy J. Oldster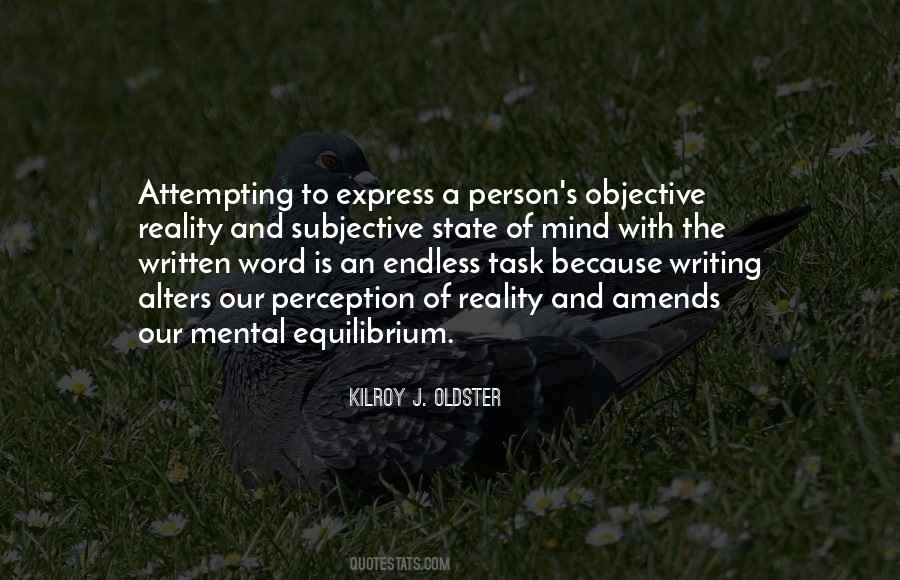 #16. If you can master the opening, you will be leaps and bounds ahead of the competition. - Author: Darynda Jones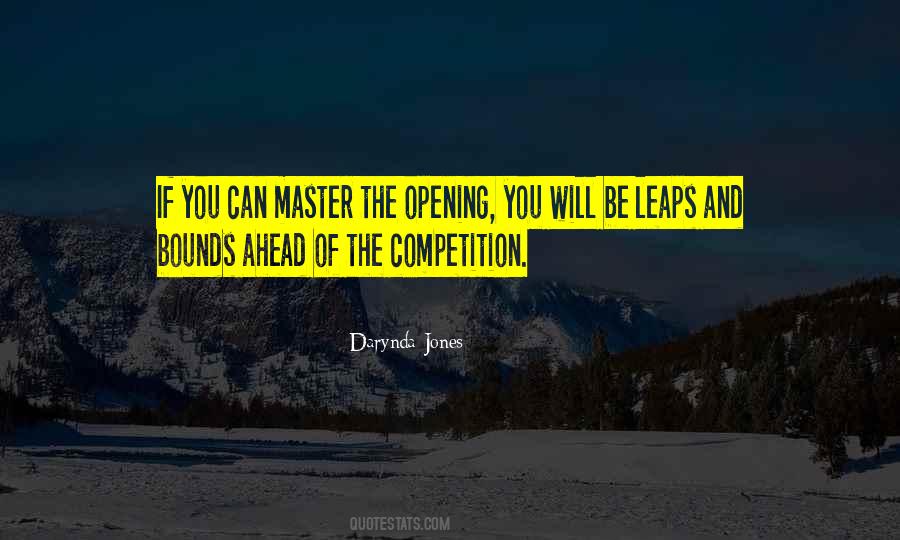 #17. Writer's block isn't always a problem. It can be a process of writing that helps us write better. - Author: Jennifer Hudson Taylor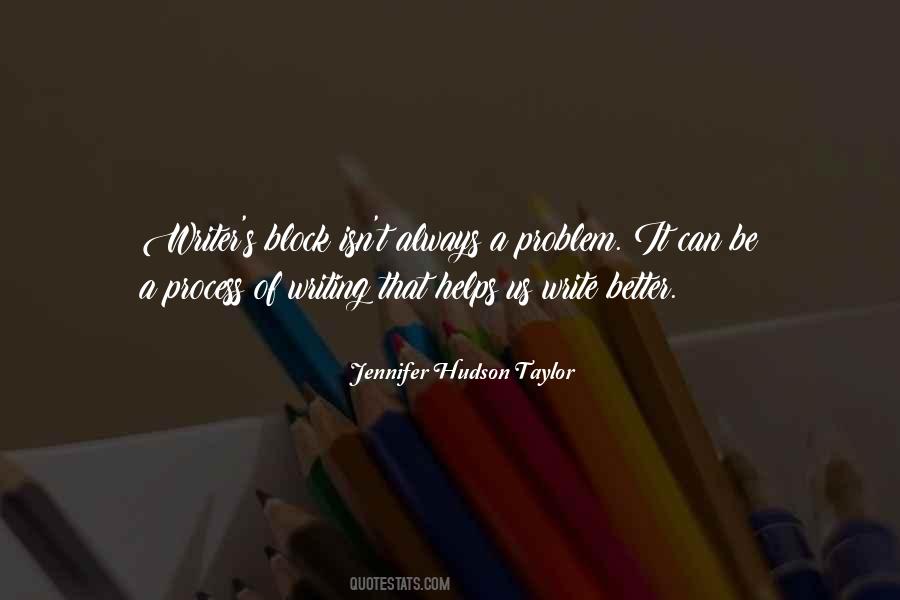 #18. Asking for advice about what you should write is a little like asking for help getting dressed. I can you tell you what I think looks good, but you have to wear it. And as every fashion victim knows, very few people look good in everything. - Author: Betsy Lerner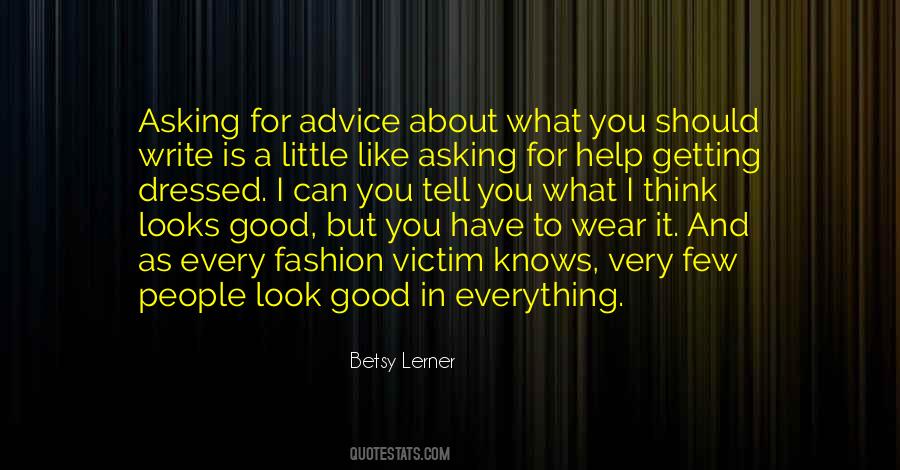 #19. Get down, get naked, get savage. - Author: Ron Carlson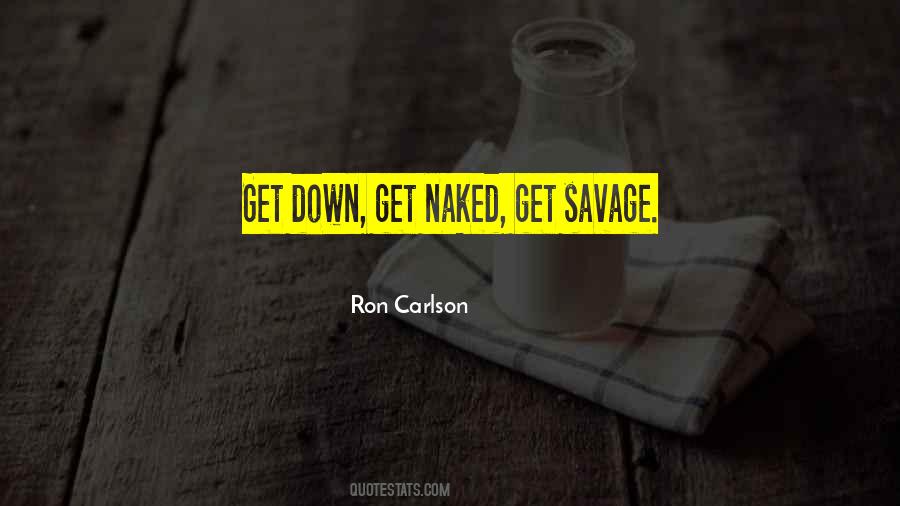 #20. I disagree with the advice of 'write about what you know.' Write about what you need to know, in an effort to understand. - Author: Donald Windham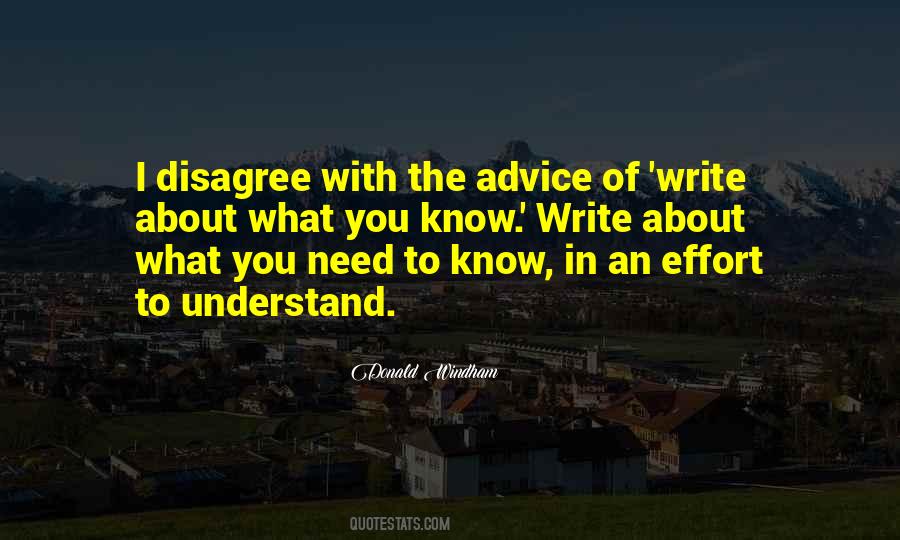 #21. The thing I've learned is that thinking is not writing. - Author: Erica Lorraine Scheidt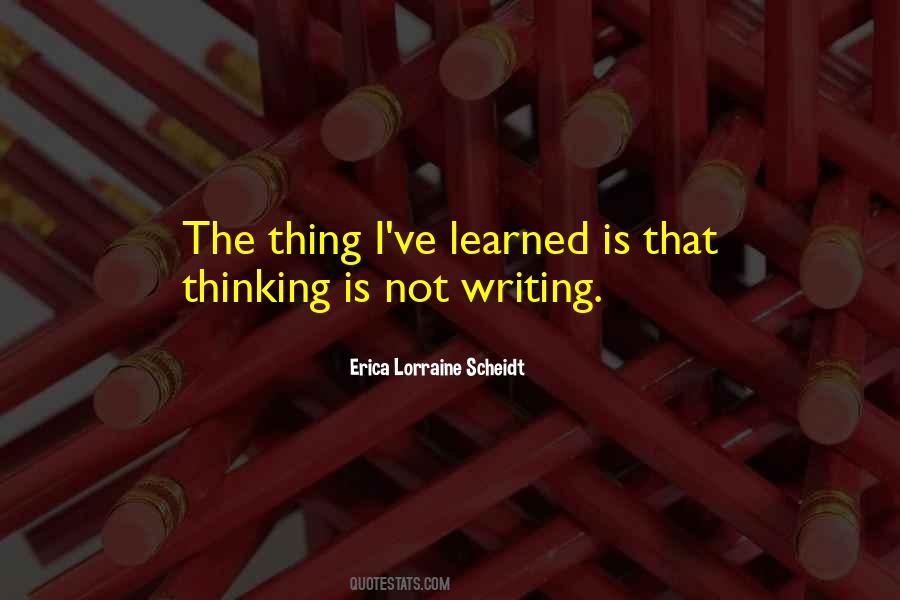 #22. The most basic rule of editing is that if you can't bear to read it, no one else can either. So when you find yourself skimming, commit murder. - Author: Marion Roach Smith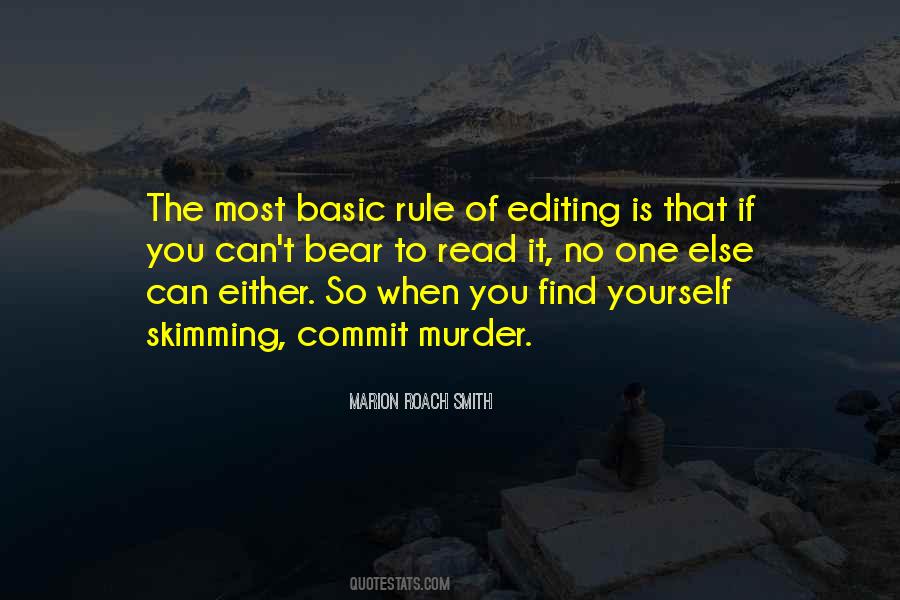 #23. Let your story grow. Let it surprise you, and it will certainly surprise your readers. - Author: M. Kirin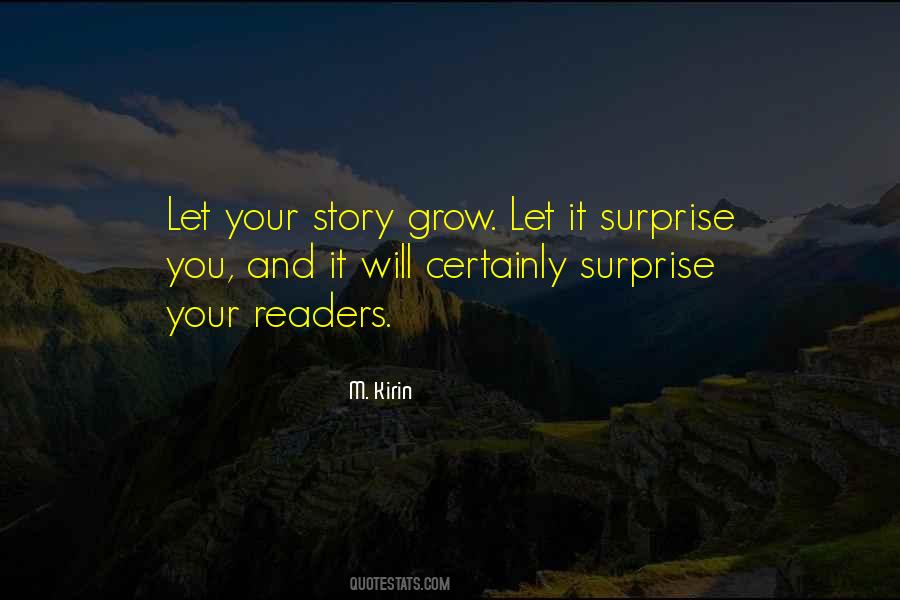 #24. What I am trying to achieve is a voice sitting by a fireplace telling you a story on a winter's evening. - Author: Truman Capote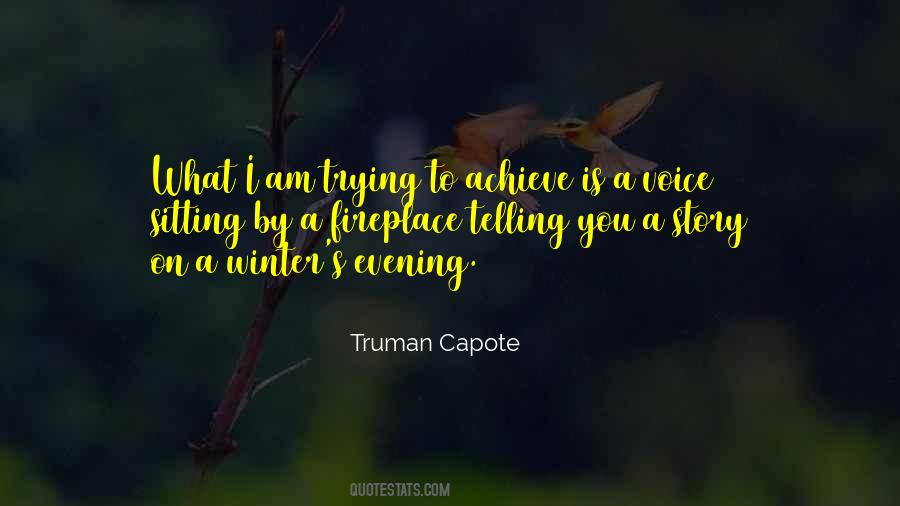 #25. The best advice I can give to any aspiring author is to write every single day. Work at the craft of writing. Take it seriously. - Author: Andrea Davis Pinkney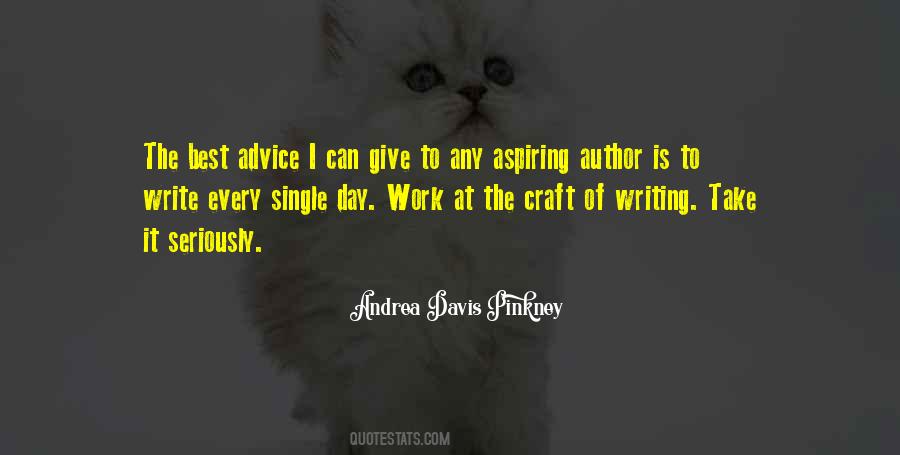 #26. Not that length and weight alone indicate excellence; many epic tales are pretty much epic crap. - Author: Stephen King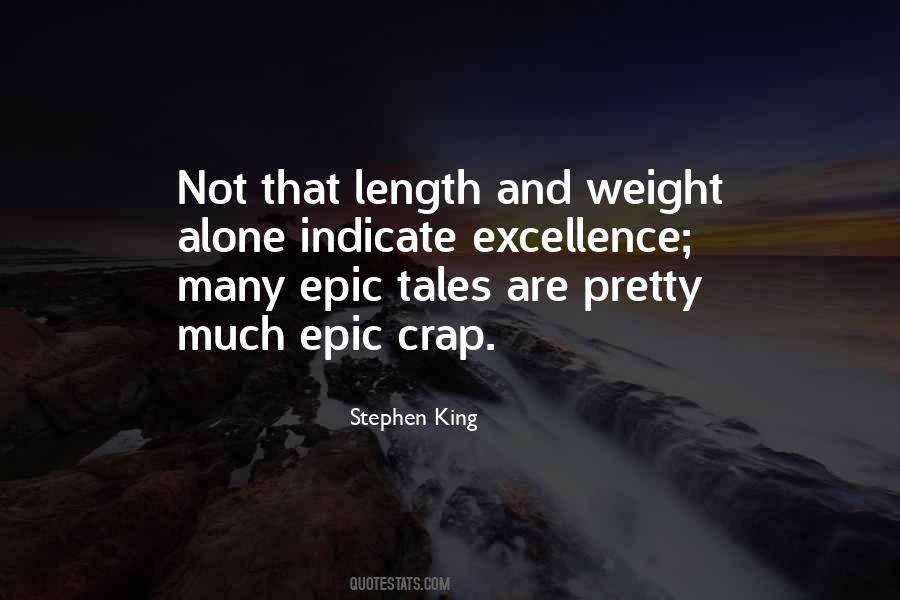 #27. "Look into thy heart and write!" is good advice, but not if interpreted to mean, "Look nowhere else!" The poet should know his world and, so far as his art is concerned, any kind of battering from his world is better than his own self-indulgent brooding. - Author: Harriet Monroe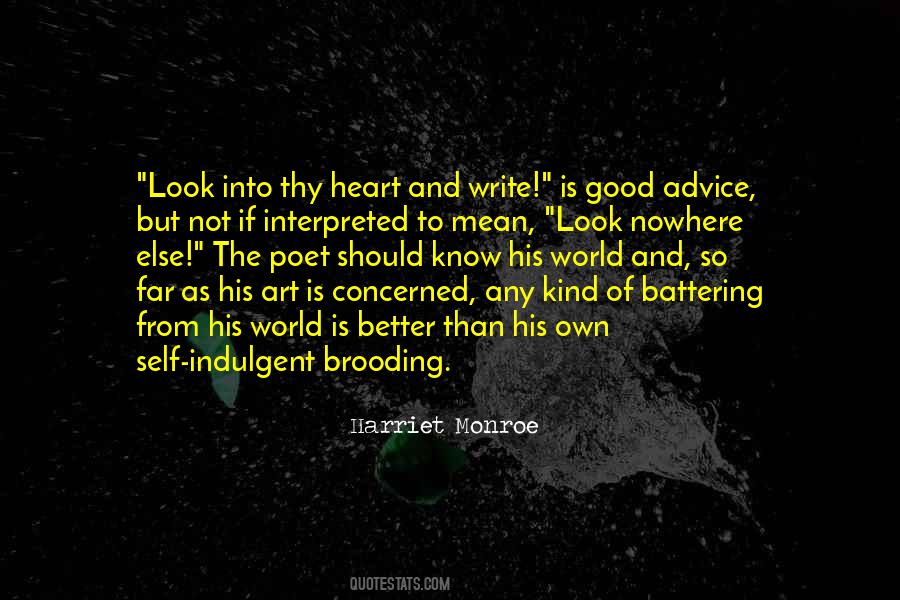 #28. Atticus told me to delete the adjectives and I'd have the facts. - Author: Harper Lee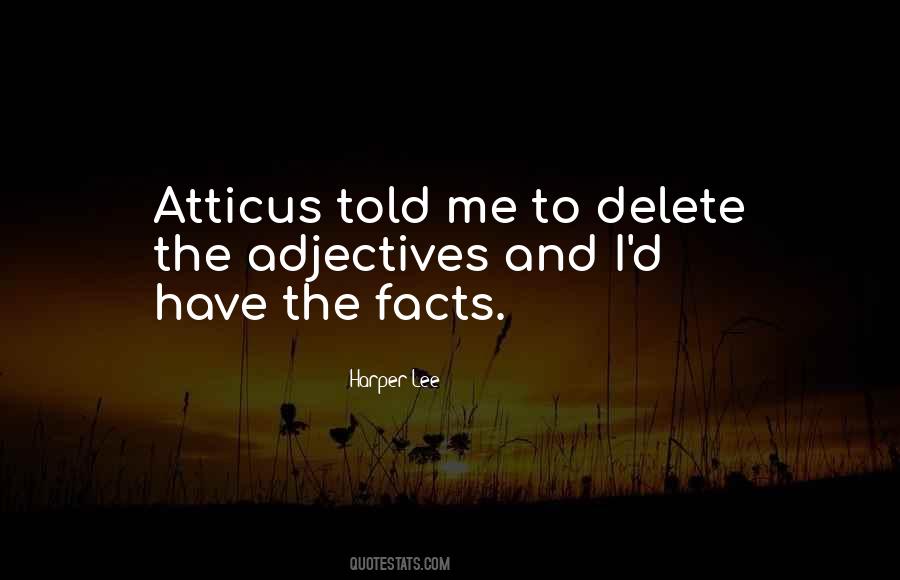 #29. A place that proves if you get enough talented people in a room, one or two are bound to offer some helpful advice. Kind if like monkeys with typewriters. - Author: A. Lee Martinez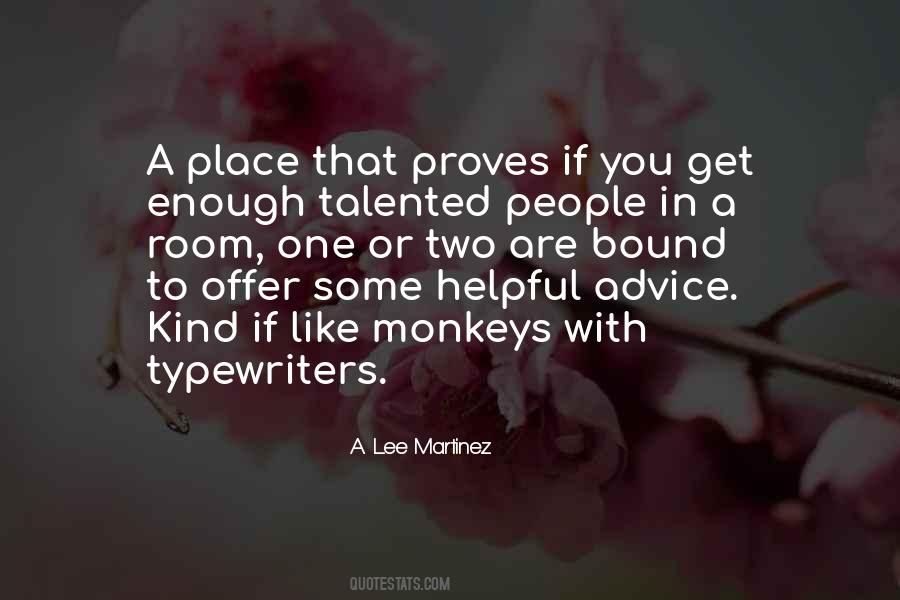 #30. And above all, you should not think of writing as a way of earning your living. If you do, your work will smell of your poverty. It will be colored by your weakness and be as thin as your hunger. There are other trades which you can take up: make boots, not books. - Author: Marquis De Sade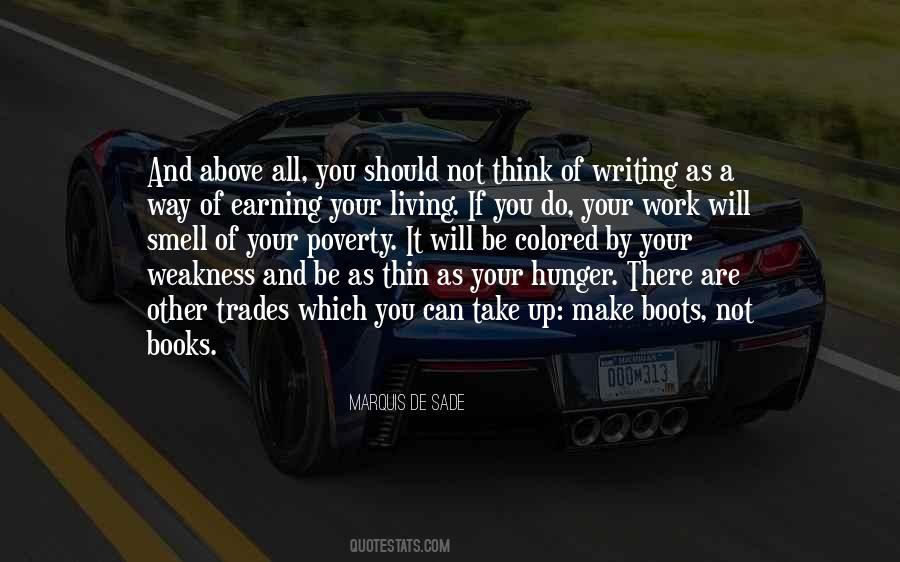 #31. Build your novel one word at a time. Remember that minutes = novels. - Author: Mercedes M. Yardley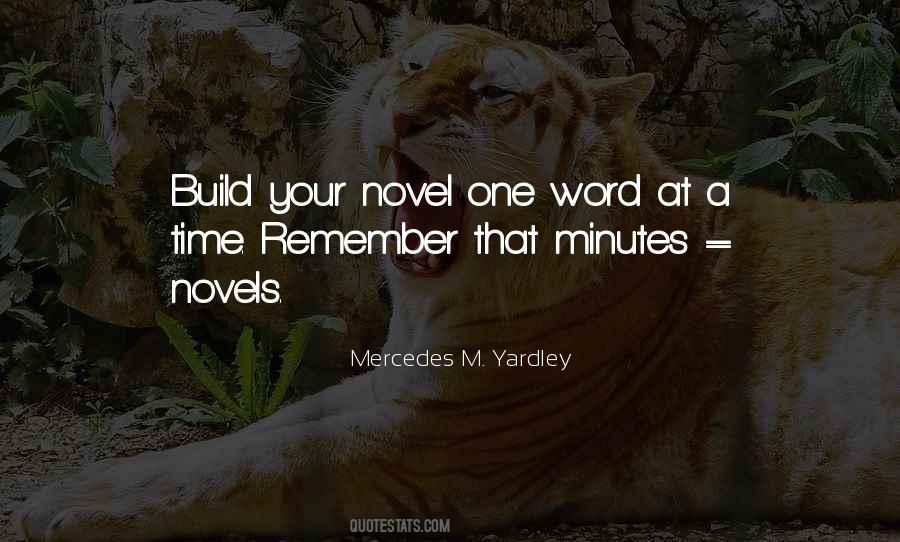 #32. Write drunk (on emotion); edit sober (on rationality and intention).
Faulkner, reimagined by me. - Author: Christina Cooke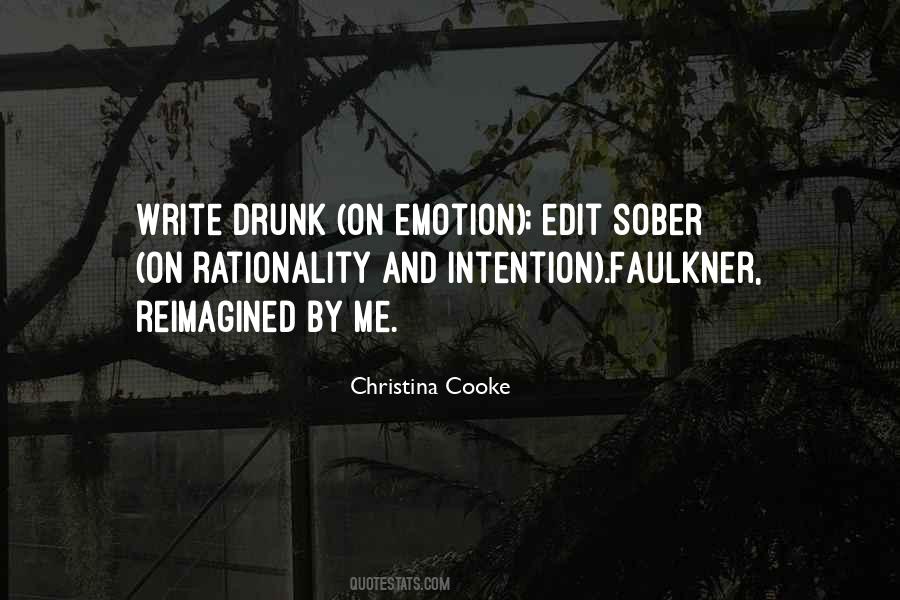 #33. Yesterday is gone, and tomorrow is beyond our reach. The best time to write is now, in the present. - Author: M. Kirin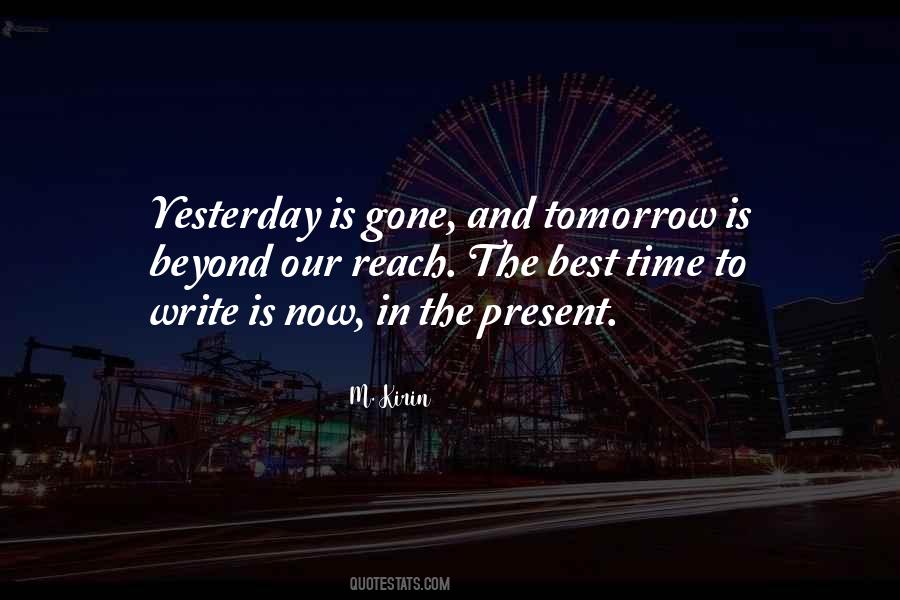 #34. ...being "rather unique" is no more possible than being rather pregnant. - Author: William Zinsser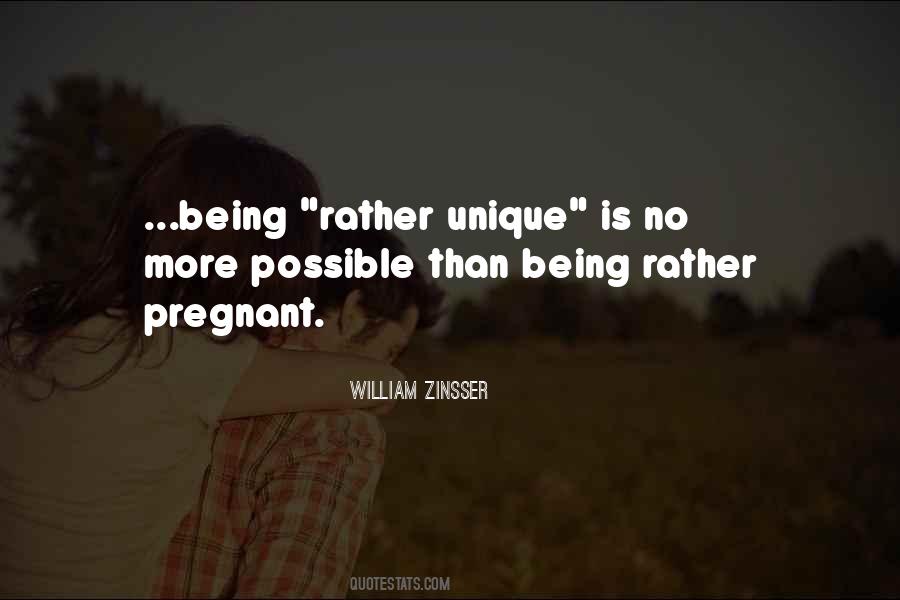 #35. Anything added can be subtracted; anything verbose can be simplified; anything missing can be found. Manuscripts are not books but negatives waiting for the fixer that turns them into prints. - Author: Chloe Thurlow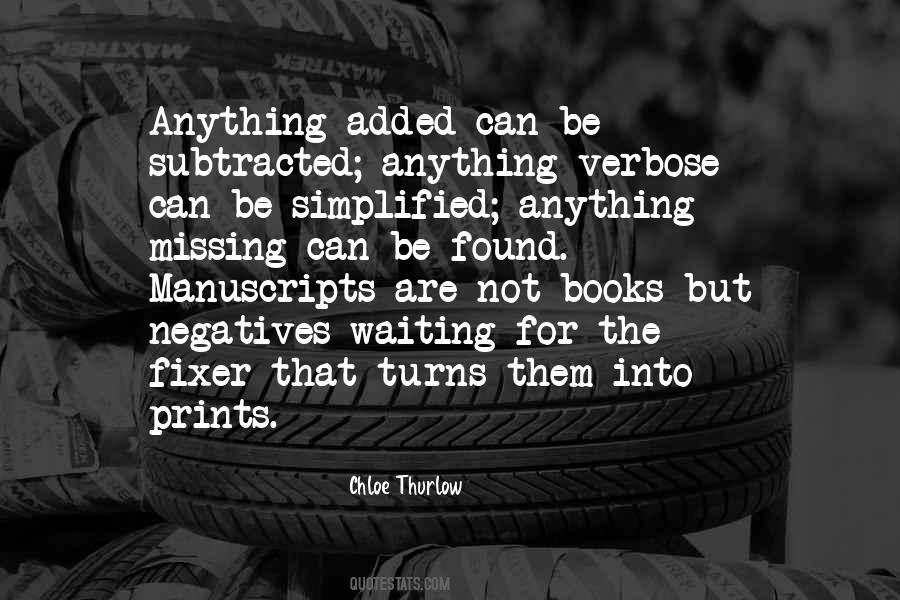 #36. Every word I write is a seed that I may nurture into a small, beautiful poem or a tall, soaring tree. - Author: Rob Bignell, Editor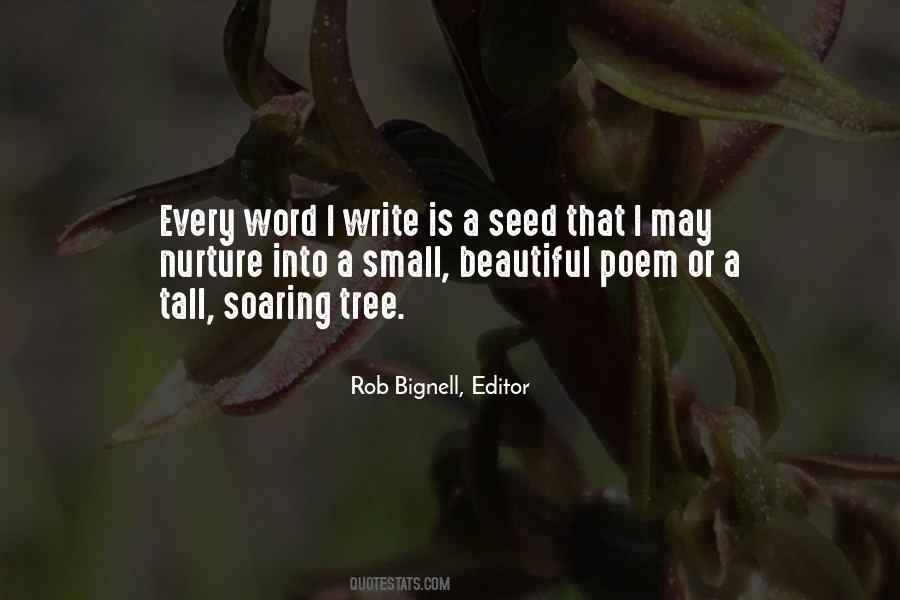 #37. You ought to stop everything and write the sacred-words as its flashes in your mind. - Author: Lailah Gifty Akita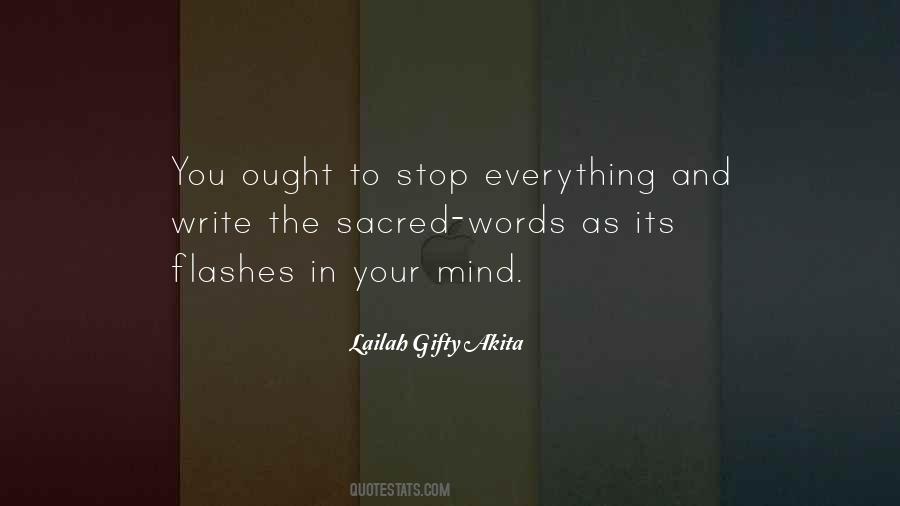 #38. One should never use exclamation points in writing. It is like laughing at your own joke. - Author: Mark Twain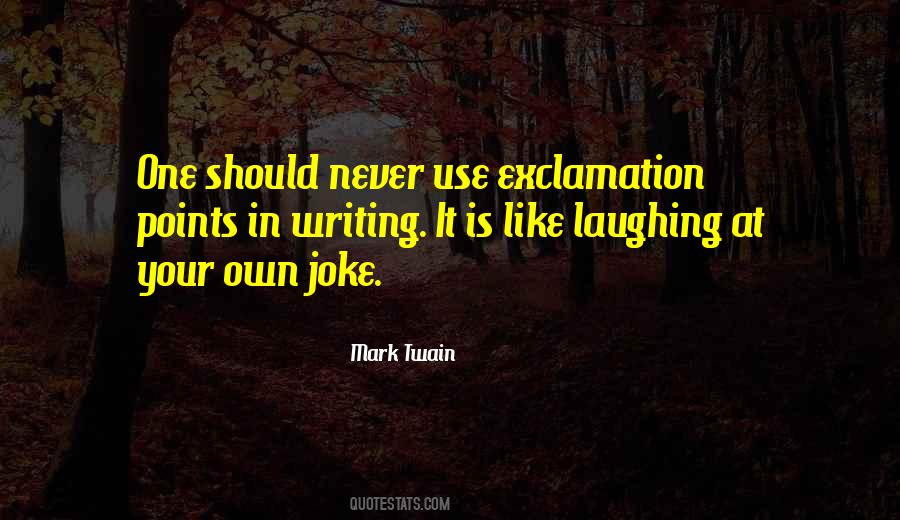 #39. Stop beating yourself up over all the days you didn't work on your story. Focus on what you can do today.

Sit down, and write. - Author: M. Kirin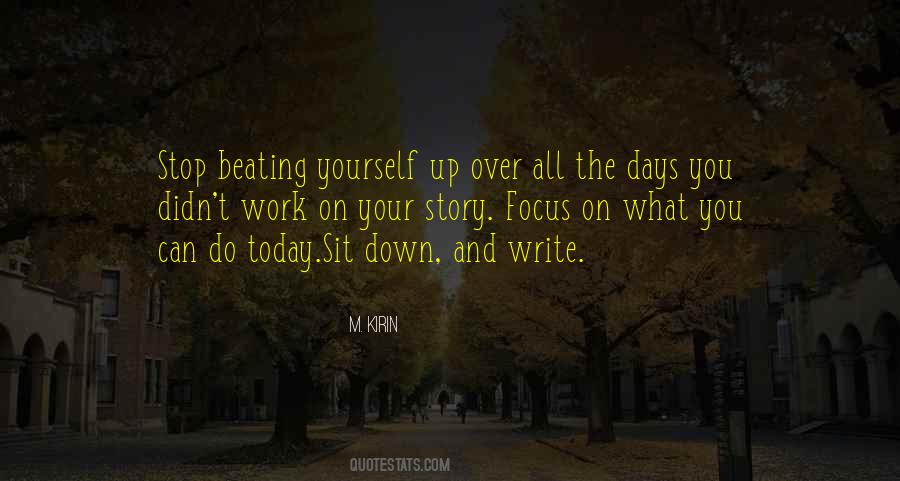 #40. Writing starts with living.
- Rumors of Water: Thoughts on Creativity & Writing - Author: L.L. Barkat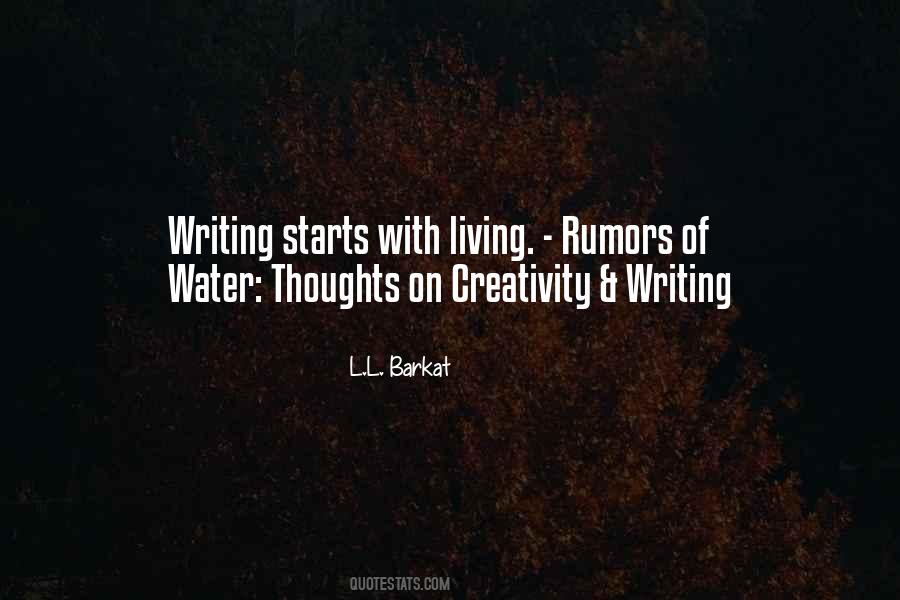 #41. The living WORD, medicine for the soul. - Author: Lailah Gifty Akita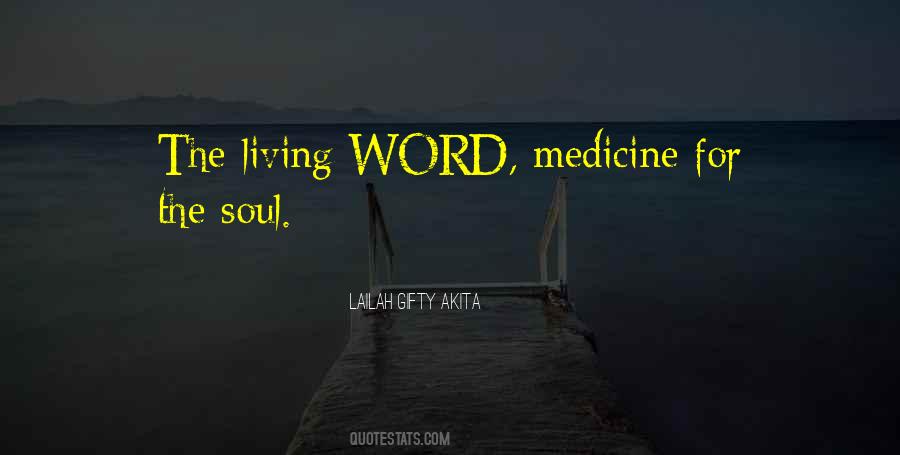 #42. Up in that room I decided that I would write one story about each thing that I knew about. I was trying to do this all the time I was writing, and it was good and severe discipline. - Author: Ernest Hemingway,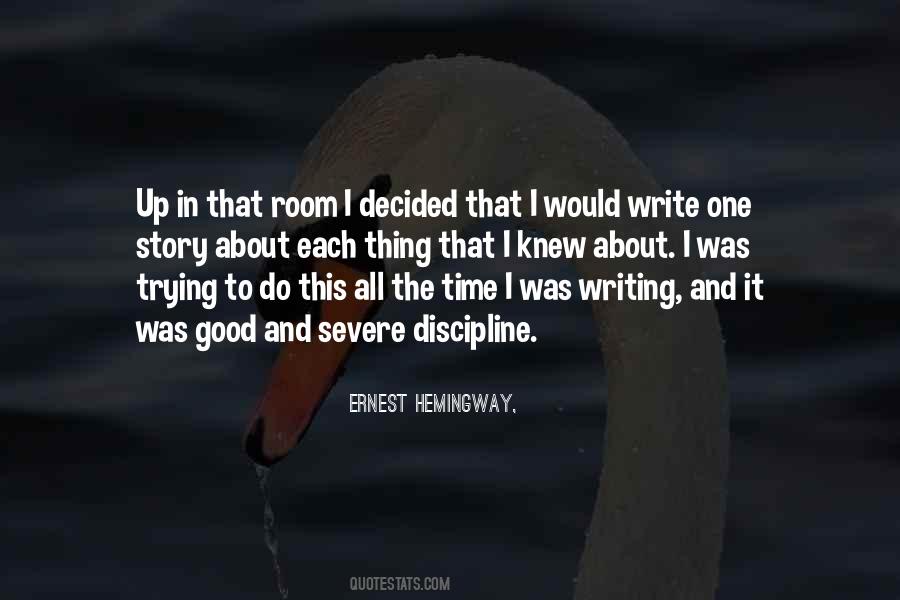 #43. When you write a manuscript, it feels like being in a relationship with someone. You'll hate it, get bored with it, be pissed of, like you just want to break up. But, just like any relationship, you will fall in love again and again, like you don't want to lose it. - Author: Alvi Syahrin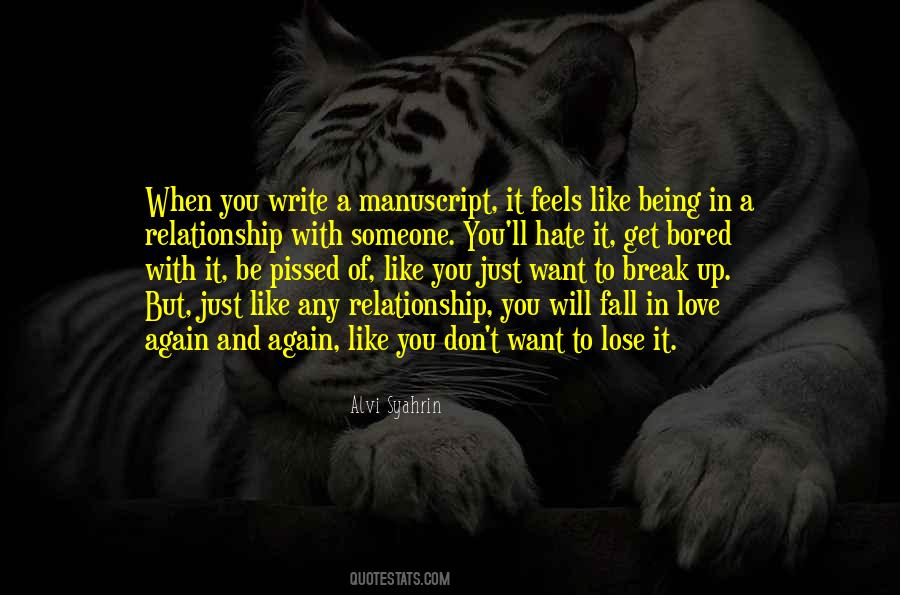 #44. A good writer should draw the reader in by starting in the middle of the story with a hook, then go back and fill in what happened before the hook. Once you have the reader hooked, you can write whatever you want as you slowly reel them in. - Author: Roland Smith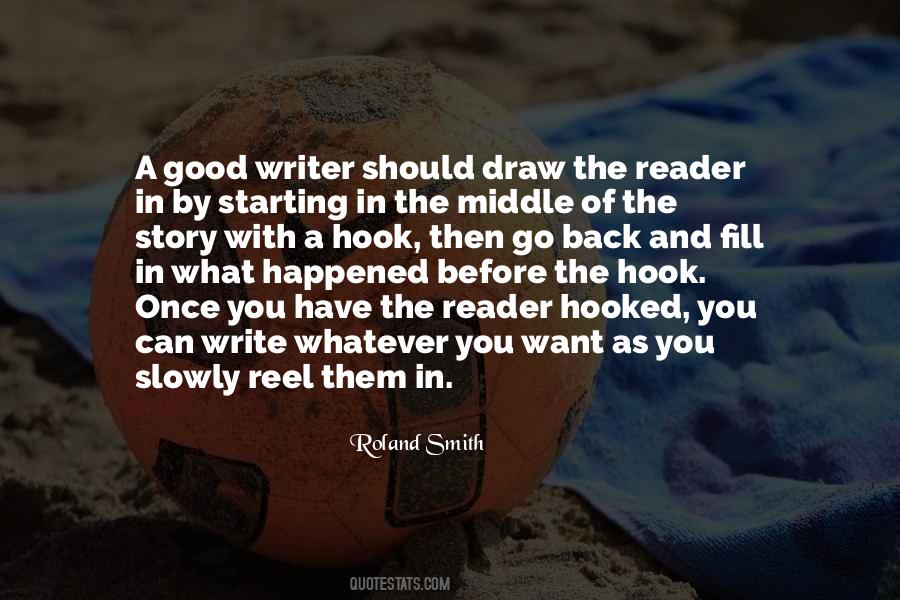 #45. There are plenty of bad editors who try to impose their own vision on a book. ( ... )
A good novel editor is invisible. - Author: Terri Windling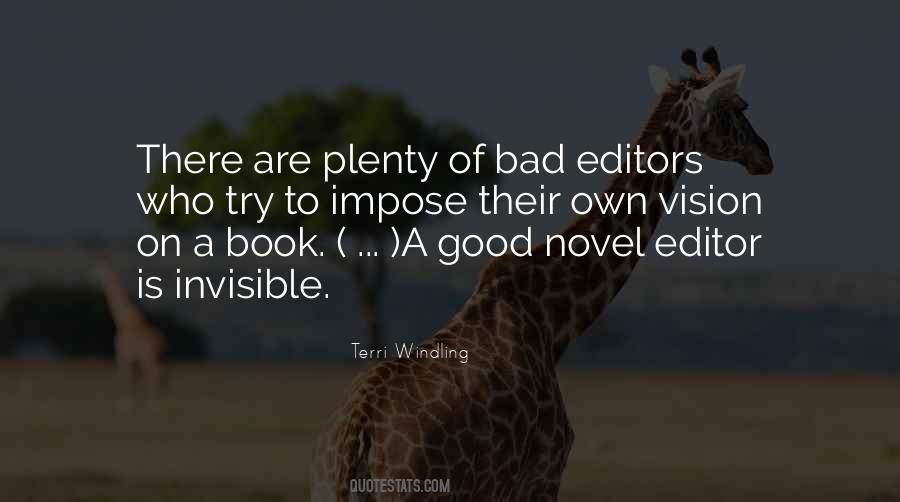 #46. The sign of the amateur is overglorification of and preoccupation with the mystery. The professional shuts up. She doesn't talk about it. She does her work. - Author: Steven Pressfield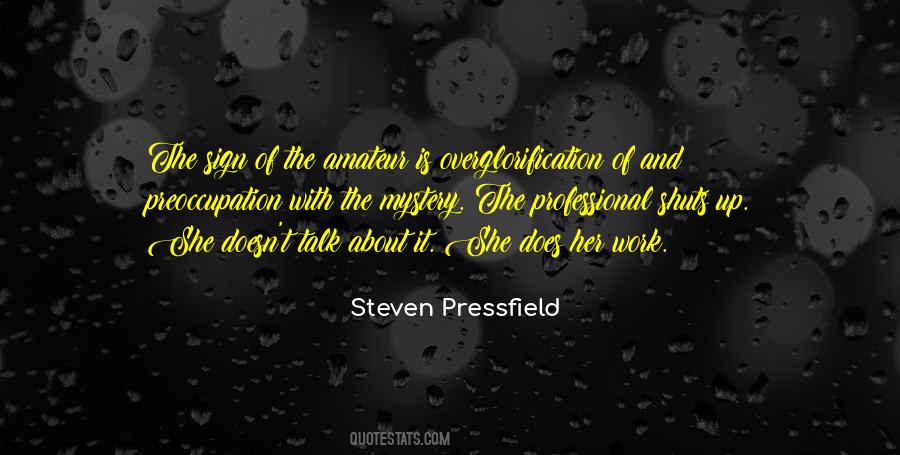 #47. Let your characters lead when you're dancing together. - Author: Caron Kamps Widden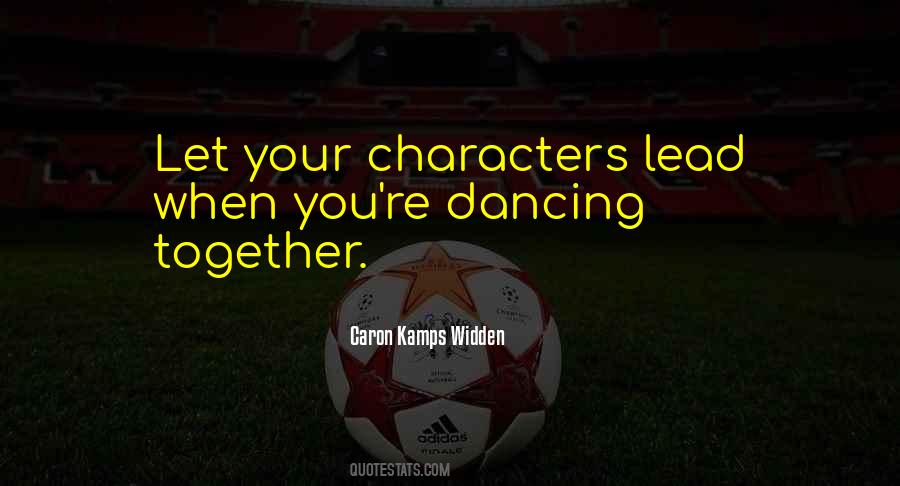 #48. Everyone has a story inside them. Some are bedtimes stories, some thrill and others scare and horrify their readers. Find out what your story is and share it with the world. - Author: C.K. Webb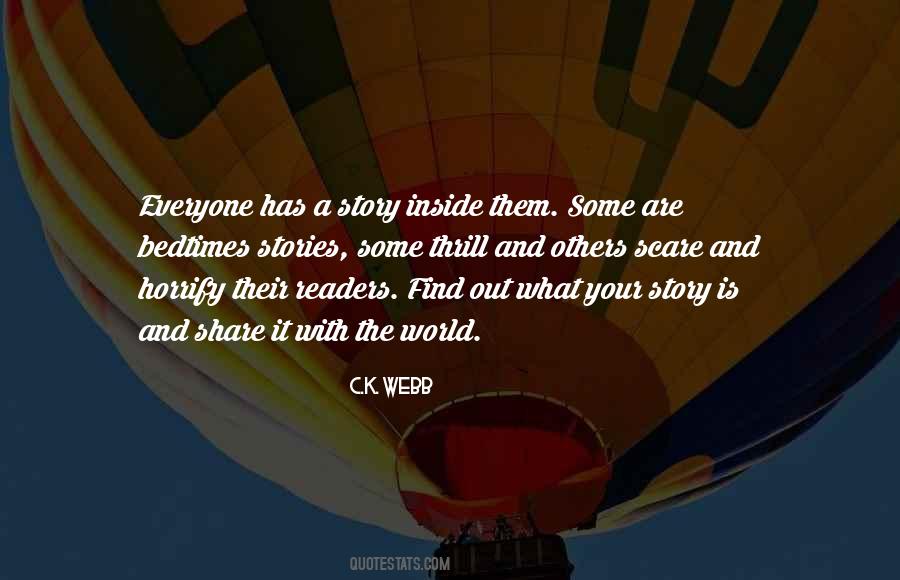 #49. Nouns and verbs are the guts of the language. Beware of covering up with adjectives and adverbs. - Author: A.B. Guthrie Jr.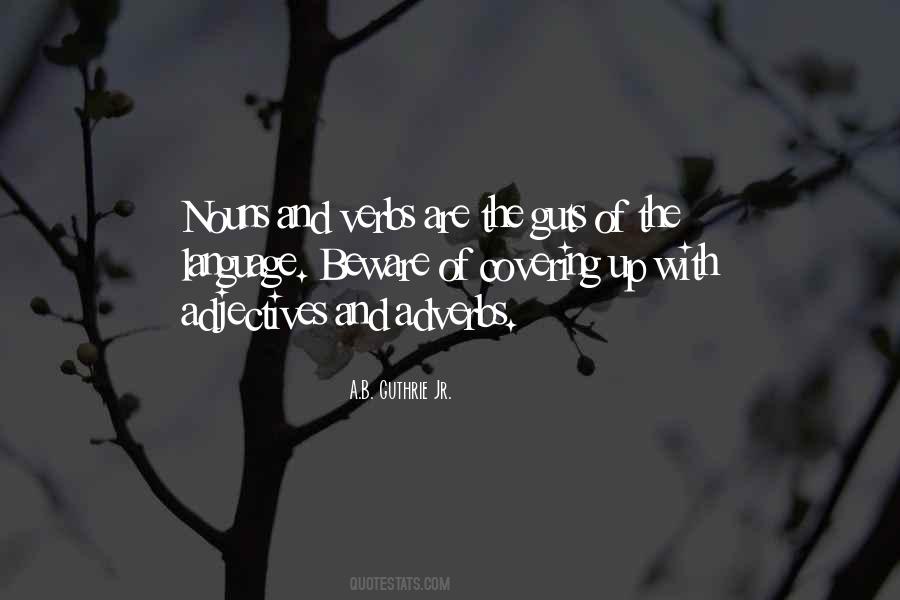 #50. If you want to be a writer, you have to keep writing, all the time, and when you're not writing, be thinking about and planning writing. - Author: May J. Panayi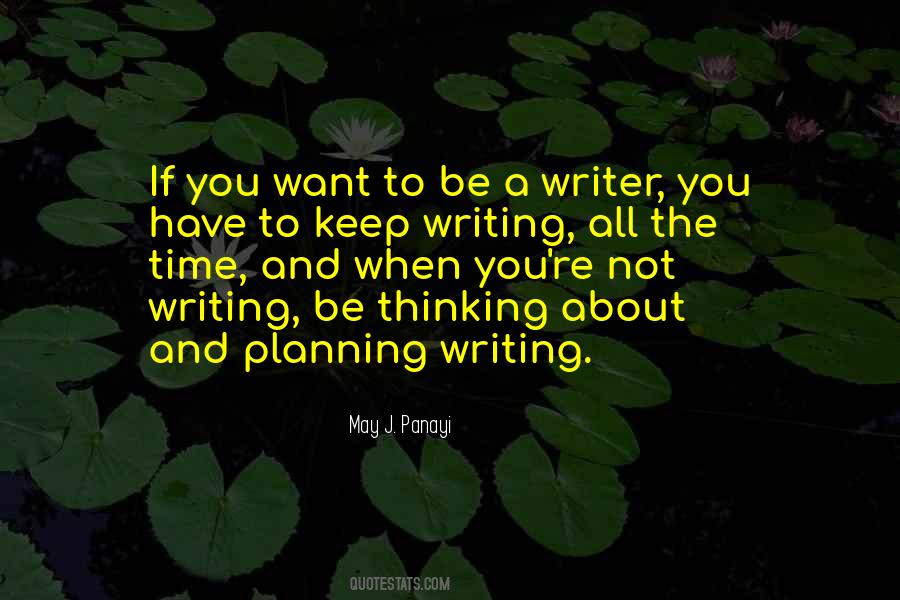 #51. A love of writing is far greater than any word count. - Author: Molly Looby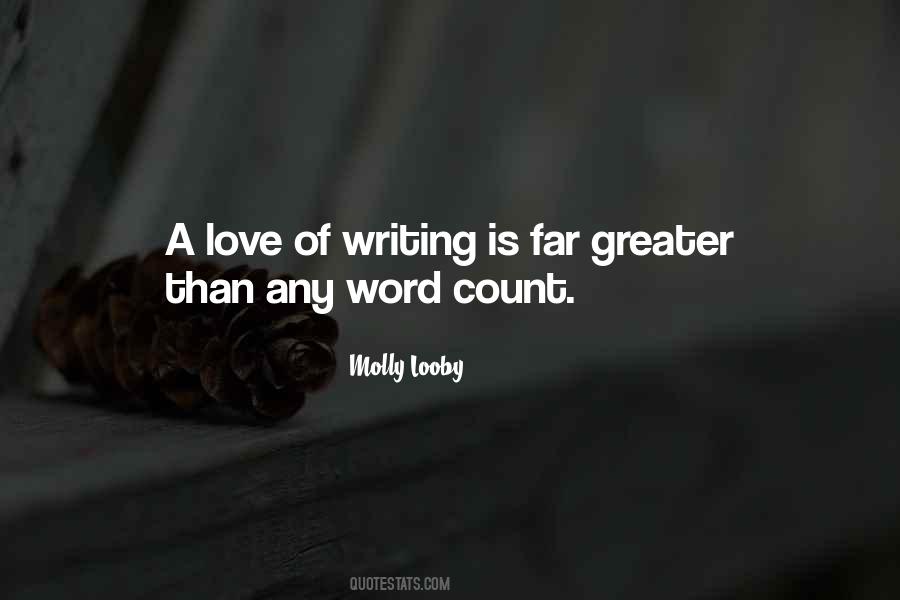 #52. No good writing flows from a polluted well - you can write about monsters, but you can't be one ... - Author: John Geddes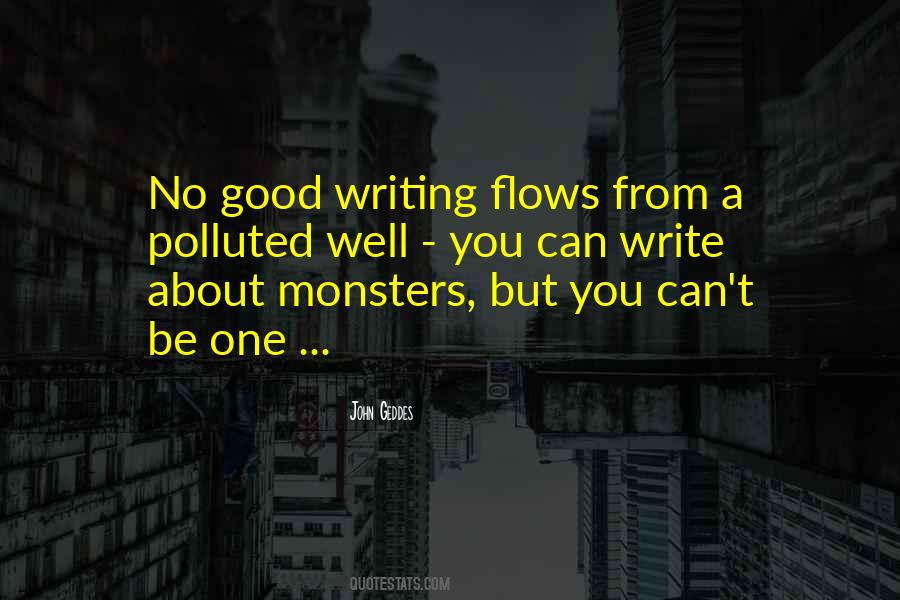 #53. When you have something meaningful to say, you lose your desire for much grammar; for only in the incompetence of words does one seek the redeeming power of vocabulary. - Author: King Samuel Benson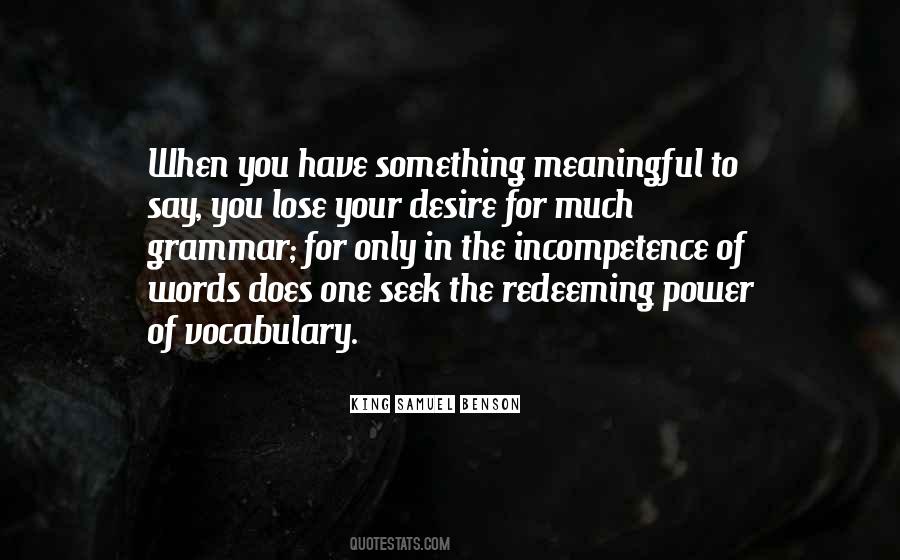 #54. I do not recommend writing a screenplay in two weeks. - Author: Christy Hall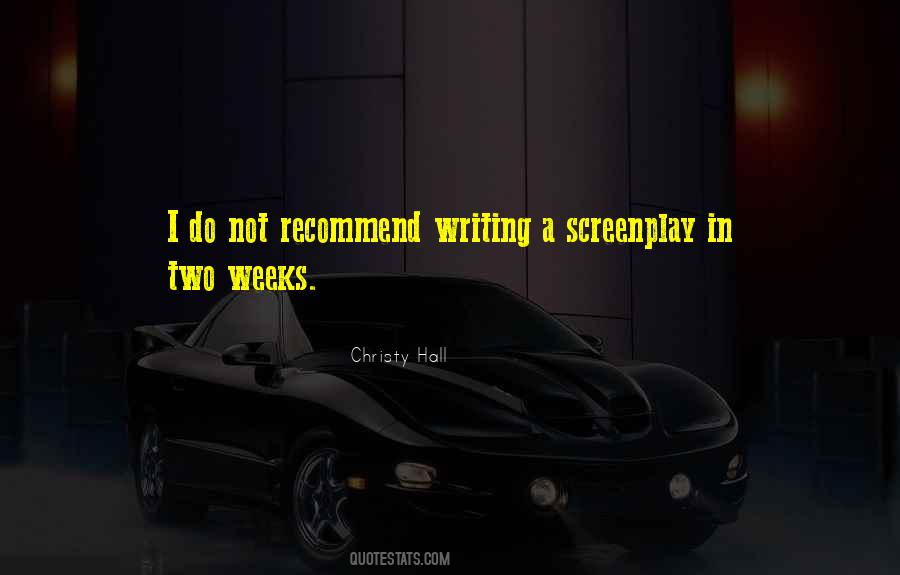 #55. I personally believe that one learns to write by writing. - Author: Jack Jordan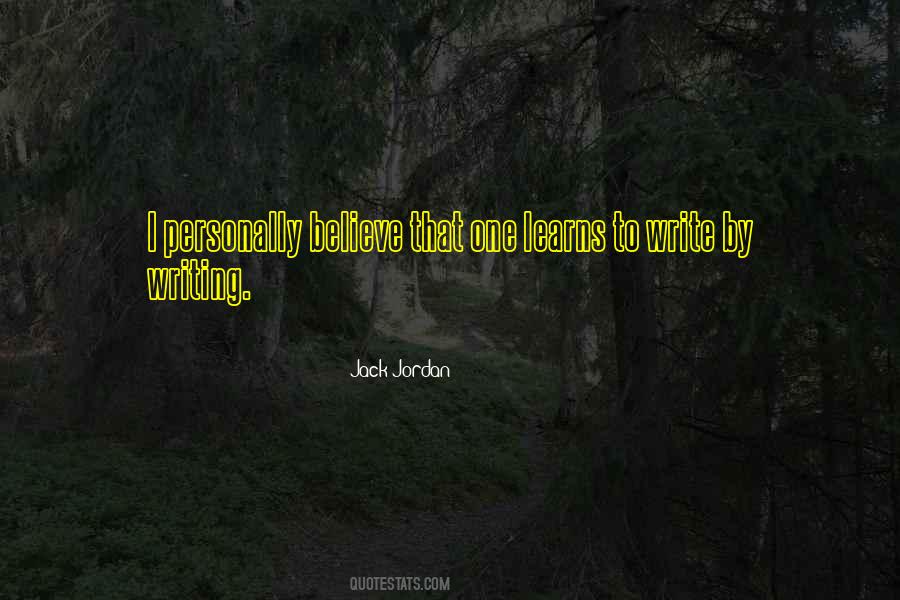 #56. 10 Steps to Becoming a Better Writer
Write.
Write more.
Write even more.
Write even more than that.
Write when you don't want to.
Write when you do.
Write when you have something to say.
Write when you don't.
Write every day.
Keep writing. - Author: Brian Clark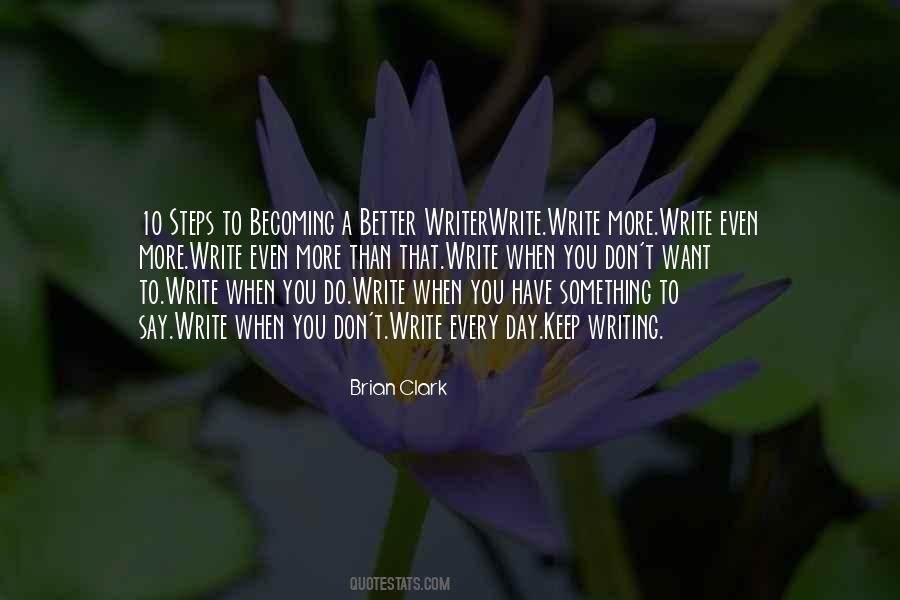 #57. My advice is to write about what you are interested in. If you read science fiction and fantasy, then write in that genre. If you read romance novels, then try writing one. - Author: Michael Scott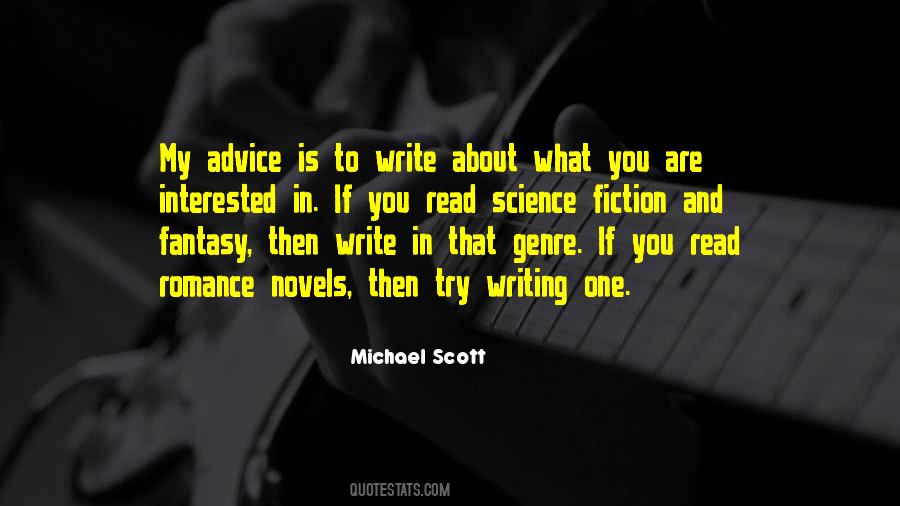 #58. What lasts in the reader's mind is not the phrase but the effect the phrase created: laughter, tears, pain, joy. If the phrase is not affecting the reader, what's it doing there? Make it do its job or cut it without mercy or remorse. - Author: Isaac Asimov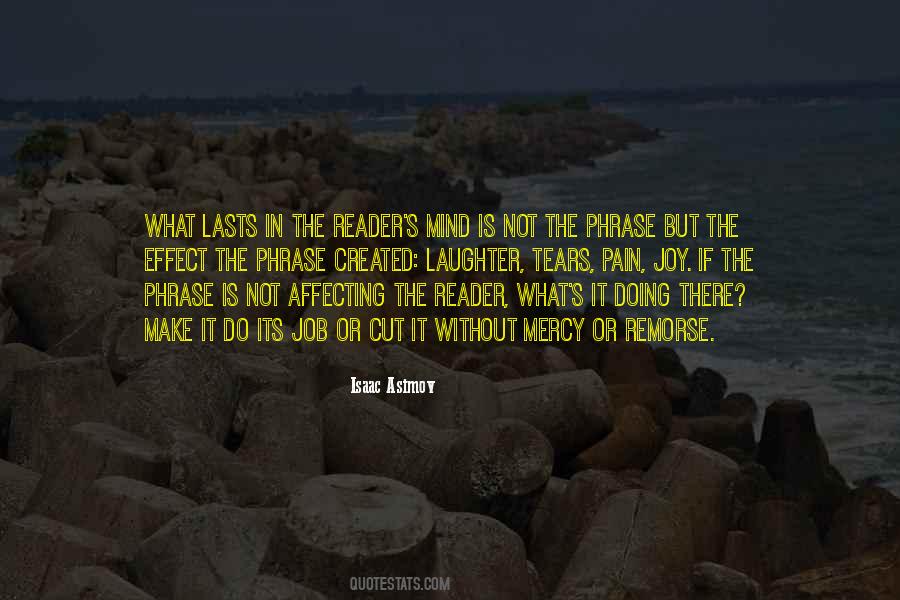 #59. Never take advice from anyone with no investment in the outcome. - Author: David Hare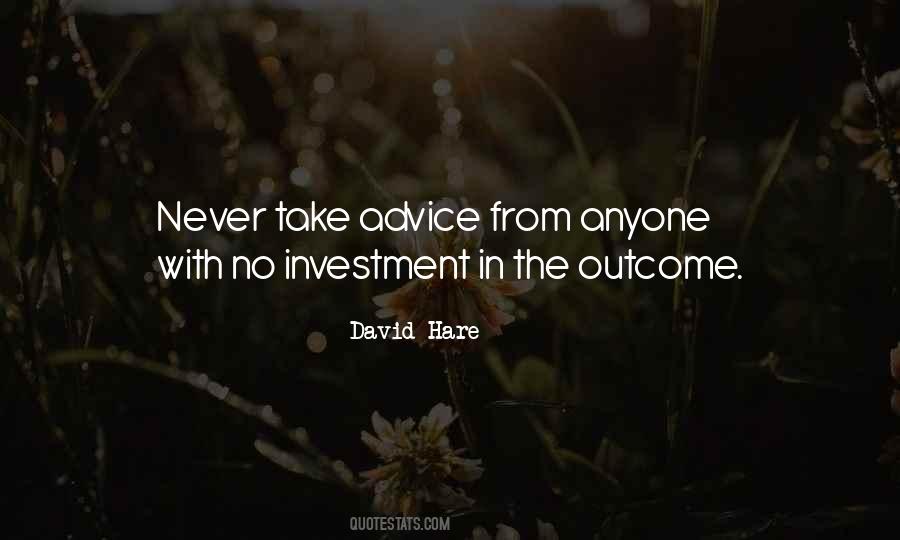 #60. Great content inspires action. - Author: Dane Brookes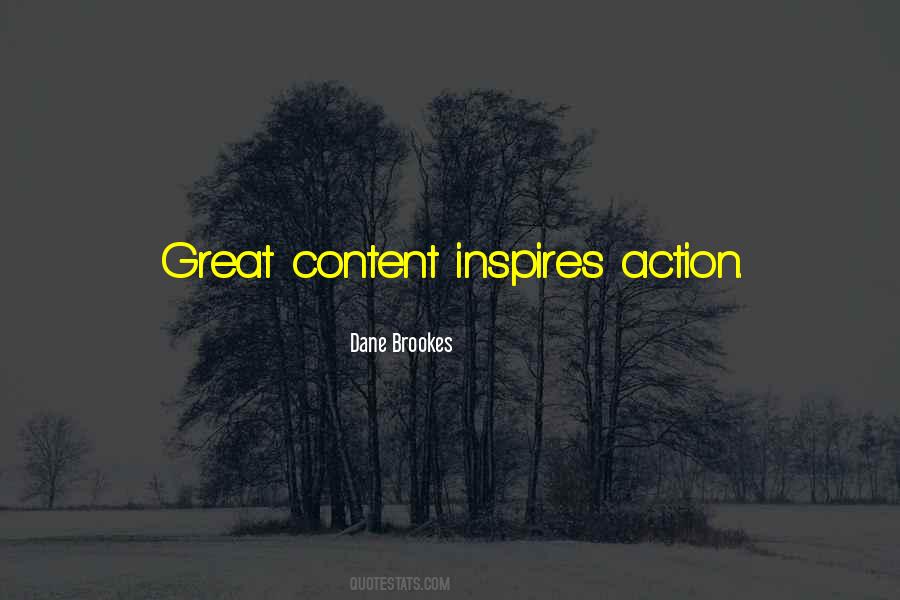 #61. Your story must told.
Live a life legacy- written book or notes.
This will be there for many generations to know your rich experiences and knowledge. - Author: Lailah Gifty Akita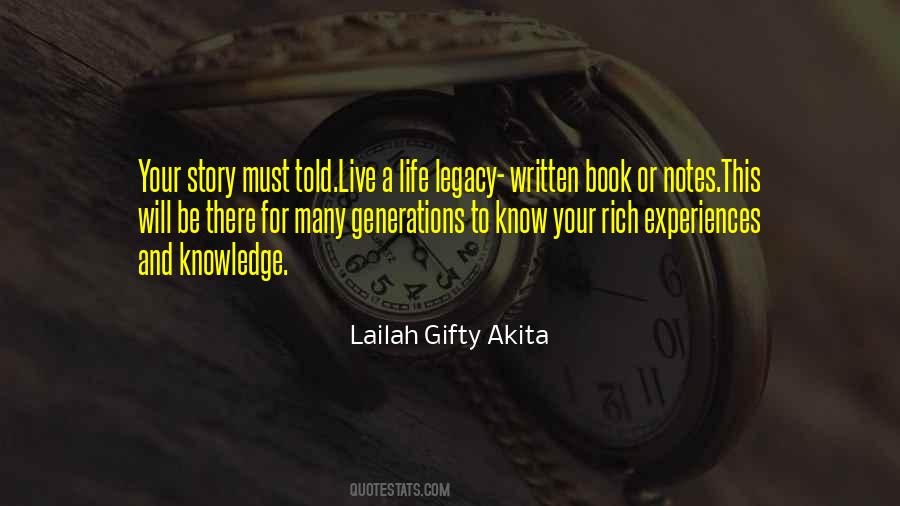 #62. If you can quit, then quit. If you can't quit, you're a writer. - Author: R.A. Salvatore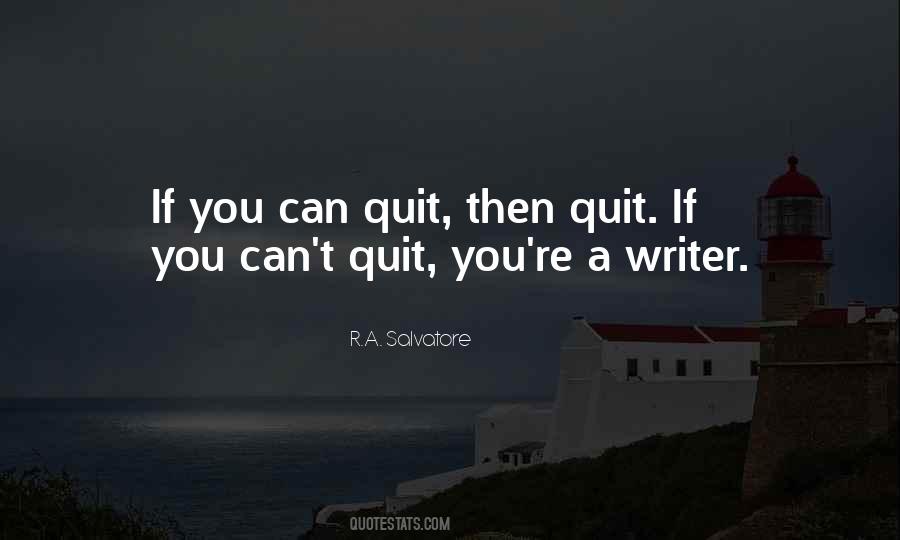 #63. I'm often dismayed by the sludge I see appearing on my screen if I approach writing as a task--the day's work--and not with some enjoyment. - Author: William Zinsser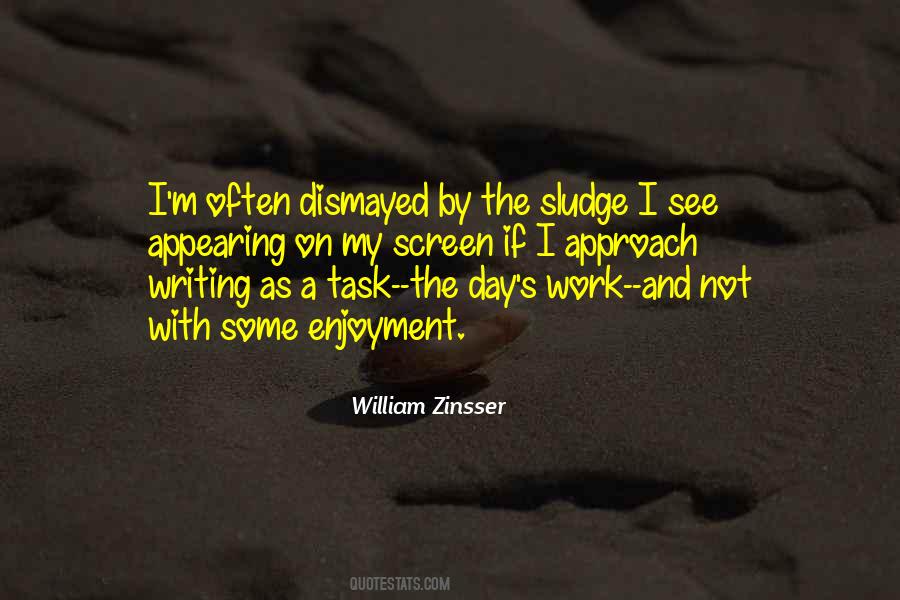 #64. To be a writer - write! To be an author - publish! To be a bestselling author - never stop writing! - Author: David Maxwell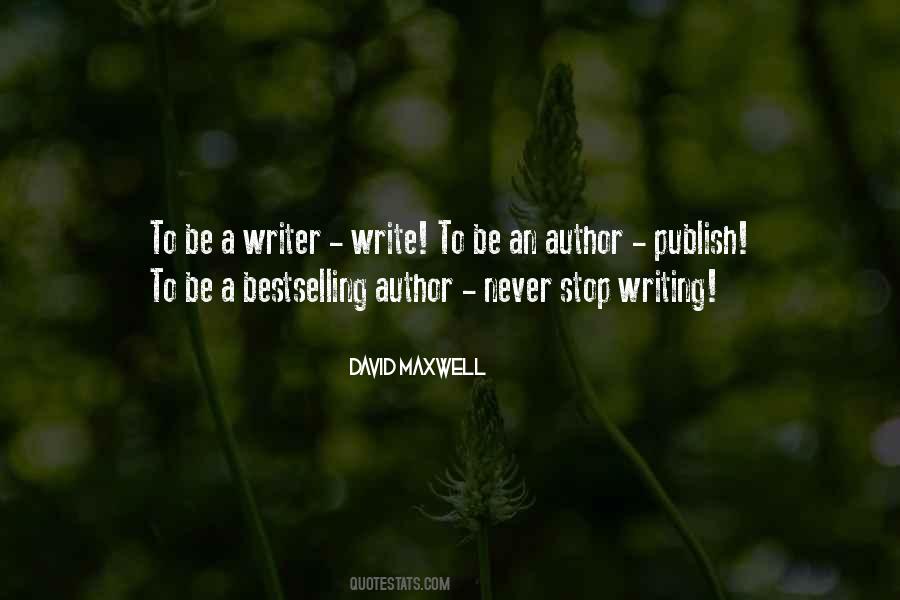 #65. Upon the one thing every writer absolutely must have, and that is intellectual curiosity. - Author: Philip Athans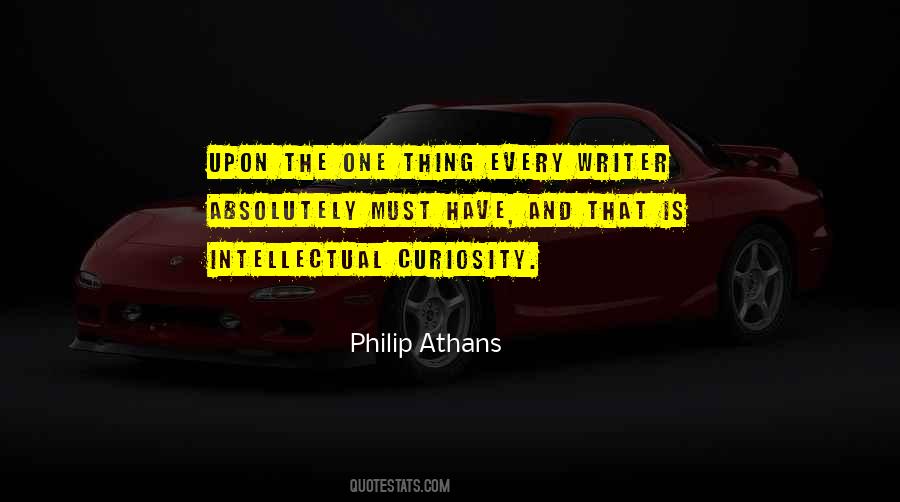 #66. ...you are a writer the moment you start writing, not when you've sold your first book. - Author: Rob Bignell, Editor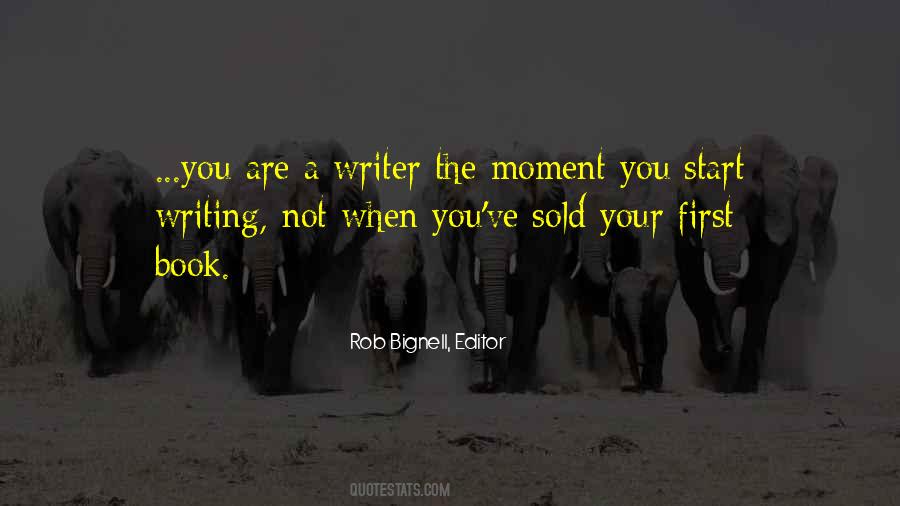 #67. Writers, that deep dark secret is not something you should hide from the world. It is your gift. Take it from memory and illuminate it in literature,shake the dust from it, unless it will get you arrested, lol. - Author: Kevin R. Hill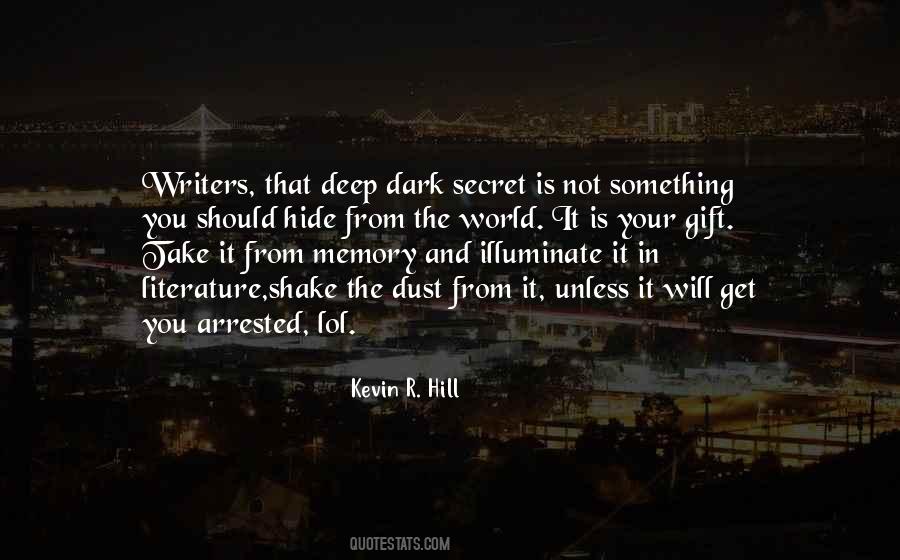 #68. If you can't give the is-ness of a thing give the not-ness of it! The main thing is to hook up, get the wheels turning, sound off. When your brakes jam, try going in reverse. If often works. - Author: Henry Miller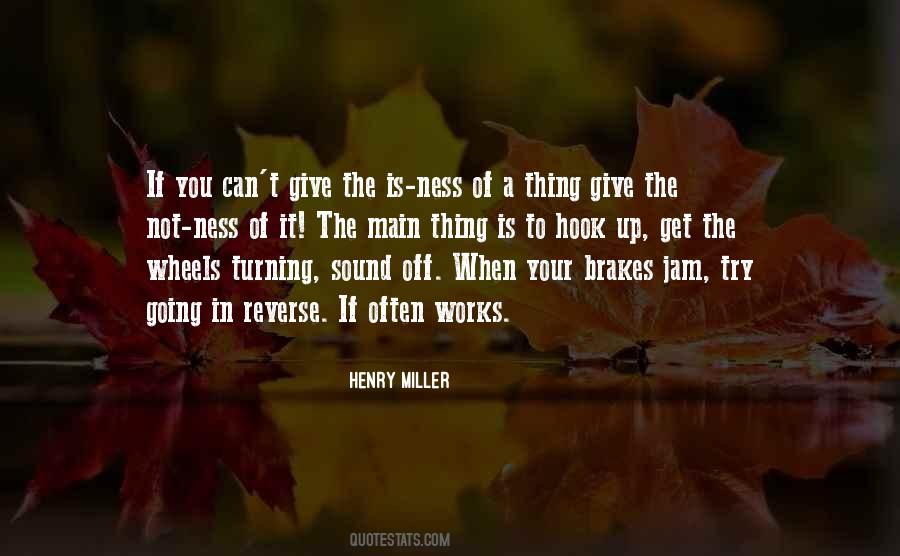 #69. Hone your writing skills as if they were your finest weapons of war. For in the literary arena, your pen will truly be your sword. - Author: Max Hawthorne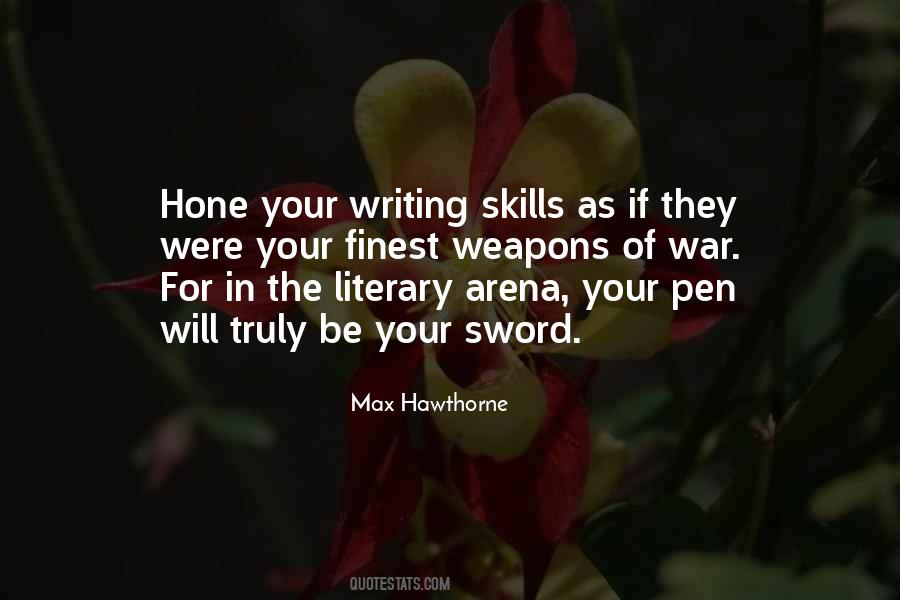 #70. Never be afraid to write what you believe. If the message speaks the truth, others will fear your words for you. - Author: Rob Bignell, Editor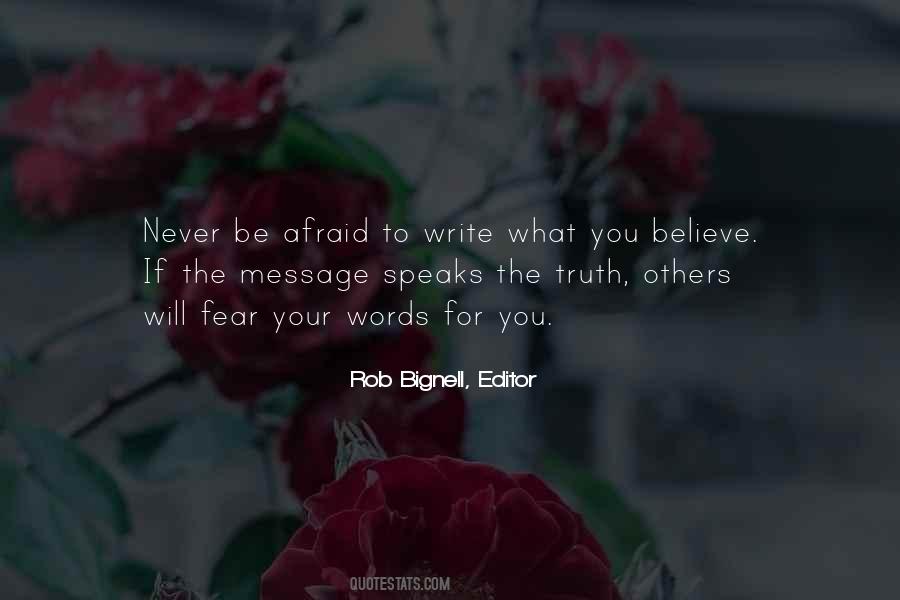 #71. They say it's a dangerous experiment to include dreams (actual dreams or otherwise) in the fiction you write. Only a handful of writers - and I'm talking the most talented - are able to pull off the irrational synthesis you find in dreams. - Author: Haruki Murakami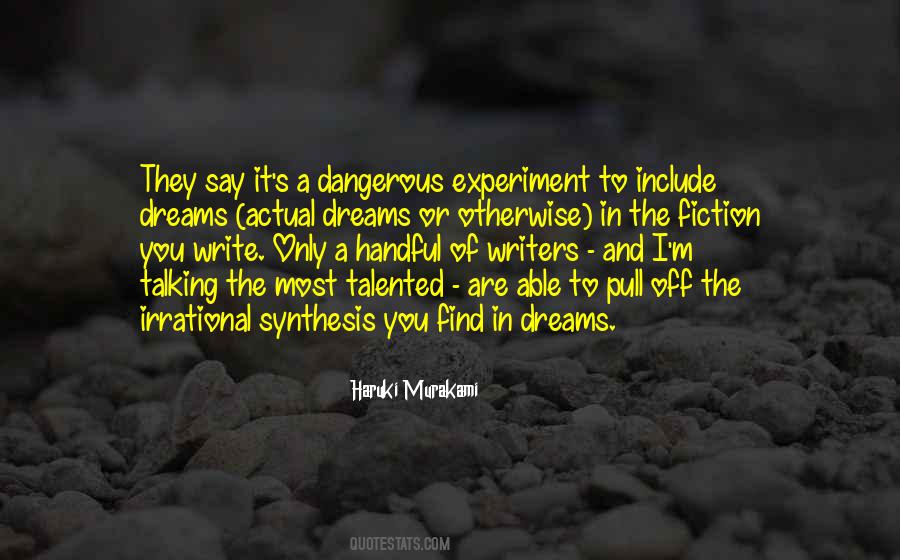 #72. Write at the edges of the day. - Author: Toni Morrison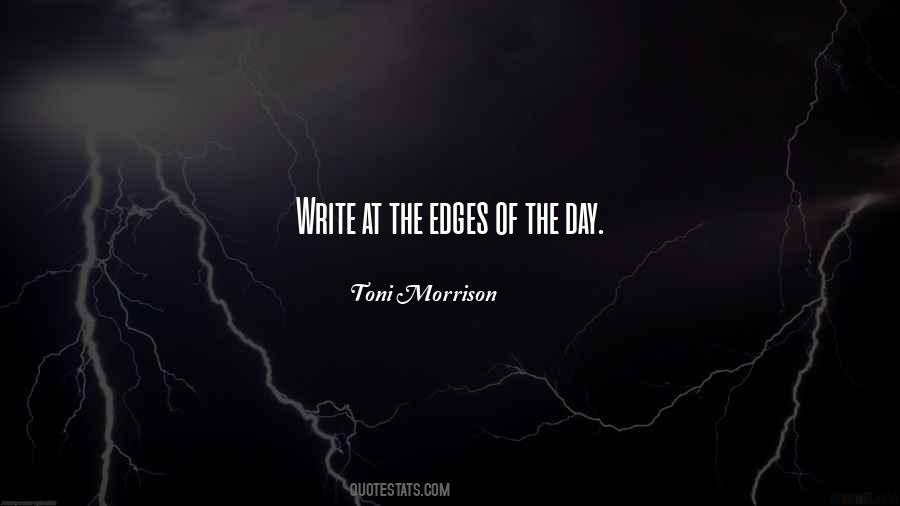 #73. Ignore all advice about writing. Leave your blood on every page. Every page! - Author: Miriam Toews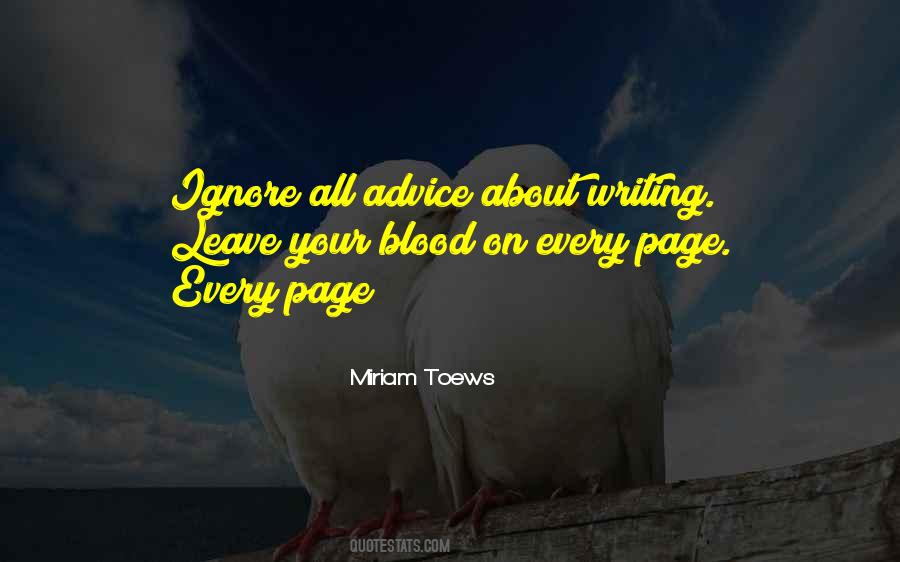 #74. You're writing someone's 'future' favorite book. - Author: M. Kirin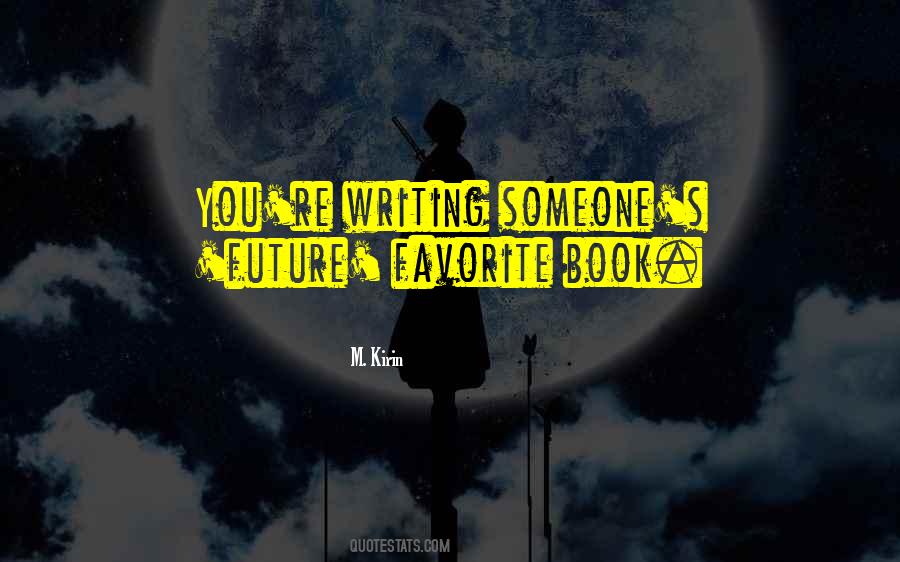 #75. Writings are thoughts in a defined moment. - Author: Lailah Gifty Akita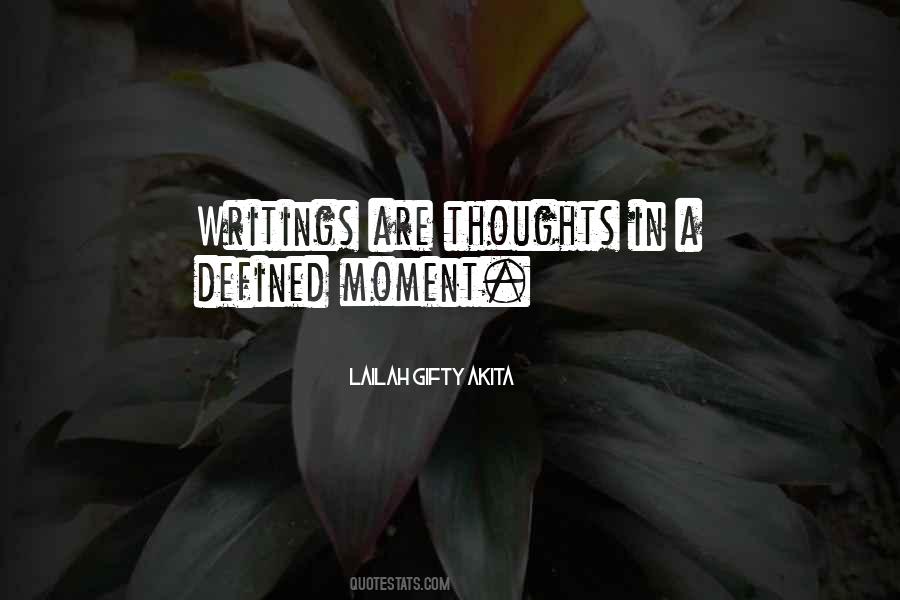 #76. There is no such thing as lack of time, only unclear priorities and lack of motivation. It is better to abandon a project than to work on it half-heartedly for a protracted period of time. - Author: Gudjon Bergmann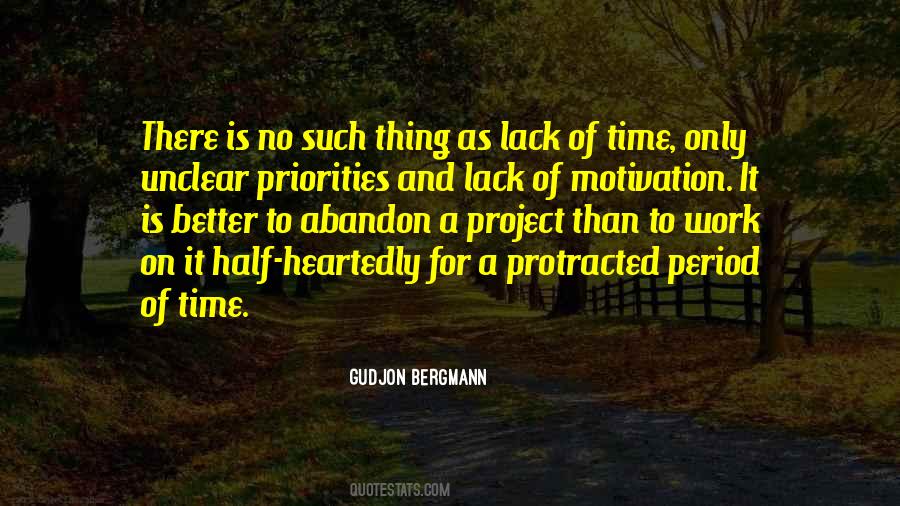 #77. When someone gives you advice, just ask them to give it in writing and they will either keep mum or will run from there. - Author: Amit Kalantri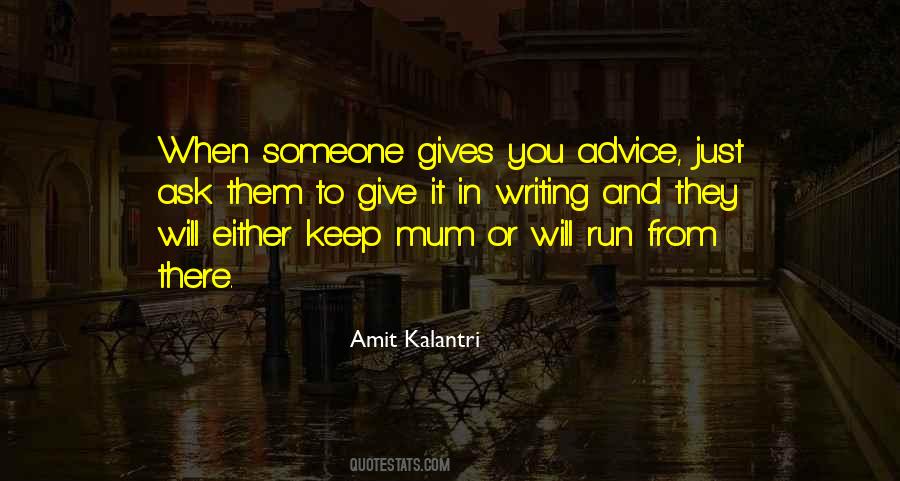 #78. In reading we live hundreds lives, in writing we live thousands of lives. - Author: R.M. Donaldson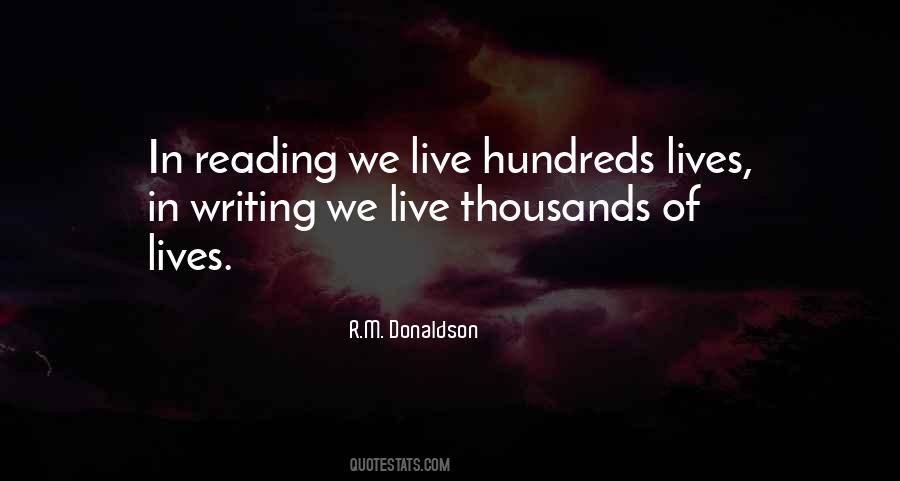 #79. A watched pot never boils.
It's the same with success. So? Throw that burner on HIGH and just keep on cooking. Dinner will be ready soon. - Author: Christy Hall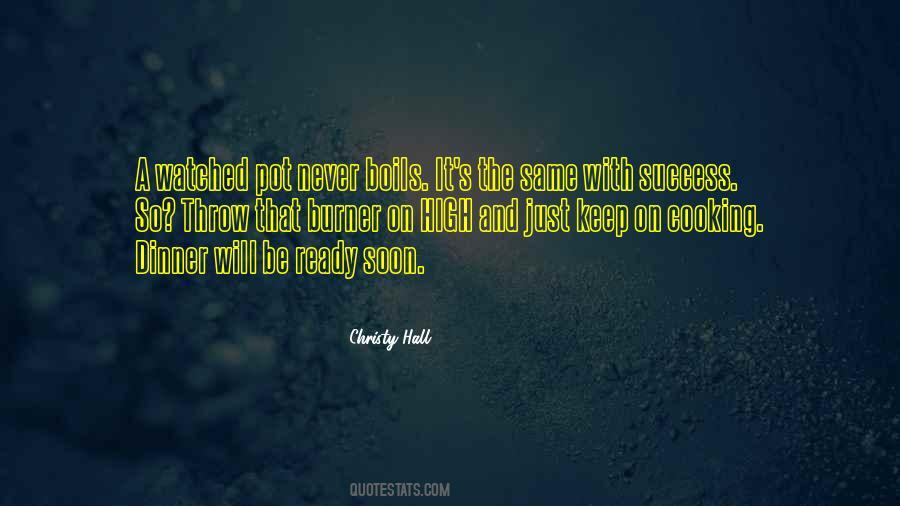 #80. There is a difference between fresh and weird. You never want to throw your reader out of the story. Keep it fresh but natural. - Author: Darynda Jones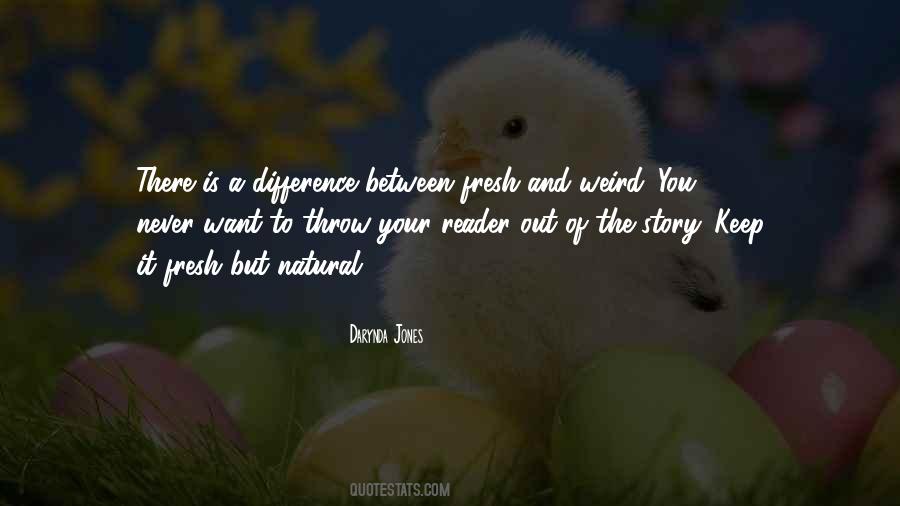 #81. A direct relationship exists between the caliber of the writing you read and the caliber of the writing you make. - Author: Robert Benson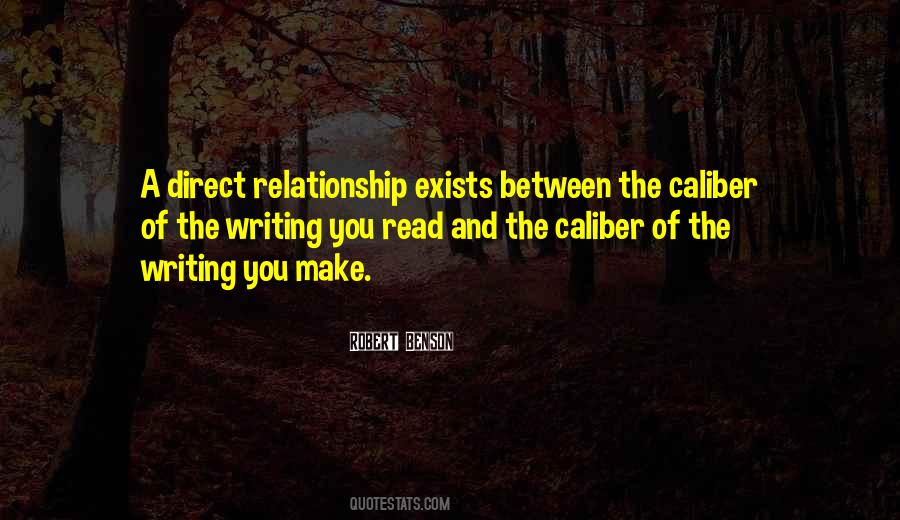 #82. The muse is fickle; ergo, when she knocks, ANSWER! It may take a while, but trust me, she WILL knock. In the meantime, keep your ear pressed firmly to the door. - Author: Quentin R. Bufogle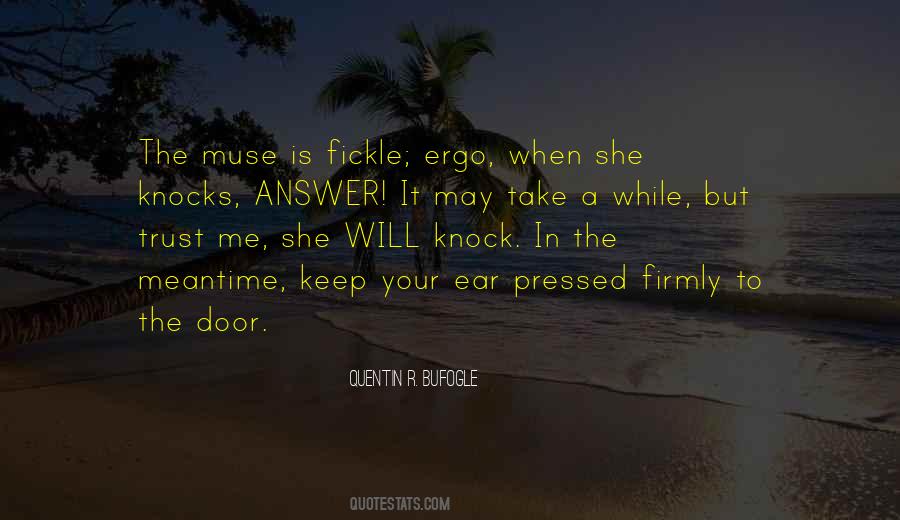 #83. Just write. That's my only tip. And read. I guess that's two. - Author: Shannon Celebi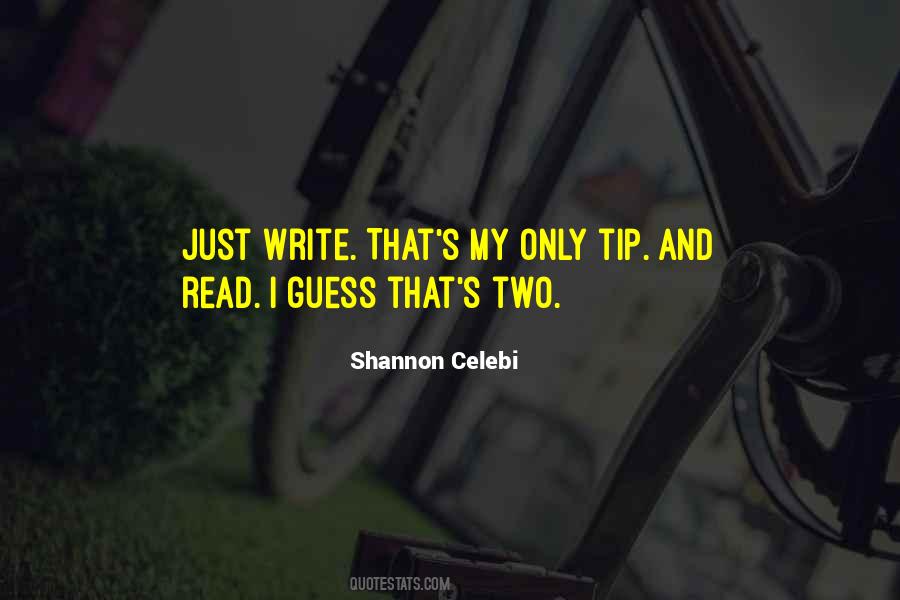 #84. Only after a writer lets literature shape her can she perhaps shape literature. In working-class France, when an apprentice got hurt, or when he got tired, the experienced workers said, "It is the trade entering his body." The art must enter the body, too. - Author: Annie Dillard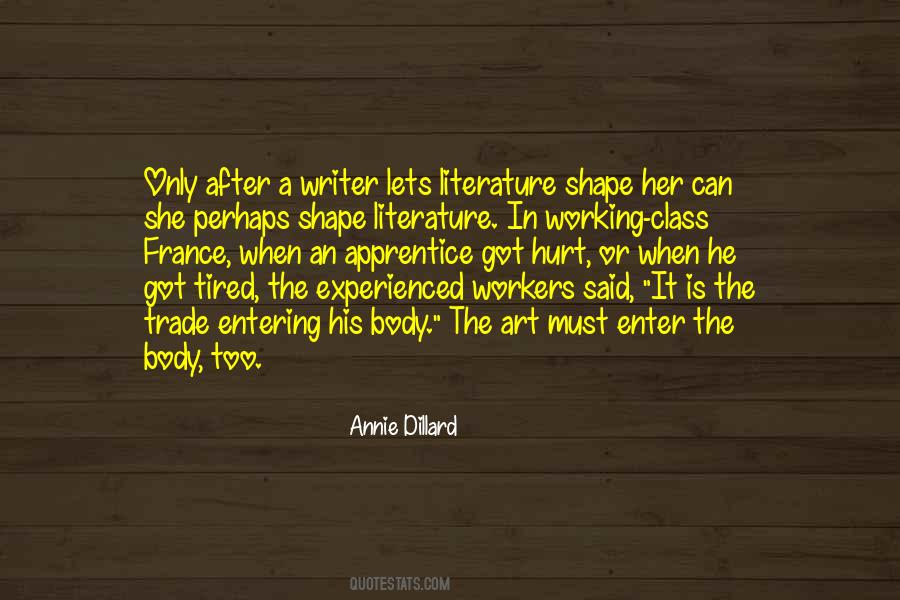 #85. Writers don't suffer from insanity, they depend upon it! - Author: Avijeet Das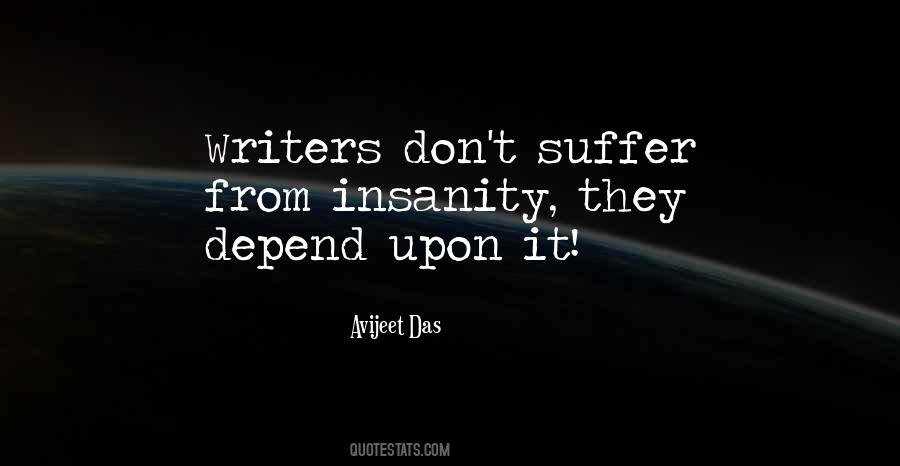 #86. Don't try to describe an orgasm if you've never had one. - Author: Marty Rubin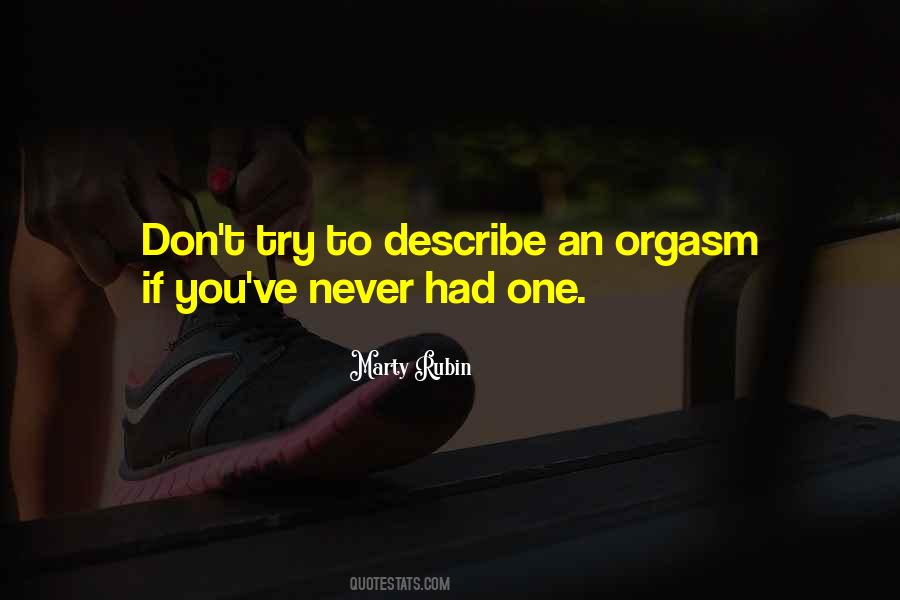 #87. If you aren't willing to put your best work out there, write for yourself. Don't ever publish. - Author: Eliza Green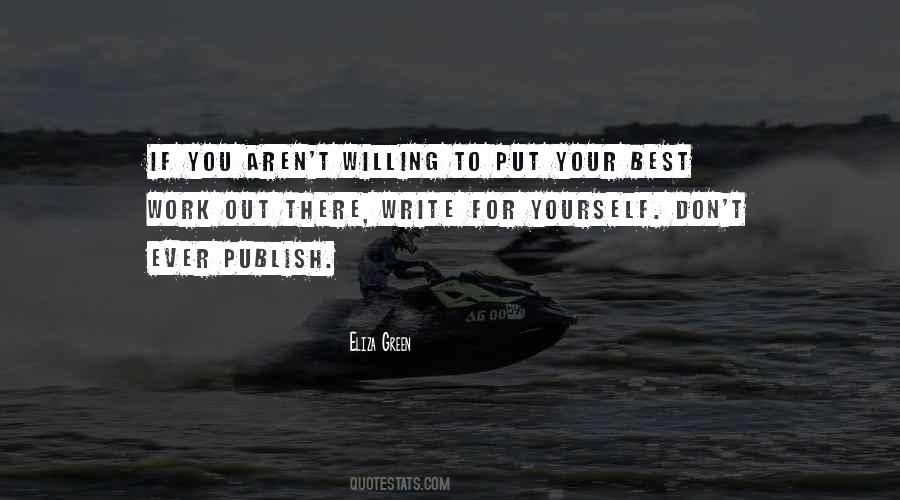 #88. When you're writing fiction or poetry ... it really comes down to this: indifference to everything except what you're doing ... A young writer could do worse than follow the advice given in those lines. - Author: Raymond Carver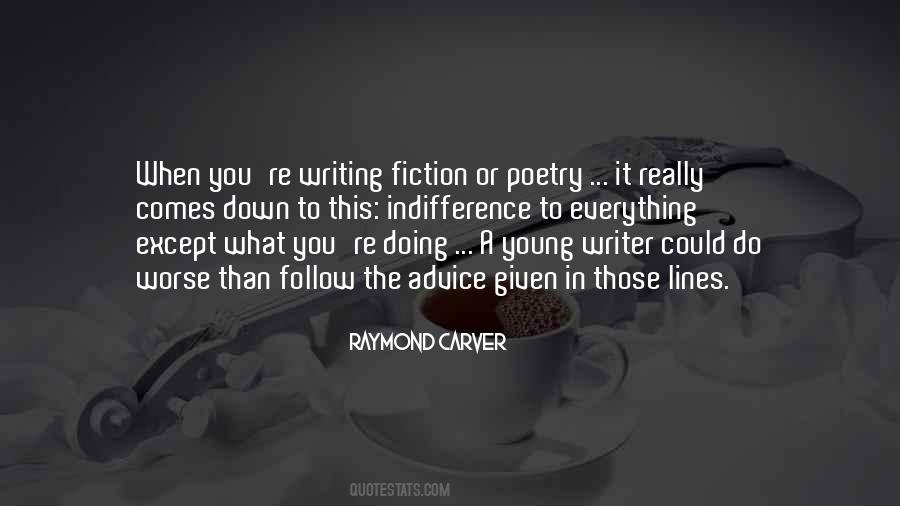 #89. Maugham then offers the greatest advice anyone could give to a young author: At the end of an interrogation sentence, place a question mark. You'd be surprised how effective it can be. - Author: Woody Allen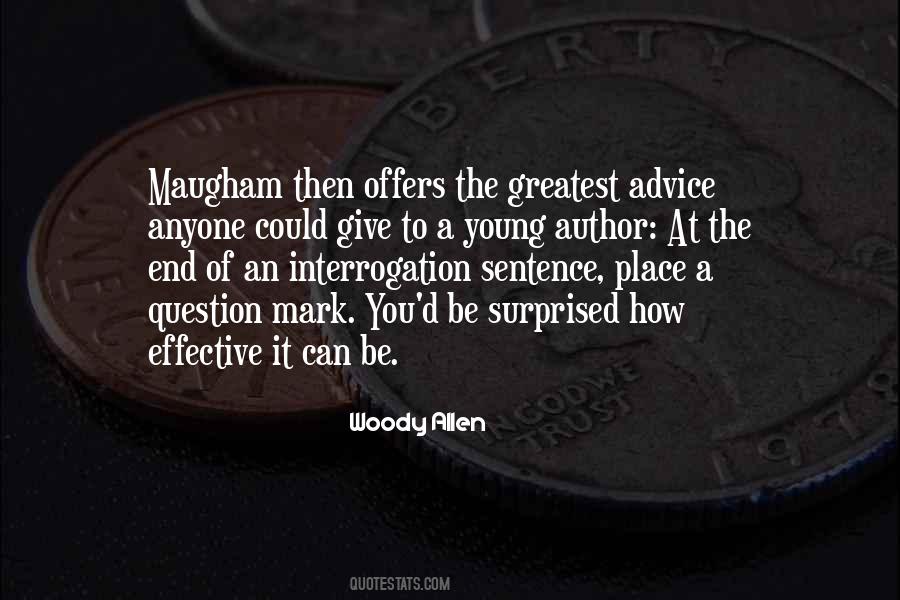 #90. Never say you can't be a writer or a script writer, remember how well, characters in your dreams said their dialogues. - Author: Dipesh Nepal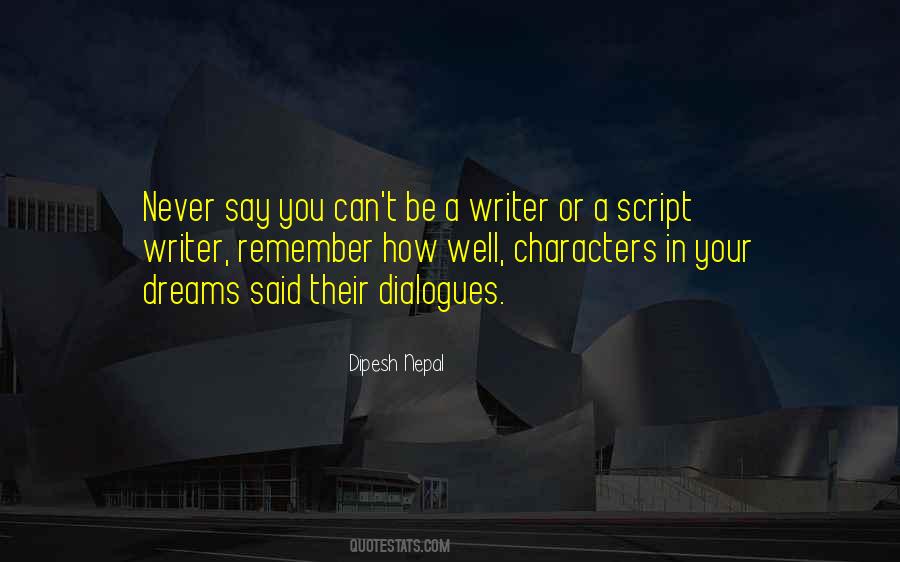 #91. The divine thoughts comes from God, we are only vessel for its transmission. - Author: Lailah Gifty Akita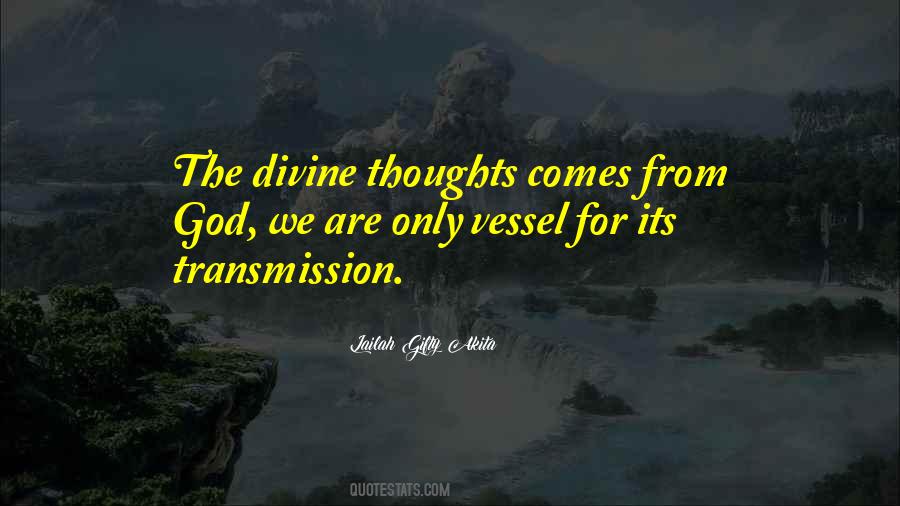 #92. All of us possess a reading vocabulary as big as a lake but draw from a writing vocabulary as small as a pond. The good news is that the acts of searching and gathering always expand the number of usable words. - Author: Roy Peter Clark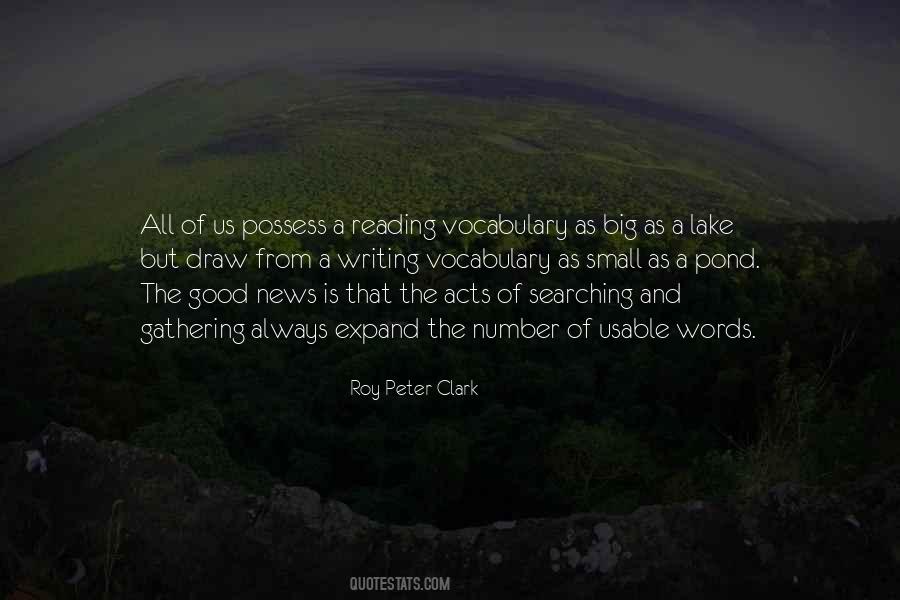 #93. One expert may be as good as another until one writes a book - Author: Bernard Kelvin Clive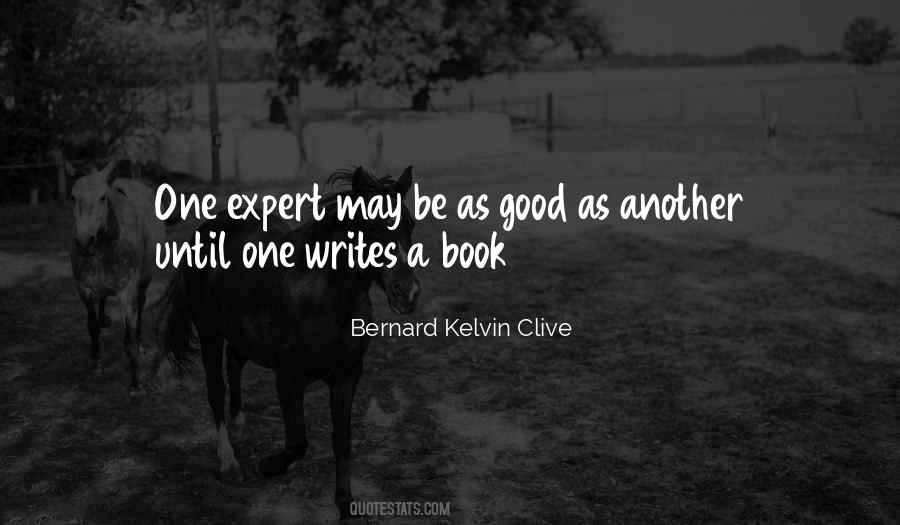 #94. You think you have no 'talent'? Write anyway. lots of people with 'talent' don't actually act on it. As long as you write, you will learn, you will improve, and you will be better than anyone claiming to have 'talent. - Author: M. Kirin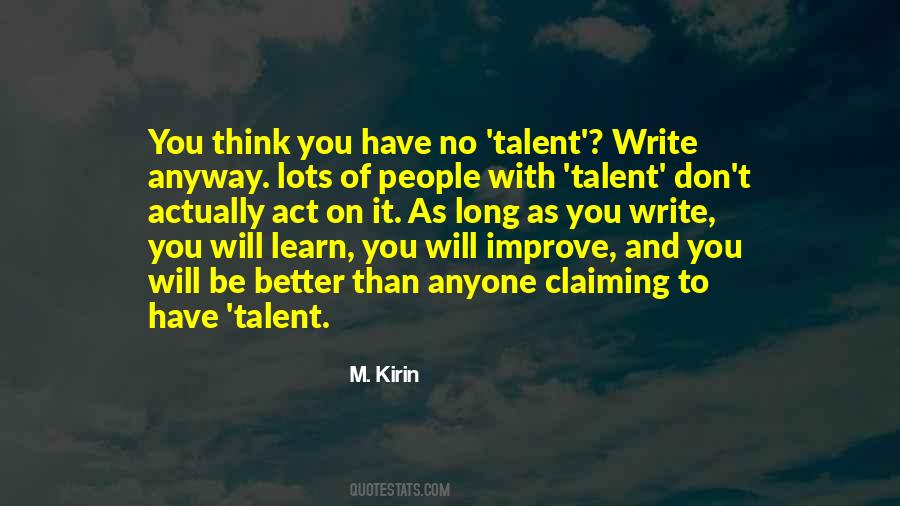 #95. We write to embrace the sacred thoughts. - Author: Lailah Gifty Akita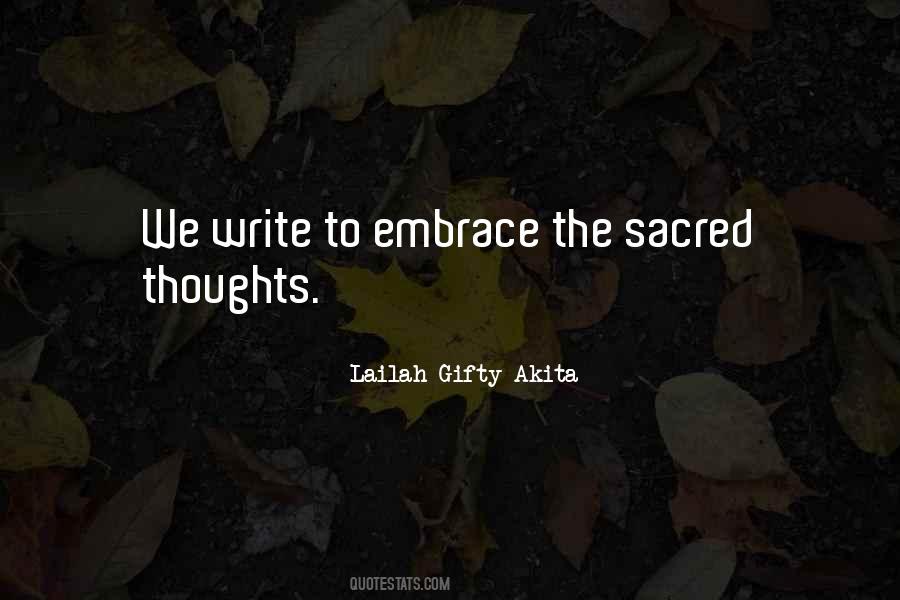 #96. Whenever I'm asked what advice I have for young writers, I always say that the first thing is to read, and to read a lot. The second thing is to write. And the third thing, which I think is absolutely vital, is to tell stories and listen closely to the stories you're being told. - Author: John Green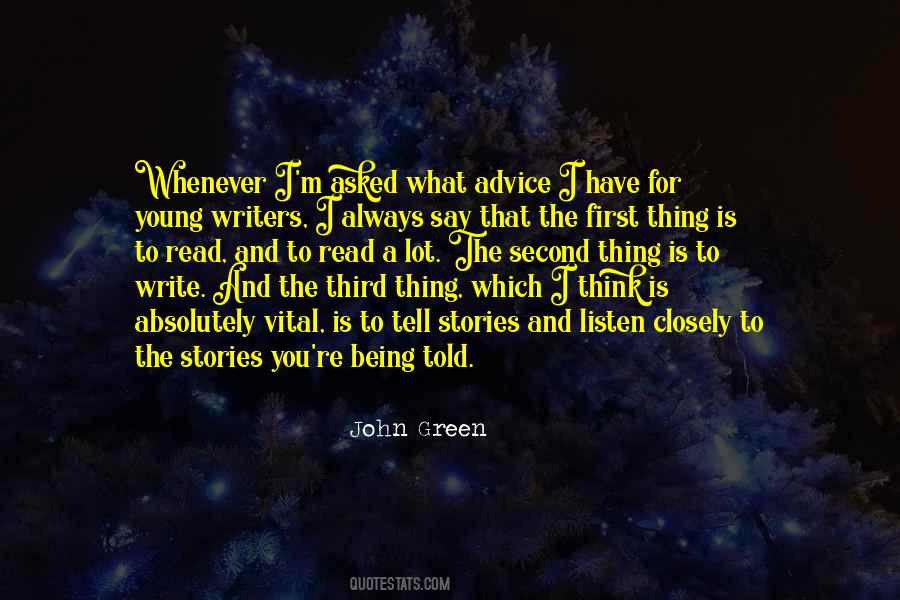 #97. Act one: put your characters in a tree. Act two: throw rocks at them. Act three: get them down again. - Author: Anonymous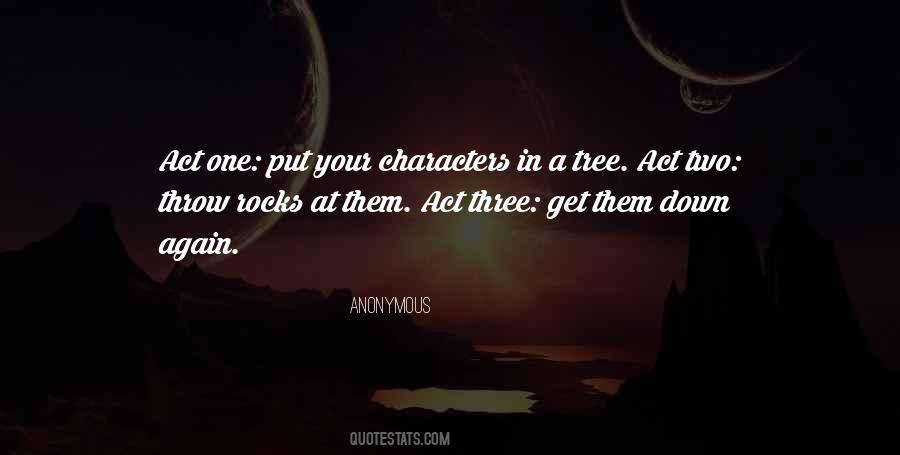 #98. Stay within the confines of your chosen topic. If you start to stray away from your topic and find an urge to showcase everything that you know, resist that urge. Remember that you are writing a book, not the book. - Author: Gudjon Bergmann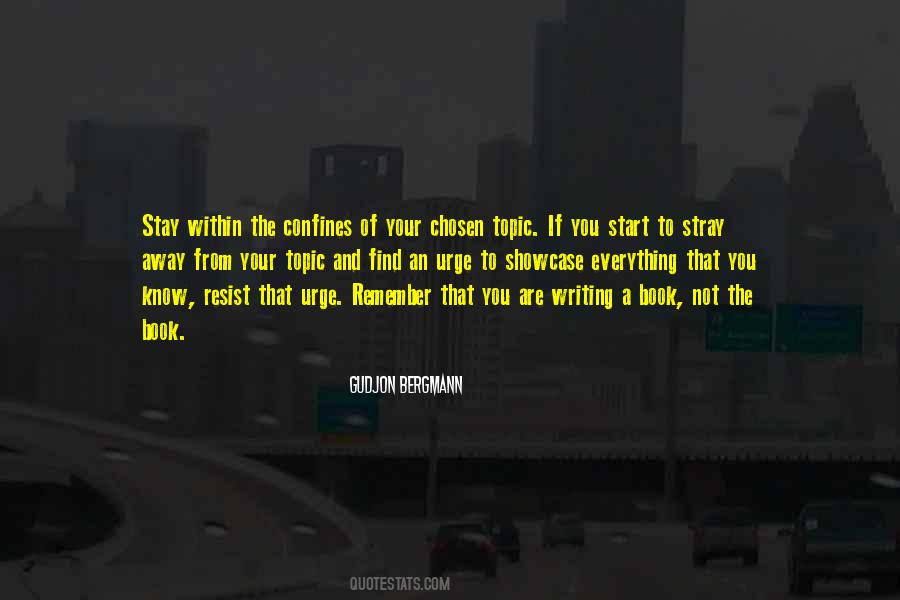 #99. I thought you could beat, pummel, and thrash an idea into existence. Under such treatment, of course, any decent idea folds up its paws, turns on its back, fixes its eyes on eternity, and dies. - Author: Ray Bradbury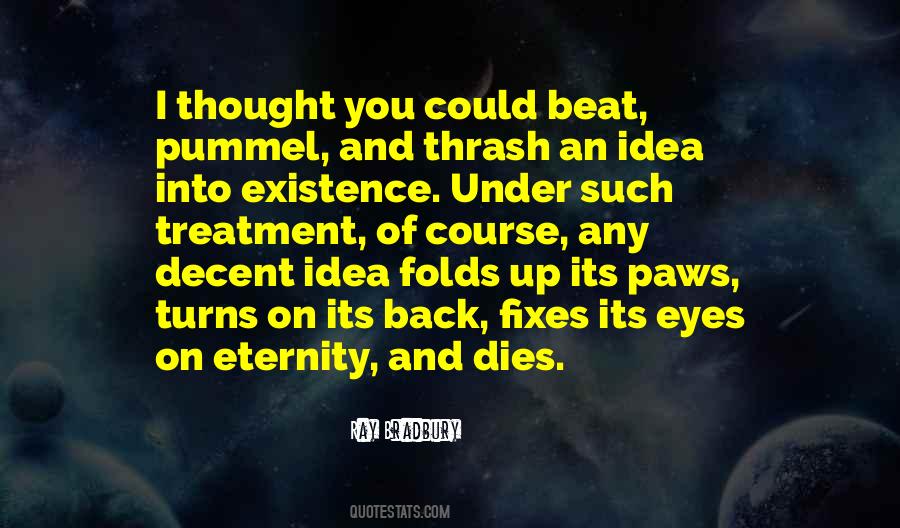 #100. To Grandma,
for being my first editor and giving me the best writing advice I've ever received: Christopher, I think you should wait until you're done with elementary school before worrying about being a failed writer. - Author: Chris Colfer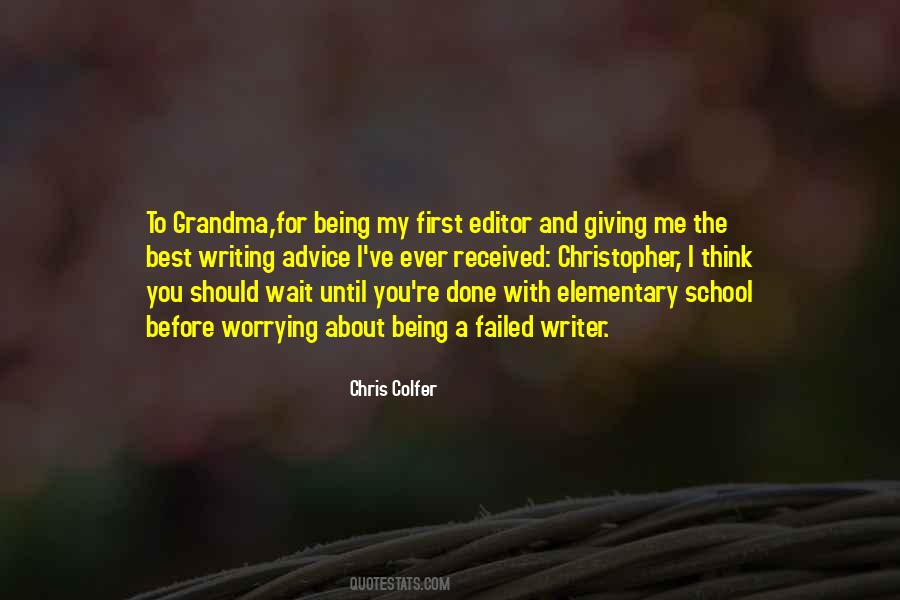 Famous Authors
Popular Topics