Trying To Live Life Famous Quotes & Sayings
List of top 100 famous quotes and sayings about trying to live life to read and share with friends on your Facebook, Twitter, blogs.
Top 100 Quotes About Trying To Live Life
#1. I look back on my life and it's 95% running around trying to raise money to make movies and 5% actually making them. It's no way to live. - Author: Orson Welles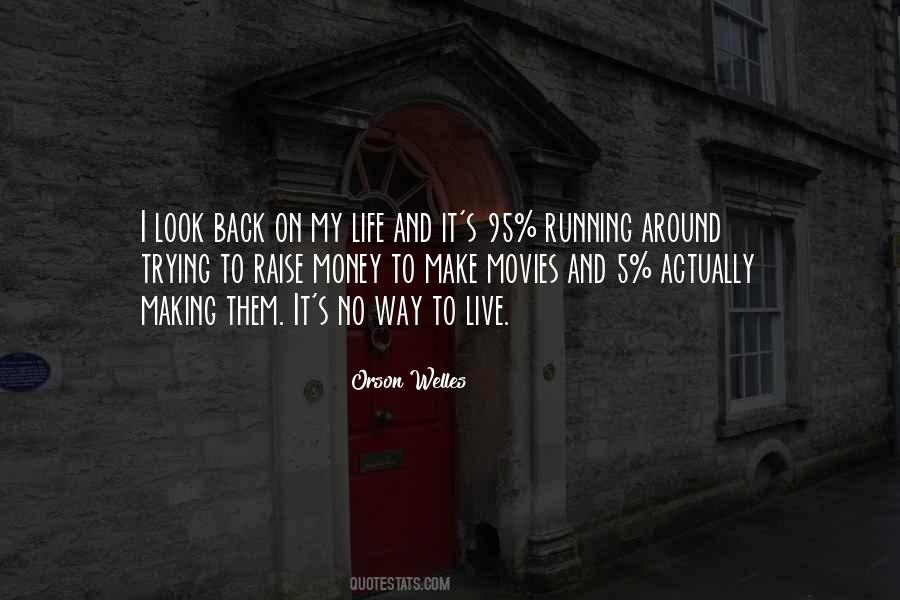 #2. There are several ways to mess up your life by fighting to make your calendar age match your felt age. I live in the Southwest, a part of the country with more than its share of fair skies, material wealth, and people who are trying not to be as old as they are. - Author: Martha Beck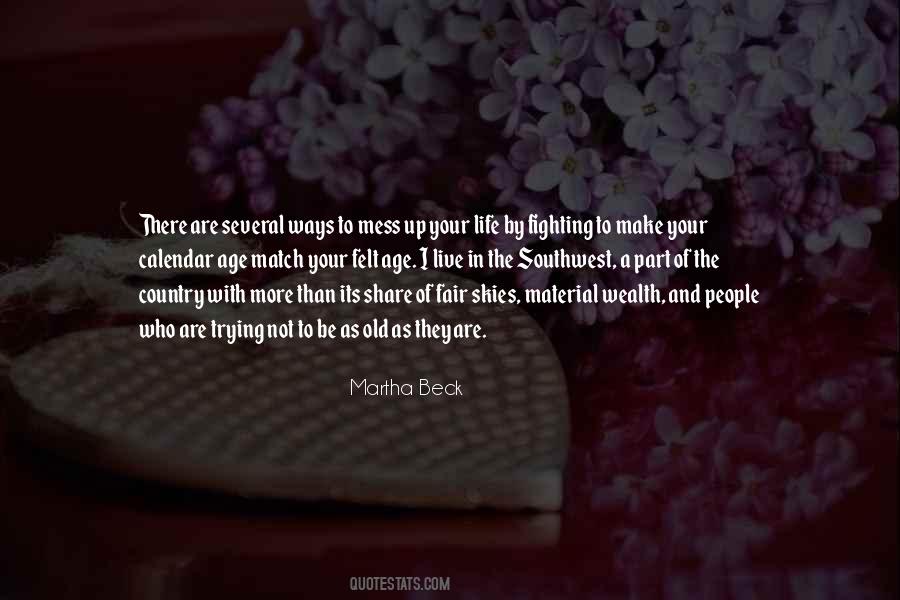 #3. We live in a world that is beyond our control, and life is in a constant flux of change. So we have a decision to make: keep trying to control a storm that is not going to go away or start learning how to live within the rain. - Author: Glenn Pemberton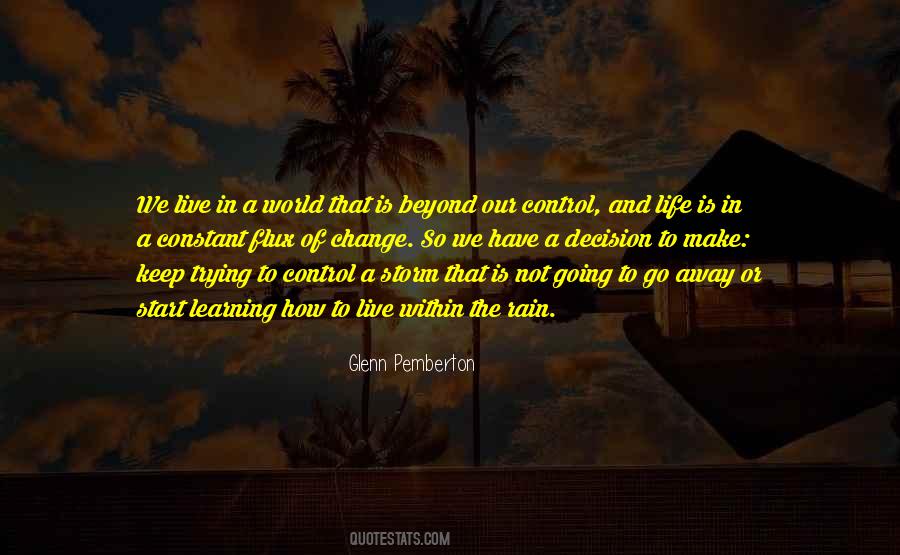 #4. Live. How many of us need to be reminded that living has nothing to do with trying to be as good as someone else, or trying to fit into some category, or filling in the blanks on some stupid checklist. That it has nothing to do with punishing yourself for past mistakes. - Author: Suzanne Selfors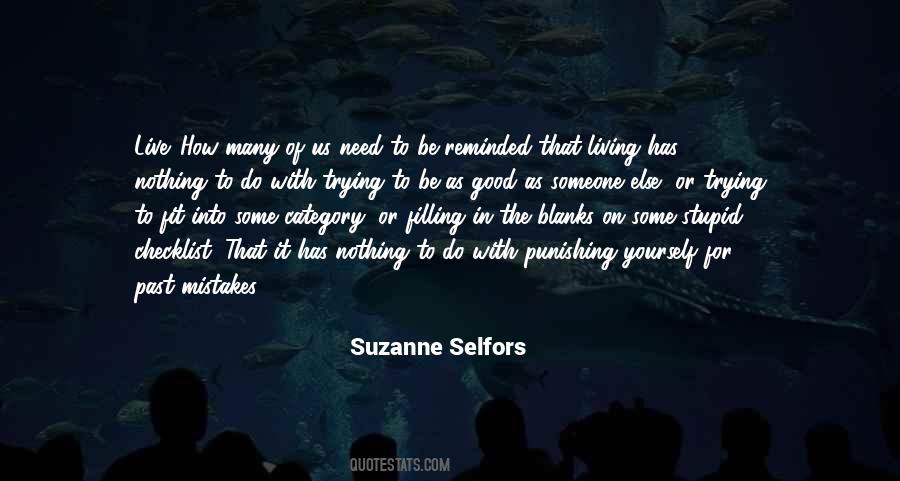 #5. My work doesn't speak about individuals (it's not portraiture in the traditional sense), it tries to speak about life in general in cities of the West - which is where I live and what I understand. - Author: Beat Streuli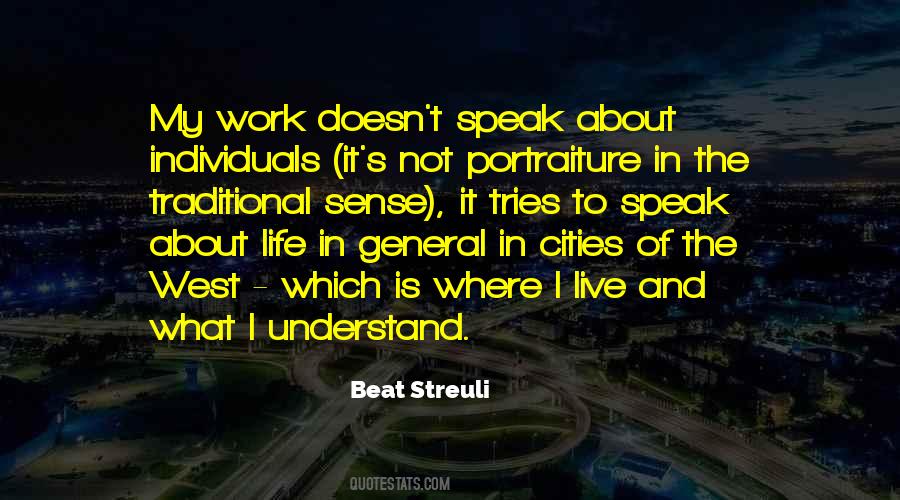 #6. A man who couldn't make things go right could at least go. He could quit trying to get out of the way of life. Chuck routine. Live the real jeopardy of circumstance. It was a question of dignity. - Author: William Least Heat-Moon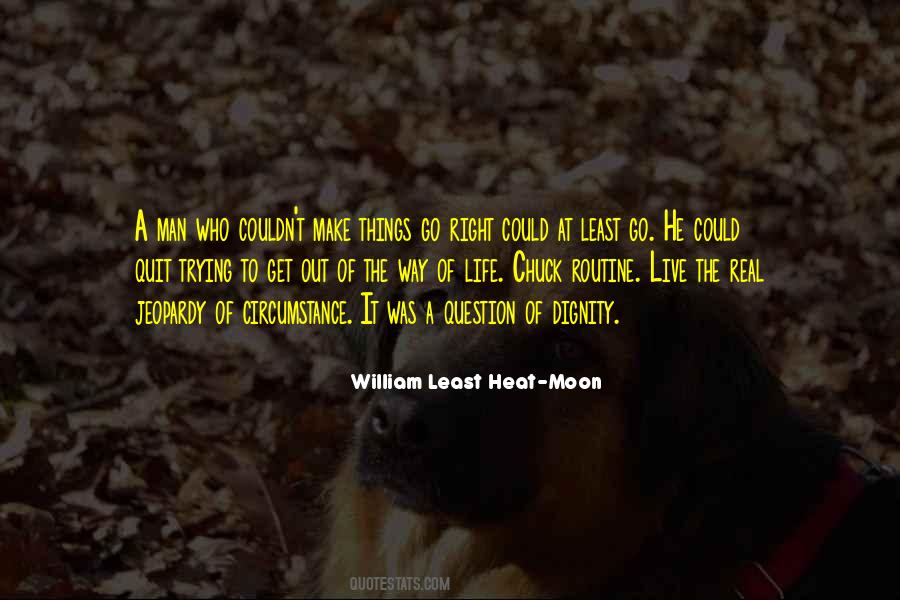 #7. Imagine trying to live without air.
Now imagine something worse. - Author: Amy Reed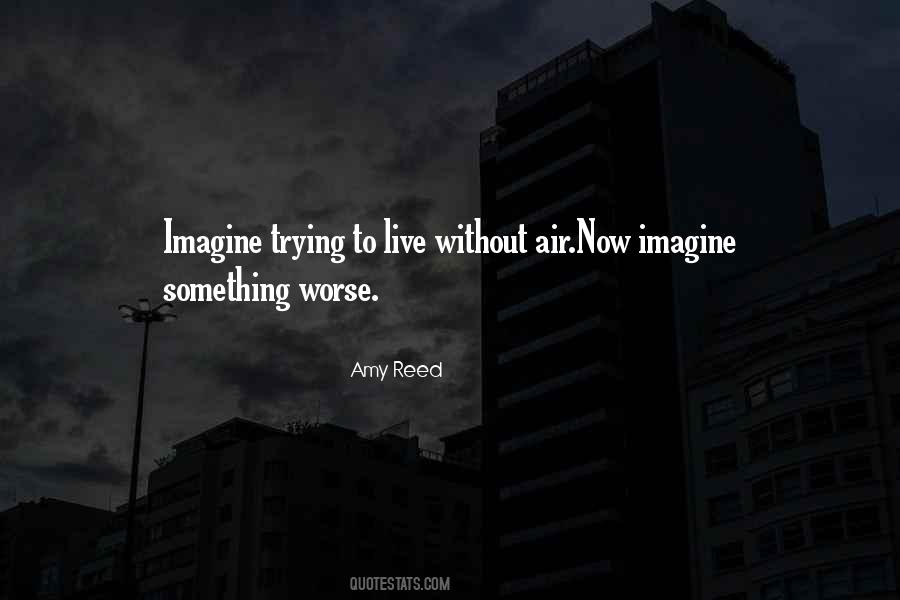 #8. I don't care what you do. We all deal with it if we're living life, trying to find those moments where you can turn off your brain and connect to whatever and just be grounded, live in the moment, which I find really difficult but try to practice on a daily basis. - Author: Lisa Rinna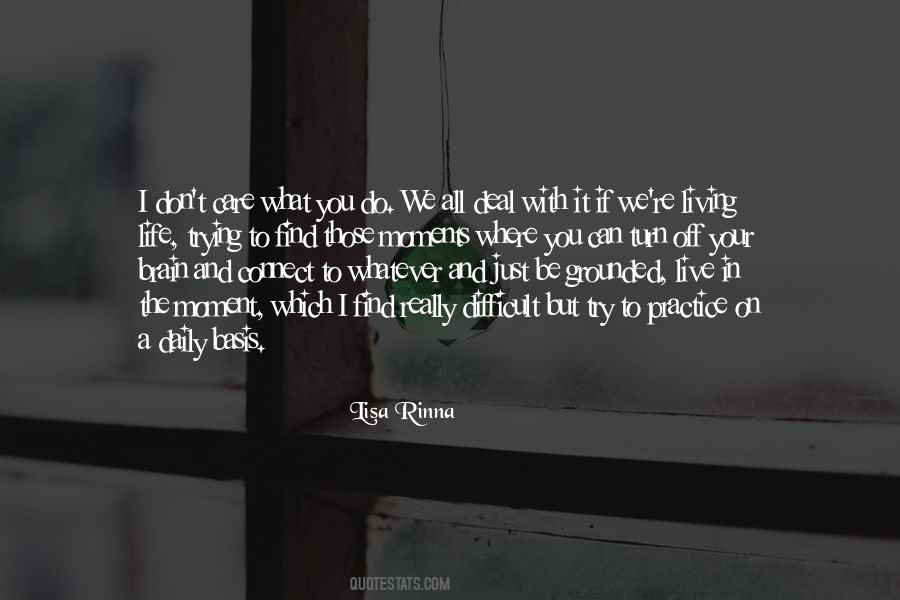 #9. The thing that I really want to try and do is just live my life really openly and honestly. I think there's so much power in that, as simple as it is. - Author: Troye Sivan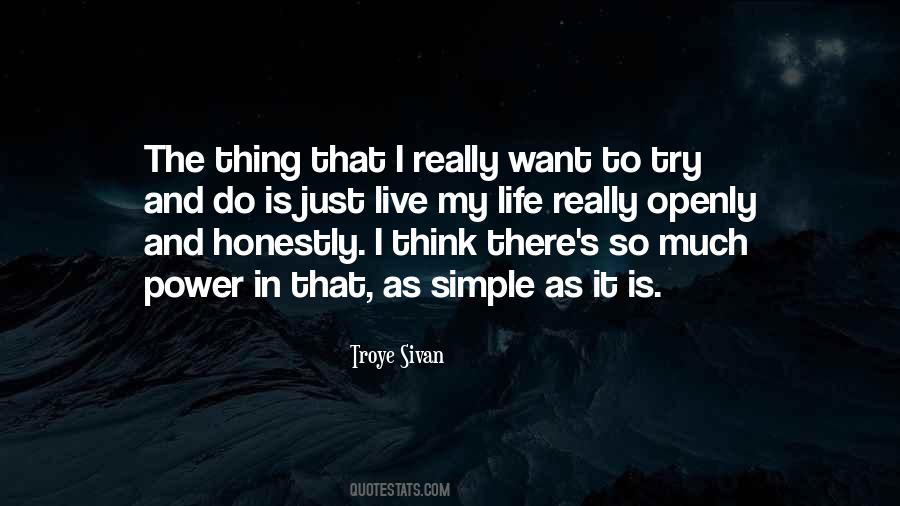 #10. Nobody's life is entirely free of pain and sorrow. Isn't it a question of learning to live with them rather than trying to avoid them? - Author: Eckhart Tolle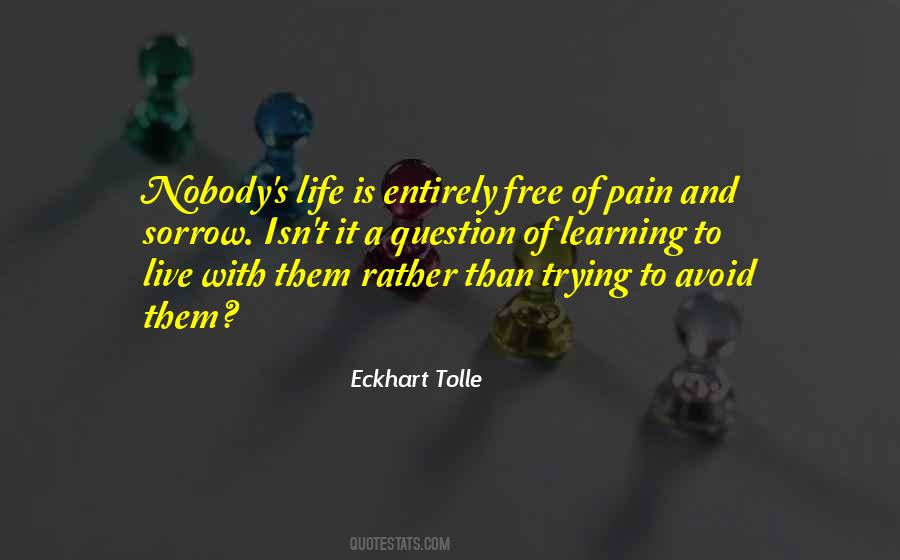 #11. As those who are chosen, blessed, broken, and given, we are called to live our lives with a deep inner joy and peace. It is the life of the Beloved, lived in a world constantly trying to convince us that the burden is on us to prove that we are worthy of being loved. - Author: Henri Nouwen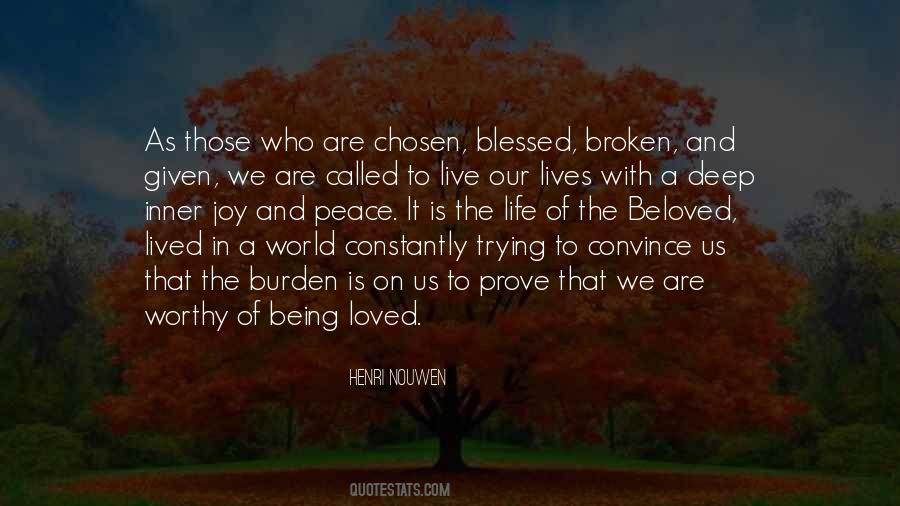 #12. Nobody's perfect and I don't want to try and portray that but I'm genuinely doing the best I can out here; trying to support my family the best that I can, trying to make them proud and happy and everybody having the best life they can live. I'm trying to provide a better life for them than I had. - Author: Chris Johnson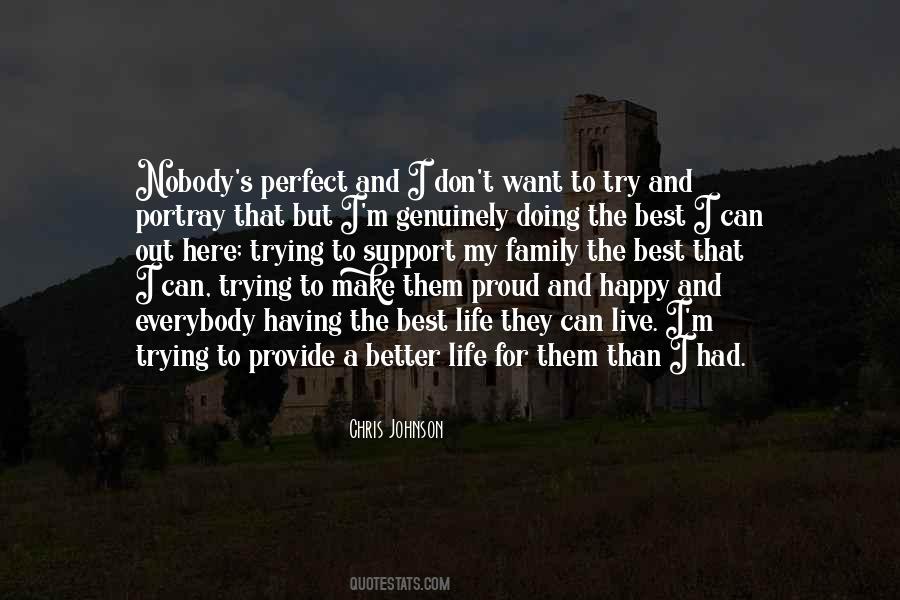 #13. The point I'm trying to make is that you go to church on Sunday. But the real Christ is out there in your life every day, whether it be the guy you help on the street, how you live your life, and your countenance that makes people want to be you. - Author: Jim Caviezel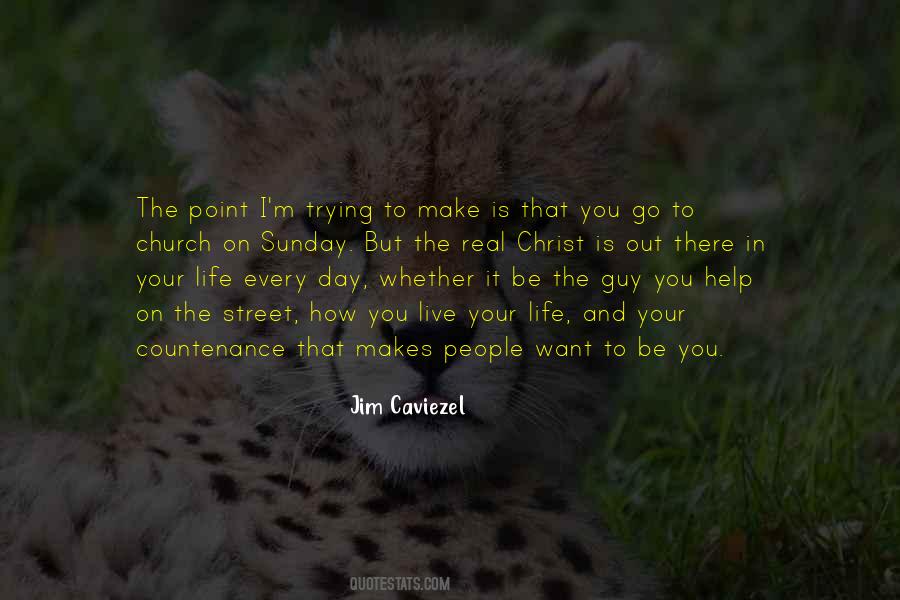 #14. You'll live your life a lot happier if you stop trying to be perfect. Do your best for Jesus. When you fall short, He'll carry you. - Author: Karen Kingsbury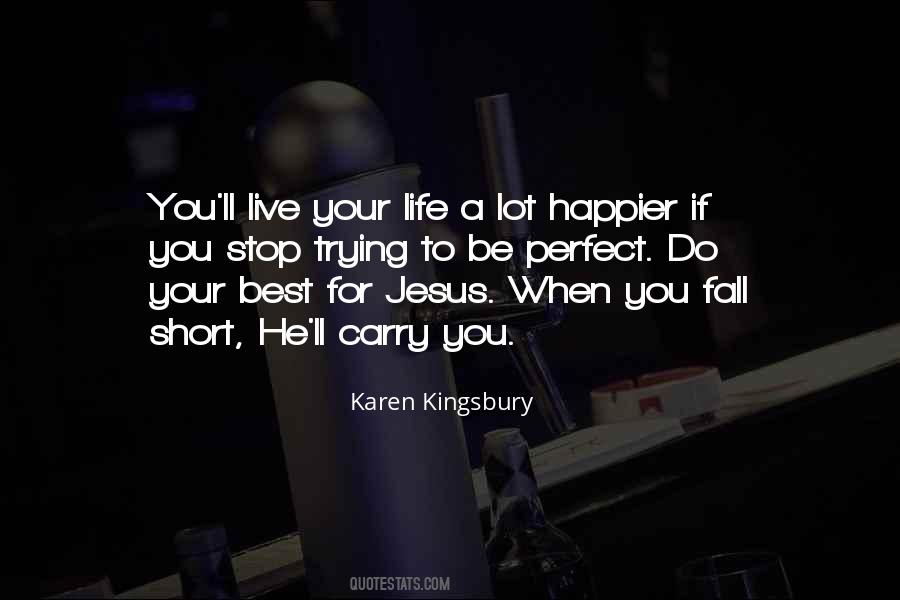 #15. Help one another, was a favorite Plumfield motto, and Nat learned how much sweetness is added to life by trying to live up to it. - Author: Louisa May Alcott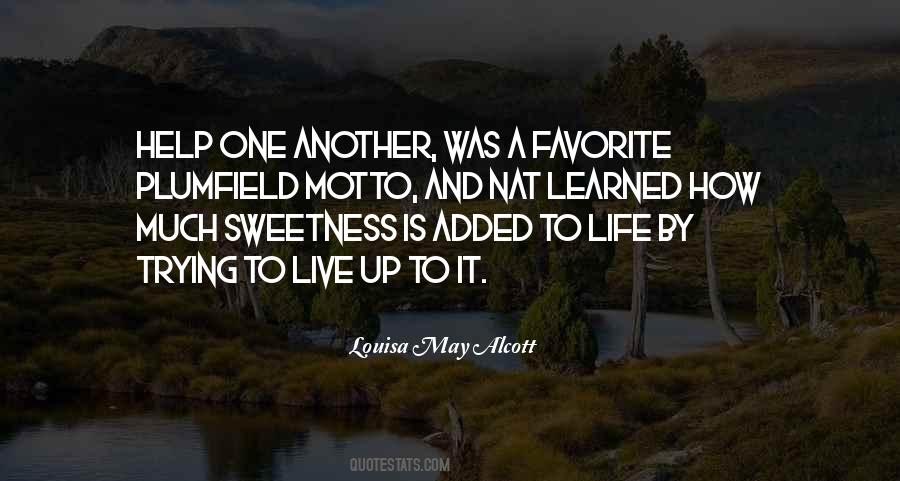 #16. I do try to live every day as if it were my last, and it has worked for me so far. - Author: Maeve Binchy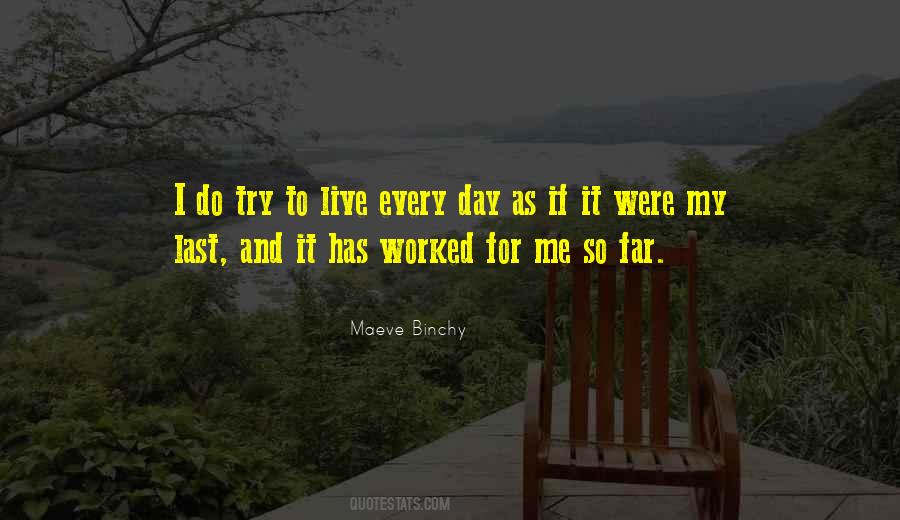 #17. I honestly try to have the approach that this is real life, this is the real world that we live in, and I don't really try to shelter [my son] from a lot of things that he's gonna see when he looks out of the window. - Author: Solange Knowles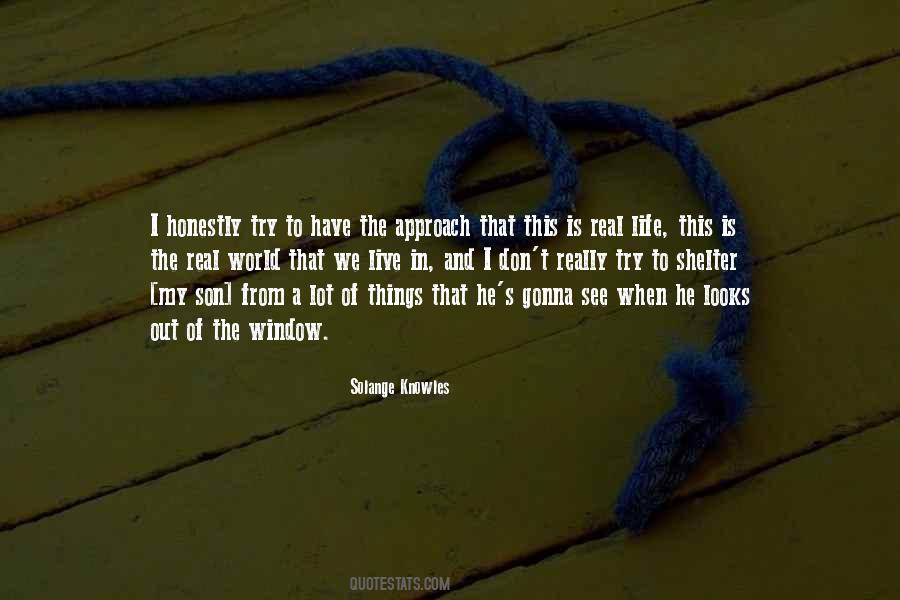 #18. I worry whether it's not really the best way to live one's life - trying to fulfill the dreams you had as a child. Maybe it's quite a backwards approach. - Author: Joe Cornish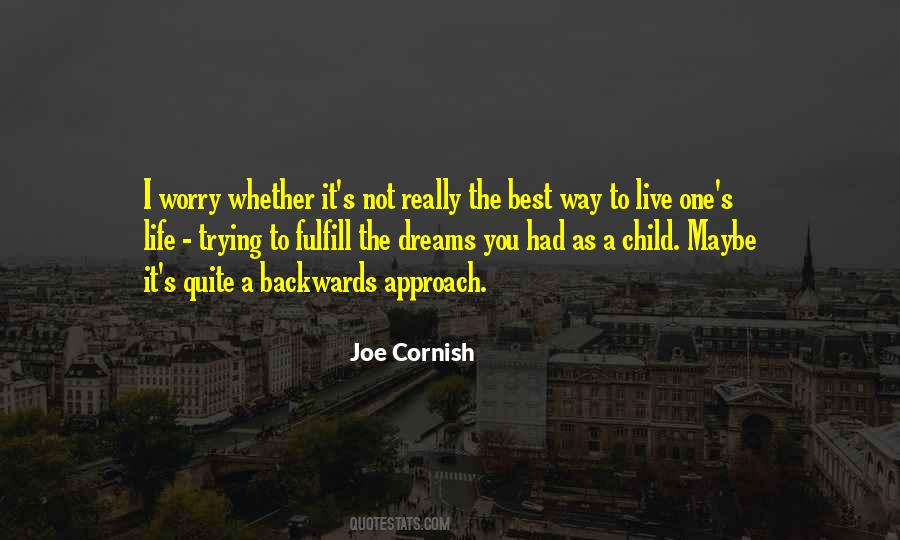 #19. Jenny Fields discovered that you got more respect from shocking other people than you got from trying to live your own life with a little privacy. - Author: John Irving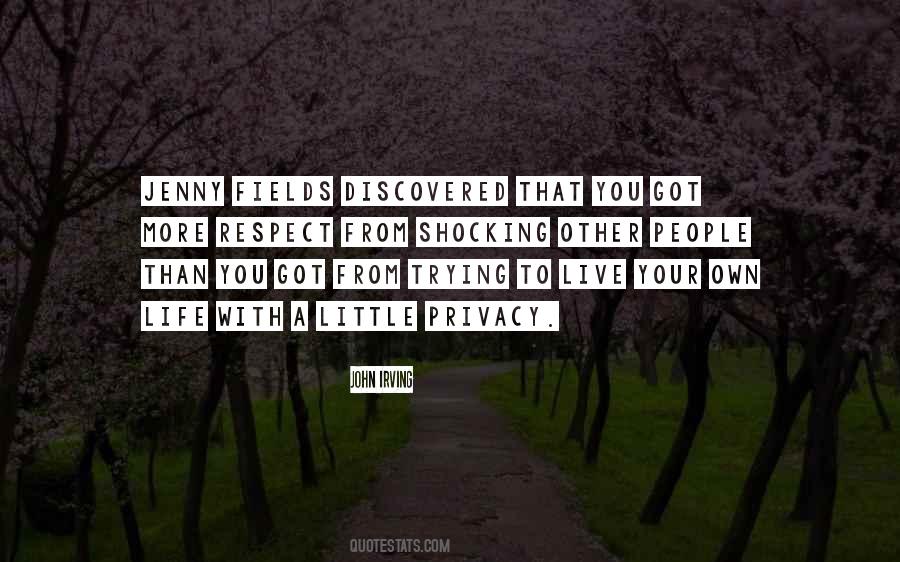 #20. I'm an obvious example of how everyone is spiraling out of control on the show and just trying to live life the best they can without destroying themselves. - Author: Brett Gelman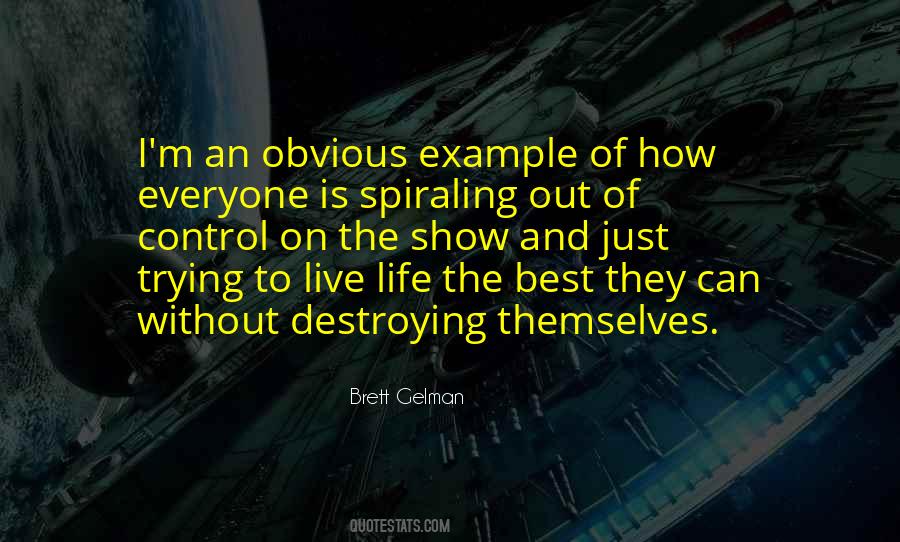 #21. The idea that no matter how cold and callous and heartless the world seemed, there was somebody out there who just wanted to make life better. Not better for worlds or countries in some vague way. Just better for people trying to live their lives, even if they didn't know about him. - Author: Peter Clines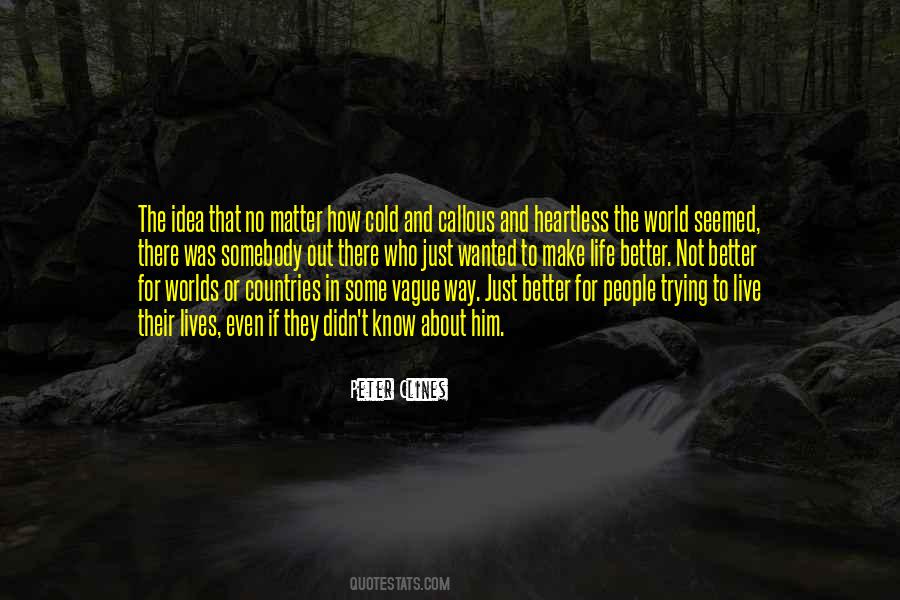 #22. Of course, they're not clowning around trying to make me laugh. They're doing their best to live very serious lives, and they just happen to fall down sometimes. I think that's cool. - Author: Haruki Murakami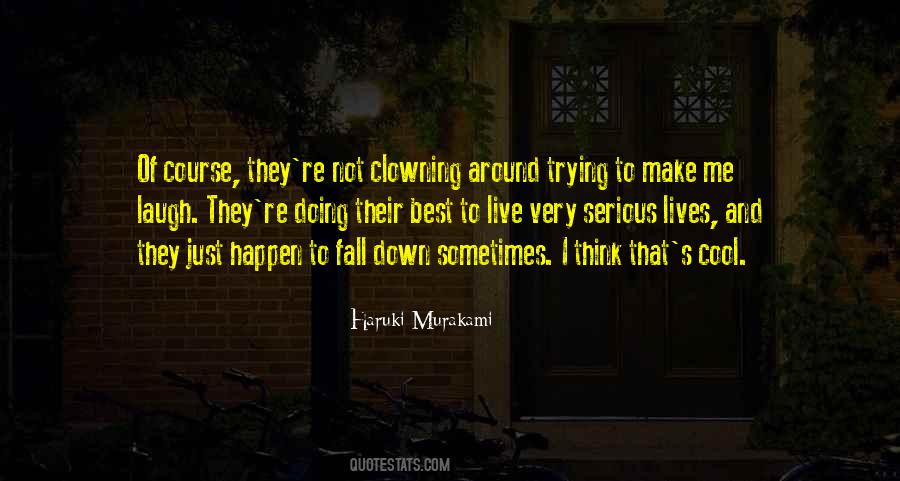 #23. I watch 'Entourage.' I aspire the good life that they live and lead. Honestly, I am just trying to be me by trying to do good films, have fun at it and trying to work with good directors, and, of course, I am a bit of a silent party boy, also. I have my share of fun sometime, too. - Author: Ranbir Kapoor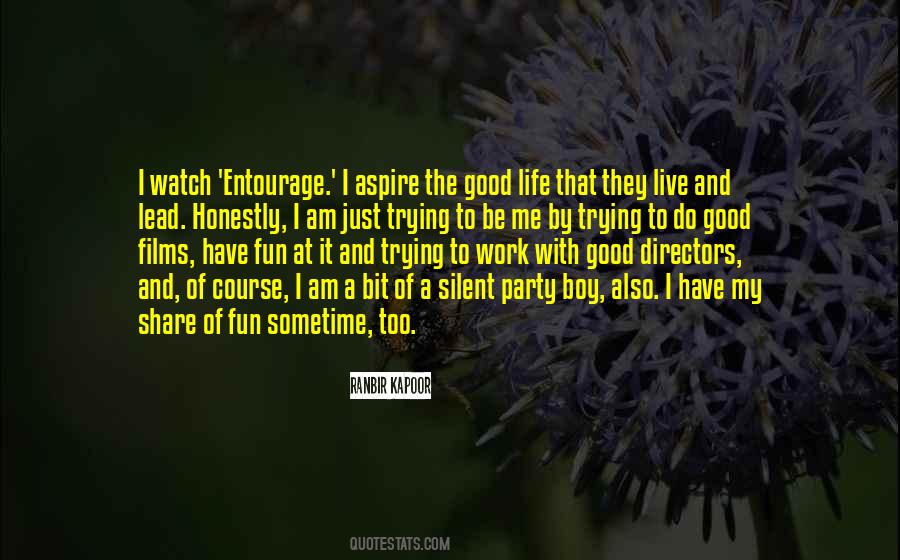 #24. Blessed with some success, so I'mma try my best to live my life right. When I see God, he'll be impressed. - Author: Mac Miller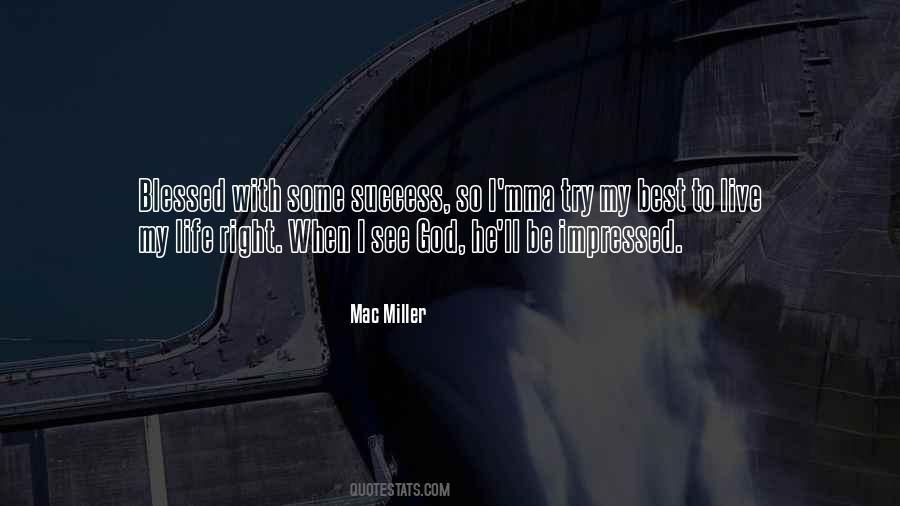 #25. Being able to live my life transparently does empower me to feel like I can be myself more. It's easier for me to flirt with girls now that girls know that I'm gay. It almost makes it a sexier encounter than if I was trying to pretend that I was straight. - Author: Neil Patrick Harris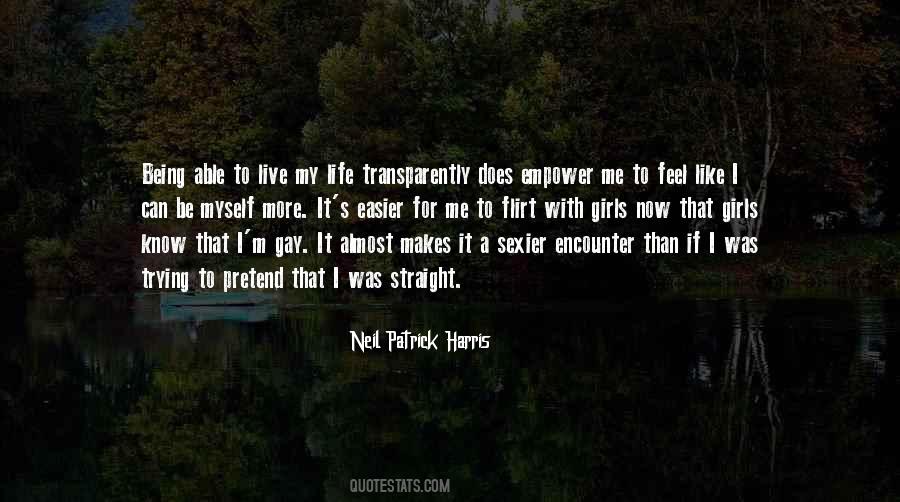 #26. The life you live in front of an audience is like an altered state - it's not totally real. I'm always, even in the course of one day, trying to find ways to balance both sides. - Author: Miranda July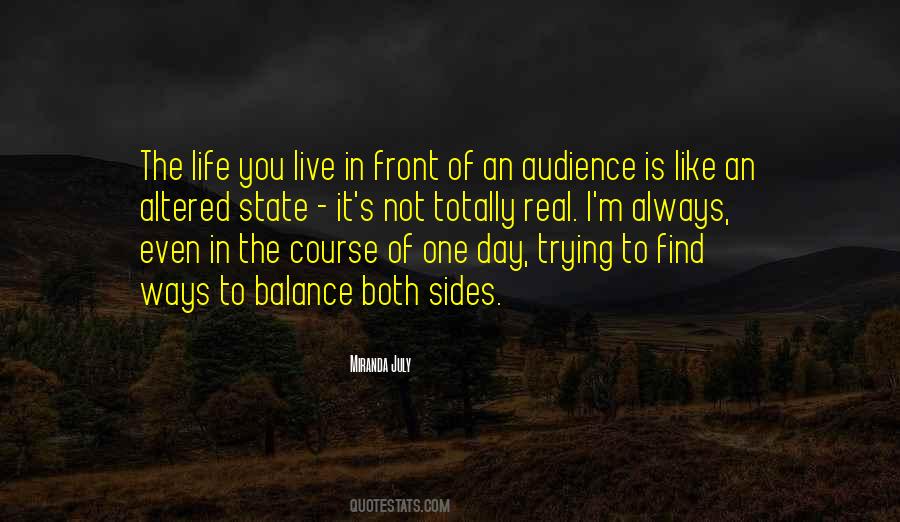 #27. I'm just trying to matter and live a good life and make work that means something to somebody. - Author: Reese Witherspoon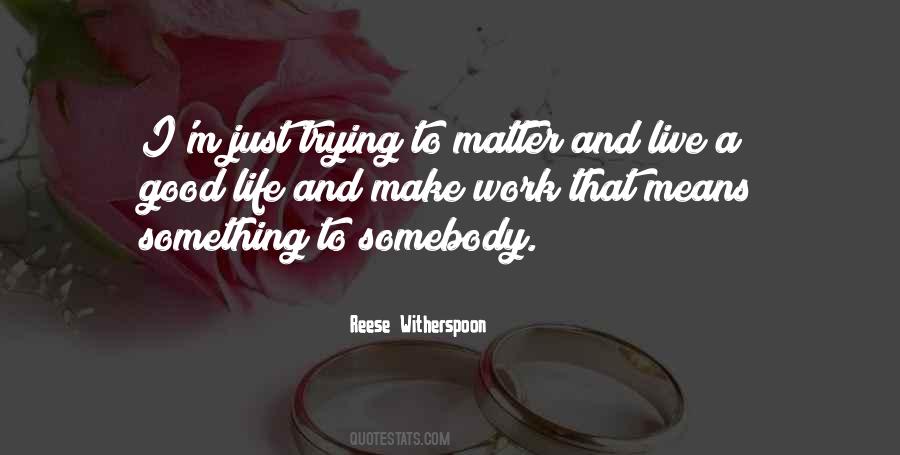 #28. Don't bother trying to explain your emotions. Live everything as intensely as you can and keep whatever you felt as a gift from God. The best way to destroy the bridge between the visible and invisible is by trying to explain your emotions. - Author: Paulo Coelho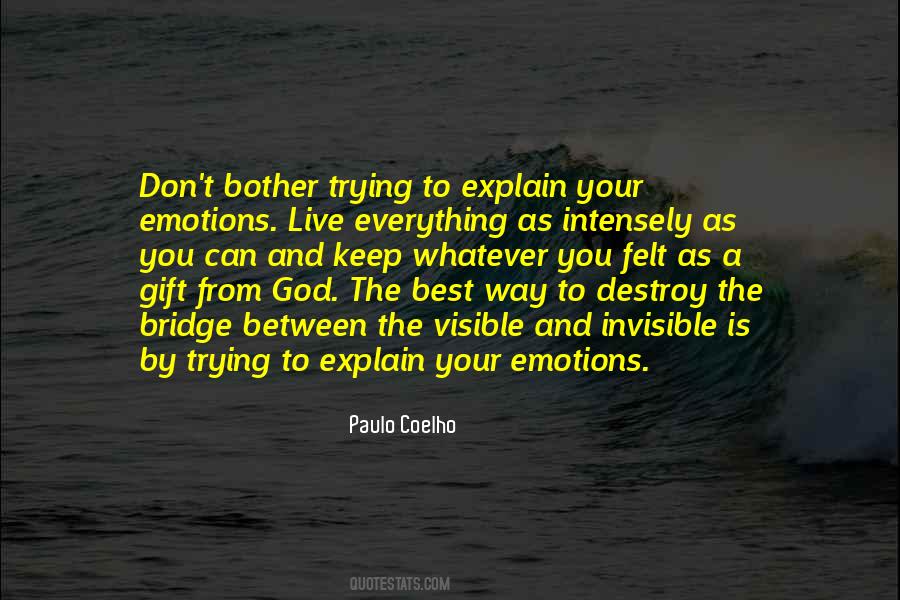 #29. Look at this thing. It's ruining my life. I'm trying to live a peaceful, meaningful existence, but I feel like I'm sitting on top of a volcano. At any moment this thing can decide to freak, close down, and fight with what's happening. - Author: Michael A. Singer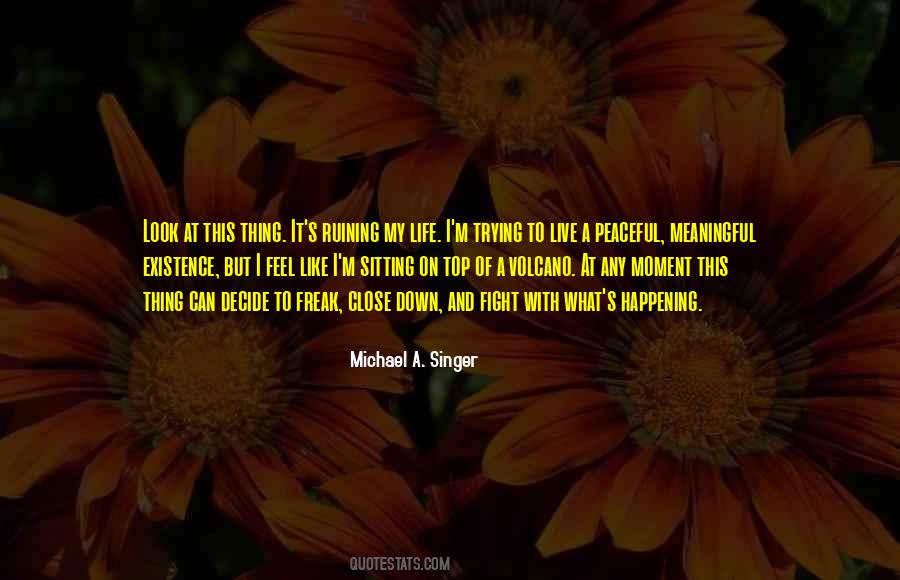 #30. I'm not trying to live a social media life or a life to just be in a magazine. - Author: Tika Sumpter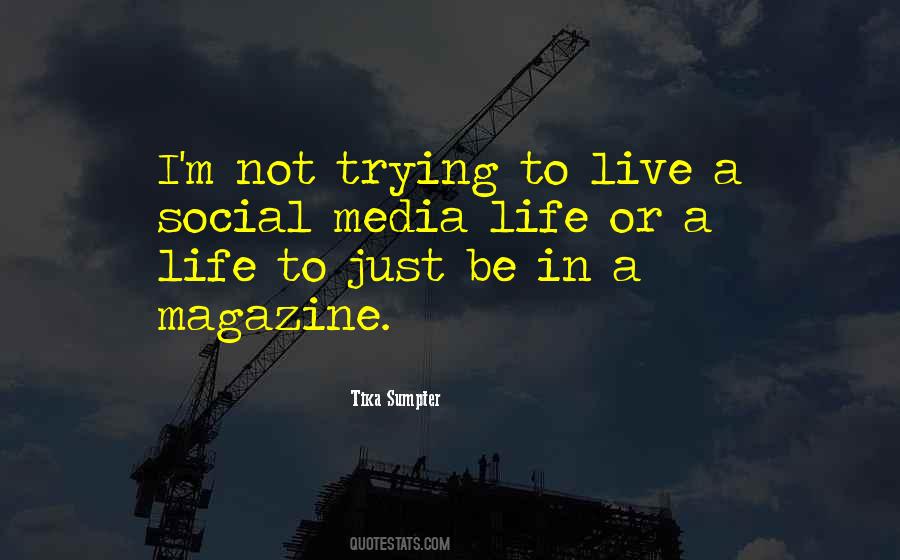 #31. Don't waste your time trying to live an average life. You aren't average. And that is your greatest advantage. - Author: Heidi Priebe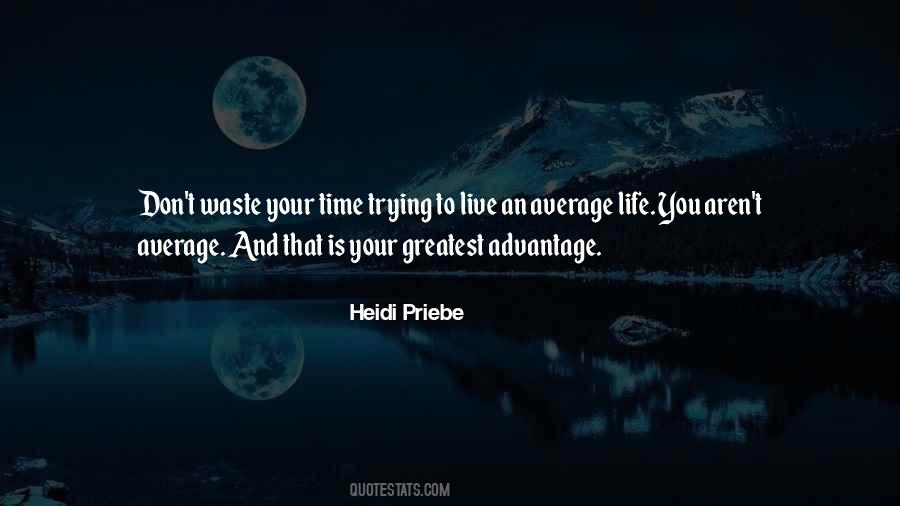 #32. I have just gained a deeper and deeper respect for acting and the whole art of it because you're really trying to live a life and to do the best justification for it. - Author: Billy Magnussen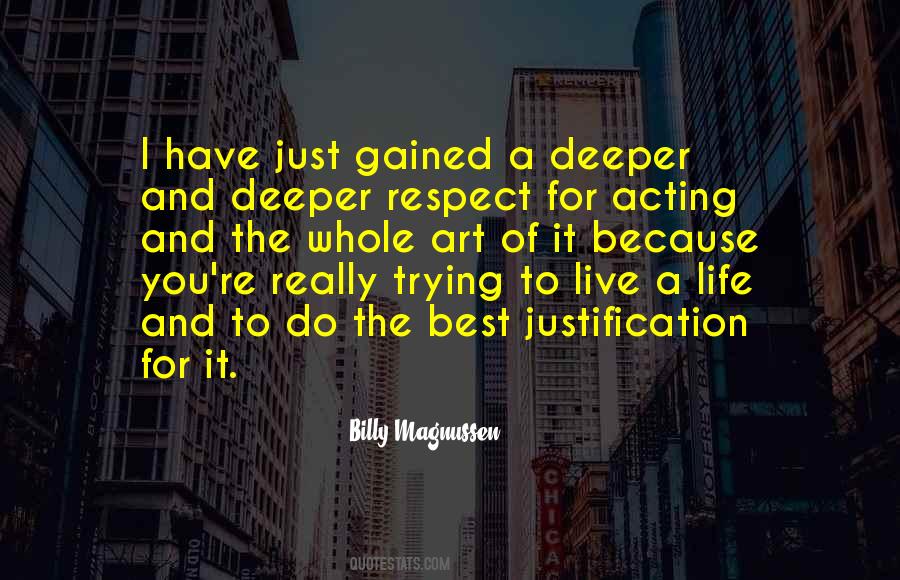 #33. Don't let your life revolve around whatever you're trying not to do or feel. Live to experience, not to avoid. - Author: Martha Beck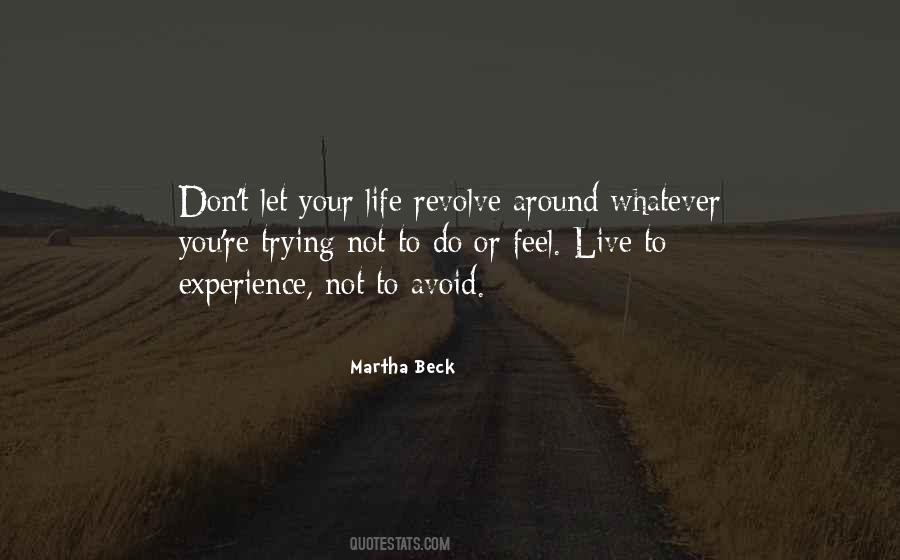 #34. To live an art-filled life, one must be willing to try new things & accept that things change. - Author: Lee Hammond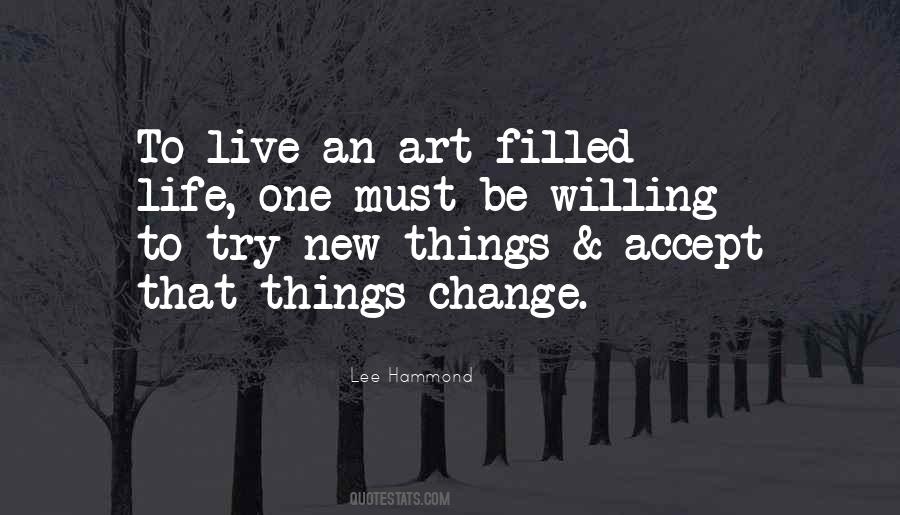 #35. I've spent most of my life trying to make it to a future that still hasn't happened, or avoid a past that won't let me go. I don't remember when I've ever just stopped to live in the present, to hold on to the seconds I'm in. ~ Emma - Author: Rebecca Donovan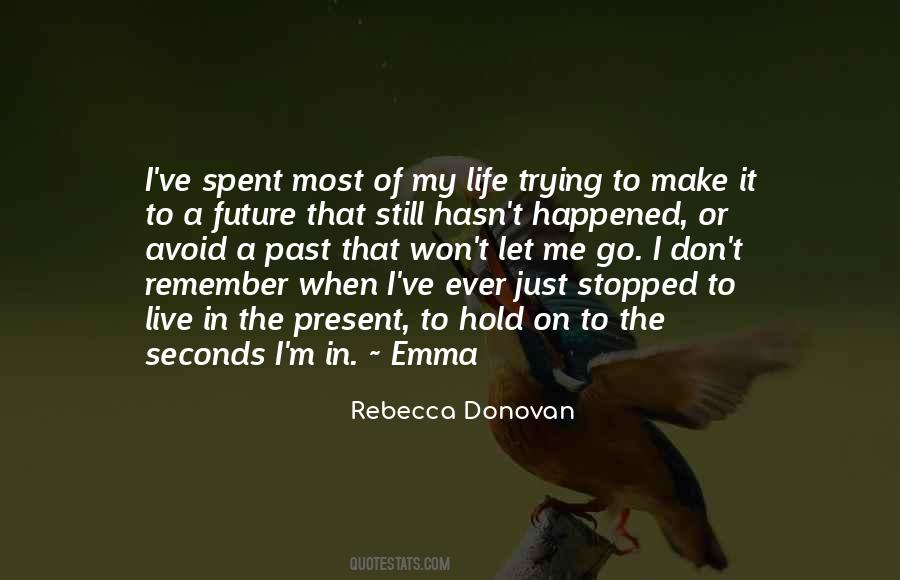 #36. I'm not trying to say that people don't have the right opinion but I have to live my life. And I'm living it and I'm loving it. - Author: Brandon Jennings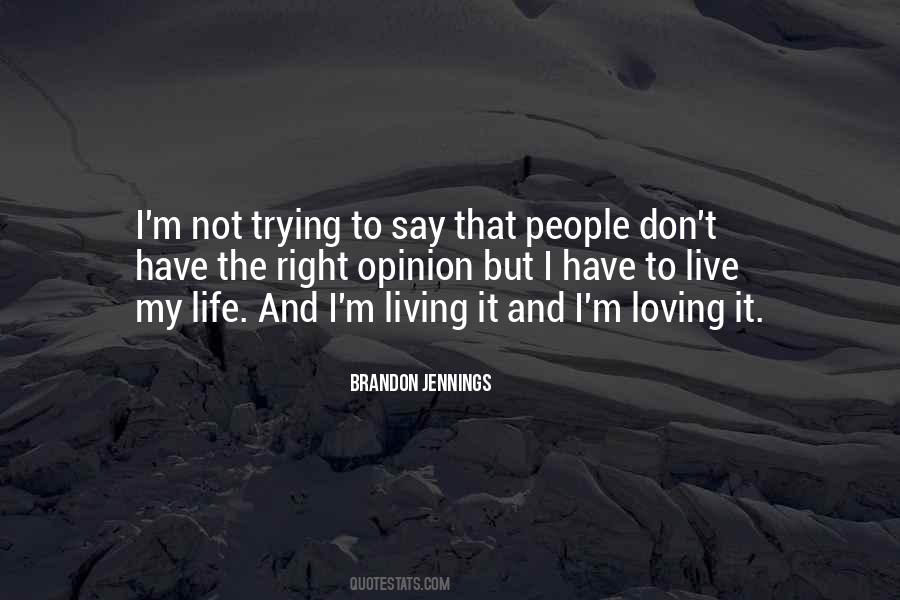 #37. So my dad - he told me that instead of living life by time and dates, to live them by moments. And instead of trying to remember how old I was or what day it was, try to remember how I felt during those moments. - Author: Jay McLean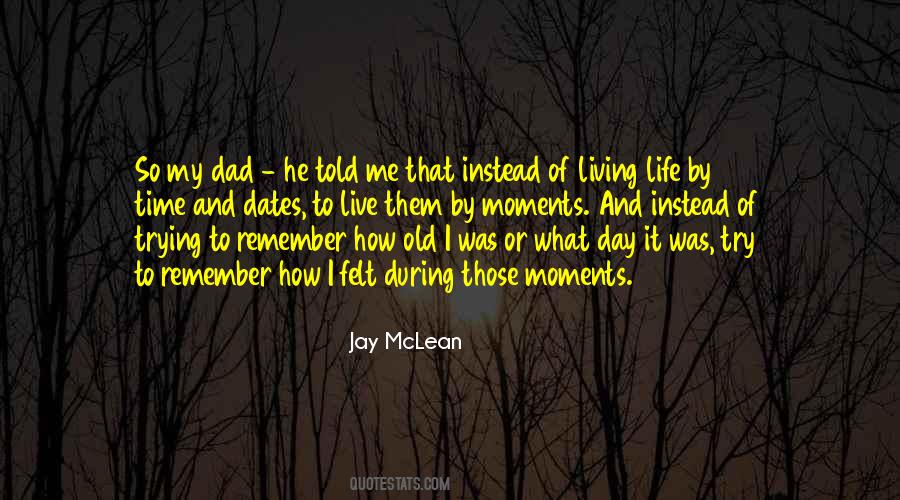 #38. I'm not trying to find answers anymore. I'm trying to live what I know. - Author: Phil Jackson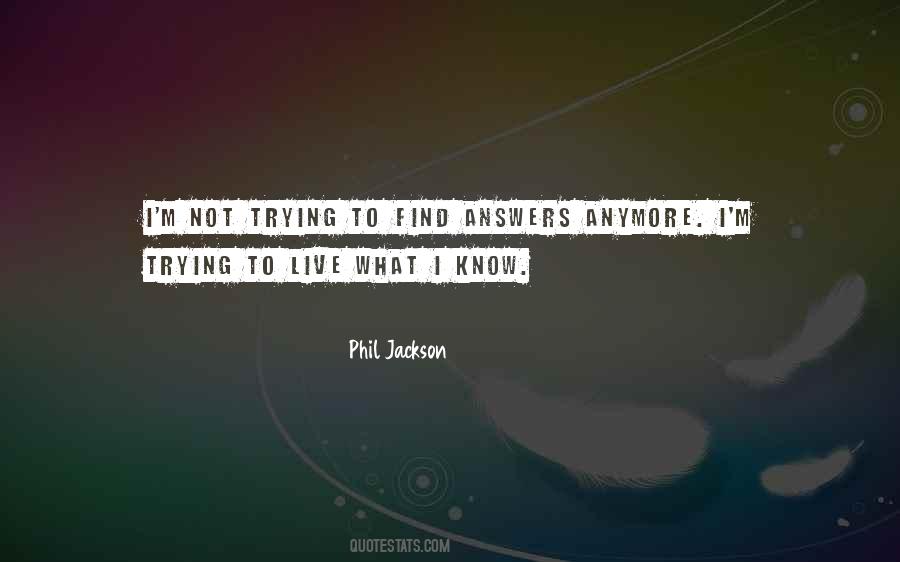 #39. I just live my life and try to be present. - Author: Lenny Kravitz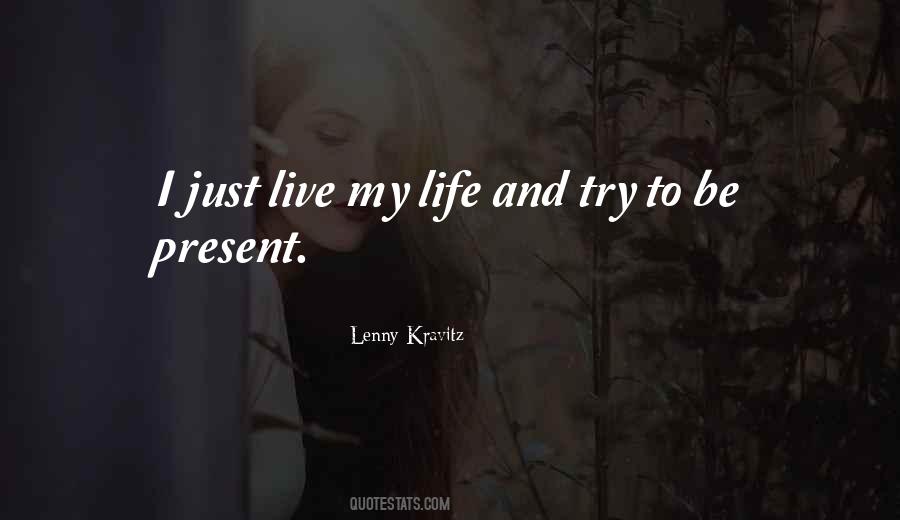 #40. The greatest difficulty we have faced is the neocolonial way of thinking that exists in this country. We were colonized by a country, France, that left us with certain habits. For us, being successful in life, being happy, meant trying to live as they do in France, like the richest of the French. - Author: Thomas Sankara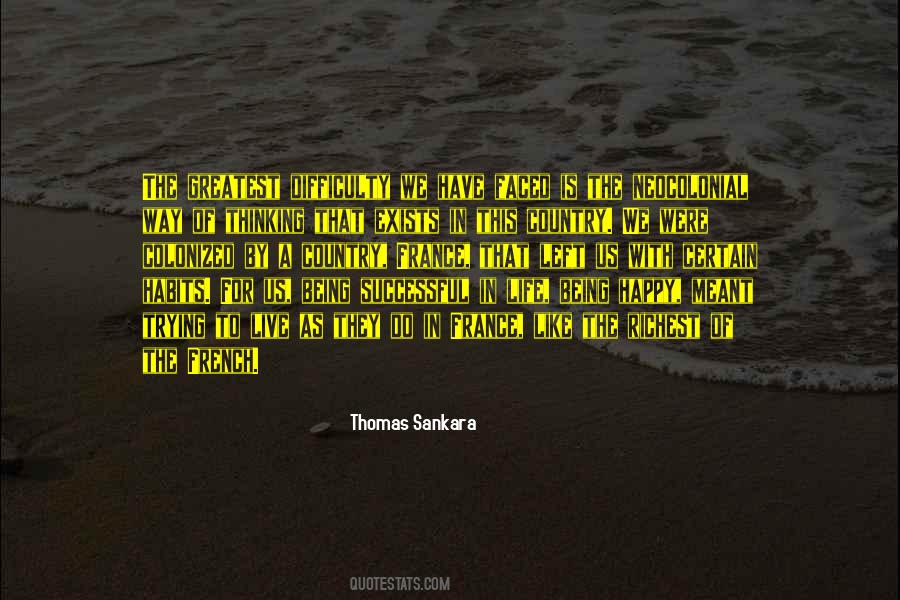 #41. I think the themes in my songs are very similar from the first album to the newest one. It's all about the human condition and how we are all trying to learn to live with each other and survive love and life. - Author: Deana Carter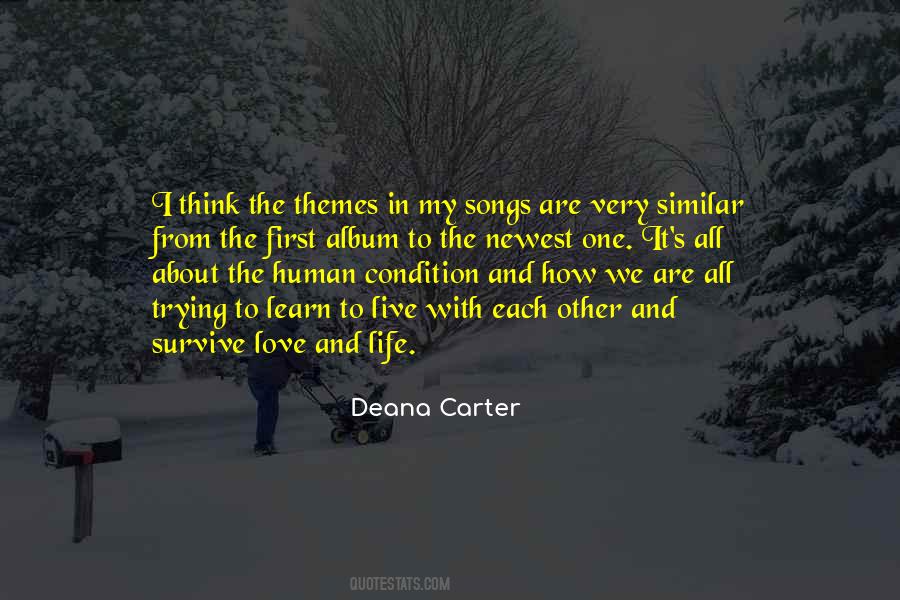 #42. I try not to think about my public life. I focus on my private life, and that's just the best way to live. - Author: Angelina Jolie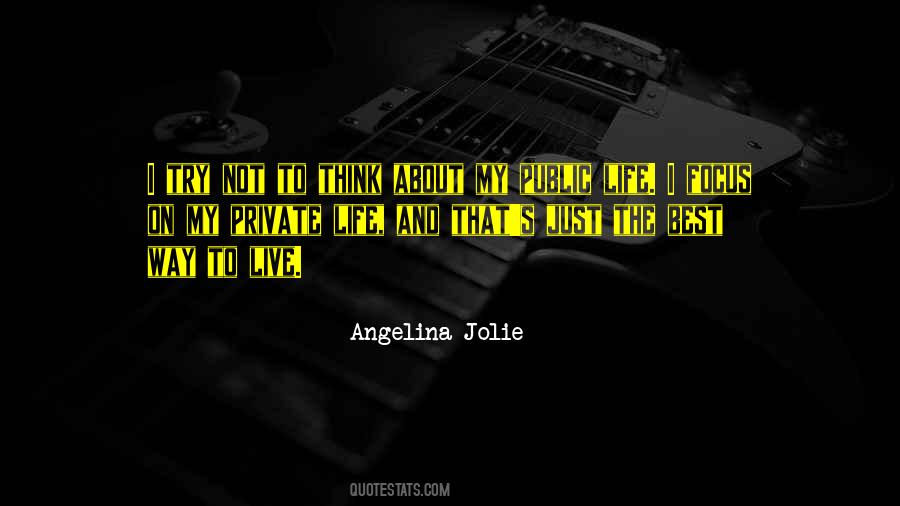 #43. Yet is our deepest desire is truly to live and go on living, why do we blindly insist that death is the end? Why not at least try and explore the possibility that there may be a life after? - Author: Sogyal Rinpoche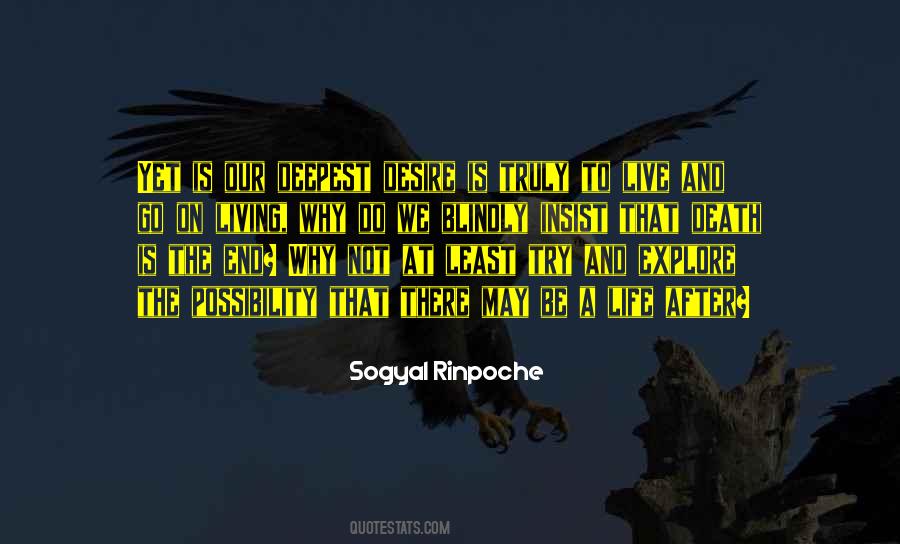 #44. You were right when you said I was holding onto April's apron strings even though she was trying to cut them. I've spent so long relying on her that it's sort of become a habit. It's time I relied on myself for a bit and took control of my life. - Author: Nicola Sinclair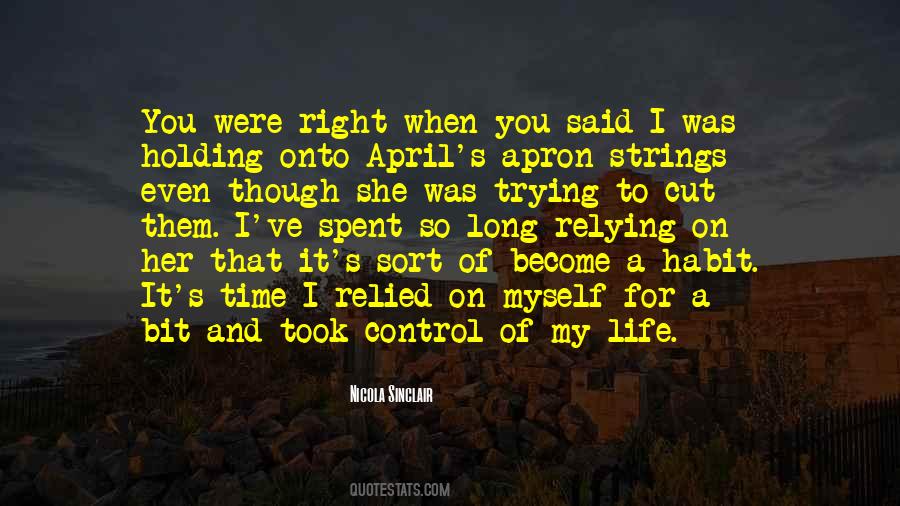 #45. We live that our souls may grow. The development of the soul is the purpose of existence. God Almighty is trying to obtain some decent association for Himself. - Author: John G. Lake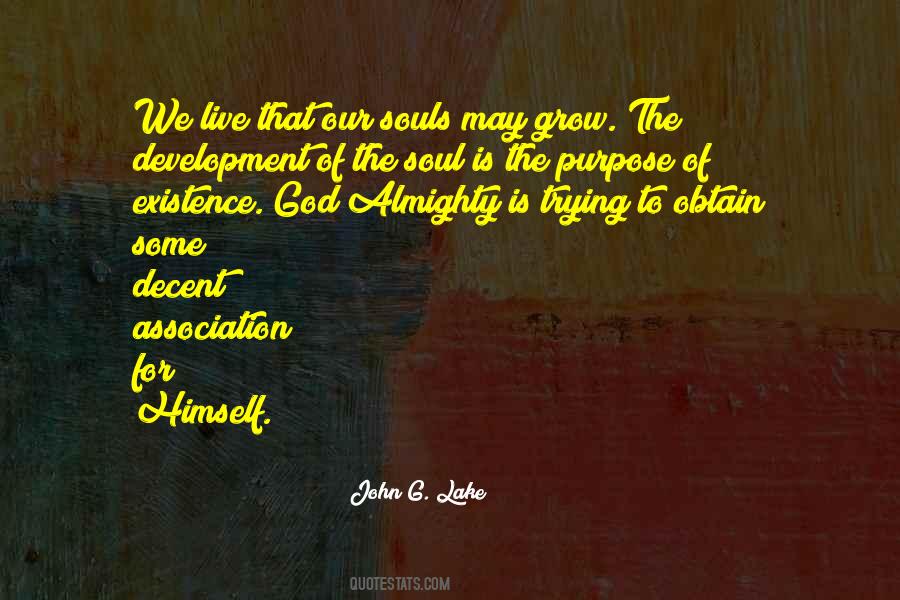 #46. Life is too short to spend your precious time trying to convince a person who wants to live in gloom and doom otherwise. Give lifting that person your best shot, but don't hang around long enough for his/her bad attitude to pull you down. Instead, surround yourself with optimistic people. - Author: Zig Ziglar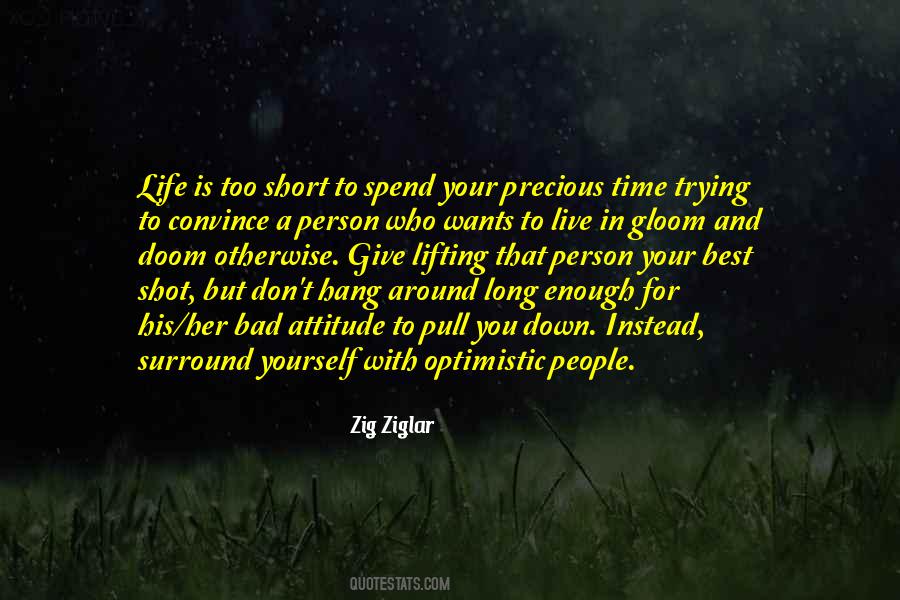 #47. She was never something waiting to be solved. All she is - all she's ever been - is a person trying to live a life. - Author: Nina LaCour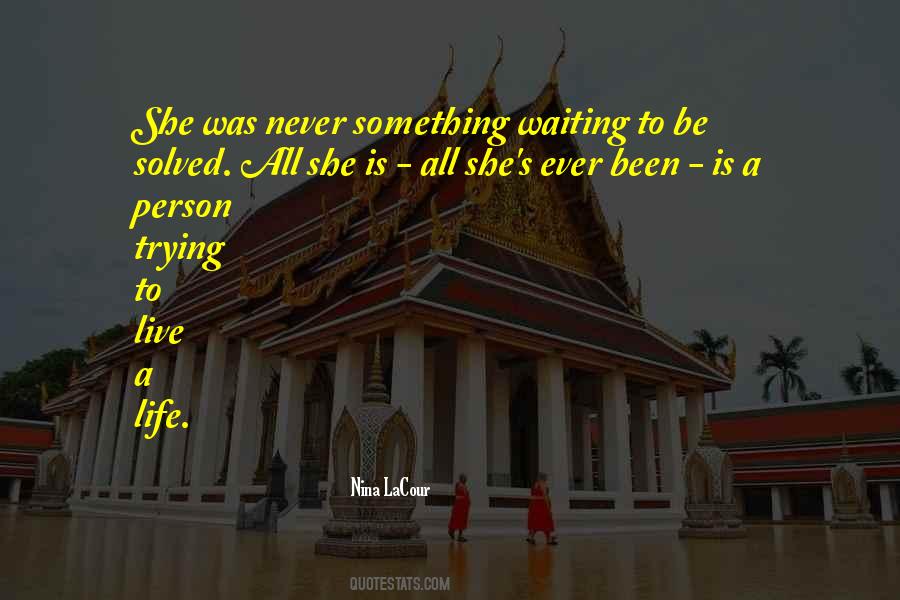 #48. If you desire truly to live you will cease trying to find magic tricks and short-cuts to life and learn the simple laws of being, and order your life in conformity with these. Realign your life with the laws of nature - this and this alone constitutes living to live. - Author: Herbert M. Shelton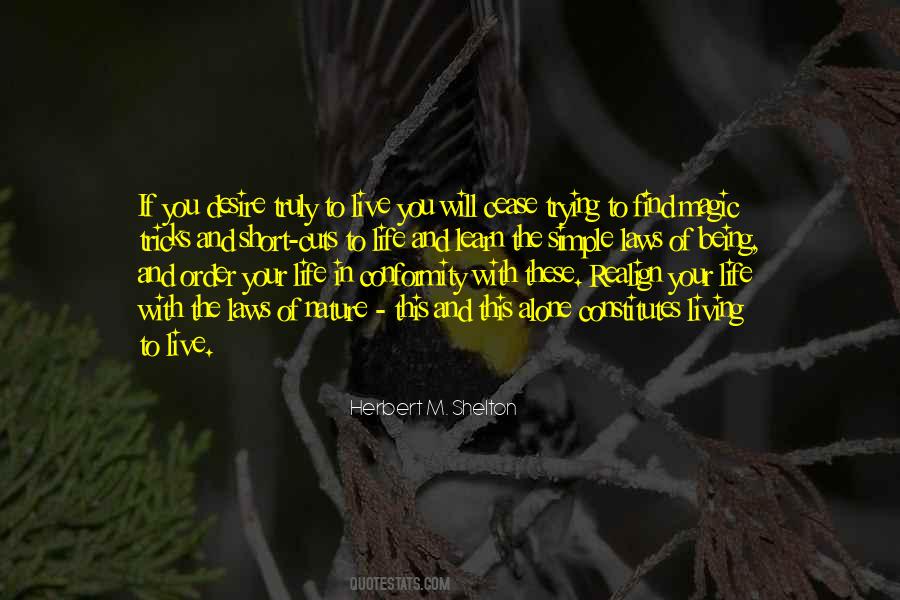 #49. The worst pain in the world is shame. I spend a lot of time trying to not do anything bad to anyone, but you can't live your life and not hurt people. - Author: Fiona Apple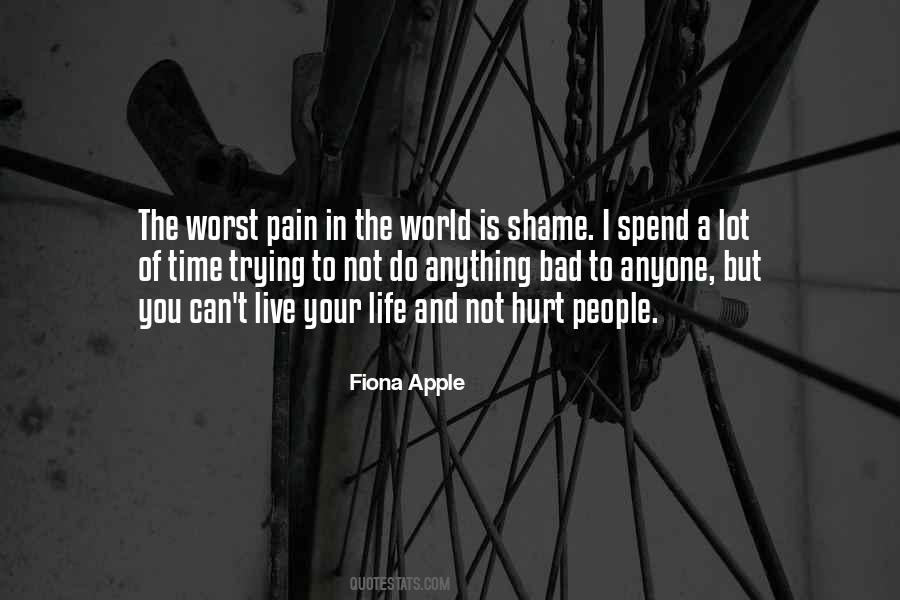 #50. You will miss her sometimes. Bear in mind she's trying to kill you. Bear in mind you have a life to live. - Author: Marya Hornbacher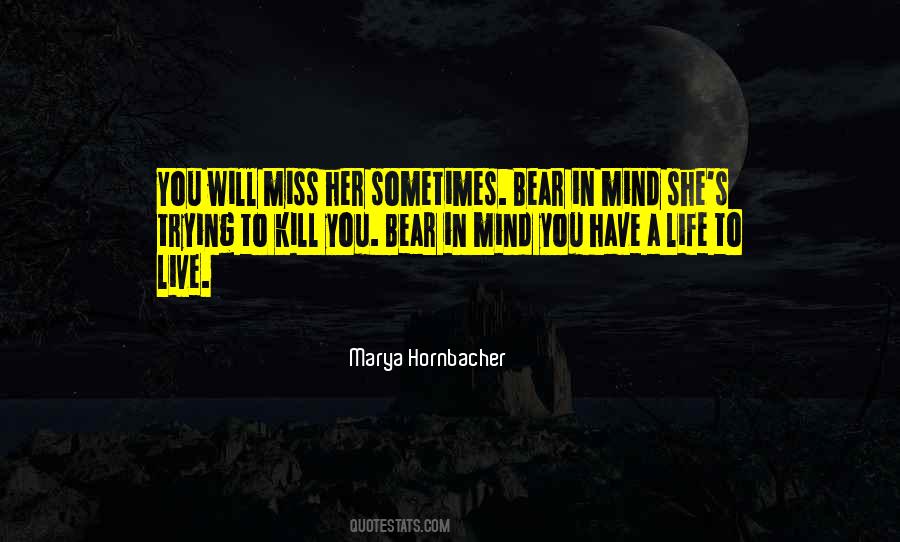 #51. I live a pretty balanced life. As hard as I do work & as many things that I do ... I take a lot of time to stay physically strong. I really just try to get the proper rest. I don't run myself into the ground. - Author: Rob Dyrdek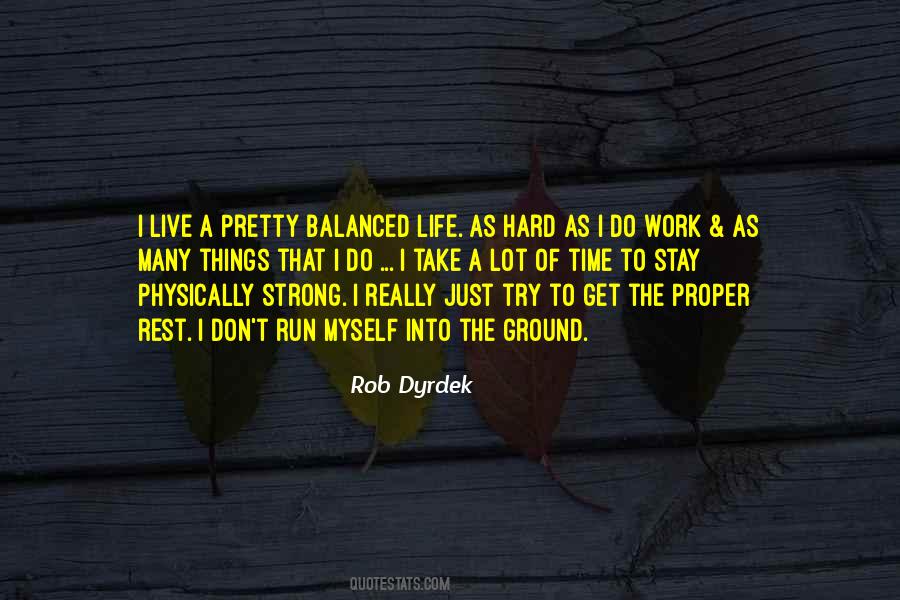 #52. I didn't want to do a zoo show. I didn't want to do a study of someone with mental illness. I just wanted to show someone who was trying to live their life. - Author: Daniel Craig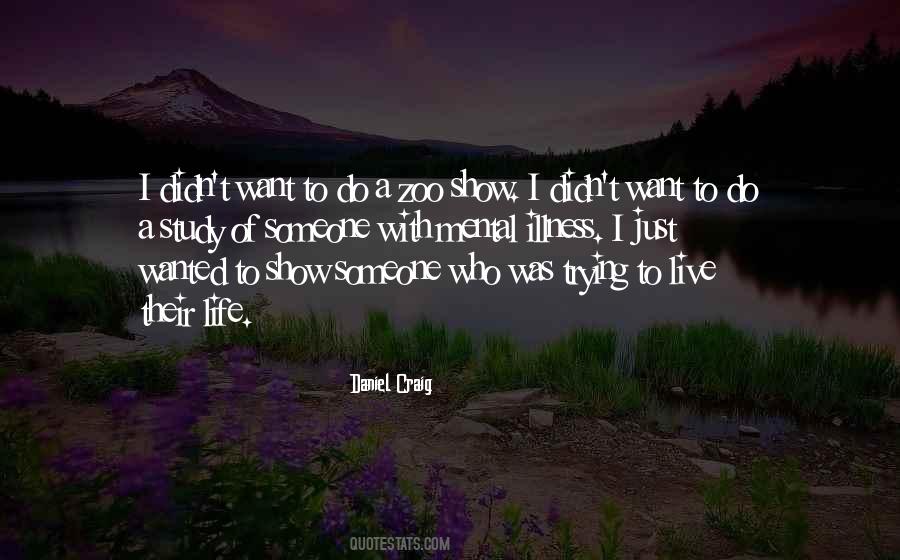 #53. Real people are actively trying to live like fake people, so real people are no less fake. Every comparison becomes impractical. This is why the impractical has become totally acceptable; impracticality almost seems cool. - Author: Chuck Klosterman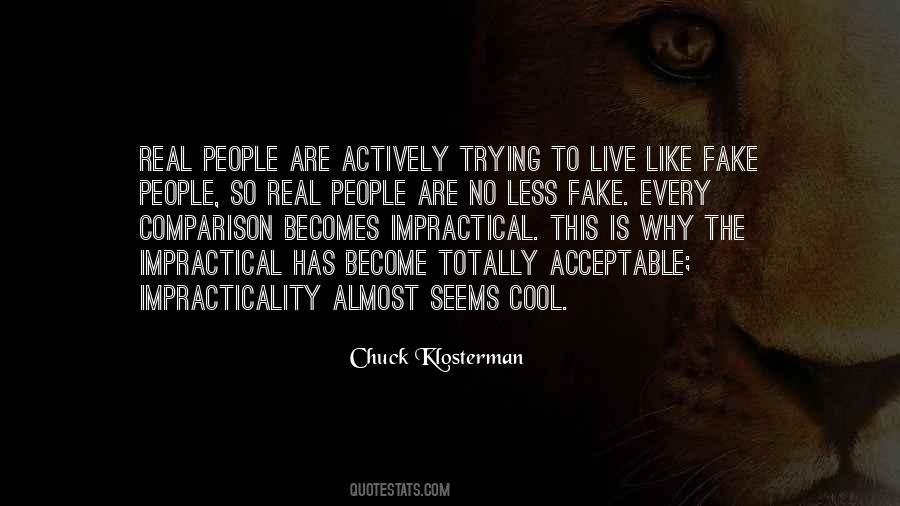 #54. You can't live your life trying to please people. You be courteous and you be respectful, but you've got to do things in the way that you want to do them. - Author: Kip Moore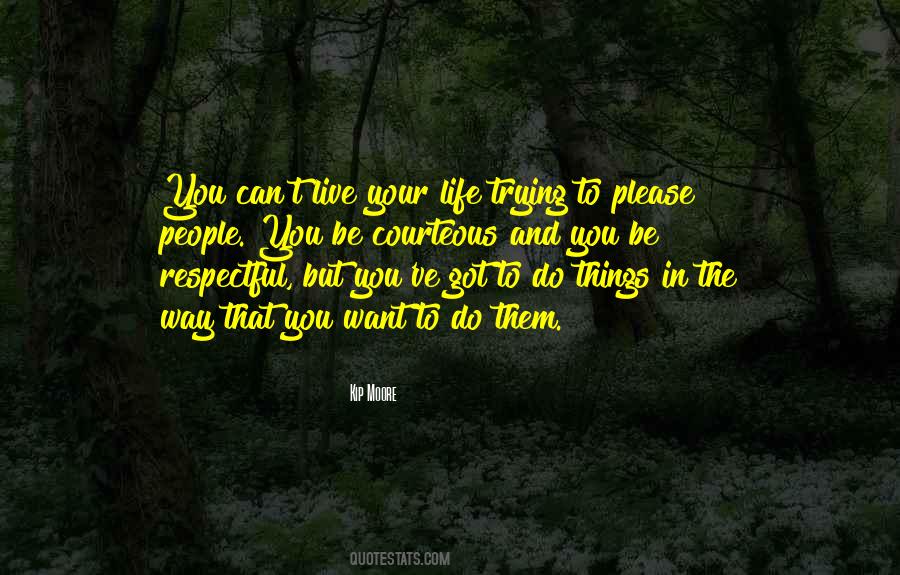 #55. I give a damn if any fan recalls my legacy, I'm trying to live life in the sight of GOD's memory. - Author: Mos Def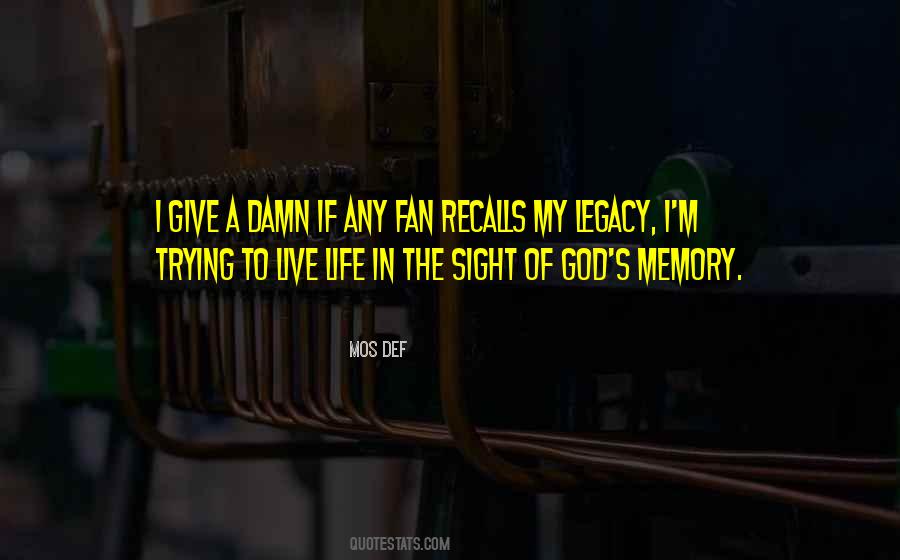 #56. I read a Bruce Lee quote that shifted how I'm trying to live my life right now. He said, "Some targets are only meant to be aimed at." Right? And I took that to mean a shift for myself from goal orientation to path orientation. - Author: Will Smith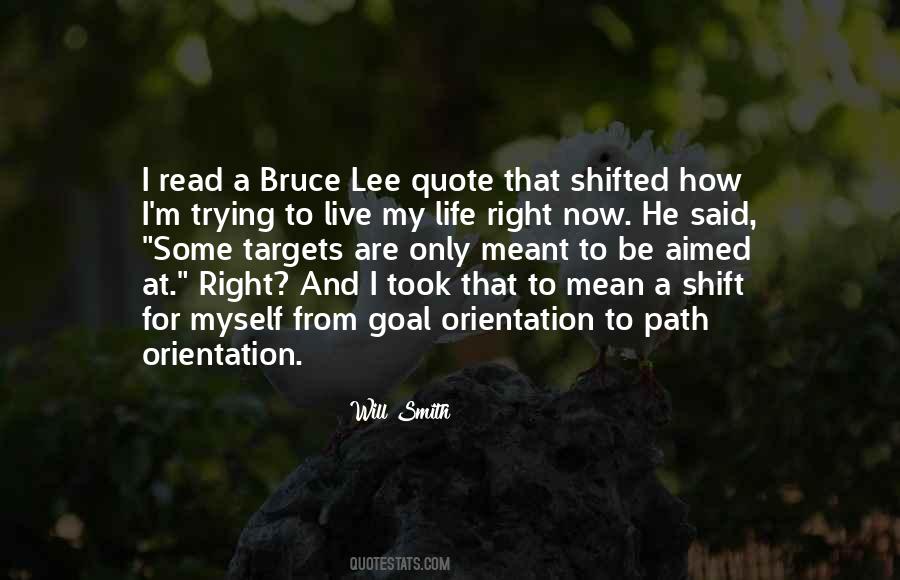 #57. My agenda is trying to help people live a better life. - Author: Jillian Michaels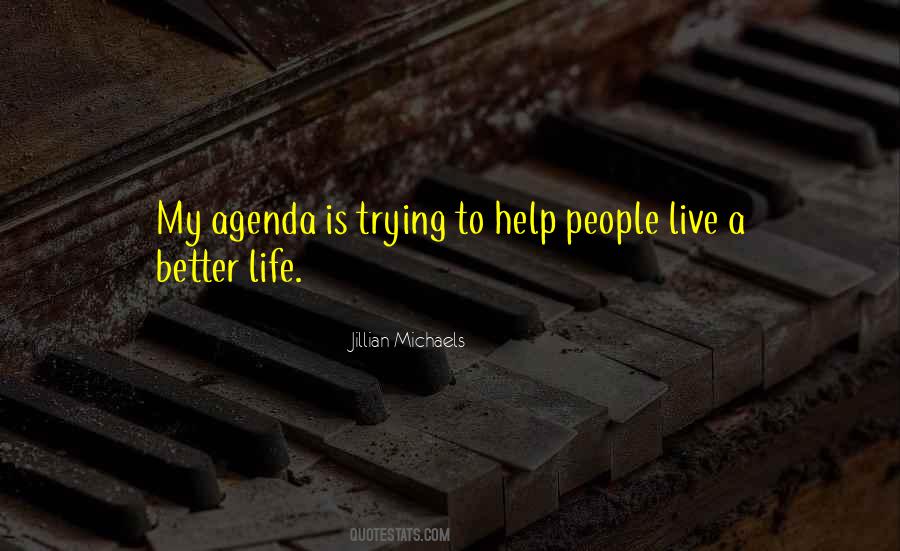 #58. A lot of ballads are about the mistakes we inevitably make while trying to figure out how to live our lives. - Author: Stephanie Kuehnert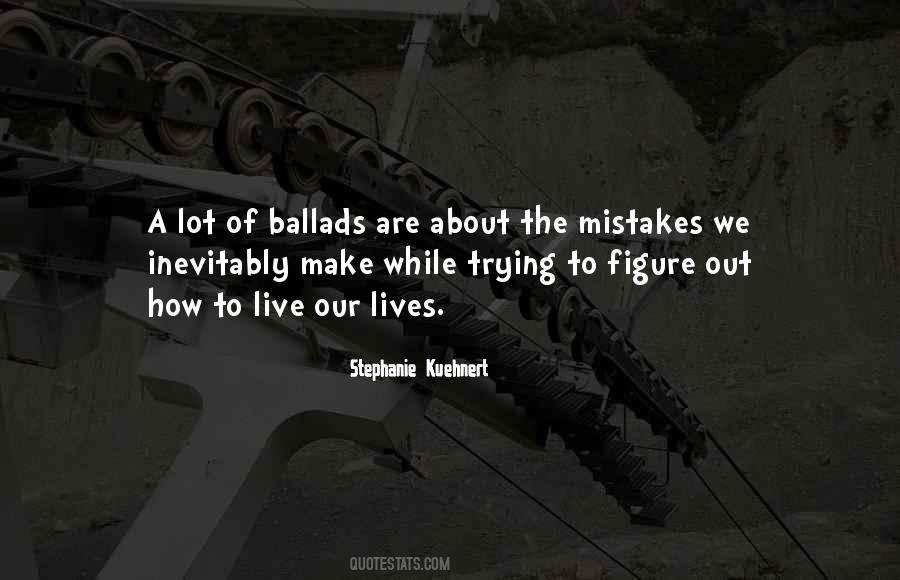 #59. I am just like you and everyone else. I am trying to live my life as best I can. - Author: Liz Phair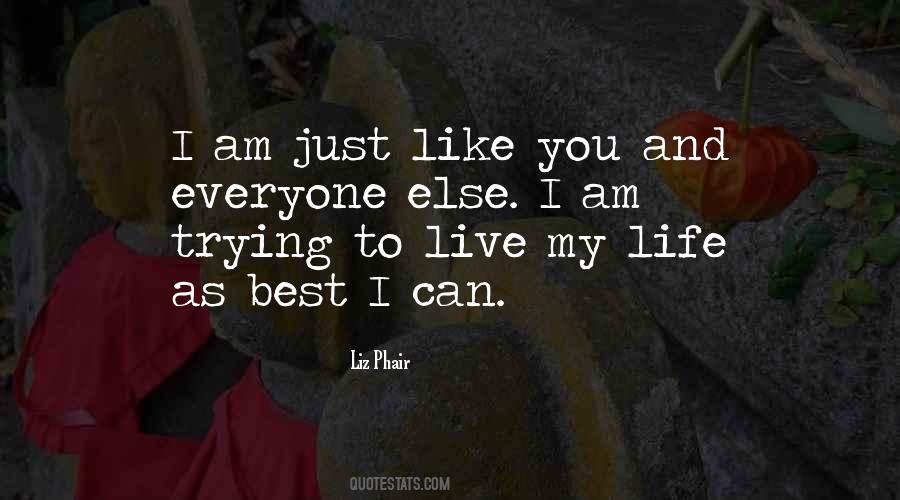 #60. Live your life like the novels that you love to read. Only do the things that when you look back, you are proud of what you accomplished, feel good about how you treated others and didn't regret not doing to trying something. Every day is a new chapter, write something. - Author: Taylor Berke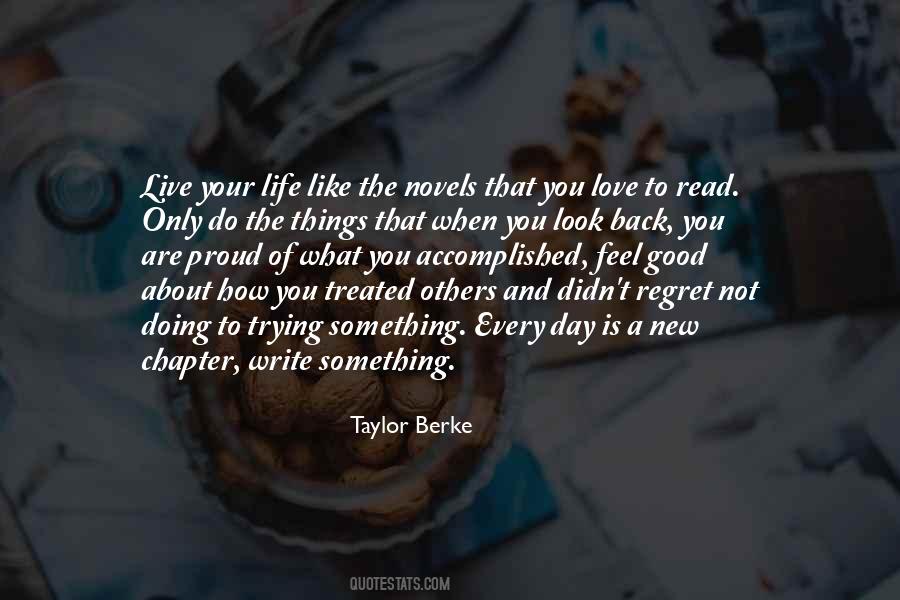 #61. I've had a blessed life. I've pulled back from trying to control my destiny and gone back to accepting whatever fate has in store for me. I live for today because I don't know what'll happen tomorrow. - Author: Cilla Black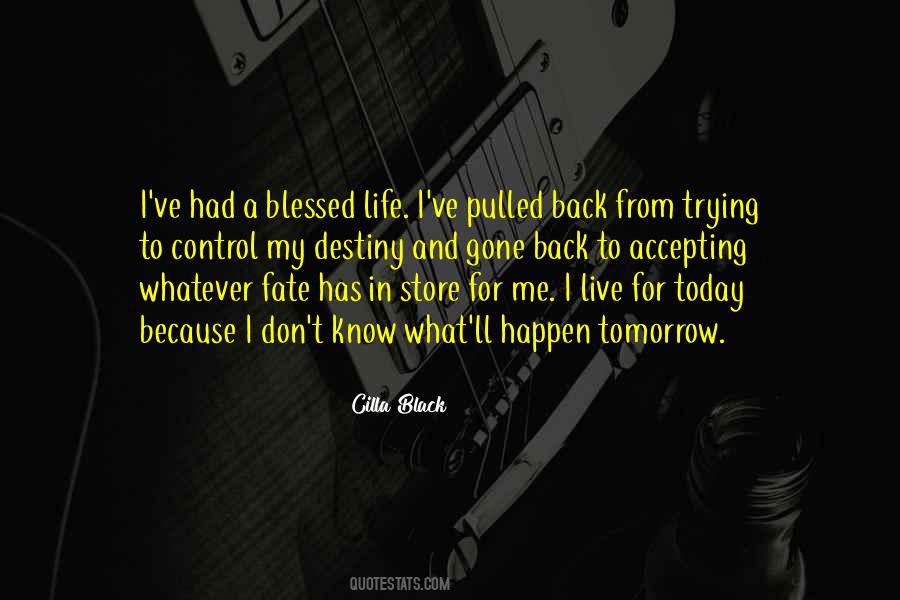 #62. When people see you do alright, then you start winning their hearts. It's not going to come easy, though. It doesn't matter how many people you do right, you're still going to be hated by so many others. You can't live your life trying to make everybody happy. - Author: Cam Newton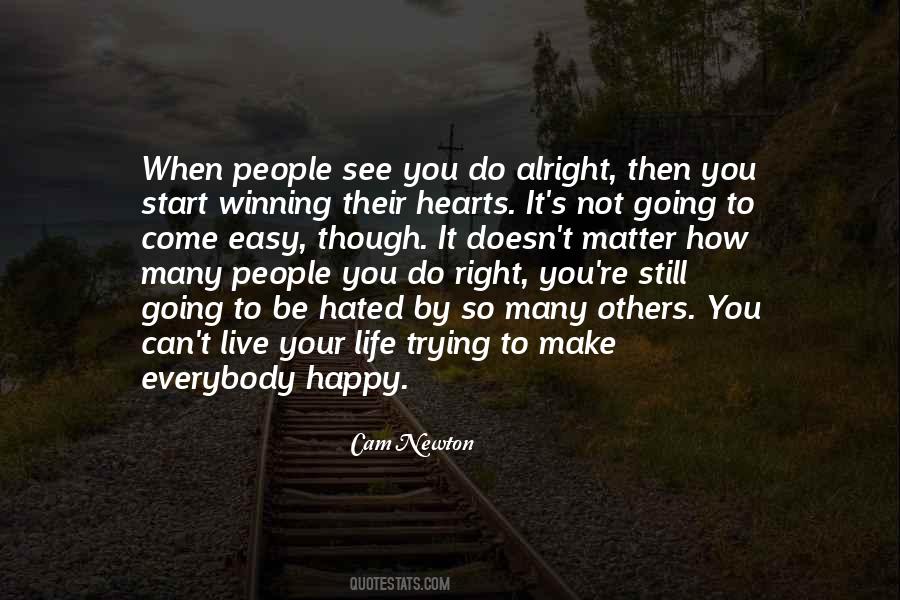 #63. You might as well try to hear without ears or breathe without lungs, as to try to live a Christian life without the Spirit of God in your heart. - Author: Dwight L. Moody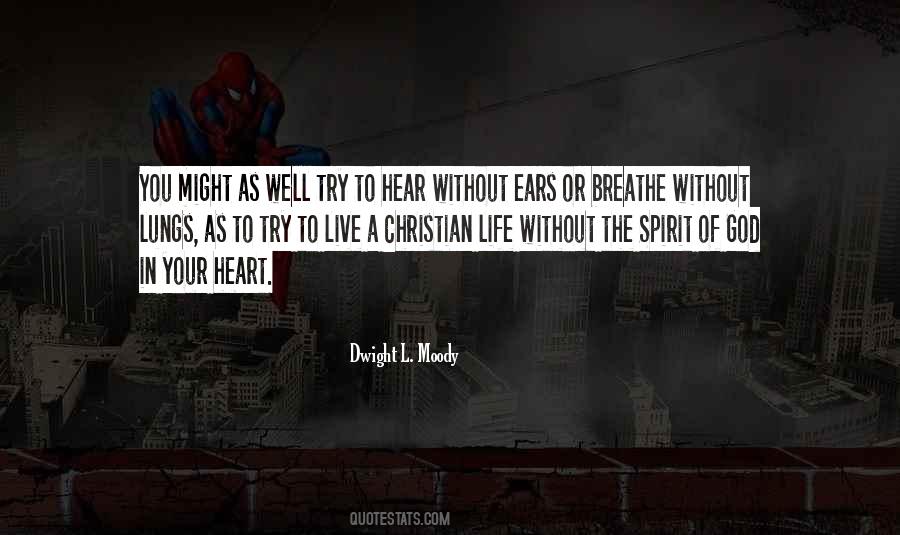 #64. It's a terrible way to live, to be closeted, to always be worried about being found out. To live this double life is really trying. - Author: Sean Maher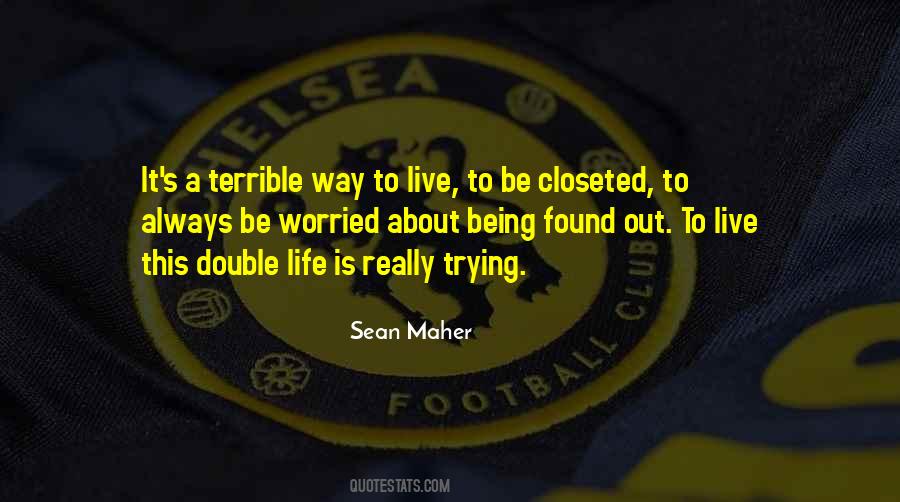 #65. To live a life that is wrong for you is a form of dying. There are people who have lives that look perfect. They try to be happy, they believe they should be happy, they are trying to like it, but if it's off course from their north star, they aren't satisfied. - Author: Martha Beck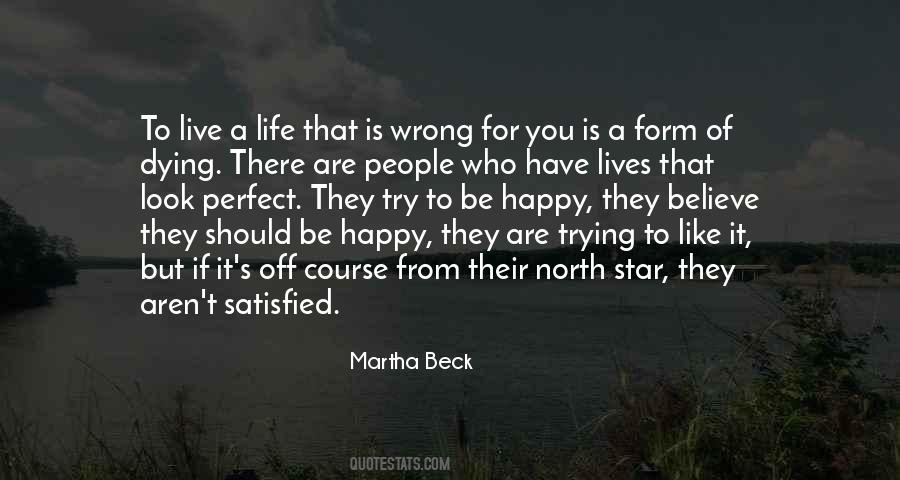 #66. With every decision you make in your life, you're going to have some regrets about the way it goes. You just have to chose which set of regrets you can live with the best, and try to minimize the amount of regrets you have. - Author: John Rzeznik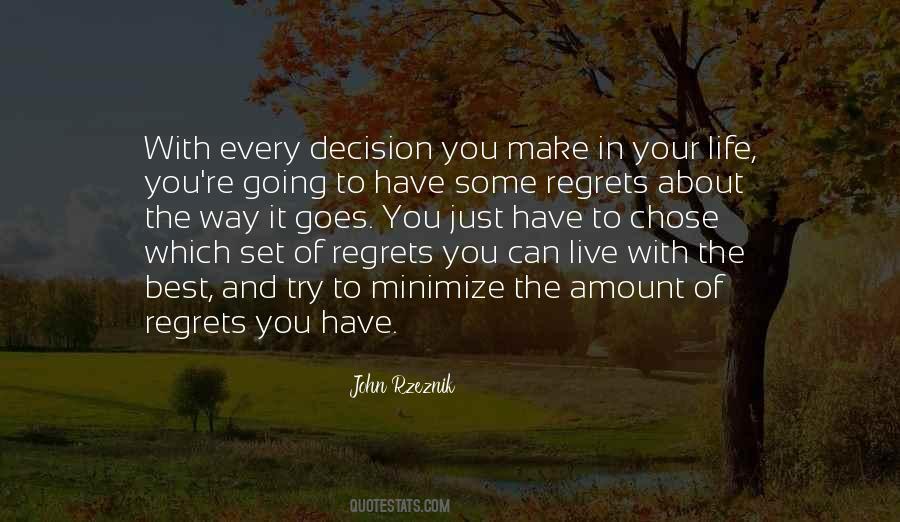 #67. I couldn't care less what anybody says about me. I live my life, especially my personal life, strictly for myself ... Whatever you do, you're going to be criticized. I feel the one sensible thing you can do is try to live in a way that pleases you. - Author: Johnny Carson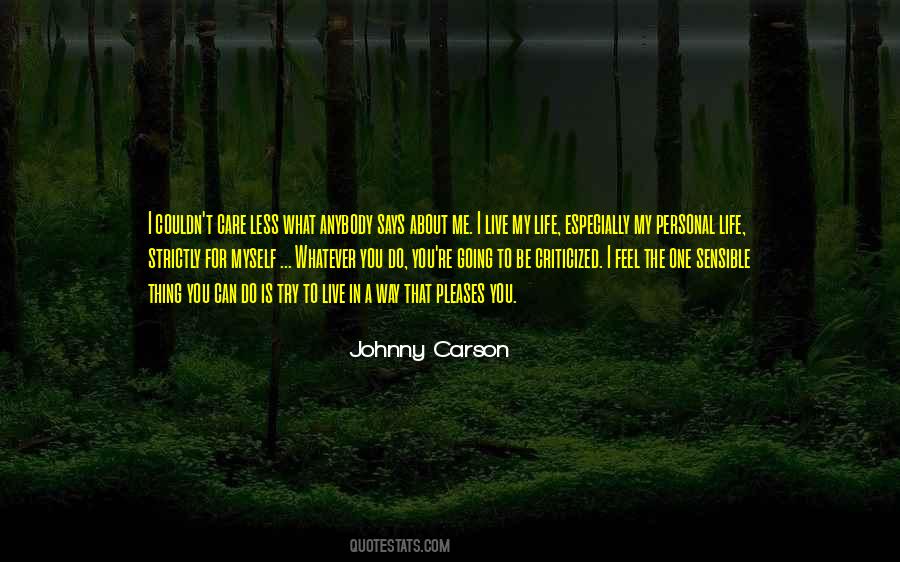 #68. Sometimes we can spend too much time trying to fix our life that we forget to live. - Author: Shannon L. Alder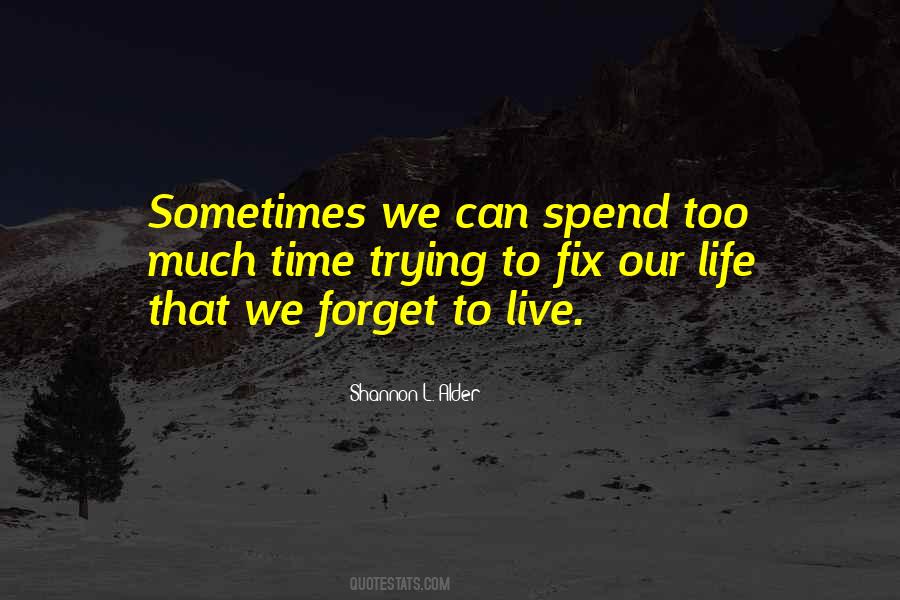 #69. People are so busy trying to do the right thing that they forget to Live. This robs away all the Excitement life has to offer. Do the right thing , but also Live! - Author: R.v.m.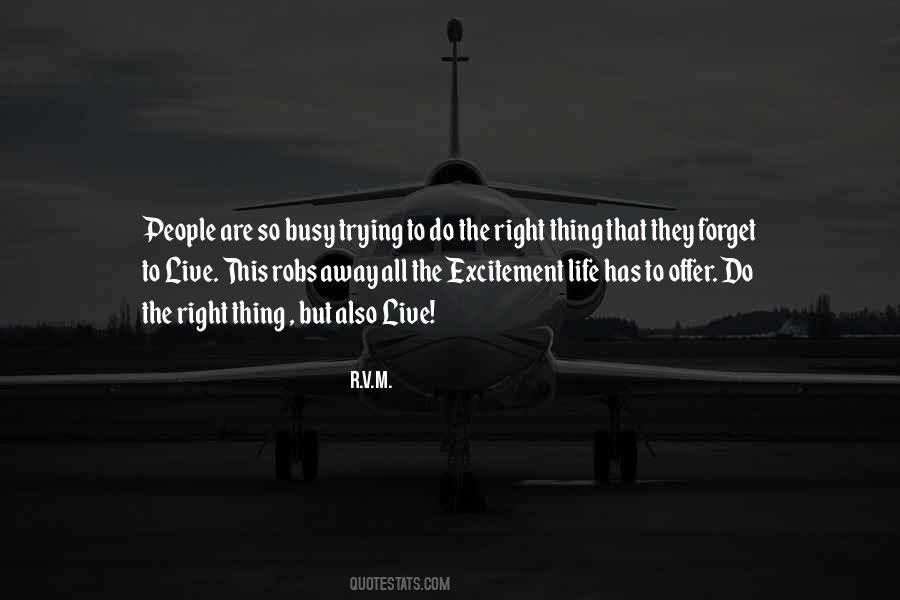 #70. I am honestly trying to live this life while I can. The emotion swells around me, into this huge, humid feeling that I must be doing something right. - Author: Emery Lord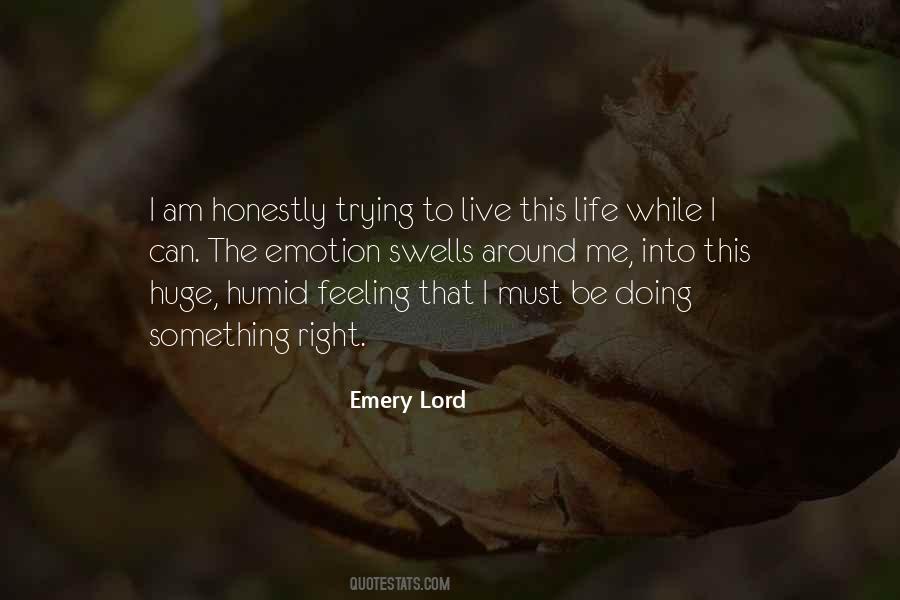 #71. Who is good and who is bad? Life isn't black and white, Javier. You and I, we're just trying to live in all the grey. Isn't that what you've done? Isn't that what you want? To live? - Author: Karina Halle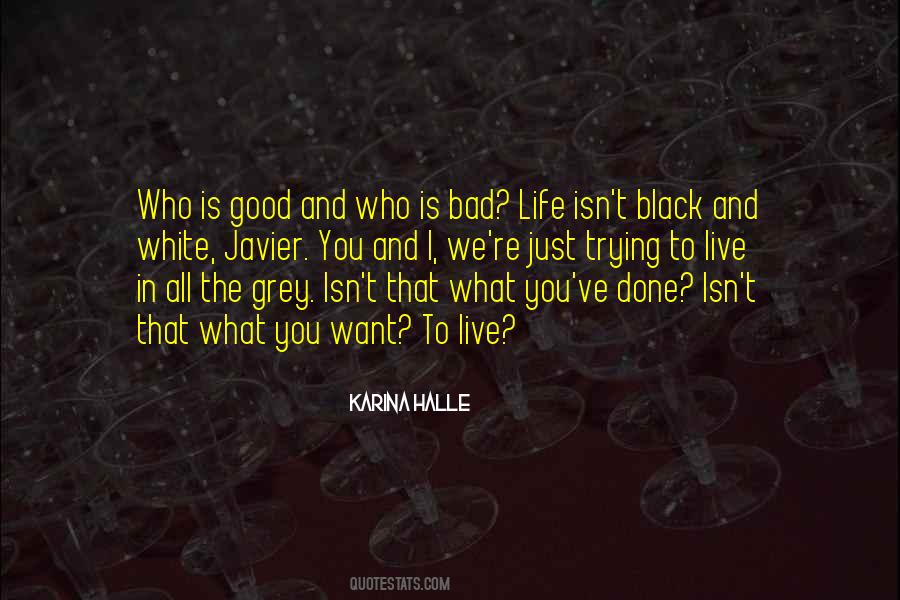 #72. It's human nature to work on ourselves, to get better in mind, body, and spirit, so there's nothing wrong with trying to live life to your fullest potential. - Author: Josh McDermitt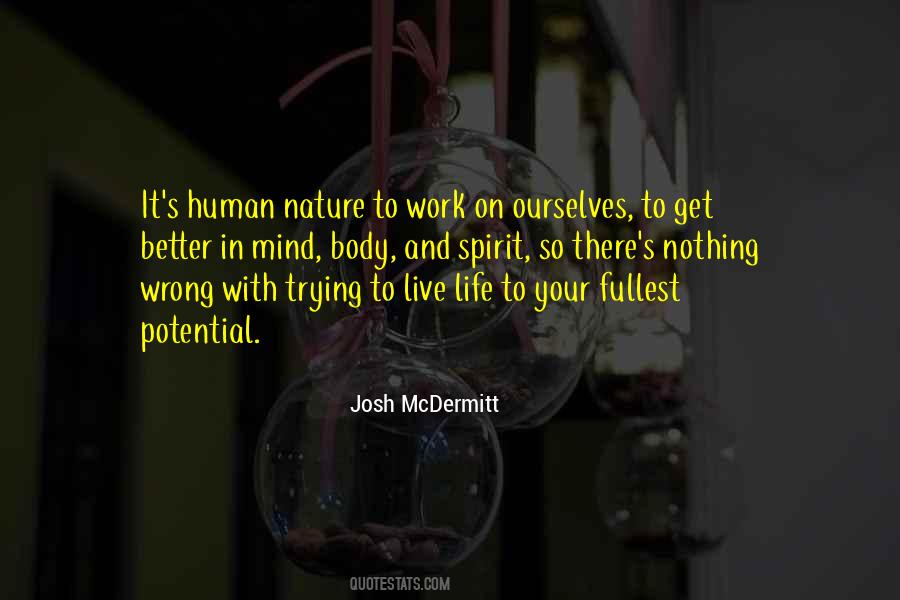 #73. Zen is discipline - the discipline of living life, the discipline of taking a breath, the discipline of not knowing and not trying to know. - Author: Frederick Lenz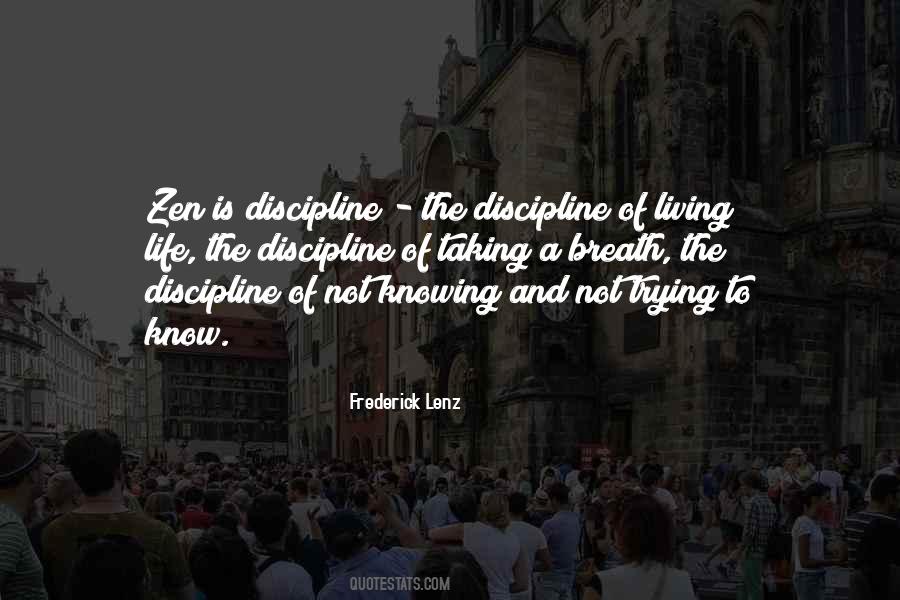 #74. The problem with worry is that we attract the very thing we are trying to avoid. We live a self-fulfilling prophecy. Life keeps its agreement with us through our beliefs, because whatever we think about, we bring about. Life is like a mirror. It reflects back whatever image we present to it. - Author: Robert Anthony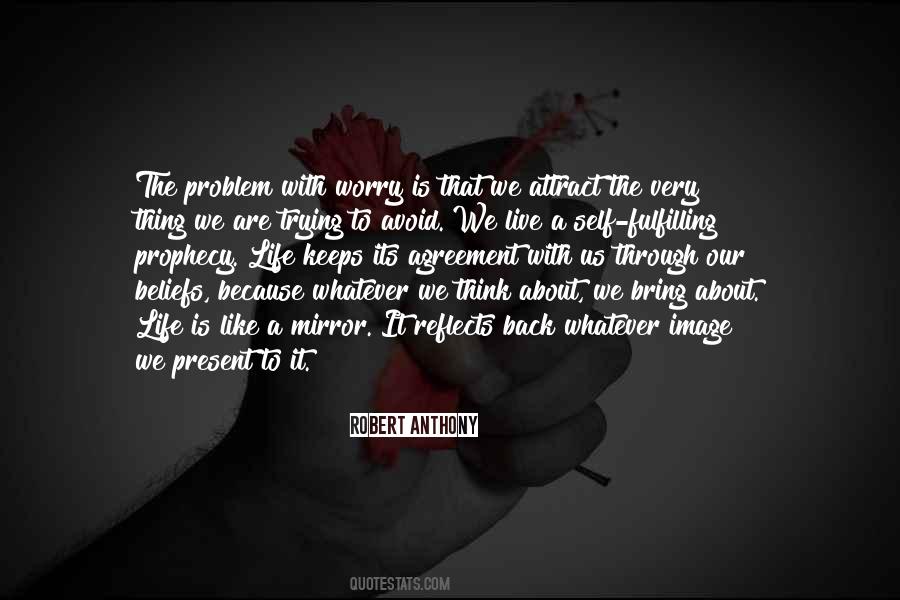 #75. Don't try to change people. It won't work, and they will end up resenting you. Only God can change people! - Author: Joyce Meyer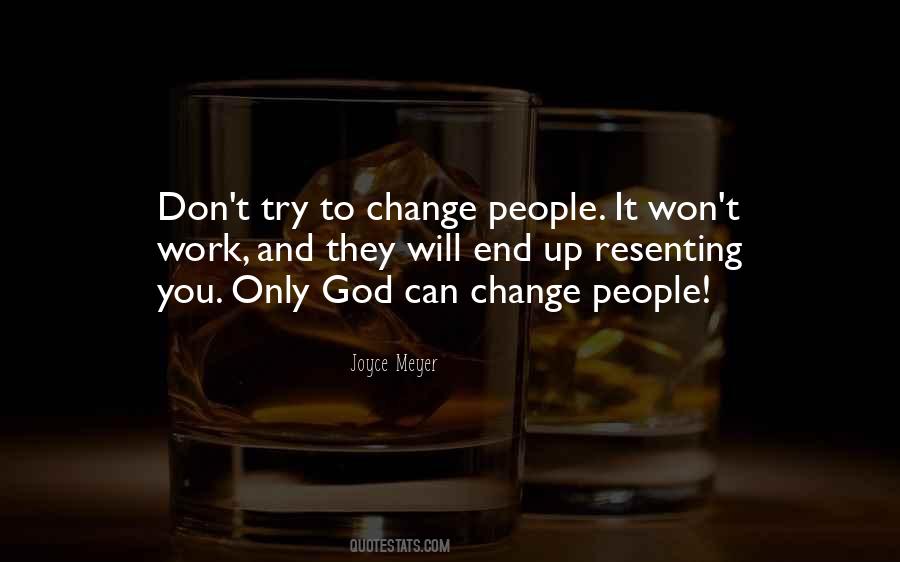 #76. And that's the great thing about living the Christian life and trying to live by faith, is you're trying to get better every day. You're trying to improve. - Author: Tim Tebow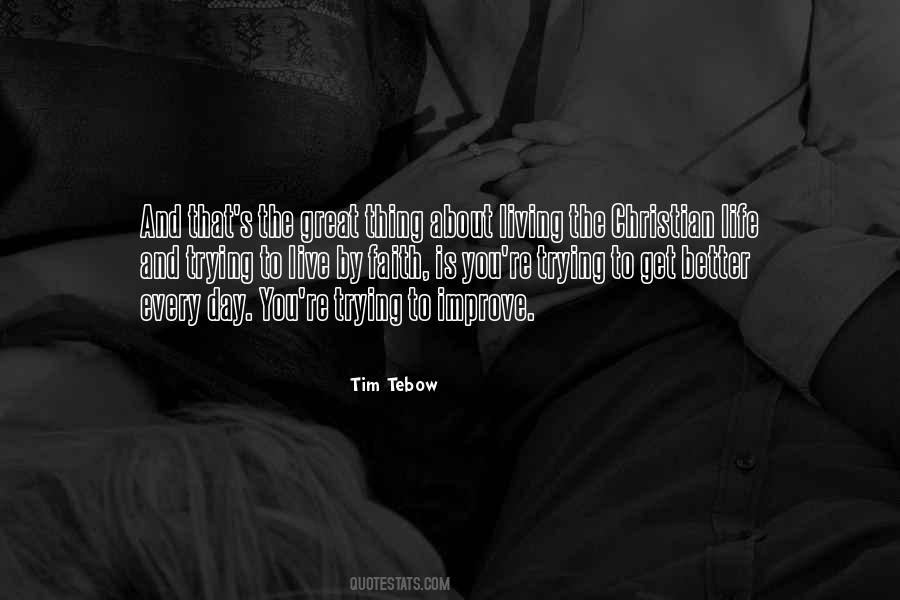 #77. I spent a lot of time making music and touring around the country and living the weird life. I was just trying to keep a job and get by. So in a lot of ways, I went through a strange version of film school. So you live through a lot of things, and put them into your work. - Author: Dito Montiel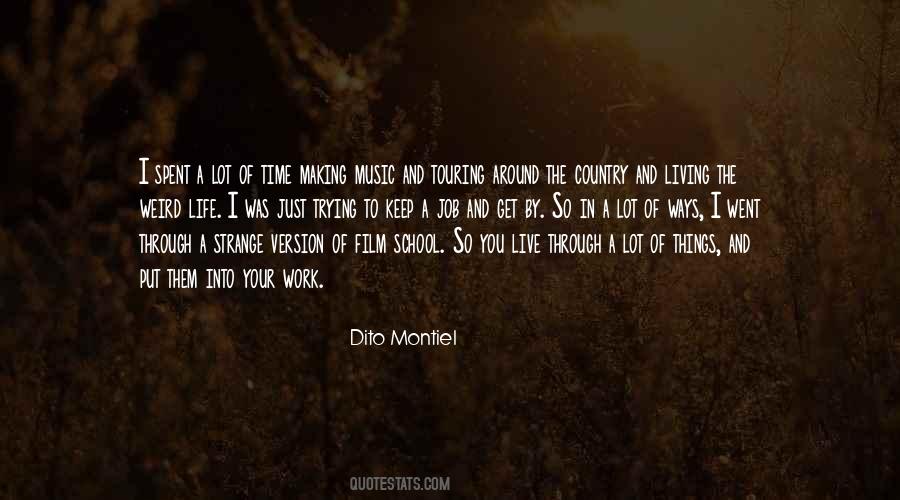 #78. The first time you meet someone, the conversation is sort of on life support. You're just trying to live another moment in the life of the conversation. - Author: Sam Yagan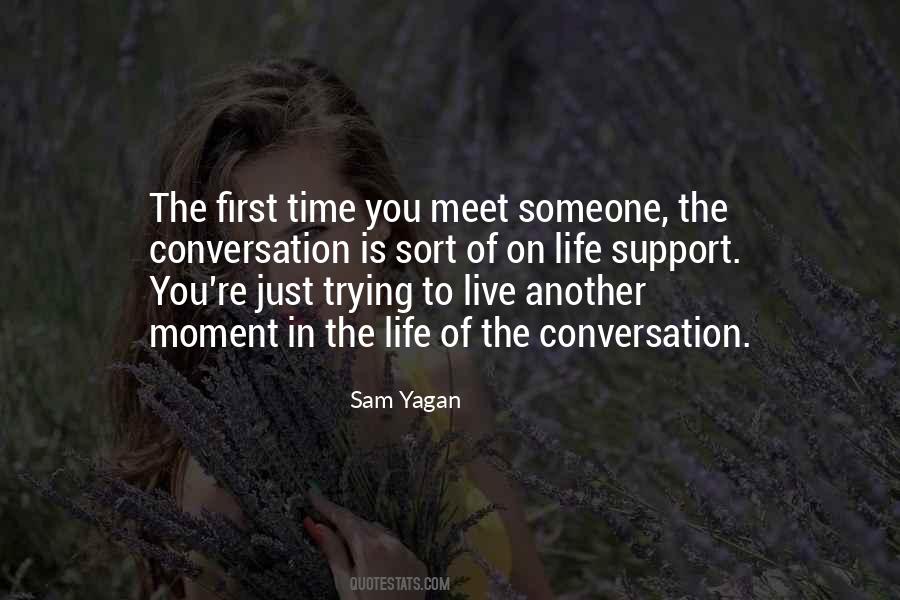 #79. I guess my view of life is that you live your life and it's short. The thing is to have as rich an experience as you possibly can.
That's what I'm trying to do. I'm trying to do something creative. I try to educate people. - Author: Michio Kaku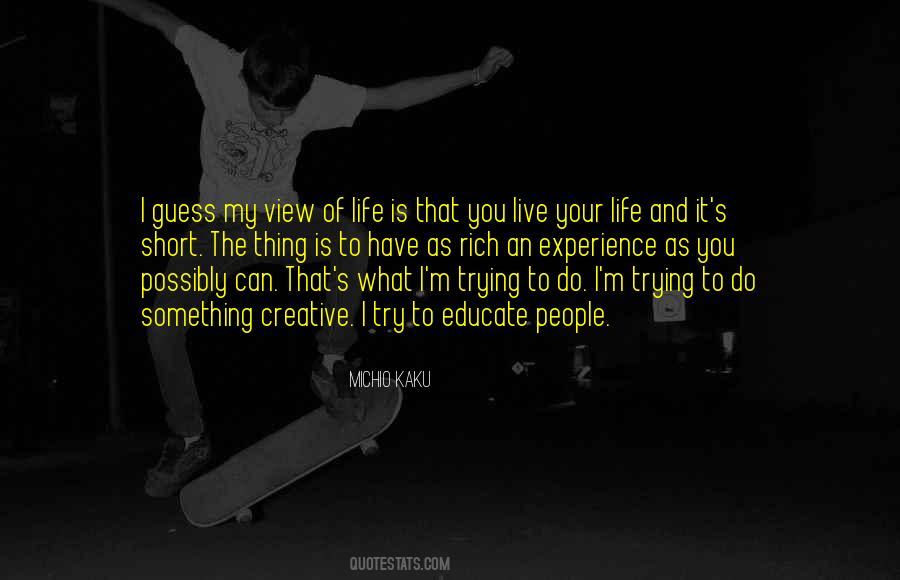 #80. The thing is not to follow a pattern. Follow your own pattern of feeling and thought. The thing is to accept your own life and not try to live someone else's life. Look, the thumbprint is not like any other, and the thumbprint is what you must go by. - Author: Katherine Anne Porter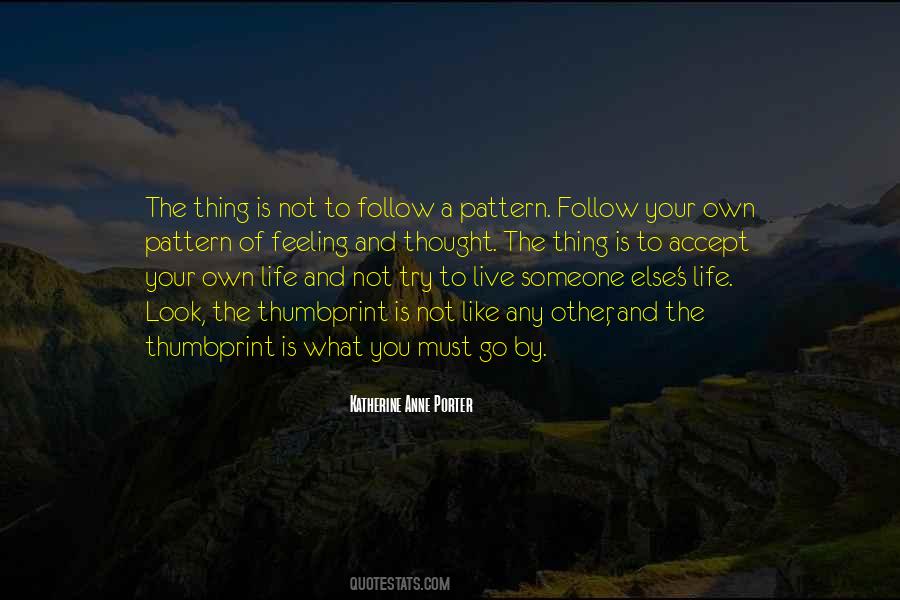 #81. We live someone else's life without trying to understand and become what we are really designed to be - Author: Sunday Adelaja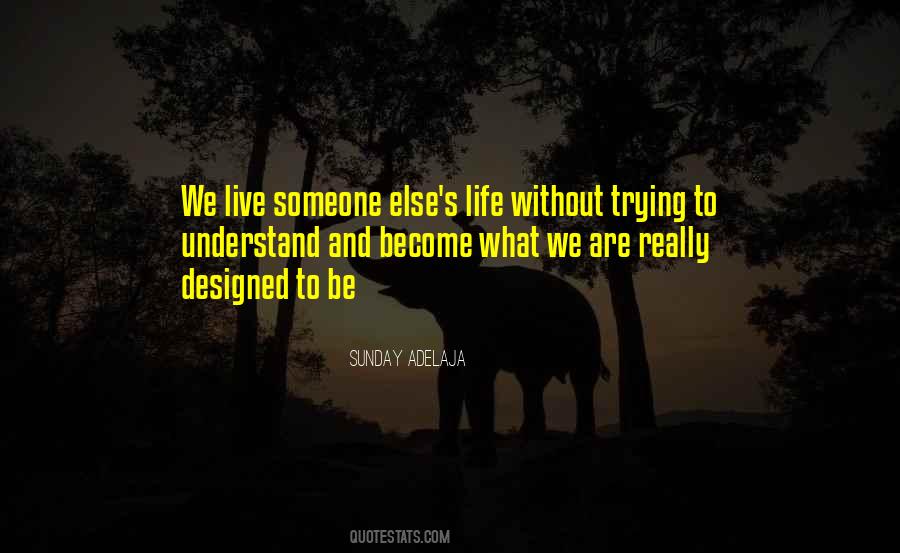 #82. Creativity asks you to enter realms with uncertain outcomes. People want to create a safe life for themselves so they try to live without fear and they end up killing their creativity in the process. - Author: Elizabeth Gilbert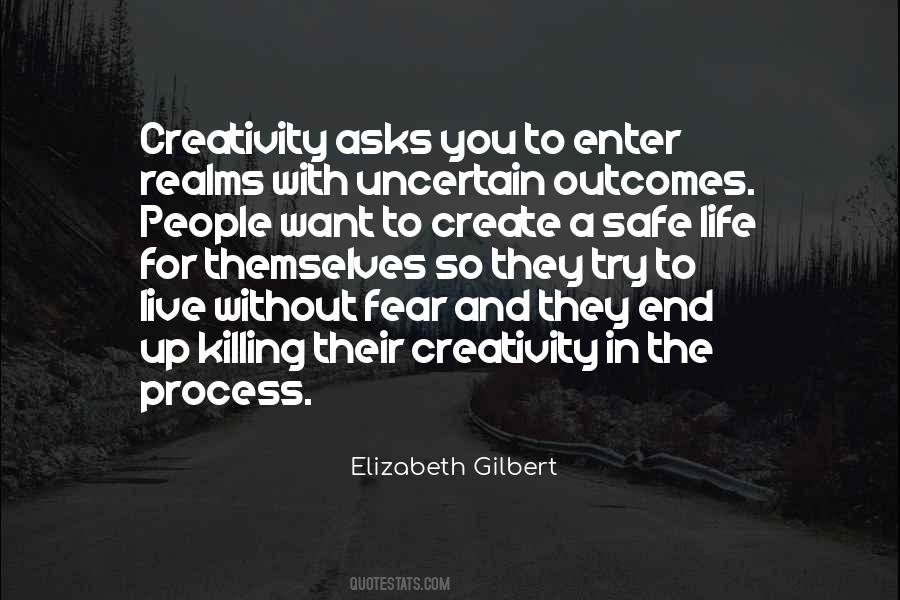 #83. We're not trying to make us live forever; we're not trying to even make us live significantly longer. What we're trying to do is extend the period of healthy life. - Author: S. Jay Olshansky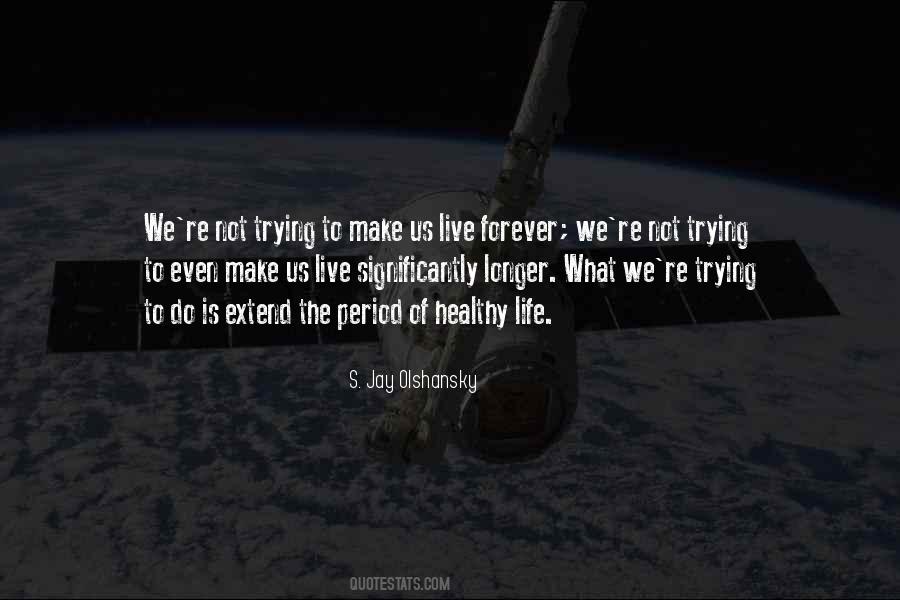 #84. I spend my time trying to figure art out. I was brought up to believe that the way one processes information is by making it into art. That's how I live my life. - Author: Sean Lennon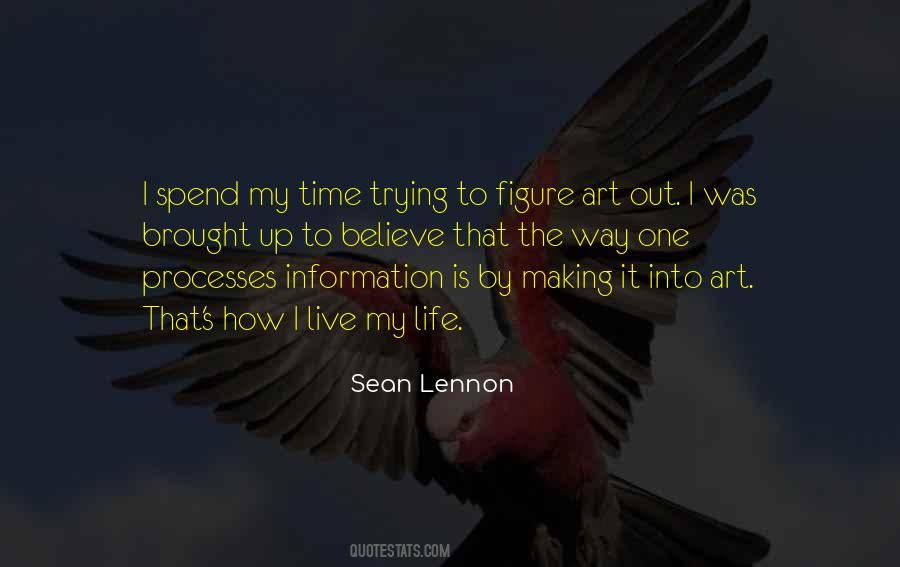 #85. Foreknowledge is a burden, a weight I can hardly bear. Maybe that's why God keeps the future hidden from us. If I knew I would have a terrible accident, would I live my life trying to avoid it? Would I lock myself inside a room being safe? Or would I go outside and live day to day - Author: Lurlene McDaniel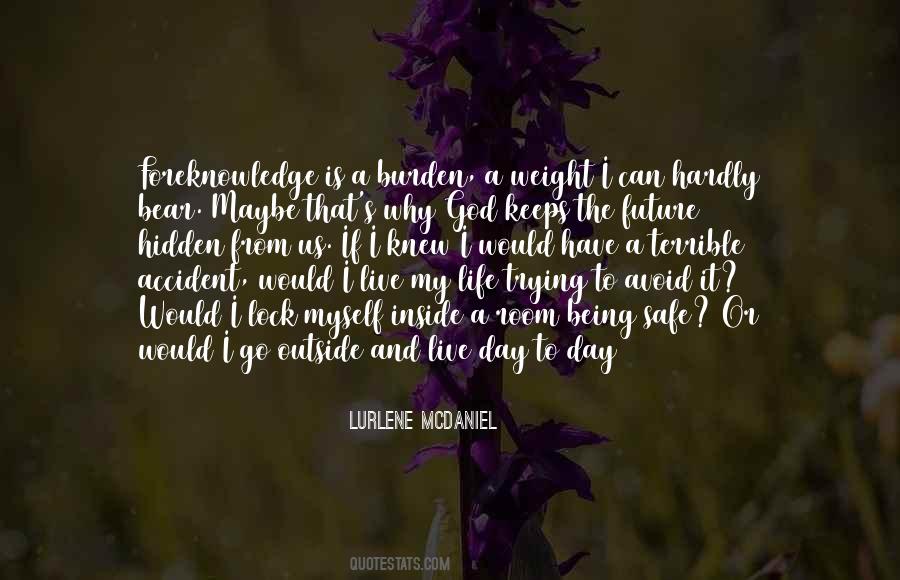 #86. live moment by moment, looking for reasons to be grateful, trying to create her own happiness and grace, and to use them as a means to a good life in the present and not a goal to be achieved some other day. Anna's - Author: Mark T. Sullivan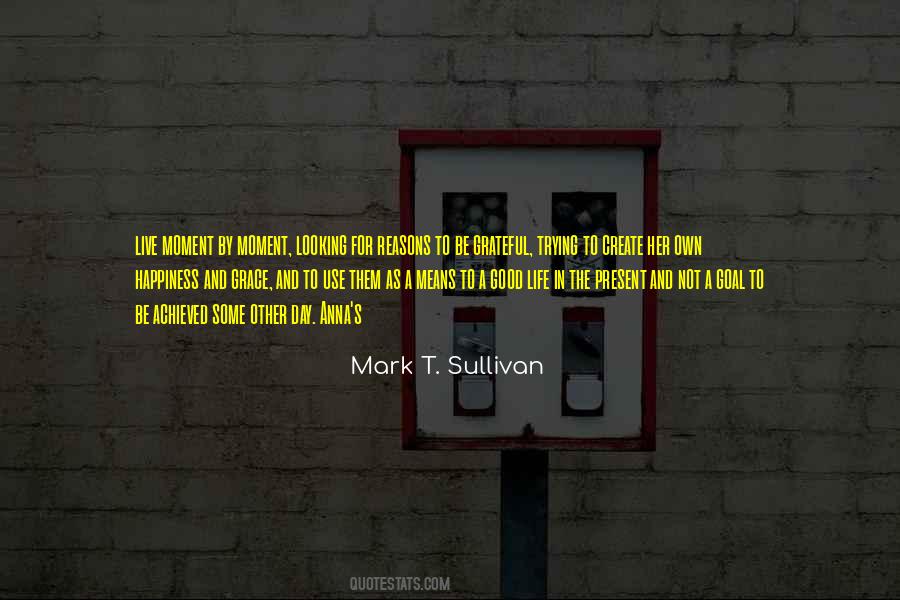 #87. So many of us suffer because we are trying to live the life we once had or the life we wish for. Life is much sweeter when we live the life we have - Author: Daniel Gottlieb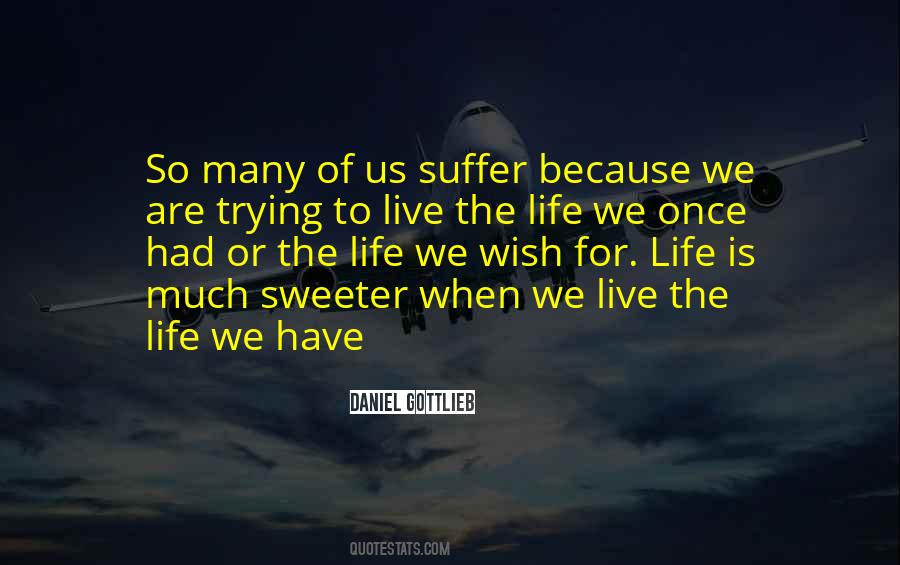 #88. With my family, I'm trying to raise them to have respect for all people and make friends around the world and feel at home with the world and really live a truly global [life] because I think it's what forms them and it's really important to me. - Author: Angelina Jolie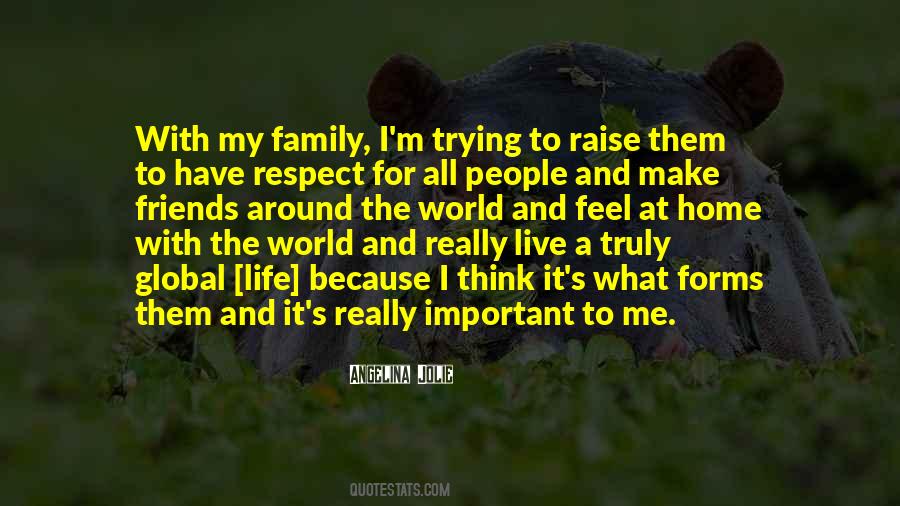 #89. Happy is a poor word for someone who's trying to live a rainbow-colored life in a black-and-white world. - Author: Kate Bornstein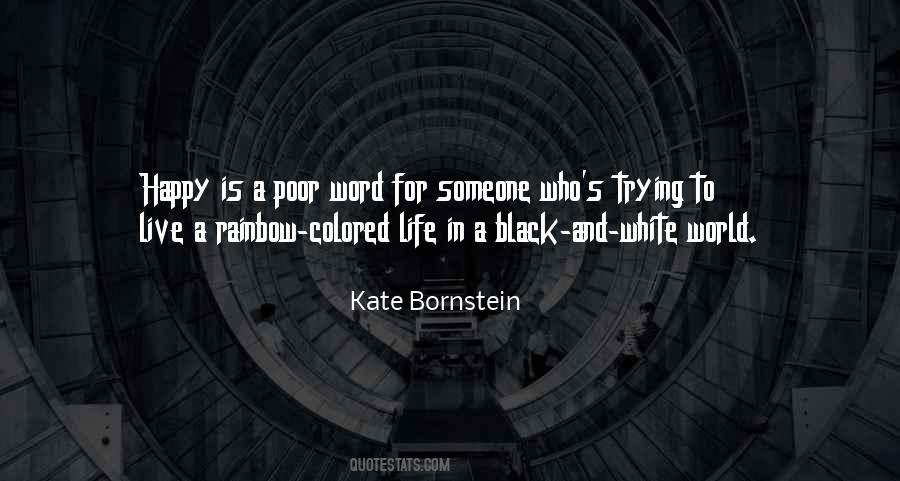 #90. My belief in God is personal, I do not need to browbeat anyone into agreeing with me, because I believe what I believe and I try to live by it. My belief in God is about trying to be the best person I can be in this life ... - Author: Dorothy Koomson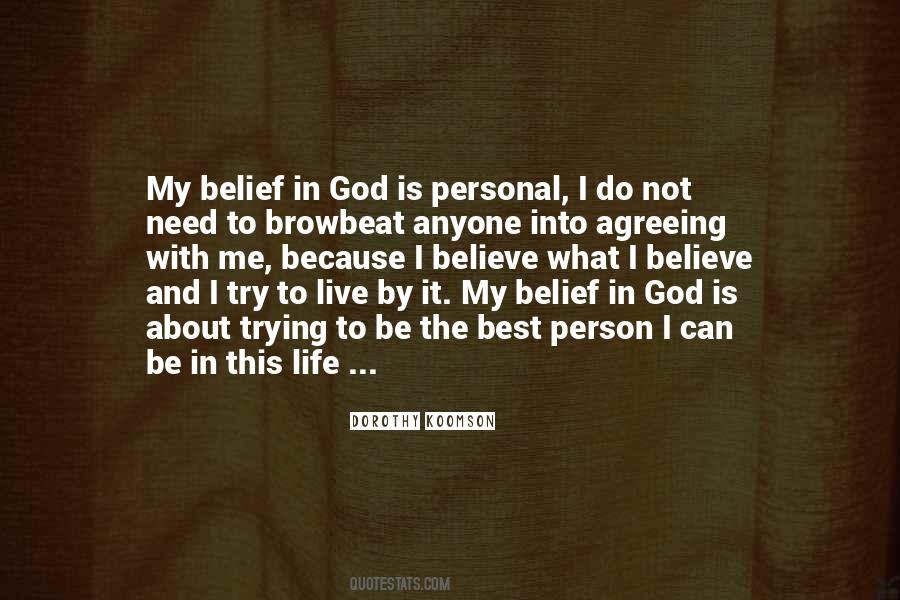 #91. James says that you deceive yourself if you only hear the Word but do not do it. How many people live in this deception their whole life-hearing and hearing, but never even trying to do what they hear! - Author: Johan Oscar Smith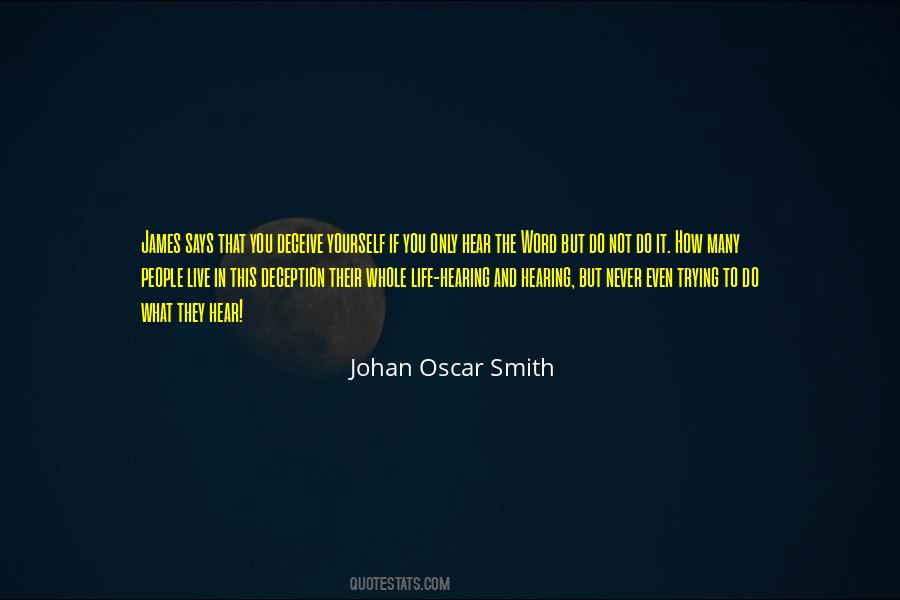 #92. Why is life so much easier to live when people are trying to take it from you than when you're forced to actually live it? - Author: Sebastien De Castell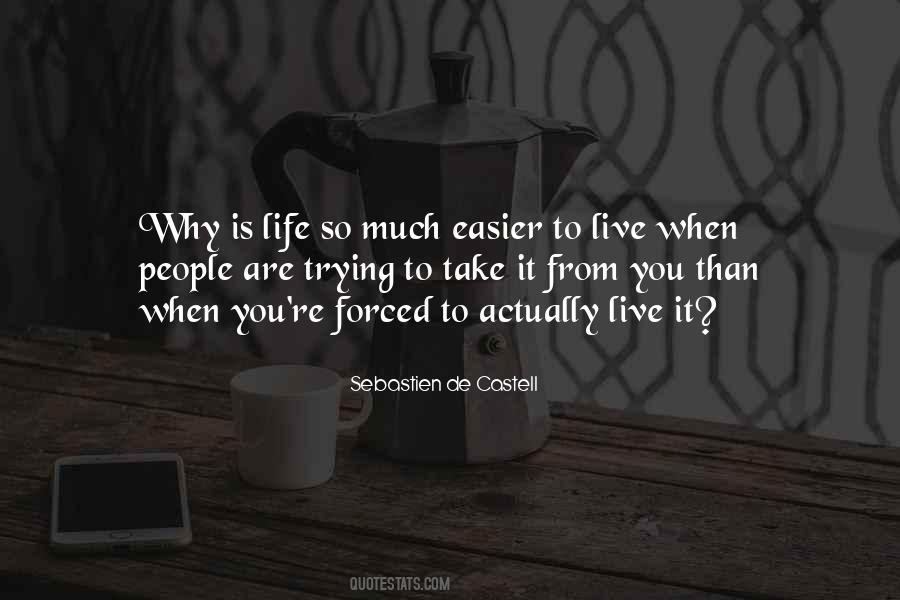 #93. Well, I'm somebody who is just living ... living life, and if I get frustrated by something, then I like to try to put it right. - Author: Richard Branson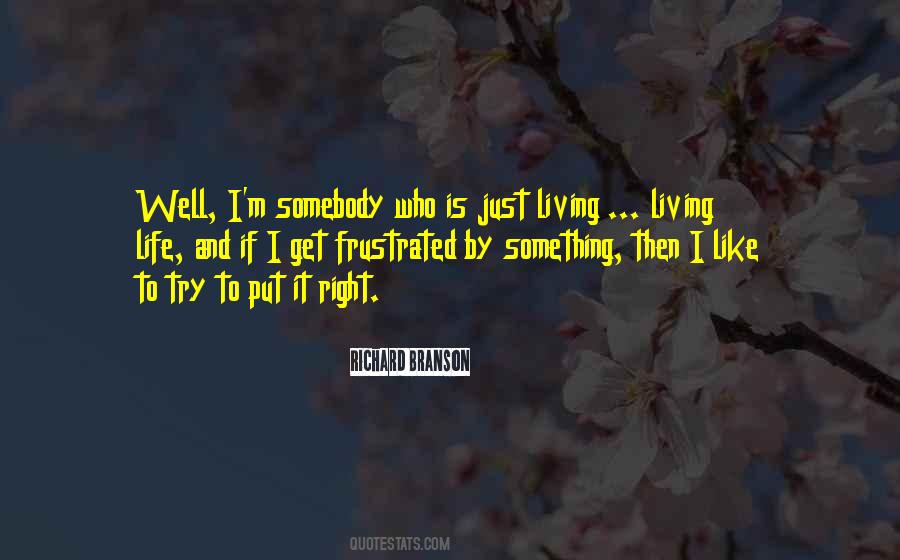 #94. What a pleasure life would be to live if everybody would try to do only half of what he expects others to do. - Author: William J.H. Boetcker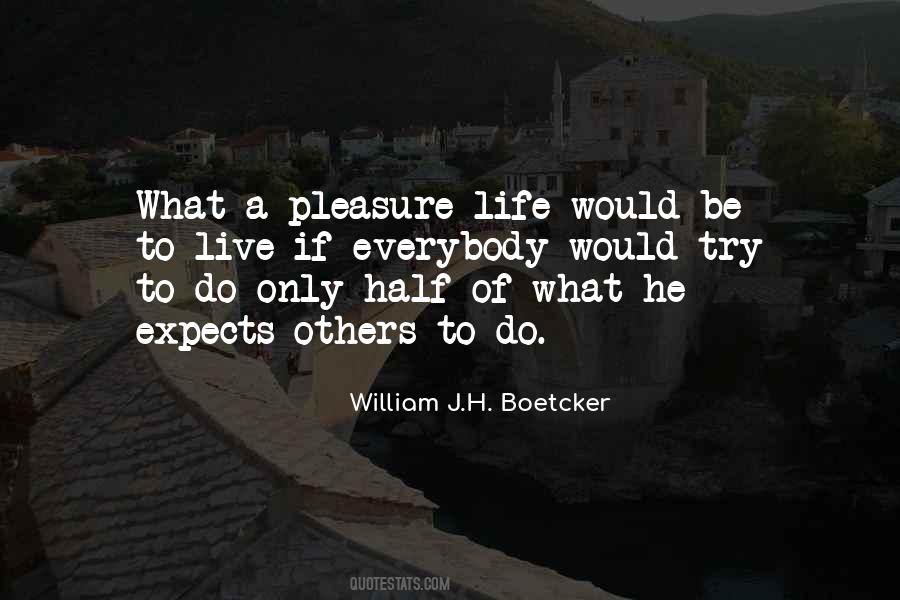 #95. Everybody's a mad scientist, and life is their lab. We're all trying to experiment to find a way to live, to solve problems, to fend off madness and chaos. - Author: David Cronenberg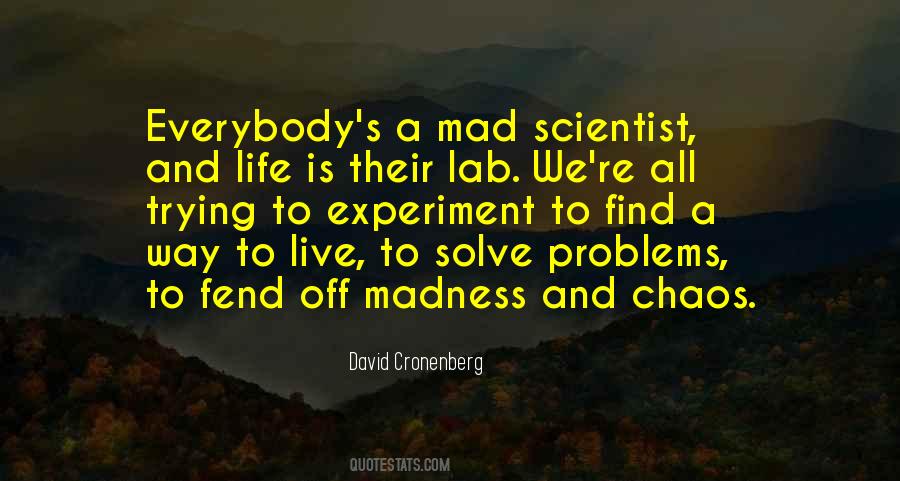 #96. Instead of trying to understand Life, we must live it. Create a reason to Live and progress on that path every day.-RVM - Author: R.v.m.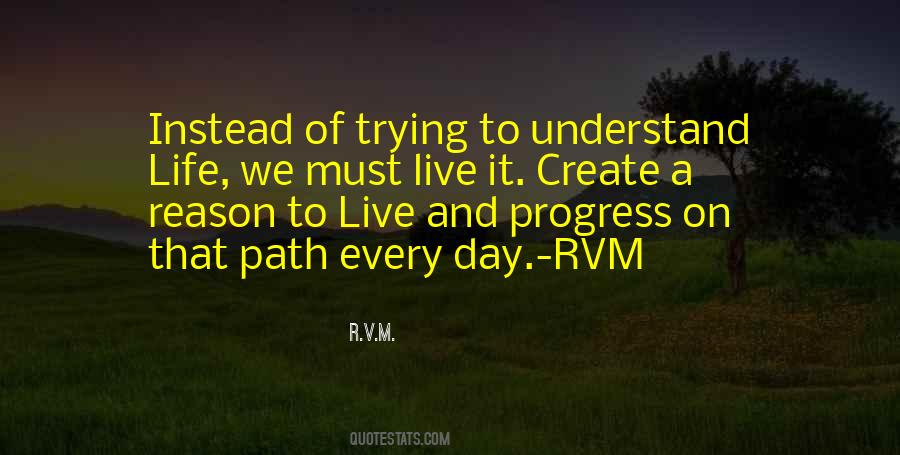 #97. For as long as I could remember, I had been apologizing for existing, for trying to be who I was, to live the life I was meant to lead. - Author: Meredith Russo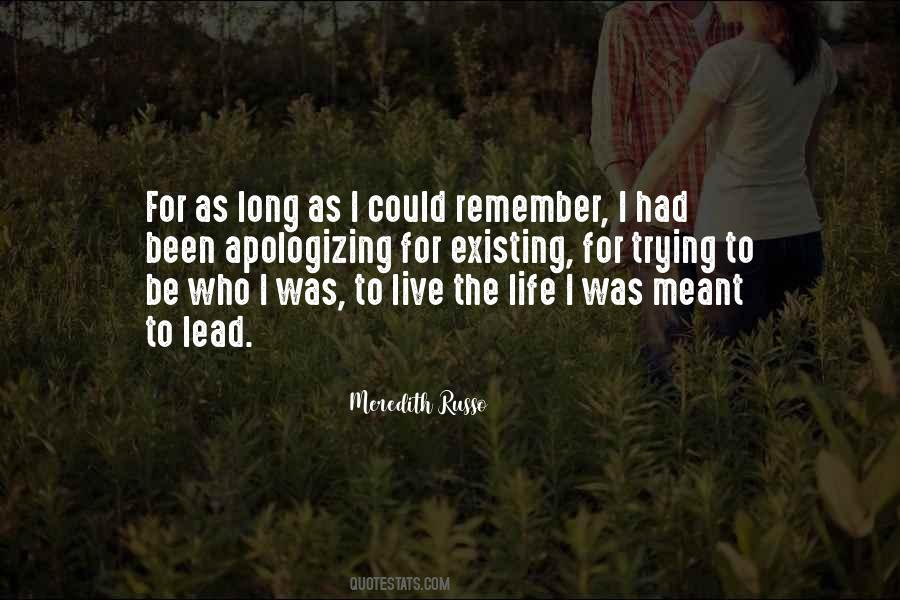 #98. If you get raised up having everything you want and then get put out in the world and try to live your own life, you've never had anything to train you how to live. - Author: Jonny Lang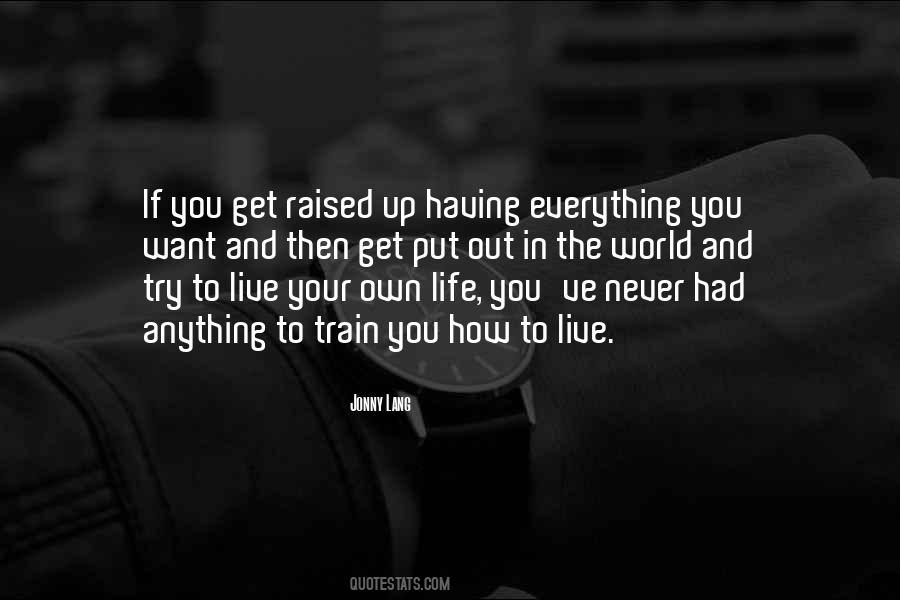 #99. I avoid social networks and I try to live a very normal, simple life. I love spending time and hang out with my friends any time I can. I like a very simple life. - Author: Dakota Johnson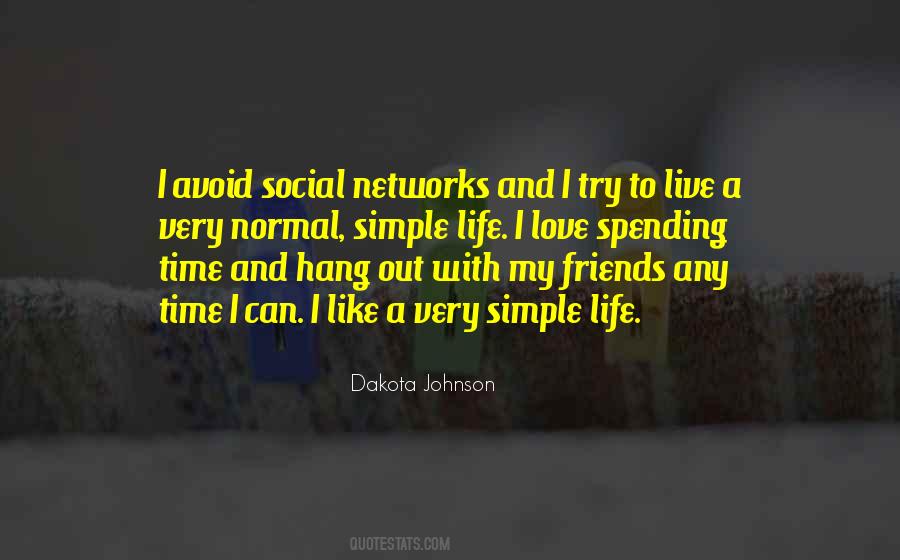 #100. 'I thought I could live my life without you,' she says, trying desperately to hold back her tears. 'I can't. I've tried and I can't do it.' - Author: Mike Gayle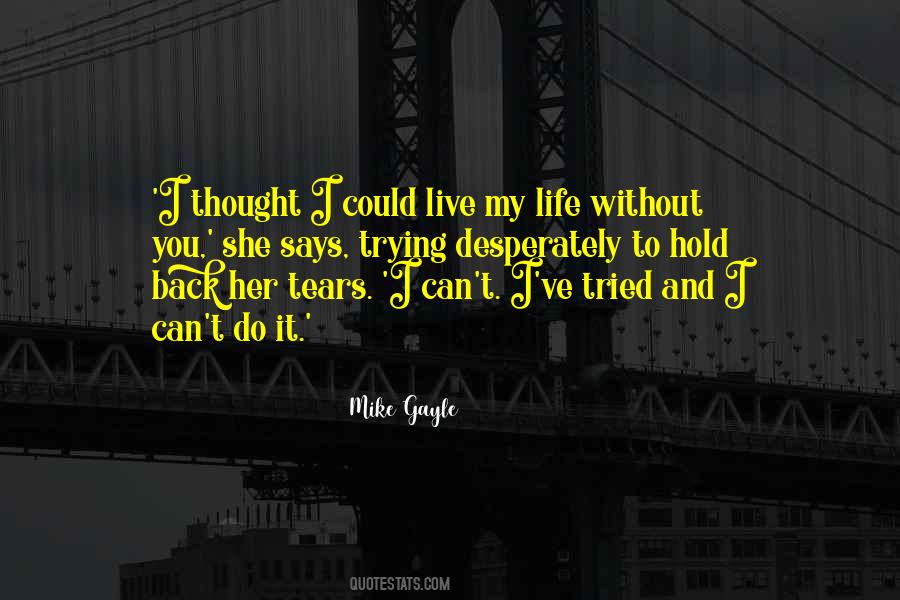 Famous Authors
Popular Topics