The Midwest Famous Quotes & Sayings
List of top 100 famous quotes and sayings about the midwest to read and share with friends on your Facebook, Twitter, blogs.
Top 100 Quotes About The Midwest
#1. Your belief system tends to be a function of how you were raised. Being raised in the Midwest and in a relatively conservative household, my views were shaped by my upbringing, by my Christian faith. - Author: Aaron Schock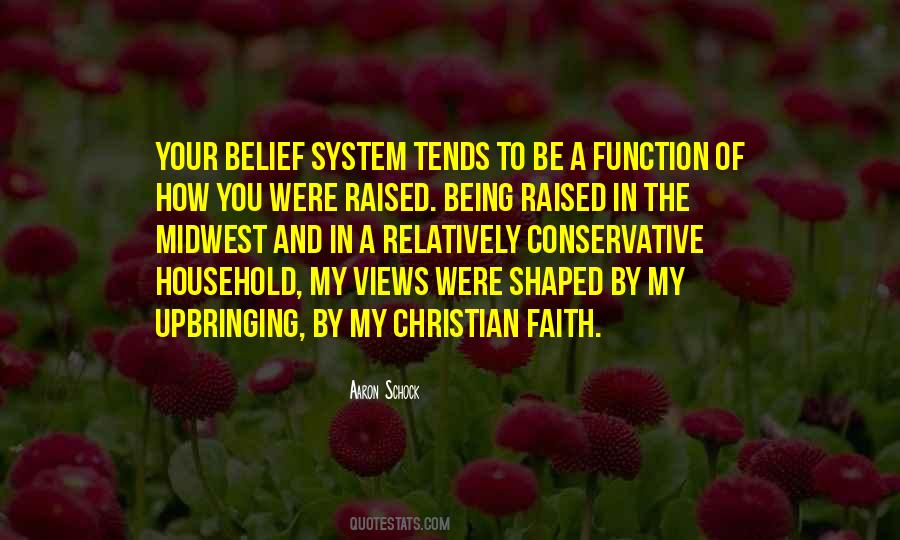 #2. I had a very specific goal and I think kids, more than adults, don't understand obstacles and competition. I wanted to be this one cartoon character [Porky Pig], couldn't figure out why I couldn't do it, other than living in the midwest. - Author: Bob Bergen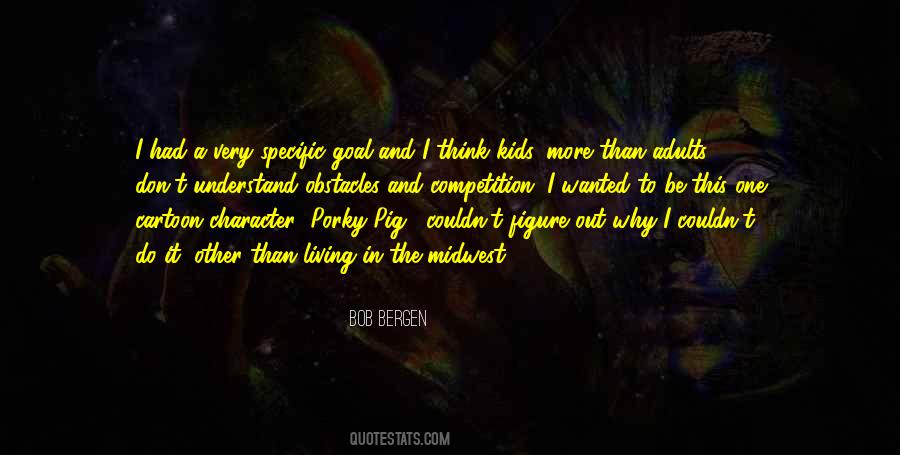 #3. I think most of us who have been married for any substantial length of time realize that the romantic roller coaster of courtship eventually evens out to the terrain of a Midwest interstate - long, flat stretches with an occasional overpass. - Author: Gary Thomas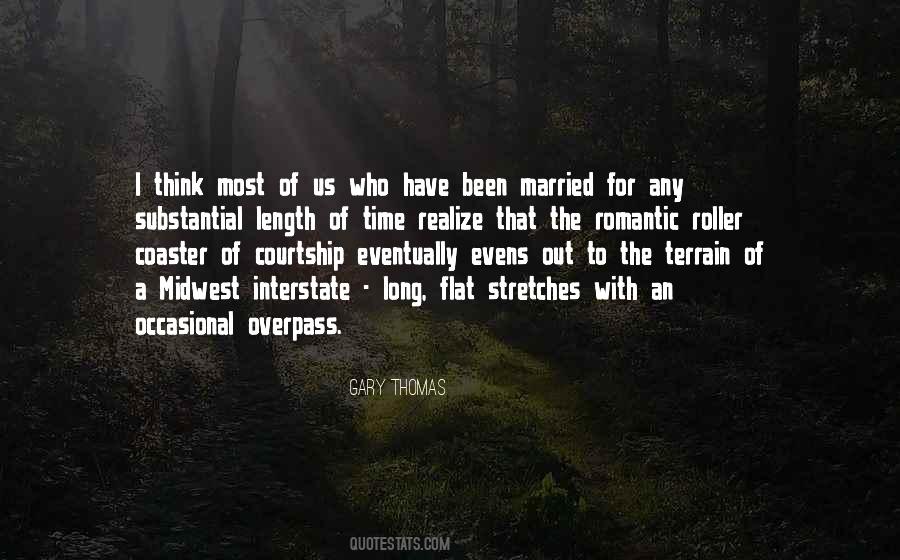 #4. A lot of the people of the Midwest came from the Northeast. We're of the same stock. Yet something must have happened when we crossed the Ohio River Valley because I have sensed that there's more of an openness and flexibility of spirit out West. - Author: Jane Hamilton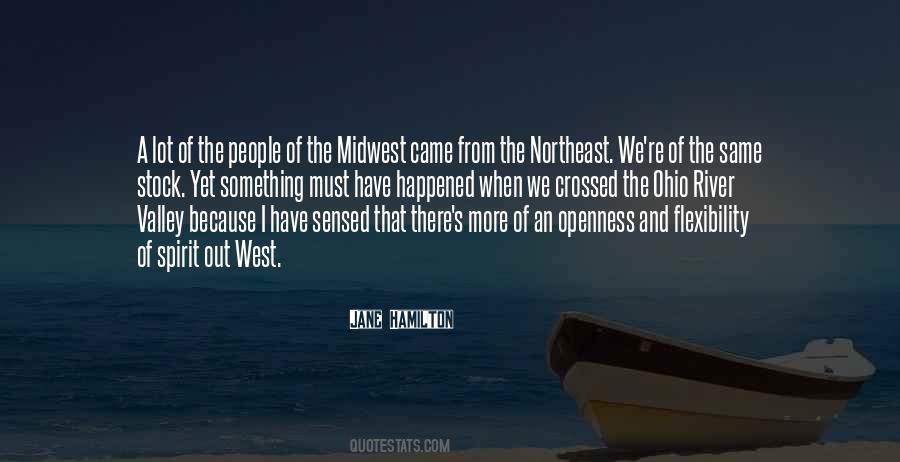 #5. This entrepreneurial energy that we have in the Midwest doesn't have to go out to the coasts to get fed and watered. - Author: Jim McKelvey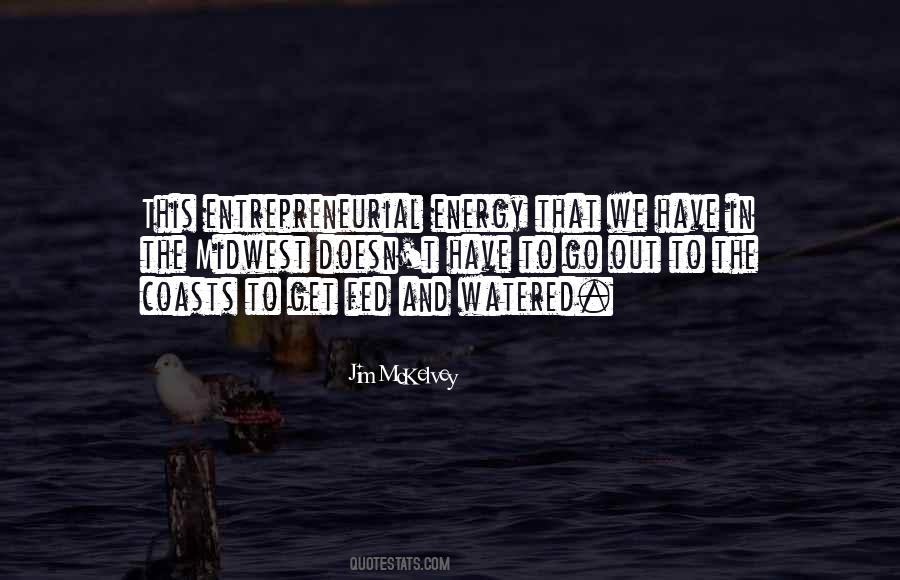 #6. In all my travels, only in the Midwest would someone spend their money in a place they hate simply because they feel bad for the proprietors. Also I suppose, because they know your name. - Author: Nickolas Butler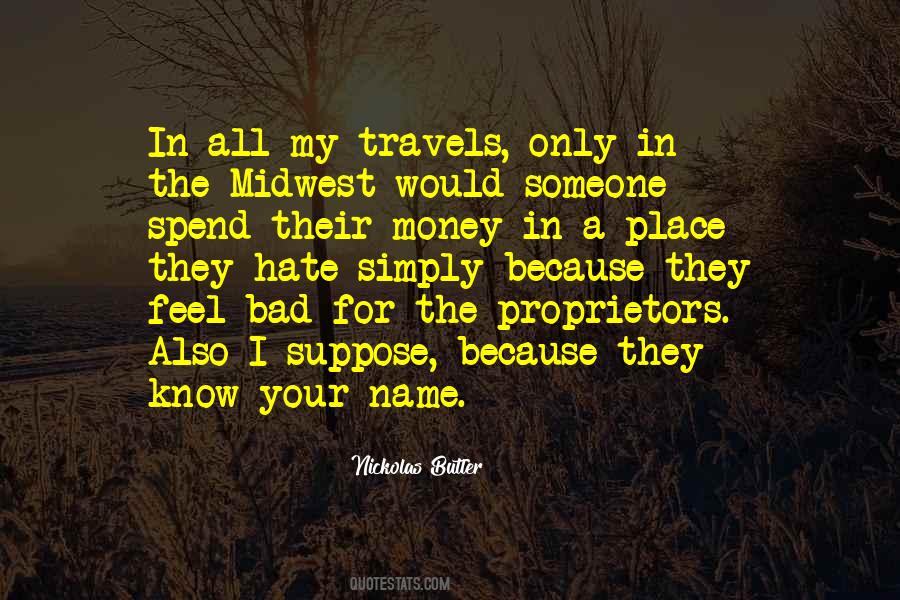 #7. It's a character I've created. Actually, that's pretty much the opposite of me, off a farm in the Midwest. - Author: Douglas Wilson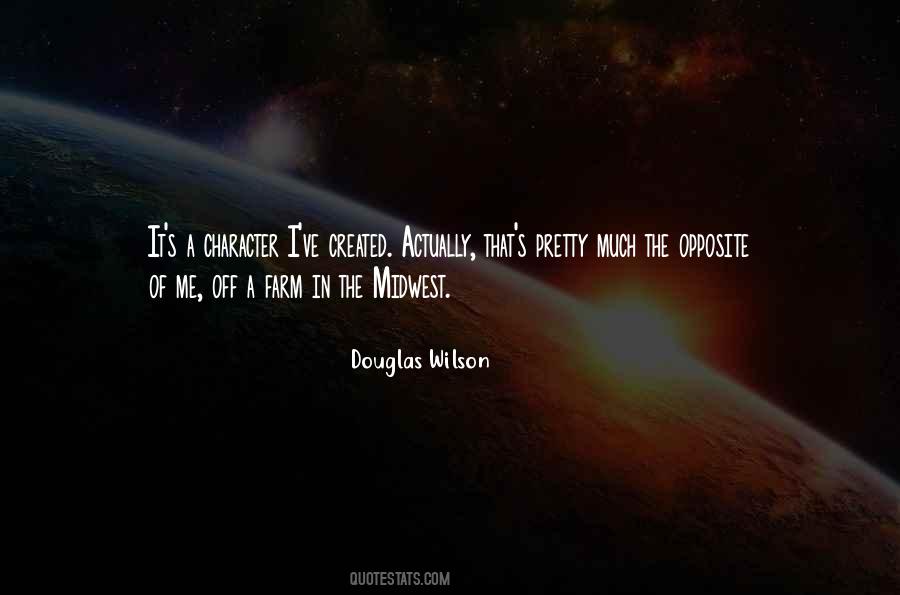 #8. I never seem to get past - I feel like a stupid guy from the Midwest. - Author: Alex Graves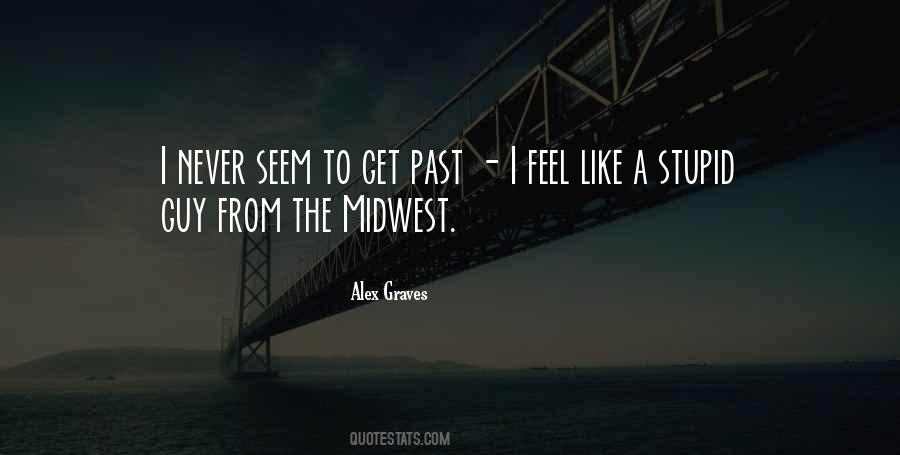 #9. The reality is the cap-and-trade legislation offered by the Democrats amounts to an economic declaration of war on the Midwest by liberals on Capitol Hill. - Author: Mike Pence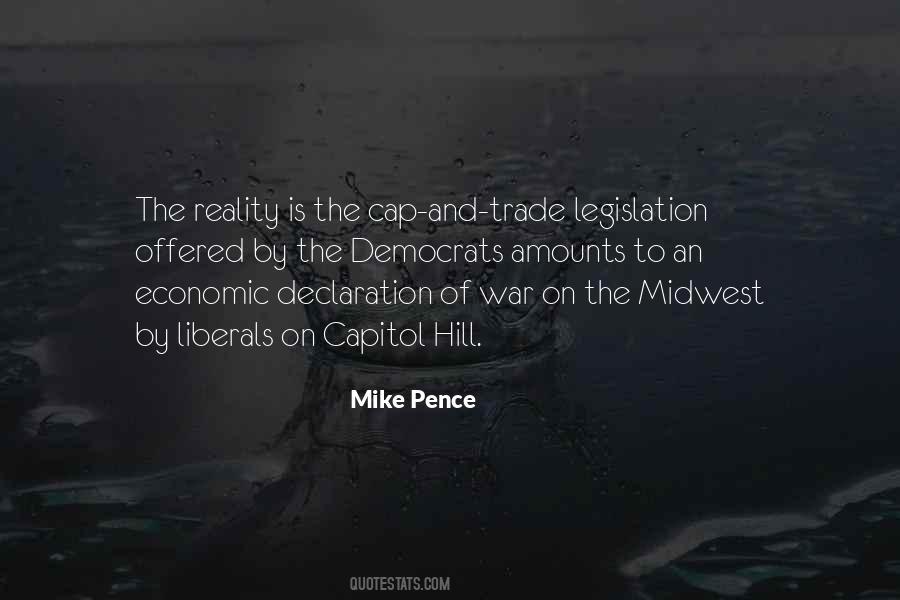 #10. People always want you to look pretty. I would like to live in the Midwest in a small town and never put makeup on. But they won't let you do that. Once I went through a period when I did do that, wore no makeup, wore my hair any which way, and people looked at me like I was a bum. - Author: Catherine Hicks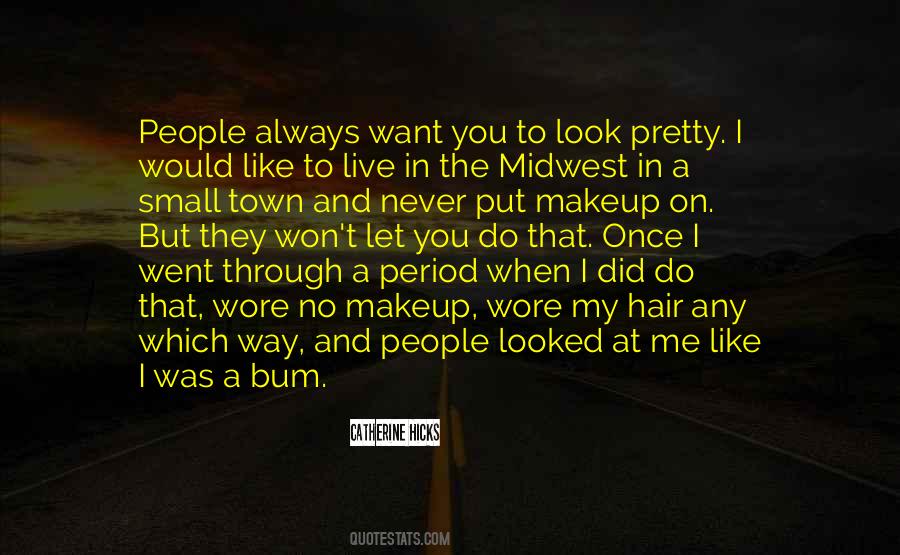 #11. I think Chicago people are very special people, and the Midwest's confluence of East Coast-meets-Midwest sensibilities had to, on a formative level, inform me as an artist and an actor. In that sense, it had to have helped me. - Author: Daniel Sunjata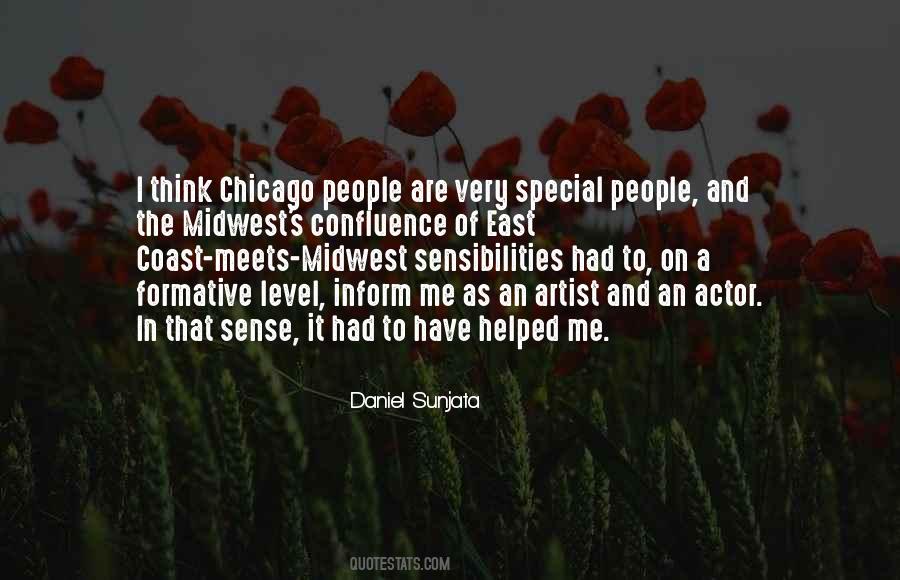 #12. I had been plunged into a different world. I found myself spending half my time answering weird questions on book tours in the Midwest. People would stand up and explain to me the situation in their office and ask me whether they should resign or not. - Author: Kazuo Ishiguro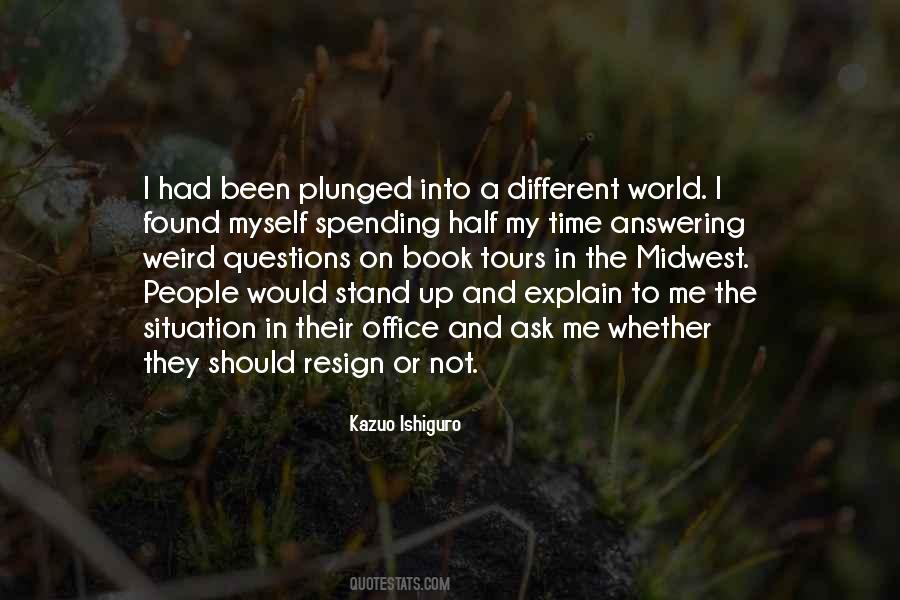 #13. Talk is cheap and easy; making dreams real takes hard, humble work. Dreams in the Midwest are acceptable, just keep them to yourself. Maybe tell your family, but don't just talk - do something about it. - Author: Peter Jenkins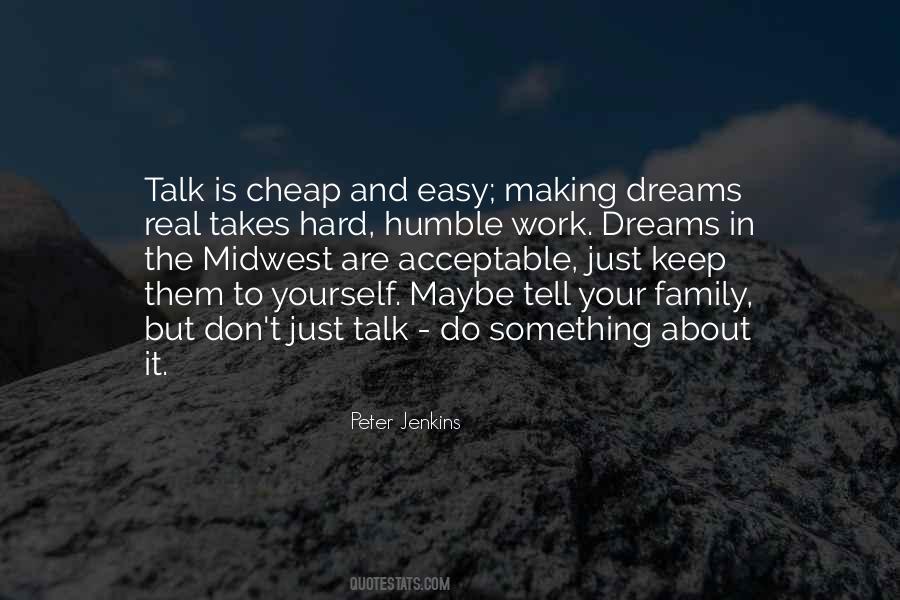 #14. Historically, when times are bad, voters, especially in the Industrial Midwest, have turned to the Democrats. - Author: Judy Woodruff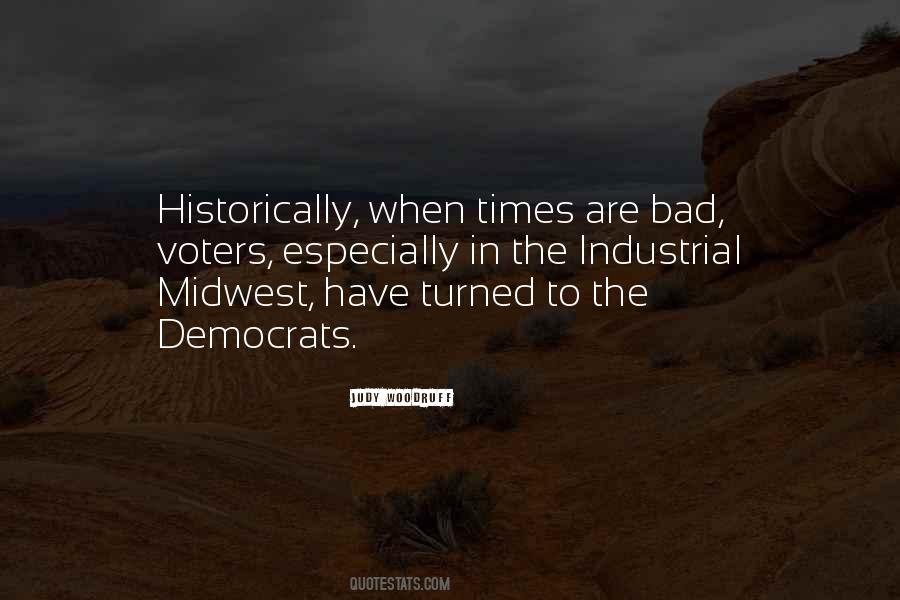 #15. I'm from the Midwest. - Author: Craig Kilborn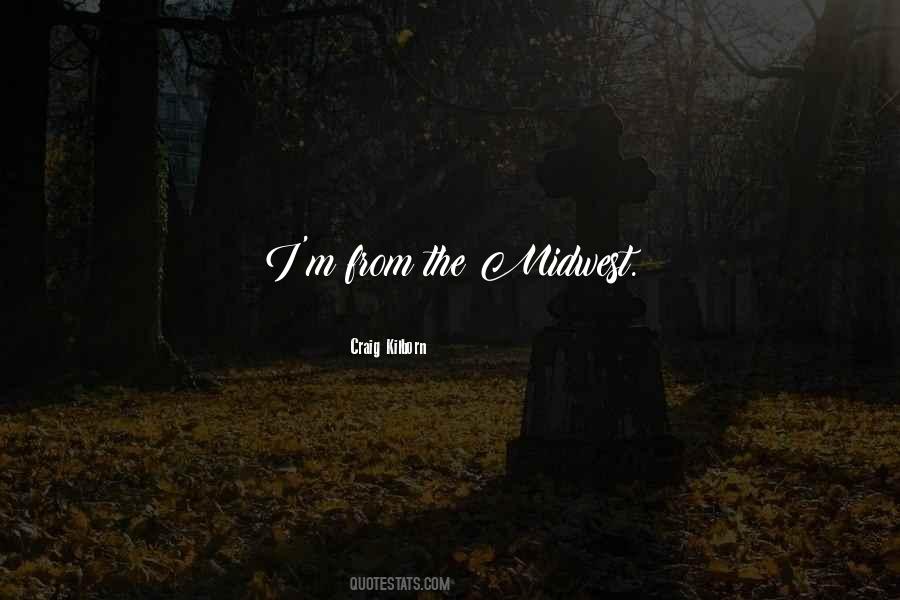 #16. When you come from the Midwest, you have a more open mind than if you come from the West Coast or the East Coast. - Author: Tommy Bolin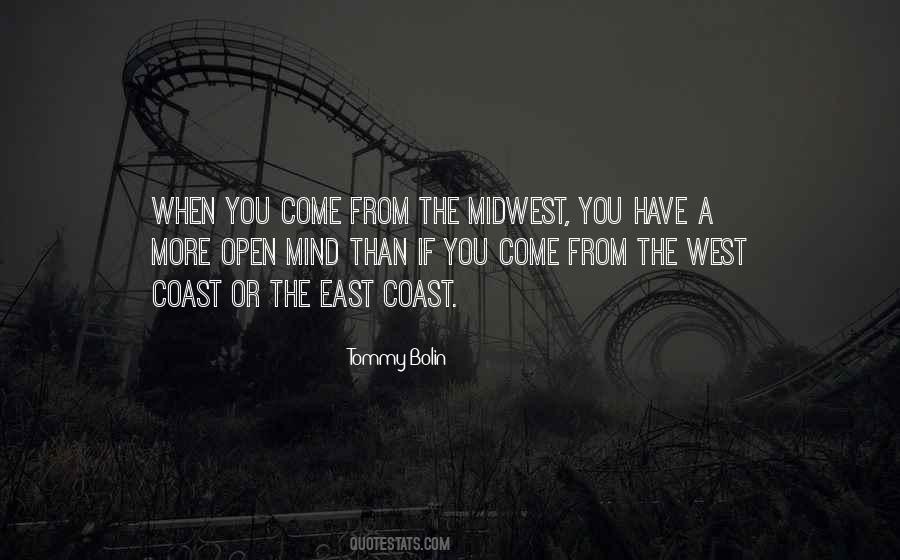 #17. There are parts of the country in America, in the Midwest, where wind is a big resource, and we should absolutely use it. But to try and apply it nationally doesn't make sense. There are technologies that will work that are appropriate to certain regions. - Author: Vinod Khosla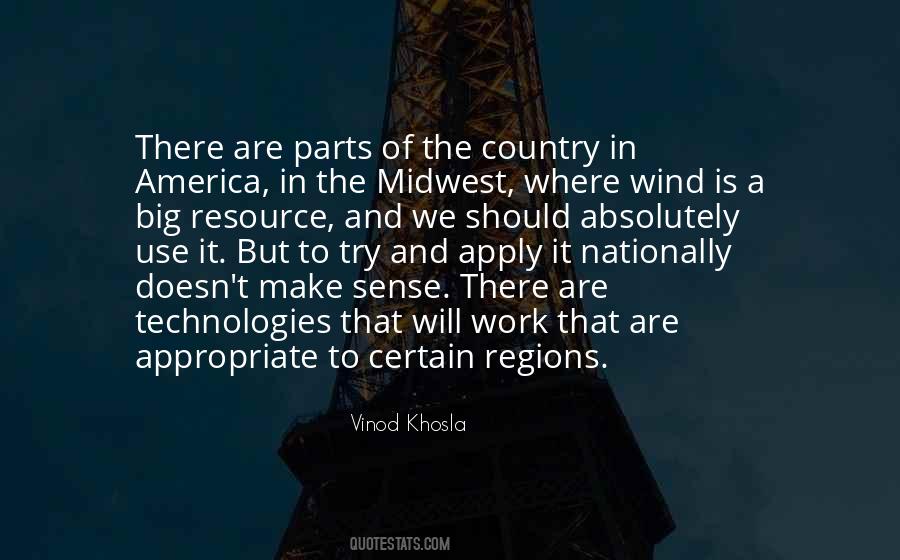 #18. WINTERS WERE TOUGH in the Midwest, then and now. I never liked winter. And I hate snow. It's white, but it darkens your heart. - Author: Clara Cannucciari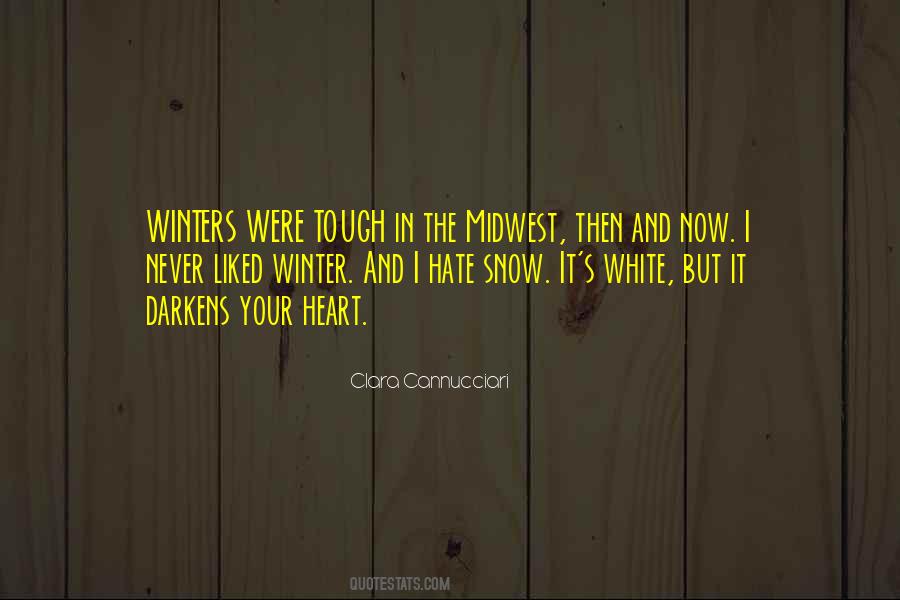 #19. I just want to be a nice girl from the Midwest - I don't want to have to act like a heavy to be taken seriously, and I resent that I have to be so pushy and political sometimes just to do my job. - Author: Cindy Crawford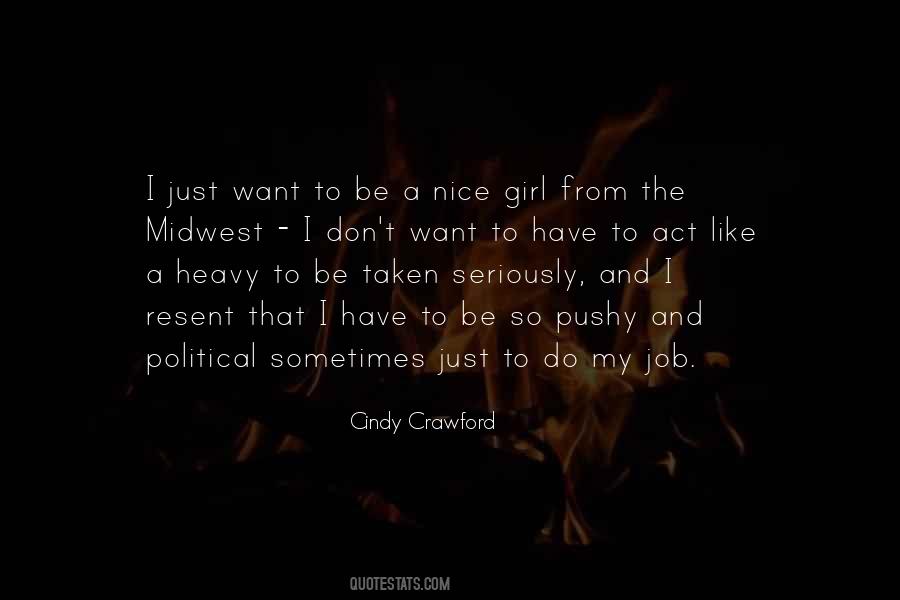 #20. I grew up in Winnipeg, in the Canadian midwest, the fifth child. It was a great household to grow up in - I was loved to sweet death. - Author: Len Cariou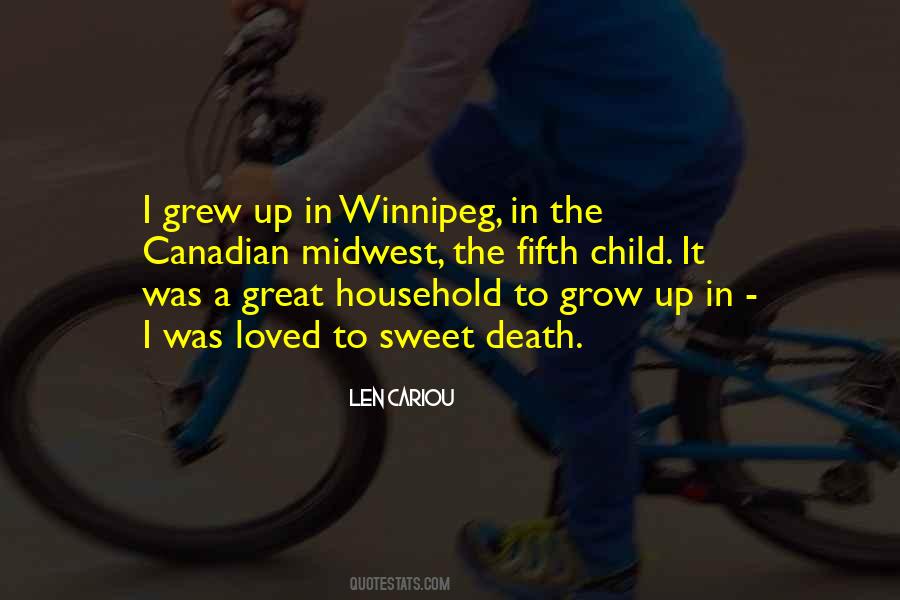 #21. I'm a Scandinavian Midwest girl who doesn't always know what's going on in herself emotionally, which is why I make music in order to figure it out. - Author: Erika M. Anderson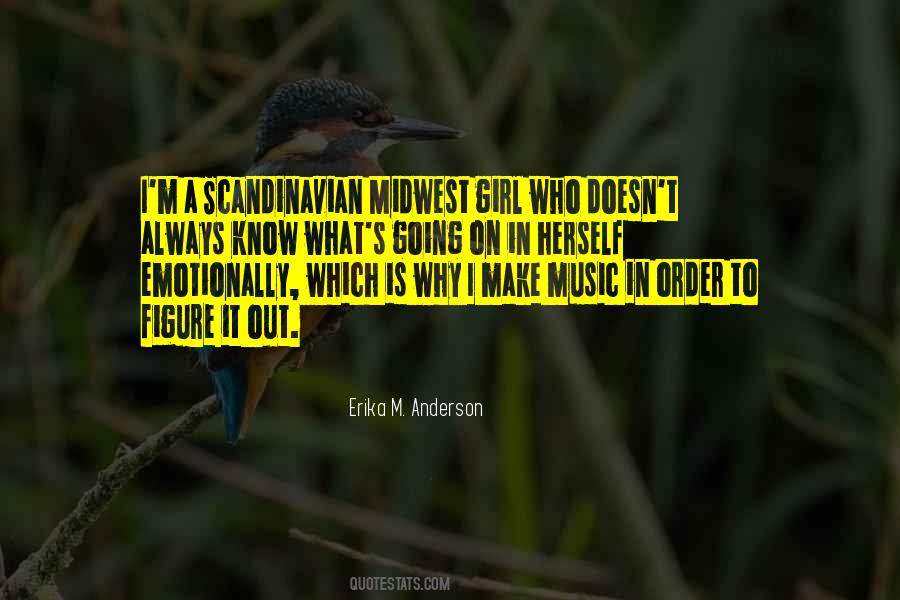 #22. You need to make a trip to Des Moines in August, because the Iowa State Fair really is a sight to see. The Iowa Fairgrounds are usually packed for those 11 days, and you get a real sense of what a classic Midwest fair is all about. - Author: Zach Johnson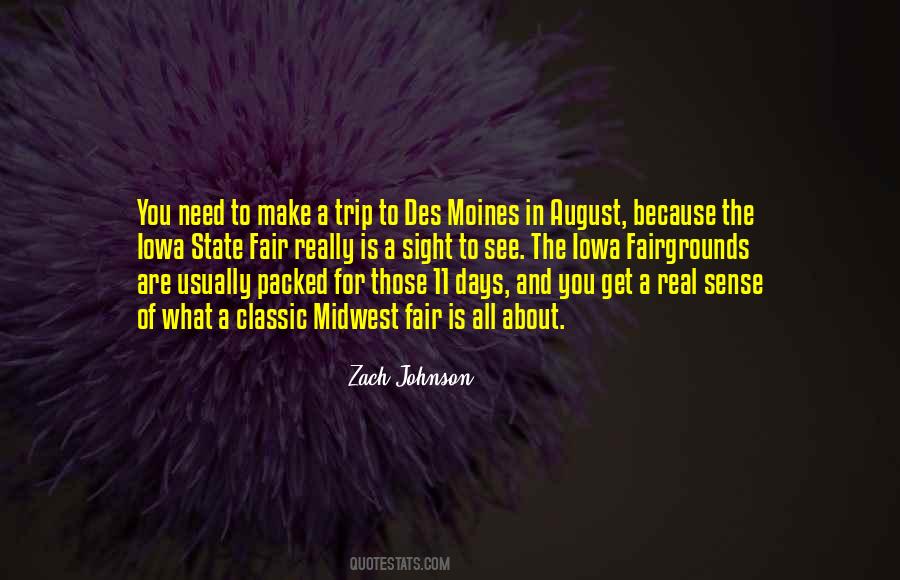 #23. I was fat because I lived in the Midwest in the 1970s, and everyone was a little fat then and only getting fatter. - Author: Jami Attenberg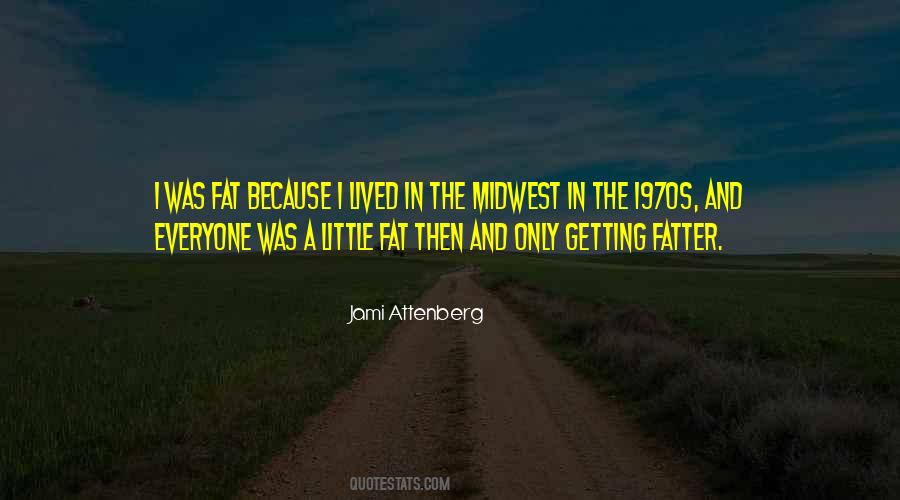 #24. I was raised Catholic in the Midwest, so I can't enjoy anything. - Author: Kyle Kinane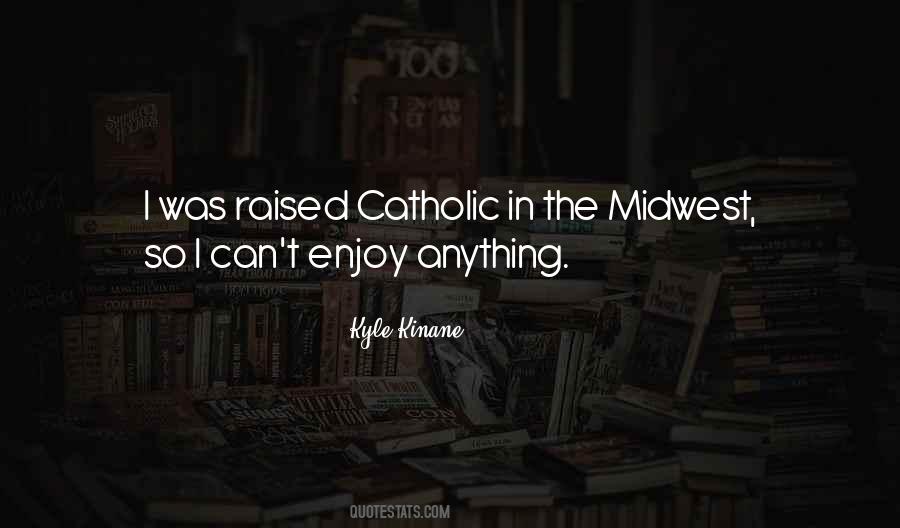 #25. I sometimes wish we could have, over the next five or ten years, a lot of horrid things happening-you know, like tornadoes in the Midwest and so forth-that would get people very concerned about climate change. - Author: Thomas Schelling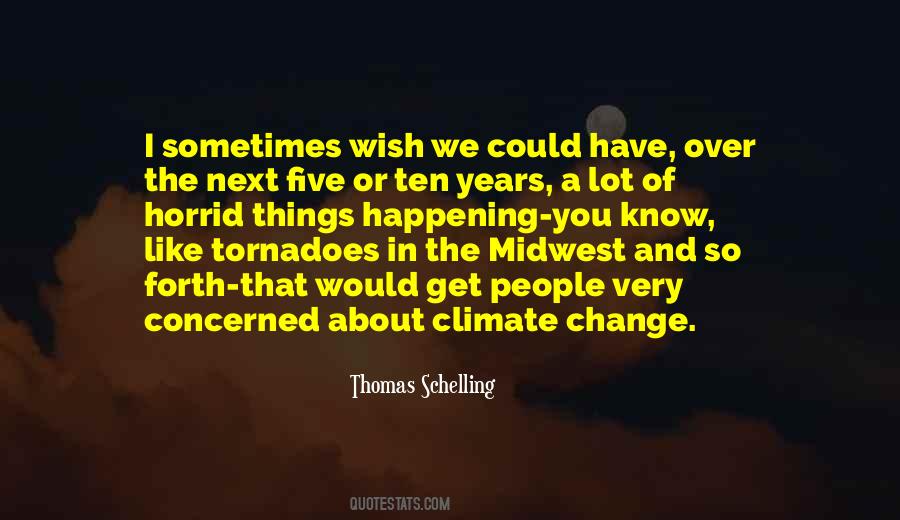 #26. Much of the U.S. Midwest is already running on bitumen. Do we want to extend this addiction? And at what cost? Or should we set other goals and say one to two million barrels of oil a day from the tar sands is all we really need to make the transition? - Author: Andrew Nikiforuk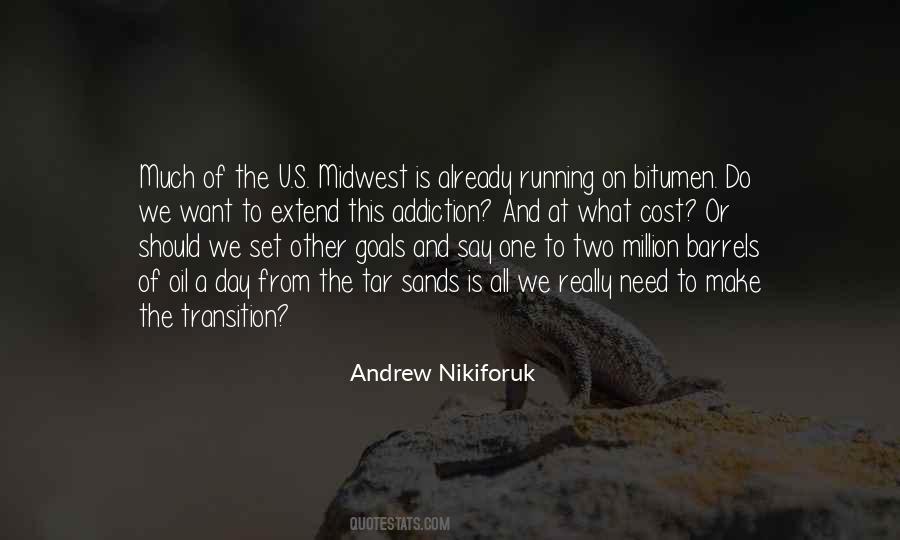 #27. The next thing I am doing is moving back home to Minnesota and getting involved in politics. I'm looking at a run for Senate in 2008, but in the meantime I am focused on knitting together the progressive network in the upper Midwest. - Author: Al Franken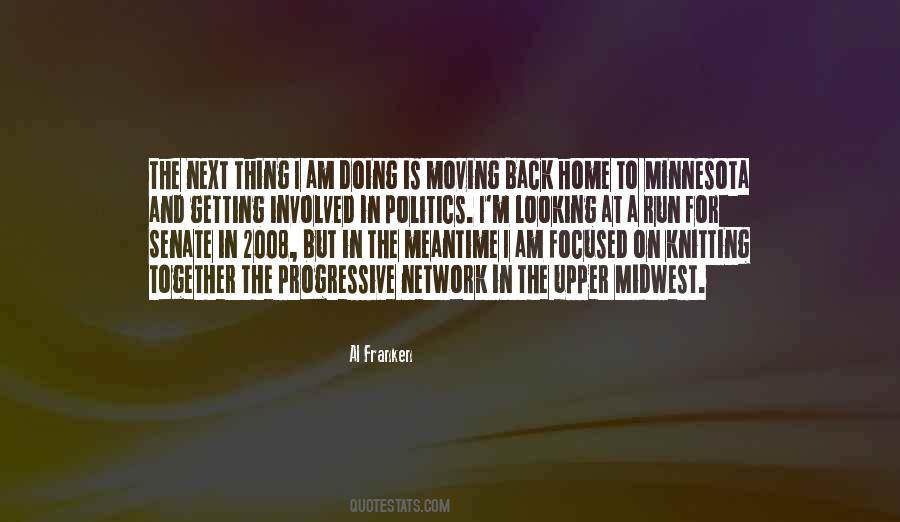 #28. The Midwest is such a tabula rasa. - Author: Richard Powers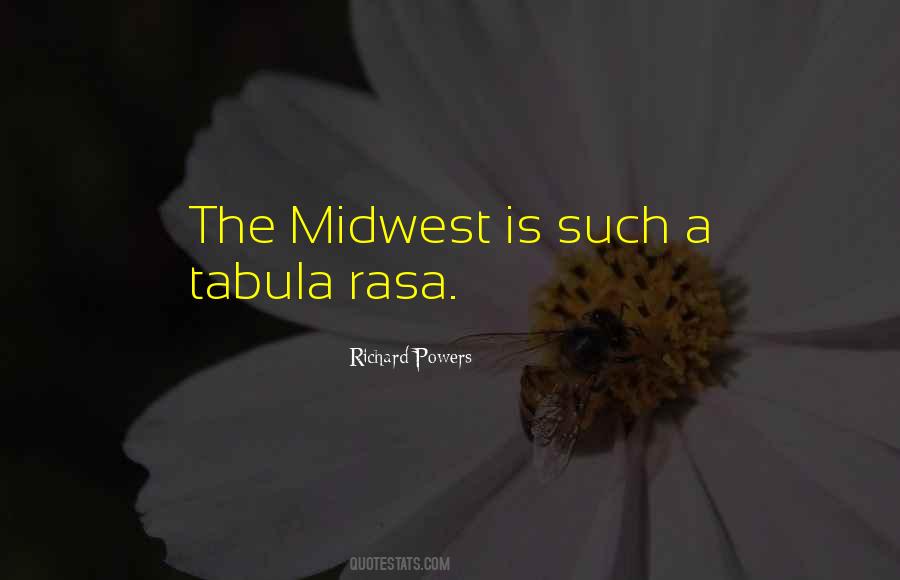 #29. She comes from the Midwest. She had me at a very young age and raised me on her own. She's a very hard worker. - Author: Lara Flynn Boyle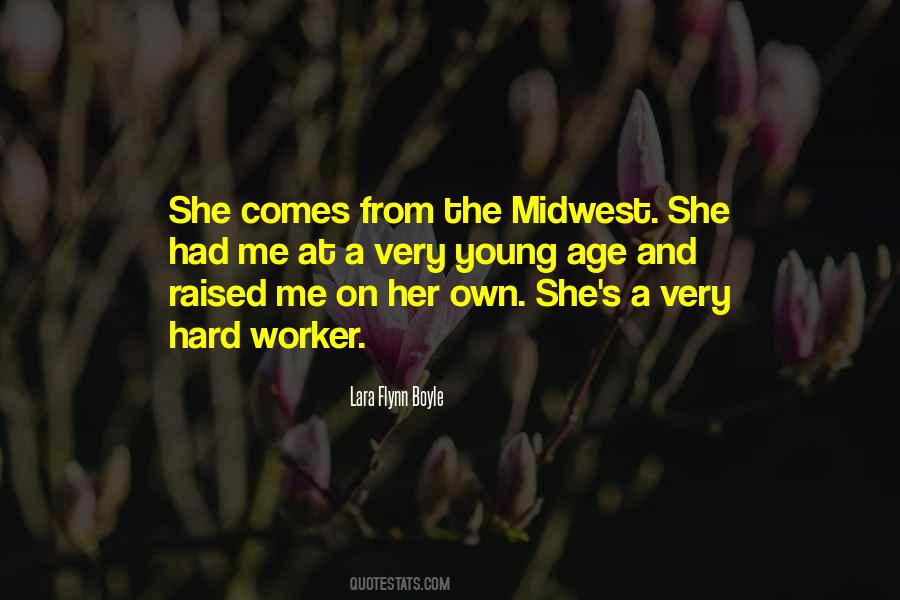 #30. For those who've never experienced a sunrise in the rural midwest, it's roughly as soft and romantic as someone's abruptly hitting the lights in a dark room. - Author: David Foster Wallace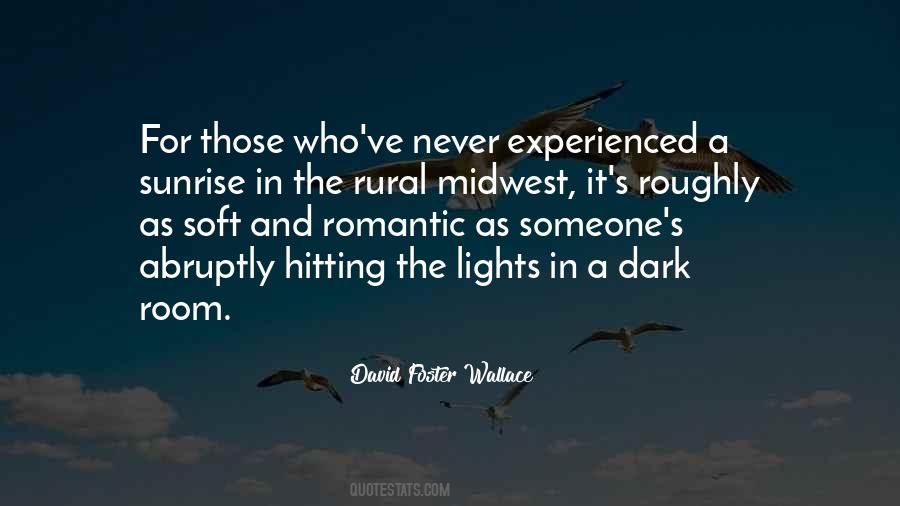 #31. The Midwest breeds funny, eccentric people, to varying degrees. You play shows not because you're expecting to get a record deal, but to do something fun outside of mowing lawns. Everything else is just gravy ... Or mustard. - Author: Patrick Carney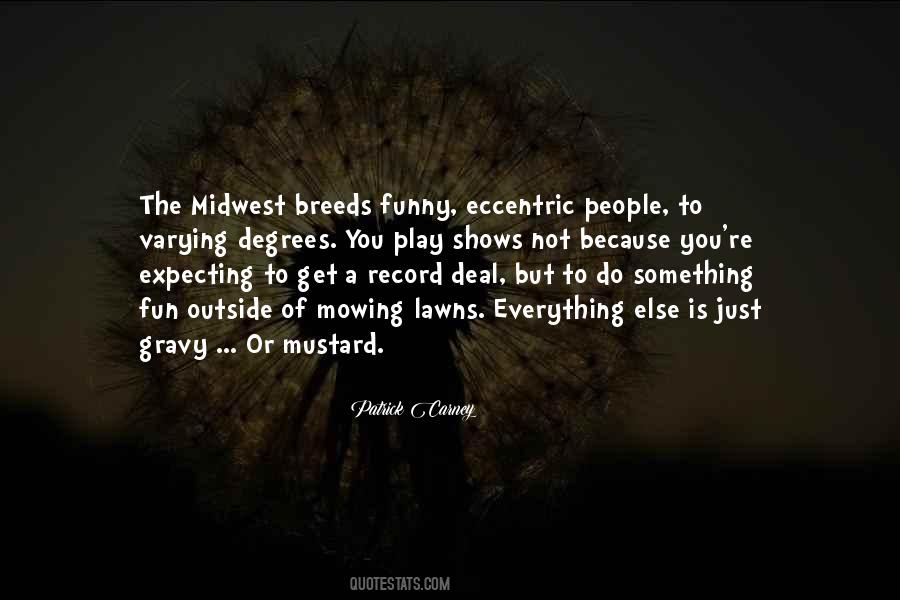 #32. When I turned about 14, I developed a friendship with this guy whose mom was the secretary to Ernest Angley, the faith healer, who's very popular in the Midwest. He had a television show, and he was sort of like Liberace mixed with Jerry Falwell - very glitzy, very high-tech. - Author: Marilyn Manson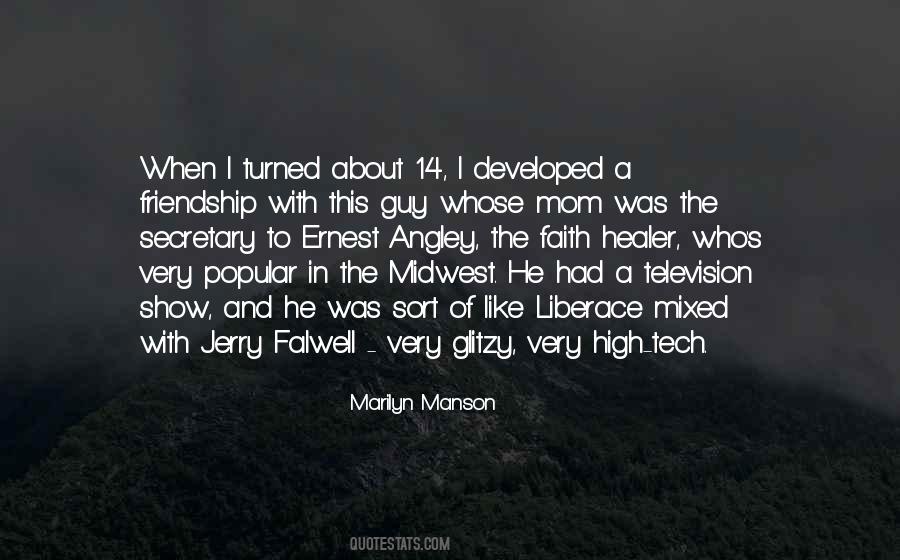 #33. There is a bedrock decency to people in the Midwest. They are thoughtful and ready to help you if something needs to be done. - Author: Shelley Fabares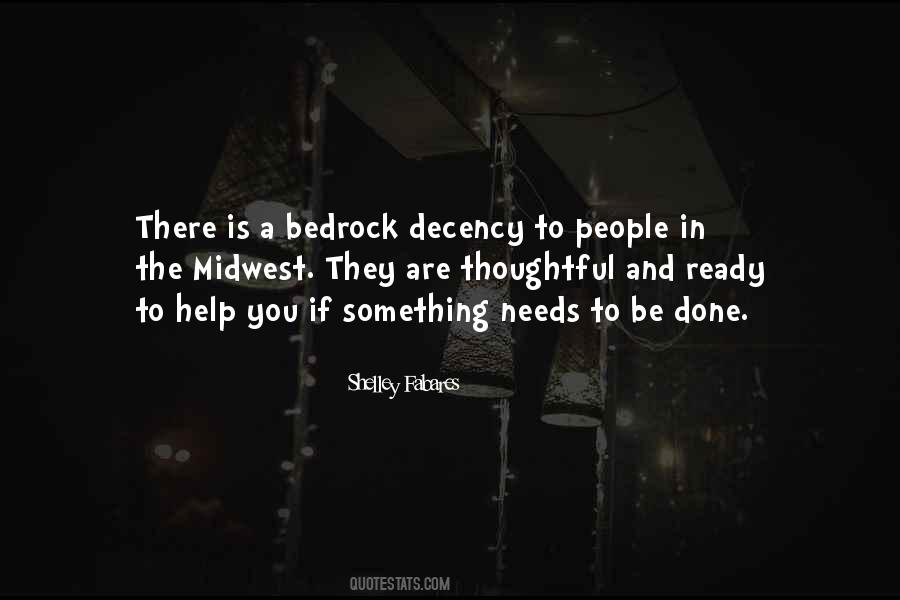 #34. We didn't have a glee club at my school. It depends on what area of the States you're from. It's more in the Midwest. - Author: Jonathan Groff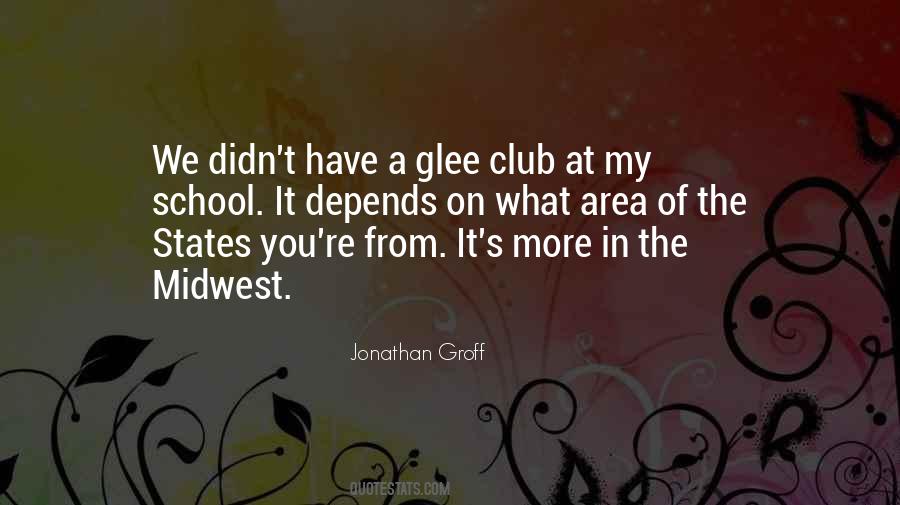 #35. I'm a little bit shy and from the Midwest, so to be so open and honest with millions of people is pretty difficult. To have people constantly having an eye on you and very interested in what you're doing at all times - it can be a little stressful at times. - Author: Connor Franta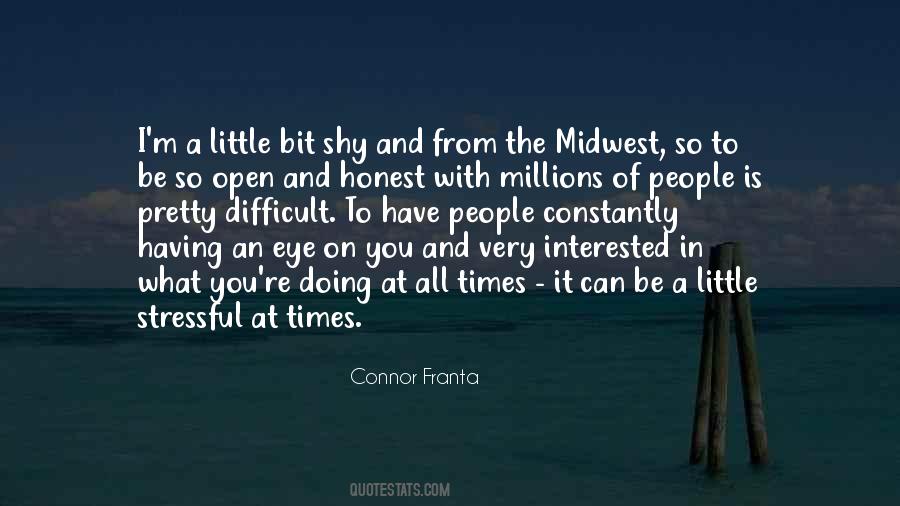 #36. In retrospect, the political and cultural climate in the early '60s seems both a time of innocence and also like a sultry, still summer day in the Midwest: an unsettling calm before a ferocious storm over Vietnam, which was not yet an American war. - Author: Tom Brokaw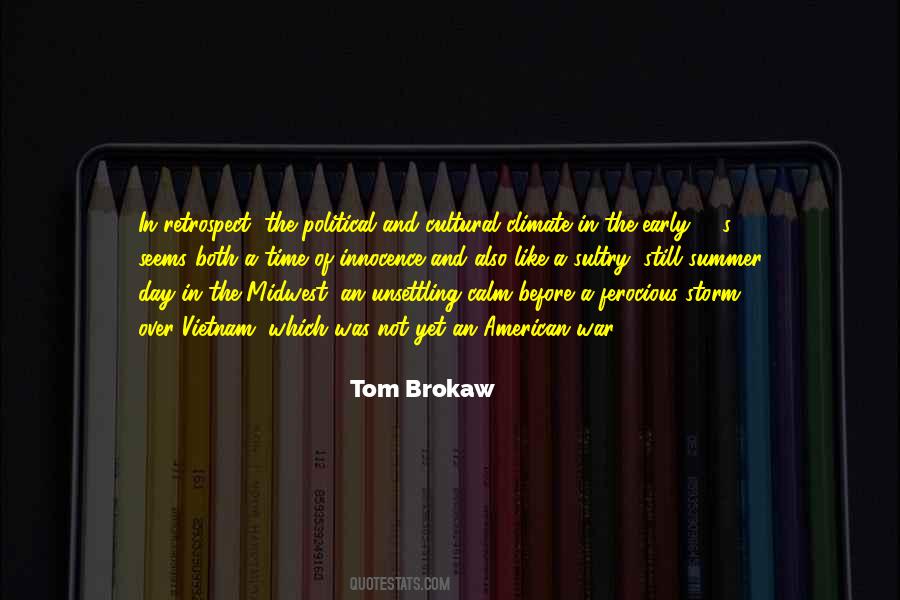 #37. Coming from the Midwest, I didn't know about stand-up as an art. I just thought stand-up comedians were old men in suits talking about their wives. - Author: Natasha Leggero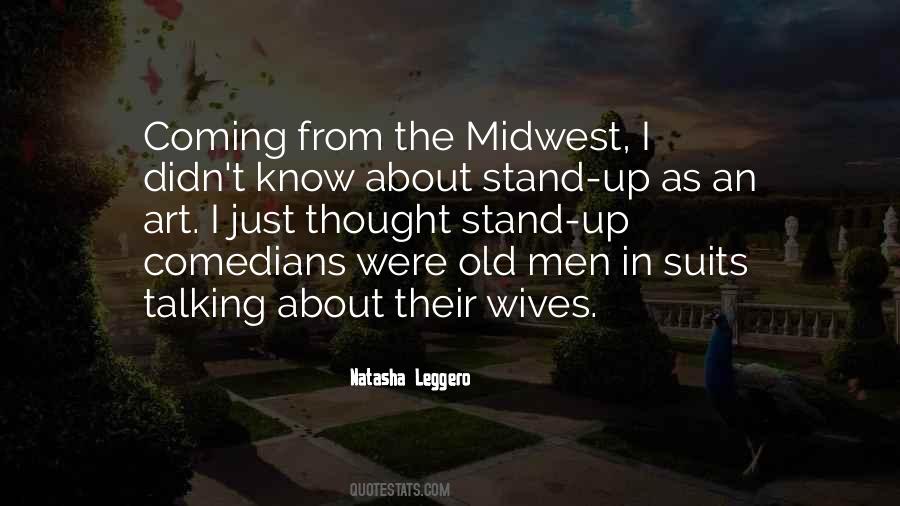 #38. In fact, ballet companies did not exist in the Midwest when I was a child. - Author: Suzanne Farrell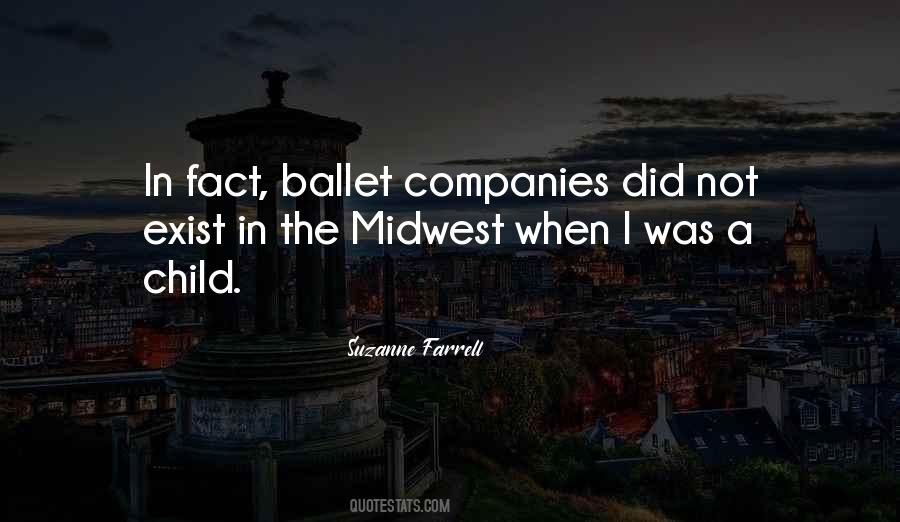 #39. I was a college dropout, hitchhiking across the Midwest. That was part of the old, adventurous spirit. - Author: Tom Brokaw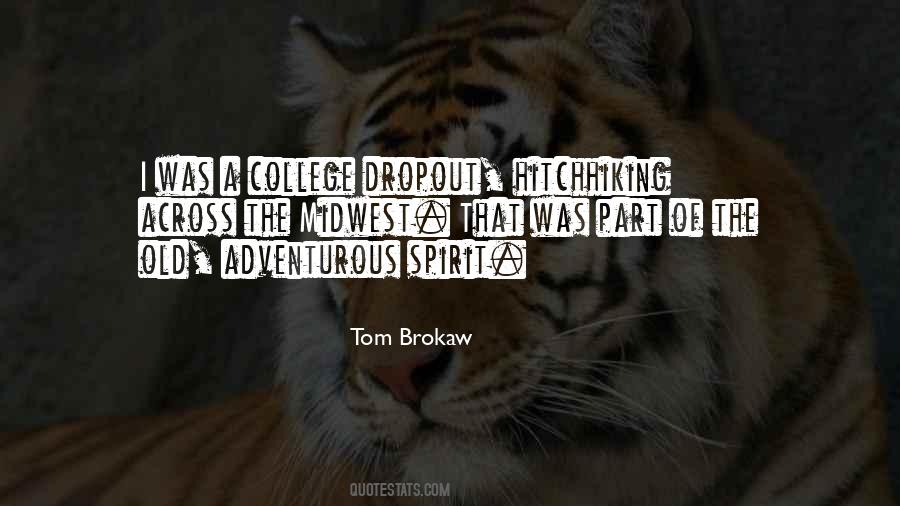 #40. The real Representative McDermott said Jason McDermott is no relation. The Congressman does have a son, but his name is James and he does not live in the Midwest. - Author: Bill Dedman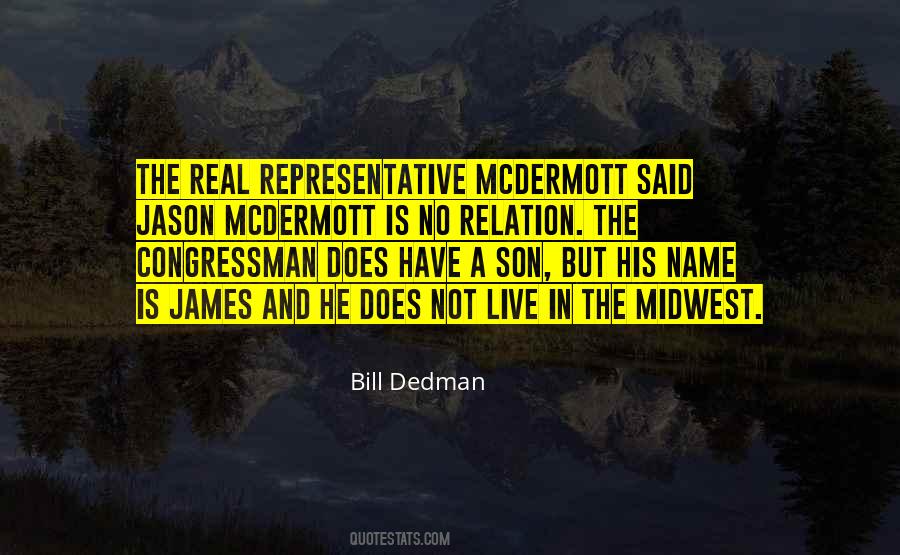 #41. After decades away from the Midwest, she'd forgotten that bewildering generosity was a common regional tic. - Author: J. Ryan Stradal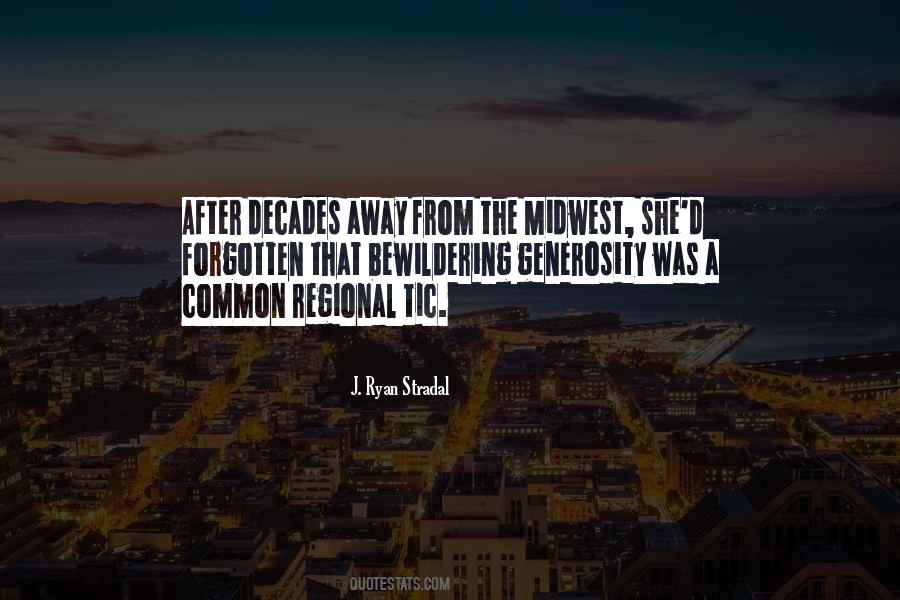 #42. When you look at the number of nuclear power plants in China and India, we can't afford not to pursue similar alternative energy sources. If we do not, it would do immense harm to the manufacturing industry in the Midwest. - Author: Bob Latta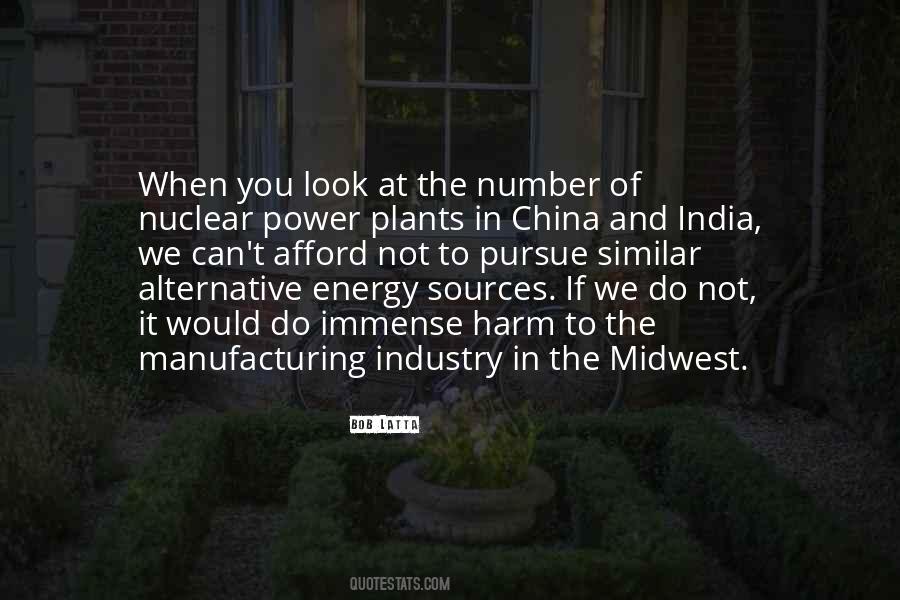 #43. Like most people in the Midwest, Embryo doesn't believe in humor, especially when it pertains to sensitive subjects. - Author: Jennifer Niven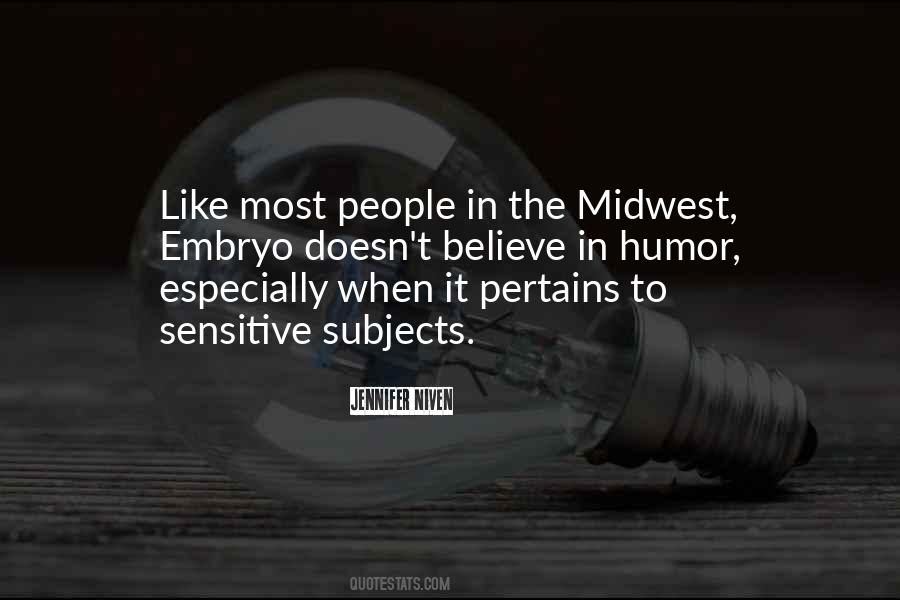 #44. The reality is that I'm an actor from the Midwest and I was 40 movies into it before I started 'Entourage'. - Author: Jeremy Piven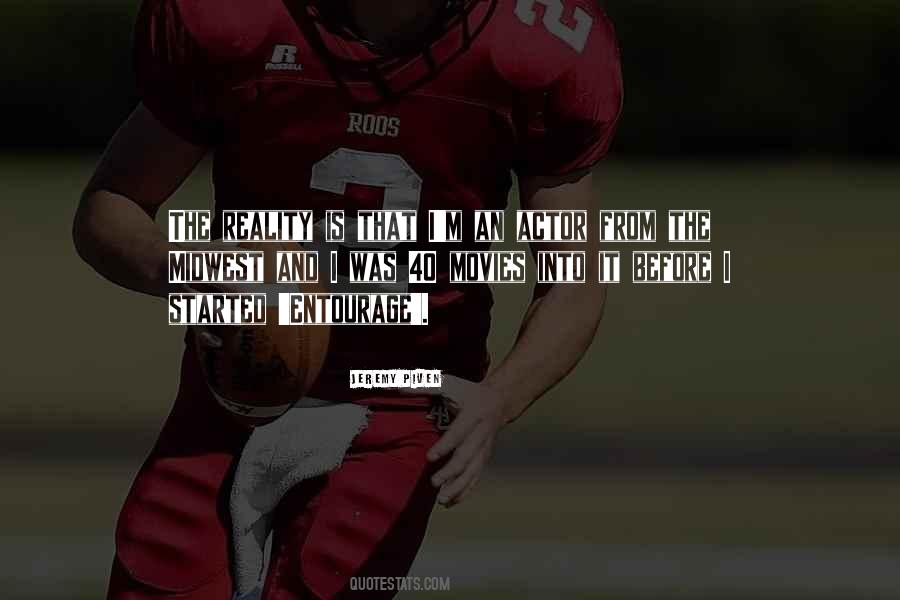 #45. Chicago still remains a Mecca of the Midwest - people from both coasts are kind of amazed how good life is in Chicago, and what a good culture we've got. You can have a pretty wonderful artistic life and never leave Chicago. - Author: Harold Ramis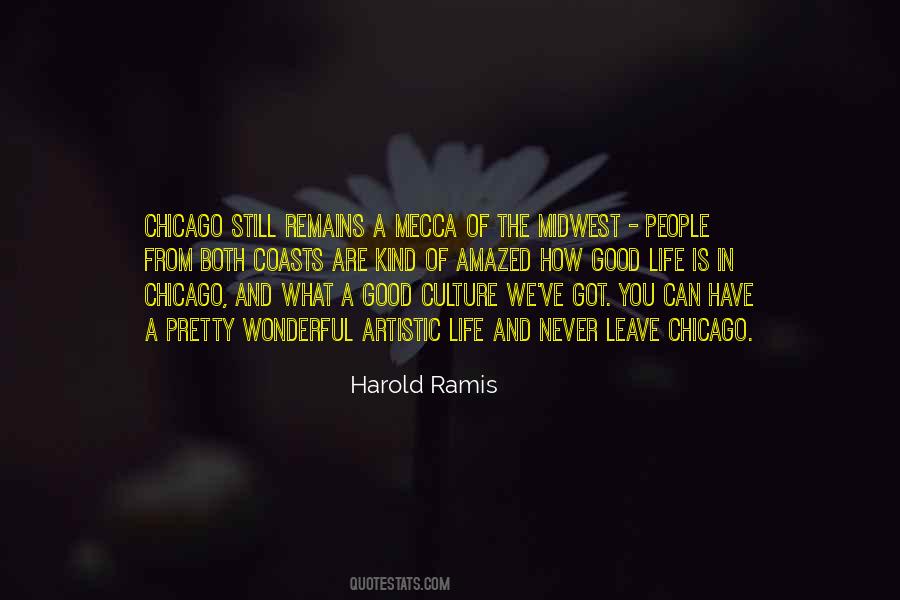 #46. Hemingway should have stayed in the Midwest. He ruined things for the rest of us, telling all those lies. The lie about courage, the lie about every red-blooded male needing to kill a bull or climb Mount Kilimanjaro. - Author: Francine Prose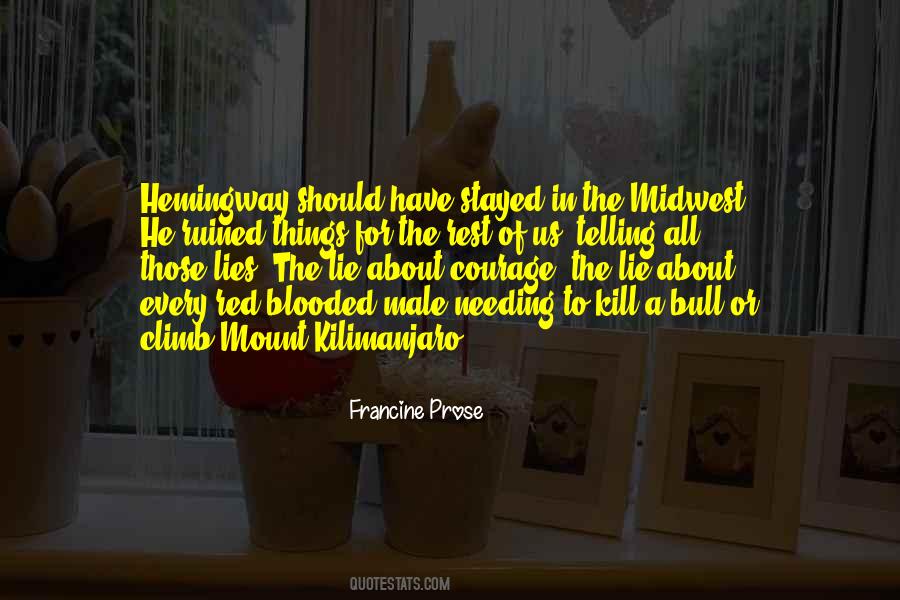 #47. Today, President Obama is making smart investments in clean energy - wind, solar, biofuels - as part of an all-of-the-above energy strategy that supports thousands of jobs, not in the Middle East, but in the Midwest. - Author: Tom Vilsack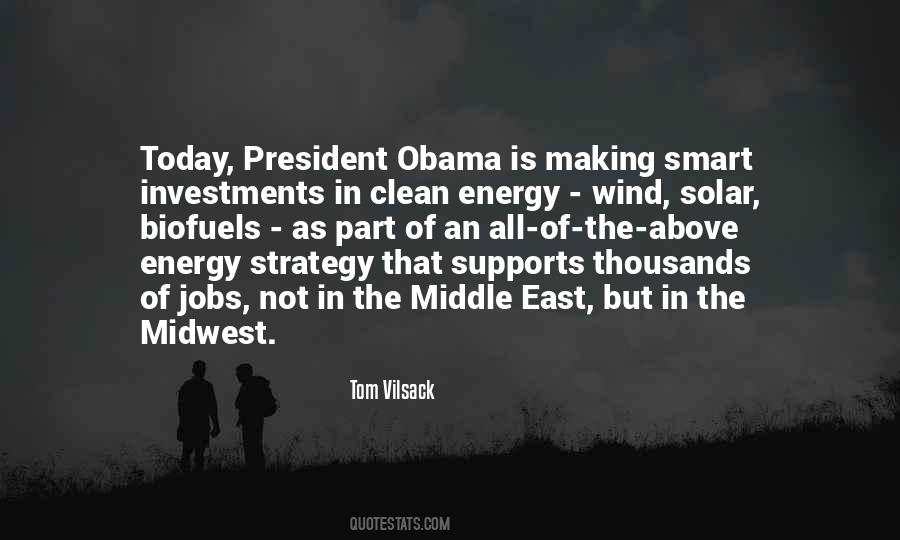 #48. Midwest kids got to summer camp. There is something very special about being away from your parents for the first time, sleeping under the stars, hiking and canoeing. - Author: Jami Gertz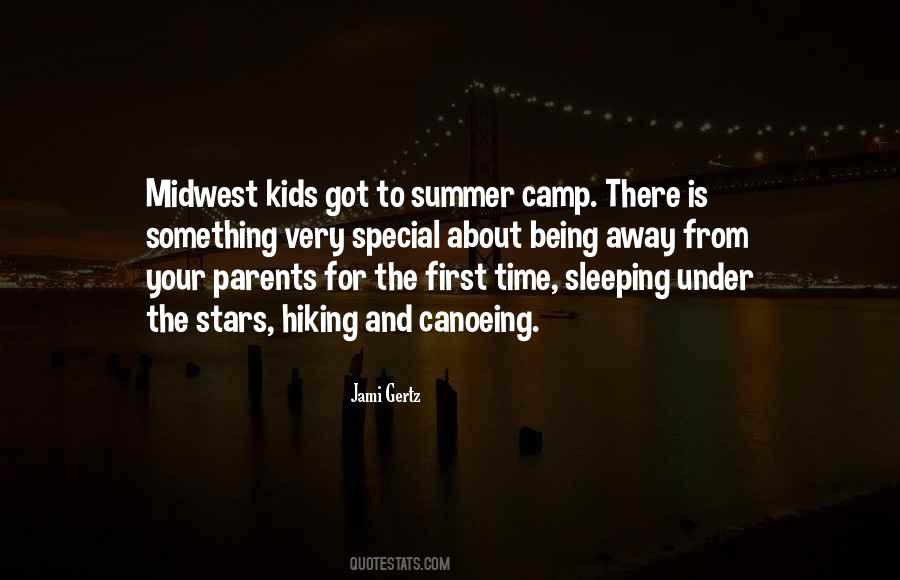 #49. I come from Chicago, and the landscape of the Midwest has always meant a great deal to me. - Author: Edward Hirsch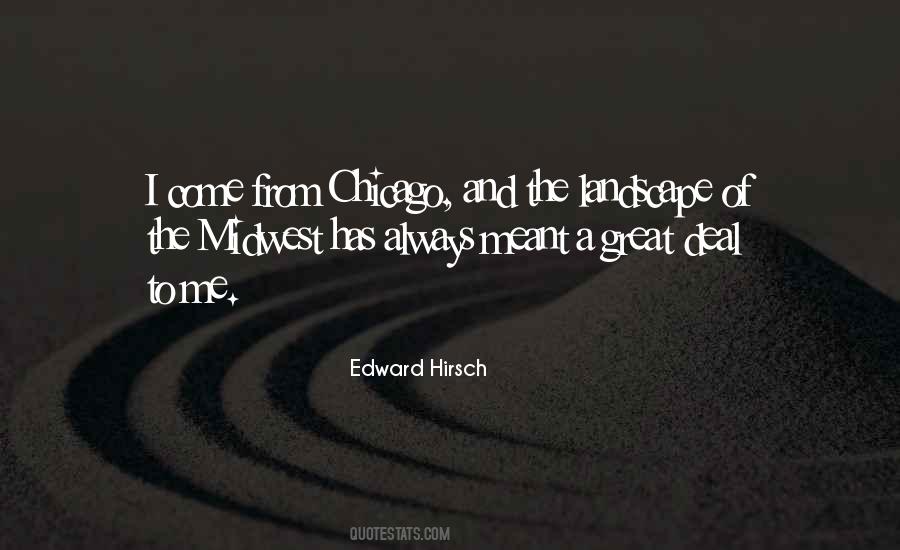 #50. Place is so important to me. The Midwest is like a ghost in my life. It's present as I look out the window now. I see Texas, but if I close my eyes and look out the same window, I'm back in my hometown in Worthington, Minnesota, and I cherish those values and that diction. - Author: Tim O'Brien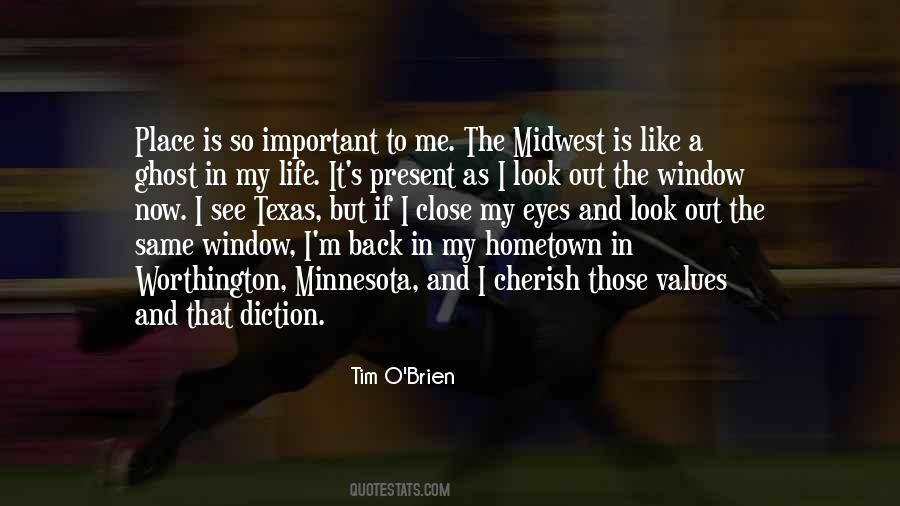 #51. The Midwest is a musical melting pot and the source and birthplace of several musical genres. - Author: Chuck Inglish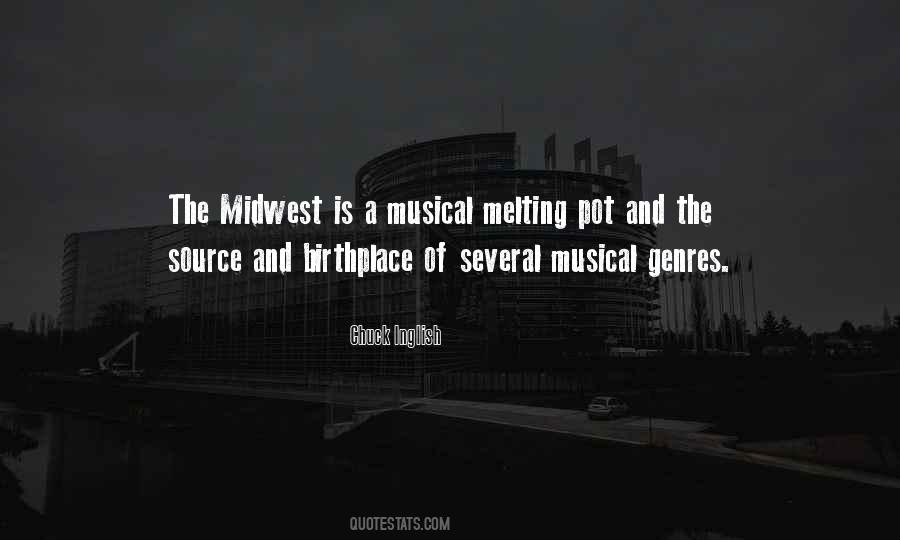 #52. ...the Midwest is coping with a twenty-first-century problem [globalization] with a nineteenth-century political and social structure [relying on state and city solutions rather than regional solutions]. - Author: Richard C. Longworth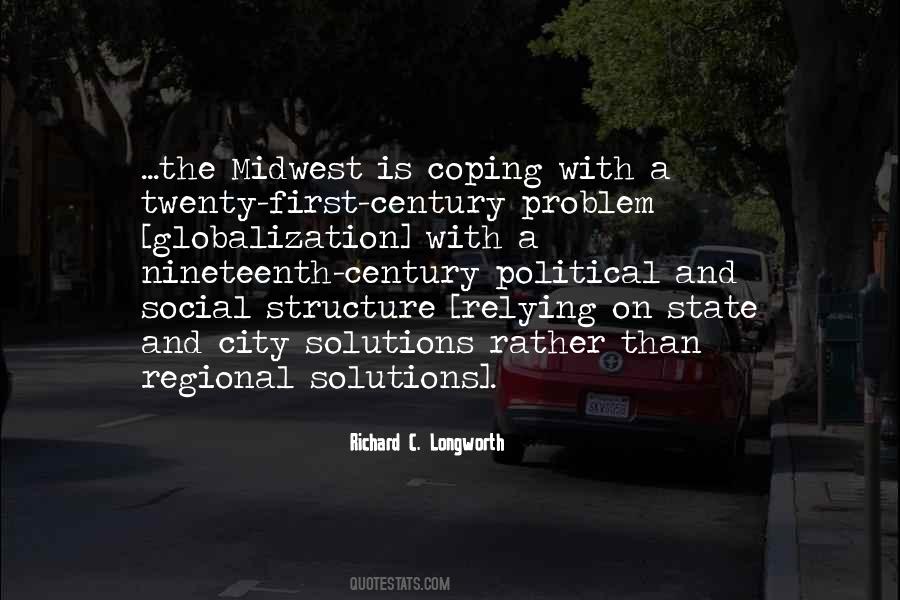 #53. I was never that kid who grew up in New York and was always at the arthouse watching important films. I was the kid who grew up in the Midwest where there weren't any art films, and I watched TV. And that was really the medium that affected me and that I fell in love with. - Author: Shawn Ryan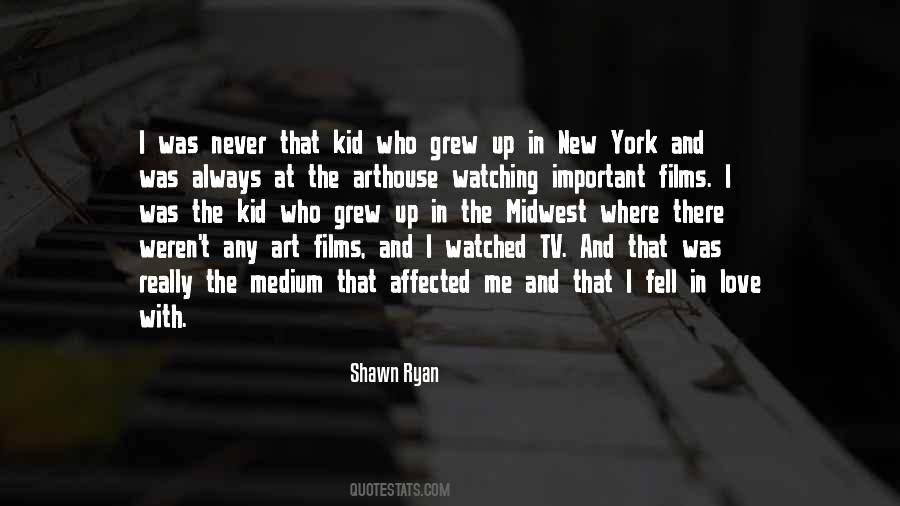 #54. It was the coldest winter ever! I thought last winter was the coldest winter ever, but I was wrong now wasn't I? You see because I travel all the time. So last winter, I'd be in the midwest, and the blizzard would hit. And then I'd fly home, AND THE BLIZZARD WOULD HIT AGAIN! - Author: Lewis Black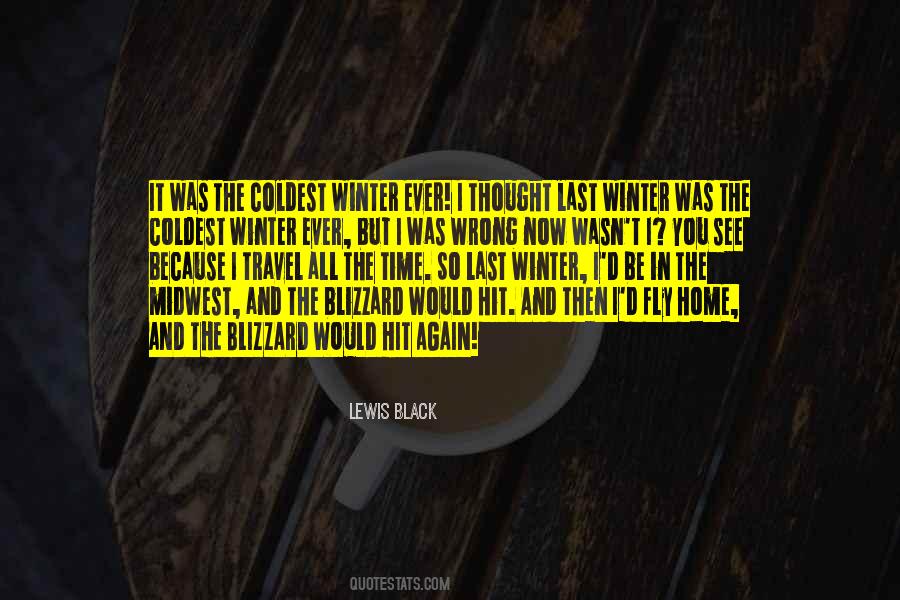 #55. I'd like now and into the future to play a bigger role not only in Wisconsin and the Midwest, but nationally. I'd like to have an impact. - Author: Scott Walker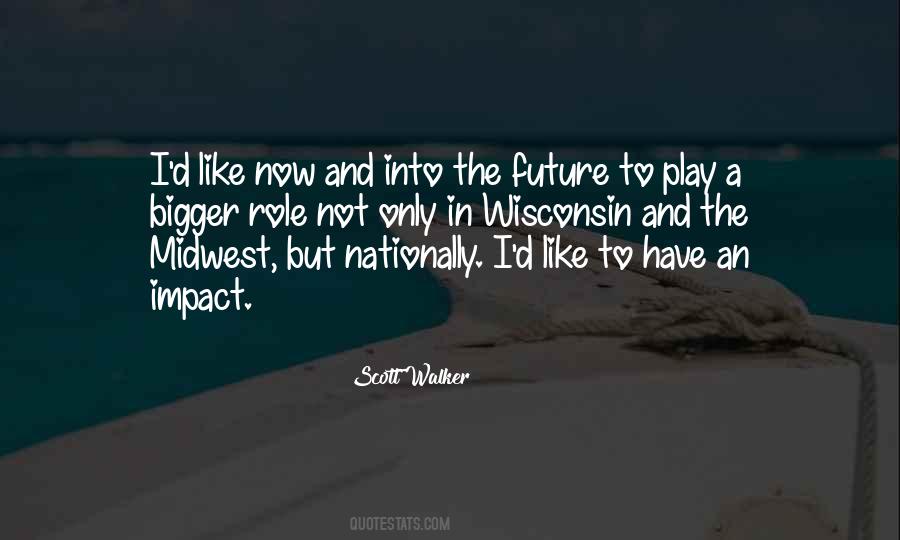 #56. I grew up in a Catholic family in the Midwest. And I knew people of different faiths and people that were atheists and people that were agnostic. - Author: Jim Gaffigan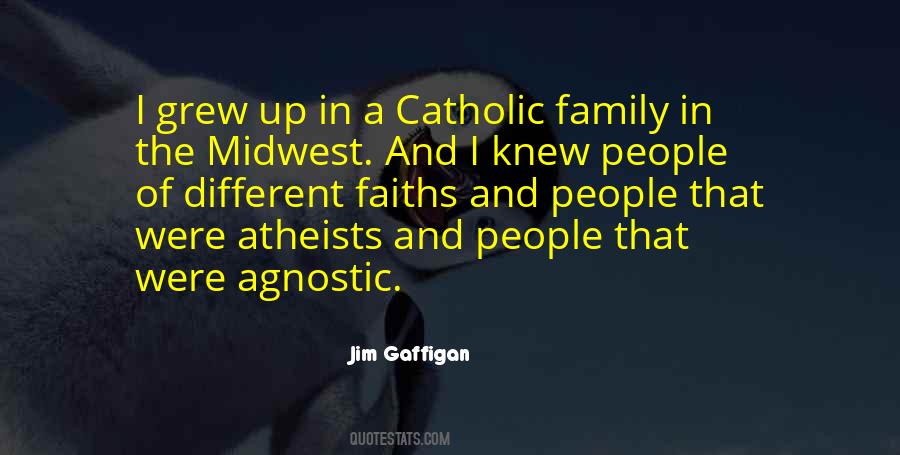 #57. I was born in the Midwest, where 'salad' was cherry Jell-O with bananas in it. Now children are more aware of healthy foods. - Author: Candy Crowley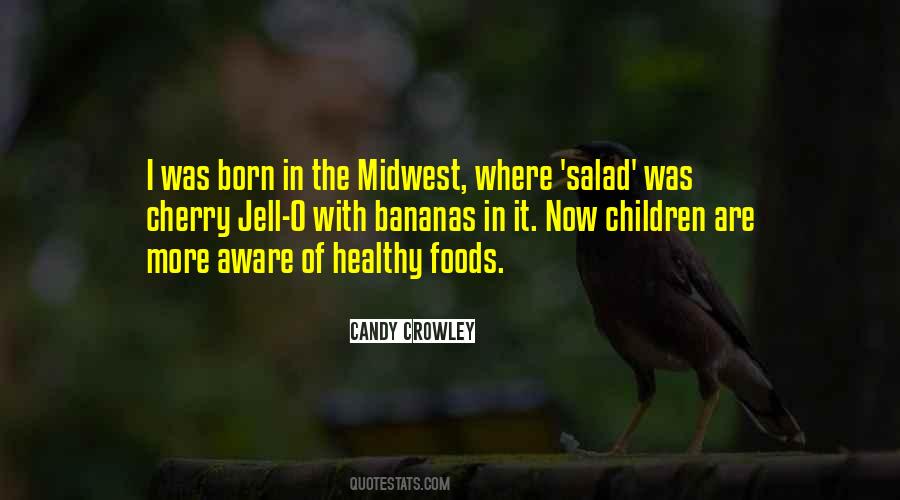 #58. Early in my career I began receiving letters from a woman in the Midwest who claimed to be my mother. - Author: Charley Pride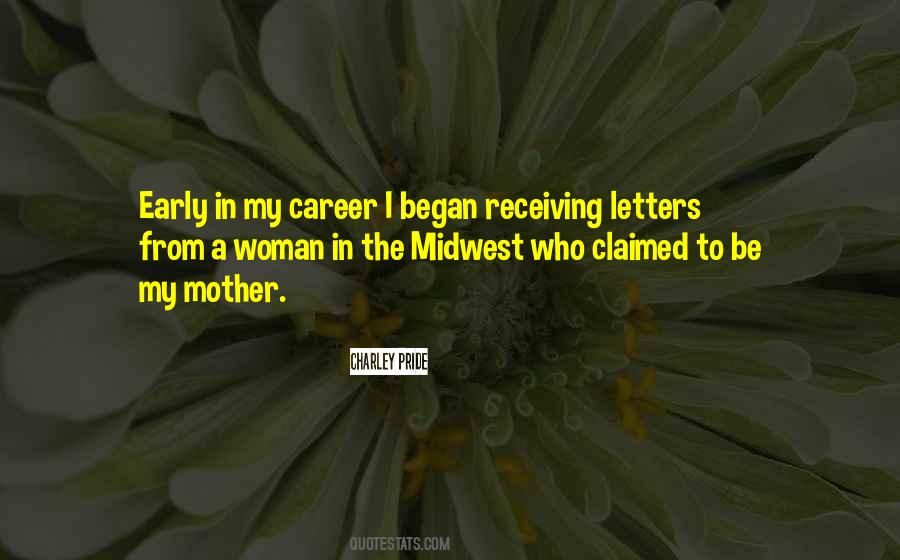 #59. I like Target. I like the ones in the Midwest, personally. We don't really have those in England yet. - Author: Roger Andrew Taylor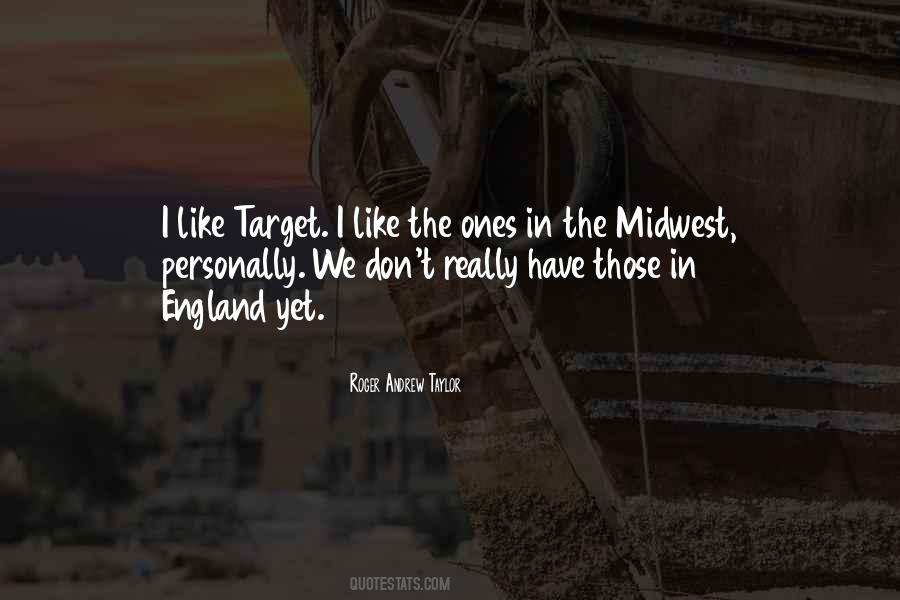 #60. I was made fun of in the Midwest - I was the only Asian in my graduating class of 200. Fortunately, I found my niche, and it was fine. But I wanted to be so white, you wouldn't believe it. I was like, 'I want to be white; I don't want to be this anymore.' But now I embrace it. - Author: Reggie Lee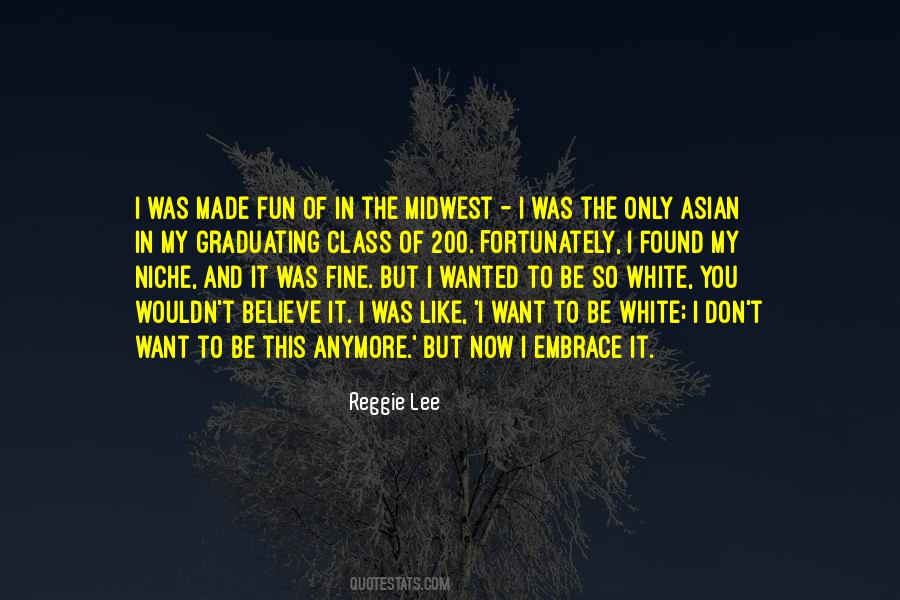 #61. When I was a young woman, before I moved to New York, working in small, non-Equity theatres in the Midwest, I did a lot of musicals in my early to mid-20s. - Author: Jayne Houdyshell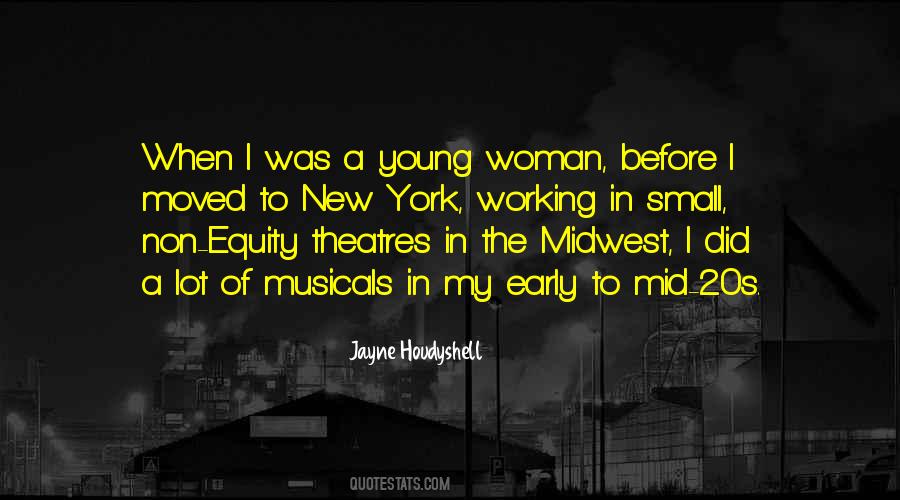 #62. I grew up in the Midwest, so I have sort of an honorable moral code. But I moved to a city and joined a sort of fast crowd. A lot of people who grew up in the city sort of aren't aware of manners and other ways of life and 'common decency.' - Author: Derek Blasberg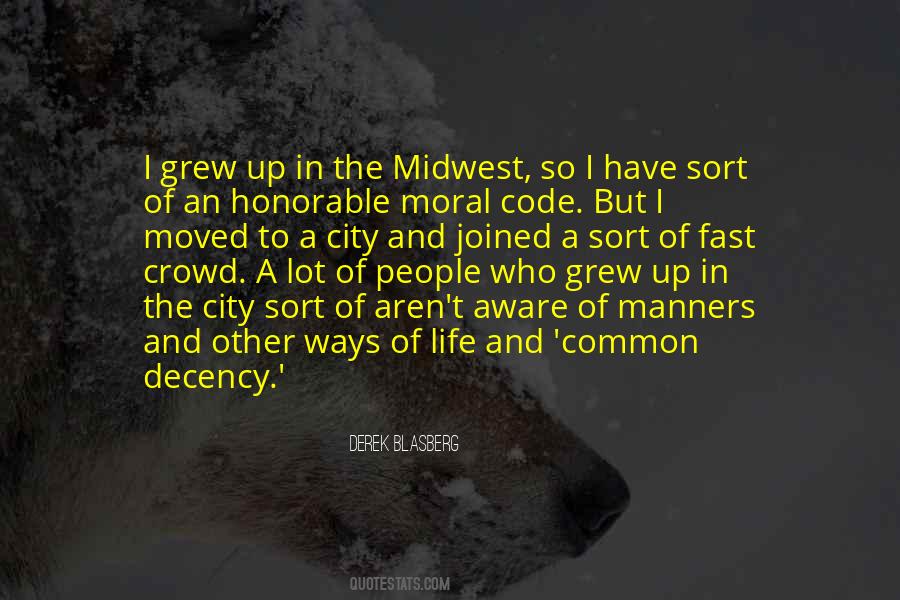 #63. Headless guys and gals Not loving the Midwest vibe Oh, look - a cheese ghost GEE, - Author: Rick Riordan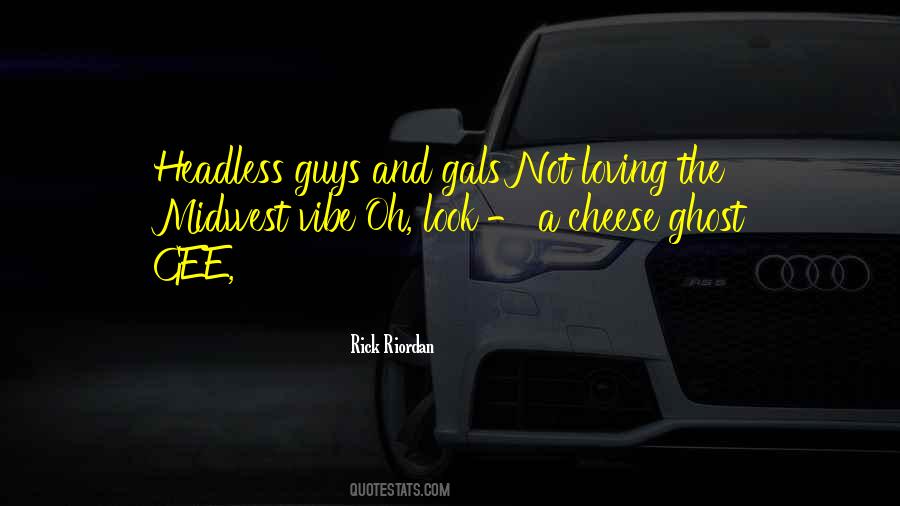 #64. As an undergraduate, I had an opportunity to go on a number of archeological digs. So I had experience excavating, digging up remains of ancient Indian villages in the Midwest and in the Southwest. - Author: Donald Johanson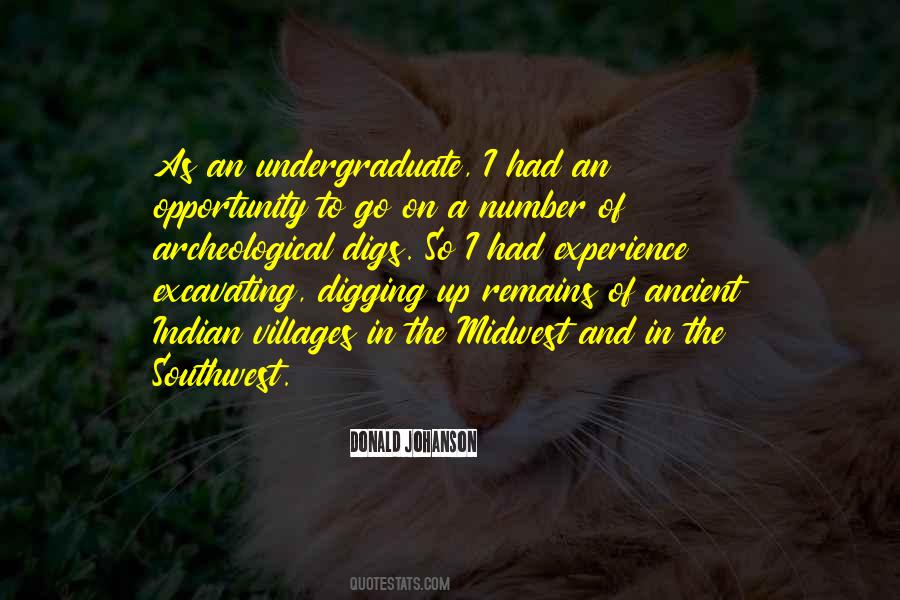 #65. Midwest Radio would like to extend their sympathies to the families and loved ones of the dead - Author: Mike McCormack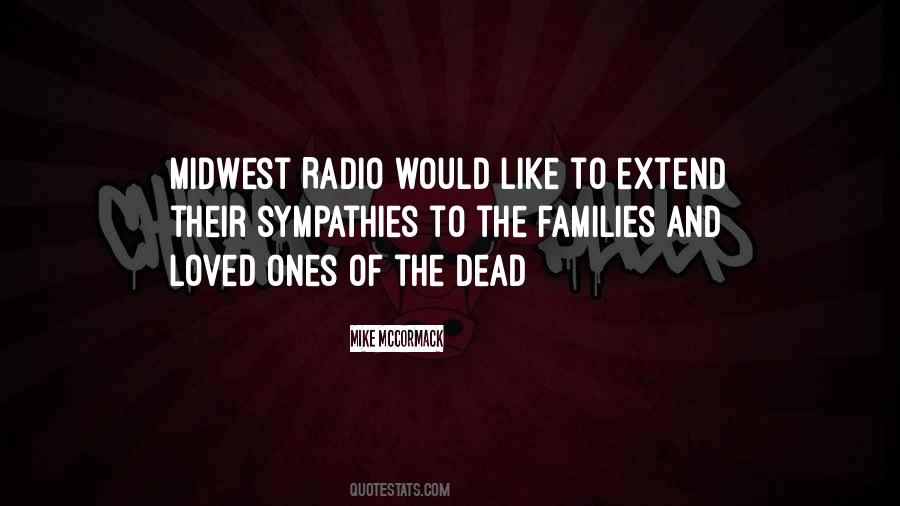 #66. Welcome to the Midwest, Mom used to say. Where the weather keeps you guessing and you're almost always sure to hate it. - Author: Jennifer Brown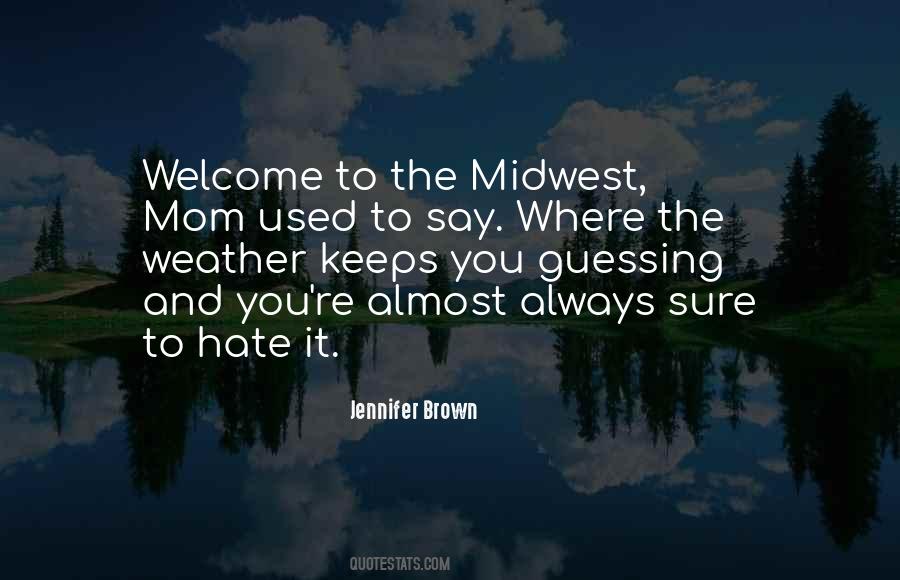 #67. I can support co-ops if they want to do it as we've known co-ops in America for 150 years - where they serve the purposes of the consuming public, whether it's health care or whether it's co-ops as we know them in the Midwest, providing electricity or to sell supplies to farmer. - Author: Chuck Grassley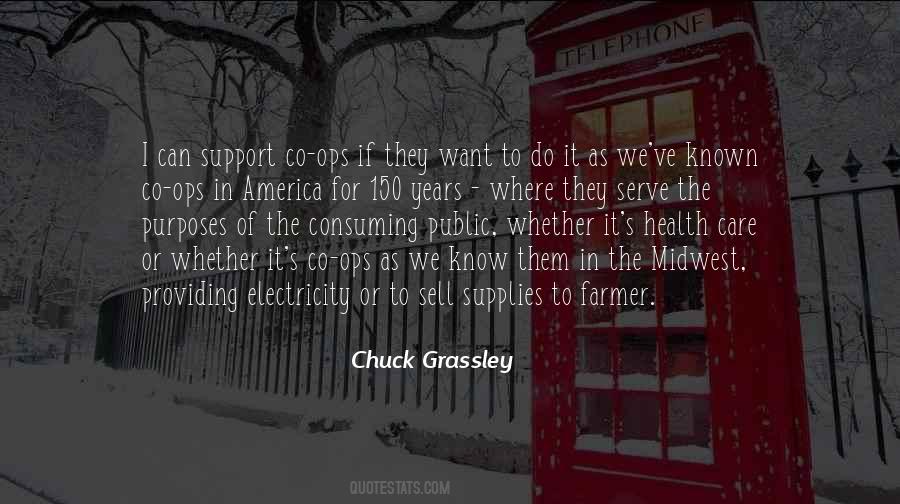 #68. Friends in the Midwest often ask me what it's like to raise a family in Los Angeles. I say it's just like where they are, but warmer and with more traffic. I also tell them people here seem a bit more tolerant of those who are different. - Author: Steven Levitan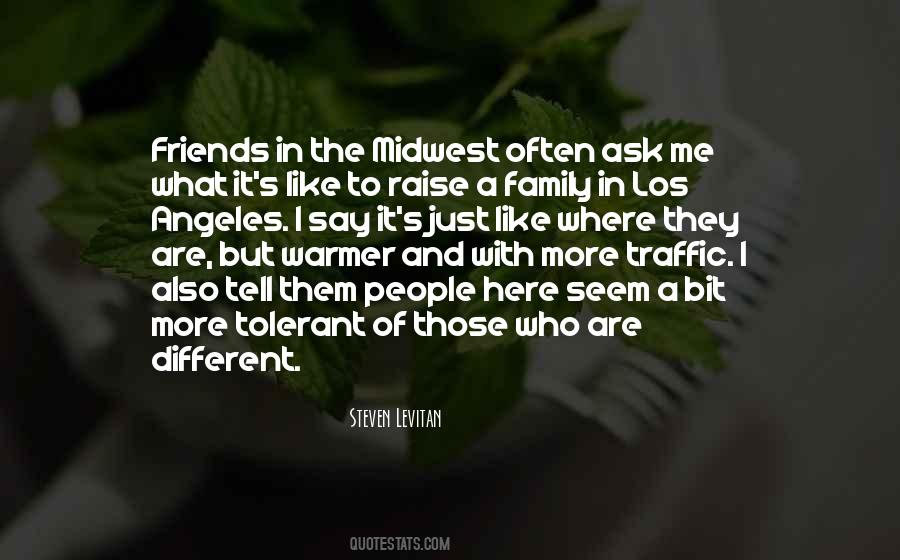 #69. You can take the boy out of the Midwest, but you can't take the Midwest out of the boy. - Author: Joe Lando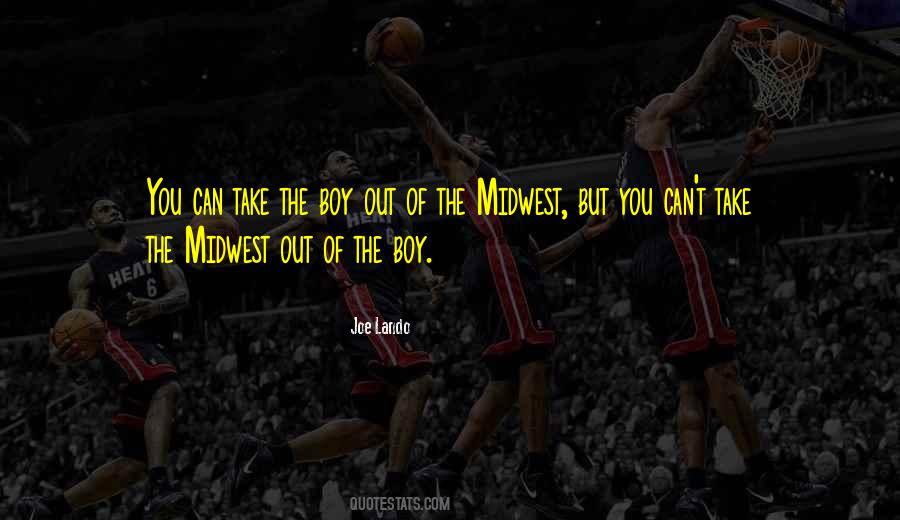 #70. any city or town in the Upper Midwest that's known more for what it used to make than what it makes now. - Author: Anne Trubek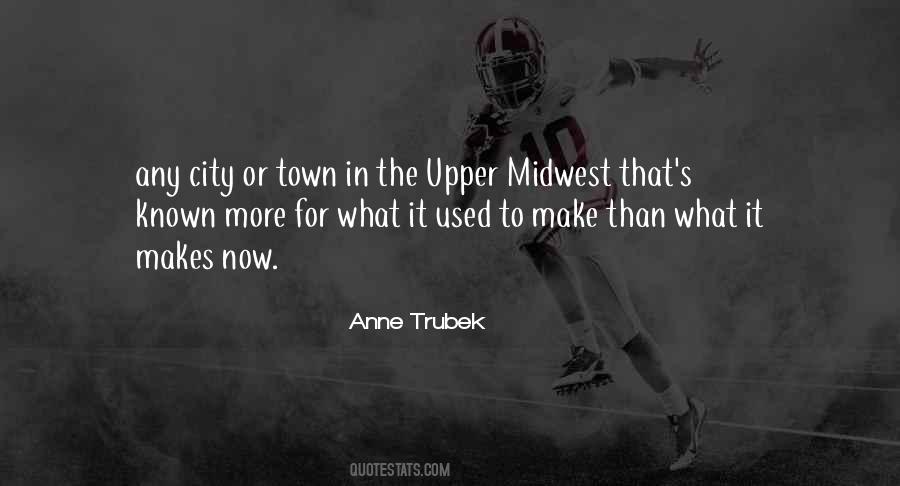 #71. I left the Midwest feeling like, "People are small-minded, they don't want to ask questions, they don't want to think out of the box." Some of that was true. - Author: Lissie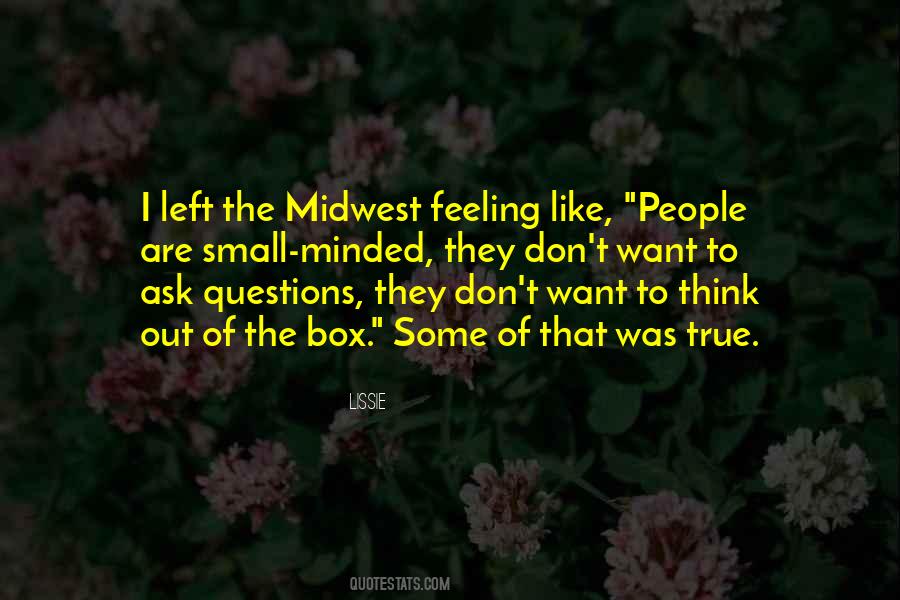 #72. I don't live in Hollywood. I don't have celebrities as friends. I like them, but I don't pal around with them. I just live in the Midwest, a real normal world. - Author: Jerry Springer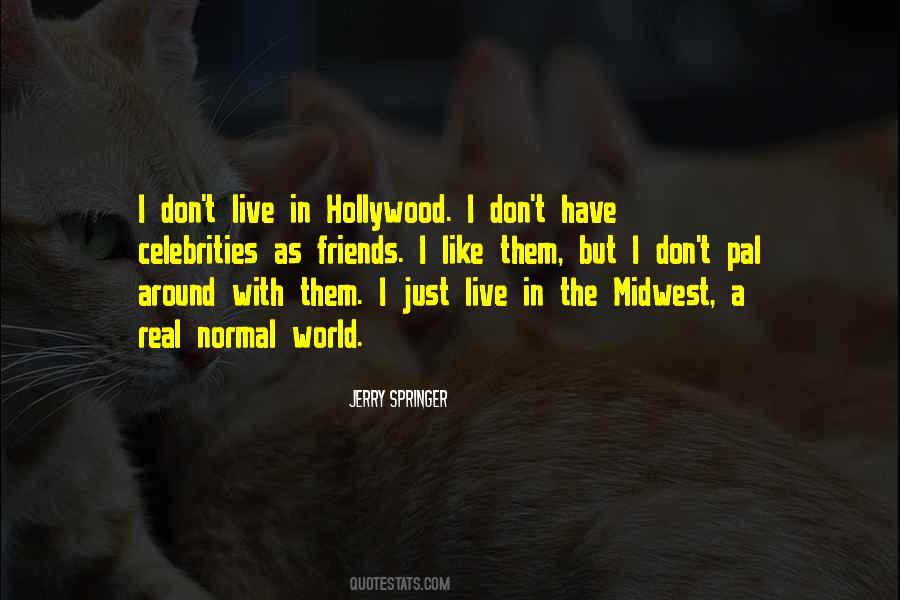 #73. I lived in a tiny Midwest town, so I was always looking for adventure. - Author: Kellan Lutz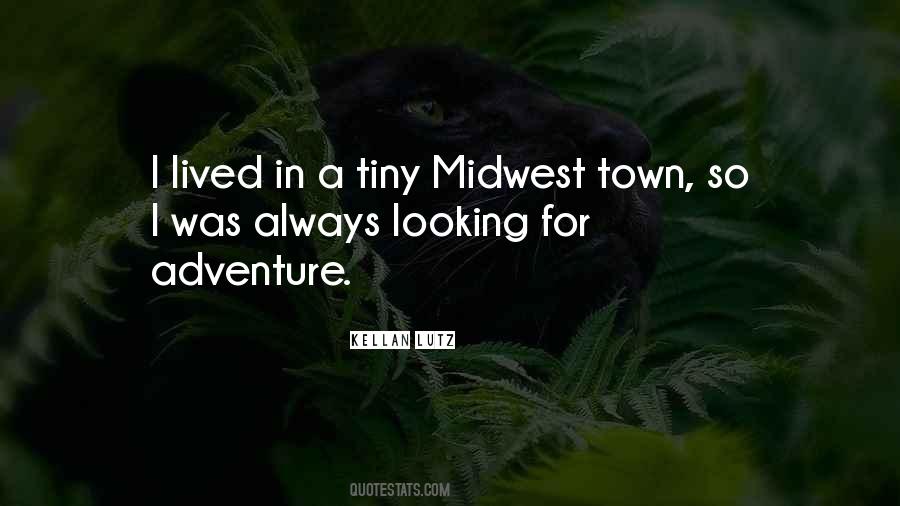 #74. There's something about this place, about Madison and Wisconsin and the Midwest, that's really comforting, ... Malcolm in the Middle. - Author: Jane Kaczmarek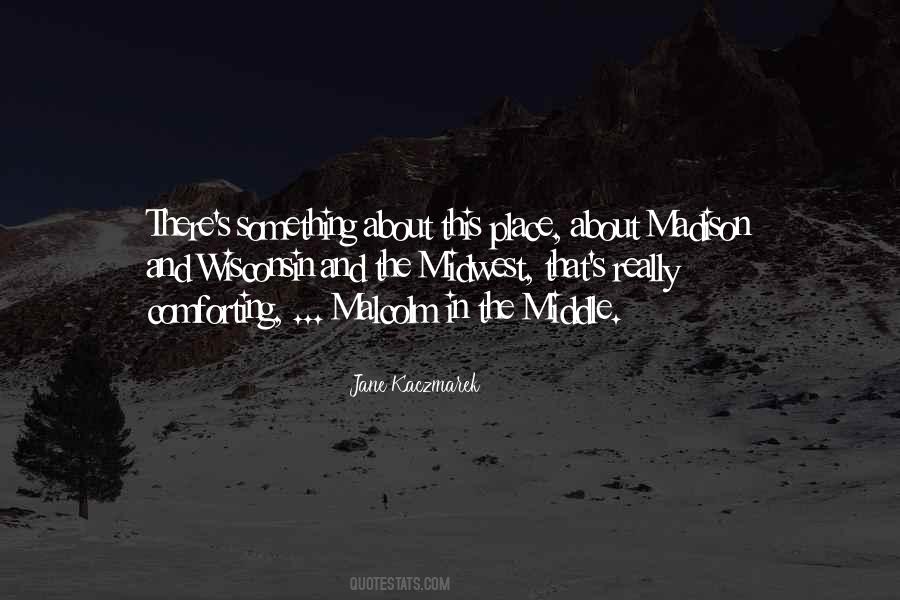 #75. You know, I'm from the Midwest, man - that shapes my personality much more than having gone to Harvard. - Author: Dean Norris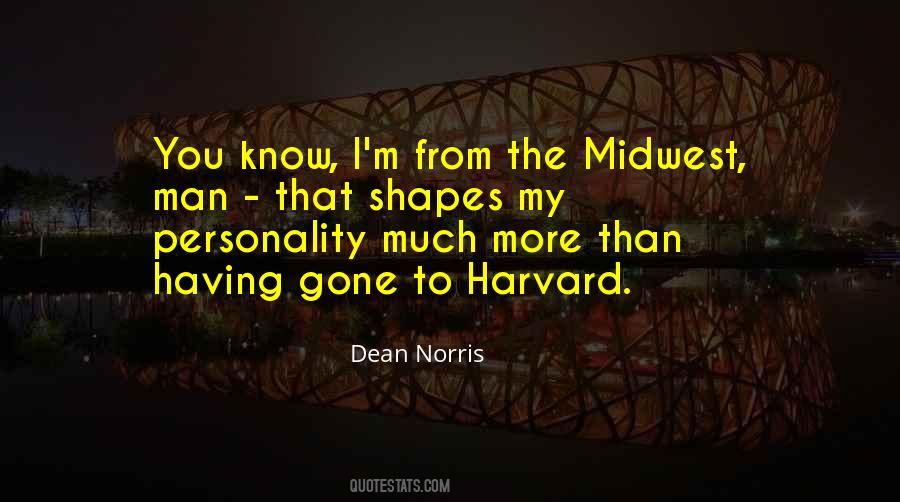 #76. That, and the untended mental health problems. We have all these insane armed hobos coming from the Midwest, usually Ohio. Fuck Ohio. - Author: Tim Dorsey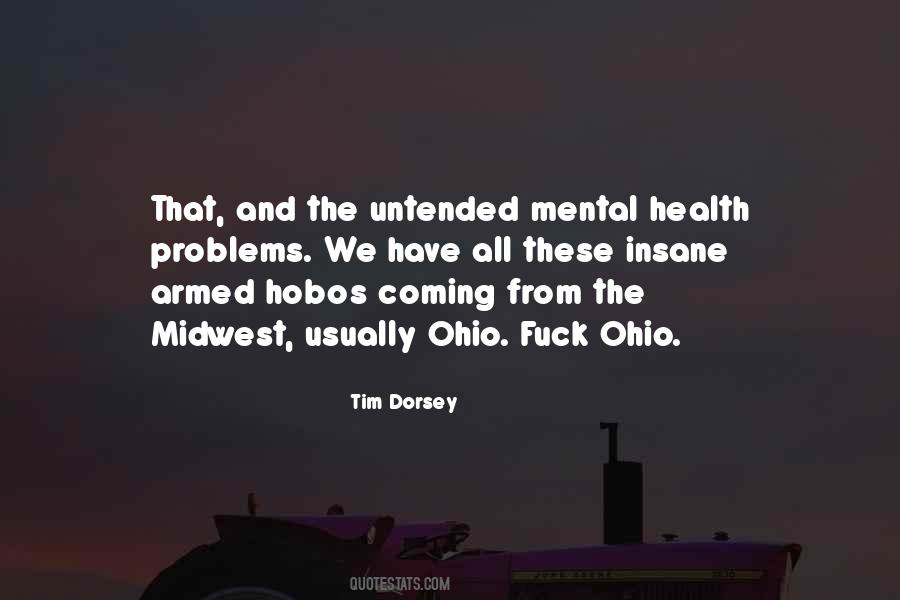 #77. Well I grew up in the Midwest, and I think the first film that blew my mind was 'Raiders of the Lost Ark.' - Author: Joseph Kosinski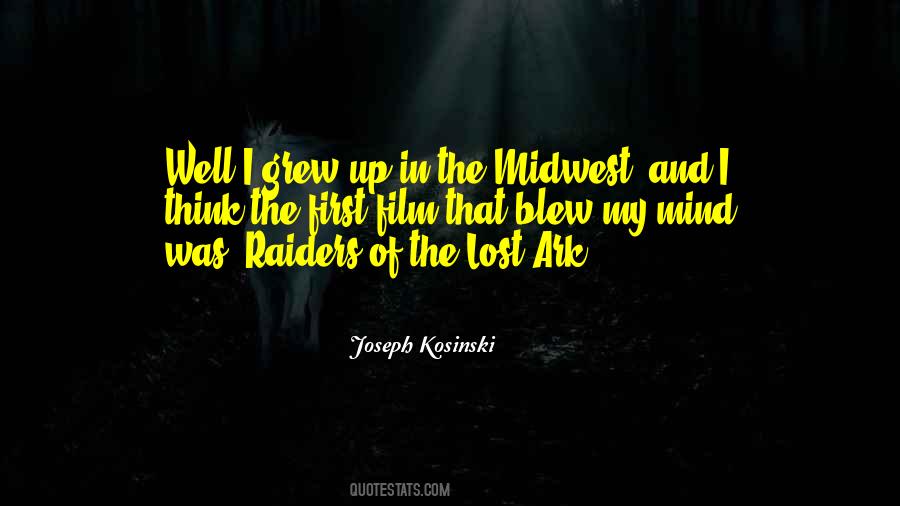 #78. Peoria is such a seemingly quintessential American city, and I had always wanted to draw on that in either my fiction or in nonfiction. The Midwest is also a landscape that I have always been infatuated with, perhaps because it's the first one I can truly remember. - Author: Dinaw Mengestu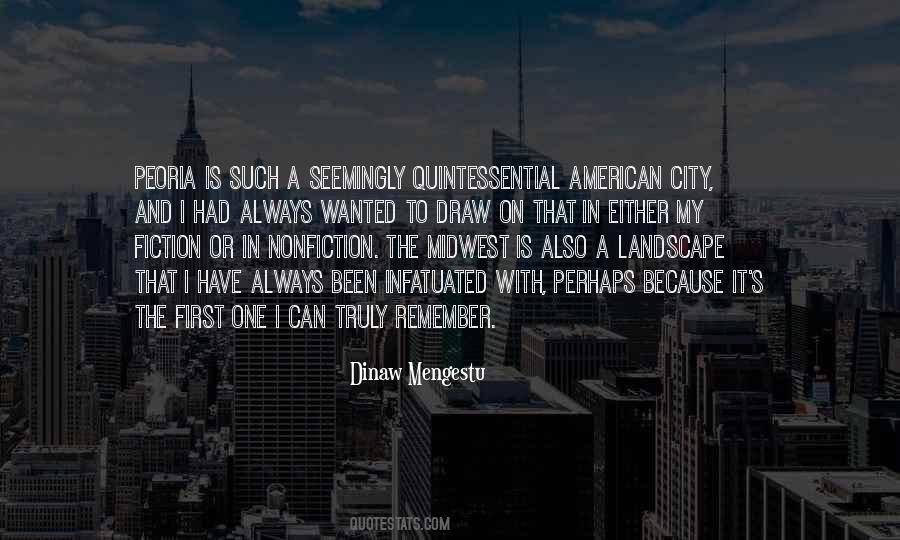 #79. It's kind of low brow, but the show 'Bob's Burgers' is hilarious, and being from the Midwest, I can kind of relate to a lot of the jokes. 'Orange is The New Black' is a Netflix Exclusive, I think - that's really funny. - Author: Gracie Gold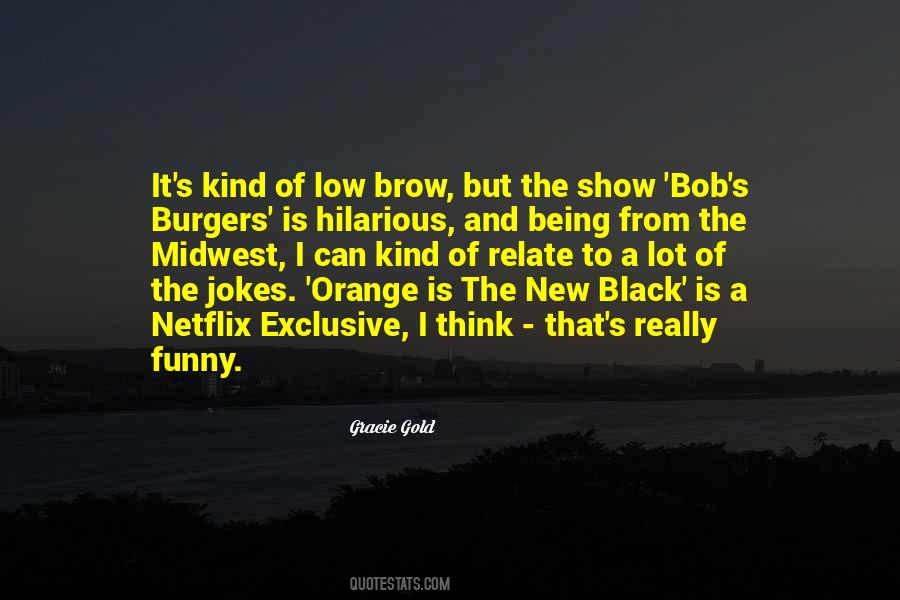 #80. I've tried and failed a lot. But I've also tried to be really clear about my brand. It is who I am. I'm a mum, I'm a wife, I'm 44 and from the Midwest. - Author: Cindy Crawford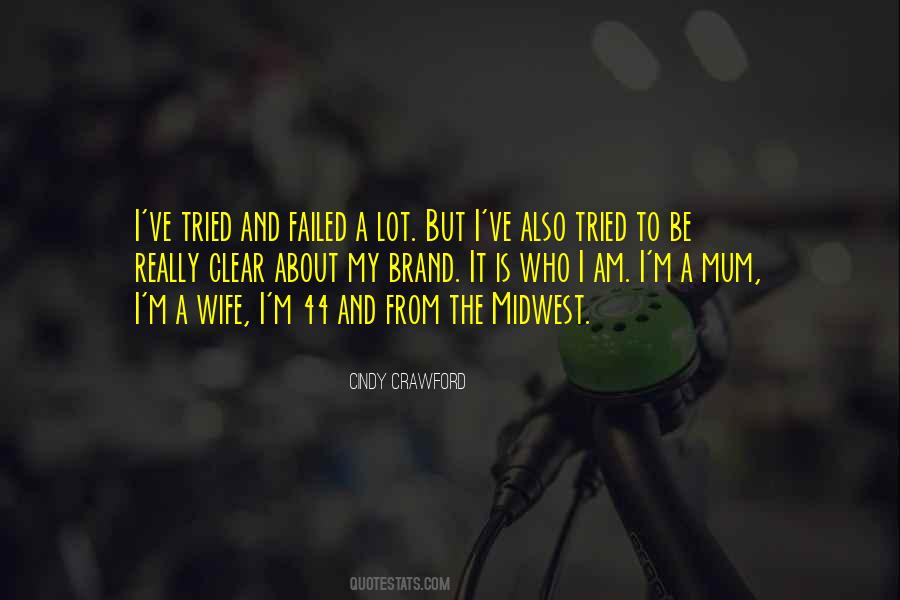 #81. White Castle has a unique position in the Midwest. It is a cult brand that has developed a strong, loyal following. - Author: Ron Paul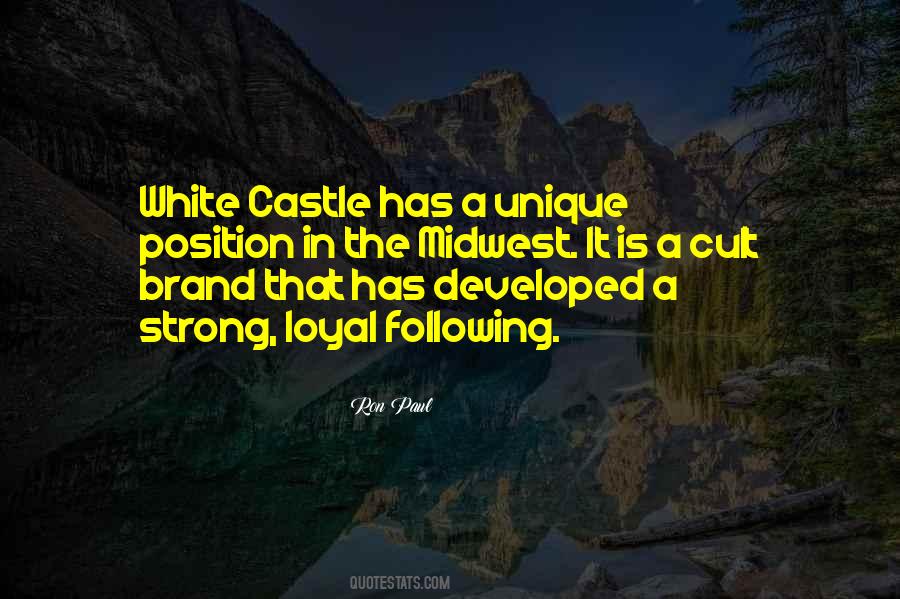 #82. I was born in Chicago, then I spent most of my youth in Joliet, Illinois which is about thirty minutes south, and I went to a military academy for high school in Wisconsin. Then I went to college, on a basketball scholarship to a small school in Iowa, so I'm like Mr. Midwest. - Author: Adam Rapp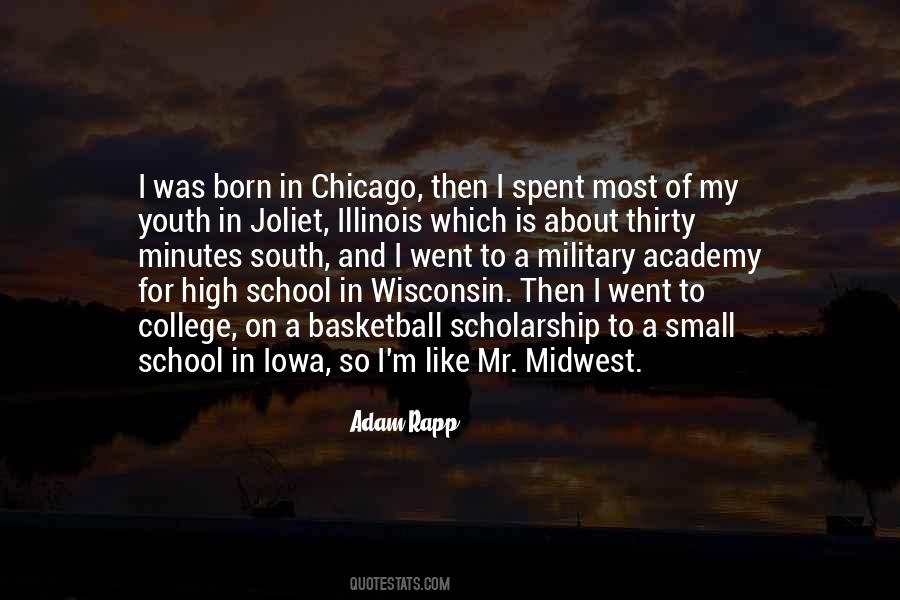 #83. Growing up in the Midwest, people don't drive Porsches and Ferraris. They drive Fords and Chevys. And so even if you have the opportunity to buy a more expensive car, it doesn't occur to you because it's not what you relate to. - Author: Luke Perry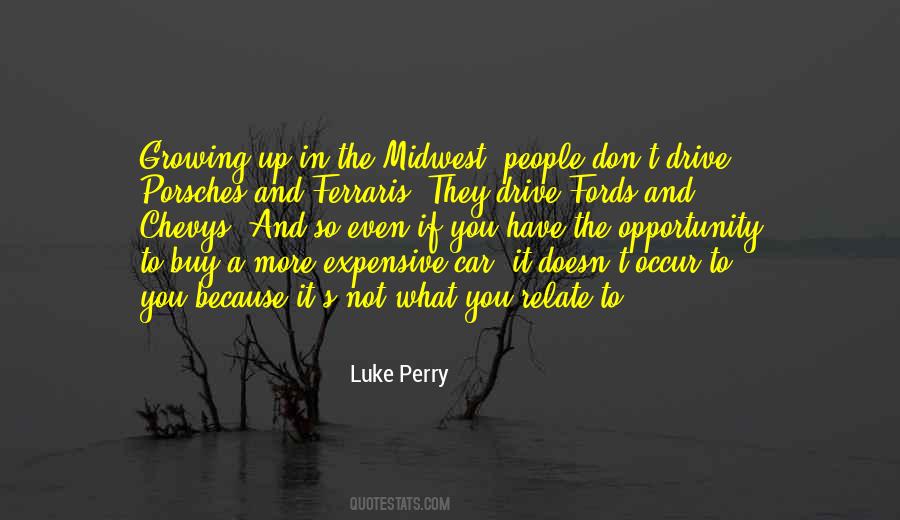 #84. Yet the reality is that I'm a stage actor from the Midwest - probably the opposite of a shark agent. - Author: Jeremy Piven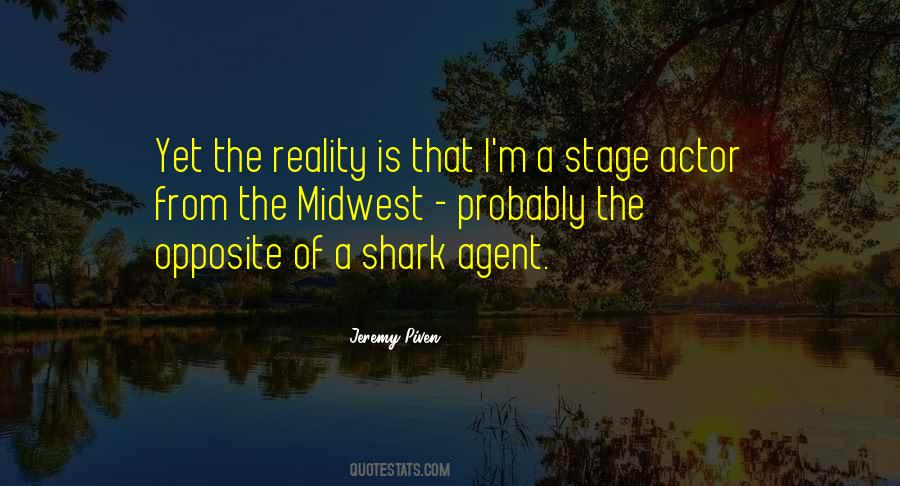 #85. Detroit is beautiful - though you probably have to be a child of the industrial Midwest, like me, to see it. - Author: P. J. O'Rourke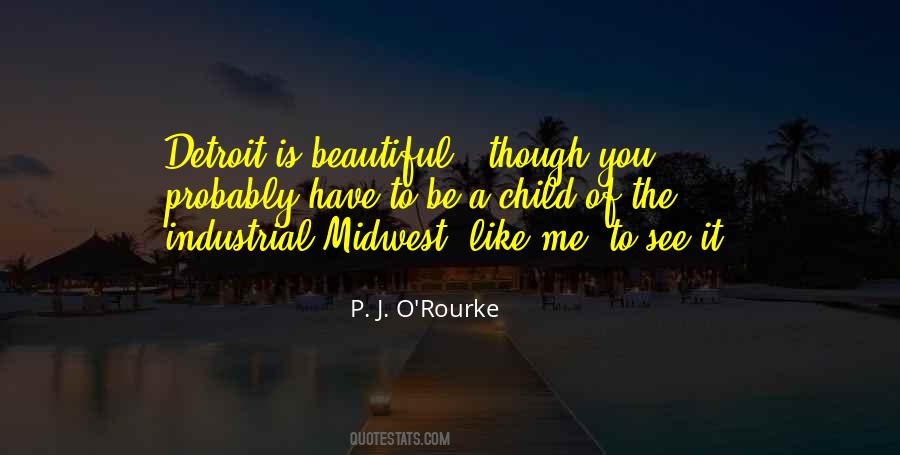 #86. I grew up in the Midwest; you don't know any screenwriters. It didn't seem like a realistic career possibility. - Author: Diablo Cody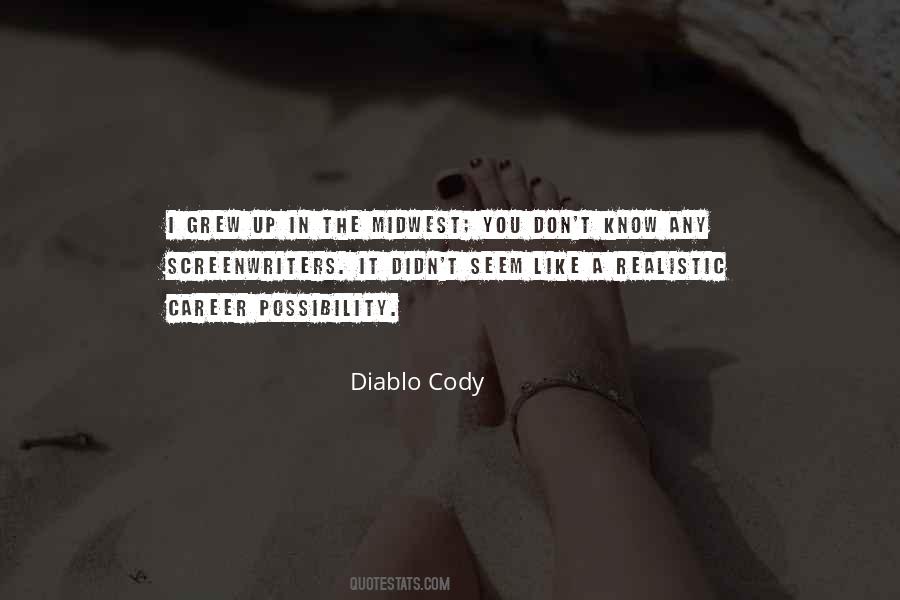 #87. Some readers took 'Heaven's My Destination' as a satire on Christianity and the Midwest, but today it reads like a loving comedy. - Author: Robert Gottlieb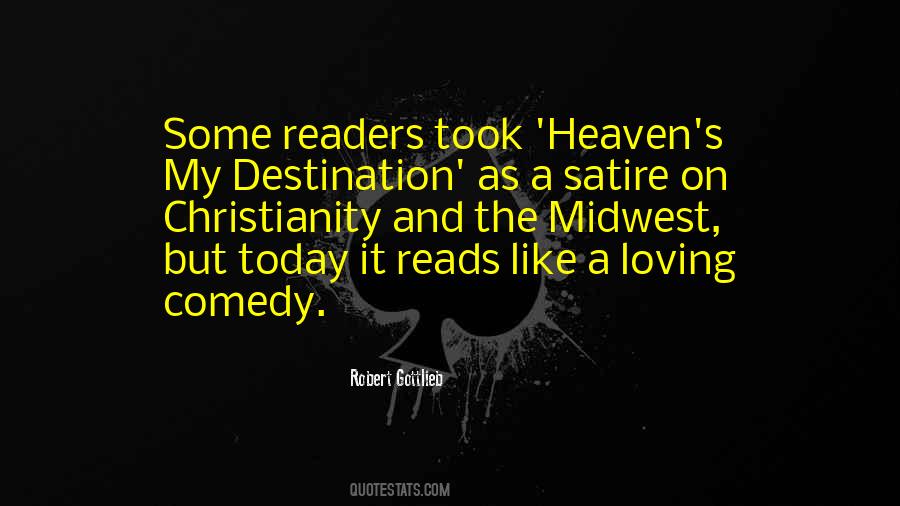 #88. I love the Midwest. I think about it every day. I wonder if I would rather have a little farm in the Midwest, in Illinois or Wisconsin, or would I rather have like a little getaway up in the mountains of Colorado. - Author: Joe Lando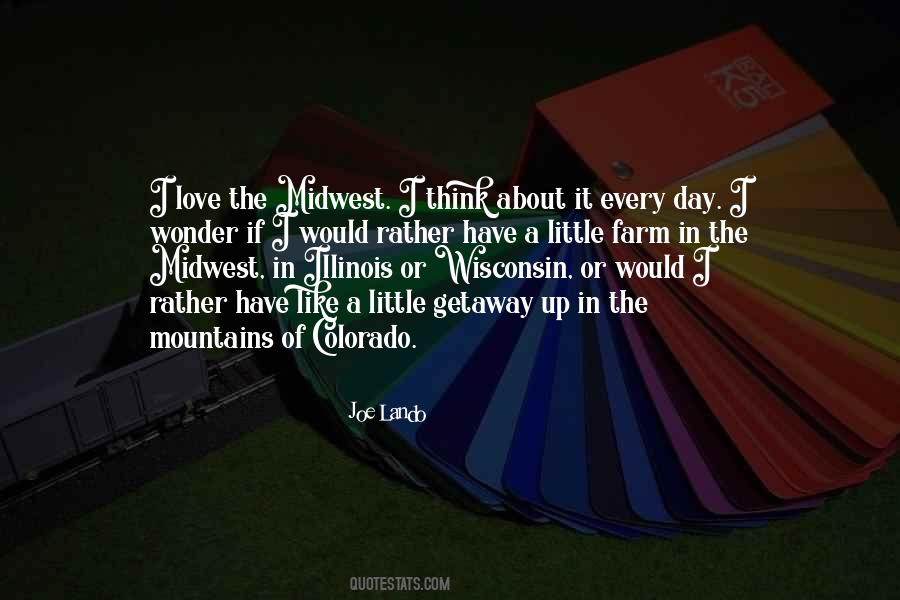 #89. I grew up in the Midwest, quite far from any ocean or any beach, a million miles. I think for kids who grew up where I did, the idea of California, surfing and beach life was so exotic and glamorous. - Author: John Malkovich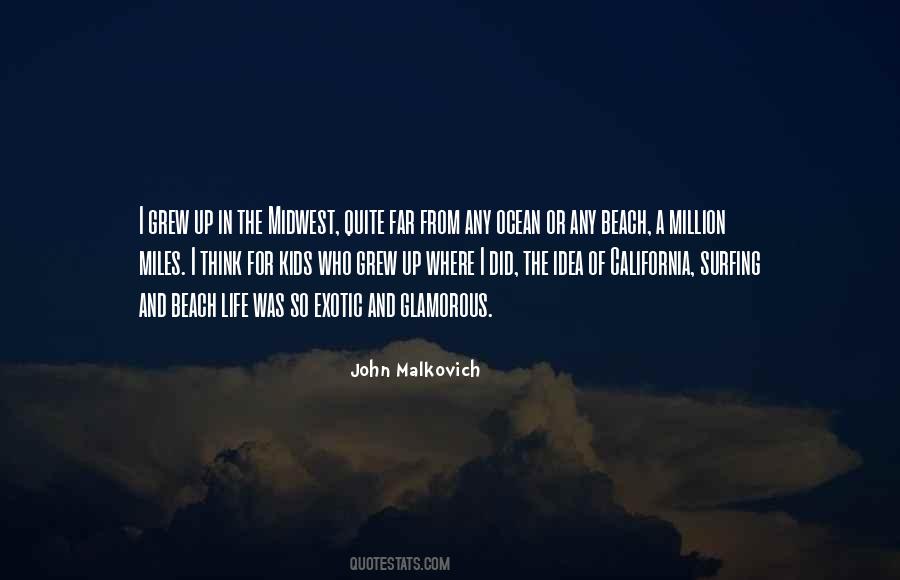 #90. When I meet gay fans out and about, they're so great to talk to - and I'm big on hugging, because I'm from the Midwest. They're just so energetic and loving. I'm proud to have those fans, and their support means a lot to me. I don't want just girls coming to my movies; I want guys to come, too! - Author: Kellan Lutz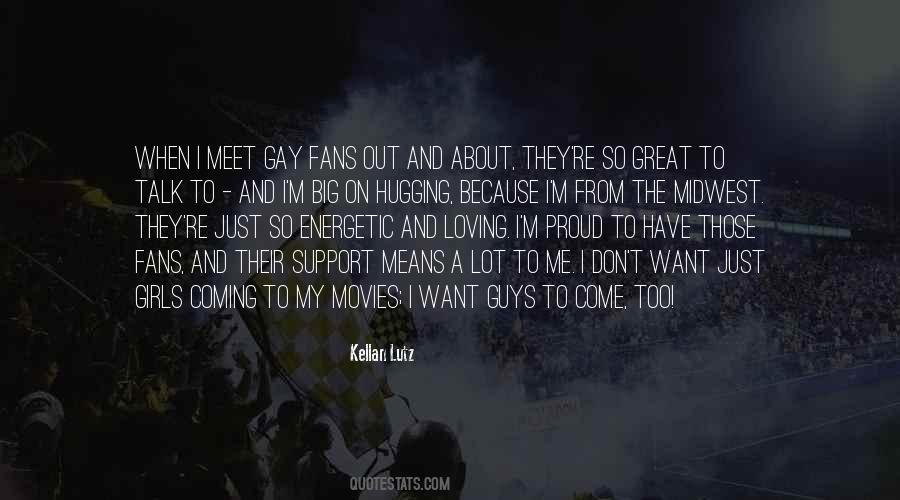 #91. Even though I'm from the Midwest, the majority of my life has been spent on the coasts where being gay wasn't really much of a conversation. - Author: Andrew Rannells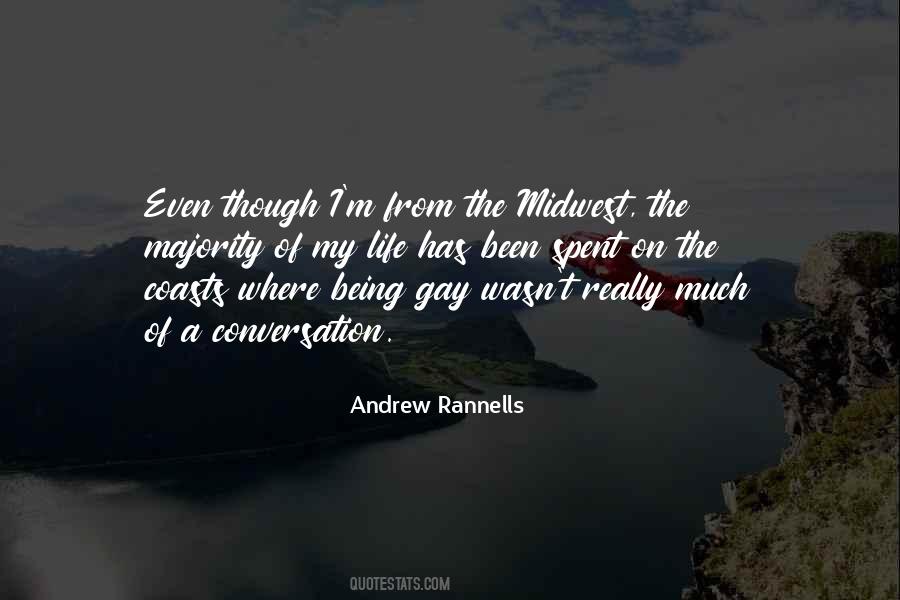 #92. I think my first hit was probably '24 is a Rubberband Man,' which was my second album. My first project, it was very well received in the Southeast region, all throughout the South and parts of the Midwest. It was very well received, but I didn't get national exposure on my second album. - Author: T.I.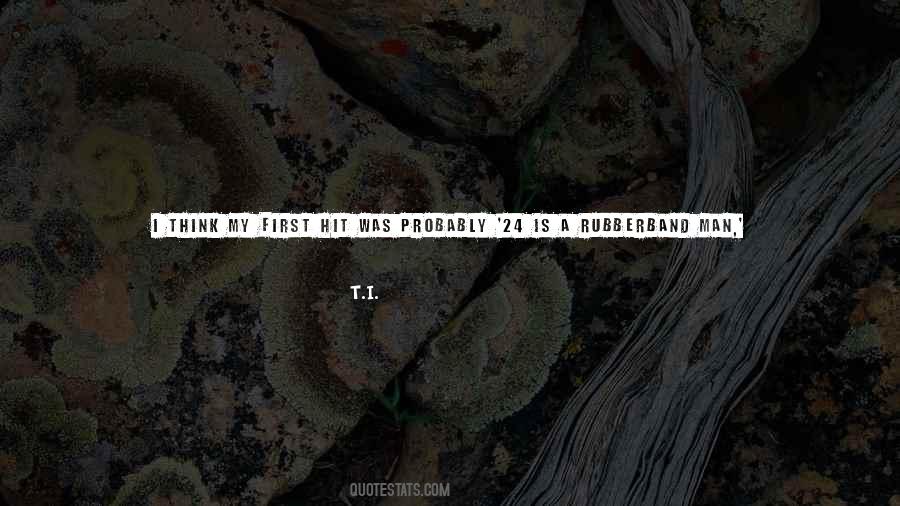 #93. I don't think any other holiday embraces the food of the Midwest quite like Thanksgiving. There's roasted meat and mashed potatoes. But being here is also about heritage. Cleveland is really a giant melting pot - not only is my family a melting pot, but so is the city. - Author: Michael Symon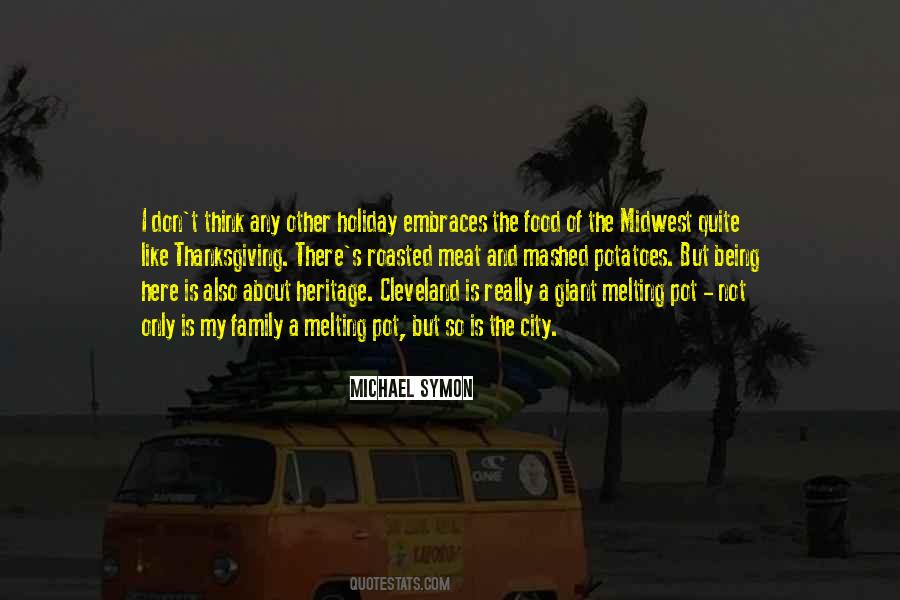 #94. He missed the Midwest ... Northern California was impractically beautiful. Everywhere you looked there were trees and streams, waterfalls, mountains, the ocean ... There was nowhere to look just to look, just to think. - Author: Rainbow Rowell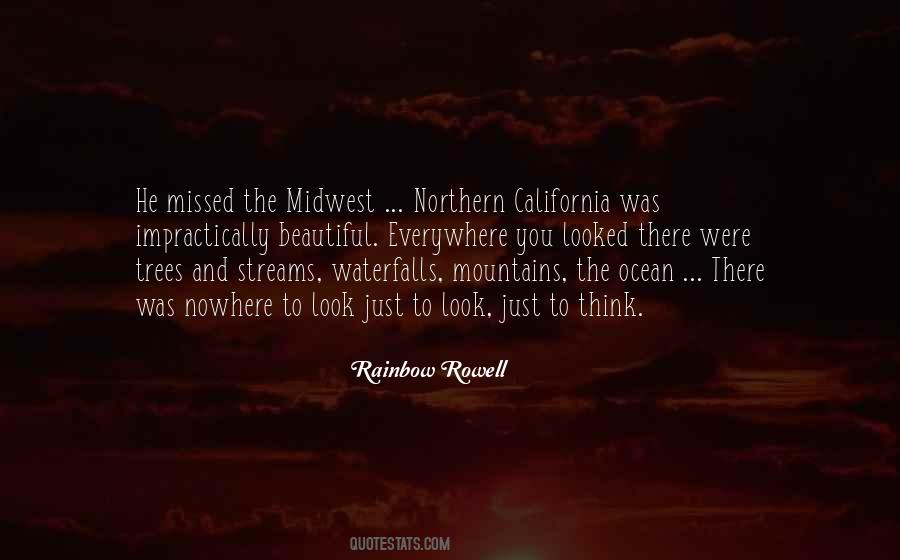 #95. 'The Bill Engvall Show' is a comedy about a middle-class family in the Midwest. It's a great family show to watch if you want to laugh and unwind. - Author: Nancy Travis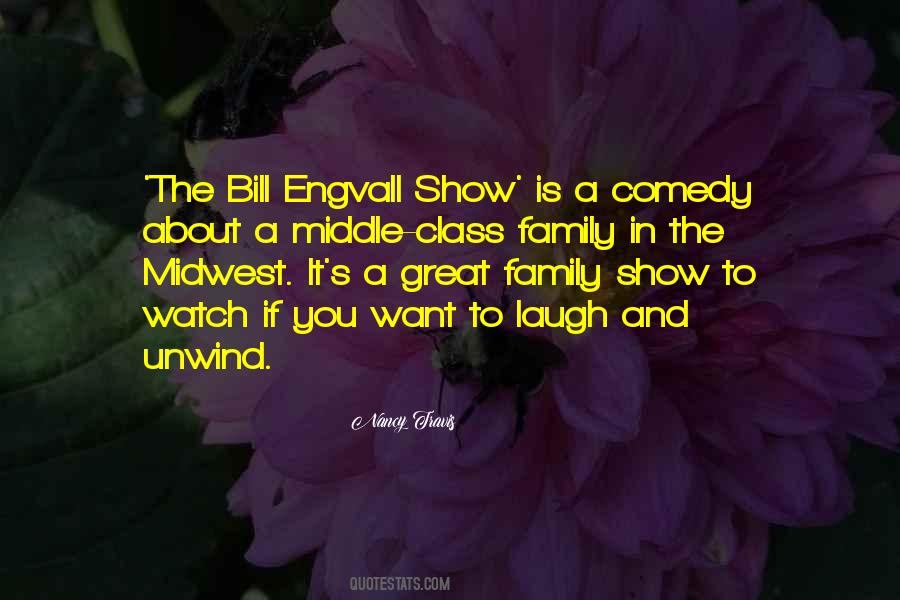 #96. There was that sound again
snap, then a footfall. She tried to whirl around as a dark form
Dear God
sprang with a splash from the darkness
grabbed her from behind, shoved her under the water. - Author: Kaye George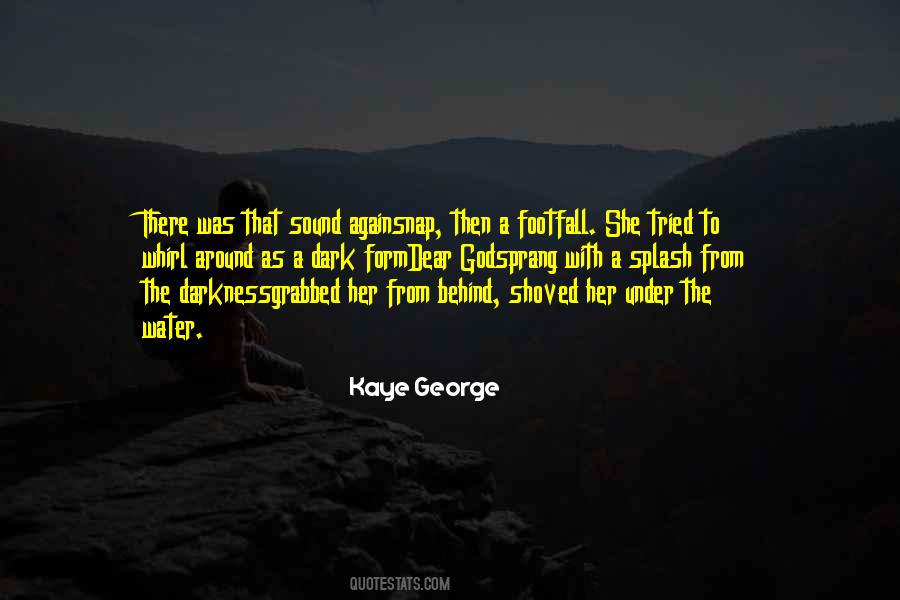 #97. You need to get out of your comfort zone, return to the Midwest, see some family, and, as cheesy as it sounds, work the land - plant some trees, maybe take up watercolor. - Author: Lissie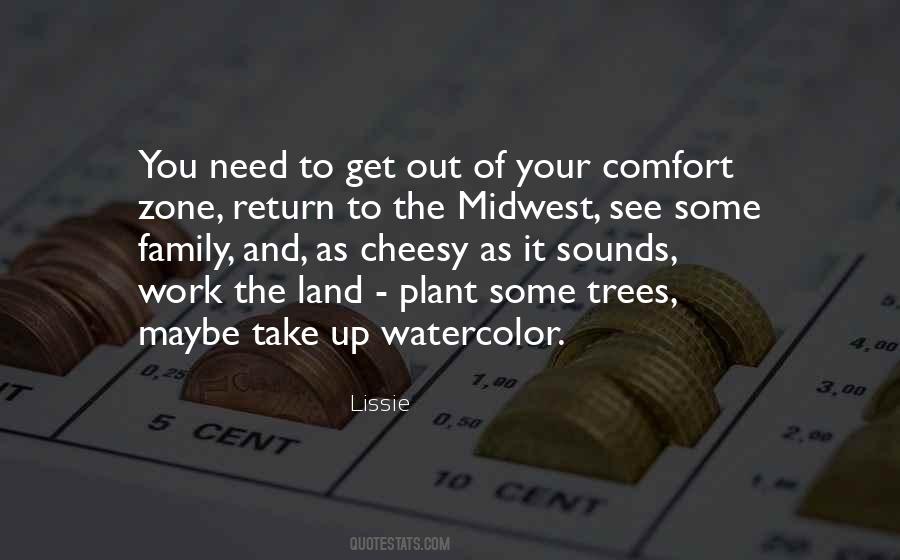 #98. I'm a guy who comes from a small town in the Midwest. It's not in my nature to say the most explicit things in public. - Author: Jim Gaffigan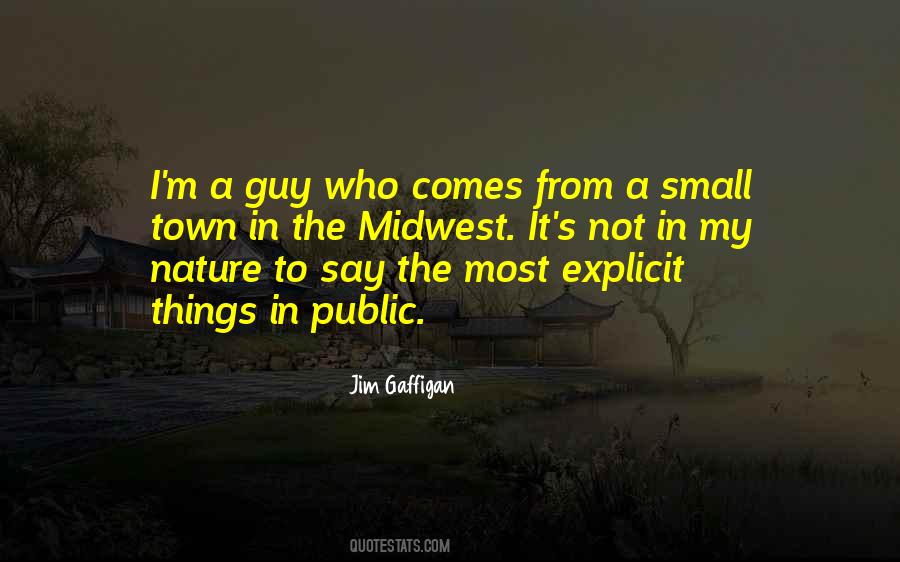 #99. At the end of the day, natural-gas peakers sit back there and get financed so that the Midwest corridor can have a huge [period] of four to five days of no wind. The peakers are running big time to make that up, because that is the swing piece that can always be turned on. - Author: Bill Gates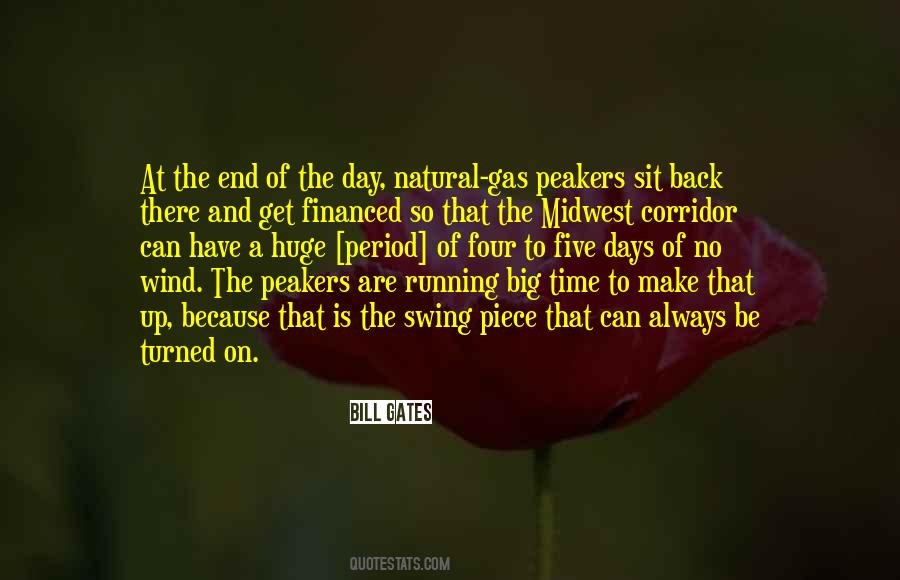 #100. They talk about big skies in the western United States, and they may indeed have them, but you have never seen such lofty clouds, such towering anvils, as in Iowa in July. - Author: Bill Bryson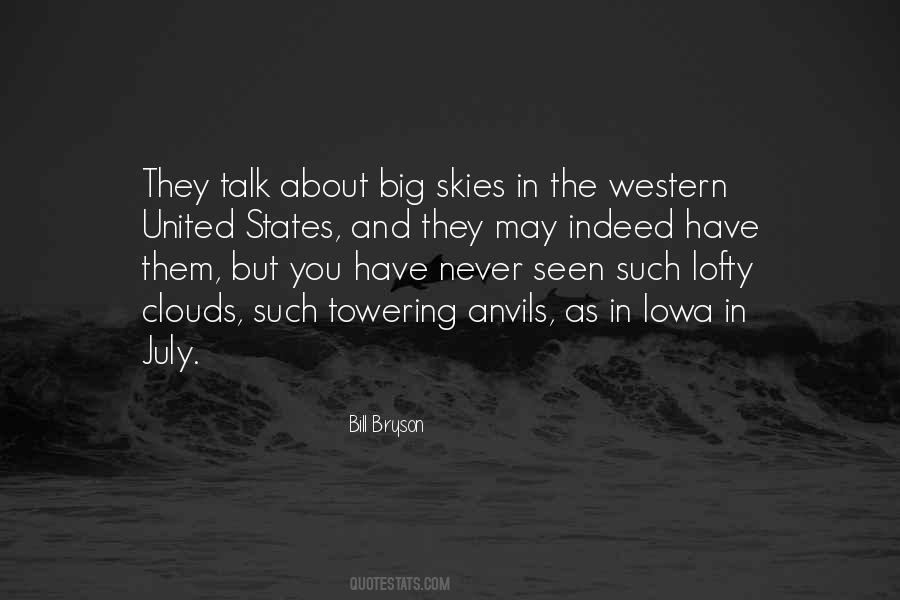 Famous Authors
Popular Topics