The Armed Forces Famous Quotes & Sayings
List of top 100 famous quotes and sayings about the armed forces to read and share with friends on your Facebook, Twitter, blogs.
Top 100 Quotes About The Armed Forces
#1. Our government has made a number of promises to the men and women who served in our nation's armed forces. Sadly, these promises of health care, education and other benefits have existed more in rhetoric than in reality. - Author: Allen Boyd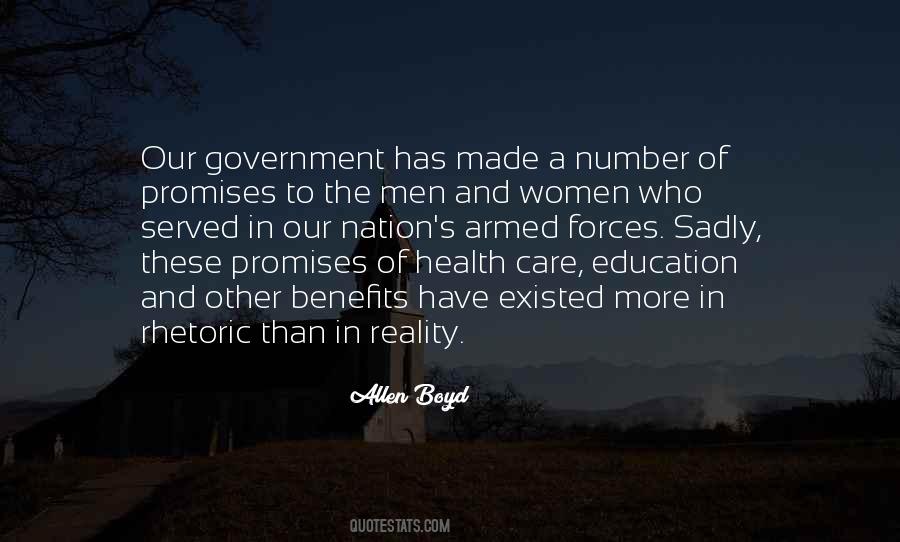 #2. The stage has been reached where our armed forces should withdraw beyond the borders It's not the end. It's the start of a new era. - Author: Abdullah Ocalan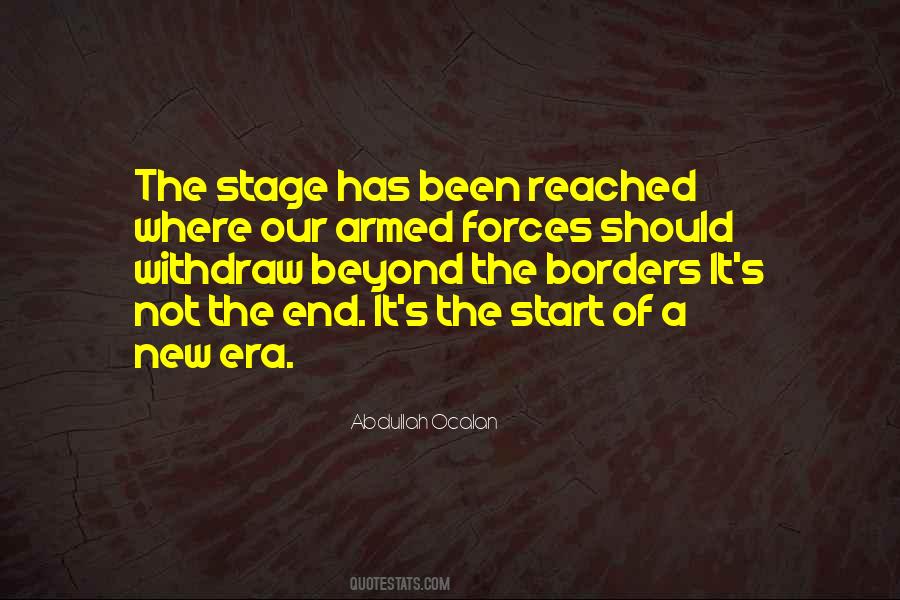 #3. I have never met anyone who did not support our troops. Sometimes, however, we hear accusations that someone or some group does not support the men and women serving in our Armed Forces. But this is pure demagoguery, and it is intellectually dishonest. - Author: Ron Paul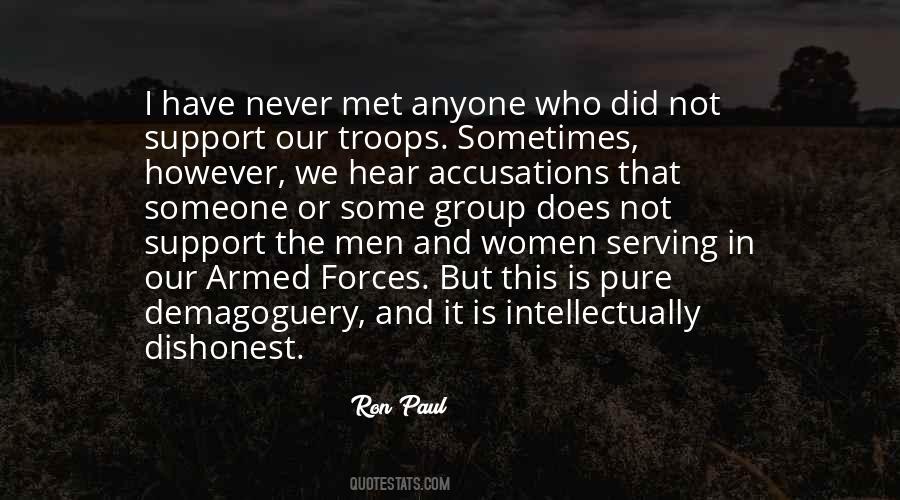 #4. Our nation needs the BRAC process. No institution can remain successful if it does not adapt to its constantly changing environment. Our armed forces must adapt to changing global threats, evolving technology and new strategies and structures. - Author: Anthony Principi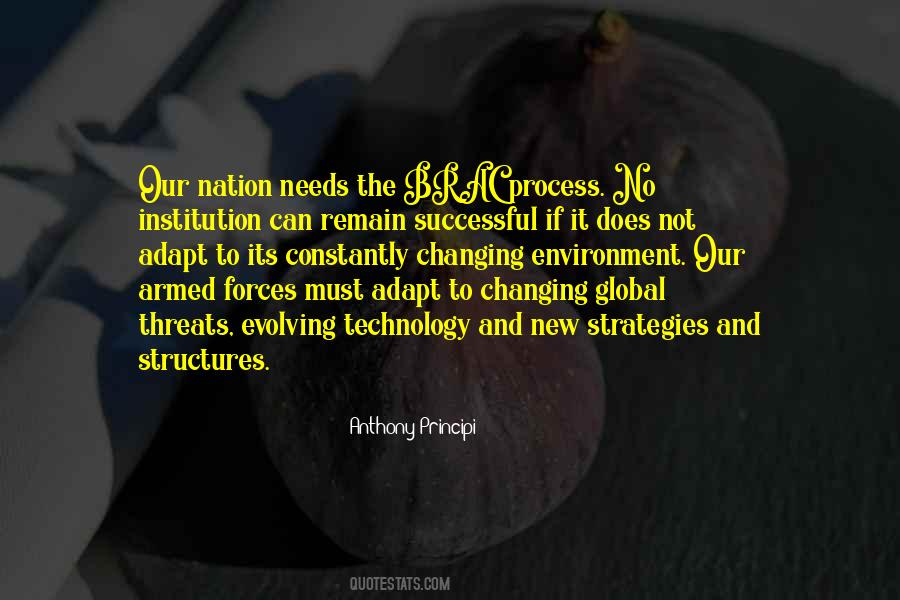 #5. I was Minister for the Armed Forces in the Ministry of Defence for two years prior to being appointed Defence Secretary. - Author: Bob Ainsworth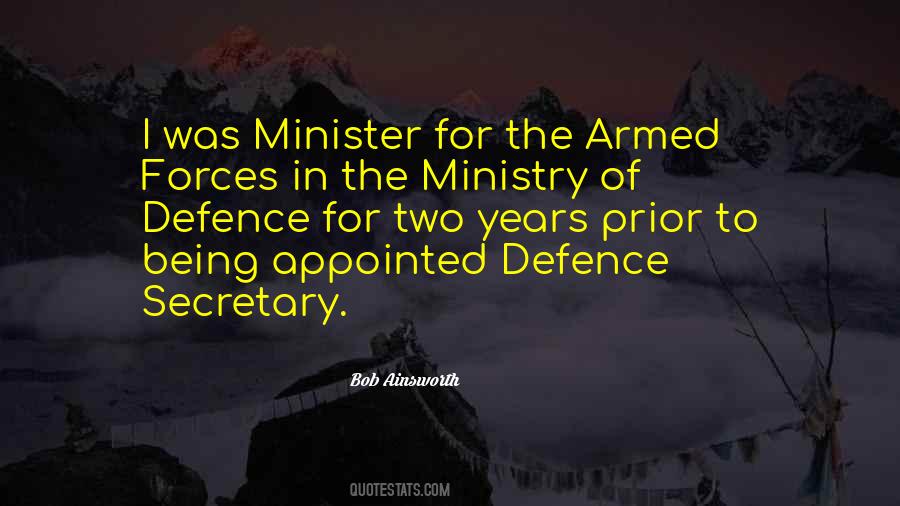 #6. You must remember that the common criminal will always join the armed forces for, if nothing else, regular meals and expert training in the use of guns. - Author: Warren Ellis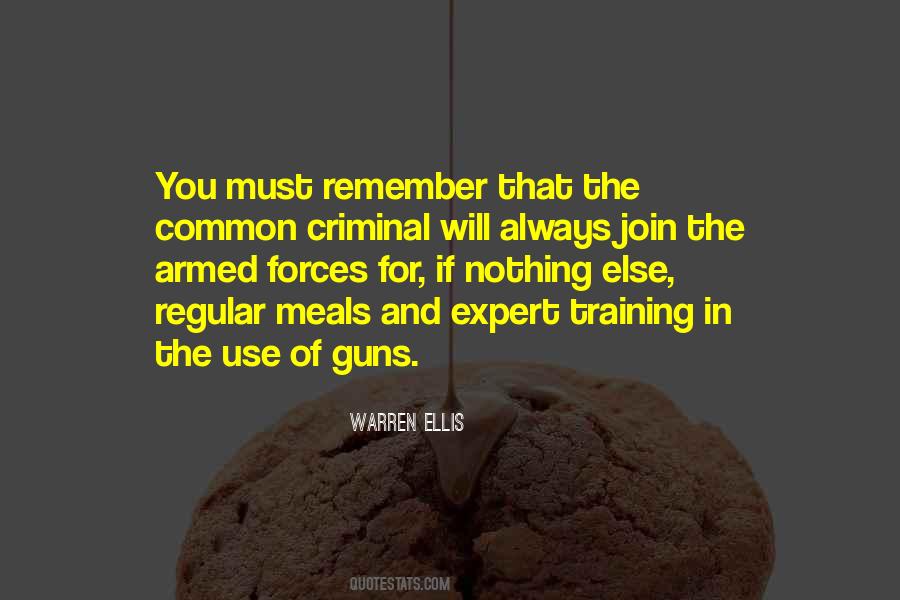 #7. You know, 1% of us is in the armed forces, protecting the other 99, and they're all volunteers. - Author: Benjamin Walker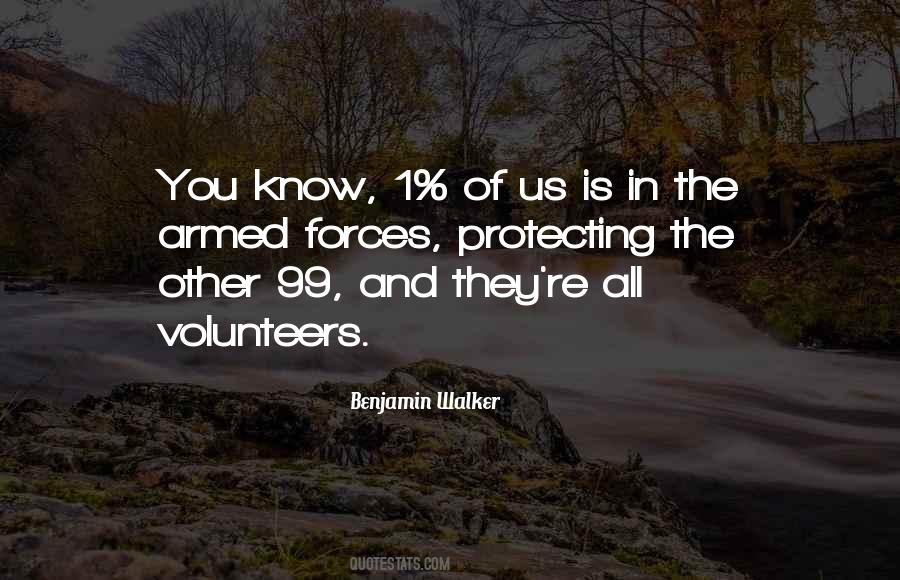 #8. All in all, the purification of the armed forces, state institutions, and the communist party led to about fifty thousand executions. - Author: Timothy Snyder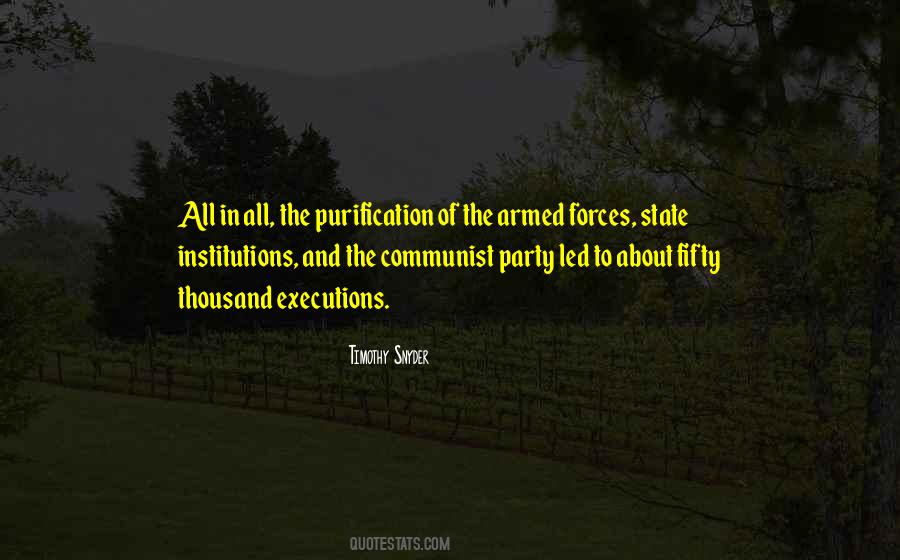 #9. The bottom line is that after we defeat the armed forces of Iraq, that we will want to and need to provide stability throughout that country. - Author: Peter Pace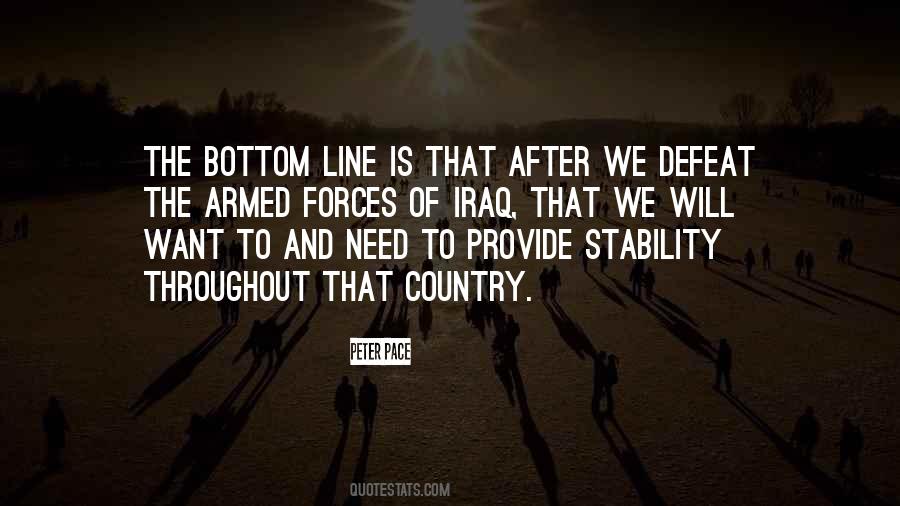 #10. If I am outspoken of the dangers of intemperance to members of our armed forces, it is because we are all especially concerned for the welfare of those who are risking their lives in the cause of freedom. - Author: William Lyon Mackenzie King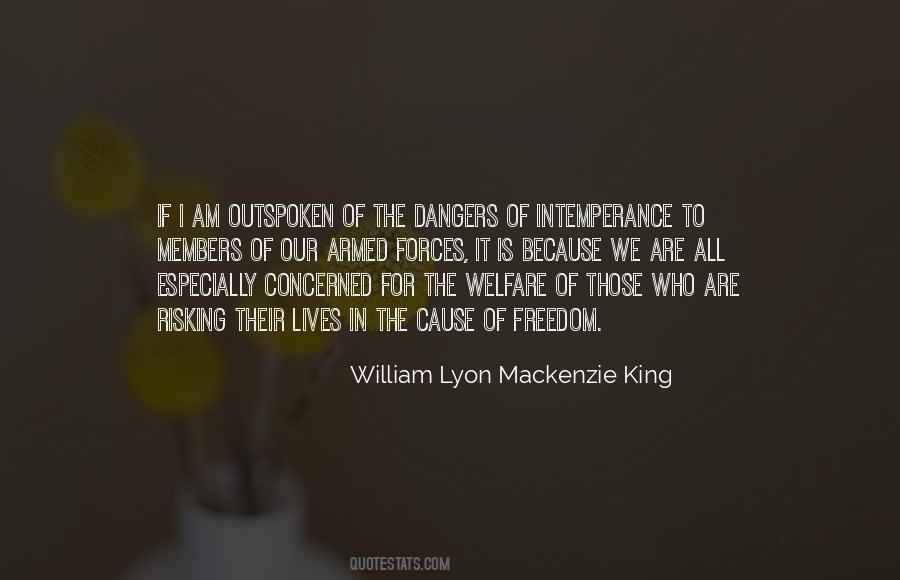 #11. Word to the Nation: Guard zealously your right to serve in the Armed Forces, for without them, there will be no other rights to guard. - Author: John F. Kennedy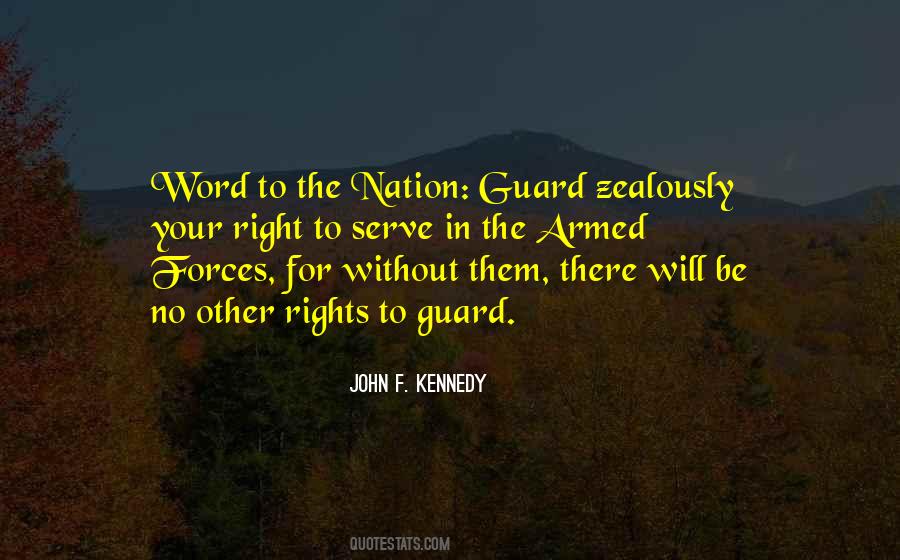 #12. Thank God we're going to try to continue and effectively defend our frontiers with the Border Patrol, with the Customs Department, with the Coast Guard, with the Armed Forces. - Author: Barry McCaffrey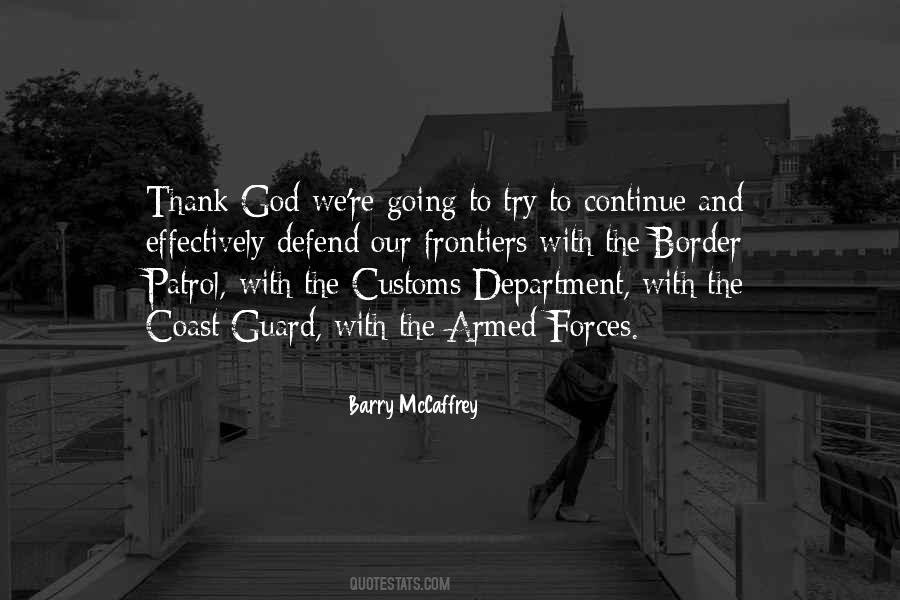 #13. I shall never fight in the armed forces with a Negro by my side ... Rather I should die a thousand times, and see Old Glory trampled in the dirt never to rise again, than to see this beloved land of ours become degraded by race mongrels, a throwback to the blackest specimen from the wilds. - Author: Robert Byrd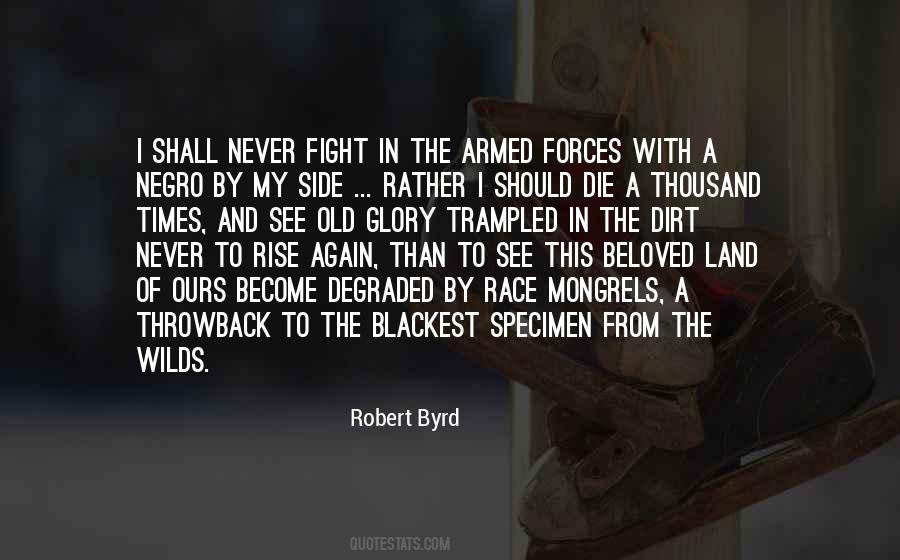 #14. Our Nation owes a lasting debt of gratitude to all those selfless members of our Armed Forces who have risked their own freedom and safety to defend the the lives and liberty of others. - Author: William J. Clinton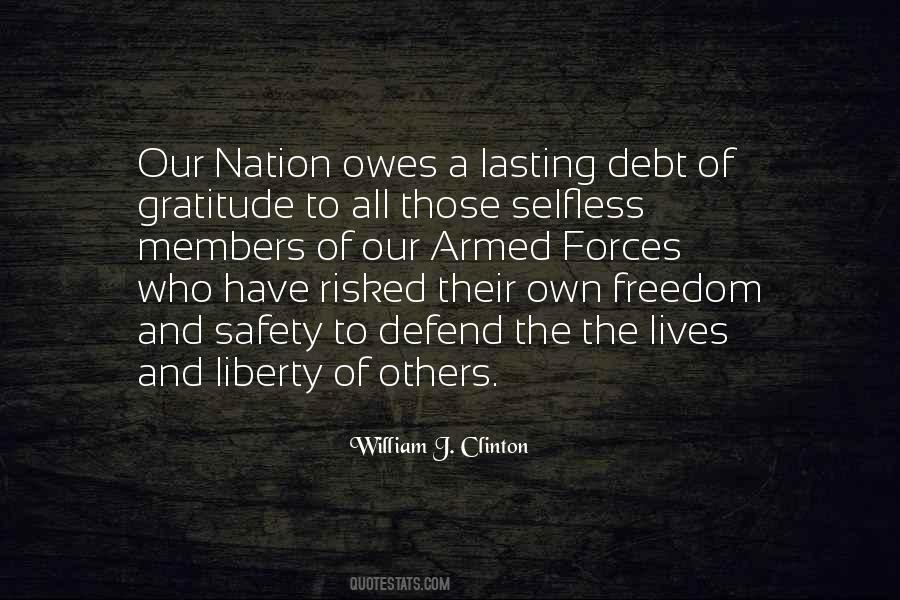 #15. Let us also reflect on the honorable service of our men and women of the U.S. Armed Forces currently serving our country overseas in Iraq and Afghanistan, and around the world. - Author: John Linder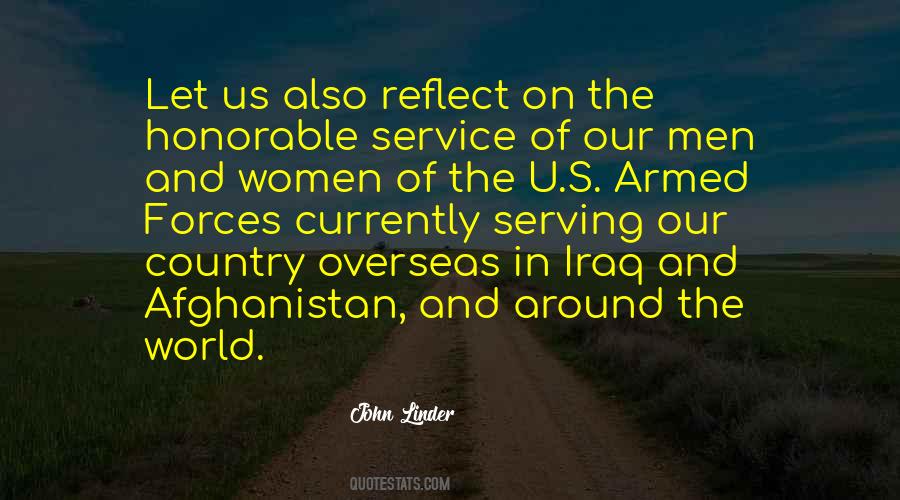 #16. In Afghanistan this week, outnumbered Northern Alliance rebels on horseback defeated Taliban forces armed with tanks. Experts say the victory is just like the story of David and Goliath and David's friend, the Stealth Bomber. - Author: Tina Fey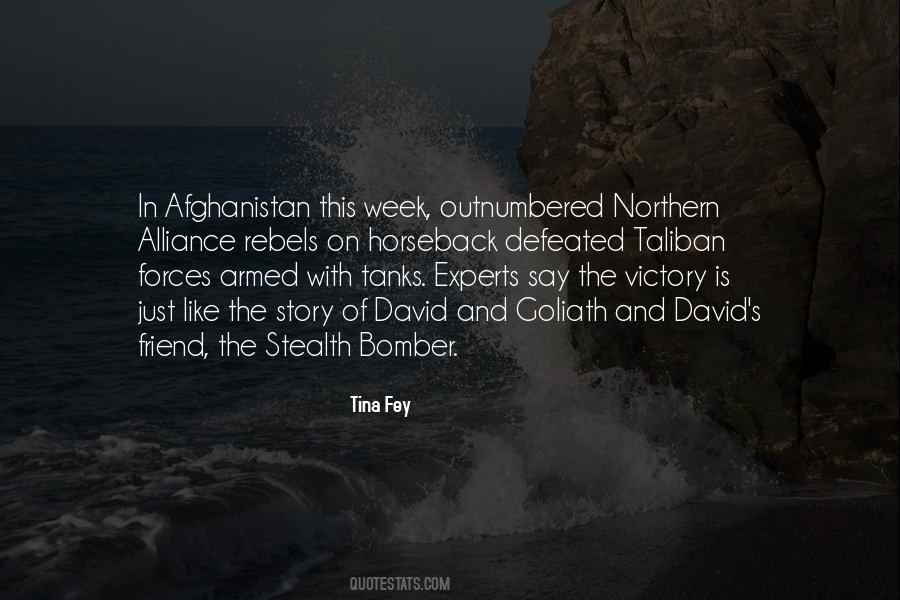 #17. Freedom does not come without a price. We may sometimes take for granted the many liberties we enjoy in America, but they have all been earned through the ultimate sacrifice paid by so many of the members of our armed forces. - Author: Charlie Dent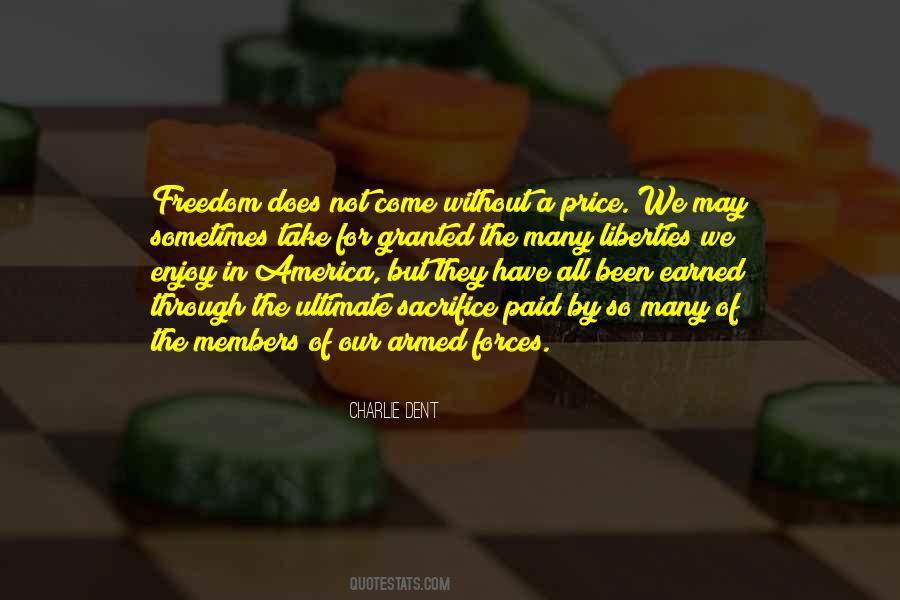 #18. I am the commander in chief of the United States armed forces, and Iraq is gonna have to ultimately provide for its own security. - Author: Barack Obama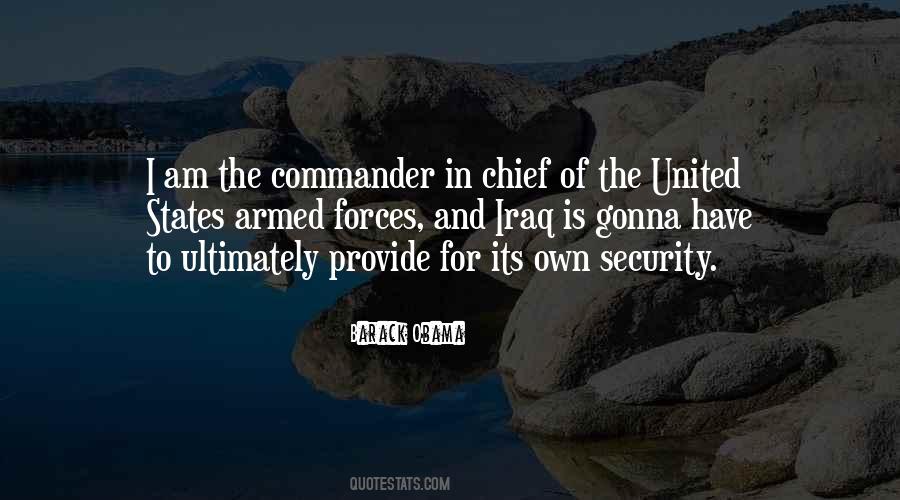 #19. In the armed forces, the chances of success are quite high. That's due to the clarity of the military structure - everything is sketched out. In politics, there are many more surprises and detours, and it's a lot more unpredictable. - Author: Abdel Fattah El-Sisi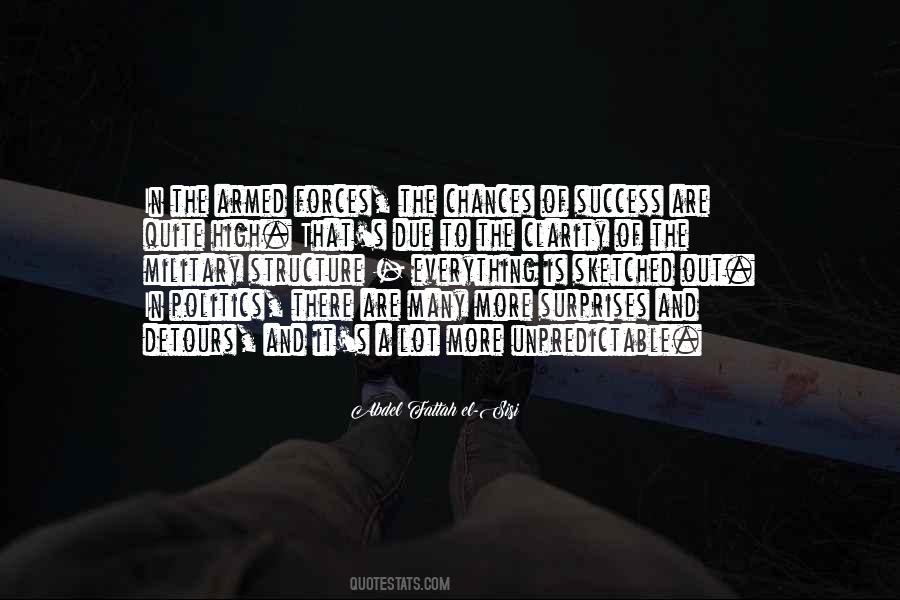 #20. over 10 per cent of the population; two thirds of them from the armed forces. - Author: Neil MacGregor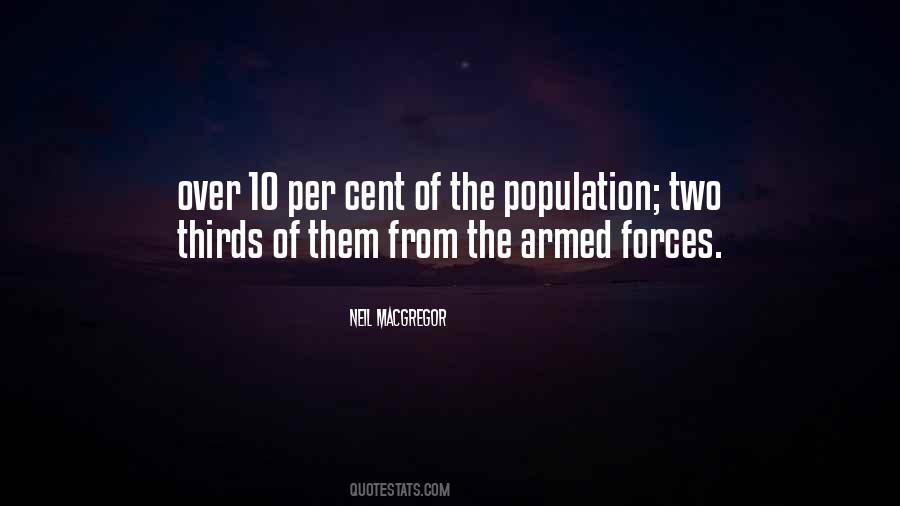 #21. The march to the center of Caracas will not be permitted. I will use a hard hand against fascism and intolerance. I declare it. If they want to overthrow me, come and get me. Here I am, with the people and the armed forces. - Author: Nicolas Maduro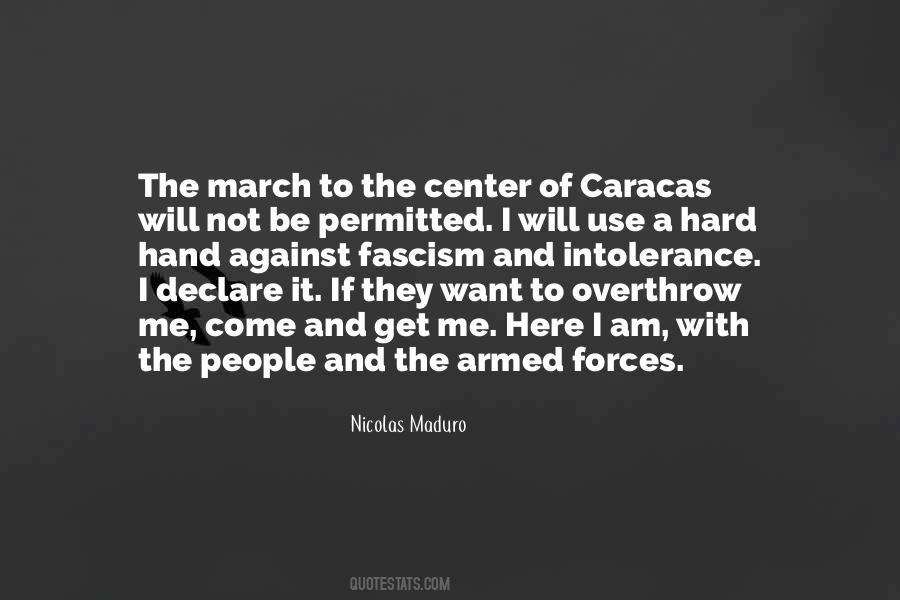 #22. I do a lot of stuff with Wounded Warriors and the Armed Forces Foundation; if you want to get these guys to stop talking, start complimenting! - Author: Brian Kilmeade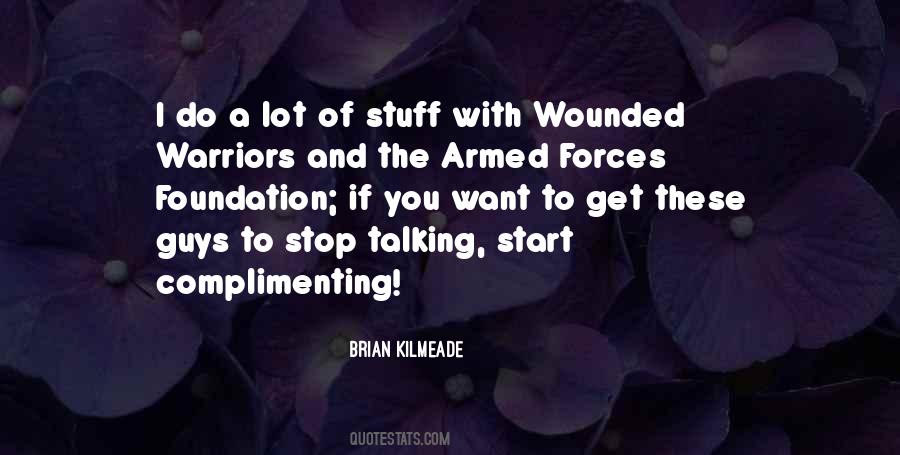 #23. These guys are not from the Iraqi army, ... These are not Iraqi soldiers. They are not members of any of the Iraqi armed forces. - Author: Al Capone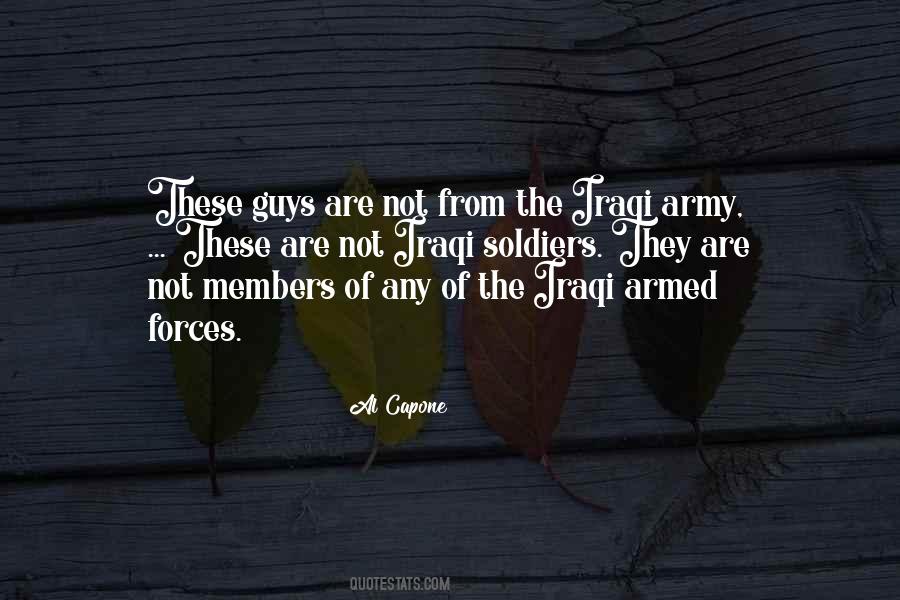 #24. On Veterans Day, we take time to honor those men and women who bravely serve and have served our nation in the U.S. Armed Forces. - Author: Todd Tiahrt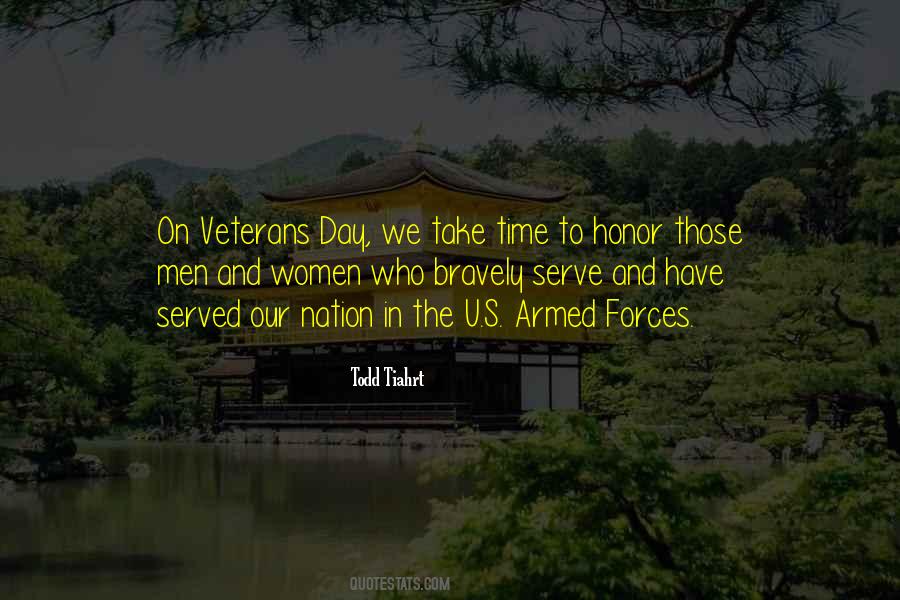 #25. The armed forces knew he was a homosexual, that he was certain to fall in love with other fighting men, and the armed forces didn't want to put up with such love affairs. - Author: Kurt Vonnegut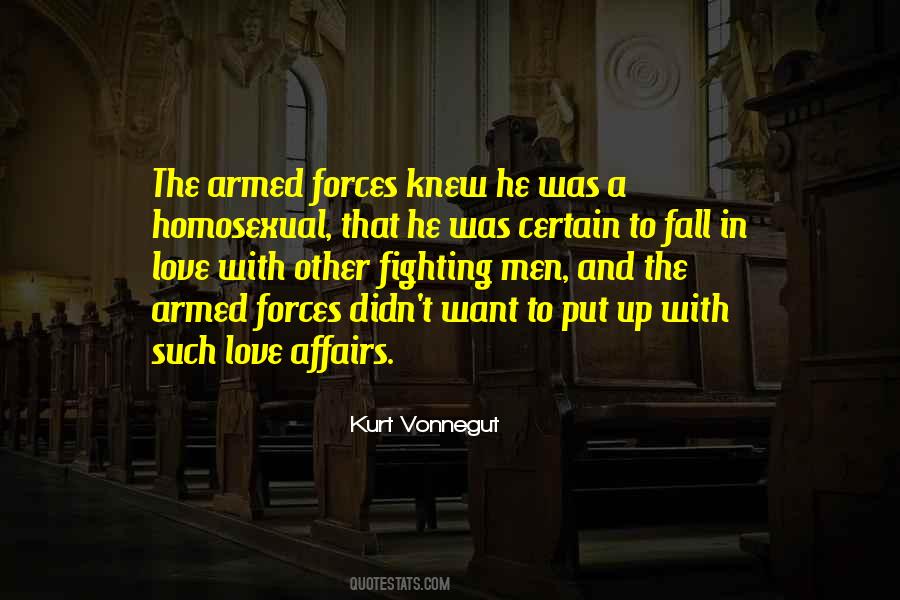 #26. The story of FDR as U.S. Commander in Chief is a heroic war story of a president who had already overcome great adversity in facing polio but who went on to take the reins of our armed forces in the greatest conflagration in human history - on our behalf. - Author: Nigel Hamilton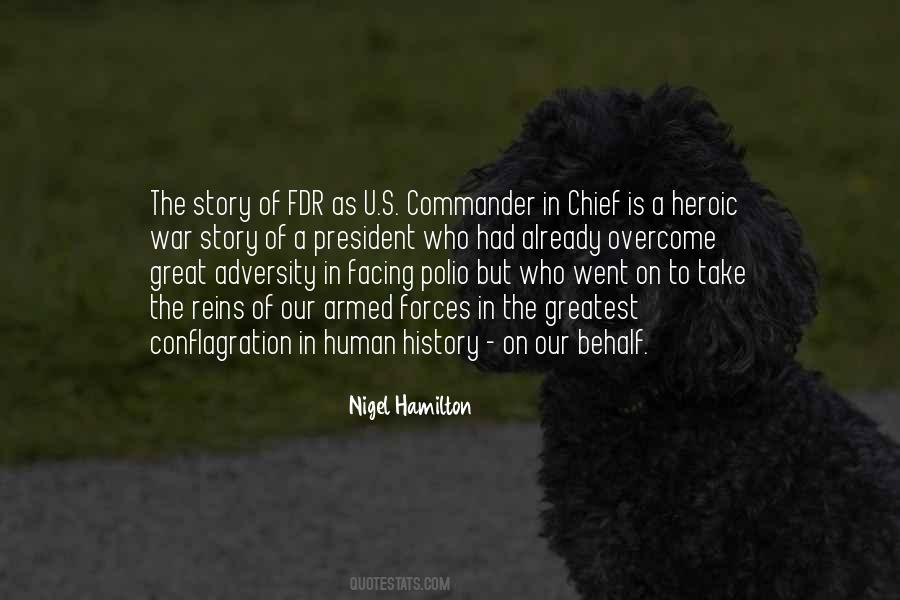 #27. The destruction of the enemy's armed forces is but a means
and not necessarily an inevitable or infallible one
to the attainment of the real objective. The object of war is not to destroy the enemy's tanks but to destroy his will. - Author: Liddell Hart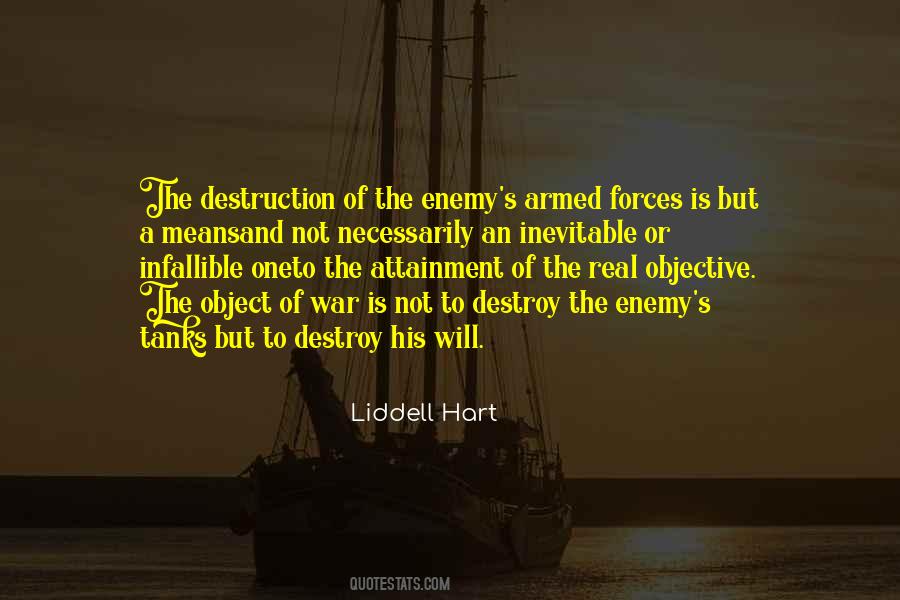 #28. We stand for the dismantling of foreign military bases. We stand for a reduction of armed forces and armaments in areas where military confrontation is especially dangerous, above all in central Europe. - Author: Leonid Brezhnev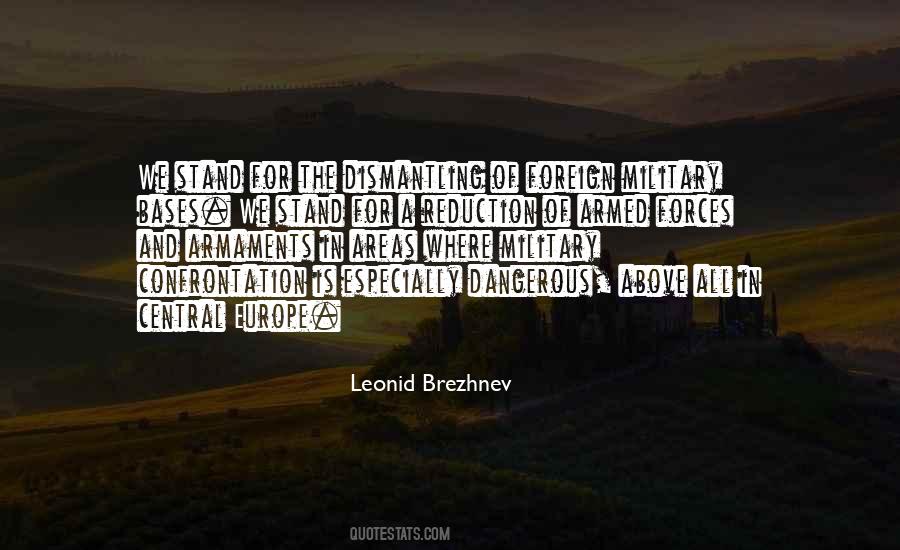 #29. Bush's war in Iraq has done untold damage to the United States. It has impaired our military power and undermined the morale of our armed forces. Our troops were trained to project overwhelming power. They were not trained for occupation duties. - Author: George Soros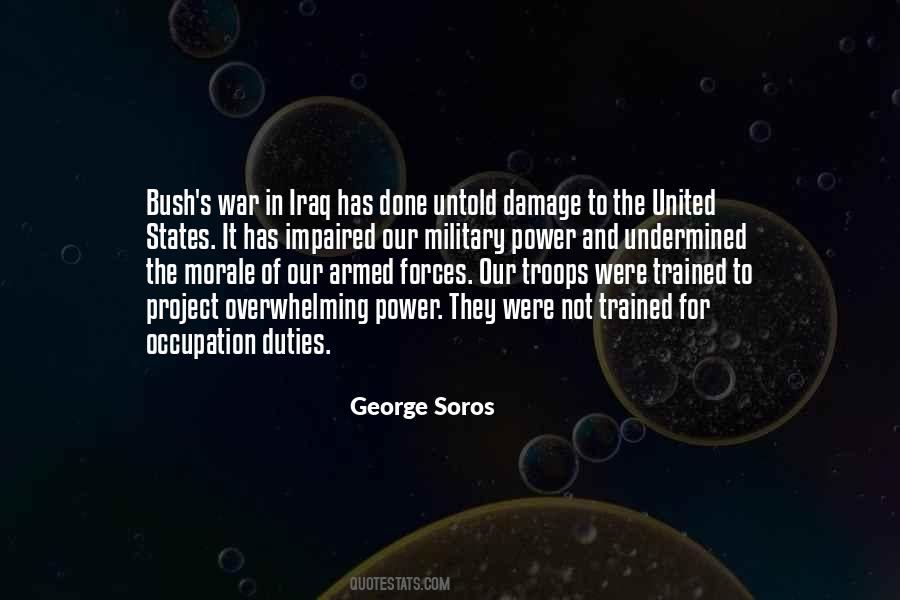 #30. History has taught us over and over again that freedom is not free. When push comes to shove, the ultimate protectors of freedom and liberty are the brave men and women in our armed forces. Throughout our history, they've answered the call in bravery and sacrifice. - Author: Tim Pawlenty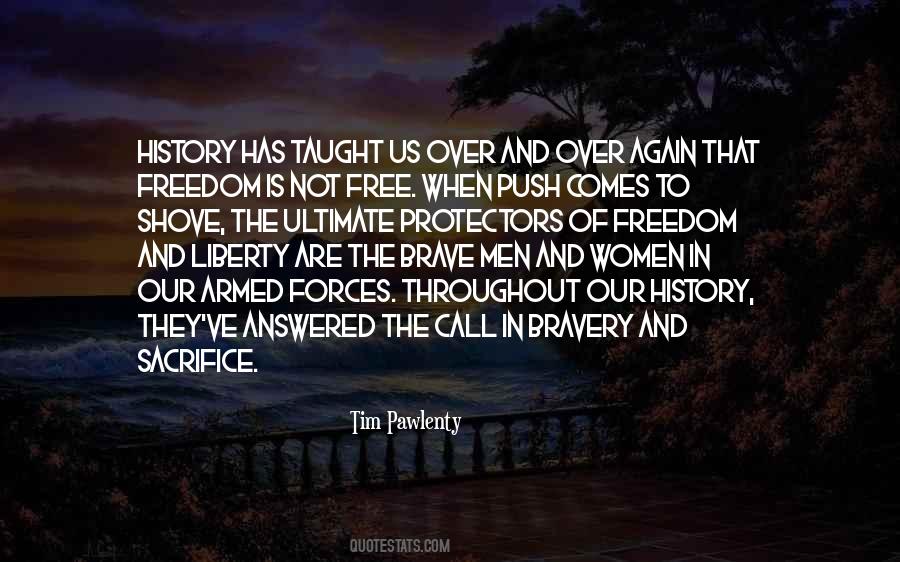 #31. As to the advantages of temperance in the training of the armed forces and of its benefits to the members of the forces themselves, there can be no doubt in the world. - Author: William Lyon Mackenzie King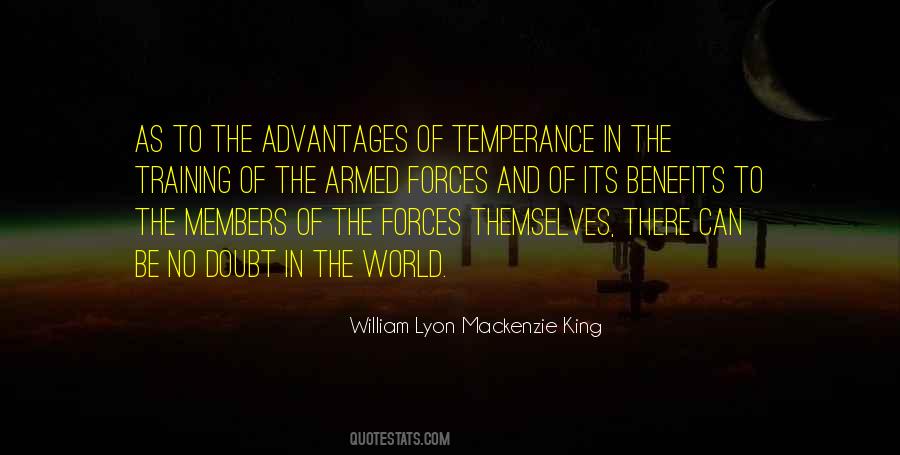 #32. Venezuelans have a deep democratic conviction. If the government hotheads ventured out to stir violence they would encounter the armed forces. I don't believe the armed forces respond to a political party. - Author: Henrique Capriles Radonski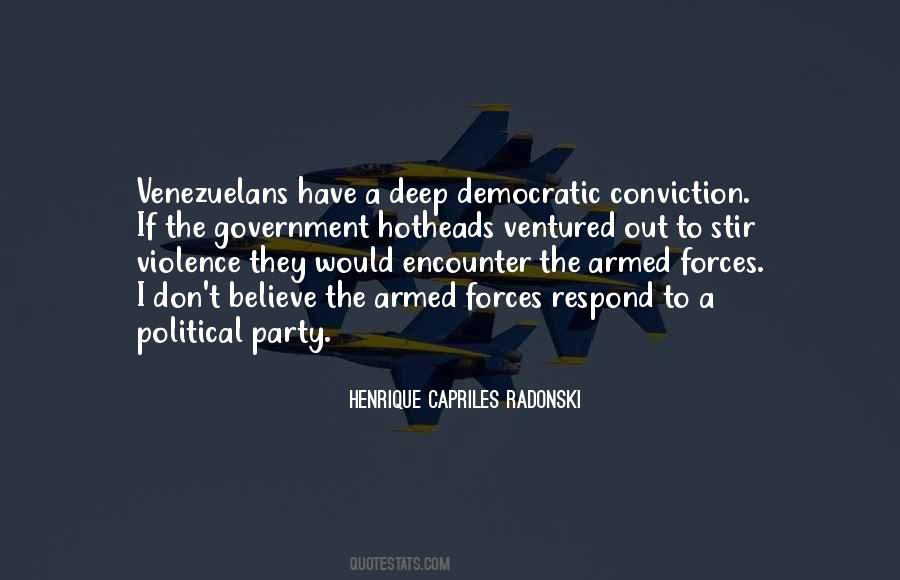 #33. Throughout the United States, at the dawn of the Progressive era, dozens of laws and regulations were established to empower police officers, public-health officials, and even the armed forces to vaccinate at will, and, if necessary, at gunpoint. - Author: Michael Specter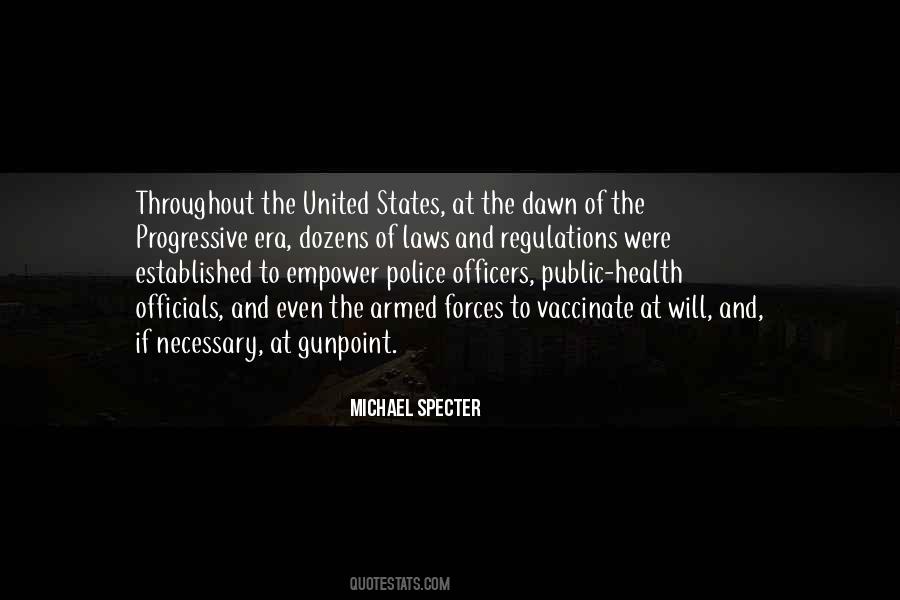 #34. I have great respect and understanding for military commitment due to my own family's involvement with the armed forces. - Author: Carolyn Murphy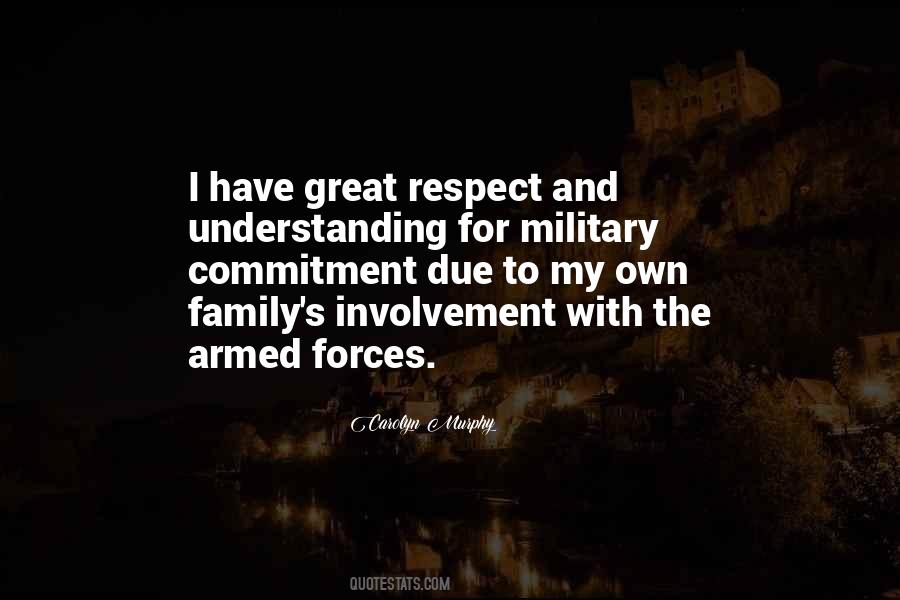 #35. My favorite is when you go to Afghanistan and you meet the special forces guys, and they look like these heavily armed surfers. These guys are the best. You see guys dressed as full Afghans, but then wearing a Yankees hat. - Author: Robin Williams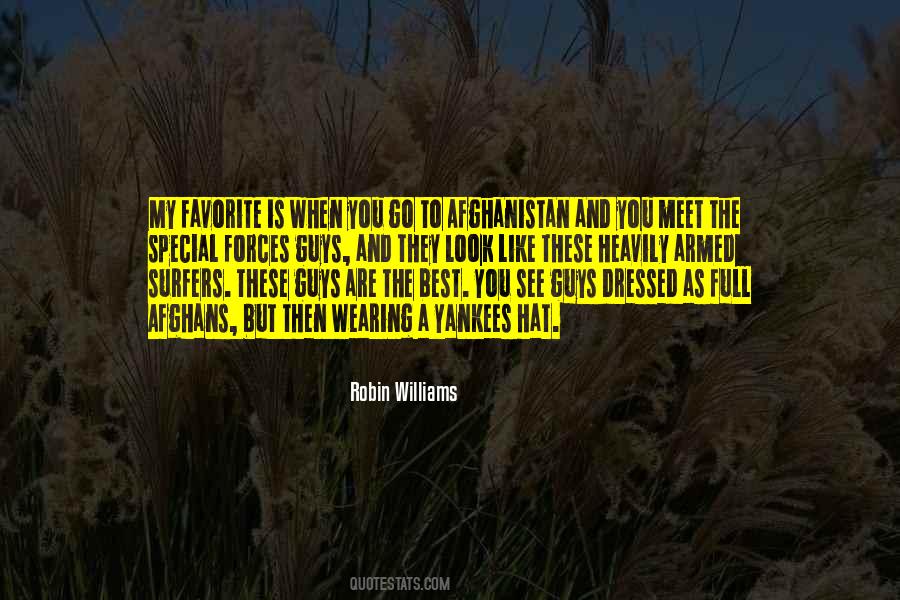 #36. Our men and women in our armed forces are the real heroes in this conflict. - Author: Wayne Allard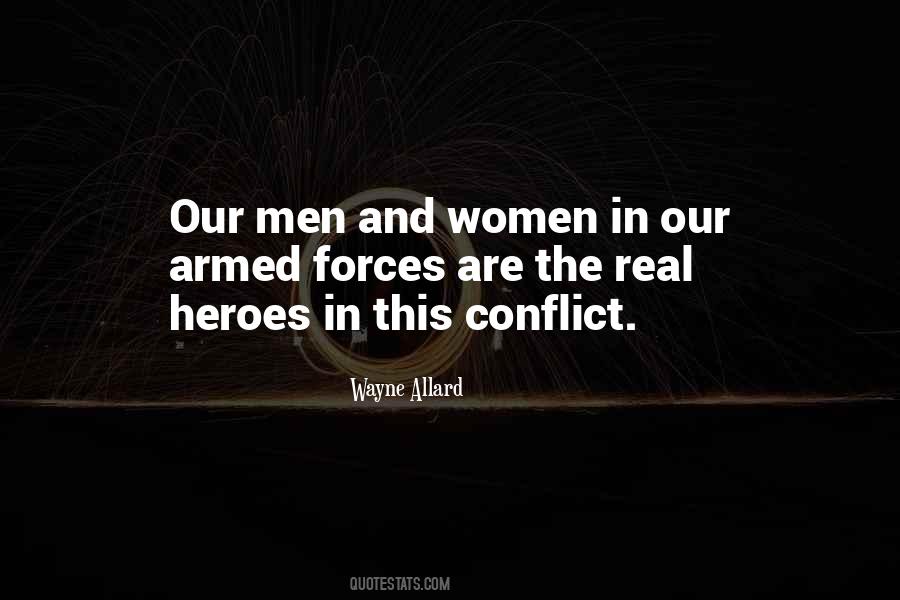 #37. An apology for the actions of some troops who, of course, are not representative of the majority of the armed forces here, I think that would have been useful and it would have helped to some extent. - Author: Adnan Pachachi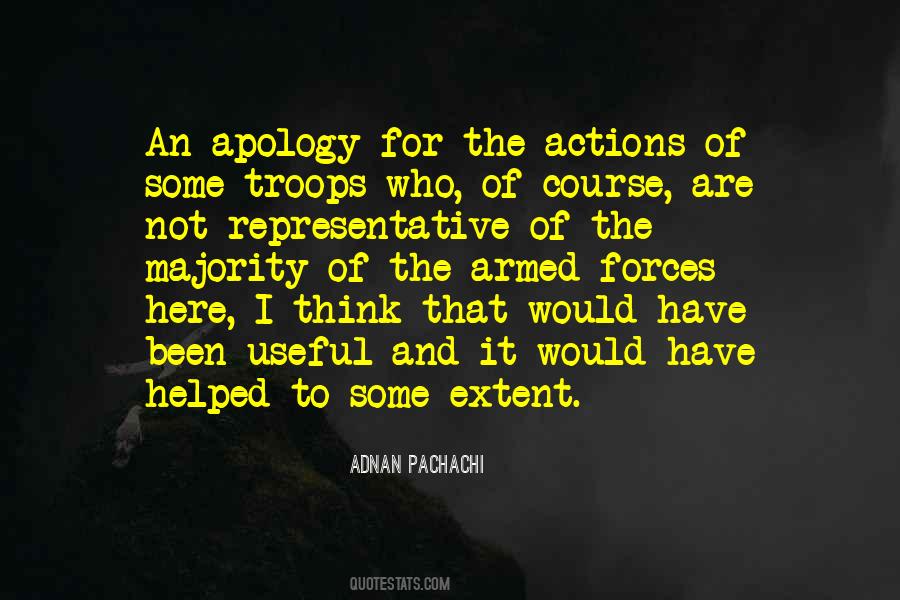 #38. Our armed forces are not the thirtieth strongest in the world, but rather the second or third. We have the capability to take the world down with us. And I can assure you that this will happen before Israel goes under. - Author: Martin Van Creveld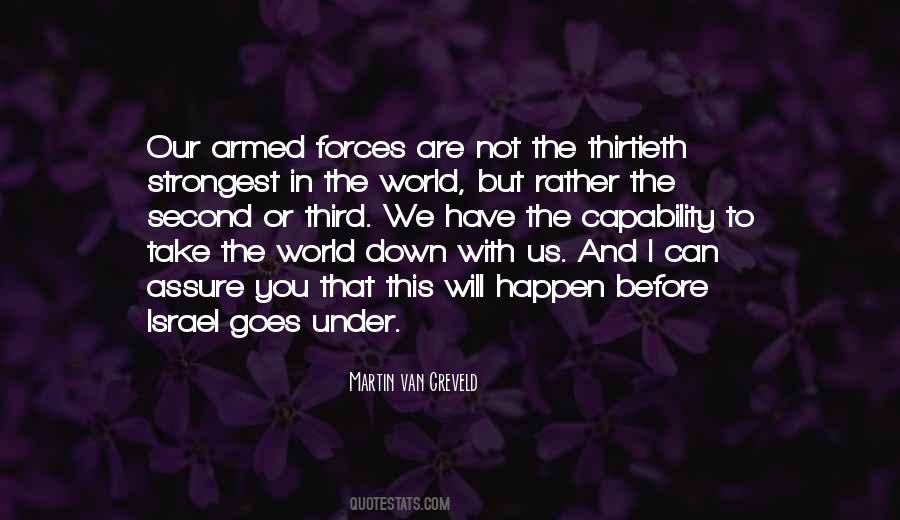 #39. Nonetheless, Article 5 makes clear that if an Iraqi civilian who is not a member of the armed forces, has engaged in attacks on Coalition forces, the Geneva Convention permits the use of more coercive interrogation approaches to prevent future attacks. - Author: John Yoo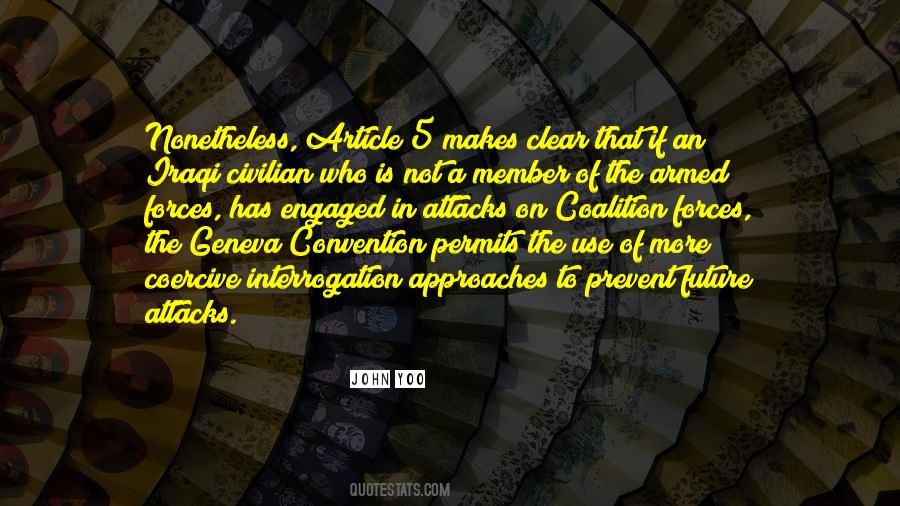 #40. The United States armed forces and coalition troops deserve recognition and support for their work to remove Saddam Hussein from power, and ensure the safety and security of the American people, civilians abroad, and the people of Iraq. - Author: Mark Kennedy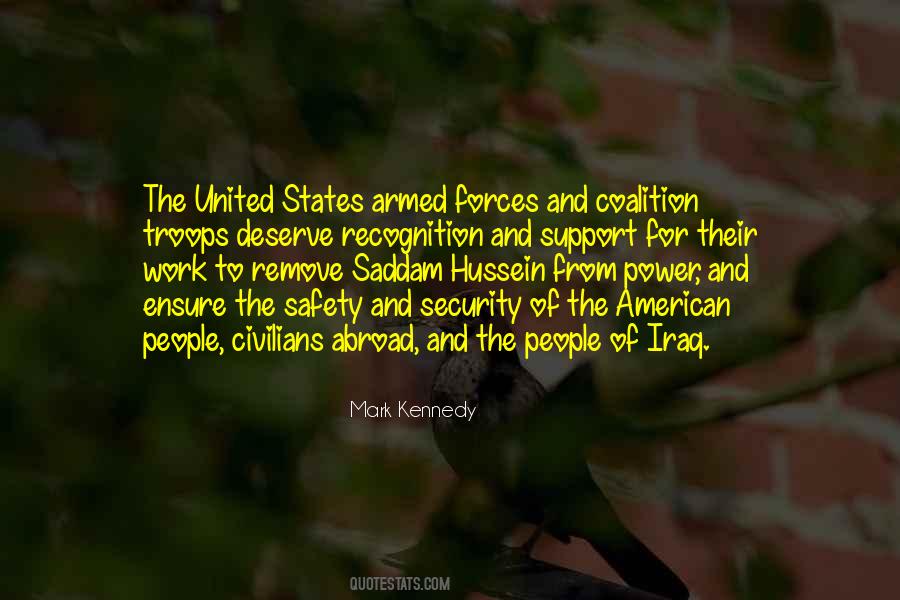 #41. The brave men and women who have served - and those who continue to serve - our armed forces have selflessly sacrificed for our nation, and we owe it to them to provide the best services and protections available when they're overseas and after they return home. - Author: Kirsten Gillibrand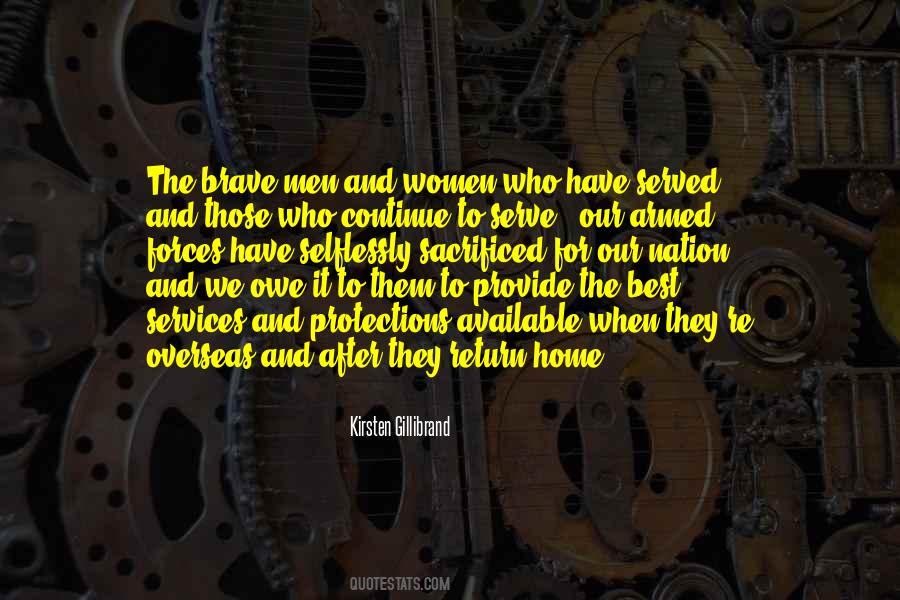 #42. Conservatives truly love America and support the armed forces, while liberals are unpatriotic draft dodgers. - Author: Joe Conason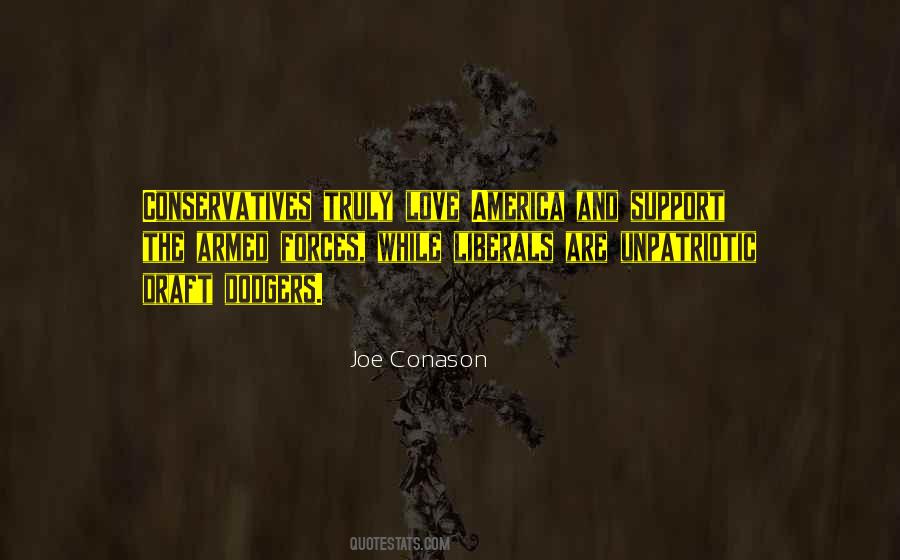 #43. If the Zionist commit the folly and attack Iran, they will receive a crushing response from the Islamic Republic's armed forces which will lead to their annihilation. - Author: Mohsen Rezaee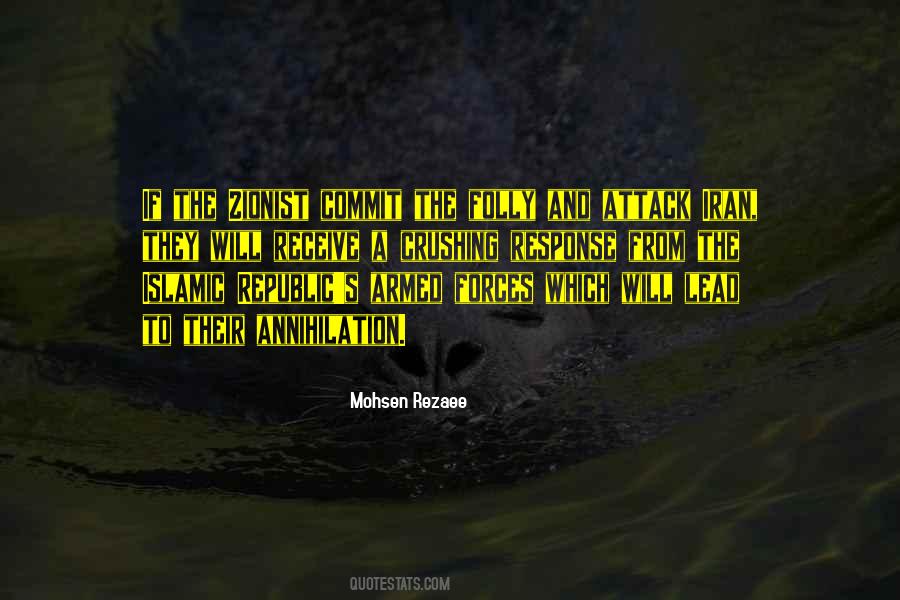 #44. Spartan is about this elite unit of the armed forces named the Delta Force. I play a protege of Val Kilmer's character, and he kind of gives me a hard time. - Author: Derek Luke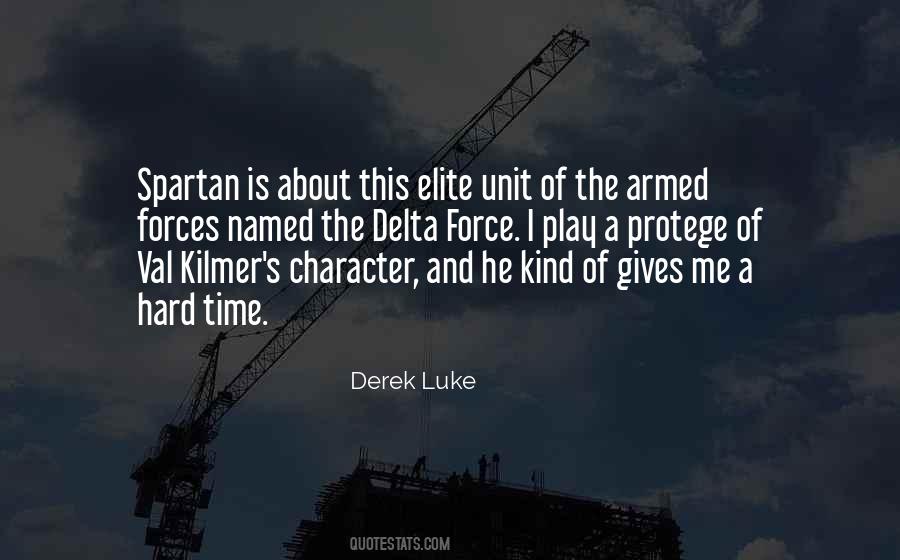 #45. About the only things that are unique to Earth are our biota and our culture. If aliens ever come here, they'd most likely be either biologists or music fans. Neither one has much reason to antagonize our armed forces. - Author: Seth Shostak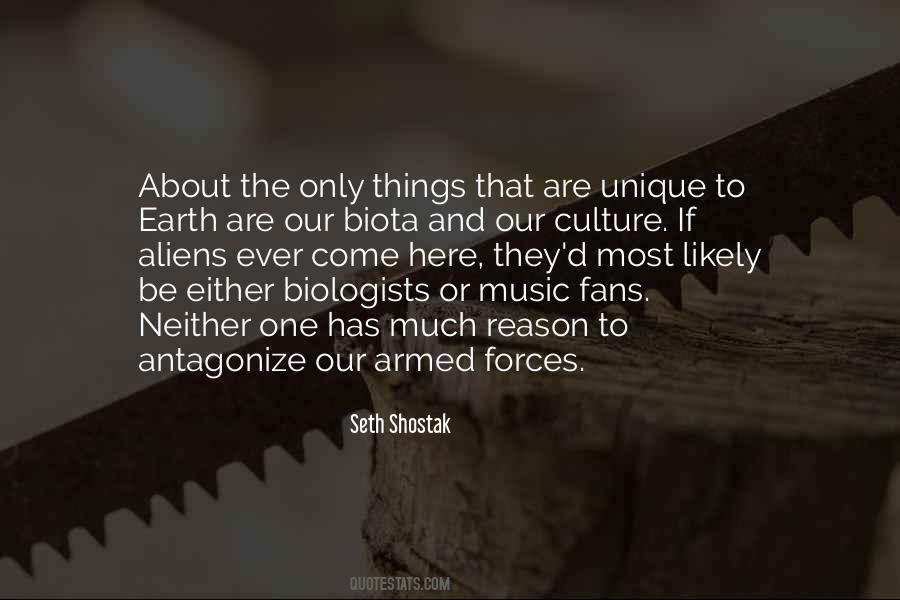 #46. I've always been very hopeful but I also know that as long as you've got a good work ethic, almost anything is achievable and I learned that in the armed forces. - Author: Simon Weston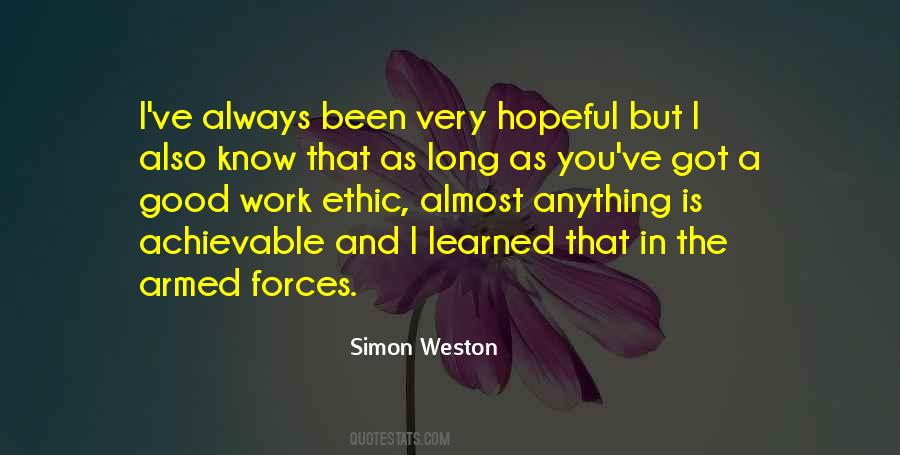 #47. The Communist Party and the Soviet Government display constant concern to strengthen the country's defensive might and raise the combat readiness of the Armed Forces. - Author: Andrei Grechko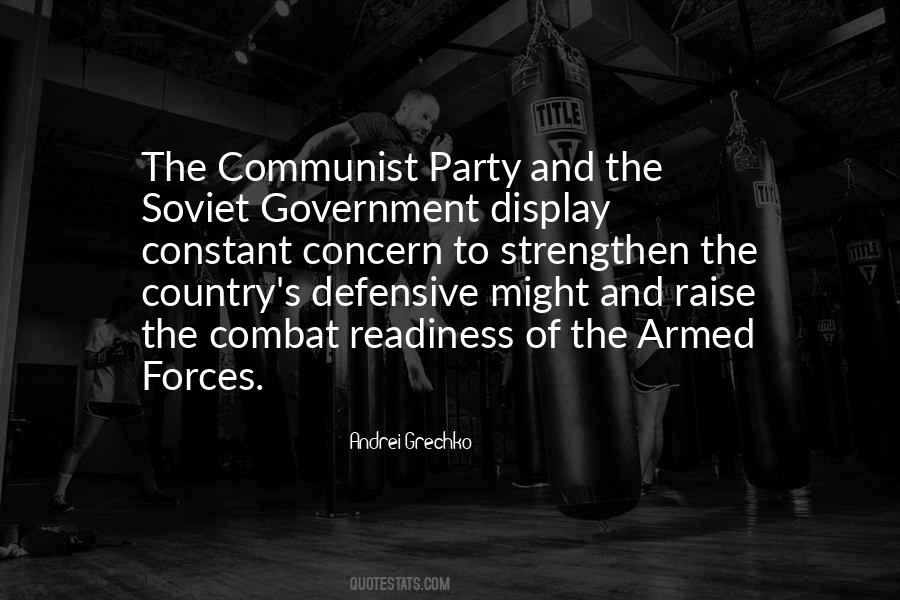 #48. If we're serious about America's leadership in the world, then we need to make sure that we have the back of the armed forces. - Author: Jeb Bush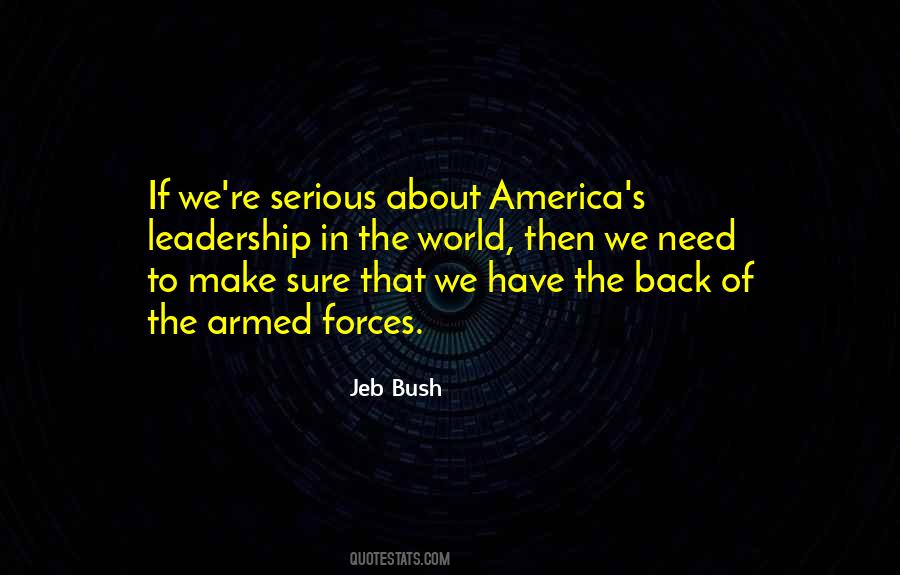 #49. Just rejoice at the news and congratulate our armed forces and the Marines. Rejoice! - Author: Margaret Thatcher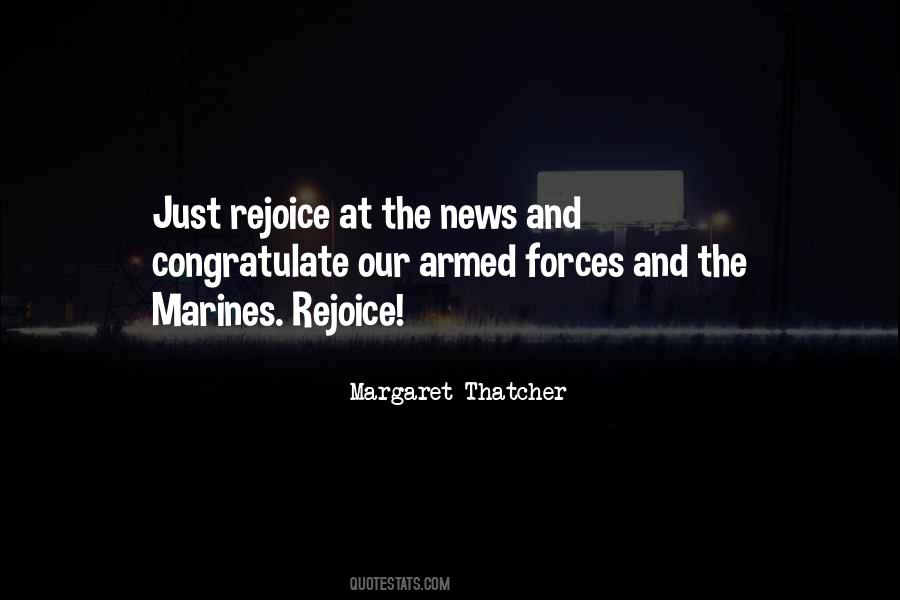 #50. You will enter the continent of Europe and, in conjunction with the other United Nations, undertake operations aimed at the heart of Germany and the destruction of her armed forces. - Author: Dwight D. Eisenhower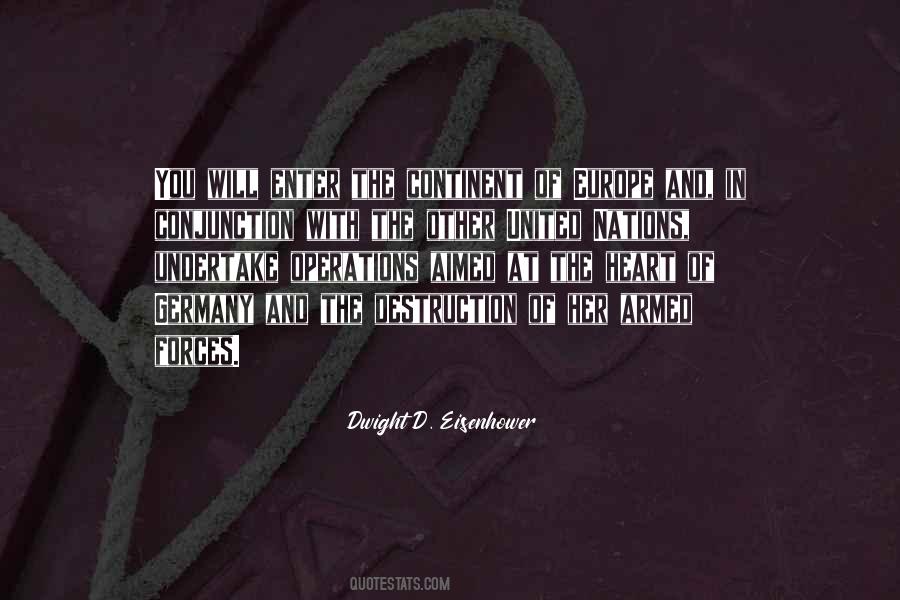 #51. Submission to duty and God gives the highest energy. He, who has done the greatest work on earth, said that He came down from heaven, not to do His own will, but the will of Him who sent Him, Whoever allies himself with God is armed with all the forces of the invisible world. - Author: James Freeman Clarke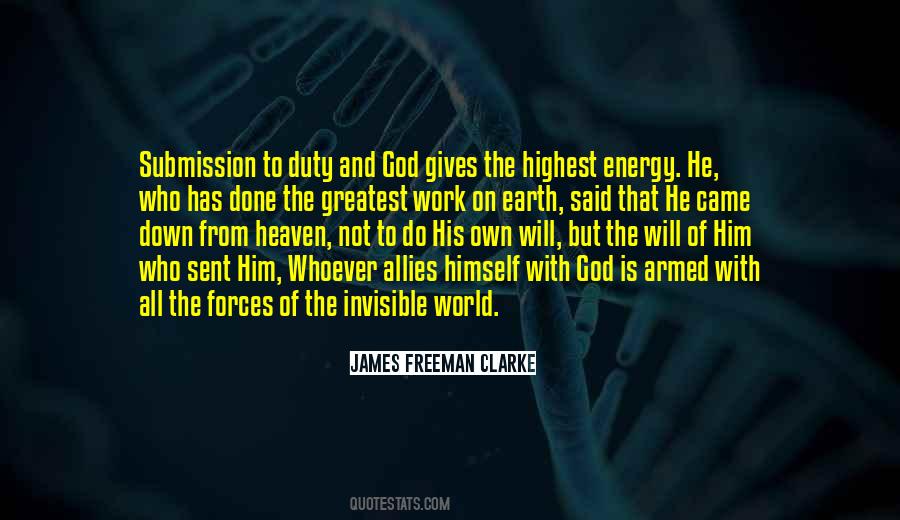 #52. The U.S. Armed Forces are the best trained, best equipped fighting forces in the world. - Author: Jim Walsh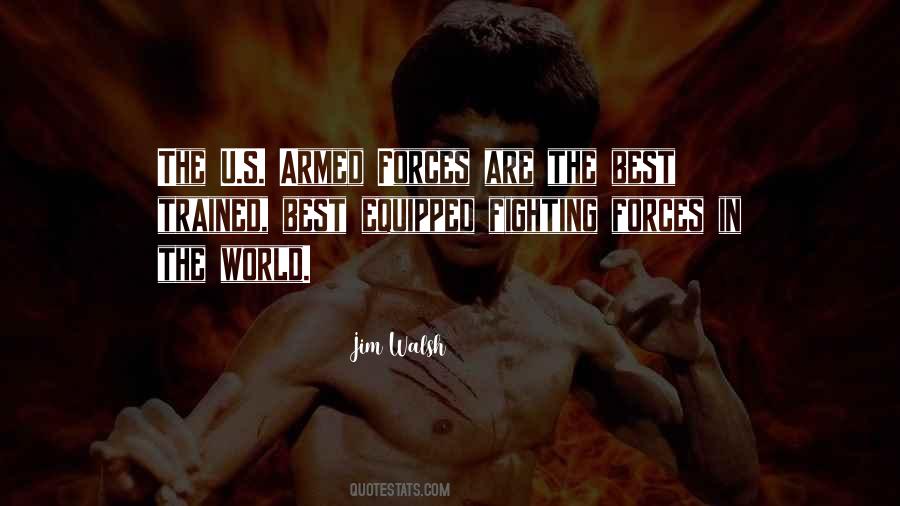 #53. The ideal revolutionary command should effectively direct all planning and implementation. It must not allow the growth of any other rival center of power. There must be one command pooling and directing the subsequent governmental departments, including the armed forces. - Author: Saddam Hussein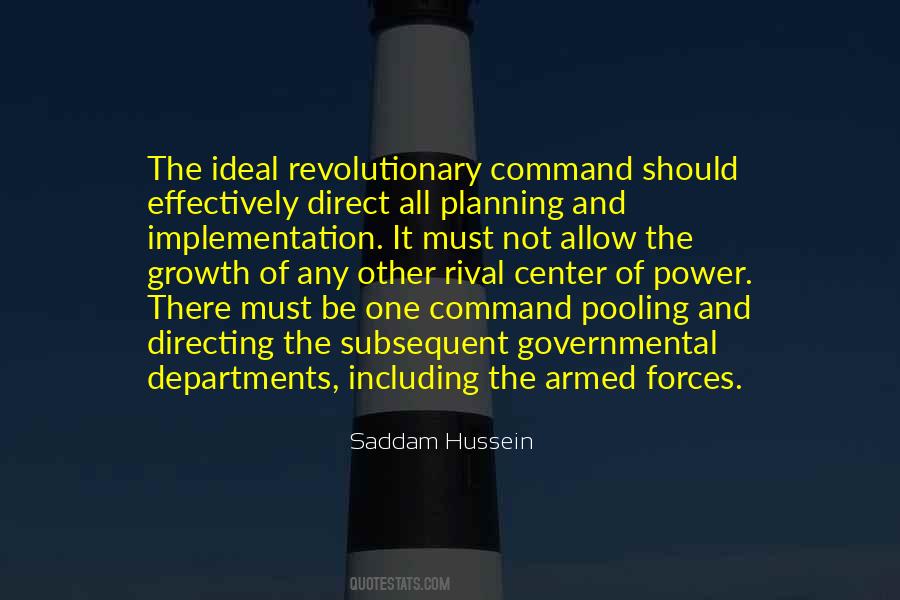 #54. My heroes are the non-commissioned officers. If I had another life that's what I'd be - a regimental sergeant major or a similar rank. That's where the spirit of the armed forces is. - Author: Bob Ainsworth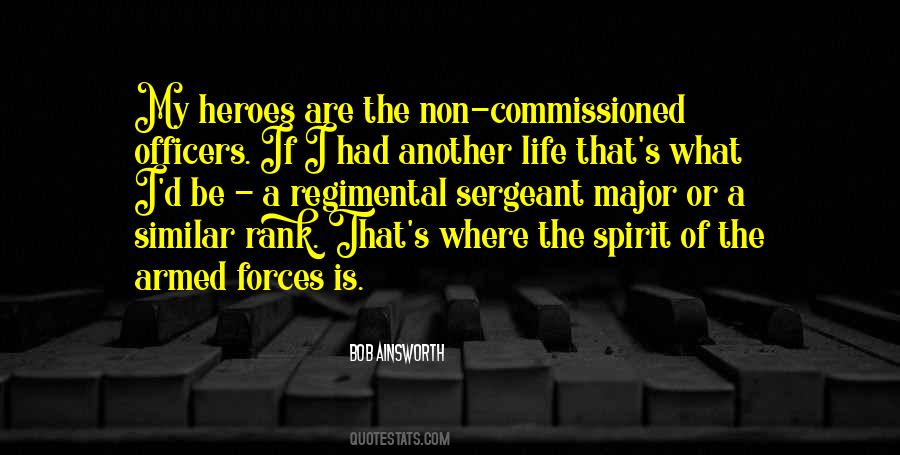 #55. I believe that homosexual acts between individuals are immoral and that we should not condone immoral acts. I do not believe that the Armed Forces of the United States are well served by a saying through our policies that it's OK to be immoral in any way. - Author: Peter Pace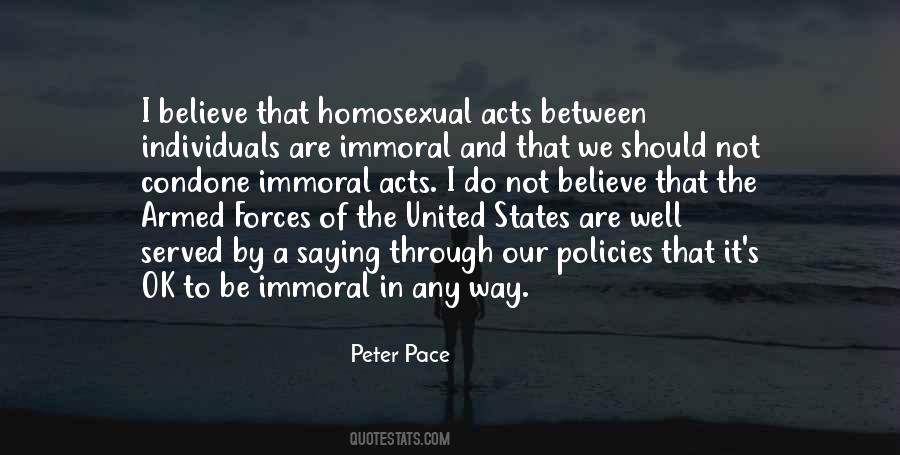 #56. I extend my deepest gratitude to our Armed Forces and first responders serving both at home and abroad in the war against terrorism. - Author: John Doolittle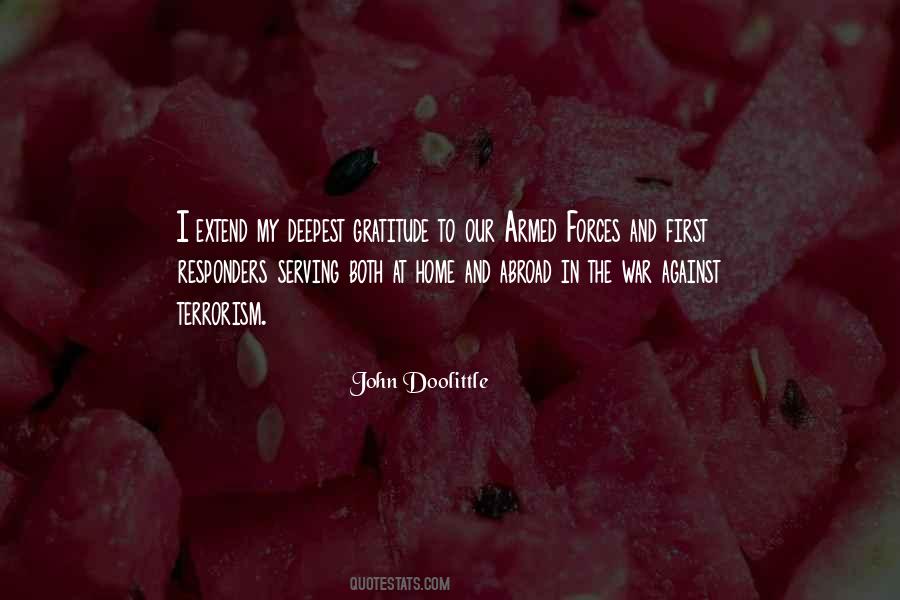 #57. The United States Central Command of the Armed Forces has asked Geraldo Rivera to leave Iraq. It should also be noted that the only three other people that the U.S. military has asked to leave Iraq are Saddam Hussein and his two sons. - Author: Jon Stewart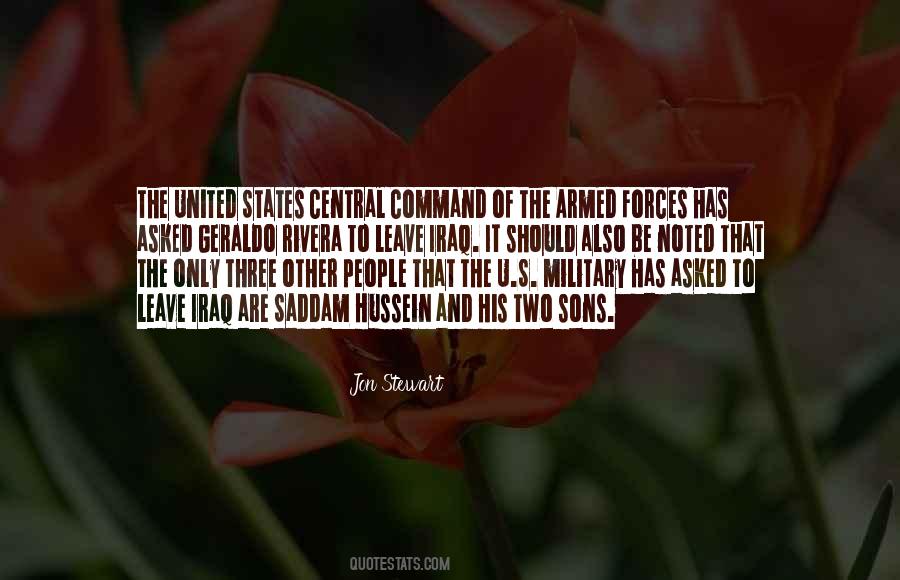 #58. Every possible effort should be made to stop recruiting for the Armed Forces. This may, and probably would, lead to some form of conscription being proposed or introduced. Thus would be provided a most favourable political platform upon which to fight the National Government. - Author: Stafford Cripps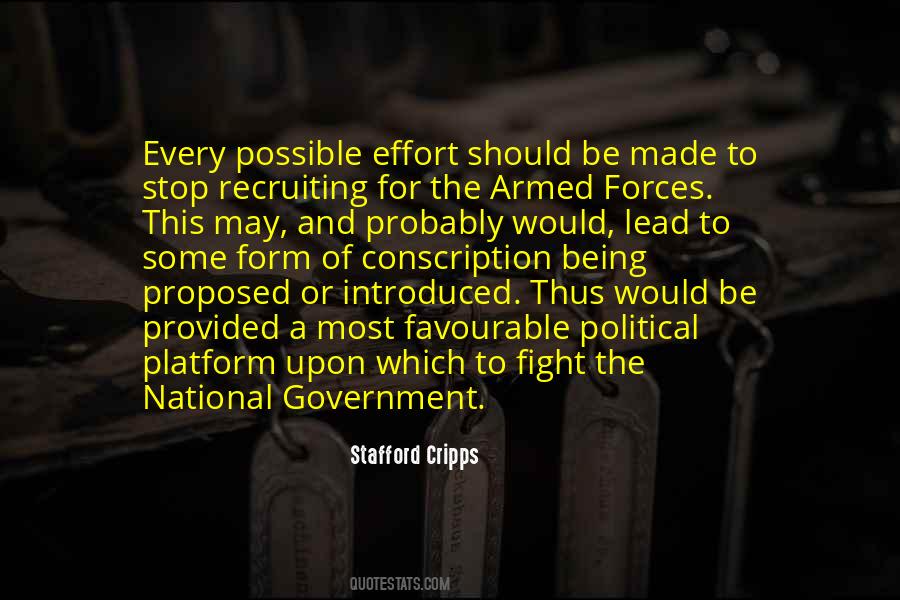 #59. Do not forget that the armed forces are the servants of the people. You do not make national policy; it is we, the civilians, who decide these issues and it is your duty to carry out these tasks with which you are entrusted. - Author: Muhammad Ali Jinnah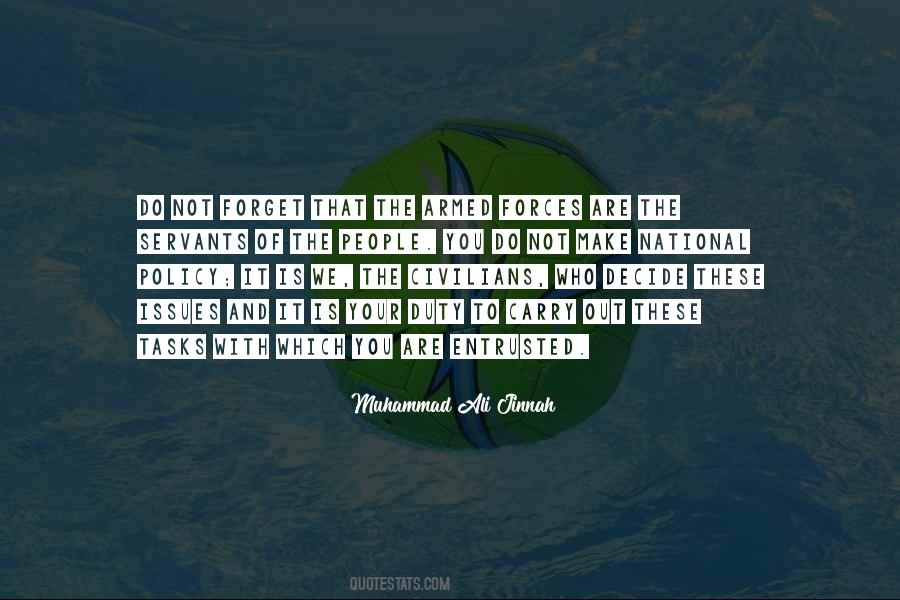 #60. This is an instrument in the hands of the people for fighting the fascist saboteurs, because the Chilean armed forces are a guarantee of constitutionality and integrity. - Author: Salvador Allende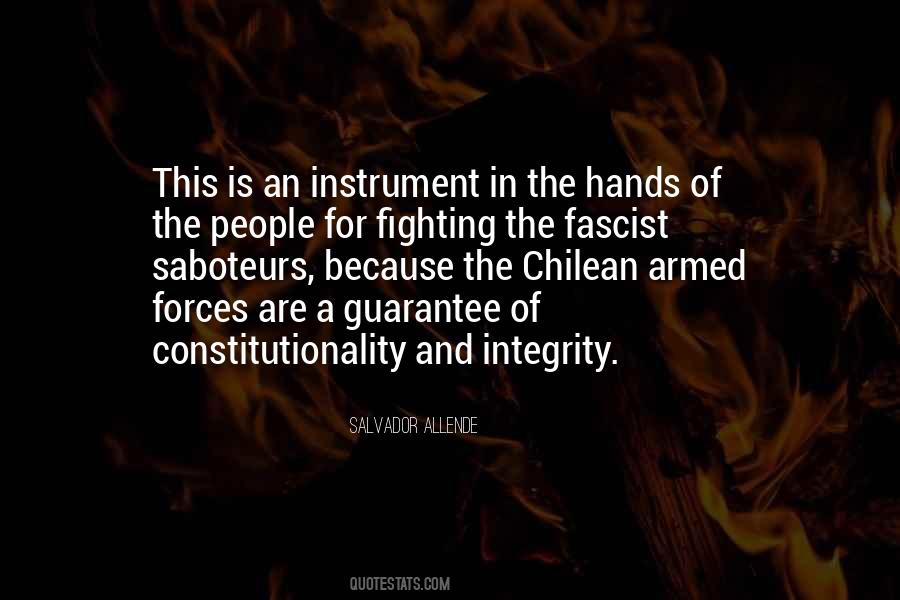 #61. The terrorist attacks of September 11th and the courageous actions of our armed forces in Afghanistan and Iraq remind us that friends of tyranny and enemies of freedom still exist. - Author: Carl Levin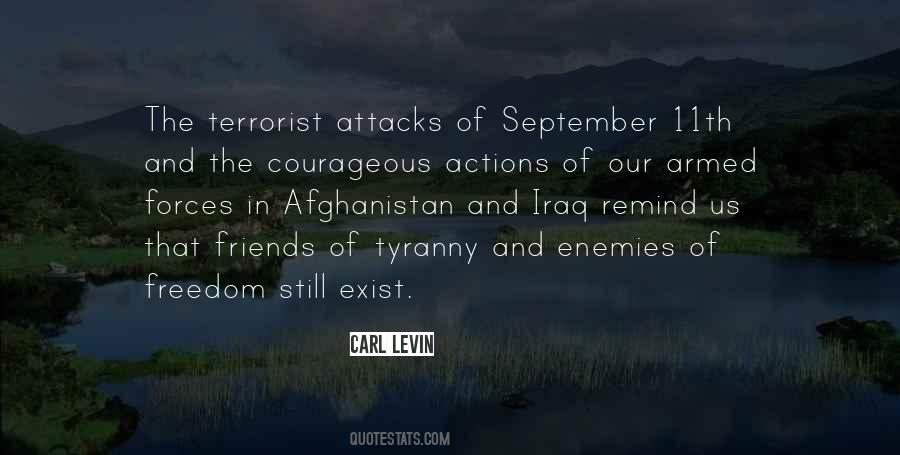 #62. There is no lack of bravery in the ranks of our armed forces, but bureaucratic cowardice rules in our intelligence establishment (as well as at the higher levels of military command). - Author: Ralph Peters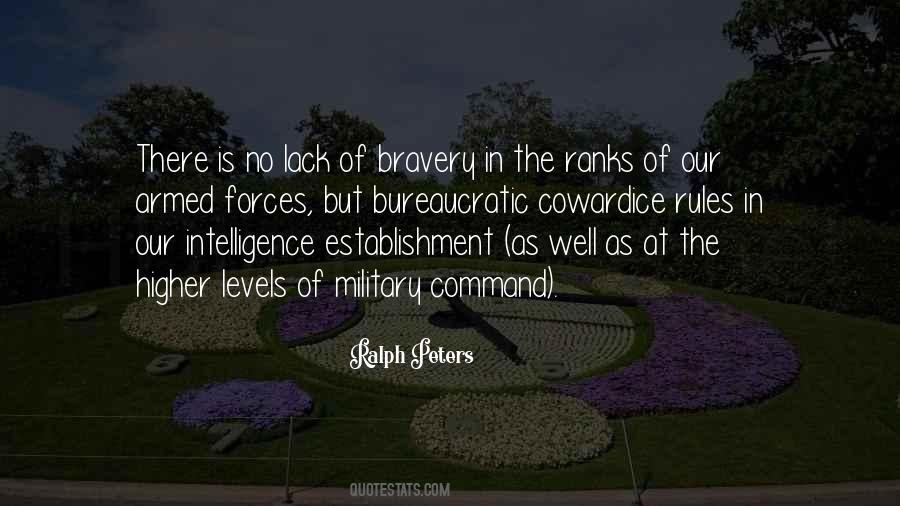 #63. My dad was in the Swedish armed forces, he was always reading up on different weapons from the Americans and Soviets. When I was a kid, I was in bed looking at his books, reading about the Red Army. So I was very aware of it. I had an interest in military matters ever since. - Author: Dolph Lundgren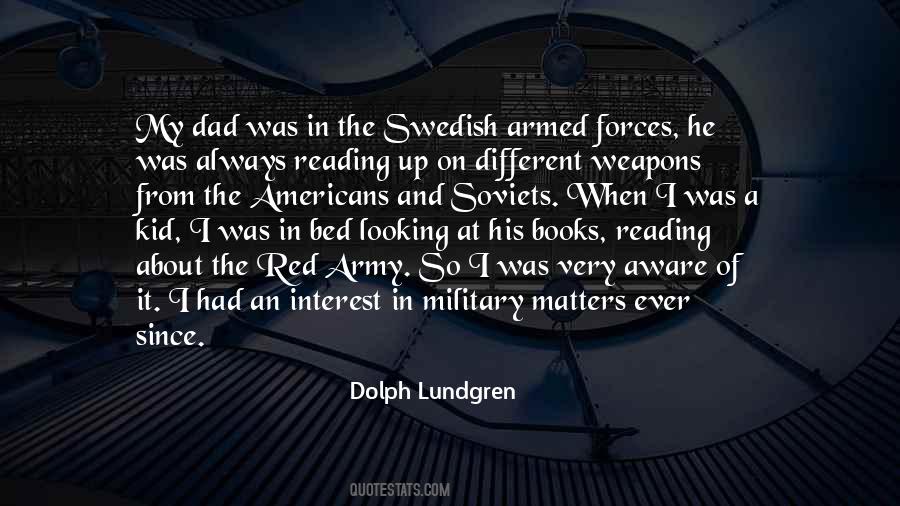 #64. Most people today couldn't tell a bombardier from a brigadier - said during a lecture in aid of the Army Benevolent Fund in 2009 - Author: Richard Holmes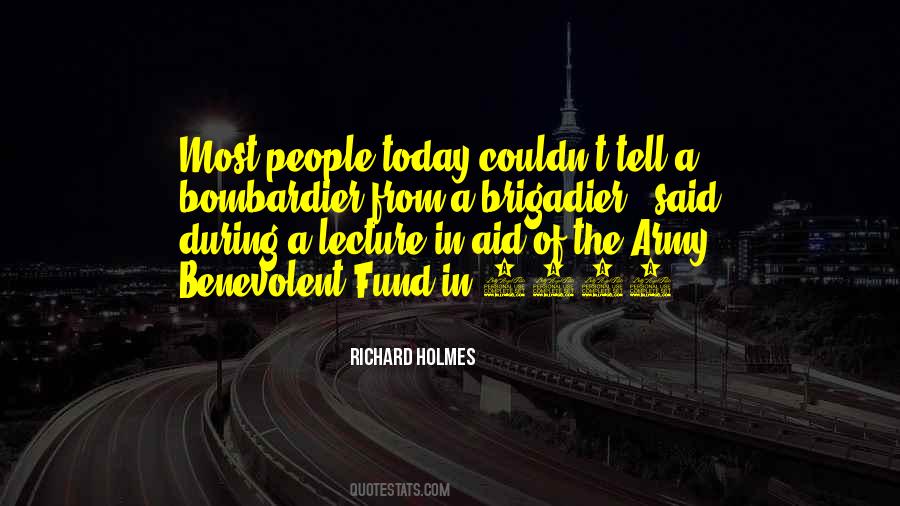 #65. Consistently rated the most peaceable of all countries in the world by the Global Peace Index, Iceland has reduced its military expenditure to zero, has no armed forces, and has reduced the inequality gap between rich and poor. - Author: Scilla Elworthy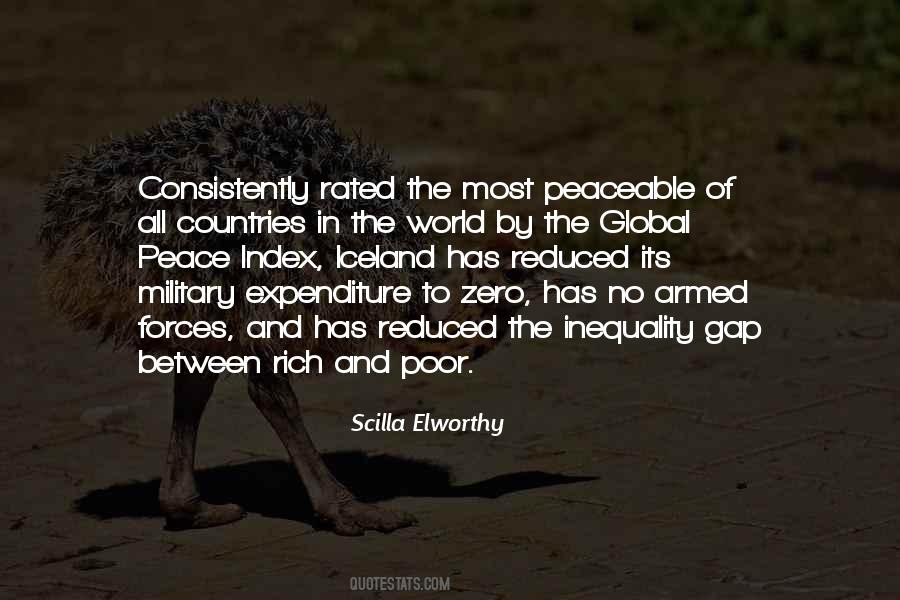 #66. THE SOUTH AFRICAN ARMED FORCES RECEIVED EVER-HIGHER amounts of funding from an economy that couldn't afford it. In the end, a fifth of the country's hopelessly unbalanced budget was going to the military, all while the rest of the world came up with new embargoes. - Author: Jonas Jonasson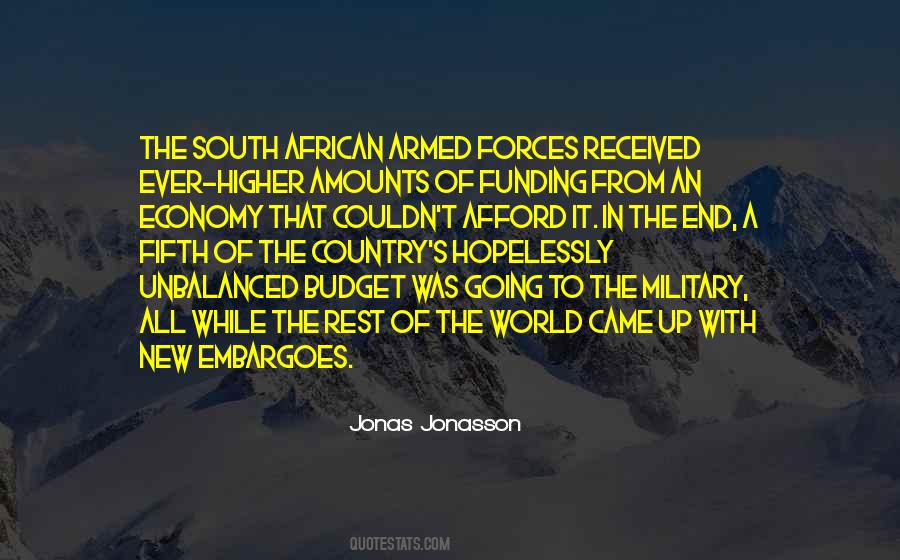 #67. I would say that my position is not too far from that of Ayn Rand's; that I would like to see government reduced to no more than internal police and courts, external armed forces
with the other matters handled otherwise. I'm sick of the way the government sticks its nose into everything now. - Author: Robert A. Heinlein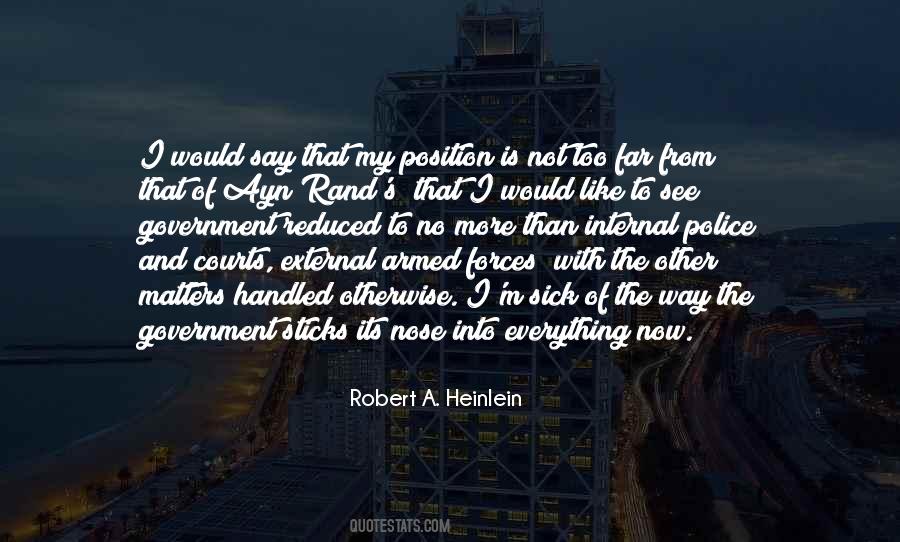 #68. A field marshal who issued orders to the armed forces but had no idea of the results they would have in practice. - Author: Wilhelm Keitel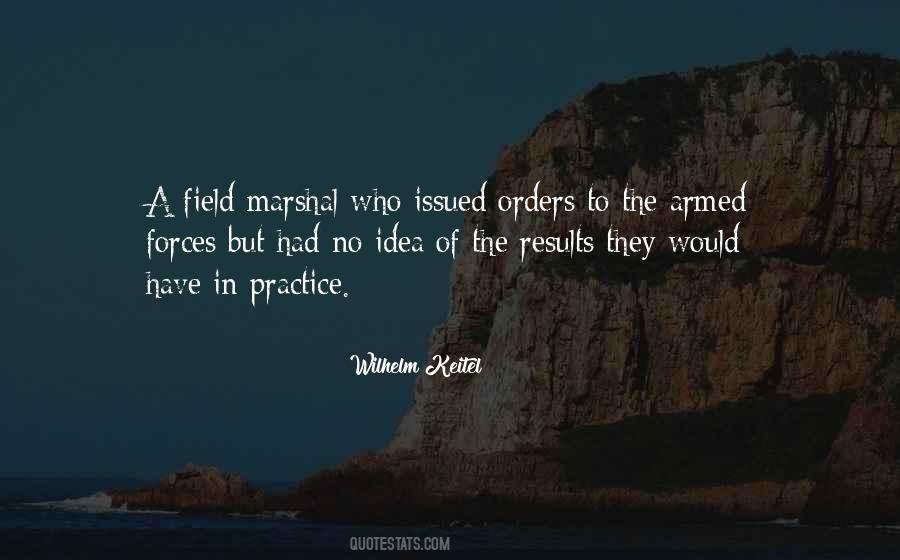 #69. We cannot continue to ask the brave men and women of our Armed Forces to put their lives on the line to protect our country while we jeopardize their safety by failing to ensure that Defense Department funds are not siphoned off to warlords in Afghanistan. - Author: John F. Tierney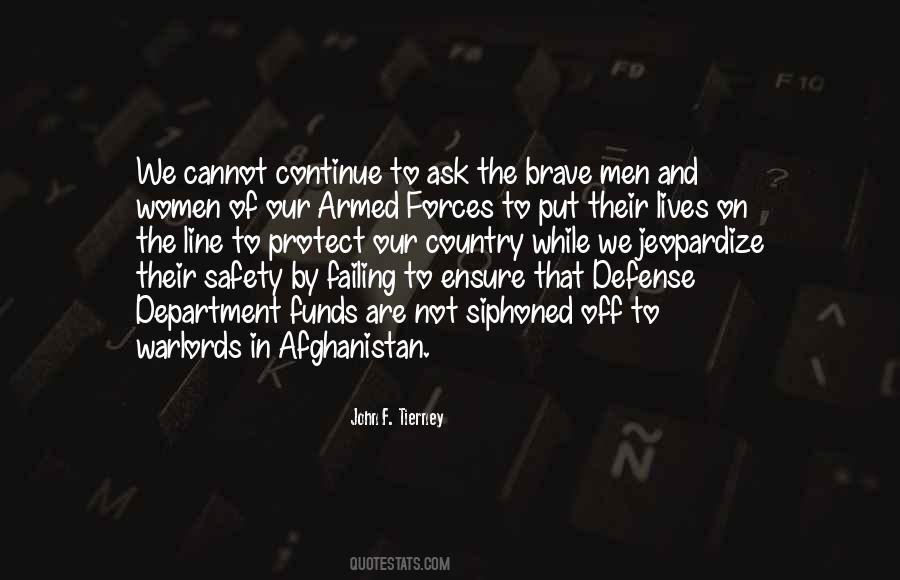 #70. We should honor Franklin Delano Roosevelt today as the greatest commander in chief of the Armed Forces of the United States in our history, bar none - including President Lincoln. - Author: Nigel Hamilton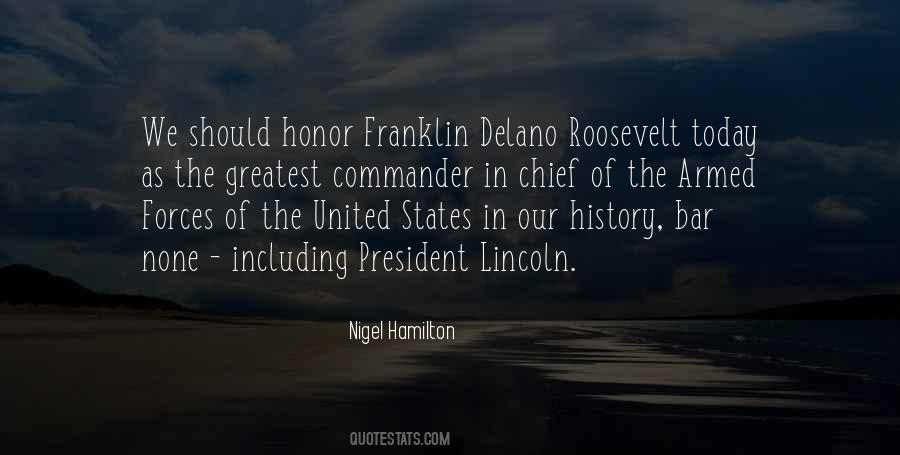 #71. The more comfort, the less courage there is. - Author: Alexander Suvorov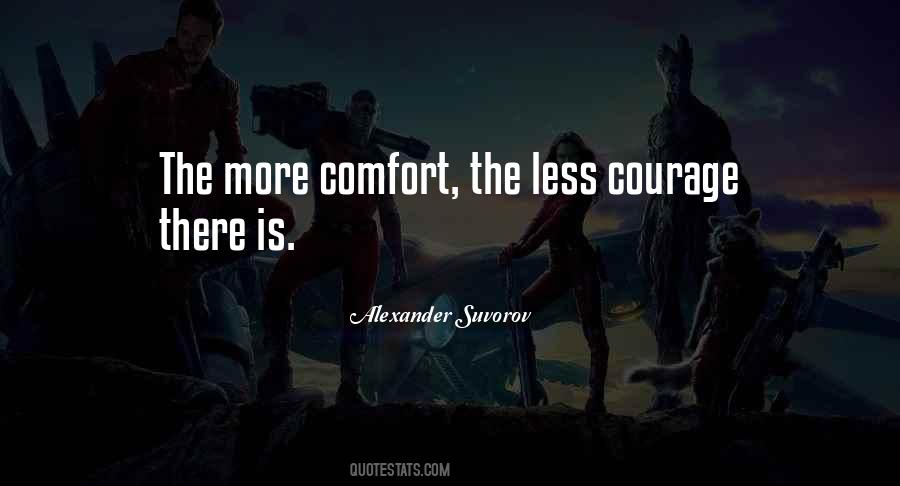 #72. To demilitarize the country means to make a profound decision. It is not enough to change the name of the armed forces. It is necessary to change the minds of those people who only yesterday wore a military uniform. - Author: Oscar Arias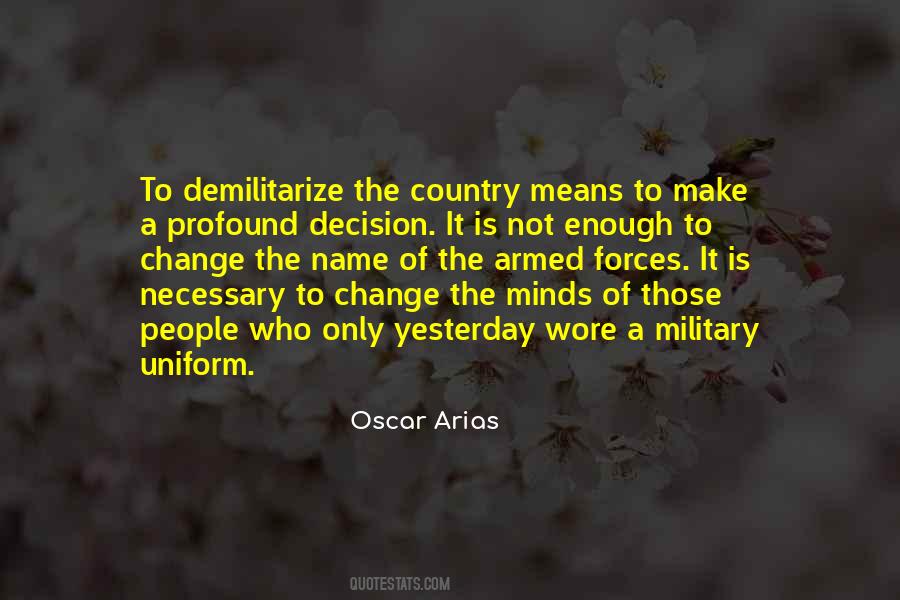 #73. Whenever armed forces ... are used, the idea of combat must be present ... The end for which a soldier is recruited, clothed, armed, and trained, the whole object of his sleeping, eating, drinking, and marching is simply that he should fight at the right place and the right time. - Author: Carl Von Clausewitz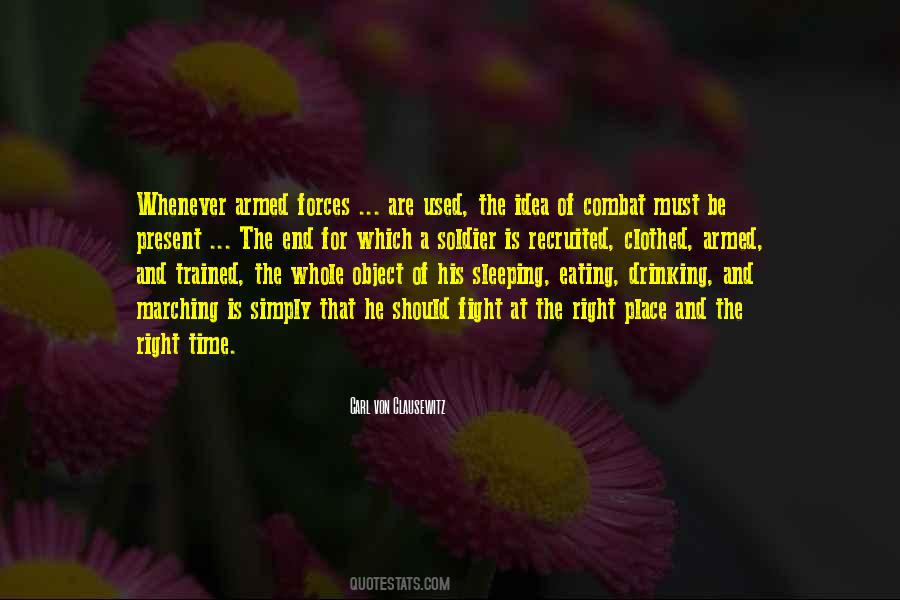 #74. For years, a motto often repeated in the Canadian Armed Forces was "Improvise. Adapt. Overcome." This was a fancy way of saying we should make do with whatever tools we were given." p. 119 - Author: Jody Mitic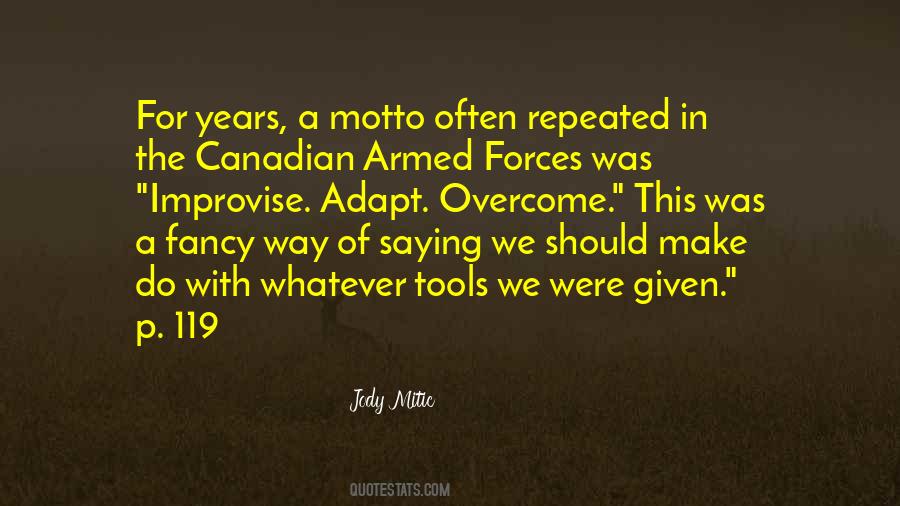 #75. As a matter of international law, the United States is in an armed conflict with al-Qa'ida, the Taliban, and associated forces, in response to the 9/11 attacks, and we may also use force consistent with our inherent right of national self-defense. - Author: John O. Brennan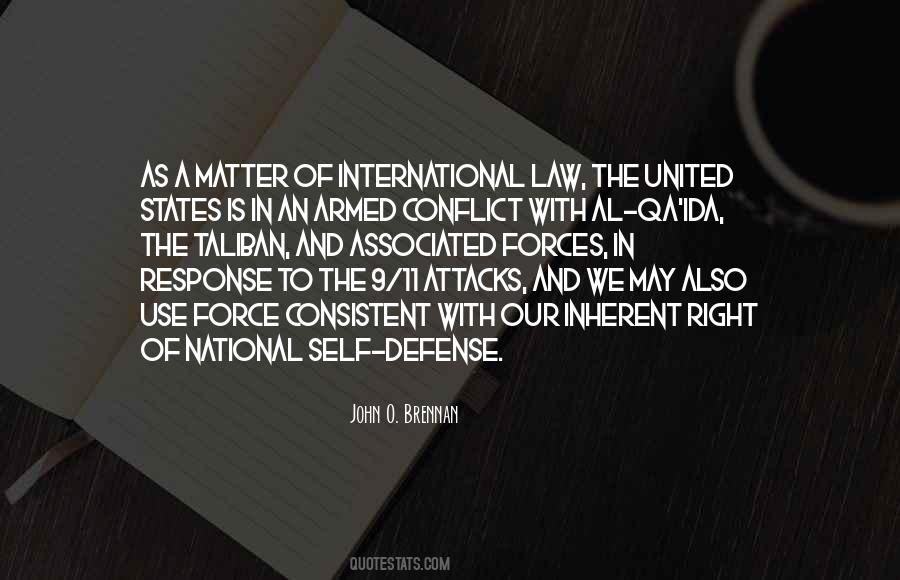 #76. The people of Iraq are grateful for what the people of the United States of America and our armed forces and our coalition forces are giving them the opportunity to do. - Author: Johnny Isakson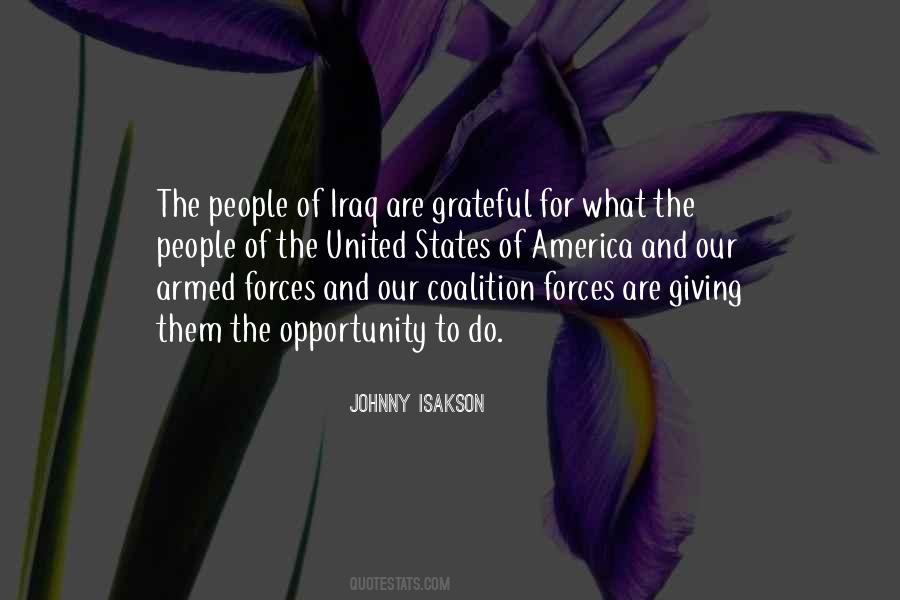 #77. Our military leaders don't seize power in coups; our soldiers and sailors don't go on strike for higher pay or benefits; our armed forces don't weigh in on the political process. In return, Americans have a sacred duty to treat them honorably. - Author: Kathleen Troia McFarland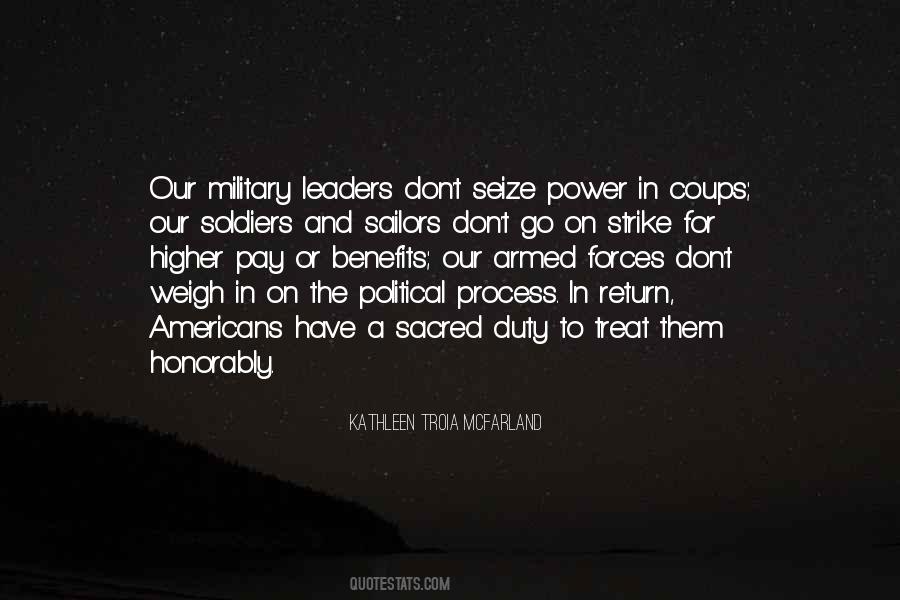 #78. Scotland forms a crucial part of our Armed Forces which should not be jeopardised by rushed cuts or a rush to the exit from the U.K. Defence jobs are vital to the Scottish economy and yet independence puts thousands of jobs at risk. - Author: Philip Hammond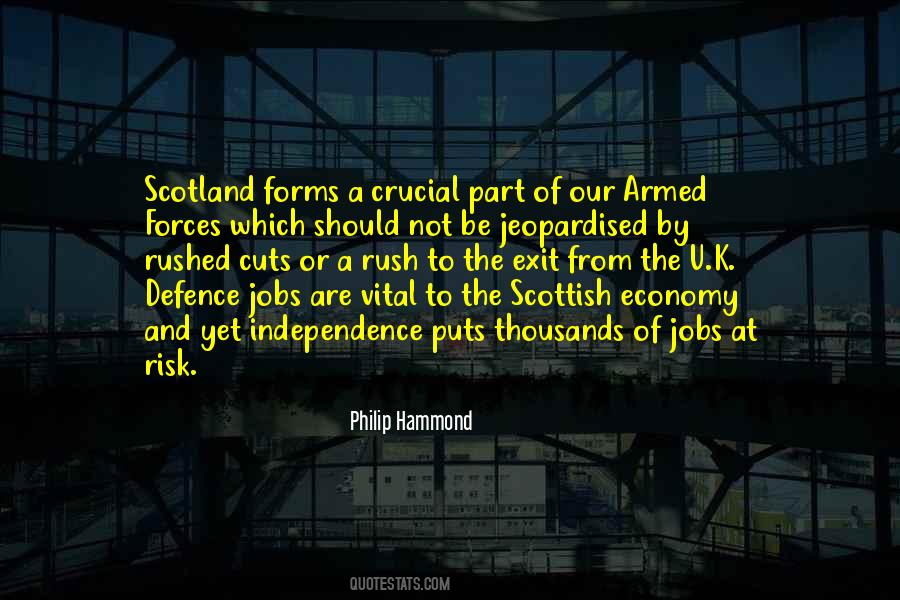 #79. The criteria for serving one's country should be competence, courage and willingness to serve. When we deny people the chance to serve because of their sexual orientation, we deprive them of their rights of citizenship, and we deprive our armed forces the service of willing and capable Americans. - Author: Dianne Feinstein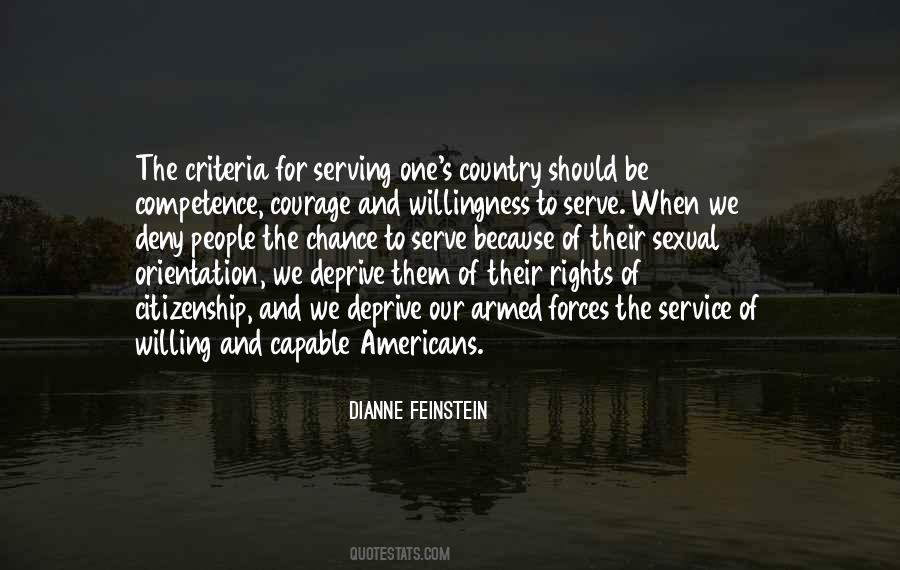 #80. Through the skill and devotion to duty of their armed forces of all branches in the Midway area our citizens can now rejoice that a momentous victory is in the making. - Author: Chester W. Nimitz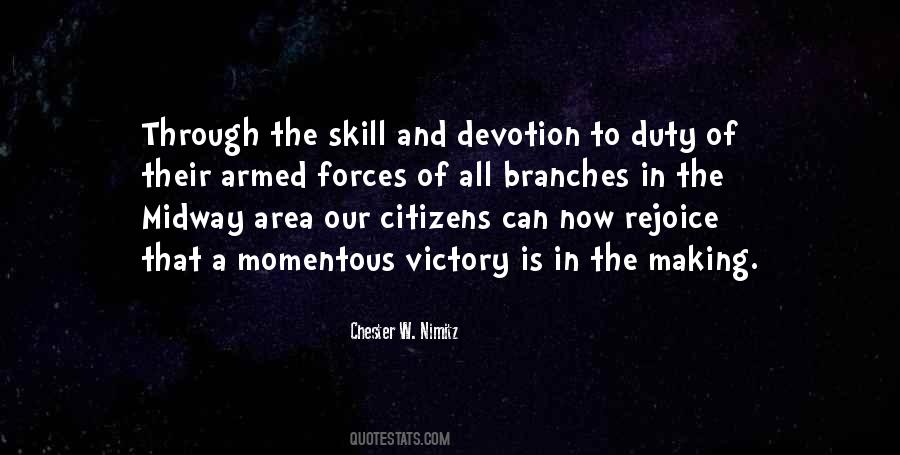 #81. America owed its military renaissance in the 1980s and 1990s to Vietnam. Veterans like Norman Schwartzkopf, Colin Powell, Alfred Grey, Charles Krulak, and Wesley Clark returned home angry and ashamed at their defeat and rebuilt all-volunteer, professional armed forces from the ground up. - Author: Michael Ignatieff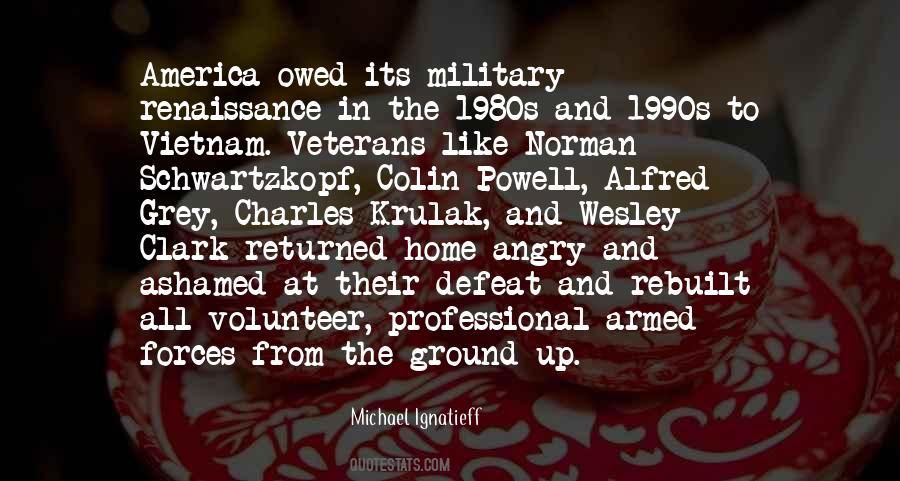 #82. For, although one may be very strong in armed forces, yet in entering a province one has always need of the goodwill of the natives. - Author: Niccolo Machiavelli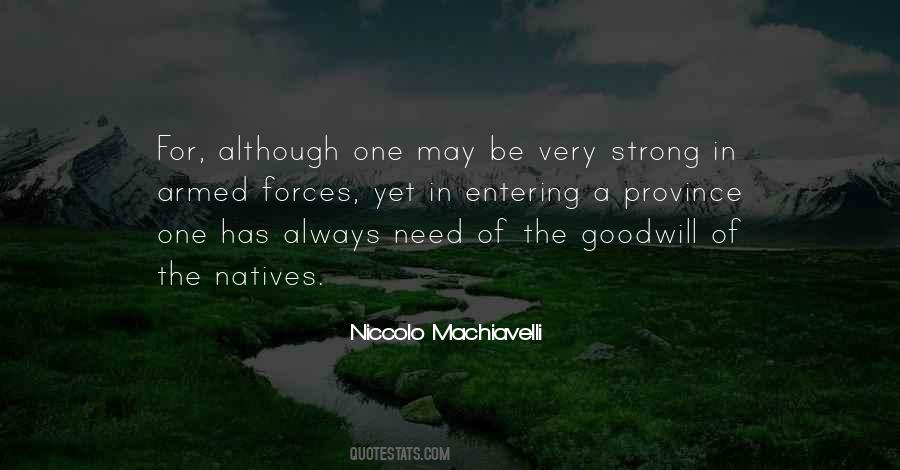 #83. There are now 17,000 local American police forces that are armed with rocket launchers, bazookas, heavy machine guns, all kinds of chemical sprays, in fact some of them have tanks. You now have local police departments that are equipped beyond the standard of American heavy infantry. - Author: Paul Craig Roberts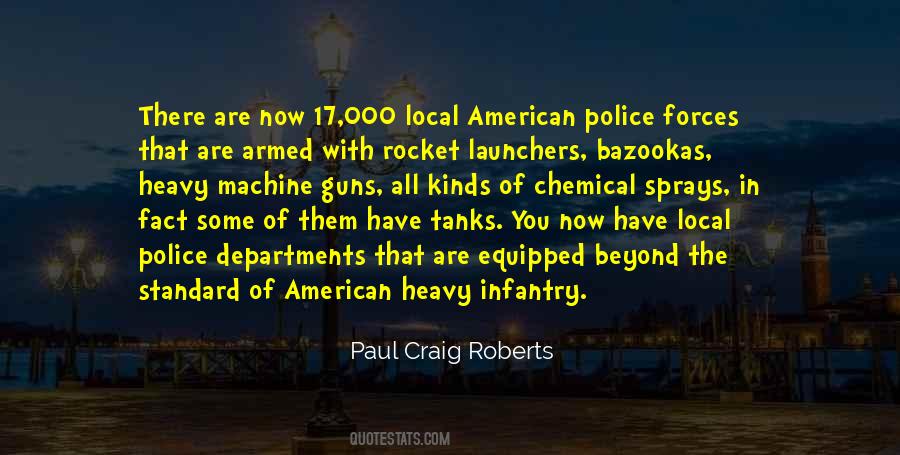 #84. Through years of secret work, scientific and basic ground work was laid, in order to be ready again to work the German Armed Forces at the appointed hour, without loss of time or experience. - Author: Gustav Krupp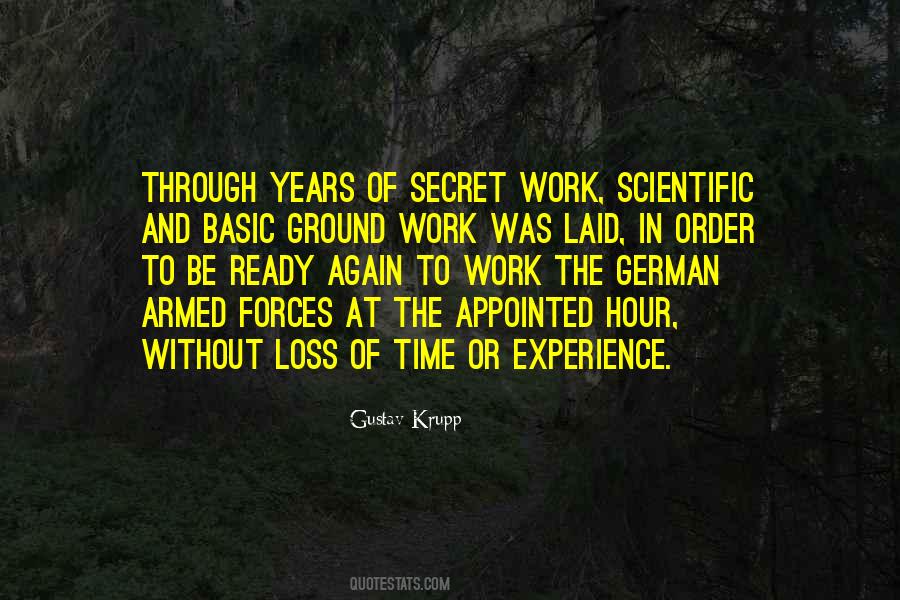 #85. I can't find a person without some link to the armed forces! - Author: Robyn Carr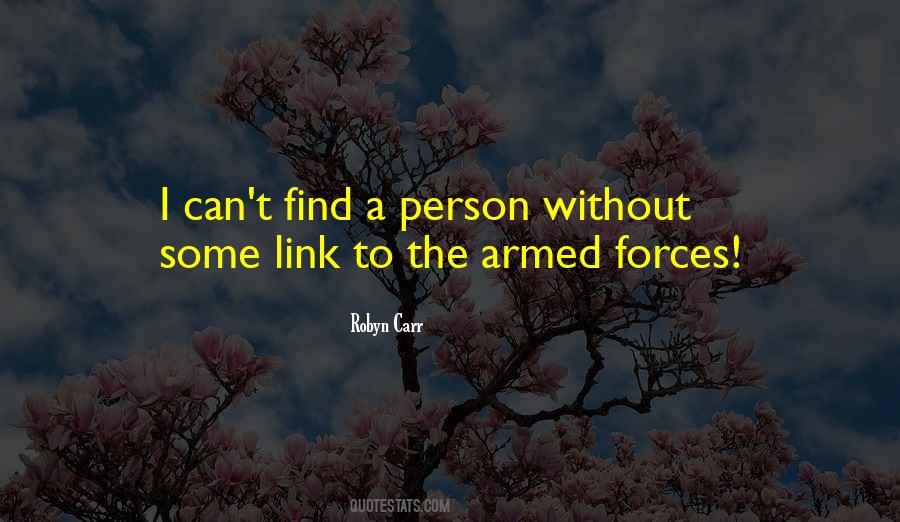 #86. It is not the armed forces which can protect our democracy. It is the moral strength of democracy which alone can give any meaning to the efforts at military security. - Author: Max Lerner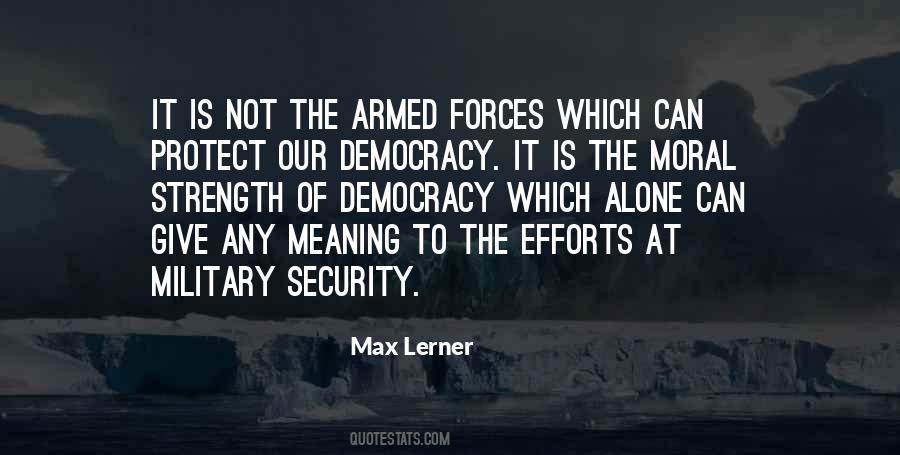 #87. On the wisdom with which we bring science to bear in the war against disease, in the creation of new industries, and in the strengthening of our Armed Forces depends in large measure our future as a nation. - Author: Vannevar Bush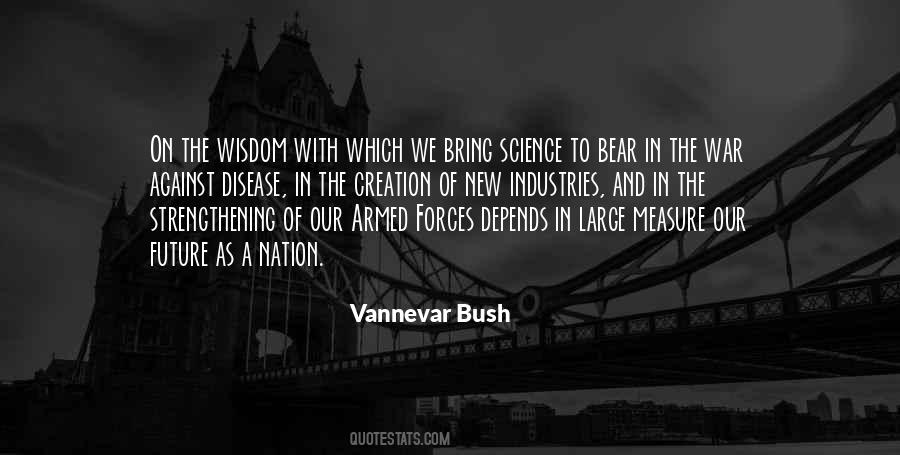 #88. I do not care whether you're a Democrat or you're a Republican or an independent. We must pull for the people who are wearing the uniform of the armed forces. These people weren't drafted. They enlisted, because they believe. - Author: Tommy Lasorda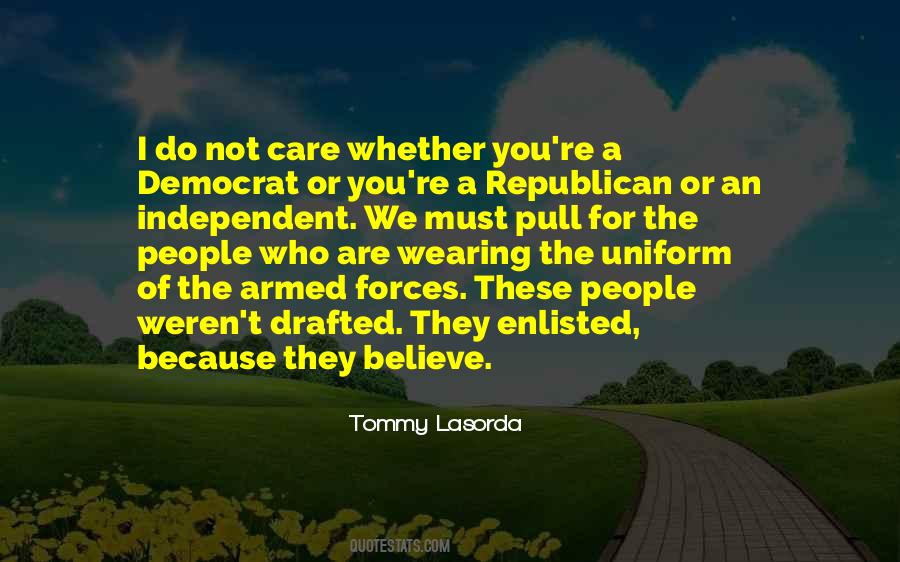 #89. The president of the Arab Republic of Egypt is the commander of the armed forces, full stop. - Author: Mohammed Morsi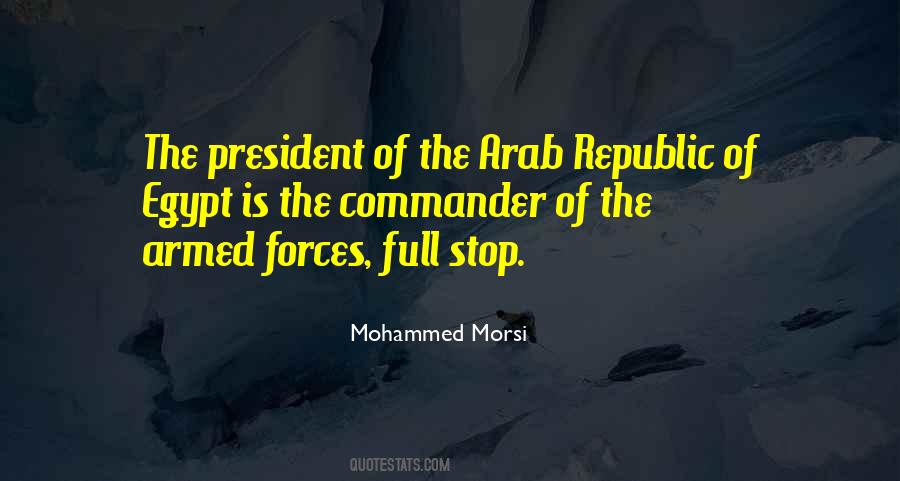 #90. My father will always be my hero. He pioneered two successful companies that paved the way for the technology services industry and has devoted much of his life to helping people in need and those who serve our nation in the armed forces. - Author: Ross Perot Jr.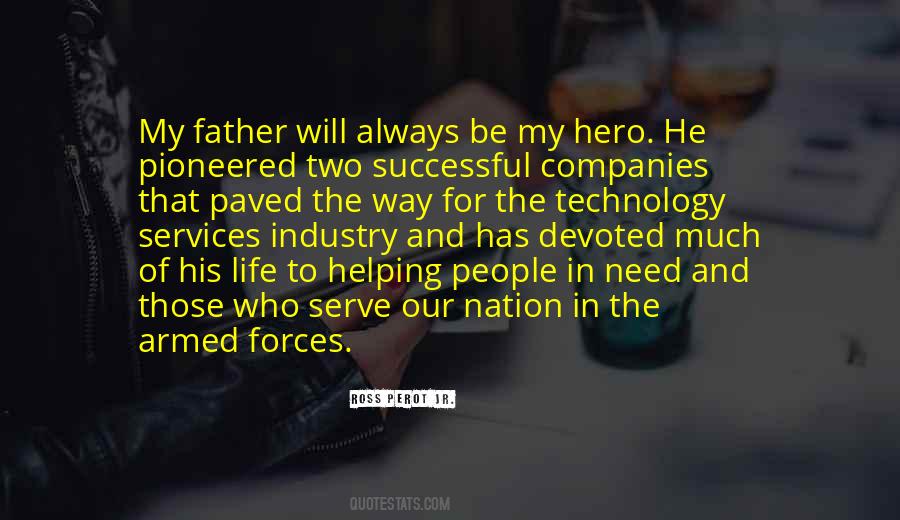 #91. The men and women of our armed forces played an instrumental role in the election process - securing polling sites and providing security - that allowed so many Iraqis the opportunity to vote freely for the first time ever. - Author: John M. McHugh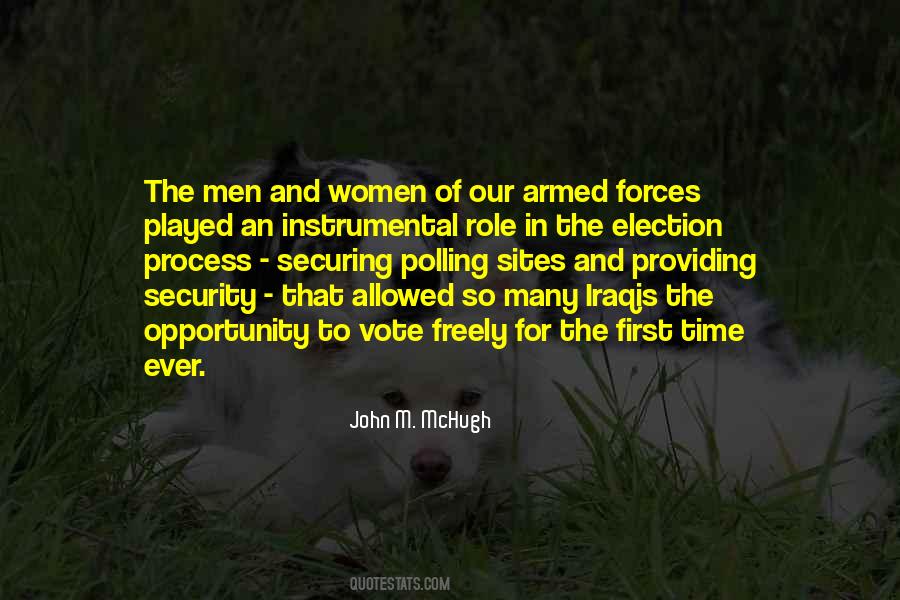 #92. The armed forces are paying a lot more attention to the use of energy. The Air Force has realized that the paint on planes is heavy, so there are going to be a lot more silver planes, or planes painted in a less heavy way, so that you are using less fuel to get from point A to point B. - Author: George P. Shultz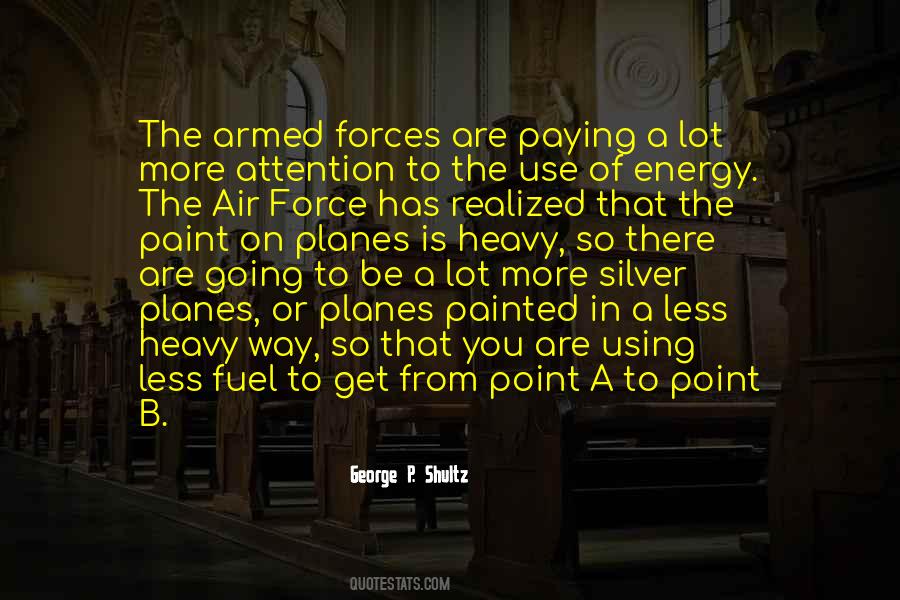 #93. Today is Veterans Day. Thank you to all our men and women who have served the United States armed forces. In honor of Veterans Day we are marching out a few jokes that have already served. - Author: David Letterman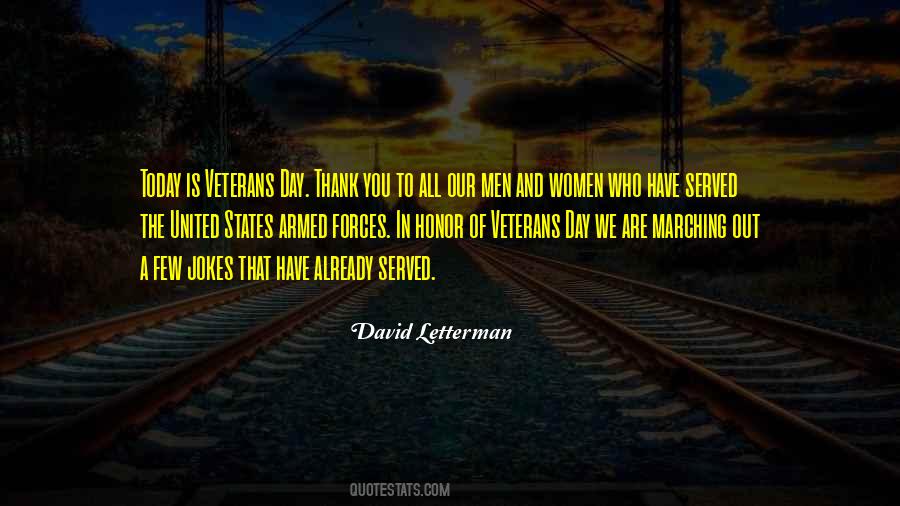 #94. Few needs are more pressing, or more deserving of our attention, than taking care of the men and women of the U.S. armed forces. - Author: Bill Richardson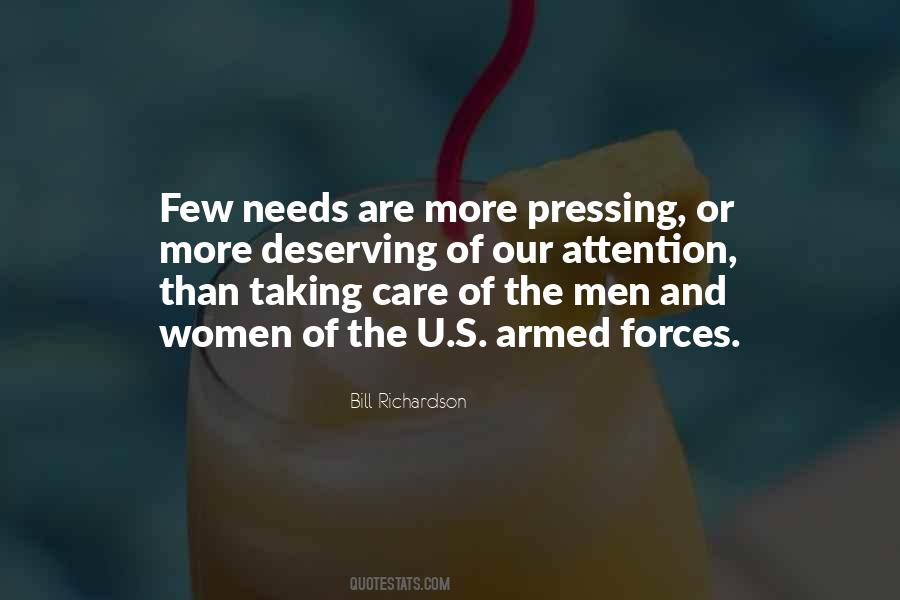 #95. We must never forget why we have, and why we need our military. Our armed forces exist solely to ensure our nation is safe, so that each and every one of us can sleep soundly at night, knowing we have 'guardians at the gate.' - Author: Allen West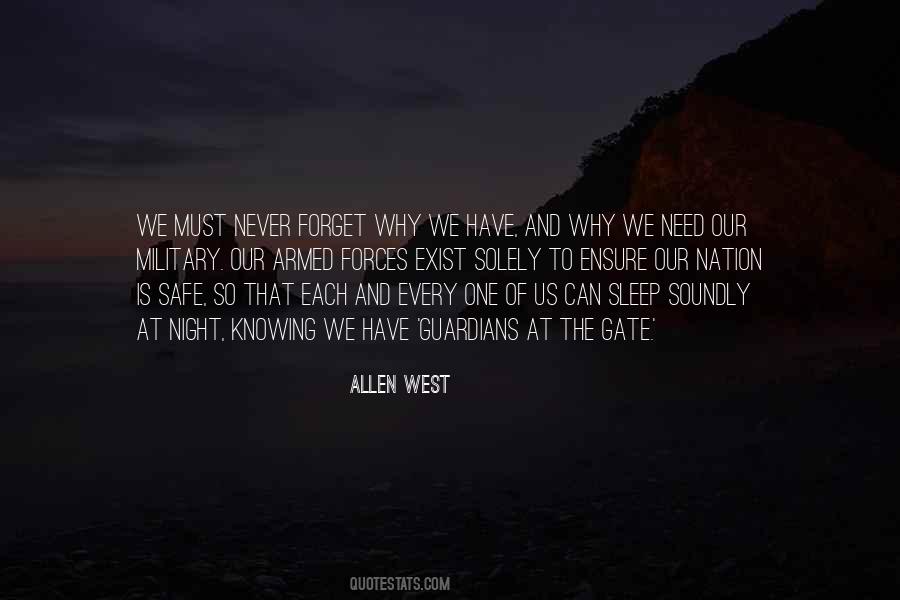 #96. Recruitment and retention are critical to sustain our Armed Forces with the best men and women willing to stand in the gap and make huge sacrifices to ensure our freedom. - Author: Zack Wamp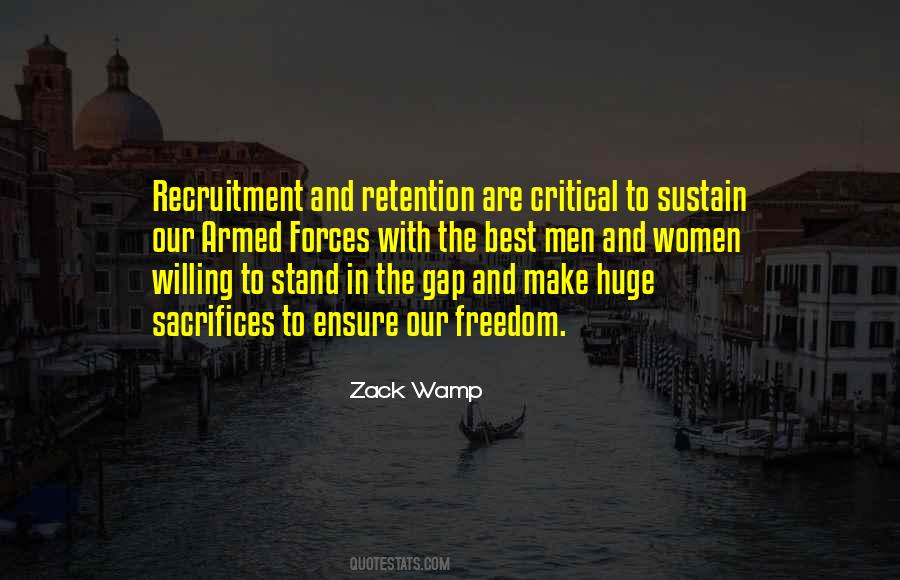 #97. As the daughter of a 25-year veteran of the armed forces, I am incredibly thankful for the sacrifices our women and men have made in Iraq, and continue to make in Afghanistan. - Author: Barbara Lee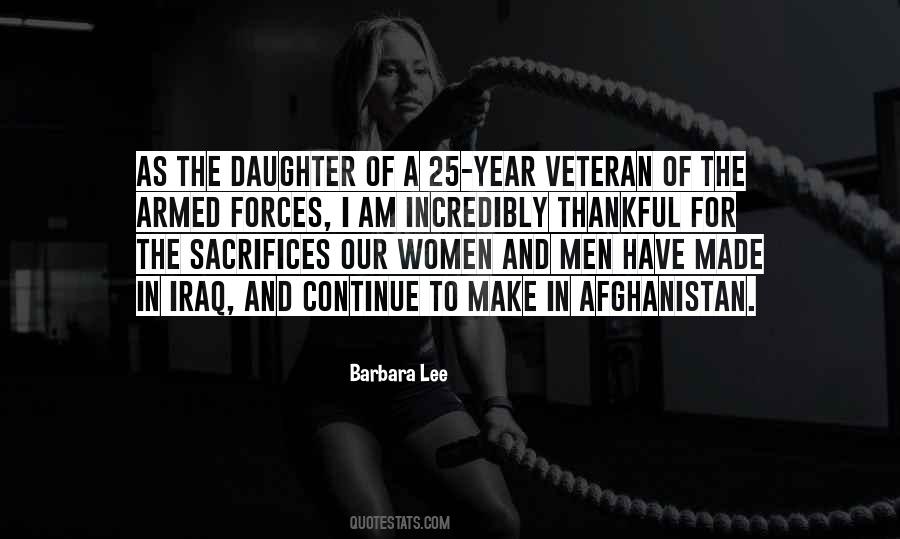 #98. I joined the People's Armed Forces in 1961 to 1984, and I was also a soldier in the southern battle of Vietnam during the resistance against the Americans. I went to the battlefield in order to regain national independence. - Author: Nguyen Tan Dung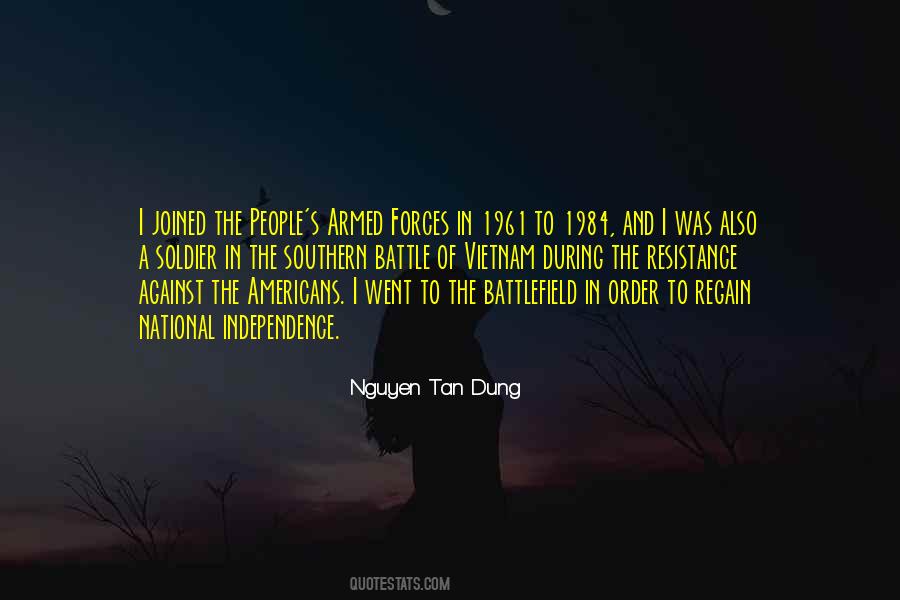 #99. Nearly a quarter of American men were in the Armed forces [in 1968] . The rest were in school, in prison, or were George W. Bush. - Author: Bill Bryson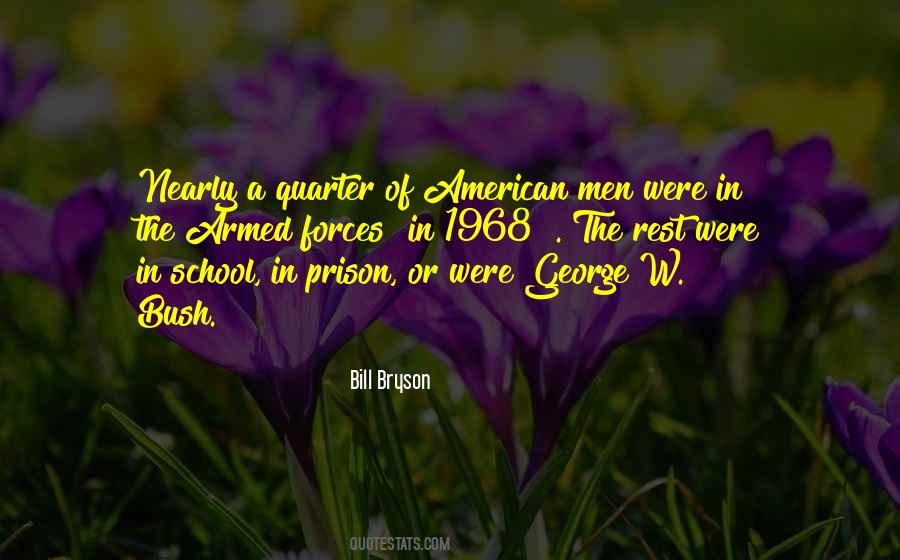 #100. We prefer that the leaders of the Iraqi armed forces do the honorable thing; stop fighting for a regime that does not deserve your loyalty. - Author: Peter Pace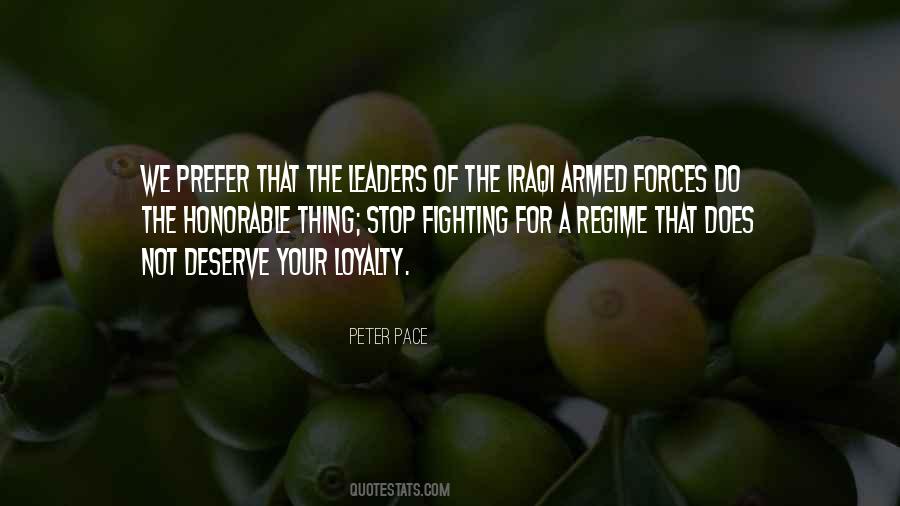 Famous Authors
Popular Topics