Taste And Smell Famous Quotes & Sayings
List of top 100 famous quotes and sayings about taste and smell to read and share with friends on your Facebook, Twitter, blogs.
Top 100 Quotes About Taste And Smell
#1. One not only drinks the wine, one smells it, observes it, tastes it, sips it and-one talks about it. - Author: Edward VII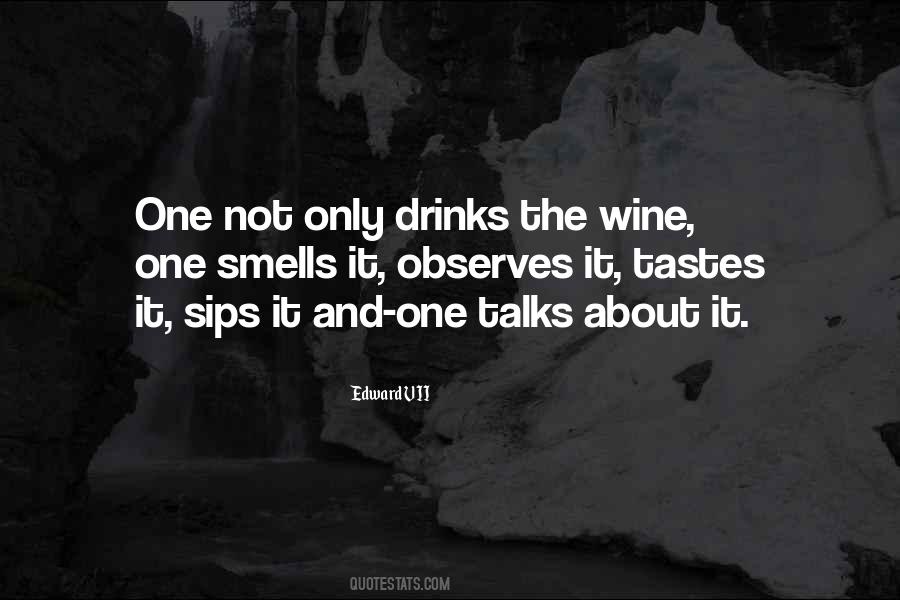 #2. Unhappiness is a dangerous thing, like carbon monoxide. You don't smell it, you don't taste it, it's formless and colourless, but it poisons slowly. It seeps into every pore of your skin until one day your heart just stops beating. - Author: Bella Pollen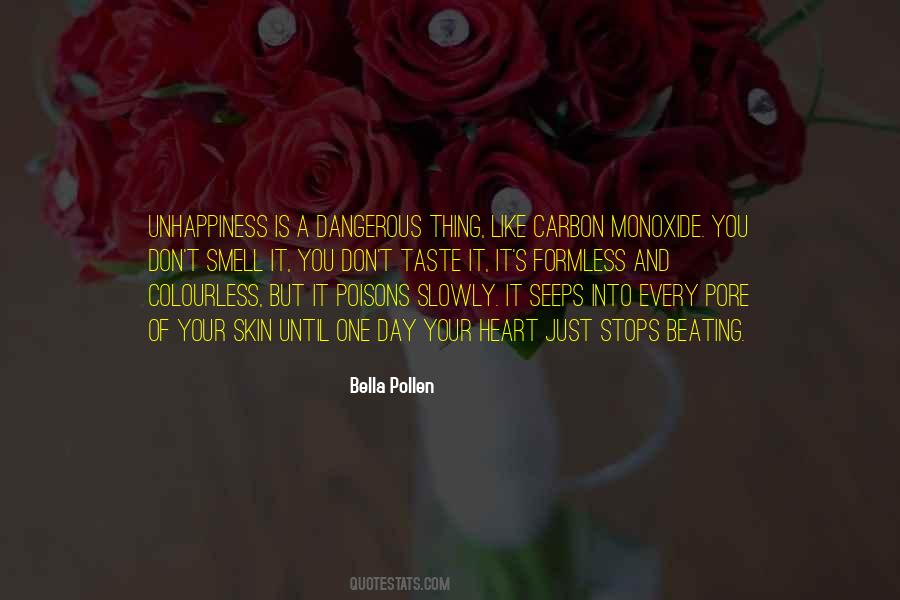 #3. Now, I am a mixer. I can't help it. It's my nature. I like men. I like the taste of their shoes, the smell of their legs, the sound of their voices. It may be weak of me, but a man has only to speak to me, and a sort of thrill goes down my spine and sets my tail wagging. - Author: P.G. Wodehouse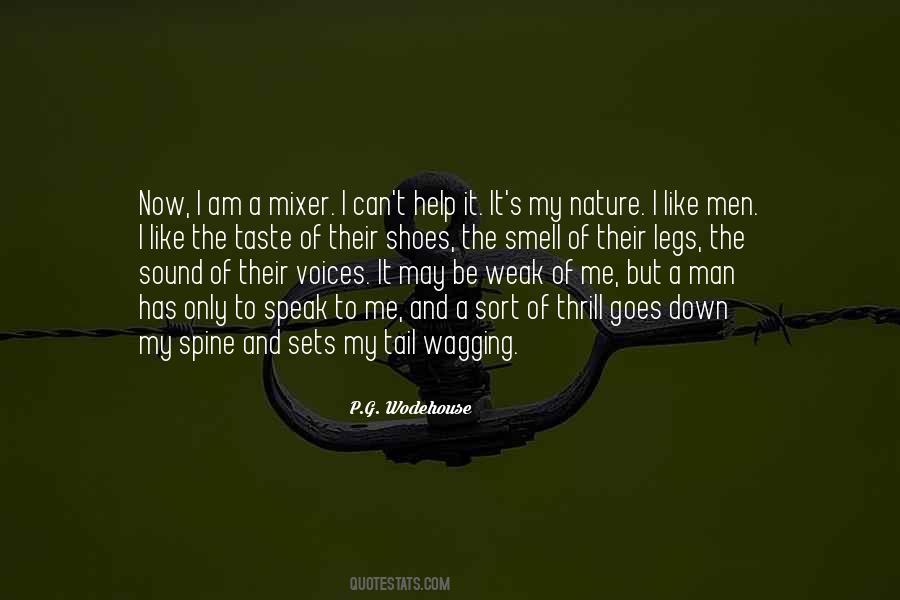 #4. Where ever there's guilt there's violence, and if guilt is a smell then violence is a taste: strawberries and formaldehyde and ironish blood. - Author: Glen Duncan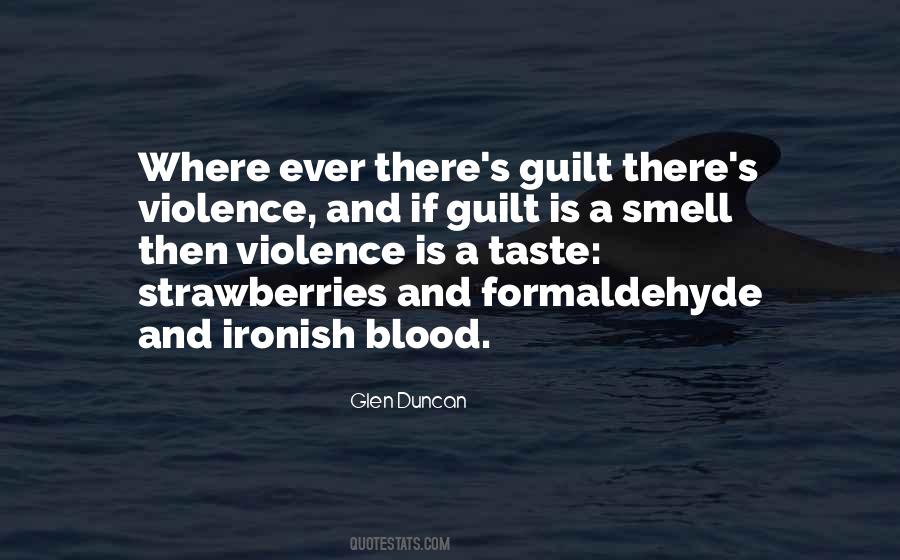 #5. The world she was walking through was a pale nothingness, like a blank sheet of paper or an enormous, empty white room. It had no temperature, no smell, no texture and no taste. - Author: Neil Gaiman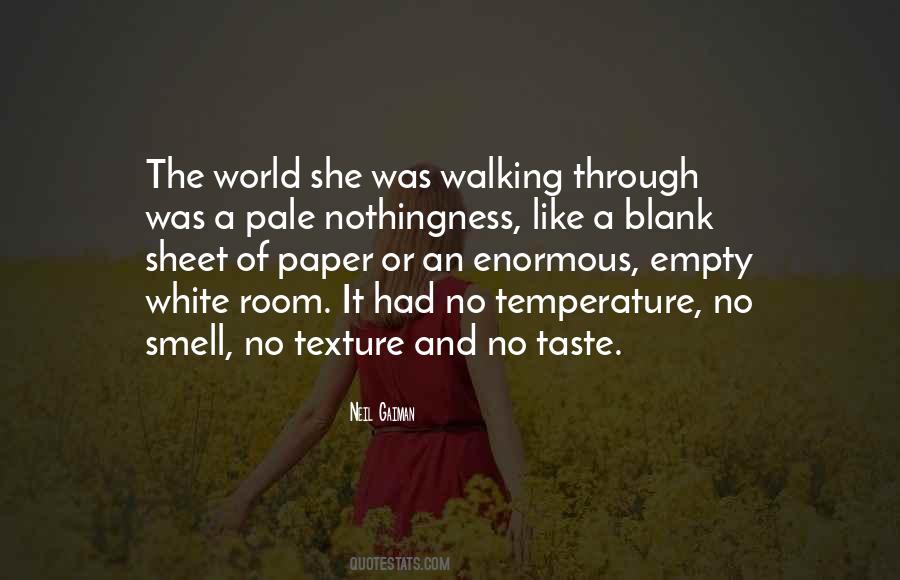 #6. Without sulfites, wine may smell and taste funky or re-ferment in the bottle. Many distributors and shop owners are consequently reluctant to stock wines made without sulfites. - Author: Roger Morris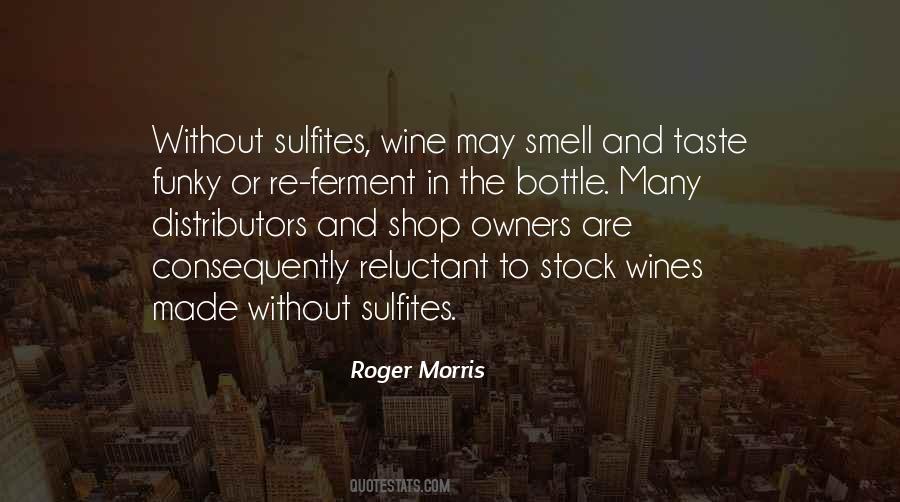 #7. The smell and taste of things remain poised a long time, like souls, ready to remind us ... - Author: Marcel Proust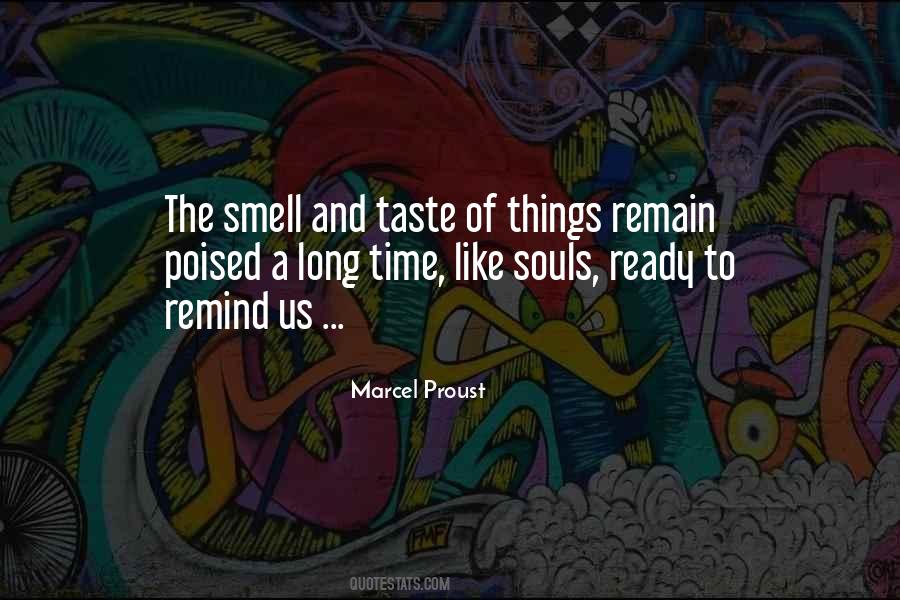 #8. There is something about New Orleans that embodies passion; I've never seen that before. There's something tangible about the essence of the city. You can taste and smell it. - Author: Blake Lively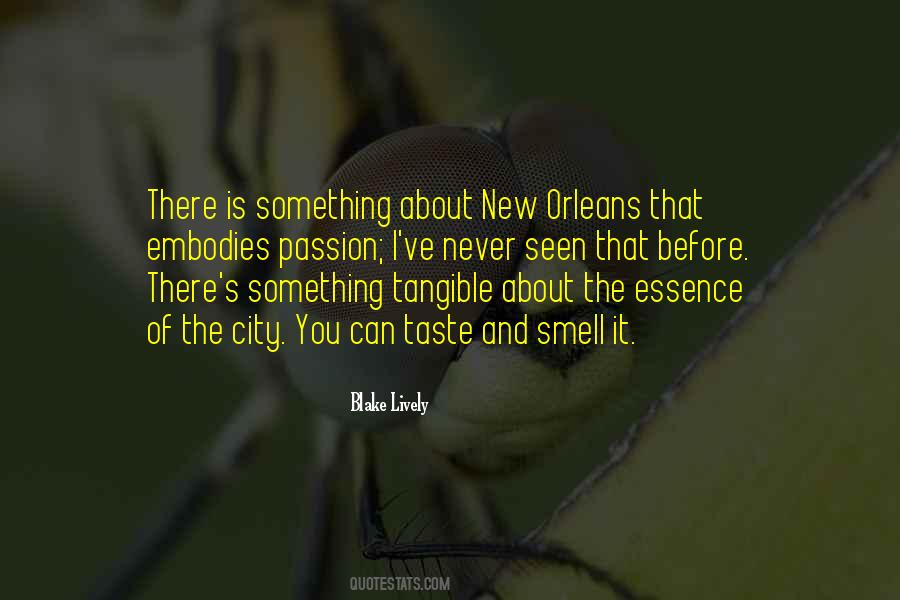 #9. The senses are a kind of reason. Taste, touch and smell, hearing and seeing, are not merely a means to sensation, enjoyable or otherwise, but they are also a means to knowledge - and are, indeed, your only actual means to knowledge. - Author: Joseph Campbell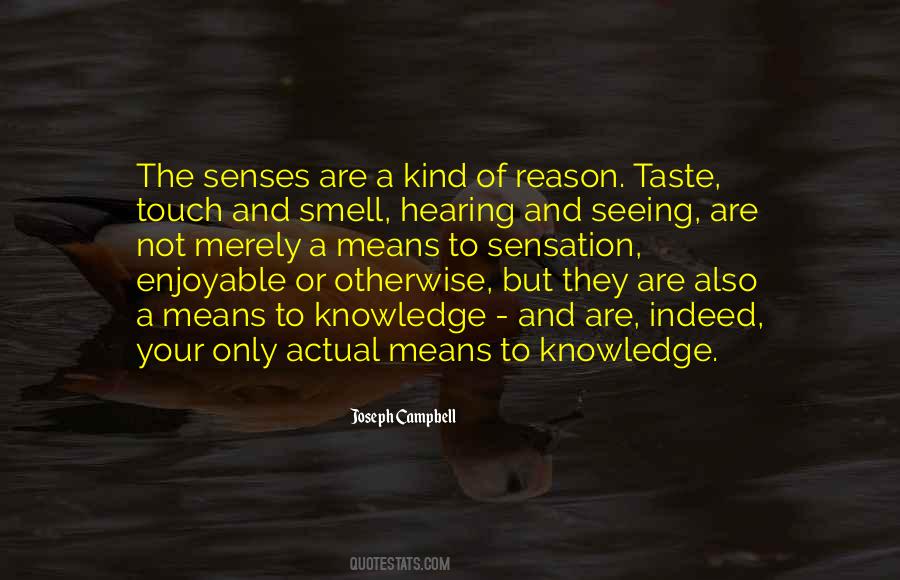 #10. What did Saturday's used to taste like? Like eggs and fried ham and the bitter smell of hair in heavy rollers. Like long quiet hours and making up after a fight. Like ointment and bruising. Like waiting, especially, for something - anything - to happen. - Author: Lauren Oliver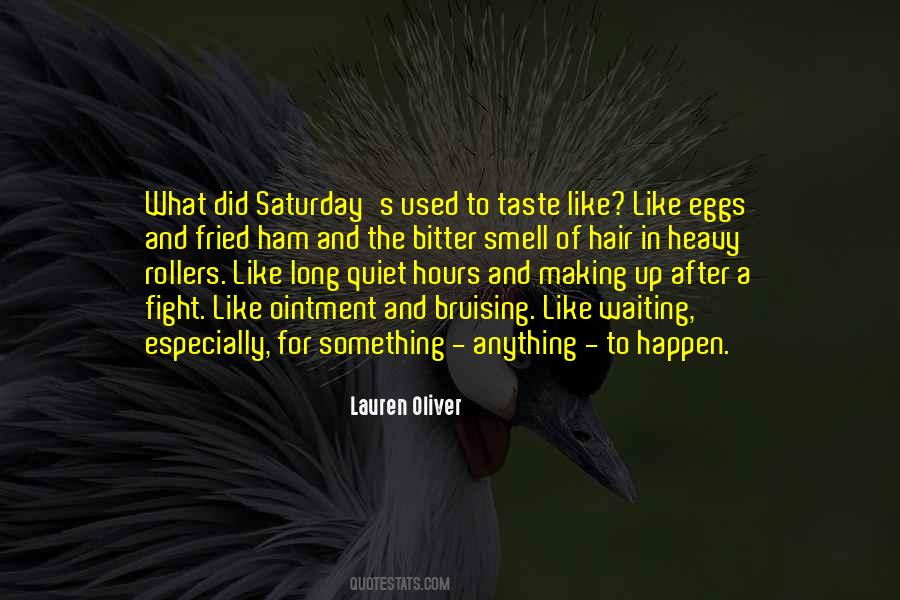 #11. I've been filming time lapse flowers continuously, 24 hours a day, 7 days a week, for 35 years. To watch them move is a dance I will never get tired of. Their sensual beauty immerses us with color, smell, taste and touch. - Author: Louis Schwartzberg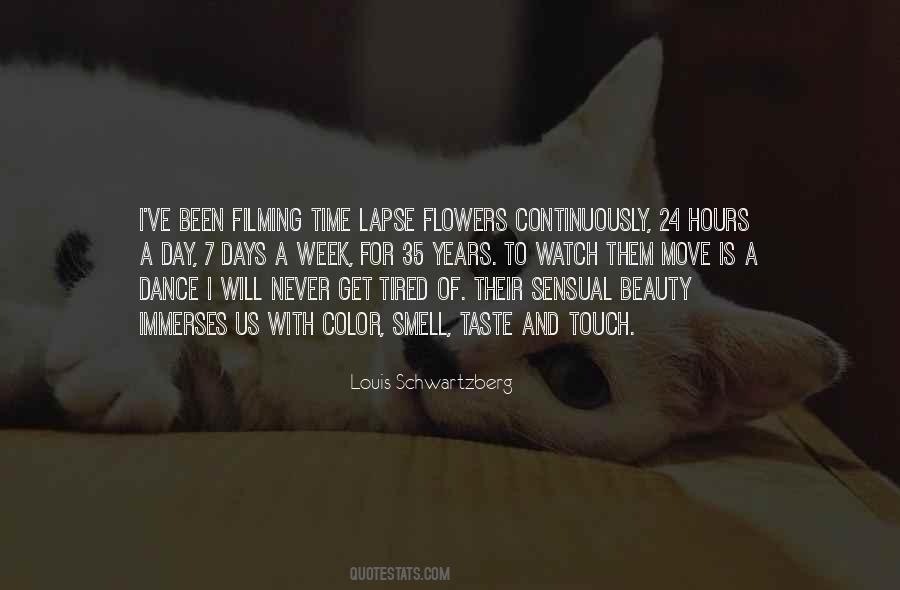 #12. I am grateful for the grace to see, to hear, to talk, to feel, to smell, to taste and to walk. - Author: Lailah Gifty Akita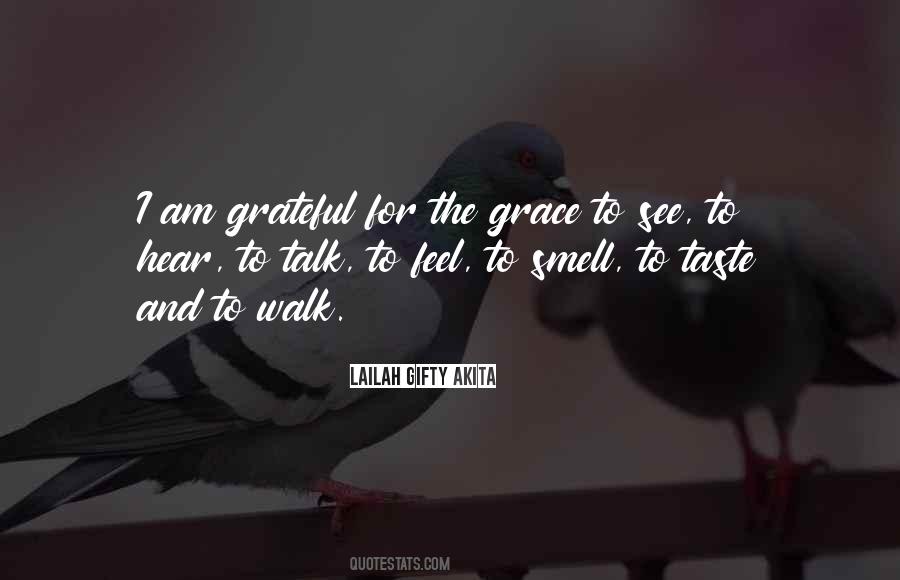 #13. In the boredom and pain of it no less than in the excitement and gladness: touch, taste, smell your way to the holy and hidden heart of it because in the last analysis all moments are key moments . . . - Author: Jeff Goins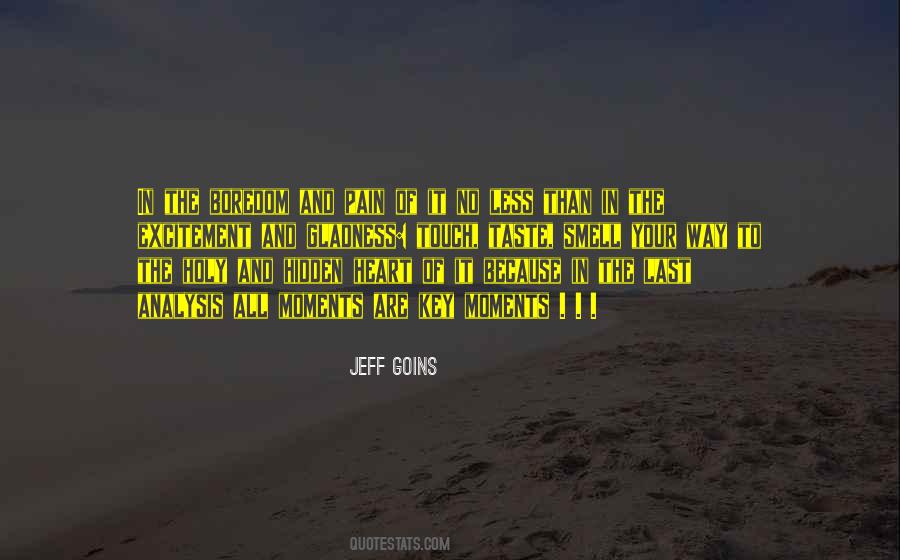 #14. Humbling as it may be, for all our vaunted brain power, humans emerge as nothing special in the sensory sweepstakes. Our senses of vision, hearing, smell, taste, and touch are middling, at best. - Author: Jonathan Balcombe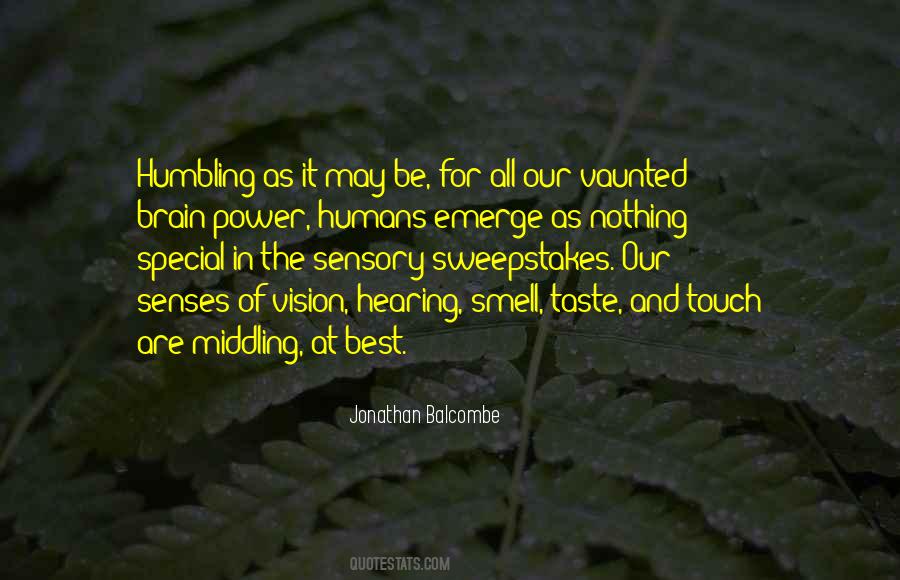 #15. I love my garlic press; in fact, it is probably my one true desert island gadget. But I'm happy to put it aside whenever the smell and sweet taste of slow-cooked garlic is called for. - Author: Yotam Ottolenghi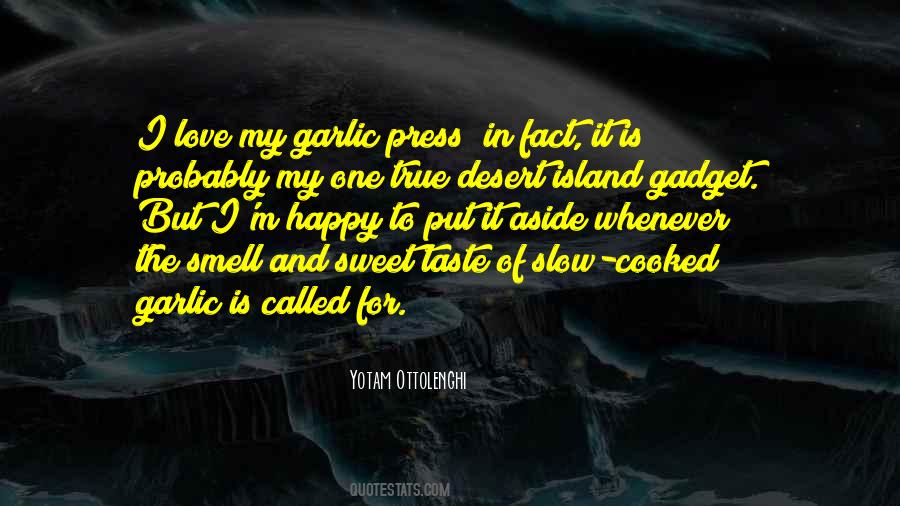 #16. Are you sure this isn't instant boots? asked Cordelia sadly, for in color, taste, and smell they closely resembled pulverized shoe leather pressed into wafers. - Author: Lois McMaster Bujold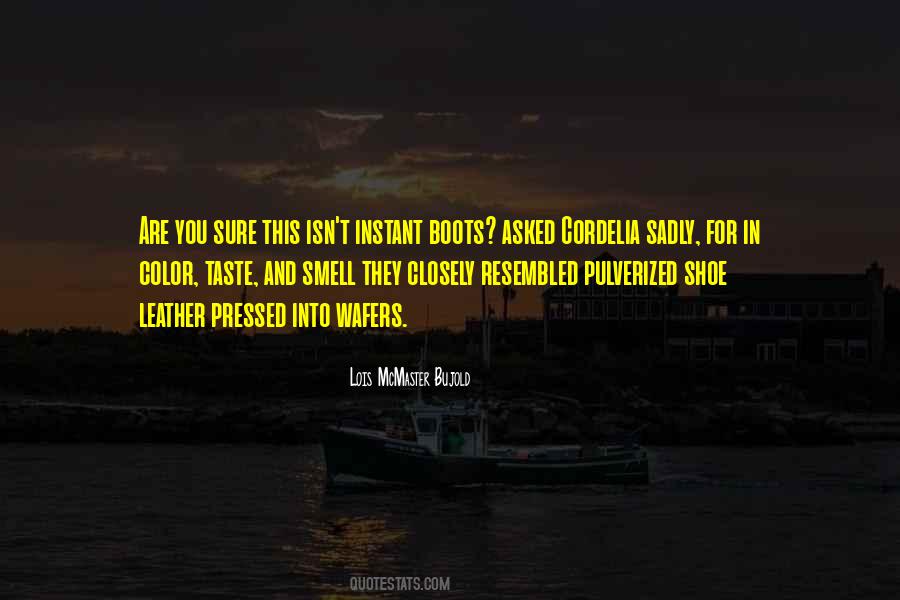 #17. A wet cigarette butt clung to my cheek like a mashed cockroach. I could smell whiskey and beer in my clothes and Gable's blood on my knuckles and I swore I could taste whiskey surging out of my stomach into my throat, like an old friend who has come back in a time of need. - Author: James Lee Burke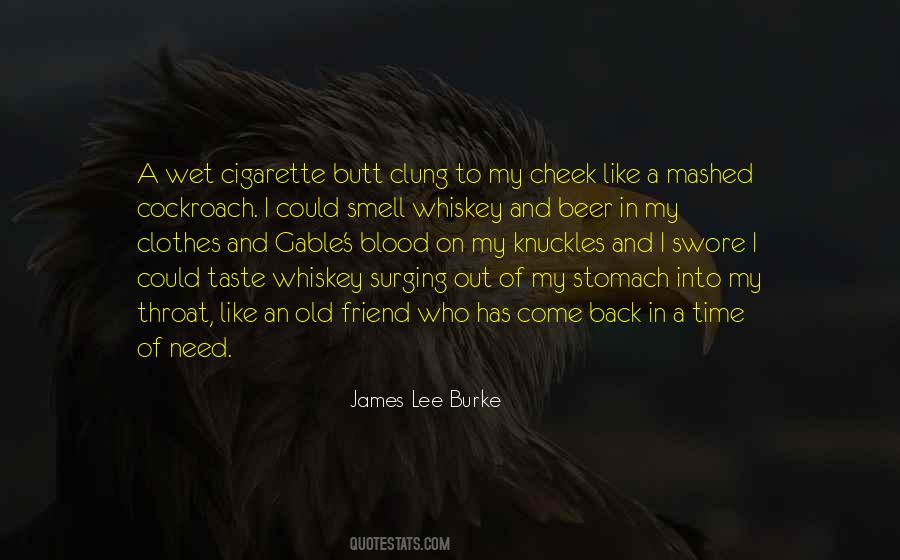 #18. I remember the feel and smell and taste of him. Heat and wood smoke and sunrise, but no longer. Cal smells like blood, his skin is ice, and I tell myself I don't want to taste him ever again. - Author: Victoria Aveyard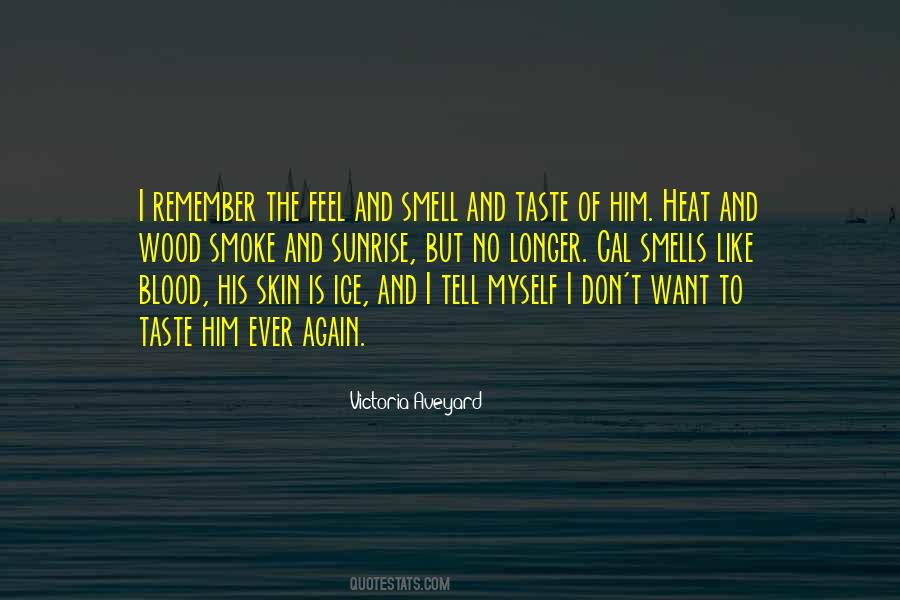 #19. I also urge you not to wash your hands, face or mouth in between cigarettes. Let the taste and smell stay with you, in your hair, your clothes, hands and face. - Author: Gudjon Bergmann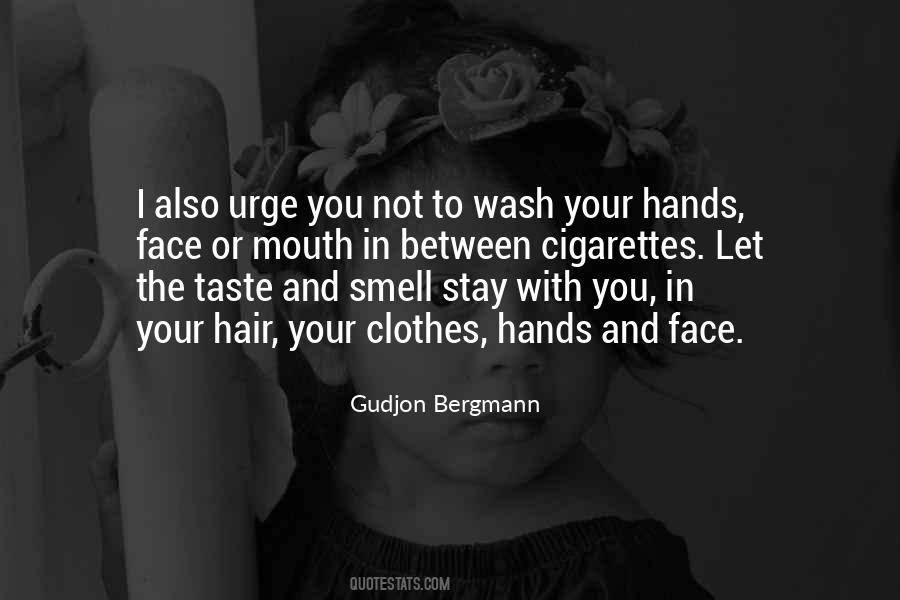 #20. We no longer pay attention to the clocks. Why should we? Noon is the taste of sawdust, and the feel of a splinter under a nail. Morning is mud and crumbling caulk. Evening is the smell of cooked tomatoes and mildew. And night is shivering, and the feel of mice sniffing around our skin. - Author: Lauren Oliver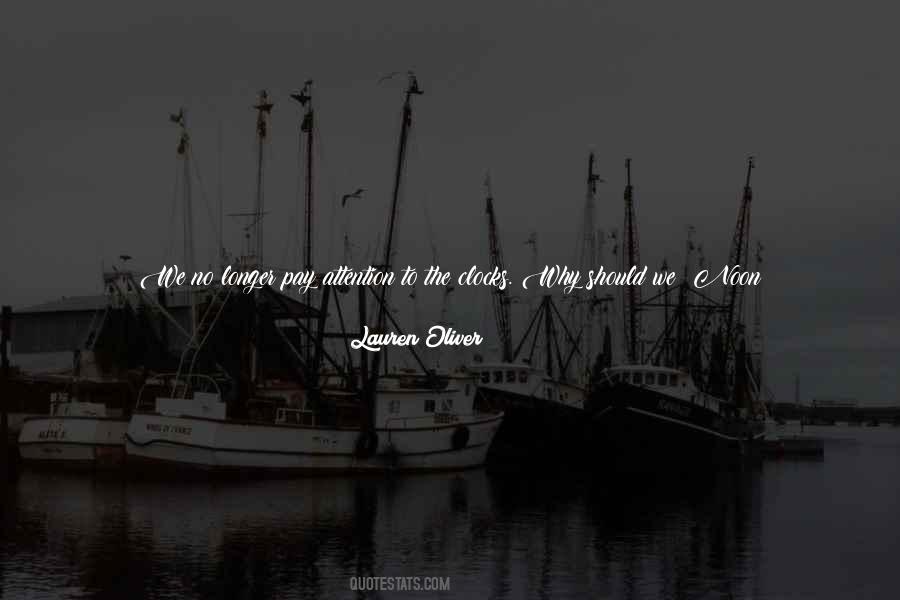 #21. When from a long distant past nothing subsists after the things are
broken and scattered, the smell and taste of things remain. - Author: Marcel Proust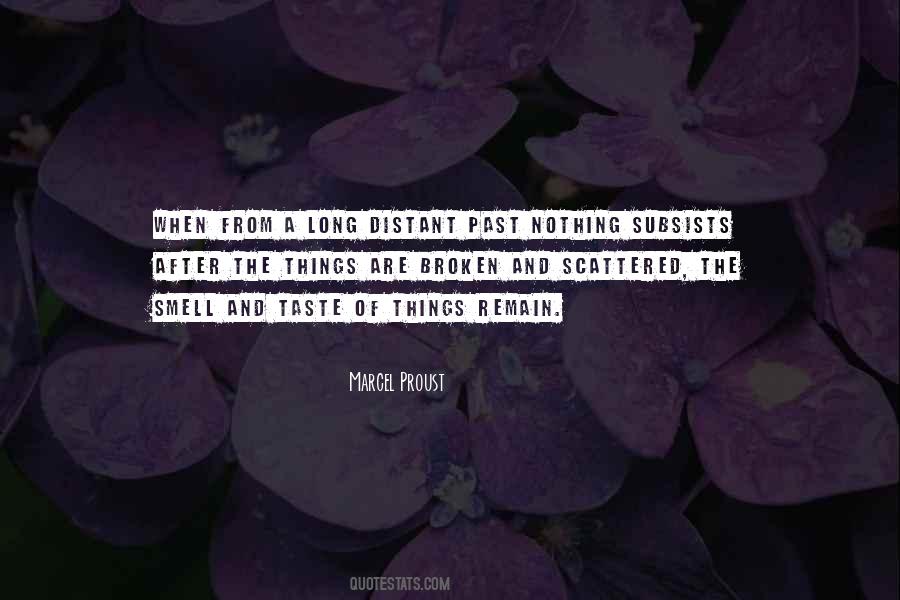 #22. Smell and taste are processed in parts of our brains that are reactive and emotional rather than intellectual, which is one reason developing a good vocabulary of aromas is so difficult. It's a long journey from our lizard brain way up to where language is processed. - Author: Randy Mosher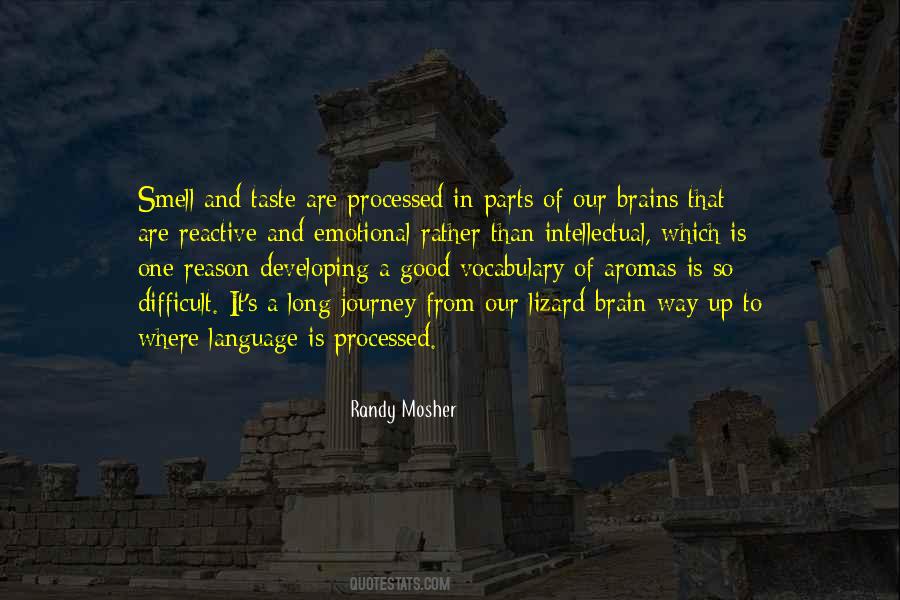 #23. Many races were mixed in her, and she was better than any of them taken separately. In looks, in smell, in taste. - Author: Vadim Babenko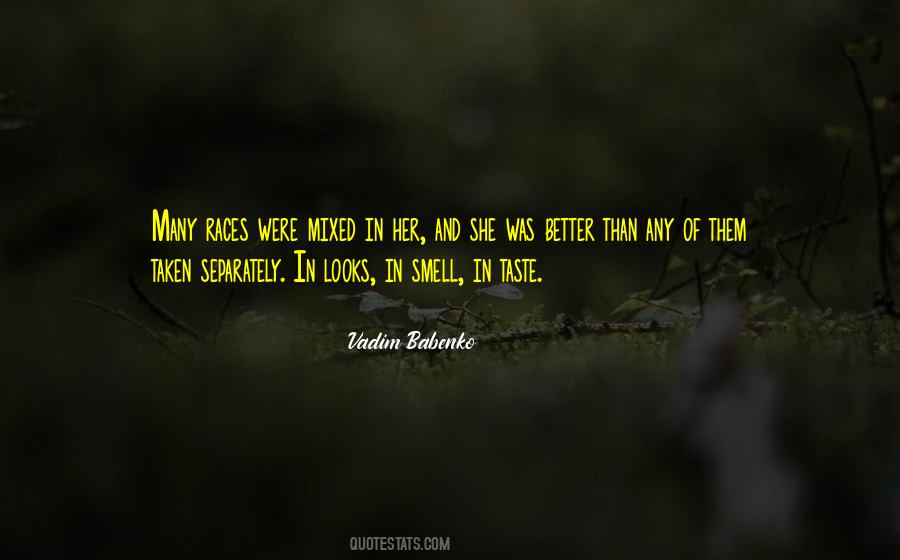 #24. Have you ever paused to be Grateful? For eyes to see, nose to smell, ears to hear, tongue to taste, hands to feel, head to think and heart to love?-RVM - Author: R.v.m.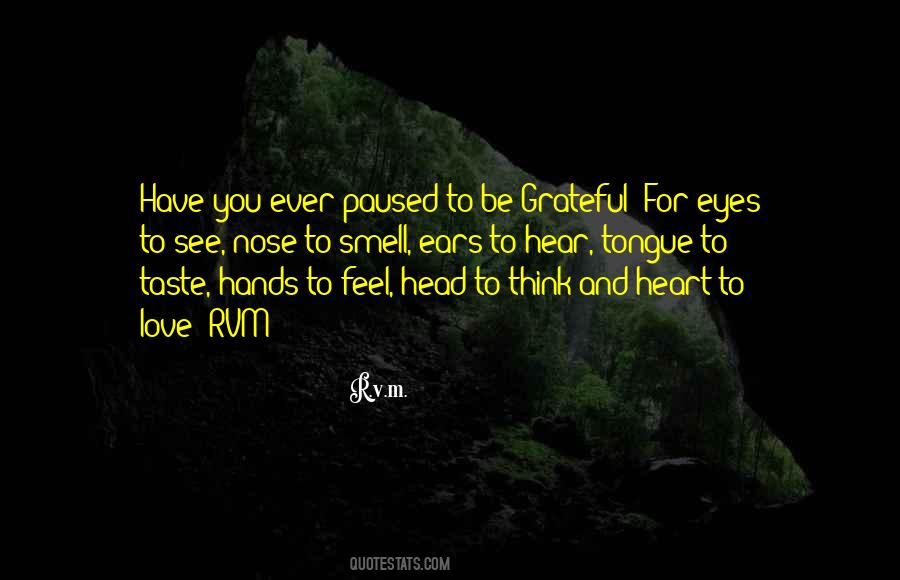 #25. Success is living up to your potential. That's all. Wake up with a smile and go after life ... Live it, enjoy it, taste it, smell it, feel it. - Author: Joe Kapp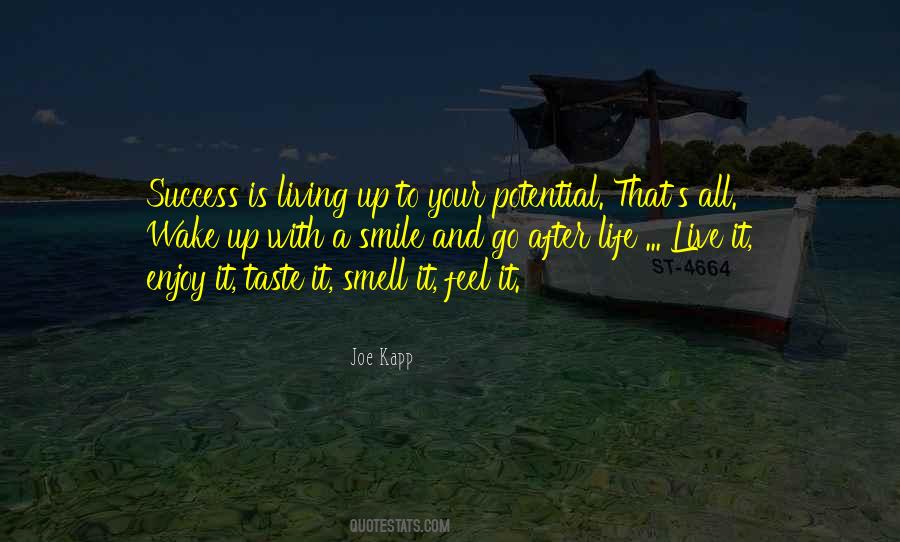 #26. I smell blood. I'm like a pit bull. Once I taste blood I'm on you .. and I'm about to taste blood. - Author: Torii Hunter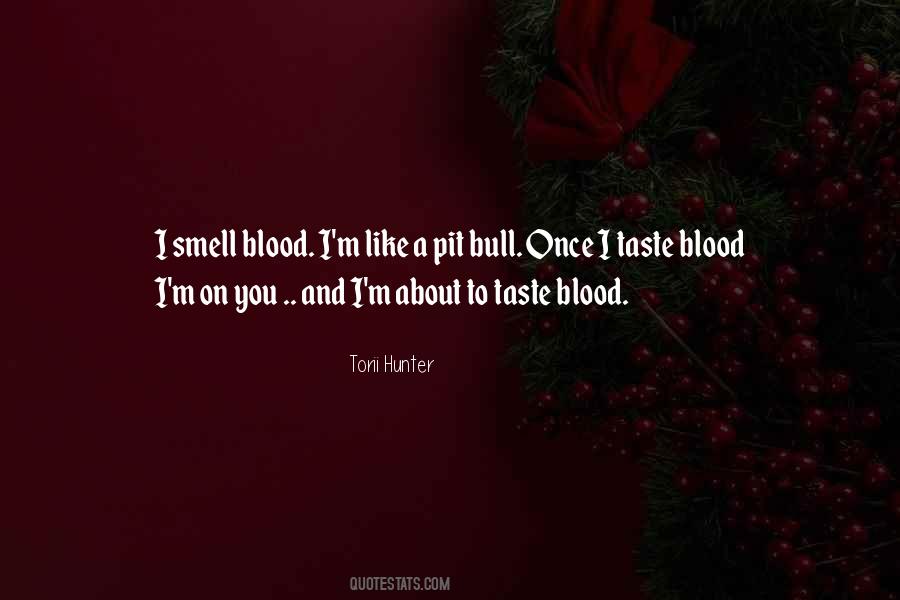 #27. The heart lies and the head plays tricks on us, but the eyes see true. Look with your eyes. Hear with your ears. Taste with your mouth. Smell with your nose. Feel with your skin. Then comes the thinking, afterward, and in a way knowing the truth. - Author: George R R Martin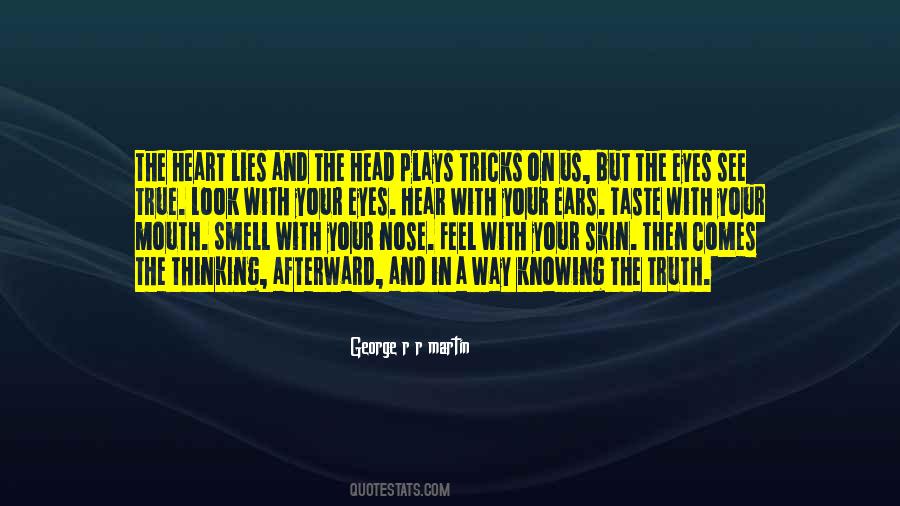 #28. I wonder whether the Christmas feeling has anything to do with the sixth sense. Perhaps we're a little more the angels at Christmas than we are during the rest of the year. And Christmas is about all the other senses. I can smell Christmas, I can taste Christmas, and I can see and hear it. - Author: Jostein Gaarder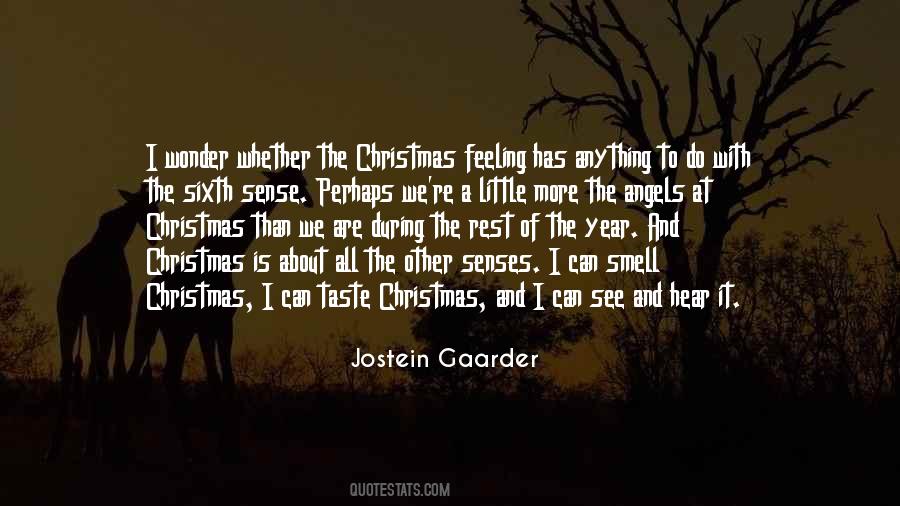 #29. I will pursue my passion of cooking every day until my hands fall off and I lose all sense of smell and taste. - Author: Nicole Trunfio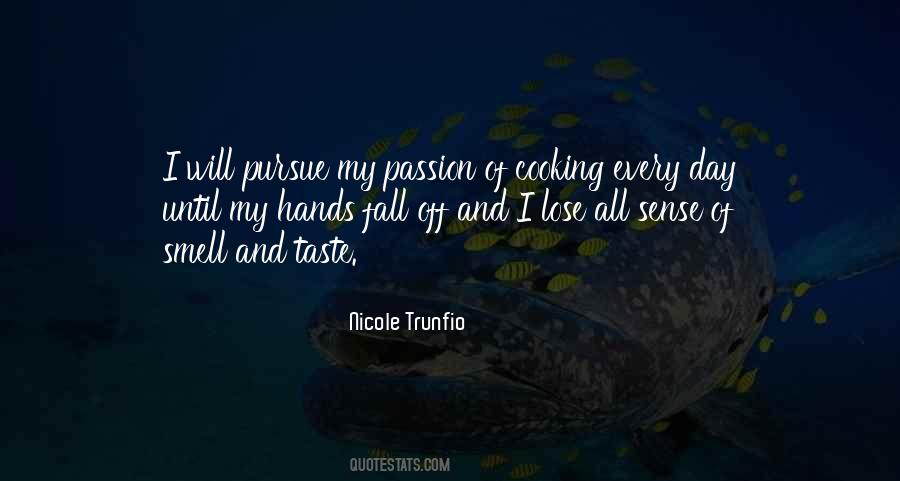 #30. On the third day, it hit me what he was doing. He was taking his time. Allowing me to chat with townsfolk, window shop, smell the flowers, taste the foods and drink in the landscape. He was giving me his world. - Author: Kristen Ashley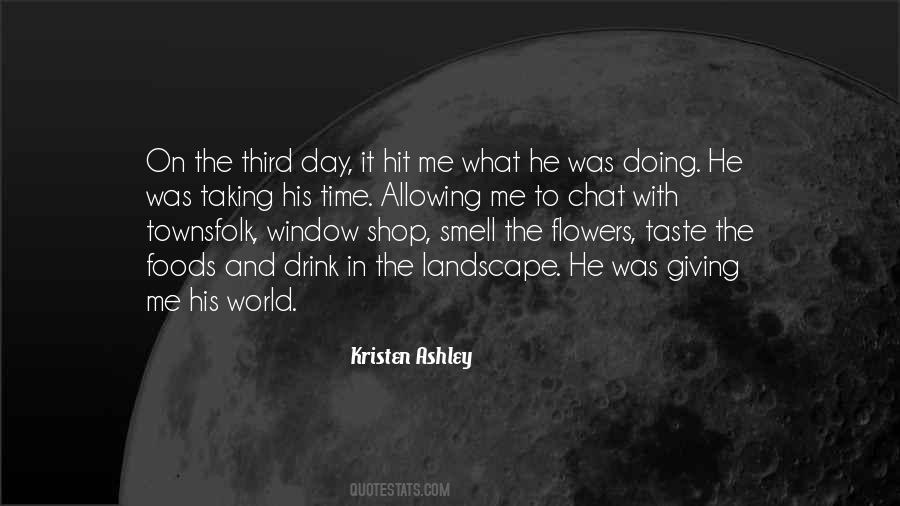 #31. You smell salty," he says. "Like the ocean." He leans closer to me and licks up the side of my face. "You taste salty too. Maybe I should grab a bottle of tequila and we should have some fun." He moves his eyebrows up and down. "What do you say? We'll do some shots and I'll lick you all over. - Author: Jillian Dodd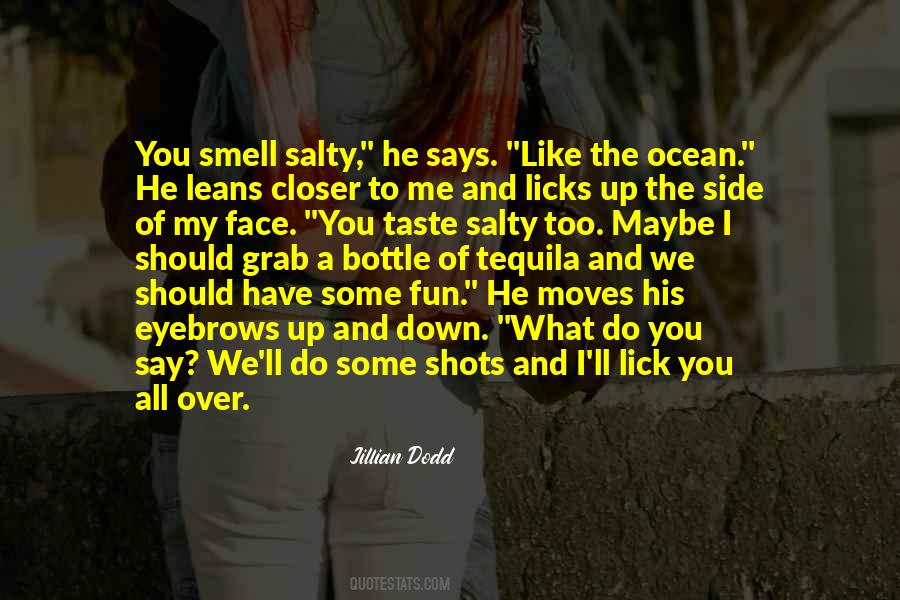 #32. With food, you're the artist; you put the colour in it, you present it to the table and it has the ability to knock out the senses. It can look fabulous, be beautifully presented and smell great and taste good as well. - Author: Anthony Warlow
#33. There are four Powers: memory and intellect, desire and covetousness. The two first are mental and the others sensual. The three senses: sight, hearing and smell cannot well be prevented; touch and taste not at all. - Author: Leonardo Da Vinci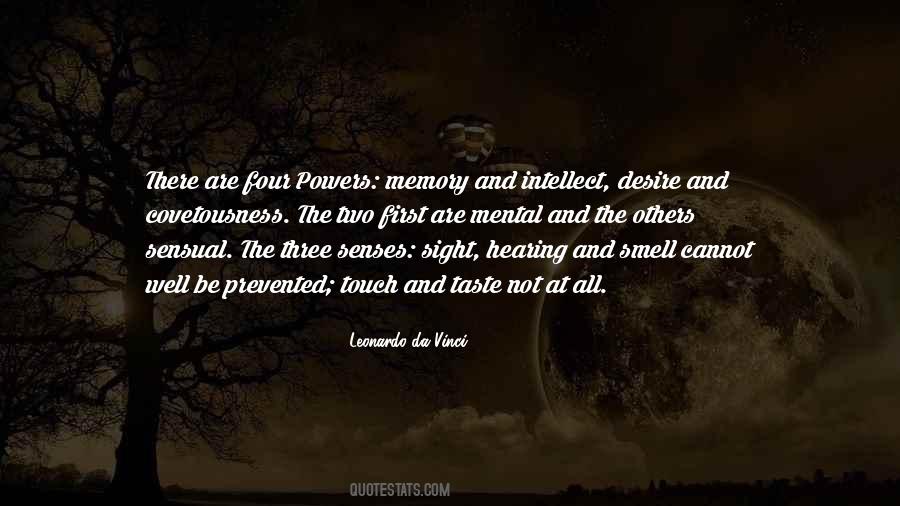 #34. In silence, our senses come alive...
We see the beauty around us more clearly, learn to listen to the language of silence, touch and smell the earth so pure and taste the sweetness of the air we breathe. - Author: Margo Vader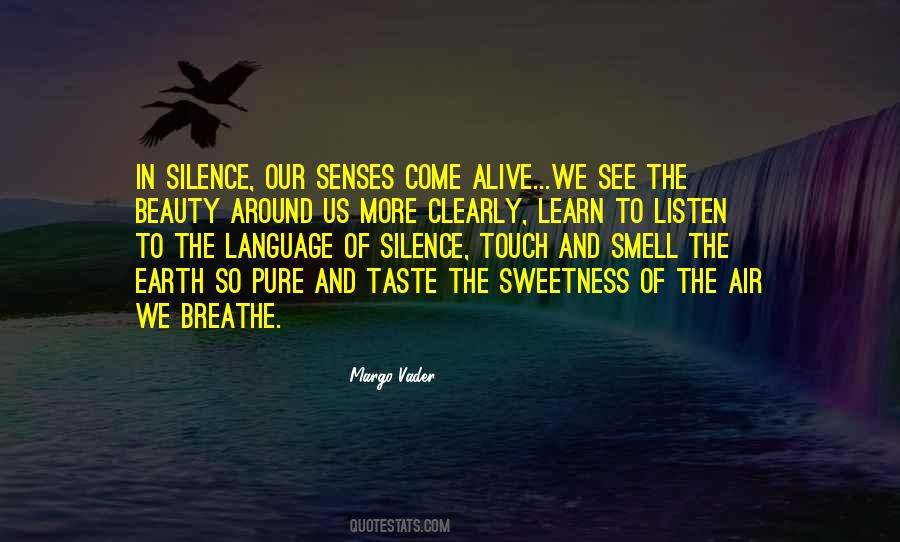 #35. If 'seeing is believing' what happened to taste, touch, sound and smell ? Did our creator really intend to favour sight over the other senses ? I don't believe so. - Author: Alex Morritt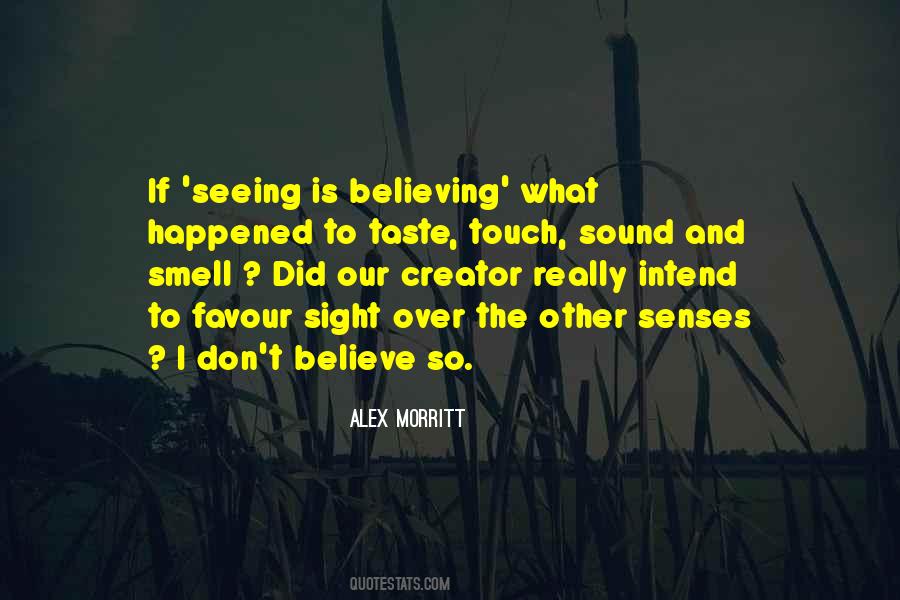 #36. I keep going back as if I'm looking for something I have lost. Back to the motherland, sisterland, fatherland. Back to the beacon, the breast, the smell and taste of the breeze, and the singing of the rain. - Author: Heather Nova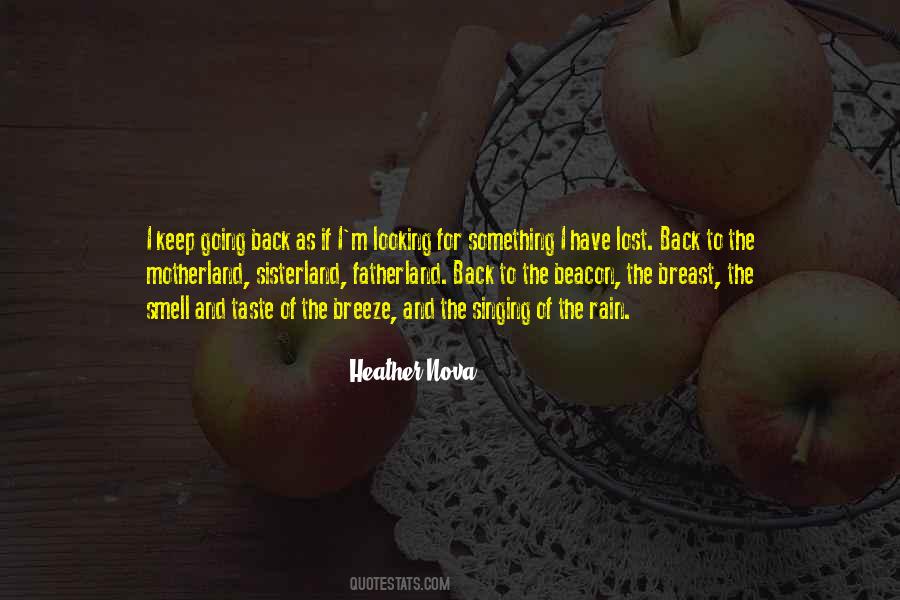 #37. He'd kissed her, and she'd been poleaxed, frozen in place, because his mouth had felt like coming home. The taste of him, the smell of him, the sound of his breath-the slow slide of his tongue over and around and down the lenght of hers, it had all said, Here's your place,girl,here with me. - Author: Tara Janzen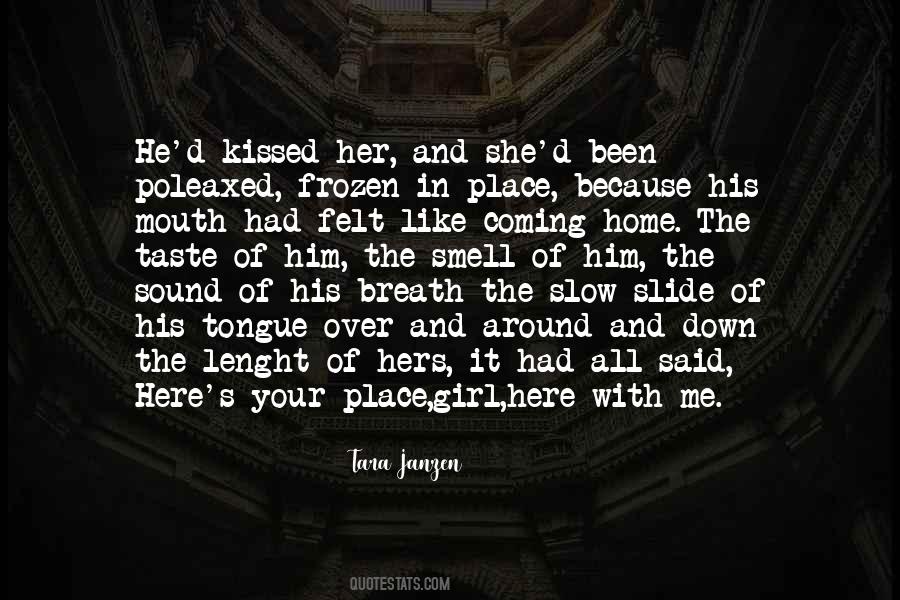 #38. I imagine a child. That child is me. I can reconstruct and vividly remember portions of my own childhood. I can see, taste, smell, feel, and hear them. Then what I do is, not write about that kid or about his world, but start to think of a book that would have pleased him. - Author: Daniel Pinkwater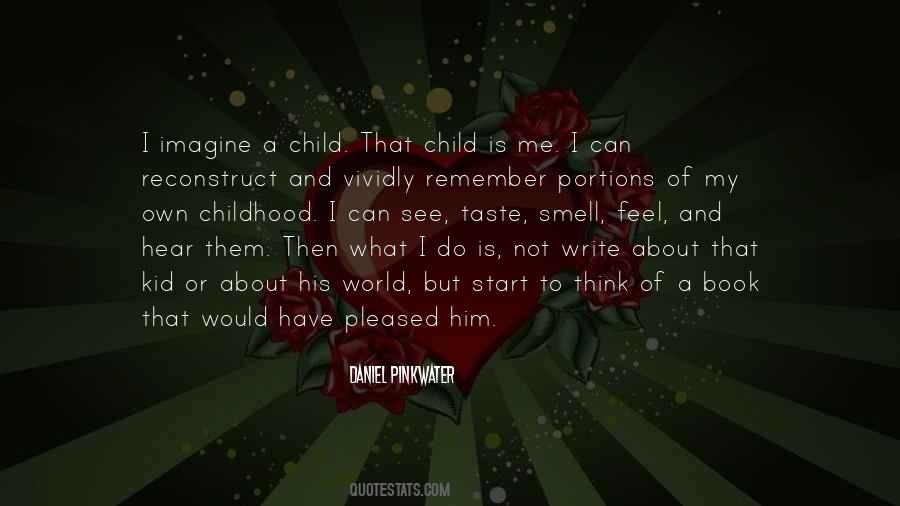 #39. These three things:the smell of Shepelevo, the smell of the Metro and the taste of creme brulee ice cream. The essence of my childhood in Russia. - Author: Paullina Simons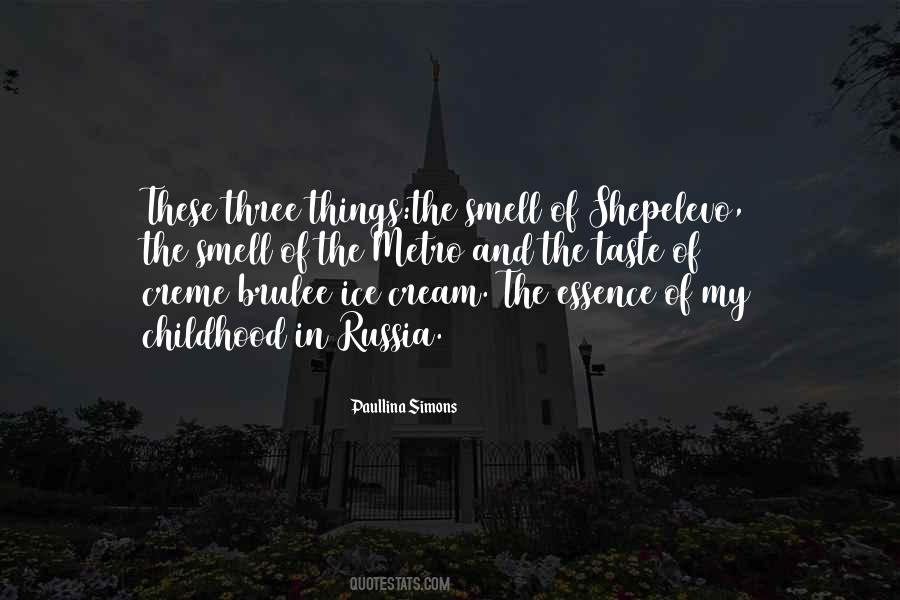 #40. The taste of good coffee, so deep and complex that it was almost a crime to describe it by a single name. The sound of rain falling on the pavement, the smell of petrichor and moistened loam. The color of a single raven's feather in the sunlight, rainbows caught in ebony - ========== - Author: Anonymous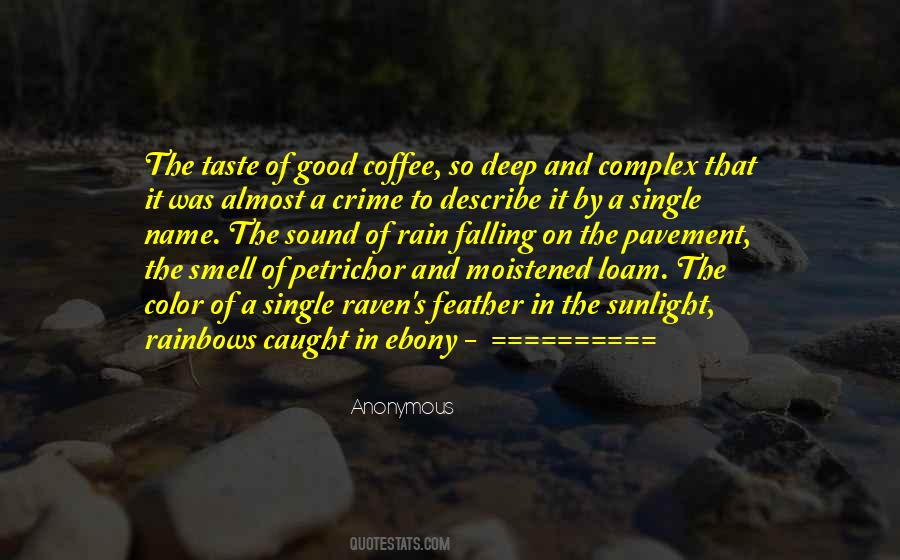 #41. One might trouble one's dainty snout with a whiff of the taleggio displayed in an artisanal cheese shop, or take a saucer of jasmine tea and a knuckle of fennel-scented snuff at a counter of buffed Big Nothing granite. But there was a want in these ladies yet, and it was for the rude life of youth. - Author: Kevin Barry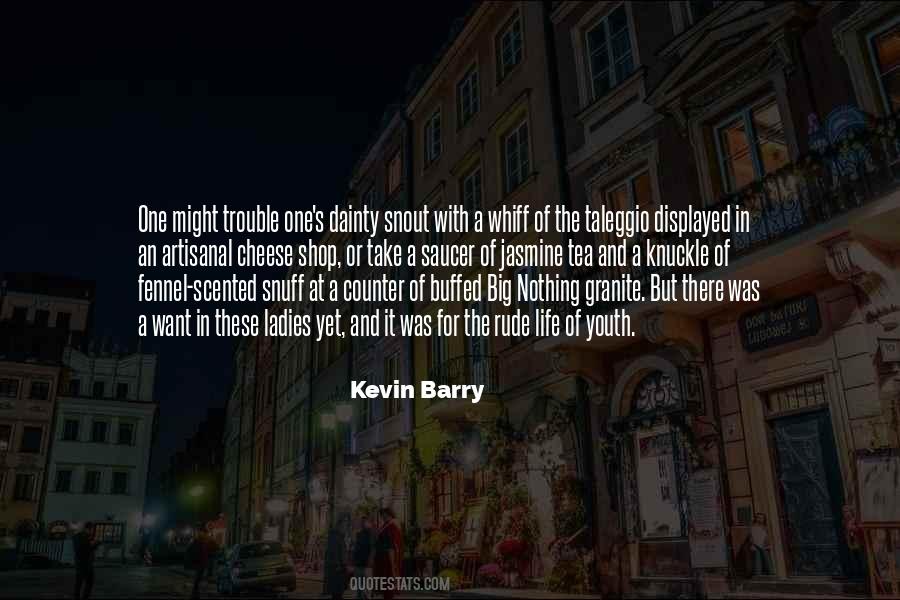 #42. Wow," he said after their lips parted. Her taste still haunted his mouth, and the smell of her perfume lingered in his nostrils. "I guess I'll have to get in fights more often. - Author: Joe DeRouen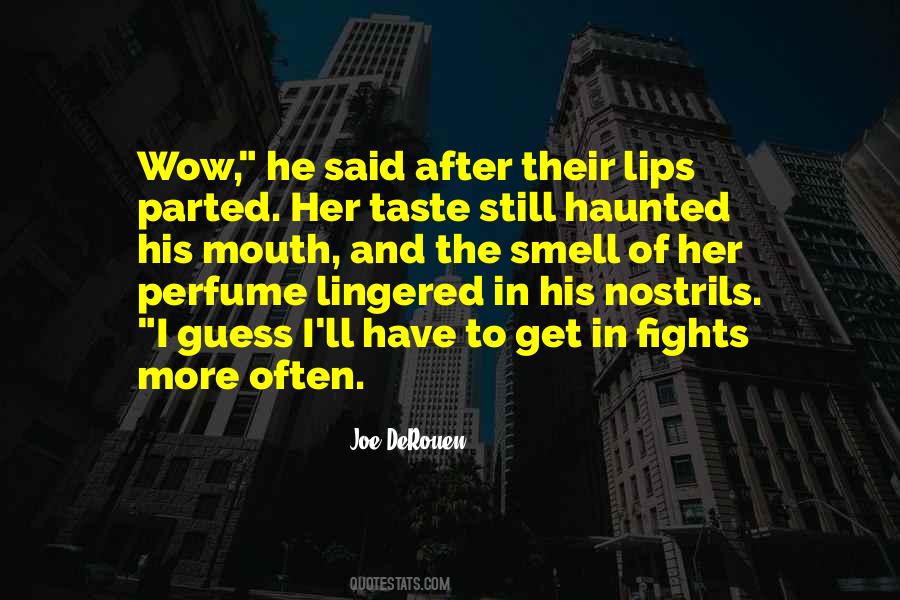 #43. Summertime in the french countryside is the smell of ripening fig trees and the taste of wild blackberries. - Author: Vicki Archer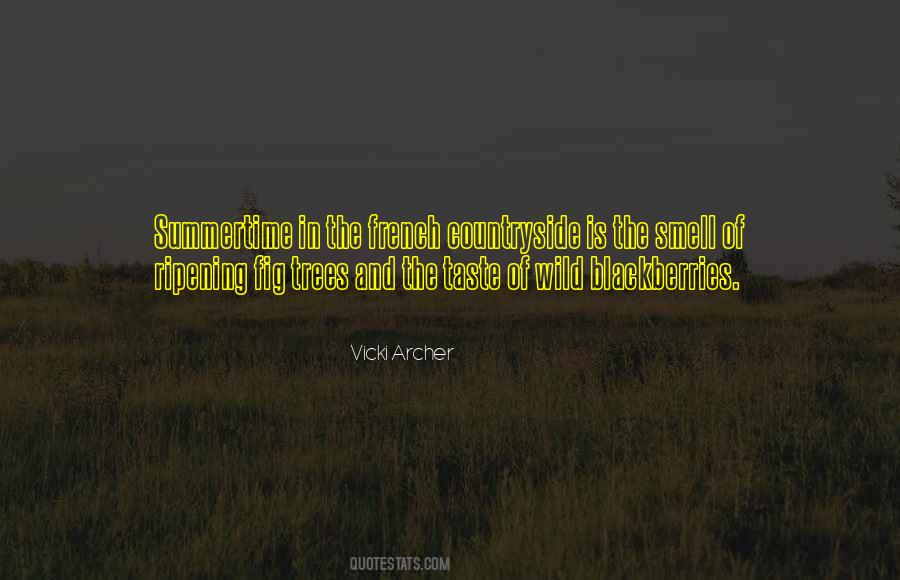 #44. Listen to your life. See it for the fathomless mystery it is. In the boredom and pain of it, no less than in the excitement and gladness: touch, taste, smell your way to the holy and hidden heart of it, because in the last analysis all moments are key moments, and life itself is grace. - Author: Frederick Buechner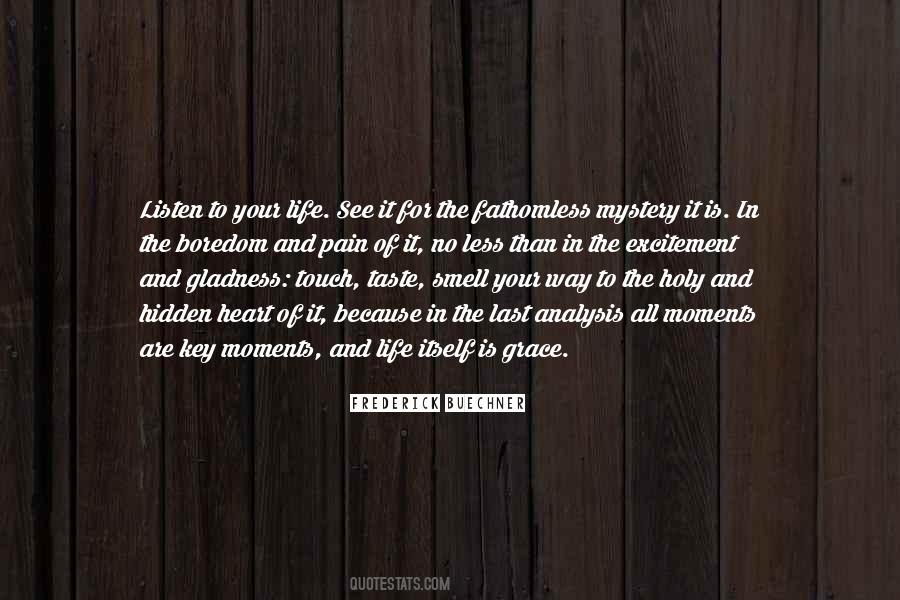 #45. Your world is all these elements. Of light and sound, of taste, smell, and touch, woven together in many dimensions on the fabulous loom of your brain. Your brain; the most complicated thing in the world, which you yourself grew ... without even thinking about it. - Author: Alan Watts
#46. Coffee it is best to buy by the bag, as it improves by keeping. Let it hang in the bag, in a dry place, and it loses its rank smell and taste. - Author: Catharine Beecher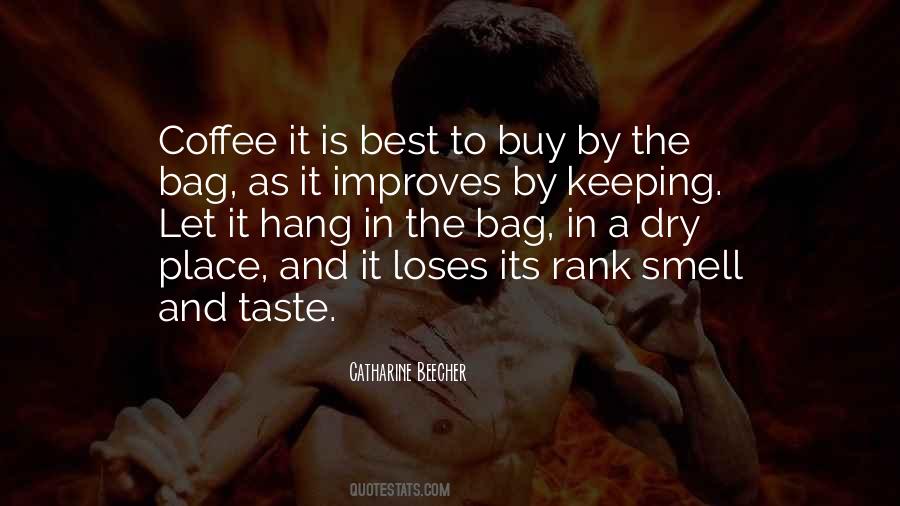 #47. A religion that teaches you God is something outside the world
something separate from everything you see, smell, taste, touch, and hear
is nothing but a cheap hustle. - Author: Matthew Woodring Stover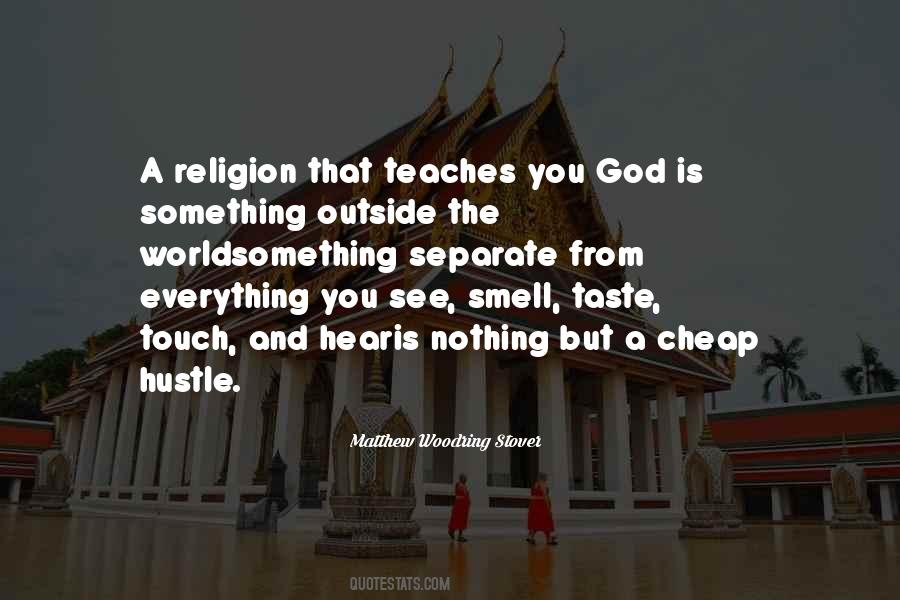 #48. If you can see it, hear it, feel it, taste it, touch it, or smell it, you can be present with it. It is of the present moment, and so it brings to you the opportunity to be present with it. - Author: Leonard Jacobson
#49. He closed his eyes and allowed himself to remember the taste of her and the feel of her and the smell of her. She was quite lovely. She was altogether ravishing. She would set any man's blood on fire. He shouldn't have kissed her. - Author: Marguerite Kaye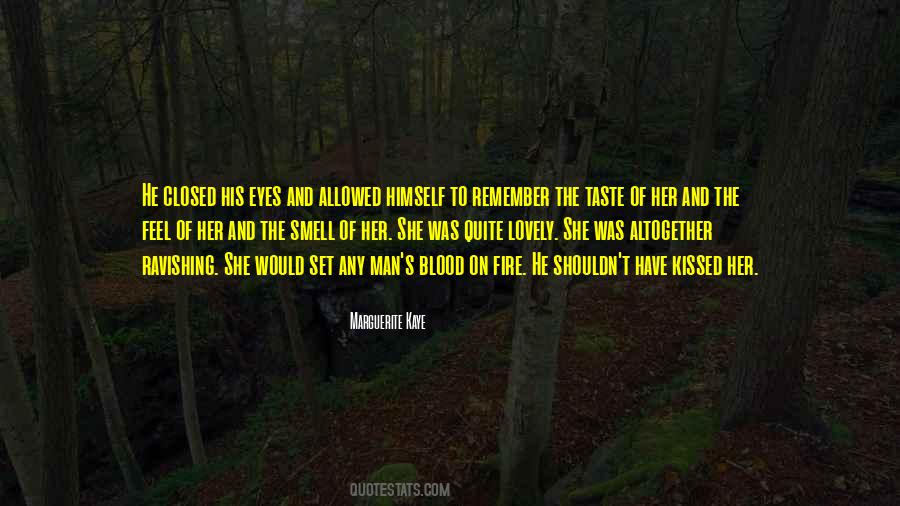 #50. Food for her was as much about colour, smell and presentation as taste: the experience of eating should start in the eye and the nose and then erupt in the imagination. Chewing and tasting were the climax to a sensual experience. On - Author: Hannah Mary Rothschild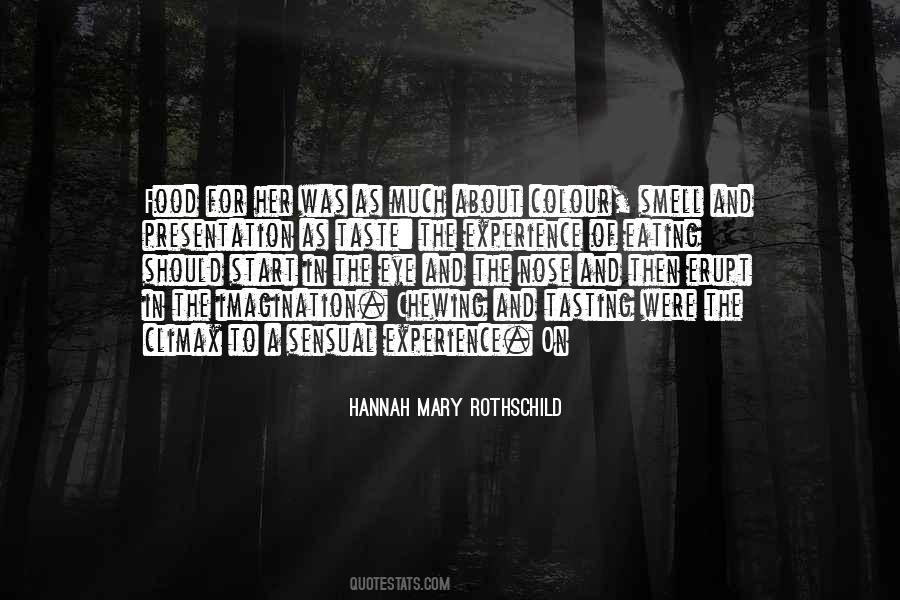 #51. It was as if I were powerless to resist the temptation; my senses were overcome. I could hear the emptiness, and taste the silence, and smell the solitude, and I wanted it more than I have ever wanted anything before. - Author: Nick Hornby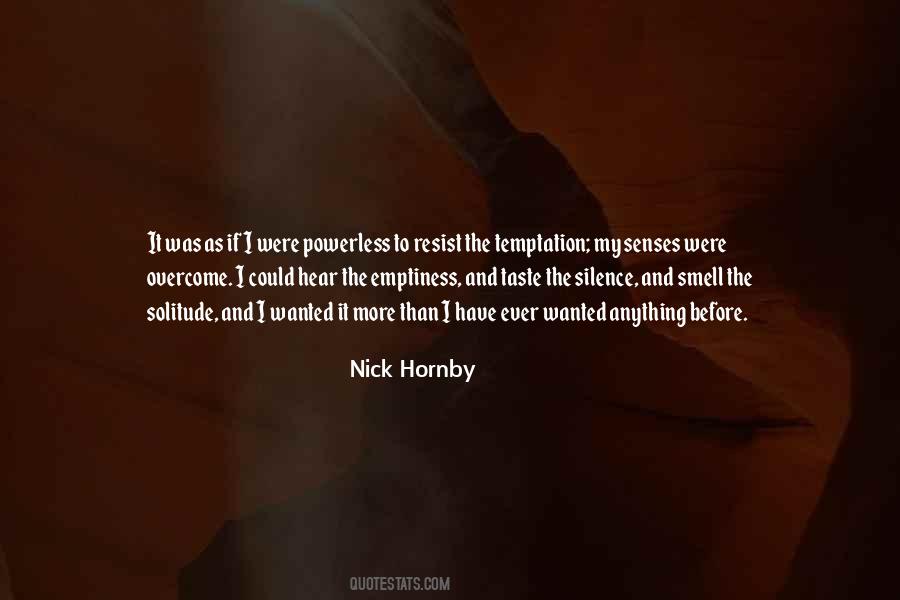 #52. Their encounter confirmed what he had been unwilling to admit. Charlotte didn't taste, smell, or feel like any other woman he had ever known. She wasn't like any other woman and never would be. And he would never be satisfied with another woman now that he'd touched her.

Sebastian - Author: Ally Broadfield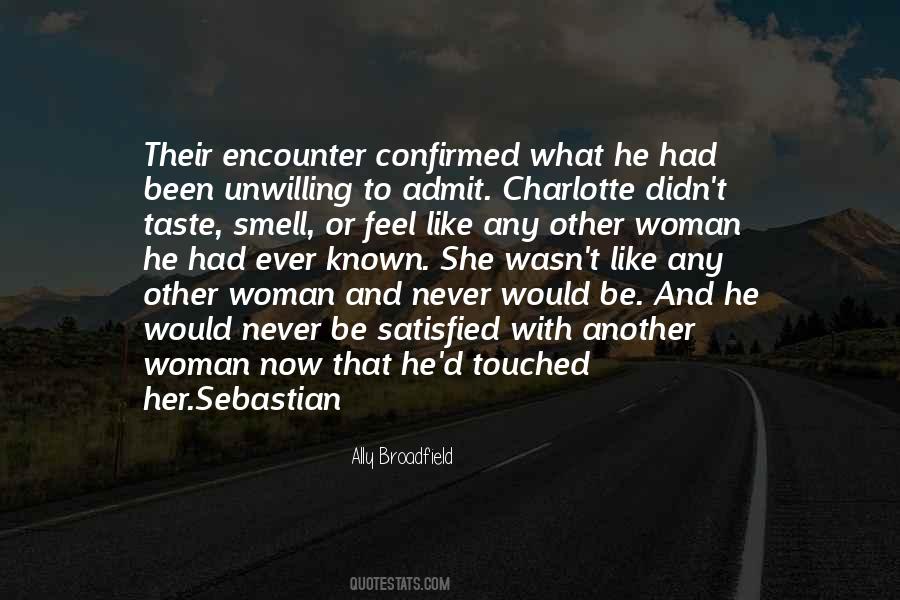 #53. Success is perceptible we can touch it,smell it and taste it. - Author: Mohammed Sekouty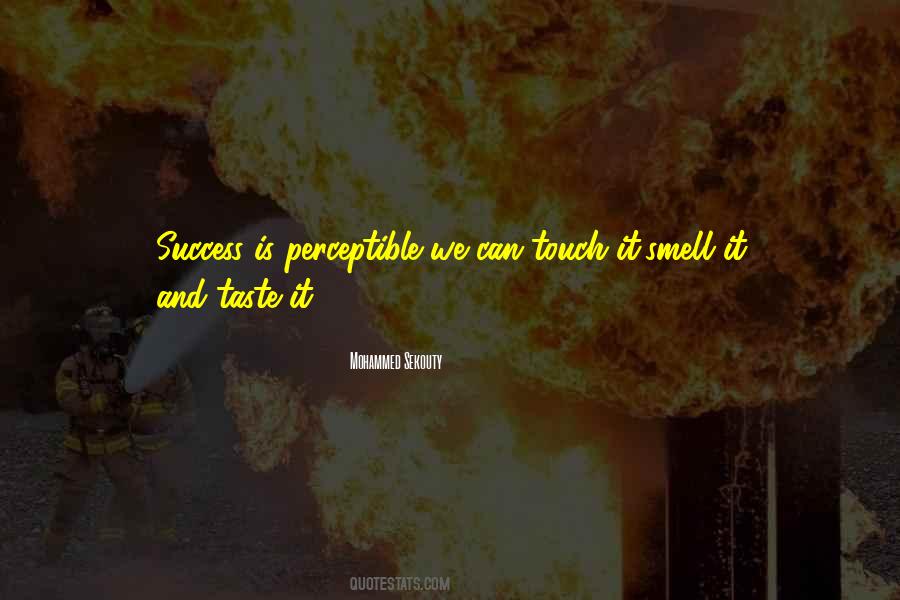 #54. This day will never come again and anyone who fails to eat and drink and taste and smell it will never have it offered to him again in all eternity. The sun will never shine as it does today ... But you must play your part and sing a song, one of your best. - Author: Hermann Hesse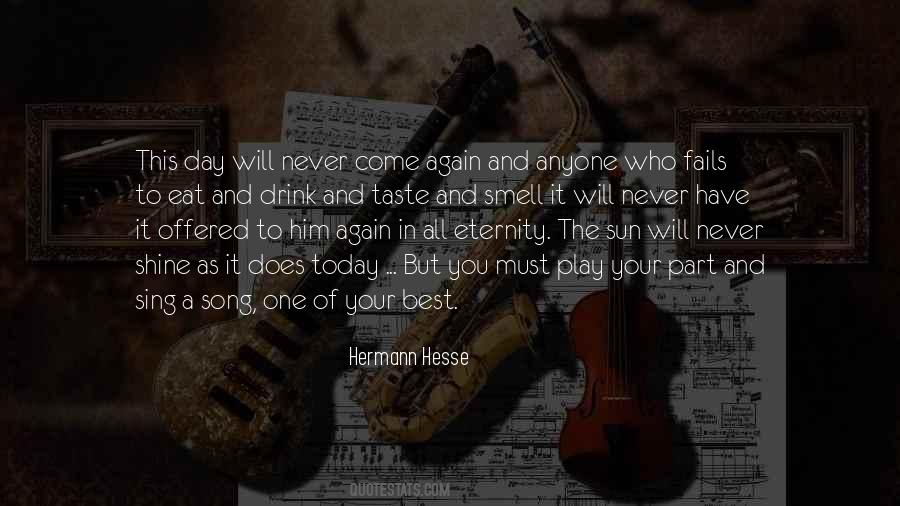 #55. We learn nothing of very much importance when it can be explained entirely in terms of past experience. If it were possible to understand all things in terms of what we know already, we could convey the sense of color to a blind man with nothing but sound, taste, touch, and smell. - Author: Alan W. Watts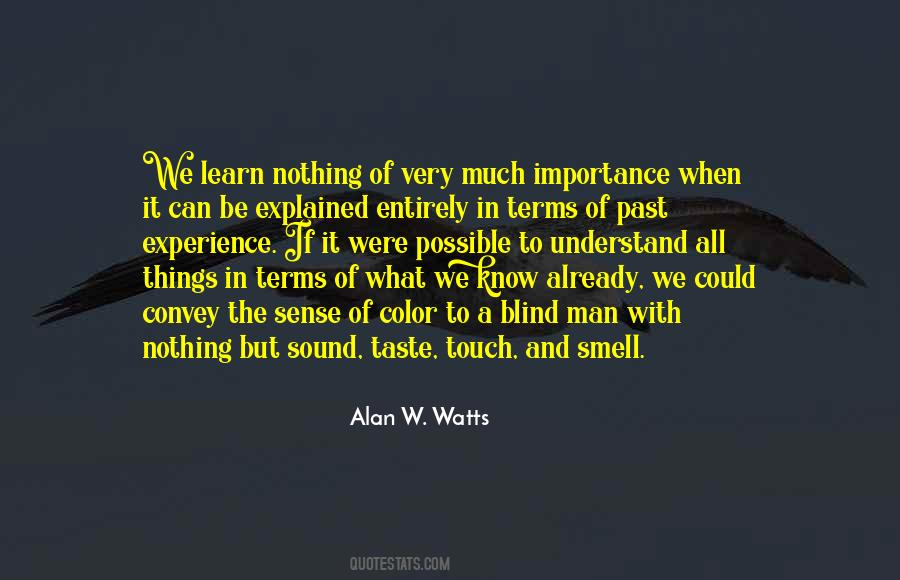 #56. We can taste what's in our mouths, touch what's within our reach, smell within hundreds of metres and hear within tens of miles. But it's only through our vision that we are in communication with the sun and stars. - Author: Gavin Francis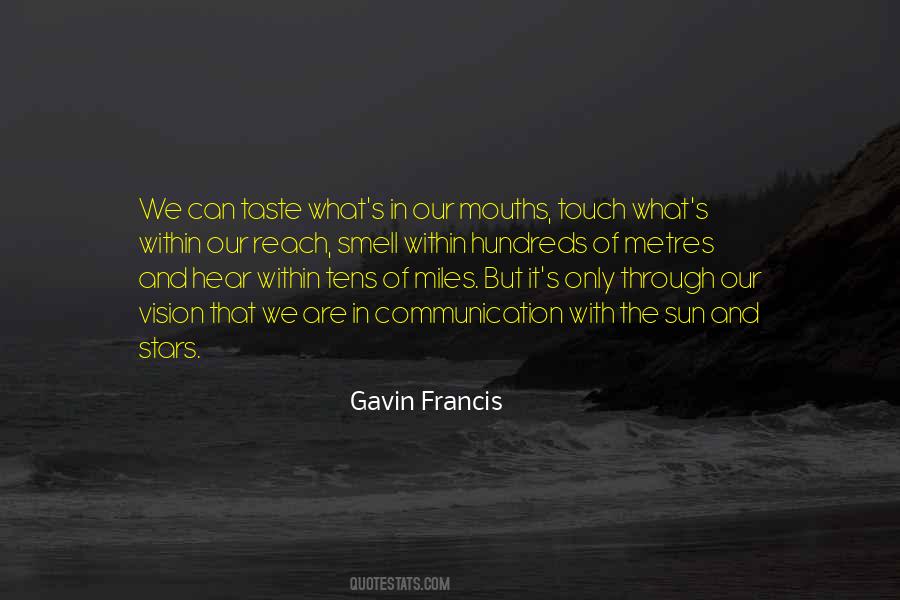 #57. Platitudes are poor substitutes for emotions, this negative space hollowed out and without words. I know the shape of you and it has no name. I know the sound of you and the smell of you and the touch and sight and taste of you. But language departed the same day you did, leaving my mouth empty. - Author: Tania De Rozario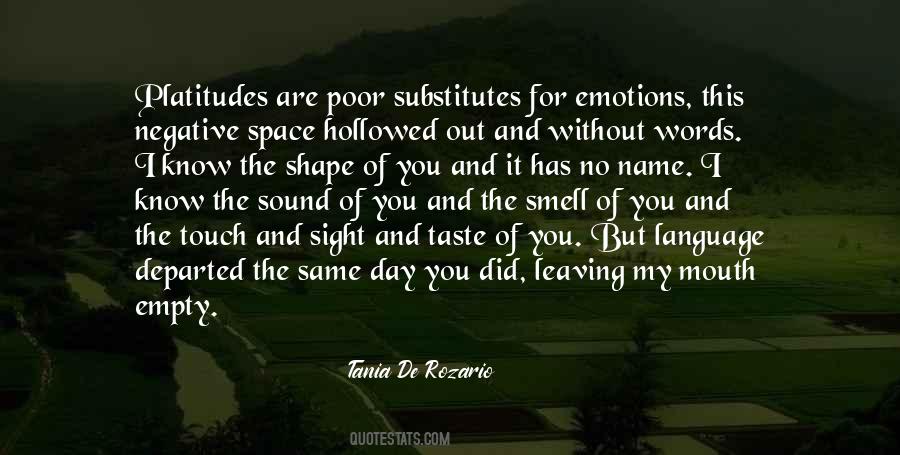 #58. Flavor is, counterintuitively, less than 10% taste and more than 90% smell. - Author: Timothy Ferriss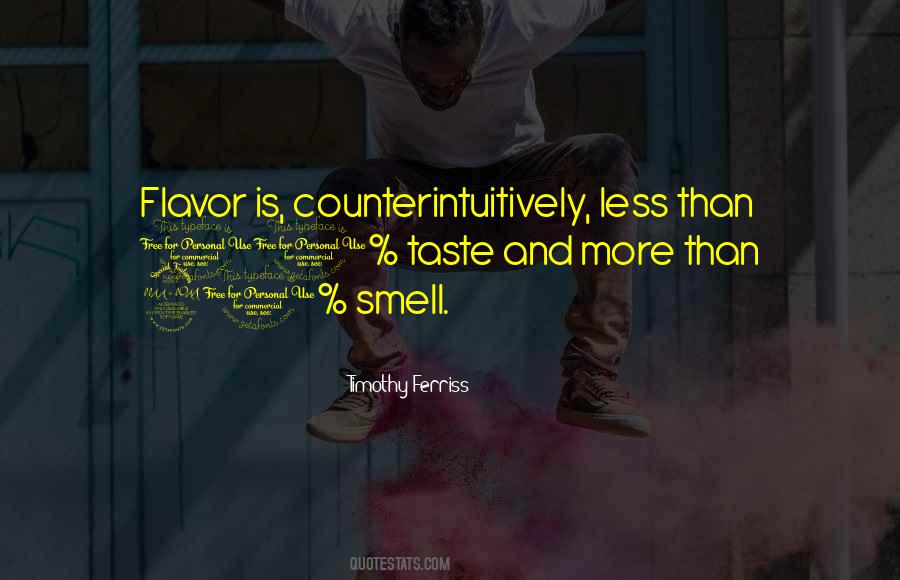 #59. My fingers smell like soil and my lips taste like sugar and I'm so awake right now I wonder if I'll be able to sleep tonight. - Author: Ally Condie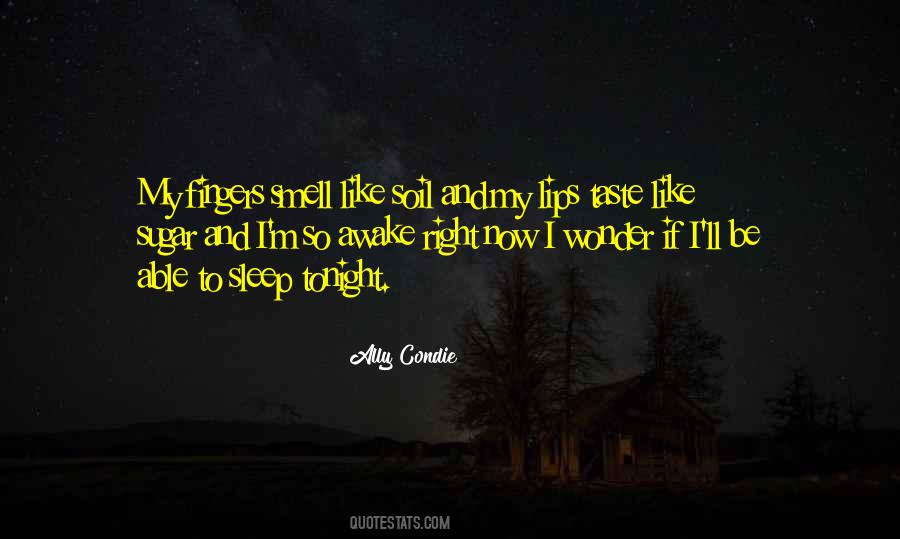 #60. First you have nothing, and then, astonishingly, after ripping out your brain and your heart and betraying your friends and ex-lovers and dreaming like a zombie over the page till you can't see or hear or smell or taste, you have something. - Author: T.C. Boyle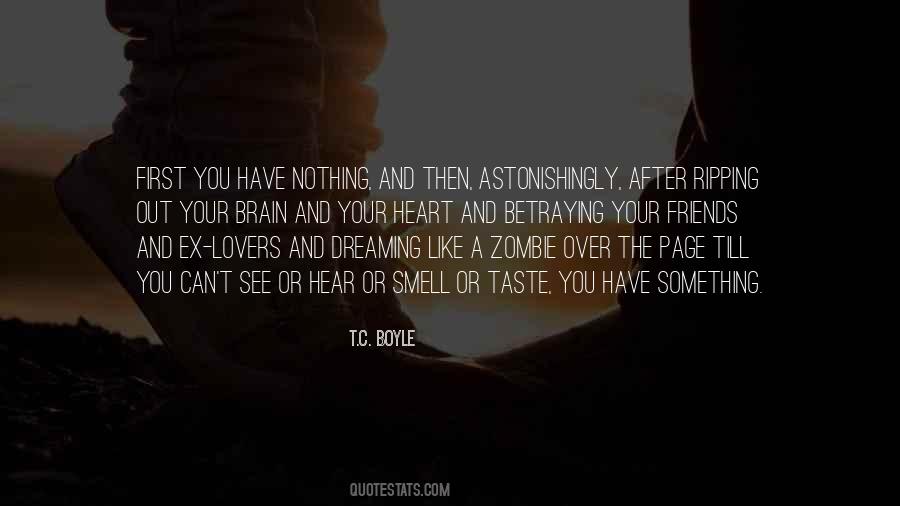 #61. Opening your eyes is all that is needing. The heart lies and the head plays tricks with us, but the eyes see true. Look with your eyes. Hear with your ears. Taste with your mouth. Smell with your nose. Feel with your skin. Then comes the thinking, afterward, and in that way knowing the truth. - Author: George R R Martin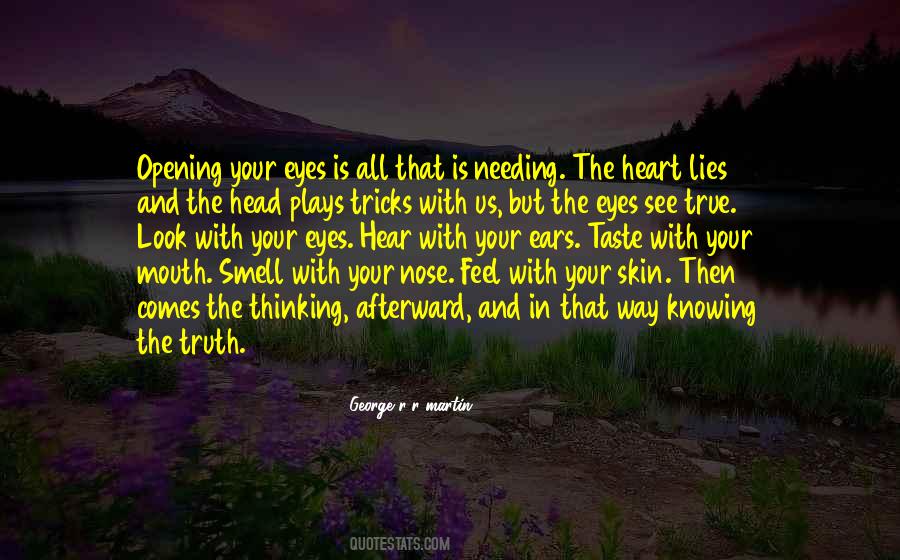 #62. My style can't be held within a pixel medium. Like, it needs to be performed in a living, breathing space. People need to have all their senses ready to take on my comedy, and unfortunately, TV alienates at least their sense of touch, taste, smell. - Author: Kristen Schaal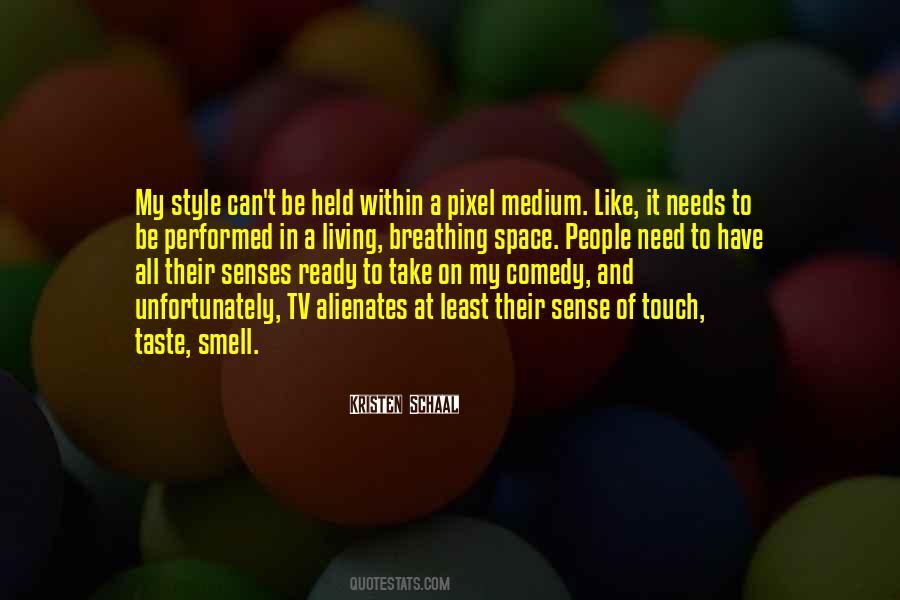 #63. Consequently, the sensuous aspect of art is related only to the two theoretical sensesof sight and hearing, while smell, taste, and touch remain excluded. - Author: Georg Wilhelm Friedrich Hegel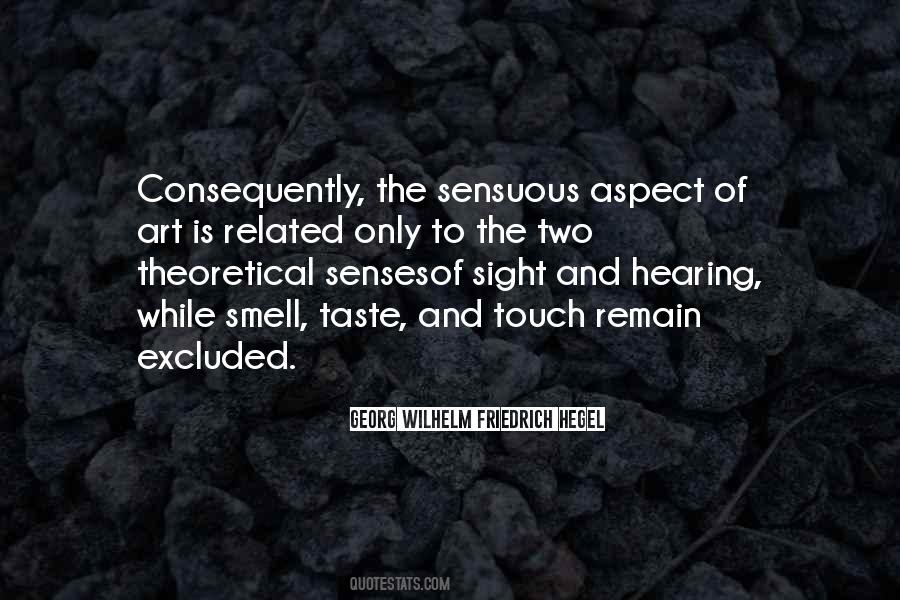 #64. Interchanges between the senses are frequent and astonishing: One knows the smell of a low B flat, the sound of green, the taste of the categorical imperative (which is something like veal). No - Author: Oliver Sacks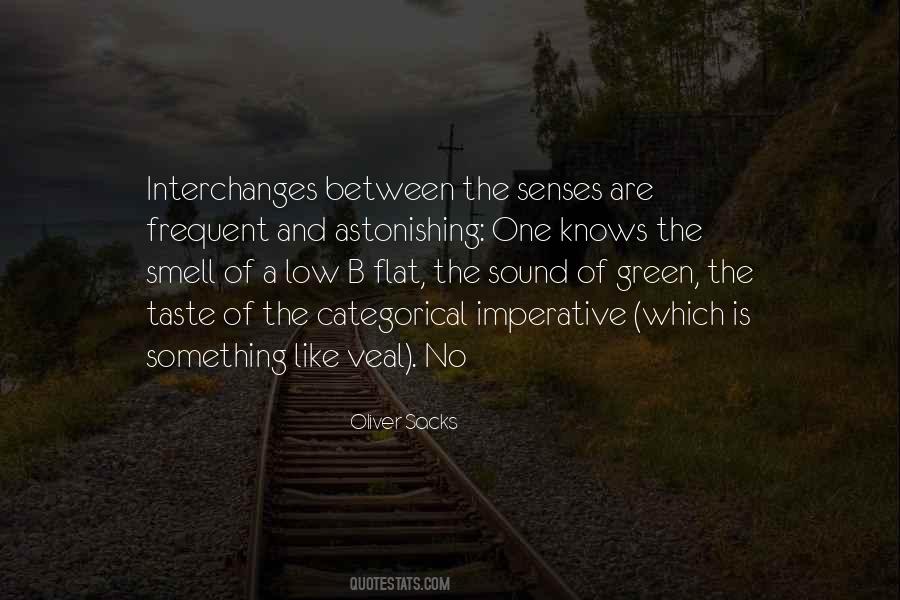 #65. When nothing else subsists from the past, after the people are dead, after the things are broken and scattered ... the smell and taste of things remain poised a long time, like souls ... bearing resiliently, on tiny and almost impalpable drops of their essence, the immense edifice of memory - Author: Marcel Proust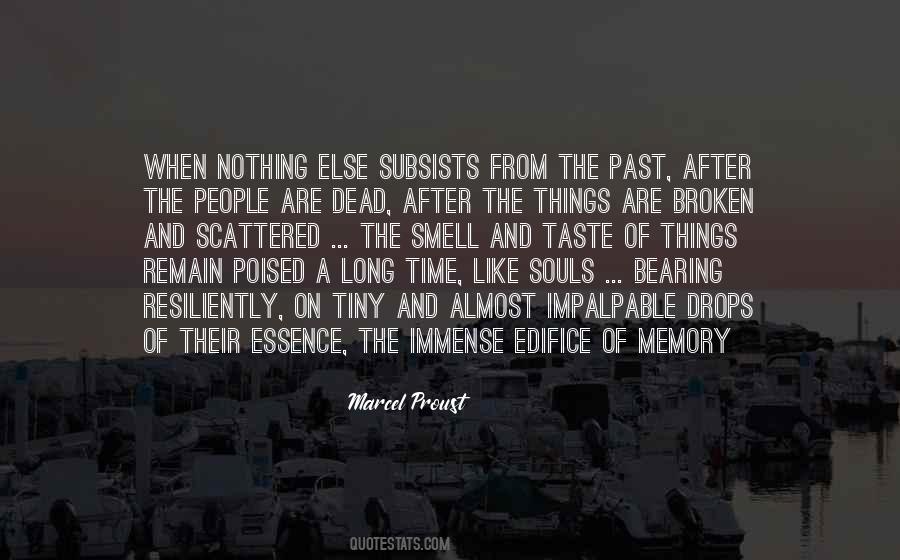 #66. Stay with me to-night; you must see me die. I have long had the taste of death on my tongue, I smell death, and who will stand by my Constanze, if you do not stay? - Author: Wolfgang Amadeus Mozart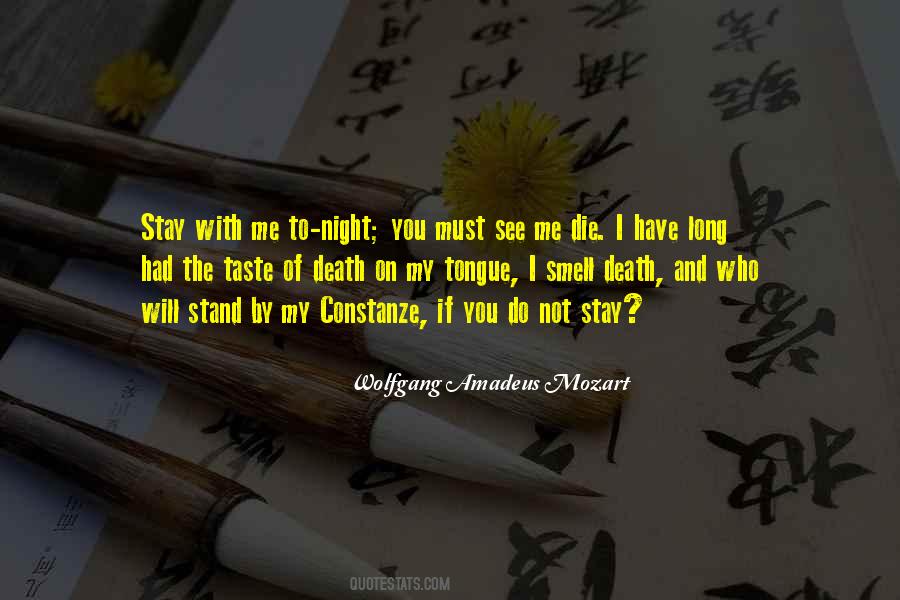 #67. As for the garden of mint, the very smell of it alone recovers and refreshes our spirits, as the taste stirs up our appetite for meat. - Author: Pliny The Elder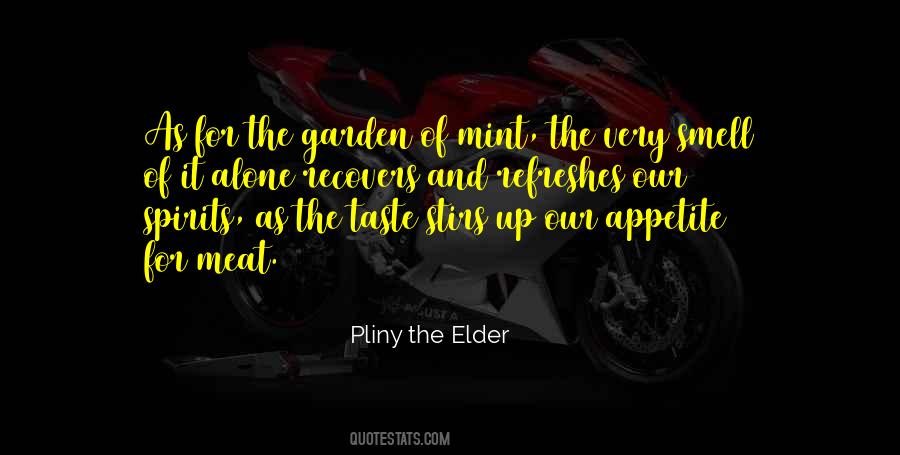 #68. I can still feel, taste and smell that year. Like it's cemented in my soul. Well, I guess it is. - Author: Sarah Michelle Lynch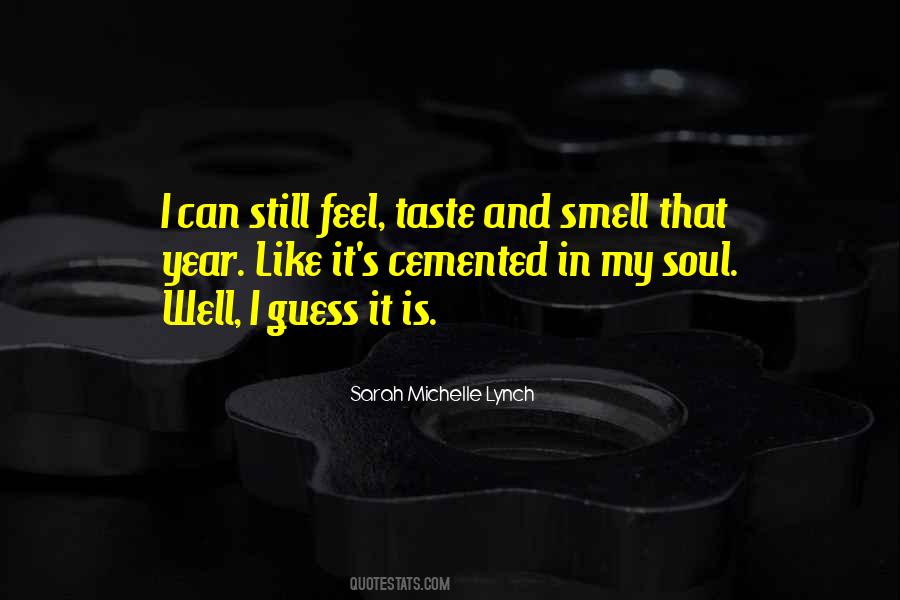 #69. She took the pills from him, placed them in her mouth and drank the entire bottle of water. Water: it has no taste, no smell, no color, and yet it is the most important thing in the world. Just like her at that moment. - Author: Paulo Coelho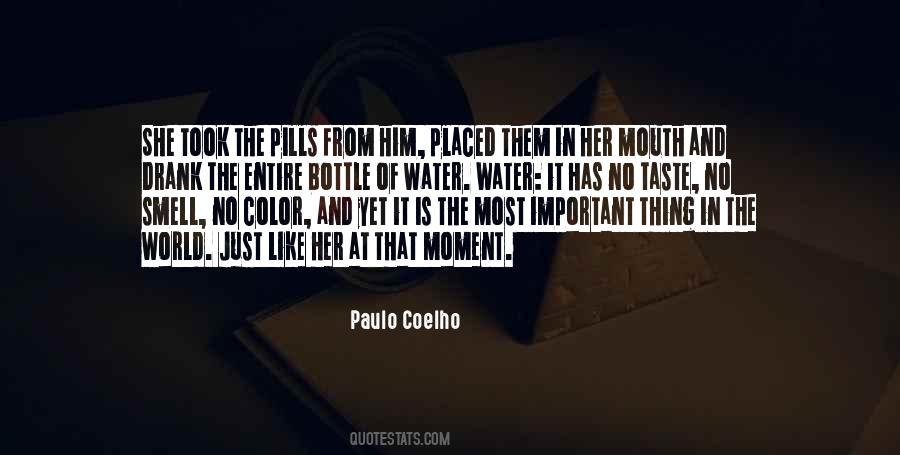 #70. Smell and taste are in fact but a single composite sense, whose laboratory is the mouth and its chimney the nose. - Author: Jean Anthelme Brillat-Savarin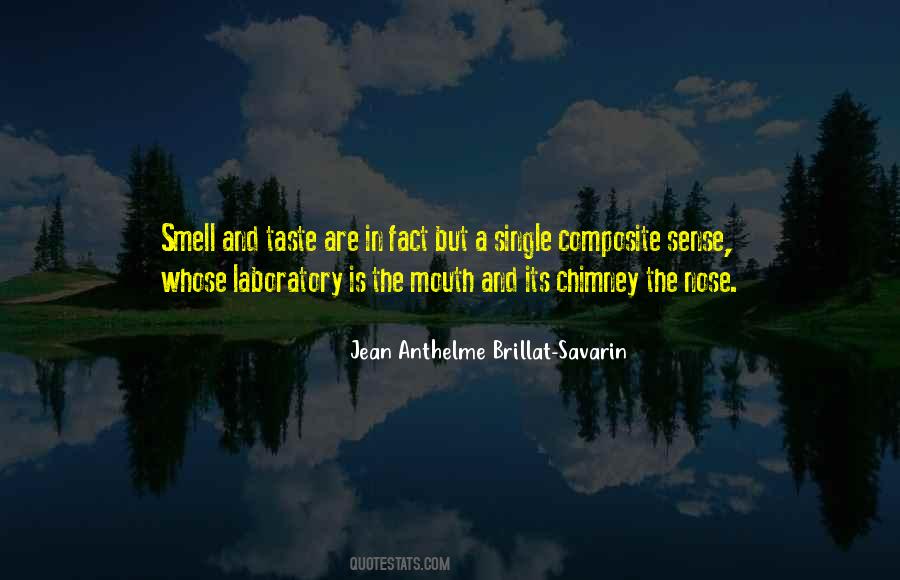 #71. I want morning and noon and nightfall with you. I want your tears, your smiles, your kisses ... the smell of your hair, the taste of your skin, the touch of your breath on my face. I want to see you in the final hour of my life ... to lie in your arms as I take my last breath. - Author: Lisa Kleypas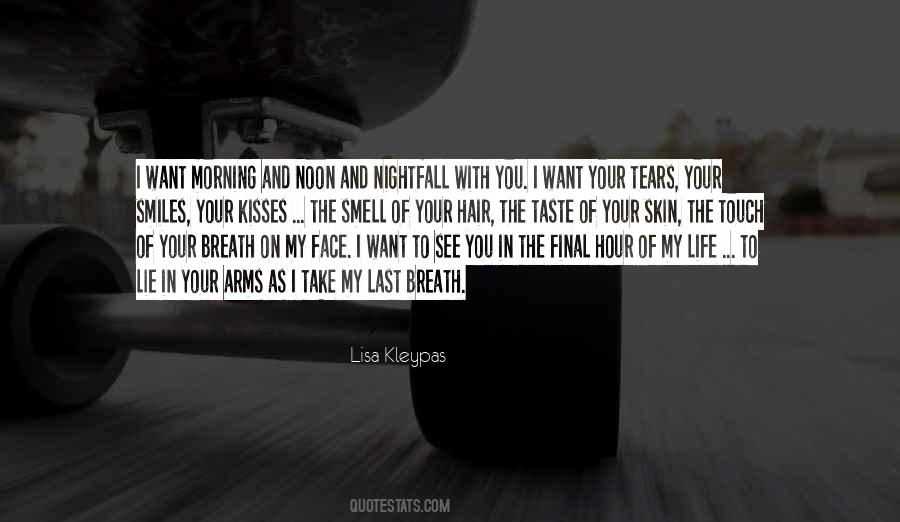 #72. We smell the impact of traffic and humans. Humans and traffic. Back and forth. We taste our moment, swallowing it, knowing it. We feel our nerves twitching inside our stomaches, lunging at our skin from beneath. - Author: Markus Zusak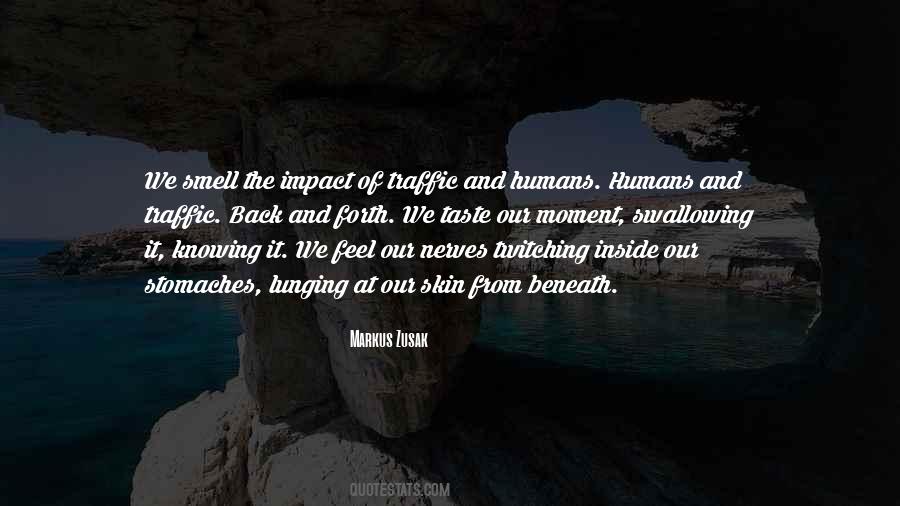 #73. I love judging food by its smell and feel and taste. The healthiest tomato isn't always the perfect one that's been covered in pesticides. - Author: Sheherazade Goldsmith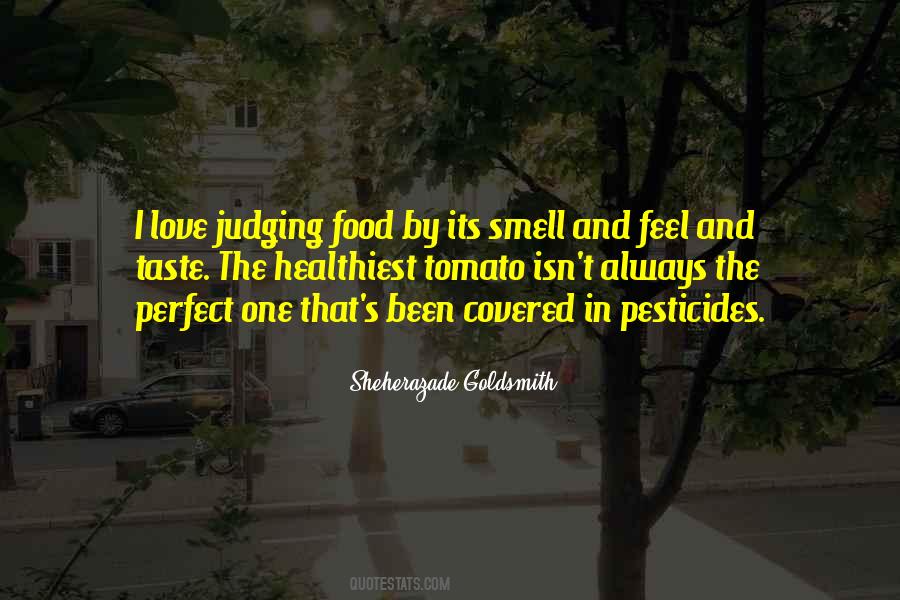 #74. I shall sit alone in a darkened room, sans teeth, sans eyes, sans taste, sans everything but a little grey old head, and in that little grey old head a peculiar vision of hideous blue and gold dangling things flashing in the light, and the smell of sweat, cat food and death. - Author: Douglas Adams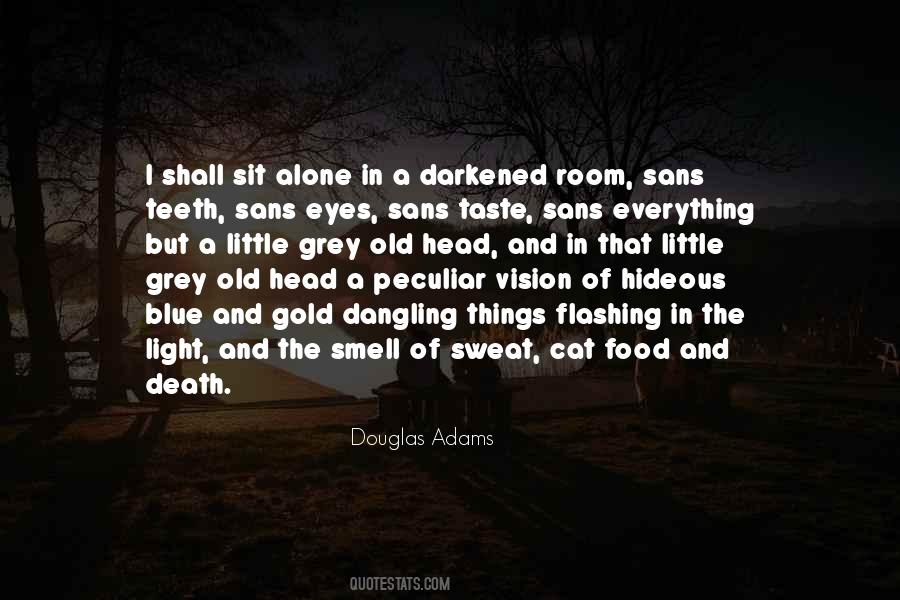 #75. Our vibrations are interpretation of our five senses i.e. hearing, sight, touch, smell, and taste. Our world is shaping itself according to our thoughts . We are causing expansion of time-space reality. We are contributing hugely to this process. - Author: Hina Hashmi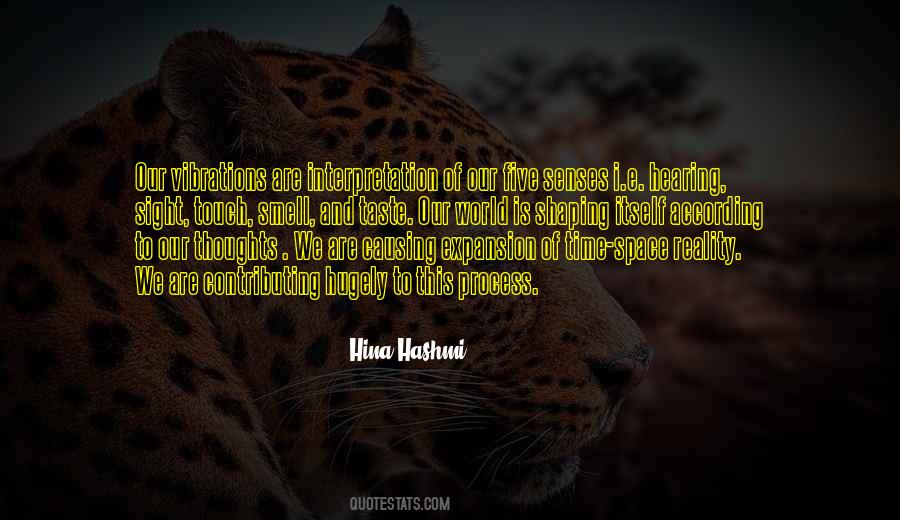 #76. Do trees dream?" "Trees? No . . ." "They do," Bran said with sudden certainty. "They dream tree dreams. I dream of a tree sometimes. A weirwood, like the one in the godswood. It calls to me. The wolf dreams are better. I smell things, and sometimes I can taste the blood. - Author: George R R Martin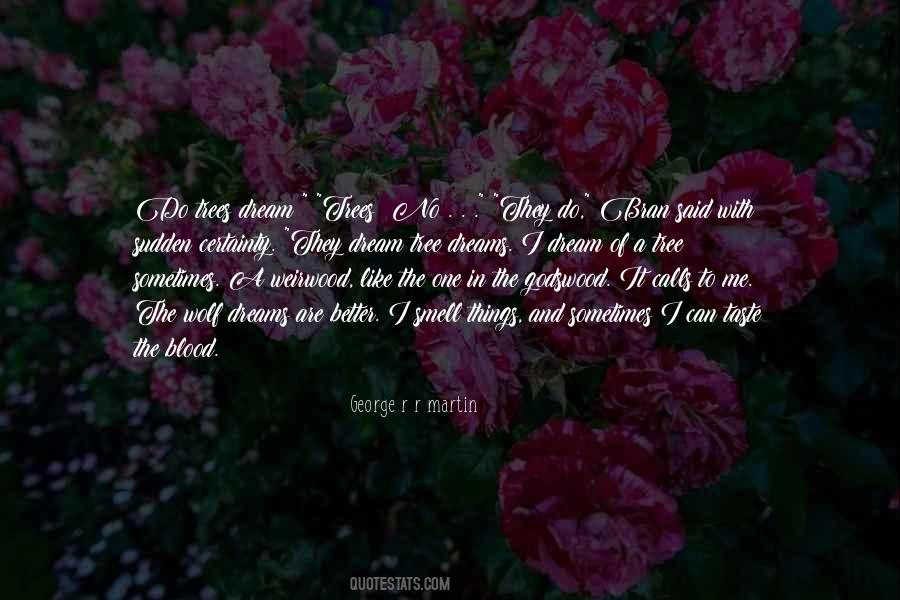 #77. Taste is one of the five senses, and the man who tells us with priggish pride that he does not care what he eats is merely boasting of his sad deficiency: he might as well be proud of being deaf or blind, or, owing to a perpetual cold in the head, of being devoid of the sense of smell. - Author: E.F. Benson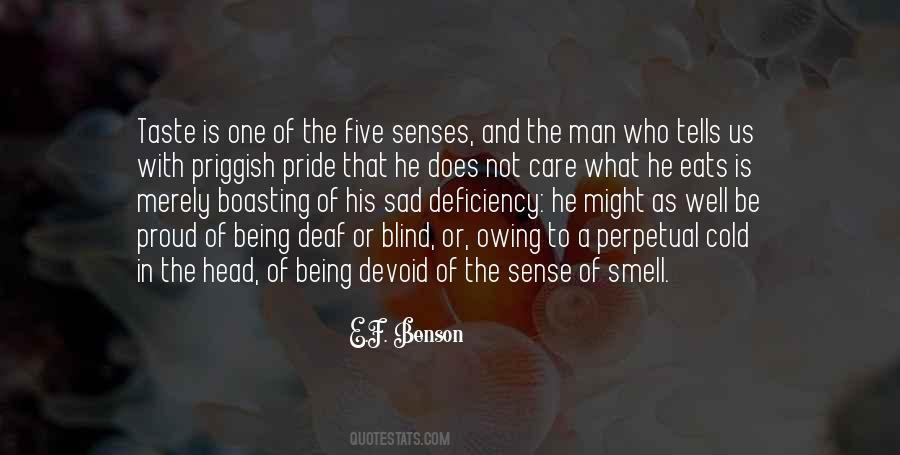 #78. I am not used to hating. Hate sits heavy on my heart. It reeks. I can smell it rotting my insides and I taste it on my tongue. - Author: Kopano Matlwa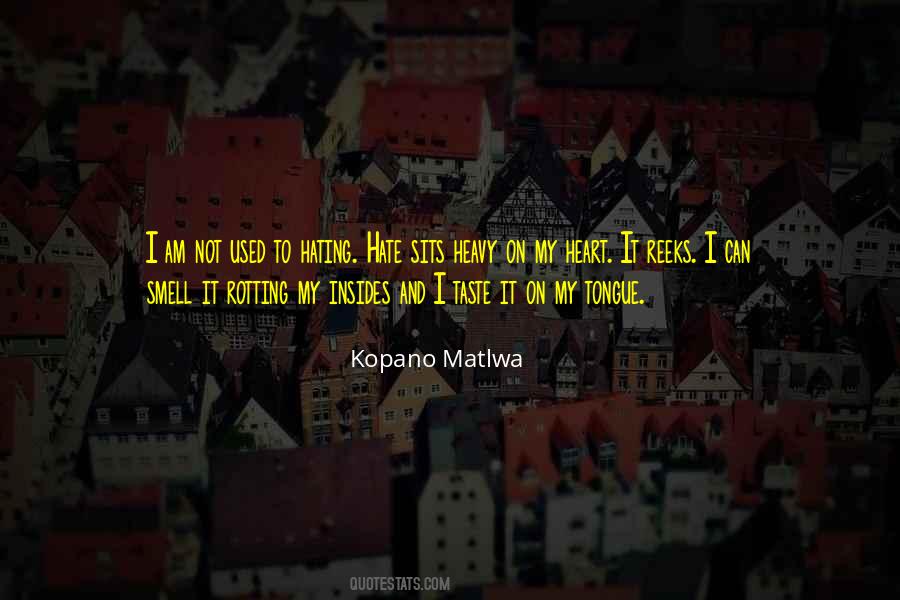 #79. Living life as only half humans until one day we meet a woman who completes us, who gives meaning to our pathetic existence and makes it worthwhile, enriching it with her laugh, with her smell, and the taste of her body. Days - Author: Mia Asher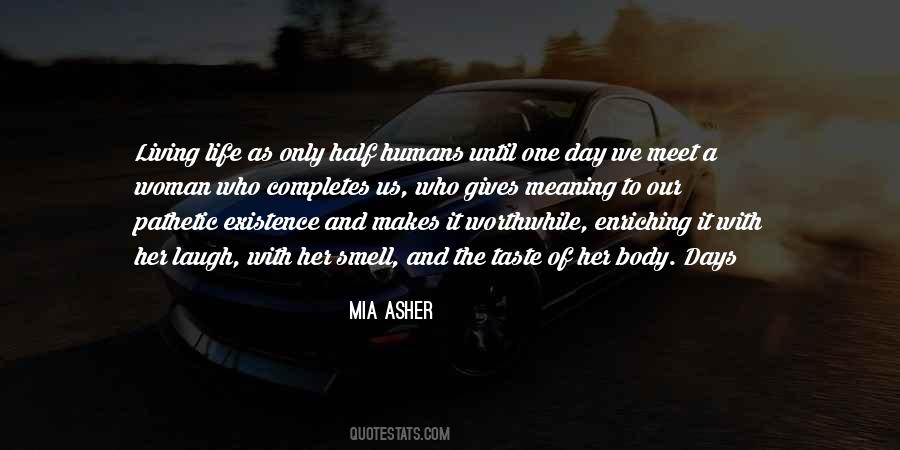 #80. I could smell something. Fear.
I could taste it now.
It tasted like blood in my mouth, and I could feel it slide through me and open me up when I saw him ... - Author: Markus Zusak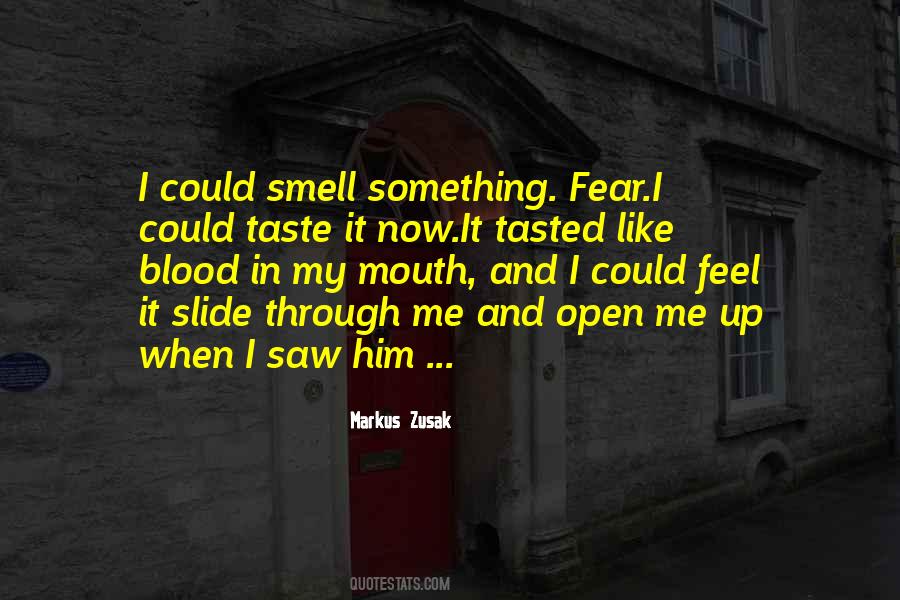 #81. I could still taste and smell and hear and see," she said. "I could still learn and I could still teach. I could still love and be loved. I had my mind and my spirit. And I had you. - Author: Elizabeth Berg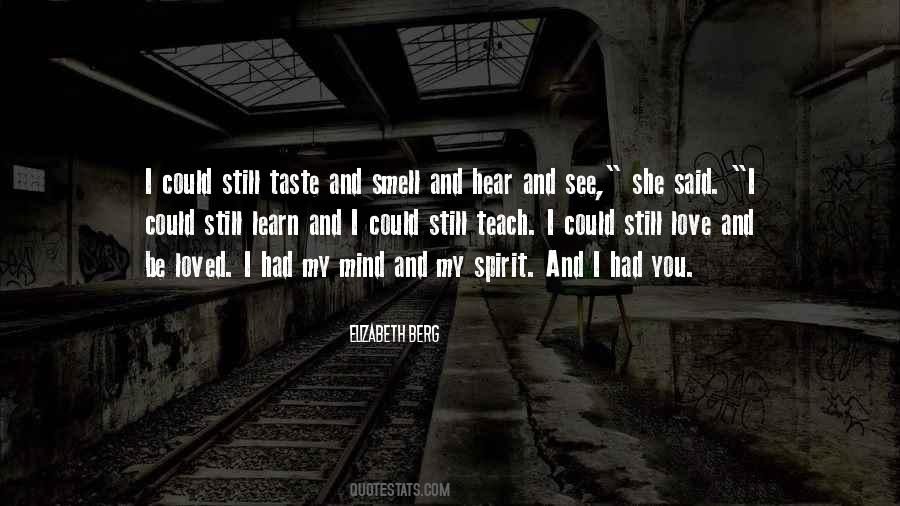 #82. You know what, you need to stay out of my bedroom. You have your own."
He smiled. "I know I do. I see it quite often. I just prefer your bed. It smells better."
I made a face. "It smells better? What does your bed smell like? Regret and bad taste? - Author: Jennifer L. Armentrout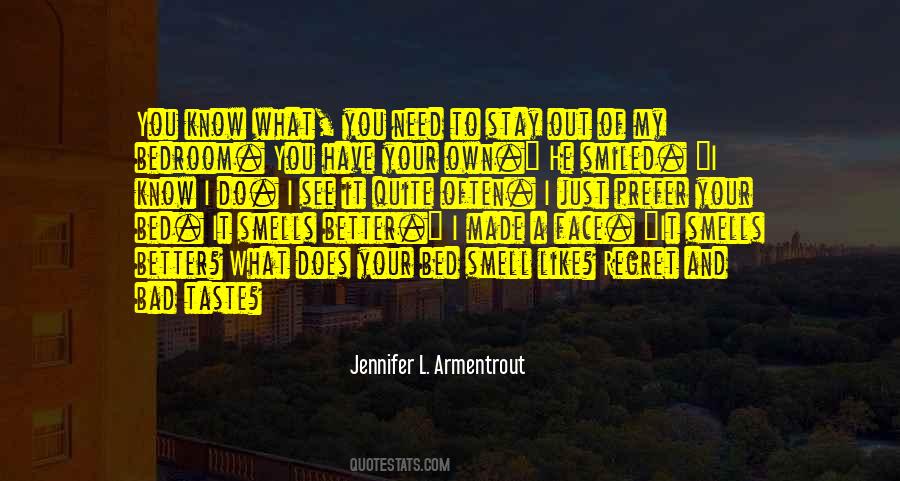 #83. Smell and taste differentiate, whereas language, like sight and hearing, integrates. - Author: Michel Serres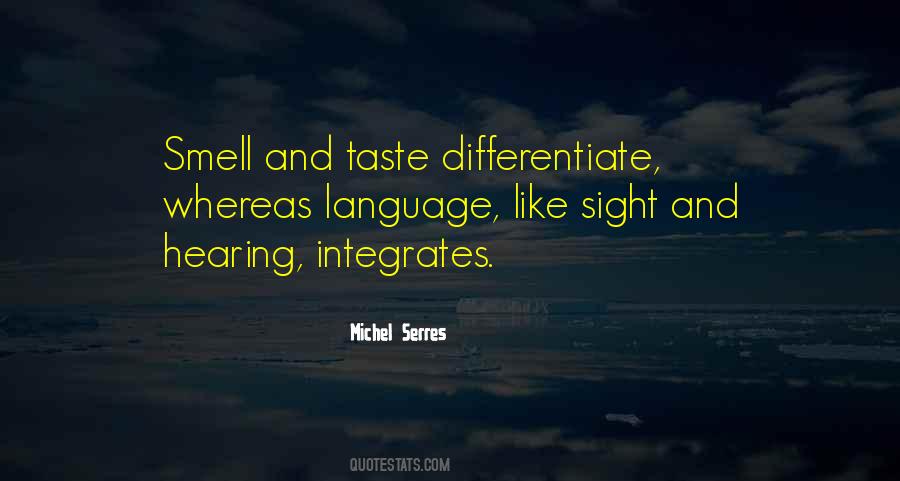 #84. I found that of the senses, the eye is the most superficial, the ear the most arrogant, smell the most voluptuous, taste the most superstitious and fickle, touch the most profound and the most philosophical. - Author: Helen Keller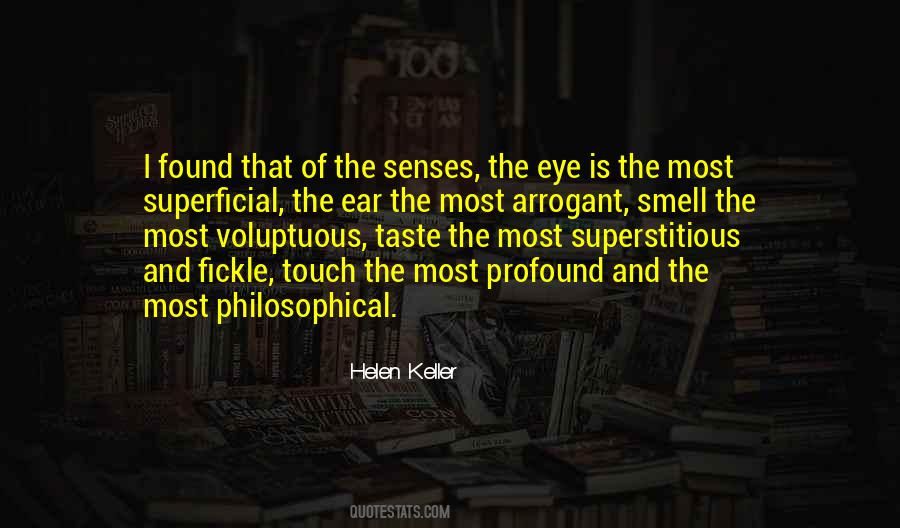 #85. you look like you smell of
honey and no pain
let me have a taste of that - Author: Rupi Kaur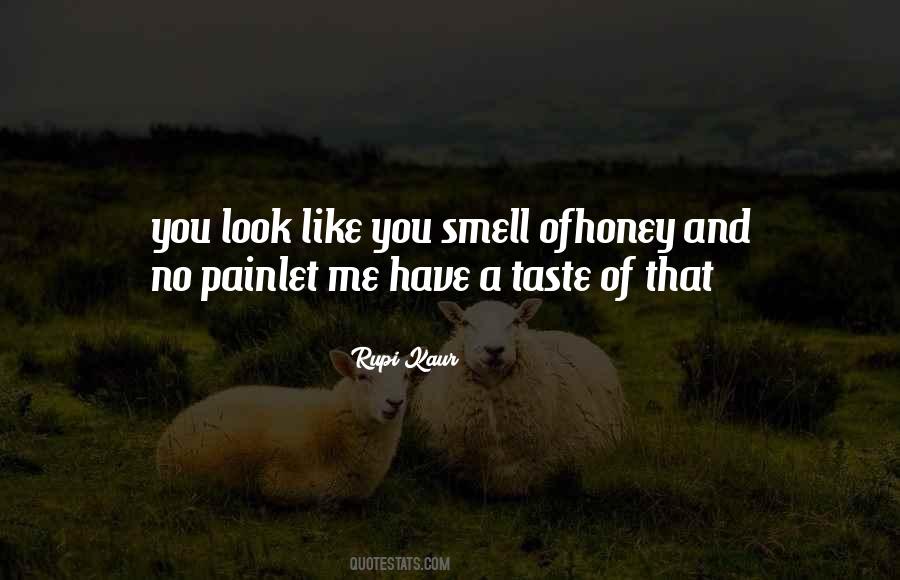 #86. Great public speakers know this and build presentations around one of the senses predominantly, but they incorporate at least one or two others: sight, sound, touch, smell, and taste. Smell and taste are harder to incorporate - Author: Carmine Gallo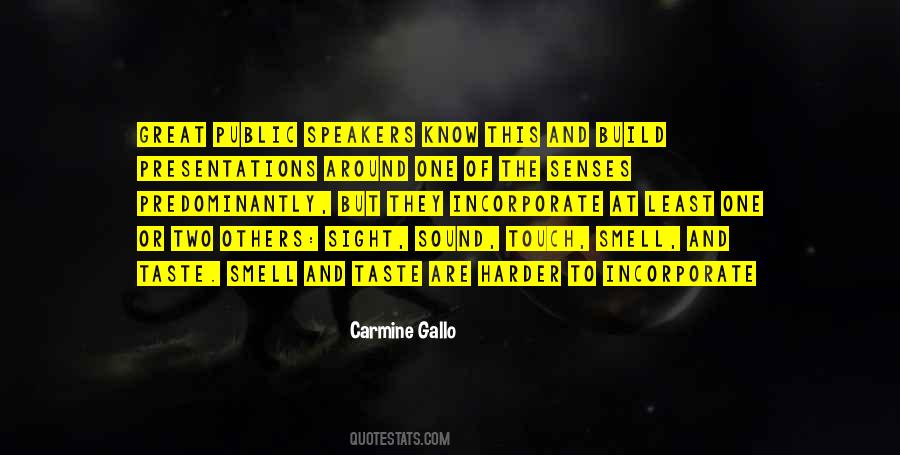 #87. The richness of the world, all artificial pleasures, have the taste of sickness and give off a smell of death in the face of certain spiritual possessions. - Author: Georges Rouault
#88. Experience teaches that when the will and imagination are in conflict, the imagination usually wins. What we imagine may defeat our reason and make us slaves to what we taste, see, hear, smell, and feel in the mind's eye. The body is indeed the servant of the mind. - Author: Joseph B. Wirthlin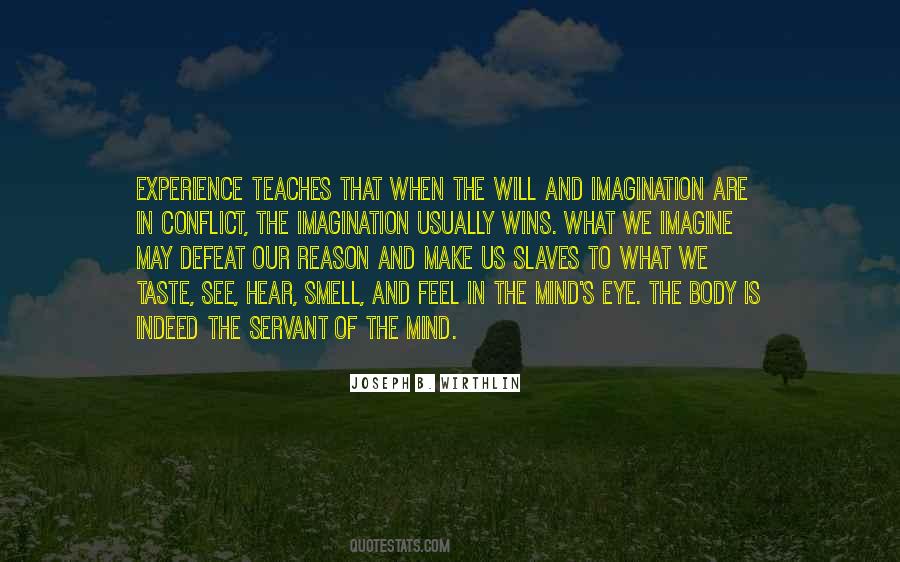 #89. Sight is by much the noblest of the senses. We receive our notices from the other four, through the organs of sensation only. We hear, we feel, we smell, we taste, by touch. But sight rises infinitely higher. It is refined above matter, and equals the faculty of spirit. - Author: Laurence Sterne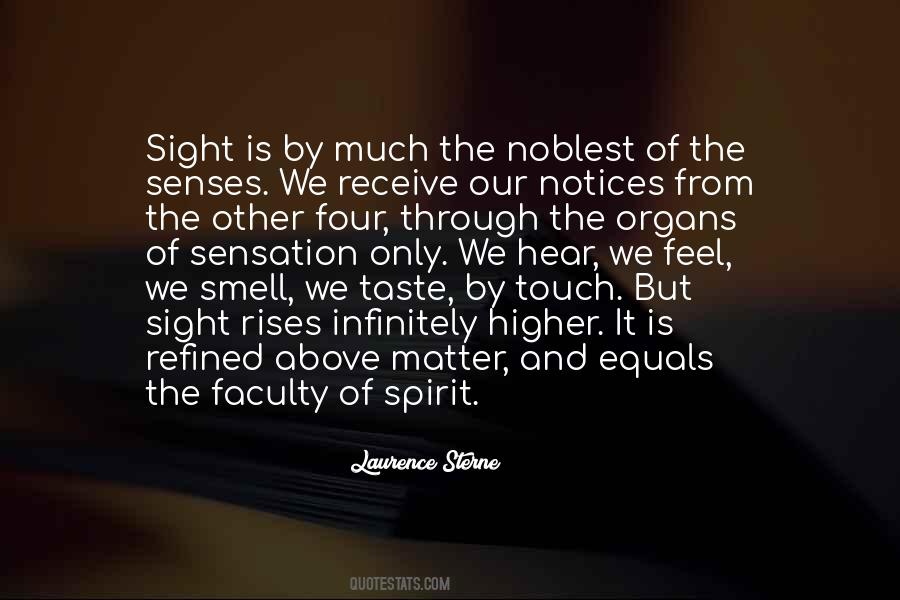 #90. Okay, you were probably taught there are five senses," he said. "We see, hear, touch, smell and taste. But how do we know those are the only five? What are the senses that we don't have? What are we failing to perceive? - Author: Louis Sachar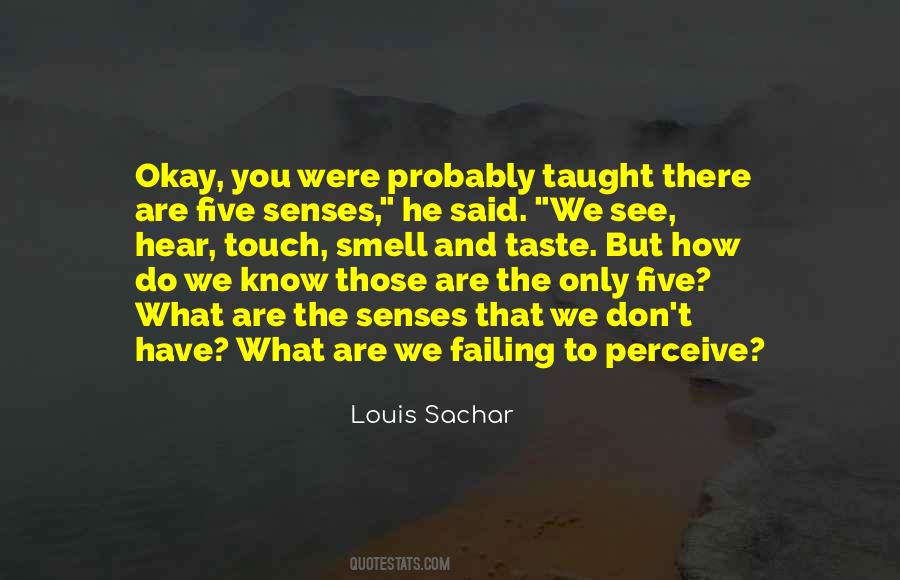 #91. What is real? How do you define real? If you're talking about what you can feel, what you can smell, what you can taste and see, then real is simply electrical signals interpreted by your brain. - Author: Lana Wachowski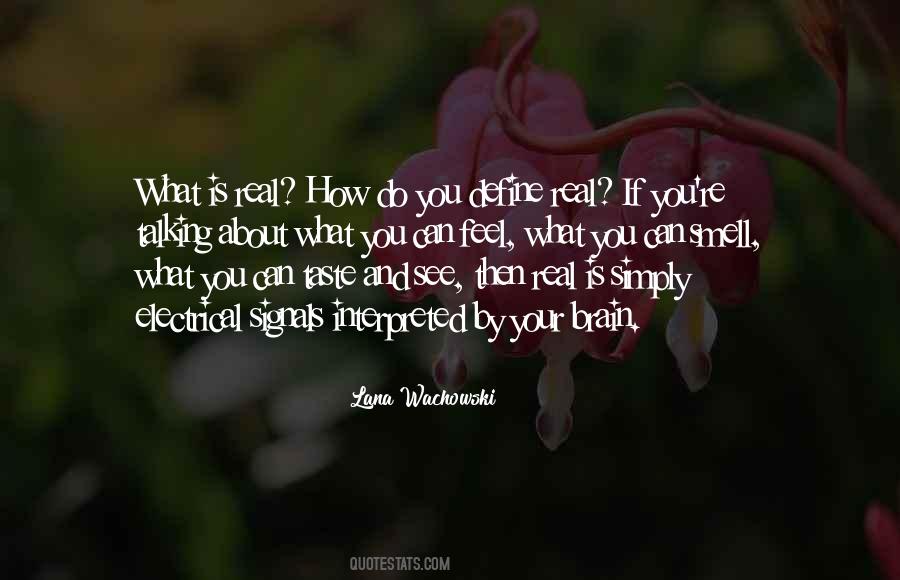 #92. Sarah Harrell There is no use there is no use at all in smell, in taste, in teeth, in toast, in anything, there is no use at all and the respect is mutual. - Author: Gertrude Stein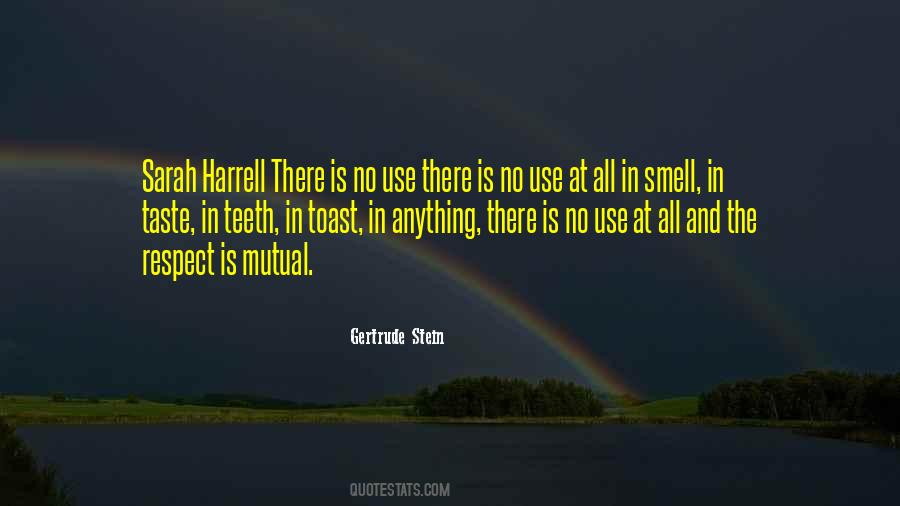 #93. Mindfulness of the body is awareness of ... the taste and smell of this moment. - Author: Steve Hagen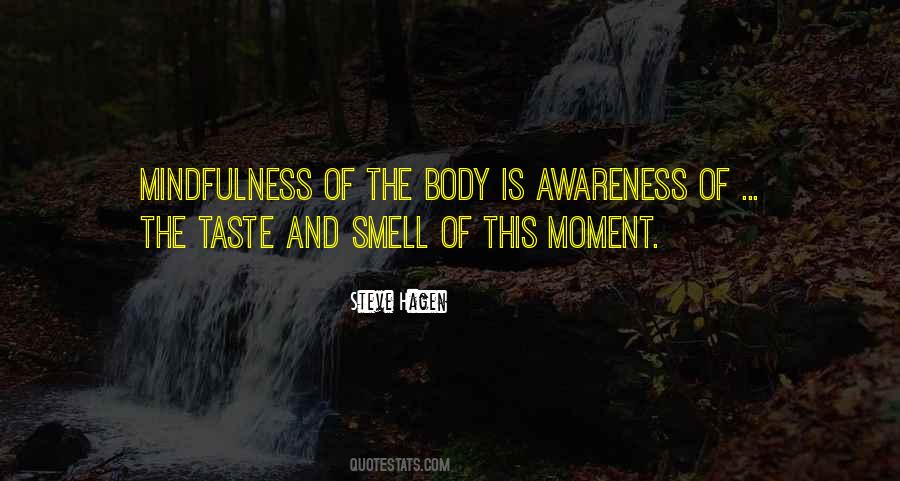 #94. He's silent for a few seconds staring back at me with his soulful blue eyes. Even though he never says a word I can feel his emotions rising up inside him. He reaches out to wipe the tear from my cheek and I feel his love for me, smell it, taste it, his love is intoxicating. - Author: Sheena Hutchinson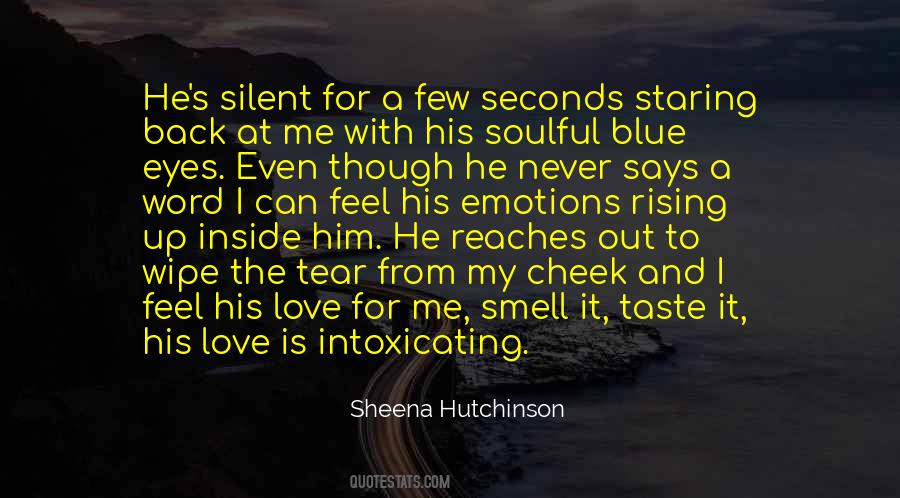 #95. She kissed me on the mouth. Her mouth tasted like iced coffee and cardamom, and I was overwhelmed by the taste, her hot skin and the smell of unwashed hair. I was confused, but not unwilling. I would have let her do anything to me. - Author: Janet Fitch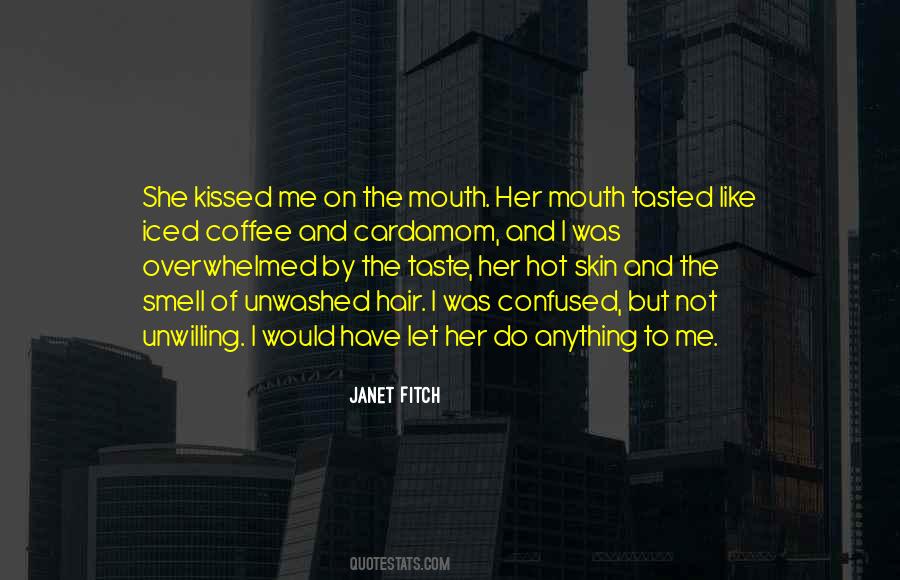 #96. Everyone says,
Come to your senses, and I do, of you.
Every touch electric, every taste you,
every smell, even burning sugar, every
cry and laugh. Toothpicked samples
at the farmers' market, every melon,
plum, I come undone, undone. - Author: Dean Young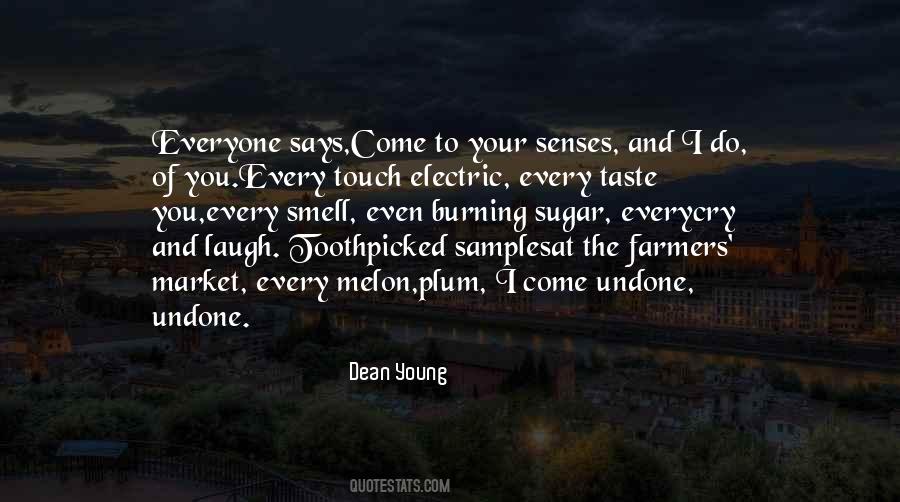 #97. Performance art can involve the audience with taste, smell and sounds not available with electronic media and not practical with conventional theater. This is due to the usually small audience. - Author: Jack Bowman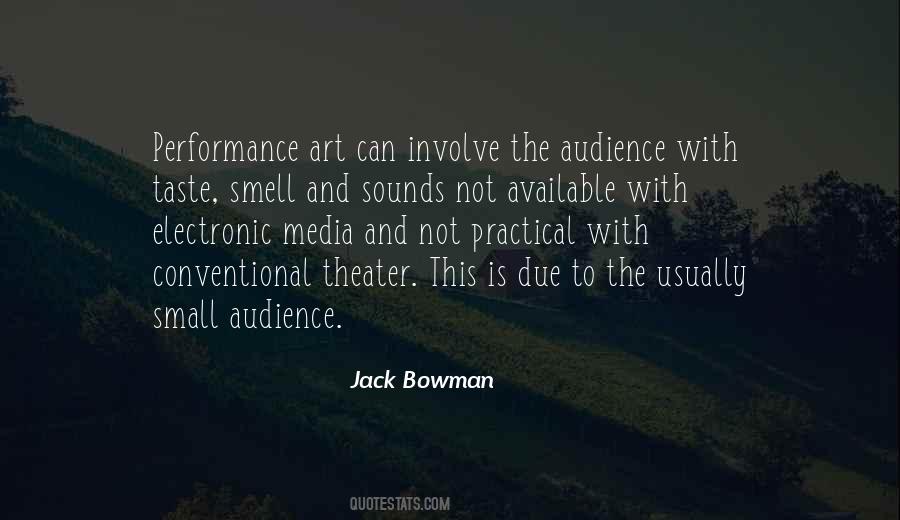 #98. Amina would not know herself until years later, when she understood what it was to long for someone, to ache for their smell and taste on you, to imagine the weight of their hips pinning yours so precisely that you crane up to meet your own invisible desire - Author: Mira Jacob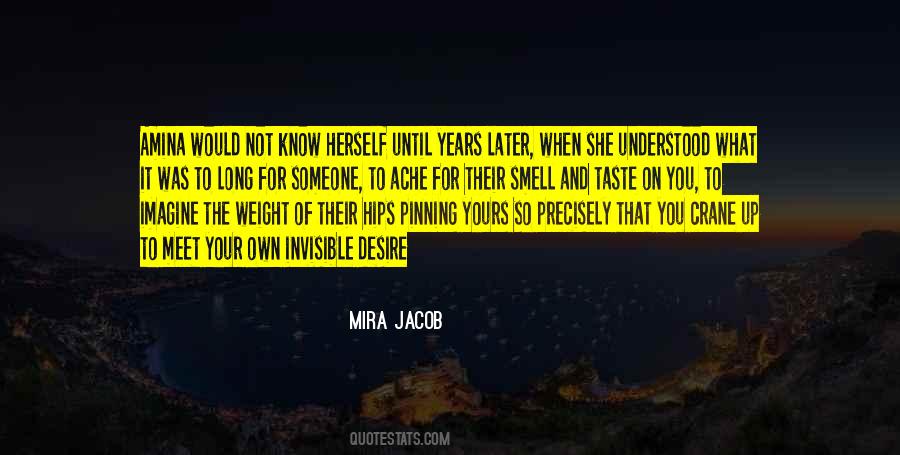 #99. You breathe.
You feel.
You see
and hear
and smell
and taste
and think
and move
and laugh
and weep
and heal
and dance
and sing
and love.
Thank your mother. - Author: Richelle E. Goodrich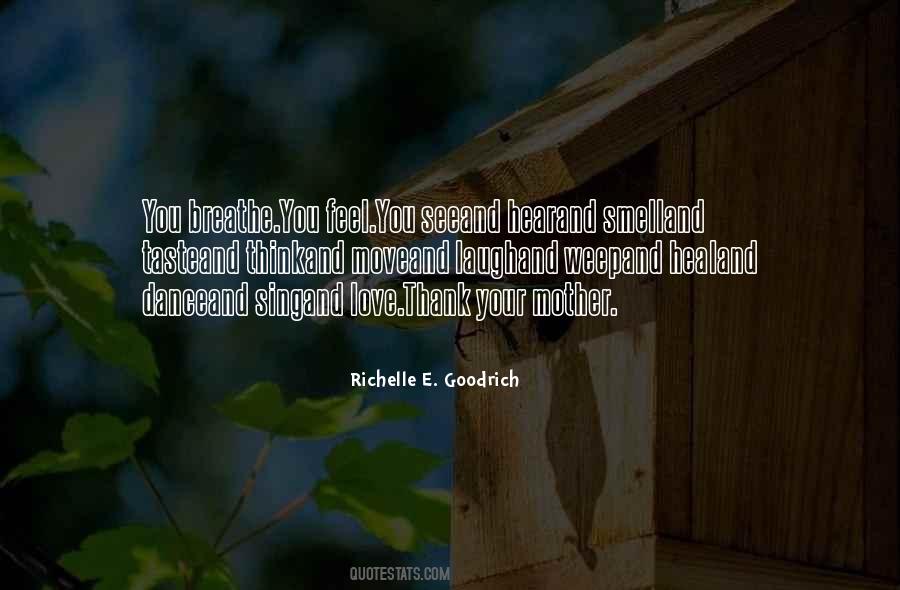 #100. They say that our sense of smell is one of the strongest triggers of memories. Of course, our sense of smell is integral to our sense of taste, so it is no surprise, then, that in a life full of moving and traveling, food has always been a source of familiar comfort for me. - Author: Philippe Cousteau Jr.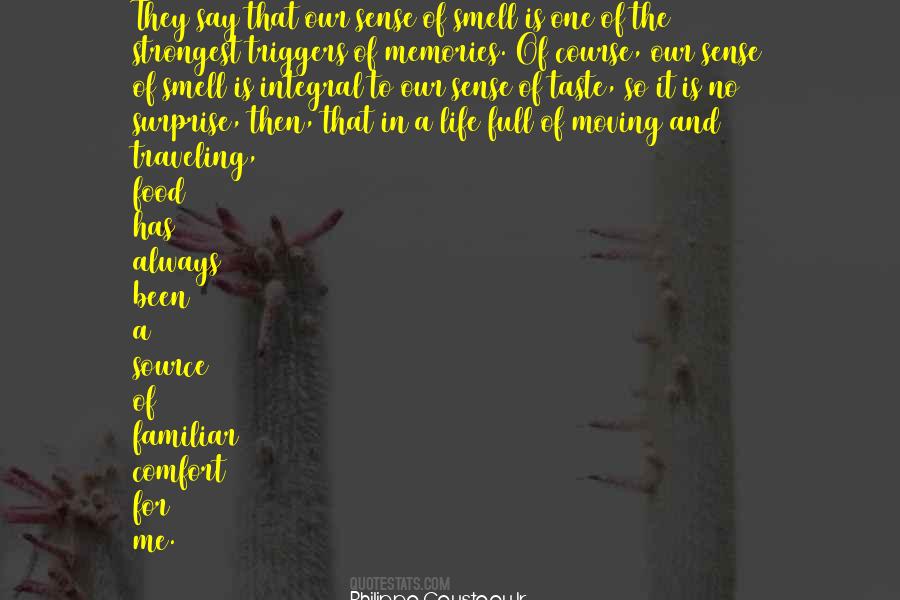 Famous Authors
Popular Topics