Tap Dance Famous Quotes & Sayings
List of top 61 famous quotes and sayings about tap dance to read and share with friends on your Facebook, Twitter, blogs.
Top 61 Quotes About Tap Dance
#1. I've had a lot of very positive feedback about those stories, and seem to have struck upon something that most people feel. I can also tap dance, and don't know many other authors who can. - Author: Paul Kane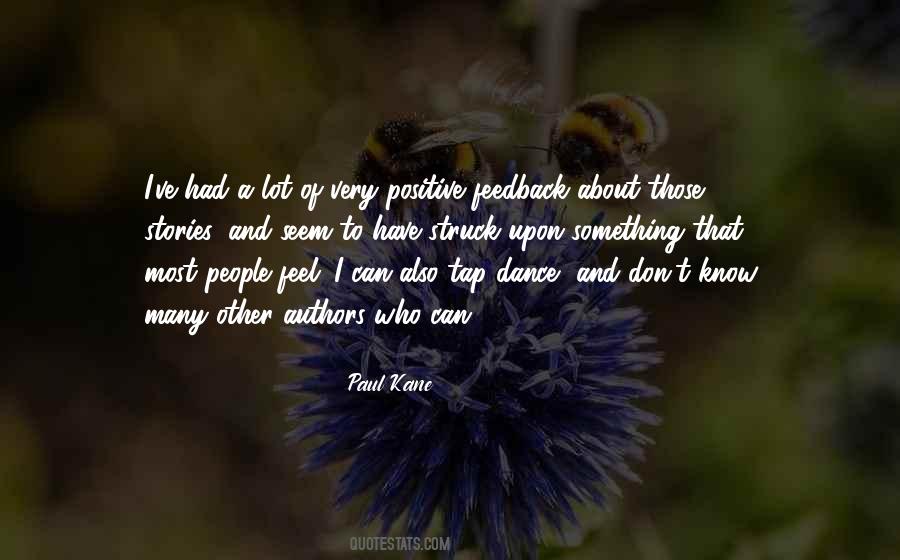 #2. Though I soon became typecast in Hollywood as a gangster and hoodlum, I was originally a dancer, an Irish hoofer, trained in vaudeville tap dance. I always leapt at the opportunity to dance in films later on. - Author: James Cagney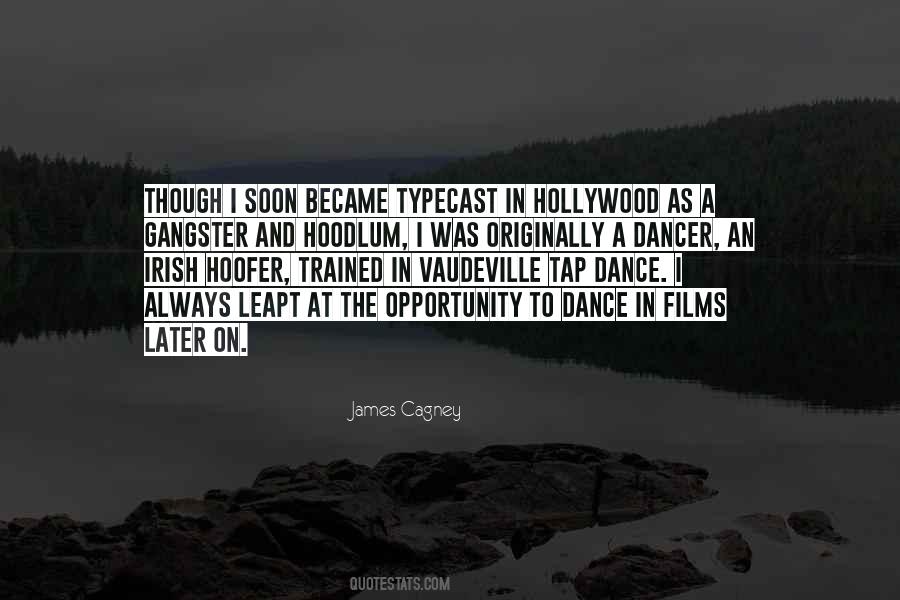 #3. The alien in my uncle hand obviously taken full control. Soon, it would claw its way out of his stomach and tap dance across my bed - Author: Jennifer L. Armentrout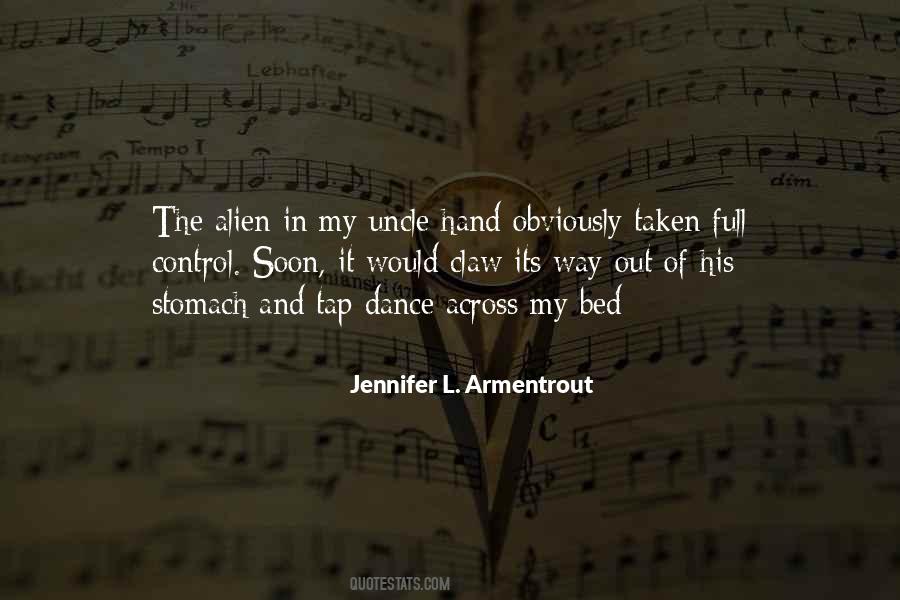 #4. I can do Shakespeare, Ibsen, English accents, Irish accents, no accent, stand on my head, tap dance, sing, look 17 or look 70. - Author: Diane Ladd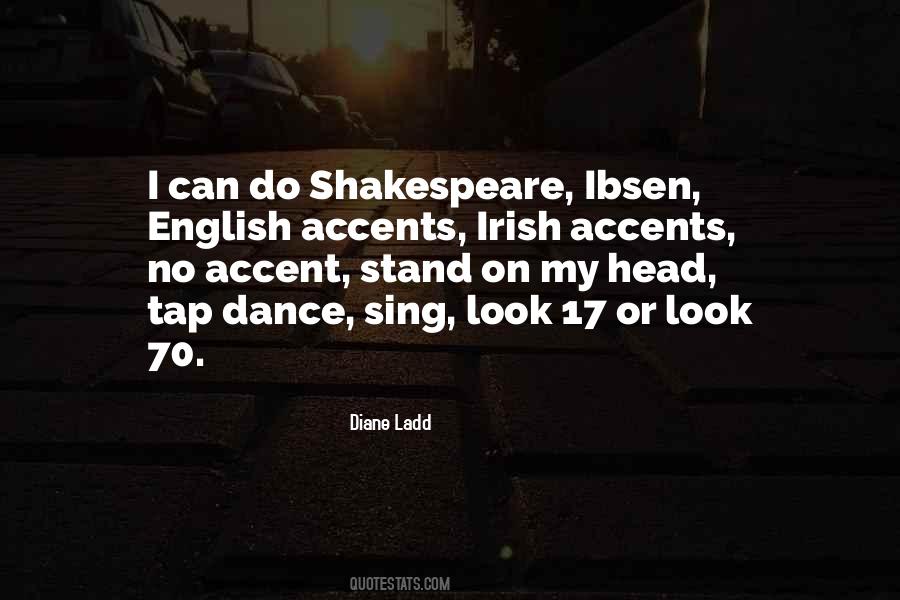 #5. Spiders ... the spiders ... they want me to tap-dance. And I don't want to tap-dance! - Author: J.K. Rowling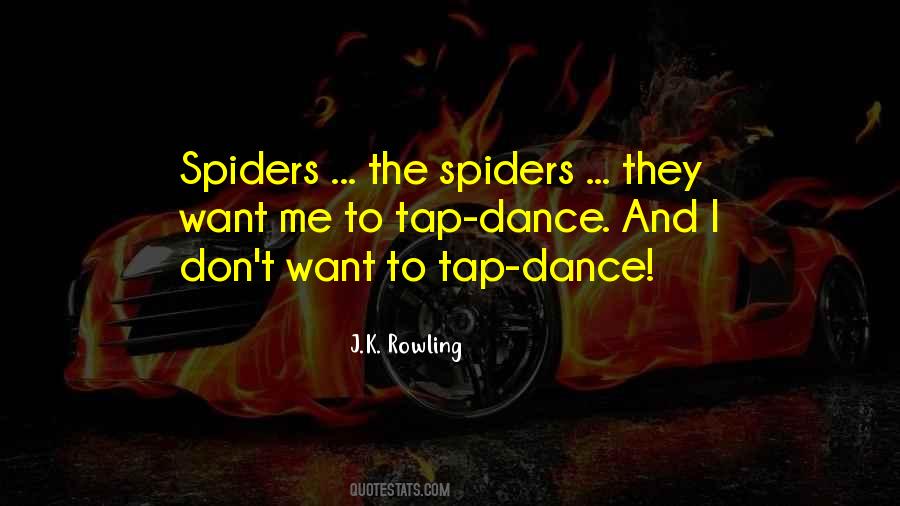 #6. Tap dancing all started with the old clog waltz. - Author: Sammy Davis Jr.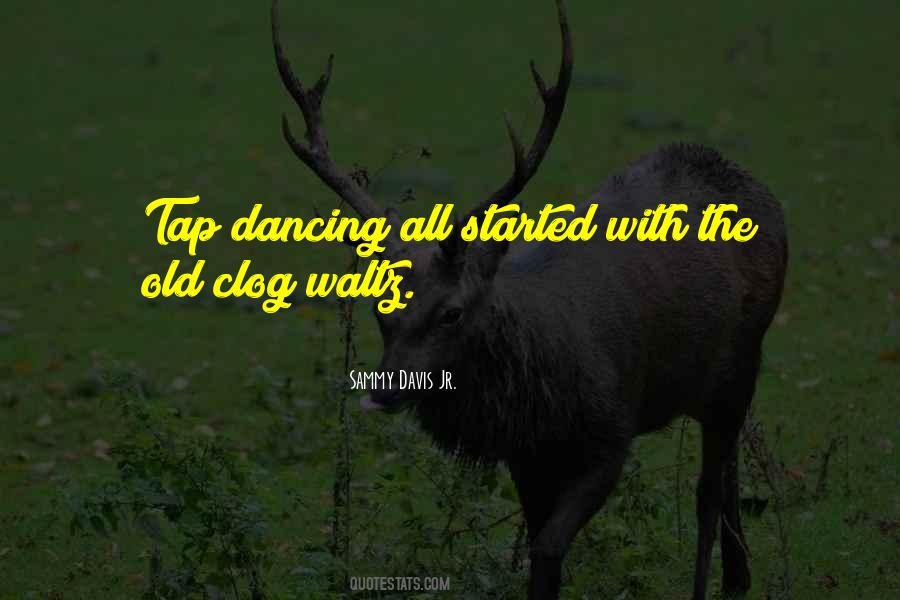 #7. If a dishonest creep wants to tap dance, give them the spotlight and a mirror. - Author: Vanna Bonta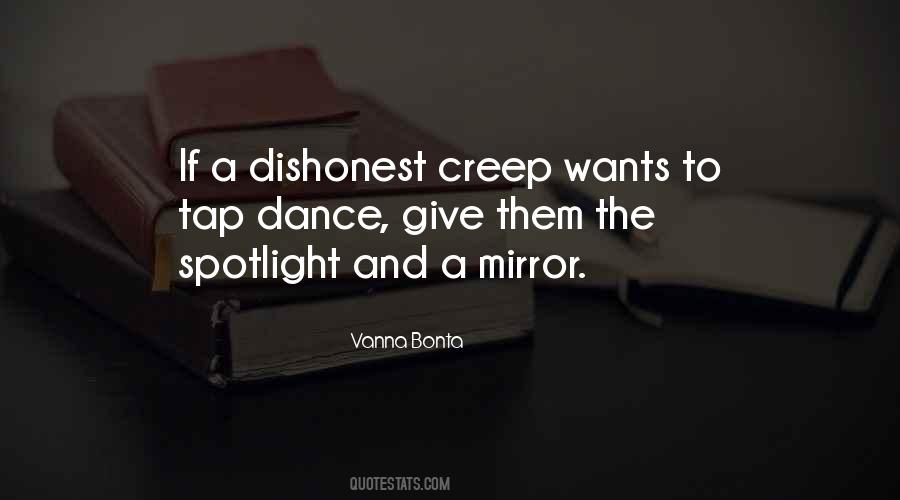 #8. I've done everything but tap dance across the table. - Author: Rod Paige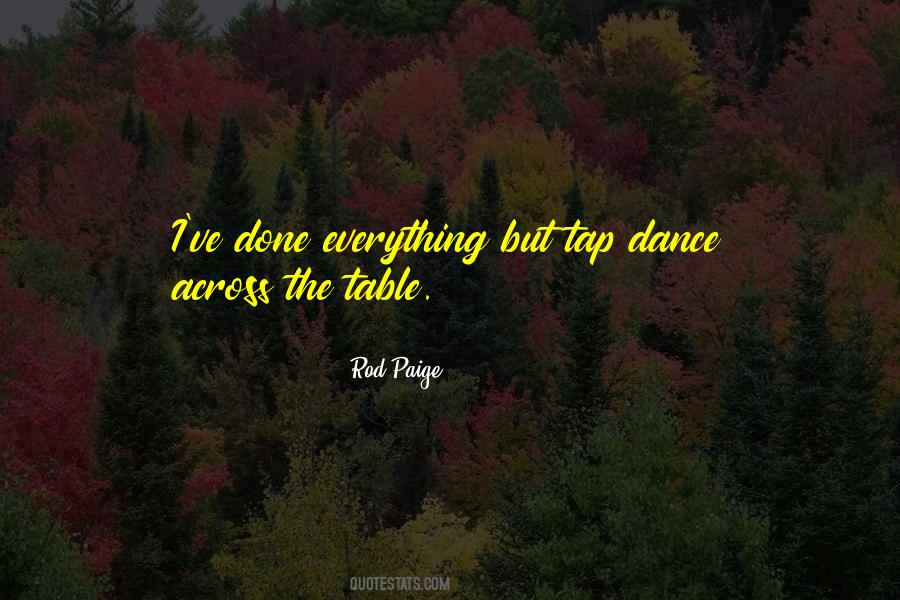 #9. Teach me to sing and recite,
To whistle and jingle and strum.
Teach me to color and paint,
To sculpt and weave and create.
Teach me to sway and dance,
To tap and leap and twirl.
Teach me to laugh and giggle,
To tickle and play and pretend.
Teach me that life is beautiful. - Author: Richelle E. Goodrich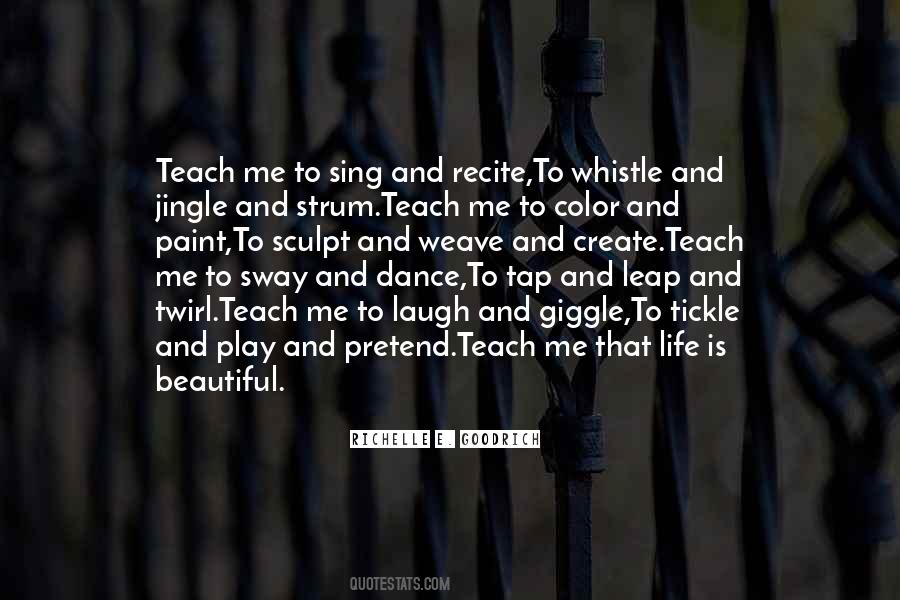 #10. As we tap into the deep sources of bodily wisdom through creative art expression,we dance the renewal, recreation, and healing of ourselves and our world. - Author: Anna Halprin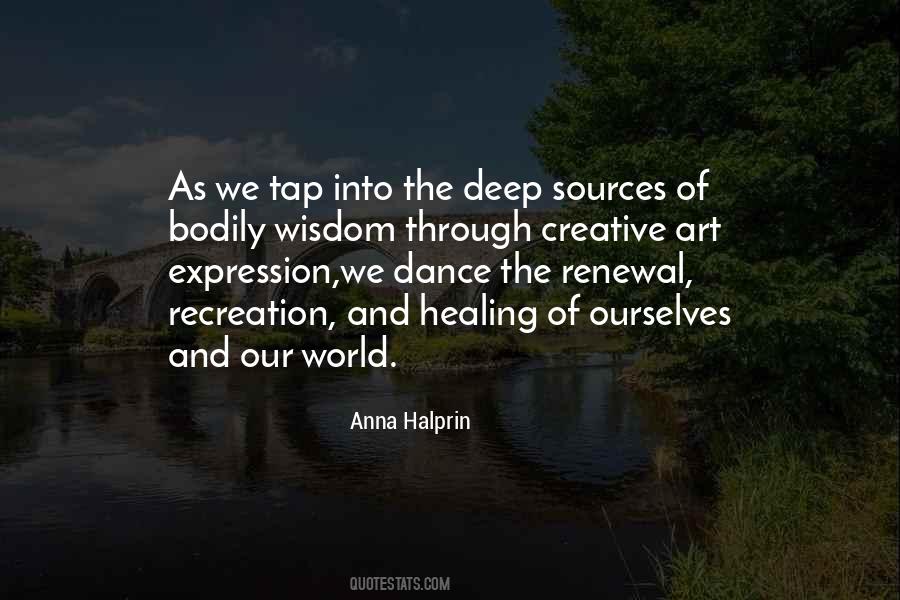 #11. Human speech is like a cracked kettle on which we tap crude rhythms for bears to dance to, while we long to make music that will melt the stars. - Author: Gustave Flaubert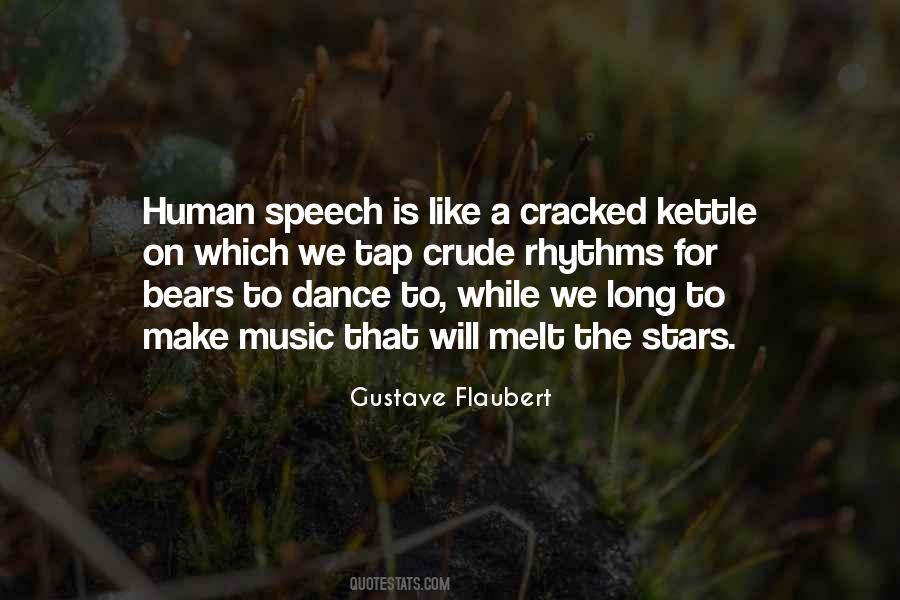 #12. Dancing is so wonderful. Once they start the music, your whole day, if it's been rotten, seems to melt away. You get carried away in the tune that you're moving to. It's a marvelous catharsis, to be able to get on top and tap dance. - Author: Donald O'Connor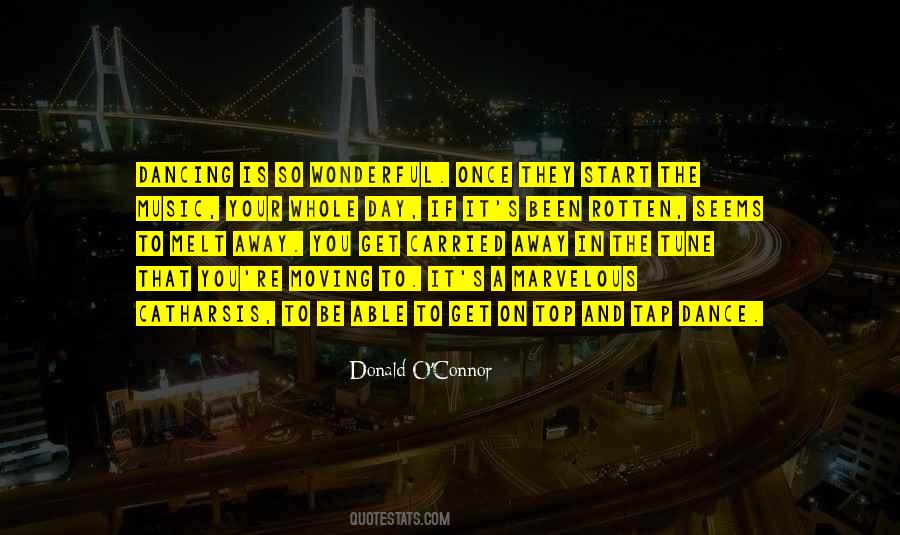 #13. I grew up in dance studios. I was forced to be in several numbers in recitals and dance competitions. I took one tap class - literally one class - and then I quit. - Author: Michael Angarano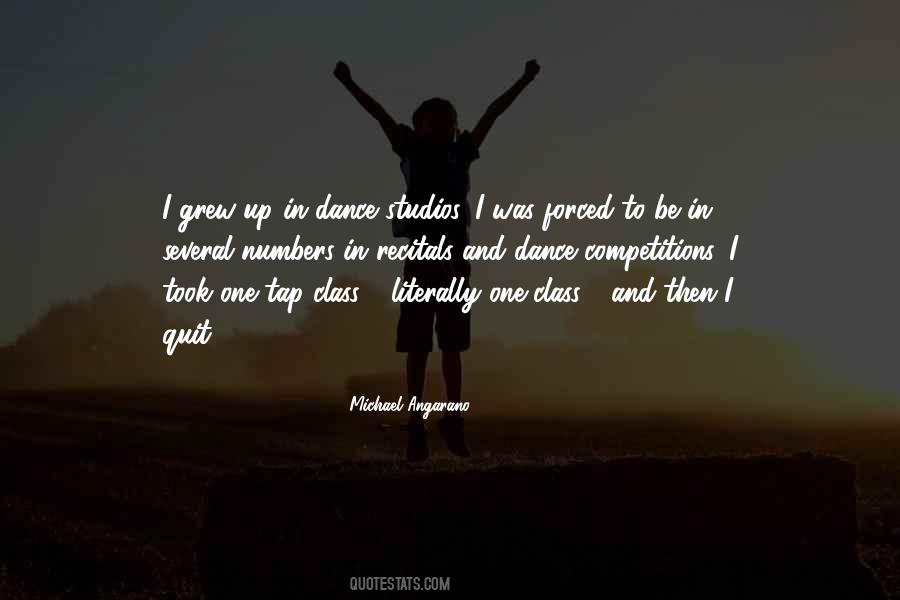 #14. I can tap dance a little bit. - Author: Ansel Elgort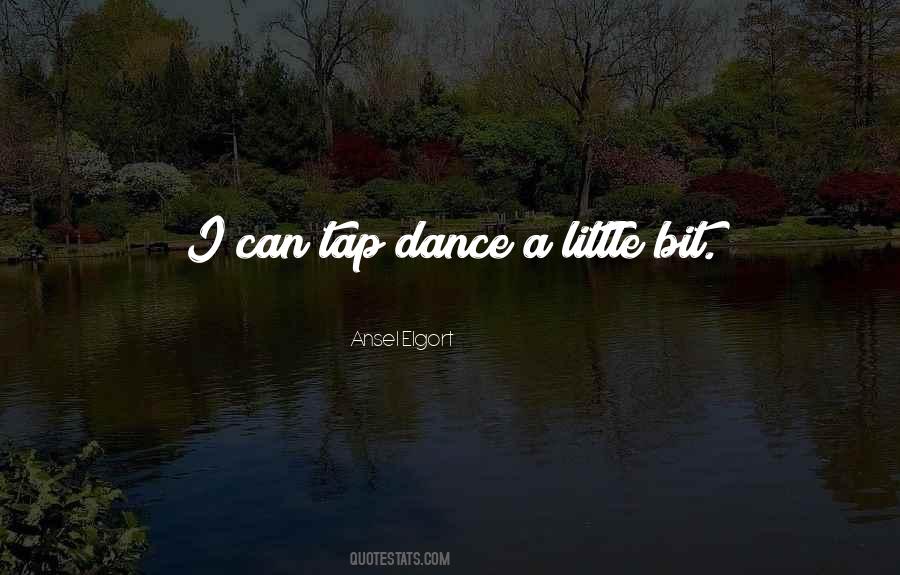 #15. Dance has always just been an extension of music for me. It's about putting my music into motion. It's just another dimension that I tap into with my music that not many artists do anymore. - Author: Tinashe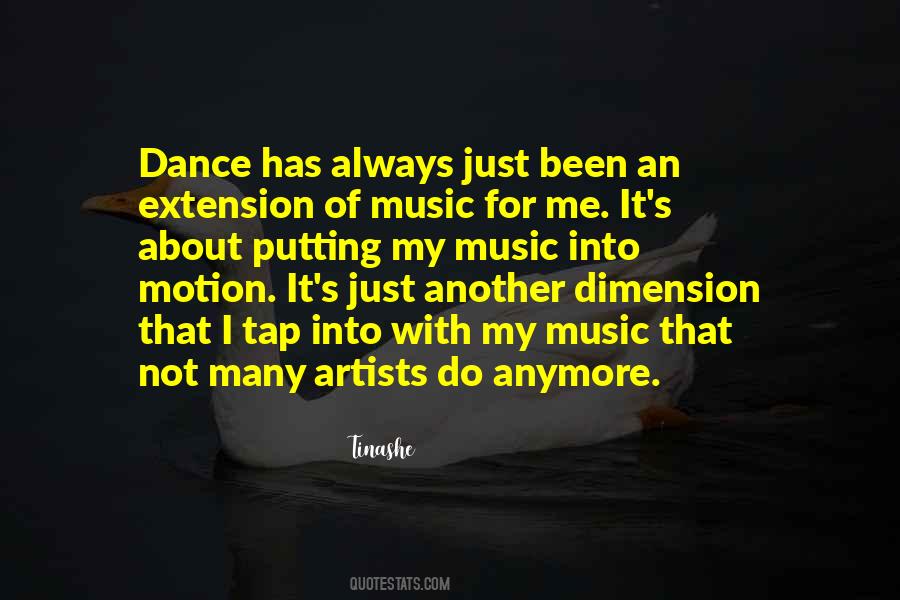 #16. The topic of working moms is a tap-dance recital in a minefield. - Author: Tina Fey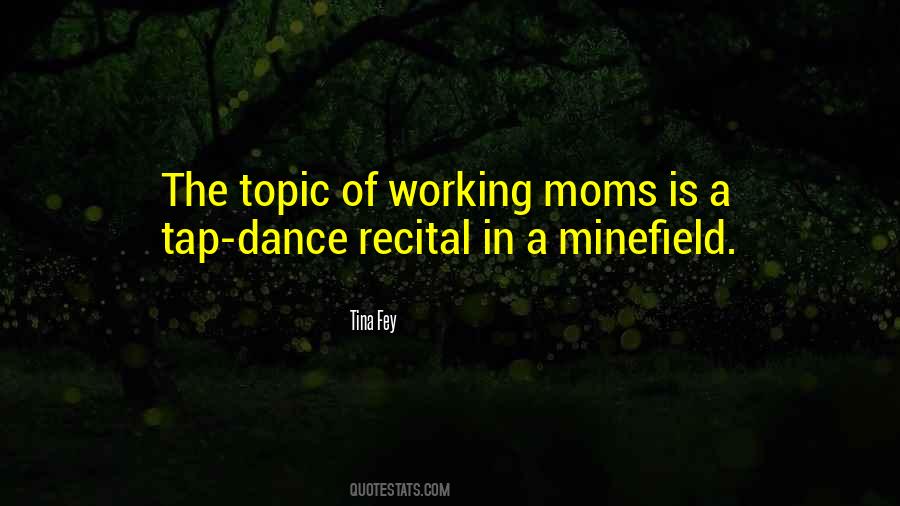 #17. Should we start making preparations here? (Tory)
Punk-ass won't come to my island! He knows better. You don't tap on the Devil's shoulder unless you're willing to dance to his tune. (Savitar) - Author: Sherrilyn Kenyon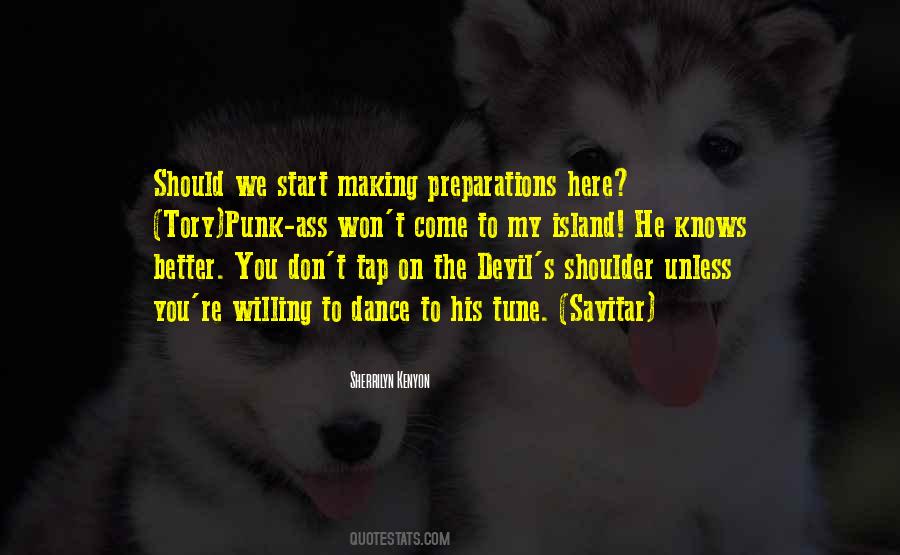 #18. I remember seeing this video for the first time in college - miserable, half-drunk on Keystone Light, a Camel Light smoldering in my mouth, about to desperately tap-dance my way through another social interaction - and saying out loud: "I fucking *get* you, Bee Girl. - Author: Dave Holmes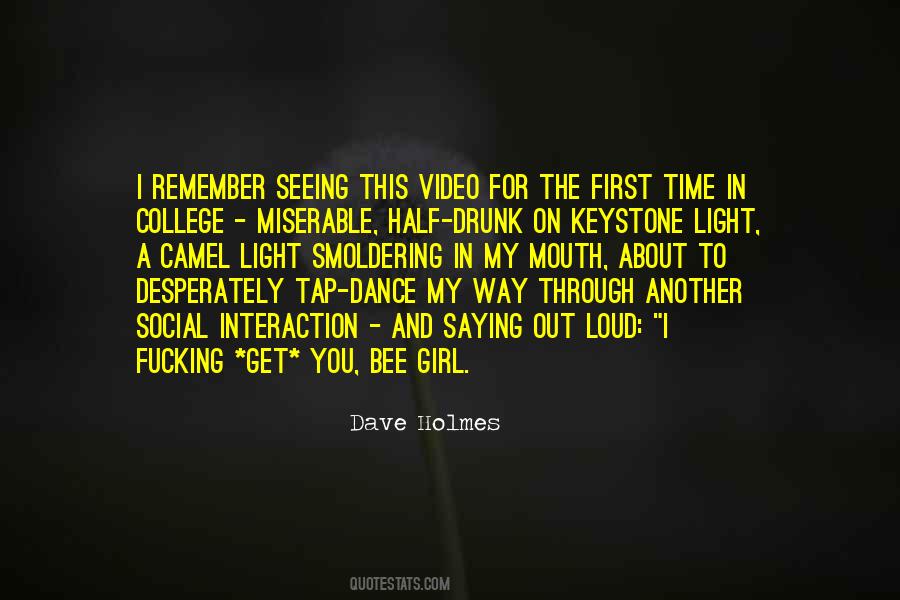 #19. My dad taught me about music. He used to tap dance. - Author: Ray Davies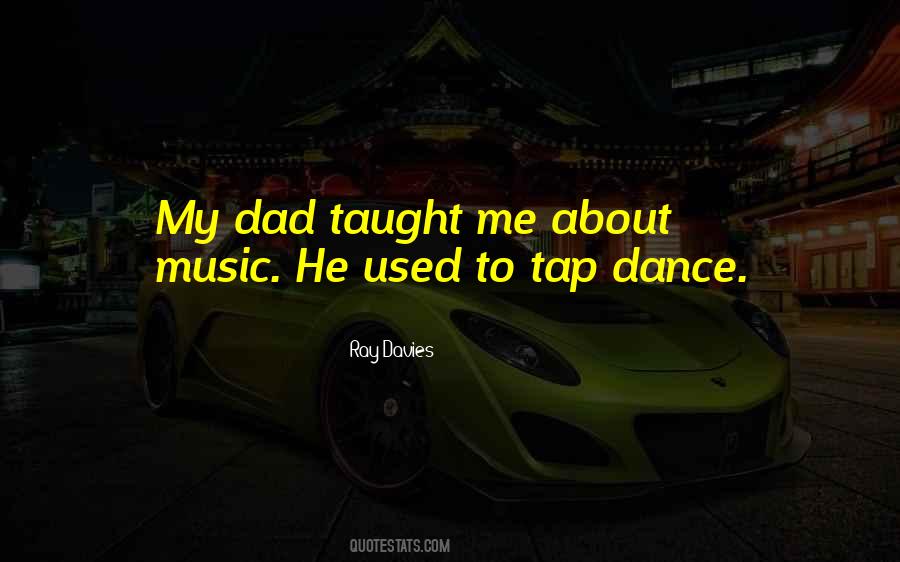 #20. How can a man with your heritage not be able to tap-dance." I heard Hawk's gliding chuckle. "My ancestors busy eating missionaries, boy. - Author: Robert B. Parker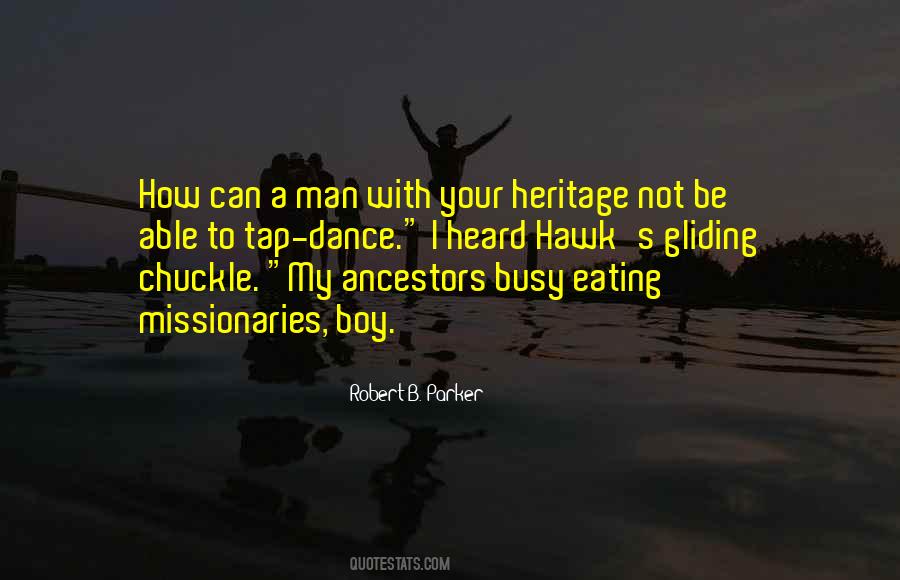 #21. You need to stop thinking with your head, Mud Boy, and start thinking with your heart.
Artemis sighed. The heart was an organ for pumping oxygen-rich blood to the cells. It could no more think than an apple could tap-dance. - Author: Eoin Colfer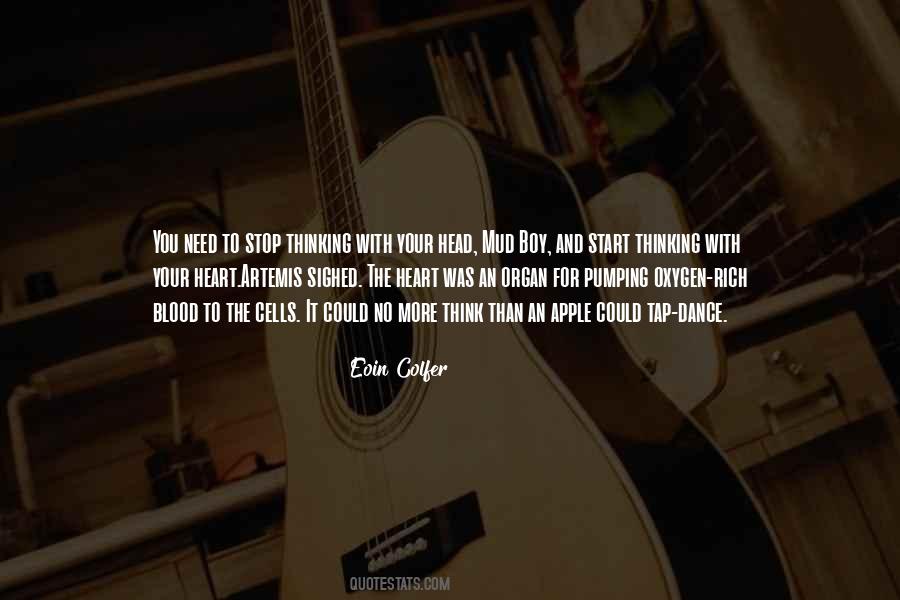 #22. I still get very excited when people say they fall in love. It doesn't matter how old you are, falling in love is a beautiful thing. And I still act like I did when I was a teenager. I get fluttery and tap dance around. I'm never afraid of making funny faces or being completely goofy. - Author: Cote De Pablo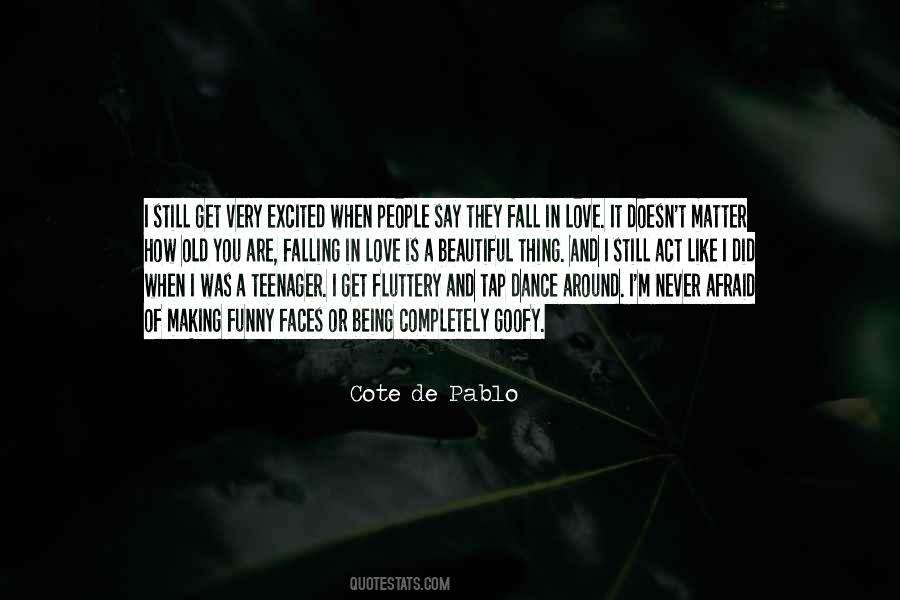 #23. A lot of time we don't get into politics because we don't believe anything you're saying and we can't understand what you're saying because we ask you question and you tap dance around the issue so much that we forget what we asked. - Author: Ne-Yo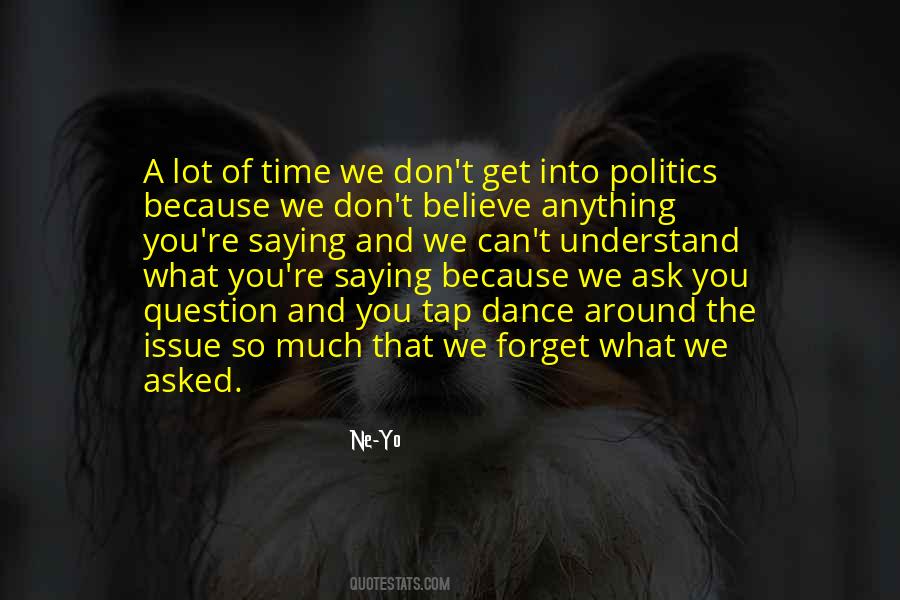 #24. I'm a happy member of the church. I'm proud of it and defend it. It makes me bold and gives me confidence. I feel I know the answer to life - that it's all about. If you're not searching for the answer to life, you have more time to make art. It's a rock for me upon which I can tap dance. - Author: Catherine Hicks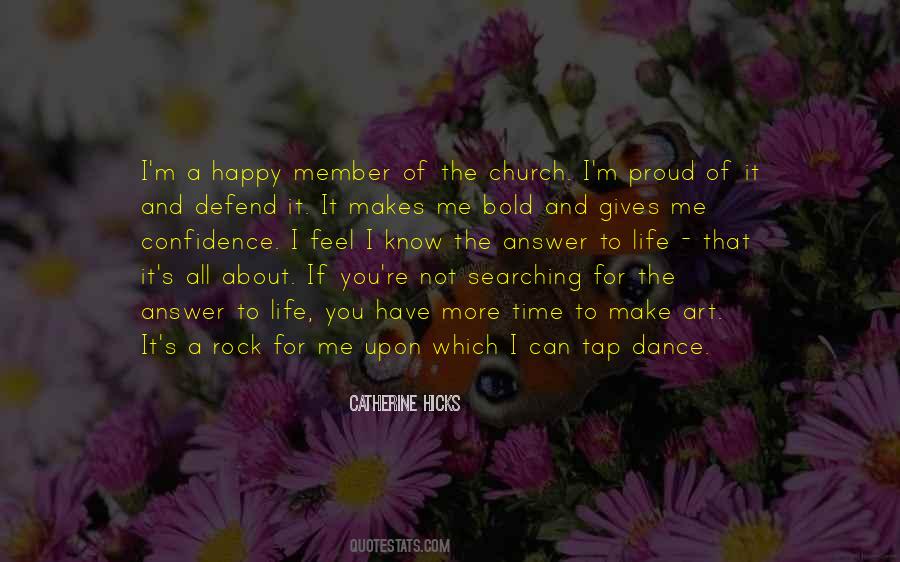 #25. I have the feeling that a lot of poets writing now are - they sort of tap dance through it. - Author: Mary Oliver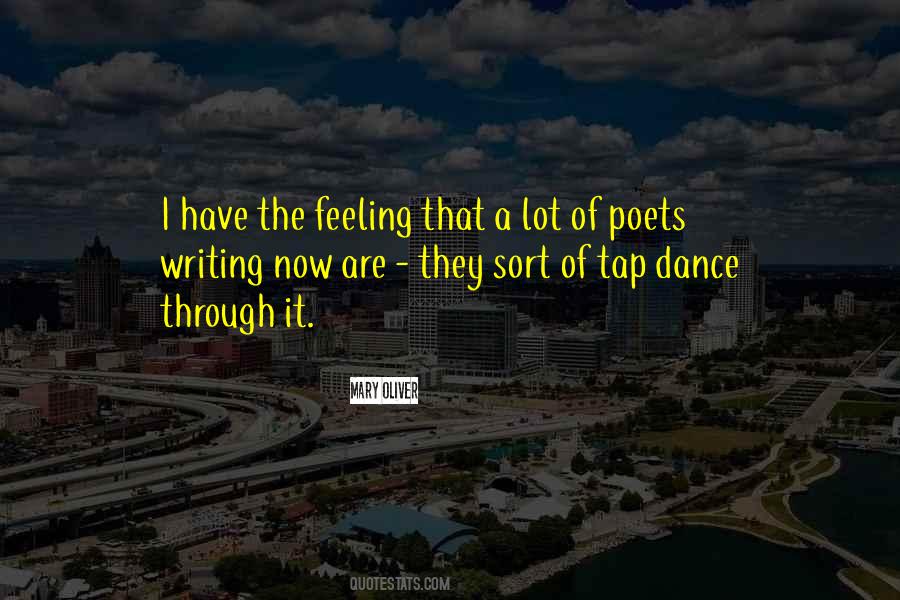 #26. When I dance, it's incredible. I can't describe it, there's no words. You just tap into your mojo and you just go. - Author: Johnny Borrell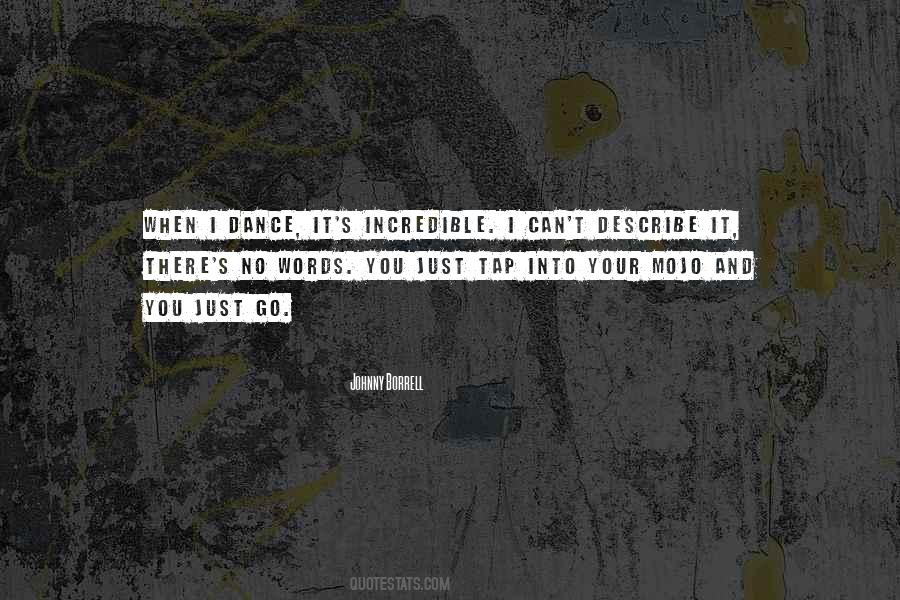 #27. I took several years of dance lessons that included ballet, tap and jazz. They helped a great deal with body control, balance, a sense of rhythm, and timing. - Author: Lynn Swann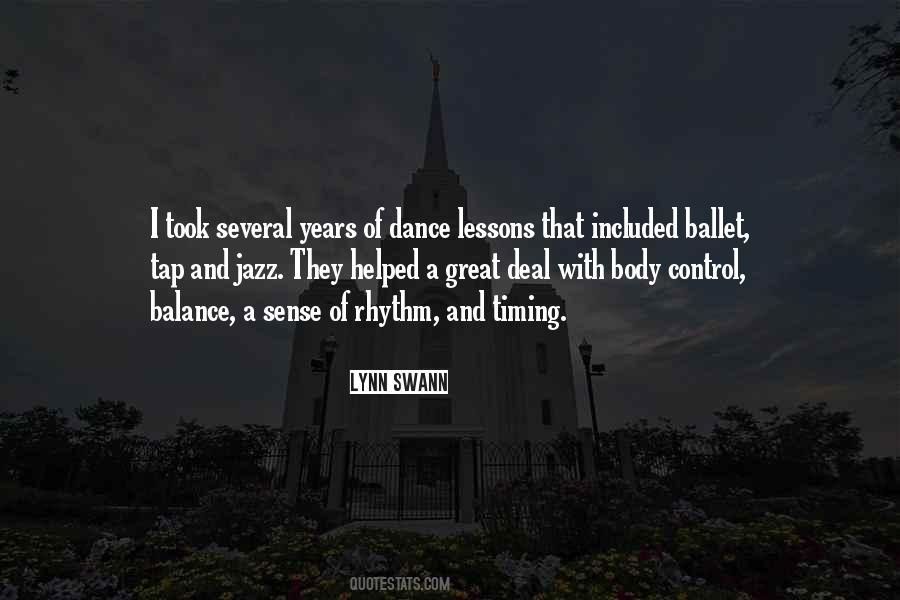 #28. I'm the first one out on the dance floor. In college I had to take jazz, ballet and tap dancing, but, before that, it was just social. - Author: Miles Teller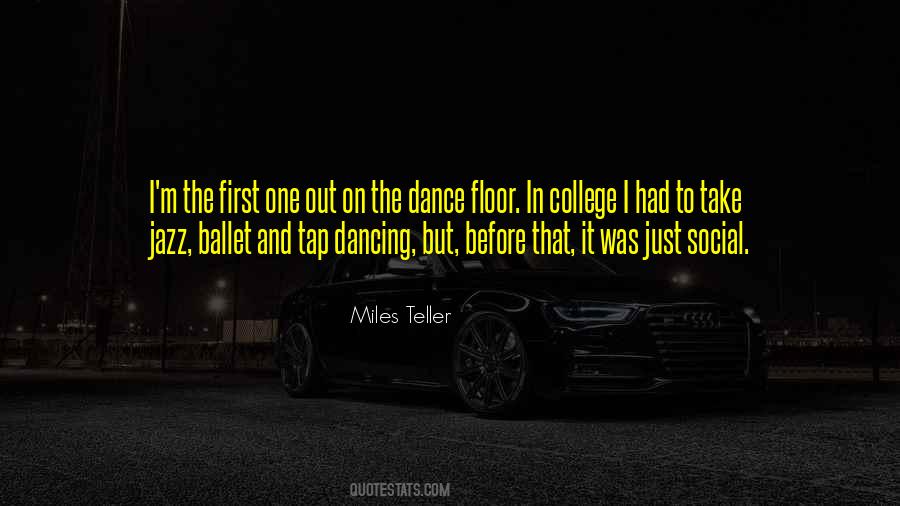 #29. When I was 4, my parents took me to see a musical, and I was like, 'I want to do that!' I started doing all sorts of musical camps and a lot of professional theater. I took dance classes for 10 years, too - I was never the most amazing kid in the other classes, but tap stuck with me for some reason. - Author: Aubrey Peeples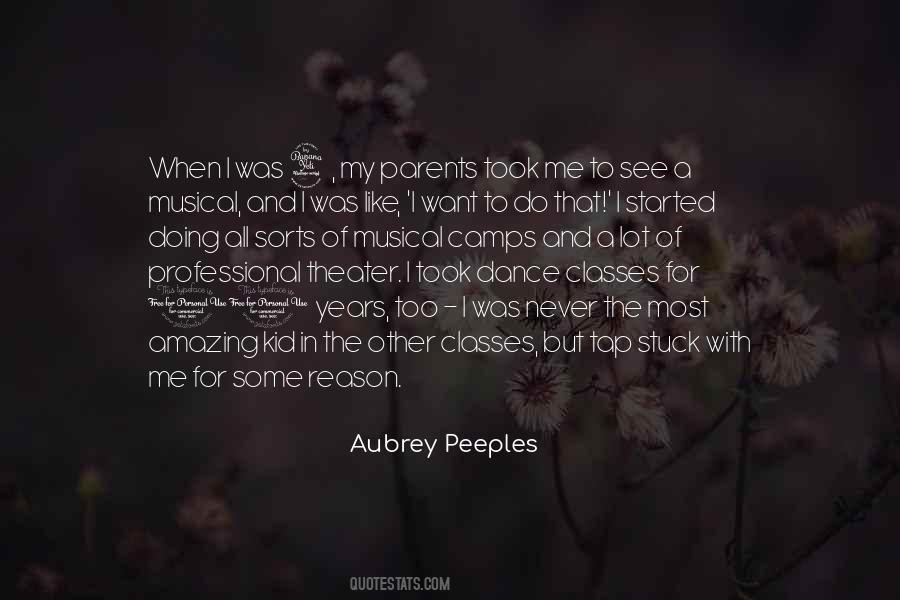 #30. Sometimes you read pilots and, understandably, they're doing such a frantic tap dance for approval. I get why - it's such an incredibly competitive market. - Author: Zach Woods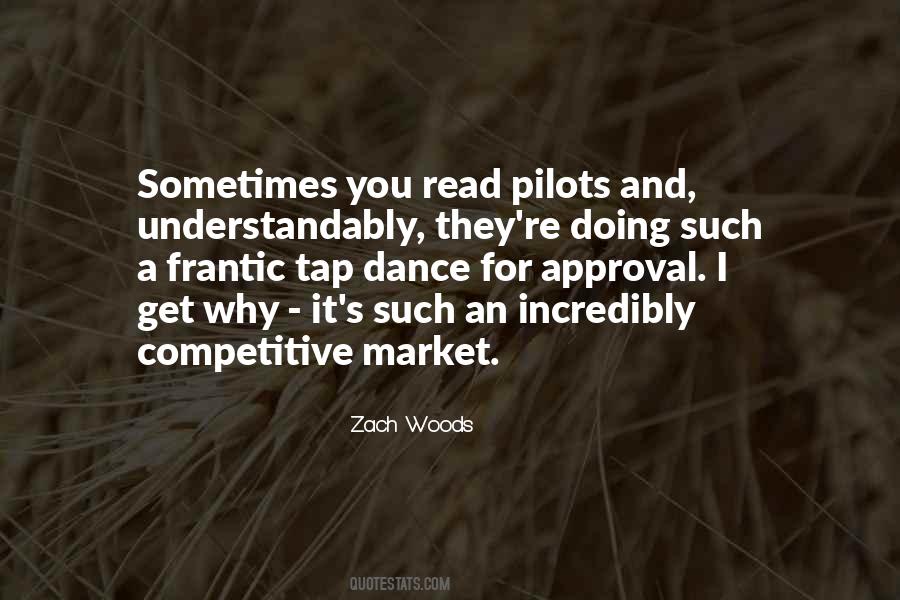 #31. When balancing a bottle of nitroglycerin on the point of a sword, never complicate the task by trying to tap dance. - Author: Dean Koontz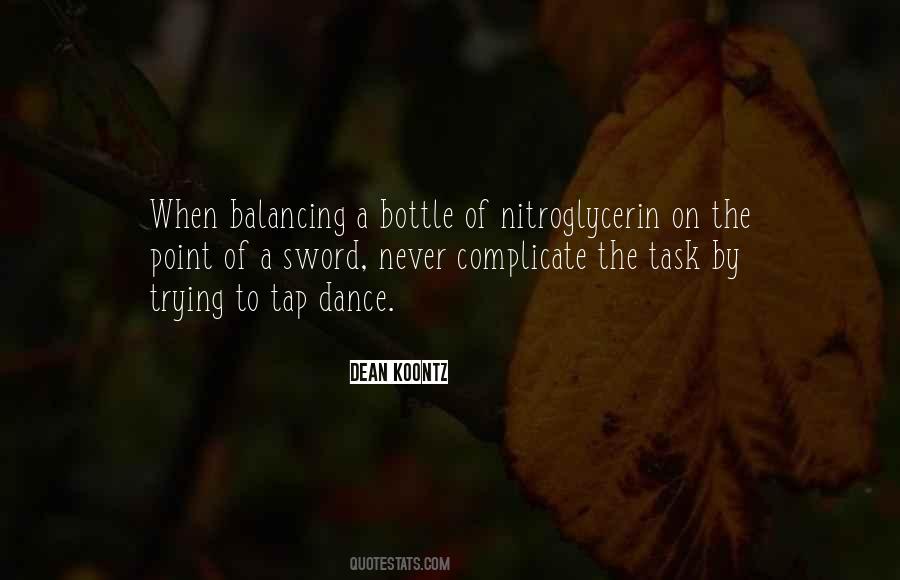 #32. As it did every time she saw Frank, Hazel's heart performed a little skip-beat tap-dance - which really irritated her. Sure, he was a good friend - one of the only people at camp who didn't treat her as if she had a contagious disease. But she didn't like him in that way. - Author: Rick Riordan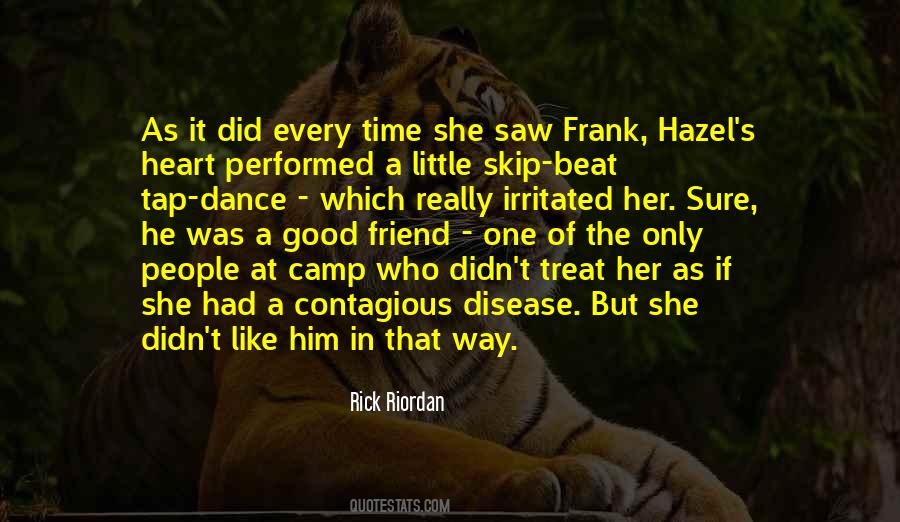 #33. You could put me on a stage in front of 100 people, and I could do a tap dance, but one-on-one was really difficult for me. And it took me most of my life to learn how to work with that anxiety, to embrace and be comfortable with it. - Author: Brie Larson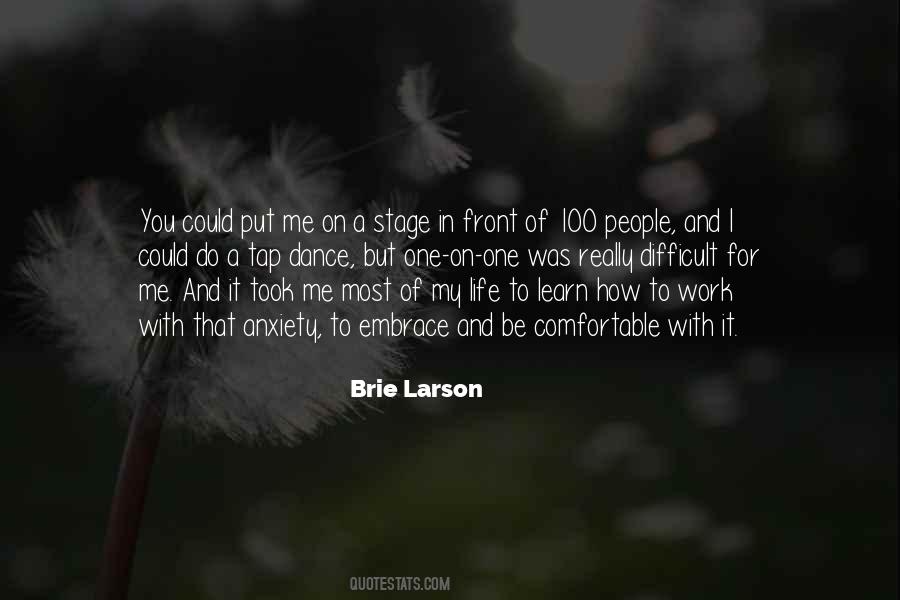 #34. I think 'Tap Dogs' has lasted so long because people have a natural interest in tap dancing. This form of dancing can't be dated, it's such an intriguing form of dance because the feet are also an an instrument. - Author: Adam Garcia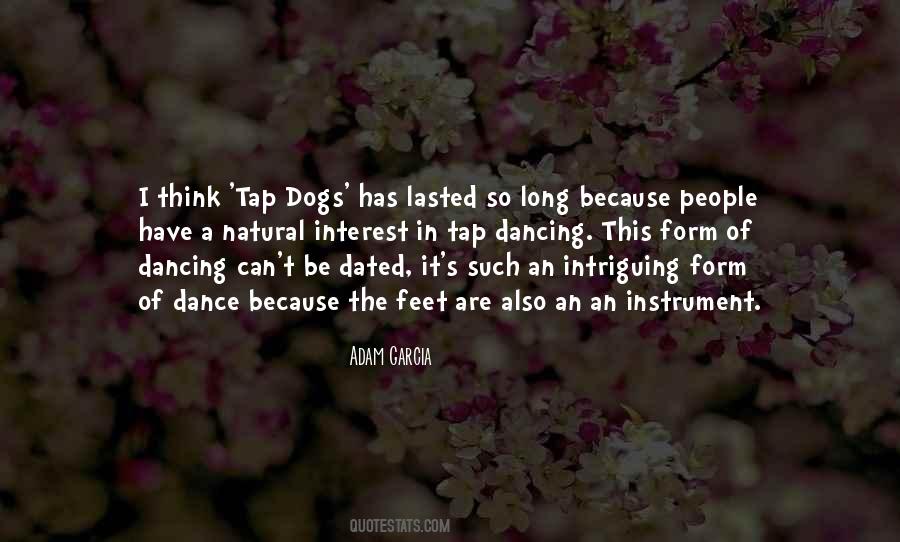 #35. I love dancing, actually. My mother taught children's dance, ballet, tap, jazz ... I'm very flexible. - Author: Michael Angarano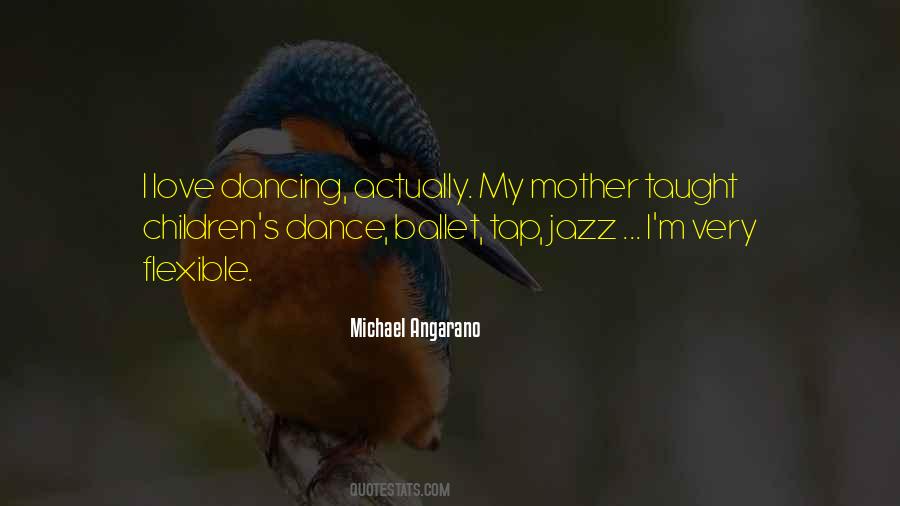 #36. When I was a little kid, I took tap and ballet. I've always loved to dance. I'm a rhythm machine. - Author: Tommy Lee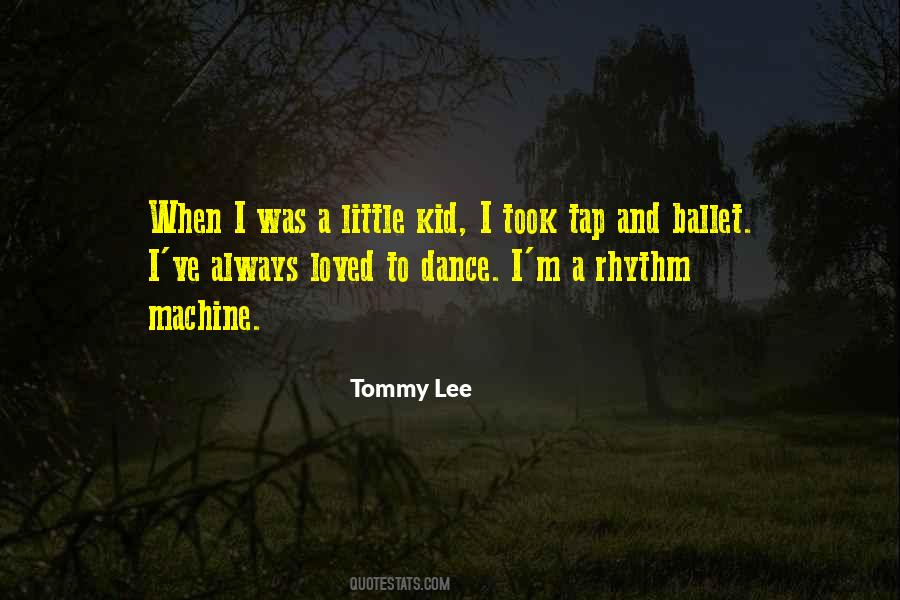 #37. My grandmother had a Miss Margaret's School of Dance to teach tap and ballet to kids, but I never studied it. I was raised a Mormon and they're dancing fools. It's the only vice they have - dancing. - Author: Michelle Shocked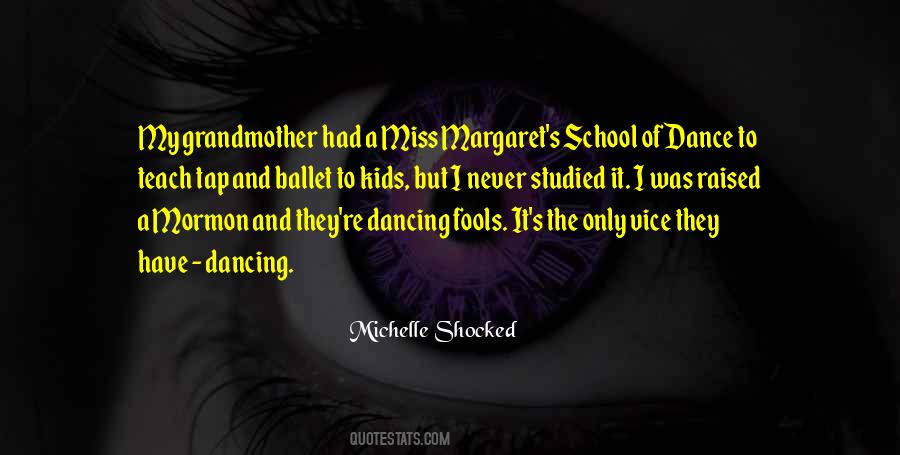 #38. I began with dance, doing ballet at 3, then tap, jazz, modern. Then I sang in church choirs, learned how to play clarinet and drums, sang with rock bands and only then did I get into musical theatre. - Author: Samantha Barks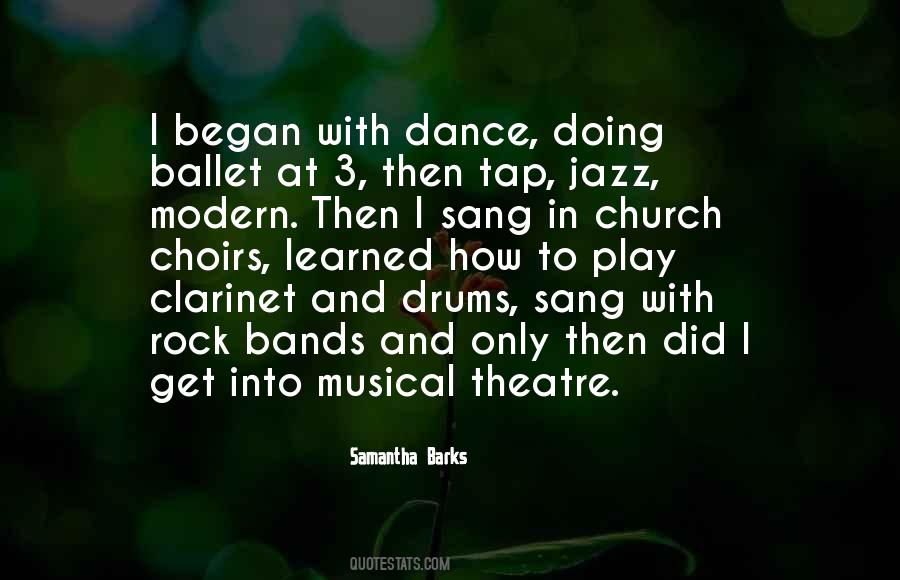 #39. I did tap dancing and stuff like that at drama school. I did ballet as well. My dance teacher and I didn't necessarily get along all that well sometimes. She's brilliant ... but it's just because I don't like wearing tights that I put up a bit of a fight there, I think. - Author: Tom Weston-Jones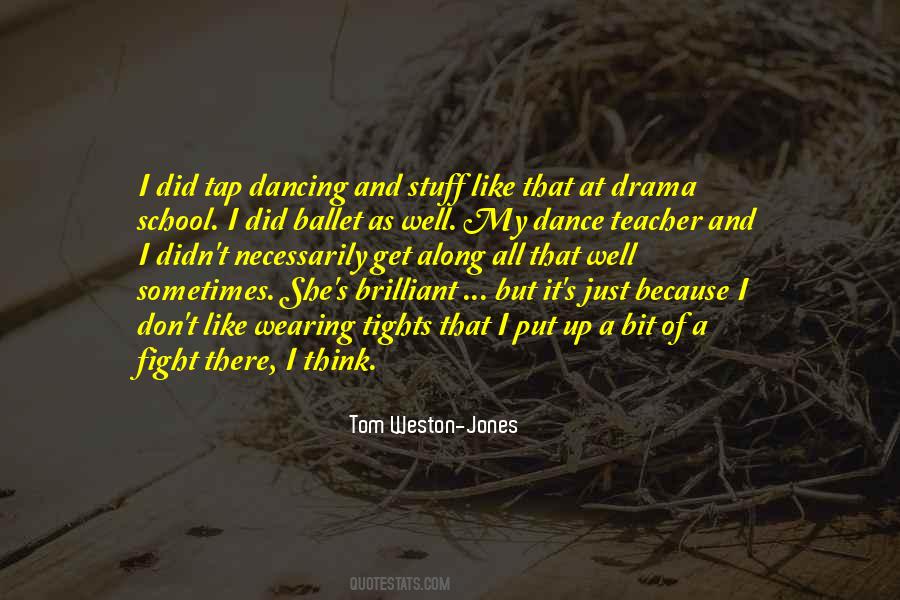 #40. On Saturday afternoons, there was a film, of course, and then we did about four shows between the films. And I would do a tap dance, a little military tap. - Author: Barbara Cook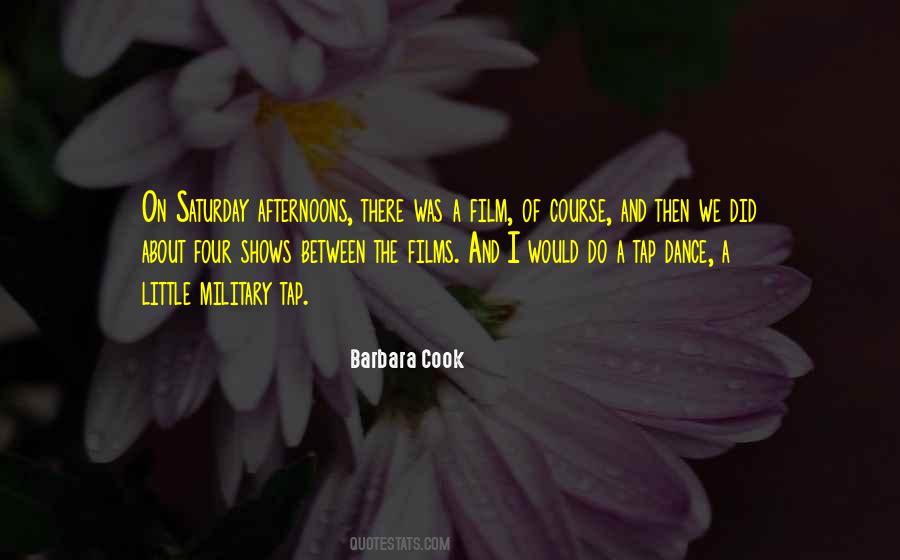 #41. My dream role would be anything where I get to tap-dance. - Author: Dule Hill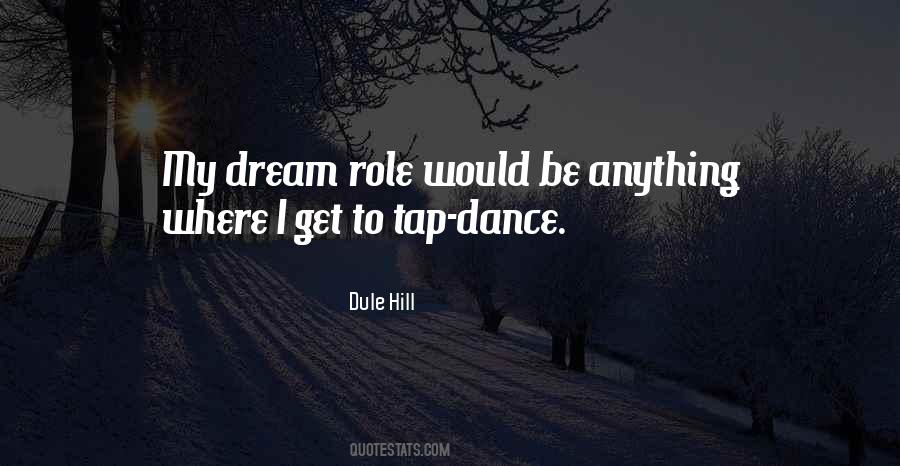 #42. There probably aren't a lot of actors my age who tap dance. - Author: Christopher Walken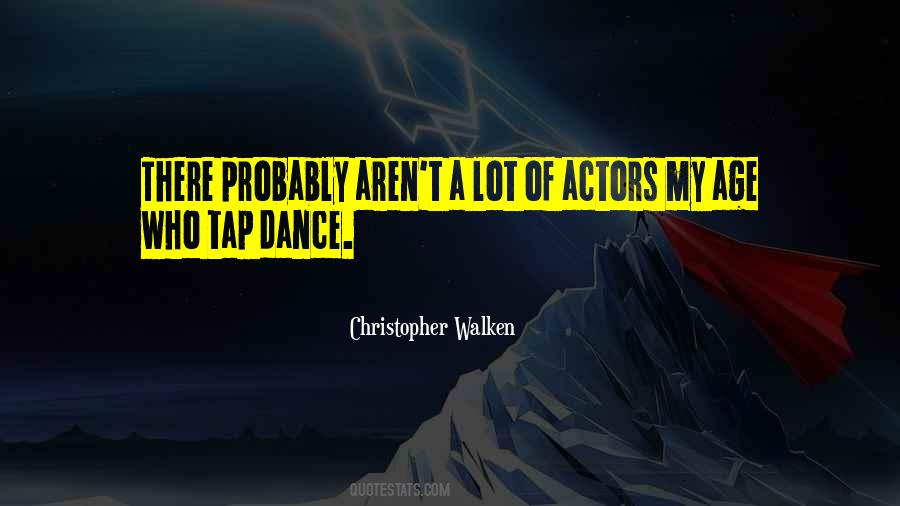 #43. Okay, I'll strip. I'll tap dance. I'll sing 'La Cucaracha' in C minor. - Author: Darynda Jones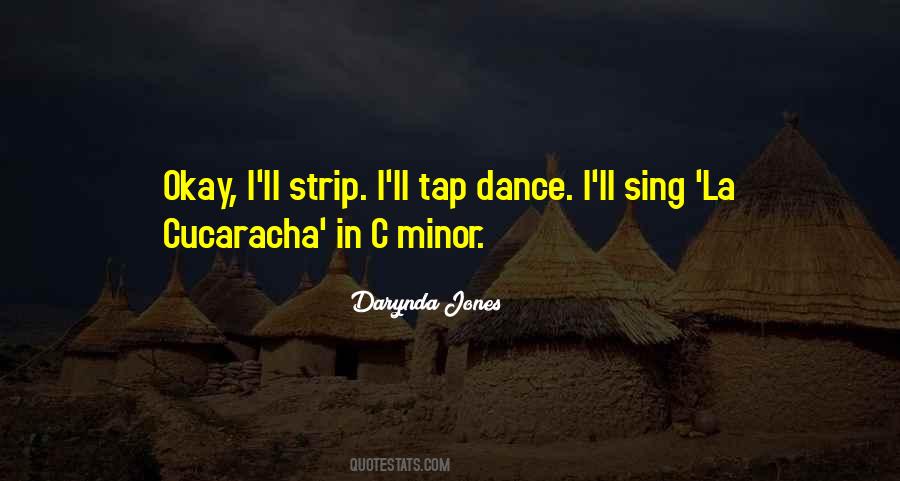 #44. We were tap-dancers but we put more style into it, more bodywork, instead of just footwork. - Author: Harold Nicholas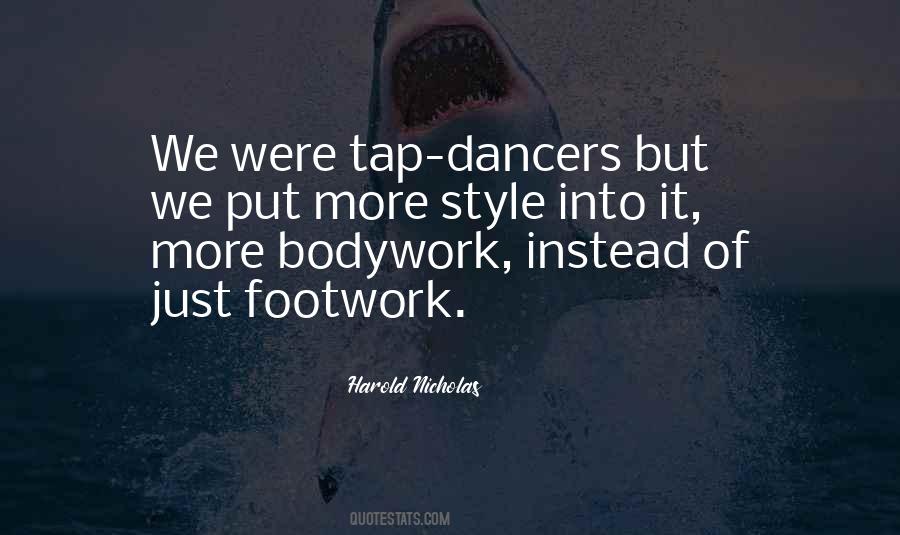 #45. I'm a tap dancer. Once you're a tap dancer, you're always a tap dancer. In 'After Midnight,' I get to dance, but I don't do a full tap number. - Author: Dule Hill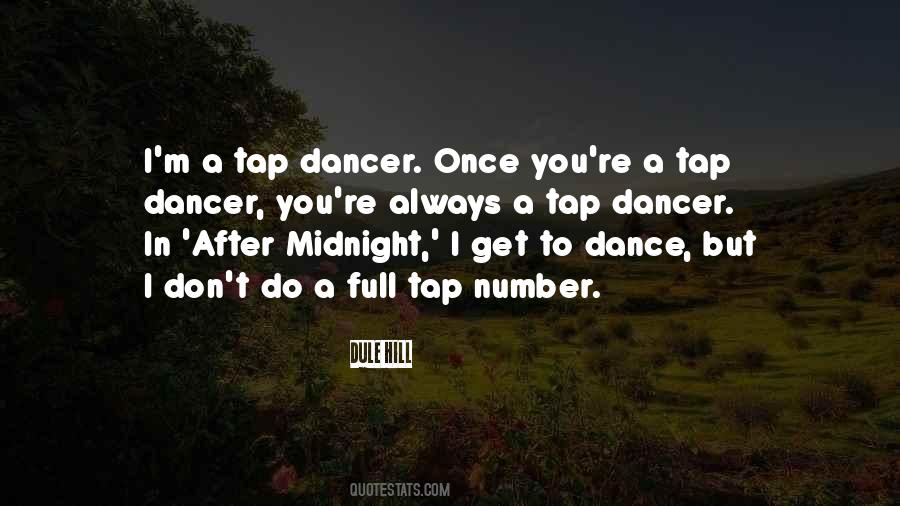 #46. I was really creative. I started to dance very young. I loved to dance. I begged my mother to put me into dance classes, and finally, in third grade, she did. Tap and jazz, but not ballet. - Author: Laverne Cox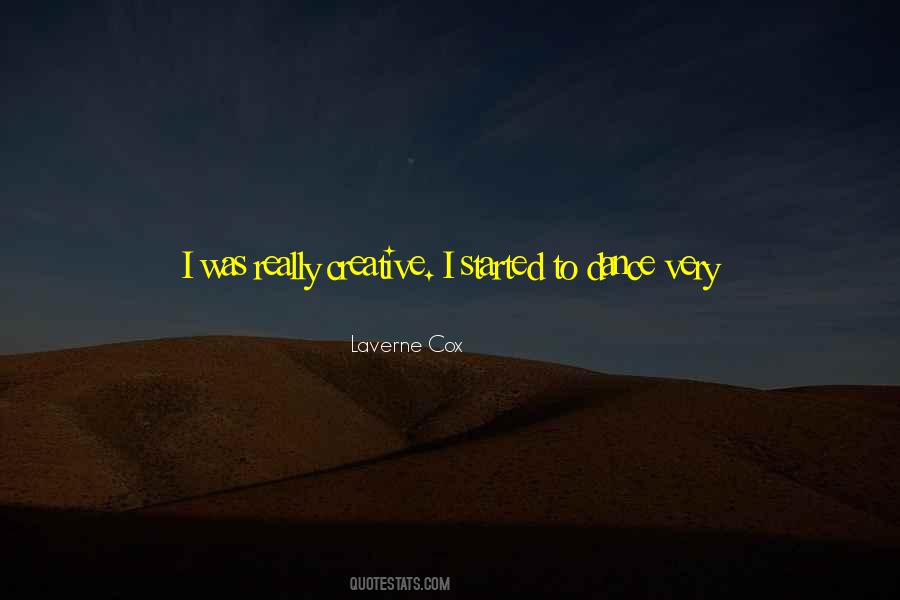 #47. When people say you're doing something radical in rock or dance music, I'm not sure how special that is. What we do is so old-fashioned. It's like trying to do something innovative in tap-dancing. - Author: Jonny Greenwood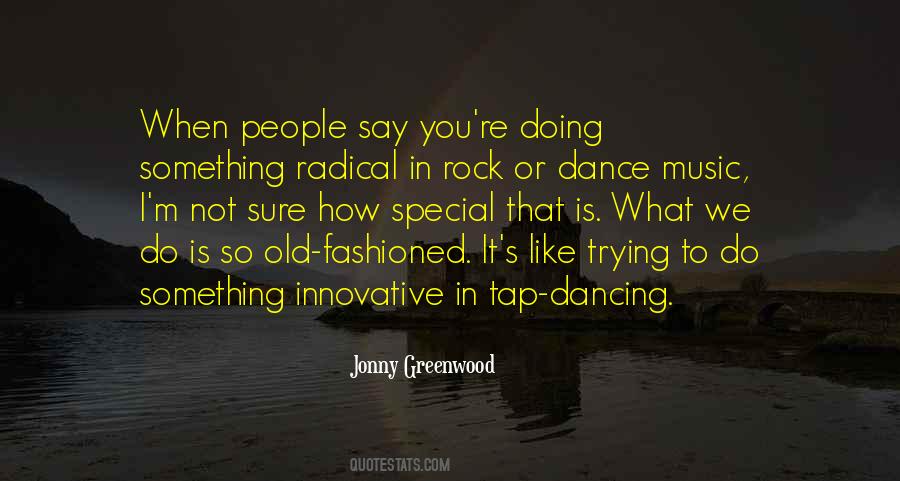 #48. Quite deliberately my friend drops a kettle on the floor. I tap-dance in front of closed doors. One by one the household emerges, looking as though they'd like to kill us both; but it's Christmas, so they can't. - Author: Truman Capote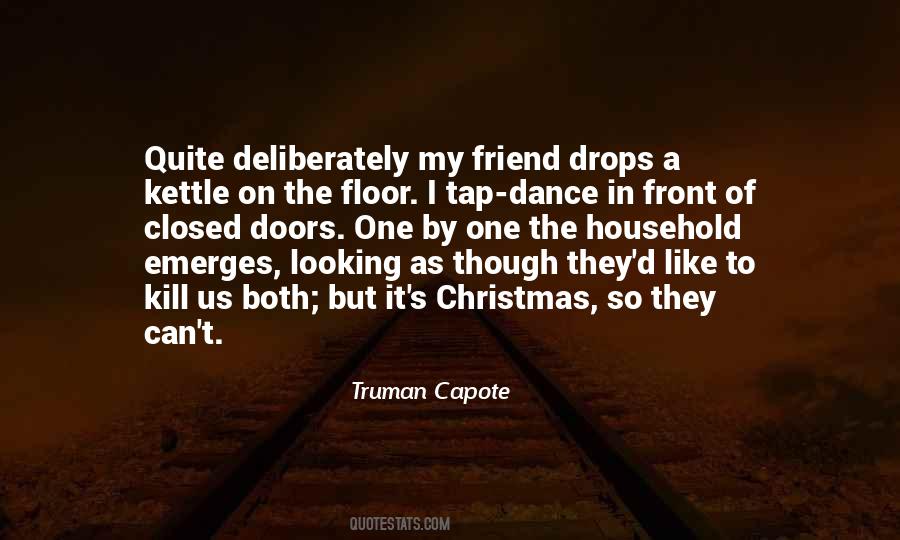 #49. What happened is, when I was doing 'Taxi,' the last year, we did this thing where we had on top hats and tails, and we pretended to tap-dance. And I said to myself, 'You know, I always wanted to know how to do this.' So I got myself a teacher, and I started studying, and I got hooked. - Author: Tony Danza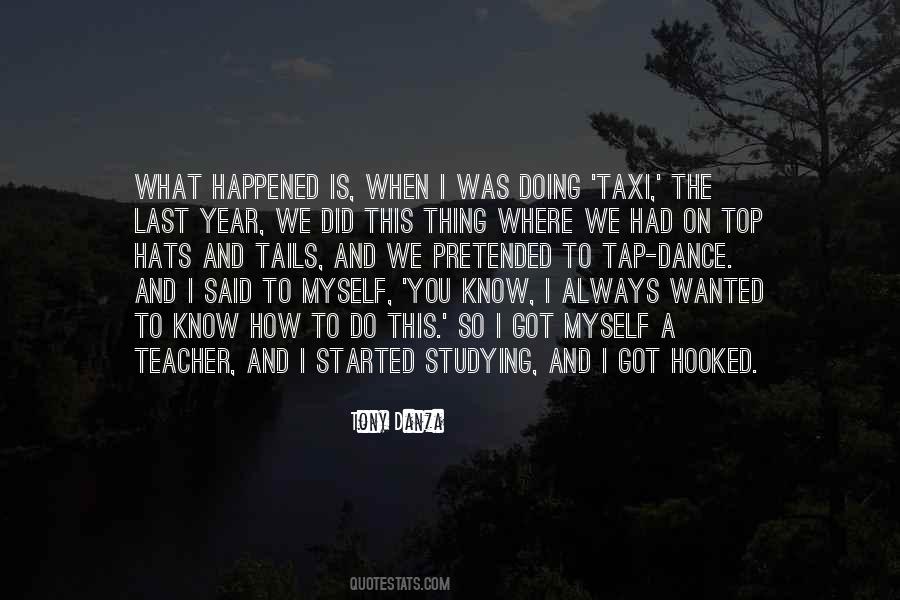 #50. In third grade, I was taking tap-dance lessons, and about six weeks before the recital I wanted to quit. My mom said, 'No, you're going to stay with it.' Well, I did it, and I was bad, too! But my parents never let their kids walk away from something because it was too hard. - Author: Rebecca Lobo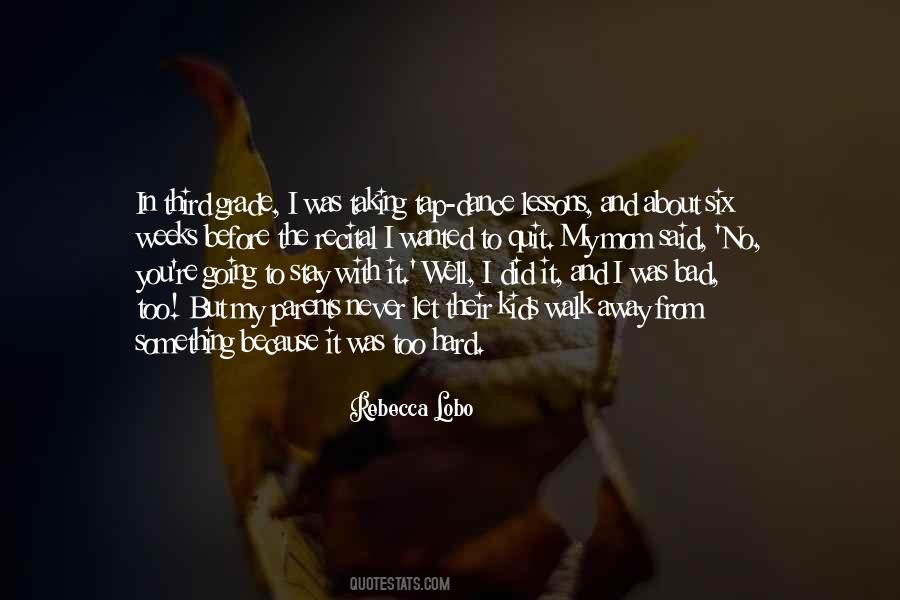 #51. Here in New Orleans, what a lot of the musical families do - and this is a romantic concept on my part - is they teach their kids to tap dance first. Then after tap dance, you learn piano, and after piano, you get to pick between all the instruments that are out there. - Author: Dave Pirner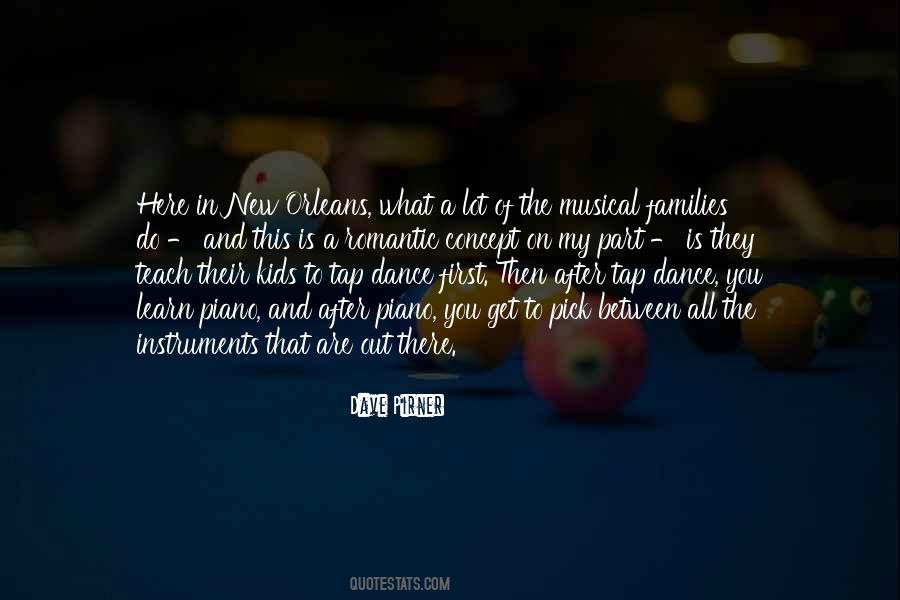 #52. I don't tap dance, and I don't think you can learn to tap dance in three weeks at my ripe old age. - Author: Huey Lewis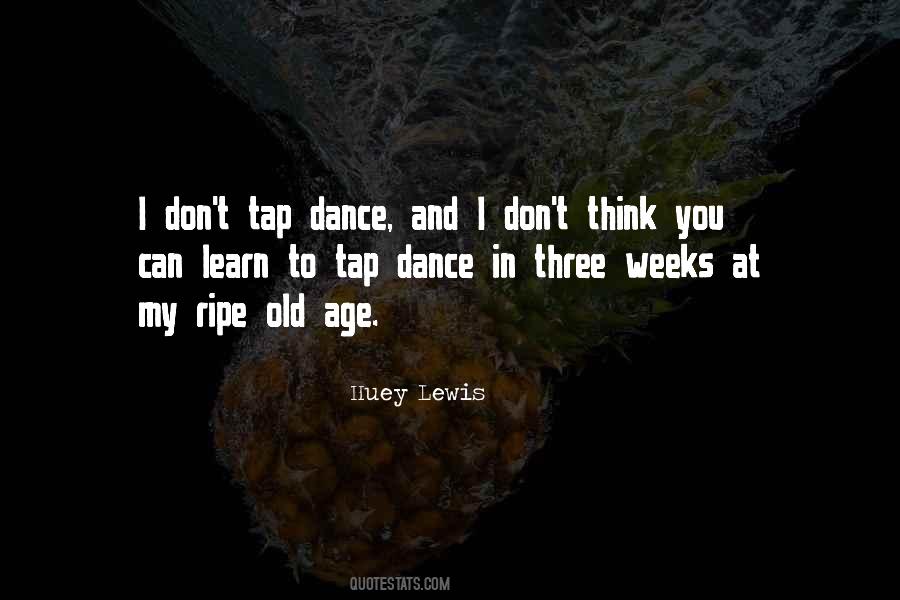 #53. The coach could do a goat-hoof tap dance around Nico's head and the son of Hades wouldn't even budge. - Author: Rick Riordan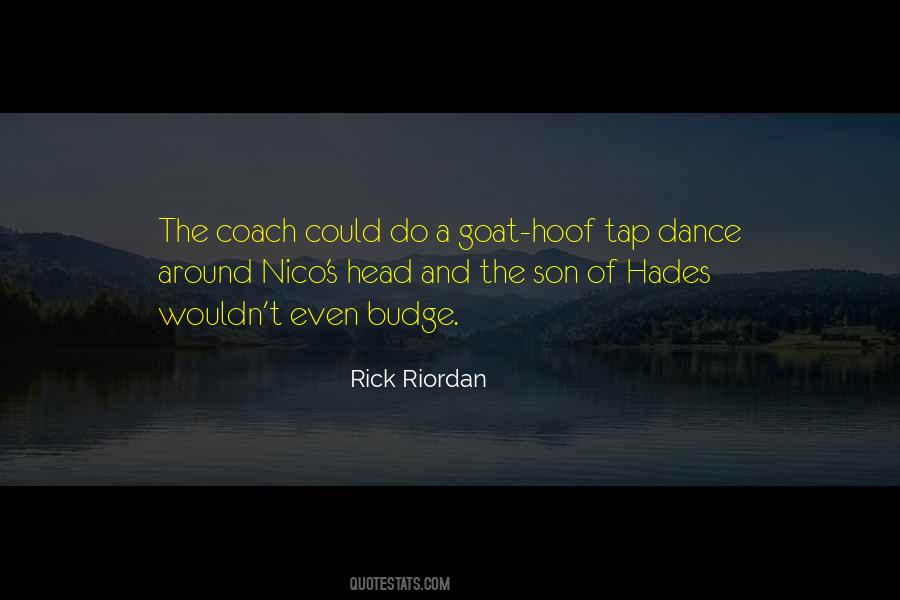 #54. You don't tap on the Devil's shoulder unless you're willing to dance to his tune. - Author: Sherrilyn Kenyon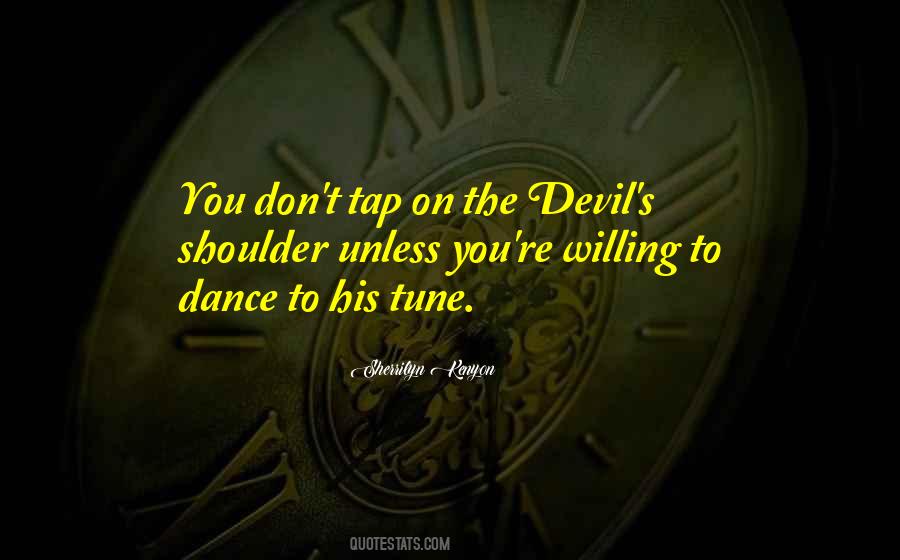 #55. Harry the spider! they want me to tap dance. I don't want to tap dance! - Author: J.K. Rowling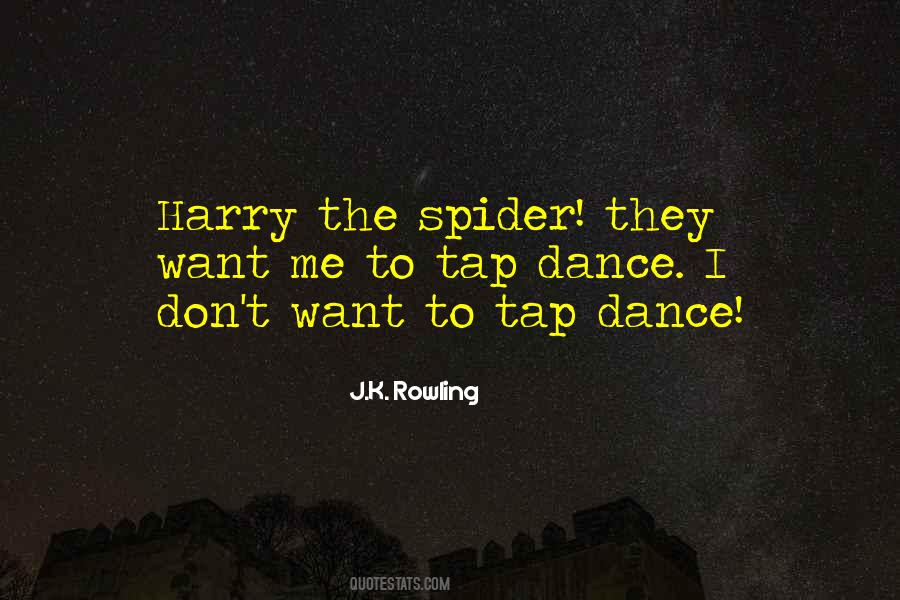 #56. I would love to be able to tap dance. - Author: Luke Evans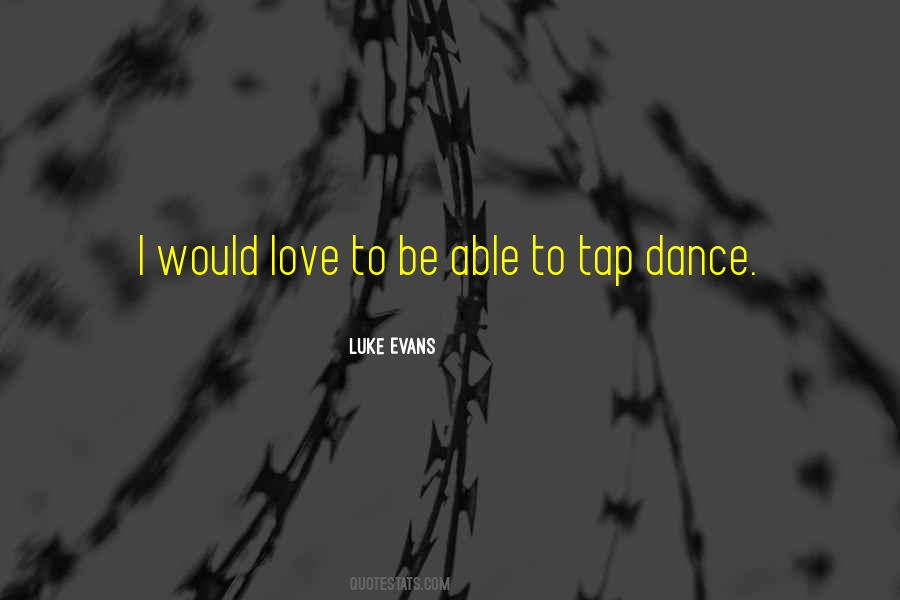 #57. I trained in every form of dance - started as a tap dancer when I was a kid, then contemporary, ballet, ballroom, everything. Russian, Swedish. - Author: Nigel Lythgoe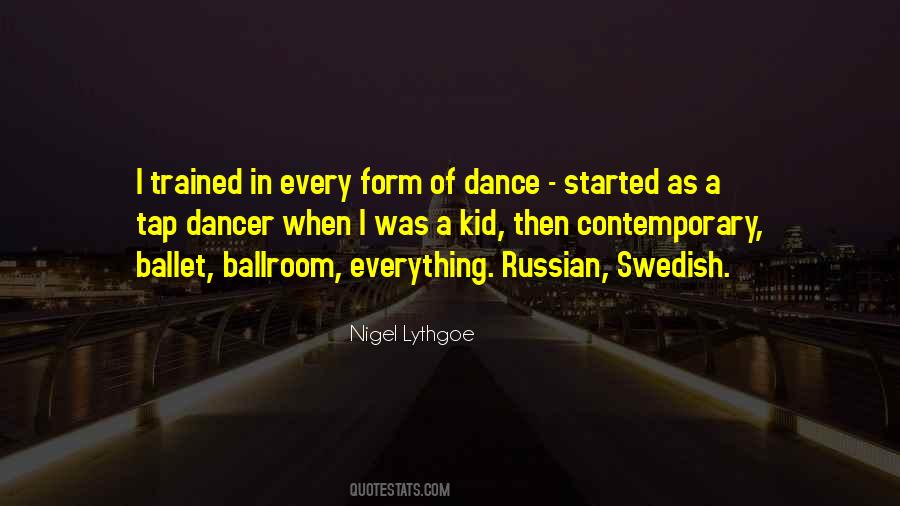 #58. To be a great actor, you really don't need to go to acting school or learn dance classes or work on your body. You have to be intelligent. You have to draw on a lot of emotions that you go through in life that you can tap into once you work on a set. - Author: Ranbir Kapoor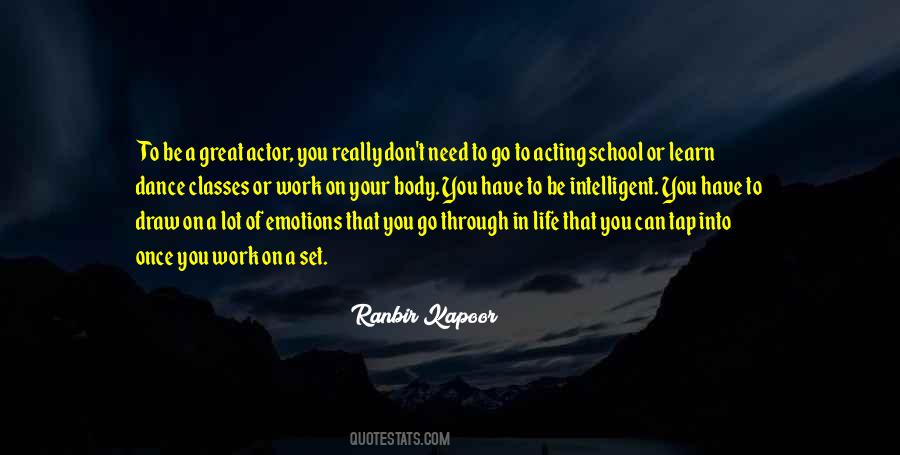 #59. Singin' in the Rain was most excellent if you like movies where people burst into song and tap-dance. Which I do, though not as much as I like movies where people don't. - Author: E. Lockhart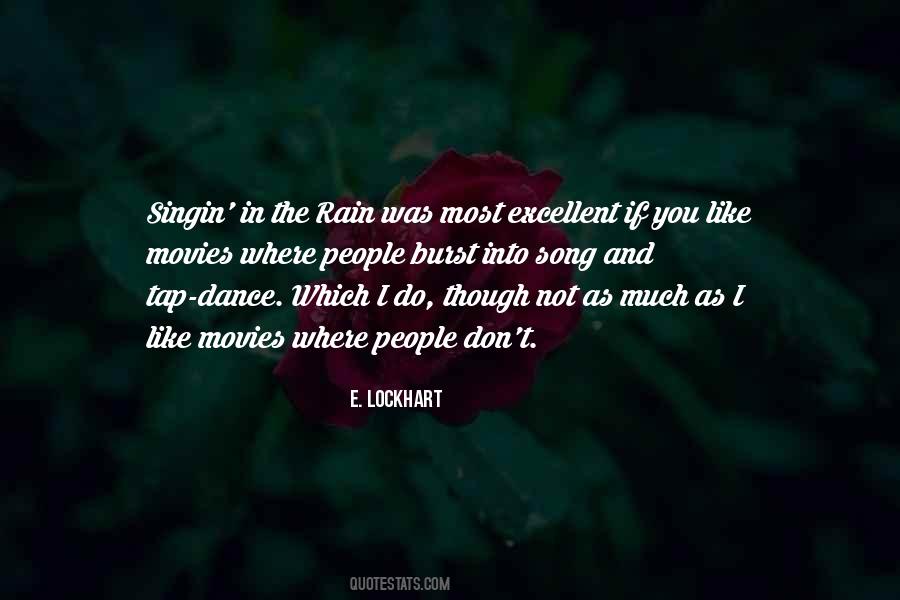 #60. I'm bored," she said.
"Learn how to tap-dance," he suggested, without turning around. - Author: Neil Gaiman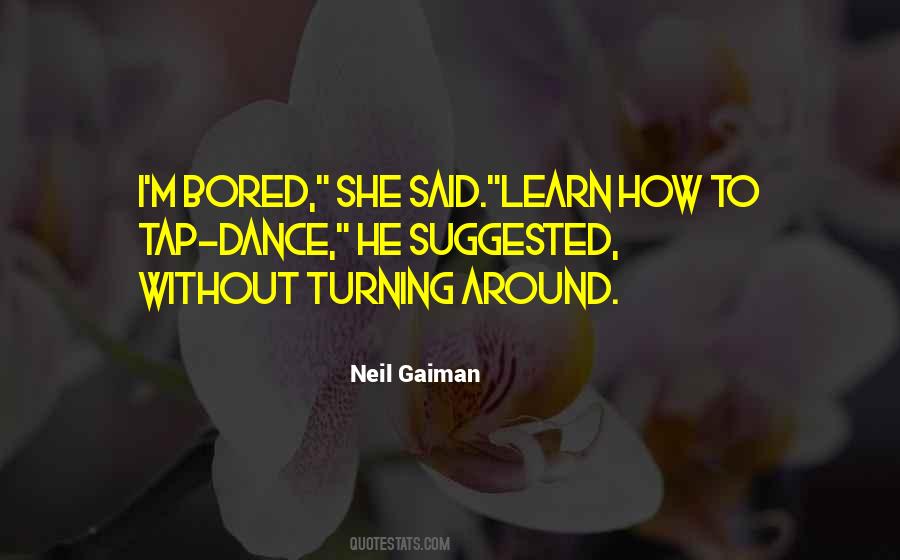 #61. Revitalizing General Motors is like teaching an elephant to tap dance. You find the sensitive spot and start poking. - Author: Ross Perot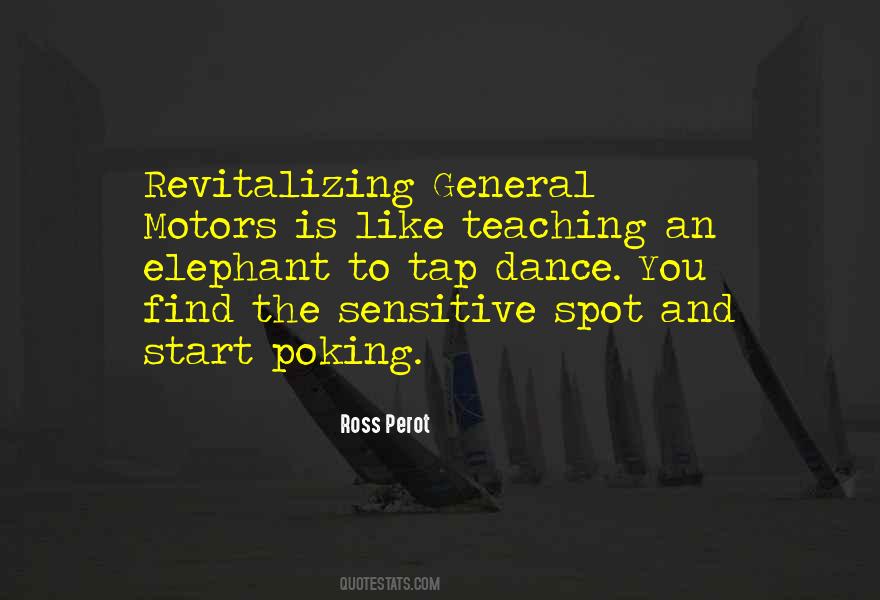 Famous Authors
Popular Topics