School And Work Famous Quotes & Sayings
List of top 100 famous quotes and sayings about school and work to read and share with friends on your Facebook, Twitter, blogs.
Top 100 Quotes About School And Work
#1. I don't have an anti-Hollywood feeling. It's just I'm a New Zealander. I was born in New Zealand, and it's where my house is, and my family goes to school there. My interest is to remain in my homeland and make films. I don't really want to relocate myself to other countries in the world to work. - Author: Peter Jackson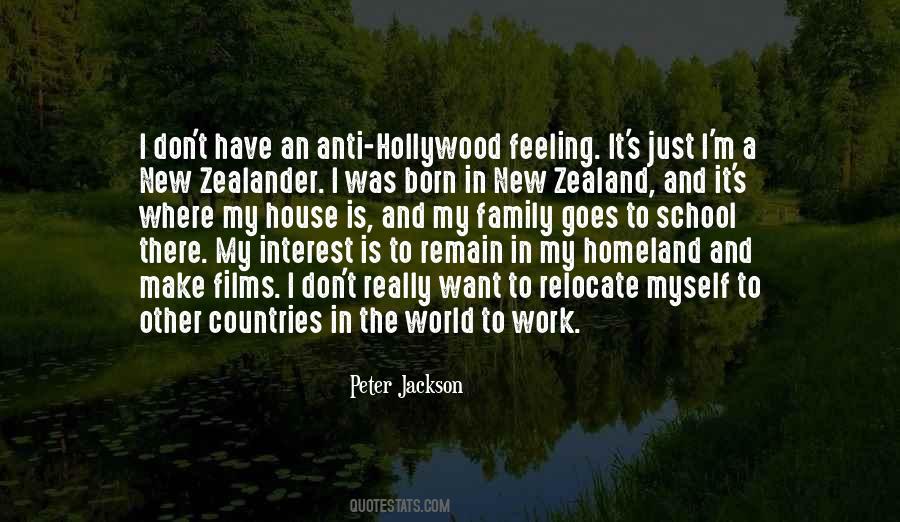 #2. Everything I have today is because of Africa, I was born here, went to school here, I work here and I'm achieving some level of financial comfort here - Author: Tony Elumelu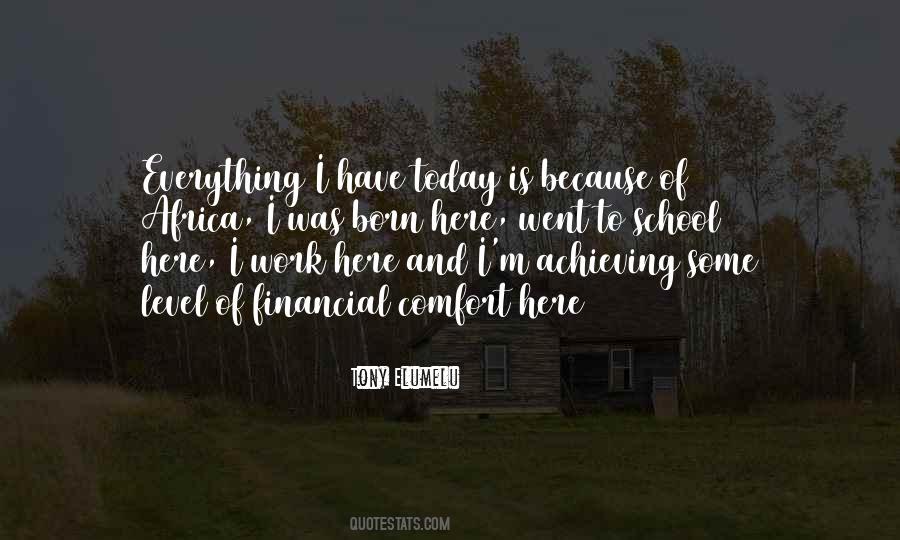 #3. I did a lot of commercial and theater work when I got out of school and was living in Dallas, and I moved to Chicago to go through the Second City Conservatory Program. - Author: Allison Tolman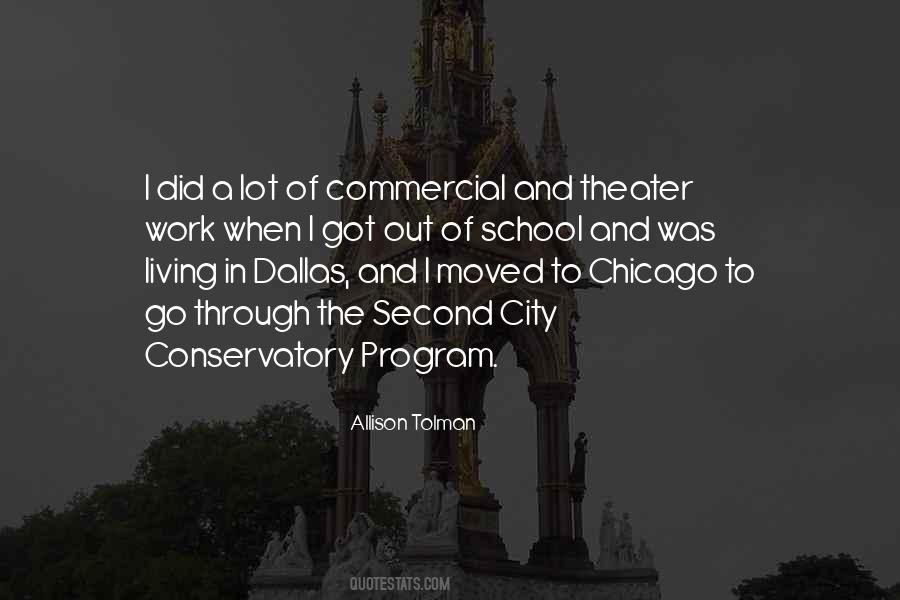 #4. My sister is a public school teacher. She makes far far less money than I do, and gets almost no public attention for her work. Yet I believe what she does is infinitely more important and more difficult than what I do. - Author: Anna Quindlen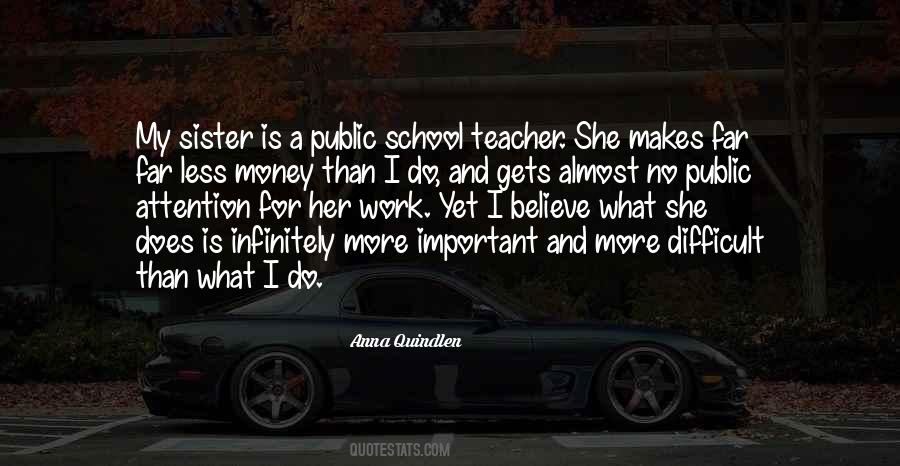 #5. When I was at school studying biology, I wanted to be a medical researcher. I did work experience at St Mary's Hospital in London, and I begged them to let me see the post mortems. So the first time I saw a naked male was at 15, when I saw an 89 year old man who had died of a brain hemorrhage. - Author: Katherine Parkinson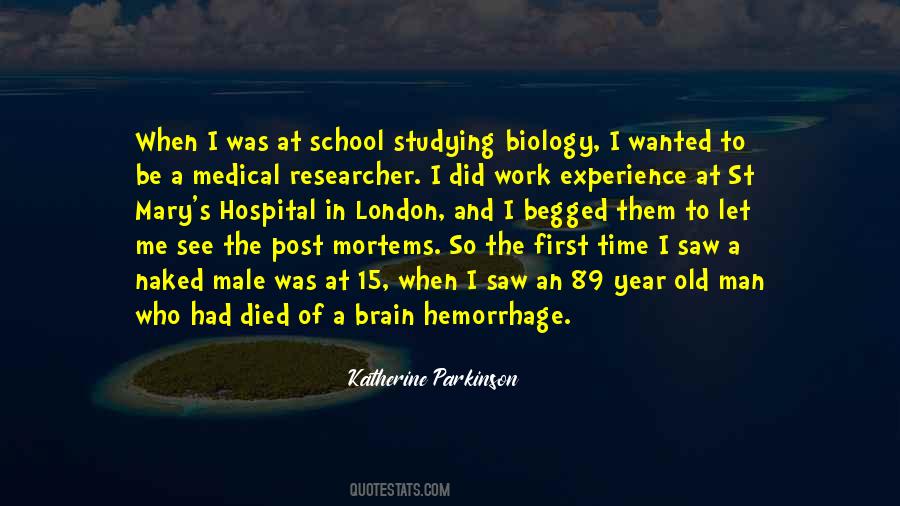 #6. I had a bad experience doing public speaking at school. I had to talk about a pen for five minutes and it was really hard work. I couldn't wait to get off the stage. - Author: Karl Pilkington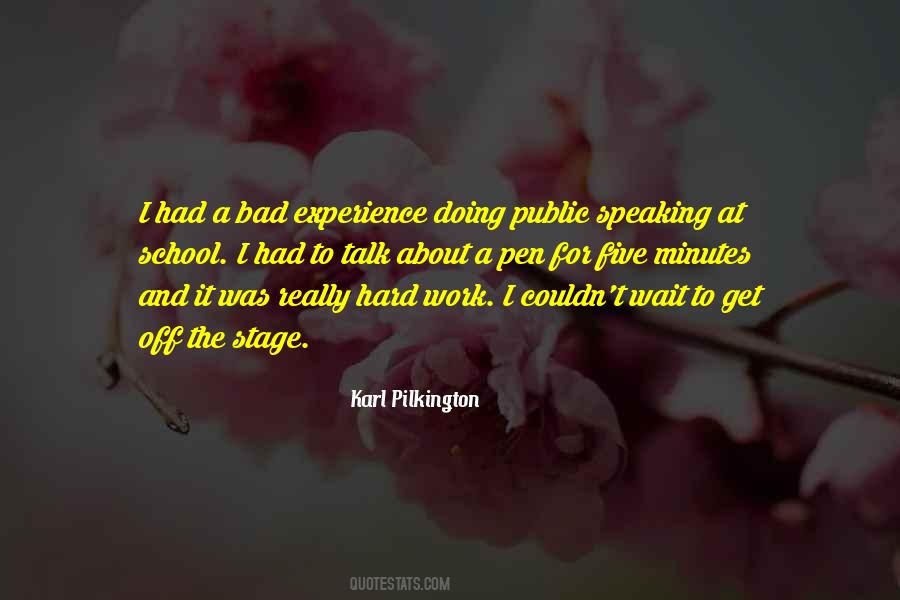 #7. It is a rare person who is naturally inclined to sit still for sixteen years in school, and then indefinitely at work, yet with the dismantling of high school shop programs - Author: Matthew B. Crawford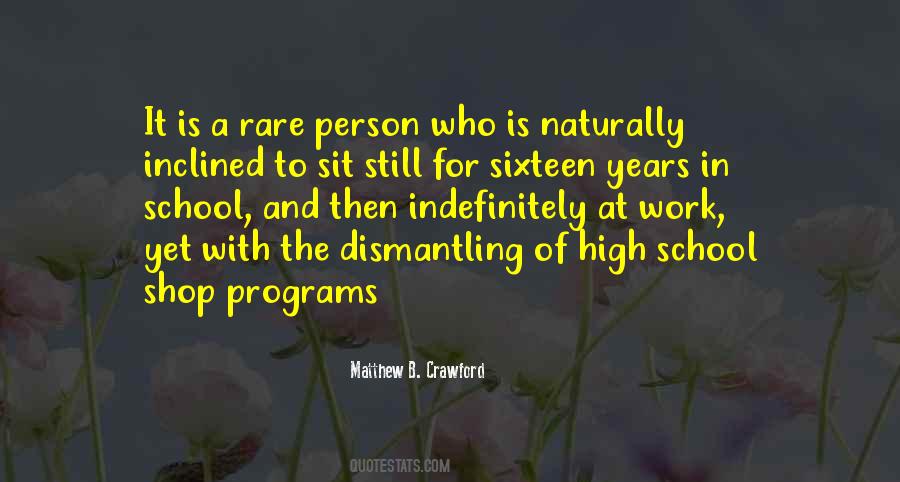 #8. I close my eyes and suddenly remember something Nina had told me the night before my first day of middle school: If you're going somewhere where you feel like you might not belong, the only person you need to work to convince is yourself. Everyone else is easy. - Author: Lynn Weingarten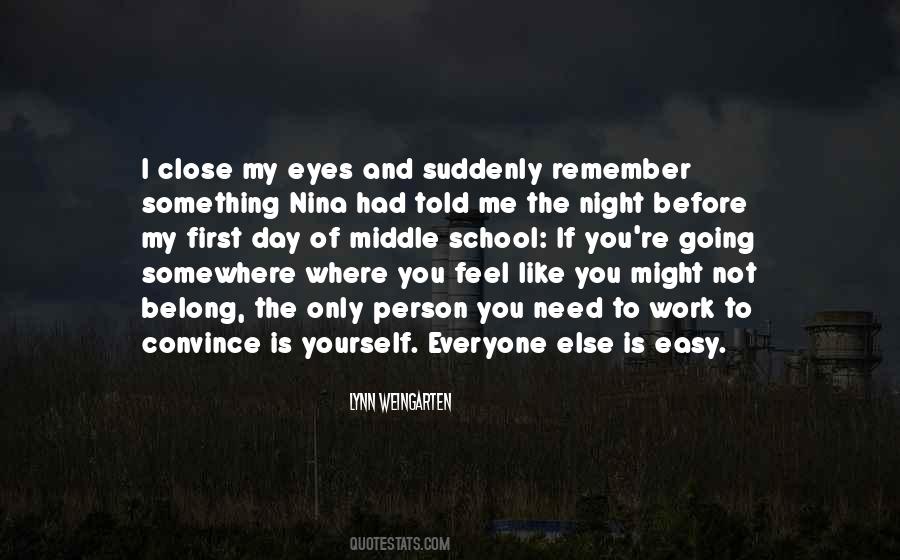 #9. Whether it's learning to hit a backhand in tennis, learning high school chemistry, or getting better at ski racing, I really believe with hard work and analytic preparation, you can skip a few steps and find the faster way. - Author: Mikaela Shiffrin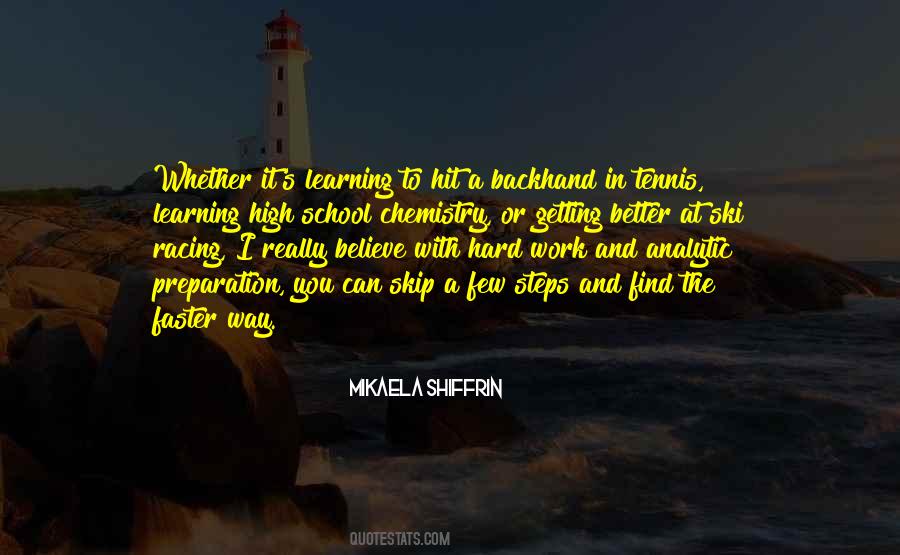 #10. The Bible equips us for ministry. And ministry is not limited to pastors, priests, nuns, speakers, authors, and Bible teachers. Ministry is doing God's work wherever He has placed us ... in our home, in our school, in our workplace, in our neighborhood, in our community, and in our world. - Author: Wendy Blight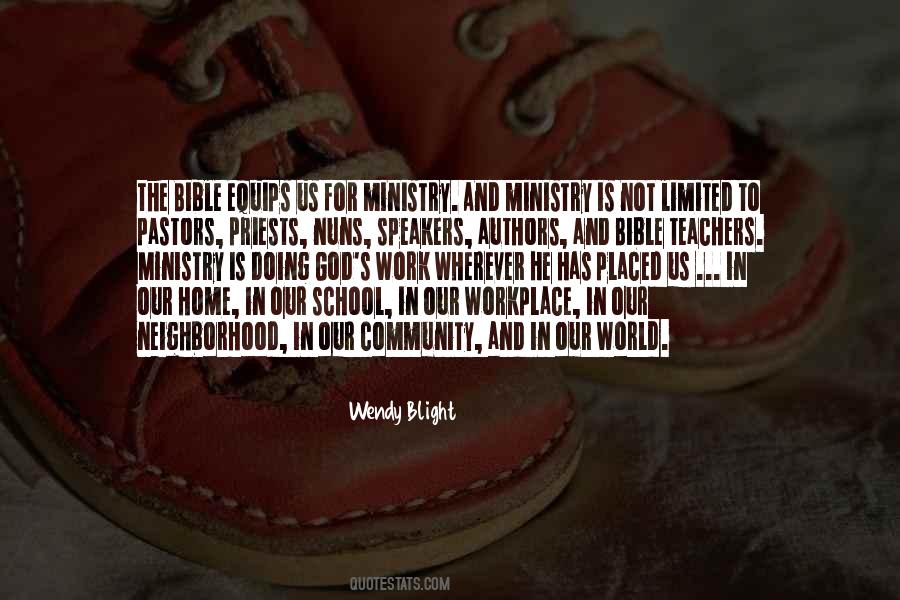 #11. We need to have every single school in America immediately deploy a protection program proven to work - and by that I mean armed security. - Author: Wayne LaPierre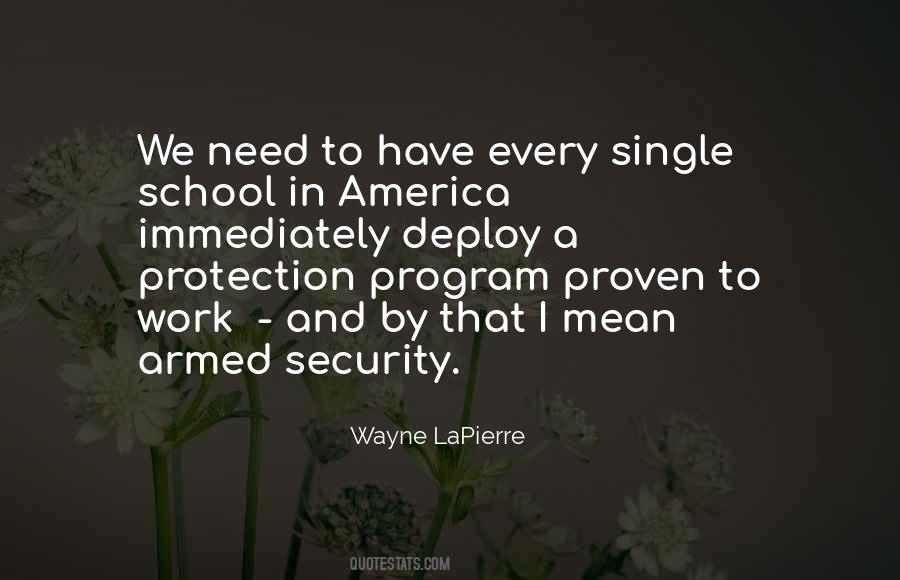 #12. School is no place of education for any children whatever till their minds are well put in action. This is the work which has to be done at home, and which may be done in all homes where the mother is a sensible woman. - Author: Harriet Martineau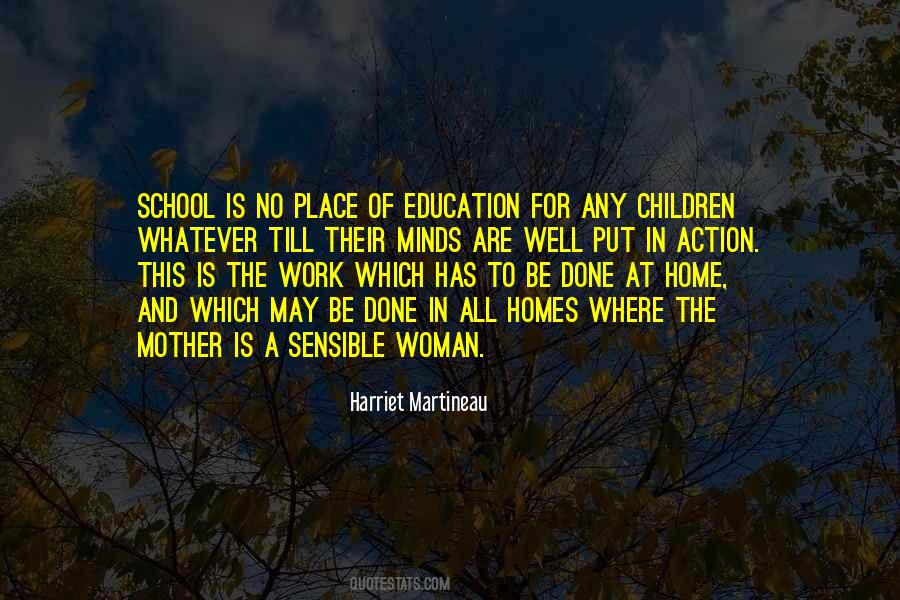 #13. You're not a bad parent if you don't save for your kid's college because instead you had to choose to feed them and clothe them. Those things come first. They can go to school and do this thing called 'work' while they're in school. - Author: Dave Ramsey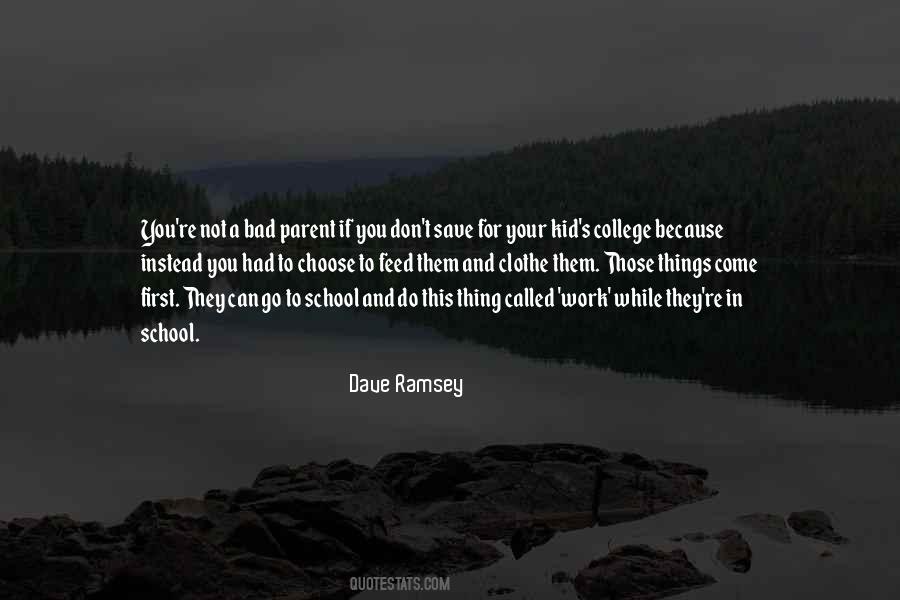 #14. I think when your imagination goes to work, and when you're first bullied, you feel like you're going to die. School becomes a war zone, and you can't function. - Author: Michael Steger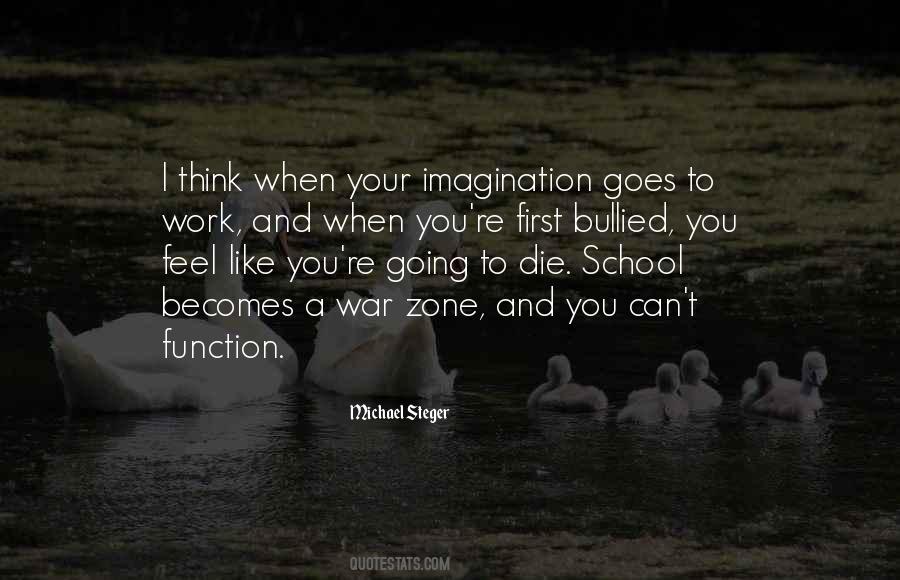 #15. I've only been acting since 2009 and I learn more and more with each job. I think I prepare and I'm very focused and I have a good work ethic that I learned in school. - Author: Jenny Slate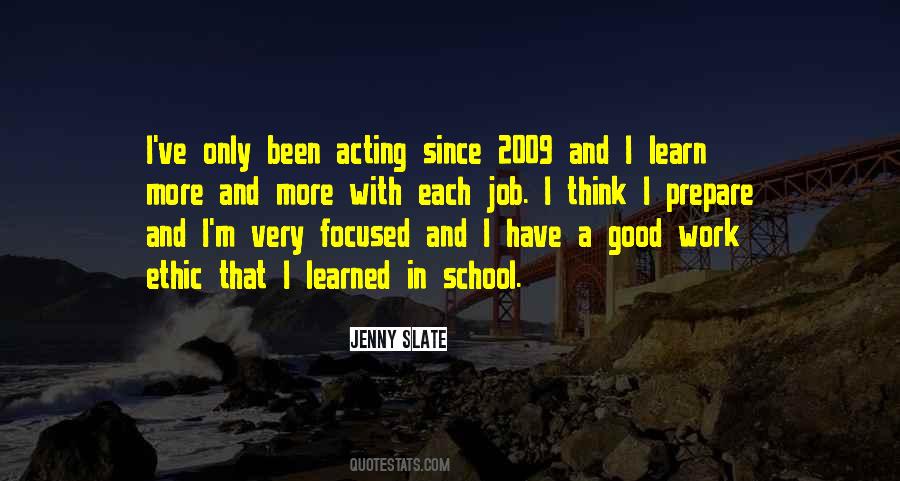 #16. I was always a very good student, 3.98 GPA ... But once I found out I only had to take math and science for two years, I didn't take them junior or senior year. And I convinced my high school to give me actual credits for doing professional shows in Minneapolis ... as work-study. - Author: Laura Osnes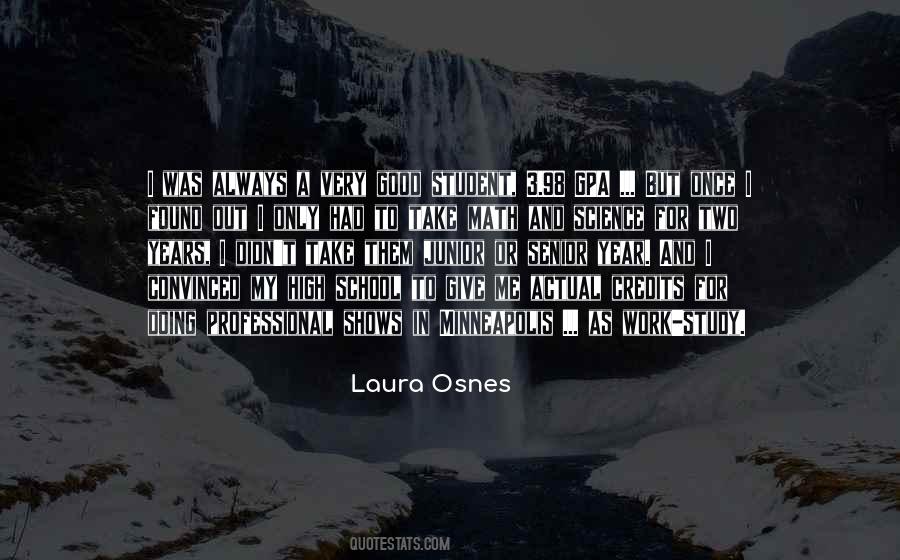 #17. You've got to go where the work is. My mom got a job somewhere else so I went and lived with her and then I just bounced all over going to school, chasing rainbows and all that. - Author: Nikki Jean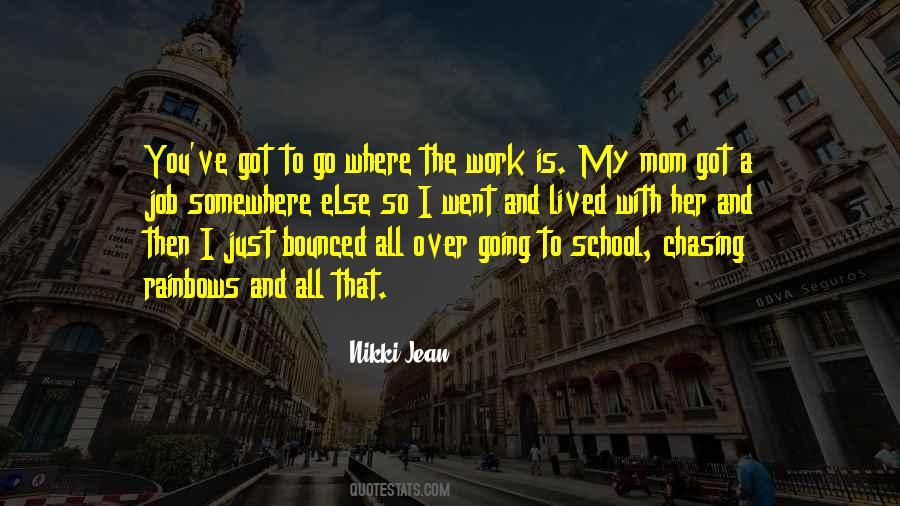 #18. You don't have to follow what most players do by going to the top school. You can do anything at any school you're at, as long as you're focused and you work hard. - Author: Elena Delle Donne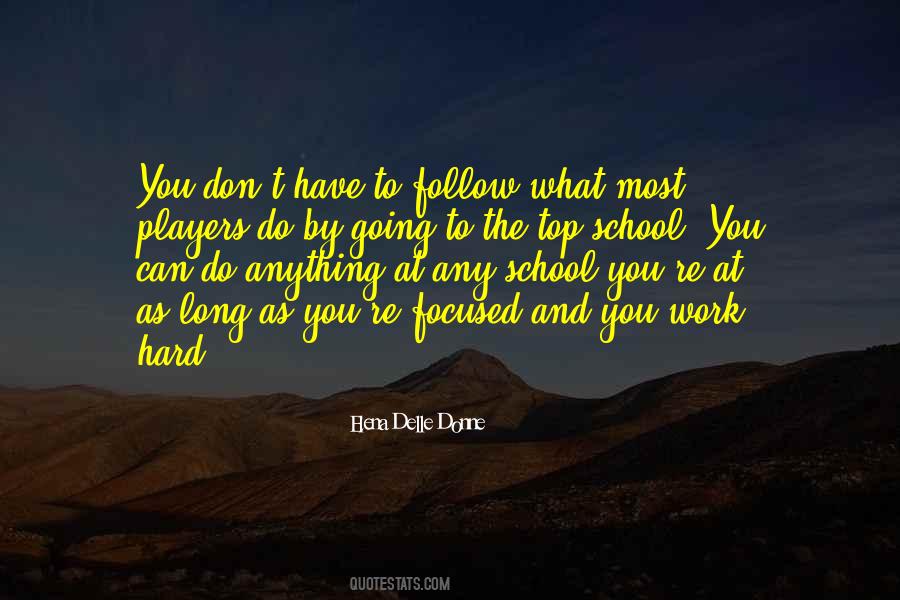 #19. Anyone having to do with medicine will have looked at Frank Netter's art work ... I decided I would make him my model ... getting my degree in medical illustration and then going on to medical school. - Author: David Bolinsky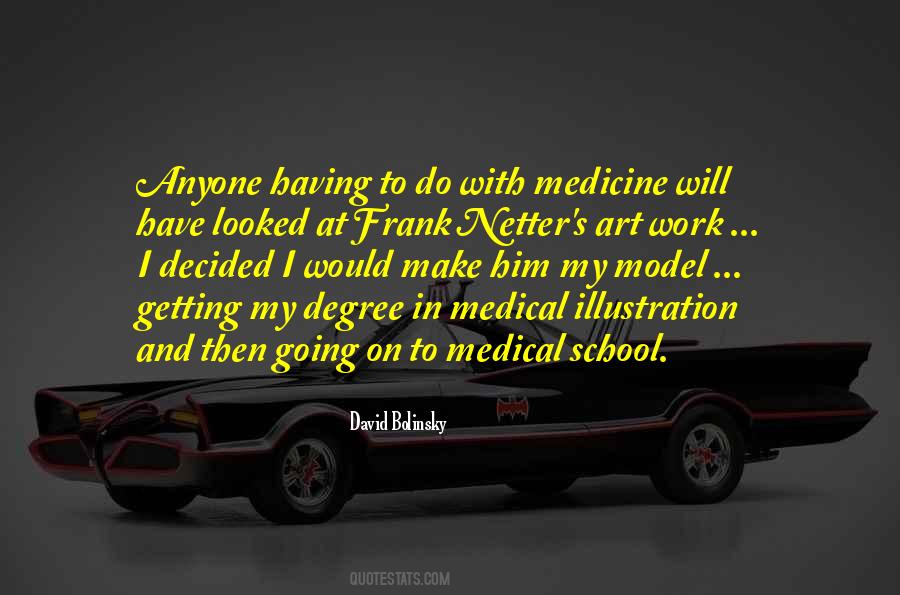 #20. I think I've got my business notions and my sense for that sort of thing from my dad. My dad never had a chance to go to school. He couldn't read and write. But he was so smart. He was just one of those people that could just make the most of anything and everything that he had to work with. - Author: Dolly Parton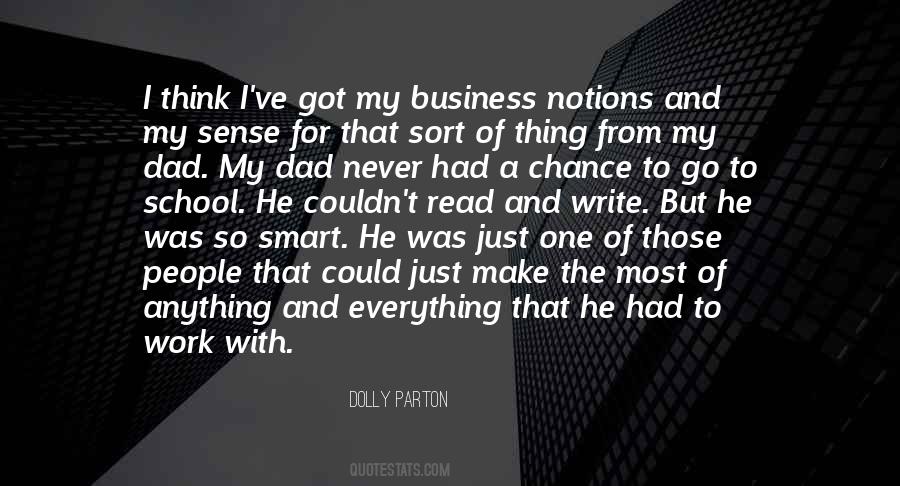 #21. When I left art school and went in search of work, visiting publishers and showing them my drawings and illustrations, I was met with a polite and sometimes enthusiastic response but no commissions. - Author: Chris Riddell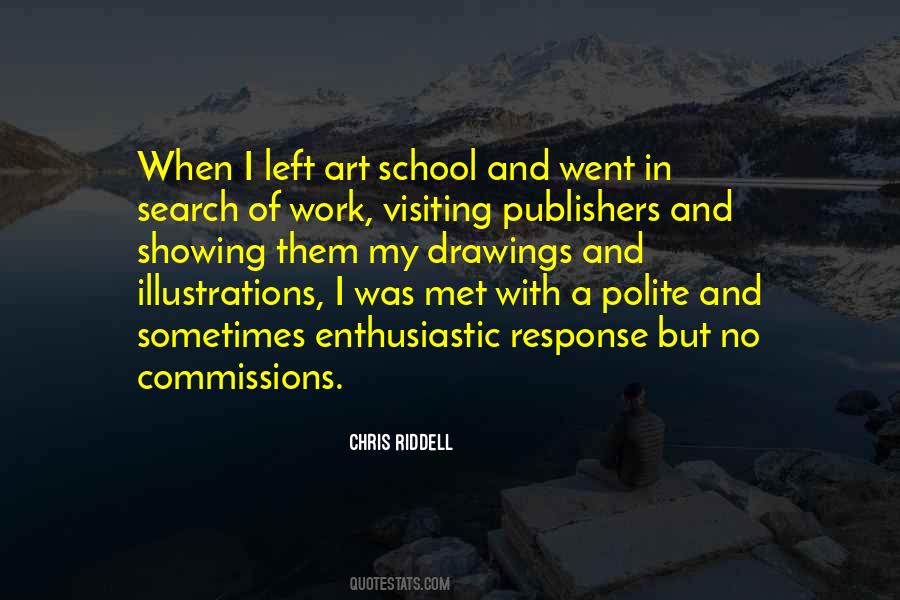 #22. Children learned about the adult world by participating in it in a small way, by doing a little work and making a little money - a much more effective, because pleasurable, and a much cheaper method than the present one of requiring the adult world to be learned in the abstract in school. One's - Author: Wendell Berry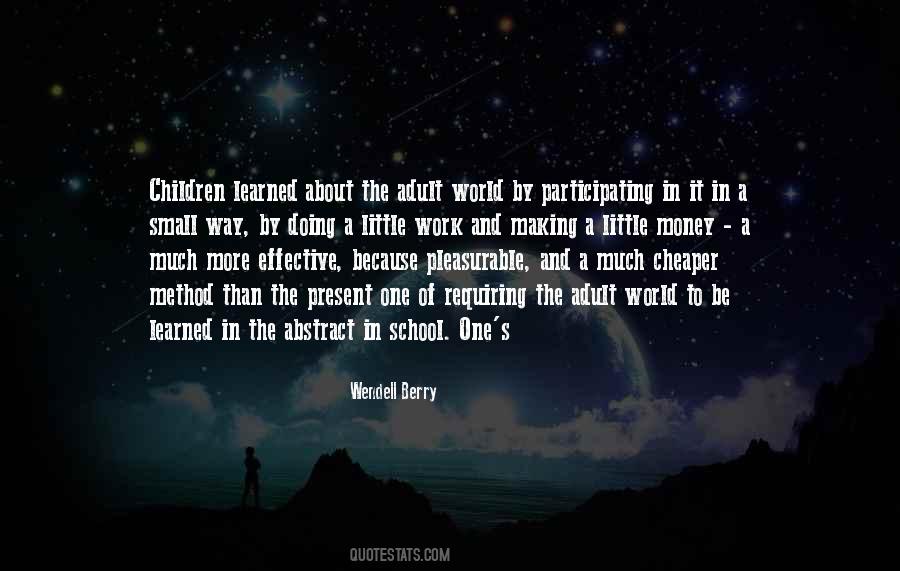 #23. I went to an ordinary school in New York City with no other actors. I learned to compartmentalise different parts of my life. I was one person at home and then another person at work and for that reason my career didn't challenge my family life. - Author: Brooke Shields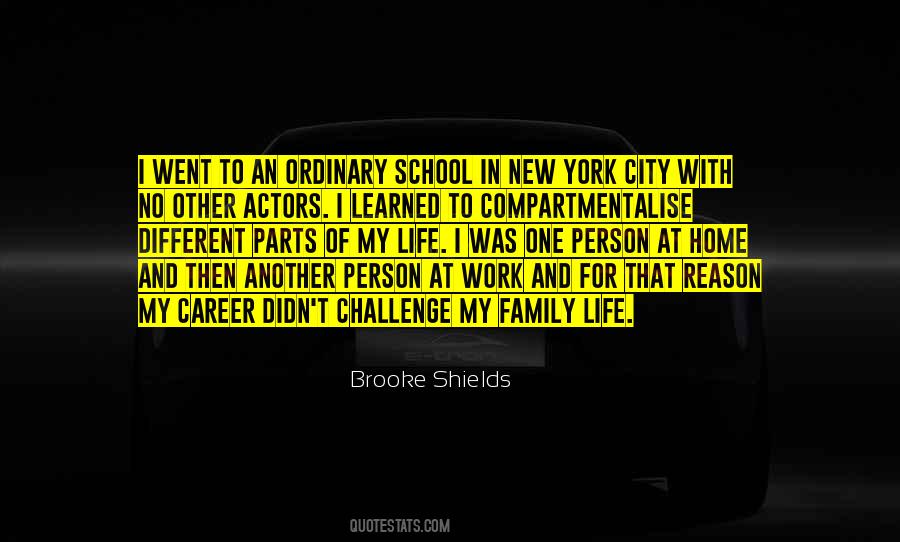 #24. I'm so jealous of people who have crushes on people they go to school with or work with. That's such a blessing. You actually get to see them all the time and spend time with them. - Author: Aziz Ansari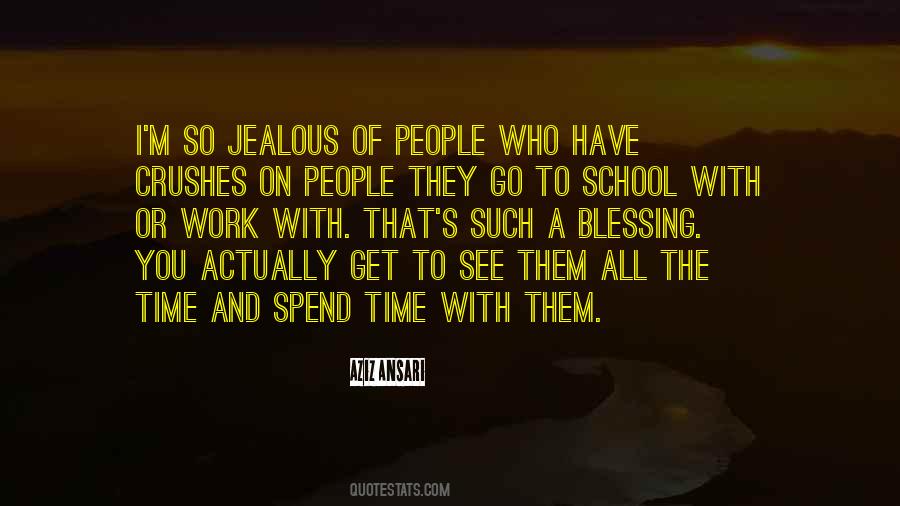 #25. I've been to acting school and I think that at the end of the day, when you just focus on the work and you're comfortable with who you are, that at some point someone's going to recognize your talent and give you an opportunity. - Author: Viola Davis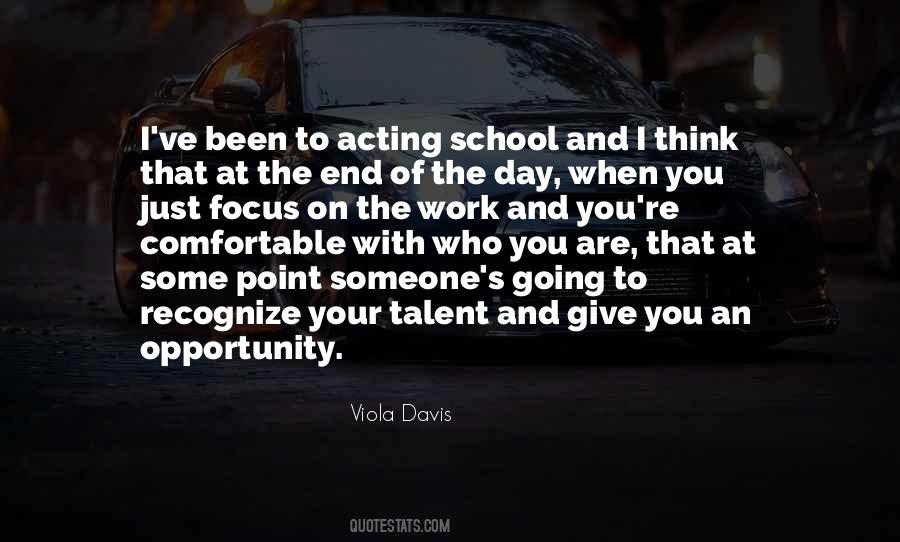 #26. To me the worst thing seems to be a school principally to work with methods of fear, force and artificial authority. Such treatment destroys the sound sentiments, the sincerity and the self-confidence of pupils and produces a subservient subject. - Author: Albert Einstein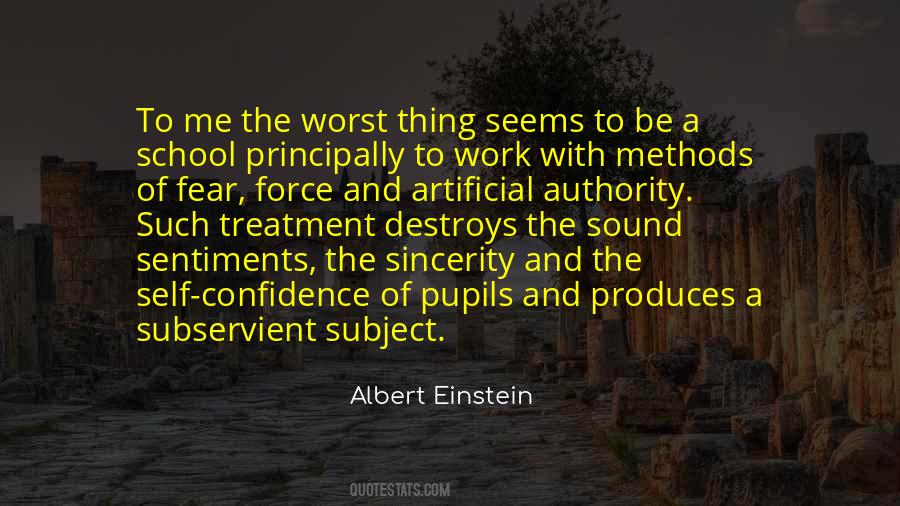 #27. I'm from the "if it ain't broke, don't fix it" school of screenwriting. I just like to preserve what works and ignore what doesn't work. - Author: Andrew Dominik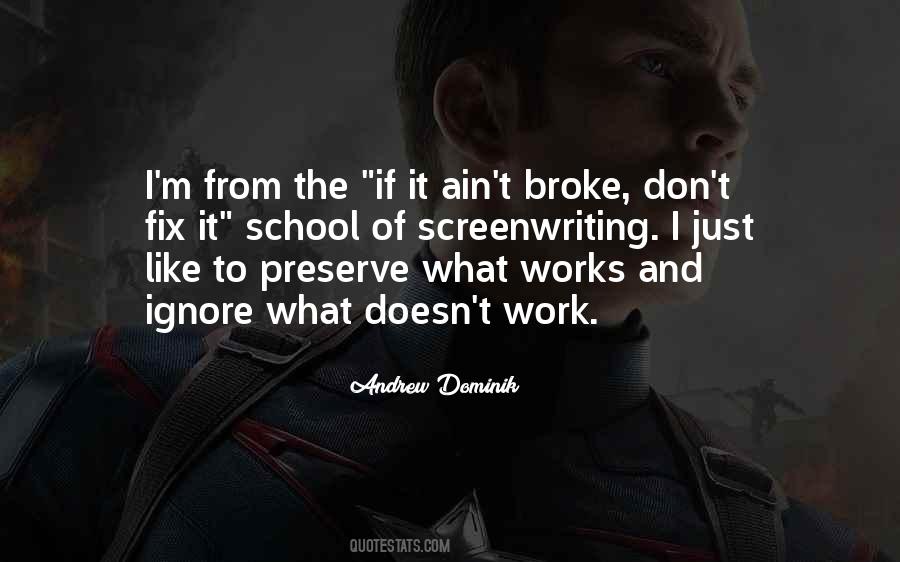 #28. I'm serious. I don't know how you work like that. My school shit is better organized, and I'm not in the business of World Domination. - Author: Zadie Smith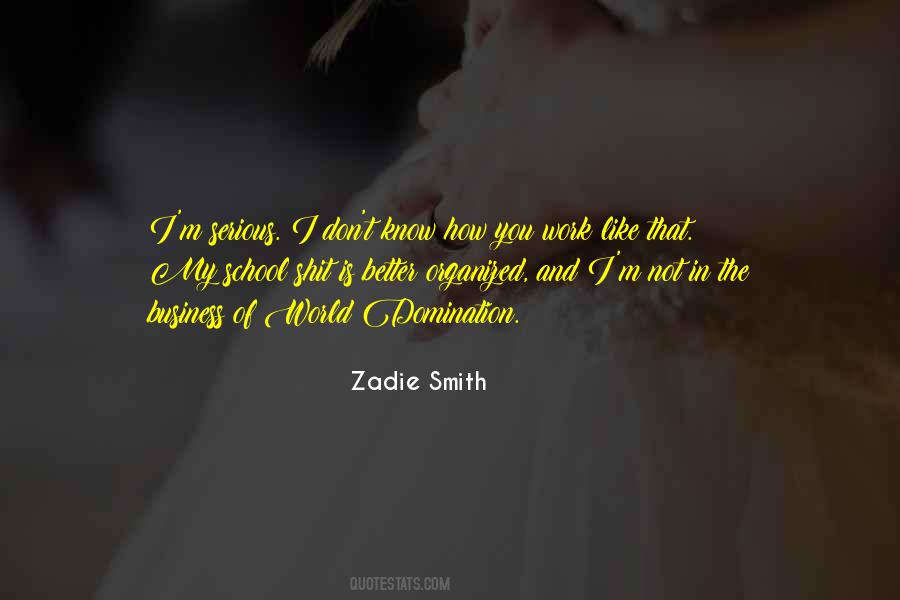 #29. I have done very little in my life except go to school and work for the CIA. Intellectually I think I did everything I could. Emotionally you always think you should have something more. - Author: Tyler Drumheller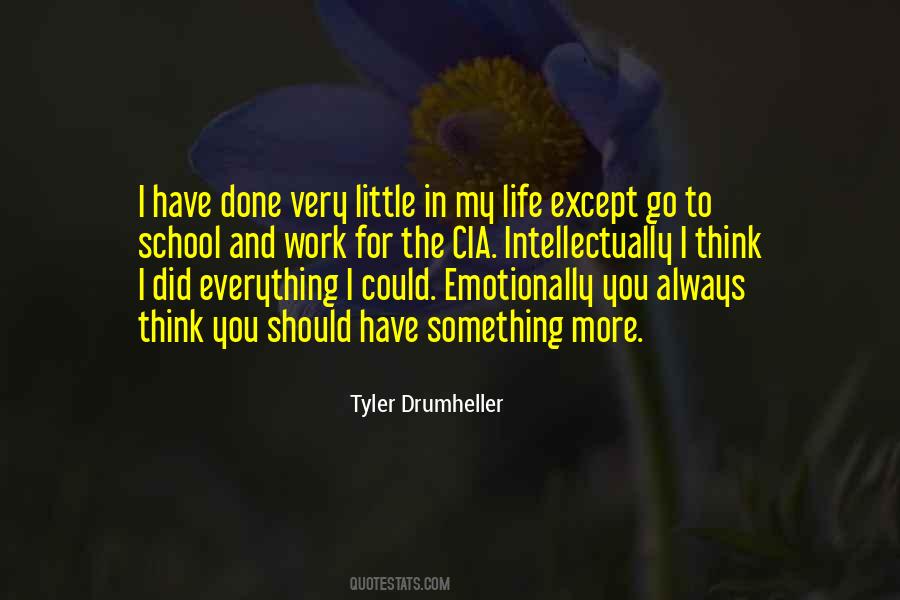 #30. You can't teach at our school if you don't live in the compound. It was like some kind of prison-work farm for our liberal, white, vegetarian do-gooders and conservative, white missionary saviors. - Author: Sherman Alexie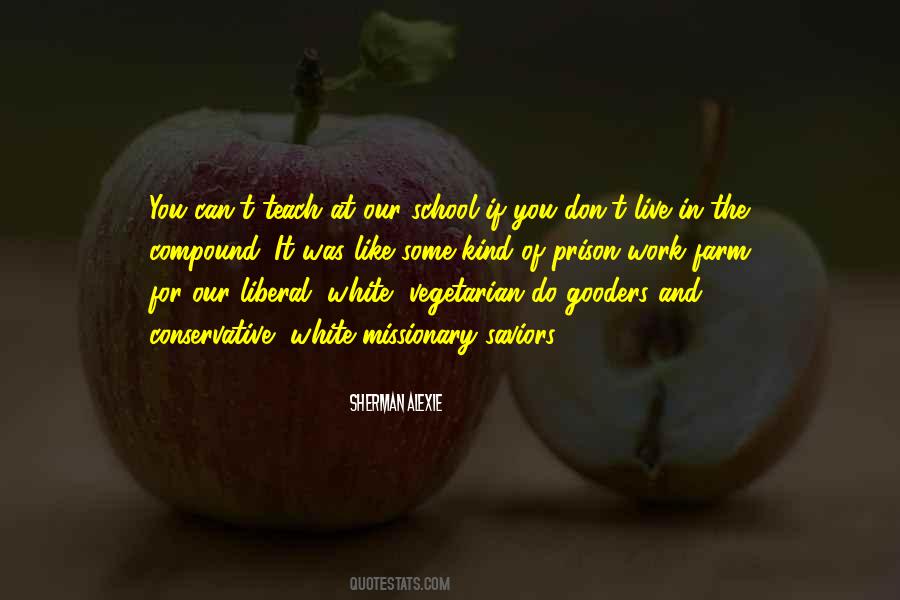 #31. We need 21st century programs. We have to change the dynamic because the world - we're not in the Industrial Revolution anymore, where you could leave high school, go work at the town factory for 50 years, and retire with a pension. - Author: Marco Rubio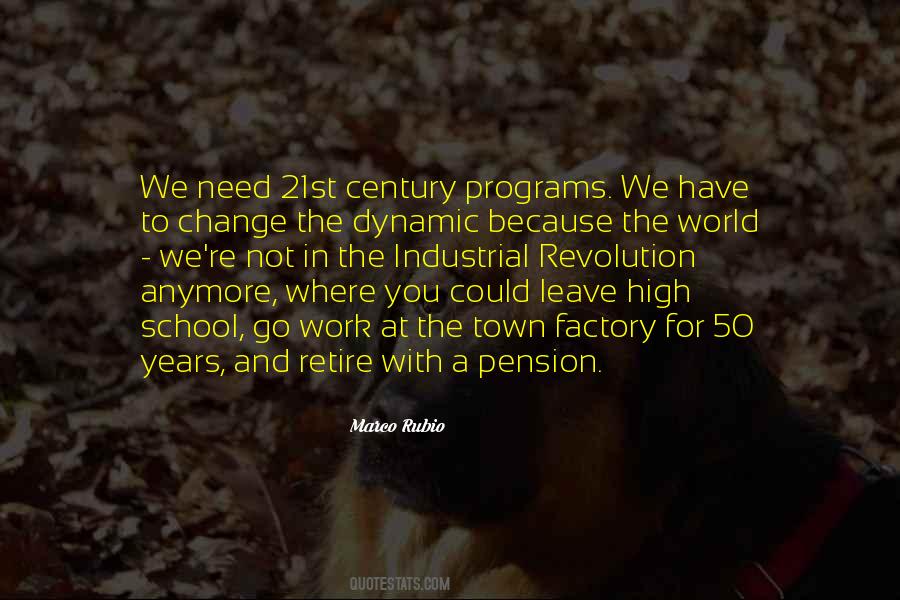 #32. The Art of a Relationship Living in a city is an art, not a science. Choosing to live in a city is choosing to enter into a relationship with it. And, like any human relationship, the relationship you have with your city is one that requires nurturing, constant practice and work. - Author: The School Of Life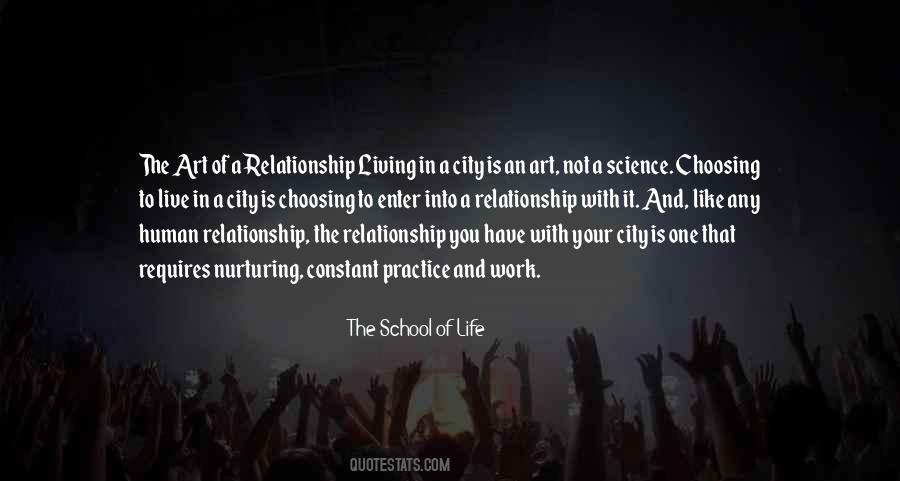 #33. For the first time, I wasn't afraid to be smart, and she often stayed after school to work with me. - Author: Oprah Winfrey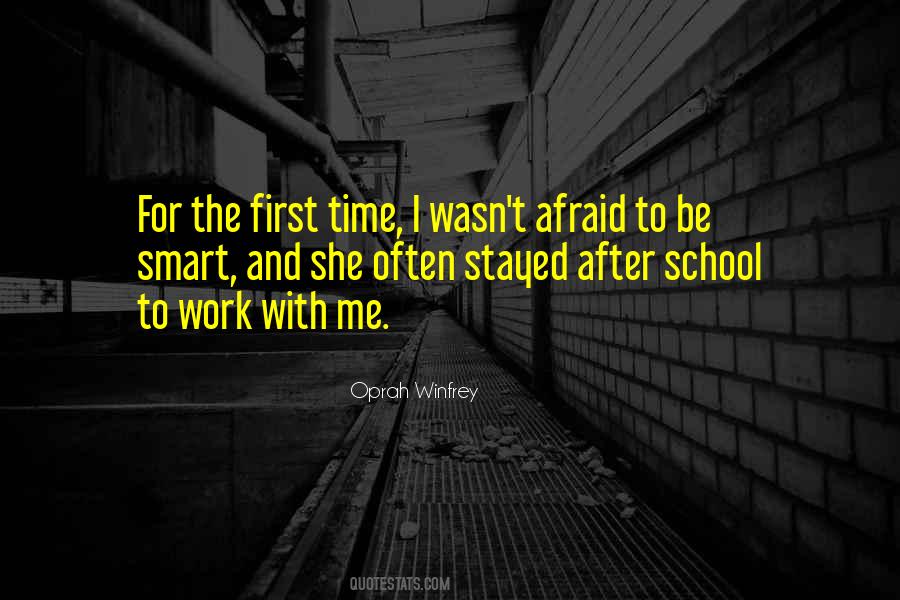 #34. Individual abortion providers have been picketed at home and have received harassing mail and phone calls. Their family members have been followed where they work, their children have been protested at school, and their neighbors' privacy has been invaded. - Author: David S. Cohen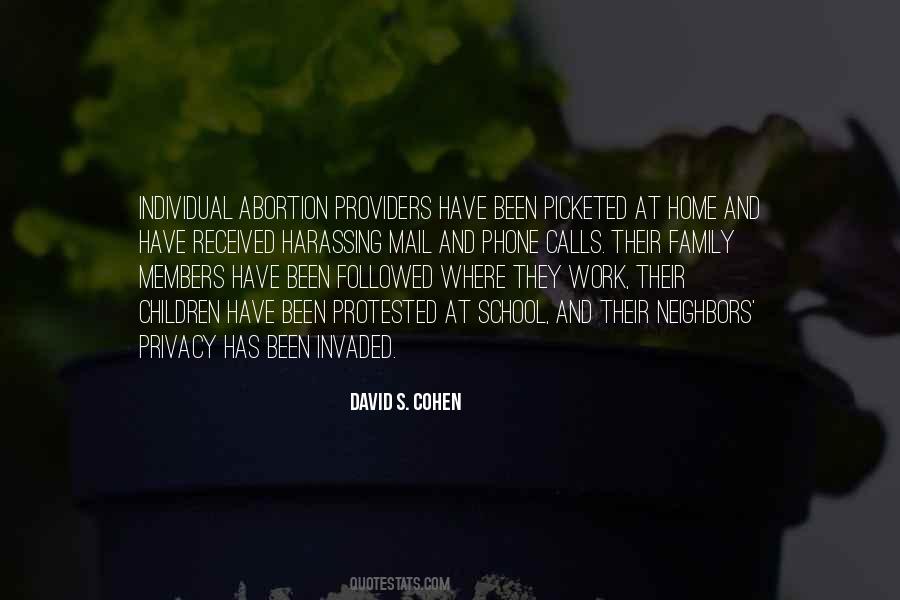 #35. I thought I would, you know, go to college, get to law school, finish, and then get a job and work as a lawyer, but that proved to be not a good fit for me. - Author: Demetri Martin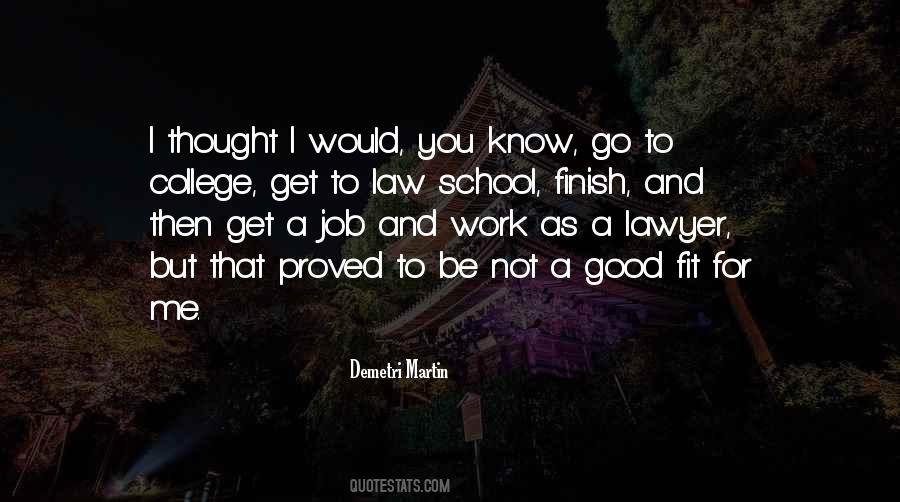 #36. I went to a public high school, and after graduation, college wasn't really much of an option for me. I didn't believe I had the money or the grades at the time, so I continued to work and save money to support my acting career. - Author: Christie Laing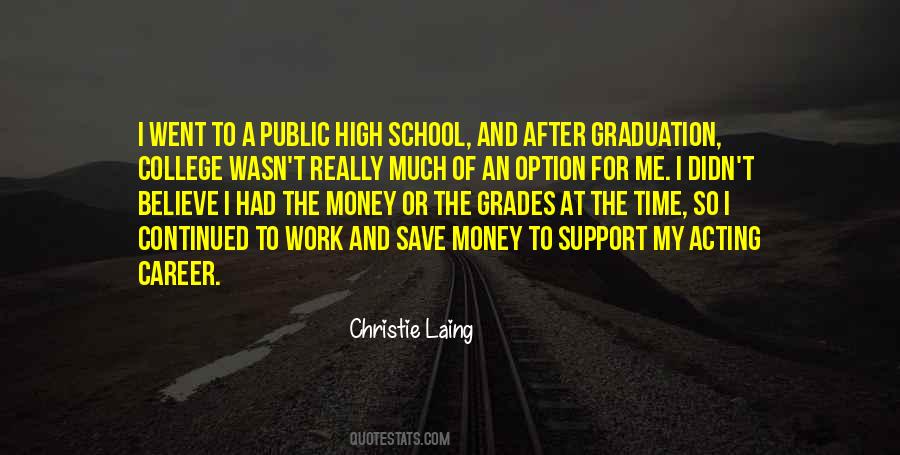 #37. I don't attend an actual school but I'm still following through with high school. I do work with a tutor for about six hours a day. It's hard core but definitely worth it, and it's my main focus now - finishing up high school before I release my new album and apply to college. - Author: Jojo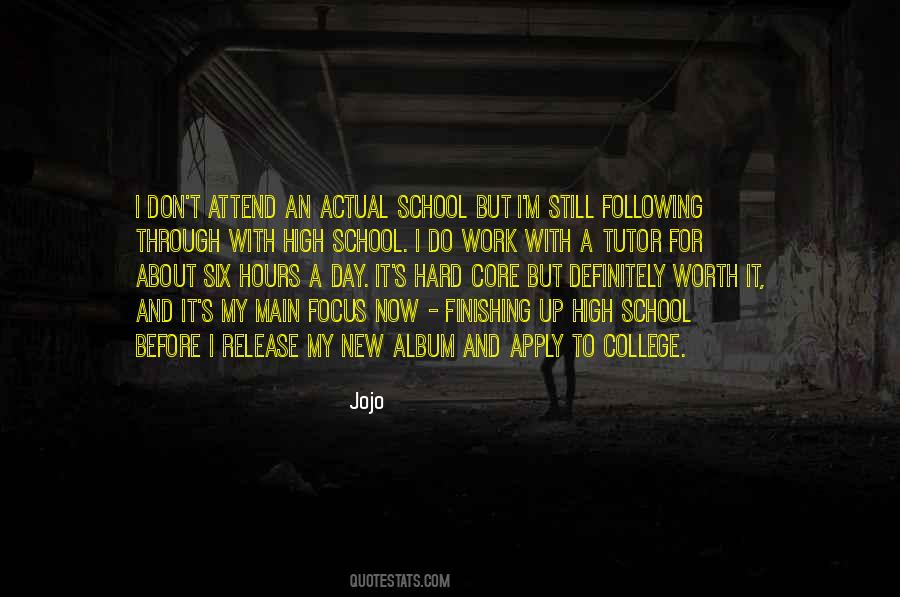 #38. Think back through your experiences and make a bullet point list of funny stories that have happened to you or your friends. Travel, school, college, parties, work, interaction with parents/in-laws, embarrassing situations, etc. Looking at old photos will help to jog memories. - Author: David Nihill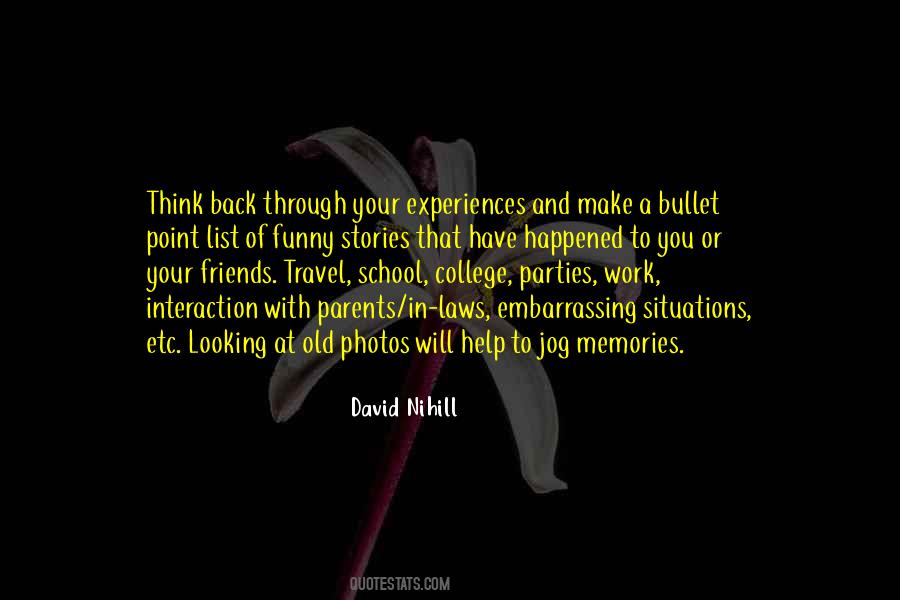 #39. I think we should allow for schools within schools, where 100 out of 500 kids may be organized by the way they work and what they do, and what they do often is more progressive. I would like to see a lot of kids of different ages, maybe even some adults, work together on a project. - Author: Seymour Papert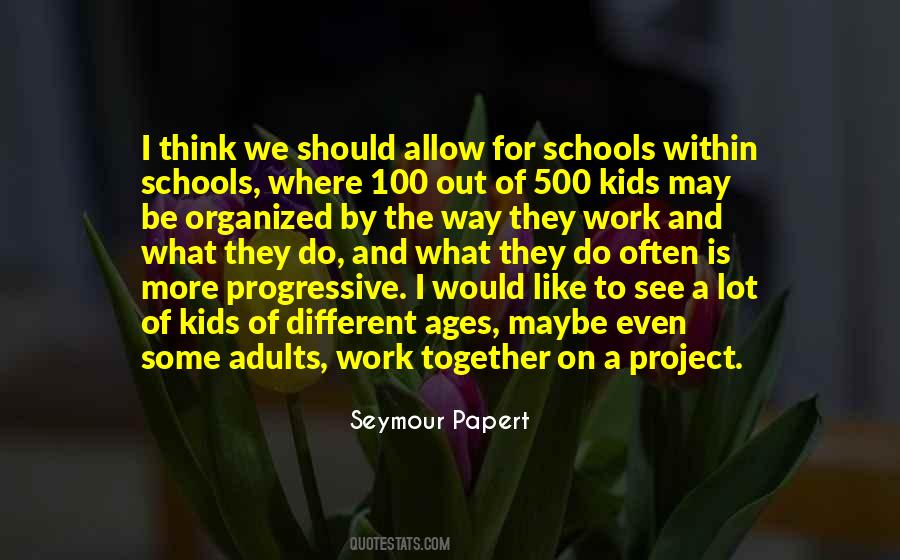 #40. I was at the Apollo Theater all the time, skipping school, and I worked in a barbershop. That's how I started with doo-wop. Now I've come full circle. I did all kinds of music. I used to work on Broadway and Tin Pan Alley. - Author: George Clinton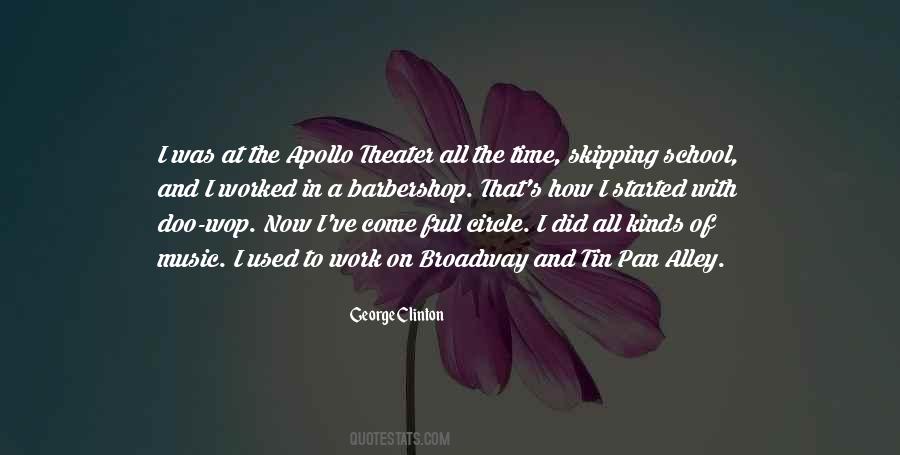 #41. I initially wanted to work in the music industry more on the A&R side. While I was in school, I began working in the New Business department of an advertising firm, and very quickly I was responsible for roughly 70% of their business, so you could say I had a natural knack for the advertising world. - Author: Adam Kluger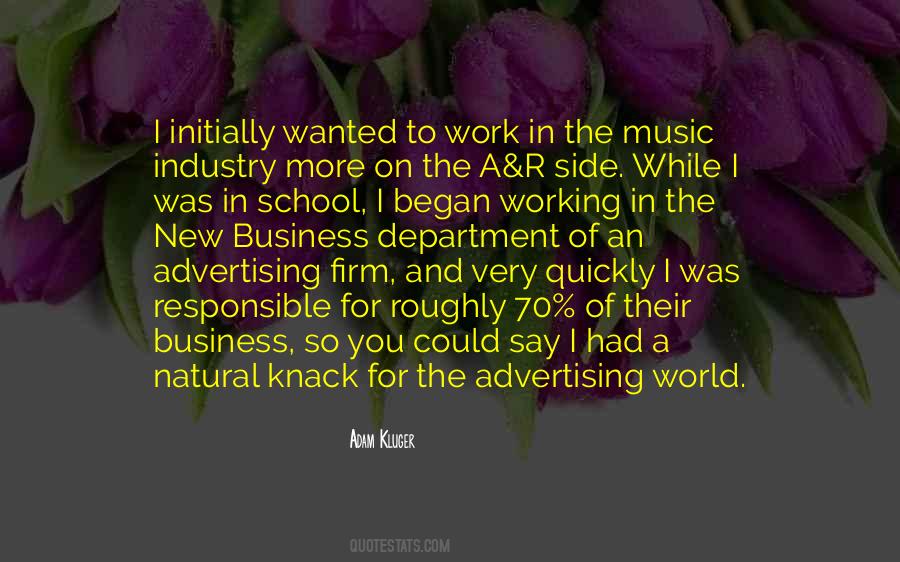 #42. Most of my training at graduate school was geared towards drama, so I feel good about it, and I can do it, but it requires a lot more work from me. I feel like with drama ... well, with all acting, really, you need to honor the truth of the situation. - Author: Andrea Anders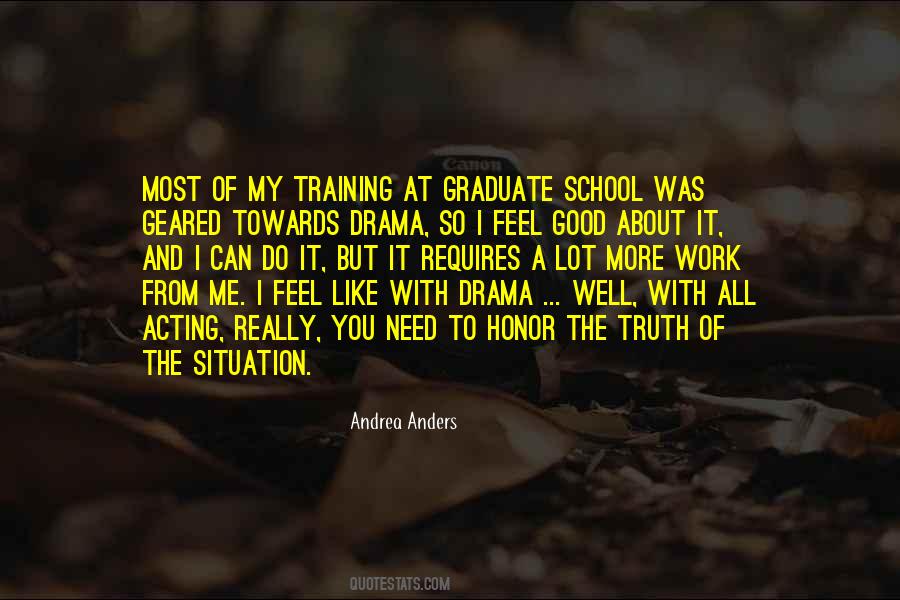 #43. I had four or five years in school training as a soprano. I fell into pop singing because of economics. I got out of high school and had to go work, and they weren't hiring opera singers. - Author: Jo Stafford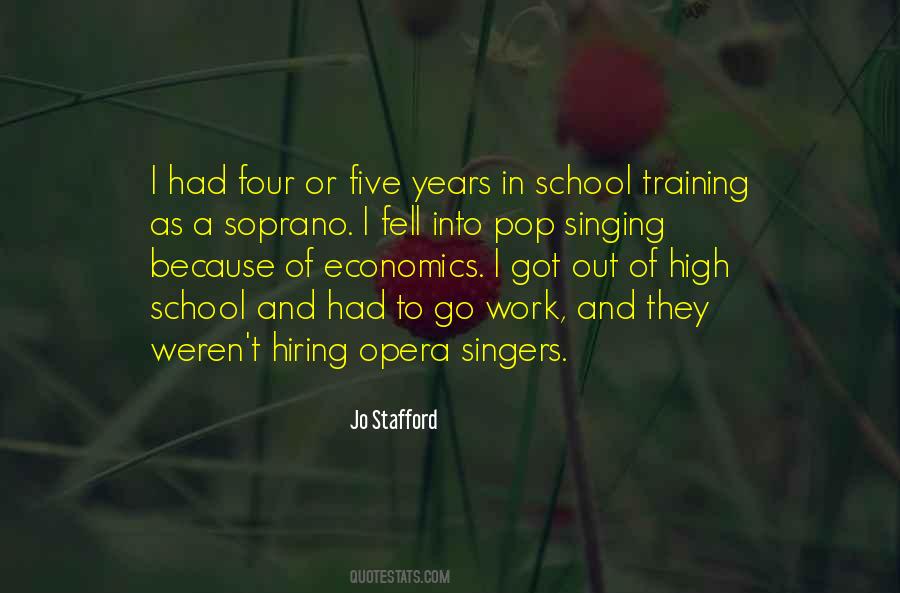 #44. I had a high school English teacher who made me really work at writing. And once, when I got an assignment back, she'd written: 'This is so good, Andrew. This should be published!' That made a big impression on me. - Author: Andrew Clements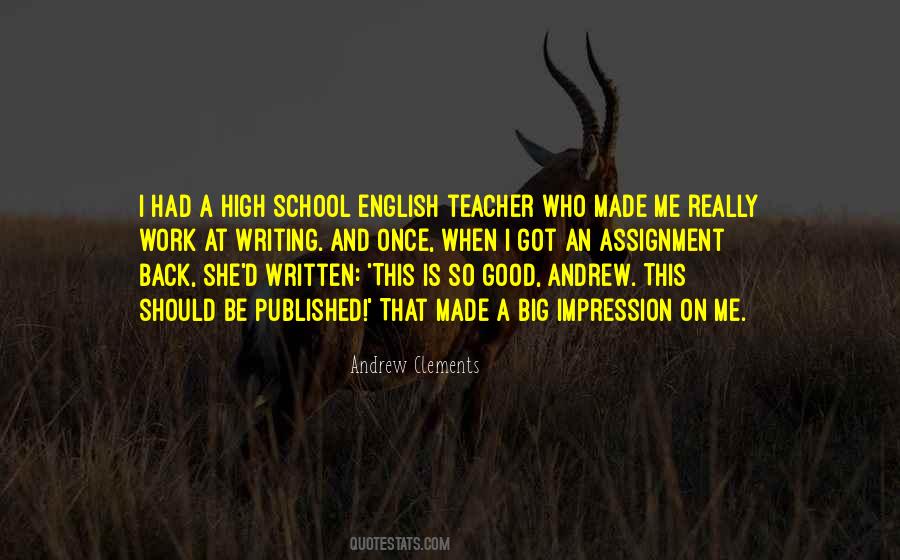 #45. Mormons are an extraordinarily educated and professional population. They have all these virtues: They work hard, don't skip school, have no scandals. Consequently, you find them in a lot of consequential places. - Author: Rodney Stark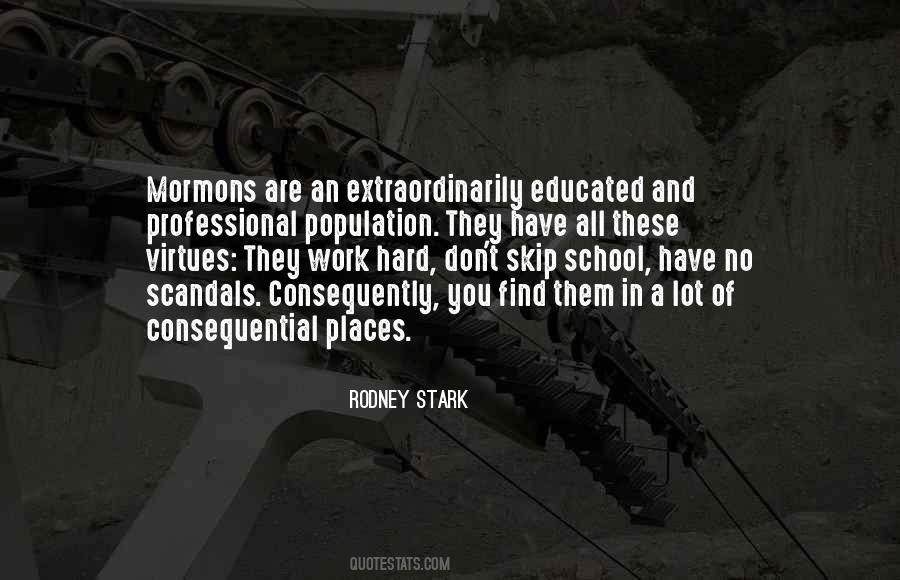 #46. School is the worst choice, it teach us that we can focus on a lot of stuff at first view it's like preparing to work hard as a villager use to do or somebody else with such type hard work. From other it's selfish and from last it's full of obstacles... - Author: Deyth Banger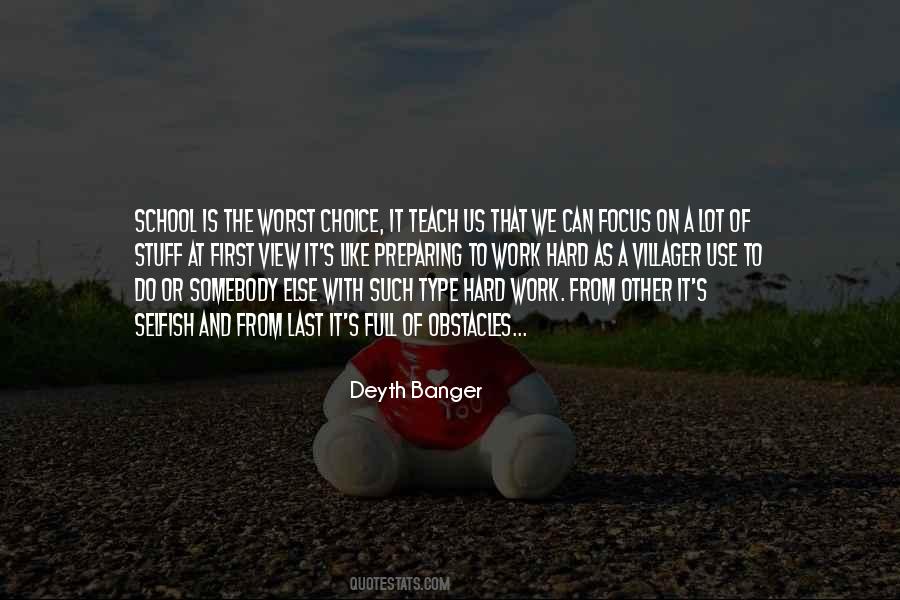 #47. There is no better place for learning to work independently and to extend your horizon than in higher school. - Author: Mikhail Botvinnik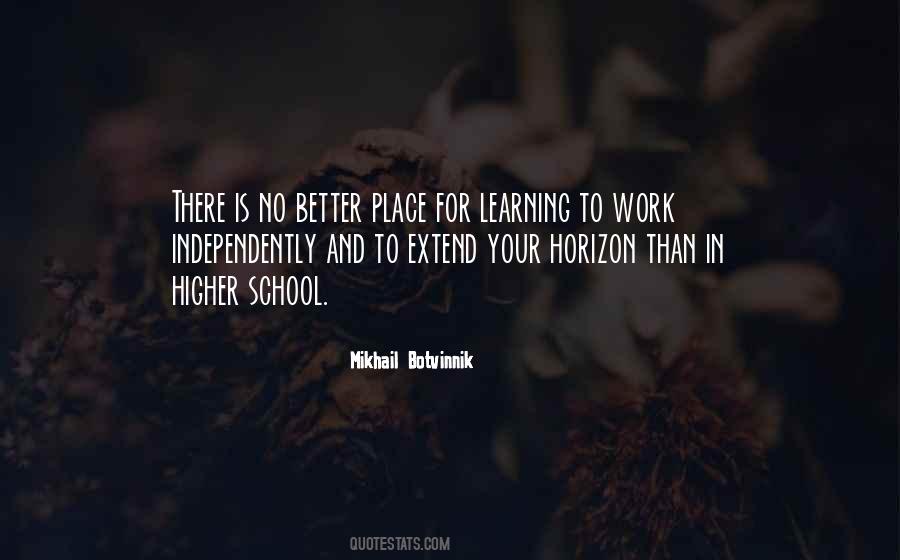 #48. If I were President, I would spend the money that is spent on wars every 20 years and spend it on giving people work. Let them build roads, bridges, buildings, schools. - Author: Liberace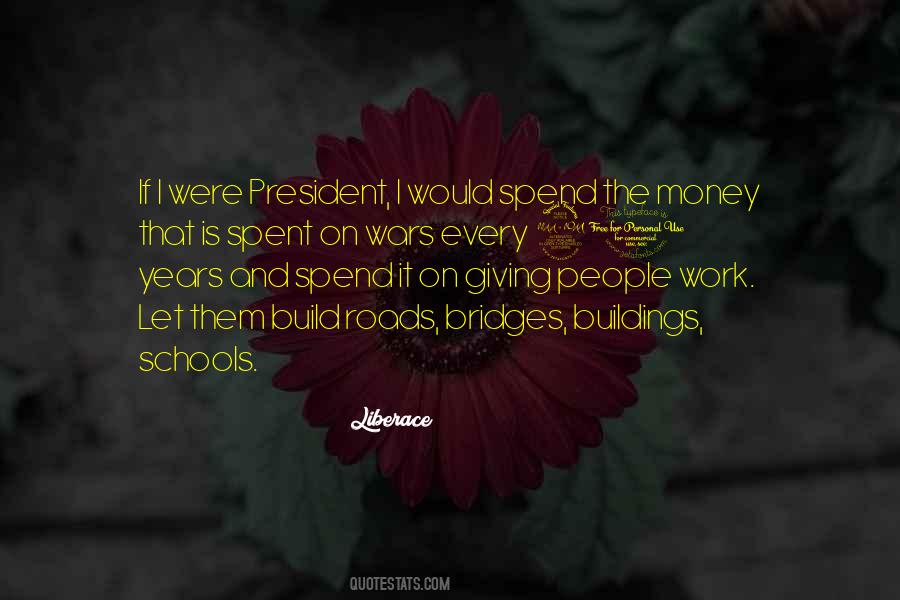 #49. I have a list of ideas that I want to do for my art series, but I'm always trying to figure out what's going to work. Ever since I was in art school, I would read and get ideas. Sometimes the photograph sparks an idea in me, and I continue in that direction. - Author: Jill Greenberg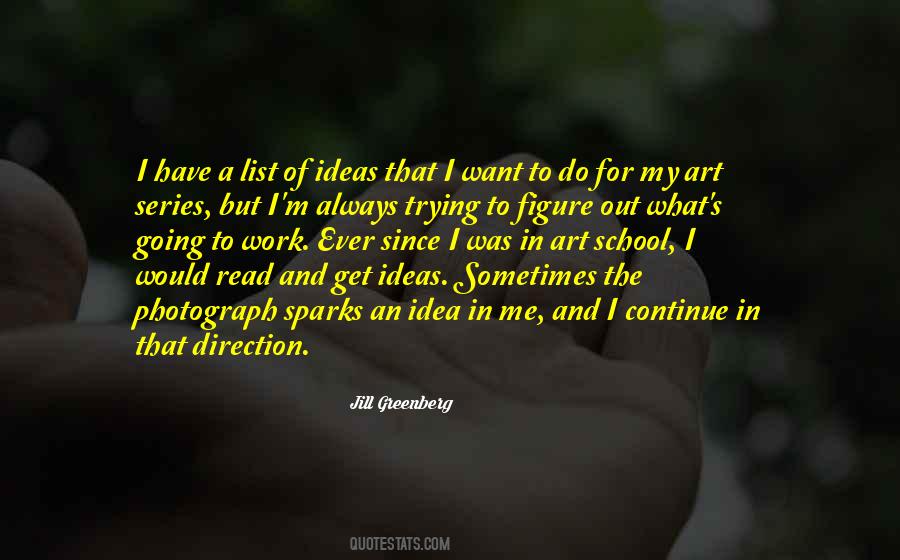 #50. I work during the days and have night classes on Wednesday and Thursday and live with my partner, who is in school during the days and works Wednesday through Saturday nights. Monday and Tuesday are therefore our nights, and we both get our work out of the way so we can actually spend time together. - Author: Amelia Atwater-Rhodes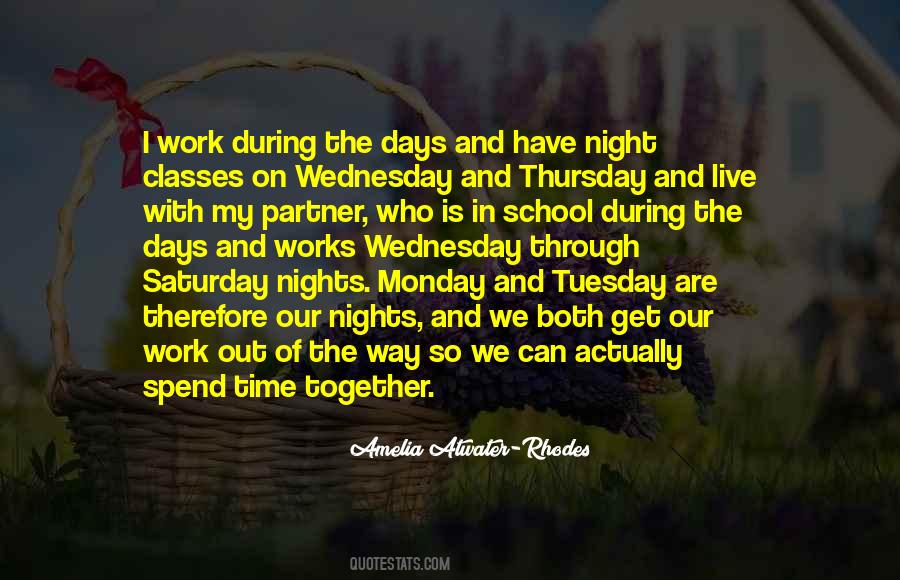 #51. I wanted to be a mechanic. When I was 14 I wanted to quit school and go work on my car. But my dad said Son, you shouldn't do that. You should stay in school until your education is finished, and when you're done, don't make your hobby your job. - Author: Eric Bana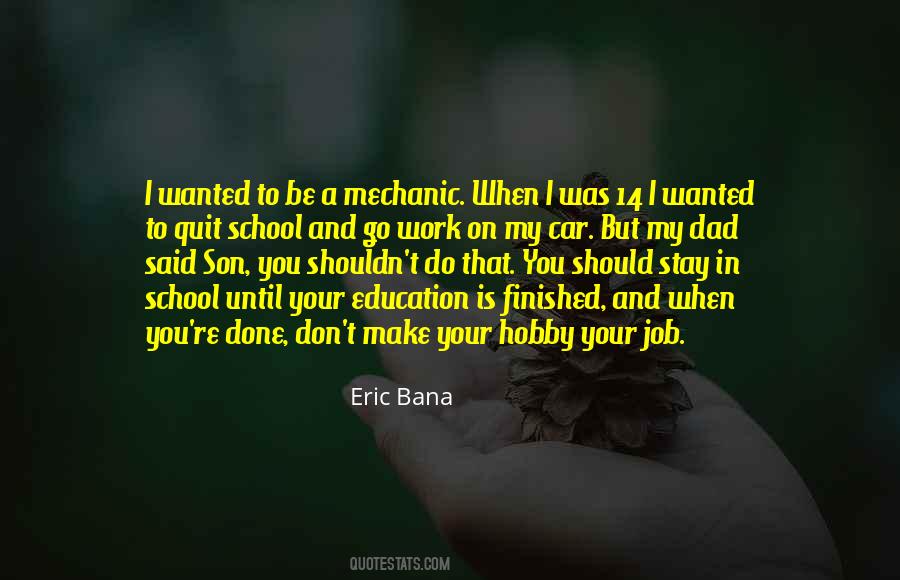 #52. When I was in art school, I thought art was something I would learn how to do, and then I would just do it. At a certain point I realized that it wasn't going to work like that. Basically, I would have to start over every day and figure out what art was going to be. - Author: Bruce Nauman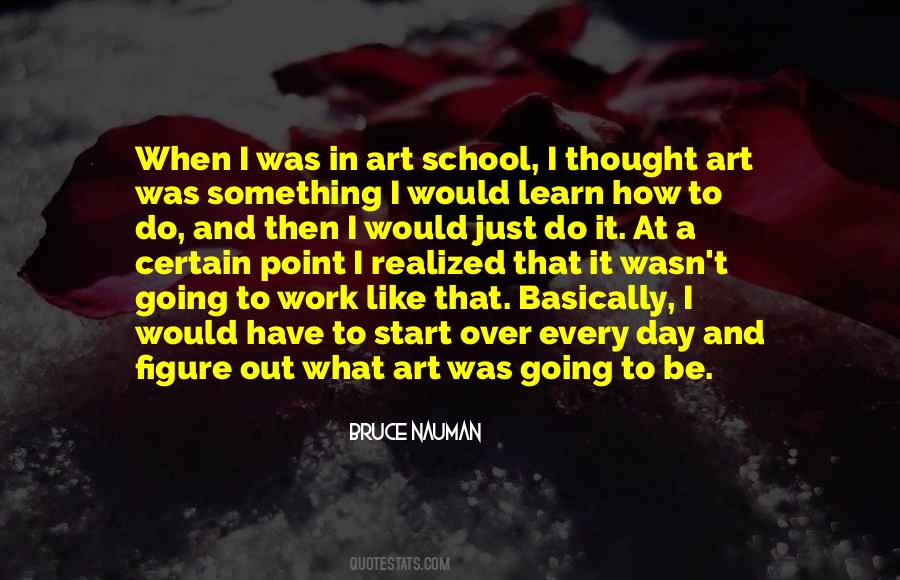 #53. Friends, family, school, work, love, hate, past, present, future, success, disappointment ... everything has its place on the scale. And without the lows, even those deep, dark, heartbreak-style lows, you can never appreciate how truly amazing the highs can be. - Author: Love Maia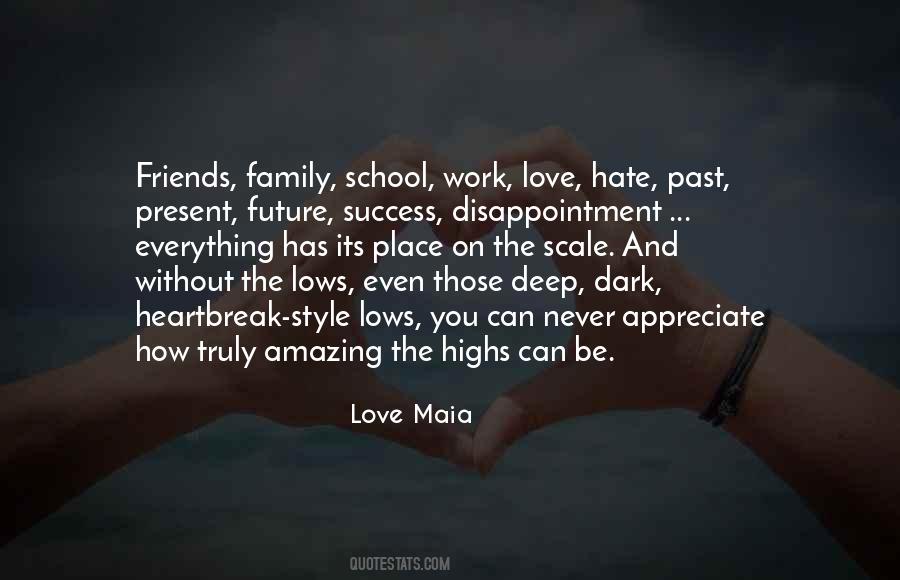 #54. When I was at high school, I used to pretend that I had work, and I would go and tell the head of school that I, like, really needed to leave, and I was really stressed out because I had work. - Author: Kendall Jenner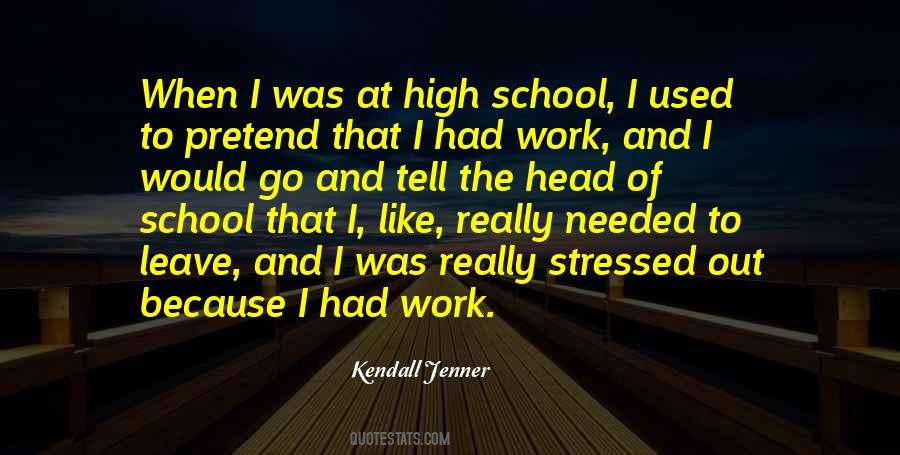 #55. Students work in schools making life studies for years, win prizes for life studies and find in the end that they know practically nothing of the human figure. They have acquired the ability to copy. - Author: Robert Henri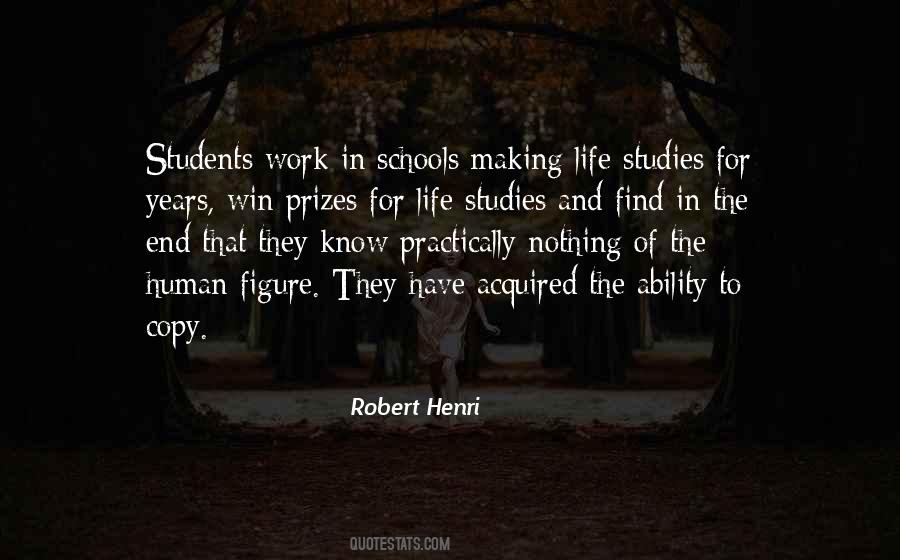 #56. I do home schooling. I went to regular school until fifth grade, and then I started doing home schooling, which it's completely different. I have a teacher on set with me and I just work with her, one-on-one. - Author: Miranda Cosgrove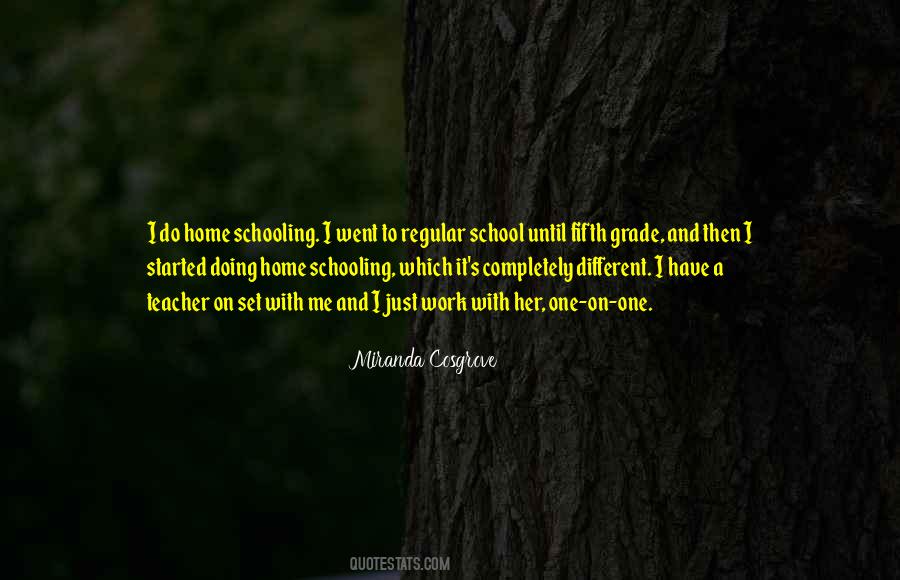 #57. Prior to going to college, I had a pretty strong accent, and that was one of the things I had to work on a lot. I went to North Carolina School of the Arts; my speech teacher ... that was one of the things we really had to work on over the years, and thankfully I think it finally worked. - Author: Chris Parnell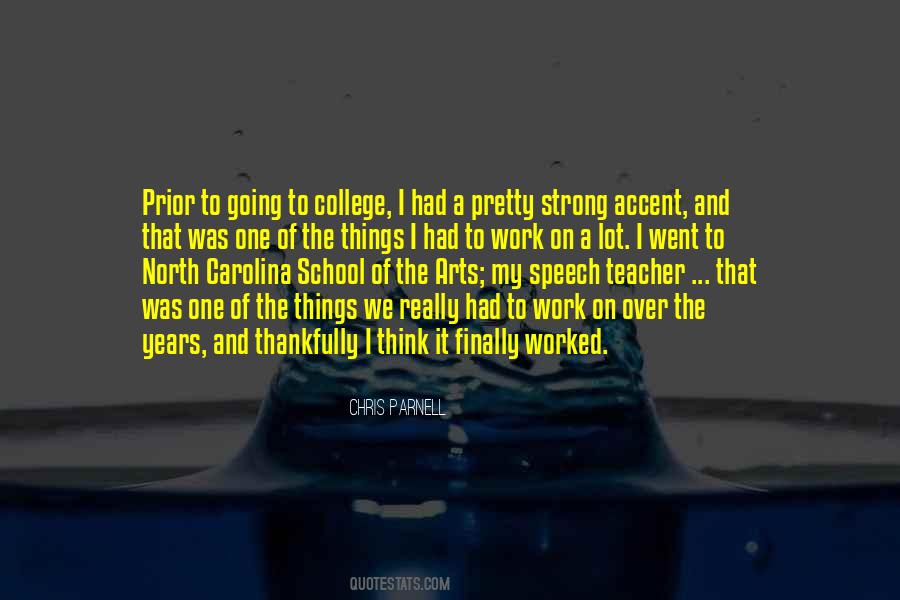 #58. Growing up, I had a front row seat to seeing two people work really hard. My dad scrubbed toilets at a private Catholic school for a while, and that was to help me get through school. - Author: Mia Love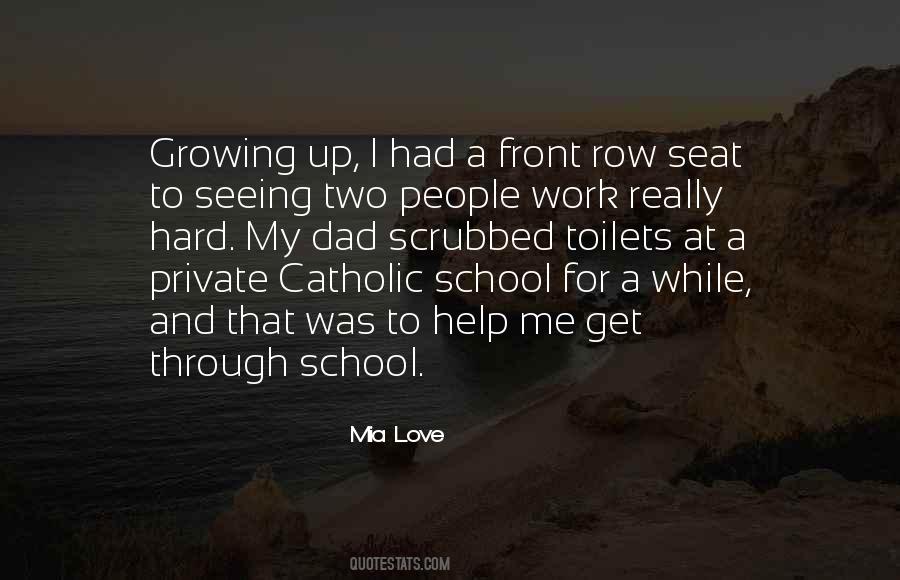 #59. I have the life of Riley. I take my kids to school, do a bit of work in the afternoon, pick my kids up, microwave a meal, hang out with my kids, and work for a couple of hours. - Author: Sheena Easton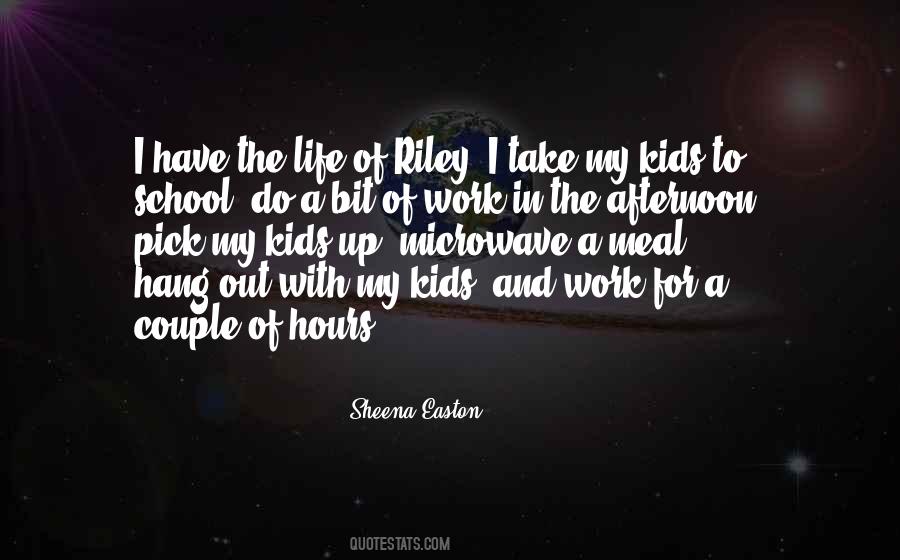 #60. All we know is that the school achievement, IQ test score, and emotional and social development of working mothers' children are every bit as good as that of children whose mothers do not work. - Author: Sandra Scarr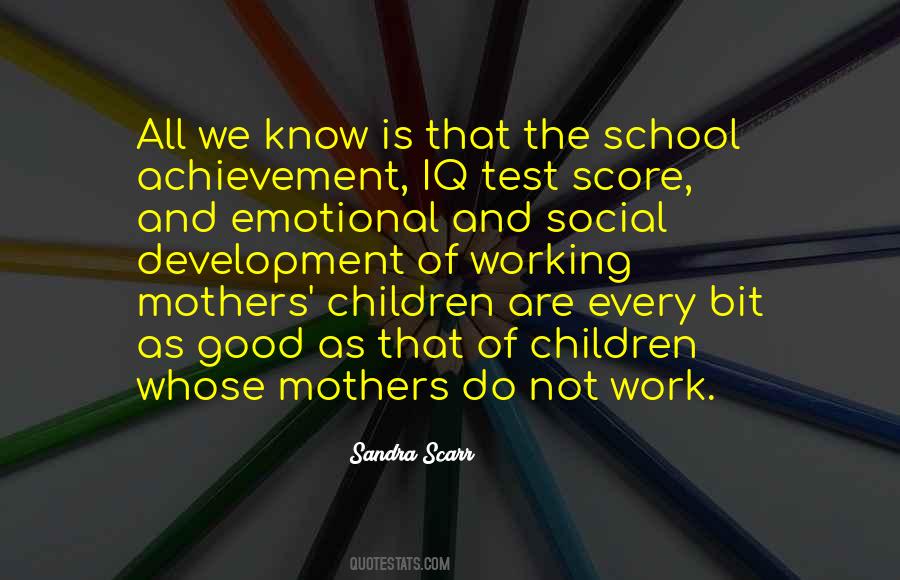 #61. It explains why people come home from work or school and immediately switch on the television. They are not interested in the program much of the time, they do not even know what is on. But they are desperate for the sound of another human voice in their lives - Author: Harold S. Kushner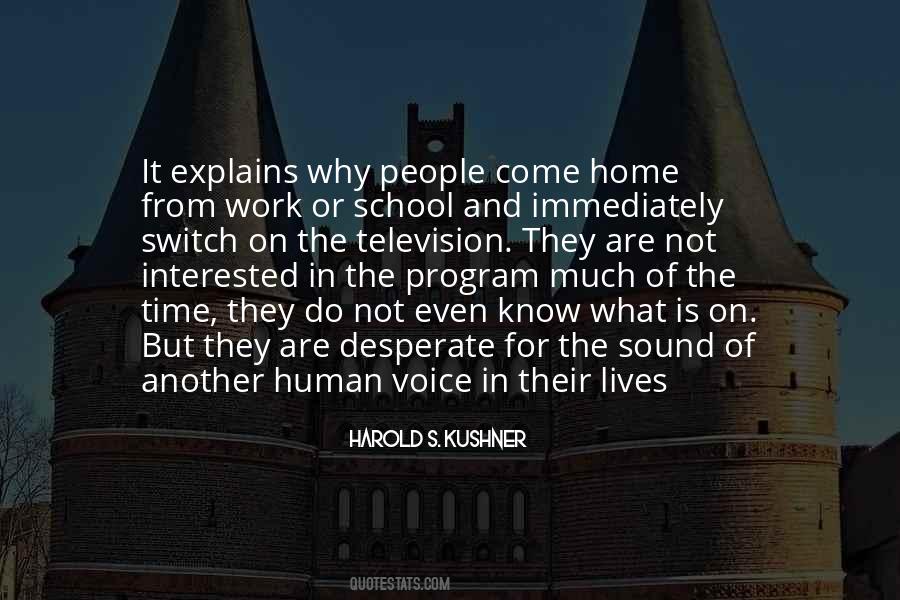 #62. I've never gone to acting school and I never will, so I'm learning about the business from the people who are in the business. It doesn't seem like I work at all. And the unknown is always exciting. - Author: Jonathan Rhys Meyers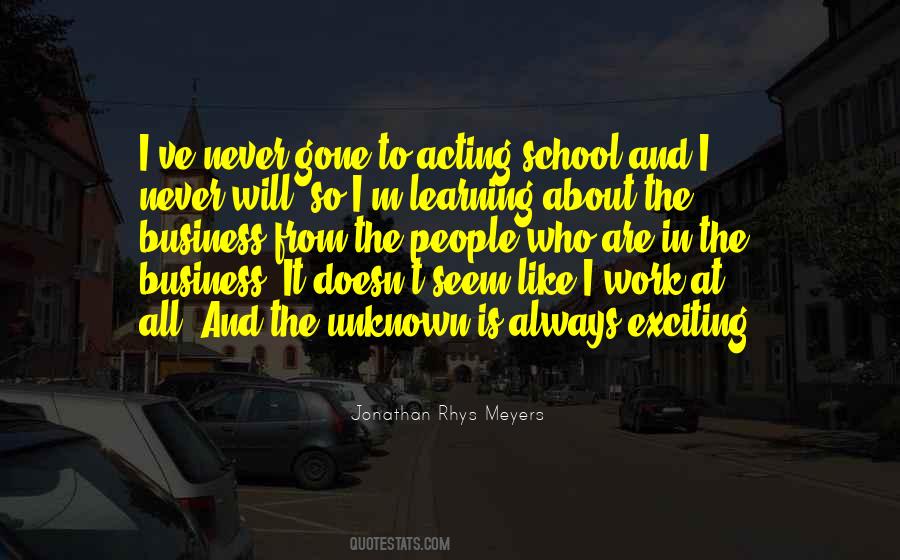 #63. Cool it," cried Olga. "Working hard is what I do! Can't be perfect. Going to school not cheap and what are you doing here, a beauty nobody want. My first year was ok, only five or ten times knocked down, then later more and more. He says I'm no lady and gotta work harder for his dollar. - Author: J.M.K. Walkow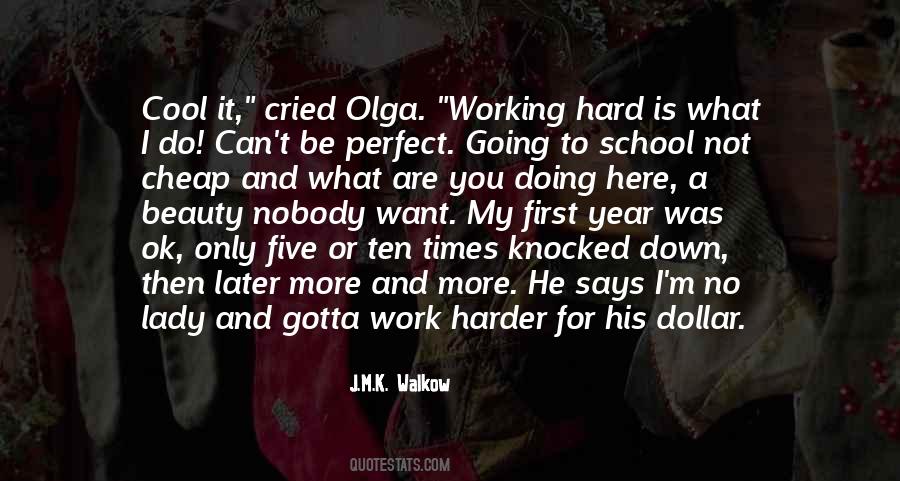 #64. The siblings wished that if Mr. Poe were really jealous of them he would attend Prufrock Preparatory School himself, and they could work at the bank. - Author: Lemony Snicket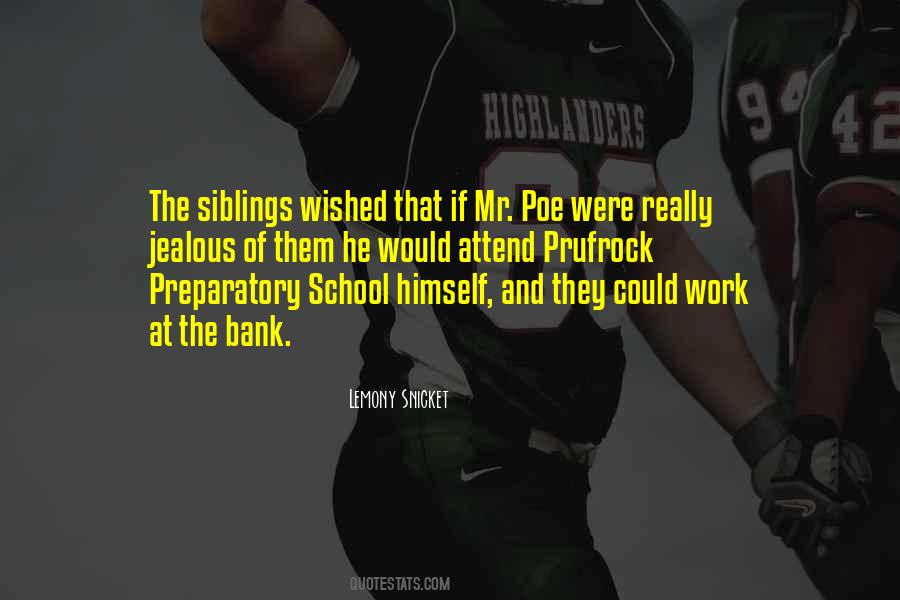 #65. The nomadic lifestyle does work for a lot of working parents, but I've traveled and I've seen it, and I want to be able to go home at night and see my daughter. I want to be there for her first day of school and her school recital. Honestly, television is what offers me that. - Author: Sarah Michelle Gellar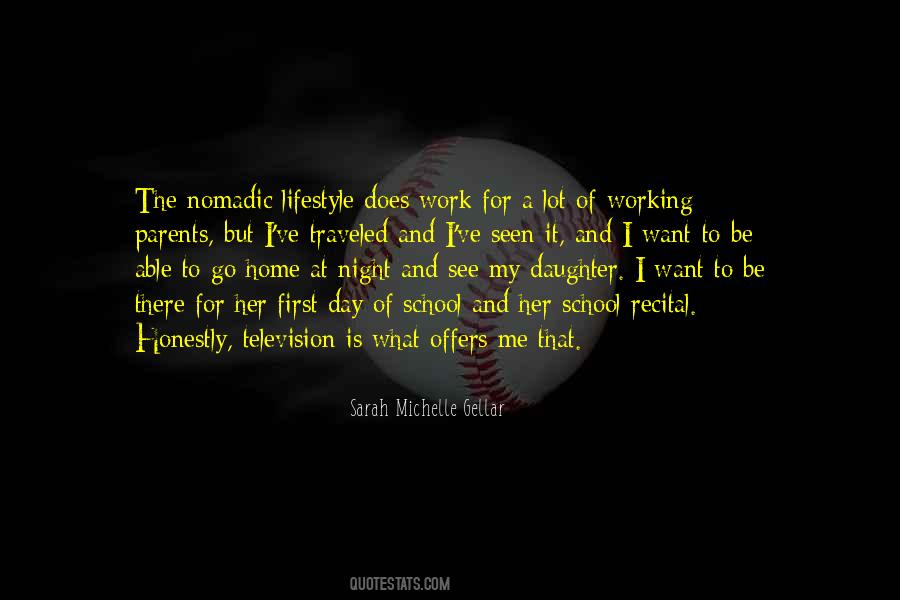 #66. Here are my strong reservations about the wave of computer networks. They isolate us from one another and cheapen the meaning of actual experience. They work against literacy and creativity. They undercut our schools and libraries. - Author: Clifford Stoll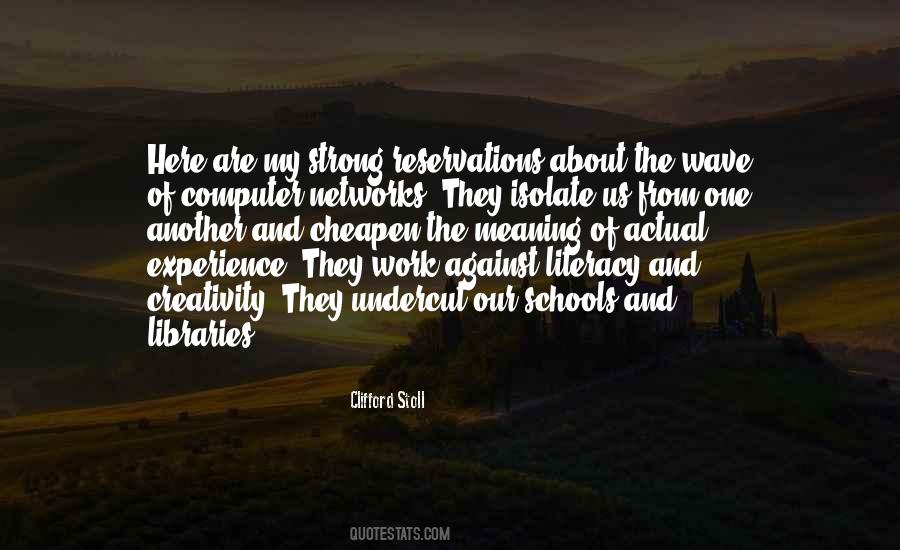 #67. For me, my number one priority always has to be the music, and I'm going to work school around my music - not music around my school. - Author: Scotty McCreery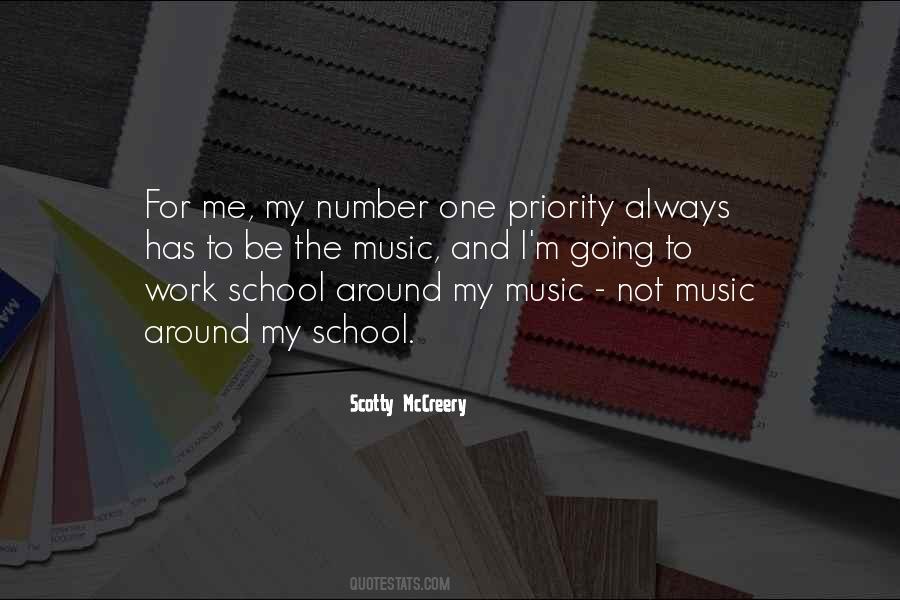 #68. I meet a lot of readers who first encountered my work in school. And I can only assume there is another group who would run away very fast if they saw me coming, for exactly the same reason. Reading is individual, and not all tastes are alike. - Author: Margaret Atwood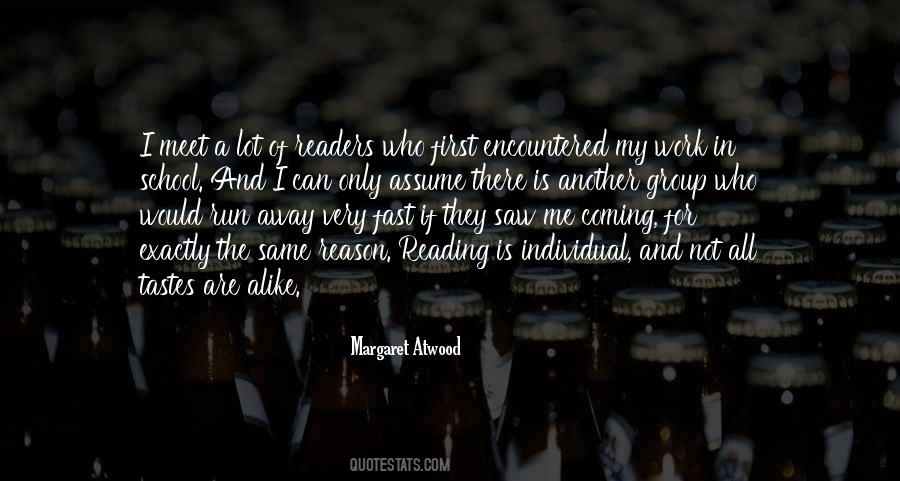 #69. TV was my life, growing up. I ran home from school to watch television, and even did my homework with the TV on - my mom had a rule that as long as my grades didn't fall, I was allowed to. So it was my dream to work in television. - Author: Melissa Rauch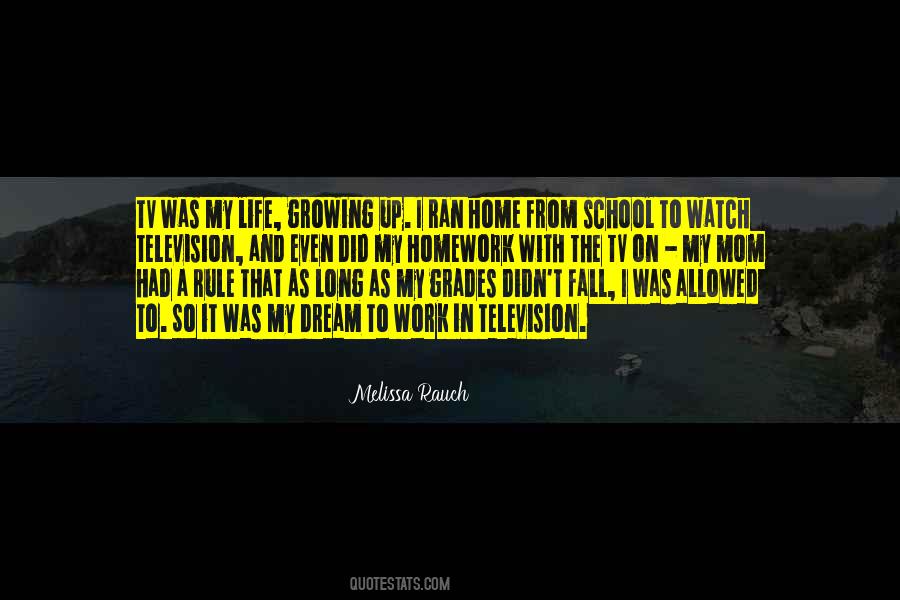 #70. I left school and couldn't find acting work, so I started going to clubs where you could do stand-up. I've always improvised, and stand-up was this great release. All of a sudden, it was just me and the audience. - Author: Robin Williams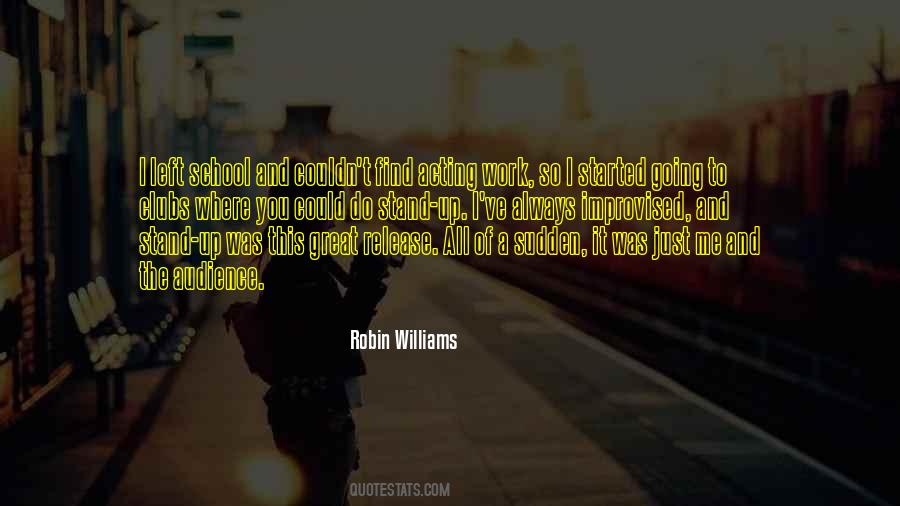 #71. To separate man and woman at school, at work, at meetings, in short, to separate them at life, is the affair of perverted and fusty minds! Where there is separation, there is excessive primitiveness! - Author: Mehmet Murat Ildan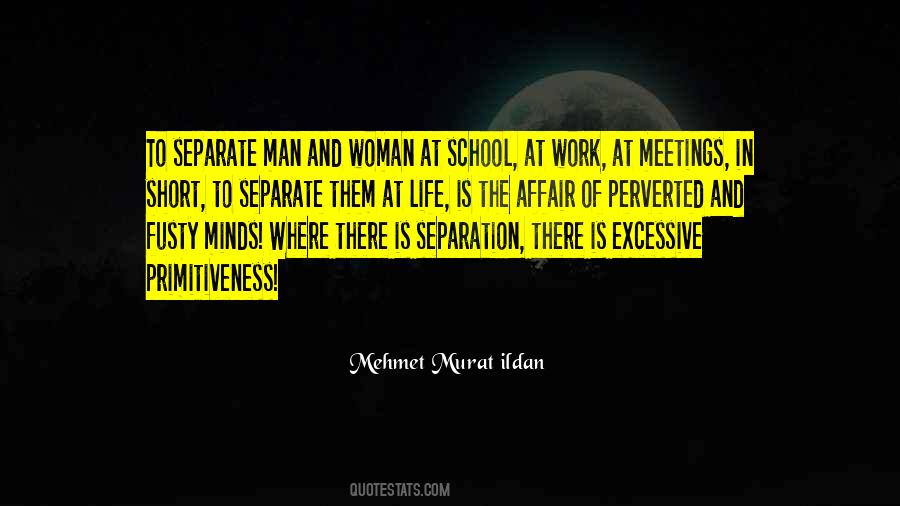 #72. The three things I said when I came out of school were I want to work consistently, I want to do good work and I want to be paid fairly, and that's happened. But I didn't become an actress for the money. I do it for other reasons. - Author: Angela Bassett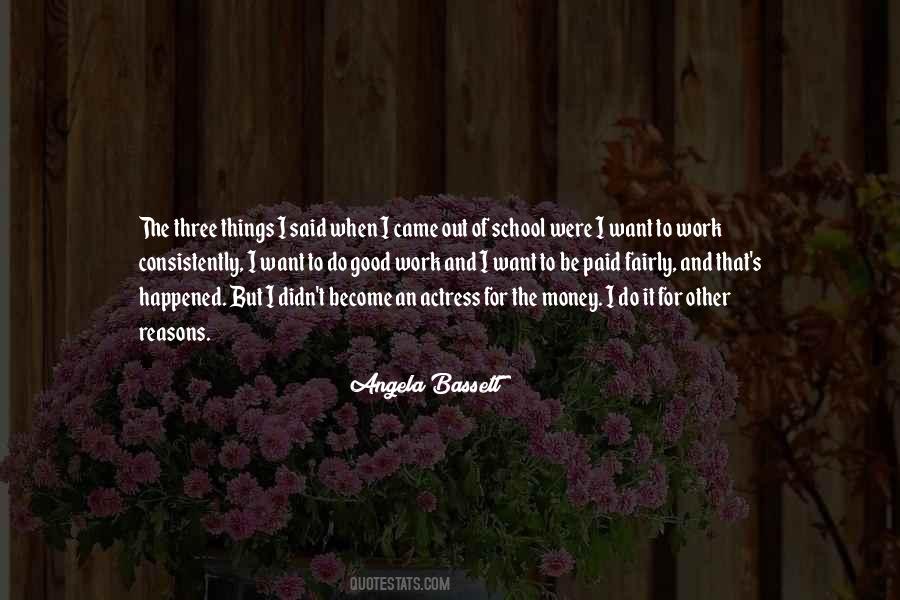 #73. My odyssey to become an astronaut kind of started in grad school, and I was working, up at MIT, in space robotics-related work; human and robot working together. - Author: Michael J. Massimino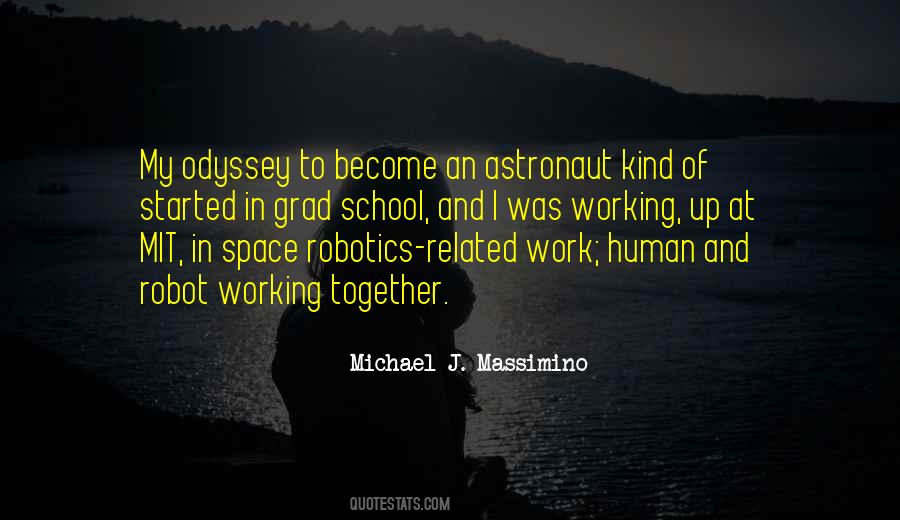 #74. We go to school to learn to work hard for money. I write books and create products that teach people how to have money work hard for them. - Author: Robert Kiyosaki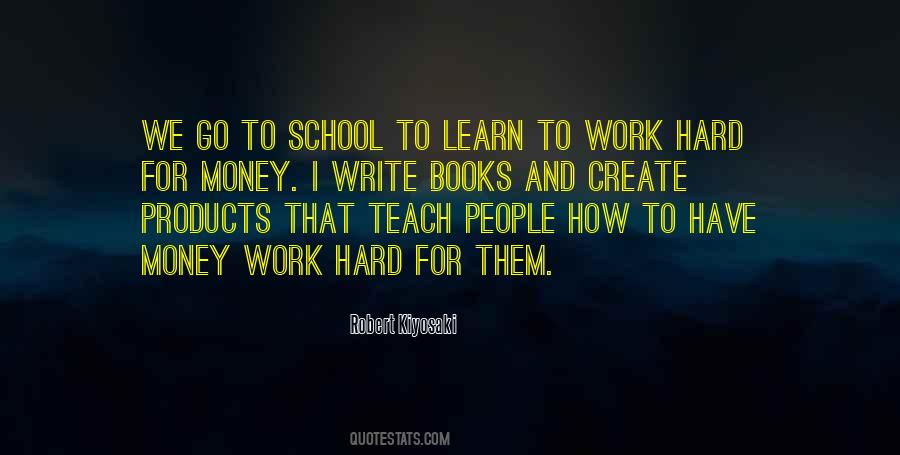 #75. I'm always interested in craft and I was interested to see how people work. For me, it's a little like lessons at school. - Author: Jeff Goldblum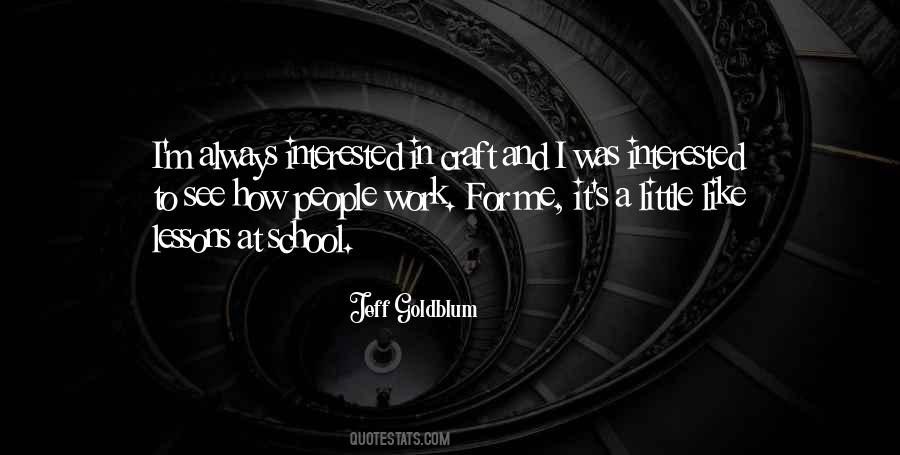 #76. We have to mainstream everybody. No matter what their circumstances when they were growing up. Part of that is knowing that after they're finished with school, everybody in this country gets up and goes to work. - Author: Donna Shalala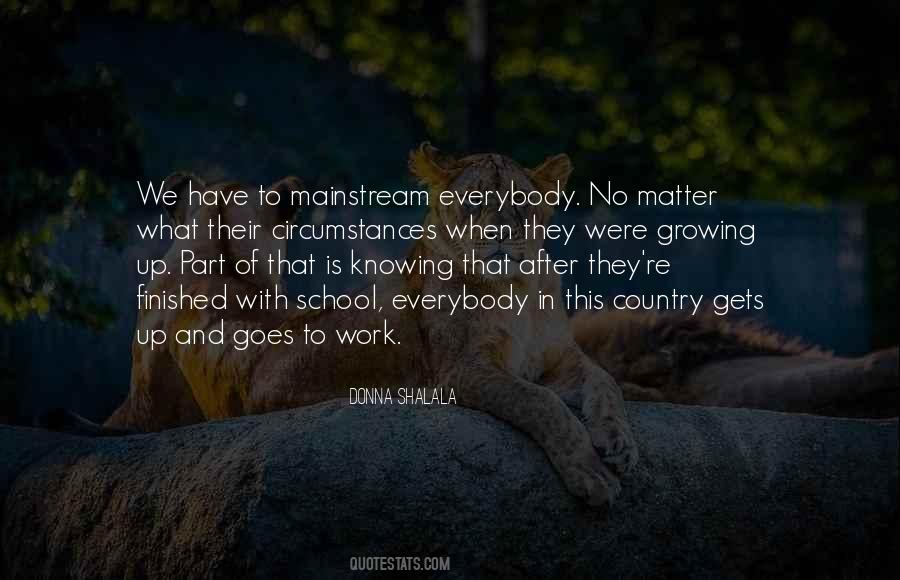 #77. I took myself out of the business to study film at NYU and the School of Visual Arts. I grew up on movie sets and was fascinated with the camera and behind-the-scenes work. I felt it would help my career as an actor if I knew all aspects of film. - Author: Devin Ratray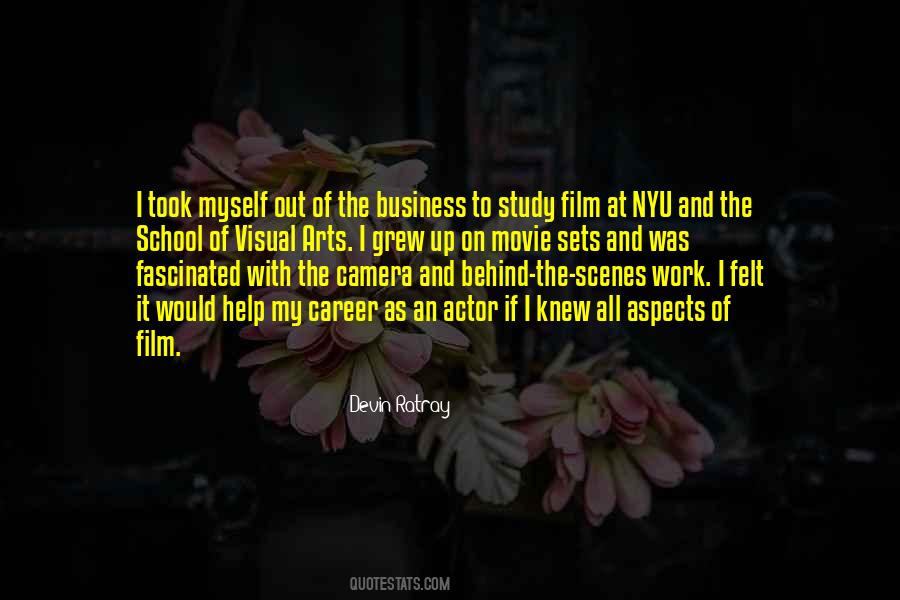 #78. TV is like high school because you go into these series, and the people that work there have been doing it for seven years, like 'One Tree Hill,' so you are going into what is already a family - if you are accepted by that family, then it's fantastic fun. - Author: Sasha Jackson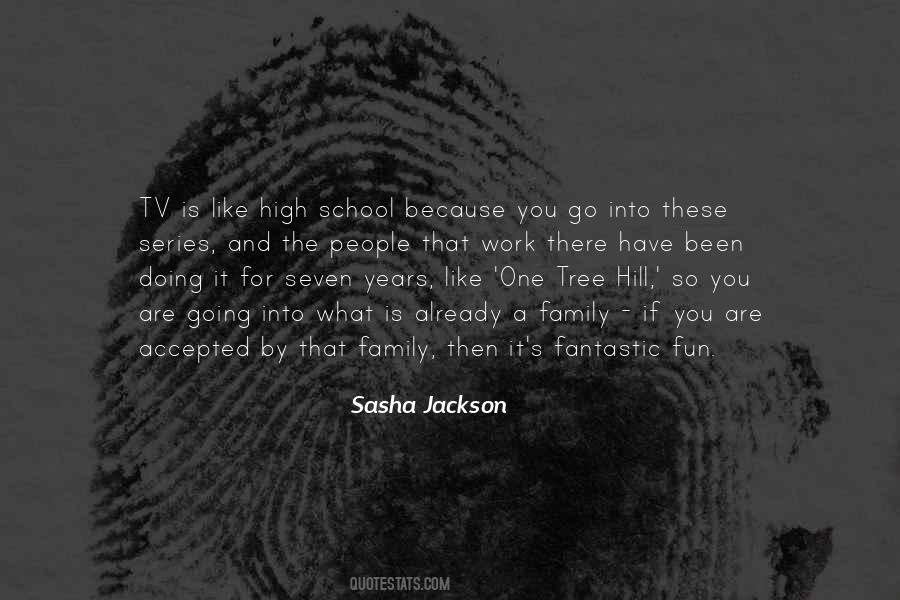 #79. My brothers went to work at 12 and put themselves through school and brought the family out of ruin into food and clothing. - Author: Mel Brooks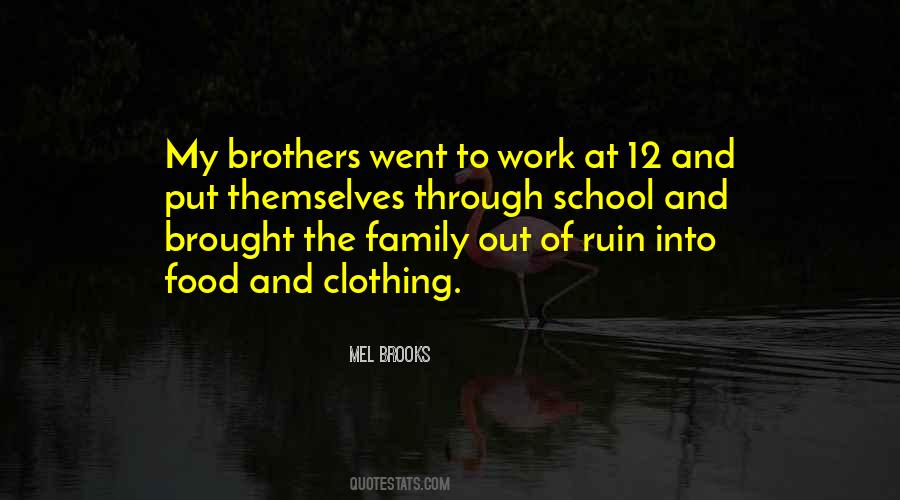 #80. We signed with Roadrunner because, they almost signed us in '97 or something, and we've been wanting to work with Monty Connor, the guy who signed us, for a long time because he's been a huge fan of us since, I mean, in high school, when I was in high school and he was following our band. - Author: Jess Margera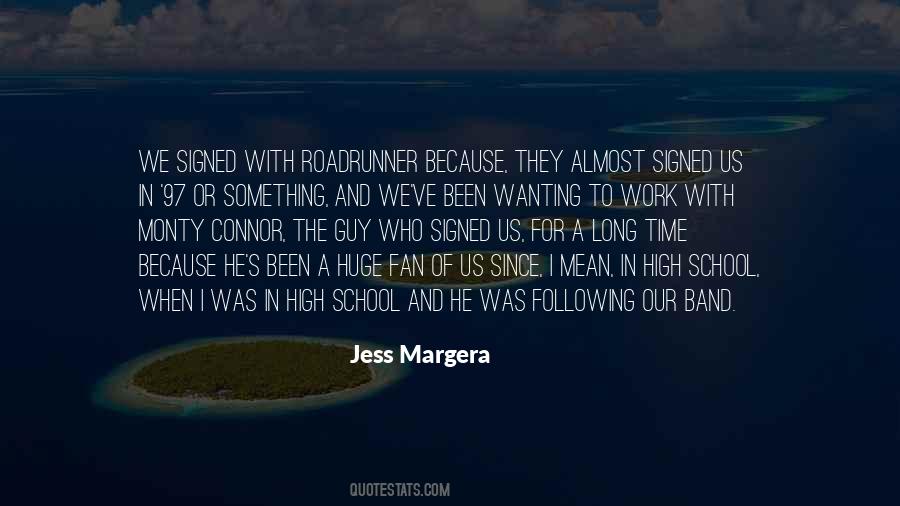 #81. The only thing at the back of my mind is longevity, and I'm really lucky that I've constantly been in work since I left drama school. - Author: Conleth Hill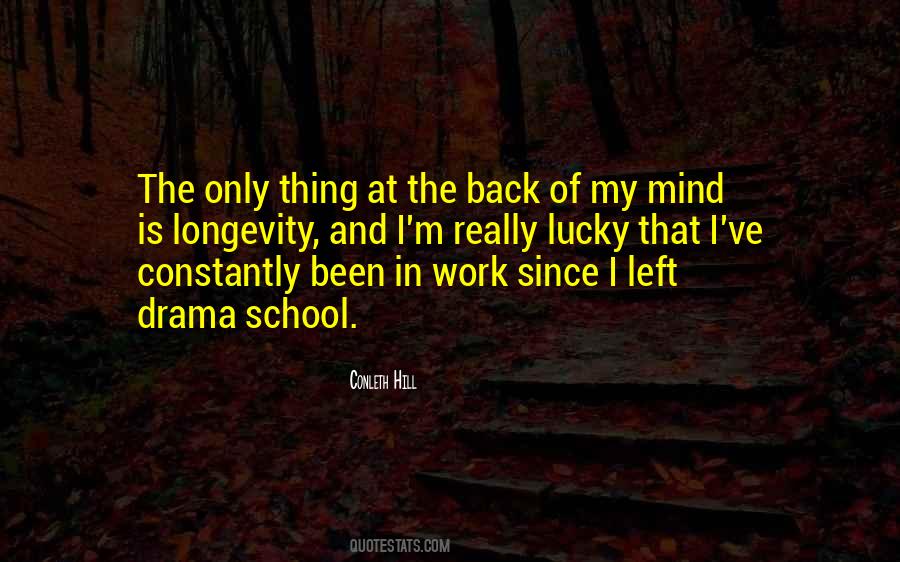 #82. When I came into the industry I started with acting and I did drama during junior high and high school. I fell into dancing as a hobby, but whenever you need work, you try out different things. So I booked a lot of jobs for dancing and it kept rolling and rolling. - Author: Harry Shum Jr.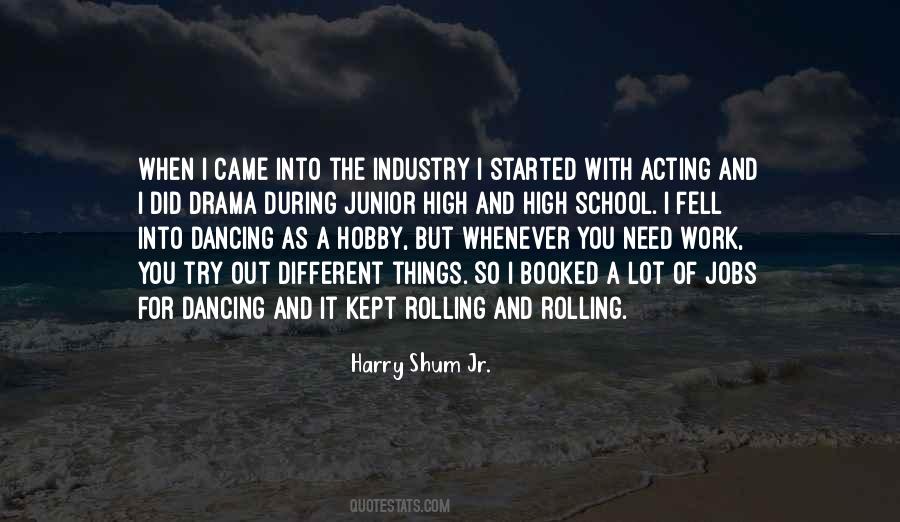 #83. I've spoken in front of members of the U.S. Congress about a new dream of living in communities where everybody is welcome and everyone can live and go to school and work without facing the fear of bullies. - Author: Lauren Potter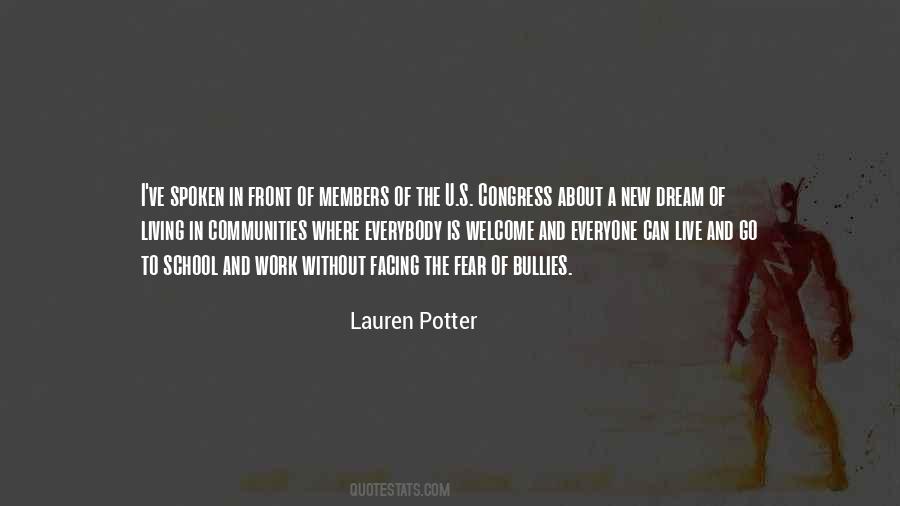 #84. I remember once in junior high school, on a Friday, my mom came home from work and said to my brother and I, 'You know, between us, we have only 27 cents, but we have food in the refrigerator, we have our little garden out back, and we're happy, so we are rich.' - Author: John Paul DeJoria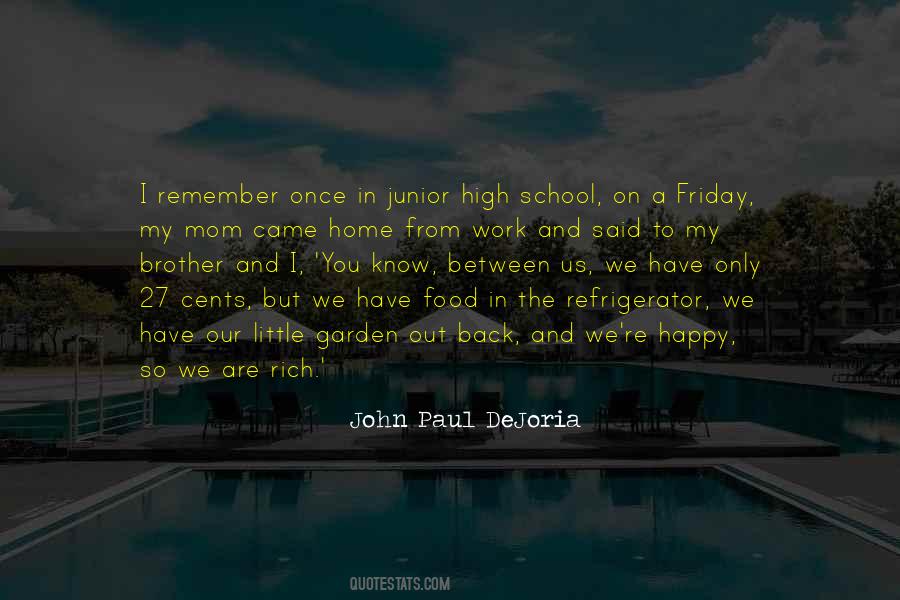 #85. Joshua nodded with a small smile. "I know if you're with her, nothing bad can happen to her. I'll go to school with Marie and Stefan. Of course, if you took me, all the other kids would think I have a big daddy, and they wouldn't try to pick on me." He shrugged. "But Stefan's big. Maybe he'll work. - Author: Christine Feehan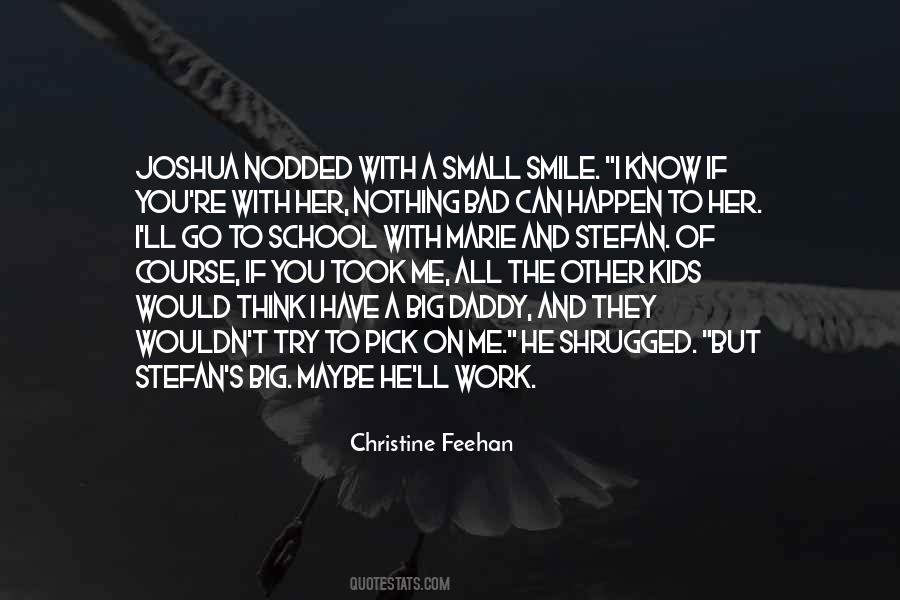 #86. My experiences and training back at drama school were very enlightening. I always believe in improving, be it kathak or my acting skills, and would want to experiment more when it comes to work. - Author: Jiah Khan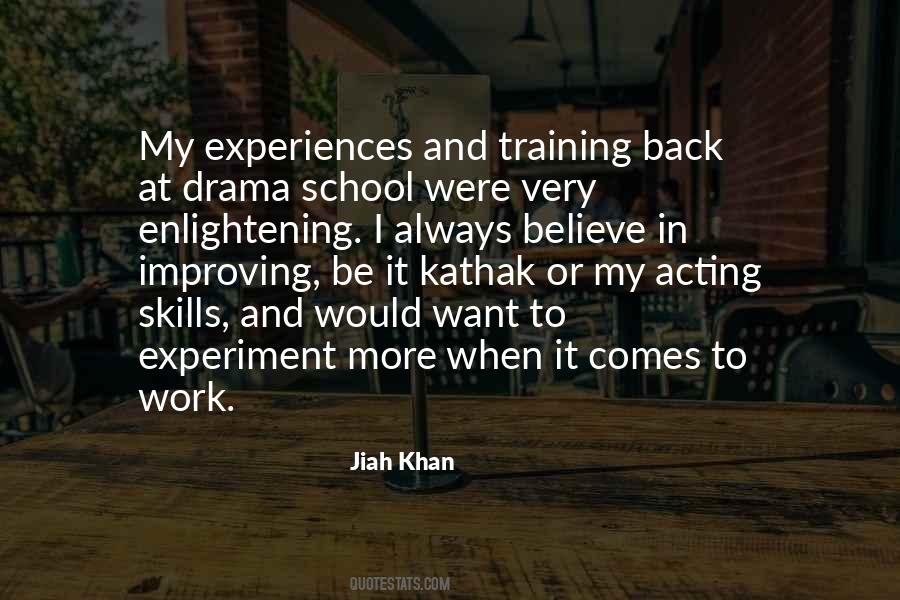 #87. I left school with no qualifications, but I was doing theatre and film work and thought that was the best thing since sliced bread. - Author: Dexter Fletcher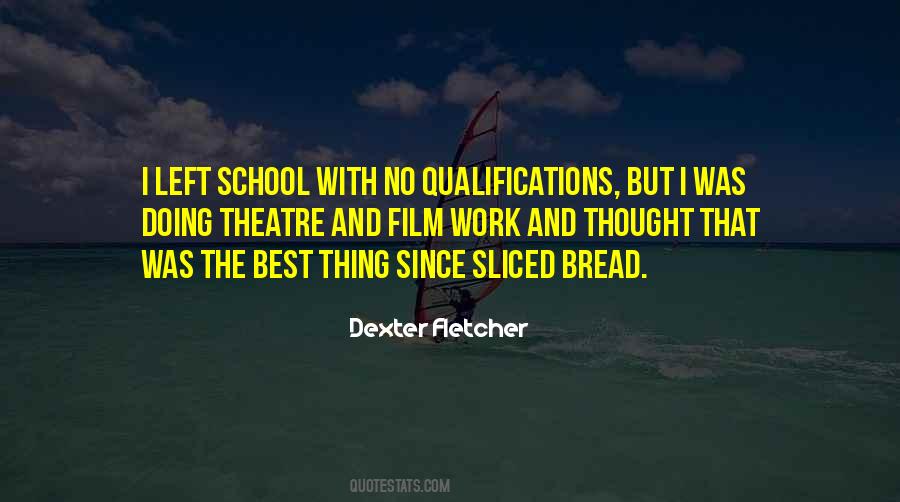 #88. Somebody is born.
Somebody goes to school.
Somebody learns to conform.
Somebody types a CV.
Somebody gets a job.
Somebody follows orders.
Somebody gets a golden watch.
And then, eventually,
Somebody dies.
And, a Nobody is buried. - Author: Mokokoma Mokhonoana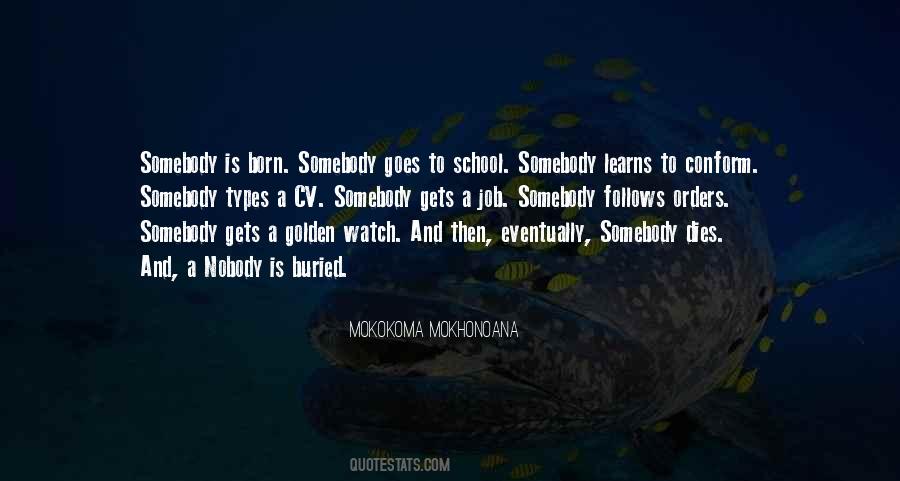 #89. I go into work and get my hair and makeup done, go into wardrobe. I have to do three hours of school a day. - Author: Alia Shawkat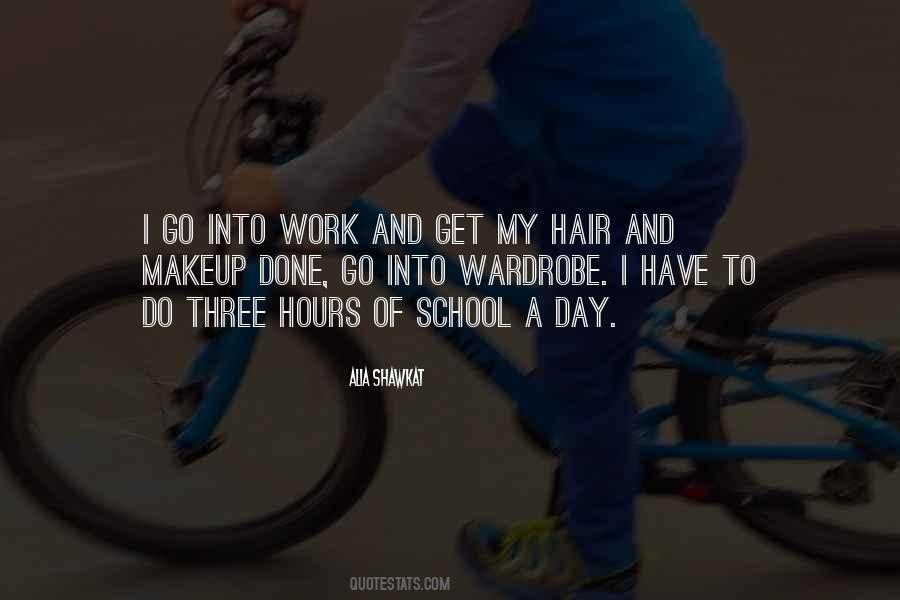 #90. But I spent just two calendar years at Cornell University, though it was covering more than three years of work, and then went to medical school and did become interested in psychiatry, and even helped form a kind of psychiatry club in medical school. - Author: Robert Jay Lifton
#91. I first decided to become an actor at school. A teacher gave us a play to do and that had a major impact. At first, I wanted to work in the theatre, but there was something about the ambience of film, especially American films, that always attracted me. - Author: Jean Reno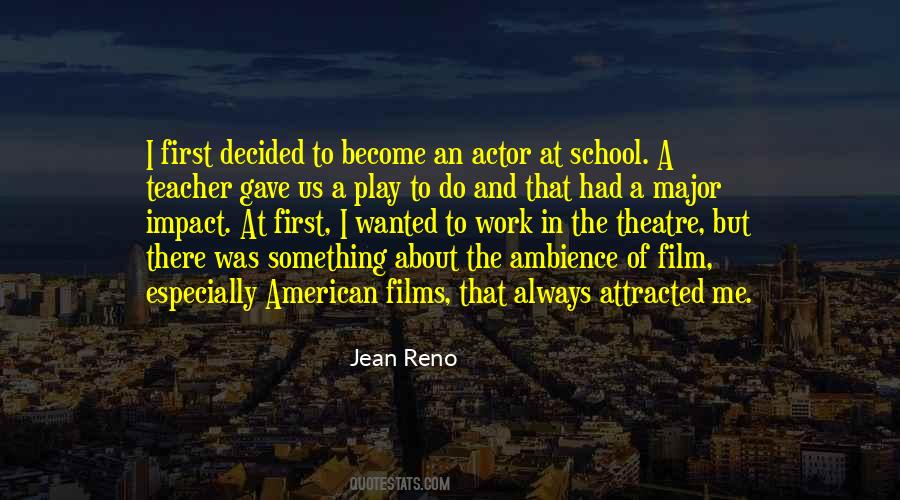 #92. Work is a different type of pursuit than relationships. You can't take the skills that you know that have gotten you into that great school or into that great job and apply them to your relationships. - Author: Tracy McMillan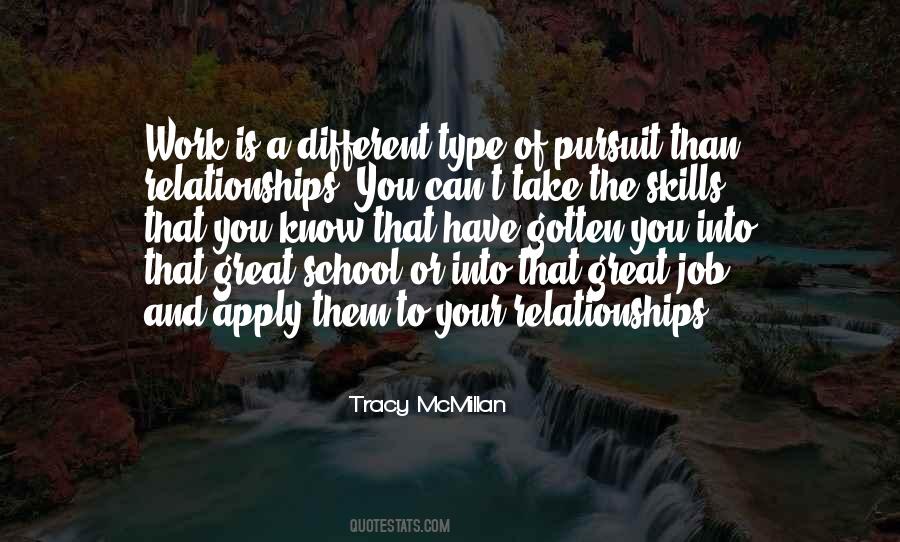 #93. We know at lot more now than the 'last time around the 1960s and 1970s - about how to work for smart schools ... ' 'The smart school finds it's foundation in a rich and evolving set of principles about human thinking and learning.' - Author: David Perkins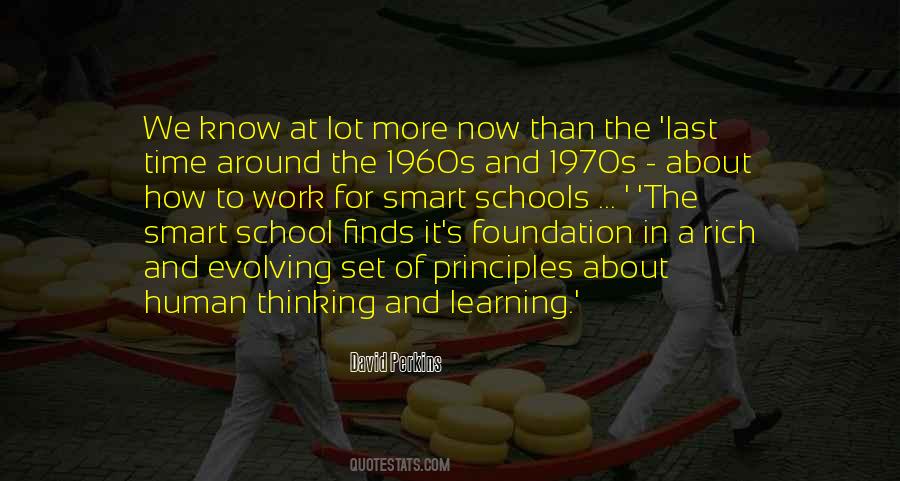 #94. We live in New York. To be able to have a steady job and take your kids to school, and be around and work hard, is the perfect life. - Author: Brooke Shields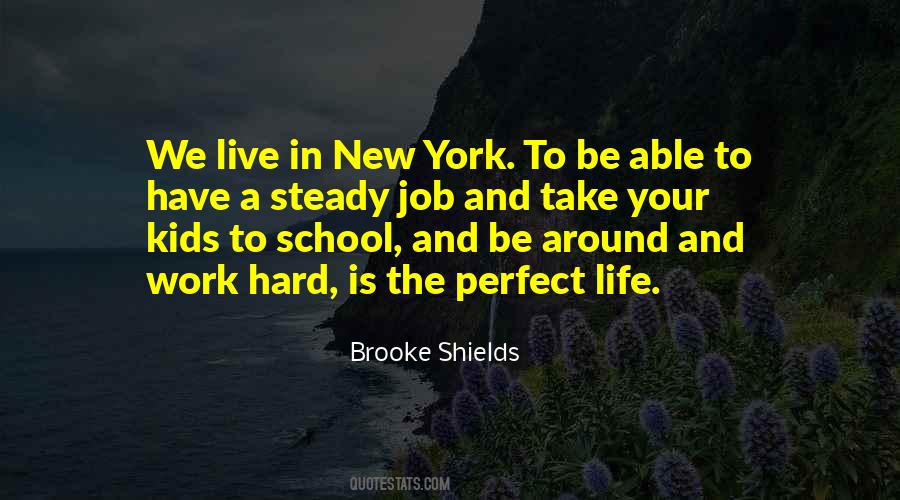 #95. I was drawing professionally by the time I was 12. I used to do very detailed sort of photorealistic pen-and-ink work, and I burned out on it around, like, high school. And cartooning really got me back into drawing. - Author: Dan Povenmire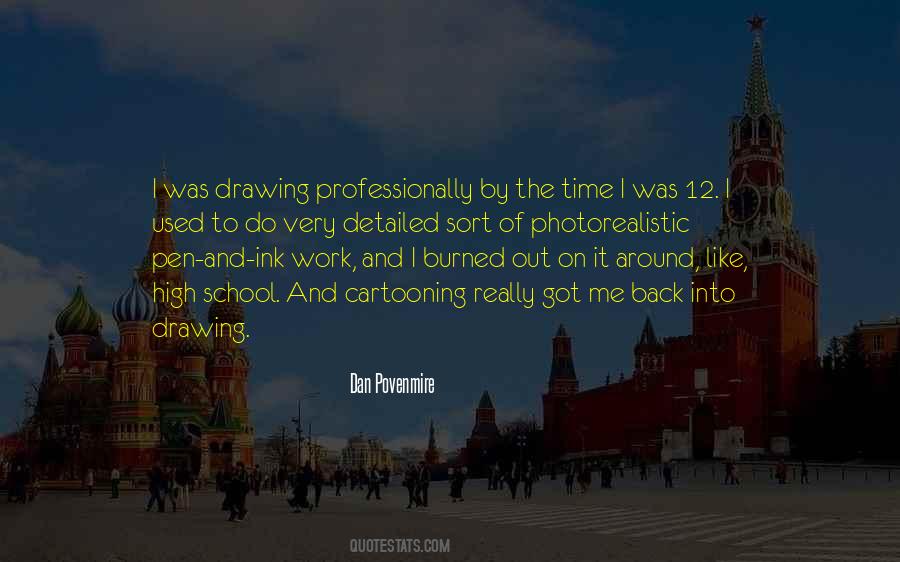 #96. I've had to work by myself at combines before and forced myself to work out alone all the way back to high school. You have to be self-motivated. - Author: D'Brickashaw Ferguson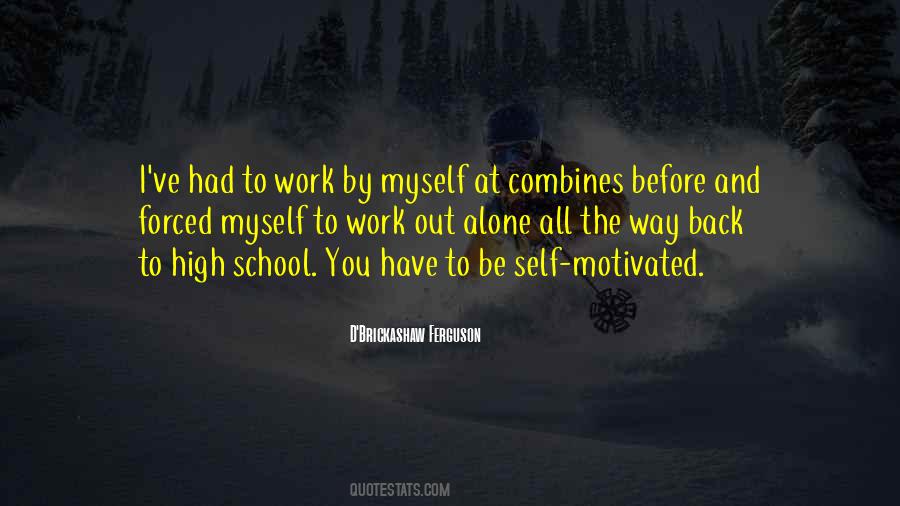 #97. Maybe when we were shooting in the school, I was feeling more like it. Every time I go back to a school for work, I always feel so huge. Everything seems so little. The lockers seem smaller than I remember and the length of the hallways seem shorter when you're a kid. - Author: Judy Greer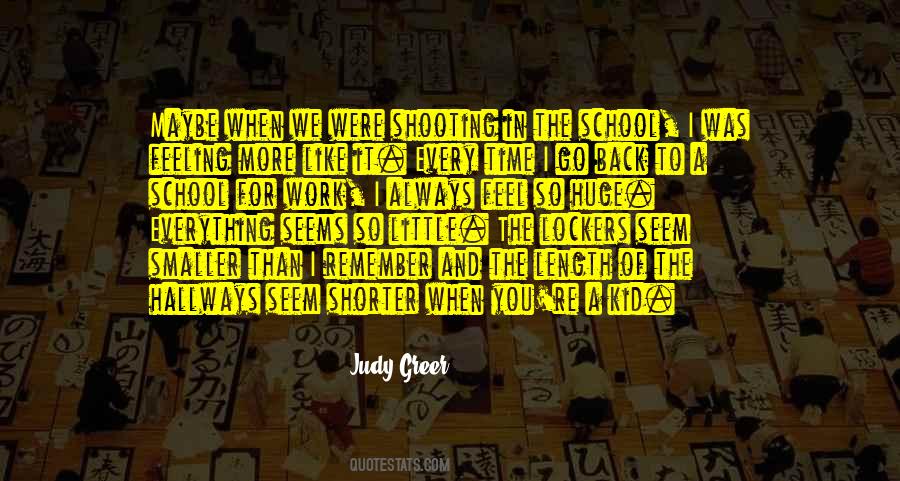 #98. I always had two or three jobs at the same time. I started doing yard work when I was 7 or 8. When I was 13, I got my first state job doing road construction. Between working, sports and school, I hardly ever had free time. - Author: Breaux Greer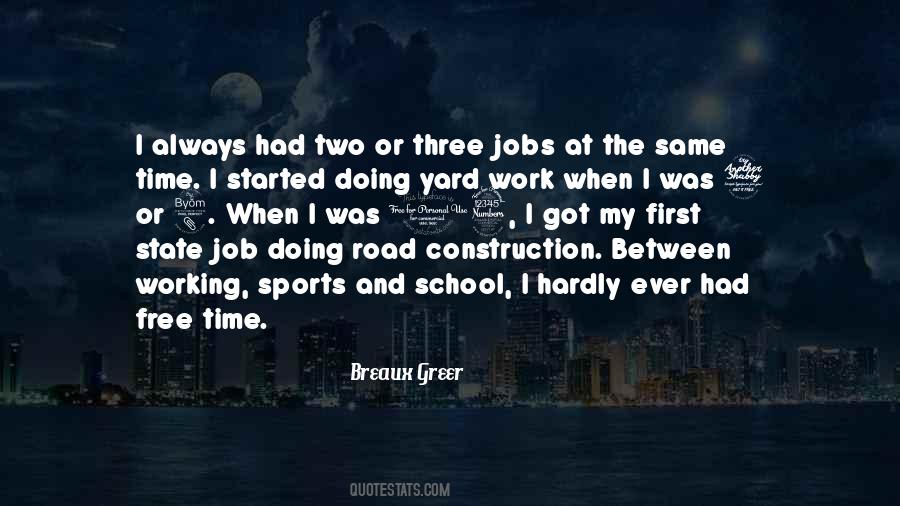 #99. Today, most young women are exposed to technology at a very young age, with mobile phones, tablets, the Web or social media. They are much more proficient with technology than prior generations since they use it for all their school work, communication and entertainment. - Author: Susan Wojcicki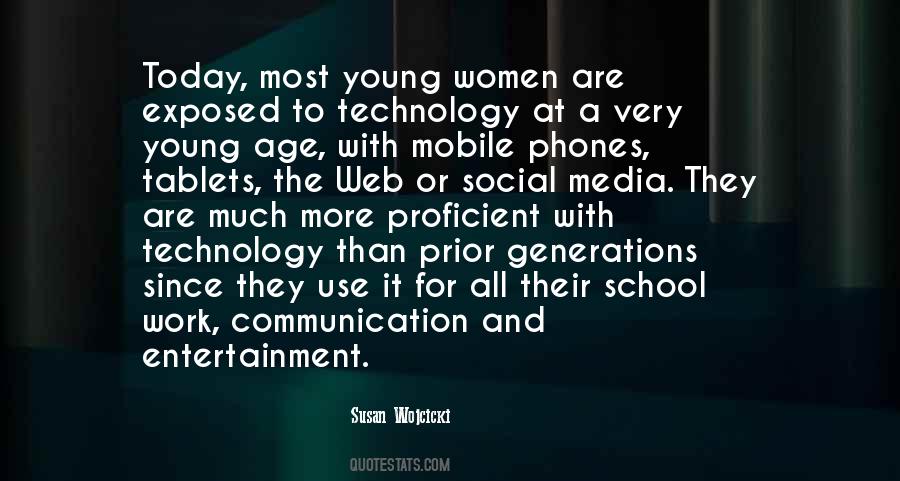 #100. At school I'd want to be so small that nobody could see me, and so my work depicts and reflects me - what it felt like to grow up in a world of pain. - Author: Willard Wigan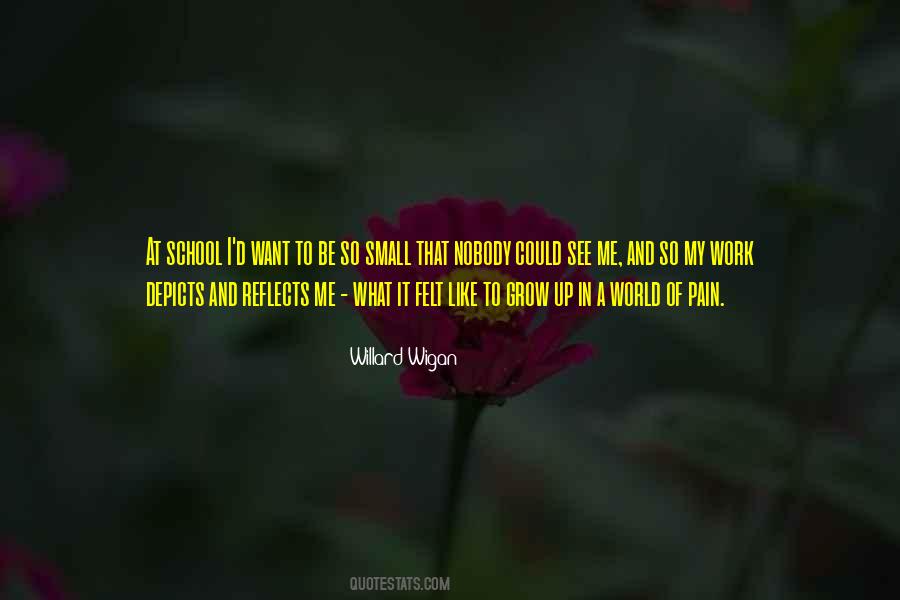 Famous Authors
Popular Topics