San Diego Famous Quotes & Sayings
List of top 91 famous quotes and sayings about san diego to read and share with friends on your Facebook, Twitter, blogs.
Top 91 Quotes About San Diego
#1. When I was in the gunner's bubble of a B25 bomber, taking off from an aircraft carrier 100 miles off the coast of San Diego, I remember saying to myself how amazing it was to get the chance to do that. - Author: Eric Christian Olsen
#2. I was actually born in New York, and spent some of my childhood in Boston. But my family moved to San Diego when I was 12, and I went to high school here. - Author: Jandy Nelson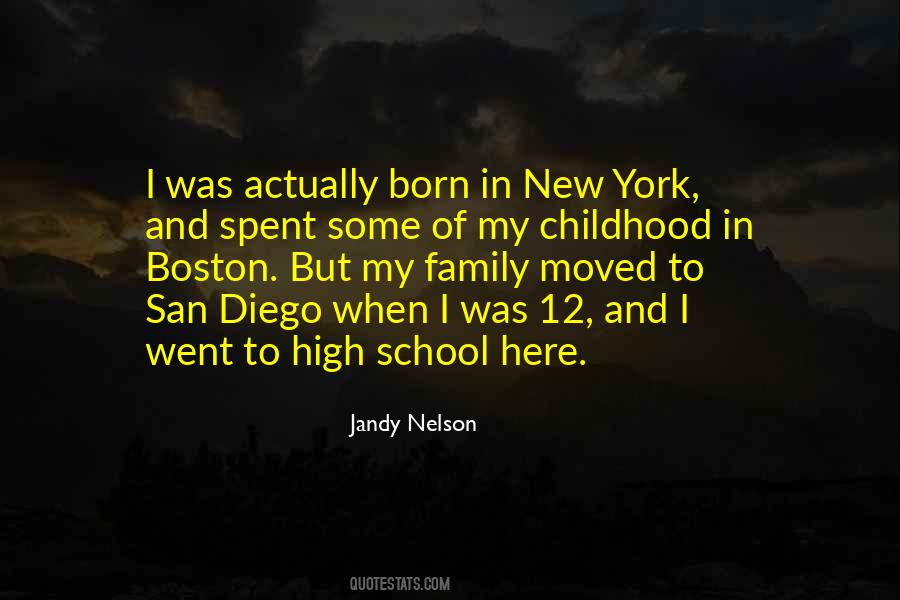 #3. Usually I'll go to San Diego to hang out with my parents if I want to unwind. - Author: Mario Lopez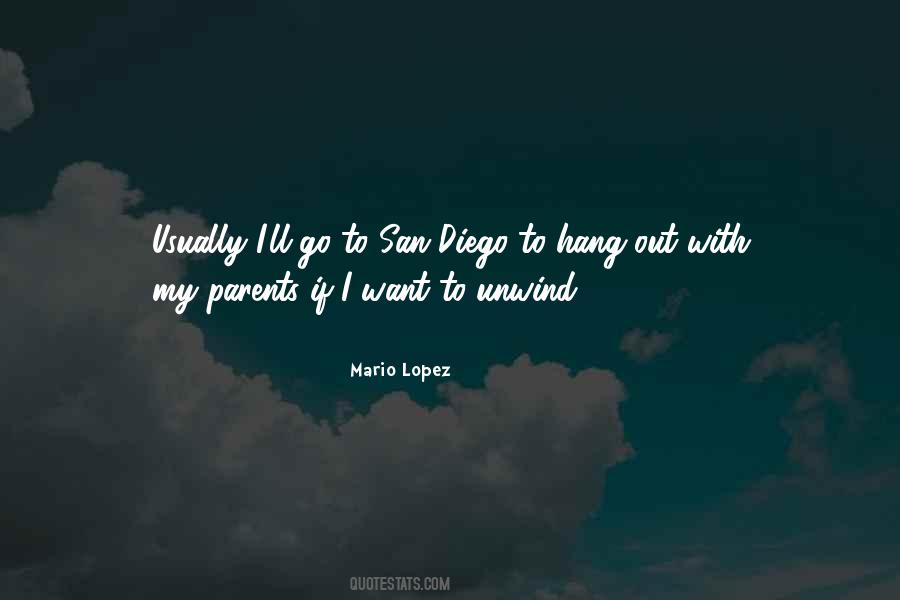 #4. I lived in Wisconsin for a while, so I keep my eyes on the Packers. I grew up in San Diego, so there's the Chargers, but outside of that, I'm really kind of lame because I don't have a specific team I pull for. - Author: Jimmie Johnson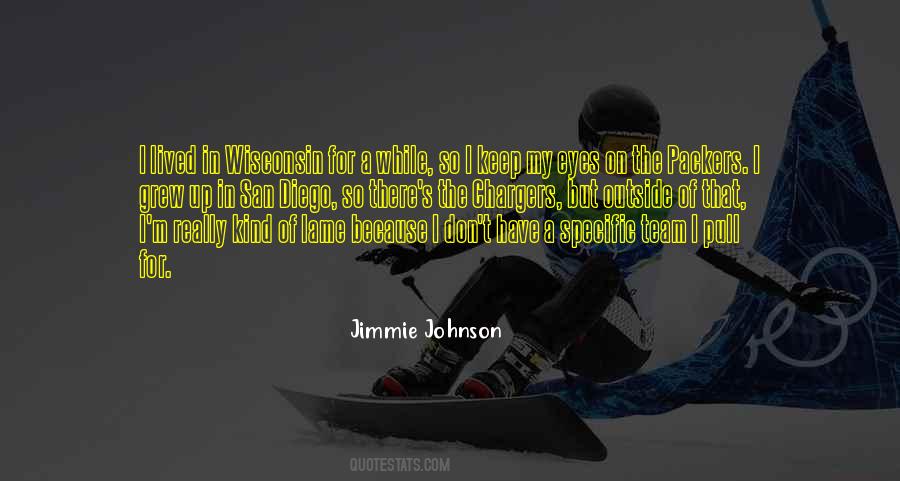 #5. Before I joined professional baseball, I started umpiring in San Diego, California. I worked 155 games in a five-month season. For three years in a row, I was working tripleheaders on Saturday and doubleheaders on Sunday. - Author: Doug Harvey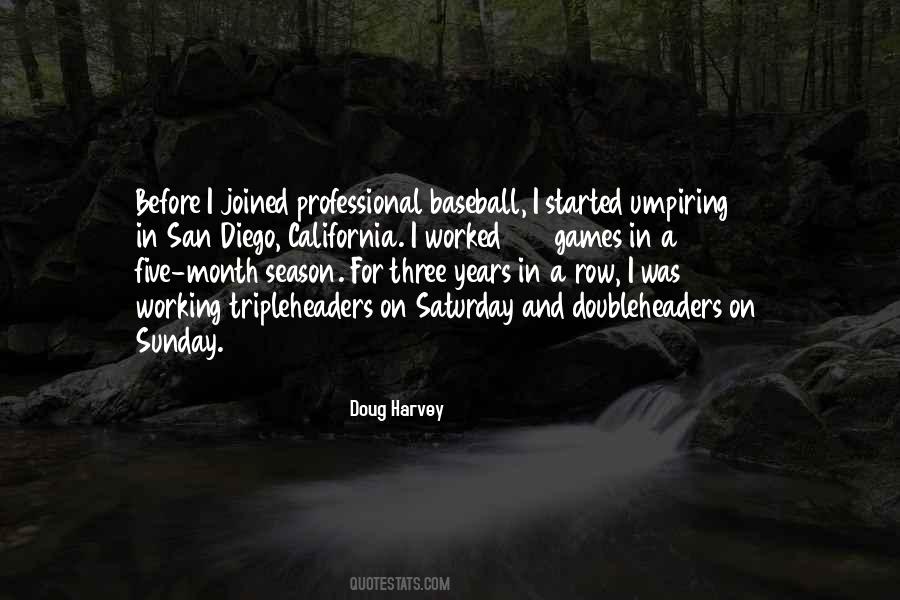 #6. I graduated from UC San Diego, wanted to work in film to get my hands-on real experience, did music videos, TV, feature films, all kinds of stuff. - Author: Ziad Doueiri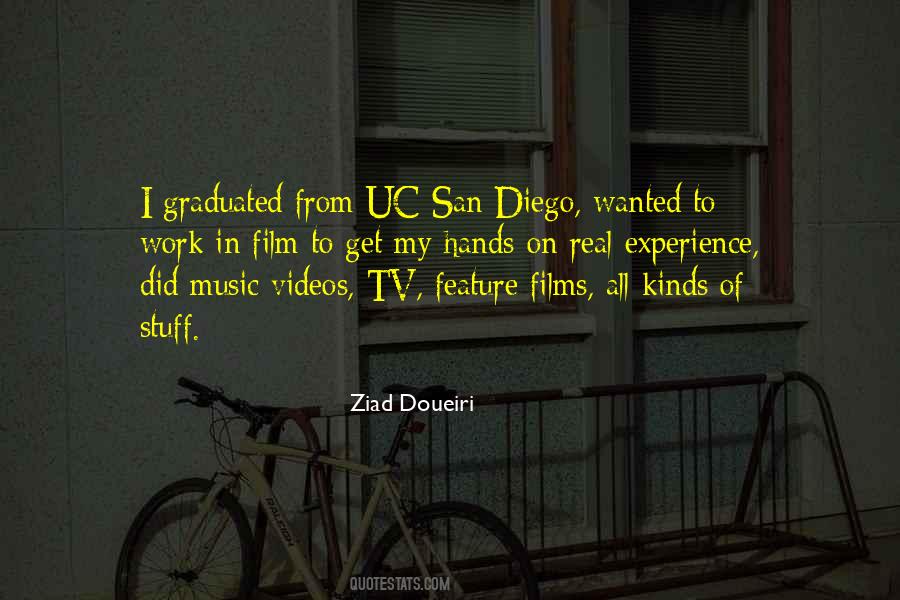 #7. I'm pretty darn happy. I really wanted to go to San Diego and play for those offensive masterminds. I'm looking forward to a 15-year career, a couple of trips to the Super Bowl and a parade through downtown San Diego. - Author: Ryan Leaf
#8. San Diego shaped me a lot. The visual landscapes, the emotional panoramas, the teachers and mentors I had from the third grade through San Diego High - it's all a big part of the poetry fountain that I continue to drink from. - Author: Juan Felipe Herrera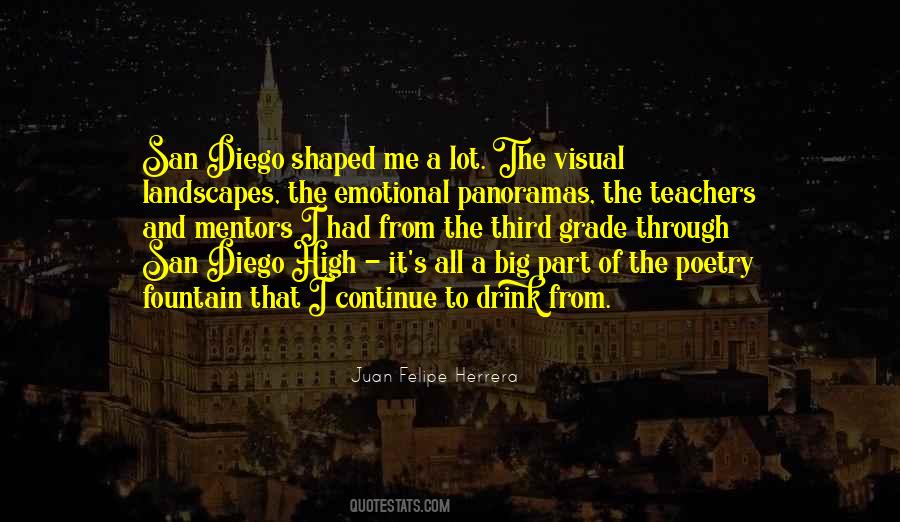 #9. And so we were asleep there in San Diego. And our pilot called us. And his brother was on one of the other planes. And when he was leaving the airport, he saw in his rear view mirror that there was an explosion. - Author: Reba McEntire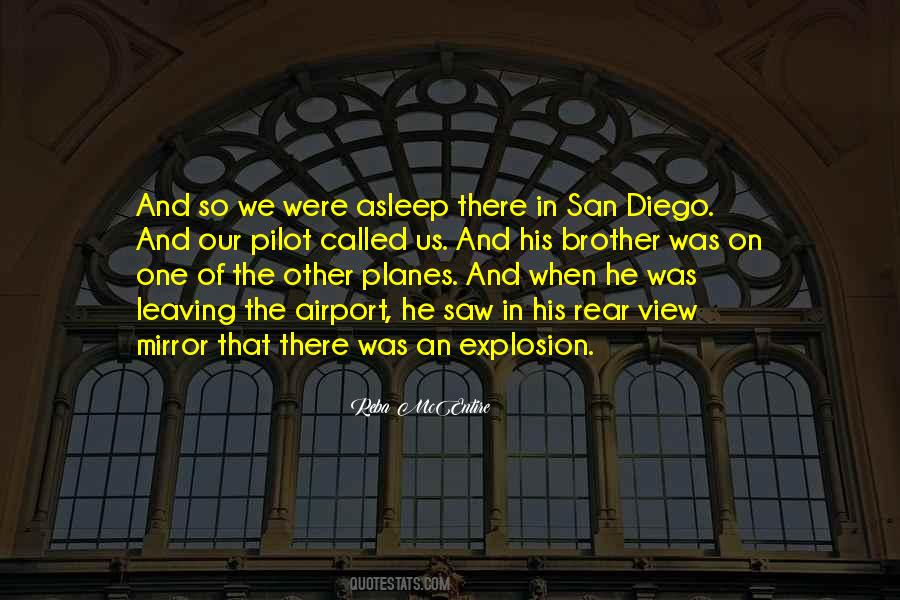 #10. On another level, I want to mention that I have a strong Jewish identity and - over the years - have been involved in several Jewish projects, such as the establishment of a strong program of Judaic Studies at the University of California in San Diego. - Author: Walter Kohn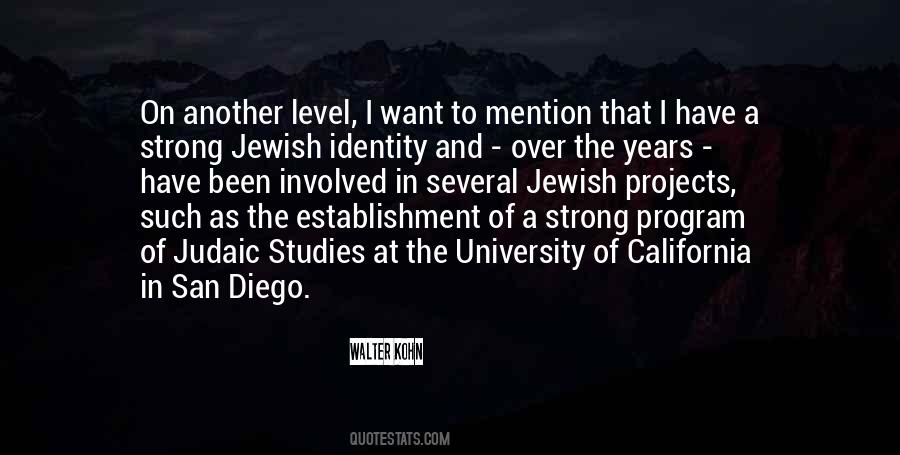 #11. When I first came into the league, I was with Tim Dwight in San Diego, and a guy named Eric Parker, who really showed me the work ethic it takes to be an NFL receiver, and I've really tried to keep that with me. - Author: Wes Welker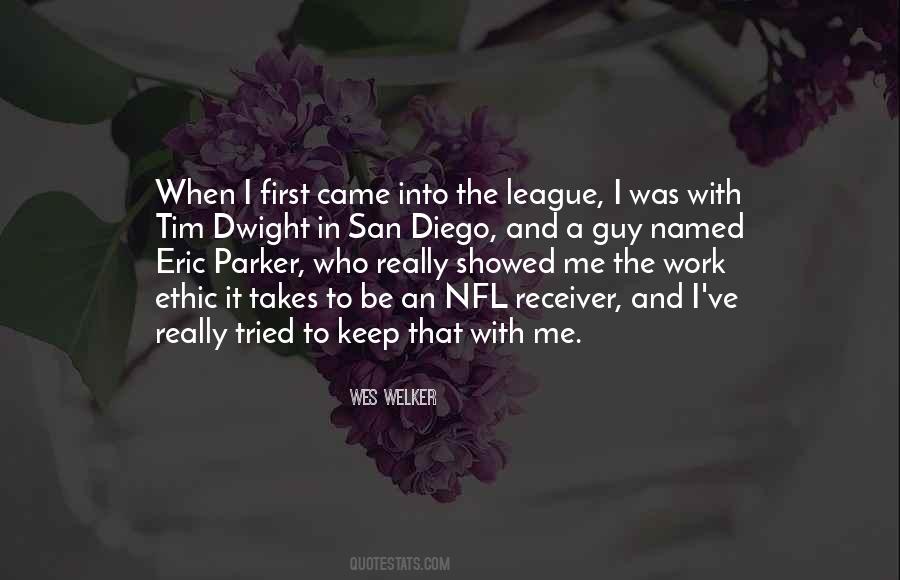 #12. The reason I started writing was because I was a little kid in San Diego who was getting beaten up by her dad and sexually abused and because I felt different than everybody else and I had this big huge secret that was tearing me apart. - Author: Dorianne Laux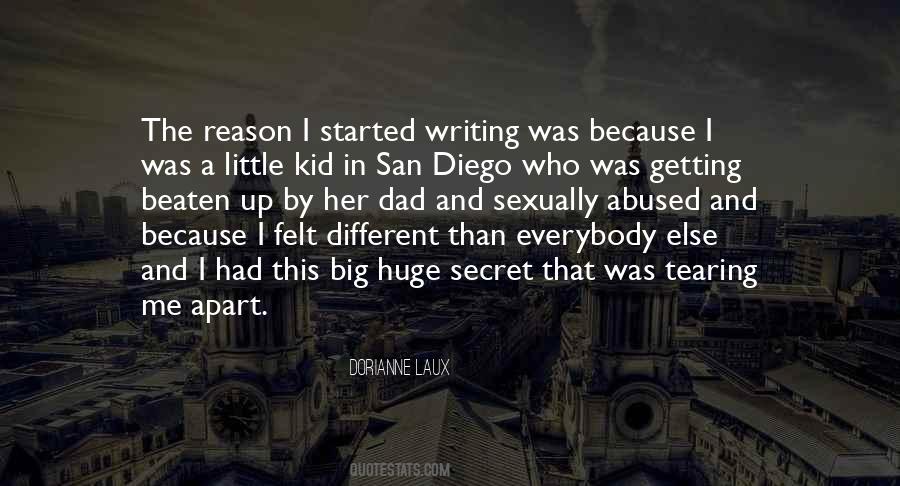 #13. To me, everything outside of Los Angeles is the 'south,' including places like San Diego. It's sort of like the saying, 'Everything is God.' Indeed it is. - Author: Buzz Osborne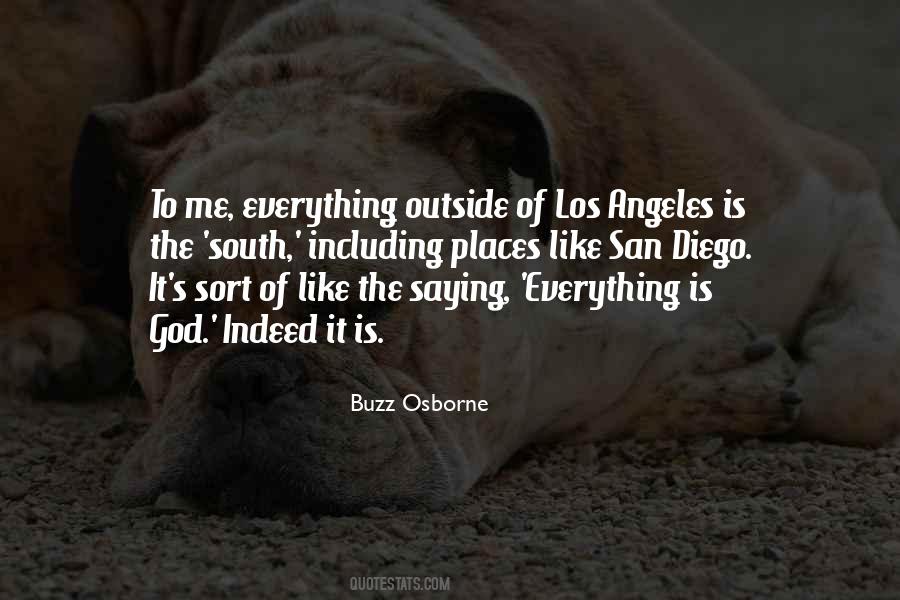 #14. I used to stand on the corner in San Diego with poems sticking out of my hip pocket, asking people if there was a place where I could read poems. The audience is half of the poem. - Author: Juan Felipe Herrera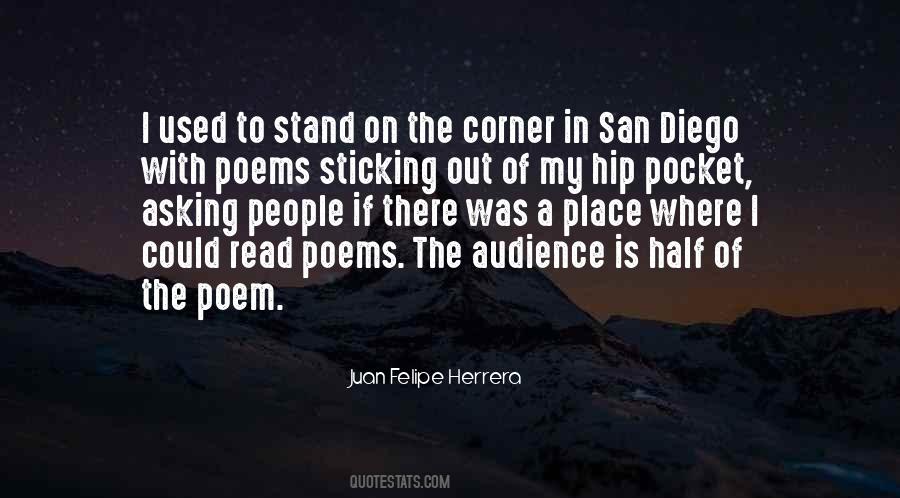 #15. It ended up being a great quarter across the country. The national trend was more on the IT (information technology) side of things. When you look at Southern California and San Diego specifically, it's driven largely by the life sciences and biotech side of things. - Author: Don Williams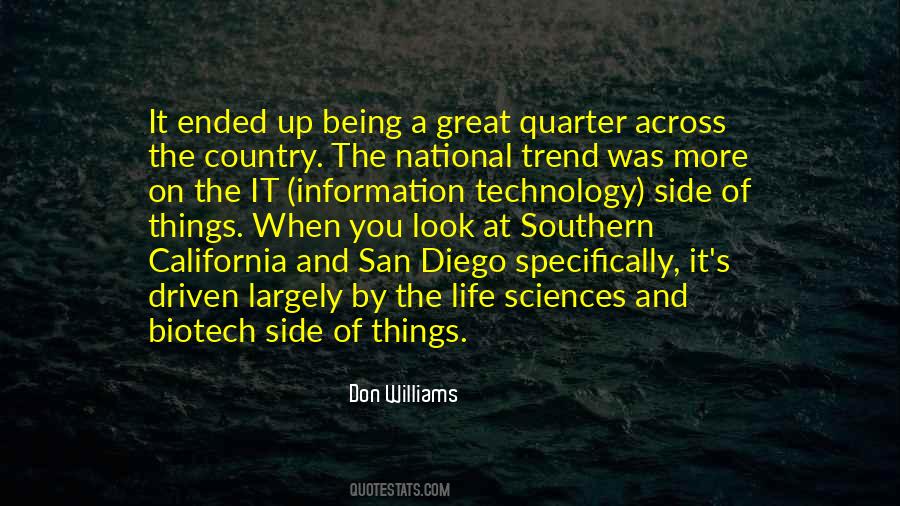 #16. I realized that it's all really one, that John Lennon was correct. We utilize the music to bring down the walls of Berlin, to bring up the force of compassion and forgiveness and kindness between Palestines, Hebrews. Bring down the walls here in San Diego, Tijuana, Cuba. - Author: Carlos Santana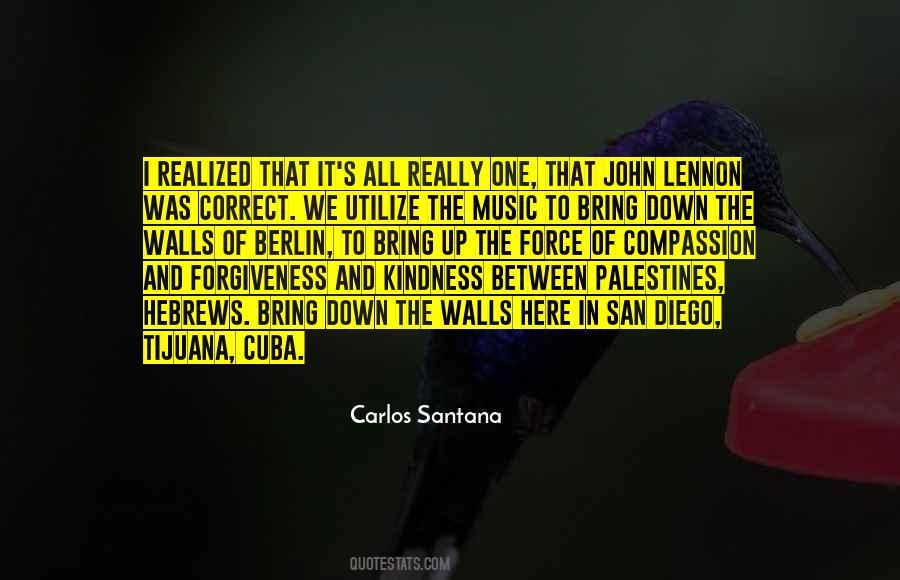 #17. I majored in theater at San Diego State. My one eye was on football, and my other eye was on Hollywood. - Author: Carl Weathers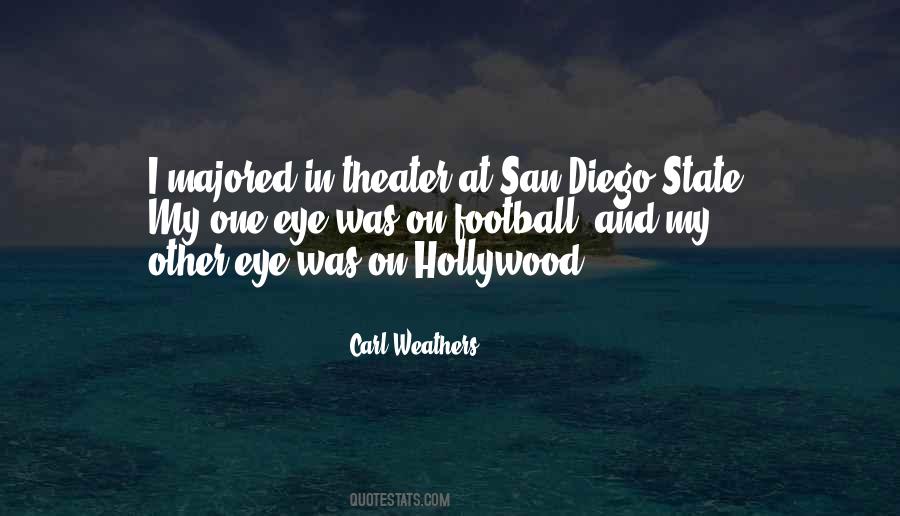 #18. There is no such thing as a typical season, not for the Cardinals, not for San Diego, not for Minnesota. - Author: Dennis Green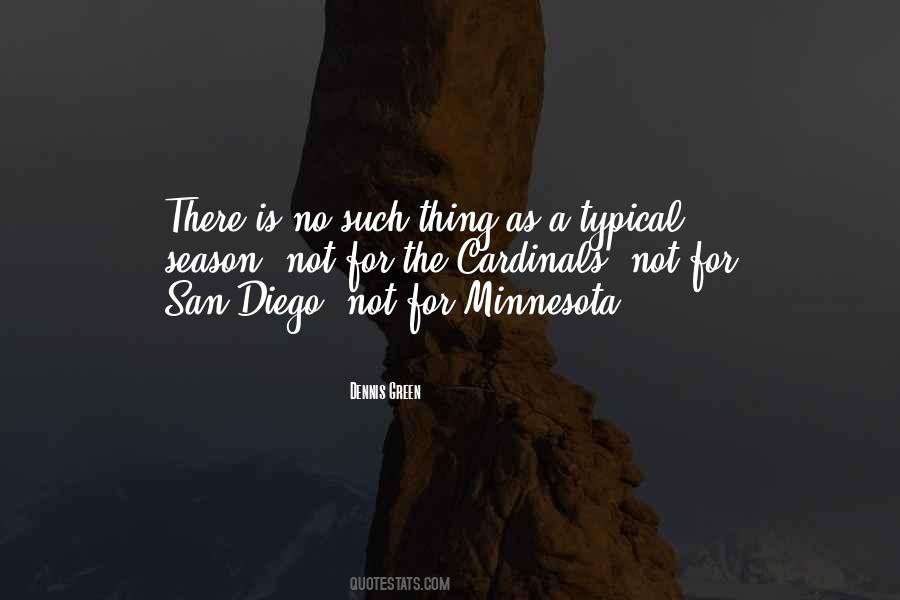 #19. I did an 'Our Town' in San Diego in the seventies with amateurs that I can tear up just thinking about. - Author: Jack O'Brien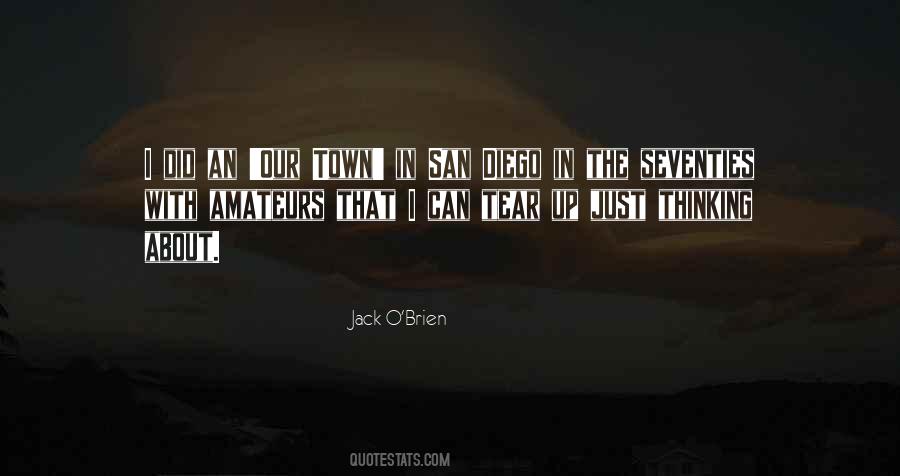 #20. I decided I'd changed my mind about home. Home was not Pensacola San Diego Guam or any of the other places we might have lived. In fact home wasn't any particular place at all. Home was my family. Even if they didn't get my jokes sometimes. - Author: Kimberly Willis Holt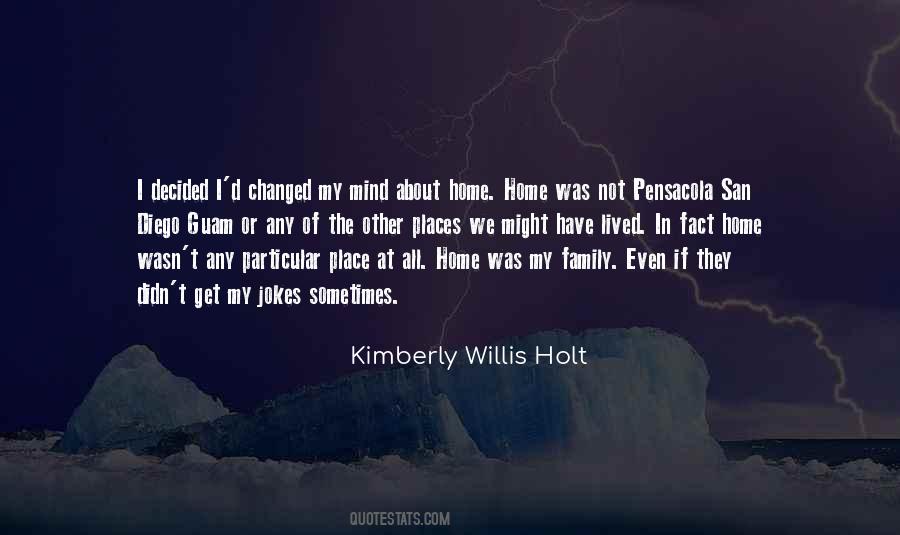 #21. Thank God I arrived the day before yesterday, the first of the month, at this port of San Diego, truly a fine one, and not without reason called famous. - Author: Junipero Serra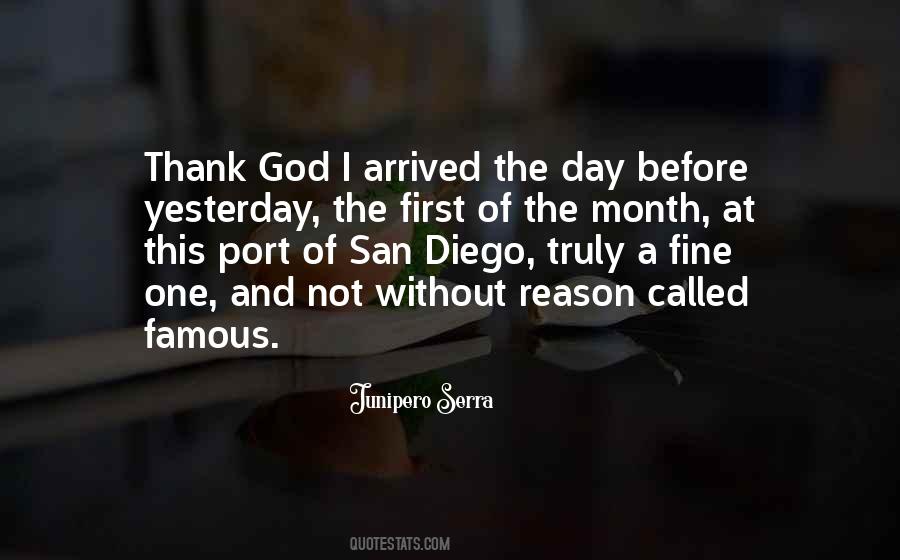 #22. I grew up in Del Mar, Calif., north of San Diego. I got my first job the summer after eighth grade at a small Internet service provider. - Author: David Ulevitch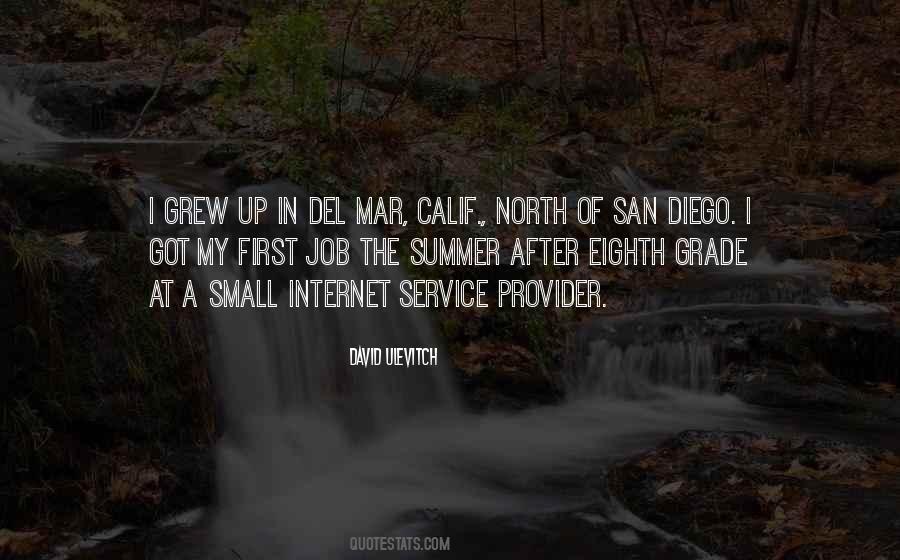 #23. Yes. It was awful. What sucks even more is that it happened at 'World Famous San Diego Zoo,' that whore of a tourist attraction that insists on forty-seven billboards on every highway and nonstop advertising loops on radio and television. - Author: Michelle Gable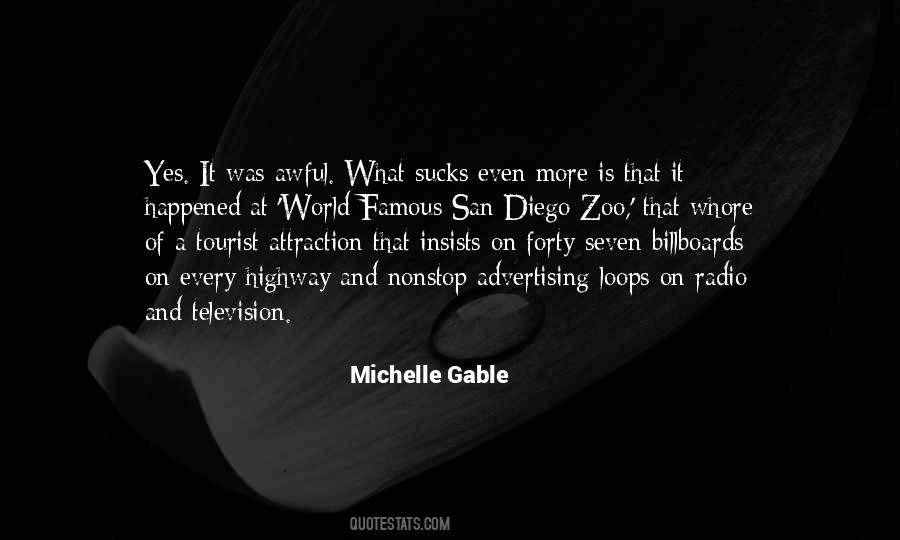 #24. I used to go to San Diego all the time to hang out. My cousin played for the San Diego Padres, and my brother lives down there. I love going to the zoo and walking around Old Town. - Author: Drake Bell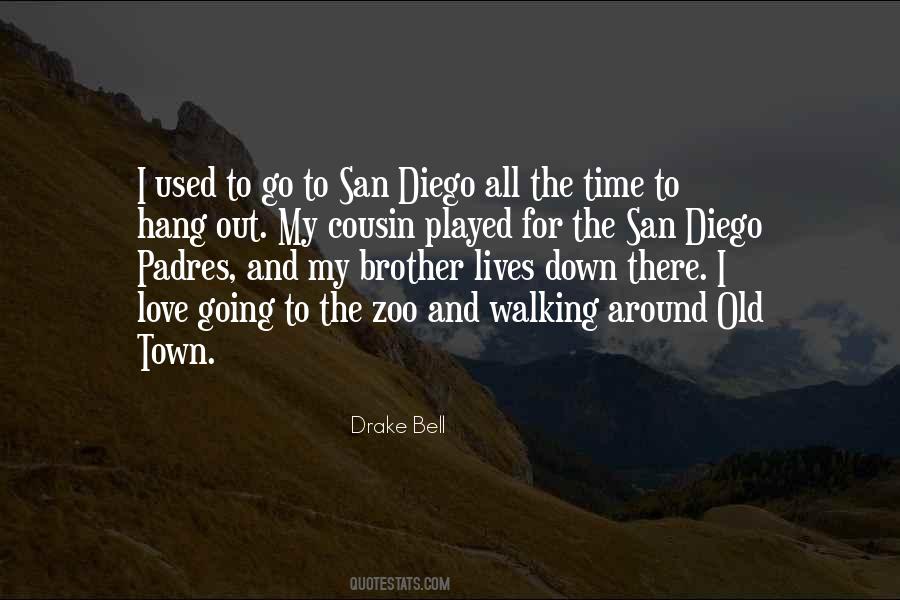 #25. I have been blessed to win a number of awards and be involved in numerous historical baseball moments over my 20-year career with the Los Angeles Dodgers and San Diego Padres. - Author: Steve Garvey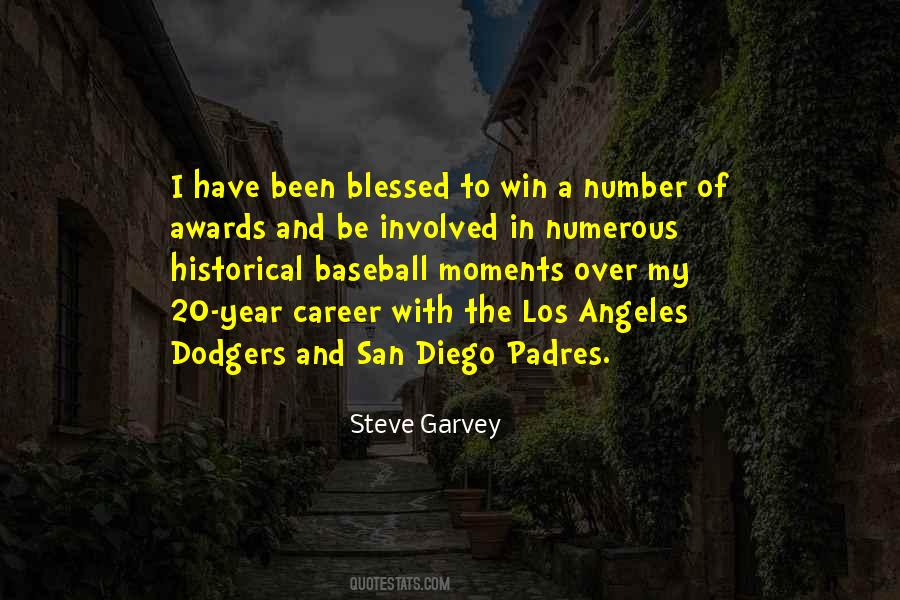 #26. When I started my Ph.D. at the University of California, San Diego, I was told that it would be difficult to make a new discovery in biology because it was all known. It all seems so absurd now. - Author: Craig Venter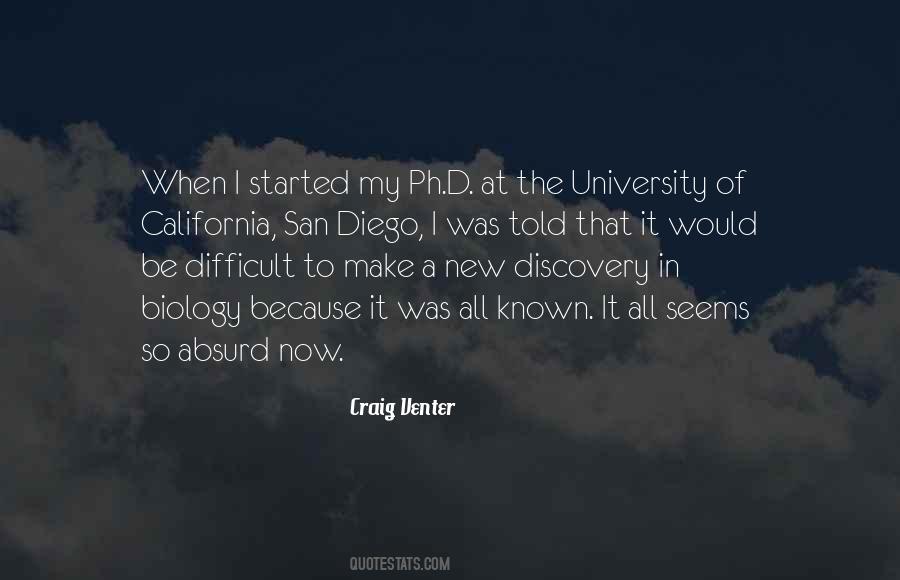 #27. People actually enjoy it when it rains in San Diego because we never get it. It's a nice change of pace. When you live in Southern California, everybody says, 'It's so expensive there.' I tell them, 'It's just a very expensive weather tax.' - Author: Steve Finley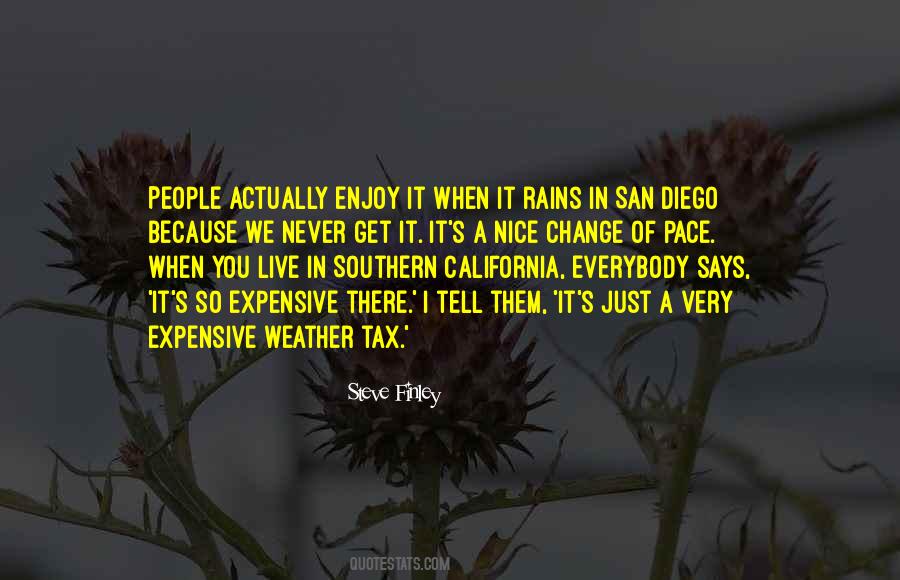 #28. There's so much I'm interested in that I didn't discover in high school. For 'The Amazing Spider-Man', because Gwen is a scientist, we went to a lab in San Diego, and we were learning about biology. And I'm fascinated! Because I never went to biology class in high school. - Author: Emma Stone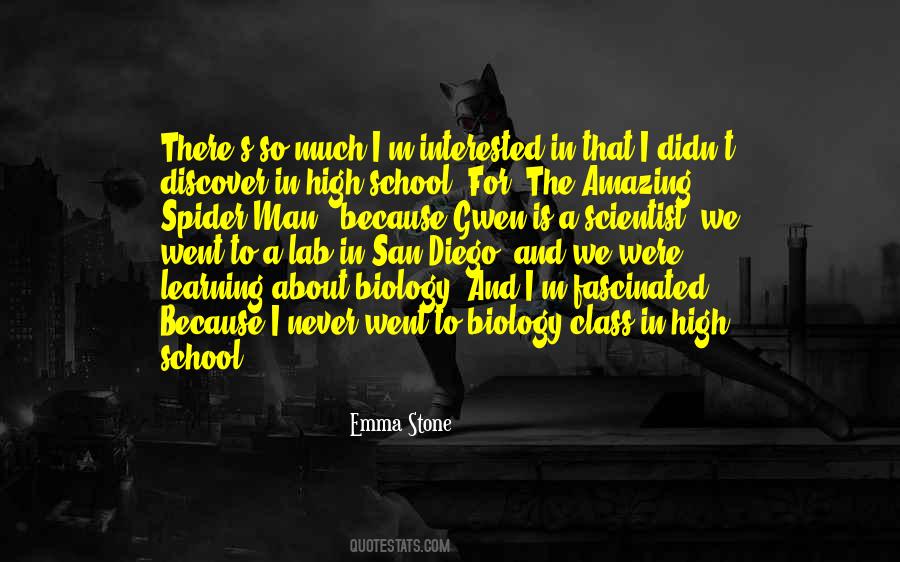 #29. I think California has some very good looking women ... I know Stephanie Seymour is from San Diego, and I know Josie Maran - who's my very good friend - she's from Northern California. So I think California produces some good looking women, for sure. - Author: Marisa Miller
#30. There aren't many sources of money in San Diego, apart from local partnerships and local investors. It's pretty starkly polarized to Silicon Valley. - Author: Steve Jurvetson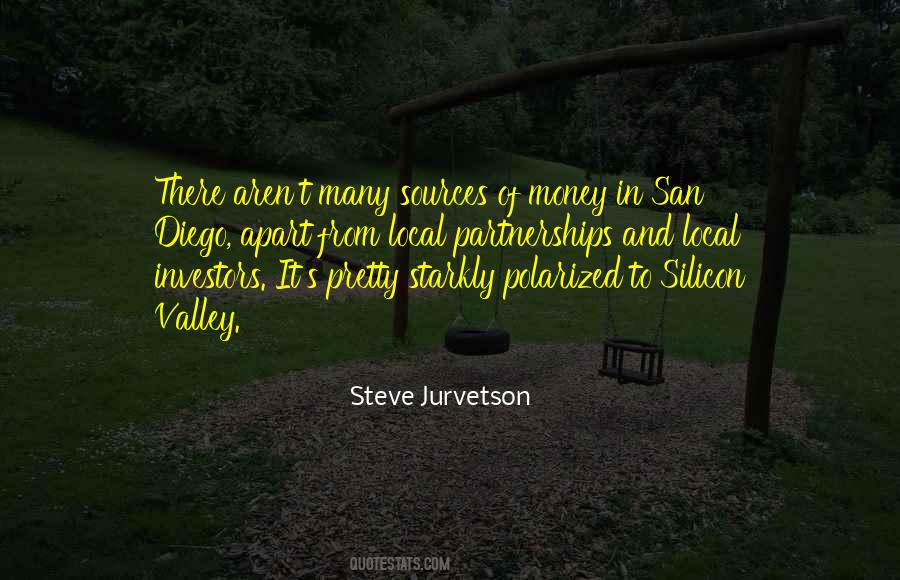 #31. My buddy David Wells is a big motorcycle guy, so when I go visit him in San Diego, he takes me out on his bike. He's got some antique Indians. I never really rode during my career, because I was afraid I'd fall off and ruin my career. - Author: David Cone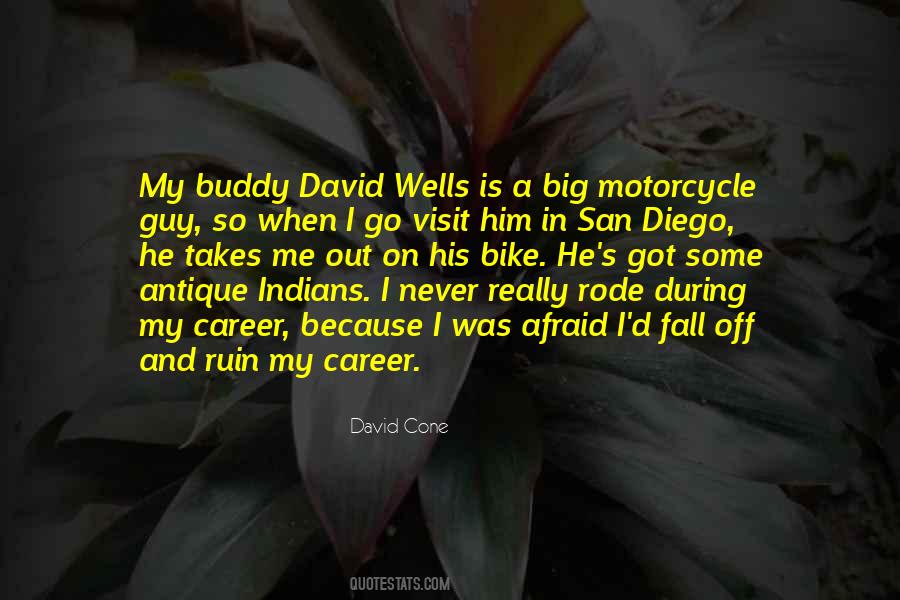 #32. I was born in San Diego, and we moved to Los Angeles when I was seven. A couple of years later, I started acting! - Author: Danica McKellar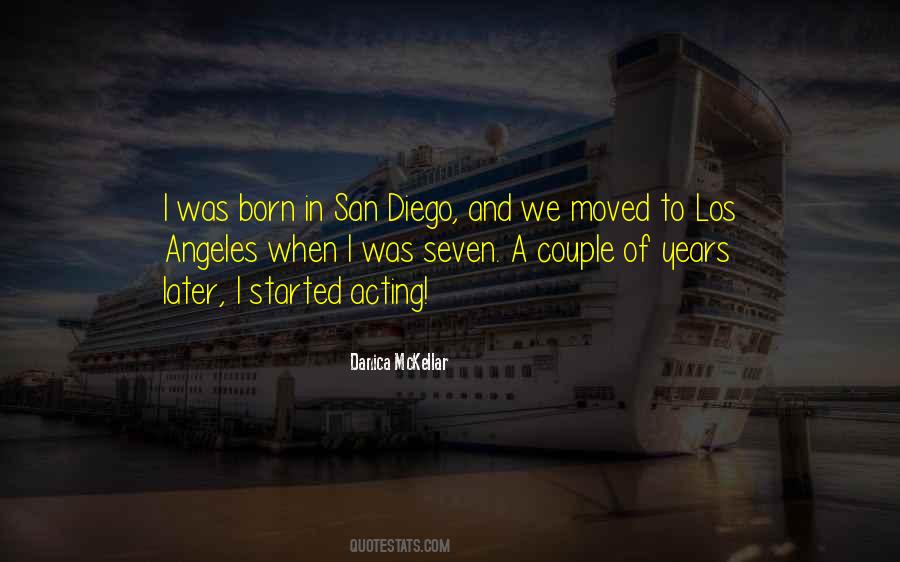 #33. It's good to have a lot of once-in-a-lifetimes in your lifetime. If you get the chance to skydive, go skydiving. If you're offered a part in a weird Shakespeare play in San Diego, slap on some tights and rock out some iambic pentameter. - Author: Neil Patrick Harris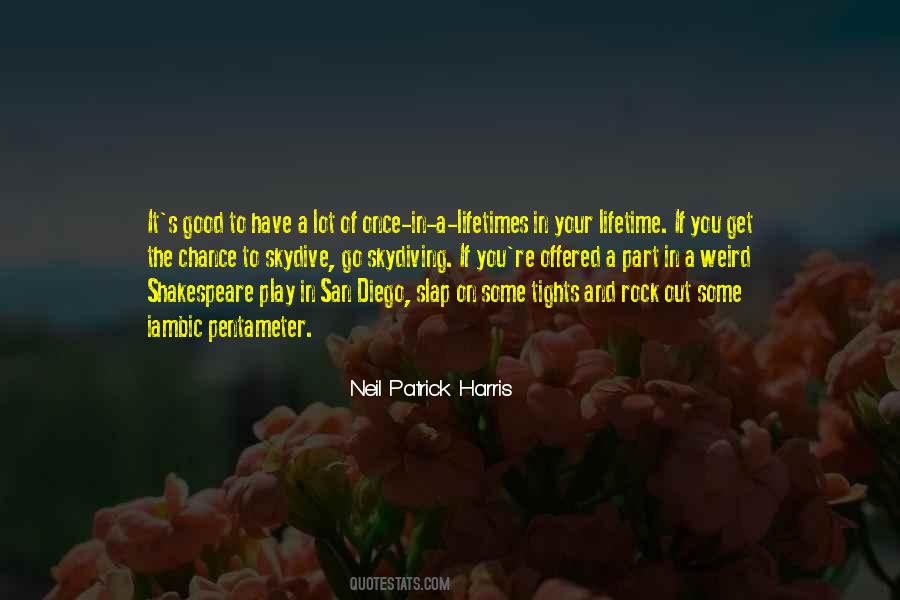 #34. I like to travel any chance I get, even if it's just a local vacation to San Diego or Palm Springs or wherever. I just like to get out and do stuff and see the world. - Author: Christa B. Allen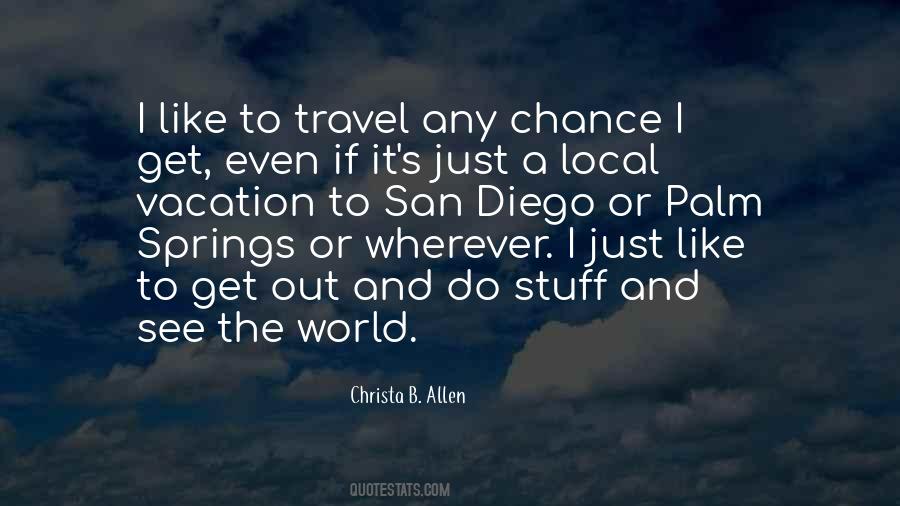 #35. La Posta, eighty miles east of San Diego. That's where they taught us stealth, camouflage, and patrolling, the essential field craft of the commando. - Author: Marcus Luttrell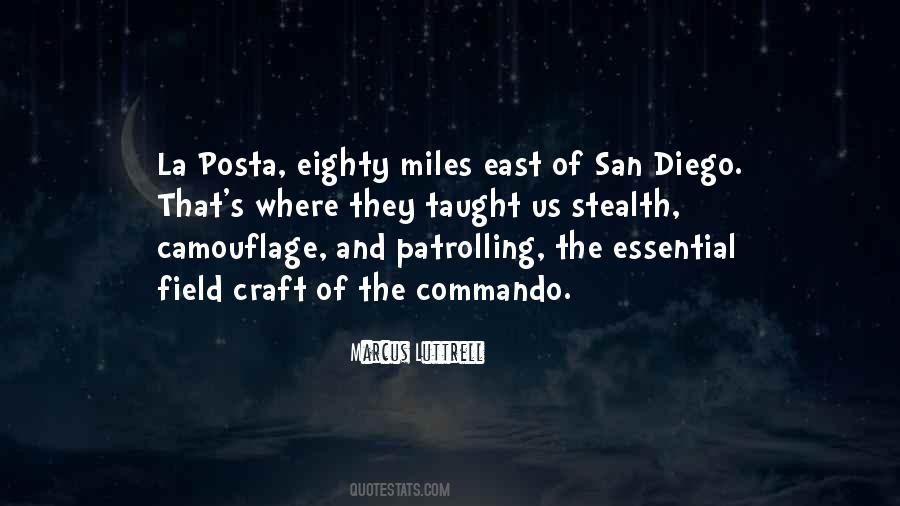 #36. San Diego walked away with just a scratch. - Author: Susan Davis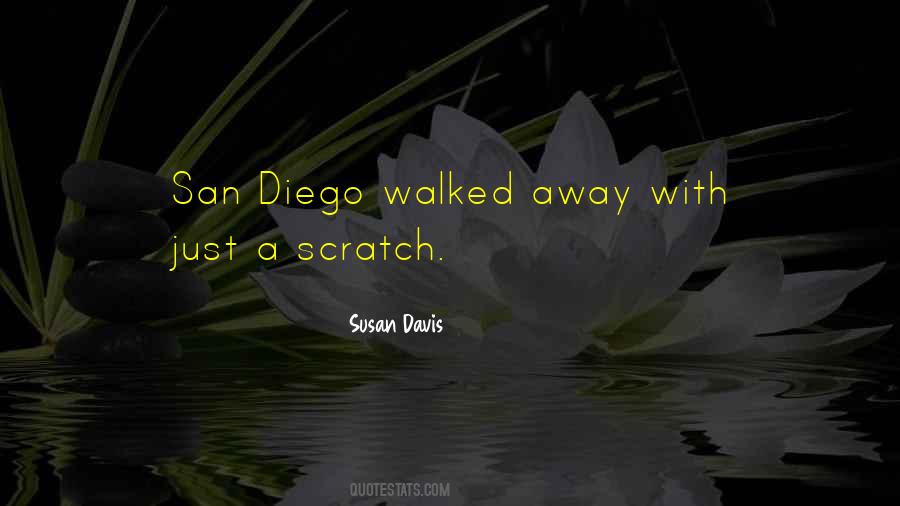 #37. Comic-Con is incredibly important to San Diego, but that doesn't mean we can't poke a little fun at it! - Author: Steve Breen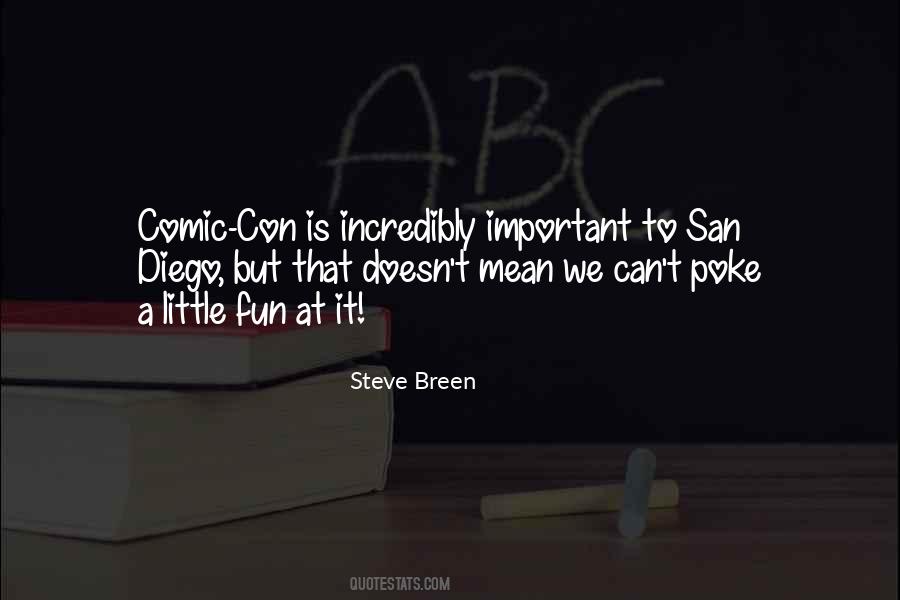 #38. The past nine years in San Diego have represented such a period of questioning. - Author: Brian Ferneyhough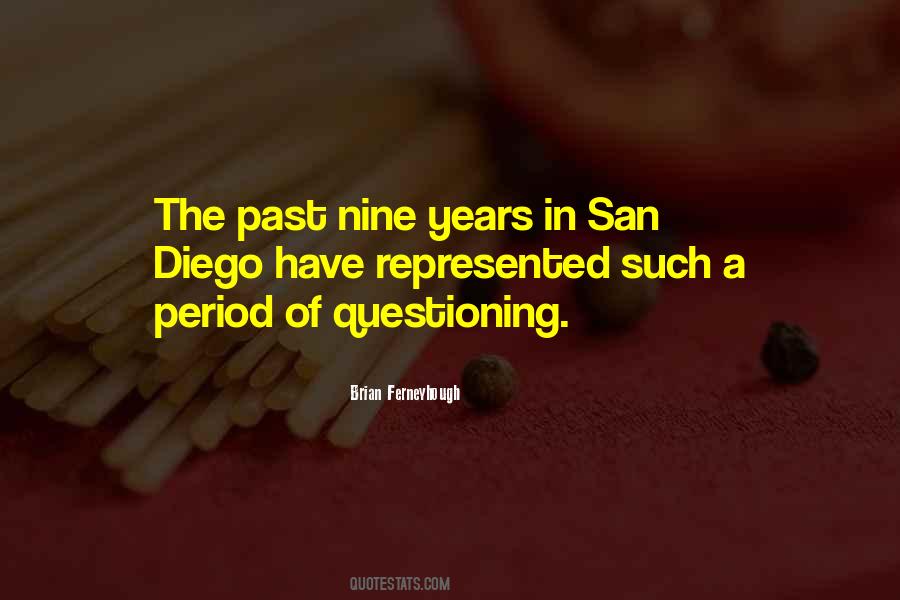 #39. Northern San Diego. The white stucco walls rose, interrupted by huge windows. The whole structure nearly floated off the pavement, sleek, modern, and somehow light, almost delicate. The salt-spiced wind blowing from the coast less than a mile away only strengthened the illusion. He'd - Author: Ilona Andrews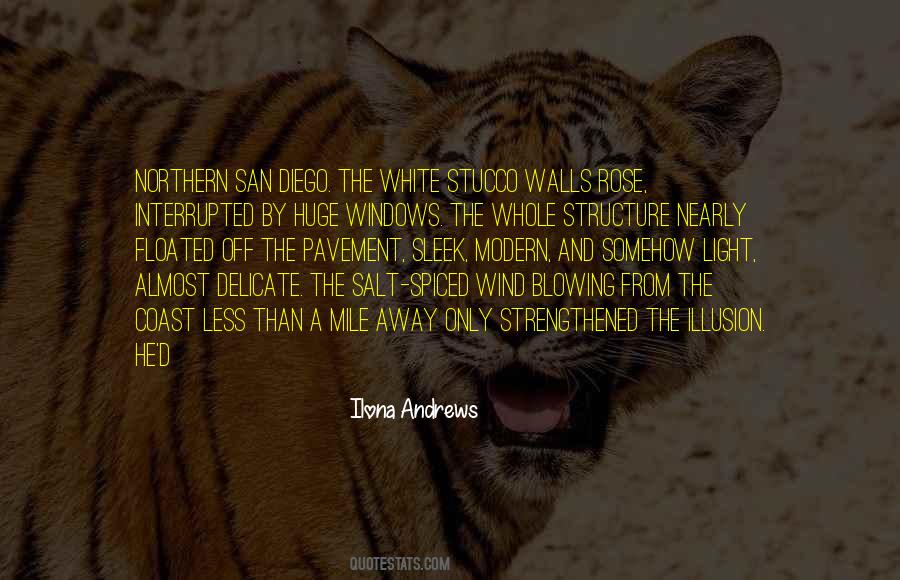 #40. This is nothing more than a public land grab for private profit. The BLM is literally giving this away to corporations ... This may be out in the desert today, but tomorrow it could be in your backyard ... Already over a dozen projects are proposed in San Diego and Imperial County. - Author: Robert Scheid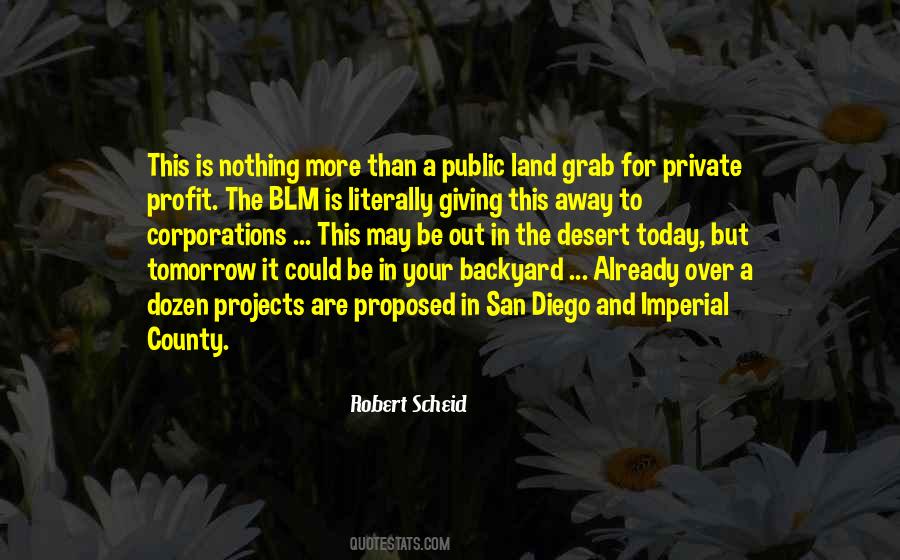 #41. I was looking for inspiration. I found it in California. The weather was always great, and the majority of San Diego seemed to be youth-and if you weren't 21 and couldn't get into the clubs, you'd go to a coffeehouse and hang out. - Author: Jason Mraz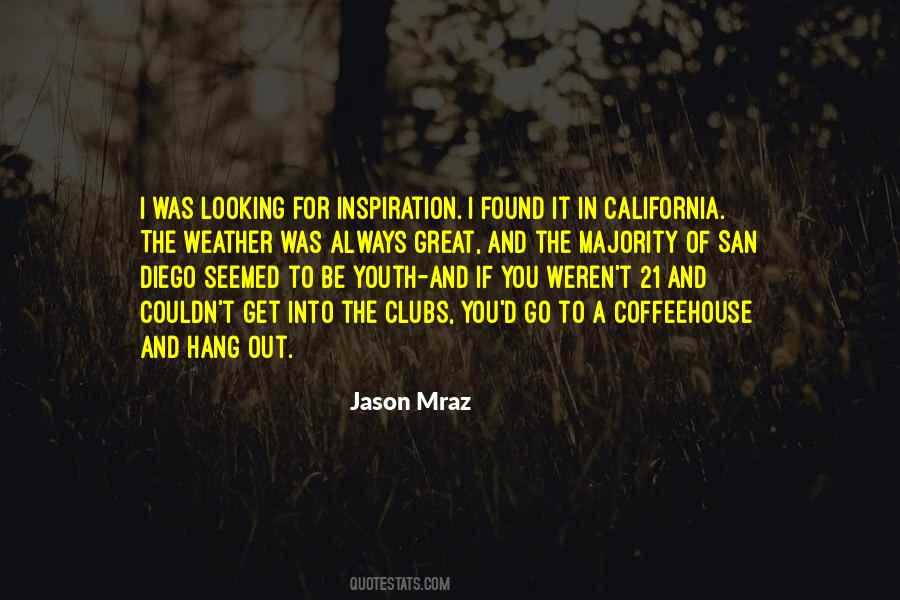 #42. They can't expect anyone to actually pay for a shirt that says, 'I (picture of an elephant) the San Diego Zoo.' What does that even mean? - Author: Adam Rex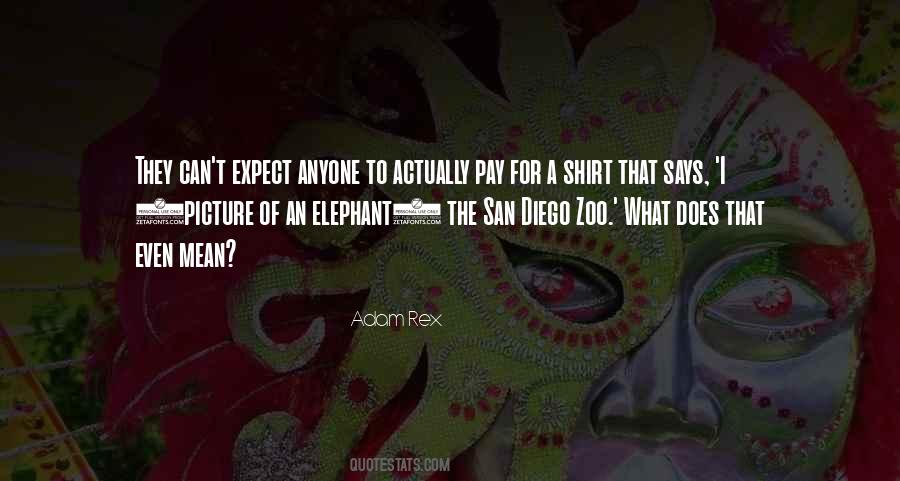 #43. San Diego was fantastic. I think there's something about San Diego that is quite different than Los Angeles. - Author: Donal Logue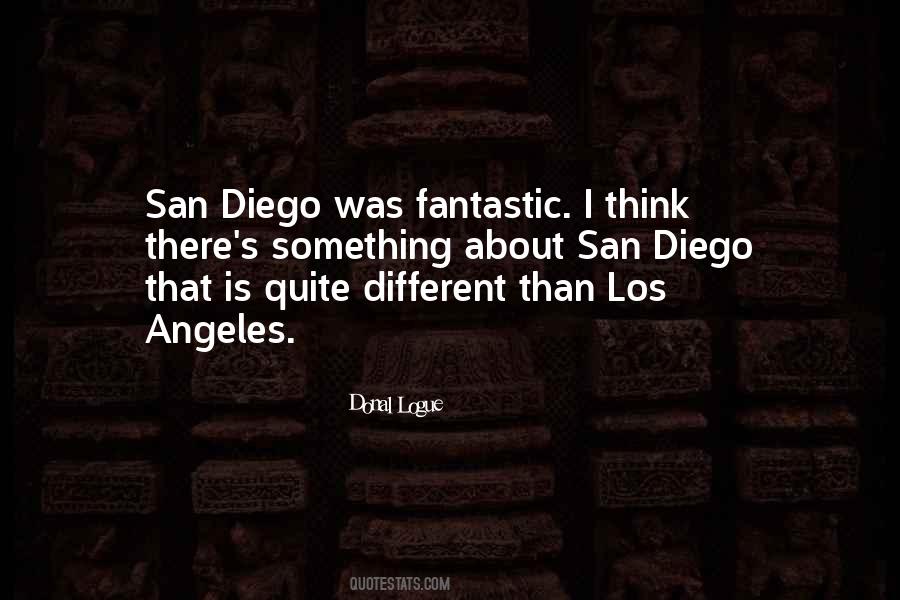 #44. It is like sitting in a traffic jam on the San Diego Freeway with your windows rolled up and Portuguese music booming out of the surround-sound speakers while animals gnaw on your neck and diseased bill collectors hammer on your doors with golf clubs. - Author: Hunter S. Thompson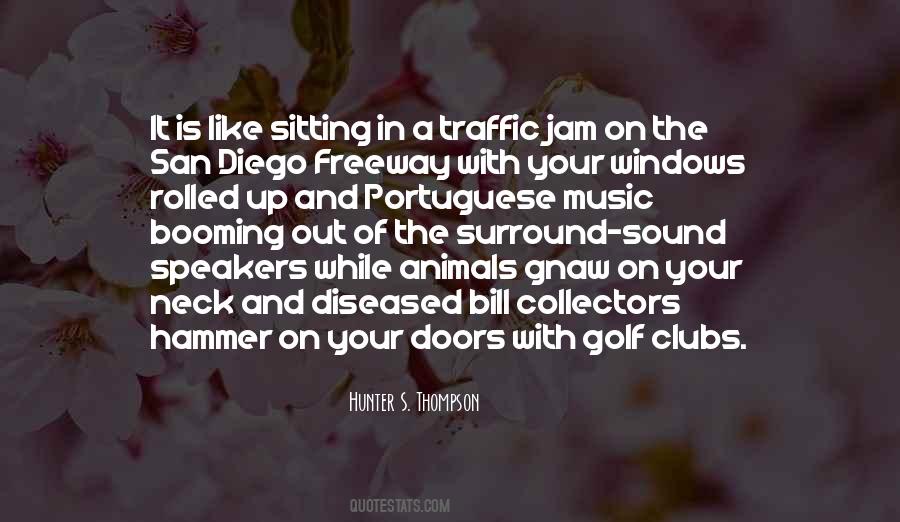 #45. Well, when it comes to inspiration, I come from San Diego originally - it's an un-media-hyped, sleepy sort of town, big on beach culture you know? - Author: Gary Jules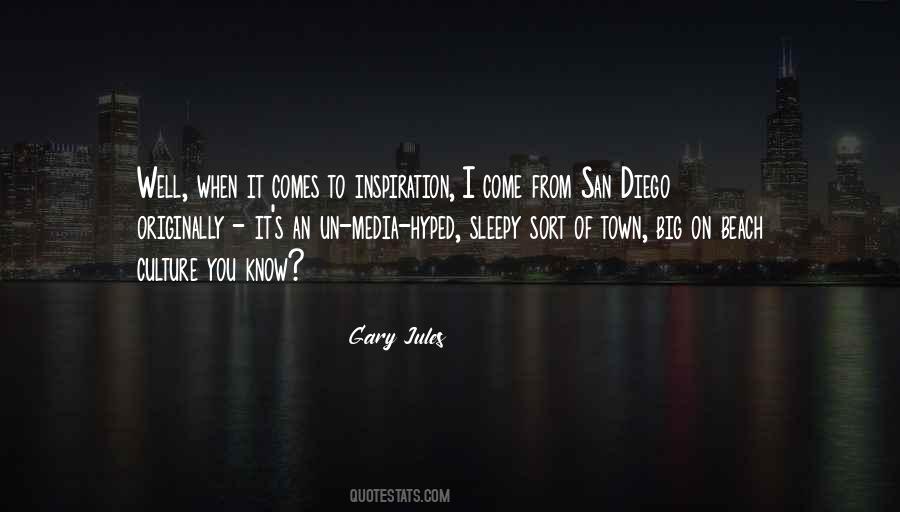 #46. I am blessed and honored with the opportunity I have to come play for the San Diego Chargers now. - Author: Darius Philon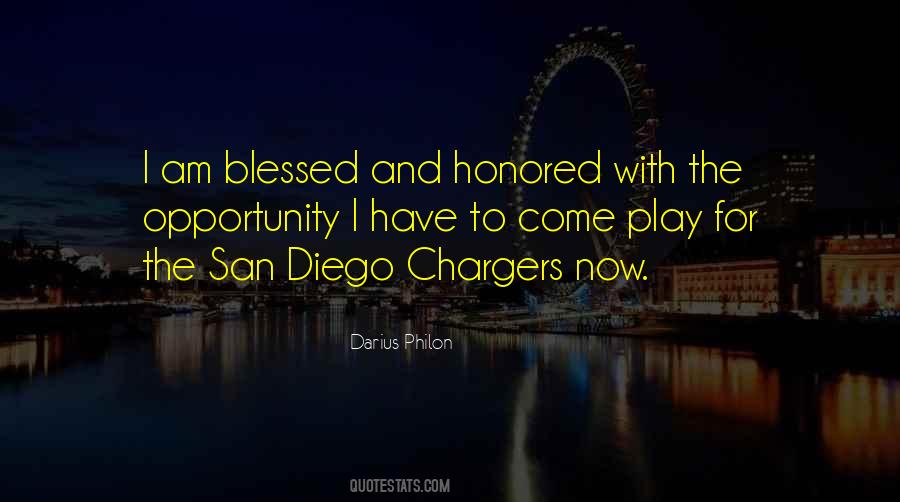 #47. My childhood was spent in my local library in a San Diego suburb. It's where I became a writer - by 1st becoming a reader! - Author: Tess Gerritsen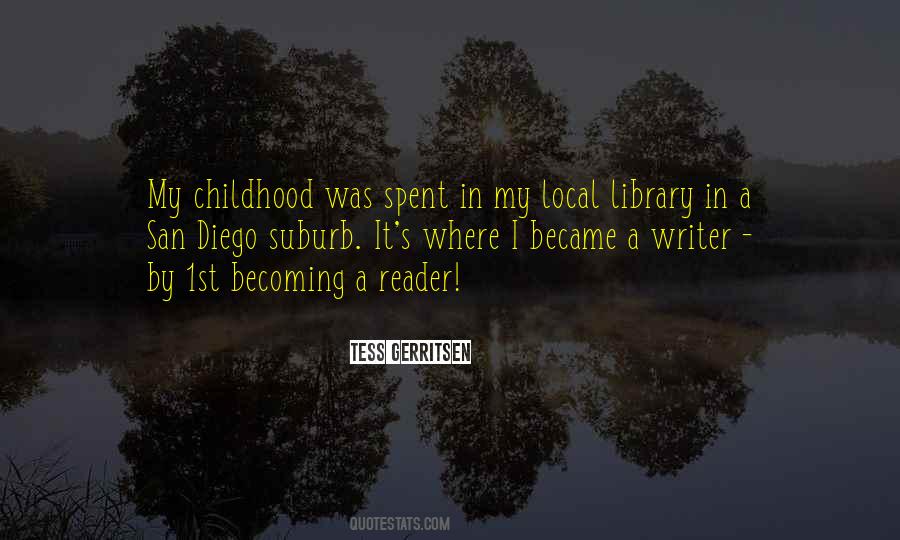 #48. I think at the end of the day, even though I didn't win a Super Bowl ring, I felt like I backed them up for drafting me. I backed up the San Diego Chargers for picking me with the fifth pick. - Author: LaDainian Tomlinson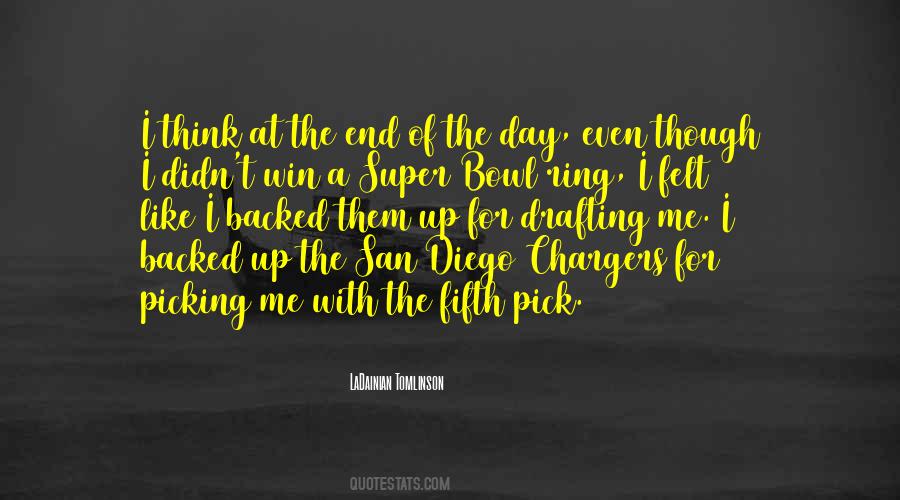 #49. I've played D&D for years. I'm a comic book guy. Comic-Con in San Diego is nerd Christmas for me. - Author: Brian Posehn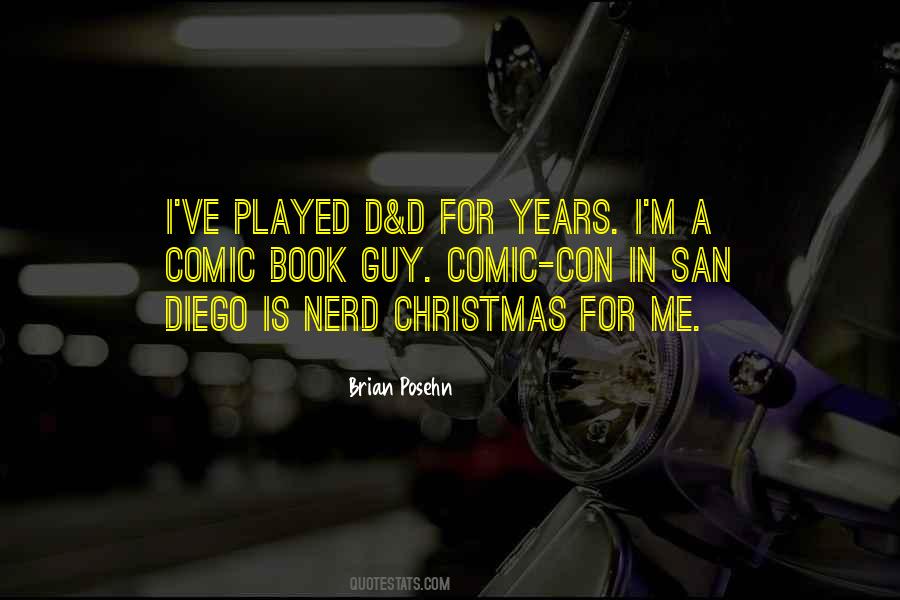 #50. I want Otter to run back to San Diego and go back to the stupid fucking boyfriend, who Ive never met but cannot stand. - Author: T.J. Klune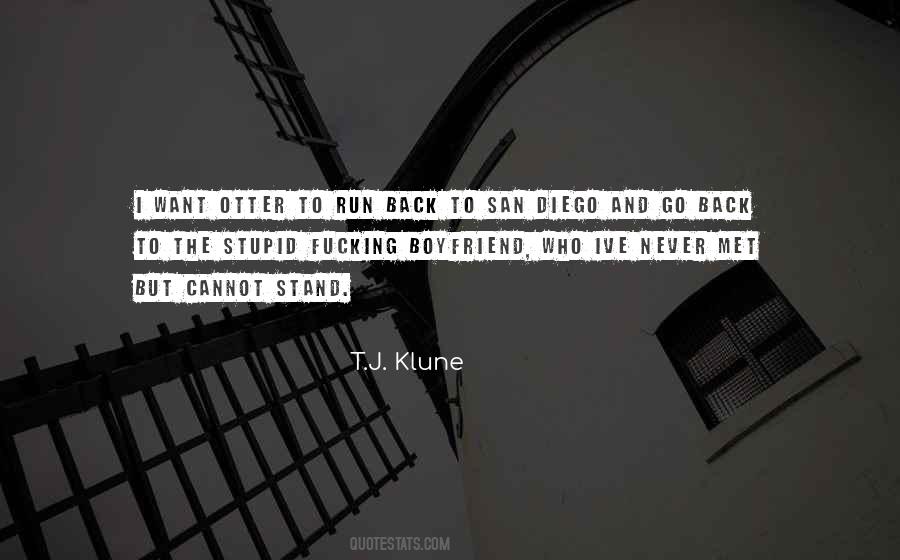 #51. Well, when I was a kid, I grew up in San Diego next to the ocean. The ocean was my friend - my best friend. - Author: Robert Ballard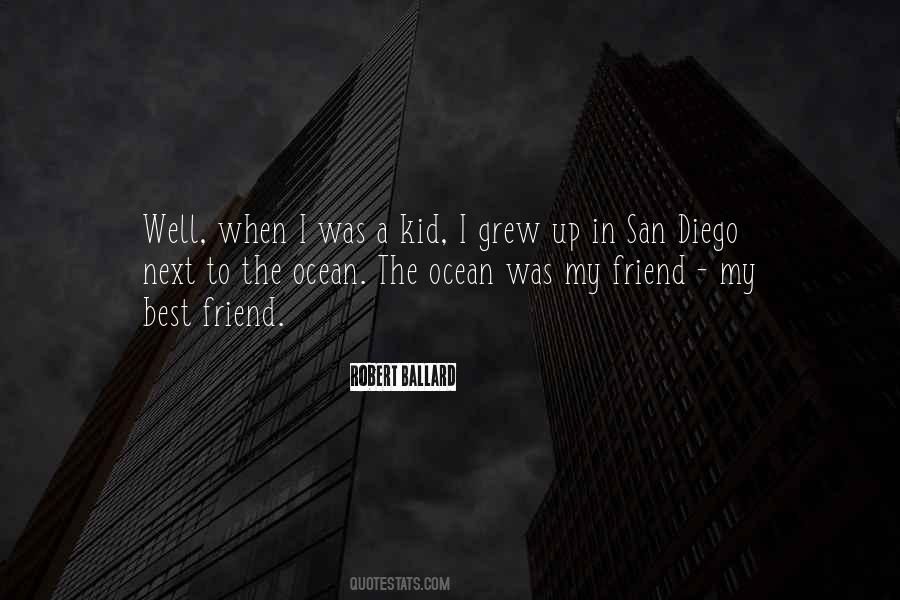 #52. Like I'm in San Diego today and this is my hometown so I've got a lot of my friends coming and I definitely want to put on the best show that I can. - Author: Matt Cameron
#53. The bridge to Coronado Island off San Diego was built because the mob had a hotel there and needed a way to get people out there. - Author: Don Winslow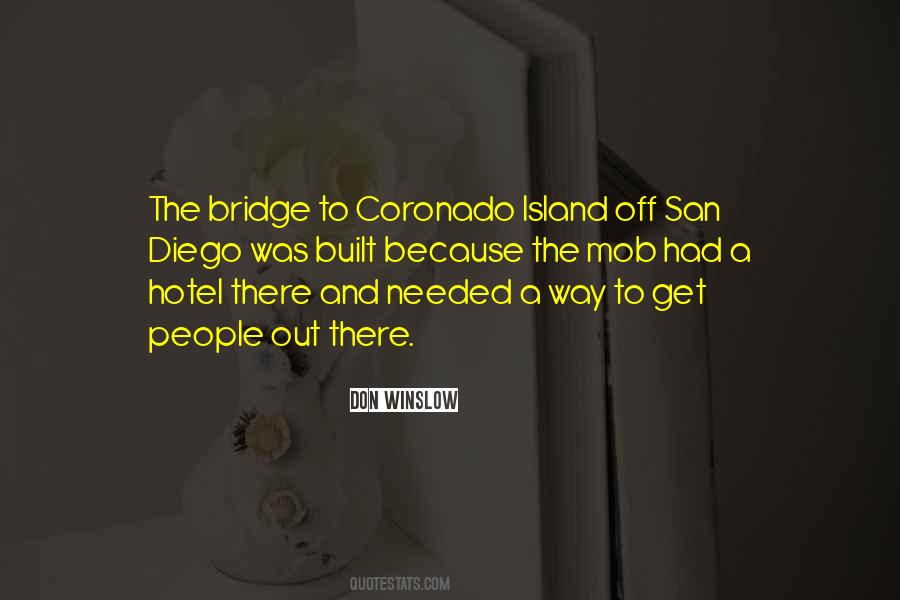 #54. The San Diego region in many ways is defined by our relationship with the ocean. It's our front yard and a beautiful playground for families and visitors. It should be clean, safe, and inviting. - Author: Scott Peters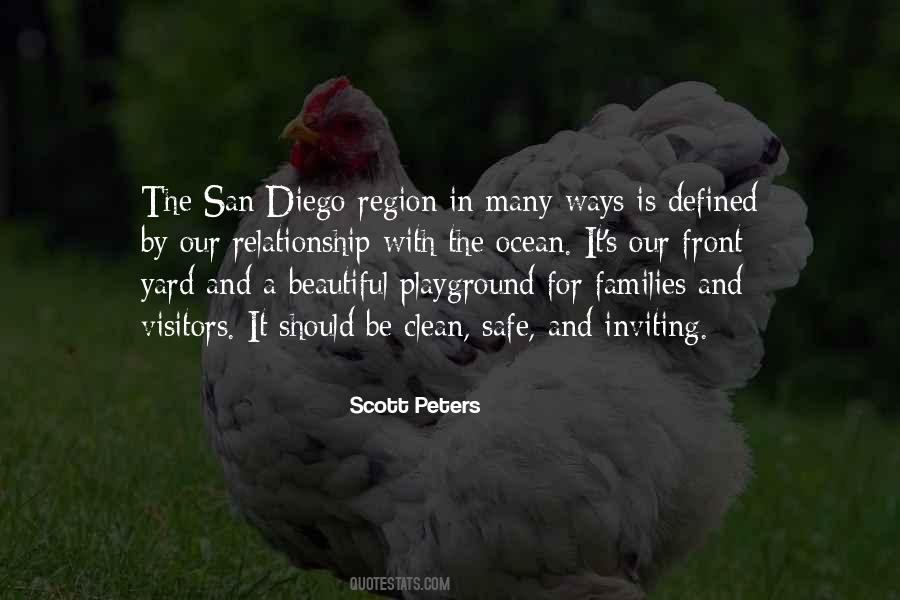 #55. The only thing happening in San Diego County is Eno and closet homosexuality. - Author: Kim Fowley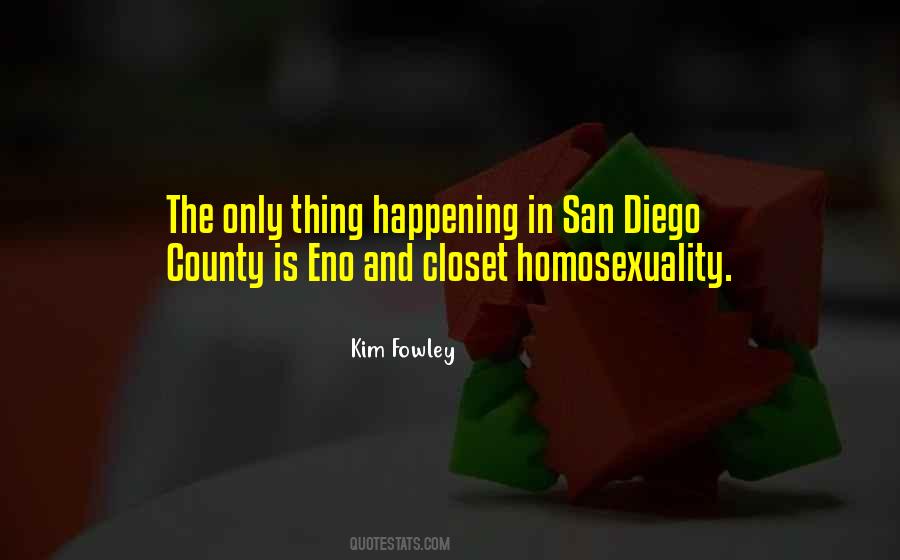 #56. As the mother of the ten-month-old hospitalized in San Diego said, if people want to make that choice, they should go live on an island with its own schools and doctors: "their own little infectious disease island. - Author: Deborah Blum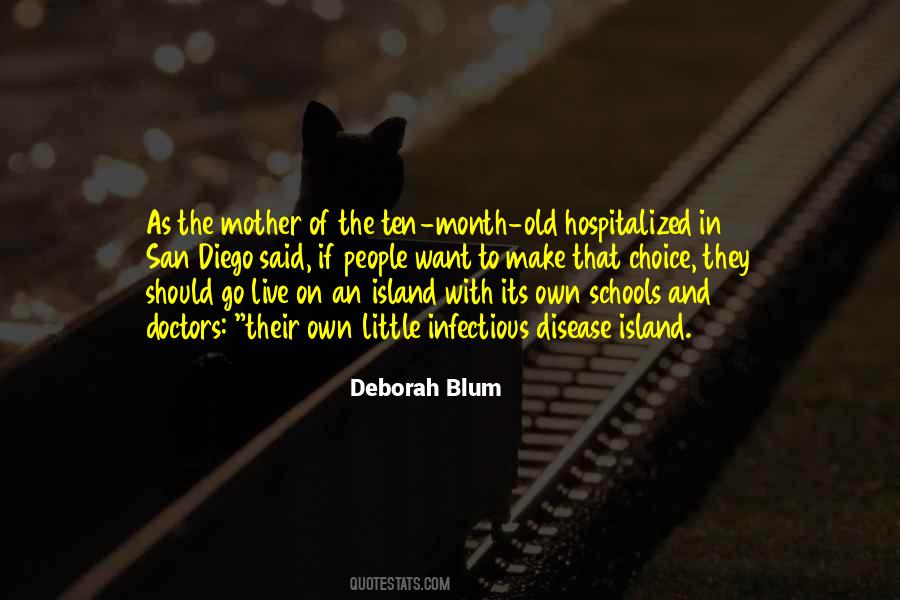 #57. True love is hard to find, sometimes you think you have true love and then you catch the early flight home from San Diego and a couple of nude people jump out of your bathroom blindfolded like a goddamn magic show ready to double team your girlfriend - Author: Luke Wilson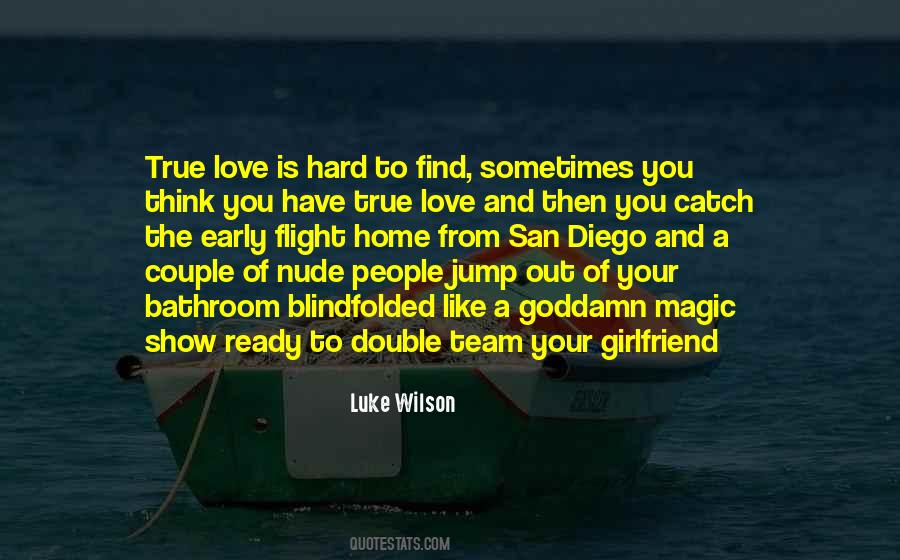 #58. SAN Diego slid from July into August like a baker slides a fresh sheet of cookies into the oven - quick and smooth, with the new panful of days set to cook up crisp. - Author: Eileen Wilks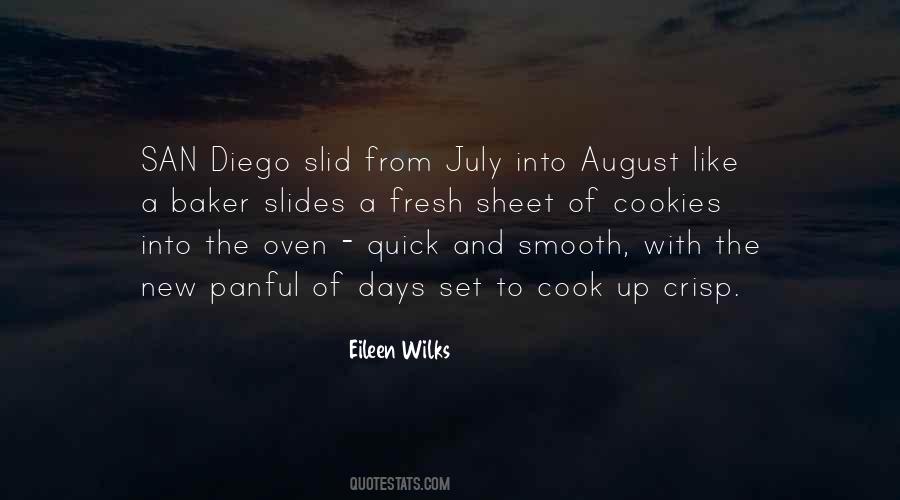 #59. Maui reminded me of San Diego: beautiful, but crowded. - Author: Larry Ellison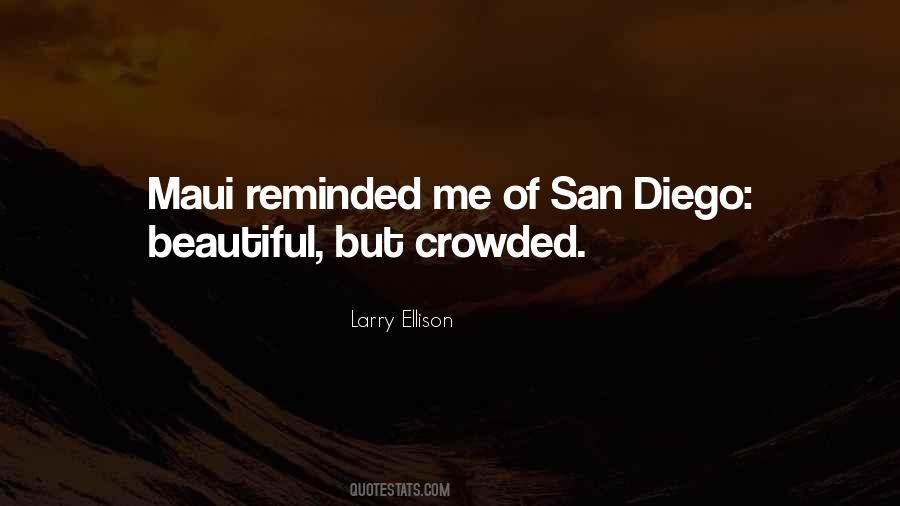 #60. I don't think I have a demographic. I was at Comic-Con in San Diego recently, and I was doing a signing, and my line was all military guys, young girls, housewives and guys in wheelchairs. There was just everybody all over the place. - Author: Pamela Adlon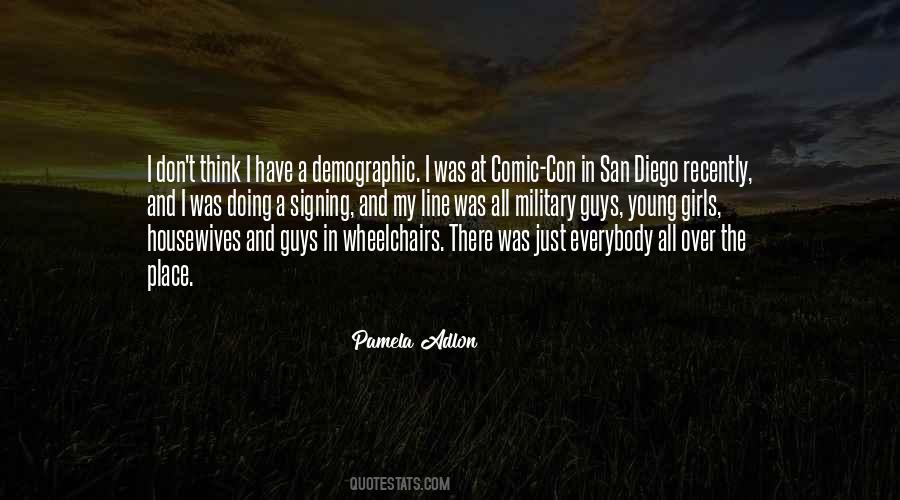 #61. My father worked in high-energy nuclear physics, and my mother was a mycologist and a geneticist. After both parents completed postdoctoral fellowships in San Diego in 1962, my father took a faculty position in the Physics Department at Yale, and so the family moved to New Haven, Connecticut. - Author: Carol W. Greider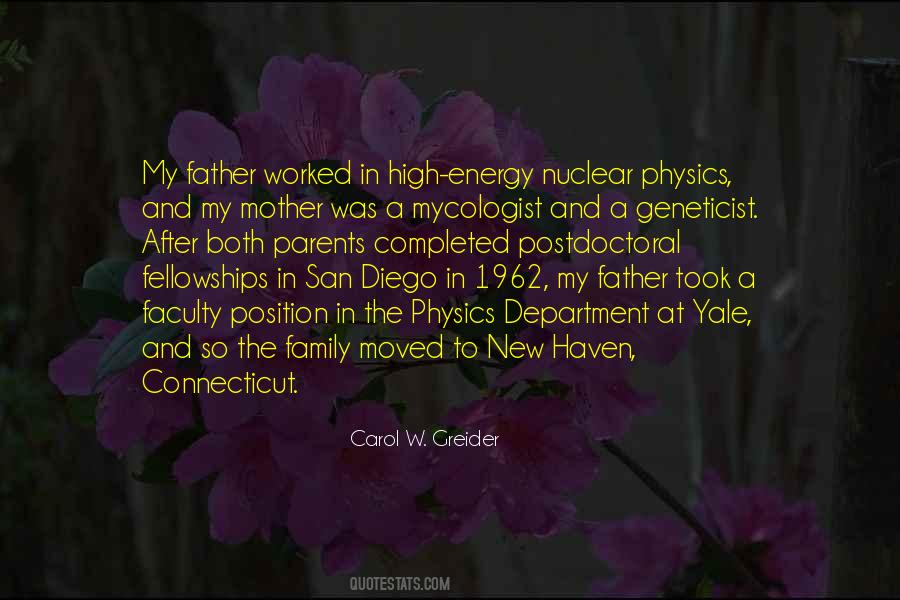 #62. Los Angeles is like San Diego's older, uglier sister that has herpes. - Author: Justin Halpern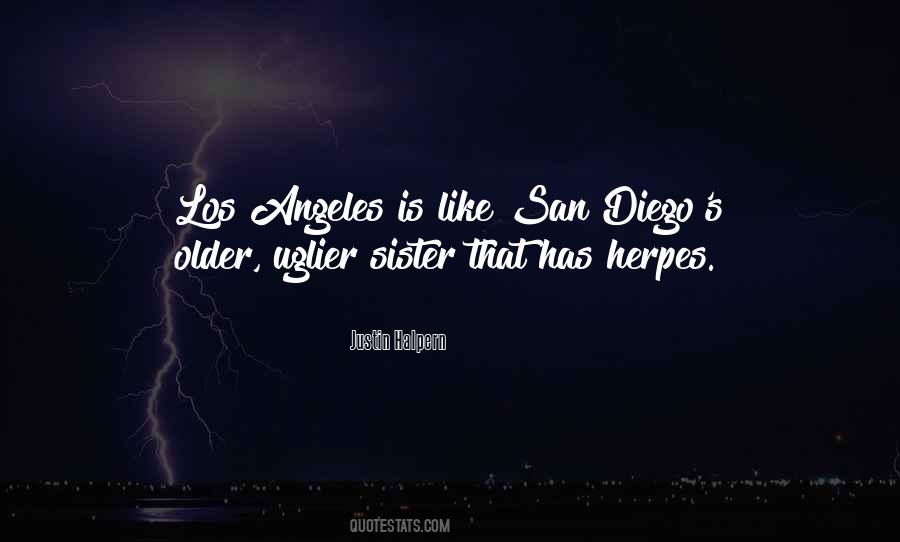 #63. That's the downside to San Diego. Once you live here, you never want to live anywhere else. Unfortunately everyone else already lives here. - Author: Kiersten White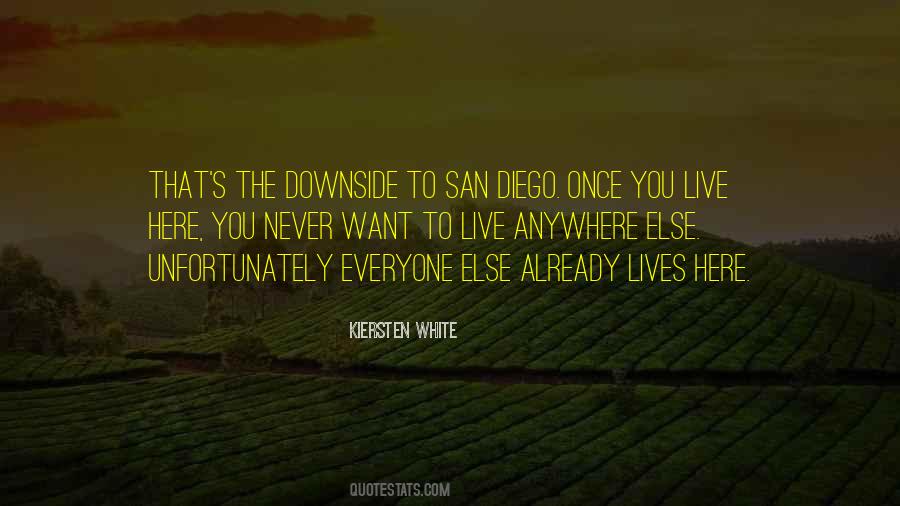 #64. I'm Asian-American, and I was the only Chinese girl growing up in a white school in San Diego. So I understood what it was like to be different, to always want to fit in and never feel like you ever could. - Author: Tess Gerritsen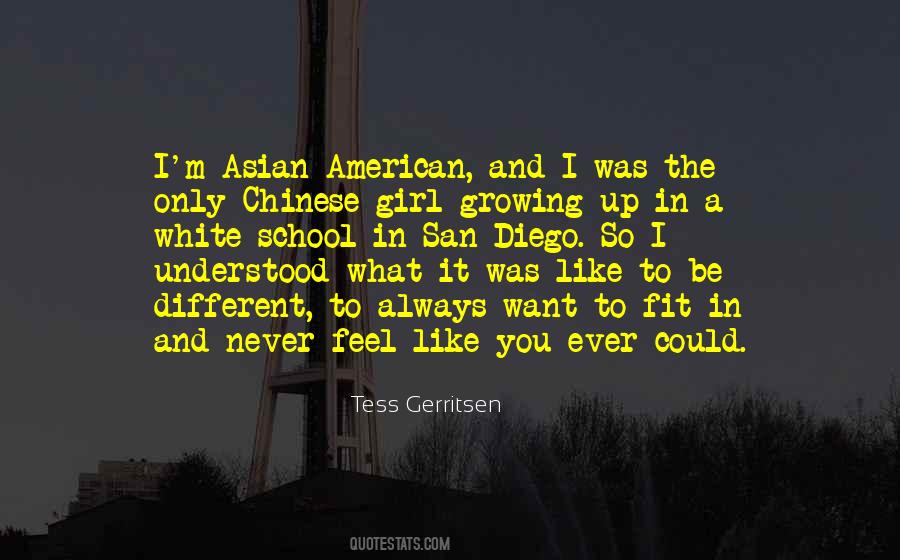 #65. In 1938, when I had decided that the only way to see the country was in a trailer, and I built the trailer which I still have and lived in it for eighteen months, and learned America from San Diego to the Canadian border, from Miami to New Jersey, and east to west in between. - Author: Leslie Charteris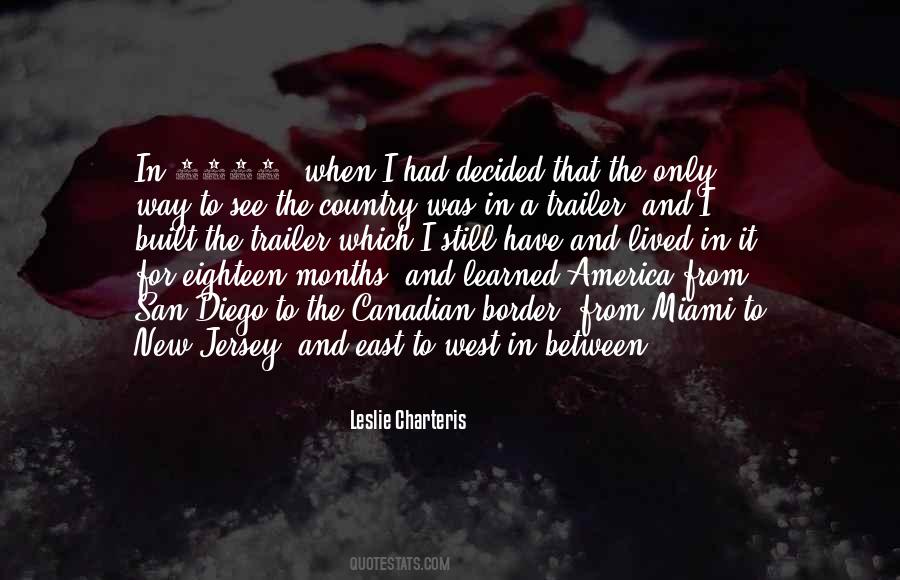 #66. And then I wondered if, when it poured, would it wash everything away? Even the pain I was feeling? - Author: Jayen San Diego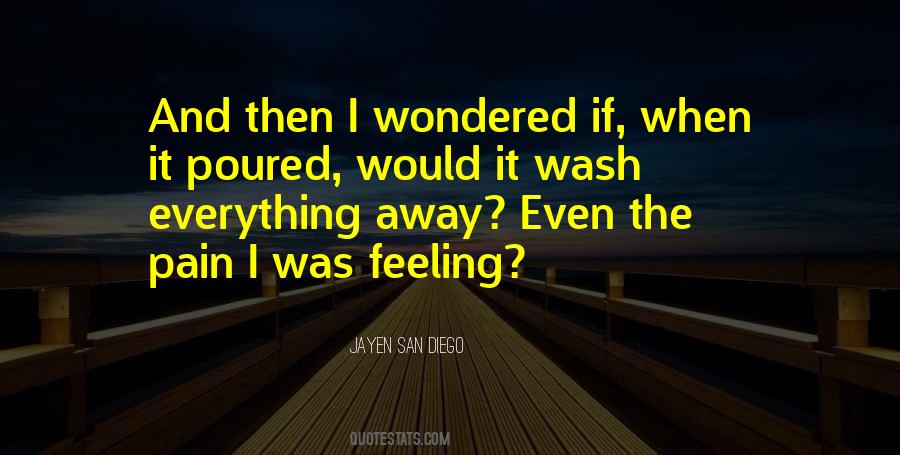 #67. I flew fighters for the Navy in San Diego for three years, went and did my post-graduate education, and then I was a test pilot in Patuxent River, Maryland, for a few years. I was back in the fleet in the Navy when I was selected to come back here to NASA to become an astronaut. - Author: Alan G. Poindexter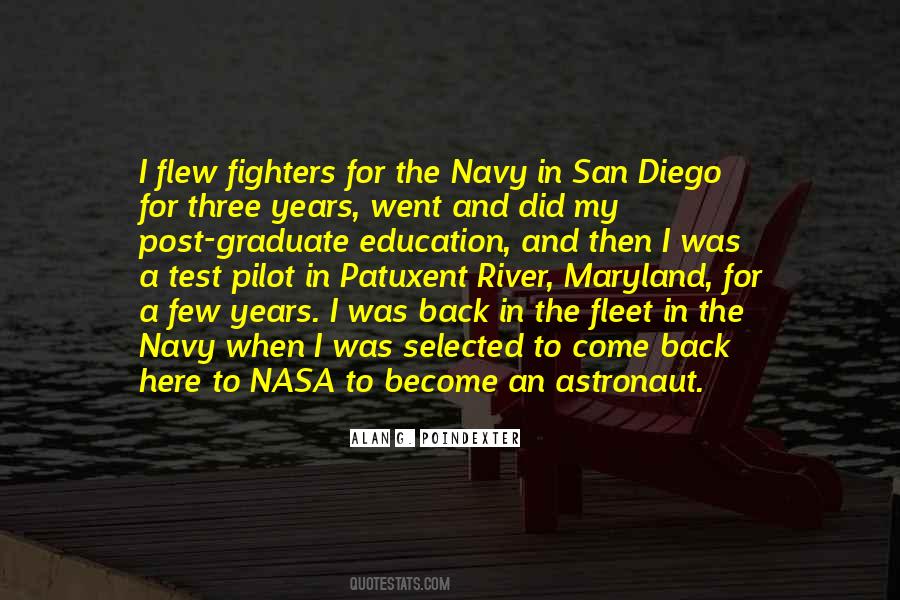 #68. First off there is no question that LaDainian is a first-ballot Hall of Famer. His contributions off the field to the community of San Diego are as important as what he did on the field. What he did on the field was monumental. - Author: Dan Fouts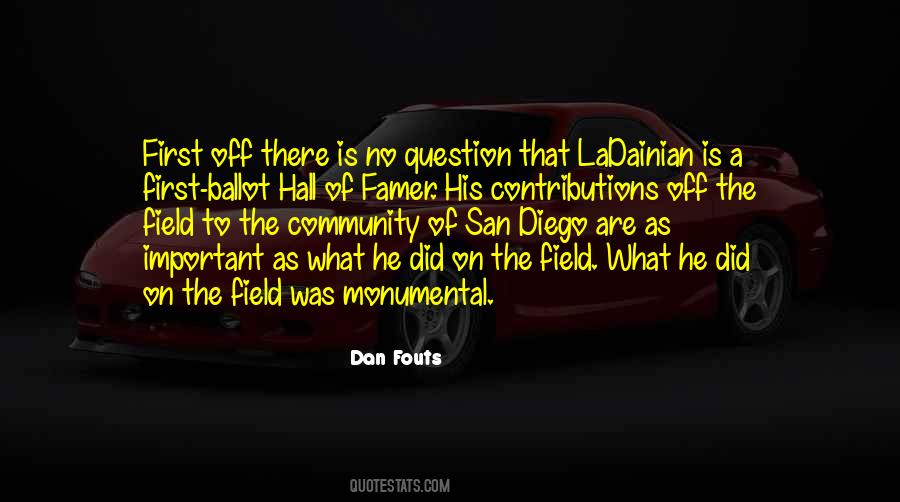 #69. The reason I'm in San Diego is not because I want distance from South Africa but because I want proximity to the people I love. But I don't envy growing up in America. As ugly as aspects of it were, my biggest blessing was to be born a South African. - Author: Athol Fugard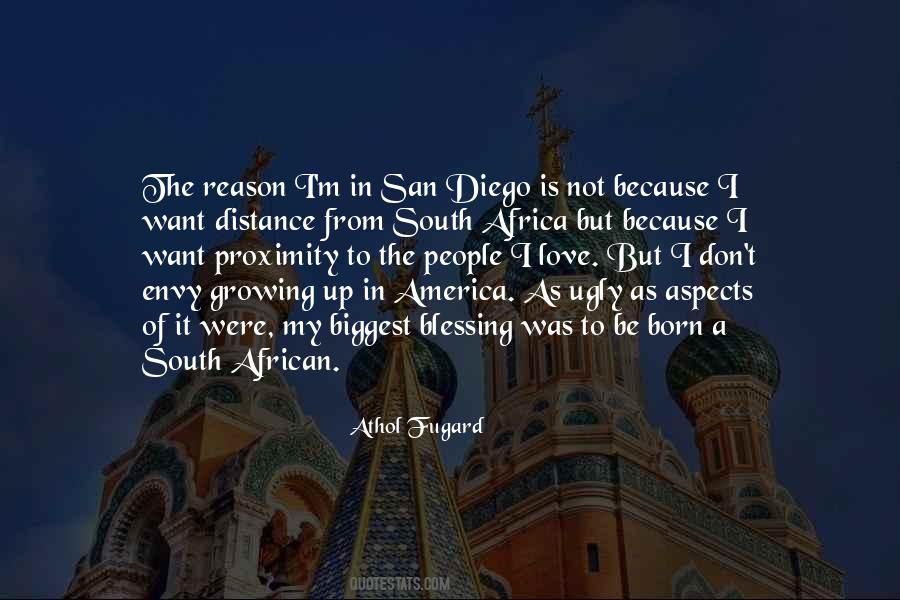 #70. Basic SEAL training is six months of long, torturous runs in the soft sand, midnight swims in the cold water off San Diego, obstacles courses, unending calisthenics, days without sleep and always being cold, wet and miserable. - Author: William H. McRaven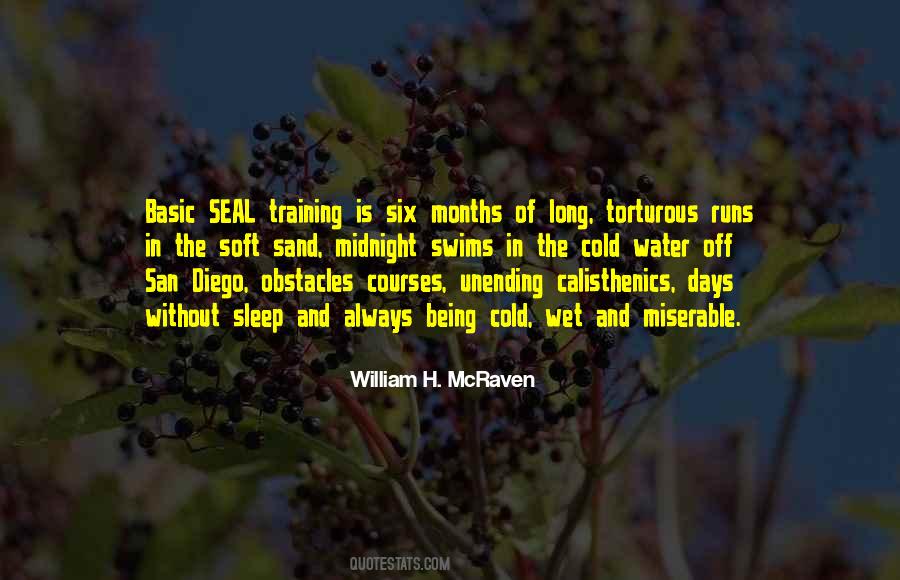 #71. Over the years, there has been an intermingling of film and aircraft. This relationship has generated all kinds of movies, including those filmed in San Diego. - Author: James L. Farmer Jr.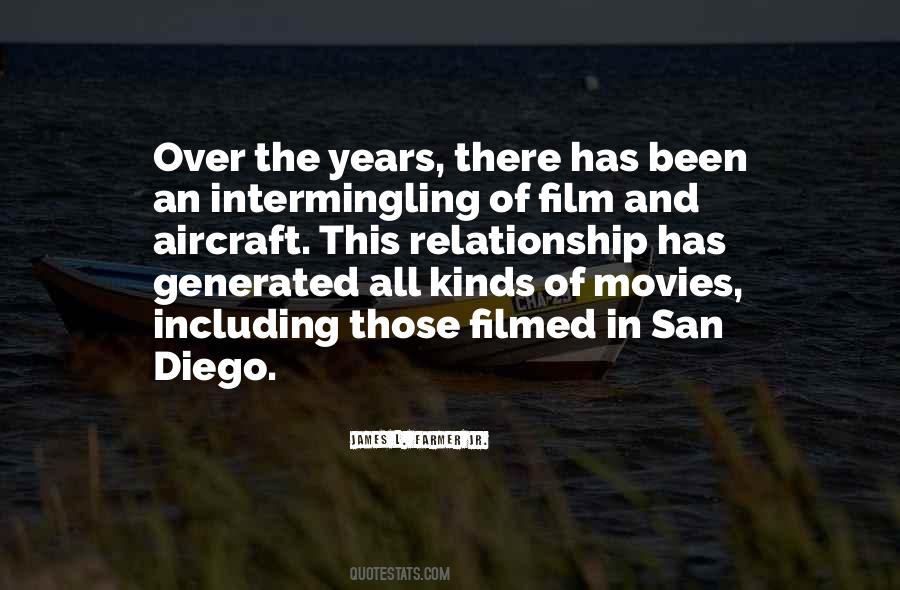 #72. I had my heart set on becoming an English teacher, but stumbled into acting after meeting a theatrical agent in my dad's restaurant in San Diego. - Author: Charisma Carpenter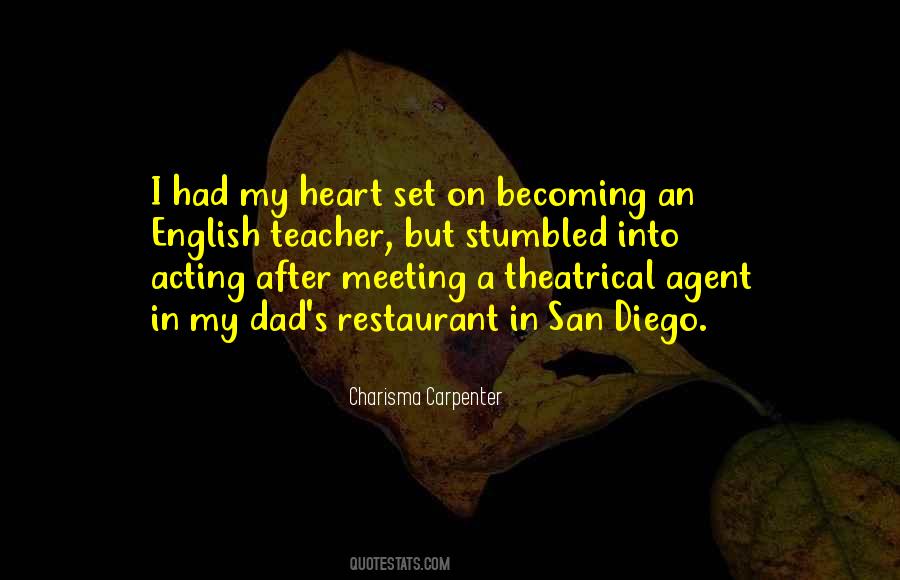 #73. It's all coming back to me now: last night, Phil Constavia and I had dinner in San Diego's Glass Lamp District just before rushing into Horton Plaza to catch a chick-flick. - Author: Laura Jane Hermanson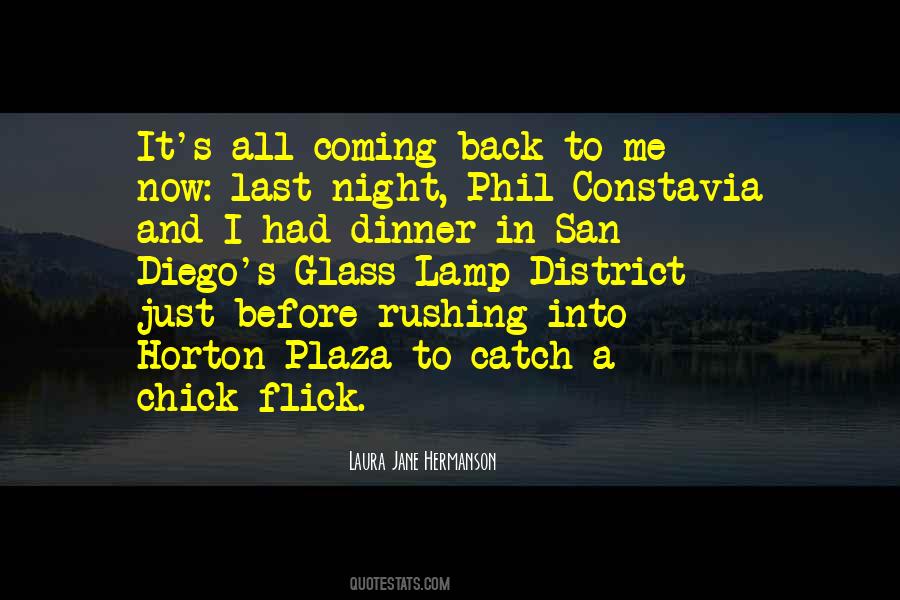 #74. When I was a kid in San Diego, I would read fashion magazines and Interview magazine, and all of that really inspired me to create a persona. So by the time I moved to New York, in the early '80s, I'd learned how to create a persona, and I knew what my persona would be. - Author: RuPaul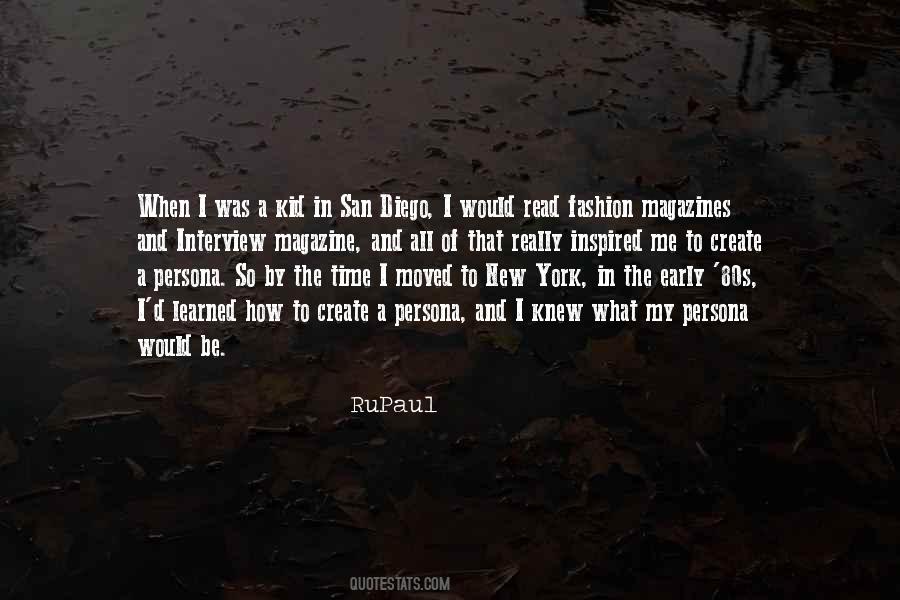 #75. I am honored to be both an active surrogate and a member of the RNC's Hispanic advisory council. The national effort to work seamlessly with our state parties has improved our landscape and chances with Latino voters, not just in San Diego but across the country. - Author: Rosario Marin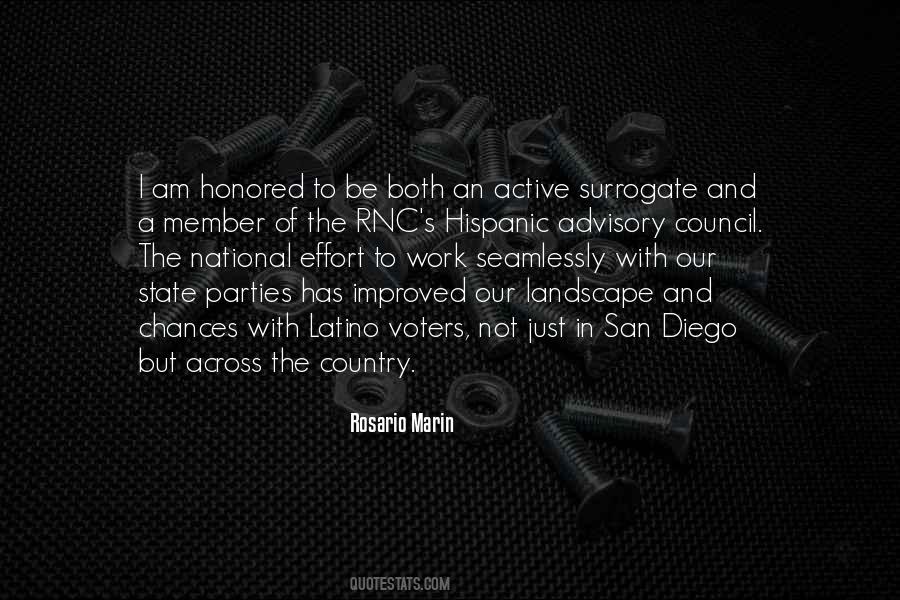 #76. I was on the San Diego school board for 4 years, where I watched children successfully matriculate into elementary schools from Head Start programs from all around our city. - Author: Bob Filner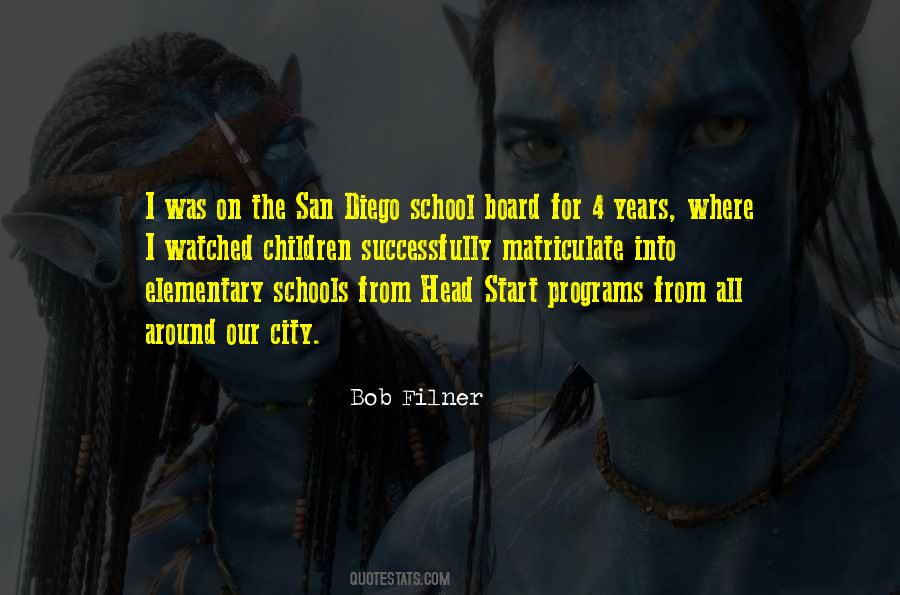 #77. I'm a coastal person. I grew up in Long Island and lived in San Diego. I felt landlocked in Pittsburgh. Psychically, it just wasn't the place for me. - Author: Alice McDermott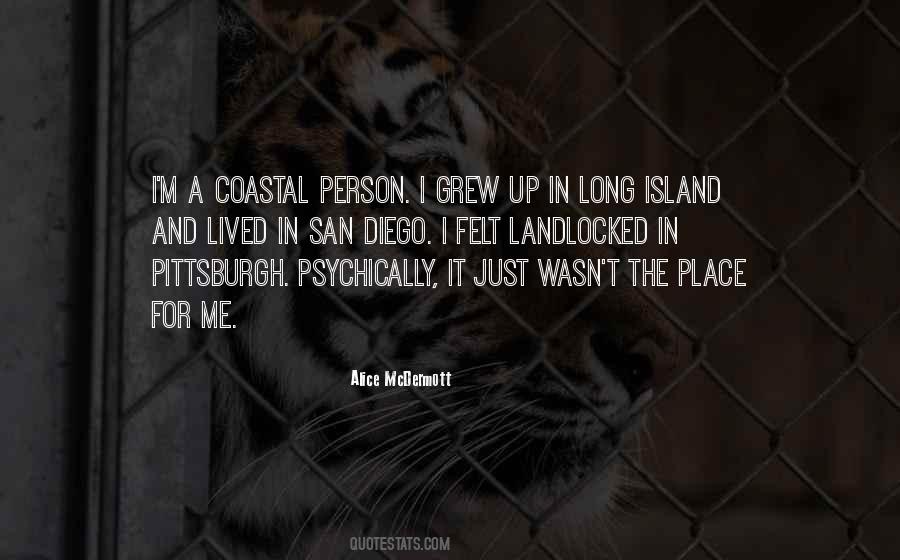 #78. Growing up in San Diego, I can remember going with my brother to see bands like Pennywise and NOFX - good punk bands that were fast and tight. - Author: Vic Fuentes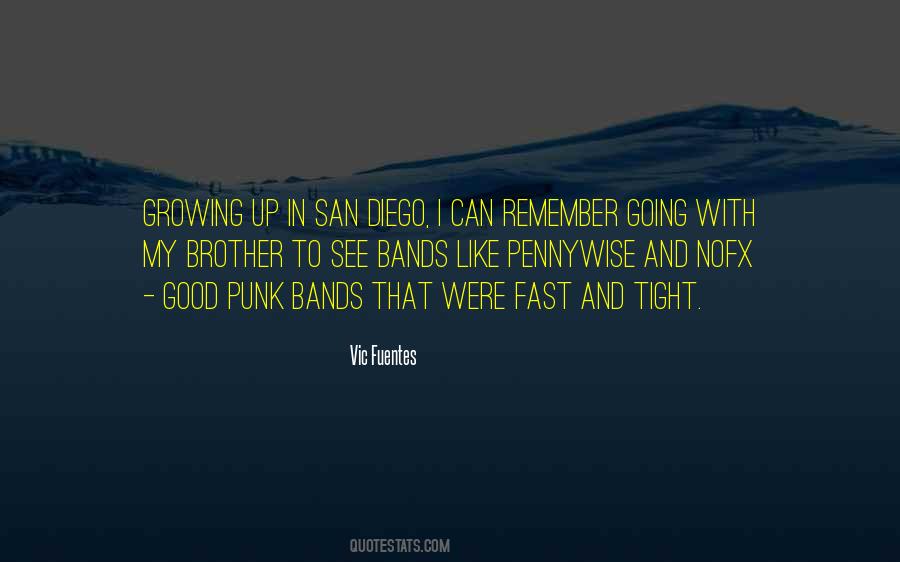 #79. At the suggestion of Professor Itaru Watanabe, and with his help, I left Japan at the age of twenty-three to pursue graduate study at the University of California at San Diego. - Author: Susumu Tonegawa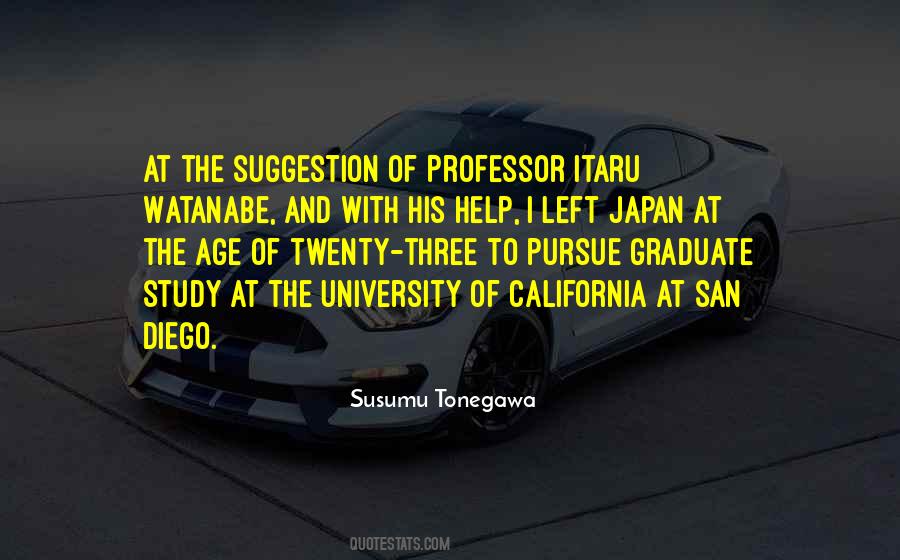 #80. My family came over from Spain about nine generations ago. I was born in San Diego, but by the time I was four days old, I was on a flight back to Spain because that's where my family was living at the time. - Author: Bitsie Tulloch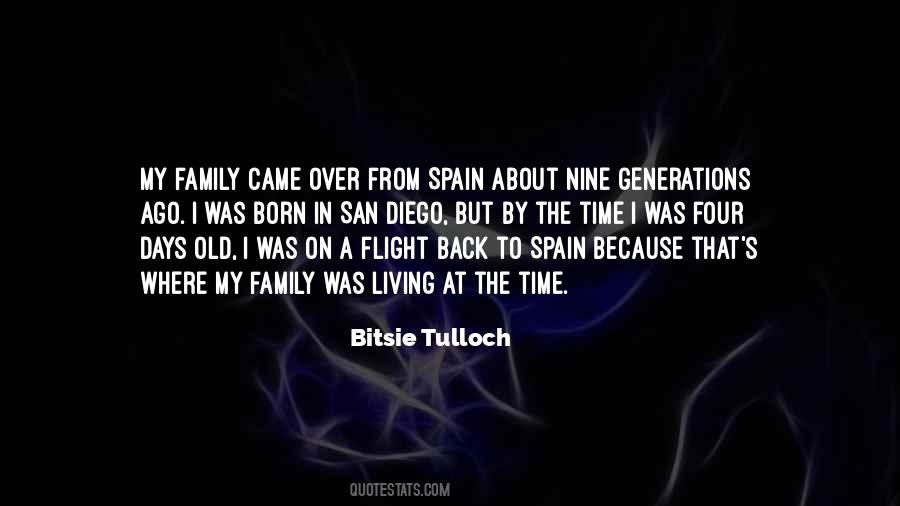 #81. And the two planes that were taking the band and crew that we had taken out to San Diego were flying out after the show. And so I was never supposed to be on that plane. - Author: Reba McEntire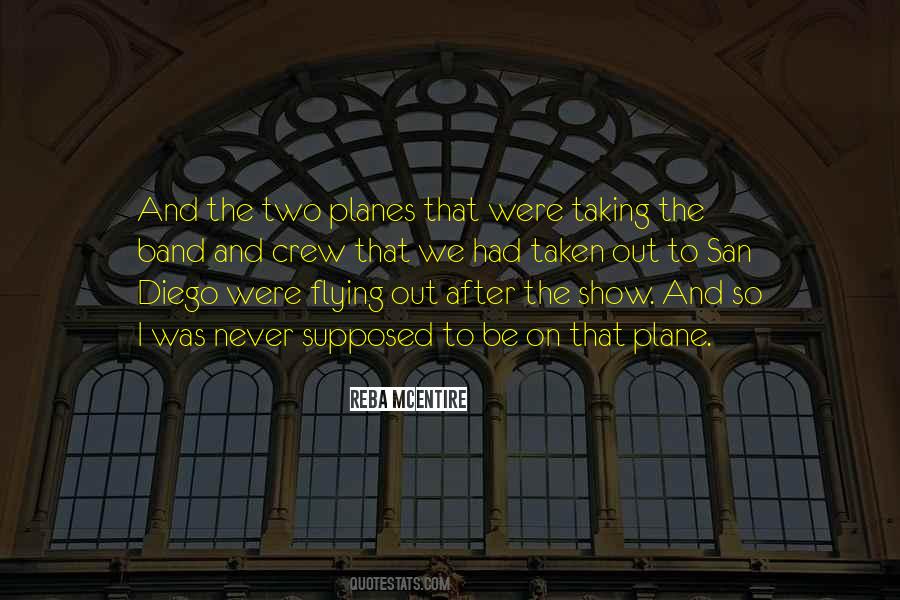 #82. I was stationed at a marine recruit depot in San Diego from 1965 to 1967. - Author: R. Lee Ermey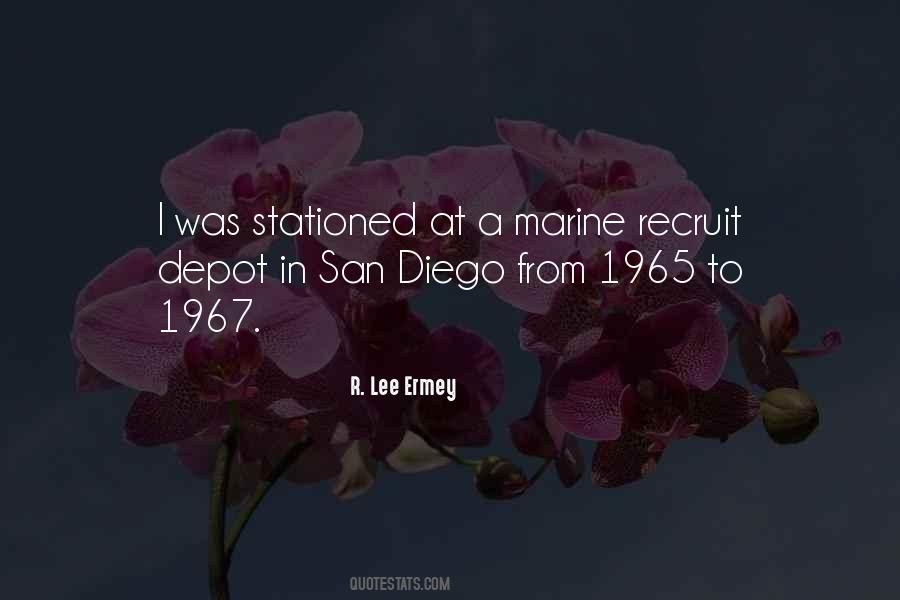 #83. I need to surf - surf and yoga. Whenever I'm in L.A., I go down to San Diego to surf for the weekend, and I always come back perfect. - Author: Rodrigo Santoro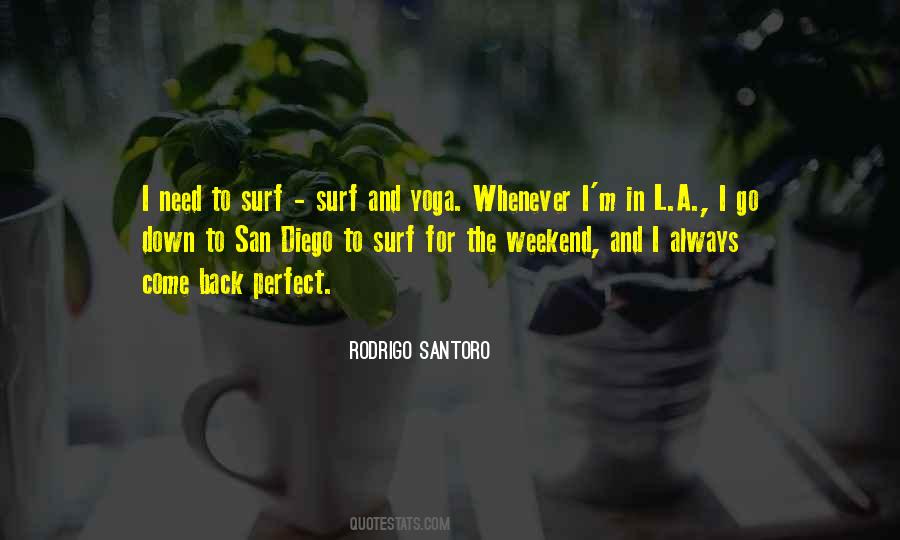 #84. You must miss New San Diego. I heard they finally finished the Obama Memorial Bridge. - Author: Lee Strauss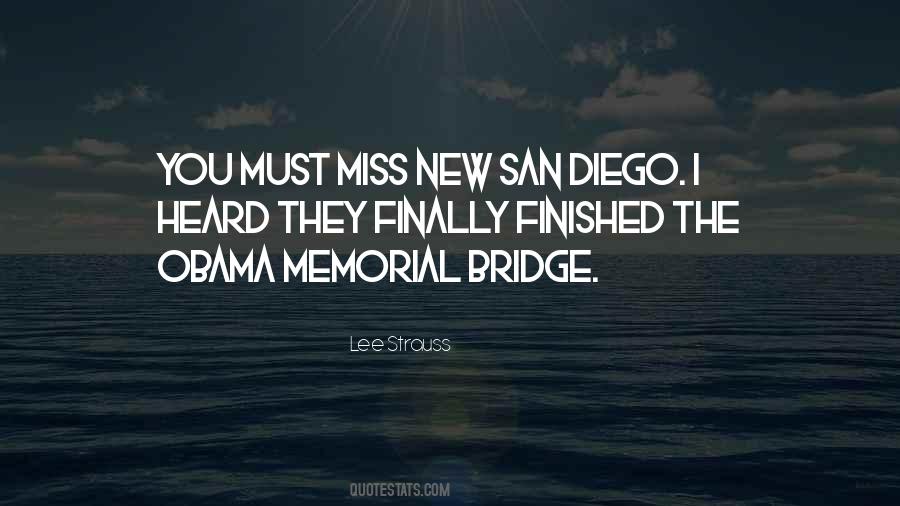 #85. My mom was born in San Diego, around Vista. So we've always been California people. - Author: Gracie Gold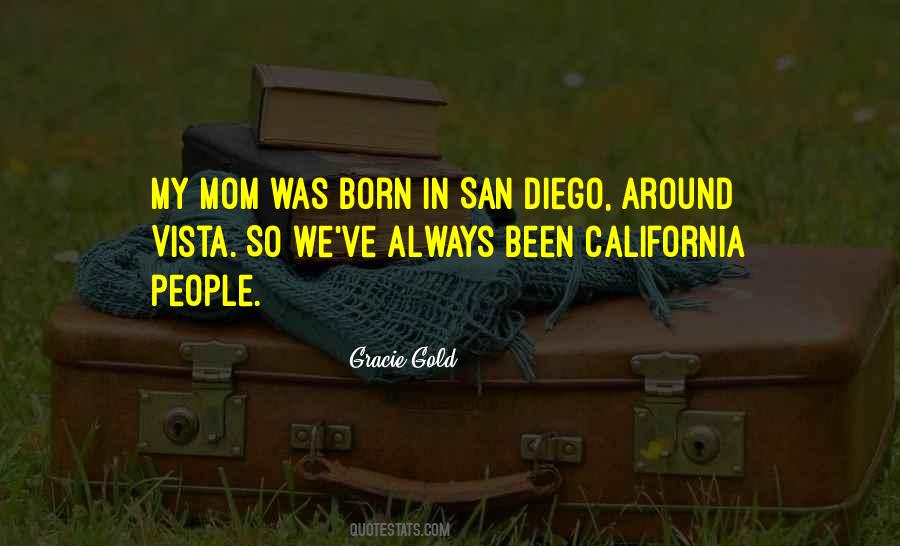 #86. It was in San Diego and I was onstage and couldn't remember how to play the guitar properly. I was in terrible pain and my nervous system was just going wild, like somebody had just run a car over me. - Author: Andy Partridge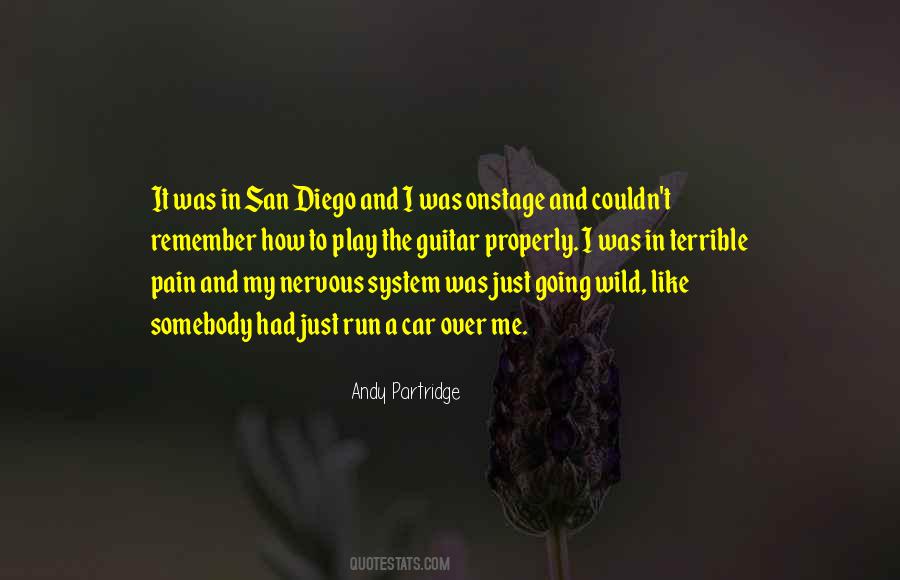 #87. San Diego has the finest zoo in America, but the Los Angeles Zoo is not much more than a home for retired Metro-Goldwyn-Mayer lions. - Author: Vincent Price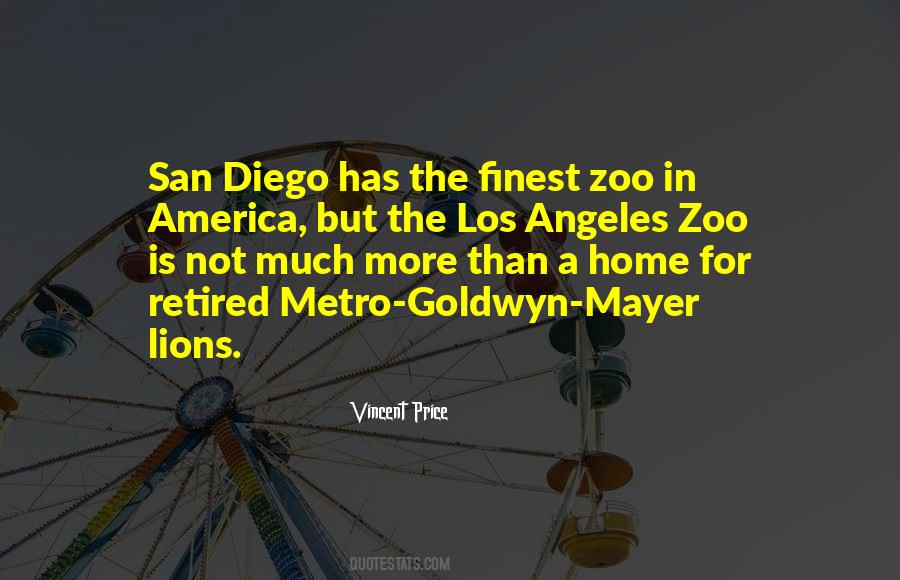 #88. In San Diego, our local innovation economy is a thriving industry employing thousands of highly skilled workers. - Author: Scott Peters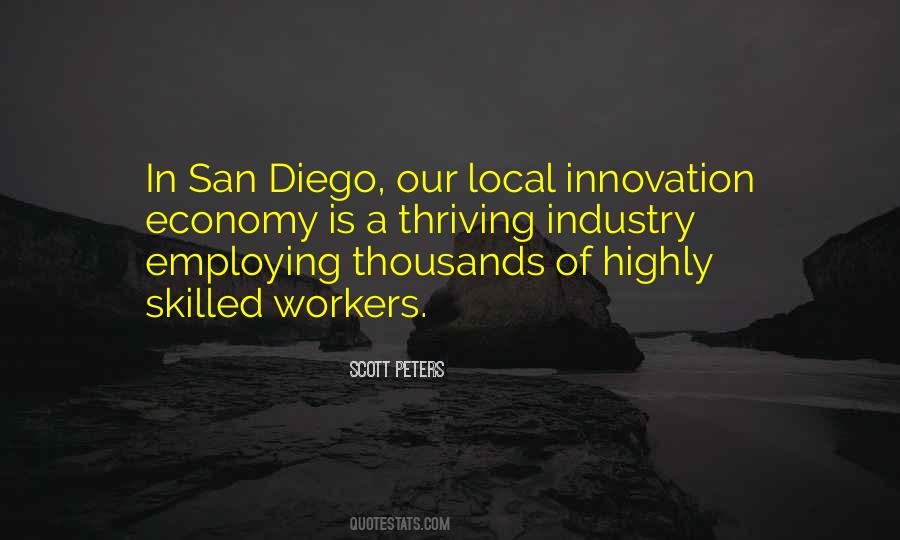 #89. We were playing a small club in San Diego and the power had gone out in the building. Eddie had a lighter and kept us lit backstage. We became very good friends and spent a lot of time together including hearing Eddie sing in some of the bands he was in at the time. - Author: Jack Irons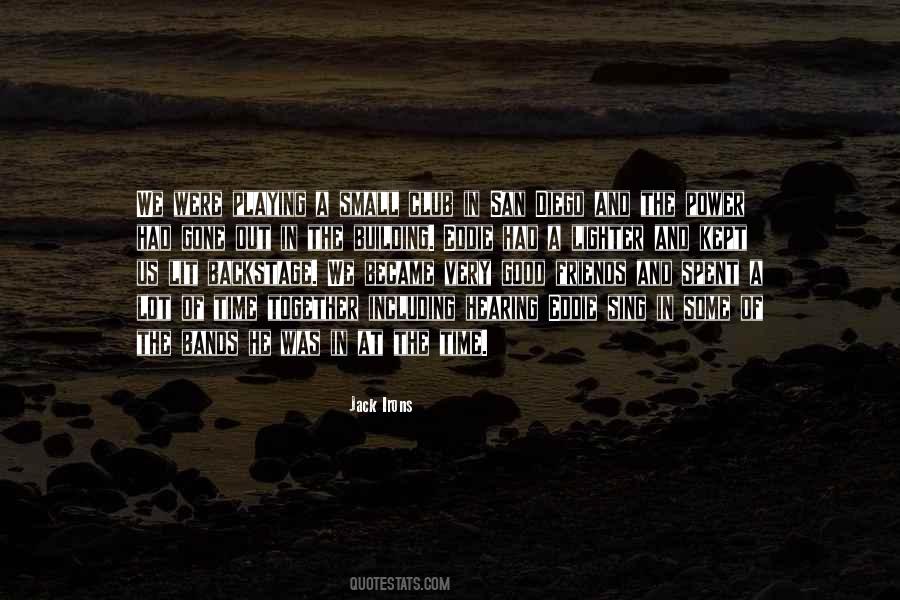 #90. In the fall of 1998, I began my freshman year at San Diego State University, which my dad commonly referred to as 'Harvard, without all the smart people. - Author: Justin Halpern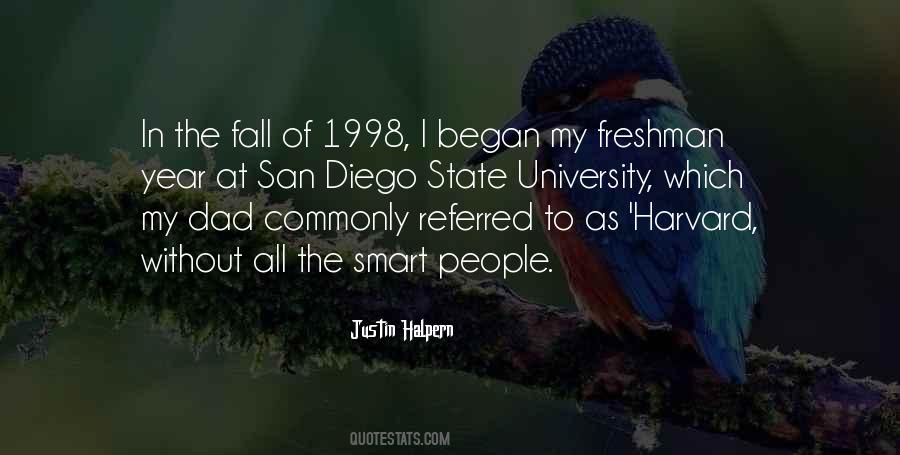 #91. I was homeless and I was in San Diego and I started singing in a local coffee shop and people started coming to hear me sing. - Author: Jewel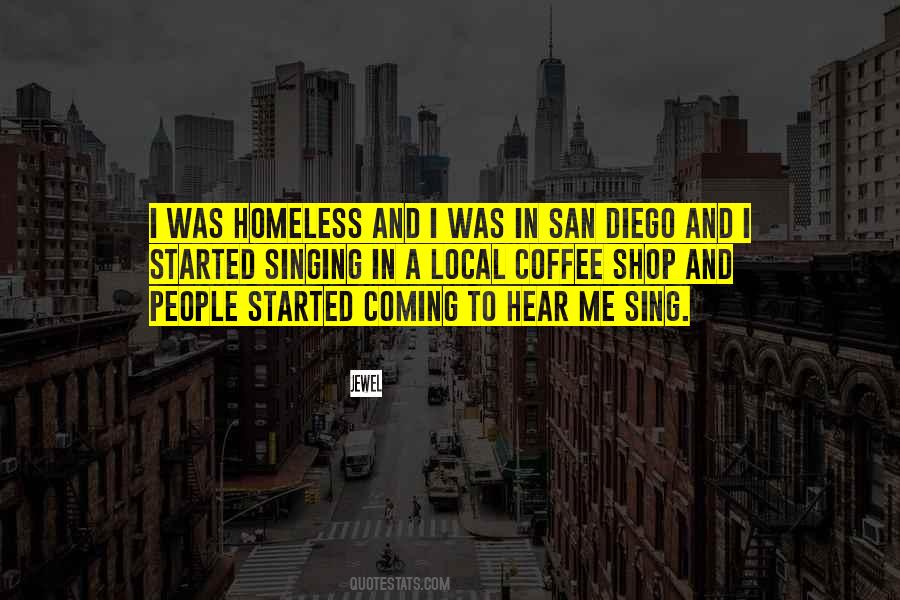 Famous Authors
Popular Topics