List of top 55 famous quotes and sayings about perfection and beauty to read and share with friends on your Facebook, Twitter, blogs.
Top 55 Quotes About Perfection And Beauty
#1. There is desire in the perfect, beauty in the imperfect.
Thus I lust over the flawless,
and fall amorously forceless to the flawed.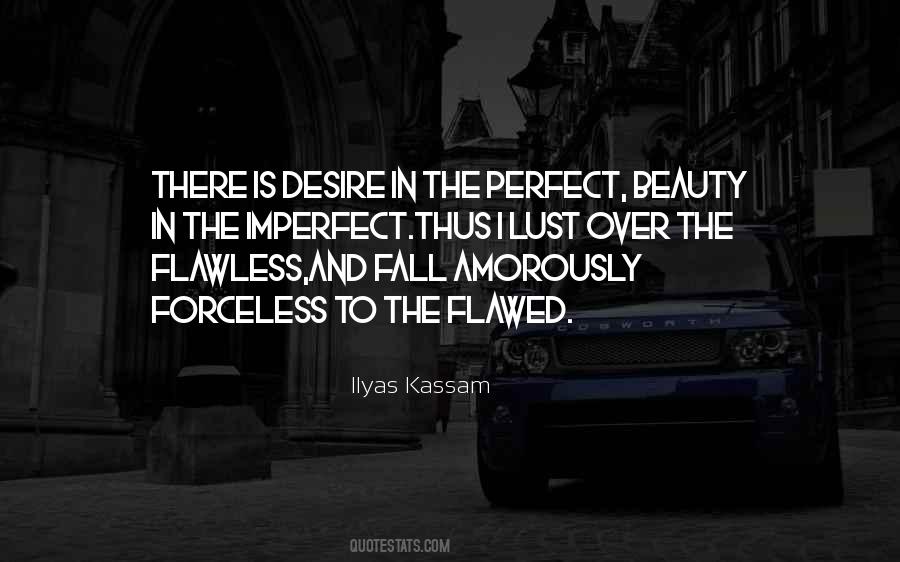 #2. It becomes possible to admit that plainness may coexist with nobility of nature, and fine features with baseness; and yet to hold that mental and physical perfection are fundamentally connected, and will, when the present causes of incongruity have worked themselves out, be ever found united.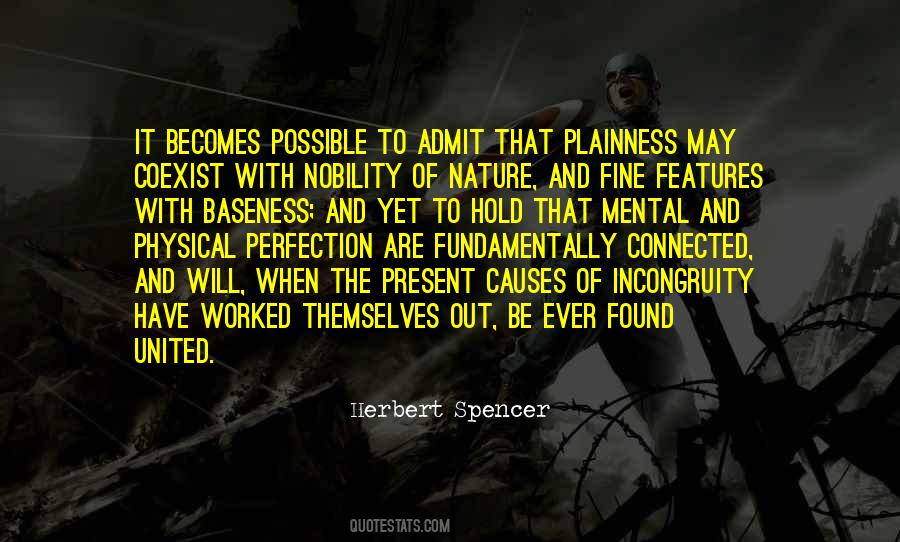 #3. Summer
The seasons between spring and autumn, comprising in the Northern Hemisphere
the warmest months of the year: June, July and August.

The period of finest development, perfection, or beauty previous to any decline; the summer of life.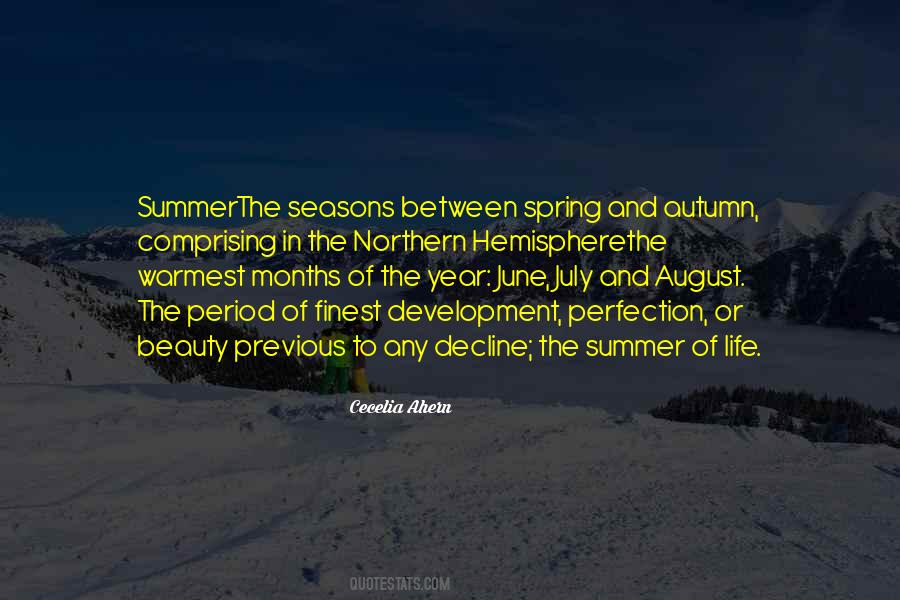 #4. The purpose of education is to give to the body and to the soul all the beauty and all the perfection of which they are capable.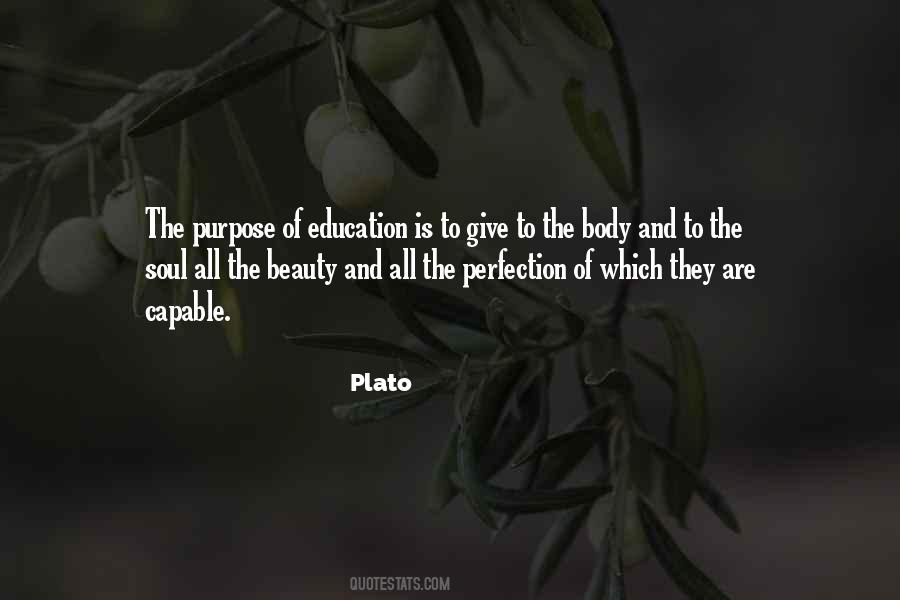 #5. Spiritual delight in God arises chiefly from his beauty and perfection, not from the blessings he gives us.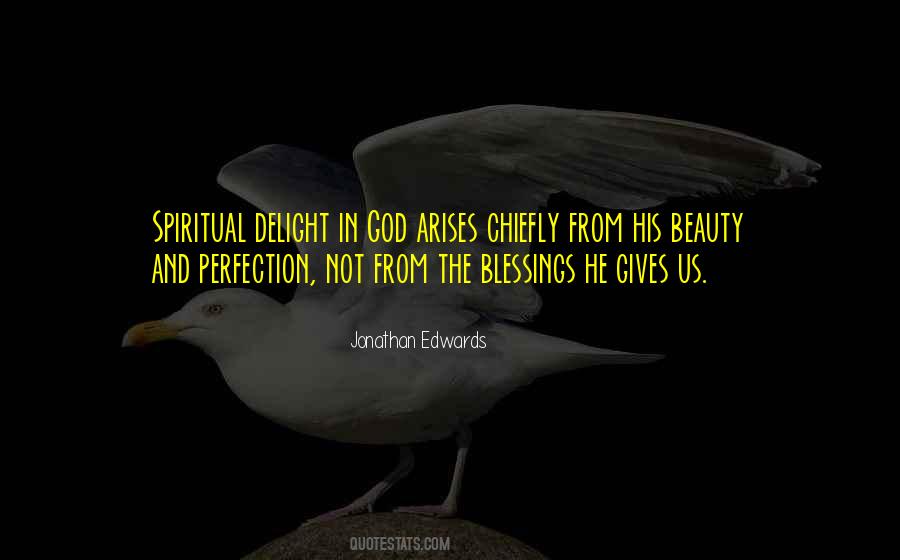 #6. His beauty did not blaze like Will's did in fierce colors and repressed fire, but it had its own muted perfection, the loveliness of snow falling against a silver gray sky.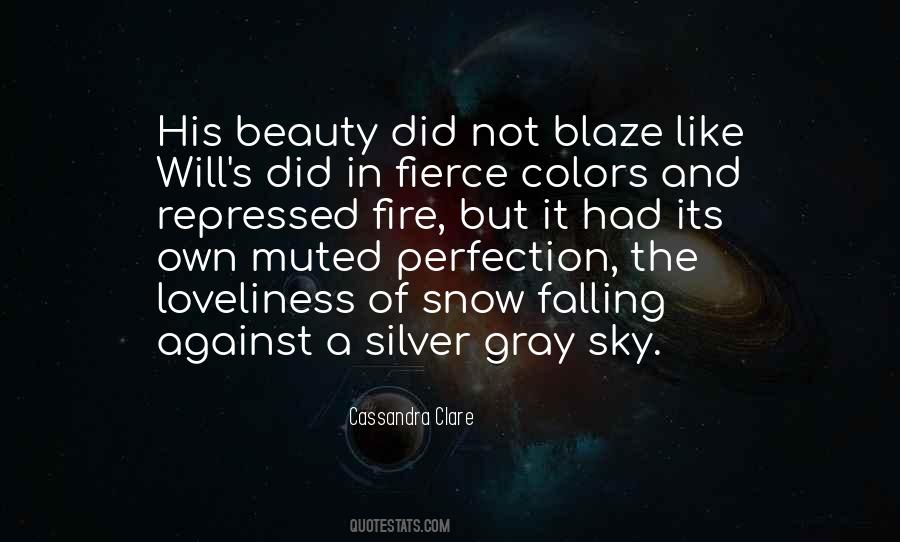 #7. For three things concur in creating beauty: first of all integrity or perfection, and for this reason we consider ugly all incomplete things; then proper proportion or consonance; and finally clarity and light, and in fact we call beautiful those things of definite color.
- William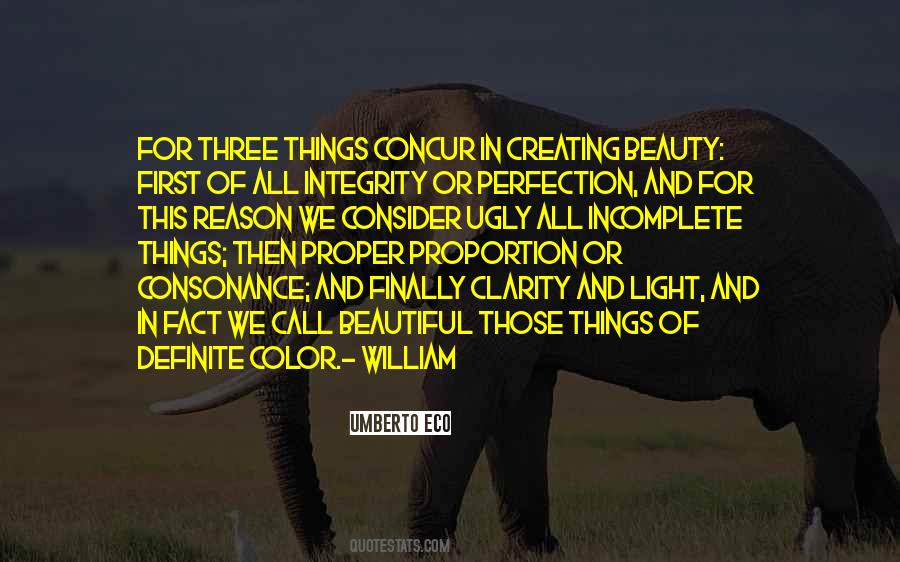 #8. I respect everything in change and the solemn beauty of life and death ... and therefore, while man is amidst the immense beauty of objective bodies, he must possess the capacity of self-perfection and must observe and represent his world with full confidence.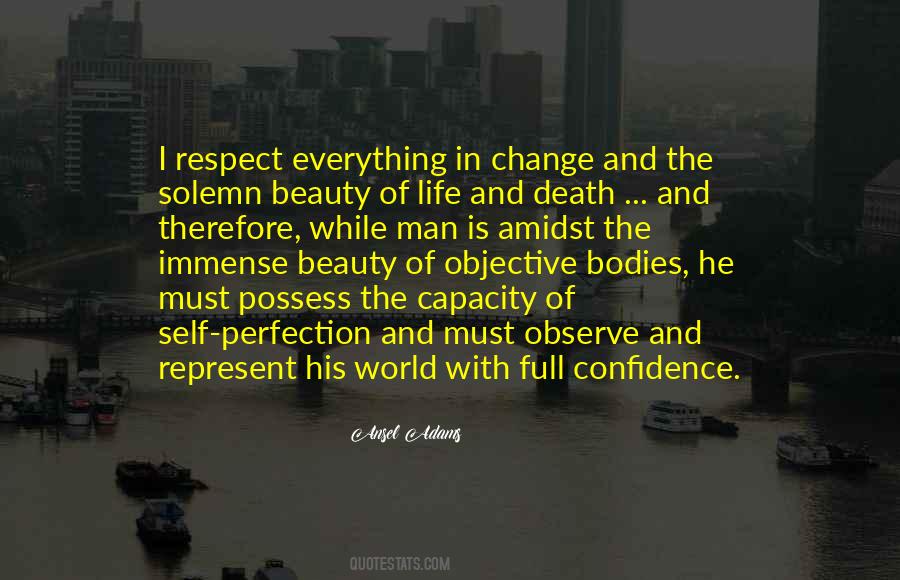 #9. Toward the One, the perfection of love, harmony and beauty, the only being, united with all the illuminated souls who form the embodiment of the master, the spirit of guidance.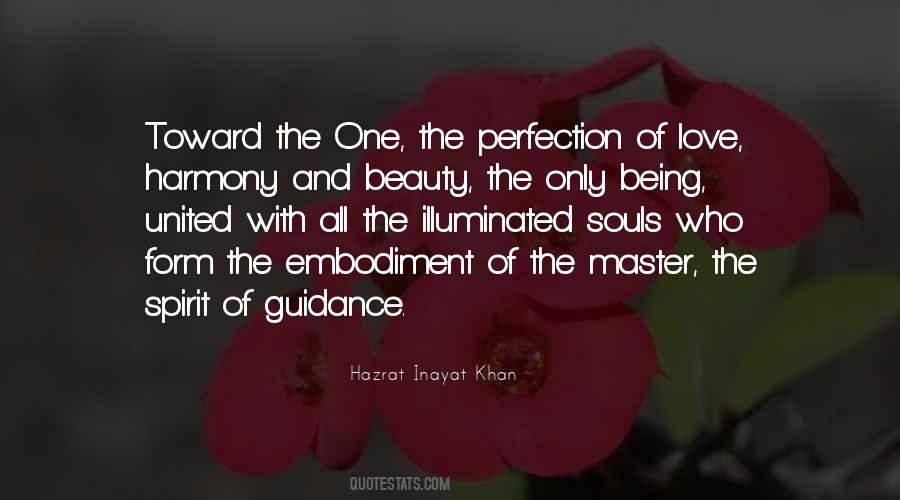 #10. All the goodness, beauty, and perfection of a human being belong to the one who knows how to recognize these qualities.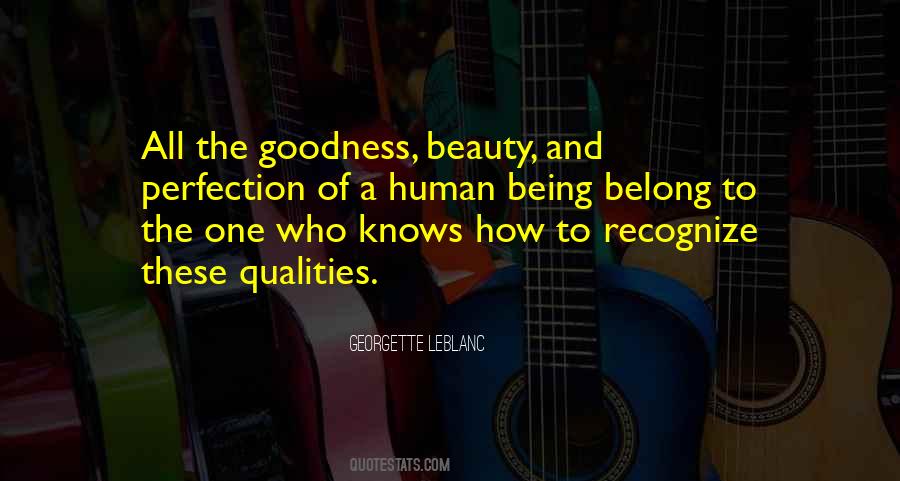 #11. Why we are here: To tremble at the terrible beauty of the stars, to shed a tear at the perfection of Beethoven's symphonies, and to crack a cold one now and then.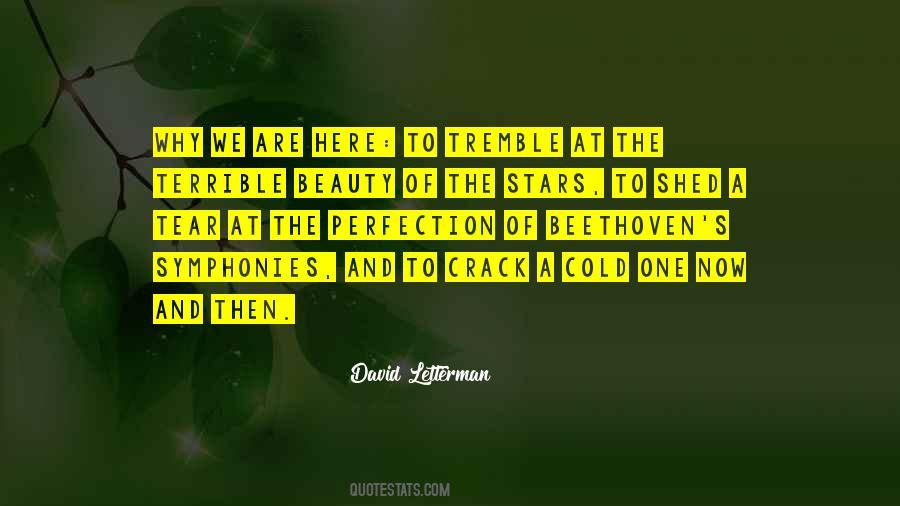 #12. When you meditate you are accessing eternity. You are plugging yourself into that source which is all light and all beauty and all perfection.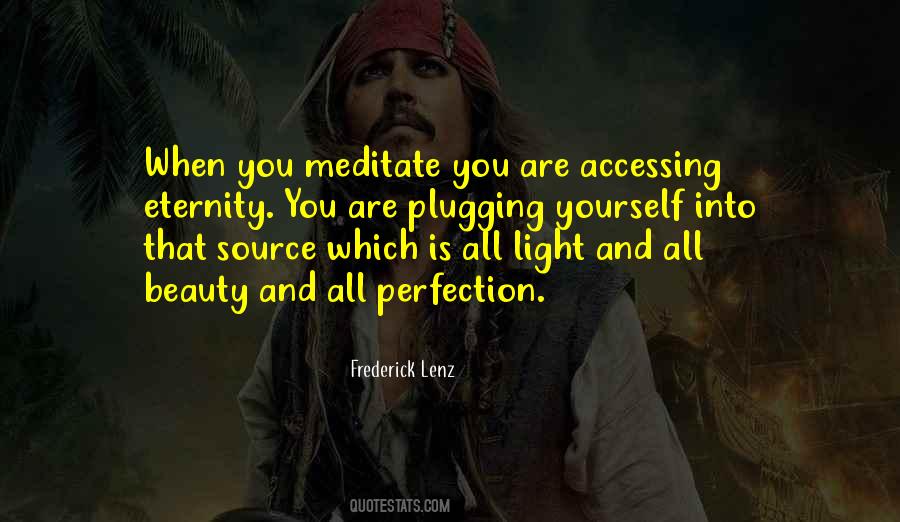 #13. Three things concur in creating beauty: first of all integrity or perfection, and for this reason we consider ugly all incomplete things; then proper proportion or consonance; and finally clarity and light, and in fact we call beautiful those things of definite color.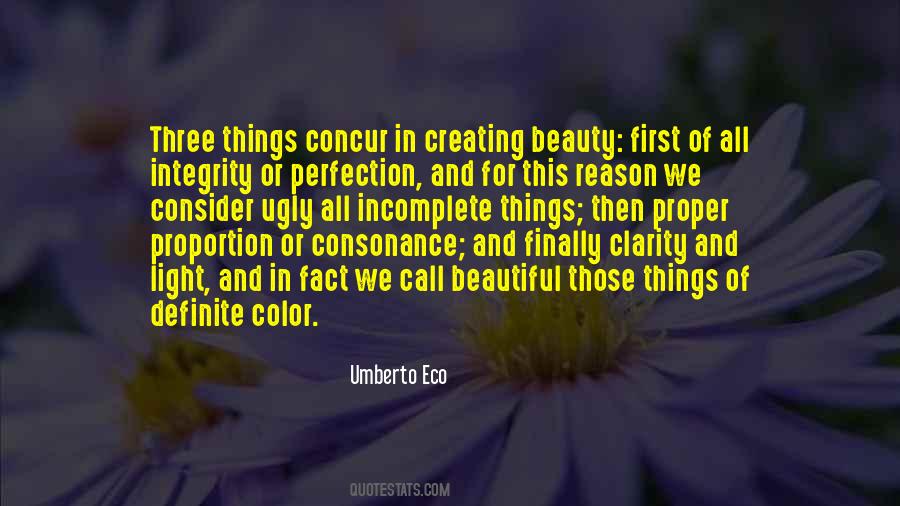 #14. I hold that the perfection of form and beauty is contained in the sum of all men.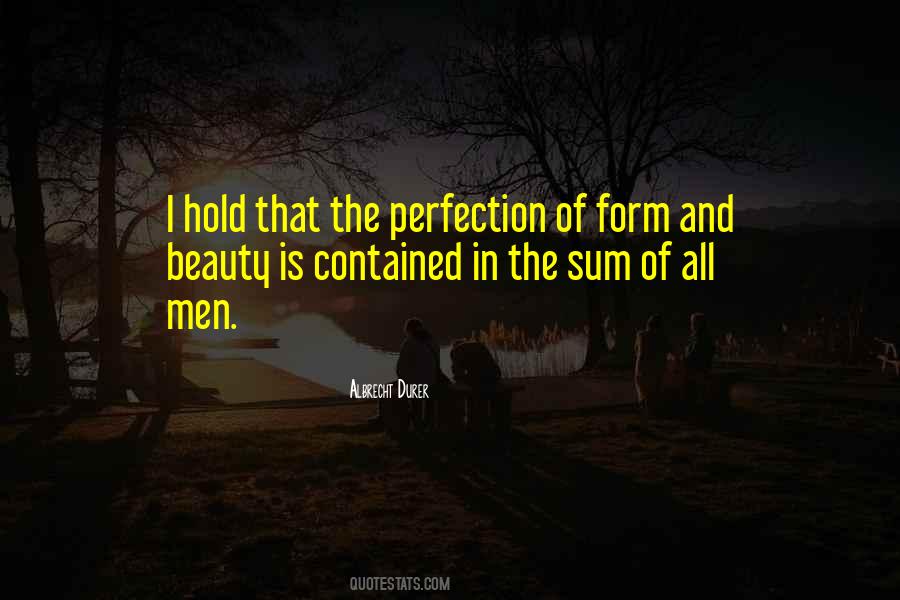 #15. The Triad has a special beauty and fairness beyond all numbers, primarily because it is the very first to make actual the potentiality of the Monad - oddness, perfection, proportionality, unification, limit.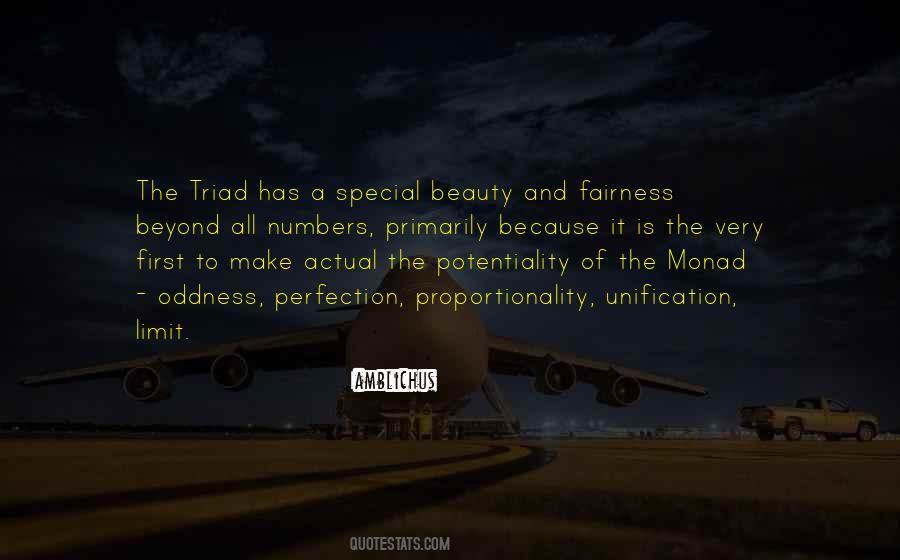 #16. It was Brighton. She made me fucking insane. Her beauty and absolute perfection dissolved any moral boundaries that may have existed within me.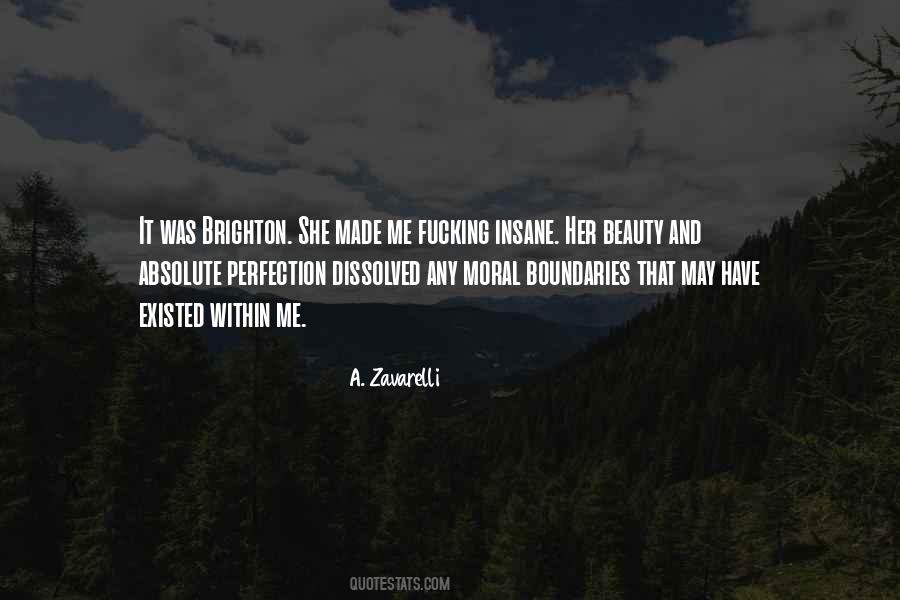 #17. Venus and her pentacle became symbols of perfection, beauty, and the cyclic qualities of sexual love. As a tribute to the magic of Venus, the Greeks used her four-year cycle to organize their Olympiads.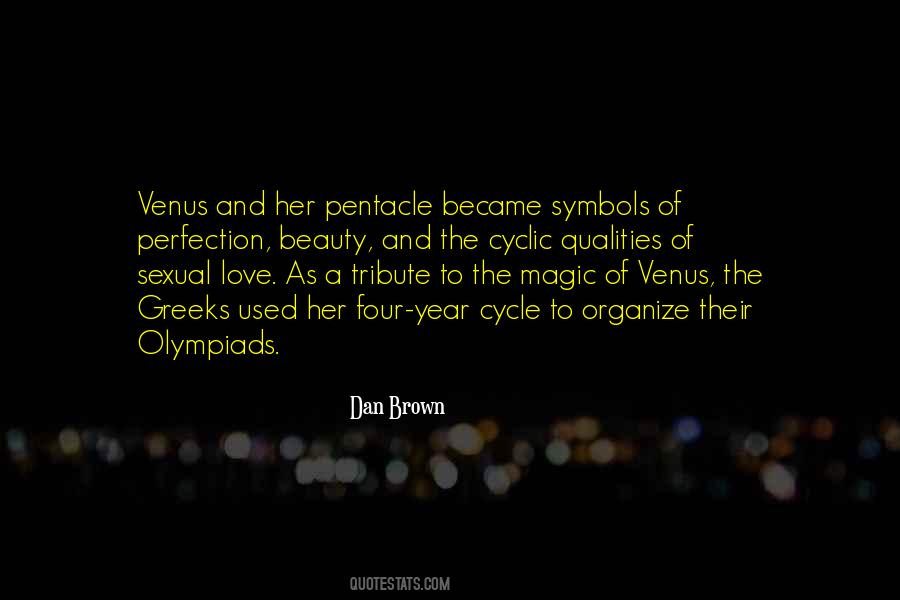 #18. I like looking back at art-work or my writing and seeing it in a different perspective...It shows how much one has grown as a creator. Perfection may not exist in reality but I always strive to capture the beauty in whatever I happen to be doing.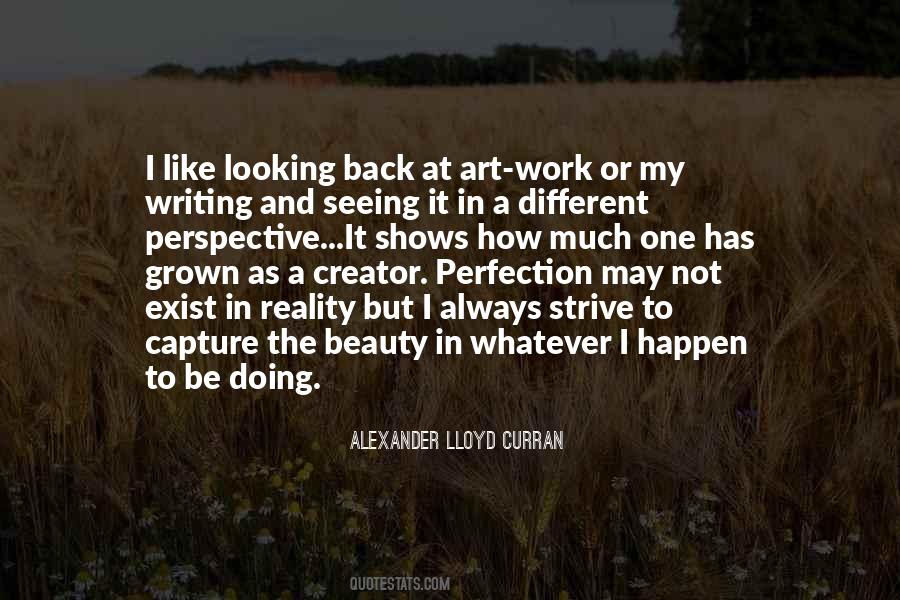 #19. Young lovers seek perfection. Old lovers learn the art of sewing shreds together. And of seeing beauty in a multiplicity of patches. - How to make an American Quilt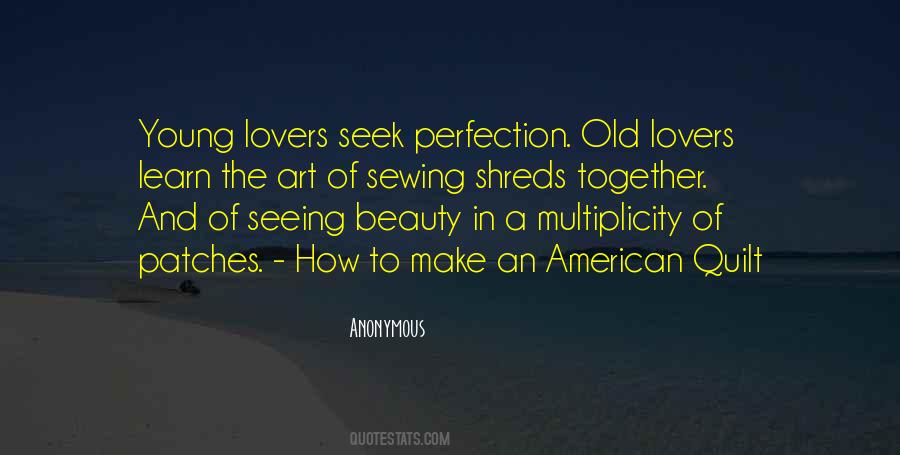 #20. Beauty is not the flawless perfection of youth, but the fine lines, scars, and wisdom which only living can give you.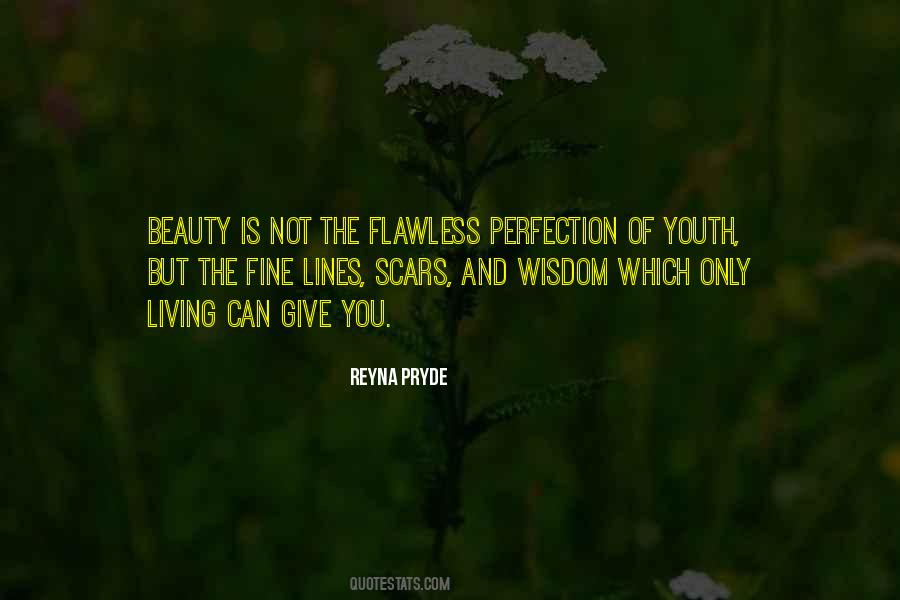 #21. The heads (Plural) of the Gods appointed one God for us; and when you take that view of the subject, it sets one free to see all the beauty, holiness and perfection of the Gods.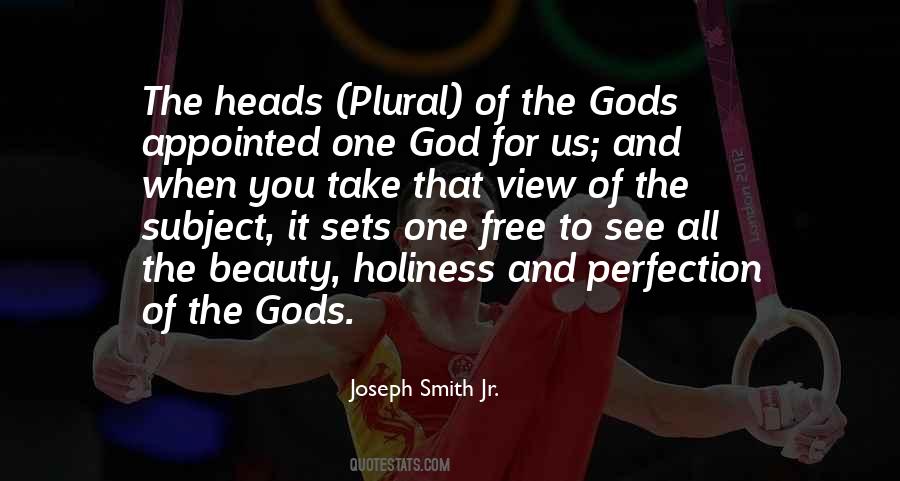 #22. The perfection of mathematical beauty is such ... that whatsoever is most beautiful and regular is also found to be most useful and excellent.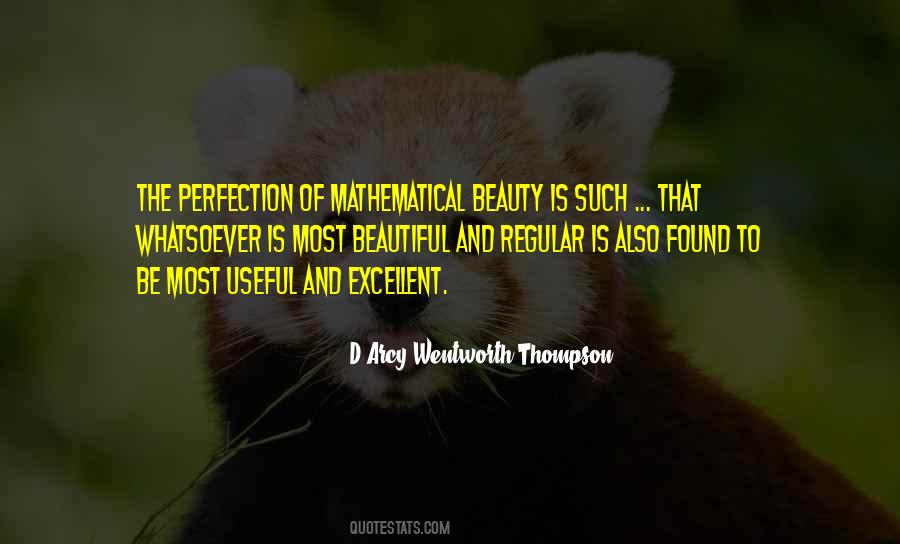 #23. Woman is a delicate creature with strong emotions who has been created by the Almighty God to shoulder responsibility for educating society and moving toward perfection. God created woman as symbol of His own beauty and to give solace to her partner and her family.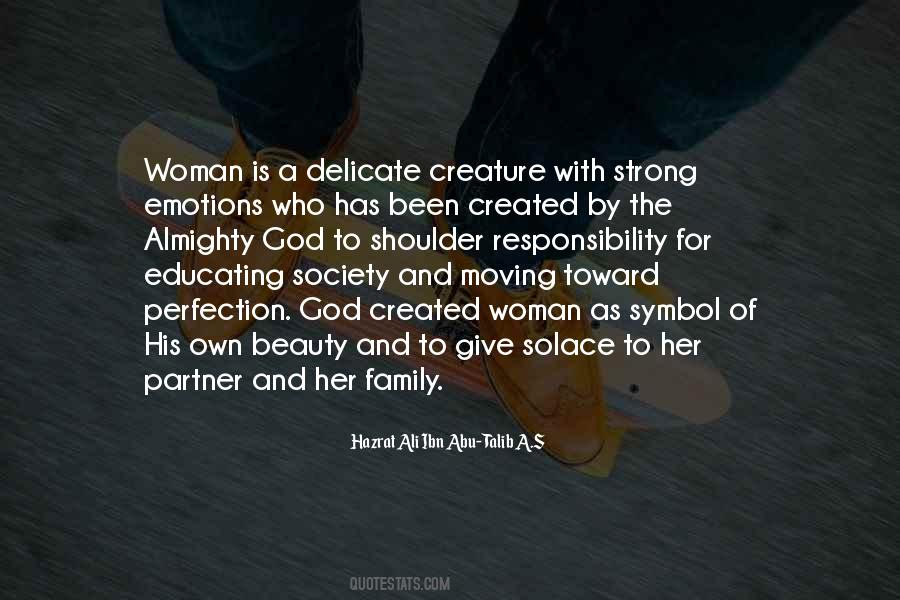 #24. The morning sun danced on her hair, transforming the brown to gold and reddish glints. An errant sunbeam angled over her face, dusting her long lashes with light, accentuating the perfection of her nose, her cheekbones, and the beauty of her complexion.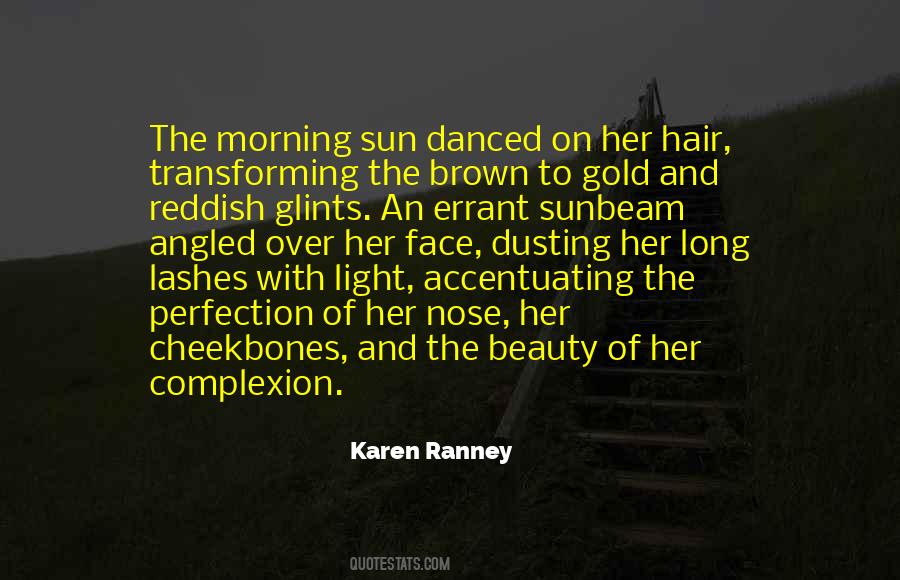 #25. If beauty is relative, then any and everything when compared to the beauty of God is absolutely hideous.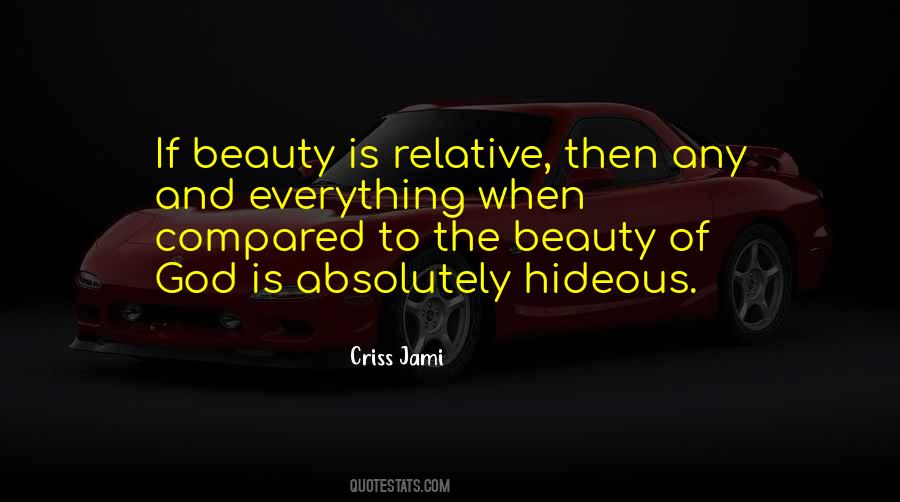 #26. Take just ONE minute today and look around you and within you and try for just that minute to understand the utterly amazing miracle and incredible perfection and beauty you are experiencing and observing!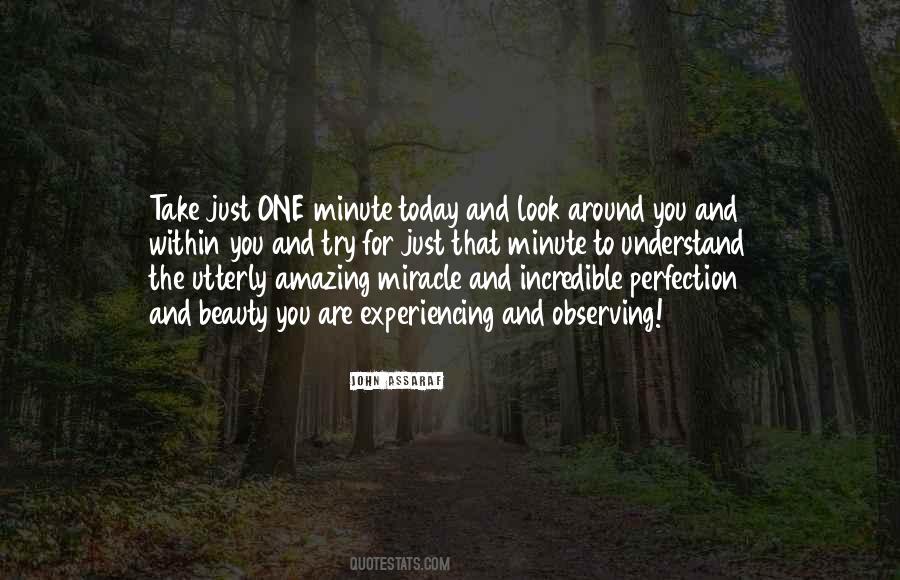 #27. He is power and poetry, grace and perfection, and I feel my body tighten in response to the beauty that is Damien.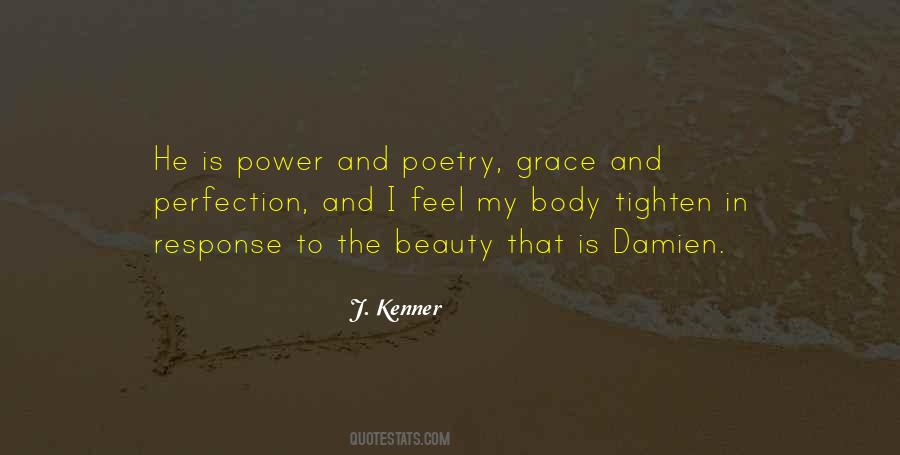 #28. Not separate in this place where I now was. I could hear the visual beauty of the silvery bodies of those scintillating beings above, and I could see the surging, joyful perfection of what they sang.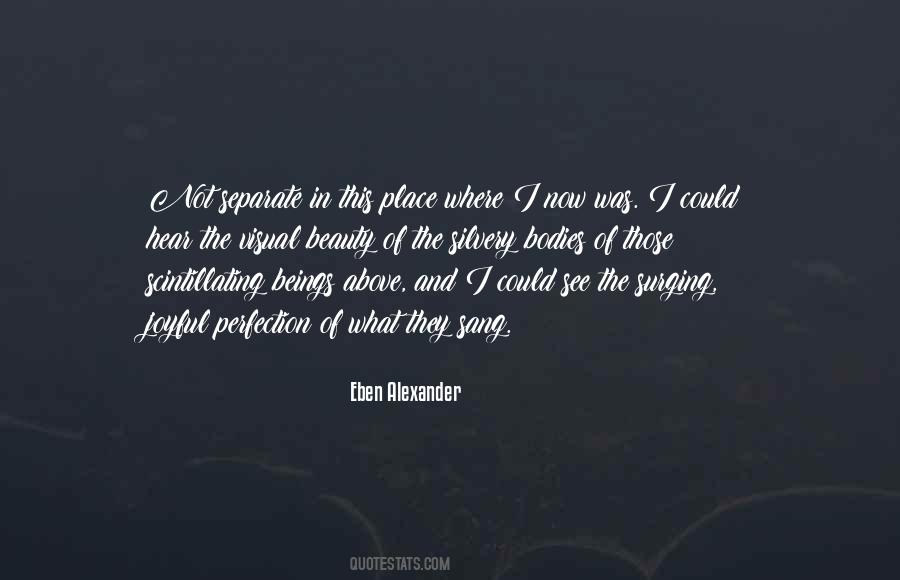 #29. I've seen the majestic beauty of nature and the overwhelming perfection of it. To me, there's nothing closer to God than that.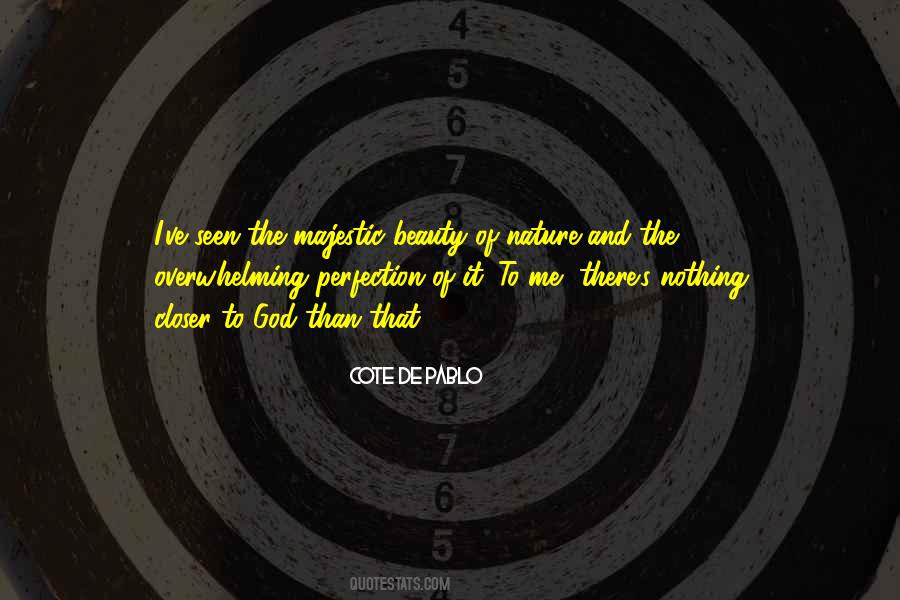 #30. Without an uninvestigated story, there's only the perfection of life appearing as itself. You can always go inside and find the beauty that's revealed after the pain and fear are understood.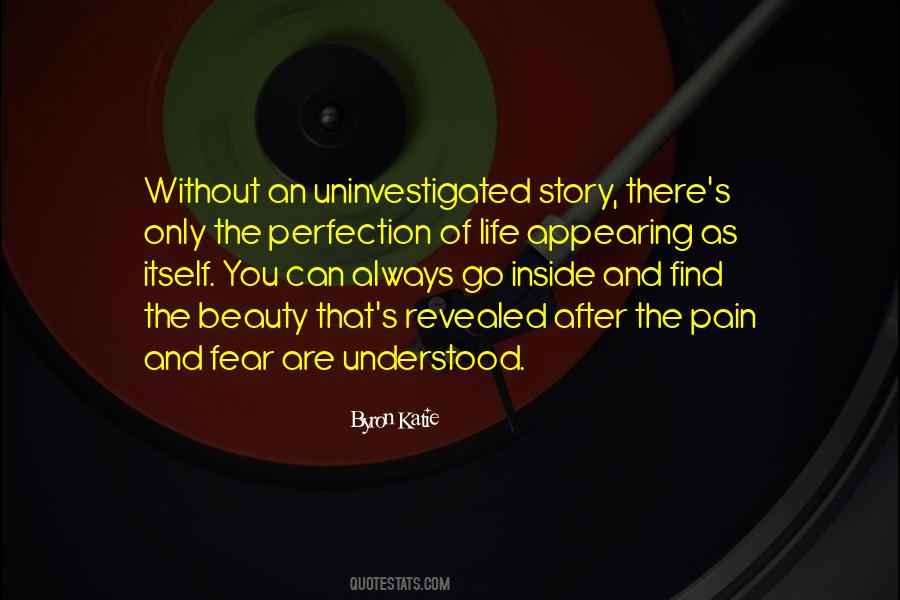 #31. One has to seek Beauty and Truth, Sir! As I always say to my pupils, you have to work to the finish. There's only one kind of painting. It is the painting that presents the eye with perfection, the kind of beautiful and impeccable enamel you find in Veronese and Titian.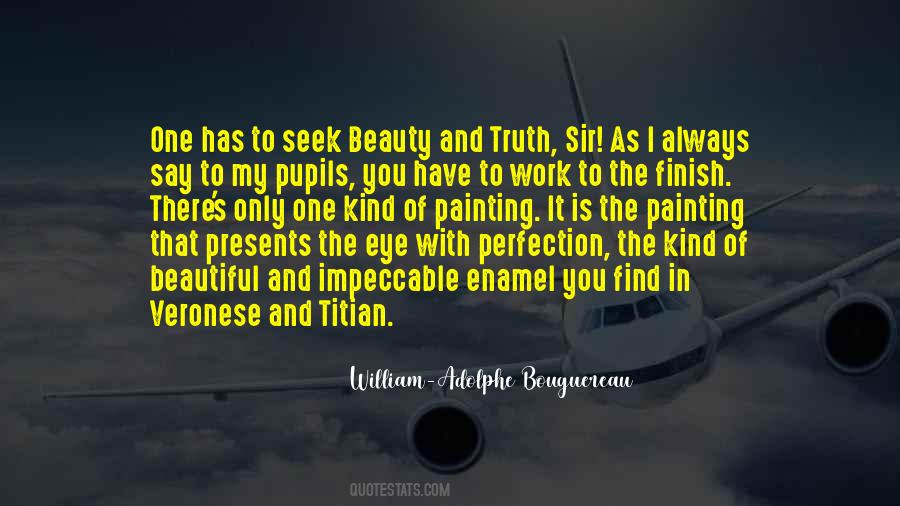 #32. And I find perfect beauty excessively boring, don't you?
#33. Could we imagine that beauty itself doesn't just exist in society's version of aesthetic perfection? Beauty also emerges from places and things that tell us stories.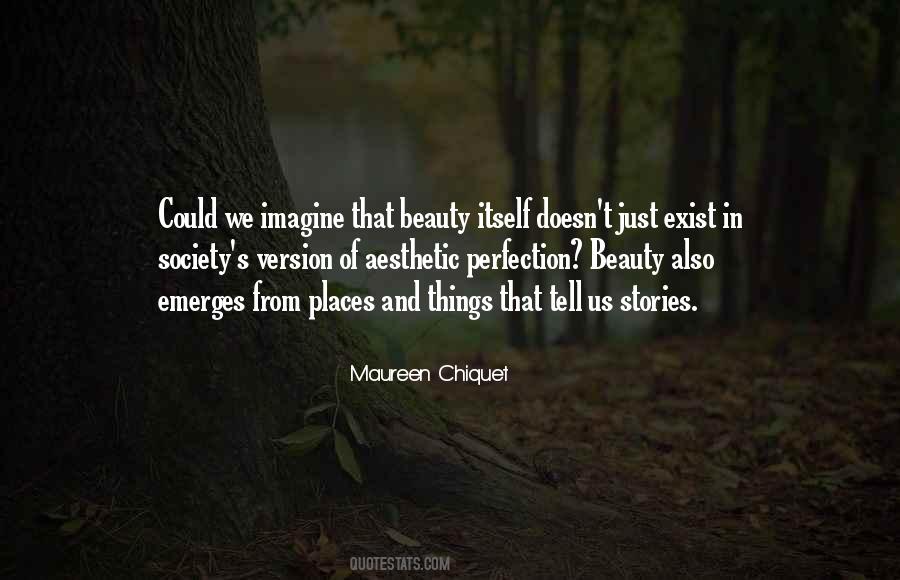 #34. The rationalism of the creative minds was tempered by abundant fantasies, and the supreme beauty of the monuments was probably spoiled by the circumambient vanities and ugliness; in a few cases the Greeks came as close to perfection as it was possible to do, yet they were human and imperfect.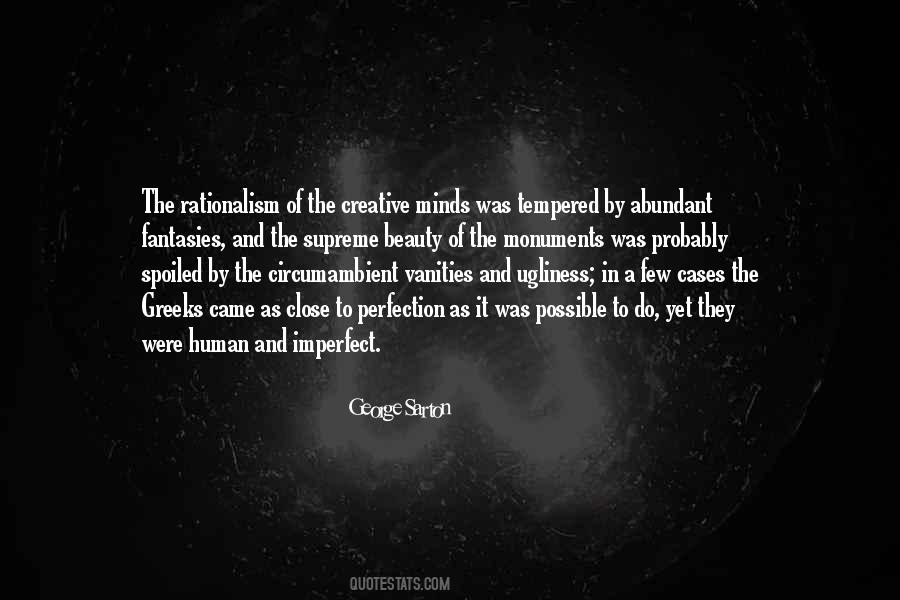 #35. In Divine unity and the affirmation of it, Divine beauty and dominical perfection become apparent. If there was no unity, that pre-eternal treasury would remain hidden.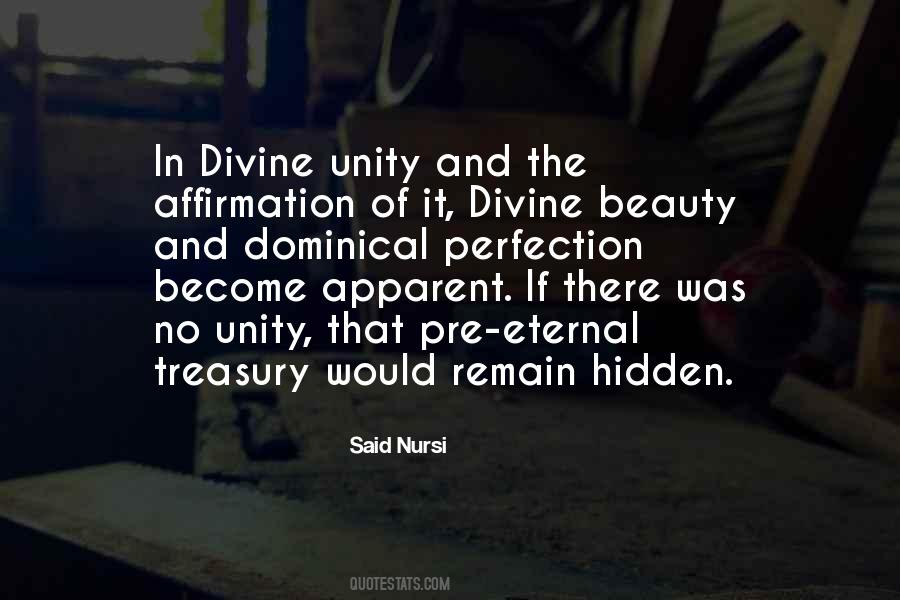 #36. God created us so that His love, beauty, perfection, and harmony would be seen through us.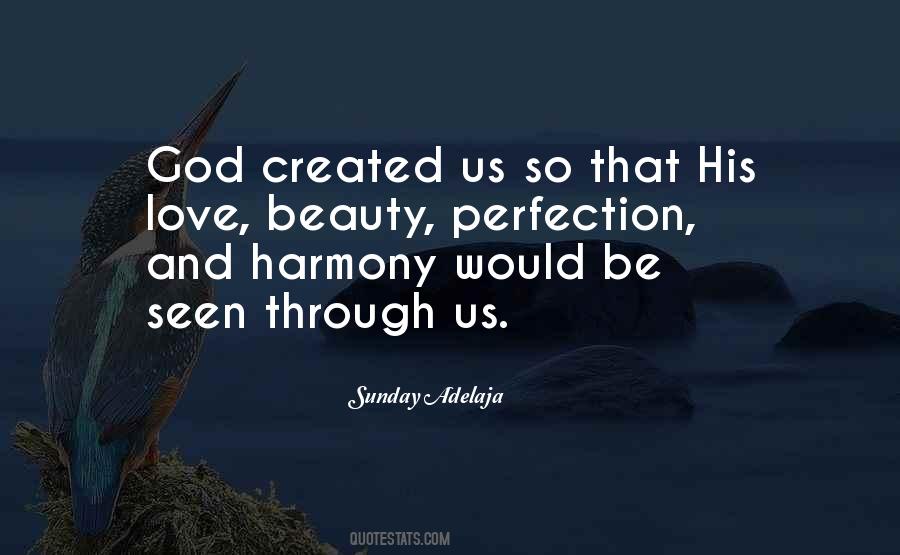 #37. Djuna had wanted a life of desire and freedom, not luxury but beauty, not security but fulfillment, not perfection but a perfect moment like this one ...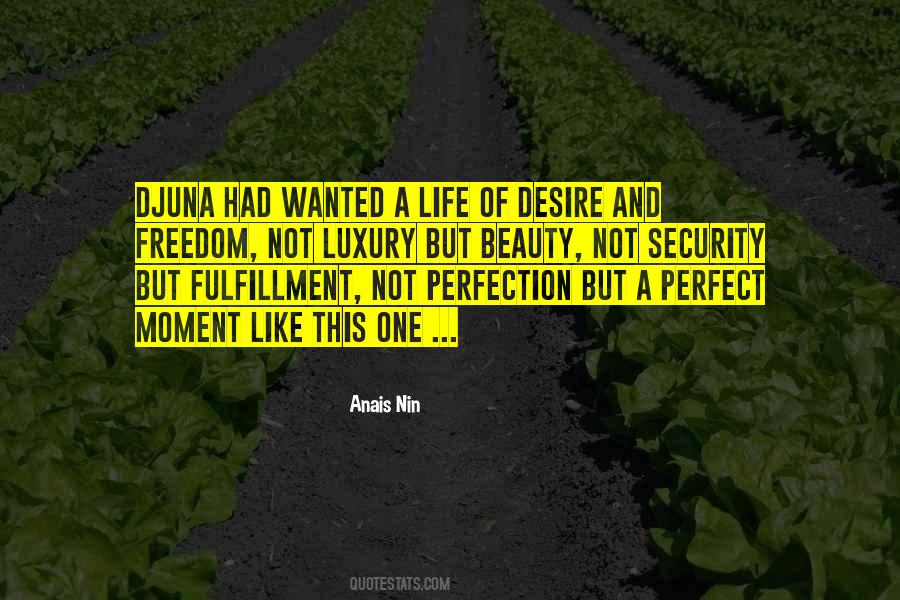 #38. The biggest thing for women to keep in mind is you can't ever let someone define beauty for you. Look in the mirror and say that this is my definition of perfection.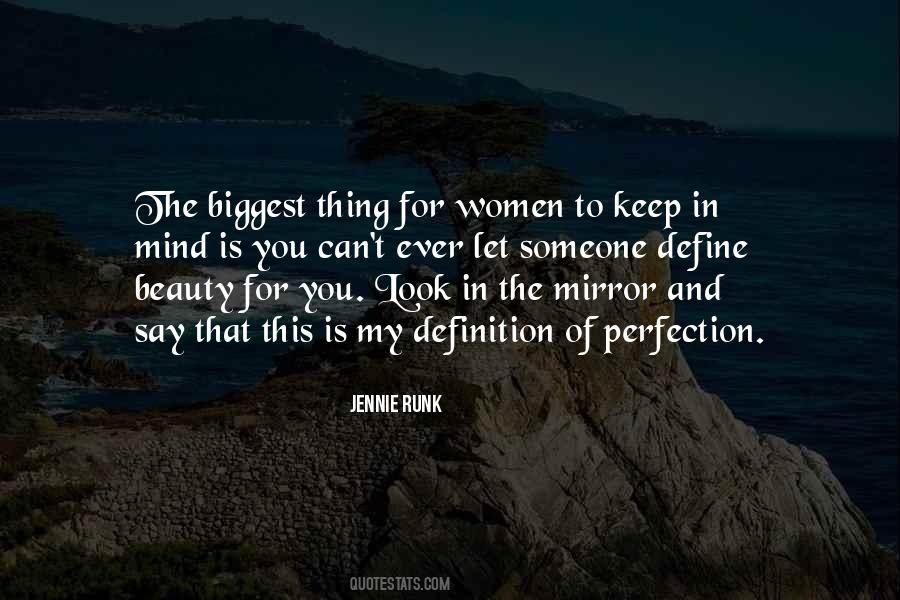 #39. Beauty is achieved through perfection of body and mind.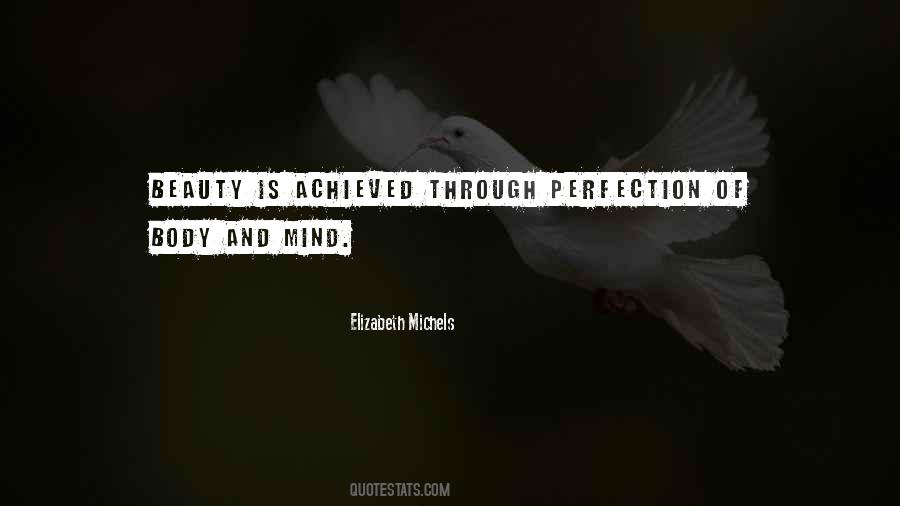 #40. Just look at me! Beauty. Style. A little vision of perfection. I love myself and that's enough.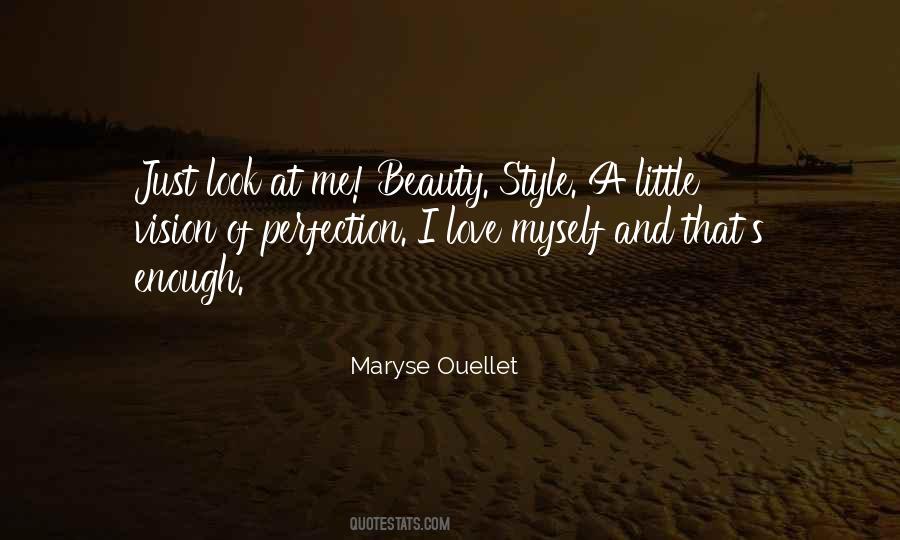 #41. Youth would be too happy, might it add to its own beauty and felicity the wisdom and experience of riper years. Were it possible for it to realize the worth of time, as life's receding hours reveal it, how rapidly would it press on towards perfection!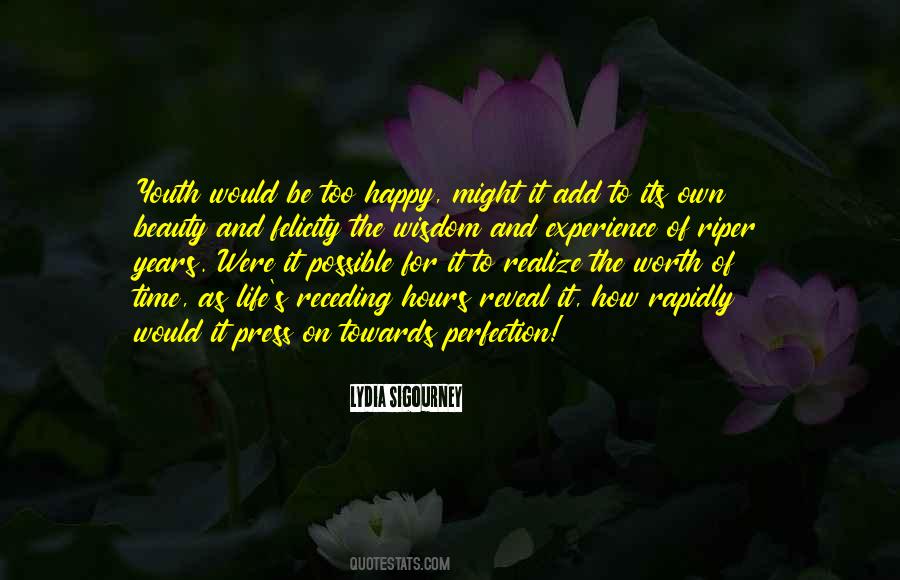 #42. God just turns on all the beauty He can possibly create, and that final Heaven on Earth, the eternal one of the New Heaven and the New Earth will be the most beautiful of all and the most perfect!-The perfect government of God administered directly and in perfection in every way!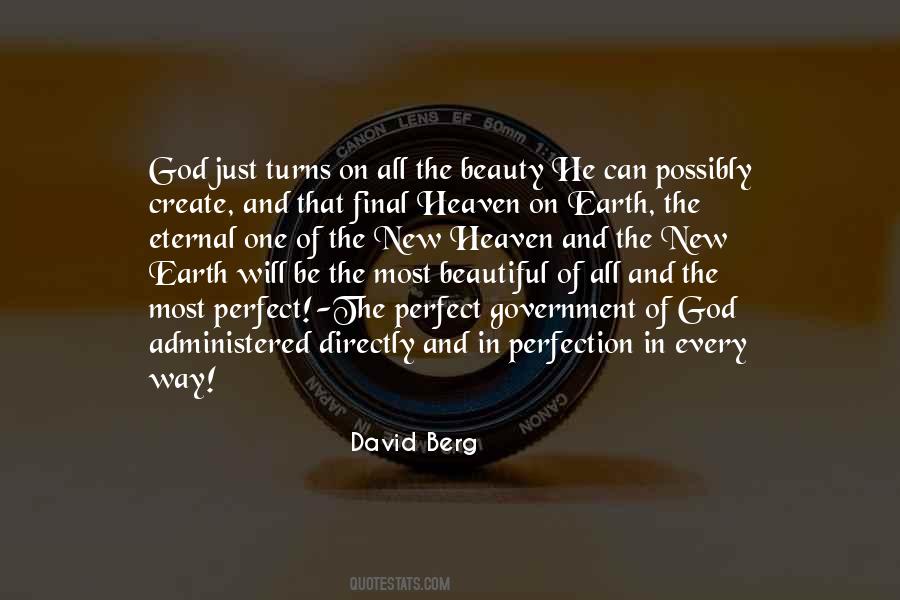 #43. Beauty and ingenuity beat perfection hands down, every time.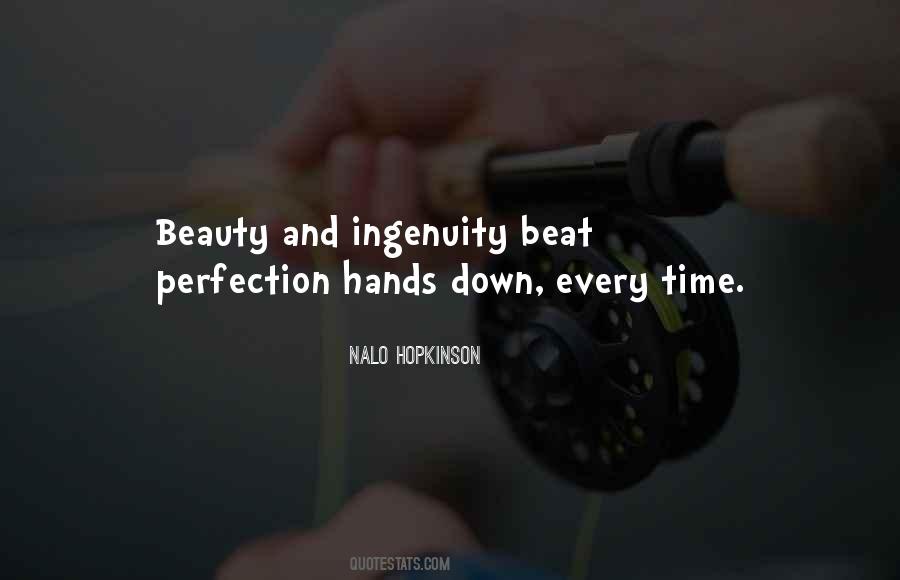 #44. Tantra is the perception of the oneness and the perfection of all things. Not just the perception of light, but the perception of darkness, seeing God in both beauty and horror.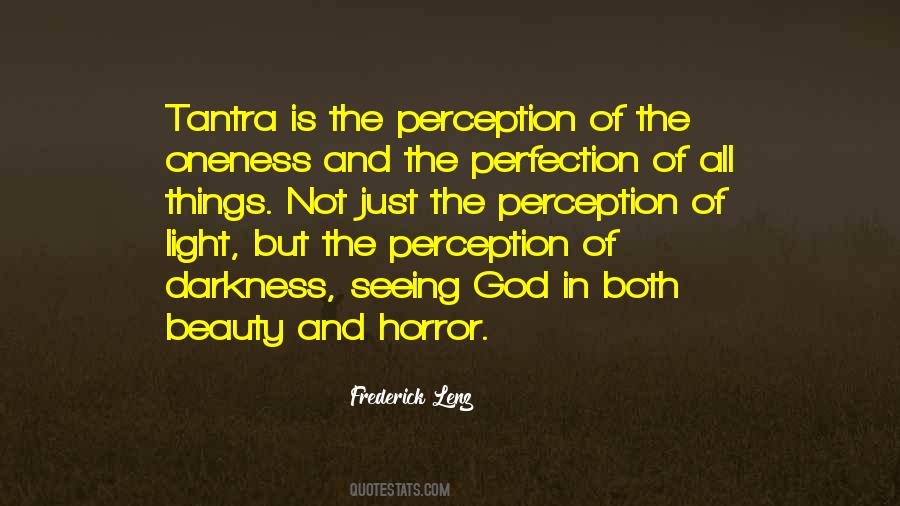 #45. I cursed myself. For once, heaven had sent me "Beauty" in its most perfected form and I abandoned it. She might not have been a girl after all but an angel: a force to guide me on this hazardous path of life I hurry down ... How can life be hazardous if it can only end in death?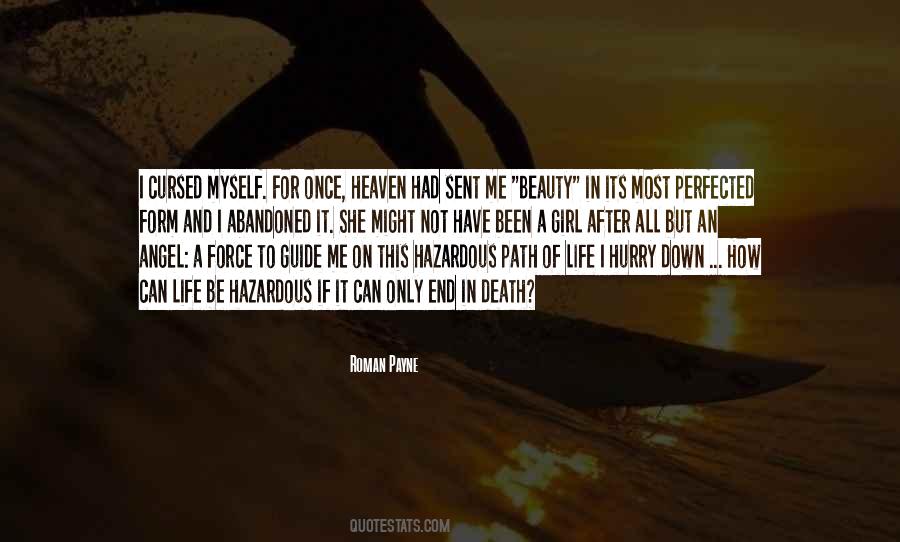 #46. Theirs is the mystery of continuous creation and all that providence implies: the uncertainty of vision, the horror of the fixed, the dissolution of the present, the intricacy of beauty, the pressure of fecundity, the elusiveness of the free, and the flawed nature of perfection.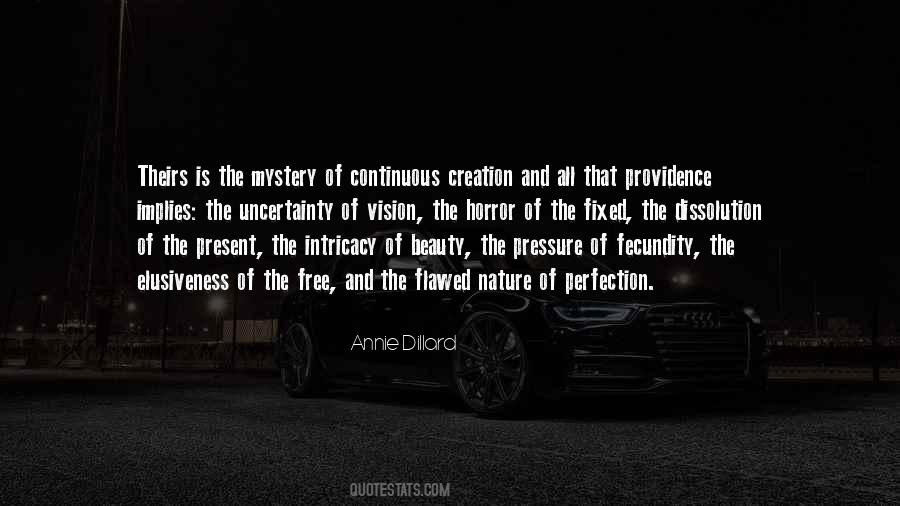 #47. For me, beauty is synonymous with uniqueness ... perfection is mundane, boring, and emotionless. It is by celebrating the differences in others that we can begin to accept our own individuality.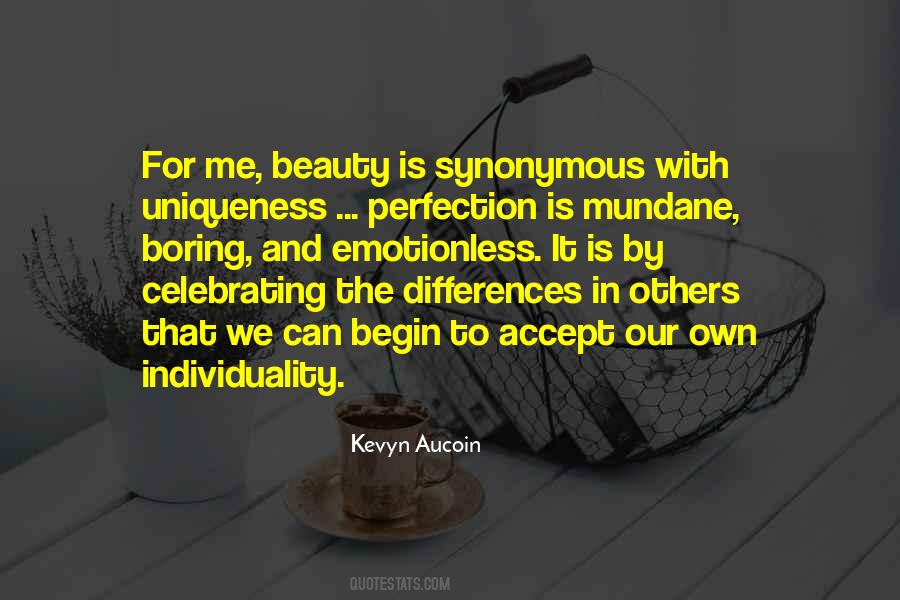 #48. Truth is the foundation and the reason of the perfection of beauty, for of whatever stature a thing may be, it cannot be beautiful-and perfect, unless it be truly what it should be, and possess truly all that it should have.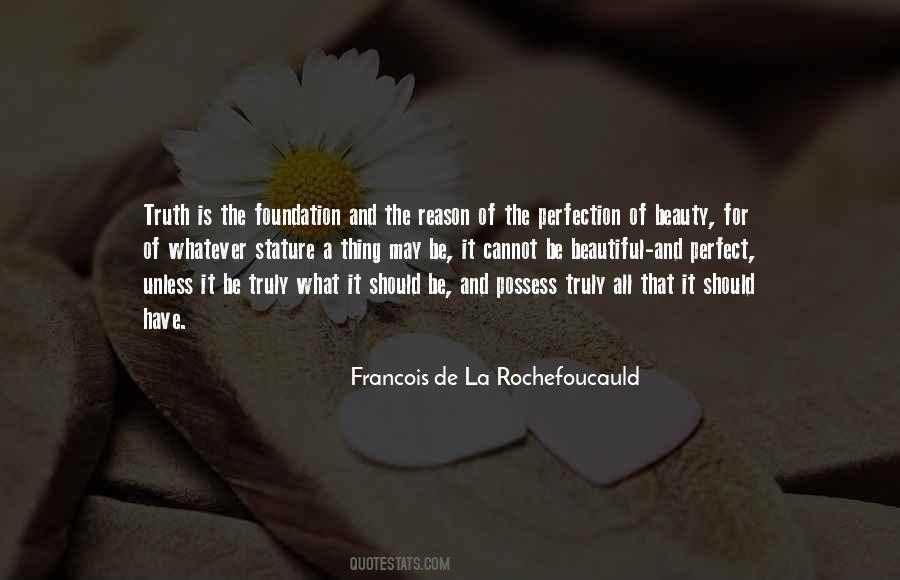 #49. What my eyes seek in these encounters is not just the beauty traditionally revered by wildlife photographers. The perfection I seek in my photographic composition is a means to show the strength and dignity of animals in nature.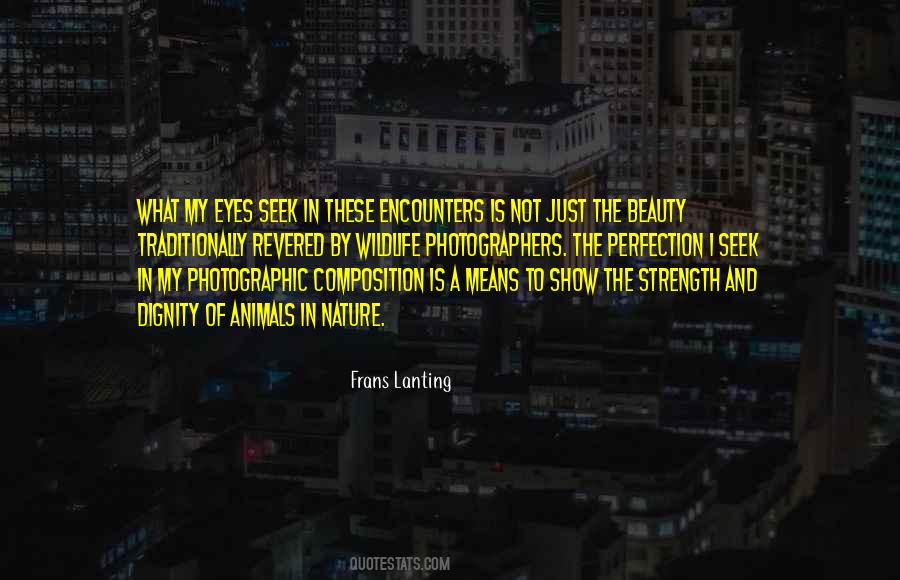 #50. What ideal, immutable Platonic cloud could equal the beauty and perfection of any ordinary everyday cloud floating over, say, Tuba City, Arizona, on a hot day in June?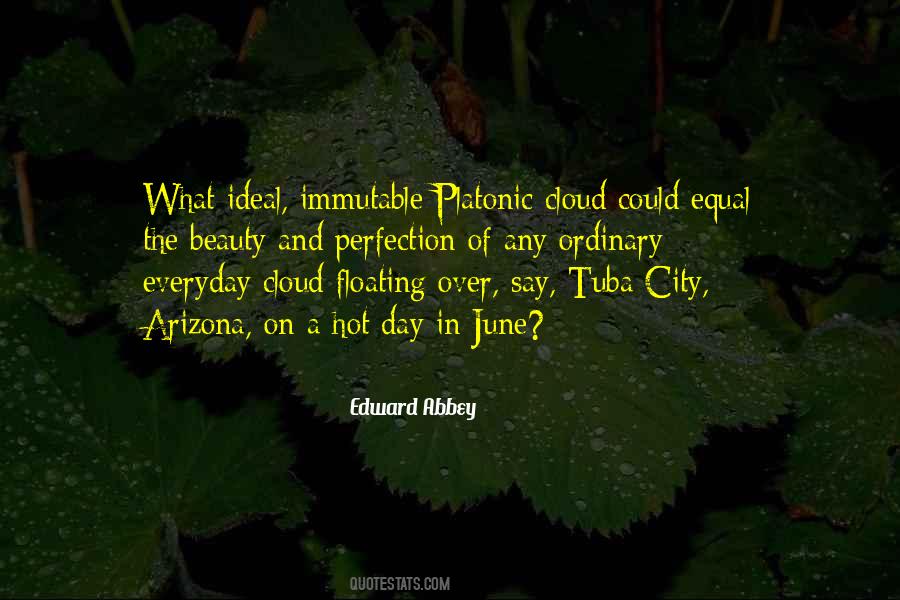 #51. Symmetry, as wide or as narrow as you may define its meaning, is one idea by which man through the ages has tried to comprehend and create order, beauty and perfection.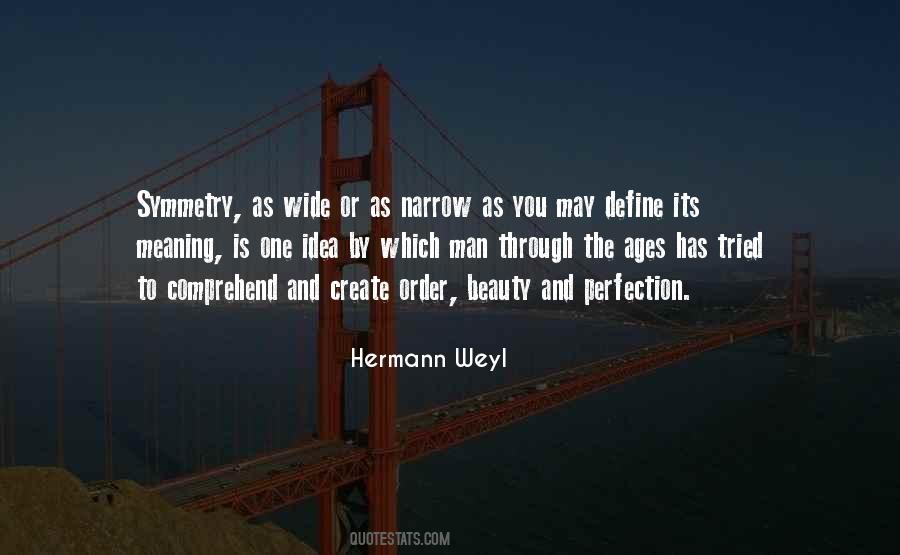 #52. Architect's designs must refer to the unquestionable perfection of the body's symmetry and proportions. If a building is to create a sense of eurythmia, it is essential that it mirrors these natural laws of harmony and beauty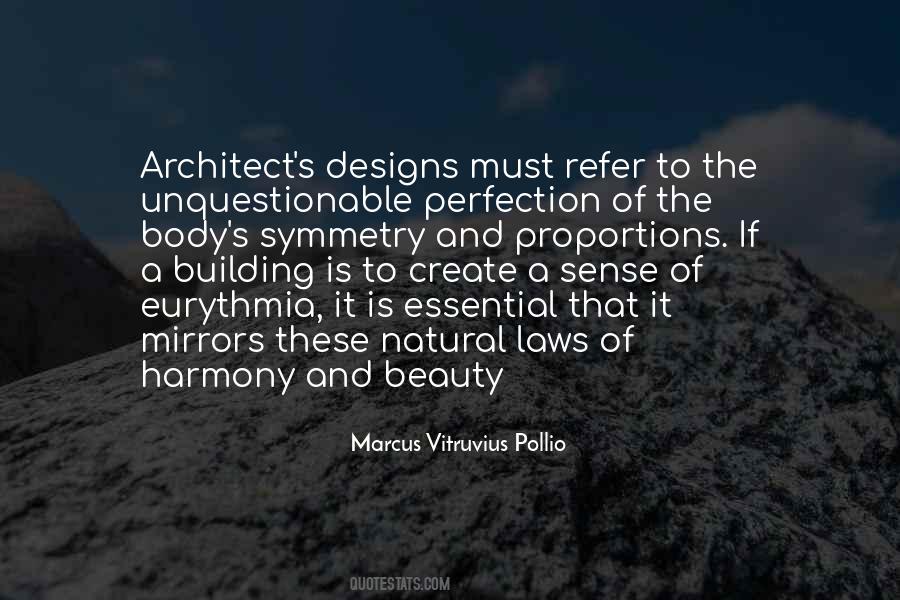 #53. As the High Priestess looked down upon the child, she was struck by her holy perfection. She was a tiny person in miniature, and her beautiful eyes, little hands, and long eyelashes were sublime.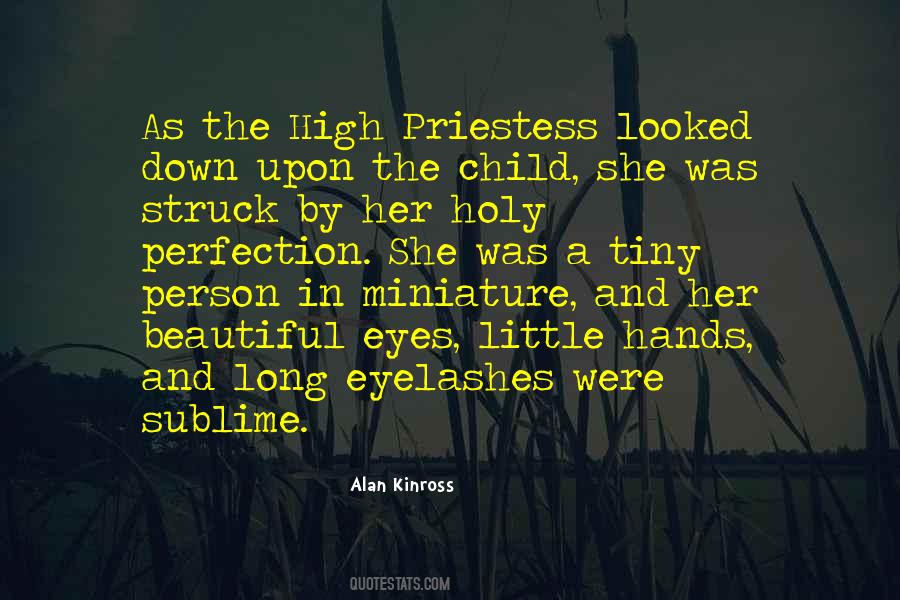 #54. Beauty is Nature in perfection; circularity is its chief attribute. Behold the full moon, the enchanting golf ball, the domes of splendid temples, the huckleberry pie, the wedding ring, the circus ring, the ring for the waiter, and the "round" of drinks.
#55. We are beautiful because we are sons and daughters of God, not because we look a certain way.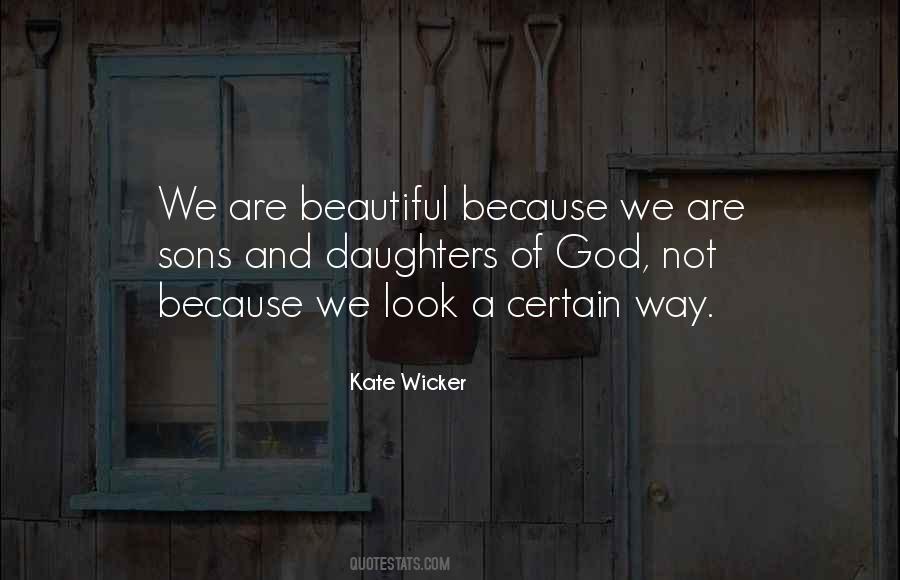 Famous Authors
Popular Topics