Own Business Famous Quotes & Sayings
List of top 100 famous quotes and sayings about own business to read and share with friends on your Facebook, Twitter, blogs.
Top 100 Quotes About Own Business
#1. You need to talk to Alden about your feelings for him, Race said.
"You don't know anything about it. Mind your own business, Race."
You love him. I know. I'm in here. I feel your soul, Rose. - Author: Mary Lindsey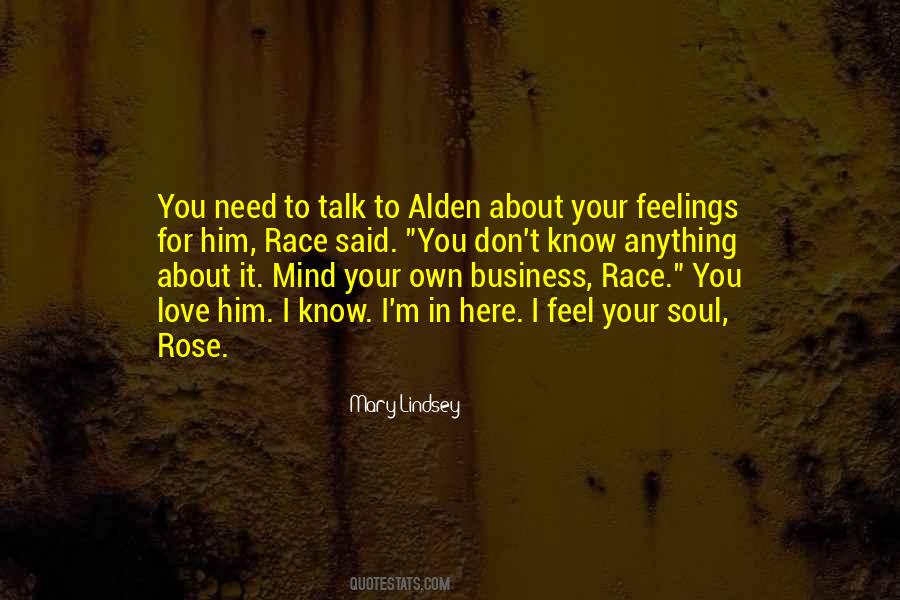 #2. I am just absolutely convinced that the best formula for giving us peace and preserving the American way of life is freedom, limited government, and minding our own business overseas. - Author: Ron Paul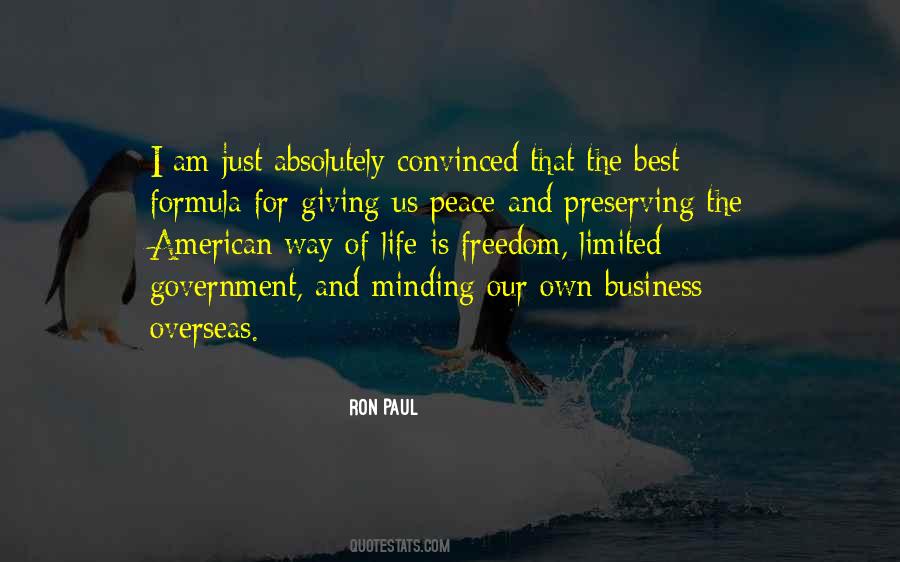 #3. After more than two decades here, I know that kindness is not a value that's encouraged. It's often seen as a weakness. Instead, the culture encourages keeping your head down, minding your own business, and never letting yourself be vulnerable. - Author: Dan Gediman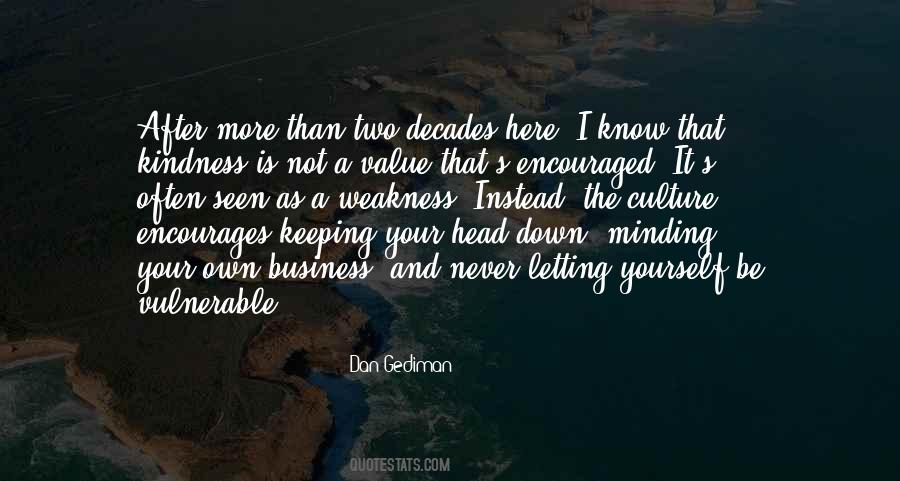 #4. Despite some struggles of our own, Americas business and economic system remains the envy of much of the world. - Author: John S. Watson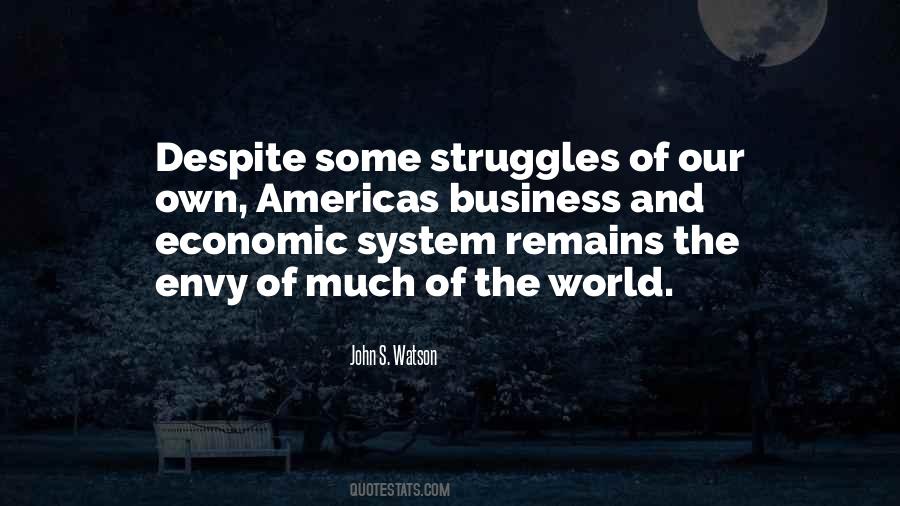 #5. What are you looking at?" I asked ...
"City slicker. What are you looking at?"
"A stupid wookie man-bear-pig who doesn't know how to mind his own business. - Author: Elle Casey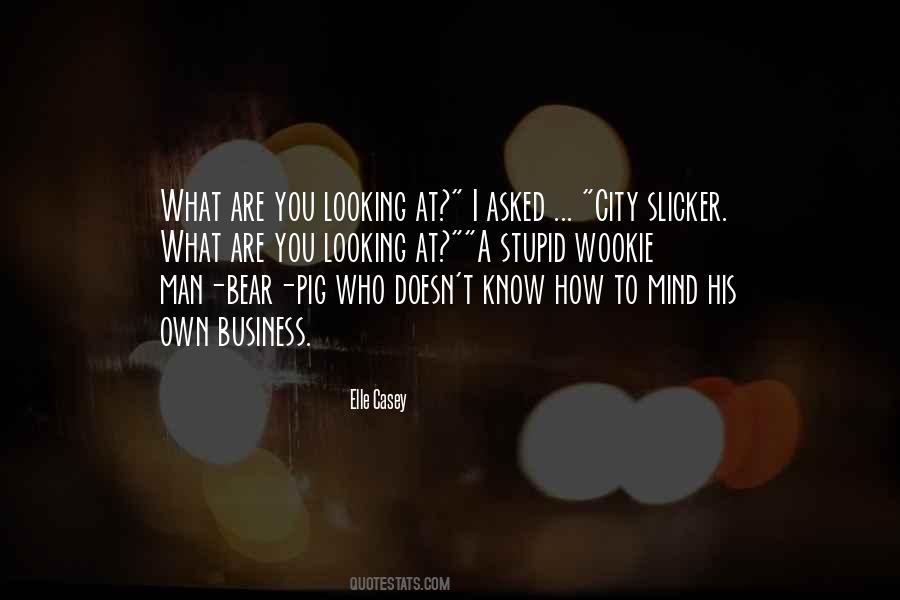 #6. Let's all commit ourselves to the basic civility of minding our own business. Failing that, let's go back to a time when we were nasty and judgmental, but only behind one another's backs. - Author: Ayelet Waldman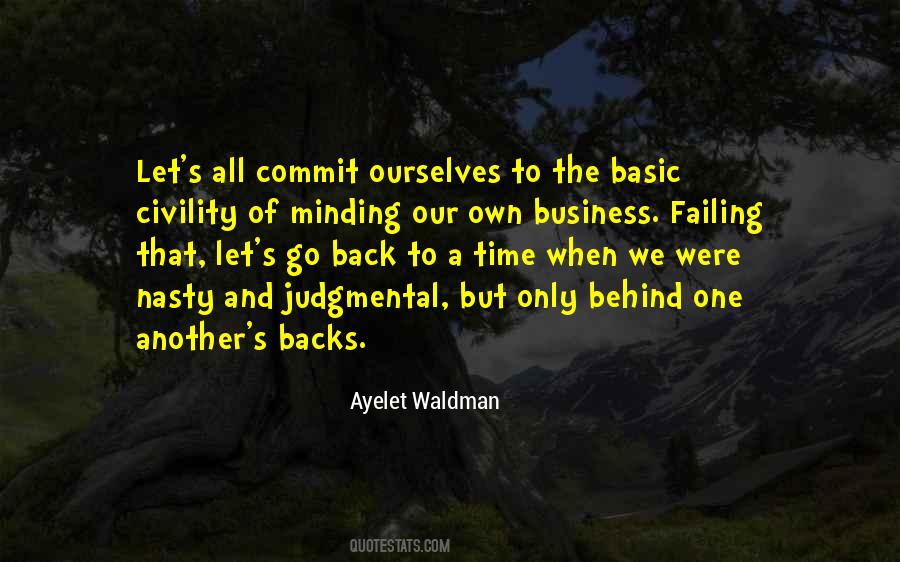 #7. We must learn to lean upon ourselves; we must learn to plan and execute business enterprises of our own; we must learn to venture our pennies if we would gain dollars. - Author: Timothy Thomas Fortune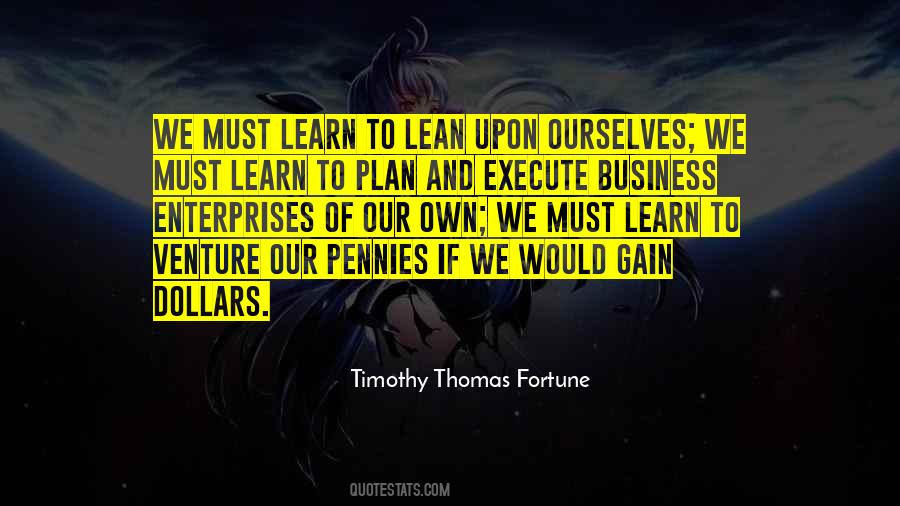 #8. To you, being rich might mean owning a goat farm in South Carolina. For your best friend, it might mean being able to start her own business selling wine over the Internet. Whatever the case, youre probably not motivated by the money itself, but by what the money could let you be and do. - Author: J.D. Roth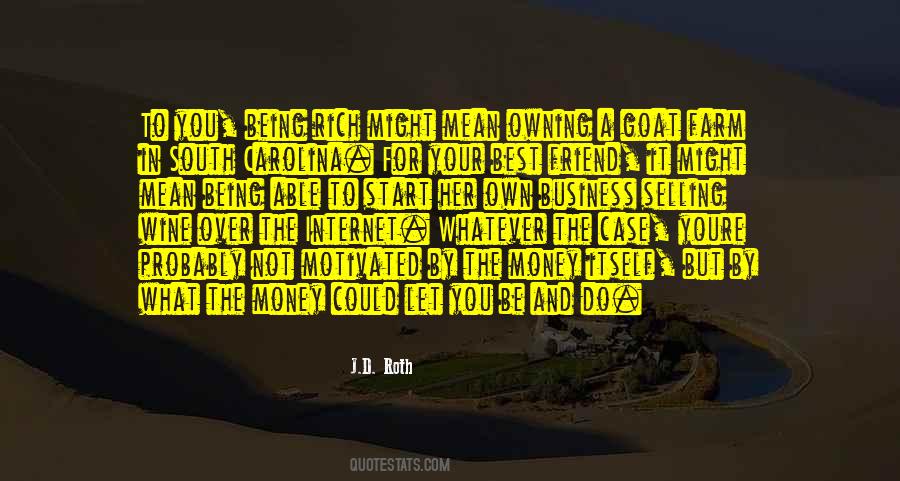 #9. Guys like Josh Gordon need to stay in his sport and mind his own business. - Author: Kyrie Irving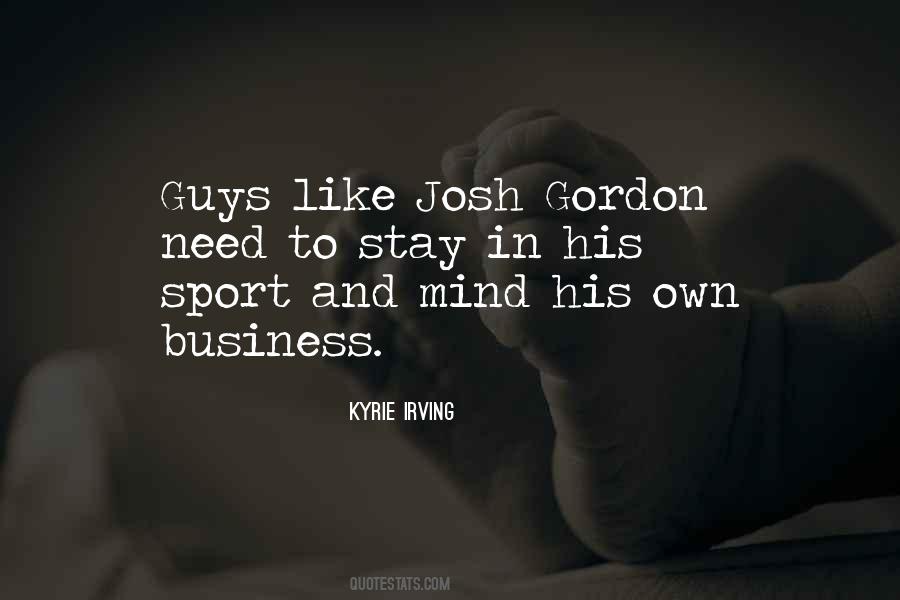 #10. I am lucky because my family are comfortably off. My father has his own glass business. - Author: Rafael Nadal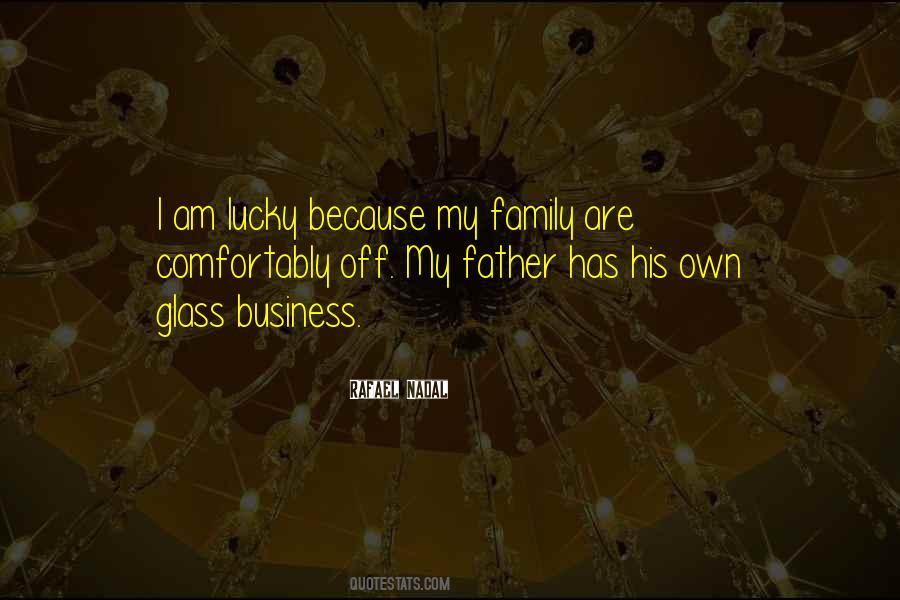 #11. I had no business inviting other people's emotions into my life when I had no idea what to do with my own. - Author: Gwen Hayes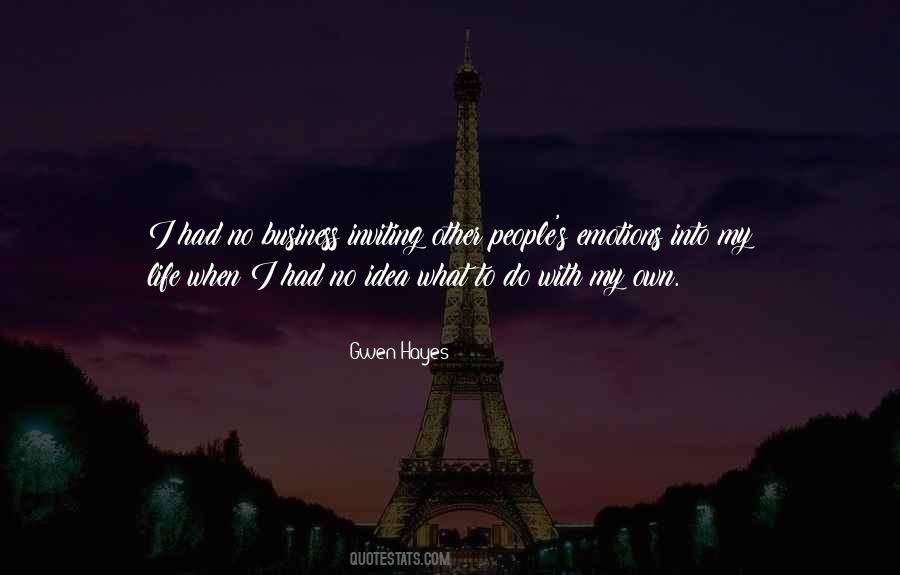 #12. Remember that the lives of other people are not your business. They are their business. They are God's business because they all have God whether they use the word God or not. Even your own life is not your business. It also is God's business. Leave it to God. - Author: Frederick Buechner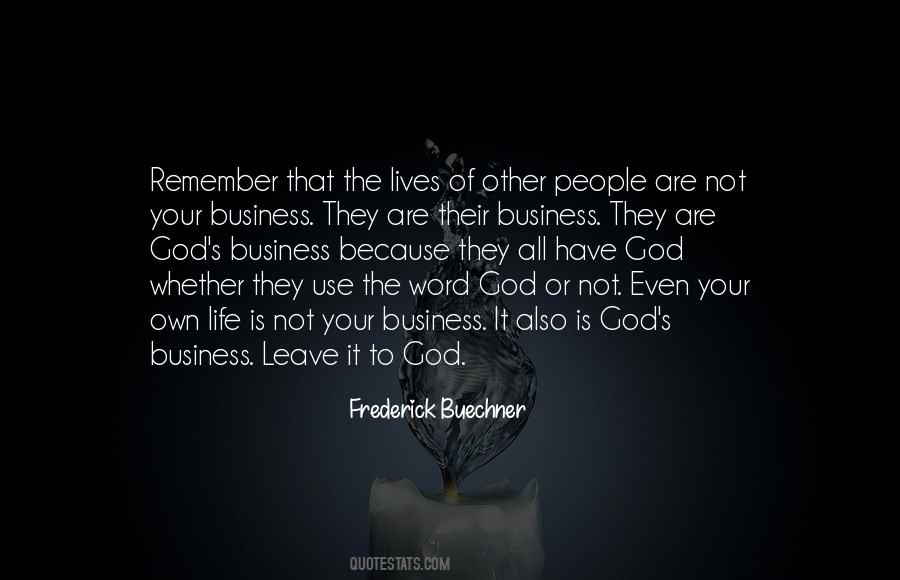 #13. It's not your business to decide if a woman you love should, or should not, marry you. It's her business. Tell her all about yourself and leave the decision to her. God knows it's trouble enough having to make one's own decisions in life without having to make other people's too. - Author: Elizabeth Goudge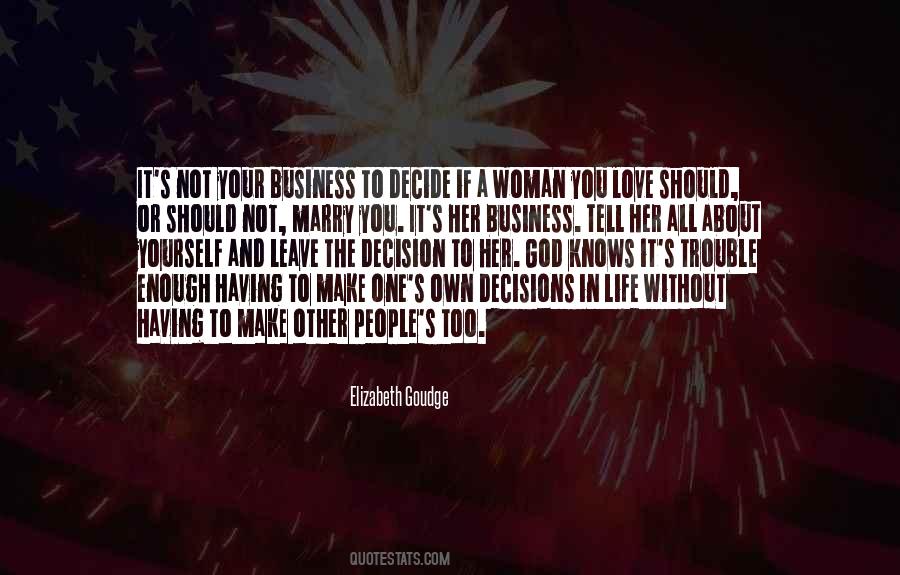 #14. I want 'Vogue' to be pacy, sharp, and sexy - I'm not interested in the super-rich or infinitely leisured. I want our readers to be energetic executive women, with money of their own and a wide range of interests. There is a new kind of woman out there. She's interested in business and money. - Author: Anna Wintour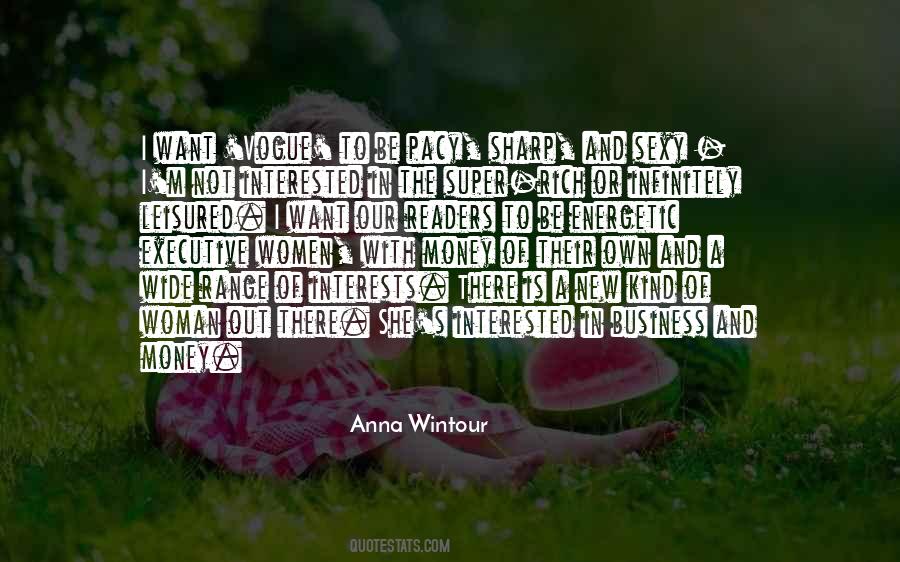 #15. This marriage is no one's business but our own. - Author: Bobby Darin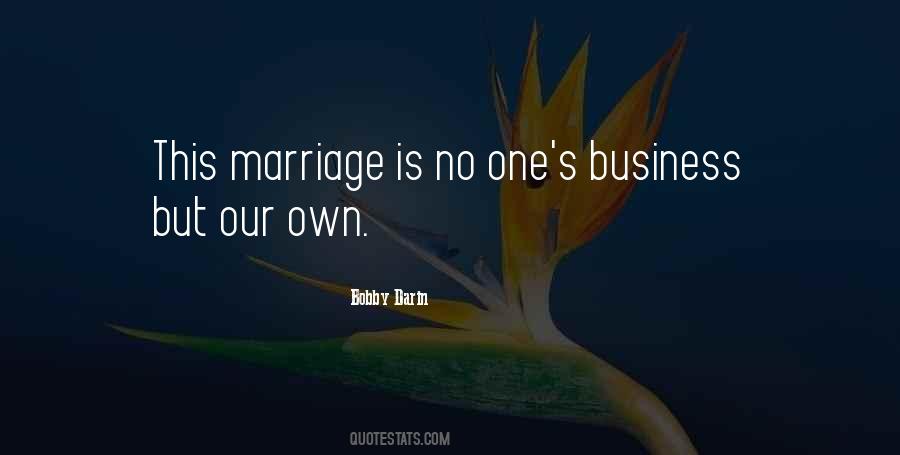 #16. I was not pushed into the business by anything other than my own ambition and my own dream of wanting to act. - Author: Tina Majorino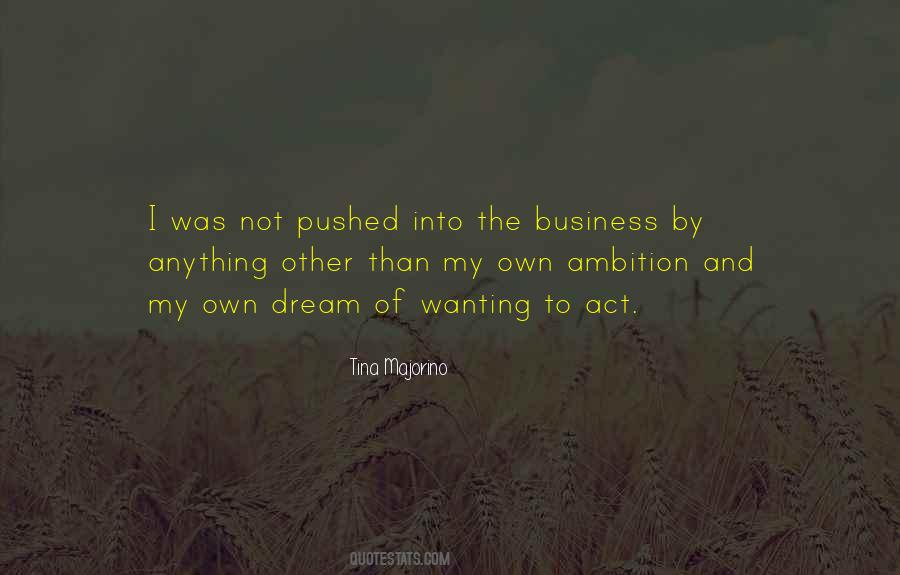 #17. I'm sitting in the bus station, minding my own business, reading 'Ta-Da!' magazine; a magazine by and for gay magicians, but that's a different story. - Author: Dave Attell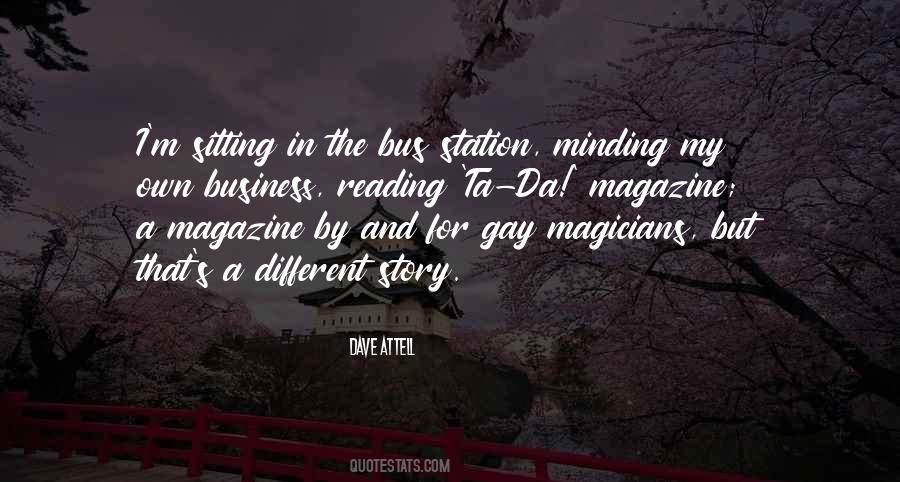 #18. I decided to start my own label because so many people with talent come to me wanting to know how they can get in the music business. - Author: Mary J. Blige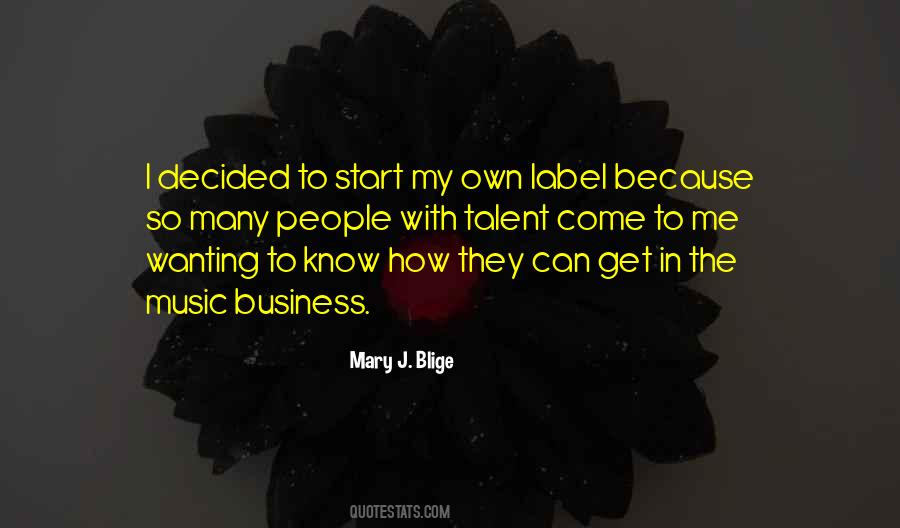 #19. To be calm becomes a kind of revolutionary act. To be happy with your own non-upgraded existence. To be comfortable with our messy, human selves, would not be good for business. Yet we have no other world to live in. And - Author: Matt Haig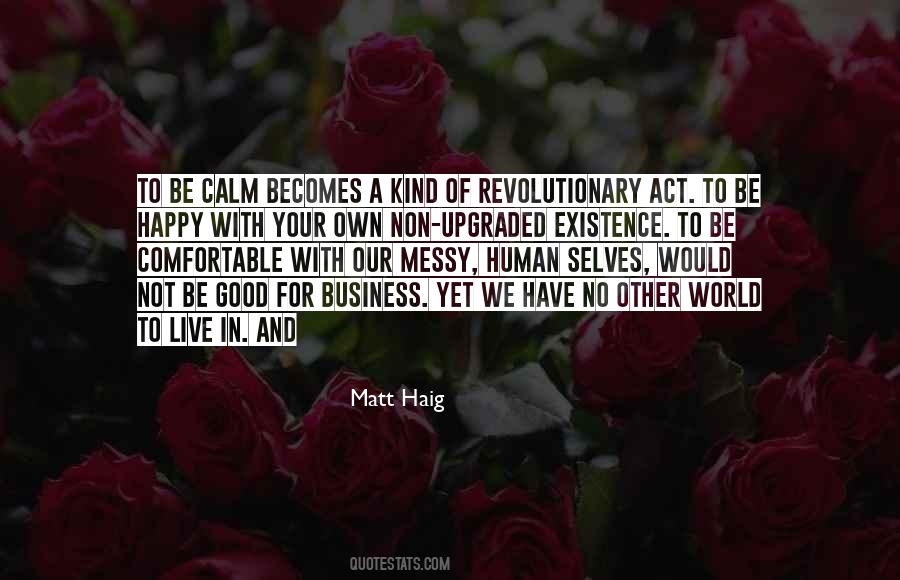 #20. Relief has its place. But what the people need is not relief, but release - release of their own potential for development. - Author: Y. C. James Yen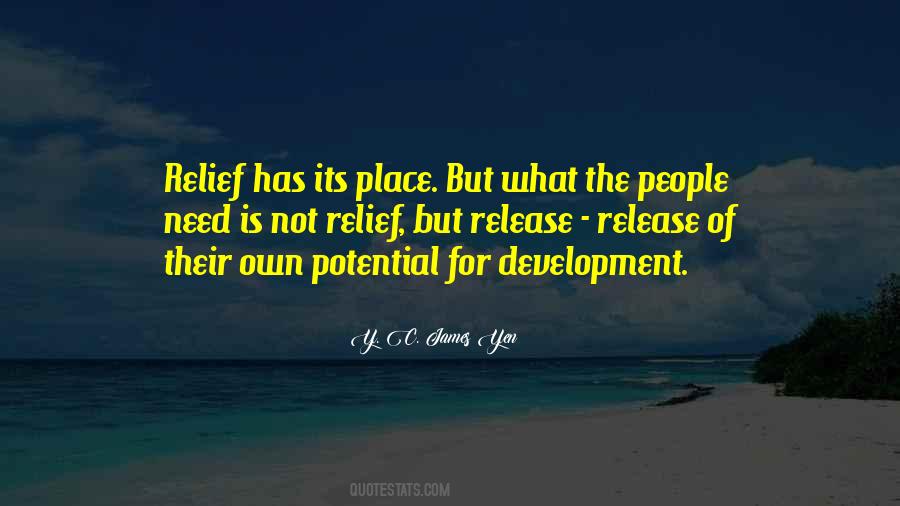 #21. I know from my own experience and from other people in the business that when you come from a place where nobody knew who you were and then there is this sudden shift to where everybody now knows who you are, there's an adjustment that you have to make. - Author: Kristen Wiig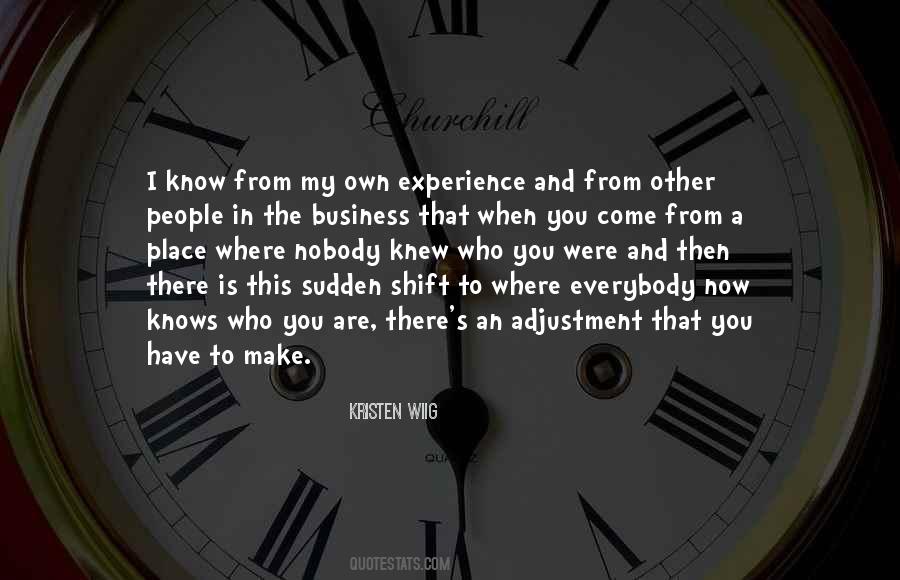 #22. If you are an entrepreneur planning to start your own company, I can't think of a better place to begin than by operating your business by the Golden Rule. Make this a high priority; never make a decision that contradicts the Golden Rule. - Author: Mary Kay Ash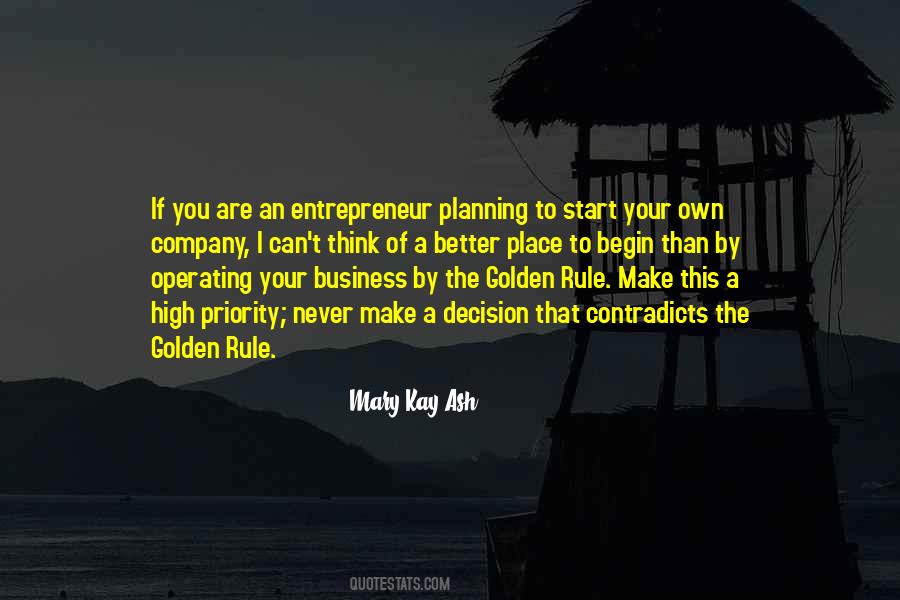 #23. It's all been a bad joke that just ran out of control. I got into food for fun but the business got a mind of its own. Now - my good Lord - look where it has gotten me. My products are on supermarket shelves, in cinemas, in the theater. And they say show business is odd. - Author: Paul Newman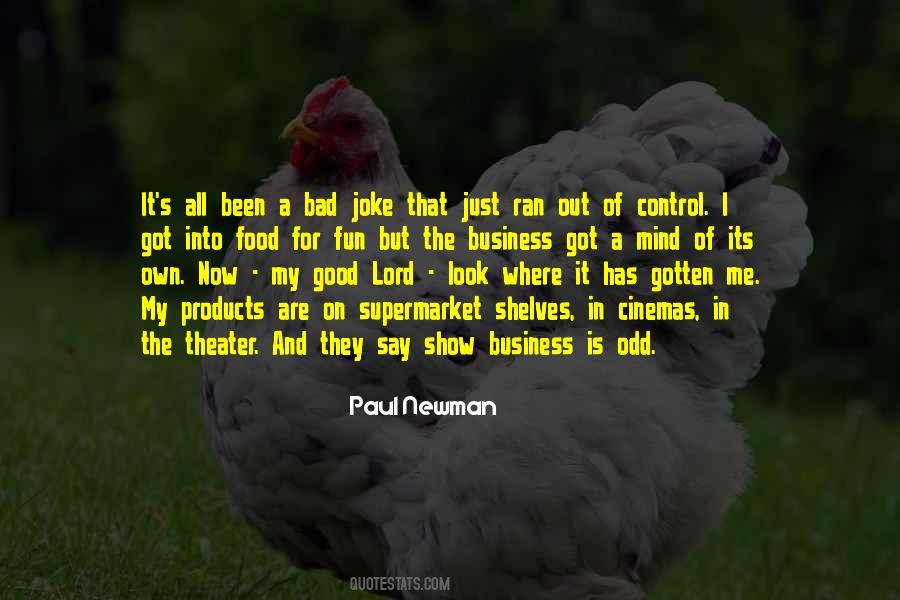 #24. This summer is going to be a different summer for a lot of people. Everyone is going to take care of their own business and everyone is going to do what's best for them, including me. - Author: Shaquille O'Neal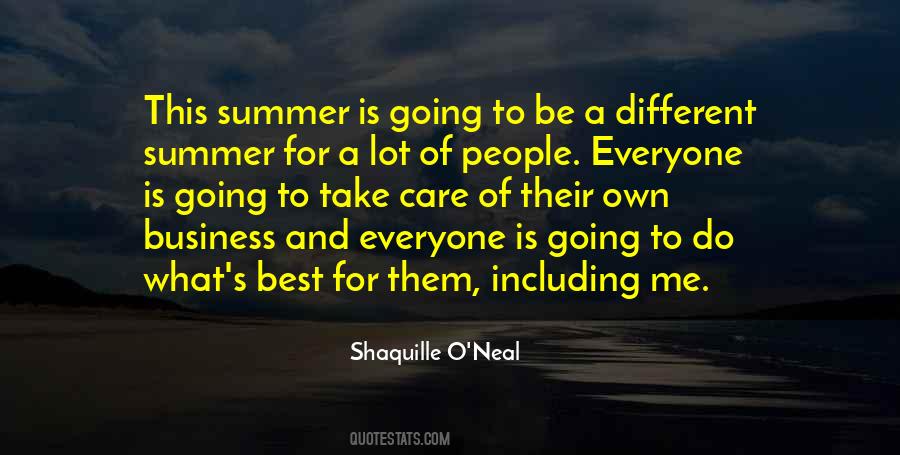 #25. Show business is one of the few businesses that the devil will actually agree to own just a portion of your soul because he knows if you have a performer's ego you were probably working for him all along. - Author: Marc Maron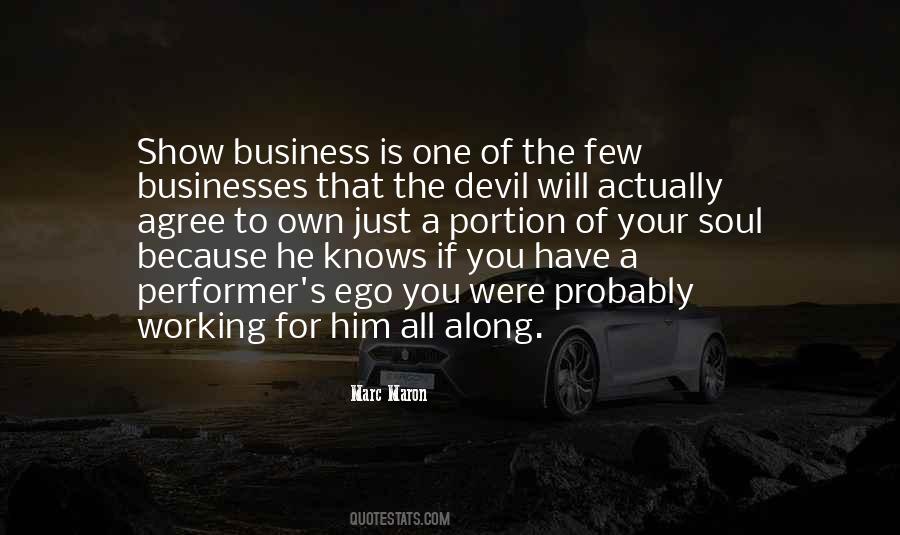 #26. Business runs hot and cold so the more you're in charge of your own destiny, the better off you are. - Author: Bill Burr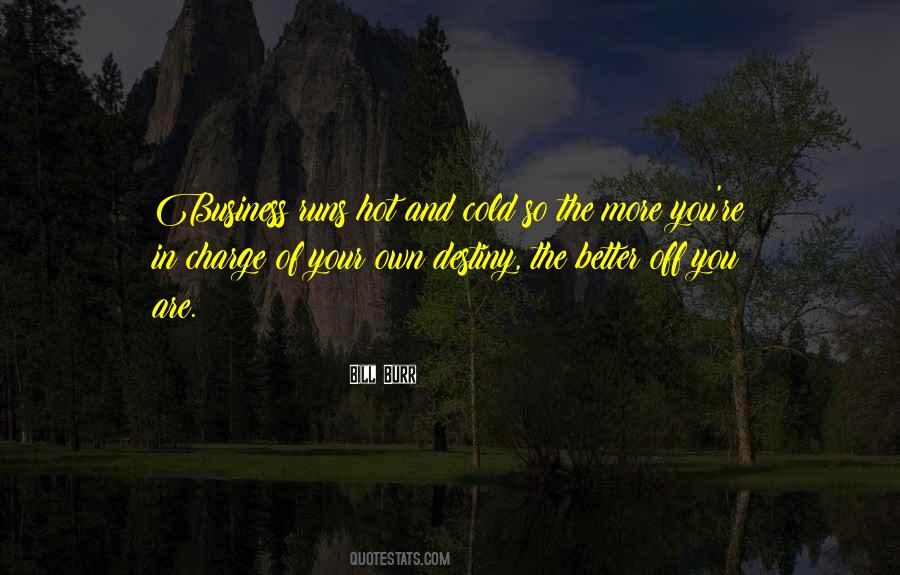 #27. When you're invested in your own business, you're going to run it better. When people are financially responsible for whether their store succeeds, they're going to have that kind of entrepreneurial spirit that's harder to get if headquarters is running things. - Author: Fred DeLuca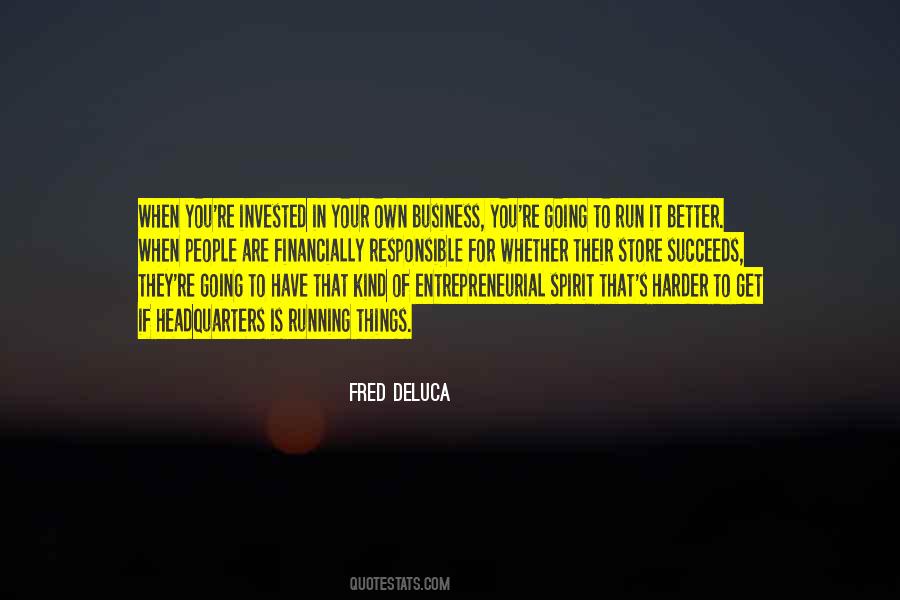 #28. I want to start my own airplane business. I'm going to buy two Dakotas, paint them up in war colours and do, er, nostalgia trips to Arnhem - you know, where the old paratroopers used to go - and charge them about 20 quid a time. - Author: Gary Numan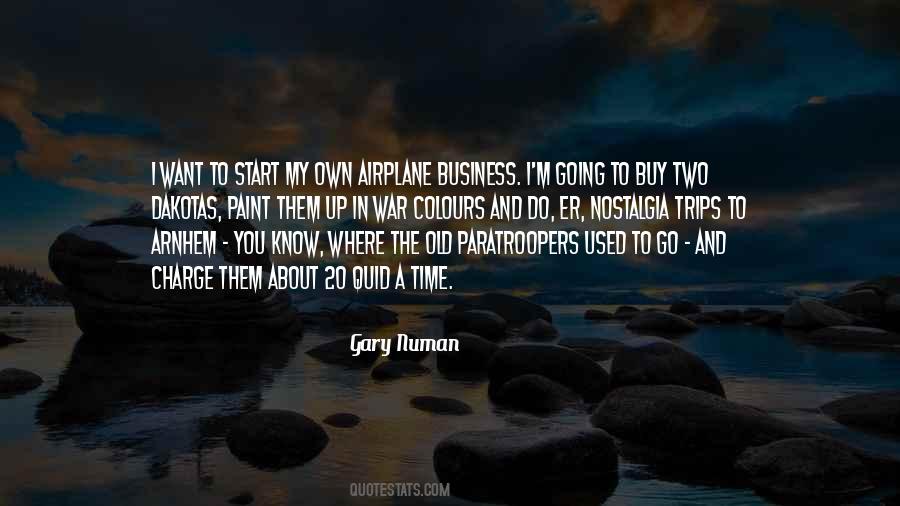 #29. I'm not out to preach. I just live my own life. I'm very happy if I can help somebody - that's wonderful. But it's up to them what they want to think about it or what they want to take away; it's their business, not mine. - Author: Iris Apfel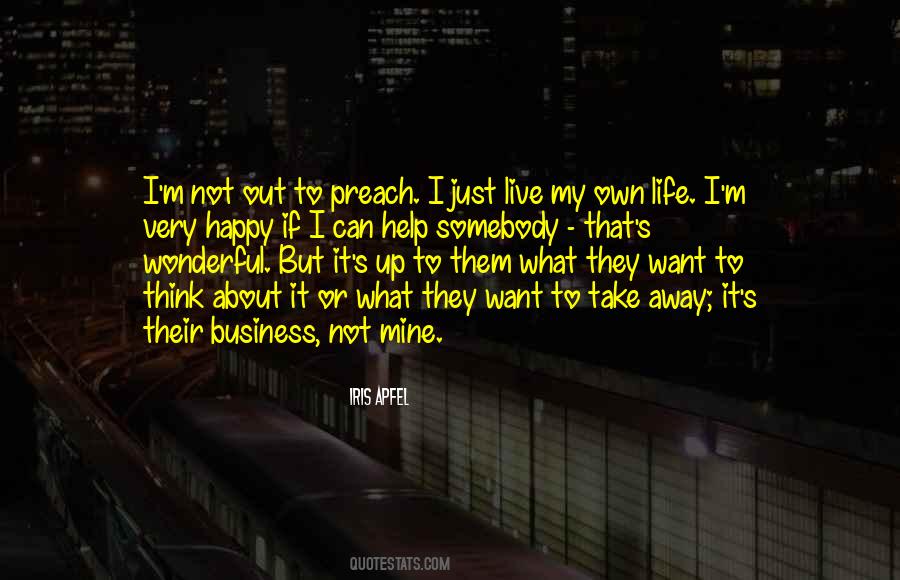 #30. It is the main earthly business of a human being to make his home, and the immediate surroundings of his home, as symbolic and significant to his own imagination as he can. - Author: G.K. Chesterton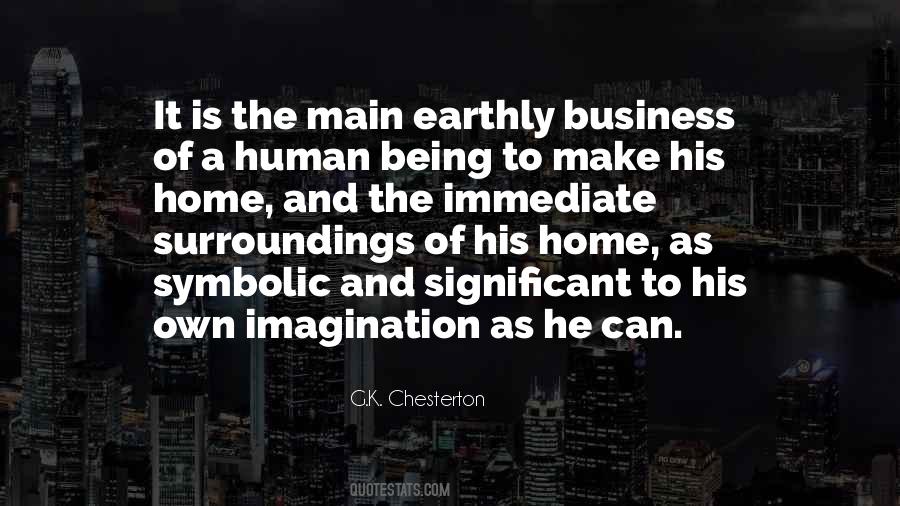 #31. The world is full of people who have dreams of playing at Carnegie Hall, of running a marathon, and of owning their own business. The difference between the people who make it across the finish line and everyone else is one simple thing: an action plan. - Author: John Tesh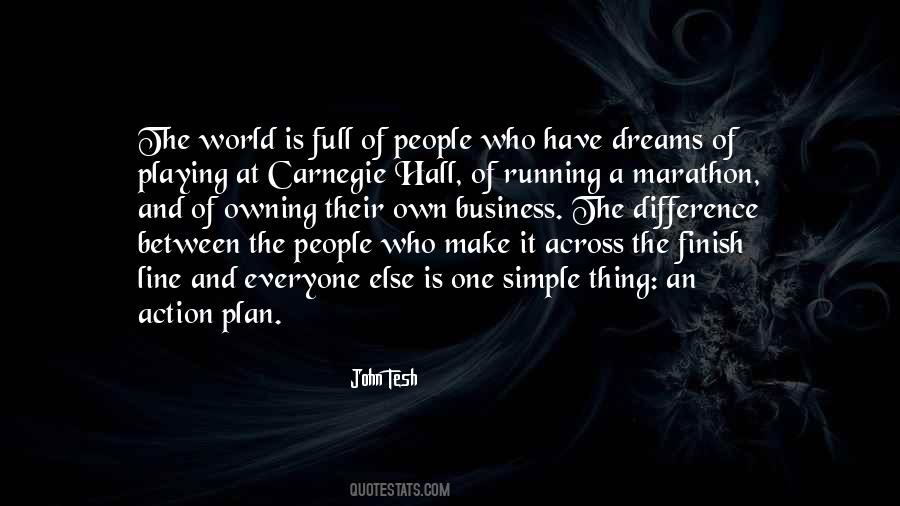 #32. The Puritan's idea of hell is a place where everybody has to mind his own business. - Author: Wendell Phillips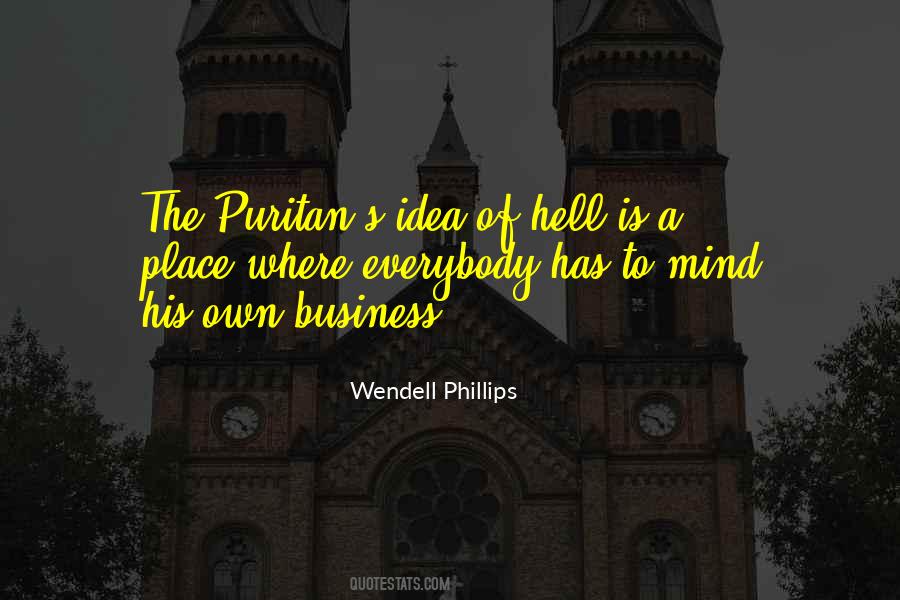 #33. It is very vulgar to talk about one's own business. Only people like stockbrokers do that, and then only at dinner parties. - Author: Oscar Wilde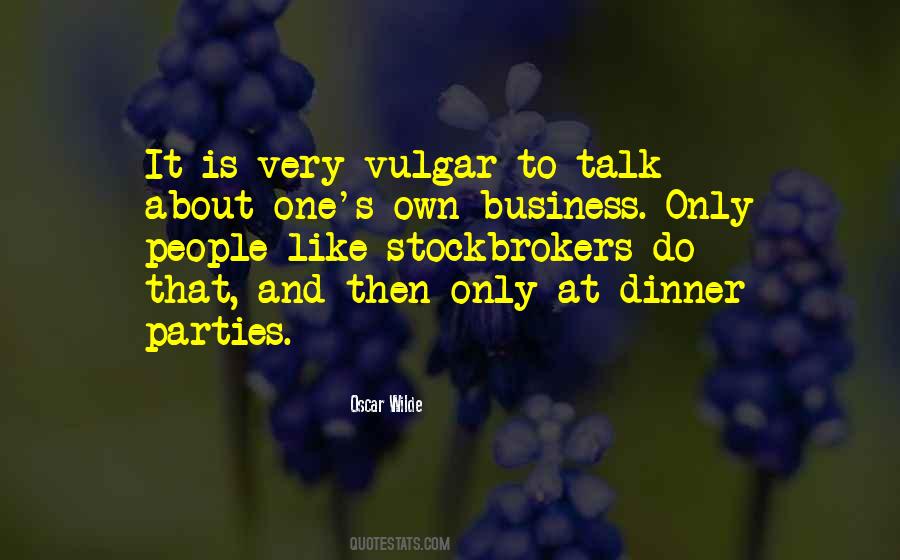 #34. A smart entrepreneur knows they cannot run a business on their own. They know that business is a team sport. - Author: Robert Kiyosaki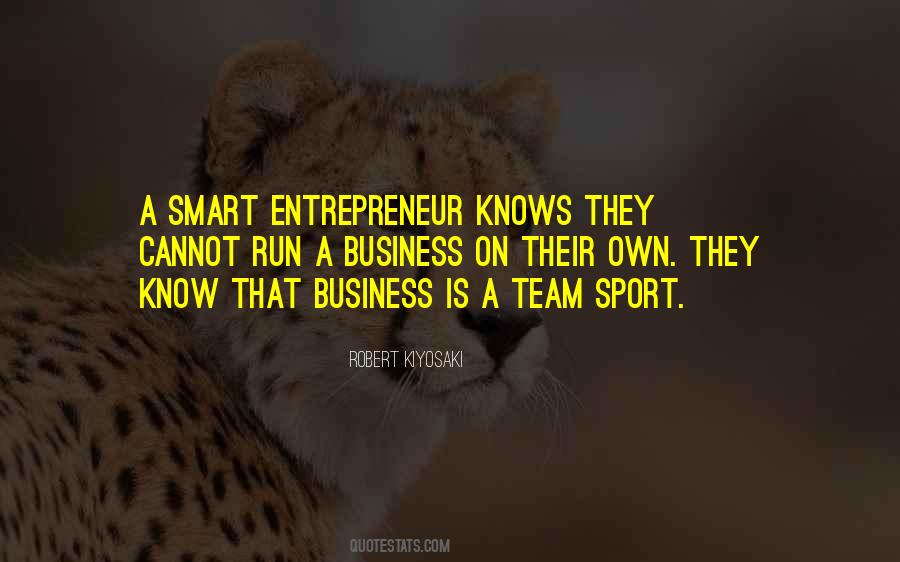 #35. People who have come from nothing and started their own business or opened up a whole new niche in a particular industry, they truly inspire me. - Author: Benjamin Stone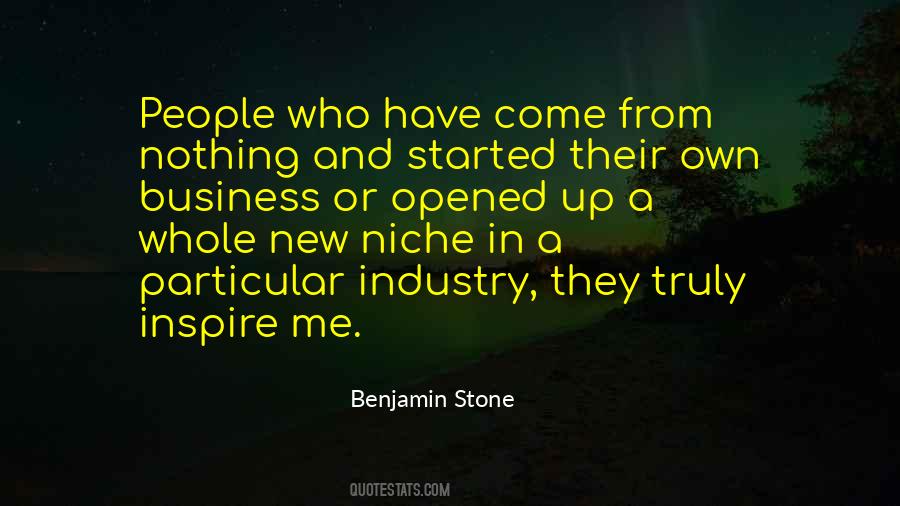 #36. In the spiritual life every person is his or her own discoverer, and you need not grieve if your discoveries are not believed in by others. It is your business to push on find more and increase individual happiness - Author: Prentice Mulford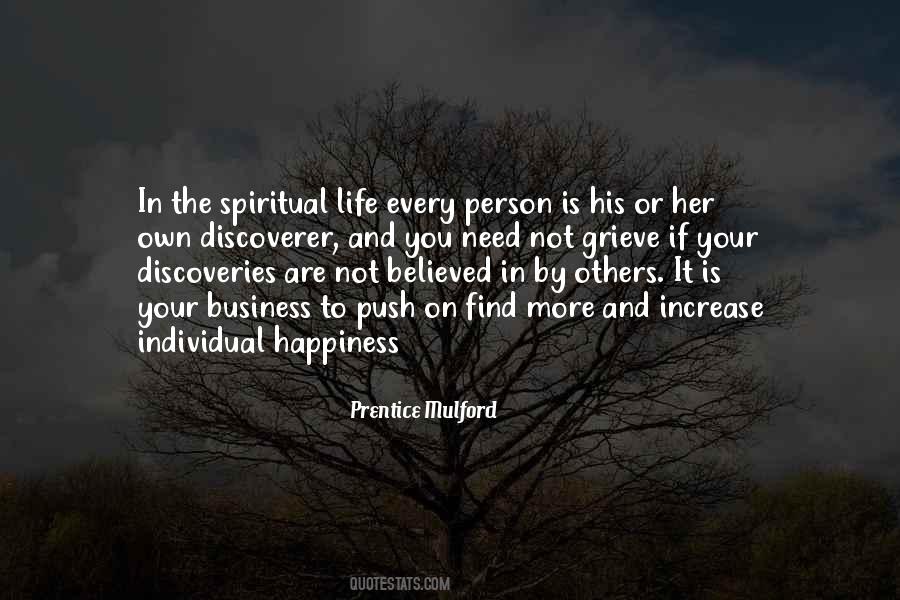 #37. Societies or companies that expect a glorious past to shield them from the forces of change driven by advancing technology will fail and fall. That applies as much to my own, the media industry, as to every other business on the planet. - Author: Rupert Murdoch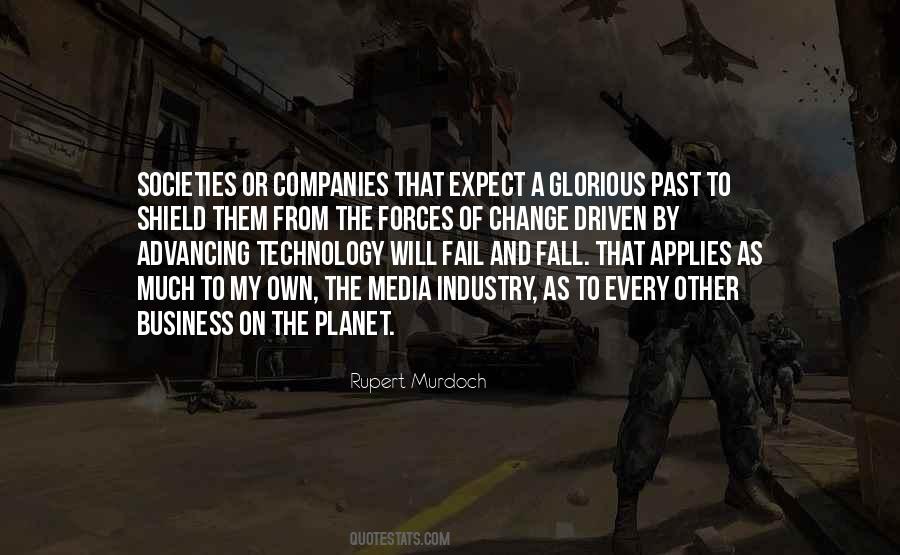 #38. The sad news is, nobody owes you a career. Your career is literally your business. You own it as a sole proprietor. You have one employee: yourself. You need to accept ownership of your career, your skills and the timing of your moves. - Author: Andy Grove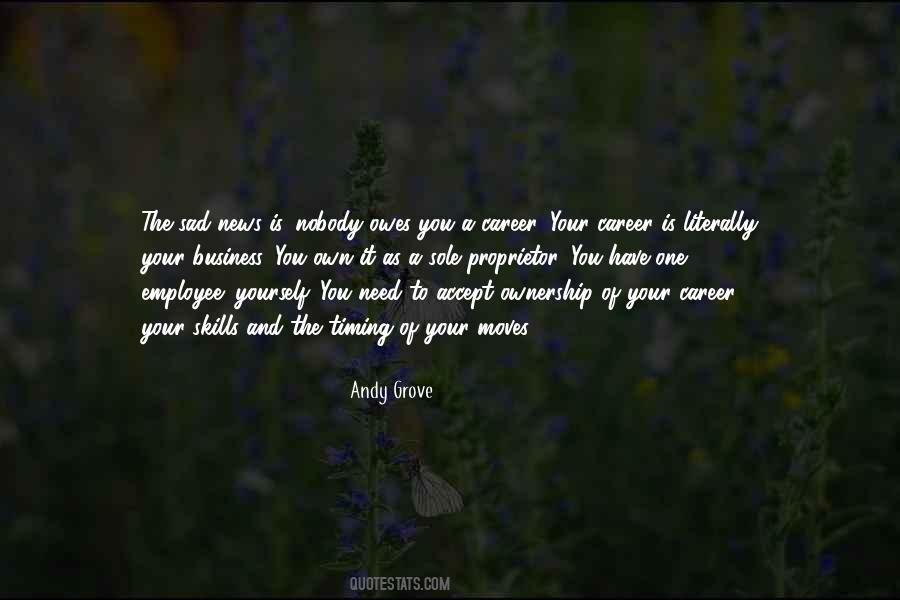 #39. Don't shy away from producing your own film and being in charge of its business end as well. - Author: Afia Nathaniel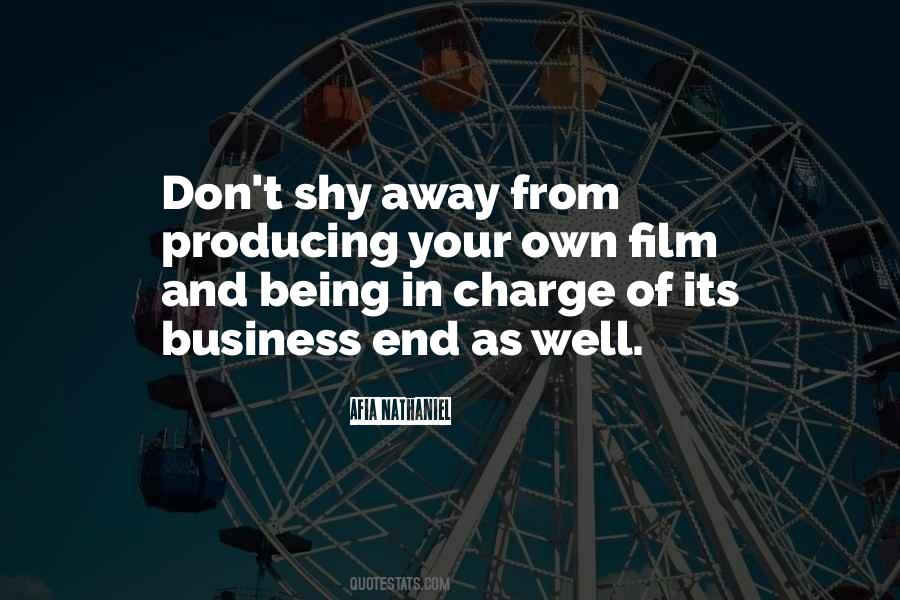 #40. Examining other people's motivations, other people's language and other people's way of interacting is much more fascinating to me than spending a lot of time worrying about my own. I've said, 'What other people think of me is none of my business.' - Author: Beth Broderick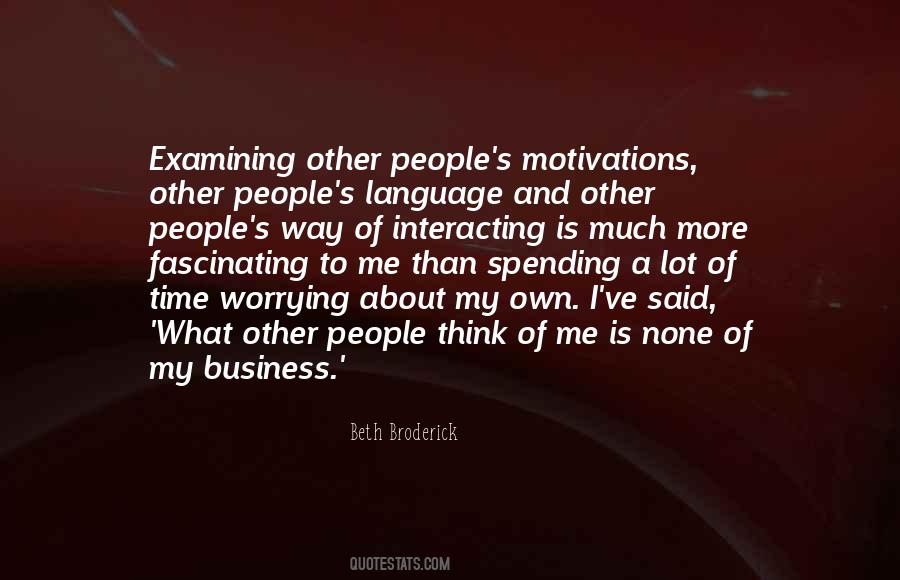 #41. I define leadership as: Emotionally, you own your business. You own it with passion. And you either have or you don't have an economic investment. But when you have all three of those, you are the boss from Day One, and you care every single day more than anyone. - Author: Mickey Drexler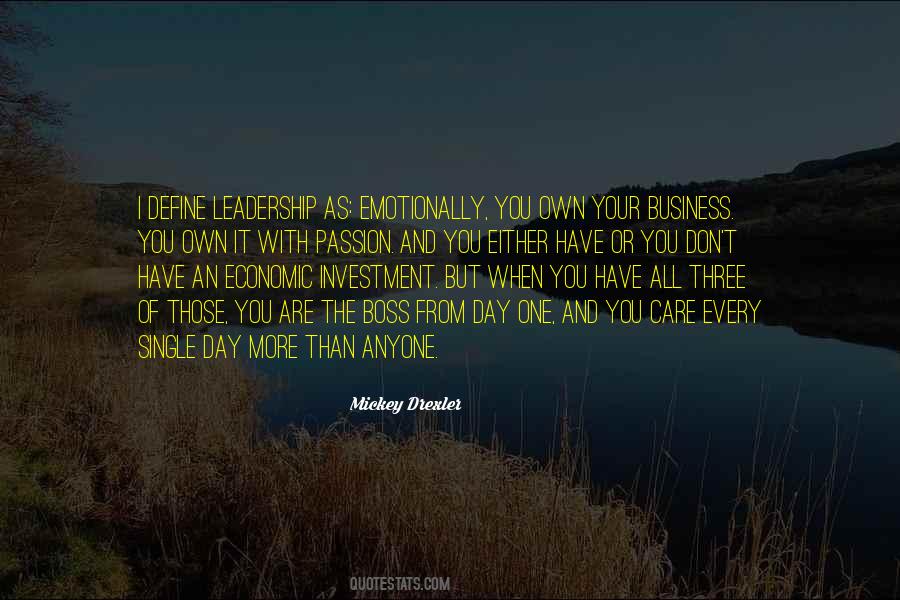 #42. I know myself, from my own background, the E.U. depresses employment and destroys jobs. My father had a business destroyed by the common fisheries policy. - Author: Michael Gove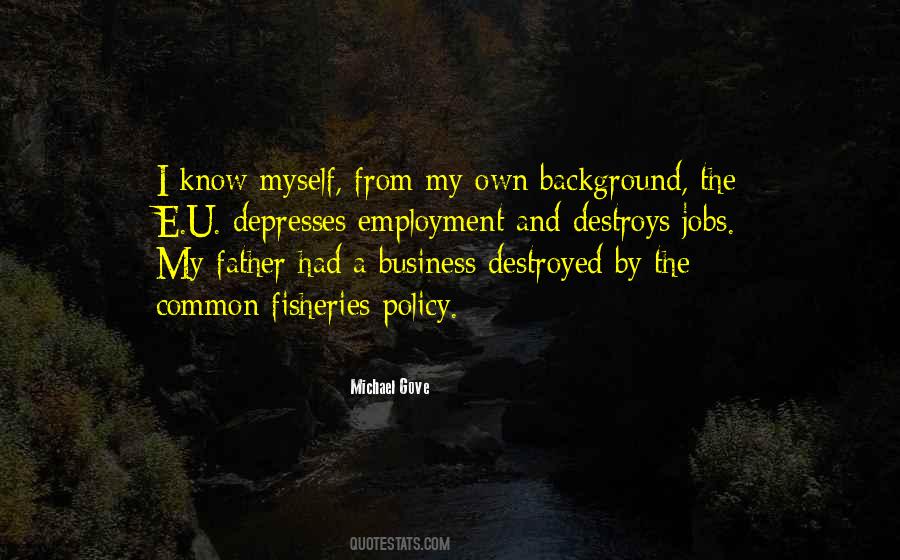 #43. Be your own boss. If you're aiming for true wealth and freedom consider starting your own business. - Author: Timi Nadela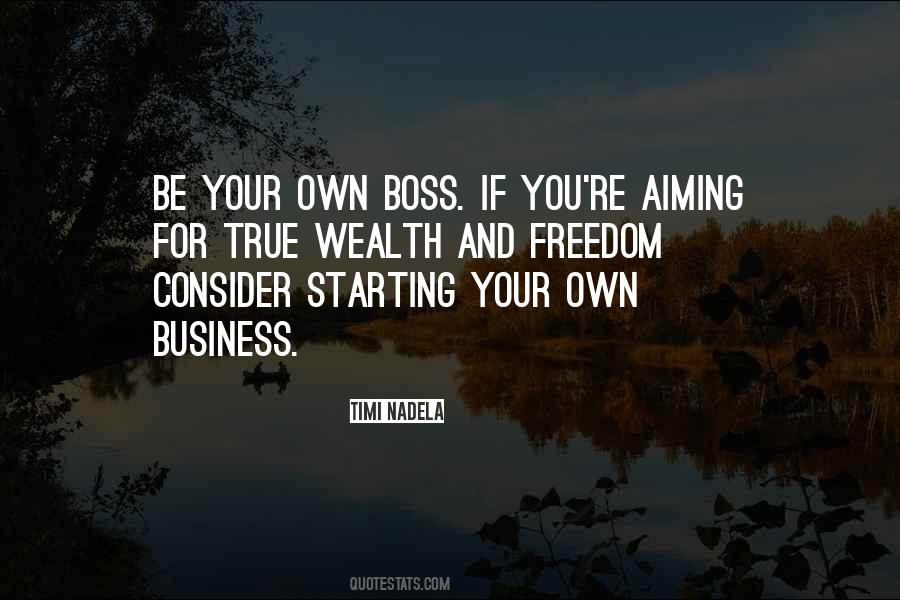 #44. I mind my own business. And I don't eat junk food. - Author: Besse Cooper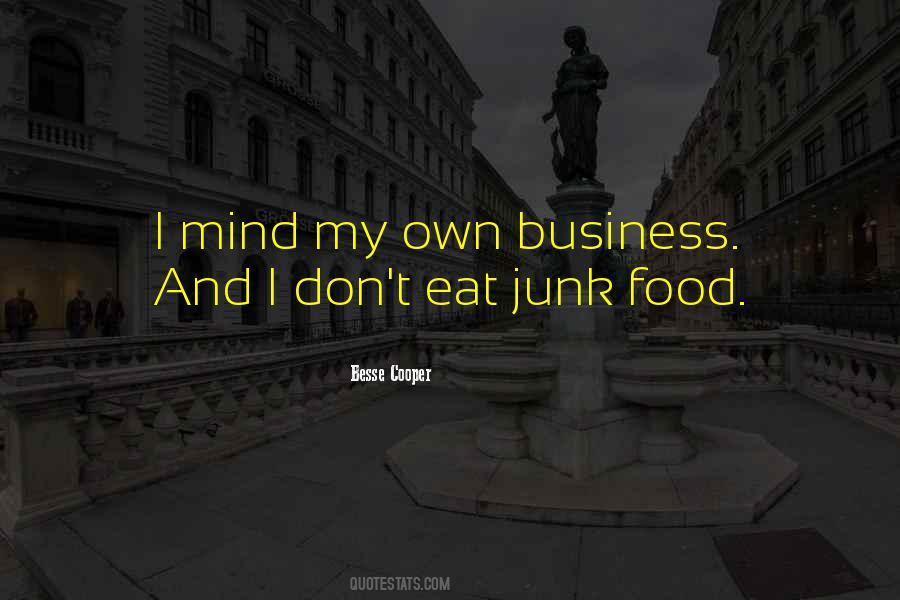 #45. Bread and beauty grow best together. Their harmonious integration can make farming not only a business but an art; the land not only a food-factory but an instrument for self-expression, on which each can play music to his own choosing. - Author: Aldo Leopold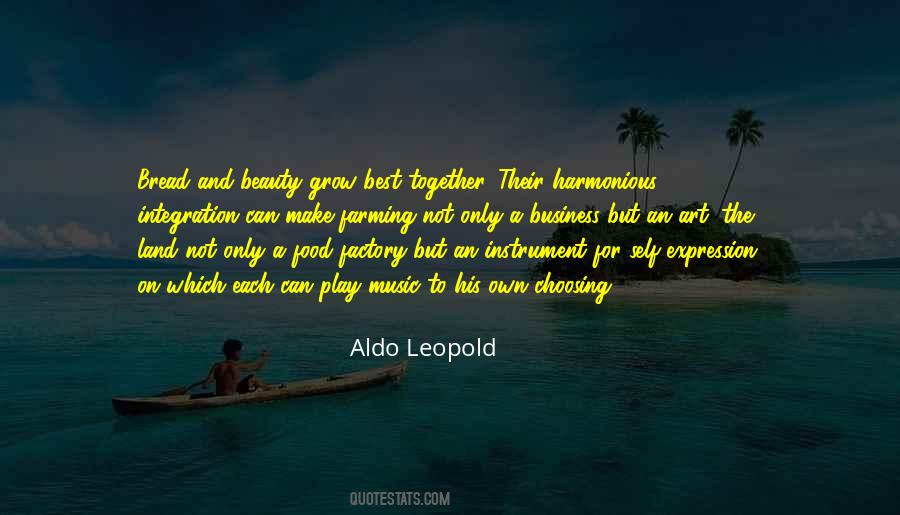 #46. How do you explain the bond between man and wife? Well, for one thing, it's private. What people do in their own marriage is their own business. - Author: Robin Gibb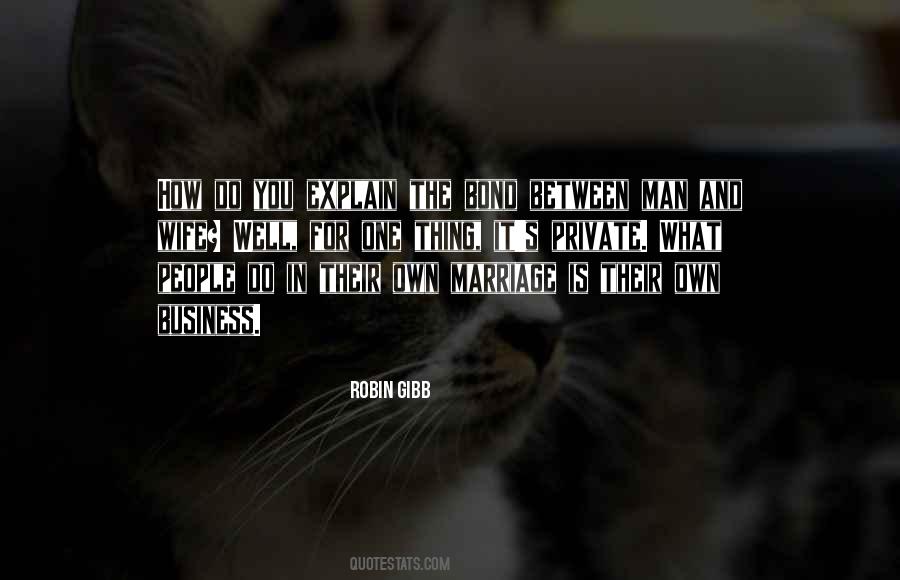 #47. People assume that all artists make for terrible business people, but I'm in complete charge of my own career. - Author: Tori Amos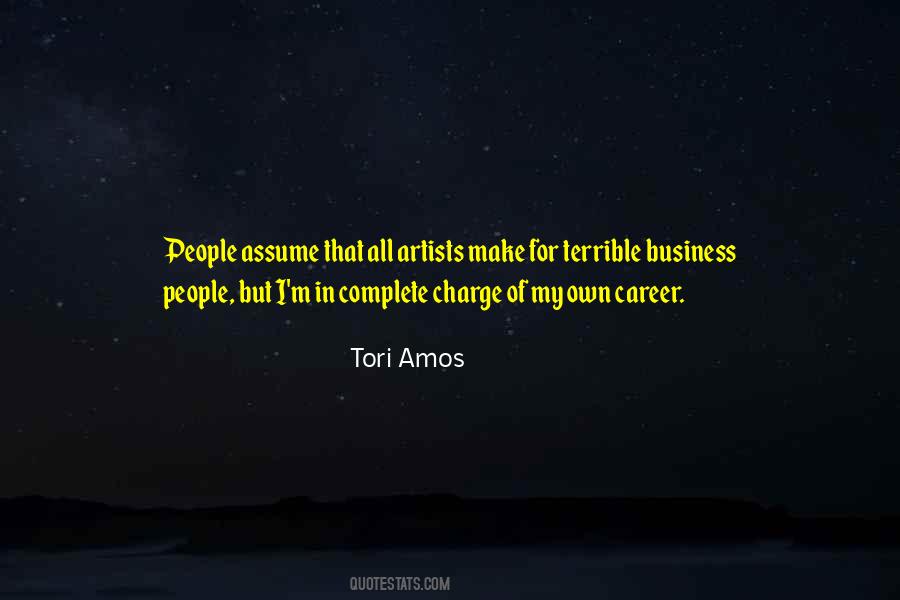 #48. I started my own business because my parents had no dowry for me, and I was worried. I ran it from their Martha Vineyard's summer house. I baby-sat for a 14-year-old boy all summer and was giving him time-outs, even though I was two years younger than him. - Author: Chelsea Handler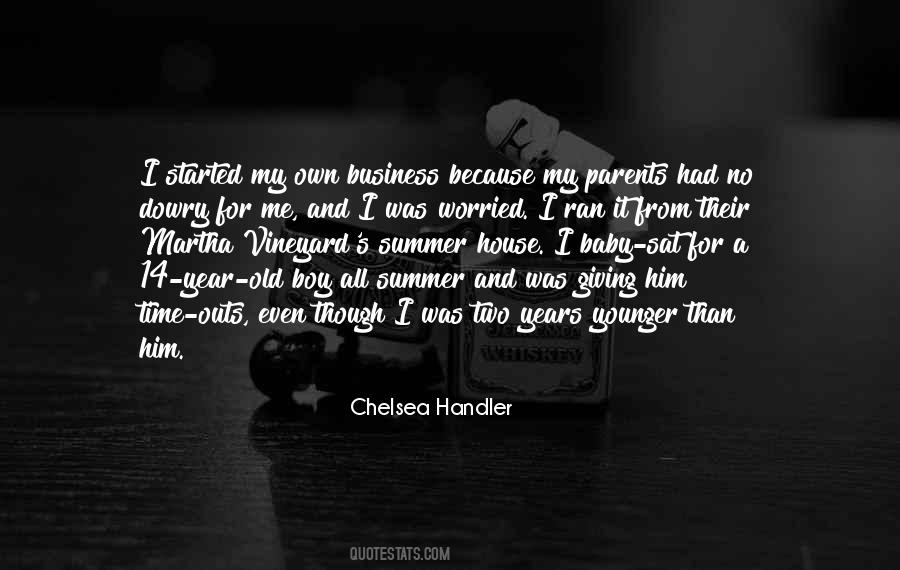 #49. Learning how to interact with customers is something that anyone starting any business must master. It's an amazing opportunity to be able to learn the ropes at an established company and then employ your expertise at your own company. - Author: Marc Benioff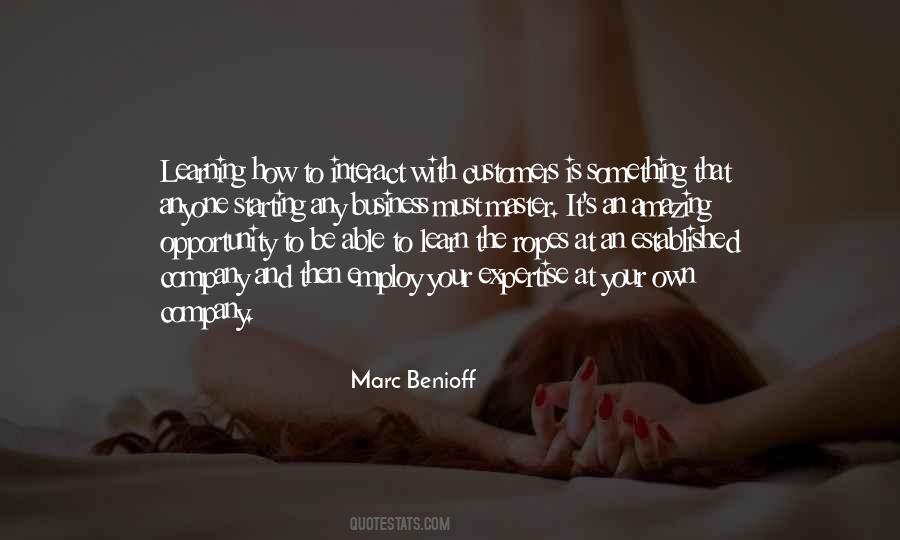 #50. I started my own little carpet and upholstery cleaning business. I've done it for 20 years. I live well. - Author: Tommy Kirk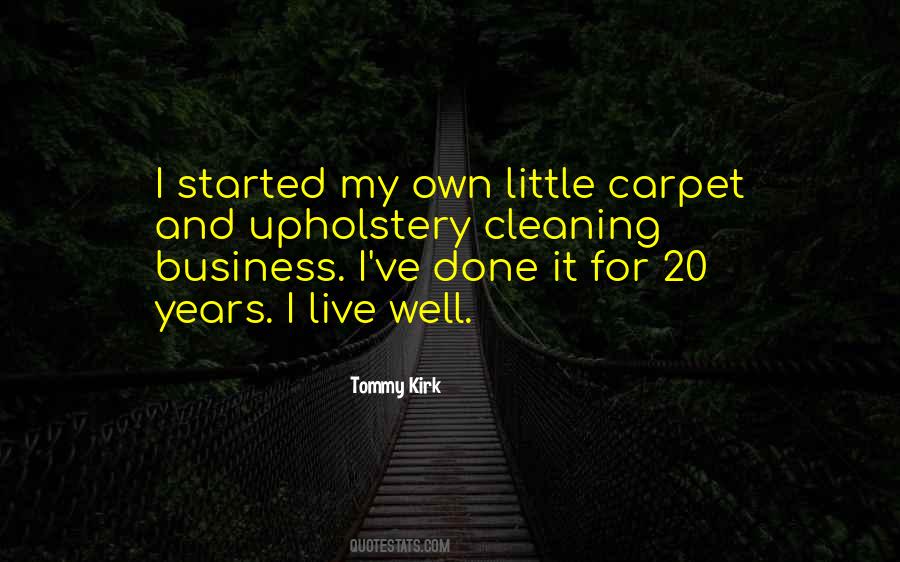 #51. Work as if you own the company and soon you just might. - Author: Michael Dolan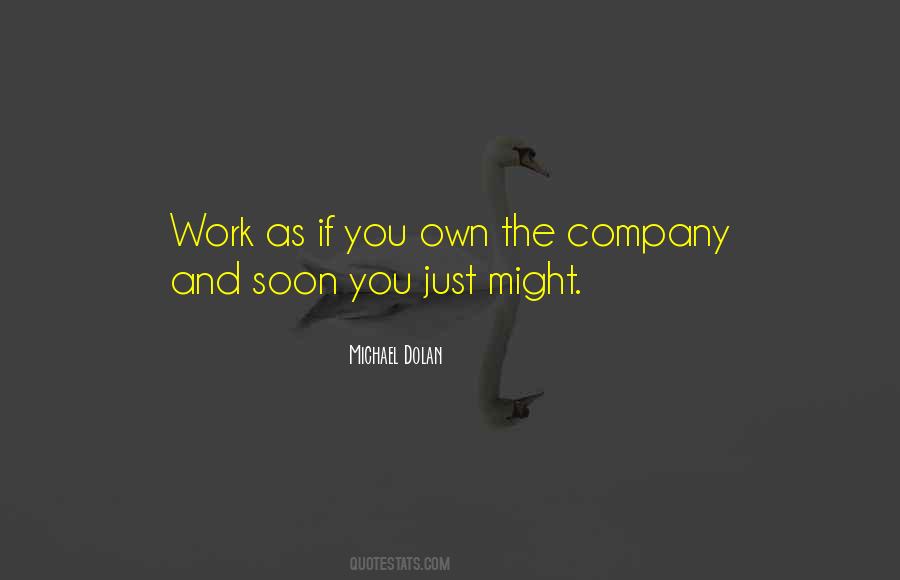 #52. He's always asking: 'Is that new? I haven't seen that before.' It's like, Why don't you mind your own business? Solve world hunger. Get out of my closet. - Author: Michelle Obama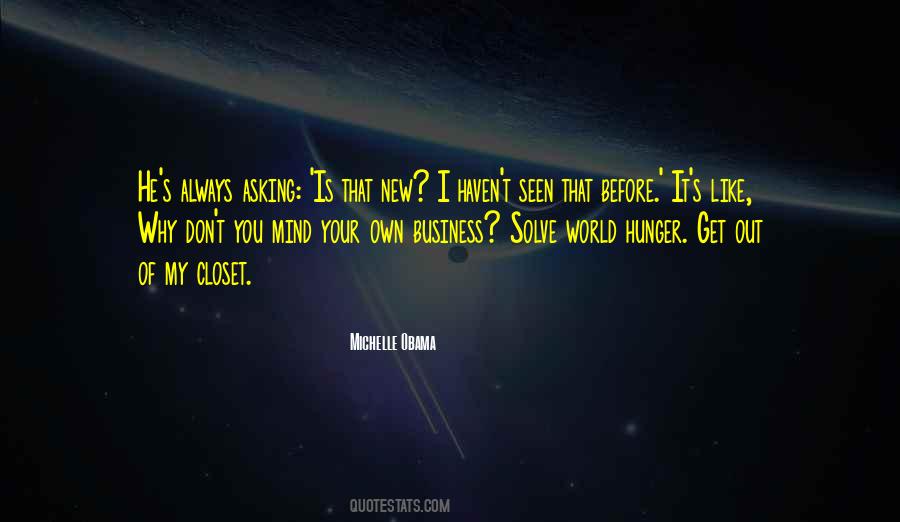 #53. Every problem contains the seed of it's own solution. - Author: Norman Vincent Peale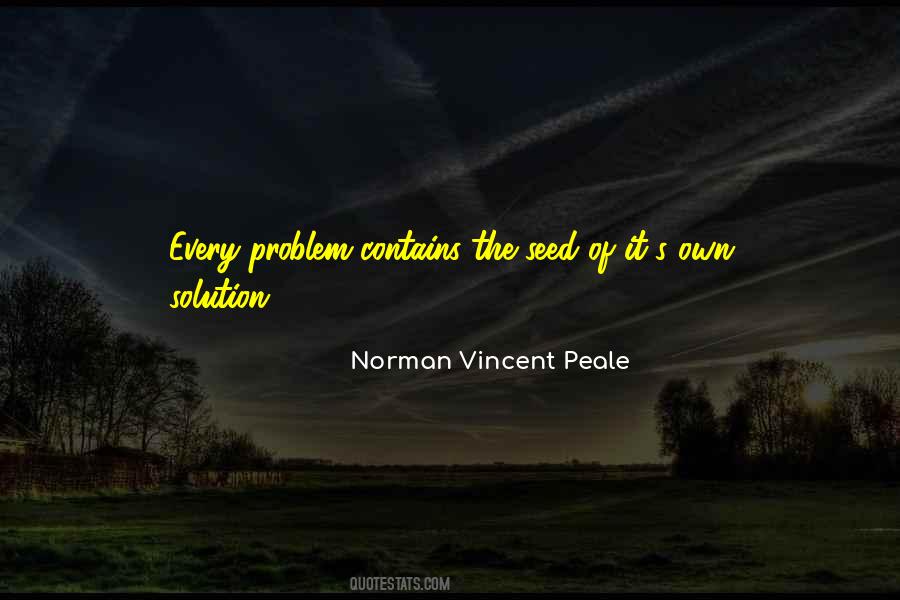 #54. I agree that [marriage] should be treated like a business deal. But every business deal has to have its own terms and its own kind of currency. - Author: Ayn Rand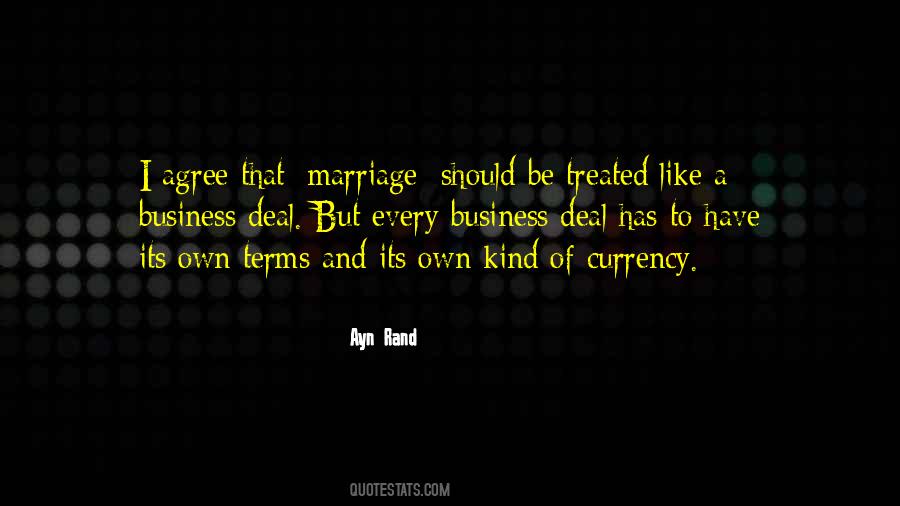 #55. Those back-to-back experiences confirmed what I already knew: That I was a shitty-ass employee and I'd better start my own business. - Author: Mark Cuban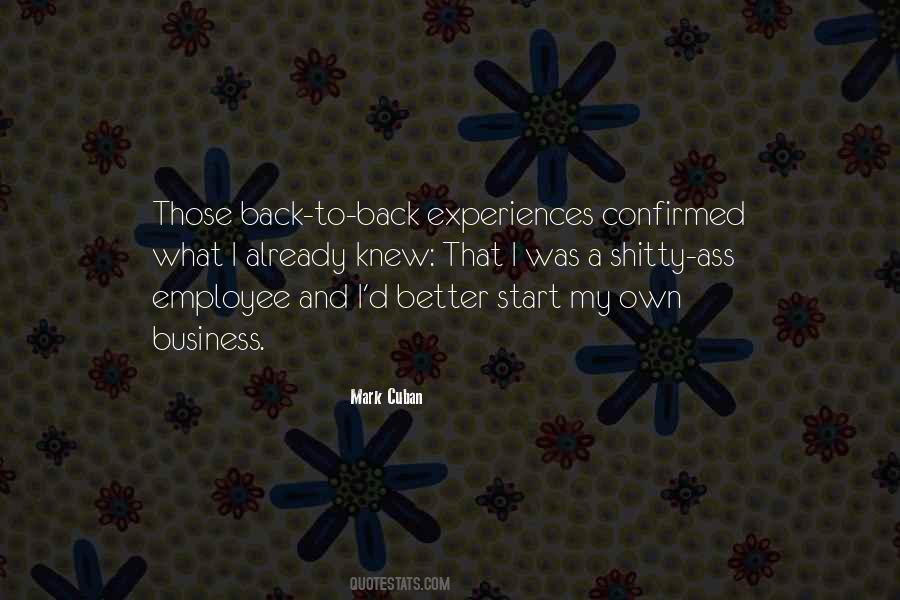 #56. A sure way to start your own business is to stay out of everyone else's. - Author: Kathy McClary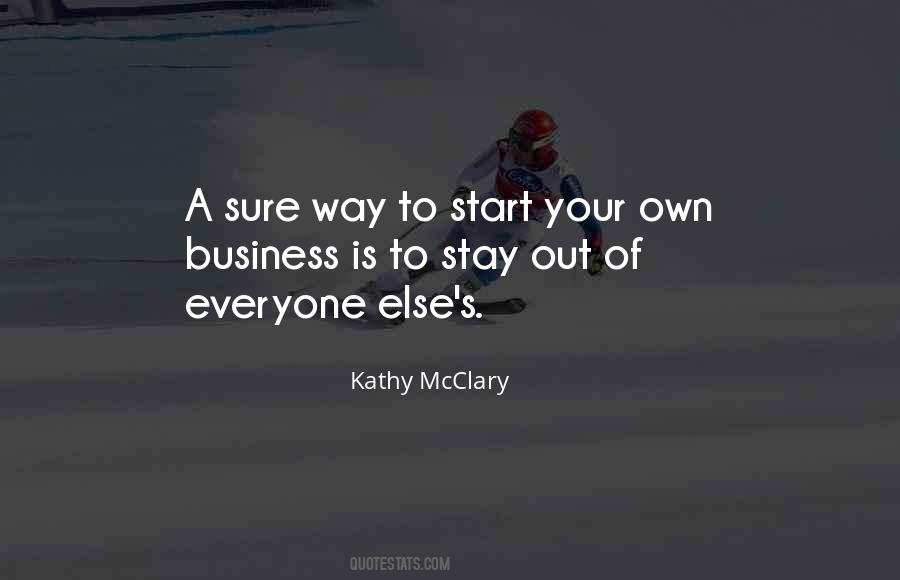 #57. Violence, as it is for the mafia and most other criminal organizations, was bad for pirate business. By doing battle with prey, pirates risked damage to their own ships and injury to their crews. It also made them bigger targets for law enforcement. - Author: Robert Kurson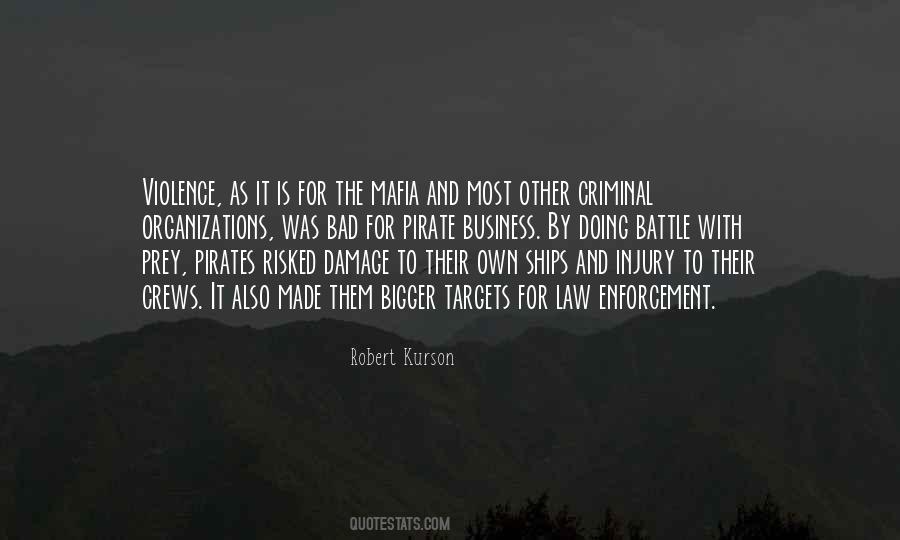 #58. As a member of the House Committee on Small Business and because of my own experience as a small business owner, I am appreciative of the impact these small businesses have on our local economies. - Author: Melissa Bean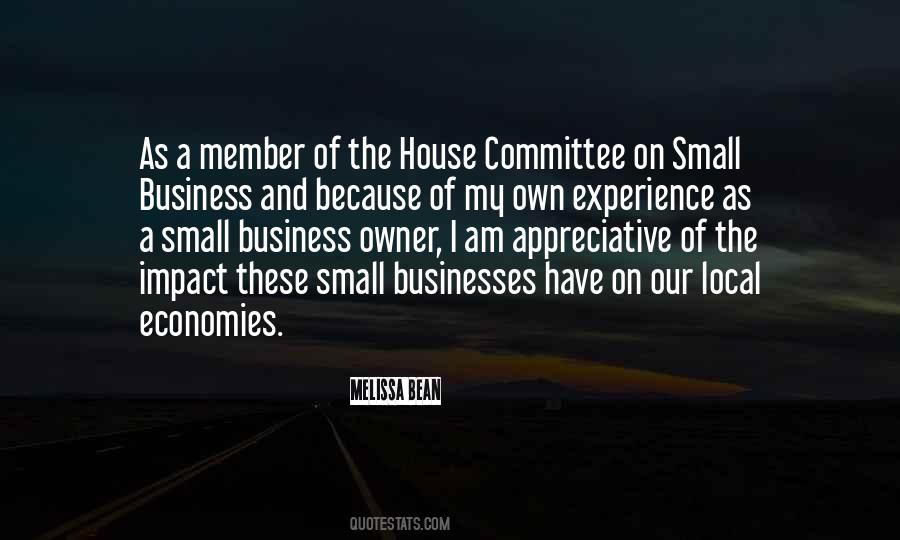 #59. But have you never noticed that when one has been trying to do something really good one is much nearer committing some special sin than when one keeps on in the selfish, matter-of-fact prudence of minding one's own business, and that alone? - Author: Geraldine Jewsbury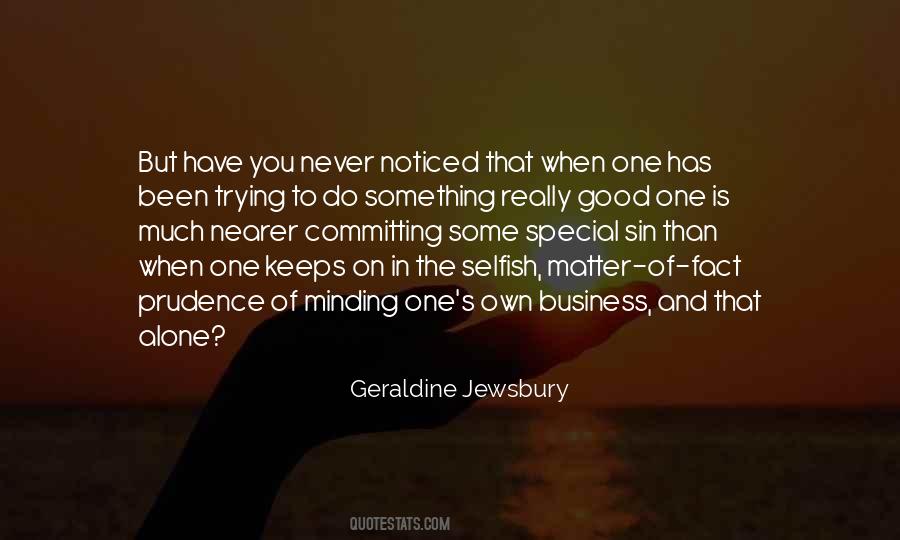 #60. Each one of us, and, indeed, all those who aspire to national leadership must bring their own visions, views and styles to the business of reforming Nigeria, and the search for solutions. - Author: Ibrahim Babangida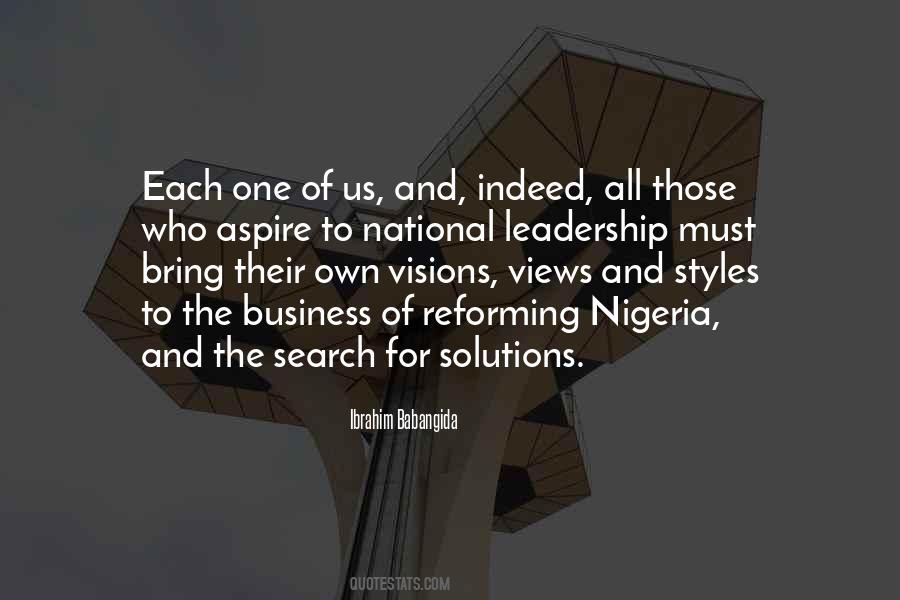 #61. I swallowed my own smile. I shouldn't be thinking this was fun at all; it was serious business. But I couldn't help it, if you couldn't look at the world when it fell apart around you and see the funny shit, you would end up hating everyone and everything. - Author: Shannon Mayer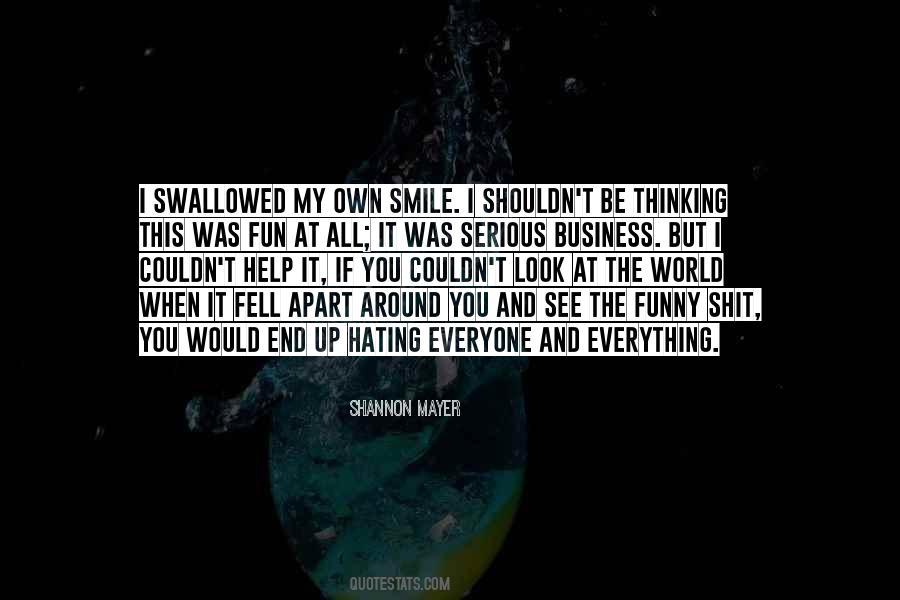 #62. I always have my own opinion before my boss says his. - Author: Gerry Geek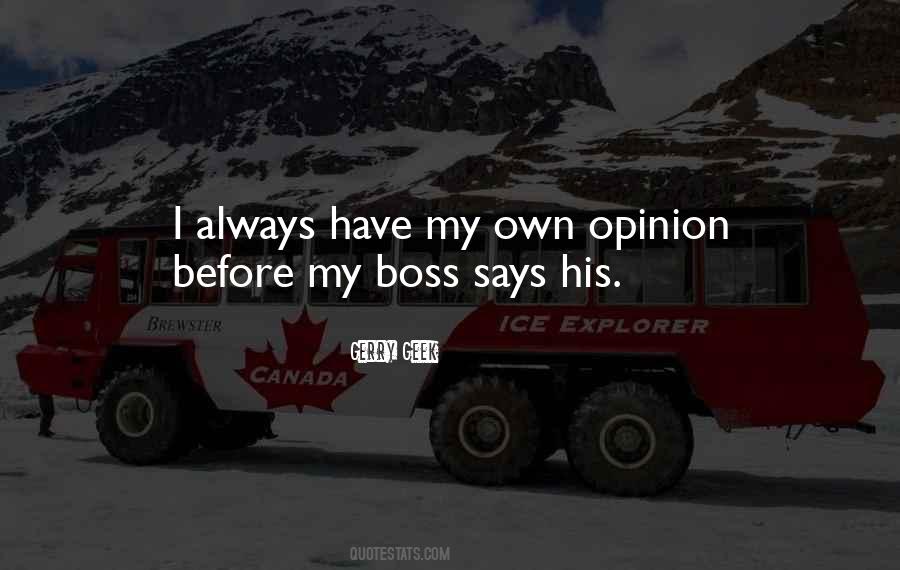 #63. I watch a TV show called 'Shark Tank.' It's one of my favorite TV shows. It's basically self-made millionaires who have either come up with their own business or clothing ... I came up with the idea of designing clothes. - Author: Jacob Dalton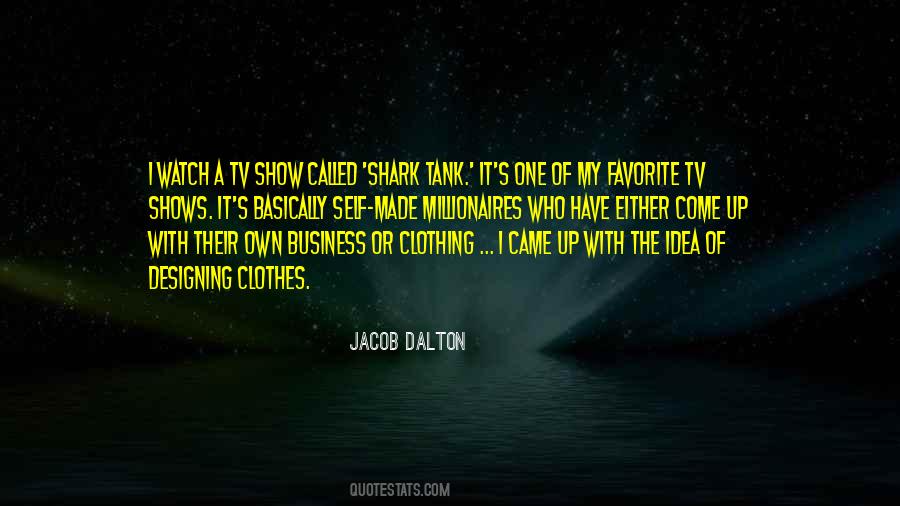 #64. The people seemed nearly ostentatious about minding their own business. - Author: Robert Jordan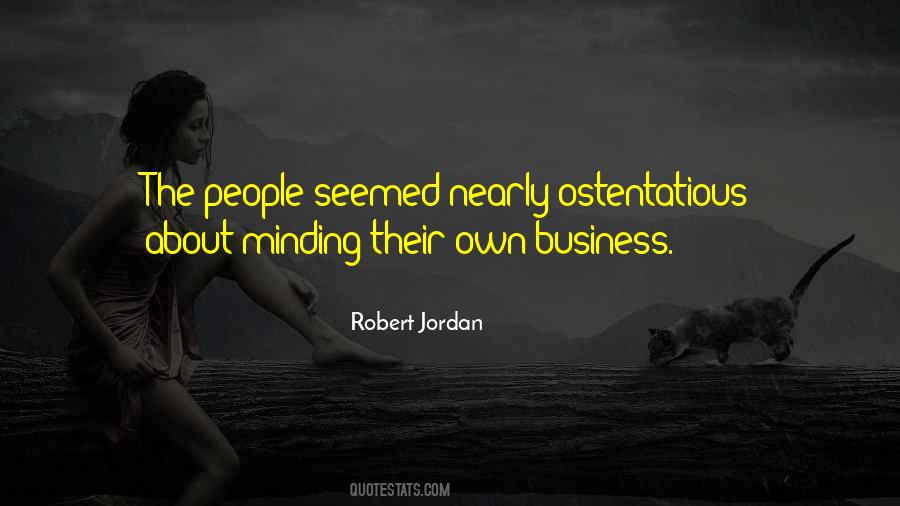 #65. Everyone should be encouraged to start his own business, not just some rare breed that self-identifies as entrepreneurs. - Author: Jason Fried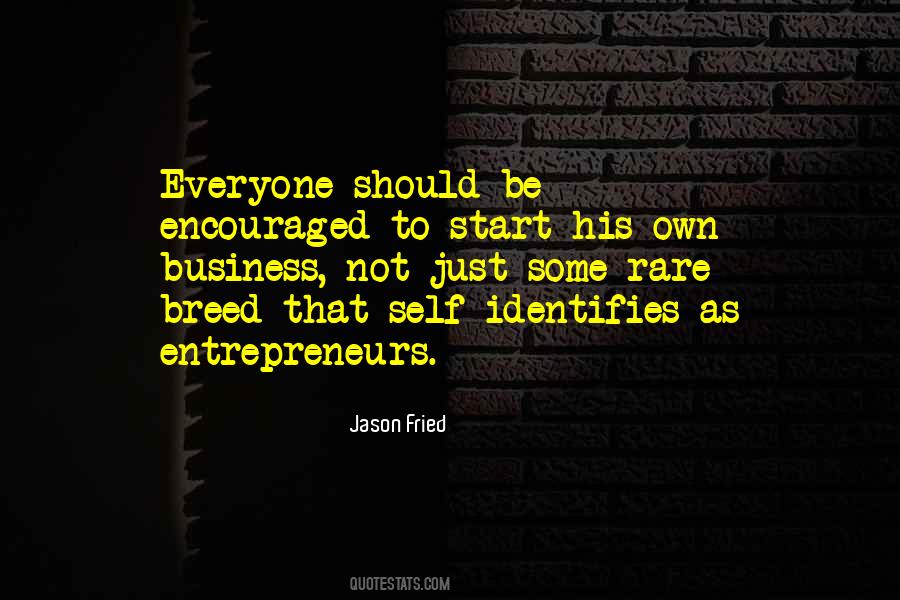 #66. That 95 per cent. fail of those who start in business upon their own account seems incredible, and yet such are said to be the statistics upon the subject. - Author: Andrew Carnegie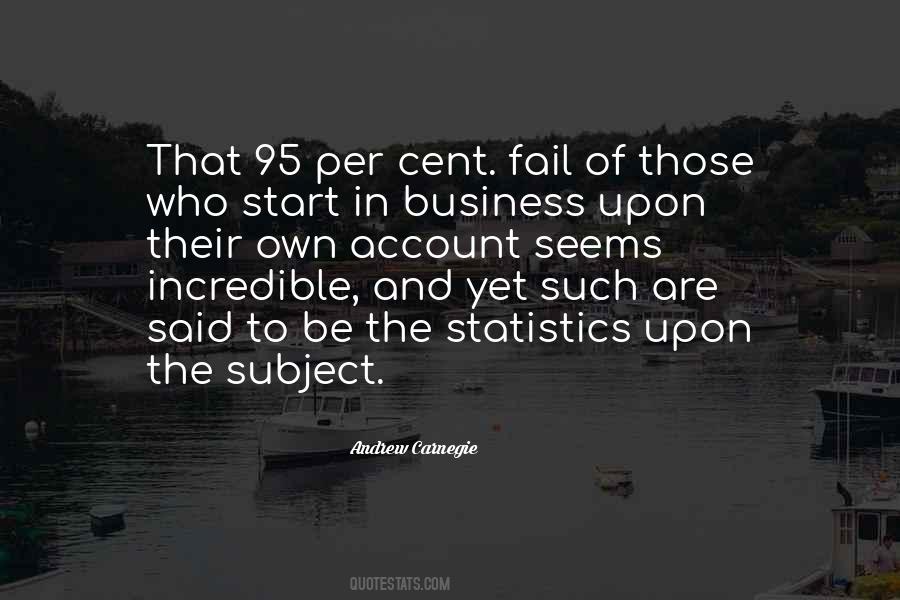 #67. Happy he who far from business persuits
Tills and re-tills his ancestral lands
With oxen of his own breeding
Having no slavish yoke about his neck. - Author: Horace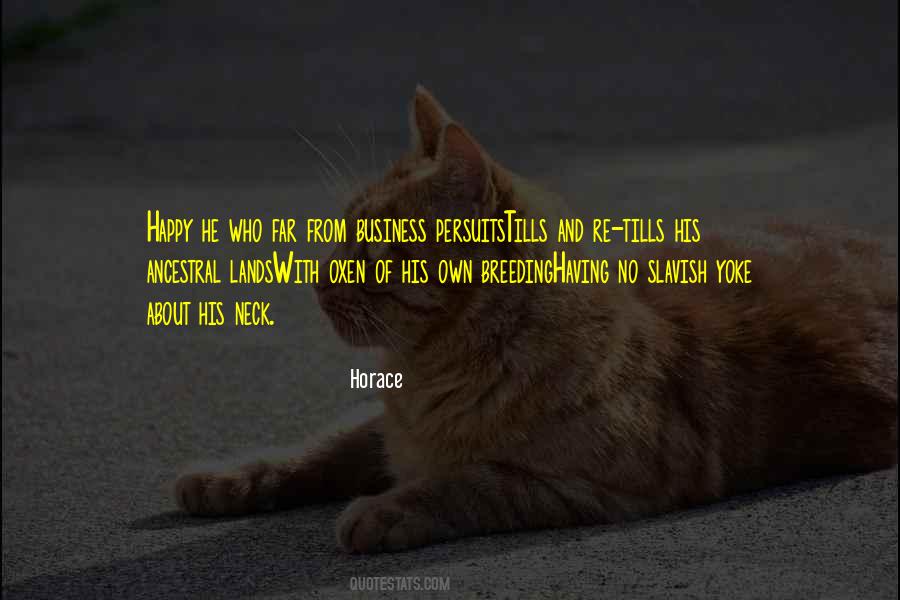 #68. Every one has time if he likes. Business runs after nobody: people cling to it of their own free will and think that to be busy is a proof of happiness. - Author: Seneca The Younger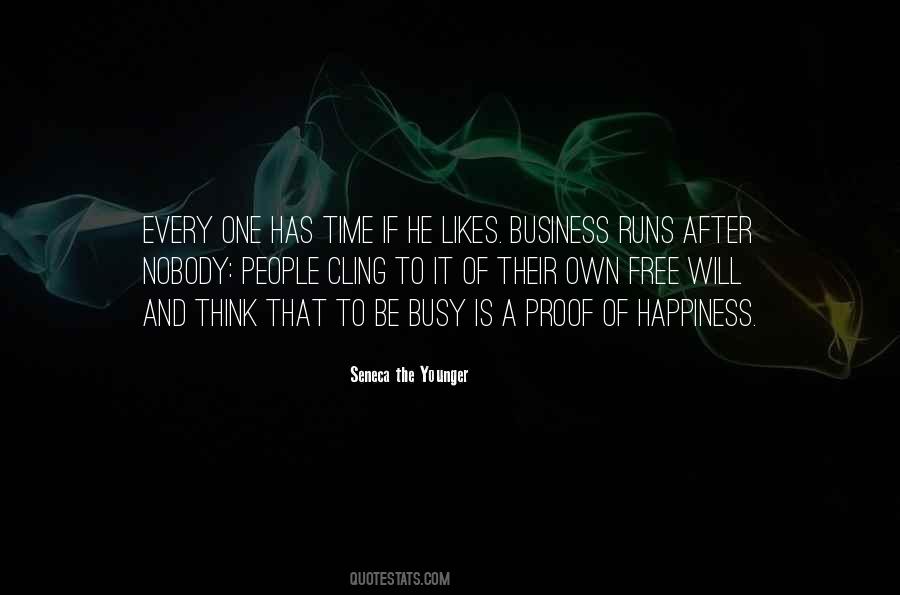 #69. Earn the Right - Ensure you put this chunk of Sales Tetris in place first and all the other pieces just take their own positions naturally. - Author: Chris Murray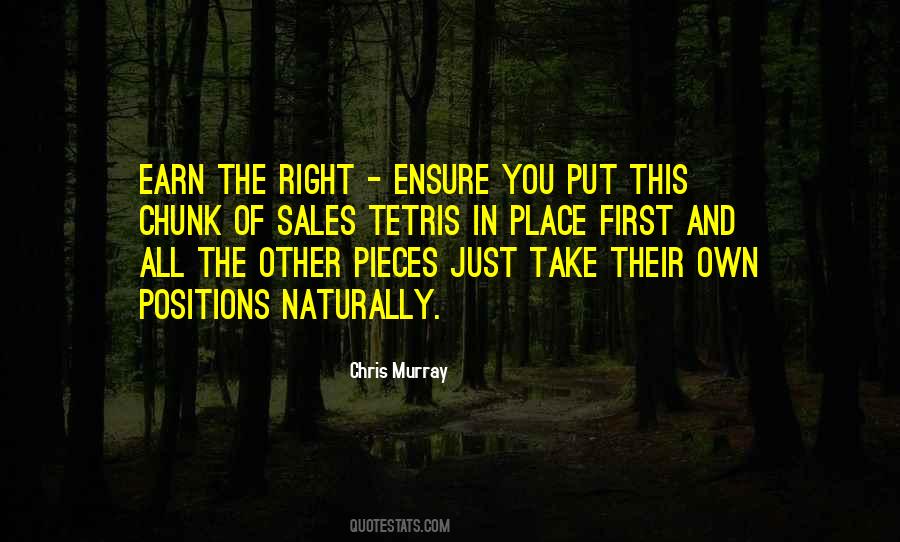 #70. There is nothing more provocative than minding your own business. - Author: William S. Burroughs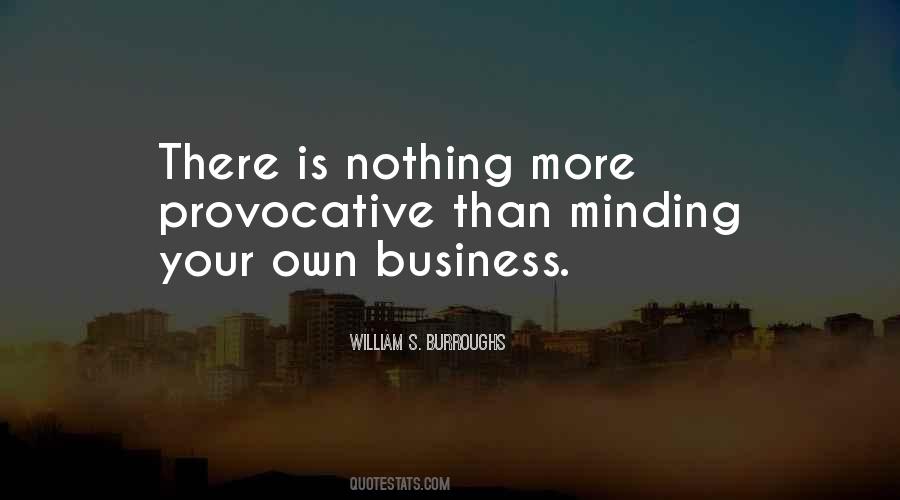 #71. I prospered very quickly. Very quickly, I became politically empowered. I was running my own business. - Author: Joyce Banda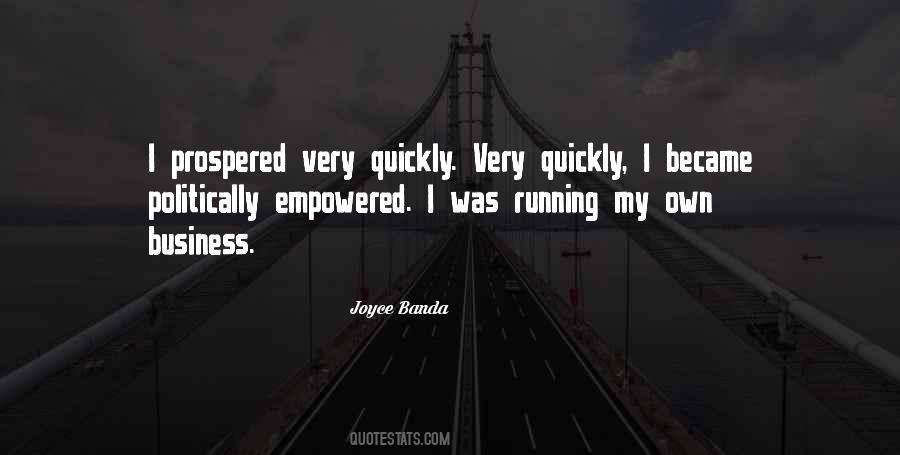 #72. Your emotions are your own business. - Author: Brandon Sanderson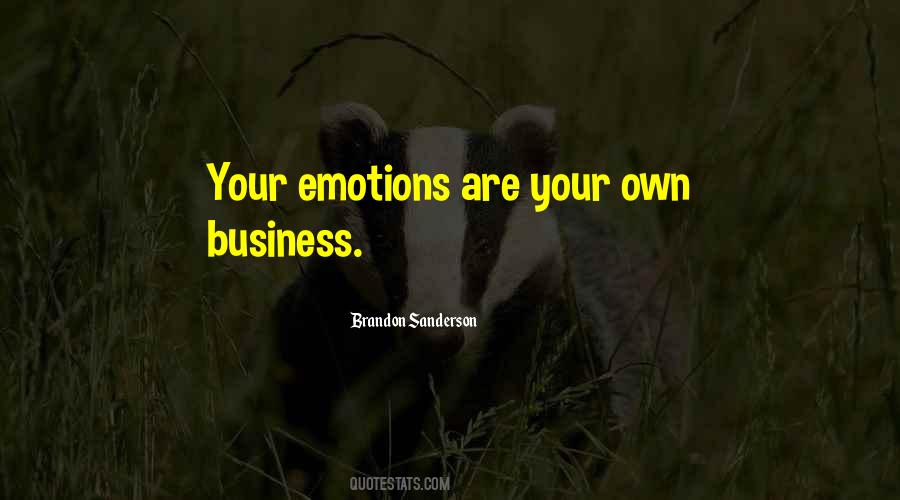 #73. Asking someone to make for you money is like asking them to make for you a baby: they will own the money just as they will own the baby - Author: Agona Apell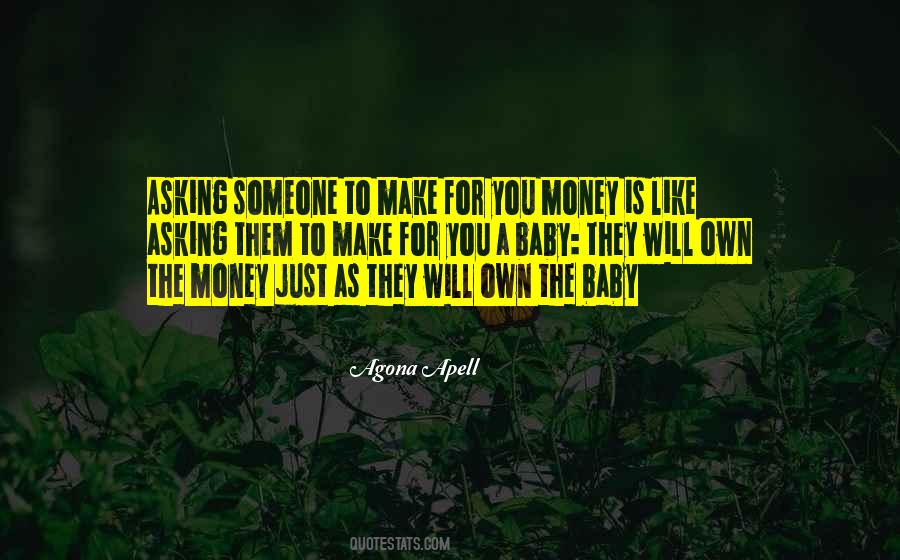 #74. Those who have safe and secure jobs pay more taxes than those who own the business that provides the jobs - Author: Robert Kiyosaki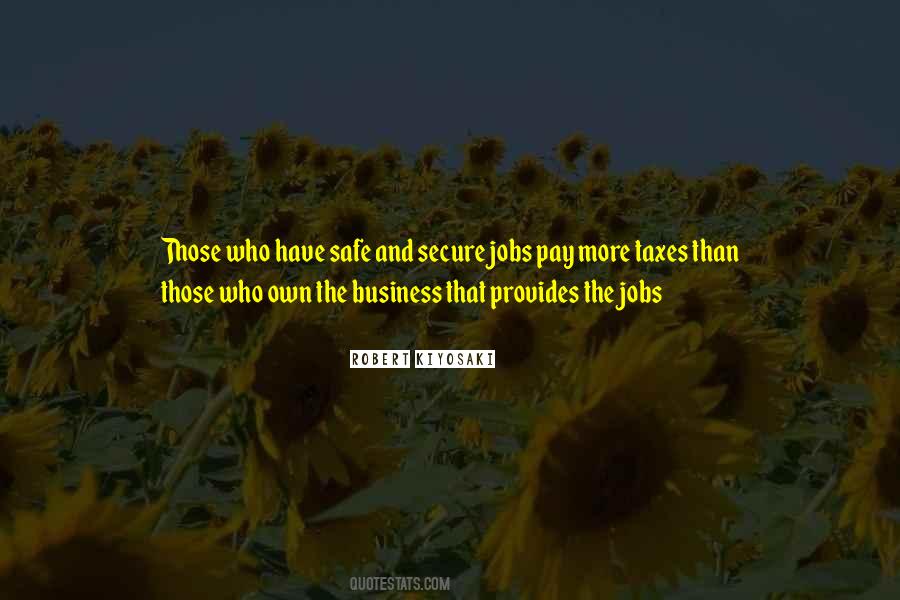 #75. How happily some people would live if they troubled themselves as little about other people's business as about their own. - Author: Georg C. Lichtenberg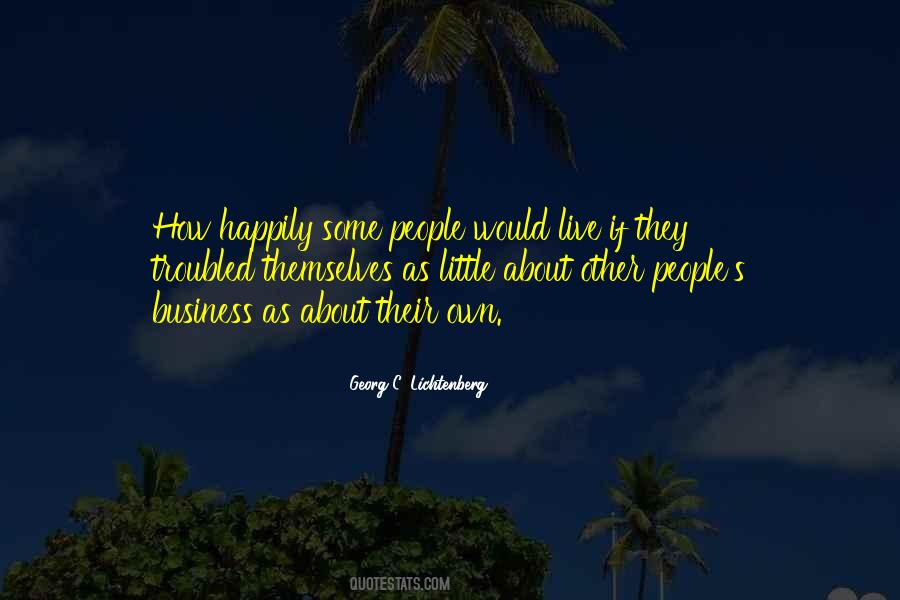 #76. I always knew I wanted to start my own line. Nights and weekends, I would work on my business plan. - Author: Chris Benz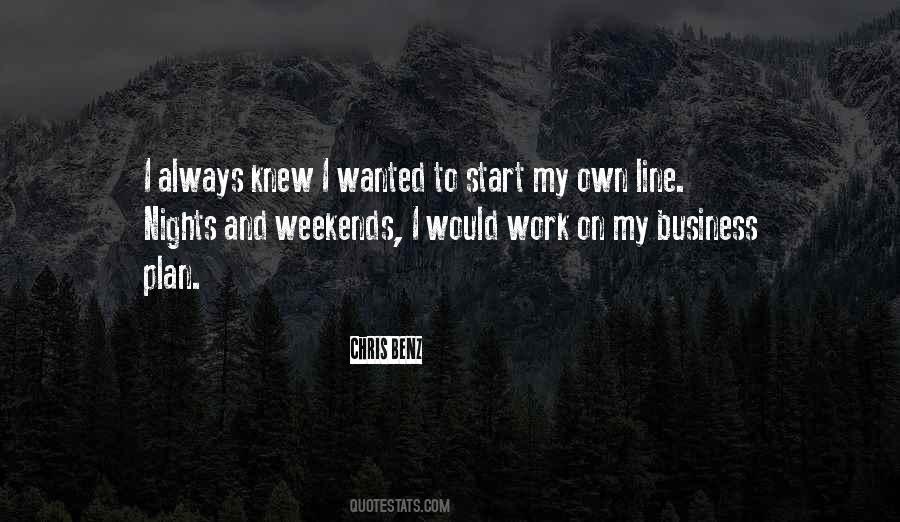 #77. We own 18 percent of just the PC business. Now that's only about 60 percent of our business today. - Author: Kevin Rollins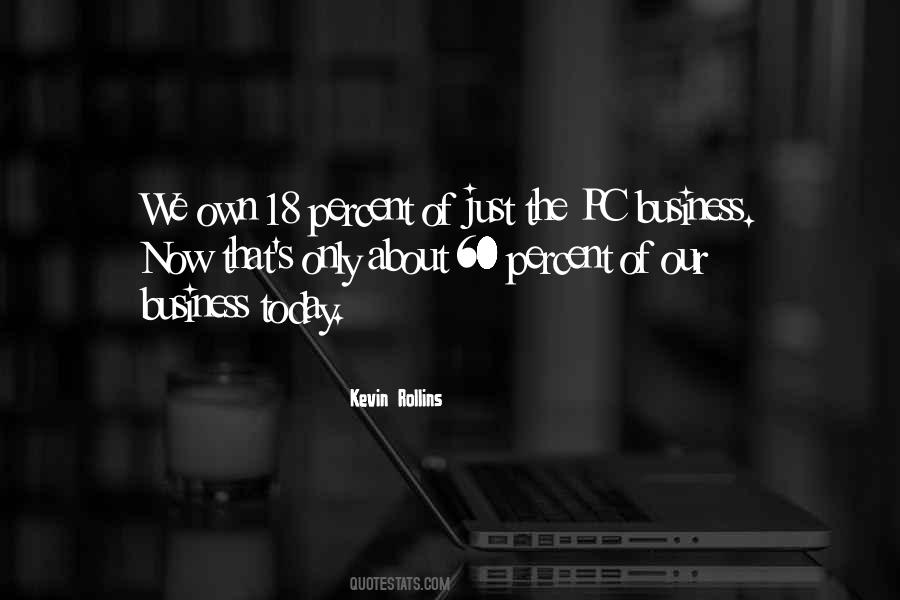 #78. I was the youngest of four kids, and Dad, who had a garden centre before he retired, came from a large Lancashire family. Every one of my uncles had their own business, including a post office, two fish and chip shops and a painting and decorating business. - Author: Rick Astley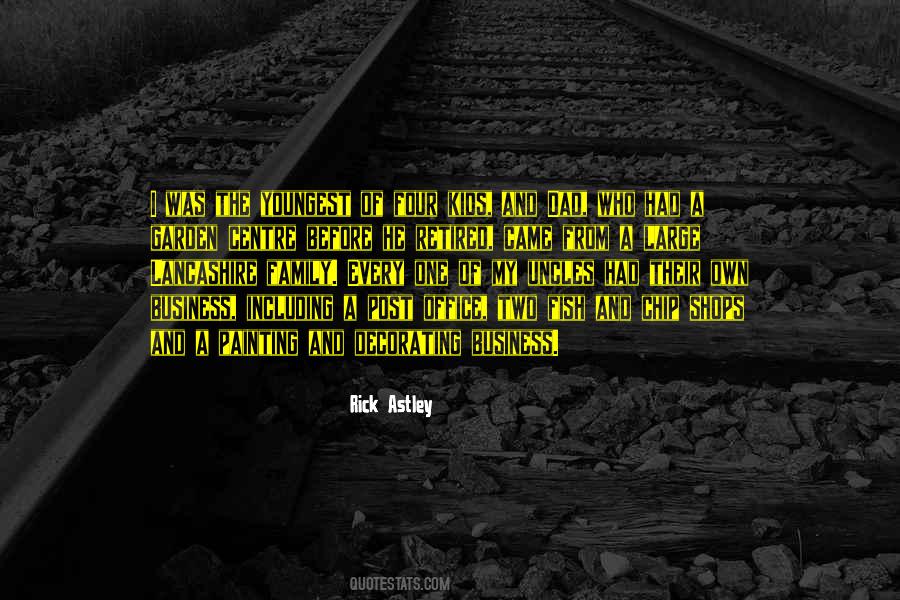 #79. Age should never meddle with such a matter. Mind your own business. - Author: Soseki Natsume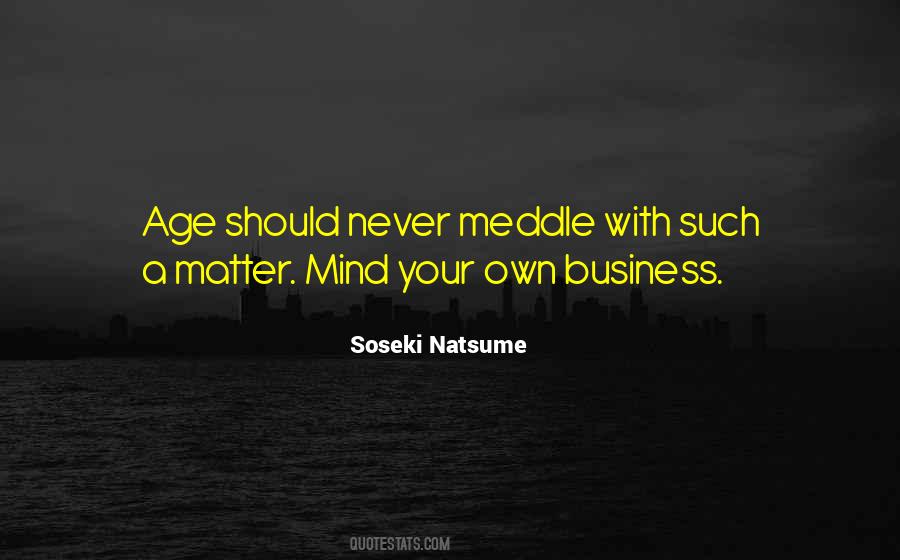 #80. If someone shows promise in a trade, why not give them practical business advice, teach them how to handle money, show them the ways they can start their own business, and help them to become fully trained? - Author: Erin Osborne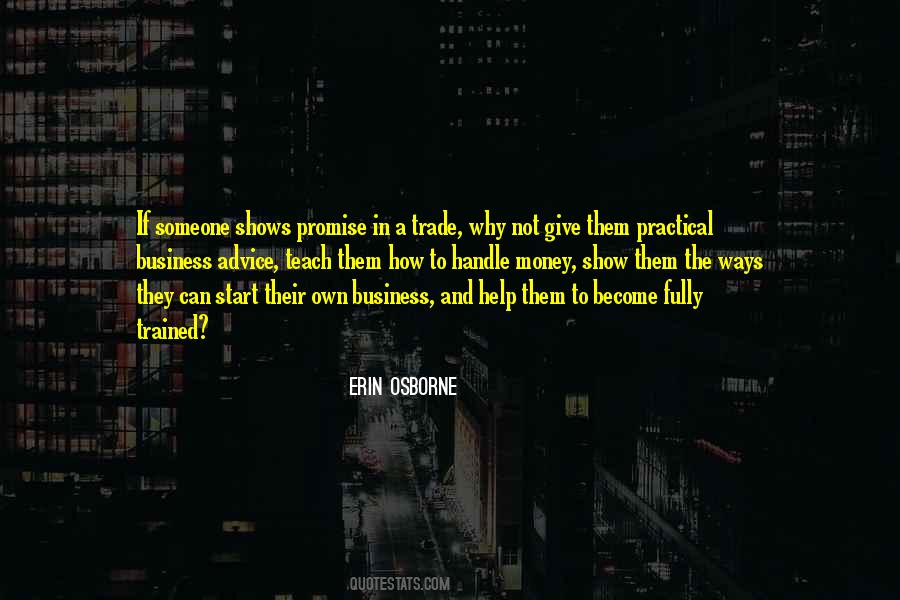 #81. The biggest challenge in business is not the competition, it's what goes on inside your own head - Author: Barbara Corcoran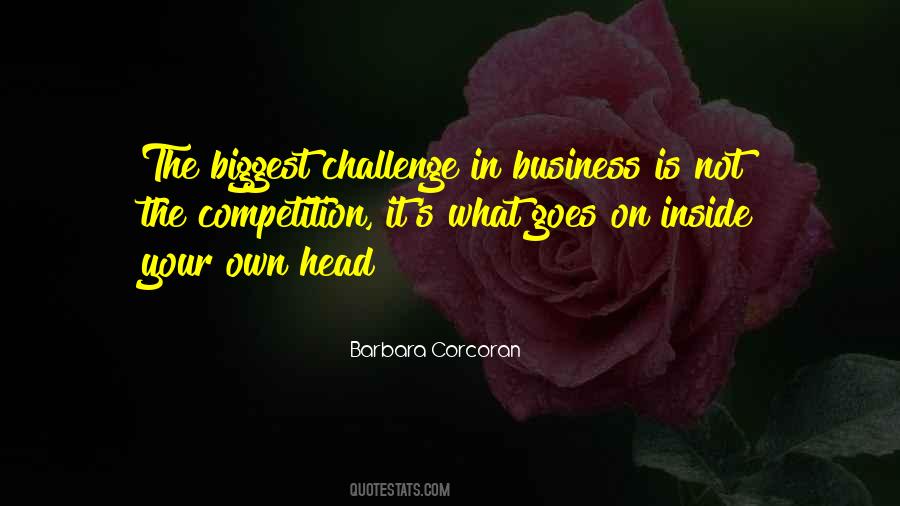 #82. What men have called friendship is only a social arrangement, a mutual adjustment of interests, an interchange of services given and received; it is, in sum, simply a business from which those involved propose to derive a steady profit for their own self-love. - Author: Francois De La Rochefoucauld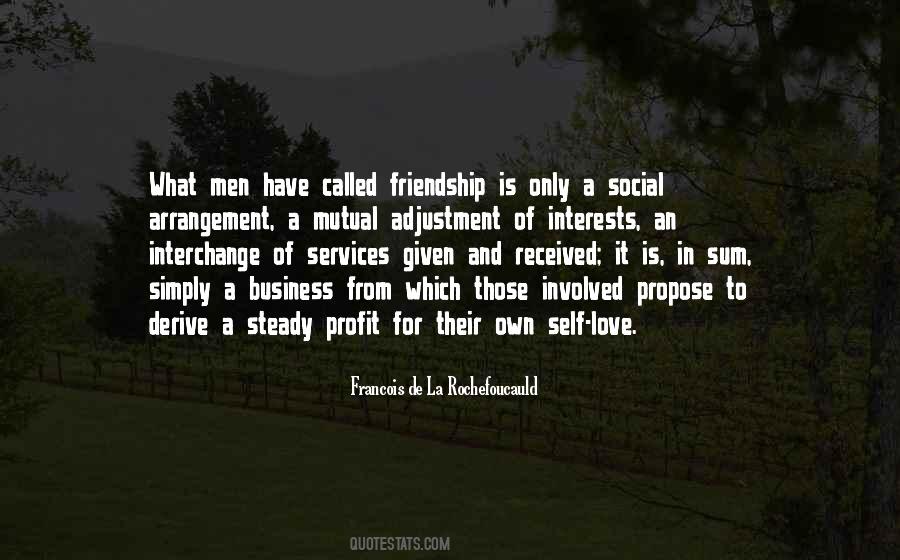 #83. My plumbing is no one's business but my own. - Author: Peter O'Toole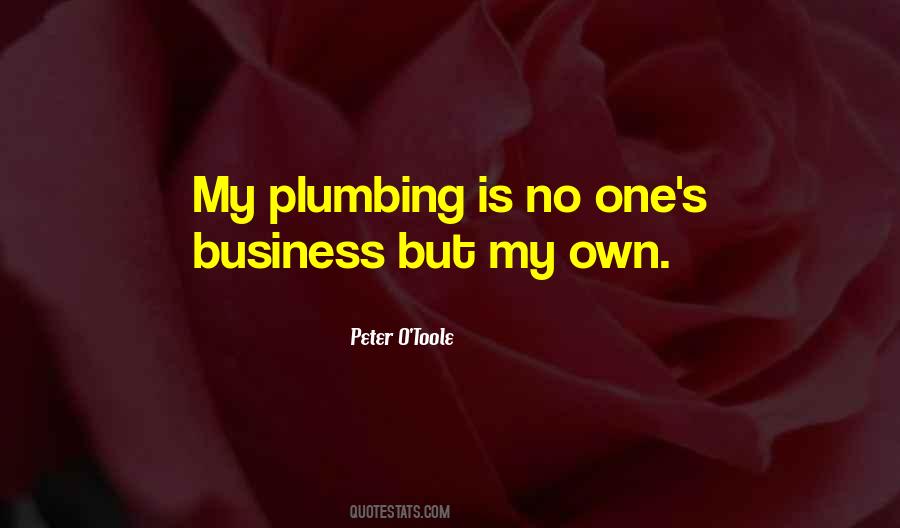 #84. I don't really plan on working a 9-to-5 job. I want to own my own business. - Author: Seimone Augustus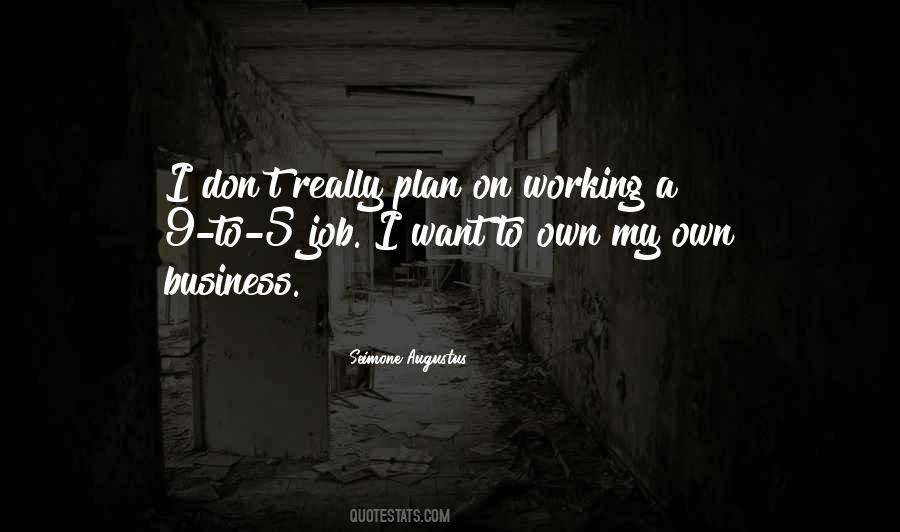 #85. Unless we take that first step into the unknown, we will never know our own potential. - Author: Alan Rufus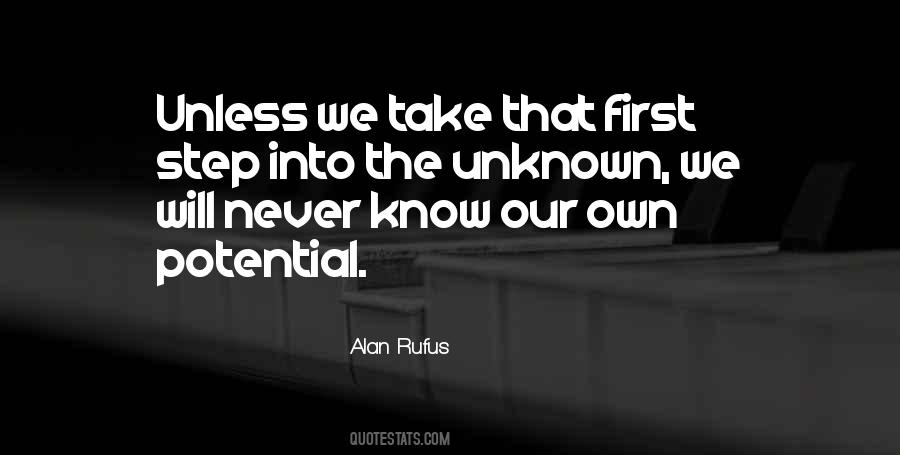 #86. It's a good note for any young hopeful in this business to take: study up and make sure you are informed at all times because knowing how to anticipate someone's subtle nuances in a performance will only elevate your own art! - Author: Tisha Campbell-Martin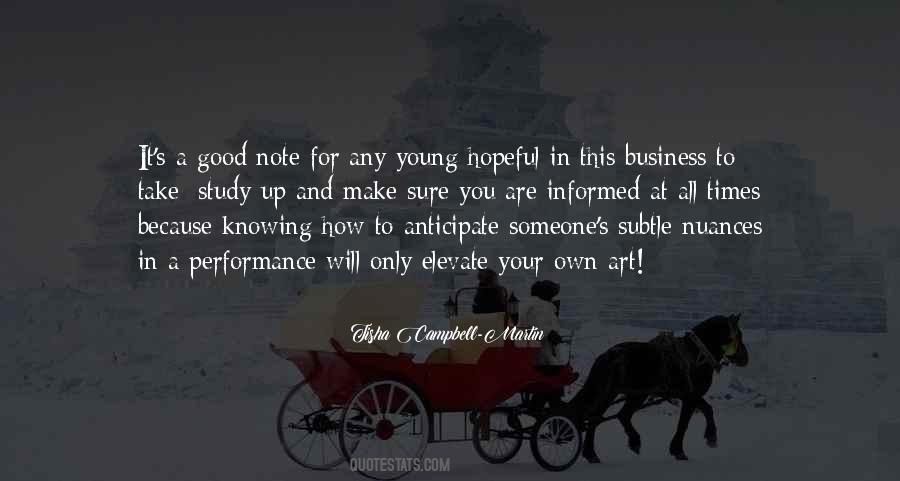 #87. I feel the one sensible thing you can do is try to live in a way that pleases you. If you don't hurt anybody else, what you do is your own business. - Author: Johnny Carson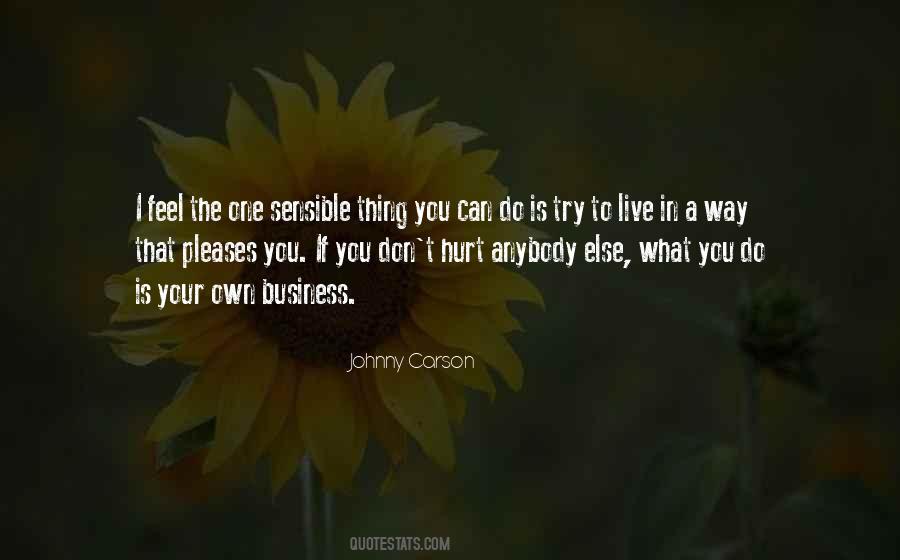 #88. Finally, gentleman, from the considerations above mentioned, as I cannot consistently with my own honor, nor with utility to my country, considering the manner in which Business is transacted here, remain any longer in this chair, I now resign it. - Author: Henry Laurens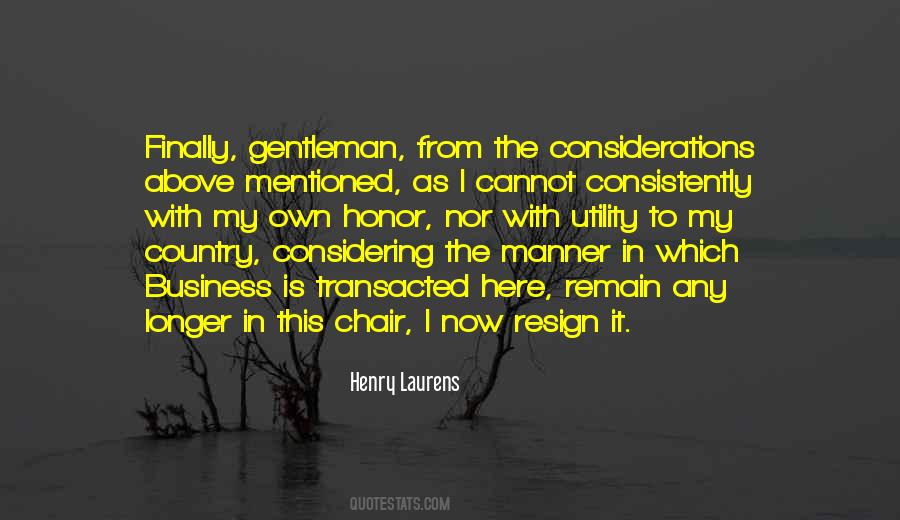 #89. By the Nineties, so many people were moonlighting and creating their own professional identities that China generated a brisk new business in the printing of business cards. - Author: Evan Osnos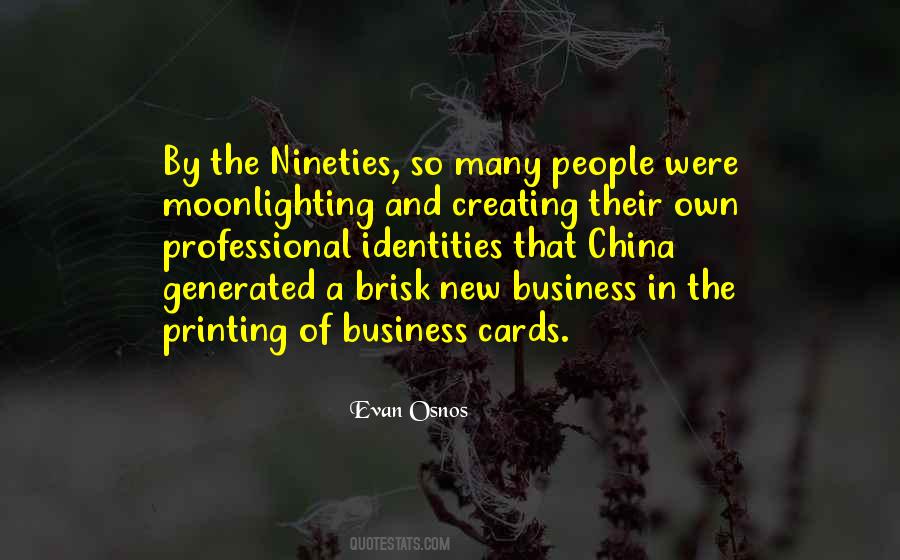 #90. One of the best things about Kickstarter and crowdfunding and the collapse of the music business is a lot of artists like me have been forced to face our own weird mess about ourselves and what we thought it meant to become musicians. - Author: Amanda Palmer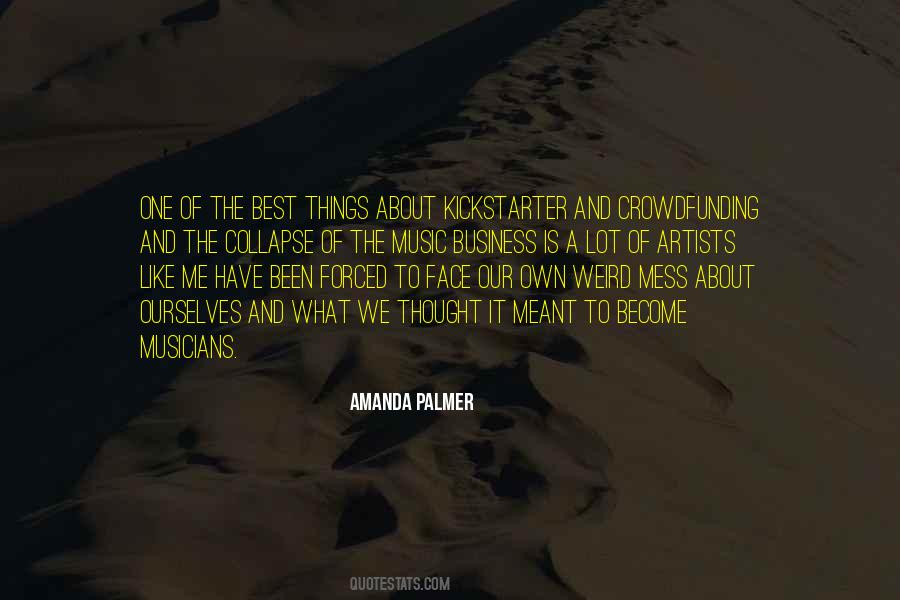 #91. Property should be in a certain sense common, but, as a general rule, private; for, when every one has a distinct interest, men will not complain of one another, and they will make more progress, because every one will be attending to his own business. - Author: Aristotle.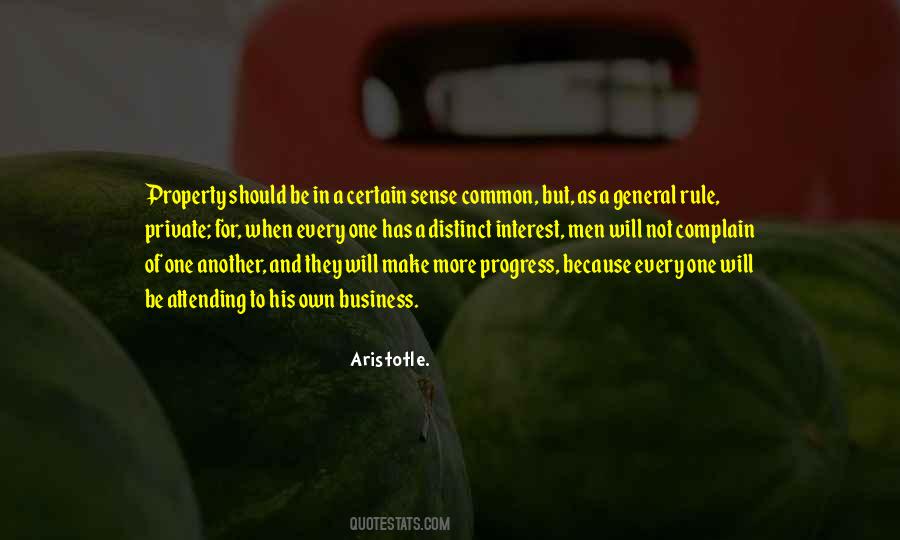 #92. Speculator: One who bought stocks that went down. - Author: Malcolm Forbes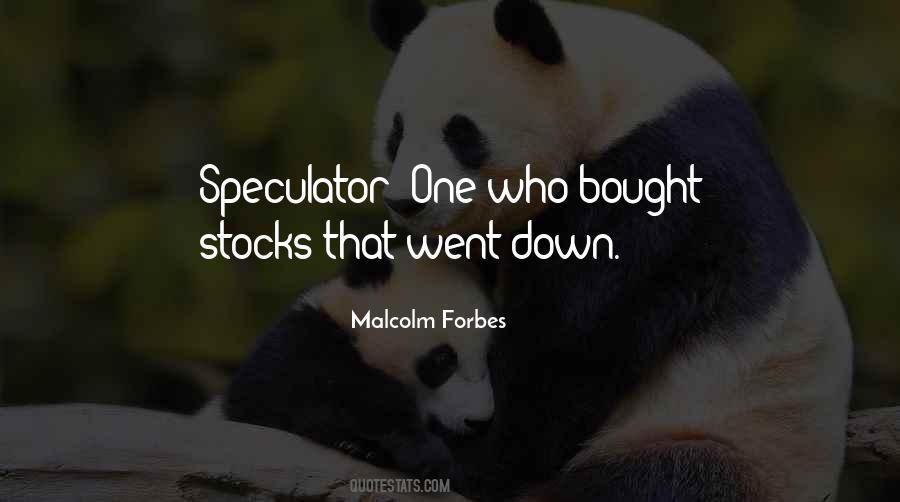 #93. You can't manage Wall Street. Wall Street has its own viewpoints on everything. I have always believed, if you manage your business correctly, Wall Street will take care of itself. - Author: Ross Levinsohn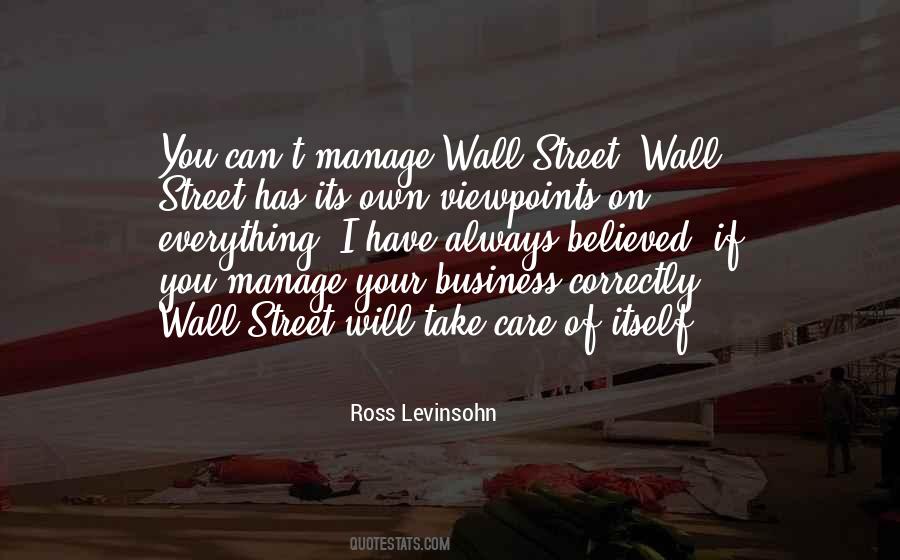 #94. I was minding my own business when something says to me, "you ought to blow trumpet." I have just been trying ever since. - Author: Miles Davis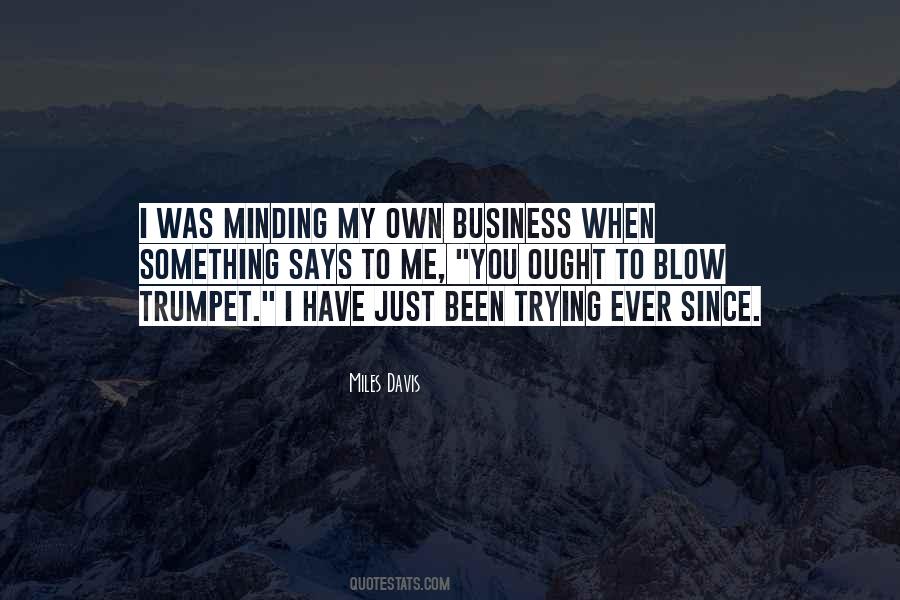 #95. Man does and is dressed to do so, his skin is his own business. He is artful, the creation of culture. Woman is; and is, therefore, fully dressed in no clothes at all, her skin is common property. - Author: Angela Carter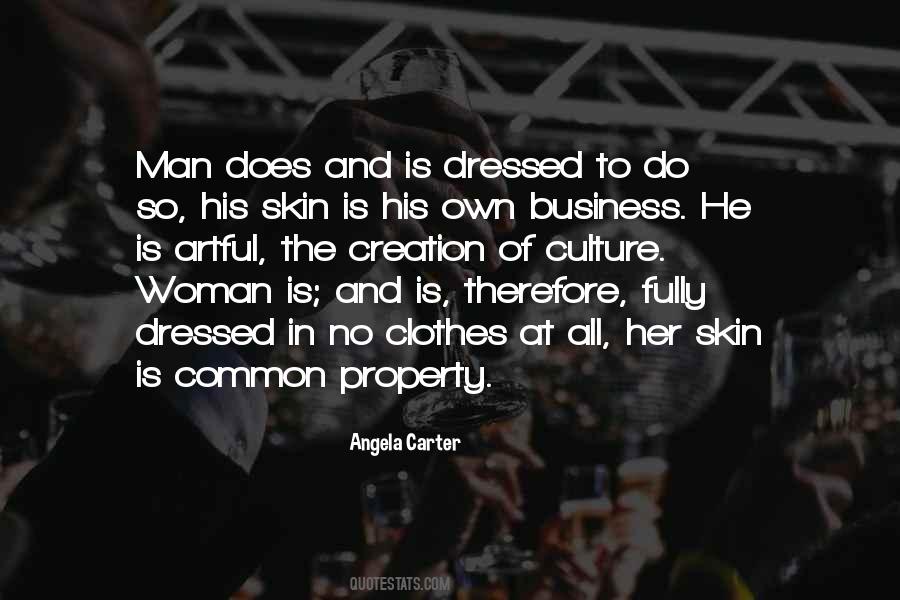 #96. If I could set a world record, it would be that I have 150 business partners, all with thriving businesses of their own that started with nothing and I made the difference to make them all billionaires. - Author: Barbara Corcoran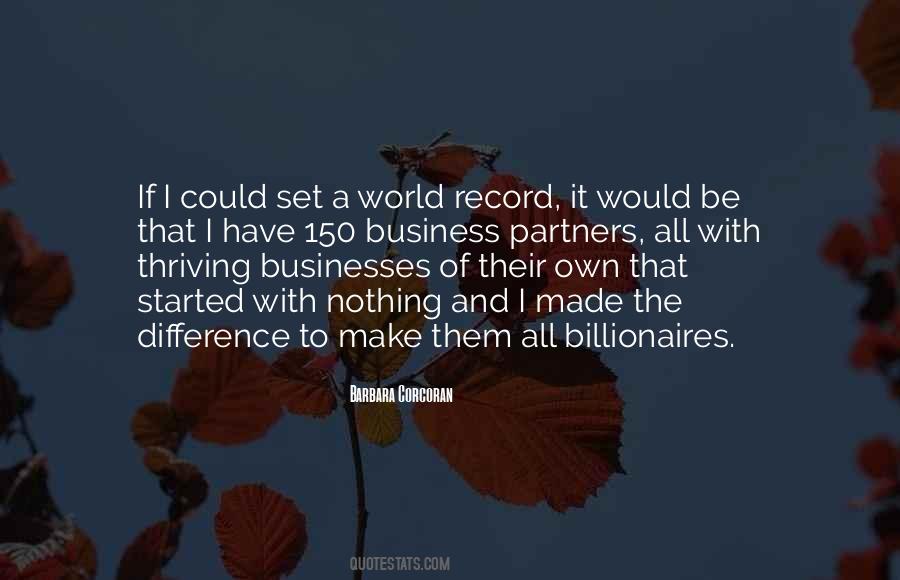 #97. Spiders are anti-social, keep pests under control, and mostly mind their own business, but they somehow summon fear in humans who are far more dangerous, deceitful and have hurt more people. Of the two I'm more suspicious about the latter. - Author: Donna Lynn Hope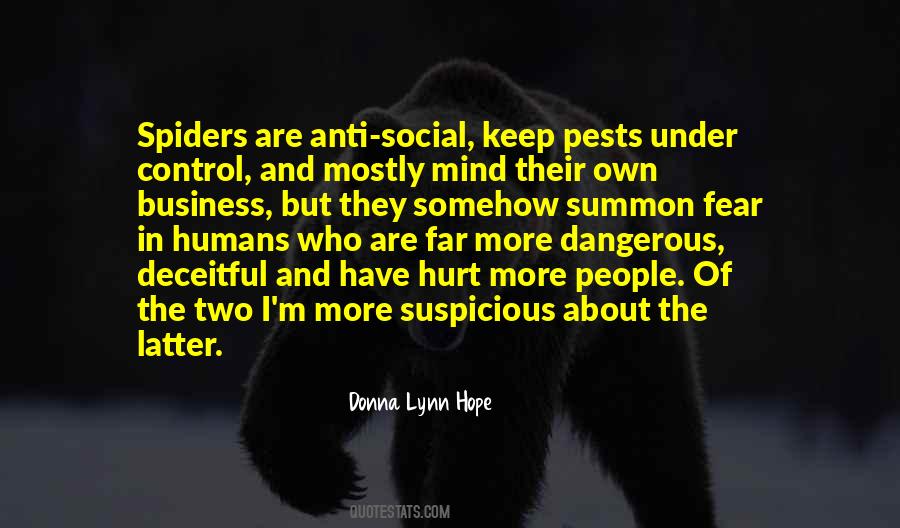 #98. I am especially grateful that I have been able to keep my own style over the decades, in spite of the many changes that have taken place in the world of fashion and in its business. - Author: Valentino Garavani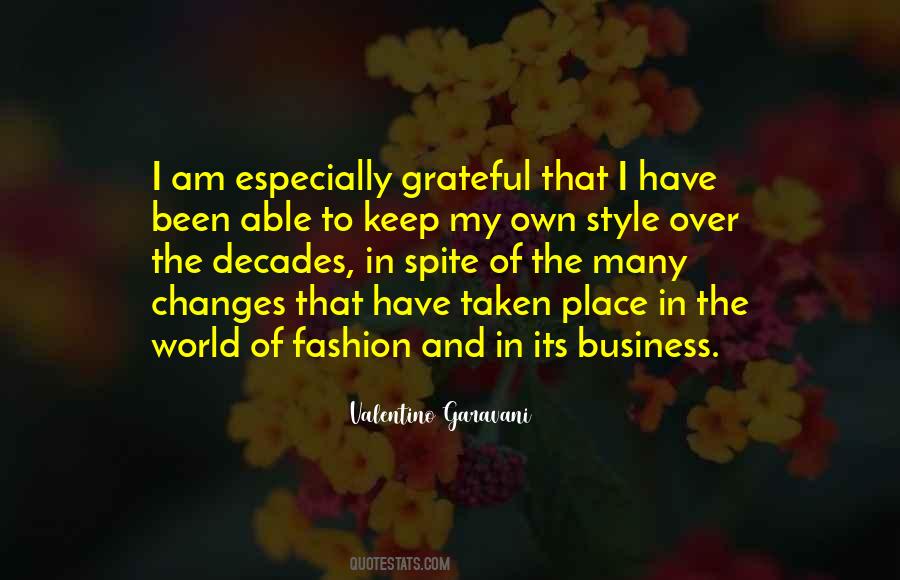 #99. I admire the courage and self-reliance it takes to start your own business and make it succeed. - Author: Martha Stewart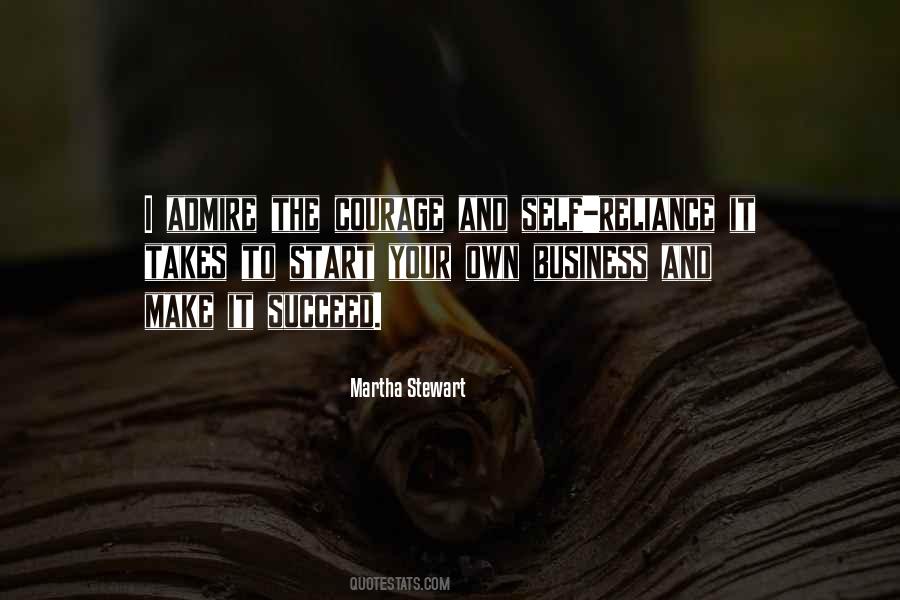 #100. A man is likely to mind his own business when it is worth minding. When it is not, he takes his mind off his own meaningless affairs by minding other people's business. - Author: Eric Hoffer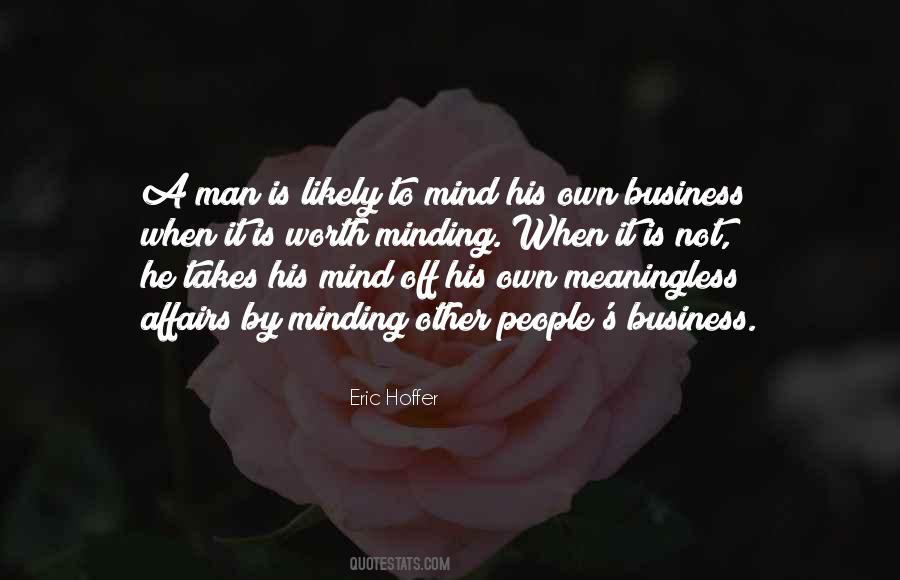 Famous Authors
Popular Topics