Nothing To Say Famous Quotes & Sayings
List of top 100 famous quotes and sayings about nothing to say to read and share with friends on your Facebook, Twitter, blogs.
Top 100 Quotes About Nothing To Say
#1. There is nothing to do, just be. Do nothing. Be. No climbing mountains and sitting in caves. I do not even say "be yourself" since you do not know yourself. Just be. - Author: Sri Nisargadatta Maharaj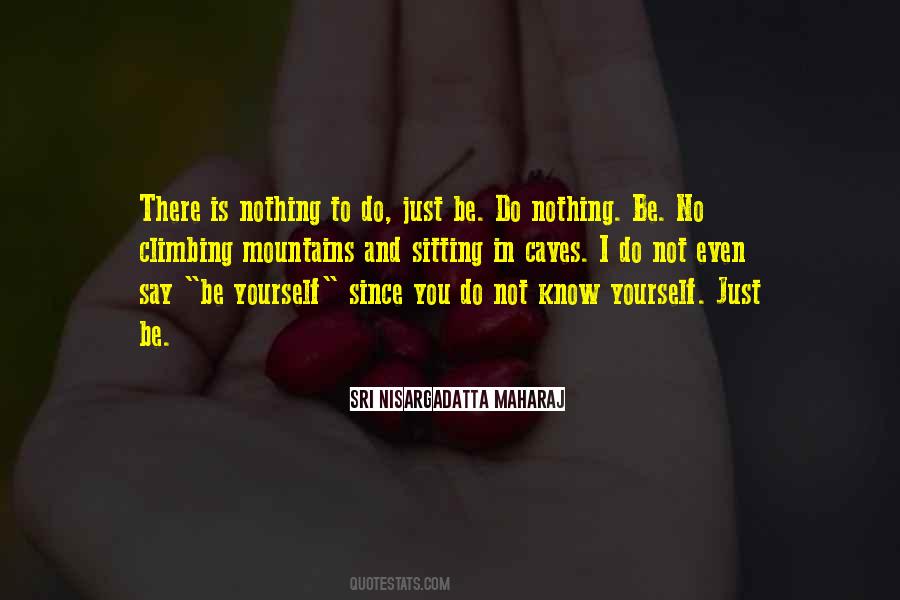 #2. What brothers say to tease their sisters has nothing to do with what they really think of them. - Author: Esther M. Friesner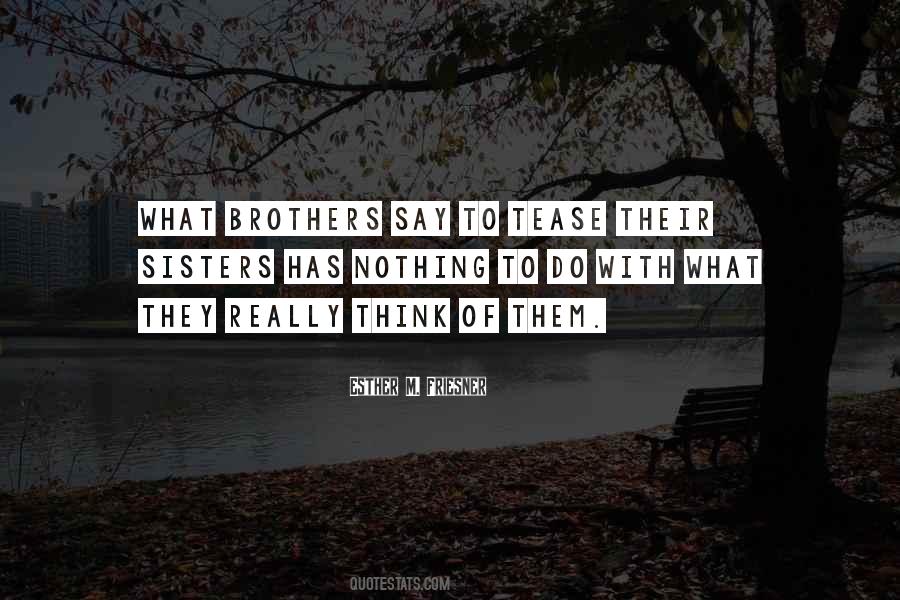 #3. Not at all," said Dorothea, with the most open kindness. "I like you very much."
Will was not quite contented, thinking that he would apparently have been of more importance if he had been disliked. He said nothing, but looked dull, not to say sulky. - Author: George Eliot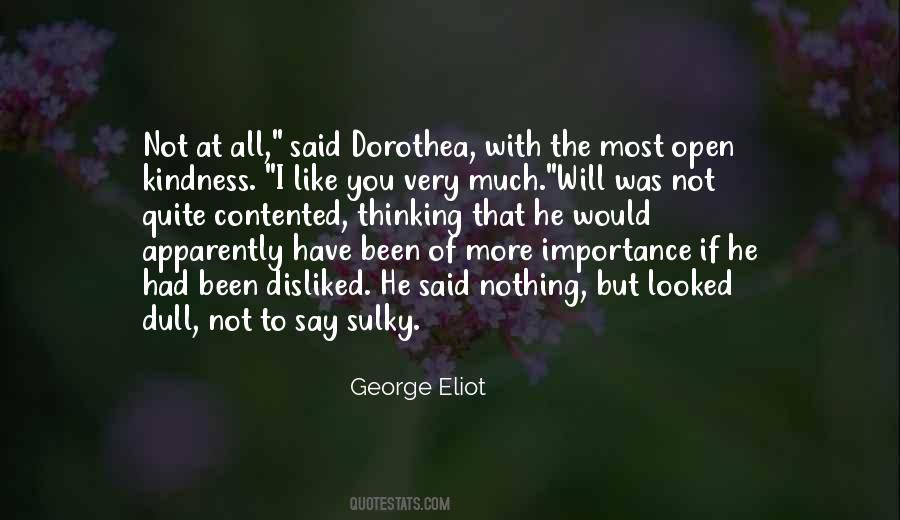 #4. The only way I could get you to say you love me was by telling you to lie to me." He speaks through the bullet hole I shot through his heart. "There's nothing left. I can't pull on your heartstrings when they're no longer attached to anything. - Author: E.K. Blair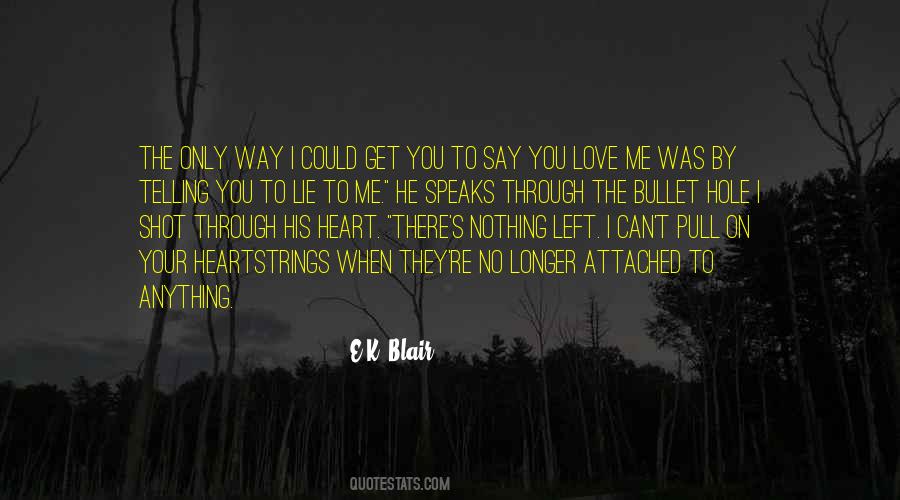 #5. To break one's mask in the presence of someone you reject is an act of permanent separation. To say that you are finished with them in your life, so much so that you do not worry about them seeing your true face. You'll never see them again, so your secrets are nothing in their hands. - Author: Sara Raasch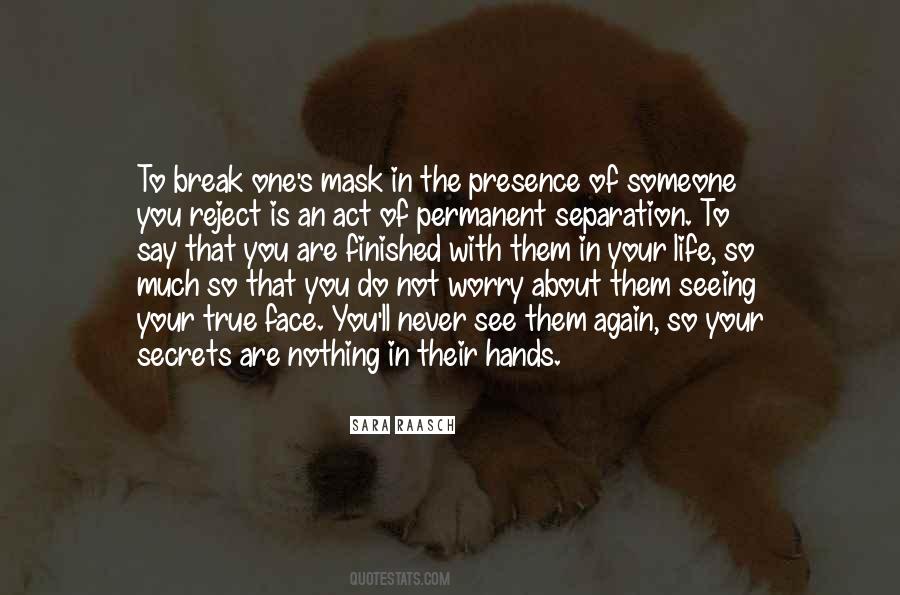 #6. Believe nothing because it is written in books. Believe nothing because wise men say it is so. Believe nothing because it is religious doctrine. Believe it only because you yourself know it to be true. - Author: Gautama Buddha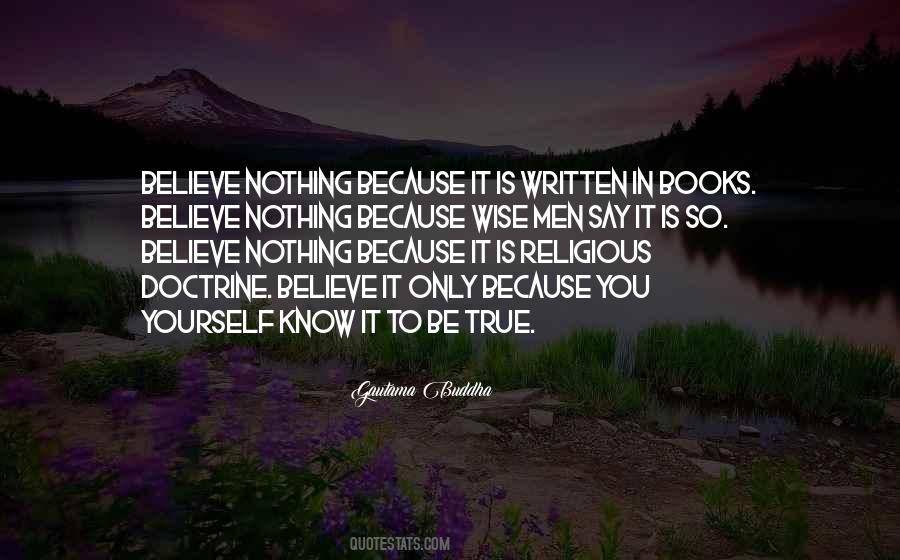 #7. The rest of the short walk was silent. It was that loud sort
of silence where the absence is painful, when there's so much to
say, but nothing is said. - Author: Jacqueline Simon Gunn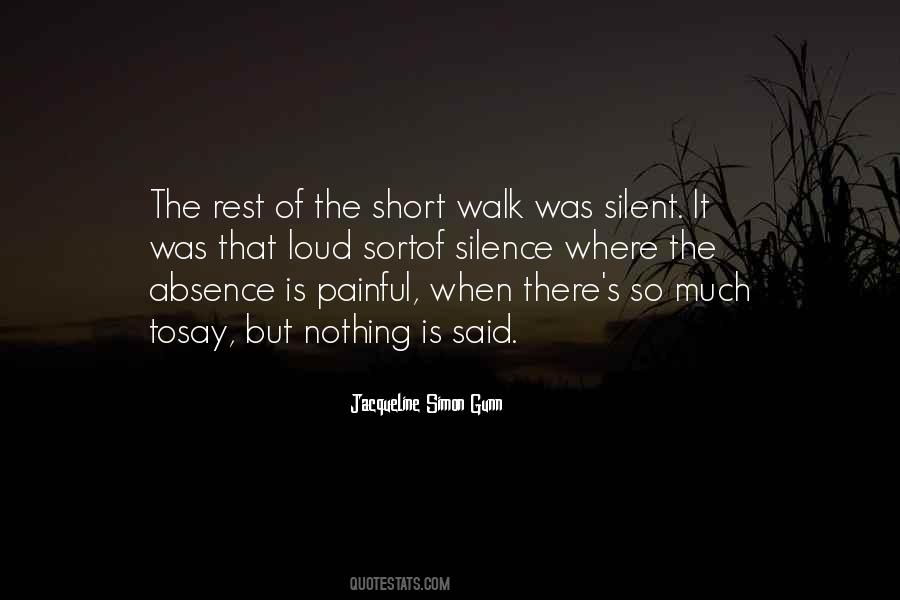 #8. It is ridiculous to say that art has nothing to do with morality. What is true is that the artist's business is not that of the policeman. - Author: George Bernard Shaw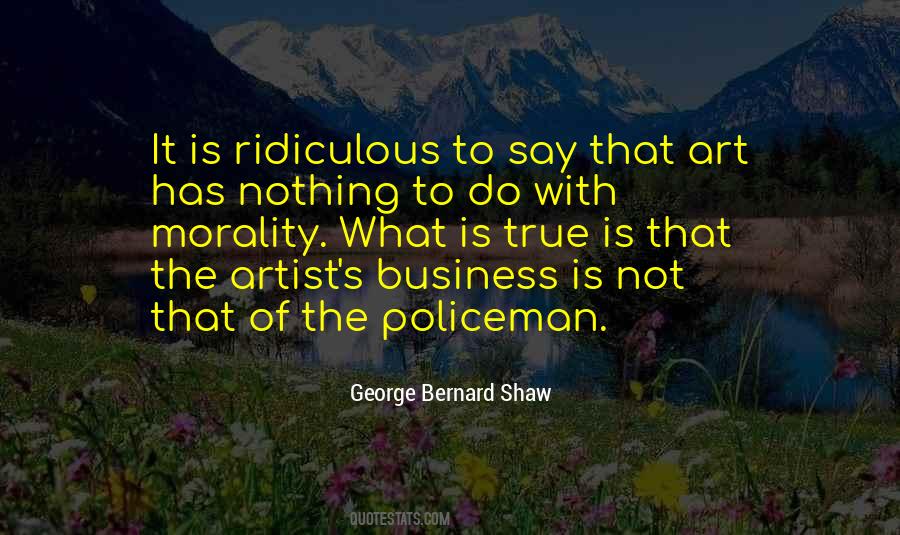 #9. Too many leaders try to do a little bit of 25 things and get nothing done. They are very popular because they always say yes. But they get nothing done. - Author: Peter Drucker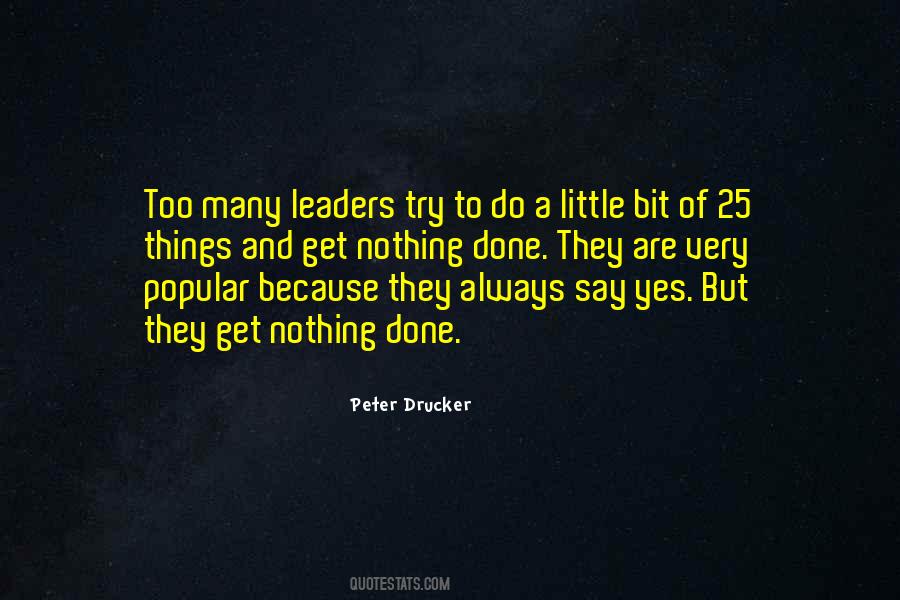 #10. If there is a God, I guess he has nothing to say about it. If there is a God, he must have gotten tired of watching a long time ago. - Author: Lauren Oliver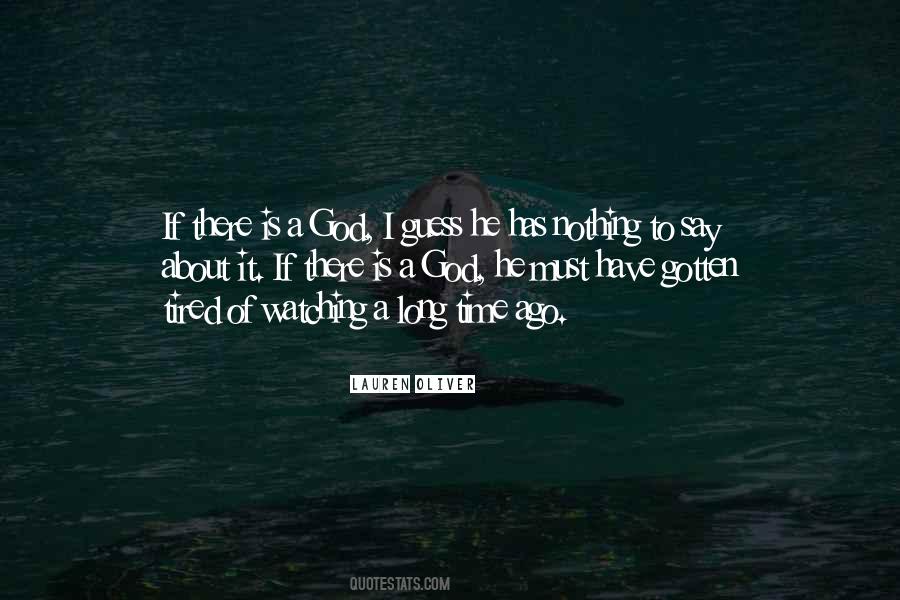 #11. He no longer cared about anything (as before) but now he also cared about everything in principle; that is to say, it was all the same to him and he belonged to the world and there was nothing he could do about it. - Author: Jack Kerouac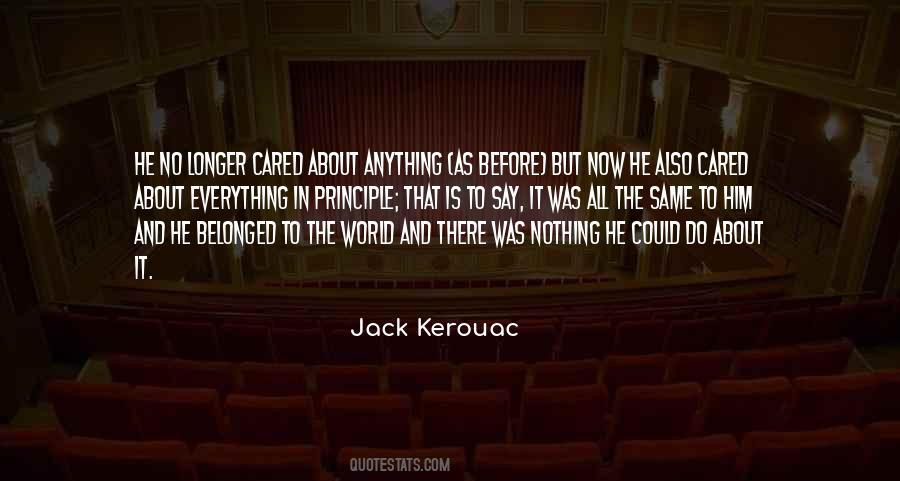 #12. We can say with certainty - or 90% probability - that the new industries that are about to be born will have nothing to do with information. - Author: Peter Drucker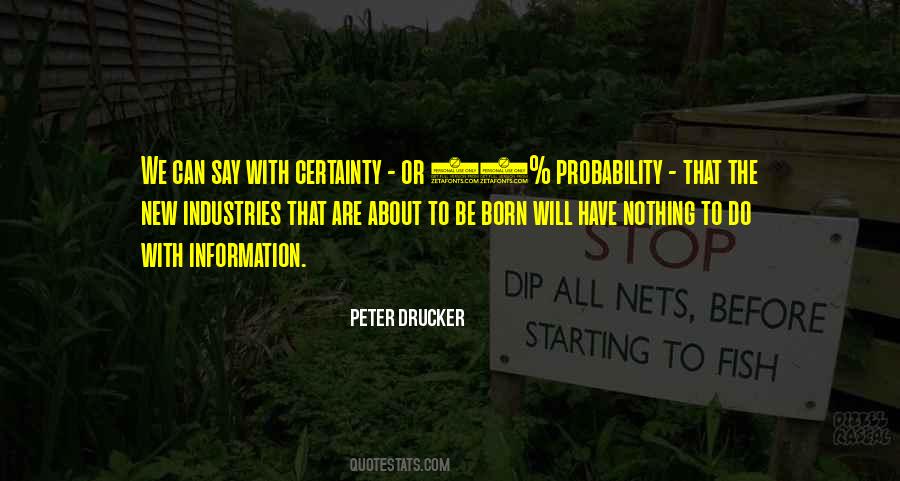 #13. When people say that nothing happens in their lives I believe them. But you must understand that everything happens to an artist; time is always redeemed, nothing is lost and wonders never cease. - Author: Muriel Spark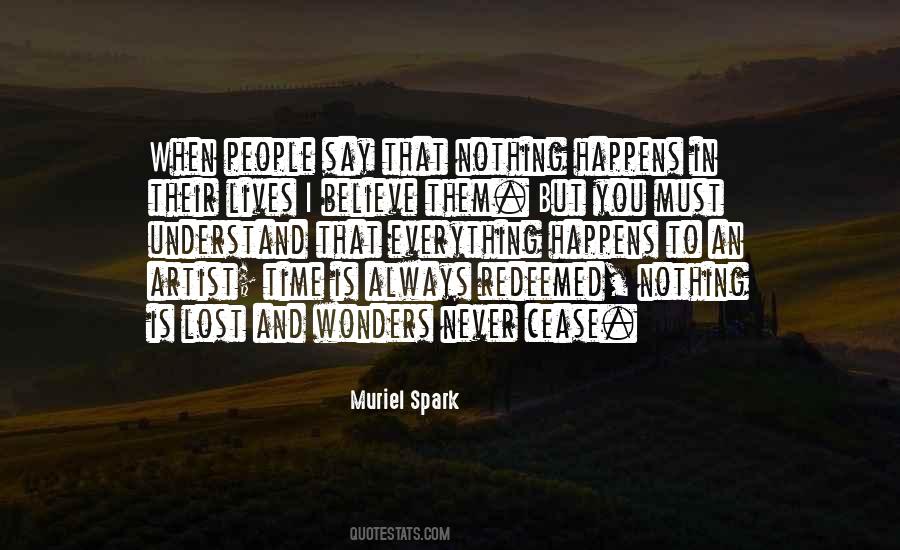 #14. The fact that I'm silent doesn't mean I have nothing to say. - Author: Jonathan Carroll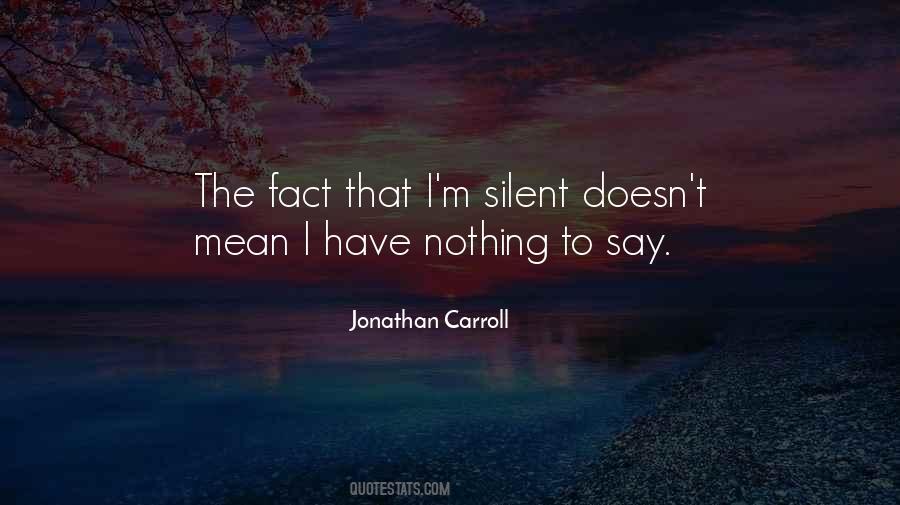 #15. What a fuss people make about fidelity!" exclaimed Lord Henry. "Why, even in love it is purely a question for physiology. It has nothing to do with our own will. Young men want to be faithful, and are not; old men want to be faithless, and cannot: that is all one can say. - Author: Oscar Wilde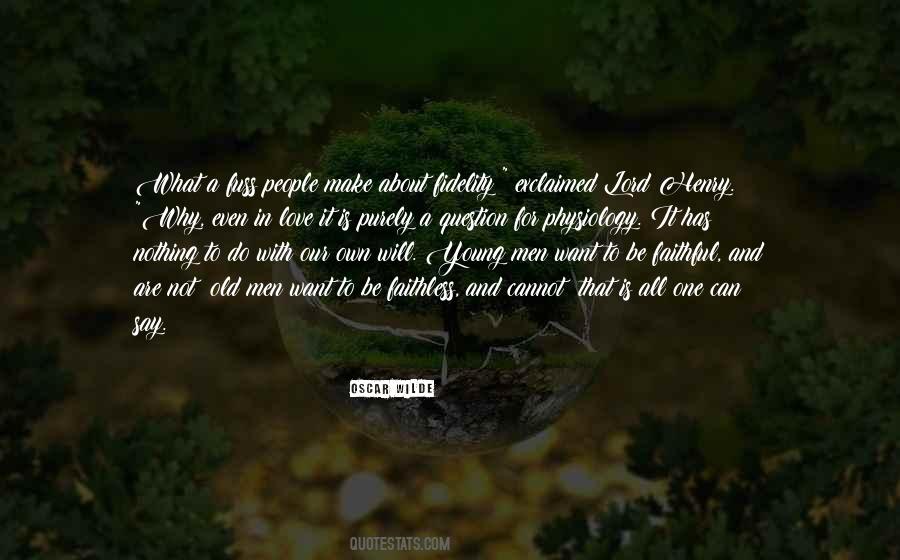 #16. Those people who say that words have no power know nothing of the nature of words. Words, well placed, can end a regime; can turn affection to hatred; can start a religion or even a war. Words are the shepherds of lies; they lead the best of us to the slaughter. - Author: Joanne Harris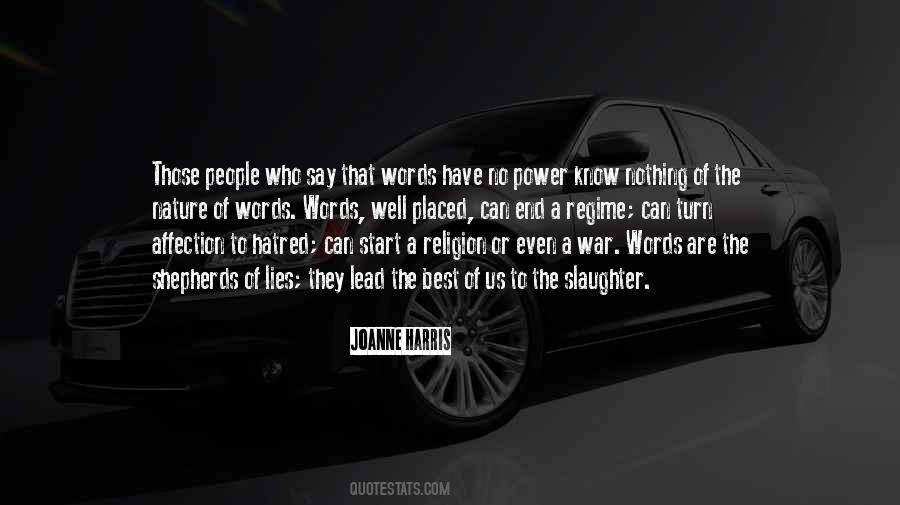 #17. Shri Ramakrishna use to say, "As Long as I Live, so long do I learn". That man or that society which has nothing to learn is already in the jaws of death. - Author: Swami Vivekananda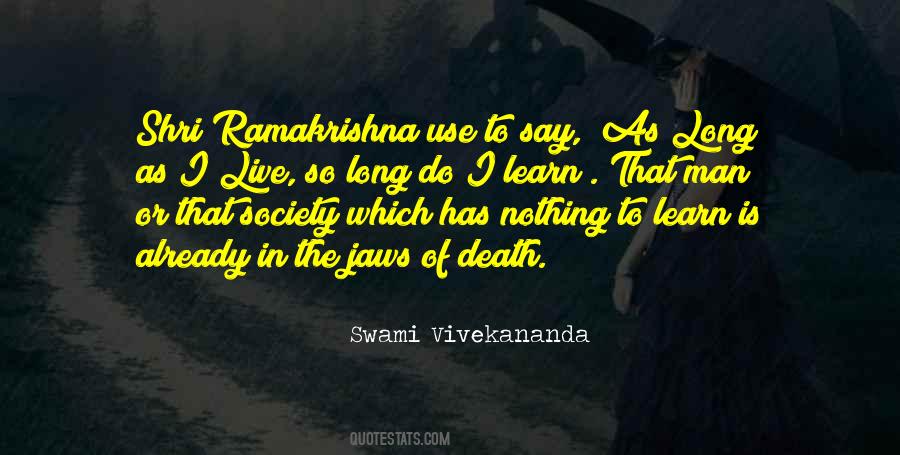 #18. Don't let the bastards grind you down. I repeat this to myself but it conveys nothing. You might as well say, Don't let there be air; or, Don't be. - Author: Margaret Atwood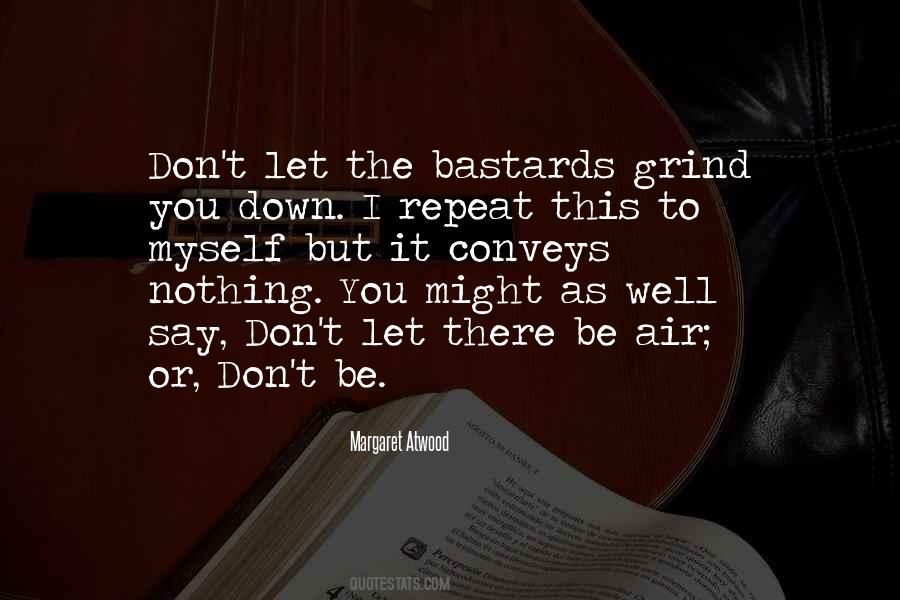 #19. But all this was nothing compared to the face which I regret to say vaguely resembled my own, less the refinement of course, same little abortive moustache, same little ferrety eyes, same paraphimosis of the nose, and a thin red mouth that looked as if it was raw from trying to shit its tongue. - Author: Samuel Beckett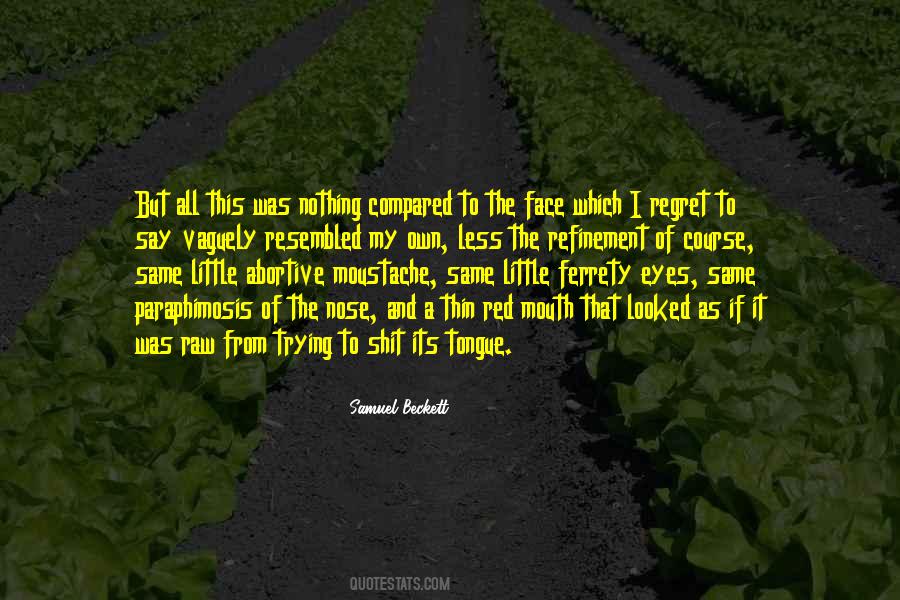 #20. For it is not true, as some treatise-mongers lay down in their systems, of the probity of the speaker, that it contributes nothing to persuasion; but moral character nearly, I may say, carries with it the most sovereign efficacy in making credible. - Author: Aristotle.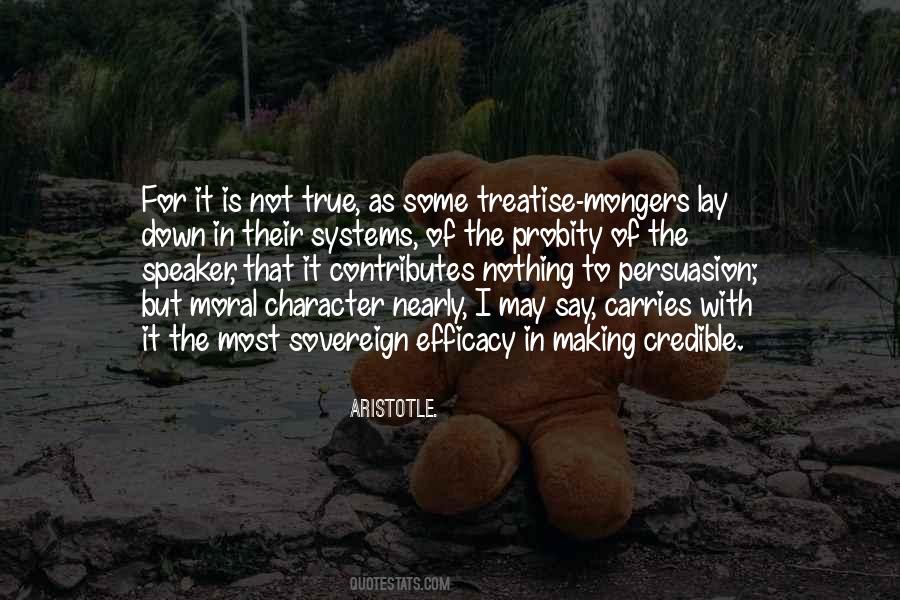 #21. I do not foresee a time when I shall feel that I have nothing to say. - Author: Alberto Moravia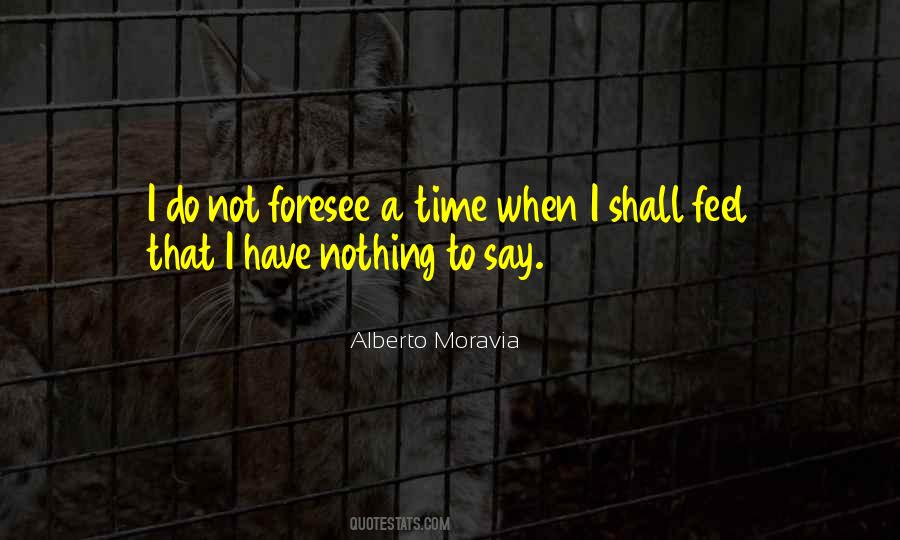 #22. Under the thousand crystal candelabras I danced with ten elderly gentlemen who had nothing to say but did not let that stop them. I answered only, Indeed and Oh yes and Do you think so? - Author: Emma Donoghue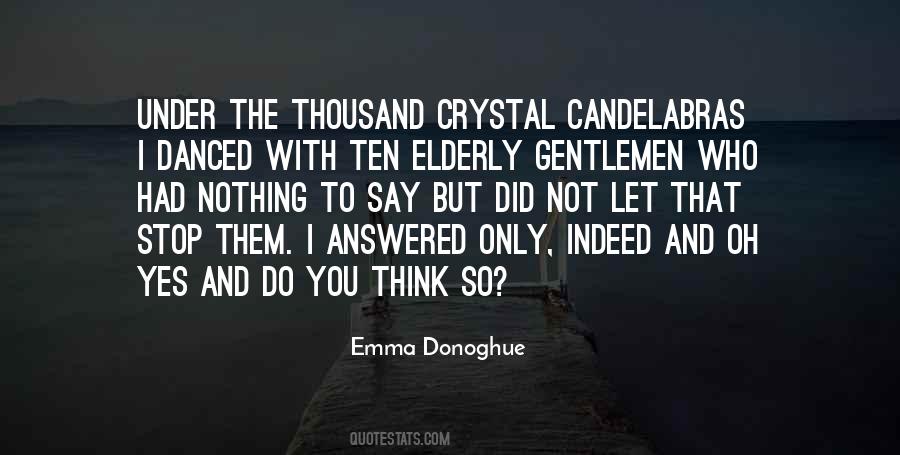 #23. When I go up there, which is my intention, the Big Judge will say to me, Where are your wounds? and if I say I haven't any, he will say, Was there nothing to fight for? I couldn't face that question. (Ah, But Your Land Is Beautiful) - Author: Alan Paton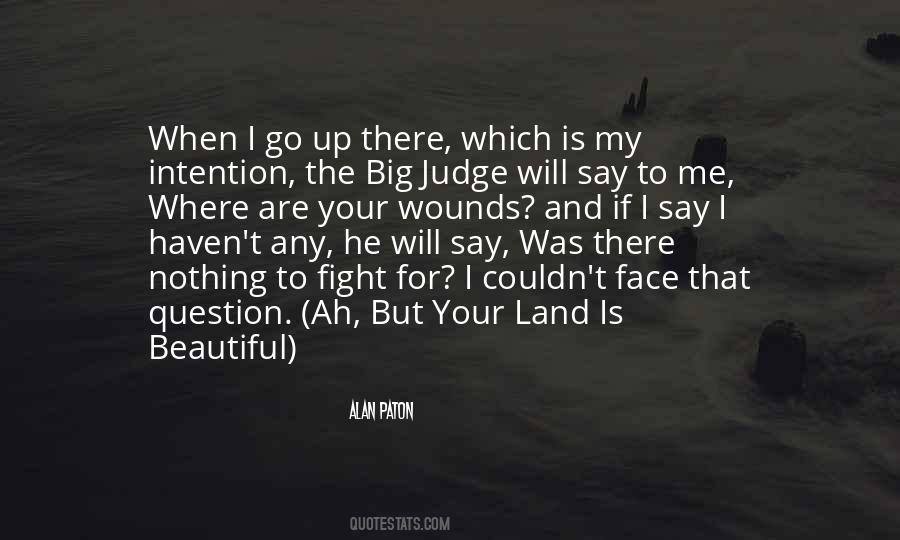 #24. Conservatism is an active intellectual pursuit; it requires a constant vigilance. It has nothing to do with feelings. Liberalism is the most gutless choice you can make. You just see suffering and say, 'Oh, I feel so horrible!' - Author: Rush Limbaugh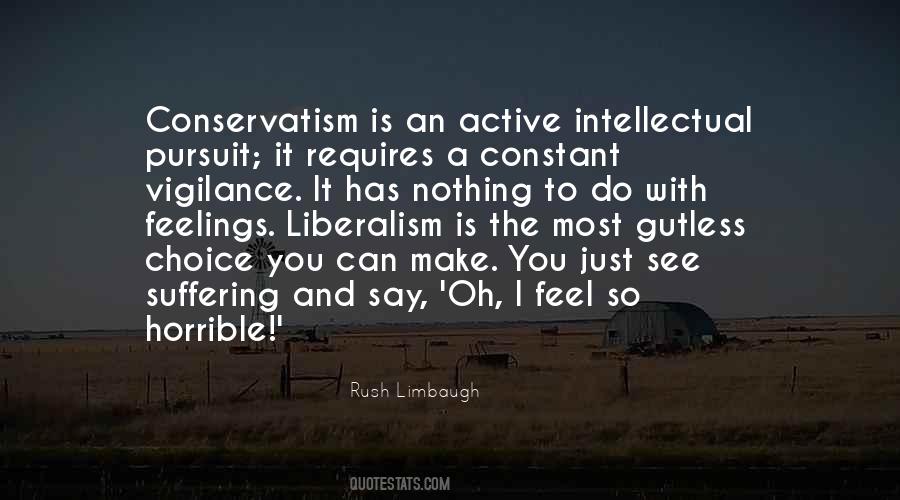 #25. Nothing else is as fulfilling as playing a part in which you are able to have a significant say in the creative process all the way through. How many actors get to do that? It's extremely rare. - Author: Tom Hollander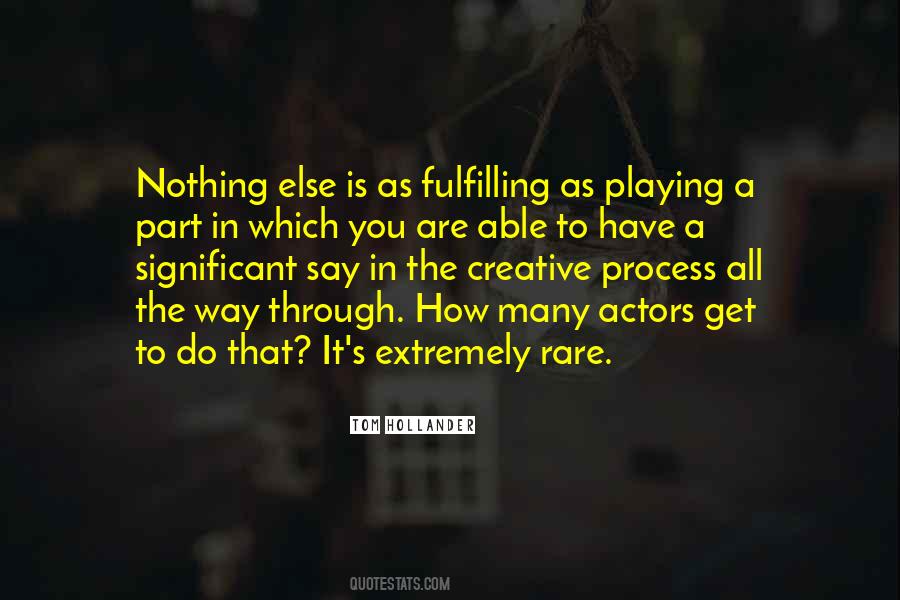 #26. He was tongue-tied in the presence of a fourteen-month-old baby. All the things he thought of saying, like 'Who's Daddy's little boy, then?' sounded horribly false, as though he'd got them from a book. There was nothing to say, nor, in this soft pastel room, anything that needed to be said. - Author: Terry Pratchett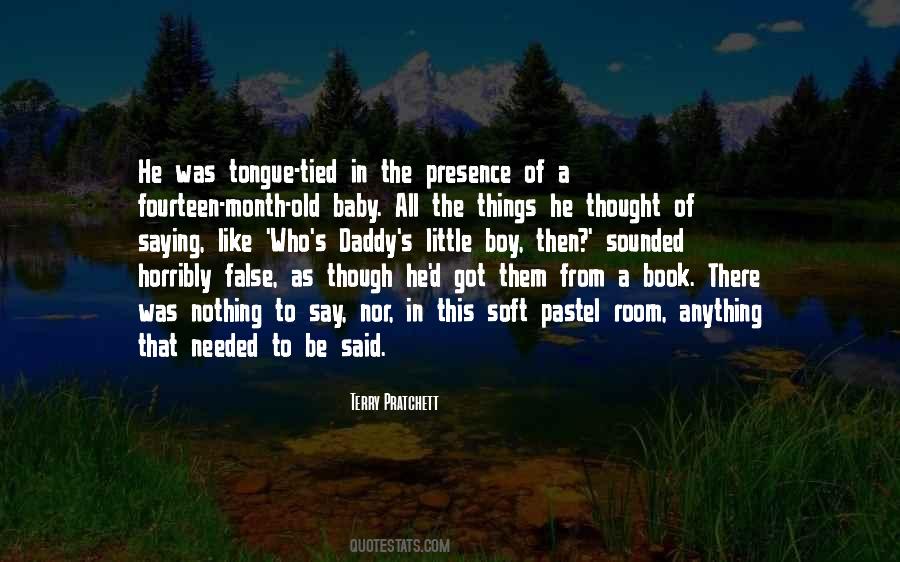 #27. Indeed taking all the evidence together, it is not too much to say that there is no single historic incident better or more variously supported than the Resurrection of Christ. Nothing but the antecedent assumption that it must be false could have suggested the idea of deficiency in the proof of it. - Author: Brooke Foss Westcott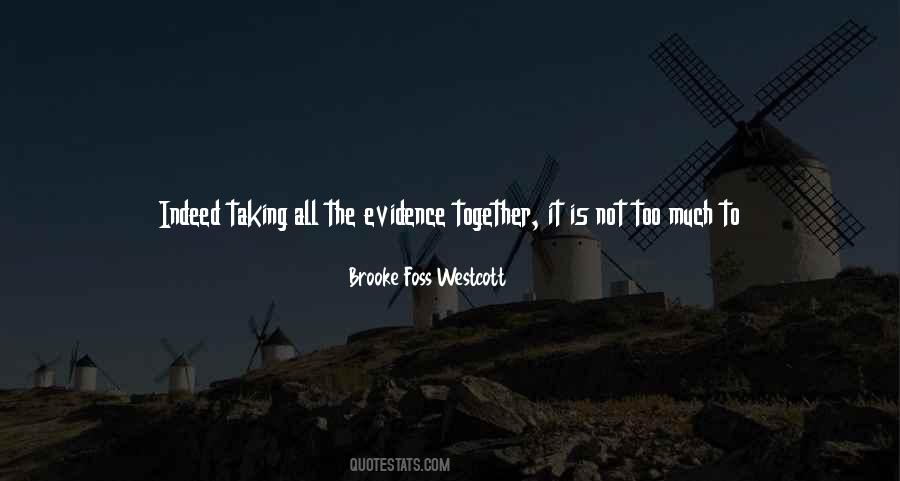 #28. Twitter is good. Why say a lot to a few people when you can say virtually nothing to everyone? - Author: Jerry Seinfeld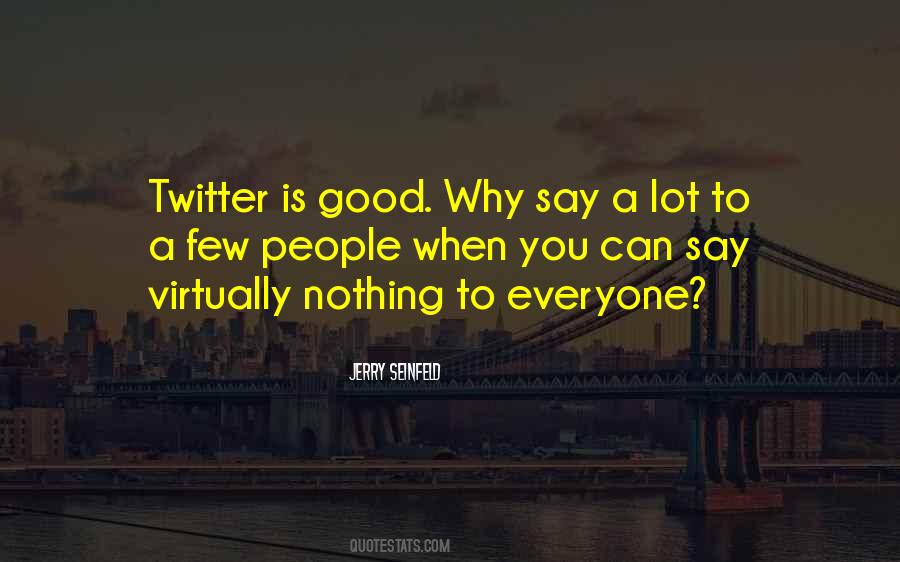 #29. What am I supposed to say to an atheist when he sneezes, ah, when you die nothing happens. - Author: Dane Cook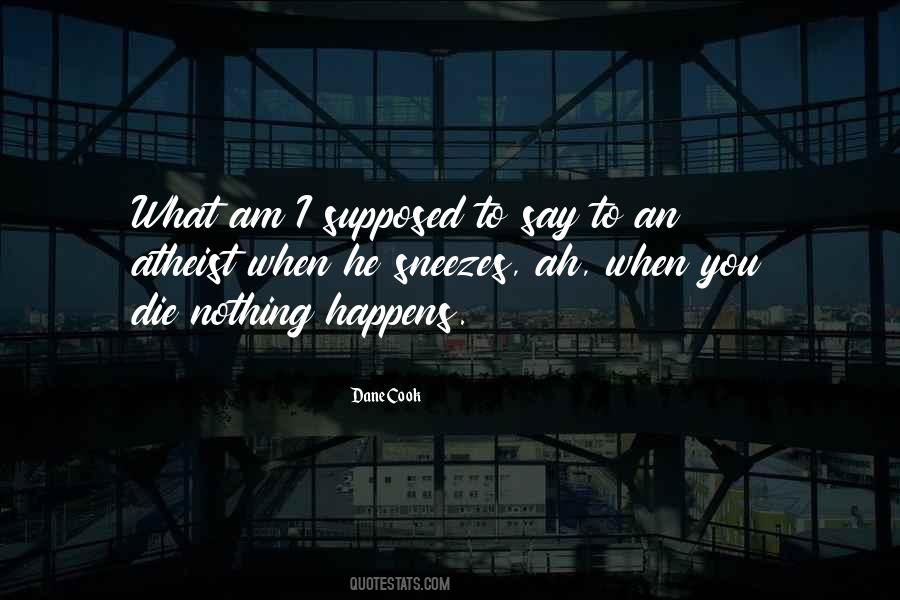 #30. Wang-mu fell silent, but not because she was embarrassed. She simply had nothing to say, and therefore said nothing. - Author: Orson Scott Card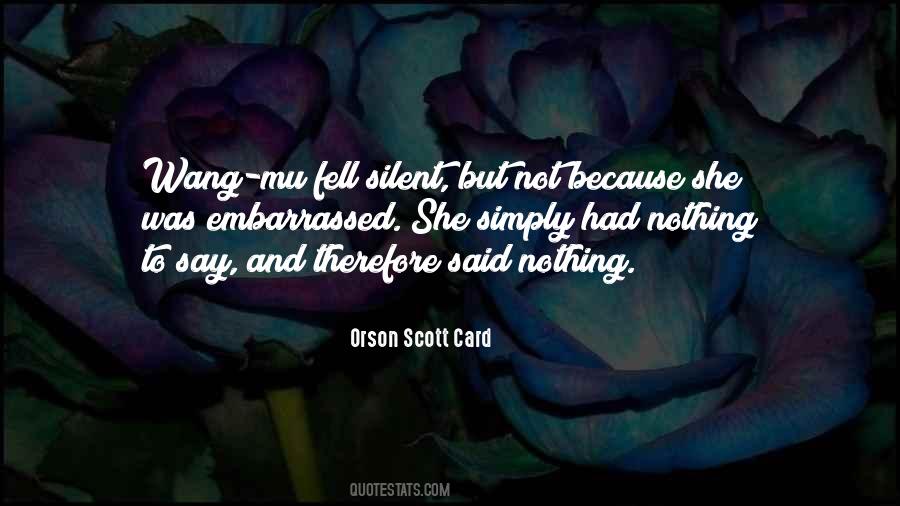 #31. I've seen people glaze over when they're confronted with racism, and there's nothing more, you know, damning and demeaning to having any kind of ideology than people just walking the walk and saying what they're supposed to say and nodding, and nobody feels anything. - Author: Kara Walker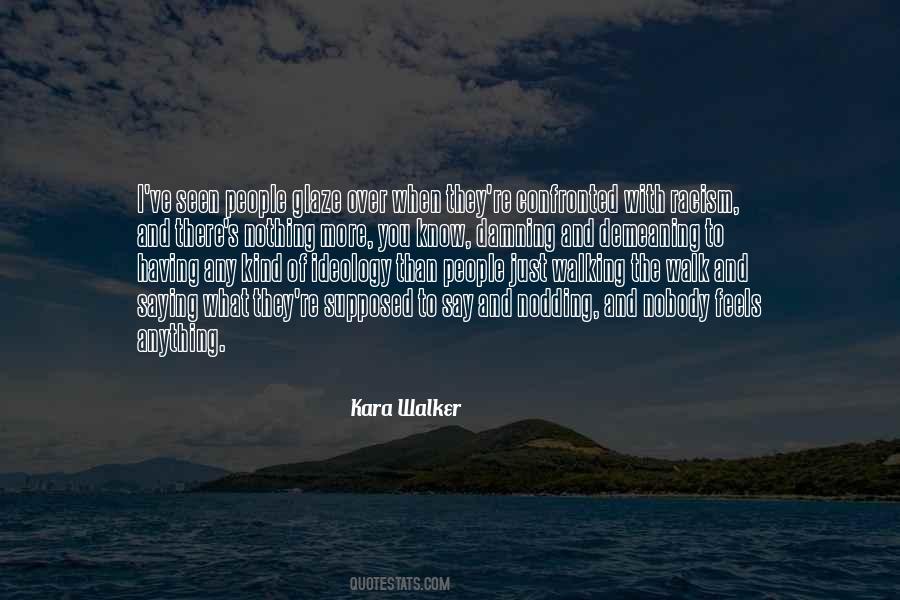 #32. When people say, 'Nothing's coming to me,' they usually don't like what's coming to them. - Author: Amy Ray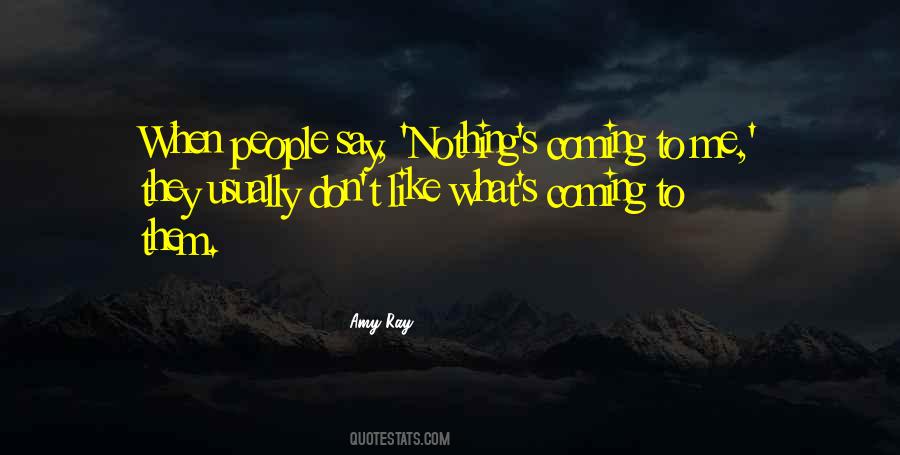 #33. Miss Skeeter say maybe don't spec nothing at all, that most Southern peoples is "repressed." If they feel something, they might not say a word. Just hold they breath and wait for it to pass, like gas. - Author: Kathryn Stockett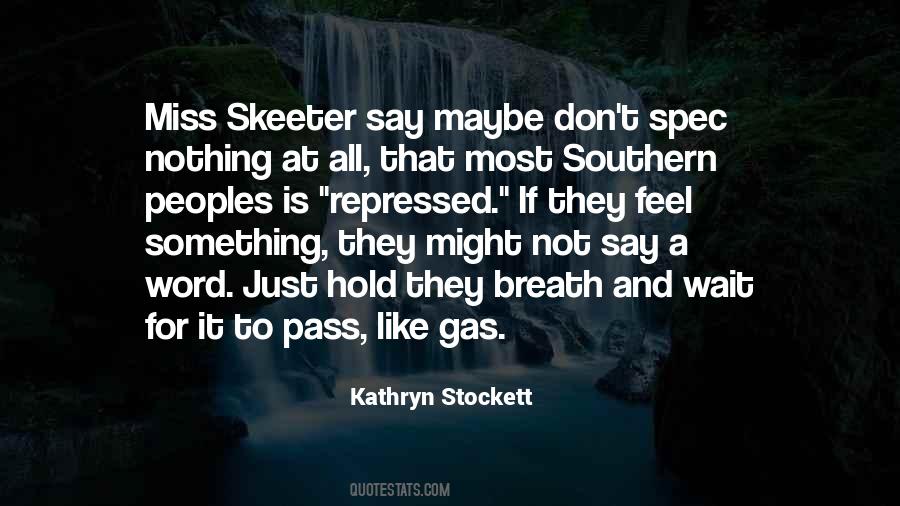 #34. It has been said that if you aim at nothing in life, you are likely to hit nothing! I have never had anyone come to me and say, 'Venita, I plan to fail.' Yet I have observed many who failed to plan and who unfortunately met with the same dismal results. - Author: Venita VanCaspel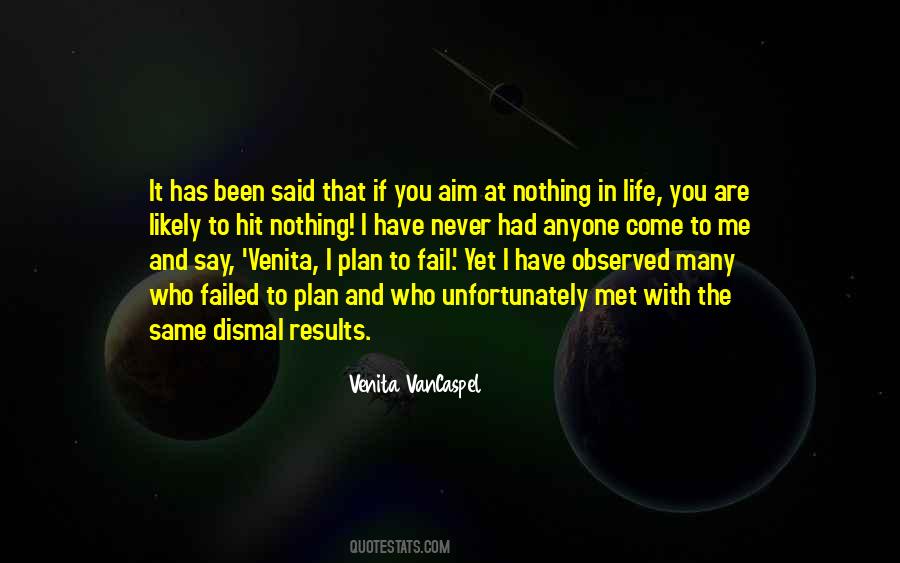 #35. Good-for-nothing husband were as unDursleyish as it was possible to be. The Dursleys shuddered to think what the neighbors would say - Author: J.K. Rowling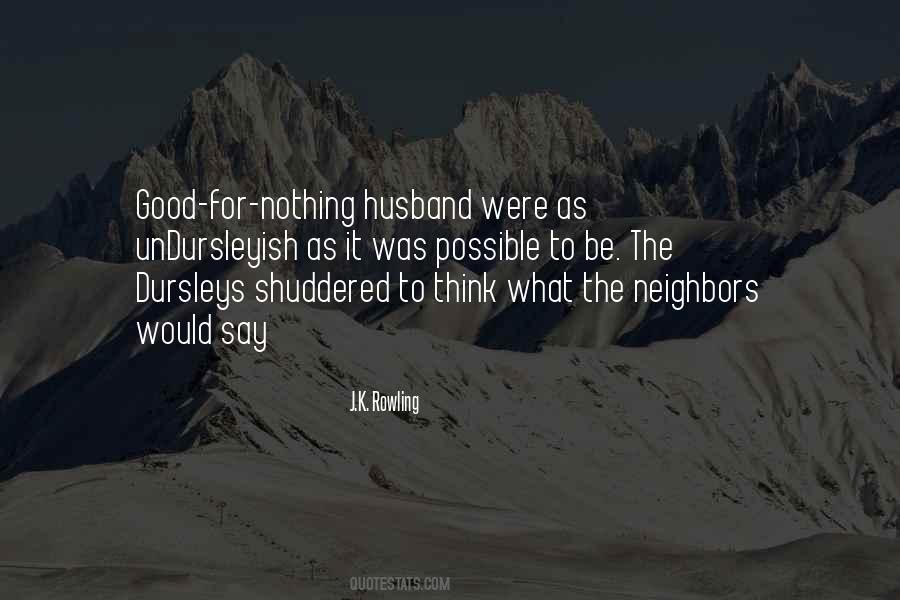 #36. People who say, 'There's nothing to fear from spiders' have clearly never been to Australia. - Author: Cate Blanchett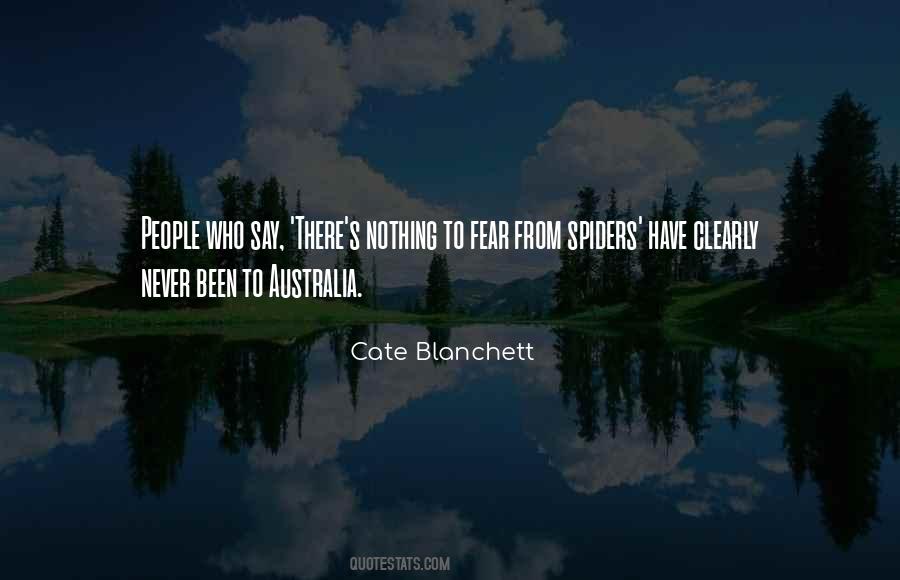 #37. In the sports arena I would say there is nothing like training and preparation. You have to train your mind as much as your body. - Author: Venus Williams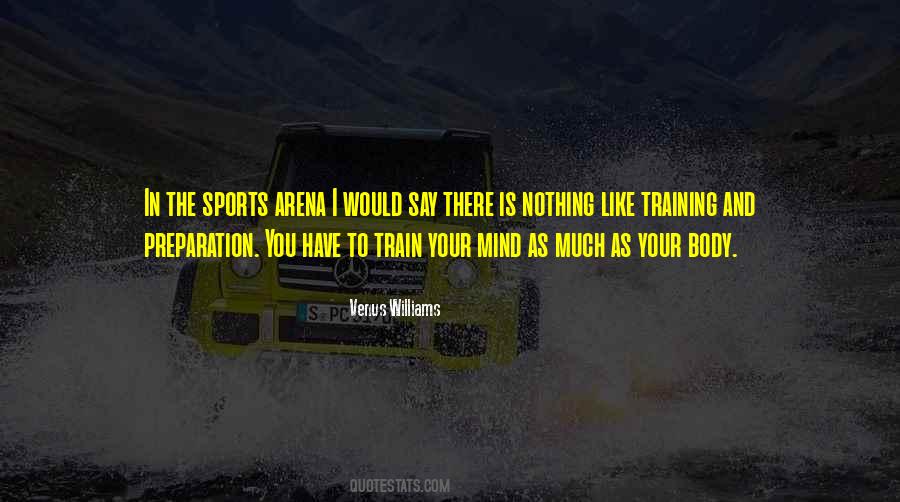 #38. The rule of thumb in student files seemed to be, If you have nothing negative to say, don't say anything at all. - Author: Harlan Coben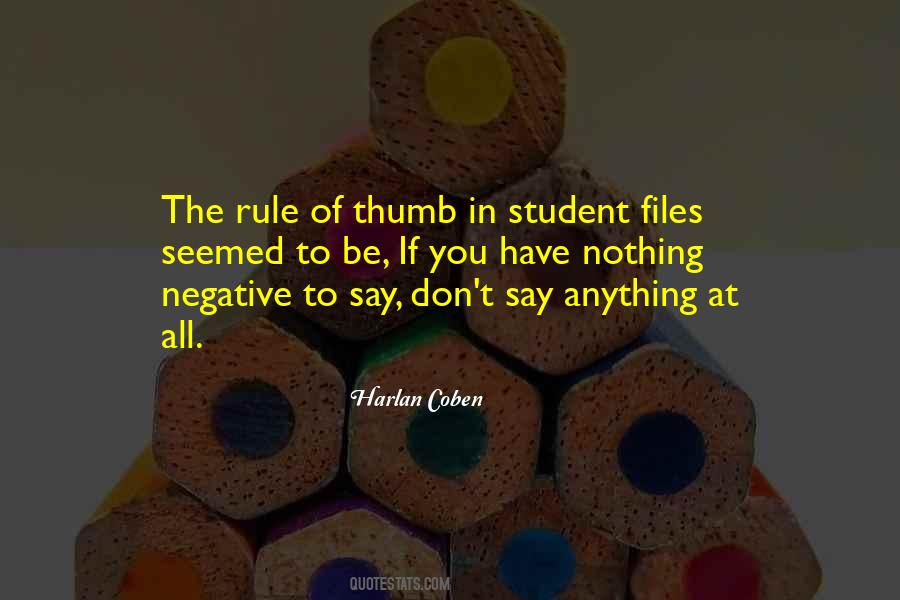 #39. As a filmmaker, you want nothing more than to have people say, 'I love your movie.' - Author: Peter Jackson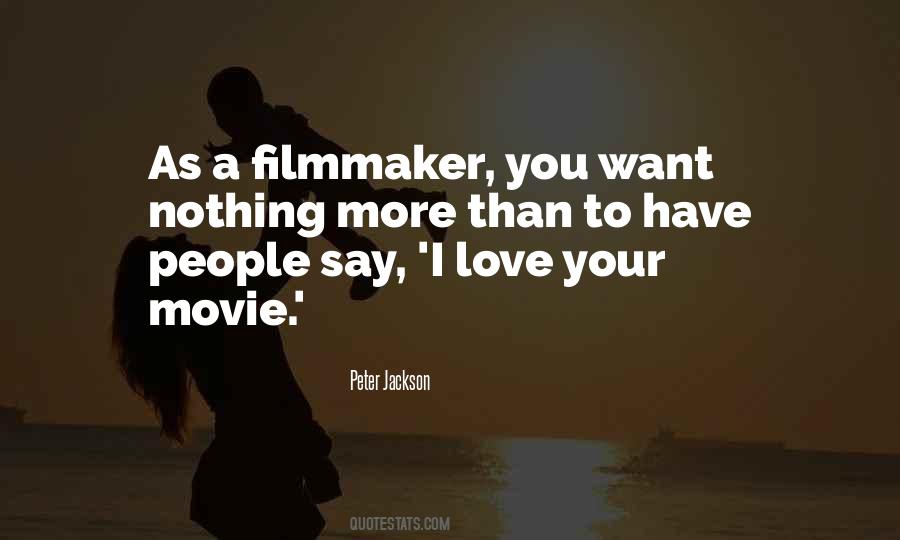 #40. I just hate stupid people. They should have to wear signs that say 'I'm Stupid.' That way you wouldn't rely on them, and you wouldn't ask them for nothing. - Author: Bill Engvall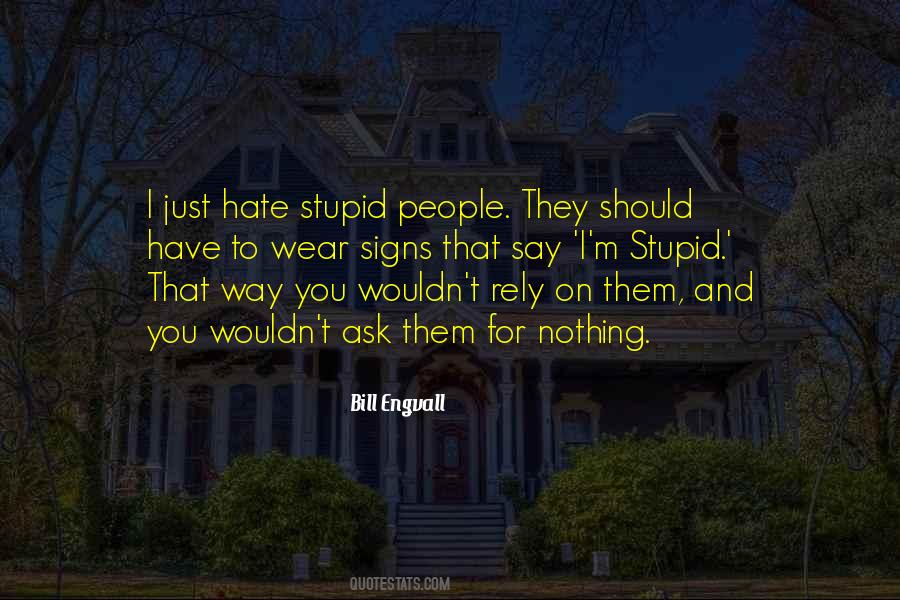 #41. I did an interview where they were harping on and on about sensuality and sexuality ... really, I have nothing to say about any of that stuff because it's so boring and I never think about it. - Author: Scarlett Johansson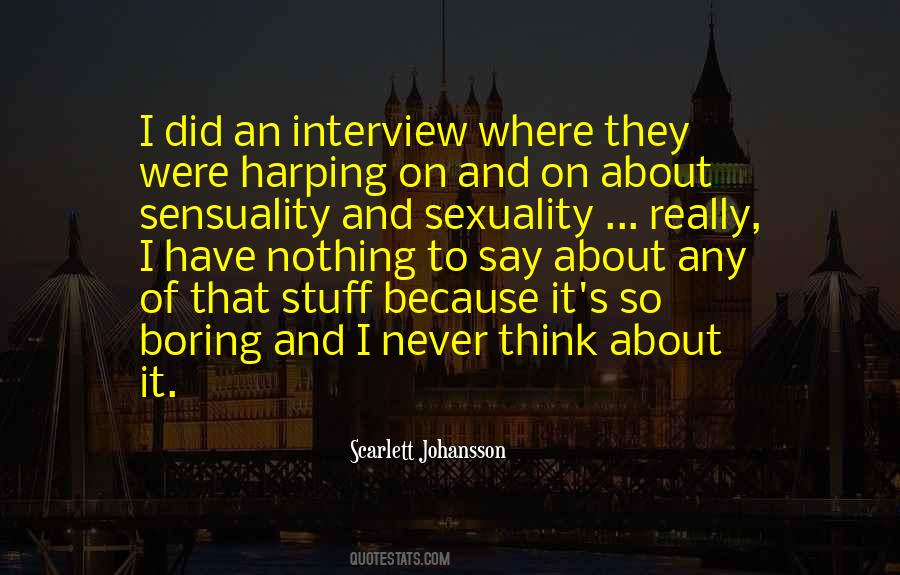 #42. Achi used to say that, for a woman, sex was her greatest strength. Morality was nothing but a chain invented by man to enslave women. - Author: Anand Neelakantan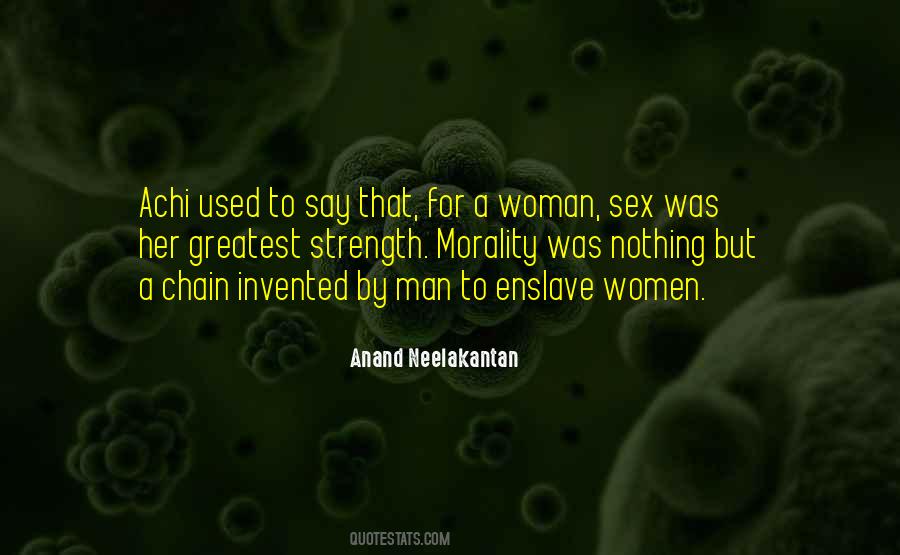 #43. Well!' thought Alice to herself, 'after such a fall as this, I shall think nothing of tumbling down stairs! How brave they'll all think me at home! Why, I wouldn't say anything about it, even if I fell off the top of the house!' (Which was very likely true.) - Author: Lewis Carroll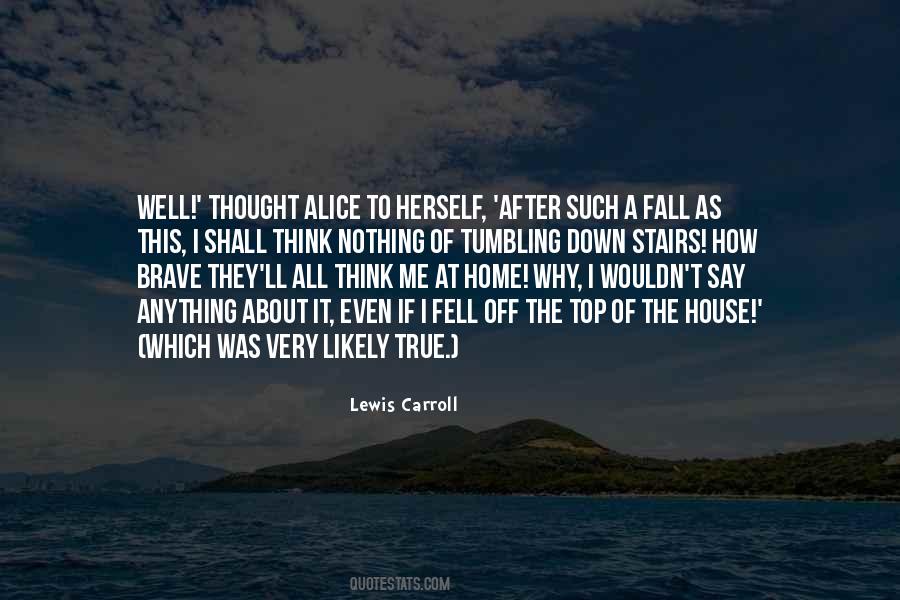 #44. I try to go throughout my daily life just as if nothing has changed, but you don't have much anonymity anymore, which feels really good. People come up, and say hi and they enjoy your work. - Author: Adam Lambert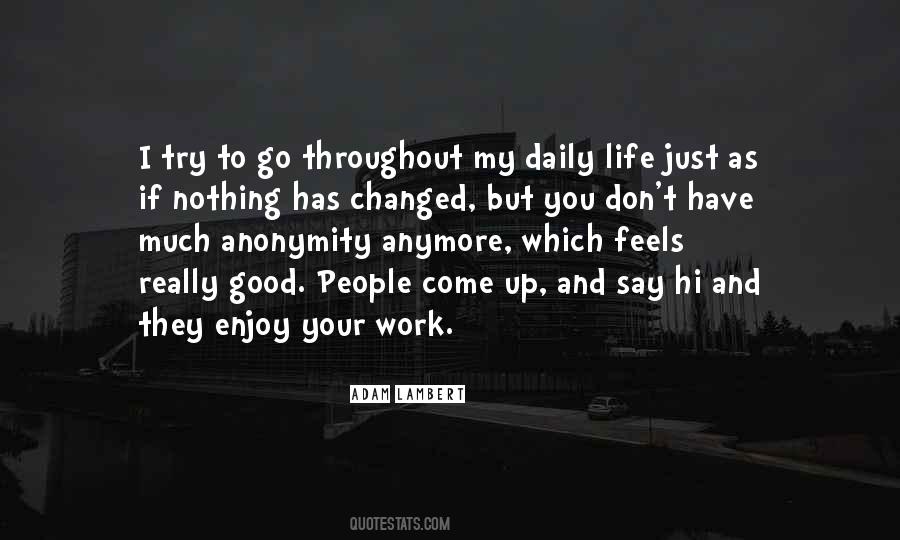 #45. We all have things inside ourselves we can't kill,' I say, not sure which part of me would be better off dead: this monster self, or the normal one who wants nothing more than a little place on a little planet with his friends, the one who will have to live with being a killer. - Author: Holly Black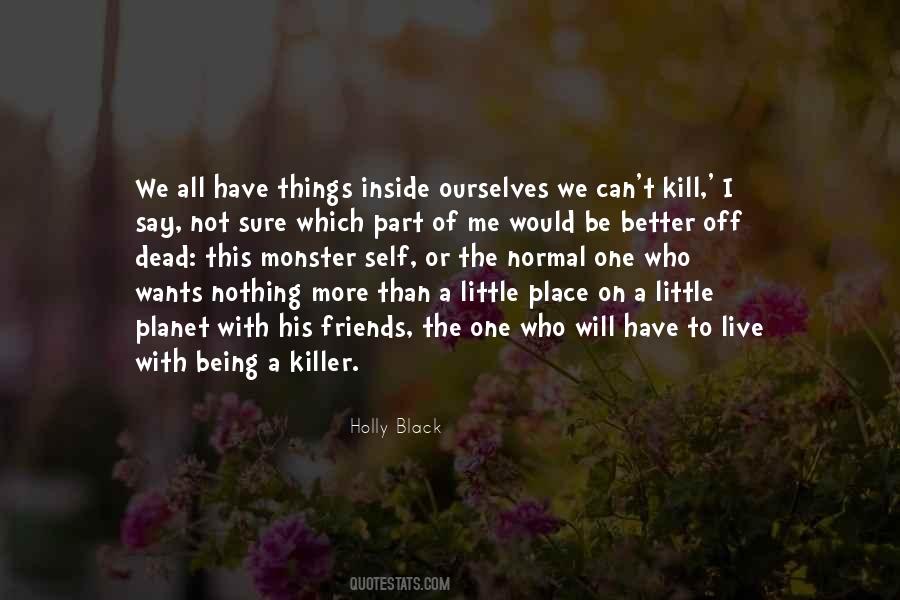 #46. I have spoken softly, gone my ways softly, all my days, as behoves one who has nothing to say, nowhere to go, and so nothing to gain by being seen or heard. - Author: Samuel Beckett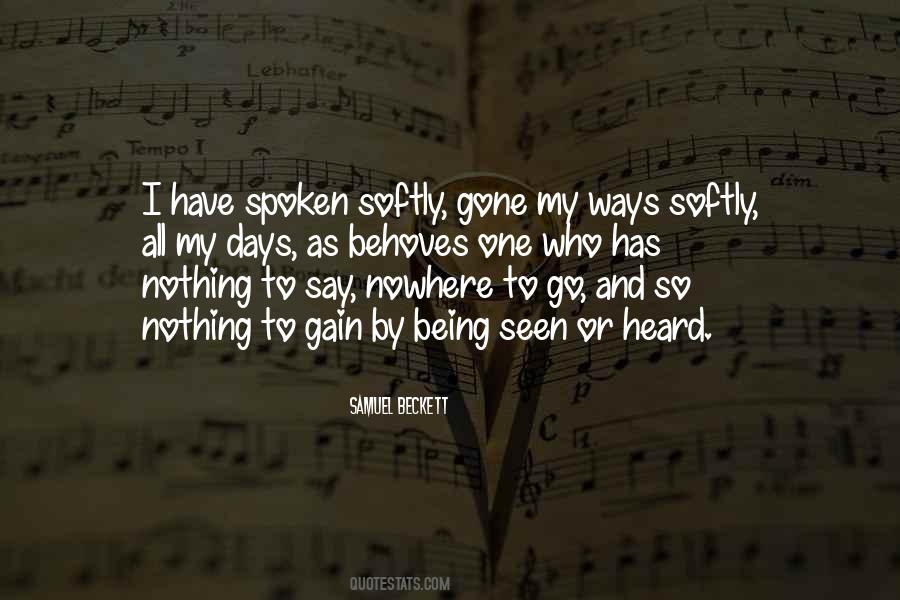 #47. When there's a dead body in the room, you never, ever answer cops' questions without your lawyer present. Which is to say, your lawyer answers the questions by saying, We have nothing to say at this time. - Author: Paul Levine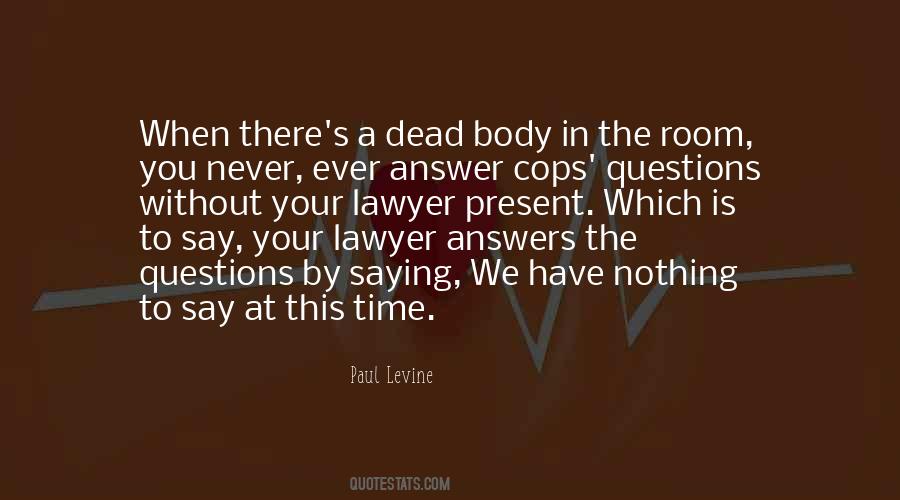 #48. Modern religious teaching have little or nothing to say about the place of prudence in life or in the hierarchy of virtues. - Author: Josef Pieper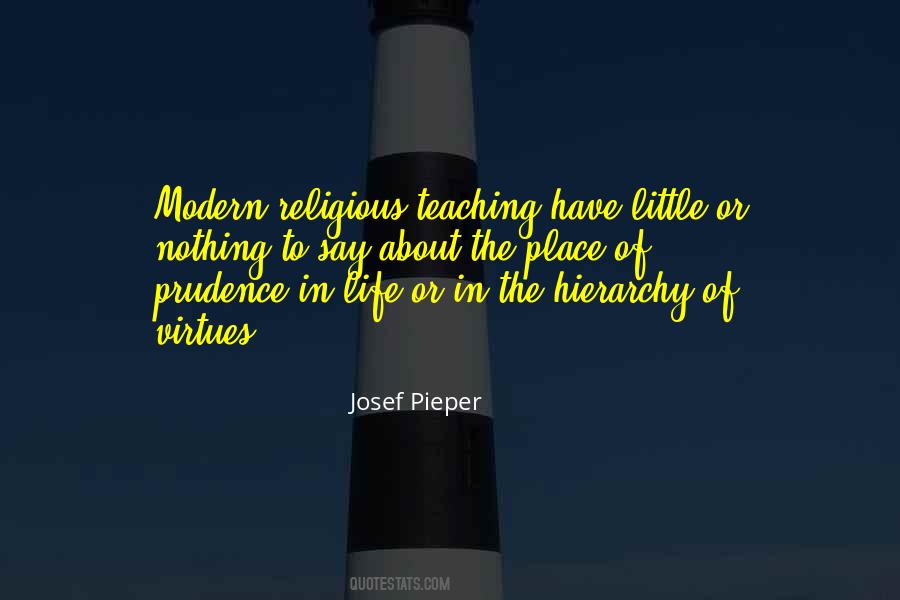 #49. There is nothing in this world that I fear to say.
- Author: Dmitri Mendeleev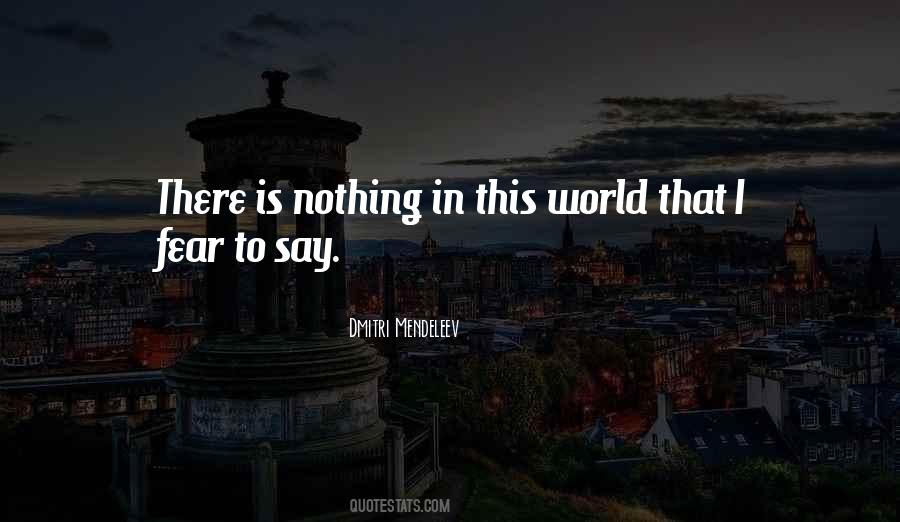 #50. I gave people who didn't know what to say the best advice I could muster, which was that it was better to say anything rather than pretend that nothing was wrong. My hunch was that Mom would simply appreciate knowing that people were thinking of her. - Author: Will Schwalbe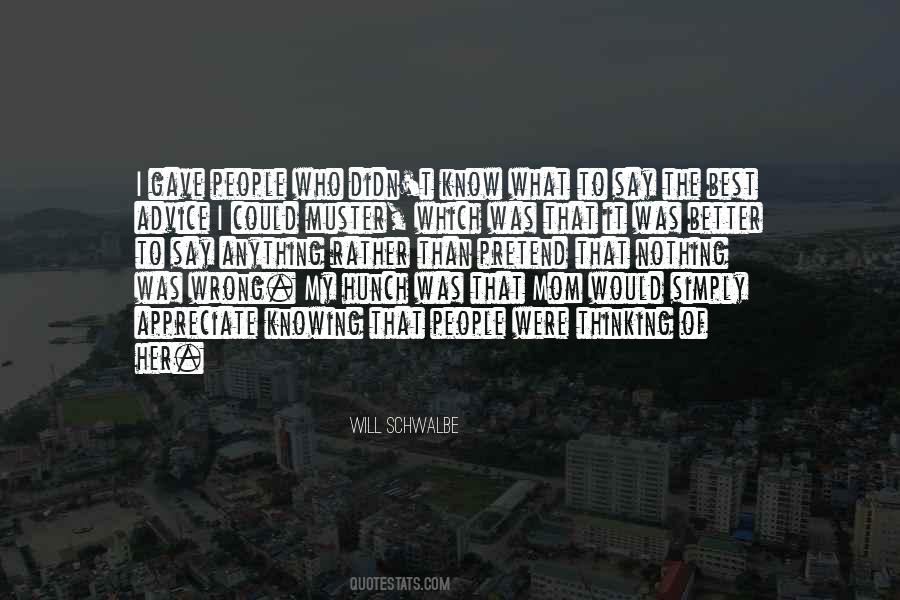 #51. To say a poem is absolute is saying nothing, because an ink blot can be absolute. Yet you put into it what you like. So it becomes totally relative. - Author: Nicholas Mosley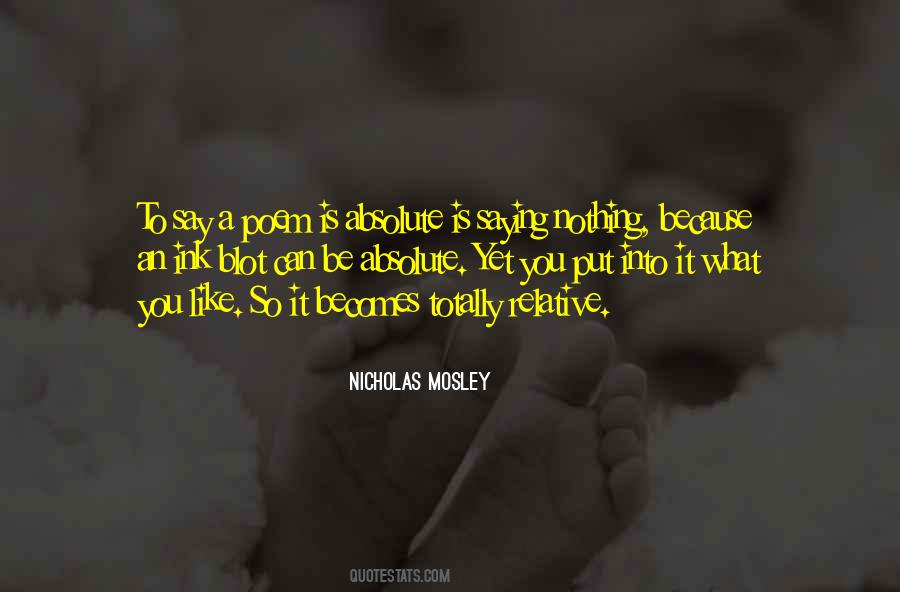 #52. This Is Your Time, This Is Your Dance. Live Every Moment, Leave Nothing To Chance. Swim In The Sea. Drink Of The Deep, Embrace The Mystery Of All You Could Be. What if Tomorrow? And What If Today? Faced With The Question, Oh What Would You Say? - Author: Michael W. Smith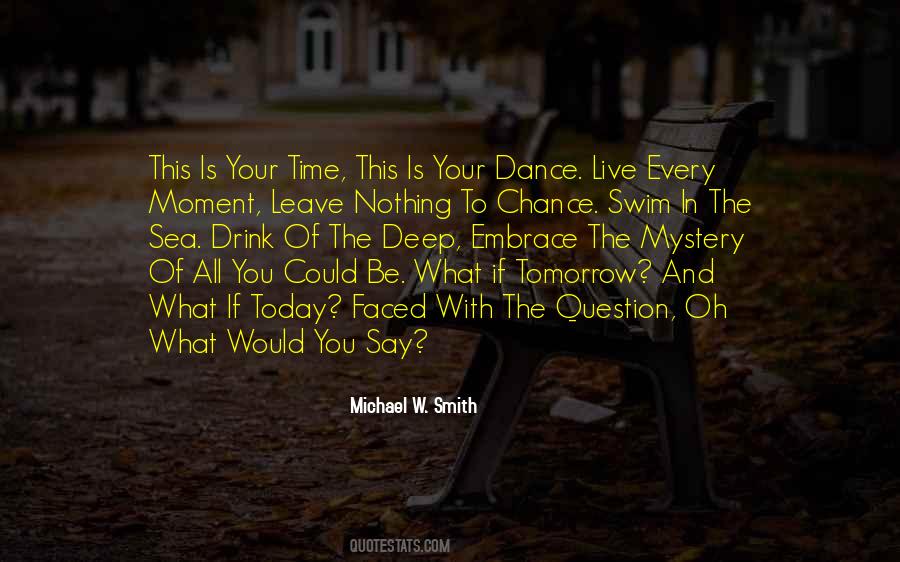 #53. My ideas about time all developed from the realization that if nothing were to change we could not say that time passes. Change is primary, time, if it exists at all, is something we deduce from it. - Author: Julian Barbour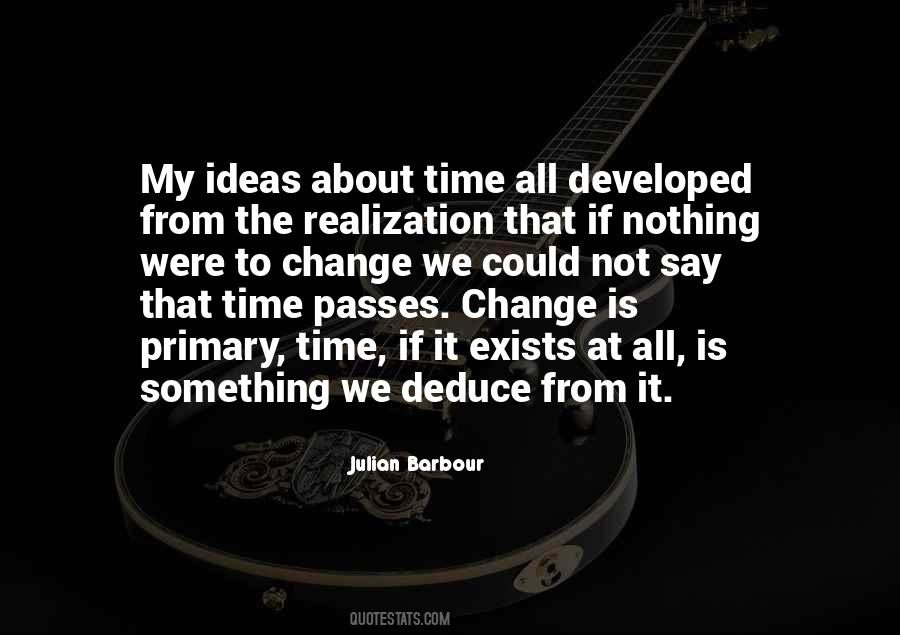 #54. There's nothing wrong with wanting a partner and doing the things to have one. To protect ourselves, we have to say, 'I don't need one.' - Author: Hill Harper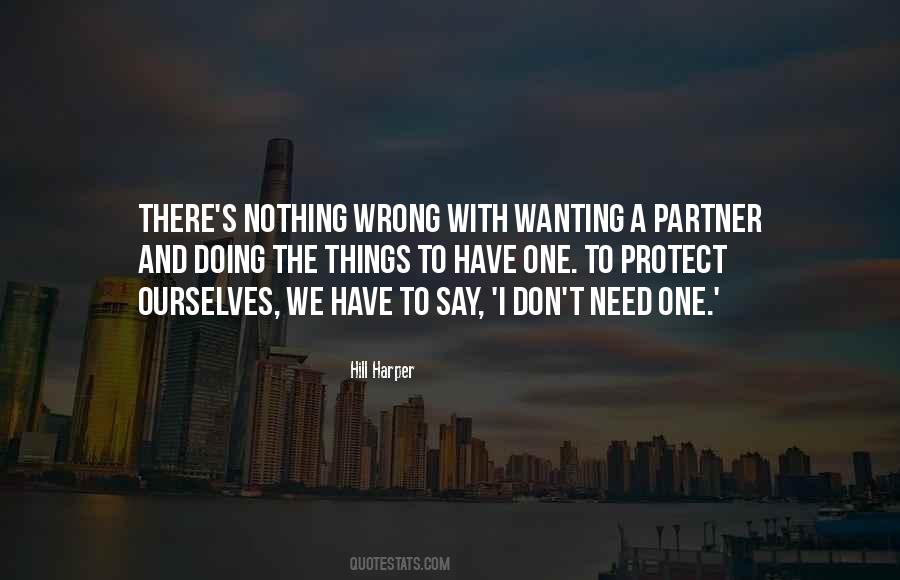 #55. Actually it deals ("as usual" I was about to say!) with Life, Love and Death. Because nothing in fact is more important. To occupy oneself with. To think of. To worry over. To be happy about. And so on. - Author: Ingmar Bergman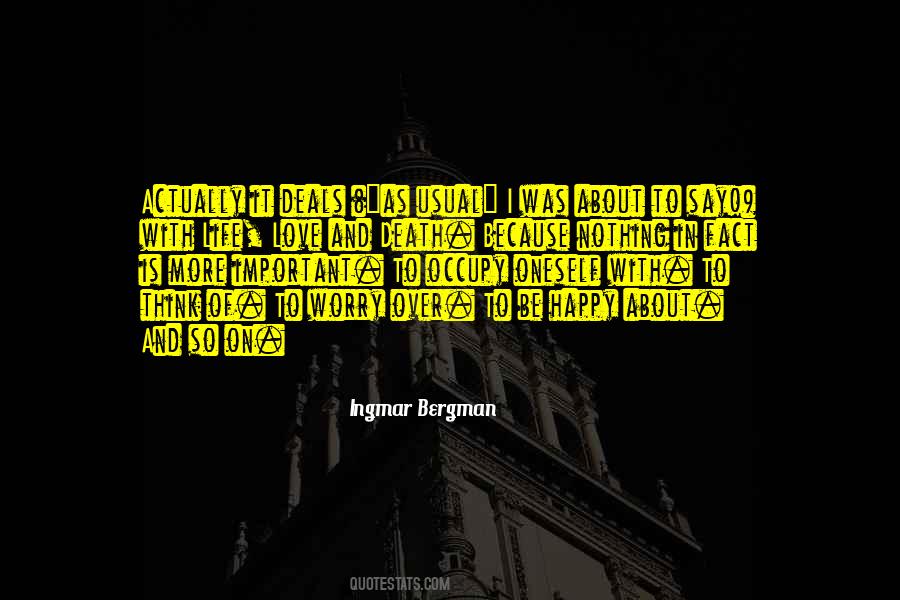 #56. [I] don't like to think like everybody else, don't like to try to think like everybody else, don't like to do nothing everybody else think I'm gone do, don't like to say nothing everybody else think I'm gone say. I'm a Martian. I like to be different. And what's more different than a Martian. - Author: Lil' Wayne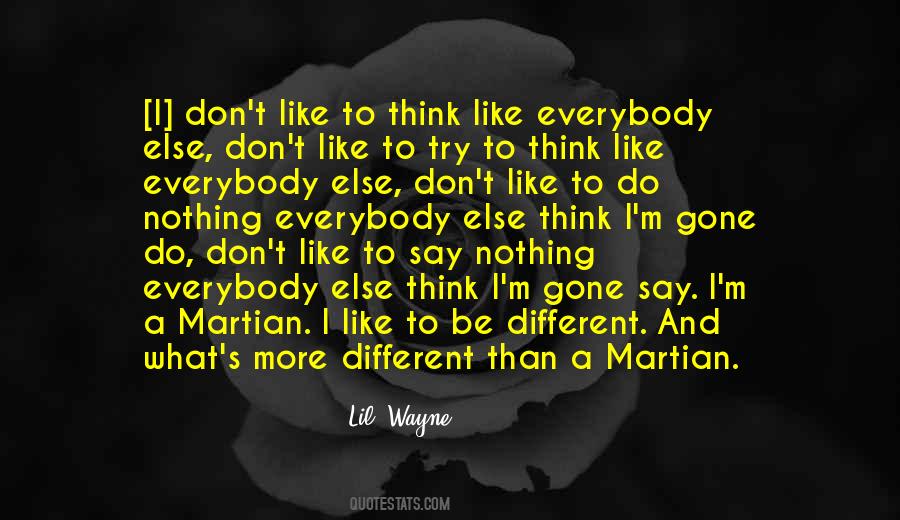 #57. Live your life, experience something, and then you're going to have a lot of things to say. But if you hang around in Hollywood, then you're going to say the same thing as everyone else - nothing. - Author: Luc Besson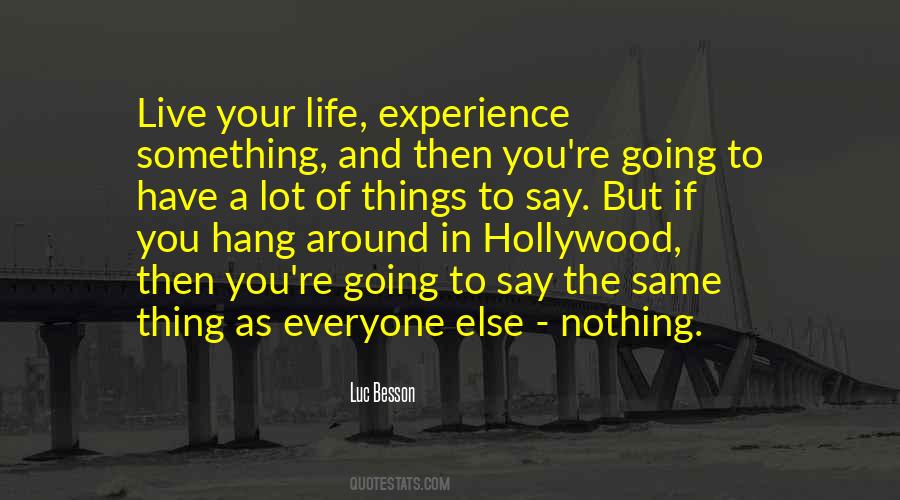 #58. An ordinary man would have been unable to maintain his balance there, to say nothing of holding on with such narrow support. But the Green Lama had held more difficult positions, according to the Yoga, for hours. - Author: Kendell Foster Crossen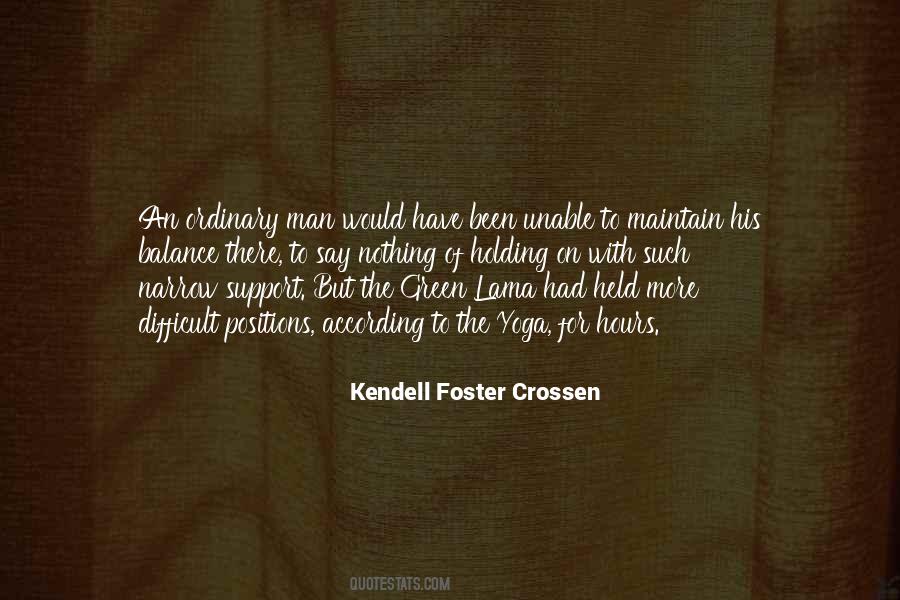 #59. Every one of my novels could be entitled The Unbearable Lightness of Being or The Joke or Laughable Loves; the titles are interchangeable, they reflect the small number of themes that obsess me, define me, and unfortunately, restrict me. Beyond these themes, I have nothing else to say or write. - Author: Milan Kundera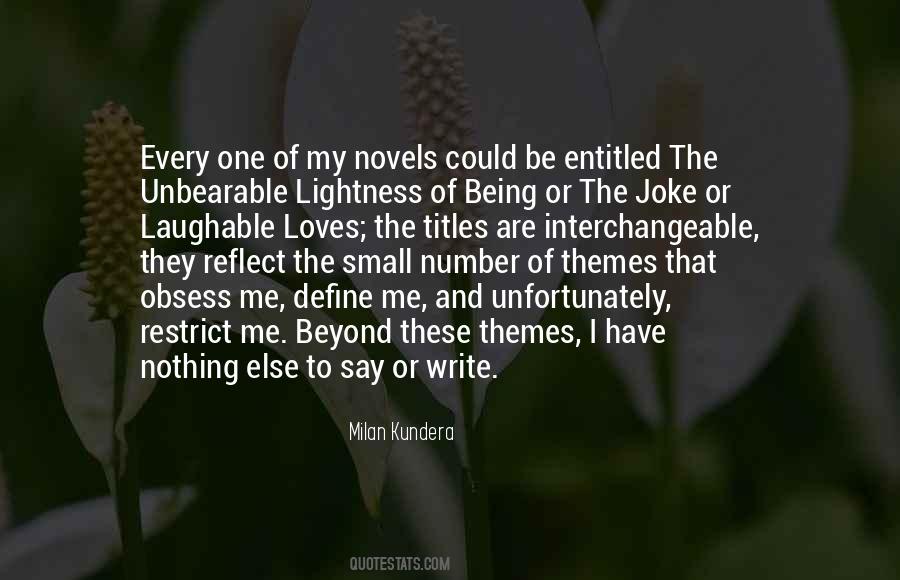 #60. Man is a deeply illogical being, and must be ruled illogically. Whatever that frigid prig Bentham may say, there are innumerable motives that have nothing to do with utility. - Author: Patrick O'Brian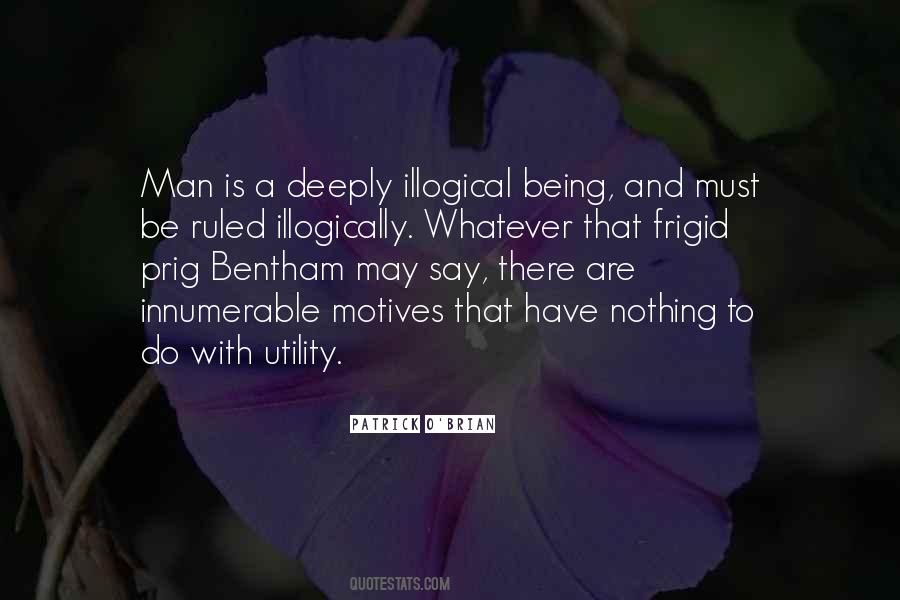 #61. I've got nothing against tattoos. I don't have one myself. If I did, it would be right there next to my watch. It would say Your wife's birthday is August 2nd, your anniversary is September 18th, don't let Ron White drive your car again. - Author: Jeff Foxworthy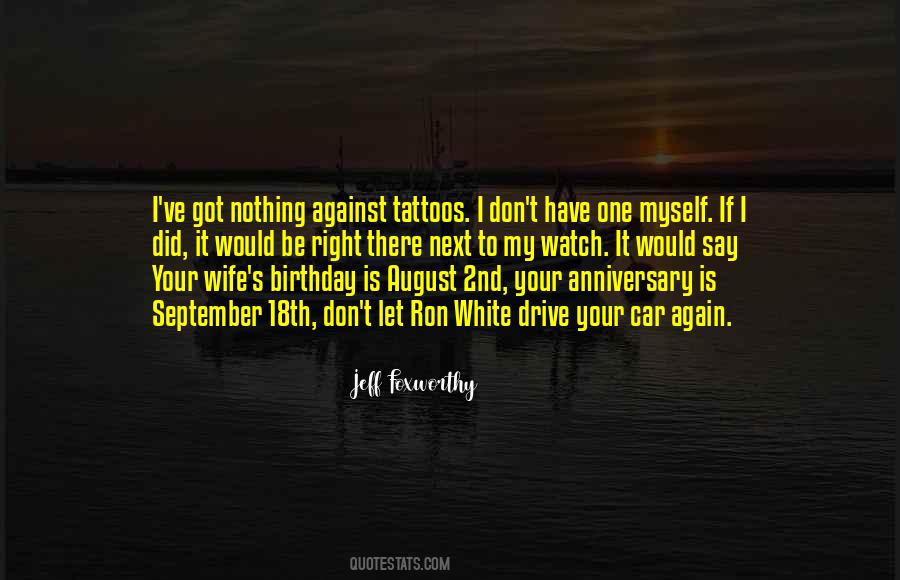 #62. Mr Rycroft said nothing. It was so difficult not to say the wrong thing to Captain Wyatt that it was usually safer not to reply at all. - Author: Agatha Christie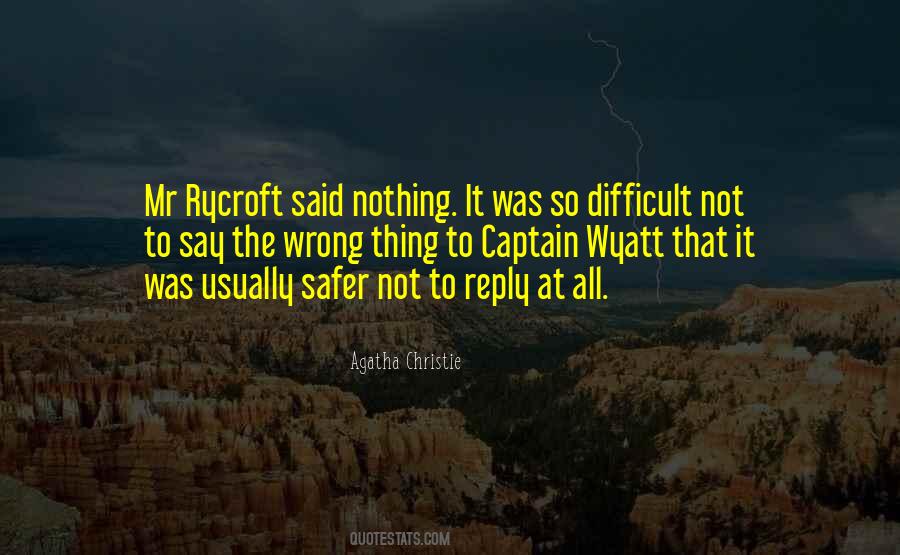 #63. There was really nothing for serious men to do in cases of wild gossip, for superstitious rustics will say and believe anything. - Author: H.P. Lovecraft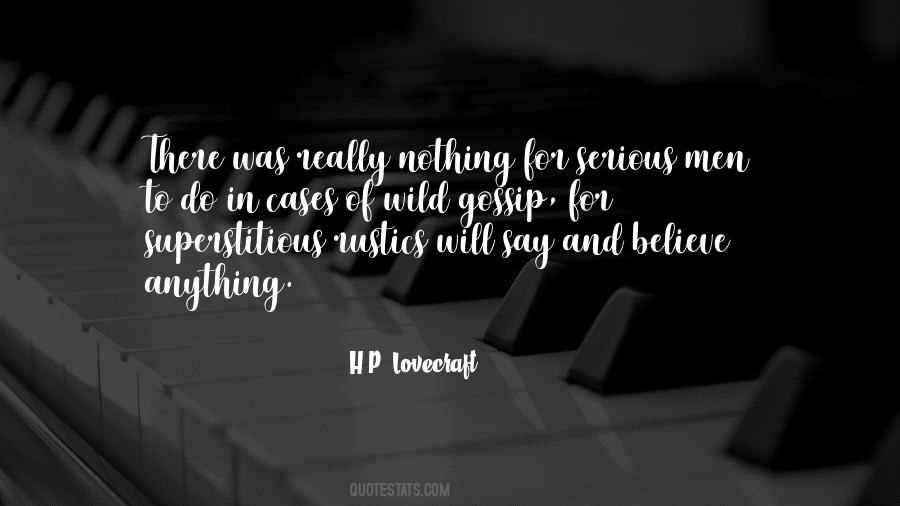 #64. I love Greg," said one of his bosses at Deutsche Bank. "I have nothing bad to say about him except that he's a fucking whack job. - Author: Michael Lewis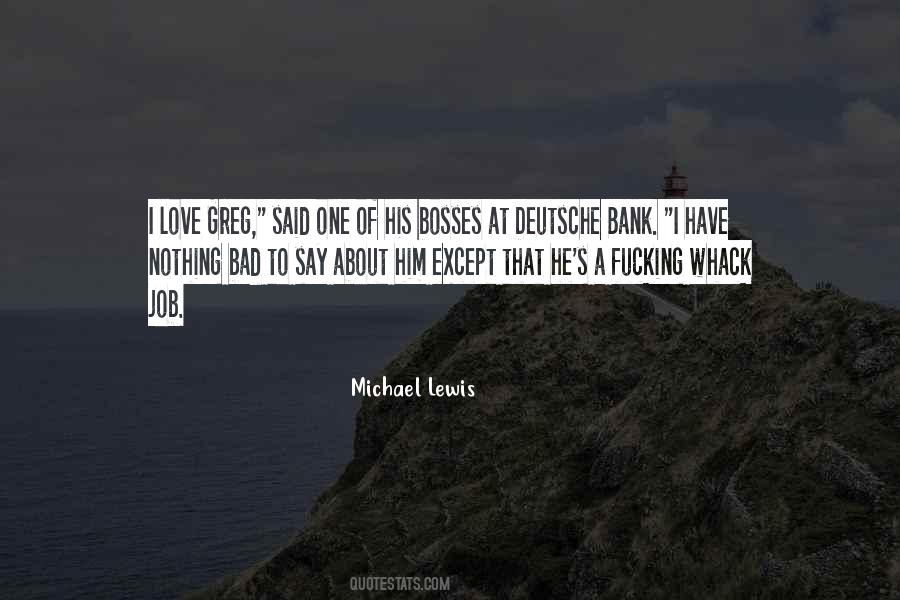 #65. A MILLION THOUGHTS POUR THROUGH MY HEAD, BUT LIKE HER, I STAY SILENT. THERE'S SIMPLY NOTHING TO SAY. - Author: Marie Lu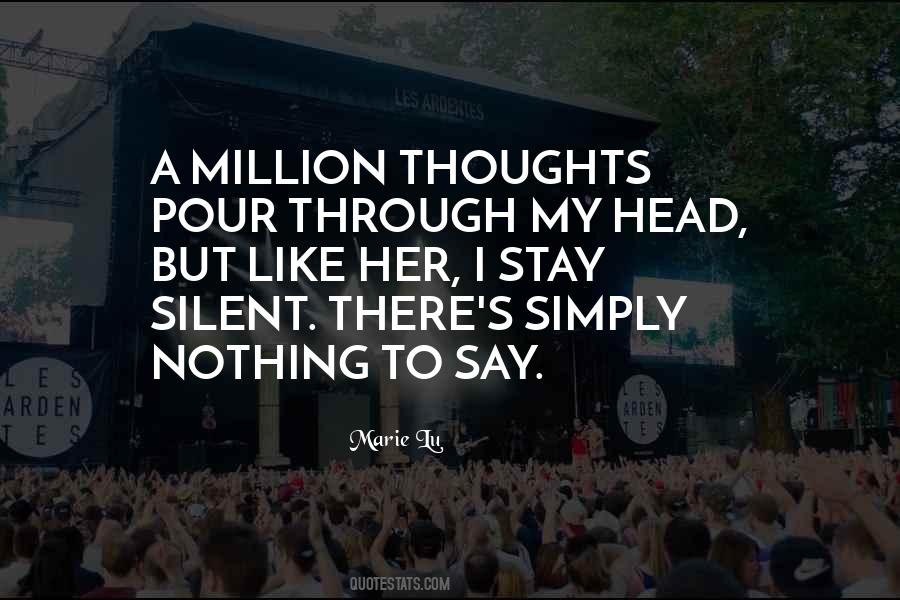 #66. I like it when people talk s**t. Because if people weren't talking s**t, there would be nothing for me to come back with. I need that. If I don't have any ammo, what am I going to say? - Author: Eminem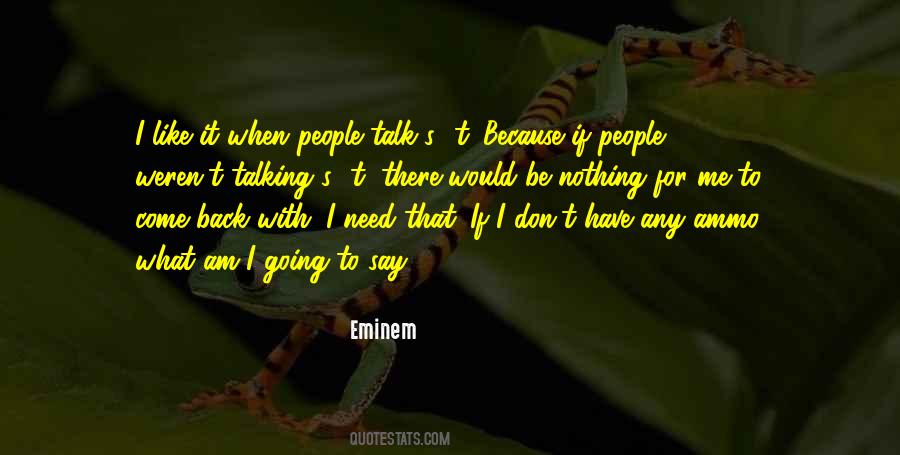 #67. Even professors of economics, to say nothing of the public, do not generally have scientific minds. - Author: Frank Knight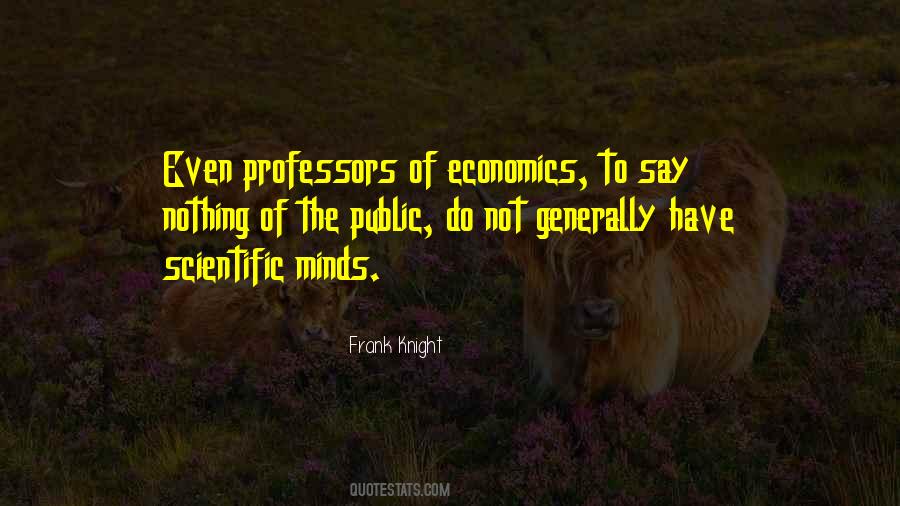 #68. Just a friendly warning: the forces of spiritual darness are nothing to trifle with. Vampires do exist, no matter what the so-called scientific minds might say, and they ARE dangerous! - Author: C.C. Brown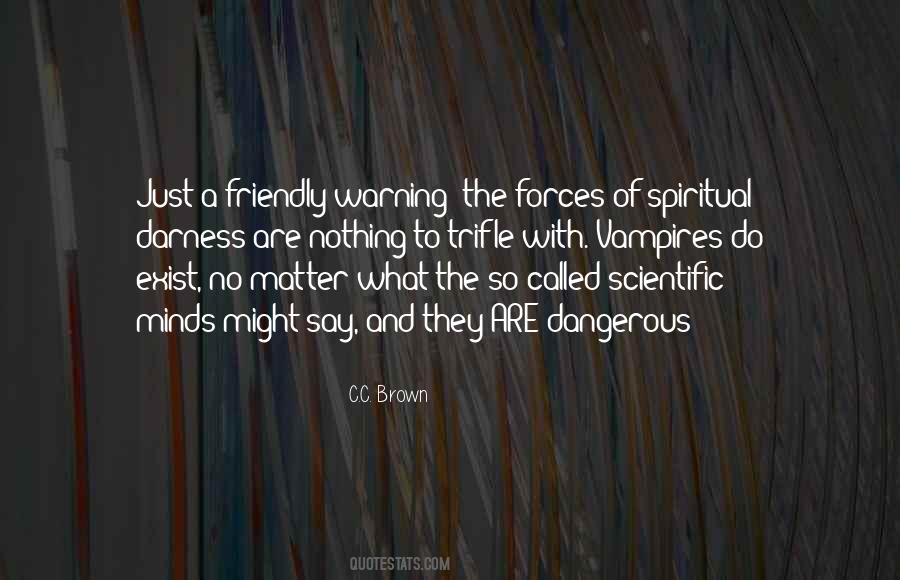 #69. Some people think that nothing moves in this world without leave of the woman. Do not know more, but I can say that war never happened, nor can there be, when you do not want to leave sovereign - Author: Jose De Alencar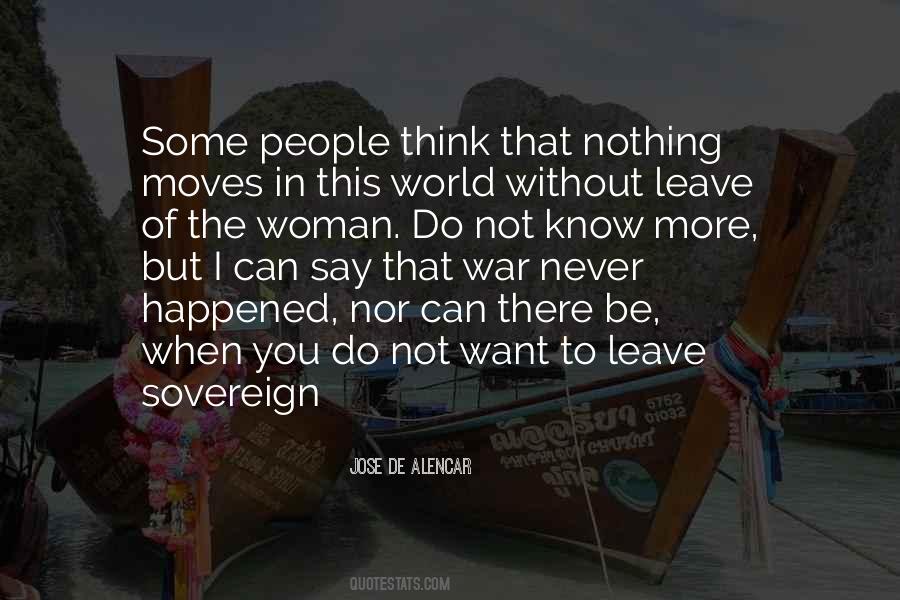 #70. Do not listen to those who say there is nothing you can do to the very real and large social and environmental issues of our time, - Author: Maude Barlow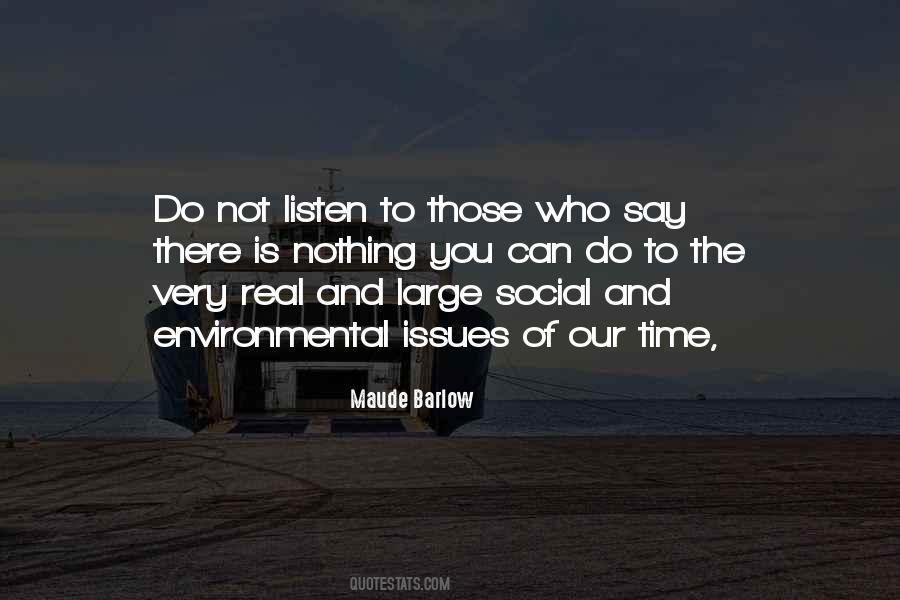 #71. We have not only to be witnesses and pleaders, but we have also to be examples ... If a man's life at home is unworthy, he should go several miles away before he stands up to preach, and then, when he stands up, he should say nothing. - Author: Charles Haddon Spurgeon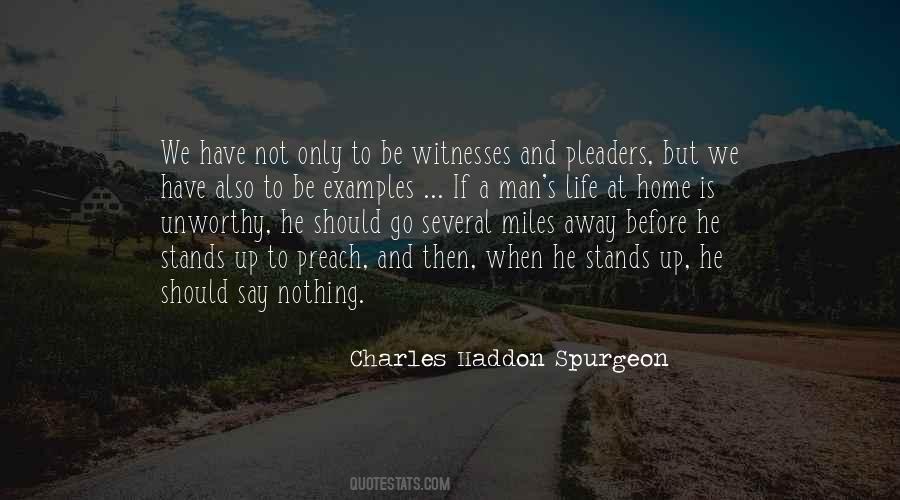 #72. The house had been torn down. Nothing is left but the old white fence. There used to be privet bushes everywhere. "The smell of privet is the smell of summer for me," I say to Catherine.
"Yes, Mom." she says, "I know, Your memories are my memories now. - Author: Abigail Thomas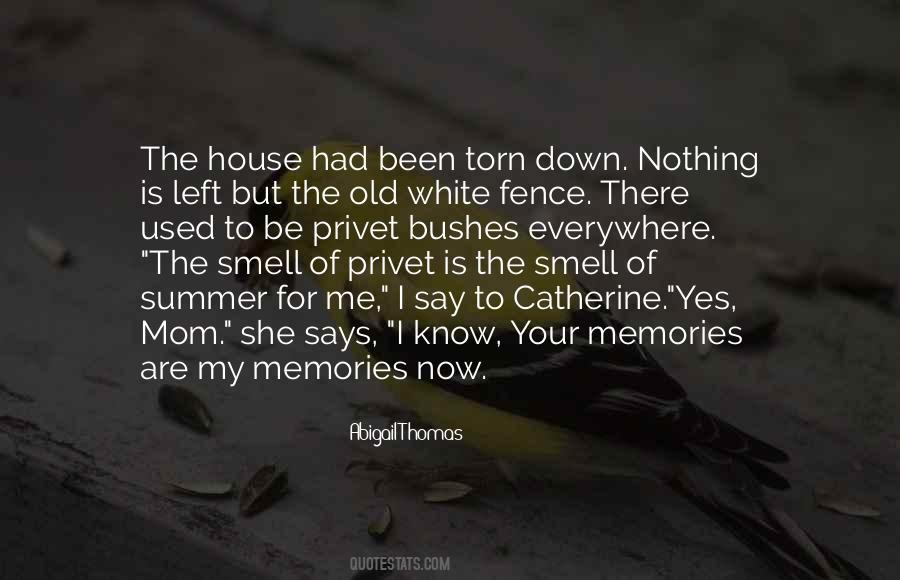 #73. I wanted to go home to the safety of my bed and to my stuffed animals and to my people I'd known my whole life. I had nothing to say to anybody, and fervently prayed that no one there would have anything to say to me. - Author: Rachel Cohn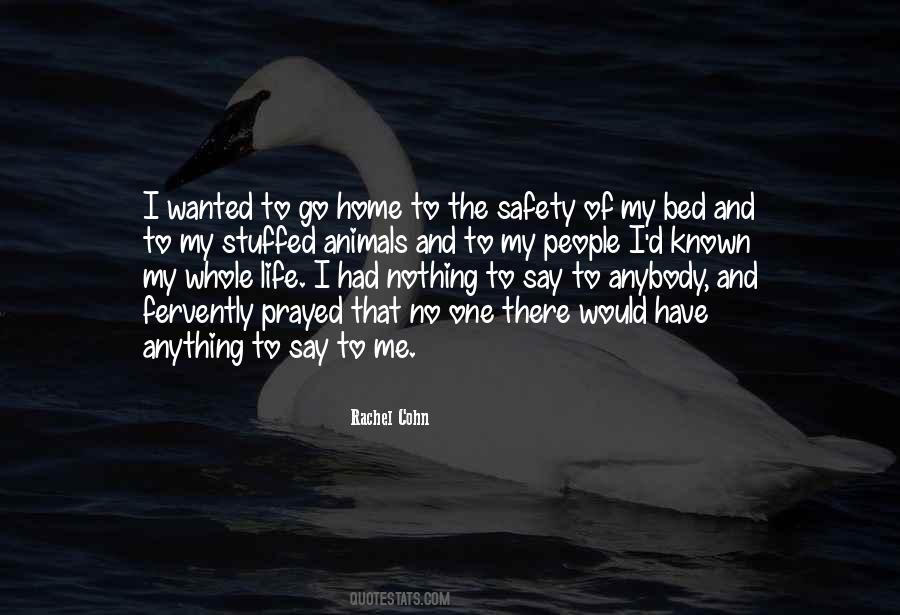 #74. You've got my come drying between your thighs right fucking now. And bruises in the shape of my fingers on your body. You. Are. Mine. And there's nothing you can say or do to change that. Don't fucking test me, my bella, because I'm running out of patience. - Author: Jessica Prince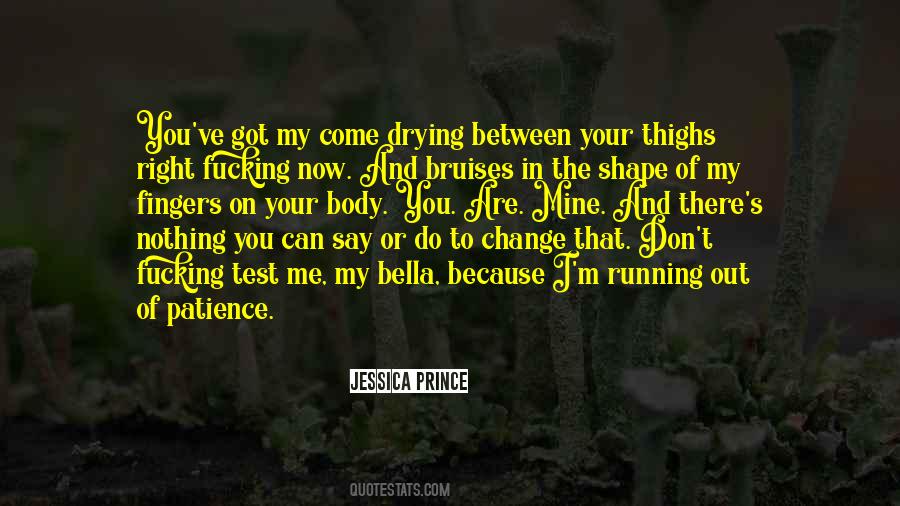 #75. Emmy, the events we lived through taught me to be sure of nothing about other people. They taught me to expect danger around every corner. They taught me to understand that there are people in this world that mean you harm, And sometimes, they're the people who say they love you. - Author: Nancy Werlin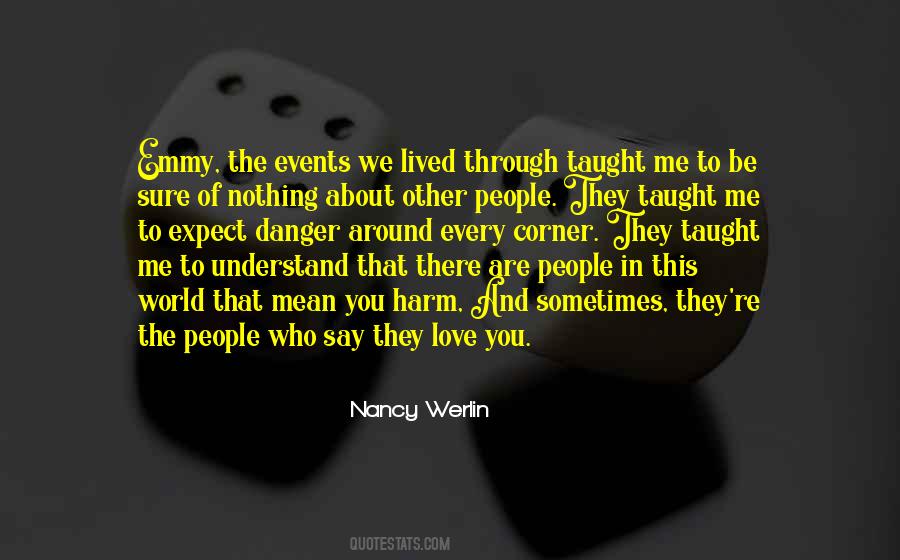 #76. The one thing for which we are all being disciplined is to know that God is real. As soon as God becomes real, other people become shadows. Nothing that other saints do or say can ever perturb the one who is built on God. - Author: Oswald Chambers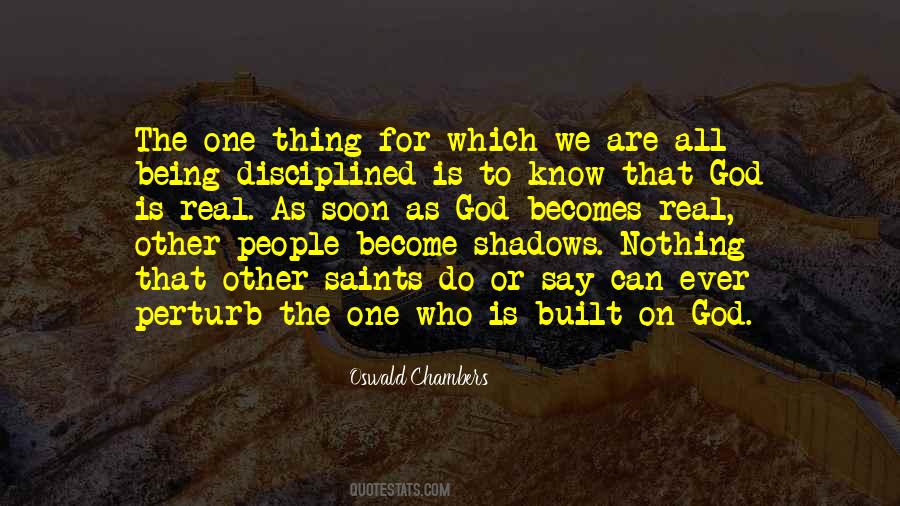 #77. He and the girl had almost nothing to say to each other. One thing he did say was, 'I ain't got any tattoo on my back.'
'What you got on it?' the girl said.
'My shirt,' Parker said. 'Haw.'
'Haw, haw,' the girl said politely. - Author: Flannery O'Connor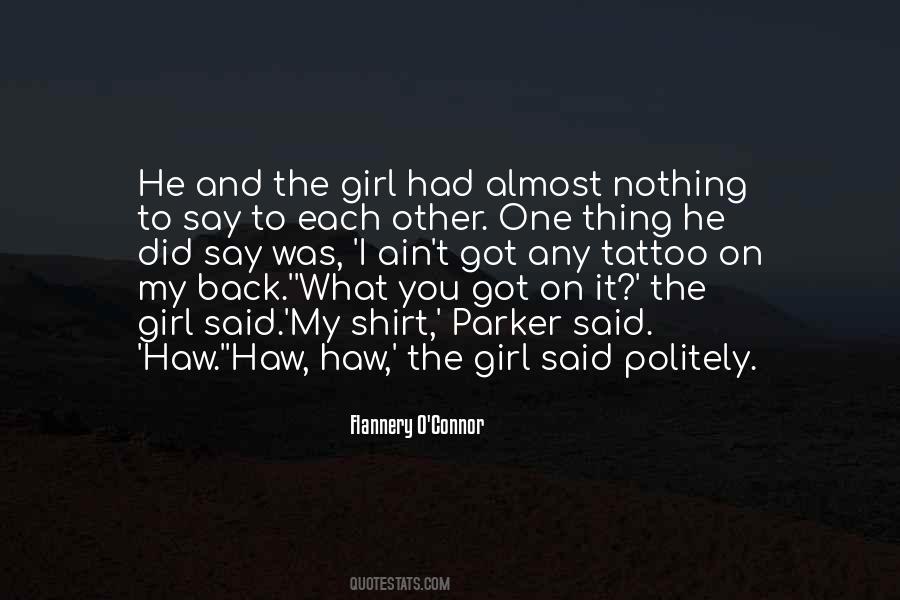 #78. I say 'no' to nothing, 'yes' to moderation. That's how I approach everything. No matter if it's candy or foie gras. When you have the real deal, you're satisfied with that one bite. I say go full throttle and call it a day. - Author: Carla Hall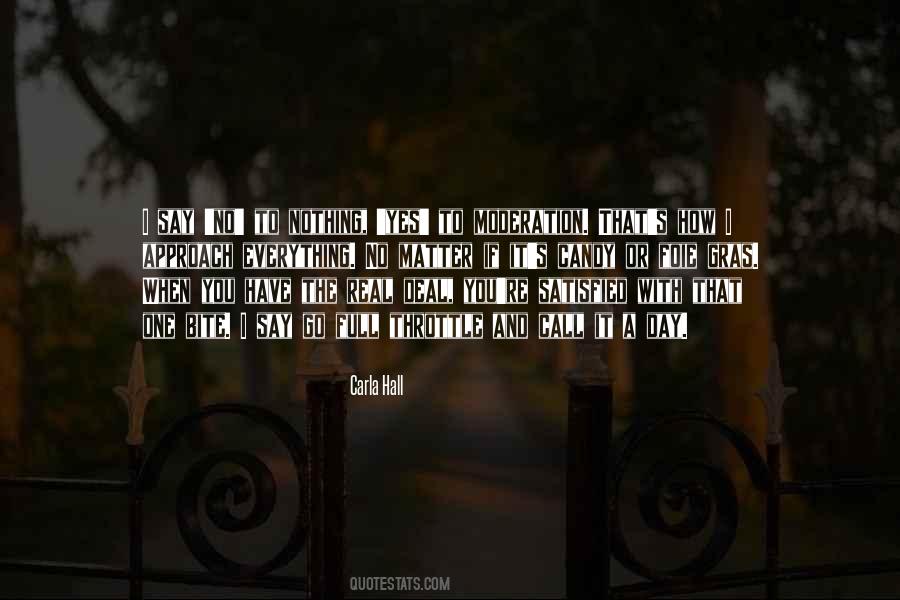 #79. I think [aging] has nothing to recommend it. You don't gain any wisdom as the years go by. You fall apart, is what happens. People try and put a nice varnish on it, and say, well, you mellow. You come to understand life and accept things. But you'd trade all of that for being 35 again. - Author: Woody Allen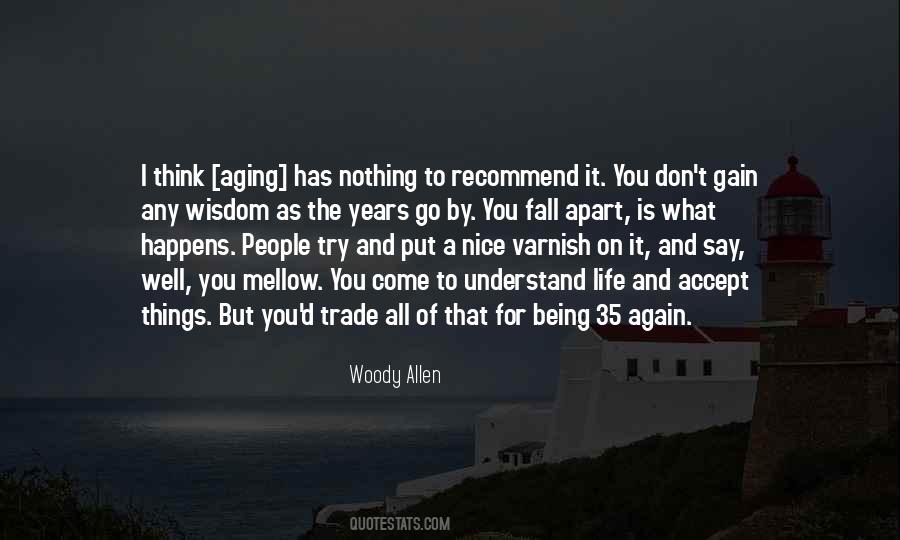 #80. if somebody steals from you, you should forgive them because they might have been in need. If someone speaks behind your back, say nothing because you must be the bigger person. When you fall in love, give all your heart to your beloved and don't ever doubt. - Author: Zahed Haftlang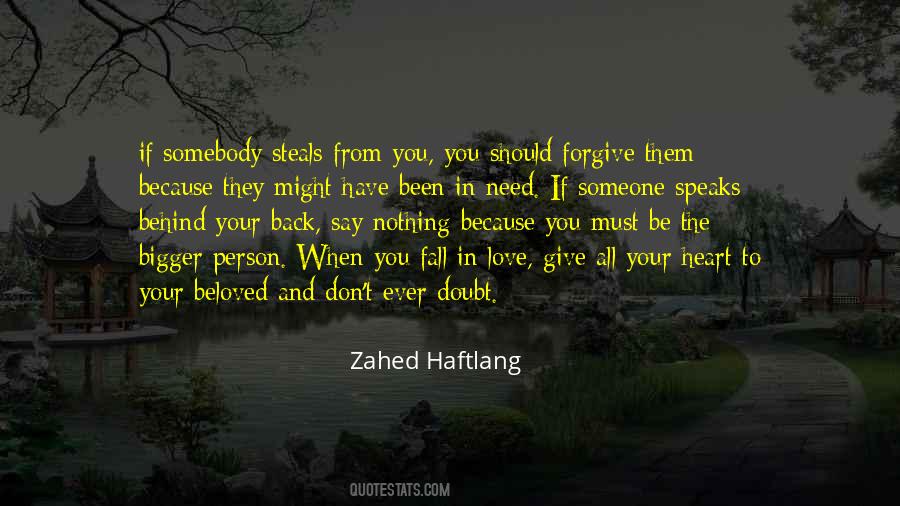 #81. It is possible, it seems, to affirm everything the creed says - especially Jesus's "divine" status and his bodily resurrection - but to know nothing of what the gospel writers were trying to say. Something is seriously wrong here. - Author: N. T. Wright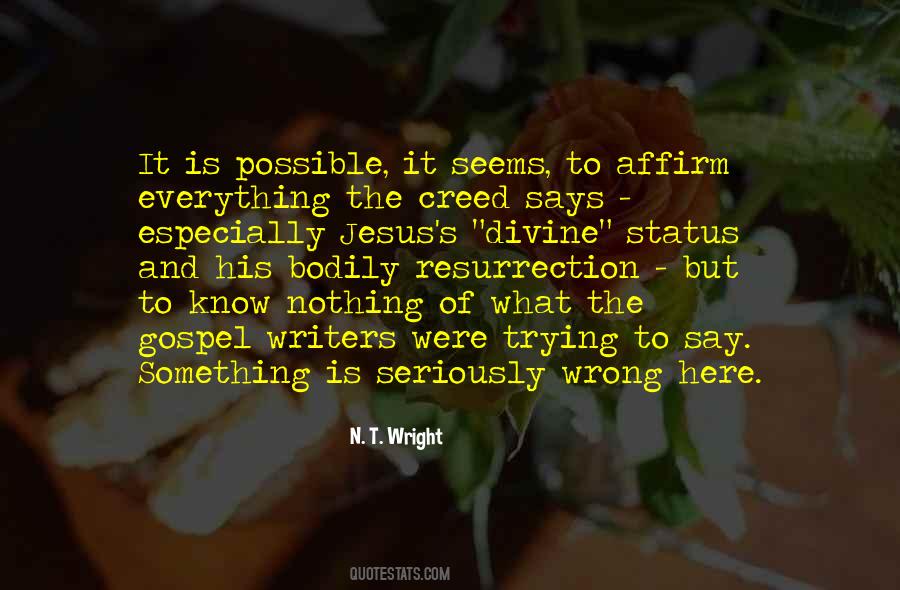 #82. Please," he added. "I meant to say, please. I've thought it all through. I've thought of nothing else. I haven't read a book in weeks! - Author: Emma Donoghue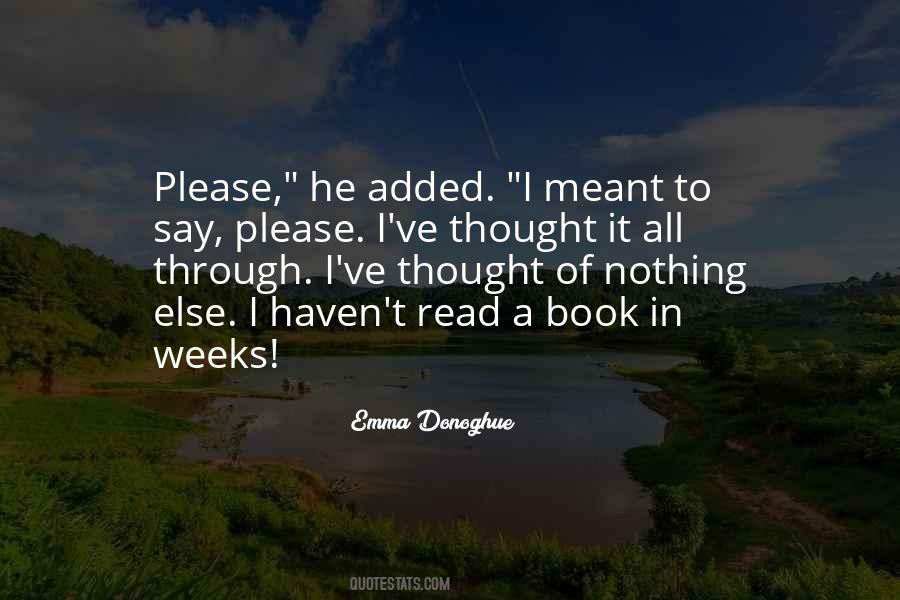 #83. You can't hold it in forever," Colton said, apropos of nothing. "Yes, I can." I had to. "You'll go crazy. It'll come out, one way or another." "Better crazy than broken." I wasn't sure where that came from, hadn't thought it or meant to say it. "You're not broken. You're hurting. - Author: Jasinda Wilder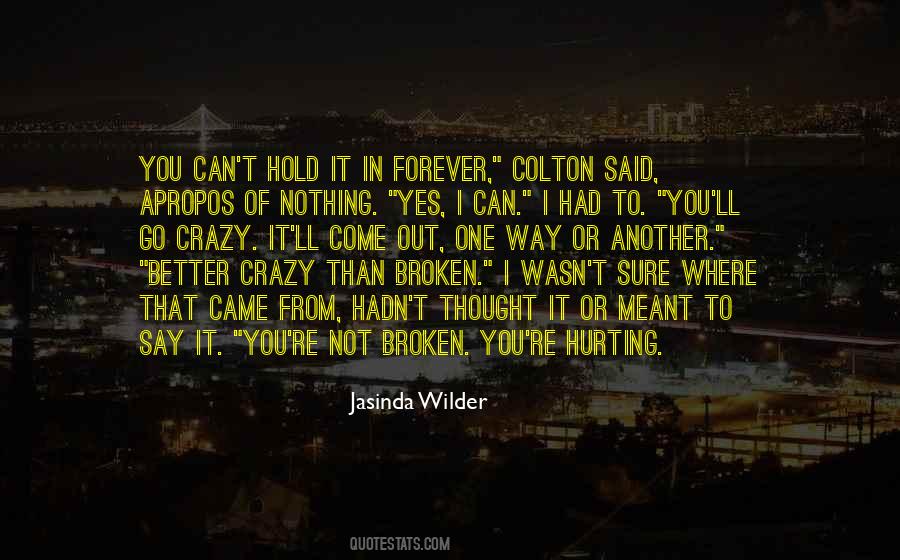 #84. The moral? If there isn't demand for what you are creating, nothing I have to say in this chapter will help. - Author: Robin Chase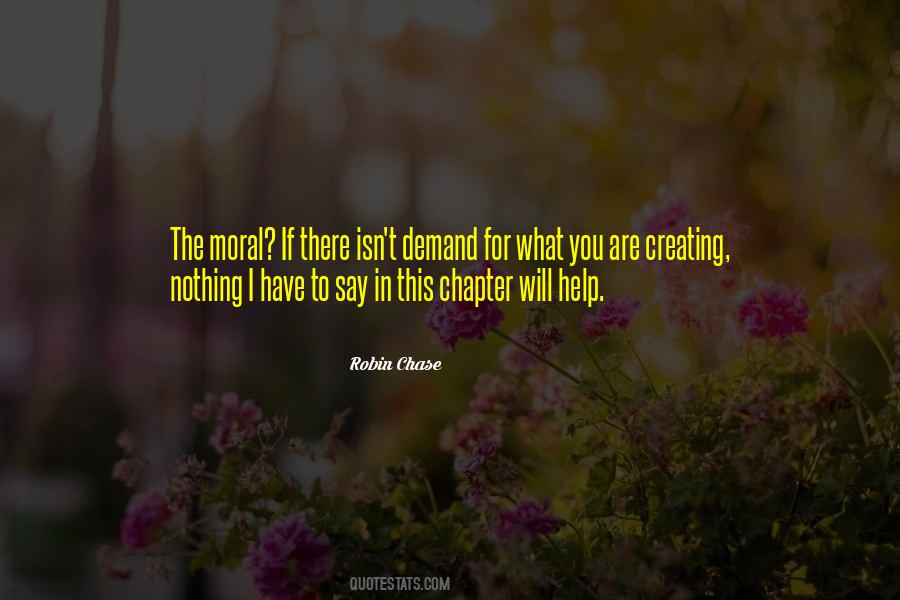 #85. Just to say "Well, God is dead" in one breath is to say, in another, that nothing means anything. This is the moment of nihilism. Nihilism is the affirmation of meaninglessness. - Author: Simon Critchley
#86. We possess nothing in the world - a mere chance can strip us of everything - except the power to say 'I. - Author: Simone Weil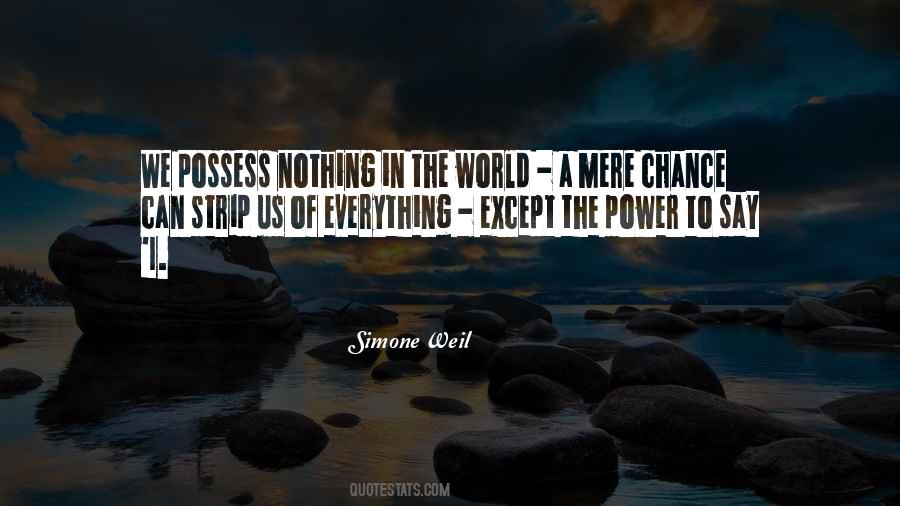 #87. I can recollect nothing more to say at present; perhaps breakfast may assist my ideas. I was deceived
my breakfast supplied only two ideas
that the rolls were good and the butter bad. - Author: Jane Austen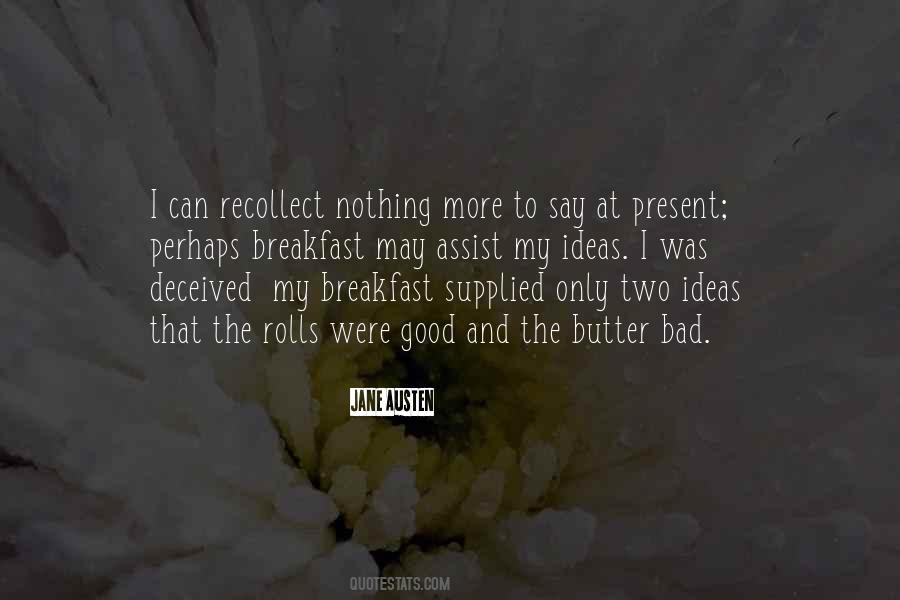 #88. Nothing teaches great writing like the very best books do. Yet, good teachers often help students cross that bridge, and I have to say that I had a few extraordinary English teachers in high school whom I still credit for their guidance. - Author: Julia Glass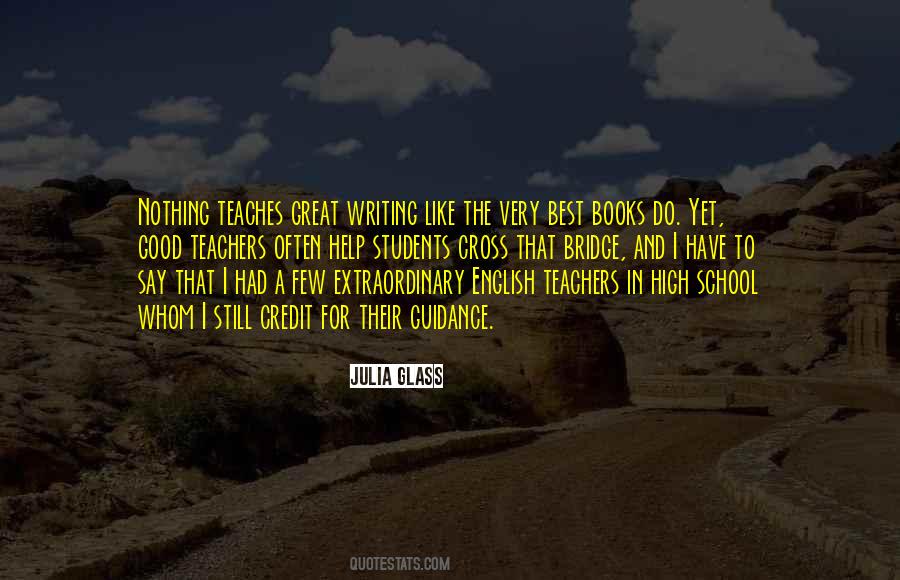 #89. Then "wrong" is right, and "right" is wrong! Yet I'll tell you this, to help you out of your dilemma: believe nothing I say. Simply live it. Experience it. Then live whatever other paradigm you want to construct. Afterward, look to your experience to find your truth. - Author: Neale Donald Walsch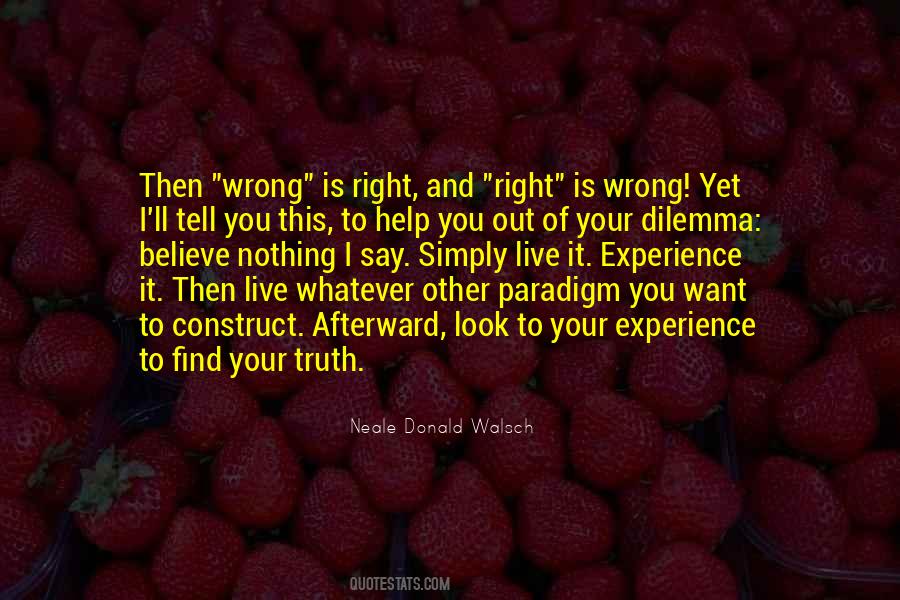 #90. Blessed are those who have nothing to say, and who cannot be persuaded to say it. - Author: Suzanne Woods Fisher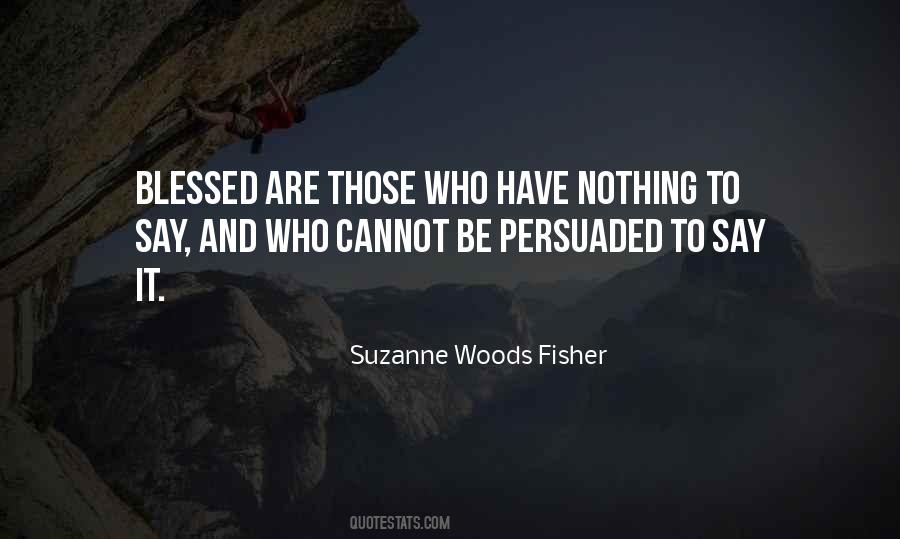 #91. No one on this earth ever says anything 'once and for all.' If they did, life would come to a stop and succeeding generations would have nothing to say. - Author: Aleksandr Solzhenitsyn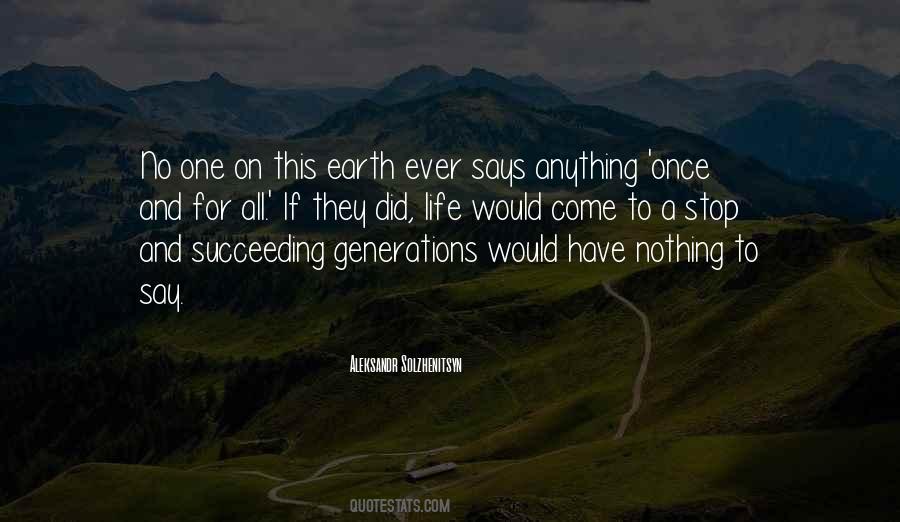 #92. He does that sometimes, our Charlie, when he can't find us in the house. I see it as 'abandonment retaliation.' A kind of - Where were you when I wanted you? It's like he is trying to say, 'I searched and searched the whole house and NOTHING. You were nowhere. Therefore, I shall poo in your bedroom. - Author: Lisa Fleetwood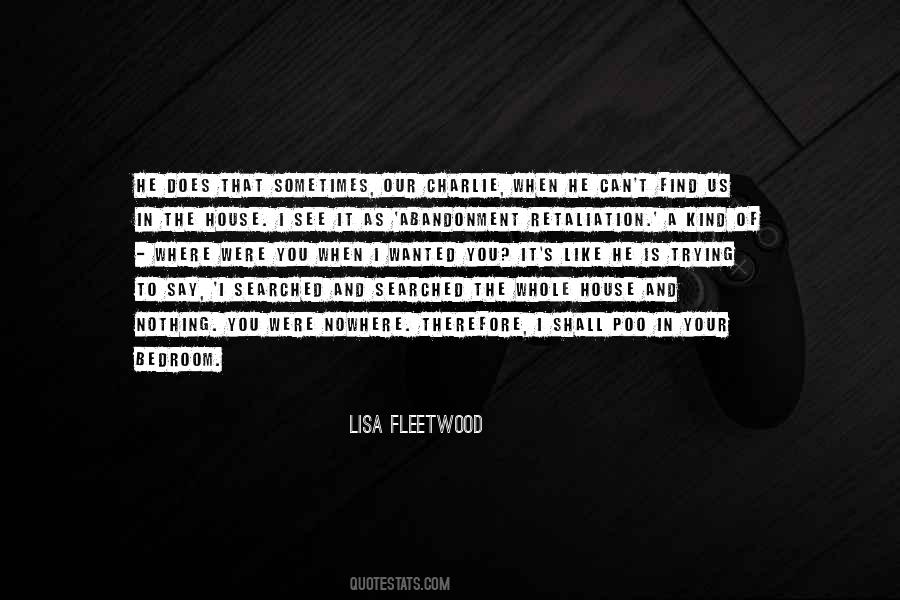 #93. If life is so bad, how come you're so happy?" "Did I say bad? I said it was tough. Nothing to make you happy like doing good on a tough job, now is there? - Author: Katherine Paterson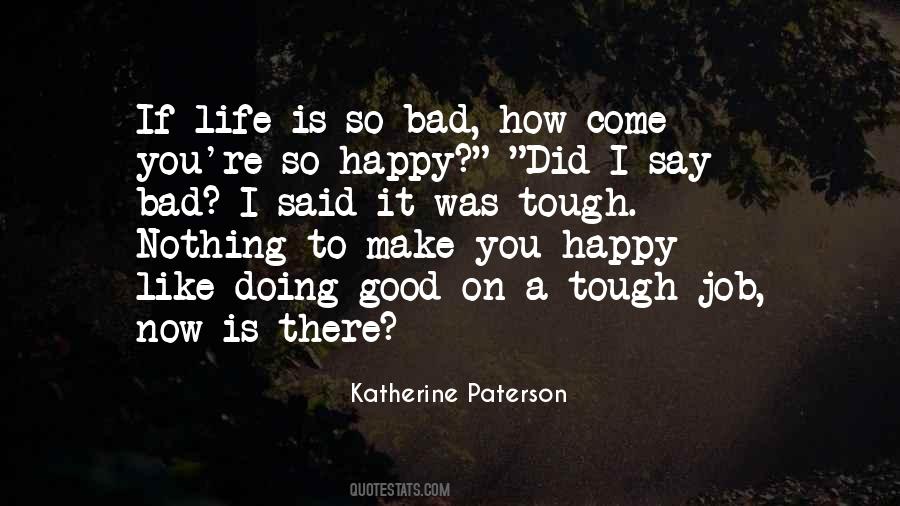 #94. Silence is said to be golden, but the best fools the world has ever produced had nothing to say on the subject - Author: Josh Billings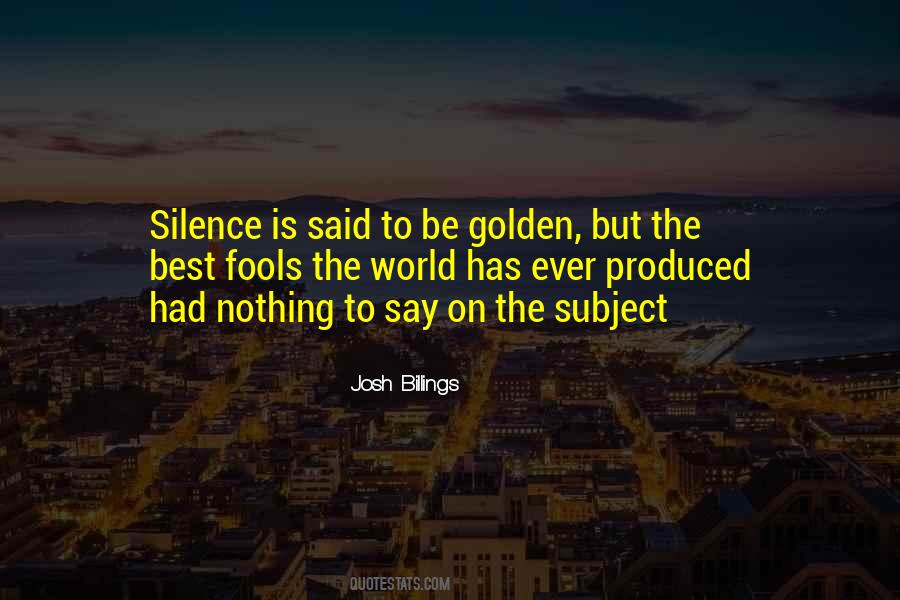 #95. There's nothing I dislike more than being in a photo shoot where they say, 'Be yourself.' That's not why I became an actress. That's what I find so funny: that you become an actor, and all of a sudden, everyone wants to know about you. But I didn't become an actor so I could show you me. - Author: Margot Robbie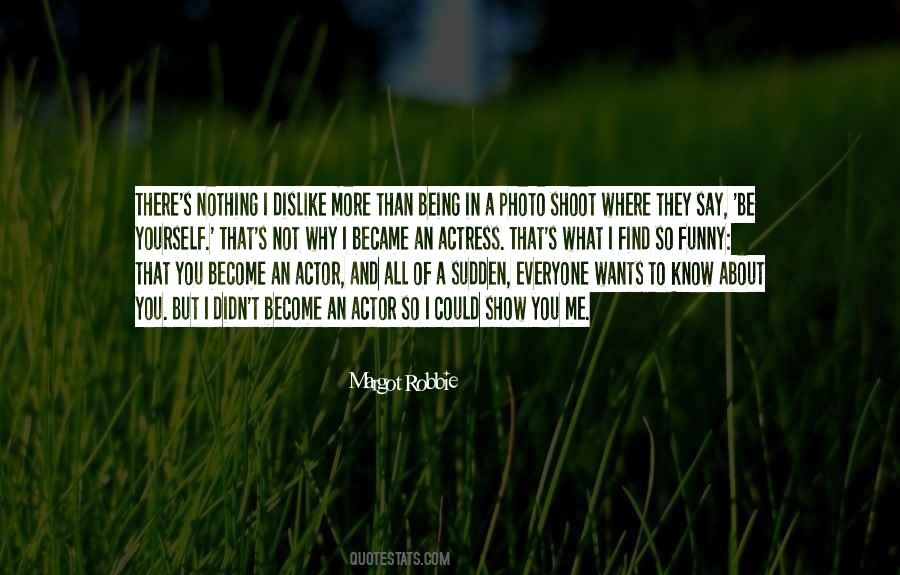 #96. We should say nothing that we would not wish to say in His Presence. We should do nothing that we would not do in His Presence. - Author: Billy Graham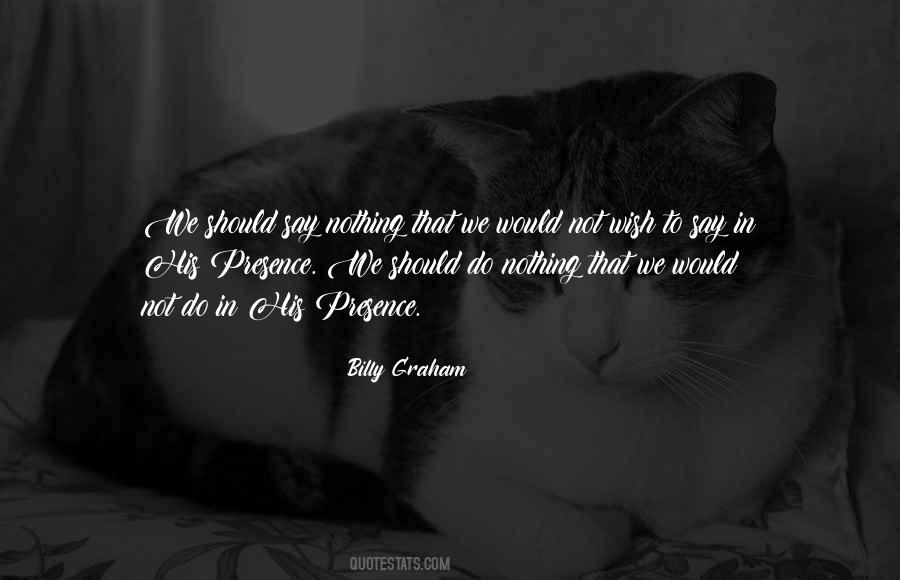 #97. But don't take the silence of the yams as a sign that they have nothing valuable to say about health. - Author: Michael Pollan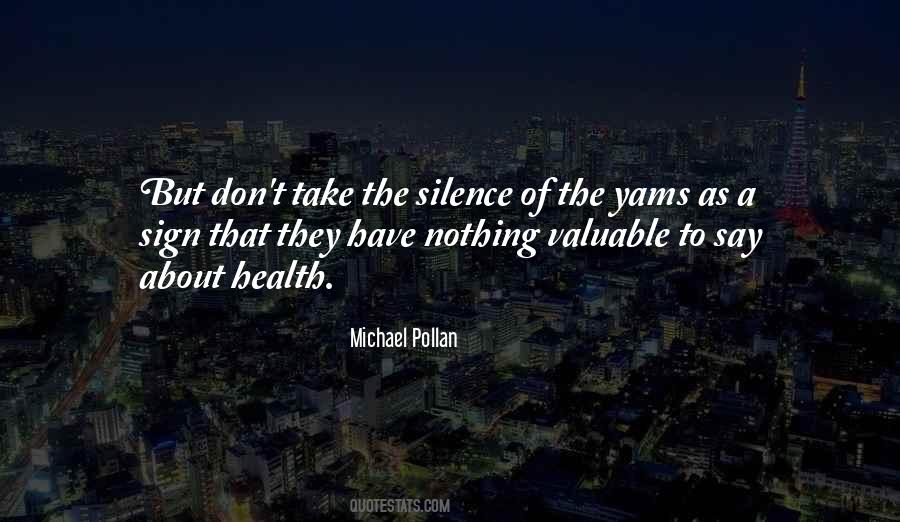 #98. 99% of the people in the world would say there's something that they'd like to change about their lives, because nothing's perfect, and nobody's perfect. I suppose I could look at the glass half-empty instead of as half-full. - Author: Morris Chestnut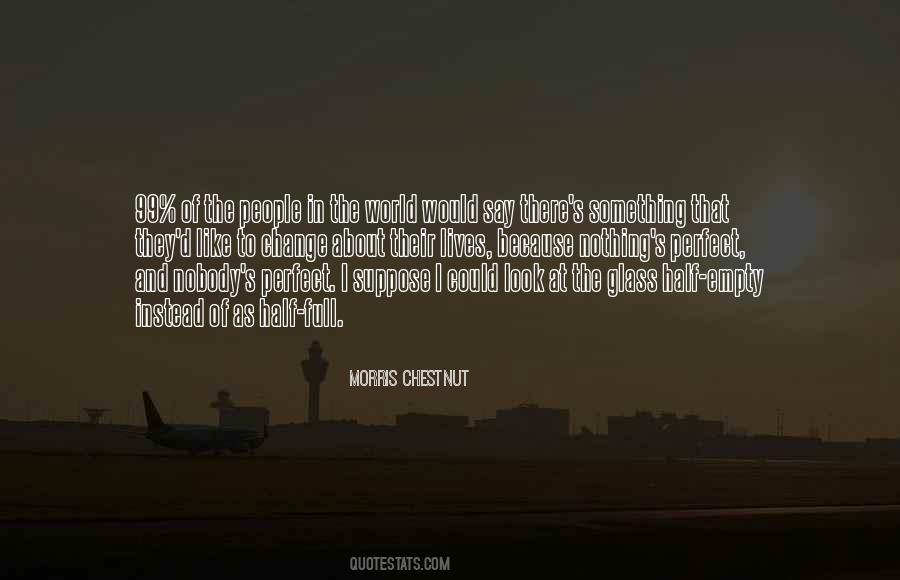 #99. She doesn't speak, and I say nothing more. We just stare at each other, letting the tears roll down our cheeks. That's what tears are for, after all. A way for the soul to bleed. - Author: Cody McFadyen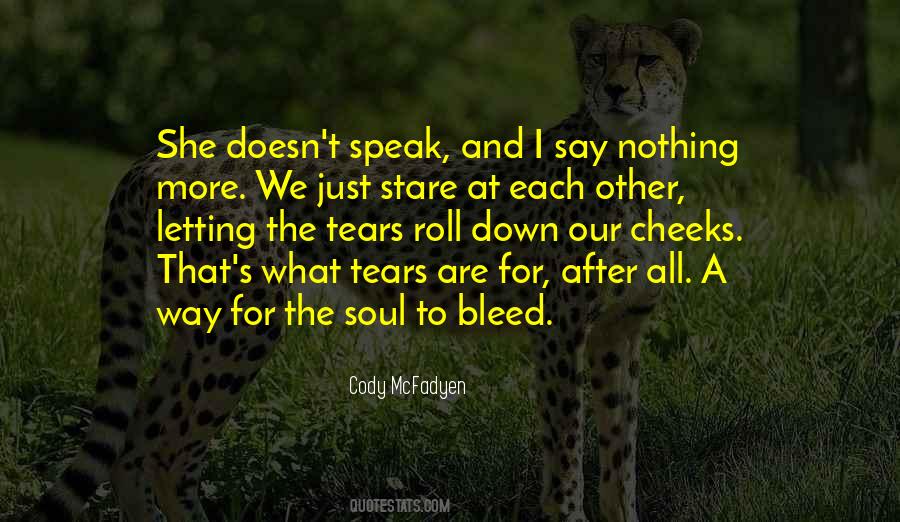 #100. I can tell you, Jay, nothing that happens in this life is worth killing yourself over. Time passes, and you can decide to change your future. You don't let what some assholes say or do, direct you. In this life, it only matters what you do with it. - Author: Nicole Reed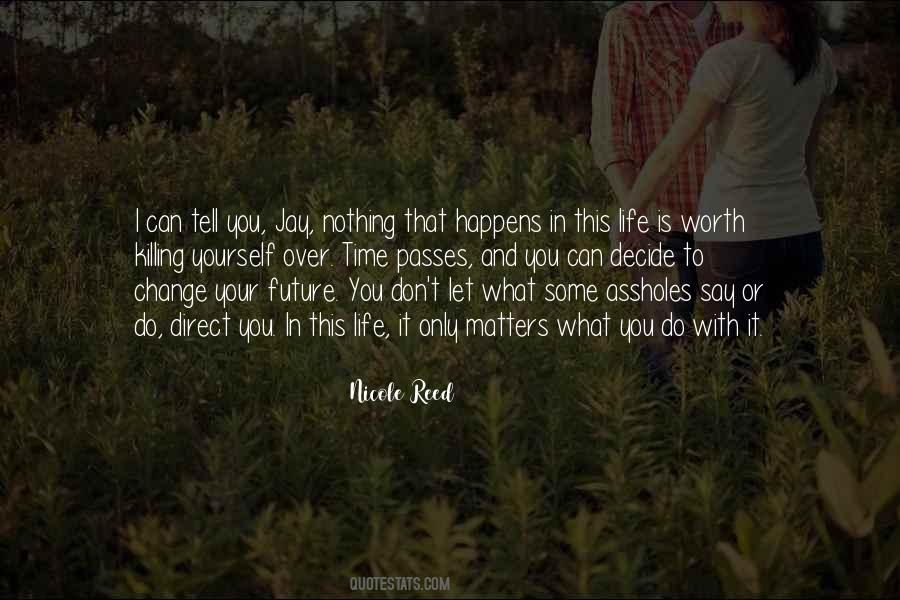 Famous Authors
Popular Topics