Love Lost Famous Quotes & Sayings
List of top 100 famous quotes and sayings about love lost to read and share with friends on your Facebook, Twitter, blogs.
Top 100 Quotes About Love Lost
#1. The fate of all things cherished and expensive, to be lost at hazard, and well before their time - Author: Stephanie Barron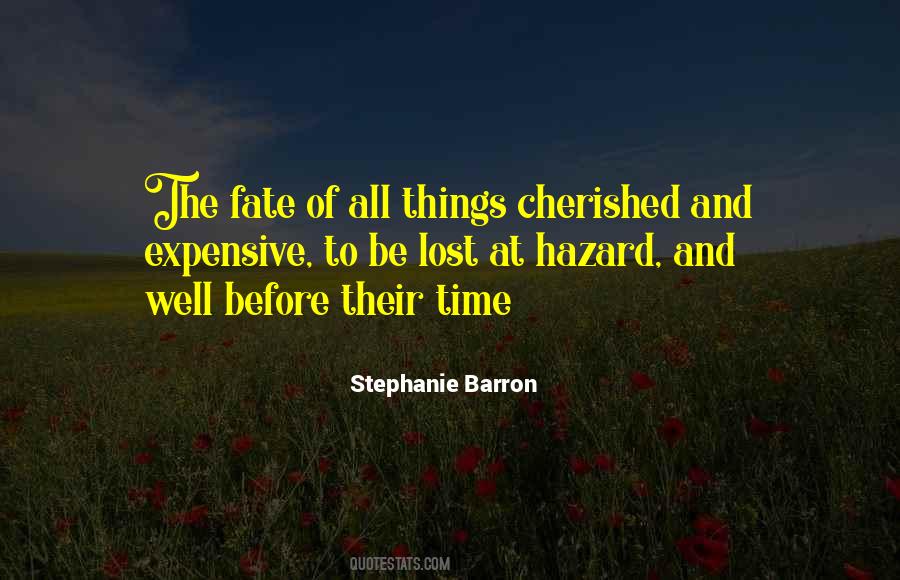 #2. Below on the beach, the surf also seemed the same, although the sea was more transparent. In the light of day, the hollow formed by the terrace and the cave seemed as tiny as a nest. They themselves were merely a man and a woman lost in the immensity. - Author: Marek Halter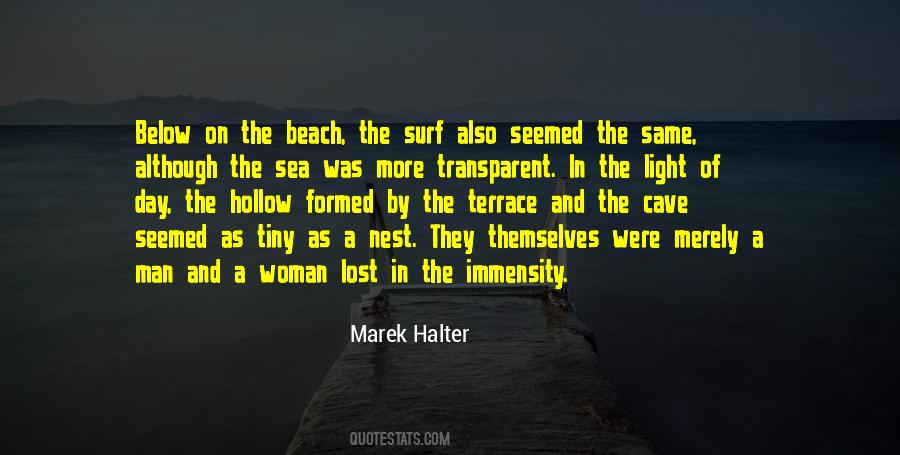 #3. She thought about him all the time - not so much about Doug the individual, but rather about the nature of love, and the shock of learning how quickly it could disappear. - Author: J. Courtney Sullivan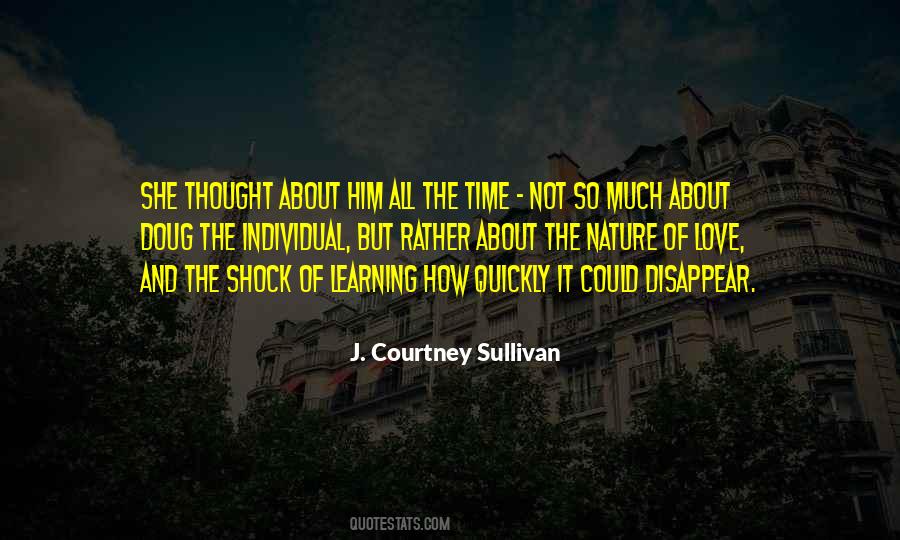 #4. Love is spiritual. It's about self-sacrifice and commitment. And discipline. You cannot have true love without discipline and respect. When you lose the respect of your spouse, you've lost everything. - Author: Candace Bushnell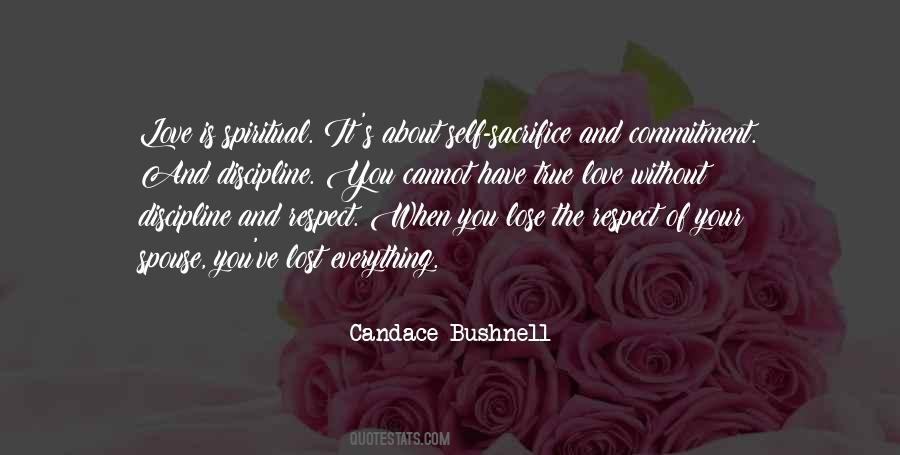 #5. Love is like a lost fart. If you have to force it, it's probably shit. - Author: Stephen K. Amos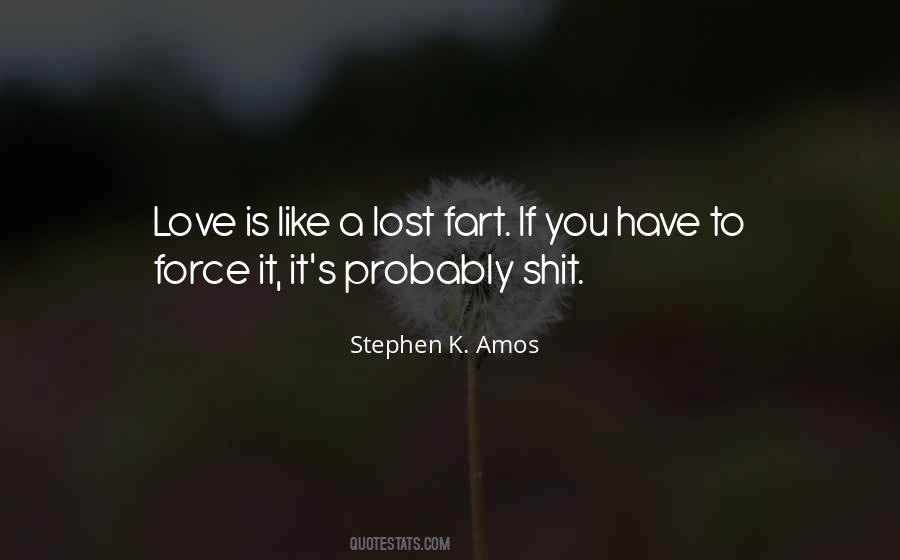 #6. What's given to dunya is lost forever. What's
given to Allah is never lost. If you give what
you love, for the sake of what He loves, you'll
have what you love forever. - Author: Yasmin Mogahed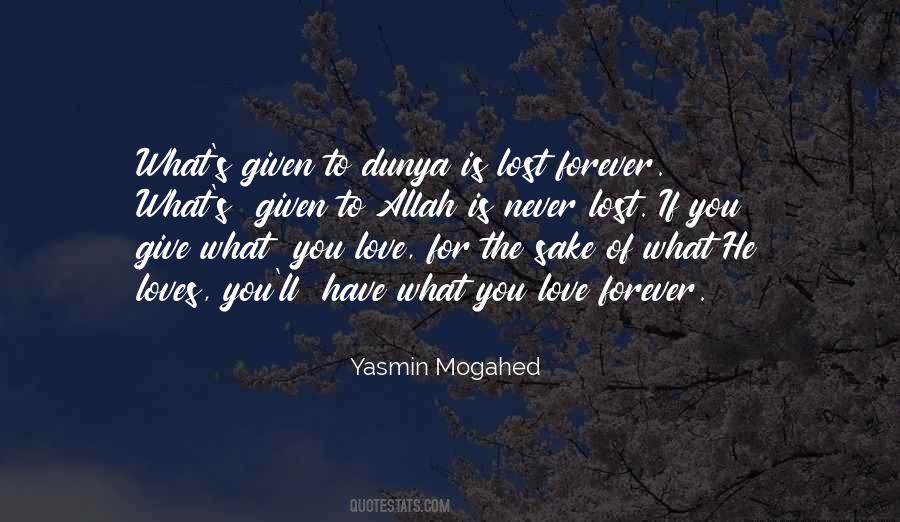 #7. If you lost the love of your life, that's a nightmare. - Author: Quentin Dupieux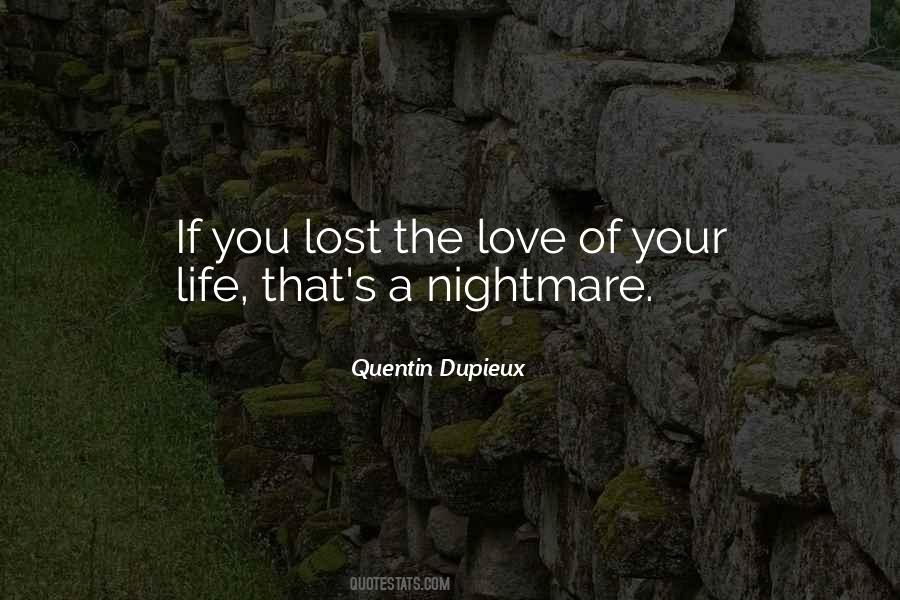 #8. I lost myself there - my mind imaging what was under his towel and what I would like to do to him. - Emma - Author: Martha Sweeney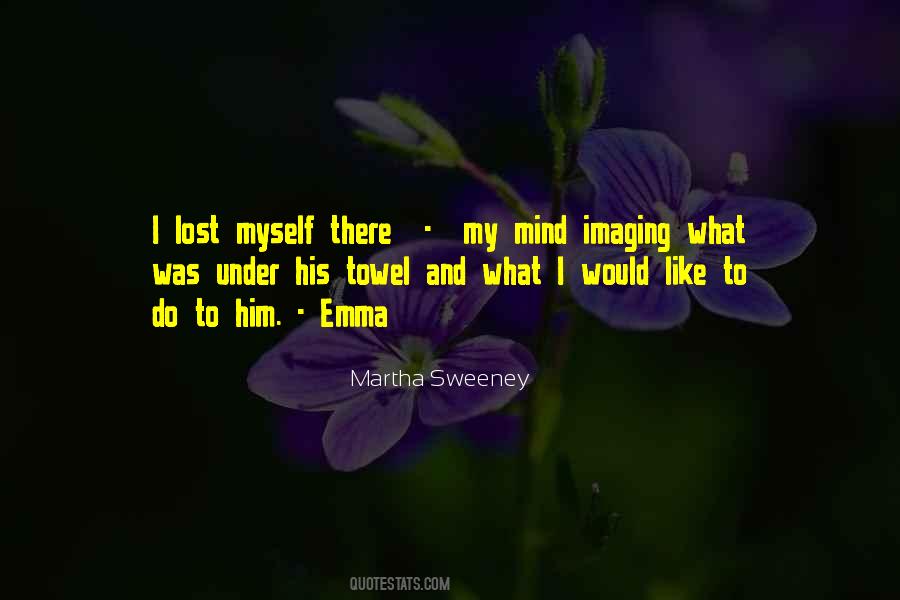 #9. Give thy love freely, do not count the cost: So beautiful a thing was never lost. - Author: Ella Wheeler Wilcox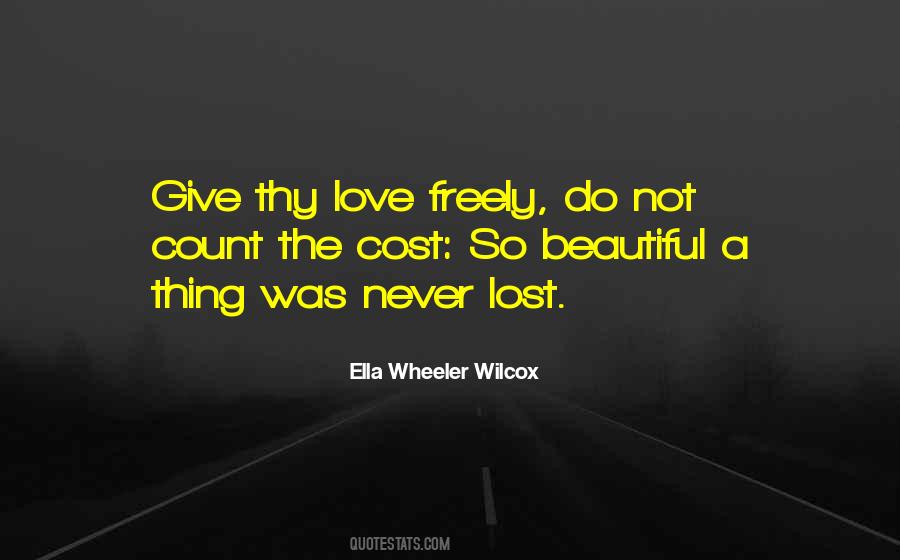 #10. Alas, why are my nights all thus lost? Ah, why do I ever miss his
sight whose breath touches my sleep? - Author: Rabindranath Tagore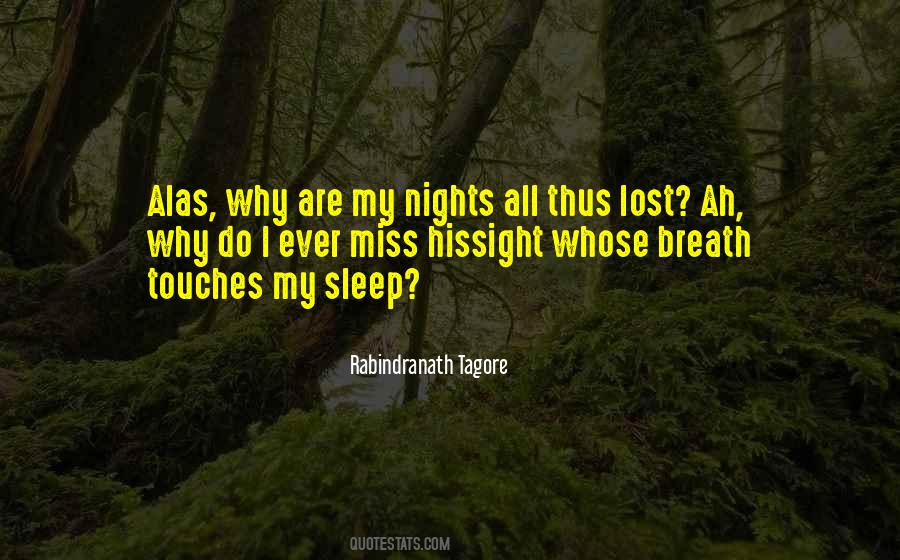 #11. Everything you ever had, everything you ever lost. It's all there in the trumpet
pain and hate and trouble and peace and quiet and love. - Author: Ann Petry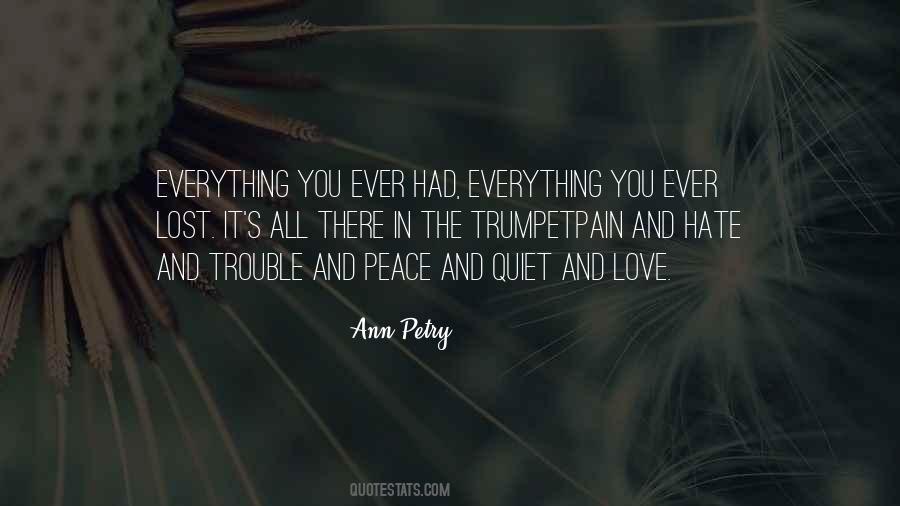 #12. One day they'll realize they lost a diamond while playing with worthless stones. - Author: Turcois Ominek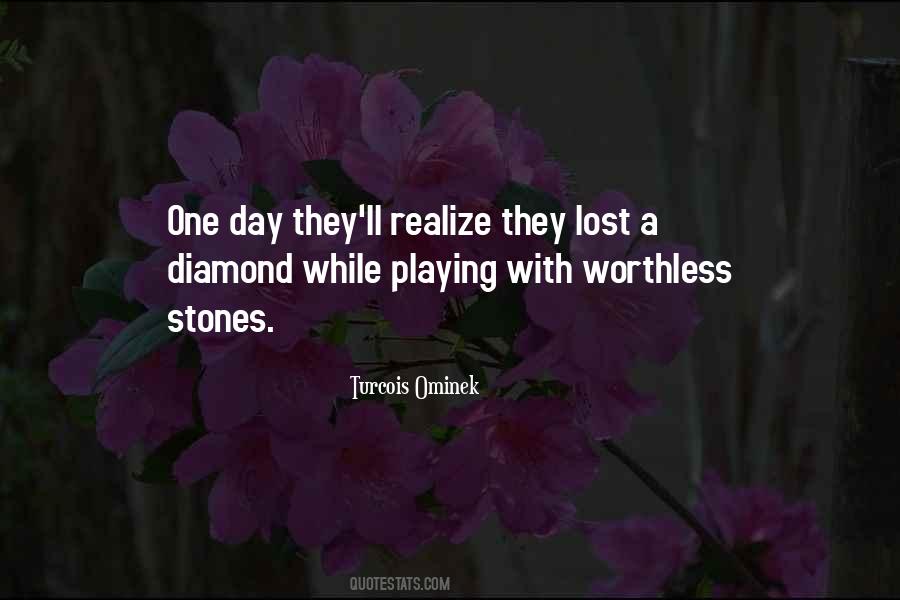 #13. Better to have loved and lost than never to have loved at all? How about this: I lost without the love. I've lost things I've never even had. A whole life. - Author: Ben Marcus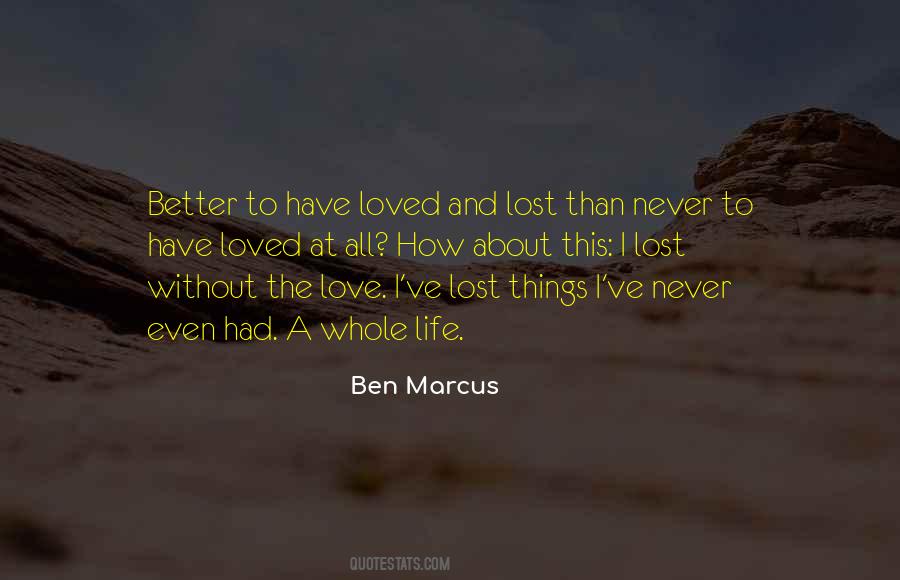 #14. I love to perform. I've never lost the urge. I've never once been on stage when I didn't want to be. - Author: Mark McGrath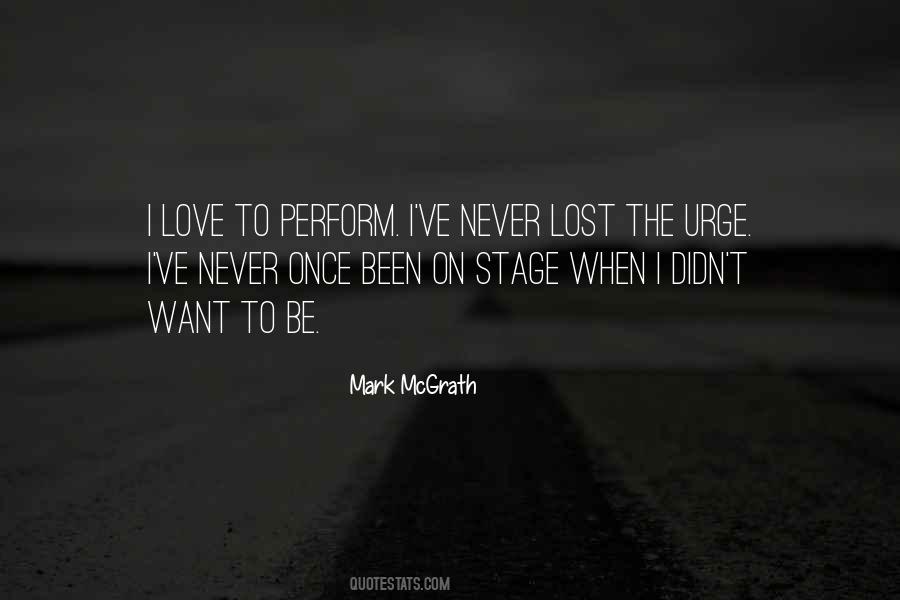 #15. When I let go of my own work, my own priorities, I lost the qualities he had been attracted to in the first place. That's how he put it. He loved the woman I was before I was in love with him. - Author: Alexis M. Smith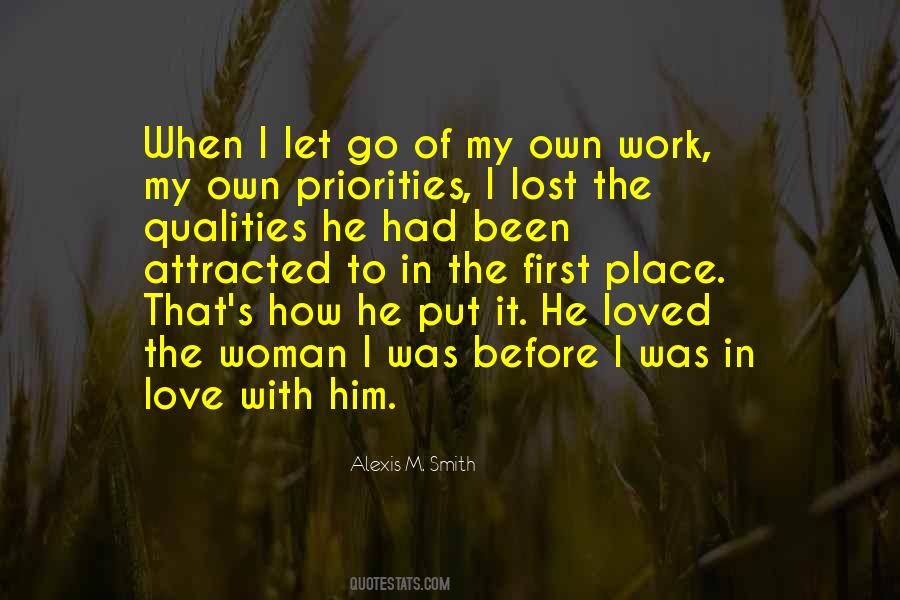 #16. You've left me with a kaleidoscope of broken smiles and shattered dreams. - Author: Karen Quan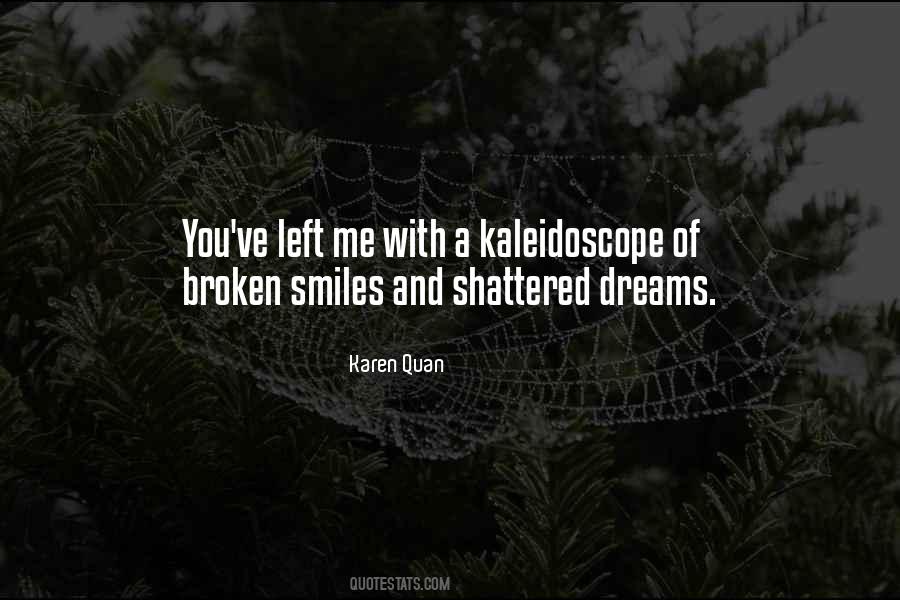 #17. I thought he was someone I wanted to know. As it turns out, it was a case of
mistaken identity. - Author: Jodi Livon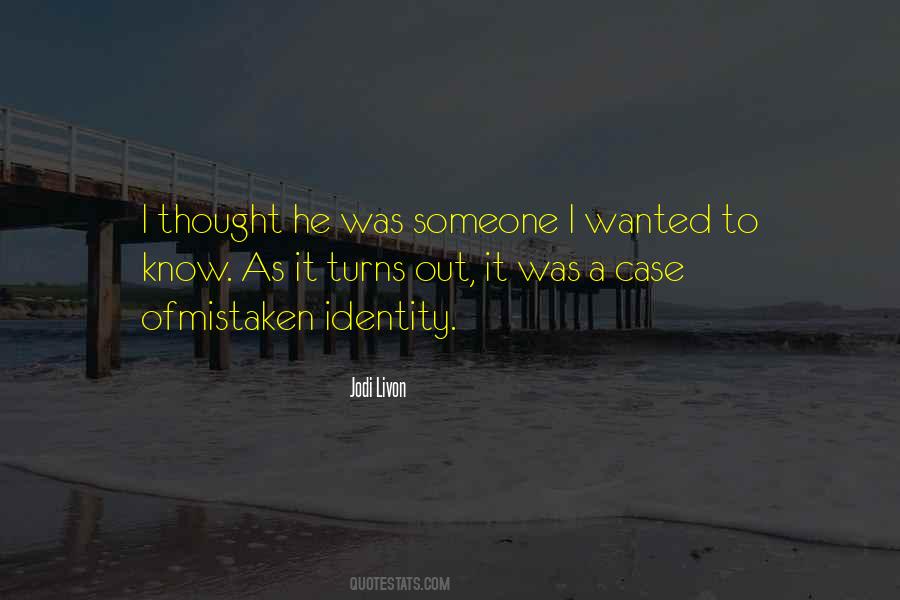 #18. I've spoken to Sid," she admits. "He says he's never seen Charlie so bad. He won't eat, he's lost weight and he looks terrible. Sid says it's the first time he's ever been so bored by him that he's considered smothering him. - Author: Lily Morton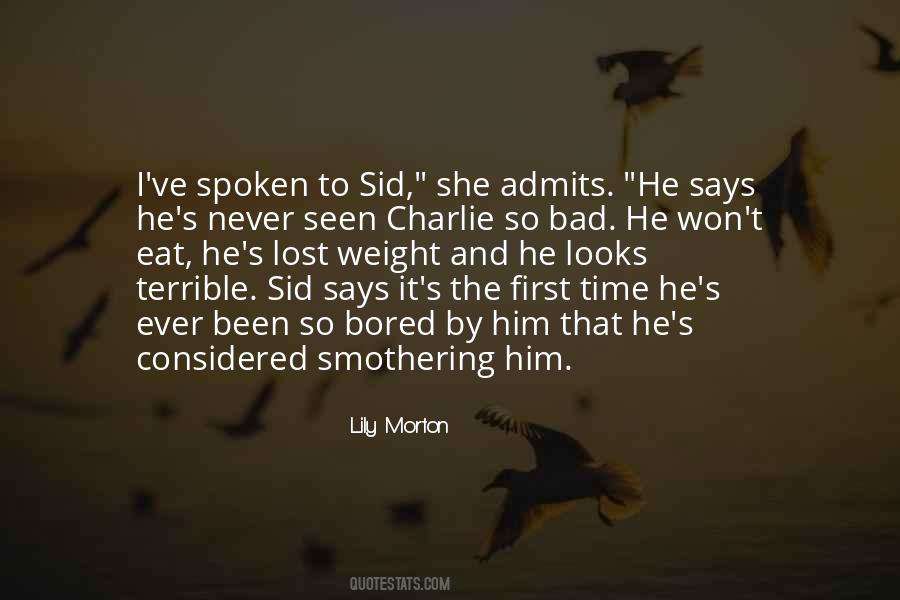 #19. I do not agree with a big way of doing things. What matters is the individual. If we wait till we get numbers, then we will be lost in the numbers and we will never be able to show that love and respect for the person. - Author: Mother Teresa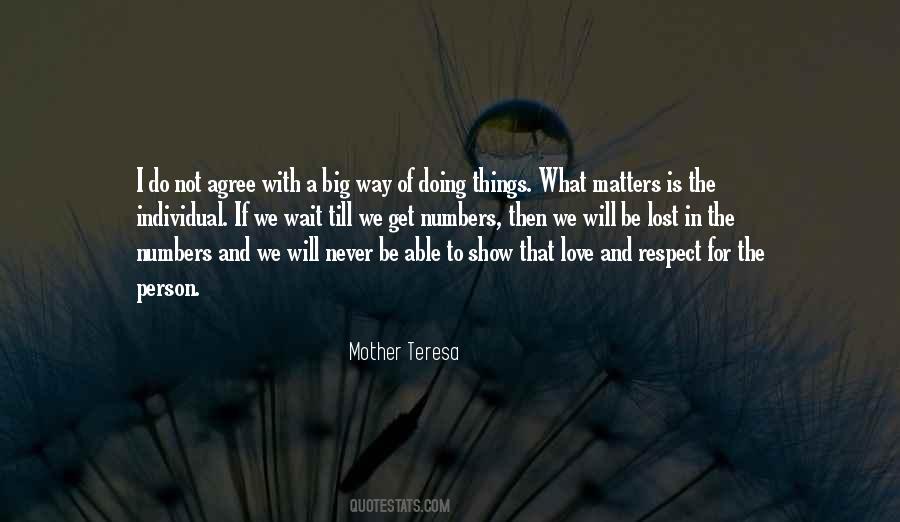 #20. The cold, the changed, perchance the dead, anew, The mourn'd, the loved, the lost,-too many, yet how few! - Author: Lord Byron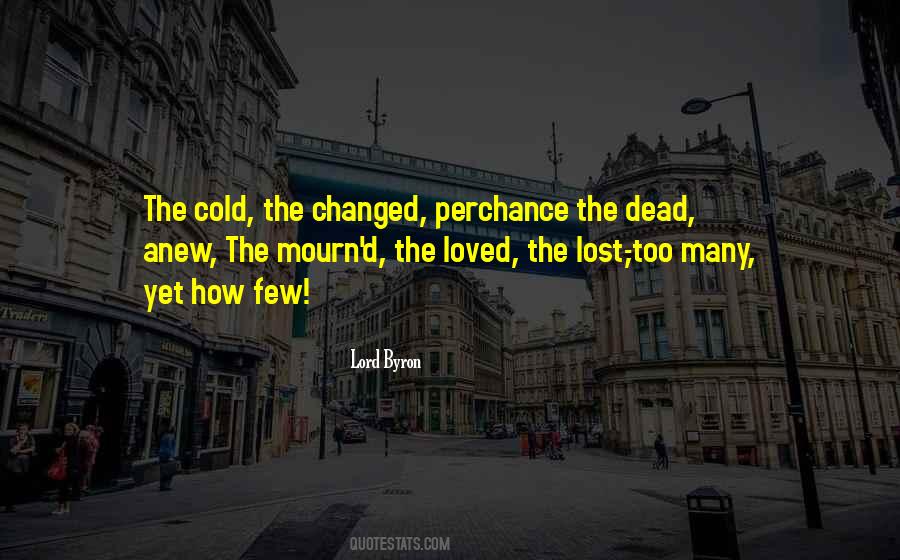 #21. But I'm lost when it comes to you. - Author: Carly Simon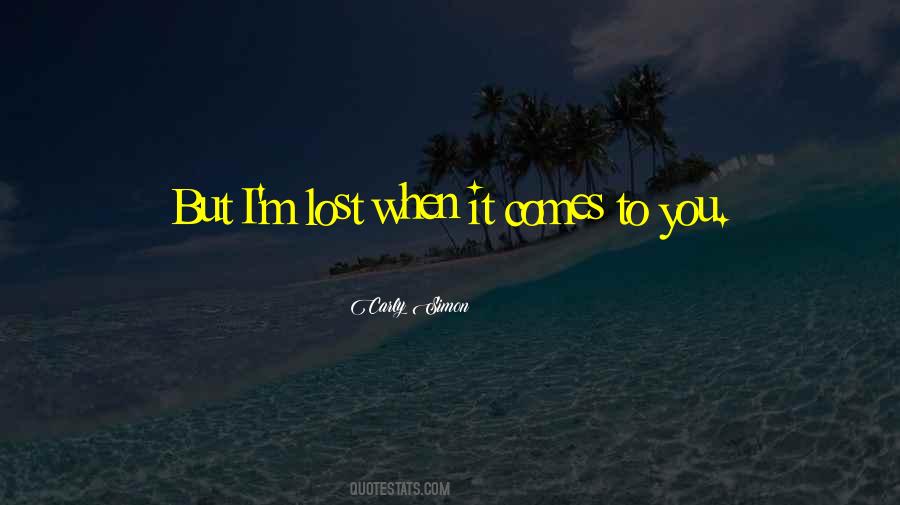 #22. The heart will find solace after a lost love, but once the soul is betrayed and broken it will always bleed and the wounds will never really heal,,,, - Author: Camelia C.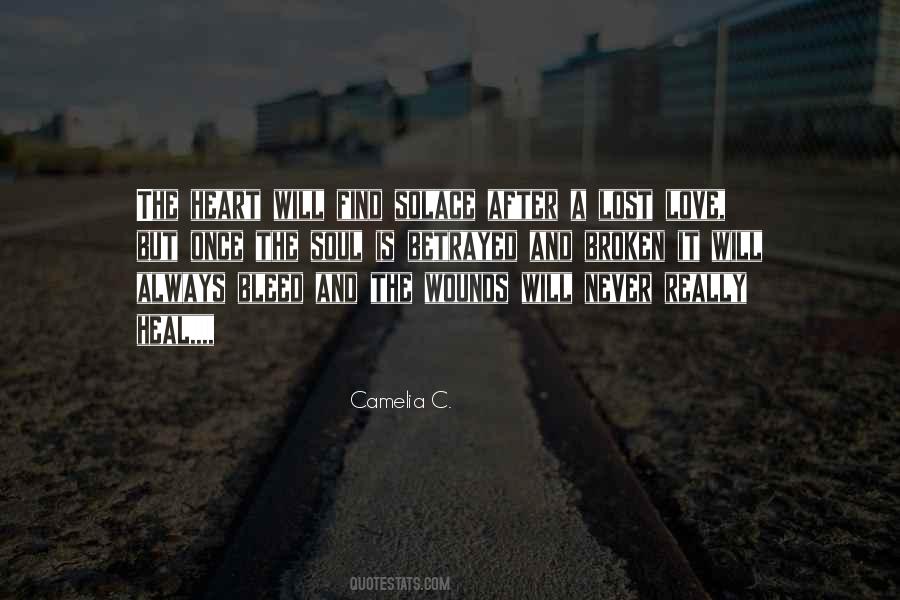 #23. I had lived a life, I had dreamt of, but I have lost a loved one." Ashwin - Author: Shaikh Ashraf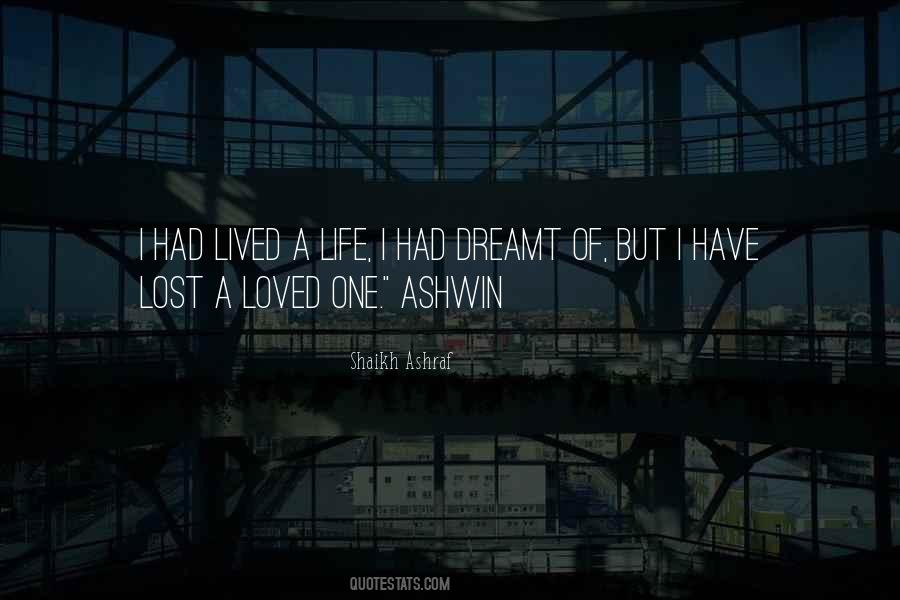 #24. I think of New York City lost in stars
forgotten as a blue haired pet of childhood love
Tonight the night is full; - Author: Gregory Corso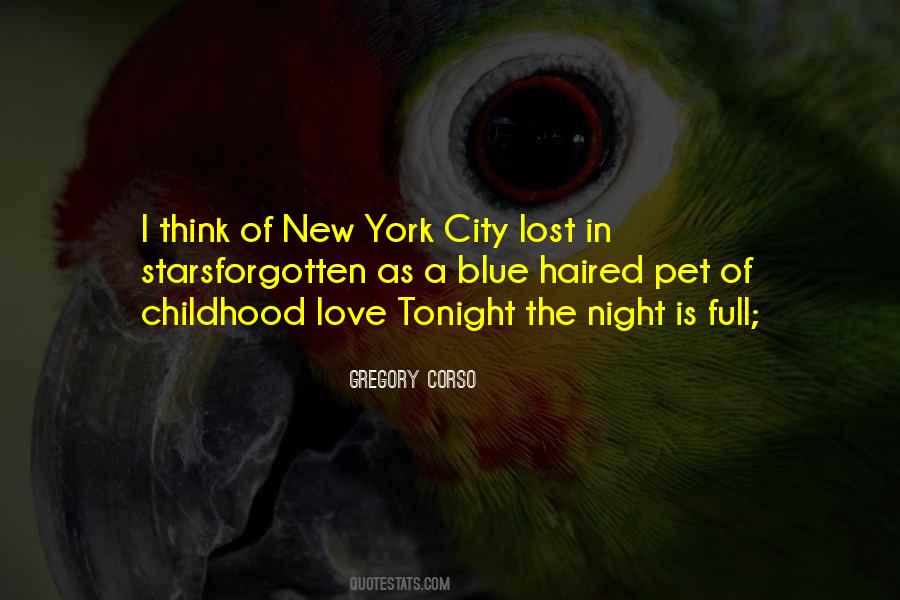 #25. Noah doesn't hold hands often. In fact, it was one of the few rules I understood, and it's not lost on me how special this moment is. It's like the roses. Noah's showing me his love. - Author: Katie McGarry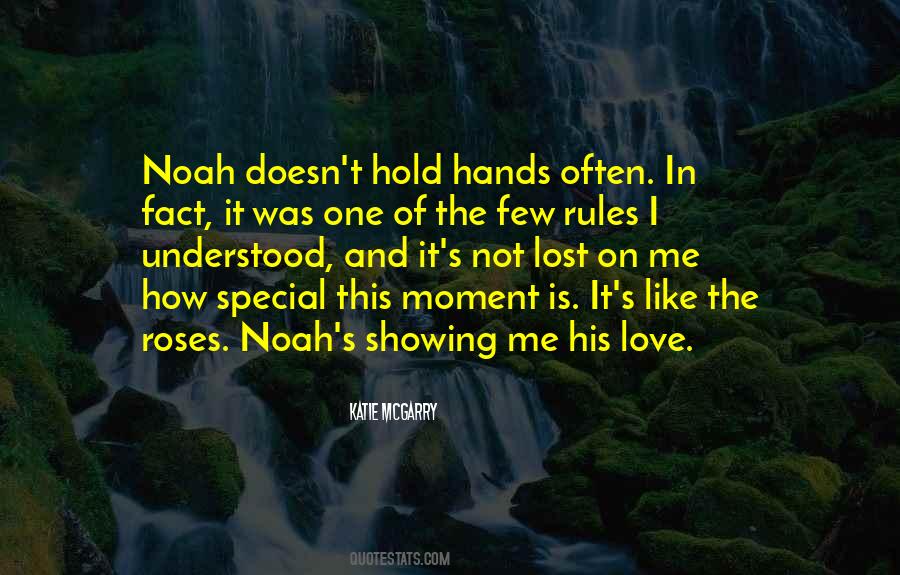 #26. It is that we are never so defenseless against suffering as when we love, never no helplessly unhappy as when we have lost our loved object of its love. - Author: Sigmund Freud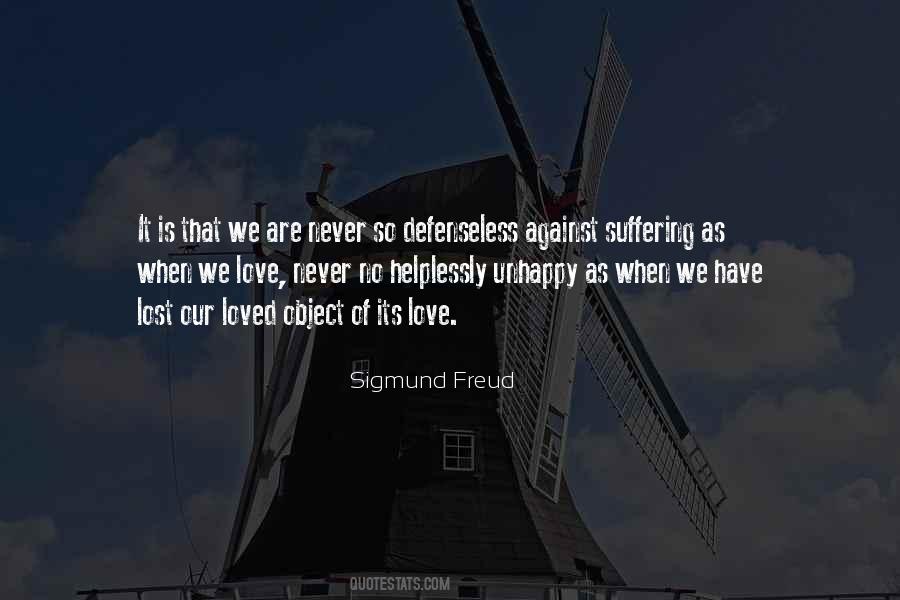 #27. I've lost Poland. Without Poland, I go down. I've been thrown out; yet I love my country. - Author: Marek Hlasko
#28. Love is the same as being lost,' says Jacques to the dark. 'Except you don't care that you're lost. - Author: Jedediah Berry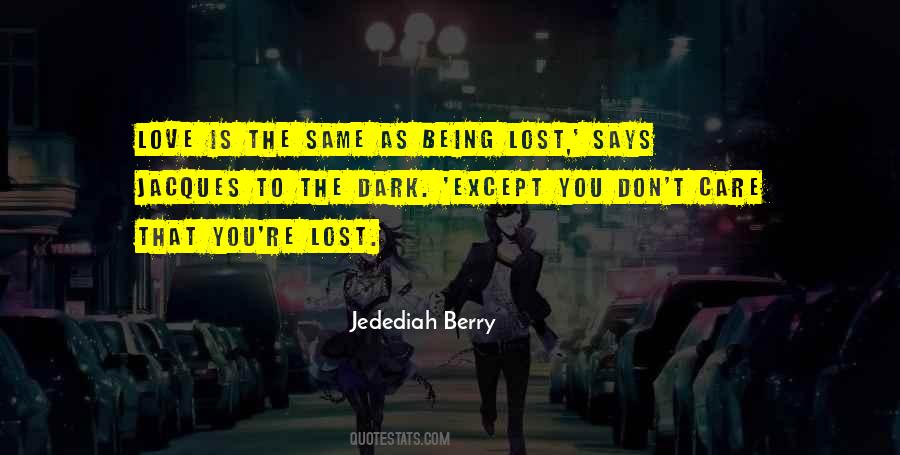 #29. Beauty is the wilderness of sensual perception where we always want to get lost. - Author: Debasish Mridha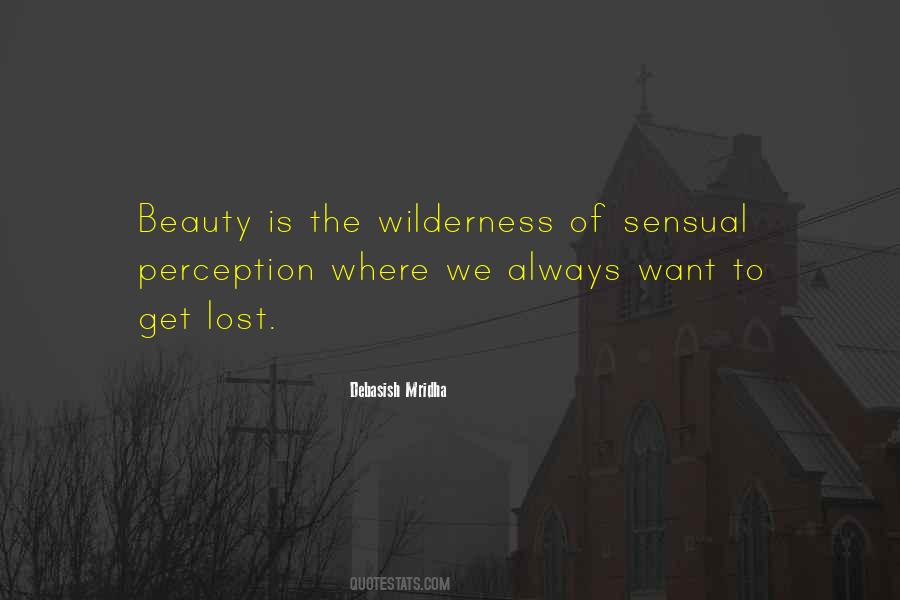 #30. Love does nothing but make you weak! It turns you into an object of pity and derision-a mewling pathetic creature no more fit to live than a worm squirming on the pavement after a hard summer rain. - Author: Teresa Medeiros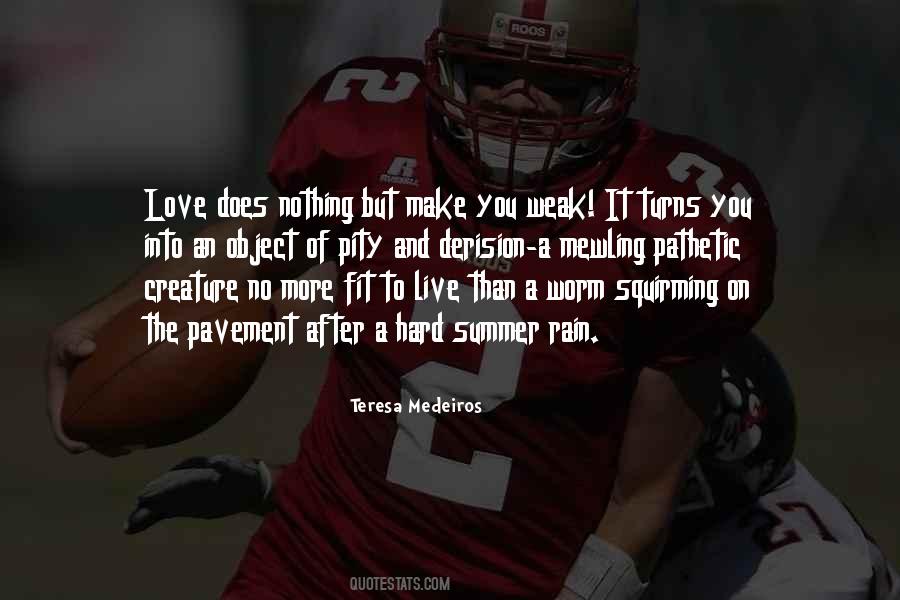 #31. The Bright Young People. The press love and hate them - they celebrate them, they vilify them, and they know full well that they would not shift nearly so many papers without them. - Author: Lucy Foley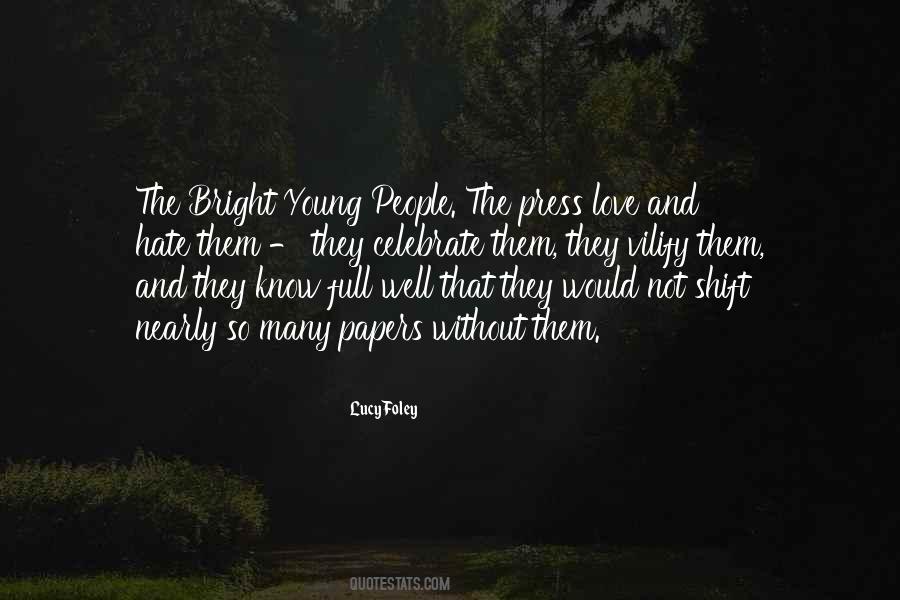 #32. To douchebags!" he said, gesturing to Brad. "And to girls that break your heart," he bowed his head to me. His eyes lost focus. "And to the absolute fucking horror of losing your best friend because you were stupid enough to fall in love with her. - Author: Jamie McGuire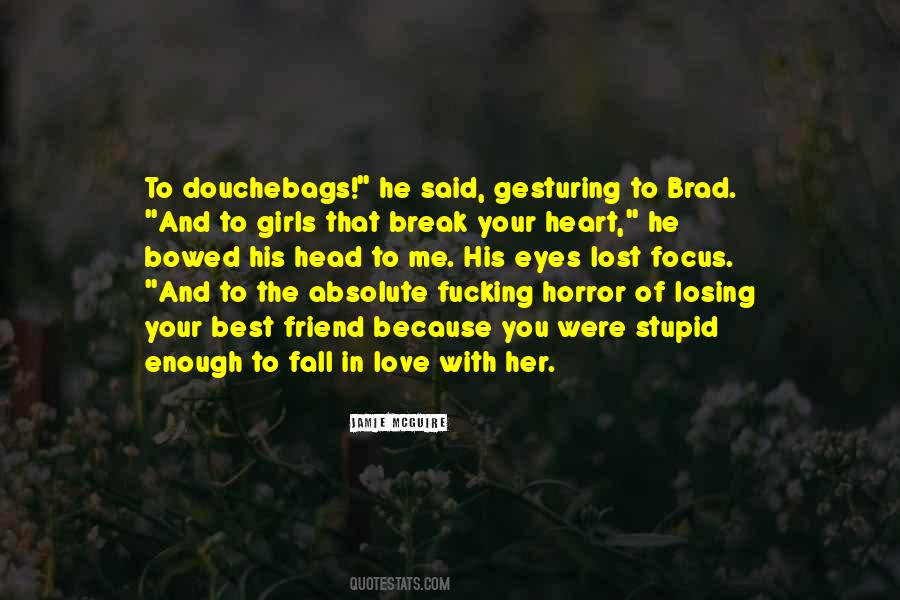 #33. ...Past joys and achievements give us the outlines of how to get to a state of happiness again. That memory is a treasure that can never be taken away. At least we know where we were, what we have lost, what we miss and what more to add to our experiences. - Author: Janvier Chouteu-Chando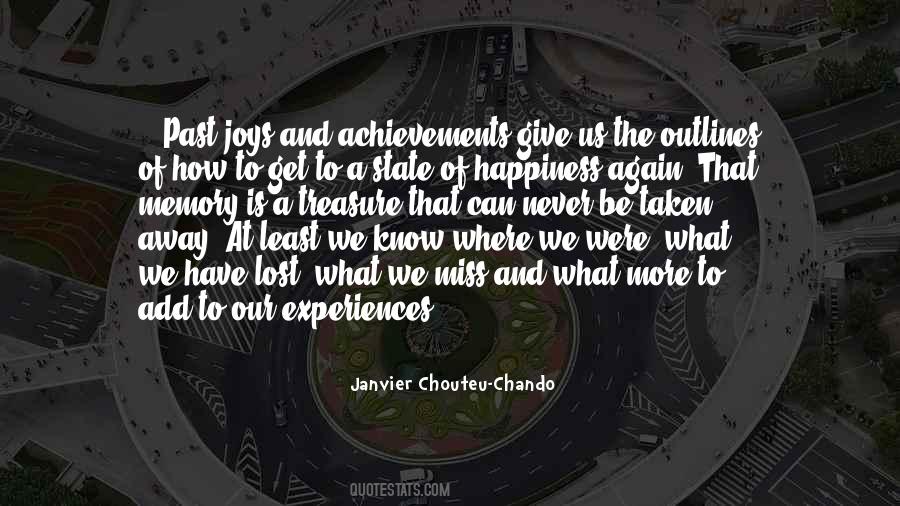 #34. Men who make all the decisions in a relationship are also the ones who will blame you when they don't work out as they expected. - Author: Heather Chapple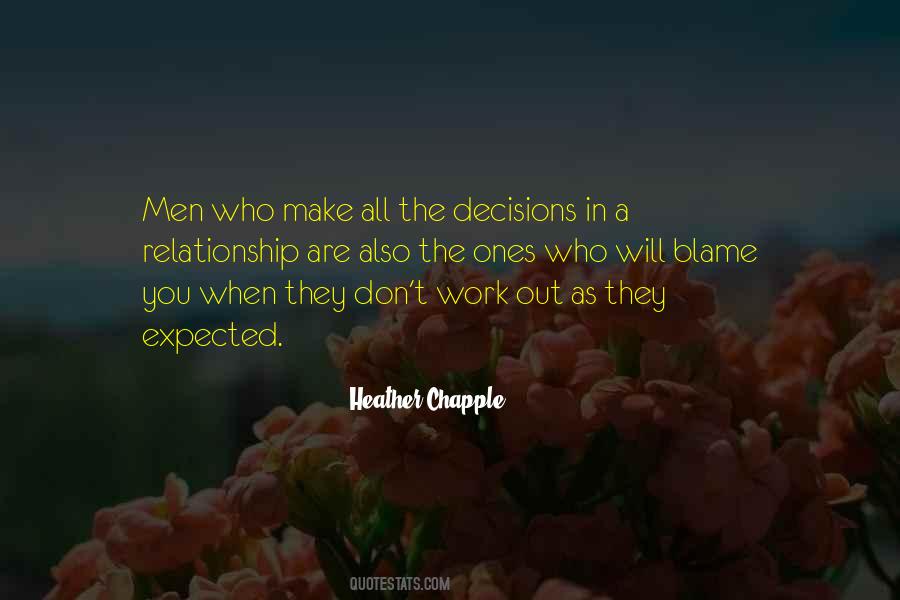 #35. His embrace left her breathless and restored all the faith she'd lost in the power of love. When their lips parted, she sighed and said, 'I don't need a party or anything else. All I need is you. I love you.' (Wildflowers) - Author: Catherine Greenfeder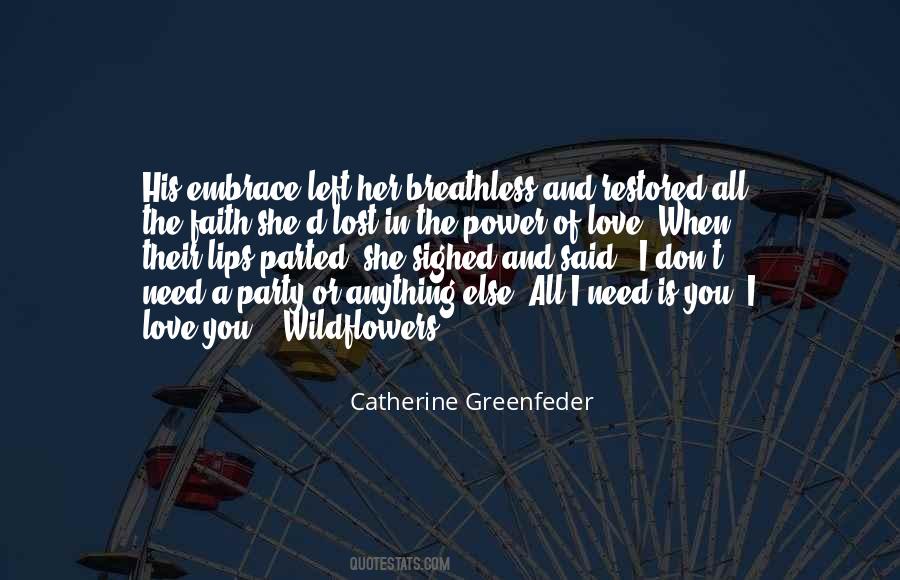 #36. Let me be your anchor. I'll never let you be lost again. - Author: Karen Marie Moning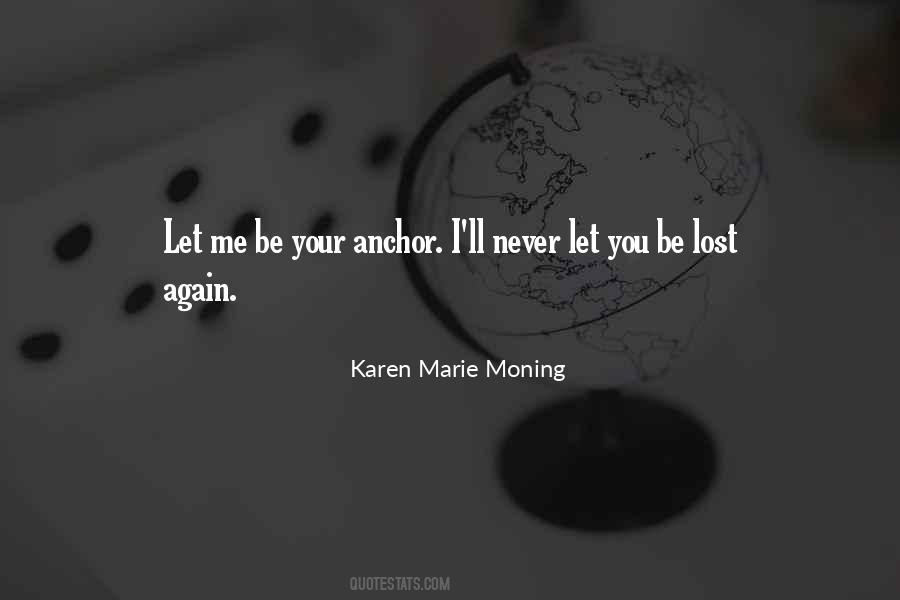 #37. I loved her for so long. Our past trails behind us like a comet's tail, the future stretched out before us like the universe. Things happen. People get lost and love breaks. - Author: Jonathan Tropper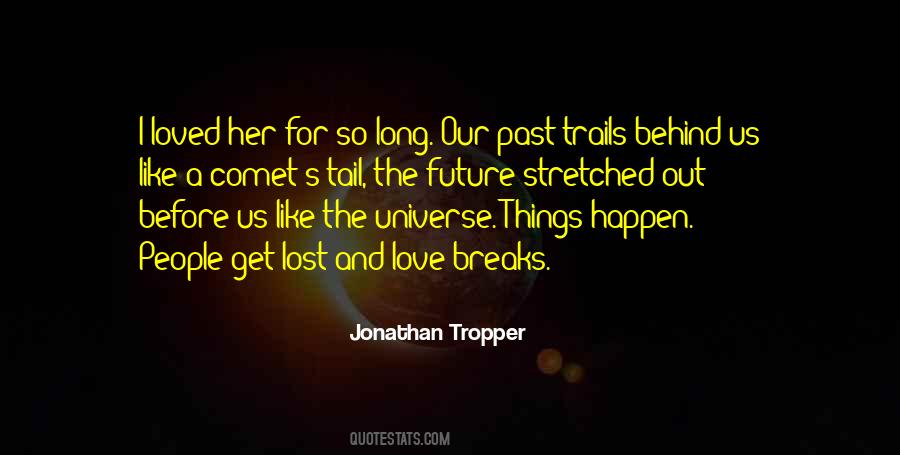 #38. Nothing: a landscape, a glass of wine, a little loveless love, and the vague sadness caused by our understanding nothing and having lost the little we're given. - Author: Alvaro De Campos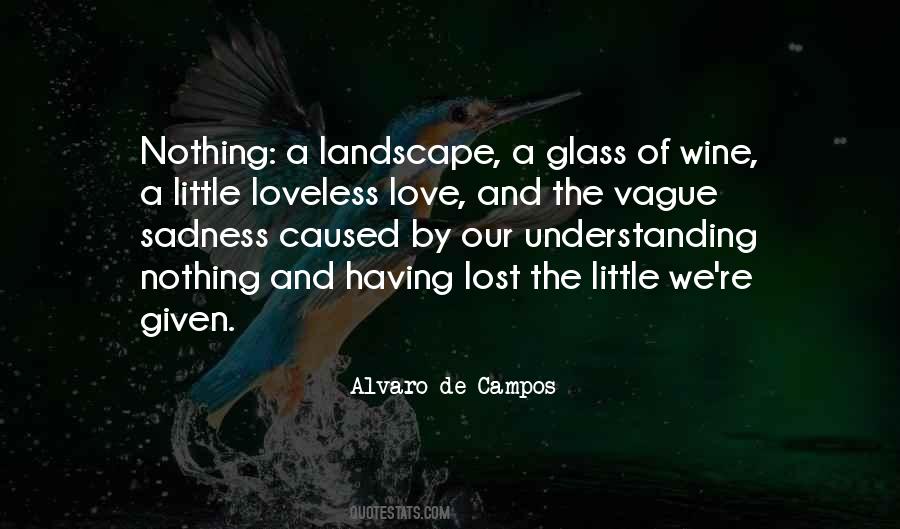 #39. Underwater madness slipping into a haze, drowning and choking in repugnant nostalgic thoughts. - Author: Karen Quan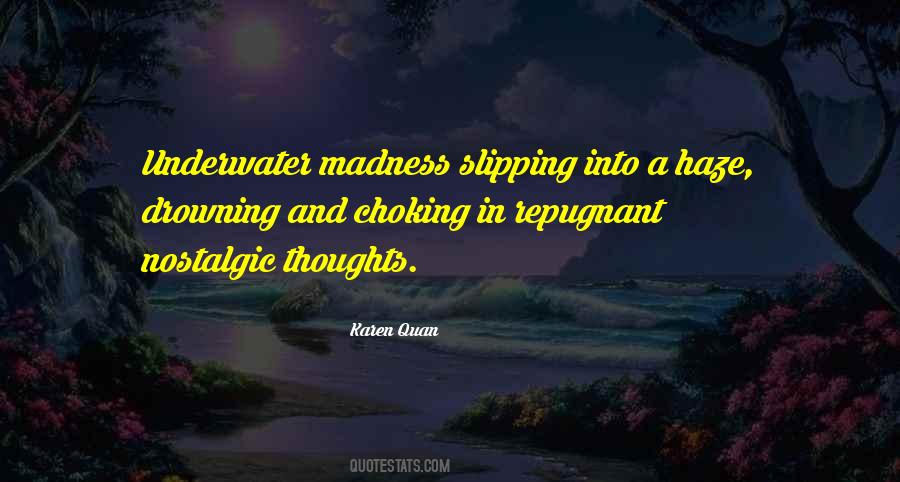 #40. If you've lost your faith in love and music then the end won't be long. - Author: Pete Doherty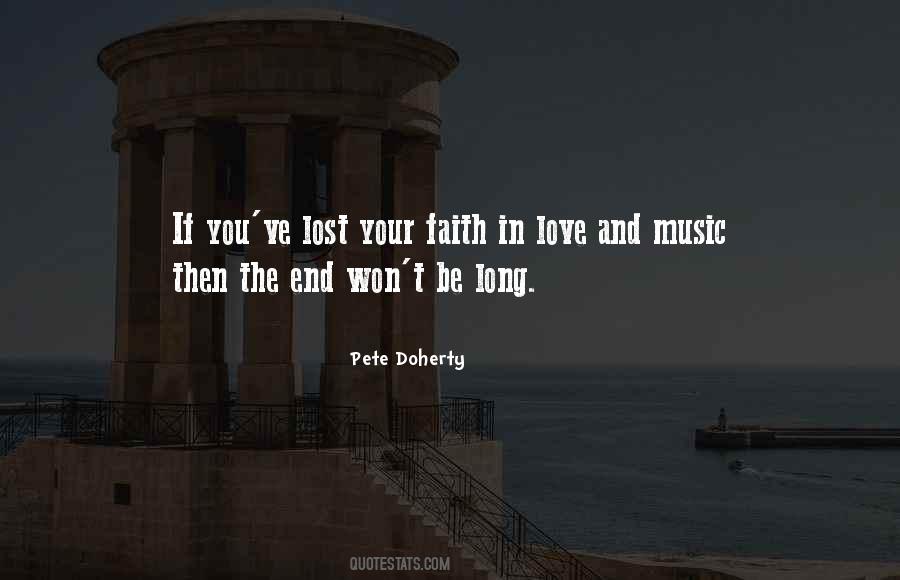 #41. Meditate like Christ ... He lost himself in love. - Author: Neem Karoli Baba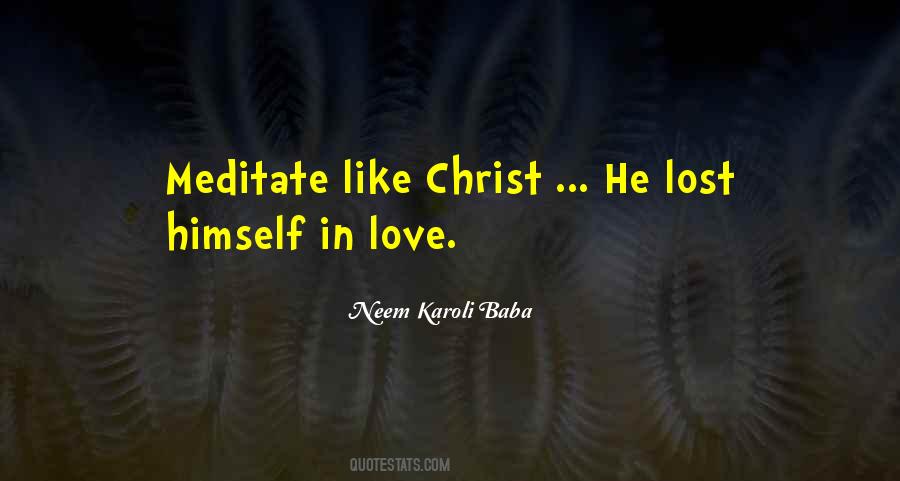 #42. War doesn't have heroes, it only has the men who lost so many things in their life that they just keep going and do the most unthinkable things, just because they don't care anymore. - Author: Wouter Van Gastel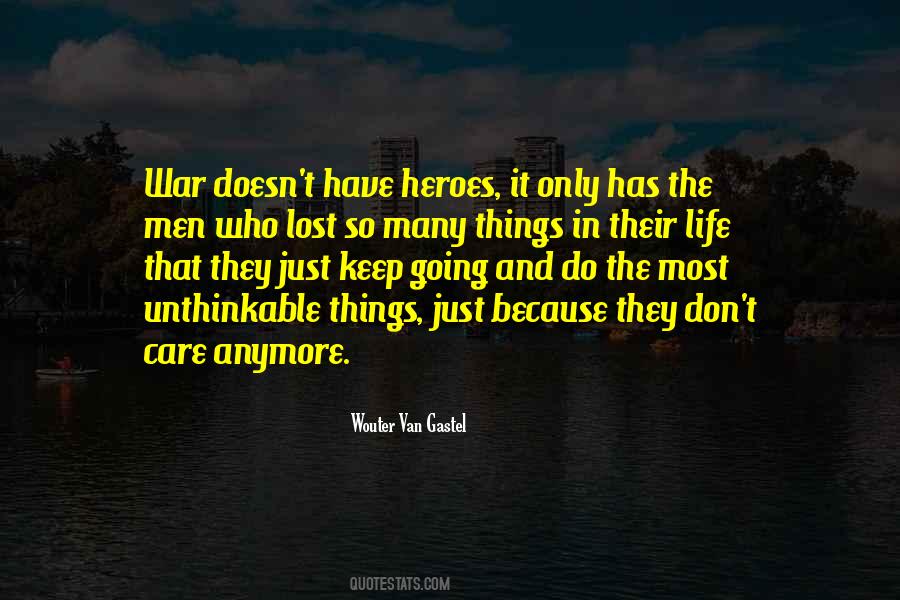 #43. It's funny. You love something and one day it's suddenly gone or changed or lost forever. But somehow that doesn't stop your loving. Maybe that's how you know it's the real thing. - Author: Tony Parsons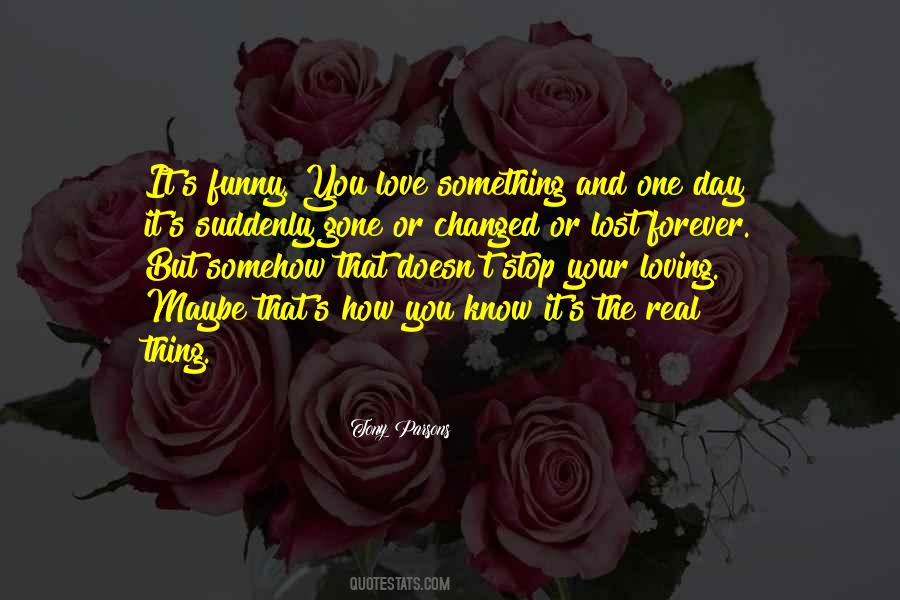 #44. We love, while knowing that someday our love might be lost forever. We laugh as we stride along, even while recognising that doom lies at the end of the road. We give, while comprehending that in the end 'twill all be taken away. we are nothing less then heroes. - Author: Cecilia Dart-Thornton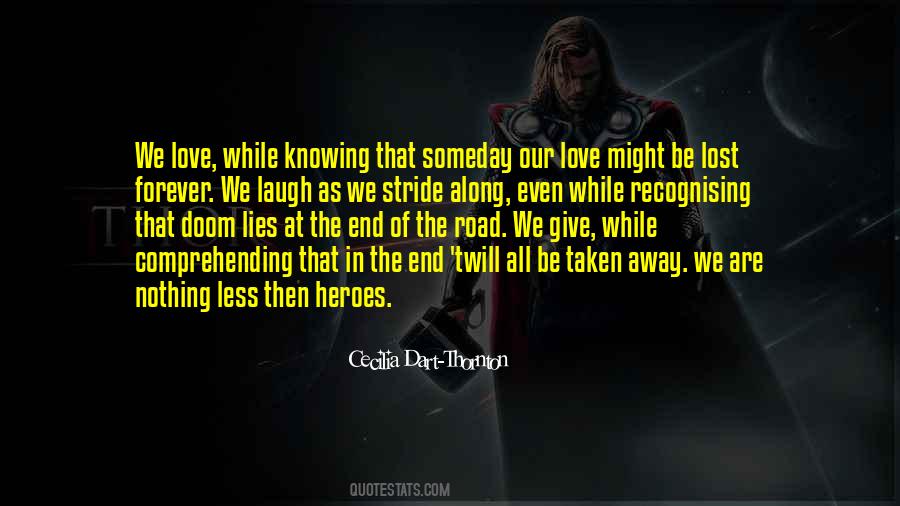 #45. I don't want to lose you," he whispered again. "And I didn't want to be lost. - Author: Jodi Meadows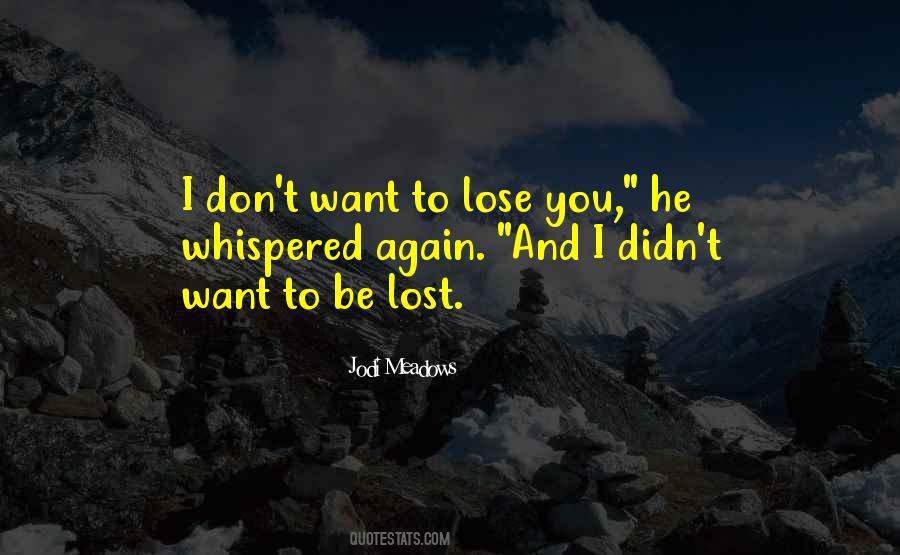 #46. Ah! dearest love, sweet home of all my fears,
and hopes, and joys, and panting miseries,
Tonight if I may guess, thy beauty wears a smile of such delight,
As brilliant and as bright
As when with ravished, aching, nassal eyes,
Lost in a soft amaze
I gaze, I gaze - Author: John Keats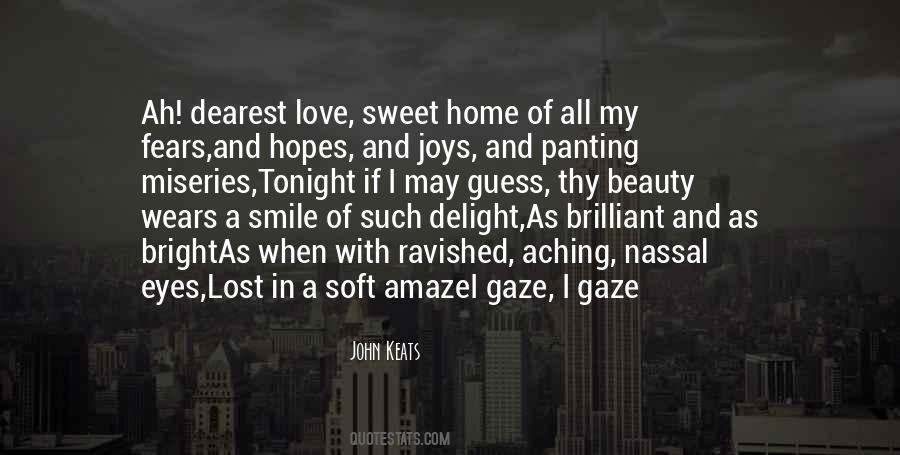 #47. That's how love got lost ... when we started laying down rules for when love should or shouldn't appear. - Author: Paulo Coelho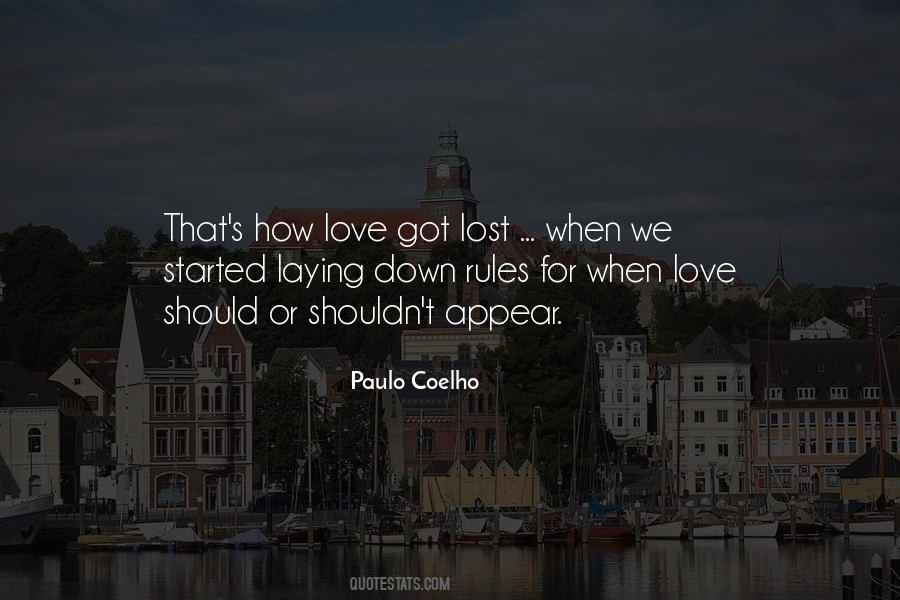 #48. With This Time Lost, Comes Time To Spend.
To Spend On Love, Friends, Family, And Most Of All..
Time To Spend On Life. - Author: Jesse Holdeman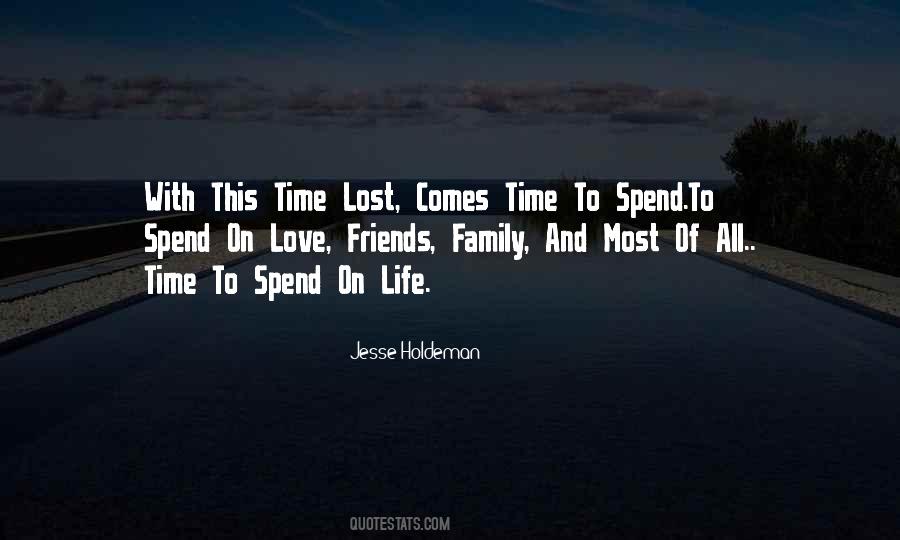 #49. People search for love as if it were a city lost beneath the desert dunes, where pleasure is the law, the streets are lined with brocade cushions, and the sun never sets. - Author: Diane Ackerman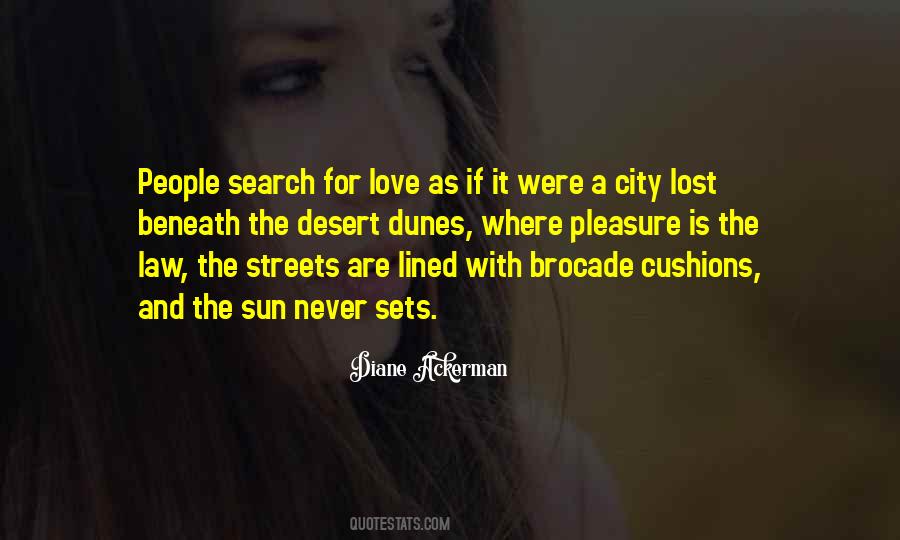 #50. A broken heart is just the growing pains necessary so that you can love more completely when the real thing comes along. - Author: J.S.B. Morse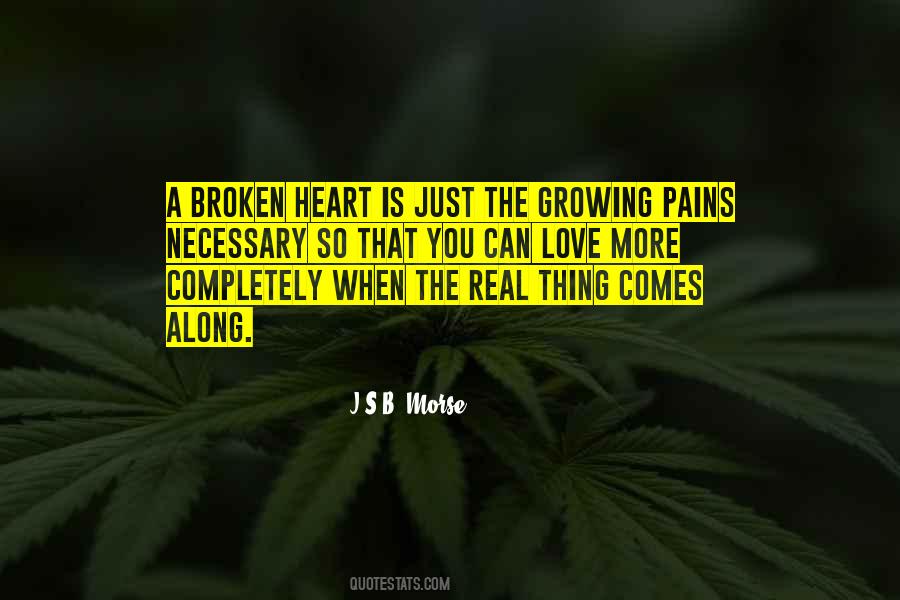 #51. If there is no fate and our interactions depend on such a complex system of chance encounters, what potentially important connections do we fail to make? What life changing relationships or passionate and lasting love affairs are lost to chance? - Author: Simon Pegg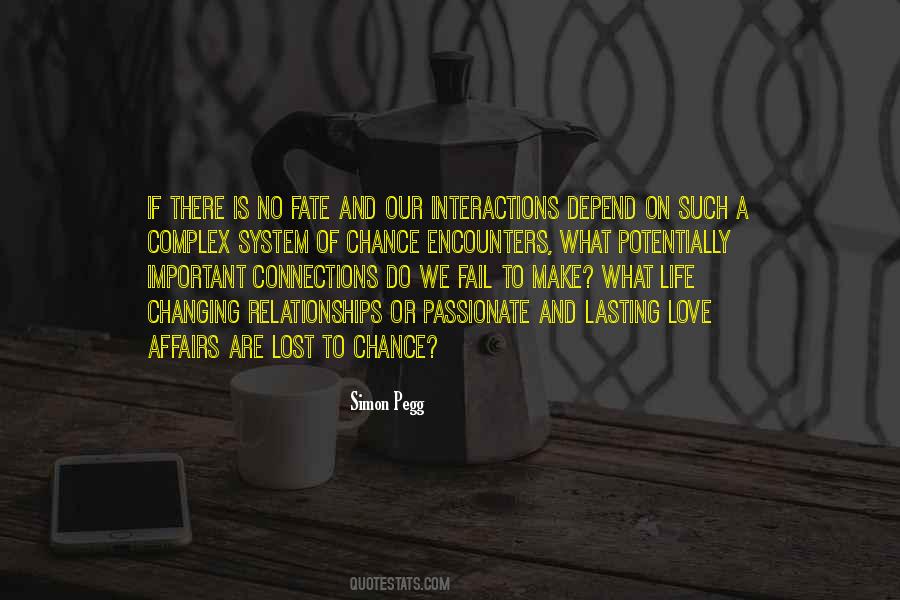 #52. In the States, the Abdication story, for example, is portrayed as The World Well Lost For Love while the English, of a certain type anyway, see it only as childish, irresponsible and absurd. - Author: Julian Fellowes
#53. Don't leave me, even for an hour, because
then the little drops of anguish will all run together,
the smoke that roams looking for a home will drift
into me, choking my lost heart. - Author: Pablo Neruda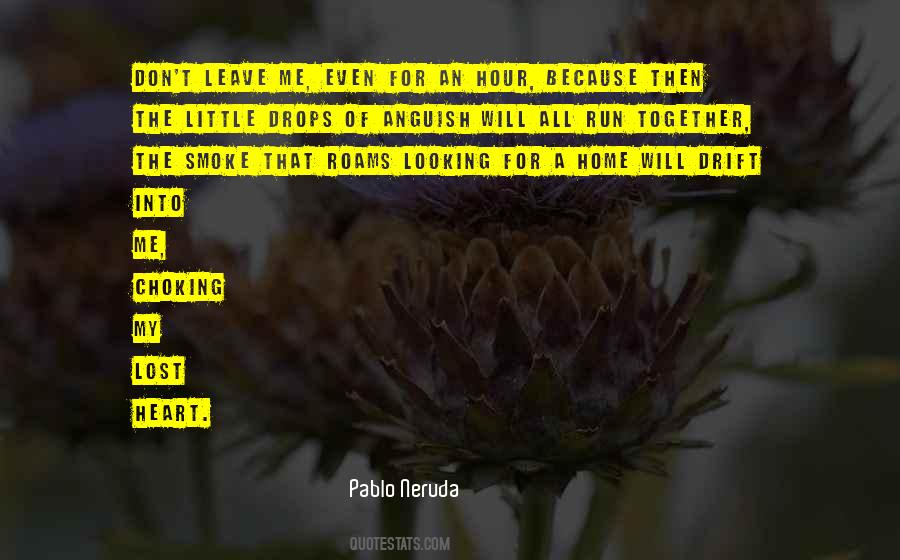 #54. Were you always such a stubborn, blind, obtuse girl?"
"Are you calling me stupid?"
"Yes, but in a more poetic way!"
"Well, here's a poem for you. Get lost! - Author: Colleen Houck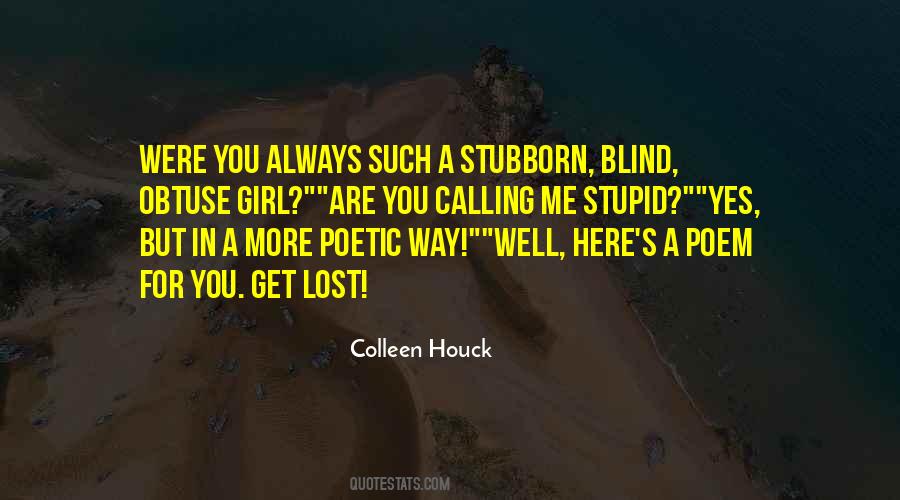 #55. You necessarily have to be lost, before you're found. - Author: T. Scott McLeod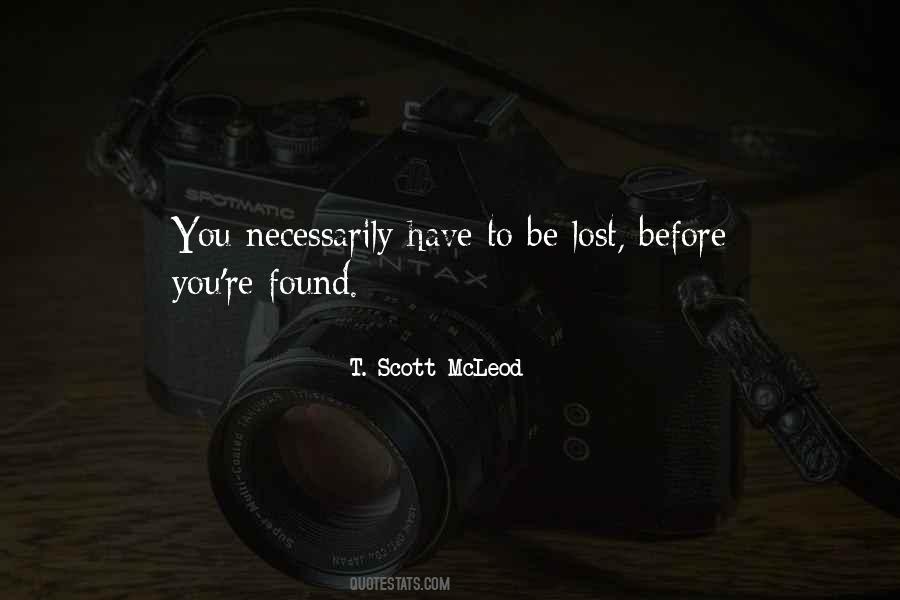 #56. That's the thing about true love. It can rise from the ashes because at its source, it's indestructible. Layers can be stripped away and lost, but if you're lucky enough to find them again and put them back together, the end result is stronger than ever. - Author: Penelope Ward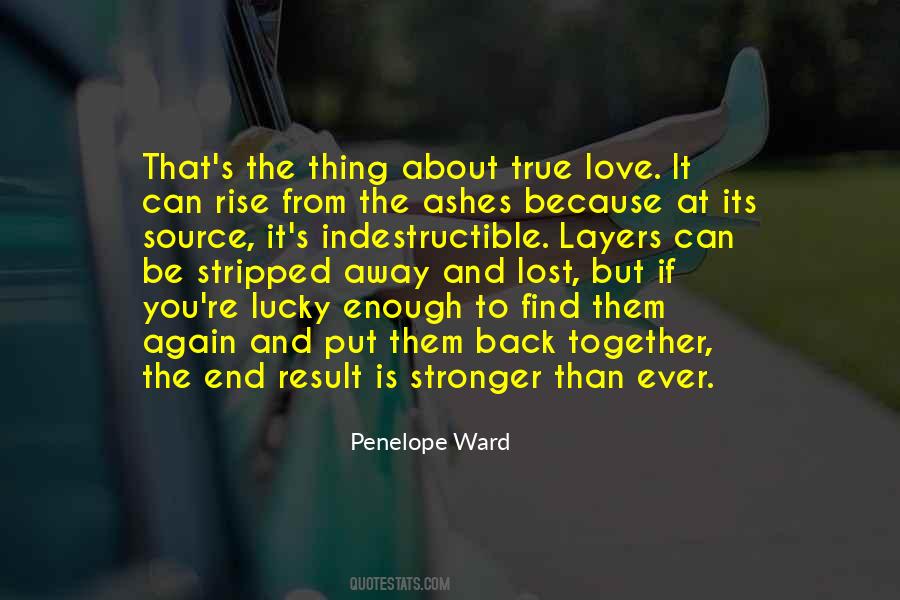 #57. You're not lost, Kaylee. You can't ever be lost, because I'll always know where you are. And if I'm not there with you, I'm on my way, and nothing standing between us will be standing for very long. - Author: Rachel Vincent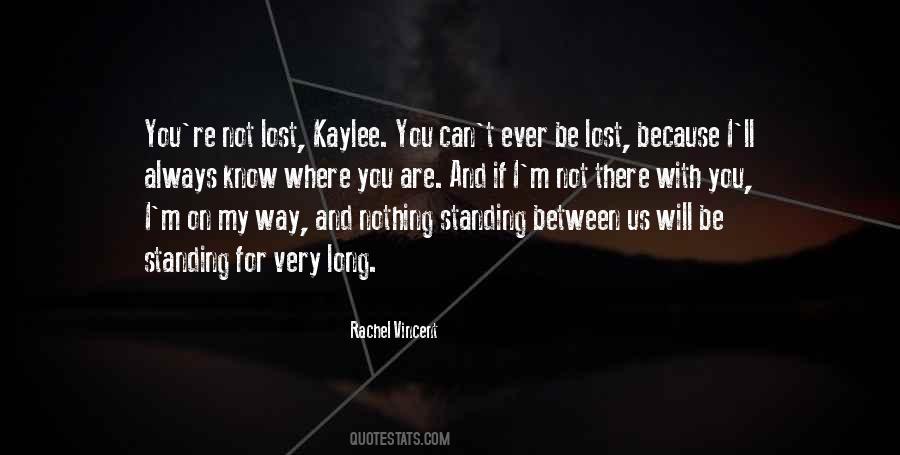 #58. I spend these days in confusion, trying my best to fathom the significance of that shade....

Trying to fathom the suitable answers to my ambiguities, if they can be called as such." - Basil - Author: Amna Iqbal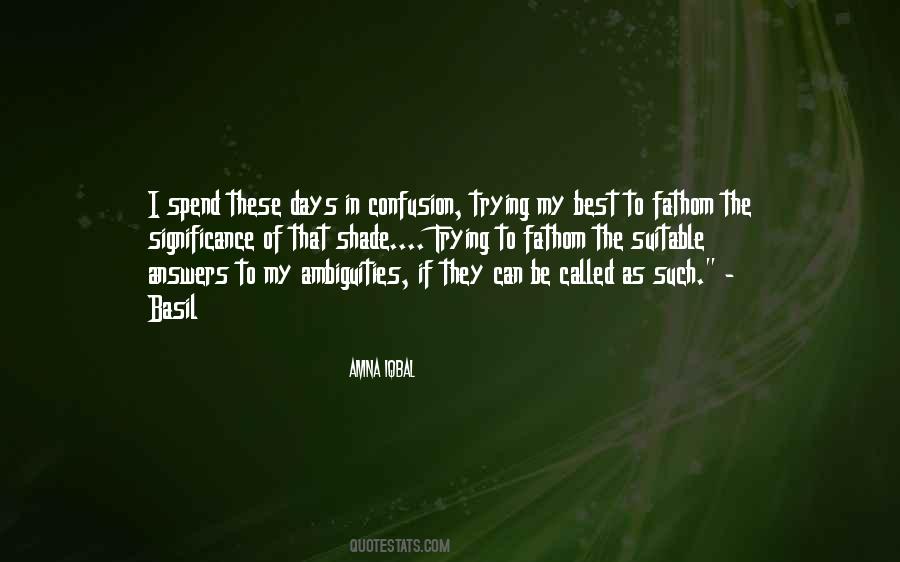 #59. It is not matter how many battles you won or lost.
Matter is .Who won War - Author: Mohammed Zaki Ansari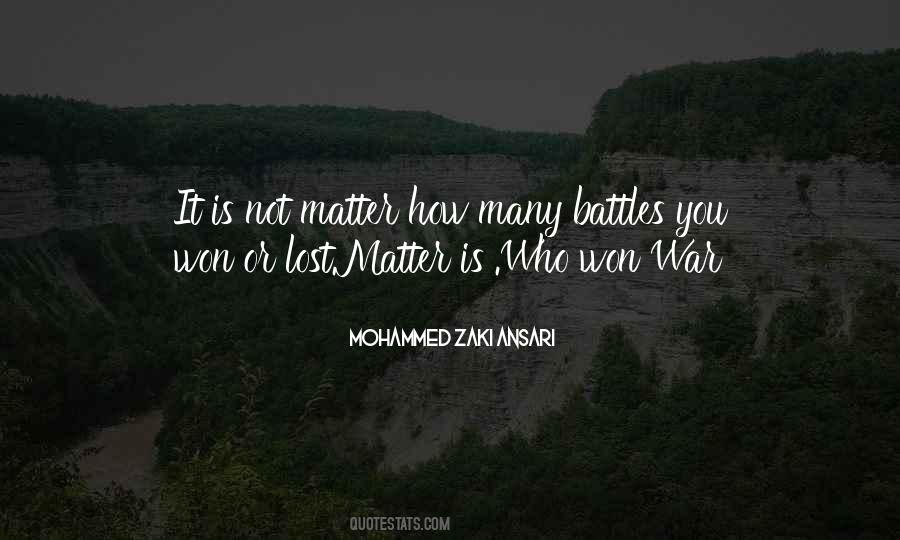 #60. beneath the stars that drift; she sighed and said
"Every tale of a love
can only be a tale of ghosts that linger
in these spaces we
can never hold," - as the wind
gave echo - Author: John Daniel Thieme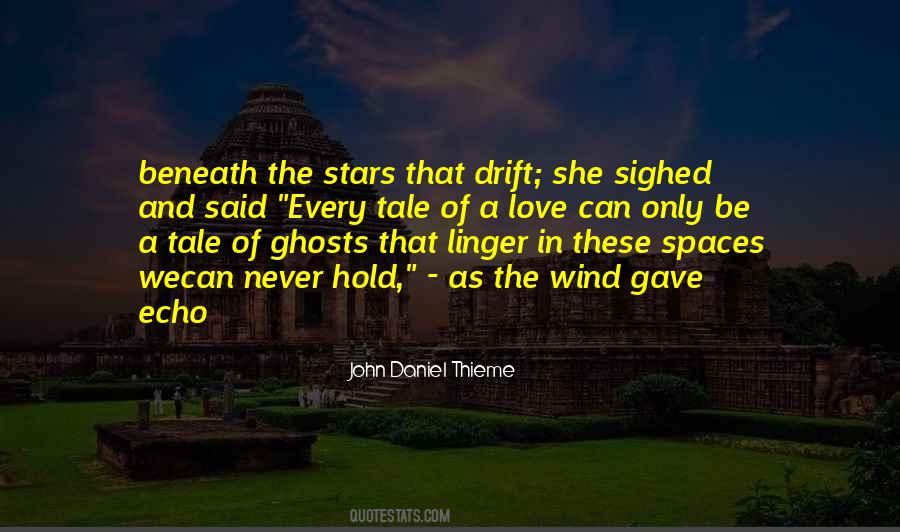 #61. How had I lost so much in such a short period of time? It would seem like leaving your family, living in some foreign place, and being separated from the person you love should be events that take years to roll into place, not just a day. - Author: Kiera Cass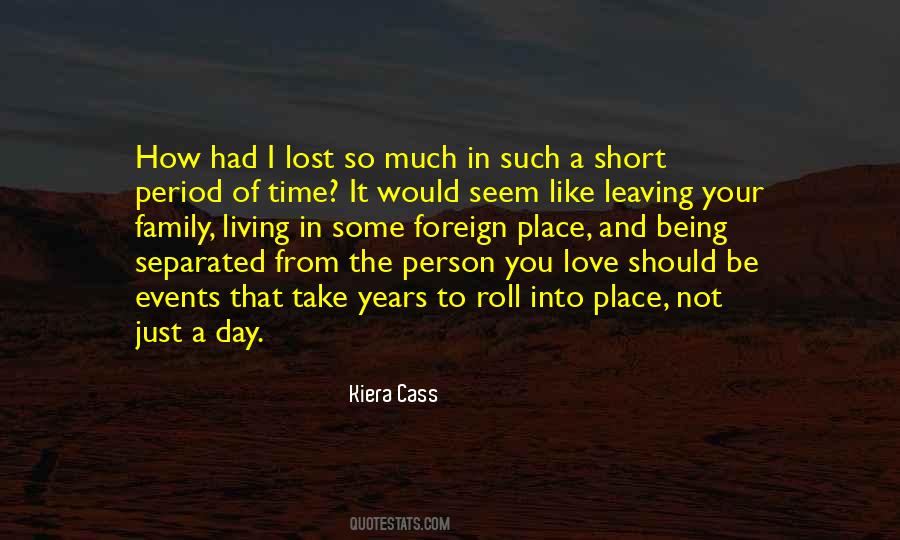 #62. Love is the best medicine, and there is more than enough to go around once you open your heart. - Author: Julie Marie Berman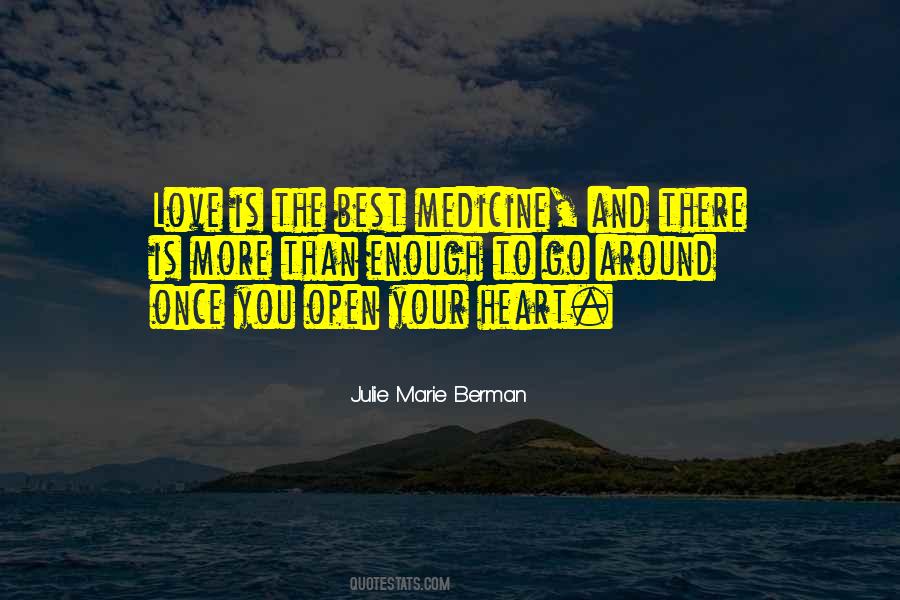 #63. Loving you has been worse than an addiction to drugs.
At least I don't have the drugs c r a w l i n g into my bed at night. - Author: LeAnne Mechelle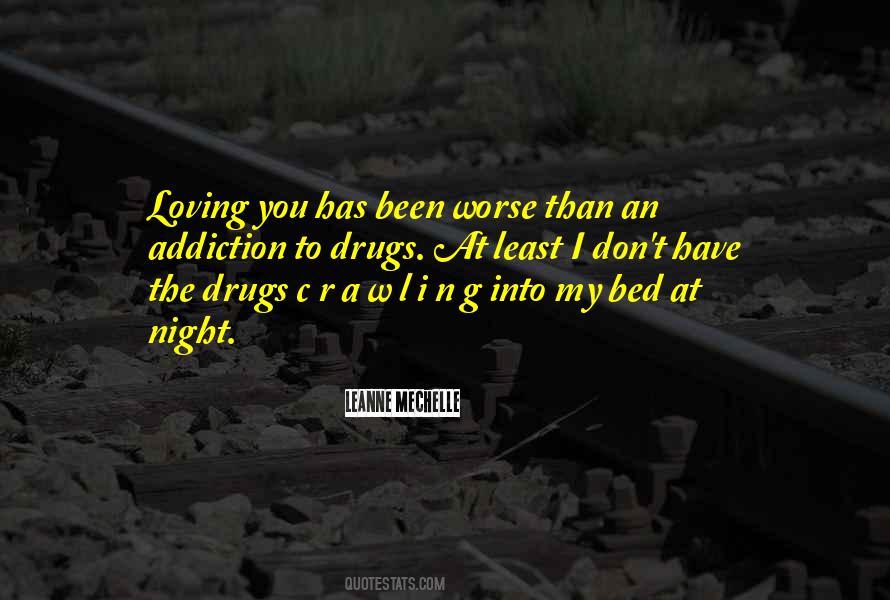 #64. I felt total bad about it, and empty. Granpa said he knew how I felt, for he was feeling the same way. But Granpa said everything you lost which you had loved give you that feeling. He said the only way round it was not to love anything, which was worse because you would feel empty all the time. - Author: Forrest Carter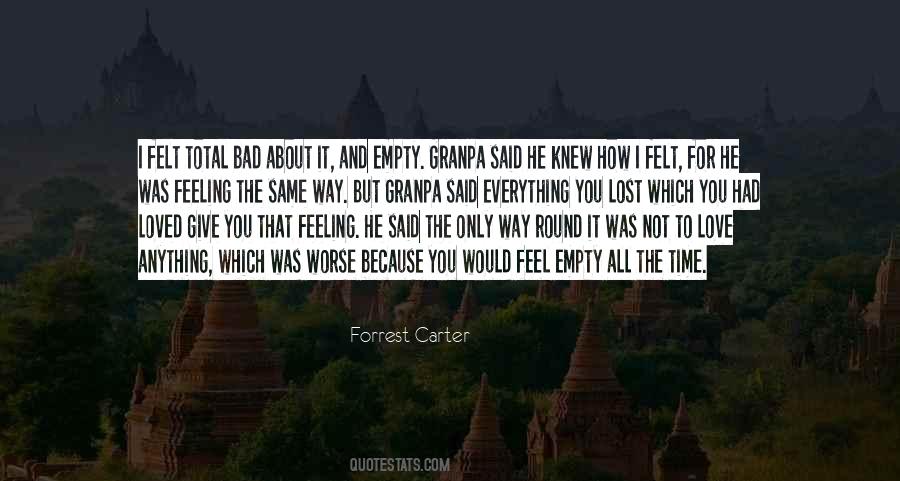 #65. Without love, we are pointless. With it, we are infinite. - Author: Eden Butler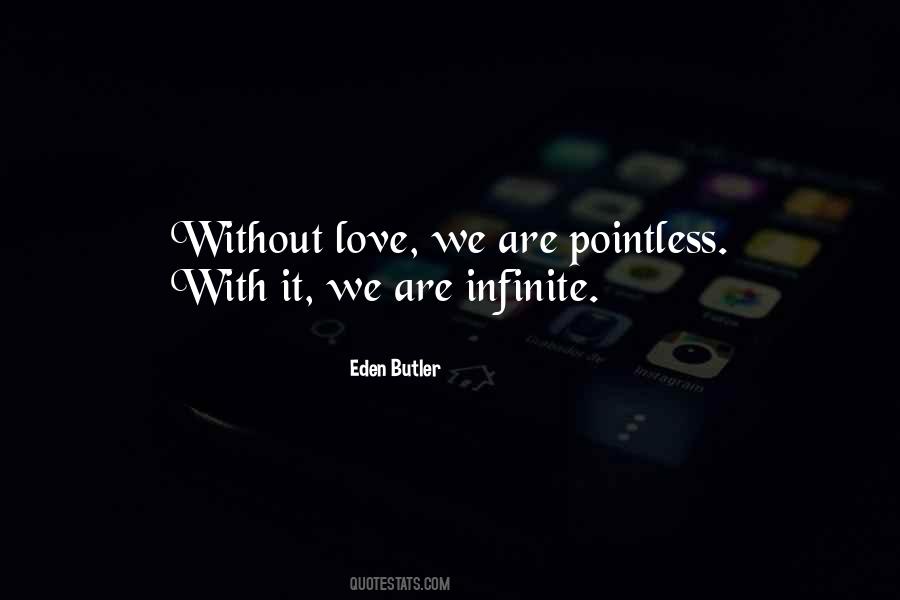 #66. To look into that persons eyes and find yourself so completely lost in another world, a world full of absolute comfort and happiness. - Author: Lily Collins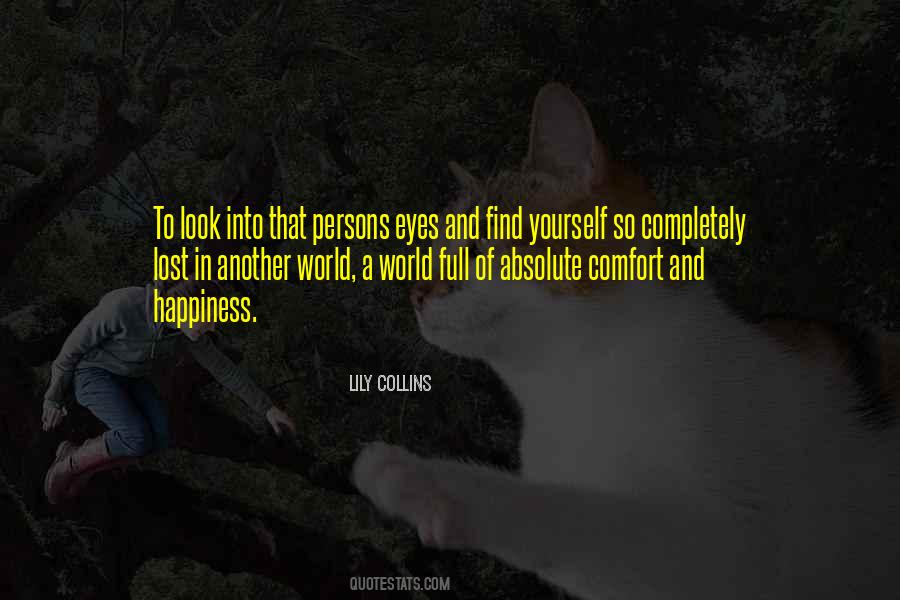 #67. The image of Kurdish blood pumping through the heart of a little Arab boy like Ahmed was not lost on anyone. - Author: Jeremy Courtney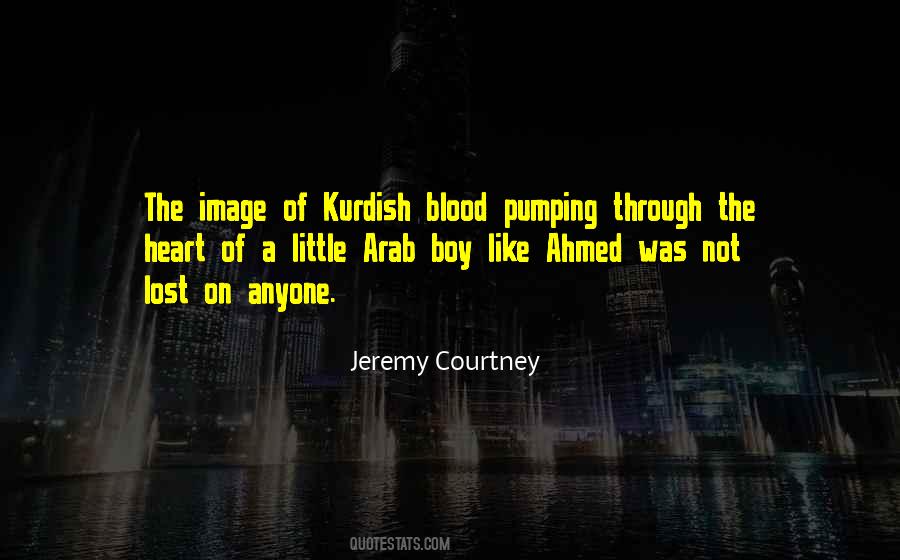 #68. ....the longer I look, the more convinced I am she's the perfect storm and I'm lost at sea."-Andrew - Author: Ginger Scott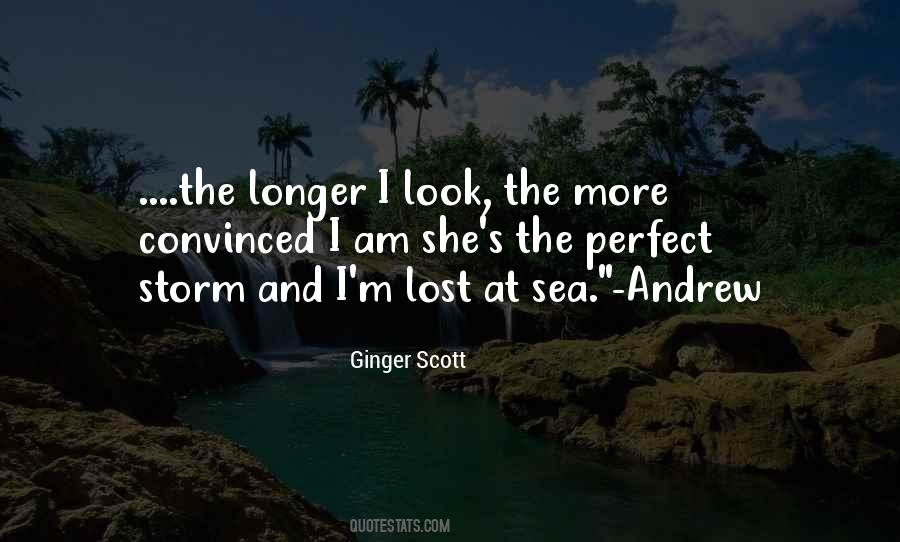 #69. I sat looking at her, completely lost for words; women say the damnedest things. - Author: E.R. Braithwaite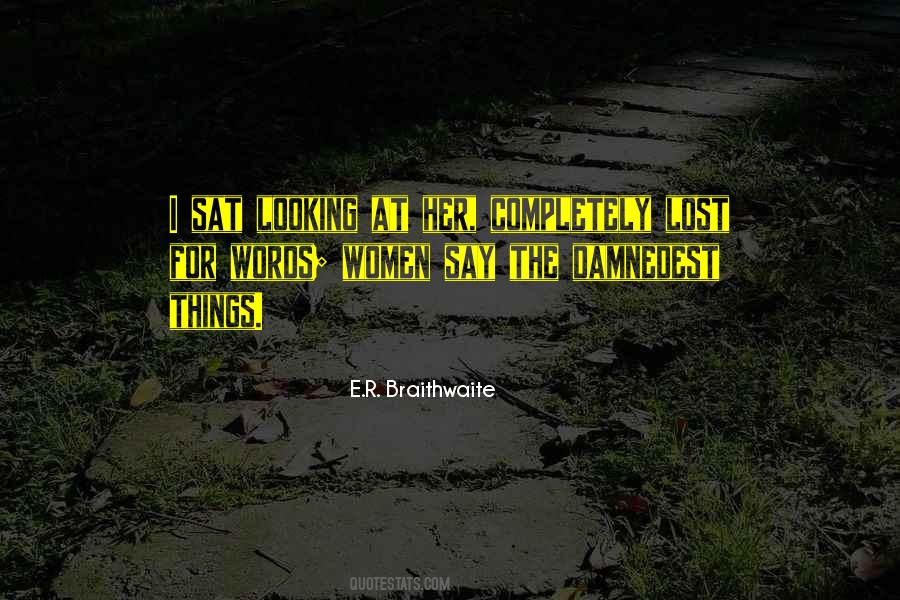 #70. A necklace of pearls on a white neck.
We had lost the sense of discovery which had infused the anarchy of our first year. I began to settle down.
... the old house in the foreground, the rest of the world abandoned and forgotten; a world of its own of peace and love and beauty ... - Author: Evelyn Waugh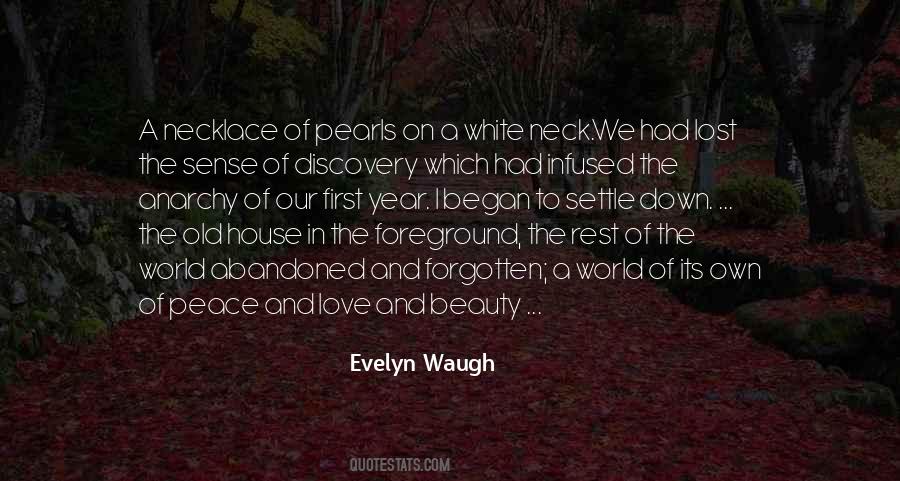 #71. And there, in that phrase, the bitterness leaks again out of my pen. What a dull lifeless quality this bitterness is. If I could I would write with love, but if I could write with love I would be another man; I would never have lost love. - Author: Graham Greene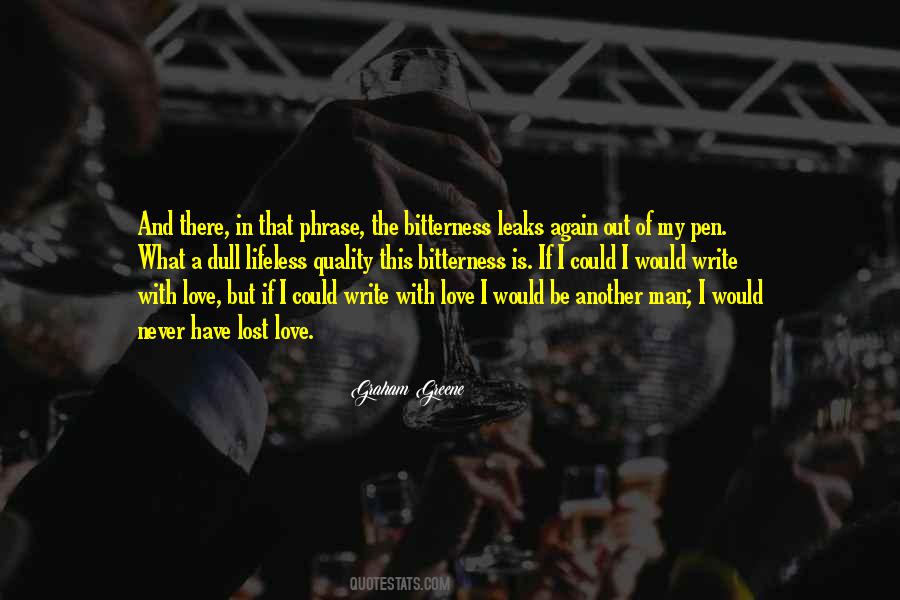 #72. When you get lost in love, you become oblivious to oblivion. - Author: Debasish Mridha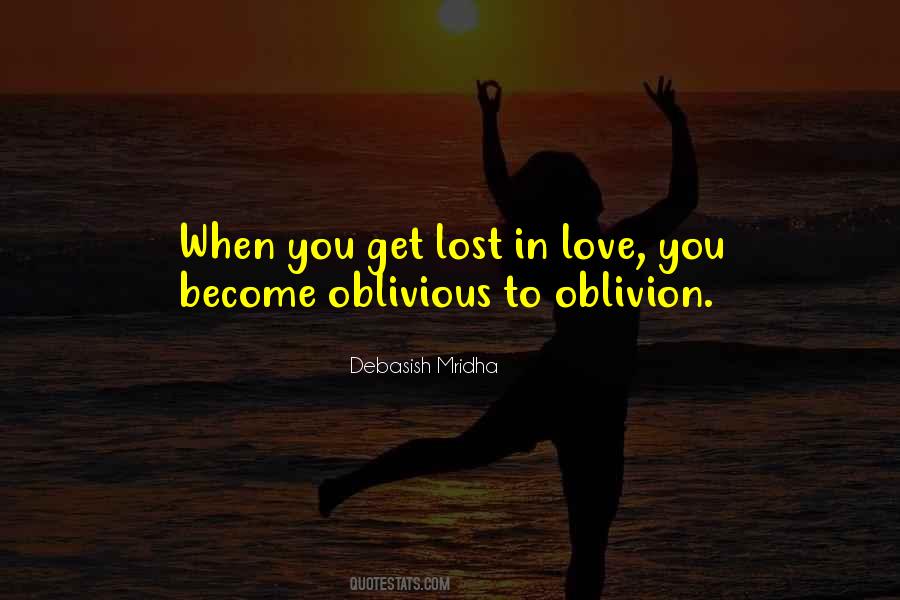 #73. And then it all came rushing back; that's when I realized I'll never stop having a thing for you. - Author: Ahmed Mostafa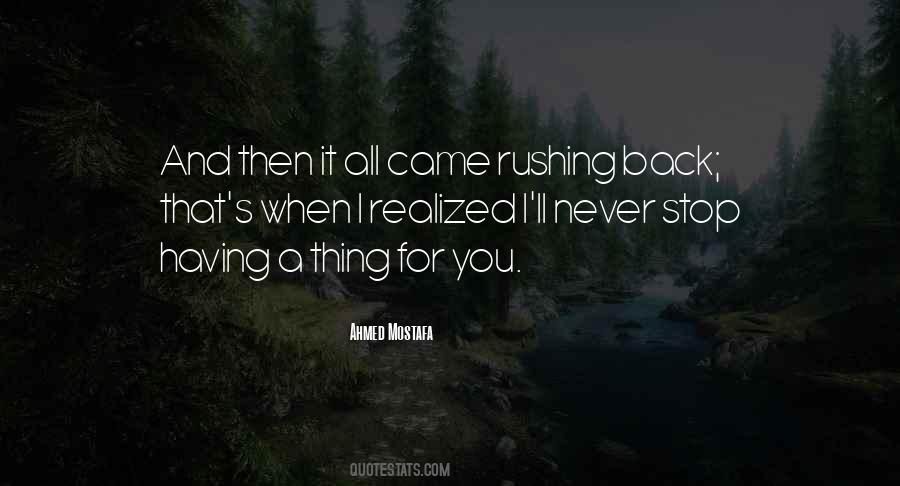 #74. I've lost loved ones in my life who never knew how much I loved them. Now I live with the regret that my true feelings for them never were revealed. - Author: Garth Brooks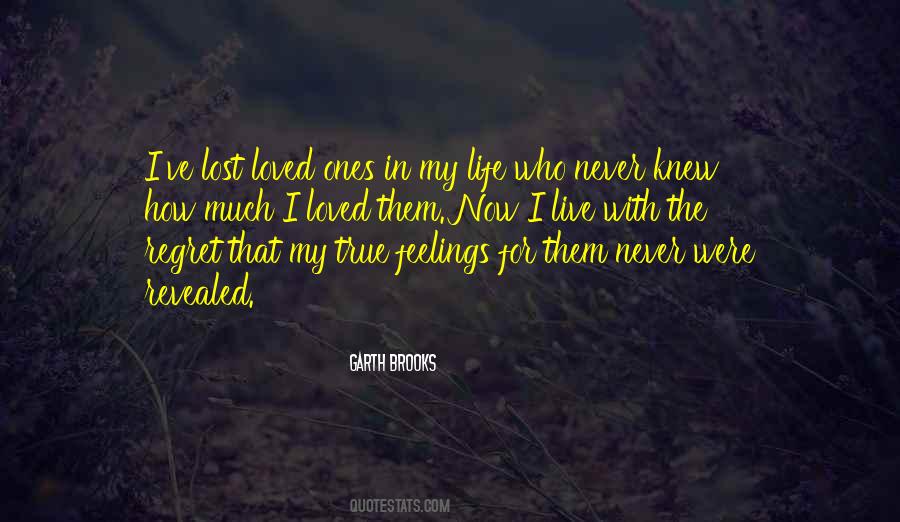 #75. Perhaps that same concept applied to people as well. Did we love them more when we knew their full story? How they came to be who and what they were? Or was the mystery what kept us coming back for more, slowly enticing us, knowing that once the truth was out, the appeal would be lost? - Author: Amber Lynn Natusch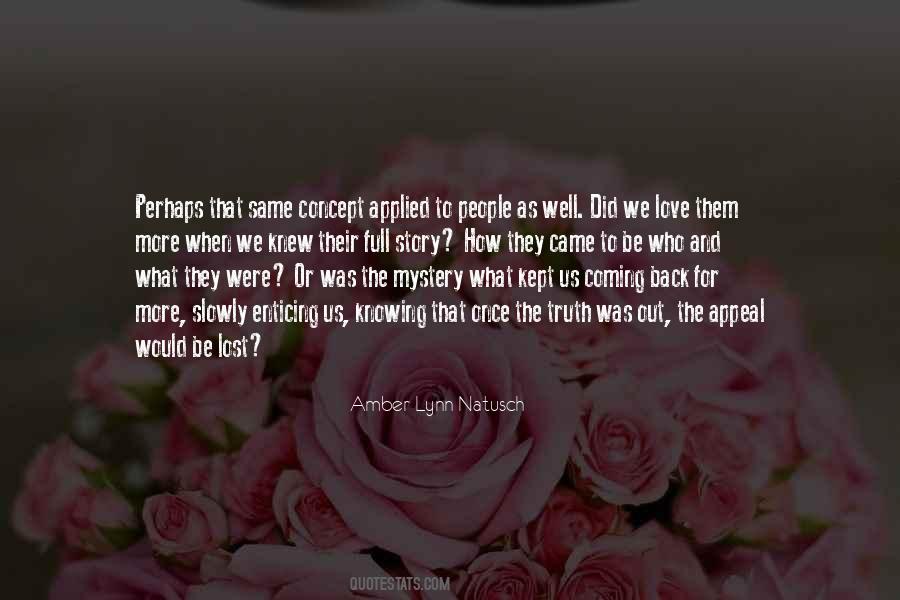 #76. If our hearts are ready for anything, we can open to our inevitable losses, and to the depths of our sorrow. We can grieve our lost loves, our lost youth, our lost health, our lost capacities. This is part of our humanness, part of the expression of our love for life. - Author: Tara Brach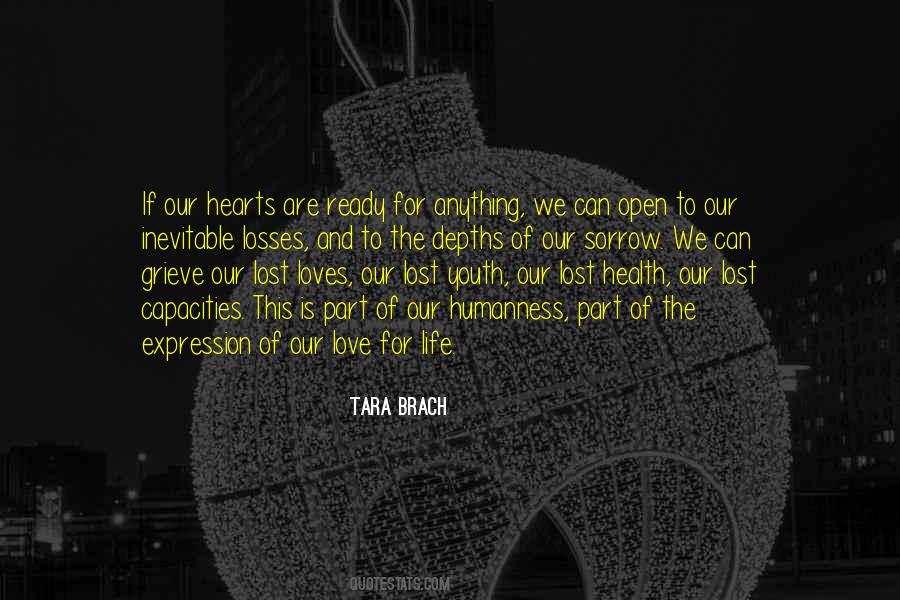 #77. My sister is running away to get lost, but I am running away because I want to find something. And my parents love me so much that they want to help me. Yeah, Dad is a drunk and Mom is an ex-drunk, but they don't want their kids to be drunks. - Author: Sherman Alexie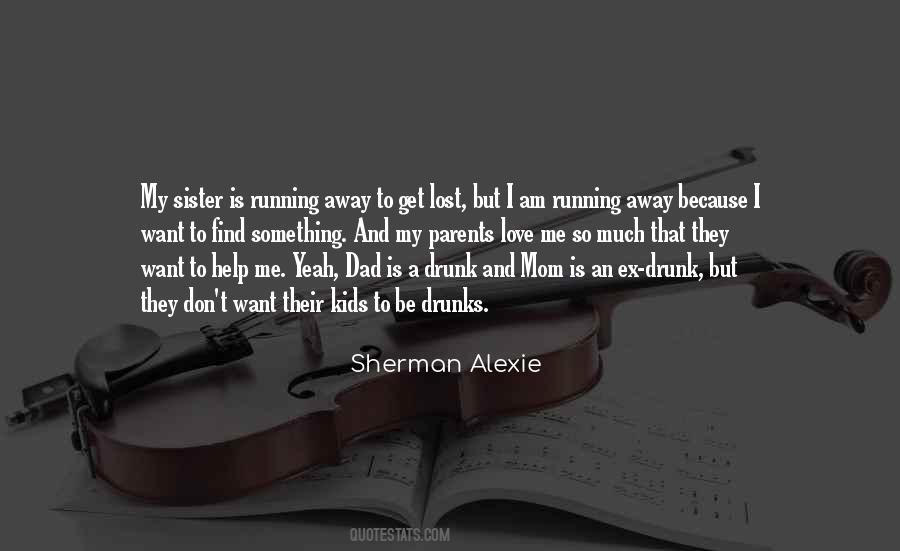 #78. May the countryside and the gliding valley streams content me. Lost to fame, let me love river and woodland. - Author: Virgil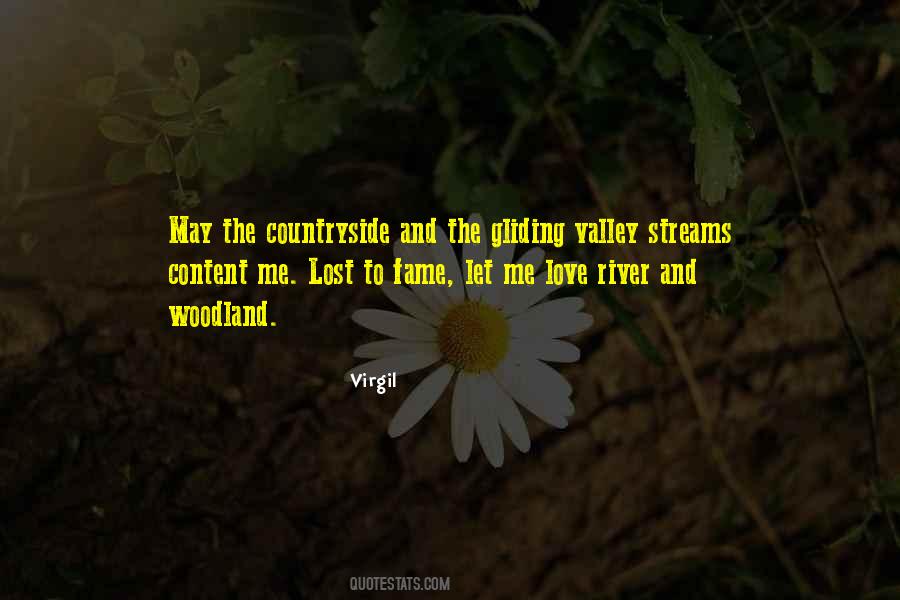 #79. I write about presidents. That means I write about guys - so far. I'm interested in the people closest to them, the people they love and the people they've lost ... I don't want to limit it to what they did in the office, but what happens at home and in their interactions with other people. - Author: Doris Kearns Goodwin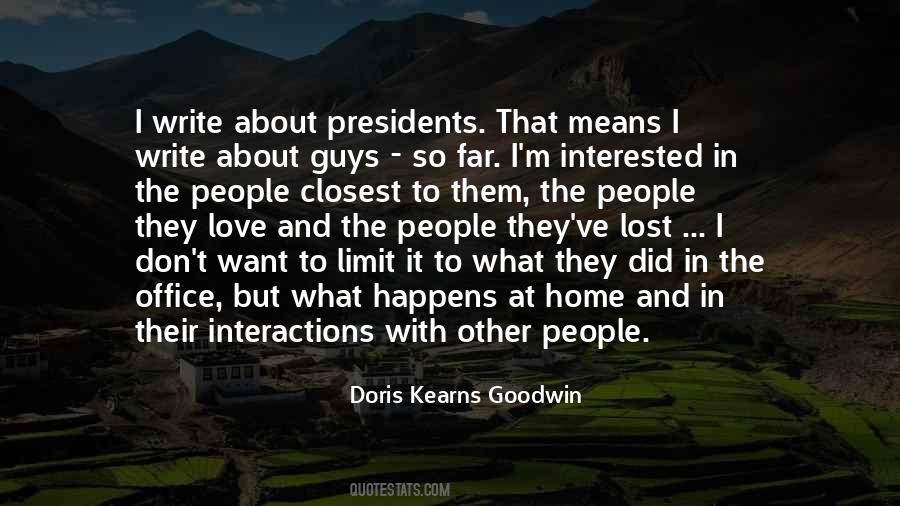 #80. You'll never be able to let him go. You'll always feel wrong about being with me. - Author: Suzanne Collins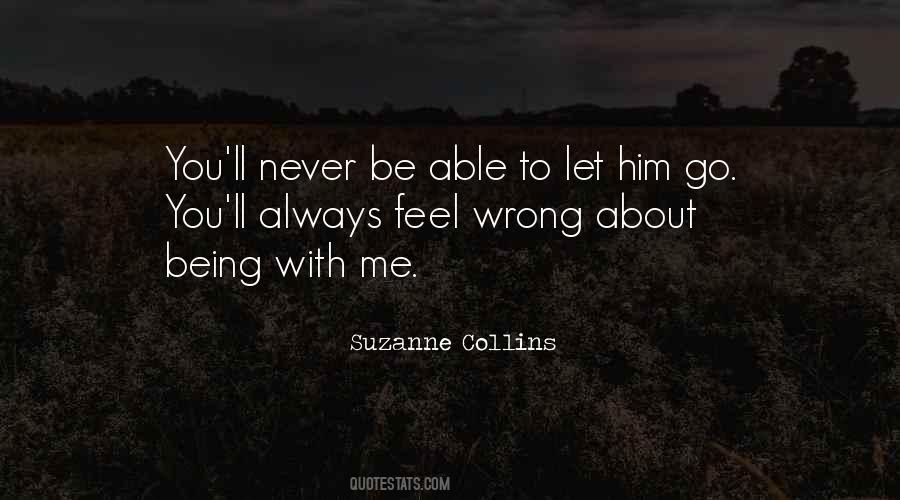 #81. Have you ever lost someone close to you? Someone who is at the core of your universe, the hero of all your stories...when that happens, it isn't just the loss of one life, it's the loss of two lives - one who found another world, perhaps...and one who is left behind. - Author: Faraaz Kazi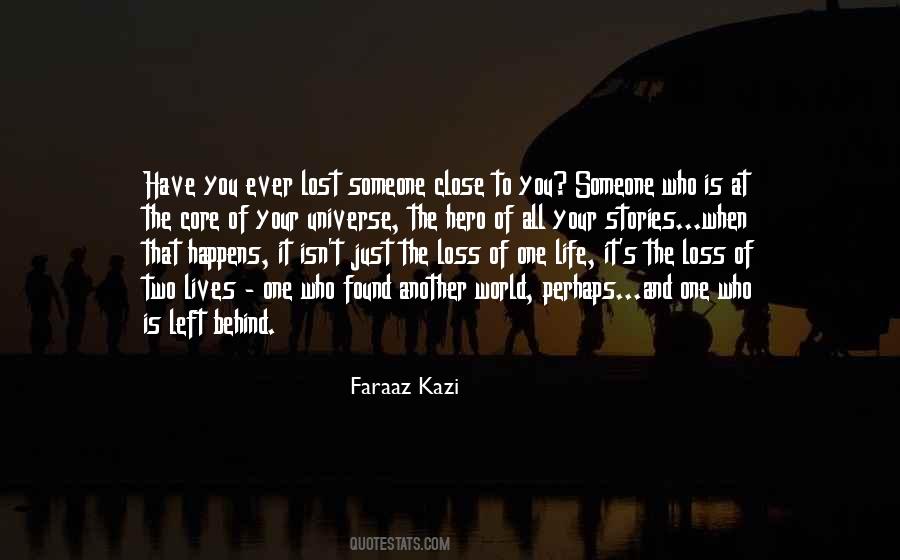 #82. Your love is like fire burning brightly in the darkness, guiding the hurt and the lost - Author: Matt Trevitz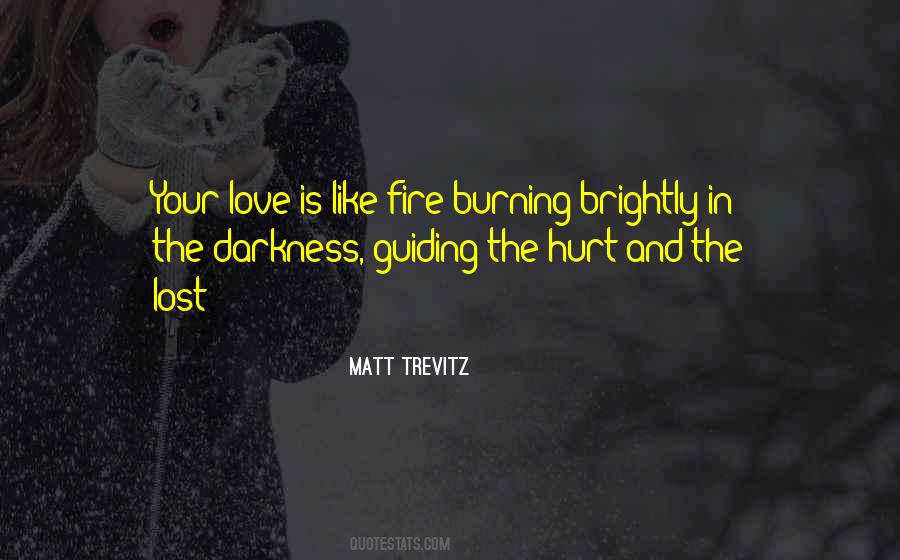 #83. No matter how good your memory is, you can never recollect the day your heart lost its virginity. - Author: Subhasis Das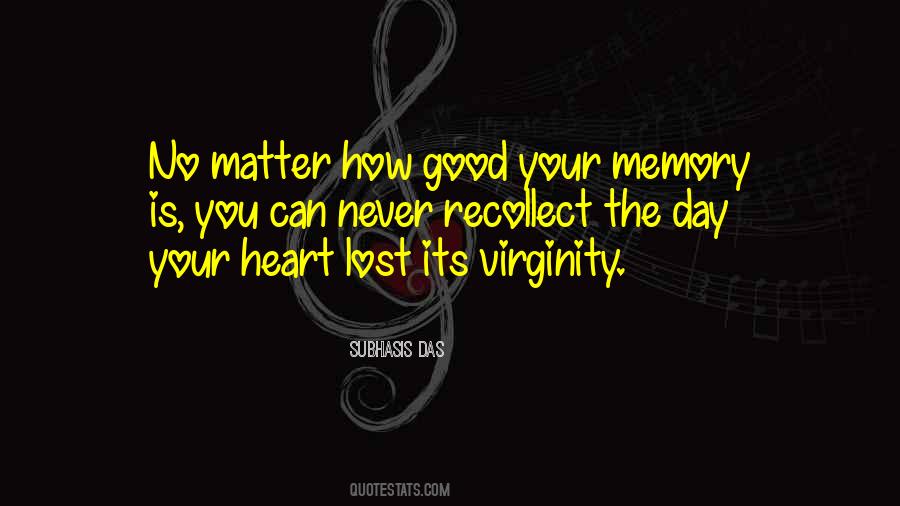 #84. Love isn't always pretty, Tate. Sometimes you spend all your time hoping it'll eventually be something different. Something better. Then, before you know it, you're back to square one, and you lost you heart somewhere along the way - Author: Colleen Hoover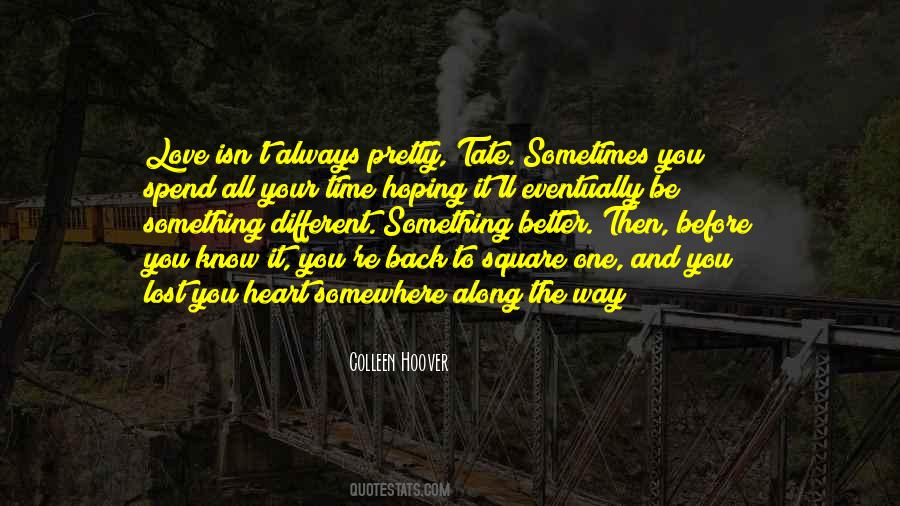 #85. This is worth an eternity of torture," he whispered. "I'm quite certain I love you more than anyone I've ever loved, in any life. I may have lost my soul when I was turned, but it's been replaced by you, Cassandra. I'll never let you go. - Author: L.J. Kentowski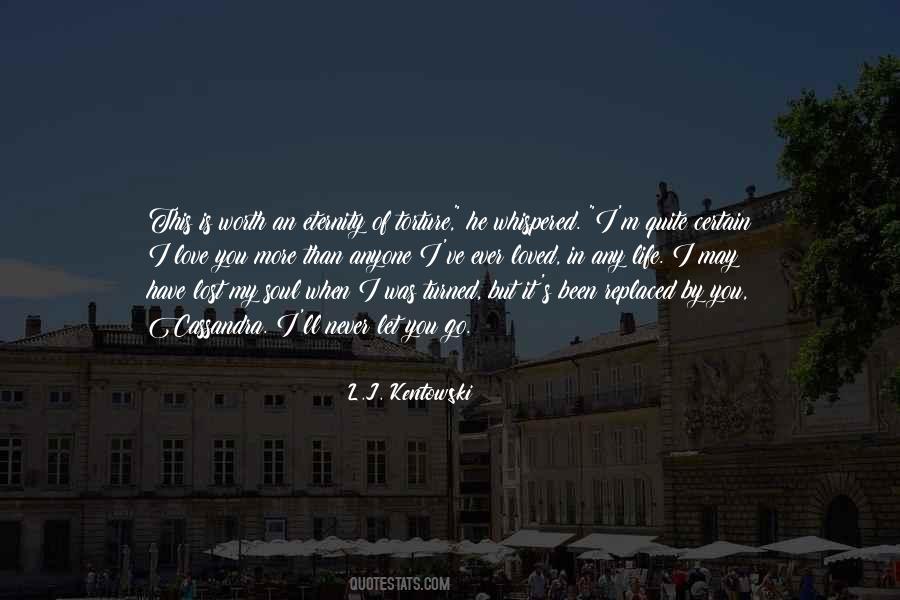 #86. You are a fine and talented woman, whose potential is yet to be realized given the love and support and luck we all need. Where you lost the will to fight for what is yours, where you gave away control of your life, is the mystery you are now unraveling. When you get it all back, hold on to it. - Author: Isabel Vincent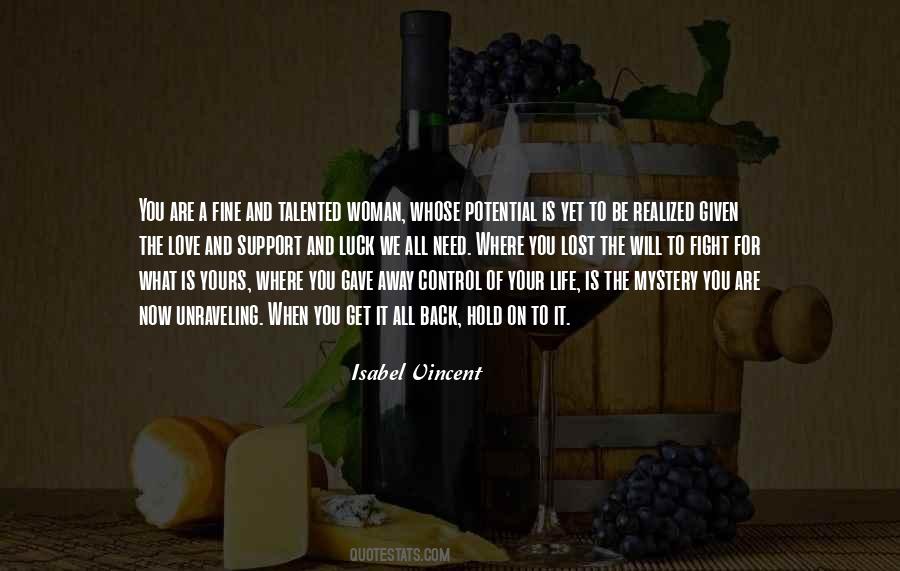 #87. Through knowing death we can hold a beacon of love for every moment that has just passed, for every friend who has lost a friend, for every child who has lost a parent, for every parent who has lost a child; for any suffering anywhere. - Author: Sebastian Pole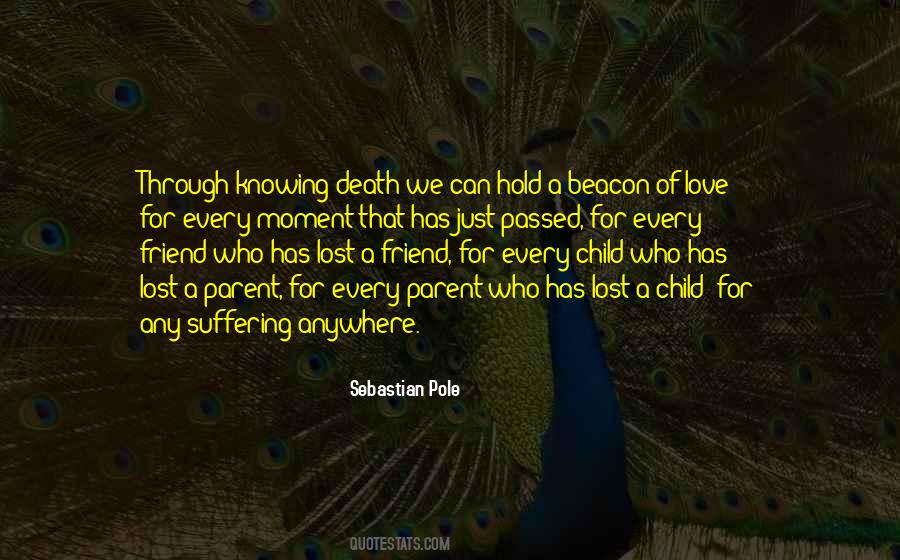 #88. Love Jo all your days, if you choose, but don't let it spoil you, for it's wicked to throw away so many good gifts because you can't have the one you want. - Author: Louisa May Alcott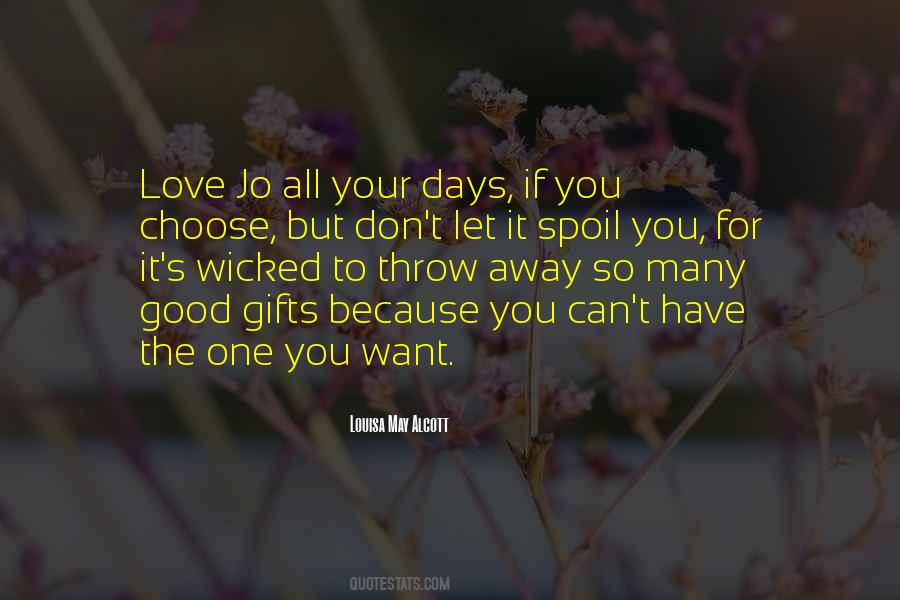 #89. Julian gave his brother a slow, sweet smile. In that smile was all the love and wonder of the little boy who'd lost his brother and against all odds, gotten him back. - Author: Cassandra Clare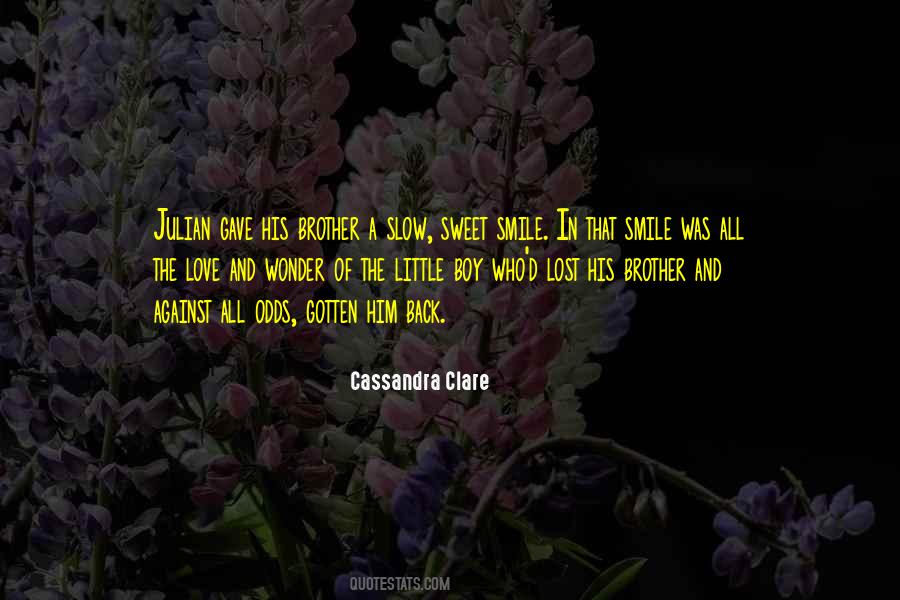 #90. The feelings that still linger, decade after decade, aren't just the residue of a love lost. They are as real as the first day I told her I loved her." ~Corbin Jones, Voice of Innocence - Author: Lindsay Detwiler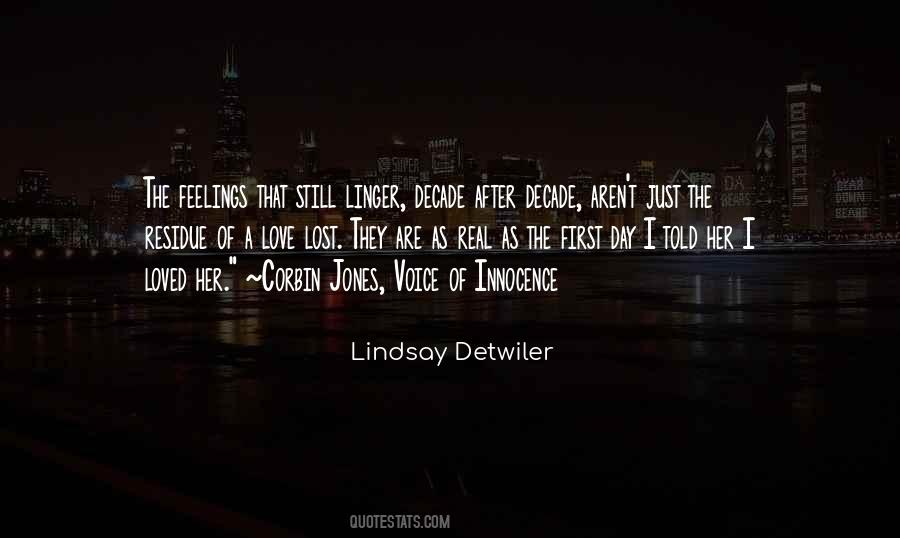 #91. And I get lost in your eyes and thrilled at your touch. Nights like these were made for love. - Author: Katie Ashley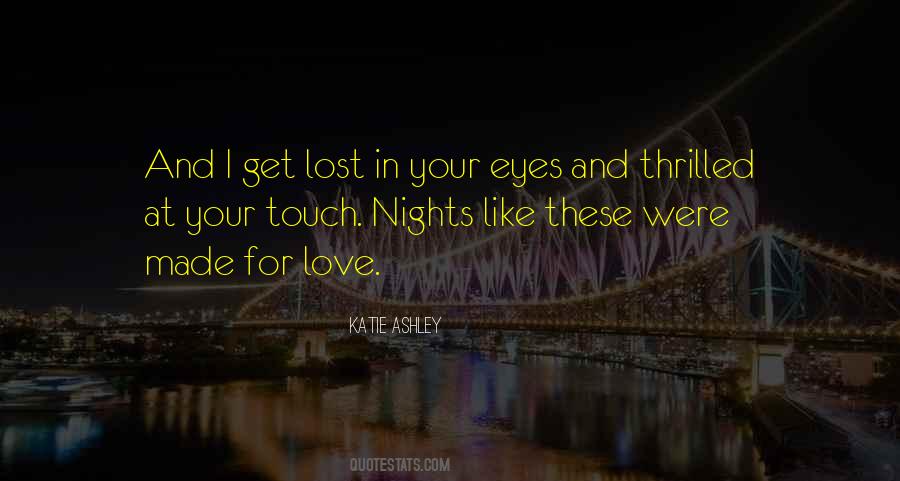 #92. It is difficult for an education in which the heart is involved to remain forever lost. - Author: Jean-Jacques Rousseau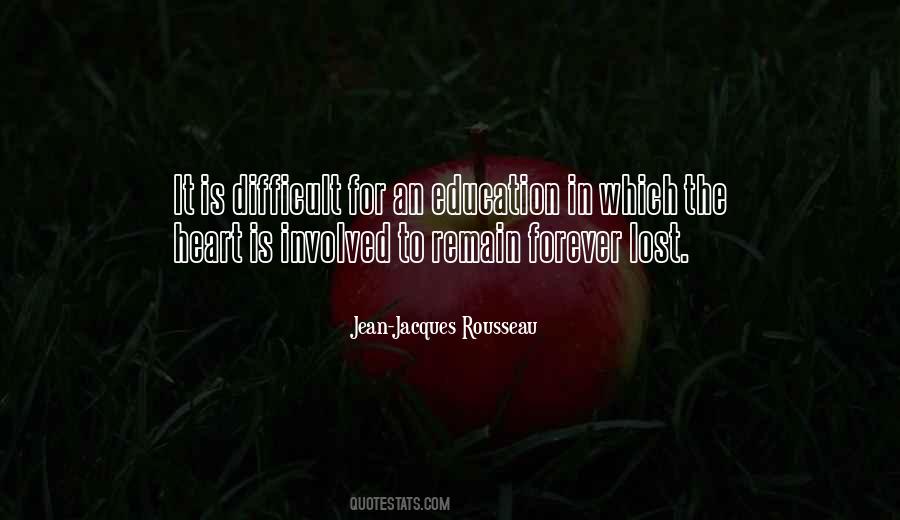 #93. There are ways in which we're so alike. We're reckless. We don't think before we act. We'll do anything for people we love. And I never thought how scary that was for the people who loved me until I saw - Author: Cassandra Clare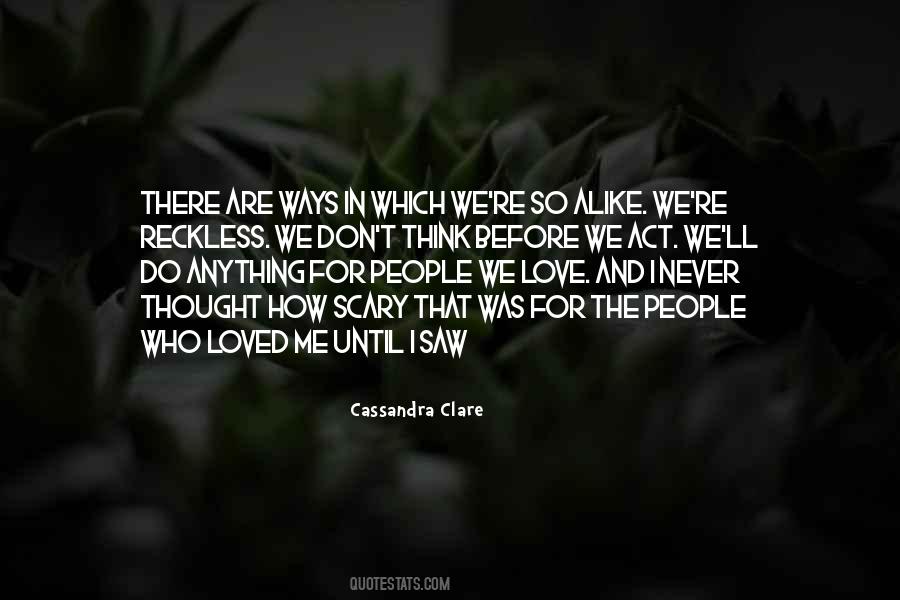 #94. I love punching the ceiling with my fists when I'm lost or I can't find a parking space. - Author: Laura Kightlinger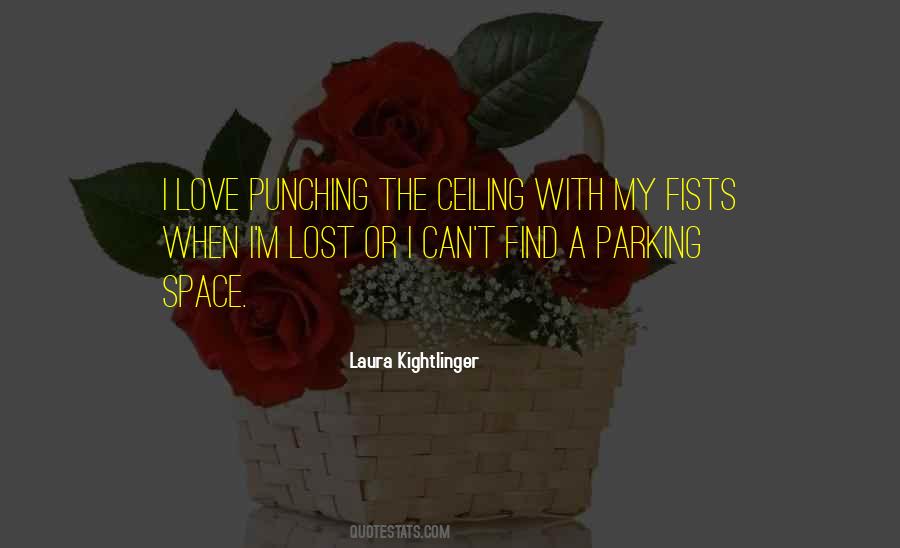 #95. Gowdy had a love affair with the microphone and the fans had a love affair with him. American sports fans truly lost an icon, a legend who never felt he was bigger than anyone else. He had that humility that made him special, and he made everyone feel like they were so important. - Author: Dick Vitale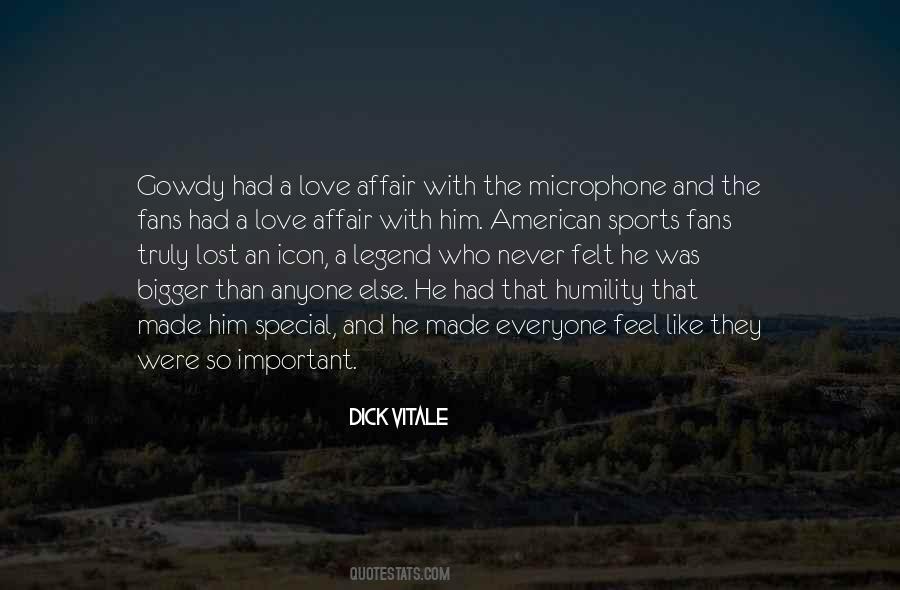 #96. O that we would so love the gospel and have so much compassion for lost people that tribulation and distress and persecution and famine and nakedness and danger and sword and gun and terrorist would turn us not into fearful complainers, but bold heralds of good news. - Author: John Piper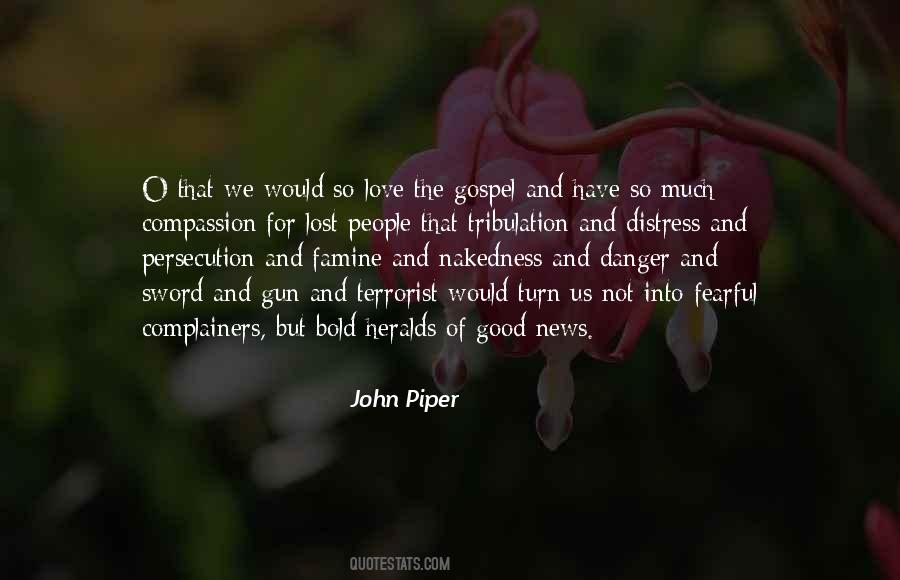 #97. The debris of her married life was enough to sever the tie between reality and dreams, the fine line between desire and temptation. Where did she draw the line? When did she admit defeat and surrender? - Author: Callie Hunter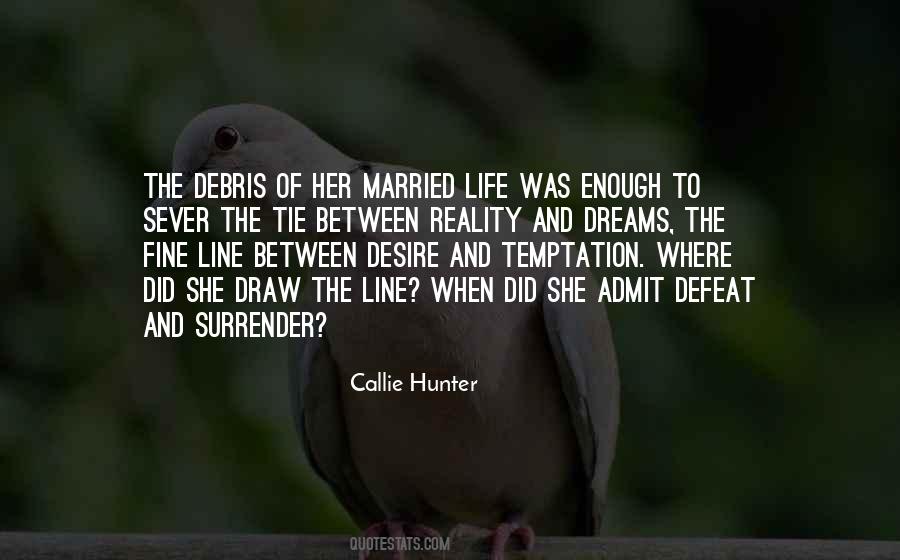 #98. Beautiful maiden," answered Candide, "when a man is in love, is jealous, and has been flogged by the Inquisition, he becomes lost to all reflection. - Author: Voltaire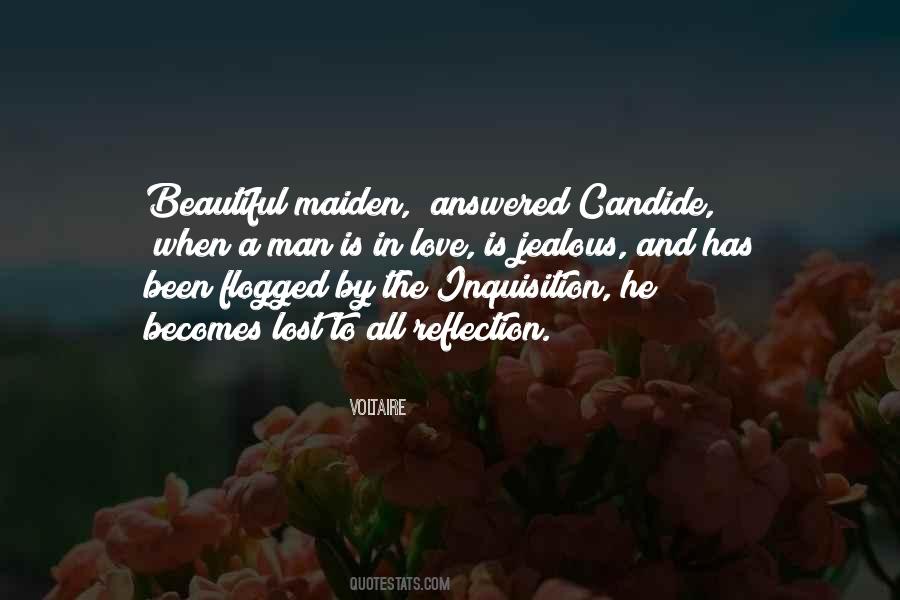 #99. The rope longed-for her beloved, the ceiling hook.
The suspended body; a harbinger of good news.
Love was lost.
Love was found. - Author: Chirag Tulsiani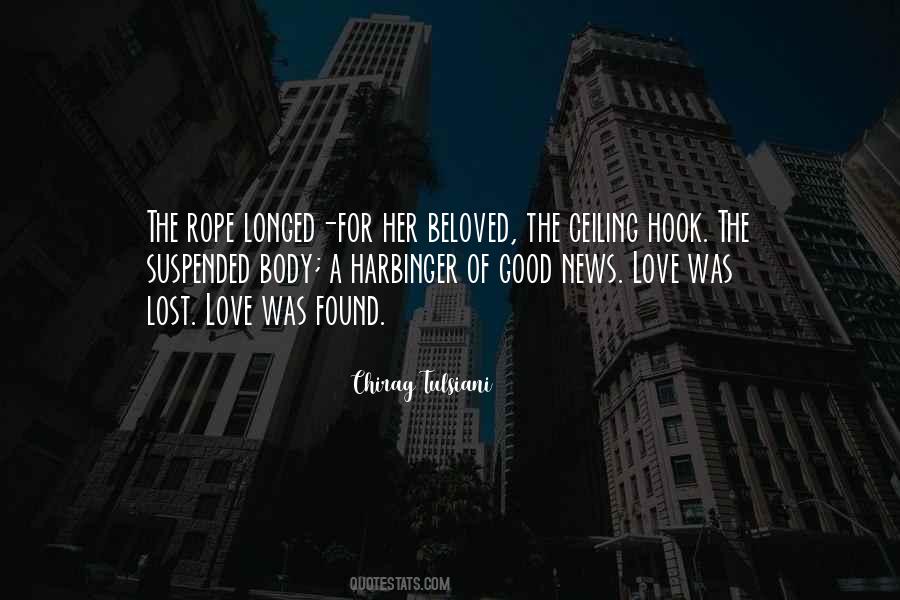 #100. If you do not give right attention to the one you love, it is a kind of killing. When you are in the car together, if you are lost in your thoughts, assuming you already know everything about her, she will slowly die. - Author: Nhat Hanh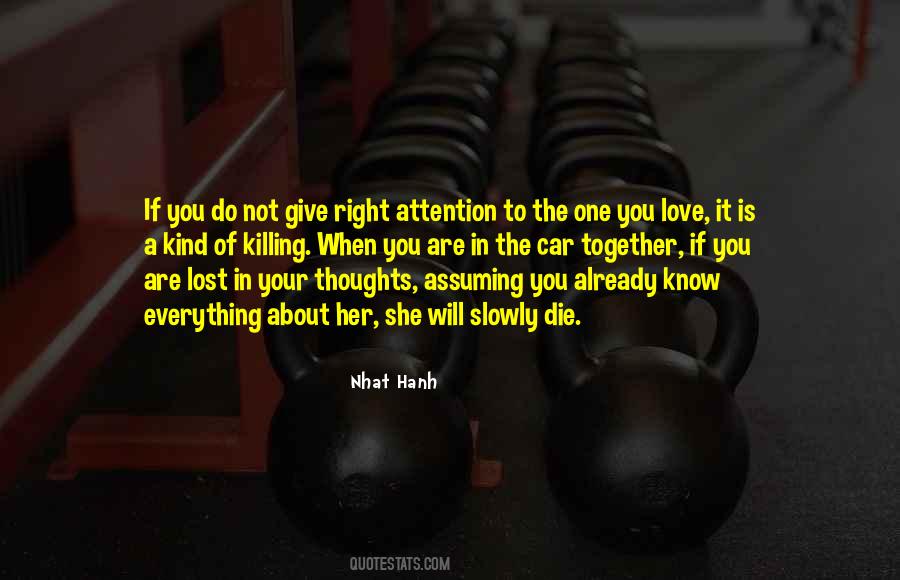 Famous Authors
Popular Topics