Love Is Dangerous Famous Quotes & Sayings
List of top 100 famous quotes and sayings about love is dangerous to read and share with friends on your Facebook, Twitter, blogs.
Top 100 Quotes About Love Is Dangerous
#1. That love of self, which the world advocates, is a thousand times more dangerous than any poison. - Author: Francois Fenelon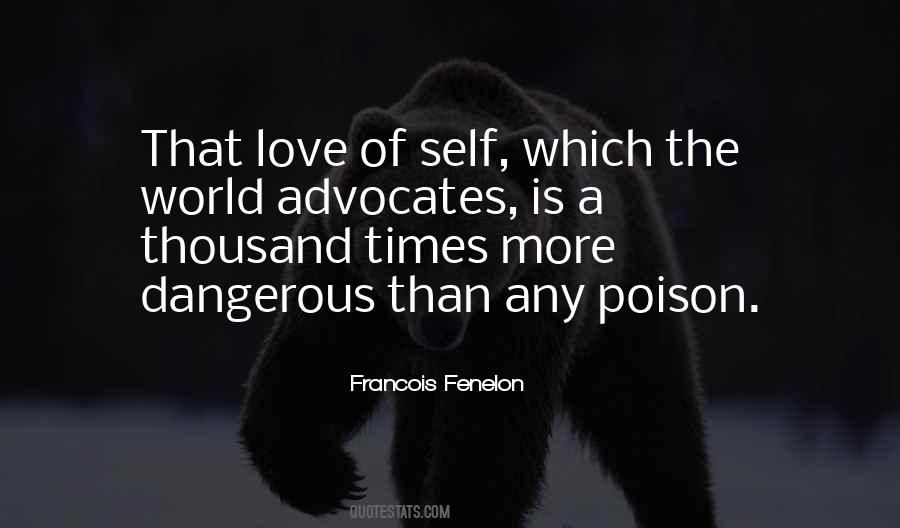 #2. Love is the most dangerous craving of all, if you ask me. It turns us into people we aren't. It makes us feel like hell, and makes us walk on water. It ruins us for anything else. - Author: Jodi Picoult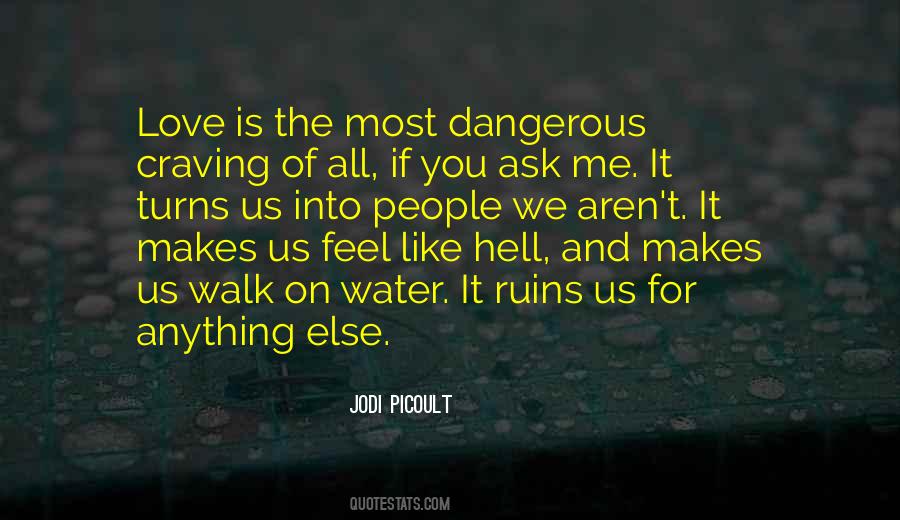 #3. Love is very real and it's dangerous. People do crazy things in the name of love. Bad things. Love is powerful and shouldn't be played with. - Author: Susan Mallery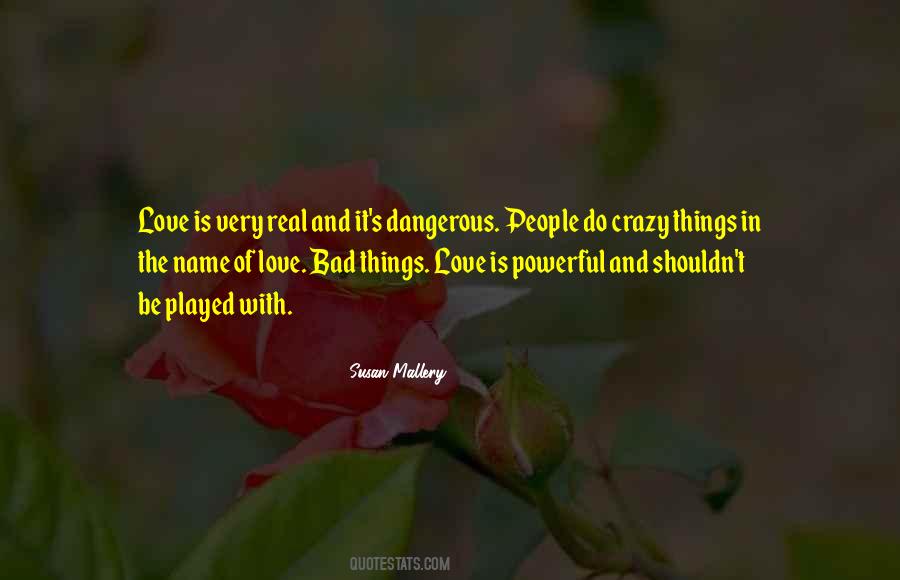 #4. Trees surrounded them from all sides, casting long inky shadows that would, at another time, have been scary. But there was no point in being scared of what might be lurking in the shadows when the biggest bad, of all big bads, was gazing at her intently. - Author: Caroline Hanson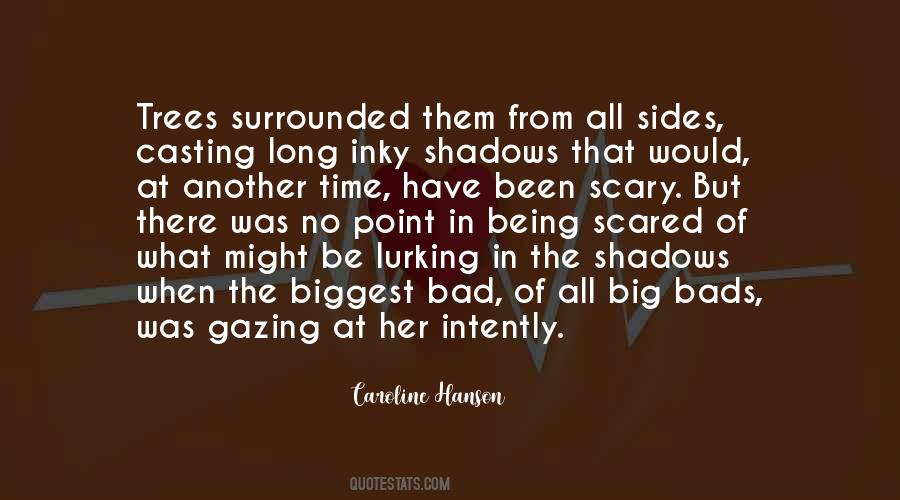 #5. People tend to think that hate is the most dangerous emotion. But love is equally dangerous," Will said. "There are many stories of spirits haunting the places and people who meant the most to them. In fact, there are more of those than there are revenge stories. - Author: Libba Bray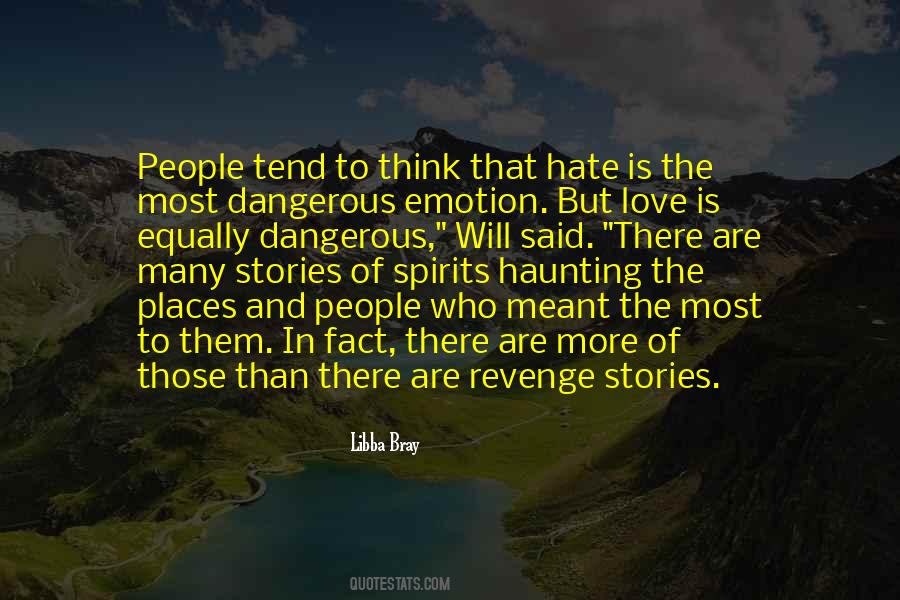 #6. Malick to Jacin: There is no trade anymore, you're not nothing, you didn't kill Caidi, you're going to be the most beautiful-dangerous Incendiary the gods have ever seen, and I fucking love you. Deal with it. - Author: Carole Cummings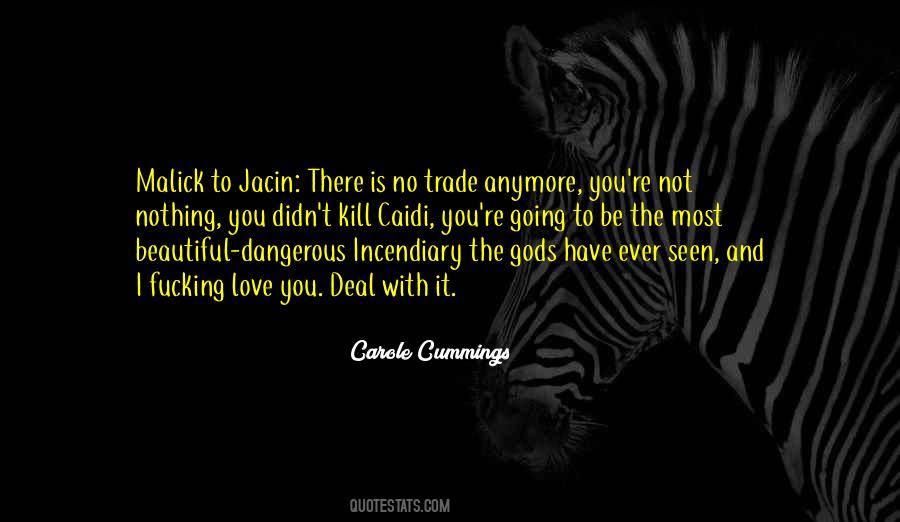 #7. Magic is love. All magic should be performed out of love. The moment anger or hatred tinges your magic, you have crossed the border into a dangerous world, one that will ultimately consume you. - Author: Scott Cunningham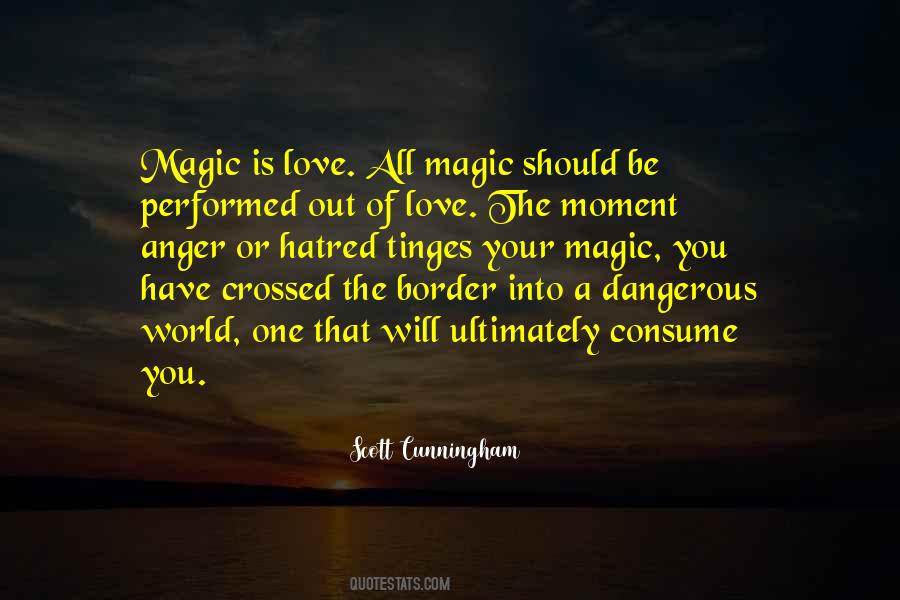 #8. Don't think love is just an emotion - I am dangerous and you know it because I will do anything you ask me to do ... - Author: John Geddes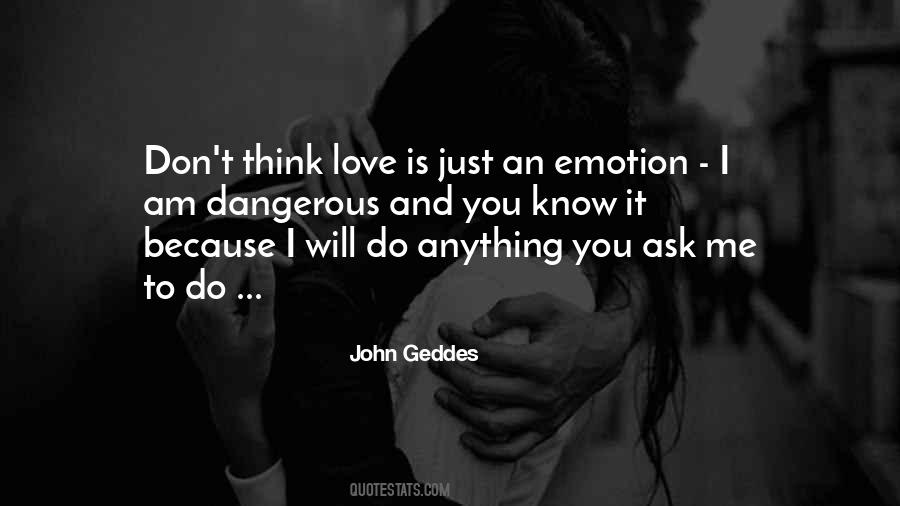 #9. It is the second night," he said. "The dangerous night. The charm of the unknown is gone and the charm of familiarity has not yet come. We'll survive it. - Author: Erich Maria Remarque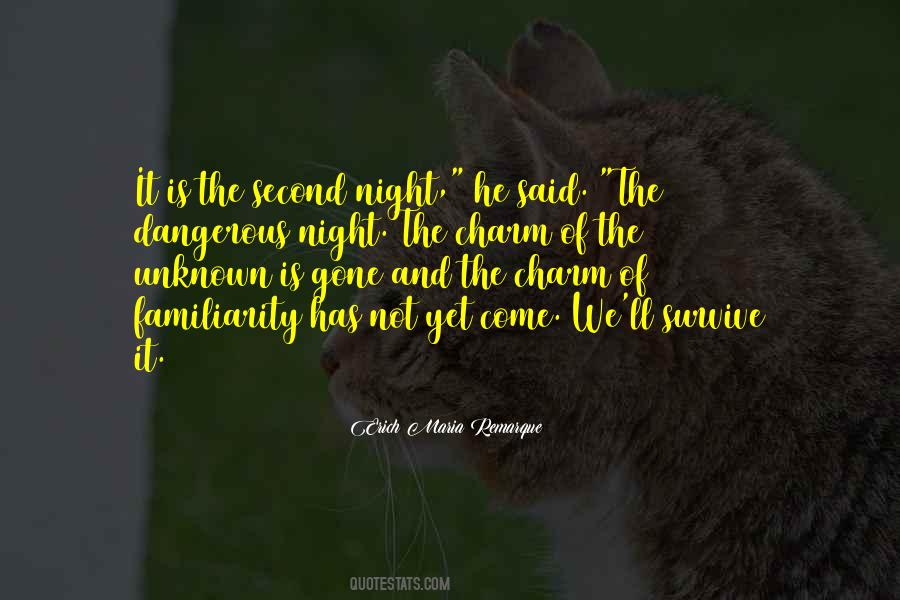 #10. I really love nature. I grew up in the country. But one of the things about nature is that it is beautiful but it's also very dangerous. - Author: Maggie Stiefvater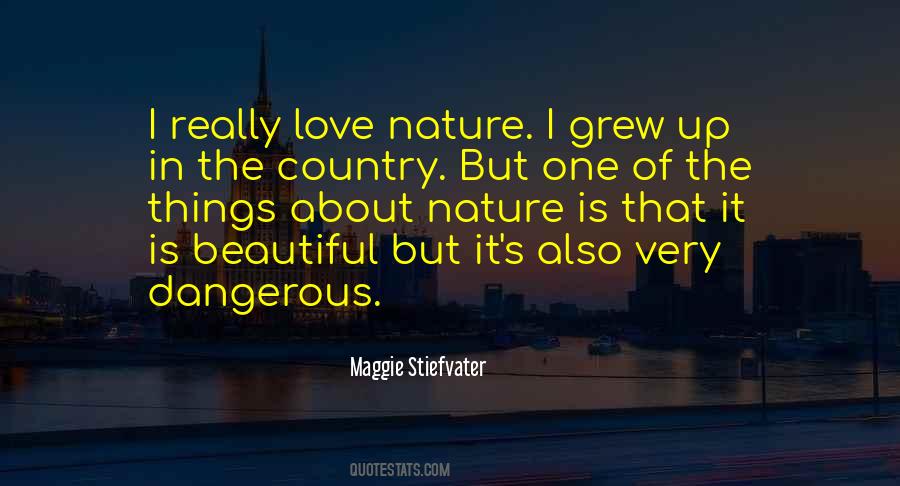 #11. Anyone who sings about love and harmony and life [john lennon] is dangerous to someone who sings about death and killing and subduing [Nixon] - Author: Gore Vidal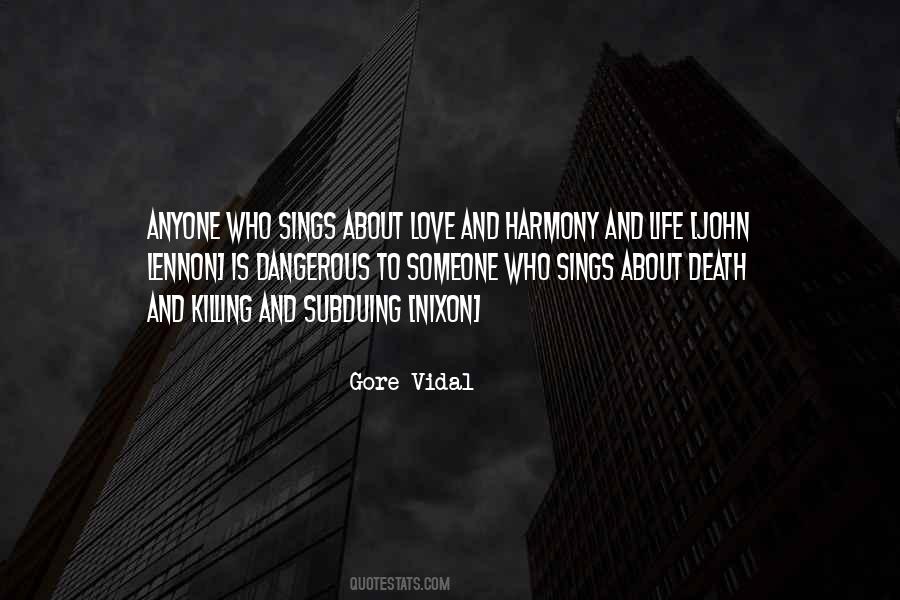 #12. Being here with him is safety; it's a cave, where we huddle together while the storm goes on outside. This is a delusion, of course. This room is one of the most dangerous places I could be. - Author: Margaret Atwood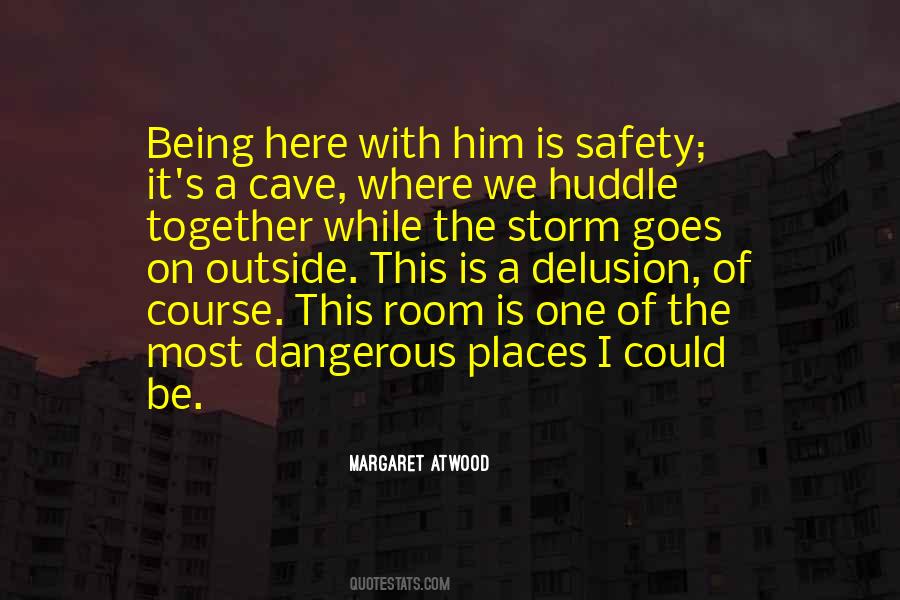 #13. There is a perception within our community and the world that black people don't love each other. That we don't fight for each other. That perception is so dangerous. We need positive images to counter the negative portrayals we see every day. And positive doesn't mean perfect. Perfect is boring. - Author: Gina Prince-Bythewood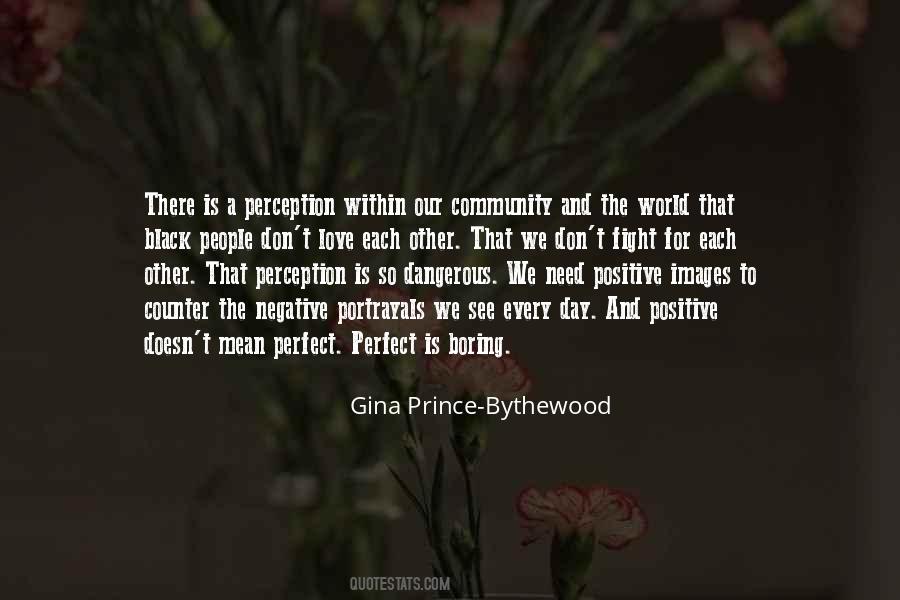 #14. LAURA ATCHISON, Author of "What Would A Wise Woman Do?", on DANGEROUS ODDS by Marisa Lankester:
"Truth is always wilder than fiction.
Hold on to your hats and enjoy this page turning look inside the world of sports betting from a good girl gone bad for love. - Author: Laura Atchison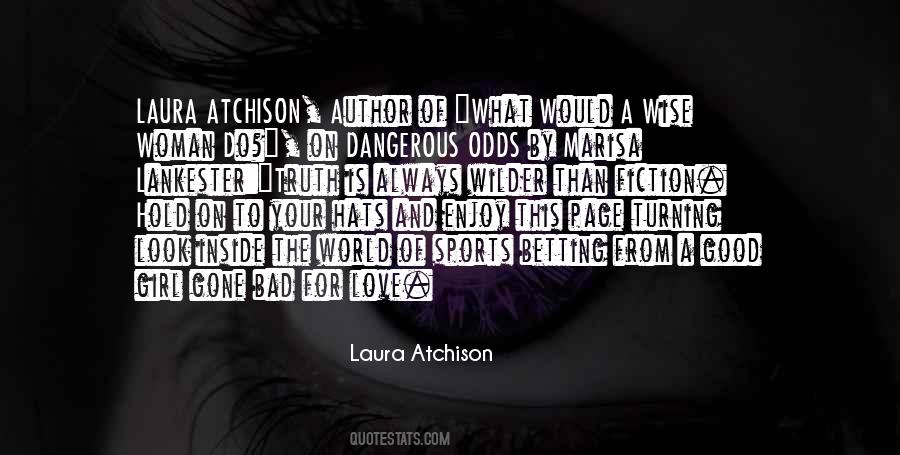 #15. It is dangerous to know, but it is more dangerous not to know. - Author: Rollo May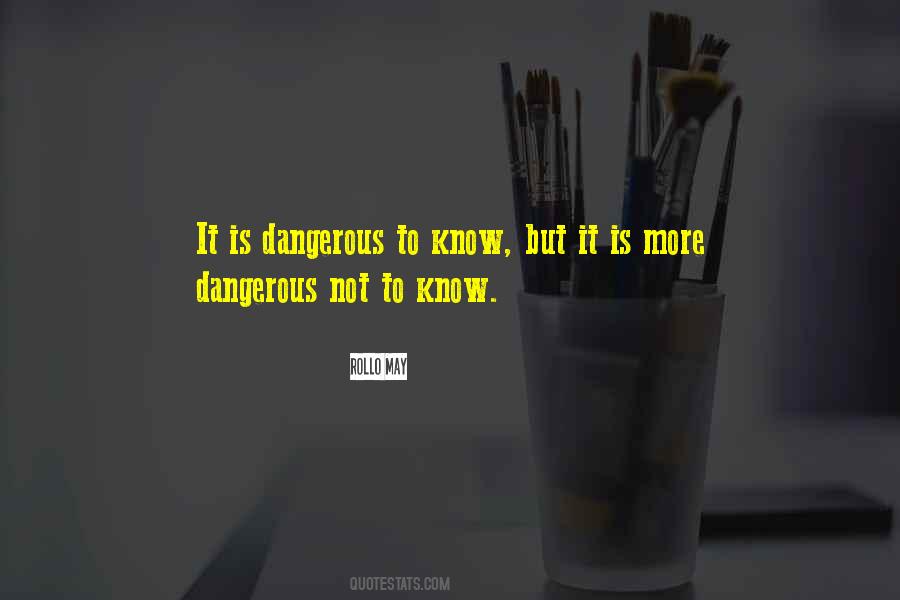 #16. Love is dangerous and often violent in the sense that it can radically alter us at a moment's notice. - Author: Roberto Montes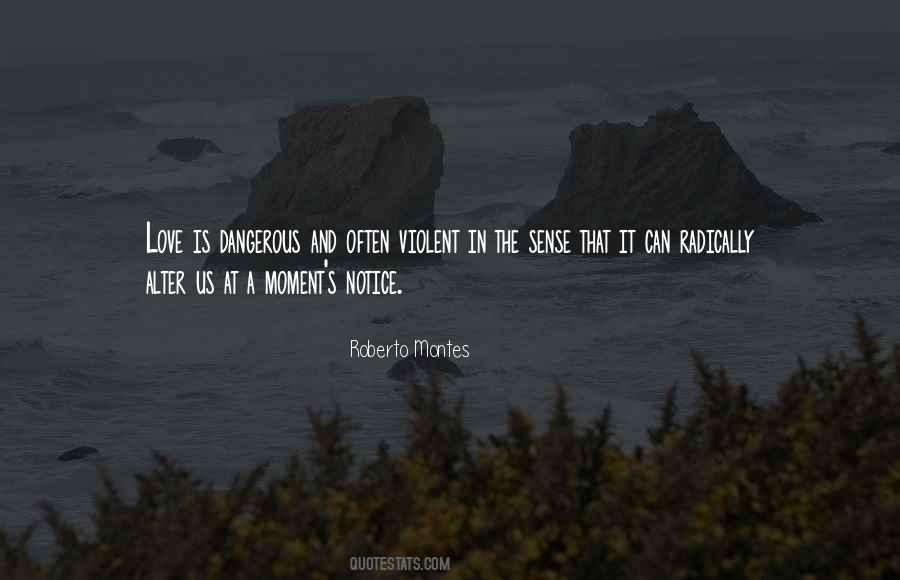 #17. Love is like fire, a dangerous thing to play with, although the best of friends and the most loyal of servants when rightly handled. - Author: Margaret Elizabeth Sangster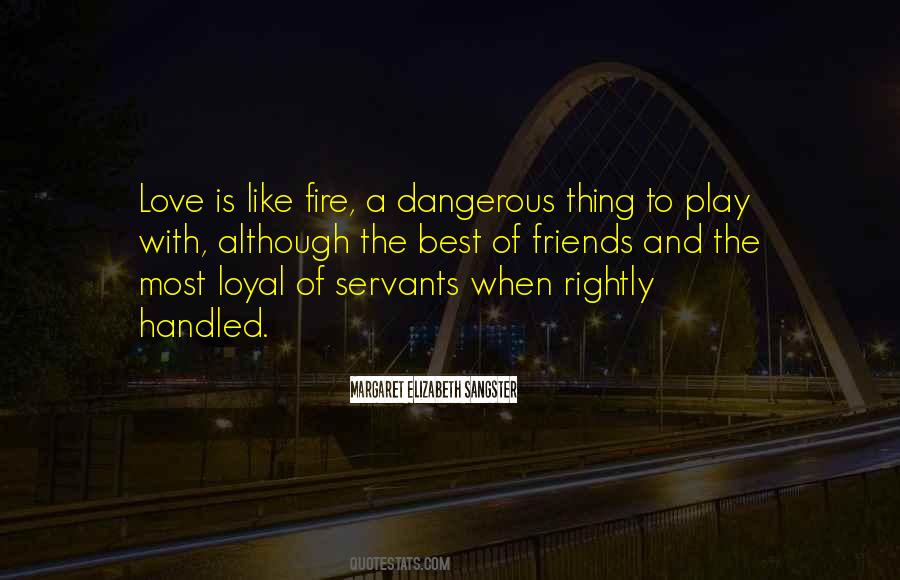 #18. Love is dirty-sloppy-stupid. The problem has always been: How do we contain such a dangerous substance (love) in the confines of holy matrimony without hurting or killing someone?
pg ii - Author: Michael Ben Zehabe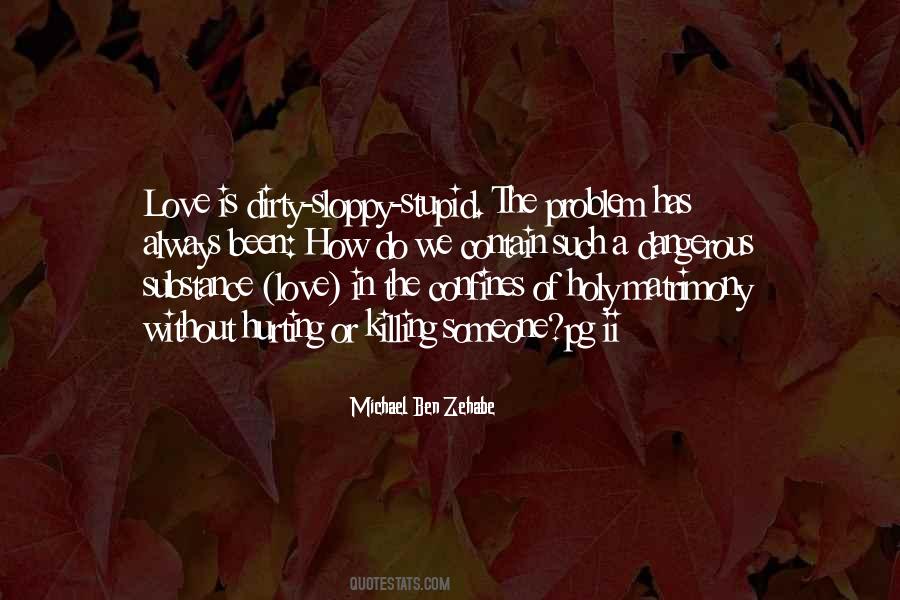 #19. yes. Menace and danger, That's what passion is-dangerous love-love that put you at risk, that gets a hold of you and makes you do things you wouldn't normally do. It's the only love worth having.. - Author: Elliot Mabeuse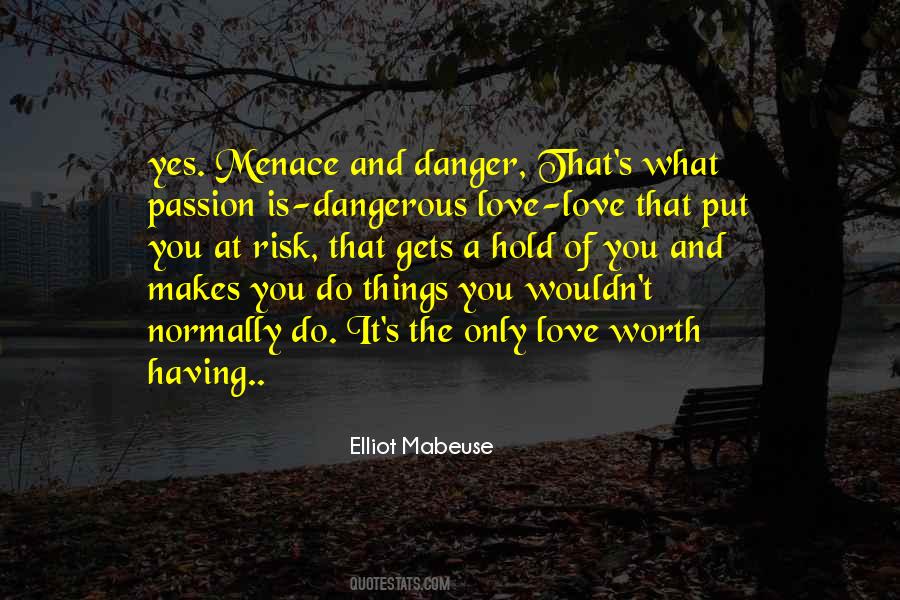 #20. A dangerous woman delves deeply into the truth of who she is, grounds herself daily in the healing and empowering love of God, and radically engages with the needs of the world. - Author: Lynne Hybels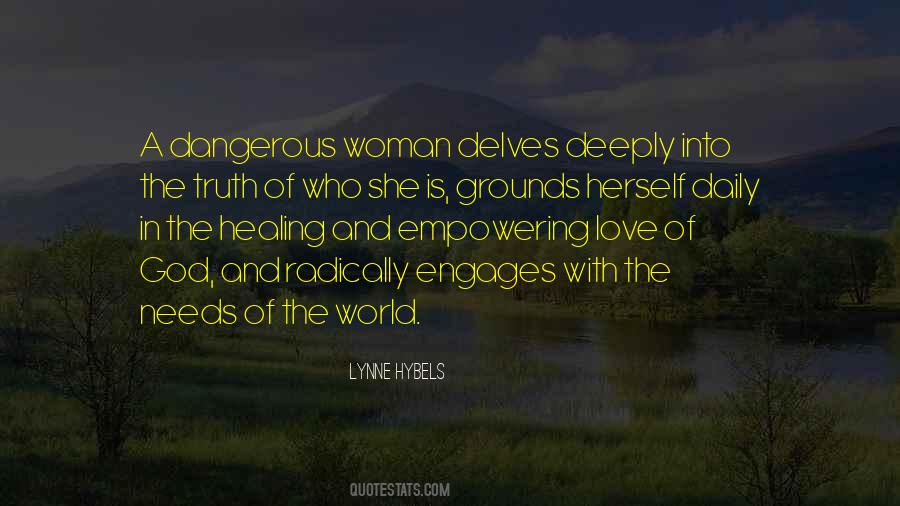 #21. The tragedy is all right there ... in the very beginning when he smiles at her. When she instantly forgets. Forgets how dangerous he is. - Author: Anne Eliot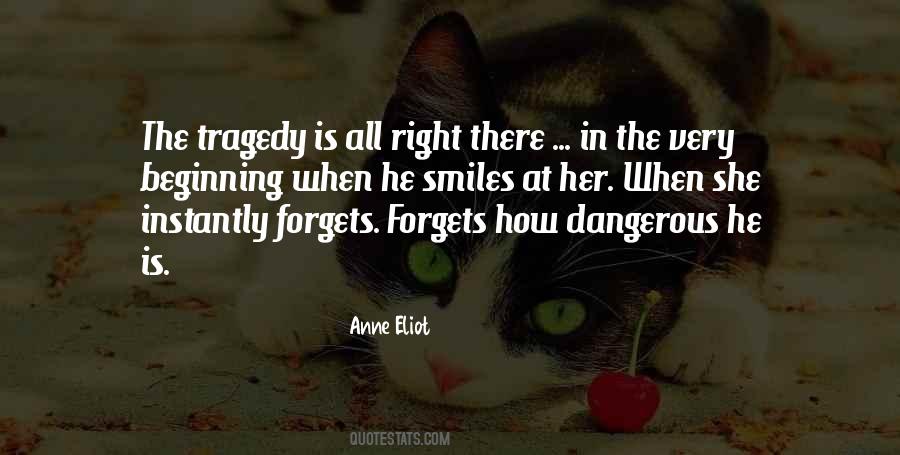 #22. Embracing our vulnerabilities is risky but not nearly as dangerous as giving up on love and belonging and joy - the experiences that make us the most vulnerable. - Author: Brene Brown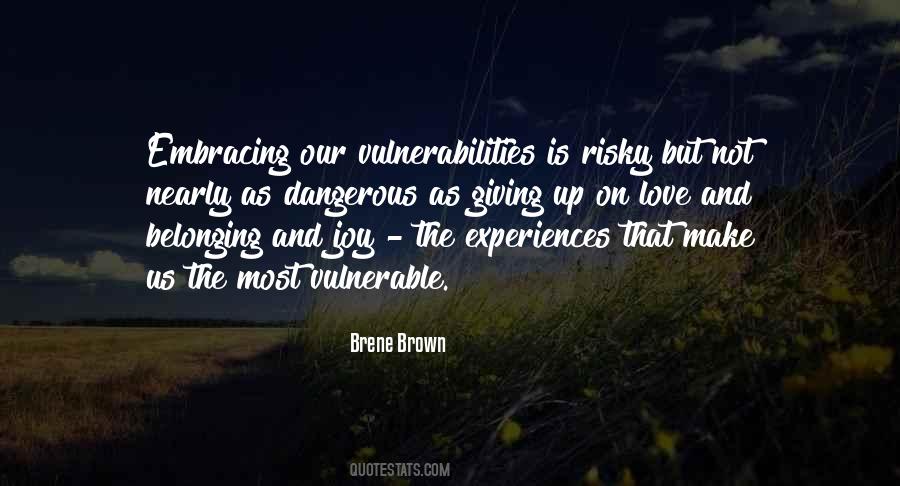 #23. And you? Now that I have discovered you? Beautiful, dangerous, unleashed. Still I try to hold you, knowing that your body is faced with knives. - Author: Jeanette Winterson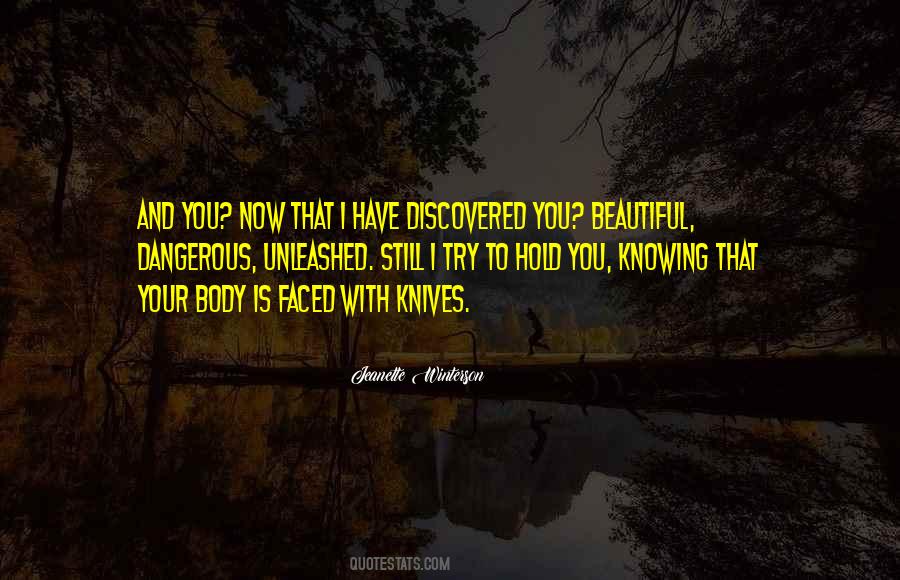 #24. Love is like a knife. It can either hurt you or it's too dangerous to hold on too. - Author: PureDragonWolf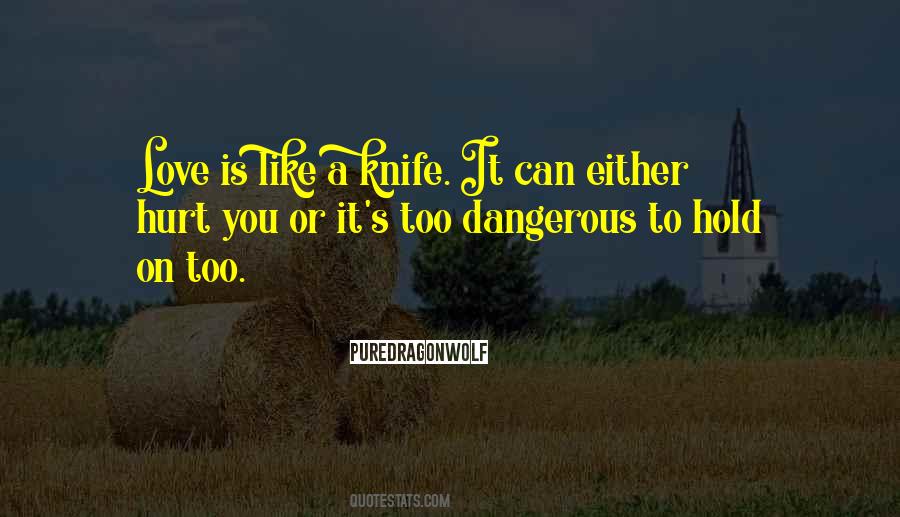 #25. There can be there ought to be no medium course; a love-affair is either sober earnest or contemptible folly, if not wickedness: to gossip about it is, in the first instance, intrusive, unkind, or dangerous; in the second, simply silly. - Author: Dinah Maria Murlock Craik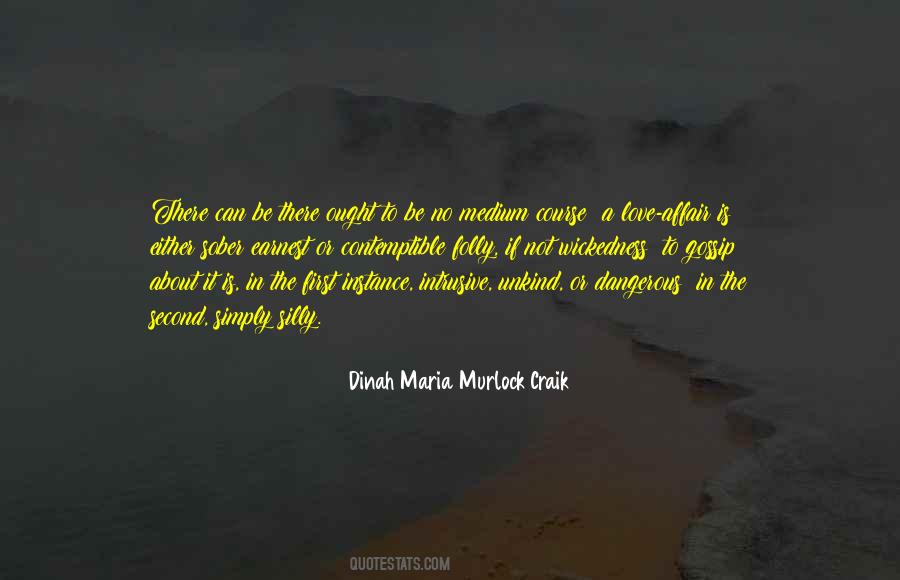 #26. Of all the weapons in the world, love is the most dangerous. - Author: Seth Grahame-Smith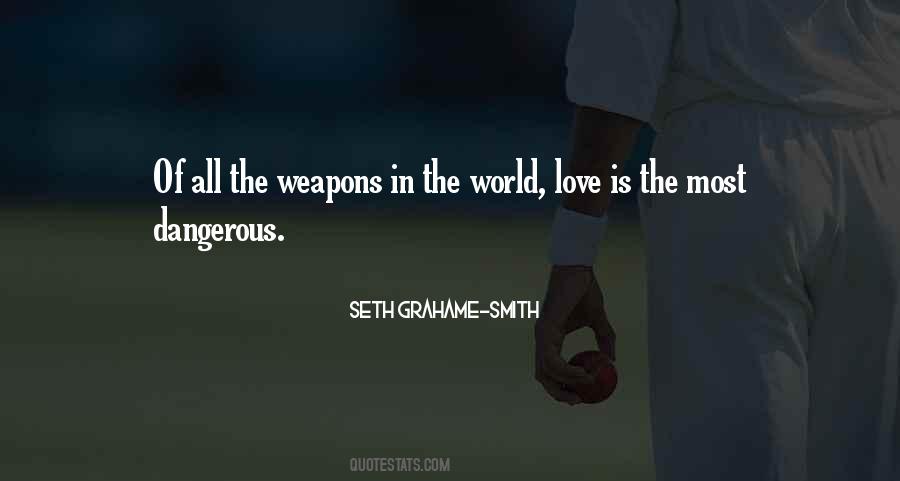 #27. Love is always dangerous. To love is to hope you'll win it all while running the risk that you could lose it all. And sometimes it's also about accepting that there's a risk that you'll love more than you are loved. - Author: Guillaume Musso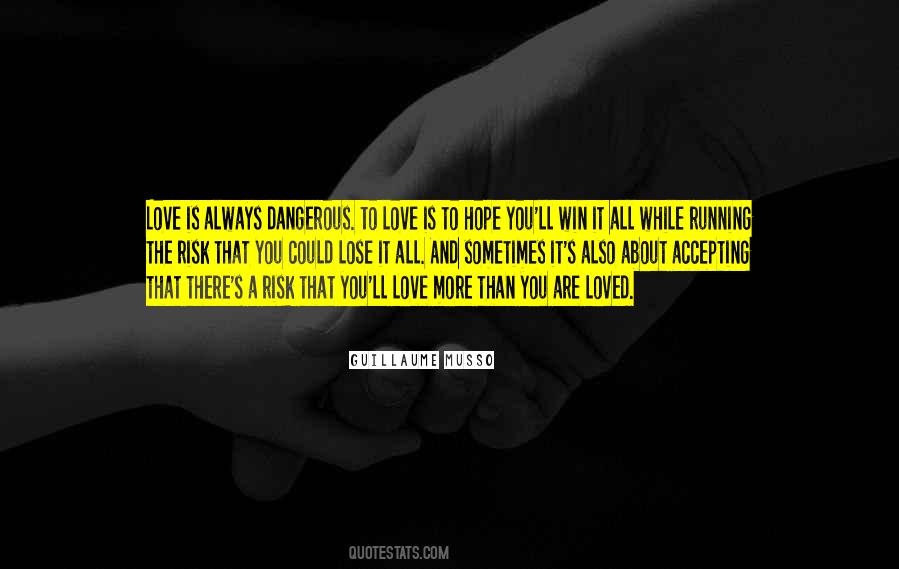 #28. There isn't a person in this city more dangerous than a wolf whose mate is in danger. - Author: Patricia Briggs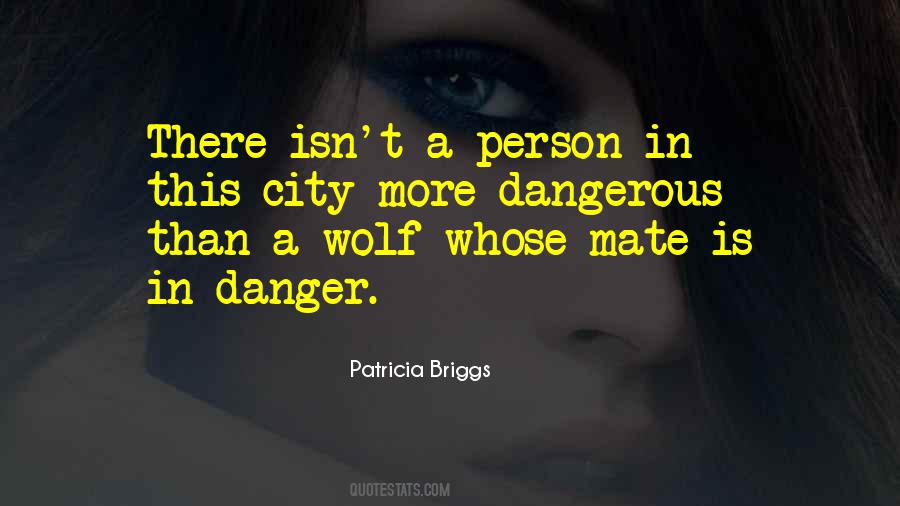 #29. I love my life because a part of me has learned how to give up hope, and that, I suspect, is a dangerous lesson to unlearn. - Author: Joel Derfner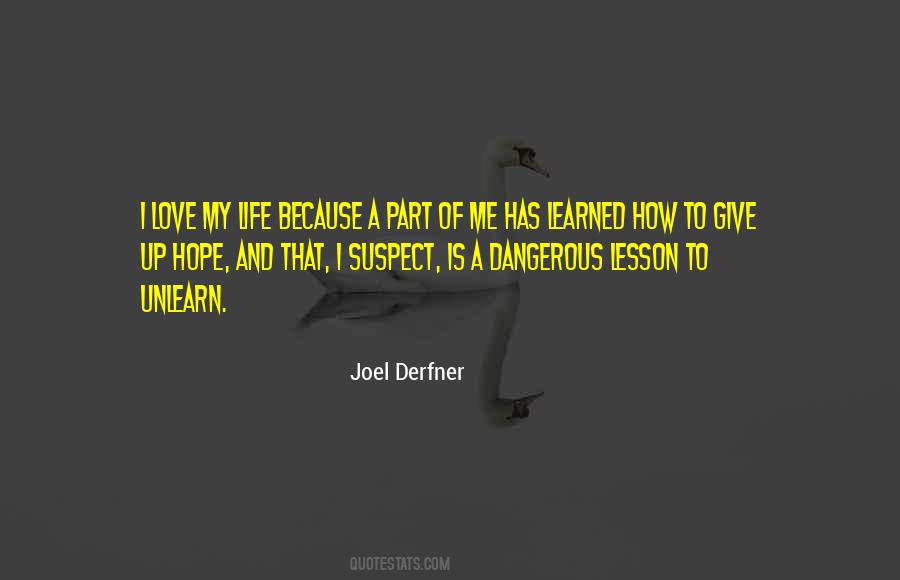 #30. Why didn't you tell me how dangerous my feelings were?"
"There's a difference between power and danger. Your feelings are more powerful than anything in the world. But you shouldn't be afraid of them. Love is bigger than fear. - Author: Lauren Kate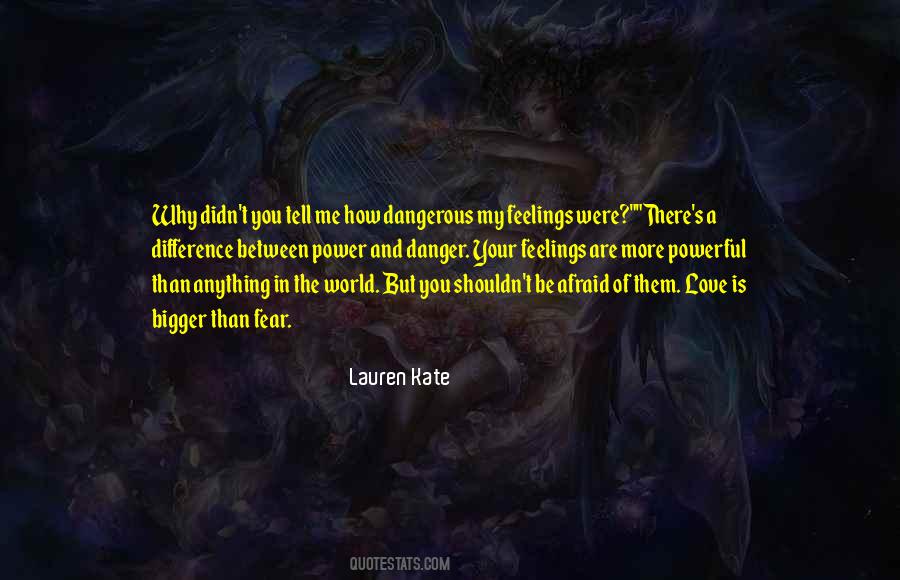 #31. Art should walk a tightrope. That's what art should be. Art should be dangerous. You can't be scared to say something with it. People love to talk about how comics are real art and real literature, so why not use these characters to talk about real things, even if it is dangerous? - Author: Jeff Lemire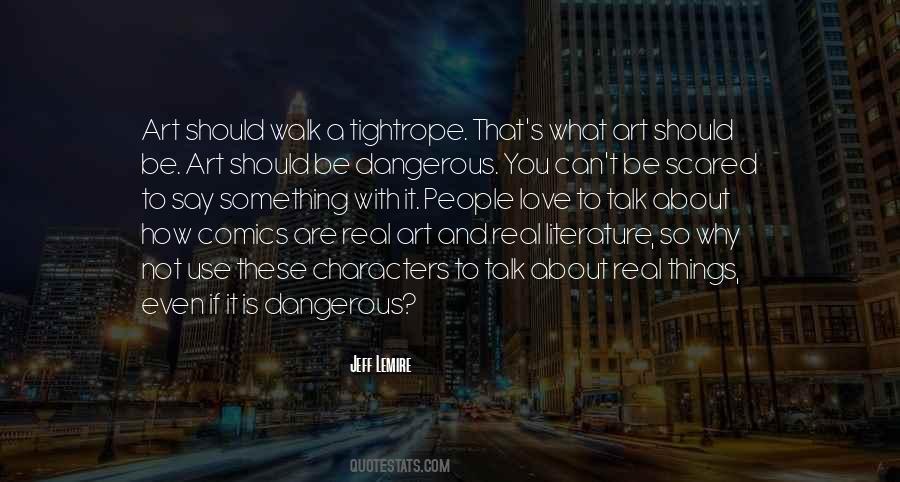 #32. The Germans love frankness and honesty. It is so convenient to be frank and honest. This confidingness, this complacence, this showing the cards of German honesty, is probably the most dangerous and most successful disguise which the German is up to nowadays. - Author: Friedrich Nietzsche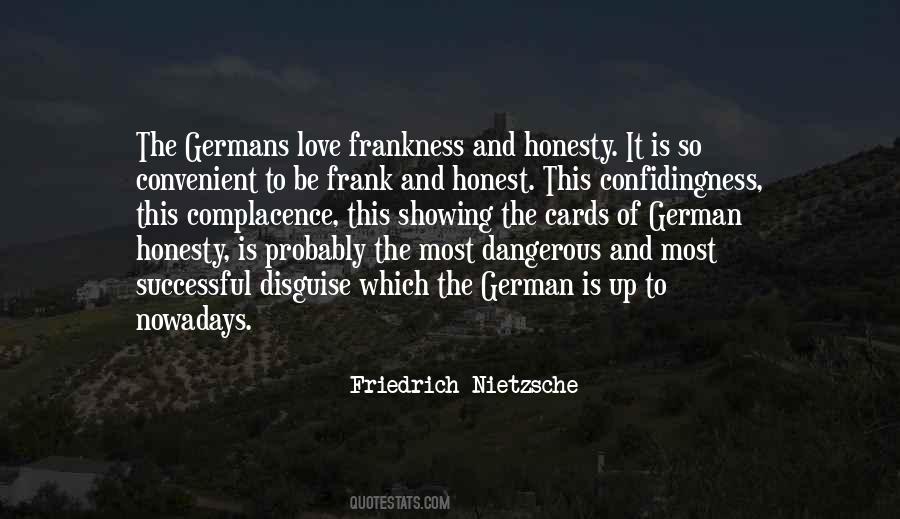 #33. The bottom line is what we do might not be the safest so there is always some risk but we are ready to take that into account because we love racing and we love motor sports and it is dangerous. - Author: Sebastian Vettel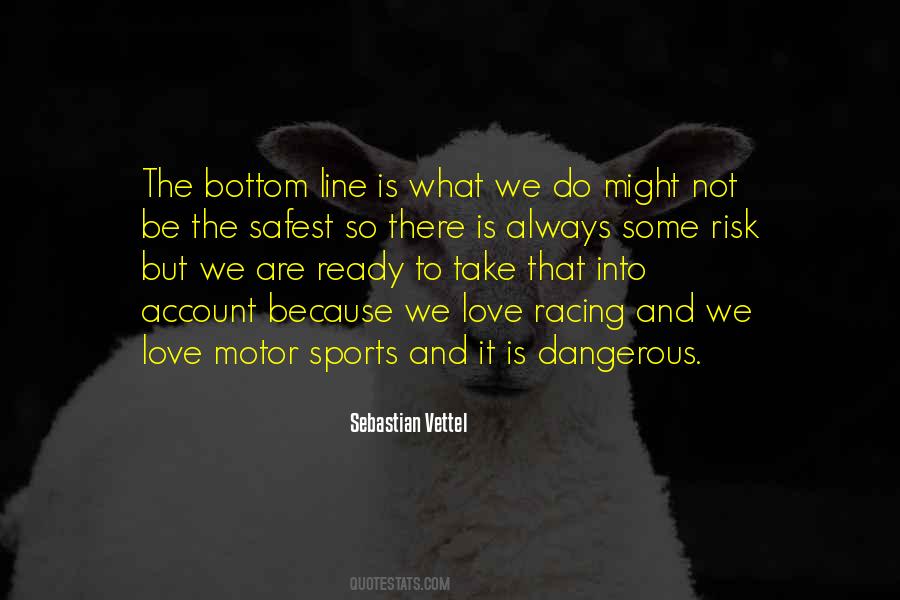 #34. Love is dangerous por your tiny heart - Author: Mathias Malzieu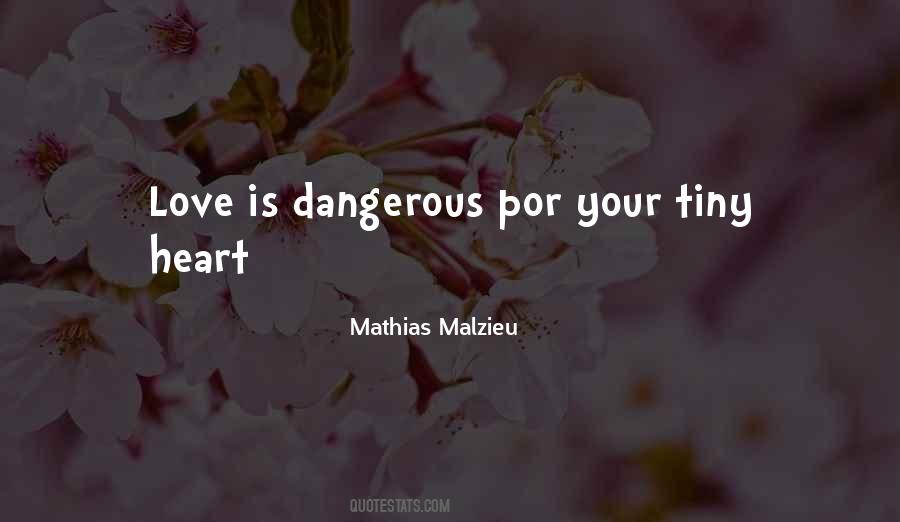 #35. When I was trying to earn Jesus by being good, I missed the real Jesus who wants us to love him and serve him not for what he gives but for who he is - dangerous, unpredictable, radical, and amazing. - Author: Jefferson Bethke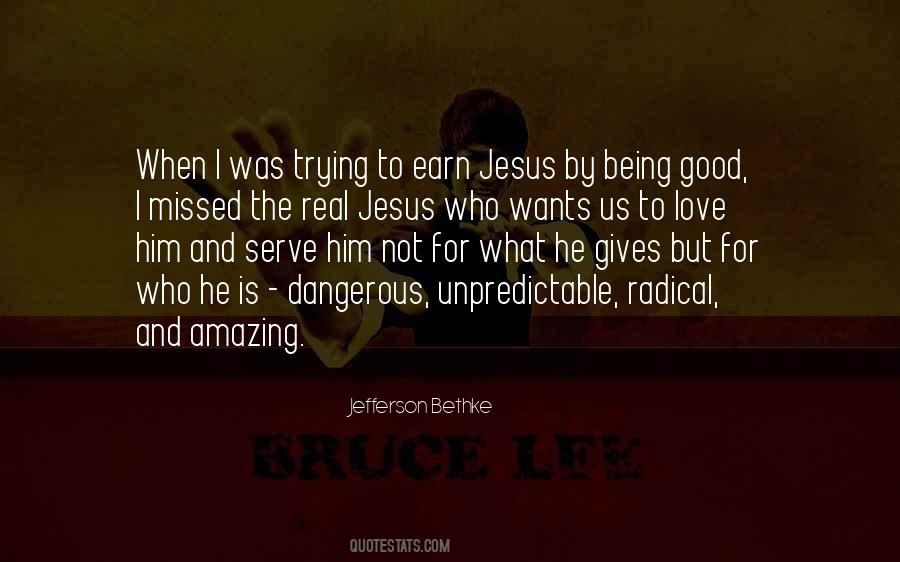 #36. The way to fight a woman is with your hat. Grab it and run.
The guy who said that was a wise man. He knew what most men don't - Women are powerful creatures who should be handled with care, or they can become very, very dangerous. - Author: Christina Dodd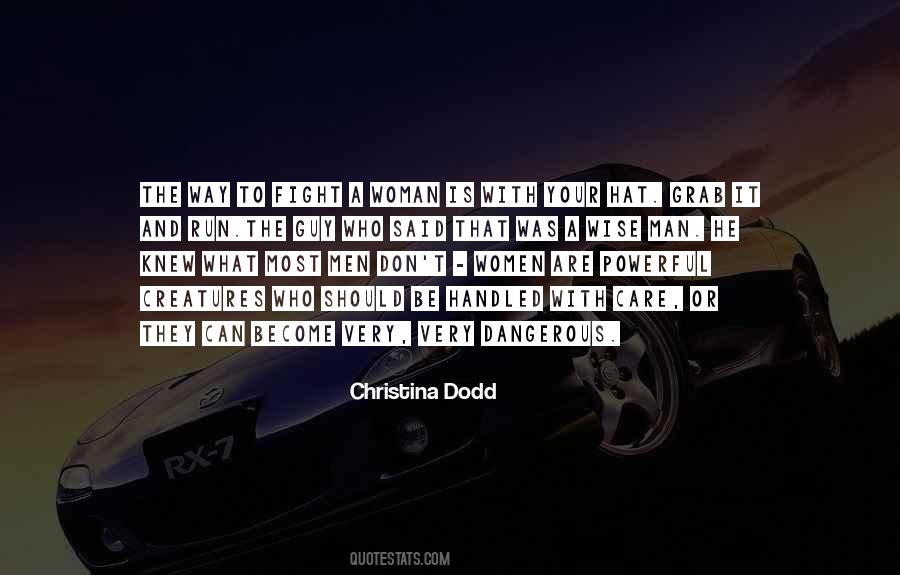 #37. I am a secret. That is all I will ever be. Everyone in this kingdom is asking the question of the reason behind your delay in taking a wife and that is dangerous for me. - Sari - Author: Ray Anyasi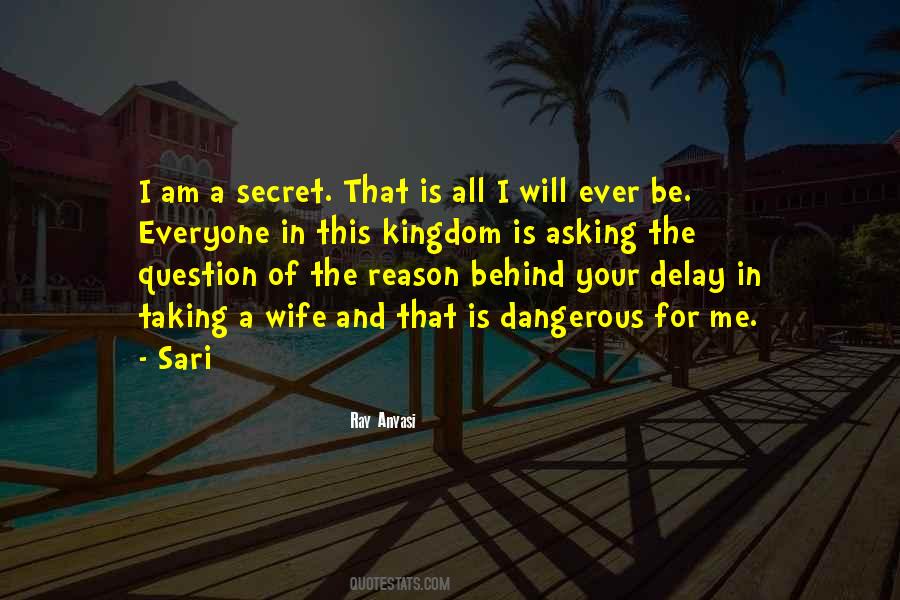 #38. Love is dangerous in the best way possible. - Author: Lindsay Lohan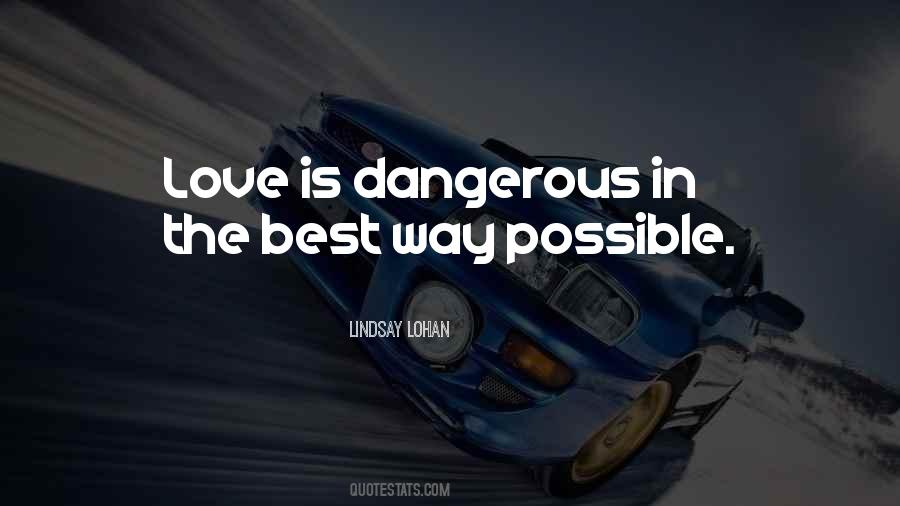 #39. Love is a dangerous angel. - Author: Francesca Lia Block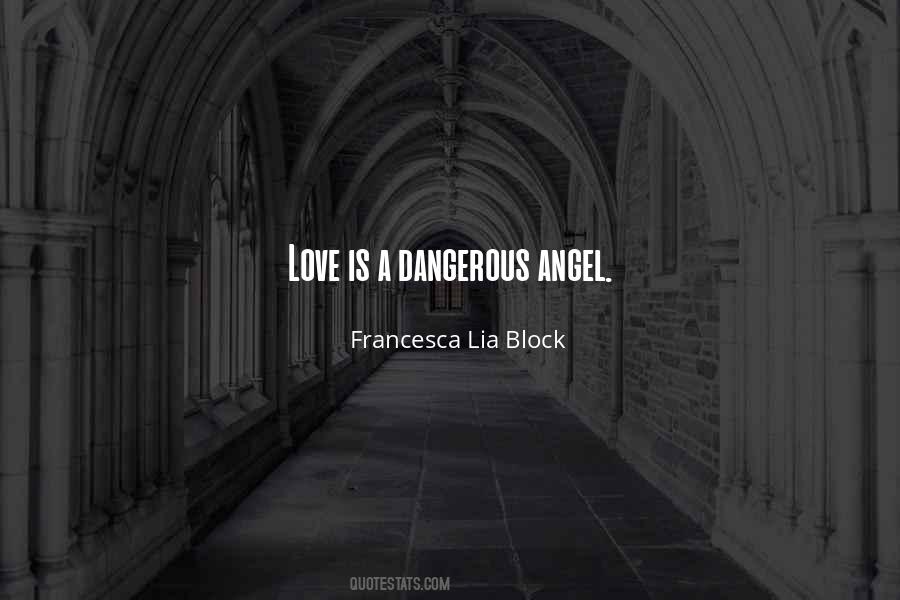 #40. Everything is dangerous. Even in your dreams. Even if you sleep without dreams. From the moment you jump out of bed and take that first breath. Something terrible might happen. Someone's bound to die before the story is over. You might even fall in love.
-The Man On The Ceiling - Author: Steve Rasnic Tem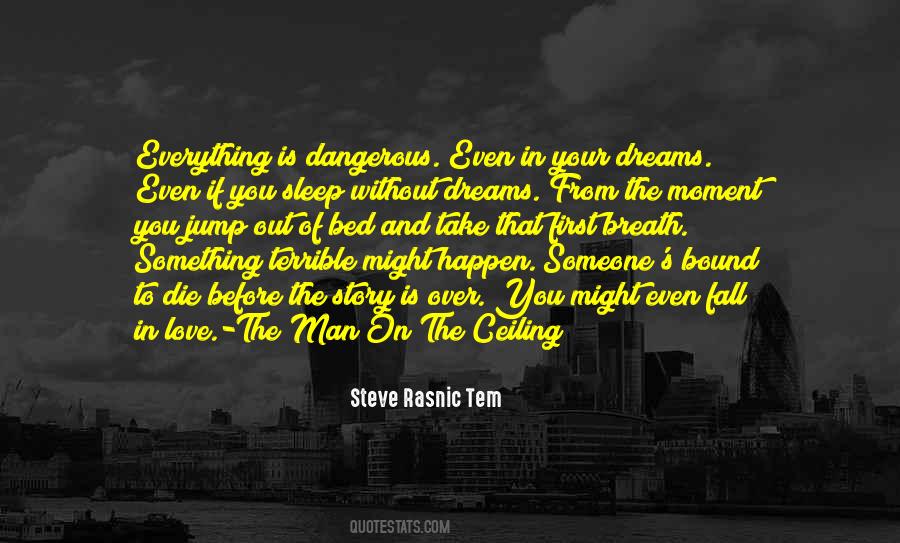 #41. The light of love is the brightest, because it shines into those who contact it and purify their soul. It is also dangerous in the fact that when you come into contact with it just once, you can't truly live life if it is to leave. - Author: Shannan Jacoby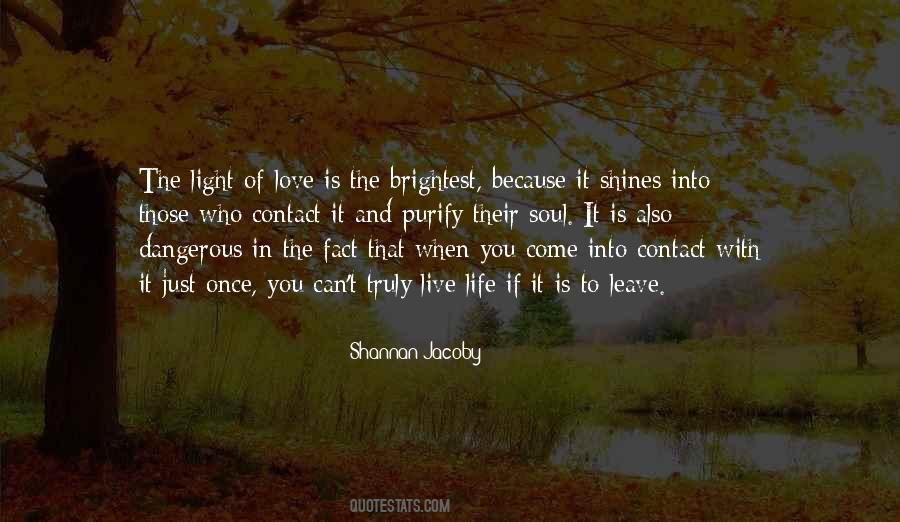 #42. If there is no wisdom, rationality can be very dangerous. - Author: Nirmala Srivastava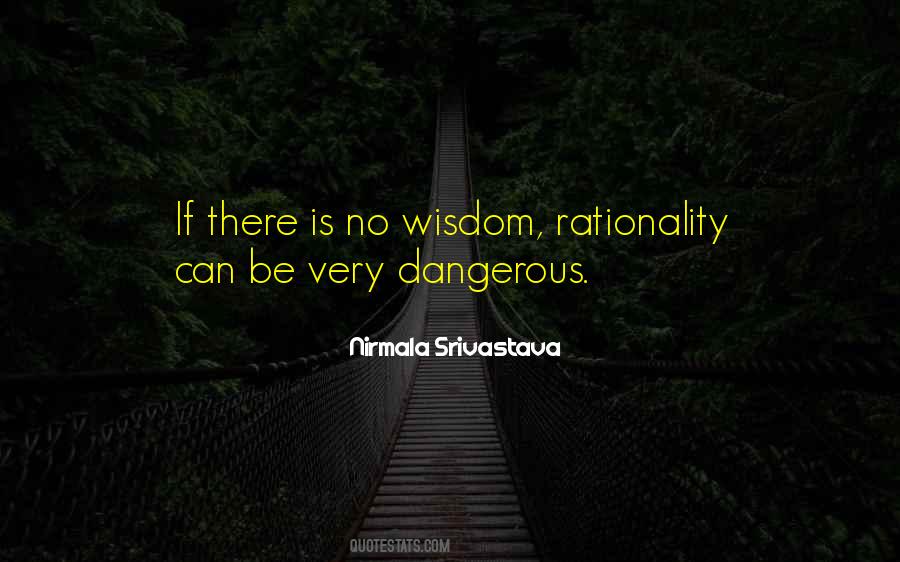 #43. Faith can be very very dangerous, and deliberately to implant it into the vulnerable mind of an innocent child is a grievous wrong. - Author: Richard Dawkins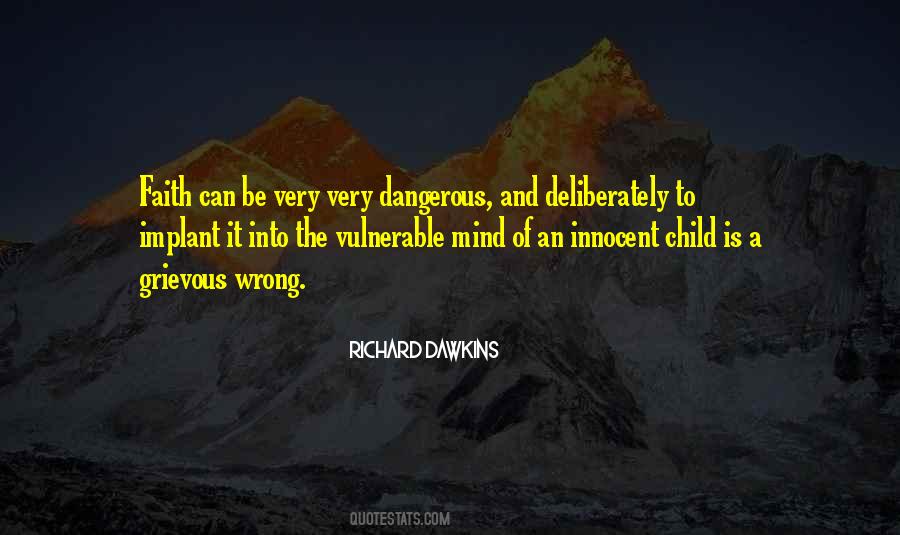 #44. Self-love is an instrument useful but dangerous; it often wounds the hand which makes use of it, and seldom does good without doing harm. - Author: Jean-Jacques Rousseau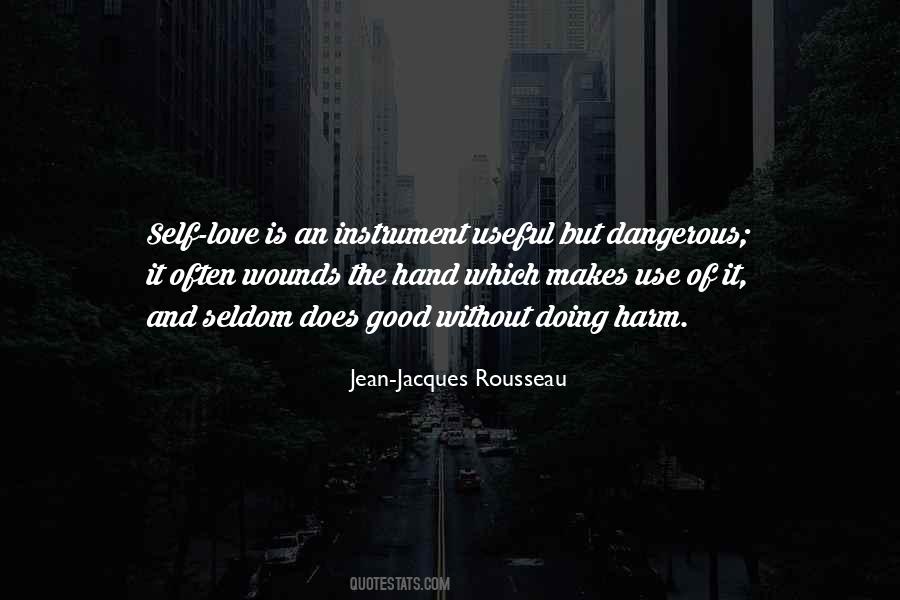 #45. Love, in short is the most dangerous emotion human can experience - Author: V.C. Andrews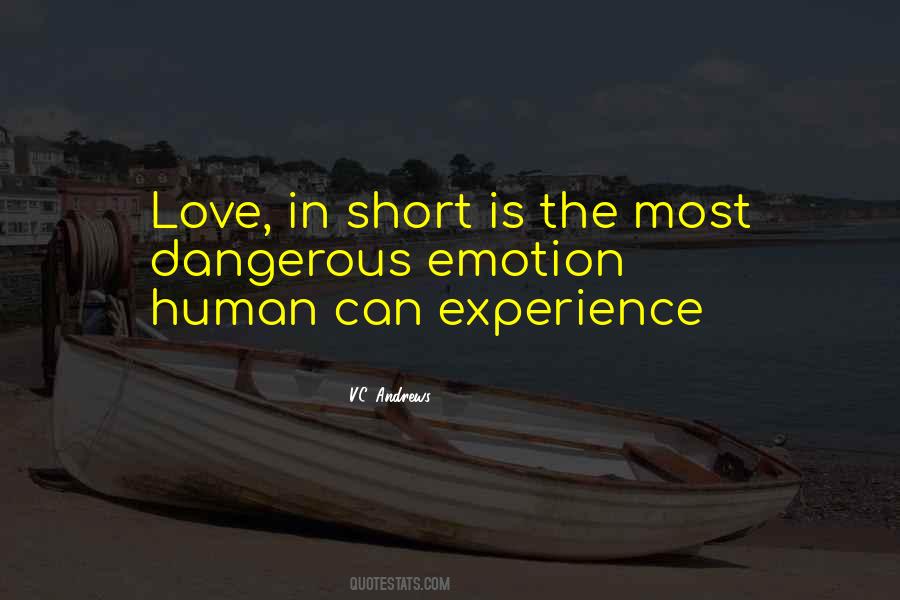 #46. A woman's love is a great, but dangerous blessing. - Author: Sergius Stepniak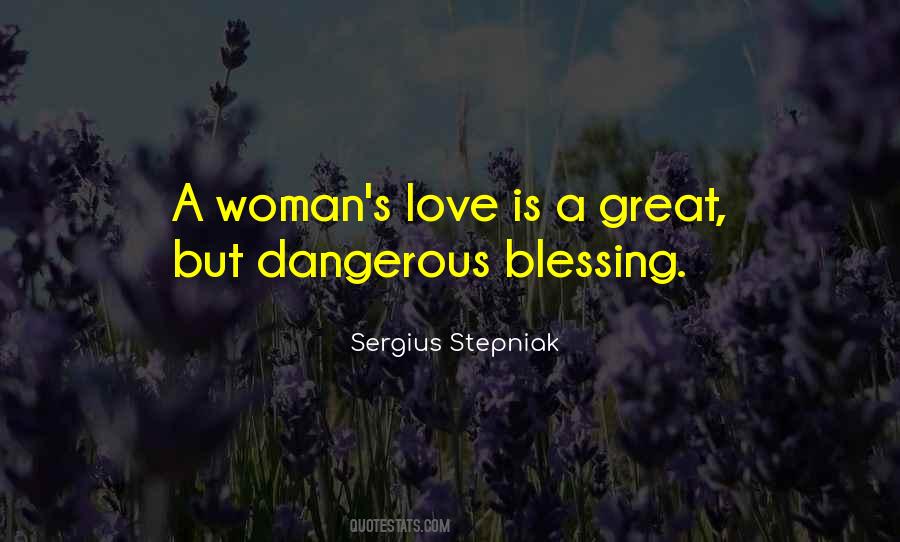 #47. This man would not kiss me as I like to be kissed but as he does. His way is too hard, demanding, dangerous. His way is not love. It is passion and it burns. Incinerates. - Author: Karen Marie Moning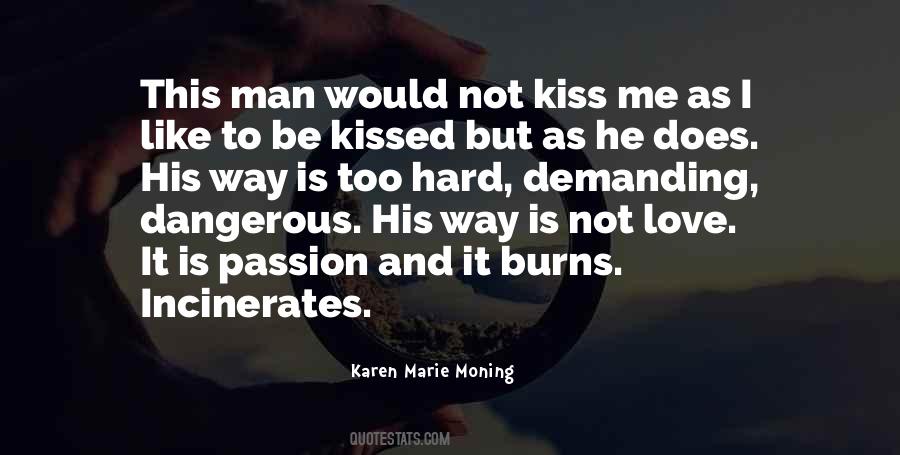 #48. I can feel him step close, then his hands lay on my shoulders, and they burn in the most delicious way, only reminding me how dangerous Benjamin is to me, to my soul. How fast I would get lost in him, only to end up with a broken heart when I could not be the woman he expected me to be. - Author: Nicole Kiefer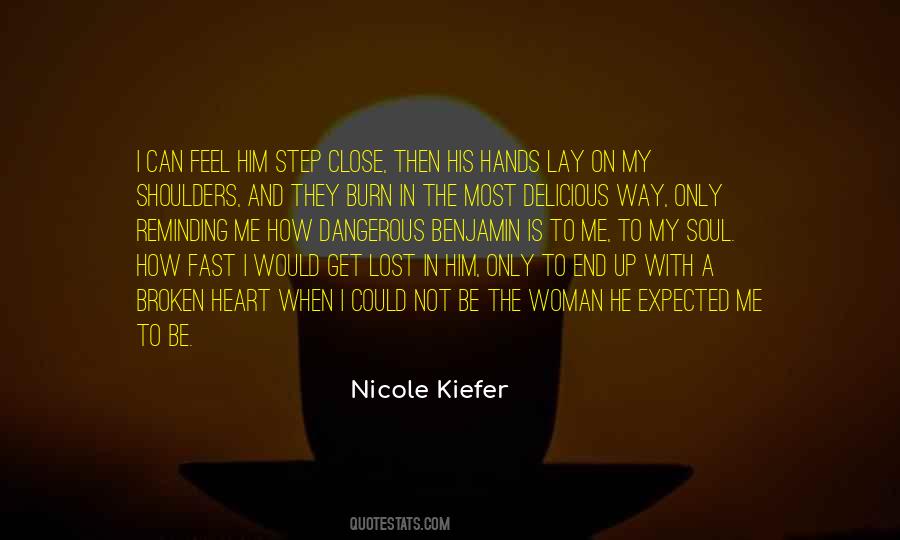 #49. Maybe hope isn't the most dangerous thing a person can have. Maybe love is. - Author: Lauren DeStefano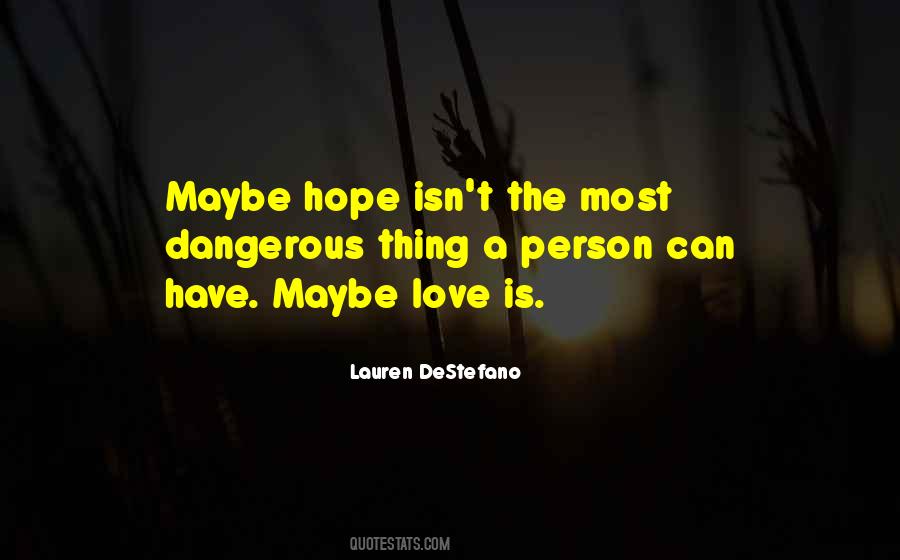 #50. If we desire to live securely, comfortably, and quietly, that by all honest means we should endeavor to purchase the good will of all men, and provoke no man's enmity needlessly; since any man's love may be useful, and every man's hatred is dangerous. - Author: Isaac Barrow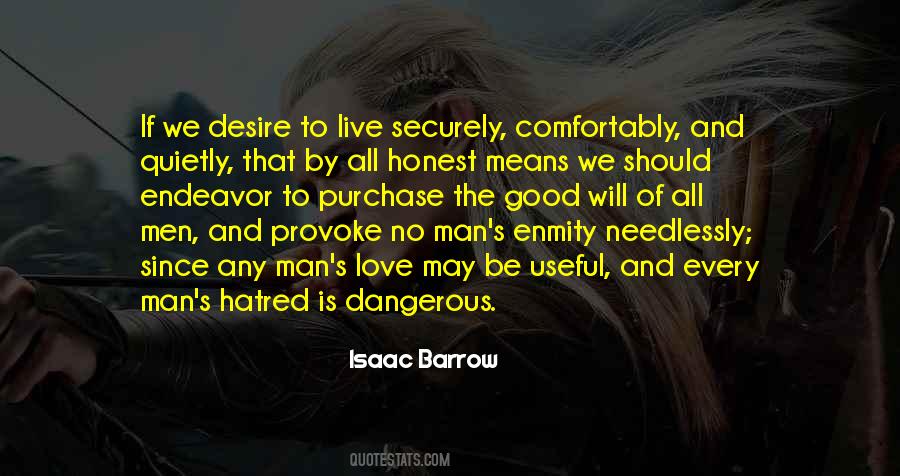 #51. Pity is an emotion that can get you killed. The only thing more dangerous is blind hate, and maybe love. - Author: Laurell K. Hamilton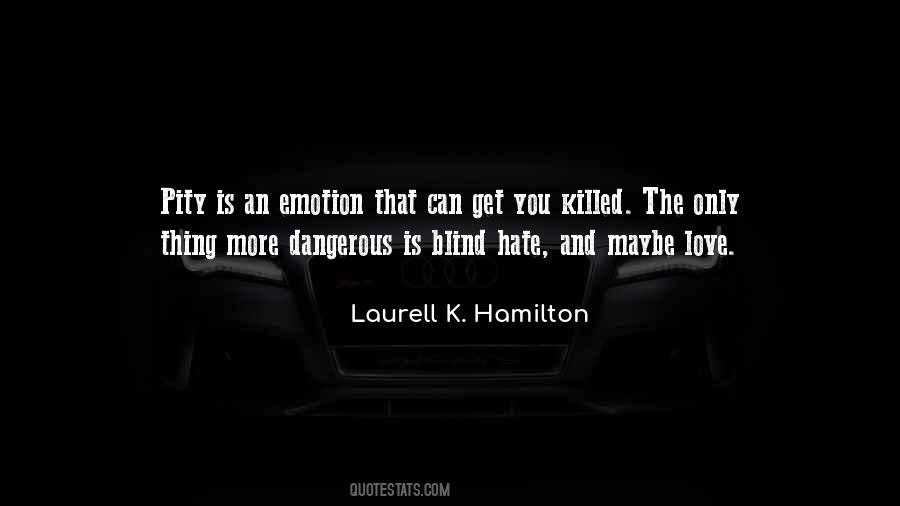 #52. It is a dangerous experiment to call in gratitude as an ally to love. Love is a debt which inclination always pays, obligation never. - Author: Blaise Pascal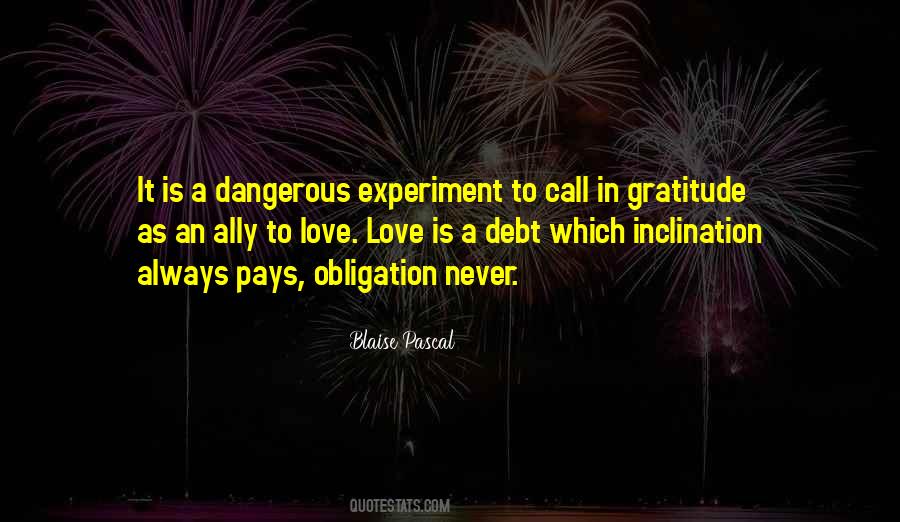 #53. Idealistic reformers are dangerous because their idealism has no roots in love, but is simply a hysterical and unbalanced rage for order amidst their own chaos. - Author: William Irwin Thompson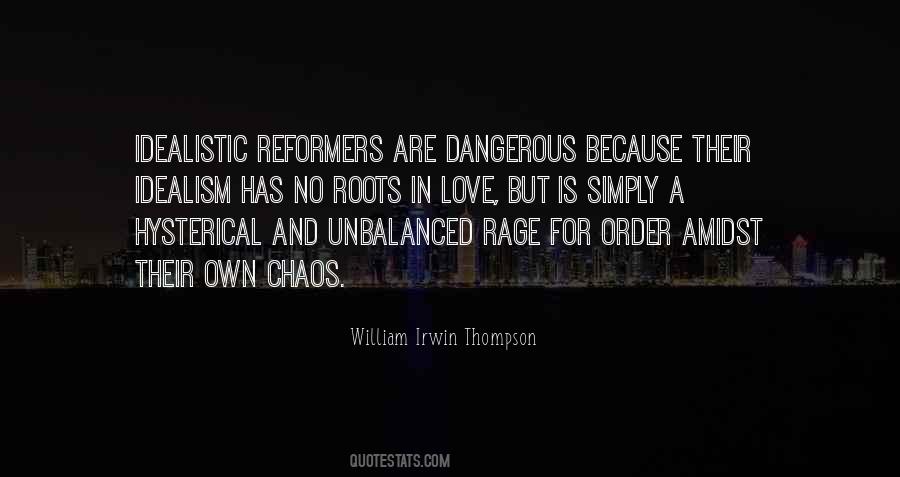 #54. Love is dangerous, if you know it's dangerous, that makes you treasure it, and you'll work harder to keep it. - Author: Candace Bushnell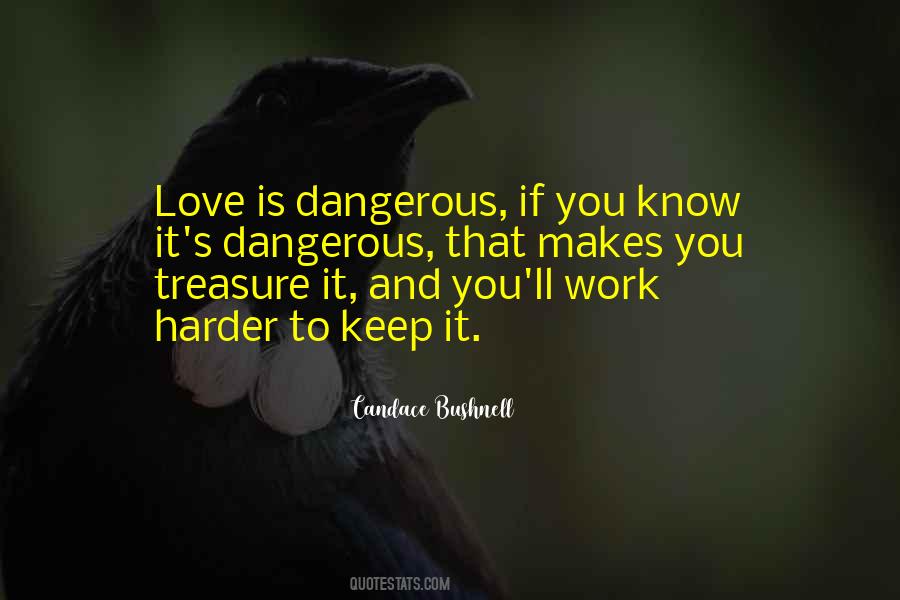 #55. Since love is folly, a foolish woman is more dangerous than a wise one. - Author: Franz Grillparzer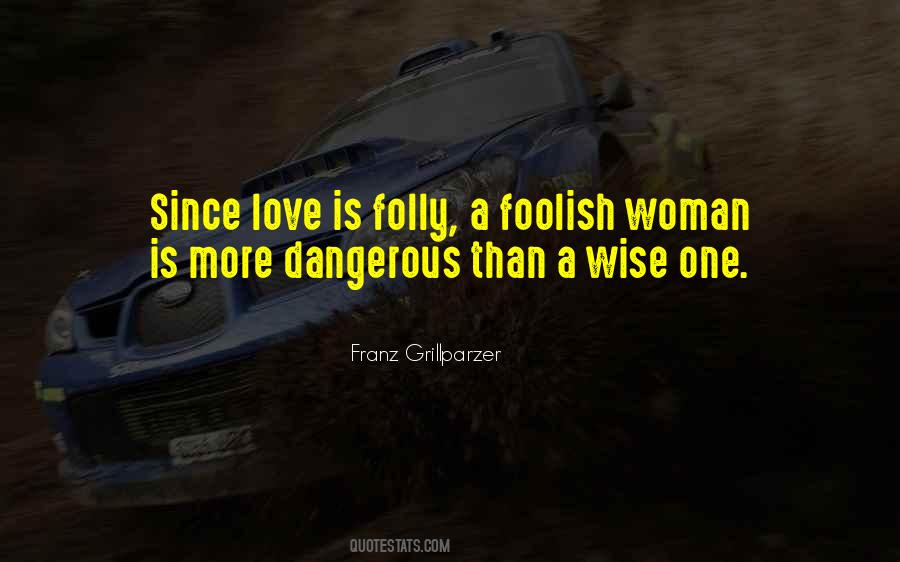 #56. Then there is the third category, the category of people who need to be constantly before the eyes of the person they love. Their situation is a dangerous as the situation in the first category. One day the eyes of their beloved will close, and the room will go dark. - Author: Milan Kundera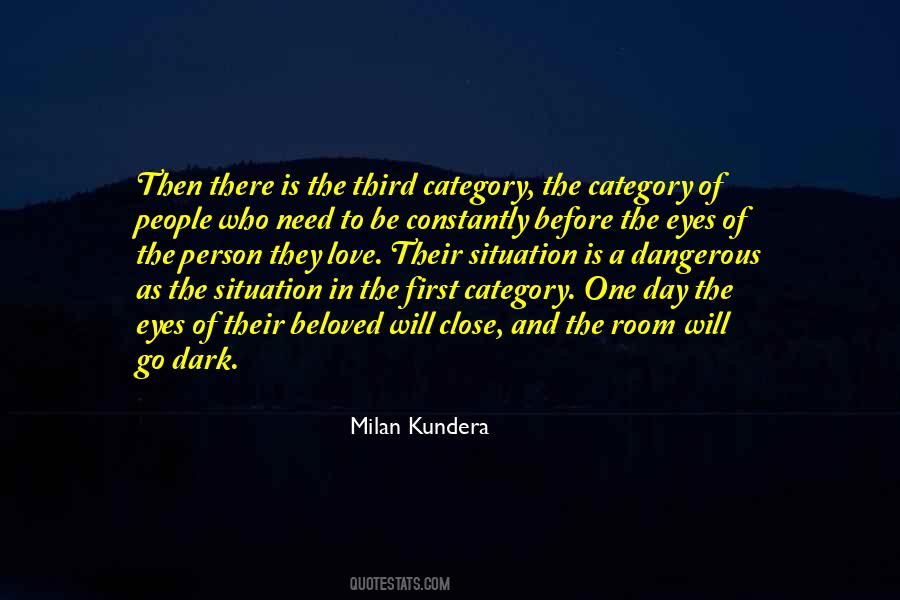 #57. The world is too dangerous for anything but truth and too small for anything but love. - Author: William Sloane Coffin Jr.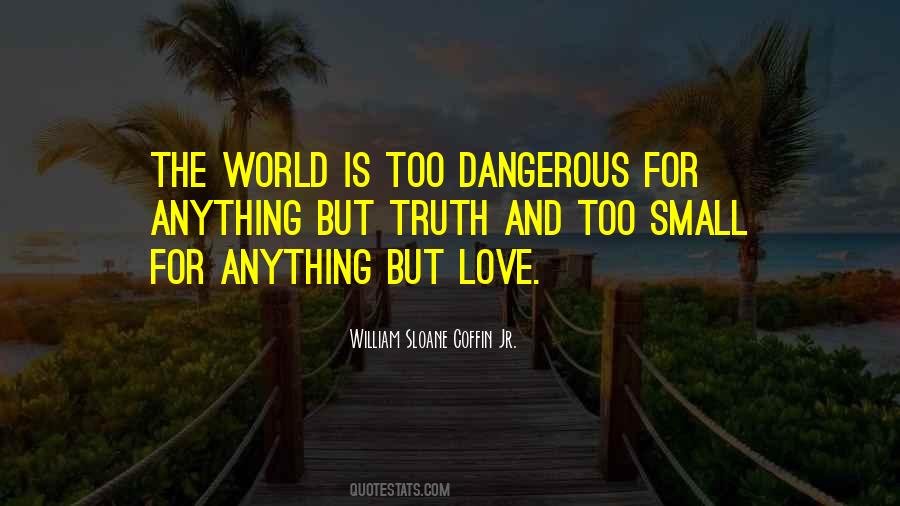 #58. A head full of biblical knowledge without a heart passionately in love with Christ is terribly dangerous - a stronghold waiting to happen. The head is full, but the heart and soul are still unsatisfied. - Author: Beth Moore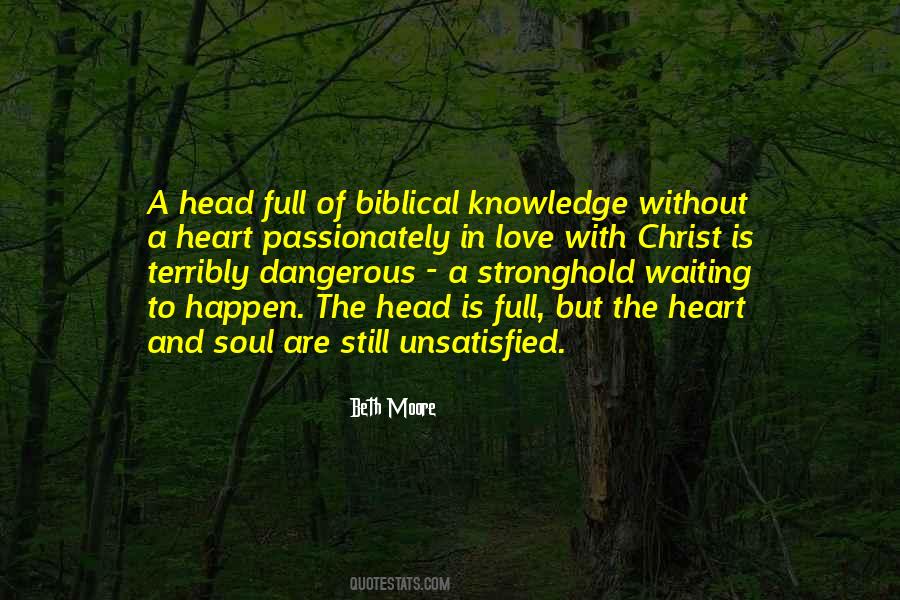 #59. He pulled her back, off balance so that she fell against him, and he took her face in his two hands and held it very still while his eyes looked down into hers. Somber, truthful, painfully honest. "I love you, Chloe," he said. "Which is the most dangerous thing I could do. - Author: Anne Stuart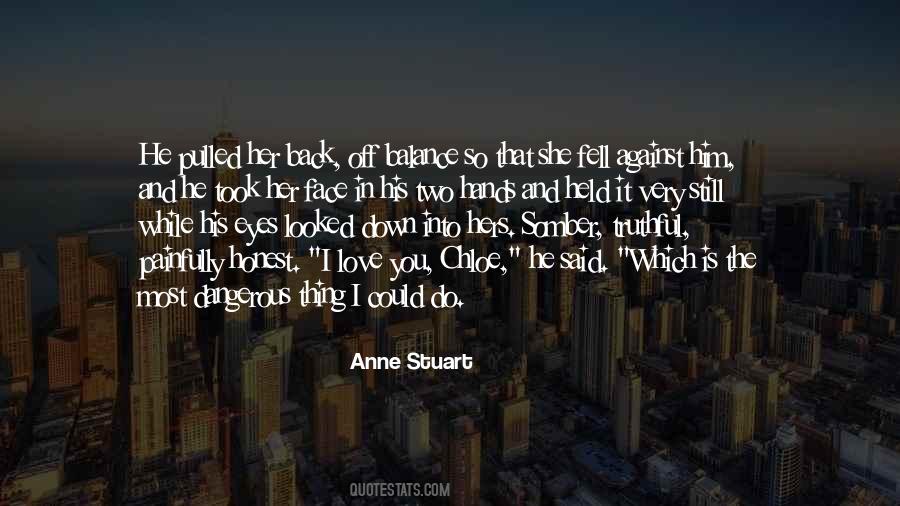 #60. Humiliate your enemy is dangerous. - Author: Karen Armstrong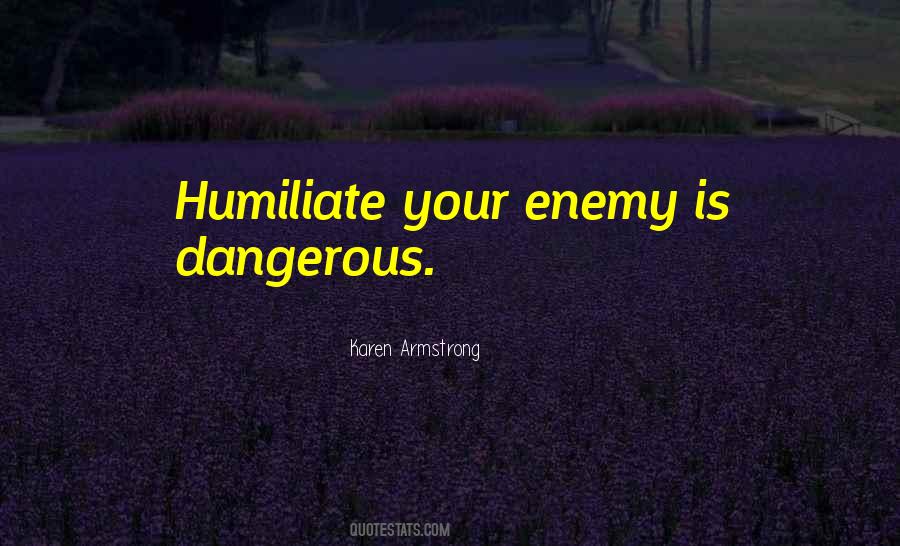 #61. Romantic love is a dangerous illusion - Author: The School Of Life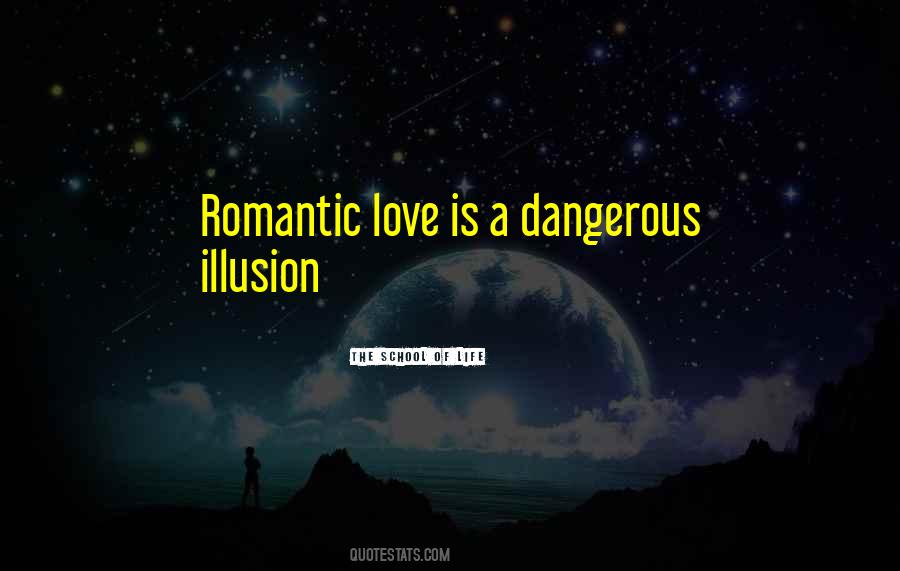 #62. Love is dangerous. Love leaves scars. - Author: Alleece Balts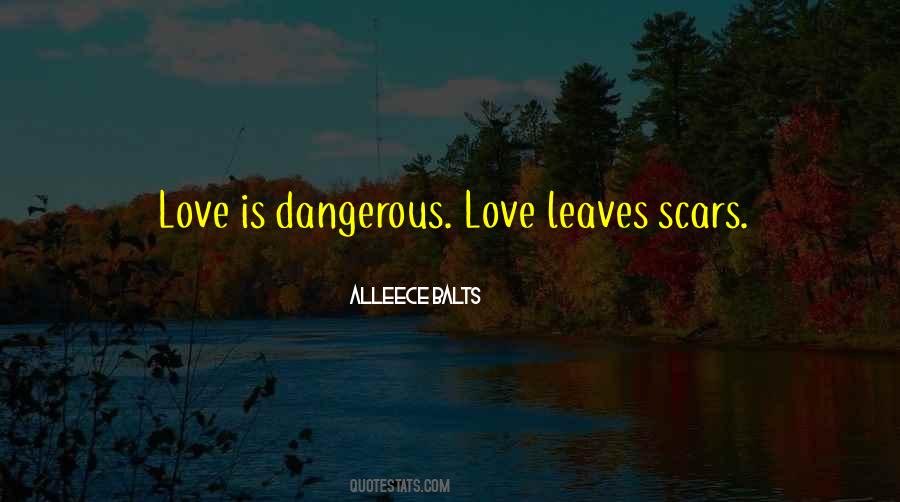 #63. Too much of anything is dangerous unless it's God's Love. - Author: Reign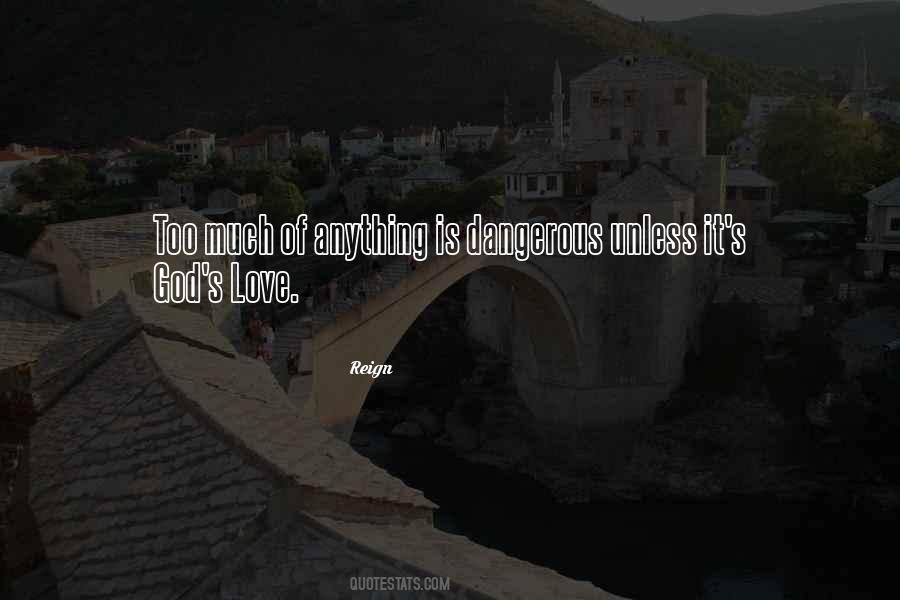 #64. Because love is the most dangerous weapon in the world. It's more unstable than uranium. - Author: Rick Yancey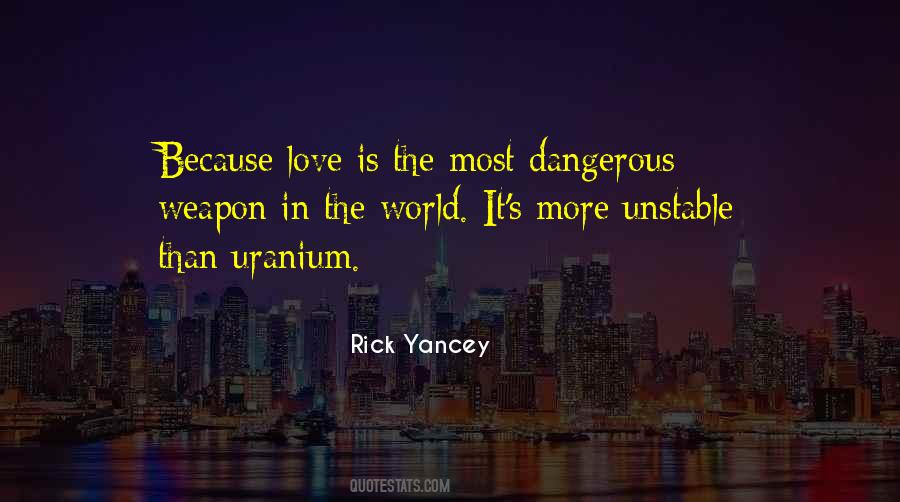 #65. Being in love is dangerous because you talk yourself into thinking you've never had it so good. - Author: David Salle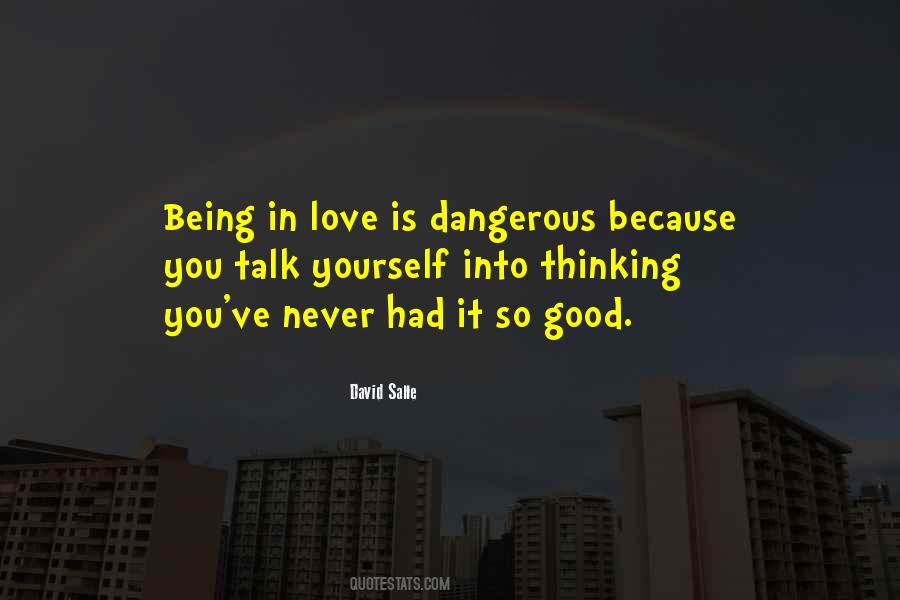 #66. If you're sighing with contentment, you're either one sick fuck or you don't grasp the seriousness of the situation. While I no longer kill, I am a killer. A killer in love is a very dangerous thing. - Author: C.J. Roberts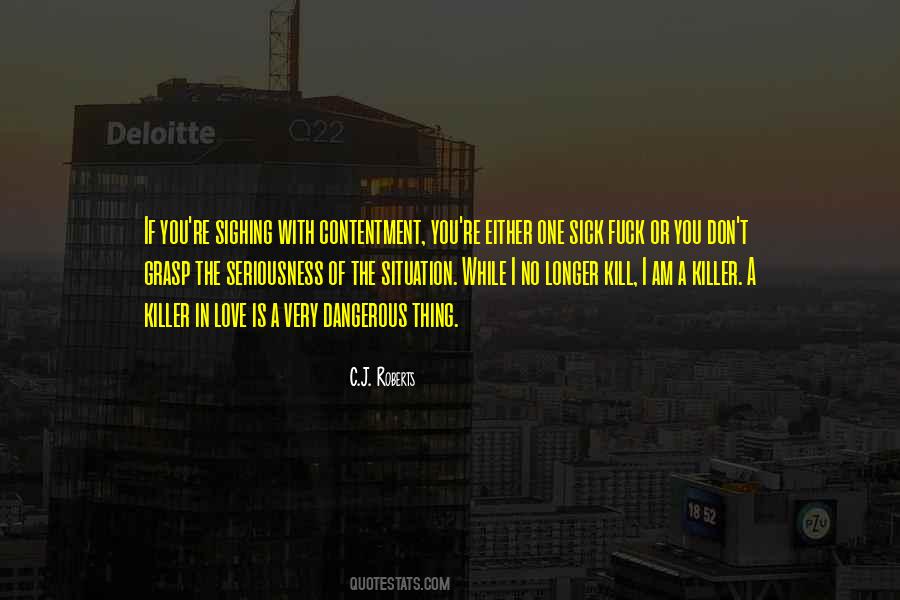 #67. Love is a dangerous commodity-fraught with peril, - Author: Robert Indiana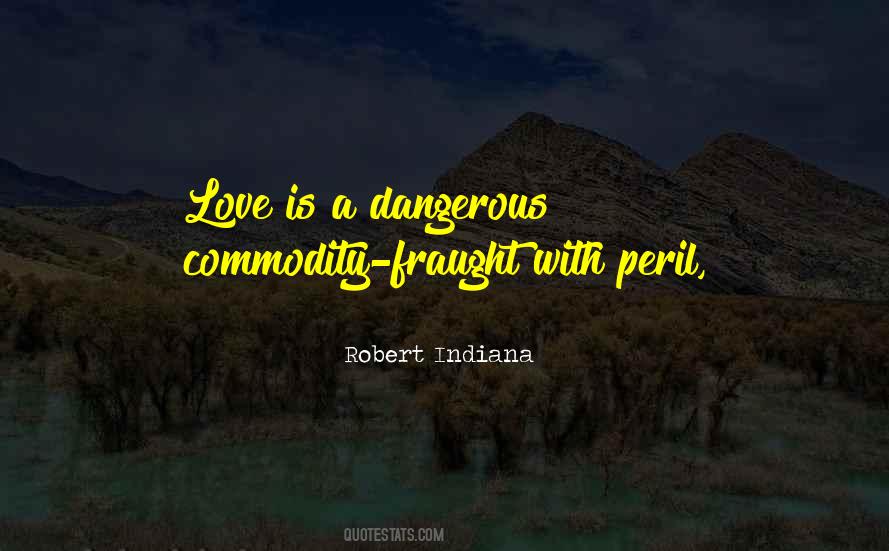 #68. Love is a terrible excuse. It's dangerous to lose yourself in someone else. - Author: J.M. Darhower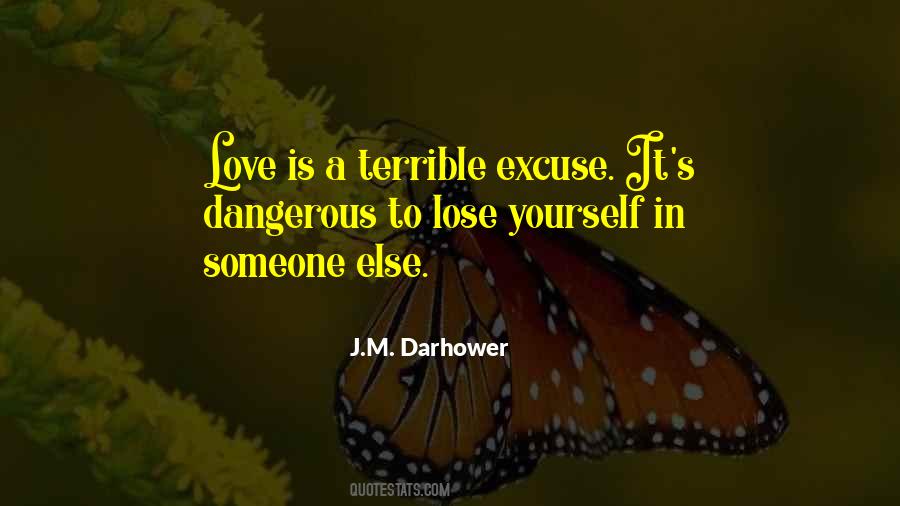 #69. Doing stand-up is like running across a frozen pond with the ice breaking behind you. I love it because it's dangerous. - Author: Steven Wright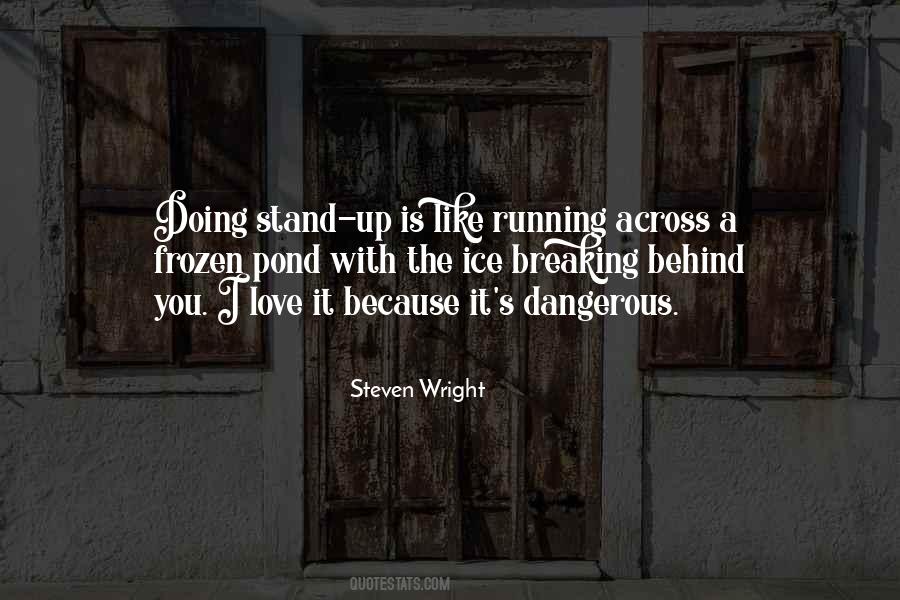 #70. I think marriage is dangerous. The idea of two people trying to possess each other is wrong. I don't think the flare of love lasts. Your mind rather than your emotions must answer for the success of matrimony. It must be friendship - a calm companionship which can last through the years. - Author: Carole Lombard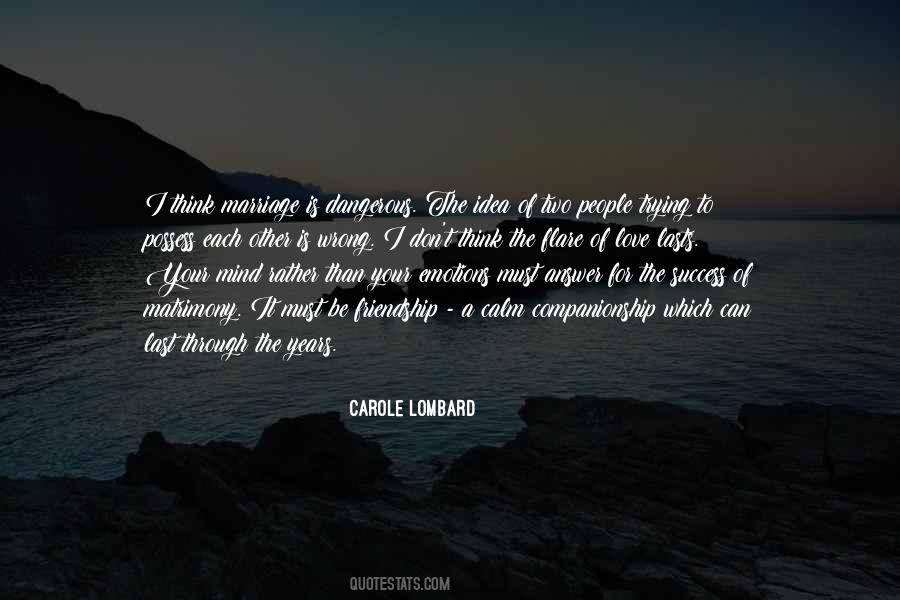 #71. Magic is dangerous- but love is more dangerous still - Author: Cassandra Clare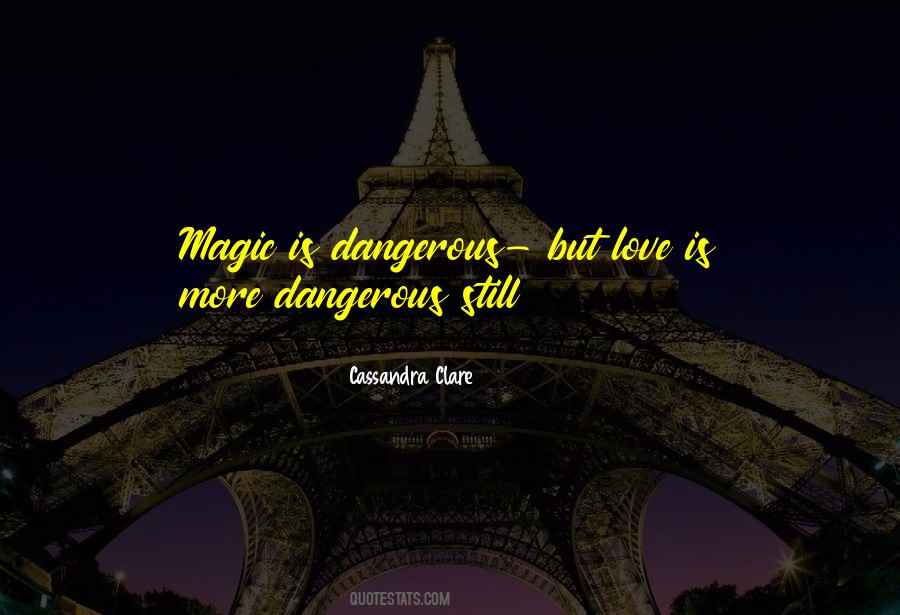 #72. Love is every bit as violent and dangerous as murder. - Author: Knut Hamsun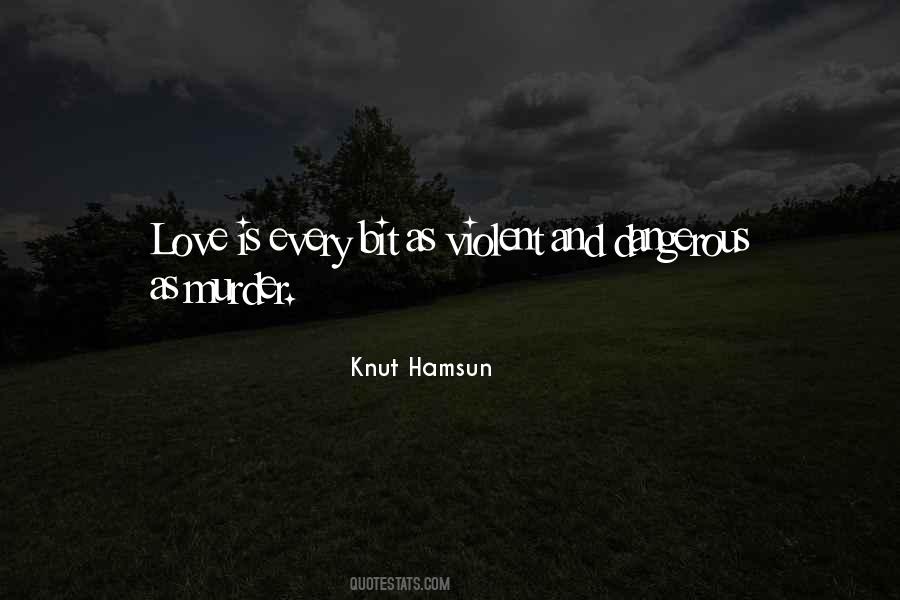 #73. Powerlessness is dangerous. For most of us, the inability to affect change is a desperate feeling. We need resilience and hope and a spirit that can carry us through the doubt and fear. We need to believe that we can effect change if we want to live and love with our whole hearts. - Author: Brene Brown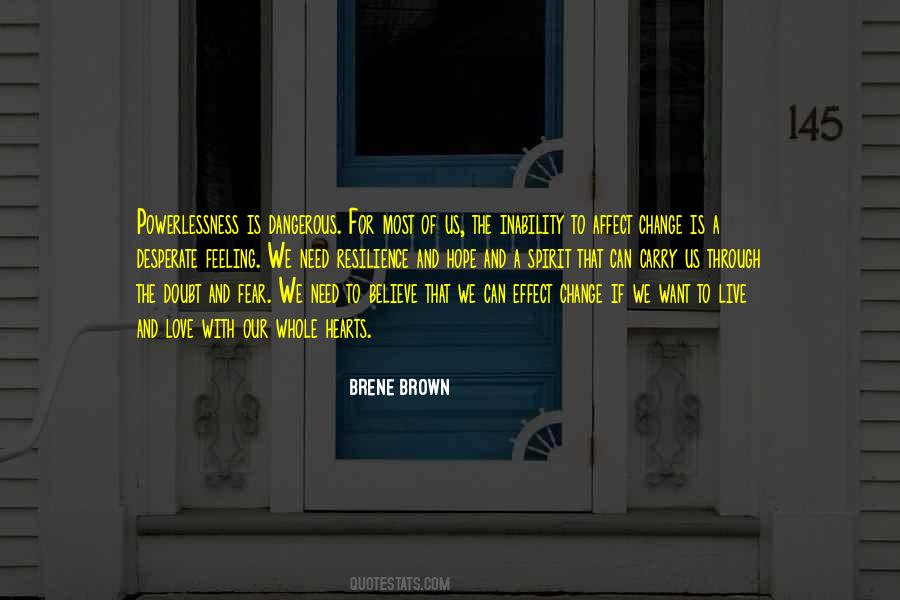 #74. A deeply true, wholly aching account of the dangerous way we live now
LOVE JUNKIE is great fun to read, and finally fully redemptive. Rachel Resnick brings a light, delightful touch to a hard subject, and creates a great, relatable, readable memoir. - Author: Elizabeth Wurtzel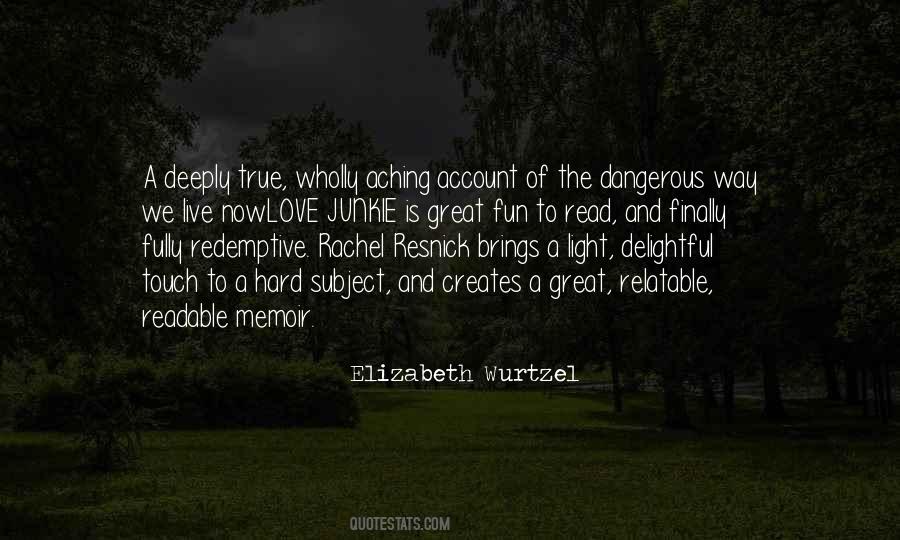 #75. Oh external worshiper, know that worship without heart is motions. Oh seeker of knowledge, know that knowledge without purification is a dangerous weapon of the ego. Oh activist, know that work without orientation of heart is fruitless. Oh lover, know that love without God is pain. - Author: Yasmin Mogahed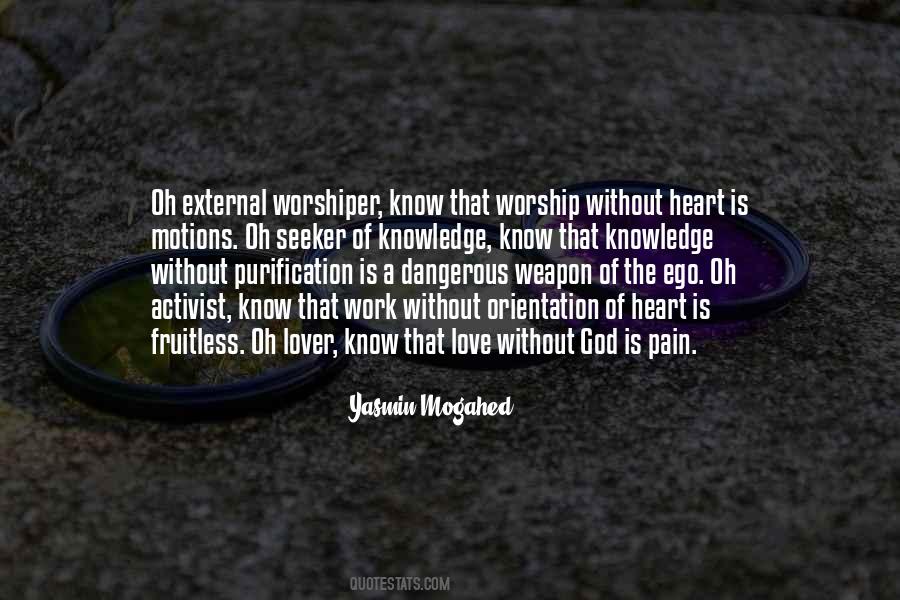 #76. I didn't say a word. He wouldn't be using oxygen. K2 is more dangerous than Everest. - Author: Susan Oakey-Baker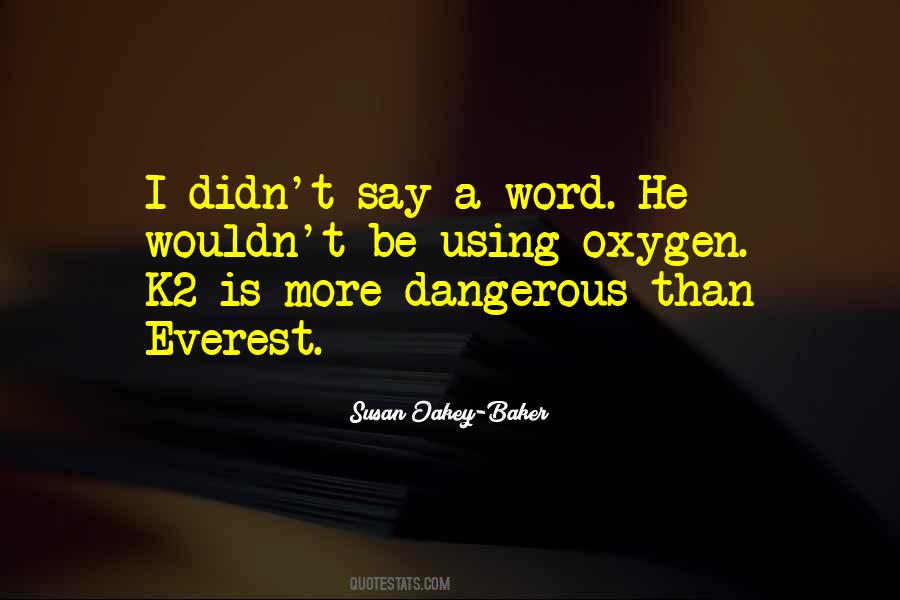 #77. Why is it so easy to know that someone else has fallen in love with a dangerous lunatic and so hard to tell when it's you? - Author: Clare Furniss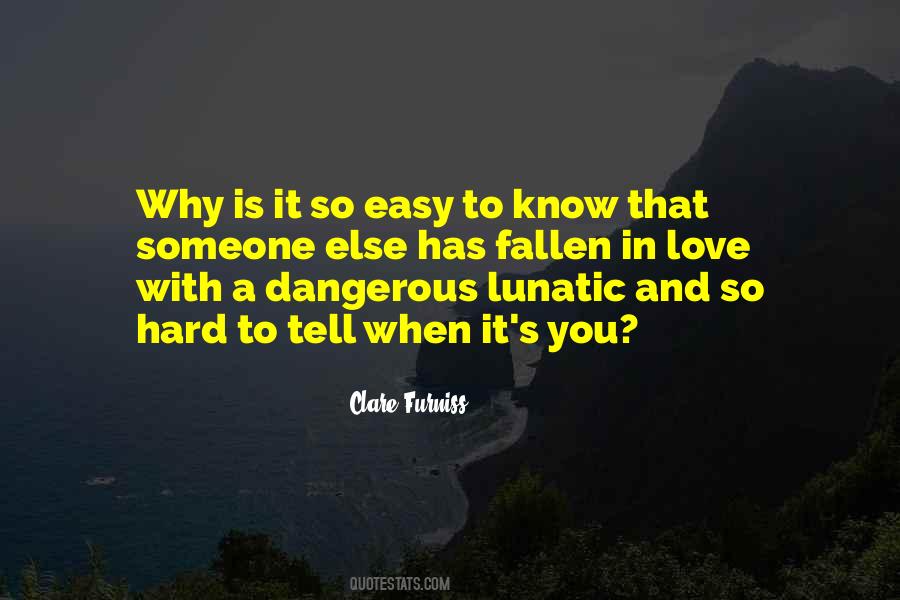 #78. The seasons are colliding together, storms are destroying lives, and love is a dangerous curse.
-The Vangeretta Curse - Author: Christina Mobley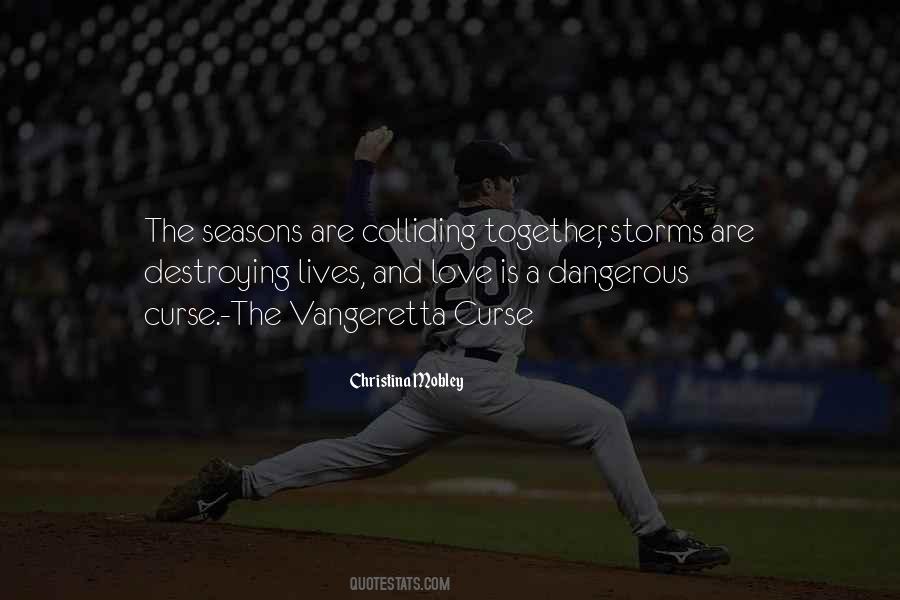 #79. But still, my heart beats. It dreams. It wonders. And most dangerous of all, it hopes, because despite its smallness, this hope is still a great something - Author: Emalynne Wilder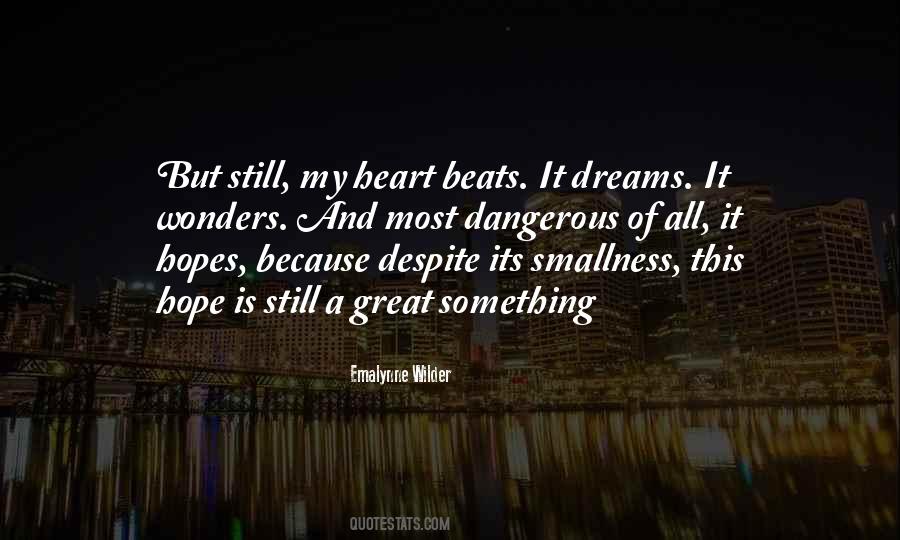 #80. Broken love is the most dangerous love. It will slice you open with every touch. - Author: Tiffany Reisz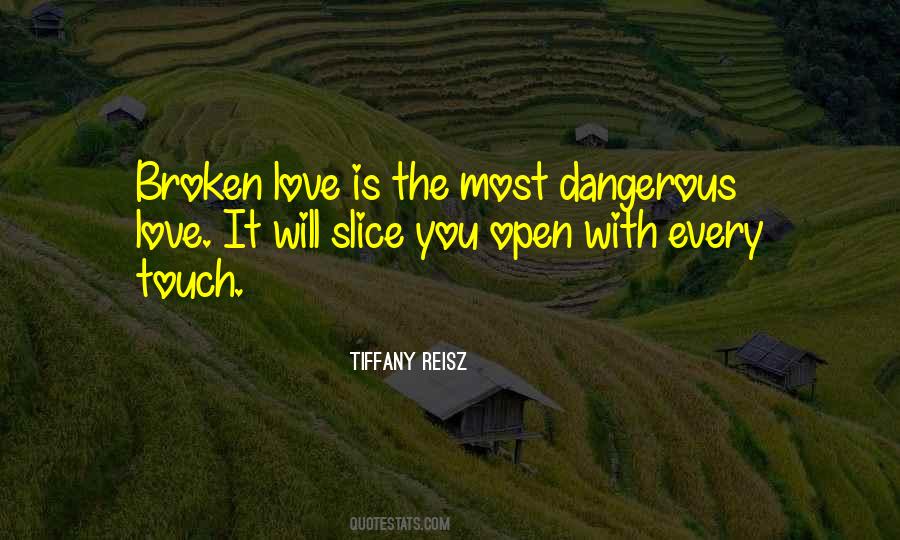 #81. The love of all-inclusiveness is as dangerous in philosophy as in art. - Author: George Santayana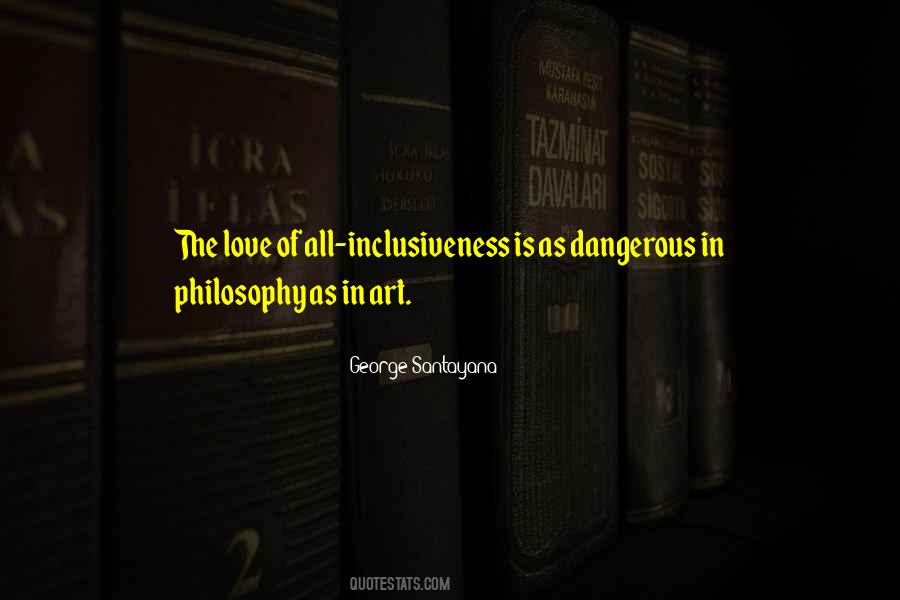 #82. Lust is a dangerous thing. It can make you believe things that are not real. It can seduce your mind and lead it blindfolded to the cliff that will be its demise. - Author: Alessandra Torre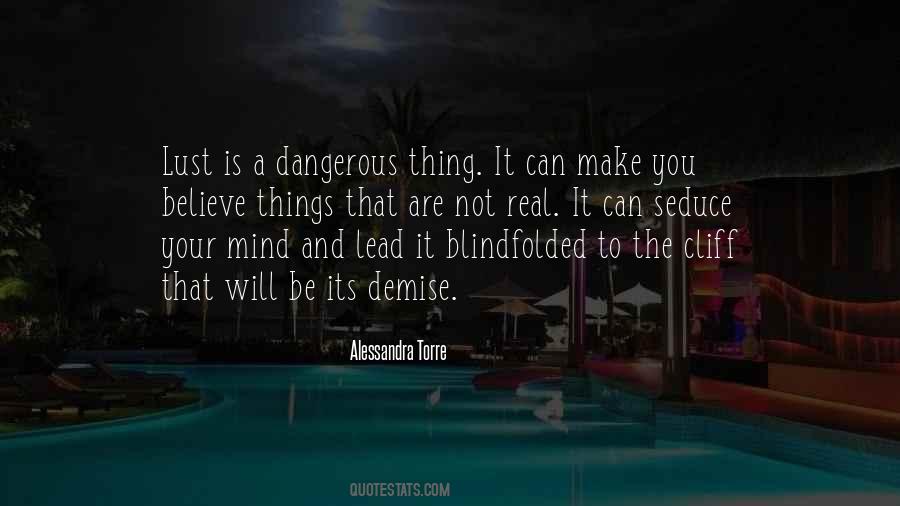 #83. Whisper a dangerous secret to someone you care about. Now they have the power to destroy you, but they won't. This is what love is. - Author: Cecil Baldwin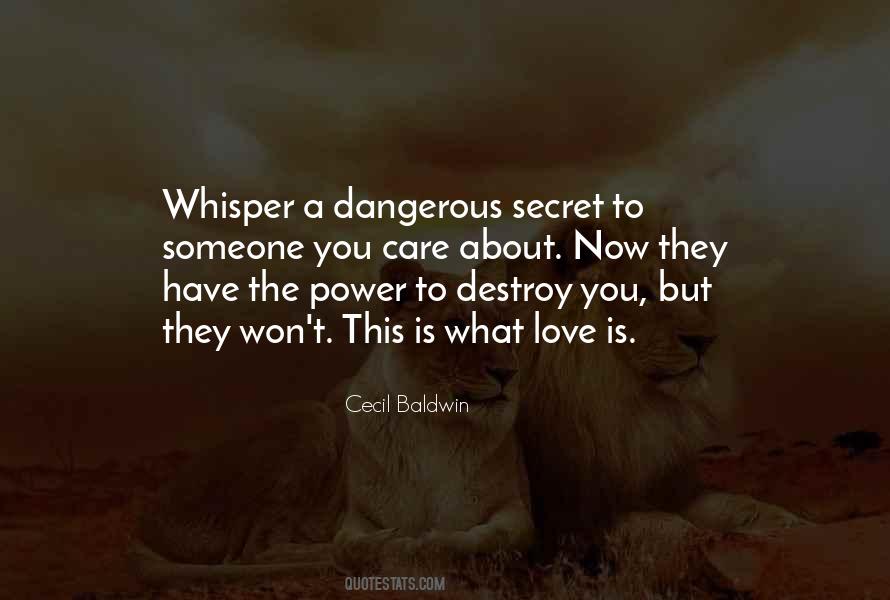 #84. Worrying about life's circumstances of those I love, but over which I have no control is a dangerous, never-ending and pointless game to play. - Author: Iben Dissing Sandahl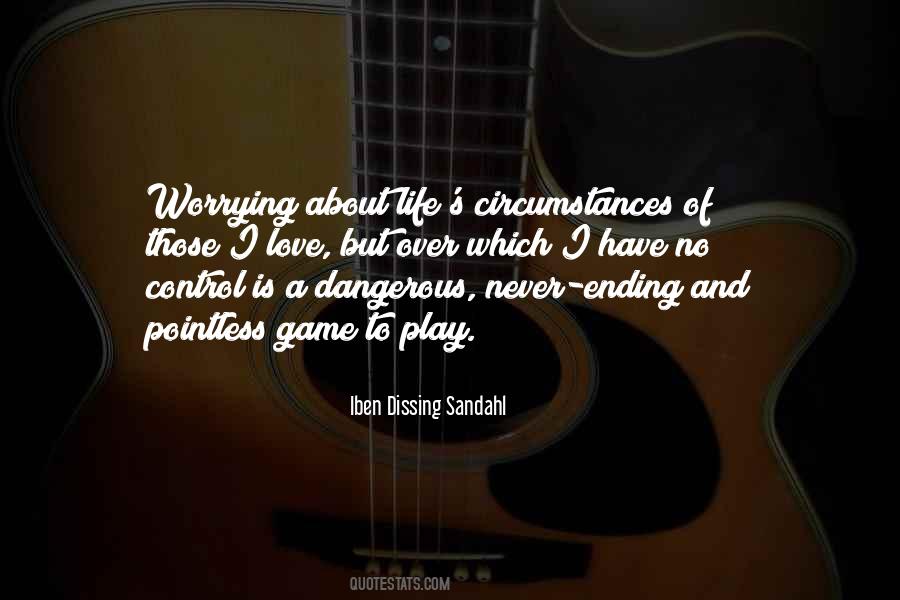 #85. In love, writing is dangerous, not to mention pointless. - Author: Alexandre Dumas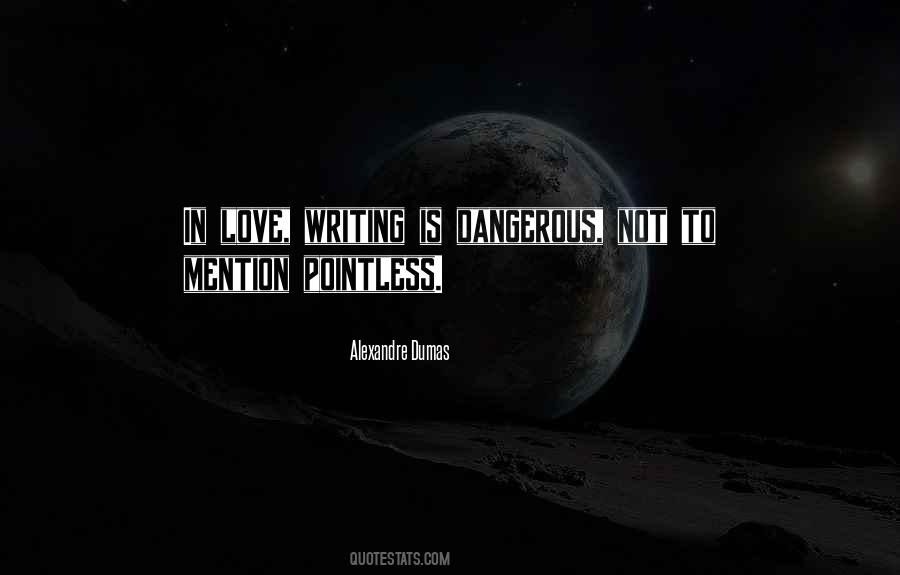 #86. I write because it is dangerous, a bloody risk, like love, to form the words, to say the words, to touch the source, to be touched, to reveal how vulnerable we are, how transient. - Author: Terry Tempest Williams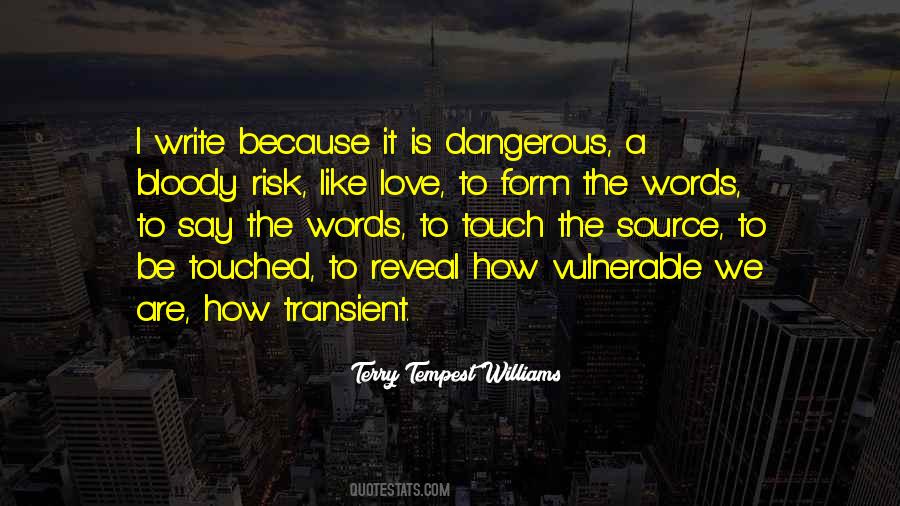 #87. Love is the most difficult and dangerous form of courage. Courage is the most desperate, admirable and noble kind of love. - Author: Delmore Schwartz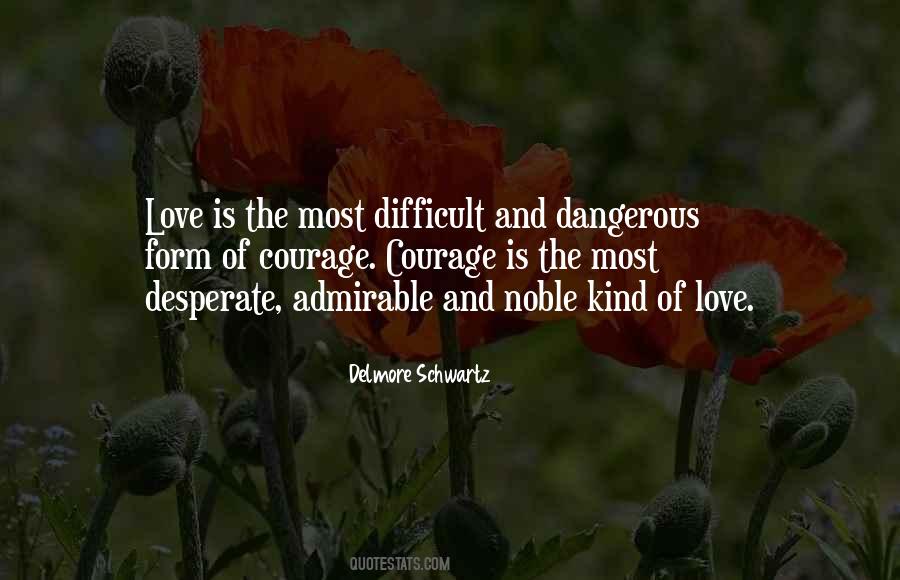 #88. Loving someone is such an inherently dangerous act. And yet, love, that's where safety lives. - Author: Gayle Forman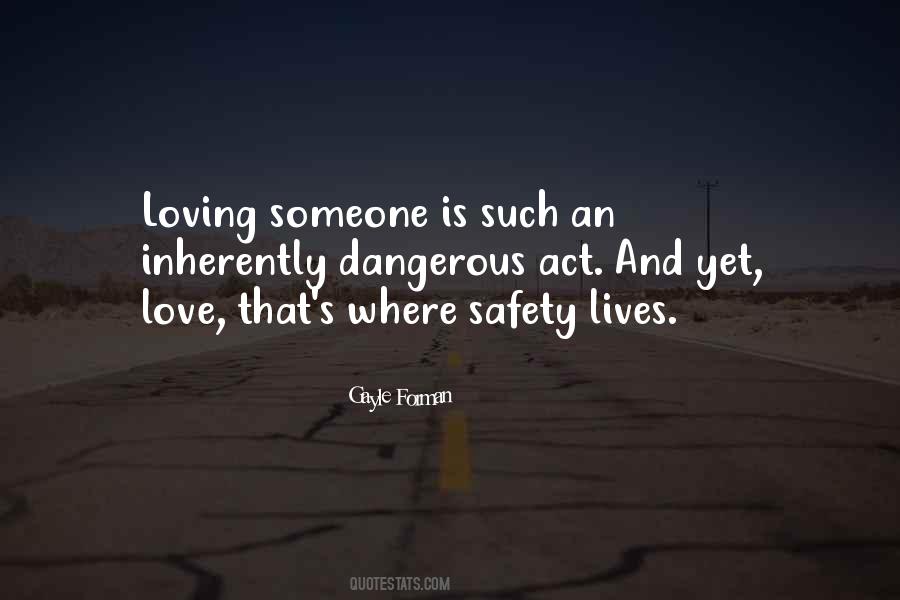 #89. Nothing is more uplifting than a woman's love and nothing is more dangerous than a woman's hatred. - Author: Oliver Blade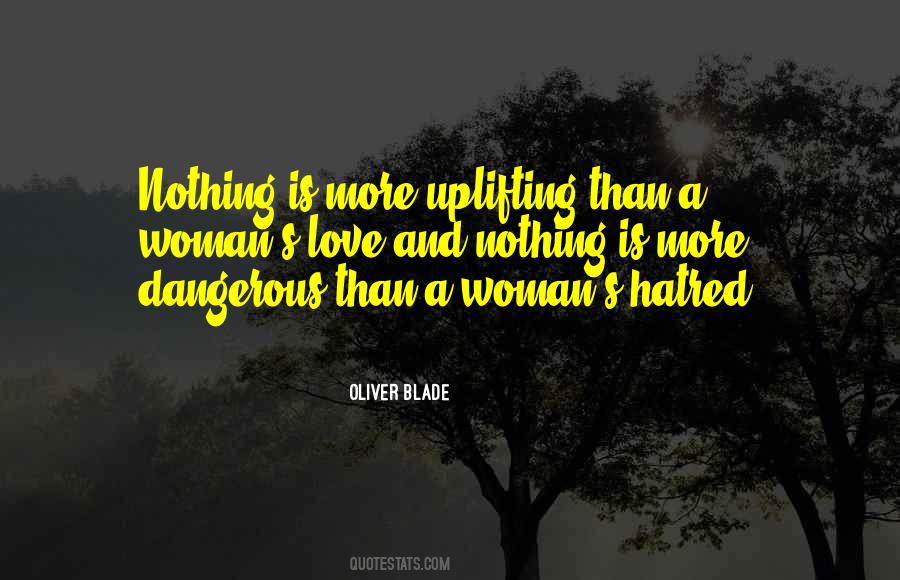 #90. Light, Love, and Will - the one is as necessary as the other; the one is dangerous without the others. Light, Love, and Will are the three eternal, vital sources of the higher, truer, purer cosmic life. - Author: Ameen Rihani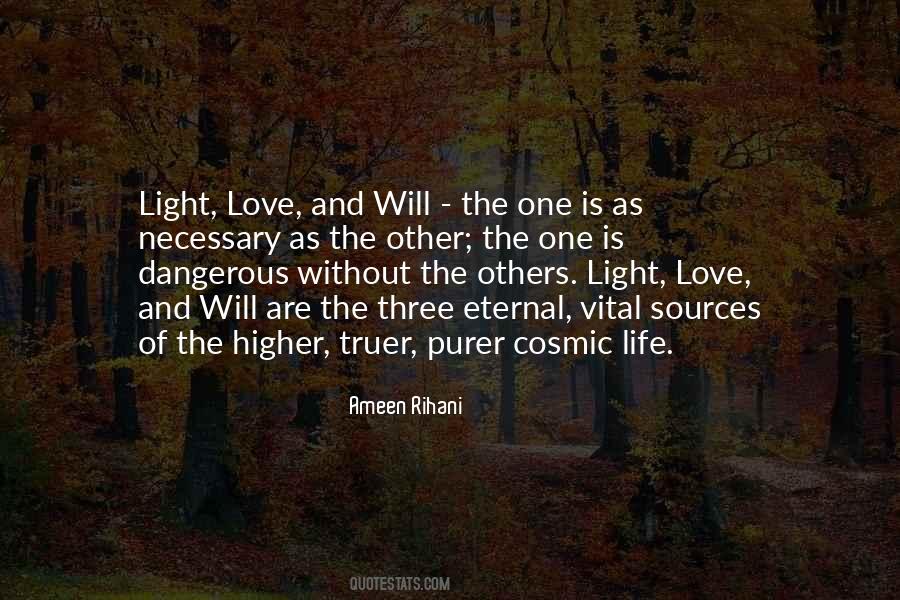 #91. It is very dangerous to love somebody who hates you, be careful - Author: Jared Nyairo Onduso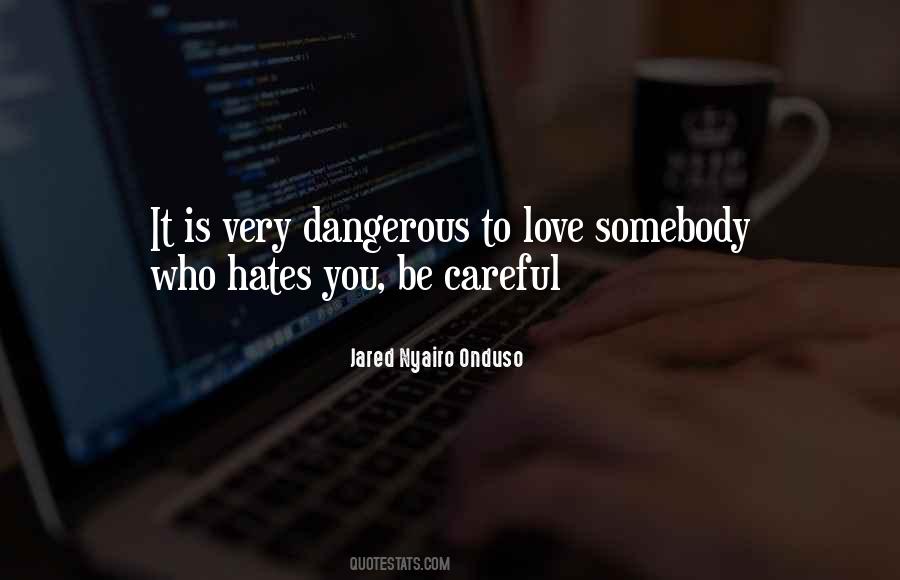 #92. Love is dangerous for your tiny heart even in your dreams so please dream softly - Author: Mathias Malzieu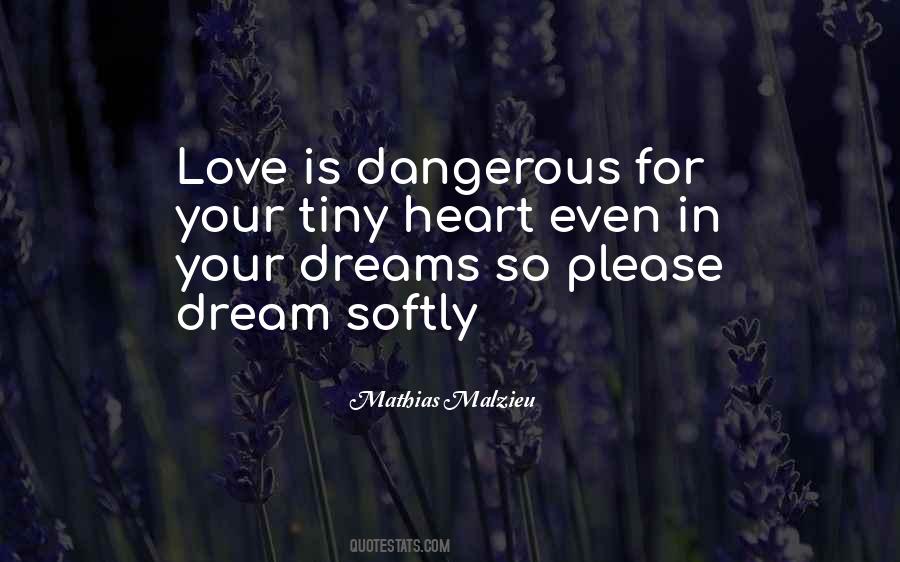 #93. First love is dangerous only when it is also the last. - Author: Branislav Nusic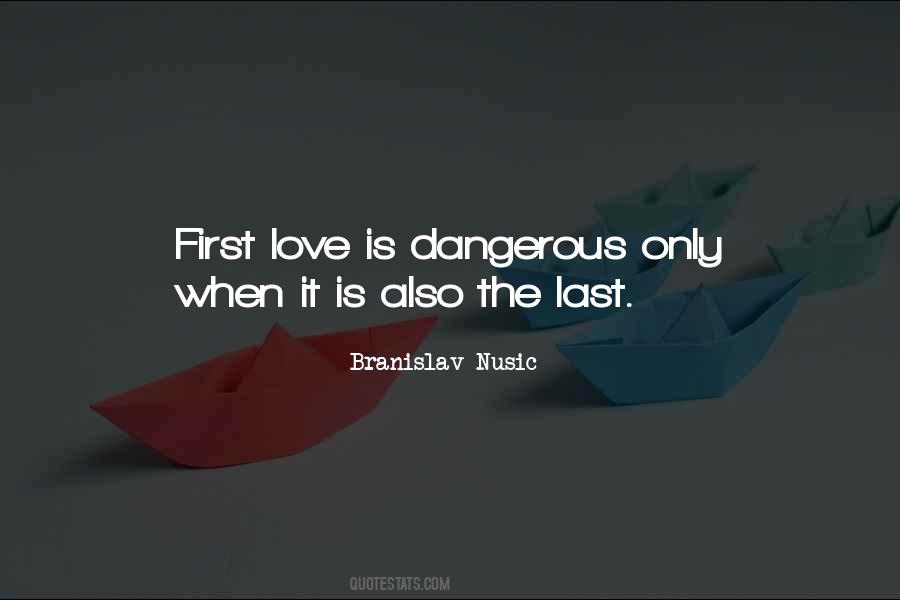 #94. Don't fall in love, it is dangerous, fall for friendship and you will find everything" Ashwin - Author: Shaikh Ashraf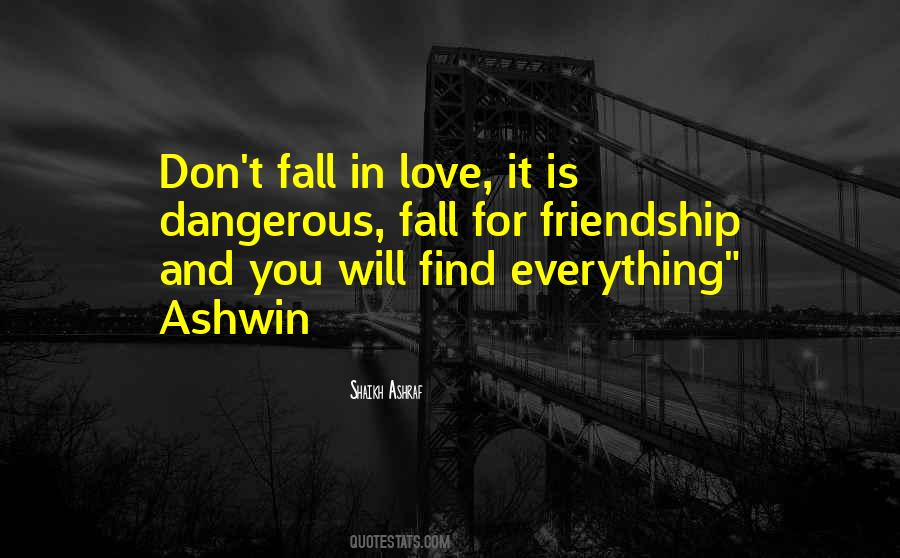 #95. Without love, intelligence is dangerous; without intelligence, love is not enough. - Author: Ashley Montagu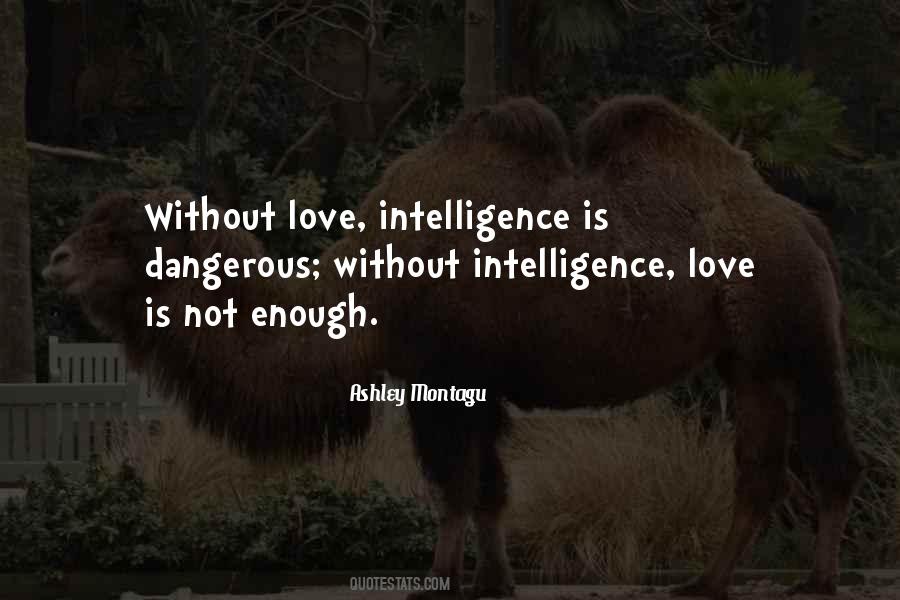 #96. A mother who would stop at nothing for her child is dangerous woman when crossed. - Author: Solange Nicole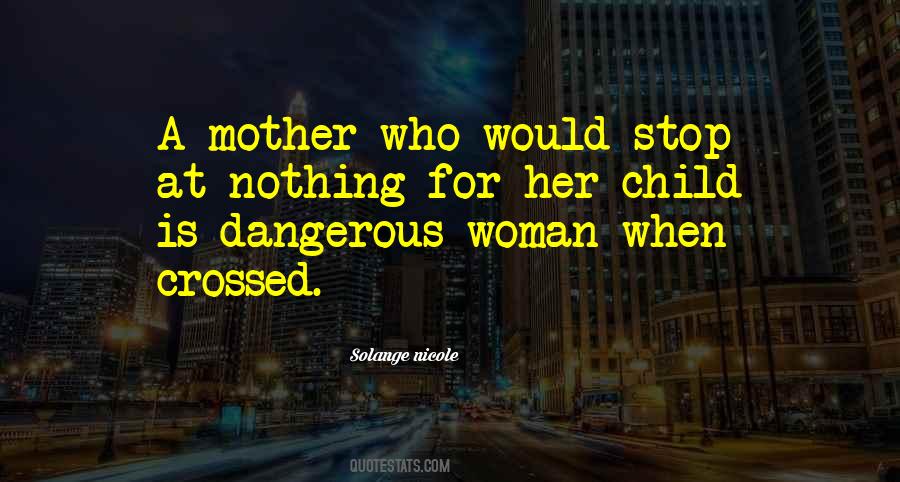 #97. Faith is like love, it cannot be forced. Therefore it is a dangerous operation if an attempt be made to introduce or bind it by state regulations; for, as the attempt to force love begets hatred, so also to compel religious belief produces rank unbelief. - Author: Arthur Schopenhauer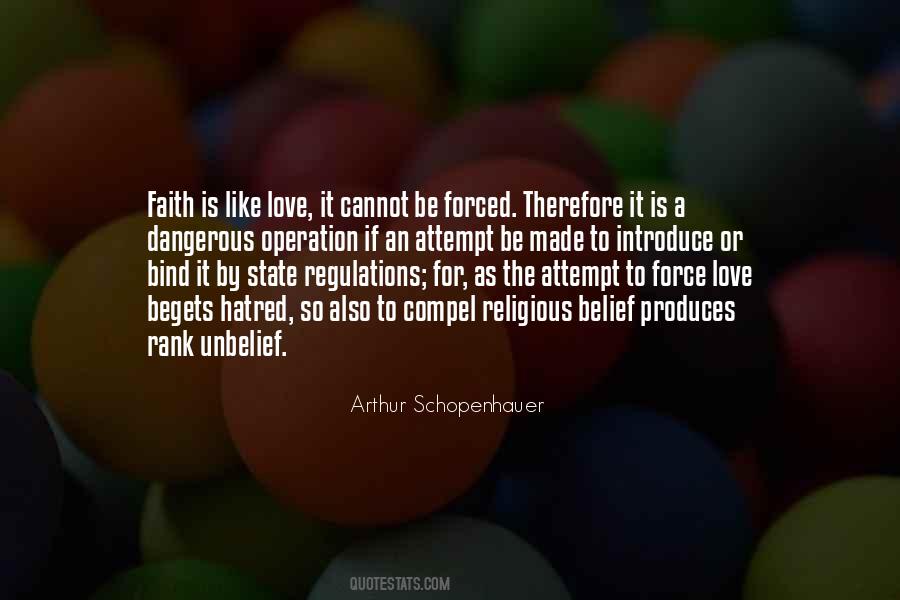 #98. Like the measles, love is most dangerous when it comes late in life. - Author: George Gordon Byron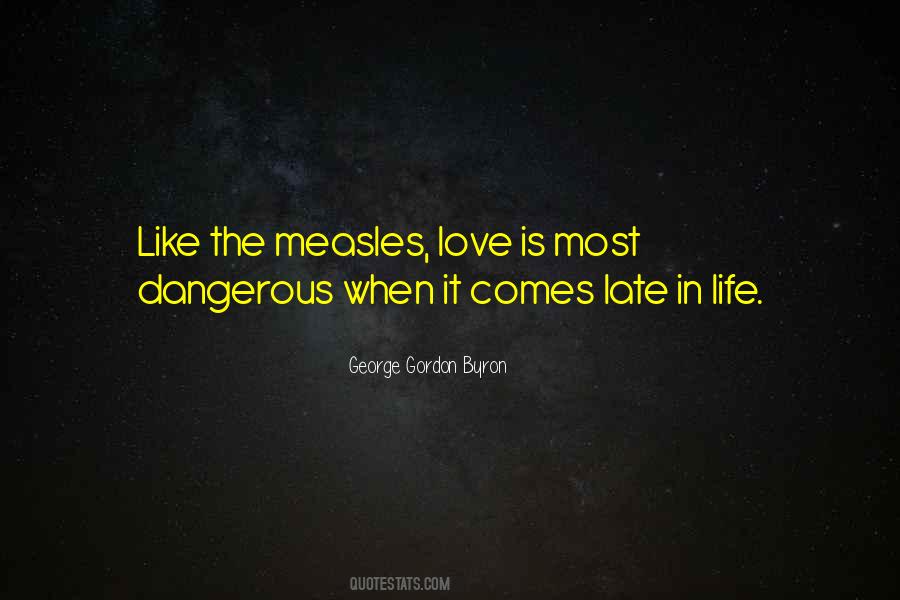 #99. All motives can be explained under the letter L: lust, lucre, loathing and love. They'll tell you the most dangerous is loathing but don't you believe it, boy; the most dangerous is love. - Author: P.D. James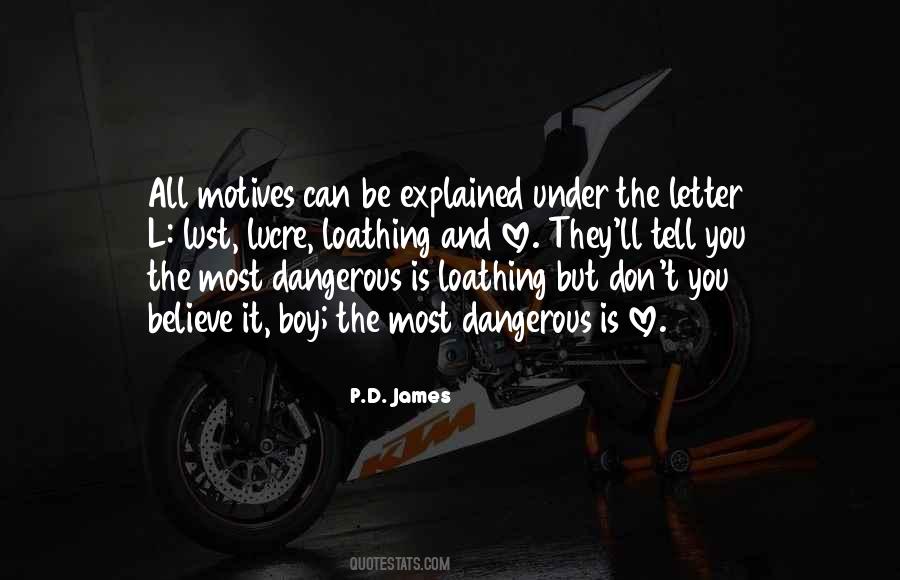 #100. Sometimes, I have to look twice at you just to see if you're actually real. That much beauty is dangerous. - Author: Skyla Madi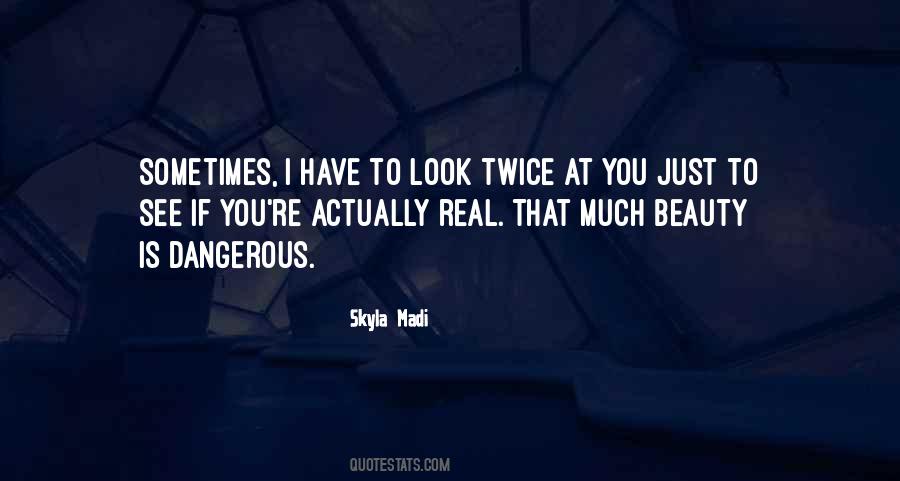 Famous Authors
Popular Topics