Love And Obedience Famous Quotes & Sayings
List of top 86 famous quotes and sayings about love and obedience to read and share with friends on your Facebook, Twitter, blogs.
Top 86 Quotes About Love And Obedience
#1. Every selfish, sinful, or indulgent choice I make today is sowing a seed that will reap a multiplied harvest. And every act of obedience is a seed that will produce a multiplied harvest of blessing in my life and in the lives of those I love. - Author: Nancy Leigh DeMoss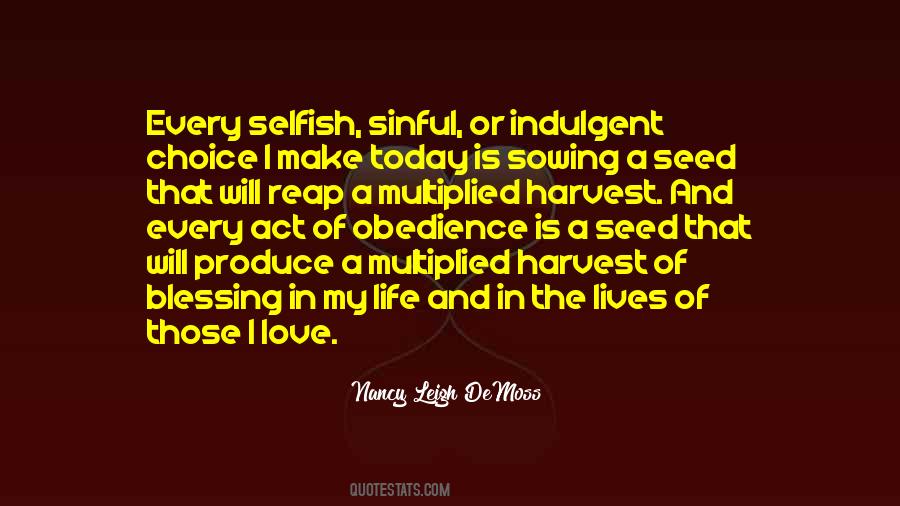 #2. The acid test of our love for God is obedience to His Word. The greatest ability is dependability. The test of your character is what it takes to stop you. Trust God as if it all depends upon Him, and work as if it all depends upon you. - Author: Bob Jones, Sr.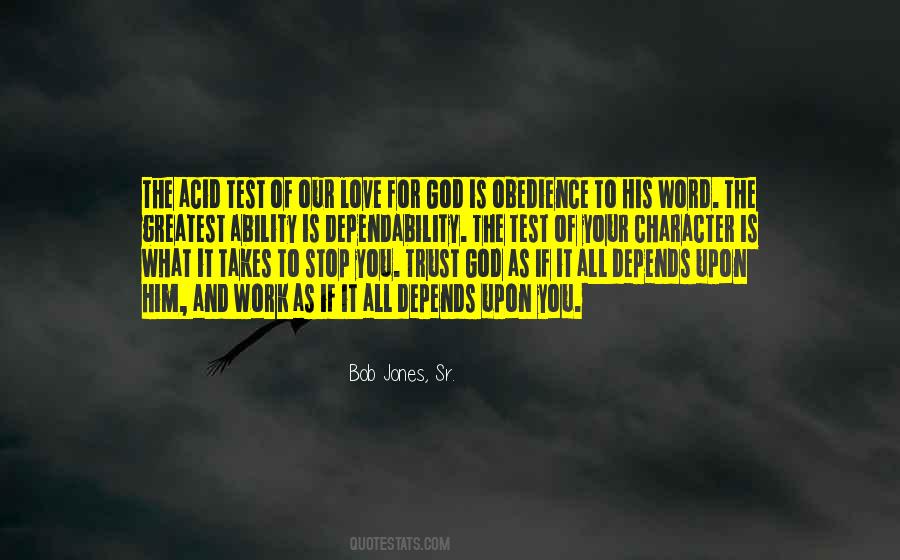 #3. Now then, you of noble mind, who love this profession, come at once to art and accept these precepts: enthusiasm , reverence, obedience, and perseverance. As soon as you can, place yourself under the guidance of a master, and remain with him as long as possible. - Author: Cennino Cennini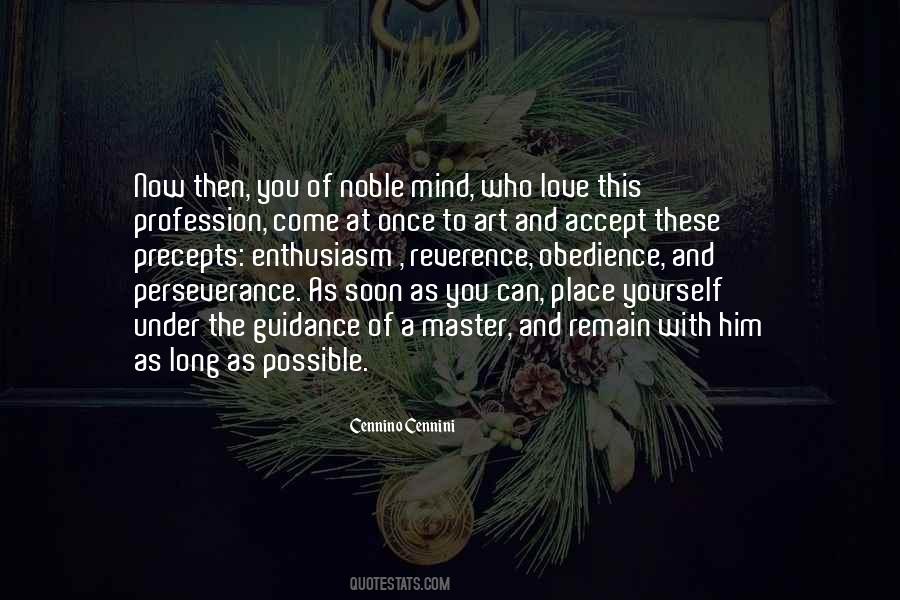 #4. In the Upper Room and on Calvary's hill, Jesus teaches us that the most important aspects of a well-lived life are love, humility and obedience. - Author: Joan Campbell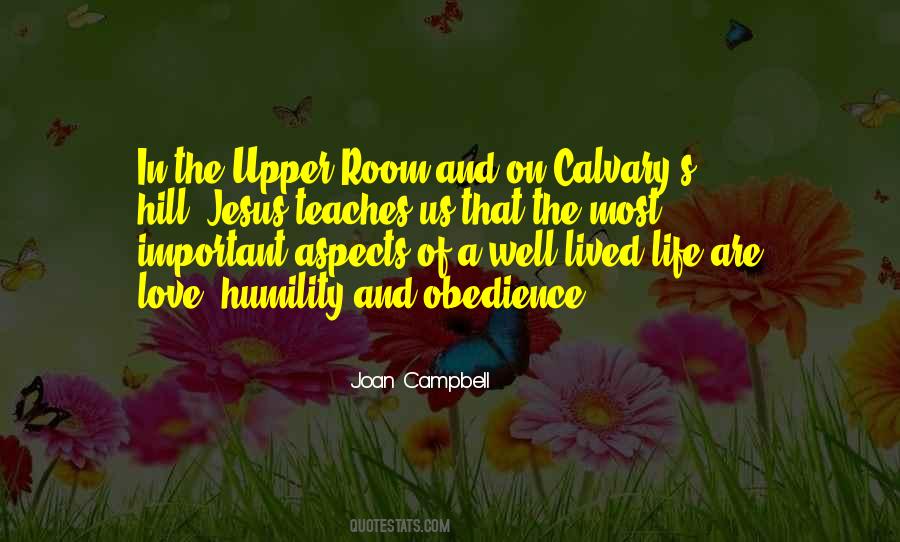 #5. The love of Christ is always there and unchanging, no matter what we do, but it is when we are obedient that we actually begin to feel it. - Author: Criss Jami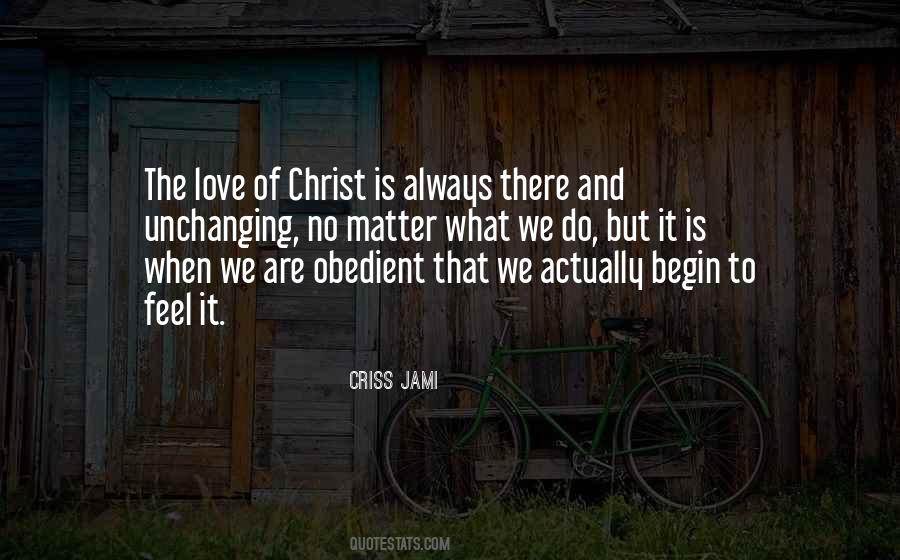 #6. If men would as fervently seek after love and righteousness as they do after opinions, there would be no strife on earth, and we should be as children of one father, and should need no law or ordinance. For God is not served by any law, but only by obedience. - Author: Jakob Bohme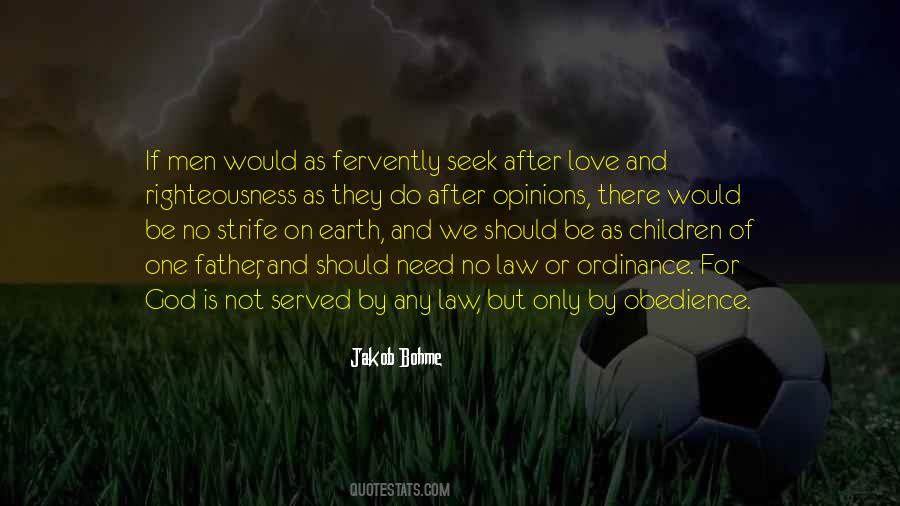 #7. Love naturally reverses the idea of obedience, and causes the struggle between any two who truly love each other to be, not who shall command, but who shall yield. - Author: Frances Power Cobbe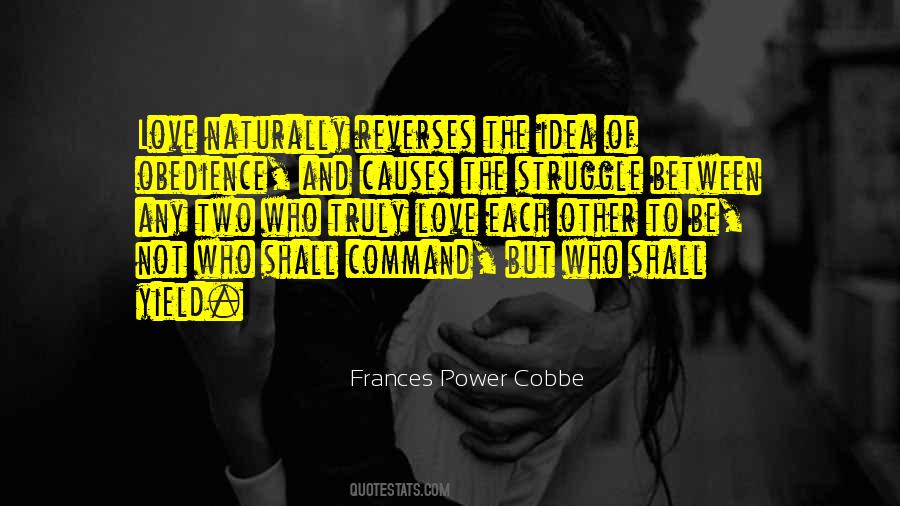 #8. Now it is easy to perceive that the moral part of love is a factitious sentiment, engendered by society, and cried up by the women with great care and address in order to establish their empire, and secure command to that sex which ought to obey. - Author: Jean-Jacques Rousseau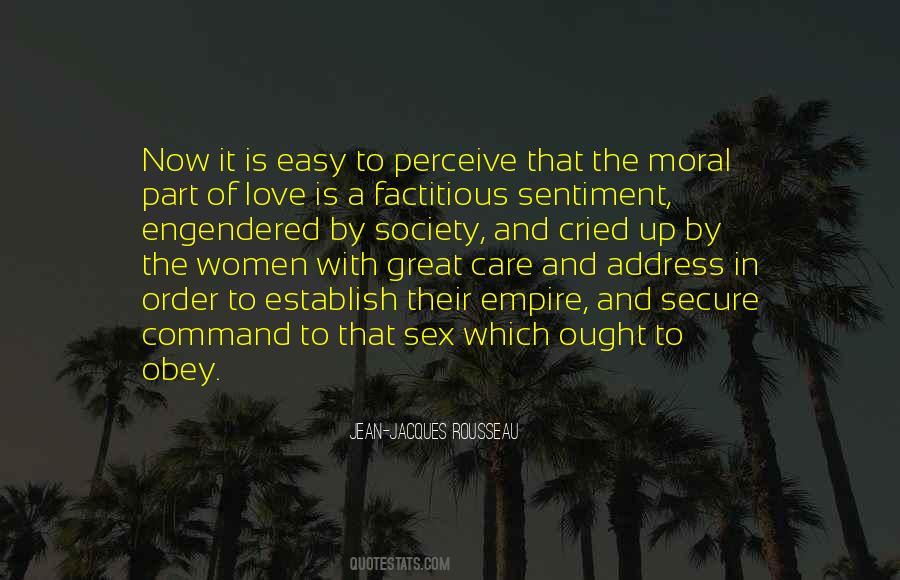 #9. When absolute control and rigid obedience pose as love within the family and the local faith-community , we produce trained cowards rather than Christian persons. - Author: Brennan Manning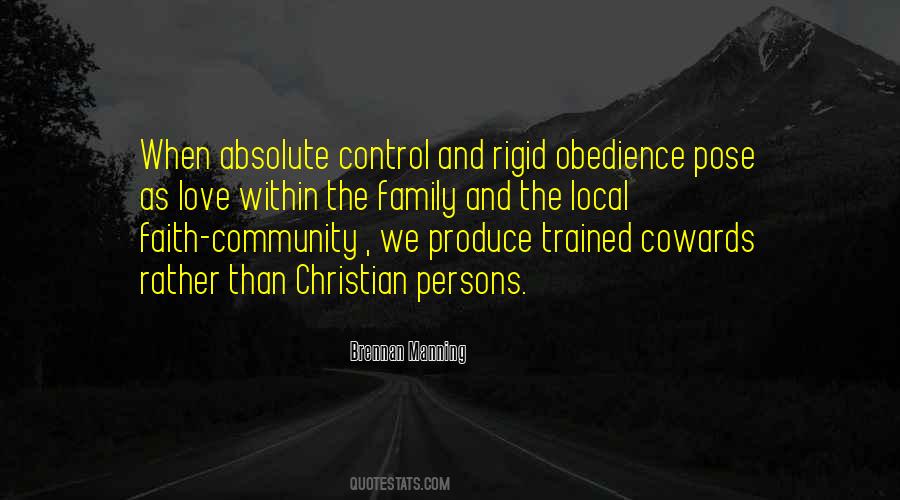 #10. Faith is the power, obedience is the price, love is the motive, the Spirit is the key and Christ is the reason. - Author: James E. Faust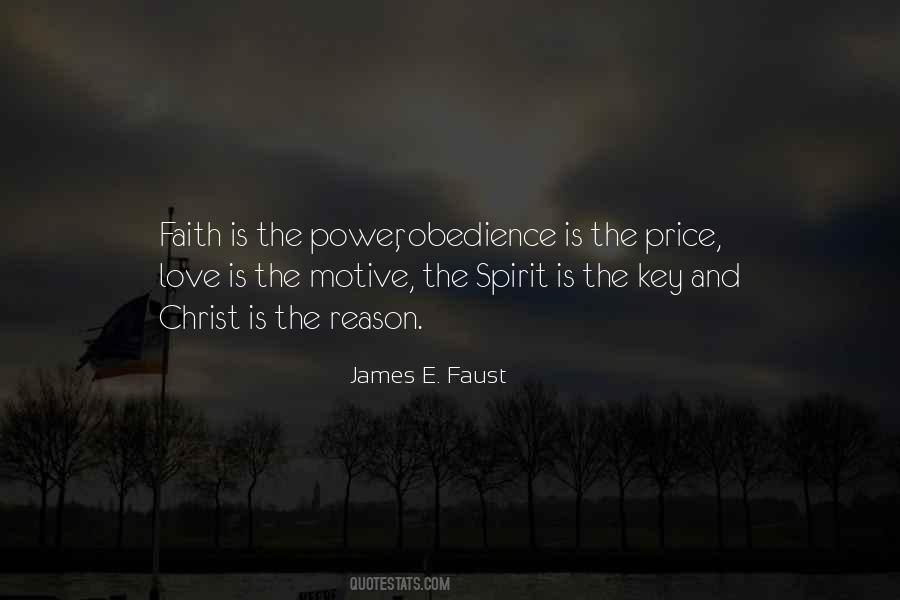 #11. No matter how many rules we make for ourselves, rules don't create godly relationships. Only leaning on our faithful Father and longing to please Him with everything we do will set the stage for a beautiful romance! - Author: Eric Ludy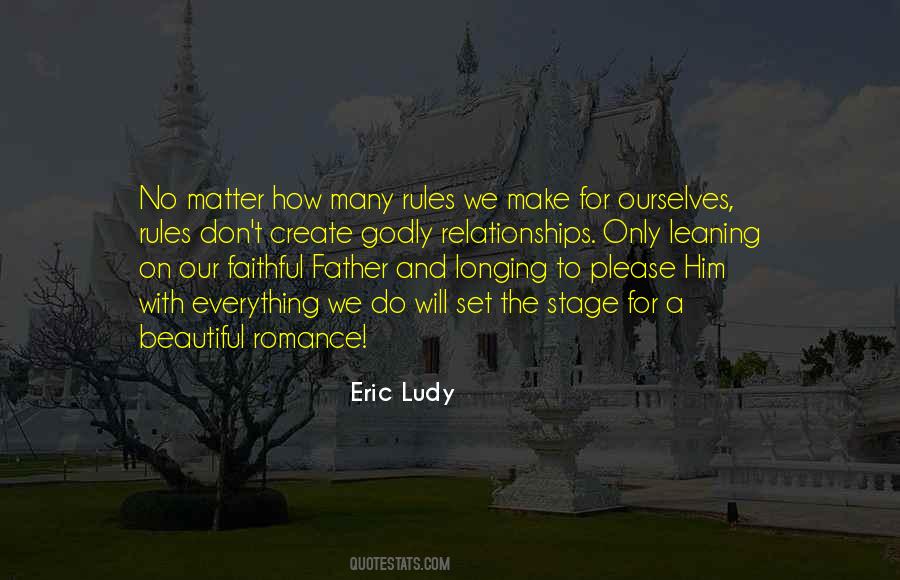 #12. Obedience appears to me more and more the whole business of life, the only road to love and peace. - Author: Philip Zaleski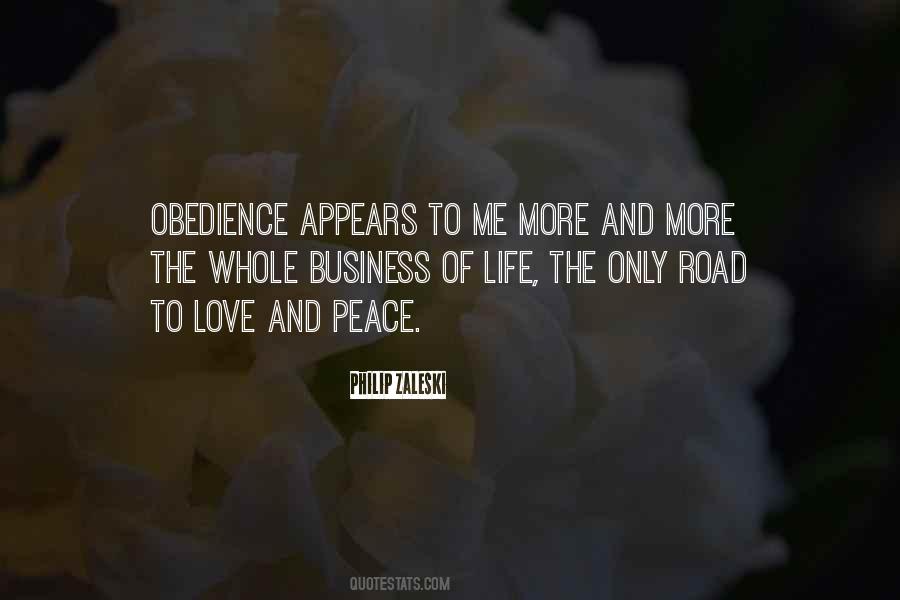 #13. Repentance, obedience, and spiritual growth bring feelings of love from God; and when we feel approved by God, we won't have to look for approval from others because we feel it from within. - Author: Dean M. Busby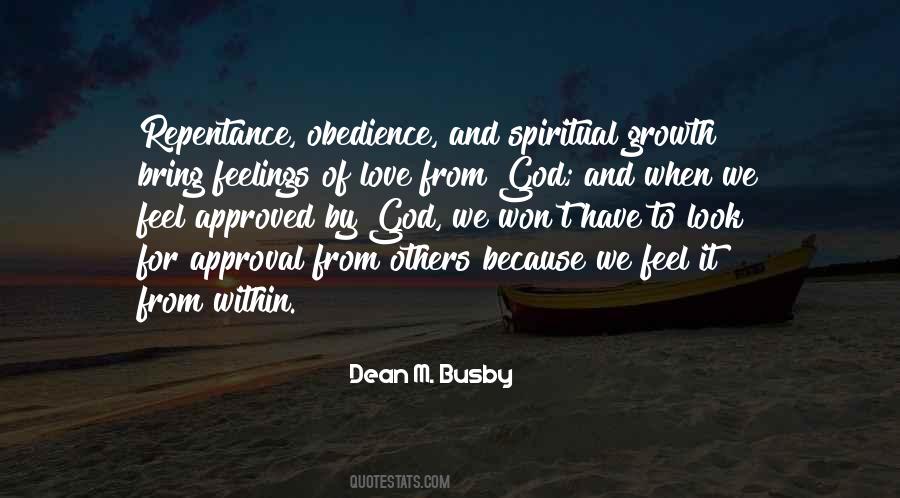 #14. Genuine believers are characterized by a deep love for Christ, and that love inevitably manifests itself in obedience. By contrast, those who do not love the Lord, either by what they say or how they live, evidence the fact that they do not belong to Him. - Author: John F. MacArthur Jr.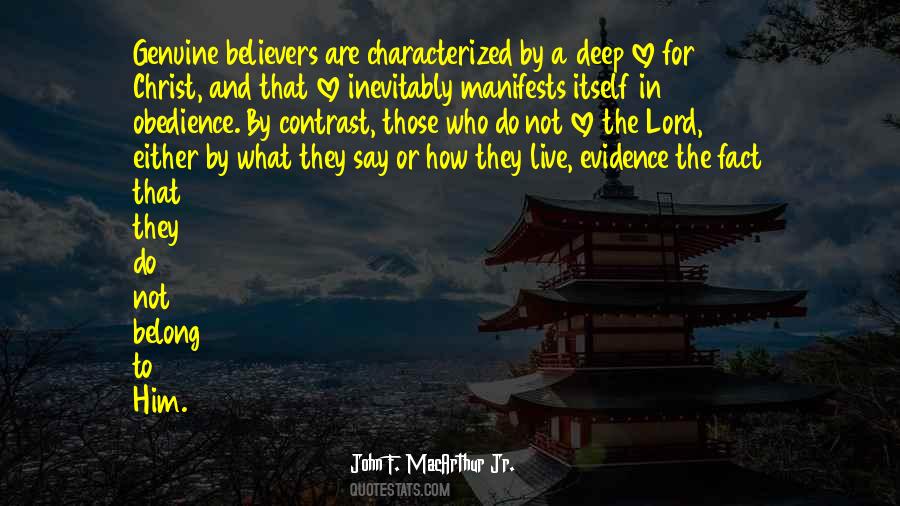 #15. Having confidence in your obedience, offers yourself confidence and love. - Author: Auliq Ice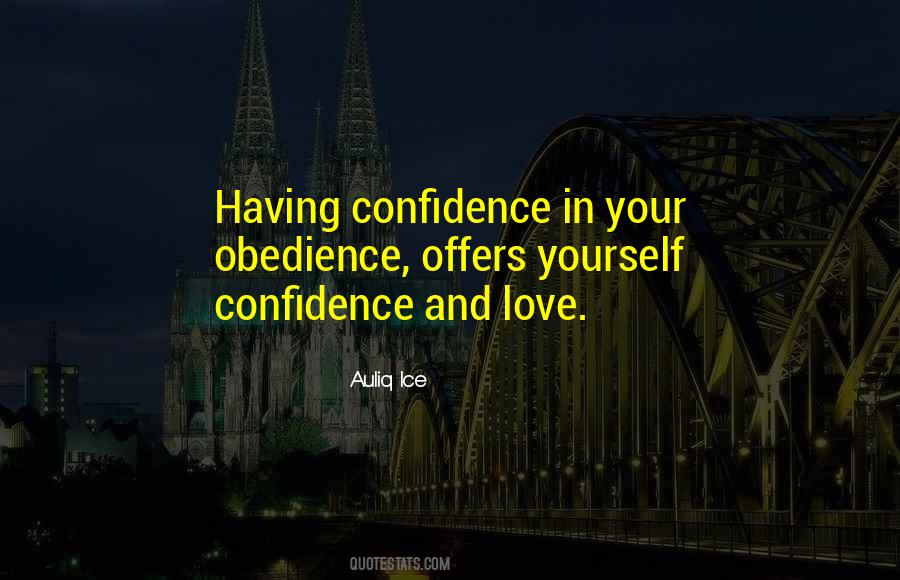 #16. Spirit of love and communion, give me grace to understand the mind of Christ. Let me do his will by obedience to the revelation of the Father's will that all of us be "one body." I cannot understand the depths of this mystery. Give me the grace to love it. - Author: The Merton Institute For Contemplative Living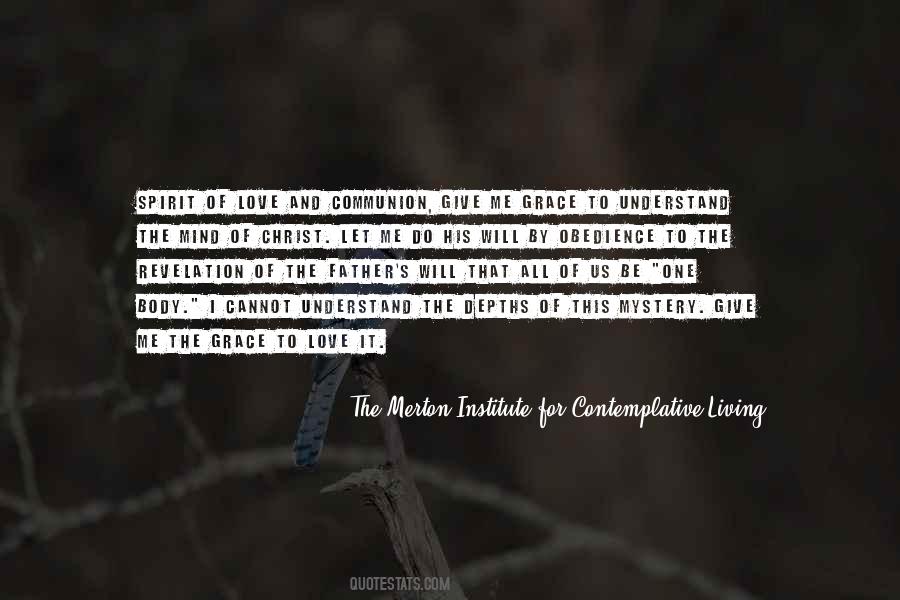 #17. She had to strive to make every thought obedient to the love of Christ whatever violent feelings churned within her. She had to take her every thought captive to the obedience of Christ and leave no room for anger and jealousy and thoughts of revenge. - Author: Francine Rivers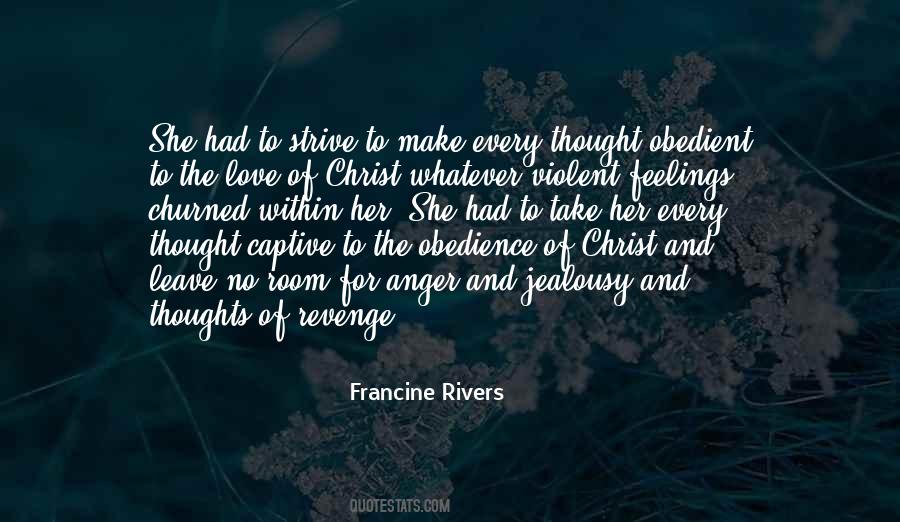 #18. Obedience is a consecration of the heart, chastity of the body, and poverty of all worldly goods to the Love and Service of God. Blessed indeed are the obedient, for God will never permit them to go astray. - Author: Saint Francis De Sales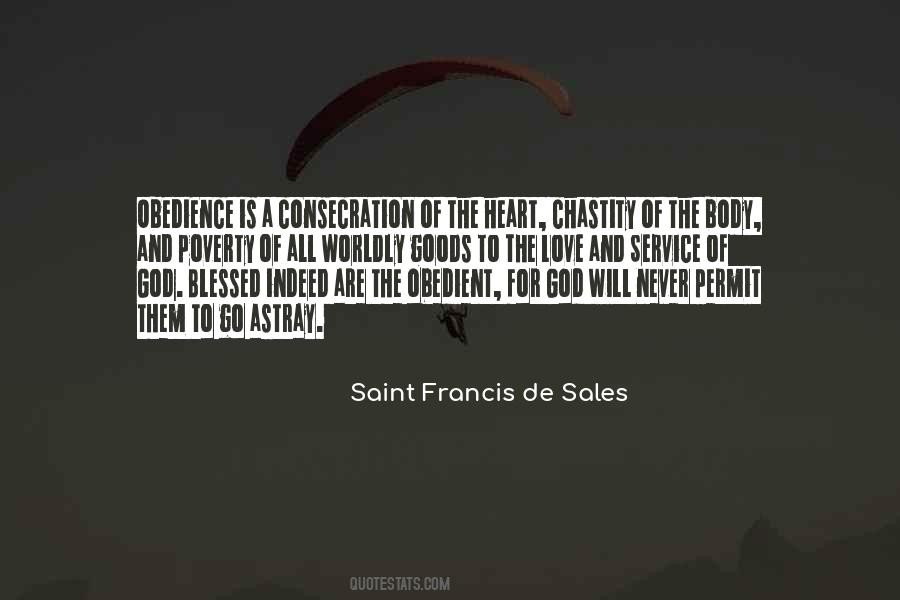 #19. We are all responsible to Jesus first, and then, under him, to various other persons and offices. Discerning the path of love and obedience when two or more of these submissive relationships collide is a call to humble, Bible-saturated, spiritual wisdom. - Author: John Piper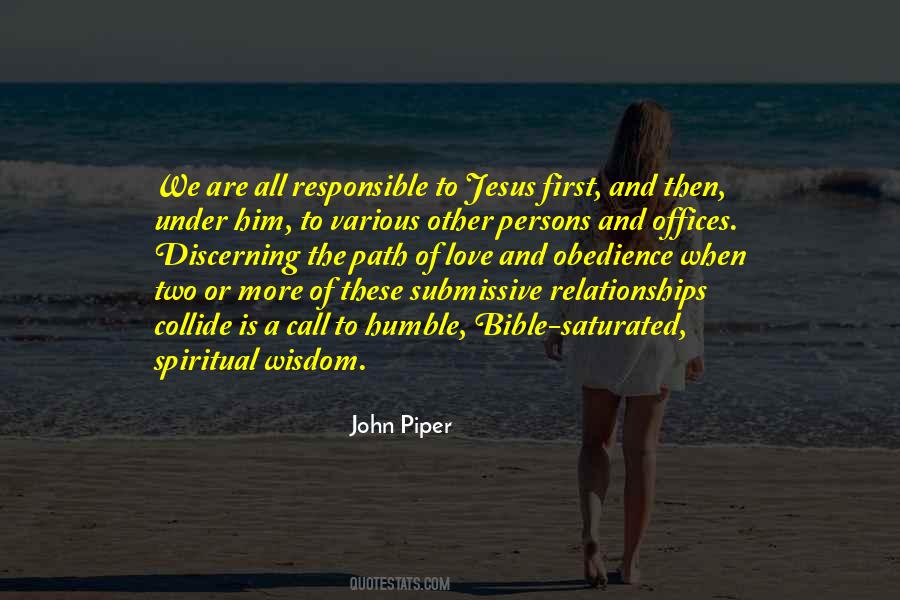 #20. Our Lord told His disciples that love and obedience were organically united. The final test of love is obedience. - Author: Aiden Wilson Tozer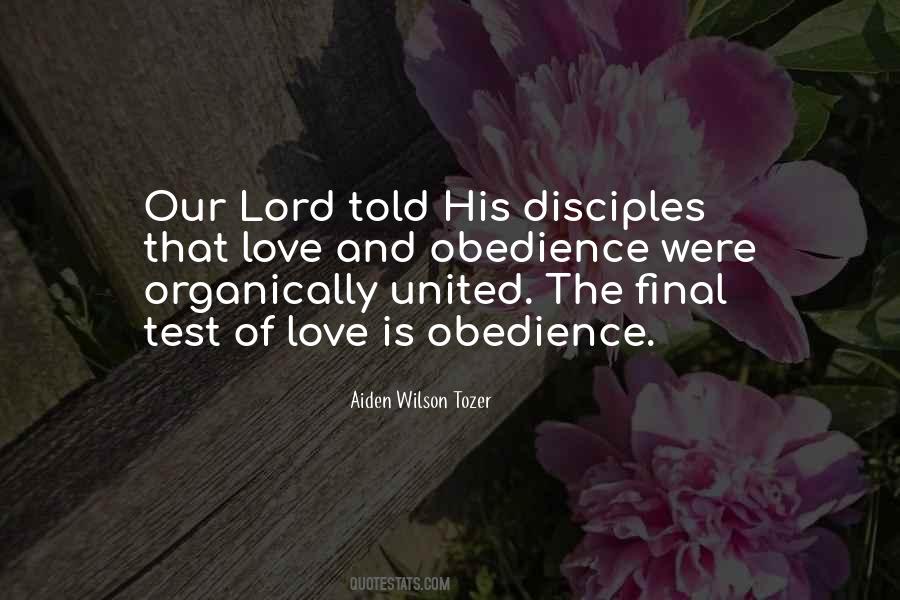 #21. As honour, love, obedience, troops of friends, / I must not look to have; but, in their stead, / Curses, not loud but deep, mouth-honour, breath, / Which the poor heart would fain deny, and dare not (5.3.25-28). - Author: William Shakespeare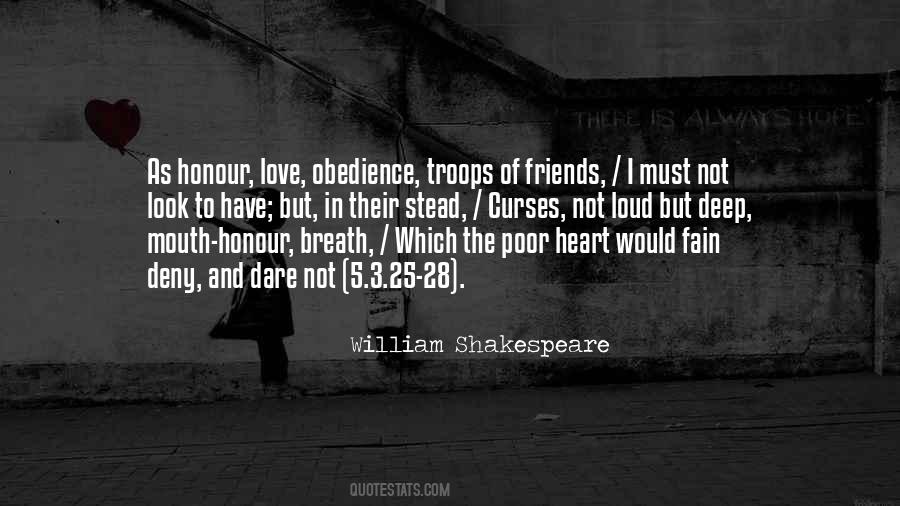 #22. Our obedience to God's commandments comes as a natural outgrowth of our endless love and gratitude for the goodness of God. - Author: Dieter F. Uchtdorf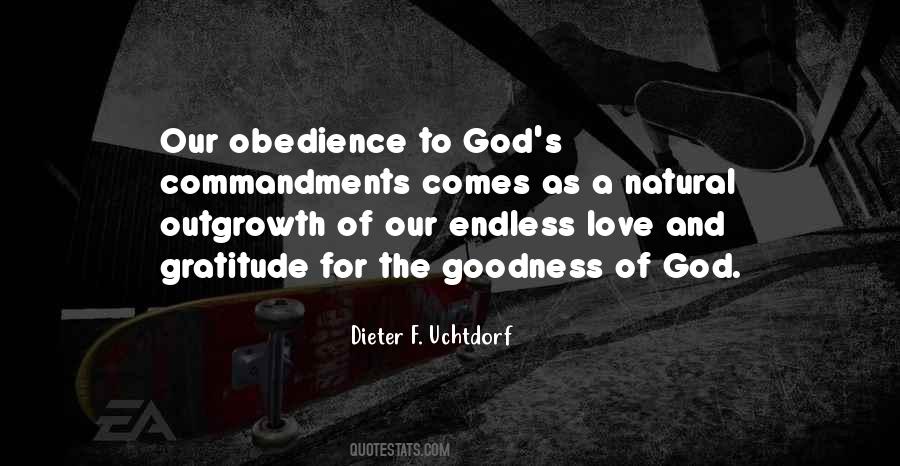 #23. Obedience to God is the most infallible evidence of sincere and supreme love to him. - Author: Nathanael Emmons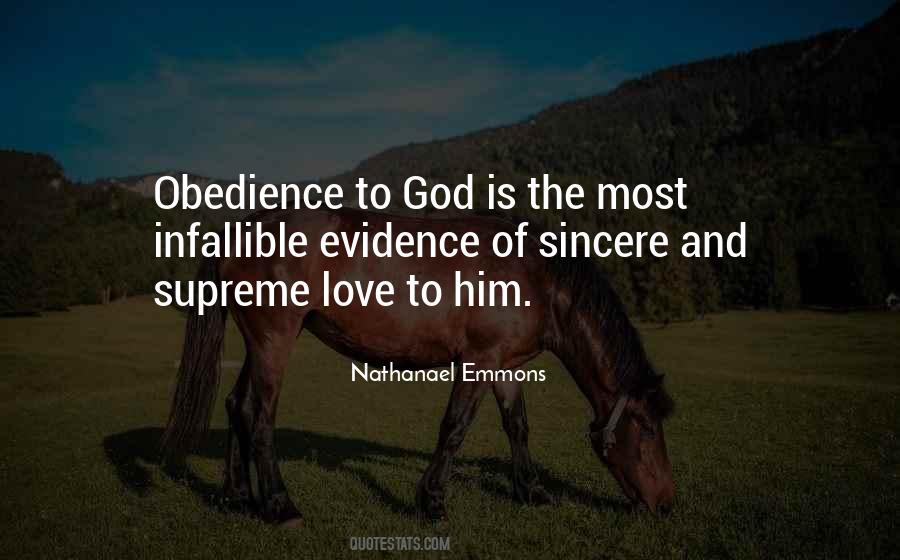 #24. The wife's submission is not a matter of superior versus inferior; rather, it is self-imposed as a matter of obedience to the Lord and of love for her husband. - Author: Steve Pearce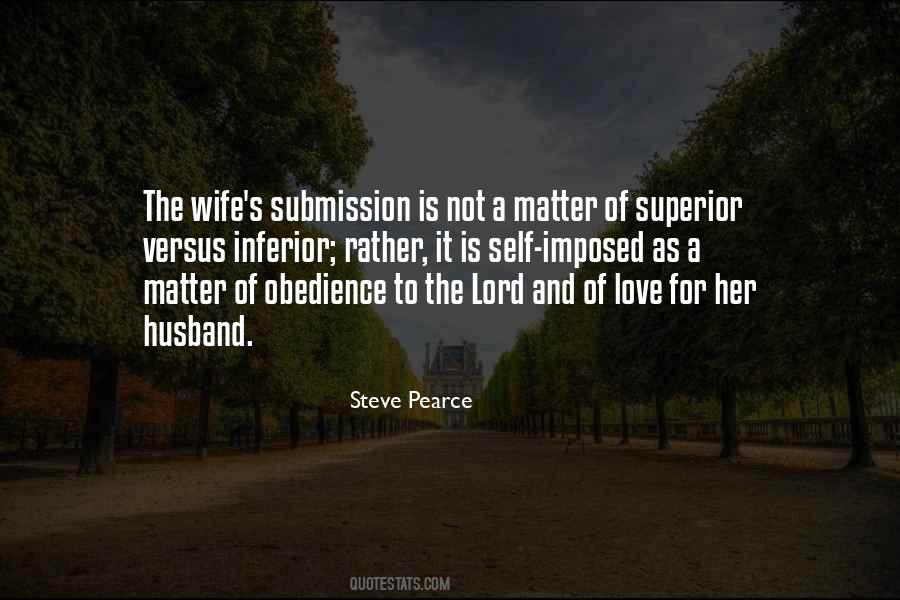 #25. It is much safer to be subject than it is to command. Many live in obedience more from necessity than from love. Such become discontented and dejected on the slightest pretext; they will never gain peace of mind unless they subject themselves wholeheartedly for the love of God. - Author: Thomas A Kempis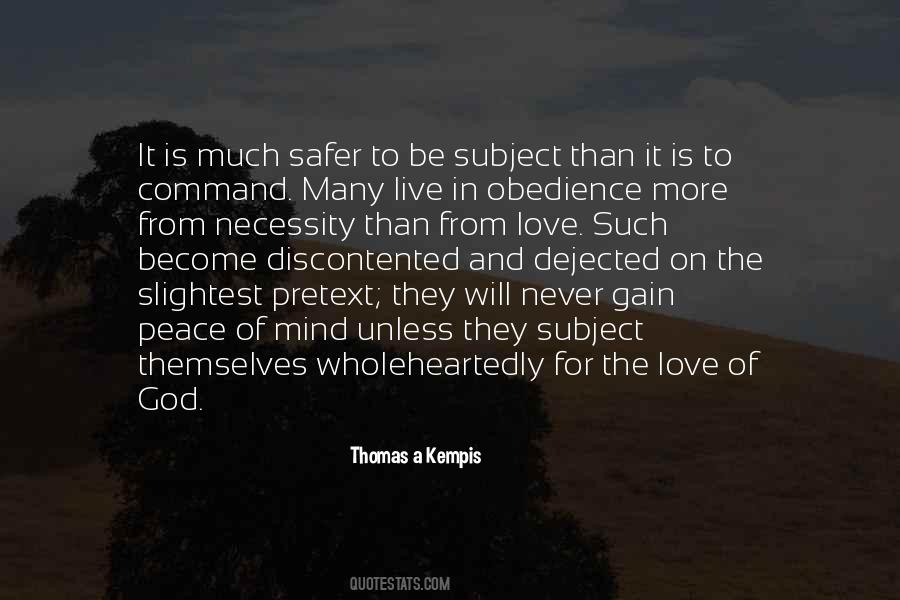 #26. Our love for Christ is more important to Him than all of our service to Him. Strict obedience and serveice are not enough. Love for Jesus must come first. - Author: Anne Graham Lotz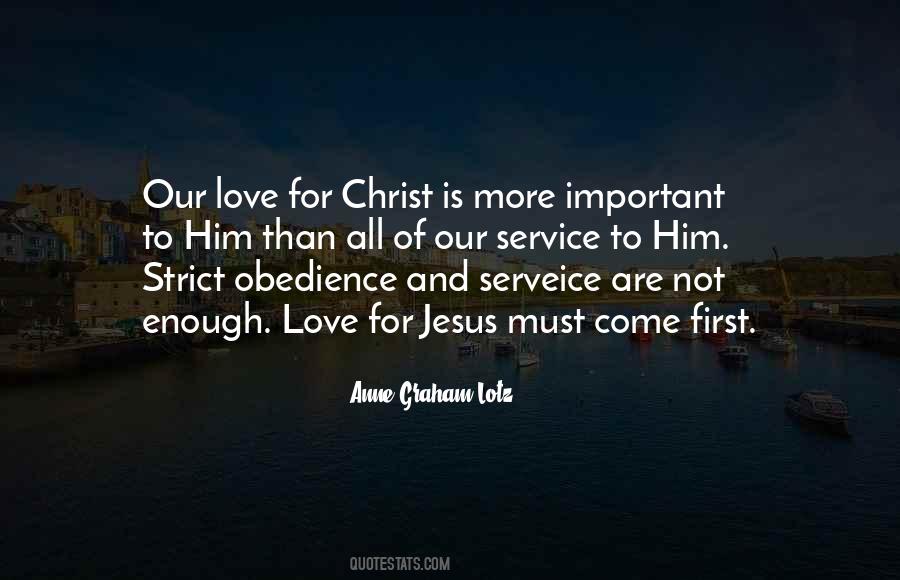 #27. We express true love in obedience to God and service to others- not reckless or selfish behavior- and we choose these behaviors. - Author: Joshua Harris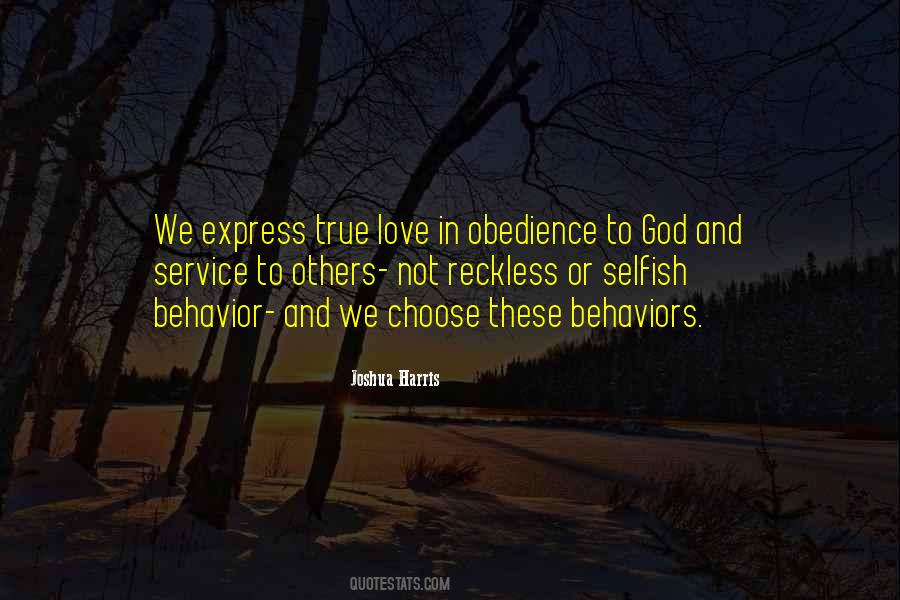 #28. Being an extrovert isn't essential to evangelism - obedience and love are. - Author: Rebecca Pippert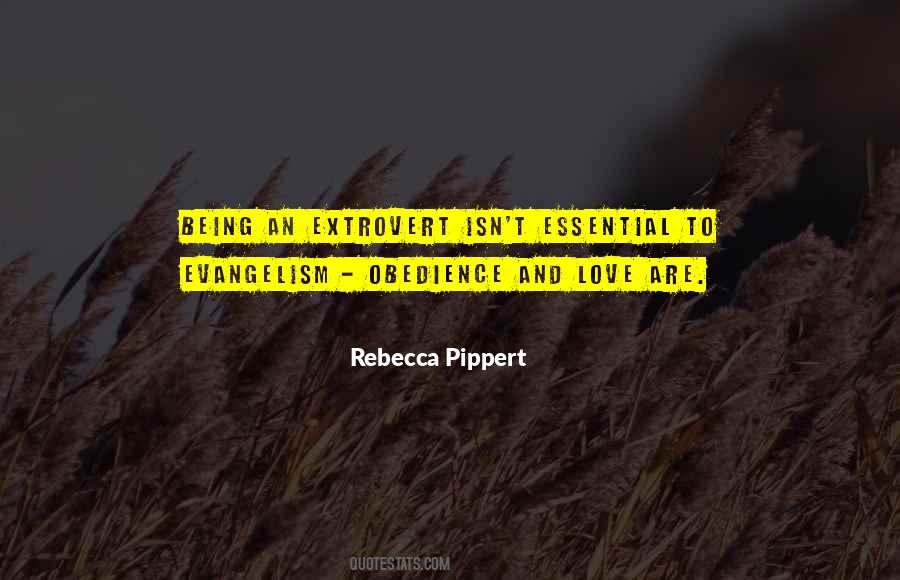 #29. We often do not yield ourselves to God in obedience to His commandment to love our fellow men with Christ's love. What if that love should flow out to all around, even to those who hate us? This would require much grace and cost us time and trouble and serious prayer. - Author: Andrew Murray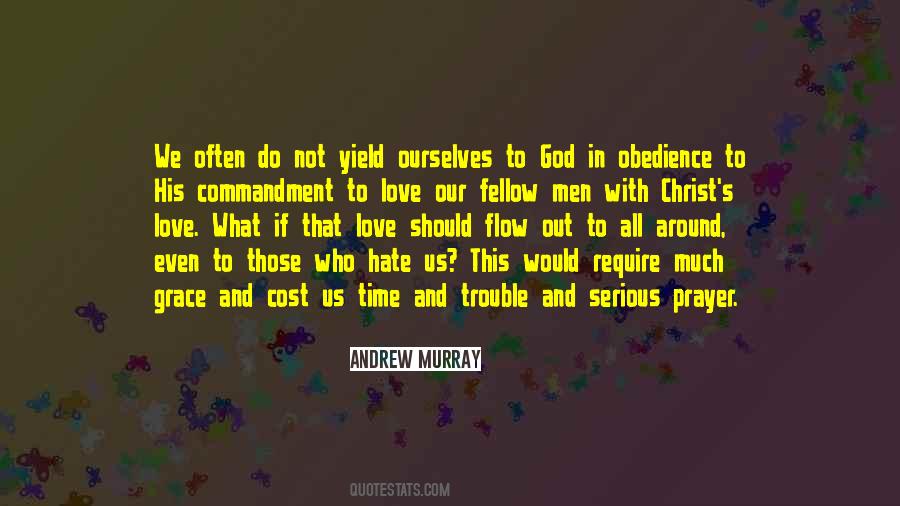 #30. Freedom involves trust and obedience inside a relationship of love. - Author: Wm. Paul Young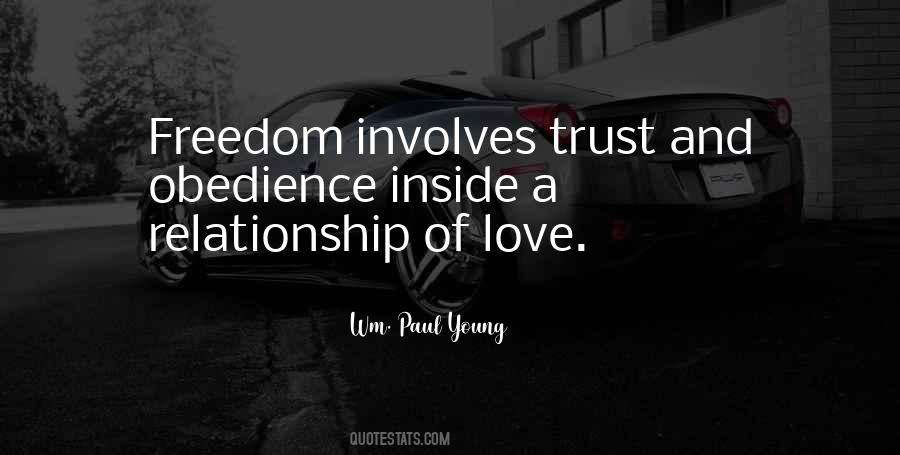 #31. I have lived long enough. My way of life is to fall into the sere, the yellow leaf, and that which should accompany old age, as honor, love, obedience, troops of friends I must not look to have. - Author: William Shakespeare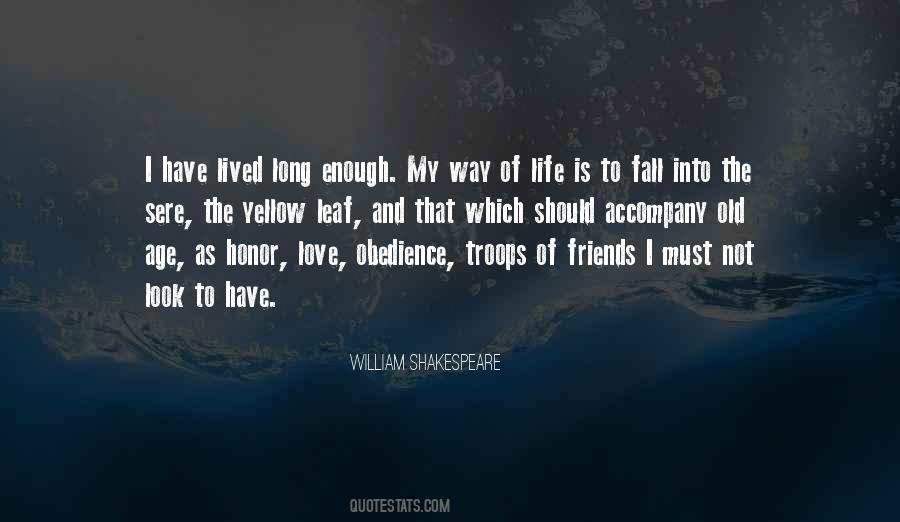 #32. When love burns toward the Savior a sincere passion to render obedience to all of His precepts is our desire, our delight and our holy obsession. - Author: Albert Martin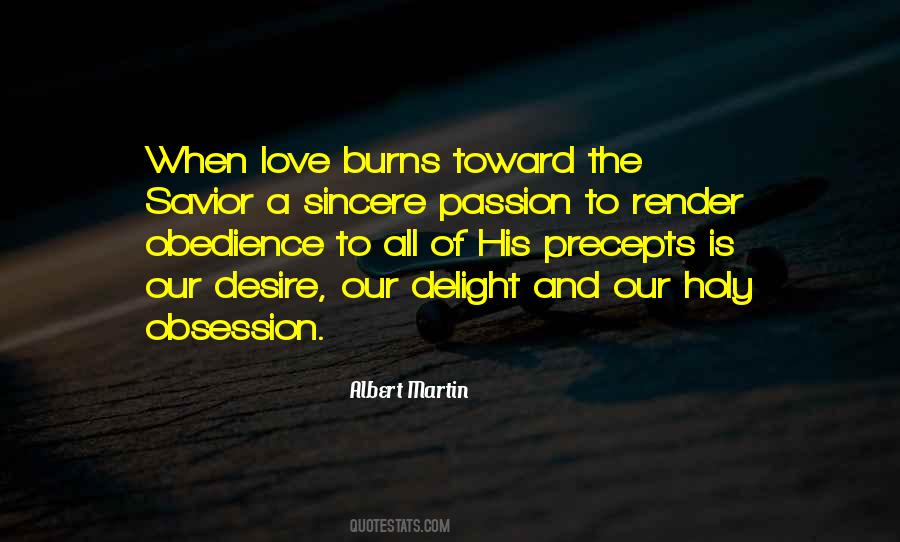 #33. A joyful person is one who deals daily with their problems, faithfully and obediently counting their trials as joy. - Author: Elizabeth George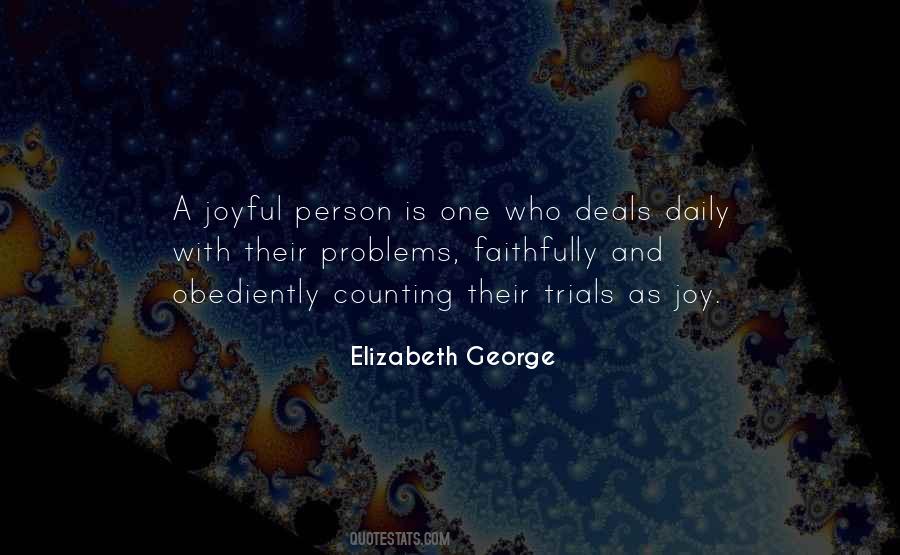 #34. The fact is that sin is the most unmanly thing in God's world. You never were made for sin and selfishness. You were made for love and obedience. - Author: J.G. Holland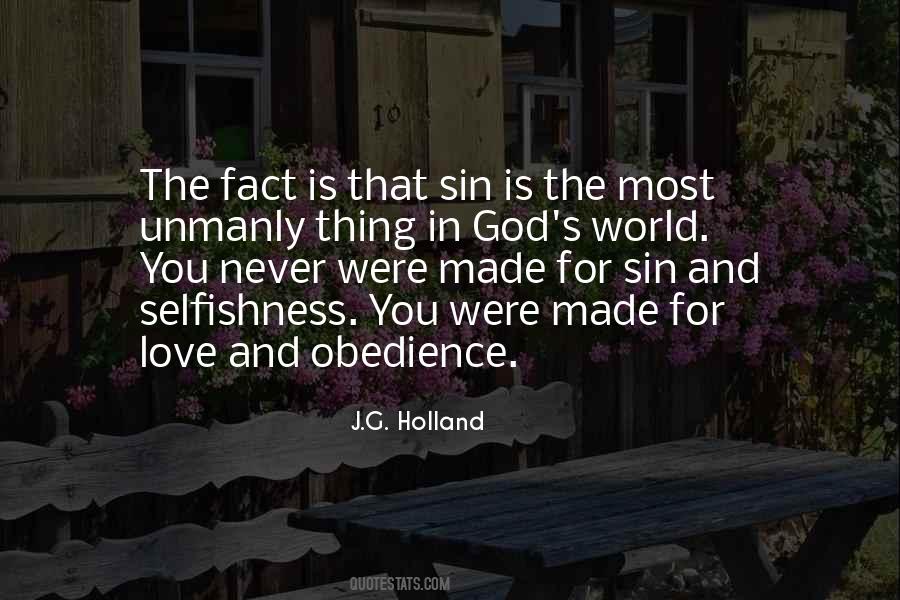 #35. God seeks comrades and claims love,
The devil seeks slaves and claims obedience. - Author: Rabindranath Tagore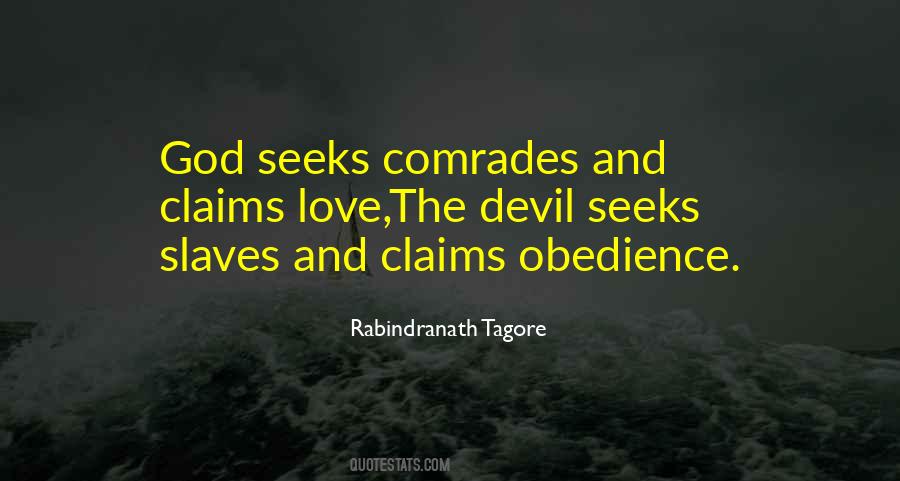 #36. Both fear and love might cause obedience, but only love causes joy. - Author: Jefferson Bethke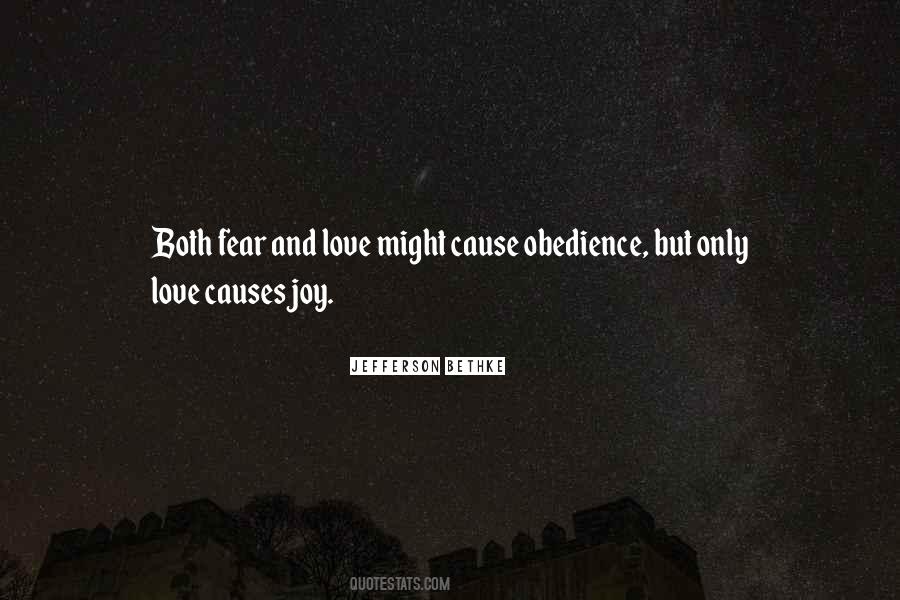 #37. Let it ever be remembered that genuine faith in Christ will ever be productive of good works; for this faith worketh by love, as the apostle says, and love to God always produces obedience to his holy laws. - Author: Adam Clarke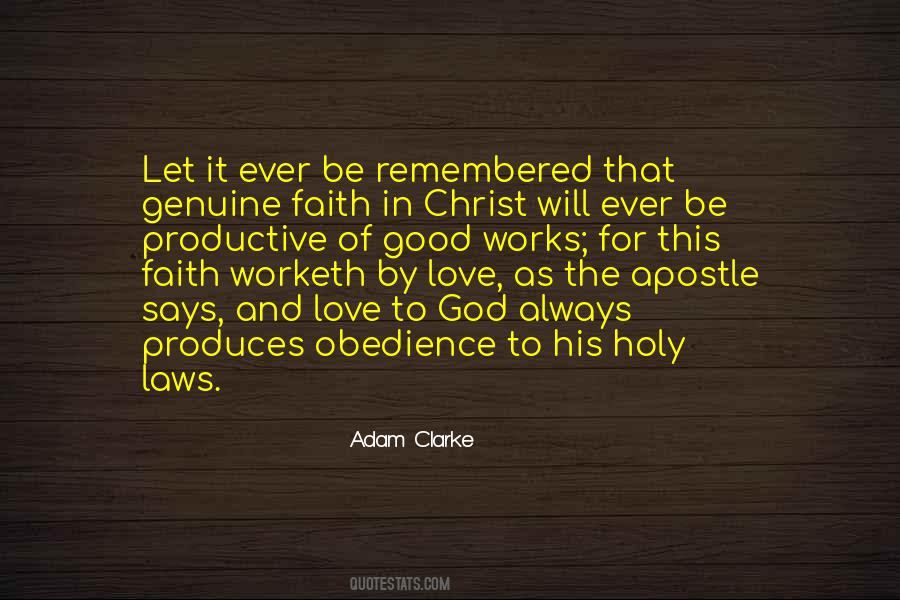 #38. God hates sin not because he wants us to be good little boys and girls, but because he knows sin destroys that which he loves most: sinners. - Author: Criss Jami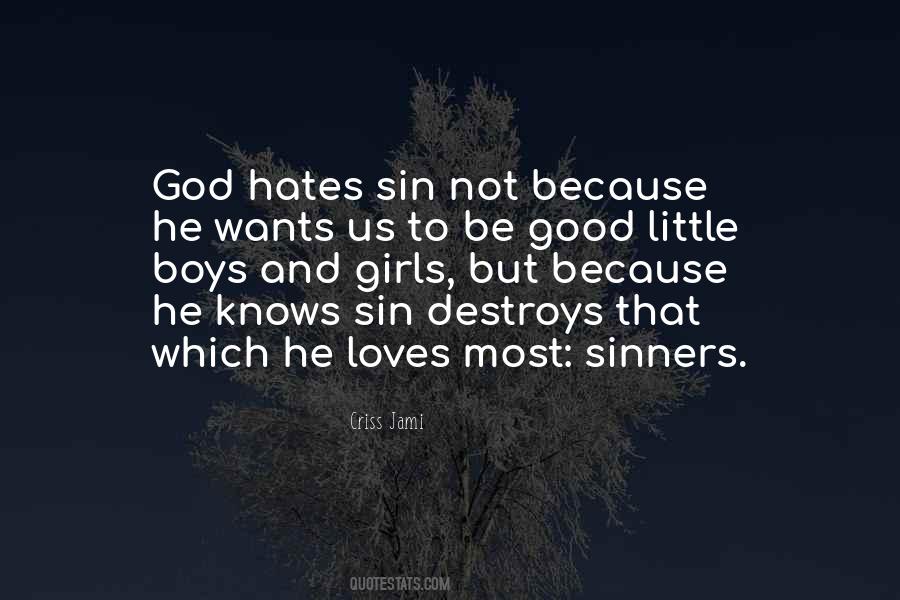 #39. We can use marriage for the same purpose - to grow in our service, obedience, character, pursuit, and love of God. - Author: Gary L. Thomas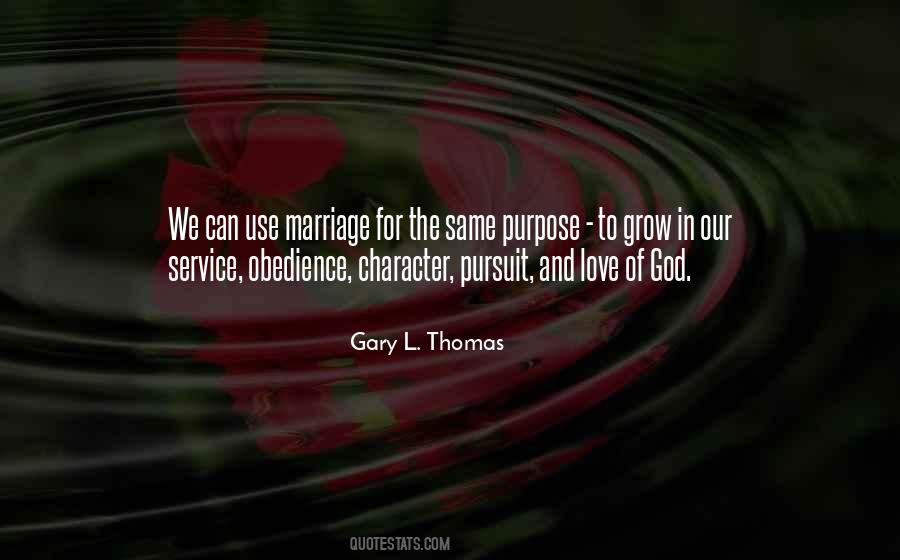 #40. Choose your Path "Be very careful . . . to love the Lord your God, to walk in obedience to him, to keep his commands, to hold fast to him and to serve him with all your heart and with all your soul." - Joshua 22:5 - Author: Doug Marsh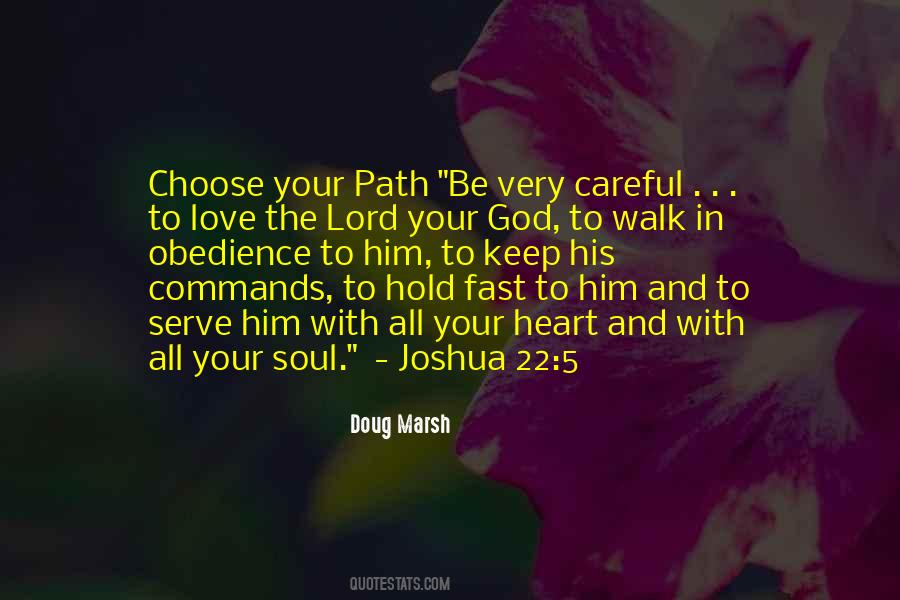 #41. I want each one of my children to be a hundred times greater than I could ever be. Everyone of you must be a giant- must, that is my word. Obedience, readiness, and love for the cause- if you have these three, nothing can hold you back. - Author: Swami Vivekananda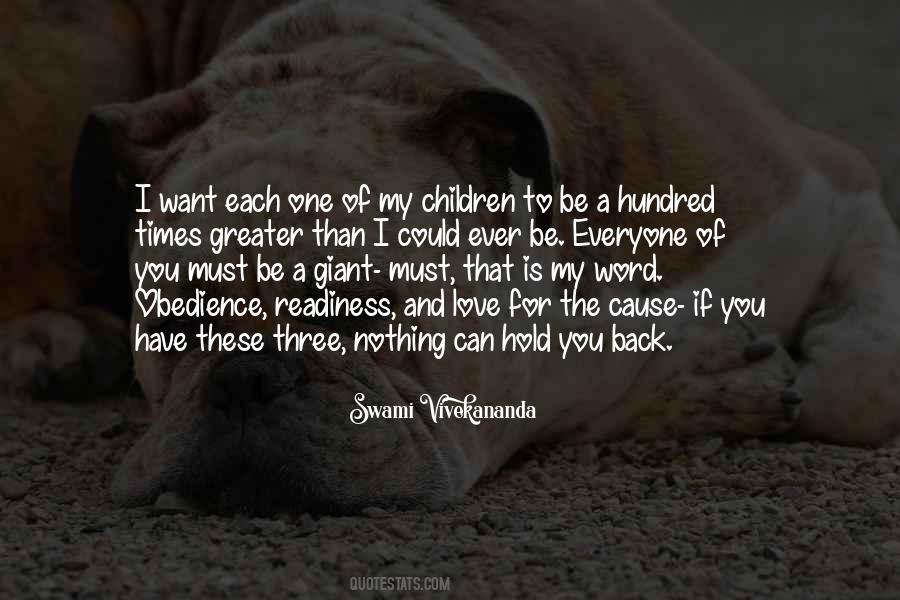 #42. Submission is not about authority and it is not obedience; it is all about relationships of love and respect. - Author: Wm. Paul Young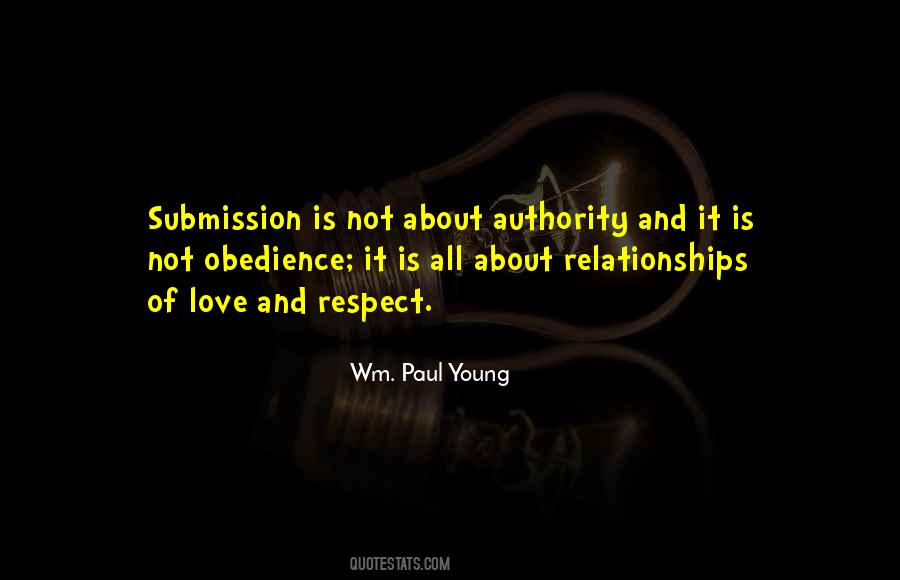 #43. There is a road to freedom. Its milestones are obedience, endeavour, honesty, order, cleanliness, sobriety, truthfulness, sacrifice, and love of the fatherland. - Author: Adolf Hitler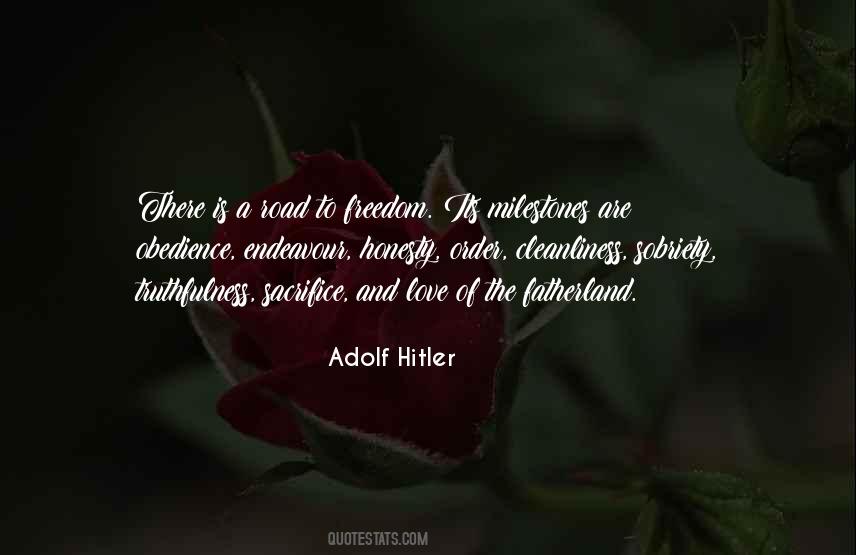 #44. Love for God is obedience; love for God is holiness. To love God and to love man is to be conformed to the image of Christ, and this is salvation. - Author: Charles Haddon Spurgeon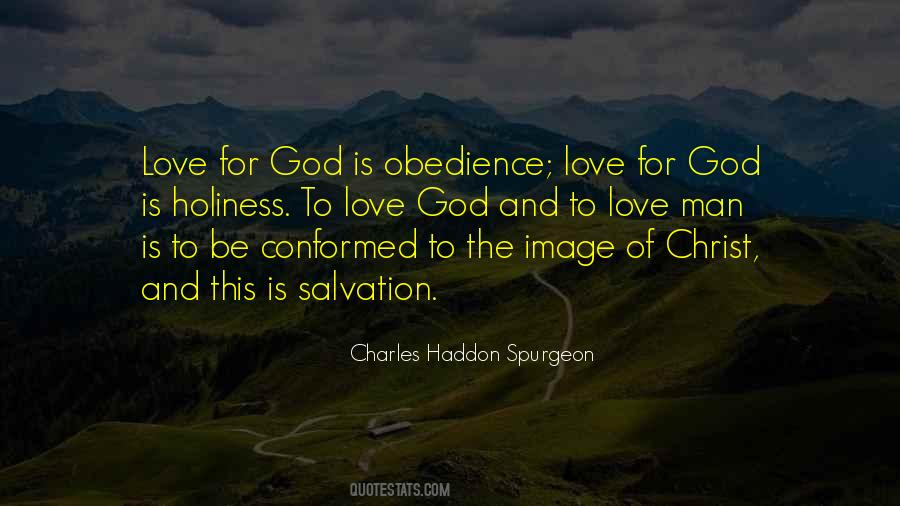 #45. In fact, there is no such thing as grudging obedience. For an action to be truly obedient to God, it must be done from a motivation of genuine love and gratitude to Him. - Author: Jerry Bridges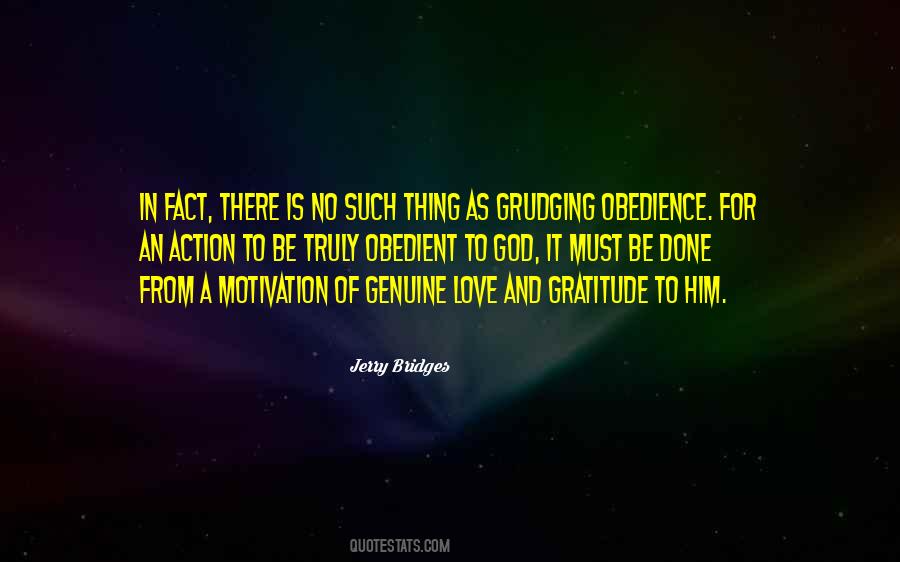 #46. Love is not just a sentiment. Love is a great controlling passion and it always expresses itself in terms of obedience. - Author: Martyn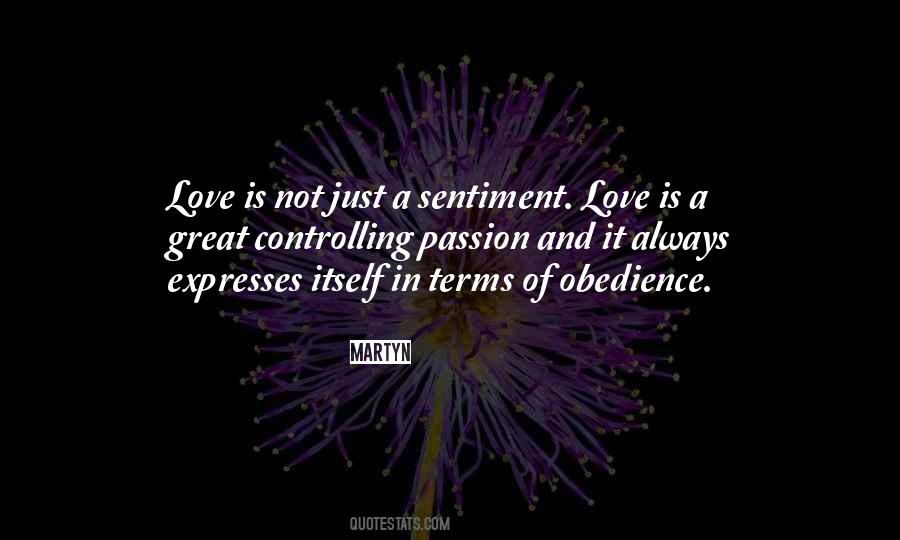 #47. The whip degrades; a severe father teaches his children to dissemble; their love is pretense, and their obedience a species of self-defense. Fear is the father of lies. - Author: Robert Green Ingersoll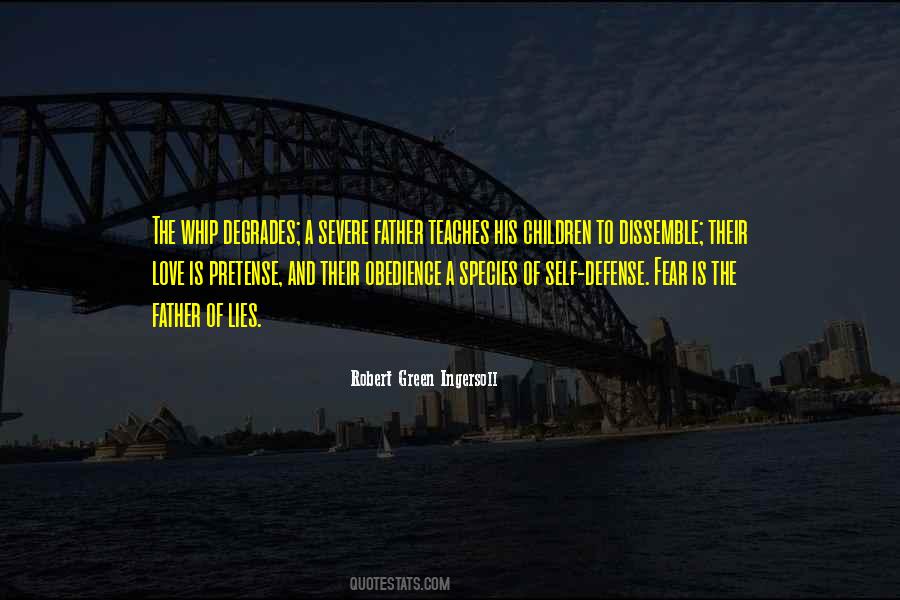 #48. Ultimately we have nothing to fear. Jesus loves us, and he invites us to be confident in that love. As we seek to obey Him, we are not called to assess the risk involved and determine whether or not obedience will be beneficial or safe for us. We are simply called to trust and obey. - Author: Dan Baumann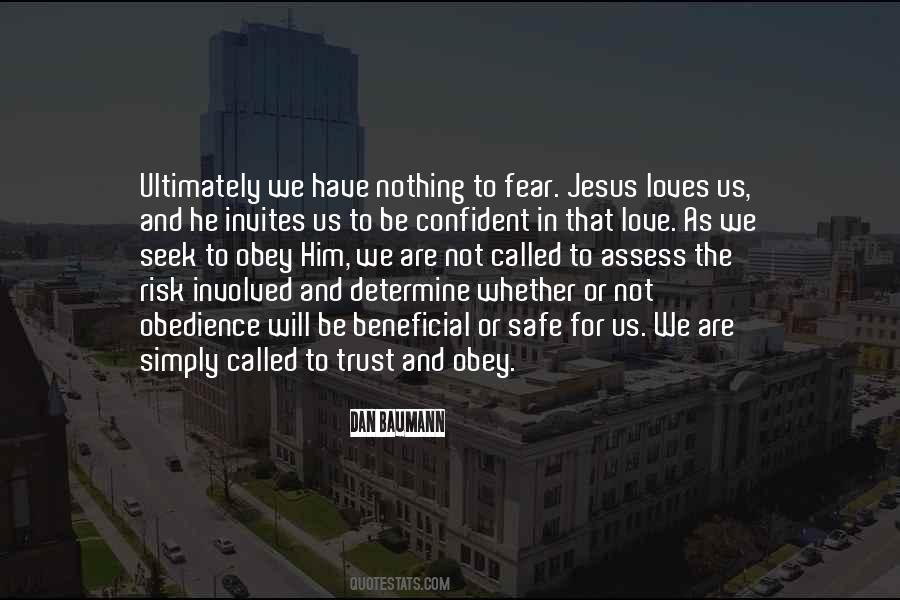 #49. What does it mean to fear the Lord? It means to have awe and reverence for him. The woman who fears the Lord obeys from a heart of love for the God of the universe, who is also her heavenly Father! Her childlike fear of her heavenly Father leads her to faithful and faith-filled obedience. - Author: Kimberly Hahn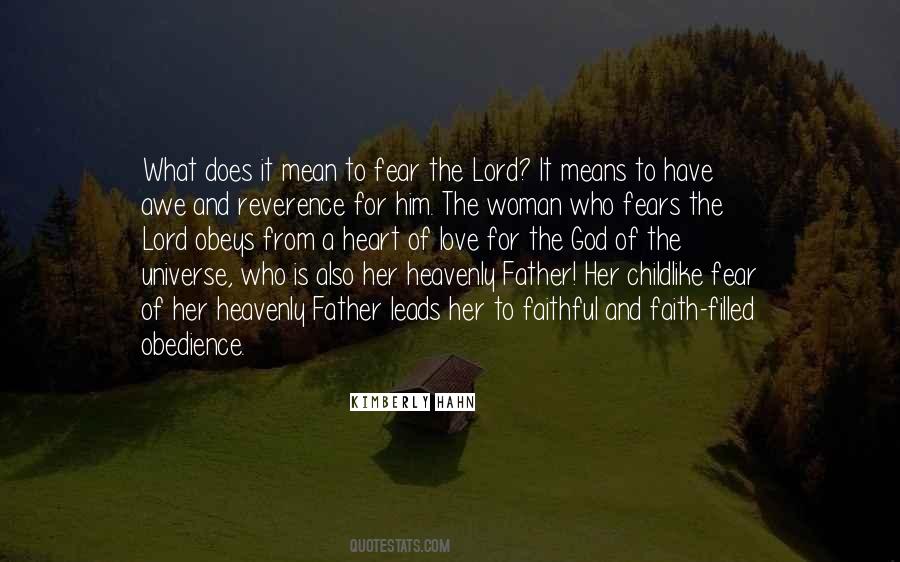 #50. Morality is something we achieve, while righteousness is something we receive. God makes us right because of Jesus, and our love and obedience to Him is empowered and accomplished through Christ. - Author: Jennie Allen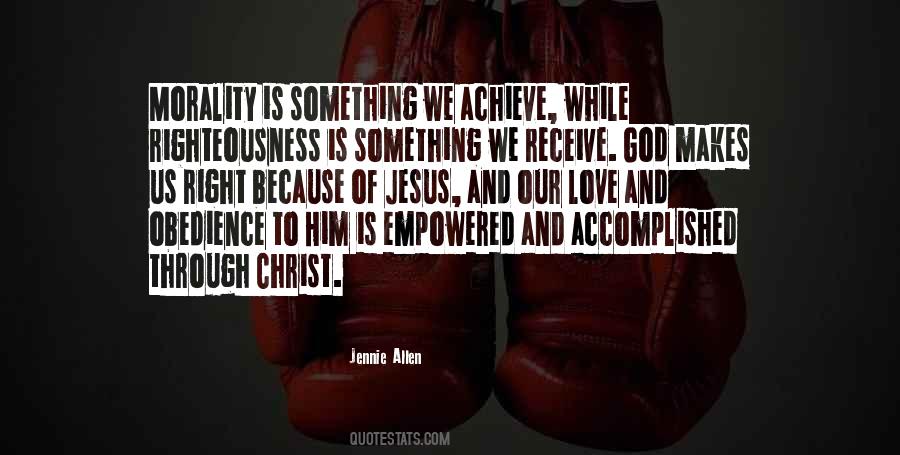 #51. Move from an earthly mindset that makes us bristle at the thought of submission to a joyful expectation of good, we must focus on the One who is leading. We must look at the full spectrum of His love, grace, and wisdom. - Author: Amy Layne Litzelman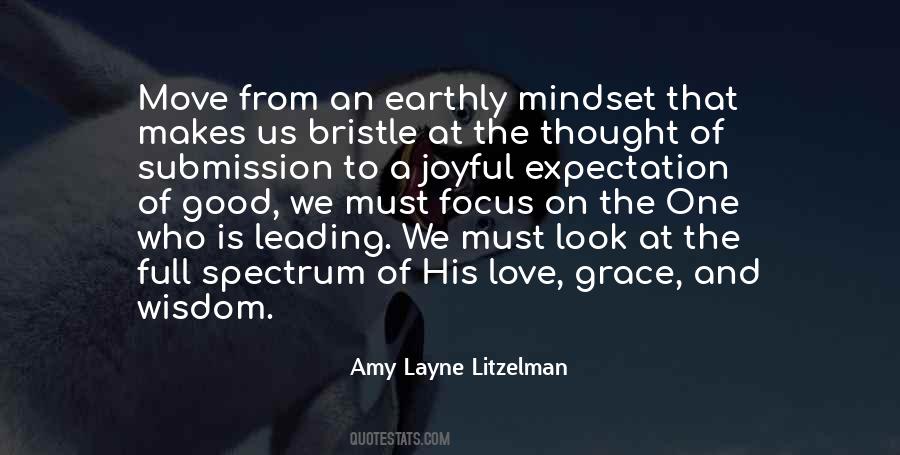 #52. The full flower of divine love and our greatest blessings from that love are conditional-predicated upon our obedience to eternal law. I pray that we may qualify for those blessings and rejoice forever. - Author: Russell M. Nelson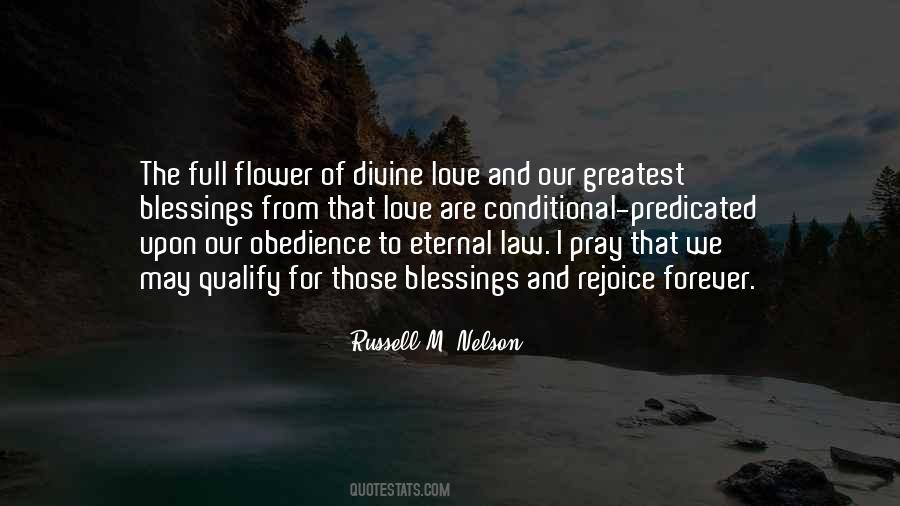 #53. All those people who rejected me gave me a head-start on freedom, because the fear and obedience we are all taught, well, those things weren't getting me any love. - Author: Ariel Gore
#54. I stared at him and, for the first time, I felt like I was really seeing him. He didn't love me. He used the word love like a weapon, as a means of control, as a way to ensure my blind obedience. He made it ugly. He - Author: Penny Reid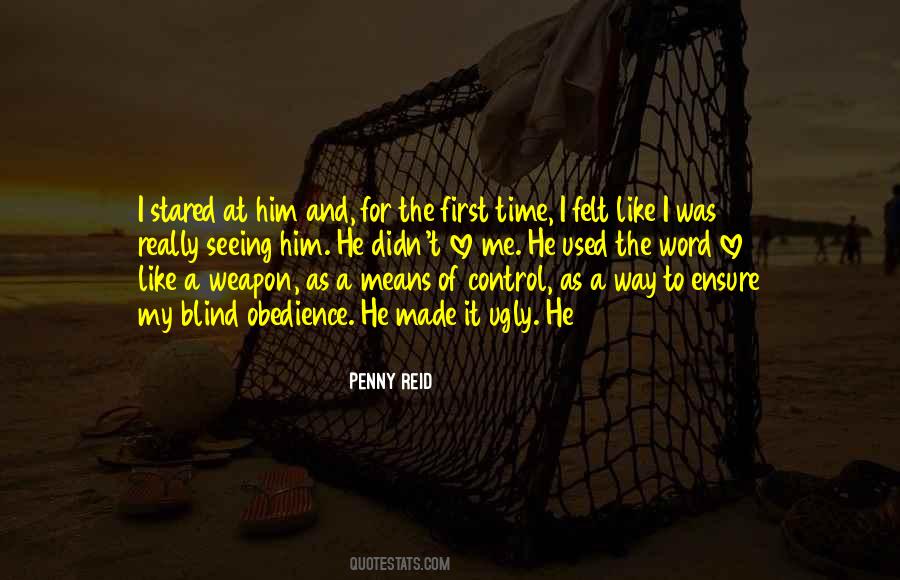 #55. Obedience does not consist in paying God back and thus turning grace into a trade. Obedience comes from trusting in God for more grace - future grace - and thus magnifying the infinite resources of God's love and power. - Author: John Piper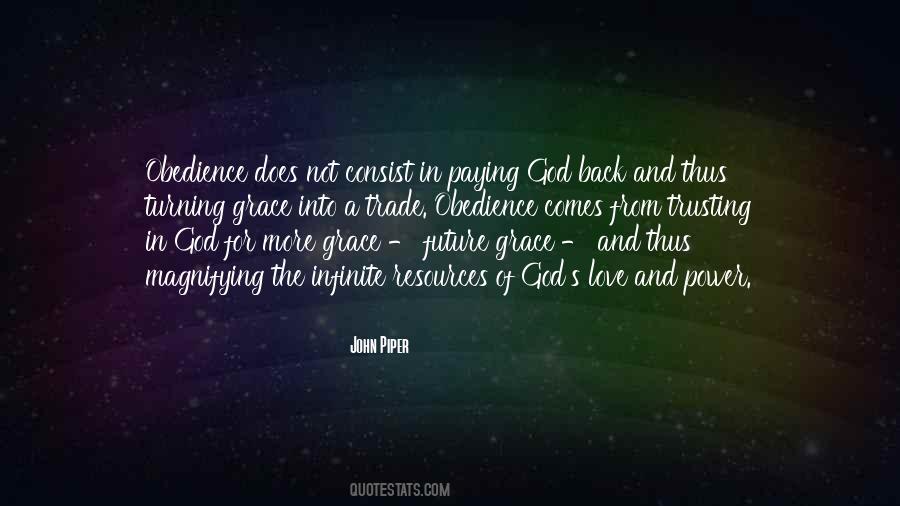 #56. Every act of true love towards a human being bears witness to and perfects the spiritual fecundity of the family, since it is an act of obedience to the deep inner dynamism of love as self-giving to others. - Author: Pope John Paul II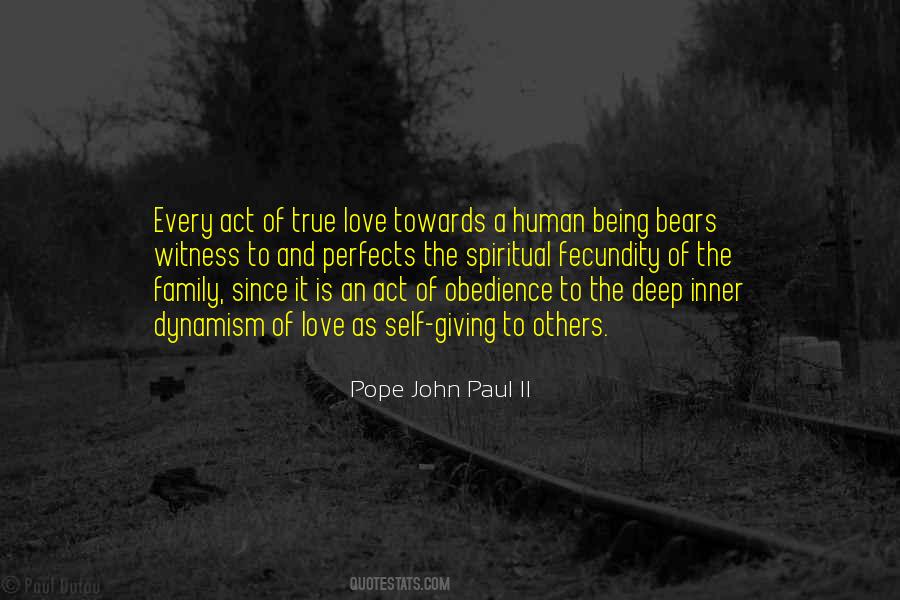 #57. Your directions, your judgment, your disposition to rebel must be subjected and reduced to ashes. How? In the fire of obedience, for it is there that you will find out if you are truly a follower of Divine love or self love. - Author: Michael Molinos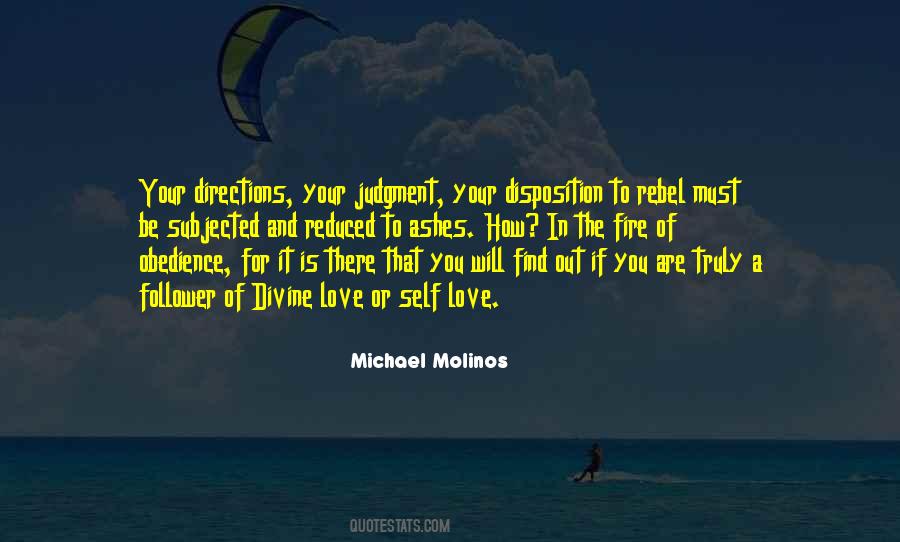 #58. Do the time, energy, and passion with which I pursue my own interests match the intensity of my faith, obedience, and love for God and others? Is my life mysterious? Or do I live, love, and lust like the rest of the world? - Author: Anonymous
#59. According to God, the One who designed and instituted marriage, love is a choice. It's a matter of obedience, not emotion. - Author: Kay Arthur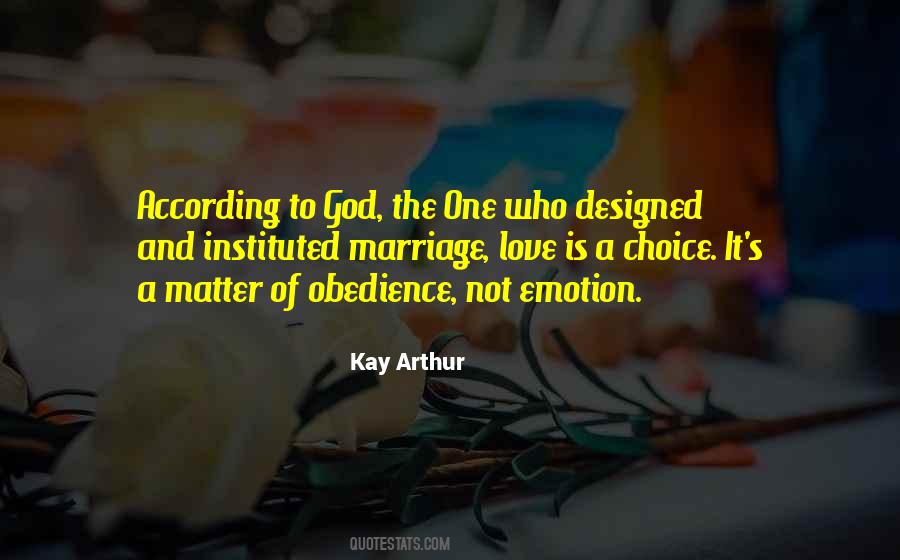 #60. But he asked himself now if he would not be disobeying God. And does not God permit love, since He surrounds it with such visible splendor? - Author: Guy De Maupassant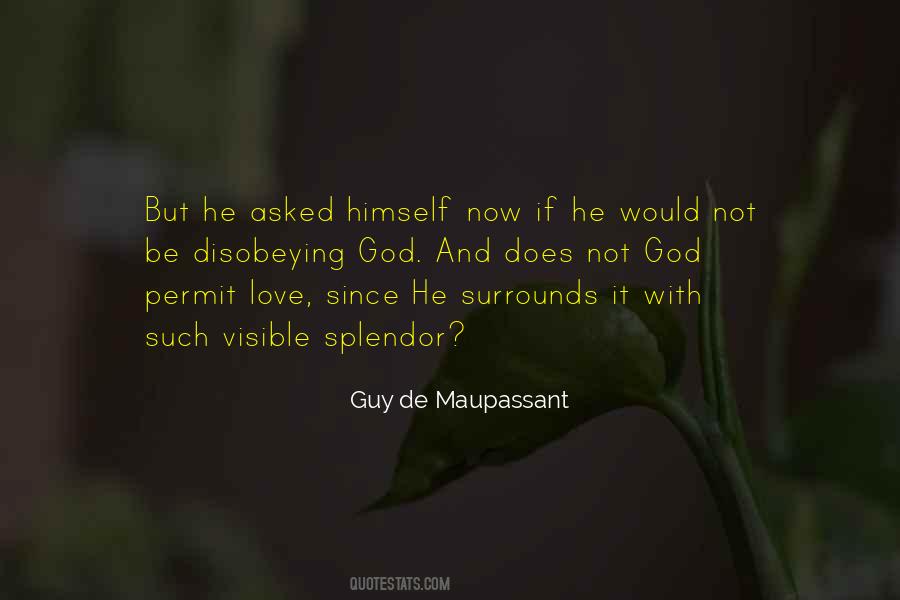 #61. Faithfully disciplining (training, educating, correcting) your child in a manner that pleases the Lord is an expression of biblical love. It also is a step of obedience for you as a parent and provides godly direction for your child. - Author: John C. Broger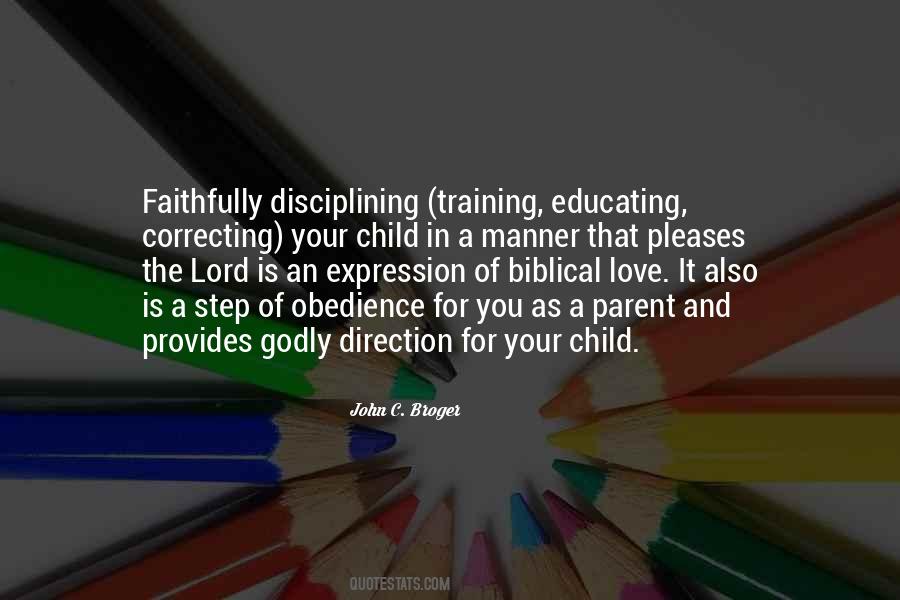 #62. O God, when my faith gets overladen with dust, blow it clean with the wind of your Spirit. When my habits of obedience get stiff and rusty, anoint them with the oil of your Spirit. Restore the enthusiasm of my first love for you. - Author: Eugene H. Peterson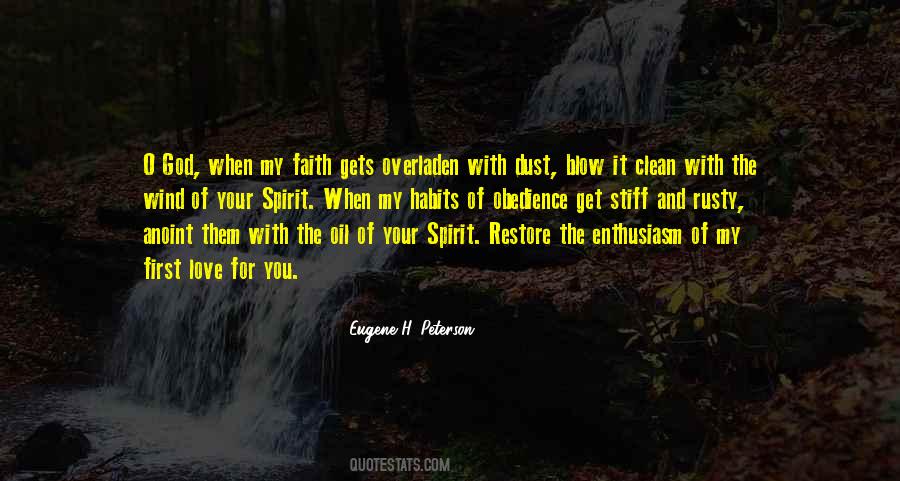 #63. The Devils also believe and know abundance: But in this is the Difference, their Faith works not by Love, nor their Knowledge by Obedience; and therefore they are never the better for them. And if ours be such, we shall be of their Church, not of Christ's: For as the Head is, so must the Body be. - Author: Various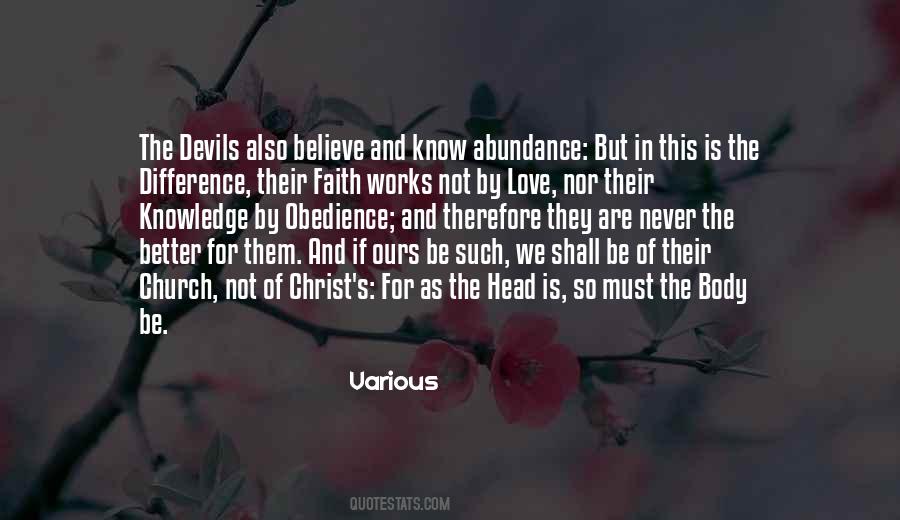 #64. I have thought about it a great deal, and the more I think, the more certain I am that obedience is the gateway through which knowledge, yes, and love, too, enter the mind of the child. - Author: Anne Sullivan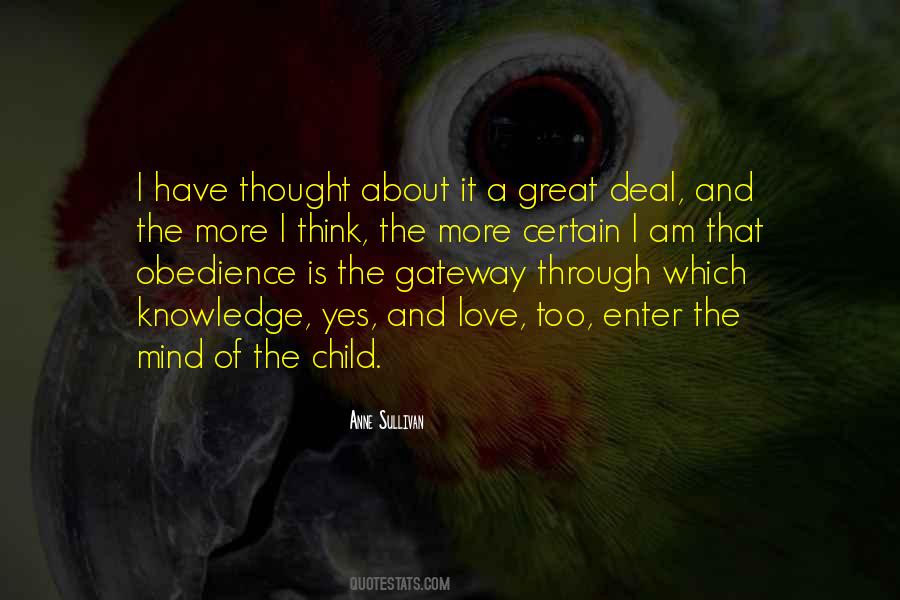 #65. There is perhaps nothing so remarkable about Jesus than the fact that he advanced himself as the object of faith, love, and obedience, and yet he comes across as the most humble man to walk the face of the earth. - Author: Douglas Sean O'Donnell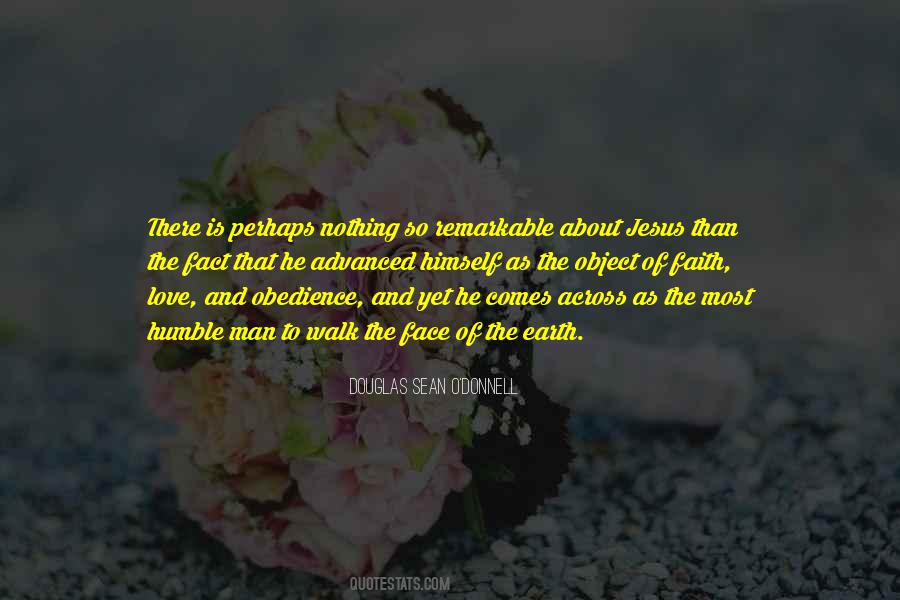 #66. For as love is oftentimes won with beauty, so it is not kept, preserved, and continued, but by virtue and obedience. - Author: Thomas More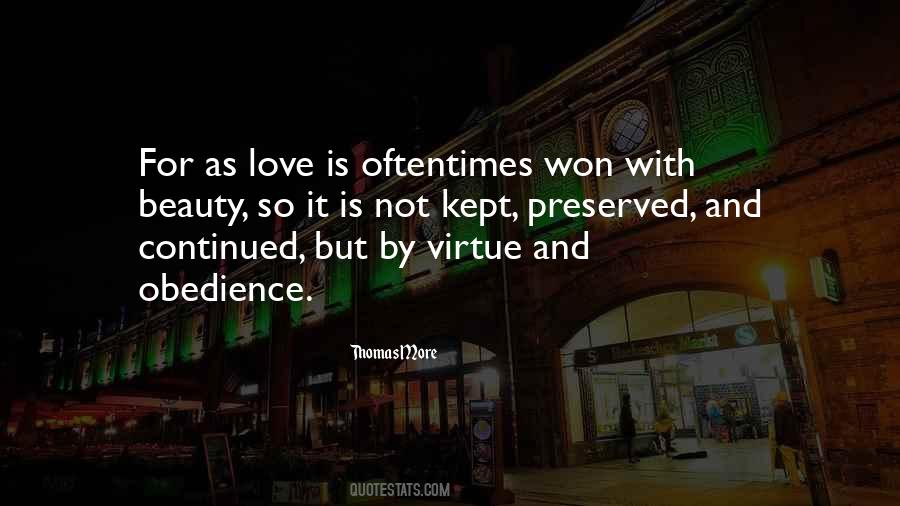 #67. I finally know the difference between pleasing and loving, obeying and respecting. It has taken me so many years to be okay with being different, and with being this alive, this intense. (xxvi) - Author: Eve Ensler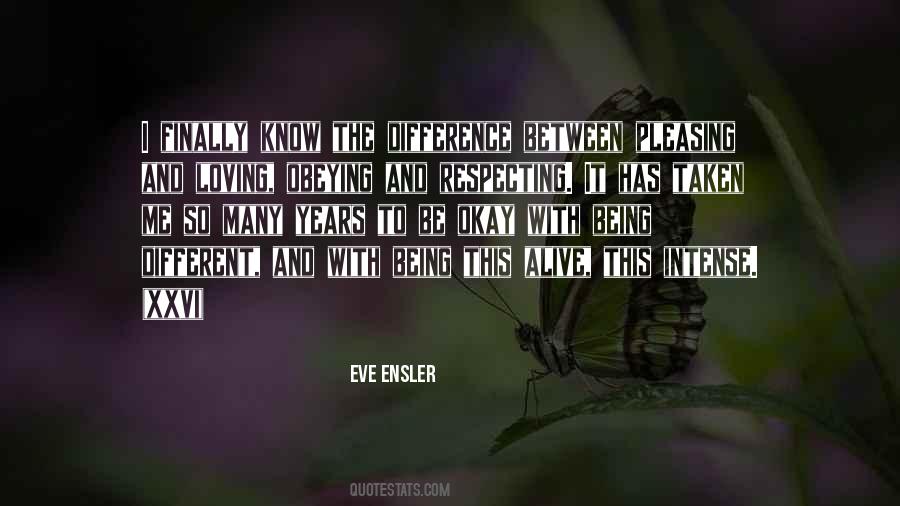 #68. The longing of my soul is to know and obey the Supreme-being,God. - Author: Lailah Gifty Akita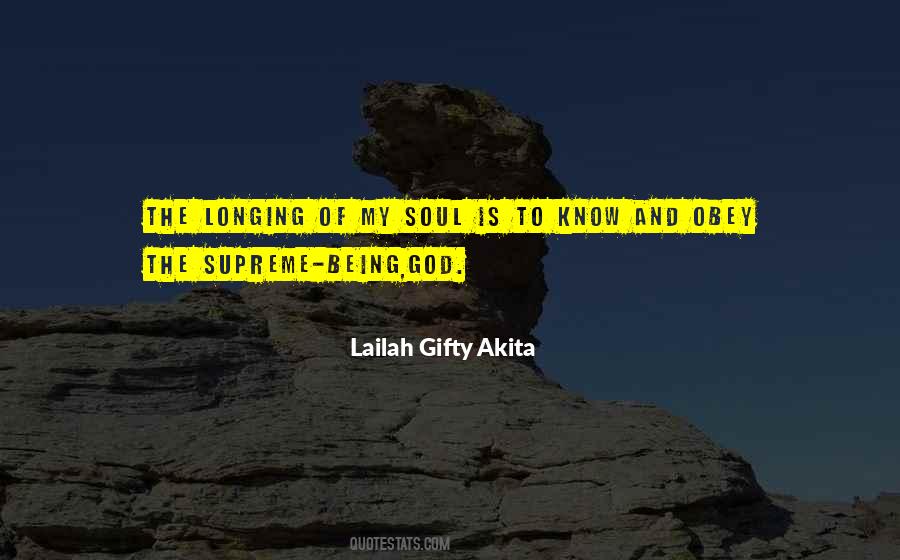 #69. The one thing He commands us as His branches is to bear fruit. Let us live to bless others, to testify of the life and the love there is in Jesus. Let us in faith and obedience give our whole life to that which Jesus chose us for and appointed us to-fruit-bearing. - Author: Andy Murray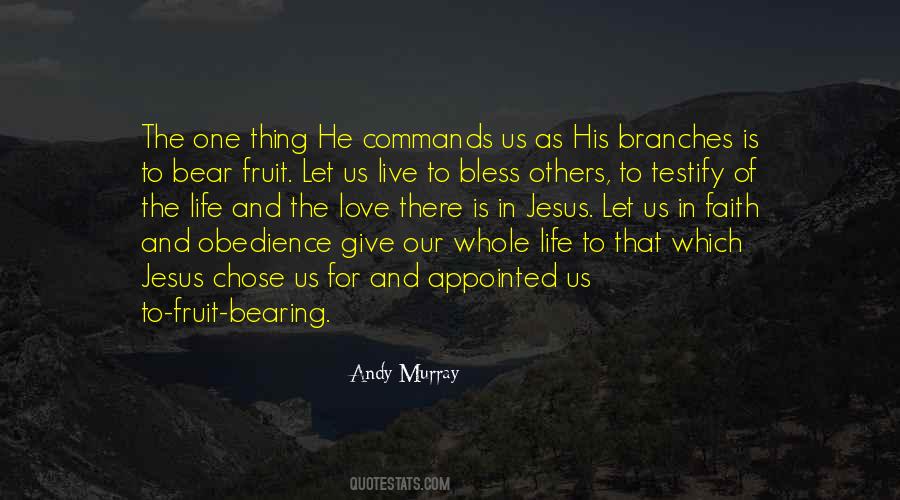 #70. You're confusing love and obedience. You'll obey me without loving me, and without my loving you. With - Author: Pauline Reage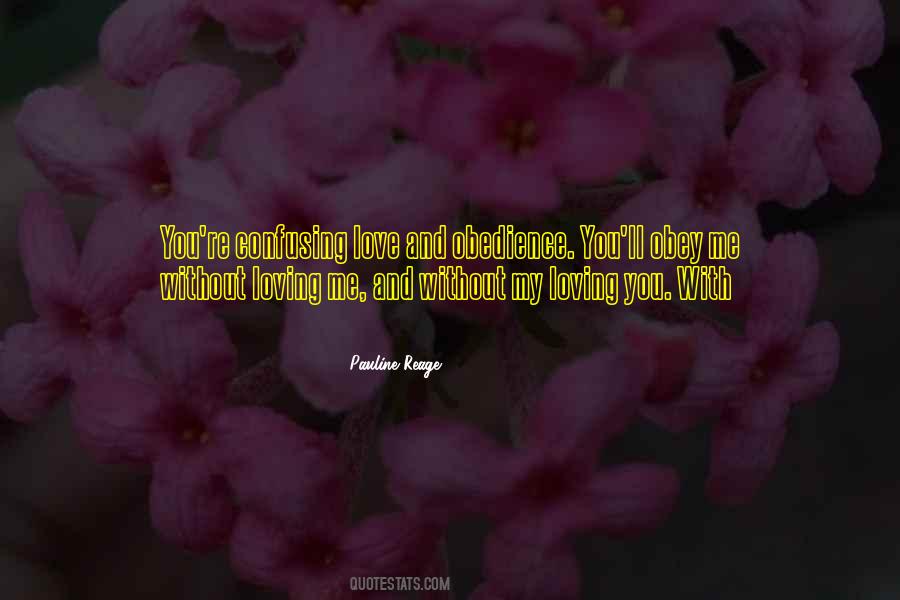 #71. God bless thee; and put meekness in thy breast, Love, charity, obedience, and true duty! - Author: William Shakespeare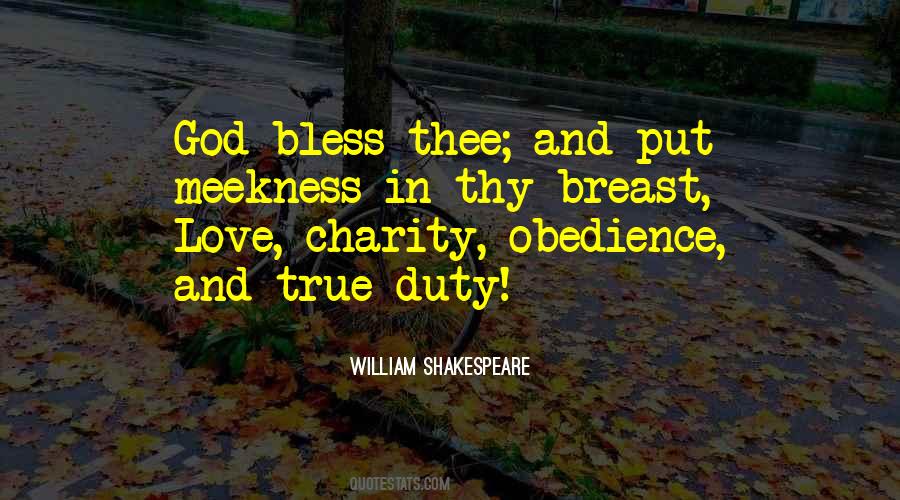 #72. If we obey God it is going to cost other people more than it costs us, and that is where the sting comes in. If we are in love with our Lord, obedience does not cost us anything, it is a delight, but it costs those who do not love Him a good deal. - Author: Oswald Chambers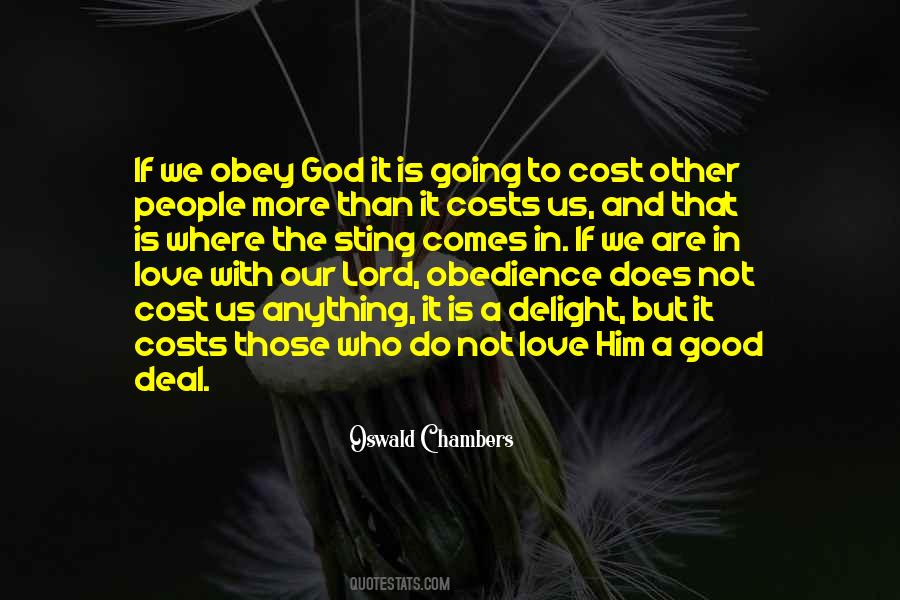 #73. The Koran calls for belief and consequent obedience. It is, surely, calculated to inspire fear, indeed abject terror, rather than love. - Author: Antony Flew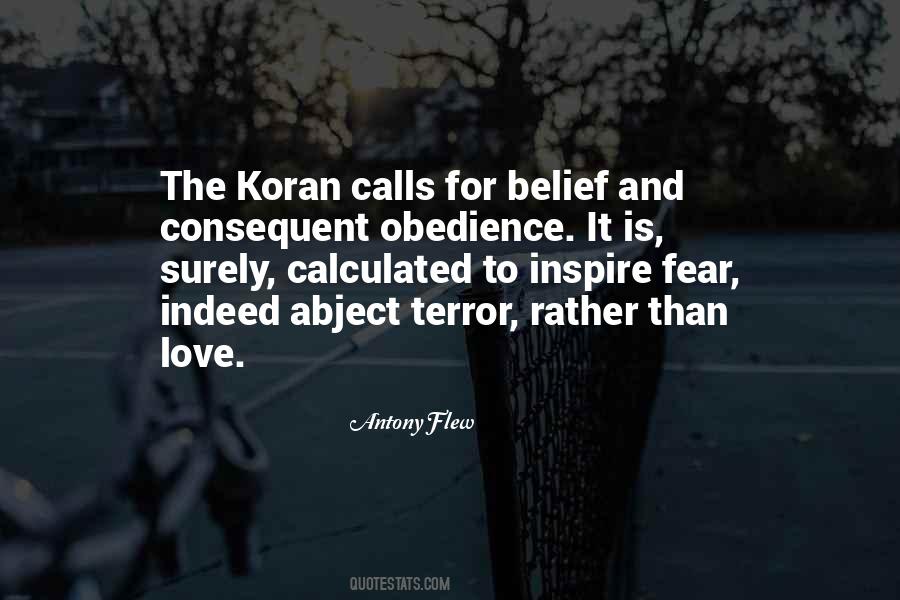 #74. Parents learn the uses of power and its limits. They can insist on certain outward behavior but cannot change inner attitudes. They can require obedience but not goodness - and certainly not love. - Author: Philip Yancey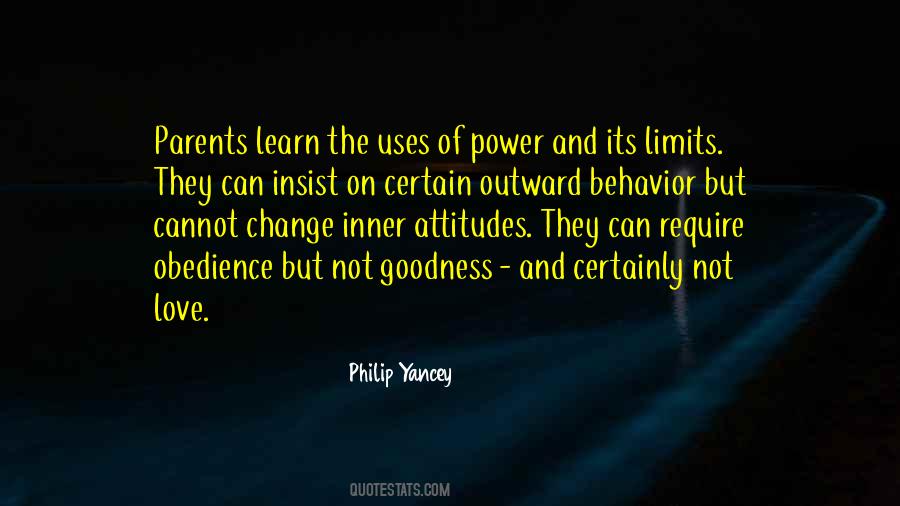 #75. Every circumstance in life, no matter how crooked and distorted and ugly it appears to be, if it is reacted to in love and forgiveness and obedience to your will can be transformed. - Author: Hannah Hurnard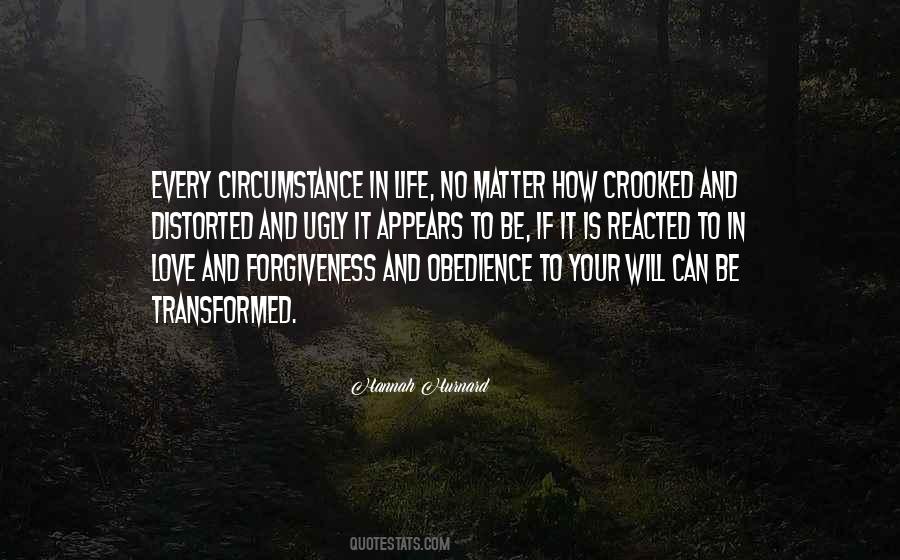 #76. for Roberts talks chiefly of God's love and of the great joy of living in obedience to that love. - Author: Evan Roberts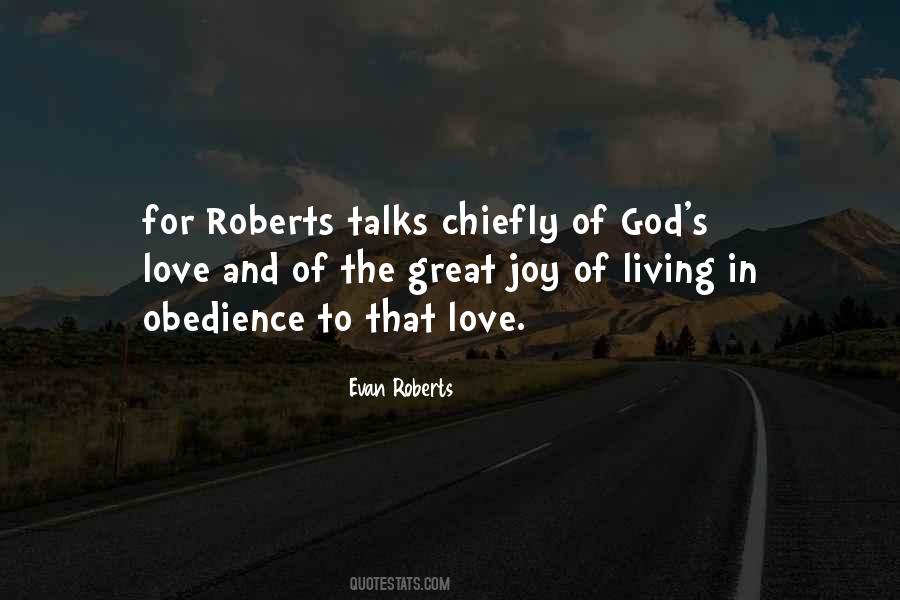 #77. Would it not be well this Christmas to give first to the Lord, directly through obedience, sacrifice, and love, and then to give to him indirectly through gifts to friends and those in need as well as to our own? Should we do this, perhaps many of us would discover a new Christmas joy. - Author: John Andreas Widtsoe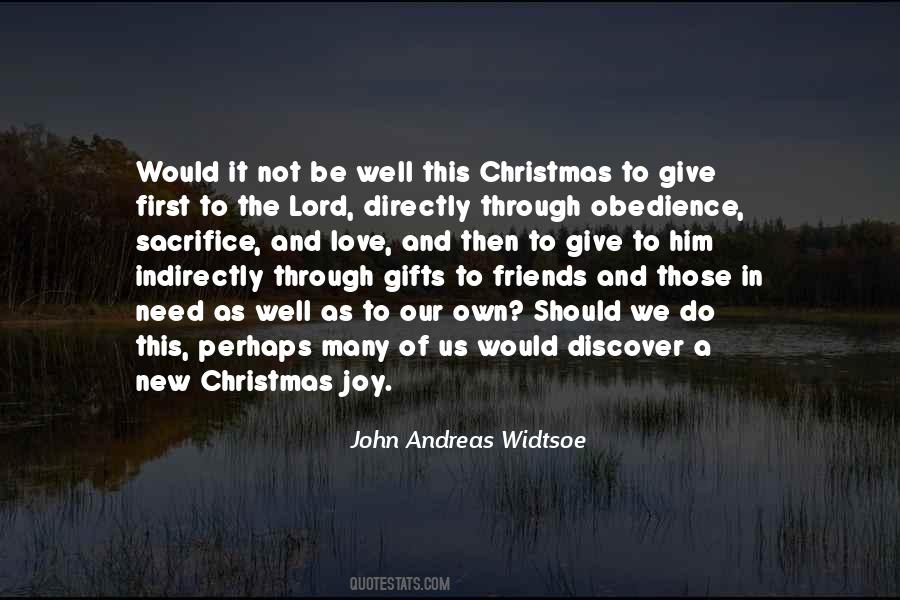 #78. The people follow him."
"Because they have no choice. They follow, but do they love him?"
"Some do," Appah Rao answered. "But what does it matter? Why should a ruler want his people's love? Their obedience, yes, but love? Love is for children, McCandless, and for gods and for women. - Author: Bernard Cornwell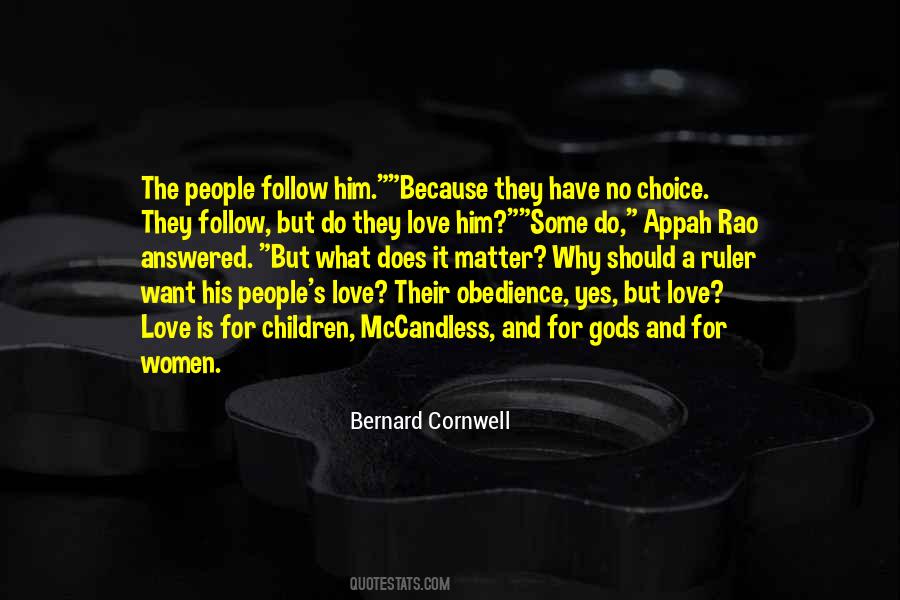 #79. In obedience there is always fear, and fear darkens the mind. - Author: Jiddu Krishnamurti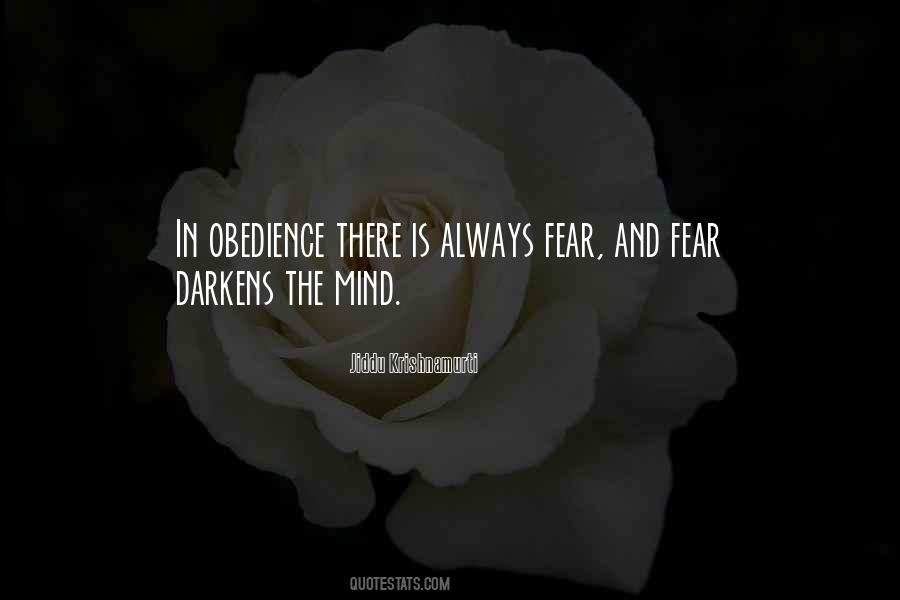 #80. We ought to love temperance for itself, and in obedience to God who has commanded it and chastity; but what I am forced to by catarrhs, or owe to the stone, is neither chastity nor temperance. - Author: Michel De Montaigne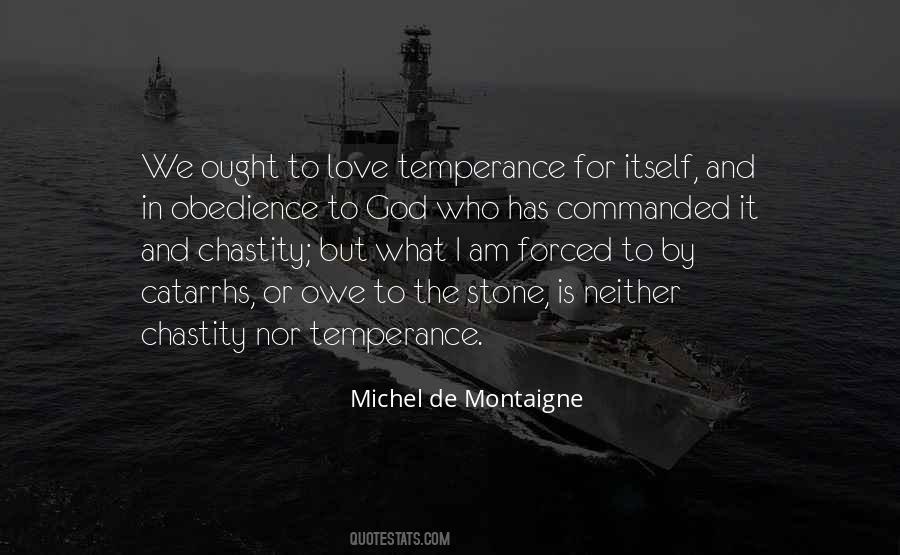 #81. If unconditional love, loyalty, and obedience are the tickets to an eternal life, then my black Labrador, Venus, will surely be there long before me, along with all the dear animals in nature who care for their young at great cost to themselves and have suffered so much at the hands of humans. - Author: Richard Rohr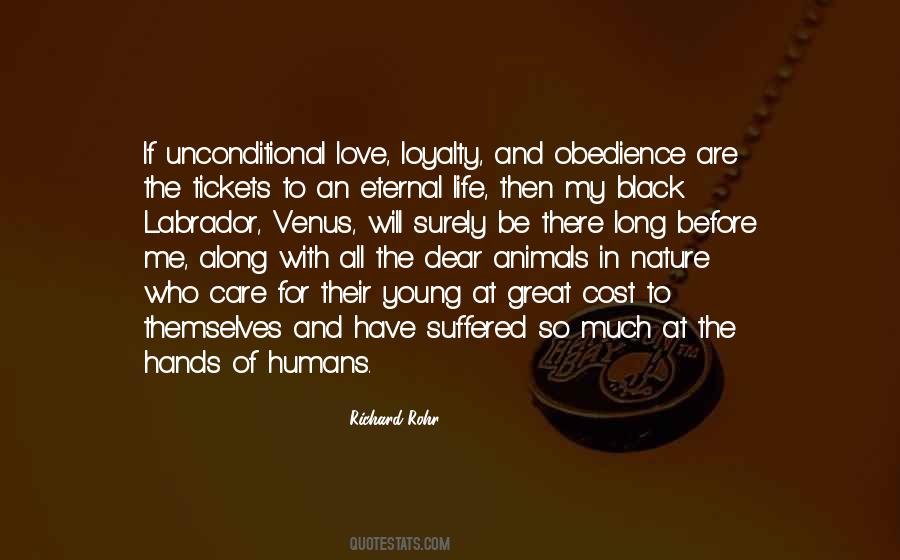 #82. Love withers under constraints. Its very essence is liberty; it is comparable neither with obedience, jealousy, nor fear; it is there most pure, perfect, and unlimited where its votaries are in confidence, equality and unreserve. - Author: Percy Bysshe Shelley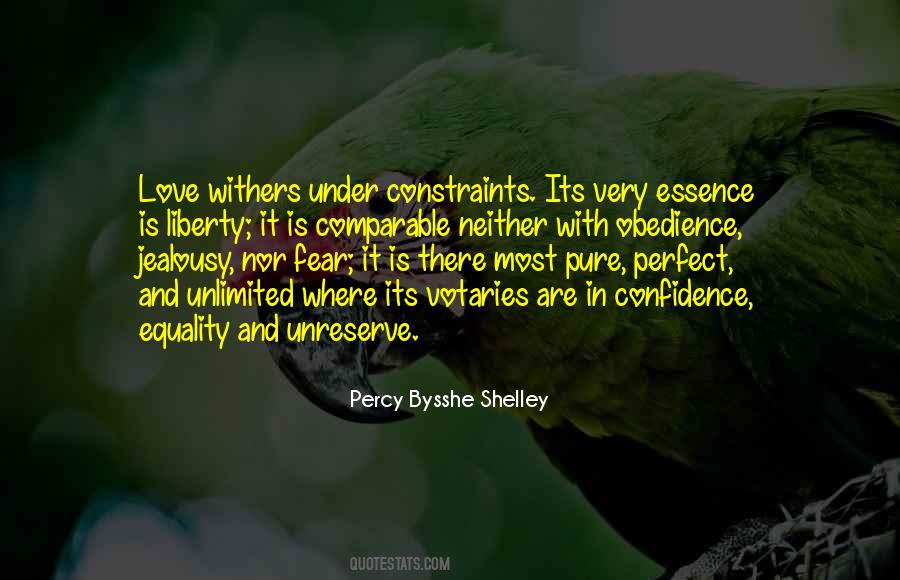 #83. The Lord said, 'If ye love me, keep my commandments.' (John 14:15.) Our obedience to the laws, ordinances, and commandments is the greatest expression of love and gratitude that we can bestow upon him. - Author: Robert D. Hales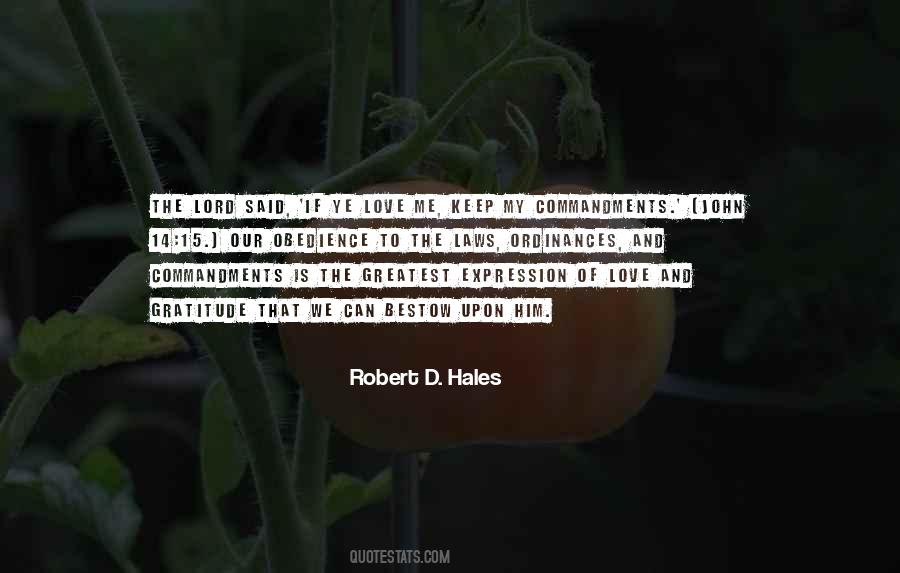 #84. Human was simultaneously the bearer of God's wise rule into the world, and also the creature who would bring the loyalty and praise of that creation for its Creator into love, speech, and conscious obedience. - Author: N. T. Wright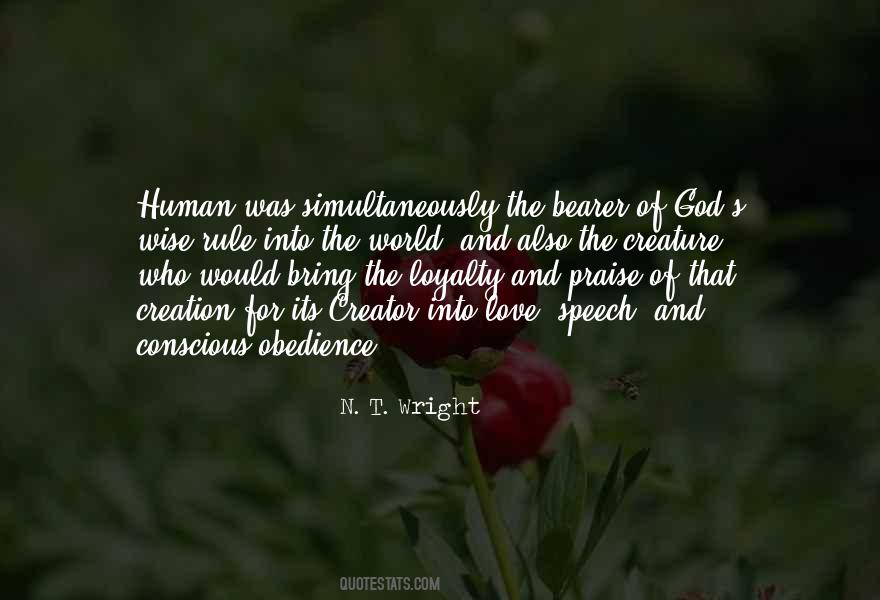 #85. it will make sense the moment you come Home. I could see it all so clearly. I could see what it is that we are waiting for. I knew in one solitary moment why I had learned obedience and why I valued nothing on the earth but love. It's all that matters. It is all there is. - Author: Kate McGahan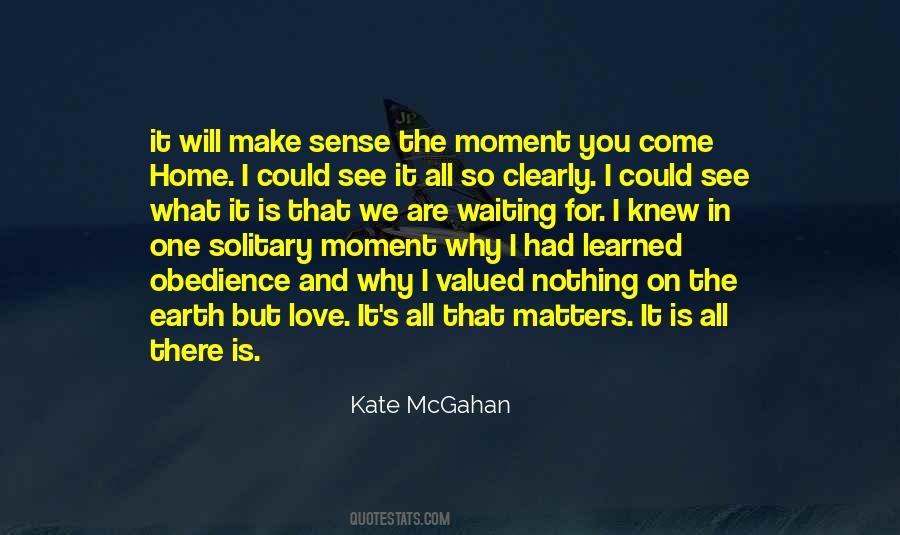 #86. Love is the measure of our faith, the inspiration for our obedience, and the true altitude of our discipleship. - Author: Dieter F. Uchtdorf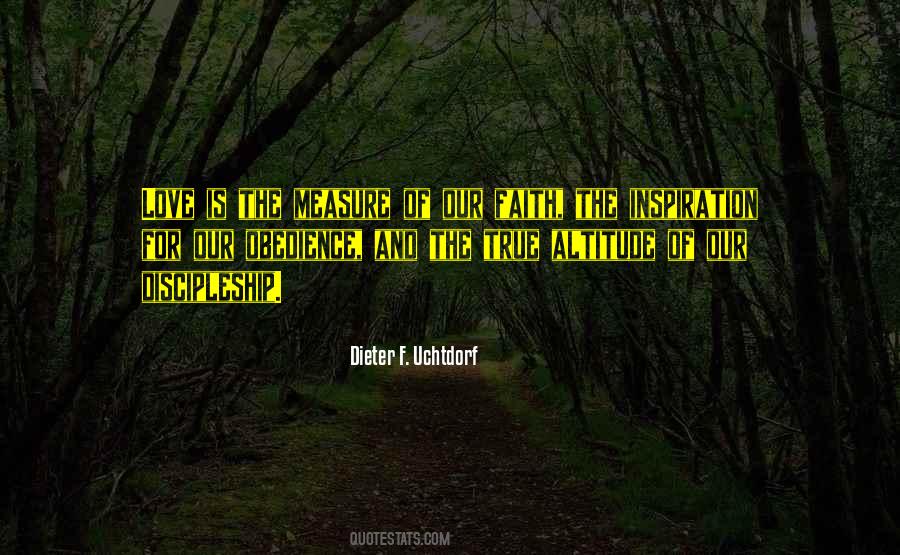 Famous Authors
Popular Topics