Little League Famous Quotes & Sayings
List of top 90 famous quotes and sayings about little league to read and share with friends on your Facebook, Twitter, blogs.
Top 90 Quotes About Little League
#1. School work and intellectual interests such as music and the arts were not especially important to me while I was growing up, although mathematics, my favorite subject, was fun. Baseball was my first passion: I played sand lot and Little League and rooted for the Brooklyn Dodgers. - Author: Robert C. Merton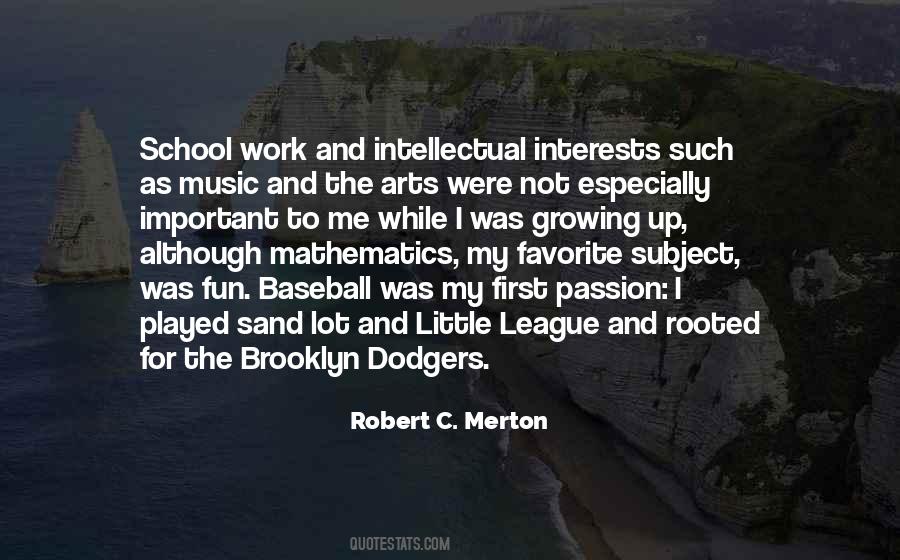 #2. My dad is the reason I actually started watching wrestling. My dad was never big into sports; we were all big into sports as kids, and he'd go to our Little League games or whatever and not really know what was going on, because he didn't know about sports, but he knew about wrestling. - Author: John Cena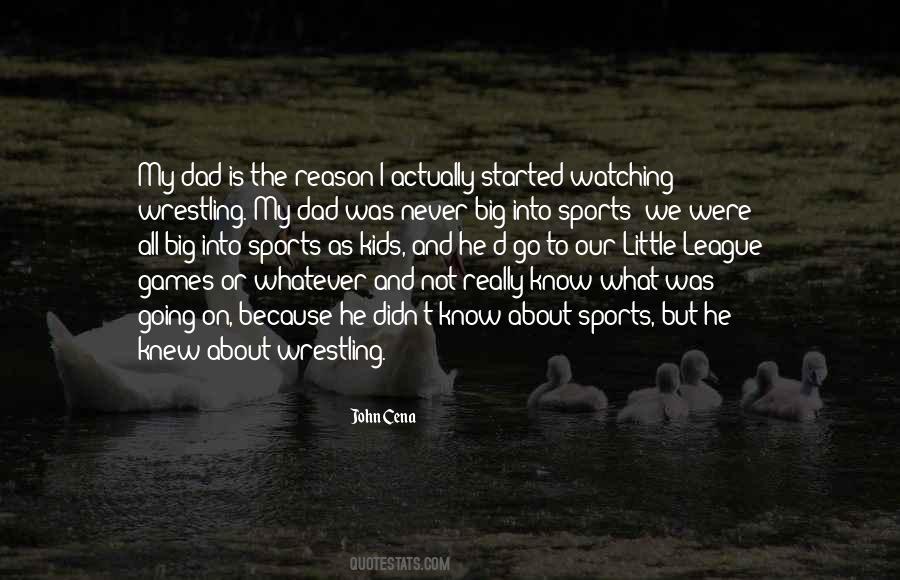 #3. She tugged at the little braids on each side of her head. Again, Jason thought how glad he was that she'd lost the Aphrodite blessing. With the makeup and the dress and the perfect hair, she'd looked about twenty-five, glamorous, and completely out of his league. - Author: Rick Riordan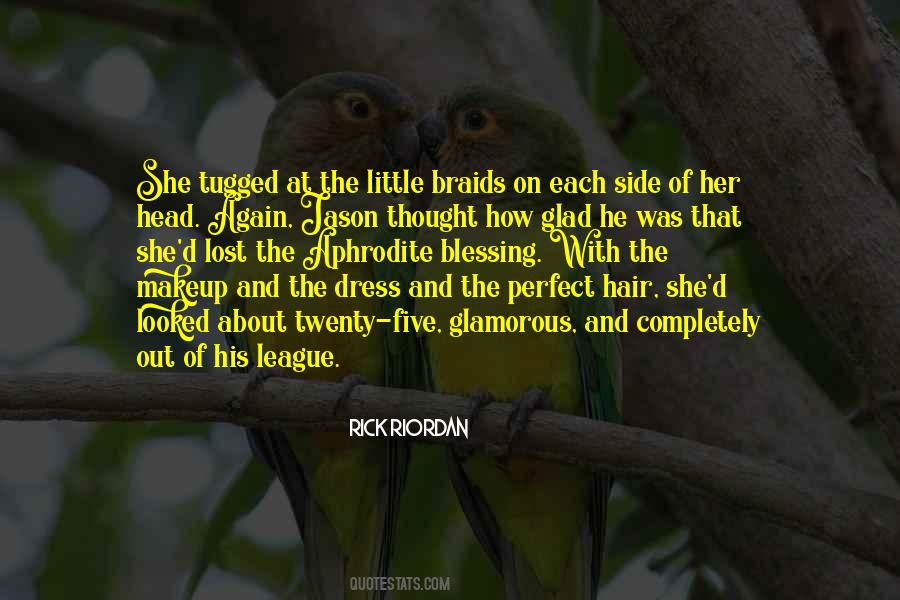 #4. I've taken my boys to the house I grew up in. Taken them to the site of Ebbets Field, where the Dodgers used to play. They go to all the Dodger games, and they play Little League ball. I have infused them with New York spirit. - Author: Larry King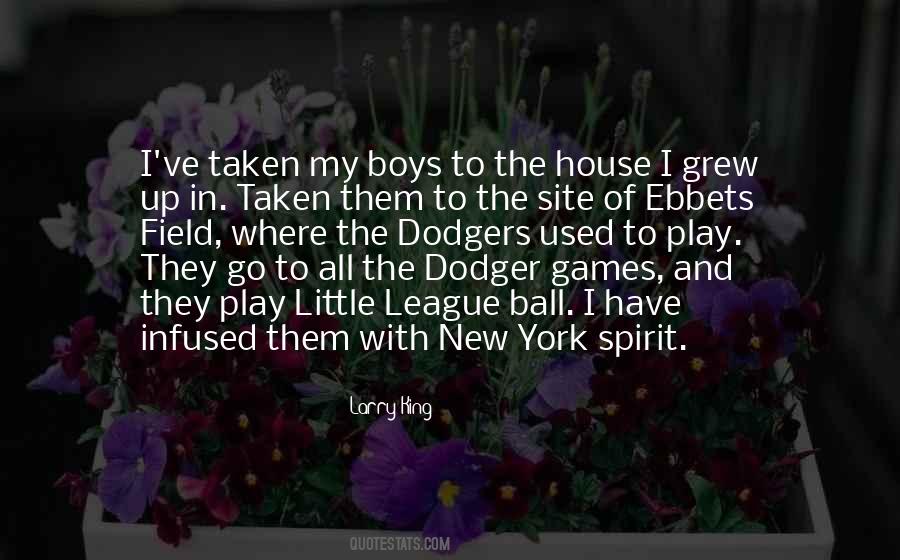 #5. But Little League can be a great experience for kids, as long as they want to play
and don't play to bring their parents glory. - Author: Yogi Berra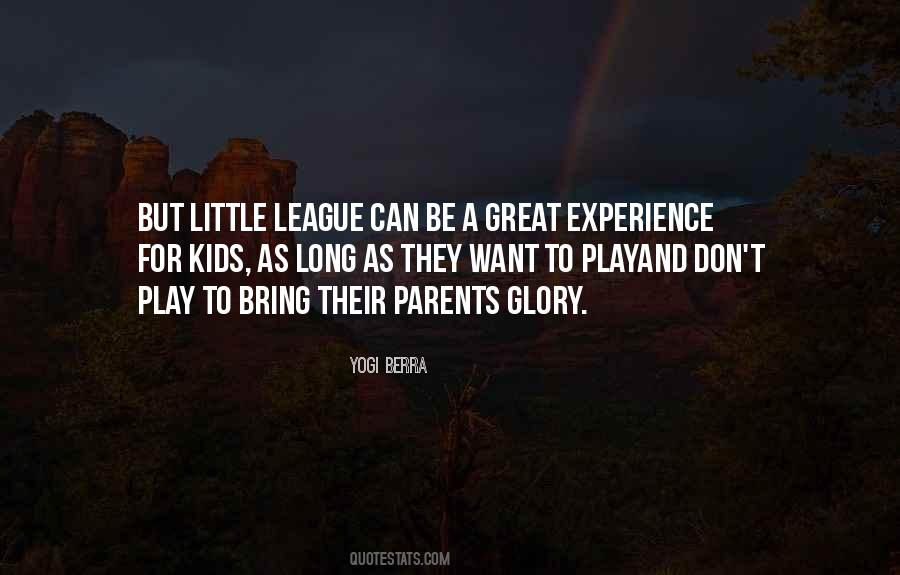 #6. That's what's great about baseball: some people are exceptional at the game, but still, even people that aren't very athletic, like me - I played Little League! It's one of those games in sports where even if you're not the greatest, you can still play. - Author: Tom Guiry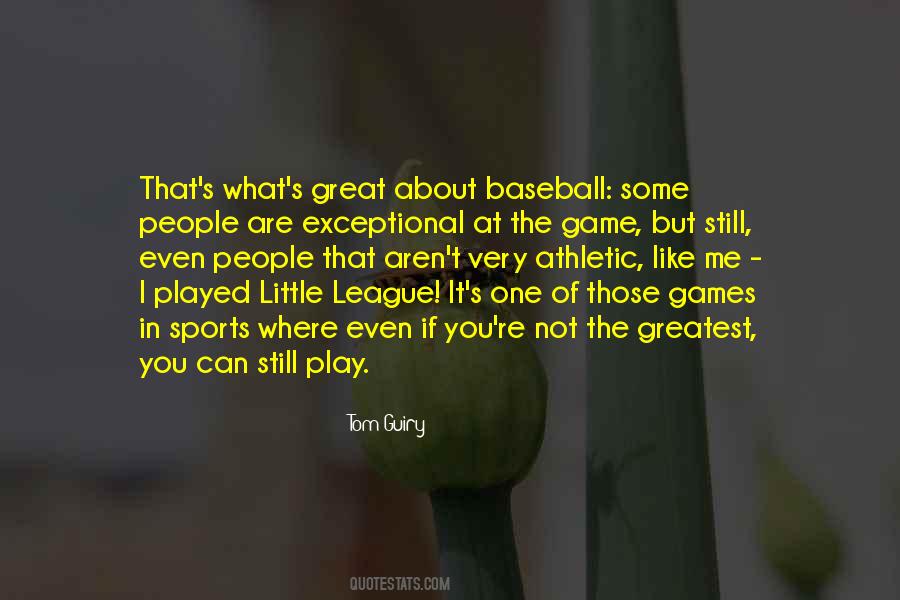 #7. I would never do 'Dancing With The Stars,' because it's just not fair. I am too good of a dancer. It would be like LeBron James playing little league basketball. - Author: Terry Crews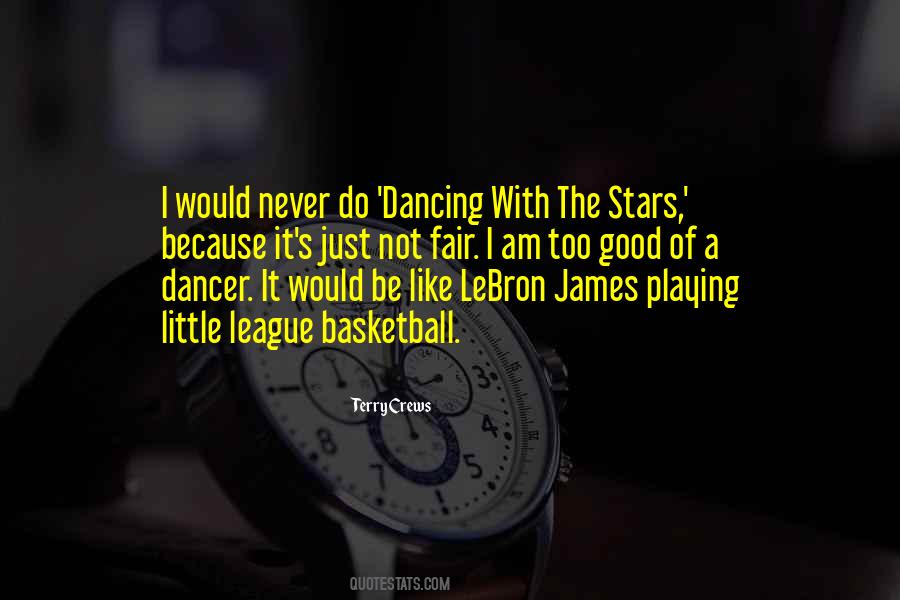 #8. I was the best guy, you know, all through Little League and Pop Warner and that kind of stuff. But when I went to high school, I was undersized. I didn't grow. I was behind the whole puberty cycle. I didn't like high school. - Author: Pete Carroll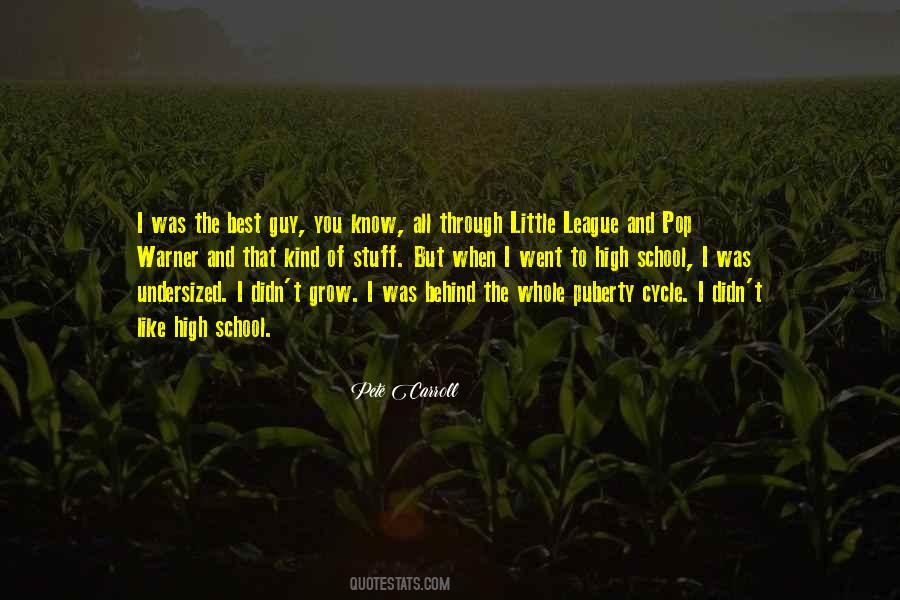 #9. In the States, there's ESPN3, and each country has different options, and other than premiere league football, there tends to be very little global content. And movie and TV rights are pretty broad content. - Author: Reed Hastings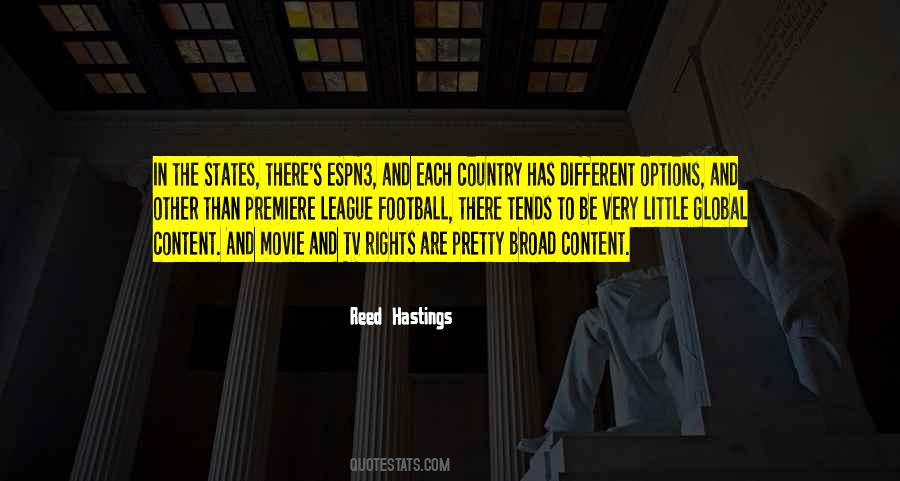 #10. Who in their infinite wisdom decreed that Little League uniforms be white? Certainly not a mother. - Author: Erma Bombeck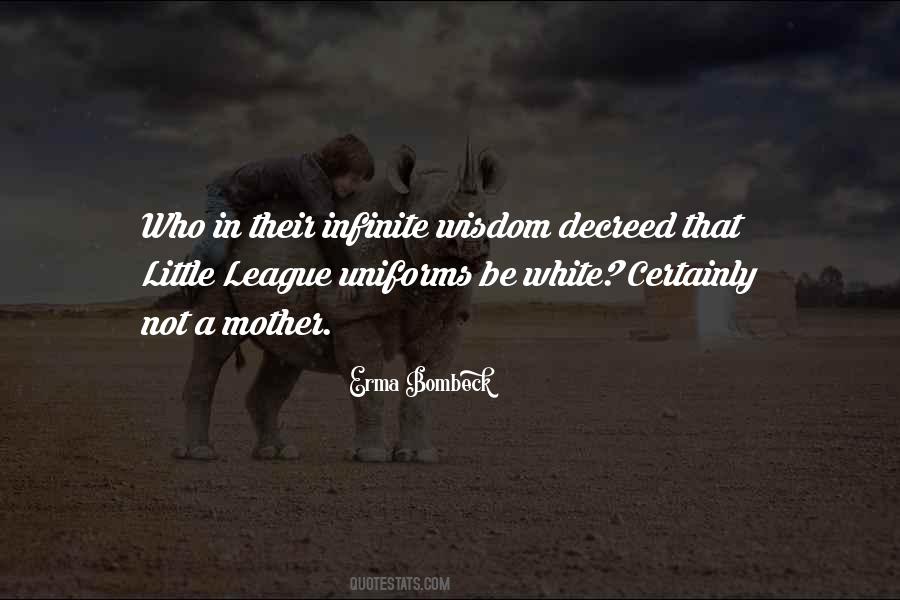 #11. I certainly didn't think of myself as gifted. The standards for being gifted in my environment were if you were good in Little League or if you were good in football. - Author: James Cameron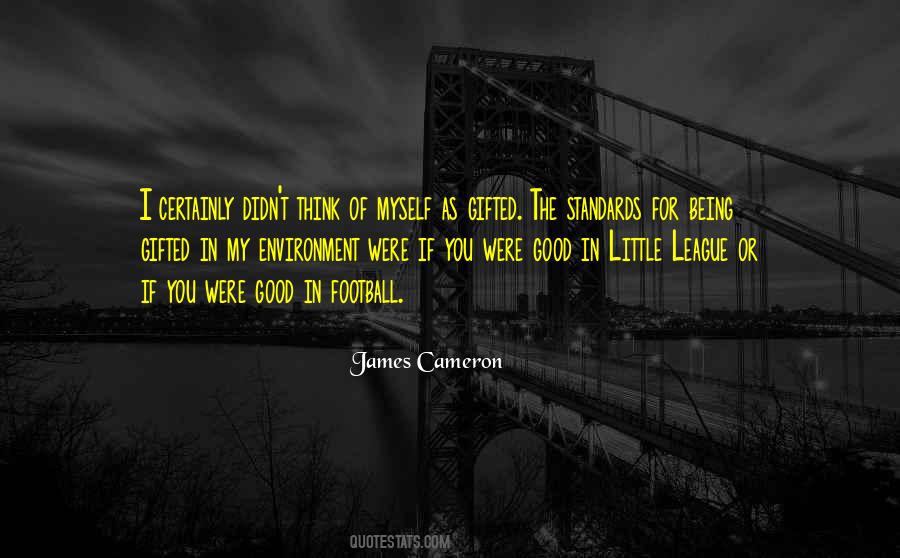 #12. I was very active in the Parks and Recreation department. I recall a lot of the things we had to do, from the trips for the department to organizing a Little League, those sorts of things. - Author: Mike Scully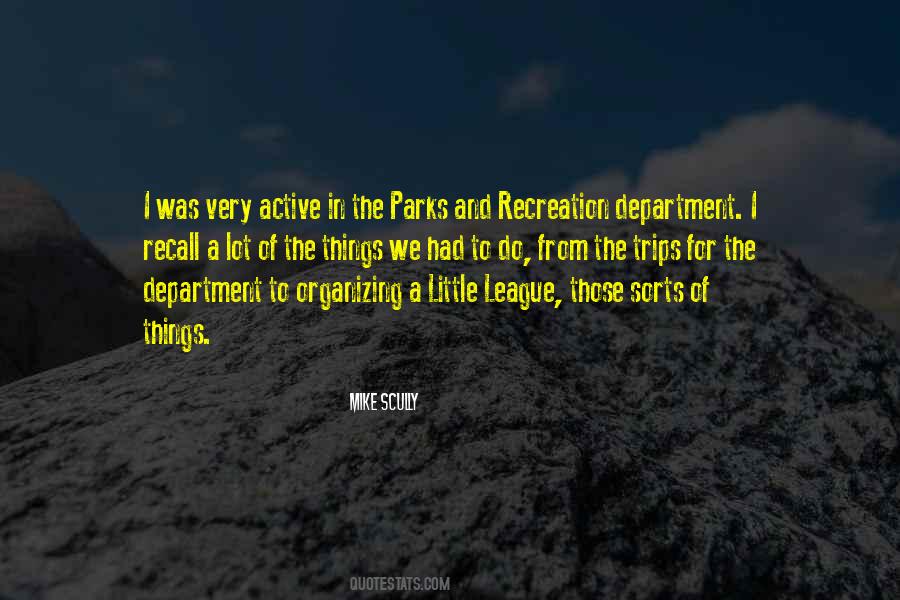 #13. My pitching in 'Dazed and Confused' was so bad that they had to use cut-ins with a stunt double, and I spent most of that filming night being ruthlessly mocked by a team of Little League extras. - Author: Wiley Wiggins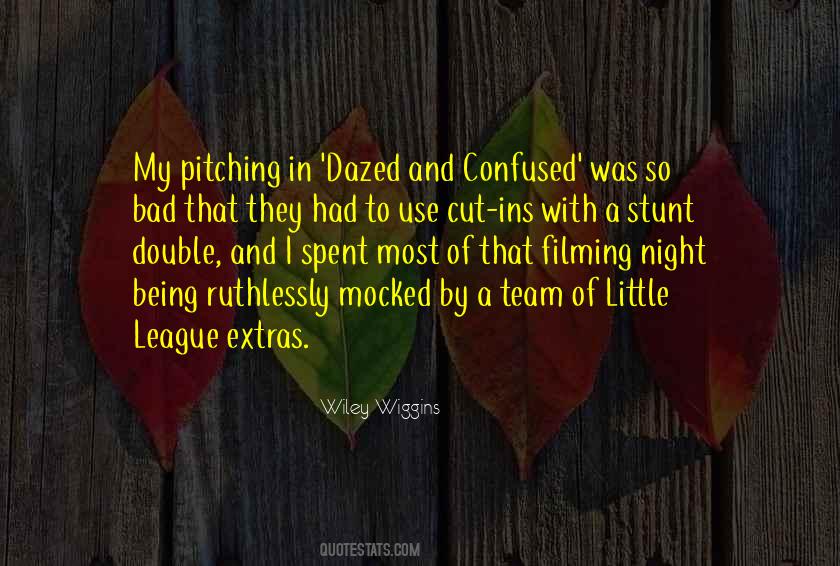 #14. I used to go to my kids' soccer games and I was the only parent who wasn't screaming, because I'd have to do a show that night. It was hard. Moms and dads get more emotional at those soccer and Little League games than at a professional game. - Author: Neil Diamond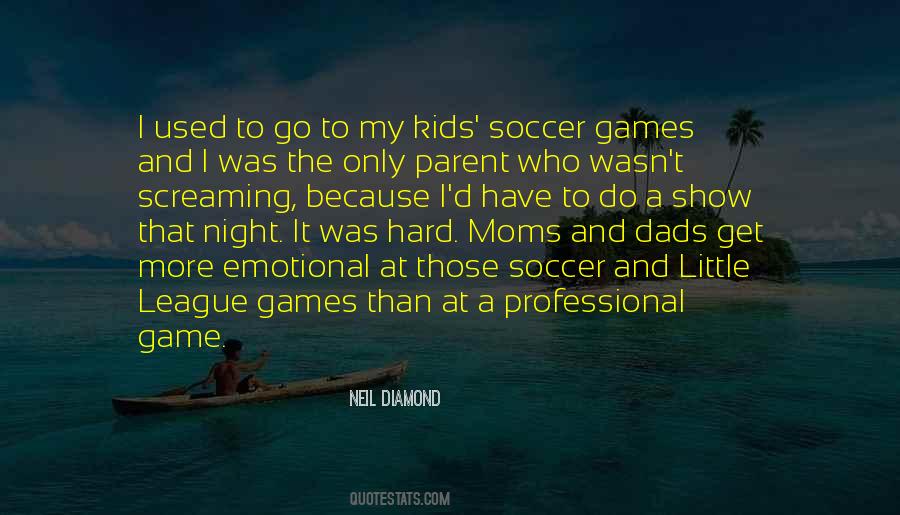 #15. I'm the youngest of five kids, and I wanted attention. And in Santa Barbara, there was lots of theater going on, so for that area, it was a little bit like playing Little League baseball. There were dance classes, theater classes, and I just loved it. - Author: Anthony Edwards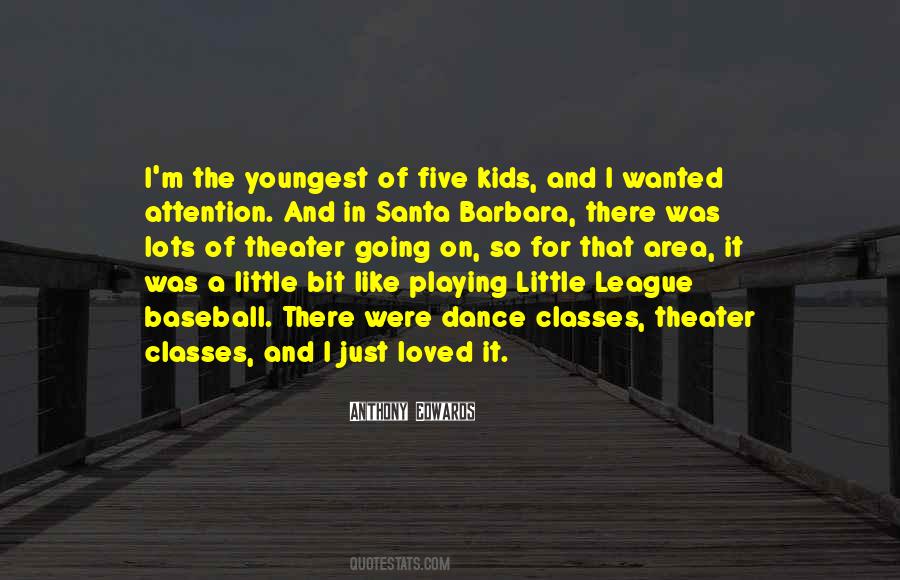 #16. Whether it was Little League or playing with your brothers or sisters, that was always a problem. If I would lose - because I very rarely lost - then everything would go crazy. - Author: Cal Ripken Jr.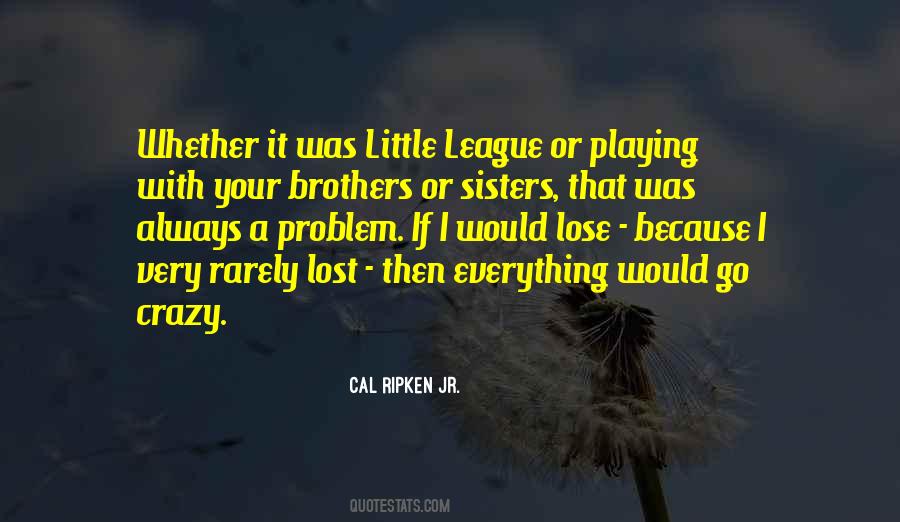 #17. There are many evil and unfriendly things in the world that have little love for those that go on two legs, and yet are not in league with Sauron, but have purposes of their own. Some have been in this world longer than he. - Author: J.R.R. Tolkien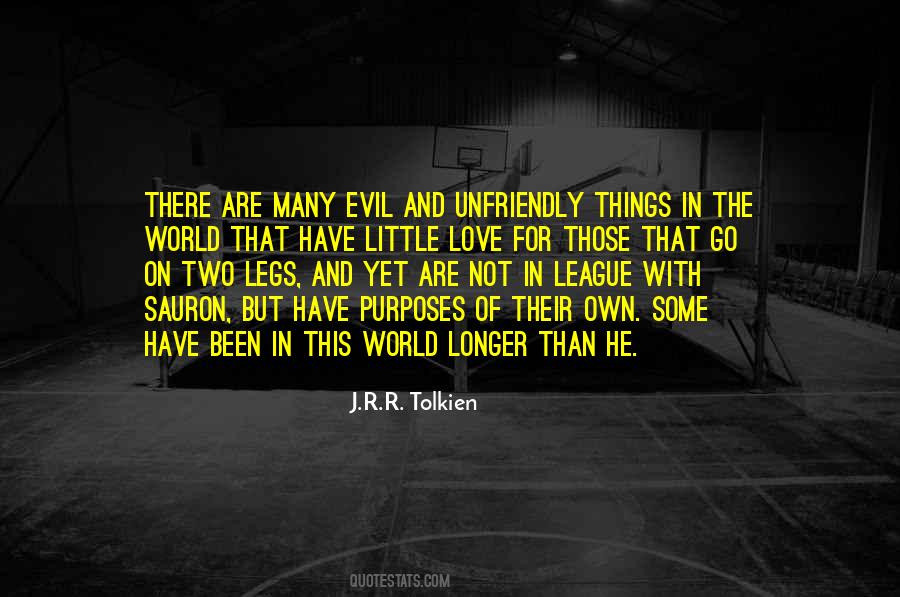 #18. We're the most experienced team in the league. I think we got a little too happy, running our mouths, jumping up and down, looking at the Heat dancers and all of that stuff. We had to step it up and show them what we're all about. - Author: Shaquille O'Neal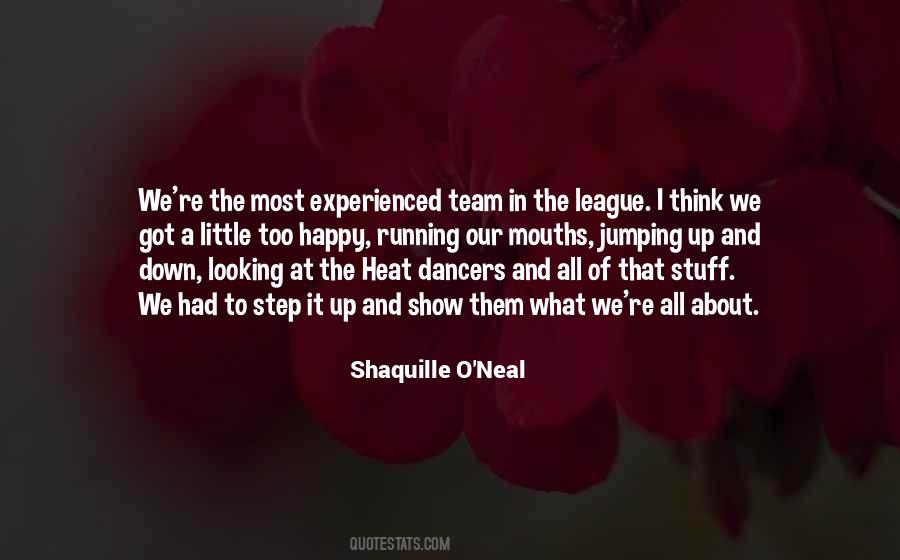 #19. I played Little League. I was a 'pitcher.' But we had a pitching machine, so I was just basically an 'in-infield' shortstop because all I got to do was field bloopers six feet from the plate. I couldn't hit, so that was pretty much my entire job. - Author: Freddie Prinze Jr.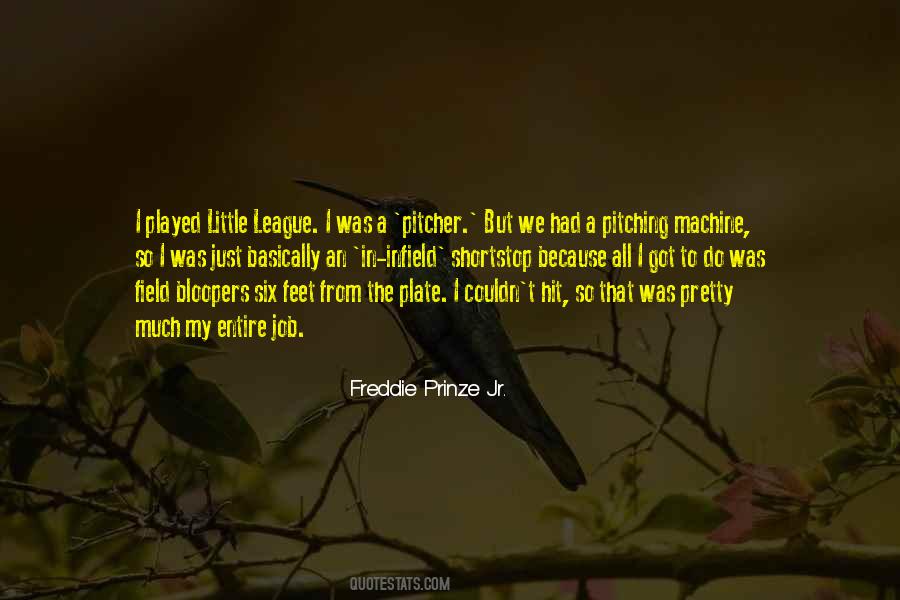 #20. The sooner that little so-and-so goes to rugby league, the better it will be for us. - Author: Dickie Jeeps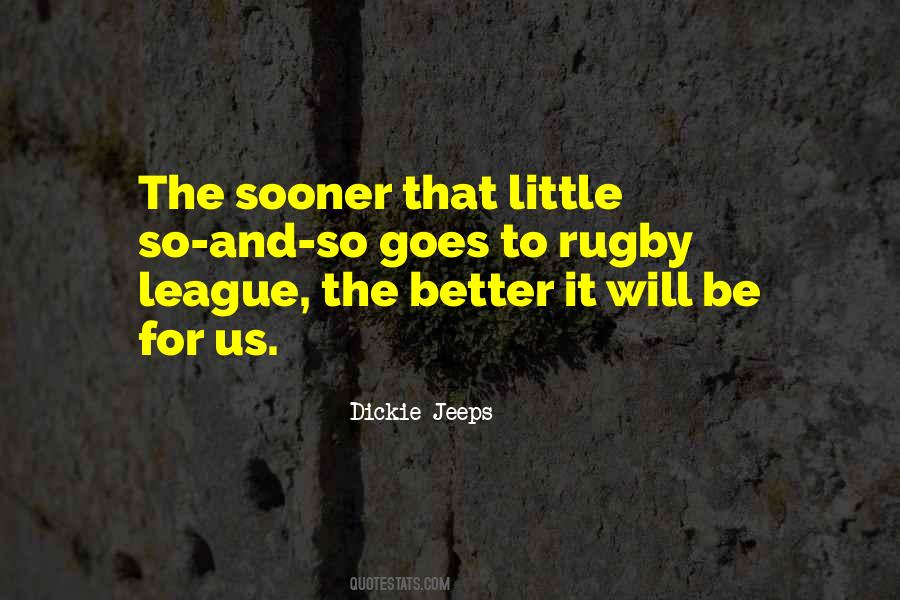 #21. I'm a soccer dad at heart. I want five kids, and I want to get married. I want to coach Little League. - Author: Mekhi Phifer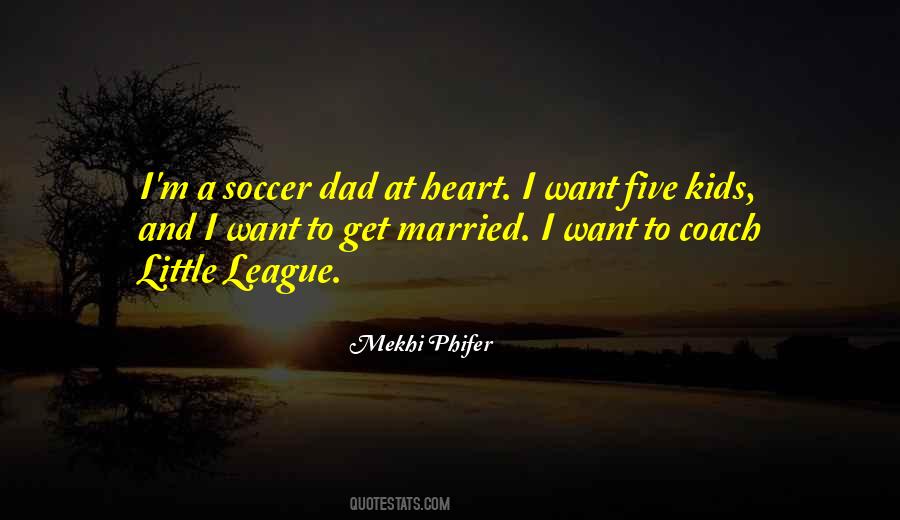 #22. One of my favorite expressions ever uttered by a player is Roy Campanella's line about how, in order to be a major-league player, you have to have a lot of little boy in you. - Author: Vin Scully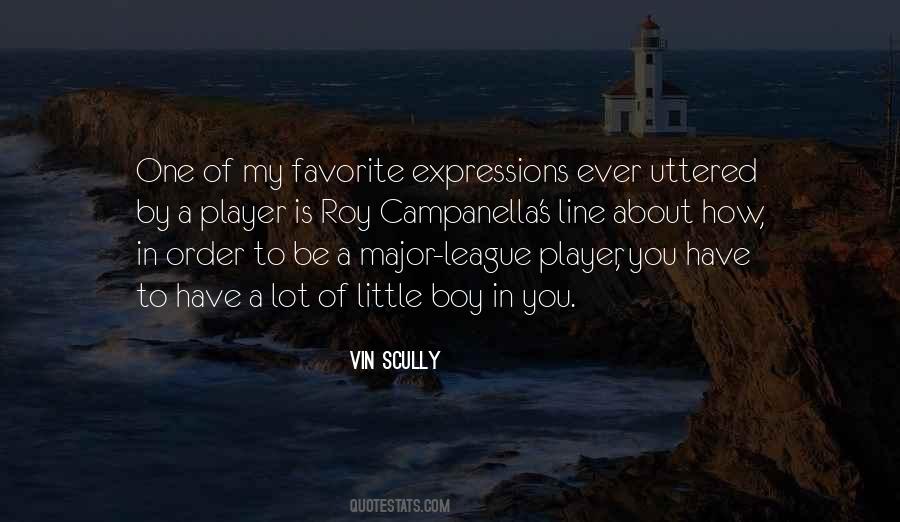 #23. When I was 14, I played in a summer league. One night the chief umpire asked me if I would like to try umpiring. There was a Little League tournament coming up and he needed more umpires than he had. - Author: Jim Evans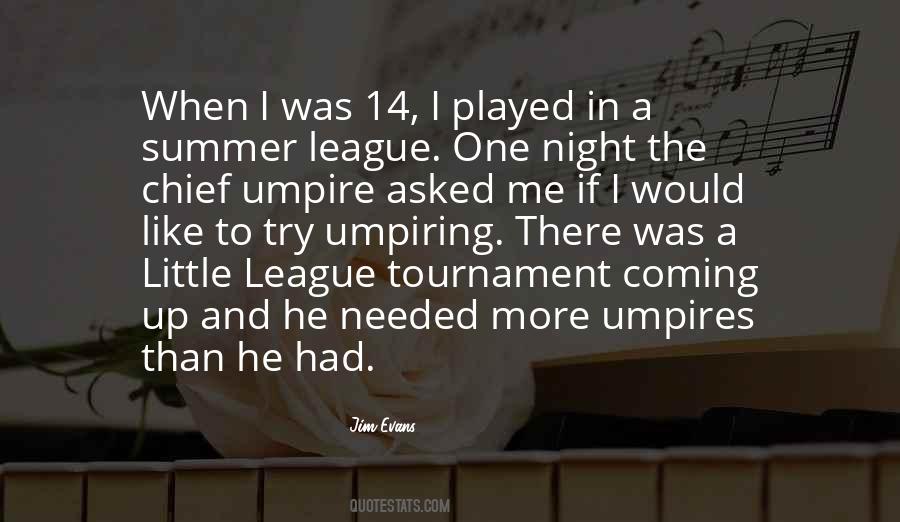 #24. You know when I played, you had me and Kevin (McHale) and some others throughout the league. I think it's good for a fan base because as we all know the majority of the fans are white America. And if you just had a couple of white guys in there, you might get them a little excited. - Author: Larry Bird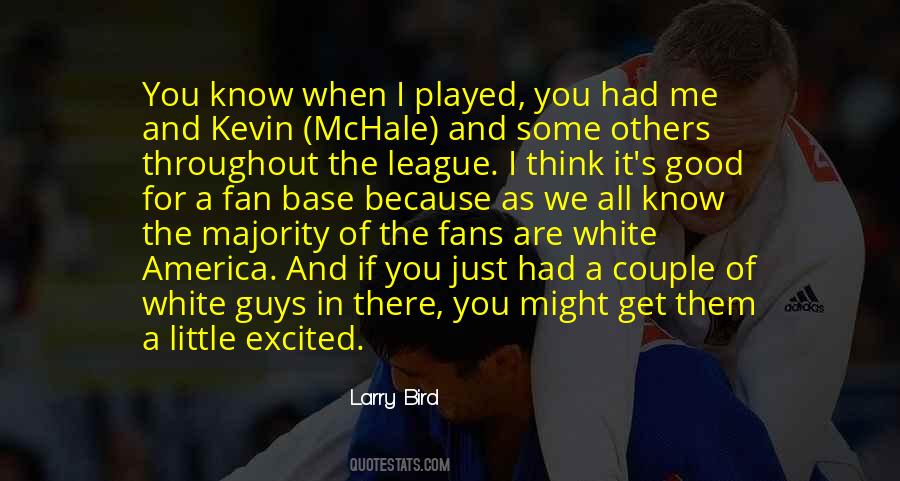 #25. Dorsey was out of her league. When a woman like Kay Waverley took you on over a man, you were done for. It was the scandal of the season and all of Monte Carlo agreed; poor little Dorsey wasn't handling it well. - Author: Kathleen Tessaro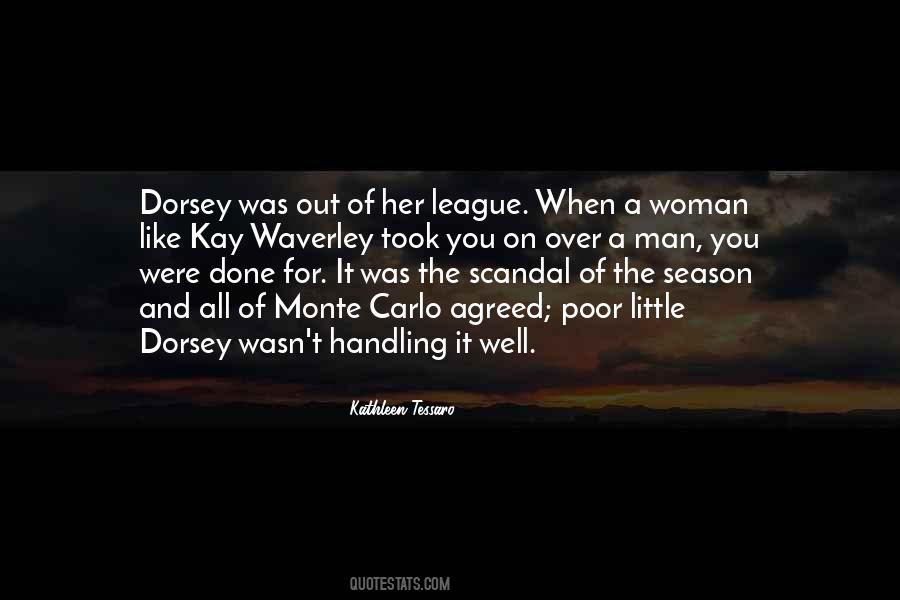 #26. We worship an awesome God in the Blue States, and we don't like federal agents poking around our libraries in the Red States. We coach Little League in the Blue States and have gay friends in the Red States. - Author: Barack Obama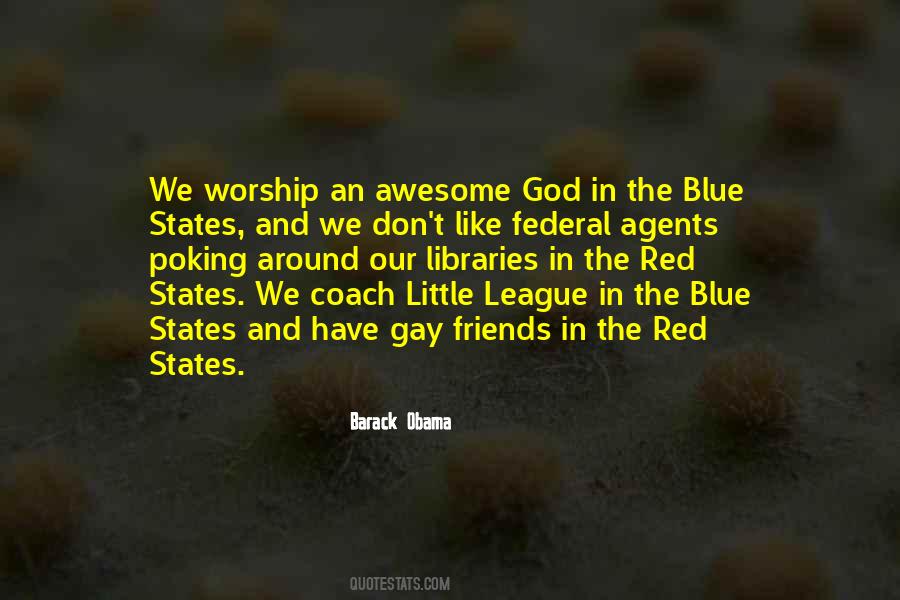 #27. The League of Nations is the greatest humbug in history. They cannot even protect a little nation like Armenia. They do nothing but pass useless resolutions. - Author: David Lloyd George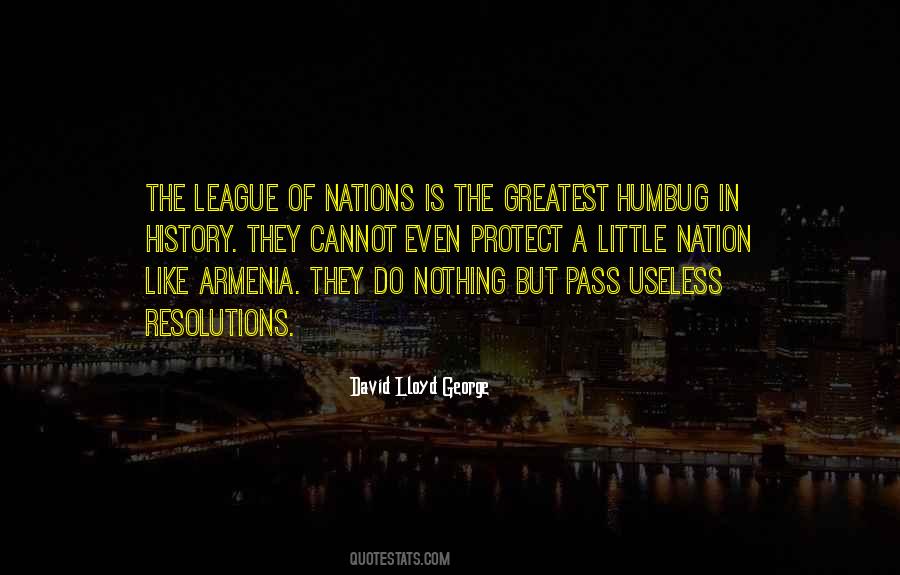 #28. I keep trying to tell people that Los Angeles is already the largest Indian city in the U.S., that there are Toltecs playing Little League baseball in Pasadena, Mayans making beds at the Marriott in Westwood, and Chichimecs driving buses in L.A. Los Angeles is a majority-Indian city. - Author: Richard Rodriguez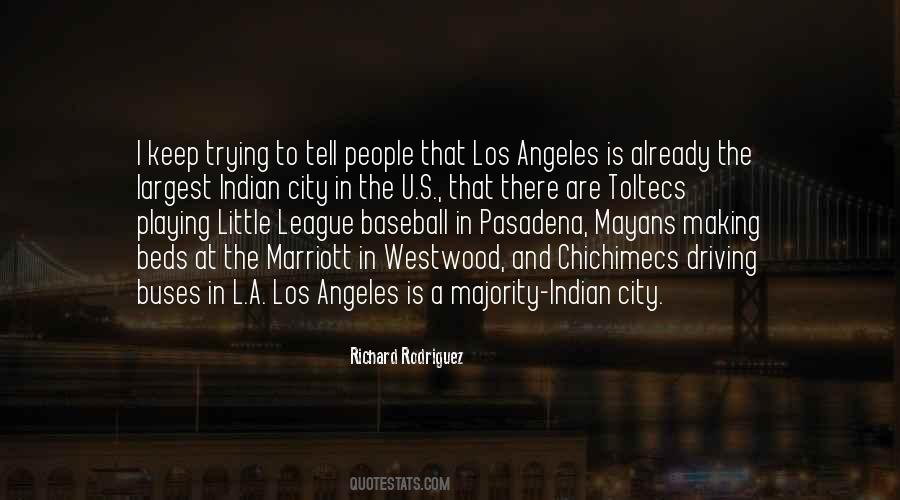 #29. In the Premier League you never really know what is going to happen. There is very little between the teams. - Author: Luis Suarez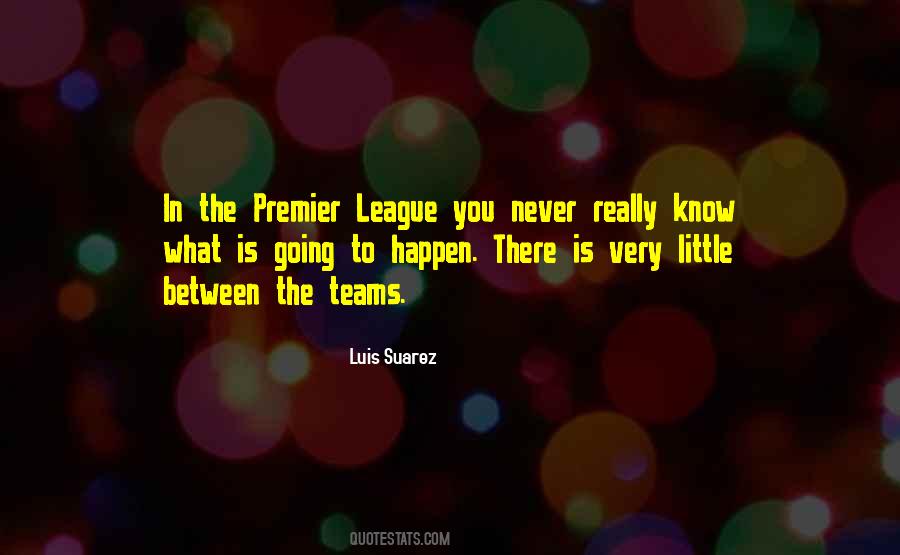 #30. I love when violent, dangerous art is done by people who are not violent and dangerous. I love that when George Romero was making 'Dawn of the Dead,' he was coaching his son's little league team. - Author: Penn Jillette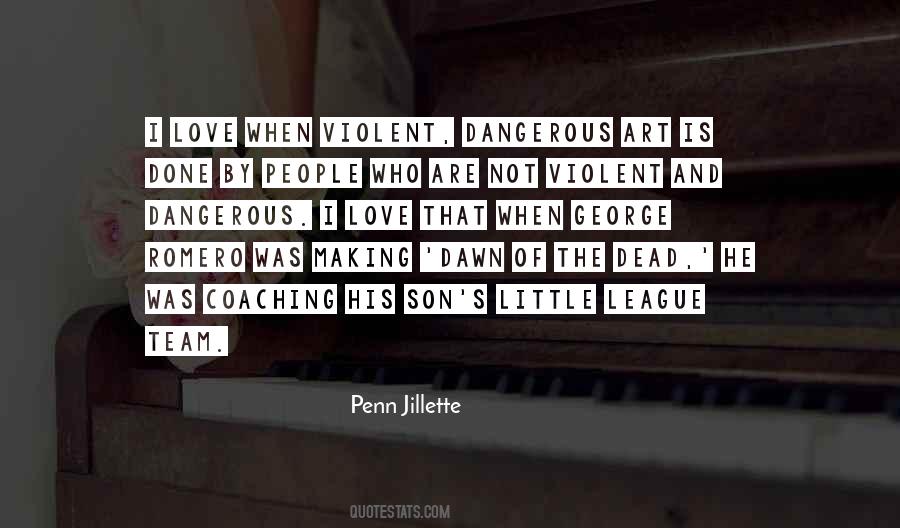 #31. The way of success is not run with seven league boots but step by step, little by little, bit by bit ... with no exceptions allowed. - Author: Sterling W. Sill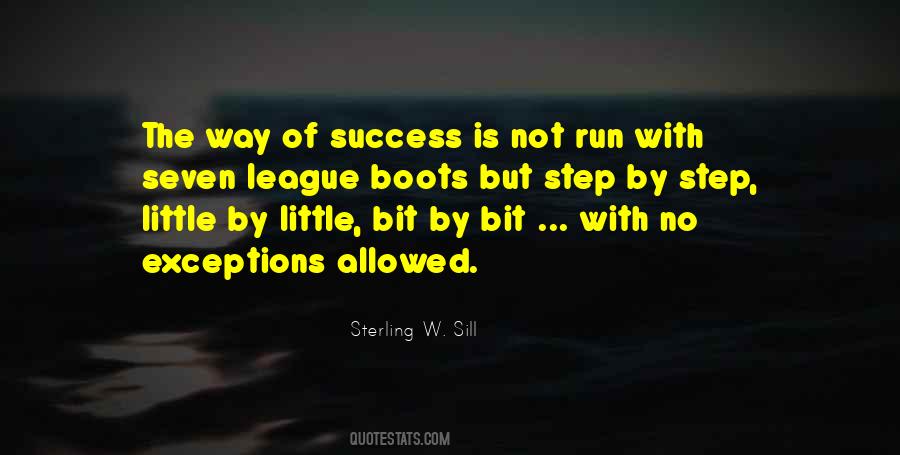 #32. All American males are failed athletes, and it was big time even if it was Little League. It meant a lot to you. - Author: Nick Nolte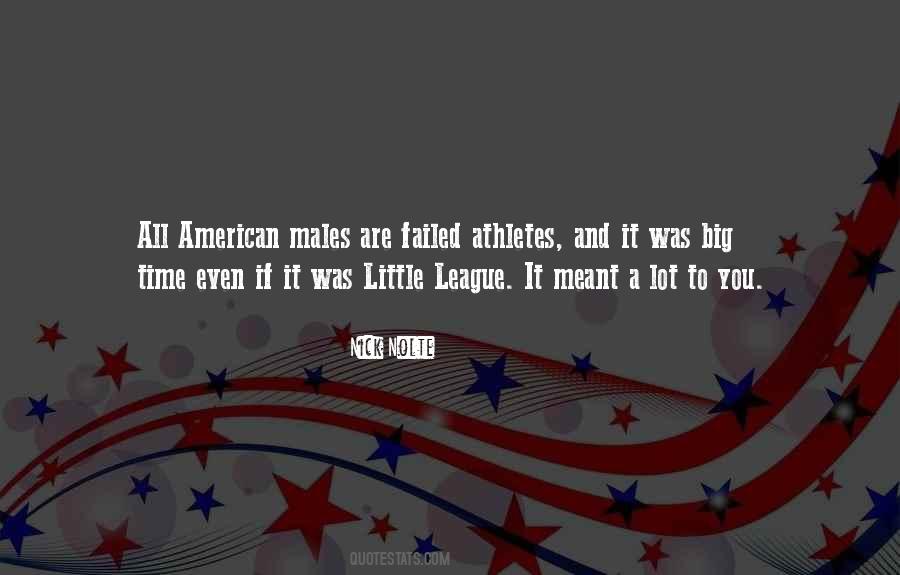 #33. I think sports are very beneficial in the fight against obesity. I remember playing little league - I was the best person on the pitch by a long shot. It was only last weekend actually, I think I have some photos of it if you're interested. - Author: Zach Braff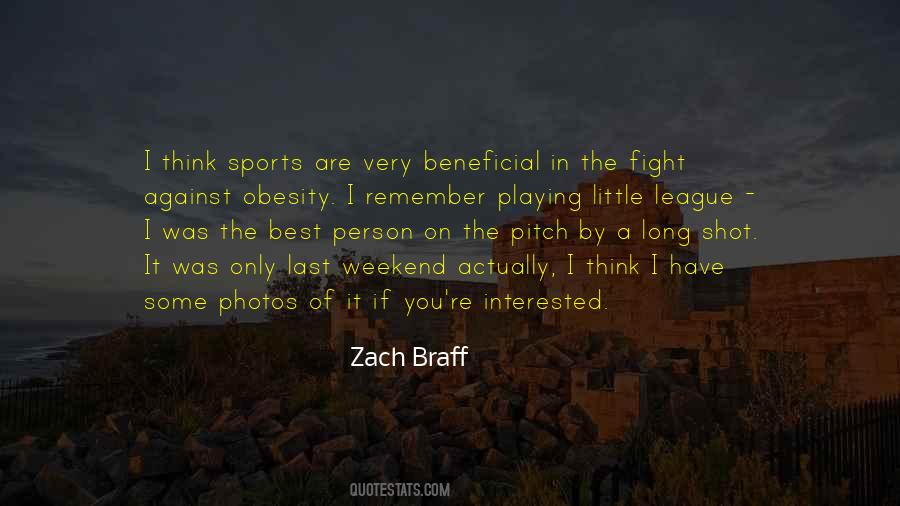 #34. He also offered a novel and, to my mind, worthy suggestion, that the league could benefit from replacing some of the tired heavy metal that is pumped into arenas with a little old-school Michael Jackson. "That would get me fired up," he said. - Author: Anonymous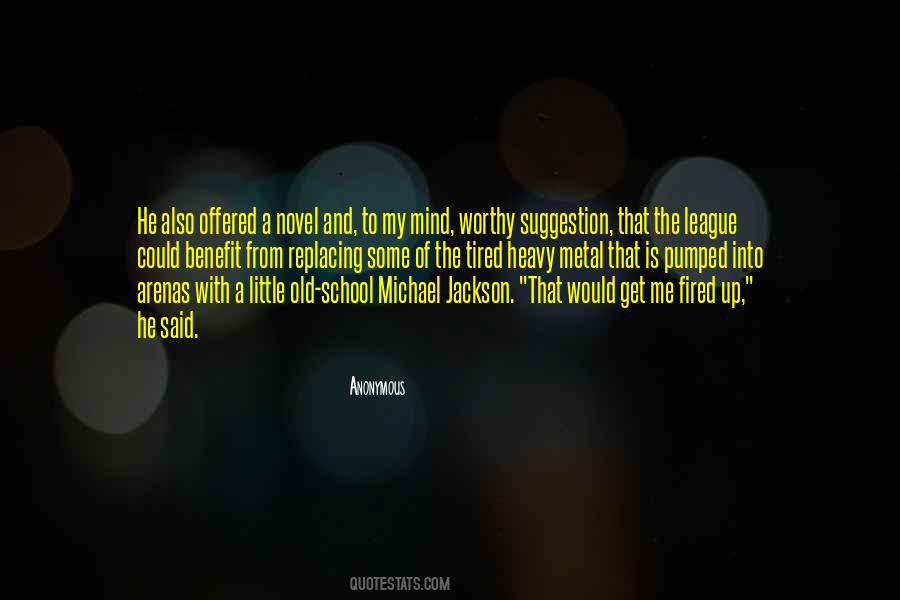 #35. My husband and Charlie Sheen played Little League together. They've always been best friends. - Author: Heather Langenkamp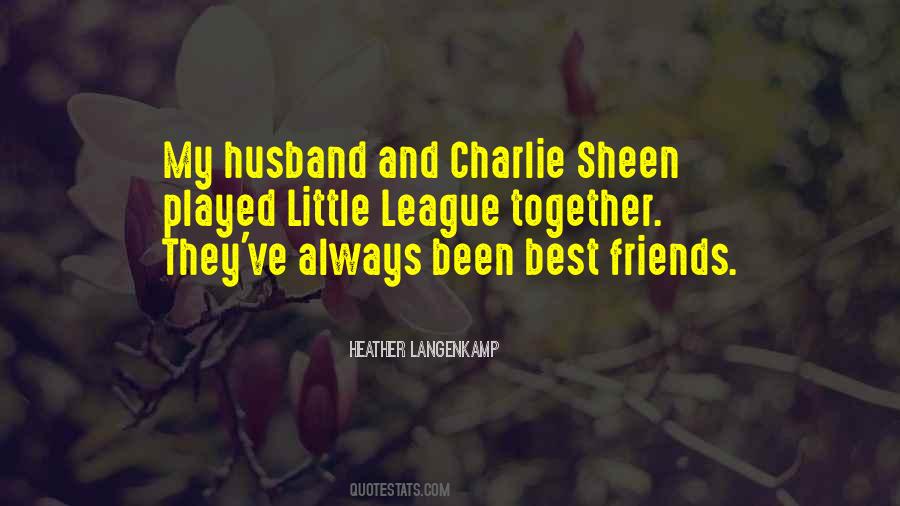 #36. It just wasn't for me, and anyway, those people were a lot more far gone than I was. More in my father's league than mine. I just cut back a little. Less beer and liquor, more jogging. I was fine. - Author: Wally Lamb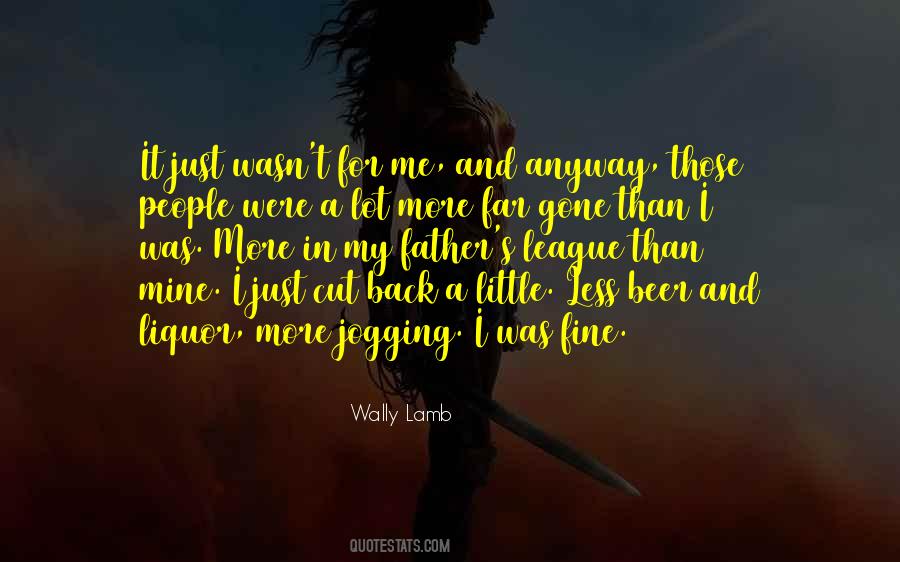 #37. My dad was my Little League coach and my Cub Master. - Author: Billy Baldwin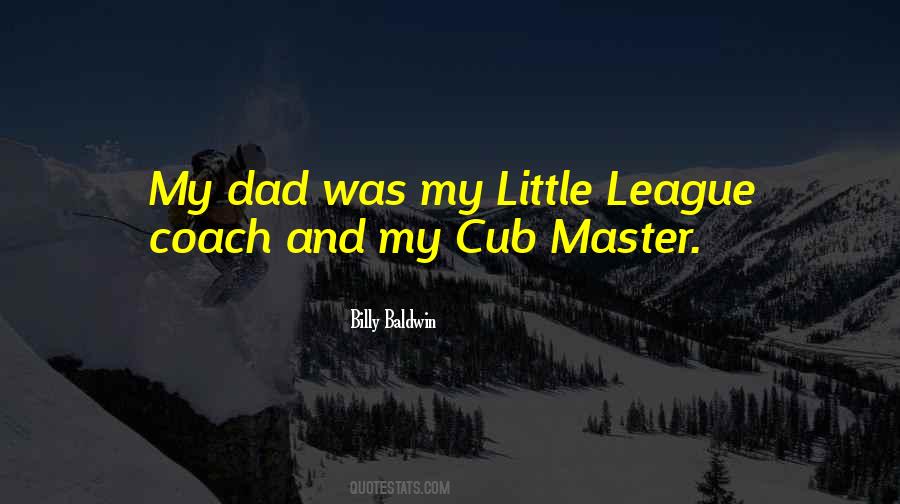 #38. My father was a Little League dictator. That really affected me, his control-freakery, his impunity, his arbitrary unreasonable power. - Author: Junot Diaz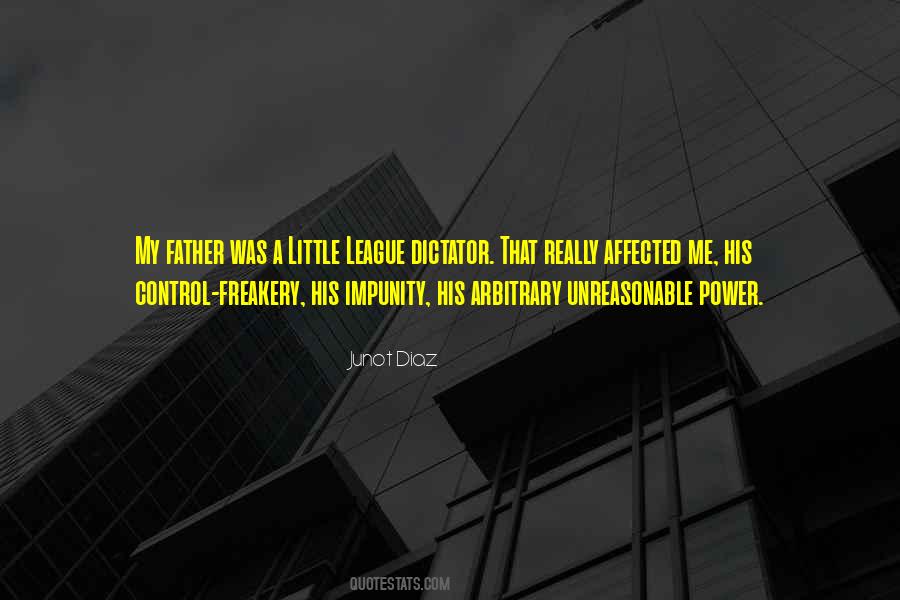 #39. A player should be disparaged if he gives less than his all, if he doesn't give 100%, no matter what shirt he's wearing. Whether it's your national team, your club, or little league. Yes, there are friendly matches, recreational ones, and so on, but sport in its essence is about giving your best. - Author: Rabih Alameddine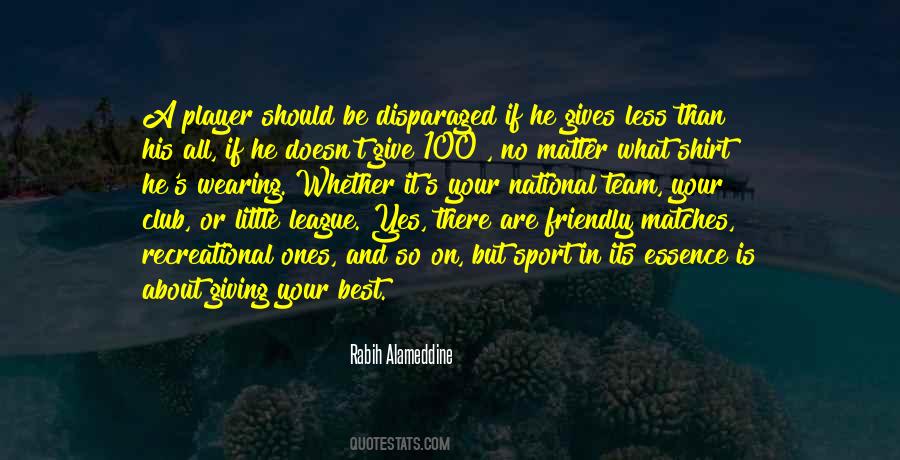 #40. She's out of your league."
Beth giggled. "That's because she turned you down flat freshman year. Isaiah thought he could date up and asked a sophomore out. Little did he know Ms. Perfect had been dating King Luke for a year. - Author: Katie McGarry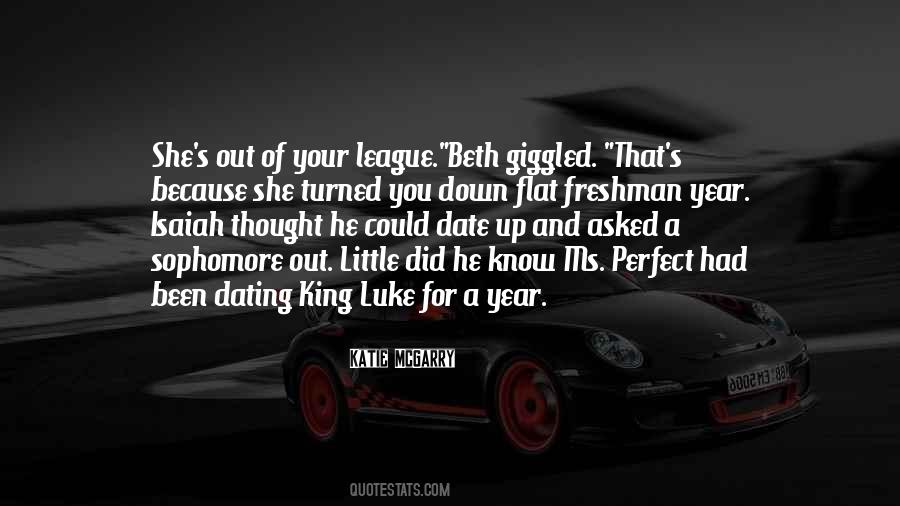 #41. In the summertime, I played Little League baseball; football in the fall; basketball in the winter. - Author: Bobby Keys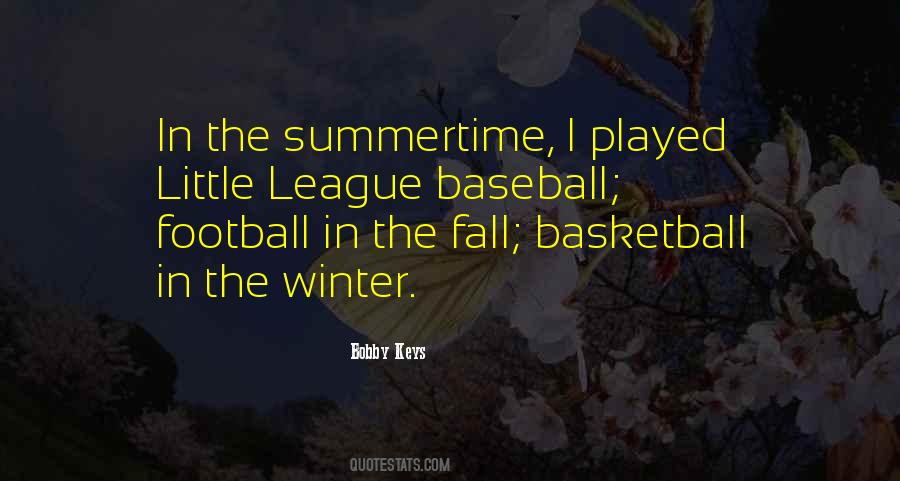 #42. There is no life for girls in team sports past Little League. I got into tennis when I realized this, and because I thought golf would be too slow for me, and I was too scared to swim. - Author: Billie Jean King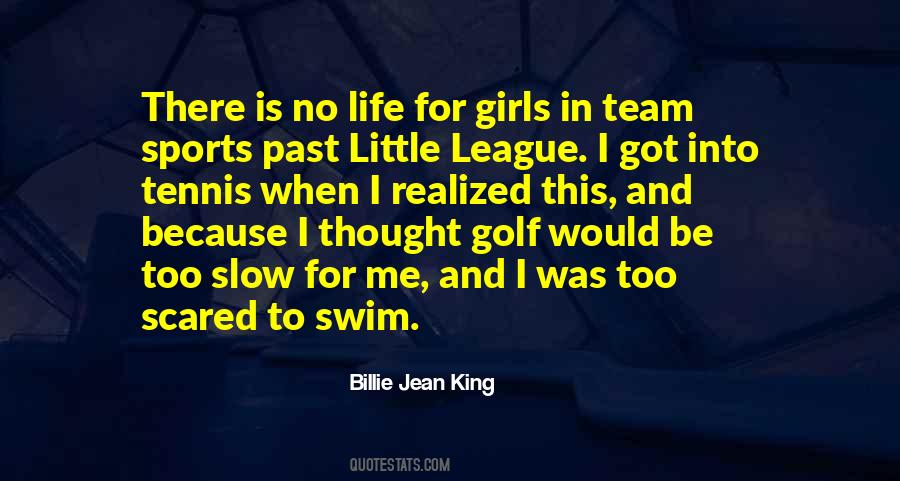 #43. I would say I'm more patient, way more patient than I was when I came in [to the league], before the injuries. But I think just going through everything, just maturing a little bit more, getting older, you start to see what it is and I'm good. - Author: Derrick Rose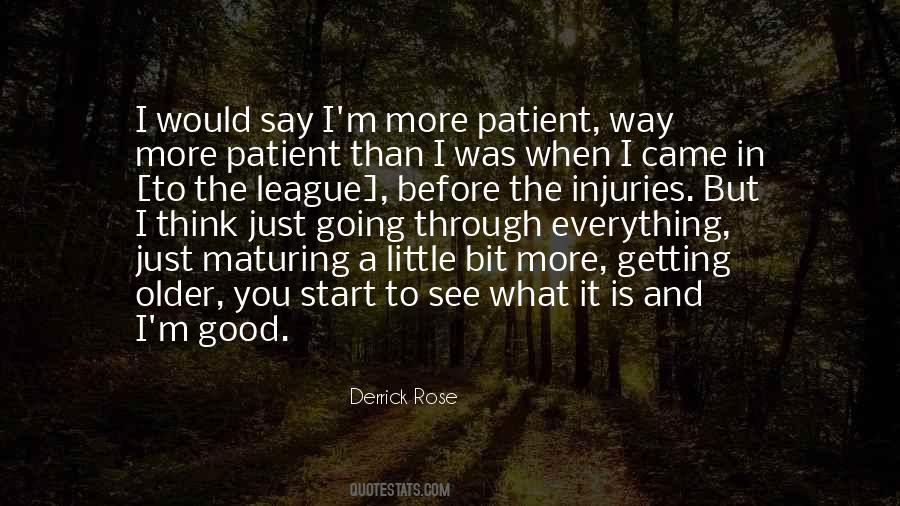 #44. This illuminates not only fans' interest in major league teams but also the minors and even Little League. - Author: John Thorn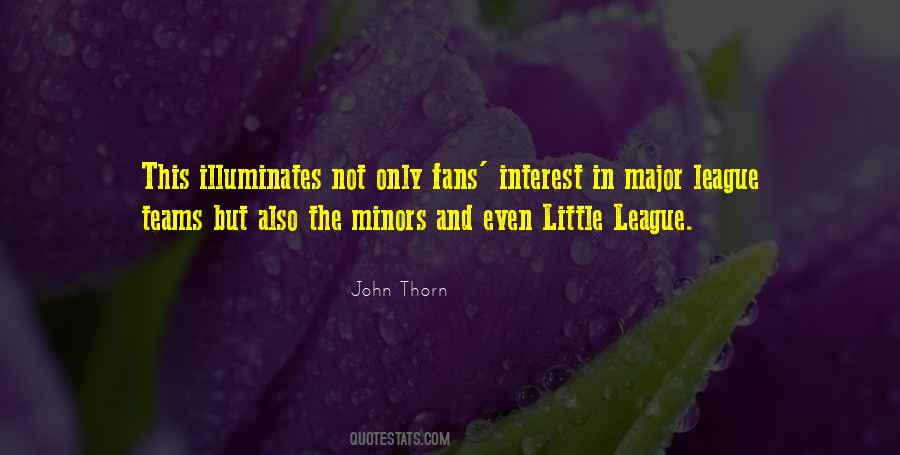 #45. As a youngster, I played in Little League, Pony League, and all sorts of amateur baseball programs growing up. - Author: Jim Evans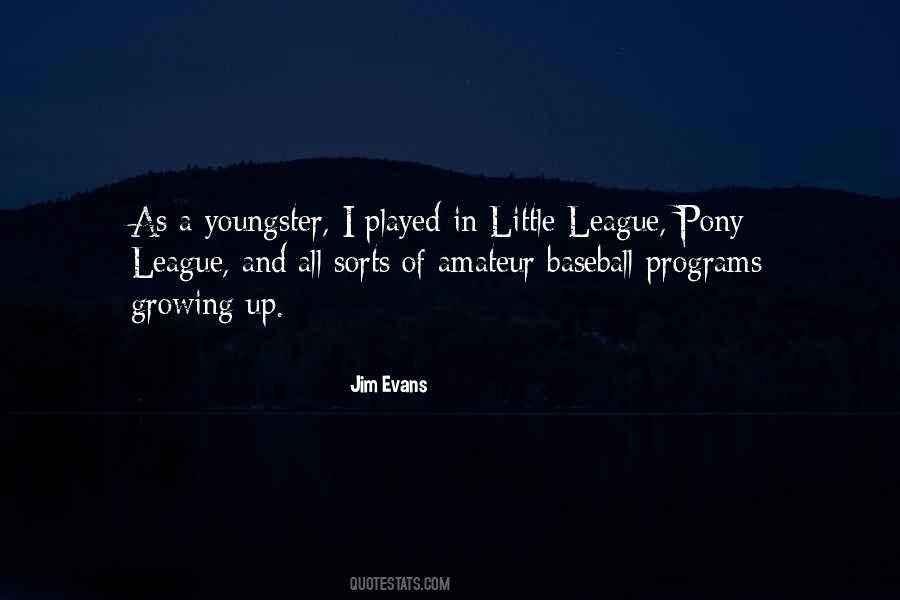 #46. I played Little League and in high school. I played more over the years whenever there was a pick-up game ... usually softball. - Author: Matthew Modine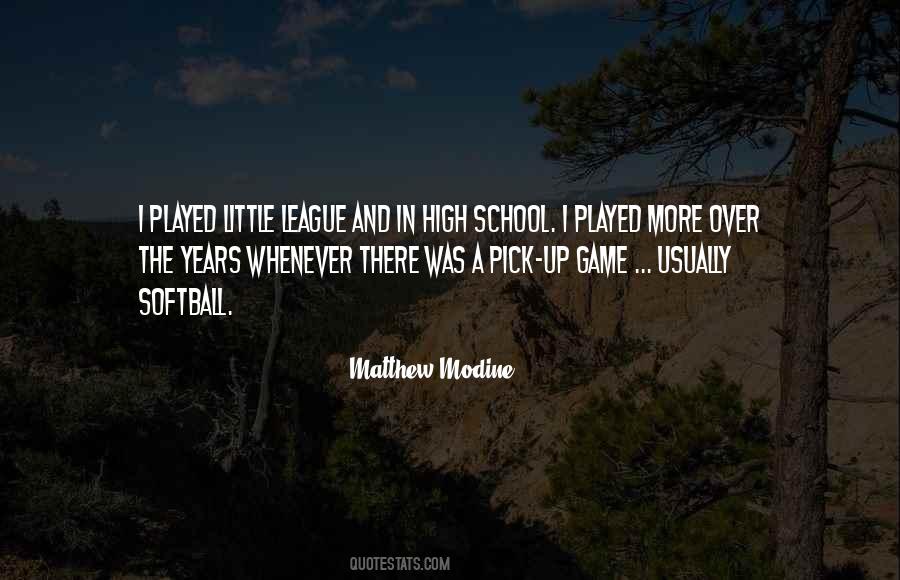 #47. I remember making the all-star team in Little League when I was around 11 years old. I was not a great athlete, but I loved it, so making starting second base in the all-star was great for me. I think someone must have been sick and they slotted me in. - Author: Ralph Macchio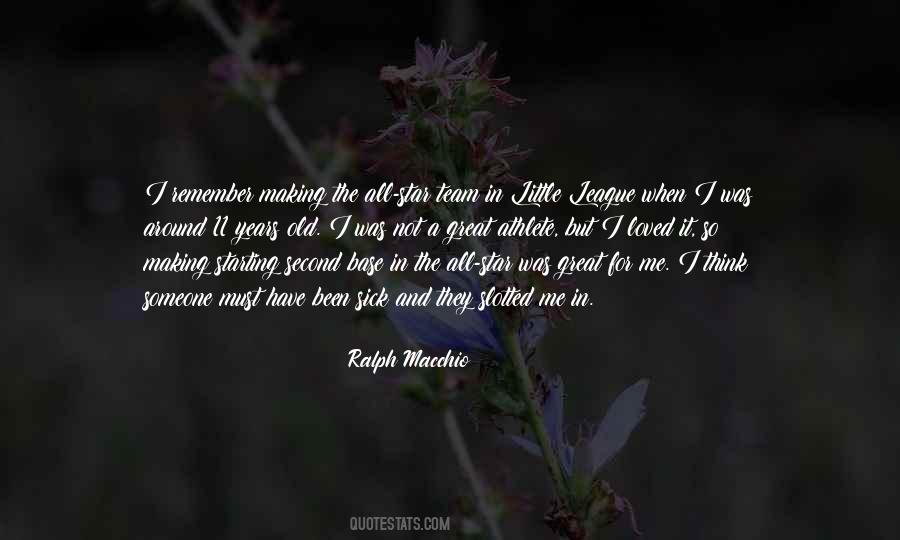 #48. Give a little party," she insisted. "Just a small affair. Nobody will dress. It's the anniversary of the founding of the Bloomer League - you didn't even remember that." "It's no use," said Tom. - Author: John Steinbeck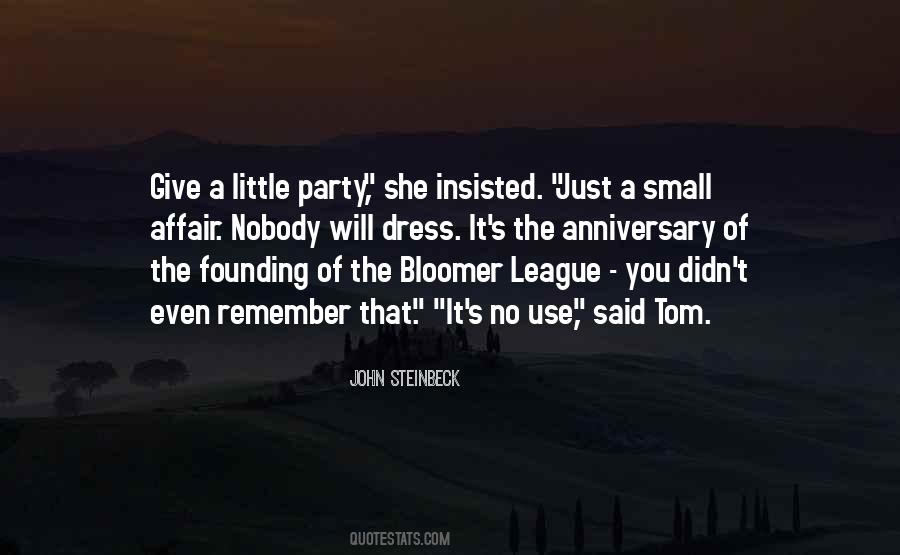 #49. I can only guess that, for guys in their 30s and 40s who watched me play, they understood that the score never mattered and my paycheck never mattered (in relation) to how I played. I played with Little League enthusiasm and professional flair. That's what fans are really looking for. - Author: Andy Van Slyke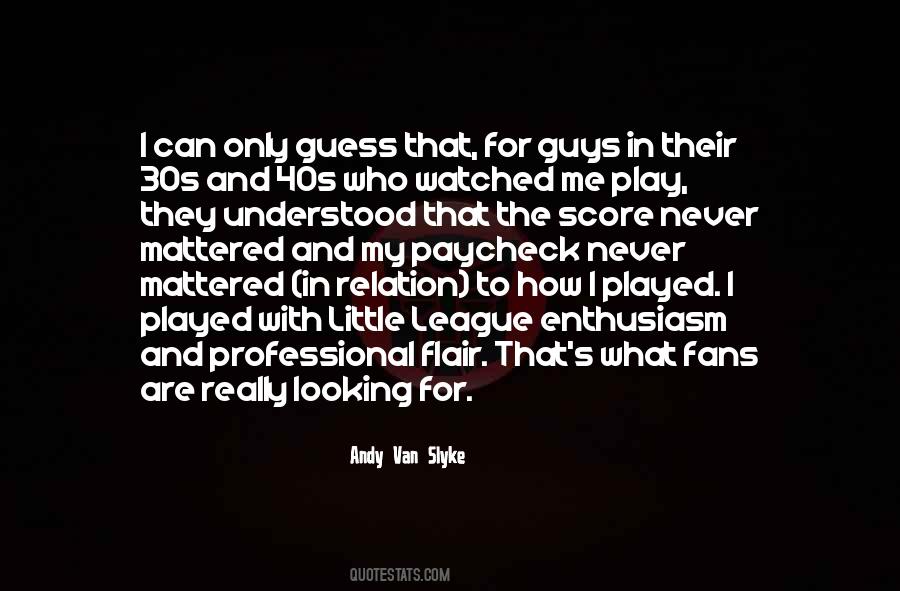 #50. Generally in the Little League you're up against a good pitcher who throws like hell. What does the coach say? Get a walk. Isn't that beautiful way to learn to hit? For four years you stand up there looking for a walk. - Author: Robin Roberts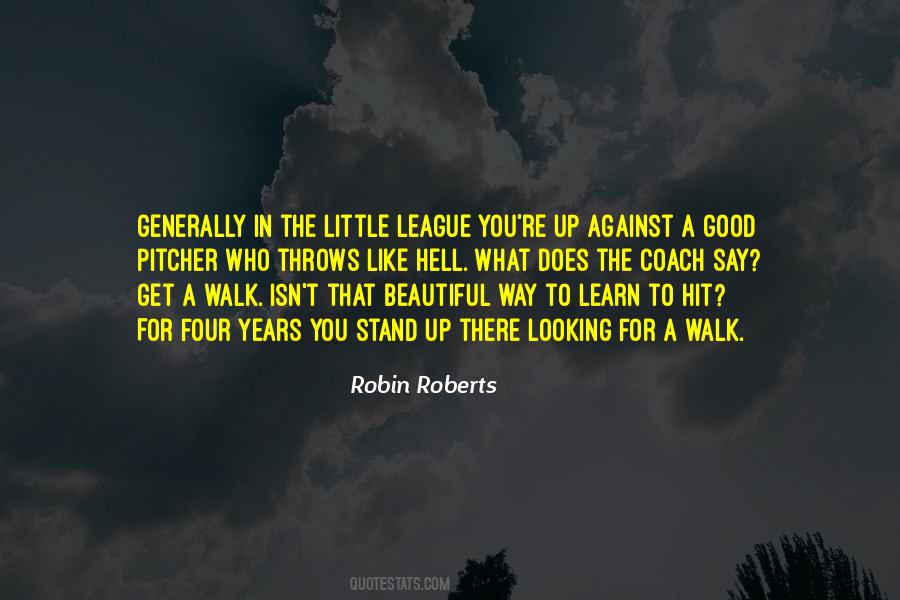 #51. Little League baseball is a very good thing because it keeps the parents off the streets. - Author: Yogi Berra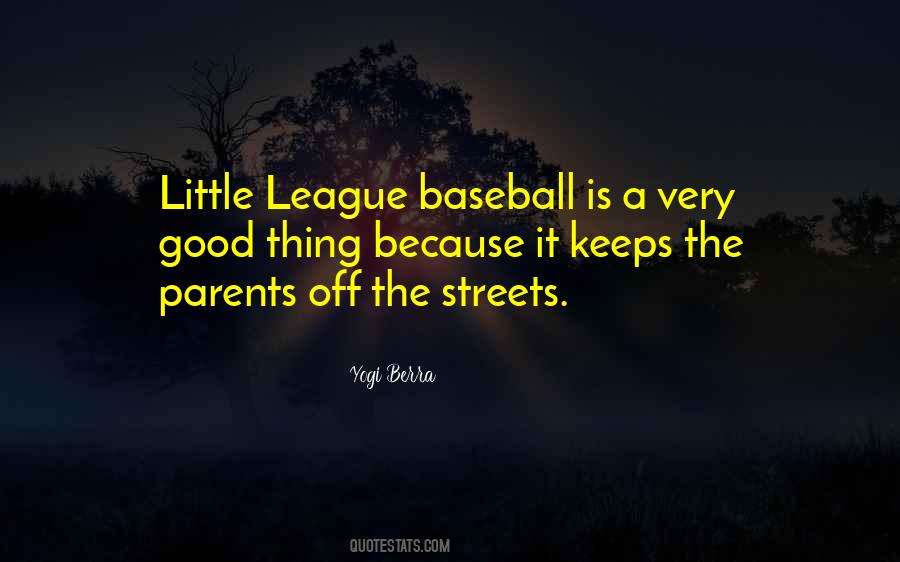 #52. in terms of sin, you're in the majors, and she hasn't even filled out her Little League paperwork yet." "I'll - Author: Abigail Barnette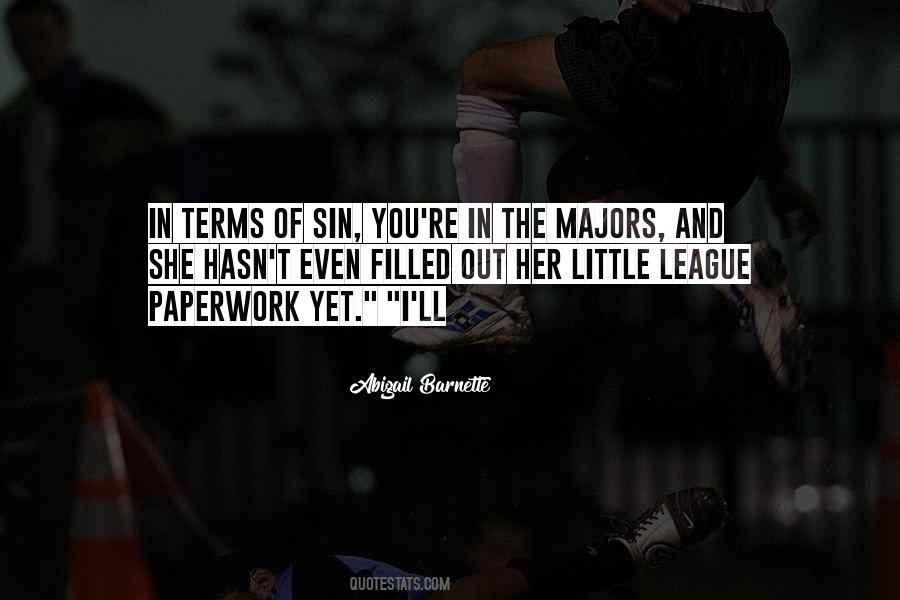 #53. I played maybe one and a half games of Little League. The whole atmosphere of anxious parents and more anxious children was just too much for me. - Author: Harrison Ford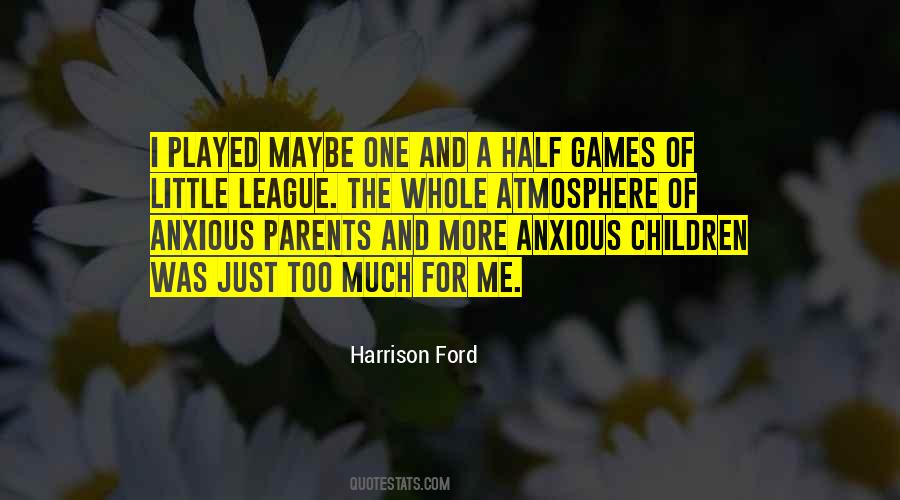 #54. I was playing little league baseball when Bruce Jenner was winning the gold, but I don't think I was really paying attention at that time. It wasn't until 1980 - I think I was 12 years old - that I thought, 'Wow that's what I want to do. I want to be on the Olympic team.' - Author: Dan O'Brien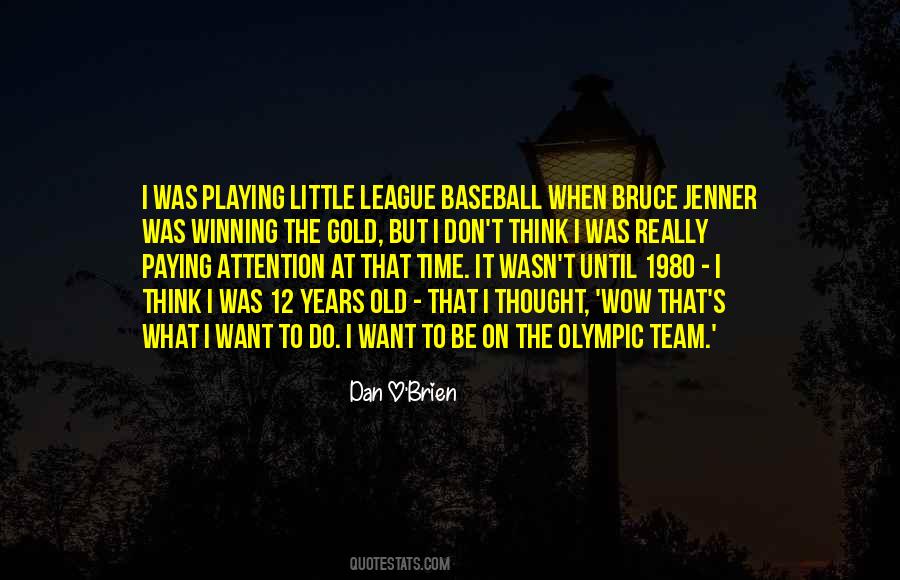 #55. I wish I could play little league now. I'd be way better than before. - Author: Mitch Hedberg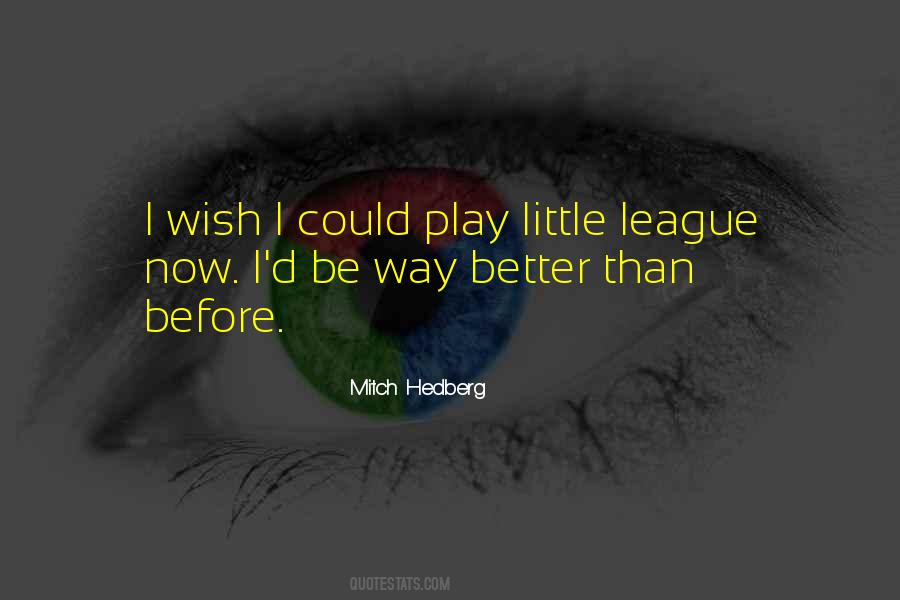 #56. Brendan's chihuahua doesn't do that. During the week it sleeps, eats and trains a little bit. So I have to say his chihuahua is a privileged one. - Author: Jose Mourinho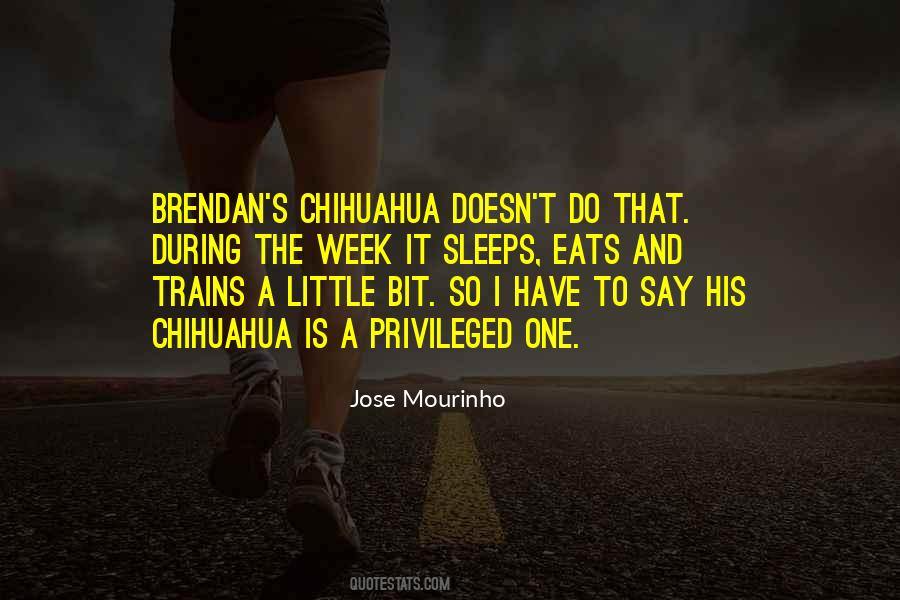 #57. We were totally opposite - me coming from the West Coast and a junior college, and him [ Christopher Reeve] from the hard-core Ivy League. He used to be the studly studly of all studlies, and I was the little fool ferret boy. - Author: Robin Williams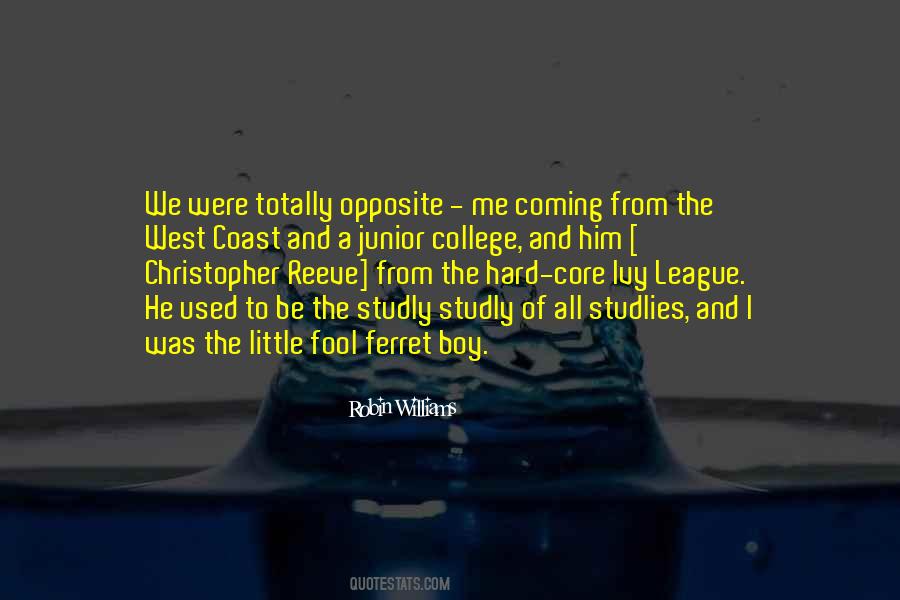 #58. I know it will take a little time to adapt to a different team and a different league. - Author: Robbie Keane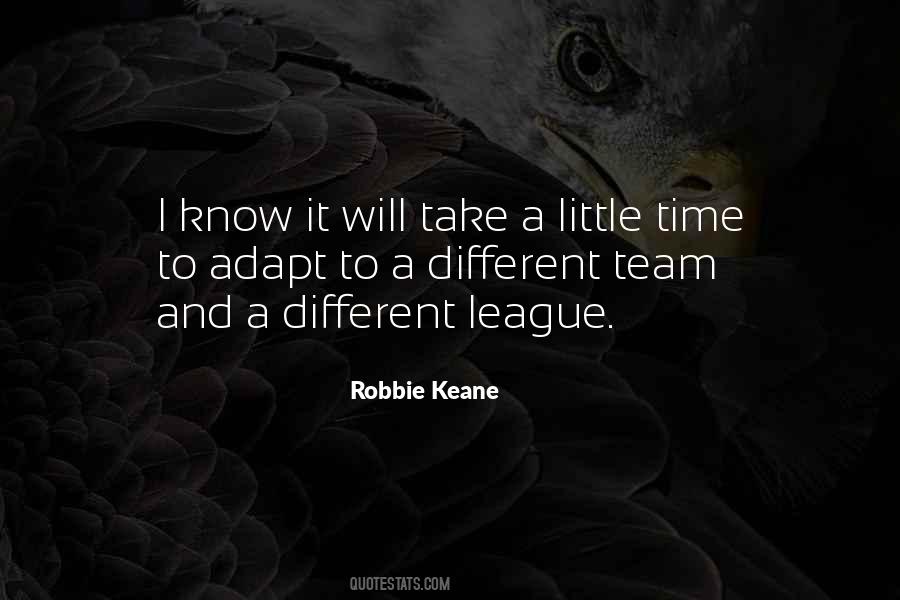 #59. I think Little League is wonderful. It keeps the kids out of the house. - Author: Yogi Berra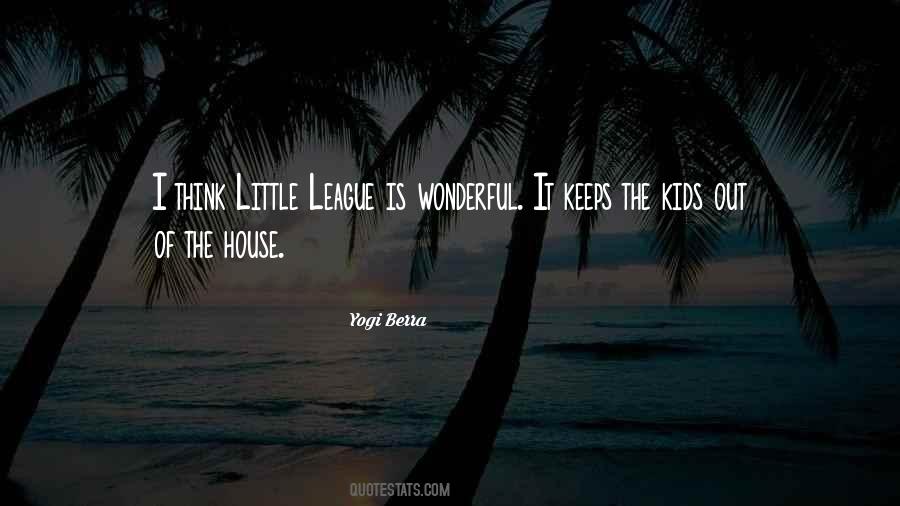 #60. I grew up with baseball; I played in Little League and went to games with my dad. But I, as I grew up, became more of a basketball fanatic than a baseball one. - Author: Jonah Hill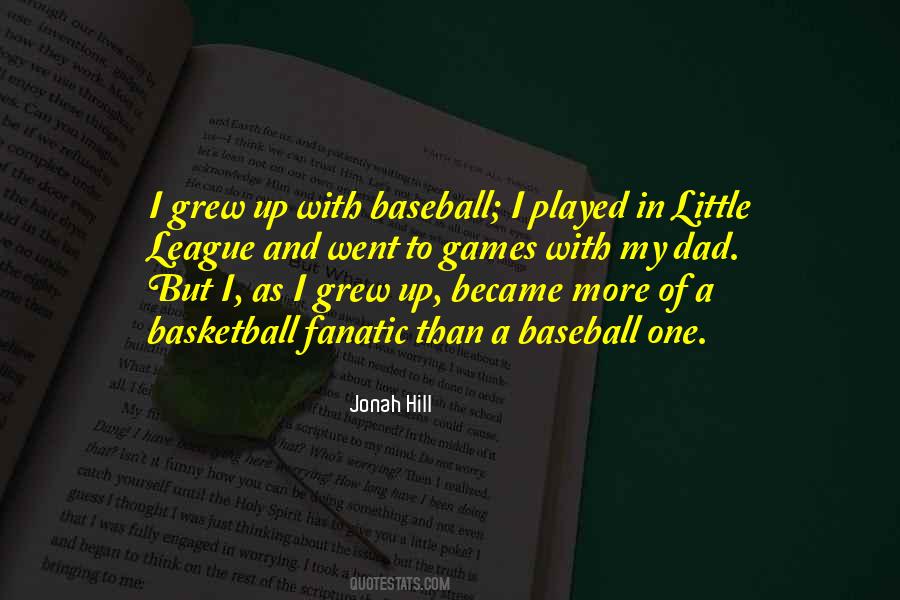 #61. I'm a little skeptical of foreign coaches in our league and in U.S. Soccer just because of how different our league is and our players are than other players around the world. - Author: Landon Donovan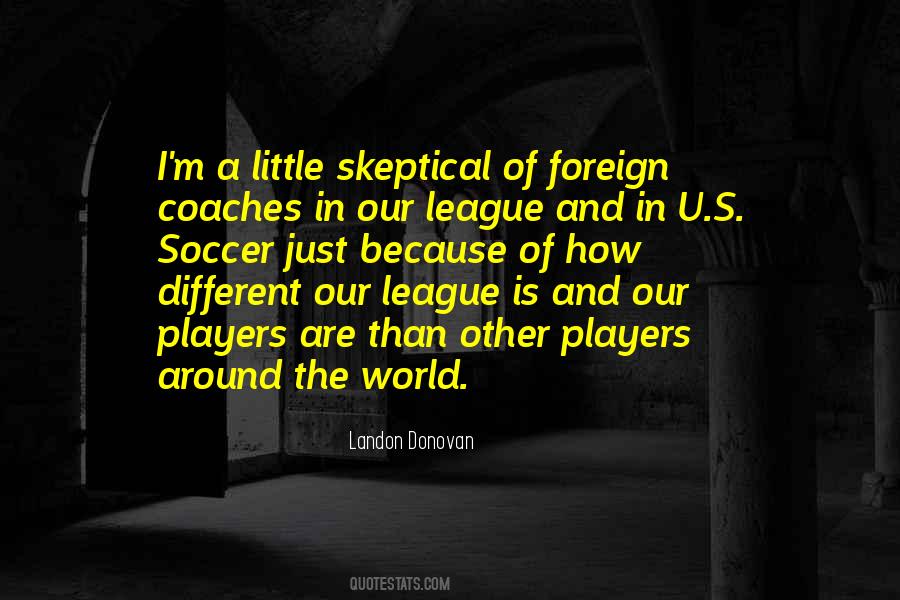 #62. I played Little League baseball, but I also played basketball. Basketball was my primary sport. When you play basketball seriously, a lot of times, through the summer season, you continue playing. So that replaced me playing baseball. - Author: Chadwick Boseman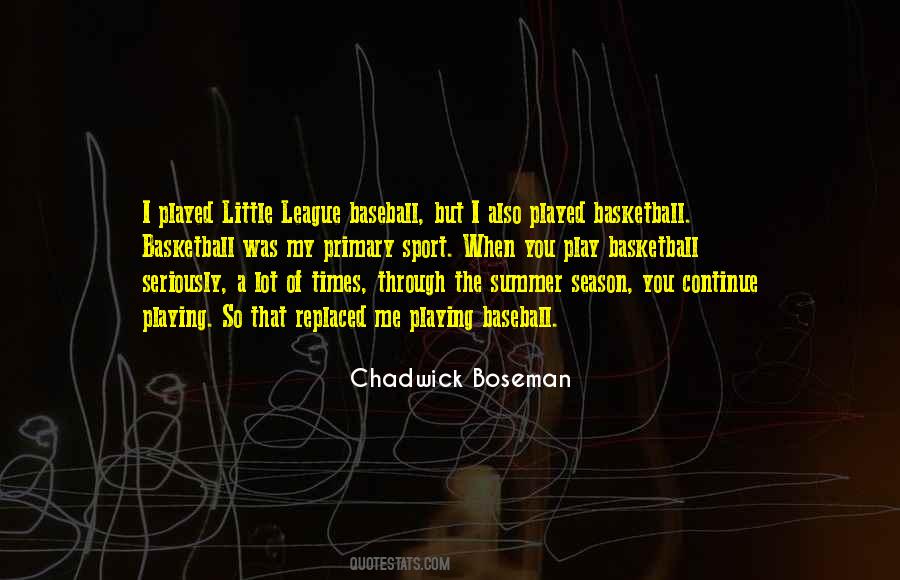 #63. When I was a kid, man, my dad used to buy me the Ted Williams glove at Sears with the Ted Williams shoes with the eight stripes on 'em. I used to play Little League, and I was Ted Williams-ed out. - Author: Tony Gwynn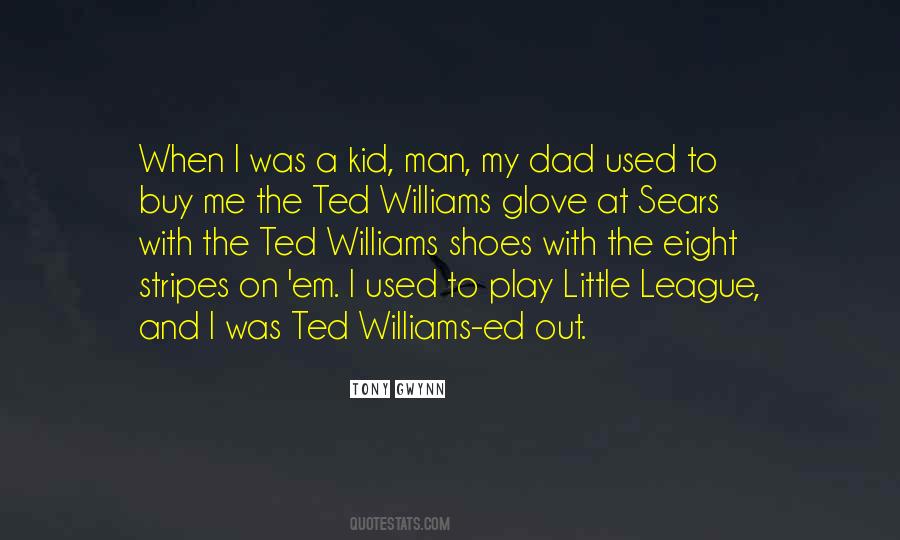 #64. I'm among the first girls ever to play Little League baseball, and to my knowledge, the very first in western Illinois. It was 1976, and I was a nine-year-old tomboy whose older brothers had played. - Author: Therese Fowler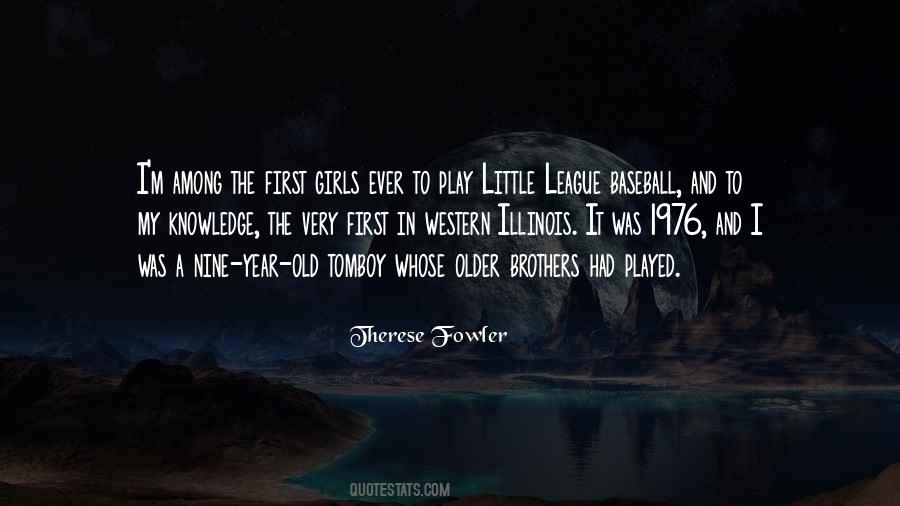 #65. There's nothing wrong with the Little League World Series that locking out the adults couldn't cure. - Author: Mike Penner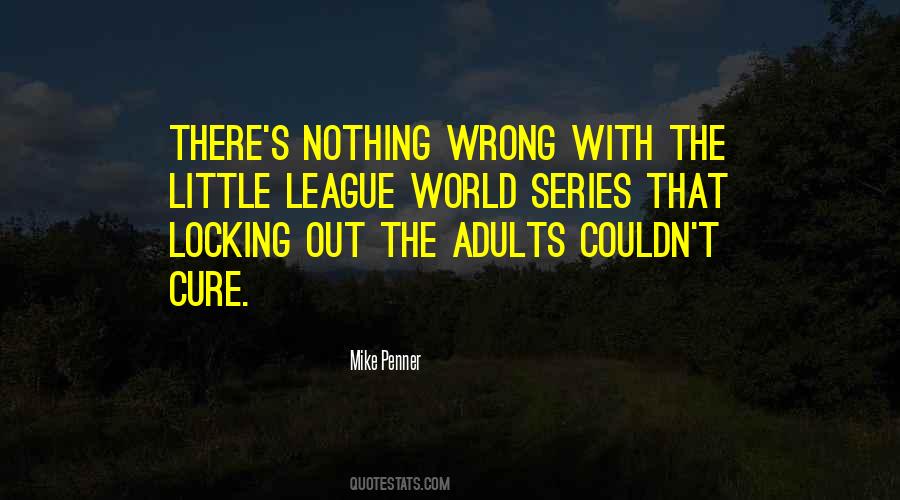 #66. It was always just trying to move to the next limit. I didn't think about making the major leagues - every kid has that dream, I had it, but when I was in Little League I just wanted to make the junior high team. When I was in junior high, I wanted to make the Varsity team. - Author: Jim Abbott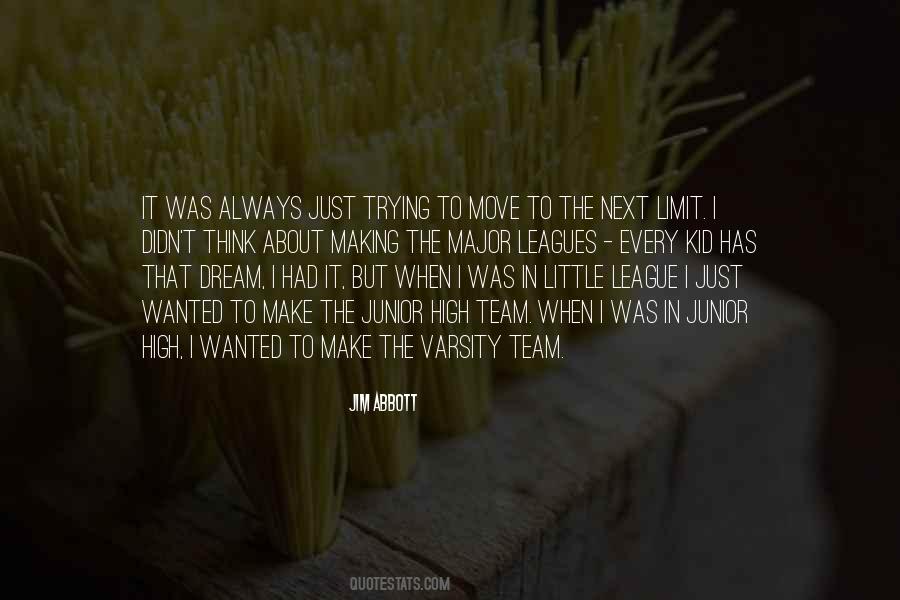 #67. Occasionally Rebecca wished her son would not be so very kind to her, as though she was the losing pitcher on a Little League team. - Author: Anna Quindlen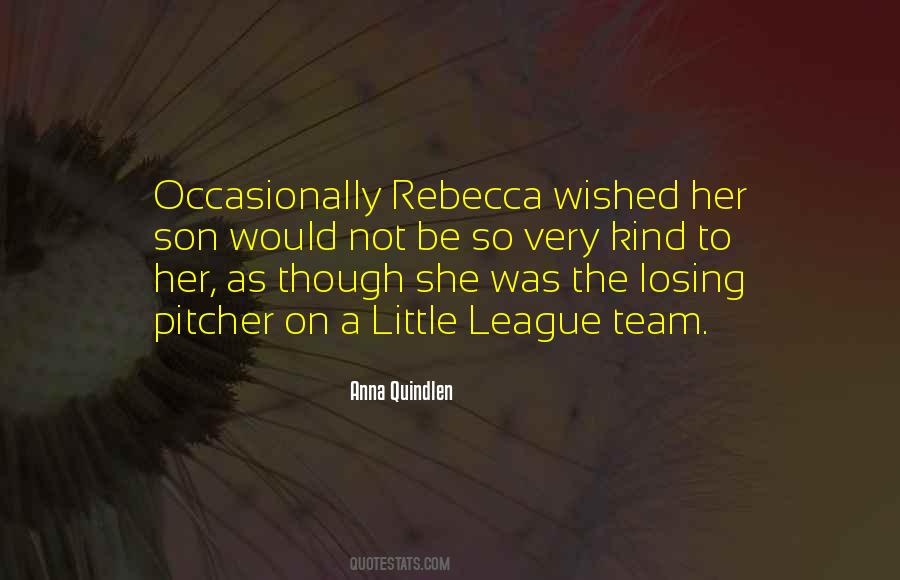 #68. I played Little League in junior high and high school. - Author: Jerry Spinelli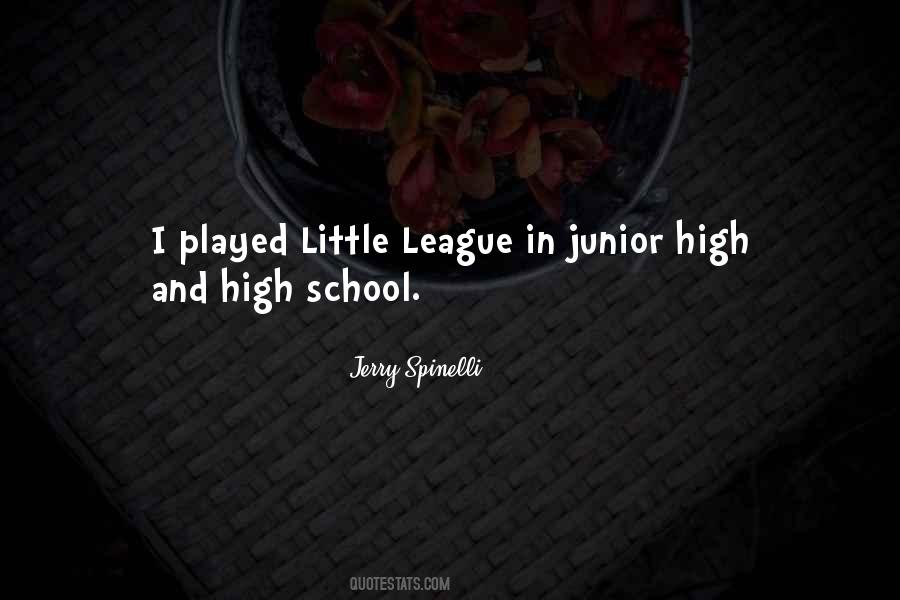 #69. As a kid, I used to love to play baseball and be in Little League and sleep outside with my friends and do all those kind of things. - Author: Gary Wright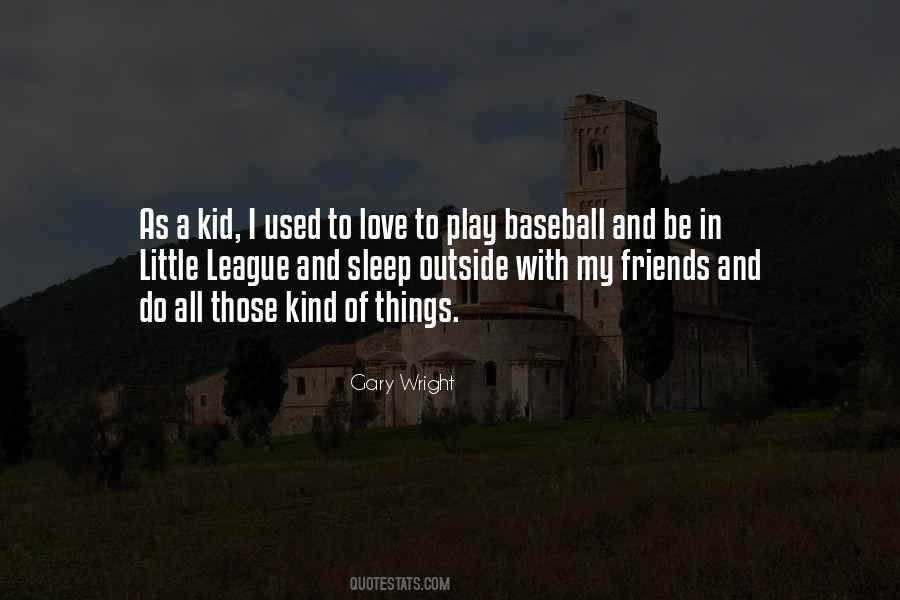 #70. That's sounds right. Another $5,000 went to dress up the Little League park where he had played so many games. Seems like he paid off the MORTAGE on his parents' home, which wasn't that much. - Author: John Grisham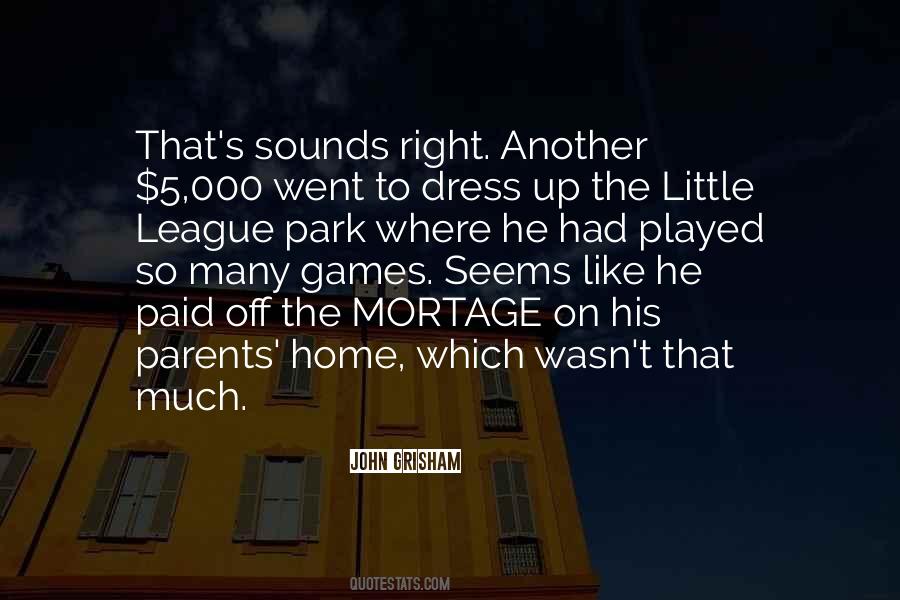 #71. Youngsters of Little League can survive undercoaching a lot better than overcoaching. - Author: Willie Mays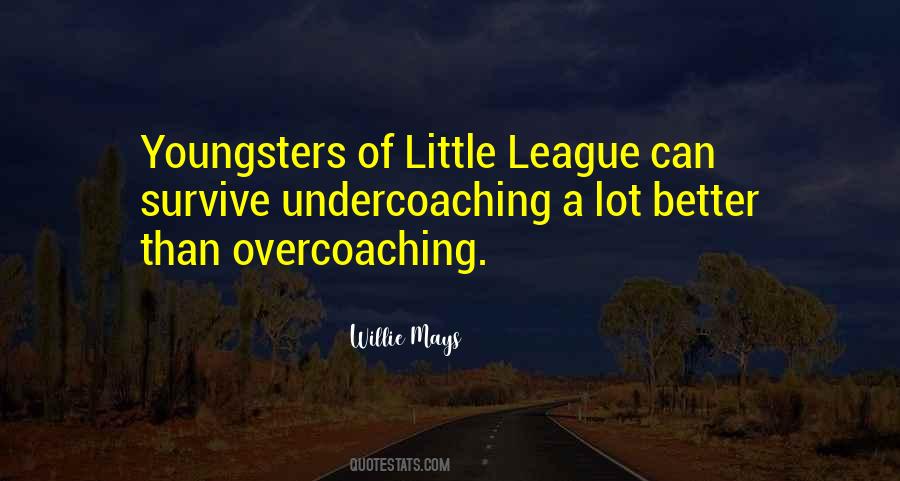 #72. I told myself that if I ever make it to the big leagues that I would be the one to appreciate the fans. Take a little time out to sign autographs and shake their hands and say hello to them. - Author: Rickey Henderson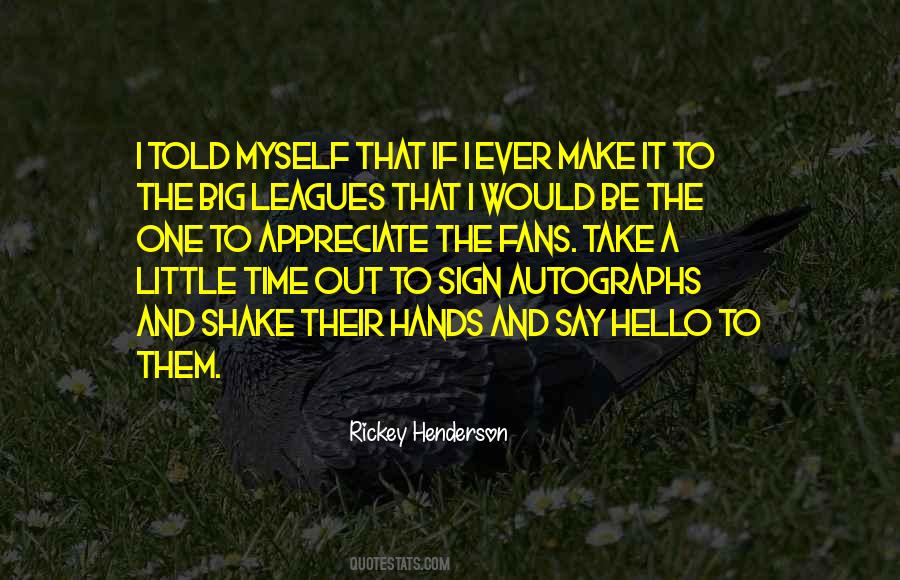 #73. Little did we know then that CNN would become the big league. - Author: Christiane Amanpour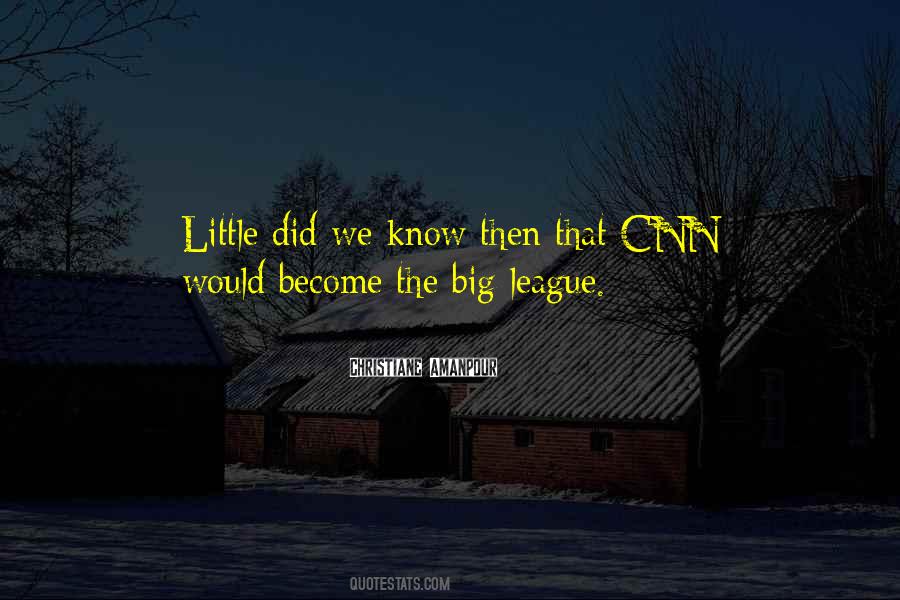 #74. We have an obligation to spread amateur baseball both at home and abroad. Building up the game at all levels - Little League, Babe Ruth Leagues, the colleges - is in our own self-interest. That's where the pool of talent is - and also of fans. - Author: A. Bartlett Giamatti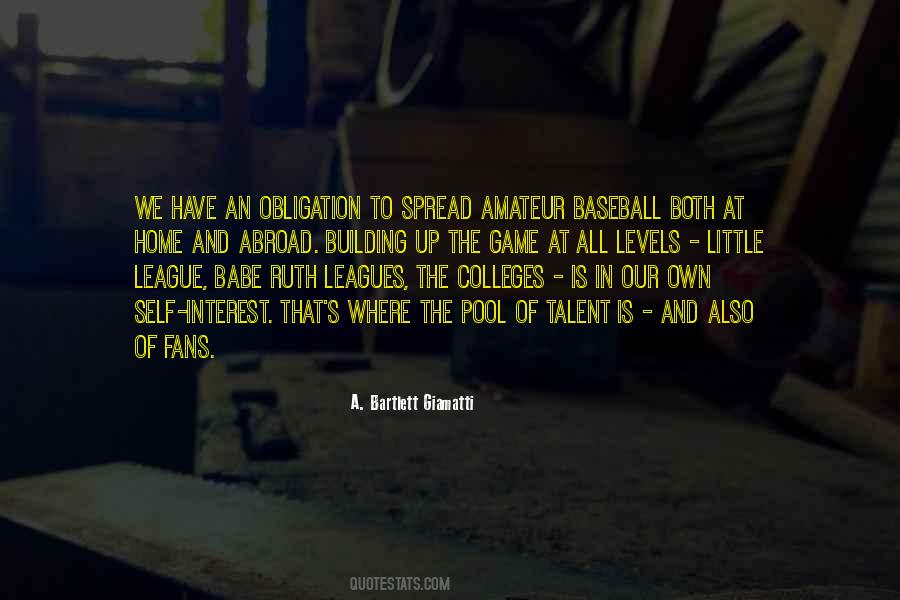 #75. How could it be little me had the power to be The best 'B' in the league yeah inevitably - Author: Nicki Minaj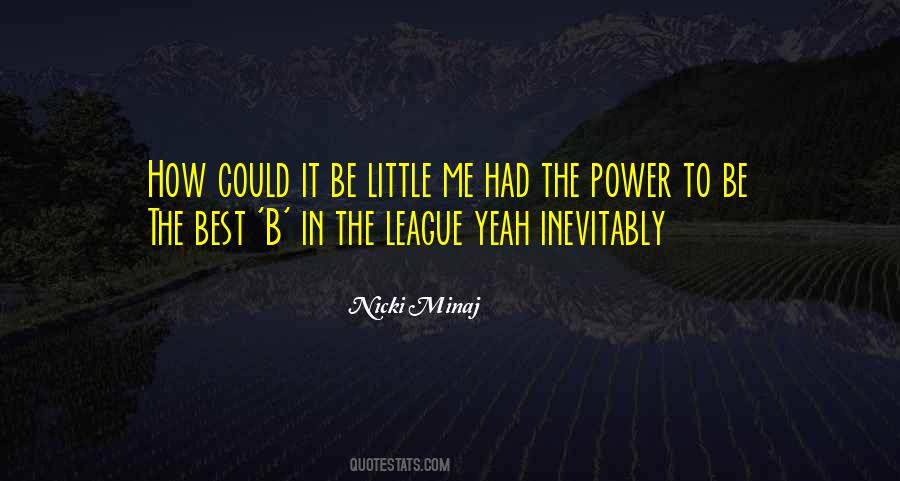 #76. MVP is the best player in the league. I think that's too big for me. When people call me the MVP, I'm a little surprised by that. - Author: Rafael Soriano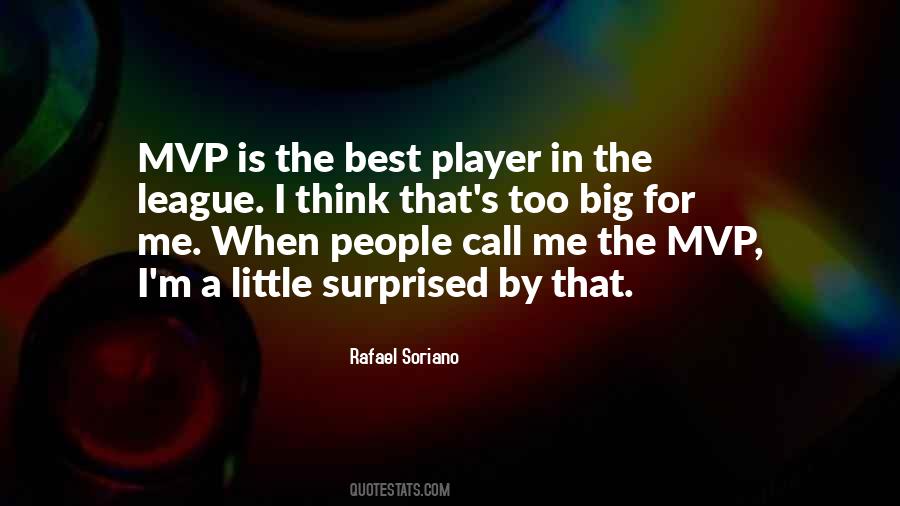 #77. [In management] you're getting an opportunity to meet and speak with the GMs, assistant GMs, owners, governors - all the way up the line. It's a great opportunity to understand the league a little better and the challenges it faces. - Author: Chris Pronger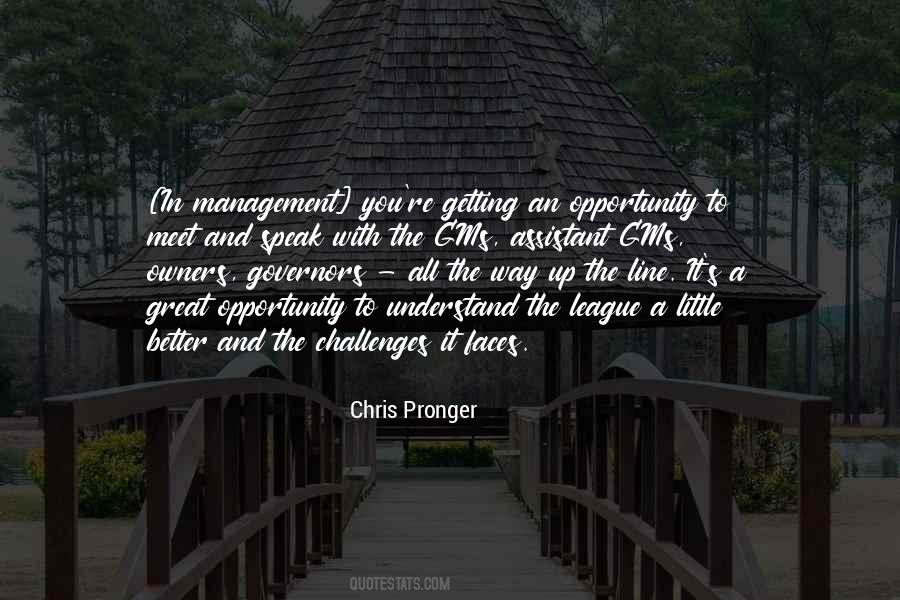 #78. My real-life athletic career was not very much. I played Little League baseball. - Author: Dennis Quaid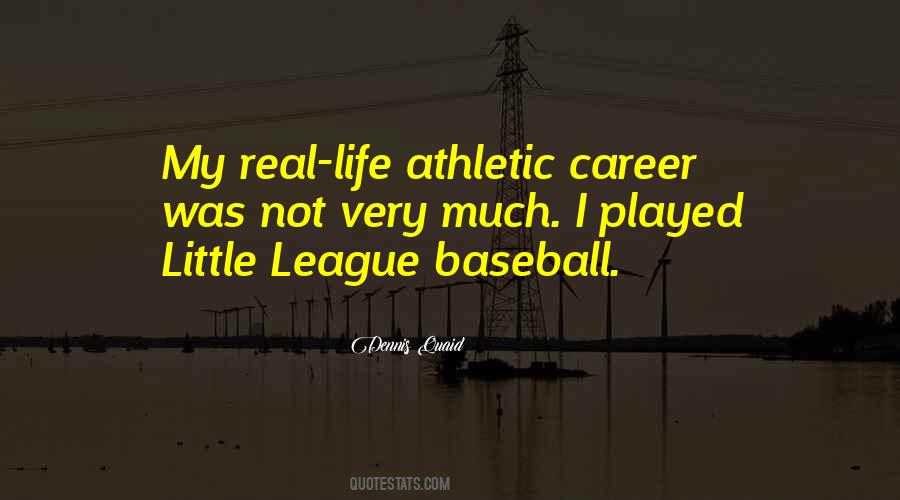 #79. You're playing a game, whether it's Little League or Game 7 of the Word Series. It's impossible to do well unless you're having a good time. People talk about pressure. Yeah, there's pressure. But I just look at it as fun. - Author: Derek Jeter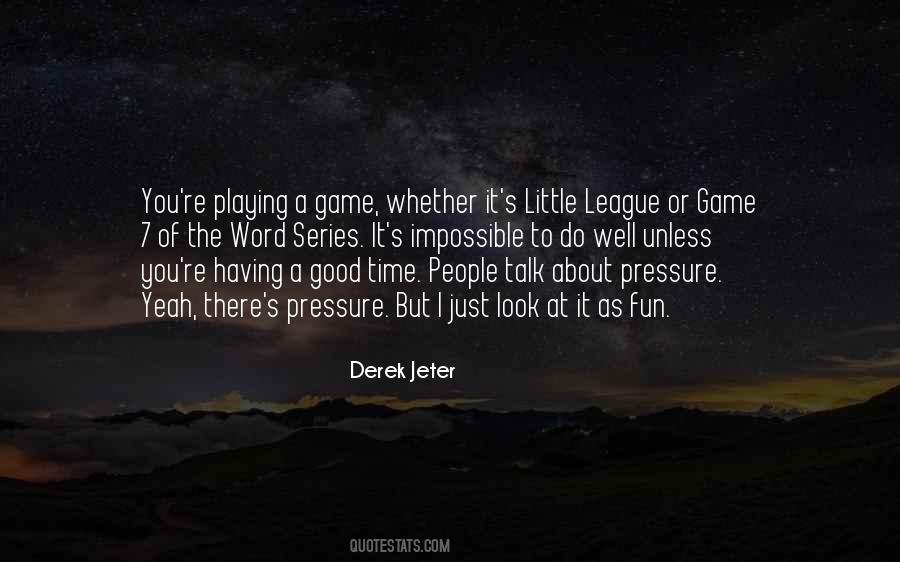 #80. How do you want to live your life? How do you want to play the game? Do you want to play in the big leagues or in the little leagues, in the majors or the minors? Are you going to play big or play small? It's your choice. - Author: T. Harv Eker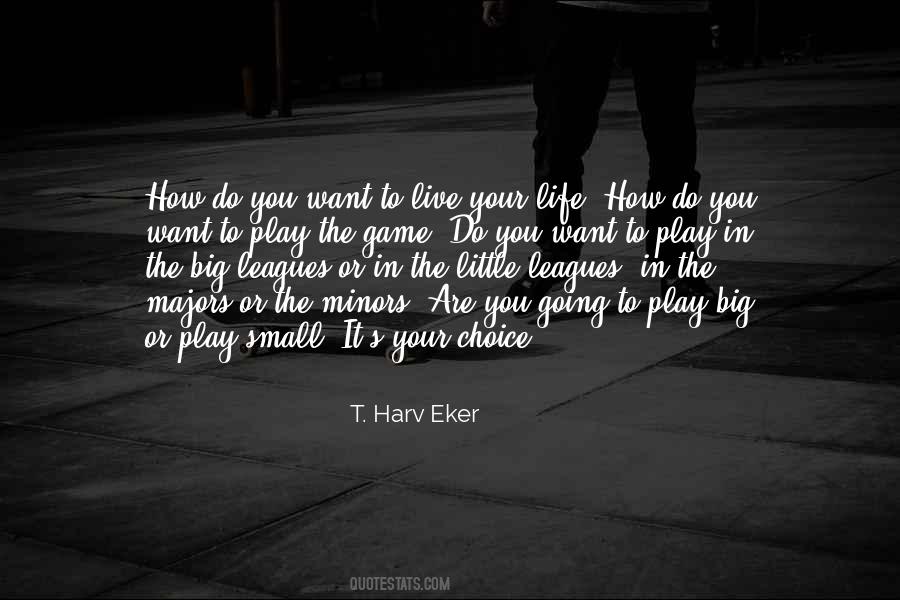 #81. I was nicknamed Skeeter in Little League because I was small and fast, like a mosquito flying across the outfield. - Author: Skeet Ulrich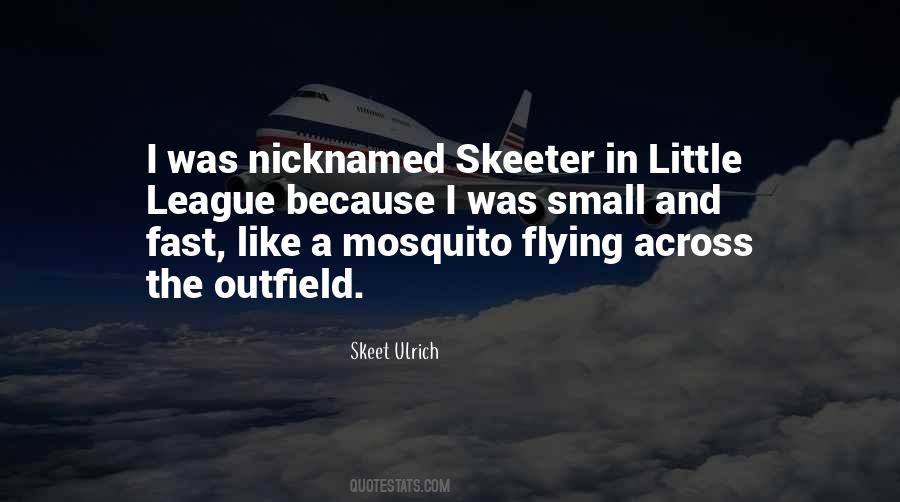 #82. Affirmative action is a little like the professional football draft. The NFL awards its No. 1 draft choices to the lowest-ranked team in the league. It doesn't do this out of compassion or guilt. It's done for mutual survival. They understand that a league can only be as strong as its weakest team. - Author: J. C. Watts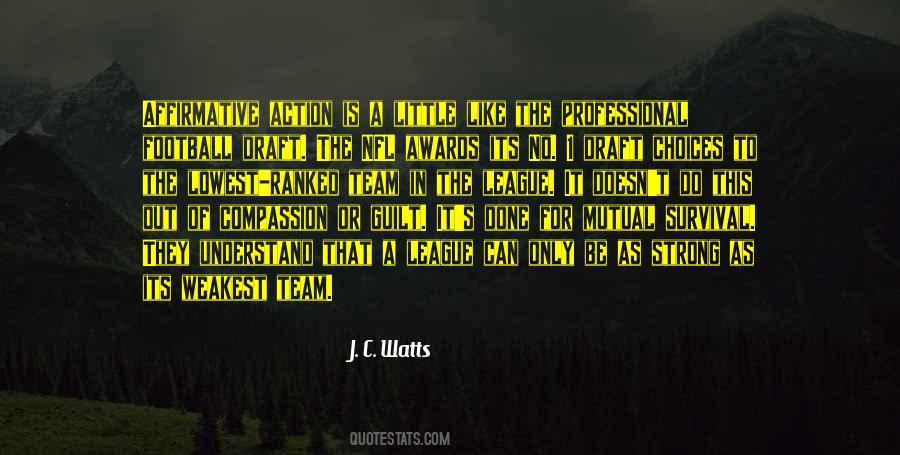 #83. Night baseball isn't an aberration. What's an aberration is a team that hasn't won a World Series since 1908. They tend to think of themselves as a little Williamsburg, a cute little replica of a major league franchise. Give me the Oakland A's, thank you very much. People who do it right. - Author: George Will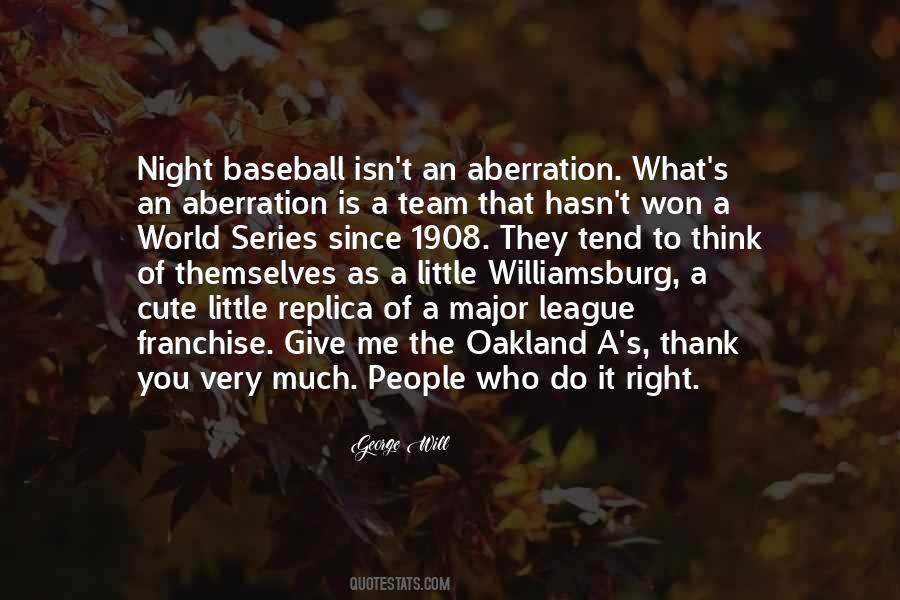 #84. I played Little League for one year. That was it. Then my mother realized I liked books and threatened my father. I owe her forever for that. - Author: Brad Meltzer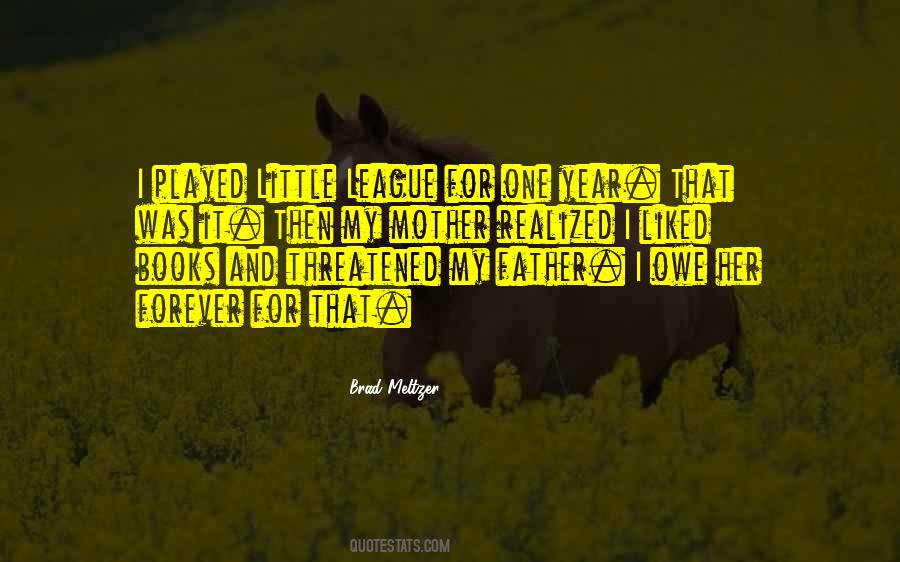 #85. I think I have a pretty goofy profile for a writer. It seems to me most writers were reading 'Little Women' when they were 6 months old. At the age of a lot of my readers, I wanted to be a major league baseball player. I didn't read much. - Author: Jerry Spinelli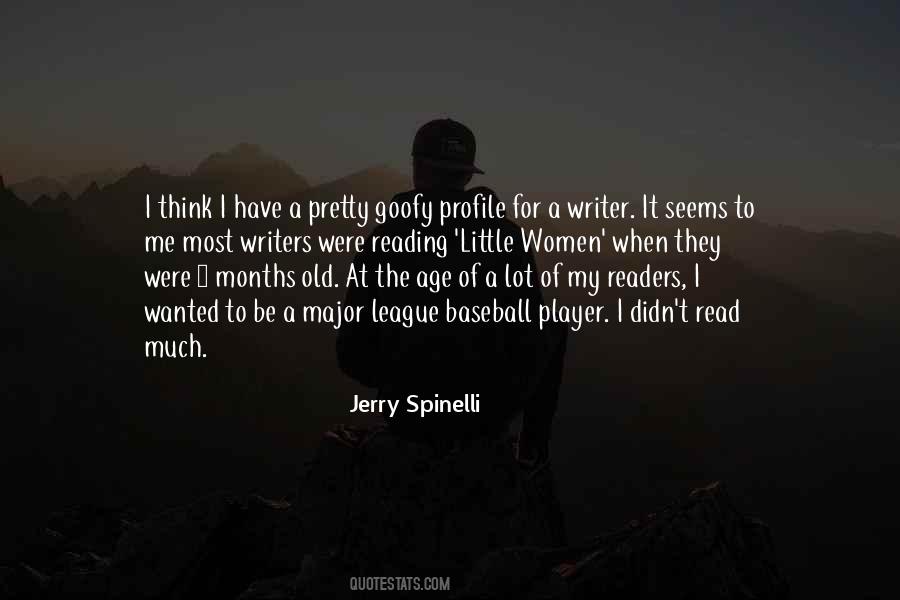 #86. The Gold Glove surprised me a little. To tell you the truth, I didn't expect it. I feel I played at the top of my game, but I was new to the league and I didn't think that many people would vote for me. - Author: Omar Vizquel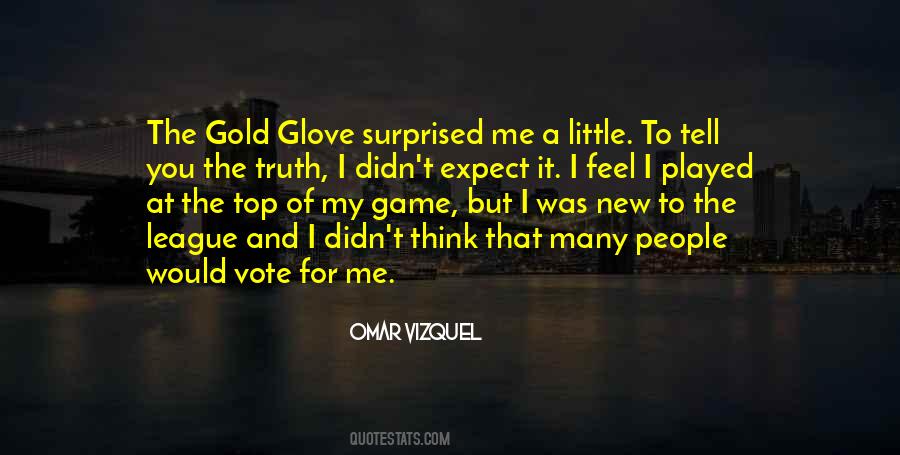 #87. Here's an uplifting story. Congratulations to the Little League team from Huntington Beach, California. Yeah, they beat Japan to win the Little League World Series. That's pretty good. See, that proves that when math and science aren't involved, our kids can beat anybody. - Author: Jay Leno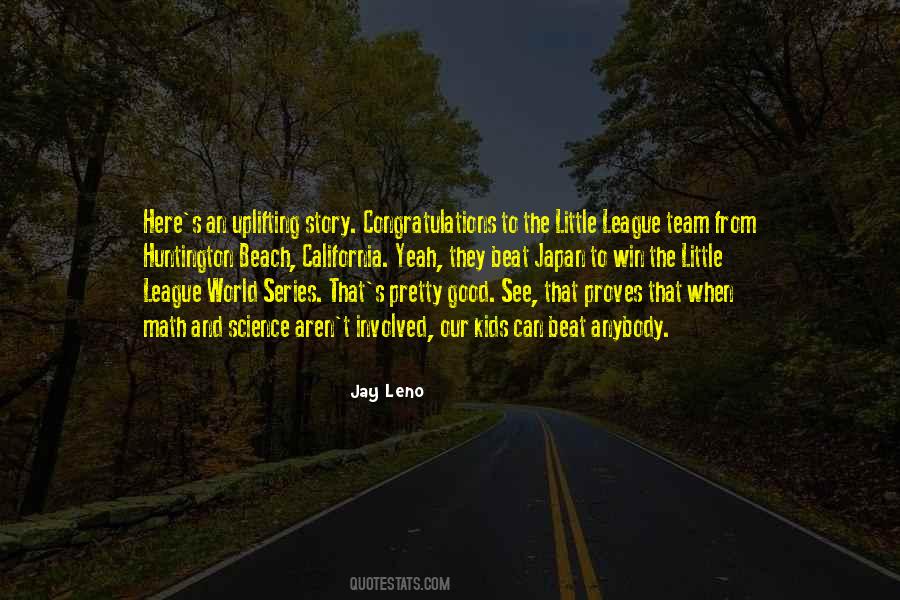 #88. If you want to play the big league, you have to stop playing the little league. - Author: Timi Nadela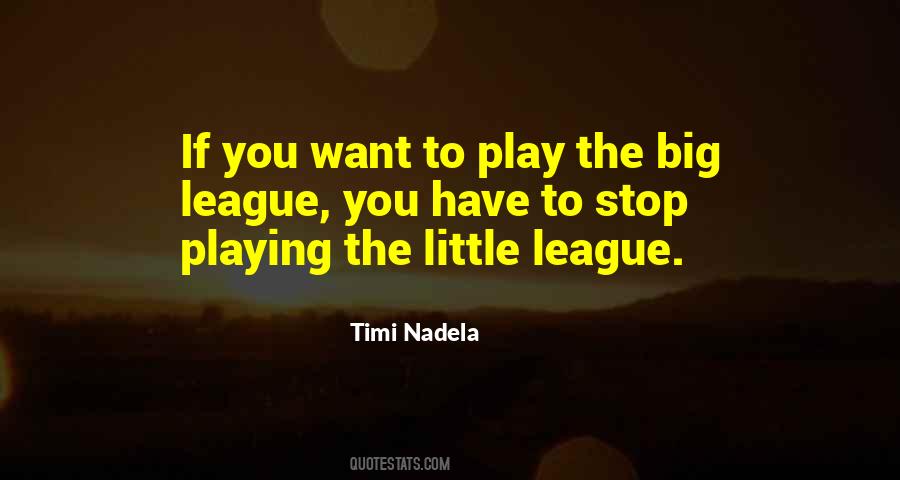 #89. Kids should practice autographing baseballs. This is a skill that's often overlooked in Little League. - Author: Tug McGraw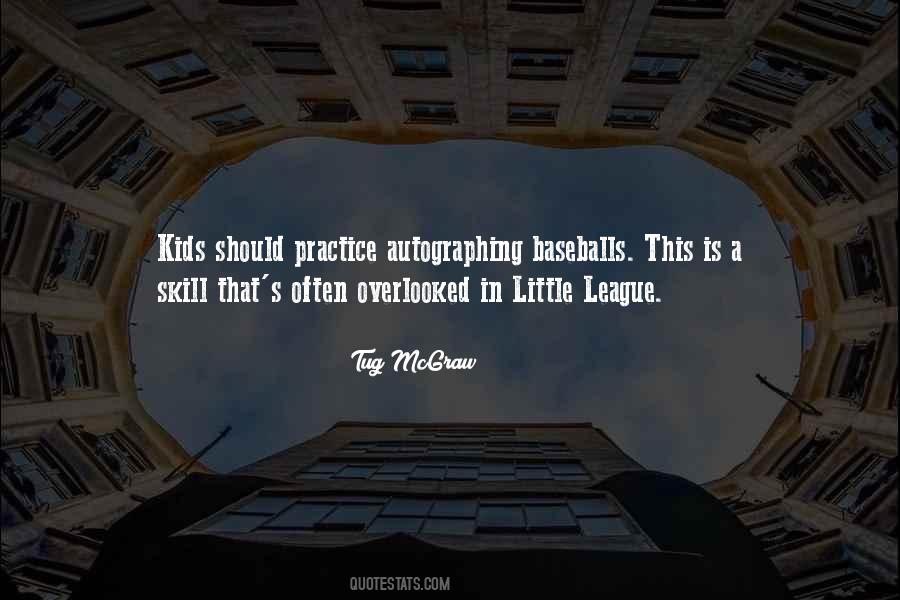 #90. I find it easier to write in these little vignettes; if I try to get any more heavy, I find myself out of my league. - Author: David Bowie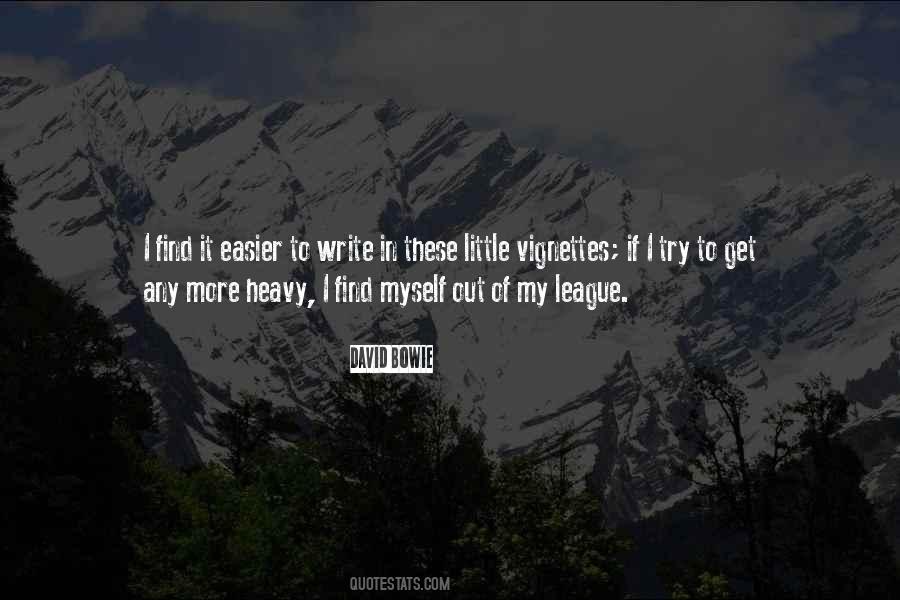 Famous Authors
Popular Topics