Like A Boss Famous Quotes & Sayings
List of top 87 famous quotes and sayings about like a boss to read and share with friends on your Facebook, Twitter, blogs.
Top 87 Quotes About Like A Boss
#1. I like to think of myself as a coworker with lots of experience rather than a boss, Franklin said.
I like to think of myself as a boss more than a slave but mostly I prefer to not think about it at all because when I think about it, I can't stop. - Author: Vanessa Veselka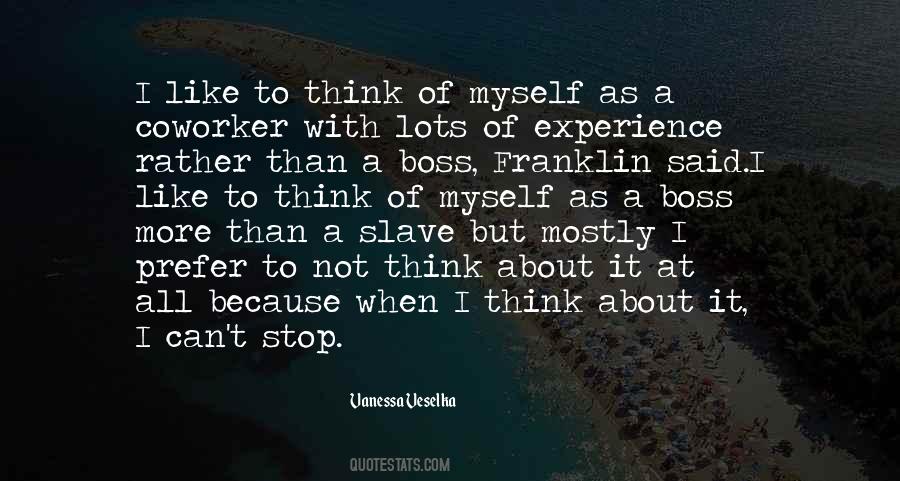 #2. While it was occasionally done here or there, nobody else had a figurehead like Walt doing it. Jack Warner wasn't on TV. Walt was the boss, but he had a real public profile and he used it to his advantage. And he became a household face. - Author: Leonard Maltin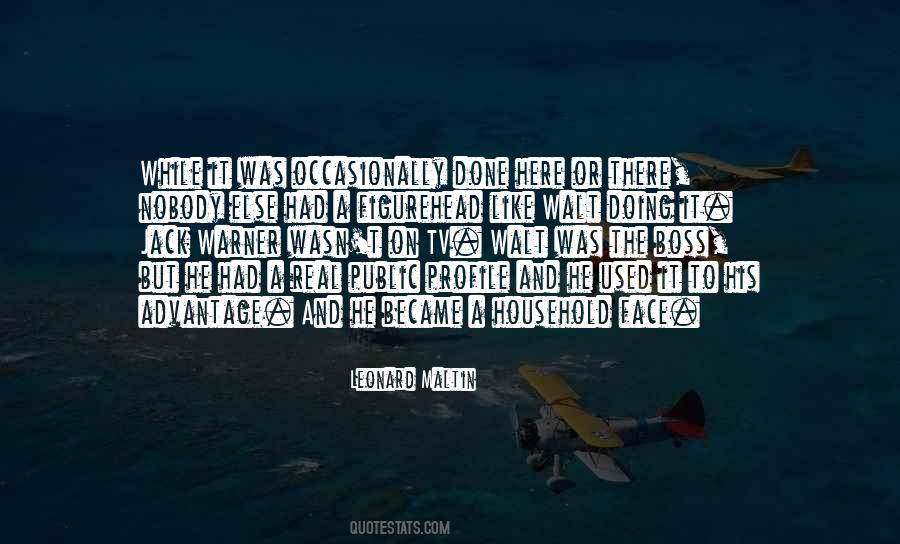 #3. Forgive me, Paul, and I do get a little abrupt from time to time, but titles don't mean a damn thing. Your boss can give you a title. Your boss can't make people listen to you. You have to earn that. It doesn't sound like you get that yet. - Author: Ken Goldstein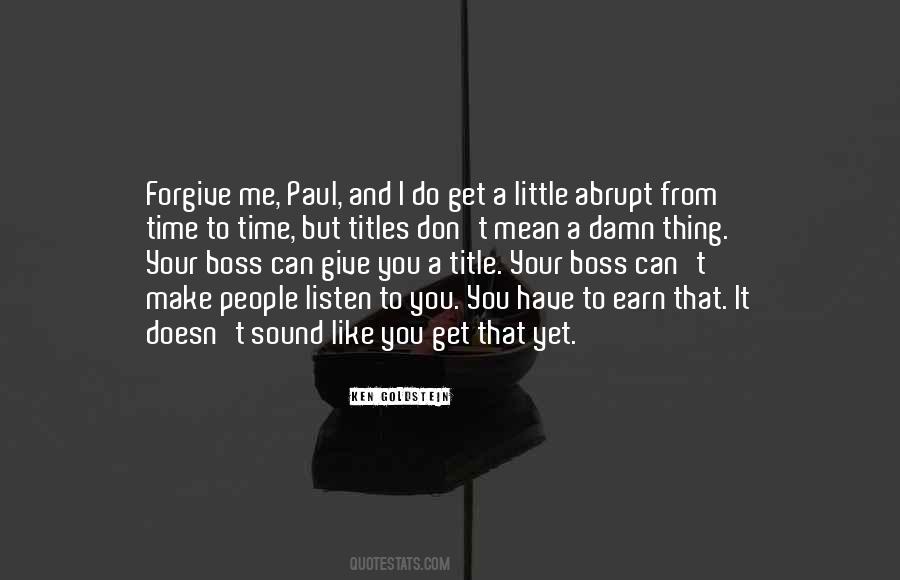 #4. I would like to make it clear here that Avantika was neither a very friendly person nor a friendly boss - she was just a bossy boss. - Author: Sandhya Jane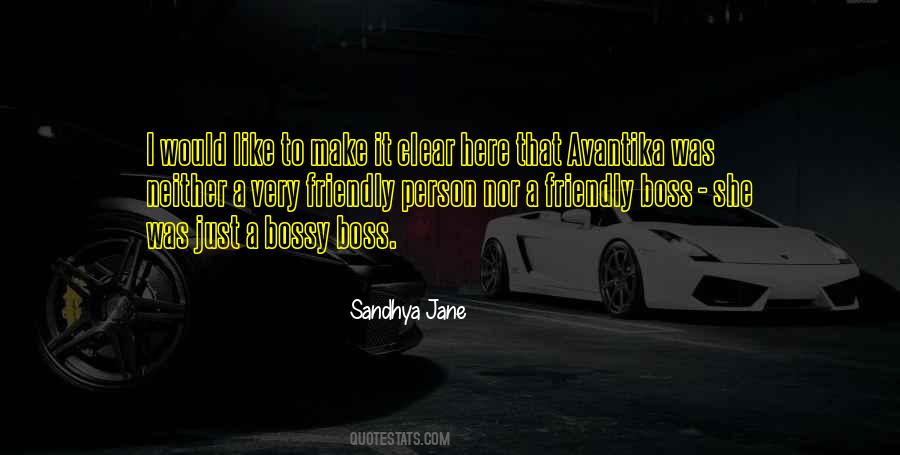 #5. Never talk back to a teacher. Teachers are like God. Actually, teachers are God's boss. - Author: Deborah Wiles
#6. They're like Generation X on steroids. They walk in with high expectations for themselves, their employer, their boss. If you thought you saw a clash when Generation X came into the workplace - that was the fake punch. The haymaker is coming now. - Author: Paul Greenberg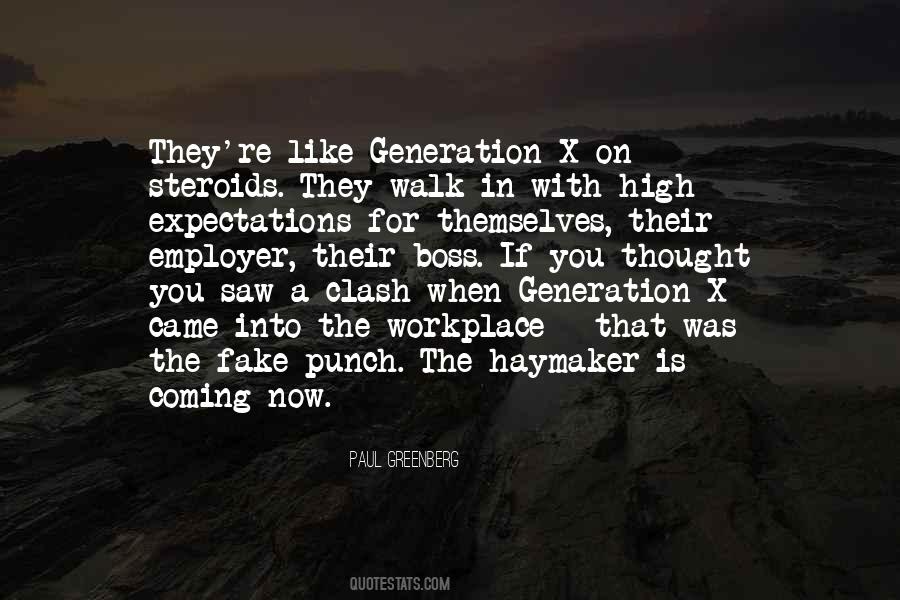 #7. I'm a natural-born boss, I have to say. I just like to be good at things. Even as a child, I was boss of my family. - Author: Tom Ford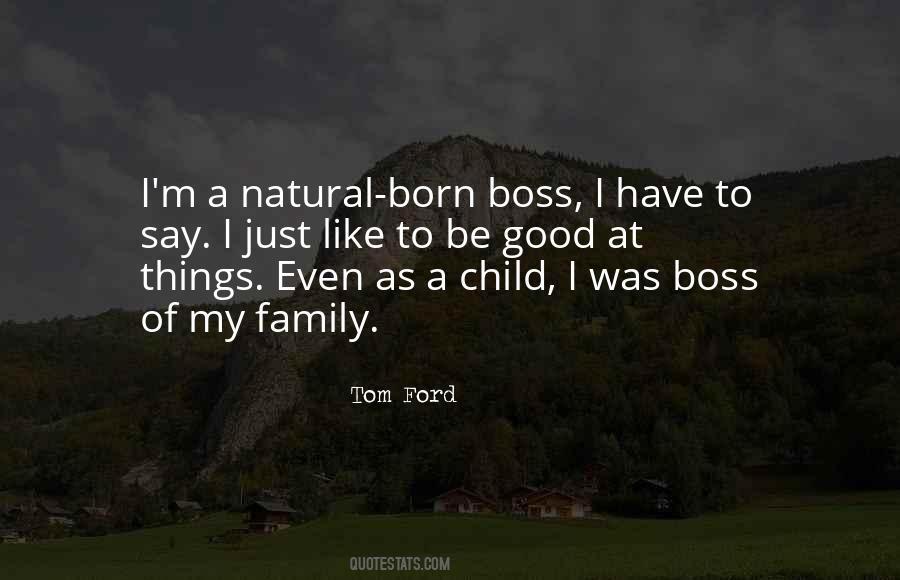 #8. EPMD in effect, I'm clockin' mad green
Like Kermit the Frog, sloppy like Boss Hog,
Girl was runnin' wild ... ate her like a corn dog. - Author: PMD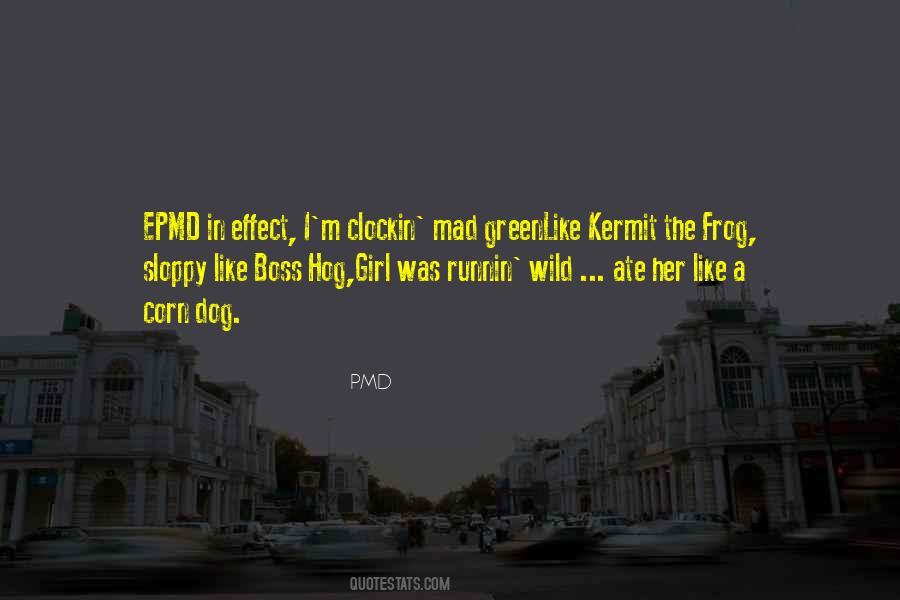 #9. It was completely unprofessional to speak about your boss like that to someone who wasn't a trusted friend or family member you leaned on for the requisite boss-venting. - Author: Mimi Jean Pamfiloff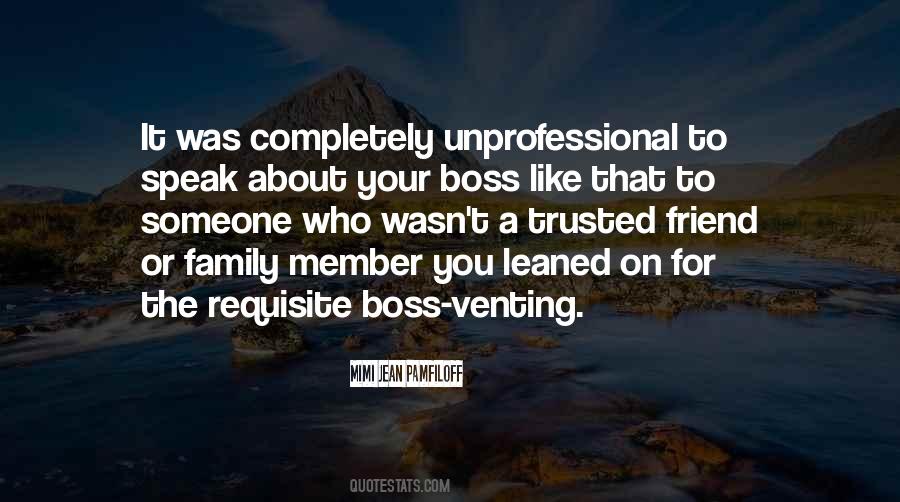 #10. Grace under pressure isn't just about bullfighters and men at war. It's about getting up every day to face a job or a white boss you don't like but have to face to feed your children so they'll grow up to be a better generation. - Author: Ernest Gaines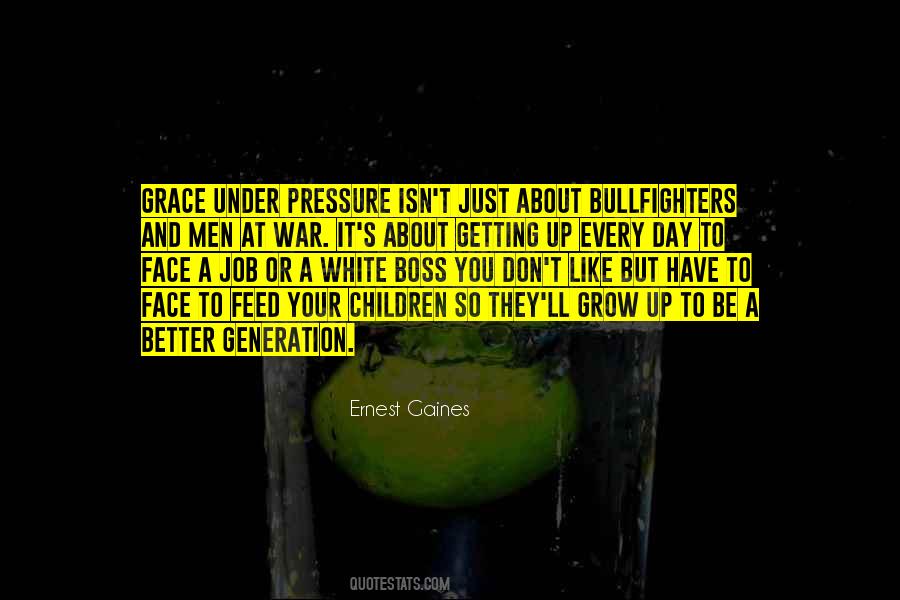 #11. To help others develop, start with yourself! When the boss acts like a little god and tells everyone else they need to improve, that behavior can be copied at every level of management. Every level then points out how the level below it needs to change. The end result: No one gets much better. - Author: Marshall Goldsmith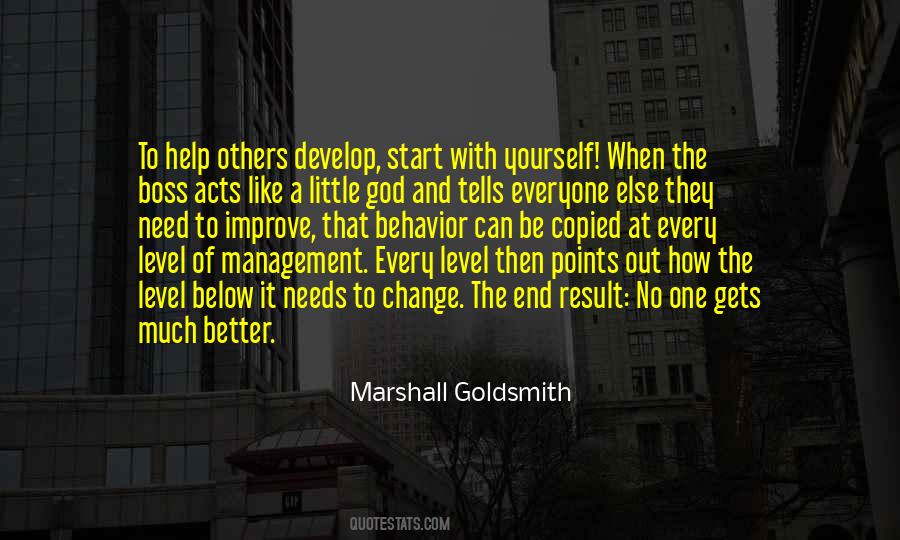 #12. It's very hard to be perceived as a boss, and behaving like a boss or wanting to be treated like one. - Author: Sinead O'Connor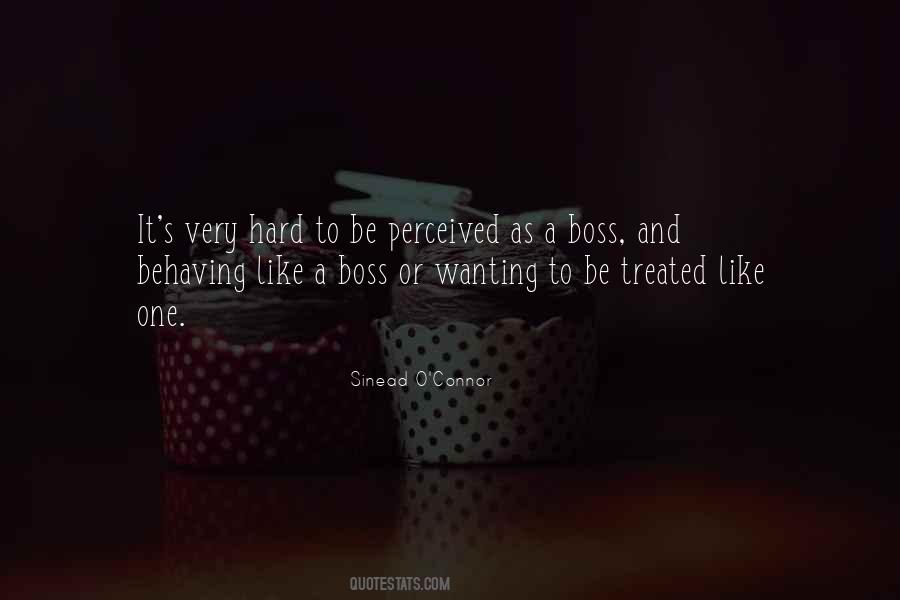 #13. He winks, unable to form any words with a full mouth. "You're a really good friend, Reed."
He grimaces and swallows his massive but uncomfortably. "Friend zoned like a boss. - Author: J. Daniels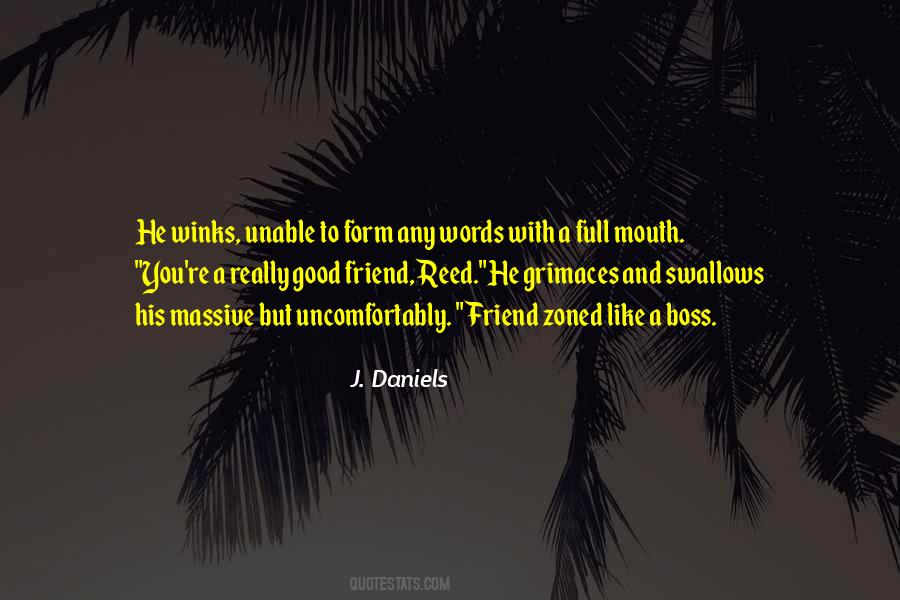 #14. willing men, I'll do it. Because I can. Like a boss. - Author: Niecey Roy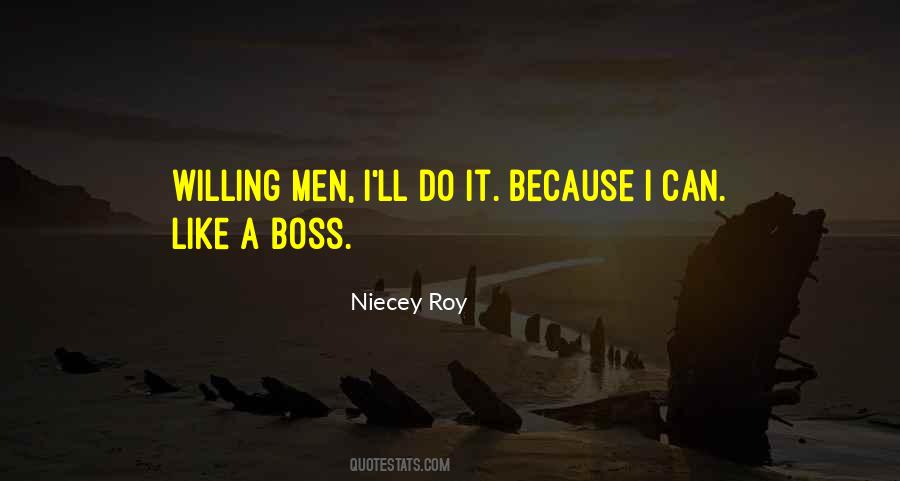 #15. I haven't any troubles, I have some money like a gentleman of leisure, no boss, no wife, no children; I exist, that's all. And that particular trouble is so vague, so metaphysical, that I am ashamed of it. - Author: Jean-Paul Sartre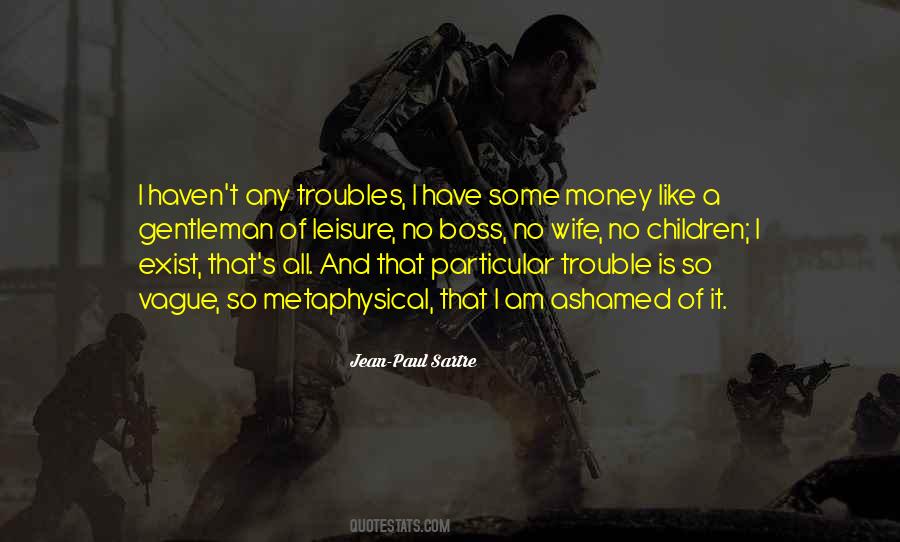 #16. There was some banging around in the hall, and Aunt Prue appeared in the doorway in an equally large and disturbing hat. This one was black, with a wraparound veil that made Aunt Prue look like the mother of a mob boss at his funeral. - Author: Kami Garcia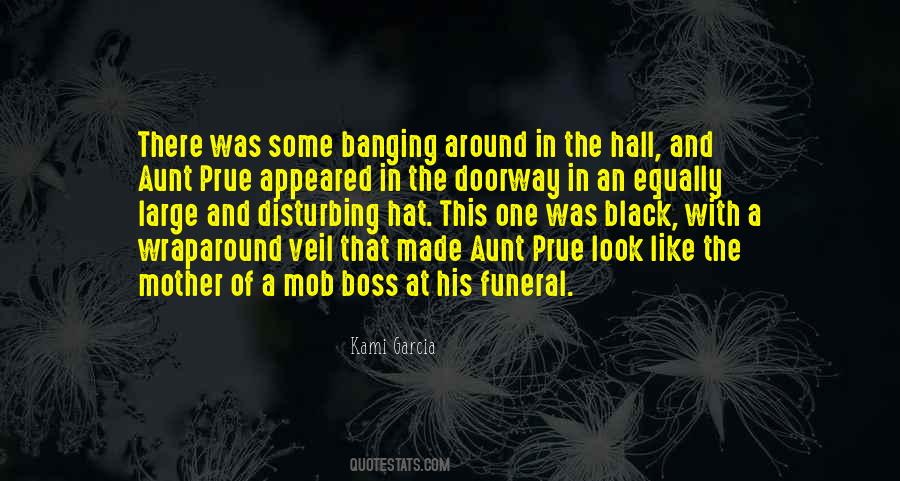 #17. The only time some people work like a horse is when the boss rides them. - Author: Gabriel Heatter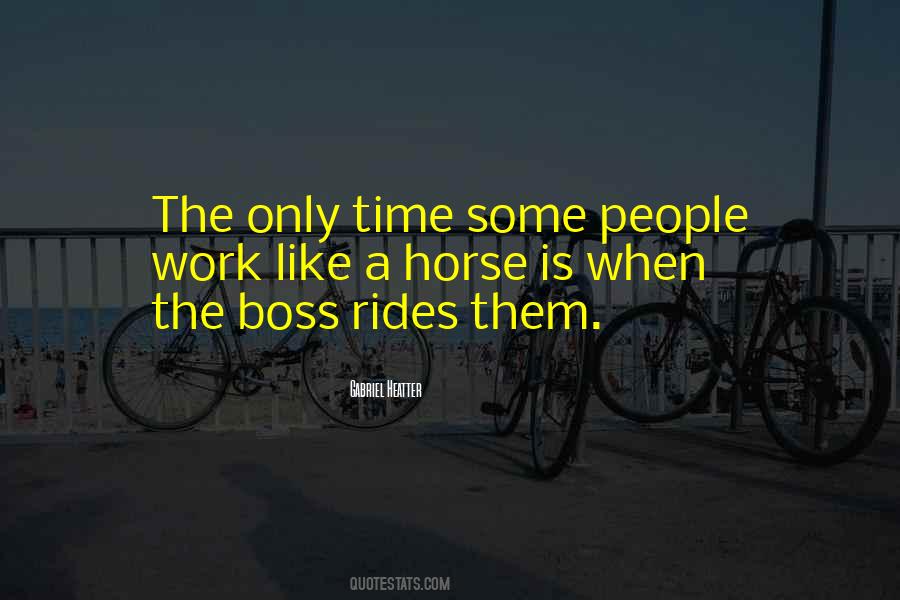 #18. I am an animator. I feel like I'm the manager of a animation cinema factory. I am not an executive. I'm rather like a foreman, like the boss of a team of craftsmen. That is the spirit of how I work. - Author: Hayao Miyazaki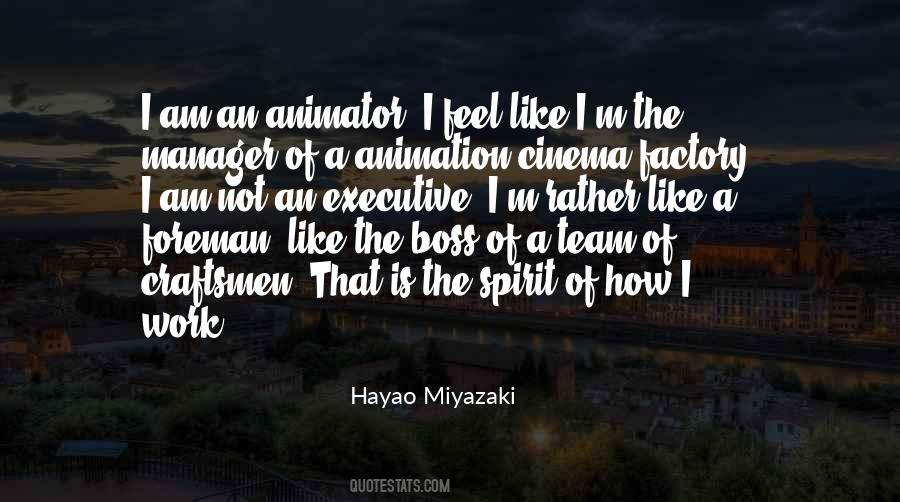 #19. I don't like crowds because I am small and fear being trampled. My ideal night out is a dinner party in my backyard with a group of like-minded friends whom I boss around in a gentle and loving way. - Author: Amy Poehler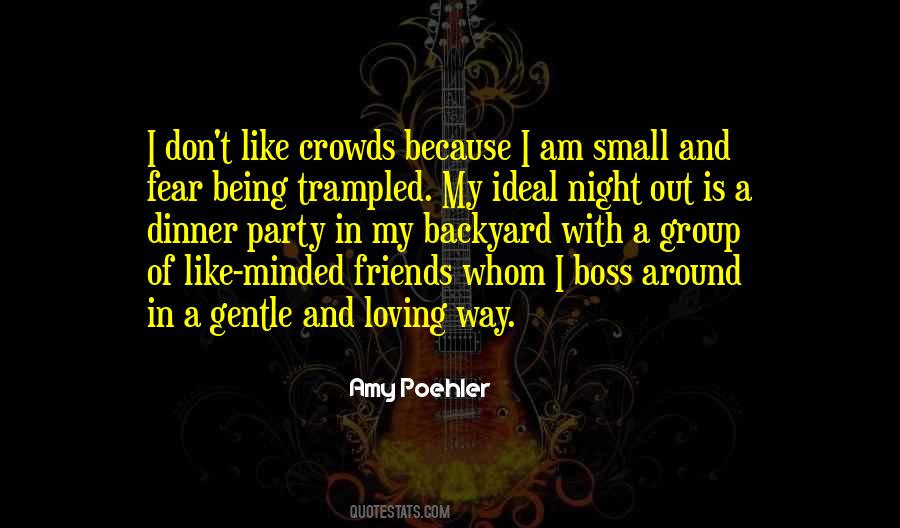 #20. Gypsy aren't only poor, but they are brutal and not so nice people. World has smashed them, that they start making revenge by behaving bad to dogs, like "Hey, I'm the boss". But nobody stand up and do something about that! - Author: Deyth Banger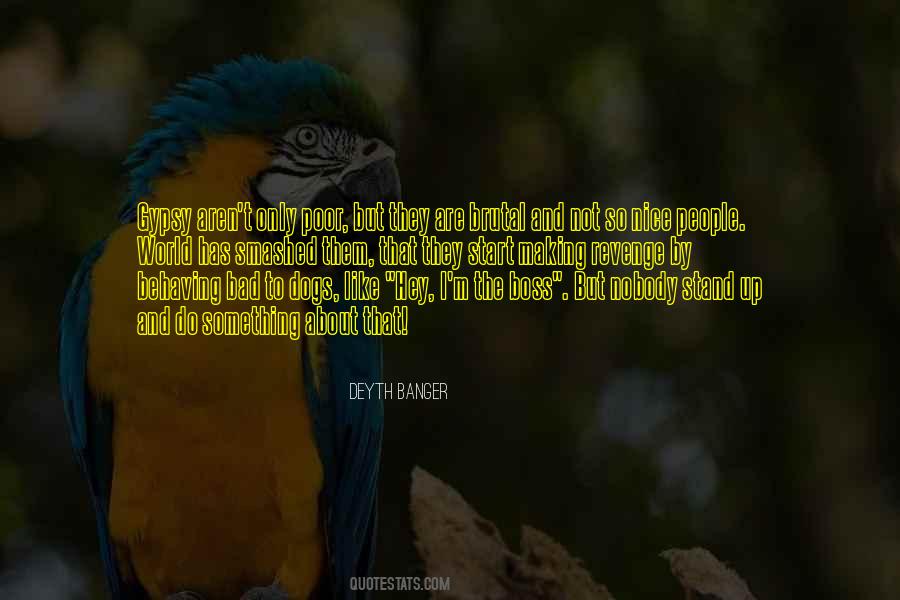 #21. If we're honest, most of us would accept that a bad boss is a little bit like a bad father or a bad husband ... you find that he tends to do more good than harm. He might be a bad boss but at least he's employing someone while he is in fact a boss. - Author: Tony Abbott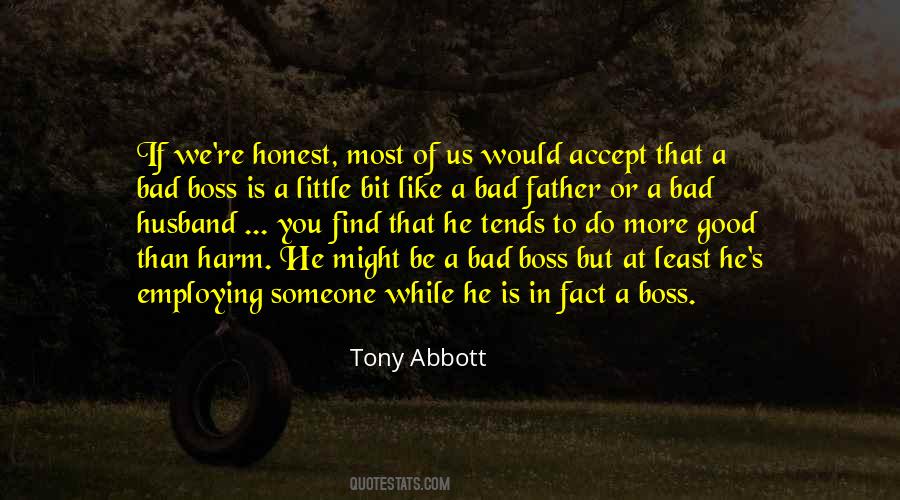 #22. If only I could handle my problems like a video-game style battle against a boss. But there are no power-ups in real life. No FTW moment when I can declare total pwnage. I don't even know who the bad guys are. - Author: Kat Kruger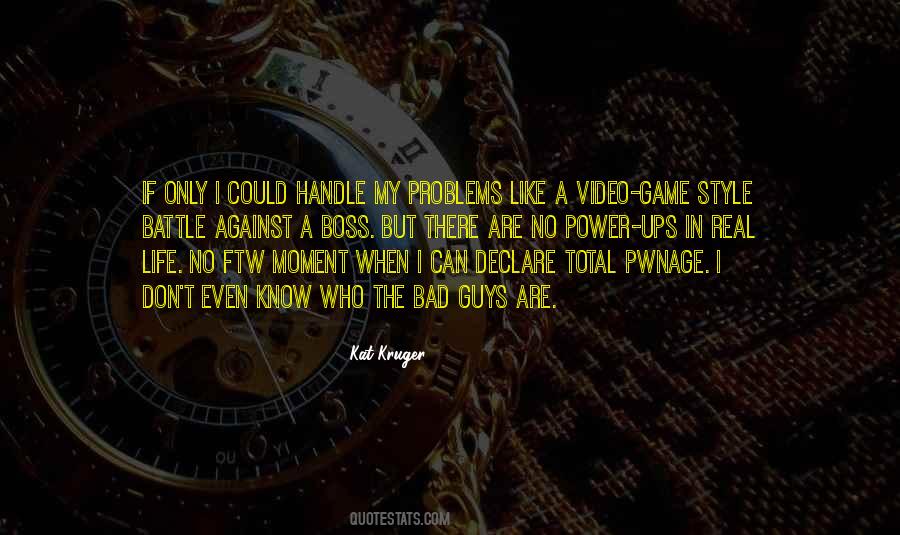 #23. I love you but you were a boring mother fucker until Mister-Pussy-Eating-Like-a-Boss, Hot-as-Hell, Sex-on-a-Stick came into your life. - Author: Kathryn Perez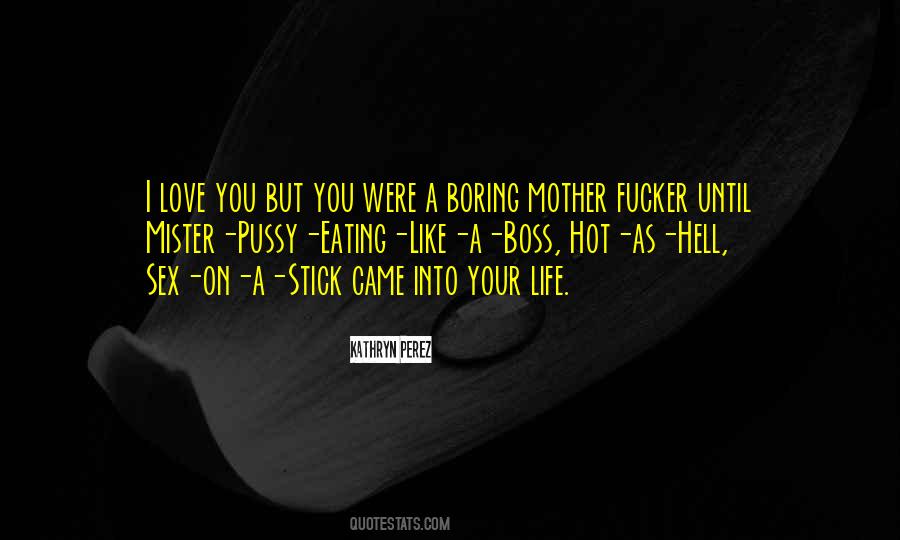 #24. I didn't toss aside my plan to steer clear of meaningless rebound flings because I can't resist a French maid costume. I didn't say yes to bedding my boss, the woman signing my paychecks, because you showed up at my door looking like a male fantasy. I couldn't resist you." "You - Author: Sara Jane Stone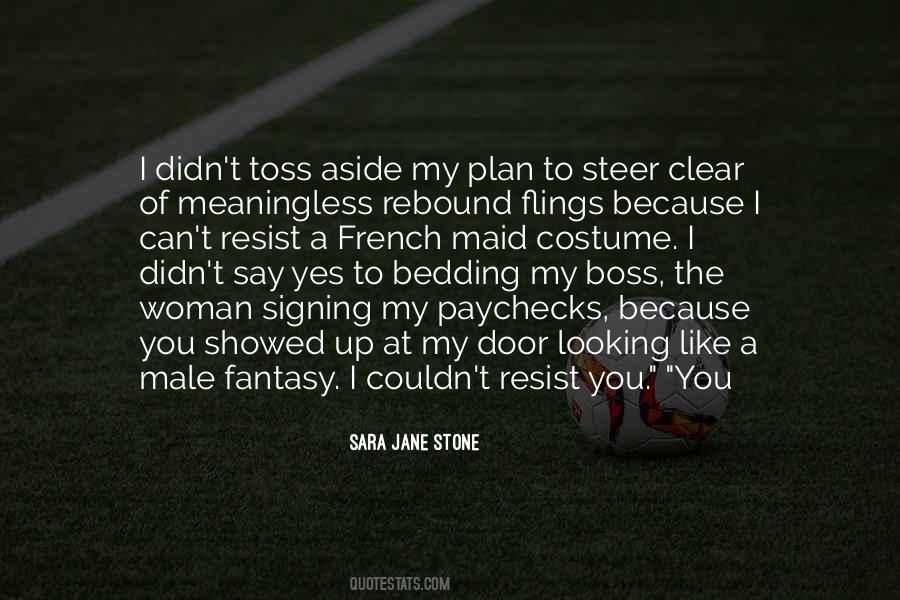 #25. When I said I might die tomorrow, I didn't mean, like, literally tomorrow. This job is really turning out to have been a bad career move. - Author: Angela Claire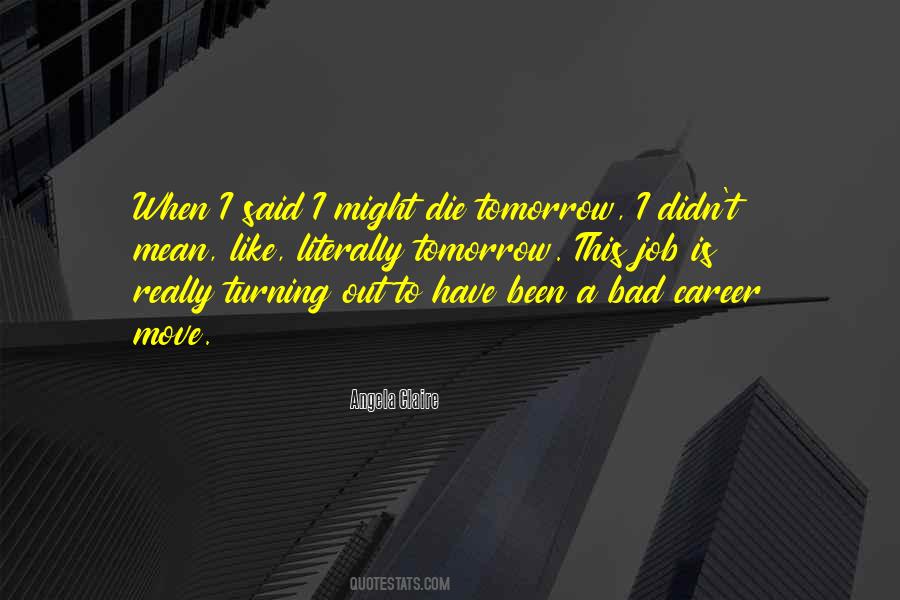 #26. My eyes widen at
the sight of her. This is the girl
Boss Man is after? She looks like a
porcelain doll ... beat three times
with an ugly stick. - Author: Victoria Scott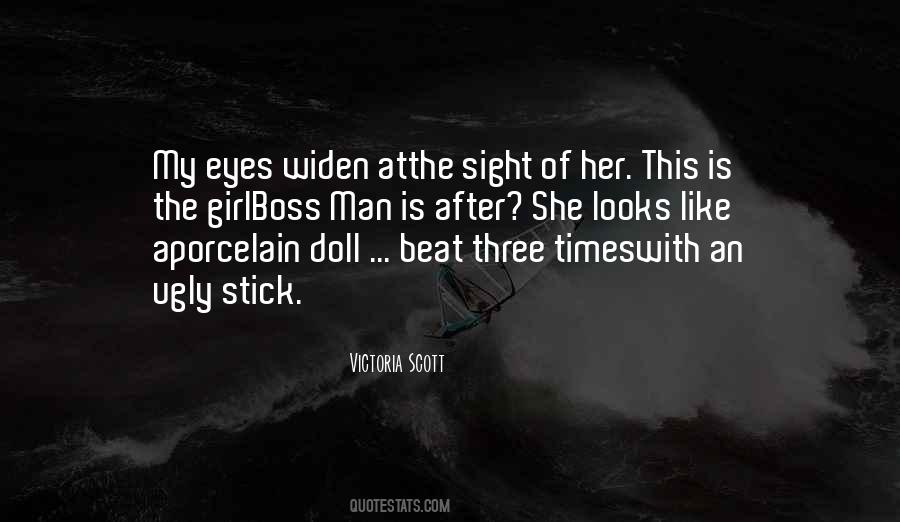 #27. There was a sound like a human yawn, and then the skull turned slightly toward me and asked, "What's up, boss?"
"Evil's afoot."
"Well, sure," Bob said, "because it refuses to learn the metric system. Otherwise it'd be up to a meter by now. - Author: Jim Butcher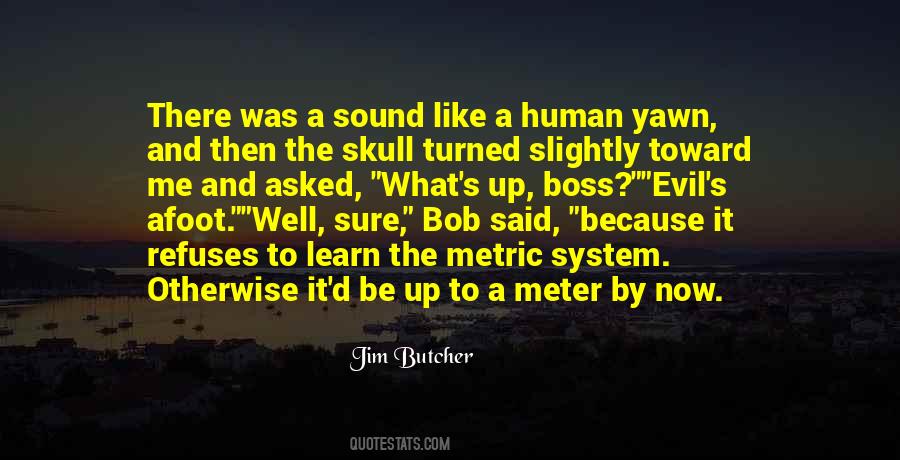 #28. I like watching a man boss everybody around. It's so sexy - Author: Robin Tunney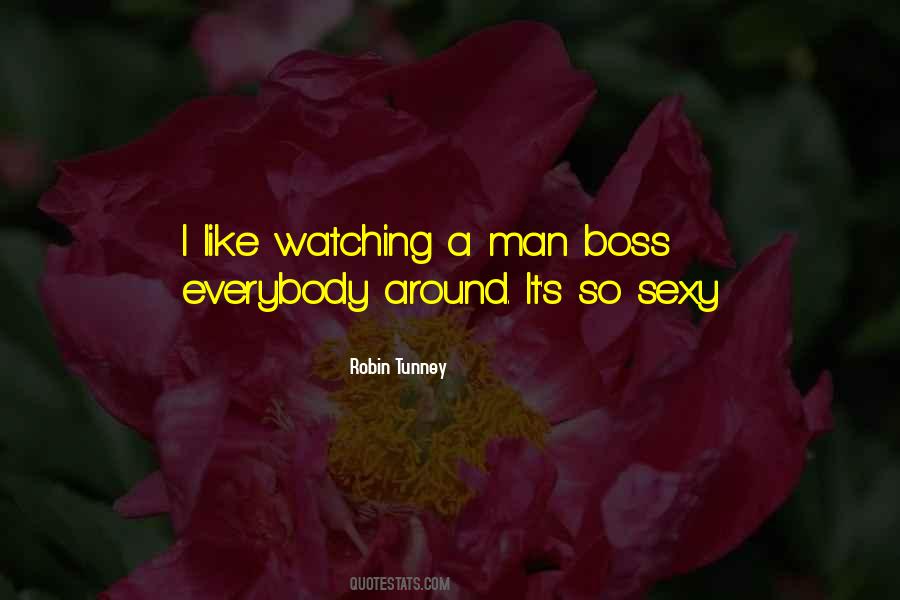 #29. The subordinate's job is not to reform or reeducate the boss, not to make him conform to what the business schools or the management book say bosses should be like. It is to enable a particular boss to perform as a unique individual. - Author: Peter Drucker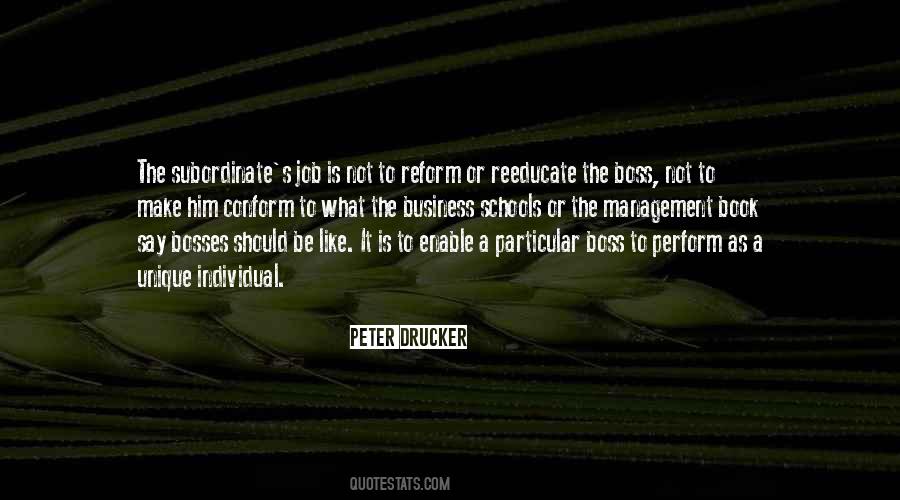 #30. I used to always work in, like, warehouses, because if my boss gave me a rough time, I could just get on a forklift and just, like, drive away from him. - Author: Bill Burr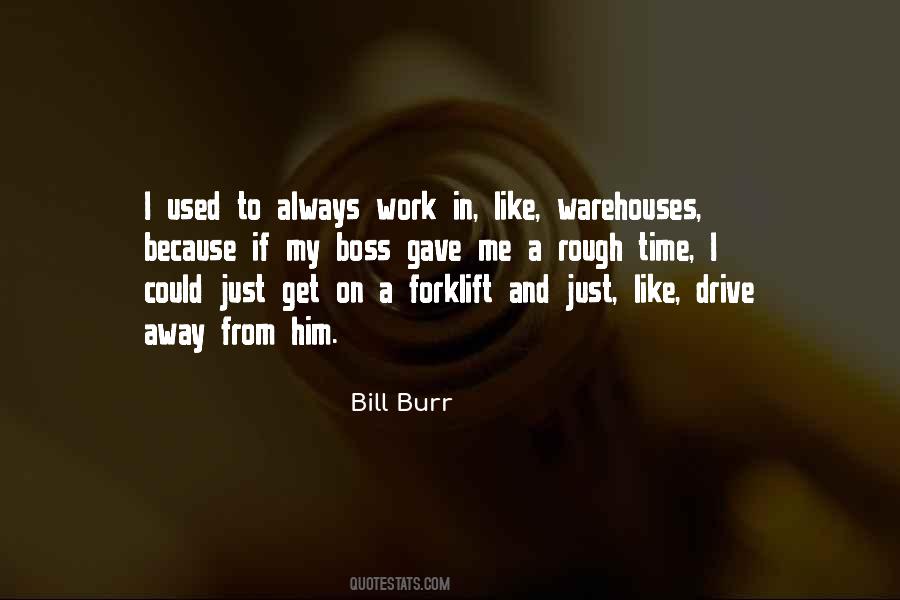 #31. Is it weird that I think it's hot when you boss me around?"
Her gaze snapped up to his, her blue eyes darkening with unmistakable hunger....
"I can take bossing you around to a whole other level if you'd like," she murmured. - Author: Katie Reus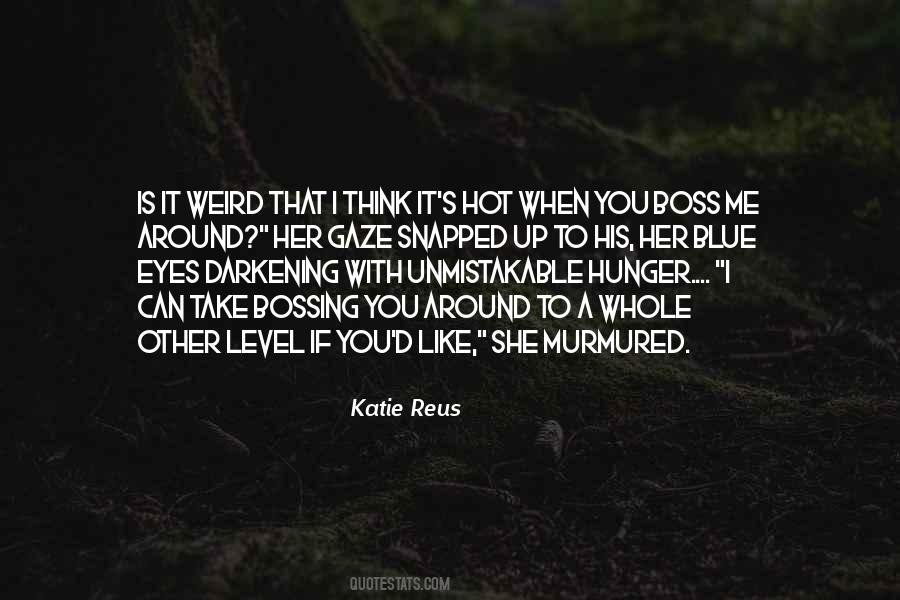 #32. I went to my boss, and I said, 'Look, I'd like to design these ties because I think they could be new.' He said, 'The world isn't ready for Ralph Lauren.' I never forgot that because ... I thought that was a compliment. - Author: Ralph Lauren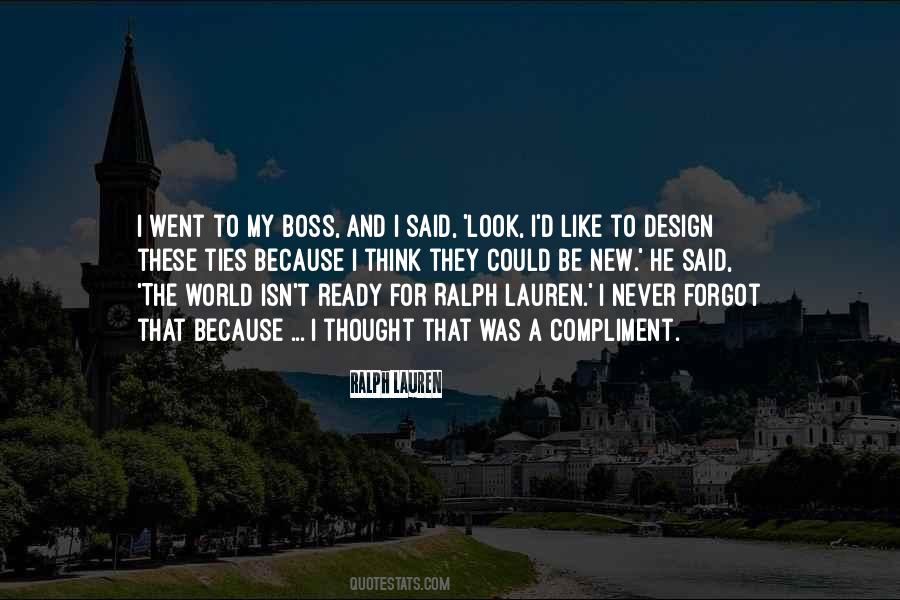 #33. Ada:
"Dude, nothing matters. You're going to go to that Christmas party looking like a million bucks and you're going to show that stupid whore who's the boss - Author: Karina Halle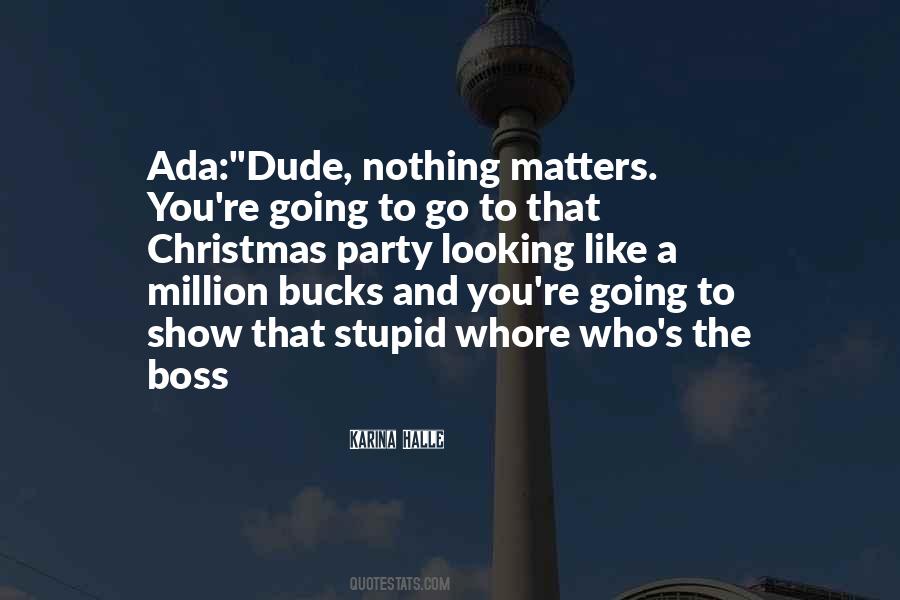 #34. I write a little bit about what it's like to be a female boss in my book [ Is Everyone Hanging Out Without Me?] and the things I've noticed about that, but by and large, it's just a tough job in general. - Author: Mindy Kaling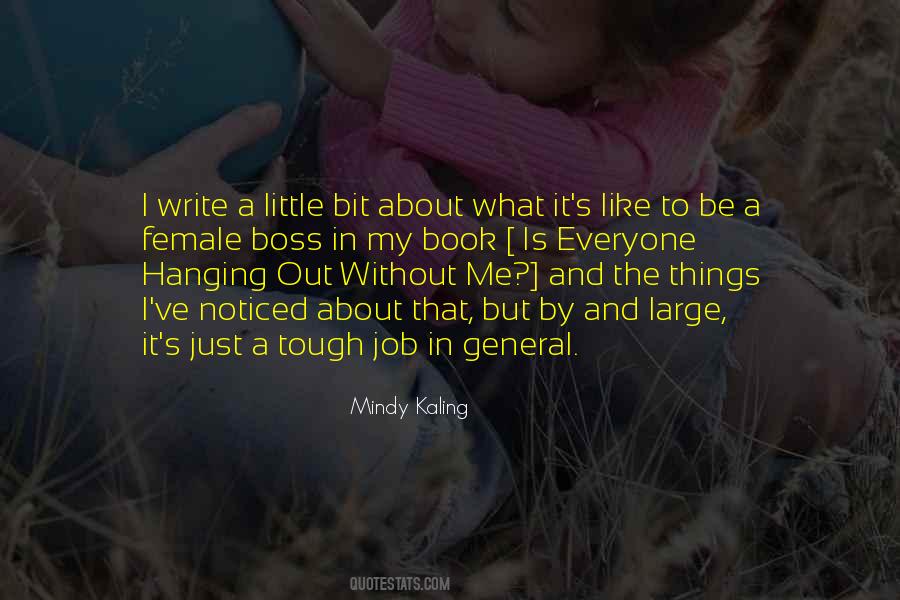 #35. The only factor that affects your chance of getting a raise is whether or not you've earned it. It doesn't matter if your car broke down or that your landlord's raising your rent. Those facts are not your boss's problem. All she needs to know is that you're kicking ass, like a #GIRLBOSS should. - Author: Sophia Amoruso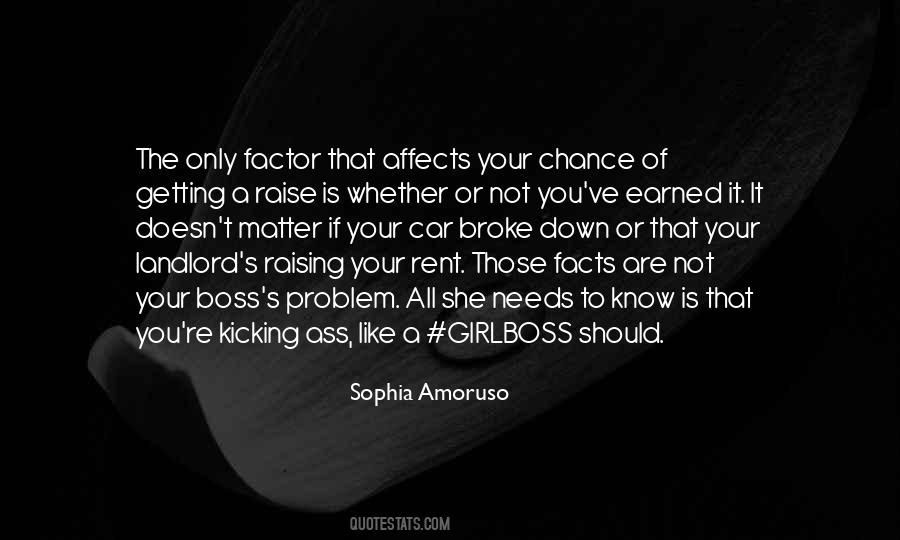 #36. Whenever the boss has 'fun' activities, there's got to be a parable or a lesson. Employees feel like they're supposed to be taking notes. - Author: Greg Daniels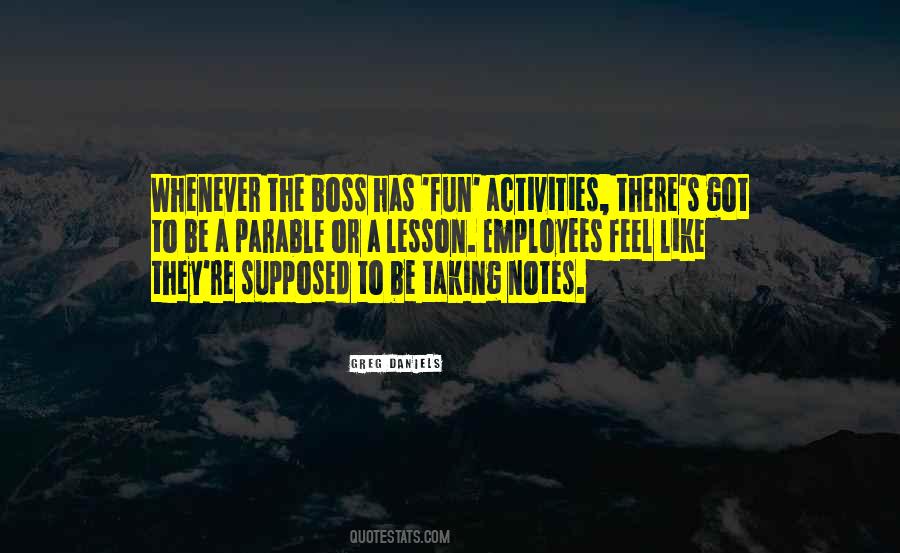 #37. Has anyone ever told you how cute you are when you talk like a geek?" She grinned at him and Einstein ducked his head, pleased at her mention of cute. "Enough chit-chat, charming. Time for action. You promised the boss you'd probe me. - Author: Eve Langlais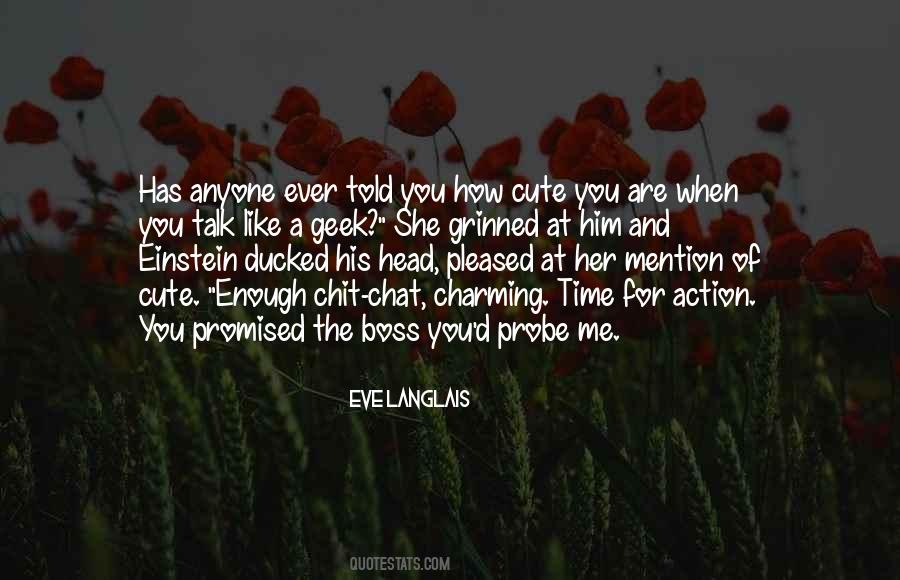 #38. The white dress, made of billowy fabric like a cargo parachute, made her look like the female Boss Hogg trying out for a part in a community theater presentation of Brigadoon. - Author: Jon Konrath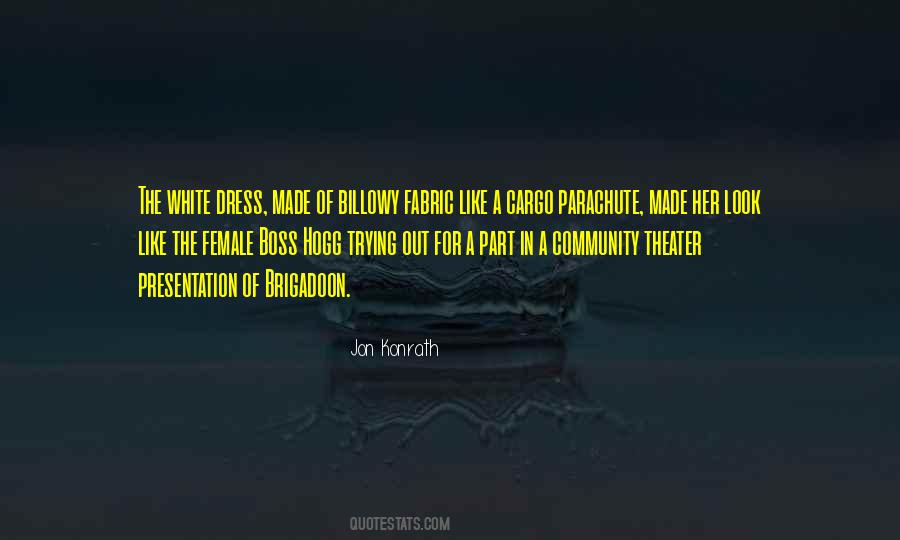 #39. When I came to M.I.T. in 1960, only 4 percent of the students were female. Today, it's about 40 percent of undergraduates. At Lincoln Lab, they had 1,000 men and two women. But we had a very good boss, and he treated us just like everybody else. - Author: Mildred S. Dresselhaus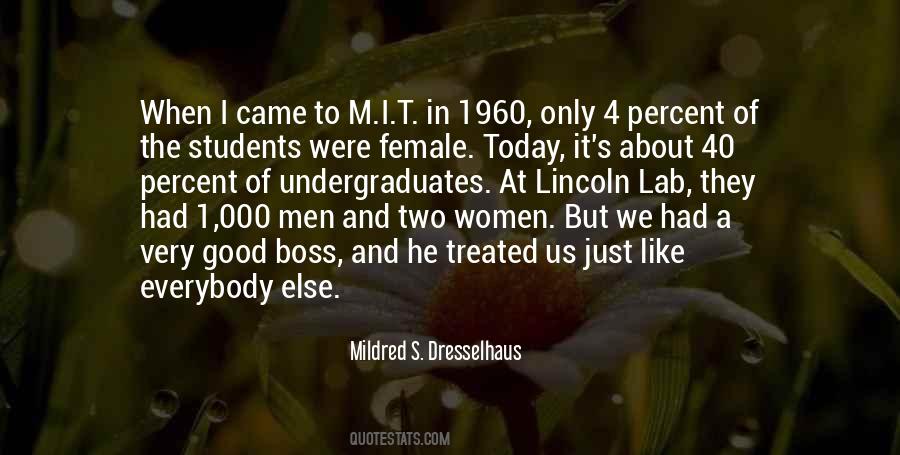 #40. I do often feel that the single greatest thing about my job is that I don't have a boss. I'm like an overweight Han Solo: I take orders from just one person - me. - Author: John Niven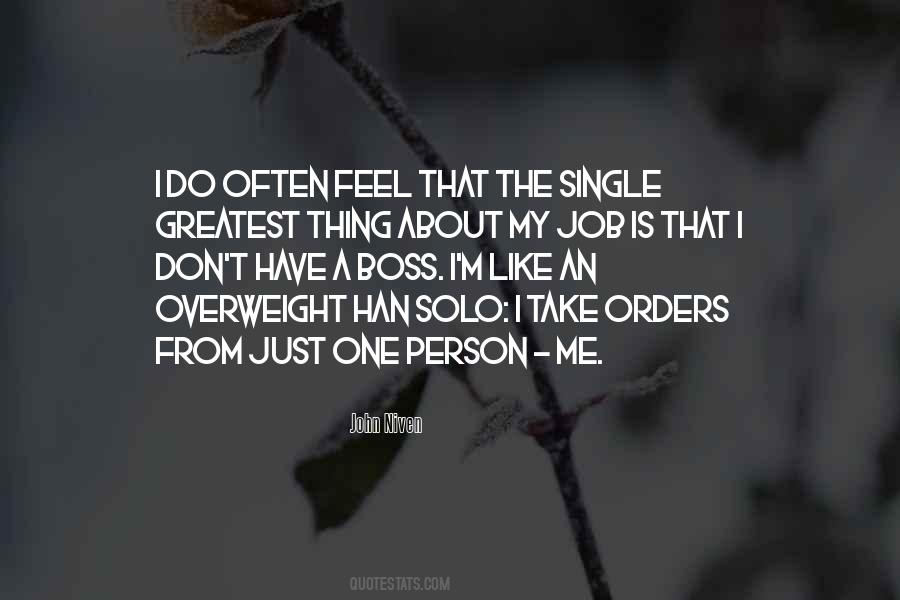 #41. I spent months fighting the fact that she had a personality disorder, but everything changed when I started asking myself how I had to adapt to work with a boss like her. - Author: John Izzo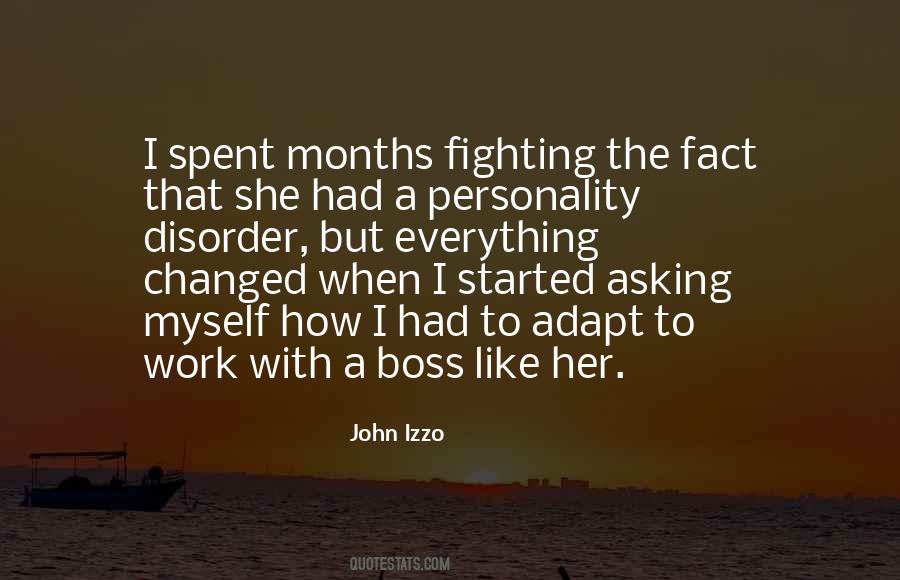 #42. over his shoulder at Rabiner. The agent had a wolfish smirk on his face. "Boss, I like the way you think," he said. Imhof pulled the keyboard toward him and began typing. Then he stared at the screen for a long moment while Coffey waited in growing impatience. - Author: Douglas Preston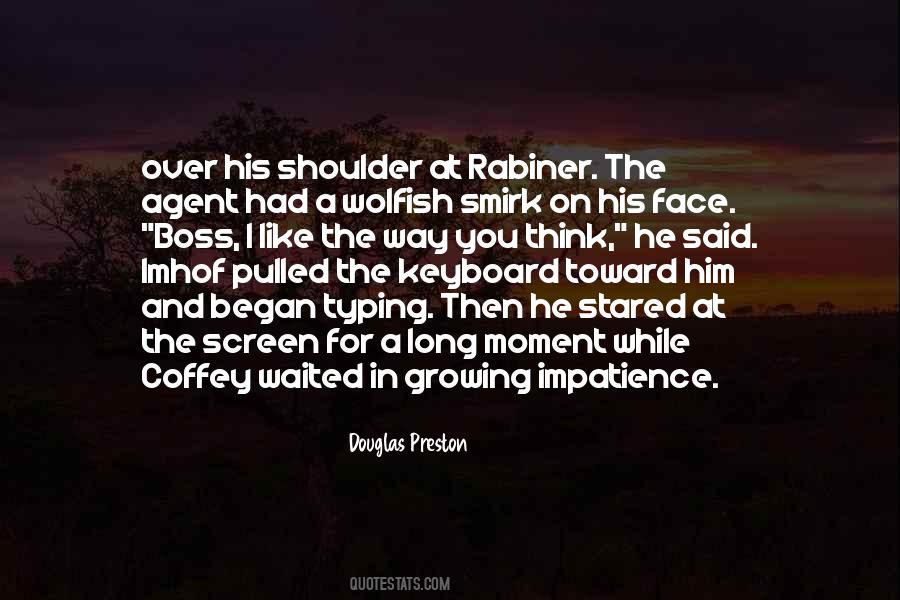 #43. Still, that didn't stop the flare of heat from returning to Melody's chest. "You called my boss a b word."
Declan zeroed his gaze on hers. "No, I said she was being one, and she was. To you. And I didn't like it. - Author: Brooklyn Skye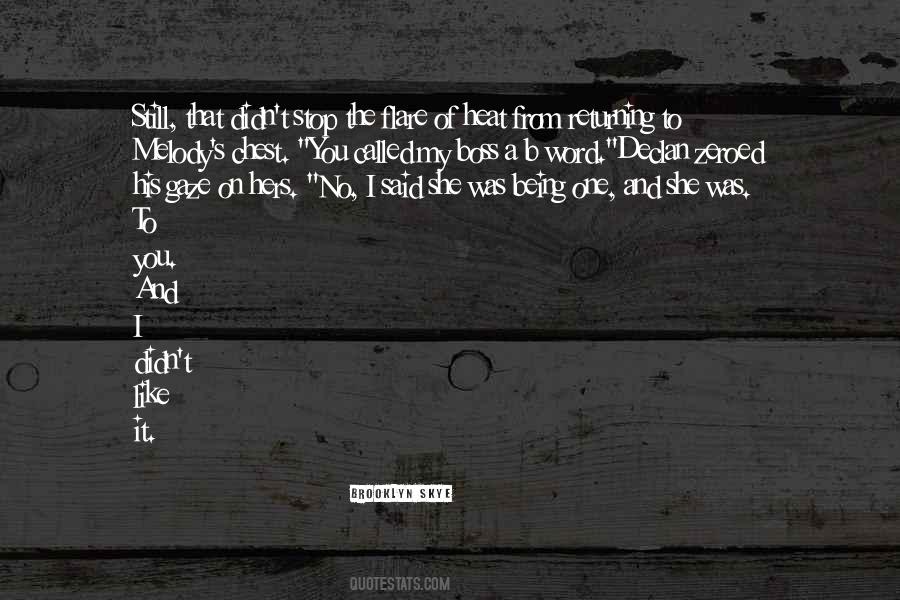 #44. I'm single, I'm enjoying life. Being a boss. Like all true bosses, one day you gotta give it up. - Author: Rick Ross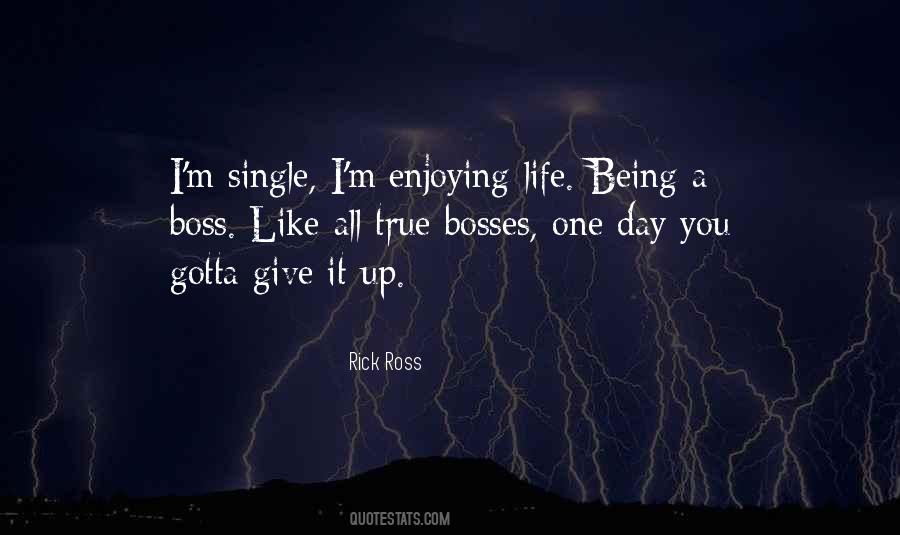 #45. To make a long story short, there's nothing like having a boss walk in. - Author: Doris Lilly
#46. I don't like to power trip, but when you're a boss you have to fight for certain things. - Author: Kid Cudi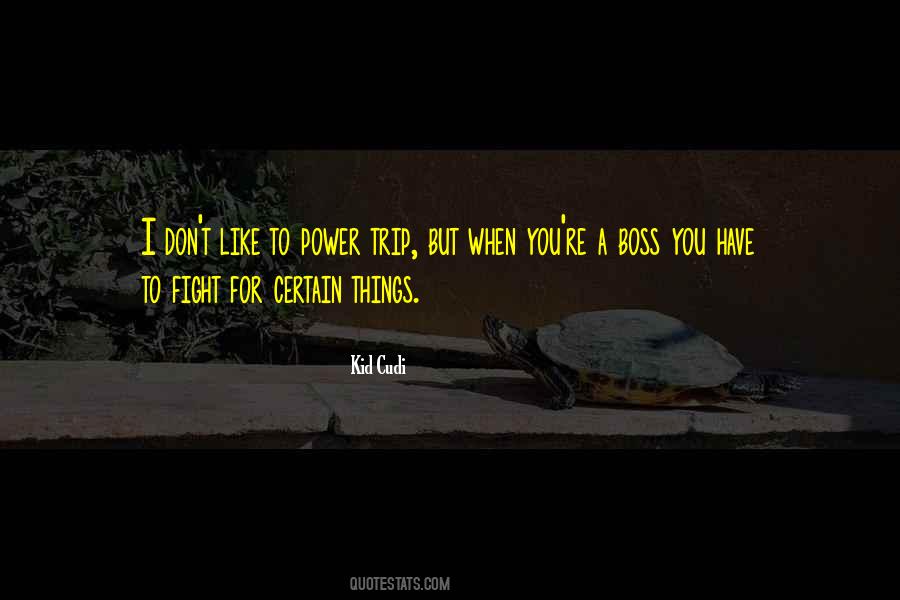 #47. The most popular man under a democracy is not the most democratic man, but the most despotic man. The common folk delight in the exactions of such a man. They like him to boss them. Their natural gait is the goose step. - Author: H.L. Mencken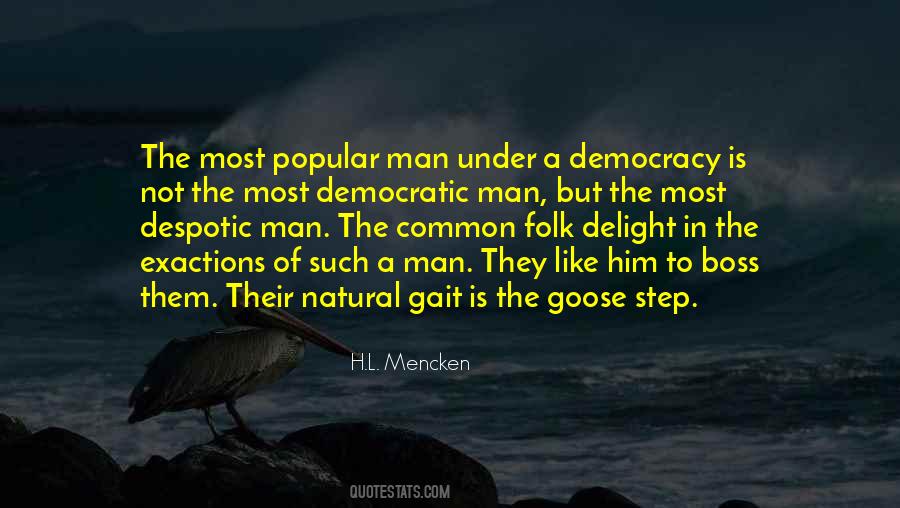 #48. When I think about what sort of person I would most like to have on a retainer, I think it would be a boss. A boss who could tell me what to do, because that makes everything easy when you're working. - Author: Andy Warhol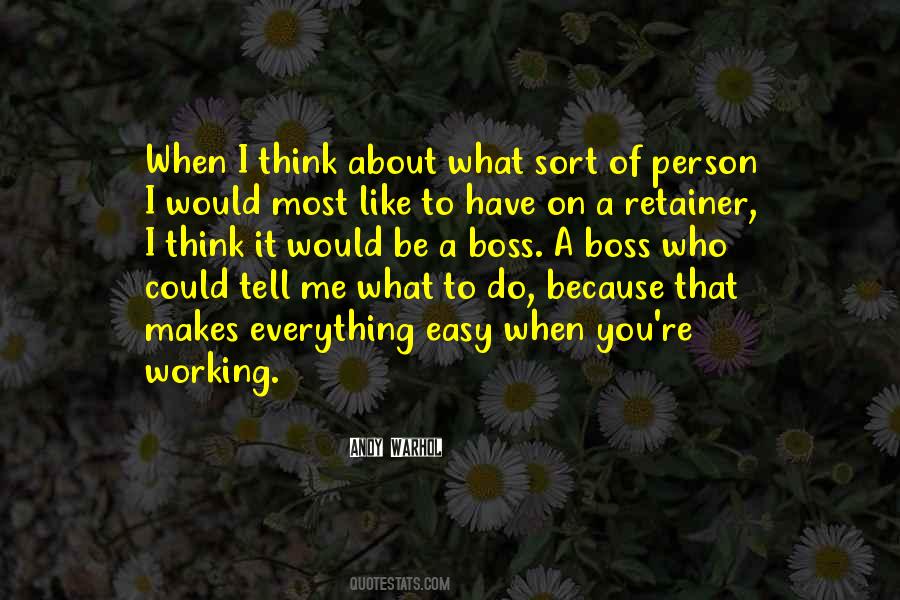 #49. I feel very lucky to have served under some great bosses. The majority of them were men, but I have also had a few women. In many ways, I feel like media is pretty neutral when it comes to gender. - Author: Megan Alexander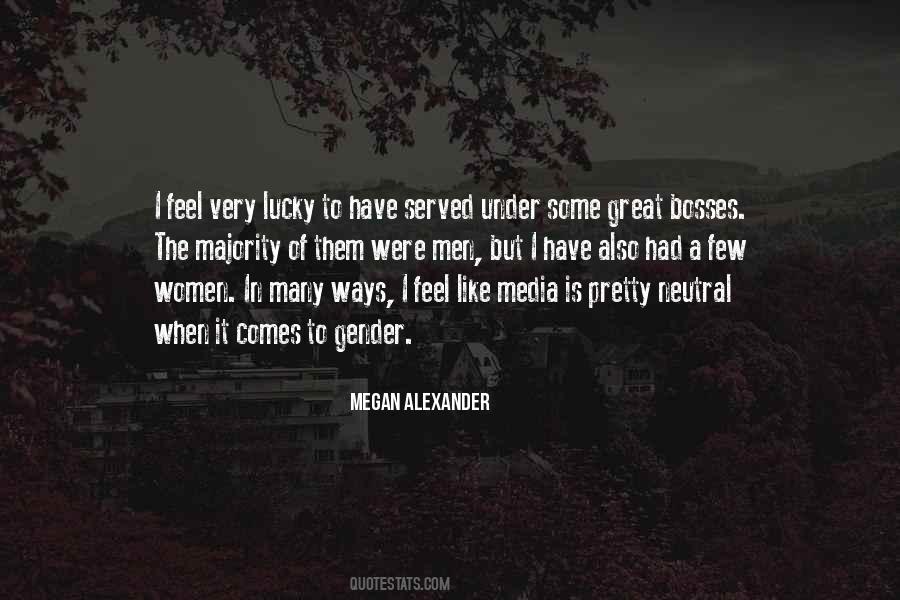 #50. A good game gives us meaningful accomplishment - clear achievement that we don't necessarily get from real life. In a game, you've beaten level four, the boss monster is dead, you have a badge, and now you have a super laser sword. Real life isn't like that, right? - Author: Jesse Schell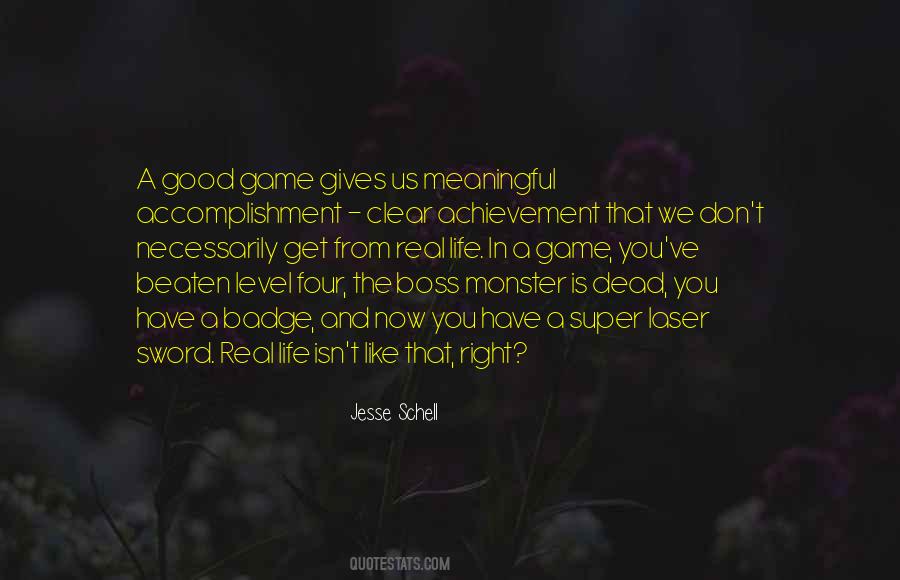 #51. When I began painting, all my paintings were of words which were gutteral utterances like Smash, Boss, Eat. Those words were like flowers in a vase. - Author: Edward Ruscha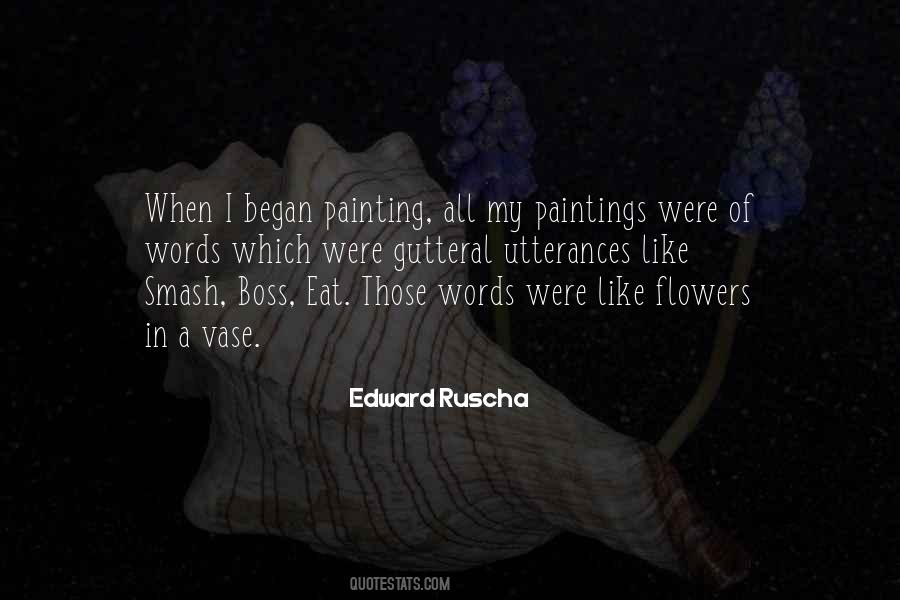 #52. When I get home, I'm not the boss like I am at work - I slip into a more feminine role. I take everything off and put on my Stella McCartney silk robe. I'll put on a red lip or red nails, and it lifts my mood. Sexy underwear also gives you a spark. - Author: Miranda Kerr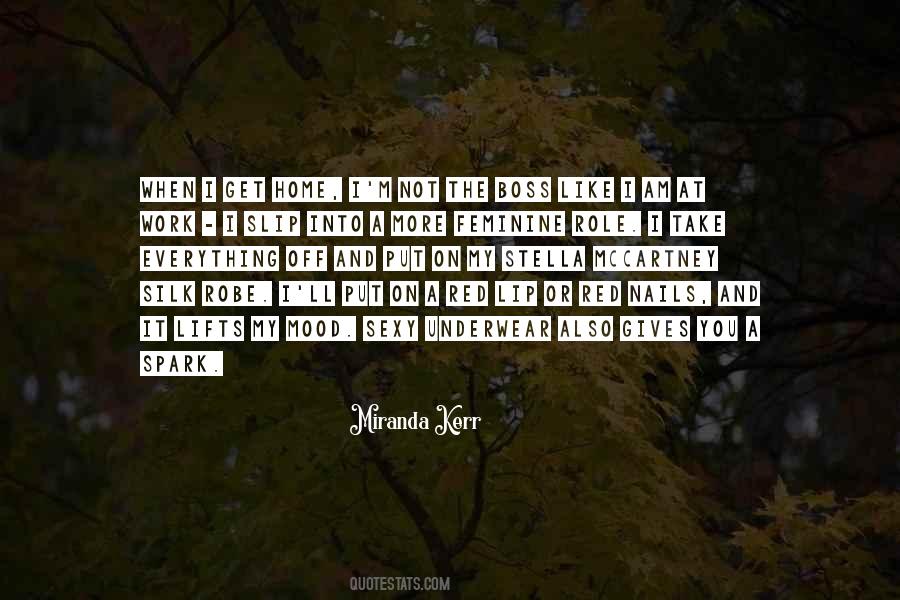 #53. I feel like, in a lot of shows where the woman is in charge, the woman is this ball buster and the guy is sort of weak and spineless. And that's never been my experience in a relationship. I think it's much more interesting that the guy is the boss. And there are stakes. - Author: Whitney Cummings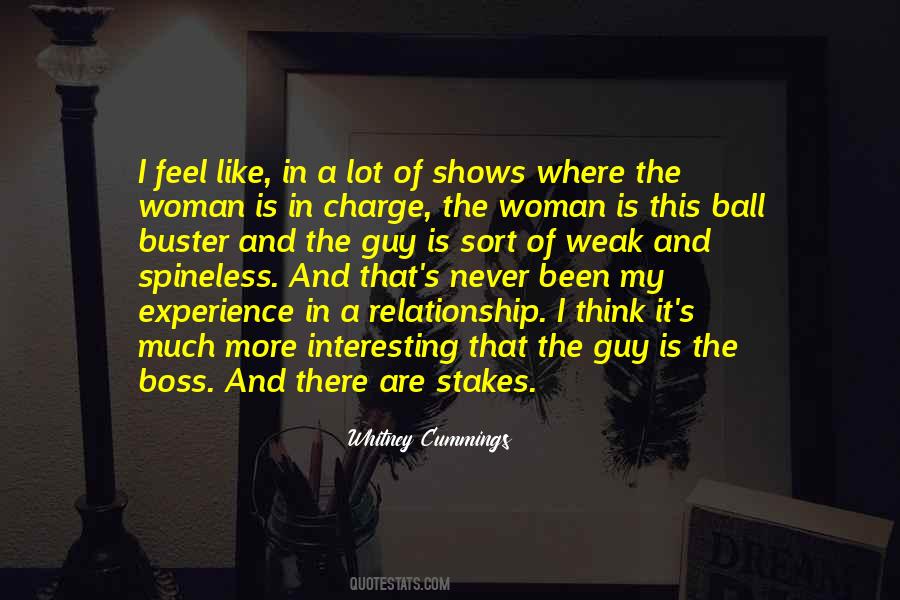 #54. Do I look like I'm compelled to do anything? Do I seriously look like anyone could compel me to even bring them a coaster?"
She looked me over again. "You look like you're compelled to cause trouble, but I doubt that's the boss' directive. - Author: Debra Dunbar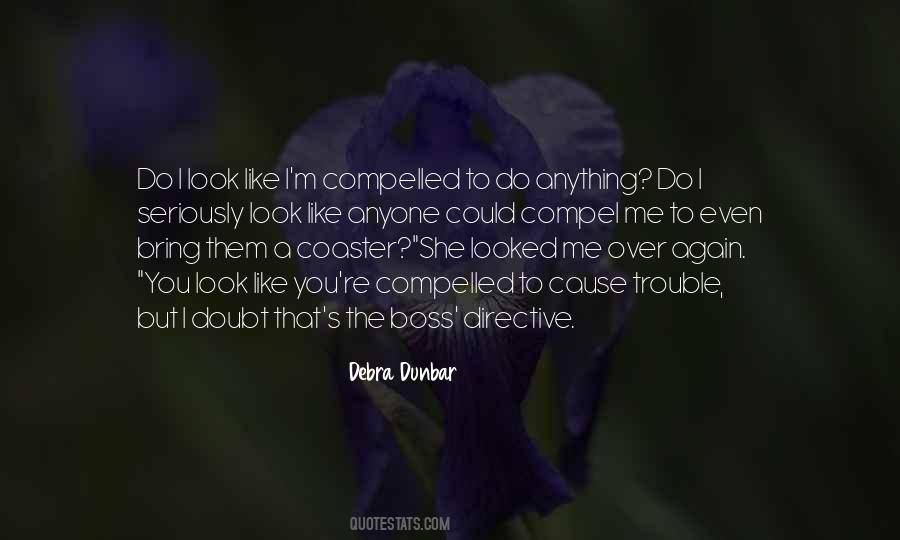 #55. I have a store full of thousands and thousands of images in my brain. I've got this terrible feeling I'm like some abattoir boss: I know death; I know the cut pieces of the human body. - Author: Don McCullin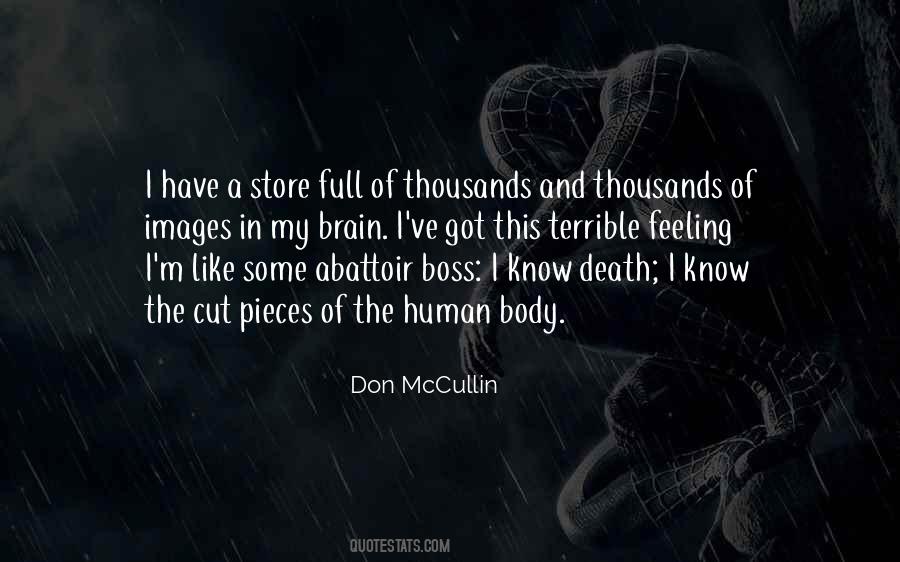 #56. There are no requirements when you're using a particular genre. It's not like the genre is your boss and you have to do what it says. You can make use of the genre any way you want to, as long as you can make it work. - Author: Charlie Jane Anders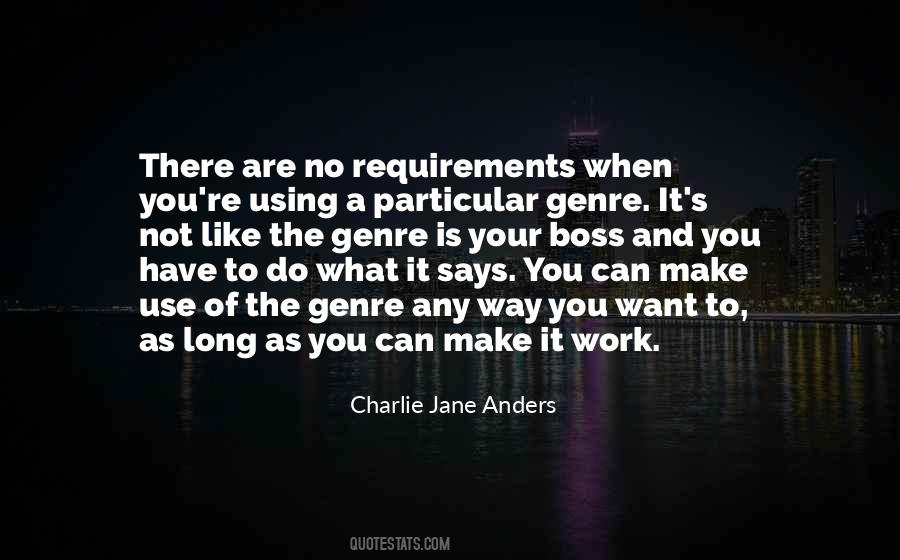 #57. It's not okay to send a feeble kid out to fight our battles, and it's not okay to push people around like pawns on a fuckin chessboard and it's not okay giving orders to kill like a Mafia boss. - Author: Stephen King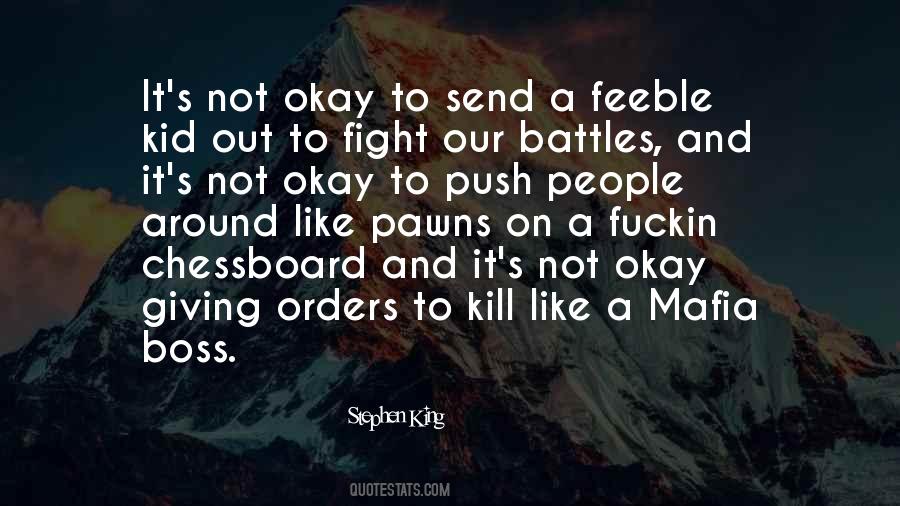 #58. My advice to women in general: Even if you're doing a nine-to-five job, treat yourself like a boss. Not arrogant, but be sure of what you want - and don't allow people to run anything for you without your knowledge. - Author: Nicki Minaj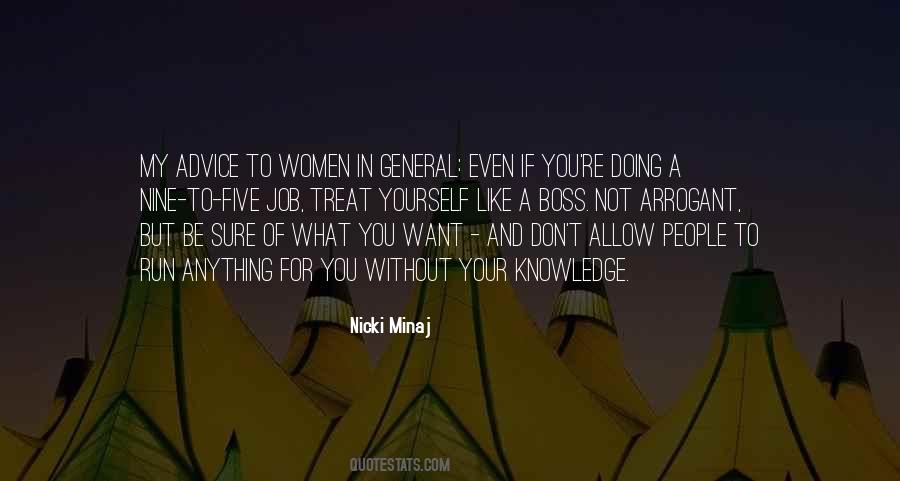 #59. Nothing like a little shared racism to build ties with the boss. - Author: James S.A. Corey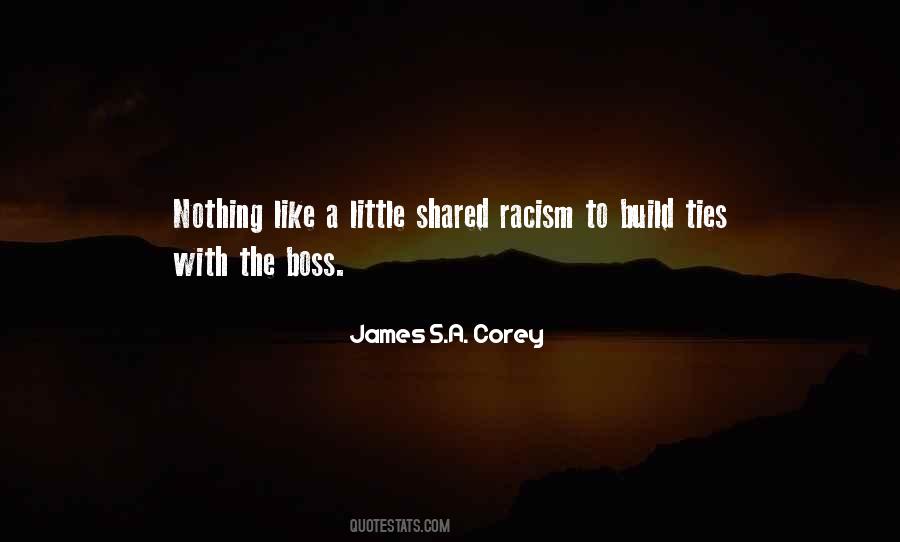 #60. I've always been petrified of working for a boss who I didn't like but who I was in fear of, because I wanted my salary. - Author: Simon Cowell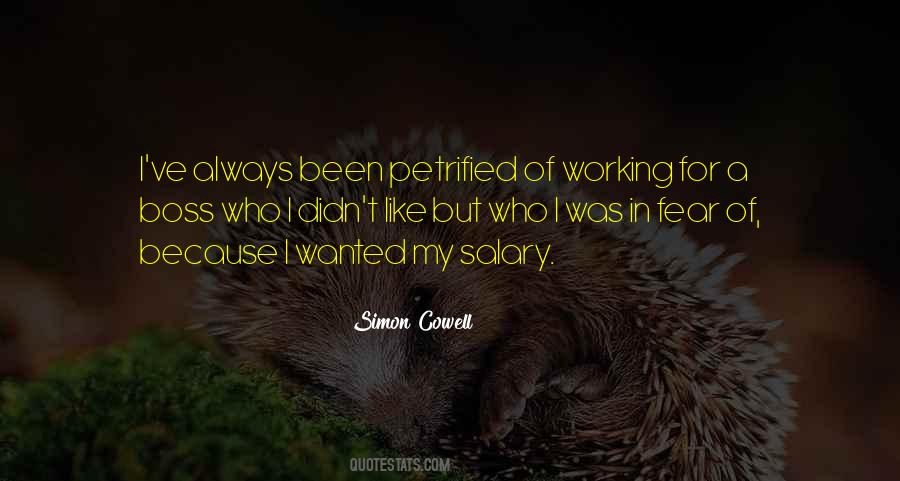 #61. It's been a process of evolving within a family company to get the autonomy I now have from a boss like my father. If you're sitting there waiting for a pat on the back, you're going to be waiting a long time. - Author: Donald Trump Jr.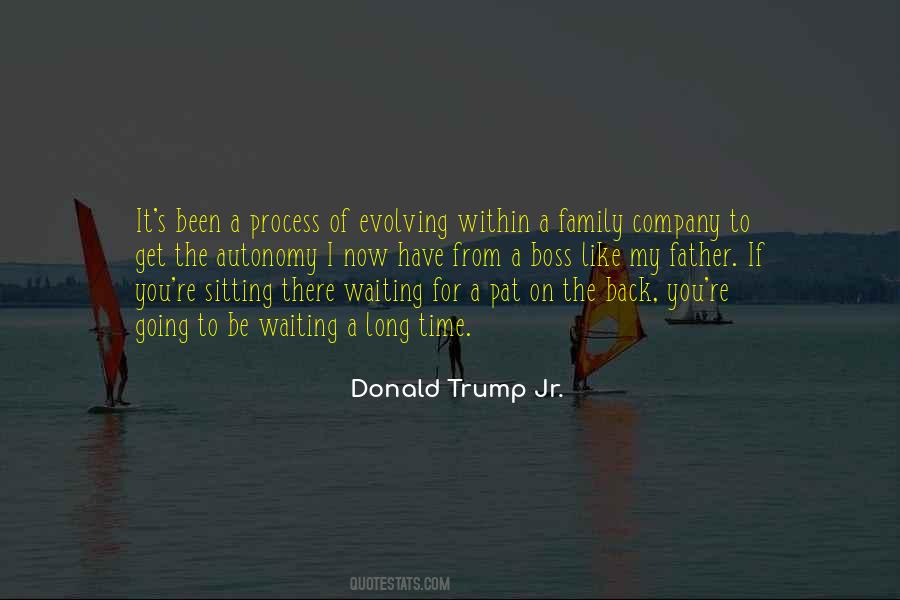 #62. I feel incredibly lucky at this moment in my career to get paid to do basically exactly what I always wanted to do. I appreciate that in general. But you know, like any job, a job is a job, and there are days that are going to be boring, or you have a boss you don't like, or people you work with. - Author: Nick Kroll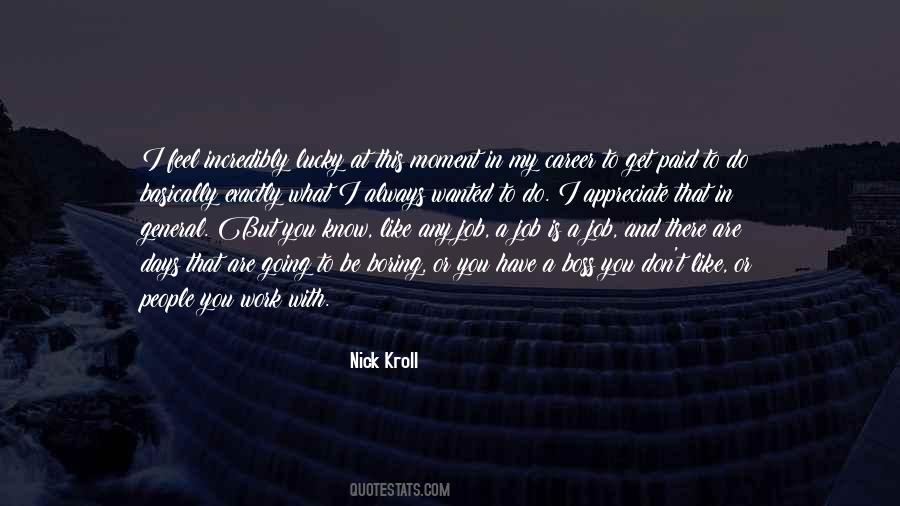 #63. If a female employee is offended, a boss would like her to tell him, not sue him. - Author: Warren Farrell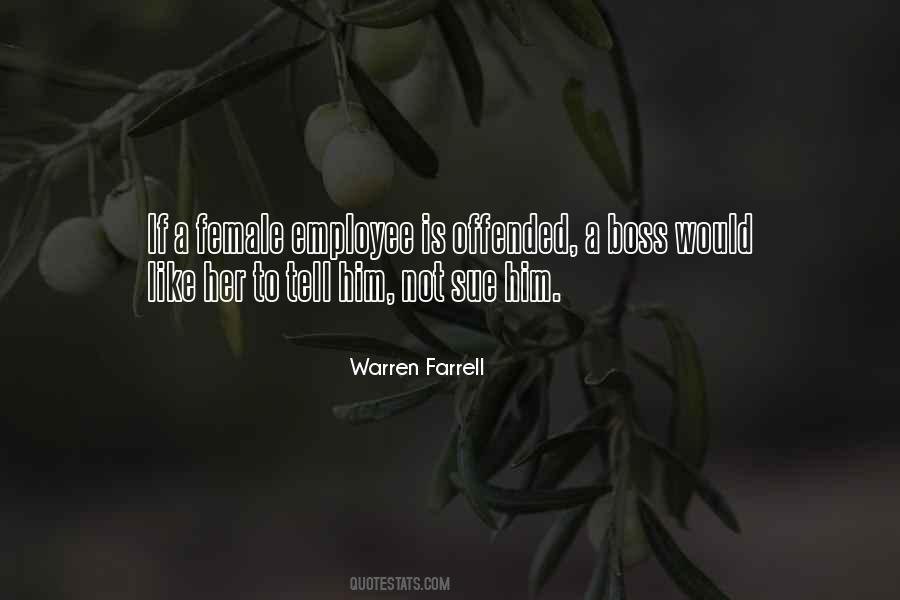 #64. If I am going to get in a cab to go home, and I see a sign for an open house, I will go in. I like real estate because I am the boss. - Author: Lorraine Bracco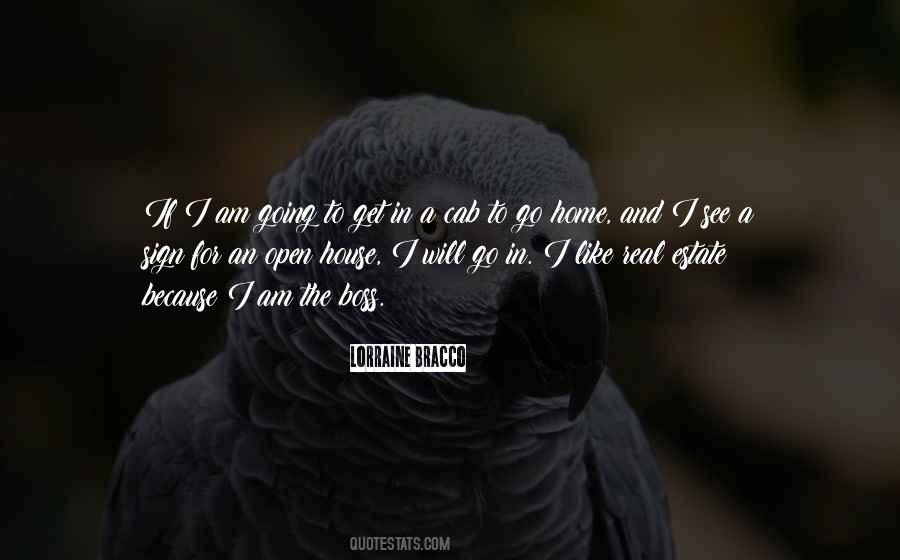 #65. A bad boss is like a disease of the soul. - Author: Chetan Bhagat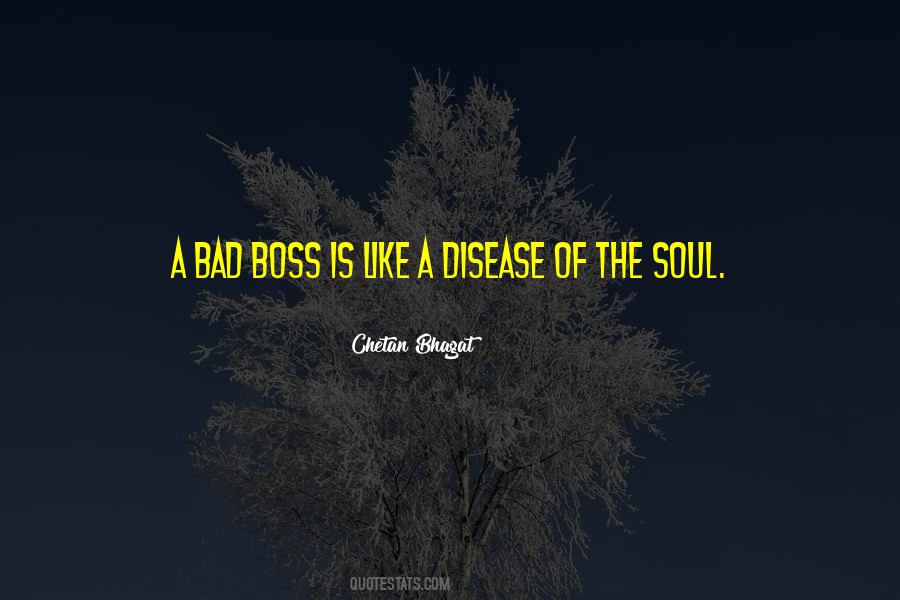 #66. It doesn't matter if someone calls you a bad bitch, boss bitch, gangsta bitch, whatever, you're still being called a bitch and if you like it then they are right. You are a bitch. A dumb one at that. Yeah, I said it. - Author: Sa'id Salaam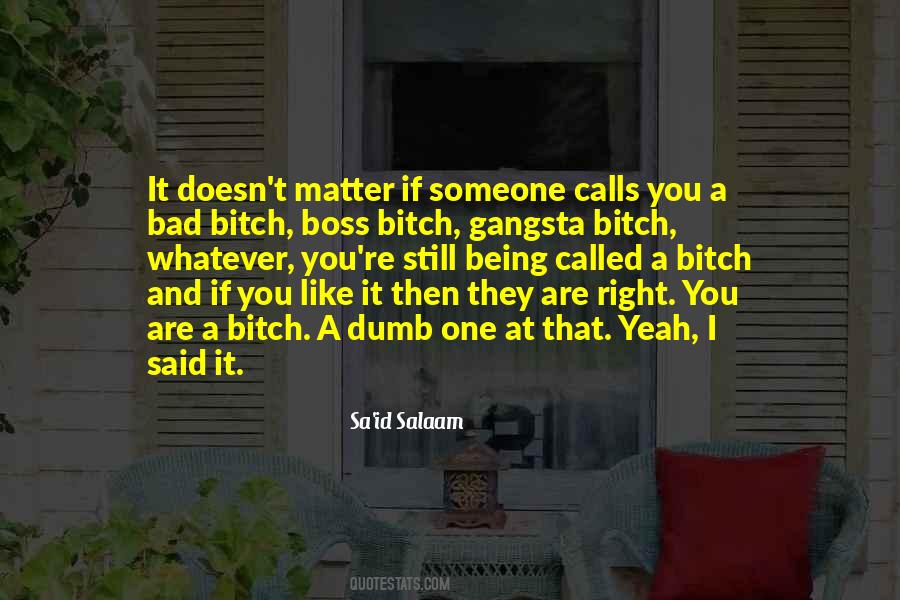 #67. Well, it really describes what it feels like to be a normal person whose boss and friend suddenly runs for the president, and then becomes the president. - Author: Karen Hughes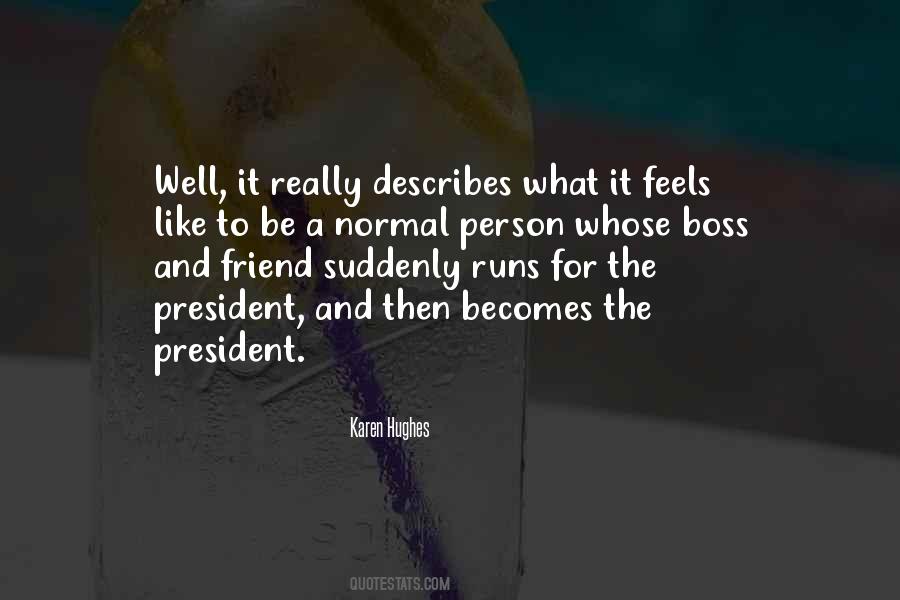 #68. Rappers on their sophomores ... actin' like they boss lords.
Fame's such a funny thing for sure when niggas start believing all those encores. - Author: Pusha T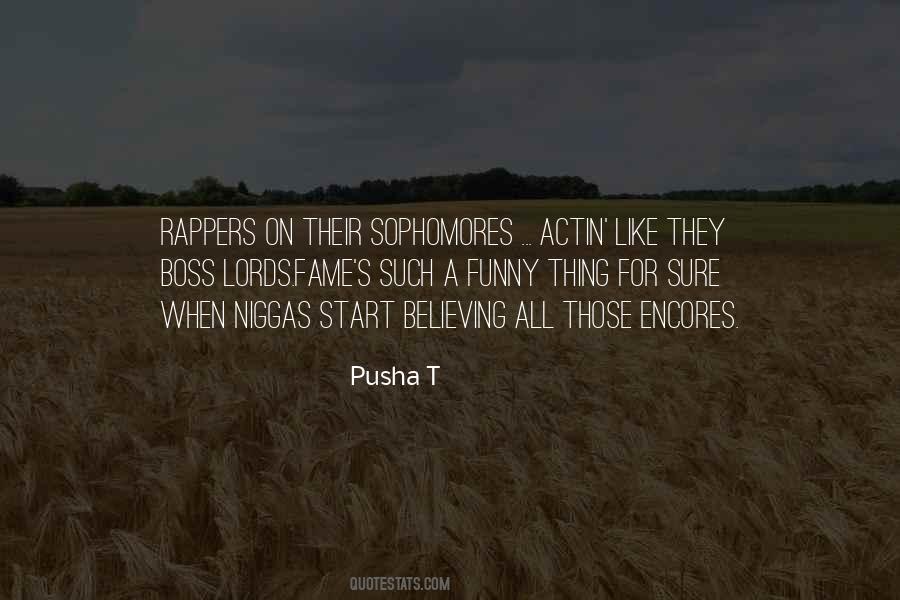 #69. Let me speak to your boss I said. Six magic words that roil deep in the bowels of anymore collecting a paycheck on a biweekly basis. It's like winking at a leprechaun: he has to give up his pot of gold, and yet no one knows why. - Author: Walter Mosley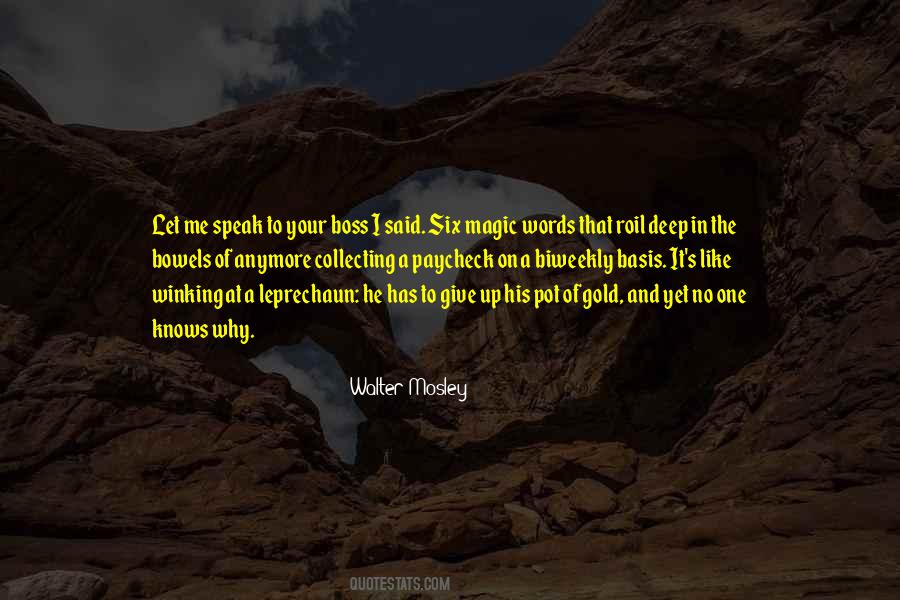 #70. My boss is like an angry bear with a sore head and poison ivy up his ass. - Author: E.L. James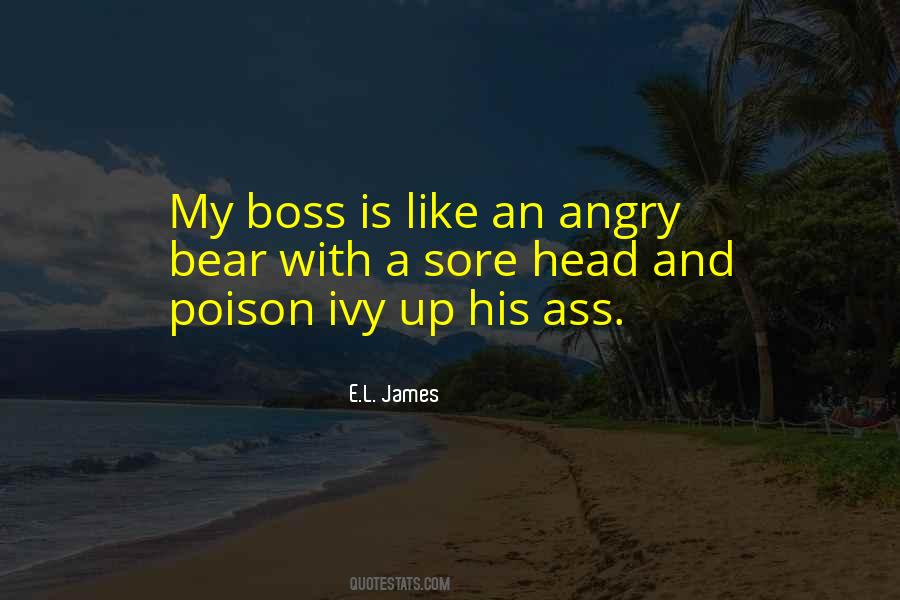 #71. It's like the Boss always says: they're just meat wrapped around a blazing star. We don't mourn the wrapping once it's discarded, we celebrate the freeing of the star. - Author: Stephen Kelman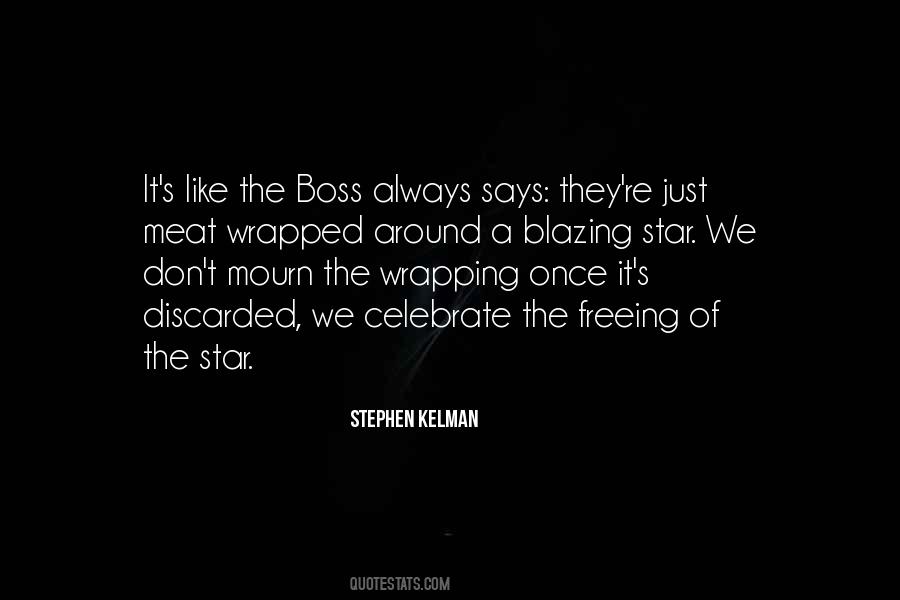 #72. Setting that little girl loose in her society would be like putting a fox in with the chickens. (Violet Strange's detective boss.) - Author: Candida Martinelli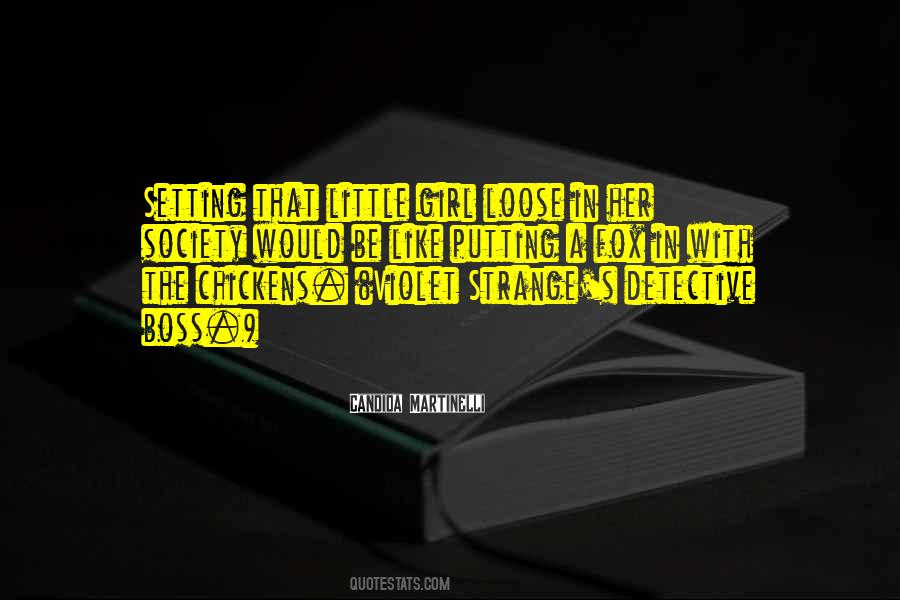 #73. Chess is my profession. I am my own boss; I am free. I like literature and music, classical especially. I am in fact quite normal; I have a Bohemian profession without being myself a Bohemian. I am neither a conformist nor a great revolutionary. - Author: Bent Larsen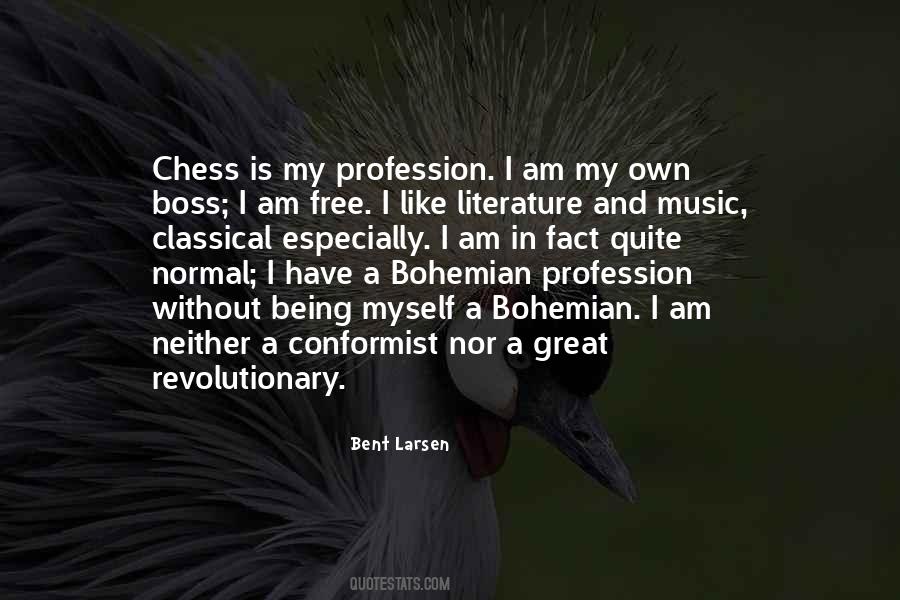 #74. No weapons designer or engineer would build something with such an arbitrary weakness," he said. "The Disrupter is more like something a videogame developer would come up with, to create a big challenge at the end of a level - a boss that requires a huge sacrifice to destroy. - Author: Ernest Cline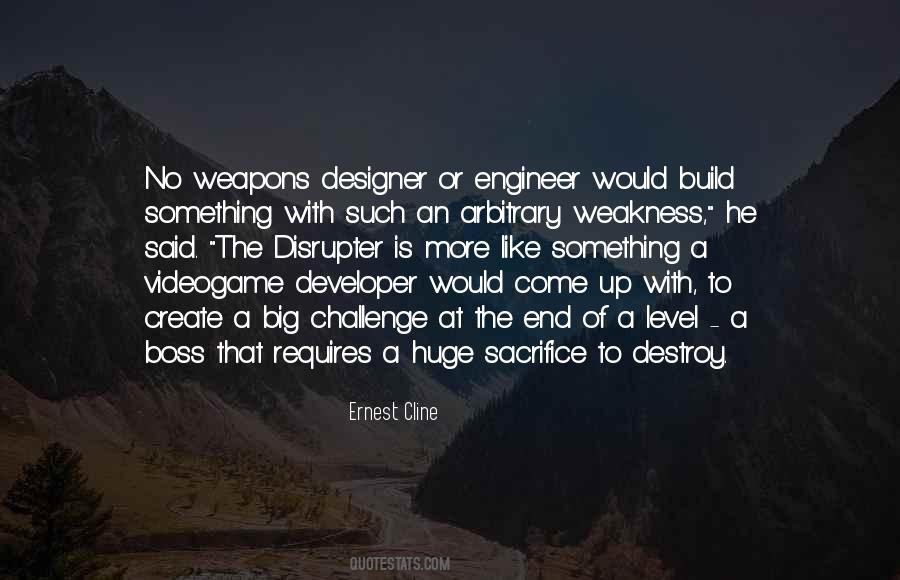 #75. Mick's album was called She's the Boss, which said it all. I've never listened to the entire thing all the way through. Who has? It's like Mein Kampf. Everybody had a copy, but nobody listened to it. - Author: Keith Richards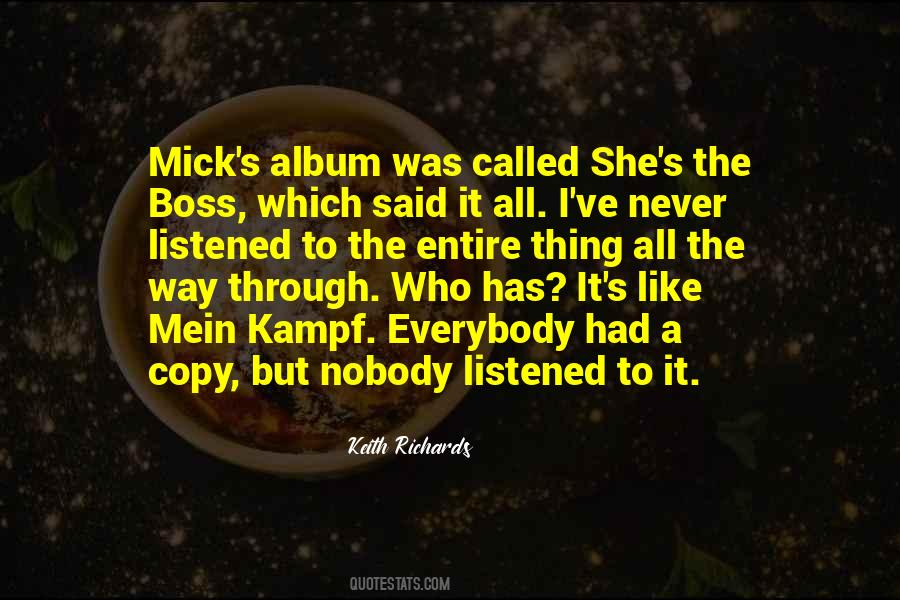 #76. And who died and made you boss?" But I knew a lost cause when I saw it and was already pulling my hair back with nimble fingers.
Niko slapped a shoulder holster against my chest. "No one. Like all truly great dictators, I seized that power myself. Now finish up. We leave in five minutes. - Author: Rob Thurman
#77. I've never run a company before, and I don't want to feel like a boss. I just want to turn up and do my work. - Author: Markus Persson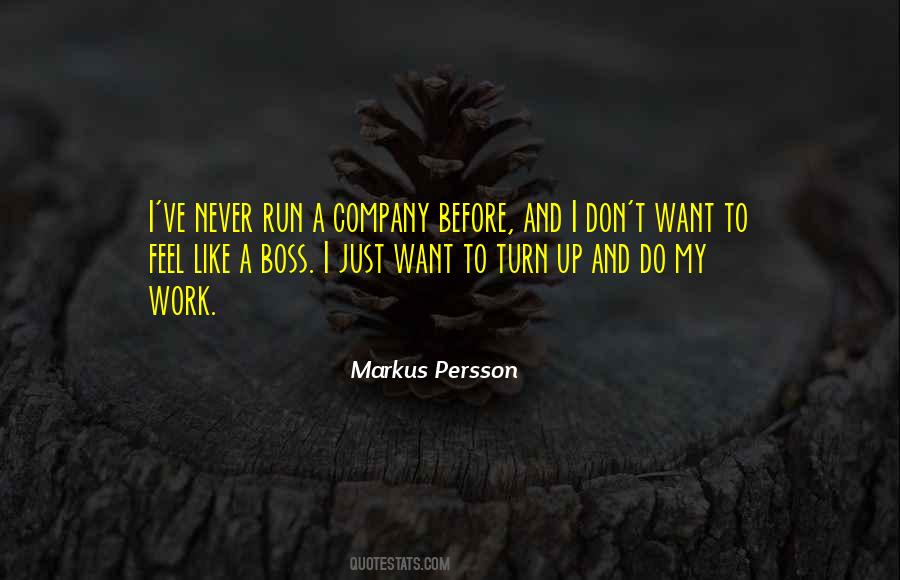 #78. All the men in the room looked at her in awe. Asia was carrying herself like a bad bitch with boss mentality. Truth - Author: Brii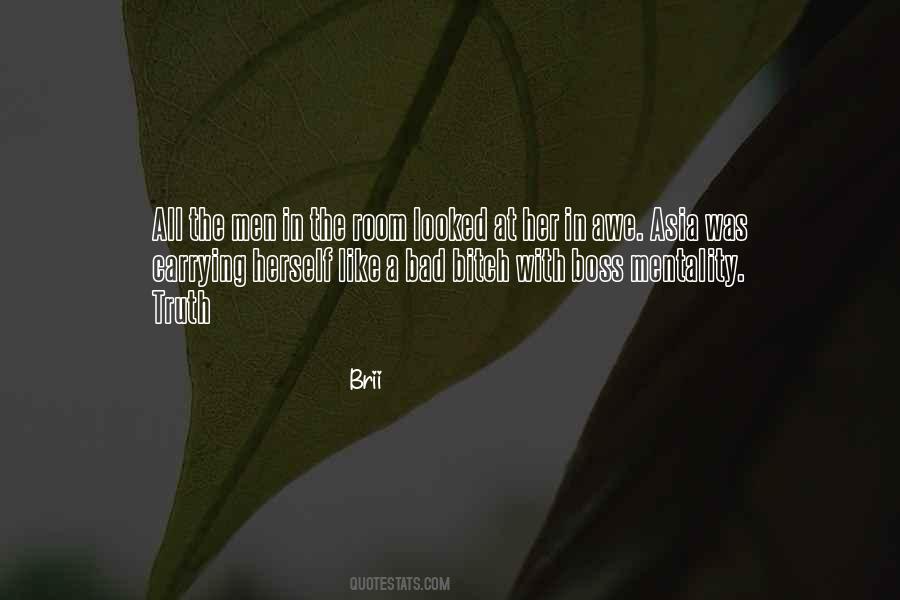 #79. I think after overcoming breast cancer, you sort of become fearless and somehow going up to your boss to talk about a possible promotion doesn't seem like such a daunting task anymore. - Author: Hoda Kotb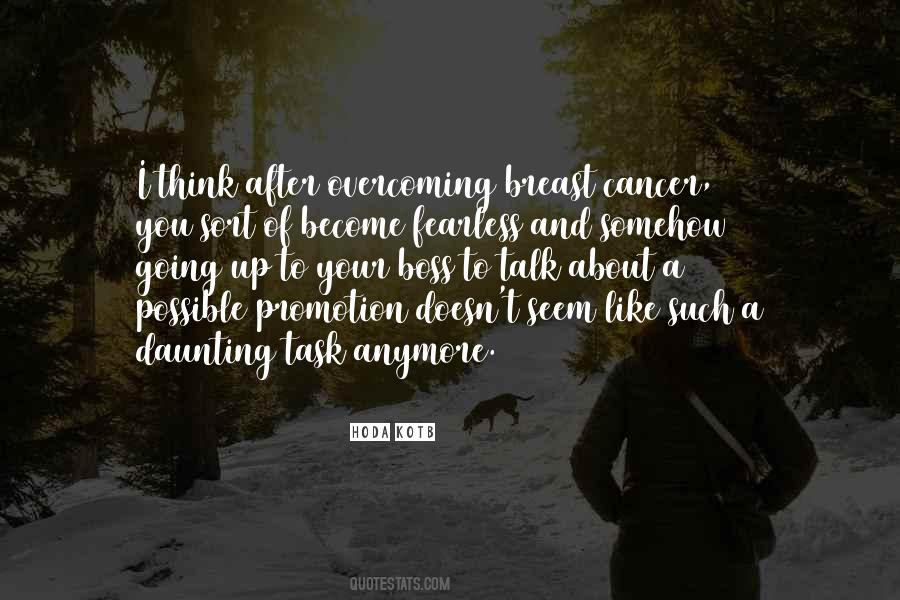 #80. Whether you're a mechanic or you build houses or you work in an office, you don't have to like your boss. - Author: Timothy F. Cahill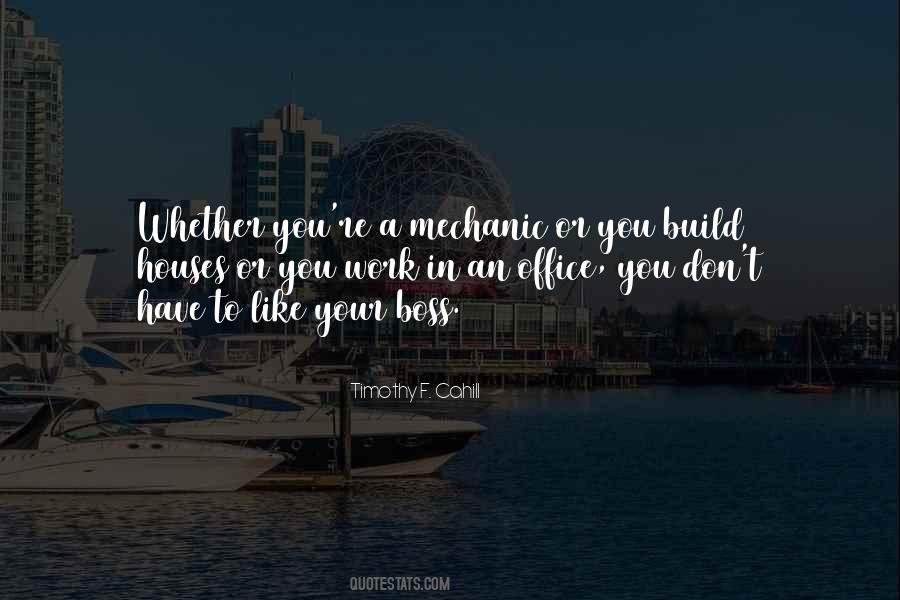 #81. People were like, "Oh maybe we can change your teeth" and I thought that was going a bit far. You have to be really strong in this job and realise that you are your own boss and if someone tells you to do something, you don't have to do it. I really like my teeth. - Author: Lara Stone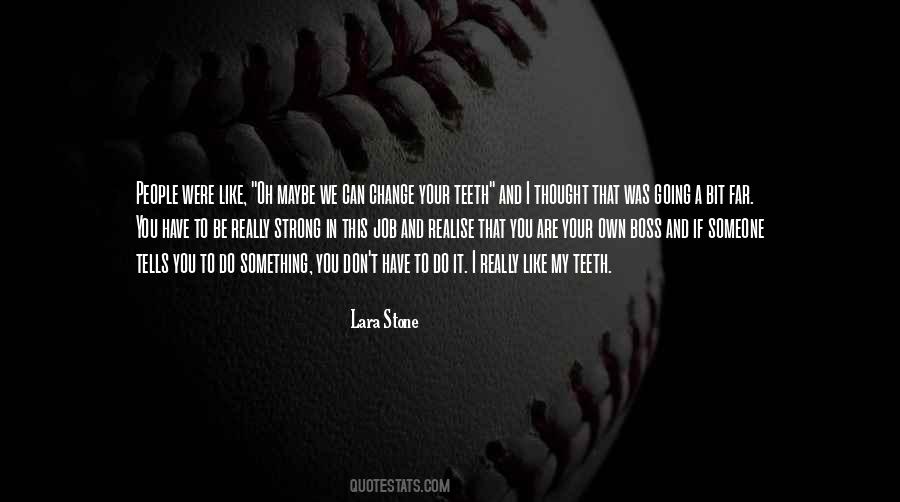 #82. Take me with you?" she asked, reaching for is arm. He looked back at were the four women stood watching them and shook his head.
"I've seen Piper ruin a whole gaming area, Harper scares me, Elli is my boss, and I want your mom to like me...Sorry babe, you're on your own. - Author: Toni Aleo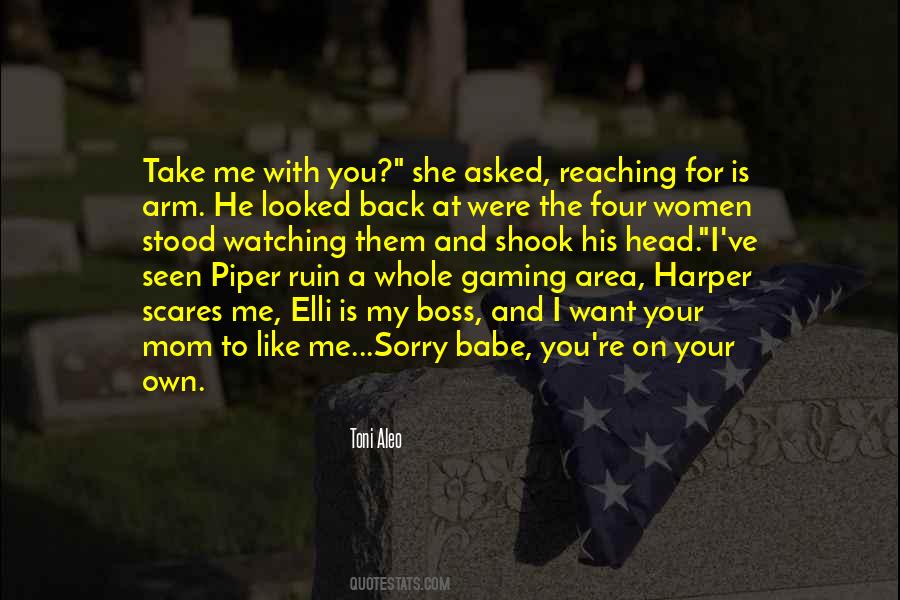 #83. Everything I've done feels like I'm just as much a part of it as if I was the producer. It's still the same job: all of us together figuring out the common good for a song. That's the only thing that matters. It's not like, "I'm the boss, and I'm gonna tell you what to play." - Author: Vince Gill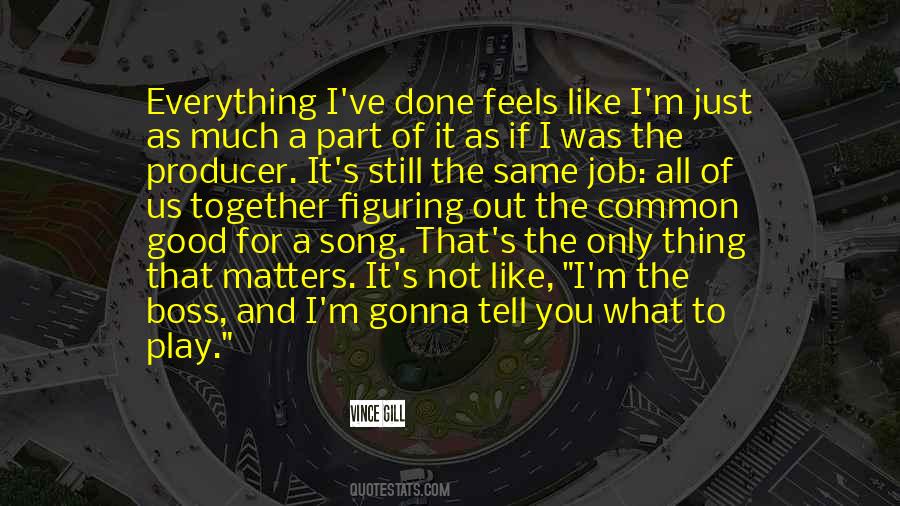 #84. The people who related to God best
Abraham, Moses, David, Isaiah, Jeremiah
treated him with startling familiarity. They talked to God as if he were sitting in a chair beside them, as one might talk to a counselor, a boss, a parent, or a lover. They treated him like a person. - Author: Philip Yancey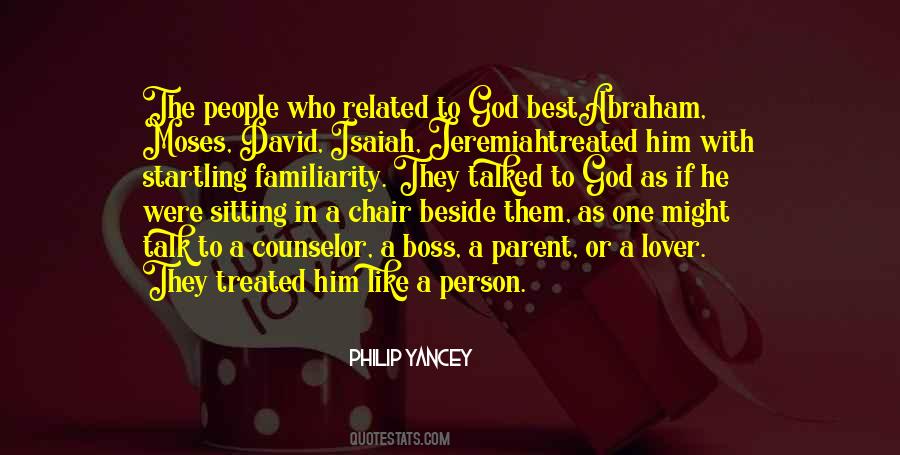 #85. The name 'Boss' started with people that worked for me ... It was not meant like Boss, capital B, it was meant like 'Boss, where's my dough this week?' And it was sort of just a term among friends. I never really liked it. - Author: Bruce Springsteen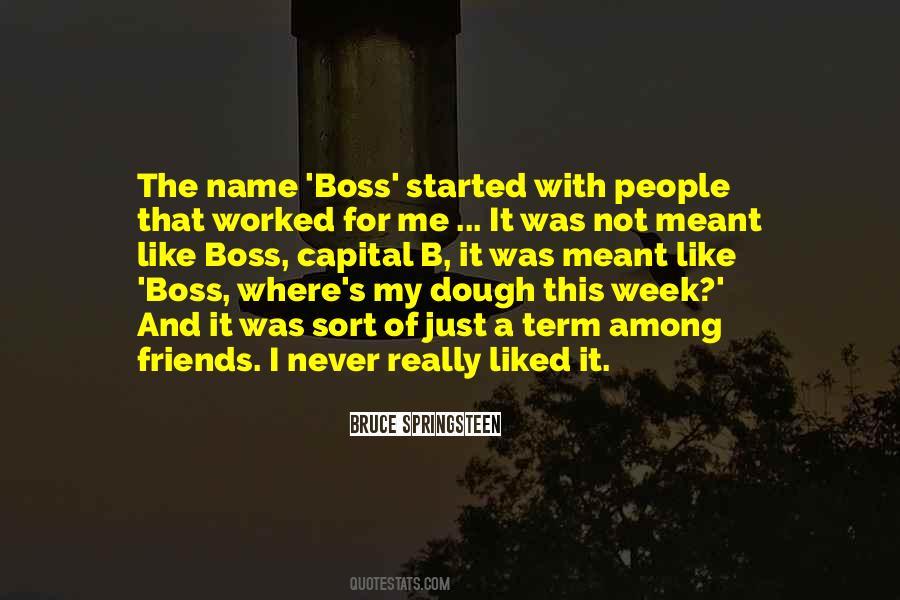 #86. Working on a novel is very solitary and I get to be the boss. I'm the dictator, so I win every battle. So, in that sense, novels are easier because you don't have to answer to anyone. And then, you go into something like film and there are more cooks in the kitchen, so to speak. - Author: Nicholas Sparks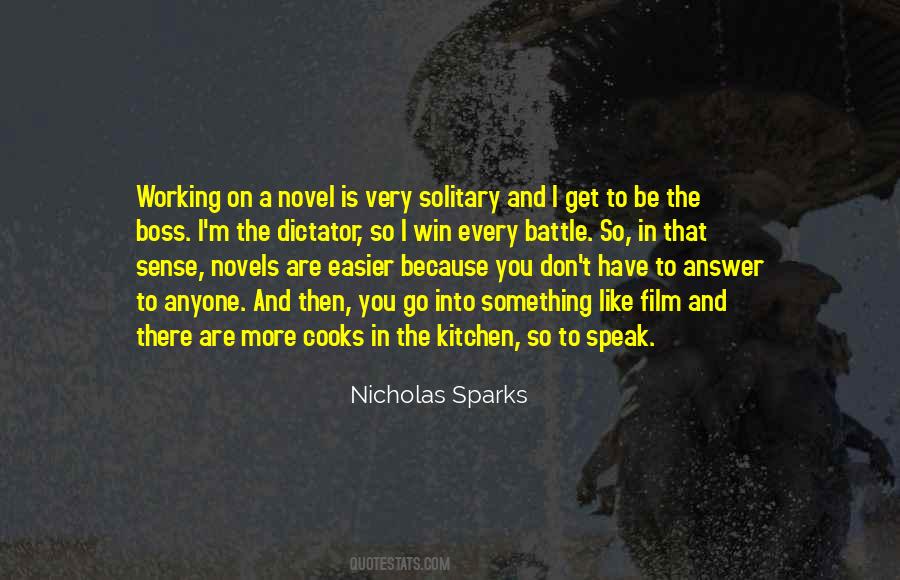 #87. I read in a book that they cut off the workers' hands if they hadn't collected enough rubber by the end of the day. The Belgian foremen would bring baskets full of brown hands back to the boss, piled up like a mess of fish. Could this be true of civilized white Christians? In - Author: Barbara Kingsolver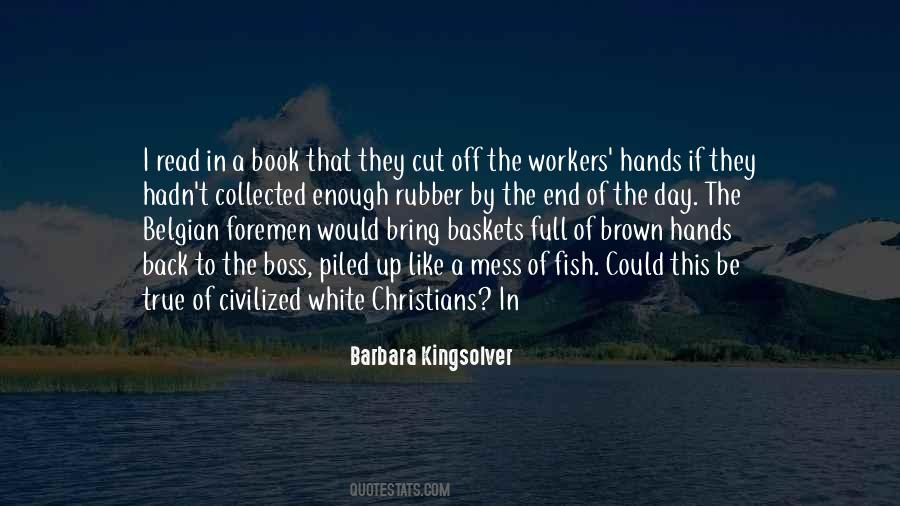 Famous Authors
Popular Topics