List of top 100 famous quotes and sayings about inner voice to read and share with friends on your Facebook, Twitter, blogs.
Top 100 Quotes About Inner Voice
#1. If you have some idea you believe in, don't listen to the croaking chorus. Listen only to what your own inner voice tells you.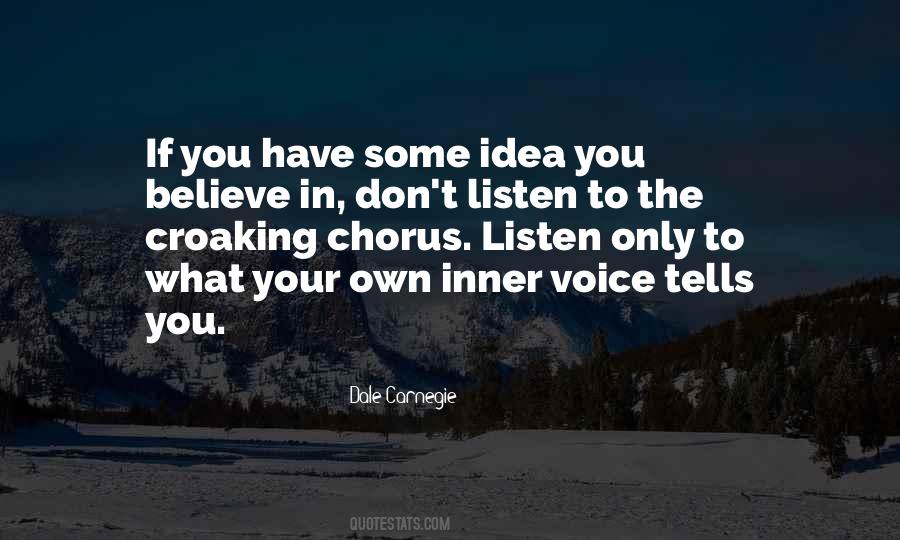 #2. I think one great tip is that you should always love yourself. If you don't love yourself, take care of yourself, cater to yourself and that little inner voice, you will really not be very worthy of being with someone else, because you won't be the best version of you.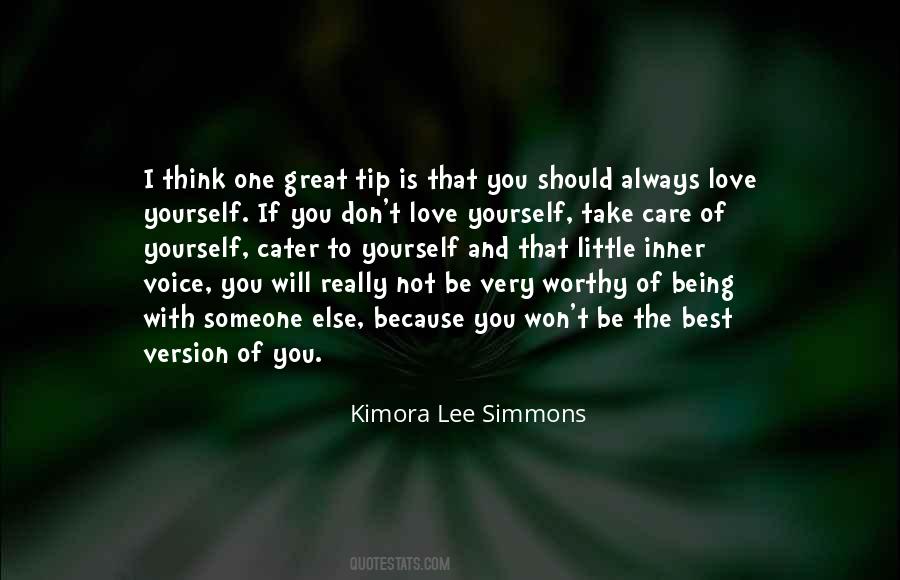 #3. The Voice
There is a voice inside of you
That whispers all day long,
"I feel this is right for me,
I know that this is wrong."
No teacher, preacher, parent, friend
Or wise man can decide
What's right for you
just listen to
The voice that speaks inside.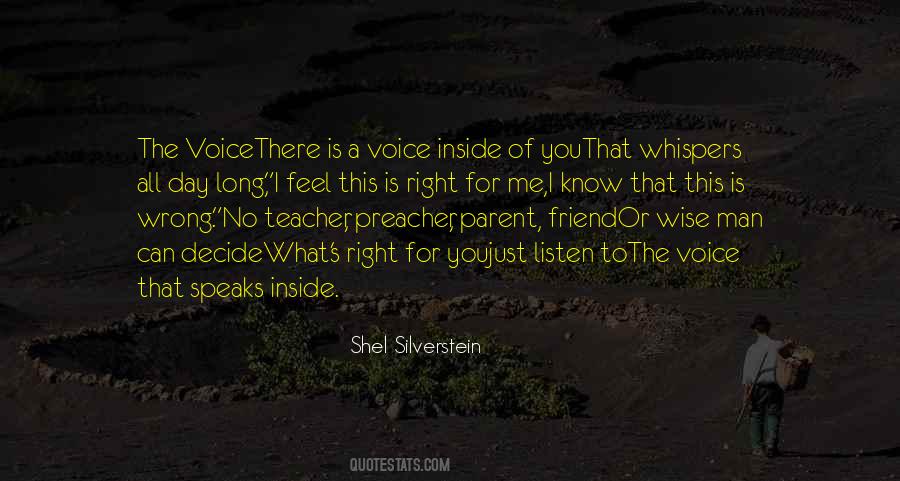 #4. But while my inner voice was clearly telling me I was at my core an entrepreneur, it's inconvenient to decide at twenty-three that you can't really work for other people.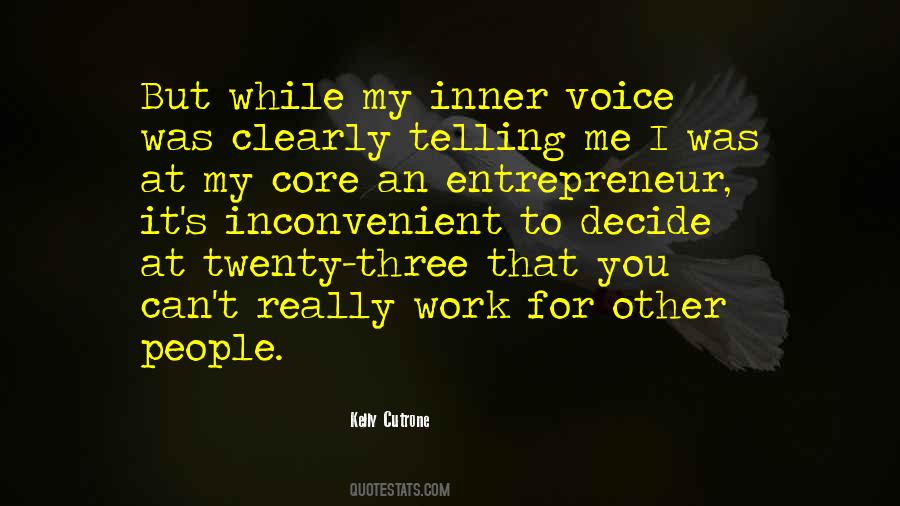 #5. And I often tell friends: "When you don't know what to do, do nothing. Get quiet so you can hear the still, small voice, your inner GPS guiding you to true North.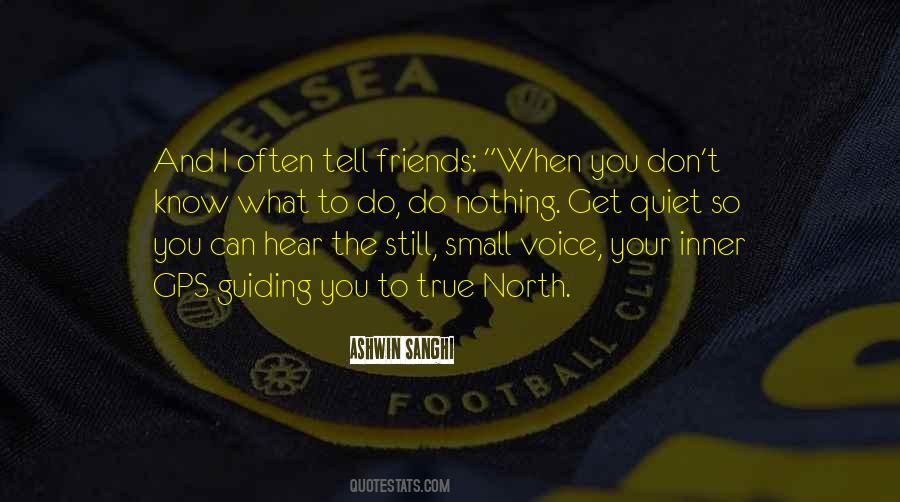 #6. To find your angels ... Start trusting your inner voice and intuition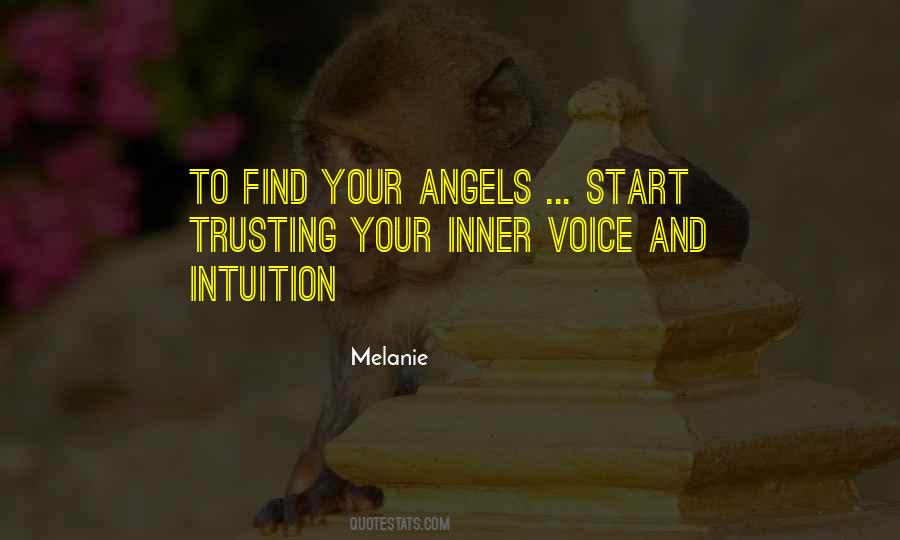 #7. Let the inner ear listen to the voice of truth that is always speaking.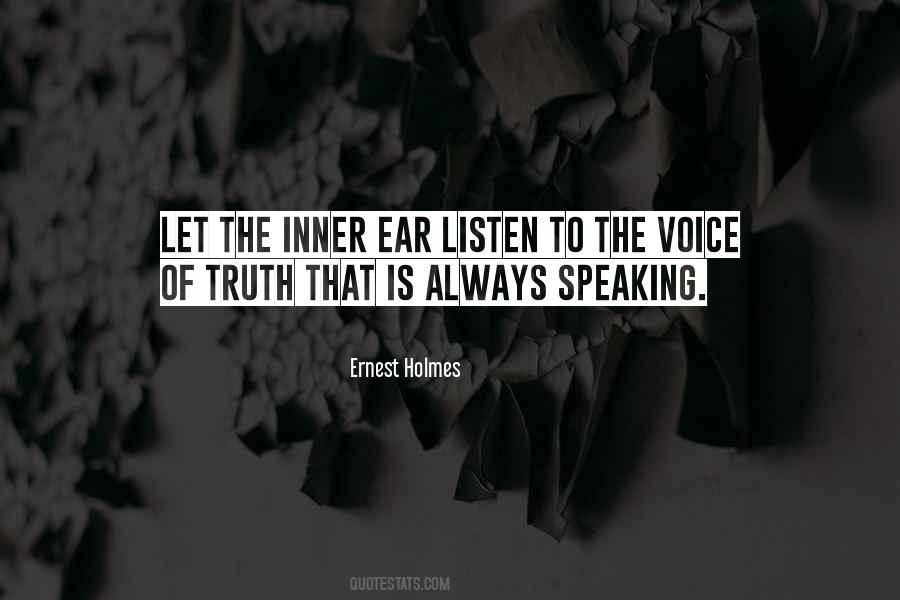 #8. Buddha is a Buddha, a Krishna is a Krishna, and you are you. And you are not in any way less than anybody else. Respect yourself, respect your own inner voice and follow it.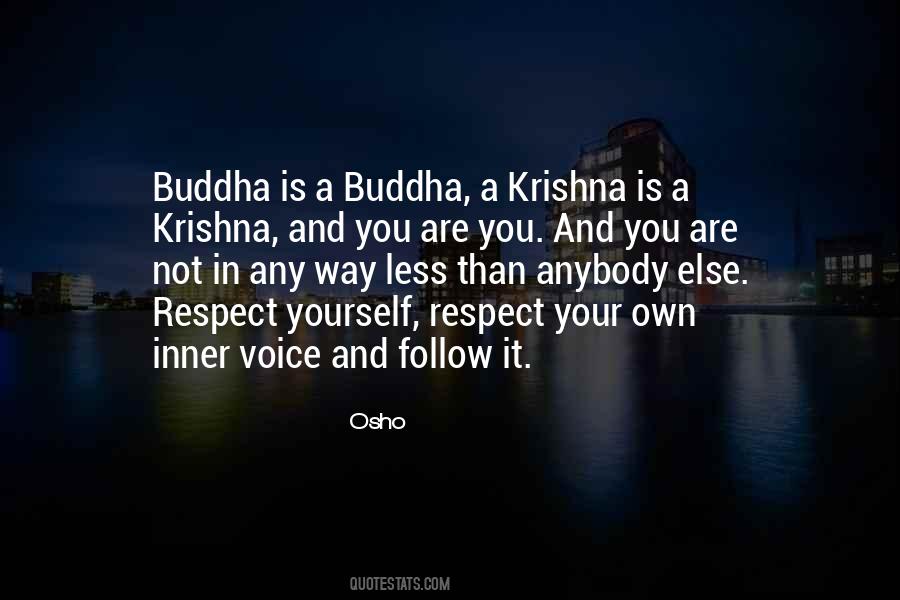 #9. Moment after moment, completely devote yourself to listening to your inner voice.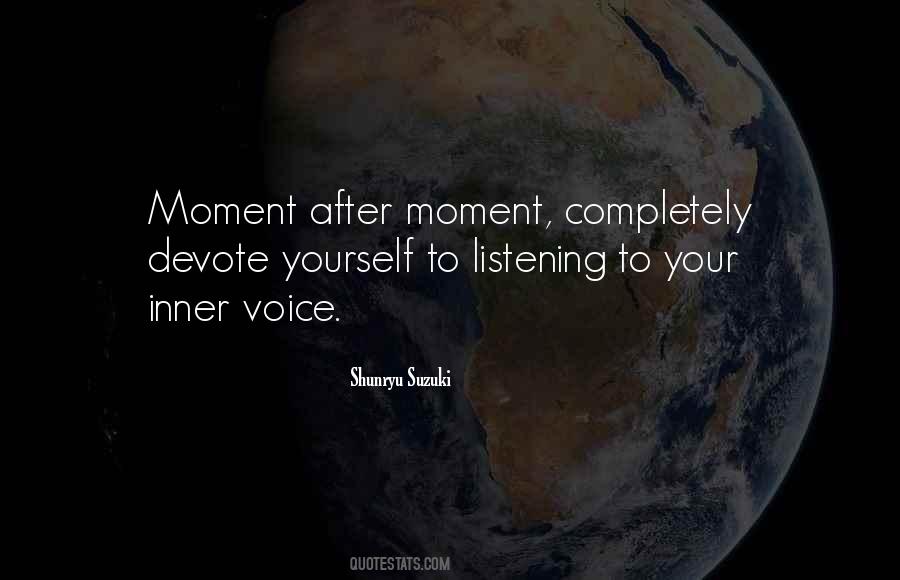 #10. You should calm down and listen to the voice of your heart. This is your inner voice, your intuition or strong desire or a passion to a certain kind of activity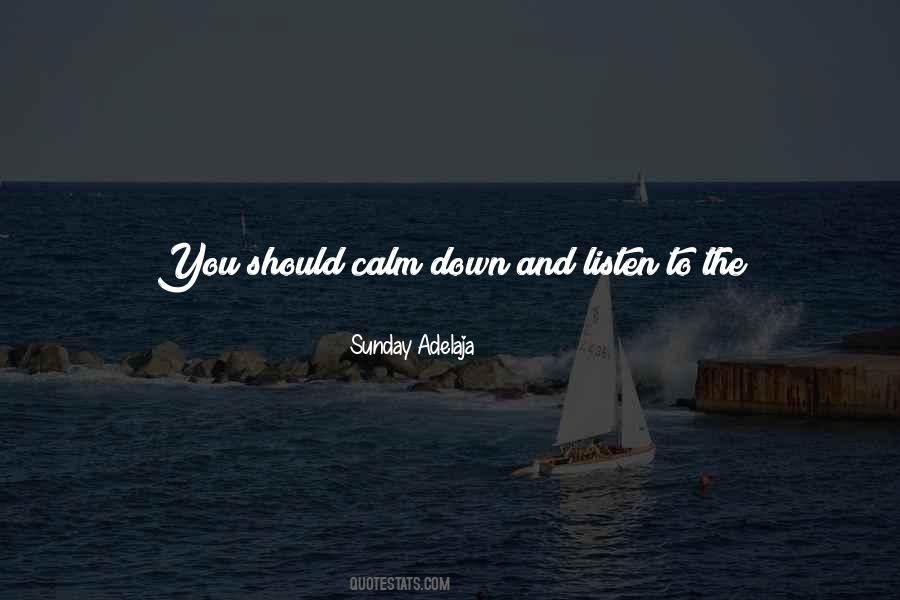 #11. The most influential and frequent voice you hear is your inner-voice. It can work in your favor or against you, depending on what you listen to and act upon.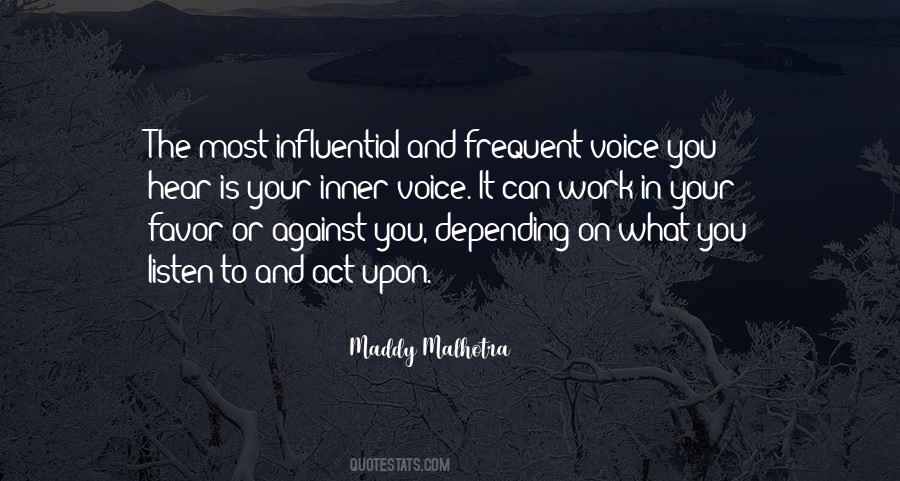 #12. If in answer to your inner voice screaming 'don't do it', you shake your head and do it anyway, I can guarantee your days will be more likely filled with respect and success.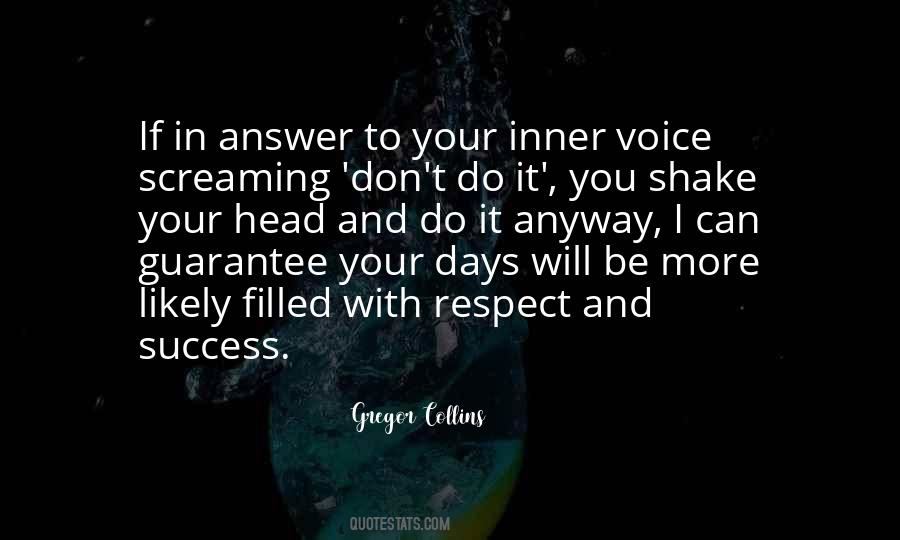 #13. Happiness comes from living as you need to, as you want to. As your inner voice tells you to. Happiness comes from being who you actually are instead of who you think you are supposed to be.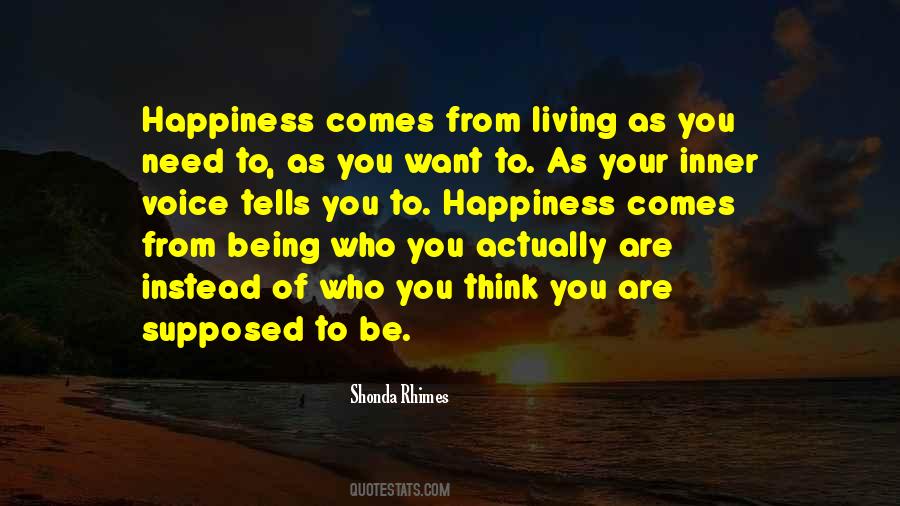 #14. It always comes back to the fact that it is best to listen to that inner voice, whether you're in a relationship or not.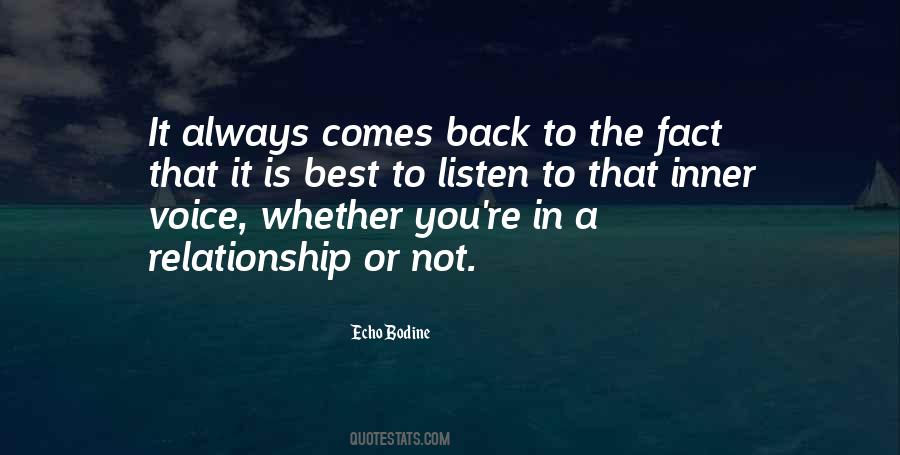 #15. The strongest words can be said in the softest voices and still be resonant.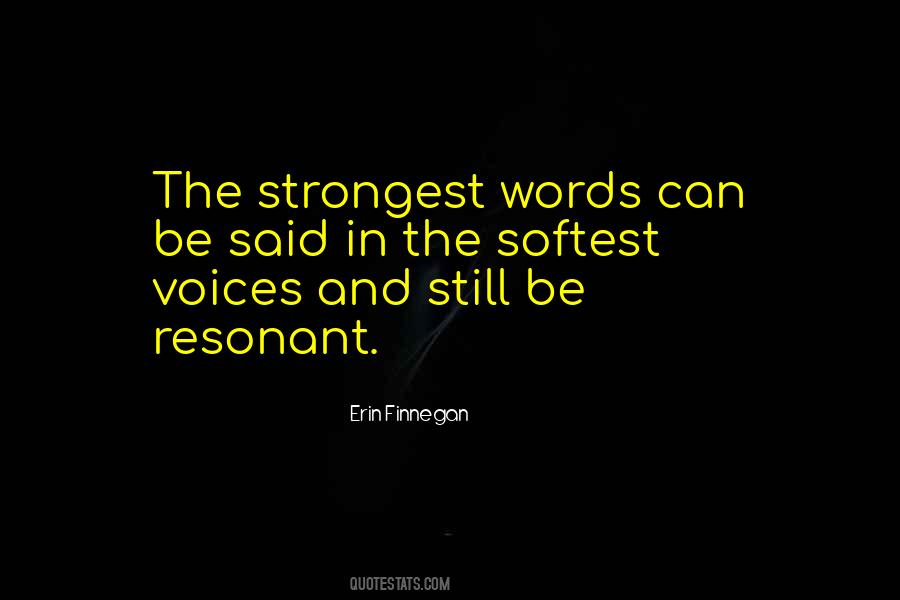 #16. Don't let the noise of others' opinions drown out your own inner voice.
[Stanford University commencement speech, 2005]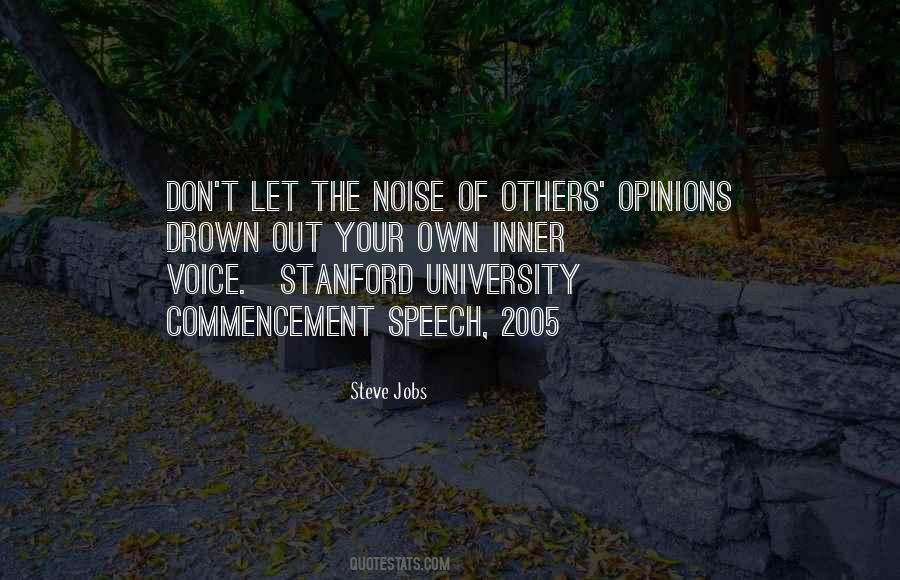 #17. You don't have to do anything especially worthy to create or deserve self-esteem; all you have to do is turn off that critical, haranguing, inner voice.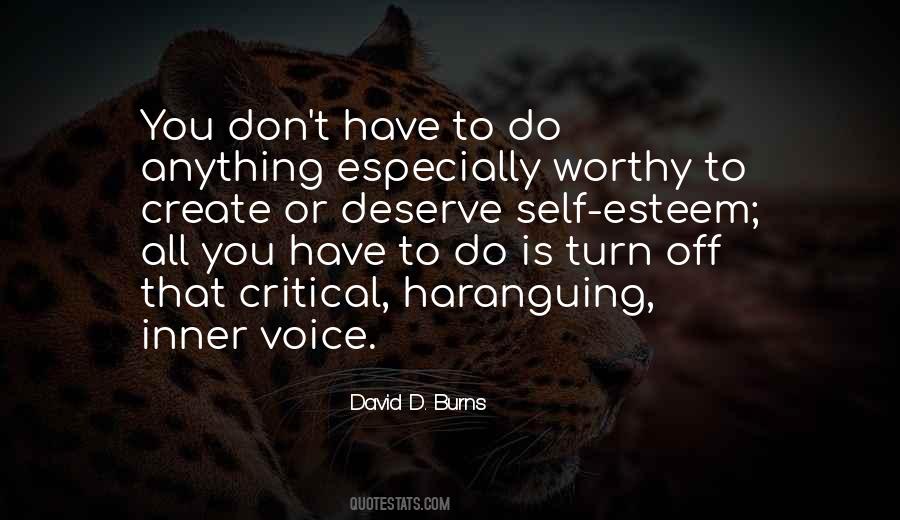 #18. People become discouraged when they listen to their 'inner critic' ... Whatever that voice is saying, articulate a response, drawing from the part of you that feels strong and confident. Be your own cheerleader.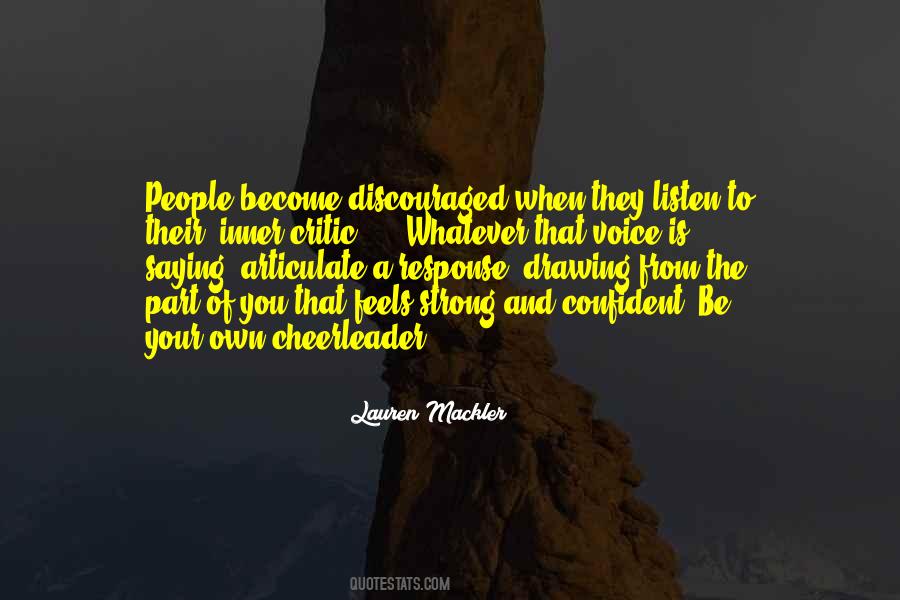 #19. There is no necessity for a technique or formula for meditation. Inner feeling, or inner knowing, is the silent voice of inspiration.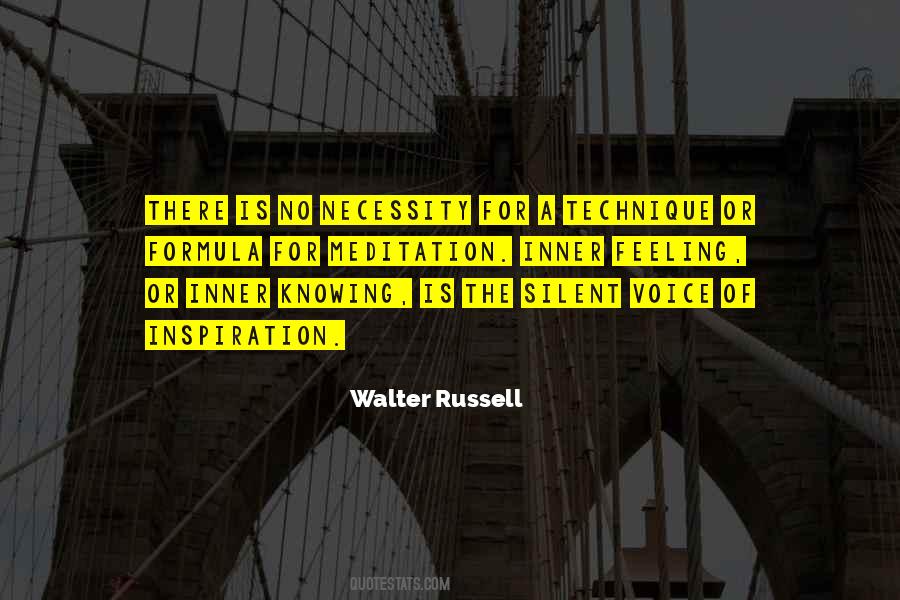 #20. My inner voice told me at that point,
"you shouldn't be caring about her, just move on! You have to improve your life and live apart from her"

But my absurd heart was pleading,
"you love her, you idiot. She is your life sphere, one more try at least for the sake of kindness.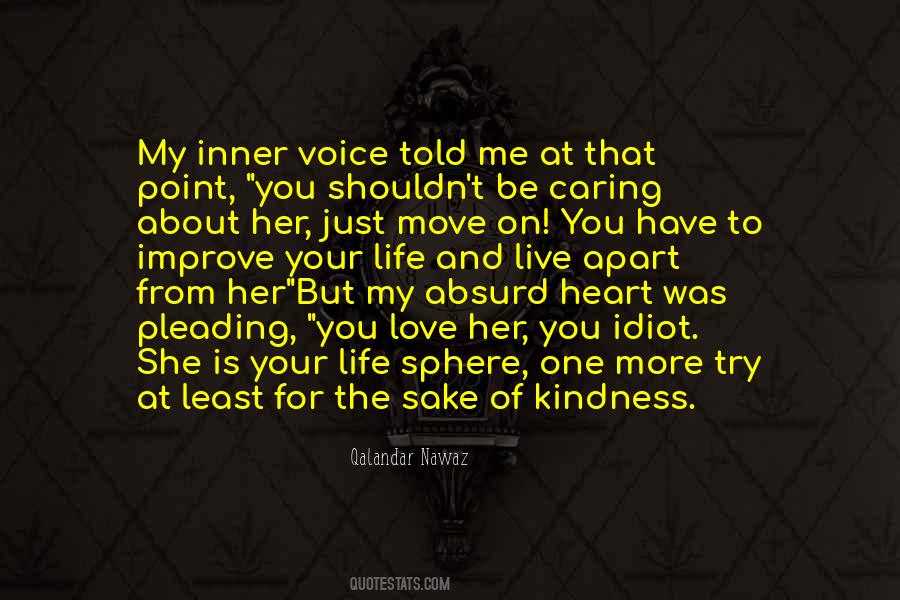 #21. You have permission to walk away from anything that doesn't feel right. Trust your instincts and listen to your inner-voice - it's trying to protect you.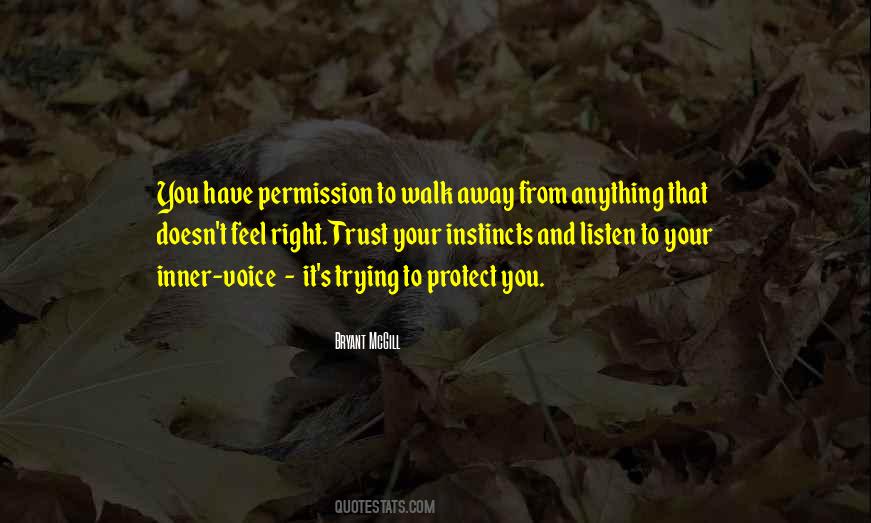 #22. Listen to the inner voice that allows you to be you!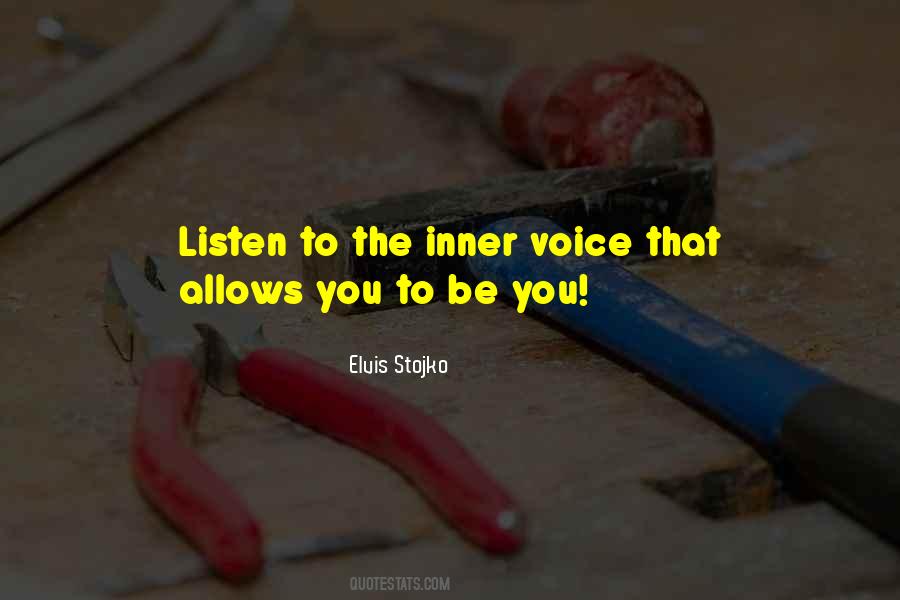 #23. Most of the time our inner voice tries to guide us to 'Truth' but we, out of our own vested interests, wish to continue living in our own self-created illusions because it suits our purpose or fulfils our needs.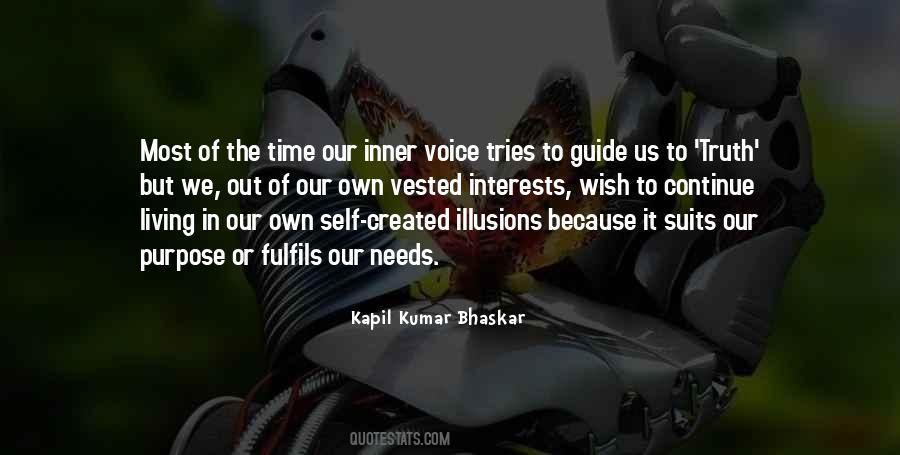 #24. Seek spirituality of thy soul.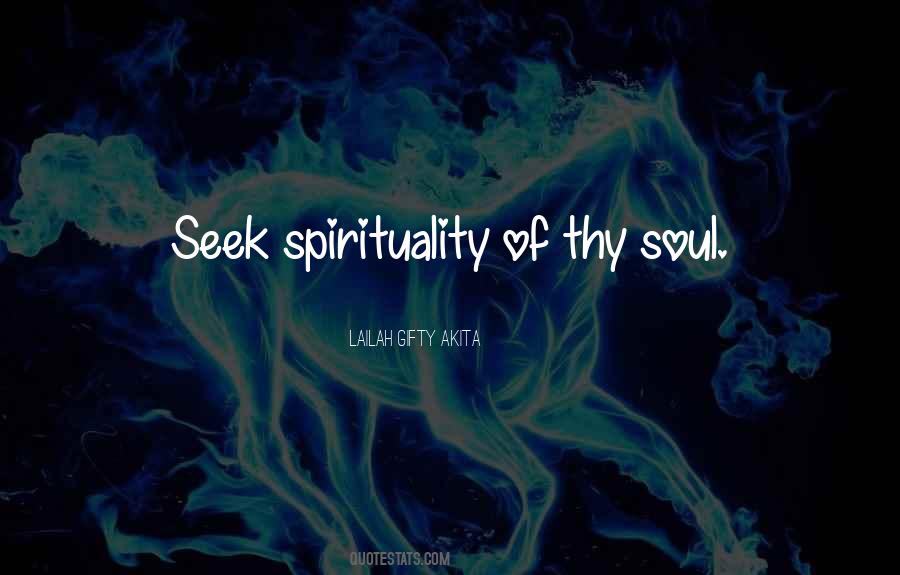 #25. Whatever you do, listen for your inner voice. Do not ignore it.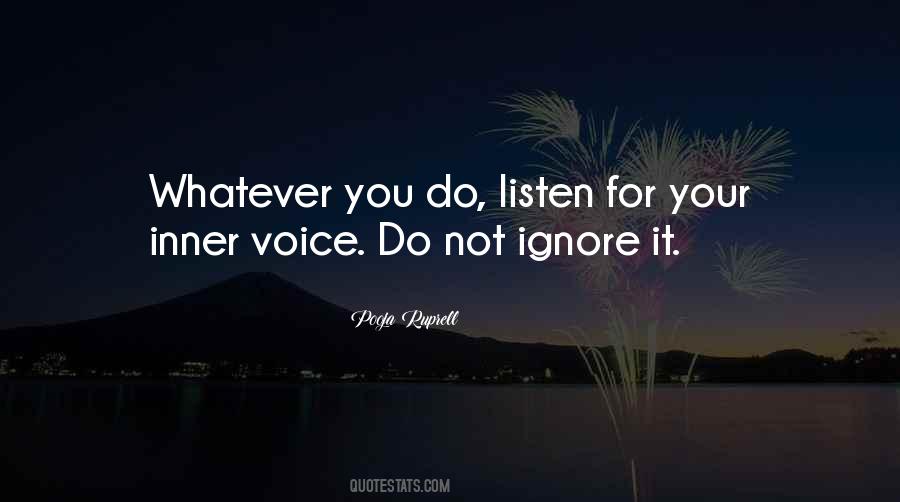 #26. Listen to your inner voice... for it is a deep and powerful source of wisdom, beauty and truth, ever flowing through you... Learn to trust it, trust your intuition, and in good time, answers to all you seek to know will come, and the path will open before you.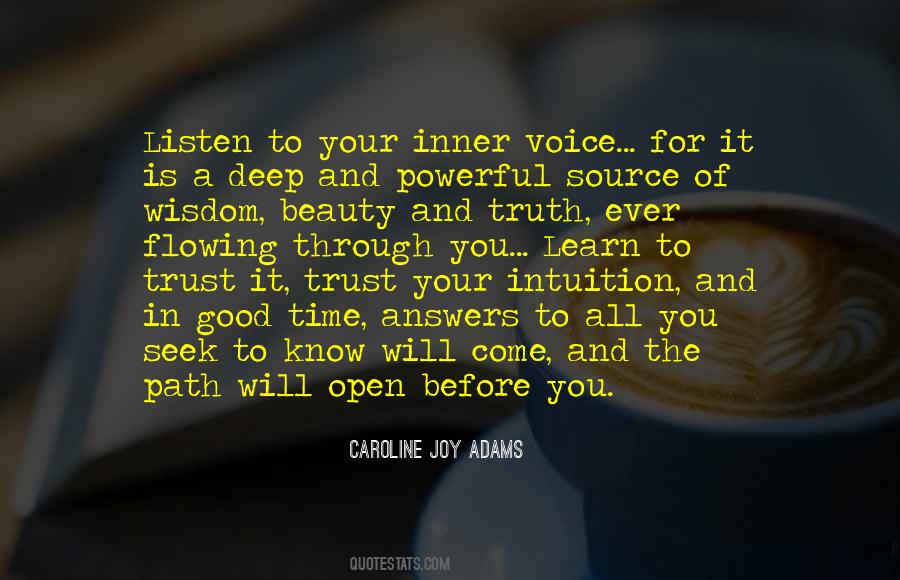 #27. We struggle with a seditious inner voice that says, "You're wasting time. Get up and do something with your life.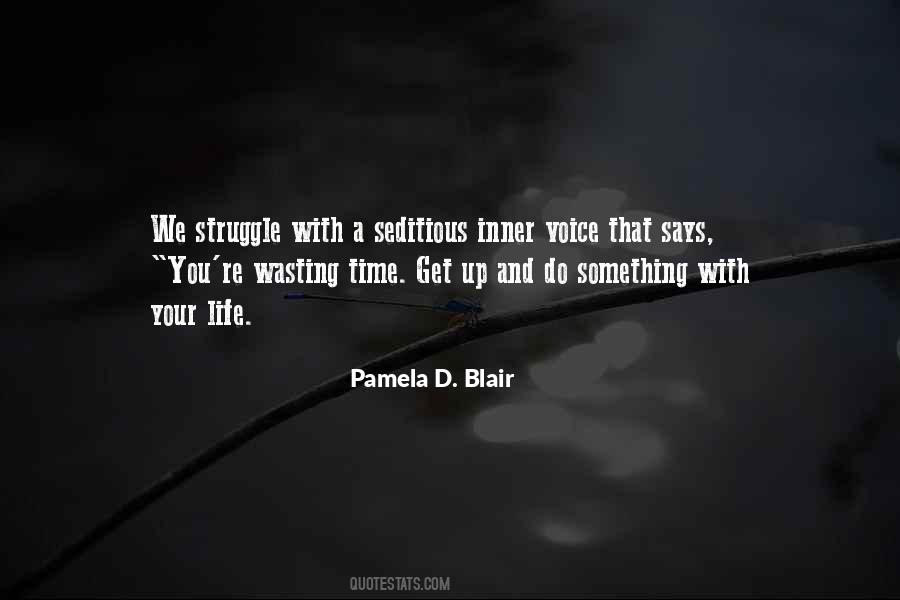 #28. There is a God part in you. The consciousness. The pure Self. Learn to listen the voice of that Power.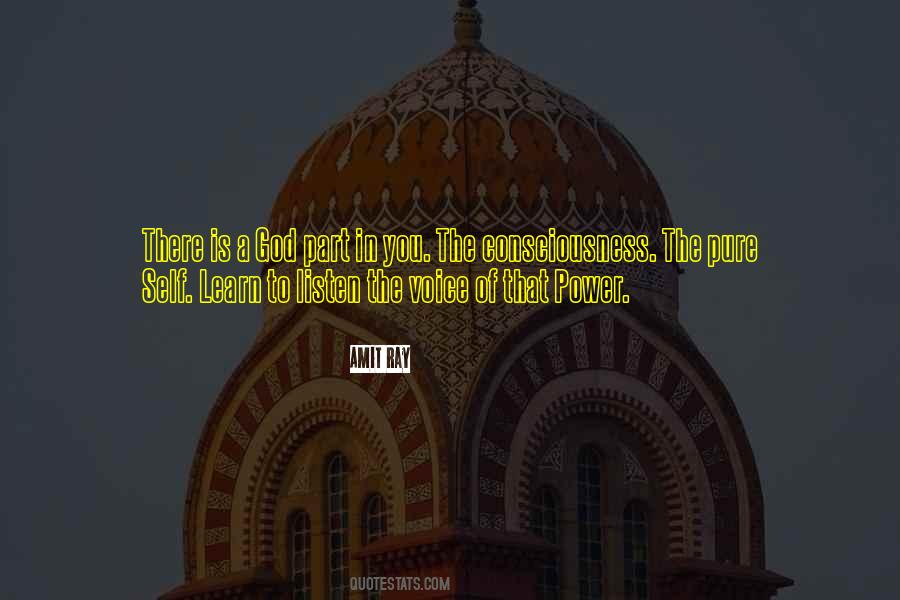 #29. I'm measuring my actions against that inner voice that for me at least is audible, is active, it tells me where I think I'm on track and where I think I'm off track.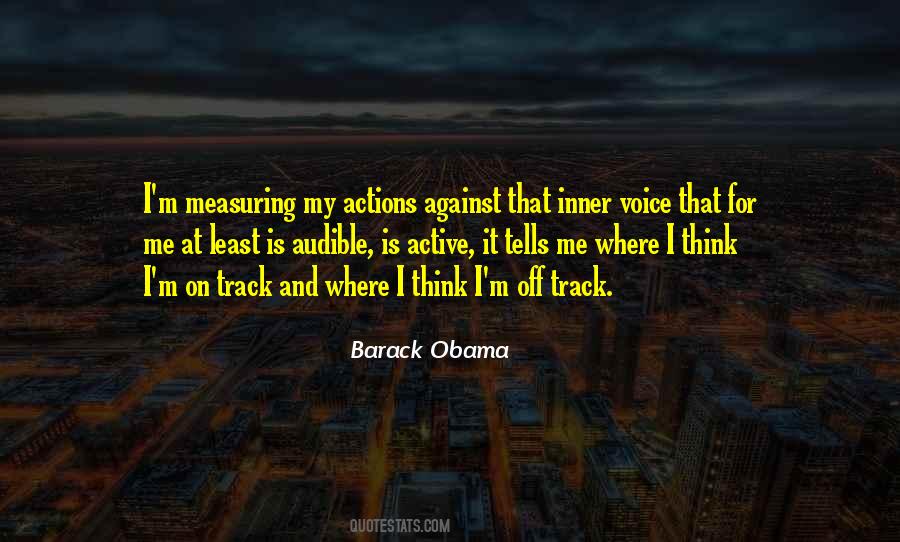 #30. The most important thing I learned is that to be truly happy, you've got to pay attention to that stupid inner voice we all have. It knows what you need and will drive you shit crazy until you listen to it.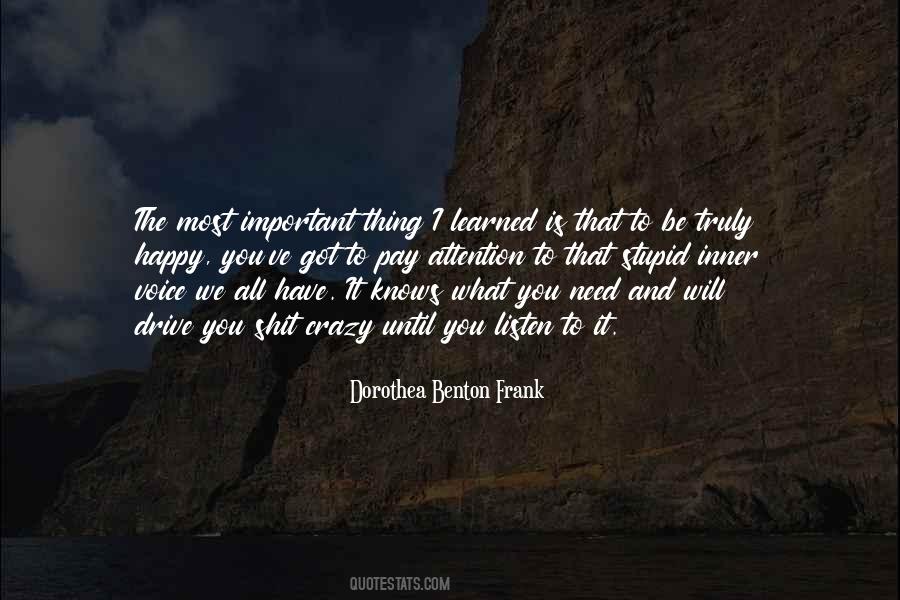 #31. The life of the consciousness is boundless. It interpenetrates the world and is woven in all its imagery. Therefore, we must listen closely to our inner voice.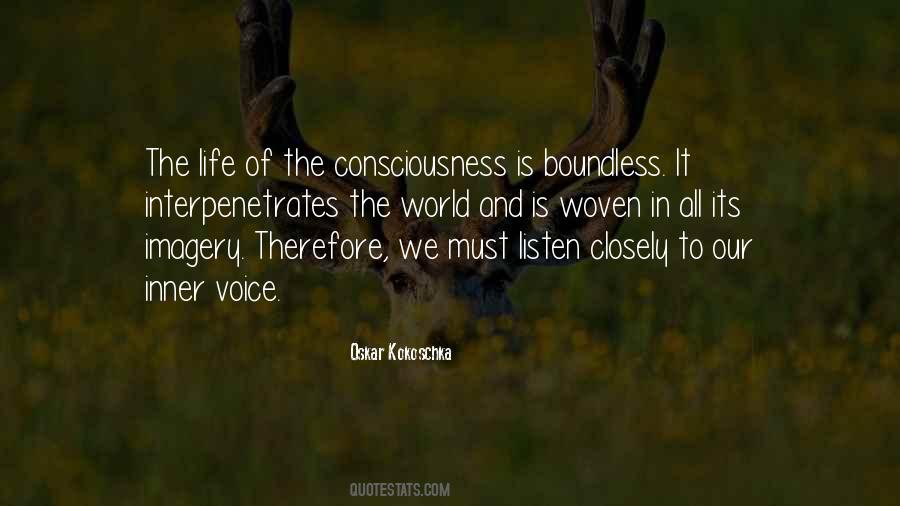 #32. People are worried that their inner voice will tell them to leave their husbands or wives - or their jobs. Well, if that's really what your inner guidance is saying, then that is for your highest good and for your spouse's or partner's. There is a plan for everyone.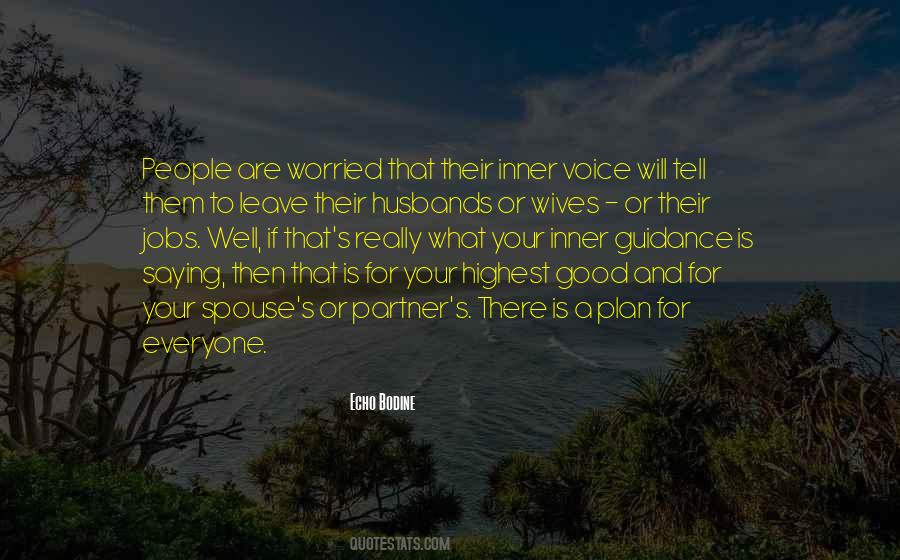 #33. The only damn thing I ever learned in all my years in art school was a piece is never done, it is just finished. You have to trust your inner voice, your instincts, when they tell you pencils down. And you roll up your sleeves and you start over again.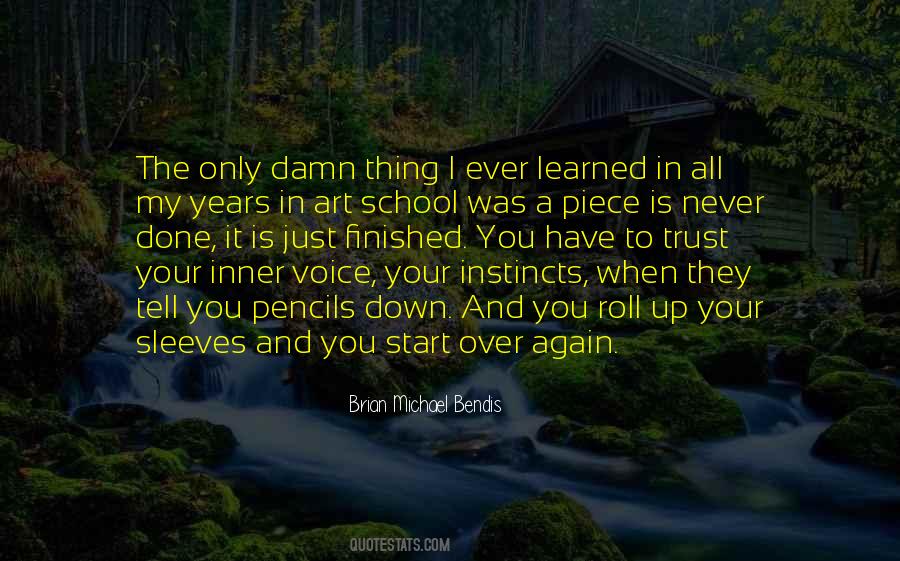 #34. Occasionally I do things against my inner voice, but you really should go for the thing that touches you most-even if you don't quite know why it does.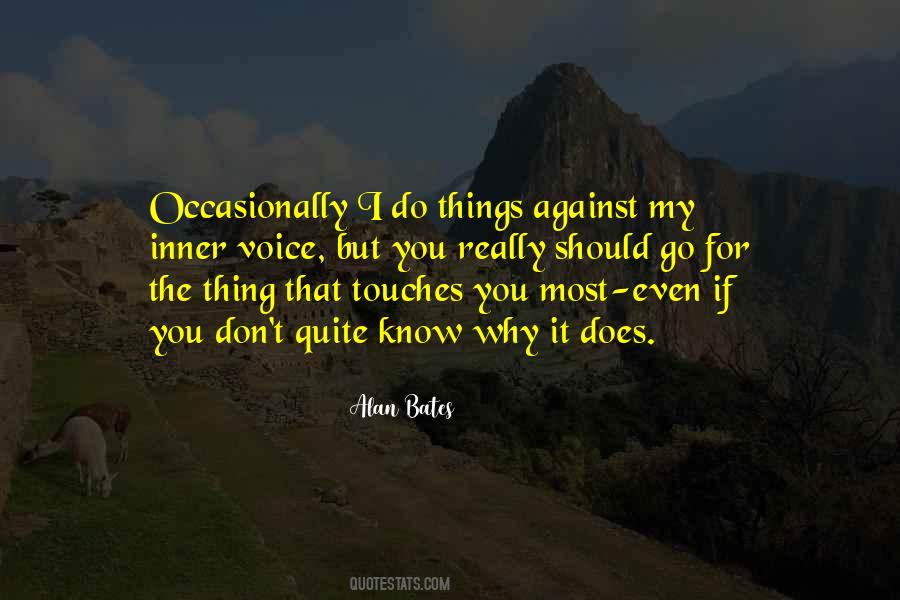 #35. As I look back I know that most of the mistakes I have made have come when I didn't listen to myself, when I didn't trust my instincts ... I believe you need to listen, carefully, to hear your inner voice. And then, you have to do what it says.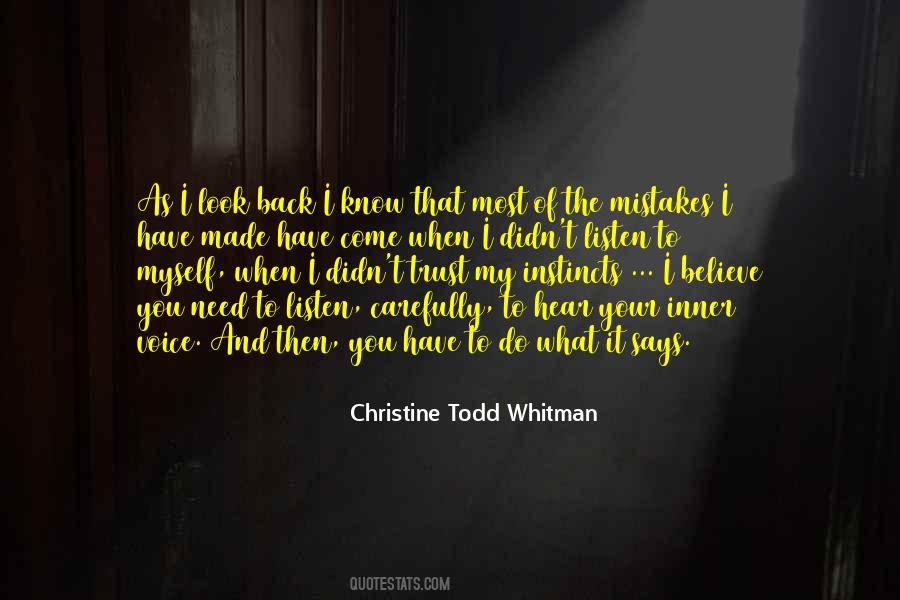 #36. Those who seek to listen to their own inner voice forget to listen to the judgment of others.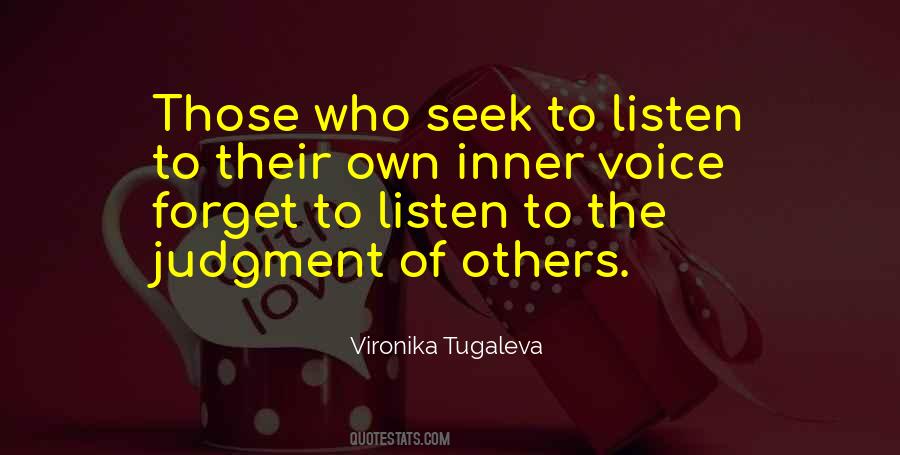 #37. I didn't doubt the potential value of paying attention to subconscious cues ... problem was, my inner voice resembled Chicken Little: it was screaming that I was about to die, but it did that almost every time I laced up my climbing boots.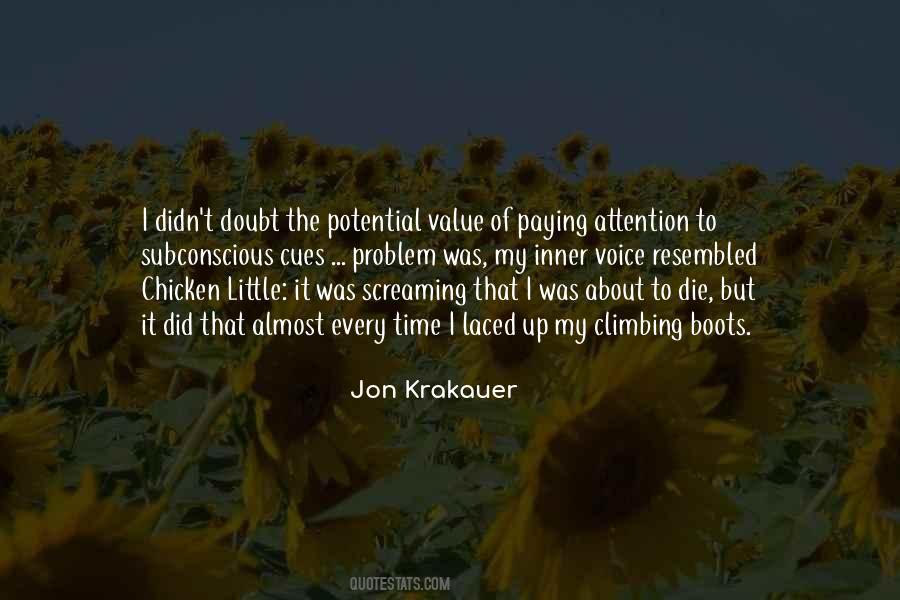 #38. You need to get really clear about whether this is your inner voice or just a desire that you have.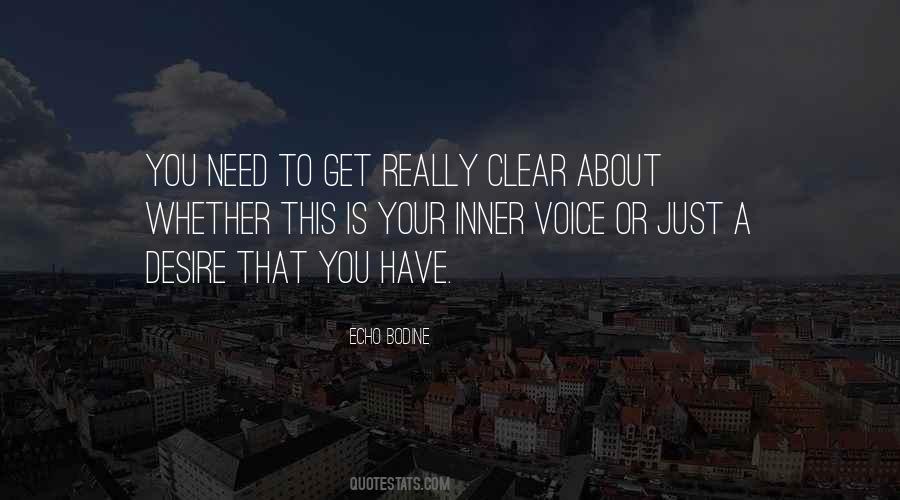 #39. Listen to your heart.
Listen to your instincts.
Listen to inner voice.
It is your true self.
It will guide you to make the right choices.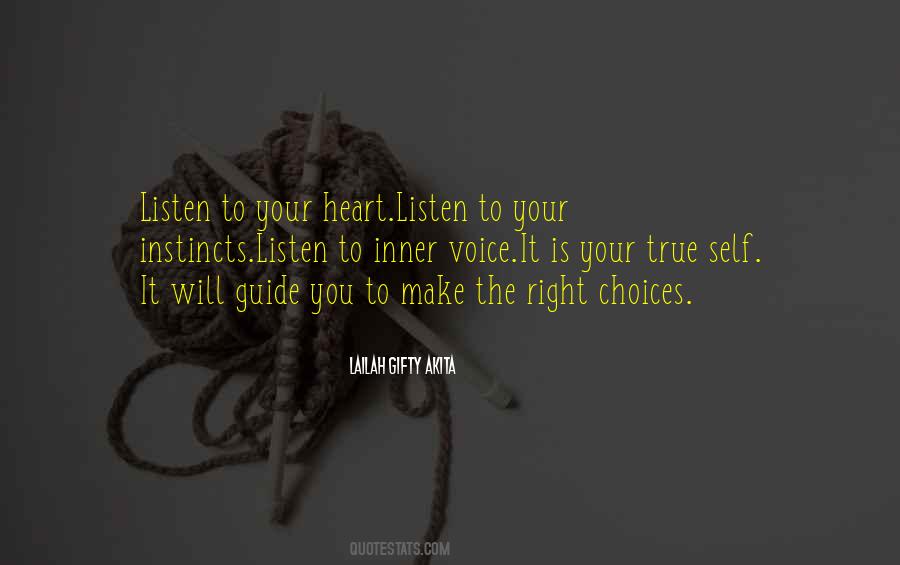 #40. Adults can talk all they want about youth feeling invincible. Surely, some of us had that bravado. But there was also the dark inner voice telling us we were doomed. And then we were doomed. And then we weren't. You should never feel doomed.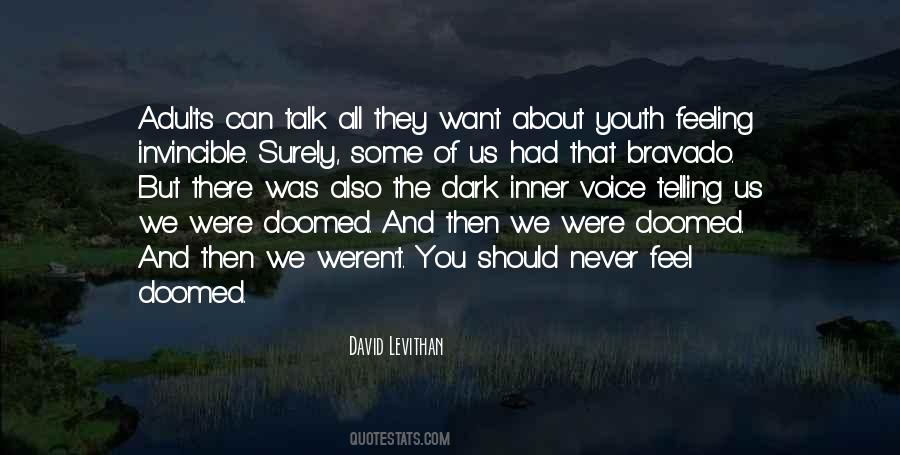 #41. During depression the world disappears. Language itself. One has nothing to say. Nothing. No small talk, no anecdotes. Nothing can be risked on the board of talk. Because the inner voice is so urgent in its own discourse: How shall I live? How shall I manage the future? Why should I go on?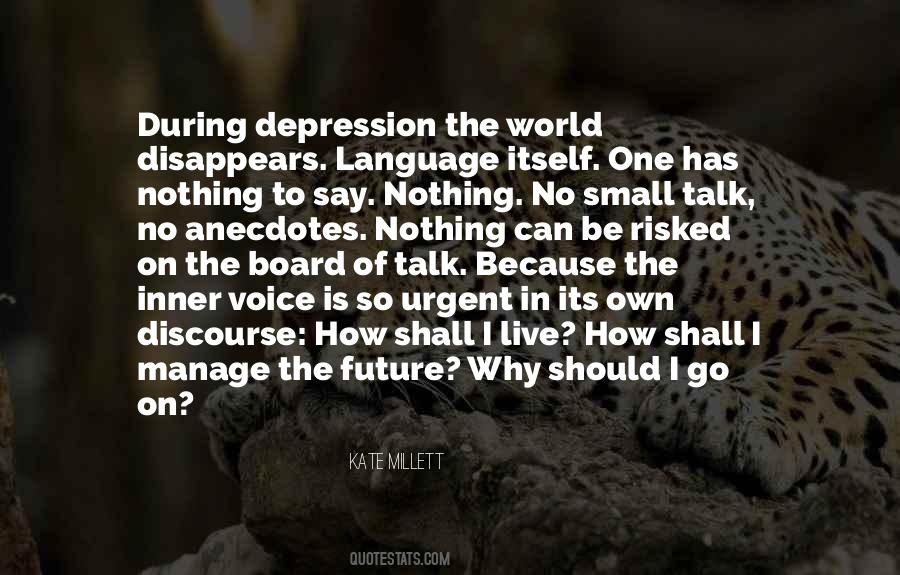 #42. I have always been a singer, a writer, and a musician, not as a prodigy or as in a trade handed to me by my parents, but because of an inner voice or maybe a command from beyond reality as it is usually defined.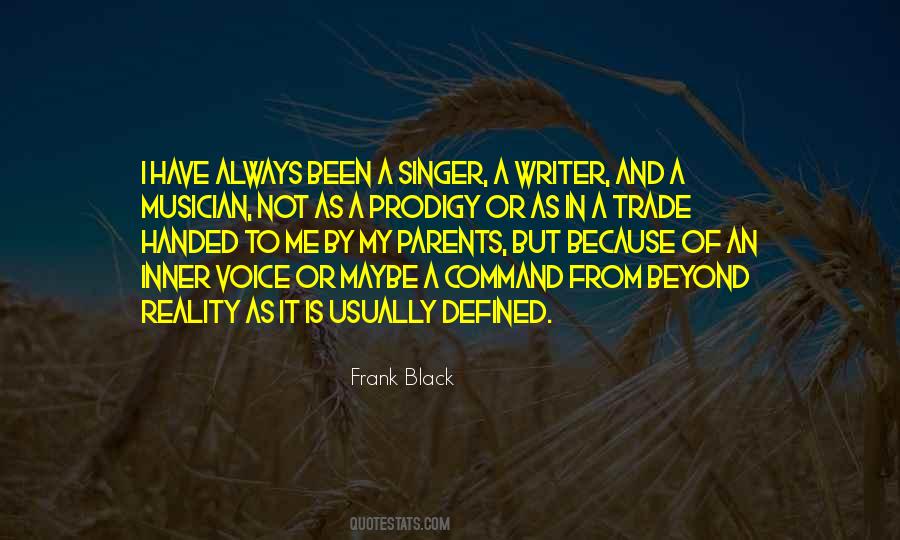 #43. What we have to realize is that when the inner voice gives us guidance, it's always going to be for our highest good - and it's always going to bring us more joy than we think.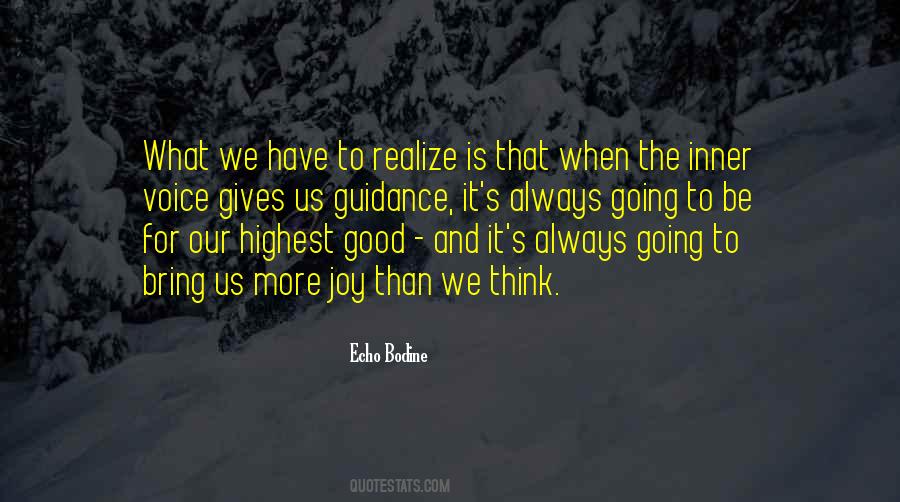 #44. Live so as to be detached from outcome. Do it all because it resonates with your highest self and responds to your beseeching inner voice - not because of rewards that might come your way.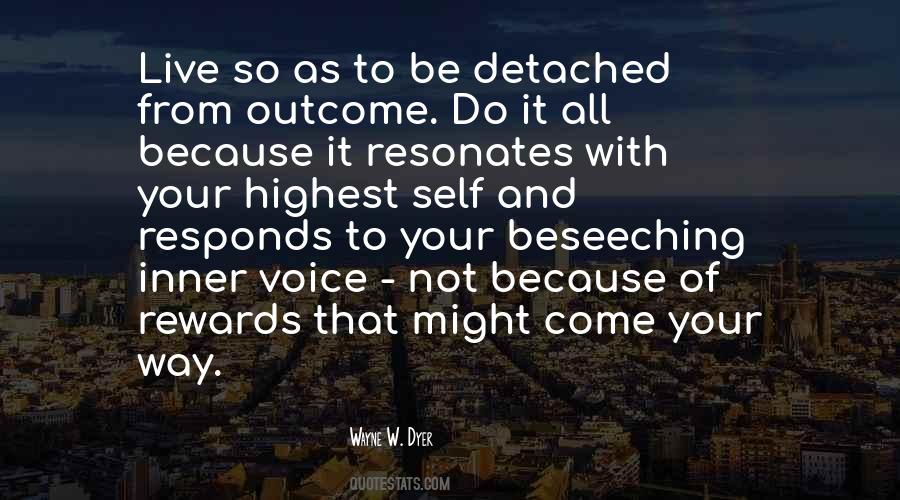 #45. Only the inner voice gives us freedom.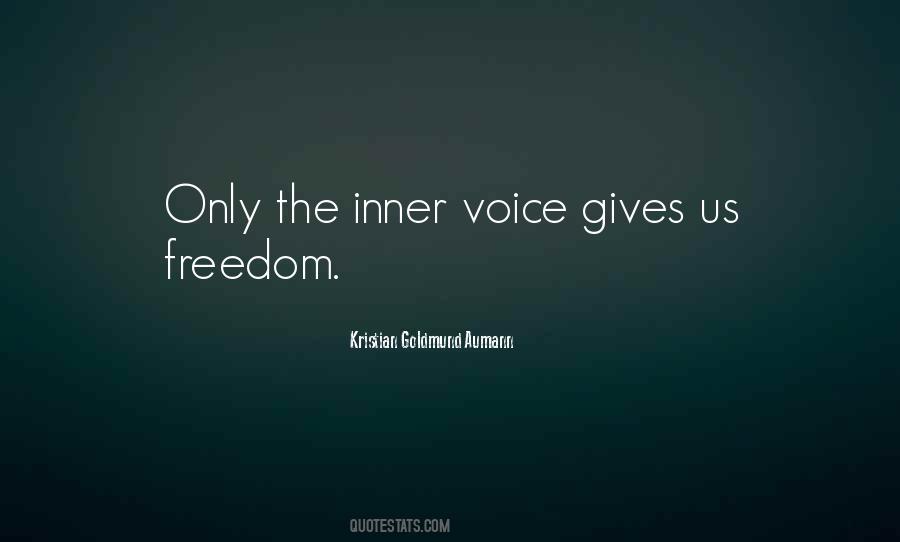 #46. When we hear our inner voice and follow it, we can walk our own path.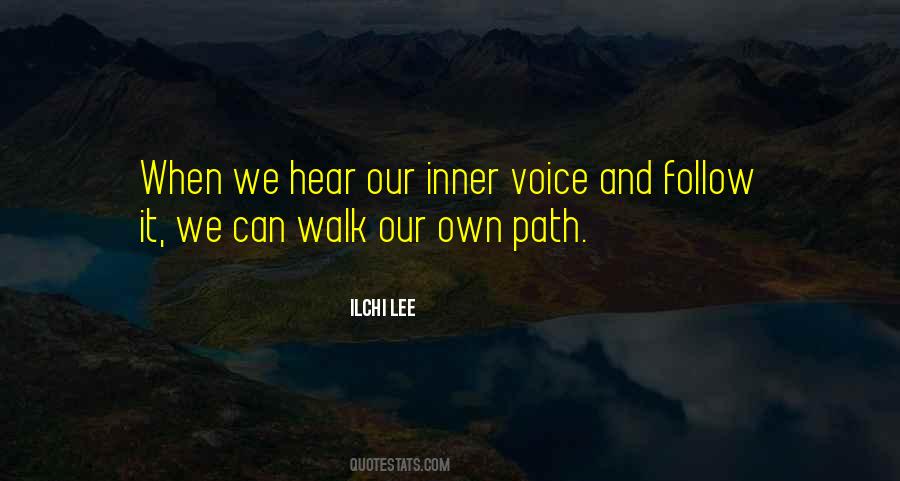 #47. Sometimes the heart speaks, and the brain does not understand the language.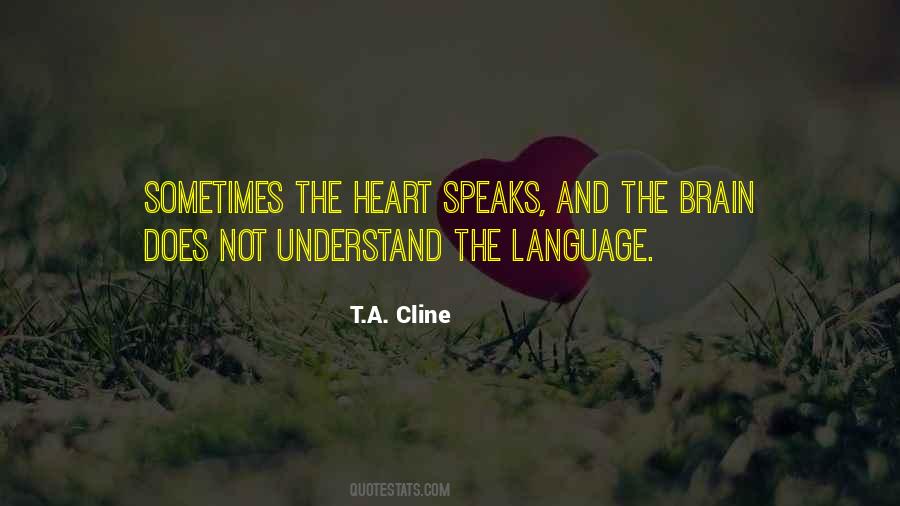 #48. Your inner voice, your instinct, knows everything.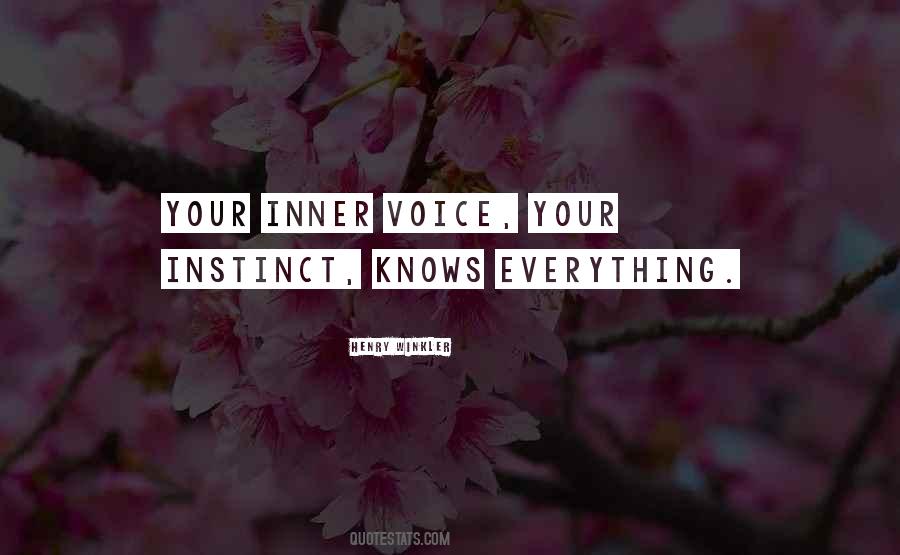 #49. The musician writes for the orchestra what his inner voice sings to him; the painter rarely relies without disadvantage solely upon the images which his inner eye presents to him; nature gives him his forms, study governs his combinations of them.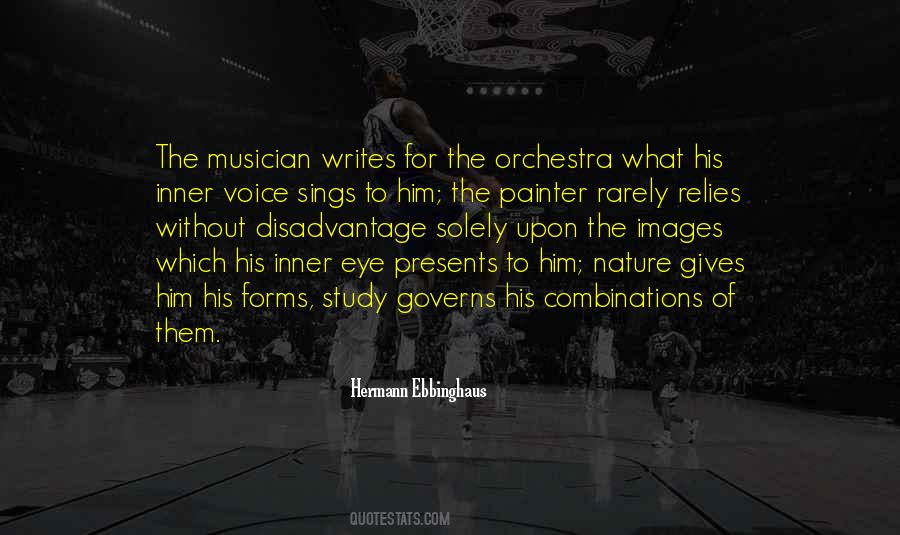 #50. The Singing of Swans is a remarkable narrative calling
even compelling
us to connect with our own ancestral roots, to seek our own inner wisdom, and to reclaim our own inner voices!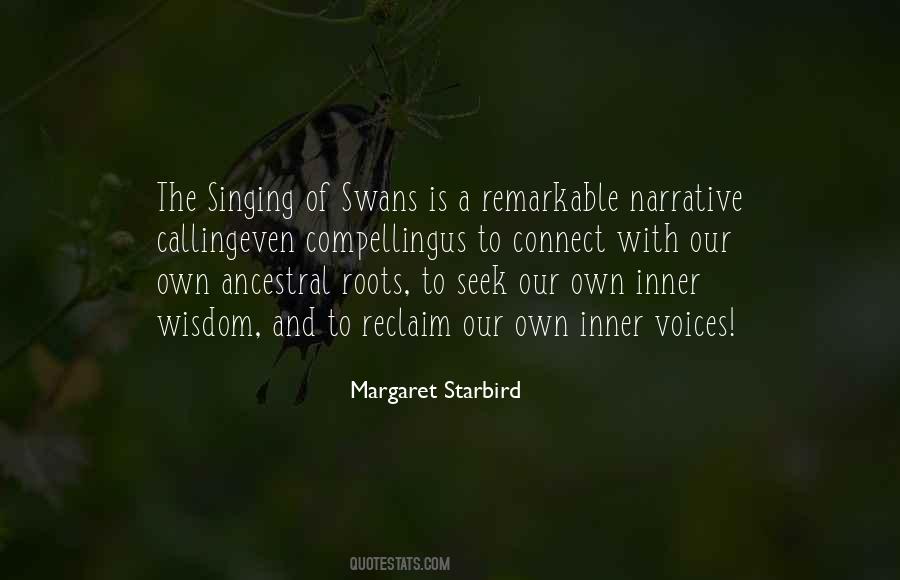 #51. It's called an inner voice for a reason. It's the gnawing feeling inside your stomach telling you yes or no. It's the one voice in your life that isn't tampered by other's biased opinions, scars, feelings or thoughts. Go with it, you know yourself better than anyone ever does.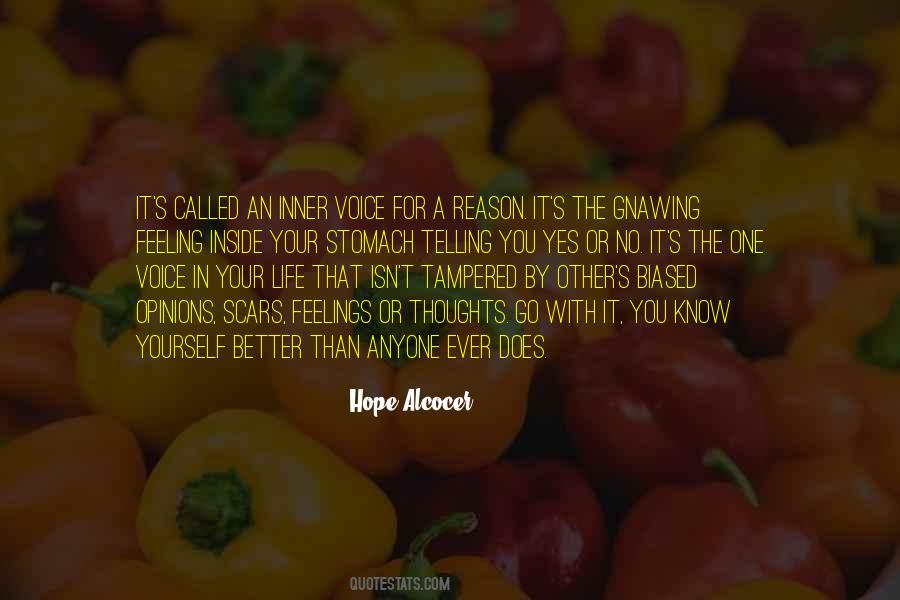 #52. The finest singing, given a good voice to begin with, comes from the constant play of a fine mind upon the inner meaning of the music.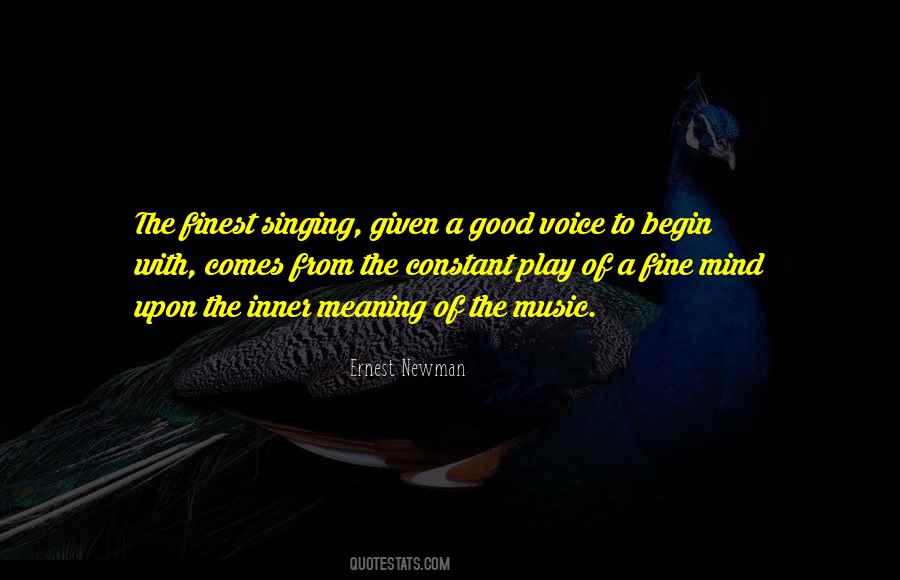 #53. Self-correction makes me check the ruler of my life against the yardstick of my inner voice. I acknowledge when I don't measure up. Self-correction is an ongoing process. If done often enough, I can stop myself from straying off the path.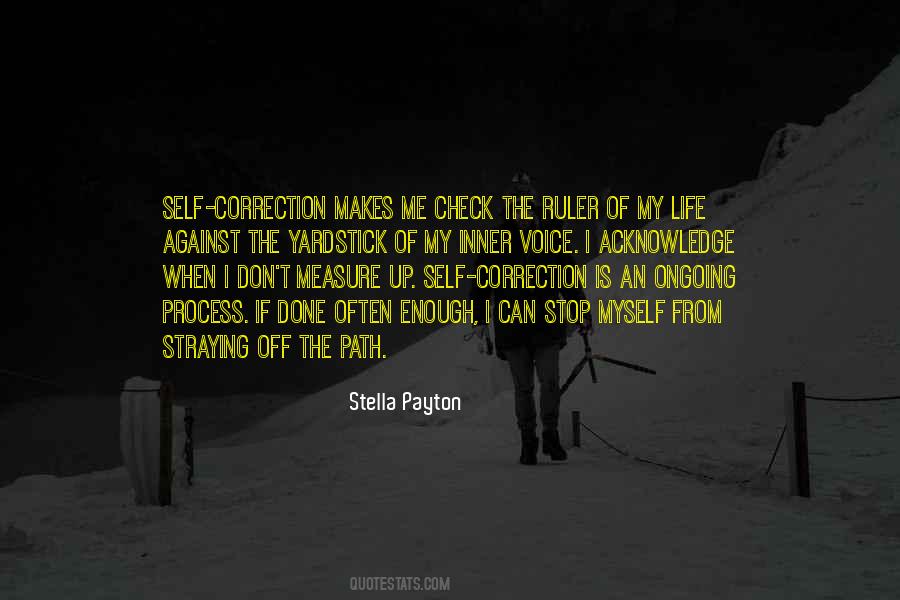 #54. May you hear the voice of wisdom.
Listening, may you act with trust.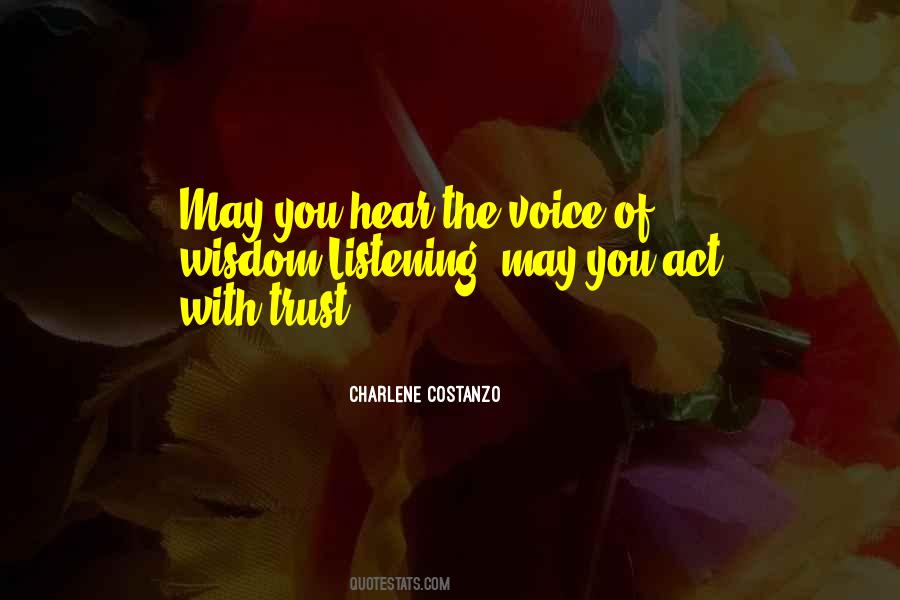 #55. When you're in transition, you will need to find a different kind of security. It's not one of labels, guarantees or bank balances. It's guidance - the directions of your own inner voice. Moment by moment you know what to do. You are safer than ever before.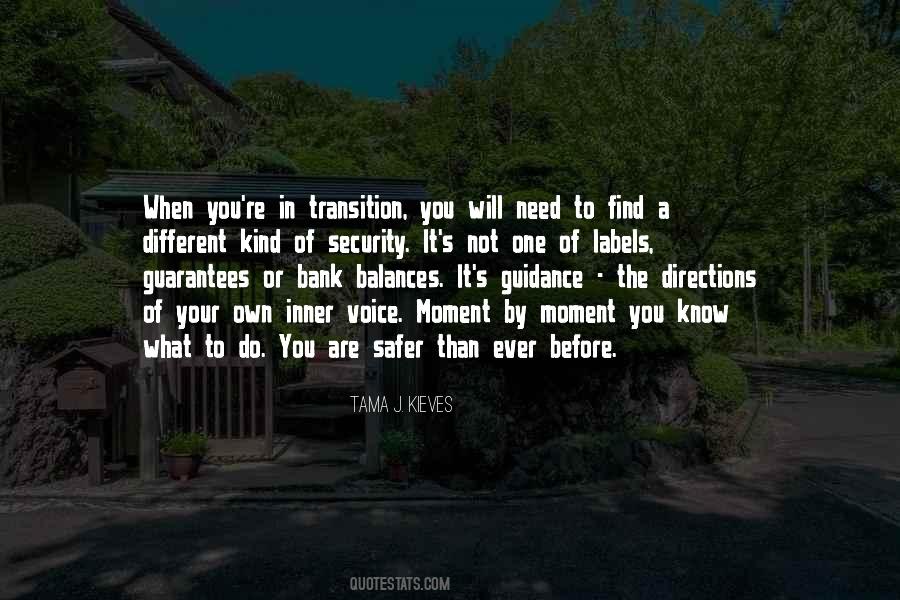 #56. Quiet that self-sabotaging inner voice that lays blame anywhere besides at the altar of your feet. We are responsible for the quality of our lives.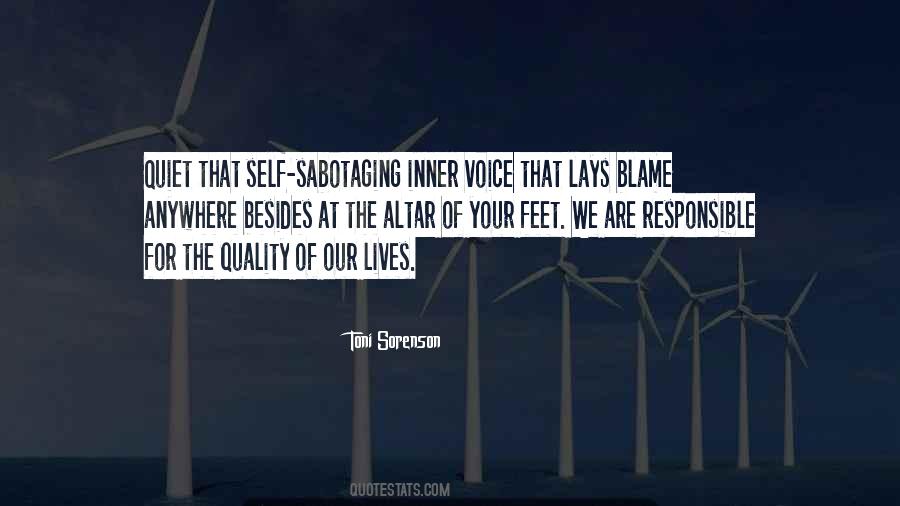 #57. Fashioned from the earth, we are souls in clay form. We need to remain in rhythm with our inner clay voice and longing.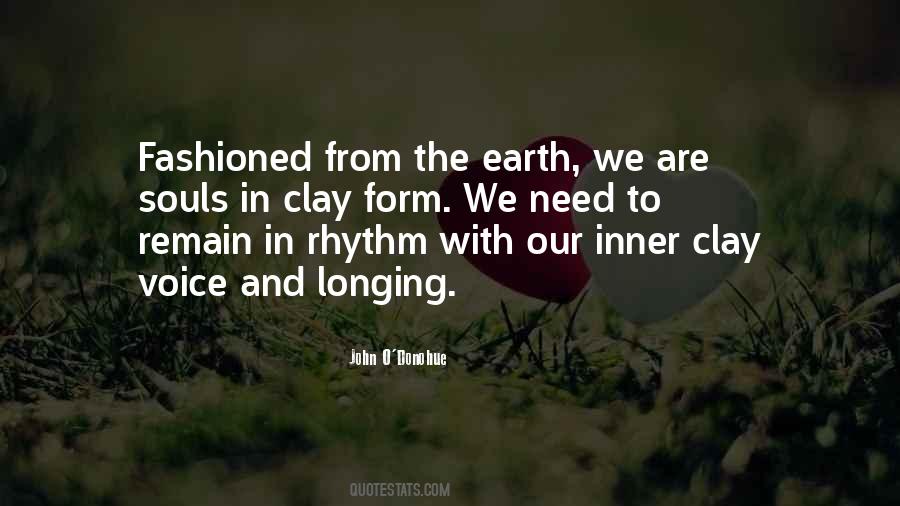 #58. We spend our lives asking the question, 'What do people want me to do? Who do they want me to be?' But this is a betrayal of our inner truth. We should be investing our lives in the pursuit of discovering who we are and what we were created to do.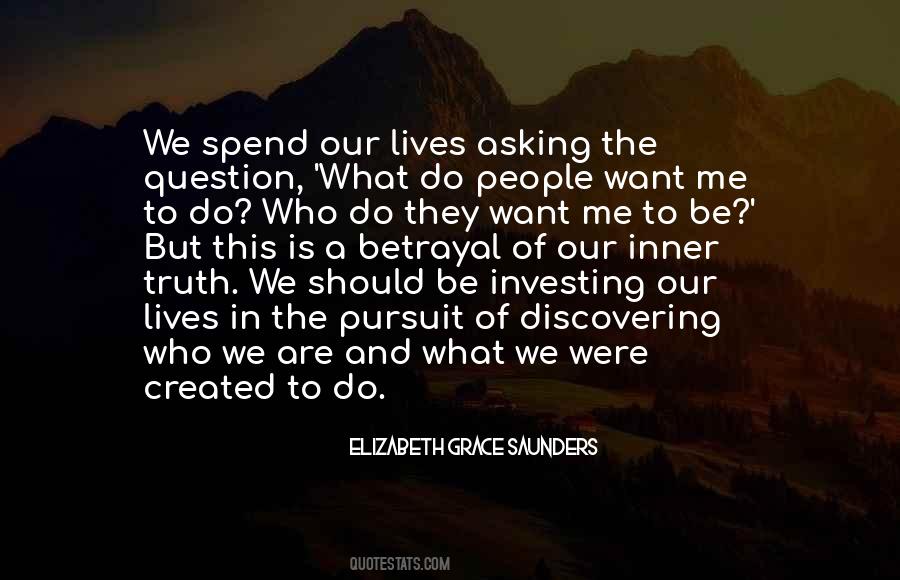 #59. The power of greatness lies within each of us.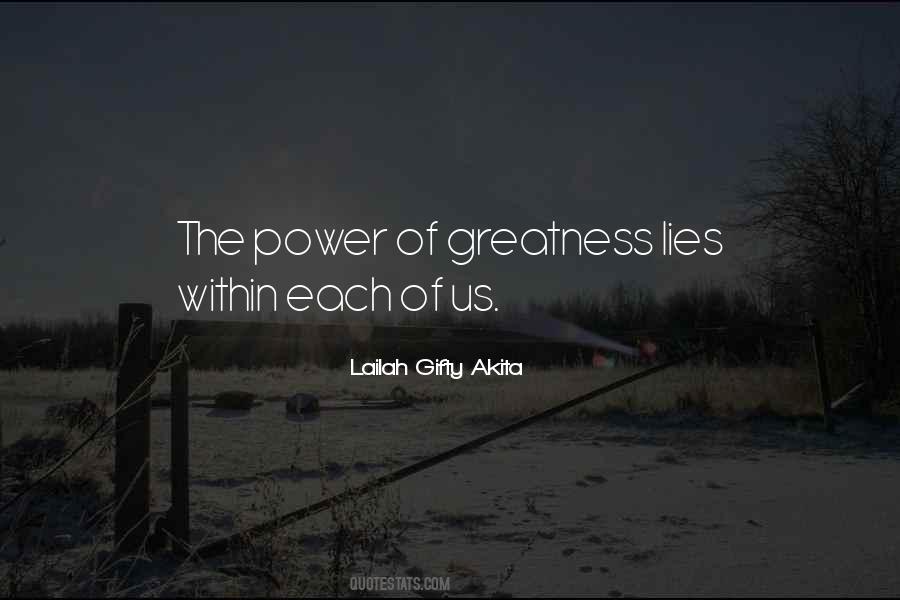 #60. Conscience is less an inner voice than the memory of a mother's glance.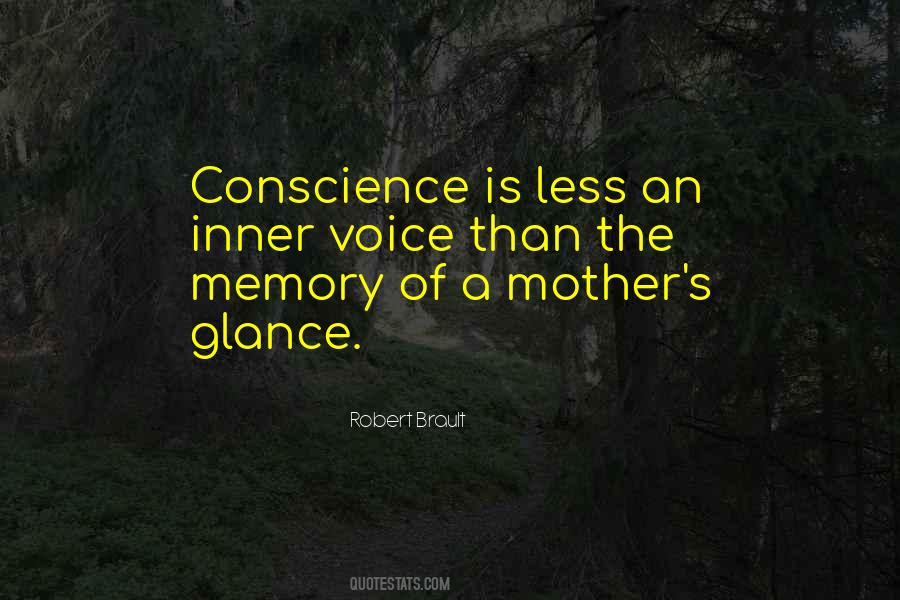 #61. An artist sees not only the thing, but he also hears its inner voice.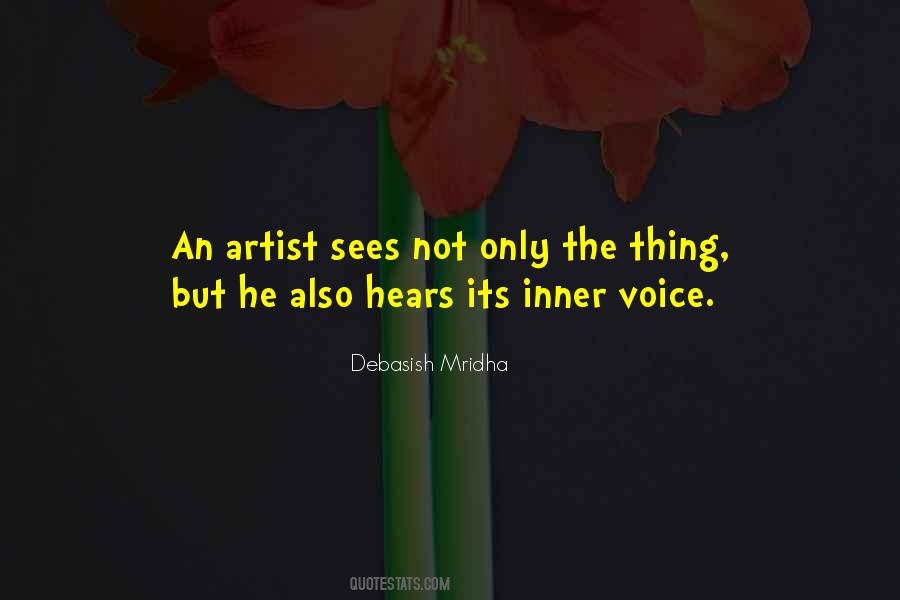 #62. Pay attention to the inner voice that tells you when something feels right. Much of your creative problem-solving occurs at an unconscious level.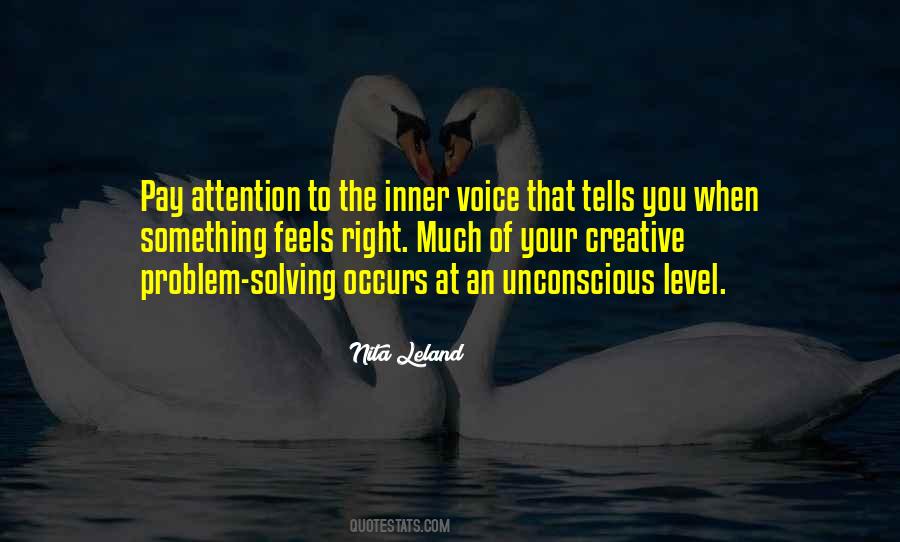 #63. If you must have a rule to follow, I would suggest cultivating a dialogue with your inner voice ... If you listen to the clues your own images offer, the resulting work will be fresh, and authentic. Fall in love with your world ...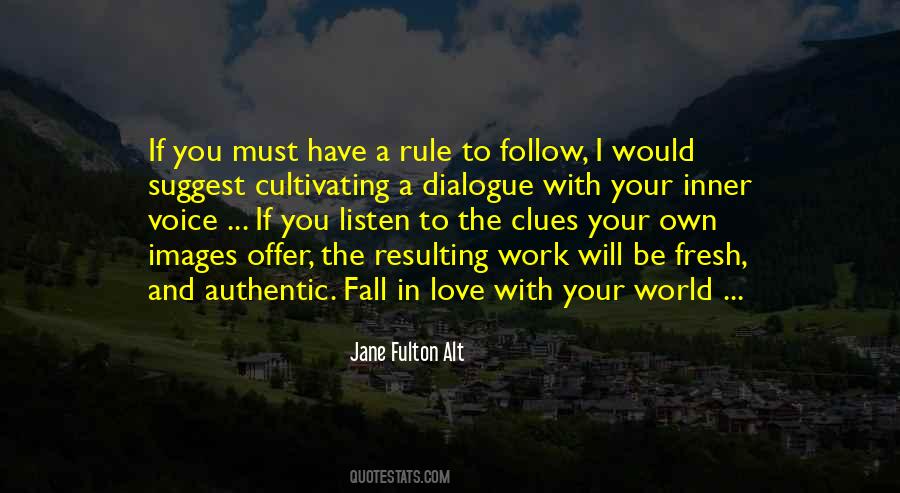 #64. In prose, leaps of logic can be made while the protagonist thinks about things and arrives at conclusions. Even with voiceover, there's no real way of having an inner voice without it taking over the entire story.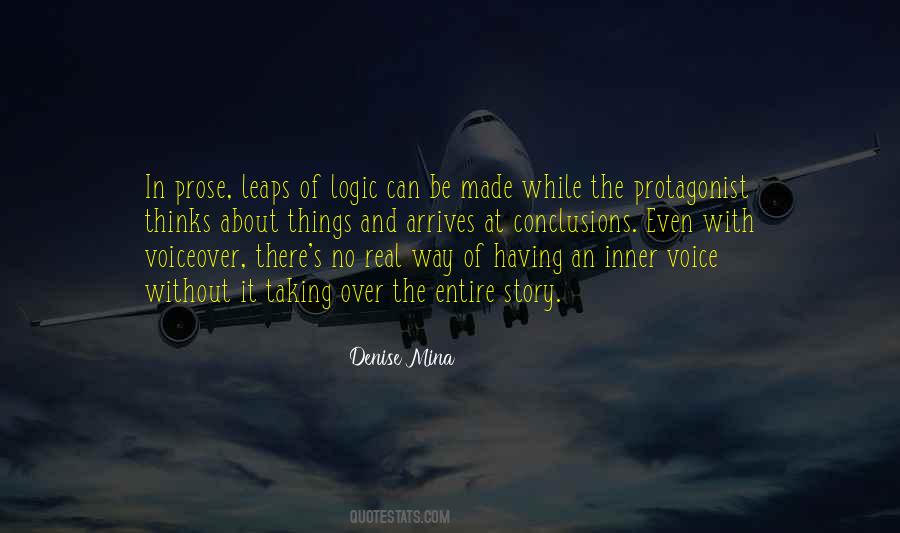 #65. If your eyes dwell in your heart; then your inner voice will be your congenial Guide.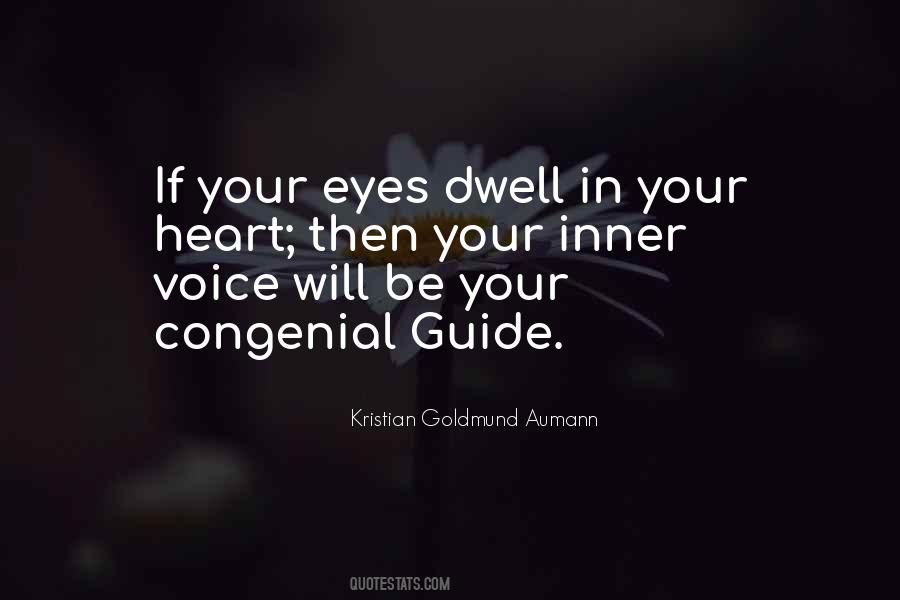 #66. For me the Voice of God, of Conscience, of Truth or the Inner Voice or the still small Voice mean one and the same thing.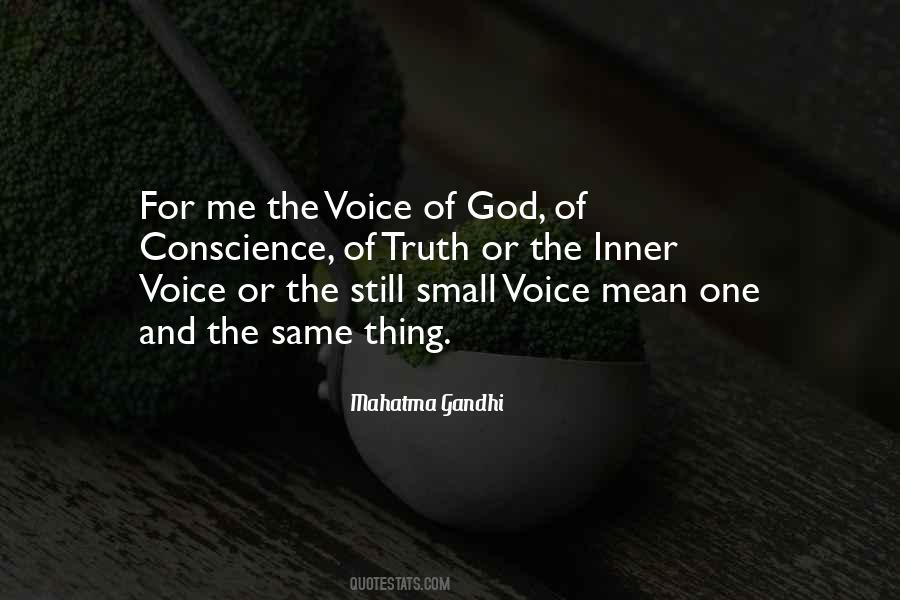 #67. Everyone has that inner voice, the one that's a Negative Nancy. I'd say to ignore that voice and to be confident and follow your heart.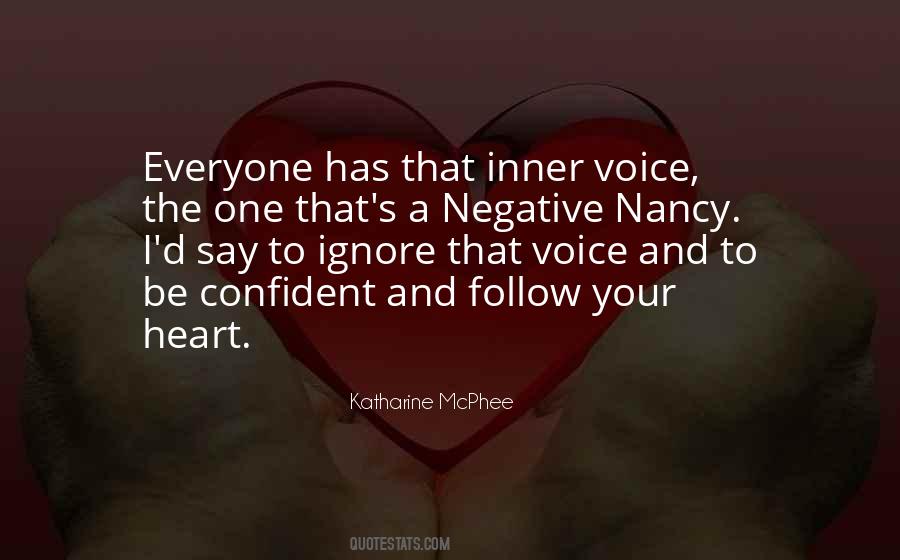 #68. Conscience is the inner voice which warns us that someone may be looking.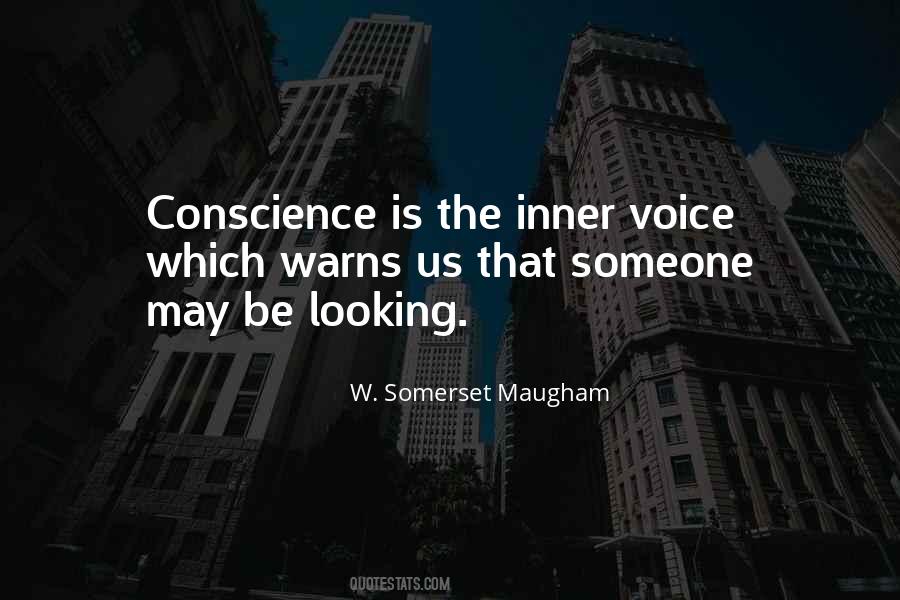 #69. When a certain piece of music penetrates a person, a resonance is set in motion and an inner voice says: I like this resonance. It elevates me. It develops hitherto unknown possibilities in me. I don't recognize myself. This is very interesting.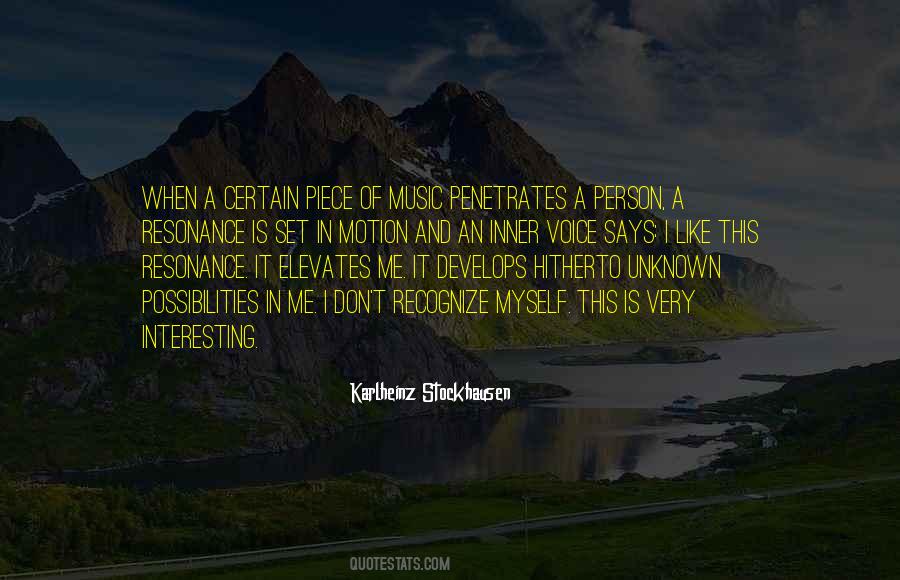 #70. Learn to listen and trust your inner voice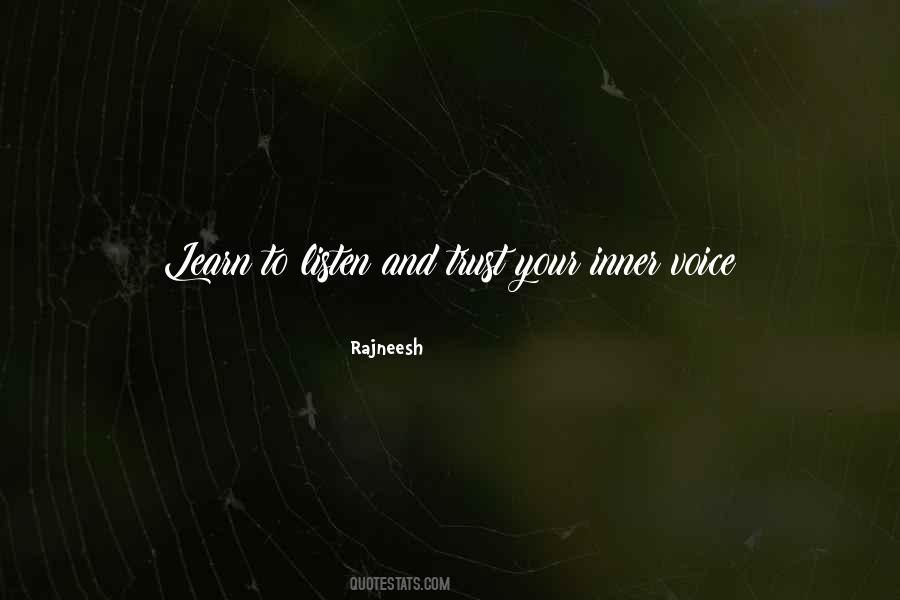 #71. Your instinct is your divine being.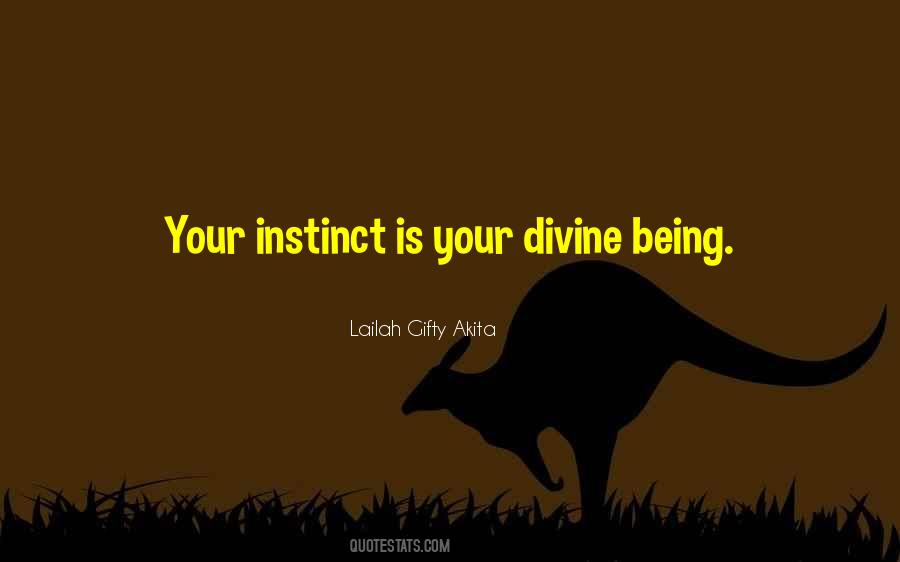 #72. Many feel they are called to the priesthood, but what they really hear is an inner voice saying, 'It's indoor work with no heavy lifting, do you want to be a ploughman like your father?'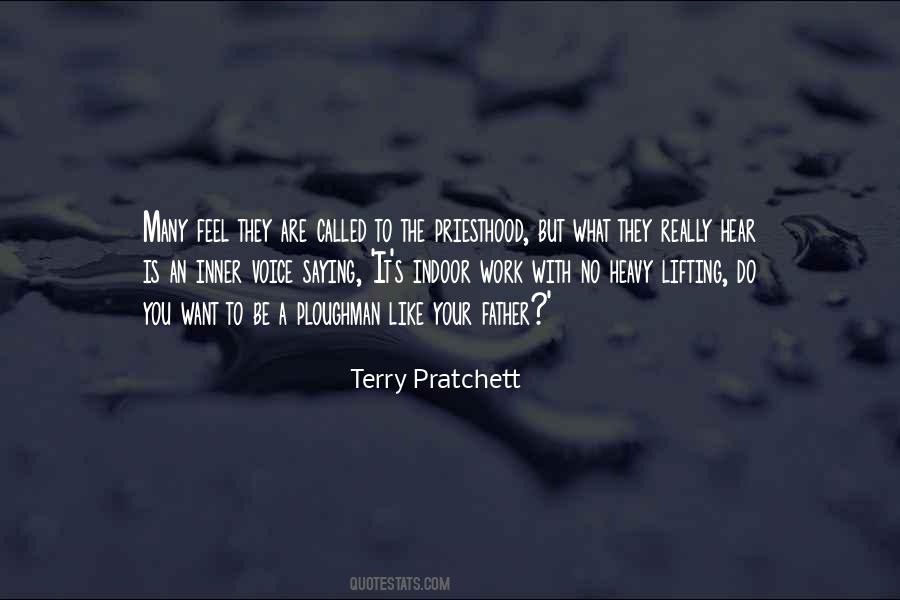 #73. And the inner dynamics of Hollywood are like politics. Say you give a script to a group of executives - they all sit around, afraid to voice an opinion, saying nothing, waiting to know what the consensus is. Just like focus groups, opinion polls or a cabinet.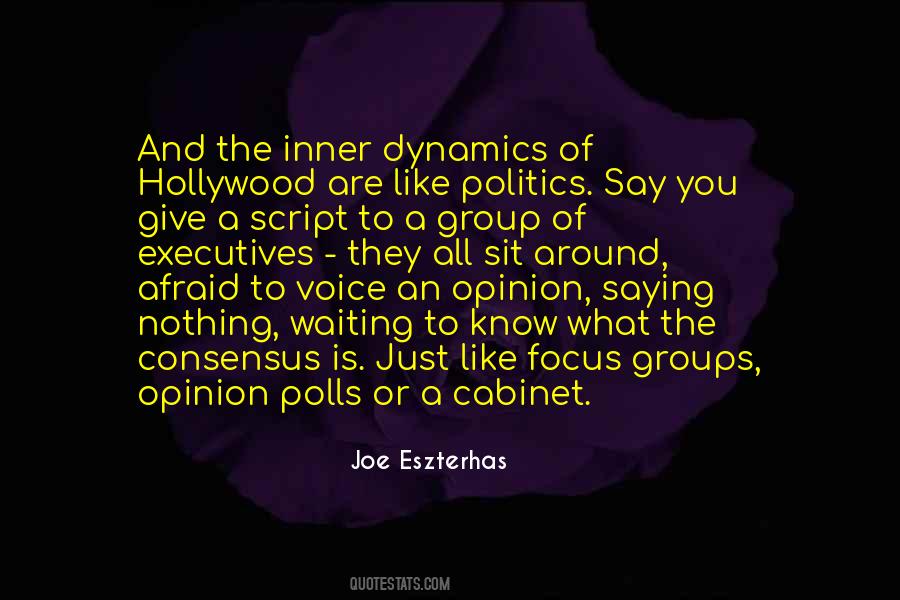 #74. Something watches over us and we know it when we follow the little voice inside or heed the warning or inspiration that arrives as if on wings. We need the intermediaries that keep us close to the spirit of life, to the wonders of nature and to the subtleties of our own inner nature.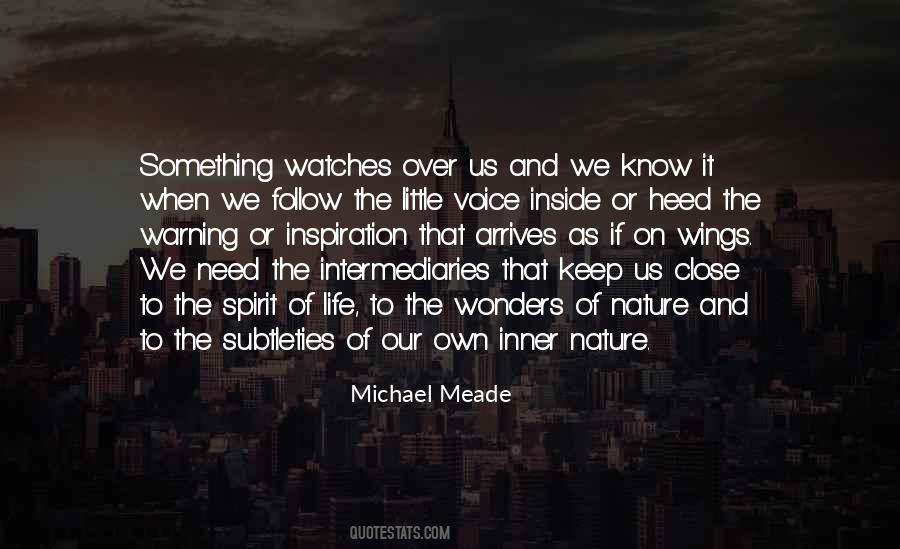 #75. Belief consists in accepting the affirmations of the soul; unbelief, in denying them.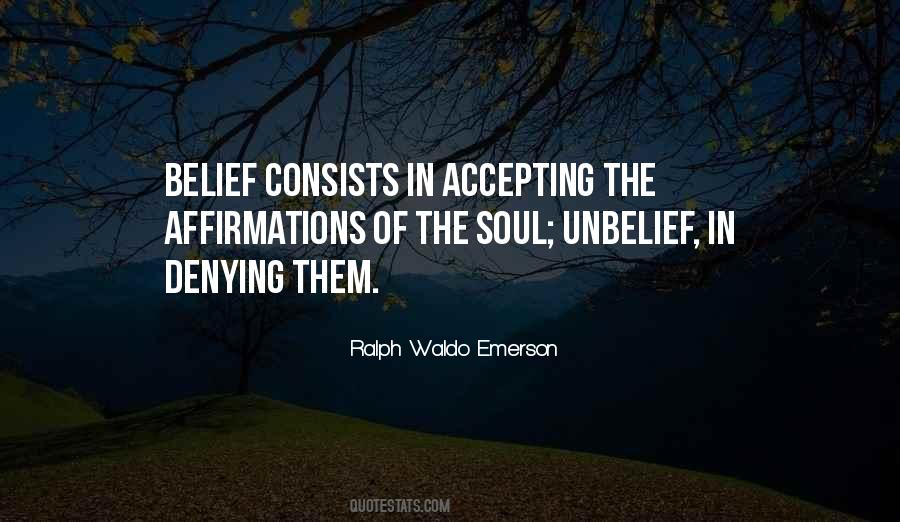 #76. My message is believe in yourself. Have courage in your capacity. Listen to your inner voice. And then the critical component of all this is, do the work.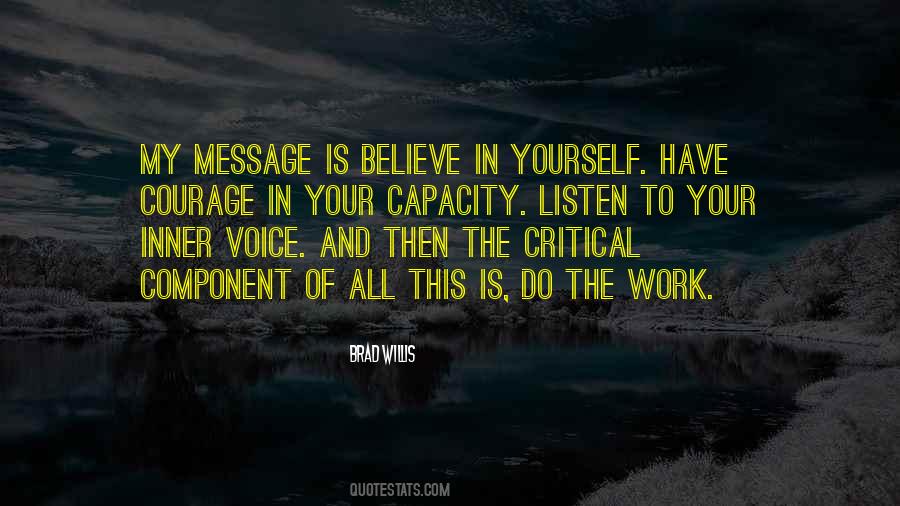 #77. Decision it was only necessary for him to concentrate his attention for a few moments and the spirit moved him, and the best possible decision presented itself as though an inner voice had told him what to do.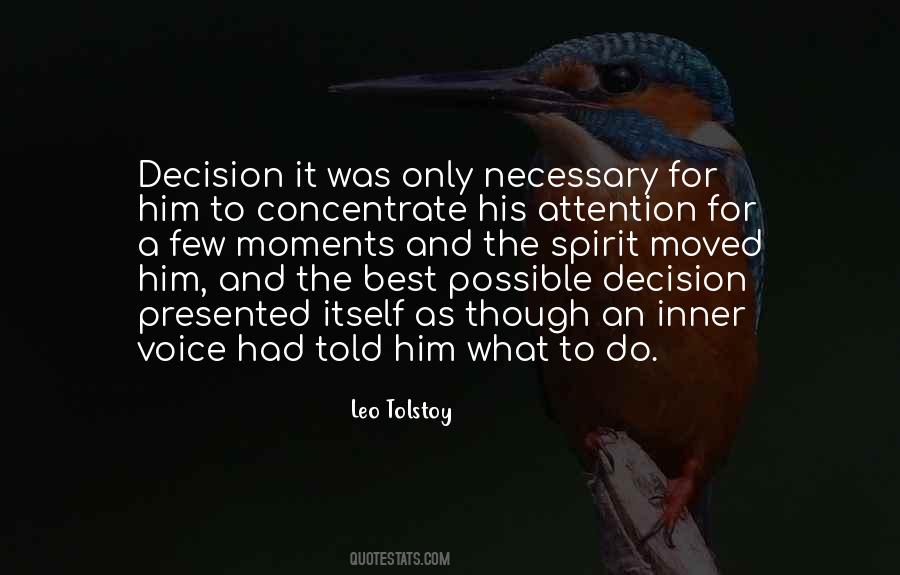 #78. Magazines and opinions of you and stuff like that, those will change, but your opinion of yourself does not have to based on what other people say. So I just learned that my inner voice has to be louder than their outside voice.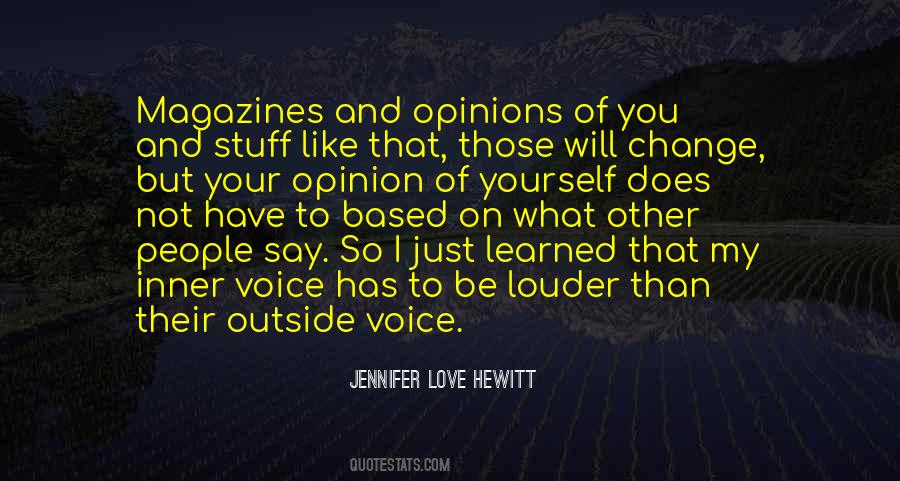 #79. You cannot water your own plant if you are waiting on other people's approval to do so. Stop living your one and only life waiting for validation, start seeking your own inner voice to guide you.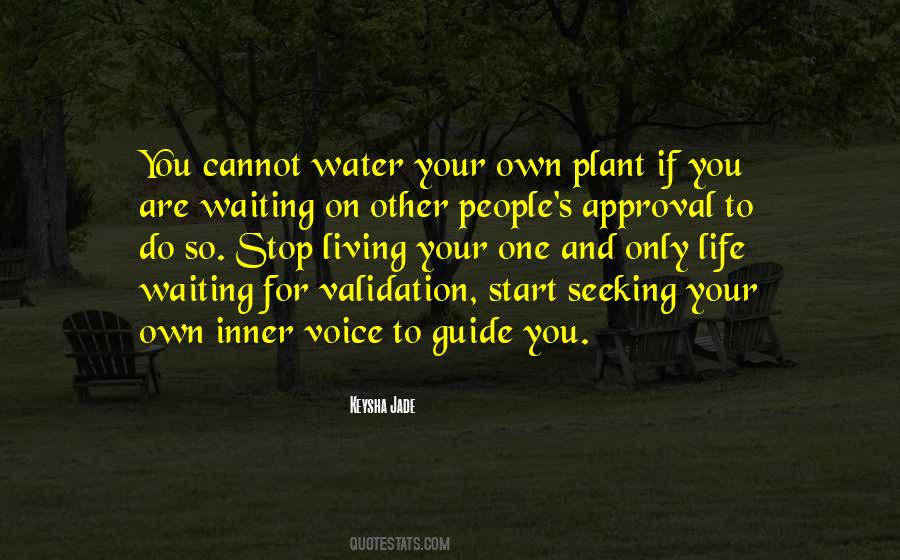 #80. It's not hard to feel afraid and insecure. I still fight an inner-critic voice, definitely. I hear it a lot.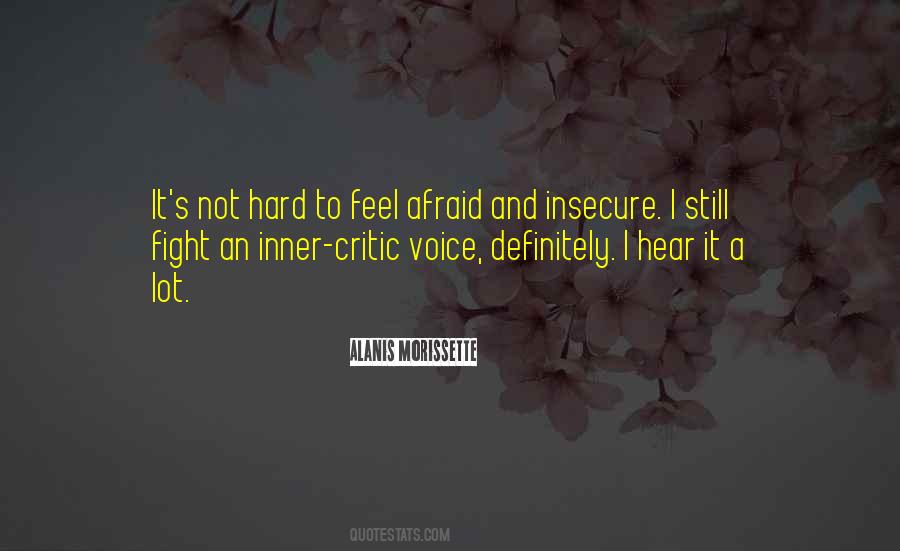 #81. I just listened to that inner voice. By the way, it's always a good move to listen to that inner voice ... if it doesn't lead to a crime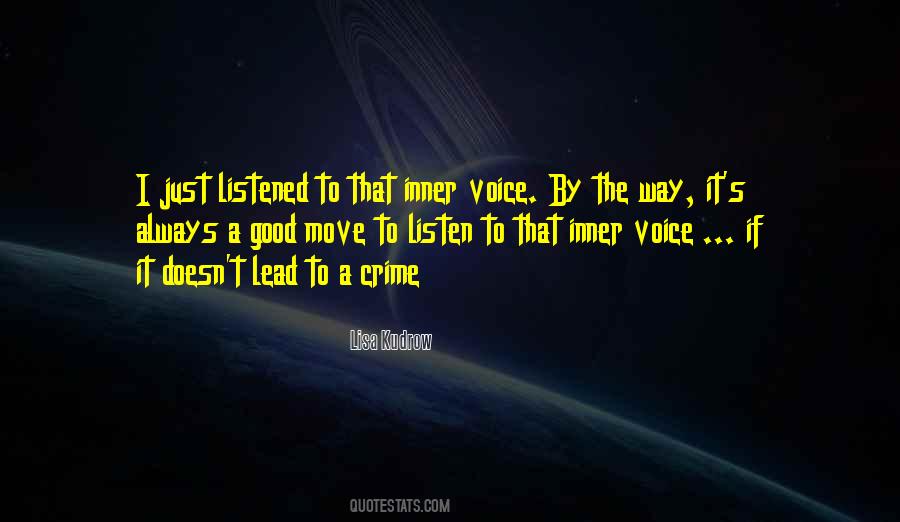 #82. The inner voice is something which cannot be described in words. But sometimes we have a positive feeling that something in us prompts us to do a certain thing. The time when I learnt to recognise this voice was, I may say, the time when I started praying regularly.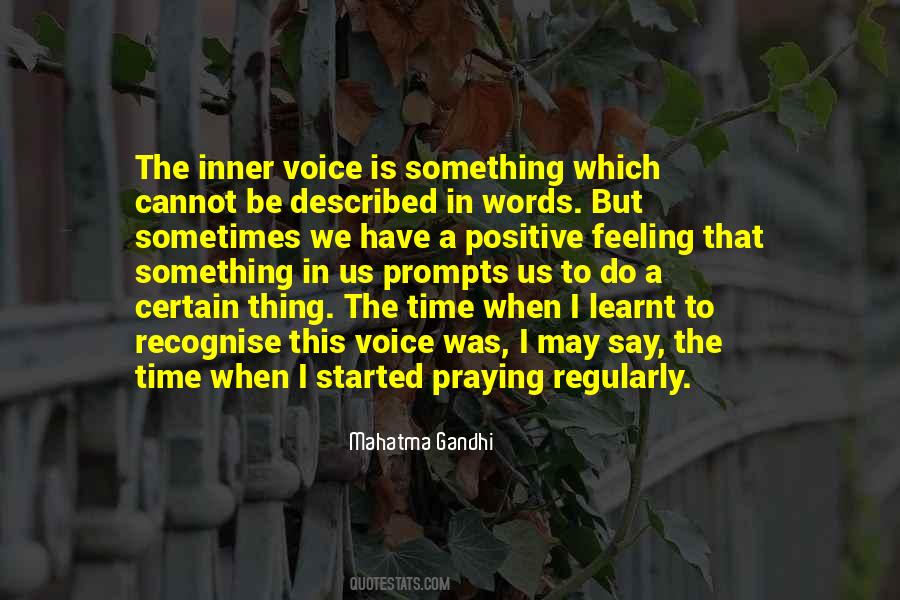 #83. That inner voice has both gentleness and clarity. So to get to authenticity, you really keep going down to the bone, to the honesty, and the inevitability of something.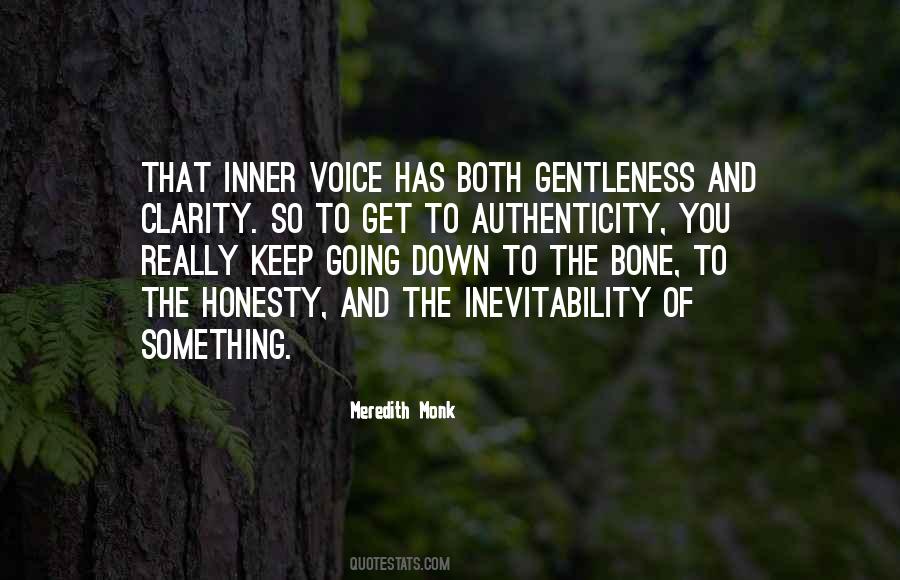 #84. He listened yet more intently to what was within him, to the past, to see whether that voice of memory truly foretelling the future would not speak to him again, revealing the present to him as well as the past.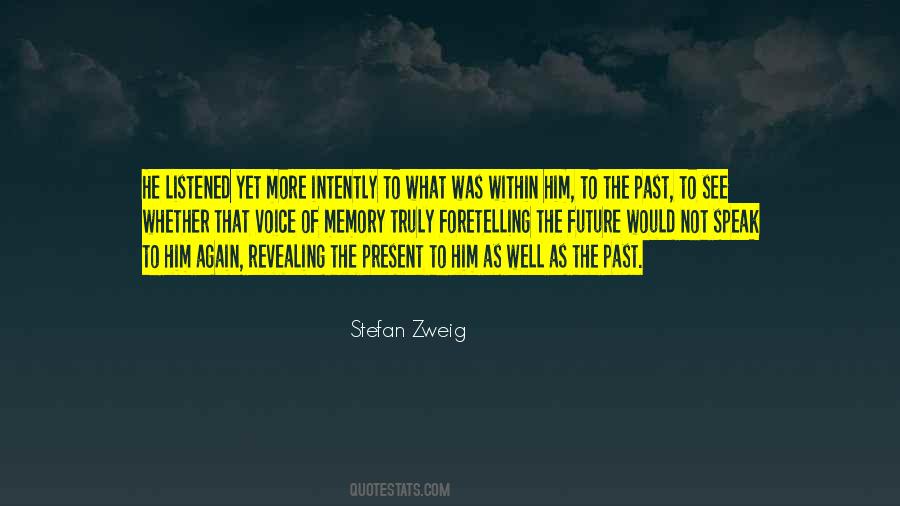 #85. Inside my head is a tumble of incoherent screams that sound an awful lot like someone speaking in tongues. Apparently my inner voice is Pentecostal.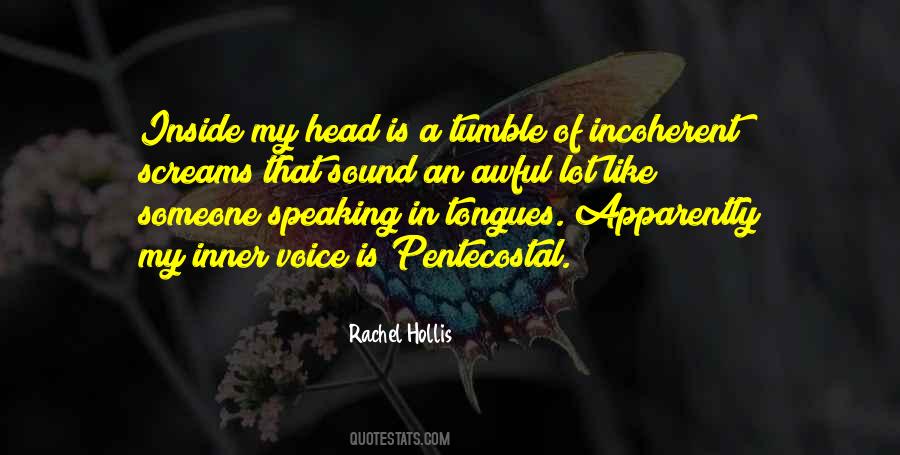 #86. But you didn't try it with Maddox. The inner voice refused to shut up. That could be you. Someone to text. Someone to make your favorite foods. Someone in your bed. Someone to bring home surprises to. Someone to go places with. Never walk into a gathering alone again. That could be you happy. Fuck.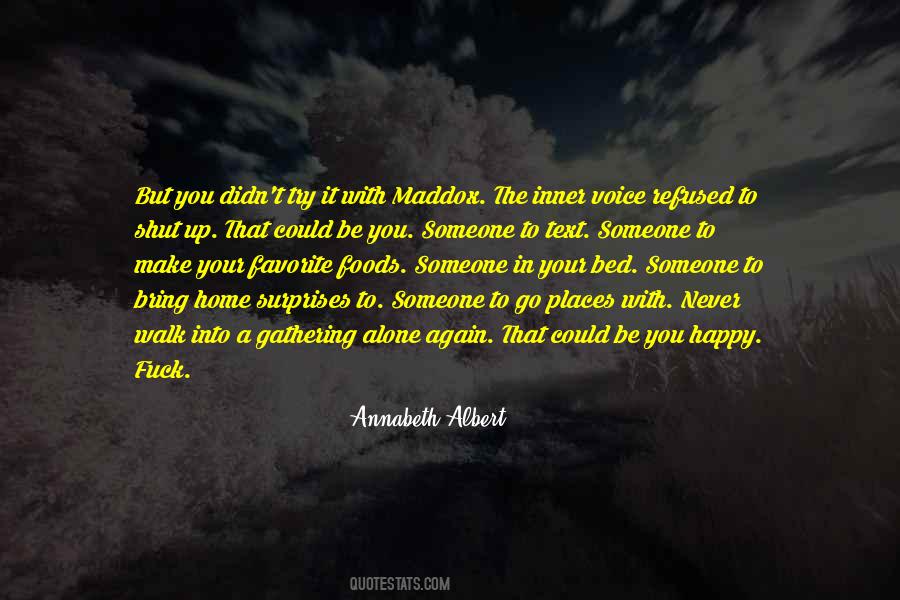 #87. Something in me whispered that I needed to stop thinking, that I should above all not go too far
with thinking. But that never worked; I always thought things through to the end, to their most
extreme consequence.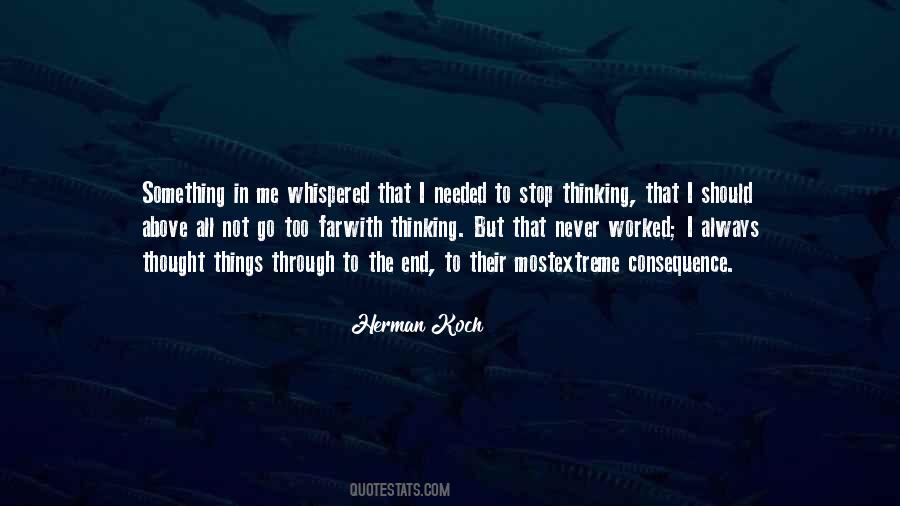 #88. You are beyond worth and your potential to change is in your next thought.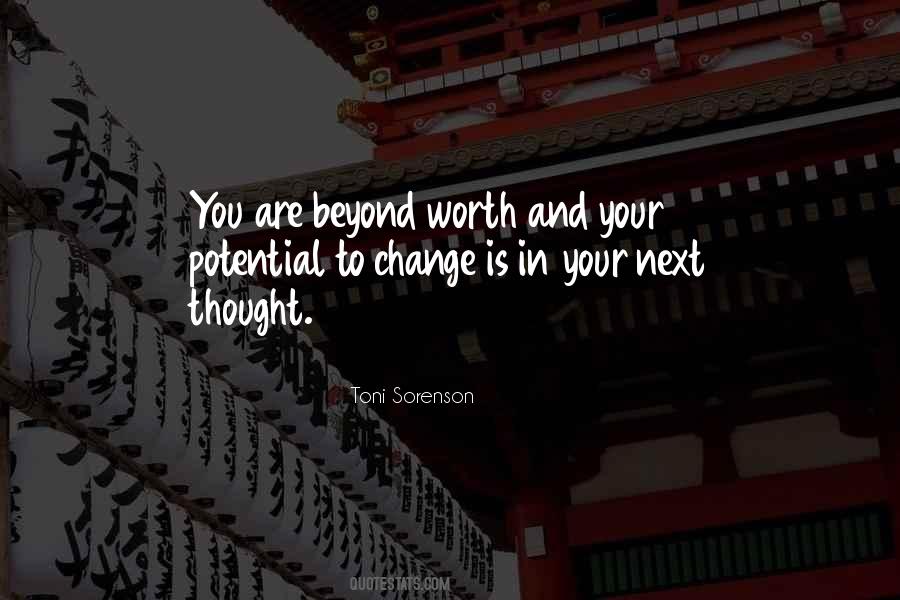 #89. Listen to your inner voice. Trust your intuition. It's important to have the courage to trust yourself.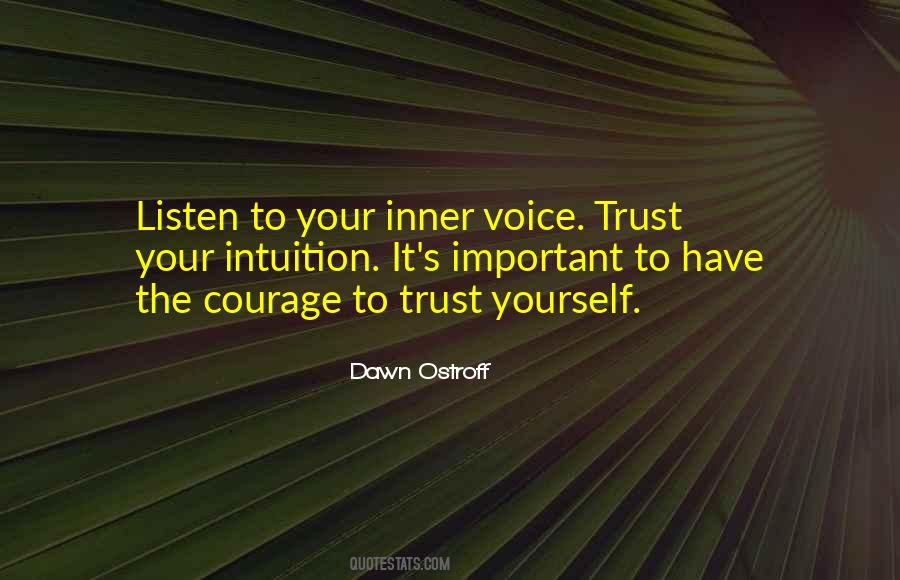 #90. We women must listen to our inner voice. It is easier for women to do this as they are not afraid to say what they feel.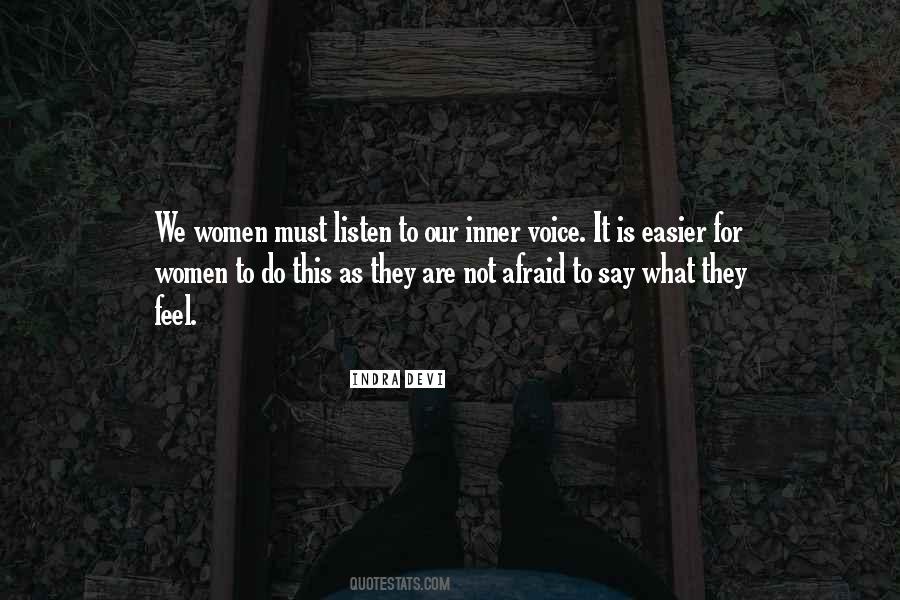 #91. A destructive thought process exists within all of us, and we are plagued to varying degrees by an internal dialogue that is harmful, restrictive, and at its ultimate extreme, self-destructive.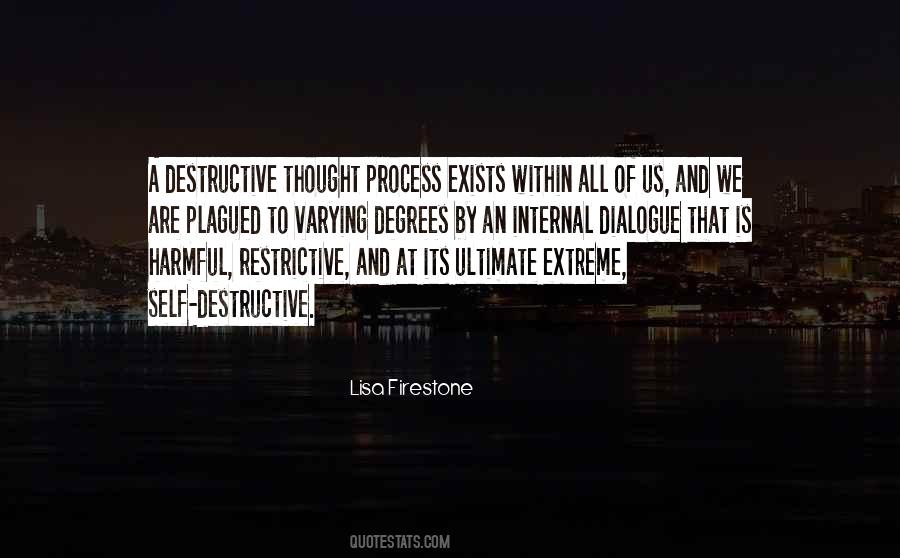 #92. I hope to God that the inner strength that will vindicate my deeds will in good time spring forth from my own people. I have done as I had to on the prompting of my inner voice.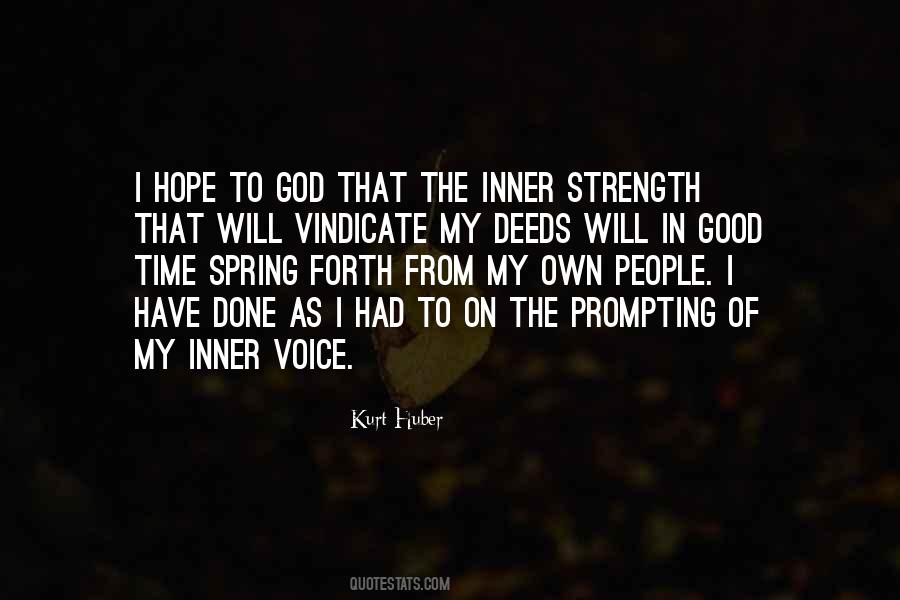 #93. Listening to the inner voice - trusting the inner voice - is one of the most important lessons of leadership.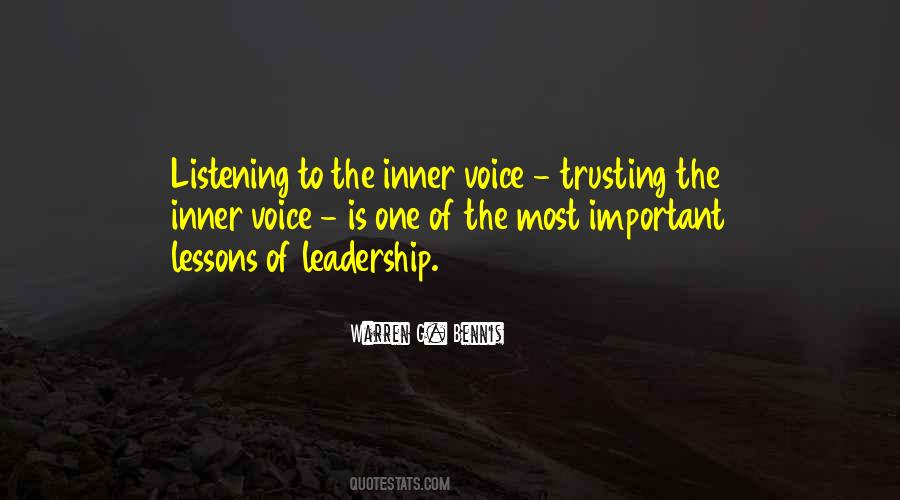 #94. Only disciplined people become free, but their discipline is not obedience to others: their discipline is obedience to their own inner voice. And they are ready to risk anything for it.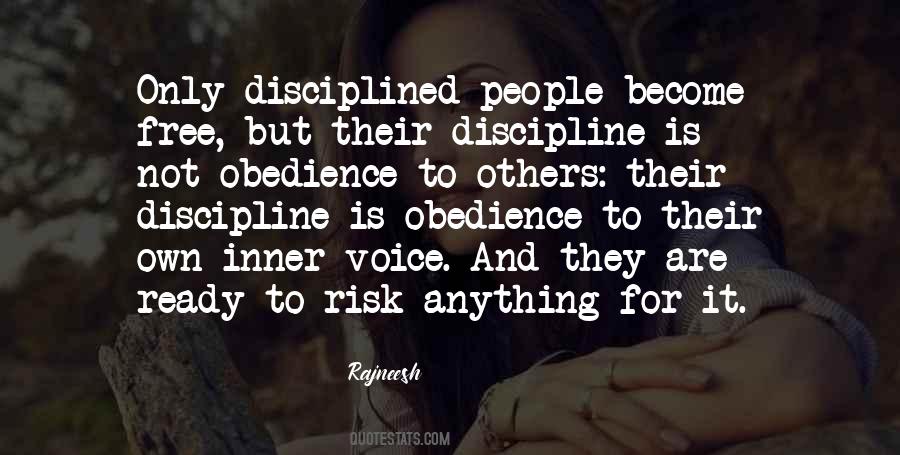 #95. Always listen to your inner voice, your instincts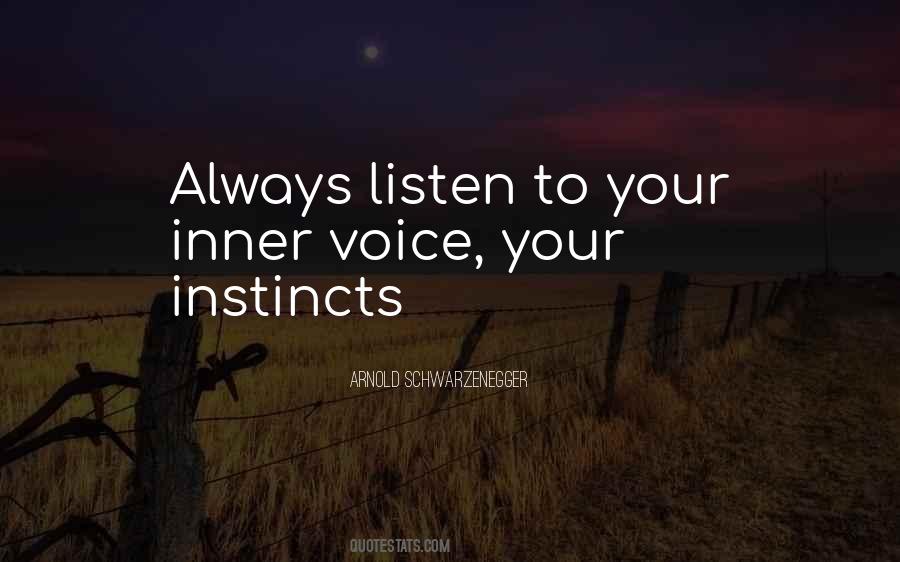 #96. The critical voice is not your own.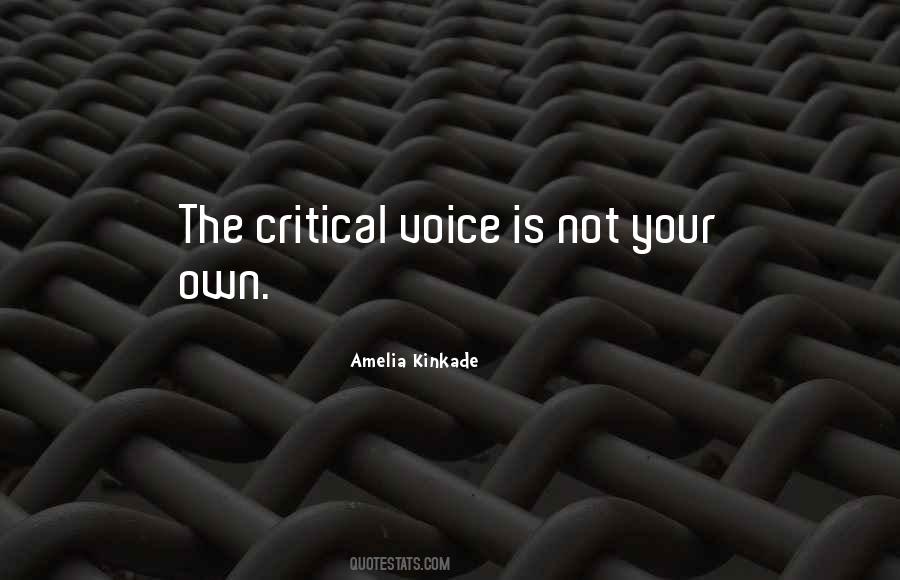 #97. Nobody runs faster than the one who tries to escape his inner voice.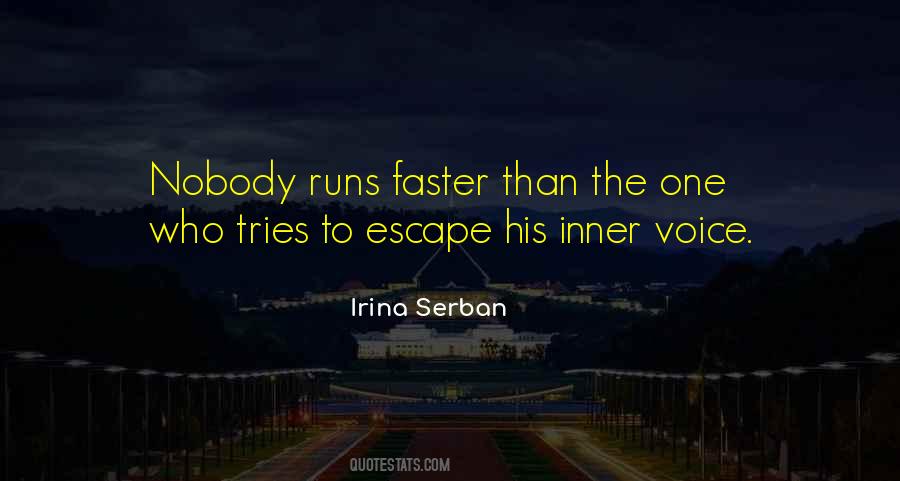 #98. We try to fulfill ourselves, even though our inner voice tells us to become all that we are - still, we run from it.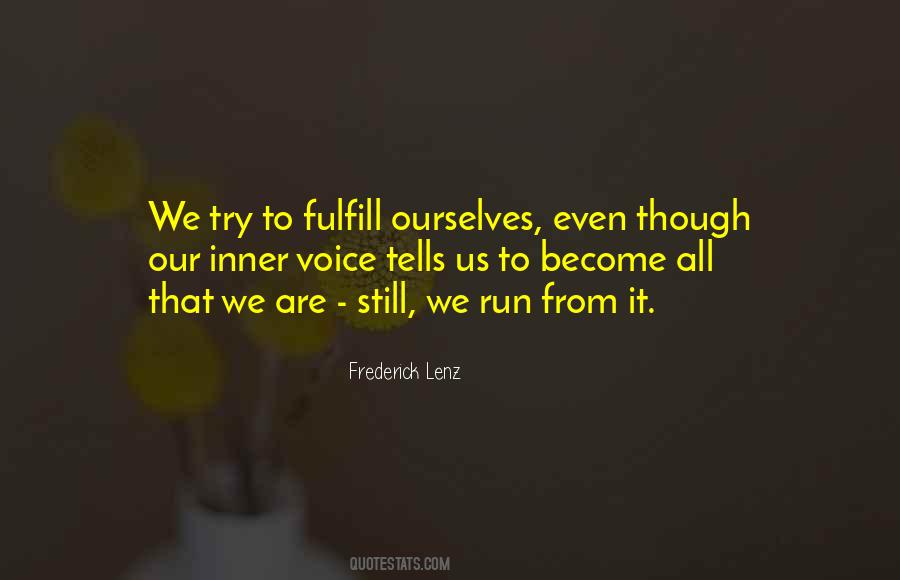 #99. Trust what your instincts are telling you, it's your souls voice pointing you in the right direction.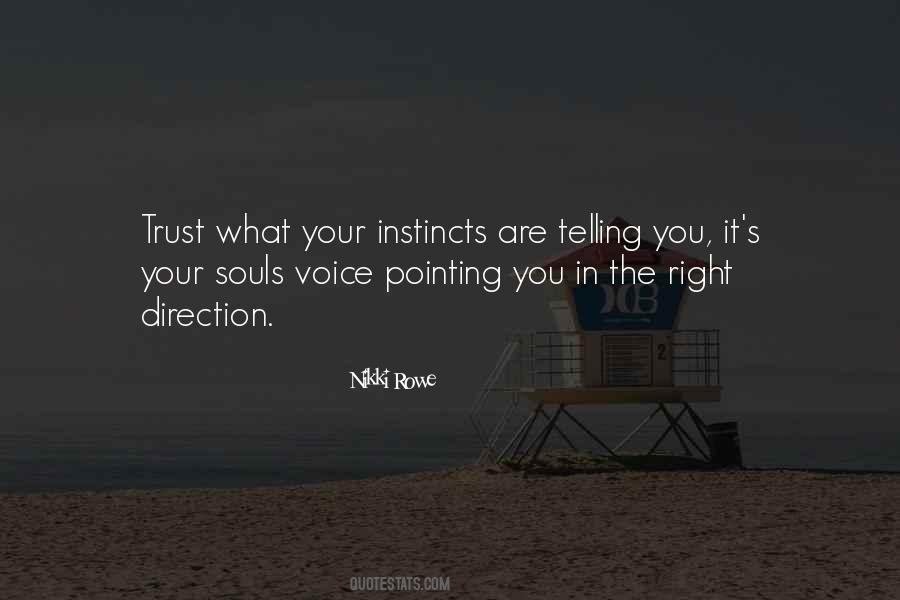 #100. I CHOOSE to live by choice not by chance, to be motivated not manipulated, to be useful not used, to make change not excuses, to excel not compete. I CHOOSE self-esteem not self pity. I choose to listen to my inner voice, NOT TO LISTEN TO THE RANDOM OPINIONS OF OTHERS.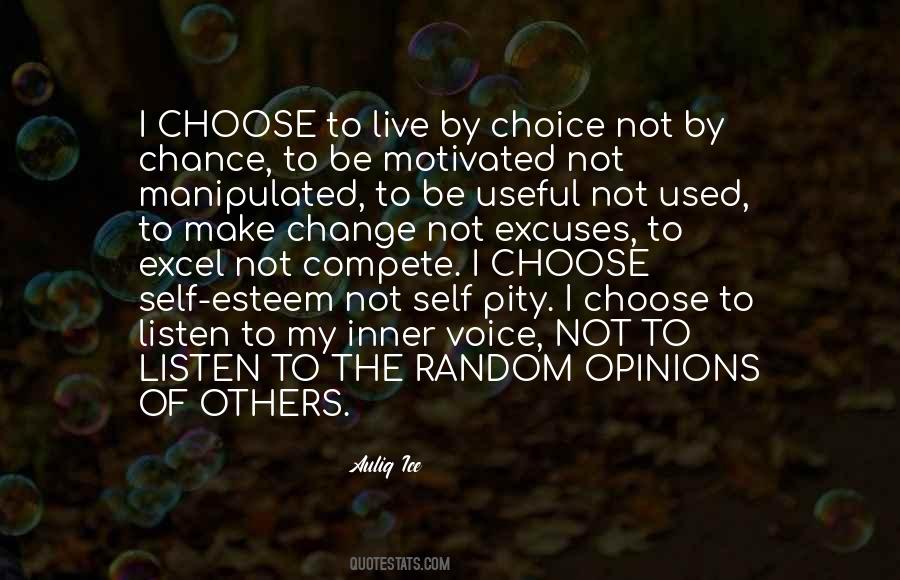 Famous Authors
Popular Topics