List of top 100 famous quotes and sayings about how it used to be to read and share with friends on your Facebook, Twitter, blogs.
Top 100 Quotes About How It Used To Be
#1. I don't know how much longer I can keep going without a friend. I used to be able to do it very easily, but that was before I knew what having a friend was like.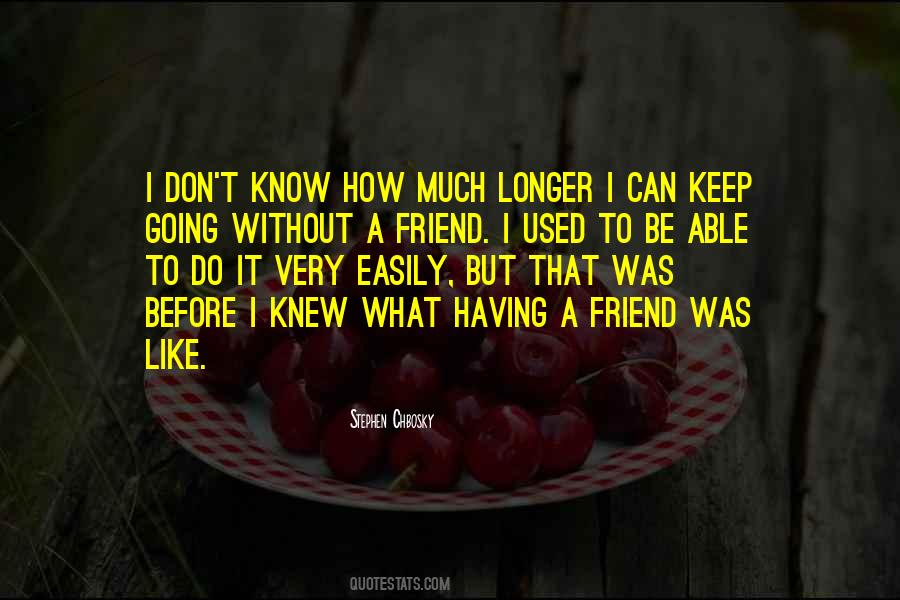 #2. If you had asked people in 1929, 'Here is what is about to happen. How much would you pay to avoid the Great Depression from occurring?' The answer is they would have paid a lot. They would have borrowed money if it could be used to prevent the Great Depression.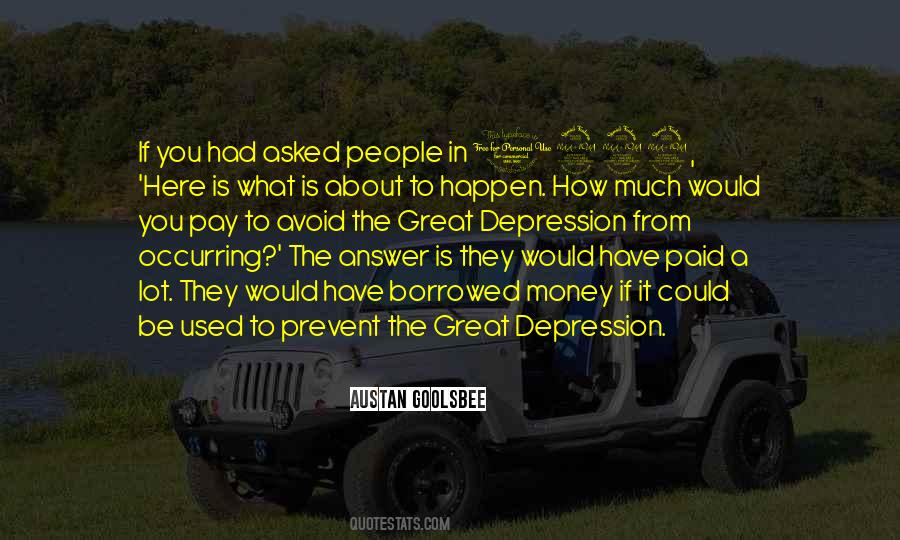 #3. I think I let go of the need for approval, ... It certainly feels good when you get it, but I used to be more desperate for it. Once I felt better inside about myself ... I could do everything based on how I want to do things.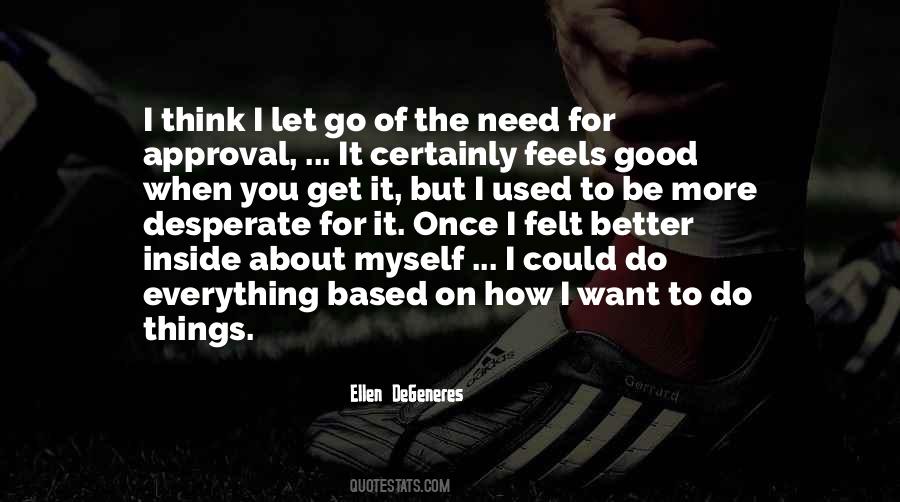 #4. I used to feel that if I say something's wrong, I have to say how it could be made right. But what I learned from Kurt Vonnegut was that I could write stories that say I may not have a solution, but this is wrong - that's good enough.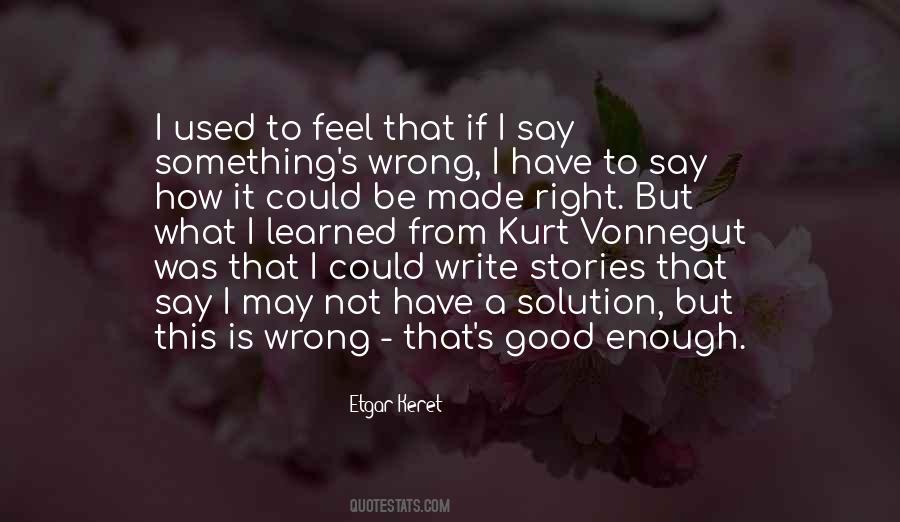 #5. It is ludicrous to believe that he meant nuclear weapons can be used. It is truly fearful to see how the mainstream media in the west can construct an adversary and that there are so few dissenting voices.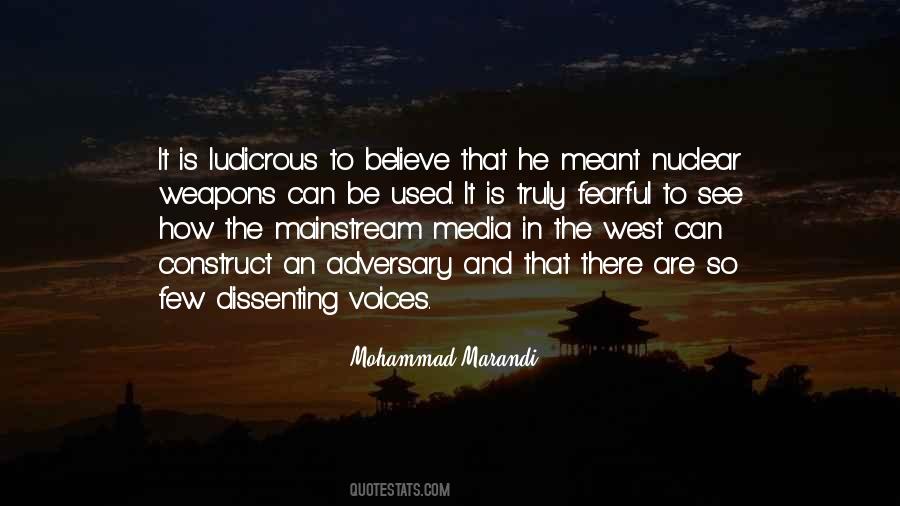 #6. A guy like Bruce Lee, I've always been a fan. How he used to be able to move and be so quick. You look at some of the exercises that he did, and it was all majority free weight, like standing on your hands. That works every muscle. Everything is firing.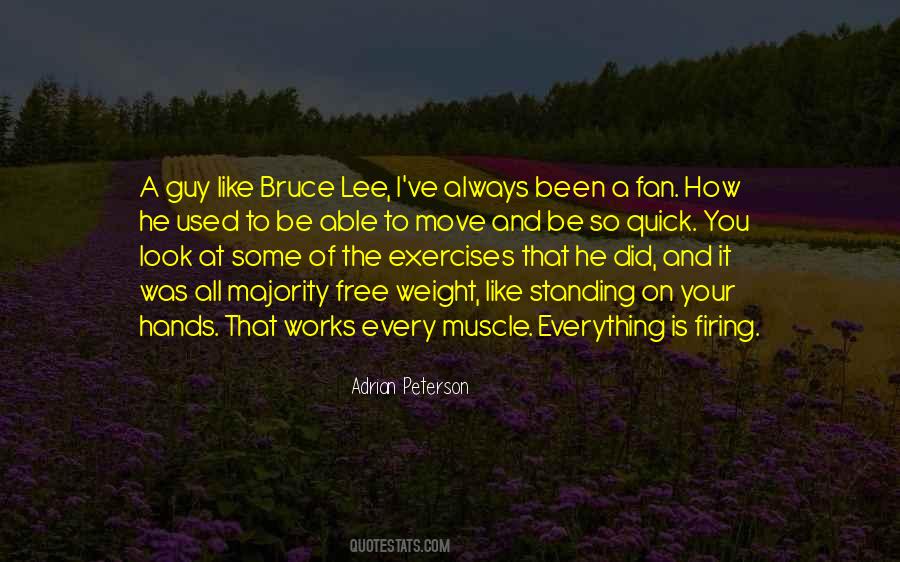 #7. With the coming of television, and the knowledge of how it could be used to seduce voters, the old political values disappeared. Something new, murky, undefined started to rise from the mists.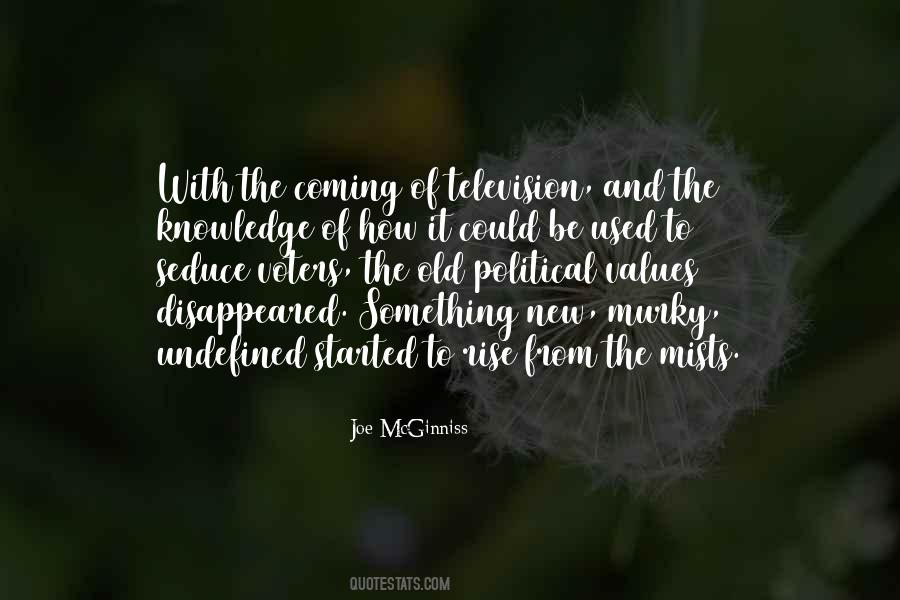 #8. It's lovely to be told you're wonderful by someone when you're used to being told how awful you are.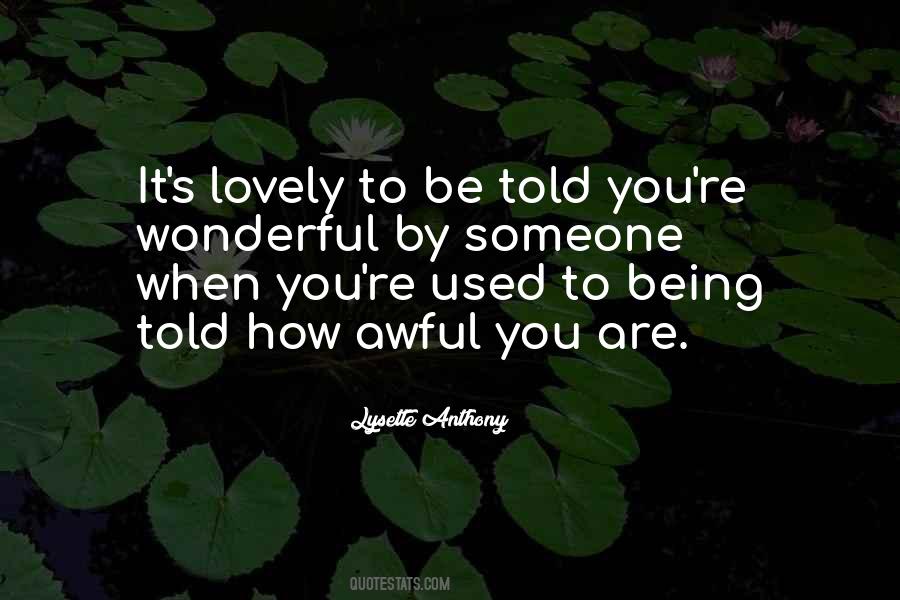 #9. When I was younger, I used to wrestle, and I feel that it contributed to my athletic ability because as a wrestler you have to be an all-encompassed athlete. You need stamina, strength, endurance and mental capacity. You also have to learn how to adapt in any situation.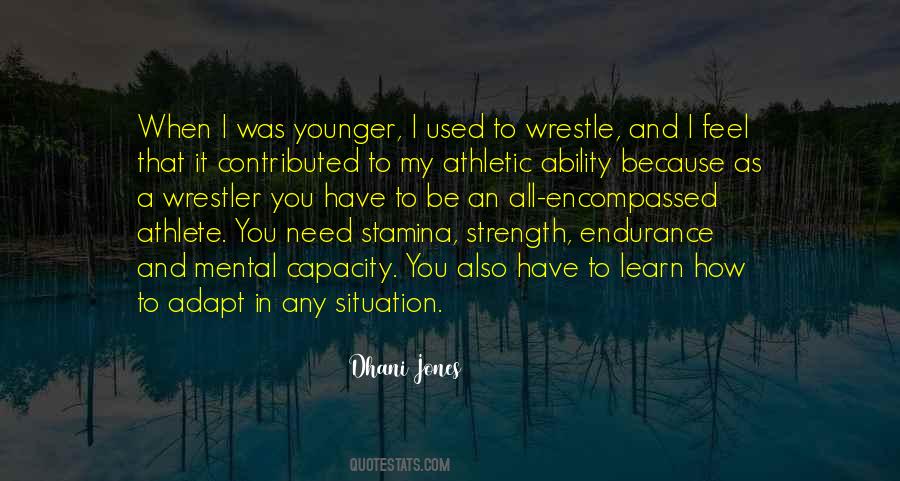 #10. Do you notice how people hurt each other nowadays?"
"You sound so very old"
"Sometimes I'm ancient. I'm afraid of children my own age. They kill each other. Did it always used to be that way?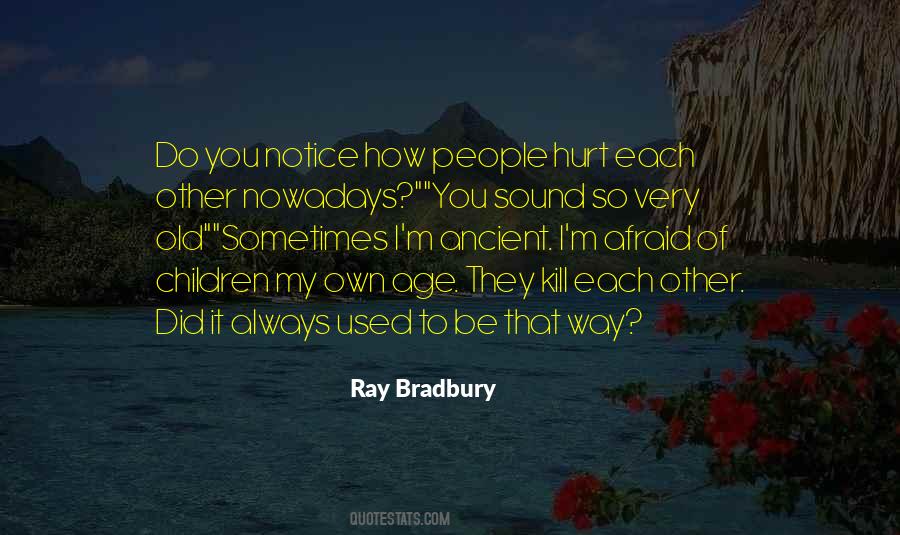 #11. I left Delhi in 1989 and remember very little of how life used to be then. Increasingly, in my recent visits to Delhi, I've started to realize that the city has become intellectually very lively. It makes me want to discover the city over and over again.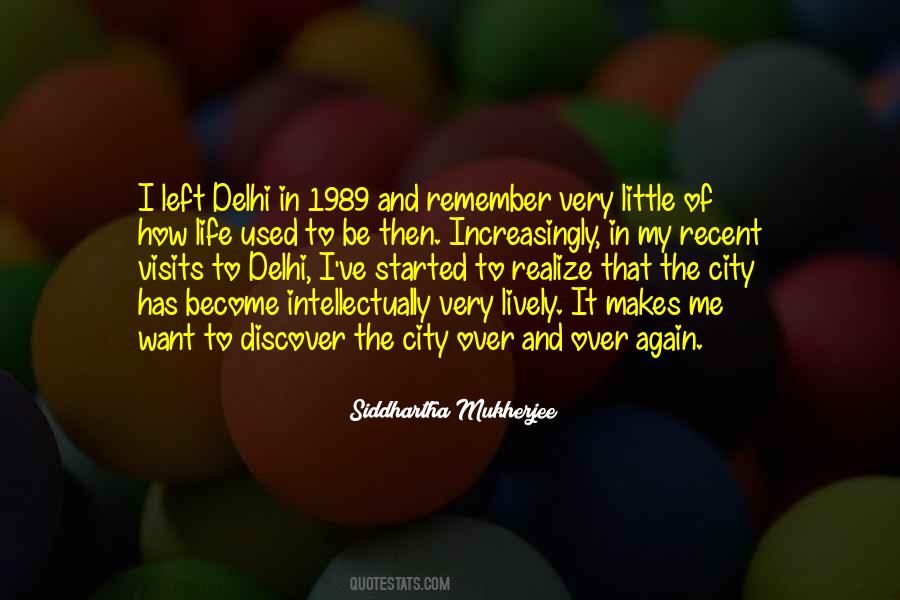 #12. I think it's important to be able to say that you did live a normal life and struggled to make ends meet. It all has to do with work ethic and how I apply myself to my awesome job now. I've always been used to working because I've been working since I was four.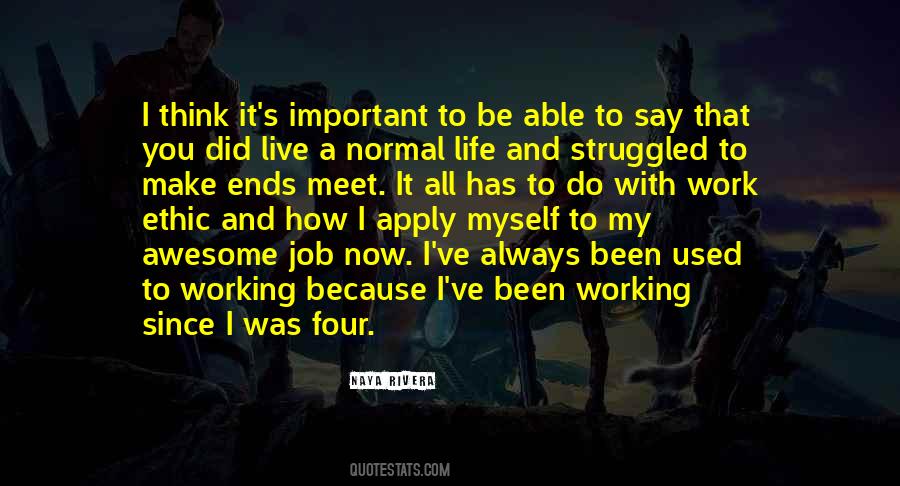 #13. I have heard my fill of hurtful words. I think it's especially egregious when citizens like me, who point out abuses in their country, are referred to as 'do-gooders.' This is how a phrase that can be used to stop an argument dead becomes part of common usage.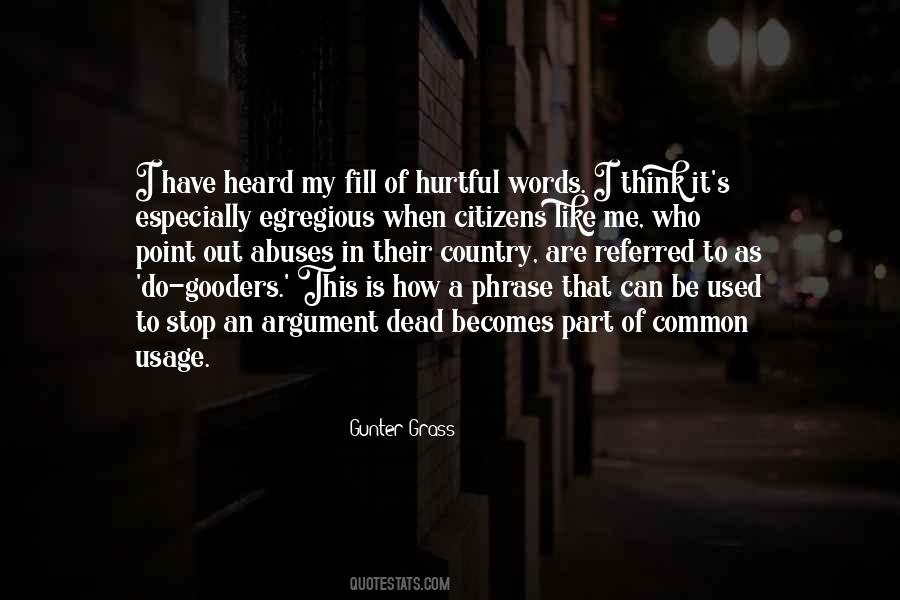 #14. I came of age at the end of the 1960s, just when video was also coming into the world. Companies such as Sony and Panasonic were starting to market it and we artists immediately knew how it could be used.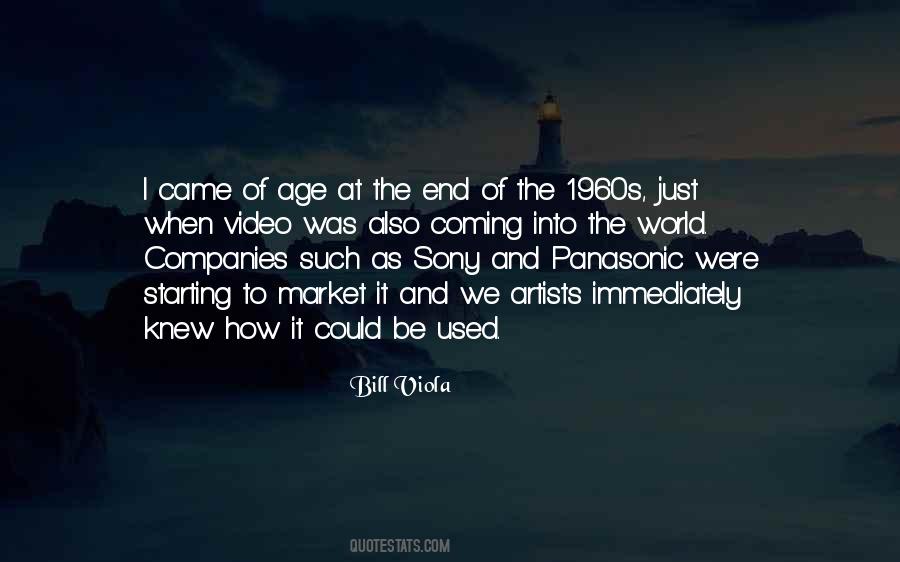 #15. God, how I still love private readers. It's what we all used to be.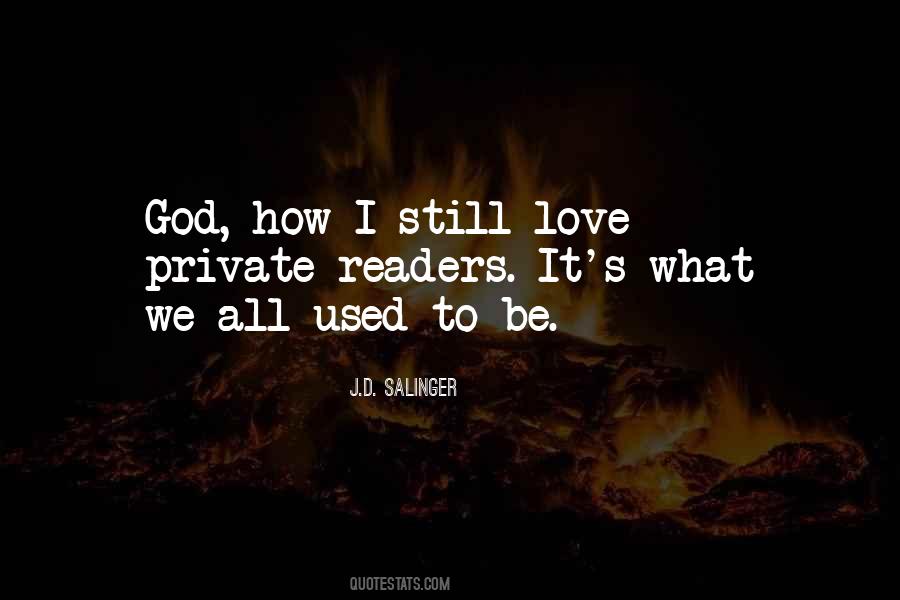 #16. No matter how much we learn, there is always more knowledge to be gained. In this connection I am reminded of a short poem that has been in my mind over the years. It reads as follow: I used to think I knew I knew. But now I must confess. The more I know I know I know I know I know the less.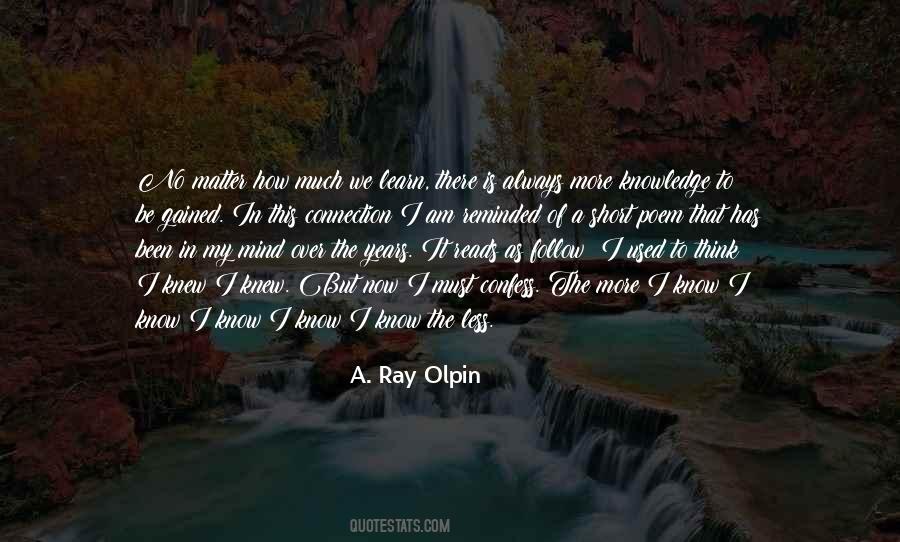 #17. It is time to stop debating whether the Internet is an effective tool for political expression and instead to address the much more urgent question of how digital technology can be structured, governed, and used to maximize the good and minimize the evil.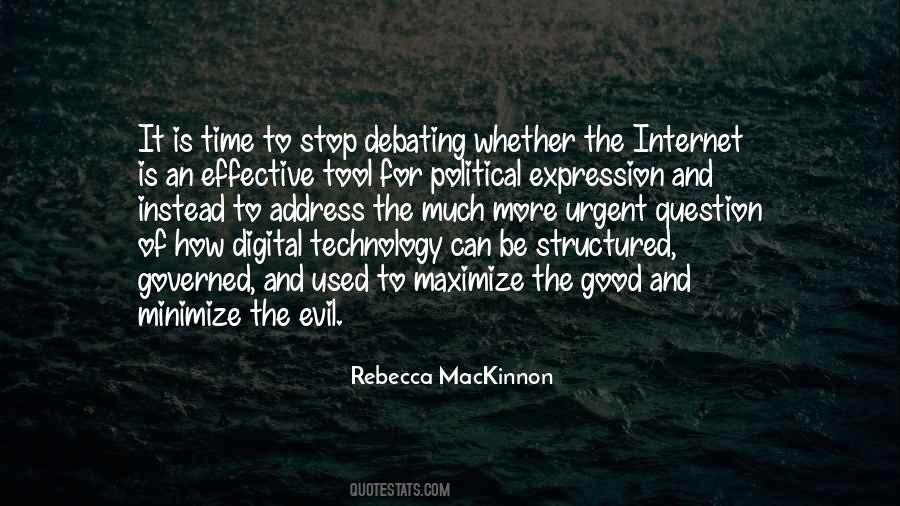 #18. The need for a quick, satisfactory copying machine that could be used right in the office seemed very apparent to me-there seemed such a crying need for it-such a desirable thing if it could be obtained. So I set out to think of how one could be made.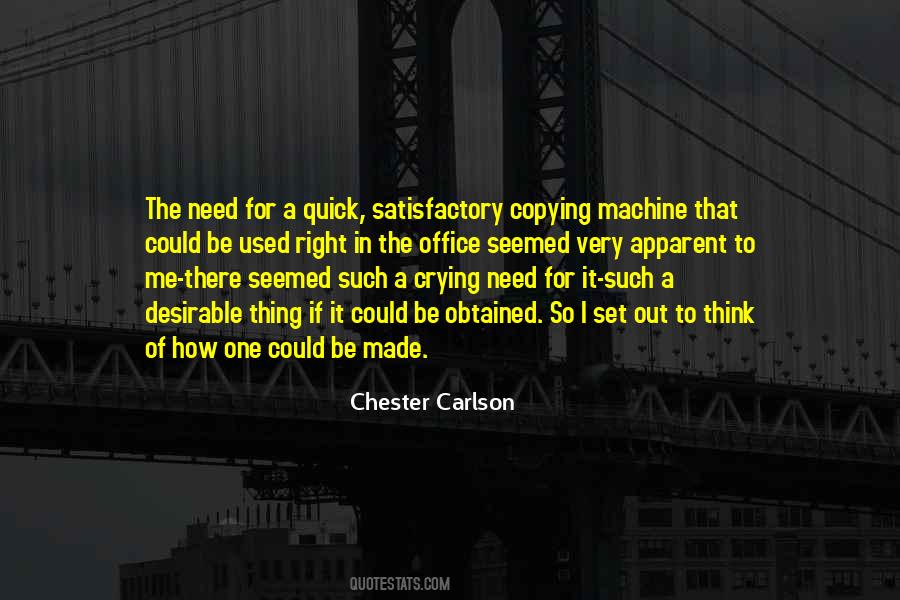 #19. I'm a rat. I used to believe in the Golden Rule but now question it. It's too easy to be snarky at those who are snarky toward me. I like how it feels - the yellow cheese giving way between pointed teeth. My tail begins to twitch.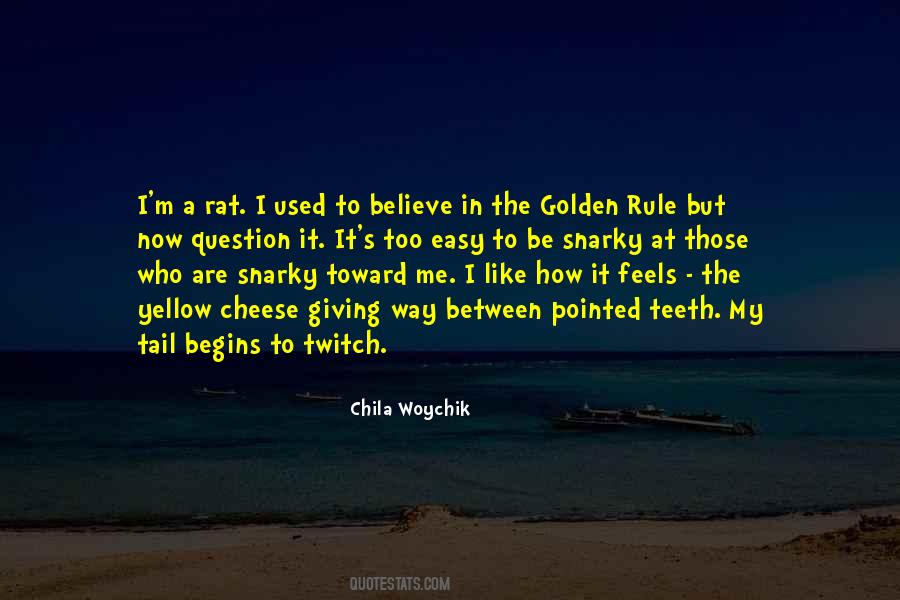 #20. Because I know if I sit down and start to write out how it feels ... . it all becomes too real ... the pain becomes too much. But that's the weird part because I feel so empty, like there no longer is a heart living where there used to be one, so why am I feeling pain?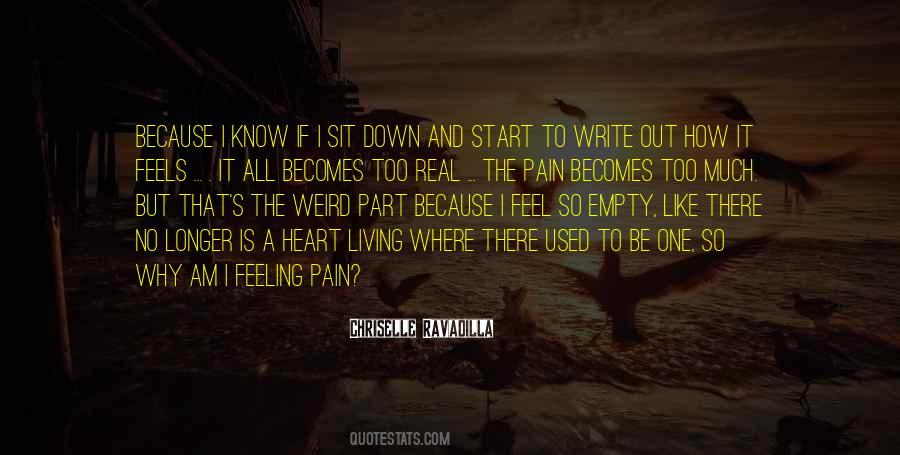 #21. Making records is not how it used to be! #stillwerking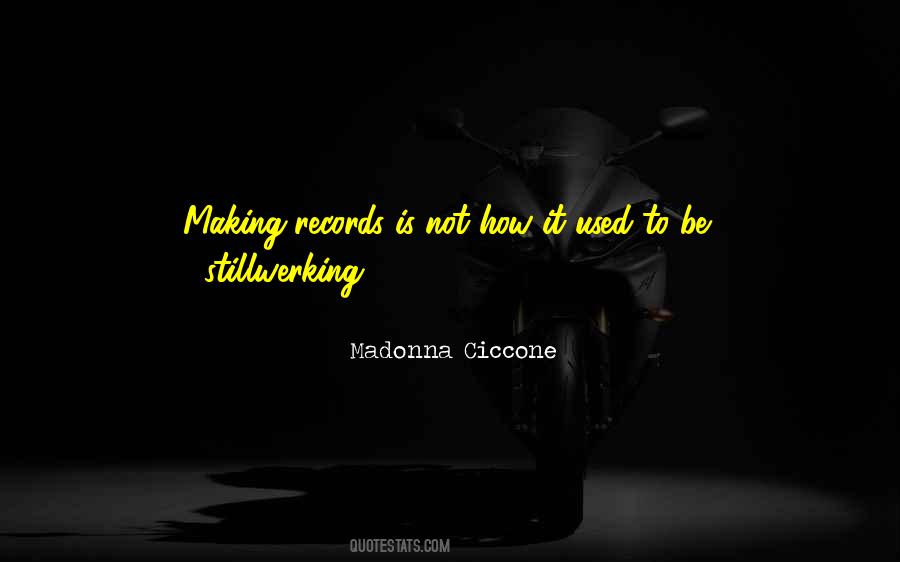 #22. I used to see Estee Lauder's ads everywhere in the subways of Beijing, and I thought how wonderful it would be if the model on them was myself!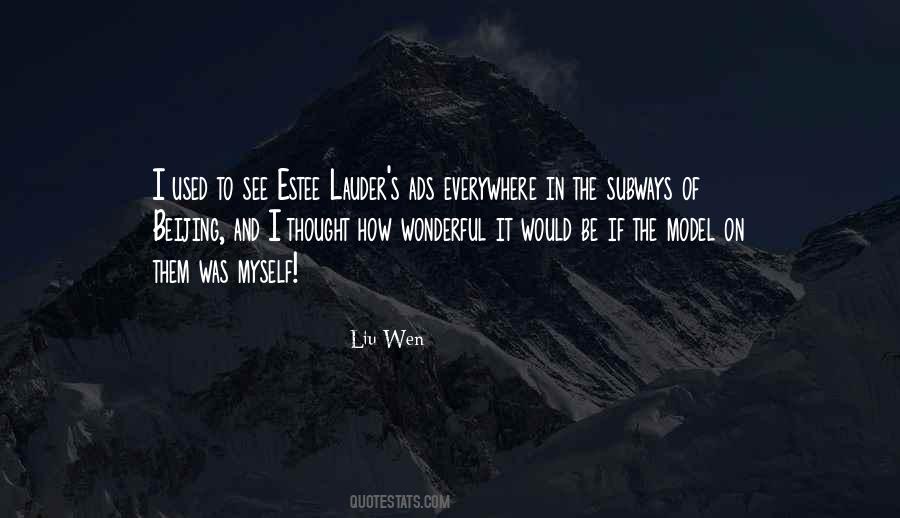 #23. It doesn't matter how long we've used something; all that matters is how awesome the thing replacing it is. MP3s and automobiles happen to be really, really awesome, whereas ebooks - at least so far - are fairly limited in their awesomeness.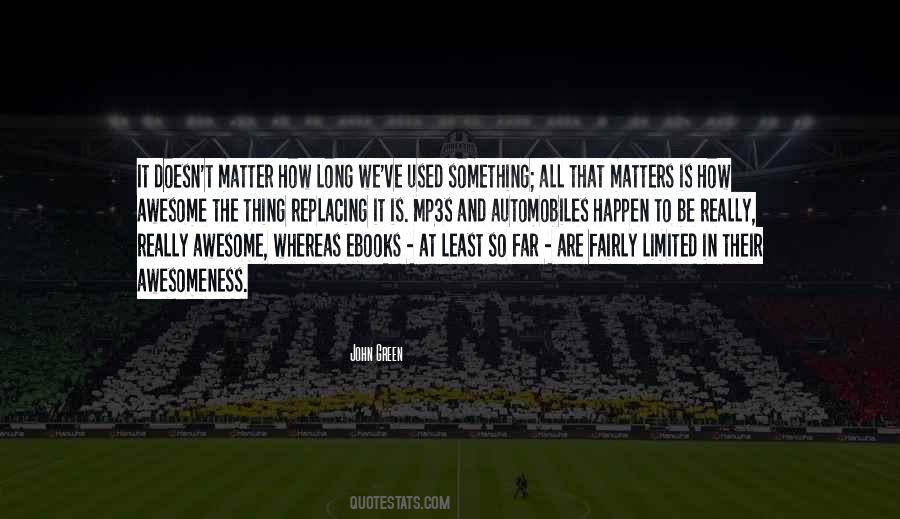 #24. I judge my life by how miserable it used to be. If I could pay my rent, I was deliriously happy. Now I'm deliriously happy all the time.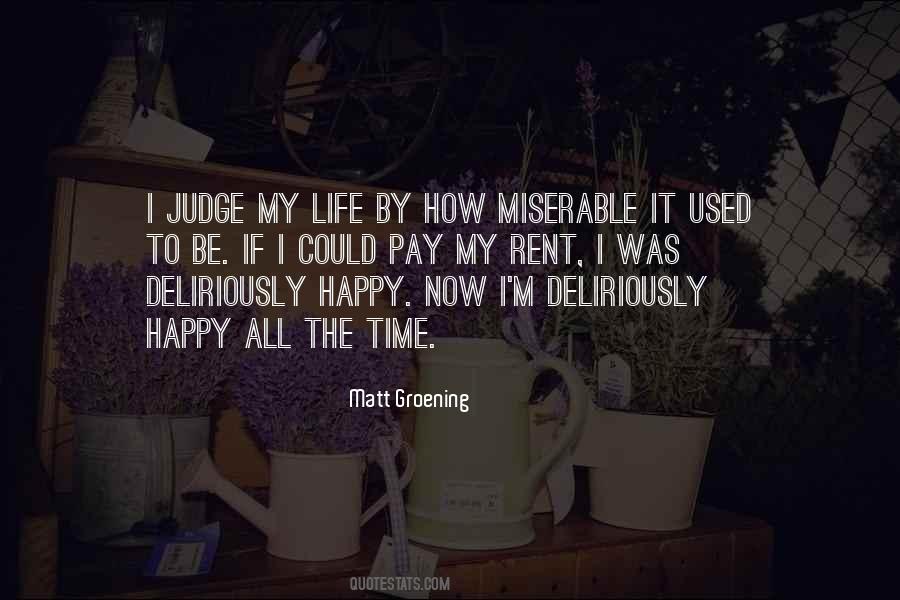 #25. It was from Willi I learned how many women like to be bullied. It was humiliating and I used to fight against accepting it as true. But I've seen it over and over again. If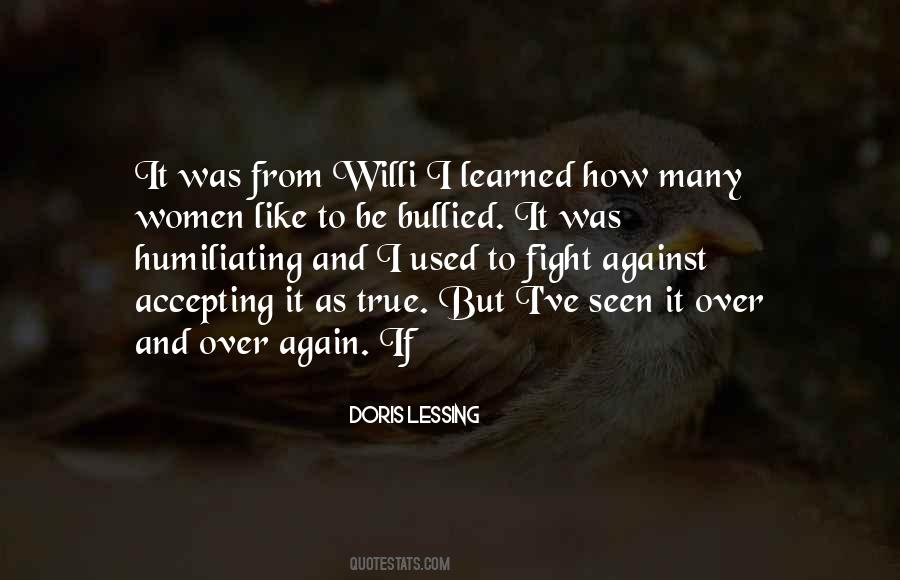 #26. Pre-season isn't just about conditioning but also getting used to each other as a team and a group of men. You spend more time with these people than you do your own family. Pre-season is the time we get used to each other and work out how people work. It can be a lot of fun. Hard but fun.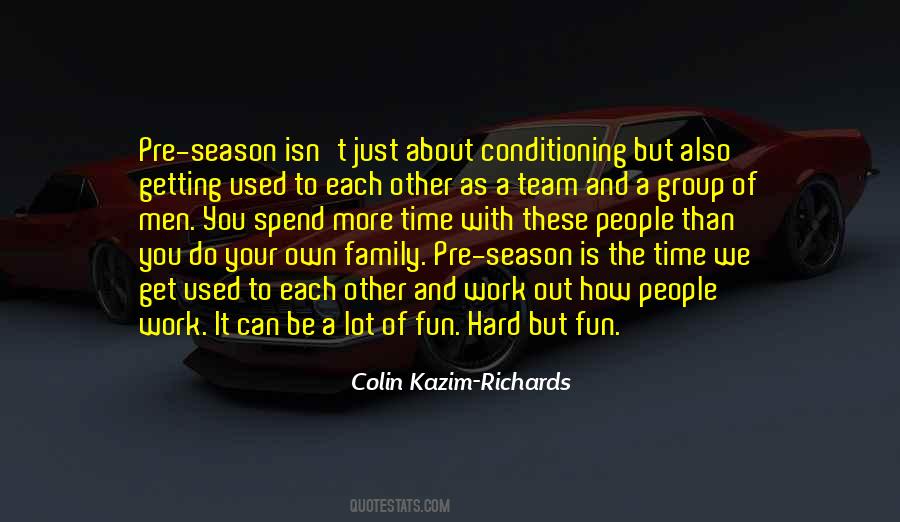 #27. I'll get an inspiration and start painting; then I'll forget everything, everything except how things used to be and how to paint it so people will know how we used to live.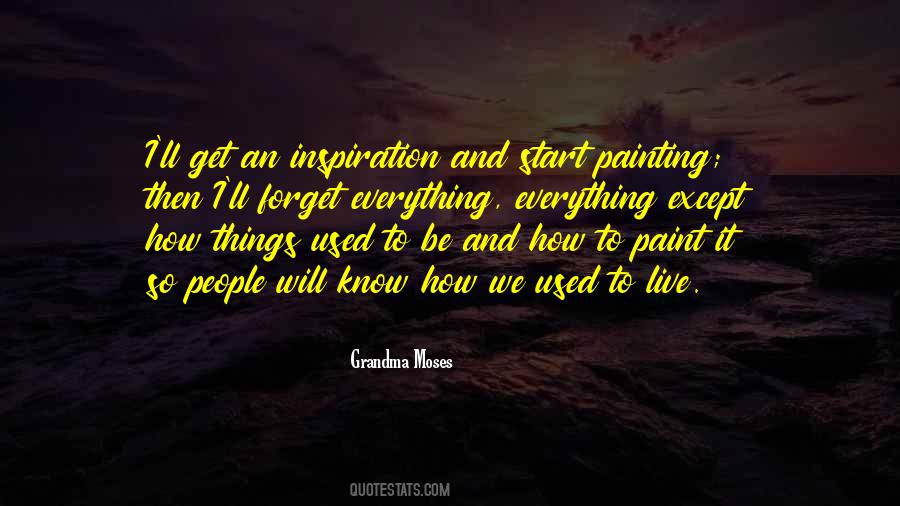 #28. What surprised me most about fame is how unpleasant it can be. I used to think it was going to be so fun. I got excited about the parties. You don't anticipate friends being jealous of you and critics giving your music bad reviews. Media and rumors - that stuff hurts.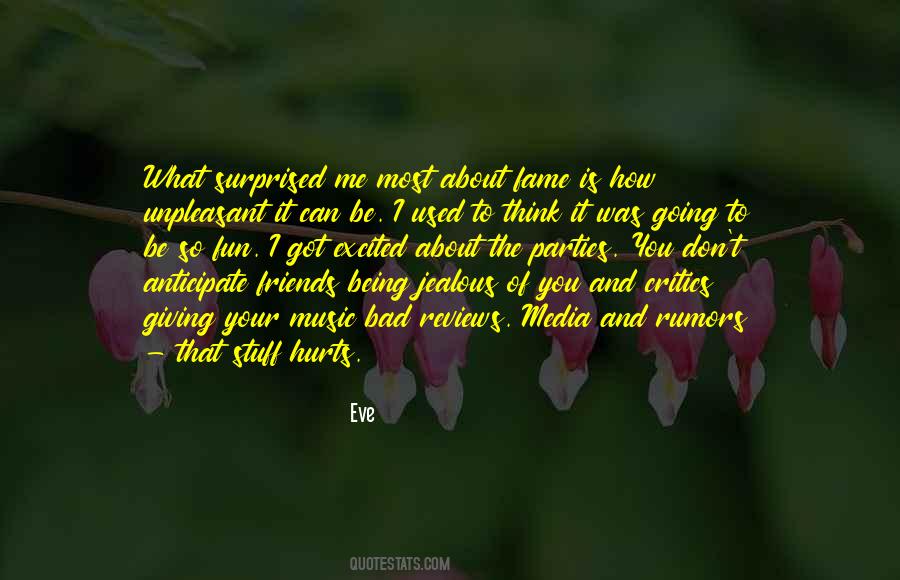 #29. My chest got this weird feeling, like when you stare into the eyes of a little baby and the baby looks back up at you and you can feel how pure and innocent it is, so much that it makes your stomach feel empty - probably 'cause you realize you used to be pure like that, too, and now you're not.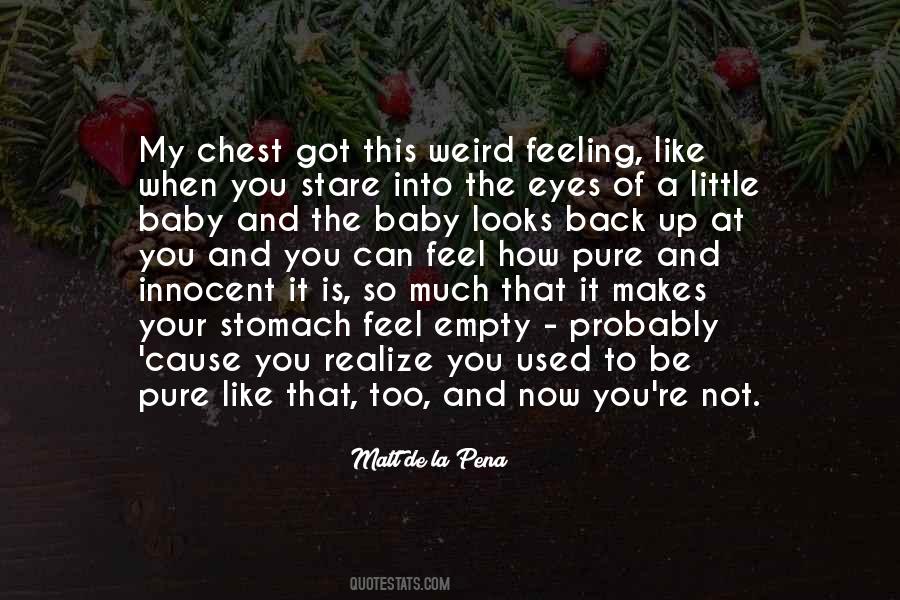 #30. I used to be so aggressive, but after a while I started learning. It's not that I know how to adapt, but I know all styles of fighting so I can change my style of fighting to whatever it needs to be. That just comes from years of training and a lot of sparring partners.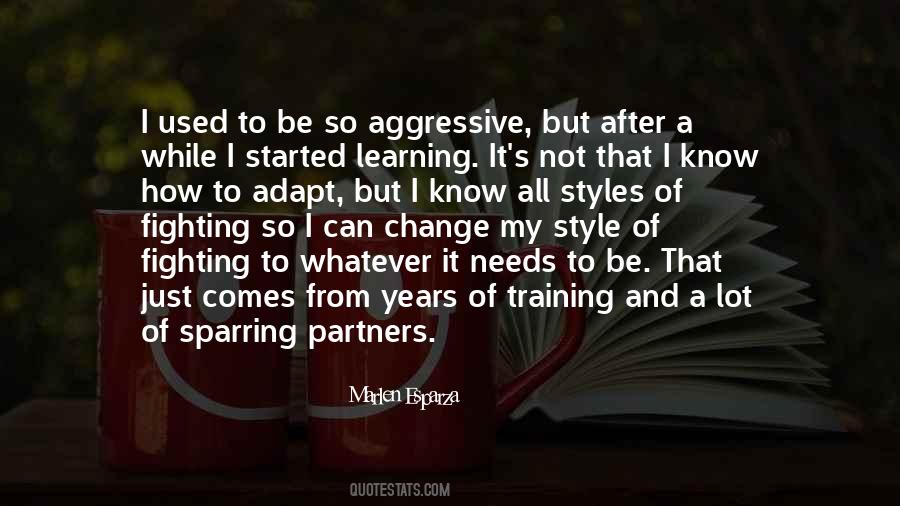 #31. But then I realized how unhealthy it was, sensing the absence of life, not just in this building but everywhere, and not reacting - do you see? I guess you don't. But that used to be considered a sign of mental illness; they called it 'absence of appropriate affect.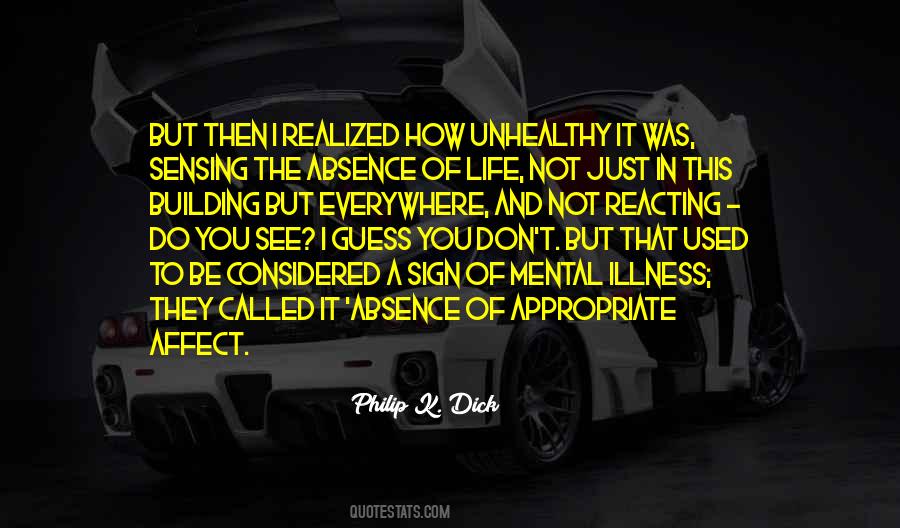 #32. All I have to do is be me on stage. But acting, I have to be someone else, and walk how they would walk and blink how they would blink. I used to talk about it bad like, 'Aw man, that person made $10 million a movie?' But now I understand why they do. I get it now.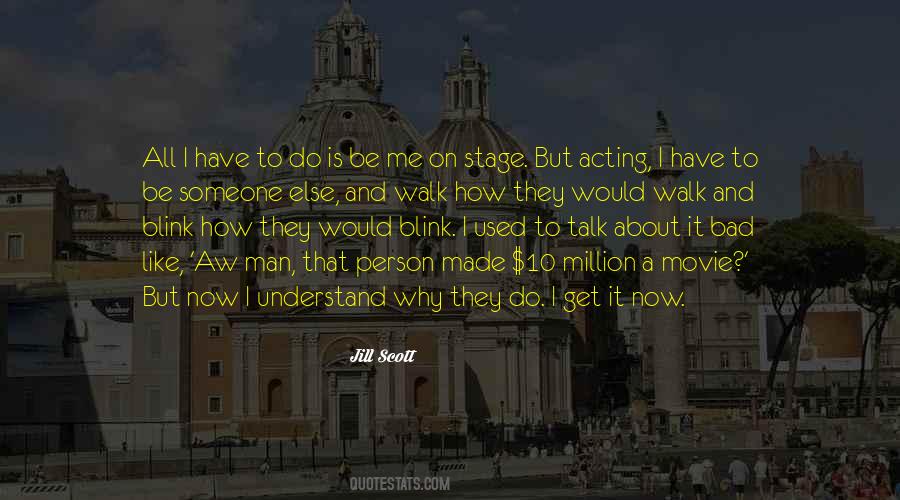 #33. There used to be days that I thought I was okay, or at least that I was going to be. We'd be hanging out somewhere and everything would just fit right and I would think 'it will be okay if it can just be like this forever' but of course nothing can ever stay just how it is forever.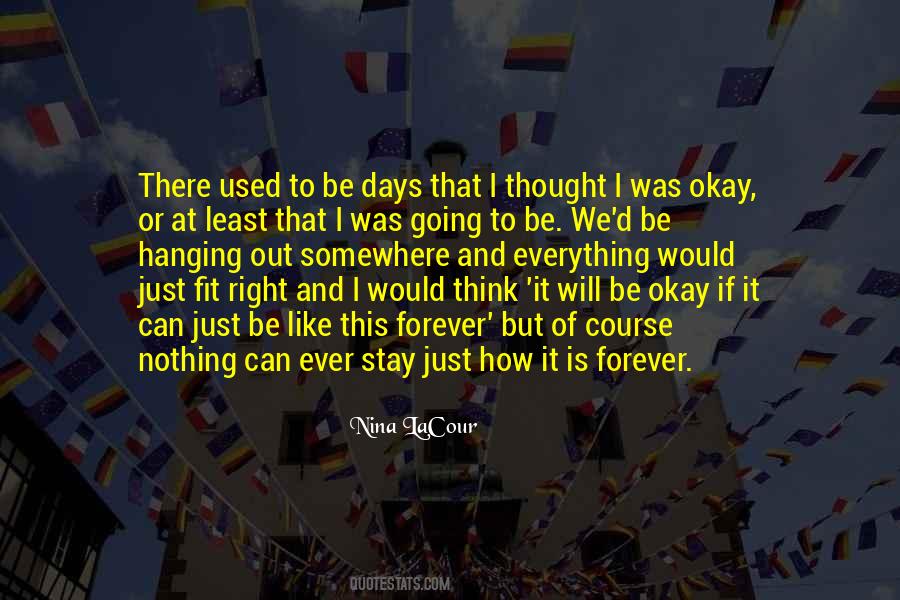 #34. Every young person is going to be inspired to be a maker from now on. It's like how everyone used to want to be a musician, an actor, an athlete
but a maker is what people are going to want to be.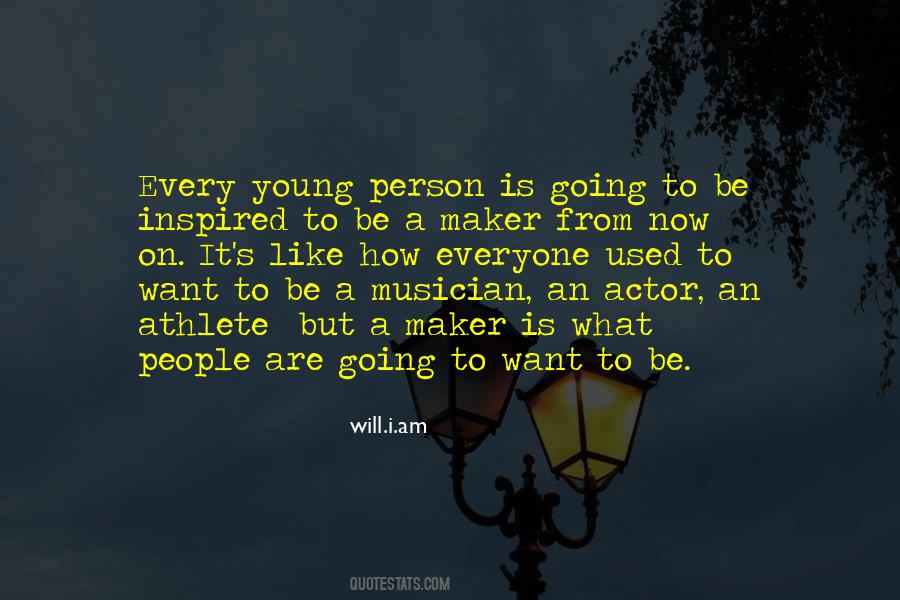 #35. If you have ever come up against Nothing you have no idea how it can scare you out of your wits. When I was a child I used to be afraid of Something in the dark. I know now that the most fearful thing about the dark is that we may find Nothing in it.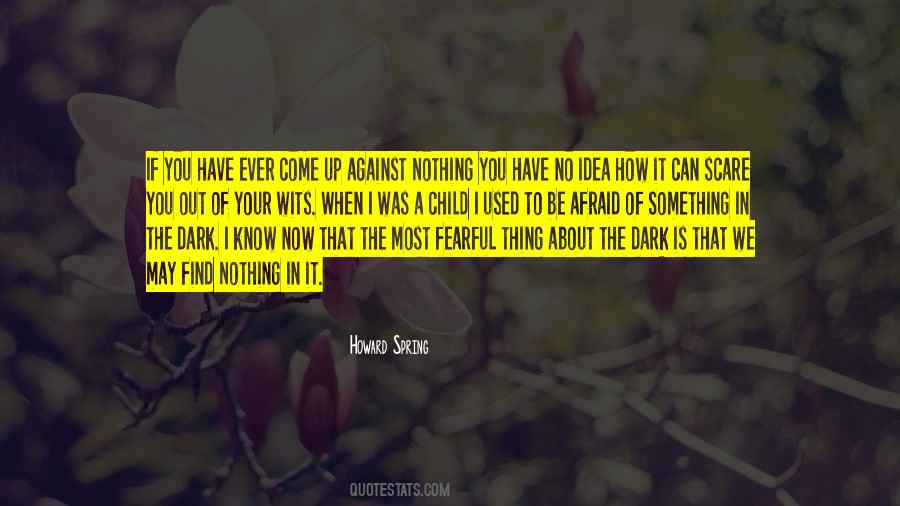 #36. They tell you you'll forget how it used to be. You'll get used to it, that it's better to move on. They don't realize you can't. You're not the same person anymore.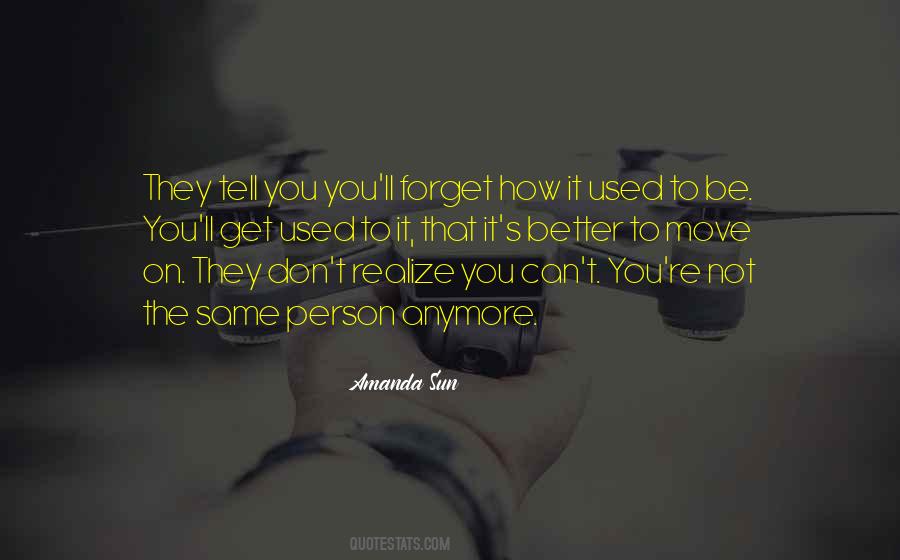 #37. As a researcher at US Berkeley I used to go into the brains of small, little animals and study the way that brains were connected and how little did I know that one day that was going to be my future - exploring the universe of the brain and hold it in between my hands and look at cells migrating.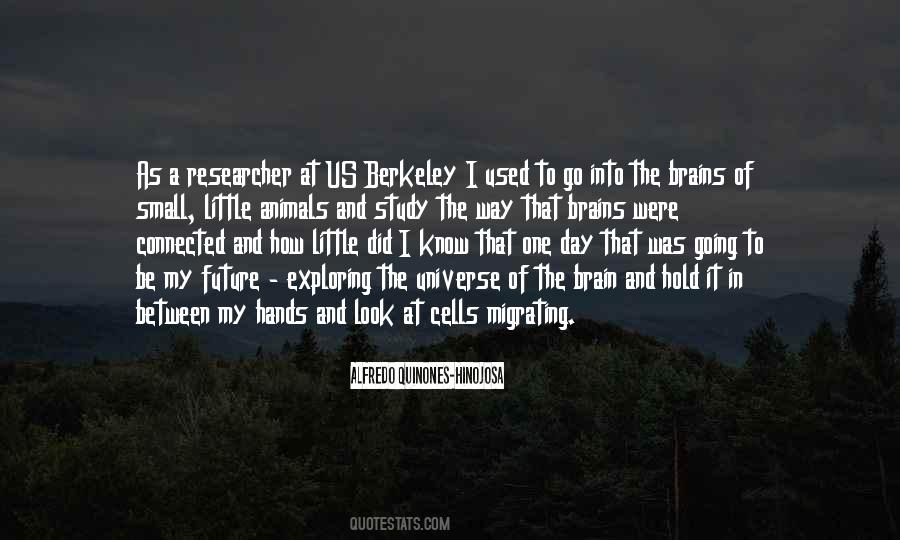 #38. A work of art enters life very much like another human being - complicated, loaded with overtones and meaning, mysterious, enticing, obsessive, and beautiful. There's no way to control how it will be used, how it will be read, and that's part of the excitement of it.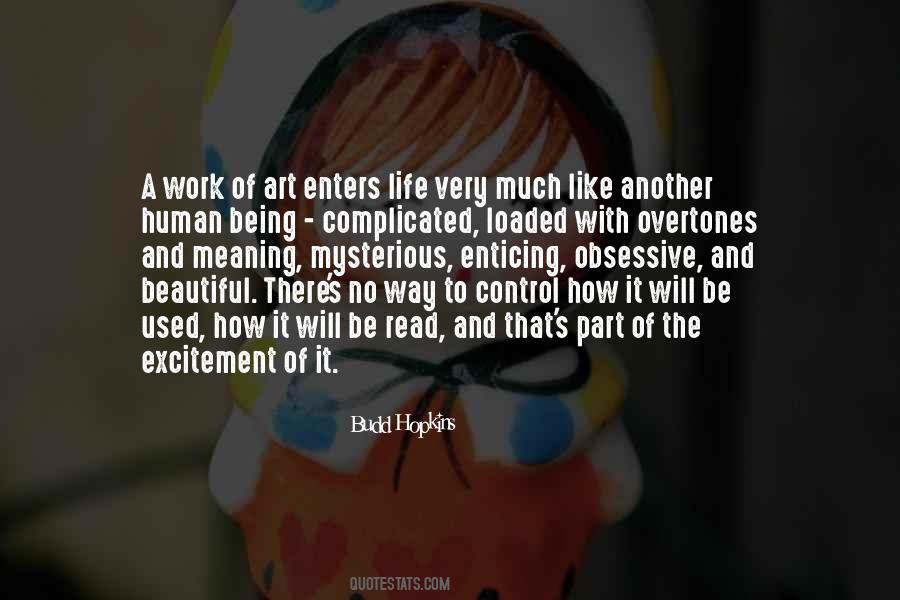 #39. I used to dream of escaping my ordinary life, but my life was never ordinary. I had simply failed to notice how extraordinary it was. Likewise, I never imagined that home might be something I would miss.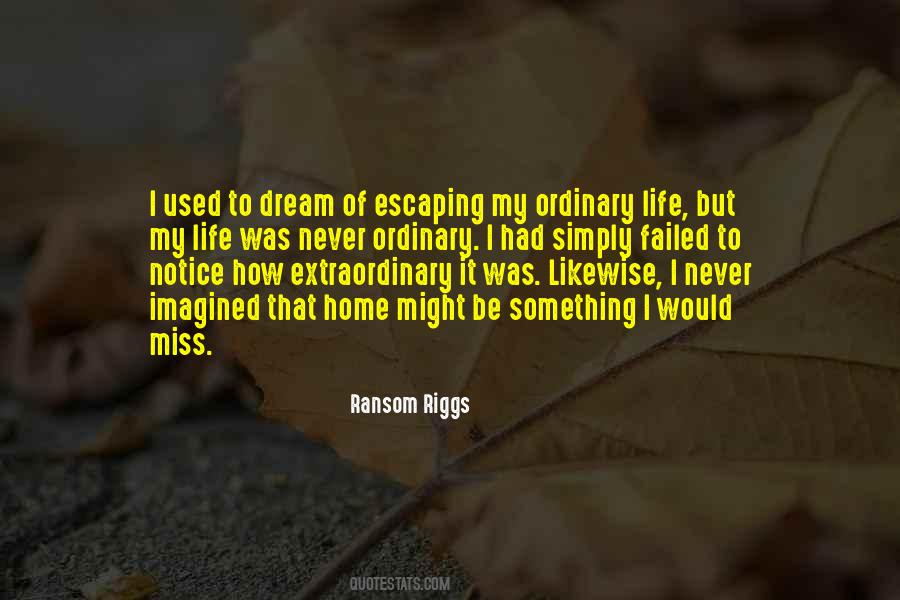 #40. Fame was never something I was seeking in my artistic journey. It's to be used as a tool for an artist to break open doors and keep creating. That's how I enjoyed fame in '74; it was not just for the emptiness of being famous.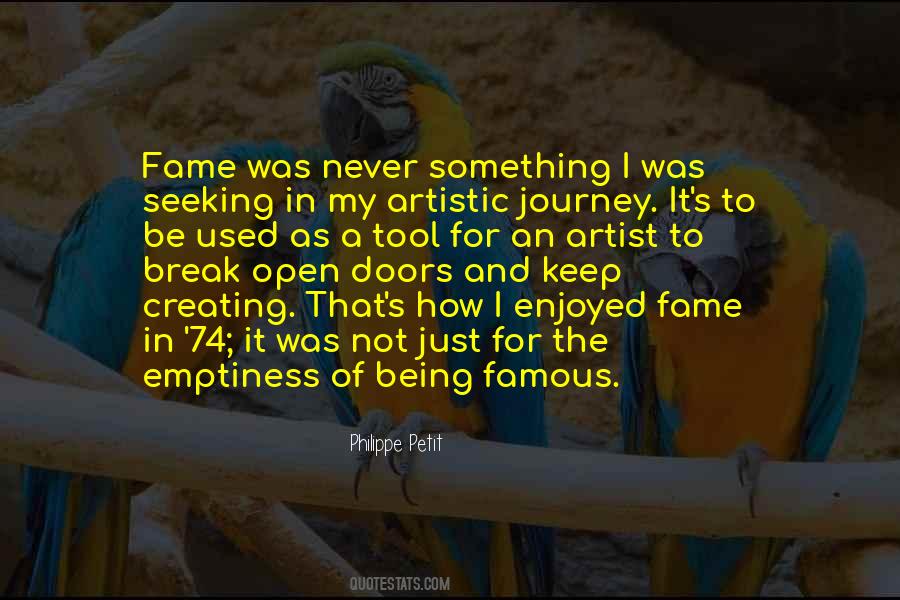 #41. Looking at him now, recalling what it used to be like between us, how I liked myself around him, how I felt good about the world and my place in it with him by my side, how I ached when he left for college, I remember what it feels like to truly love someone. For the right reasons. In the right way.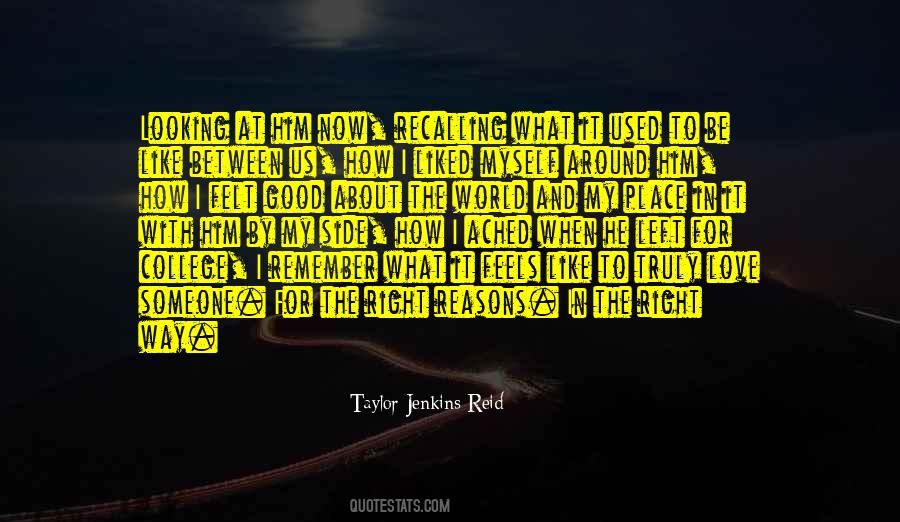 #42. Beauty is an asset, just like physical prowess, charisma, brains or emotional intelligence. The key with any gift is in the way that you use it. It doesn't define you as a person. Rather, it's an asset to be used judiciously and with an understanding of how it is just a small part of who you are.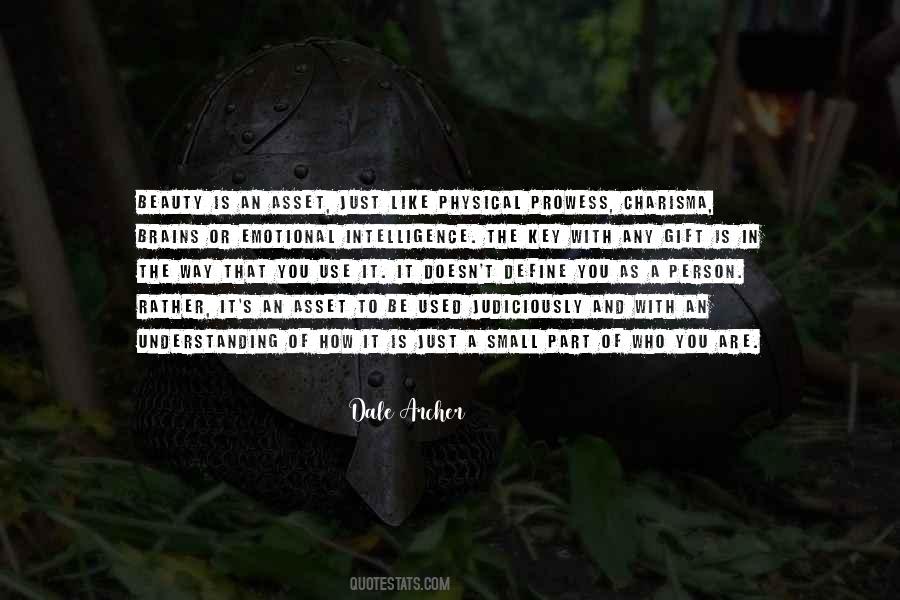 #43. Have you ever wondered how nostalgia isnt what it used to be?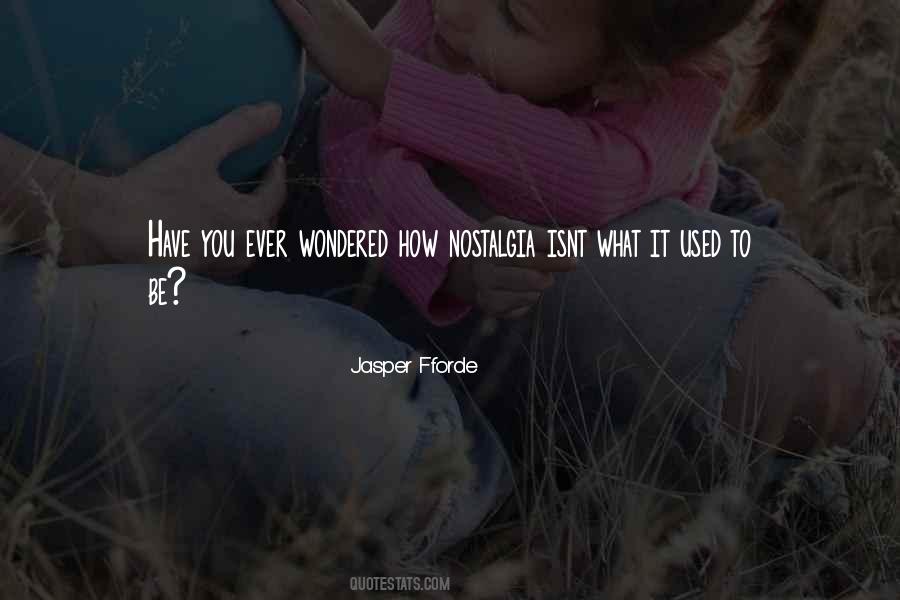 #44. The major job was getting people to understand that they had something within their power that they could use, and it could only be used if they understood what was happening and how group action could counter violence.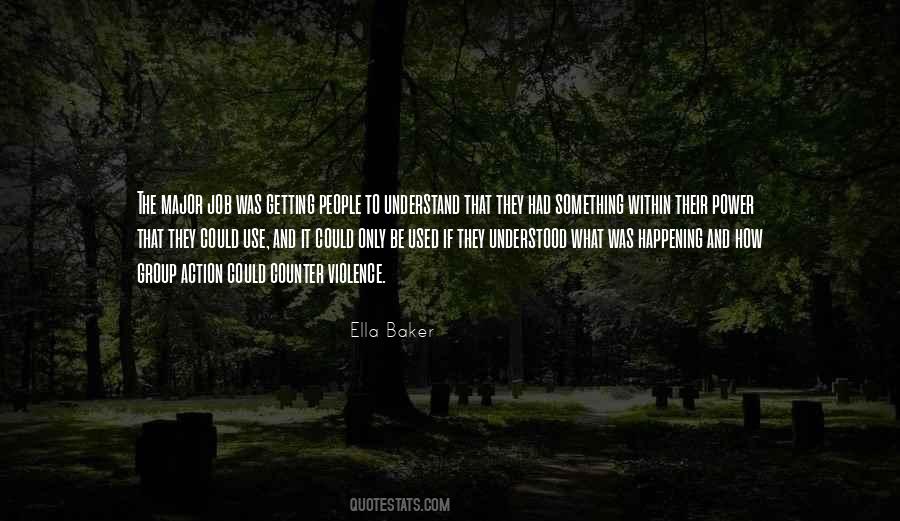 #45. It's always interesting - how do you actually convey thought through song? We're used to the convention on stage. In film, we used to be used to it, and now sometimes it works and sometimes it doesn't. You need to be fresh and really look at the material.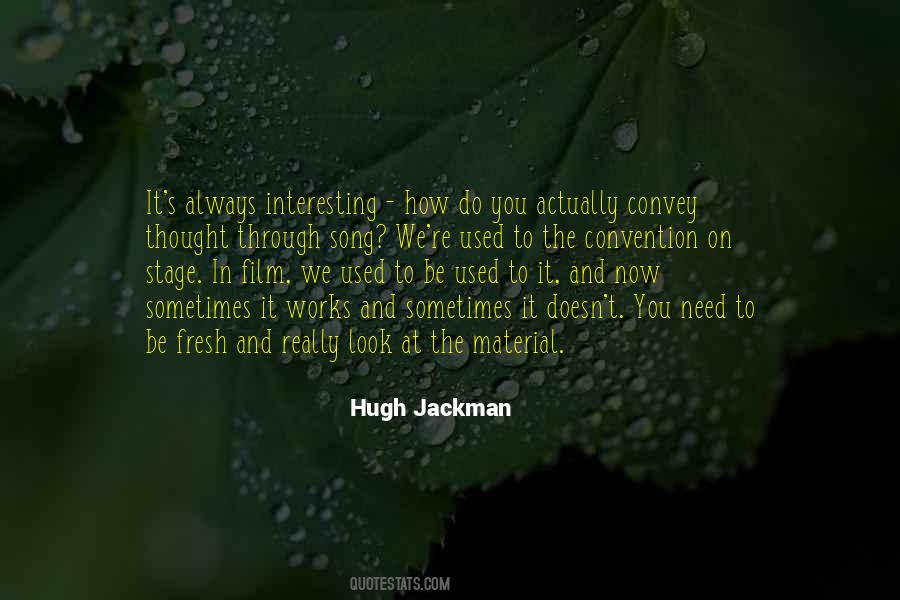 #46. This is so much money that it scares the shit out of me. I don't know how to handle it. I don't know the purpose of the company besides making more money. What's all the money going to be used for?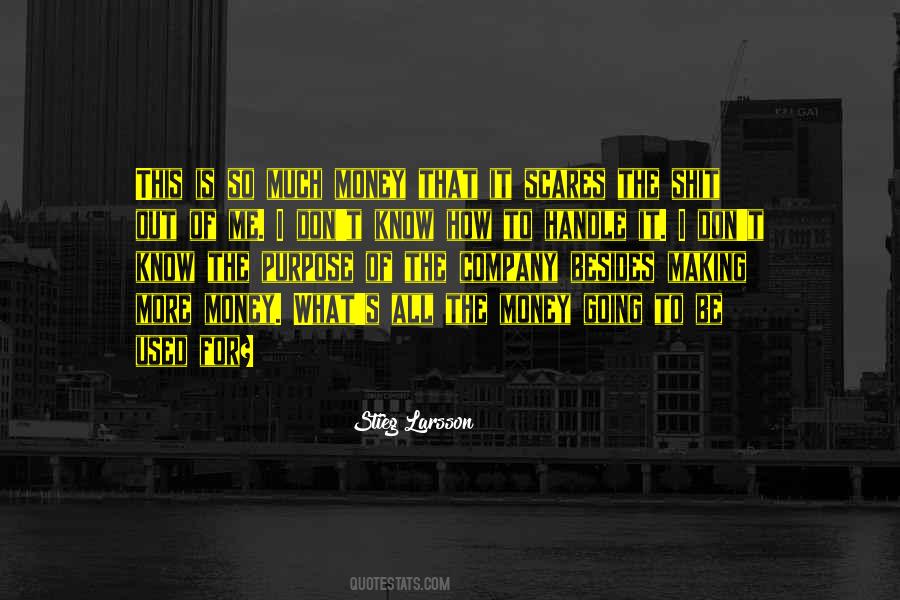 #47. There was a time when someone would get on a plane and request to move their seat just because the person sitting next to them was of a different ethnicity or religion or nationality. But I don't think my generation wants that. That's how it used to be.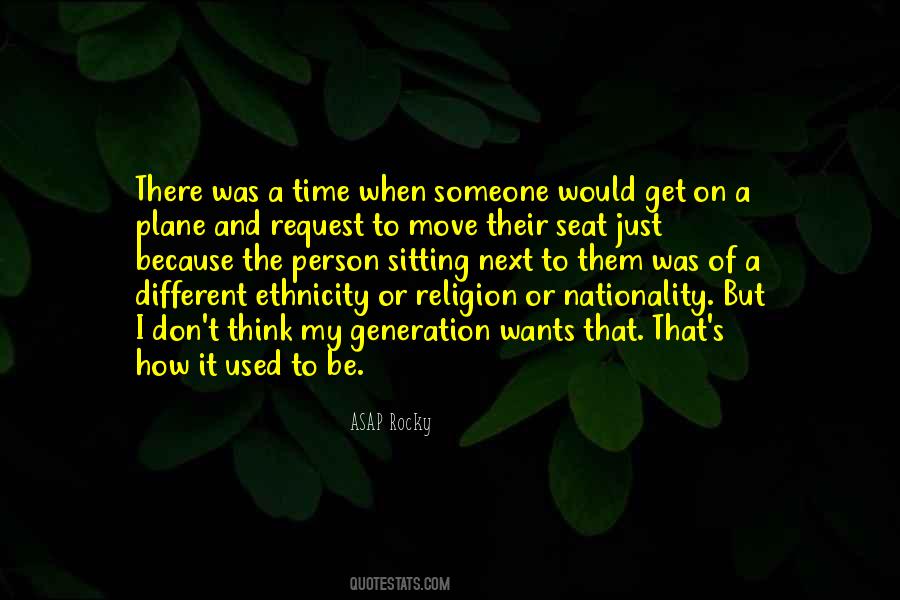 #48. I'm not crazy about how sort of homogenized pop music become. It used to be much more diverse. Maybe it's just what's played on the radio sounds very much the same.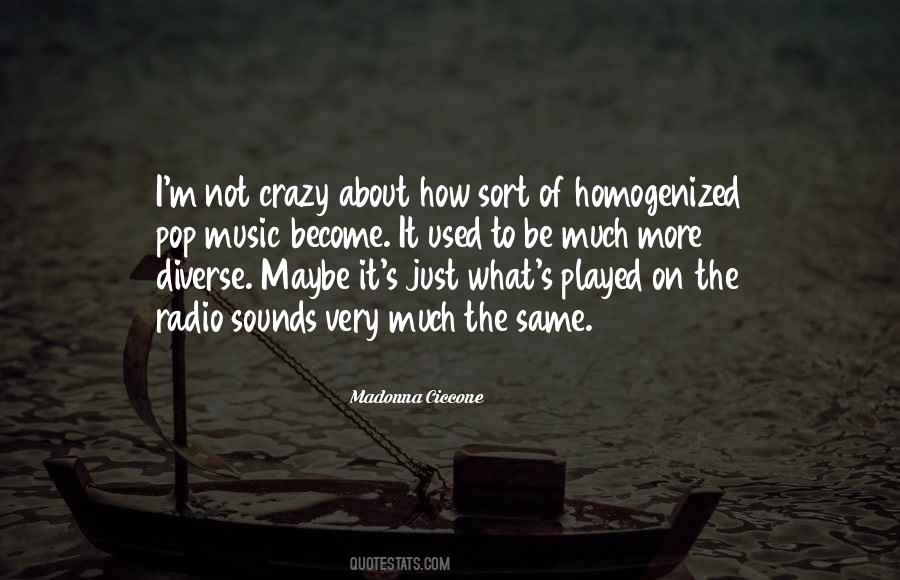 #49. I used to be encouraged when, after a Sunday's message, people would say, "John, that was a good message. You showed me things from that verse that I never would have seen. I don't know how you do it. Thanks so much." Howard Hendricks called this postservice time "the glorification of the worm.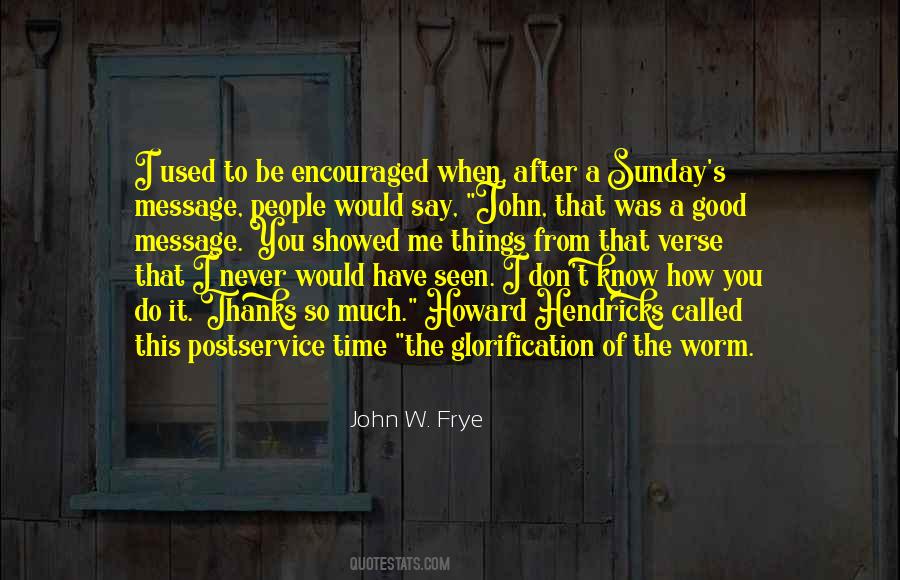 #50. I was a product of a divorced family and I used humor as a weapon to combat sadness. I used comedy to make my mother laugh in light of the darkness that she faced, and to me it became a very powerful tool at a very young age, at six. I saw how therapeutic it could be.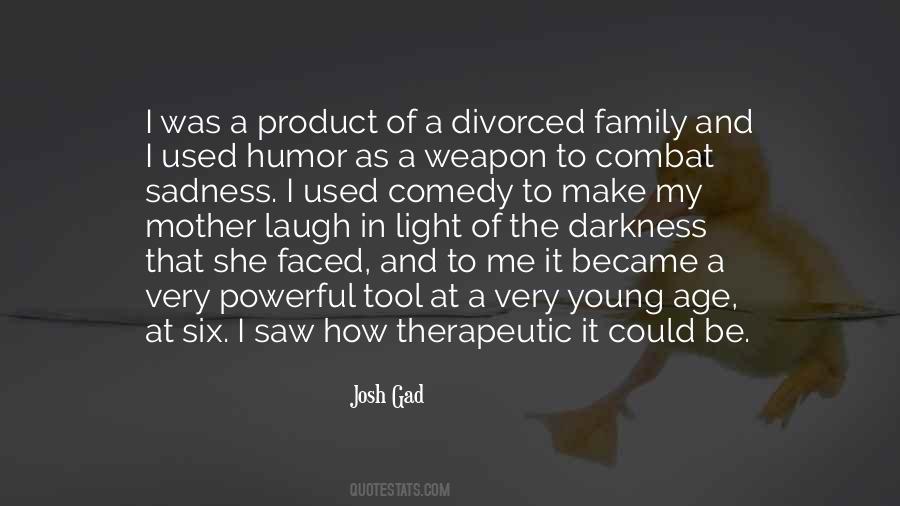 #51. I used to think that, given enough goodwill, anybody would be able to 'get' any music, no matter how distant the culture from which it came. And then I heard Chinese opera.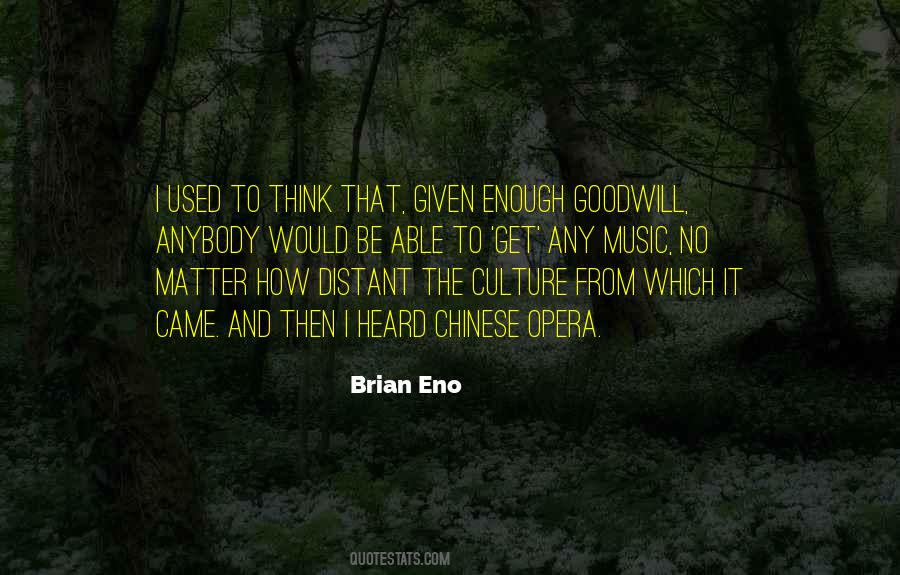 #52. I was desperate for a friend, and I used to lie in bed at night thinking about what it would be like. My younger brothers and sisters had friends, and I used to watch them playing to try to work out what they did and how friendship worked.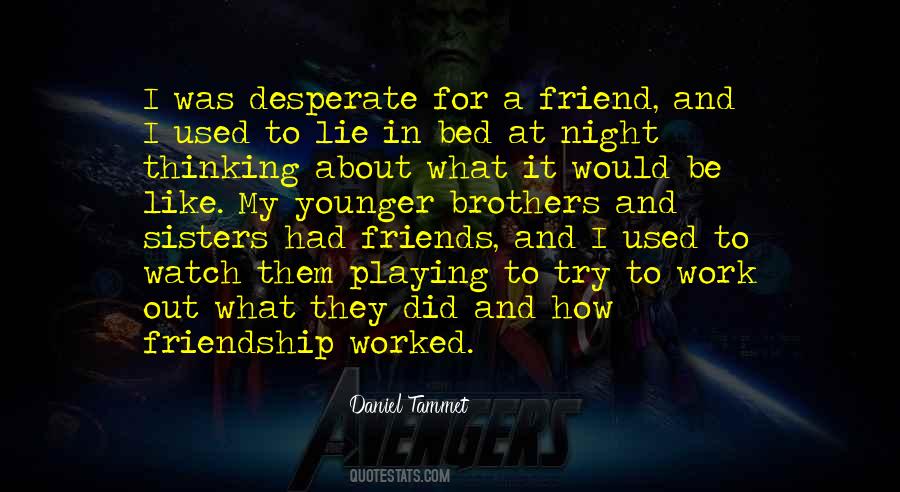 #53. How does it feel to be used Mare Borrow?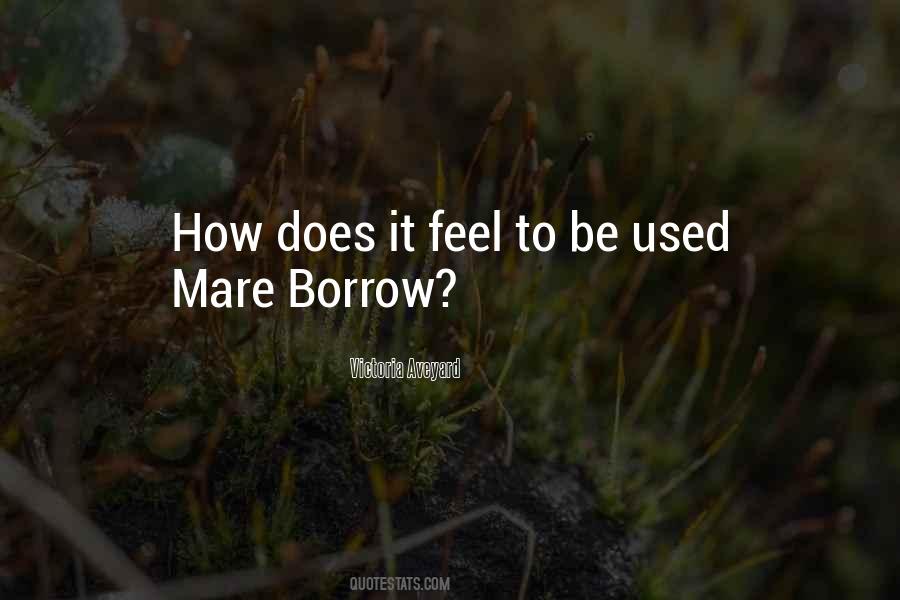 #54. It's funny how when people change, you forget the way they used to be.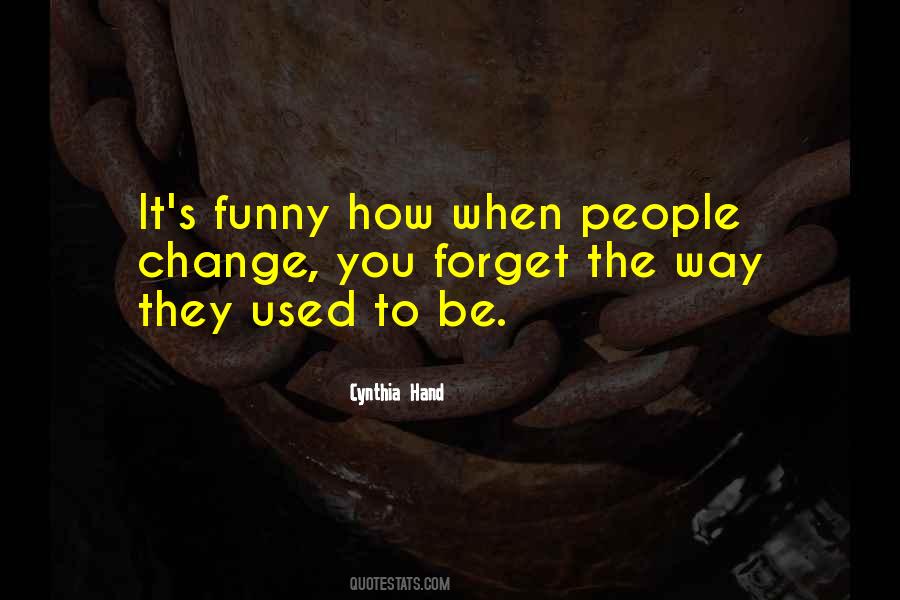 #55. Paris Hilton, that's very interesting what she did. I've never done that. I haven't really sort of ever got into that. As time passes, maybe I should record it and put it in a vault so that when I get a little old don't have the energy I can remember how life used to be.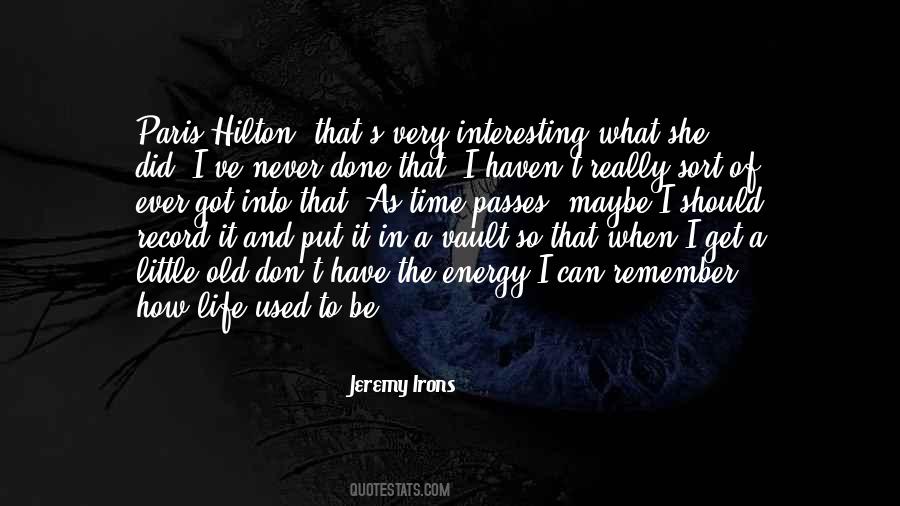 #56. It used to be that you had to do a certain number of episodes to hit syndication in order to try to keep a show on, because it's important to the network because it sells good commercial time. That's really not how HBO does things.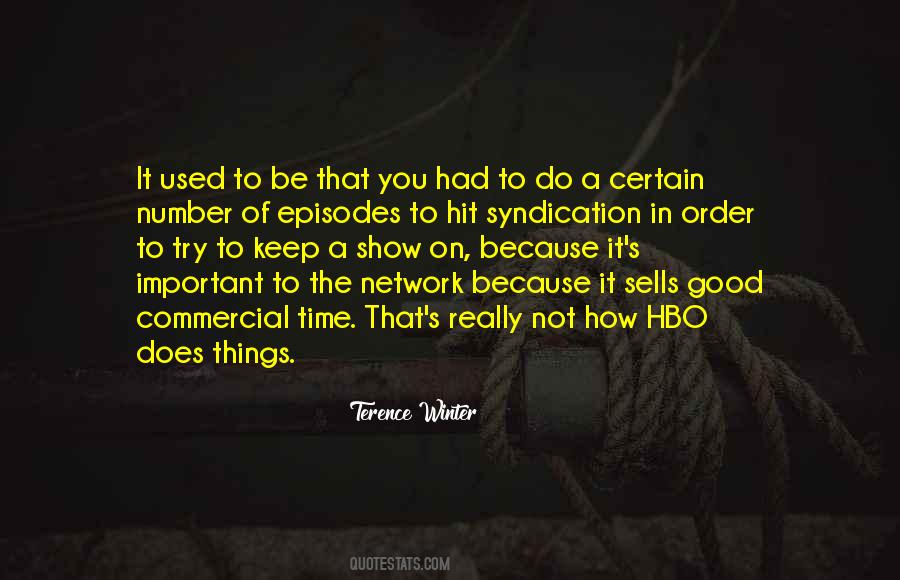 #57. I don't know when I stopped mattering to him, and I don't know how to undo it. I want it to be like it used to, when all he needed was me.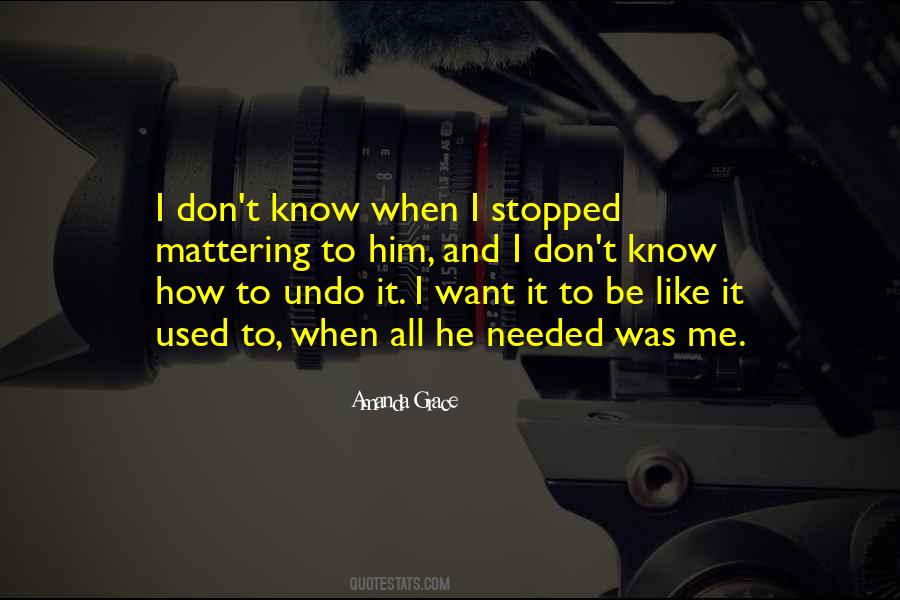 #58. In the university library, we know when a book has been used in a class or put on reserve ... or while it was out, did somebody call it back in. It turns out to be a pretty good indicator of how relevant the work is at that time.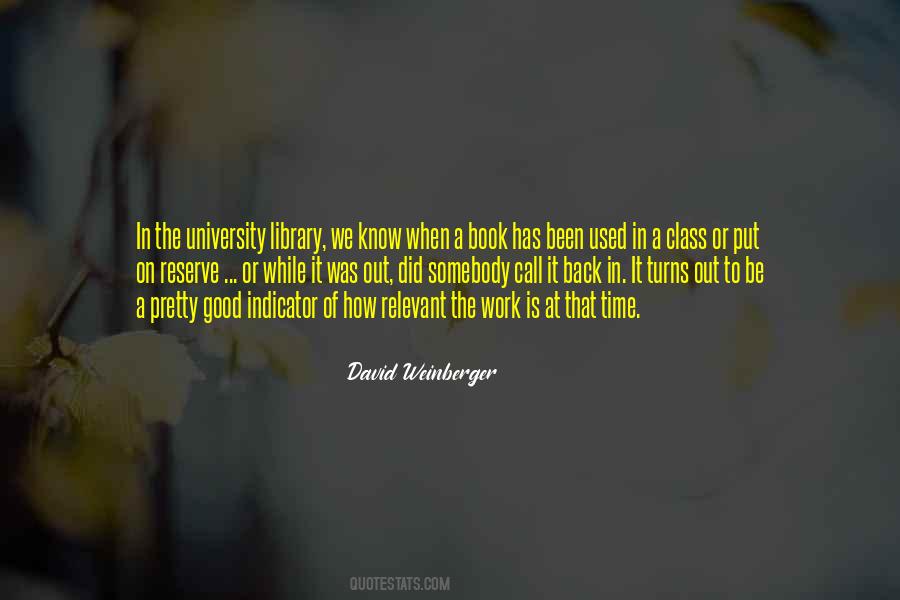 #59. I used to be a butcher. She used to come into my store. Every week I would set apart the best piece of meat for her. And look how it turned out - I ended up with the best piece of meat of them all.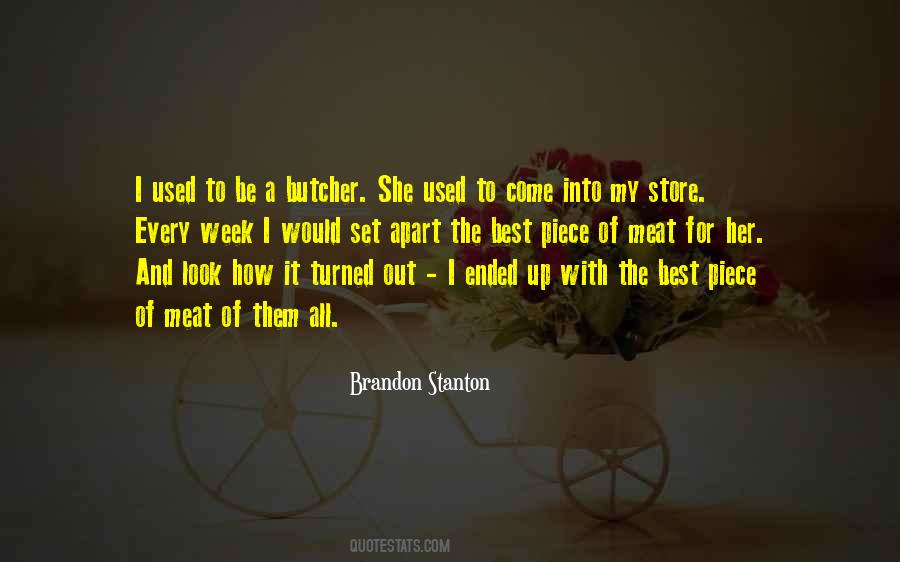 #60. No matter where you are in the game, no matter how successful you might be, there will always be others out there who are more talented or more beautiful or more connected than you. Get used to it! If you start dwelling on everybody else's genius, it'll become a huge wave of doubt.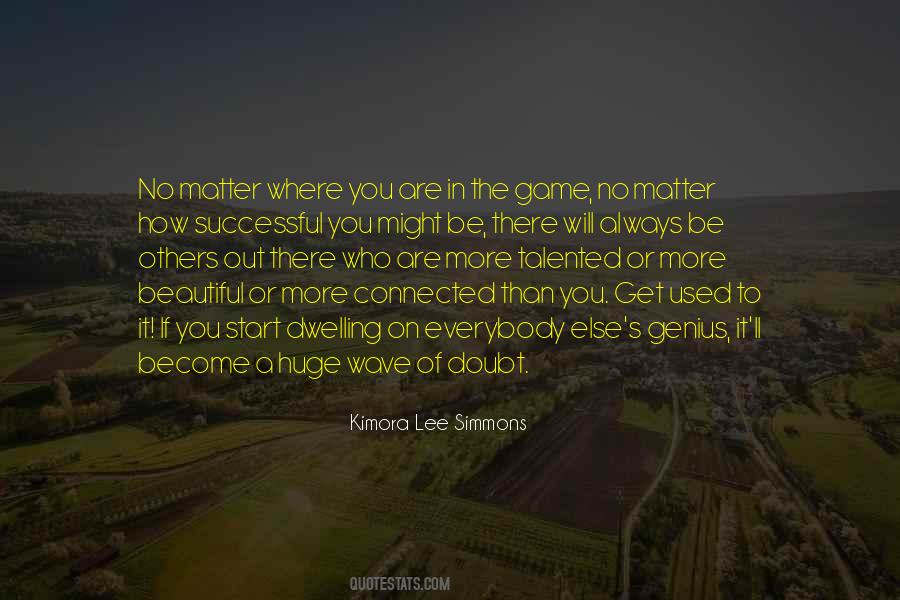 #61. Grief can be a burden, but also an anchor. You get used to the weight, how it holds you in place.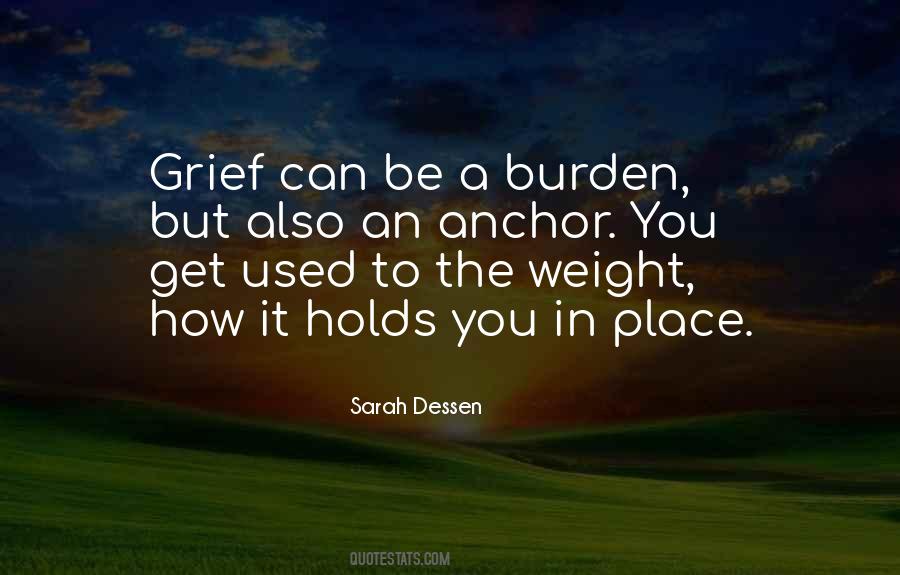 #62. How Gloomy it is, to pause, to cease and to rust unburn, to get used and be indistinct. Like to live is to breathe.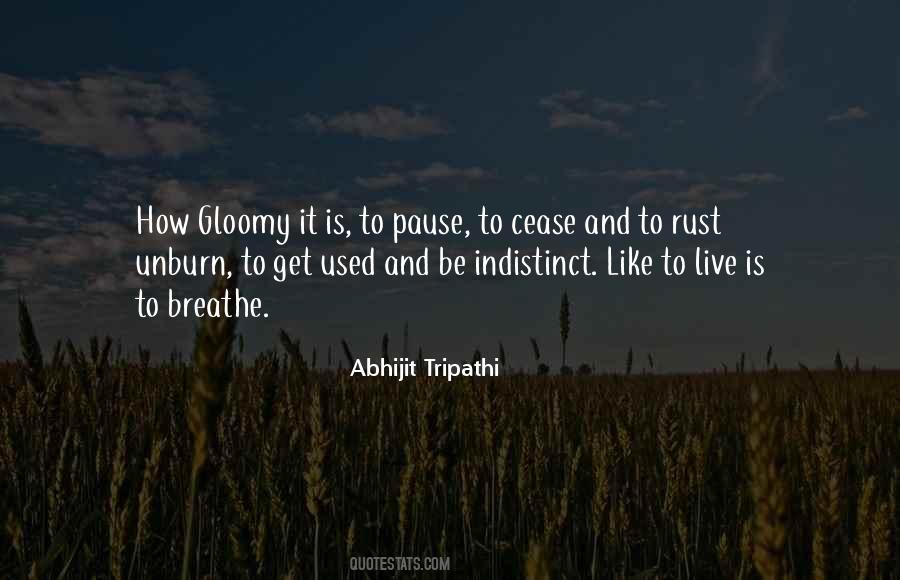 #63. Glenn used to say the reason you can't really imagine yourself being dead was that as soon as you say, 'I'll be dead,' you've said the word I, and so you're still alive inside the sentence. And that's how people got the idea of the immortality of the soul - it was a consequence of grammar.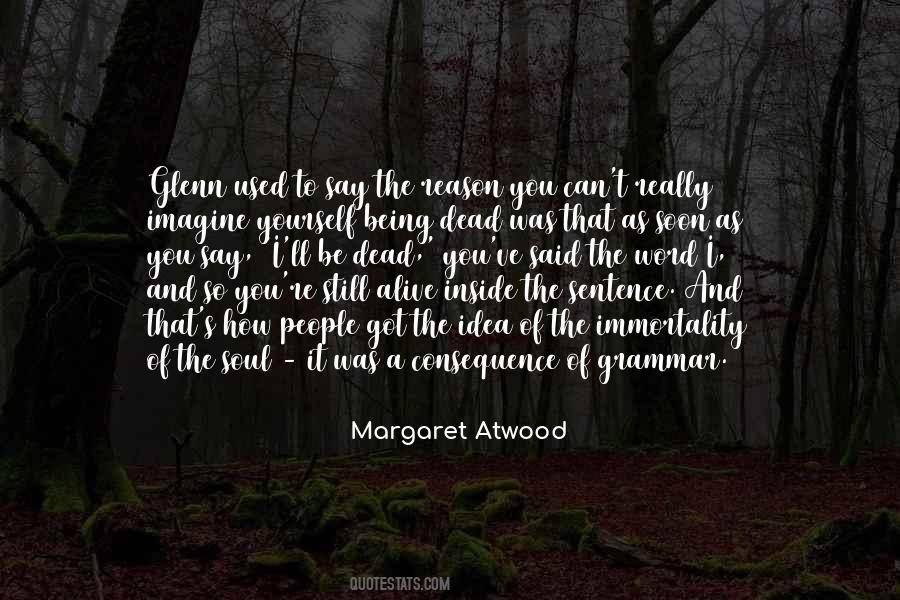 #64. When you focus on how wonderful God is and all the great things He's done ... is doing ... and even will do in your life, your natural response will be praise, adoration and awe. Don't let yourself ever get used to it ... stay amazed!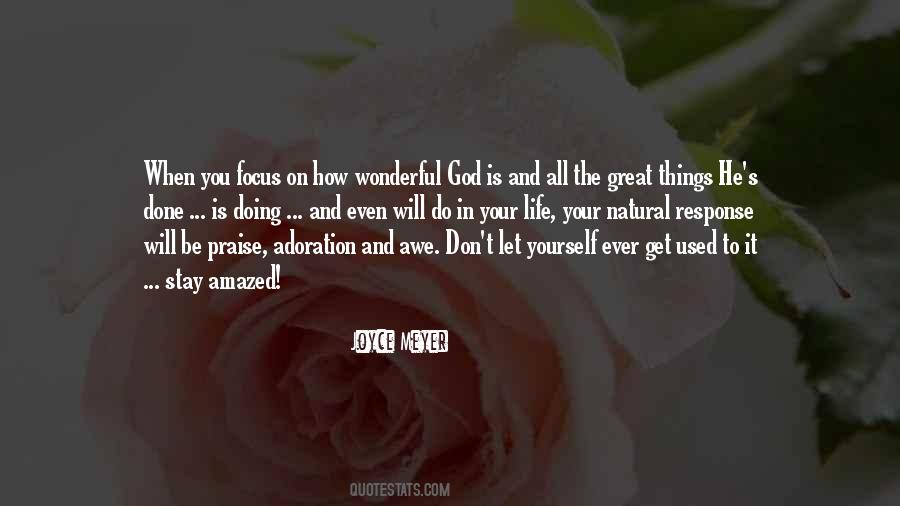 #65. The ultimate art form of fashion is couture. I completely geek out when it comes to couture. It shows fashion as it used to be. I don't know how many people can actually afford the clothes, but in a way, that's beside the point.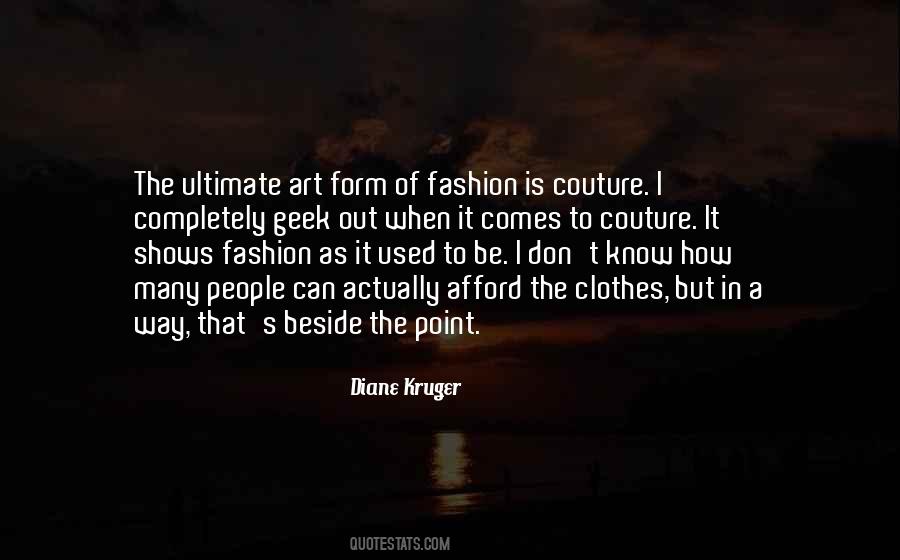 #66. How dare we be pessimistic? Maybe the future is better than it used to be.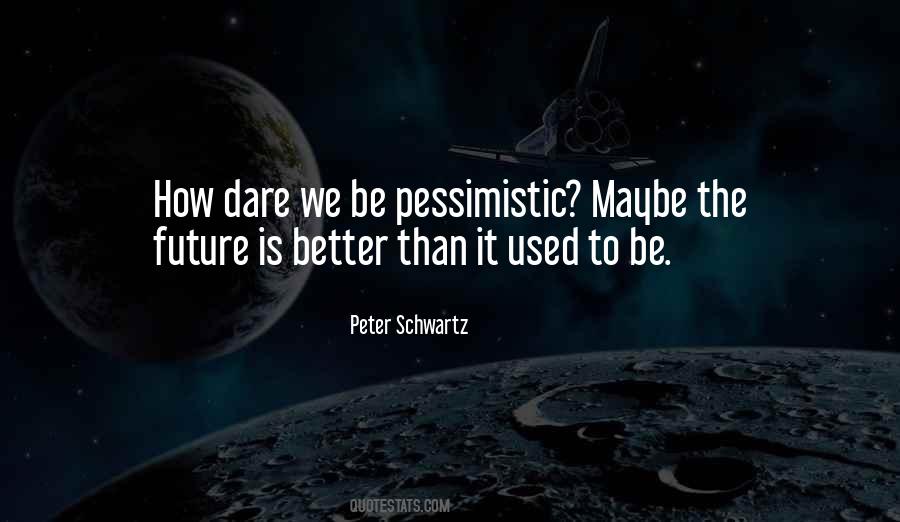 #67. The Bible tells us to be perfect. This is likely a scary thought for many people. It used to scare me. I didn't think I could ever get there, no matter how hard I tried.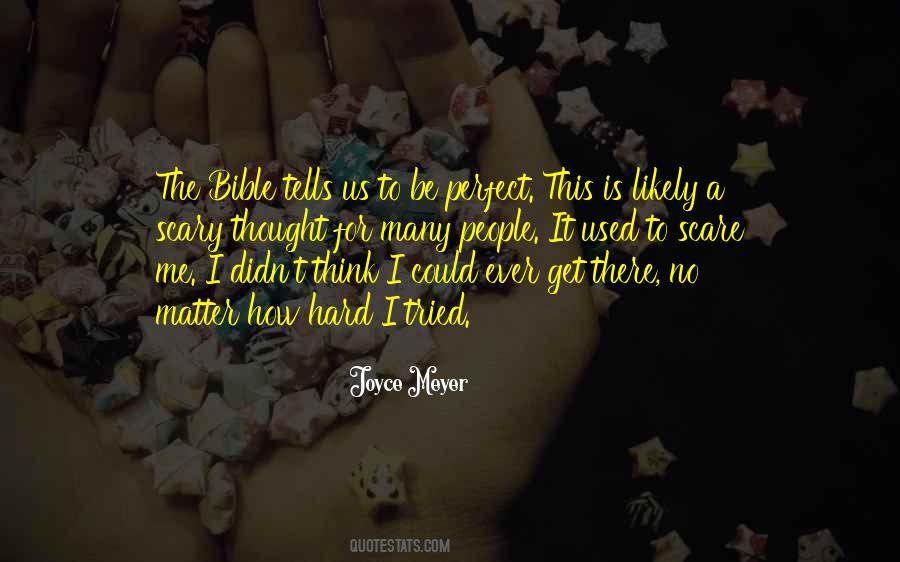 #68. Sometimes we get so used to not really feeling anything, just going with the flow, that we forget how it feels to be really happy or sad.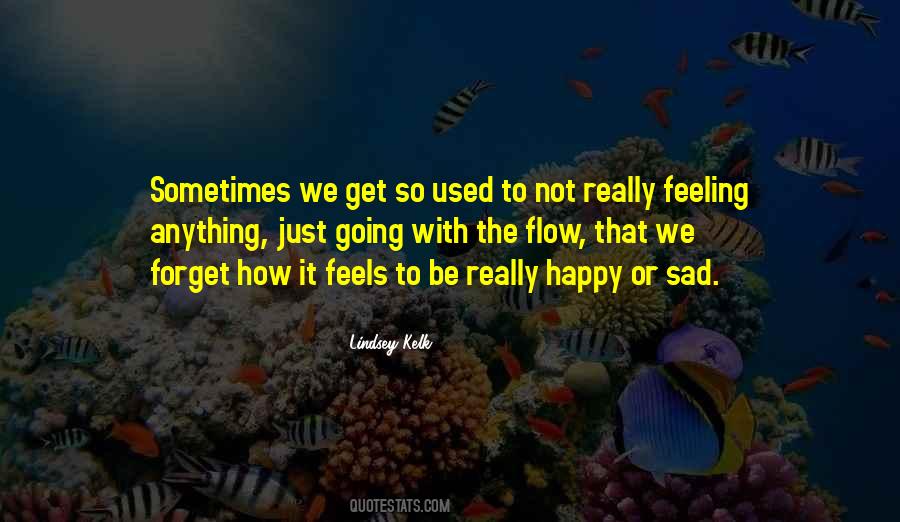 #69. I don't take things for granted, because everything feels more fragile. It's made me wonder about mortality and how long you've got somebody in the world. I'm more fearful than I used to be.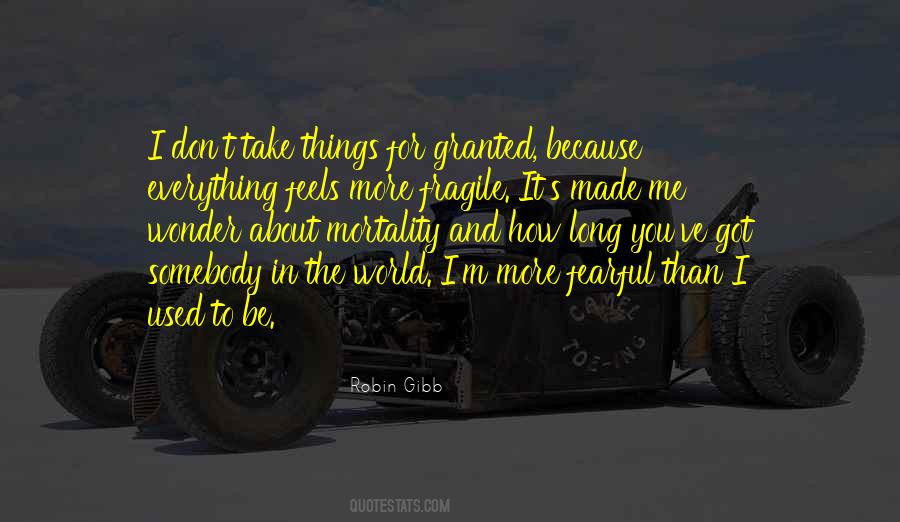 #70. Work out really hard and be confident because bodies are beautiful, sensual and natural. I've also trained in Wushu, a form of martial arts - it's very beautiful and flowy, and it's predominantly used in fight scenes in movies, which is how it was introduced to me, and I just love it.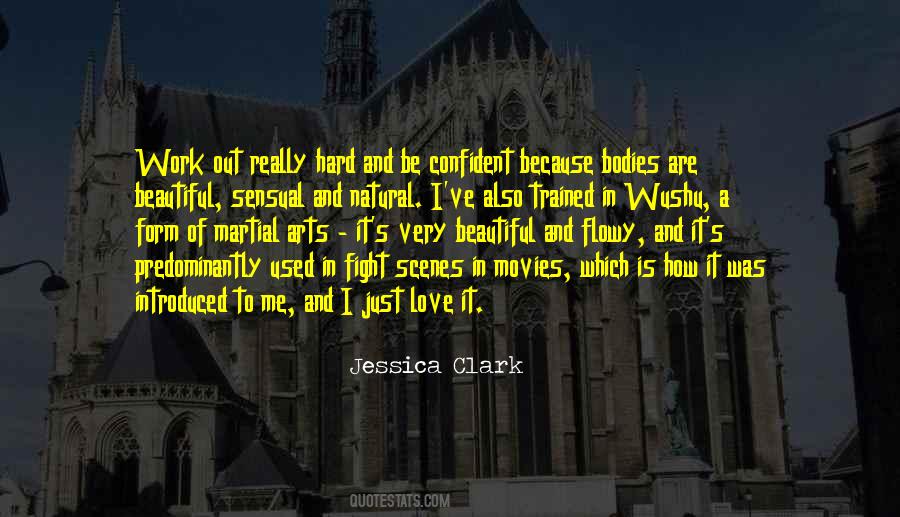 #71. A lot of West Virginia is untouched. It doesn't have as many strip malls, it has these old towns that feel like it used to be how it looked. Charleston has this river that runs through it, and it's really beautiful.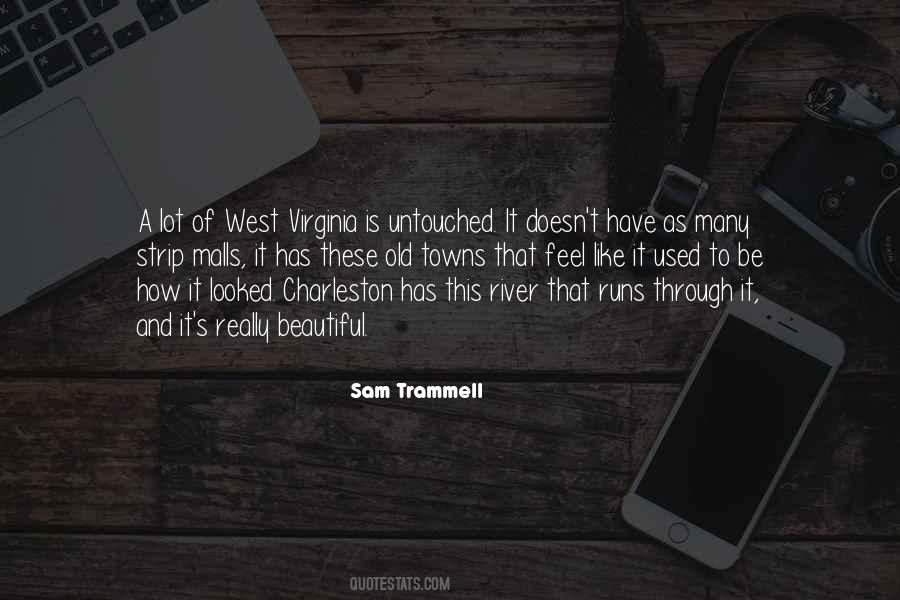 #72. Government - they used to teach it in college. It's actually something you should study and learn and know how to do. The Republicans always run on the idea that government isn't very effective. Well, not the way you do it. But it can be effective.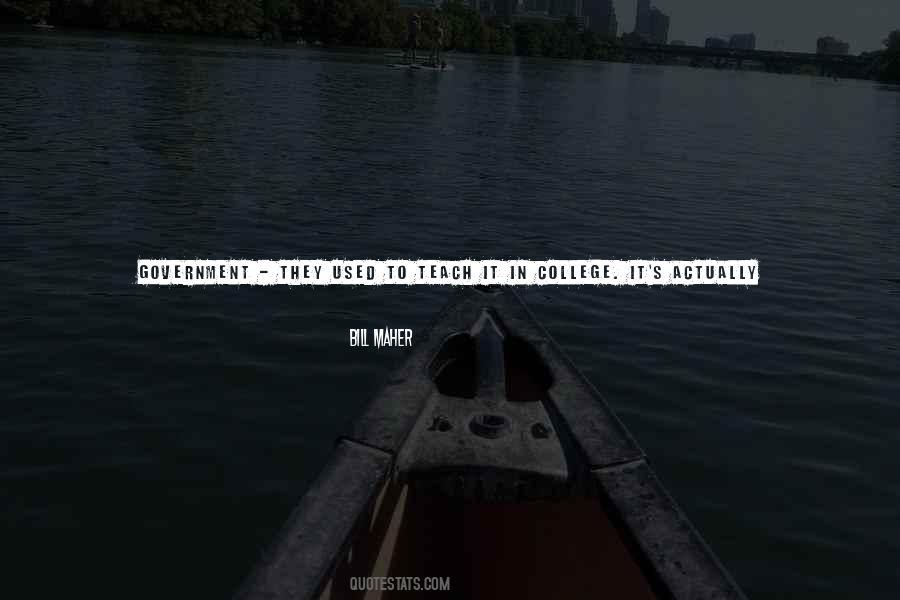 #73. When you're used to being in dangerous situations, you develop a sixth sense about your surroundings, about where possible enemies might be lurking, how many steps it will take to reach the next corner on a dead run, the best hiding places if bullets start to fly...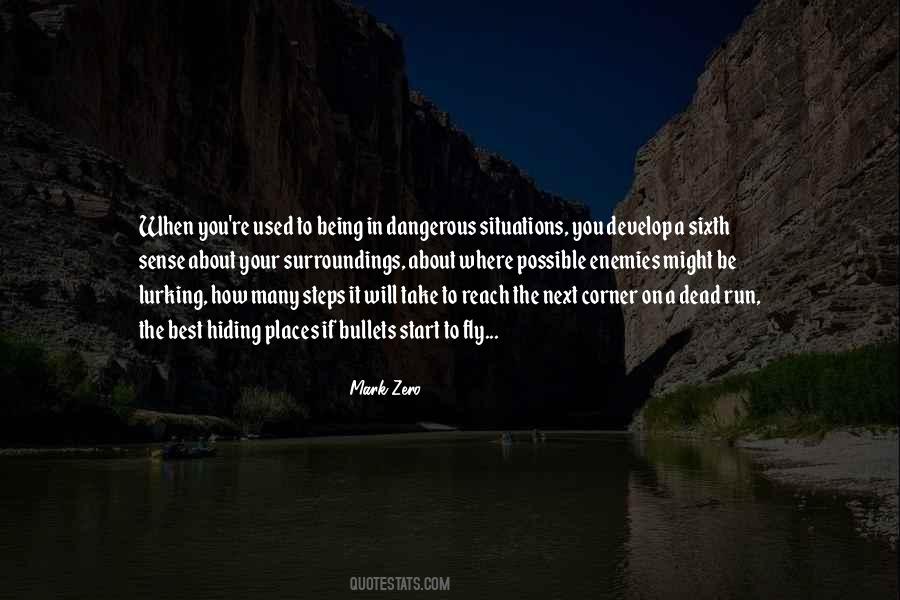 #74. I used to have a fake Louis Vuitton bag because I thought it meant something in life. But now I realize that all the things in the world don't define you. It's what you stand for, what you're willing to do, how close to the truth you're willing to be in your life.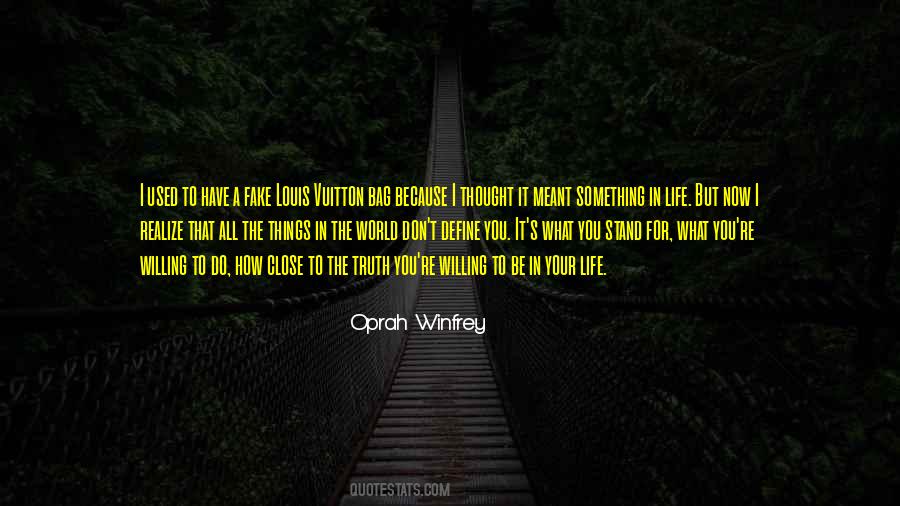 #75. When I used to have a show on French TV, people would ask me how my jacket stayed spotless while cooking. Your whole area has to be clean - and you have to keep it that way.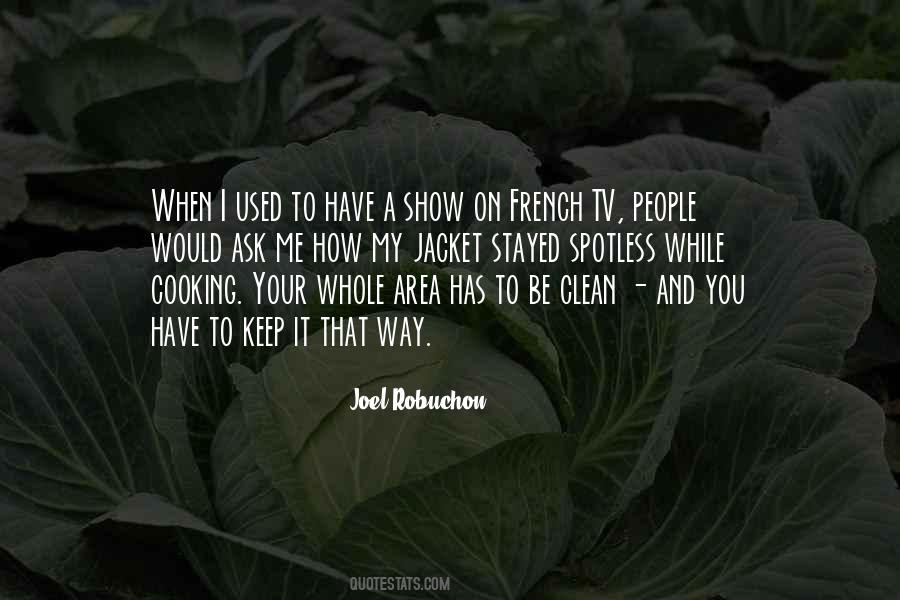 #76. Over the last ten years, breaking into comics has changed so much. There used to be specific ways about how to do it ... and now, just like there are so many different ways people are getting exposed to comics, there's no single way that people are breaking in anymore.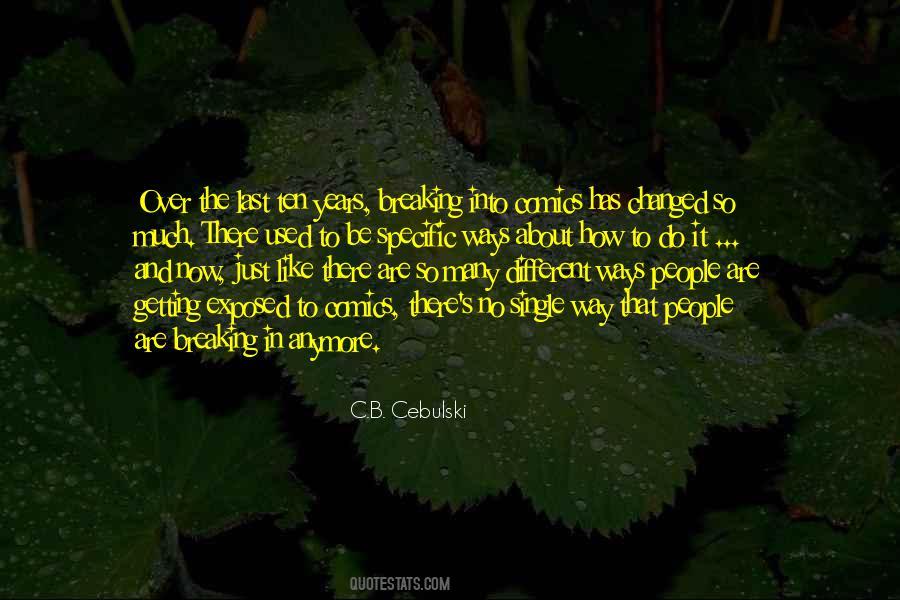 #77. The first thing you have to get used to in any kind of acting is the ability to make a fool of yourself. If you haven't learnt how to make a fool of yourself, you shouldn't be on the boards. That's absolutely what it's all about.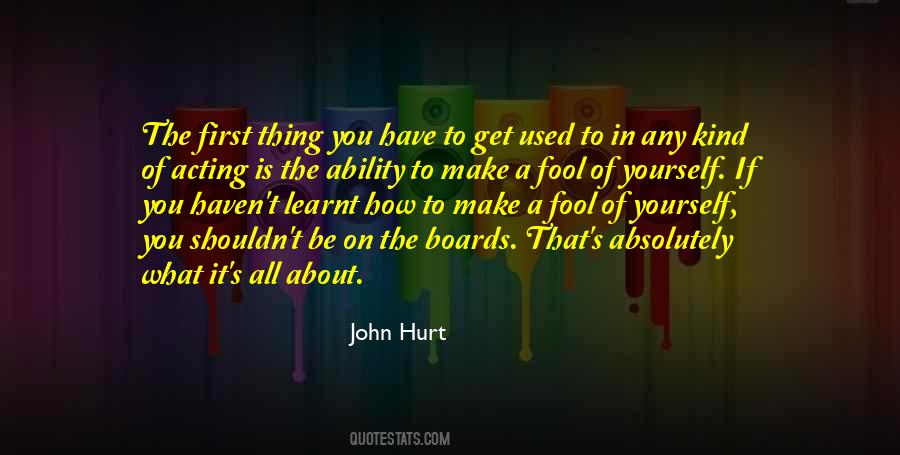 #78. I'd like to invoke the Native American Navajo because their word for road is used as a verb. Their whole relationship to road has to do with how you travel it, who you are traveling it with, what the environment might be, where you're headed, in what direction, the weather and so on.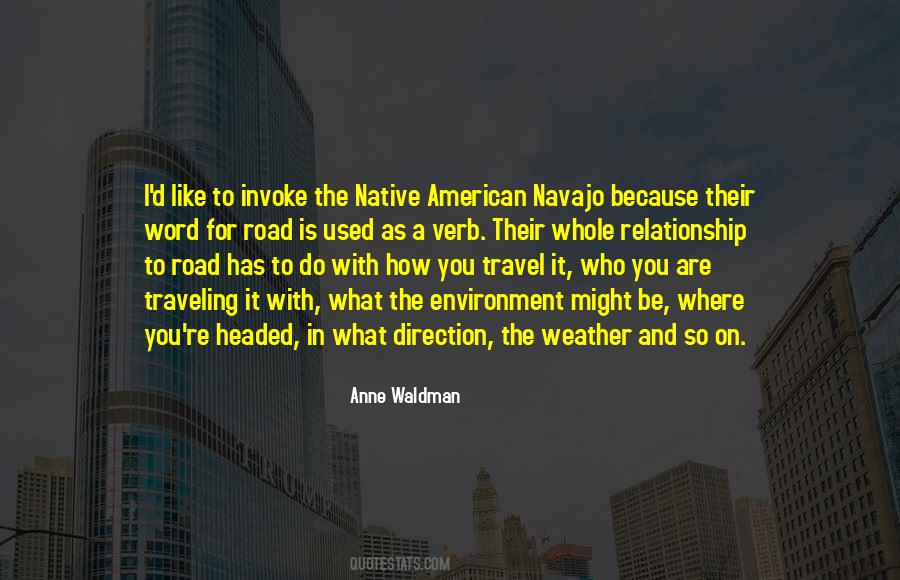 #79. When we talk about how movies used to be made, it was over 100 years of film, literal, physical film, with emulsion, that we would expose to light and we would get pictures.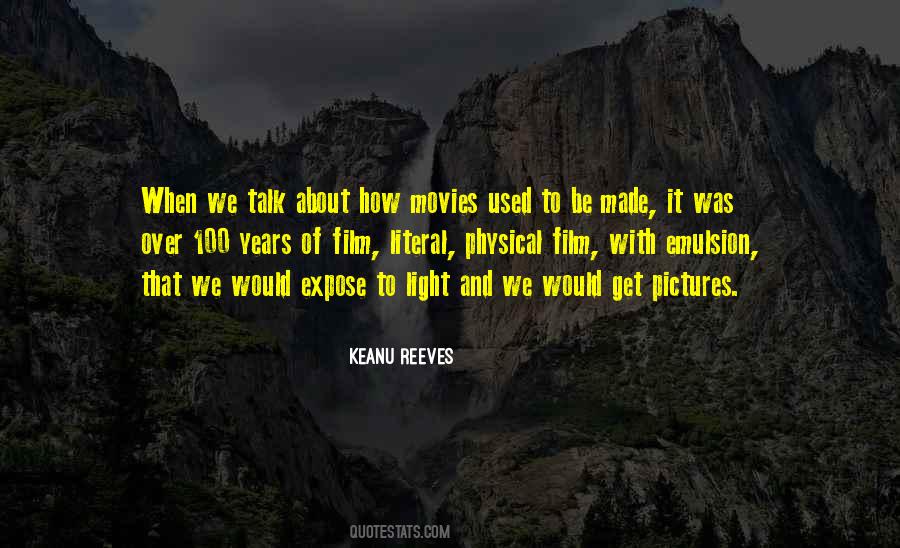 #80. But then I think about my sister and what a shell-less turtle she was and how she wanted me to be one too. C'mon, Lennie, she used to say to me at least ten times a day. C'mon Len. And that makes me feel better, like it's her life rather than her death that is now teaching me how to be, who to be.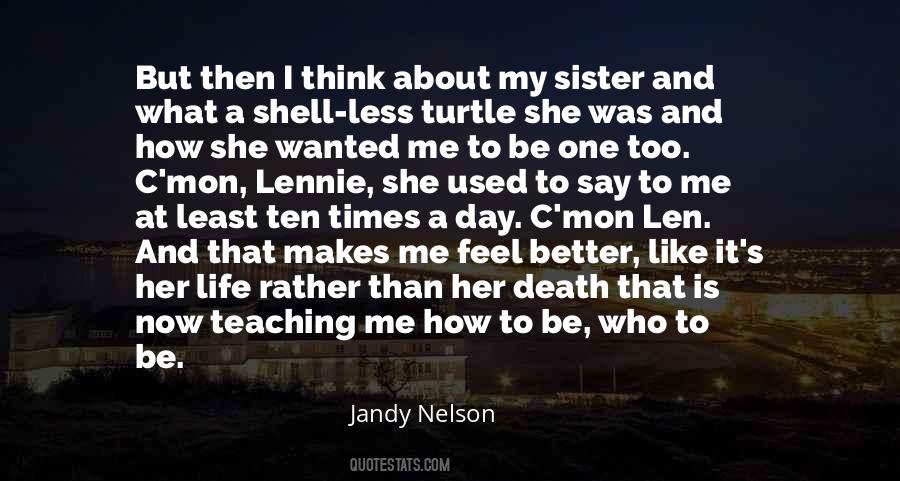 #81. God works in mysterious ways his wonders to perform, as Reenie used to say. Could it be that Myra is my designated guardian angel? Or is she instead a foretaste of Purgatory? And how do you tell the difference?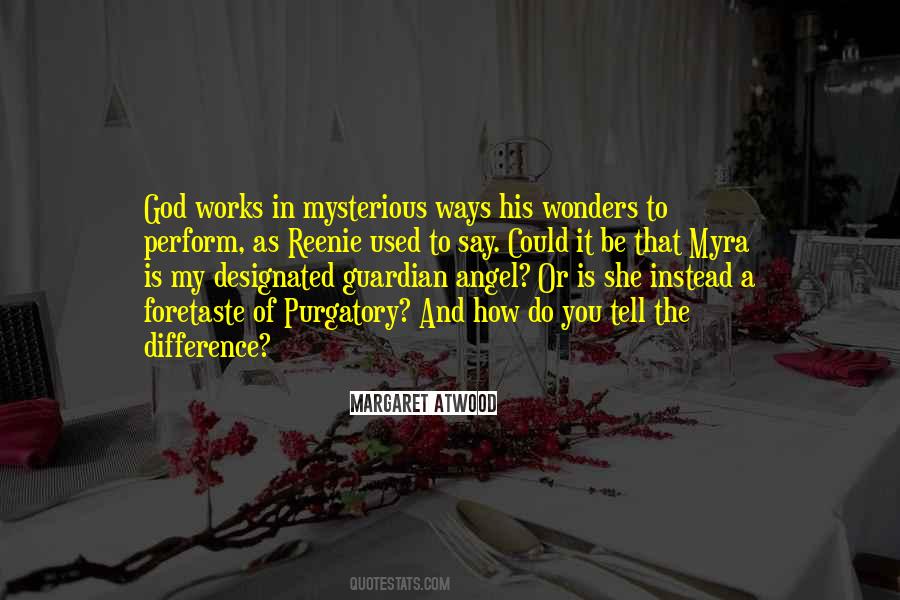 #82. When I was, like, 5 years old, I used to pray to have light skin because I would always hear how pretty that little light skin girl was, or I would hear I was pretty to be dark skin. It wasn't until I was 13 that I really learned to appreciate my skin color and know that I was beautiful.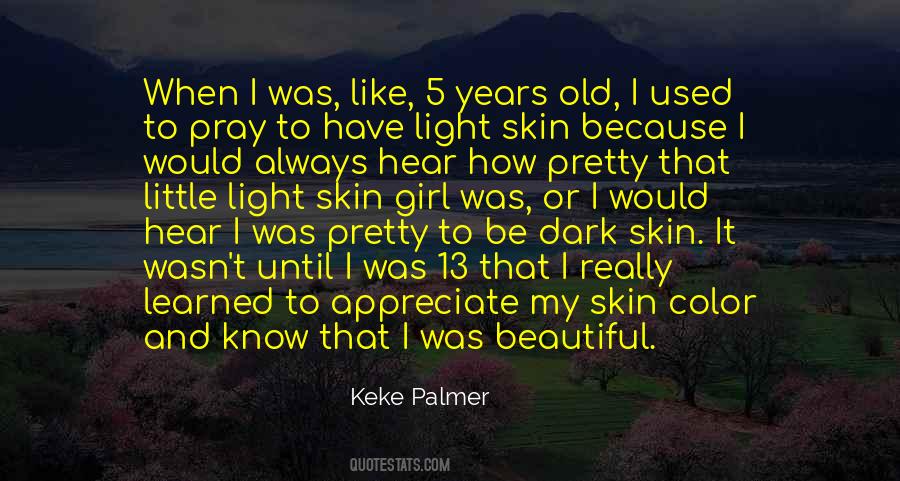 #83. And we have the tools. We have the tools to choose. They are free, and within you now! It is the tool of conscious thought. Imagine your life and how it could be better if you used the power of conscious thought effectively?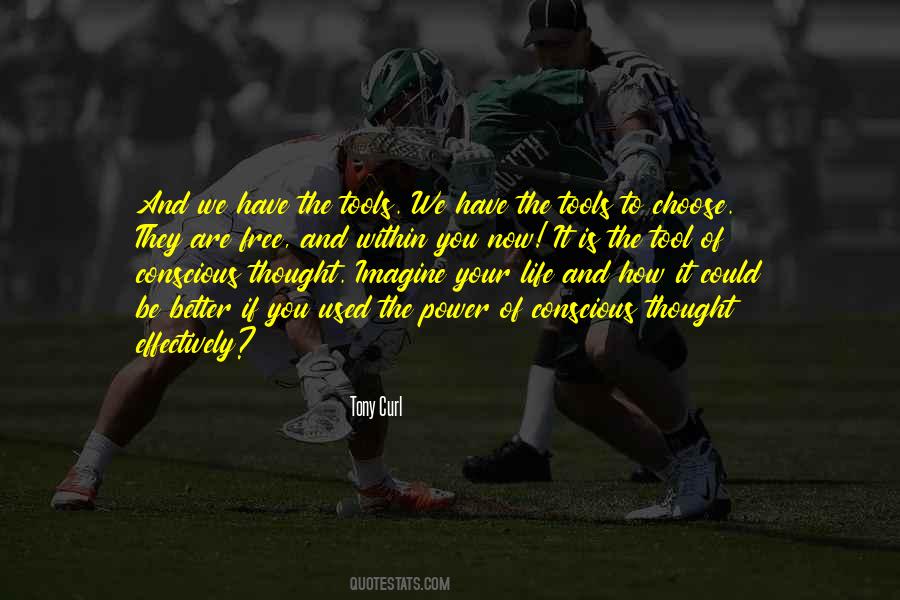 #84. When I'm at the bottom looking up, the main question may not be 'how do I get out of this hole?' In reality, the main question might be 'how do I get rid of the shovel that I used to dig it?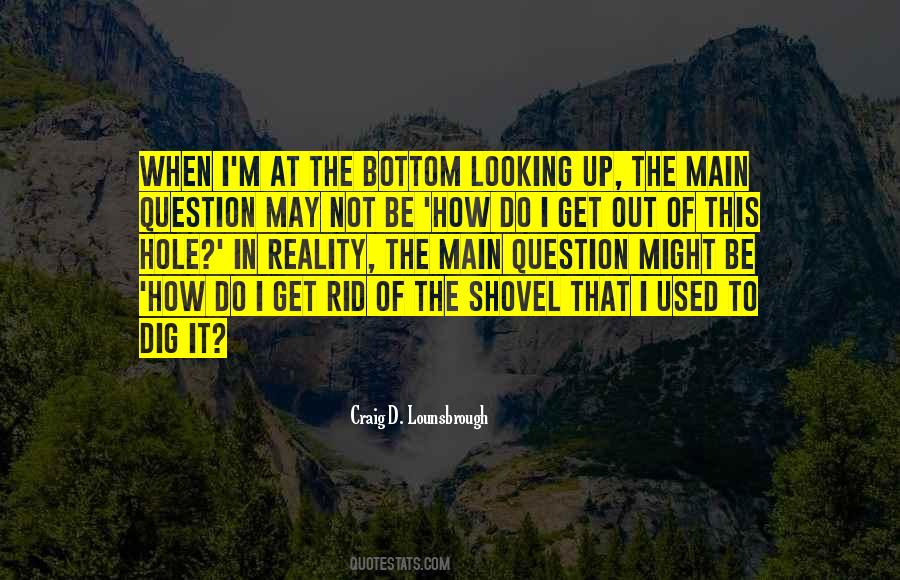 #85. It seemed glamorous when I used to go into work and get to be on a trading floor or see how the business worked a little bit before I ever understood what it was.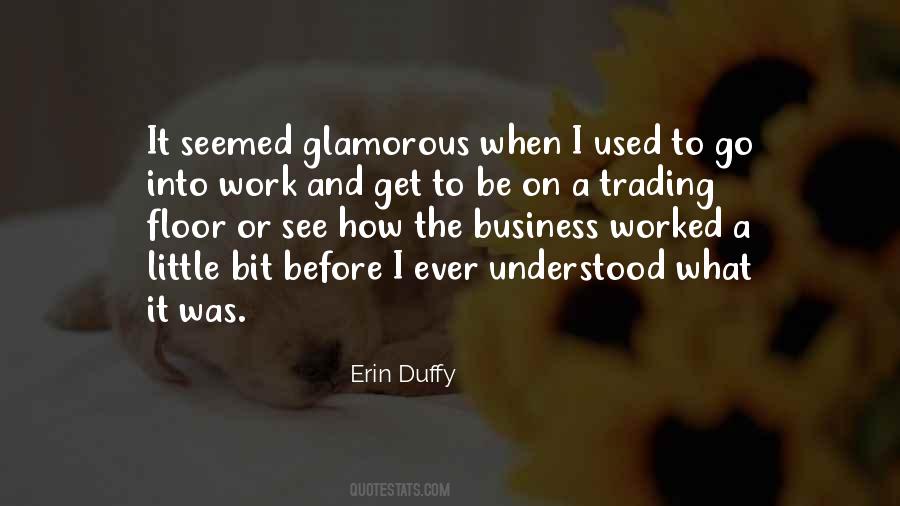 #86. I do not think that the nerve of the modern child is any too good; how can one expect it, brought up as they are amongst all the horrors of civilization. The 'daring' child who used to be common enough, is seldom met nowadays.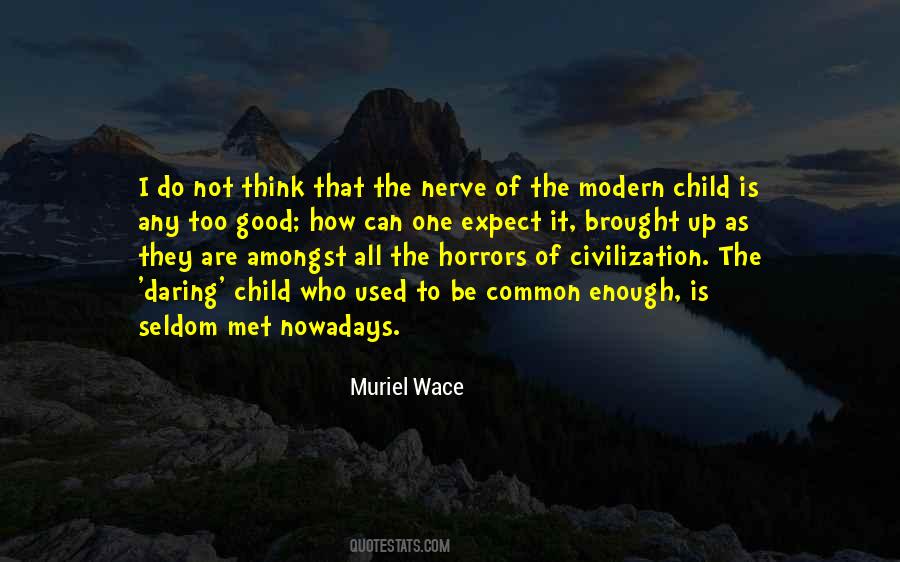 #87. You know how old I am? I'm so old, I remember when Letterman used to be funny and it was presidents who were serious. That's how old I am.
#88. I'm used to people with very high IQs knowing how to recognize reality, but there's a huge human tendency where it may be instructive to think that whatever you're doing to succeed is all right.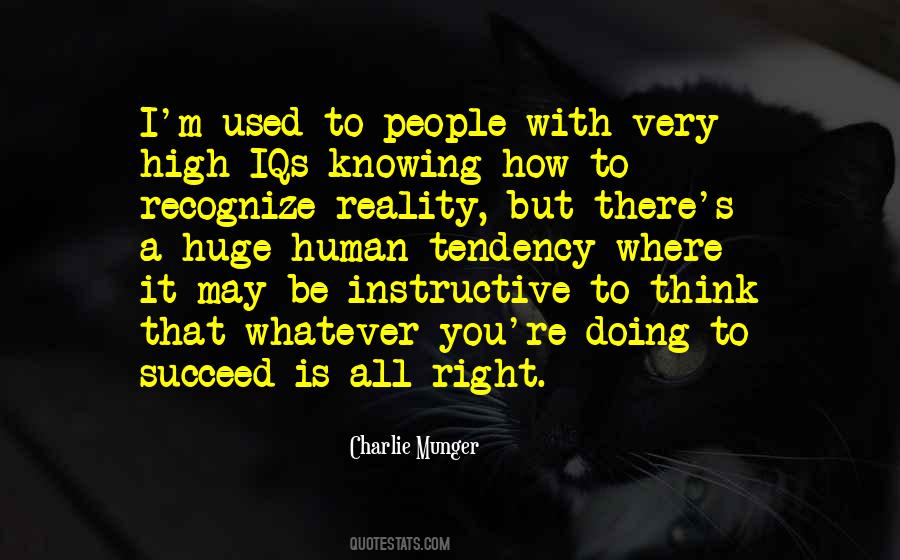 #89. It's too weird to think about - how death seems to rewrite all the rules. People who never talked to each other can suddenly cry together. People who used to be close can hardly bear to be in the same room.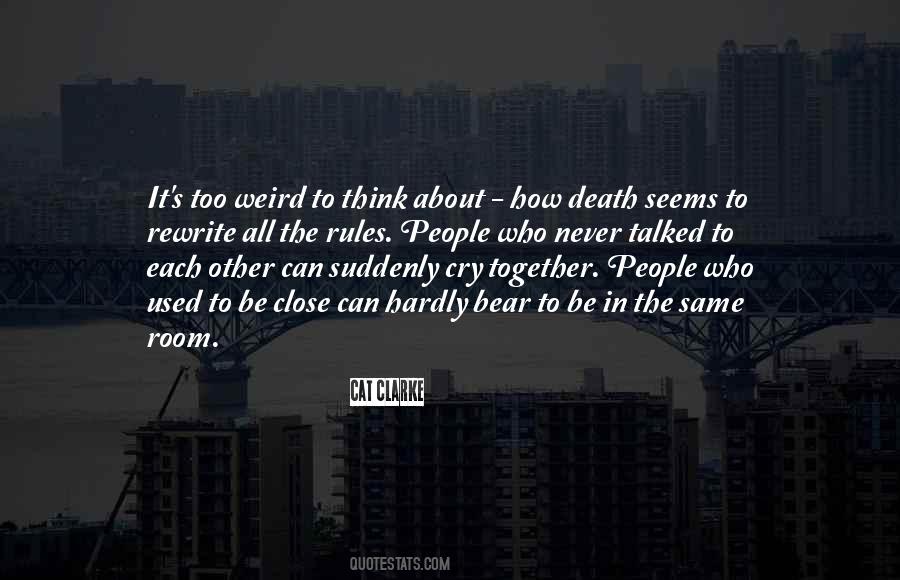 #90. It's strange. How hollow i feel. Like there might be echoes inside of me. Like I'm one of those chocolate rabbits they used to sell around Easter, the ones that were nothing more than a sweet shell encapsulating a world of nothing. I'm like that. I encapsulate a world of nothing.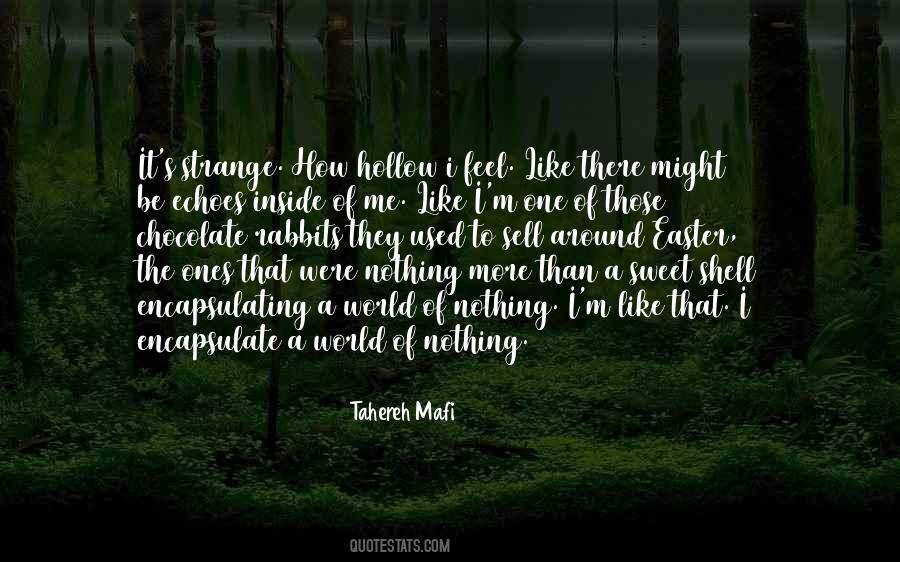 #91. A brick could be used as a way to motivate yourself to succeed. I'm proof that it works. It's how I managed to get second to last in my last race.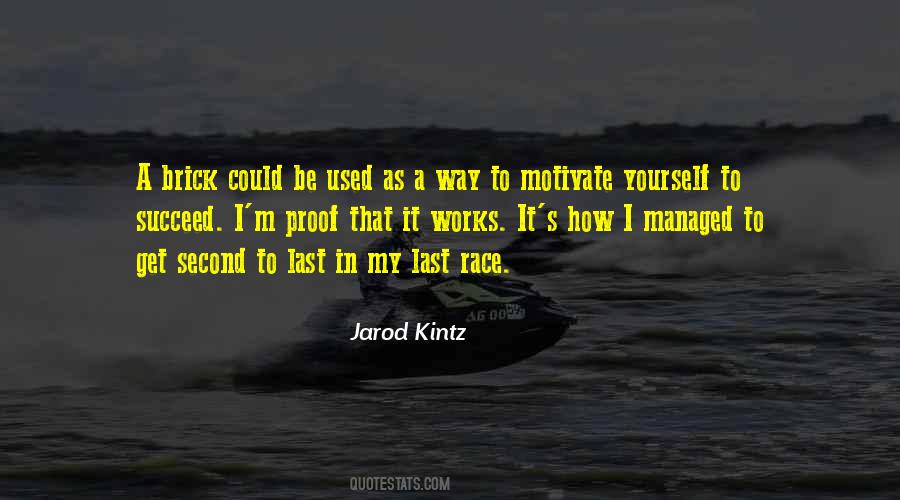 #92. The peasants of Sicily, who have kept their own wheat and make their own natural brown bread, ah, it is amazing how fresh and sweet and clean their loaf seems, so perfumed, as home-made bread used all to be before the war.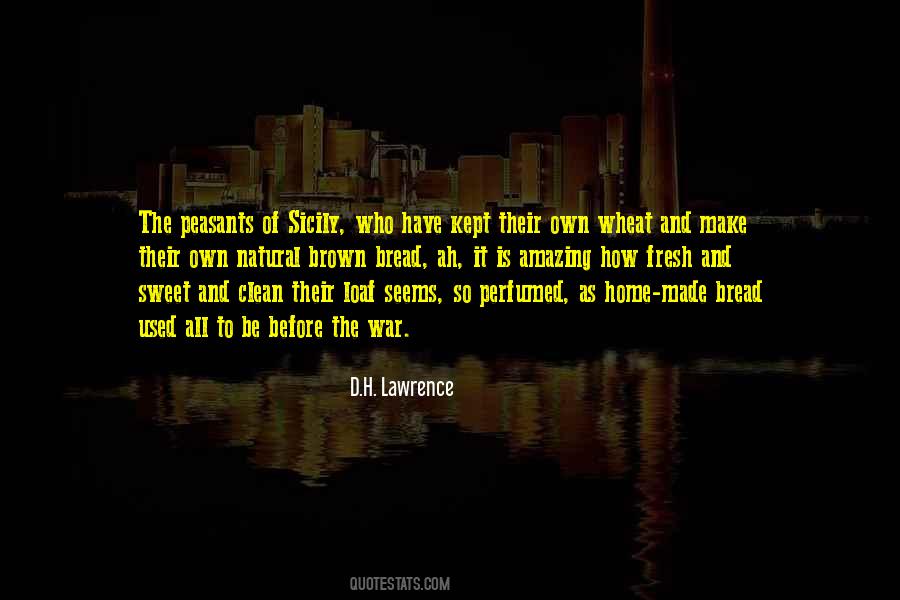 #93. If coal is going to be used, the only response - because it is the dirtiest of all fuels - is that we have to learn how to do carbon capture and storage and we have to learn how to do it quickly on a commercial scale.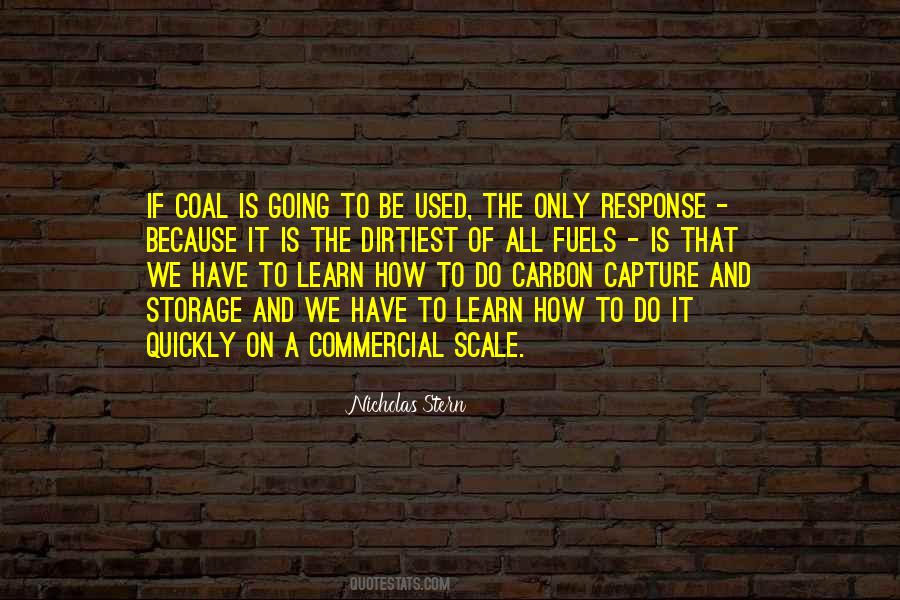 #94. My aunt used to tell me that trust was like a plate. Once it was broken, it didn't matter how much glue you used to put it back together; it would never be the same. So here I am holding onto the broken fragments of our love - our marriage - trying not to cut myself with them. Some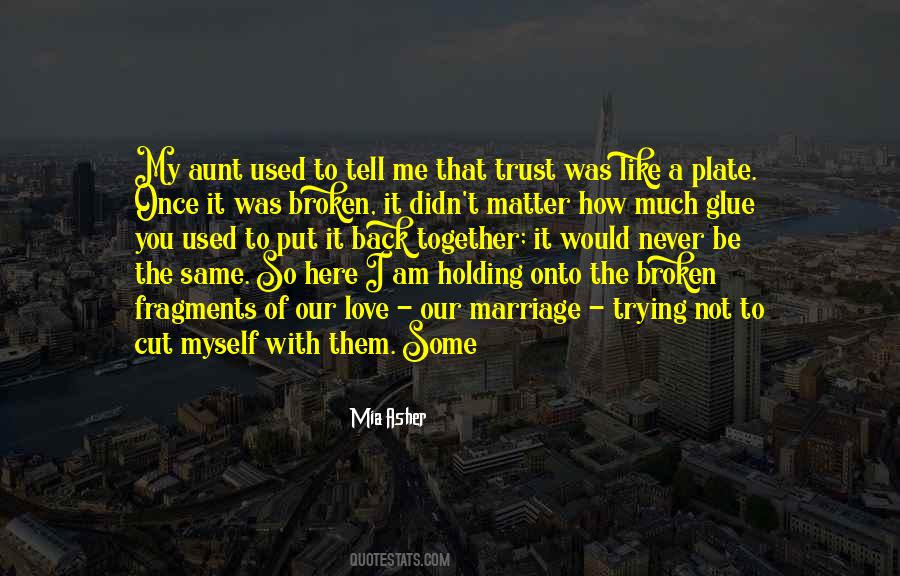 #95. So this was how it was going to be: use the half-blood for her peculiar party tricks. I should have expected it. I'd been used to it most of my life. Why should things change now?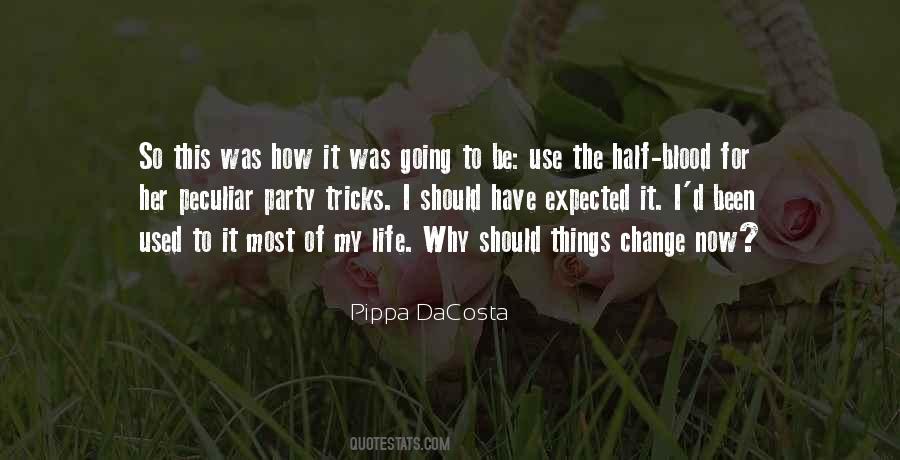 #96. We cannot go backward,' Marco says. 'A great deal is not how it used to be.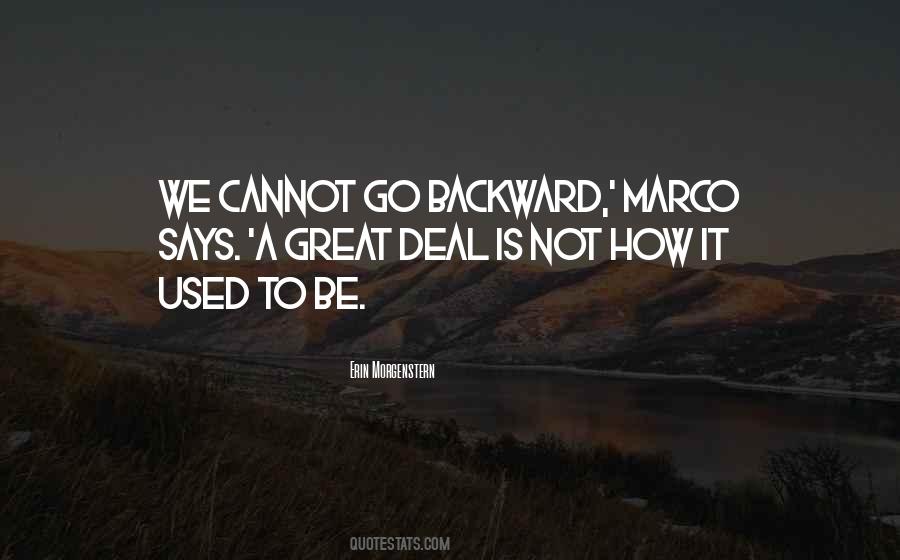 #97. The venerable cypress clings doggedly to its rocky perch, its branches spreading wide and high into the sky. 'See how it stands proudly, even in such inhospitable conditions?' our father used to say. 'This is how we must always be - strong and resilient, no matter what's around us.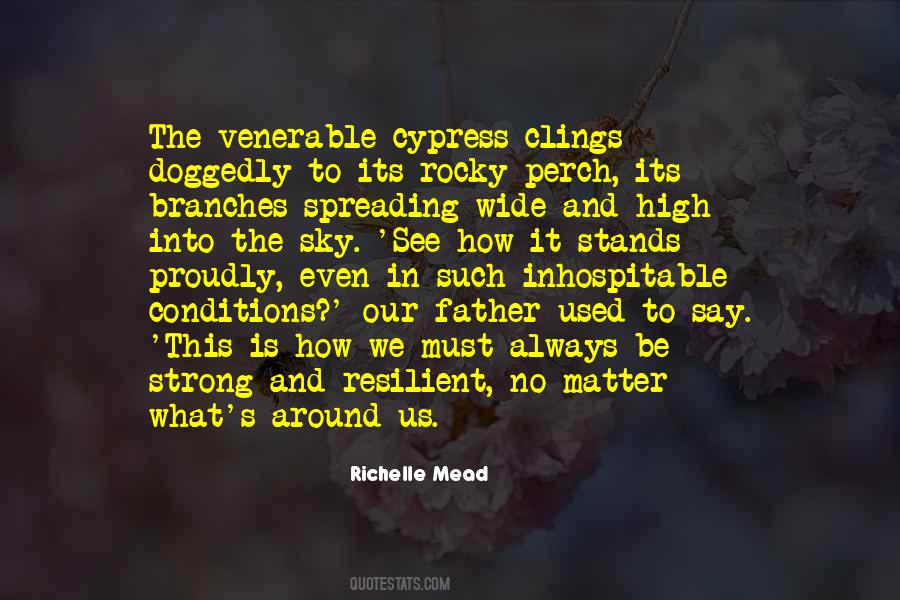 #98. how it is that Israel is capable of absorbing Jewish refugees, hundreds of thousands from Arab lands, and yet Arabs refuse to absorb the Arab refugees from Palestine or allow the land of Transjordan (now called Jordan), taken from the region of Palestine, to be used for these refugees.9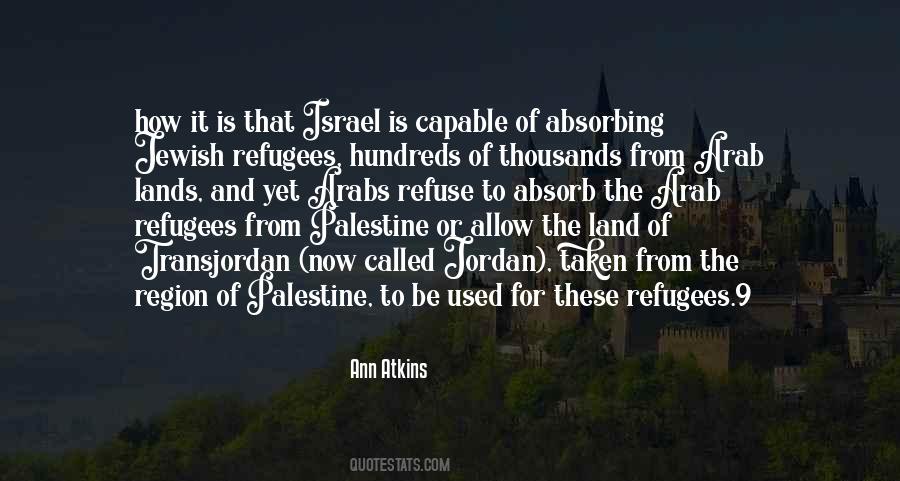 #99. When you first take someone's life, two people die. The person you just killed and the human
being you used to be. You're never the same after that - it changes you forever and not in a good way
- and no matter how hard you try, you can't go back to the innocence you had. Ever.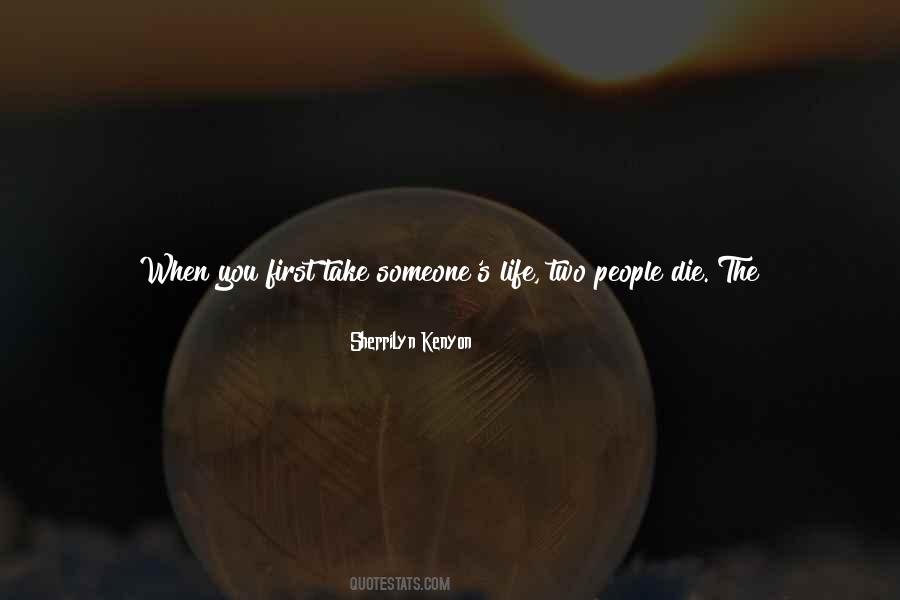 #100. I've been a storyteller all my life. When I was in high school, I used to amuse myself by driving through the woods at night and see how long it would be before I scared the pants off my friends - and if I could do it before I scared myself.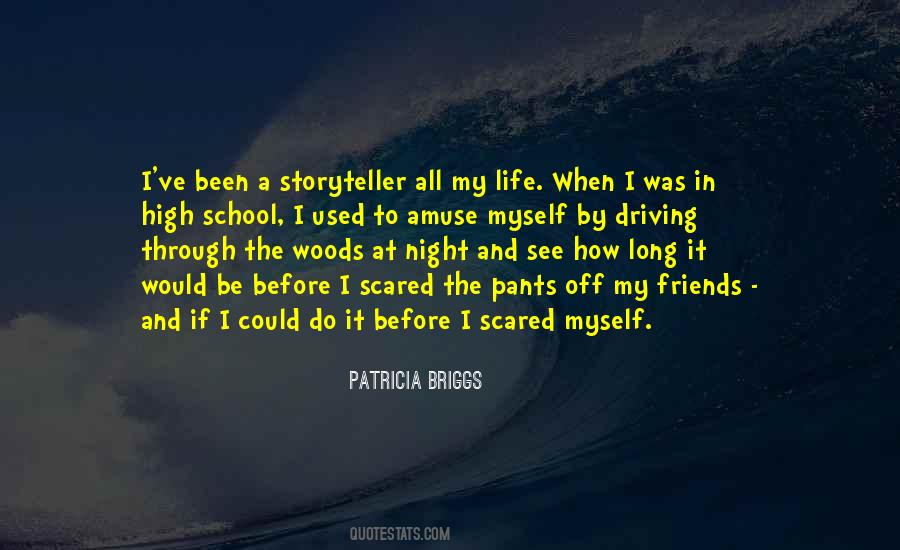 Famous Authors
Popular Topics