Hard Luck Famous Quotes & Sayings
List of top 100 famous quotes and sayings about hard luck to read and share with friends on your Facebook, Twitter, blogs.
Top 100 Quotes About Hard Luck
#1. I am not smart, I pay attention.
I am not considerate, I listen.
I am not patient, I make time.
I'm not lucky, I work hard. - Author: Mark W. Boyer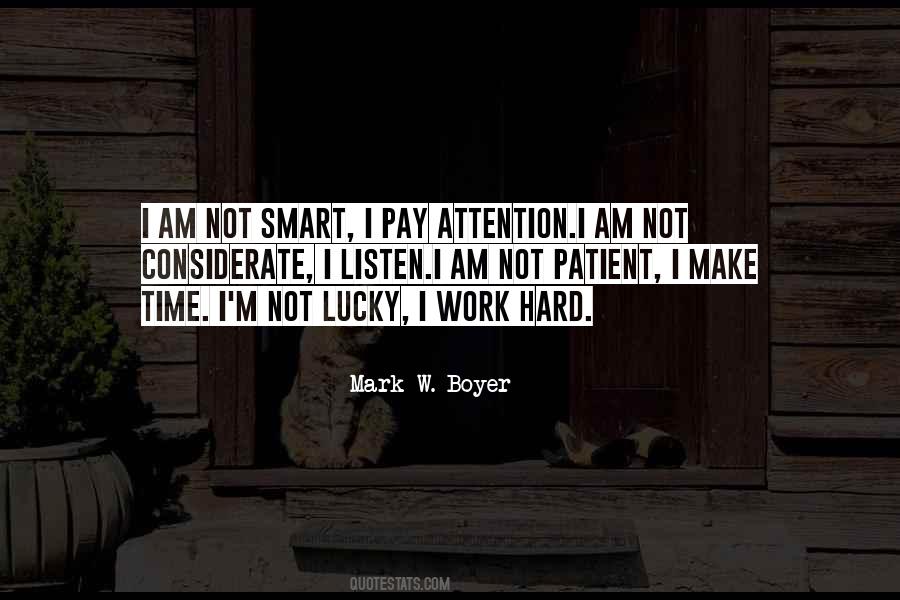 #2. It's a question of attitude. If you really work at something you can do it up to a point. If you really work at being happy you can do it up to a point. But anything more than that you can't. Anything more than that is luck. - Author: Haruki Murakami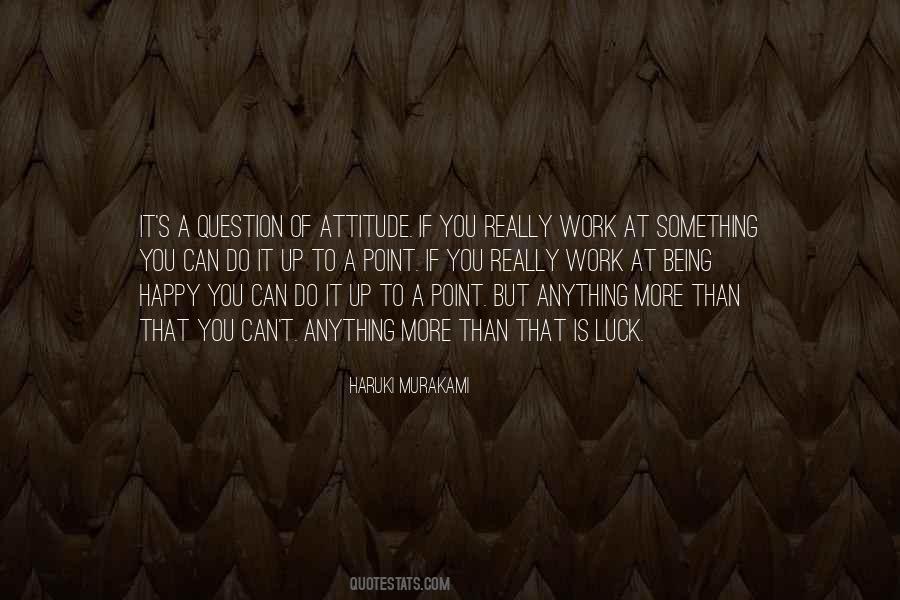 #3. We must thoroughly clear away all ideas among our cadres of winning easy victories through good luck, without hard and bitter struggle, without sweat and blood. - Author: Mao Zedong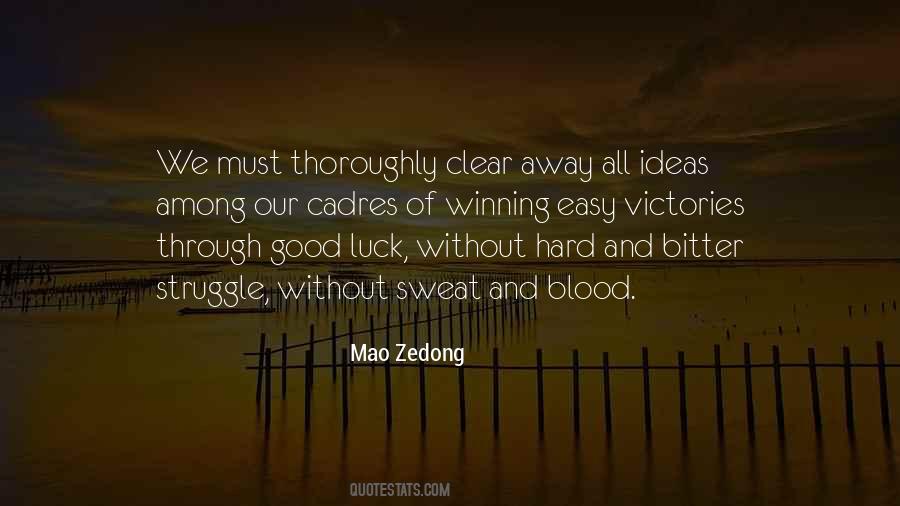 #4. Either he's shaken by something or he's falling off the wagon hard and fast. Great. Just my luck to be partnered with an alcoholic angel. - Author: Susan Ee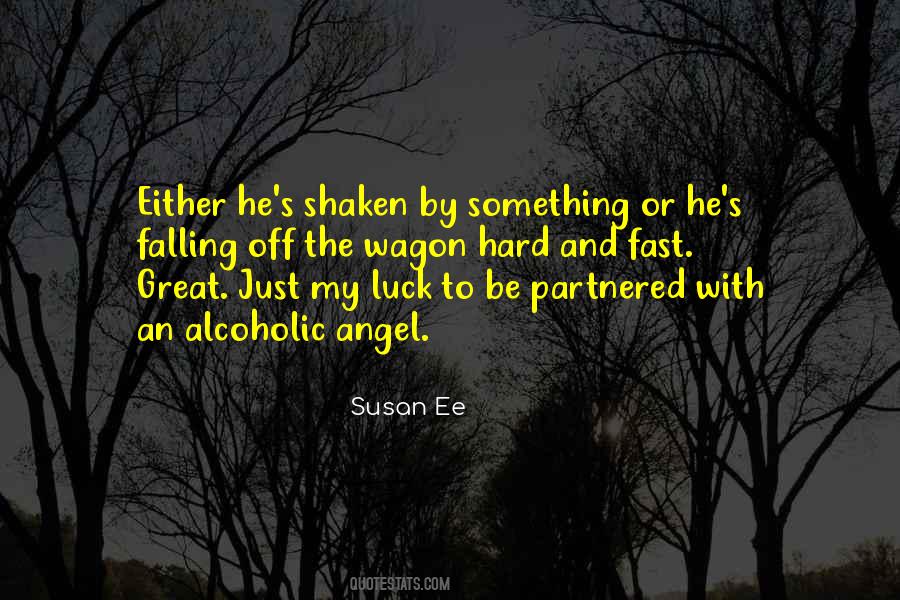 #5. What helps luck is a habit of watching for opportunities, of having a patient but restless mind, of sacrificing one's ease or vanity, or uniting a love of detail to foresight, and of passing through hard times bravely and cheerfully. - Author: Victor Cherbuliez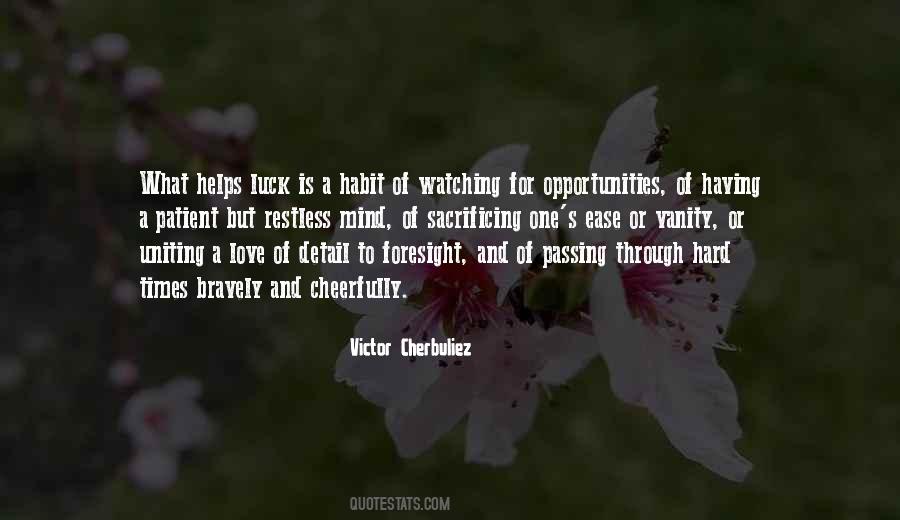 #6. When you get as lucky as I got, you have to work as hard as possible to earn that luck. - Author: Daniel Radcliffe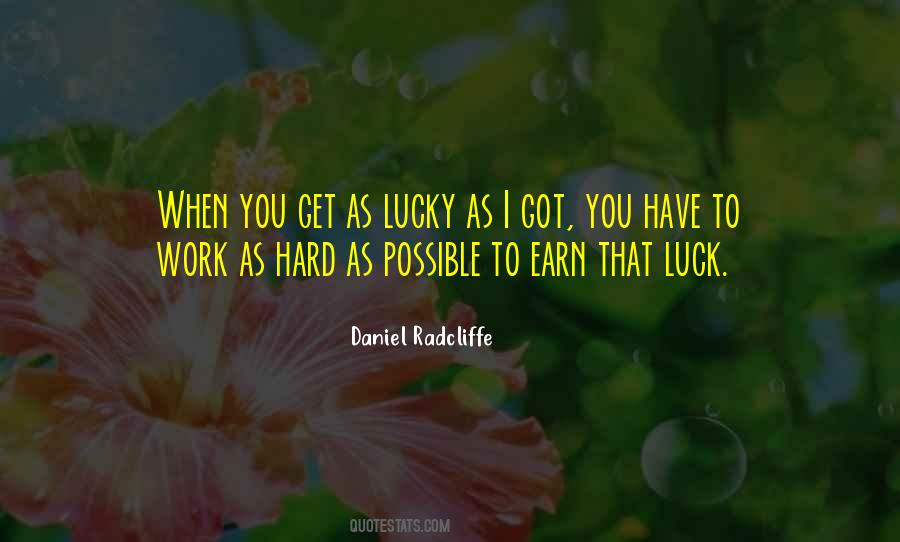 #7. I probably get a deeper satisfaction of having taken a very good photograph than of having written something very good, a very good story. Maybe it's because the element of magic is so present in a good photograph - luck and magic, but also hard work and being ready and all that. - Author: Teju Cole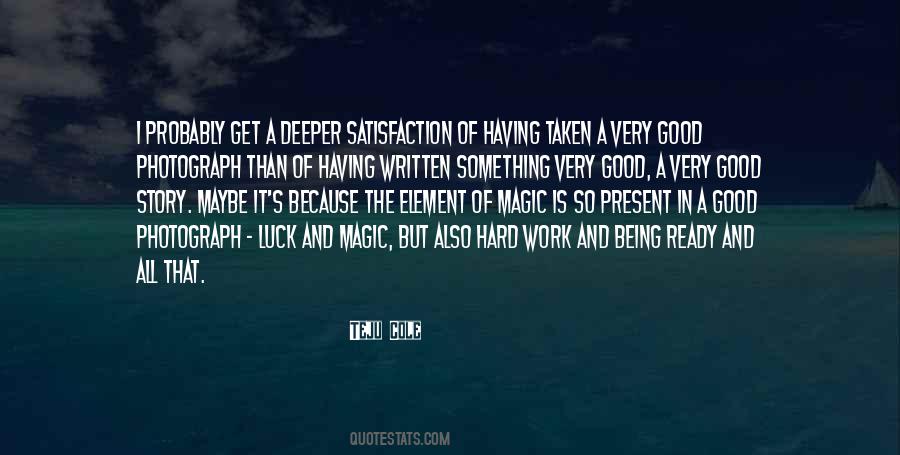 #8. Many people may say that luck is important, but I think you create your own luck by working hard to ensure you don't miss opportunities. - Author: Ivan Glasenberg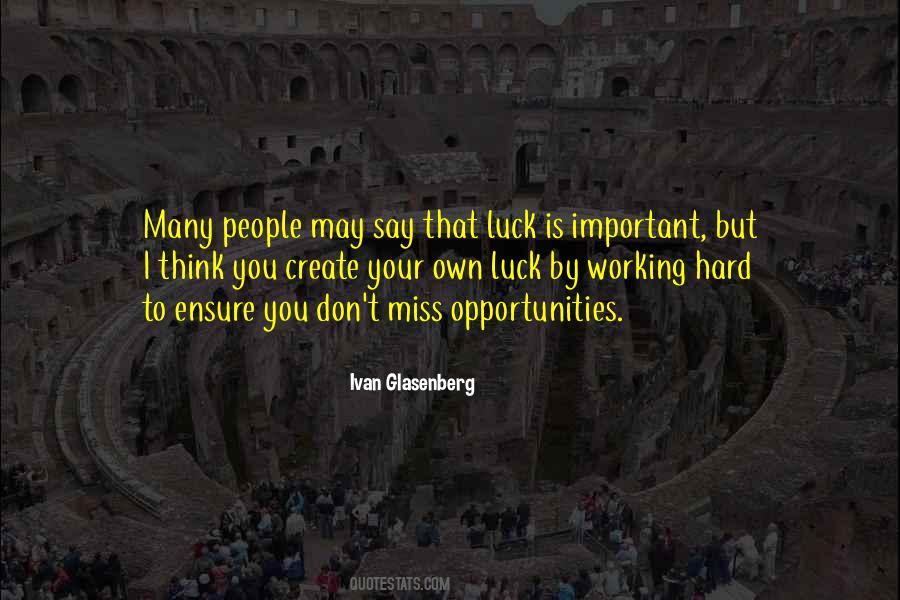 #9. The greatest wonder is never being able to know what will happen next. No matter how hard you try, the future will always be ahead of you. - Author: Debbie Shapiro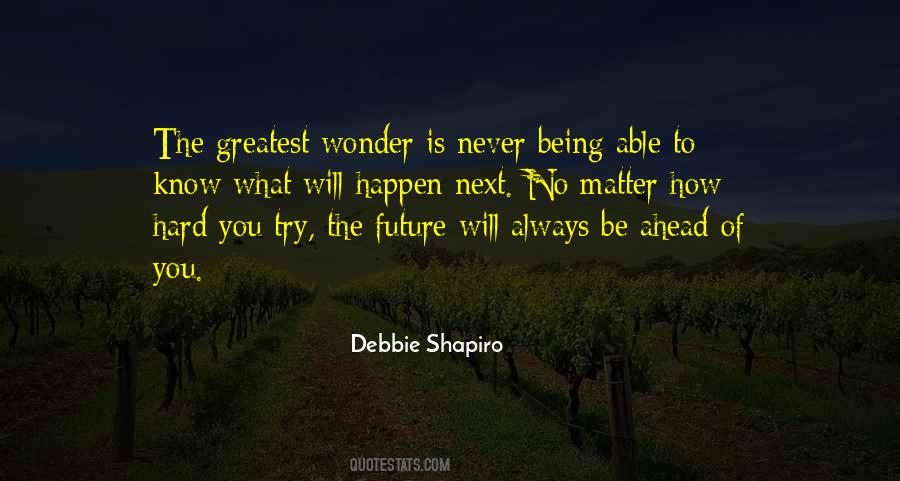 #10. As they say, when a man begins to have bad luck, even clabber can break his head. - Author: Jacques Roumain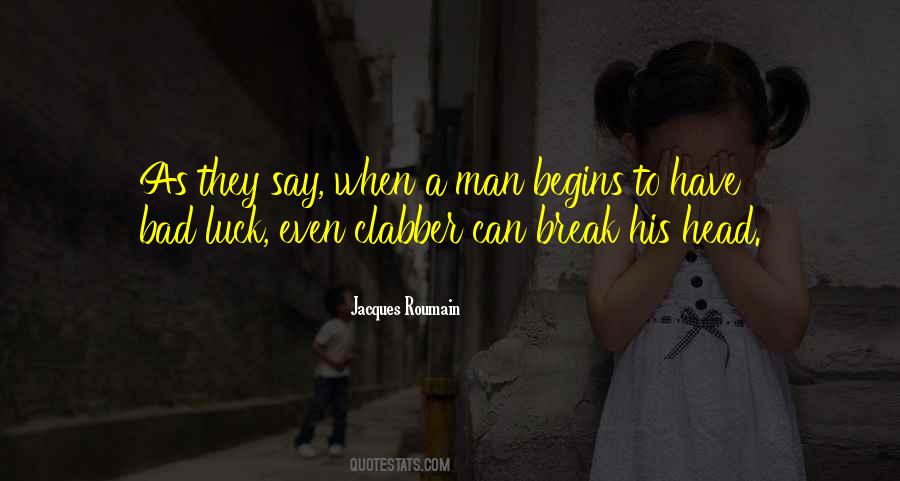 #11. It's hard these days to have a conversation, at least it is for me, about [Truman]Capote without "Good Night, and Good Luck" coming up in the same conversation. - Author: Tavis Smiley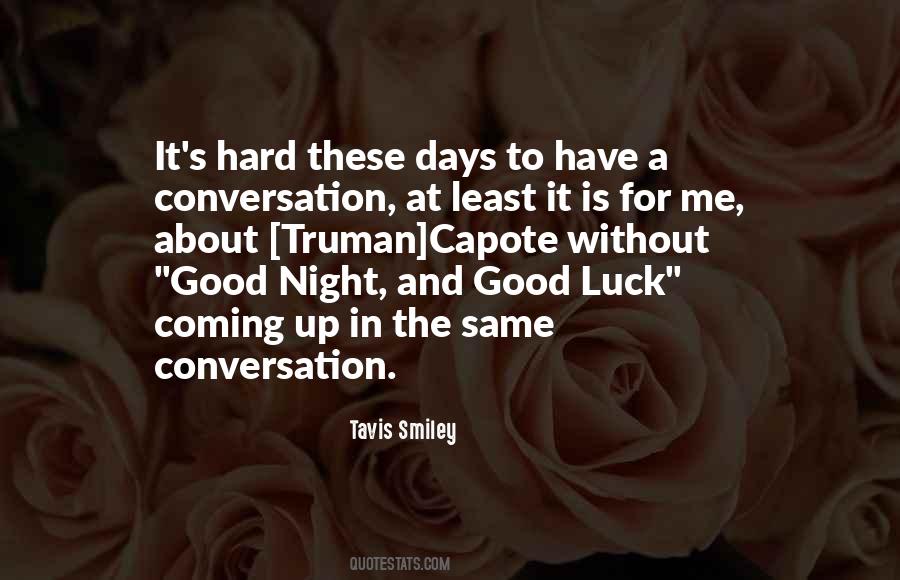 #12. Good luck happens to people who work hard for it. Sometimes people just fall into the honey pot, but I've consistently strived to create whatever good fortune I can get in my life - and consistently strive just as hard not to screw it up once I have it! - Author: Patrick Duffy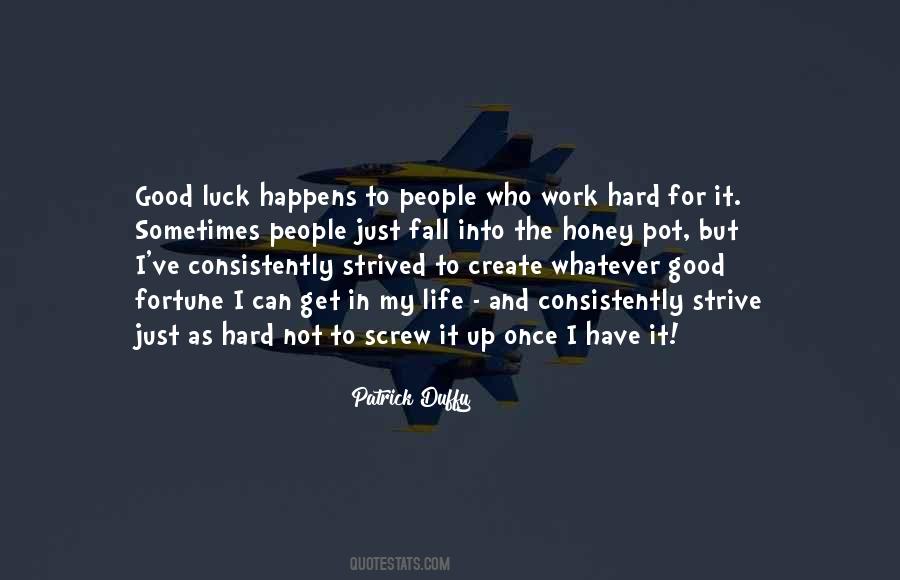 #13. I've had enough success for two lifetimes, My success is talent put together with hard work and luck. - Author: Kareem Abdul-Jabbar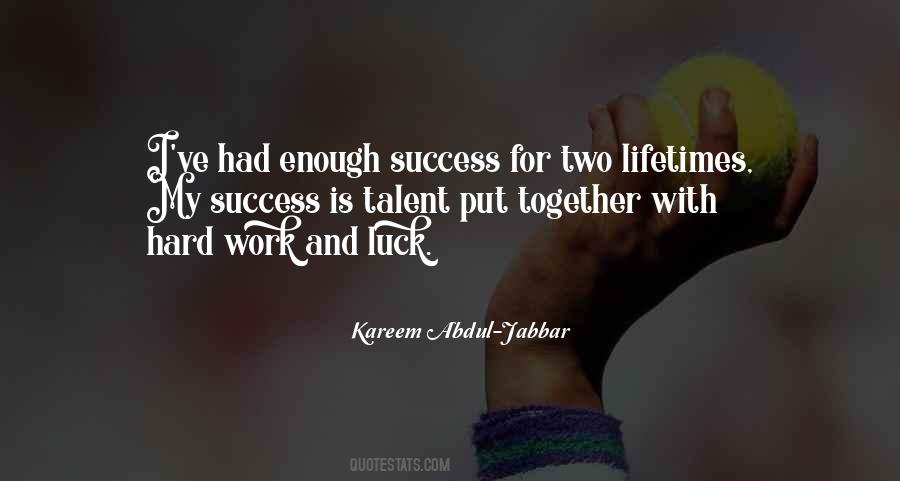 #14. The only thing that overcomes hard luck is hard work. - Author: Harry Golden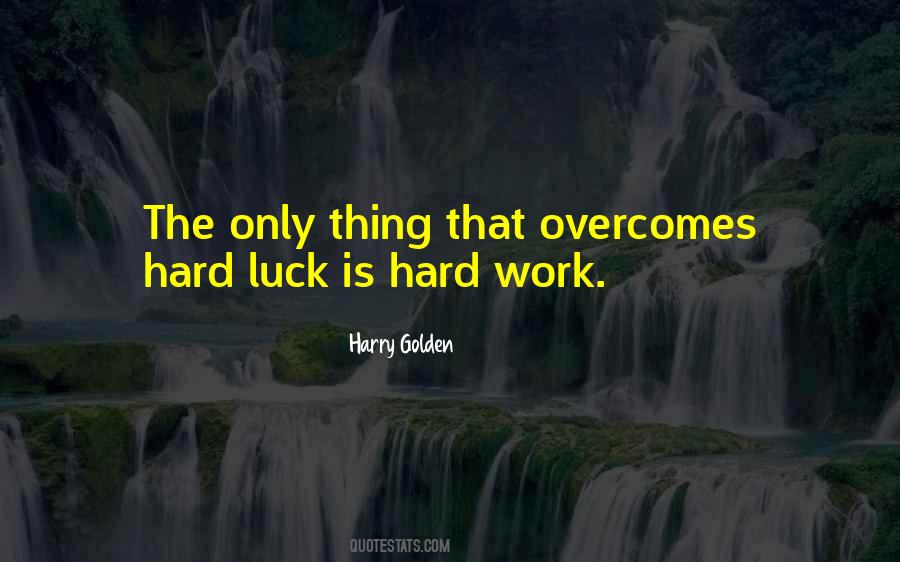 #15. If I had married, there is much I would not have learned of myself. This has been hard and painful and horrible. But I've learned that I'm stronger than hard, better than pain, and that with enough luck, horrible can go away. - Author: Courtney Milan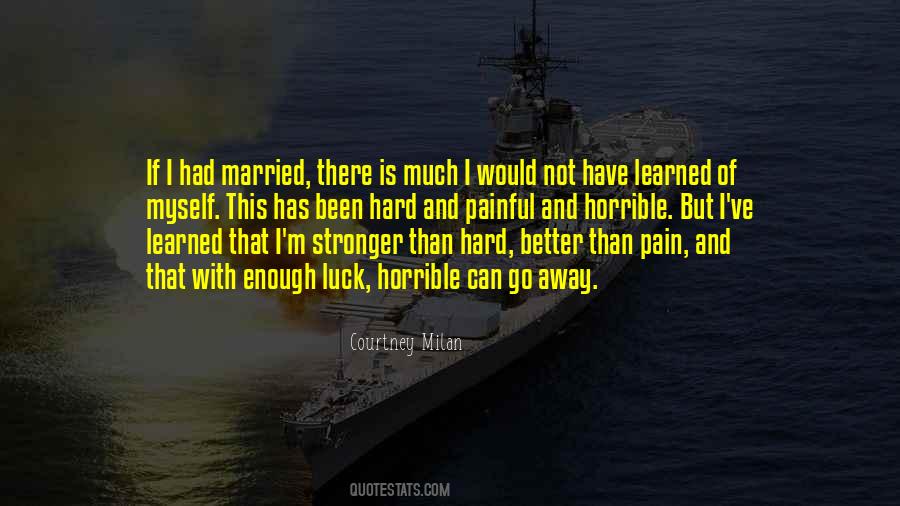 #16. My parents didn't believe in luck. They believed in hard work and in preparing me to take advantage of opportunity. Like many parents, they taught me to be generous but never to depend on the generosity of others. - Author: Naveen Jain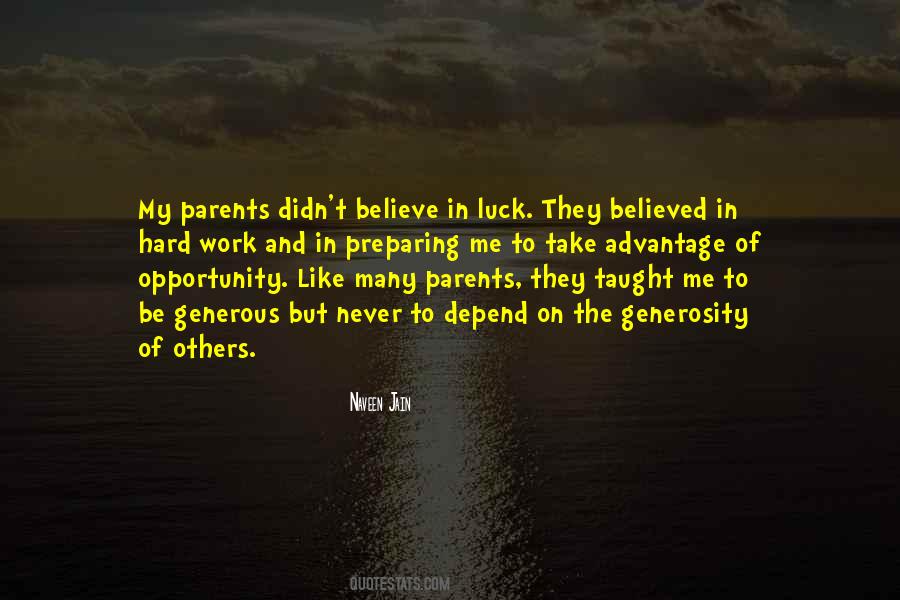 #17. I don't know the definition of a star; I am just an actor. I prefer doing hard work, as I feel luck can't do much in absence of hard work. I am a lazy person - when I entered into this industry, I thought it was a cakewalk, but I have realised it needs a lot of patience and hard work. - Author: Emraan Hashmi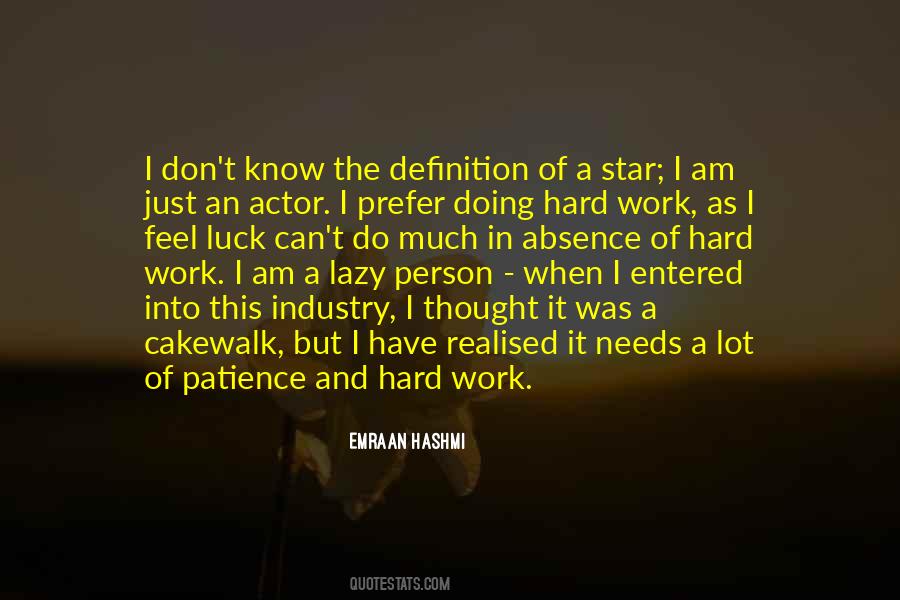 #18. Thinking is free, planning is also free, but action taking is not free; you have a price to pay. Success is not luck; it demands work ... hard work of course! - Author: Israelmore Ayivor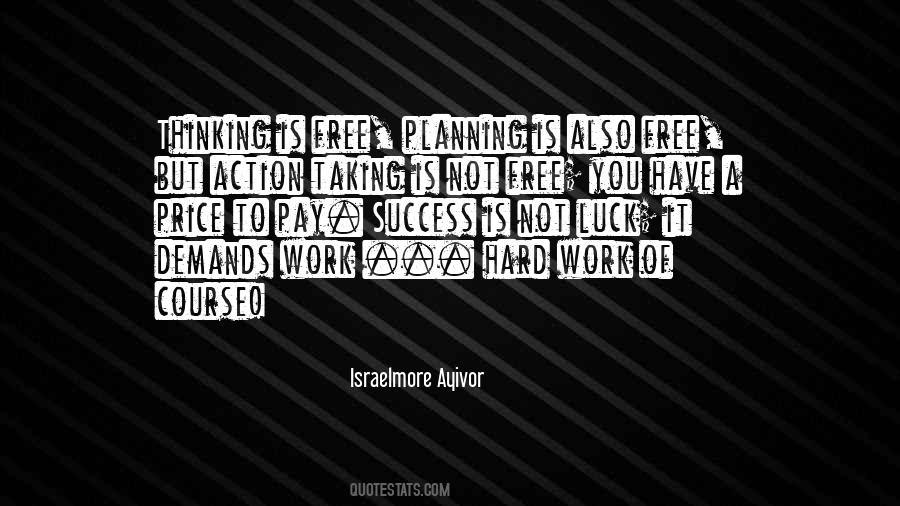 #19. Luck is like a lift and hard is like the stairs, lift may fail but stairs will always gets you at the top - Author: Amit Dhiman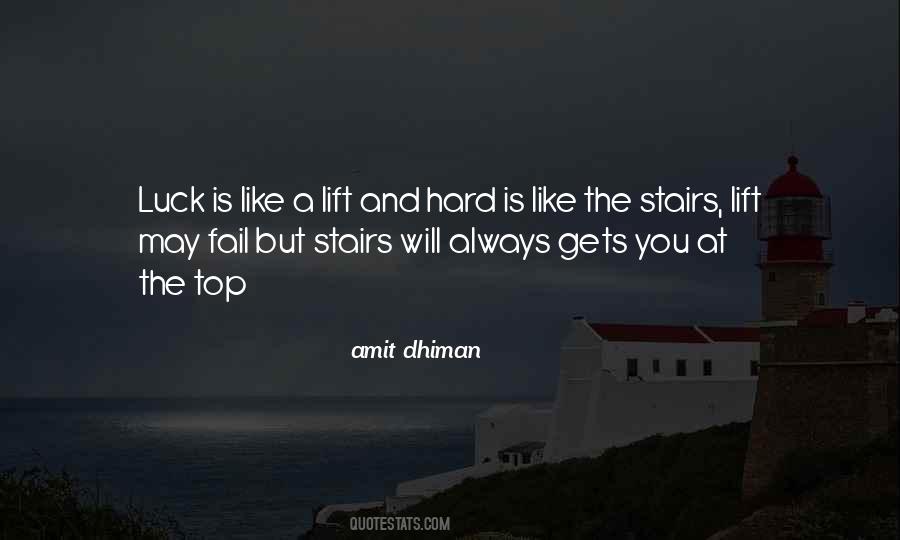 #20. It's hard luck always having to be a judge. - Author: Antoine De Saint-Exupery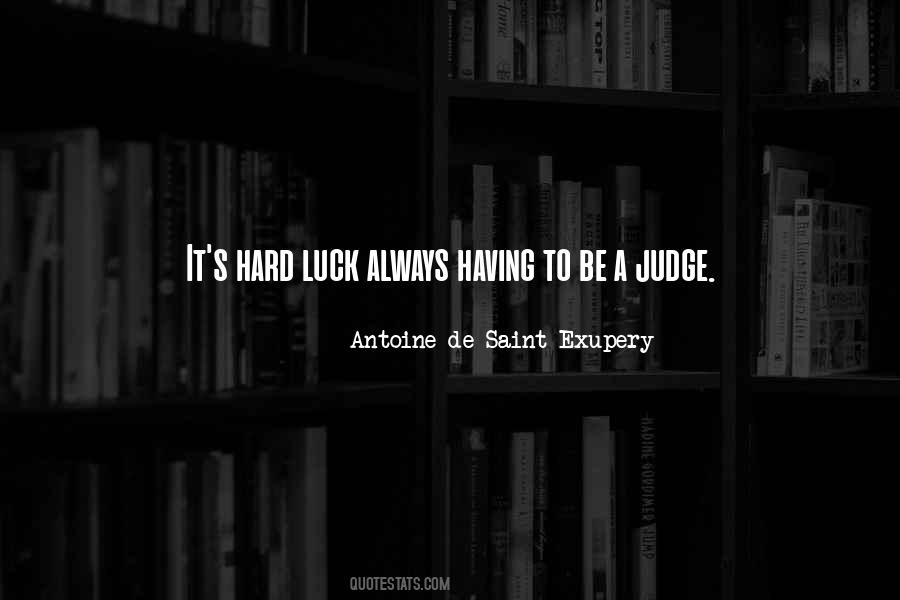 #21. Luck is great, but most of life is hard work. - Author: Iain Duncan Smith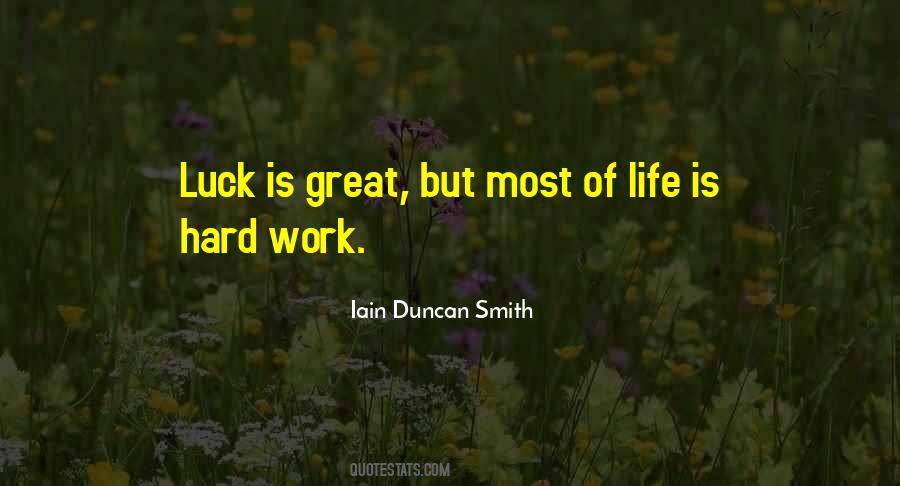 #22. A lot of people think that success is luck and being in the right place at the right time. But I think if you're willing to work harder than anybody else, you can create an awful lot of your own luck. - Author: Nolan Bushnell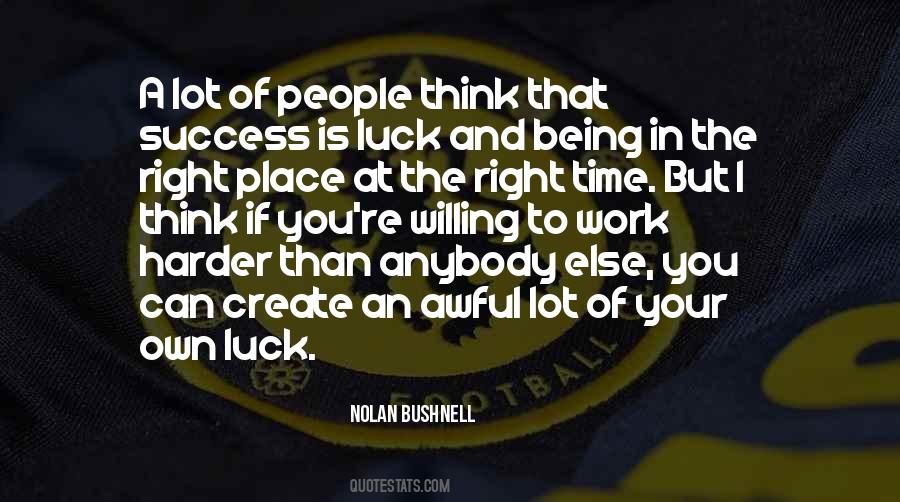 #23. Remember that wasted minute at the start of the day? Hard luck but you'll never find it again. - Author: Cleveland W. Gibson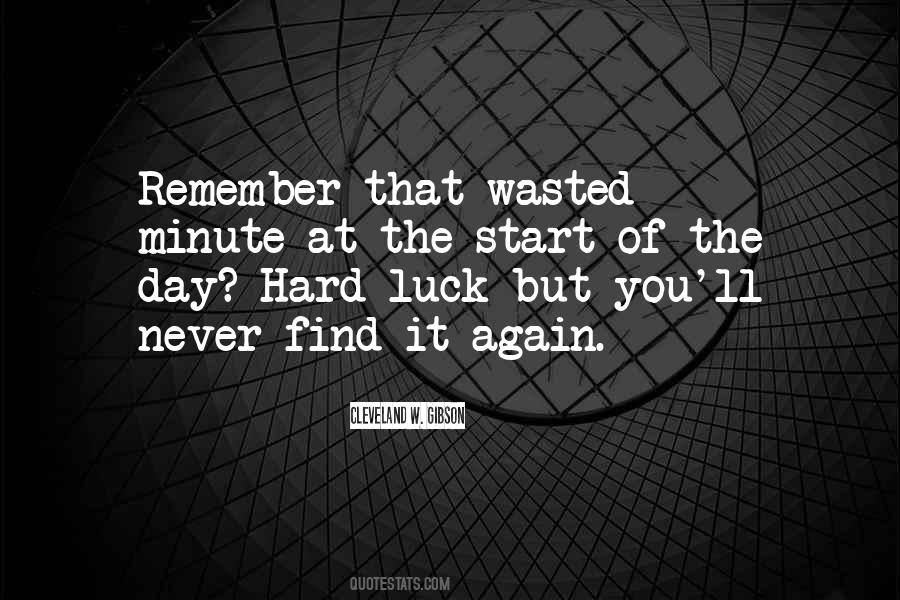 #24. Great difficulties are felt at first and these cannot be overcome except by starting from experiments .. and then be conceiving certain hypotheses ... But even so, very much hard work remains to be done and one needs not only great perspicacity but often a degree of good fortune. - Author: Christiaan Huygens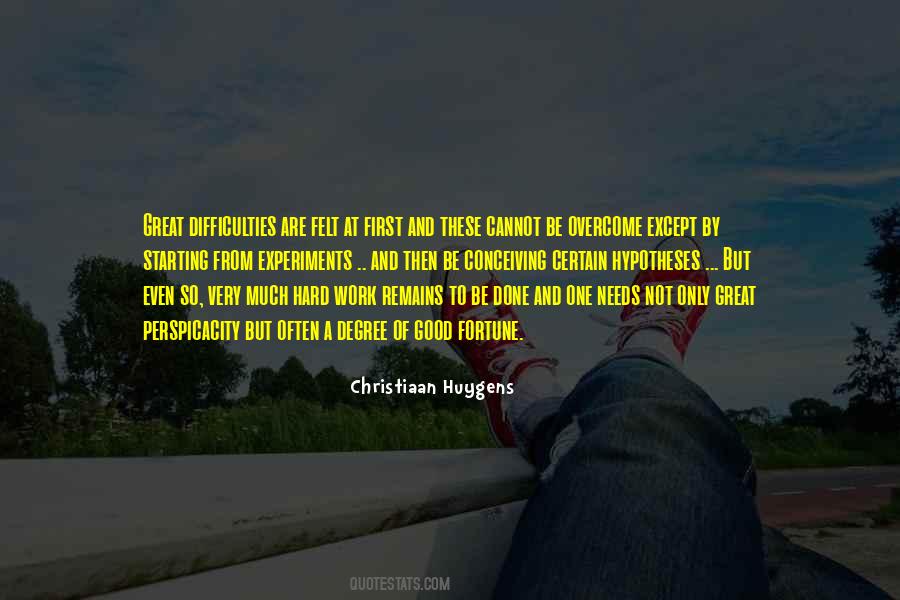 #25. I'm not saying people shouldn't apply themselves and work hard. You do have to try to make your own luck. But I know people firsthand who worked incredibly hard, who were really smart, who never got into trouble, and still didn't get a break. - Author: David Lindsay-Abaire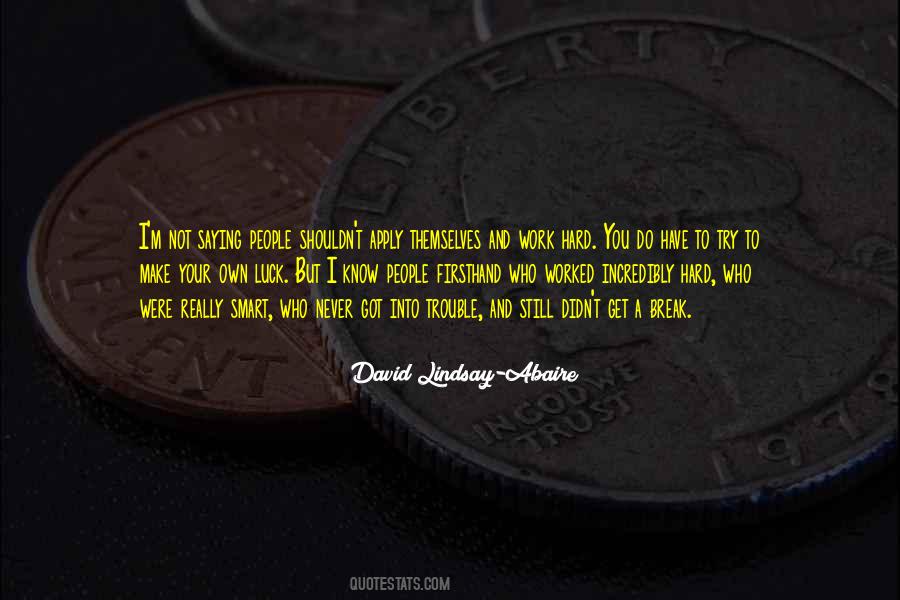 #26. Inspiration is one thing and you can't control it, but hard work is what keeps the ship moving. Good luck means, work hard. Keep up the good work. - Author: Kevin Eubanks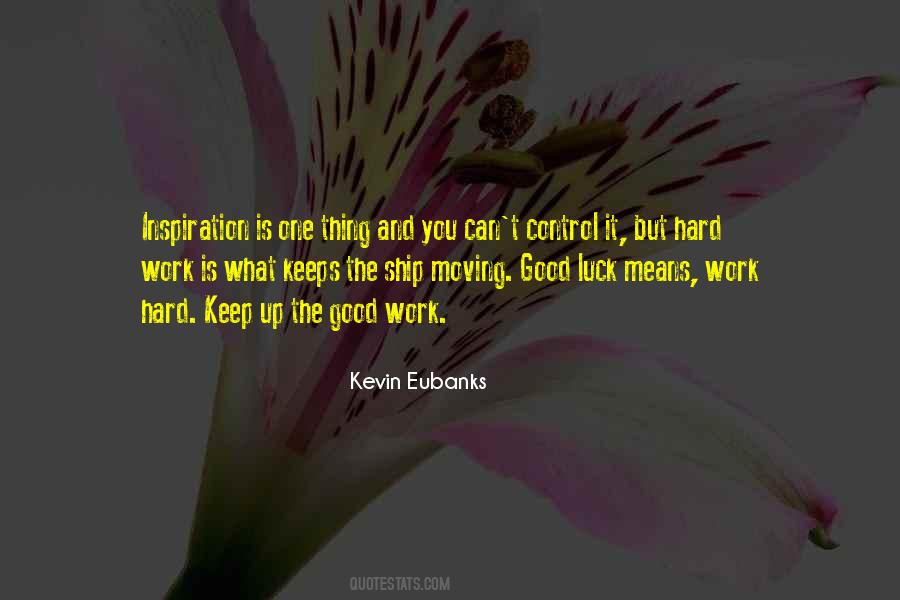 #27. There are two kind of people. Those who believe in luck and ones who try hard. - Author: Ali Gh.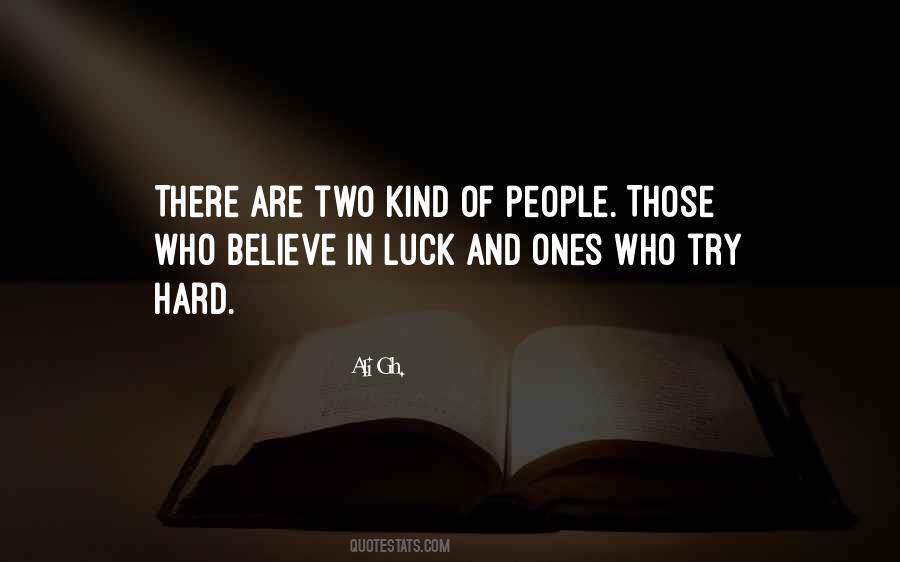 #28. I believe modeling is a combination of natural talent, the ability to adapt to different situations, hard work, and, most importantly, luck. - Author: Anja Rubik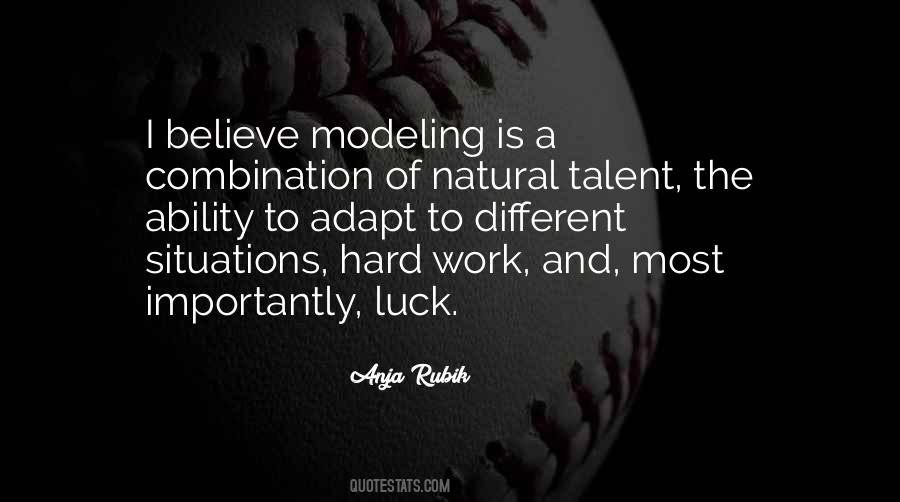 #29. highly successful people have three things in common: motivation, ability, and opportunity. If we want to succeed, we need a combination of hard work, talent, and luck. - Author: Adam M. Grant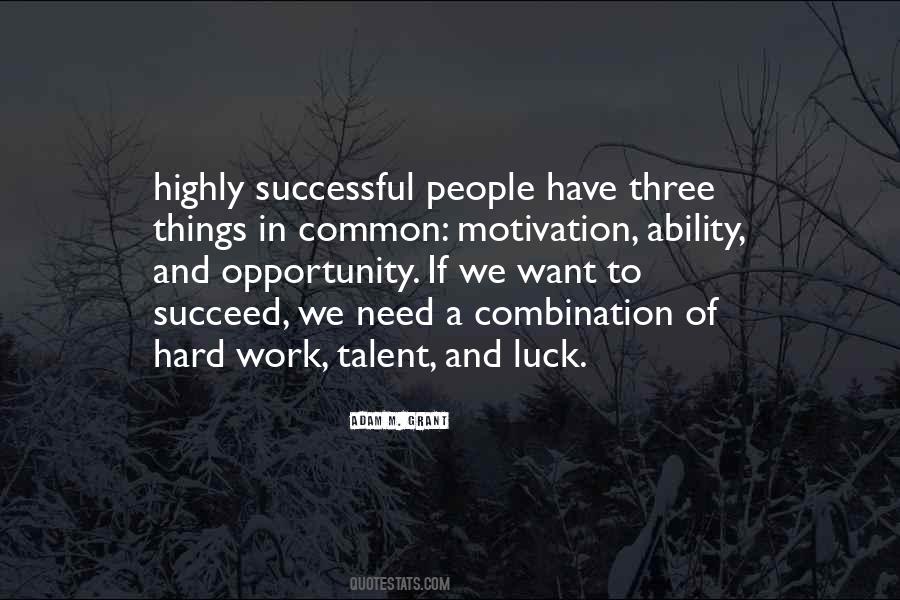 #30. In Kazakhstan, once you're someone's guest, it's really hard to get away - everyone wants you to stay. They believe that if you invite a guest, luck will fly into your house. - Author: Tim Cope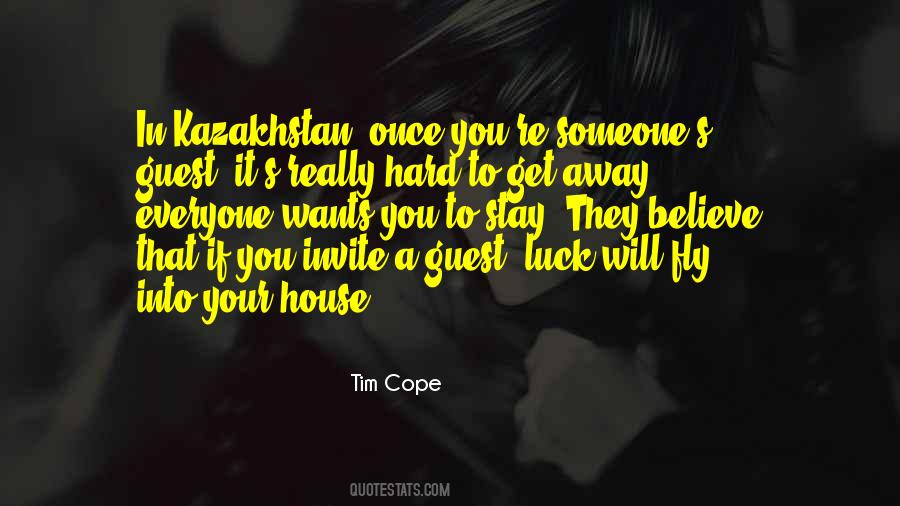 #31. With a bit of luck and a lot of hard work, this writing thing may just pan out. - Author: Rebel Miller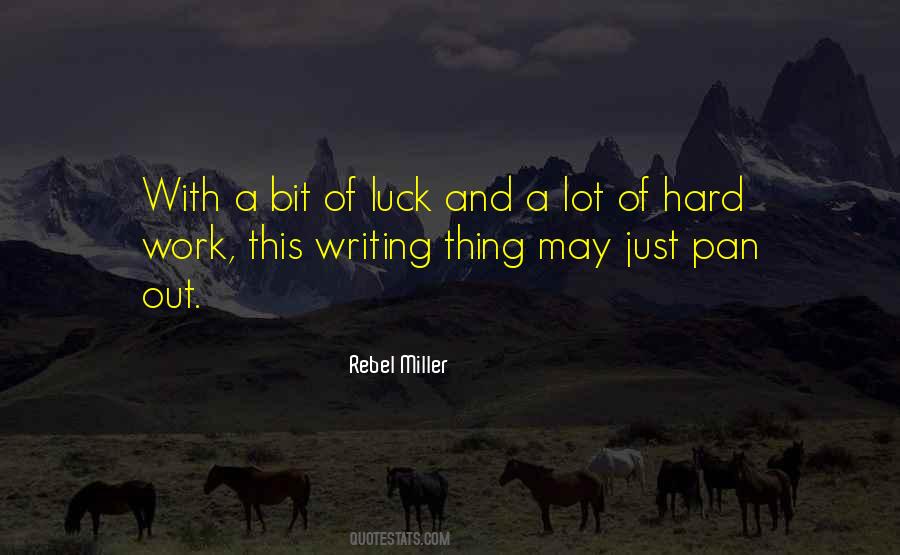 #32. I'm lucky. Hard work is the key, but luck plays a part. - Author: Neil Diamond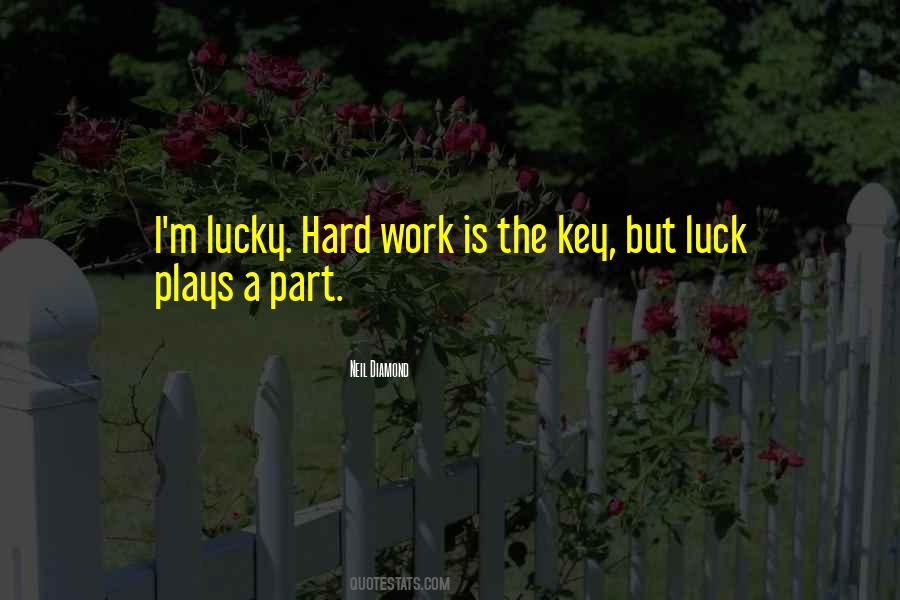 #33. Success has a lot to do with luck, but it also involves a lot of real hard work. The thing about success is you really can't gauge things by album sales. - Author: Jerry Cantrell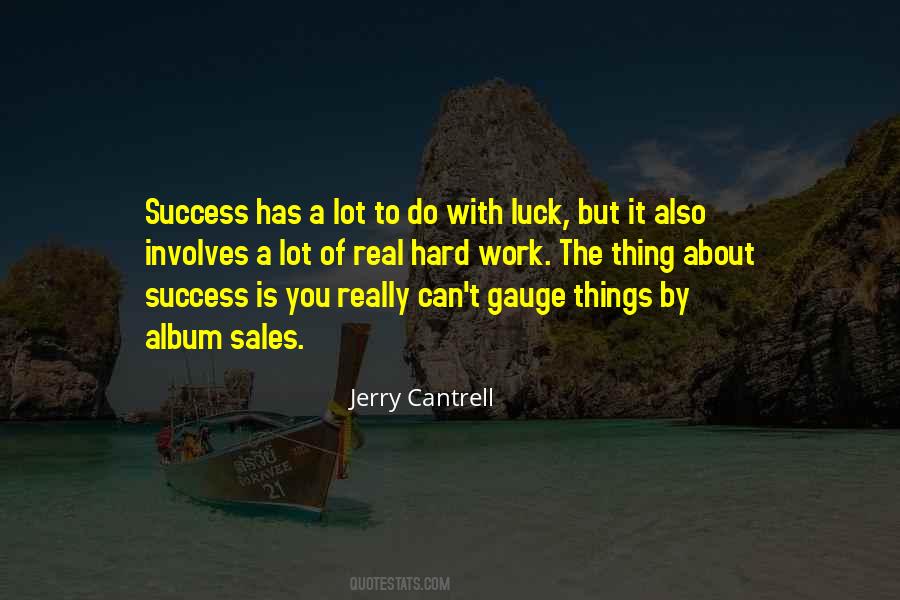 #34. My skills are unique. Forged over a lifetime of dedication and hard work. It is not talent. It is not luck. It is nothing less than perseverance that makes me the best at what I do. For - Author: A. Zavarelli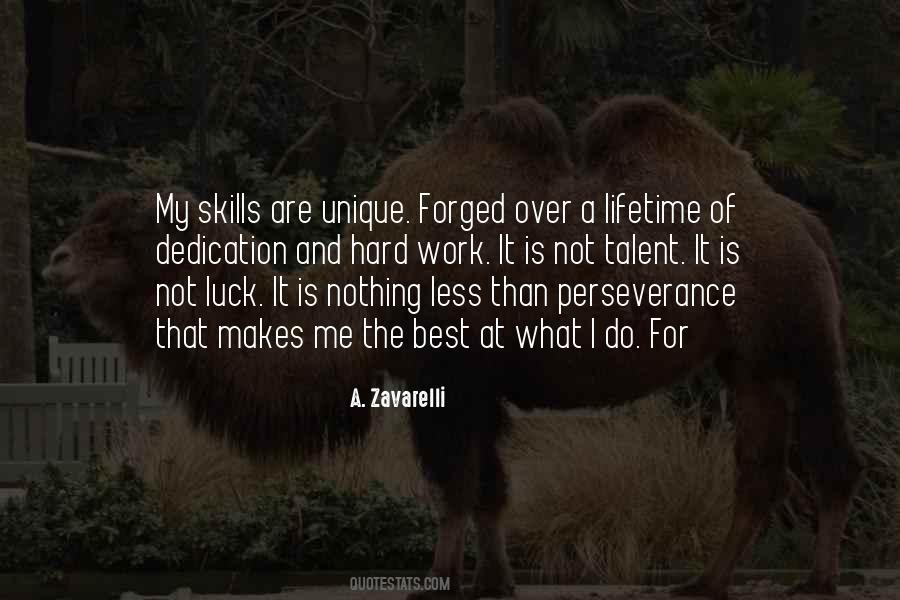 #35. Hard work and a proper frame of mind prepare you for the lucky breaks that come along
or don't. - Author: Harrison Ford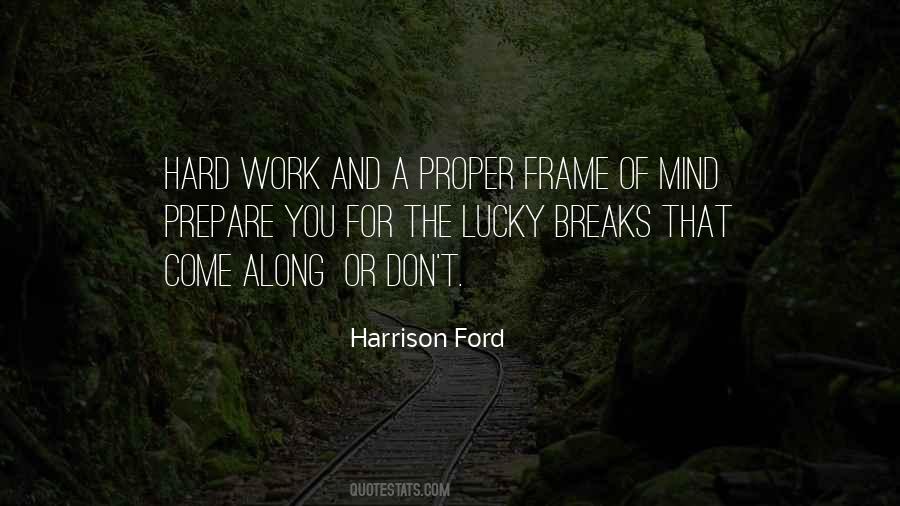 #36. You often hear people say 'Luck is self made.' I think it is, to a certain extent; if you work hard on something, you are more likely to be lucky than if you don't. That having been said, I do believe during in my career I have been at the right place at the right time with the right people. - Author: Greg Lake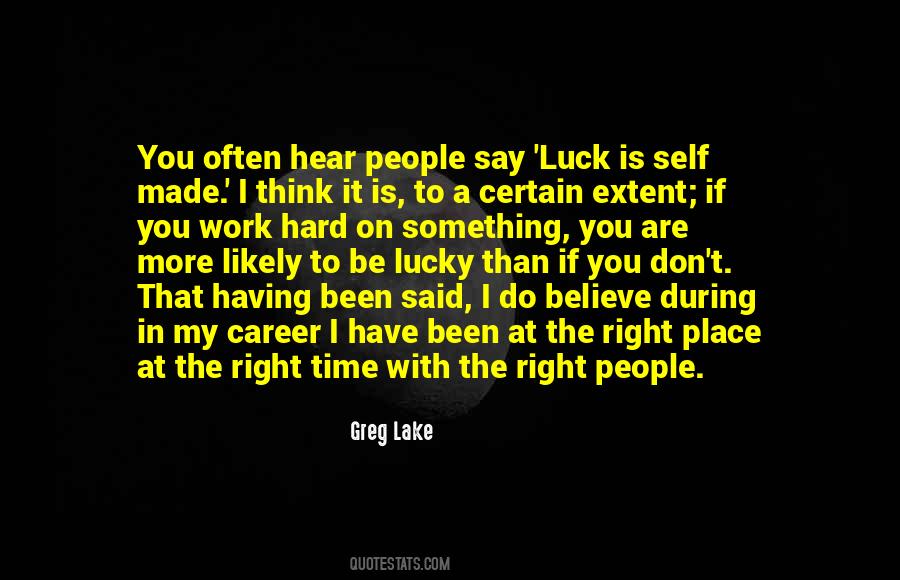 #37. We get success by hard work and failure by hard luck - Author: Ravi Ranjan Goswami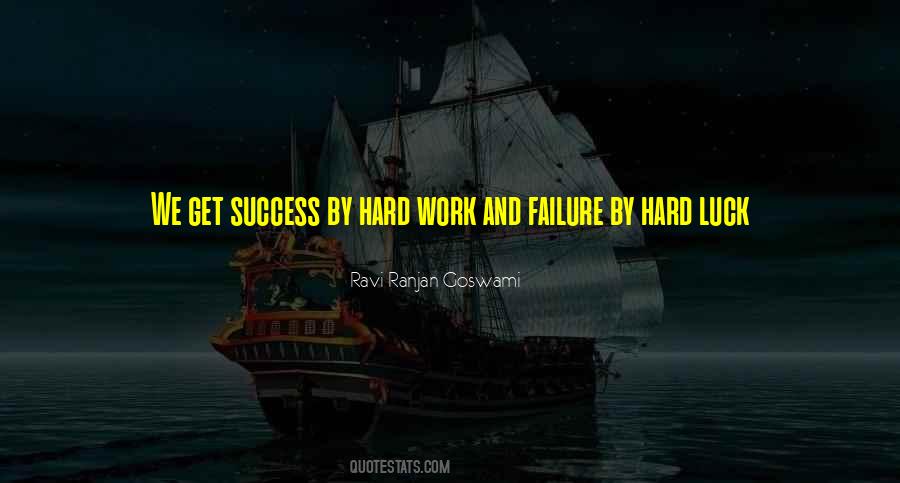 #38. It's self-effacing, it's hard-luck, the shtetl stories. All those Coasters things are an amalgam of Yiddish and black humor. - Author: Jerry Leiber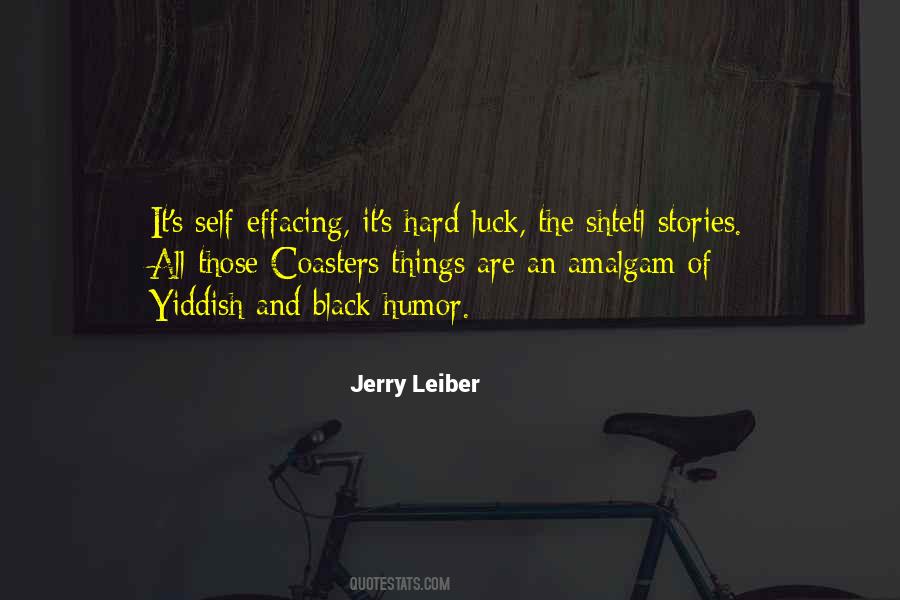 #39. We all struggle in some way or another. So it's on us to work hard, and strive towards a better and healthy life. - Author: Jonathan Anthony Burkett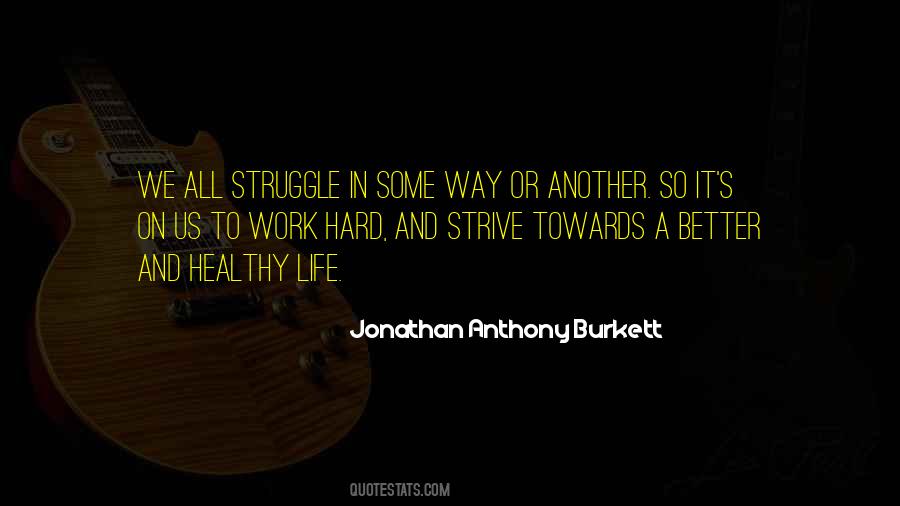 #40. and two, success is often started by dumb luck, so play the hand that's dealt you and play it hard. - Author: Harry Schuhmacher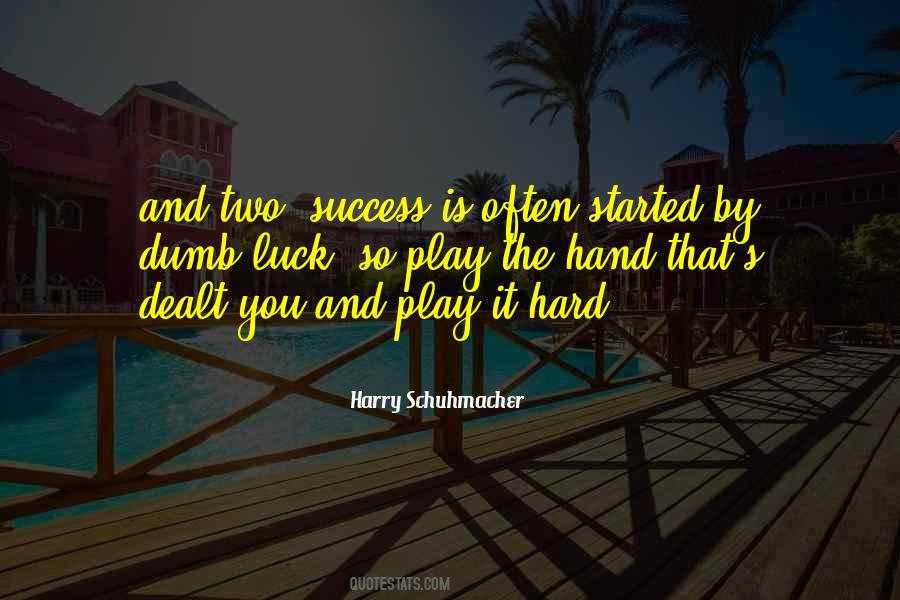 #41. Fern's never had very good luck with animals. She smothers them with affection and care and they thank her by croaking. Fern hasn't figured out how to play hard to get. - Author: Amy Harmon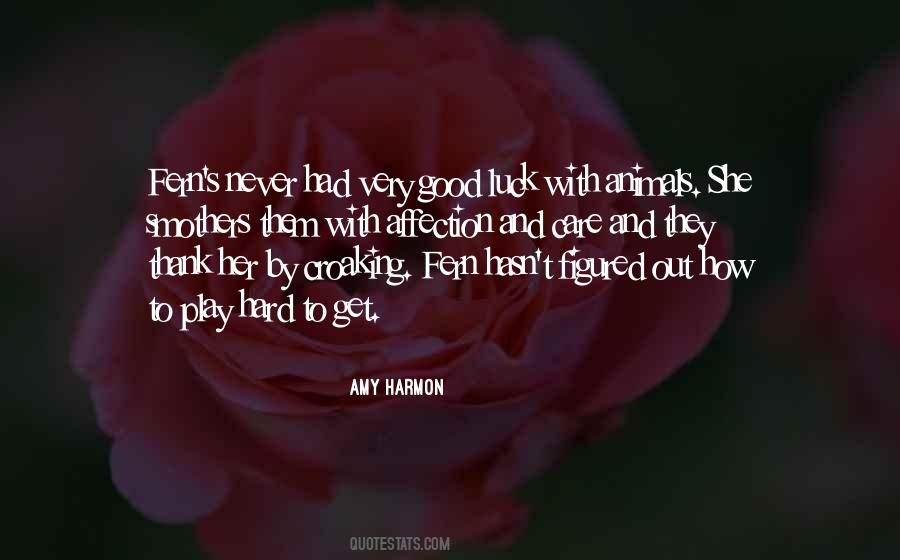 #42. Complaining about your luck is not allowed. Rokutarou, you're not the only one that matters but they leave that aside and do their best.If you start comparing misfortunes, it would never end. What's the meaning in that? Everyone knows you had a hard time. - Author: Chica Umino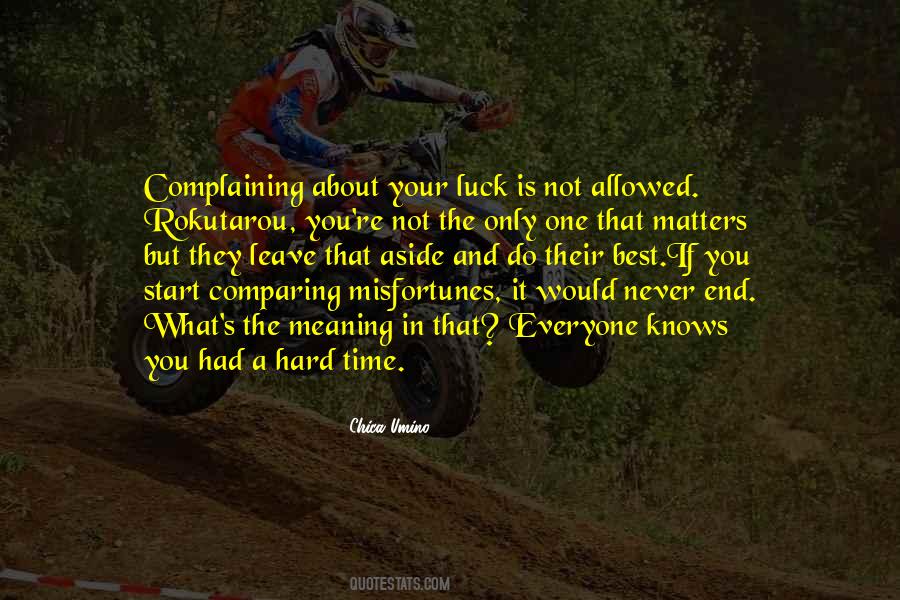 #43. If you are lucky and work very hard, you may someday get to experience freedom from the known. - Author: Jiddu Krishnamurti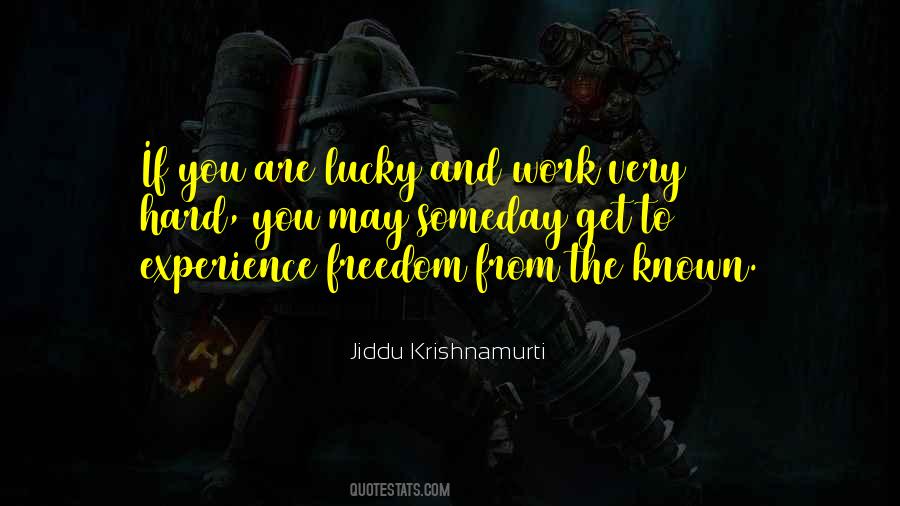 #44. Niall Lynch was a braggart poet, a loser musician, a charming bit of hard luck bred in Belfast but born in Cumbria, and Ronan loved him like he loved nothing else. - Author: Maggie Stiefvater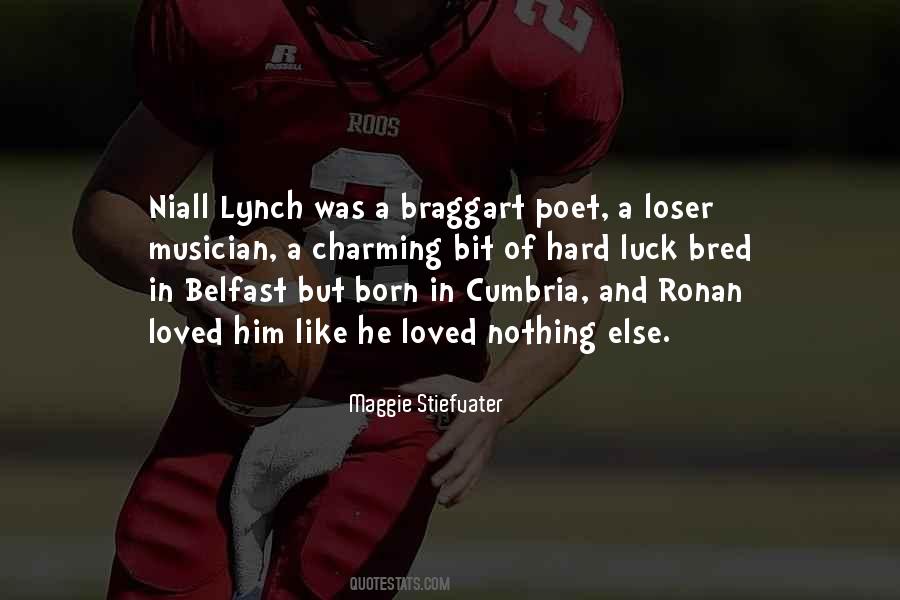 #45. Hard work will get you a professorship or a BMW. You need both work and luck for a Booker, a Nobel or a private jet. - Author: Nassim Nicholas Taleb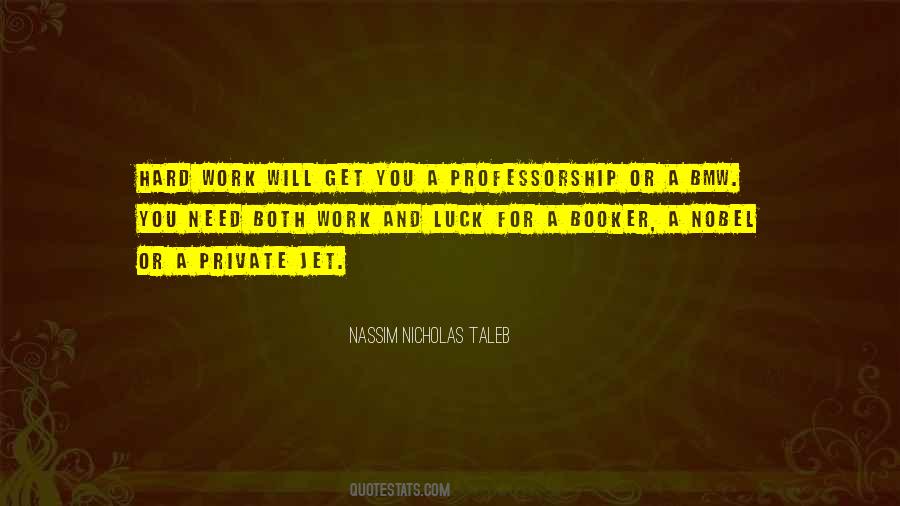 #46. The smart guy will outsmart himself. The lucky guy will run out of luck. The money guy will never have the desire. But hard work will take you anywhere you want to go. - Author: Bill Smith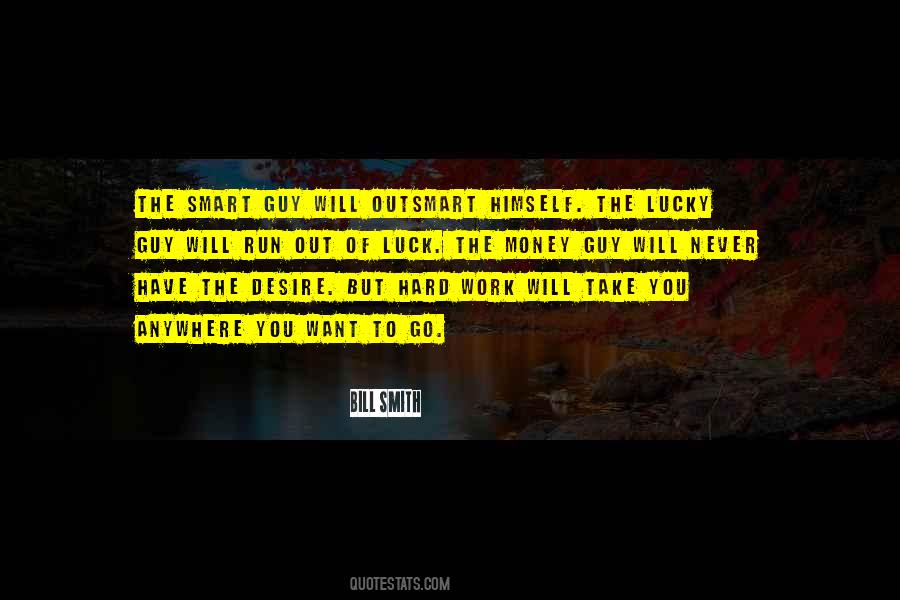 #47. Luck is buying a lottery ticket along with your Yoo-hoo and striking it rich. Nothing about my life is lucky- it is all about hard work, it is all uphill struggle. - Author: Emily Giffin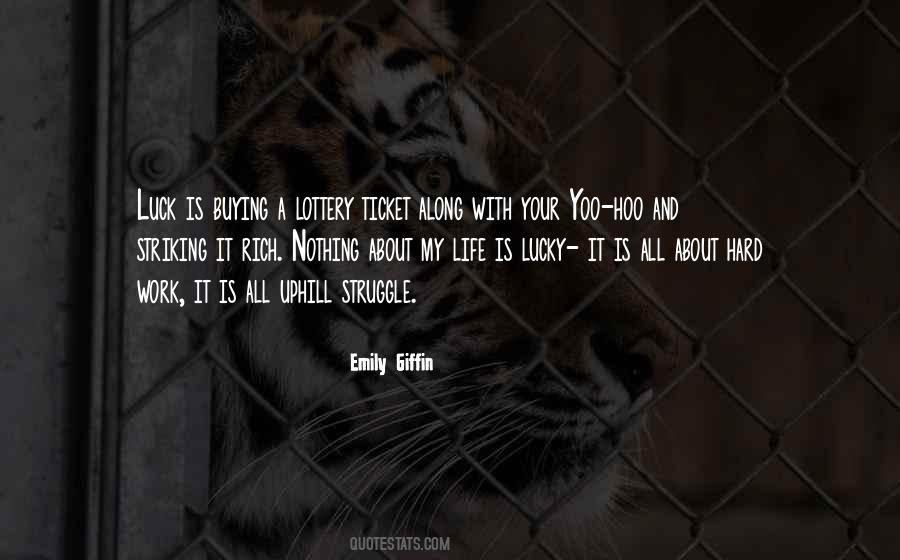 #48. By working hard, by making the right moves, you can create your own luck, I think. But certainly luck plays a part. - Author: Richard Branson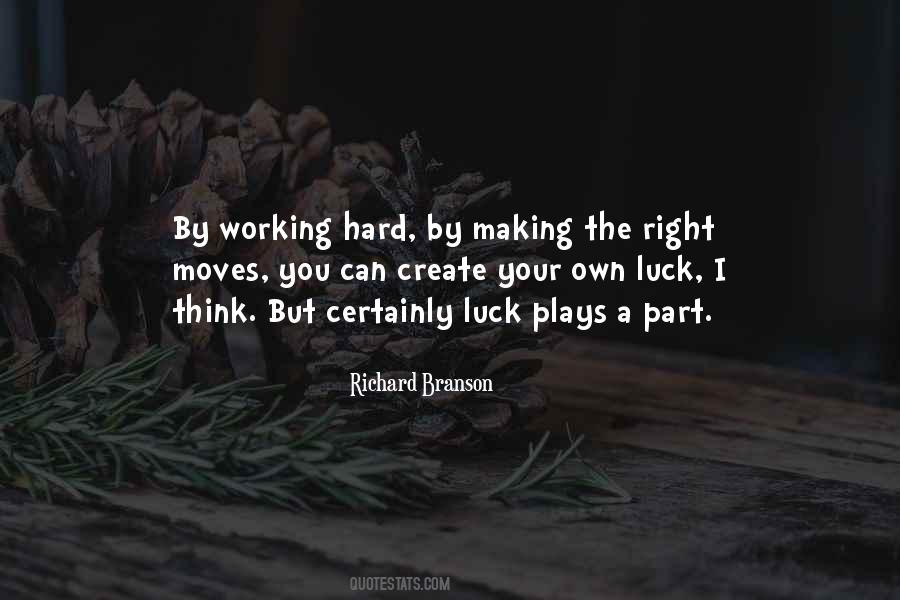 #49. I'm not a believer of luck. I think opportunity and hard work becomes luck. - Author: Prabal Gurung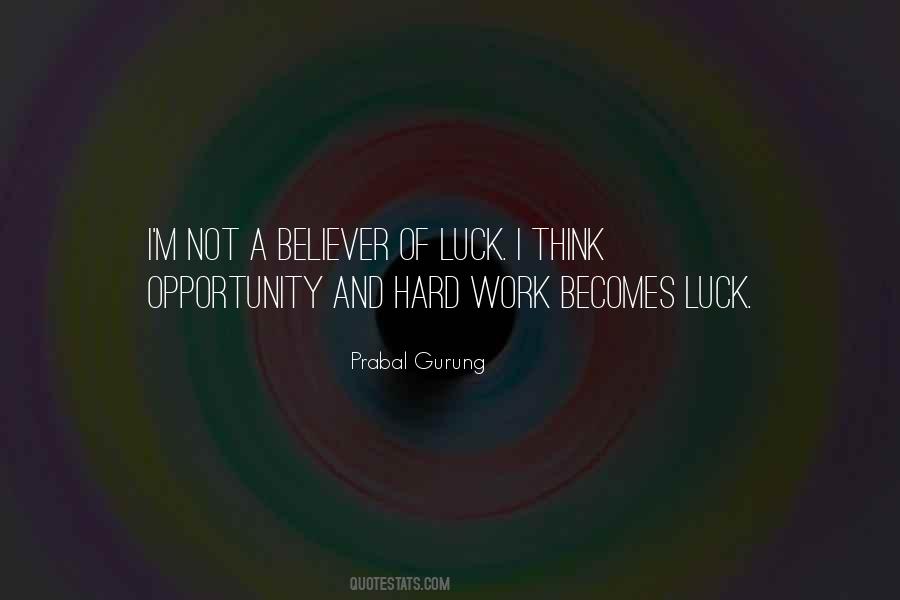 #50. As for what you're calling hard luck - well, we made New England out of it. That and codfish. - Author: Stephen Vincent Benet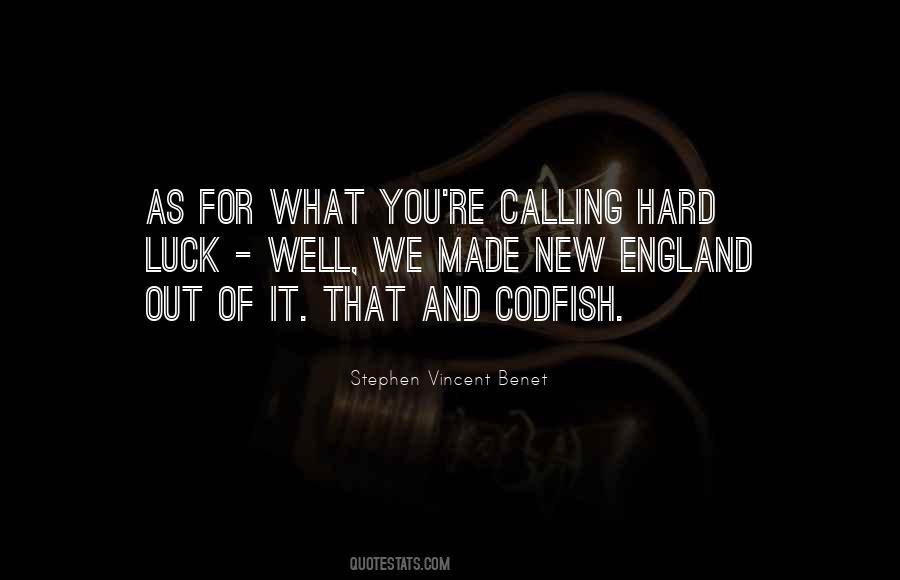 #51. Friends give me a hard time about the pants I'm wearing, which are made in China. Well, how do you find the right clothes? Or the right movie studio? The right people giving you checks? Good luck doing the right thing all the time. - Author: Adam McKay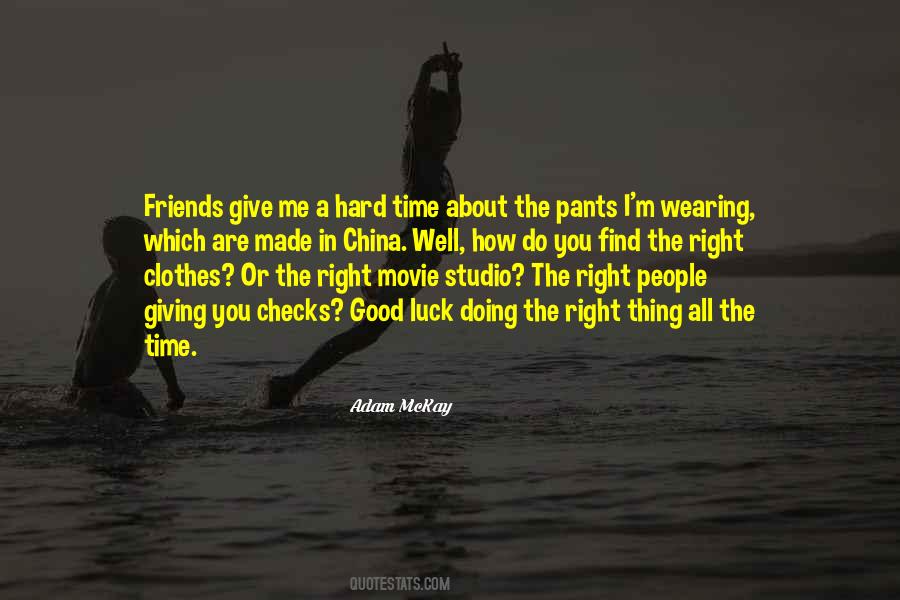 #52. The foundation of your life is luck. Hard work and talent make up the difference. - Author: Dennis Lehane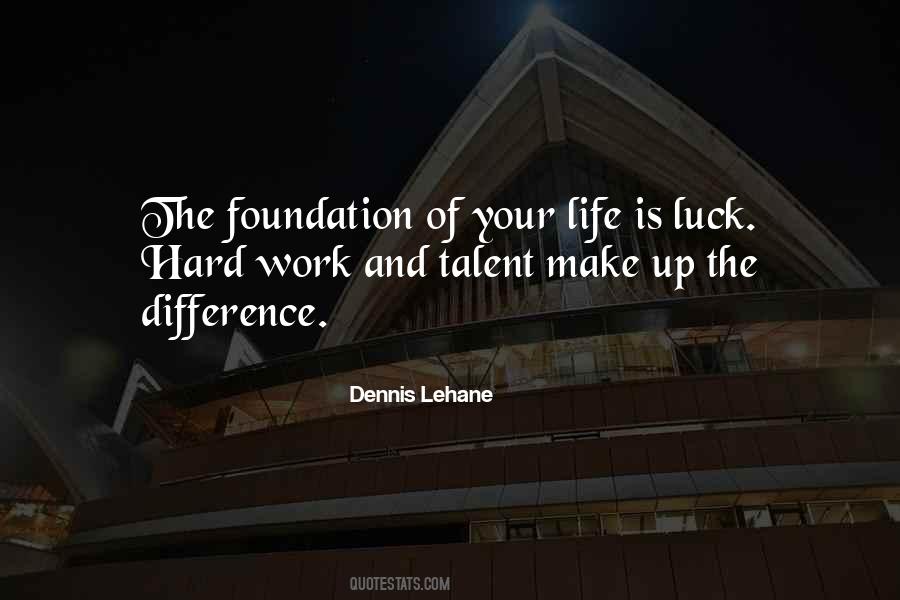 #53. I have had lots of luck in my career but there has also been a lot of hard work. - Author: Maria Sharapova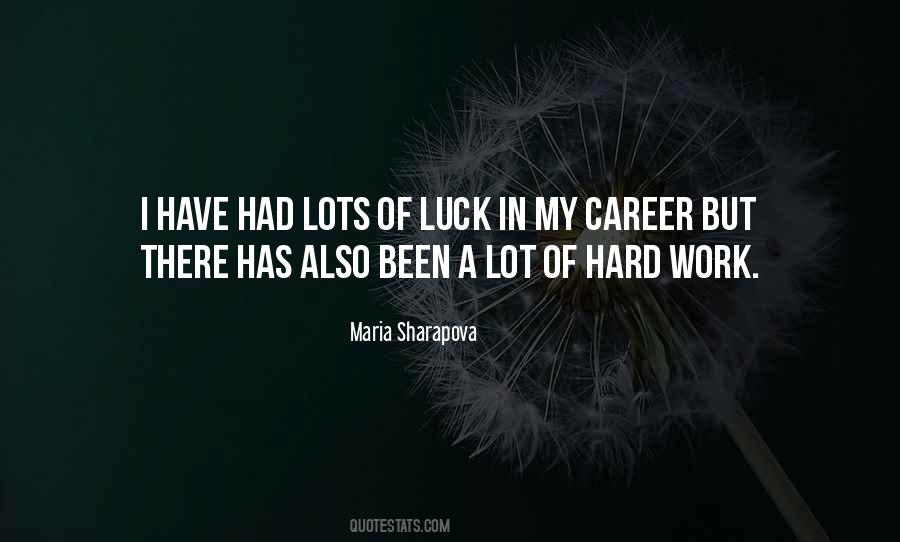 #54. Lessons that come easy are not lessons at all. They are gracious acts of luck. Yet lessons learned the hard way are lessons never forgotten. - Author: Don Williams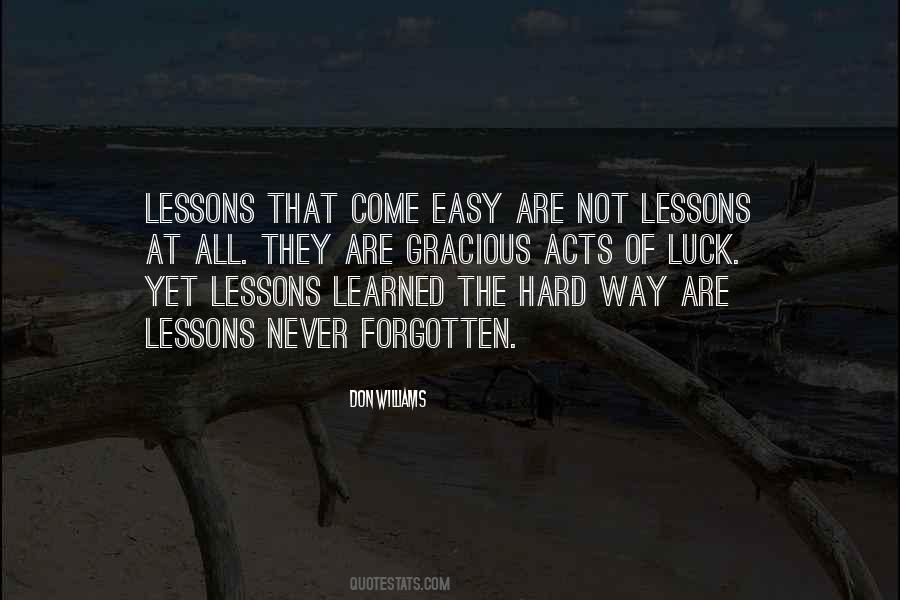 #55. The grass is never greener on the other side. You can only hope that with enough hard work, time, and luck that yours will become whatever shade the spray paint bottle said it would. - Author: Lauren Burd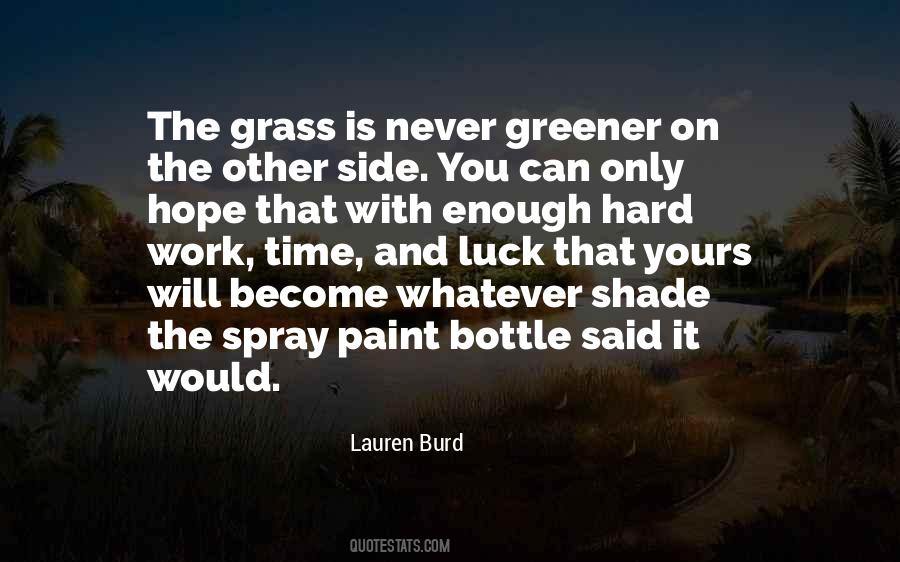 #56. ...Now did you ever hear of a young feller's having such hard luck, Mrs. Burden?"

Grandma told him she was sure the Lord had remembered these things to his credit, and had helped him out of many a scrape when he didn't realize that he was being protected by Providence. - Author: Willa Cather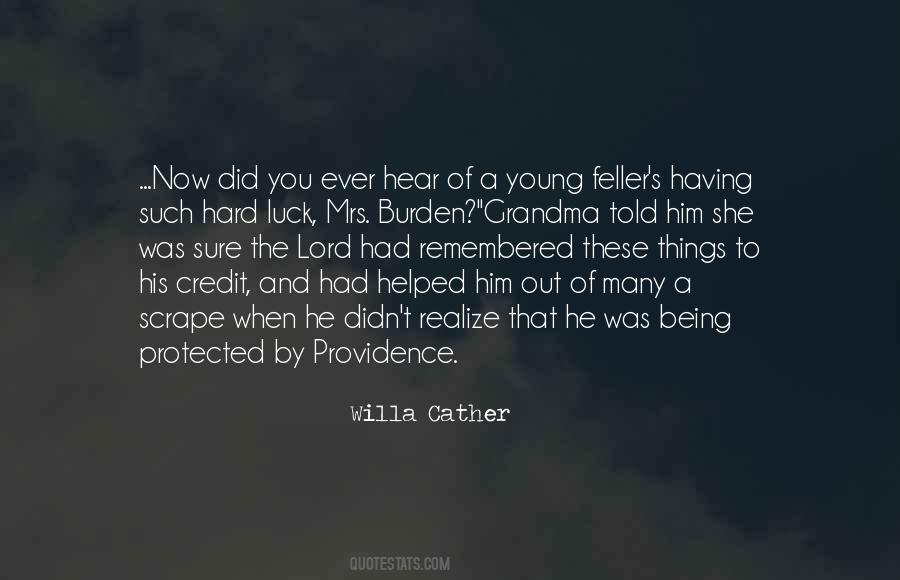 #57. It is hard enough luck being a monarch, without being a target also. - Author: Mark Twain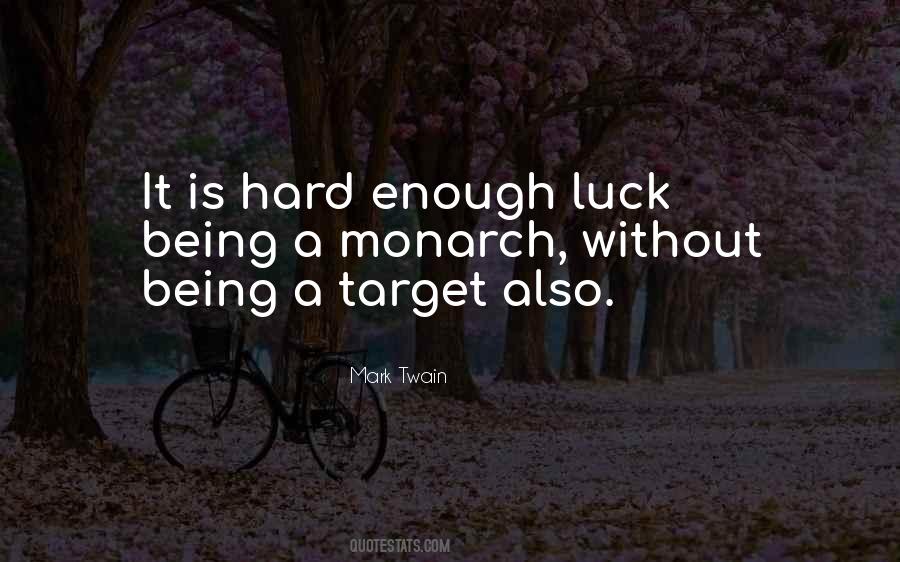 #58. My success was due to good luck, hard work, and support and advice from friends and mentors. But most importantly, it depended on me to keep trying after I had failed. - Author: Mark Warner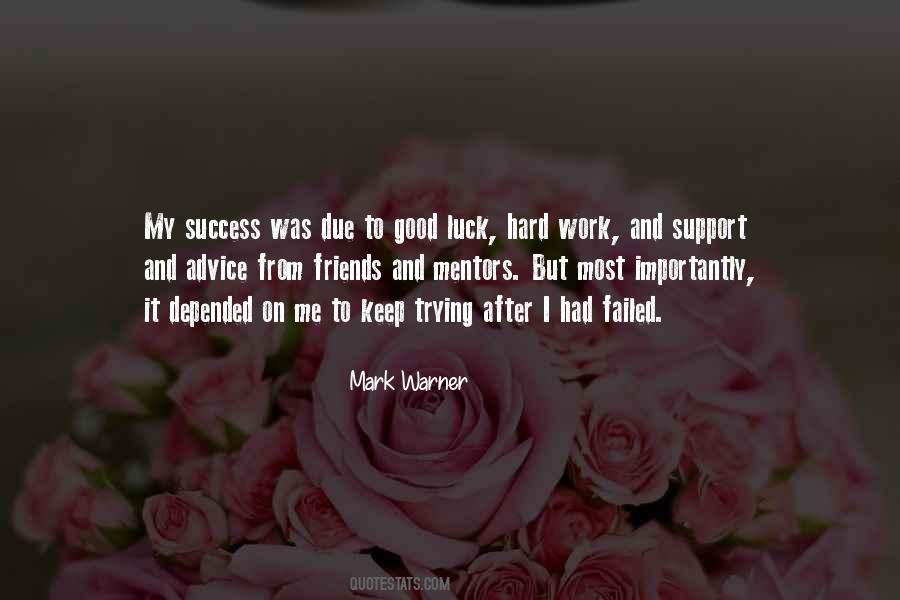 #59. If you're willing to work harder than anybody else, you can create your own luck - Author: Nolan Bushnell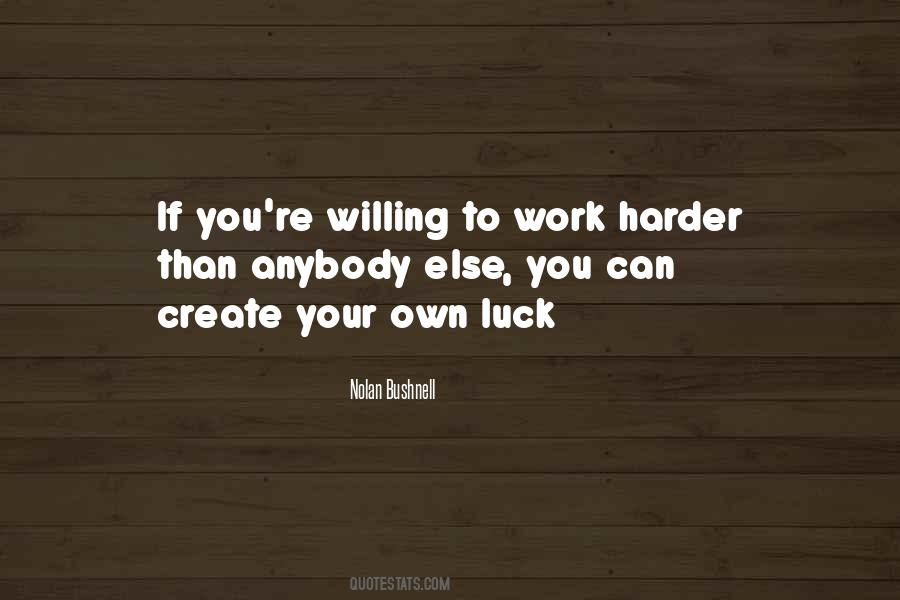 #60. They were daughters of the sky. Luck belonged to them - never bad, often good, sometimes hard. - Author: C.J. Milbrandt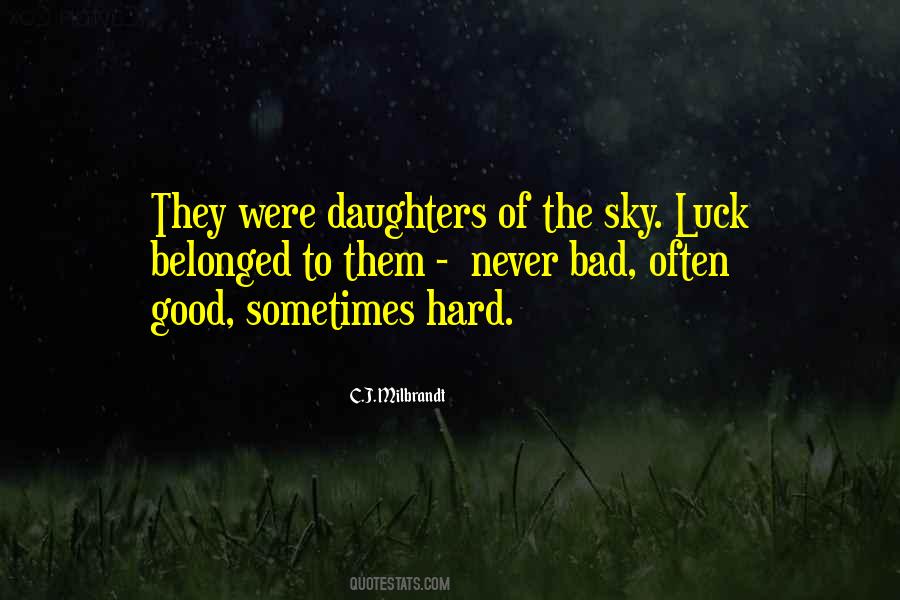 #61. You train hard and I'll train hard, and may the best man win, and good luck to both of us. - Author: Manny Pacquiao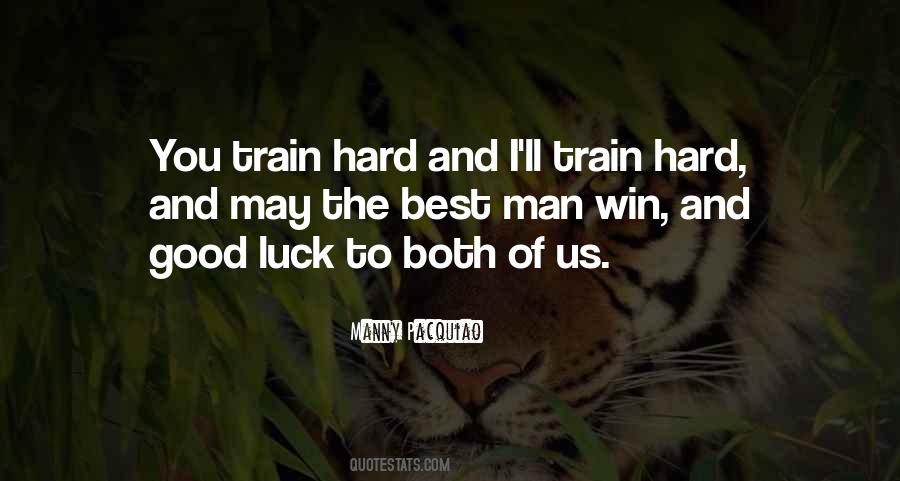 #62. I was 16 when I quit gymnastics and decided to start acting. I started booking immediately after. I was very lucky and fortunate, but I also did the hard work. Half of it's hard work and half of it's luck. It's been working out so far. Fingers crossed for the future. - Author: Nina Dobrev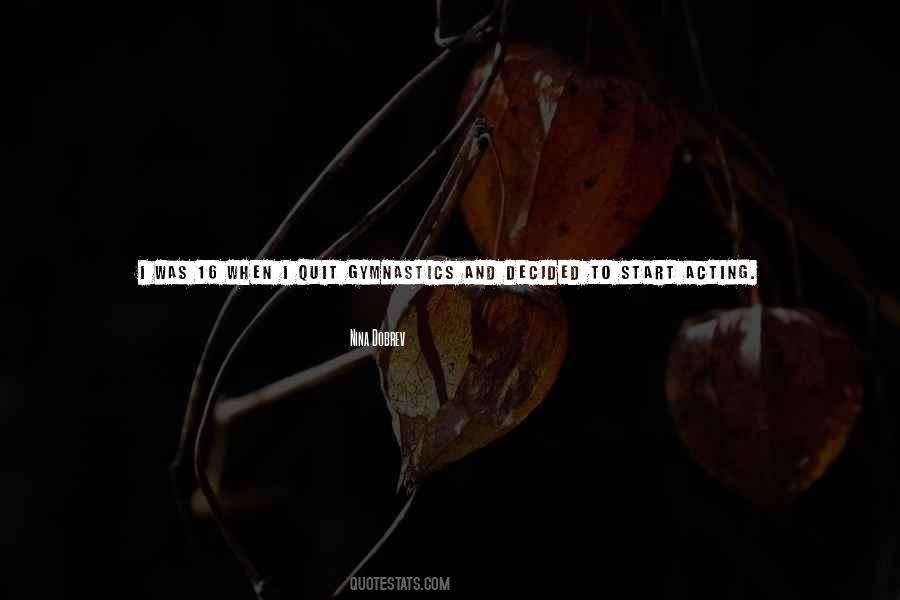 #63. At work, he pretended every woman customer was a floozy with a hard-luck story who only needed a good slapping. - Author: Tim Dorsey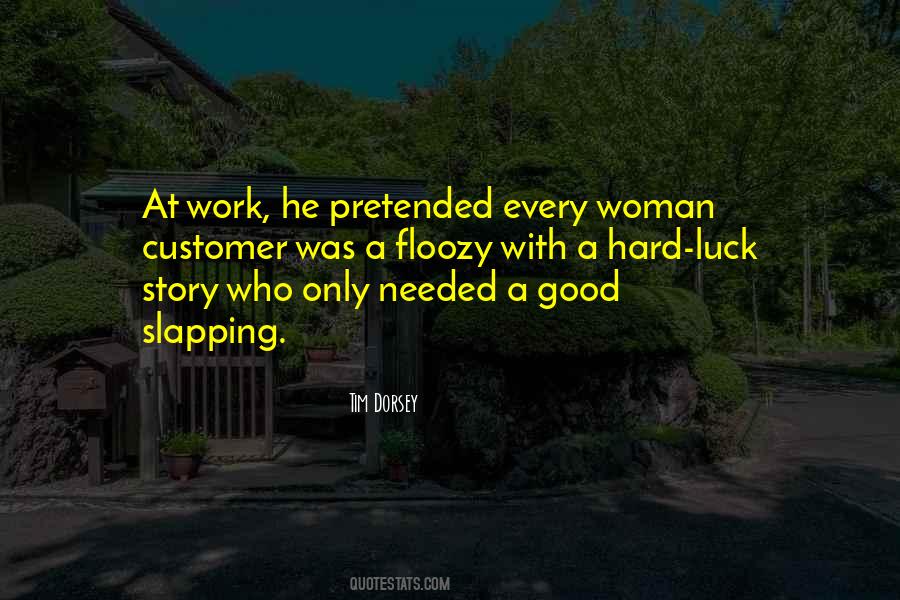 #64. I never knew an early-rising, hard-working, prudent man, careful of his earnings and strictly honest, who complained of hard luck. A good character, good habits and iron industry are impregnable to the assaults of all ill-luck that fools ever dreamed. - Author: Joseph Addison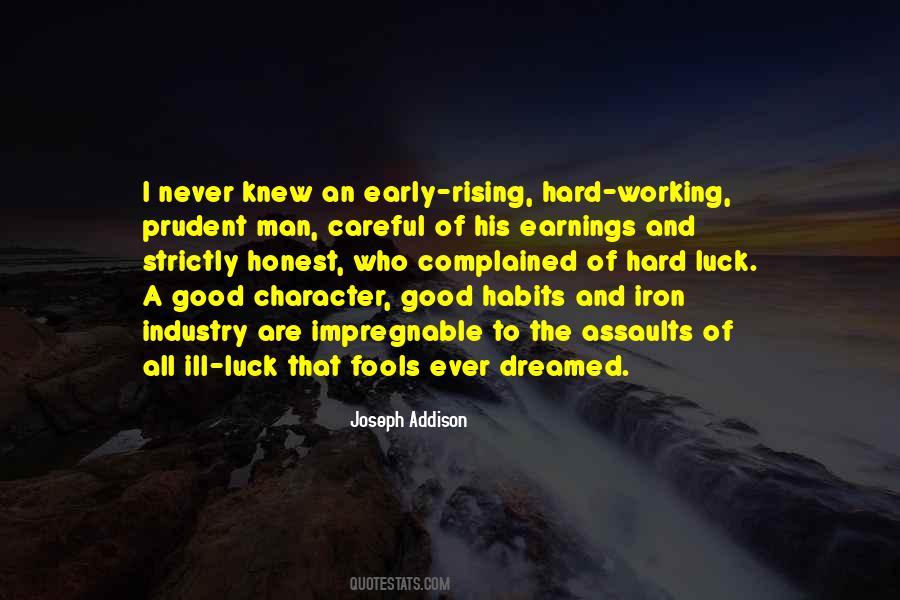 #65. Maybe I should have cut him some slack. With his broken wing and lifetime of eating roadkill, he probably had a lot to be ungrateful about. Too much hard luck can create a permanent meanness of spirit in any creature. - Author: Jeannette Walls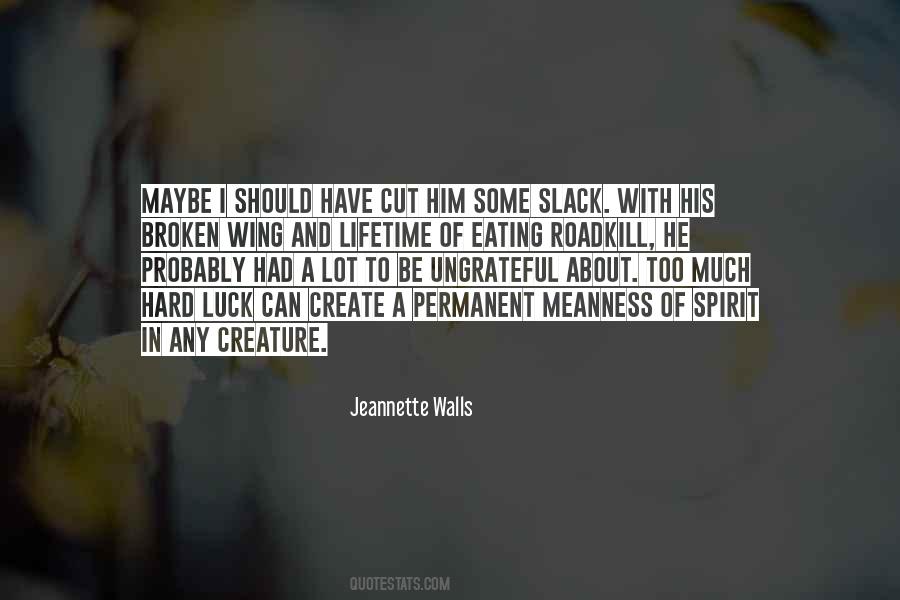 #66. When I was a child growing up in Maine, one of my favorite things to do was to look for sand dollars on the seashores of Maine, because my parents told me it would bring me luck. But you know, these shells, they're hard to find. They're covered in sand. They're difficult to see. - Author: Sarah Parcak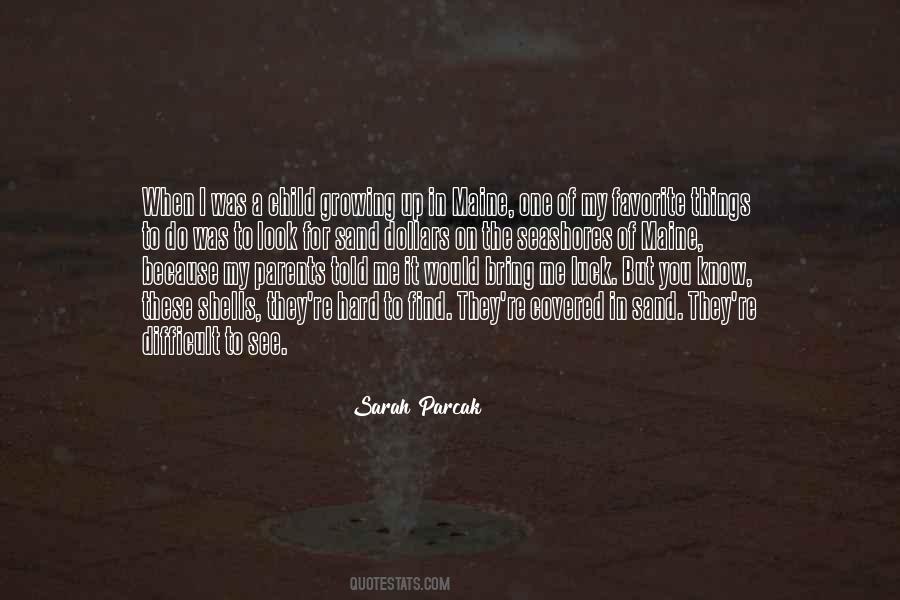 #67. I think to be successful you have to work really hard but you also have to have a little bit of luck. - Author: Tom Petty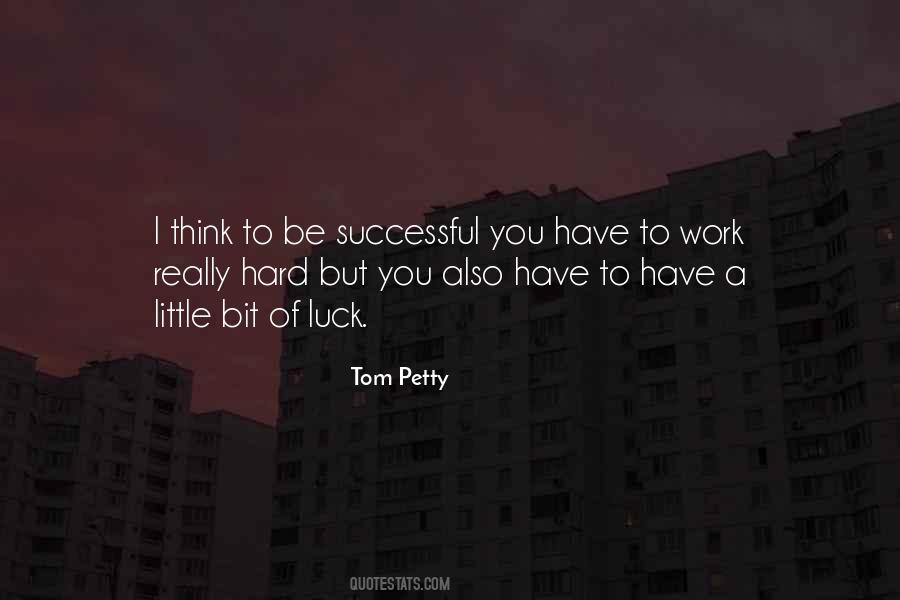 #68. Luck Doesn't exist, only hard (work) works - Author: Serge Nubret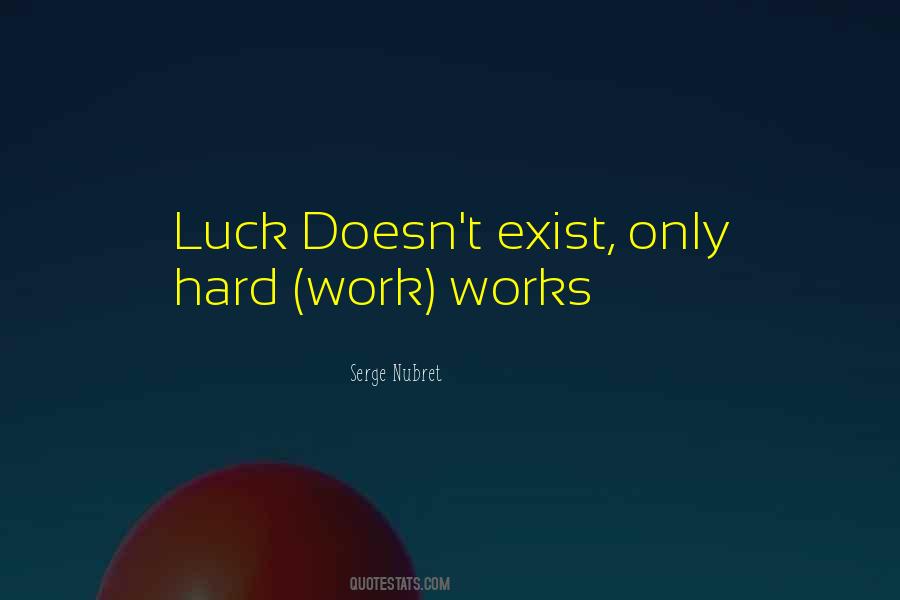 #69. For any band that ends up becoming really big, yeah, hard work has something to do with it, but a lot of it is just pure luck. - Author: Kellin Quinn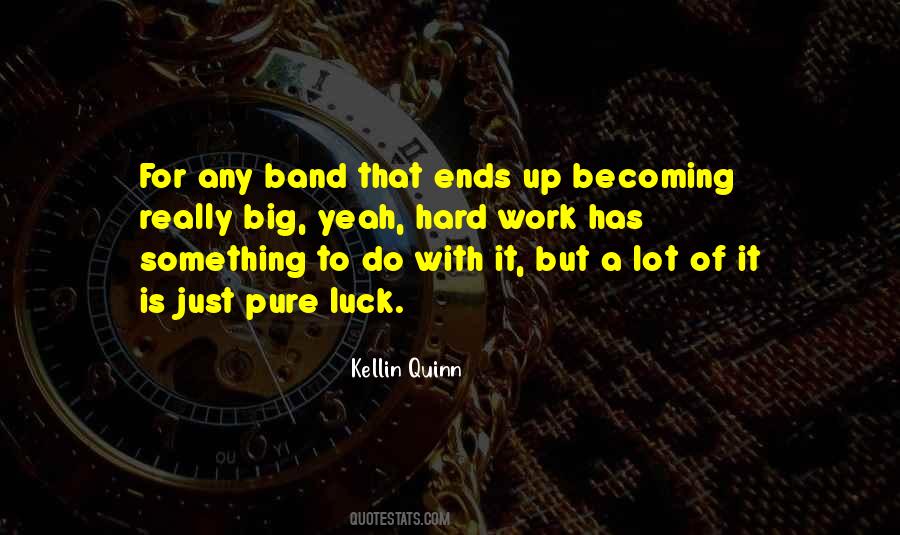 #70. Pray for intestinal fortitude, work hard, and keep the faith. Oh, and pray for good luck, you're gonna need it. - Author: Jerry Reed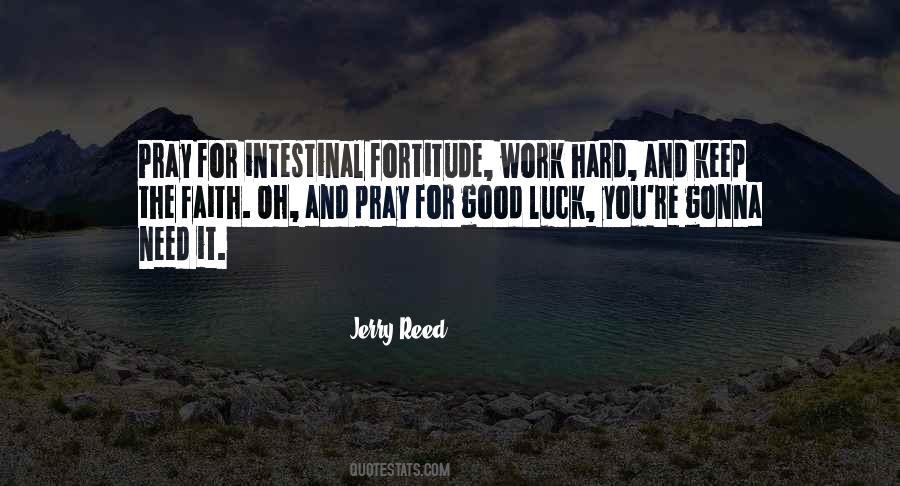 #71. When luck hits you hard with Failure; hit it back softly with your Success! - Author: Naila Tennyson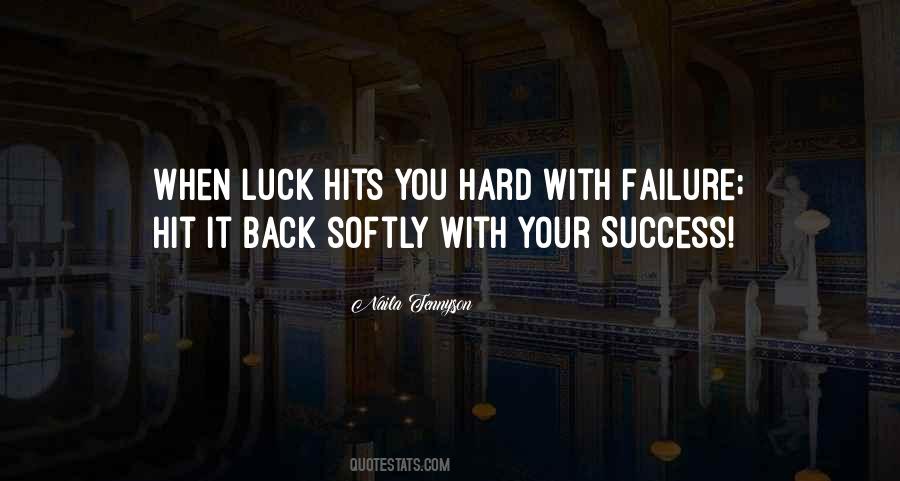 #72. You have to compensate for the luck thing by working as hard as you can and doing the very best you can do. - Author: Max Bemis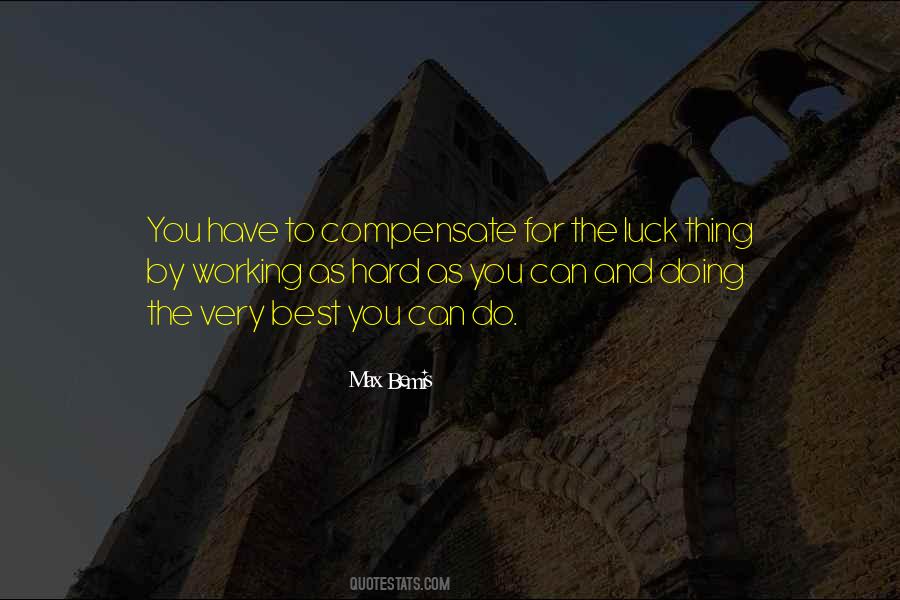 #73. So when they win, it's their hard work
And when they lose, it's their bad luck - Author: Sanhita Baruah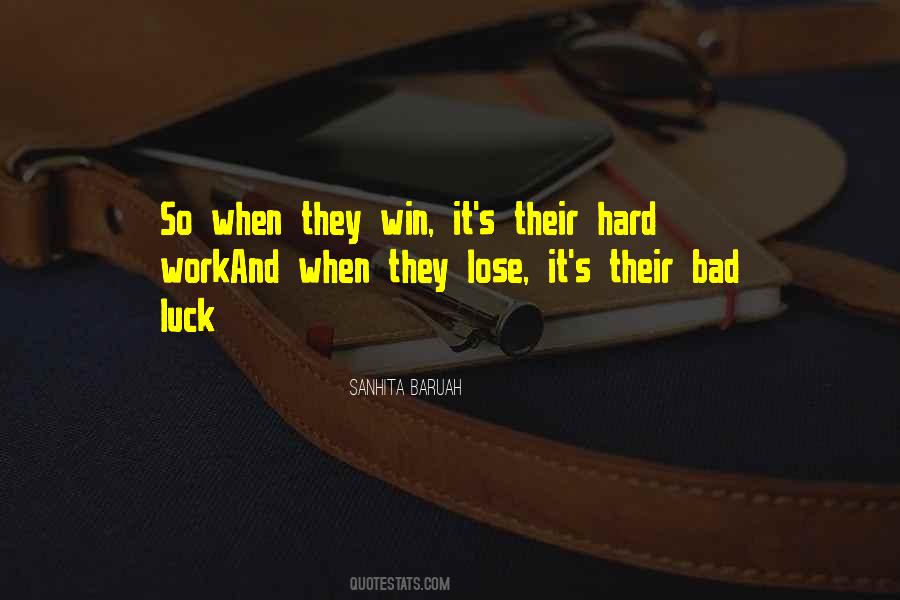 #74. I am tired of being roasted. I had a great deal of hard luck while manager of the team and somehow or other couldn't get the best out of the material I had at hand. - Author: Joe Kelley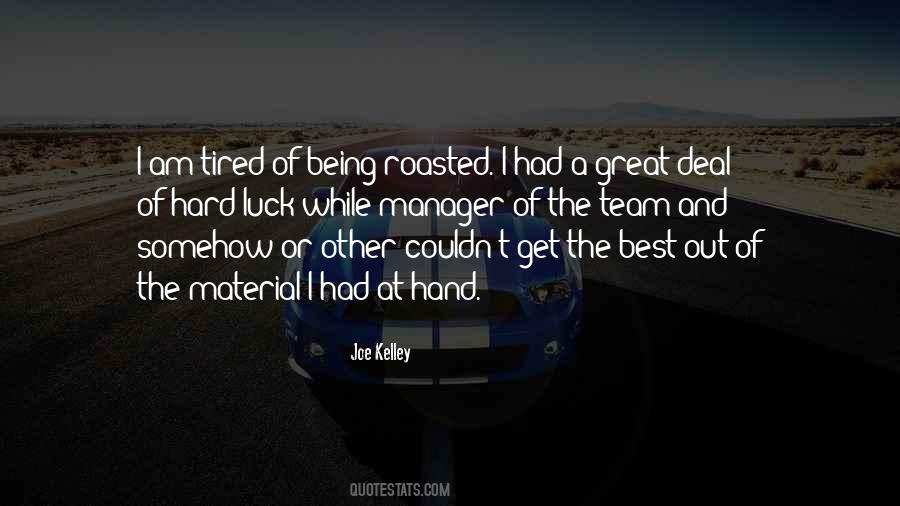 #75. It's hard for them because they want to be proud of me, but I keep reminding them that it's all luck. Luck is what got me here, nothing else. - Author: Robert Pattinson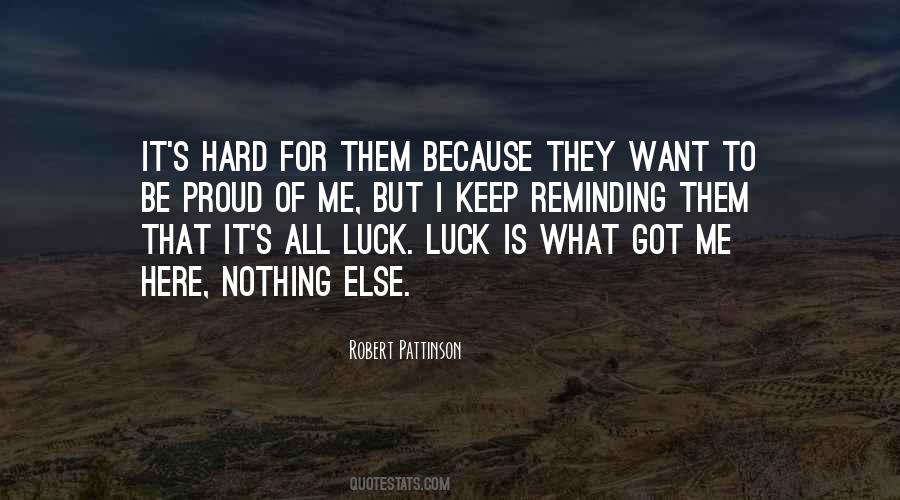 #76. It's hard to have any kind of luck in this business. - Author: Leighton Meester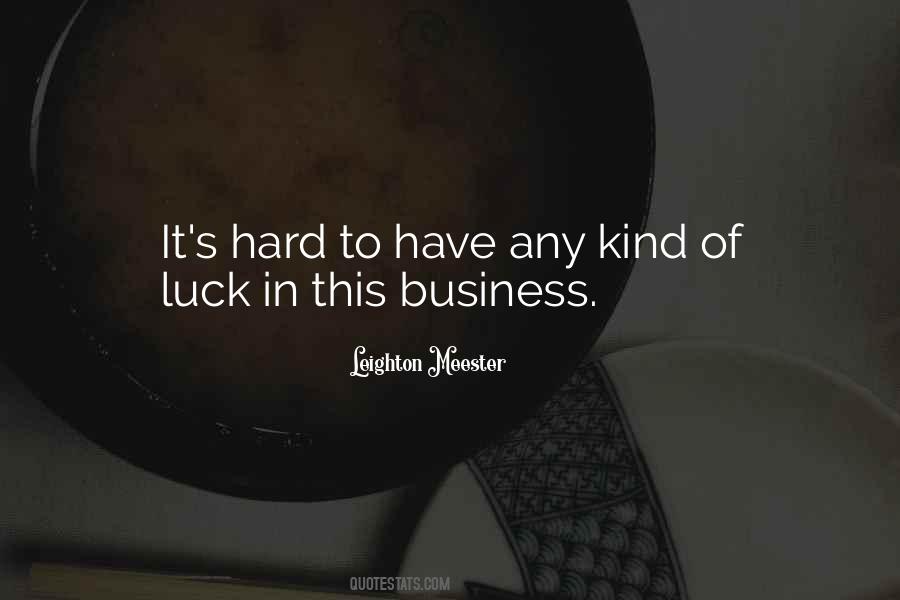 #77. I have achieved everything through either hard work or luck. - Author: Sandra Bullock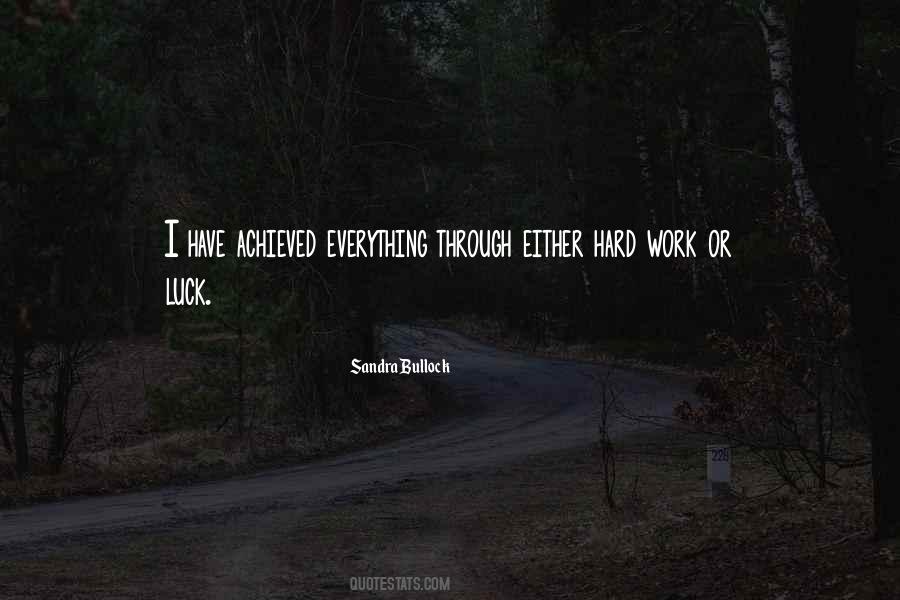 #78. When I grew up, my father taught us the value of hard work. He wanted us to enjoy ourselves, but he also wanted to know what it took to be successful. He coached a lot of our sports teams growing up. We weren't very good, but we learned about hard work and enjoying life and your teammates. - Author: Andrew Luck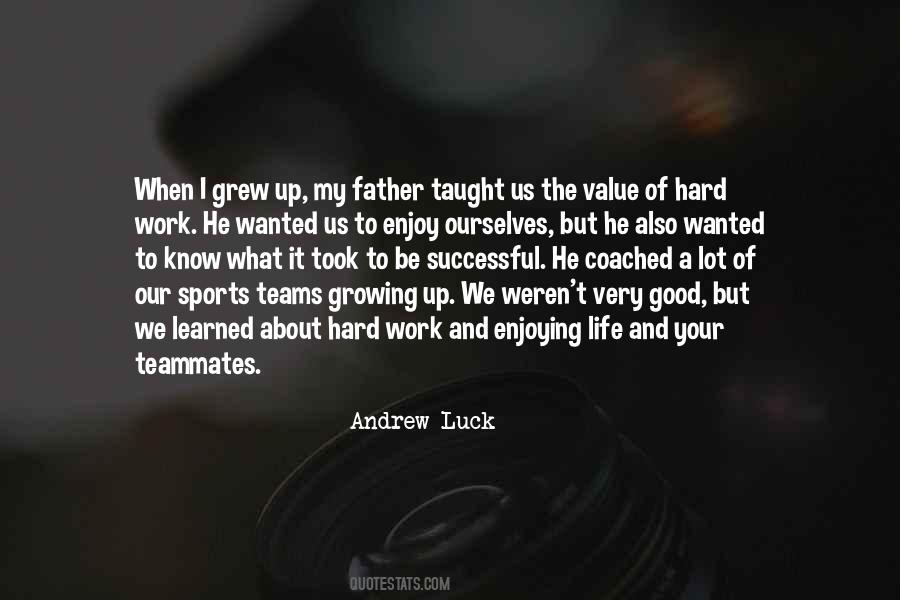 #79. Someone once told me: 'Luck is when opportunity meets preparation'. And that's what I really feel with my music. I've worked really, really hard on it. It was like, 'this is really what I want to do.. what do I have to do to make it work?' - Author: Erica Packer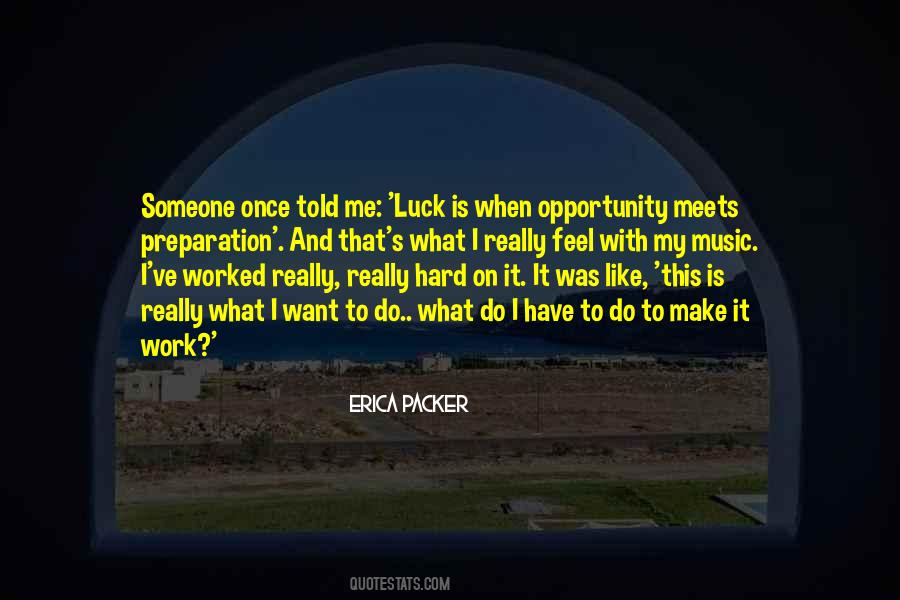 #80. A big part of winning is having lots of good luck. And I think a good competitor makes his own luck. That's why he is a winner. Luck to me is lots of determination lots of hard work, faith in myself, and in God. - Author: Lane Frost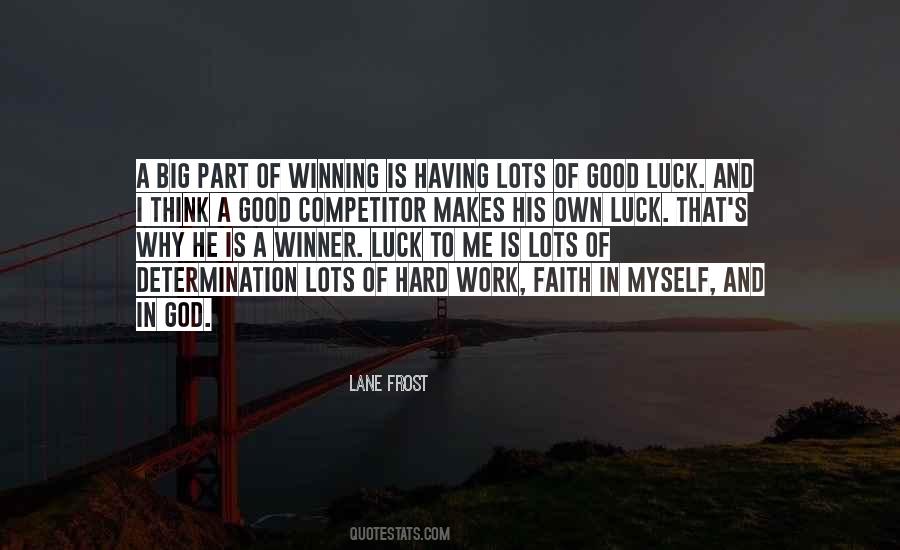 #81. Hard work, determination, and talent are key for any successful venture. But sometimes you need that fourth ingredient: dumb luck. Luck can never replace hard work and talent, but sometimes it can win out over both. - Author: Abby Rosmarin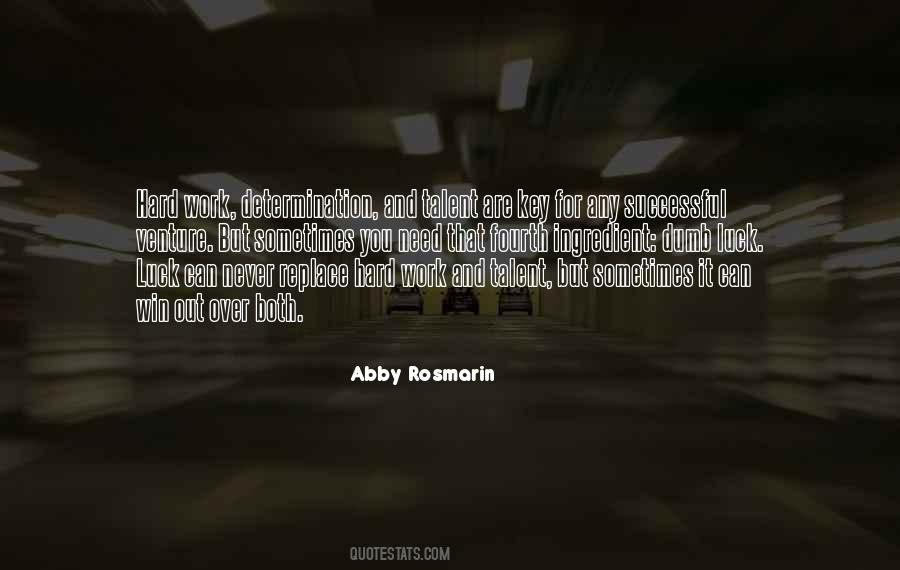 #82. It's hard not to follow other careers of NFL quarterbacks in the 24/7 news-at-your-fingertips society we live in. - Author: Andrew Luck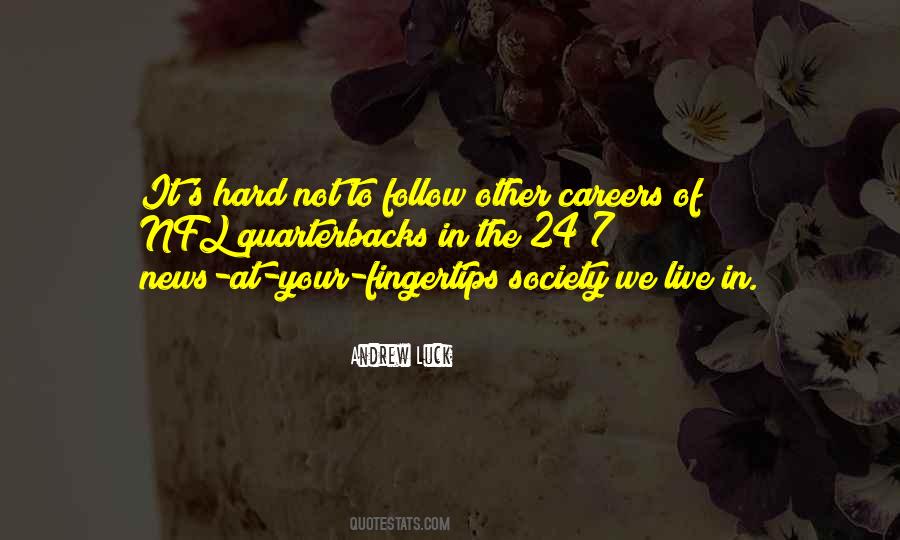 #83. Epitaphs are cheap, and they do a poor chap a world of good after he is dead, especially if he had hard luck while he was alive. I wish they were used more. - Author: Mark Twain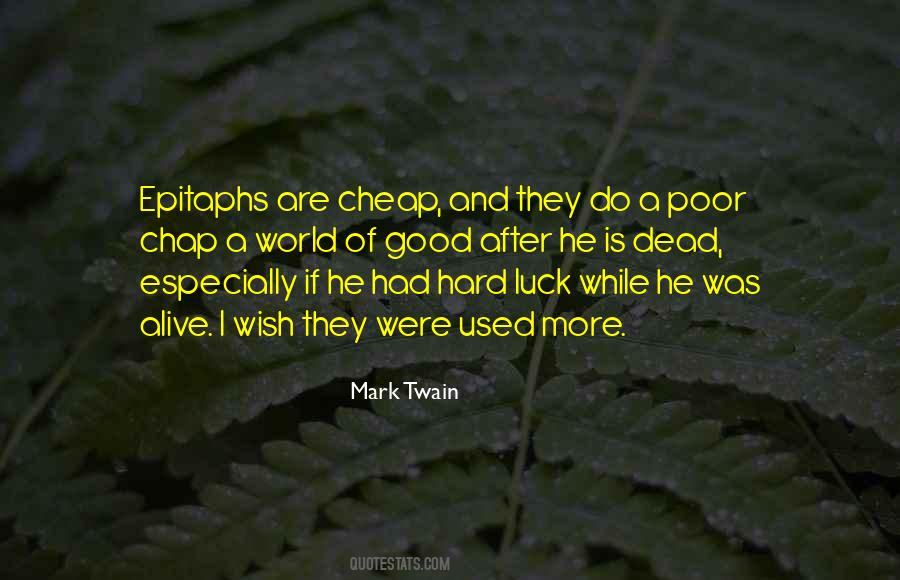 #84. I'm just living my life. I'm incredibly disciplined and I work incredibly hard. I show up for things on time, I do my homework, and I work my ass off. I've had a lot of luck, but I work really, really hard. - Author: Anna Paquin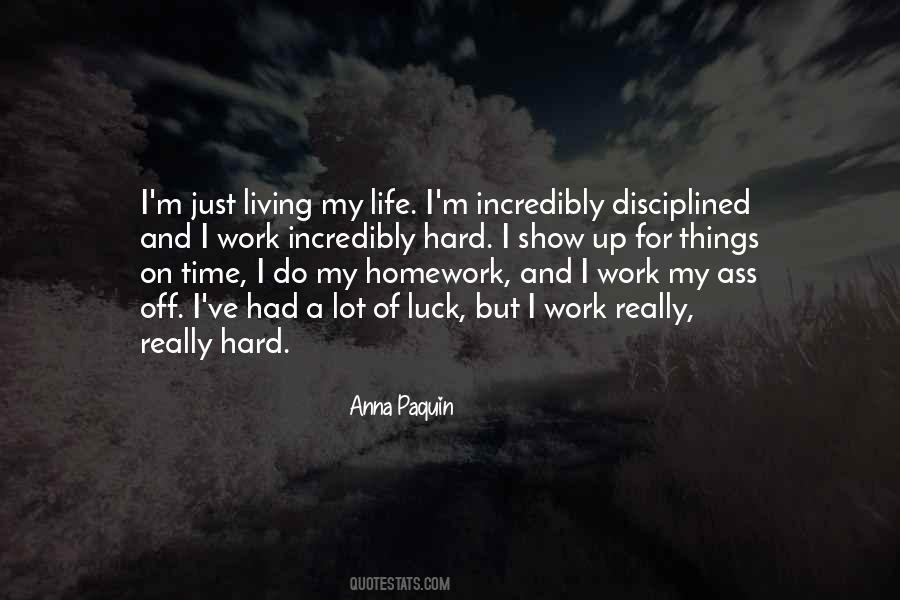 #85. There is no luck, you work hard and study things intently. If you do that for long and hard enough you're successful. - Author: Jason Calacanis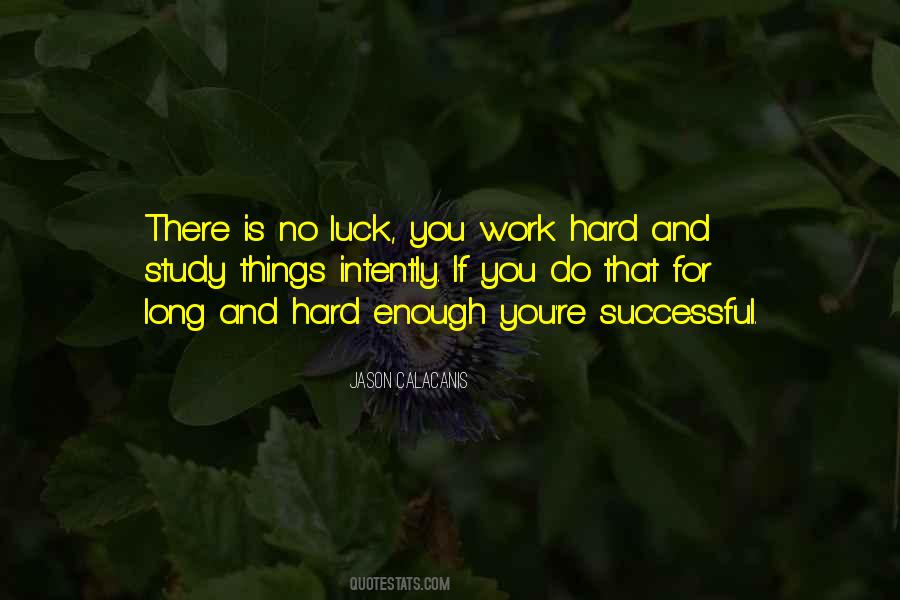 #86. I've met a few people in my time who were enthusiastic about hard work. And it was just my luck that all of them happened to be men I was working for at the time. - Author: Bill Gold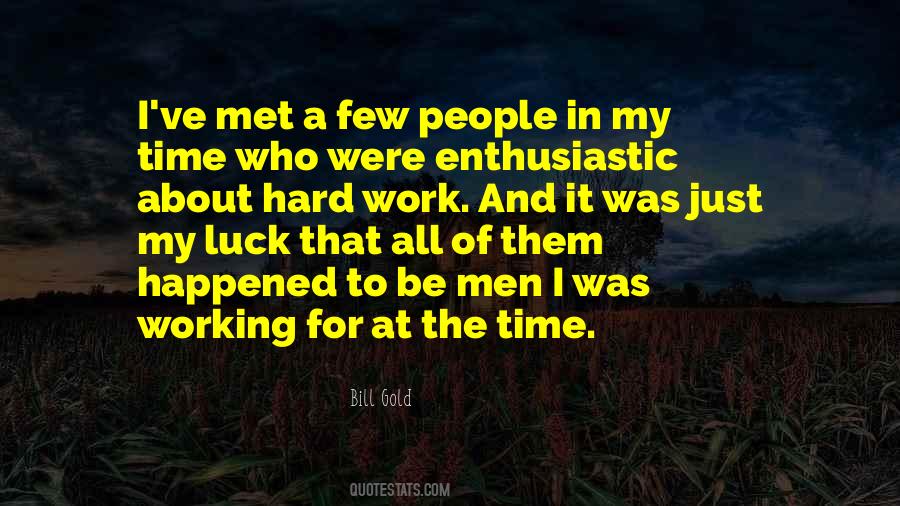 #87. A good idea is about ten percent and implementation and hard work, and luck is 90 percent. - Author: Guy Kawasaki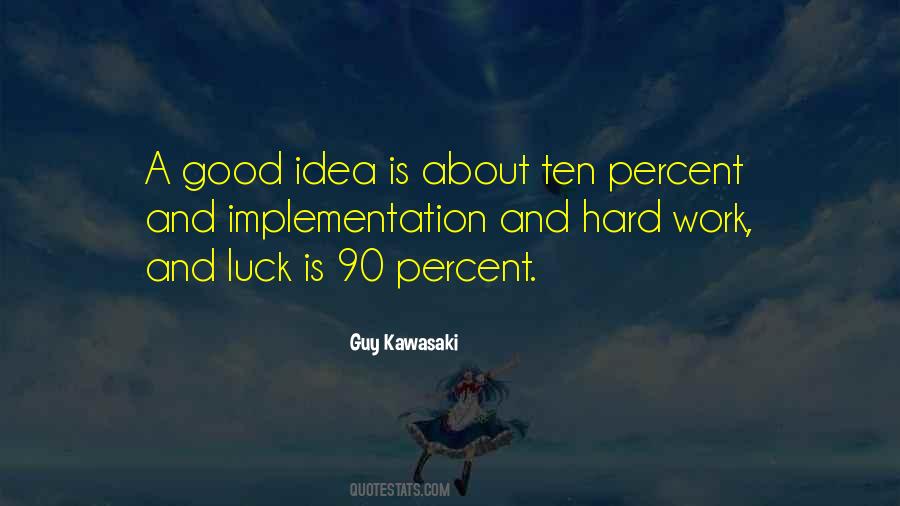 #88. I promise you, a lot of it is luck. But you make your own luck by working really hard and trying lots and lots of things. - Author: Kevin Systrom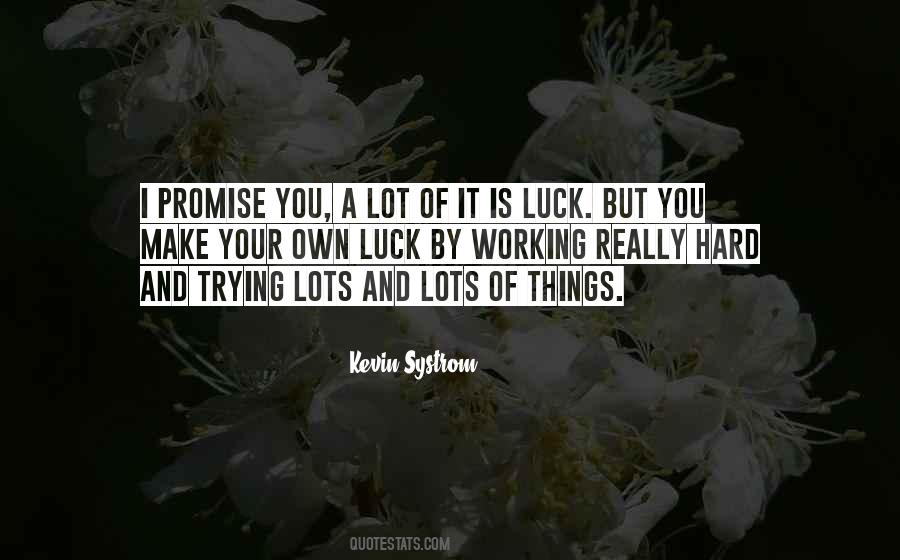 #89. I was discovering a hard truth: There's no way to catch up on sleep. When it's gone, it's gone, and the best you can hope for is to have better luck next time. - Author: David Van Etten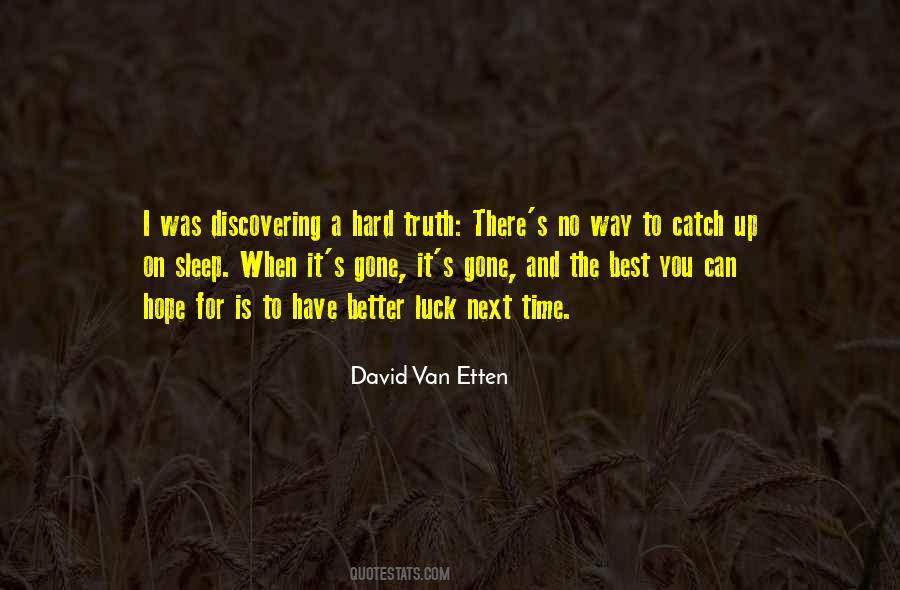 #90. Patience, persistence and hard work lead to success and happiness. Or you can do whatever the hell you want and with a bit or a whole lot of luck you'll stumble onto success and happiness. - Author: S.A. Tawks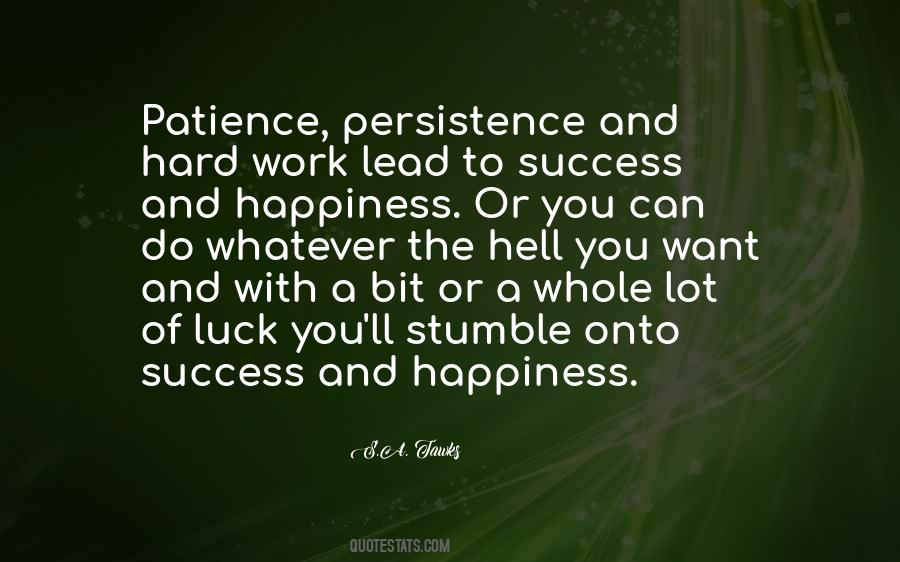 #91. The old man calls out, Listen. Who doesn't have a hard time with what life throws at them when they're young? It's the toughest when you're young. Just persevere. That will bring luck to you later. - Author: Anonymous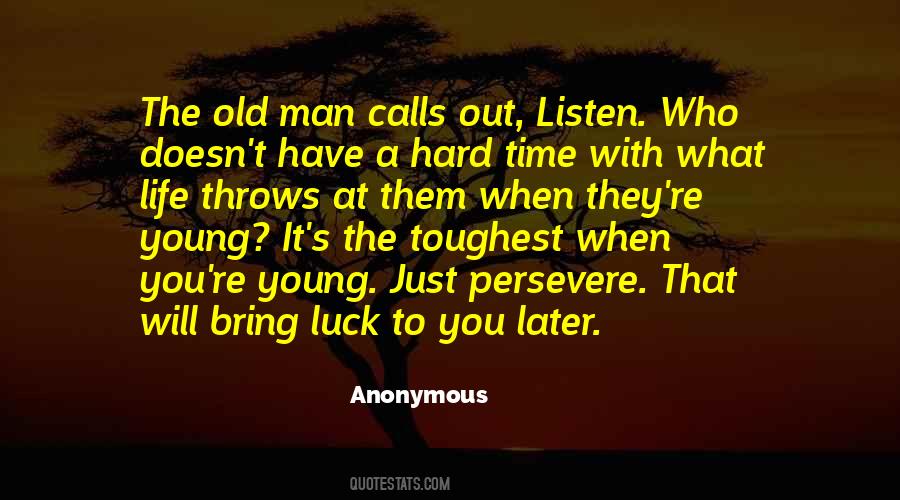 #92. It's hard to tell our bad luck from our good luck sometimes. And most of us have wept copious tears over someone or something when if we'd understood the situation better we might have celebrated our good fortune instead. - Author: Sarah Ban Breathnach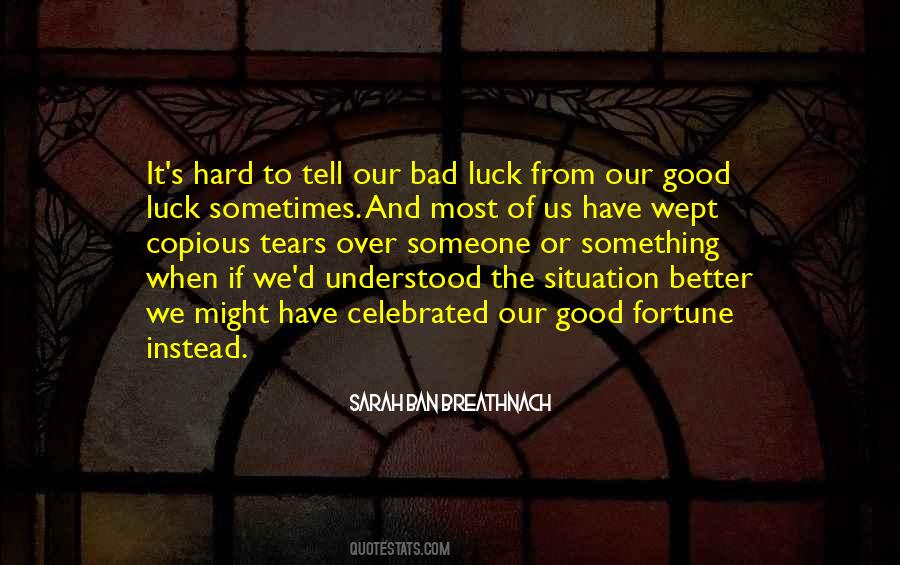 #93. When people succeed, it is because of hard work. Luck has nothing to do with success. - Author: Diego Maradona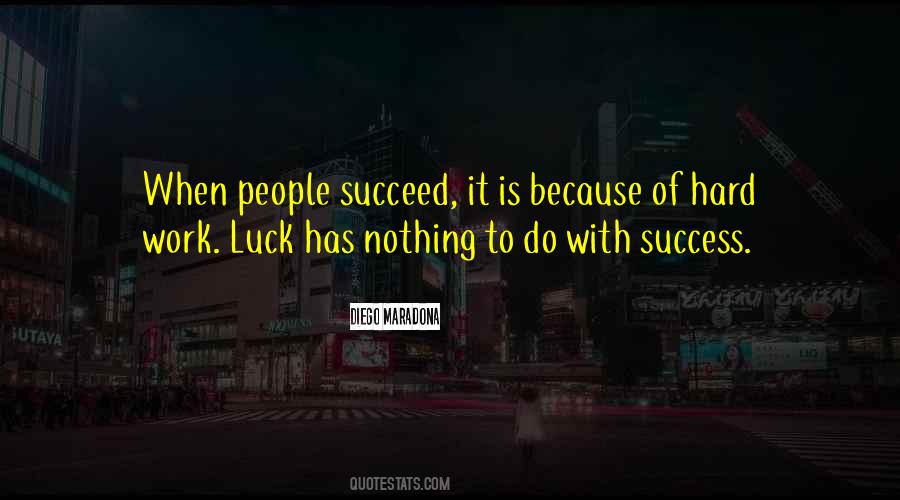 #94. We all want to convince ourselves that it is about hard work and education and perseverance, but the truth is, life is much more about the fickle and the random. We don't want to admit it, but we are controlled by luck, by timing, by fate. - Author: Harlan Coben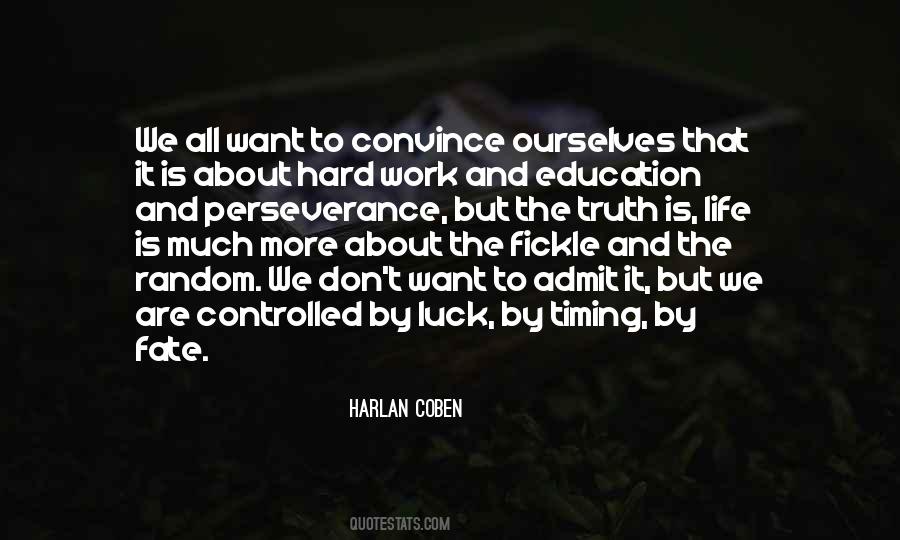 #95. Oooohhh, I'm worried. You gonna kick my butt with your one good leg? (Josie)
Good luck finding Drake's body. At least he won't have a problem getting hard for you. (Terri) - Author: Sherrilyn Kenyon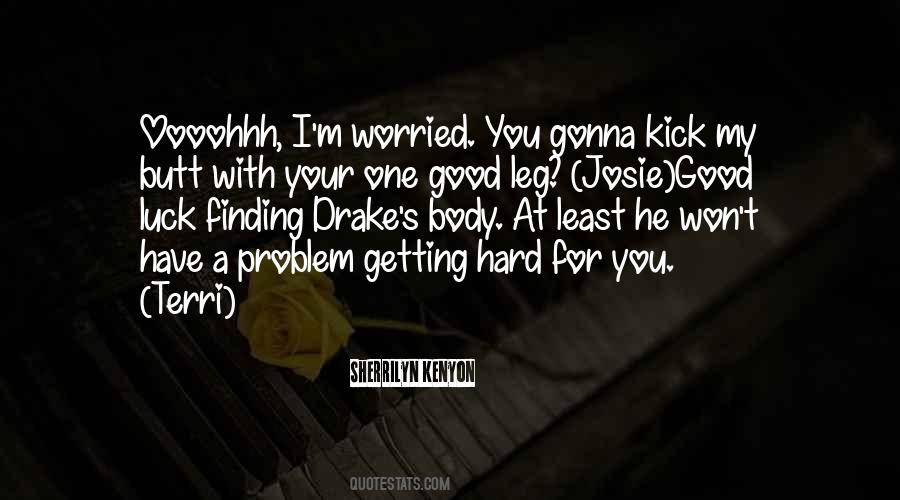 #96. Hard work will have the last smile in its race against luck. - Author: Sandeep Kumar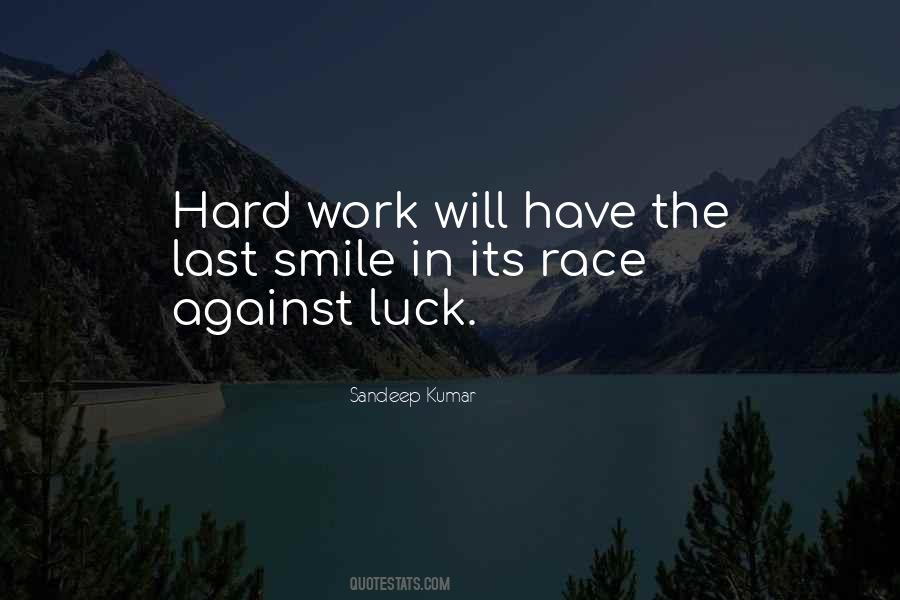 #97. Hard work and talent are crucial to success, and intangible qualities like heart and clutch are generally real - but luck is just as important. Nobody gets to the top by accident, but nobody's on top without some pretty phenomenal accidents of fate. - Author: Andrew Sharp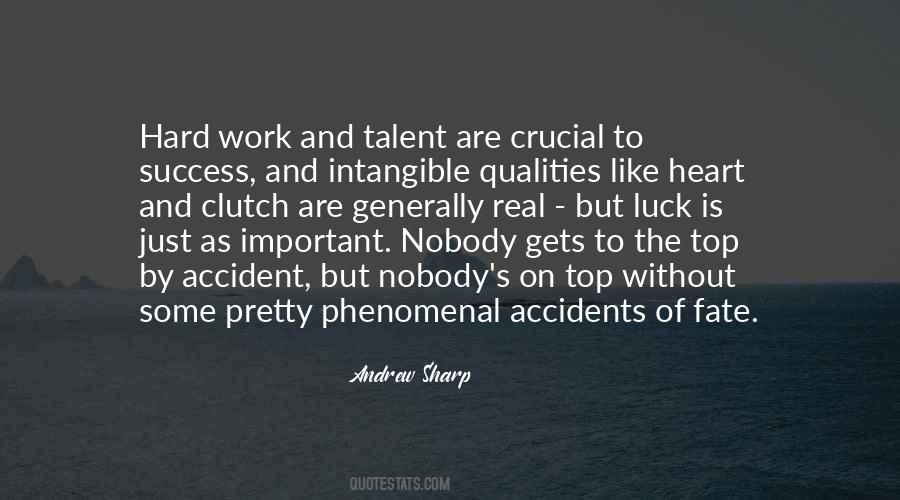 #98. Be free, work hard, be brave, good luck will find you. - Author: Auliq Ice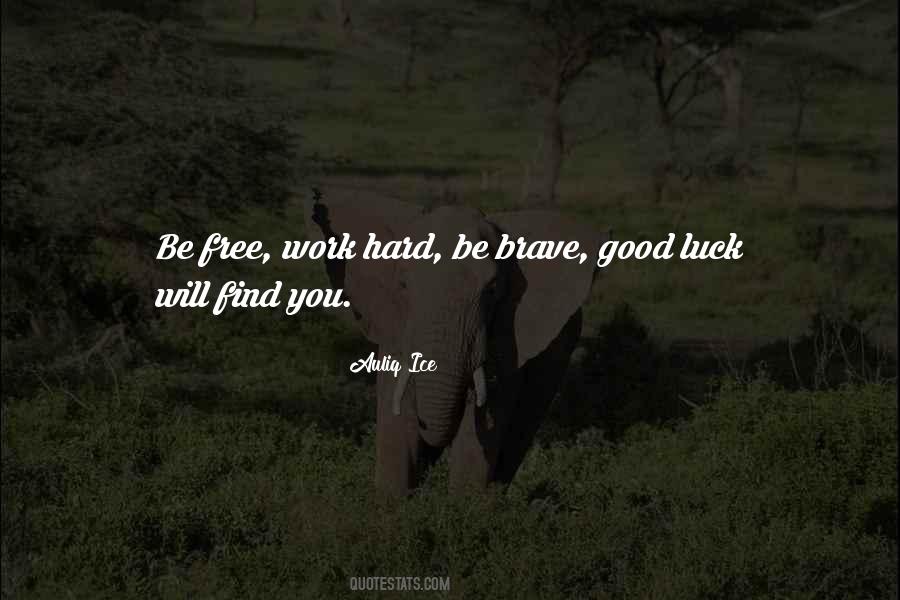 #99. No matter how far luck is running away from you , rational decisions, Hard working, and sacrifices always brings it back to you, even if it is impossible - Author: M.F. Moonzajer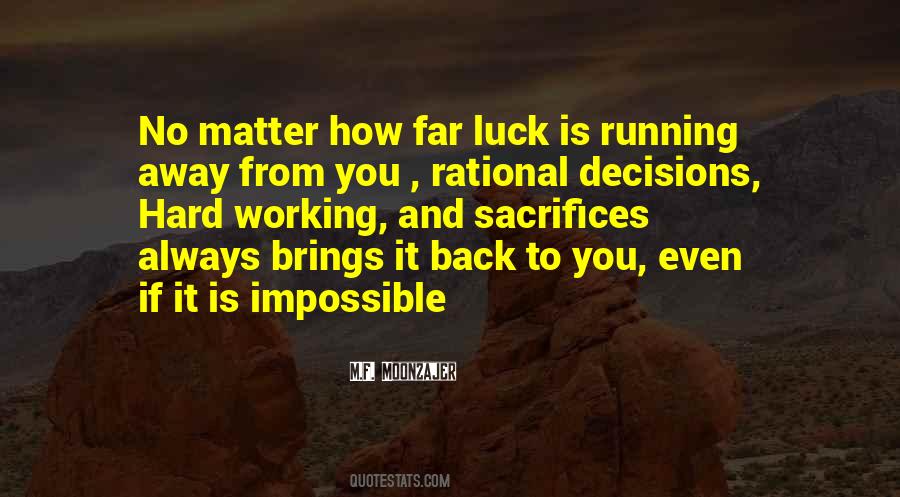 #100. I believe in hard work and luck, and that the first often leads to the second - Author: J.K. Rowling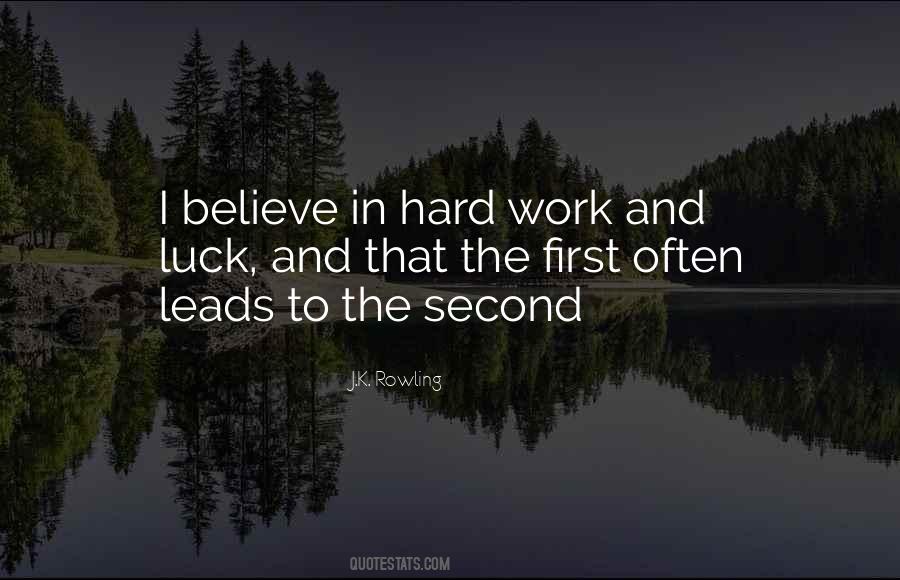 Famous Authors
Popular Topics