Happiness For Yourself Famous Quotes & Sayings
List of top 100 famous quotes and sayings about happiness for yourself to read and share with friends on your Facebook, Twitter, blogs.
Top 100 Quotes About Happiness For Yourself
#1. Forgive yourself for every wrongdoing.
Forgive others without judging.
Hug others with great love and care.
Be optimistic and be ready to share. - Author: Debasish Mridha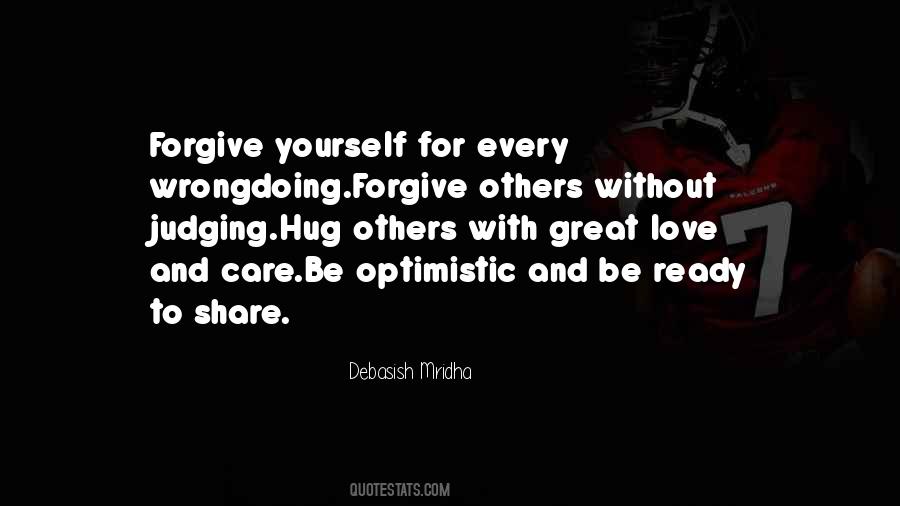 #2. The key to happiness is loving yourself. For years I have struggled to reach this point and even now at the age of 20 I will be honest in saying I am not 100% there yet. However, I will say I am much closer to that 100 than I was 5 years ago. - Author: Gabriela M. Sanchez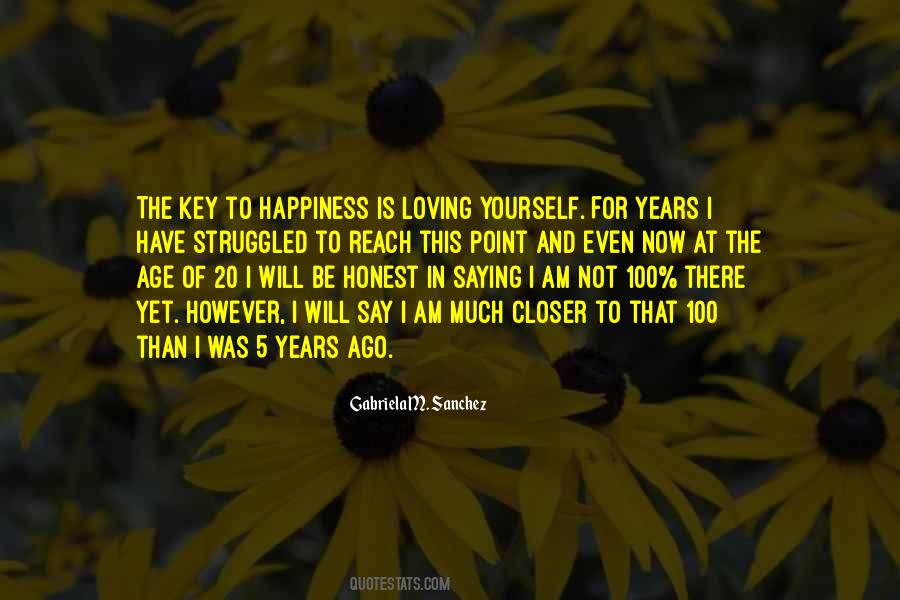 #3. The measure of life is not what you have done for yourself, but what you have done for others. - Author: Debasish Mridha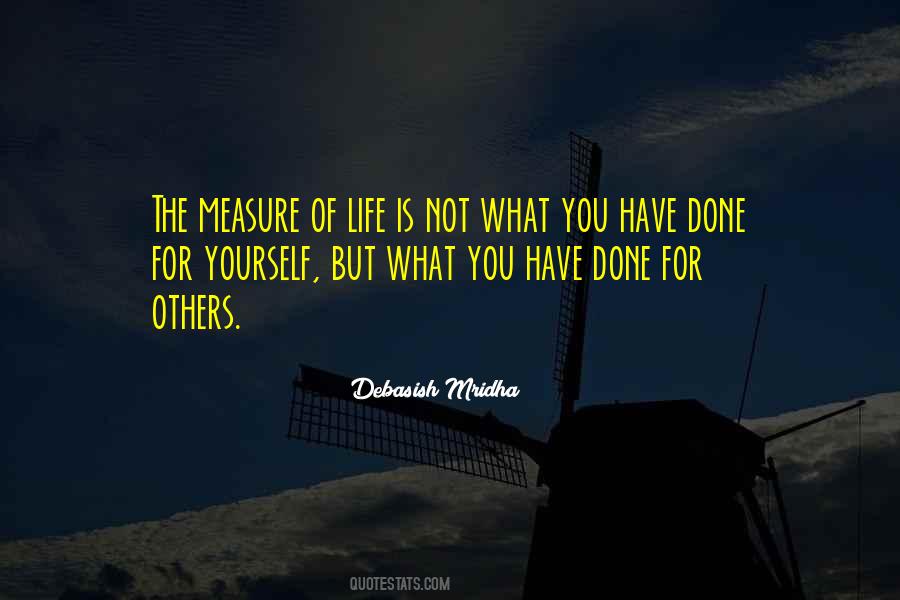 #4. By talking to yourself every hour of the day, you can direct yourself to think thoughts of courage and happiness, thoughts of power and peace. By talking to yourself about the things you have to be grateful for, you can fill your mind with thoughts that soar and sing. - Author: Dale Carnegie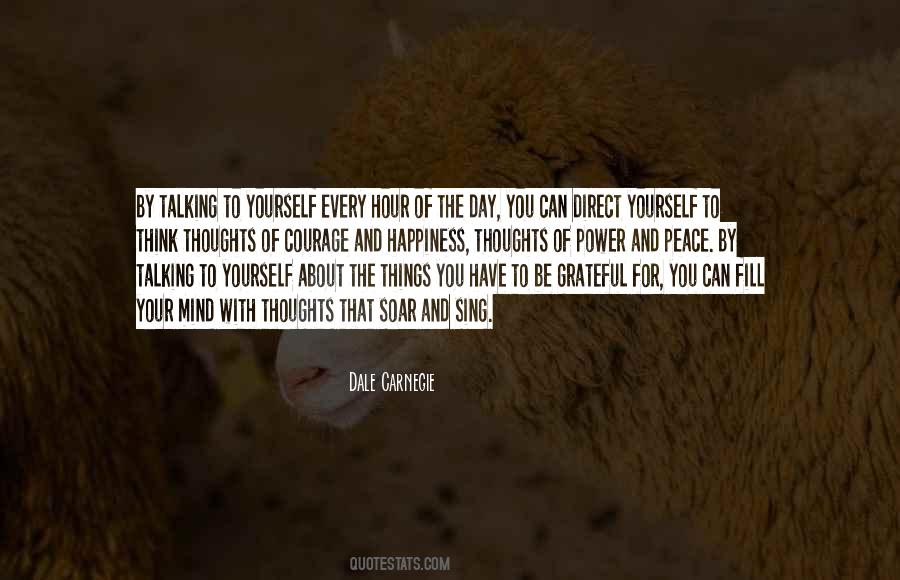 #5. The more you take responsibility for your attitudes, the more you can adjust yourself in a forward thinking manner. - Author: Deborah Day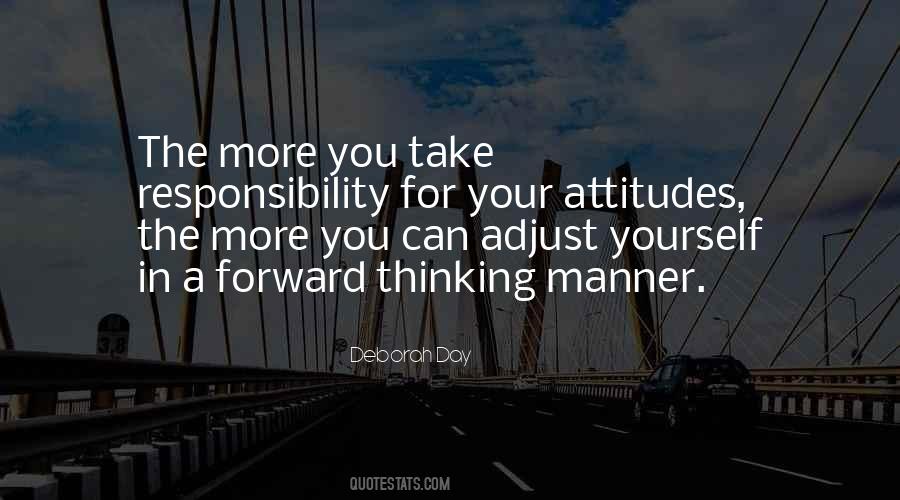 #6. Loving yourself has nothing to do with being selfish, self-centered or self-engrossed. It means that you accept yourself for what you are. Loving yourself means that you accept responsibility for your own development, growth and happiness. - Author: Iyanla Vanzant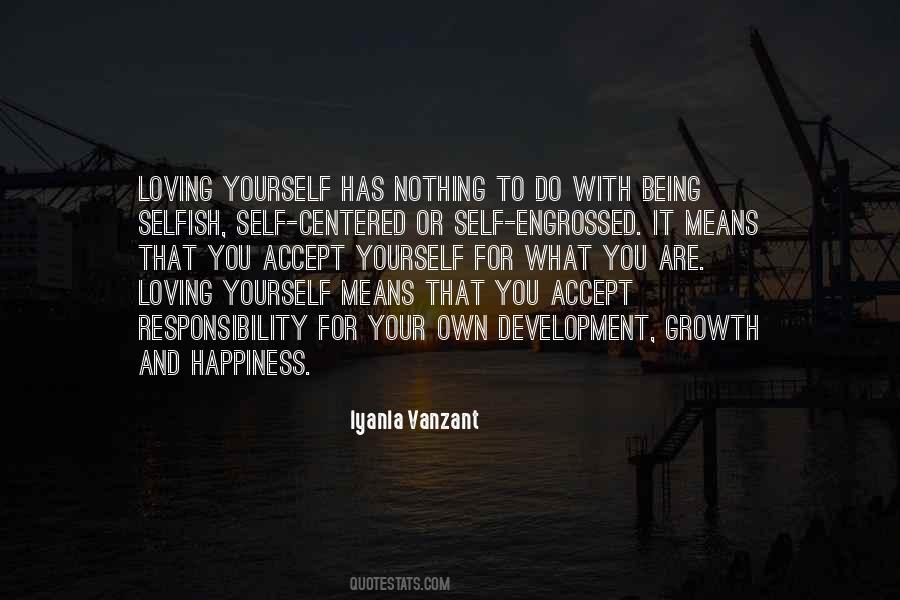 #7. Learn to value yourself, which means: fight for your happiness. - Author: Ayn Rand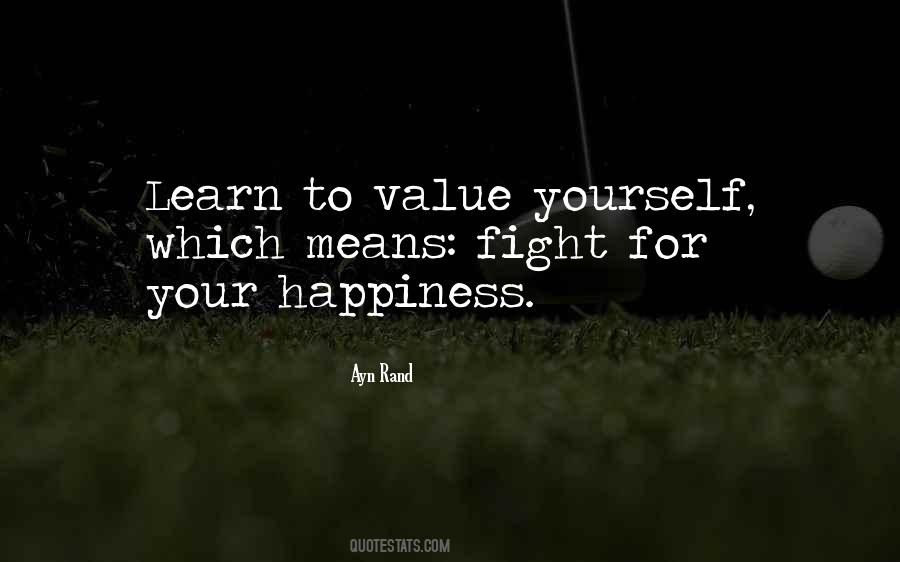 #8. It is imperative to base your life on yourself, to take responsibility for your own happiness. - Author: Josei Toda
#9. The worst thing you can do is to sit and brood and feel sorry for yourself. Nor should you feel wrong about doing this, since all of us do from time to time. - Author: Frederick Lenz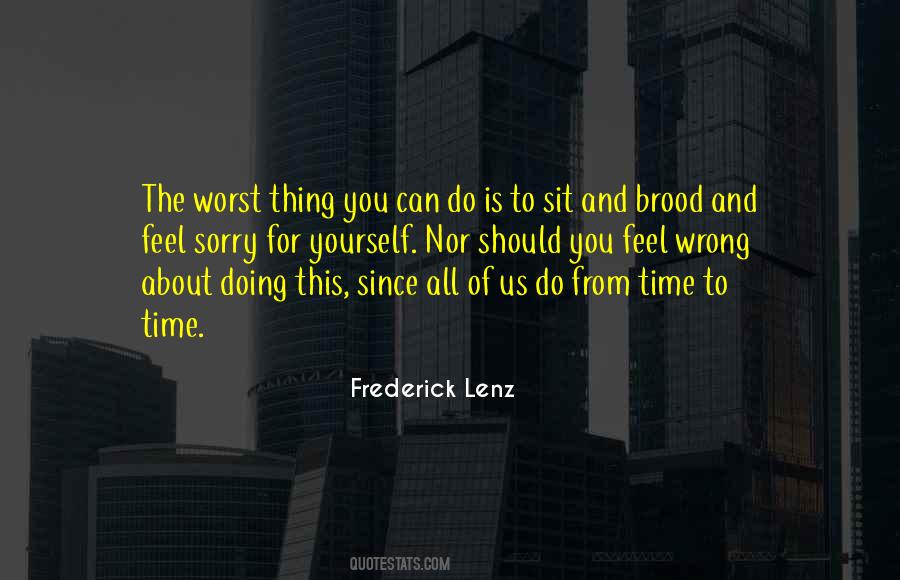 #10. For an illuminated life, give yourself up for the service of others. - Author: Debasish Mridha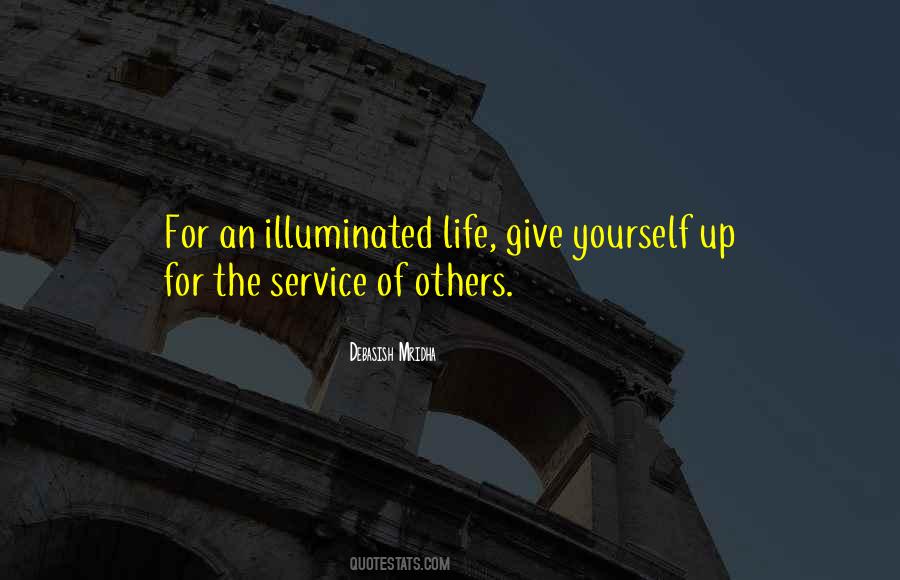 #11. If you think someone or something other than yourself is responsible for your happiness or success, I'd guess you're not that happy or successful. - Author: Rob Liano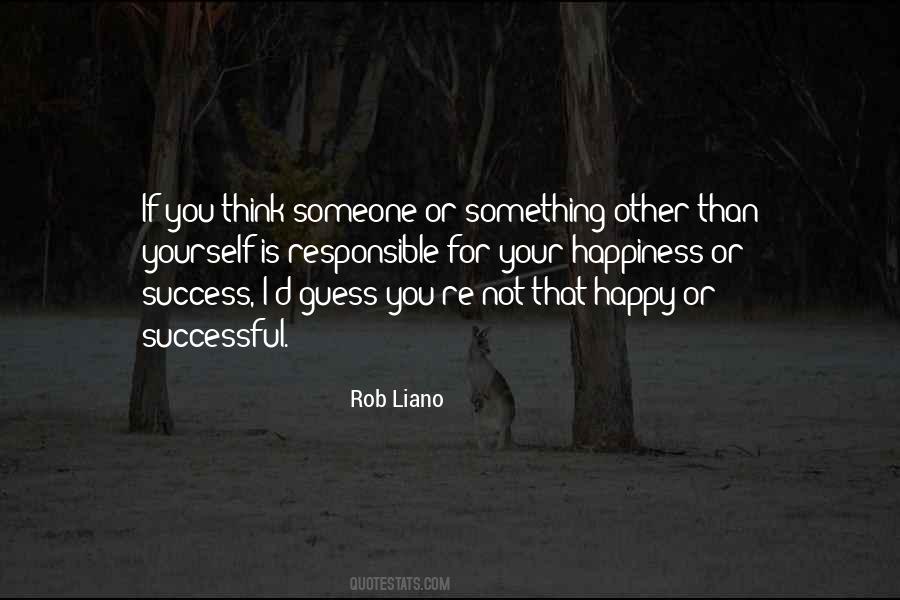 #12. Hinduism - indeed, most eastern religions - tells us that striving, even striving for happiness, is self-defeating. The moment you try to improve yourself, you've failed. Game over. Yet just lie there like a zombie and you lose, too. What to do? - Author: Eric Weiner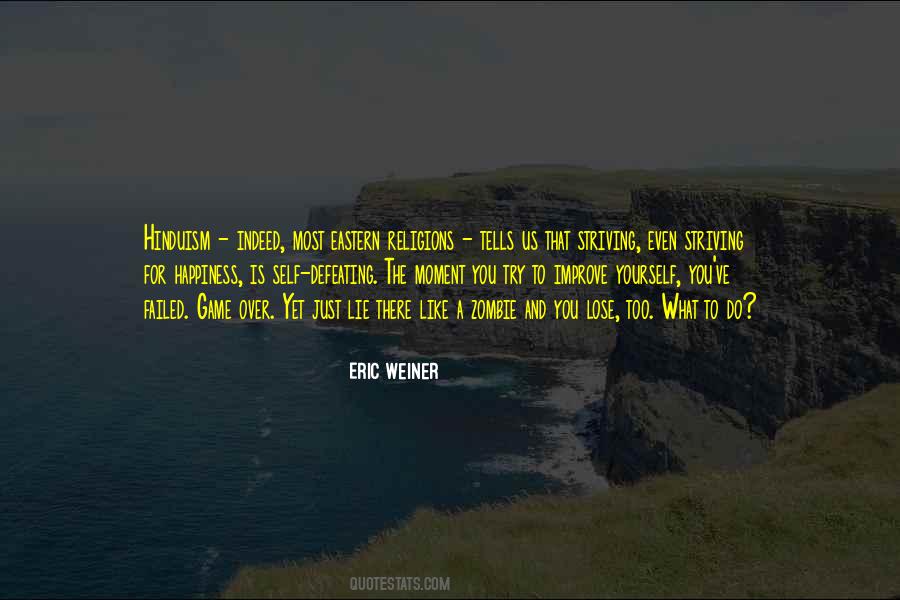 #13. Happiness is in our own hearts. I have no regrets of anything in the past. I'm totally cheerful and happy, and I think that a lot of your attitude is not in the circumstances you find yourself in, but in the circumstances you make for yourself. - Author: Maeve Binchy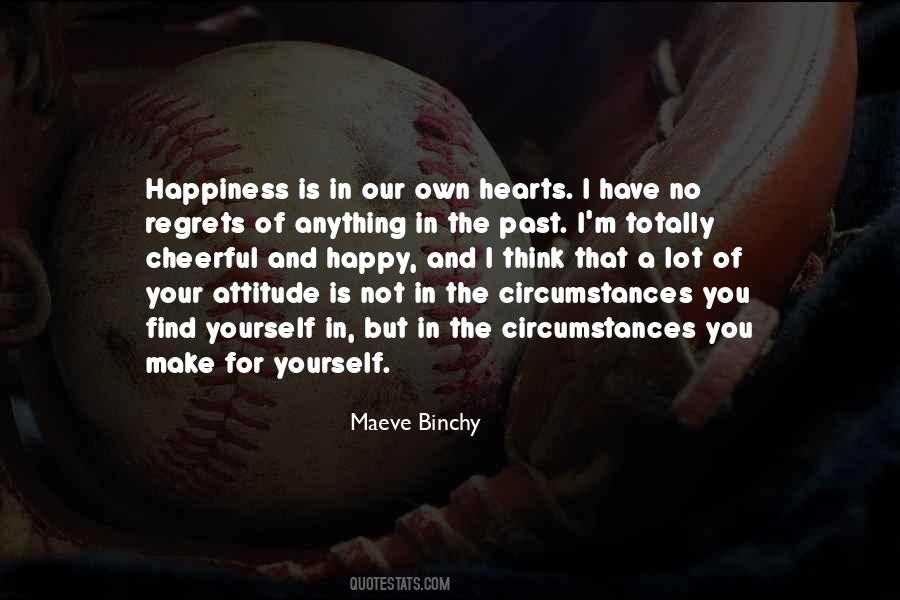 #14. In our quest for happiness many times we evade the truth and remain unhappy. The truth lies within our hearts, regarding faith, family and inner peace. To love yourself is the largest truth you'll ever have. It's there where happiness begins. - Author: Ron Baratono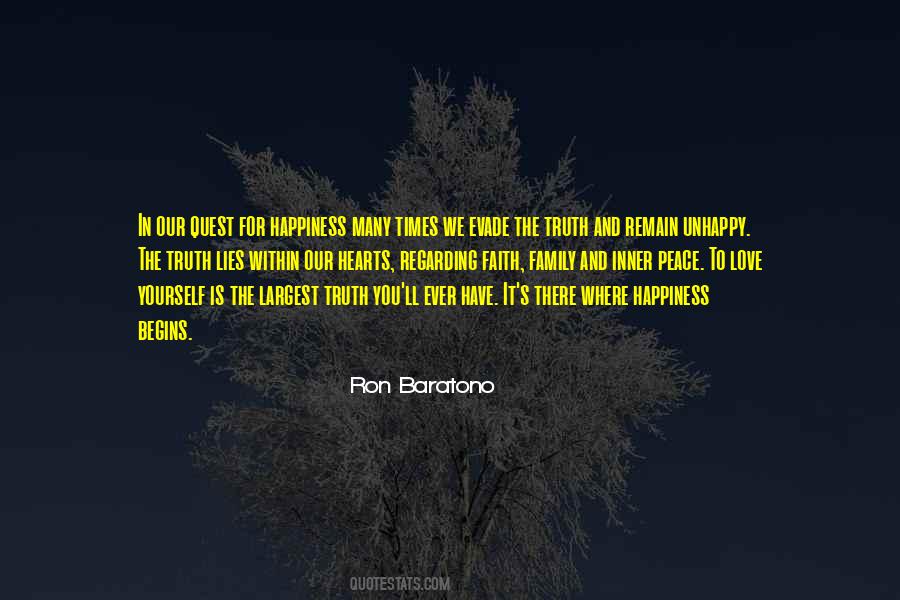 #15. Allow yourself to be happy right now, even if outside circumstances seem imperfect. Waiting for everything to be "perfect" means delaying the happiness that you are meant to enjoy now. Enjoy, enjoy, enjoy this very moment ... now. - Author: Doreen Virtue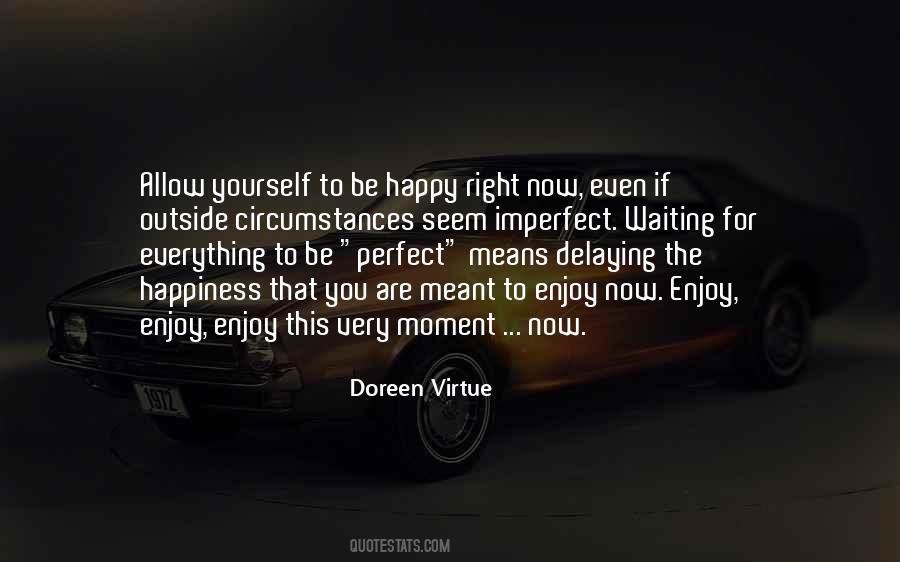 #16. Happiness doesn't necessarily lie in material things. You just have to put yourself in a position to be happy. If you can do what you love for a living, that's a good start. - Author: Joan Jett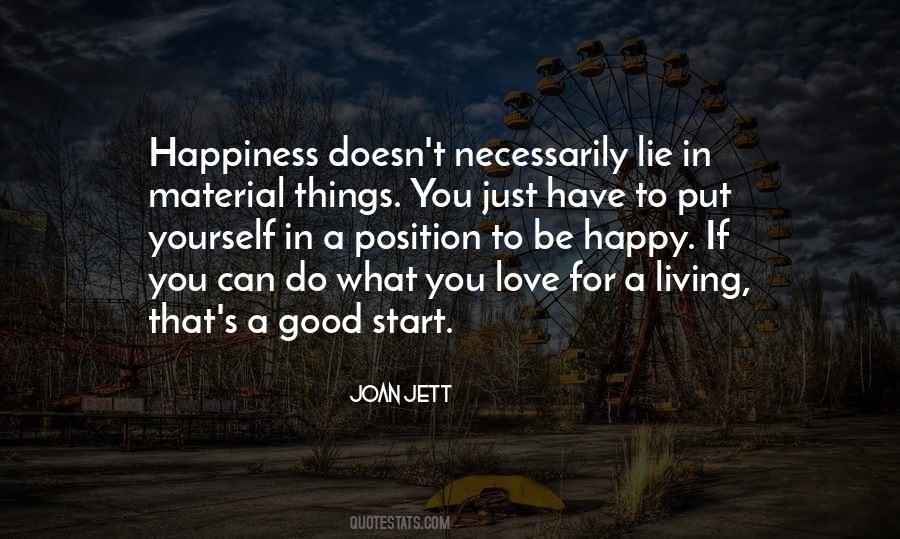 #17. Optimists are intrinsically happier and happiness breeds further happiness. Light a candle rather than curse the darkness and do not wait for someone else to light it; do it yourself. - Author: Natasha Murtagh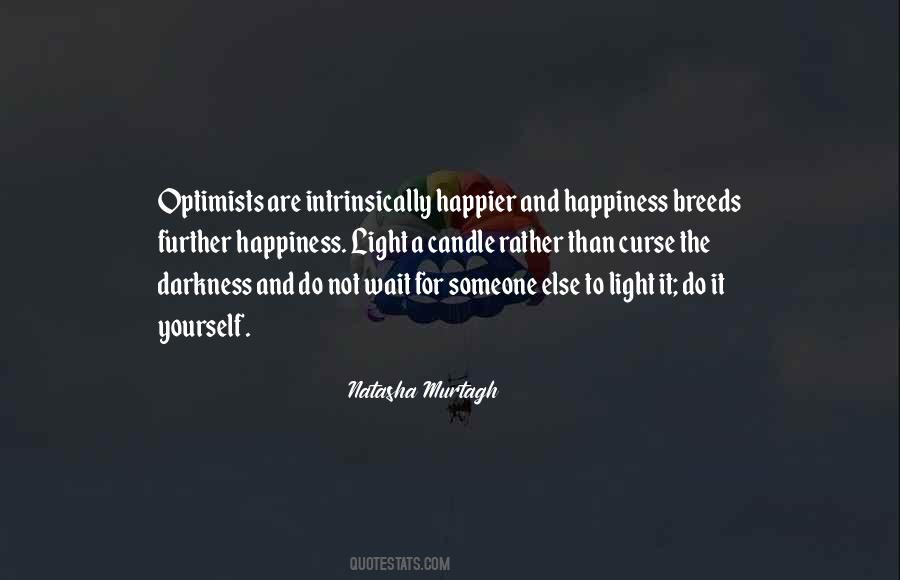 #18. Never raise your voice but raise yourself and your passion for love and life. - Author: Debasish Mridha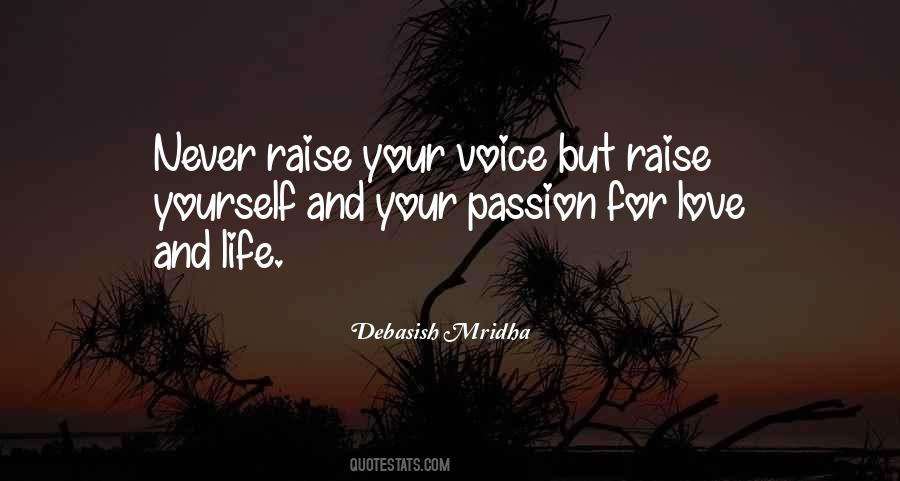 #19. All your desires, whatever they may be, are expressions of your longing for happiness. Basically, you wish yourself well. - Author: Sri Nisargadatta Maharaj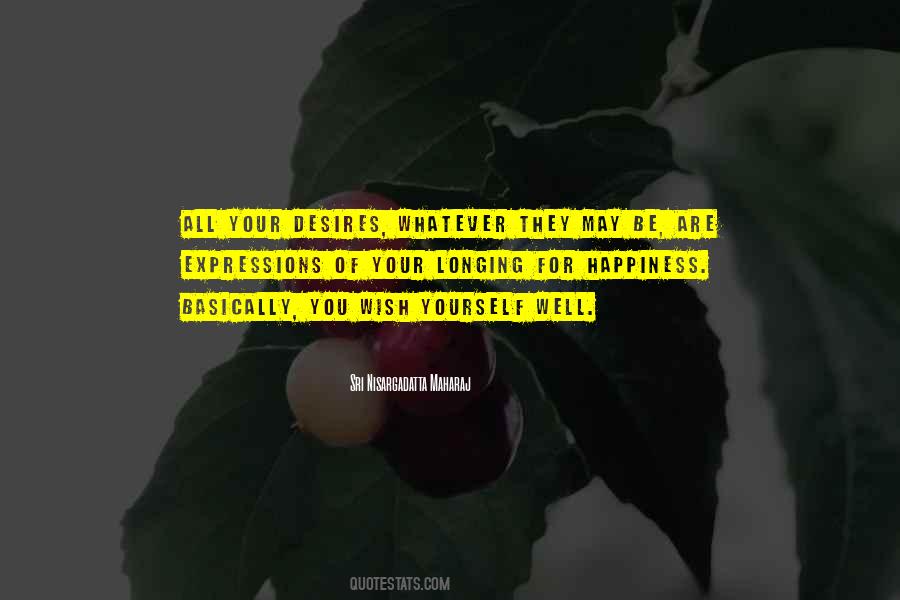 #20. If anyone would tell you the shortest, surest way to all happiness and all perfection, he must tell you to make a rule to yourself to thank and praise God for everything that happens to you. - Author: William Law
#21. When you live for yourself you are merely surviving; when you live for others you are really living. - Author: Debasish Mridha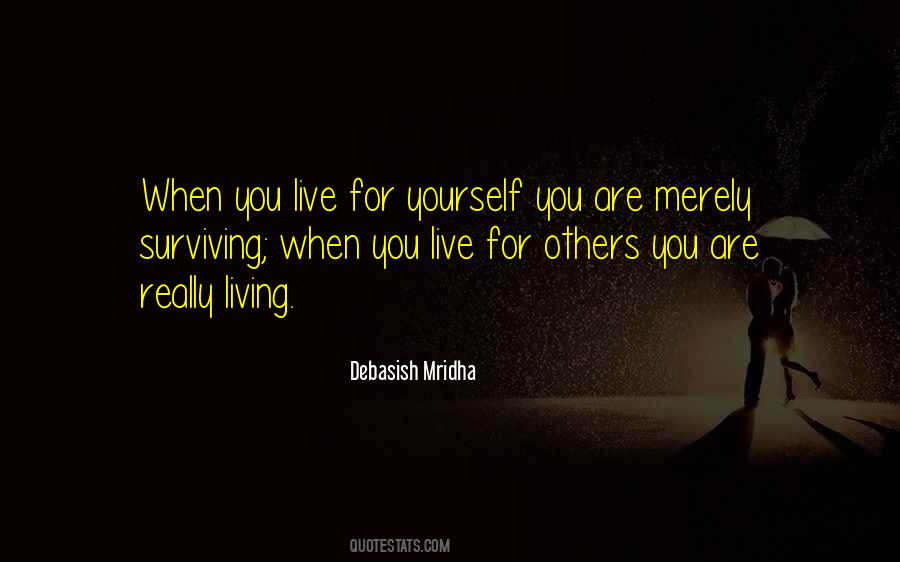 #22. When you see a person for the first time, you're not seeing him, but seeing yourself and your whole life in his mirror. - Author: Debasish Mridha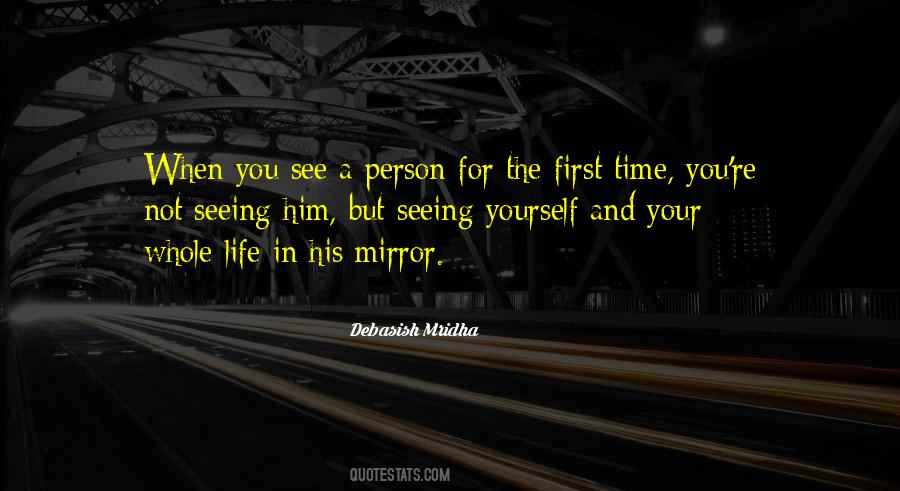 #23. The best way to find the opportunity in the future is to prepare yourself for it today. - Author: Debasish Mridha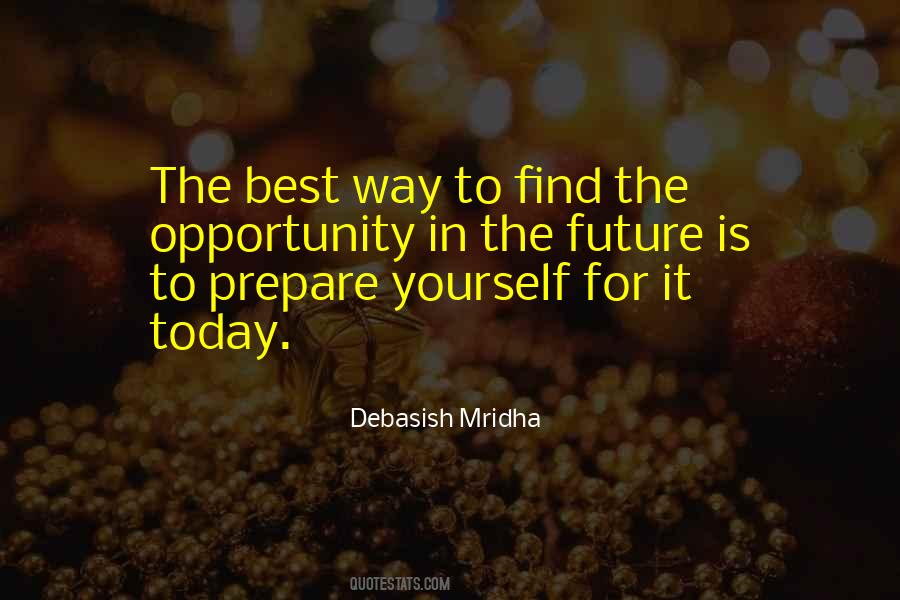 #24. Instead of belittling, judging, or getting angry at others or at yourself, develop empathy for yourself and others. Remind yourself: Just like me, this person is seeking happiness in their life. - Author: Kayla Moore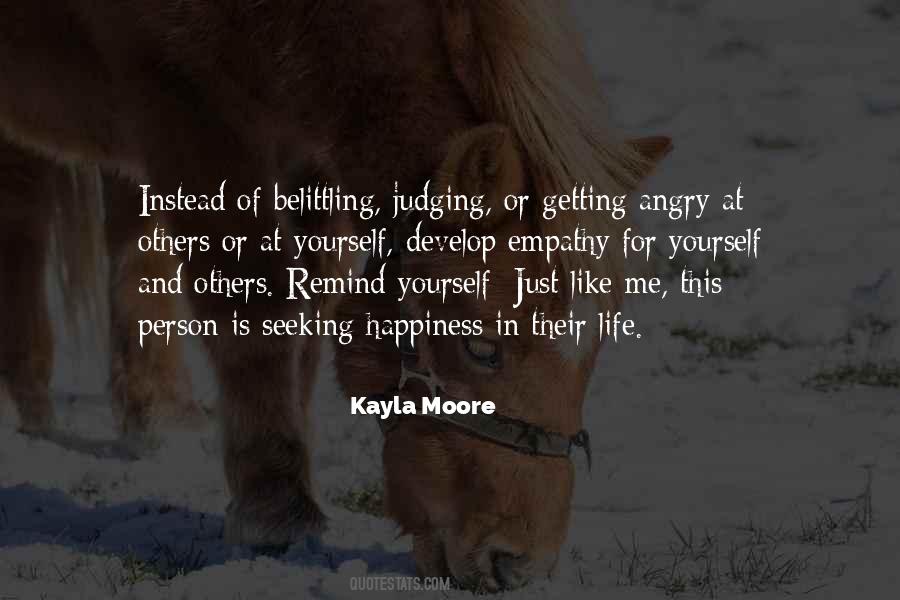 #25. The first step to loving yourself
begins with the words,
'I matter.'
You deserve to occupy space.
You deserve to stand up for yourself
and claim your right to happiness.
You deserve to be here,
just as much as
anyone else. - Author: Tina Tran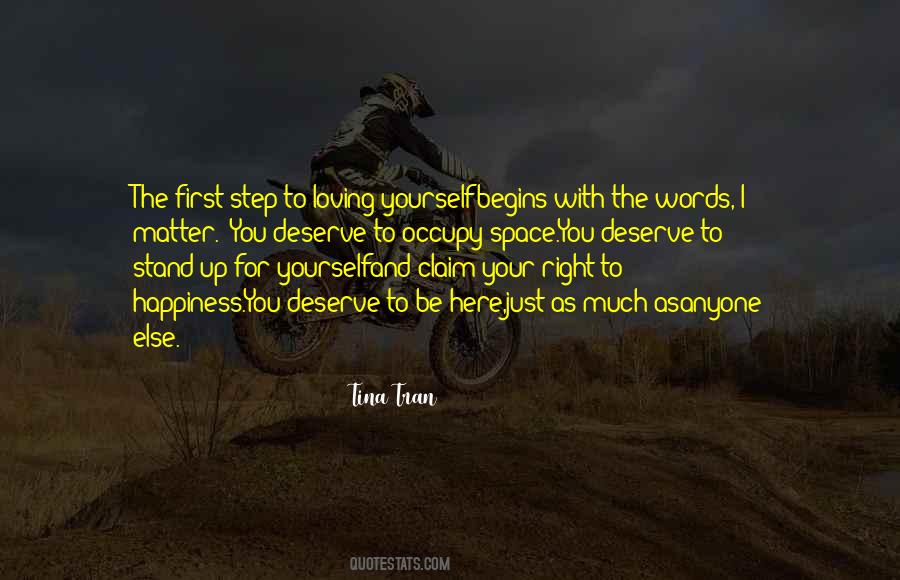 #26. Sadness comes from feeling sorry for yourself and happiness from joy. I stopped talking - Author: Anne Frank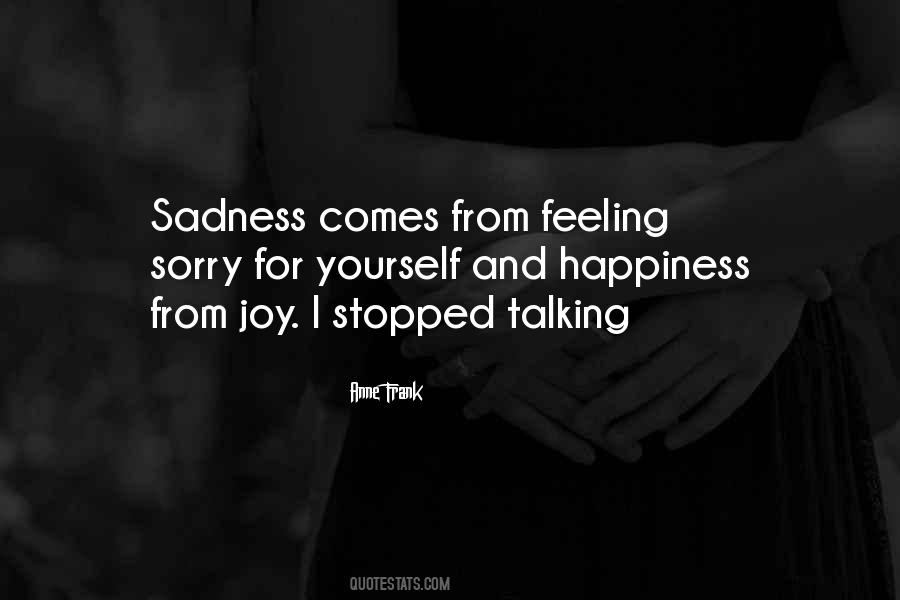 #27. Promise yourself you will talk health, happiness, and prosperity as often as possible. Promise to think only of the best, to work only for the best, and to expect only the best in yourself and others. Promise to forget the mistakes of the past and press on to greater achievements in the future. - Author: John Wooden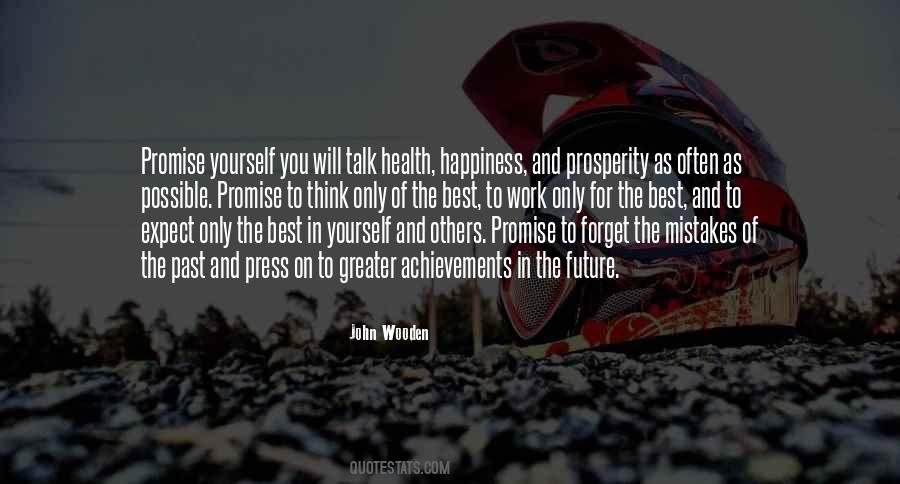 #28. Do not blindly believe what others say. See for yourself what brings contentment, clarity and peace. That is the path for you to follow. - Author: Gautama Buddha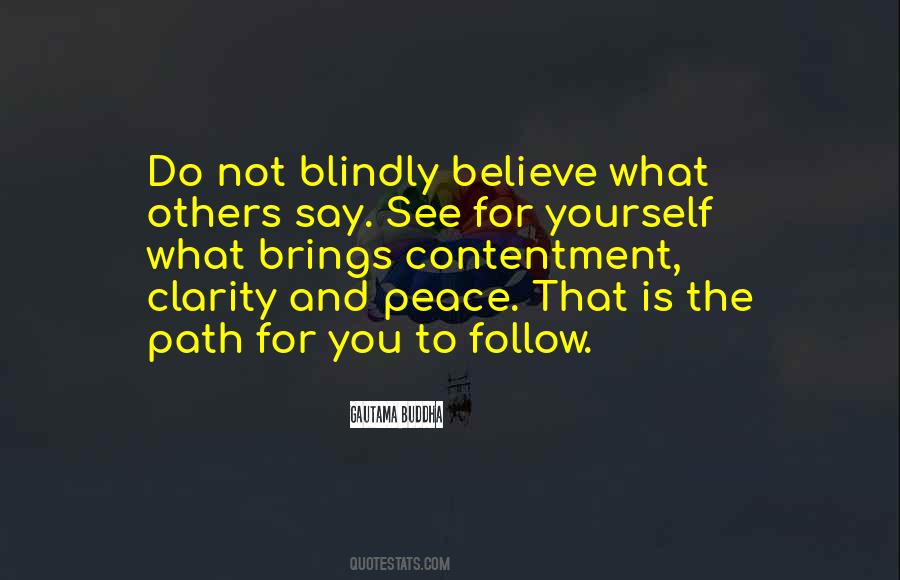 #29. You don't have to be in a boxing ring to be a great fighter. As long as you are true to yourself, you will succeed in your fight for that in which you believe. - Author: Muhammad Ali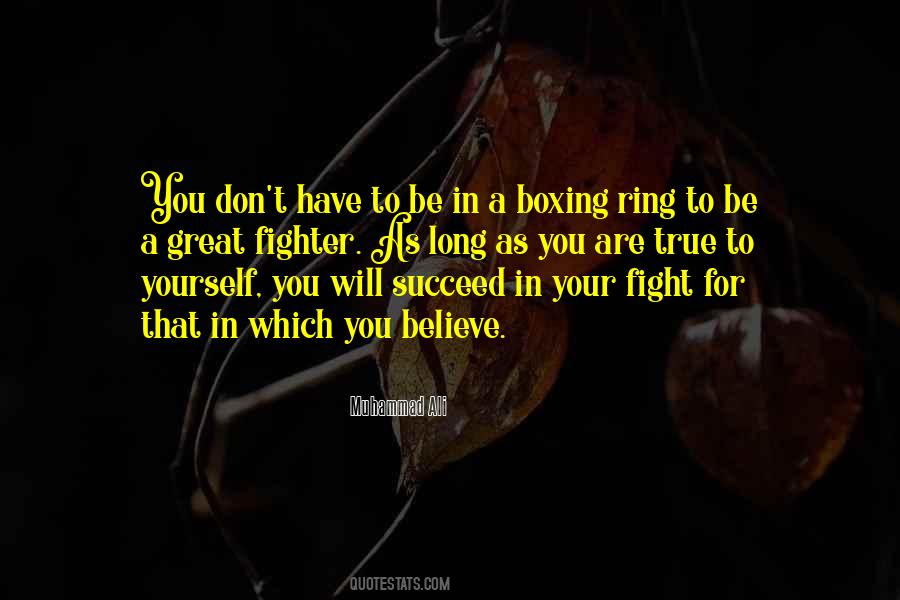 #30. Most important, in order to find real happiness, you must learn to love yourself for the totality of who you are and not just what you look like. - Author: Portia De Rossi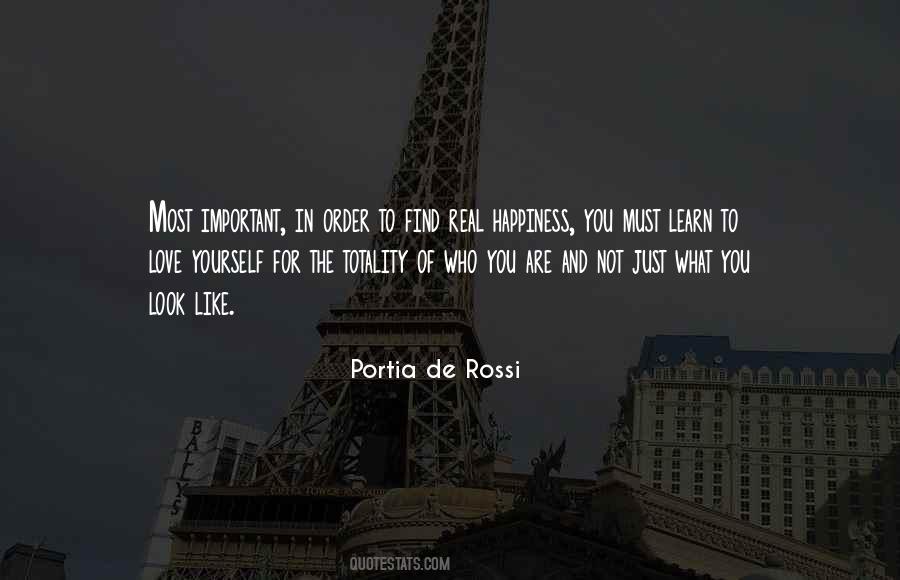 #31. Why are you unhappy?
Because 99.9 percent of everything you think, and of everything you do, is for yourself - and there isn't one. - Author: Wei Wu Wei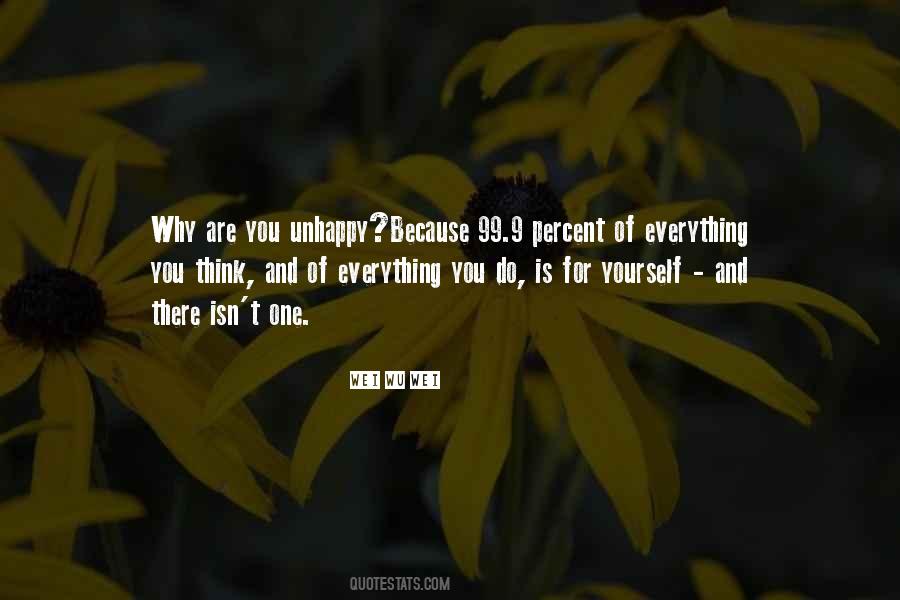 #32. When you're Happy for No Reason, you bring happiness to your outer experiences rather than trying to extract happiness from them. You don't need to manipulate the world around you to try to make yourself happy. You live from happiness, rather than for happiness. - Author: Marci Shimoff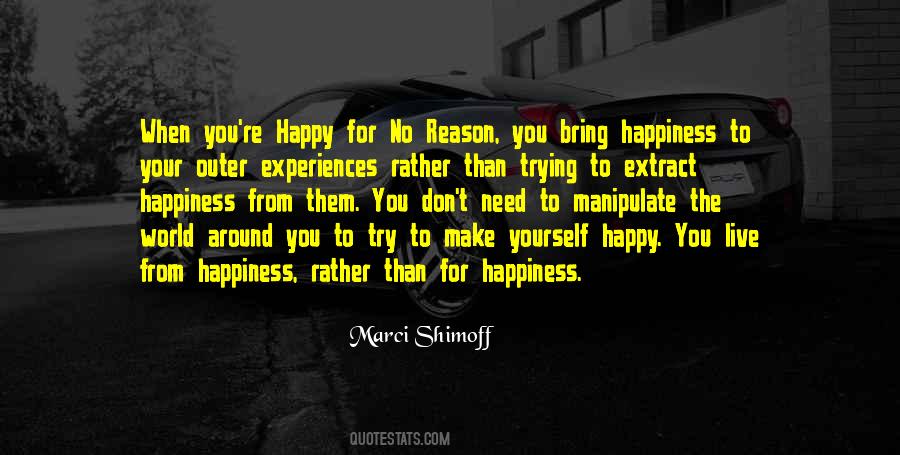 #33. Your greatest difficulty is with yourself; for you are your own stumbling-block. You do not know what you want. You are better at approving the right course than at following it out. You see where the true happiness lies, but you have not the courage to attain it. - Author: Seneca.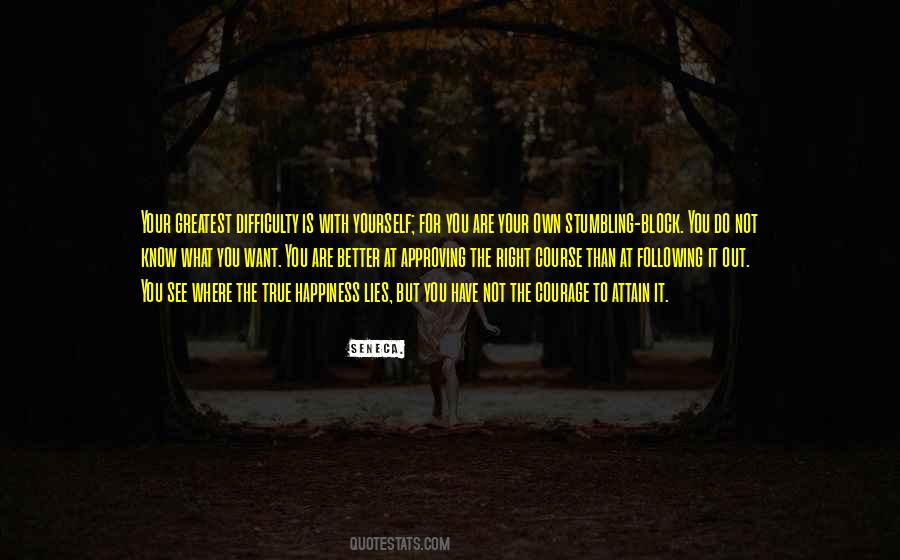 #34. You become lucky when you prepare yourself for the opportunity. - Author: Debasish Mridha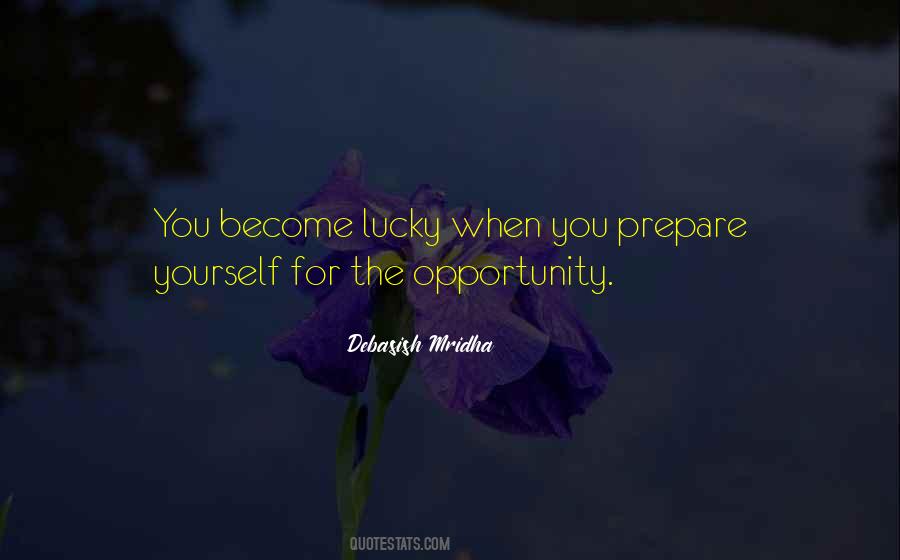 #35. I wish you could see yourself the way I do," she said. "There is no one in this world or the next who deserves love and happiness more than you. And no matter what I see inside these memories, there's nothing that will ever take away from the love I feel for you. I hope you know that. - Author: Sarra Cannon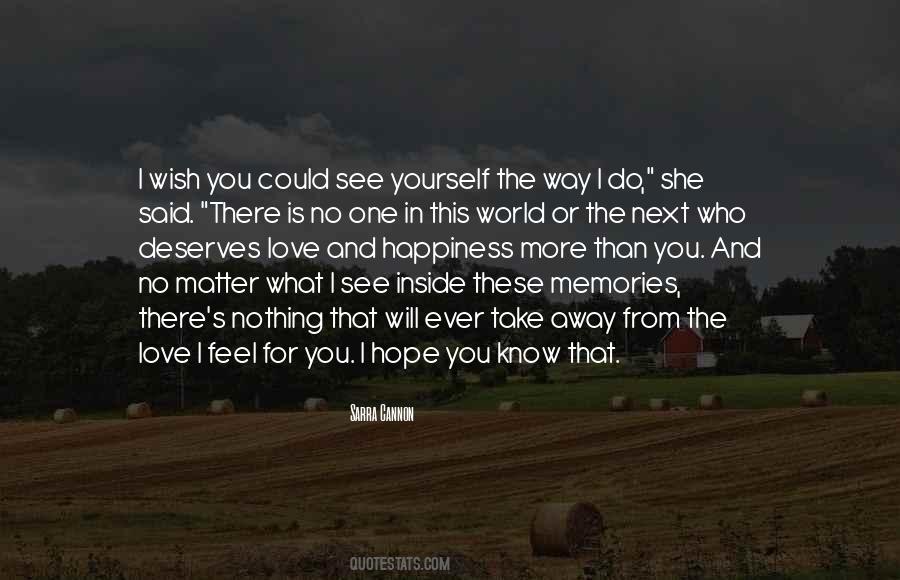 #36. Being happy requires that you define your life in your own terms and then throw your whole heart into living your life to the fullest. In a way, happiness requires that you be perfectly selfish in order to develop yourself to a point where you can be unselfish for the rest of your life. - Author: Brian Tracy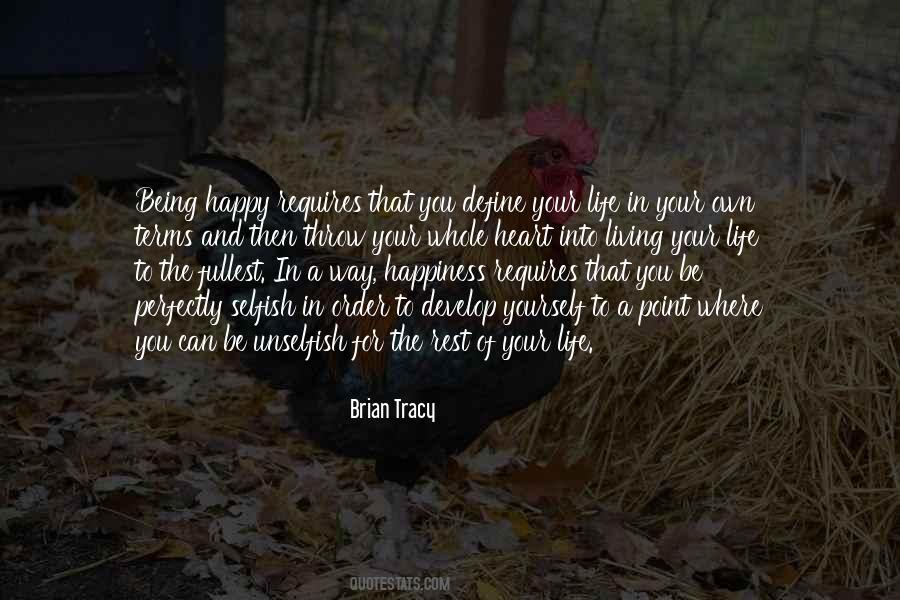 #37. Take whatever cause for outward happiness you might have and take it within yourself, so that, if the sun should go out, you will not be any less happy; if the birds stop singing you will not be any less happy. - Author: Goswami Kriyananda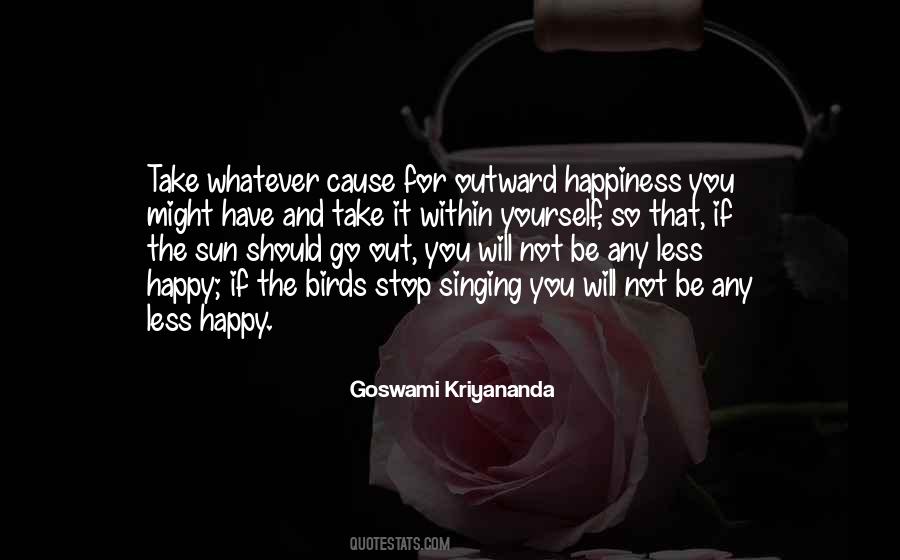 #38. If you're not smiling at yourself in the mirror, you probably need to check that the life you're building is aligned to the life you dreamed for yourself. And if you're not dreaming, you need to start dreaming. - Author: Alice Bag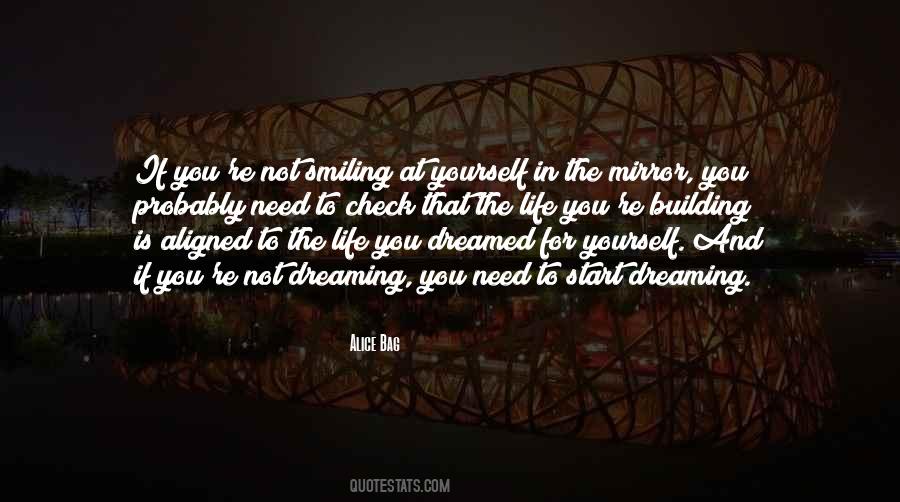 #39. Define yourself before someone does it for you. - Author: Debasish Mridha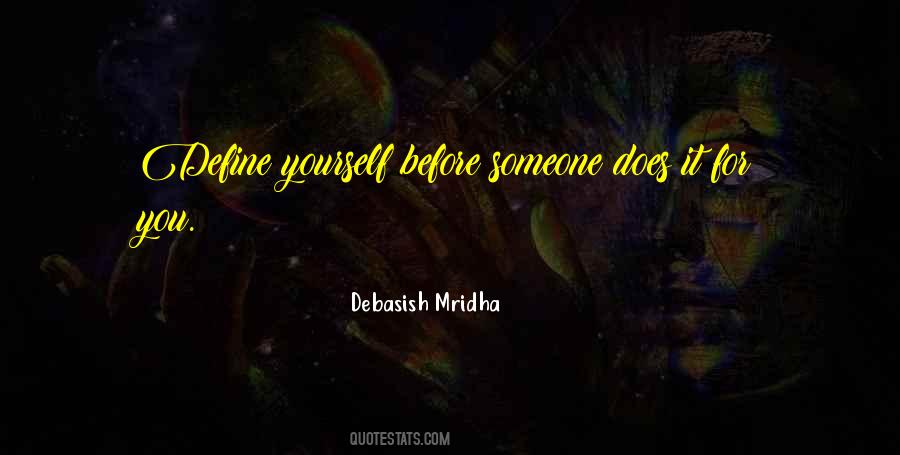 #40. You are here just to be, for no reason. You have no mission except to enjoy life, to be happy. The only thing you need is just to be the real you. Be authentic. Be the presence. Be happiness. Be love. Be joy. Be yourself; that's the main point. That's wisdom. - Author: Miguel Ruiz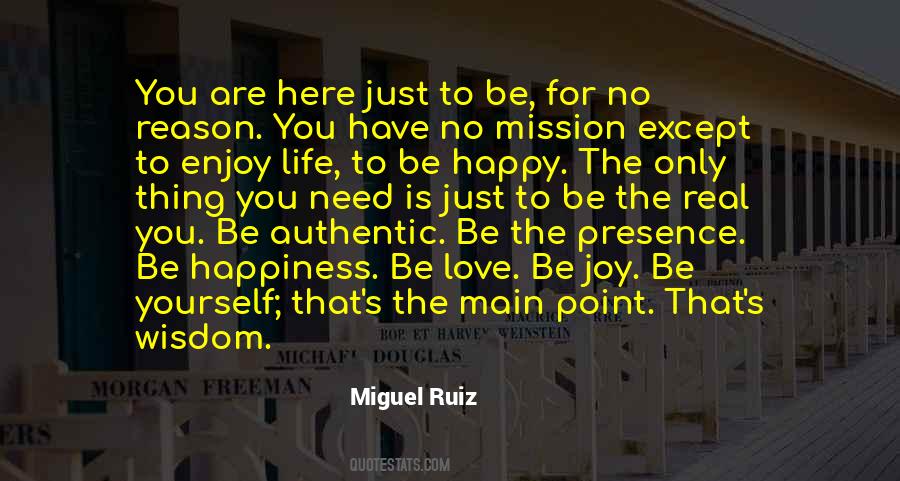 #41. How foolish we are to keep repeating the negative memories from the past in our minds, while rarely thinking of the good times, nor being thankful for what we have. Be good to yourself and repeat and focus on the positive. - Author: Maddy Malhotra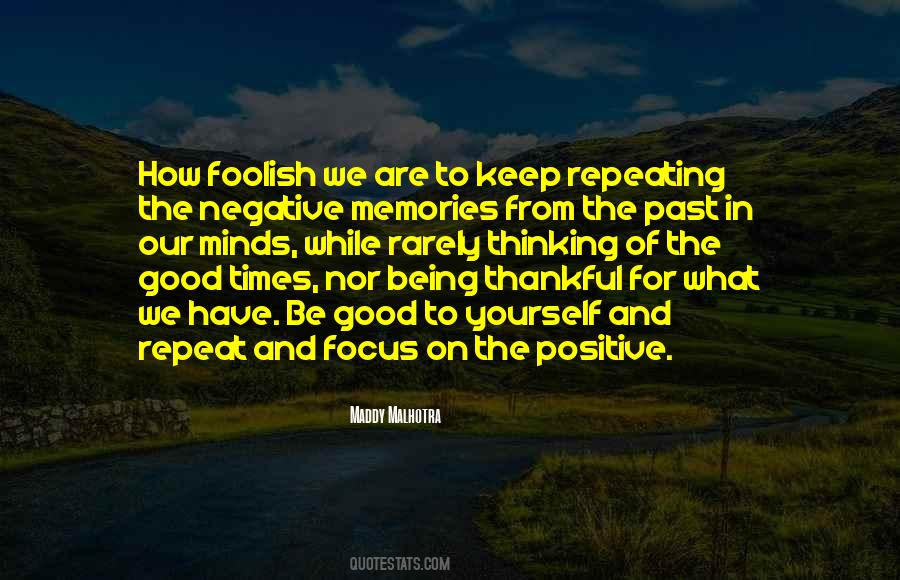 #42. Tiny Giggles
Silly giggles of laughter
I store upon a shelf
I give some to other
I save some for myself
I am rich beyond all measure
Though not with worldly wealth
I store up these treasures
For my heart and soulful health. - Author: Muse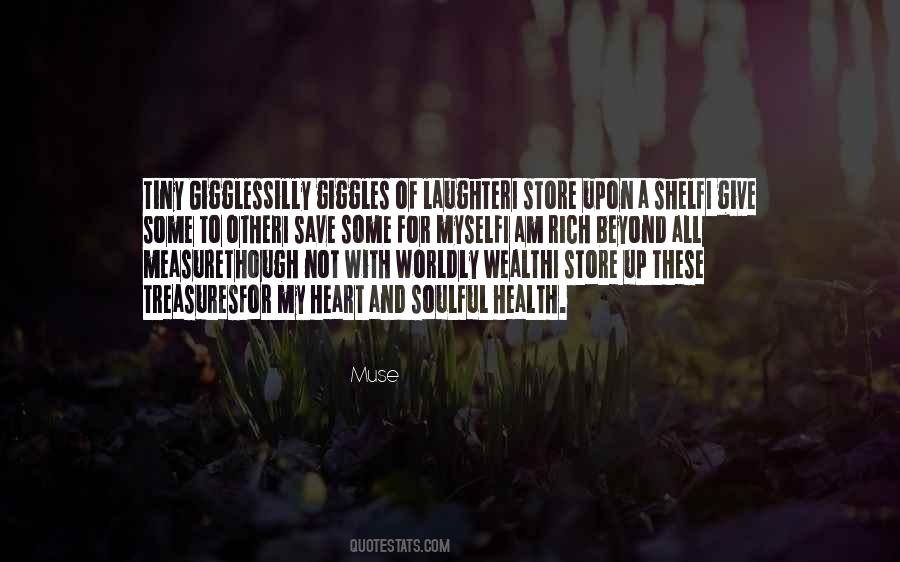 #43. You can't shower happiness on others without getting few drops back on yourself. - Author: Israelmore Ayivor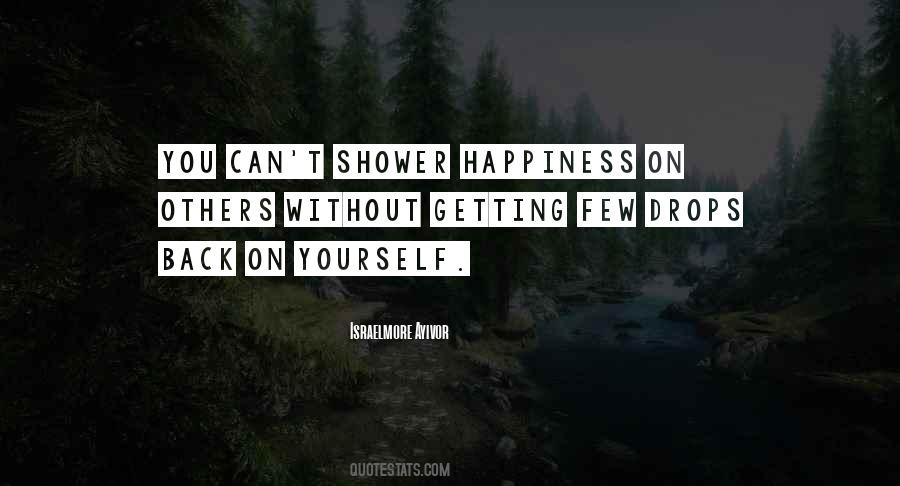 #44. Let us never be afraid of innocent joy; God is good and what he does is well done; resign yourself to everything, even happiness; ask for the spirit of sacrifice, of detachment, of renunciation, and above all, for the spirit of joy and gratitude. - Author: Henri Frederic Amiel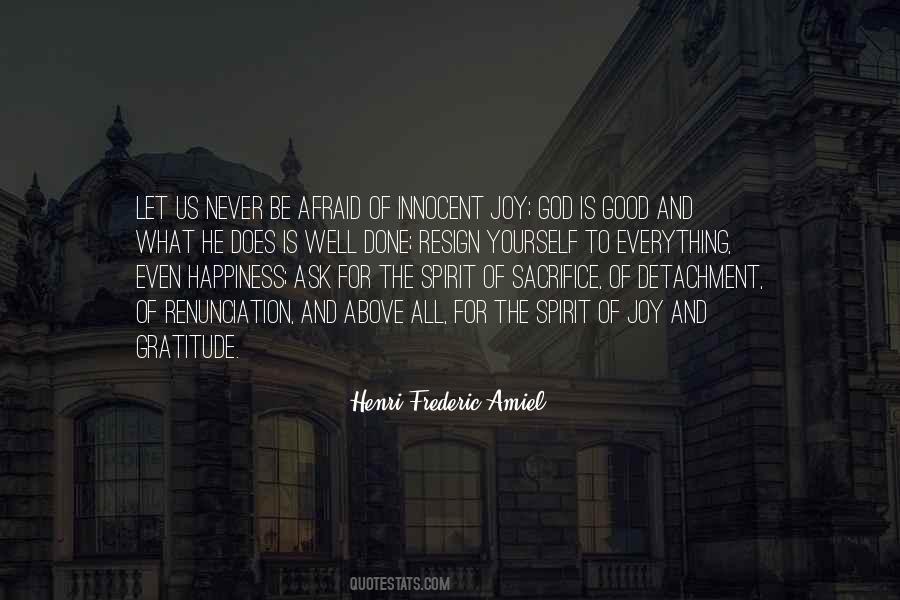 #45. There is one irrefutable law of the universe: We are each responsible for our own life. If you're holding anyone else accountable for your happiness, you're wasting your time. You must be fearless enough to give yourself the love you didn't receive. - Author: Oprah Winfrey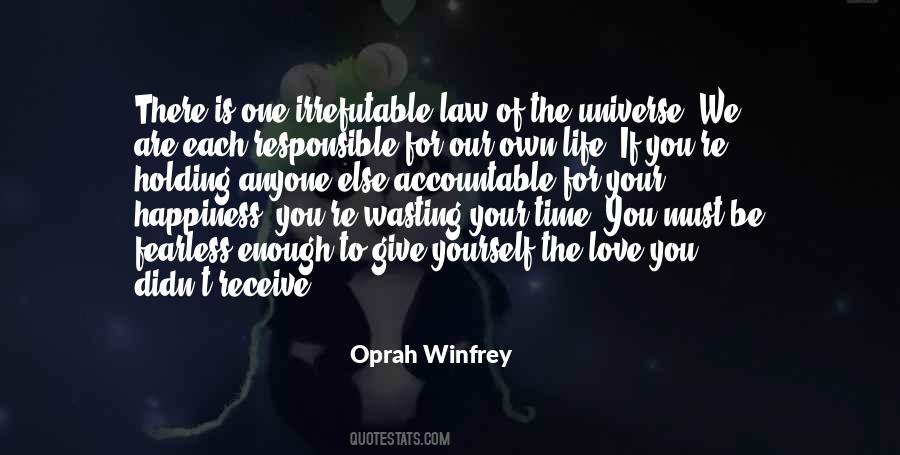 #46. How shall we live in order to be happy? Your ability to ask and answer that question correctly for yourself - and then to follow where your answer leads you - will largely determine whether you achieve your own happiness, and how soon. - Author: Brian Tracy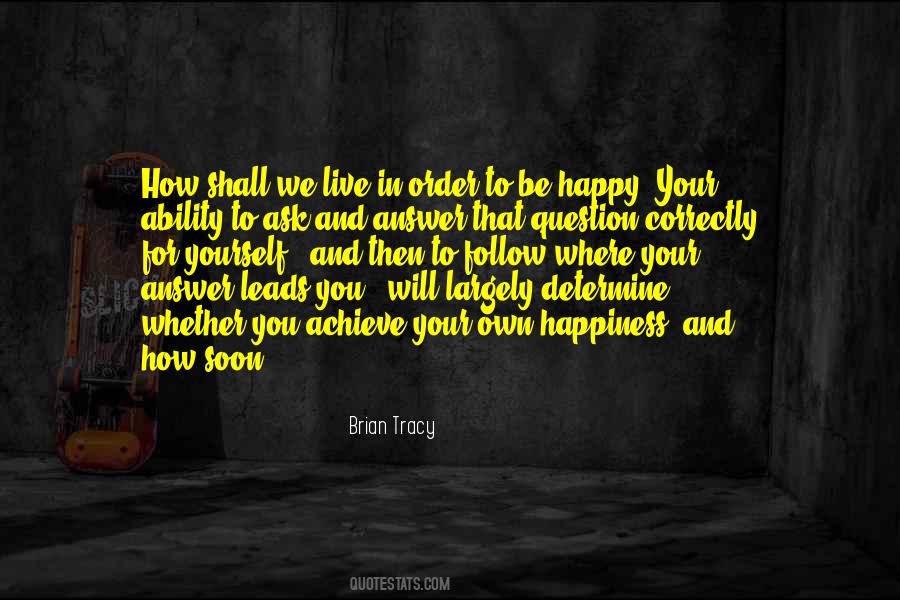 #47. Look for the things in your life that bring you stillness and happiness, not the things that make you crazy. Look inside yourself and look for that perfect stillness. - Author: Frederick Lenz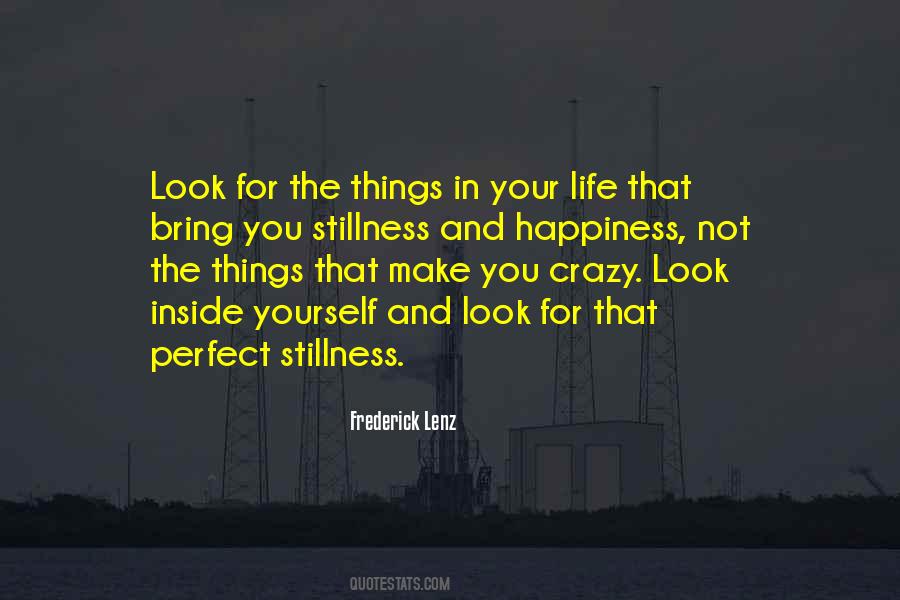 #48. You shall not, for the sake of one individual, change the meaning of principle and integrity, nor endeavour to persuade yourself or me, that selfishness is prudence, and insensibility of danger security for happiness. - Author: Jane Austen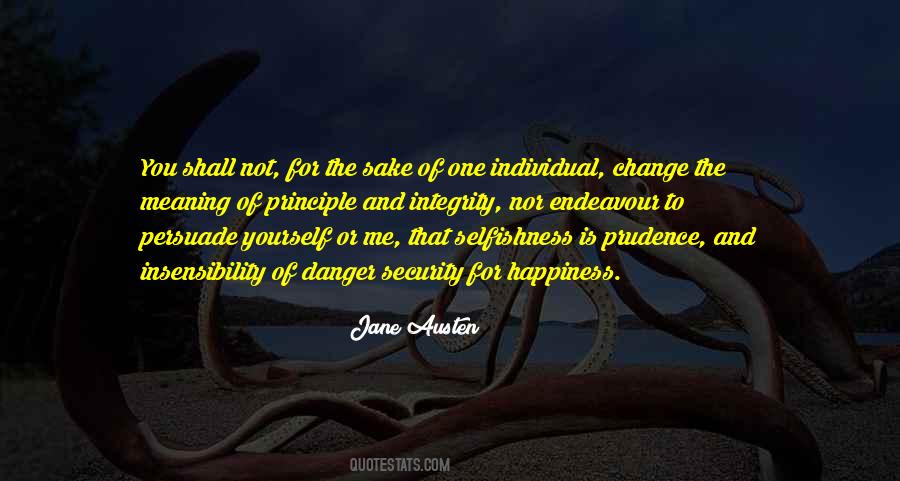 #49. Go for your dreams and get lost to find yourself again and again. - Author: Debasish Mridha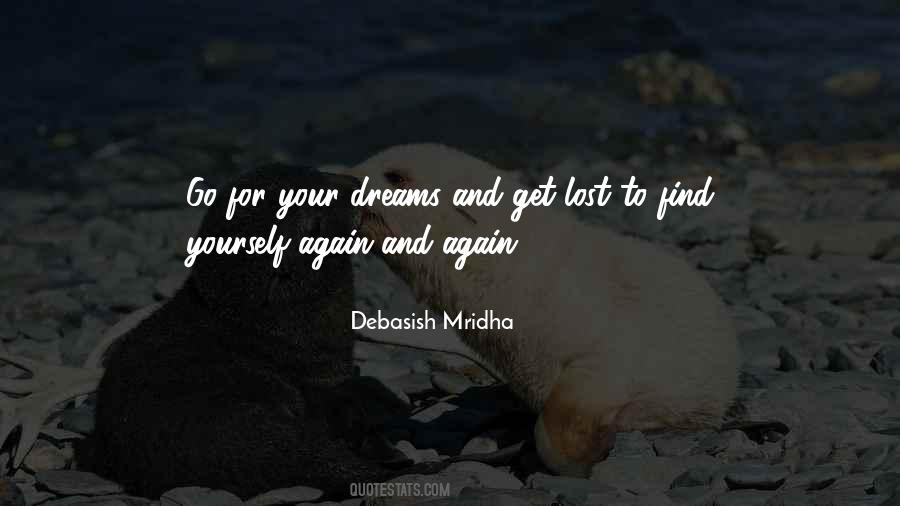 #50. Love yourself. Forgive yourself. Be true to yourself. How you treat yourself sets the standard for how others will treat you. - Author: Steve Maraboli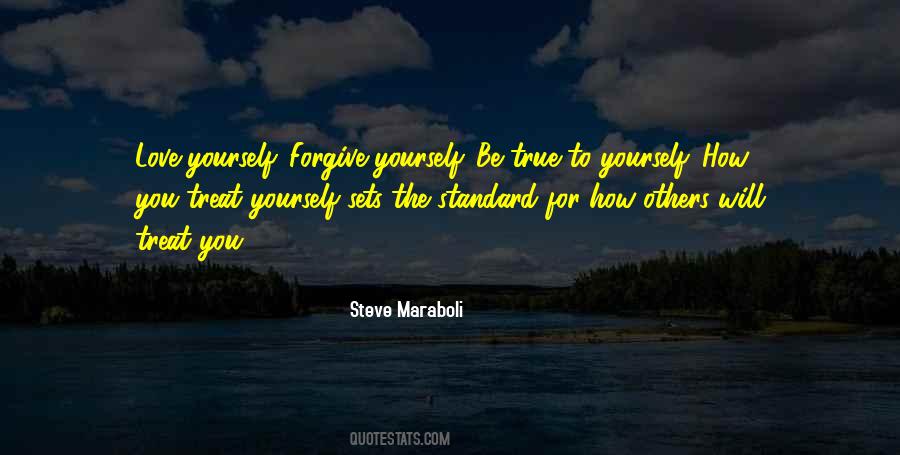 #51. Switch on and keep on in yourself the cheerful buttons ... Those marked Joy, Laughter, Happiness, Love, Passion for life, Gratitude for life. - Author: Robert Muller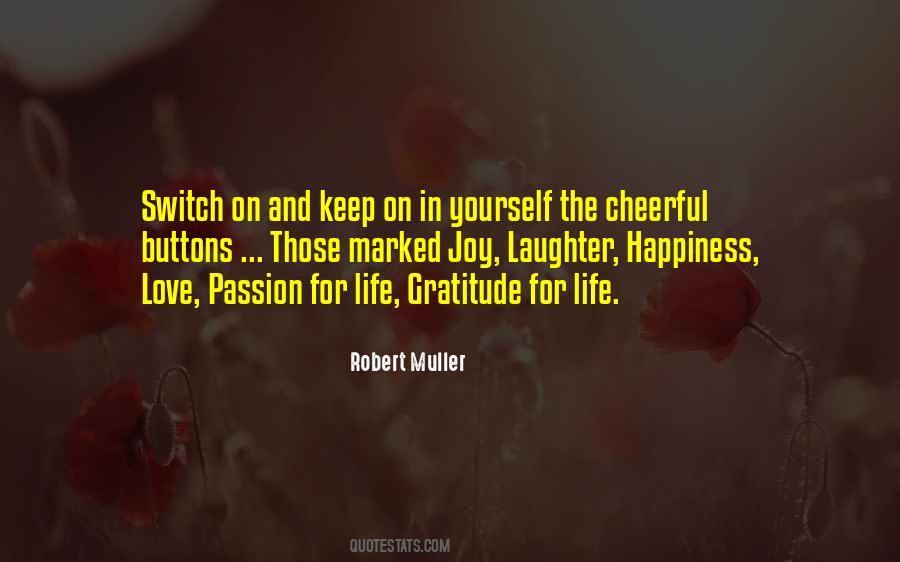 #52. When you SEEK HAPPINESS for yourself, it will always elude you. When you seek happiness for OTHERS, you will find it yourself. - Author: Wayne Dyer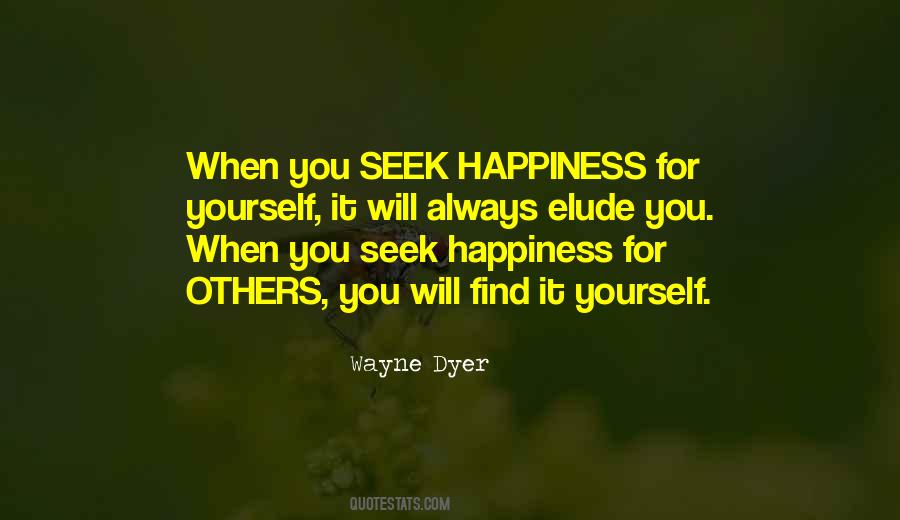 #53. Don't wait around for other people to be happy for you. Any happiness you get you've got to make yourself. - Author: Alice Walker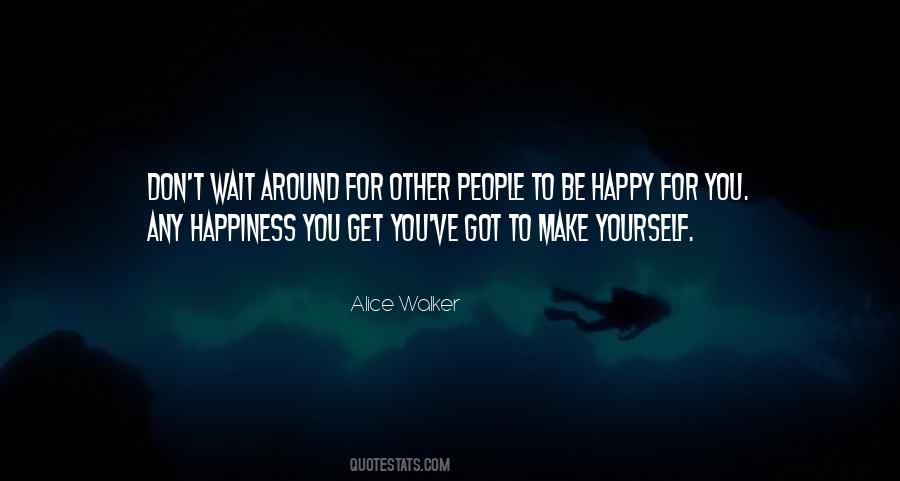 #54. You are the point of origin for everything in your world: you set the standard for yourself. - Author: Steve Maraboli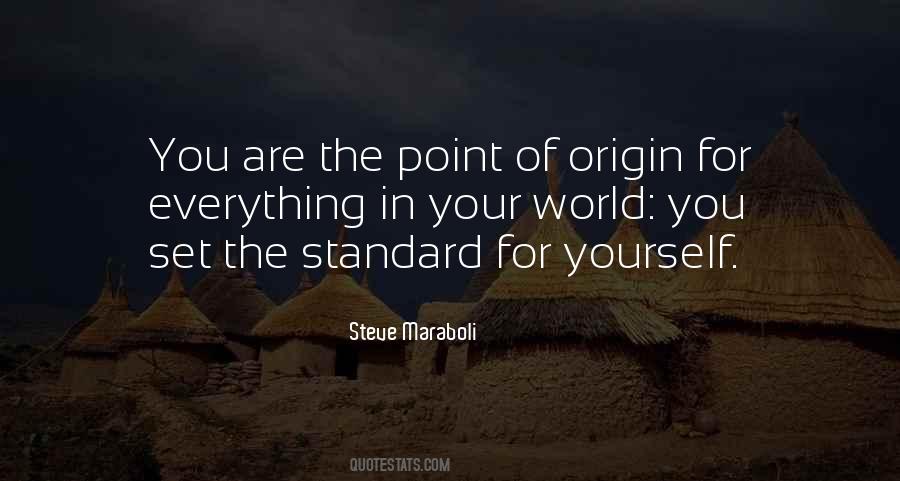 #55. So for decisions about happiness you essentially need at least both and probably even more than that, you probably also need to do analysis that doesn't involve yourself to get at the answer of what will make you happy in 10 years. - Author: Sheena Iyengar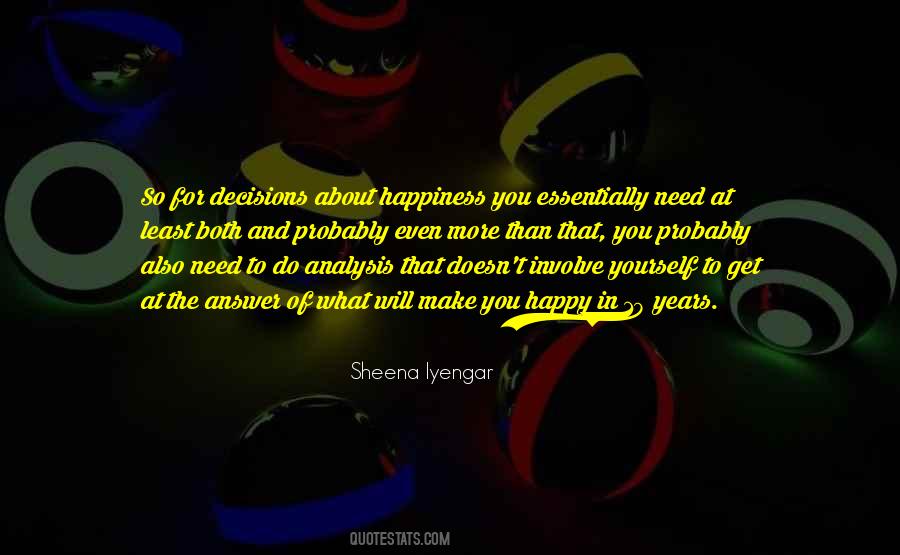 #56. Tantra says be real, be authentic to yourself. Your happiness is not bad; it is good. It is not sin! Only sadness is sin, only to be miserable is sin. To be happy is virtue because a happy person will not create unhappiness for others. Only a happy person can be a ground for others' happiness. - Author: Rajneesh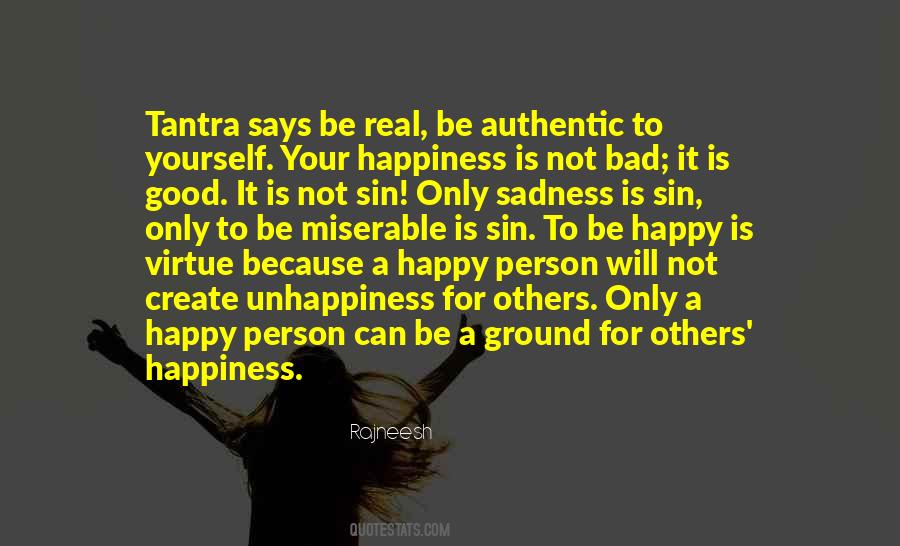 #57. Loosen the bonds of discursive thought. Extend the circle of caring. Cease armoring against suffering. Wish for others the same happiness you wish for yourself. Be a tender-minded steward of creation. - Author: Marc Ian Barasch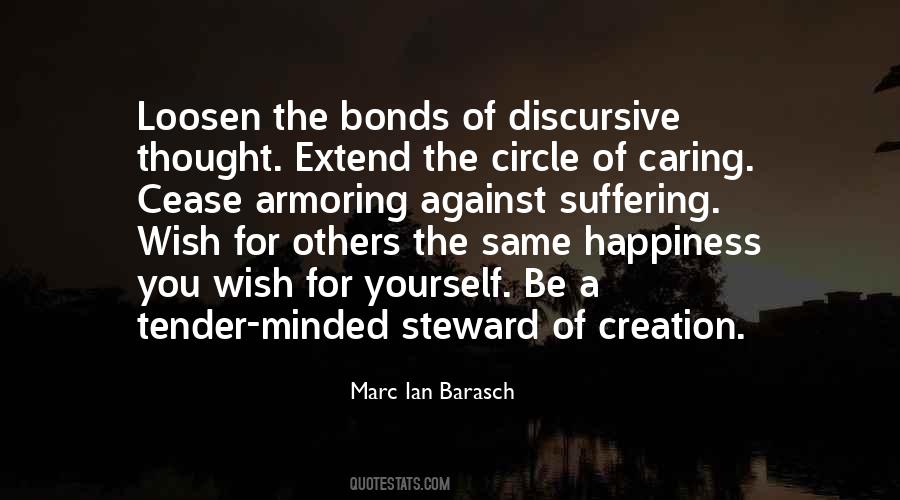 #58. One of the biggest favors that you can do for yourself is to accept your loved ones for who they are, and not be constantly disappointed because they are not who you think they should be. - Author: Jennifer O'Neill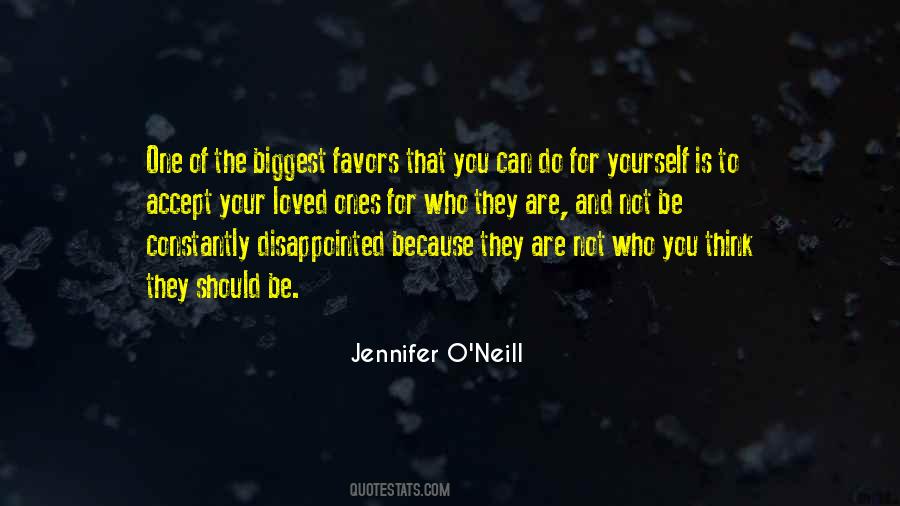 #59. If happiness comes at all: which is by no means prearranged; it comes by the way, while you are seeking for something else. Something outside yourself, beyond yourself: in a brief absorption of self-forgetfulness. - Author: Caitlin Thomas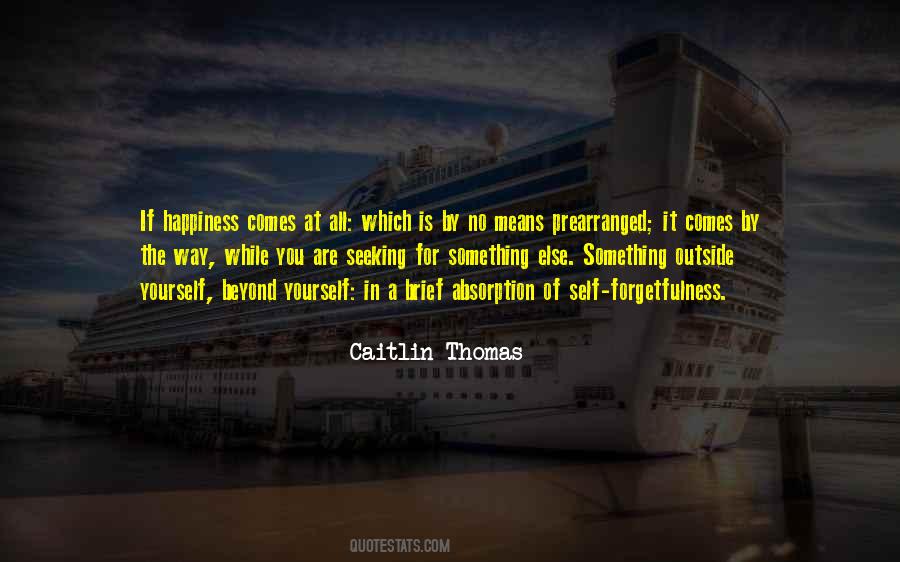 #60. Happiness is not about hiding the past, it's accepting today and making it last, You should not fear who you have become, have pride in yourself for all you have done. Stand tall and be proud to be who you are, Release your fears and brighten your star. - Author: Kylie Abecca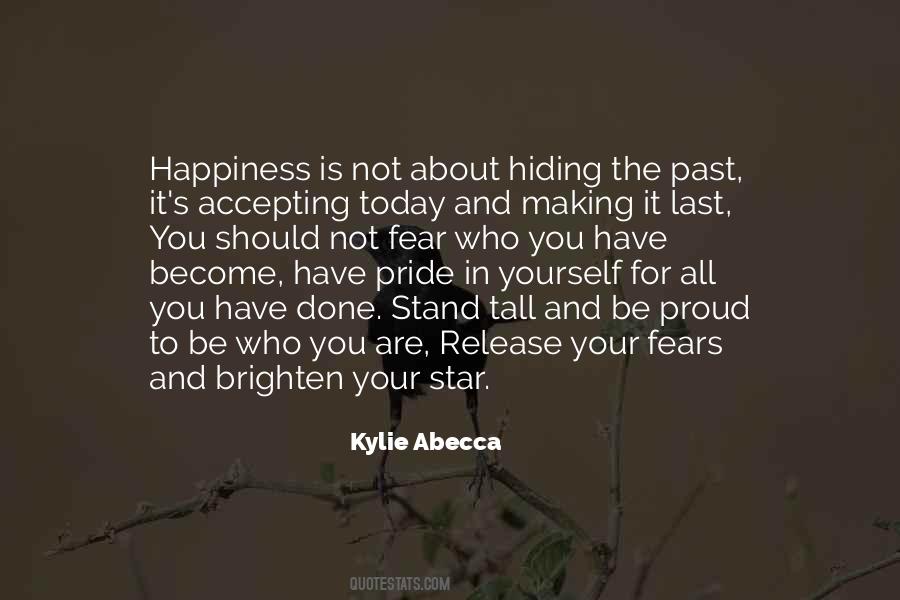 #61. When you try hard to find happiness for other, you will unknowingly find yourself on the island of happiness. - Author: Debasish Mridha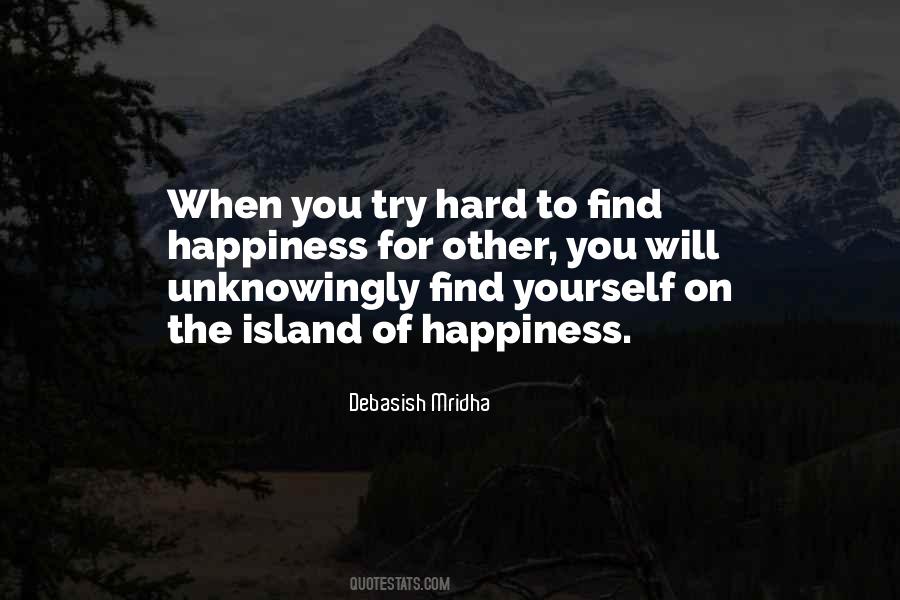 #62. Work and live to serve others, to leave the world a little better than you found it and garner for yourself as much peace of mind as you can. This is happiness. - Author: David Sarnoff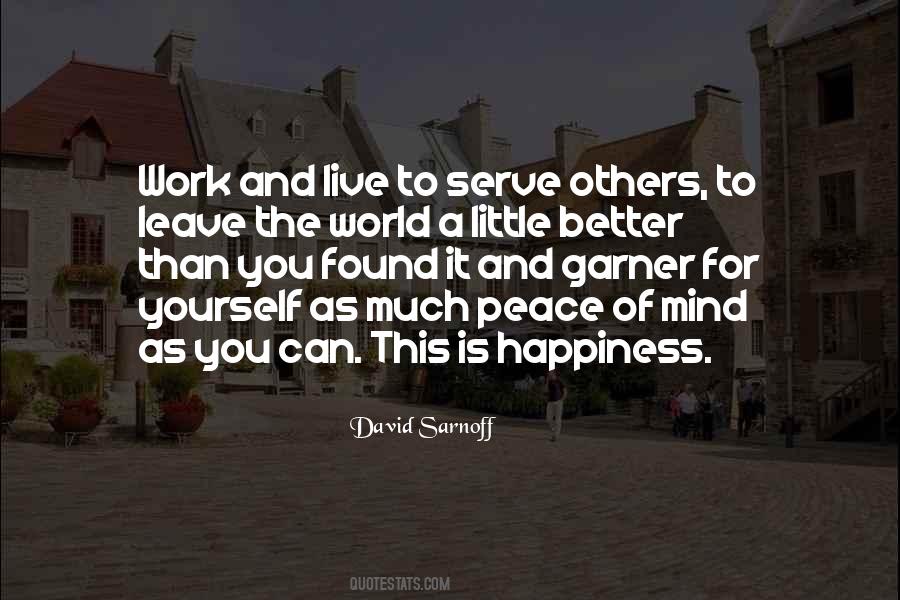 #63. Happiness is just a little thing;
Humans mostly are too large for it.
If you cannot feel the joy of spring
Shrink yourself and maybe then you'll fit. - Author: Michael Leunig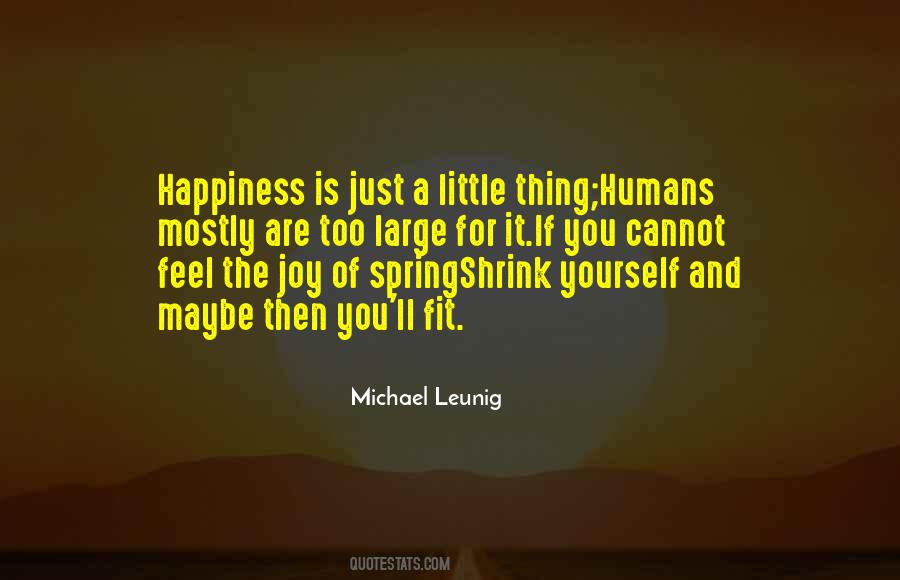 #64. if you wanted to see me dead,you would whisper and i could kill self for you happiness it was a small thing but you made yourself corrupt for very small thing - Author: Mohammed Zaki Ansari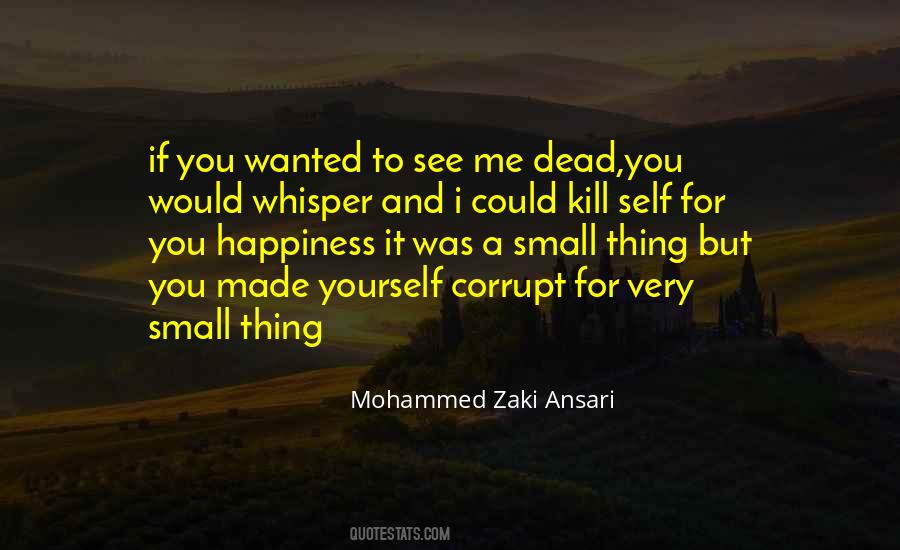 #65. My best advice for finding inner happiness is to reach outside yourself, to use your talents and brains and personality to make life better for someone else. - Author: Nick Vujicic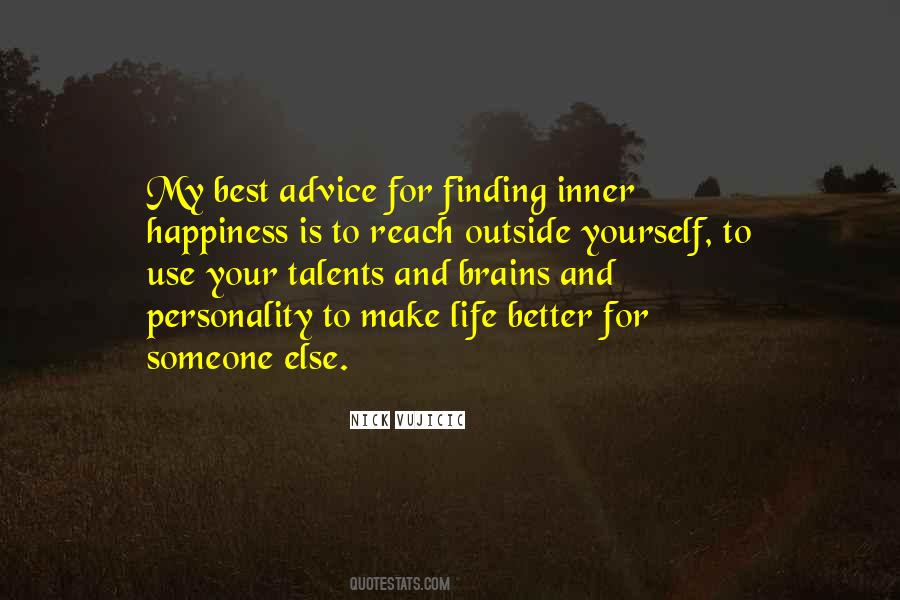 #66. What is one common thing every one craves for? It is love... Love others unconditionally, honestly and truthfully. When you fill your being with love, you make yourself healthier and happier. - Author: Sanchita Pandey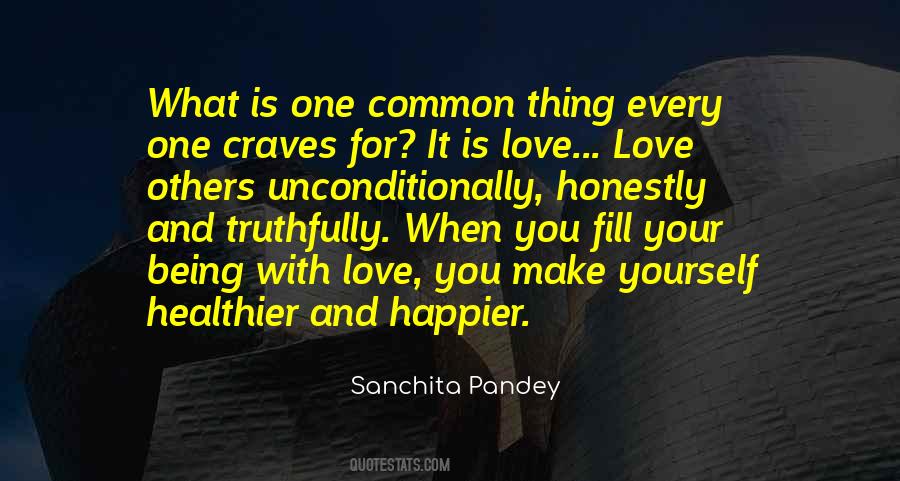 #67. Desire happiness, aspire to gratitude, long for health, crave compassion, seek satisfaction, lust after God, however & whatever you perceive God to be, want to love yourself, others & everything around you more and more each day - Author: Peter McWilliams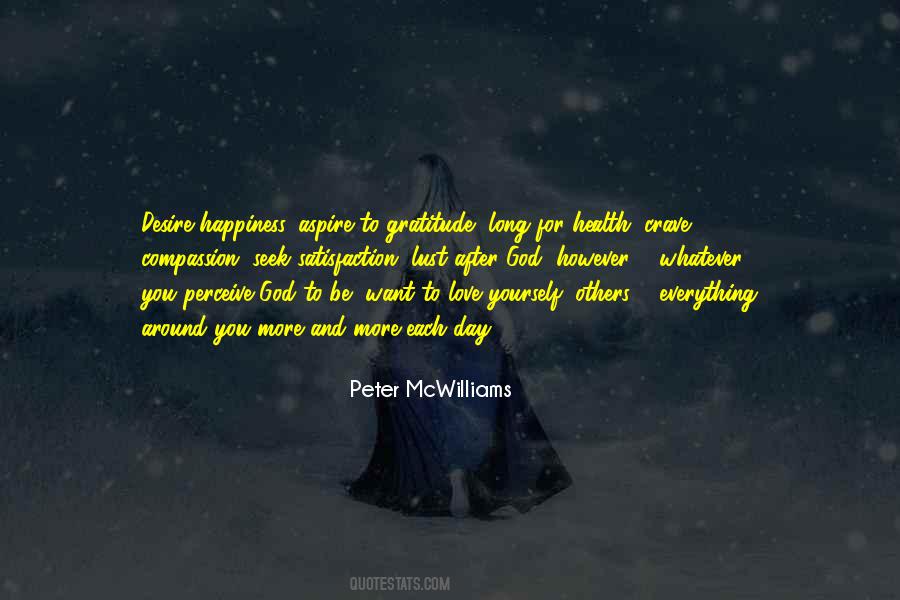 #68. Endure, and keep yourself for days of happiness. - Author: Mary Engelbreit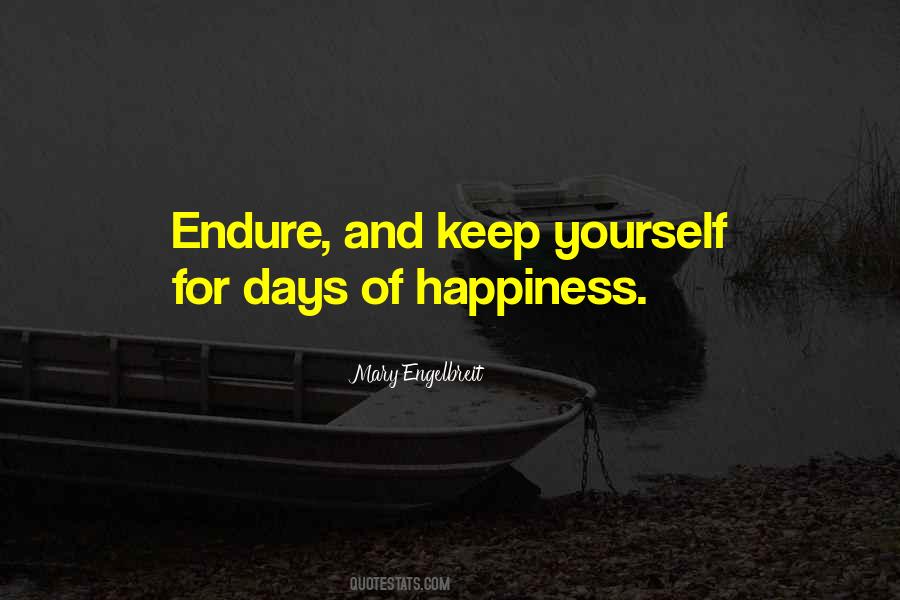 #69. Do not look for happiness outside yourself. The awakened seek happiness inside. - Author: Peter Deunov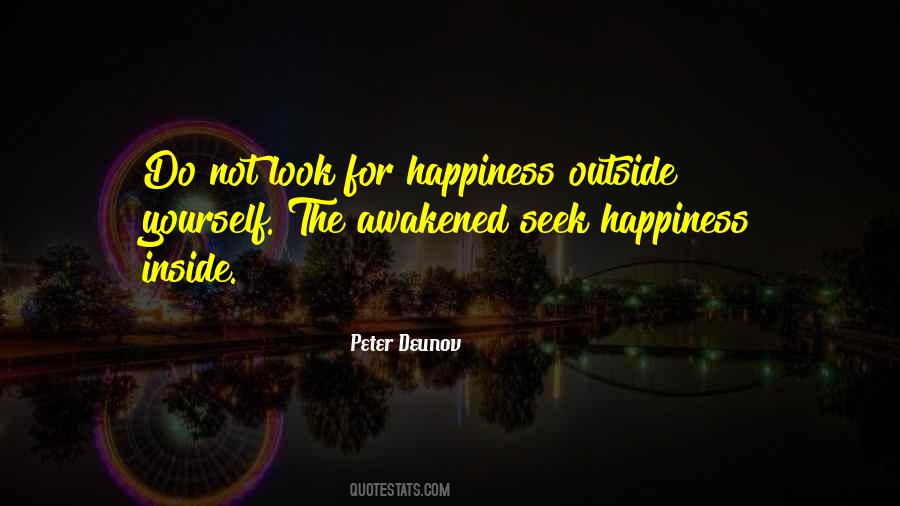 #70. That's what life is for, to find that joy in yourself. - Author: Goswami Kriyananda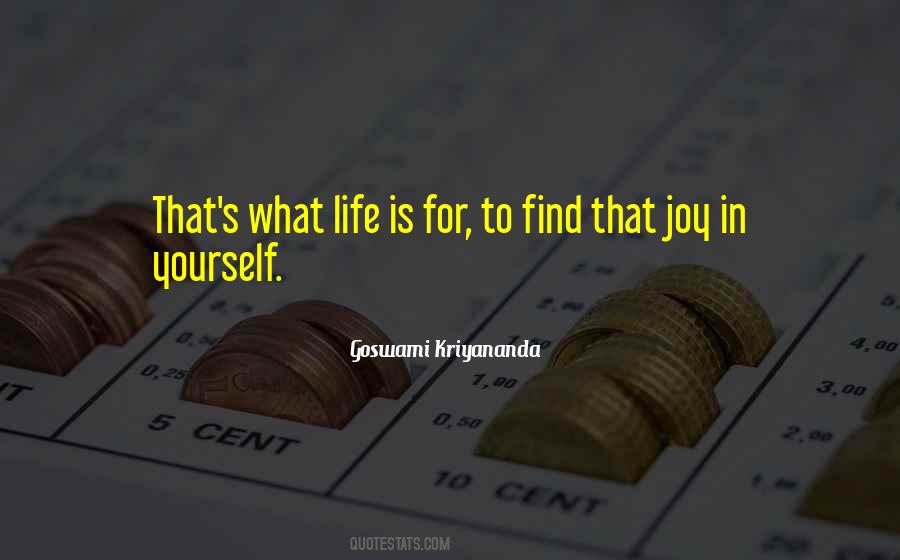 #71. I know some people find the idea of soul mates romantic, or comforting, but to me believing in soul mates means absolving yourself of any responsibility for your own happiness. If a relationship doesn't work out
whoops! It wasn't meant to be. Fuck meant to be. - Author: Anna Jarzab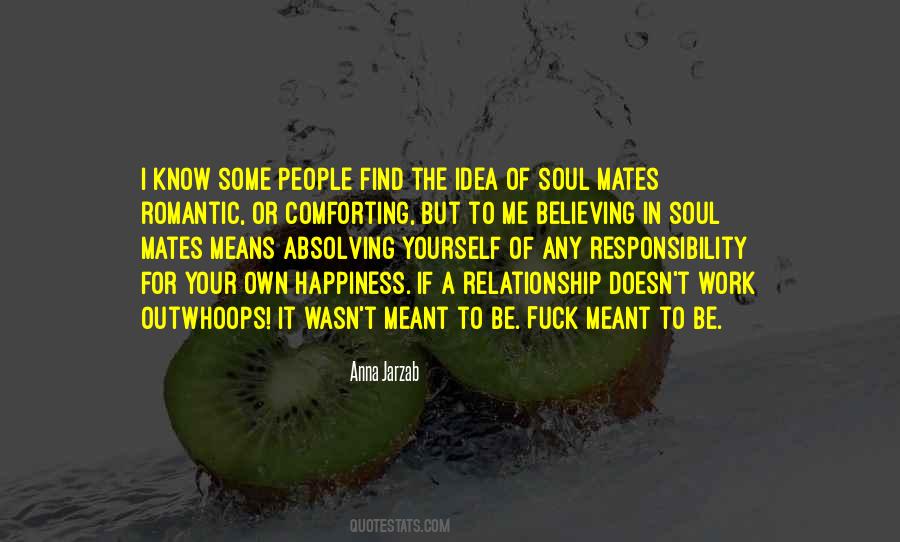 #72. Anyone who wants to prevent you from making other people happy is an enemy. If you are stopping yourself from making others happy, you are your own enemy. - Author: Israelmore Ayivor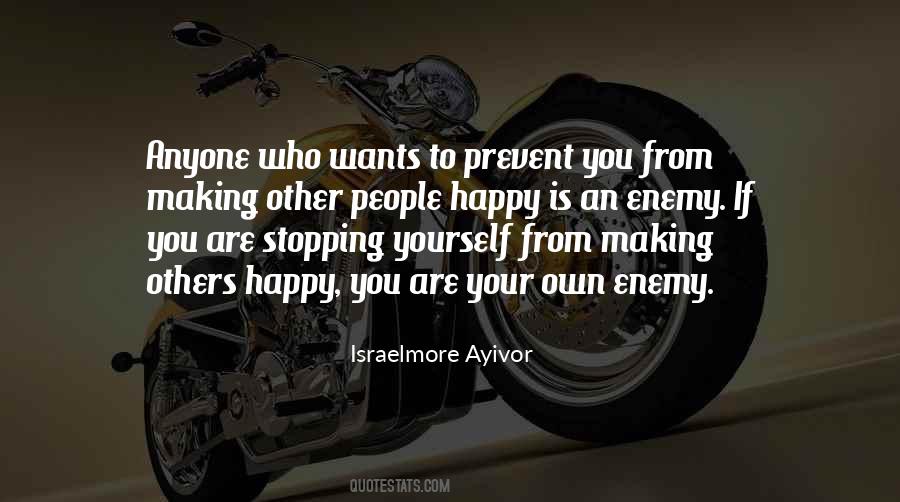 #73. If you do the same thing every day at the same time for the same length of time, you'll save yourself from many a sink. Routine is a condition of survival. - Author: Flannery O'Connor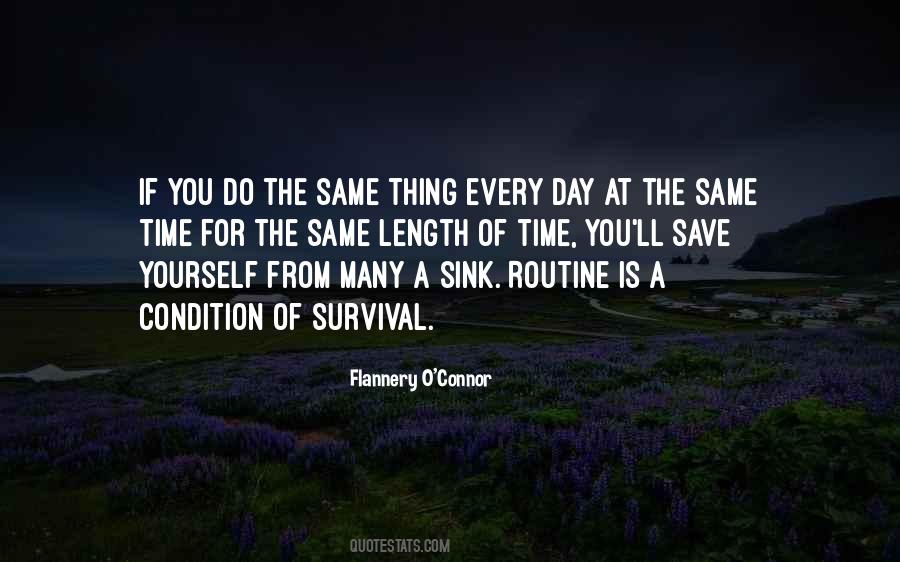 #74. Happiness is your inherent nature. In the hustle and bustle of life, you have forgotten a part of yourself, and looking for it outside. Fill this void with happiness that is sustainable, not transitory; that illuminates your life and that of others, that is life giving and so natural. - Author: Sanchita Pandey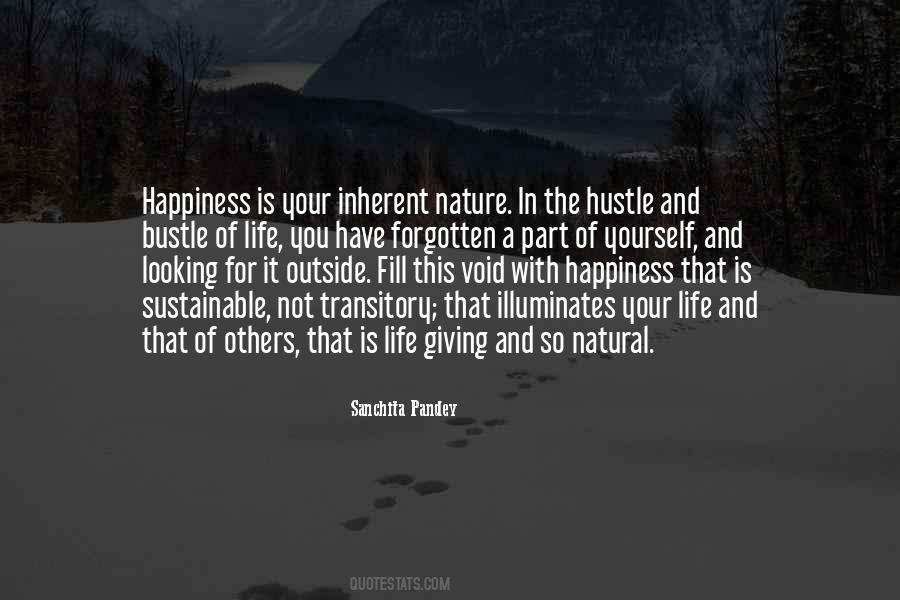 #75. The secret of a happy life is respect. Respect for yourself and respect for others. - Author: Ayad Akhtar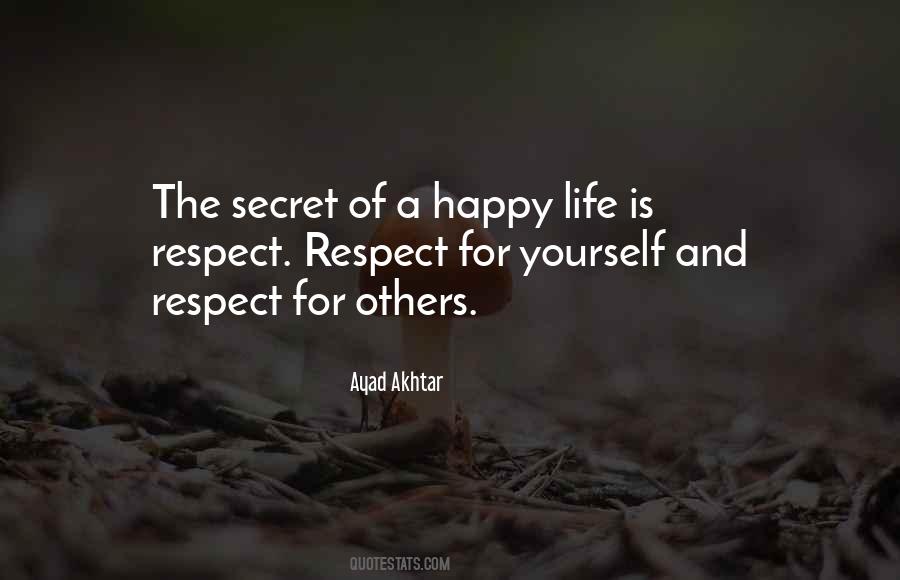 #76. Don't change yourself for anyone, you may struggle a lot to do so...
When you are completely changed, people wants the old one to get back again, which would be a difficult task ever for you... - Author: Giridhar Alwar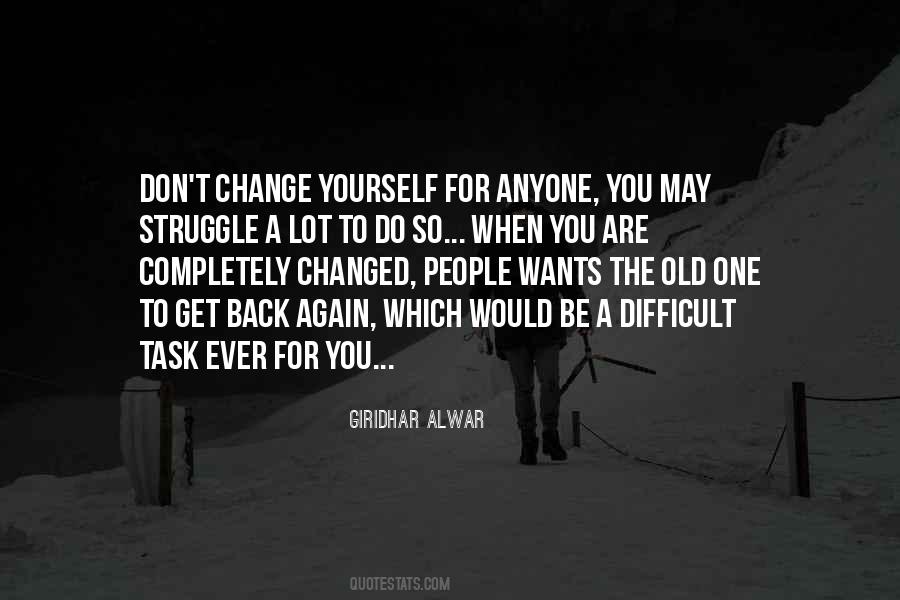 #77. Loneliness is designed to help you discover who you are ... and to stop looking outside yourself for your worth. - Author: Mandy Hale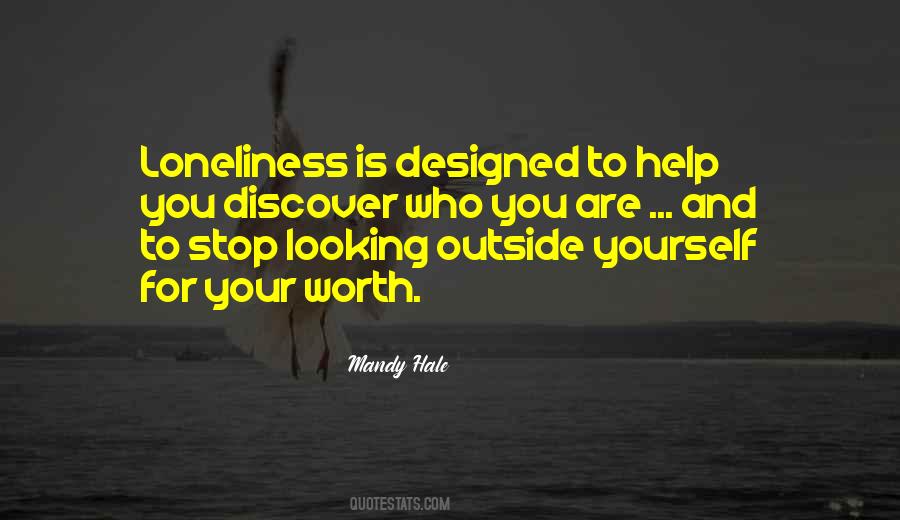 #78. Ask hard questions to yourself, for yourself. Keep your happiness on toes. Let it refine itself. - Author: Ashutosh Gupta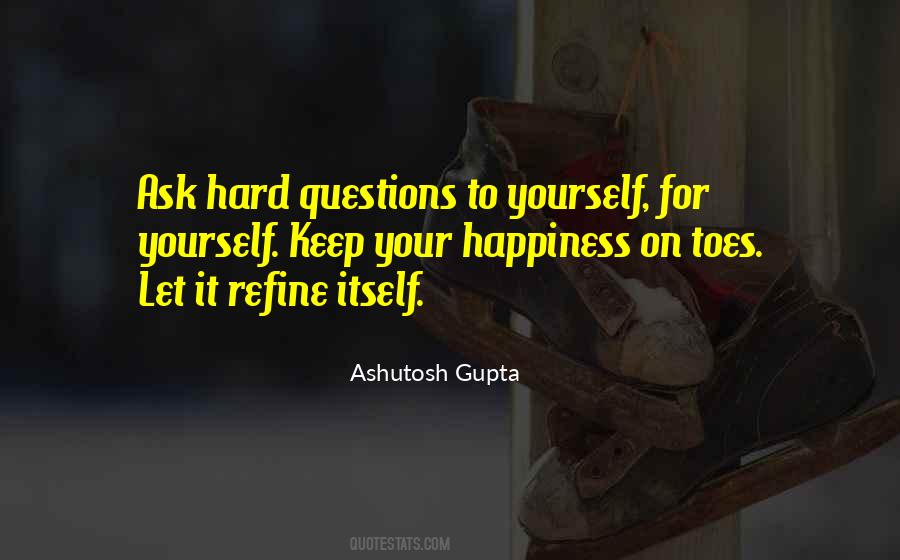 #79. Happiness is allowing yourself to be okay with what is, rather than wishing for, and bemoaning, what is not. Obviously, what is is what is supposed to be, or it would not be. The rest is just you, arguing with life. - Author: Neale Donald Walsch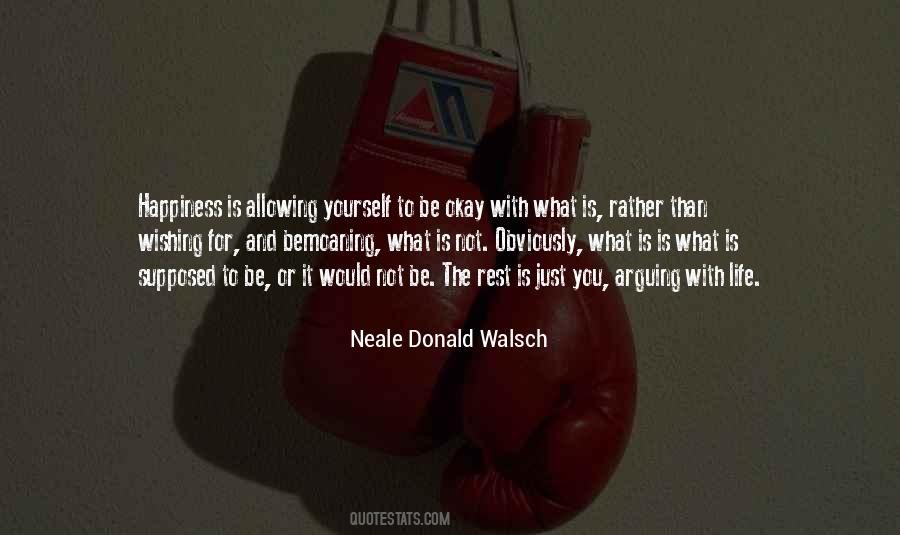 #80. It is very important to generate a good attitude, a good heart, as much as possible. From this, happiness in both the short term and the long term for both yourself and others will come. - Author: Dalai Lama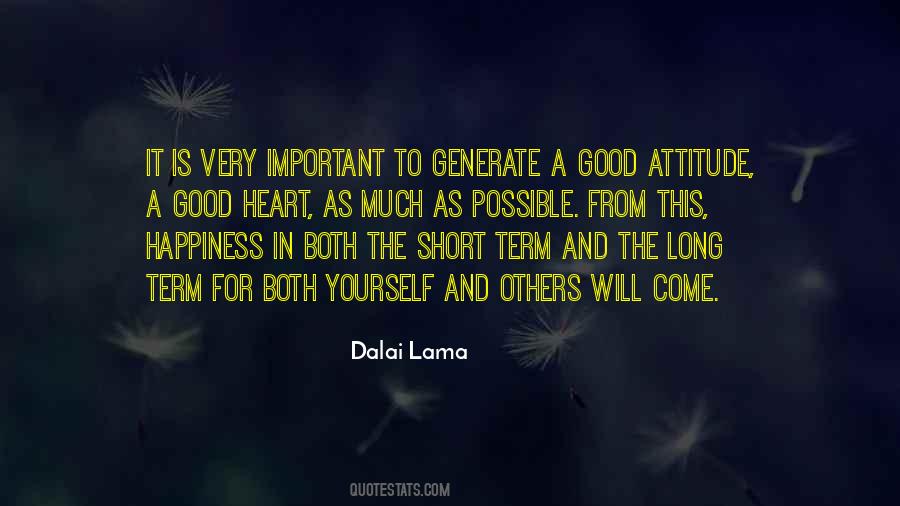 #81. When you die, God and the Angels will hold you accountable for all the pleasures you were allowed in life that you denied yourself. - Author: Roger Housden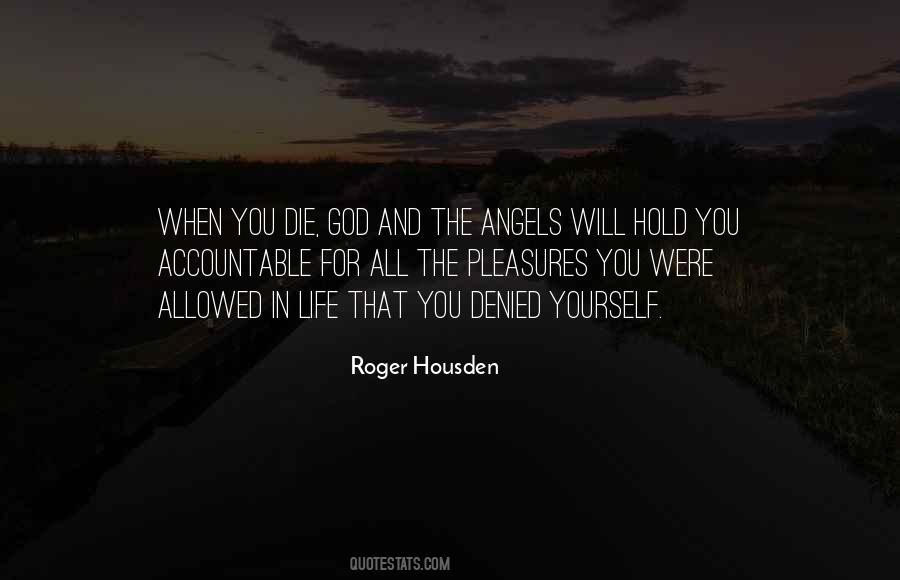 #82. You can't rely on anyone or anything outside of yourself for your happiness. - Author: Sara DiVello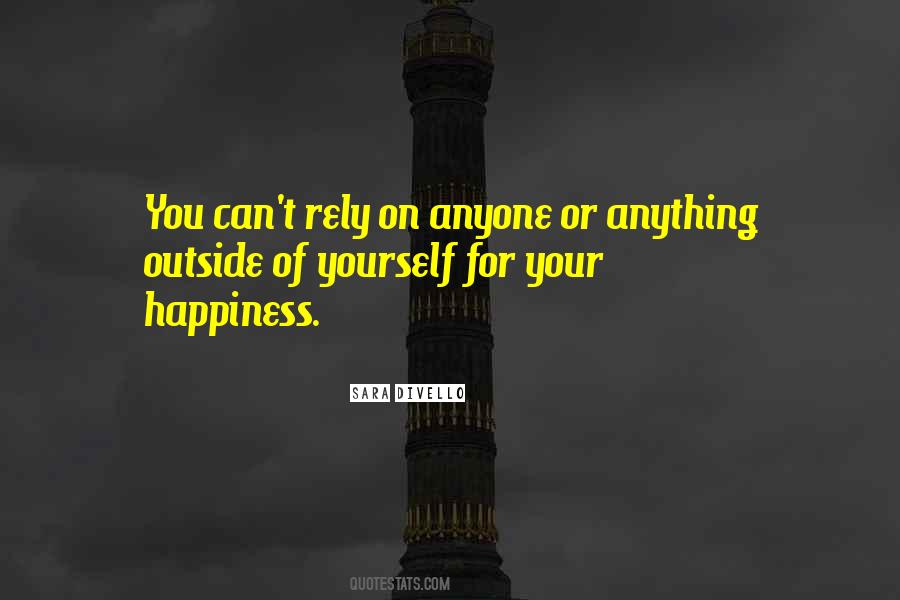 #83. Love yourself ... enough to take the actions required for your happiness ... enough to cut yourself loose from the drama-filled past ... enough to set a high standard for relationships ... enough to feed your mind and body in a healthy manner ... enough to forgive yourself ... enough to move on. - Author: Steve Maraboli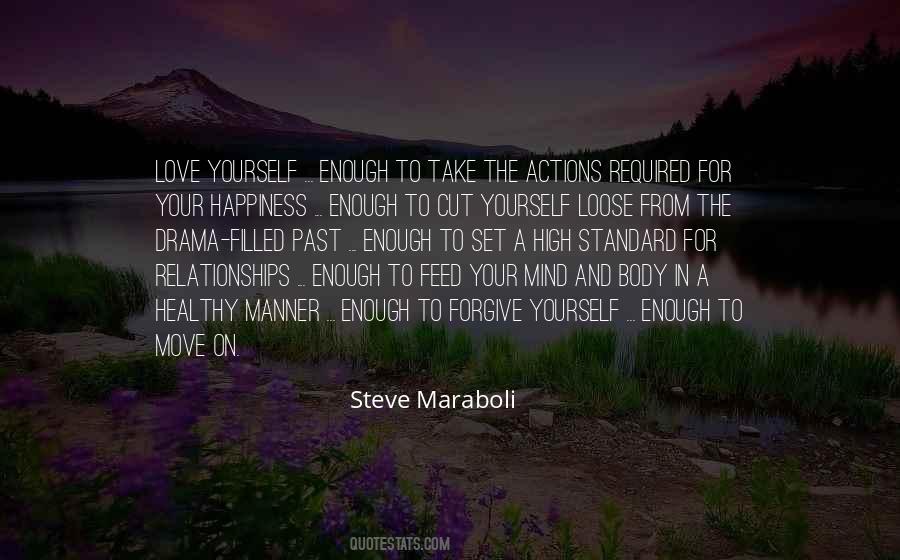 #84. When you give yourself for others, everything and everyone becomes yours. - Author: Debasish Mridha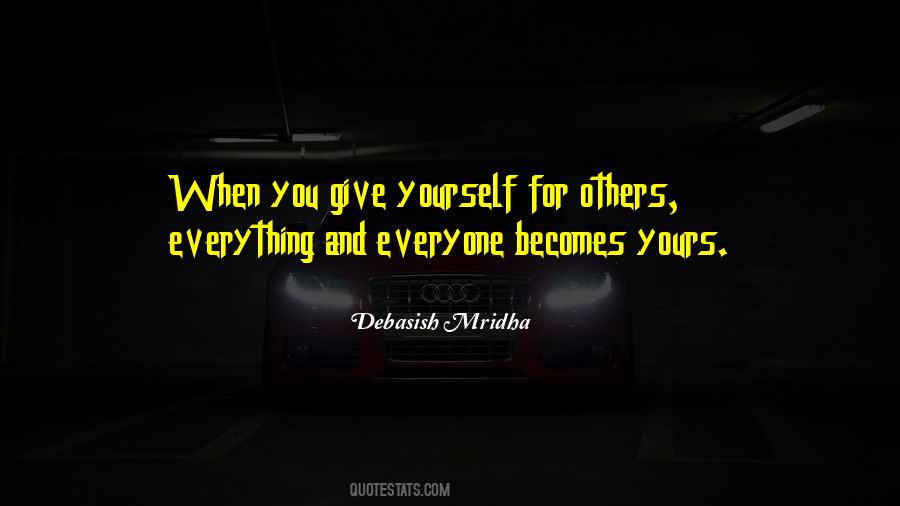 #85. I think of the friendships I've strained, the generosity I've exploited, the bridges I've torched. Do as the heavens have done, forget your evil; with them, forgive yourself. There may be hope for me yet. - Author: Anthony Ervin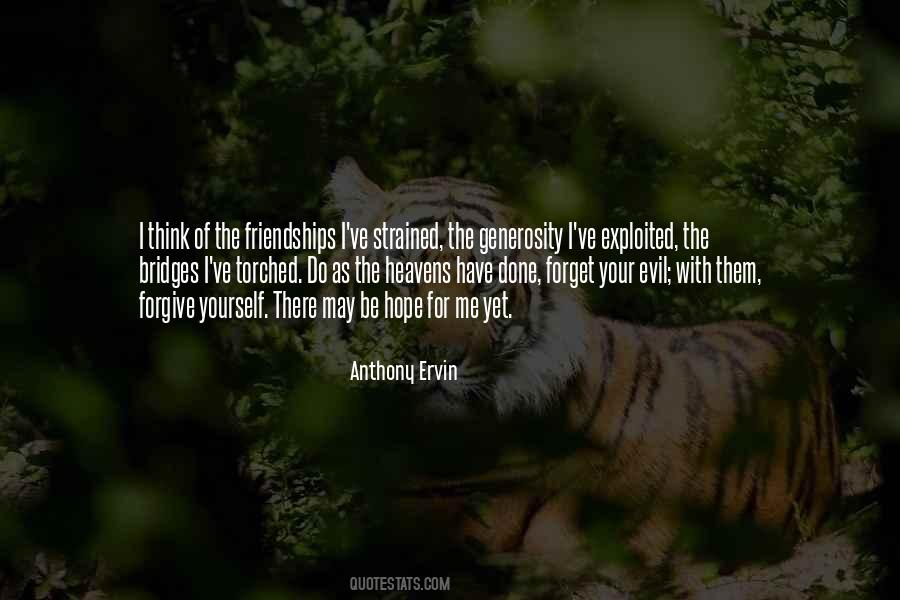 #86. Keep in mind that the reason you know you can be good to others is only because you've taken strides to be better for and to yourself. - Author: Alexandra Elle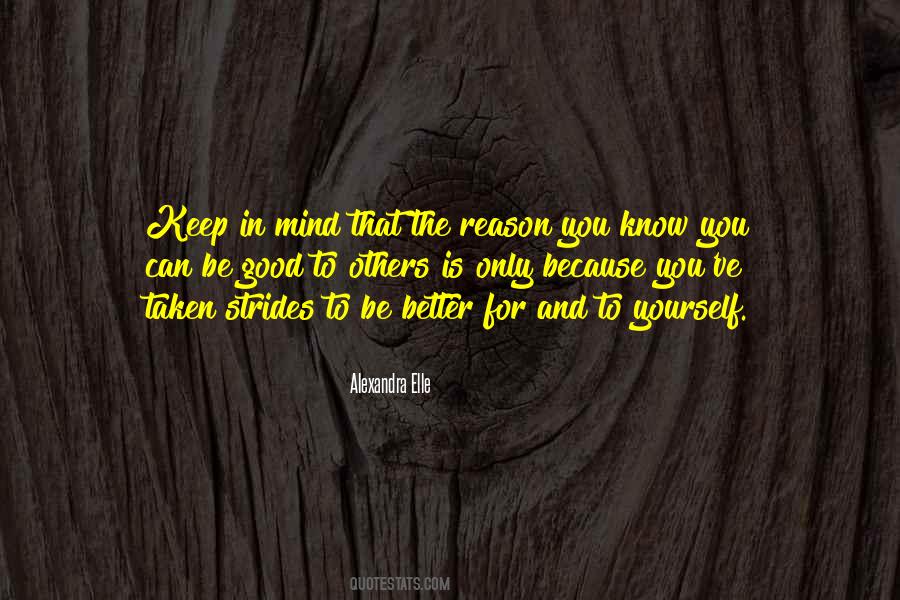 #87. Be Yourself. Life is precious as it is. All the elements for your happiness are already here. There is no need to run, strive, search, or struggle. Just Be. - Author: Thich Nhat Hanh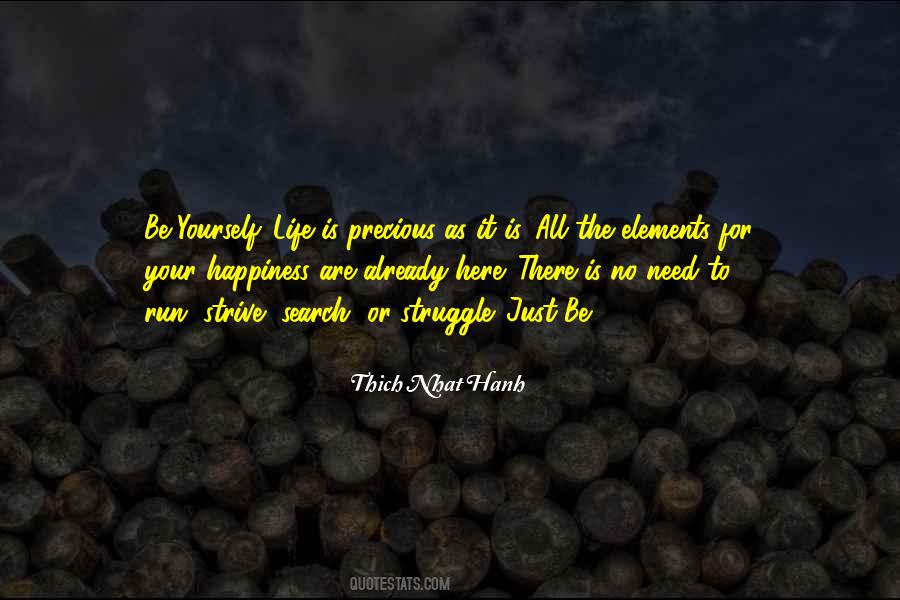 #88. Do not chase happiness. Instead, define success for yourself; then go out and live it. Be unapologetic in your commitment and honorable in your behavior. When you live in this manner, happiness chases you. - Author: Steve Maraboli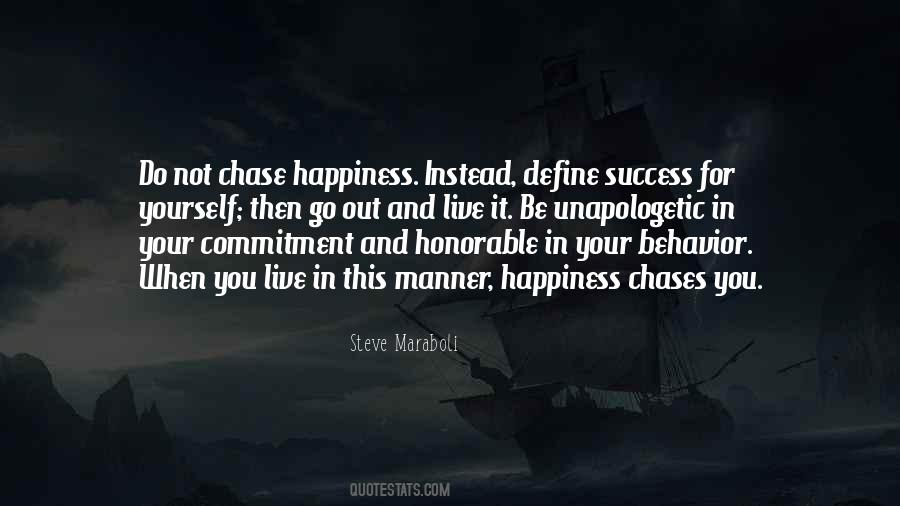 #89. Motherhood is a choice you make everyday, to put someone else's happiness and well-being ahead of your own, to teach the hard lessons, to do the right thing even when you're not sure what the right thing is ... and to forgive yourself, over and over again, for doing everything wrong. - Author: Donna Ball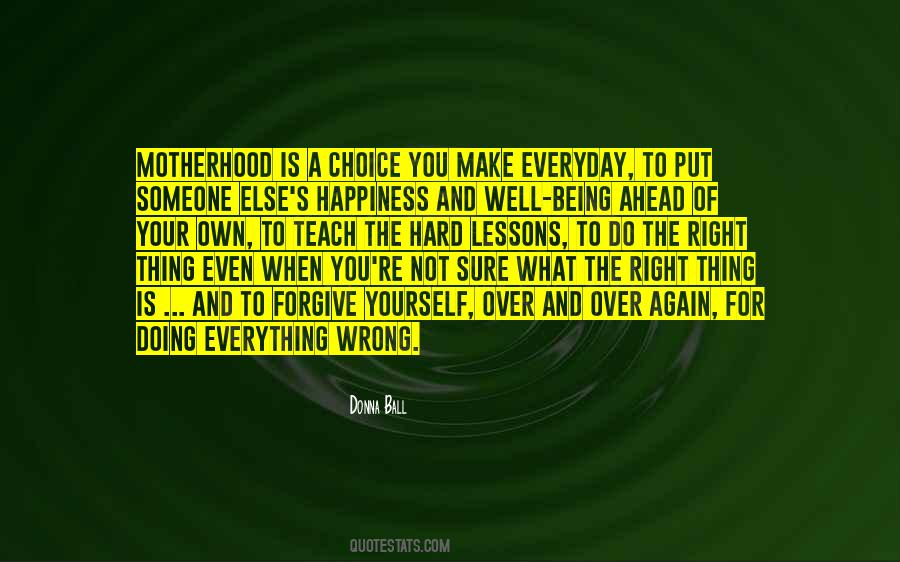 #90. This is the true joy of life-the being used for a purpose recognized by yourself as a mighty one, the being thoroughly worn out before you are thrown to the scrap-heap; the being a force of nature instead of a feverish, selfish clod of ailments and grievances. - Author: George Bernard Shaw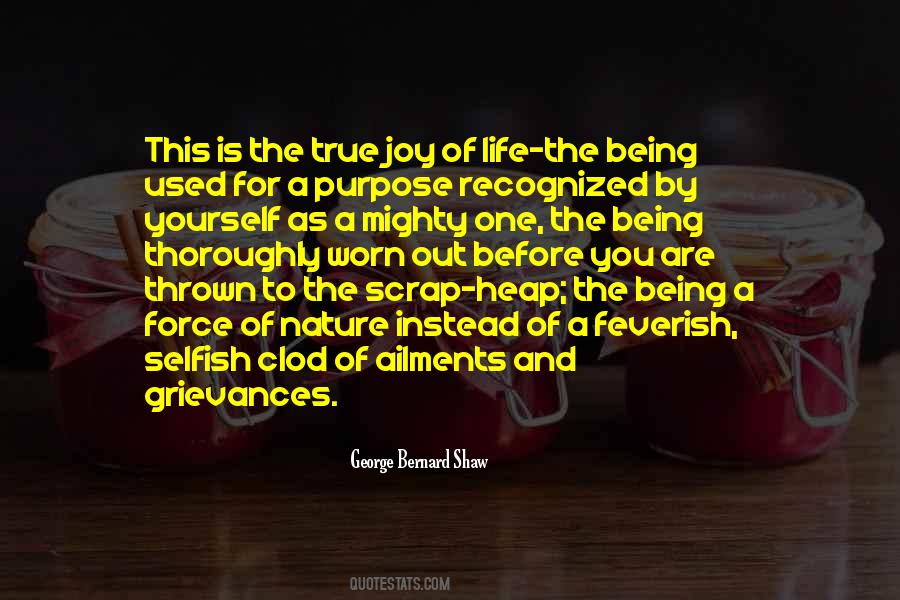 #91. Don't dilute yourself for any person or any reason. You are enough! Be unapologetically you. - Author: Steve Maraboli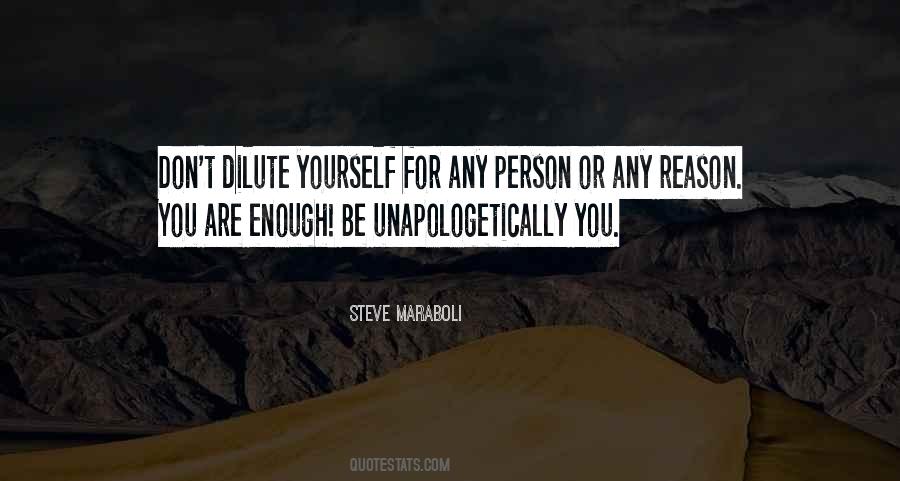 #92. It's just that it's impossible to be a broken or whole person. You can only be a person. You can only exist, you can only belong to yourself, and you can only be responsible for your own happiness or belonging or whatever. That broken-part-piece-whole thing is just a trick of the mortal mind. - Author: Jackson Pearce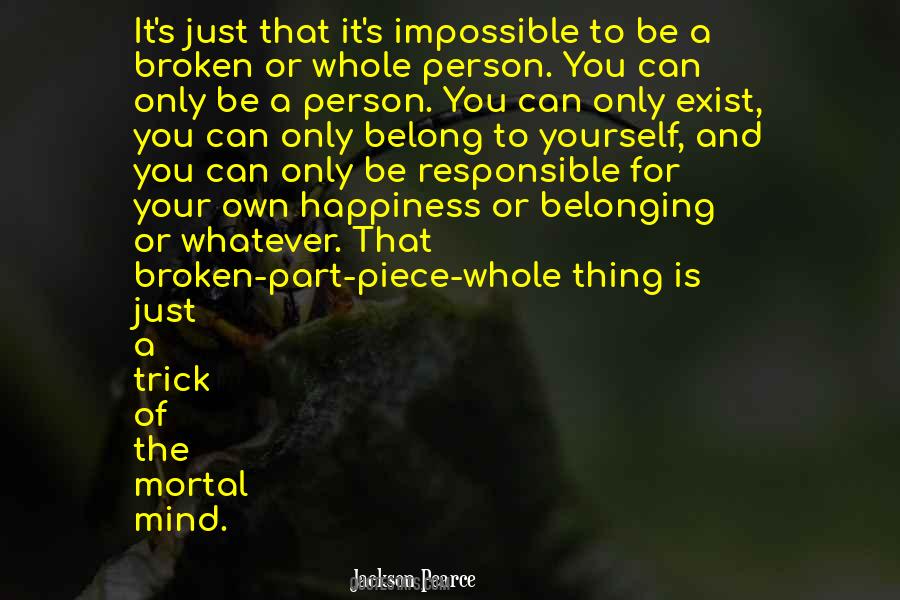 #93. Looking outside of yourself for love and acceptance, leaves your happiness in the hands of others. - Author: Debra Beck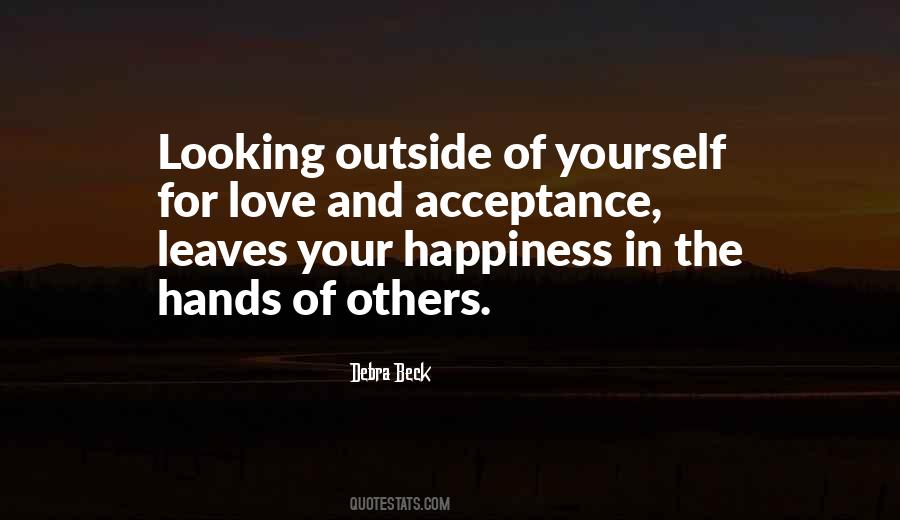 #94. If you are in the habit of creating suffering for yourself, then you are probably creating suffering for others too - Author: Eckhart Tolle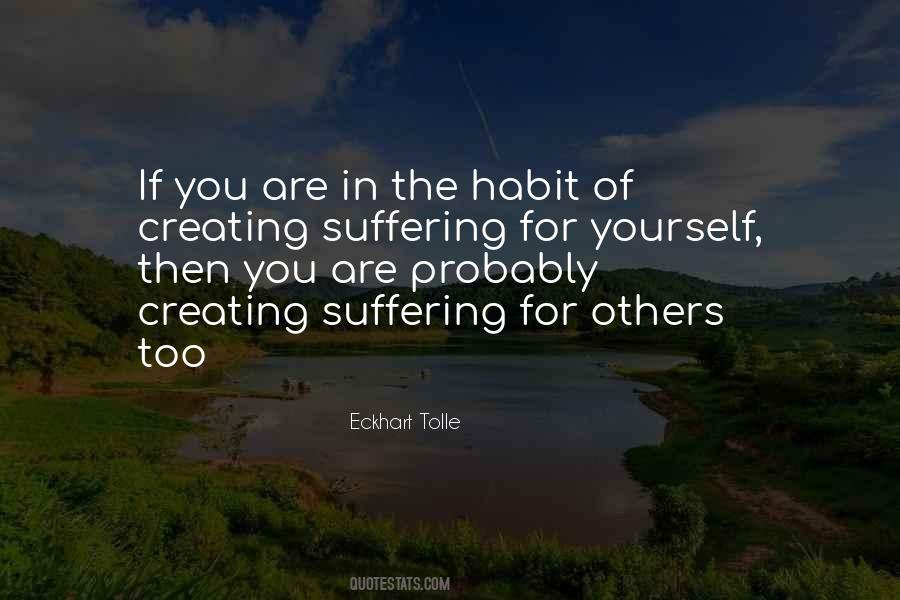 #95. The subsistence mentality of a person is a prison in which his personal joy is detained. If you want to live in joy, you don't live for yourself alone. Live for others too! - Author: Israelmore Ayivor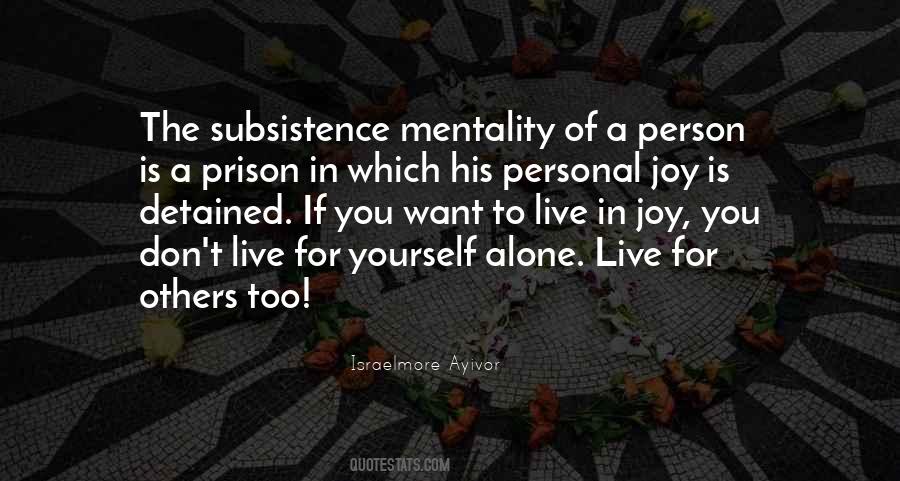 #96. Try that yourself sometime: Take something (or someone) you love, and -in your imagination- say goodbye forever right now. Grieve for a moment. Then feel the explosion of happiness that comes when you remind yourself you don't have to say goobye.
At least, not yet. - Author: Teller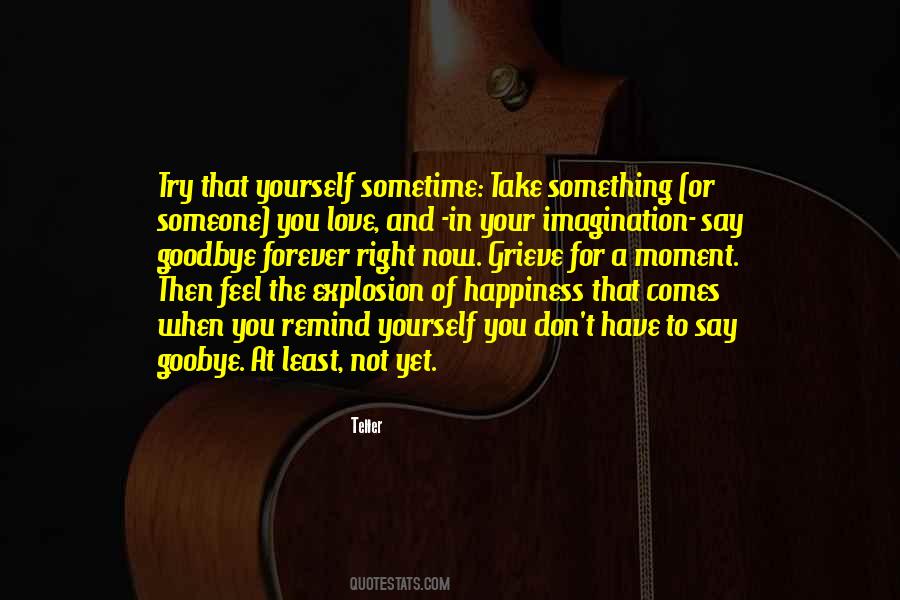 #97. That's life for you. All the happiness you gather to yourself, it will sweep away like it's nothing. If you ask me I don't think there are any such things as curses. I think there is only life. That's enough. - Author: Junot Diaz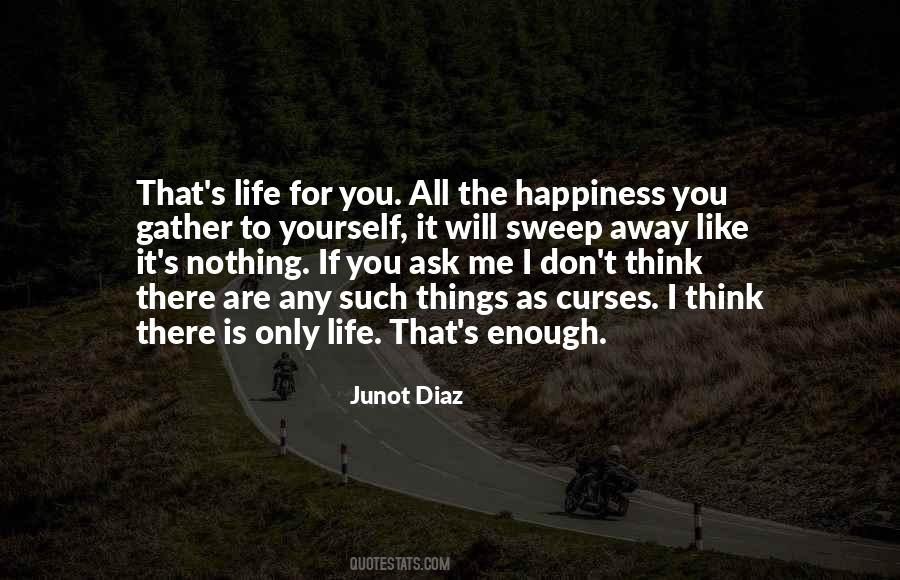 #98. Stop rejecting that unique pathway that was designed exclusively for you. Embrace your destiny, respect yourself and love others. - Author: Auliq Ice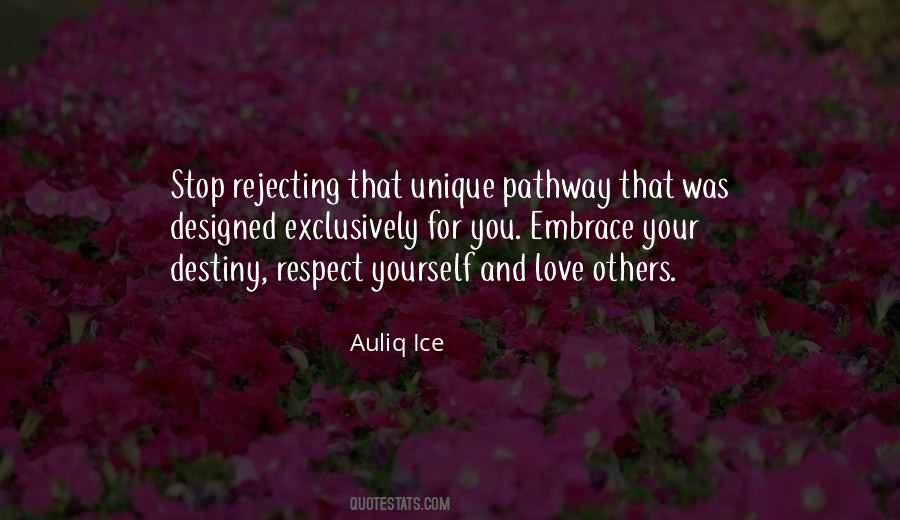 #99. Money - like health, love, happiness, and all forms of success that you want to create for yourself - is the result of living purposefully. It is not a goal unto itself. - Author: Wayne Dyer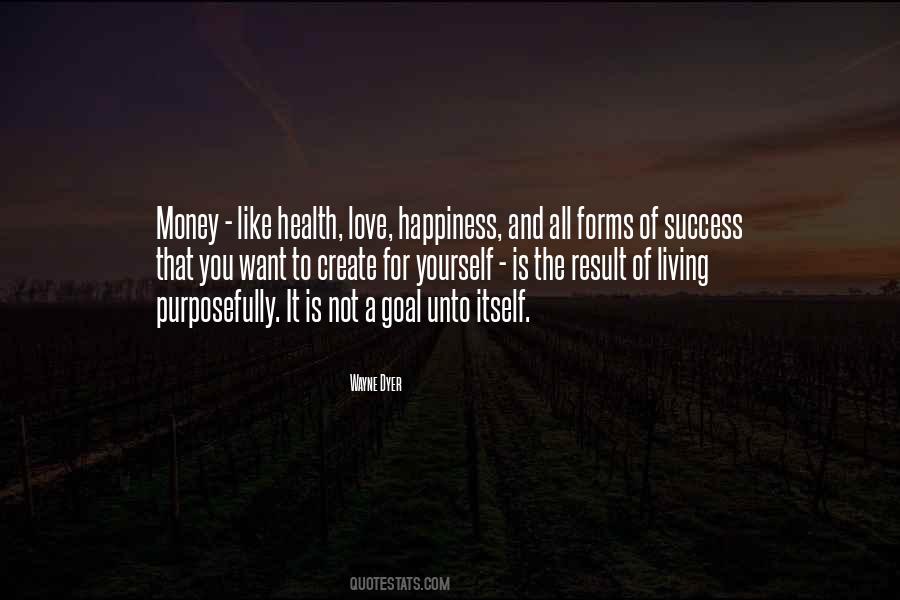 #100. It's okay to be happy, it's okay to live your life exactly the way you want it ... It's okay to find what makes you happy and then to fight for it. To dedicate your life to discovering who you are. - Author: Derrick Jensen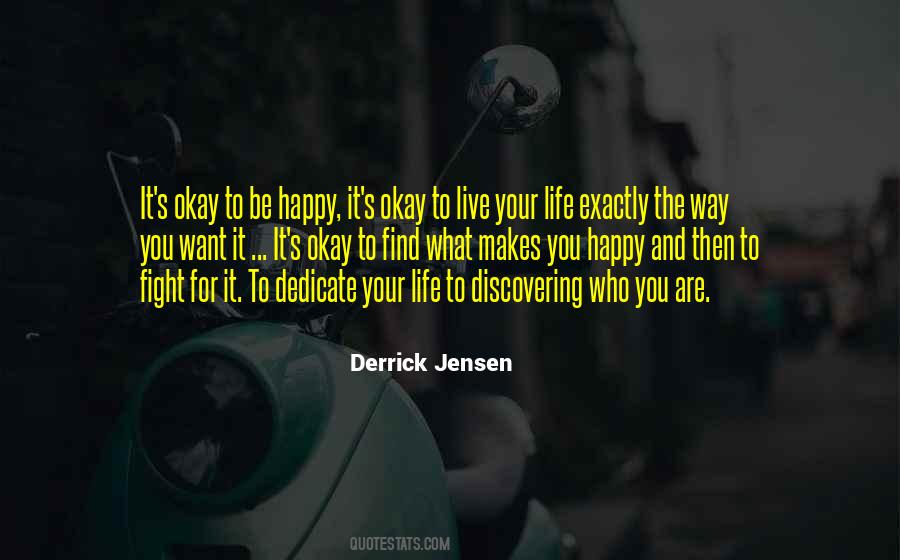 Famous Authors
Popular Topics