Children's Happiness Famous Quotes & Sayings
List of top 99 famous quotes and sayings about children's happiness to read and share with friends on your Facebook, Twitter, blogs.
Top 99 Children's Happiness Quotes
#1. It is time for a return to childhood, to simplicity, to running and climbing and laughing in the sunshine, to experiencing happiness instead of being trained for a lifetime of pursuing happiness. It is time to let children be children again. - Author: L.R. Knost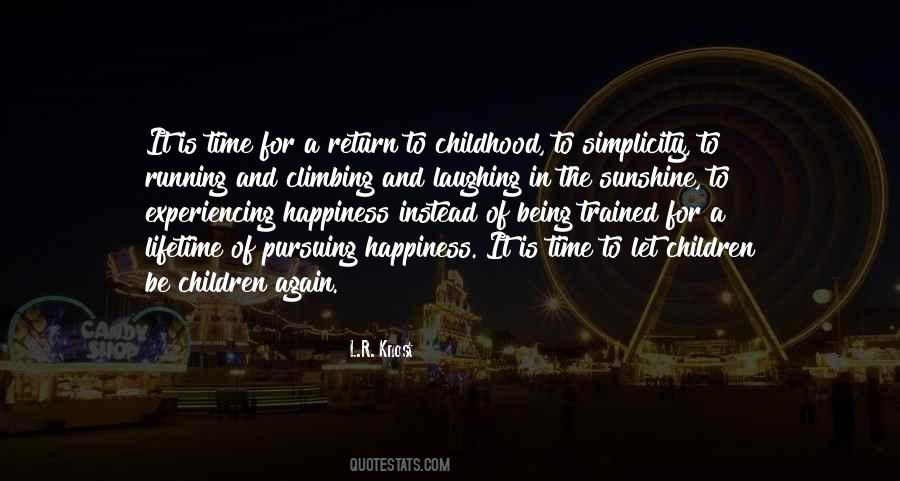 #2. Went down into a modest life of usefulness and happiness. Went down to give a mother's care, in the fulness of time, to Fanny's neglected children no less than to their own, and to leave that lady going into Society for ever and a day. - Author: Charles Dickens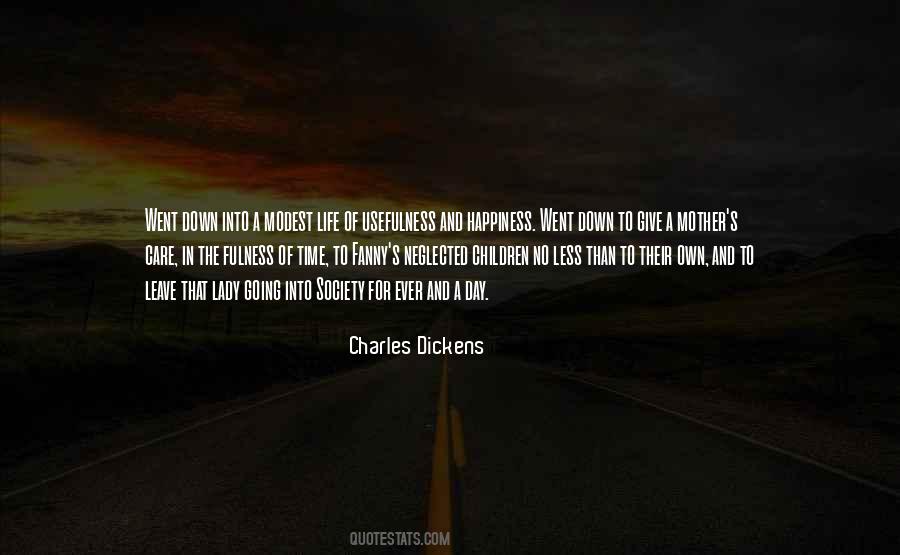 #3. No mother ever wants a war, they want to see their children grow up in peace, surrounded by love. - Author: Debasish Mridha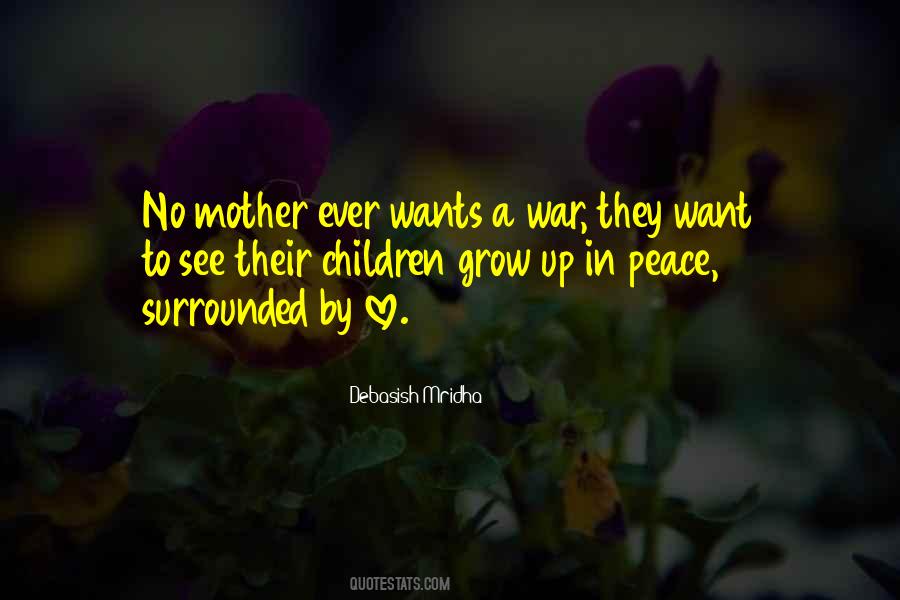 #4. Children are a blessing. They are a happiness so sharp that it feels like pain. - Author: Maureen F. McHugh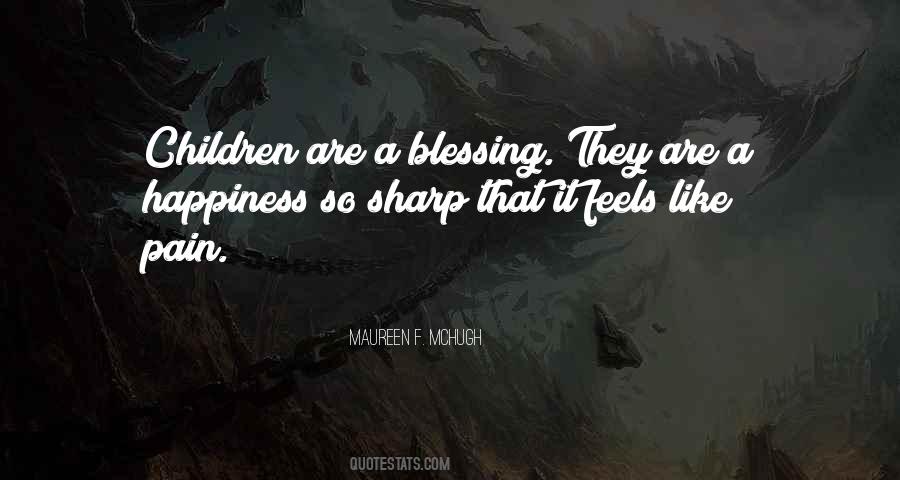 #5. From their teenage years on, children are considerably more capable of causing parents unhappiness than bringing them happiness. That is one reason parents who rely on their children for happiness make both their children and themselves miserable. - Author: Dennis Prager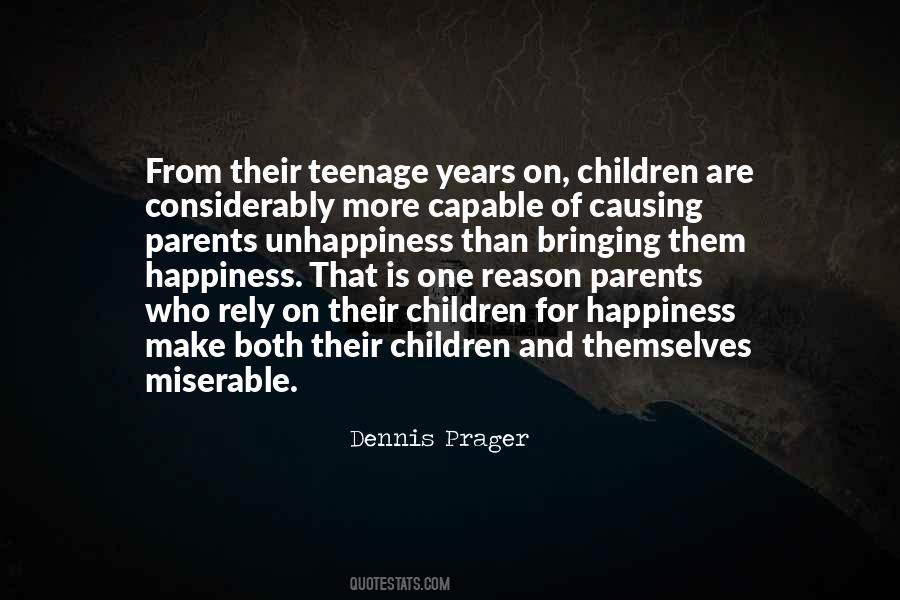 #6. When I was a child ... Only virtue was prized, virtue at the expense of intellect, health, happiness, and every mundane good. - Author: Bertrand Russell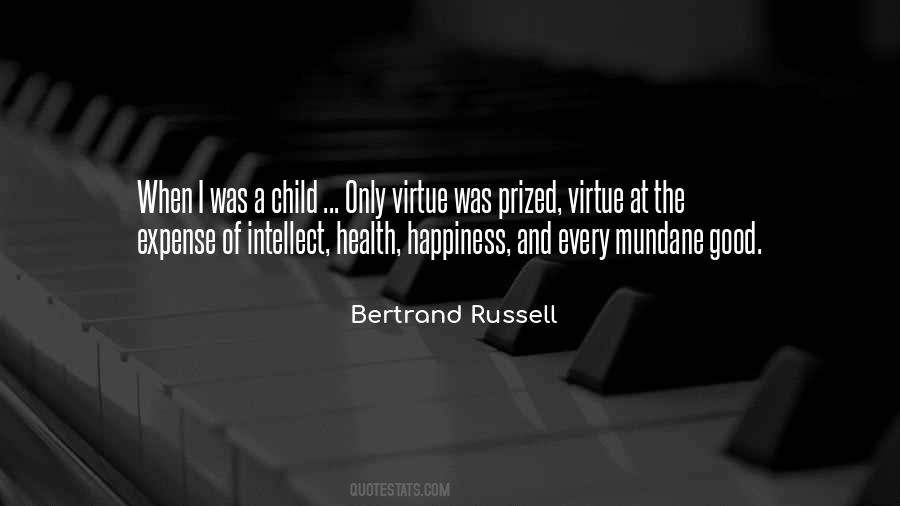 #7. It is unrealistic to assume that if all goes well in a child's life, he or she will be happy. Happiness is not something one can ask of a child. Children suffer in a way that adults don't always realize under the pressure their parents put on them to be happy. - Author: Adam Phillips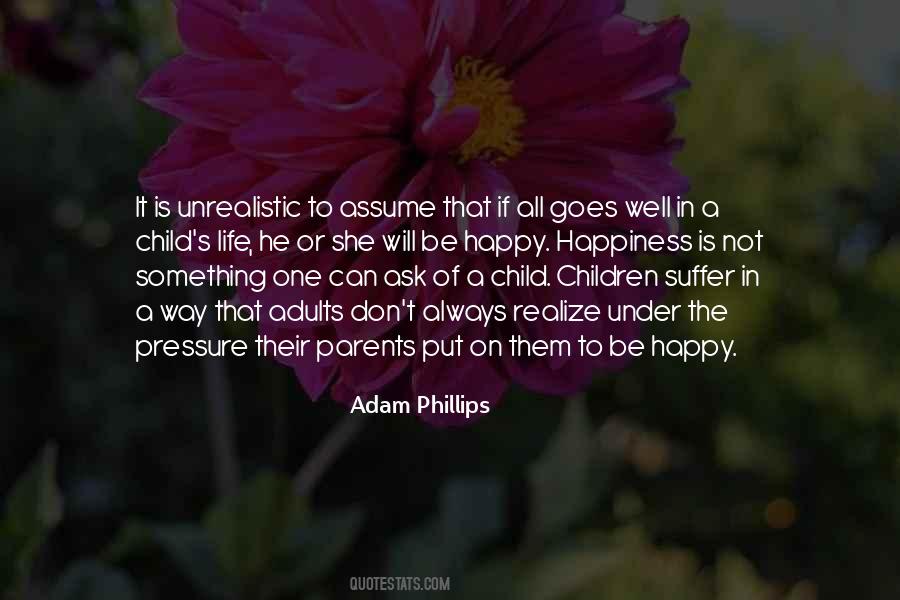 #8. Providence has so ordained it, that only two women have a true interest in the happiness of a man
his own mother, and the mother of his children. Besides these two legitimate kinds of love, there is nothing between the two creatures except vain excitement, painful and vain delusion. - Author: Octave Feuillet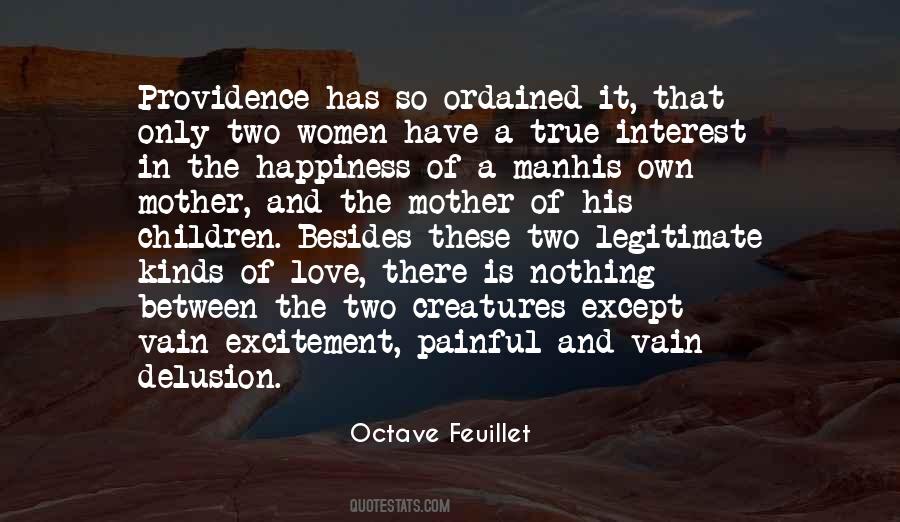 #9. People are chasing happiness
Cars are chasing destinations
Children are chasing new toys
And rest of all are chasing
What's not here yet. - Author: Sayantan Sen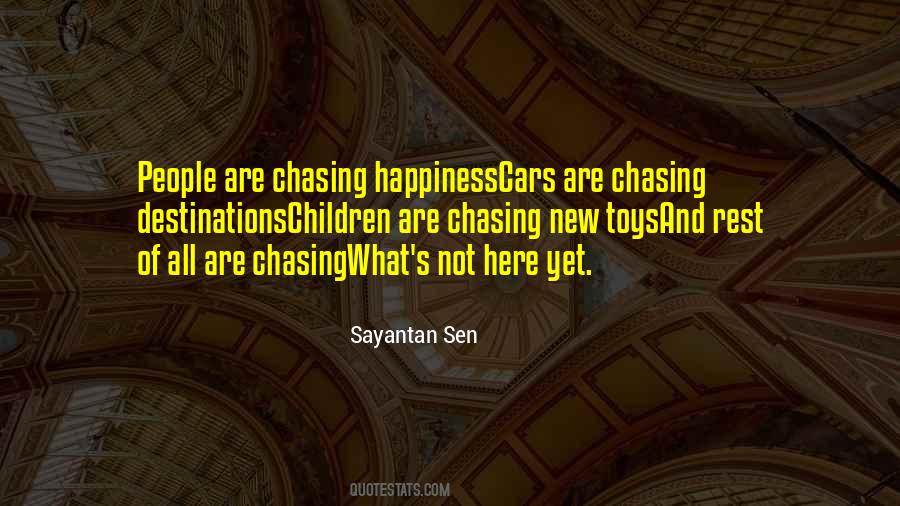 #10. Recommend virtue to your children, that alone - not wealth - can give happiness. It upholds in adversity and the thought of it and my art prevents me from putting an end to my life. - Author: Ludwig Van Beethoven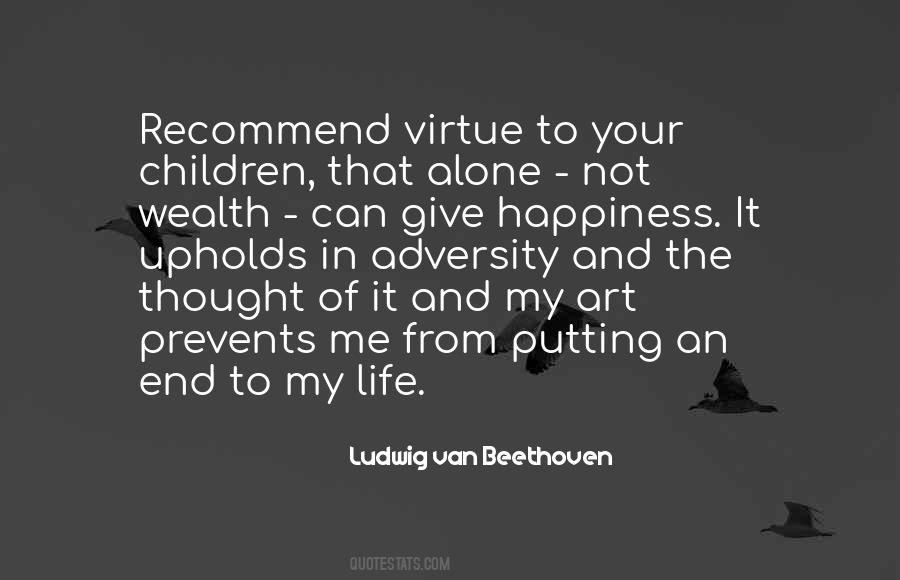 #11. What woman, indeed, among the most faithful adherents of the truth, believes the promises and threats of the Word in the sense in which she believes in her own children, or would not throw her theology to the wind if weighed against their happiness? - Author: Thomas Hardy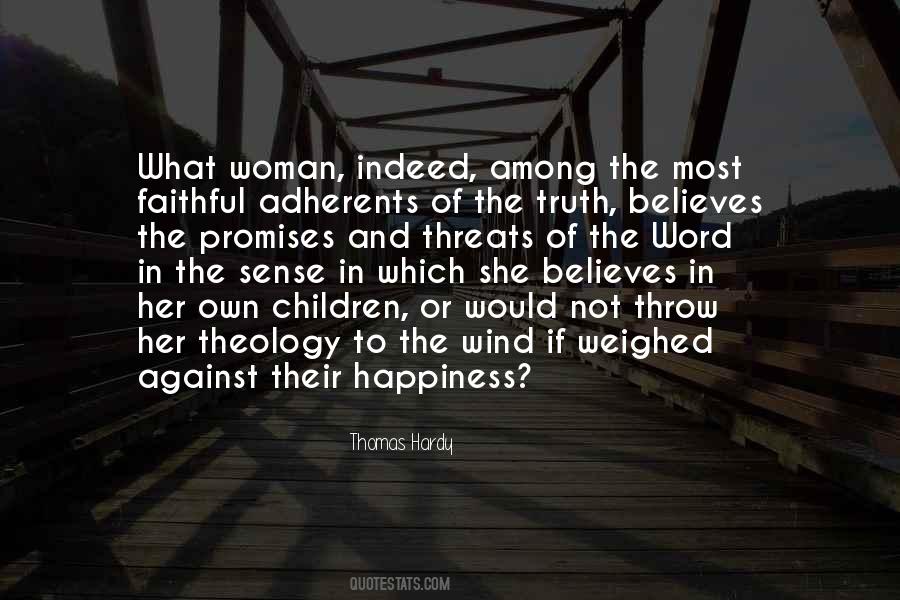 #12. If I were flying, I would travel to a perfect place. A place with frosted cakes and beautiful flowers and excellent trees to climb and absolutely no doldrums. - Author: Kyo Maclear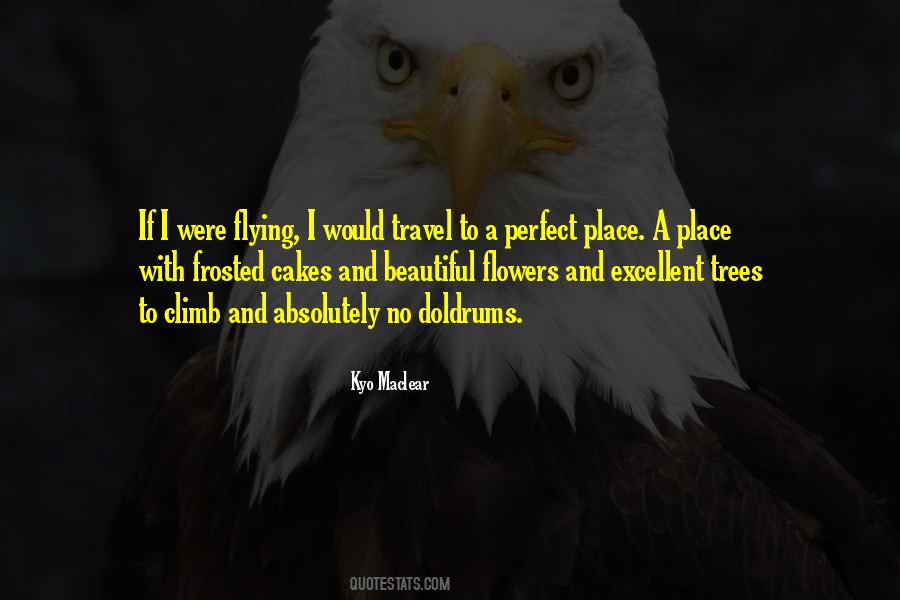 #13. I wanted my children and grandchildren to know that no matter when you are born or where you live, happiness and disappointments have the same flavors the world over. - Author: Phyllis Reynolds Naylor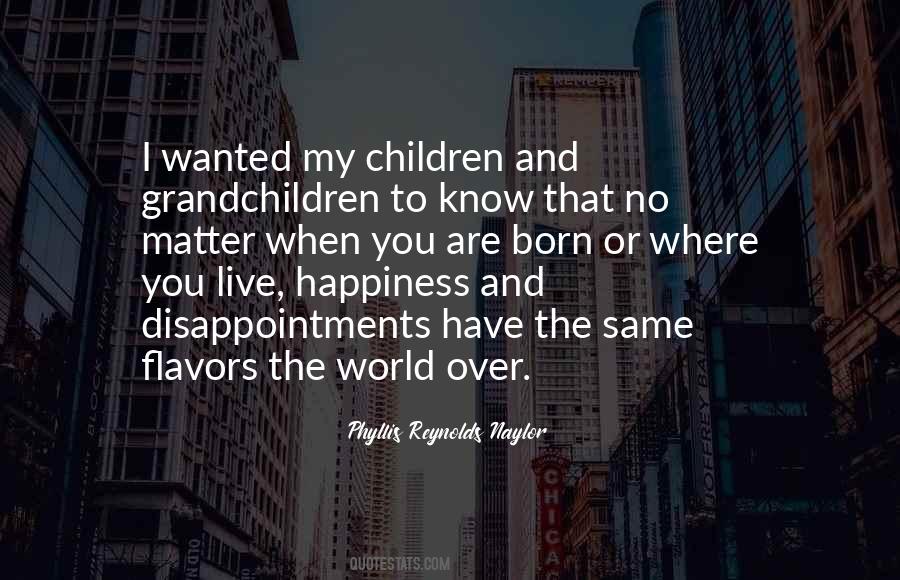 #14. If you make children happy now, you will make them happy twenty years hence by the memory of it. - Author: Kate Douglas Wiggin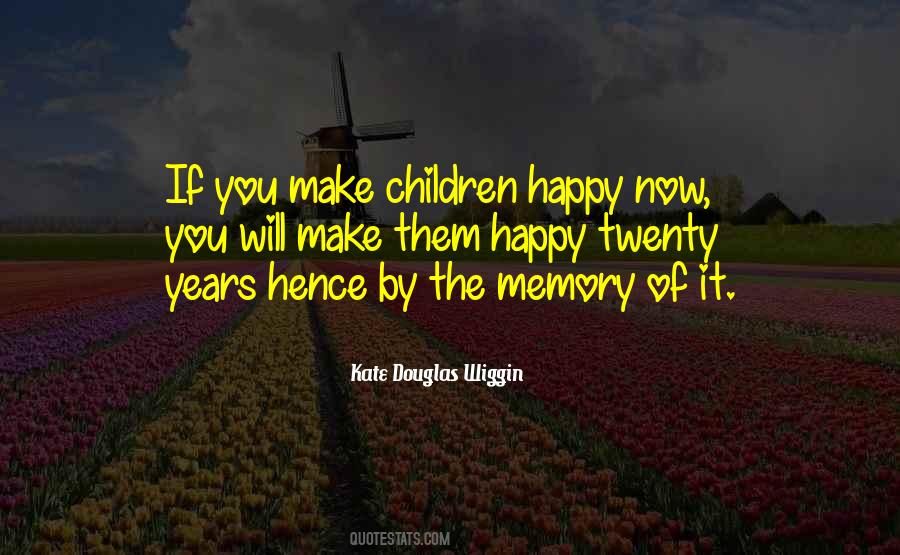 #15. I'm constantly tortured, and that's why I say happiness is irrelevant. Happiness is for children and yuppies. - Author: John Zorn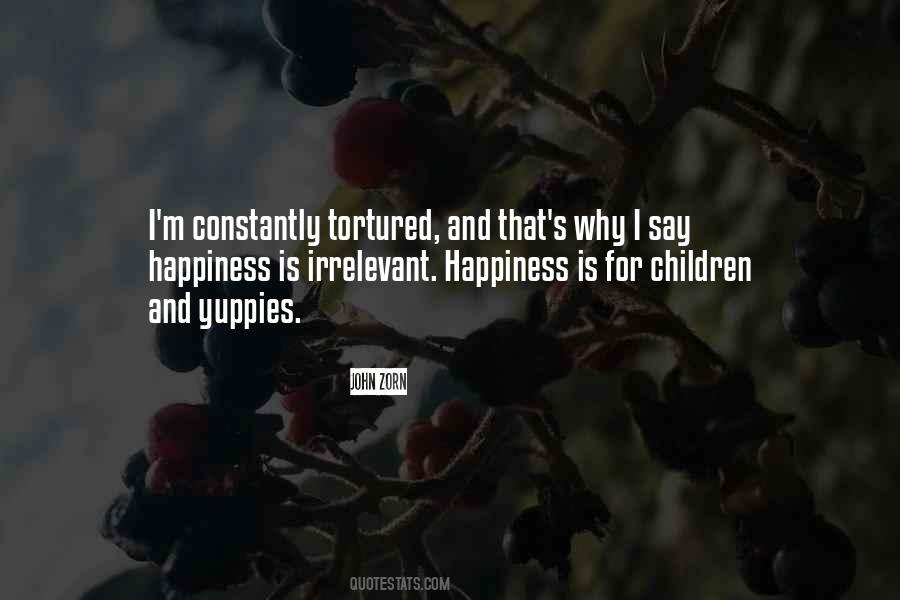 #16. Take your happiness where you find it, children, and don't ask too many questions. Life is too short and uncertain to do otherwise. - Author: Jacqueline Carey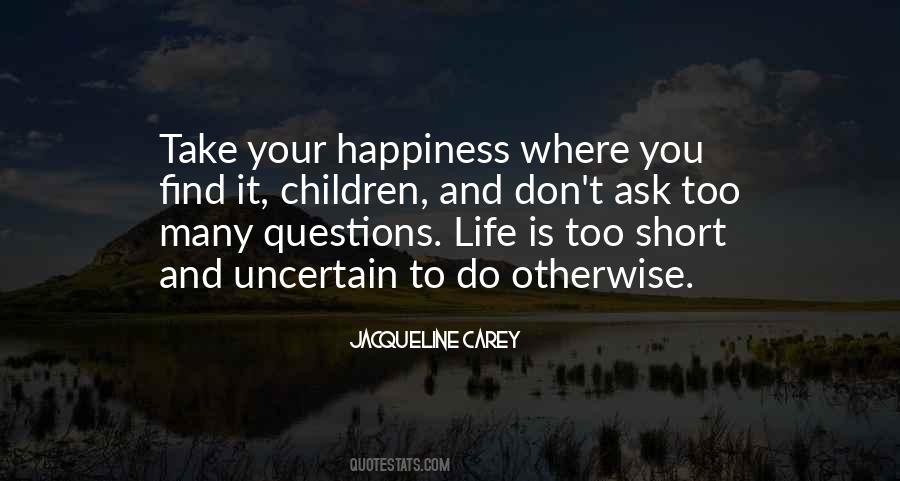 #17. Simple, practical, brilliant. What a wonderful world it will be when all families give their children the gifts presented in Dr. Reznick's book. Joy, success ... and health and happiness are just around the corner! - Author: Harvey Karp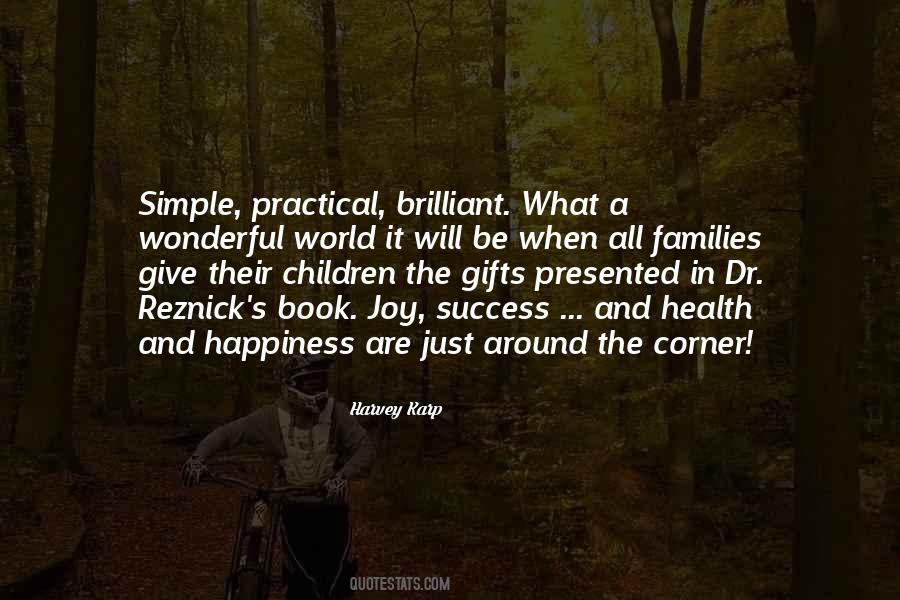 #18. There are children who will leave a game to go and be bored in a corner of the garret. How often have I wished for the attic of my boredom when the complications of life made me lose the very germ of freedom! - Author: Gaston Bachelard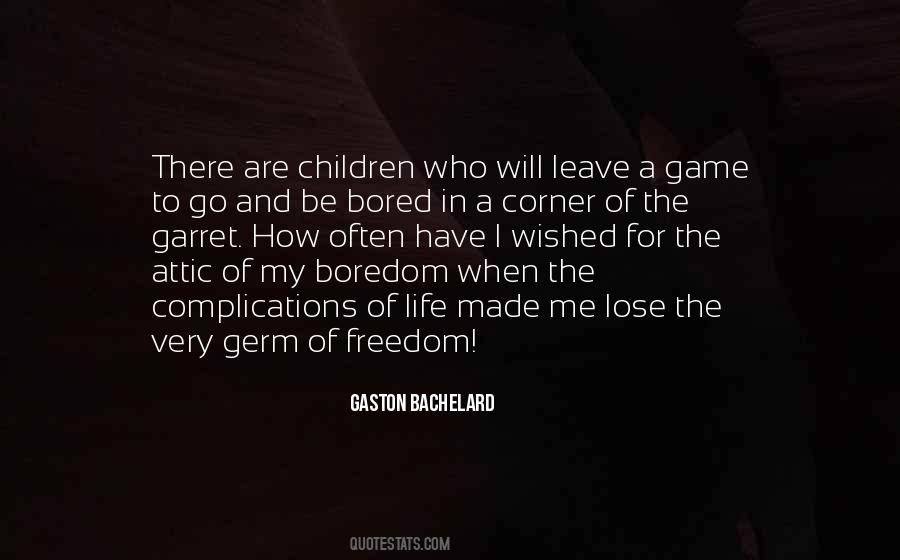 #19. Children are one of the greatest lessons in happiness, constantly challenging us to enjoy the moment, as the next one will not be the same. - Author: Marianne Williamson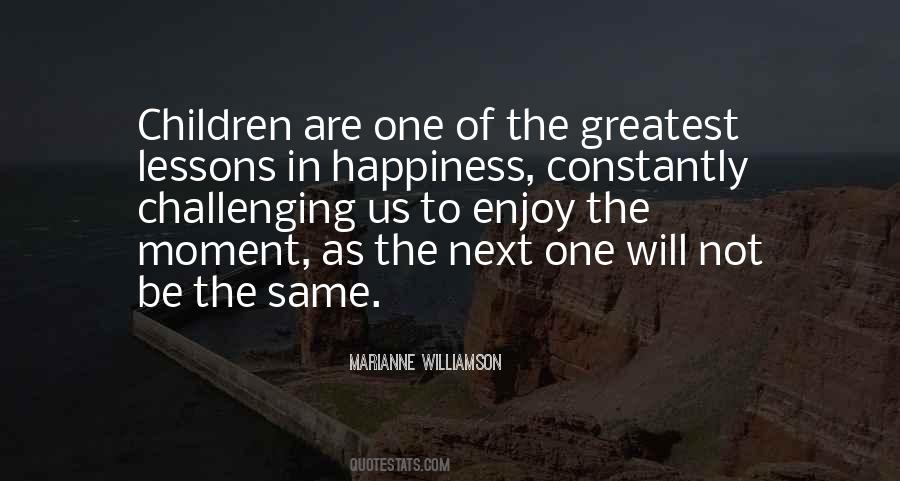 #20. I love acting, of course, but being with my husband and my children always brought me the greatest joy and happiness in life. - Author: Meryl Streep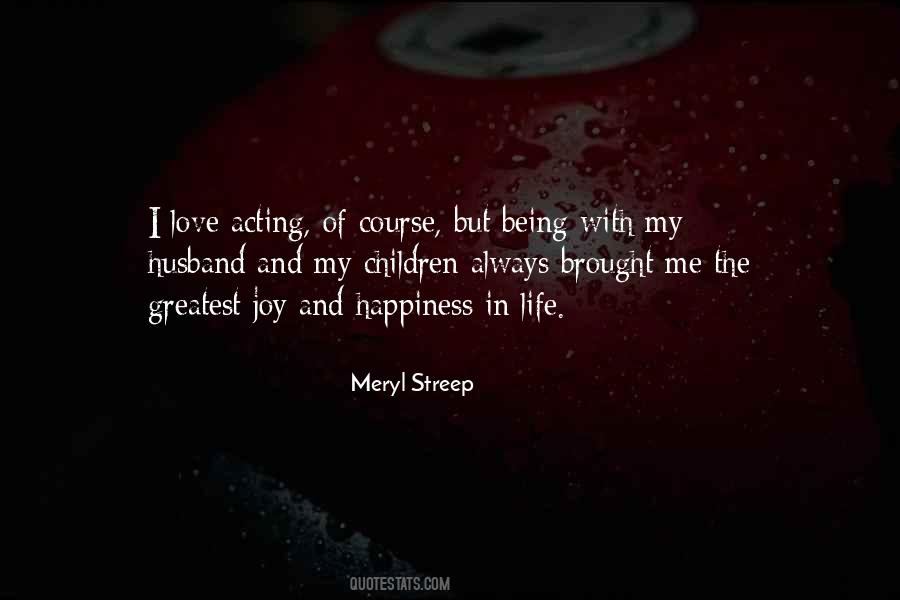 #21. There's One Person above all others who desires an extraordinary life for you. He is a Father who delights, like any good father, in the achievements and happiness of His children. His name is God! And nothing will please Him more than seeing you reach your highest potential. - Author: John Bevere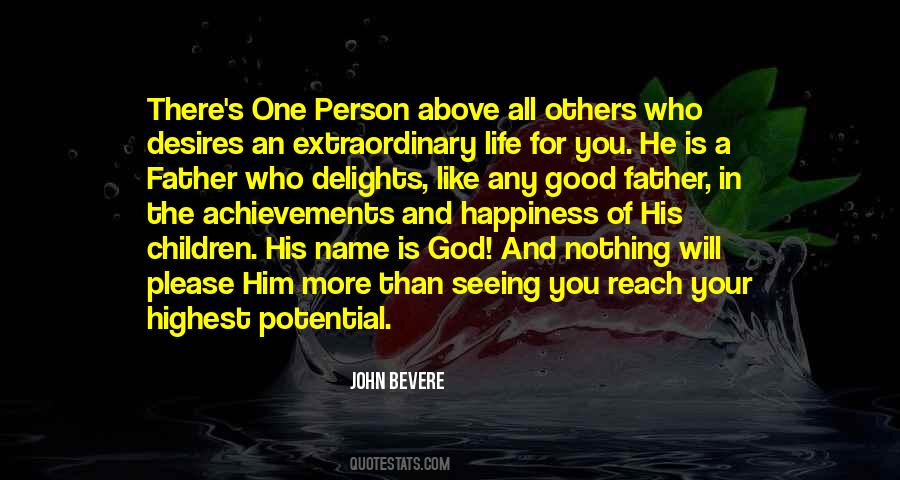 #22. I don't know why it was, exactly, but nothing irritated my father quite like the sound of his children's happiness. Group crying, he could stand, but group laughing was asking for it, especially at the dinner table. - Author: David Sedaris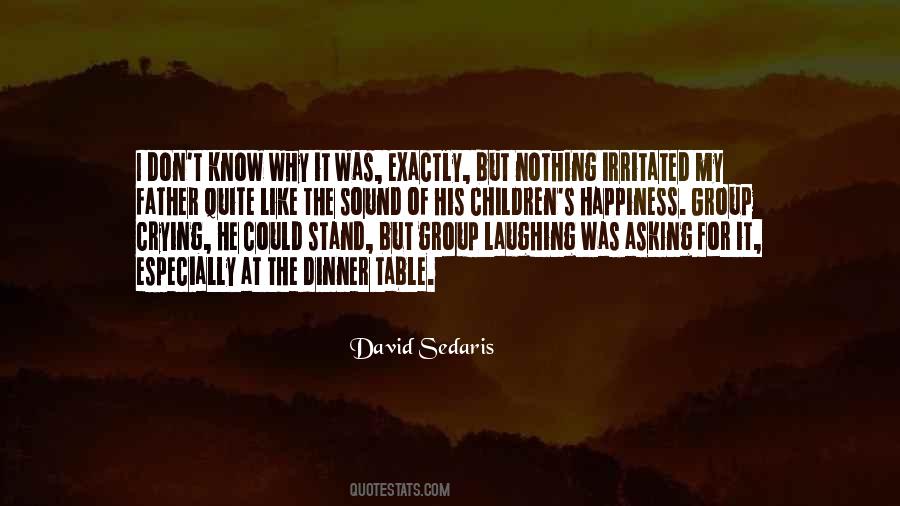 #23. Once upon a time there was a lady. She had no children, and no happiness either. And at first she cried for a long time, but then she became wicked ... - Author: Mikhail Bulgakov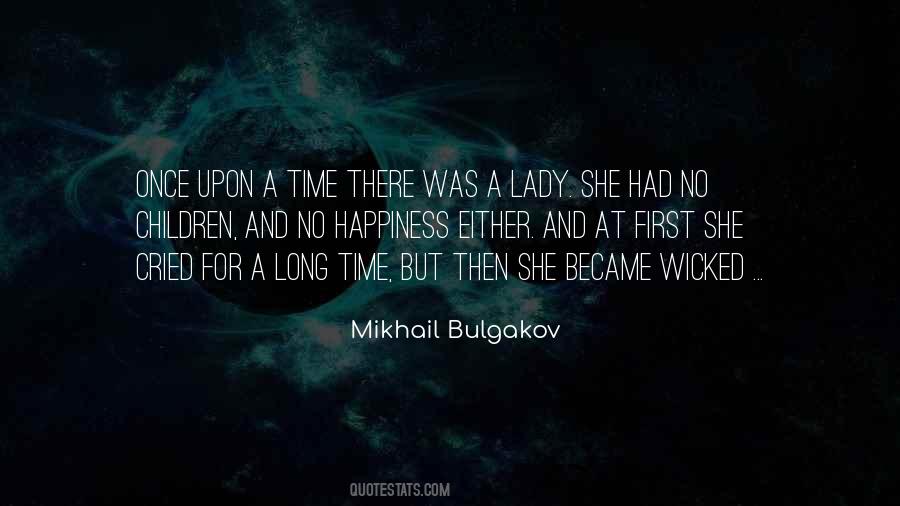 #24. Happiness is an imaginary condition, formerly attributed by the living to the dead, now usually attributed by adults to children, and by children to adults. - Author: Thomas Szasz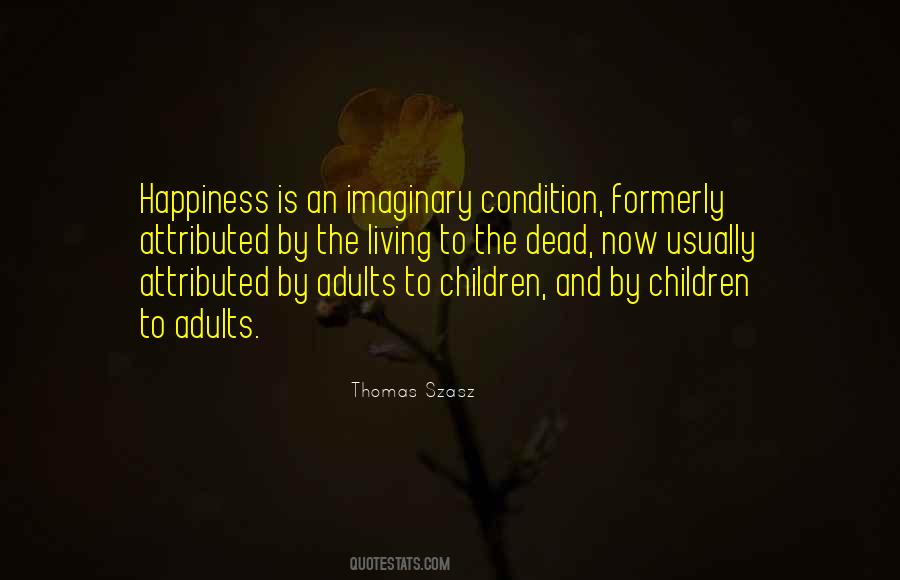 #25. Mom actually said that?" Cassie's face shown with happiness. "She always hated my math!"
"Nah," Martin said. "She was just being that way for you. She thought it was what you needed to hear. If parents told us what they really think about stuff, we could figure them out like regular people. - Author: Clare B. Dunkle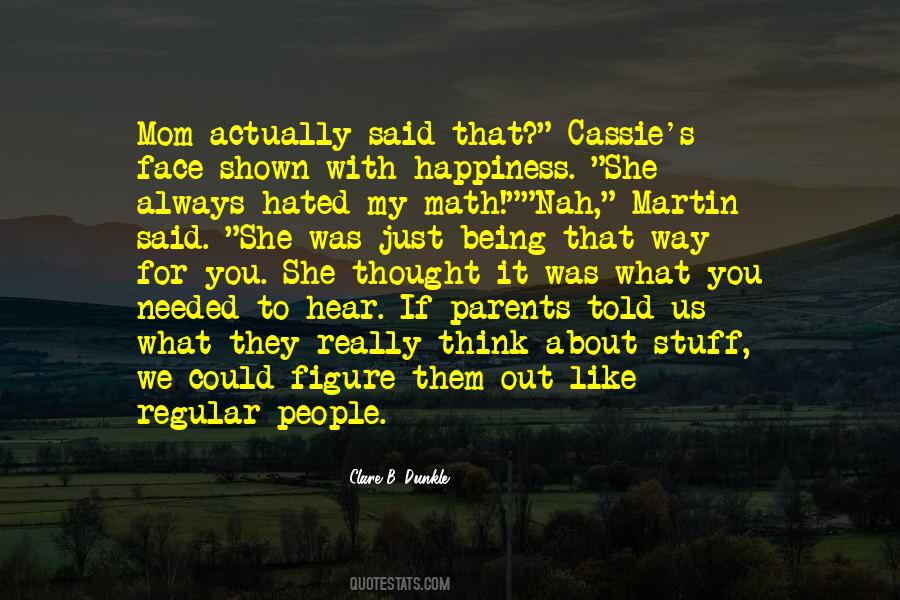 #26. Children smile 400 times a day on average ... adults 15 times.
Children laugh 150 times a day ... adults 6 times per day.
Children play between 4-6 hours a day ... adults only 20 minutes a day.
What's happened? - Author: Robert Holden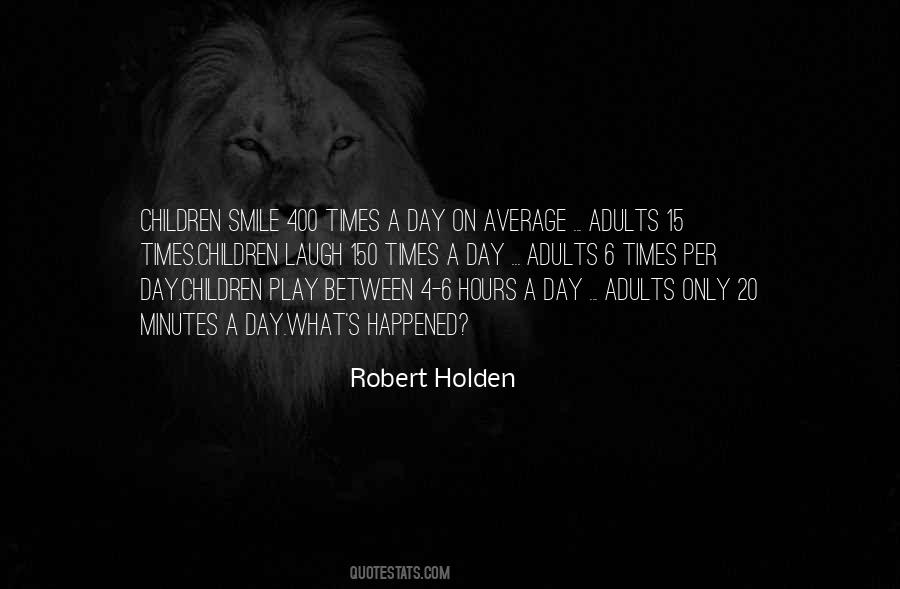 #27. Children are God's or nature's practical joke on couples - that which is produced by passion then proceeds to nearly kill it. - Author: Dennis Prager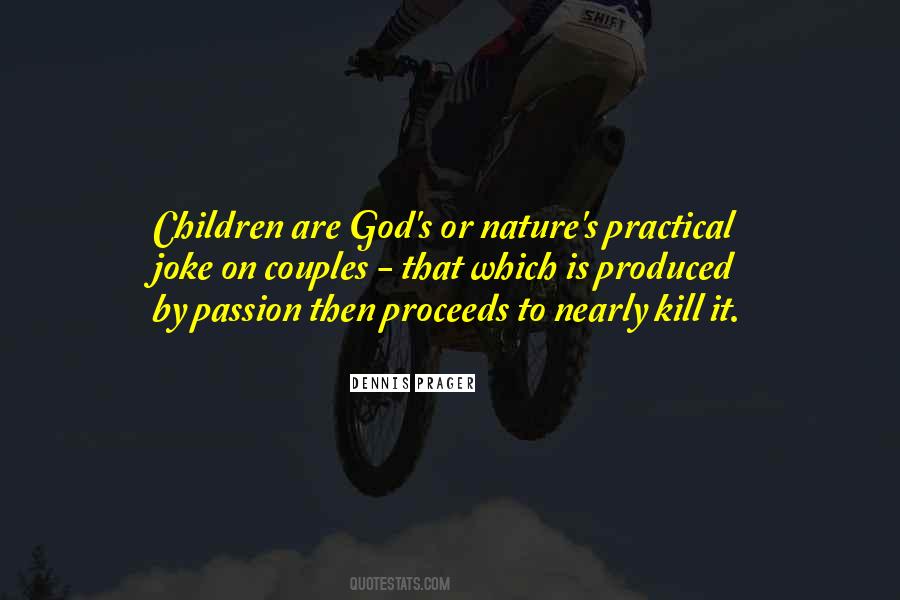 #28. It's more important than ever that we find new ways to cultivate curiosity - because our careers, our happiness, and our children's flourishing all depend upon it. - Author: Oliver Burkeman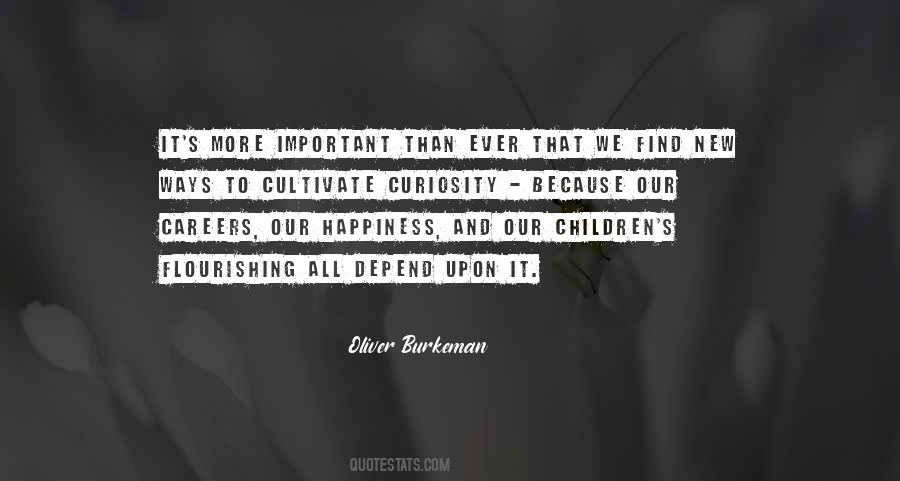 #29. If the belly is full," she said, "if we could know that it would always be full, men would be idle and laugh and play games like children, and then we would have peace and happiness. - Author: Pearl S. Buck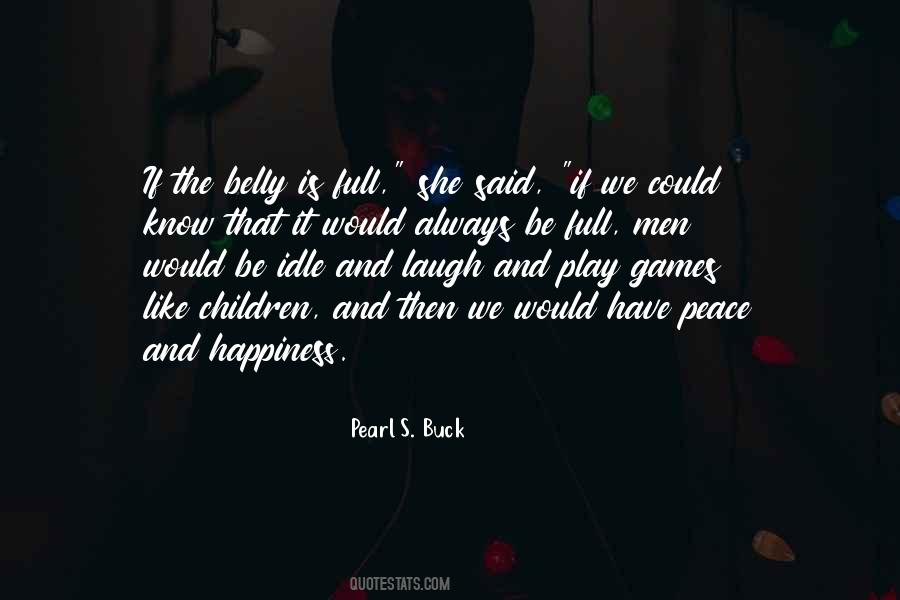 #30. Like most people, I have several pet subjects - that may or may not be interesting to other people. Don't get me started on happiness, or habits, or children's literature, or Winston Churchill, unless you really want to talk about it. - Author: Gretchen Rubin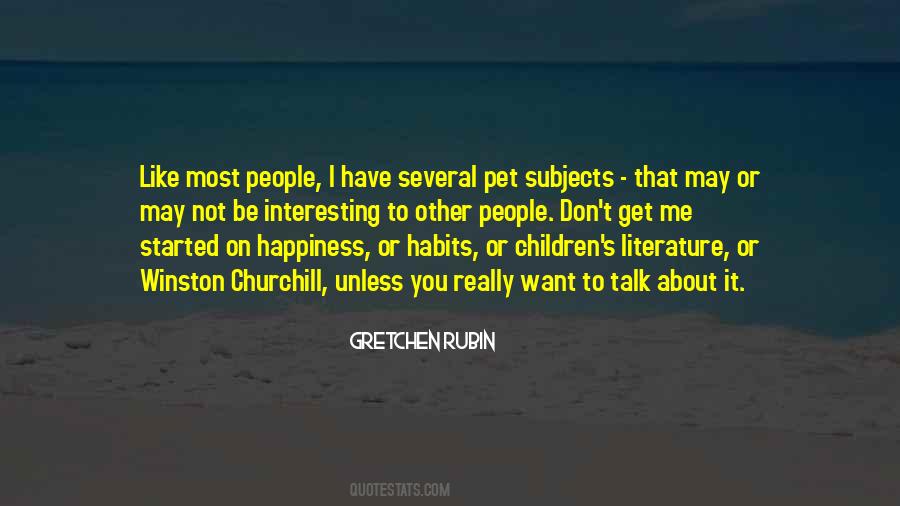 #31. Children are nature's flower and our future. They are the future fathers and mothers. They are our mind's adventure in the future. - Author: Debasish Mridha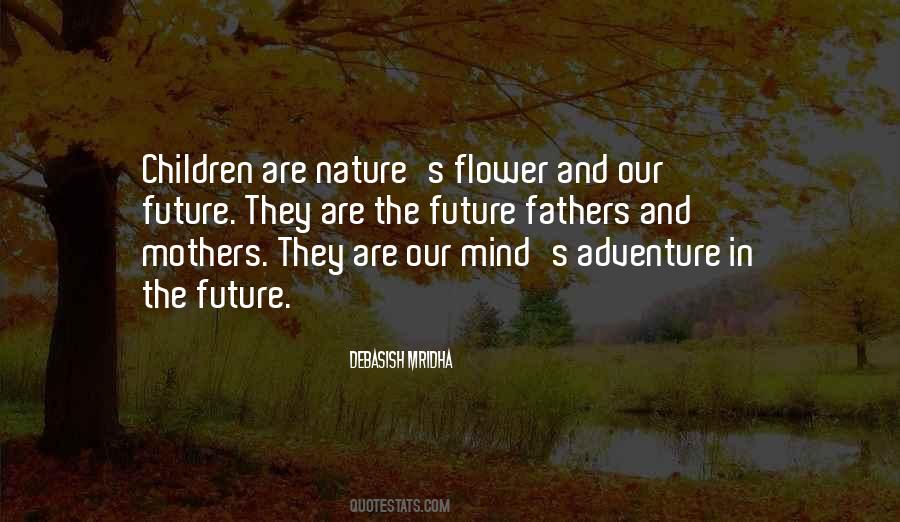 #32. Few parents have the courage and independence to care more for their children's happiness than for their success. - Author: Alfie Kohn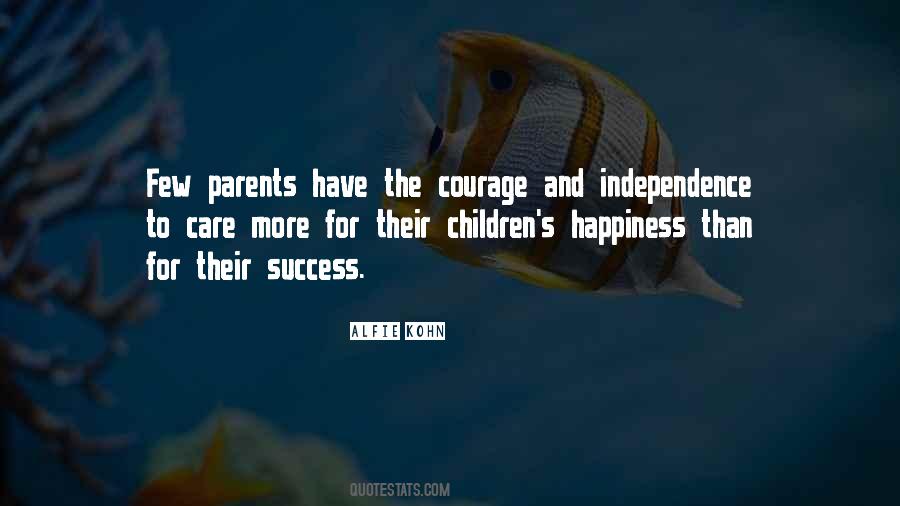 #33. If you are angry, and then happy, the next moment the anger passes away. Out of that anger you manufactured the next state. These states are always interchangeable. Eternal happiness and misery are a child's dream. - Author: Swami Vivekananda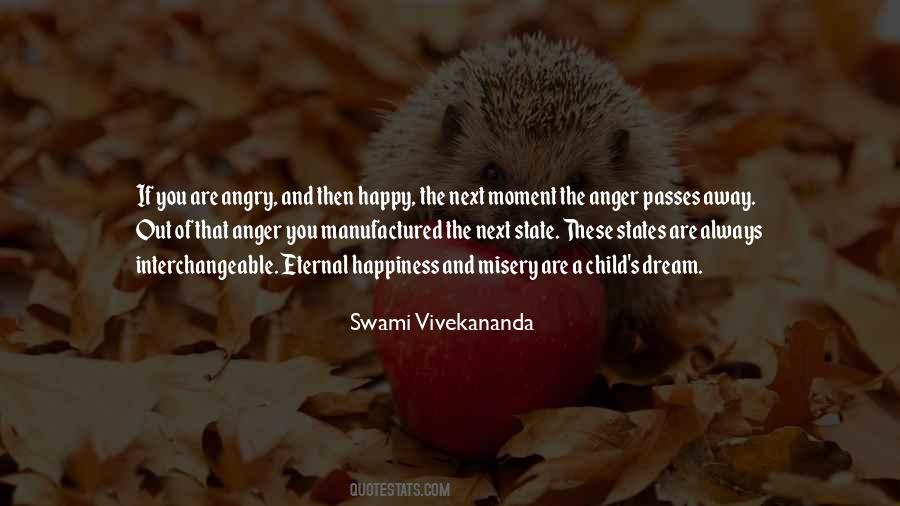 #34. Blessed is a mother that would give up part of her soul for her children's happiness. - Author: Shannon L. Alder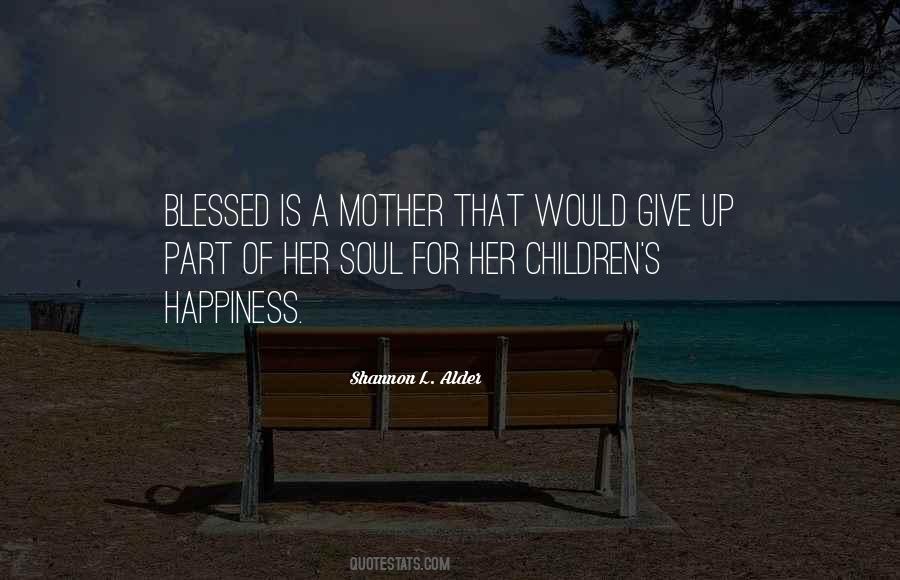 #35. Now I understand why women want to have children - it's simply the urge to create happiness for yourself, somehow to fill the oppressive, unbearable emptiness in your soul. - Author: Nina Lugovskaya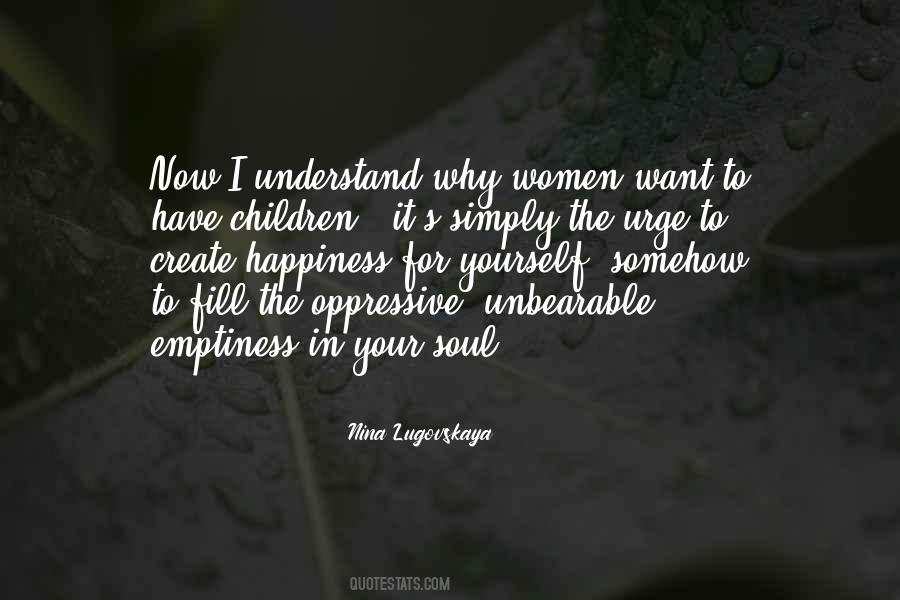 #36. Dads. Do your faces light up when you first see your child in the morning or when you come home from work? Do you not understand that a child's entire sense of value can revolve around what they see in your face when you first see them? - Author: Dan Pearce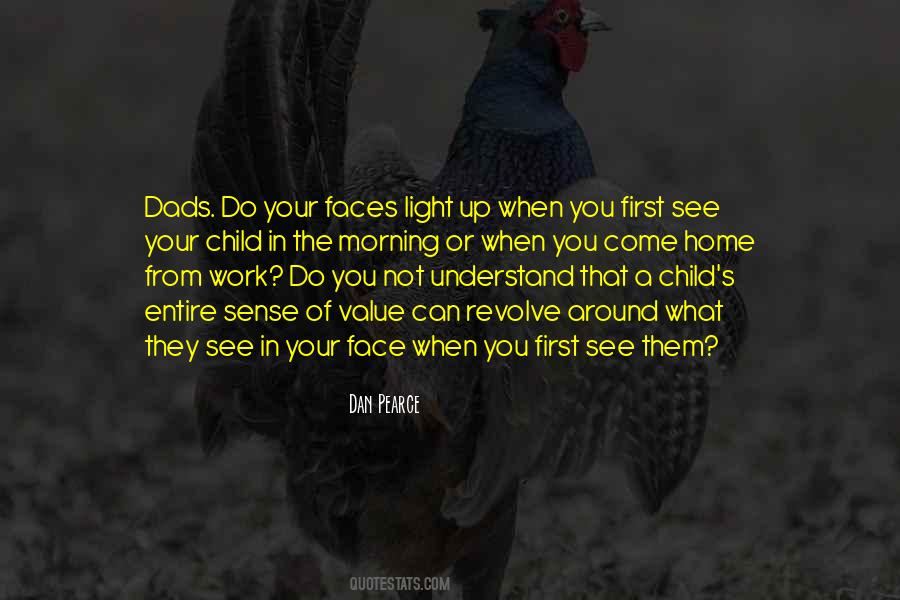 #37. Inside every adult there's still a child that lingers. We're happiness merchants - giving people the opportunity to dream like children. - Author: Guy Laliberte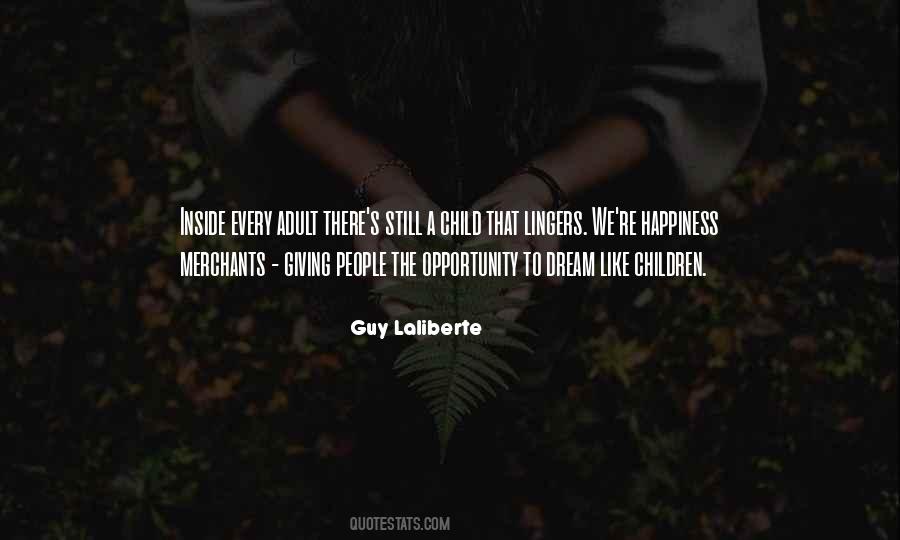 #38. My happiness isn't connected to my husband's or my boss's or my children's behavior. You have control over your own actions, your own well-being. - Author: Michelle Obama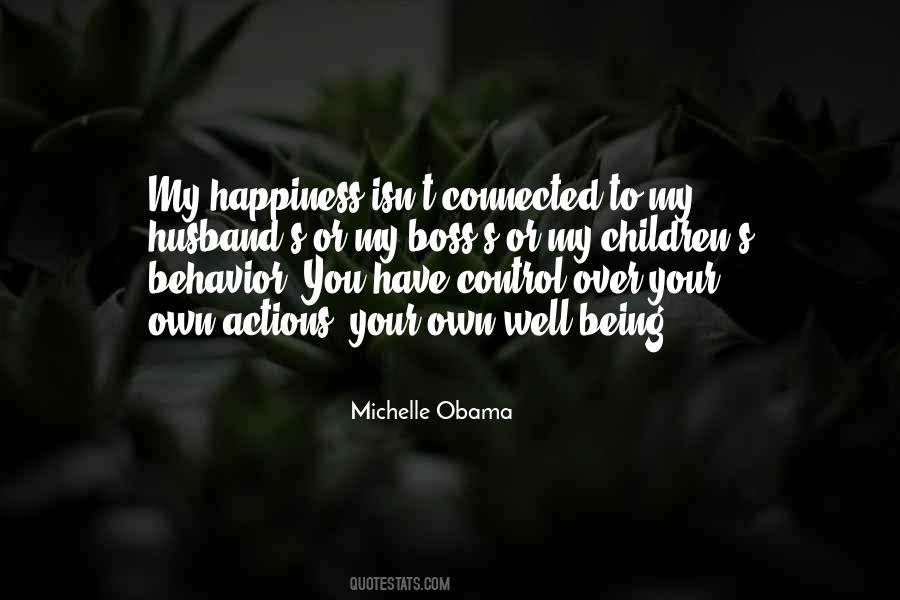 #39. Children at once accept joy and happiness with quick familiarity, being themselves naturally all happiness and joy. - Author: Victor Hugo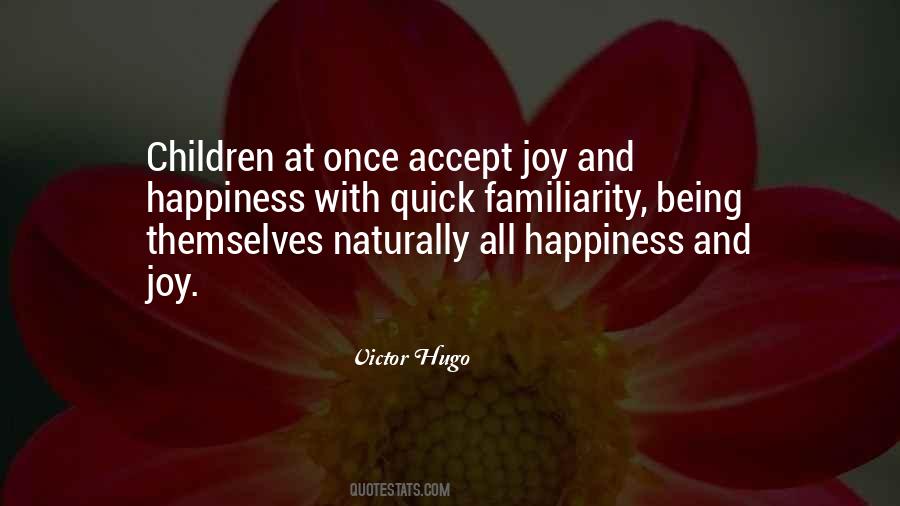 #40. When Kate was born, she was born into a world of joy and happiness and confidence. The difference between the children is night and day. She's happy, she's thriving, she's full of self-confidence. I tell her she's beautiful every day before I send her off to school. - Author: Lynn Johnston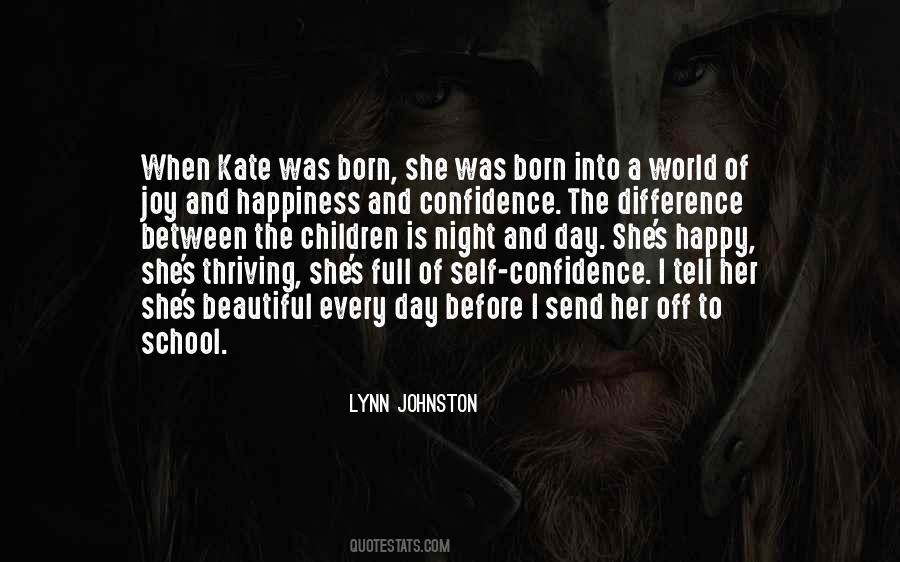 #41. How wonderful it would be if we could help our children and grandchildren to learn thanksgiving at an early age. Thanksgiving opens the doors. It changes a child's personality. A child is resentful, negative, or thankful. Thankful children want to give, they radiate happiness, they draw people. - Author: John Templeton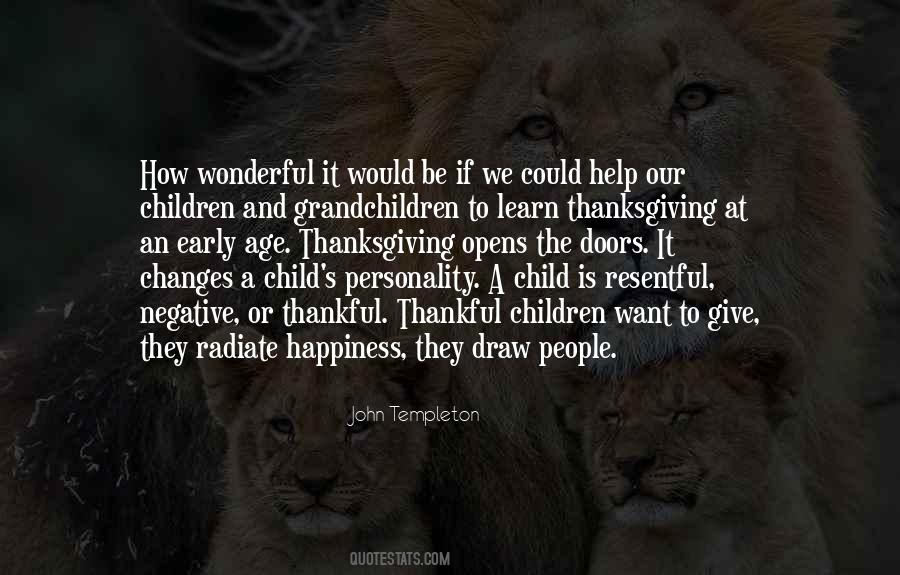 #42. A whizzpopper!" cried the BFG, beaming at her. "Us giants is making whizzpoppers all the time! Whizzpopping is a sign of happiness. It is music in our ears! You surely is not telling me that a little whizzpopping if forbidden among human beans? - Author: Roald Dahl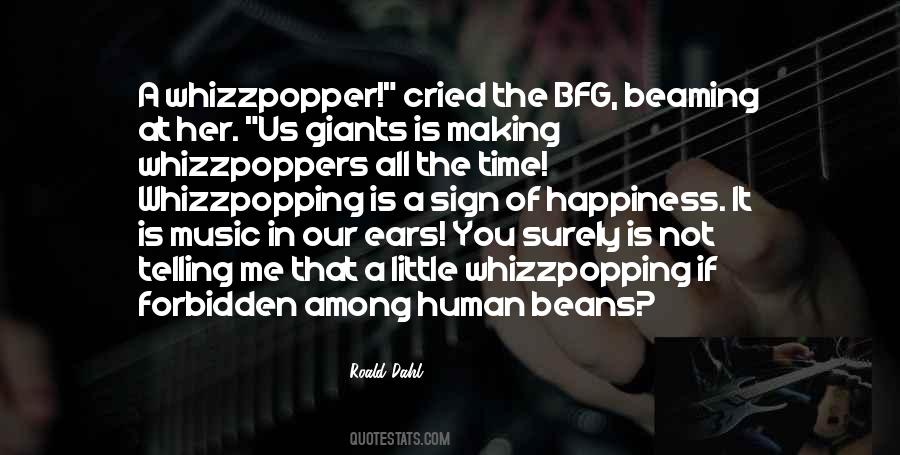 #43. The ordinary man places his life's happiness in things external to him, in property, rank, wife and children, friends, society, and the like, so that when he loses them or finds them disappointing, the foundation of his happiness is destroyed. - Author: Arthur Schopenhauer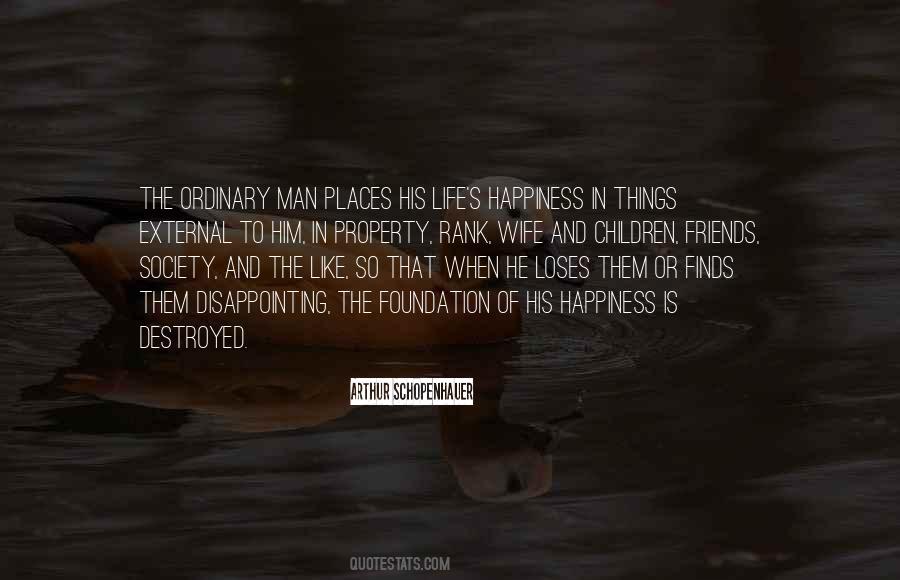 #44. [Children should contribute] to a family's essential survival and happiness. [In] an urban society, children are ... robbed of the opportunity to do genuinely responsible work. - Author: Dwight D. Eisenhower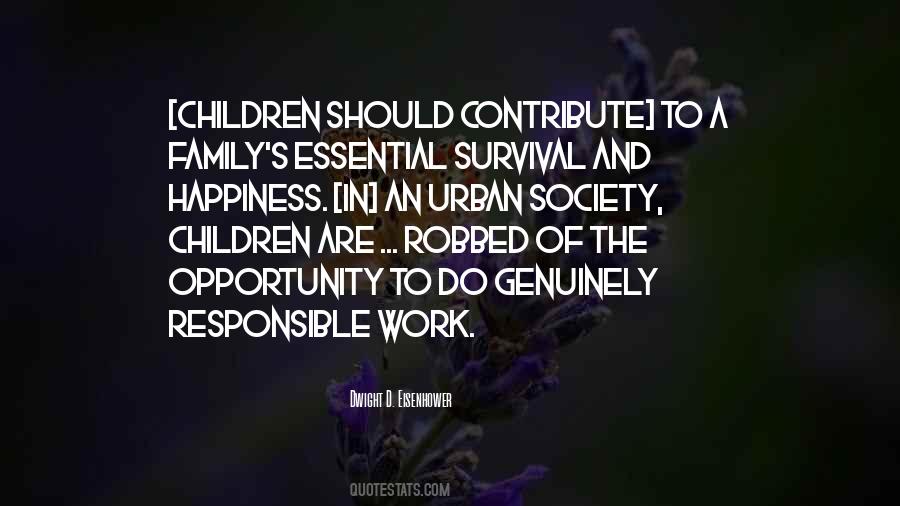 #45. There is no love like a mother's - she who carries the child that God knits in the womb, she who nourishes and guides, she who teaches and inspires, she who gives of her heart and soul and self for the good and the happiness of her children and her family. - Author: Ronald Reagan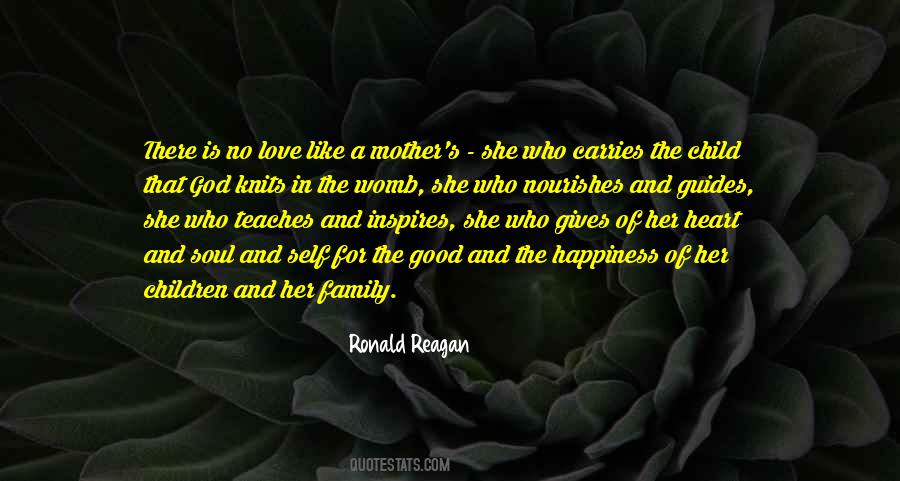 #46. So the restless traveler long at last for his native soil, finds his cottage in the arms of his wife, in the affection of his children, labor necessary for their support, all the happiness which he sought in vain the wild world - Author: Johann Wolfgang Von Goethe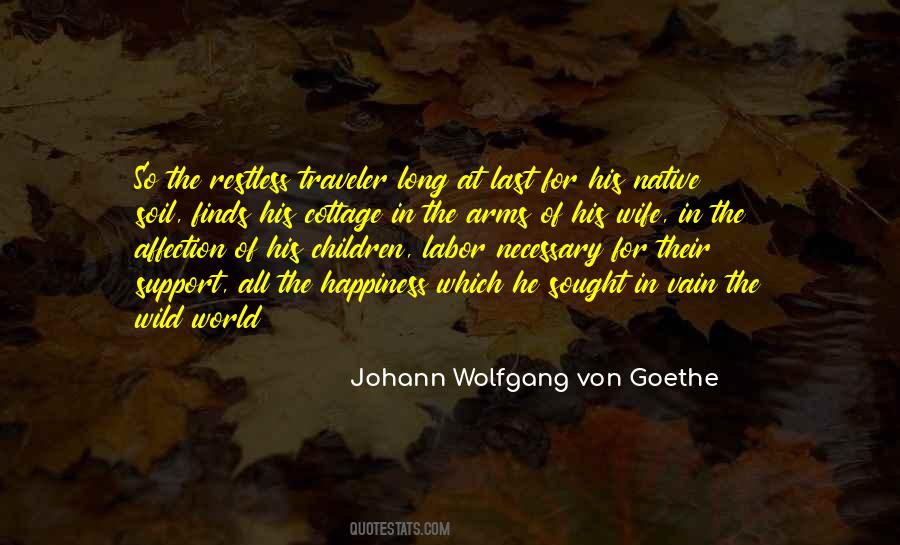 #47. God's children and their happiness are my reasons for being. - Author: Red Skelton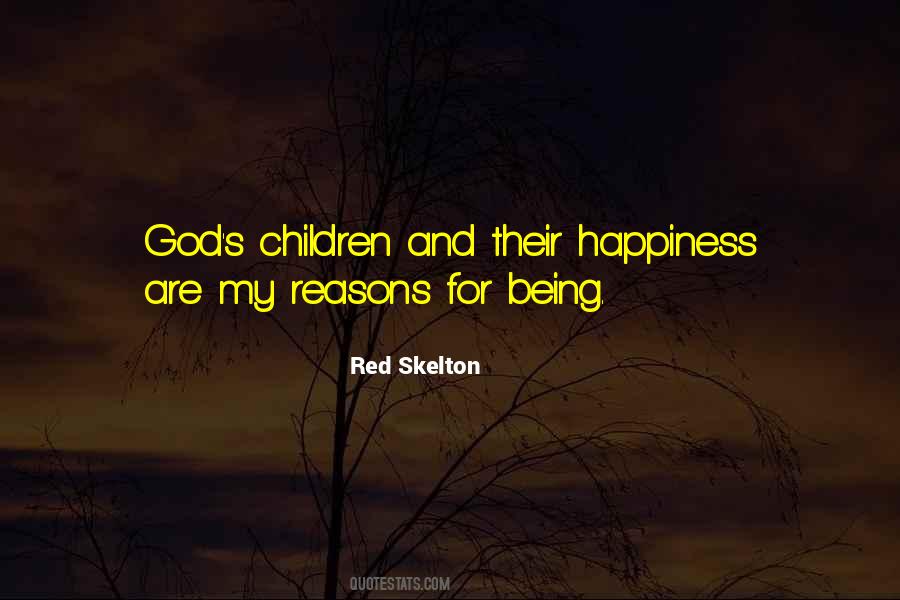 #48. Motherhood was a twenty-four-hour-a-day, all-encompassing job. It was the hardest job I ever had. Everything that happened to you [her child] happened to me. I had once heard children described in a novel as "hostages to fortune" and certainly my happiness depended on yours. - Author: Amy Poehler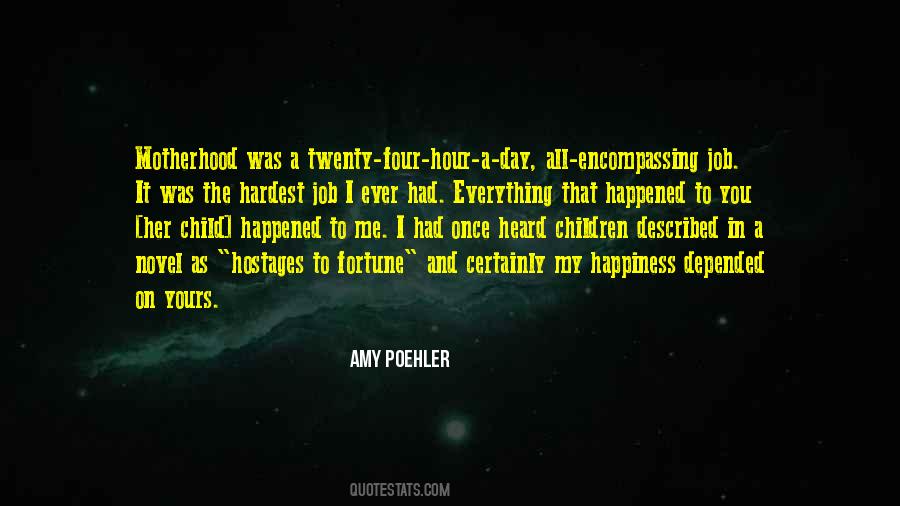 #49. I think very often when we think we are aiming at the best for our children, what we are really doing is trying to position them for competitive success in an intensely driven kind of society. I'm not sure that always leads to the good life or to happiness. - Author: Michael Sandel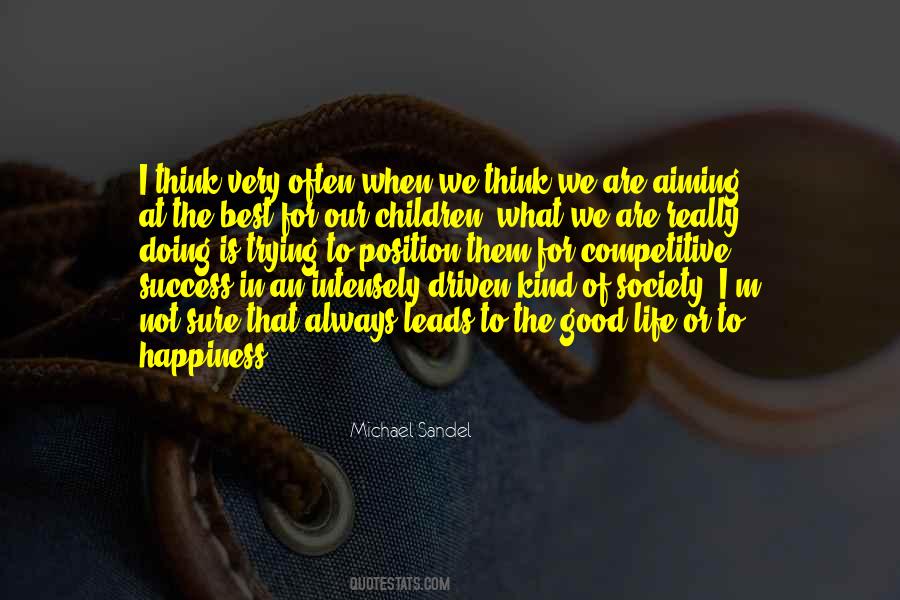 #50. Who gave his angels eternal happiness unearned, yet required his other children to earn it? - Author: Mark Twain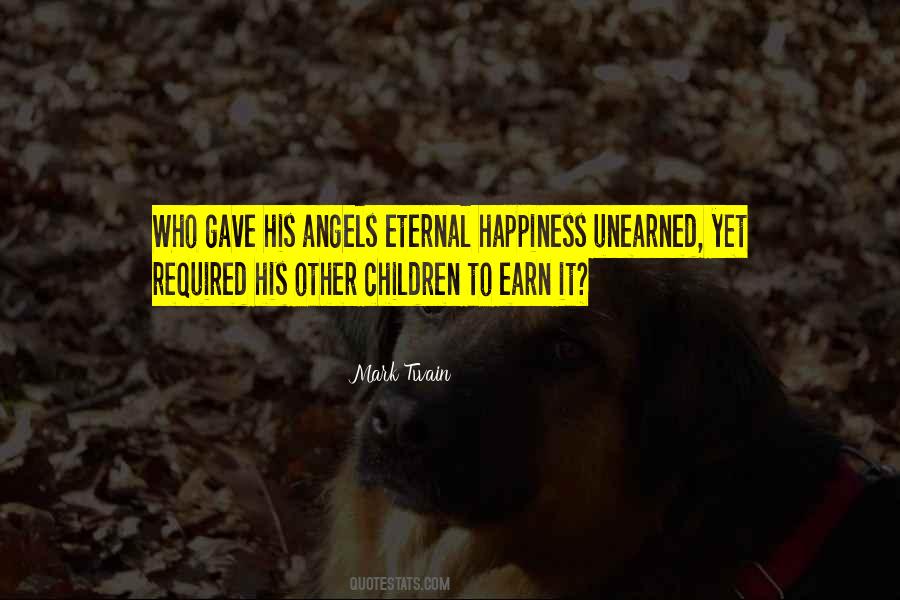 #51. A good thing this was, and that we should be so care-free and irresponsible, enjoying every minute of every day; for it was the Easter of 1914, the last Easter of the old, easy world, and our last, as well as our first, Easter as children together in the little house I had built for happiness. - Author: Elizabeth Von Arnim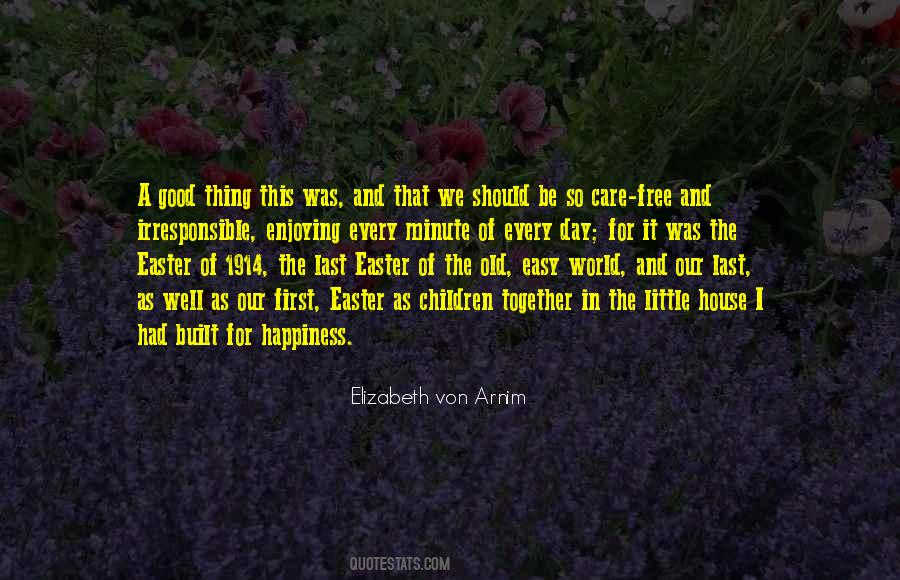 #52. Cult: simply an extension of the idea that everyone's supreme aim in life is self- fulfillment and happiness and that one is entitled to wreck marriage, children and certainly one's health and sanity in pursuit of this. - Author: Stephen Spender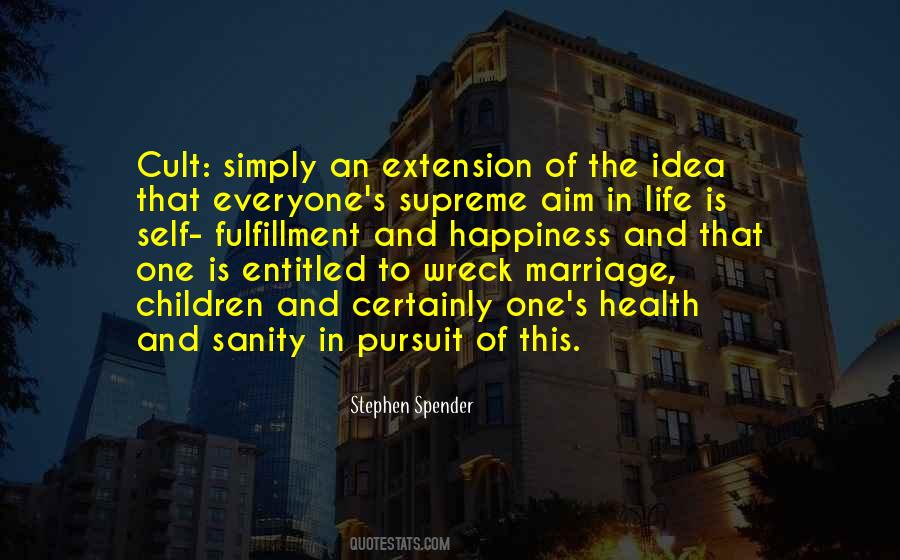 #53. My parents told me they knew they made lots of mistakes raising us, but that they did their best. Most parents will say something like that at some point, and they are usually right. But I think children also do their best while being raised. Finding family "happiness" is a fine balancing act. - Author: Torill Kove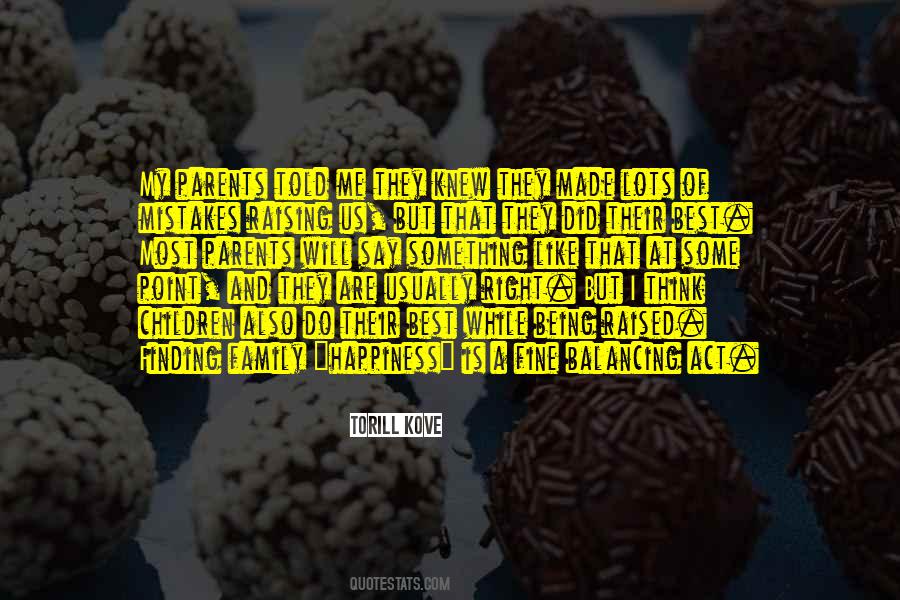 #54. A child is an adult temporarily enduring conditions which exclude the possibility of happiness. - Author: Rebecca West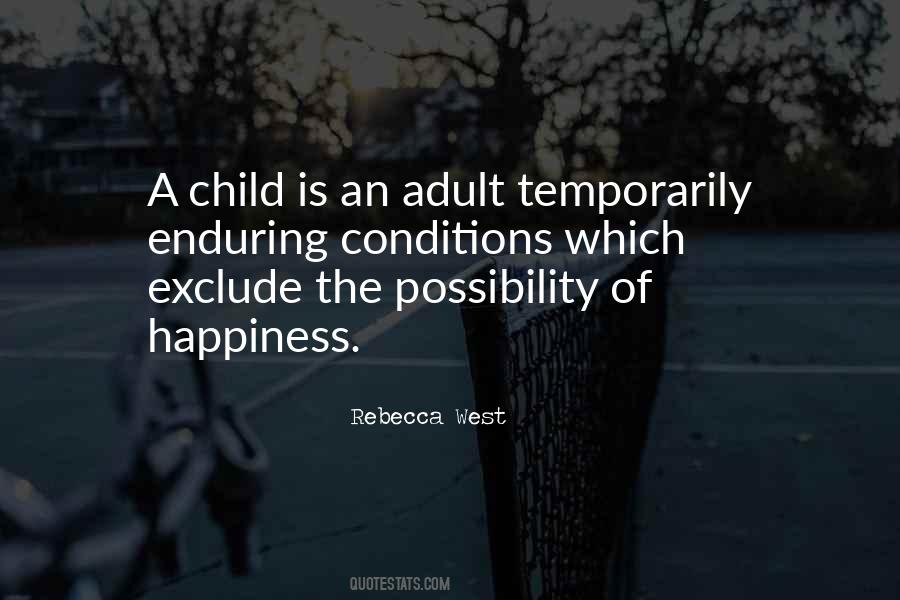 #55. Within you is everything you need; hold on to that and let go of everything else. - Author: Darryl Diptee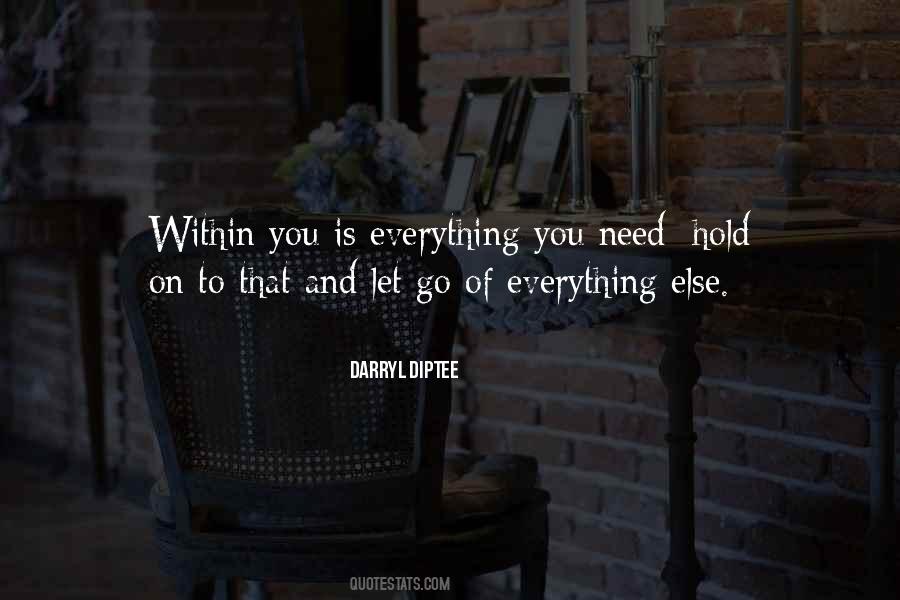 #56. The happiness of children is based on their ignorance of what their parents are really thinking - Author: Simon Sebag Montefiore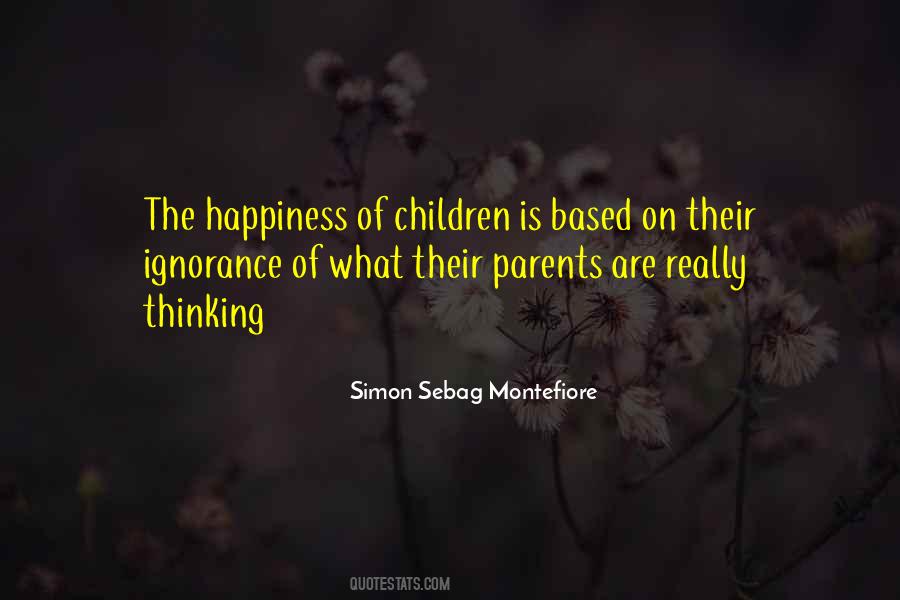 #57. The Child is the Alpha and the Omega of a parent's happiness. - Author: Amit Abraham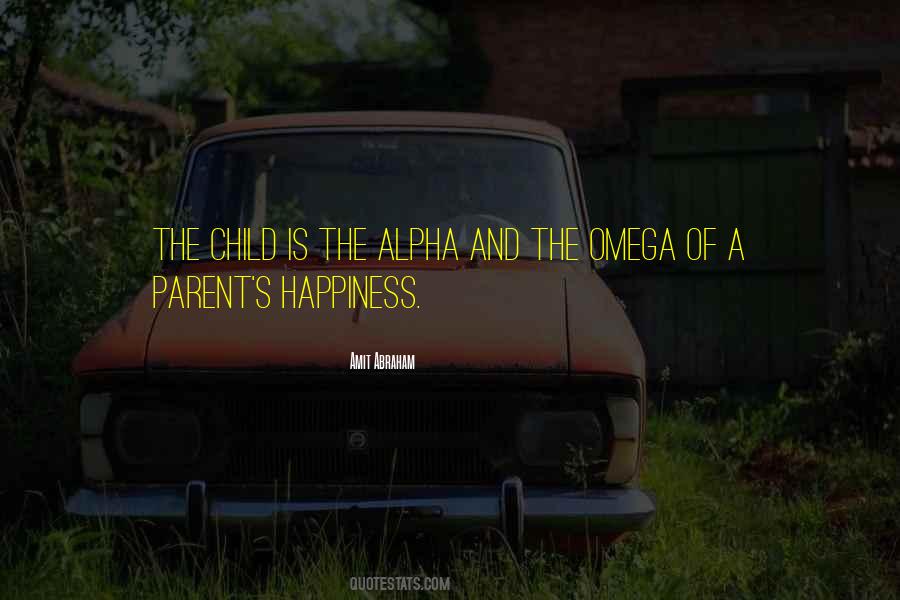 #58. I have three children and I think I'm happy when I'm with them and they're okay. When I see them enjoying each other in front of me, and then they let me enjoy them in turn. That brings a feeling which I would say is happiness. - Author: Philip Seymour Hoffman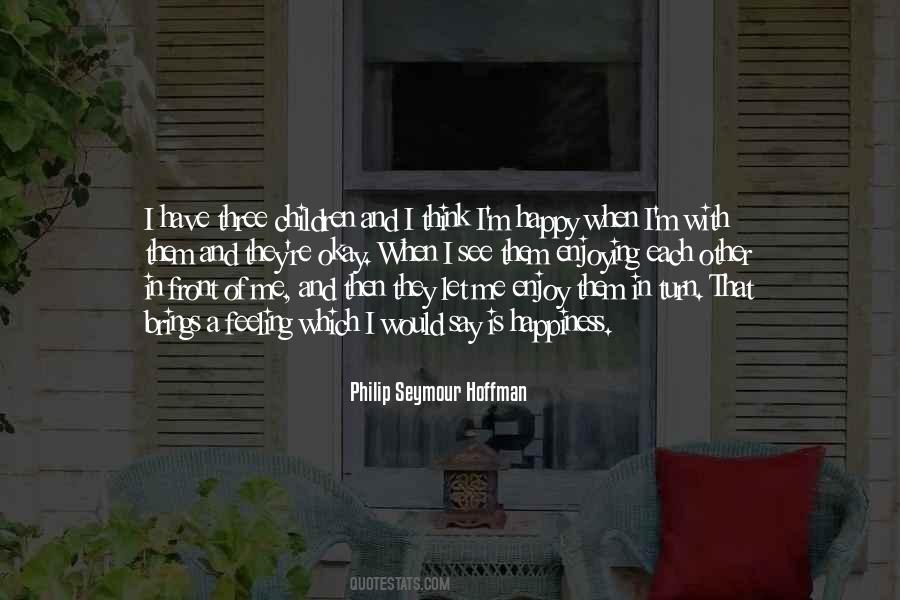 #59. Make for the children an evening of happiness in a world of storm. Let the children have their night of fun and laughter ... resolved that by our daring, these same children shall not be denied their right to live in a free and decent world. - Author: Winston Churchill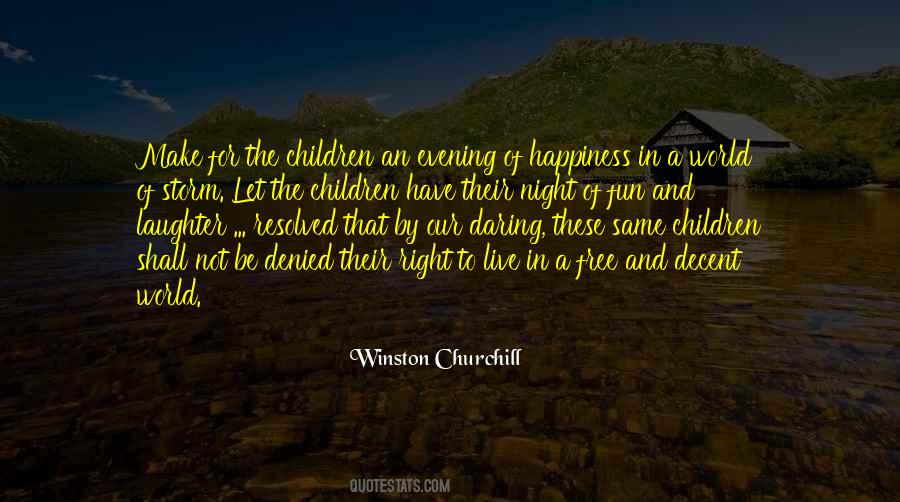 #60. For that's what a woman, a mother wants - to teach her children to take an interest in life. She knows it's safer for them to be interested in other people's happiness than to believe in their own. - Author: Marguerite Duras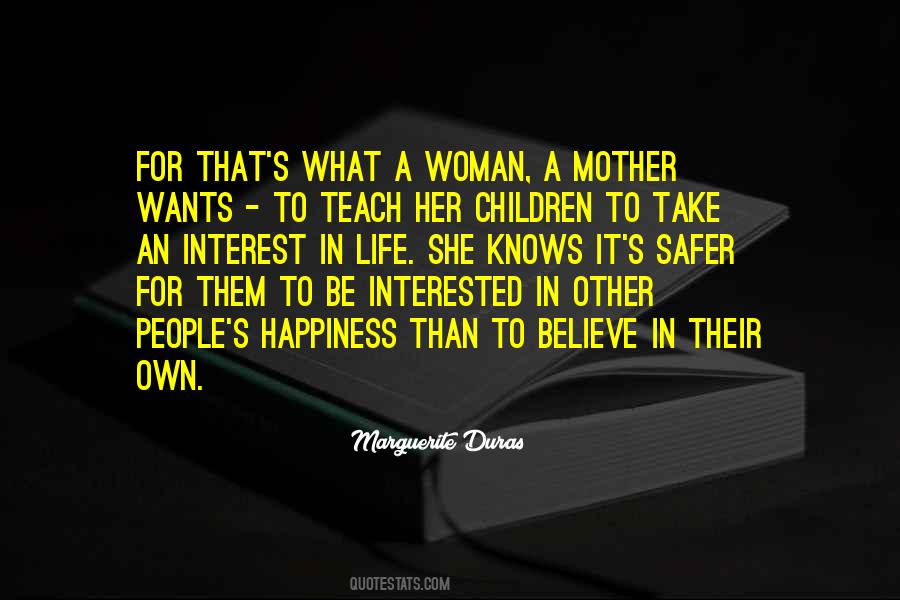 #61. Every happiness is the child of a separation it did not think it could survive. - Author: Rainer Maria Rilke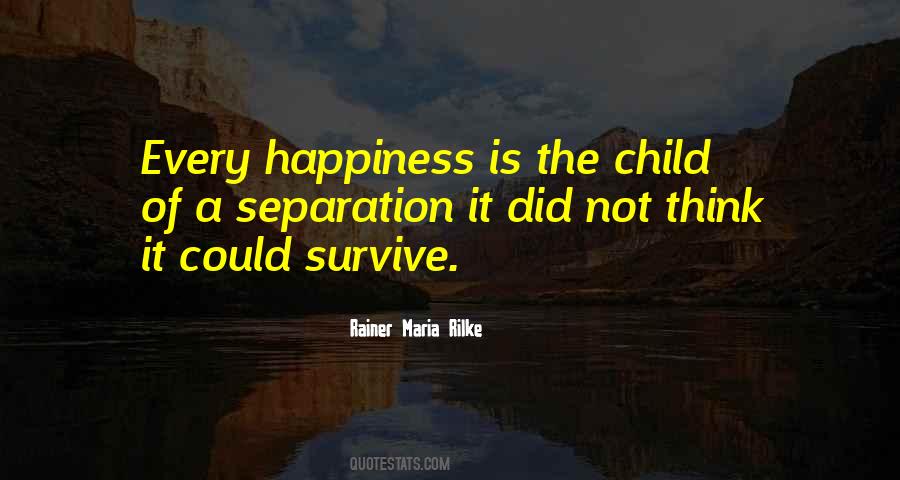 #62. The Republic guarantees religious and civil liberty, equal rights and equal opportunities to all its citizens, and declares its resolve to pursue the happiness and prosperity of the whole nation and of all its parts, cherishing all the children of the nation equally. - Author: Patrick Pearse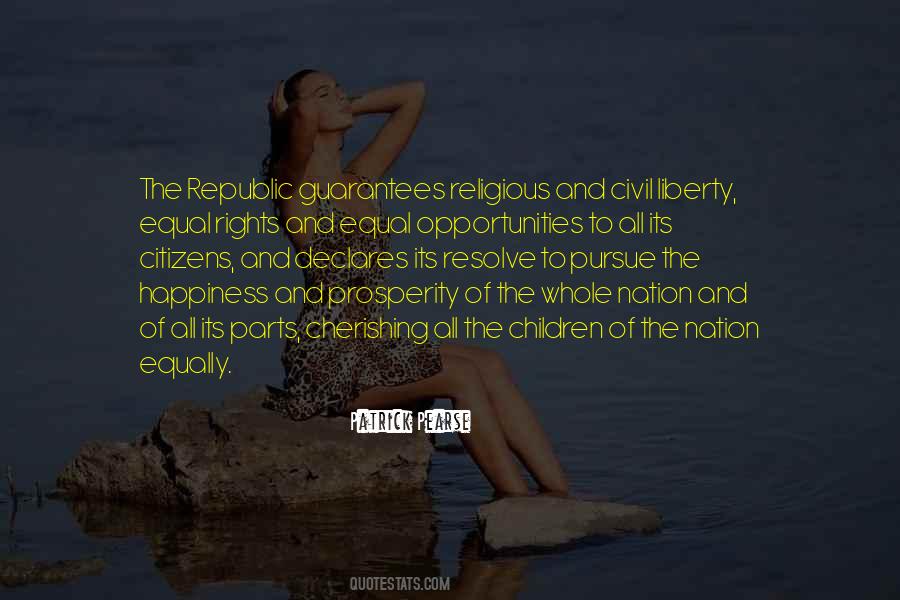 #63. Having a loving relationship with our spouse or with our children is what leads to the long-term happiness we all seek. - Author: Clayton Christensen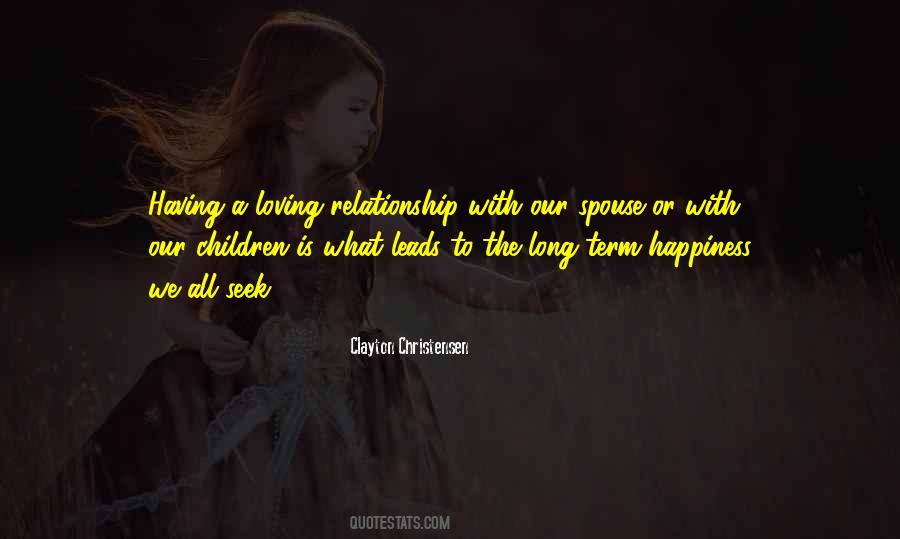 #64. The most precious inheritance that parents can give their children is their own happiness. - Author: Thich Nhat Hanh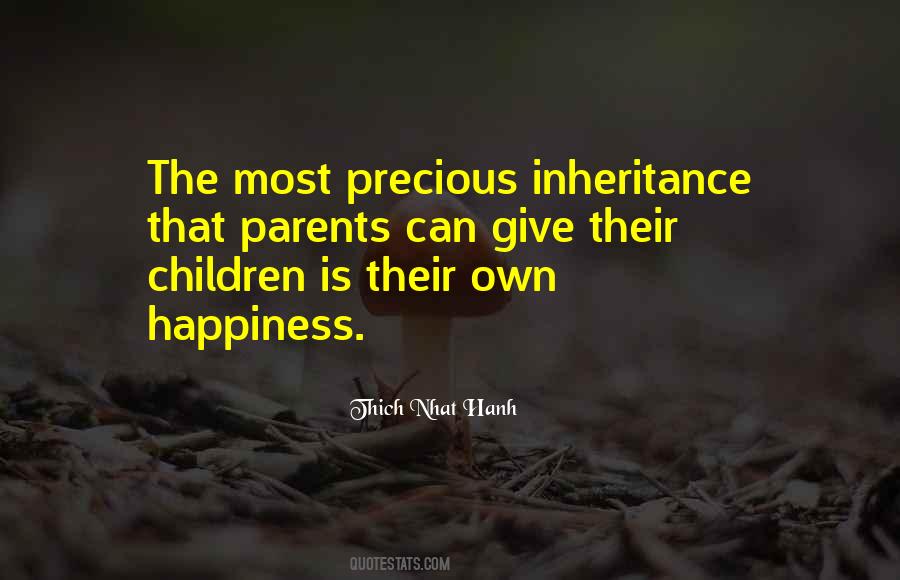 #65. As soon as we confront concrete marriages with other foreign images-such as well-being, happiness, a home for children-marriage appears to be senseless, withered, moribund, and kept alive largely by a great apparatus of psychologists and marriage counselors. Marriage is dead. Long live marriage! - Author: Adolf Guggenbhuhl-Craig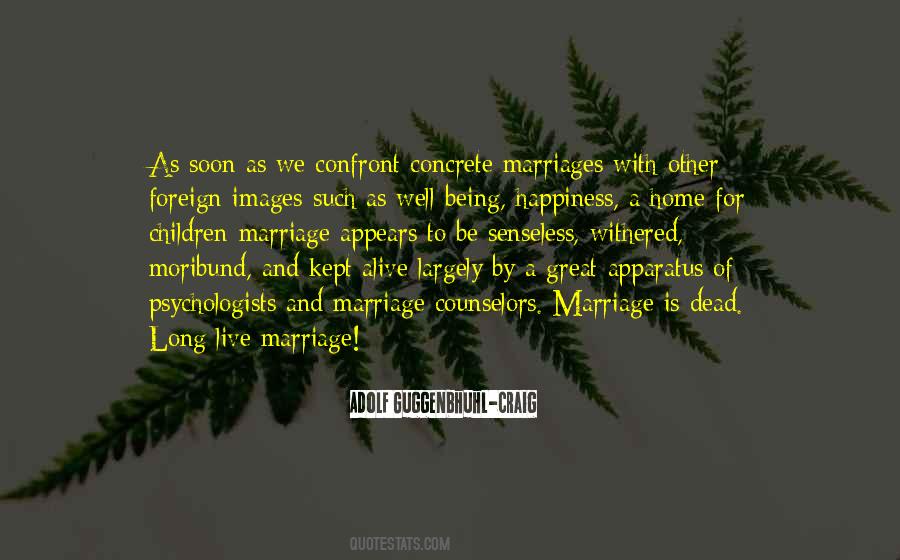 #66. I want my children to be proud of their father and to say, 'My father is the best dad in the world.' And I want them to belong to a modern family, and live a path of happiness and calm. - Author: Ricky Martin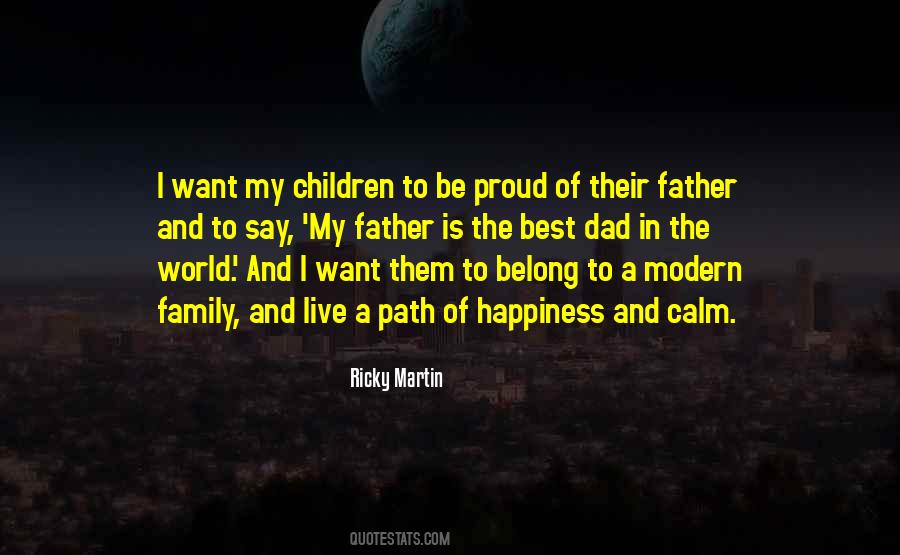 #67. My philosophy is very much to encourage my children to forge their own success and happiness, even though that will undoubtedly involve much more modest levels of wealth creation. - Author: John Caudwell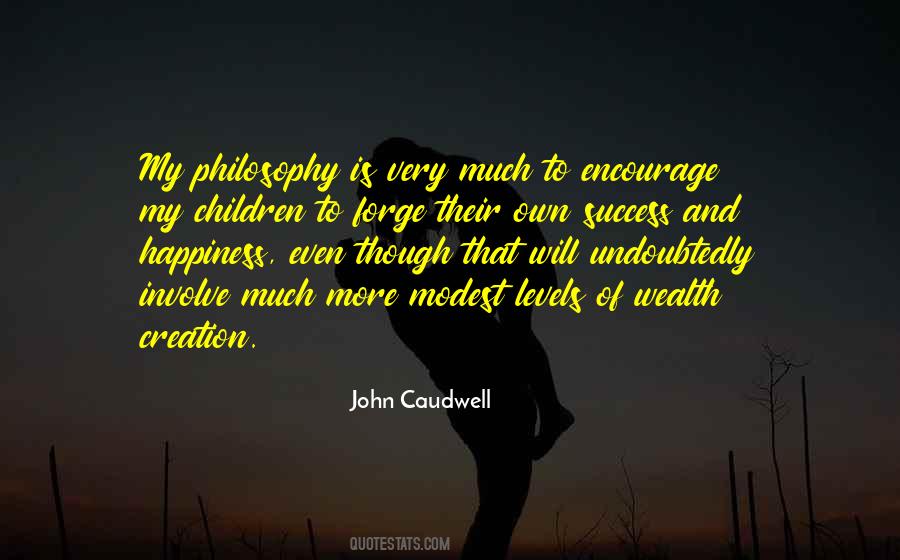 #68. How did the senator know that children meant happiness? Could he see into their souls? What if the moment they were out of sight, three of them jumped the fourth and began beating him up? - Author: Milan Kundera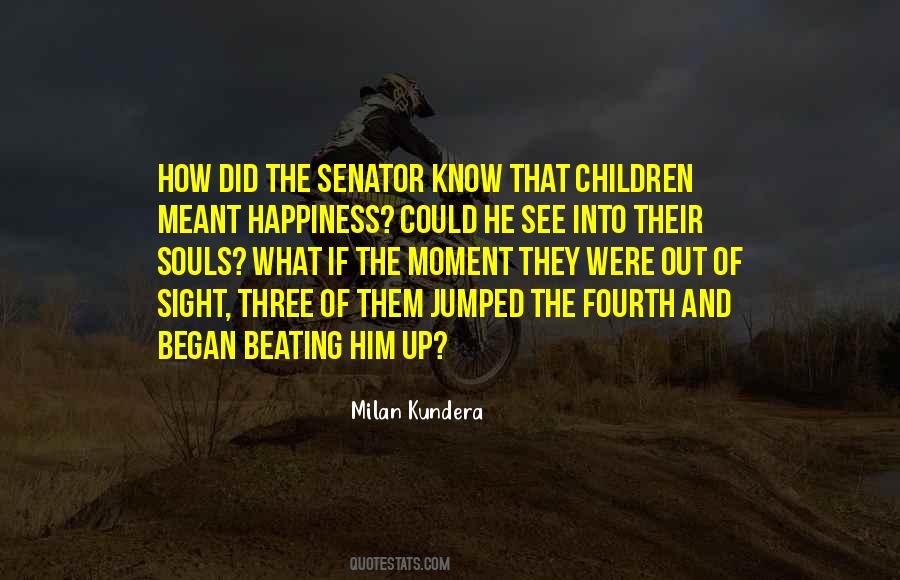 #69. If earthly fathers, who are sinful, ordinarily want to make their children happy, "how much more" committed is our perfect heavenly Father to our well-being and happiness? - Author: Timothy J. Keller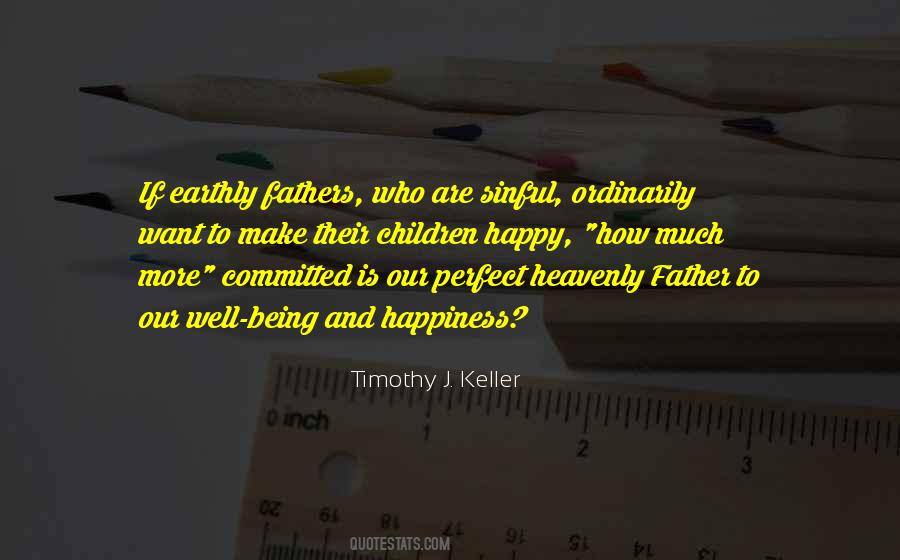 #70. People who postpone happiness are like children who try chasing rainbows in an effort to find the pot of gold at the rainbows end ... Your life will never be fulfilled until you are happy here and now ... - Author: Ken Keyes Jr.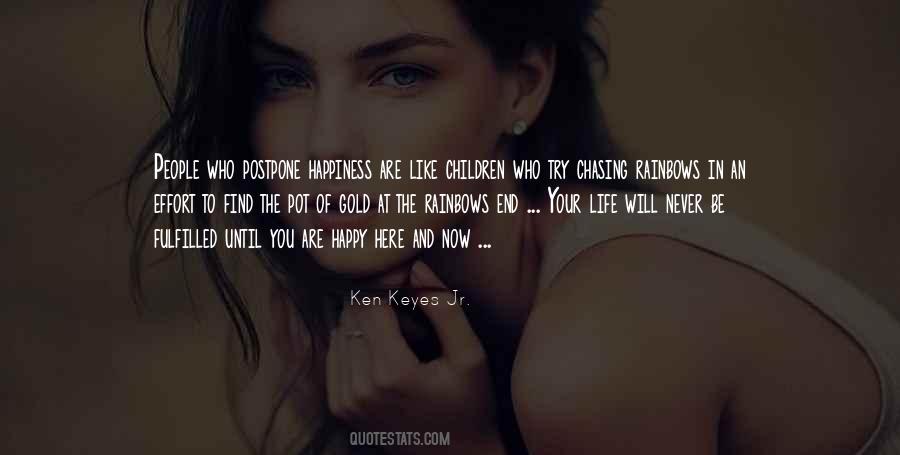 #71. Whoever influences the child's life ought to try to give him a positive view of himself and of his world. The child's future happiness and his ability to cope with life and relate to others will depend on it. - Author: Bruno Bettelheim
#72. A Consciously Conscious Revolutionary Workplace mindset, is People Firsts, to ensure that it's not a prostitute of our children's future. - Author: Tony Dovale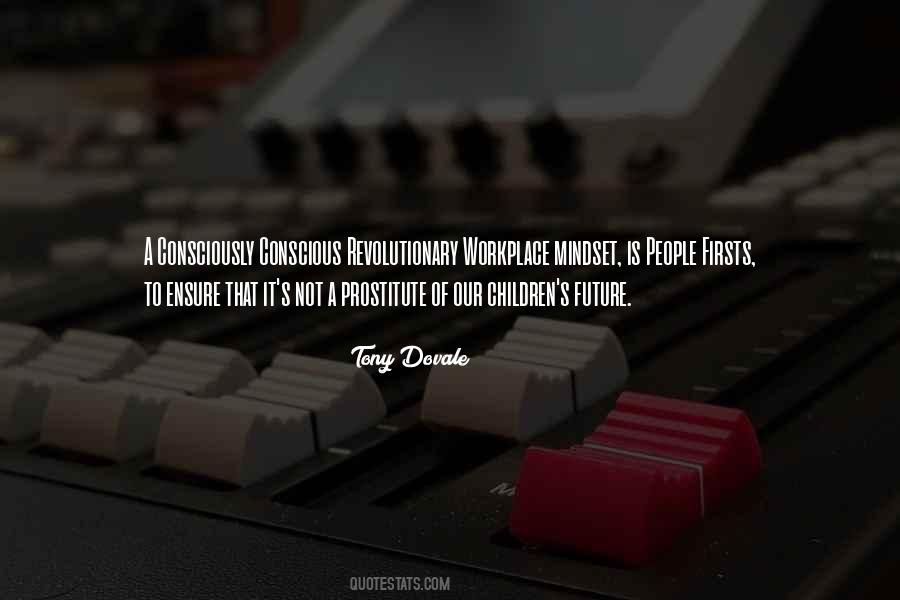 #73. His house to me was a child was a heart of happiness. If there is a wonder childhood possesses which makes it forever superior to what shall come after, it is the happy and uncritical love of whatever is happy, place or person, it does not matter which. - Author: Elizabeth Spencer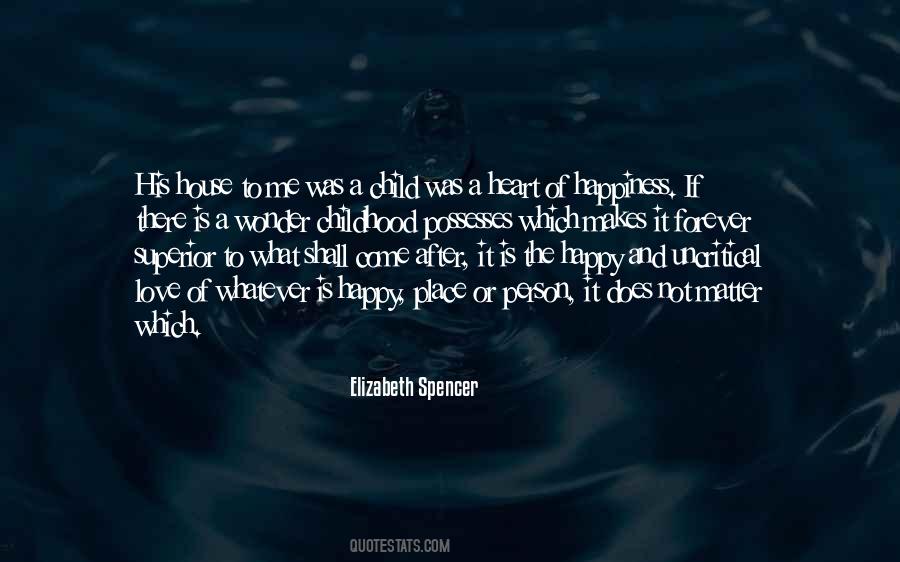 #74. Ah! If nations could only agree to employ their resources to perfect agriculture and improve transportation, and to bring all their girl children a good education, what an explosion of happiness there would be on earth! - Author: Rosa Bonheur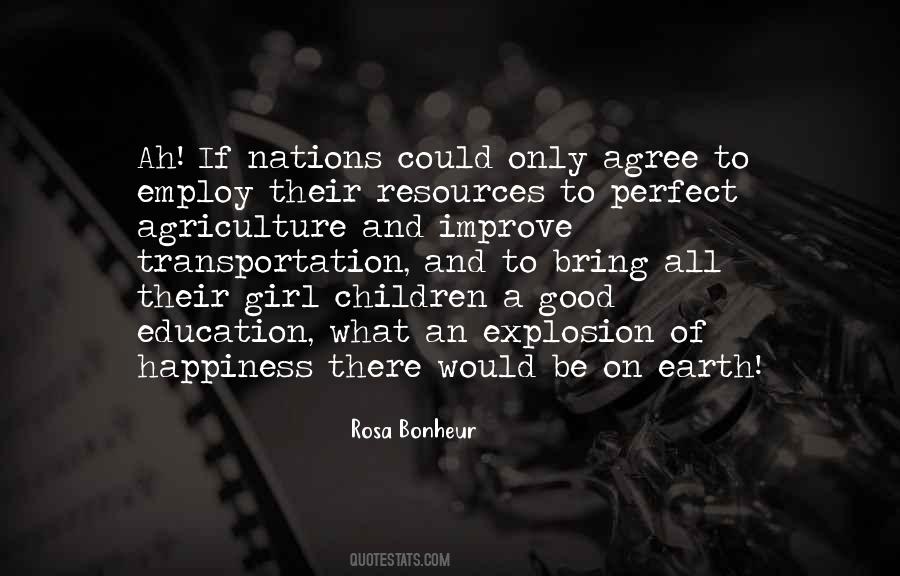 #75. See, I am very dependent ... on beauty and peace of the world ... on loyalty of friends ... on love in families ... on happiness and health of children. And I do not want to be free as long as I have it all ... - Author: Galina Nelson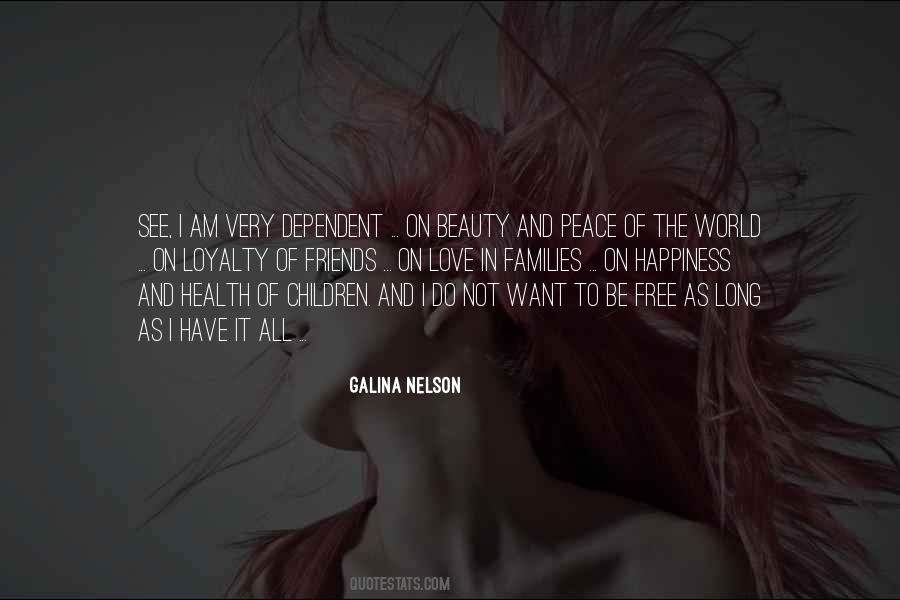 #76. Divorce is not always a doorway to happiness. The same can be said about marriage. - Author: Mokokoma Mokhonoana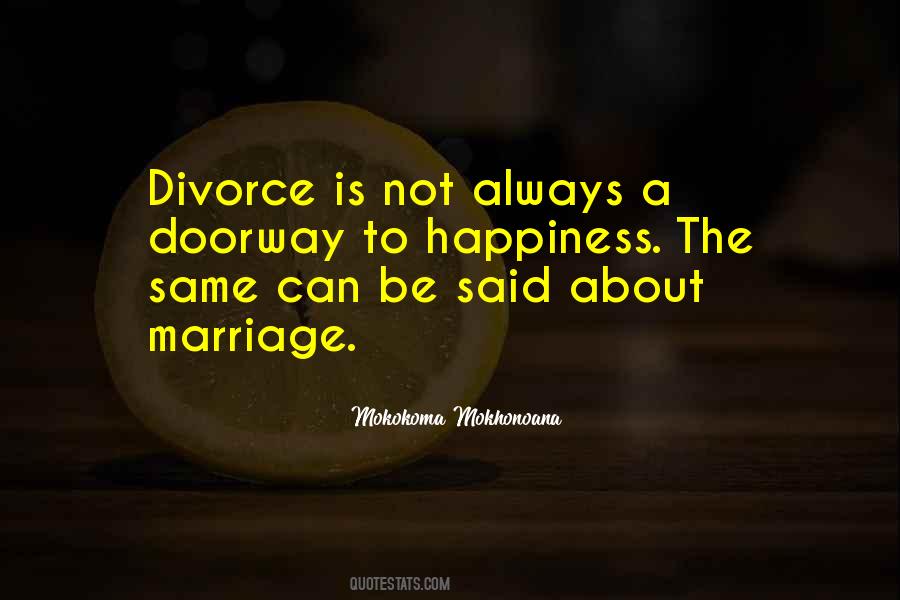 #77. Recommend to your children to be virtuous, only the virtue can bring us happiness, not the money. - Author: Ludwig Van Beethoven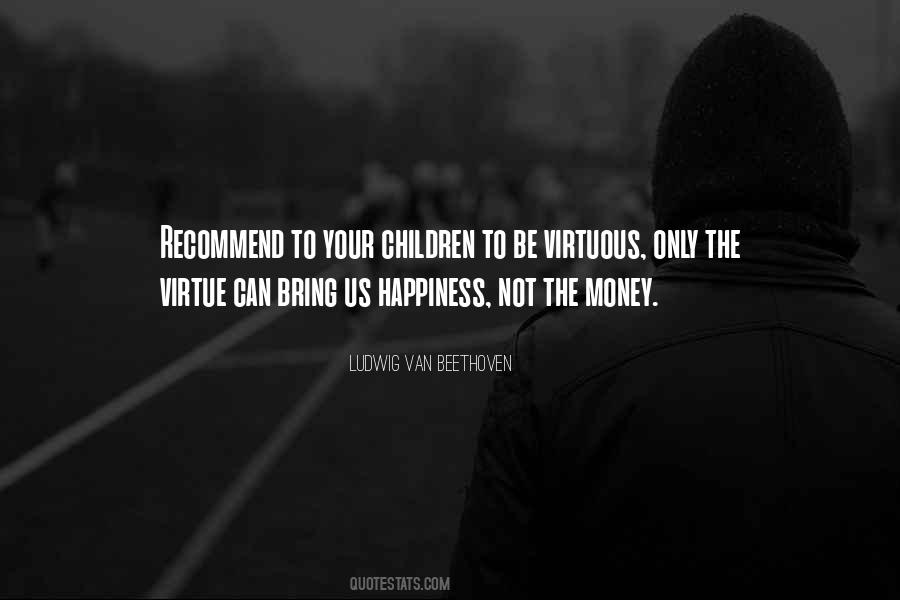 #78. Having worked so hard to have children, parents may feel it's only natural to expect happiness from the experience. And they'll find happiness of course, but not necessarily continuously, and not always in the forms they might expect. - Author: Jennifer Senior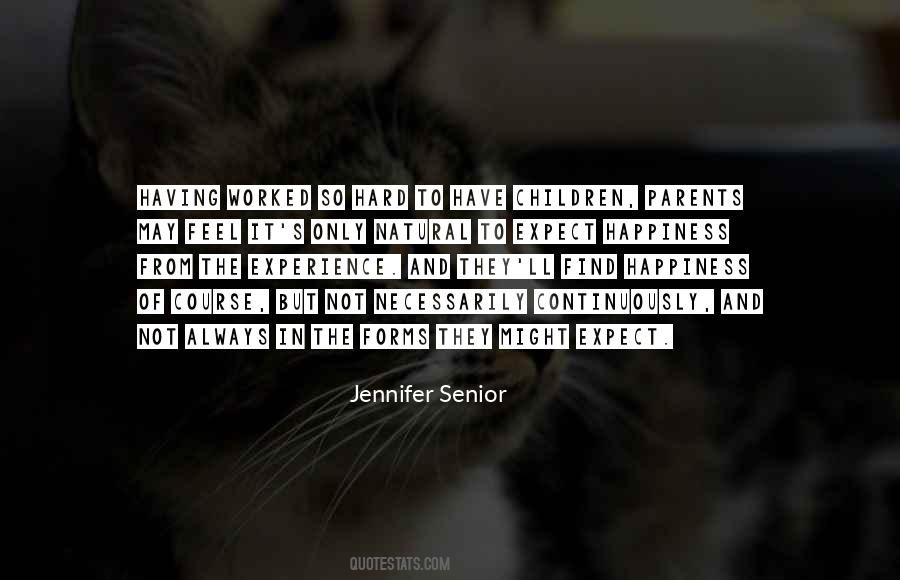 #79. Childhood, whose very happiness is love. - Author: Letitia Elizabeth Landon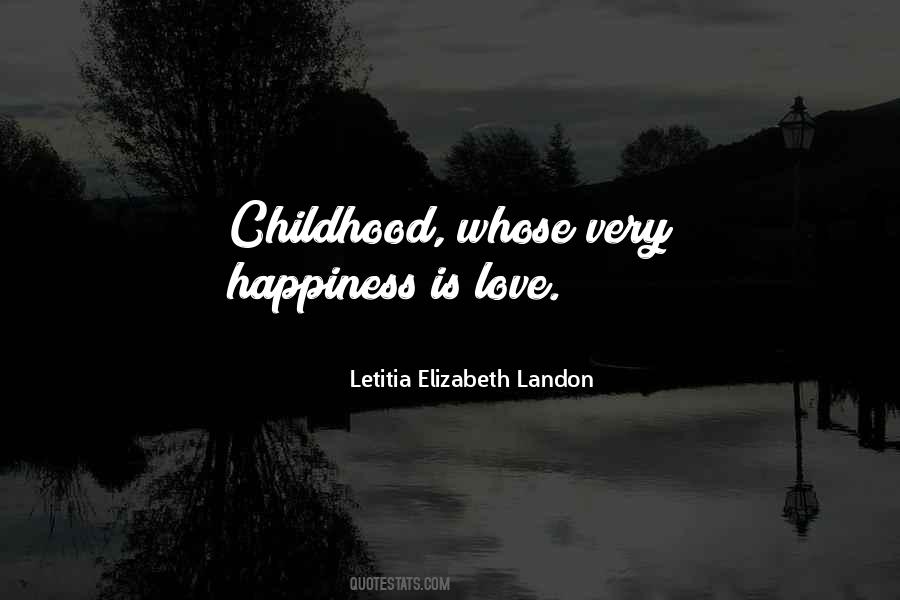 #80. A pure white puppy followed on the girl's heels, barking, and the girl laughed in the breathless, drunken way of children as she ran into the hallway. - Author: Kit Alloway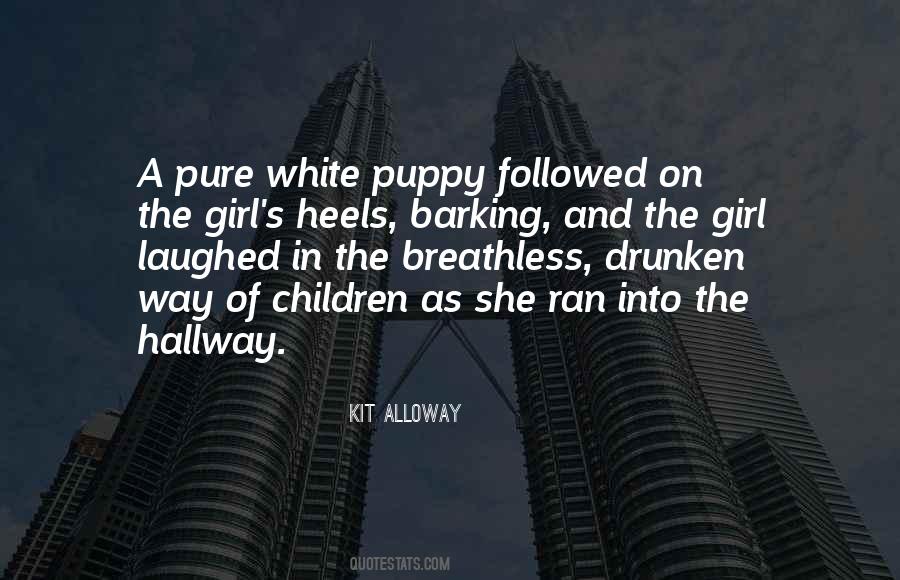 #81. As long as children and young men and women find pleasure in study, they will continue studying throughout life - and upon that depends their happiness. - Author: L. Ron Hubbard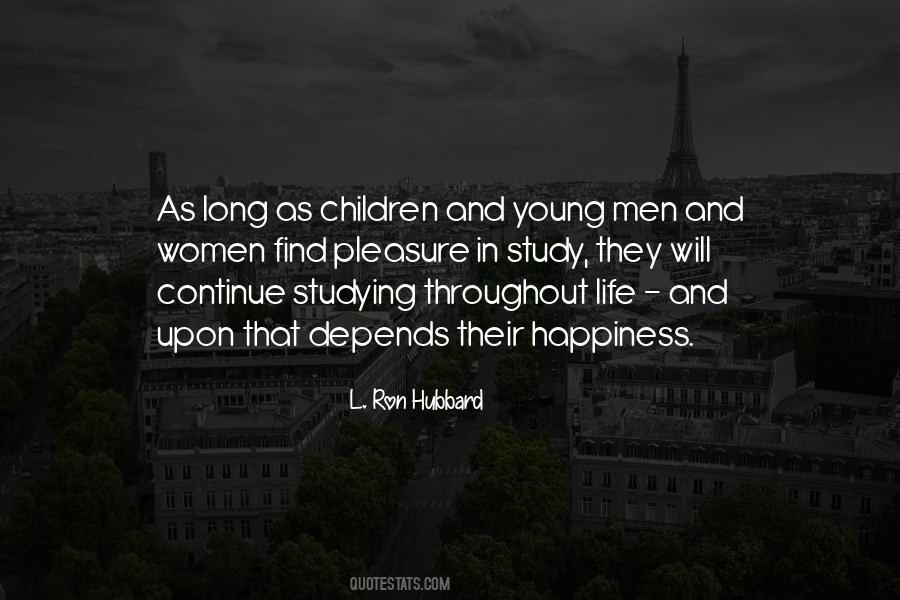 #82. It is not logical that millions of modern adults and children around the world are suddenly becoming insulin resistant - Author: John M. Poothullil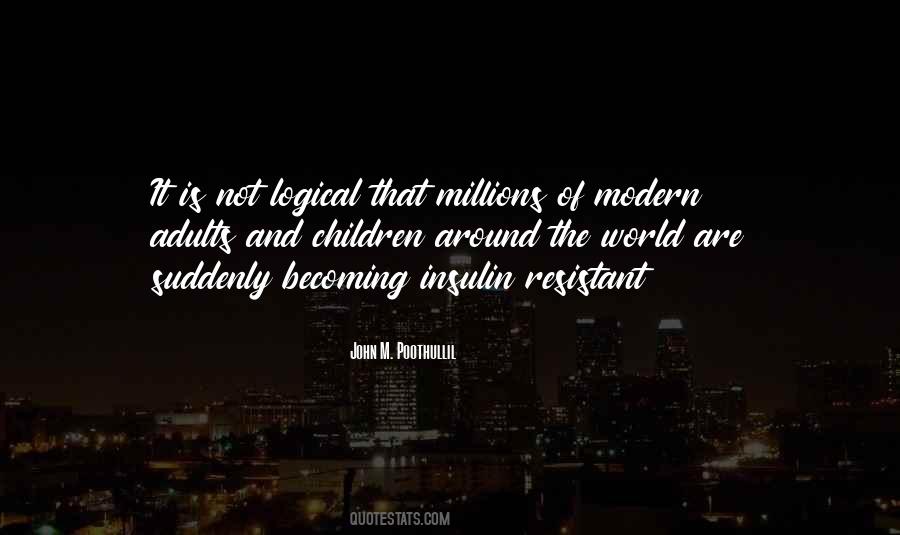 #83. Let the children's laughter remind us how we used to be. - Author: Whitney Houston
#84. Have you noticed how children never bypass a puddle of water, but jump, splash, and slosh right through it? That's because they know an important truth: Life was meant to be lived; puddles were meant to be experienced. - Author: Richelle E. Goodrich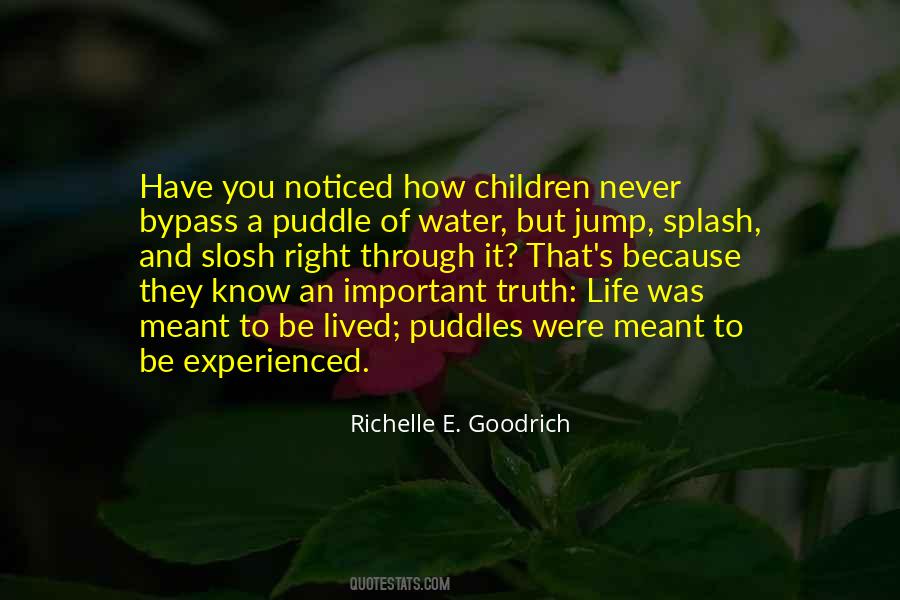 #85. Having a child is an experience that teaches a person how important to prioritize the happiness of another person.Whatever you do, even whatever you are, is an example for him . In fact, that little being who depends on you so much , makes you also to have a huge dependence on him. - Author: Neymar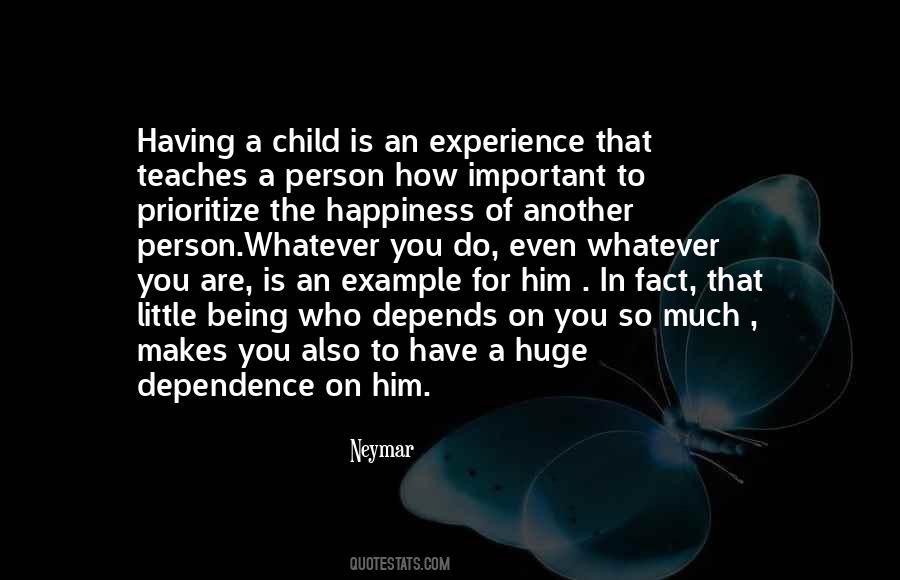 #86. The lower animals, like man, manifestly feel pleasure and pain, happiness and misery. Happiness is never better exhibited than by young animals, such as puppies, kittens, lambs, &c., when playing together, like our own children. - Author: Charles Darwin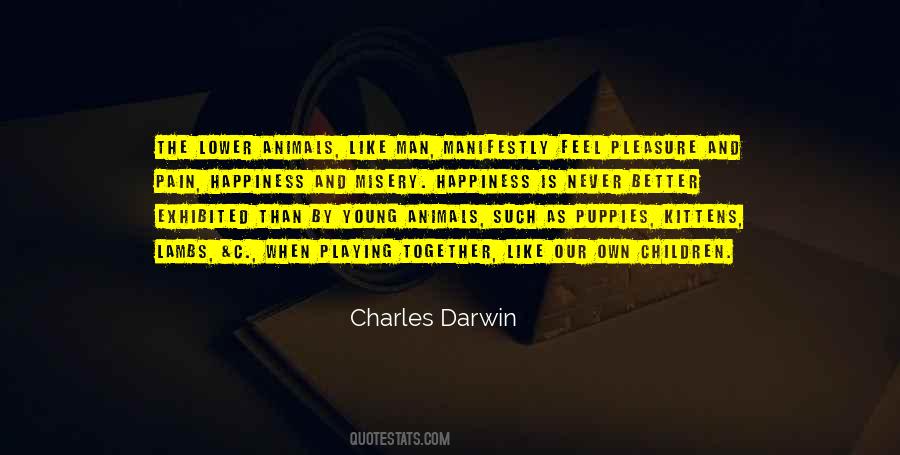 #87. Loving my son, building my son, touching my son, playing with my son, being with my son ... these aren't tasks that only super dads can perform. These are tasks that every dad should perform. Always. Without fail. - Author: Dan Pearce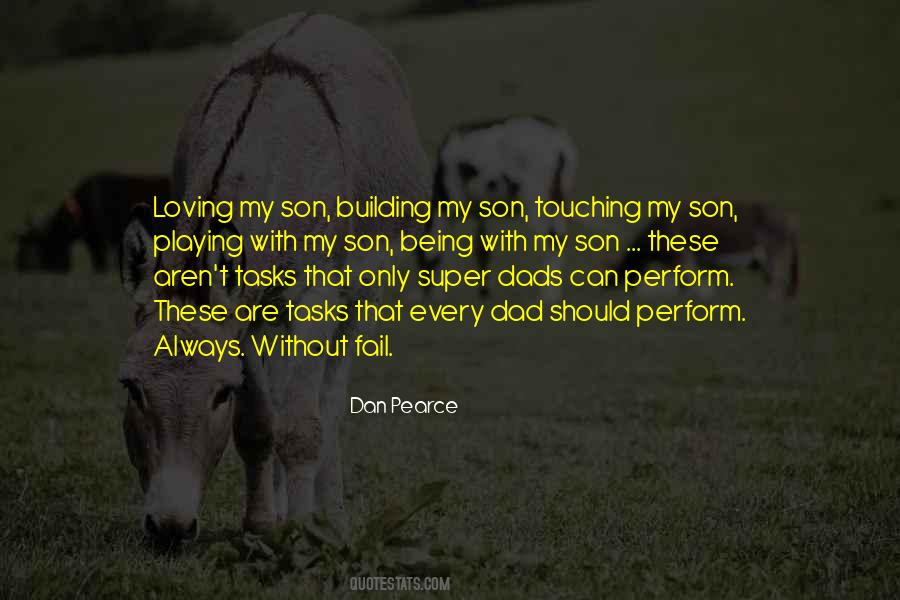 #88. Children are happy because they don't have a file in their minds called All the Things That Could Go Wrong. - Author: Marianne Williamson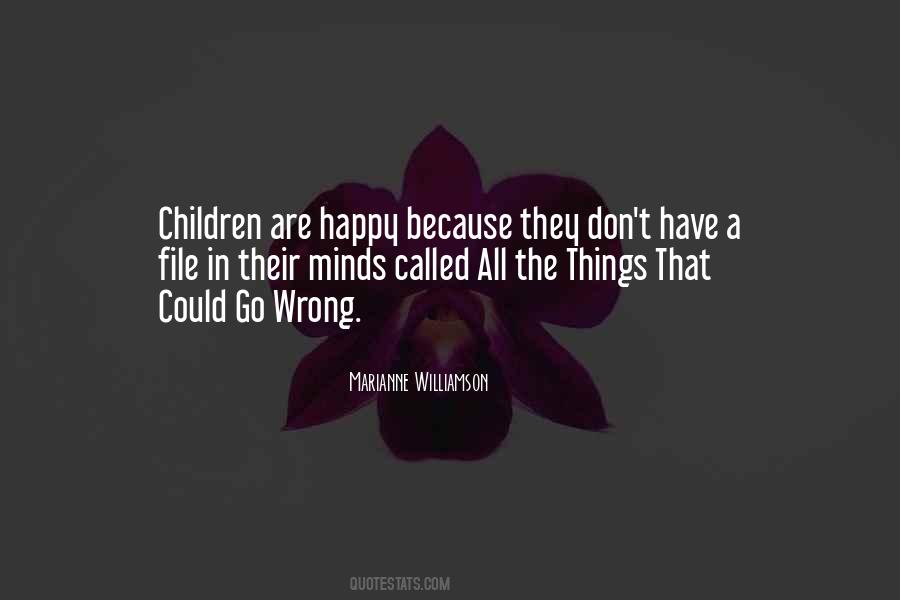 #89. We owe it to our husband or wife, our fellow workers, our children, our friends, indeed to everyone who comes into our lives, to be as happy as we can be. - Author: Dennis Prager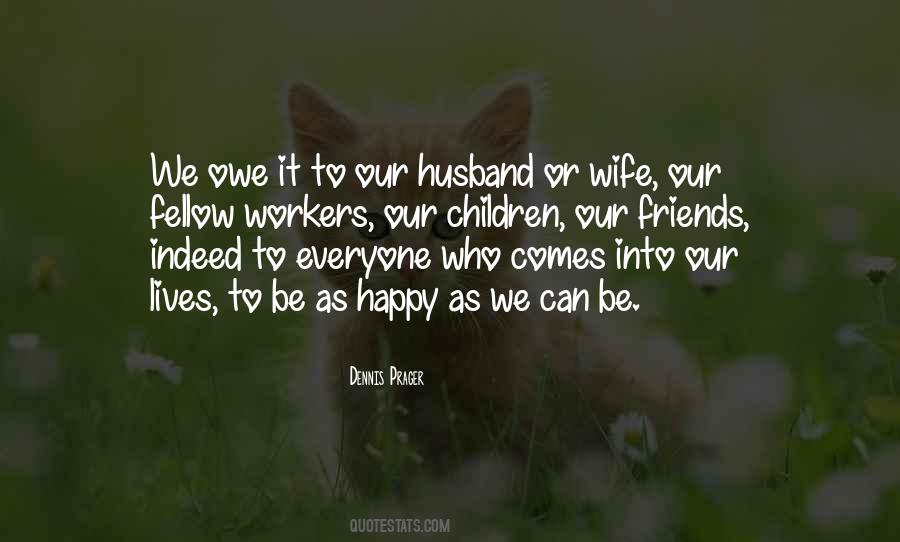 #90. We find delight in the beauty and happiness of children that makes the heart too big for the body. - Author: Ralph Waldo Emerson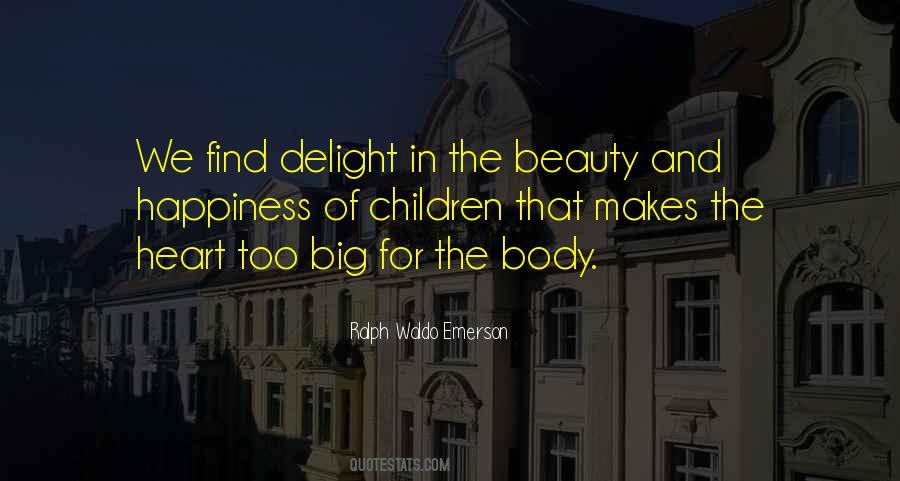 #91. A child develops best when, like a young plant, he is left undisturbed in the same soil. Too much travel, too much variety of impressions, are not good for the young, and cause them as they grow up to become incapable of enduring fruitful monotony. - Author: Bertrand Russell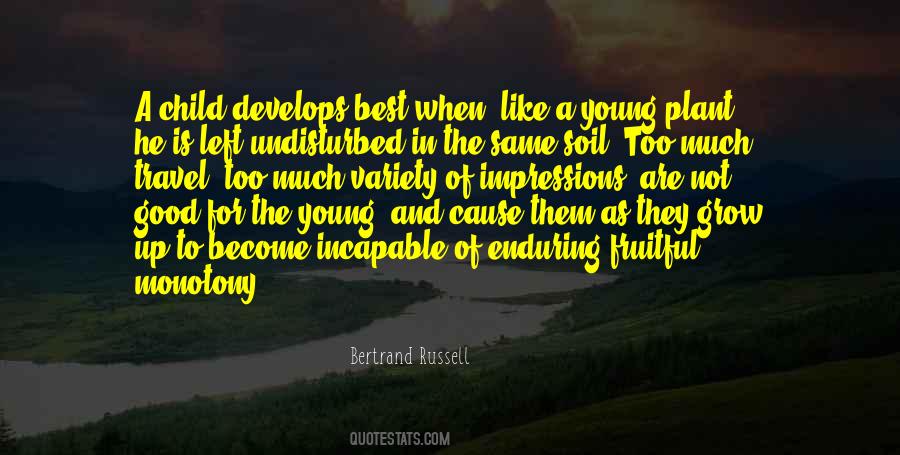 #92. We're only happy--truly happy--when it's forever after, but only children live in a world where things can last forever. - Author: Jose Eduardo Agualusa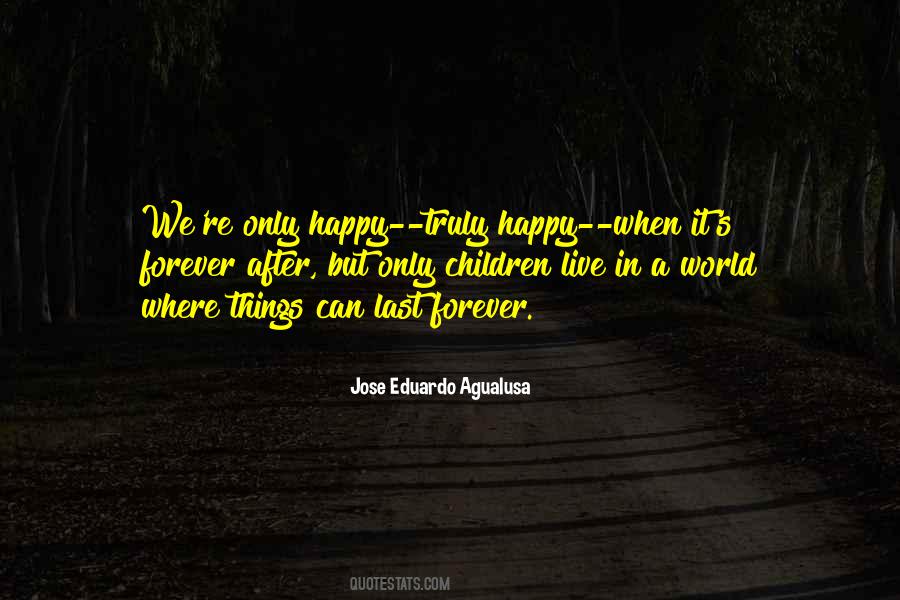 #93. All the games were selected for them by supervisors and had to have some useful, educational purpose. The children learned these new games but unlearned something else in the process: they forgot to be happy, how to take pleasure in little things and last, but not least, how to dream - Author: Michael Ende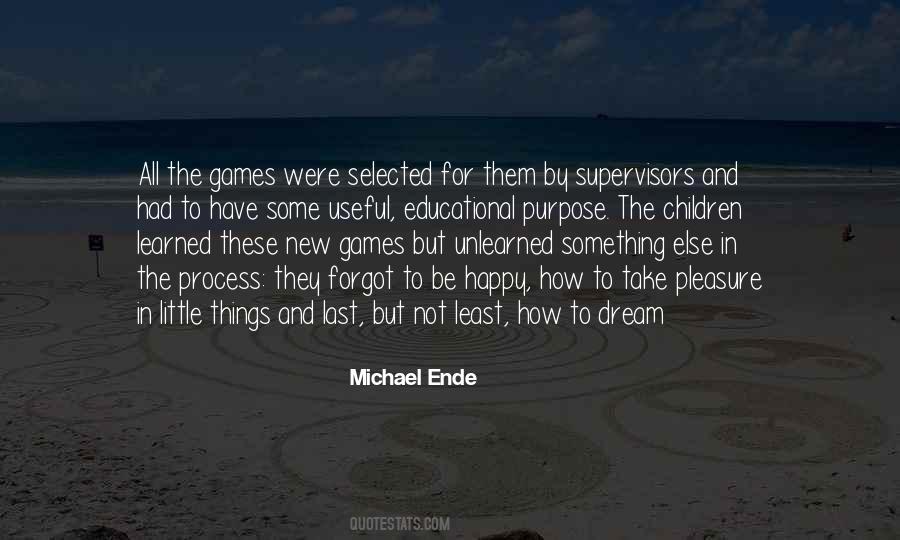 #94. God has called us to something vastly bigger than our happiness or that of our children. - Author: Gloria Furman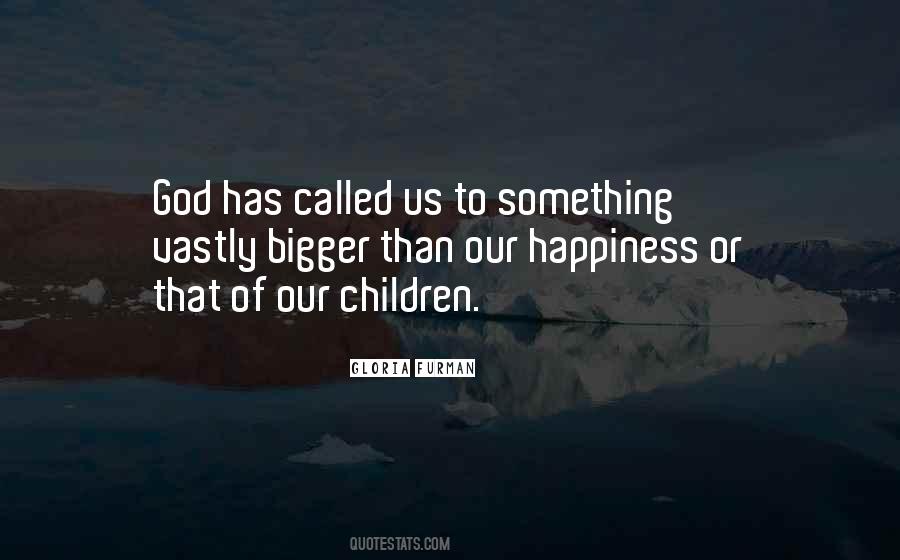 #95. All that children can properly require of their parents is that they tolerate their own muddled spectrum - that they neither insist on the lie of perfect happiness nor lapse into the slipshod brutality of giving up. - Author: Andrew Solomon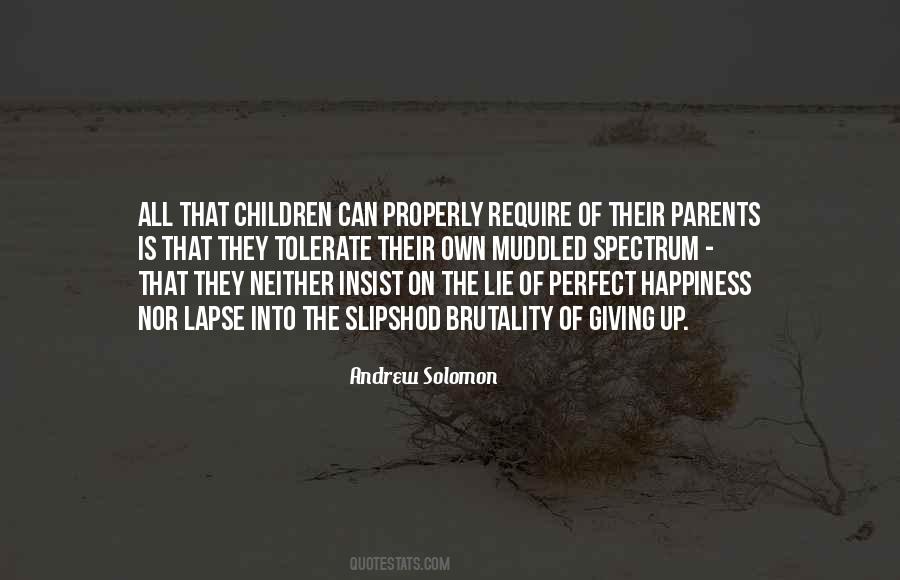 #96. There's an inexplicable joy that exists on a brown child's face and in the way they navigate their world long before they discover they're hated. - Author: Darnell Lamont Walker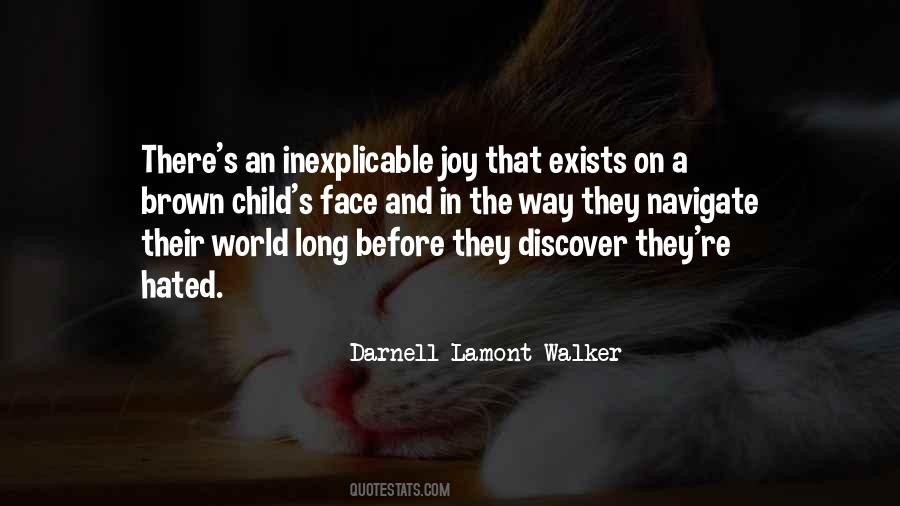 #97. Only bad things happen quickly, ... Virtually all the happiness-producing processes in our lives take time, usually a long time: learning new things, changing old behaviors, building satisfying relationships, raising children. This is why patience and determination are among life's primary virtues. - Author: Gordon Livingston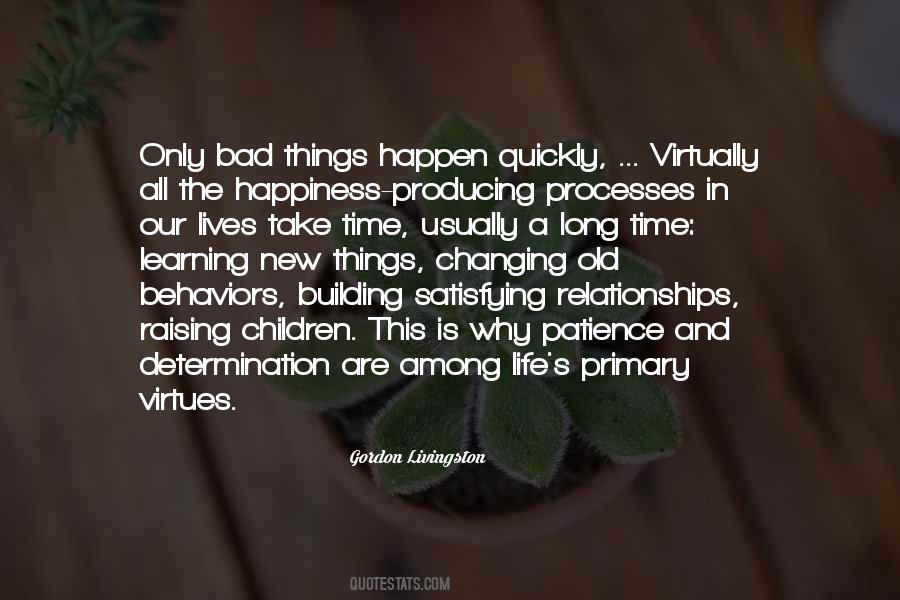 #98. Maybe he'd been mistaken, trying so hard to make his wife and young children happy. Maybe it's always a mistake, trying to assure the happiness of others. - Author: Joyce Carol Oates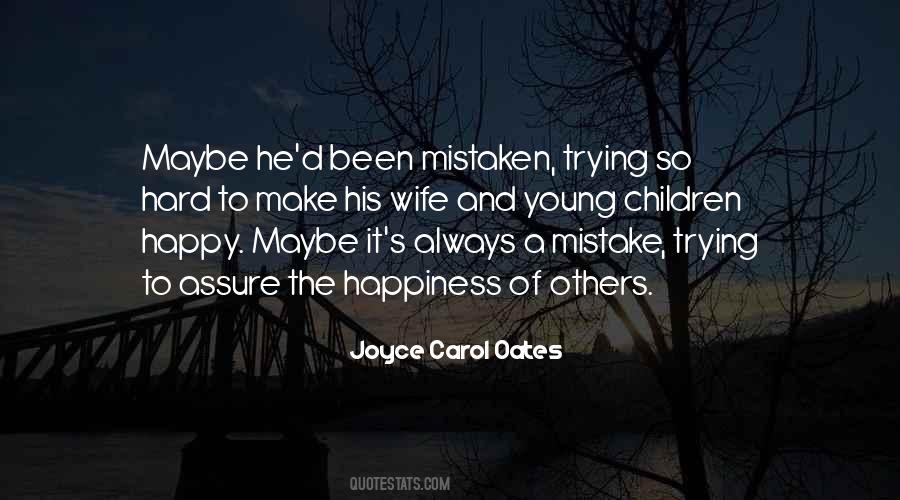 #99. Is there someone who passively watches his children growing up? We constantly and maximally invest ourselves into our children to realize our vision of happiness. But not for us - for those children. It's not enough that we molest ourselves, so we have to molest the children as well ... - Author: Ruben Papian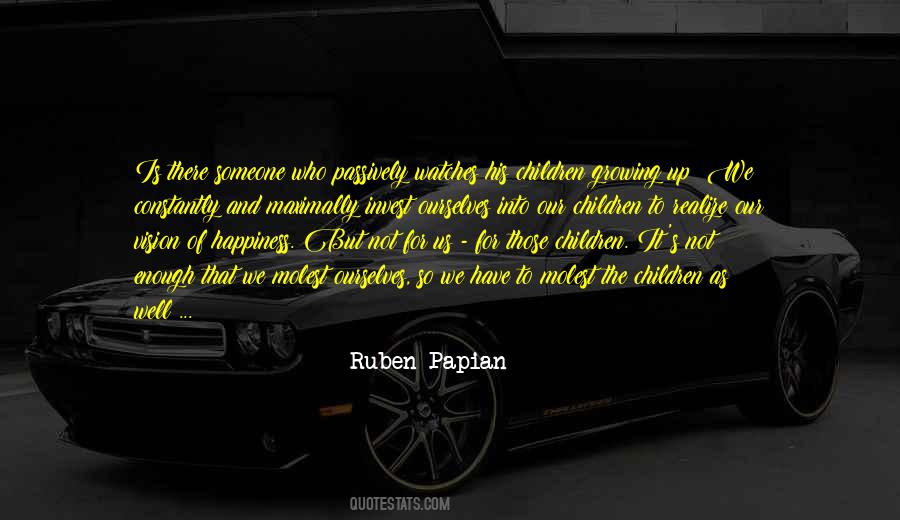 Famous Authors
Popular Topics