Gigs Famous Quotes & Sayings
List of top 100 famous quotes and sayings about gigs to read and share with friends on your Facebook, Twitter, blogs.
Top 100 Quotes About Gigs
#1. The truly incredible thing is were realizing that you can perform a two-and-a-half-hour gig without being high and still have a fantastic time. - Author: Stevie Nicks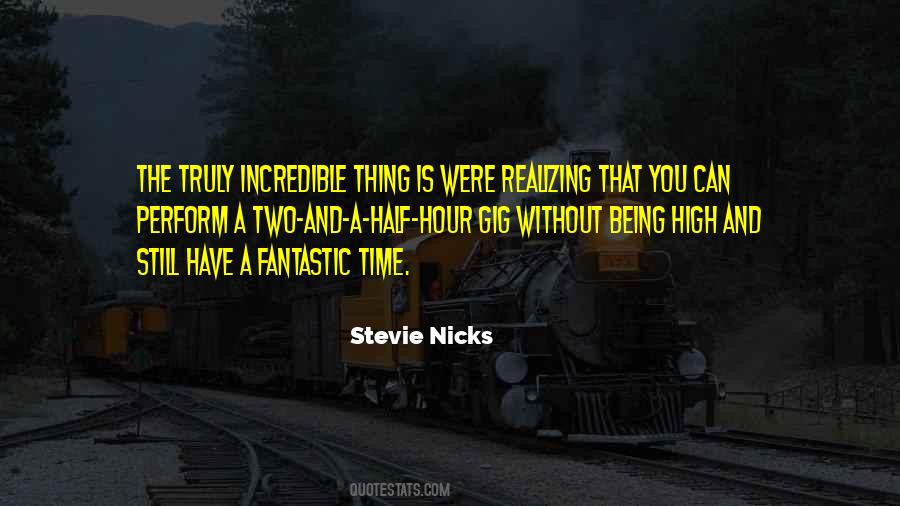 #2. Some gigs will go great. I figure you do a gig, and as many as can get there will get there. - Author: Jules Shear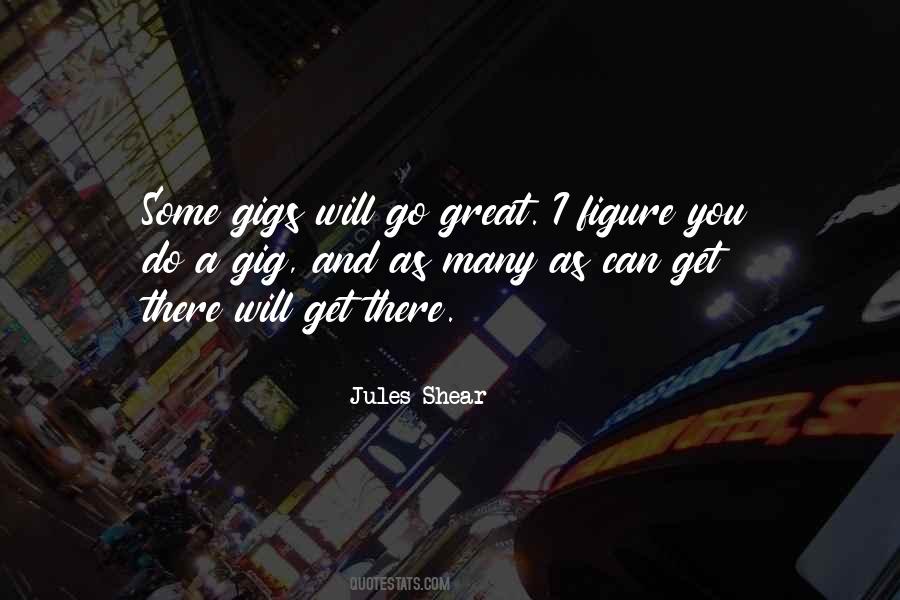 #3. My wife bought me a vintage Gibson guitar that isn't just beautiful but has tremendous sentimental value. I have plenty of guitars for live gigs but this is one to treasure. - Author: Bill Bailey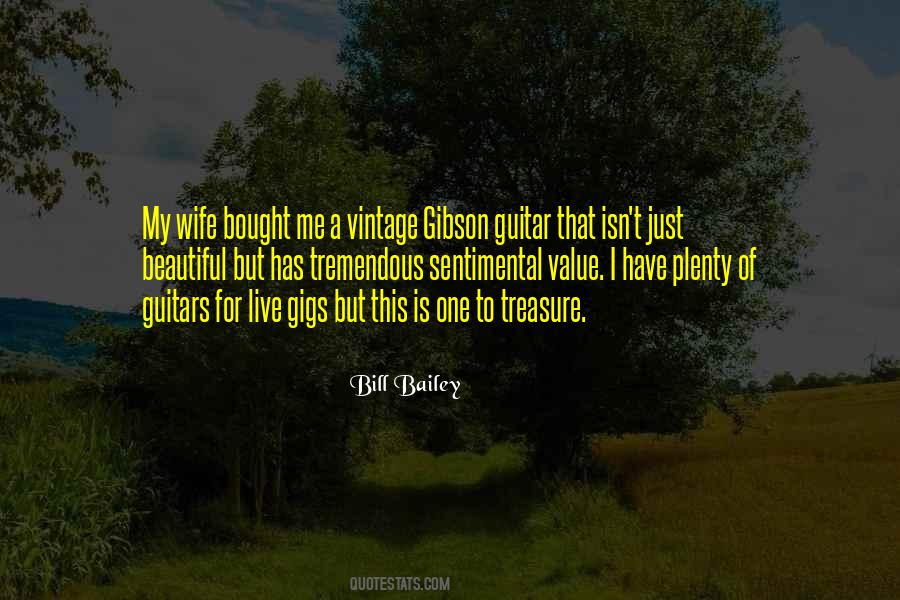 #4. I'm pretty lucky to work on both 'CSI: NY' and 'Supernatural.' Not bad gigs! - Author: A. J. Buckley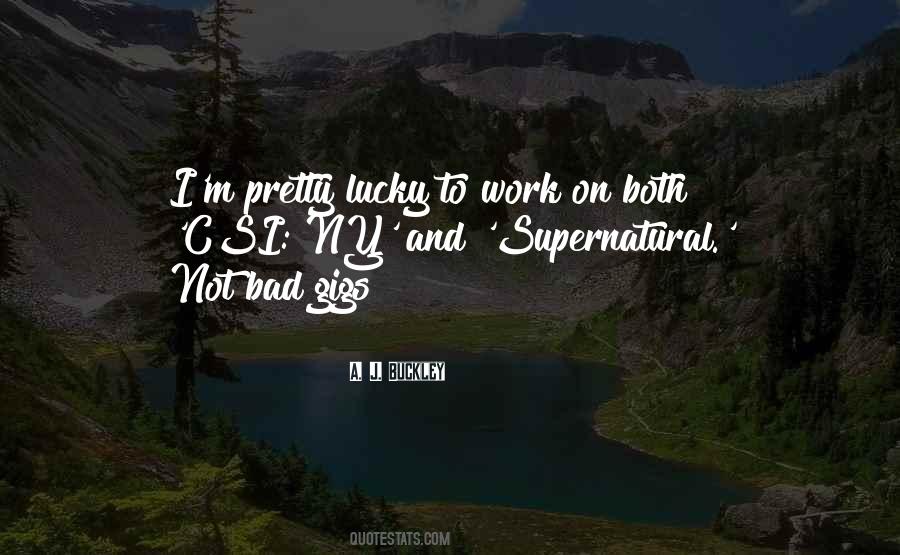 #5. At college, I felt frustrated thinking three years was a long time and I just wanted a job but afterwards I was in employment the whole time. I got into a theatre company and started doing stand-up gigs for cash, so I lived hand-to-mouth, but there was always enough to pay the bills. - Author: Bill Bailey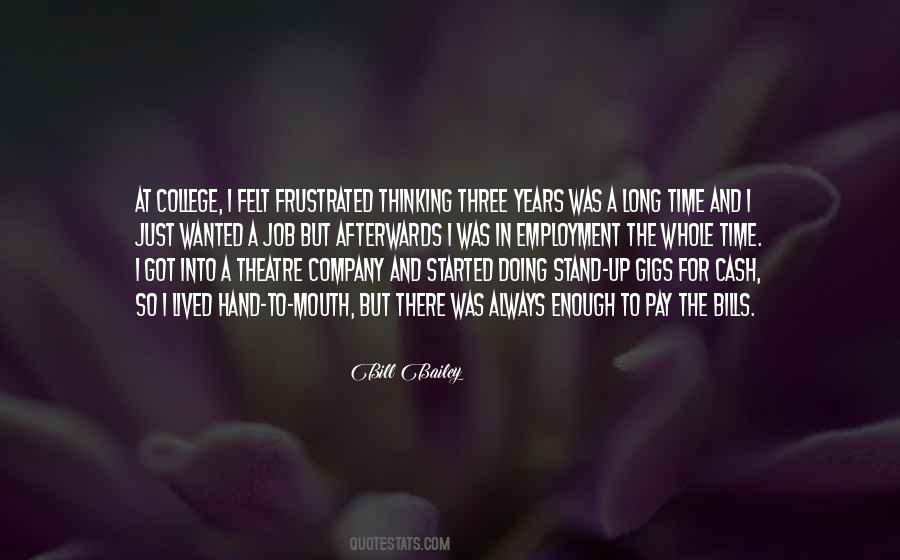 #6. I learned a lot from playing those late-night, 1-to-4 A.M. gigs with my band, and playing when no one was listening. - Author: Rachel Platten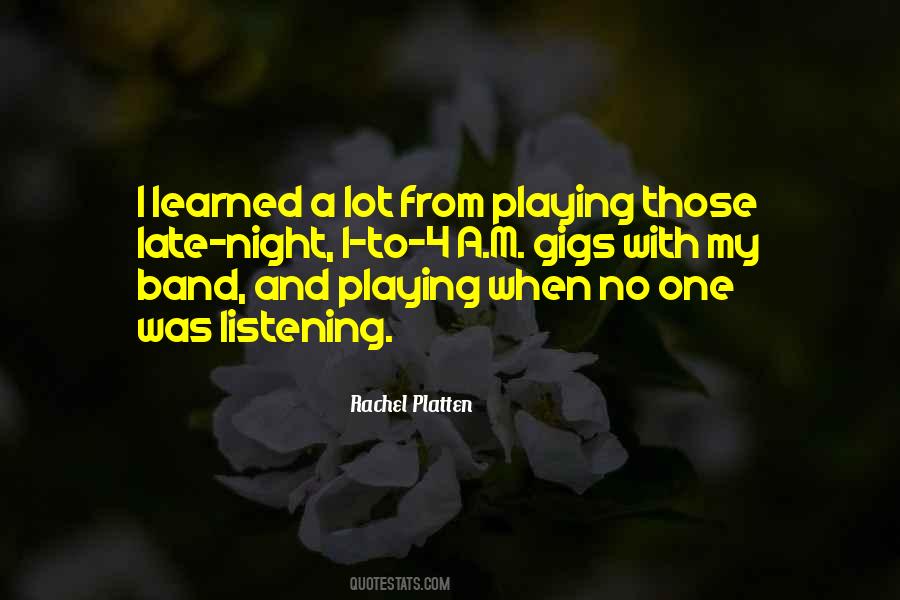 #7. Having drive is a big part of success, along with integrity. You need to have a clear vision of what you want and take the steps to achieve it, even if that sometimes means playing gigs in tiny clubs. - Author: Vonda Shepard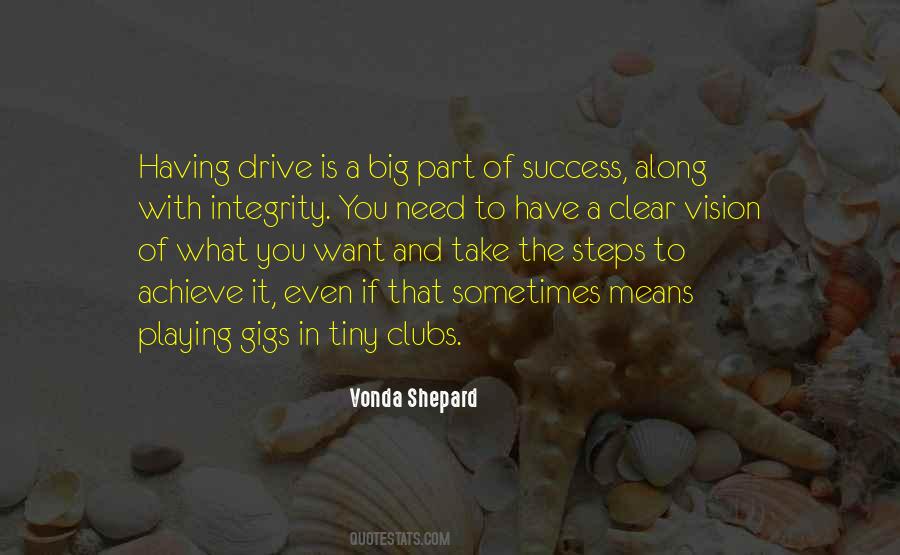 #8. 'Hairspray' was my first Broadway show. In the meantime, after the show was over, I would go down and do gigs at these clubs that I wasn't even old enough to get into. That continued on, and I think what ended up happening was that I just got these incredible opportunities on Broadway. - Author: Laura Bell Bundy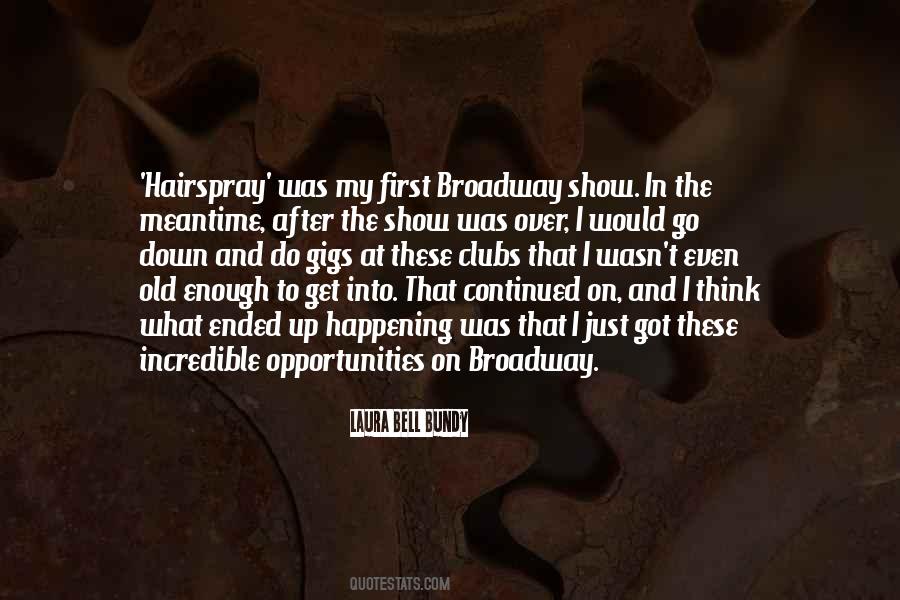 #9. If the baby is sick, you won't find me showing up to play my gigs. If I have a contract, there is going to be a clause in that contract saying that if the baby is sick I will not appear. - Author: Phoebe Snow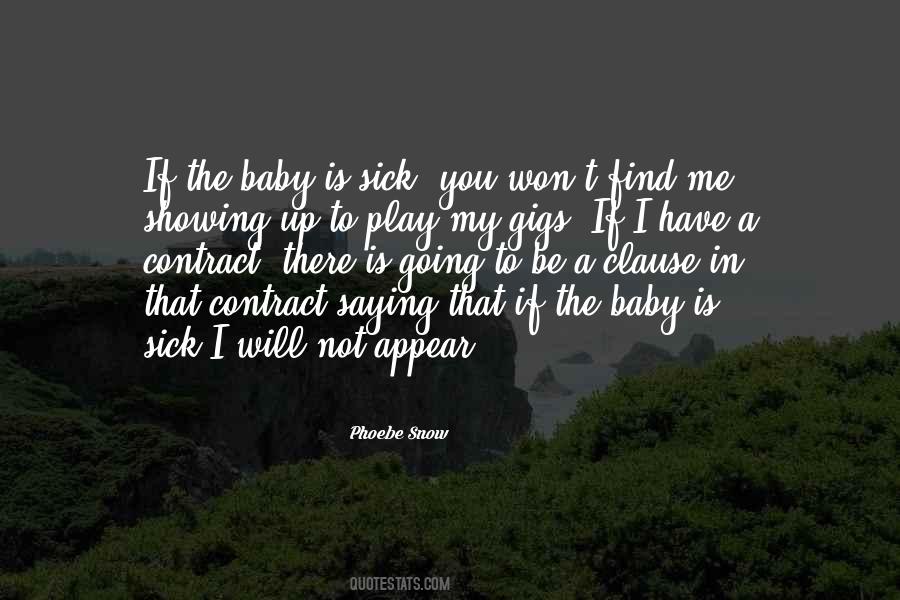 #10. To come out in the music business, you only really get one shot. A lot of people get to play small gigs first, and build up that way, without anyone really seeing them. - Author: Dhani Harrison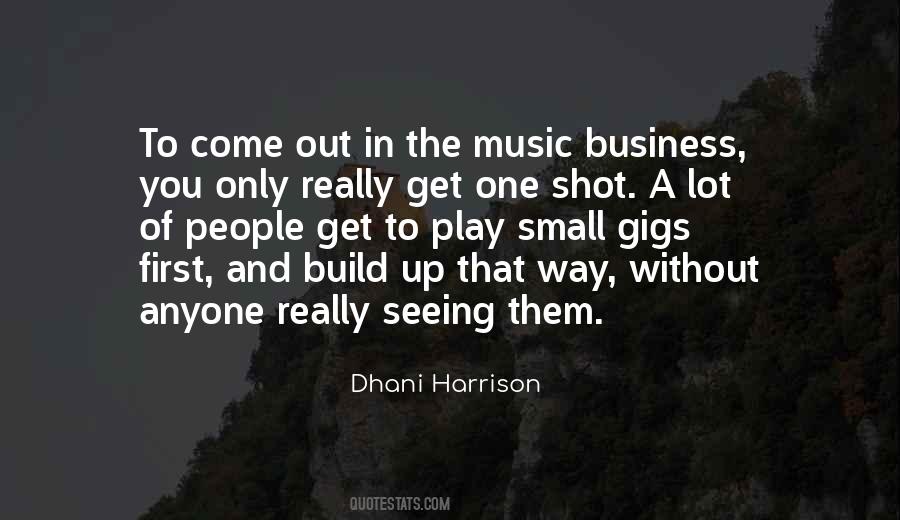 #11. Live comedy's a very reckless, foolhardy profession. You're only as good as your last gig so earnings fluctuate. - Author: Bill Bailey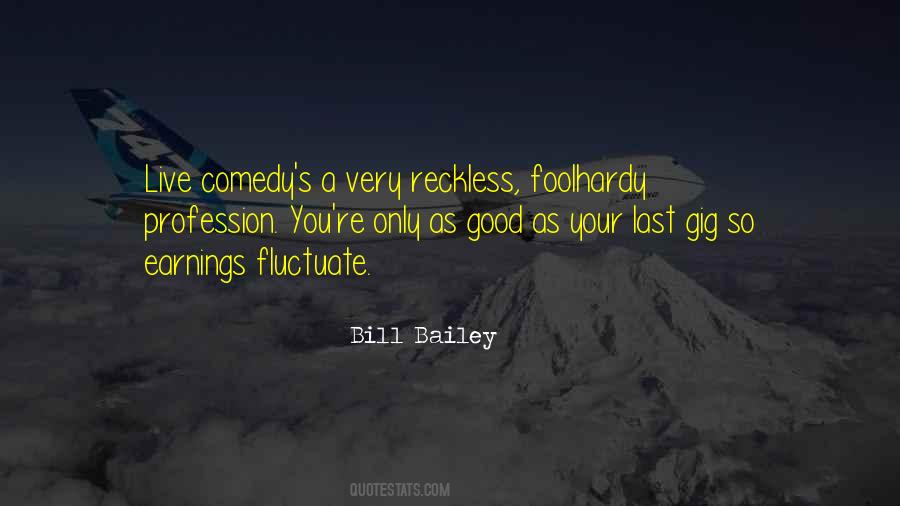 #12. I paid my dues. I have crawled to gigs. I have served people coffee. I worked hard selling all these records out the back of my car. Girl, I'm ready to sell one the real way now. - Author: Valerie June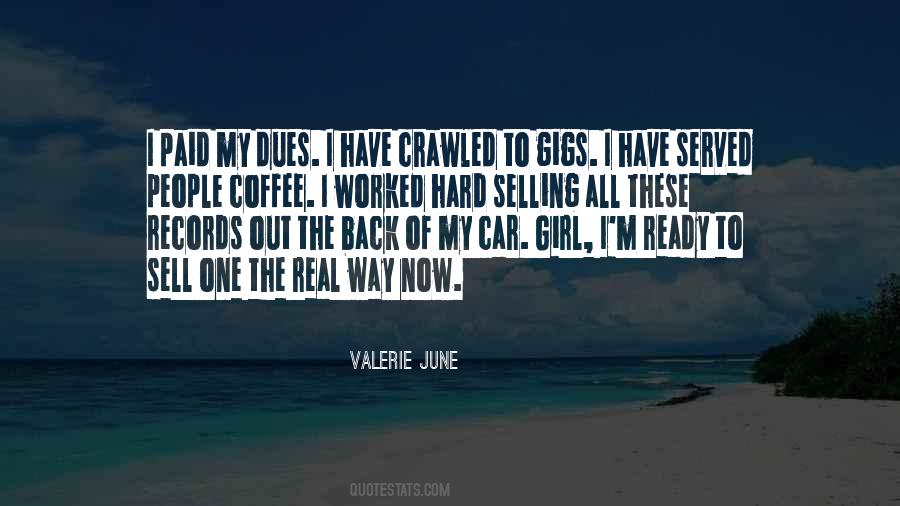 #13. Doing gigs is great, but when you come together for a production in the theatre, that is something I have a lot of respect for. - Author: Eliza Doolittle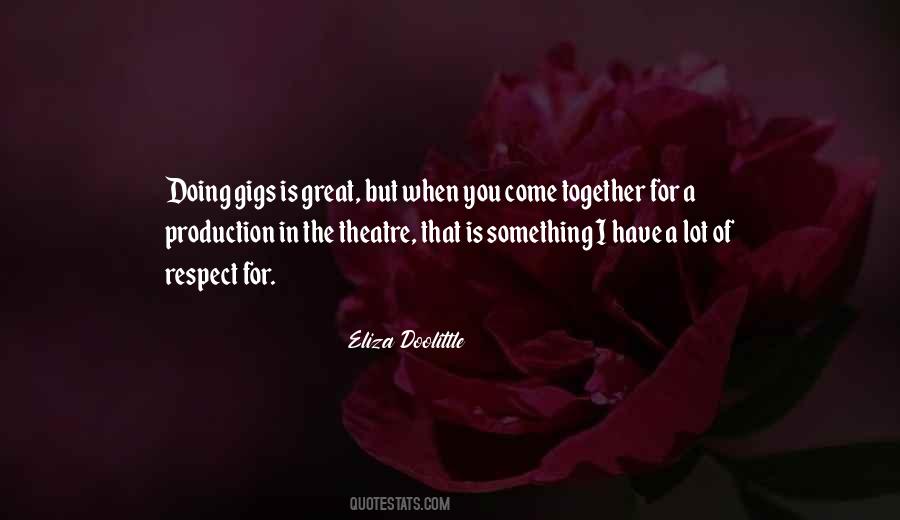 #14. One of the greatest pleasures of working on shows is that I enjoy watching the actors - who are all younger than me now - and their careers. I love seeing how they're doing and seeing them getting good gigs and doing well. - Author: Kelly Bishop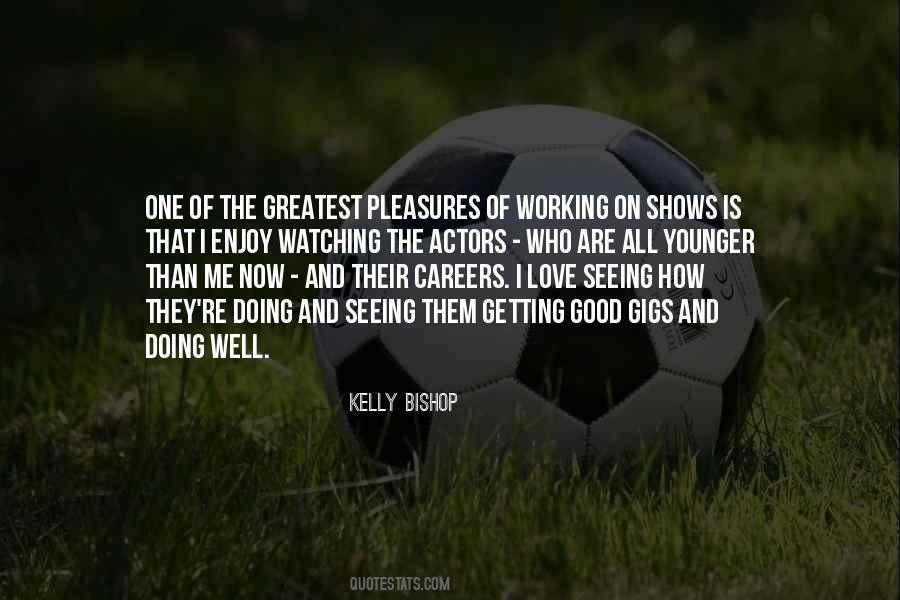 #15. The best practice you can get is on the bandstand, but in between gigs I feel I have to stay in shape. - Author: Bill Bruford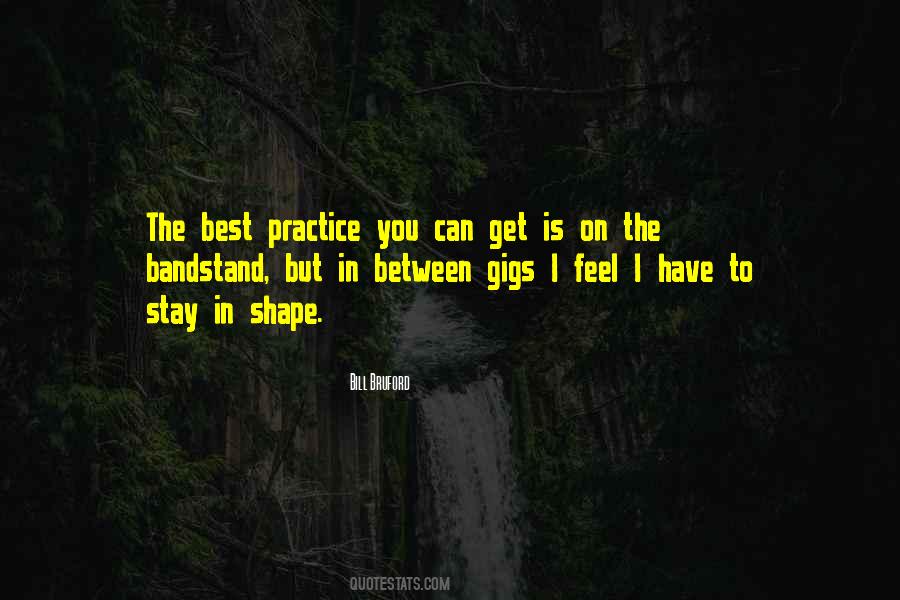 #16. I didn't get paid for my first gig supporting Usher Raymond in the Temple in Tottenham when I was 17 or 18. I bugged the promoter to let me play and it went down a storm. And after that I got loads of gigs, which were paid. - Author: Lemar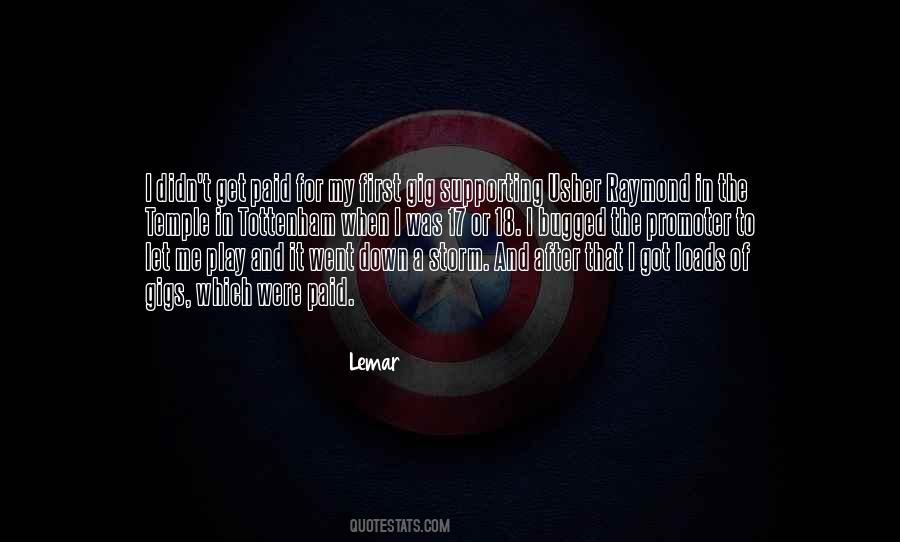 #17. The best part was watching Journey grow into this monster. The band was huge, playing these enormous gigs. - Author: Neal Schon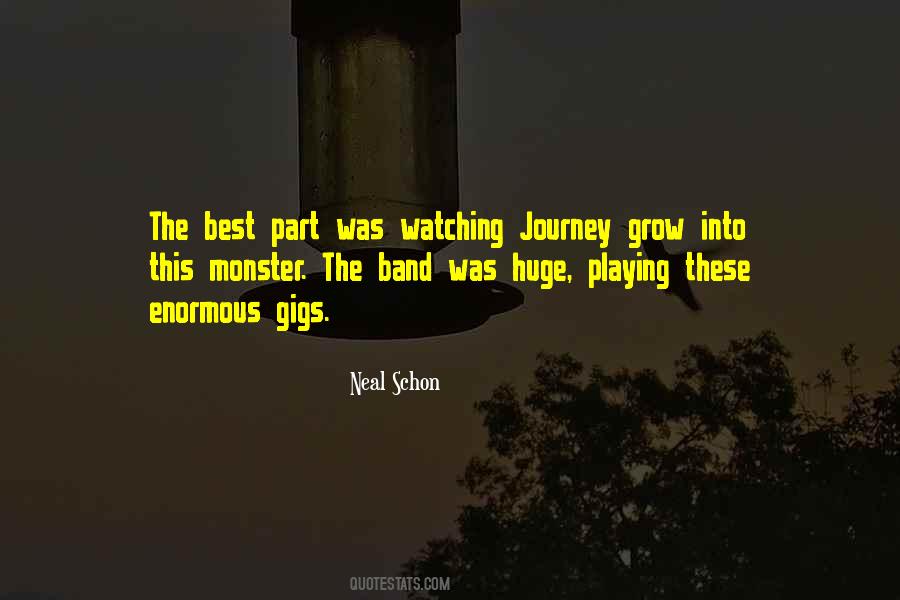 #18. I did a gig in the U.S. once for the homeless. I said 'It's nice to see so many bums on seats.' - Author: Jimmy Carr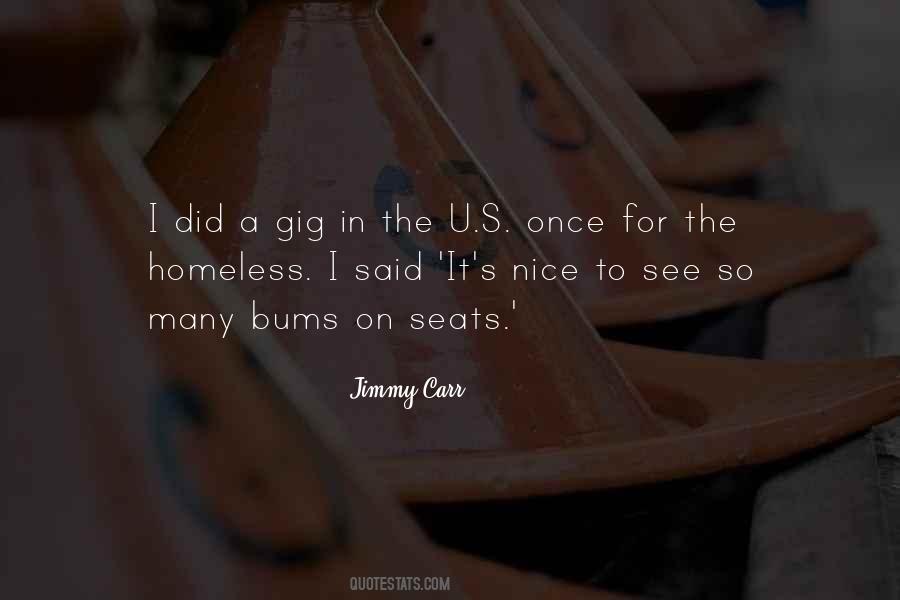 #19. I originally envisioned myself doing something with the suffix 'ology' at the end of it, like marine biology or entomology. But after I started to do some acting gigs, I thought it wasn't a bad thing ... I said to myself, 'I might as well keep riding this bus until the wheels fall off.' - Author: Callan McAuliffe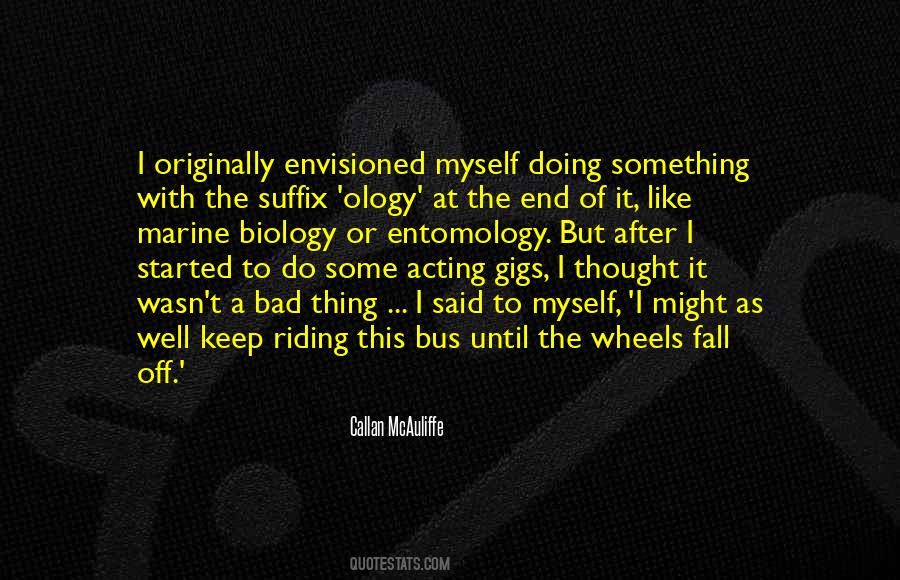 #20. The Bassbone works great in the studio or on the live stage. Throw it in your gig bag and take it wherever you go. - Author: Victor Wooten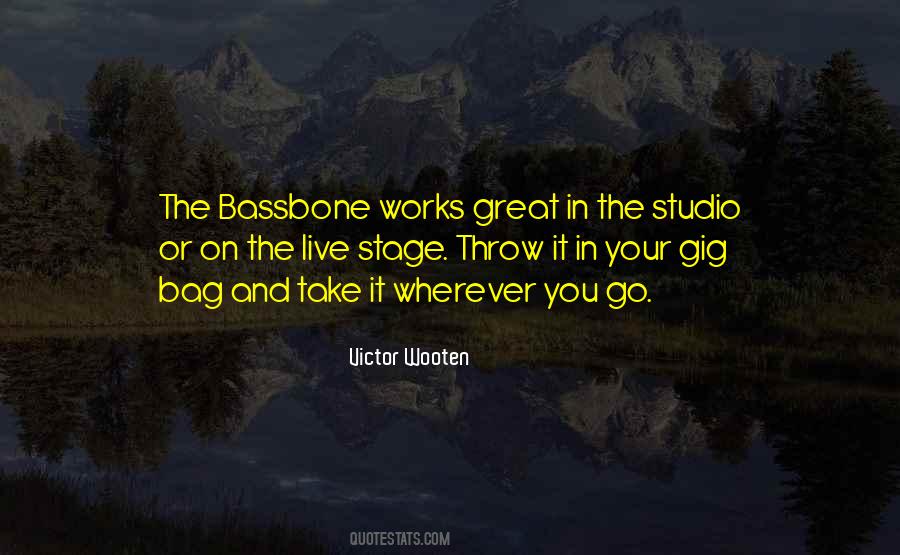 #21. I get nervous about gigs sometimes, but not with records - I always get excited. - Author: Alex Turner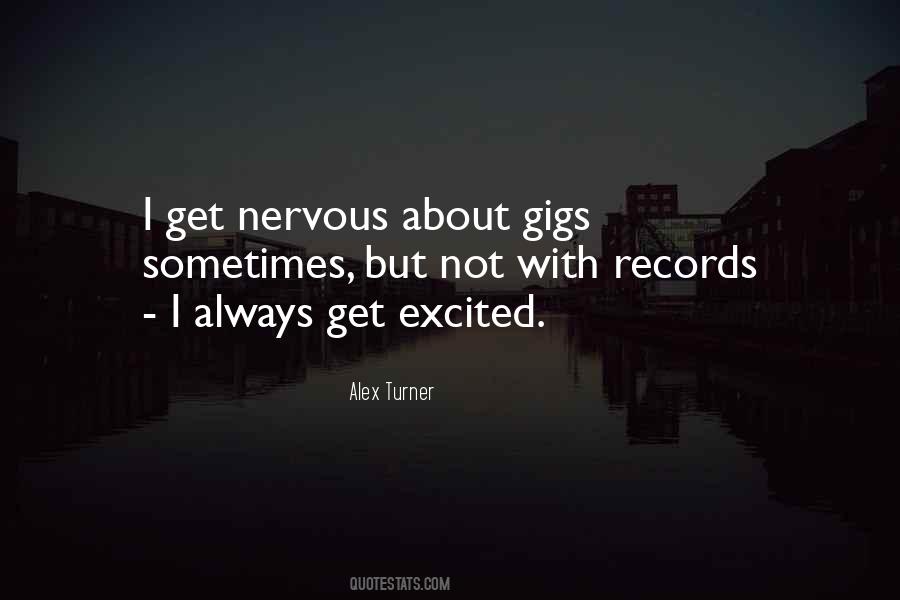 #22. I still do lots of gigs where I'm the support act and people are chatting through my set, but I've got better at grabbing attention. I mean, my parents would play on bills with people like Judas Priest and get booed all the way through. But they stuck it out, got tough. - Author: Teddy Thompson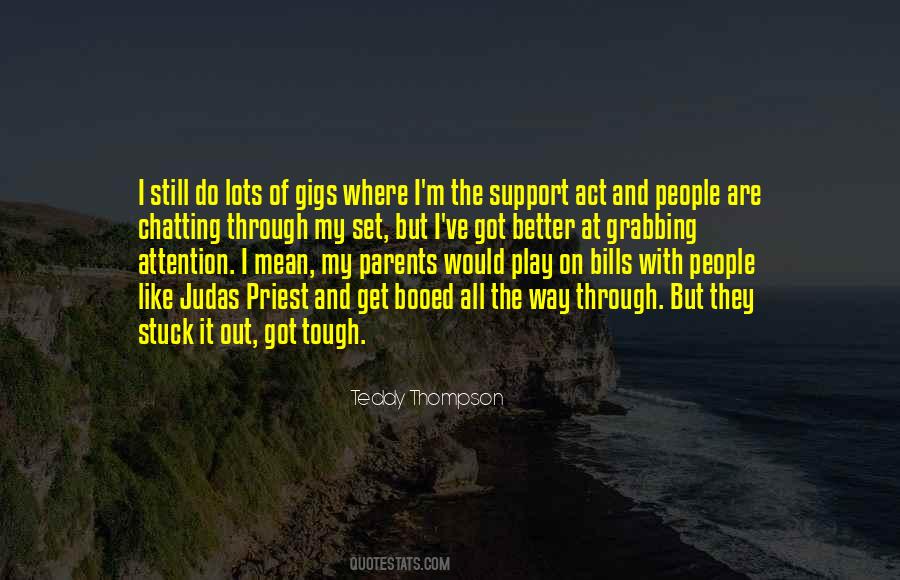 #23. I don't remember what was going through my mind, but what was going through my body was fear and terror. I had been on the road with Johnny and working gigs and playing a lot of the organ clubs. - Author: John Abercrombie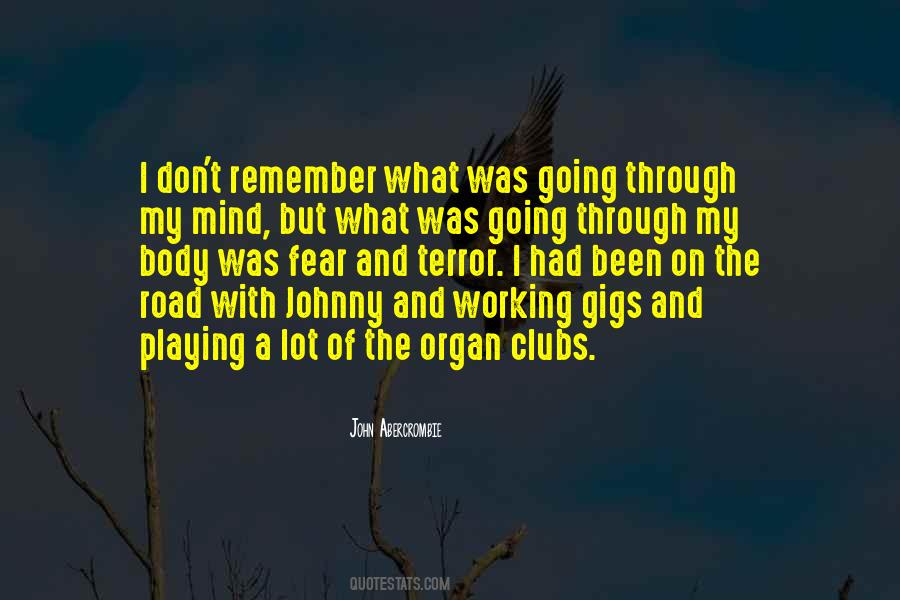 #24. If you're trying to get a bit of attention, you can smash up your hotel room or spend all your time going to openings or doing the gossip column thing. I just decided to do gigs in French, German, Spanish, and in America. - Author: Eddie Izzard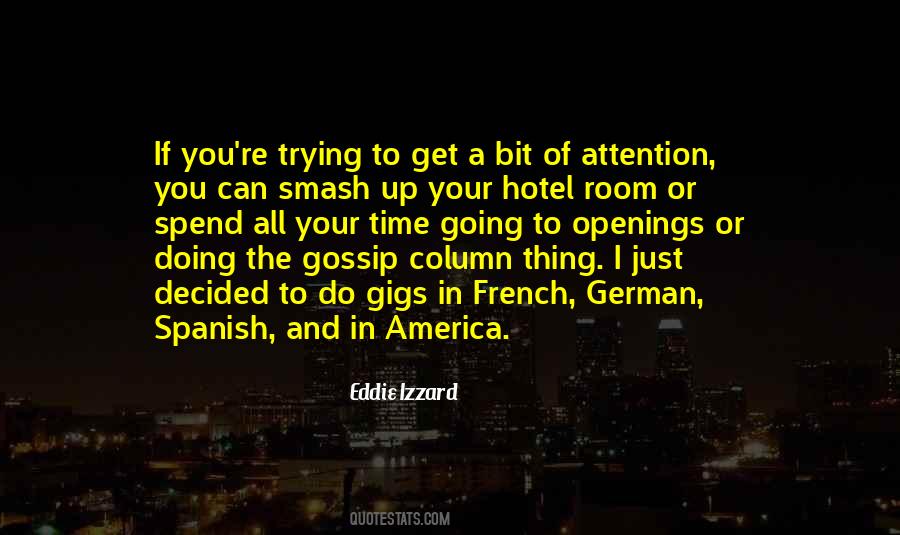 #25. In the early days I was on the road 45-50 weeks a year, driving from gig to gig 6-8 weeks in a row. Not everyone can do that. The show becomes the easy part. Tt's the life on the road that is the hardest ... and you can't get any good at standup unless you do the road. - Author: Henry Cho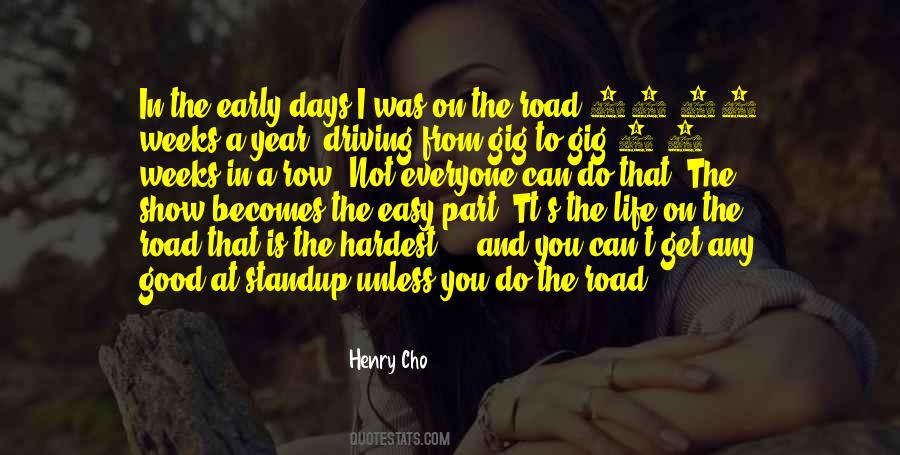 #26. You basically have to play everything (in New Orleans), because you're getting calls to play gigs of all different styles, from classical to R&B to funk; modern jazz to traditional jazz. - Author: Harry Connick Jr.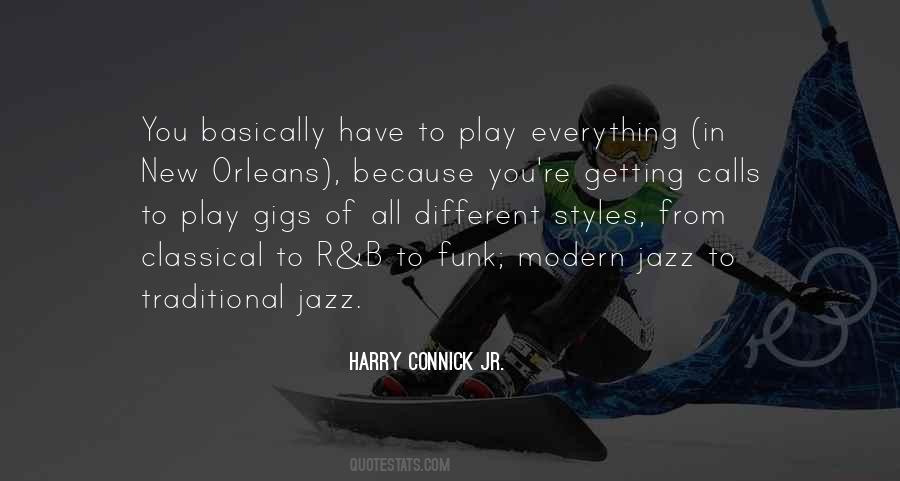 #27. I've been playing live gigs since I was 13. I really don't know how to do anything else, and please God strike me down. - Author: Joshua Homme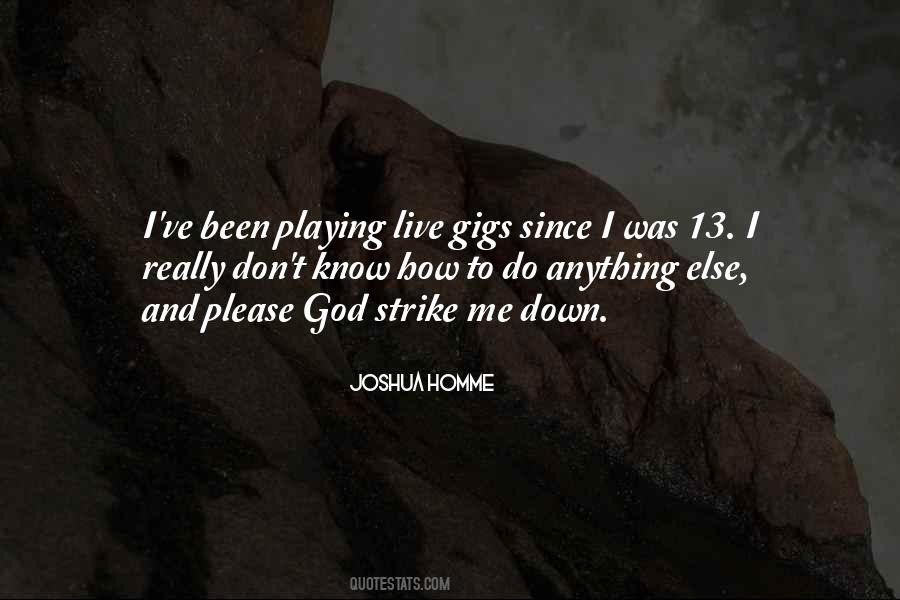 #28. I used to do this big rant at the end of some gigs with Ben Folds Five. The band broke into this big heavy metal thing and I started as a joke to scream in a heavy metal falsetto. I found myself saying things like: Feel my pain, I am white, feel my pain. - Author: Ben Folds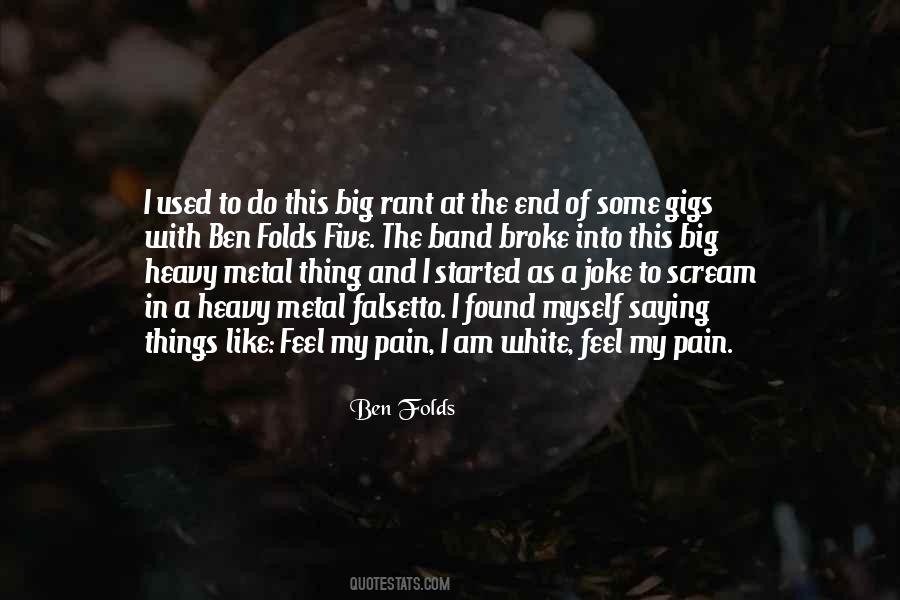 #29. Obviously I still gig on my own, but I've always heard my music with a band. - Author: George Ezra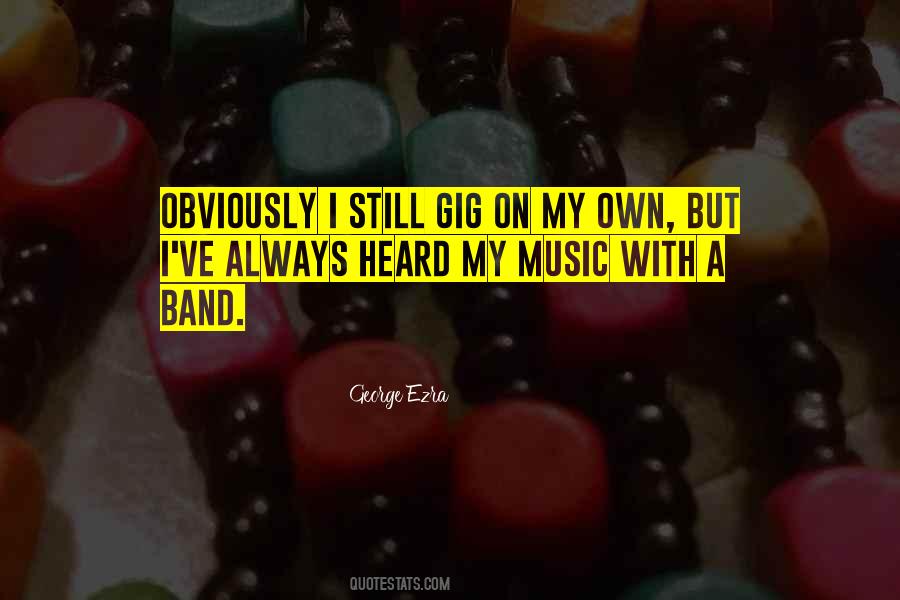 #30. At a festival, a lot of people came to see other artists, so you have to put on a signature set and performance: 'This is what I do, this is why I'm here.' At solo gigs, I'm a DJ - I'll play two-and-a-half hours, and not just my own music, also my favorite songs by other artists. - Author: Afrojack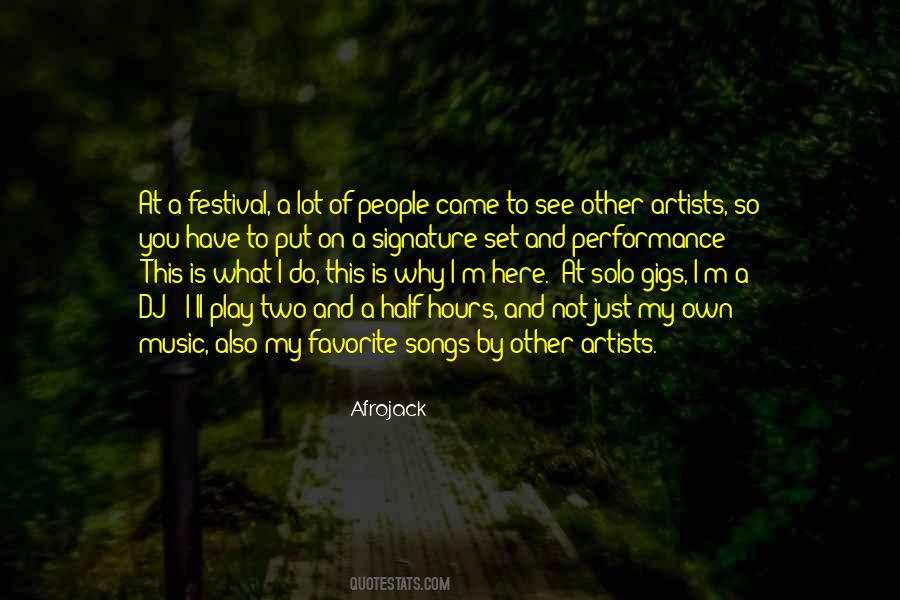 #31. When you're a regular on a TV show, they give you more of a backstory, so with these recurring gigs, you have to make up your own backstory. - Author: Alan Dale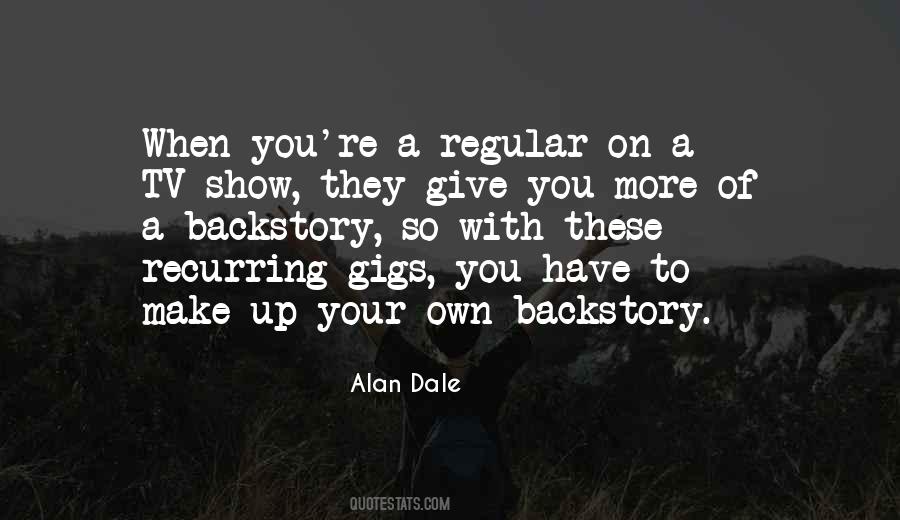 #32. One way and another I was having a ball - playing gigs, jamming and listening to fine musicians. Then came a crisis at home. My stepfather fell sick, and it meant I had to support the family. - Author: Mary Lou Williams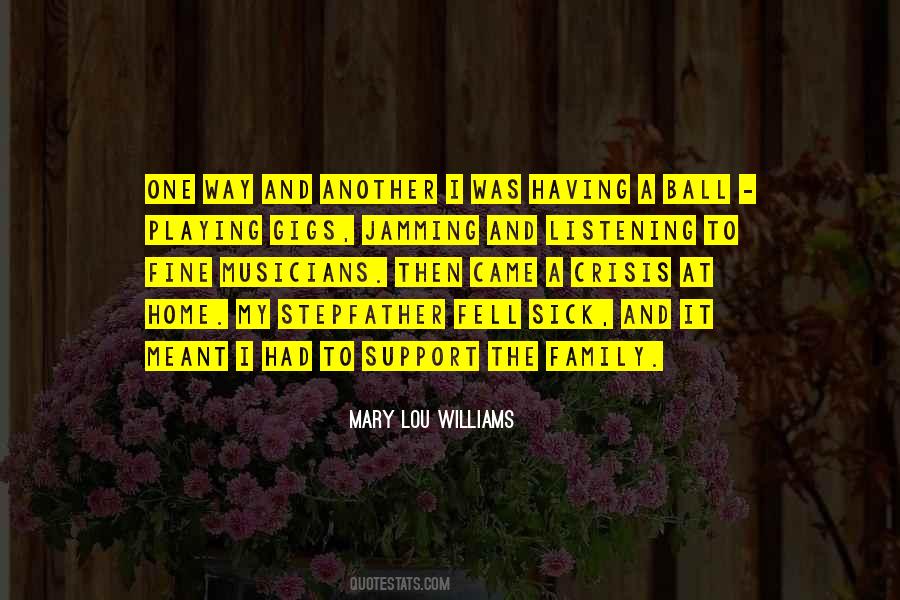 #33. In my case, I've always been interested in law enforcement. I've always dabbled in law enforcement in between gigs, quite honestly. Back before things really began to pop off for me, I would work in private security for companies and stuff. - Author: Corey Reynolds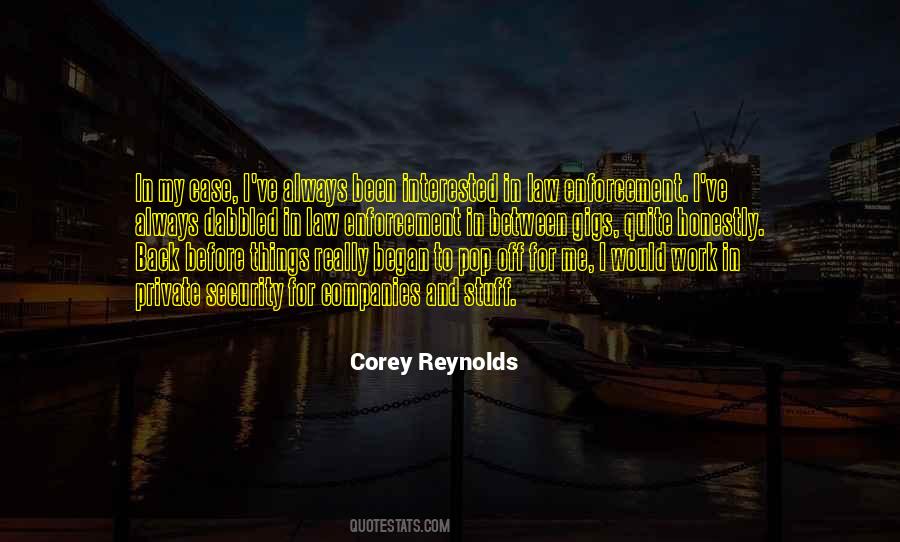 #34. All those years we'd spent learning these chops, and all those gigs in Germany where you'd play all night, and along comes punk. It has nothing to do with that. A lot of people went out of business. - Author: Nick Lowe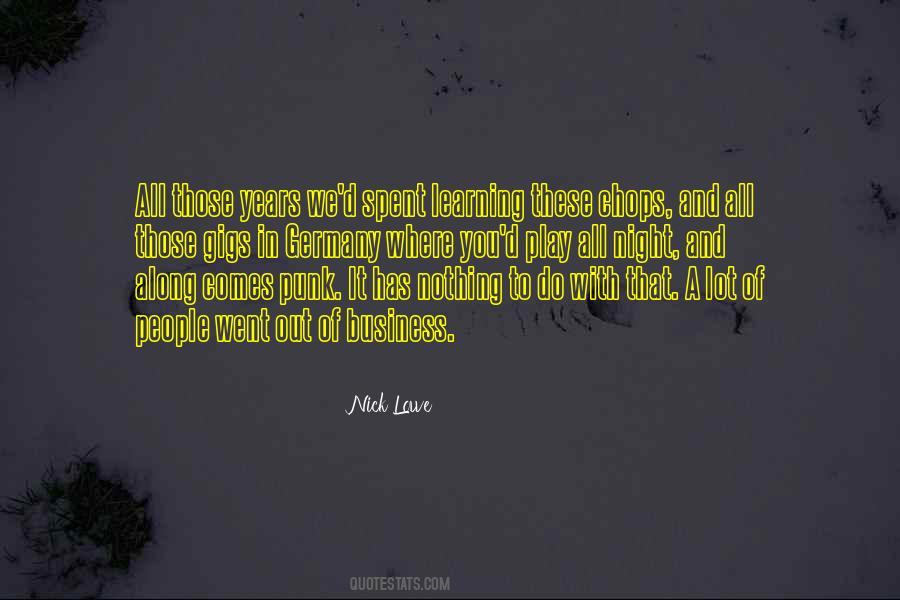 #35. One of my first paid gigs was writing psychology quizzes for 'YM,' a monthly teen magazine like 'Seventeen.' - Author: K.A. Applegate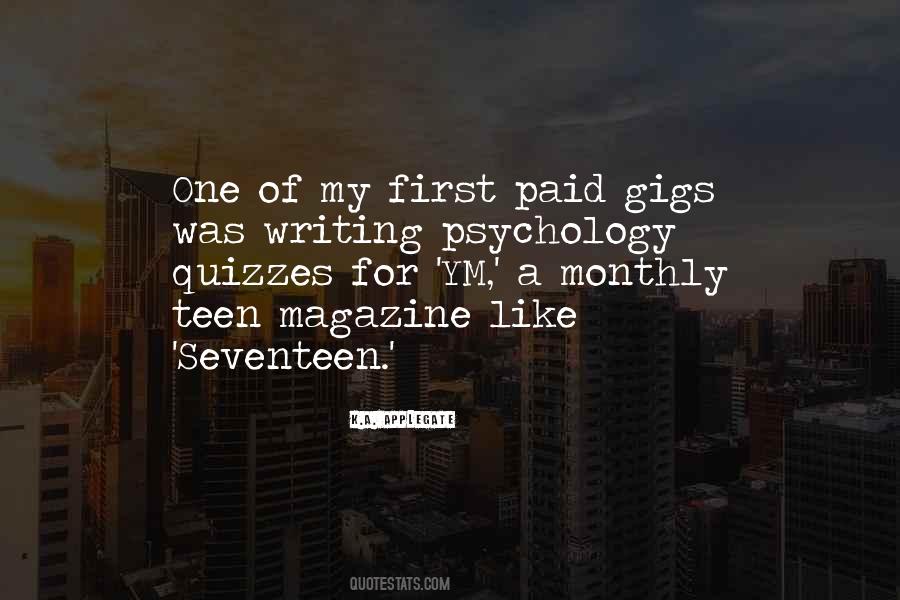 #36. We did eight gigs in super-stadiums, all the biggest joints - L.A. Coliseum, Oakland Coliseum, Shea Stadium. - Author: Joe Strummer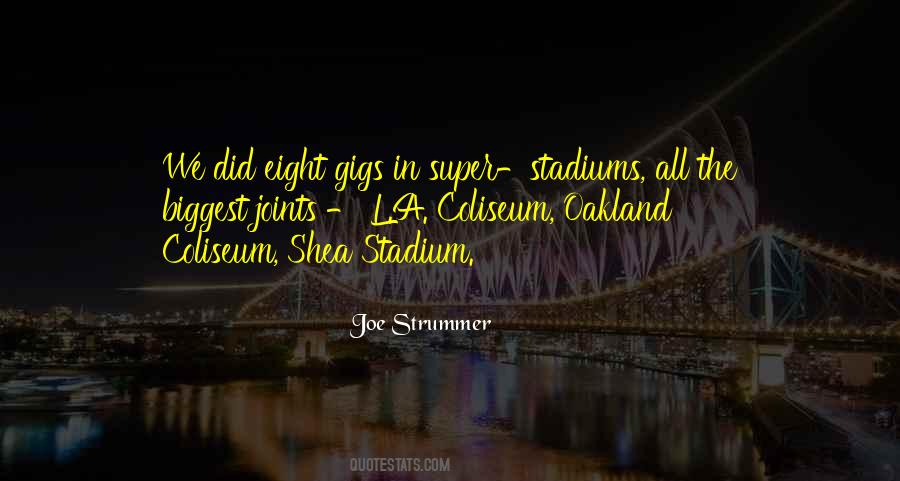 #37. I remember that first week at the Whisky and the gigs we (The Buffalo Springfield) did with the Byrds, We could really smoke ! That band never got on record as bad, and as hard as we were. Live we sounded like the Rolling Stones ... - Author: Stephen Stills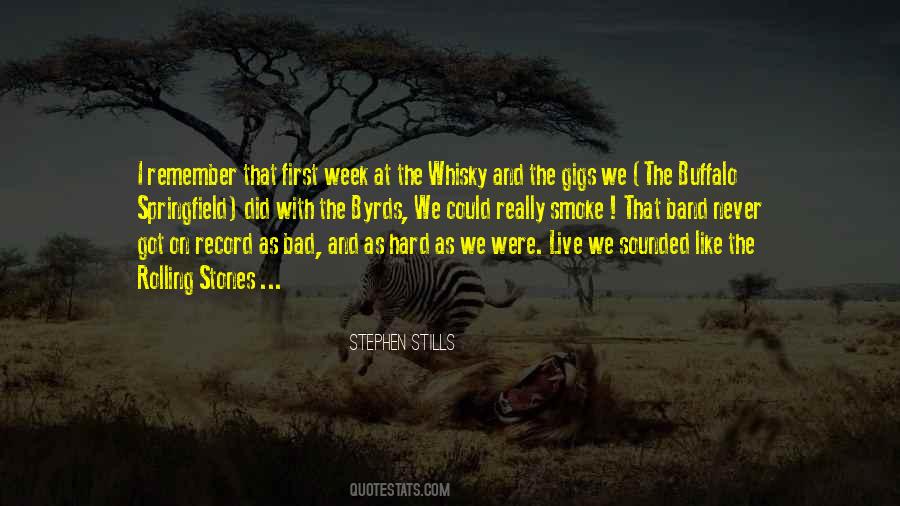 #38. I was doing gigs to stay alive. I worked two or three jobs at a time, there were times when I stayed up for 36 hours straight. I slept in shopping mall parking lots. A stand-up gig paid $35; then I could eat for another few days until the next gig. Literally, I was performing to live. - Author: Dat Phan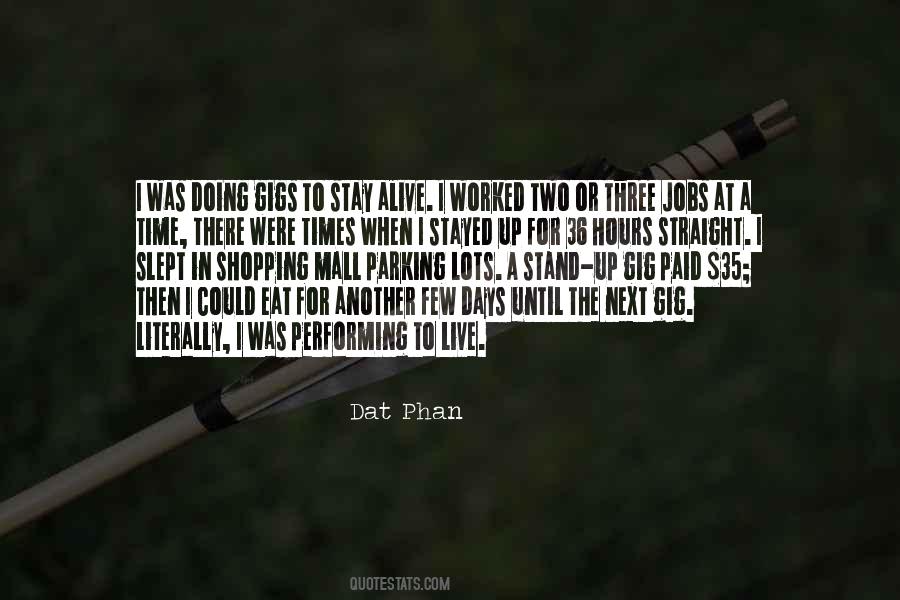 #39. After a gig I get to the hotel all psyched-up from being on stage and get stuck into 'Homes and Interiors' magazine. - Author: Gary Barlow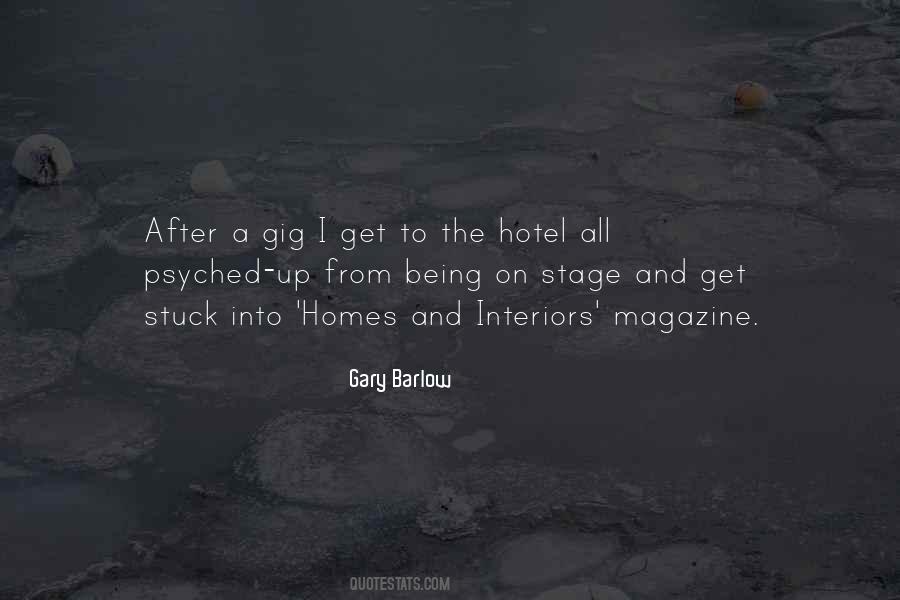 #40. I was always lucky that I've always had a gig, I'm fortunate in that way. - Author: Chiwetel Ejiofor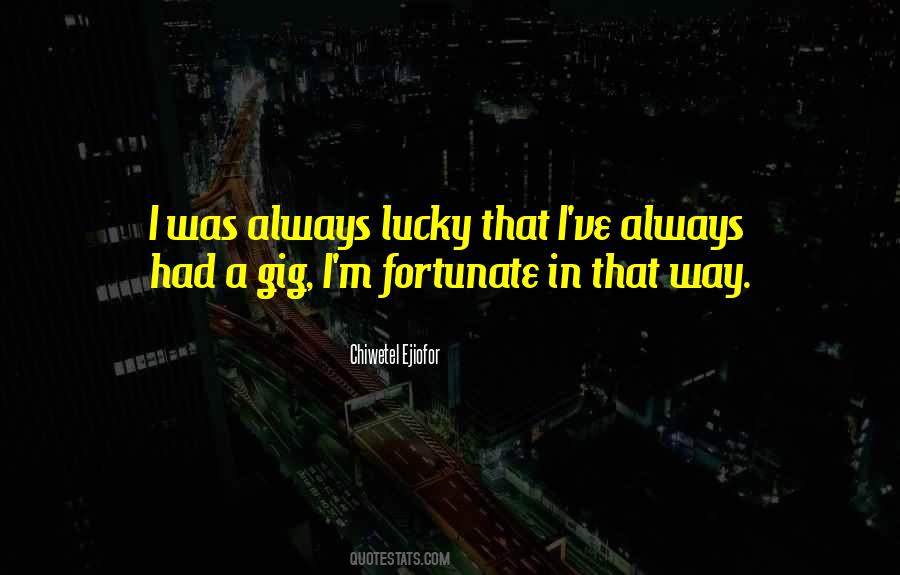 #41. Just to be around that, to feel a part of it and be able to integrate the experience while I was with the Messengers, of going and playing gigs with other drummers, gave me the chance to realize that it was not just me that was making it happen. - Author: Benny Green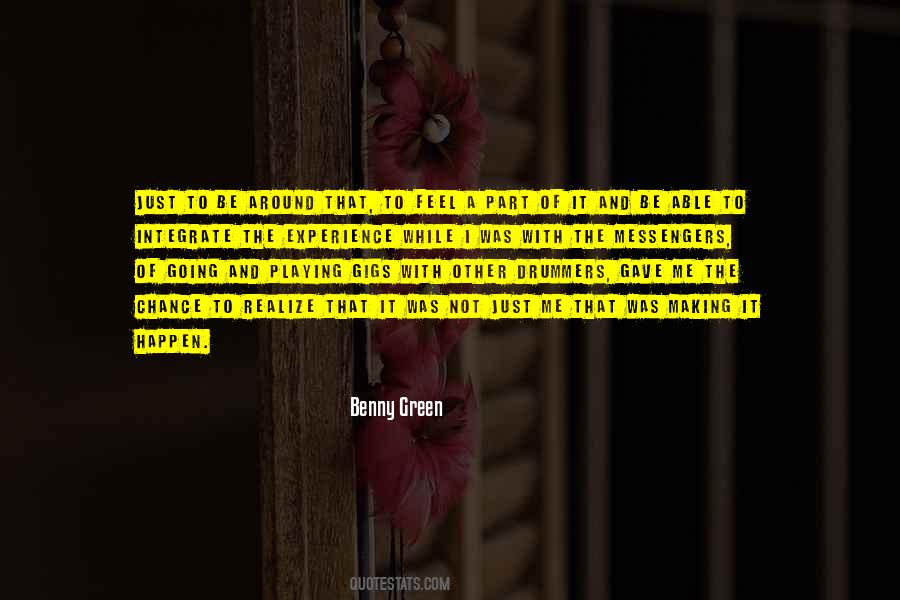 #42. I wanted to do gigs where you've just got mirrors on the stage, and then you light the crowd so they look at the stage and all they can see is themselves. It's just like, "There you go, it's you, you cunts." - Author: Aphex Twin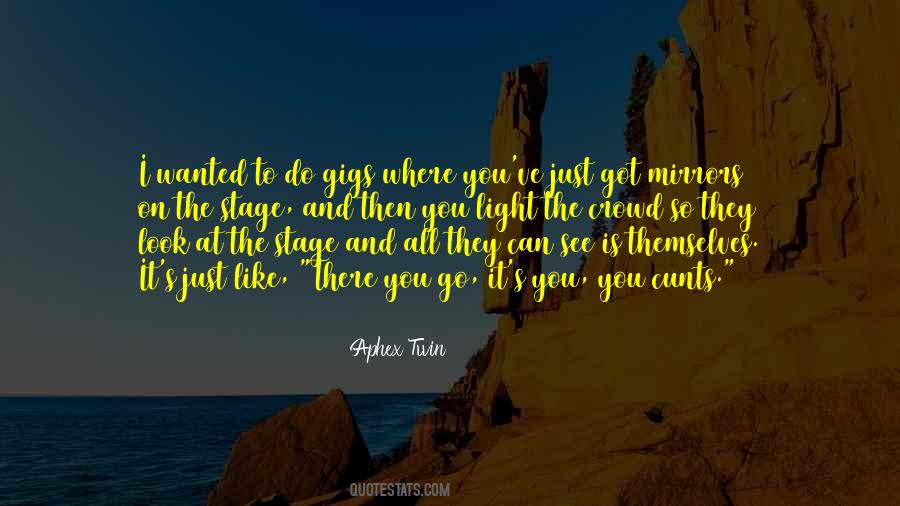 #43. I met this wonderful guy who owned an old pub near the Eiffel Tower called Malone's (he's French but it's an Irish name). He had a cellar with a piano and told me I could use it whenever I wanted to. I played lots of gigs down there. When I came back I played a show at the Knitting Factory. - Author: Regina Spektor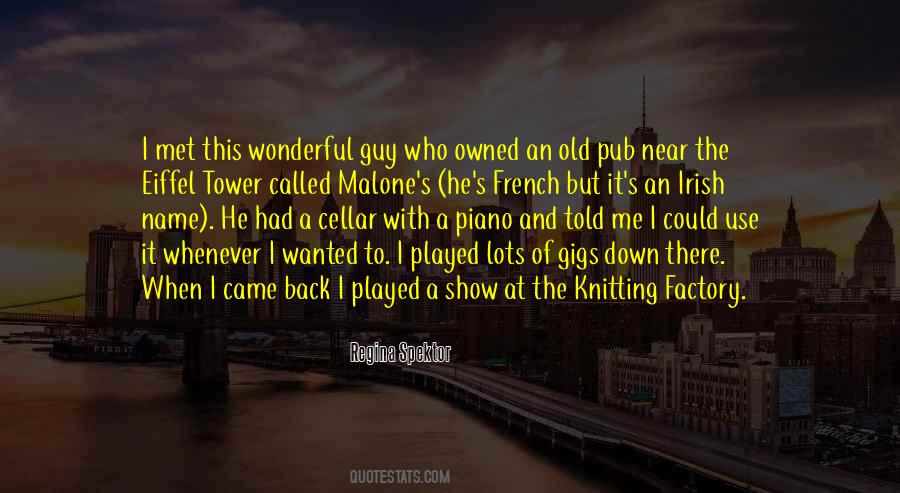 #44. After 'Rock Star,' I was definitely doing more high profile gigs. I was playing in Iceland. I was playing in Canada. - Author: Josh Logan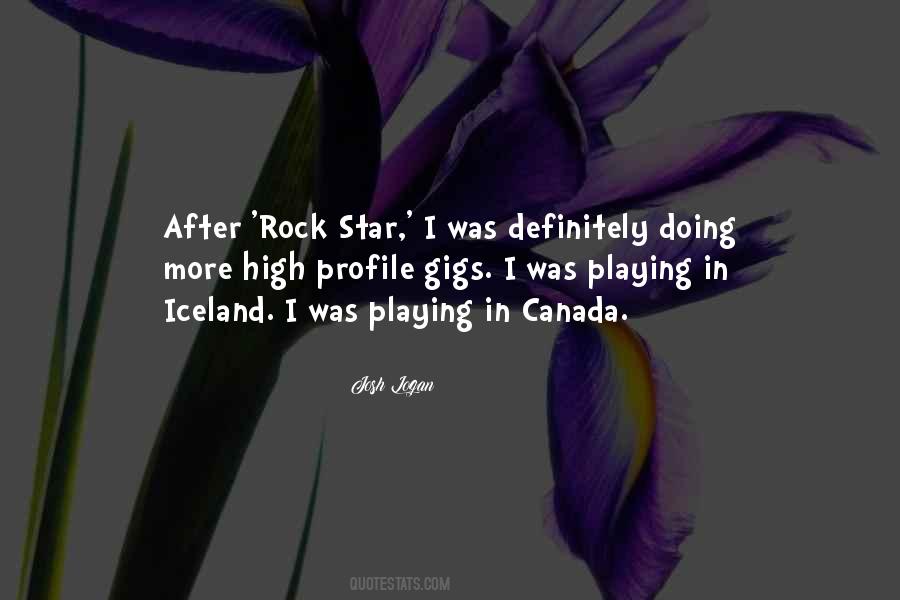 #45. If you want to know how important Portland is to me, there's no Saturday night gigs here. They weren't available. So our whole thing coming into Portland, which is going to be different from anybody else, any other city, is every night is Saturday night. - Author: Garth Brooks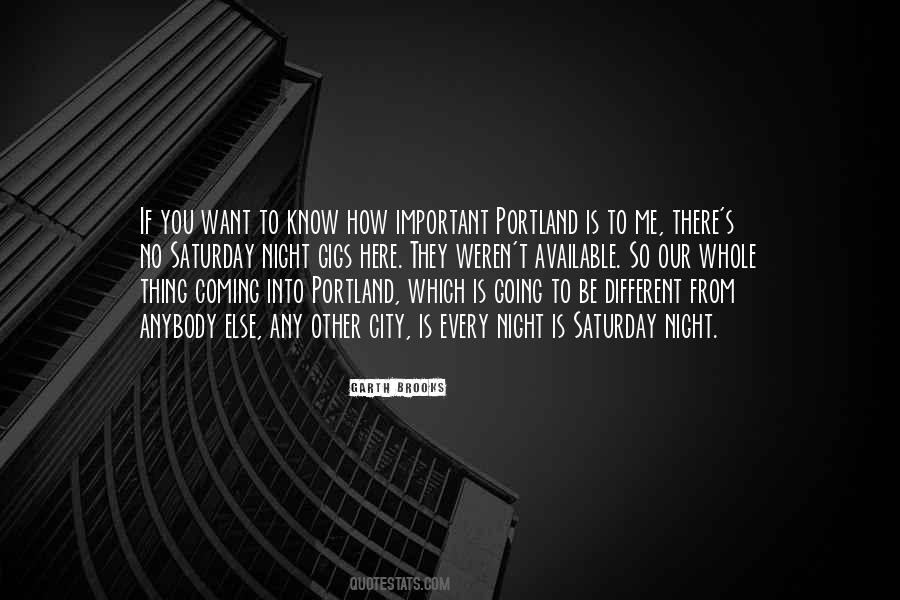 #46. The more you write tunes, the better they will become. The more you do gigs, the better you will become. - Author: Ed Sheeran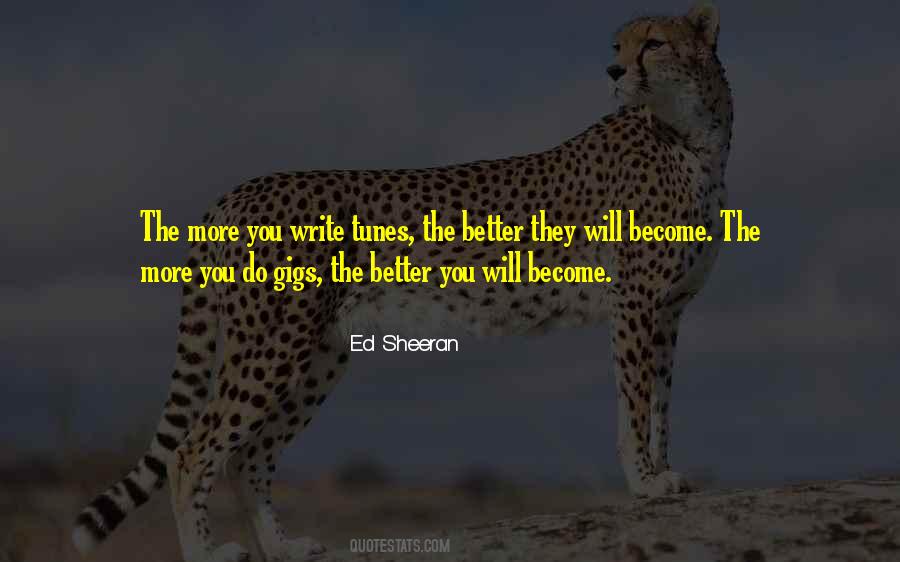 #47. Life is about women, gigs, an' bein' creative. - Author: Harvey Pekar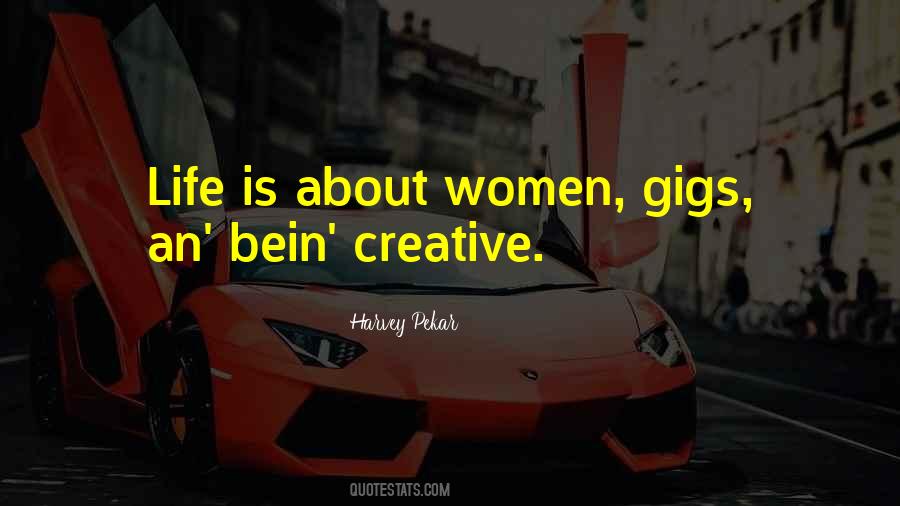 #48. Because of the way the record business has kind of stumbled and disintegrated, in a way, you're as likely to sell records at your merch table at your gigs as you are to sell them in a regular record outlet or even online. - Author: Todd Rundgren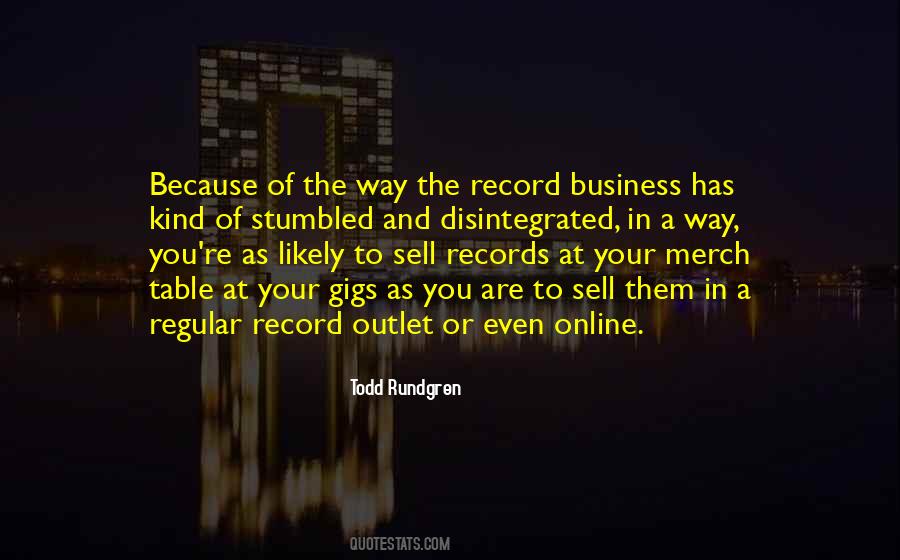 #49. Yeah, playing anywhere from three to five gigs a week definitely [helped]. I think all the practice throughout the years and doing what I do paid off. - Author: Bo Bice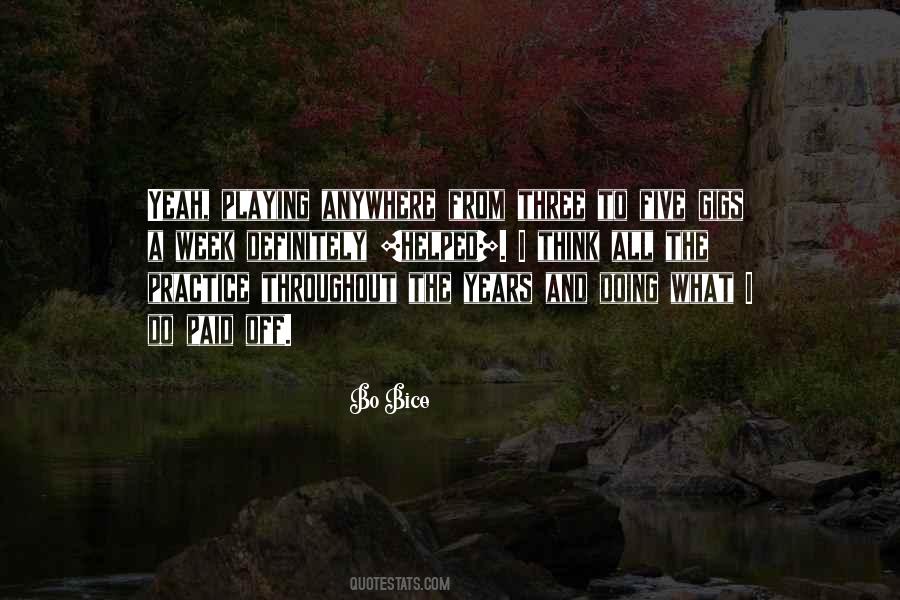 #50. I think after 1970 or so, after I sold Soul City, I took off for awhile and didn't do too many gigs. - Author: Johnny Rivers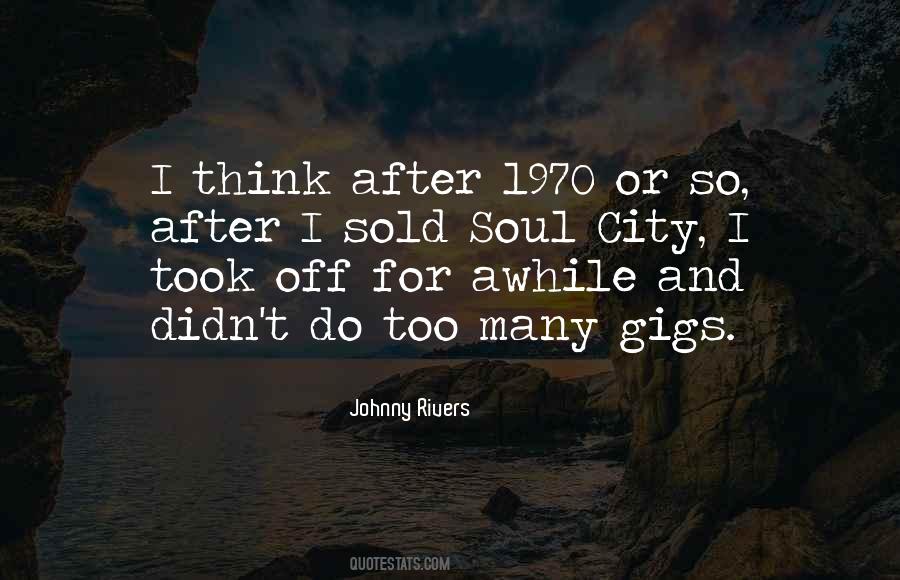 #51. People from major labels were afraid to go to Black Flag gigs throughout most of the band's existence. They treated our gigs as something threatening. I'm sure that it probably was. They probably had reasons to be scared. - Author: Greg Ginn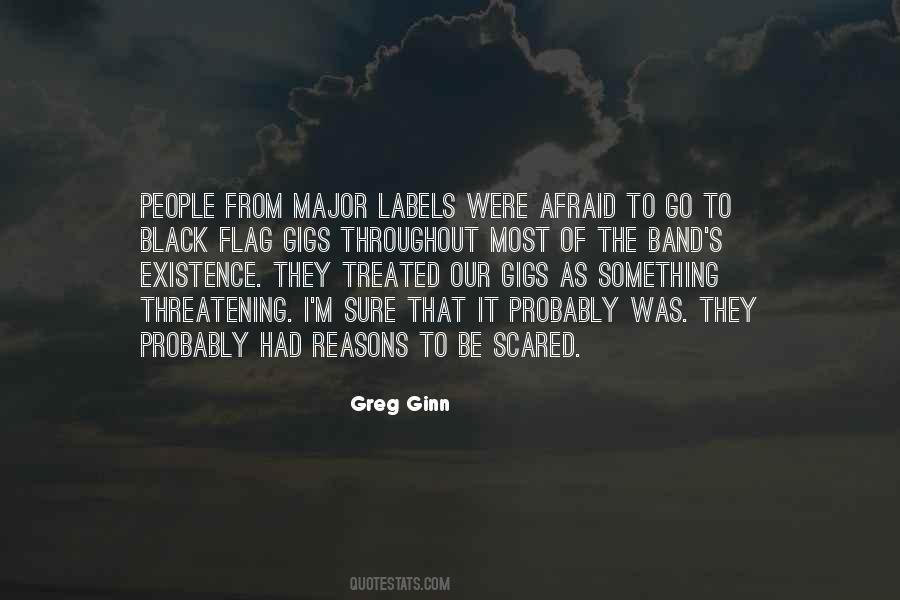 #52. Nothing is worse than going home and having not played a gig. - Author: Nicki Minaj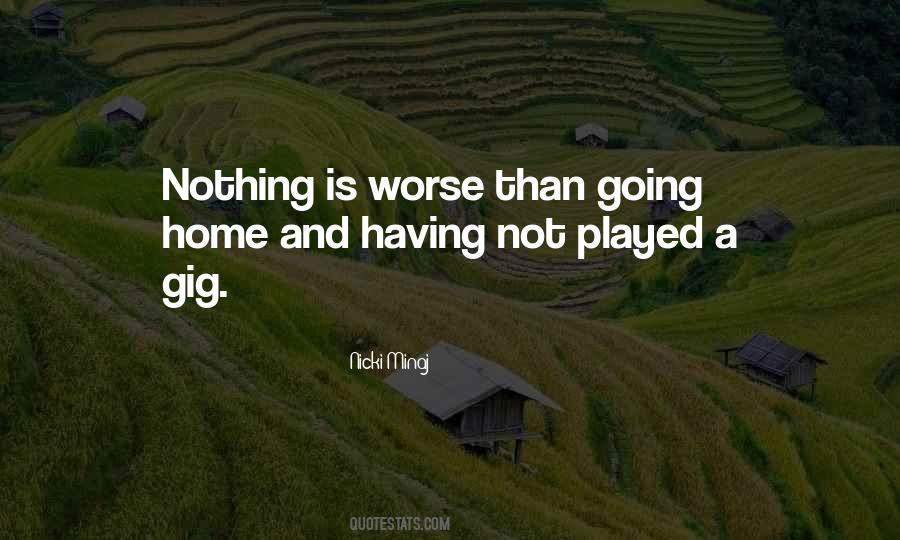 #53. It's always good to play New York. The Apollo is a great gig. I loved that. - Author: Paul Weller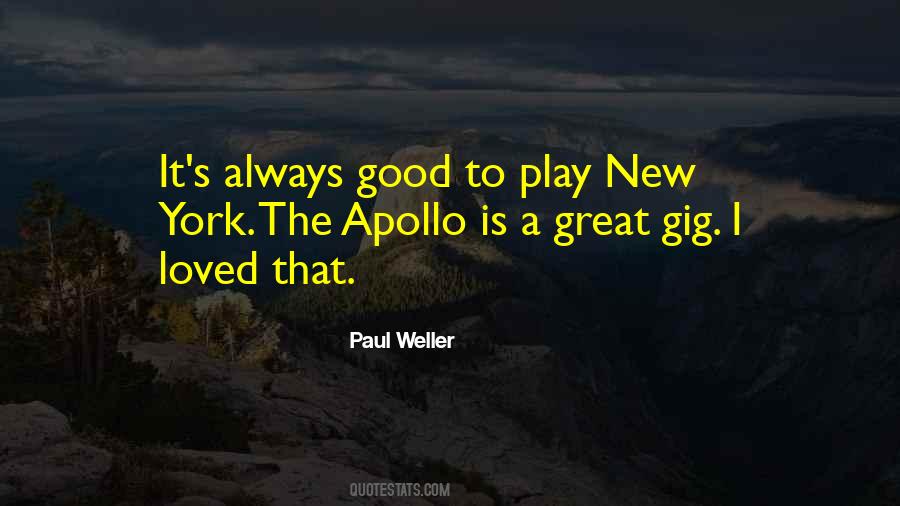 #54. As a fanboy myself, one of the fun things about the gig has been every time I get a new script, I get to find out more about his day - to-day life and what goes on and what his relationships are. - Author: Clark Gregg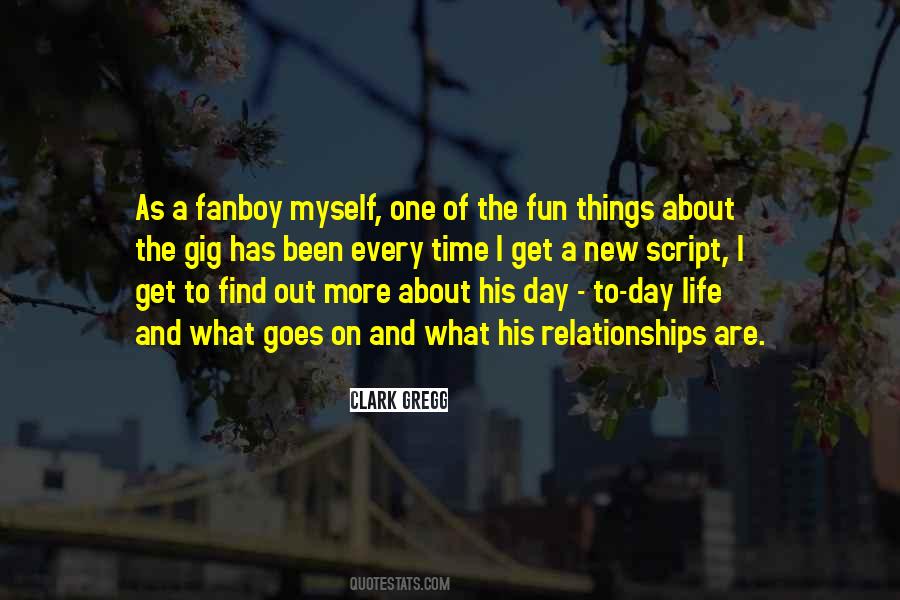 #55. I think one of the greatest gigs I played, and we've had many, but to play the opening ceremony at - at the Olympic games in Athens 2004 was pretty special, you know? Because it's such a big deal for the whole world. And the whole world's watching. So that was definitely one of the special ones. - Author: Tiesto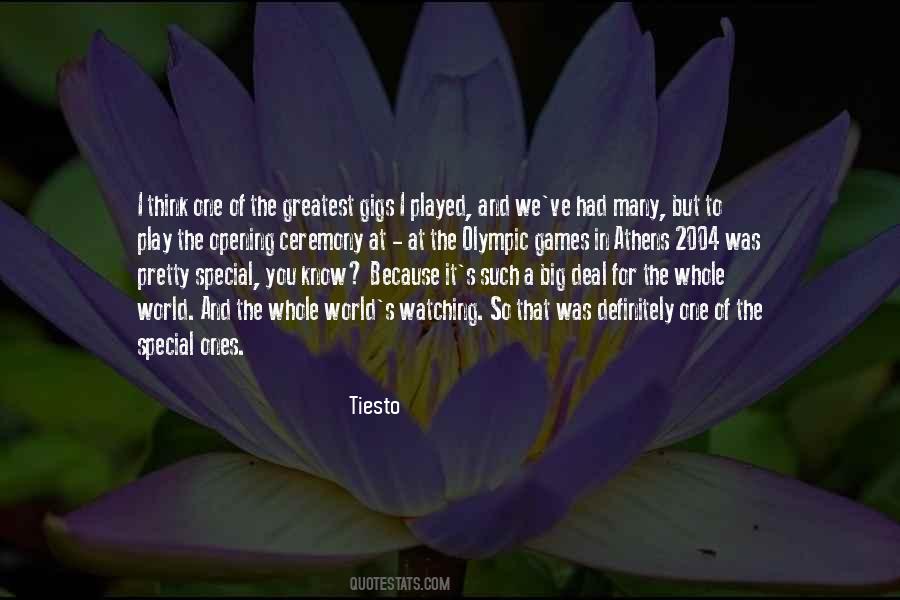 #56. What, in the devil's name, is the use of respectability, with never so many gigs and silver spoons, if thou inwardly art the pitifulness of all men? - Author: Thomas Carlyle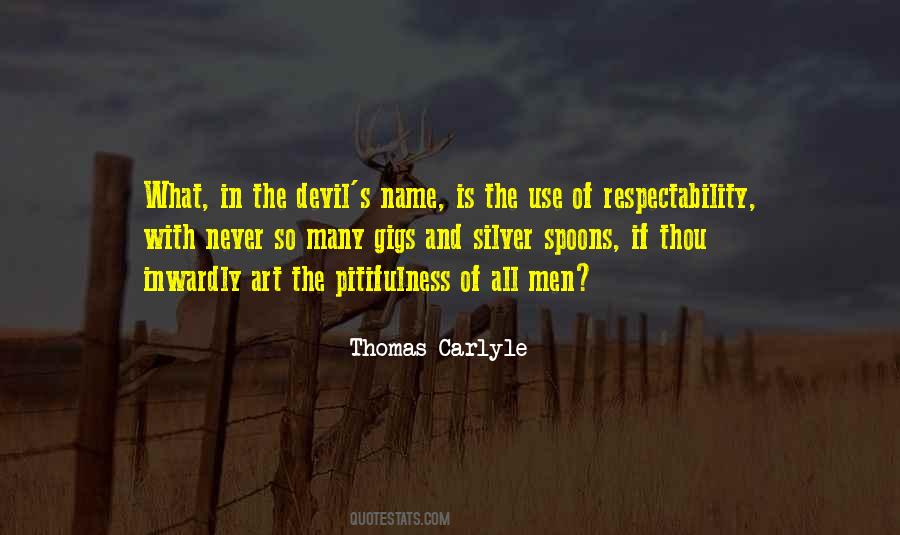 #57. Like most things that happen with Sabbath, it happened all of a sudden. I was intending on doing some recording, but out of the blue, Sharon called up and said she wanted us to do these gigs with Ozzy. I said that if everybody else was up to it then I would love to do it. - Author: Tony Iommi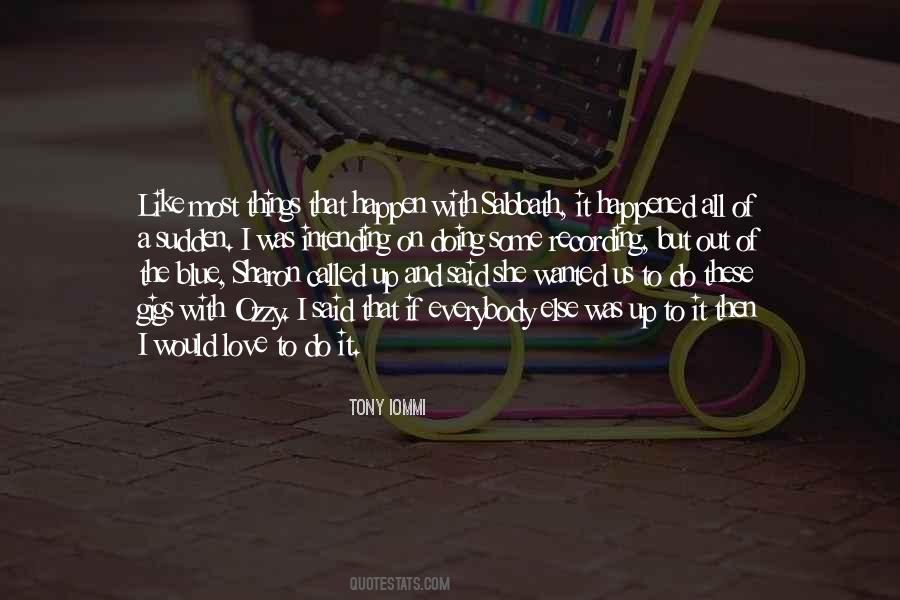 #58. I came into this whole business by going to see Rock Against Racism gigs with the Clash. - Author: Billy Bragg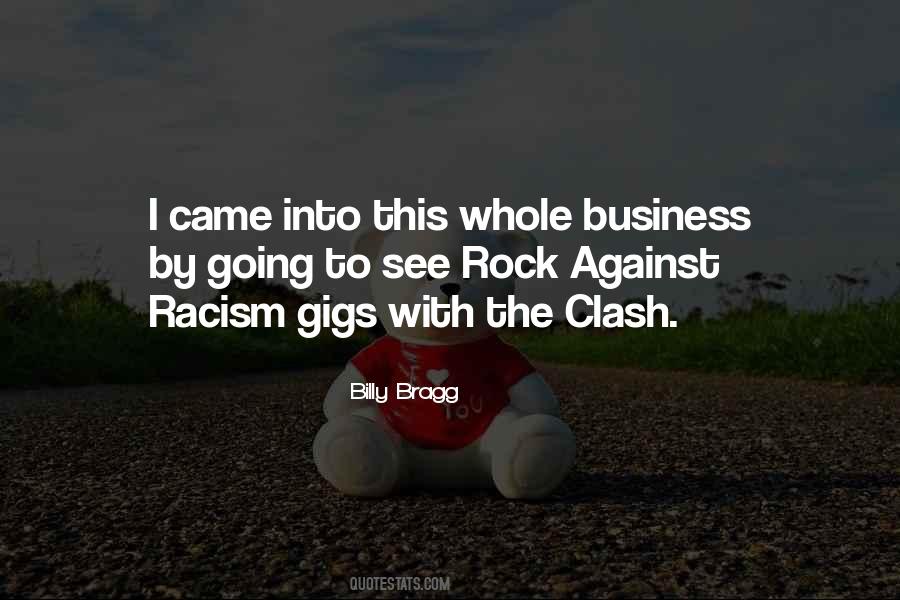 #59. I've always loved working on series. The crew feels like a family and it's nice to have a regular gig that you can count on. - Author: Kay Panabaker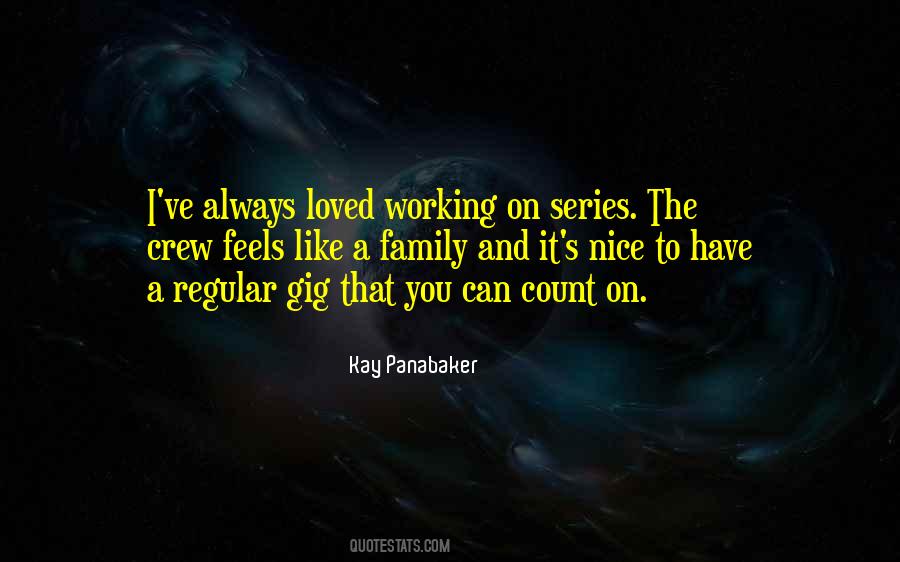 #60. I worked with a guy, I can't think of his name, him and his wife, and one of them had a saxophone and the other played drums. It wasn't a regular job but I did a few gigs around home with them. - Author: Earl Scruggs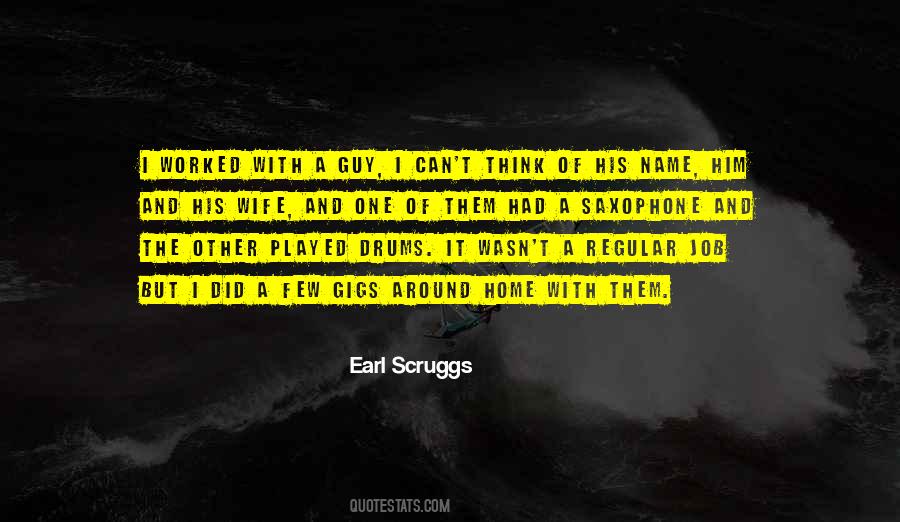 #61. It was like an explosion. You just don't get ready for it. I don't even know how you can, because you just don't expect it. For me, up until that point, you would do a gig, and then you'd go out and try to find the next job. - Author: Lawrence Hilton-Jacobs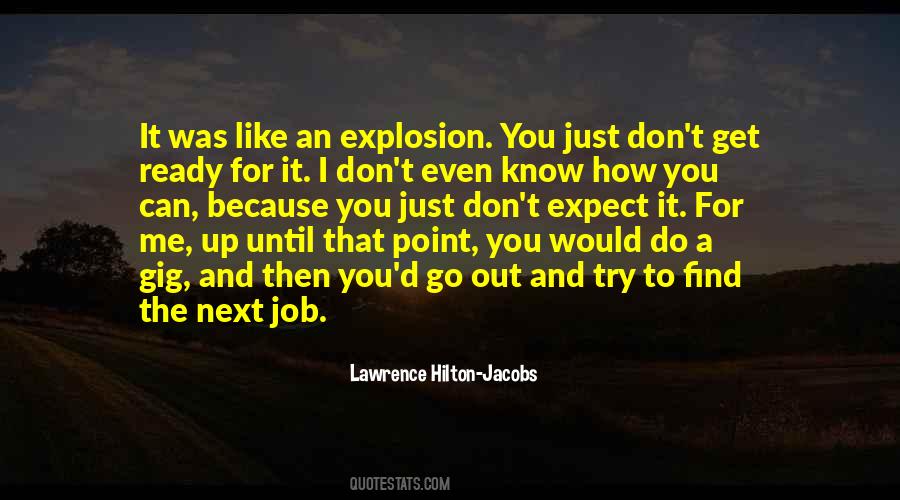 #62. I've had a few gigs where things have got out of hand and there has been a huge crush with my fans. They are important and I don't want them being hurt. They are a mad crowd. - Author: Justin Bieber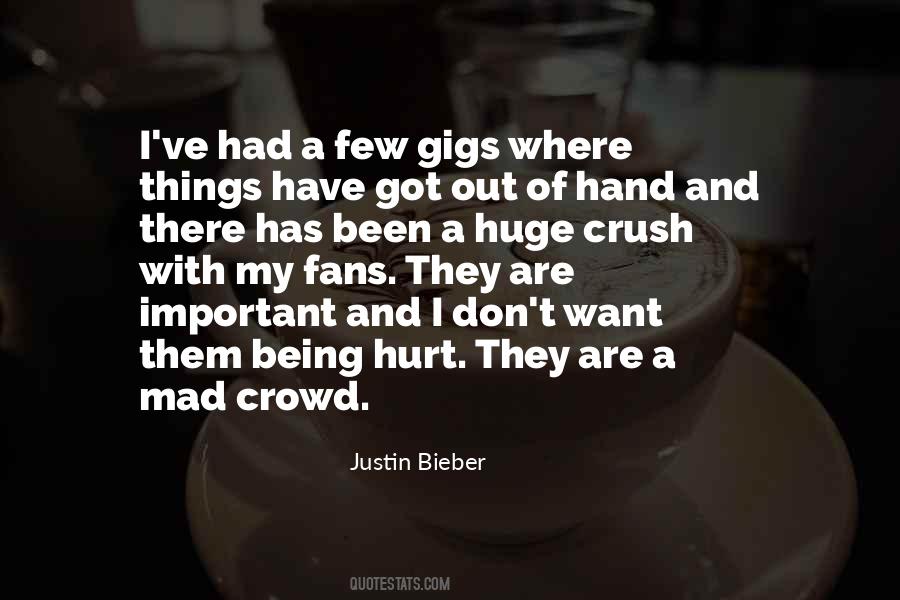 #63. I'm nervous ahead of every gig. I feel like running away three seconds before I'm due on stage. But I'm all right as soon as I get the mic in my hand. - Author: Ringo Starr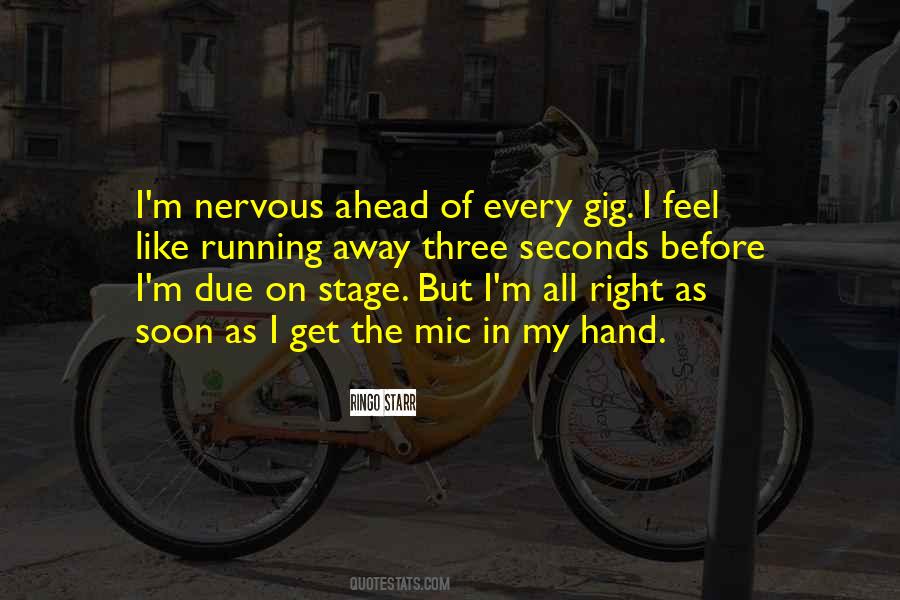 #64. I started working as an actor, semi-professionally, when I was 16, and got my first professional gig at 19. I guess I've kind of worked pretty consistently since then. - Author: Chiwetel Ejiofor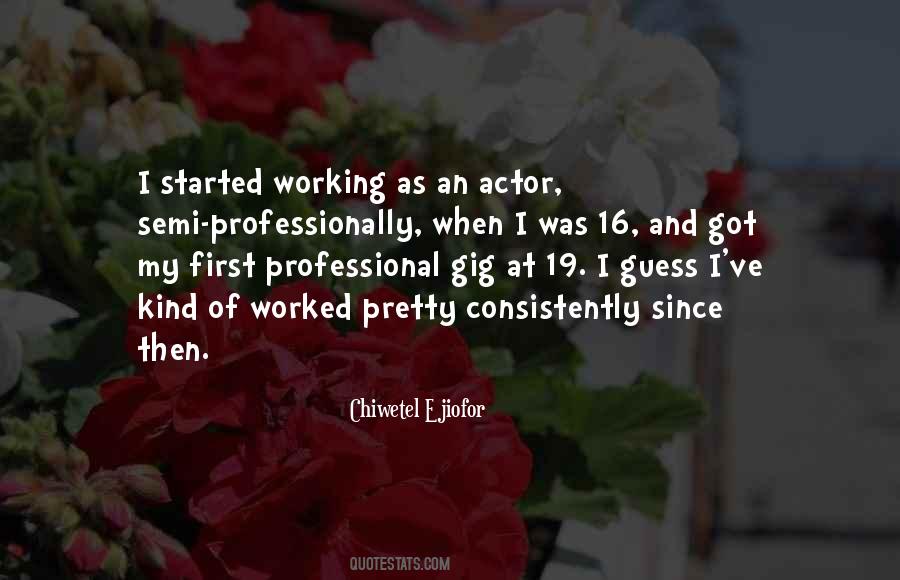 #65. When you make your living as a singer, you have to go where the gigs are. - Author: Natalie Cole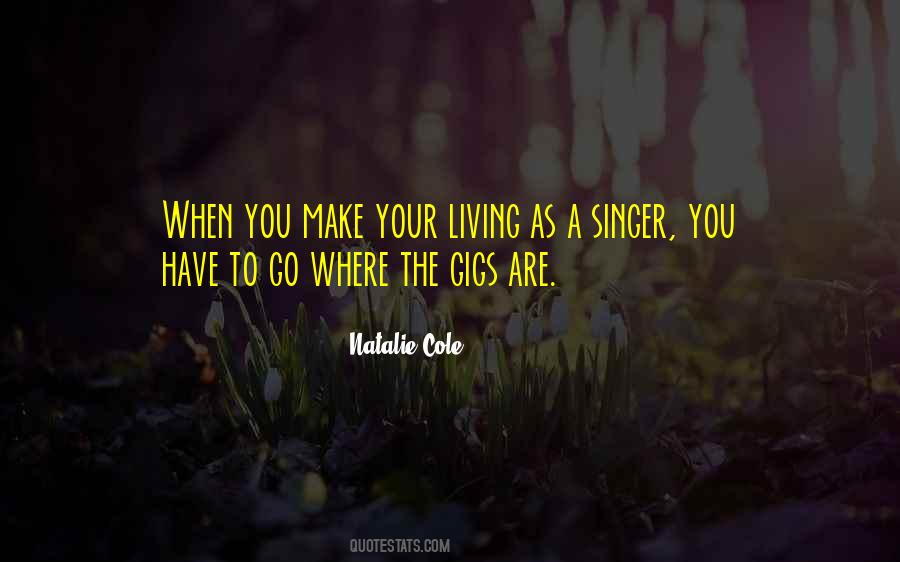 #66. Growing up, my parents did everything they knew how to do to support me. My dad was always kinda my roadie; he drove me from gig to gig. But I got my own gigs. I was this 12-year-old kid, shuffling business cards, calling people, telling them I wanted to play. - Author: Crystal Bowersox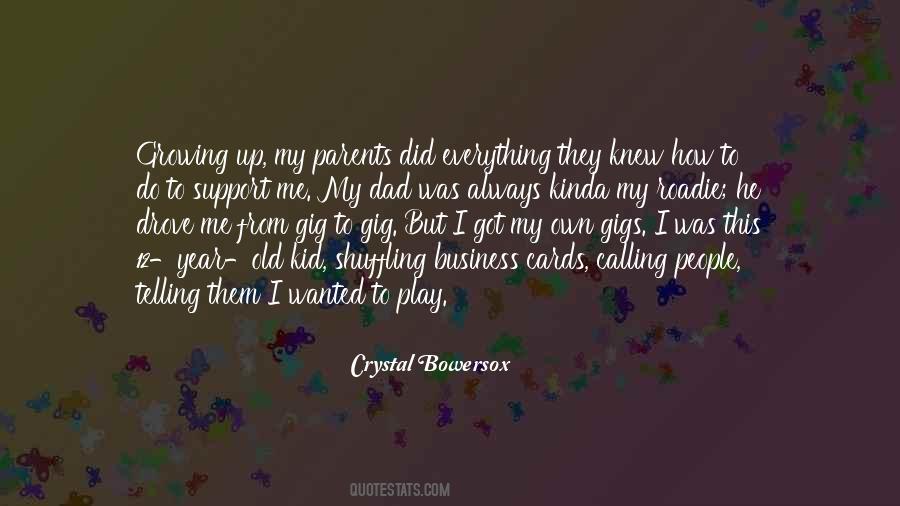 #67. TV is just advertising for your live gig, so I'm playing whichever show is gonna get me the biggest crowd. - Author: Lenny Bruce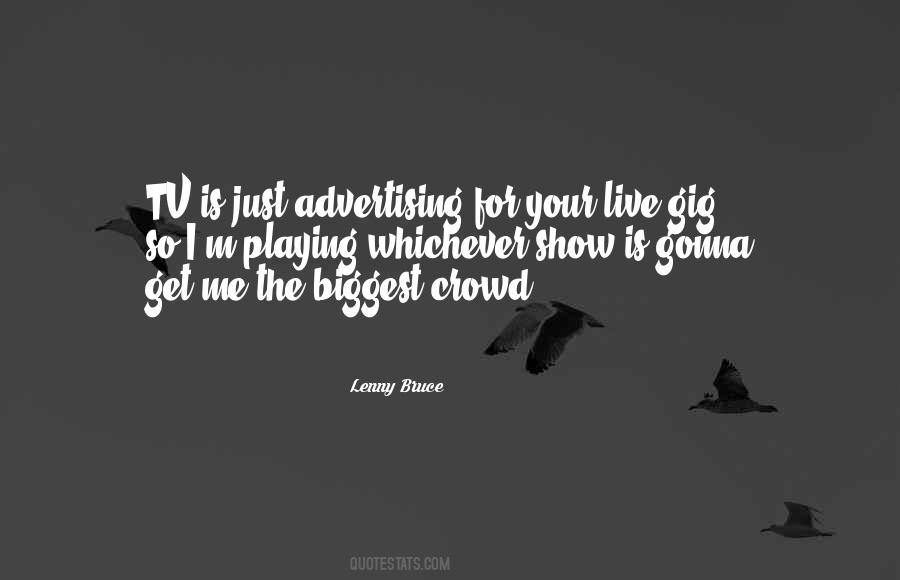 #68. It took us two years to get our first real gig. That was a big dream. We ended up booking a lot of our own gigs and putting on a lot of our own shows. We were trying to get our actual music across, trying to make a connection there. - Author: Greg Ginn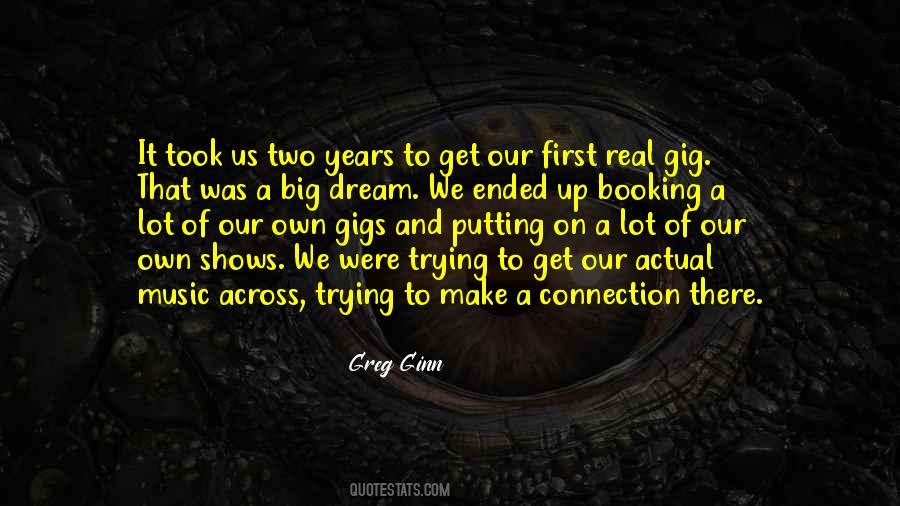 #69. I started out printing silk screen t-shirts. I sold ink pens. I worked construction. I worked at a gas station. I pumped gas. I was a mechanic for a little bit. I went into sewers, down into sewer lines. I had a lot of somewhat unpleasant gigs for a time there. - Author: Johnny Depp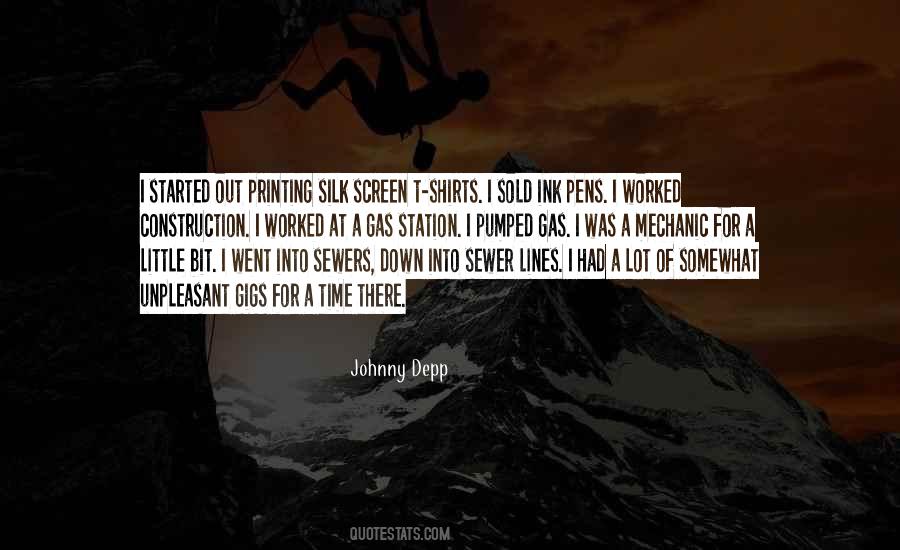 #70. Do as many gigs as the good Lord sends. That's the only true training. - Author: Suzi Quatro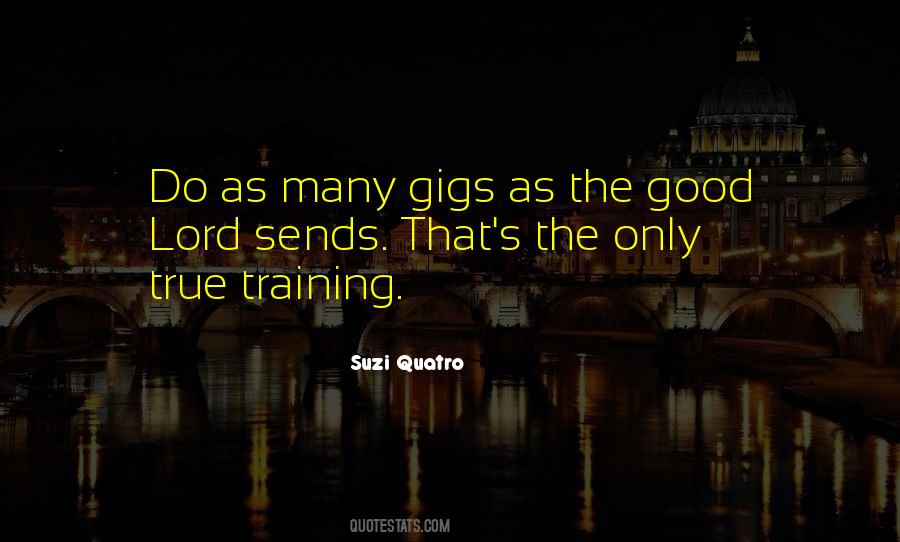 #71. Chris Hillman (of the Byrds) recounts ... 'What happened to the Buffulo Springfield at the Whisky was similar to what happened to us at Ciro's ... everybody wanted to be there. It became the place to be ... a great gig.' - Author: Johnny Rogan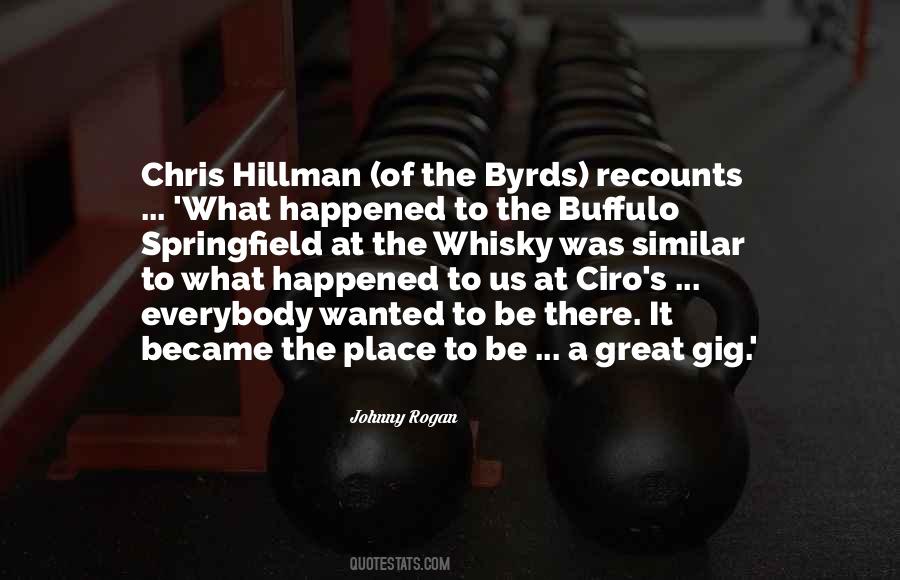 #72. I've done some really weird gigs. The ones where no one turned up - they're probably not the interesting ones to talk about. I played some pretty random ones in L.A. I signed to play all-R&B nights or an all-comedy night where I'd be the only white person there. They were fun. - Author: Ed Sheeran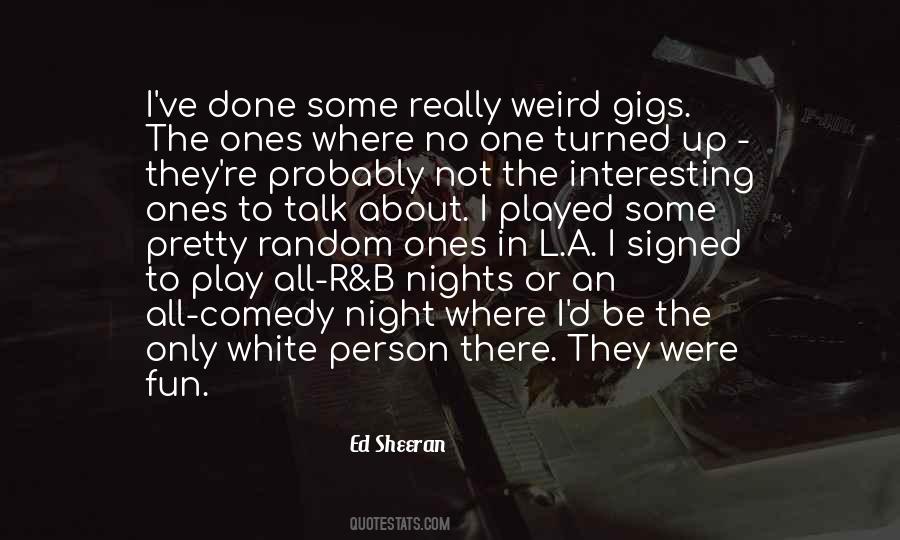 #73. I played cover gigs and traveled the country in my mom's old car, and my drummer and I set up a fake email and sent it out to agents. We pretended to be our own agent. - Author: Rachel Platten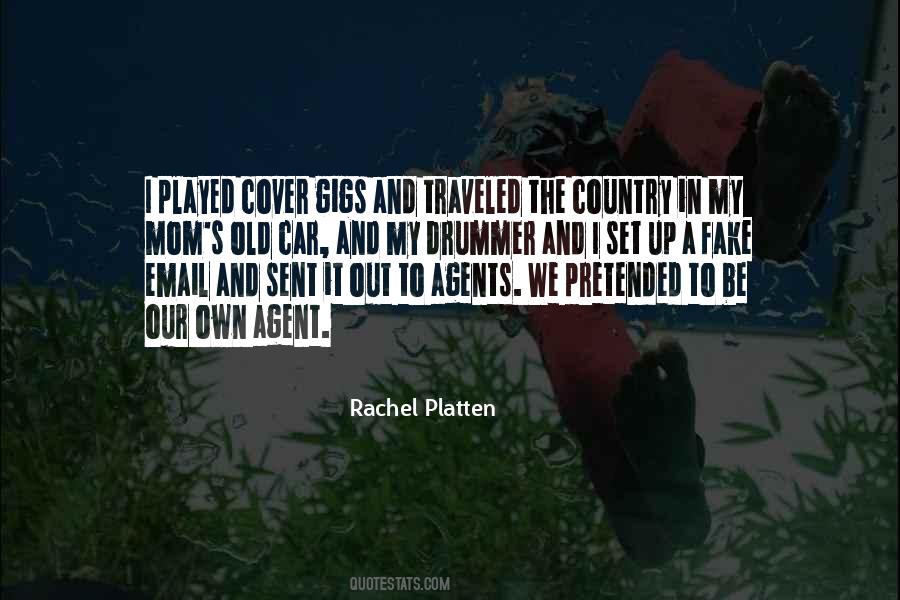 #74. I try to keep performing as much as possible - I just like to. I used to take huge gaps off between gigs, now I just like to do stand-up gigs as much as I can. - Author: Eddie Izzard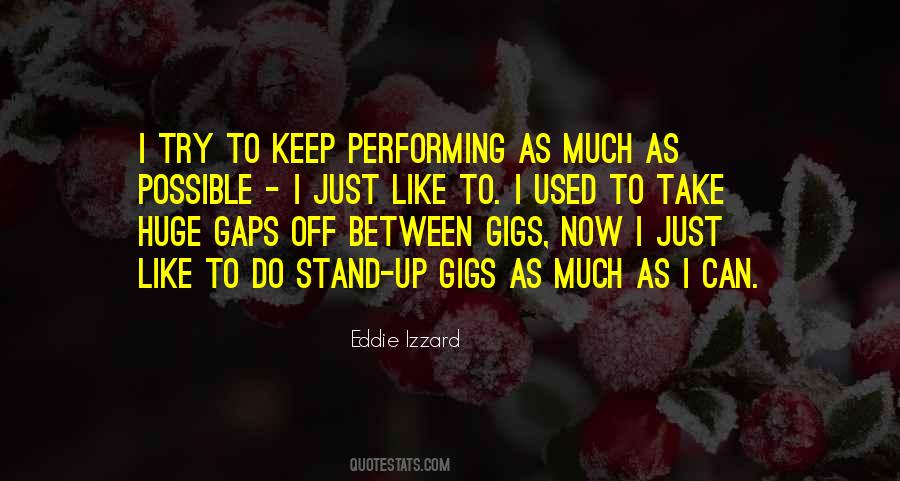 #75. I write in English. My first album came out in Italy, and I toured and did gigs. - Author: Violante Placido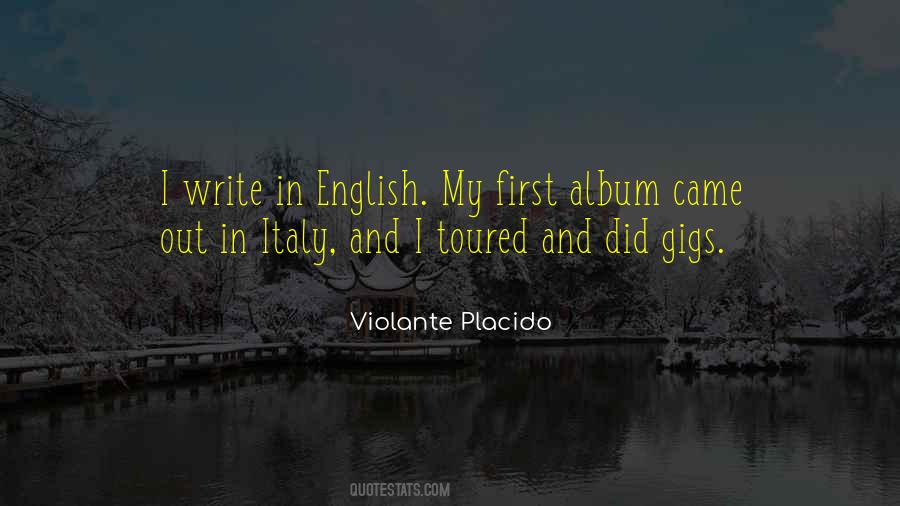 #76. I'd have to do unannounced gigs because your fans will laugh at everything because they know what you do already. What you really want is a neutral audience that isn't too harsh - a good comedy crowd - but that don't know necessarily what you're doing. - Author: Noel Fielding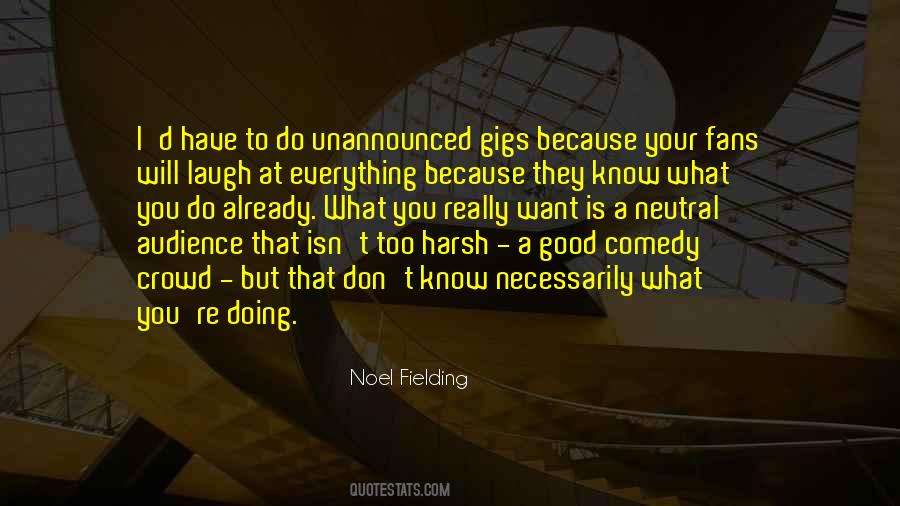 #77. I would say, you can never do enough gigs and you can never do enough songs. Make sure that every opportunity you can, play a show and every opportunity you can, write a song. - Author: Ed Sheeran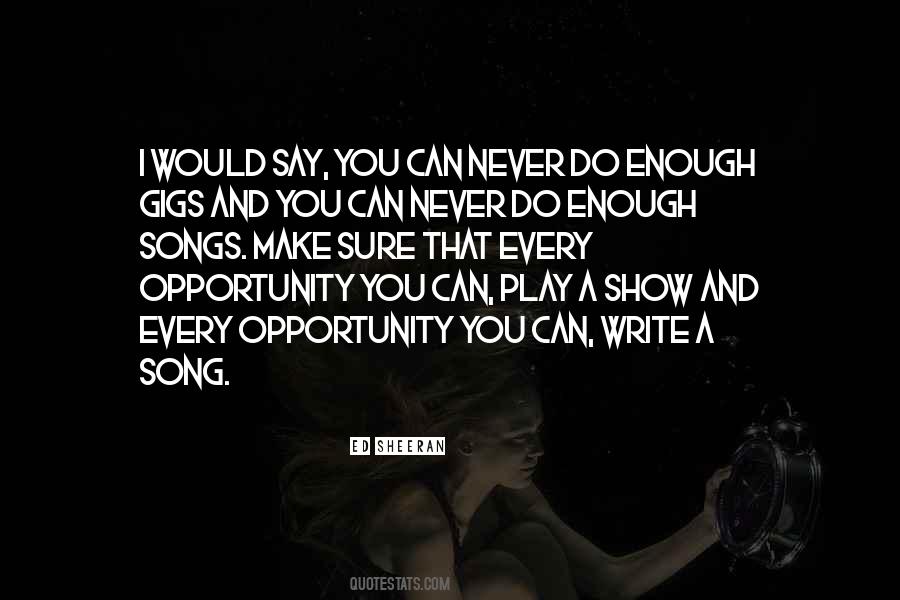 #78. "Open Arms" has a lot of unison singing in it. And it works: Grown men will come to our gigs and cry during that one. - Author: Guy Garvey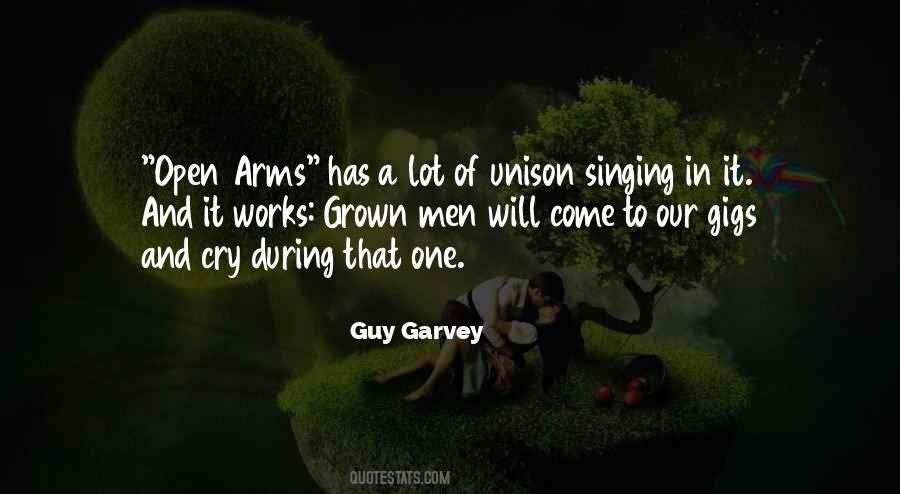 #79. Your wig steers the gig. - Author: Lord Buckley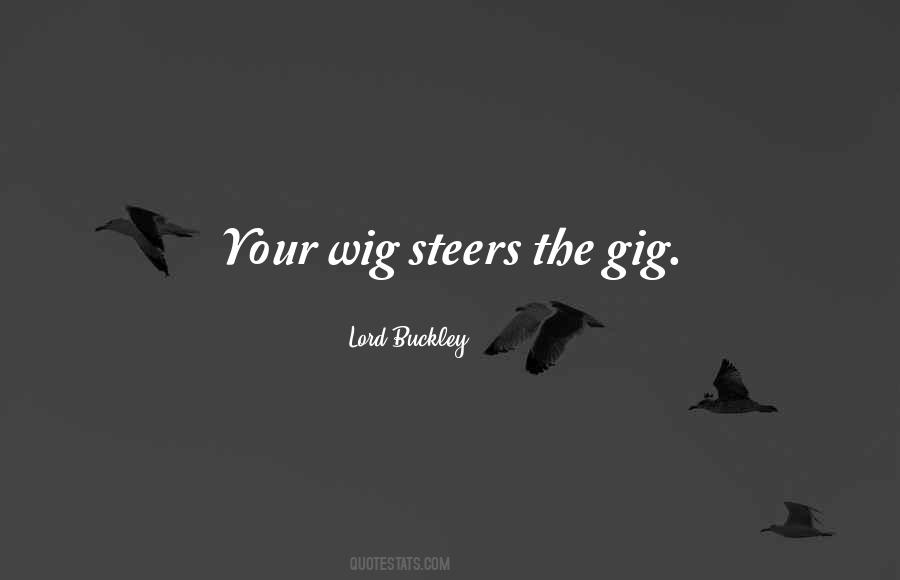 #80. My most favourite gigs that ever happened were solo, before The Monkees ever happened. - Author: Peter Tork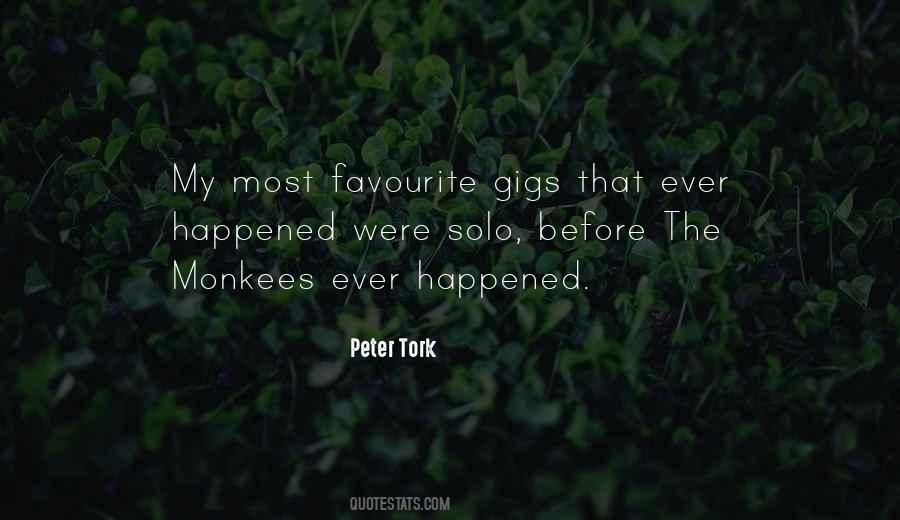 #81. When I was 13 or 14, I took seven months off from touring. I did a lot of weekend gigs in Louisiana. We have fairs and festivals every weekend. But I took seven months off. That's when I really started digging deep. I wrote a couple songs that year that I still play every now and then for people. - Author: Hunter Hayes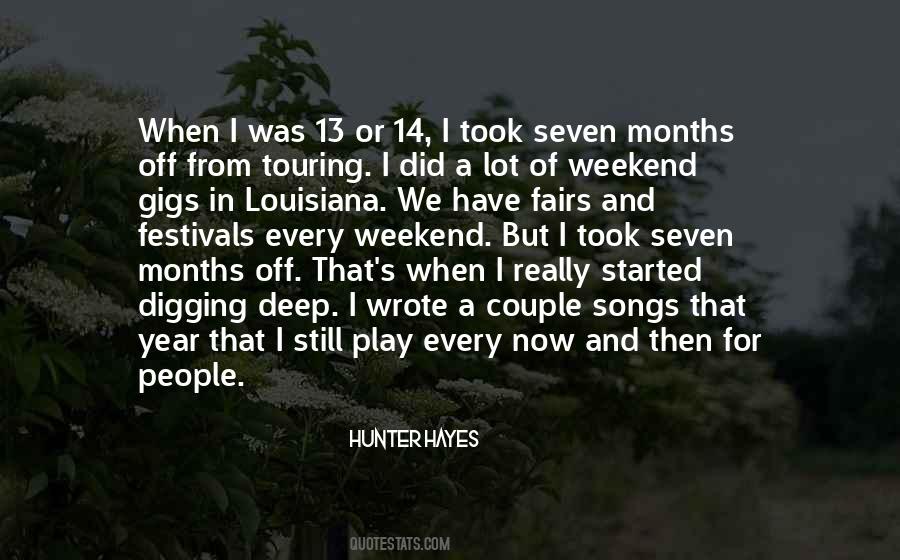 #82. Television is where you earn regular money so you can plan a little bit but even then only when you have a regular gig. If you're just doing the odd appearance, you don't know if it will carry on. - Author: Bill Bailey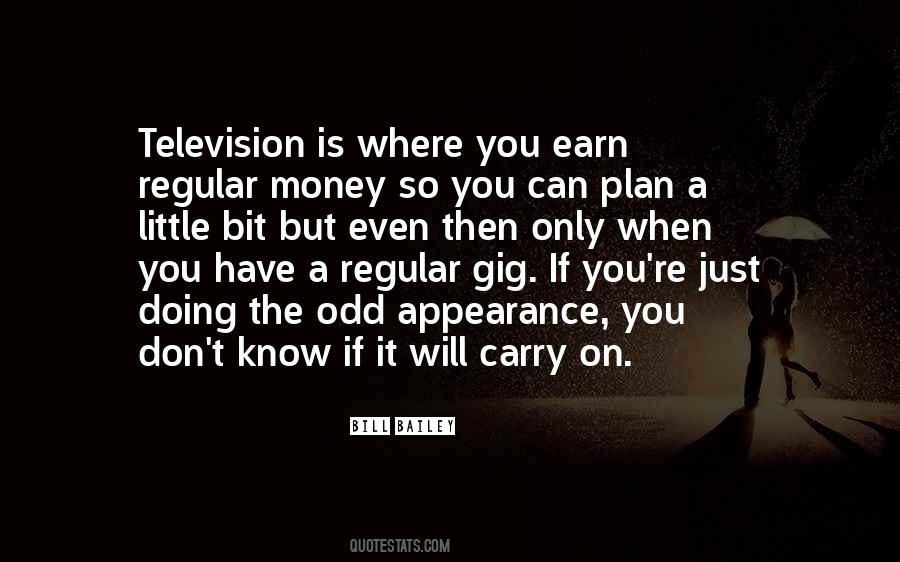 #83. I learned the songs and played the gigs, and then they called me about a month later. They told me they were like super stoked on me and asked me to join their band. - Author: Travis Barker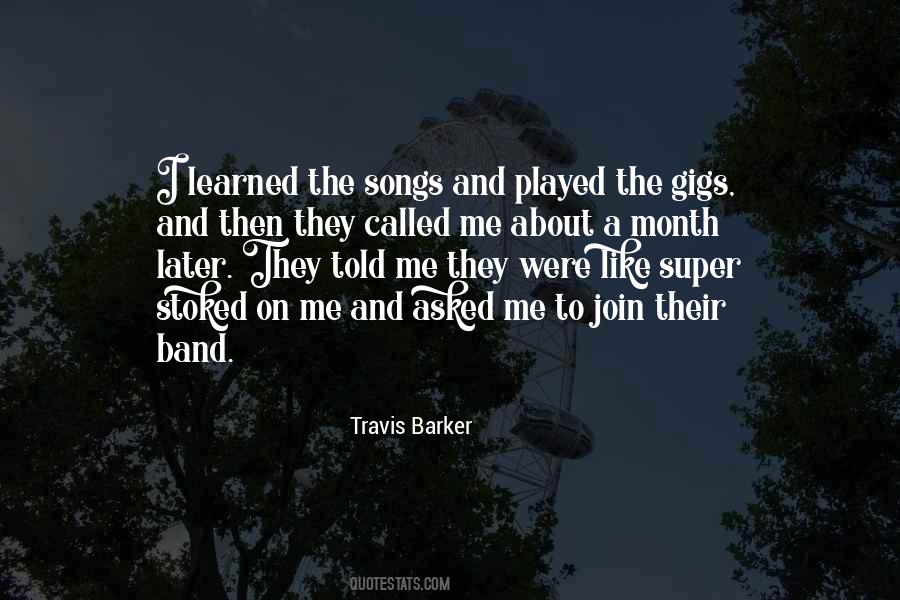 #84. I was recording stuff with my dad when I was like five, six years old. I played with him on tour. I'd gone with him to Japan in '91, played some gigs, did a couple shows at the Albert Hall. - Author: Dhani Harrison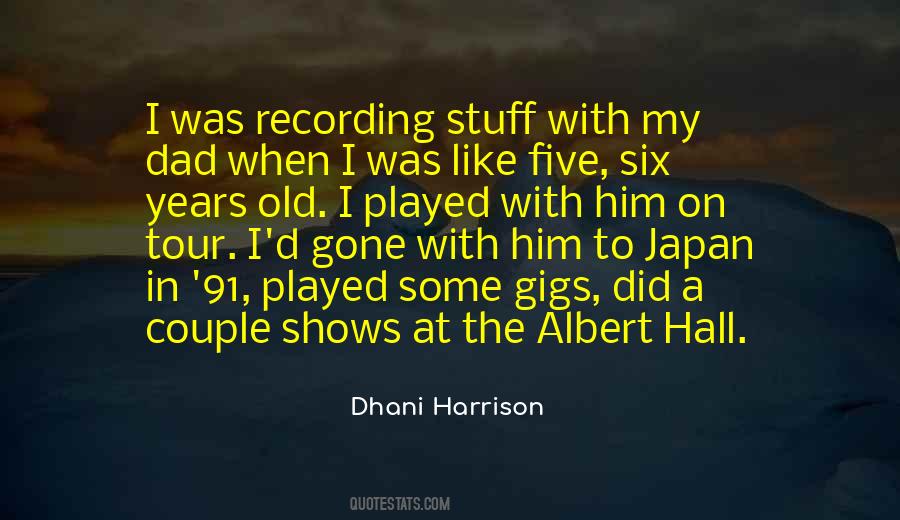 #85. My gigs are built on improvisation: I go out there and I'm like the Energizer bunny. - Author: Meat Loaf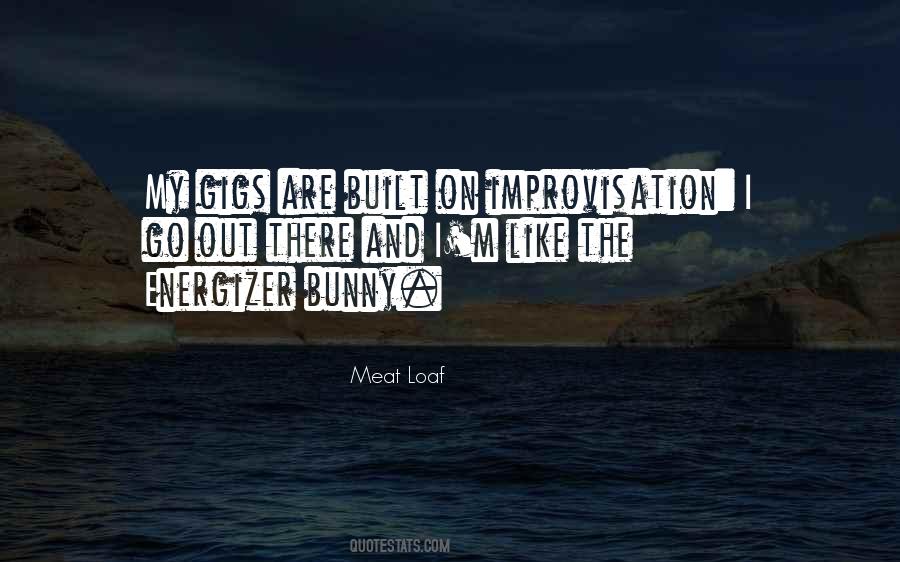 #86. After the week at the Fillmore we flew down to L.A. to hang out and pick up whatever gigs we could. We did a gig in Santa Barbara on July 1st and then the next night we opened for Sam & Dave at the Whisky ... - Author: Mitch Mitchell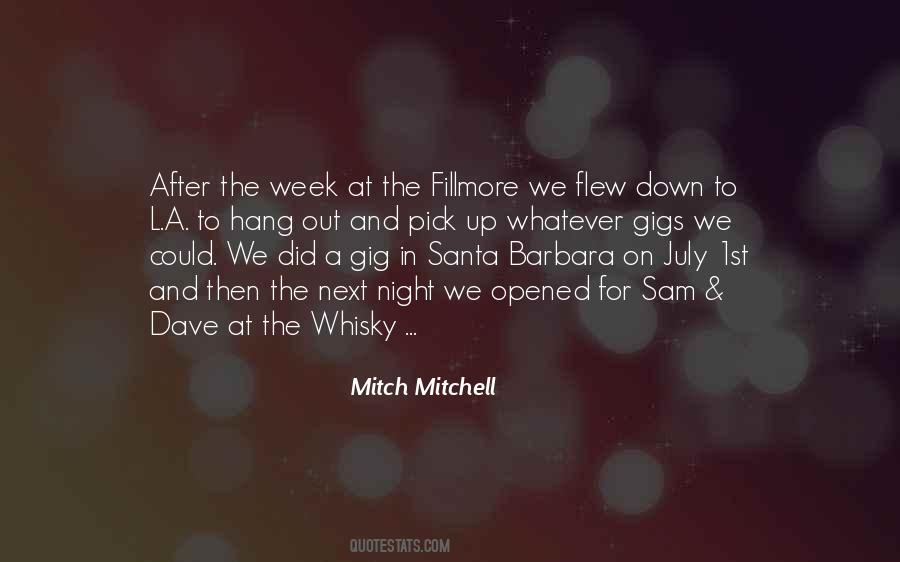 #87. My ambition when I started out was to play two or three gigs a week. And that's what I'm doing. - Author: Van Morrison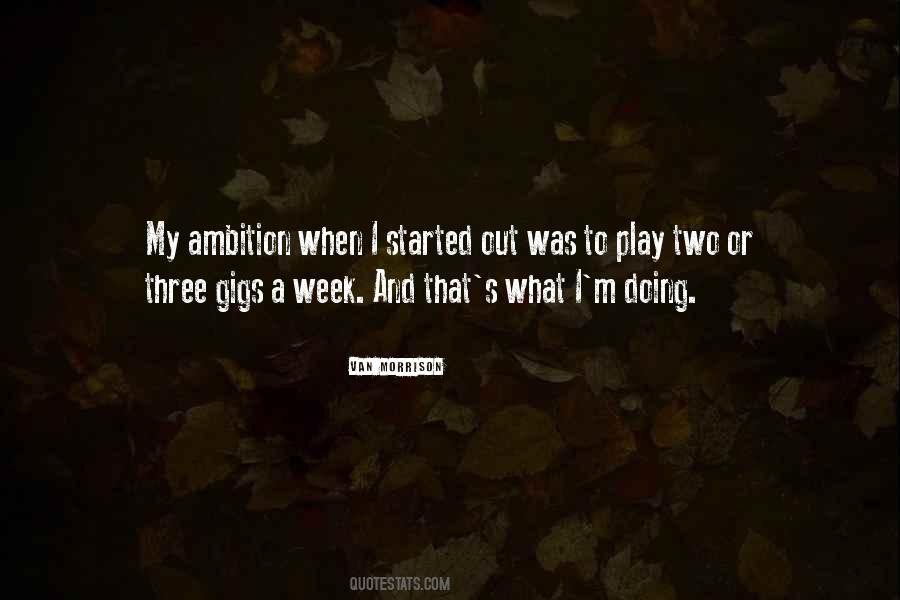 #88. In 2007, Lindsay Lohan seemed to be on top of the world, a bona fide star who had her pick of acting gigs. But it wasn't long before the veneer cracked, and Lindsay's life began to shatter. - Author: Jane Velez-Mitchell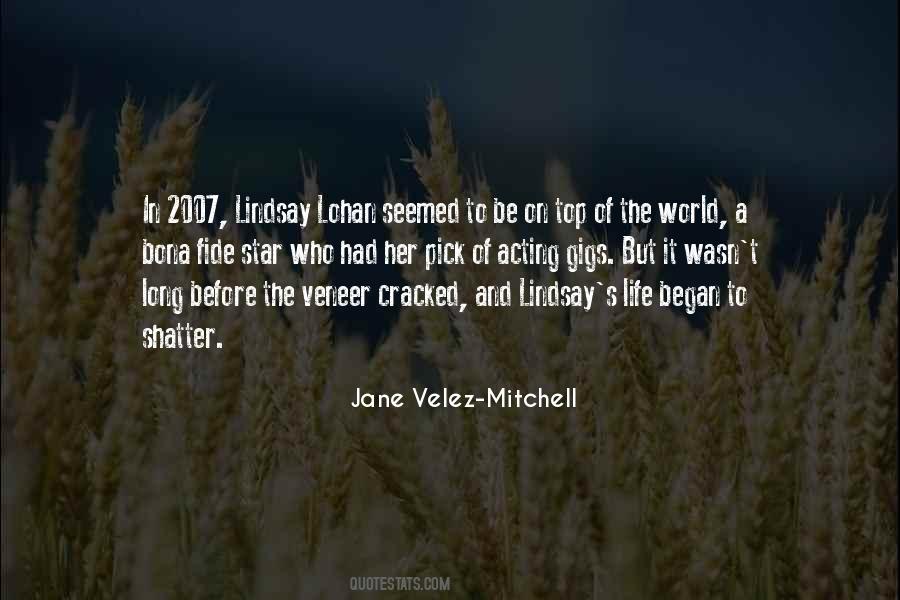 #89. As my wife says, I'll never fully retire, but it'll start to slow down. I'll continue to do the local gigs or go to Las Vegas. But I won't be going out to Ohio to play an Indian casino anymore. Those will probably go by the wayside. - Author: Bill Engvall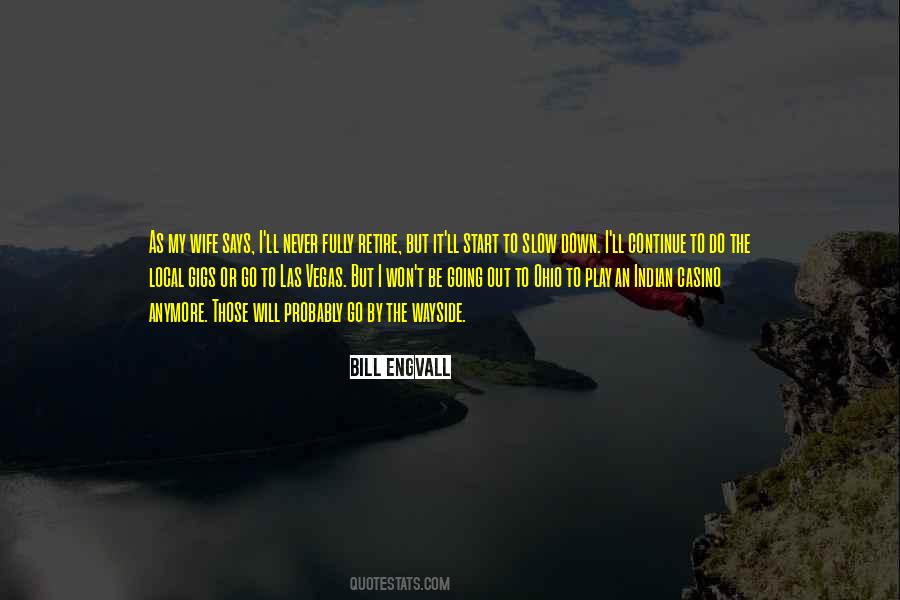 #90. People recognize me all the time now, and there's lots of autograph hunting and smiling. But then I get to play gigs, which are amazing. It's a good job. - Author: Lily Allen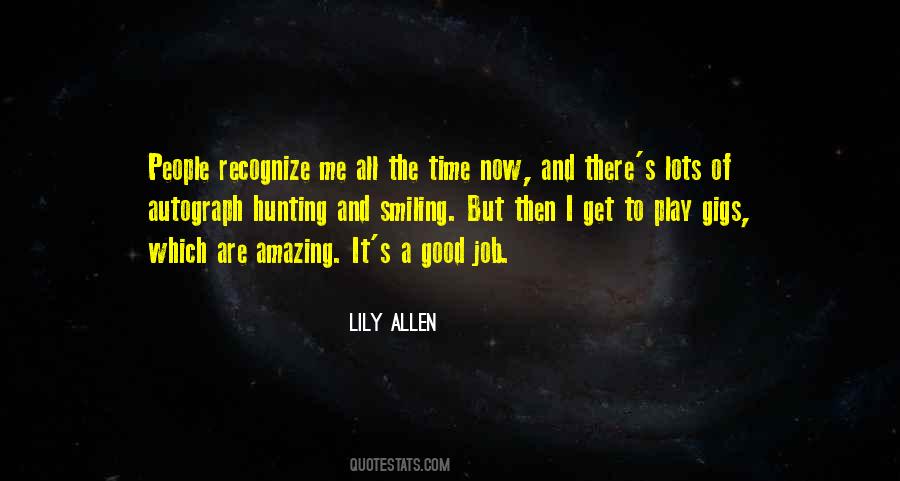 #91. Those who say that Serena isn't serious about tennis; she wants to go Hollywood. That's true, about Hollywood. I would love to get a lot of acting gigs. But you wouldn't believe the stuff I've turned down because of my tournament schedule ... I would do well beside (comedian) Chris Tucker. - Author: Serena Williams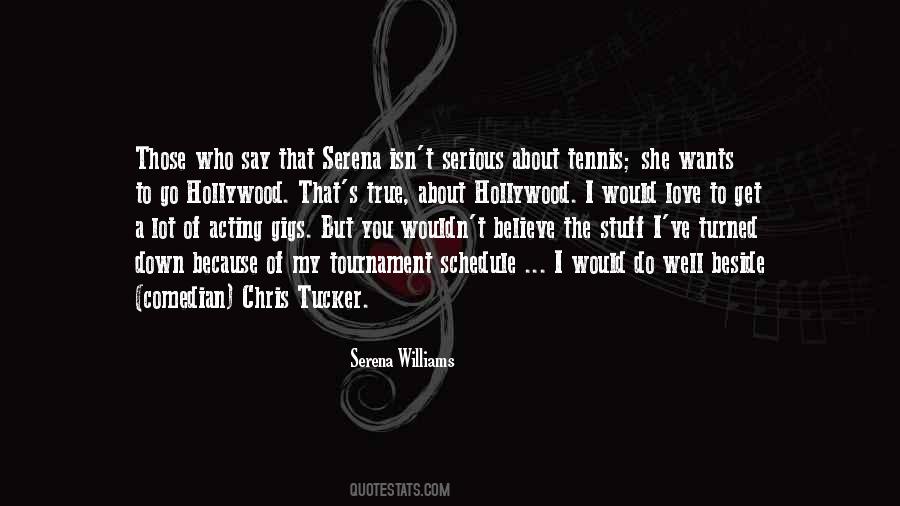 #92. Musicians get tense at big gigs. Some you can't talk to before the concert; some you can't talk to afterwards; some need the same size dressing rooms as others; others need bigger; some have comments to make on others' musicianship or how a particular song ought to be played. - Author: Richard Desmond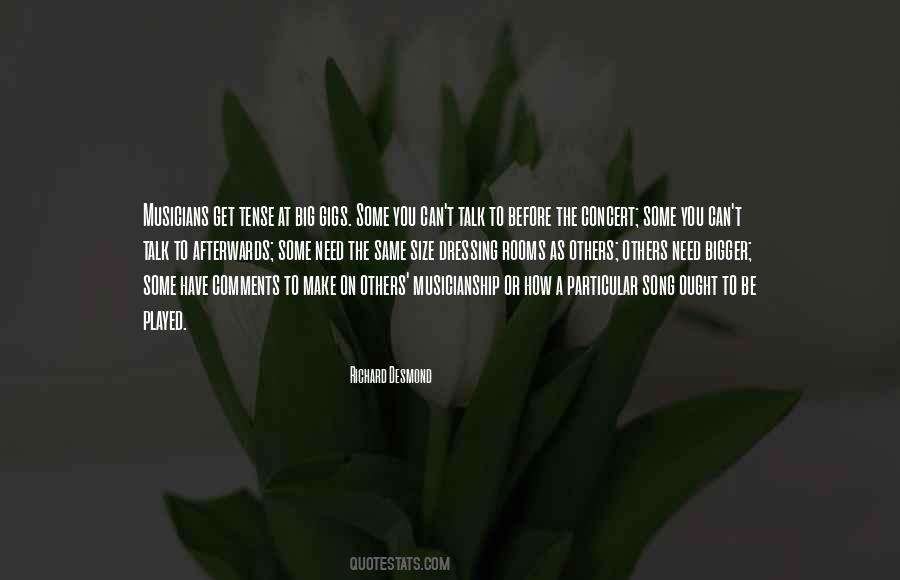 #93. I felt (a) it was a great role and (b) I wanted to stay in town. I wanted to stop going to these four month and five month gigs up in Toronto or Montreal or Vancouver or down in Mexico. I wanted to be around my son, Max. This came along and I was like, 'I really want to play this guy!' - Author: John C. McGinley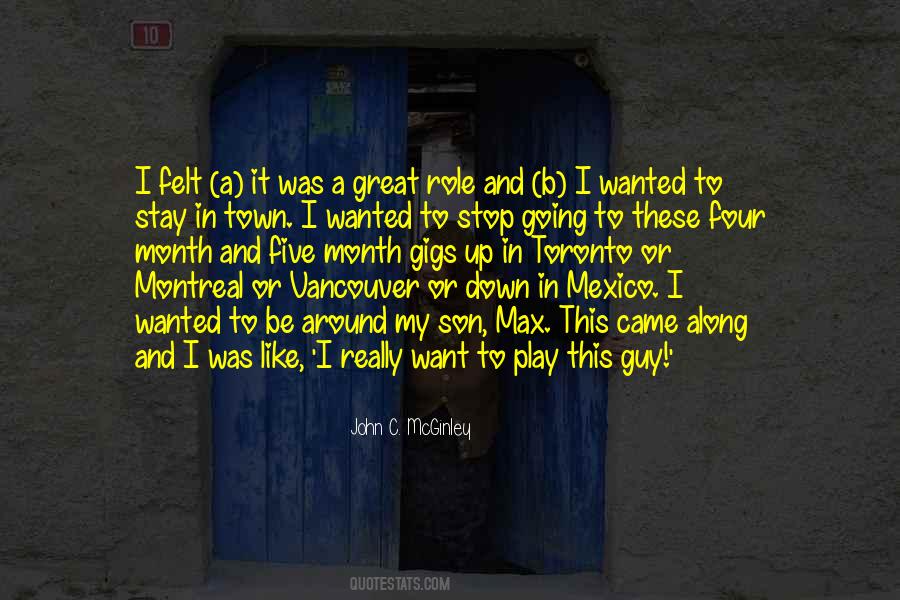 #94. The only way to get better at stand-up is to do loads of gigs, and I don't know. I spread myself pretty thin to get the stage time. I'd love to do more, really. - Author: Peter Serafinowicz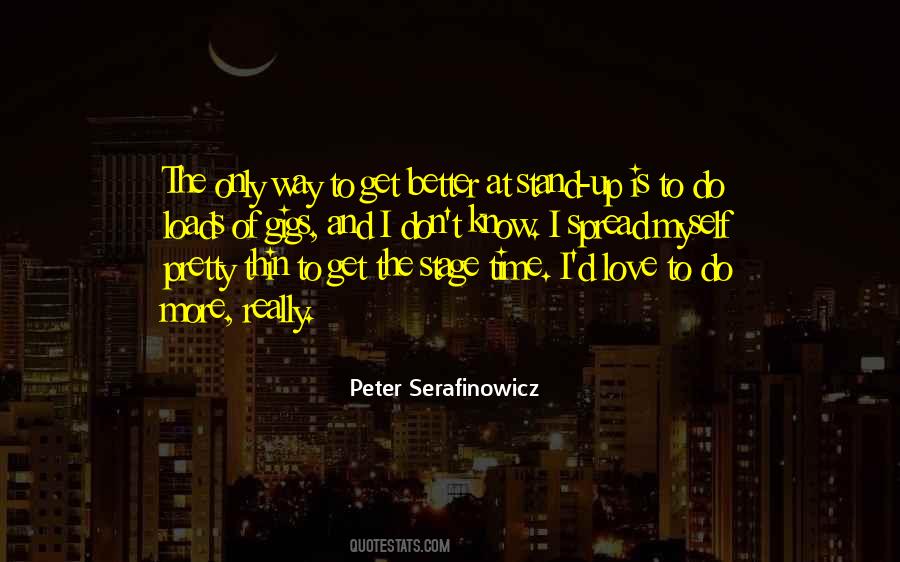 #95. Athens, much like Austin, is a difficult music scene. There are so many musicians there that it is hard to get gigs and hard for people to take you seriously. - Author: Corey Smith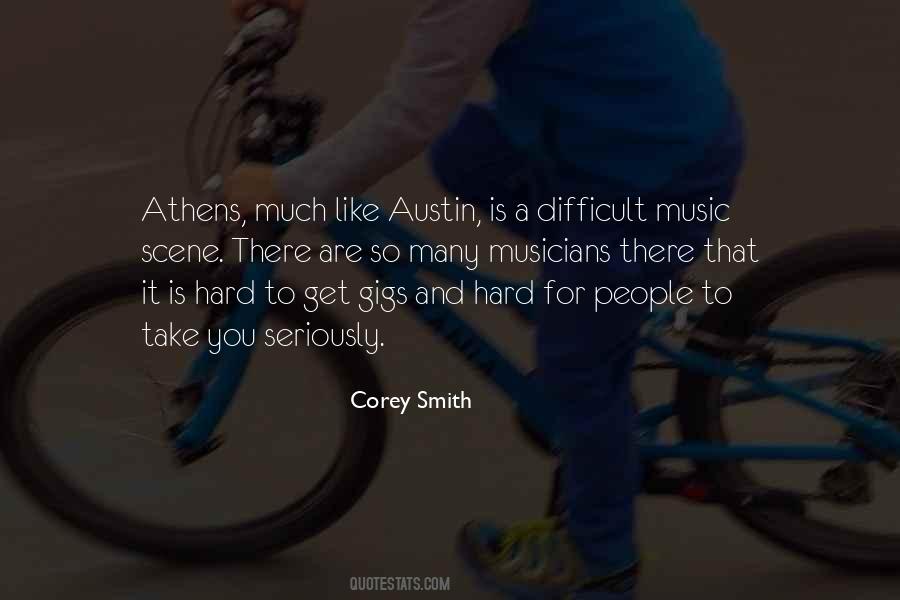 #96. I do value the respect I get from my contemporaries, but to have Oasis cover my song, to have Puff Daddy cover a song, to have Goldie come along to my gigs - that's where my ego is at. To have my fellow musicians like what I do, that's very cool. - Author: David Bowie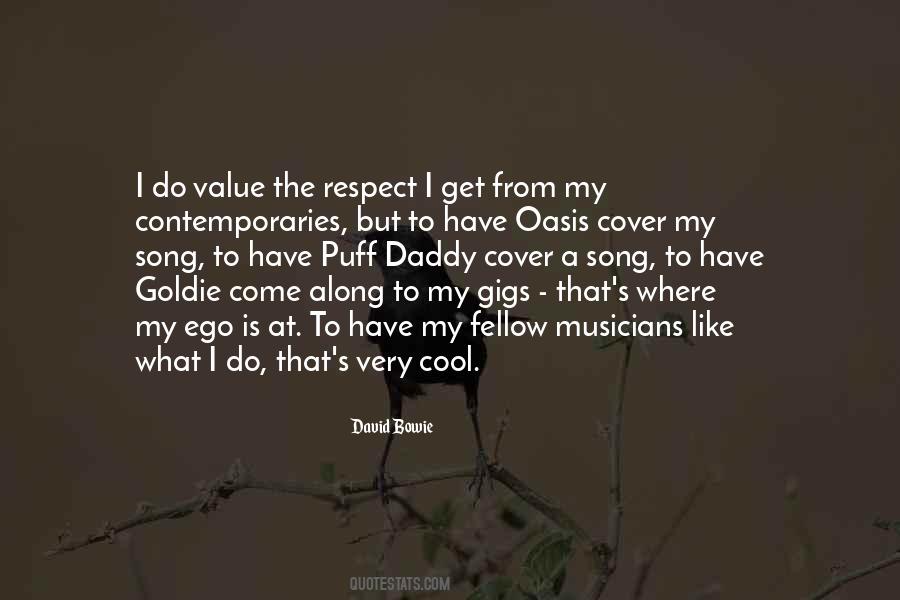 #97. It's important to get well-rounded right off the bat. A lot of experienced dancers can get pigeonholed into one thing. I've been hired for a lot of different gigs simply because I can do a lot of different things with different levels of dancers. And it's sad to me that some dancers don't do more. - Author: Mandy Moore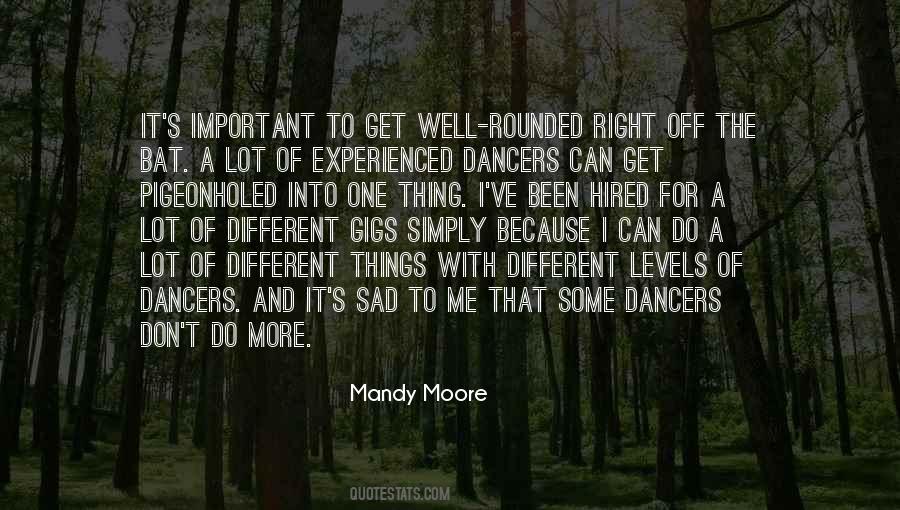 #98. After 'X Factor,' I got loads of gigs. Then I went on holiday just after the tour and bought my Rolex in Tenerife. I needed to go through that phase - splurge and see that it's worthless - to get it out of my system. - Author: Rebecca Ferguson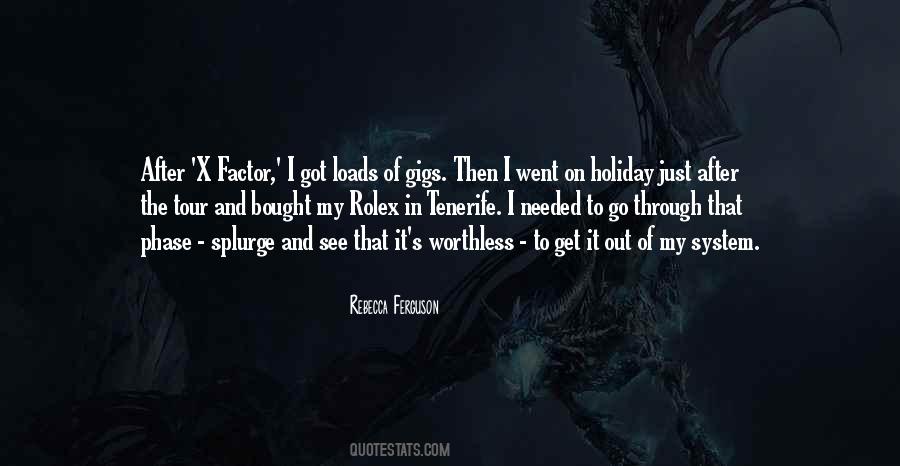 #99. I tried the religion scam in Miami, so I know how hard that gig is. But, if you can get it to work, starting your own religion is a license to print money. - Author: Lenny Bruce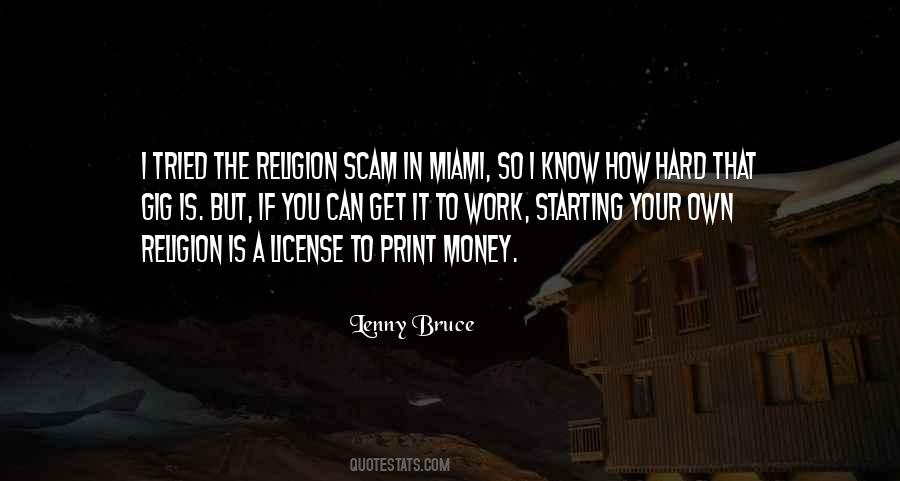 #100. I was so happy and content with in life playing music. Music was always my first job and my day gig was my second job. - Author: Bo Bice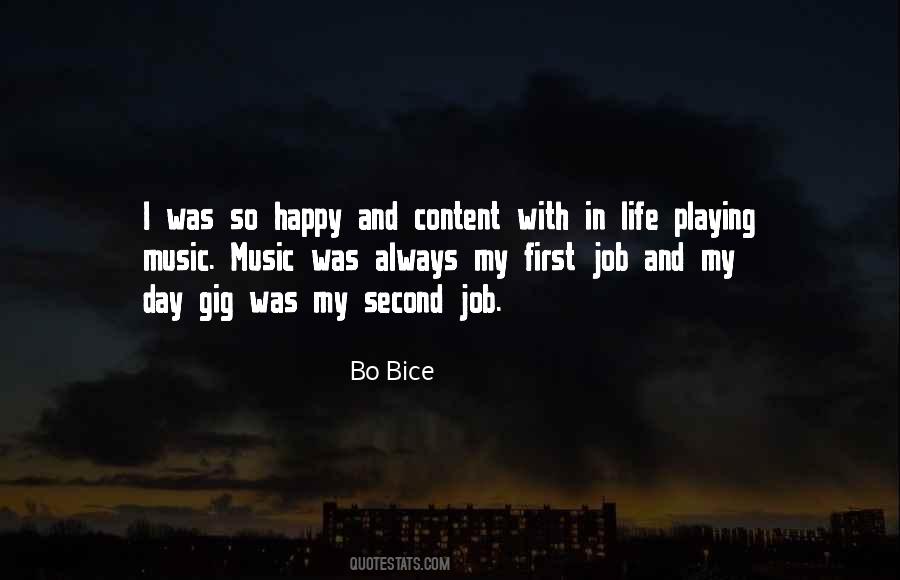 Famous Authors
Popular Topics