Focus On Yourself Famous Quotes & Sayings
List of top 100 famous quotes and sayings about focus on yourself to read and share with friends on your Facebook, Twitter, blogs.
Top 100 Quotes About Focus On Yourself
#1. When you allow yourself to begin to dream big dreams, creatively abandon the activities that are taking up too much of your time, and focus your inward energies on alleviating your main constraints, you start to feel an incredible sense of power and confidence. - Author: Brian Tracy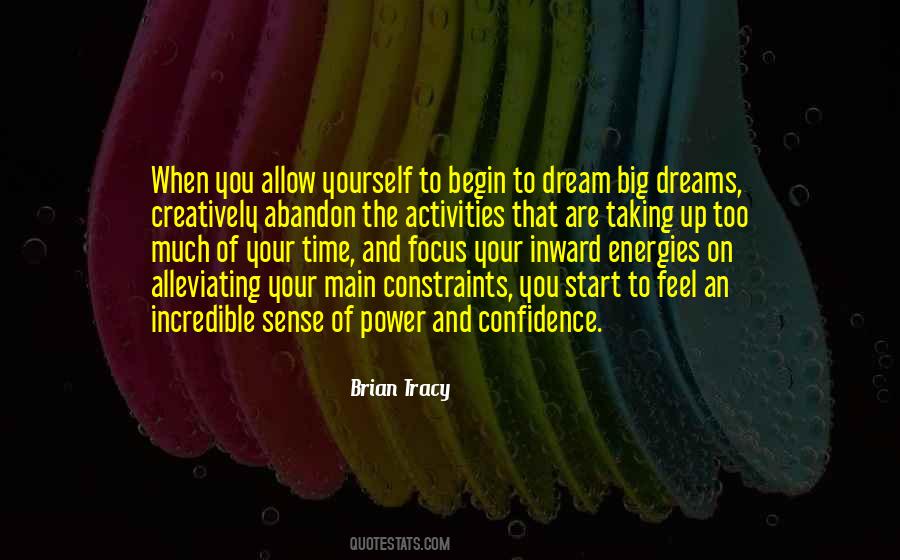 #2. Shooting a pistol while running with any accuracy at all is next to impossible. They train us at the Academy to do it at a walk. Slow yourself down, focus on the target. Be relentless, but be accurate. Nobody ever won a gunfight by missing what they were aiming at. - Author: Jonathan Maberry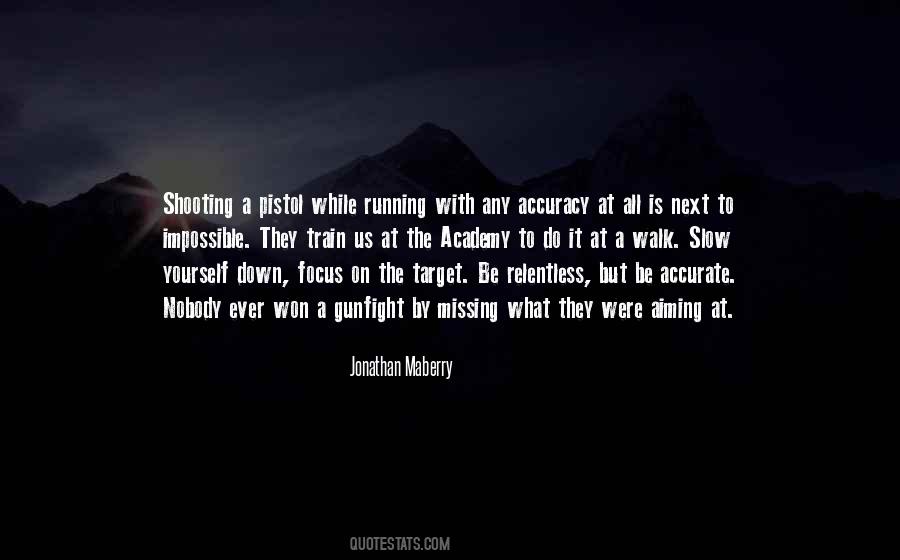 #3. Rather than focus on trying to get a lot of customers to market yourself, really focus more on the actual product or service itself and existing users to, like, what would make them happier, what would make them come back more and more times or in our case buy more often. - Author: Tony Hsieh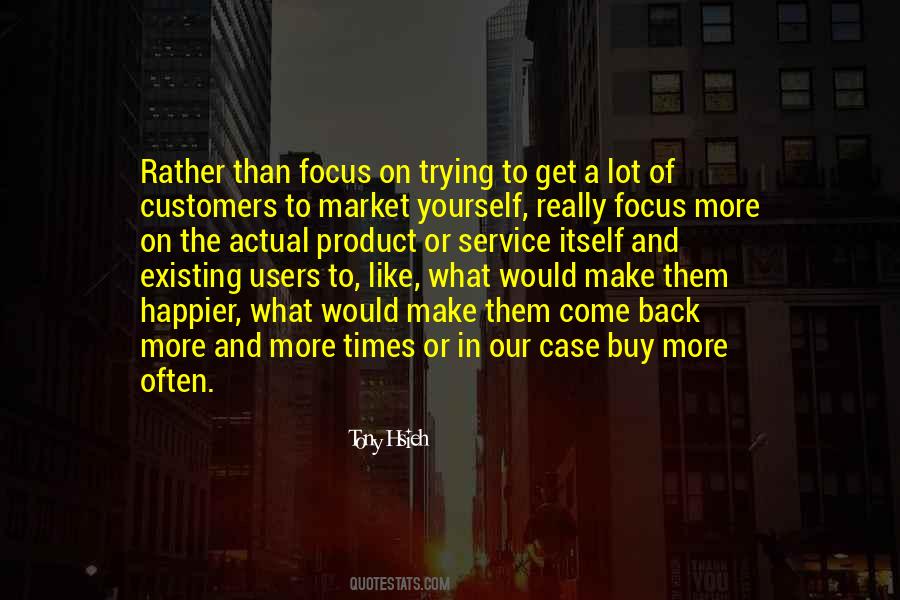 #4. Rather than beating yourself up for what you are not doing, appreciate and celebrate the things you are doing. When you shift your focus away from what you do not want, you can create a vision for what you do. Don't fight with yourself - focus on what you do, can do, choose to do, are ready to do. - Author: Iyanla Vanzant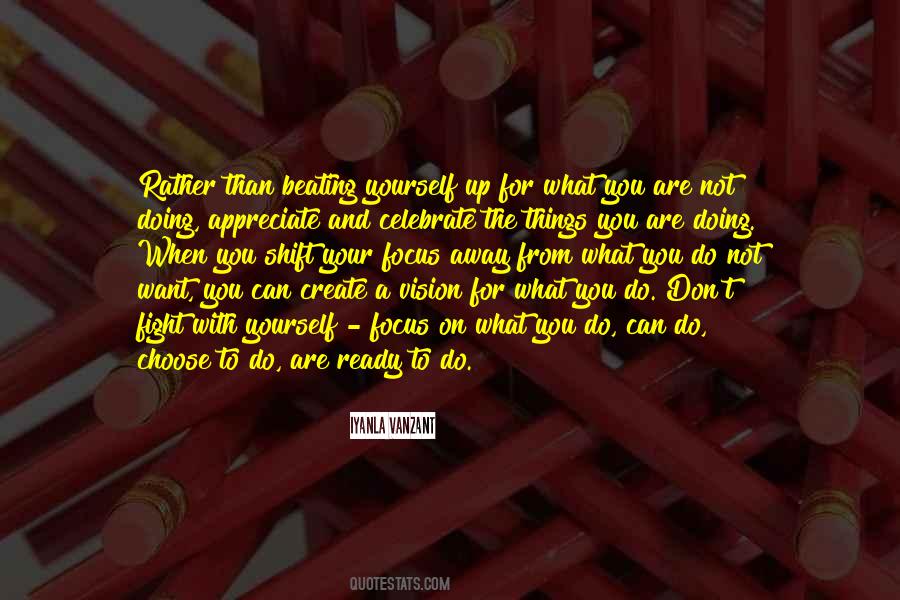 #5. Do not look yourself as bad, when we look up to the heavens at nighttime, we focus not on the black void but on the sparkling points of starlight. - Author: Various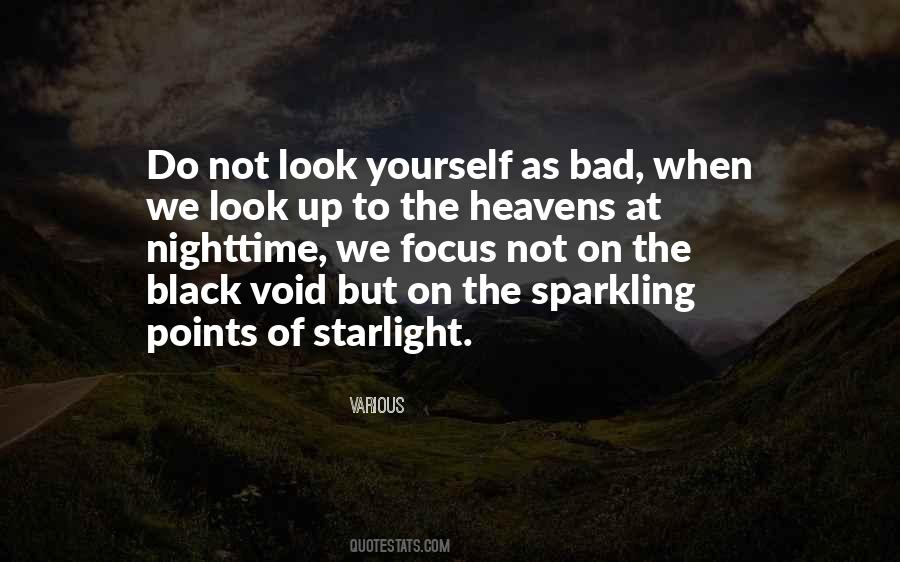 #6. When you focus on someone's disability you'll overlook their abilities, beauty and uniqueness. Once you learn to accept and love them for who they are, you subconsciously learn to love yourself unconditionally. - Author: Yvonne Pierre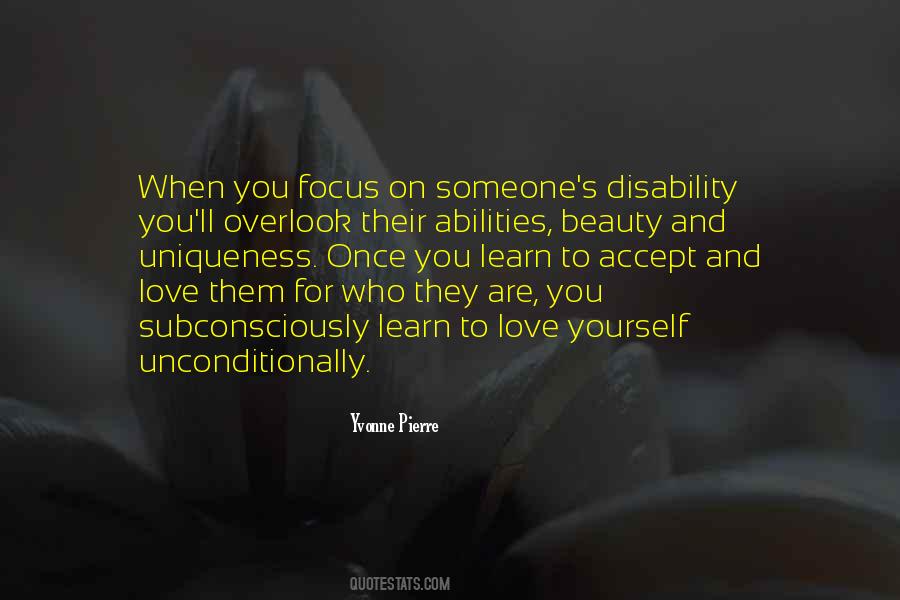 #7. Keep it simple and focus on what matters. Don't let yourself be overwhelmed. - Author: Confucius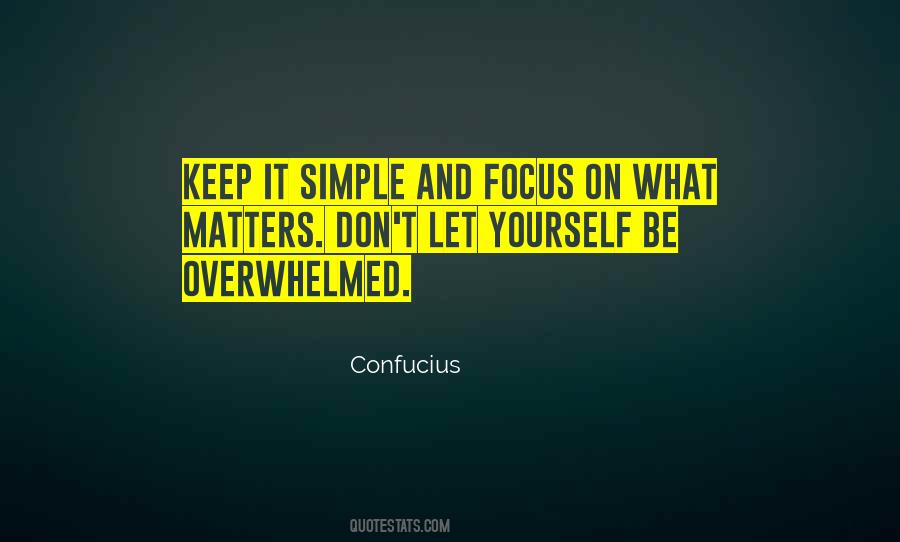 #8. Real change will come when you focus on yourself - not on changing him, Real change comes when you are willing and able to state your claim on what you are and are not willing to live with. Just remember to let him in on it - Author: Dory Hollander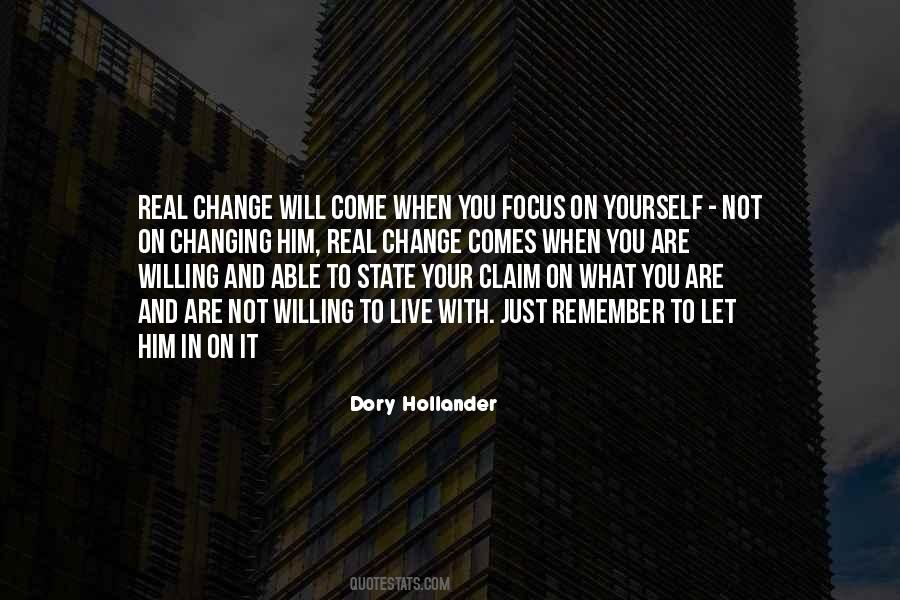 #9. Focus on the POSITIVE
Recognize the BLESSINGS
Find the HUMOR
Hope for the BEST
&
Brace yourself for the worst. - Author: Tanya Masse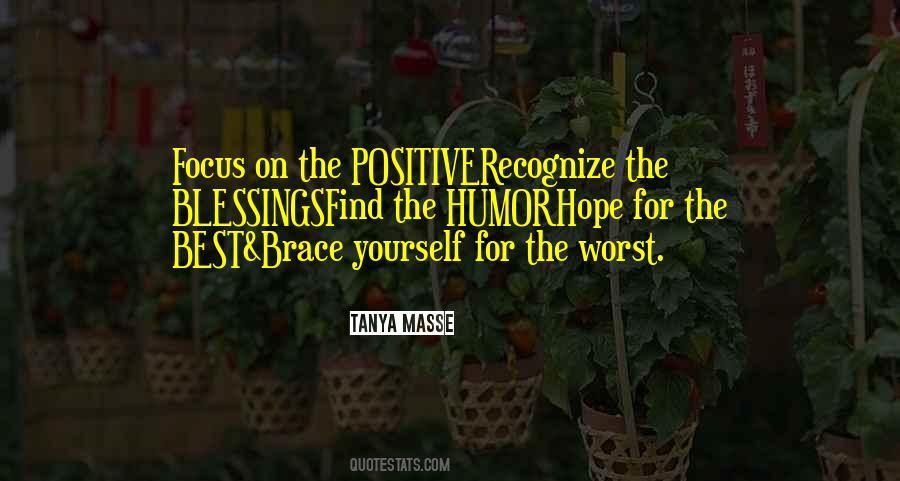 #10. When you're speaking or writing to someone, pause and ask yourself, "Is this something I want to create?" If it isn't, change your words. Focus on the positive and talk about the world as you want it to be, not as it is. - Author: Elizabeth Daniels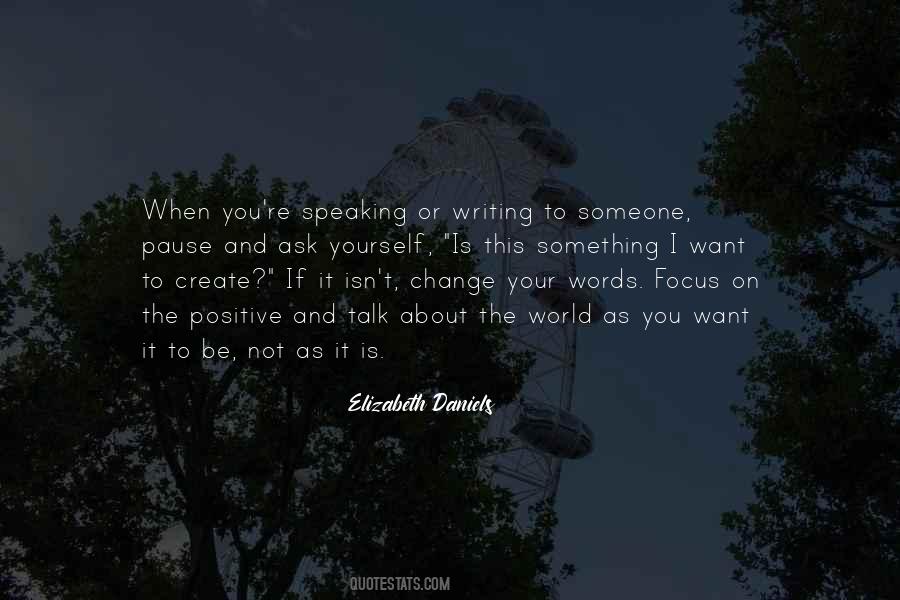 #11. Each day, focus your attention on what you want. Each day, take one step that will bring you closer to it. ALL THINGS ARE POSSIBLE! The key is to identify it, claim it for yourself, and believe that you are worthy to have it. - Author: Iyanla Vanzant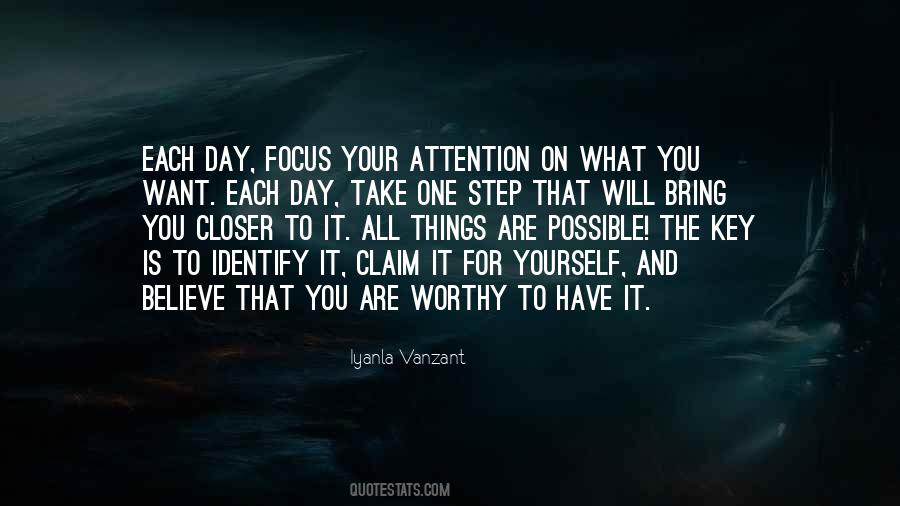 #12. focus less on the impression you're making on others and more on the impression you're making on yourself. - Author: Amy Cuddy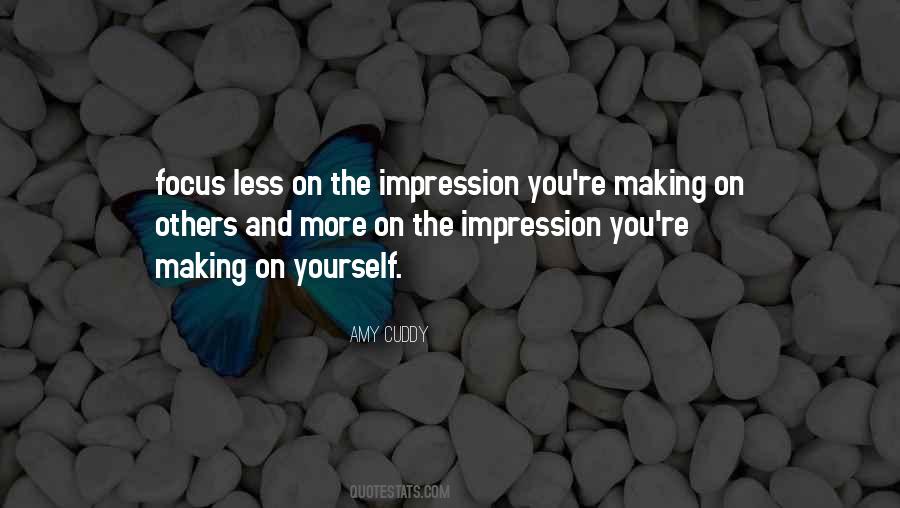 #13. Focus on identifying your target audience, communicating an authentic message that they want and need and project yourself as an "expert" within your niche. - Author: Kim Garst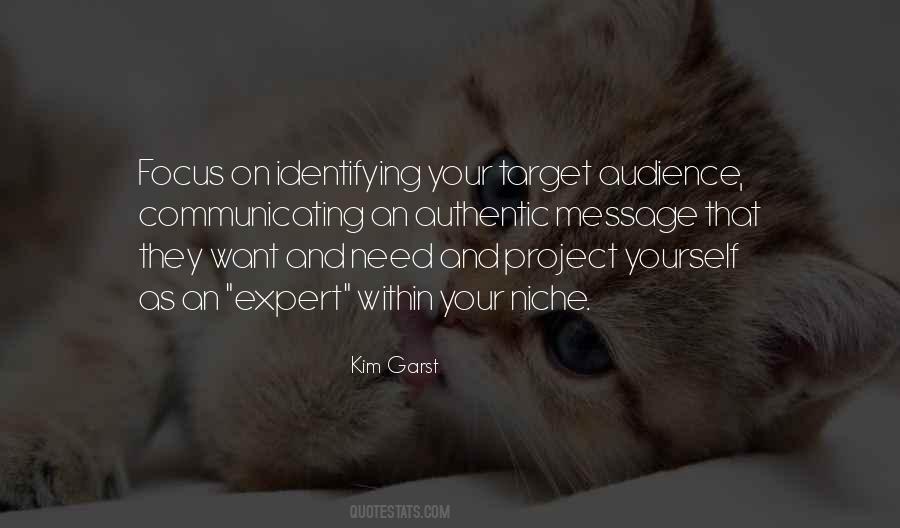 #14. If you focus only on yourself and neglect others, you will lose; but you will gain if you value others as much as you cherish yourself. - Author: Dalai Lama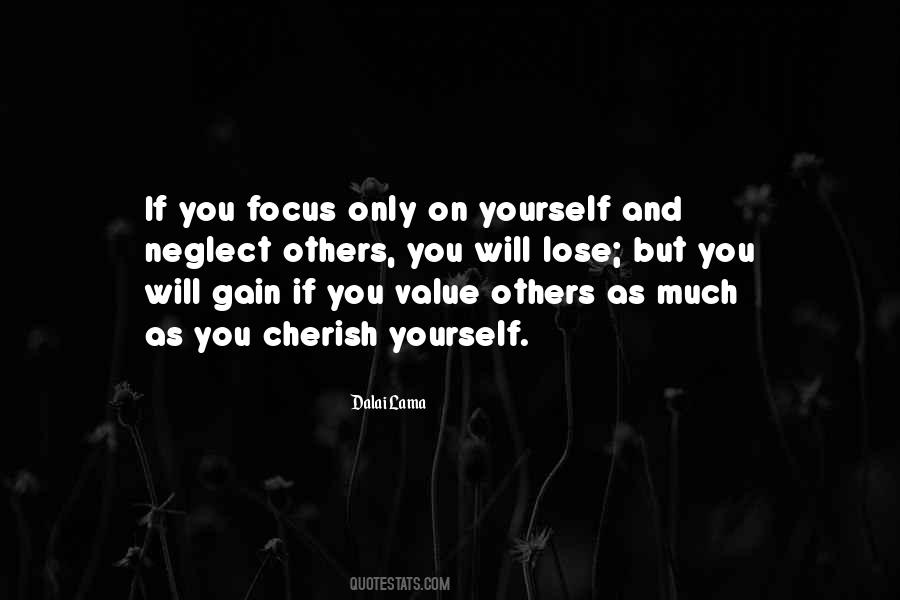 #15. Focus on the center of the chest, relax. Imagine a rose there. Feel it unfolding. Let yourself go and ignore your thoughts. - Author: Frederick Lenz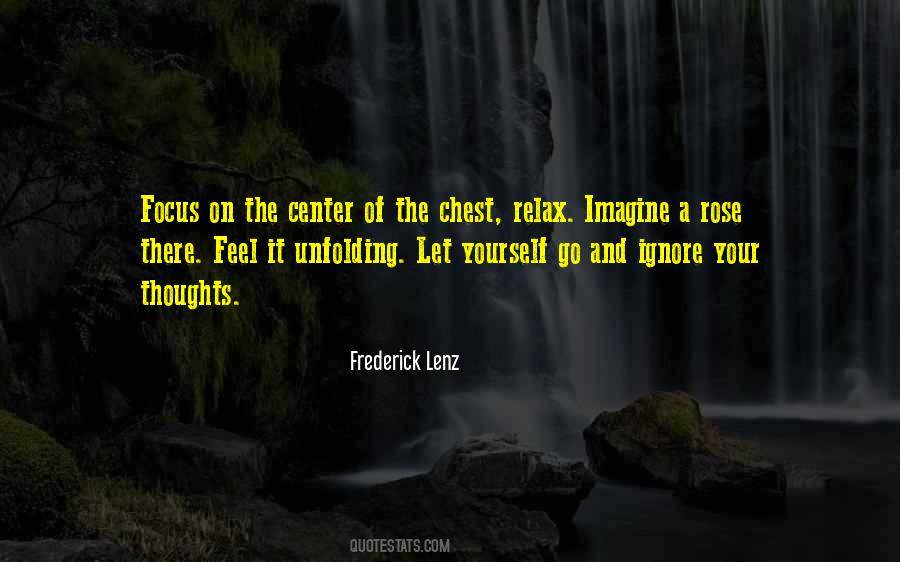 #16. How foolish we are to keep repeating the negative memories from the past in our minds, while rarely thinking of the good times, nor being thankful for what we have. Be good to yourself and repeat and focus on the positive. - Author: Maddy Malhotra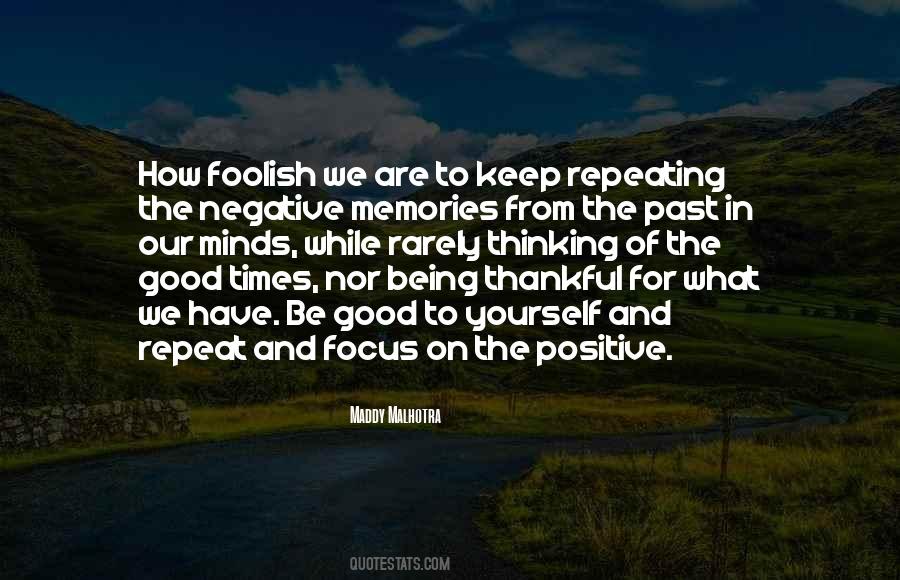 #17. There's always gonna be be someone better looking, there's always gonna be someone smarter, there's always gonna be someone who works harder. What you have to offer is yourself, so don't lose it, focus on it and try to bring it out - Author: Jared Padalecki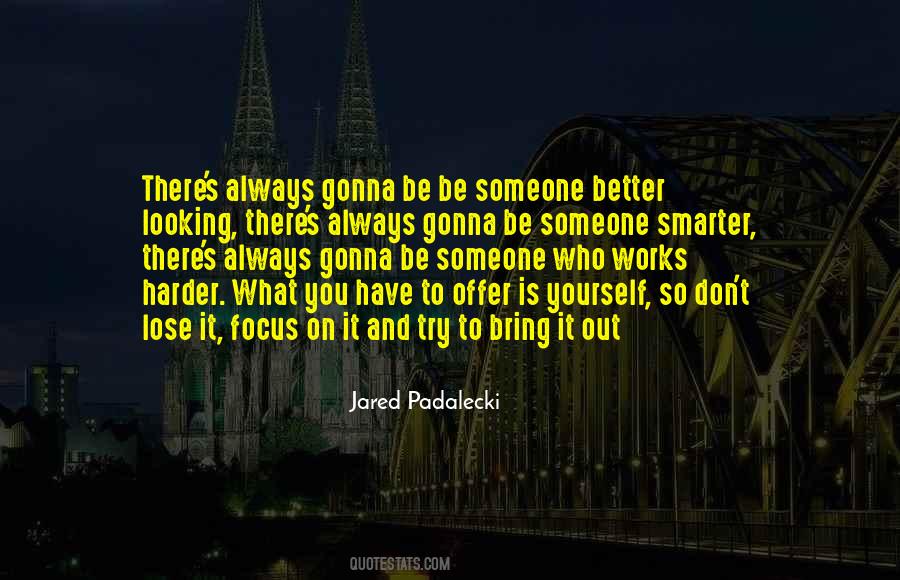 #18. If you focus on the things you can't do, you'll destroy yourself. Just remember everything you can do. - Author: Giles Duley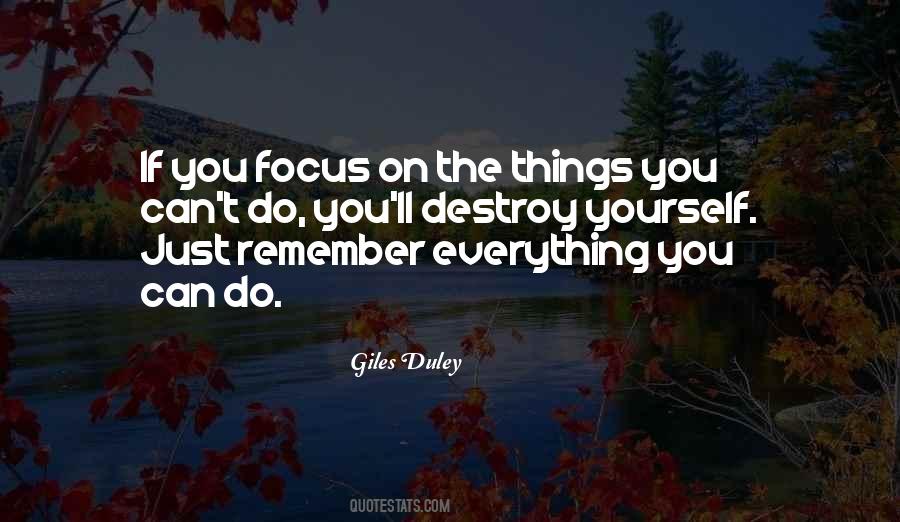 #19. As an artist, you have to maintain focus and eliminate the distraction of second-guessing yourself based on the opinions of others. - Author: Dwight Yoakam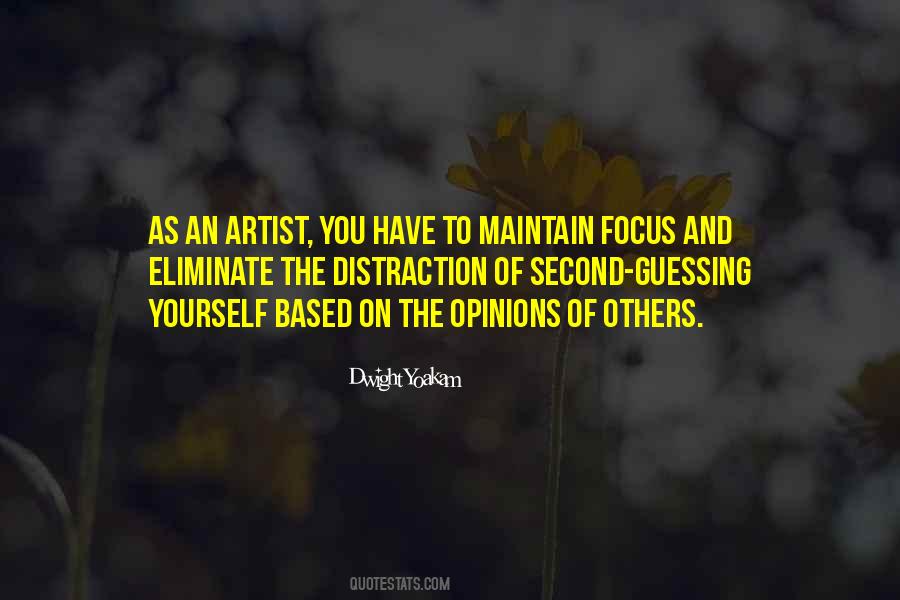 #20. If you want to be truly successful invest in yourself to get the knowledge you need to find your unique factor. When you find it and focus on it and persevere your success will blossom. - Author: Sidney Madwed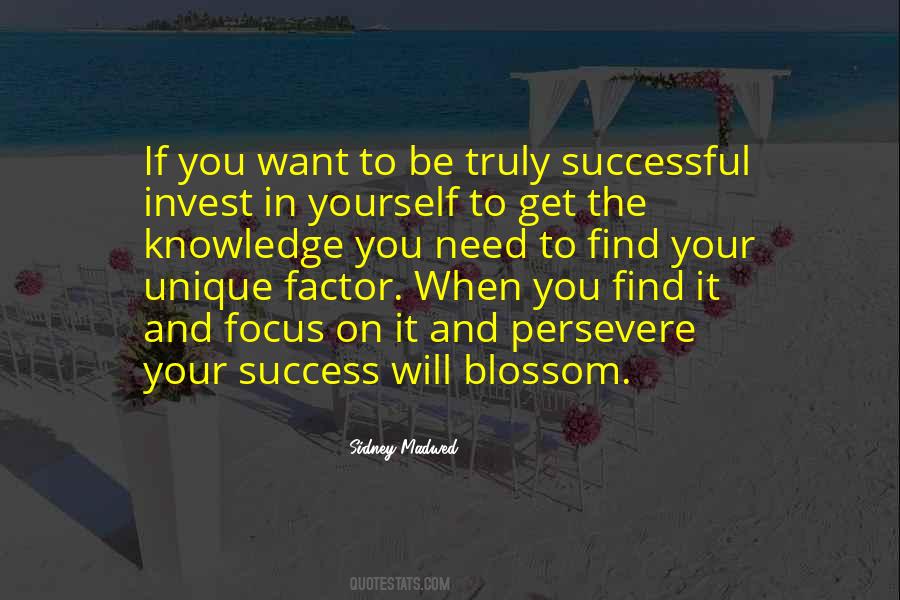 #21. So many people focus on who they will be that they never get around to figuring out who they are. - Author: Shannon L. Alder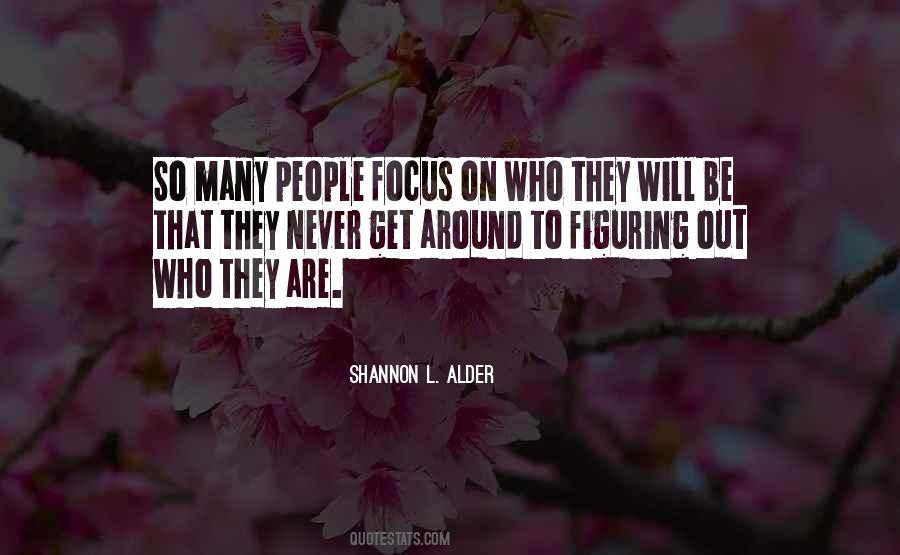 #22. Process, Not Product If you find yourself avoiding certain tasks because they make you uncomfortable, there is a great way to reframe things: Learn to focus on process, not product - Author: Barbara Oakley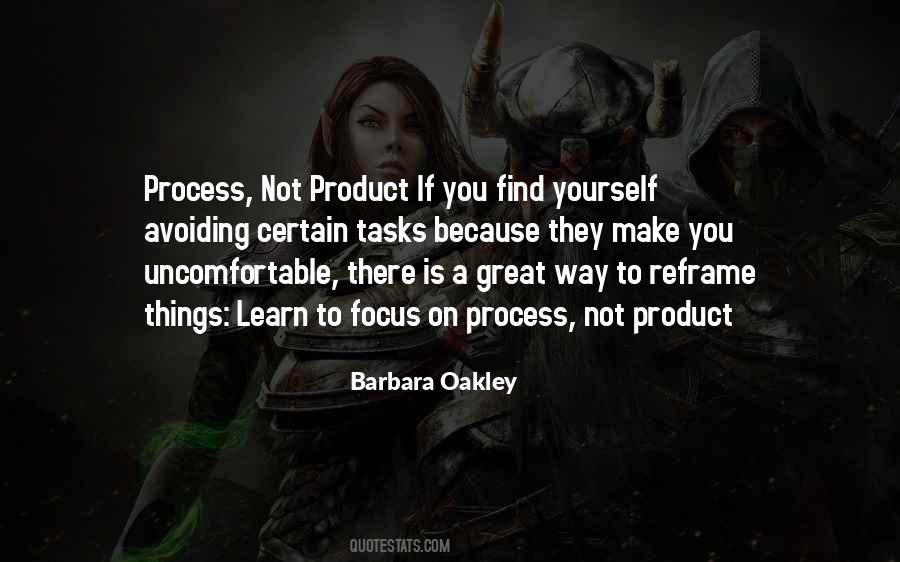 #23. If you are looking for answers for your life, know that the answers are within you. When you close your eyes, and focus on your inner God (meditate), you will know what to do. Trust yourself! - Author: Camilla Dorand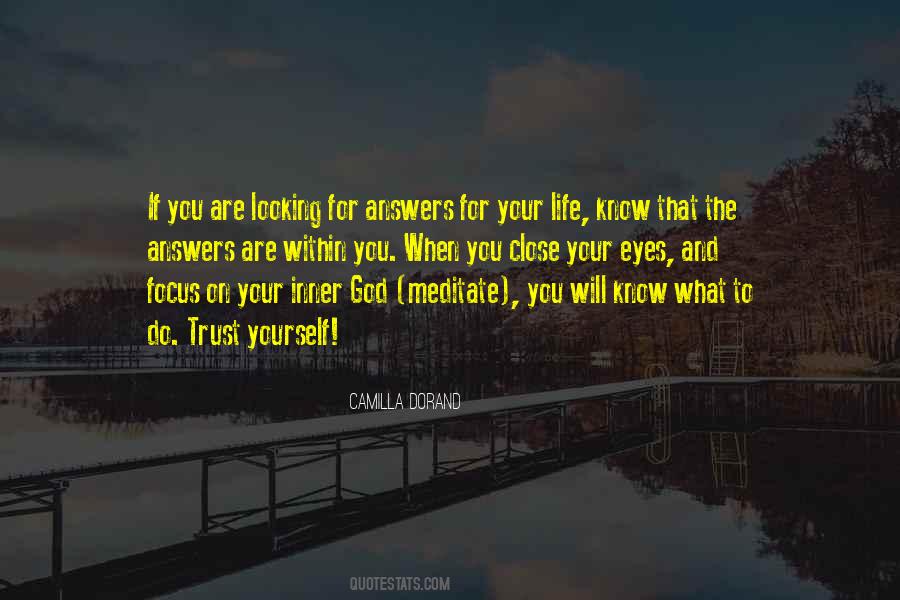 #24. Take your mind off yourself. Focus on what you are doing and how you can do it better. - Author: Bob Proctor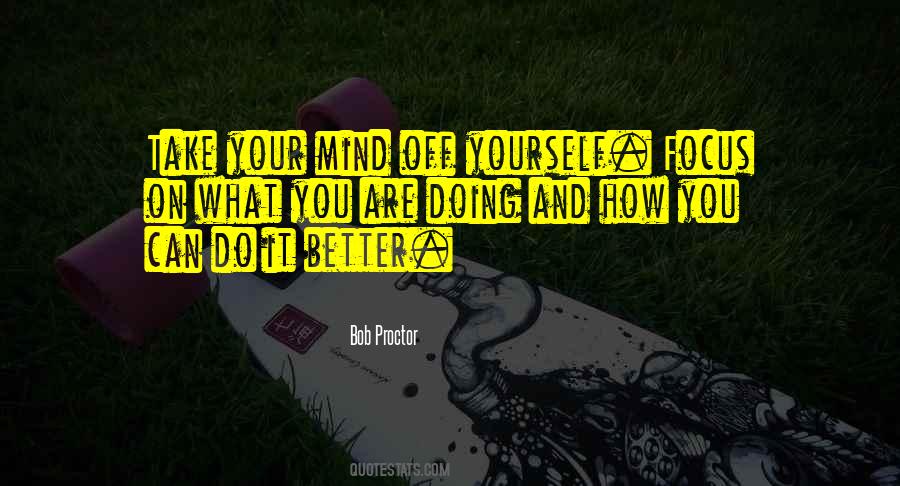 #25. If you want to find money, focus on people. If you want to lose people, focus on money. - Author: Rob Liano
#26. You become what you think about and focus on the most. See yourself attracting the things you want to accomplish. Thoughts and desires in your mind can become a reality. - Author: Jonathan Toews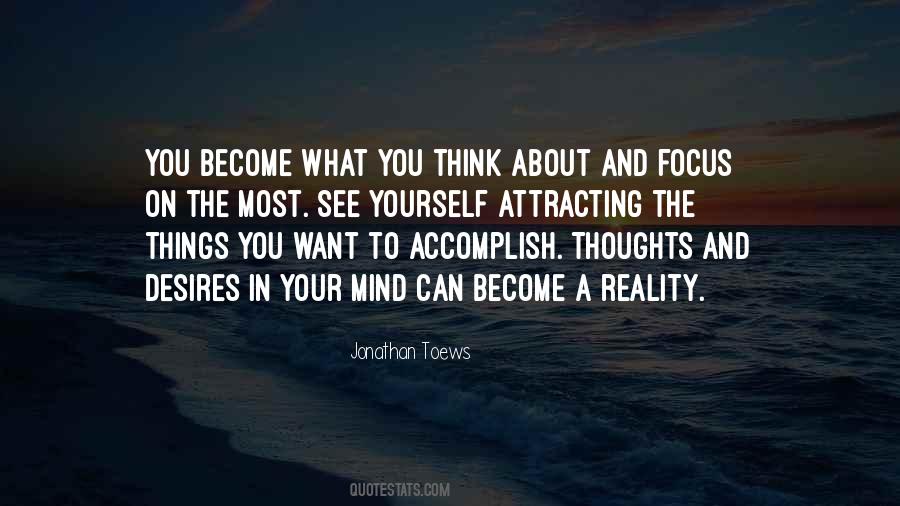 #27. All you have is yourself and what you have to present, and just focus on that. And if you can walk out of the audition and say to yourself, 'I hit all my beats,' 'I accomplished my emotional honesty,' or 'I remembered my words,' then that's winning. - Author: Tamara Tunie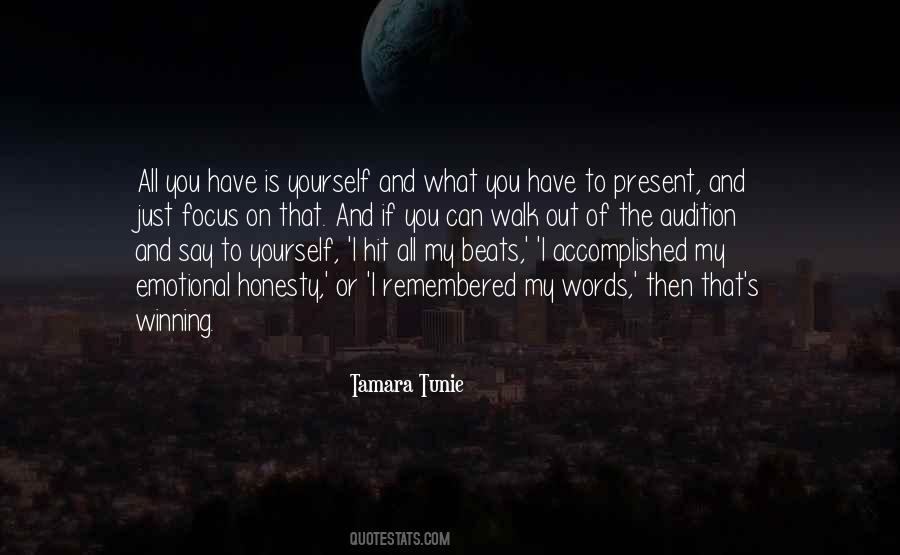 #28. Whatever it is you're doing, whether it's your career or a particular focus, if you're trying to be the best you can possibly be, then you'll be putting that pressure on yourself. - Author: Grant Achatz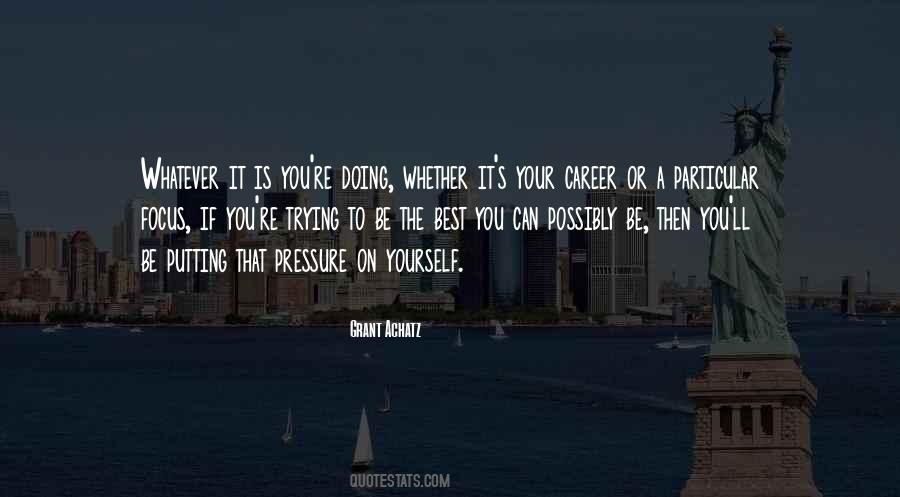 #29. We SPEND TIME, we PRIORITIZE TASKS, and we MANAGE LIFE.
The first person to lead is YOURSELF.
The first thing to manage is YOUR LIFE.
The first area to focus on is YOUR PURPOSE. - Author: Farshad Asl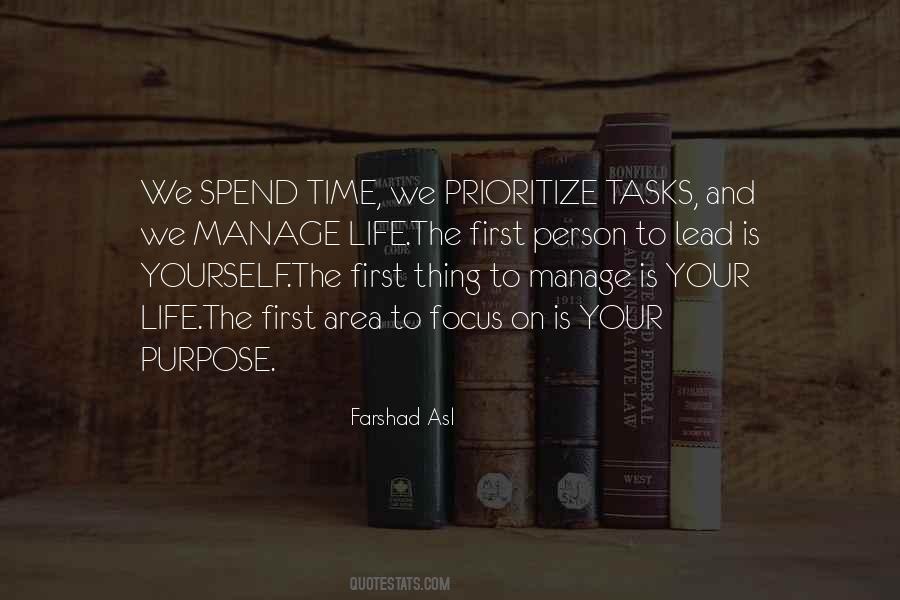 #30. There is nothing wrong with dedication and goals, but if you focus on yourself, all the lights fade away and you become a fleeting moment in life. - Author: Pete Maravich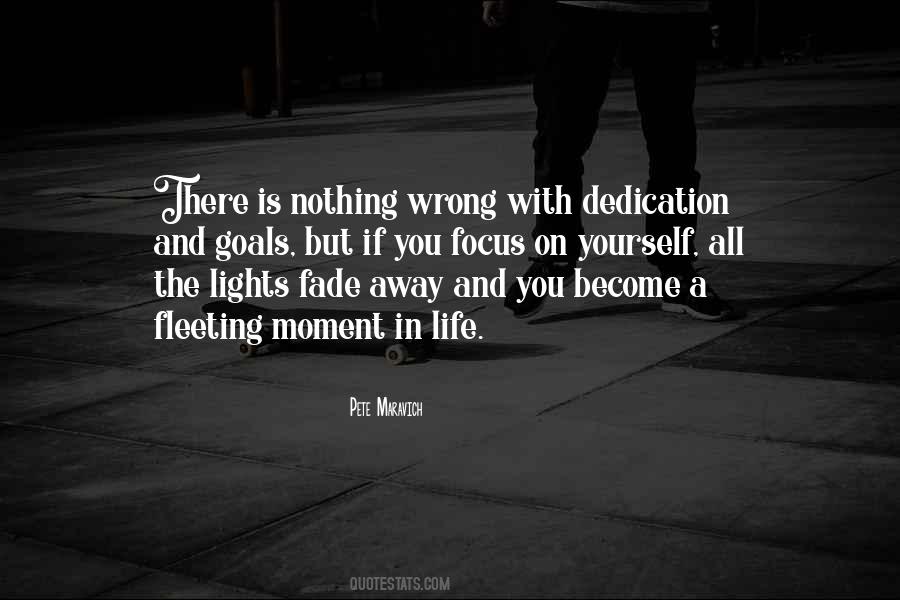 #31. Happy Friday Night Fam! Time to free yourself from worries and stresses and focus on all of your blessings!! Spread LOVE & BE HAPPY this weekend! - Author: Tracey Edmonds
#32. Set goals, challenge yourself, and achieve them. Live a healthy life ... and make every moment count. Rise above the obstacles, and focus on the positive. - Author: Robert H. Goddard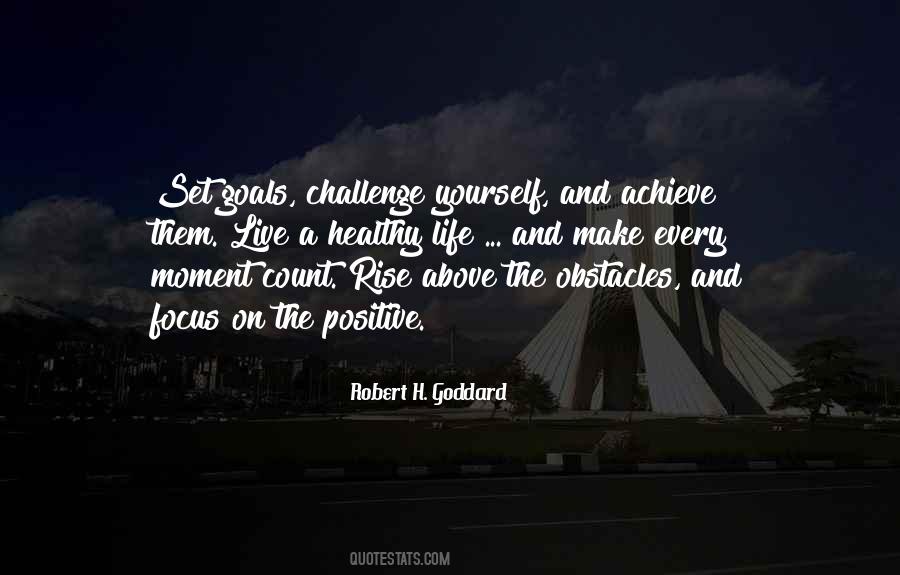 #33. You can't focus on what you should or shouldn't write or who you should or shouldn't be like. Just write for yourself and eventually you'll get to that place you want to be. - Author: Autumn Doughton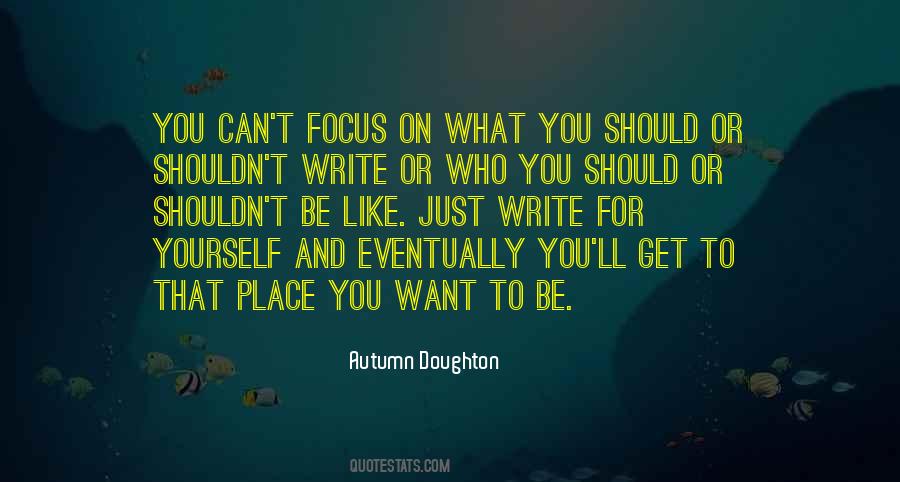 #34. I cannot control what goes on in another lane and this is how I focus on the Games. There is no point in being nervous of other swimmers. It's just about focusing on yourself and what you need to do in order to perform at your best. - Author: Cameron Van Der Burgh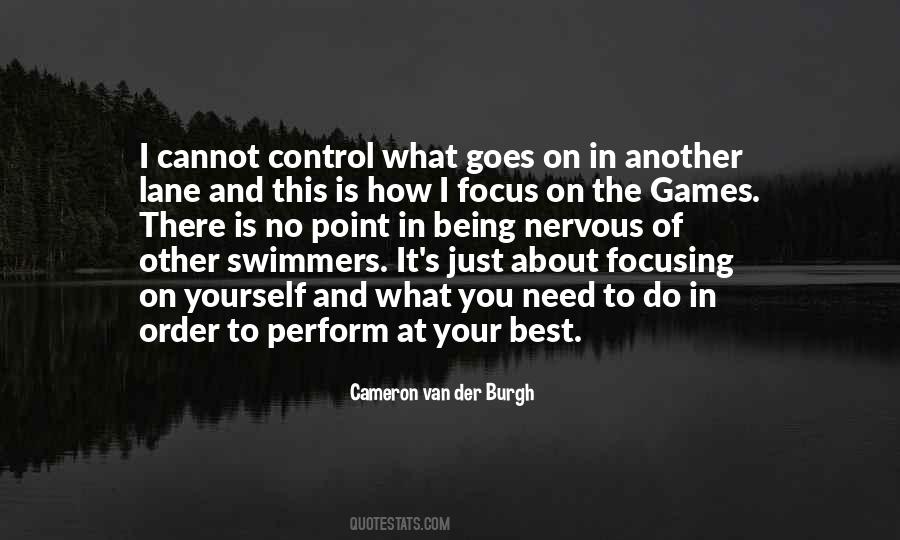 #35. Volunteer some hours. Focus on something outside yourself. Devote a slice of your energies toward making the world suck less every week. - Author: Shonda Rhimes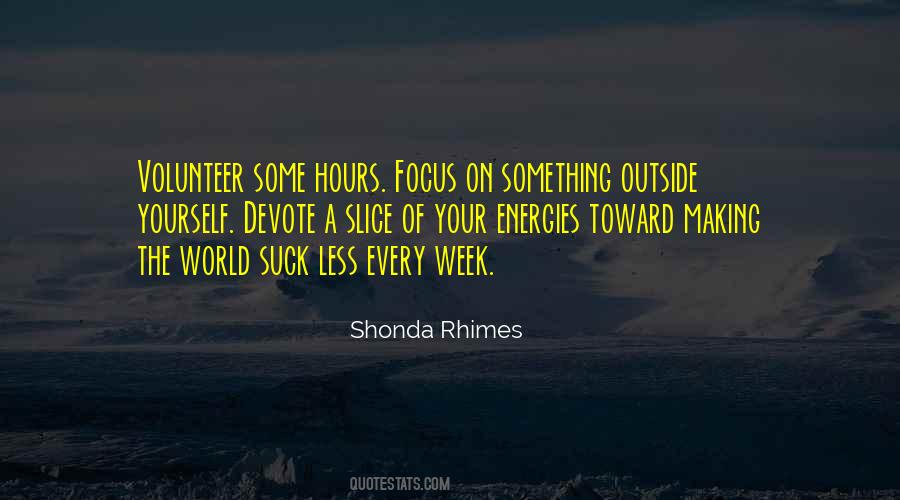 #36. I think it's so important, as young women, to have relationships, especially when you're in your early 20s. But it's always so important to focus on yourself. - Author: Ashley Tisdale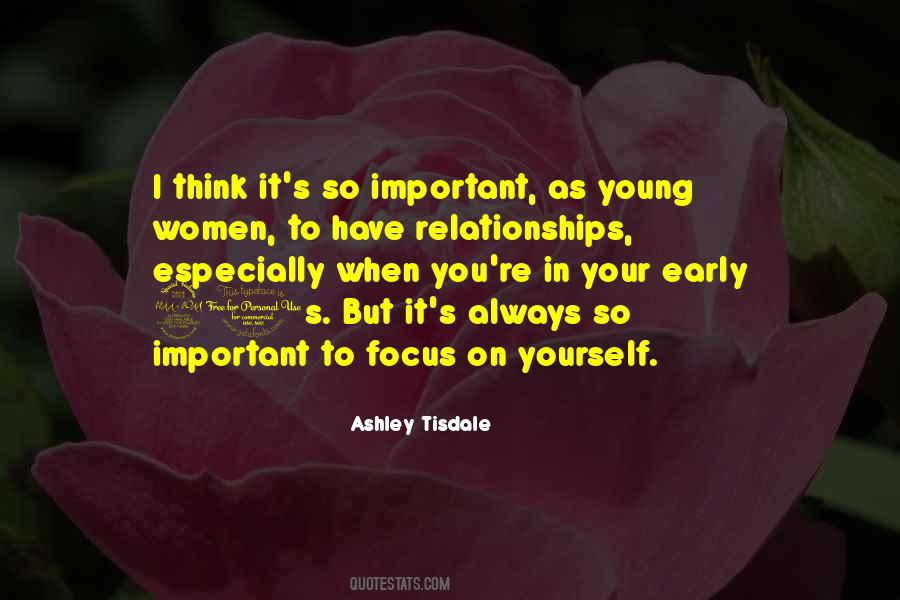 #37. yourself the following "prayer". Just for today, be at peace, Just for today, be happy, Be kind to people, Focus on your work, And be thankful. - Author: Nathaniel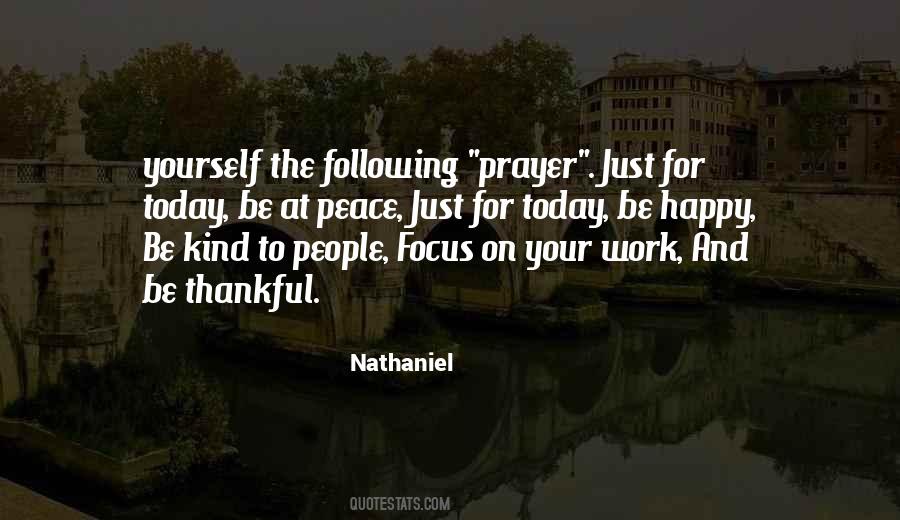 #38. And, you know, whenever you check yourself into rehab, they don't focus on, you know, the fact that you're an alcoholic. They go much deeper, you know? I mean, they go way deep. They crack you open and then spill you out and examine all the things that are on the table. - Author: Kirk Hammett - Metallica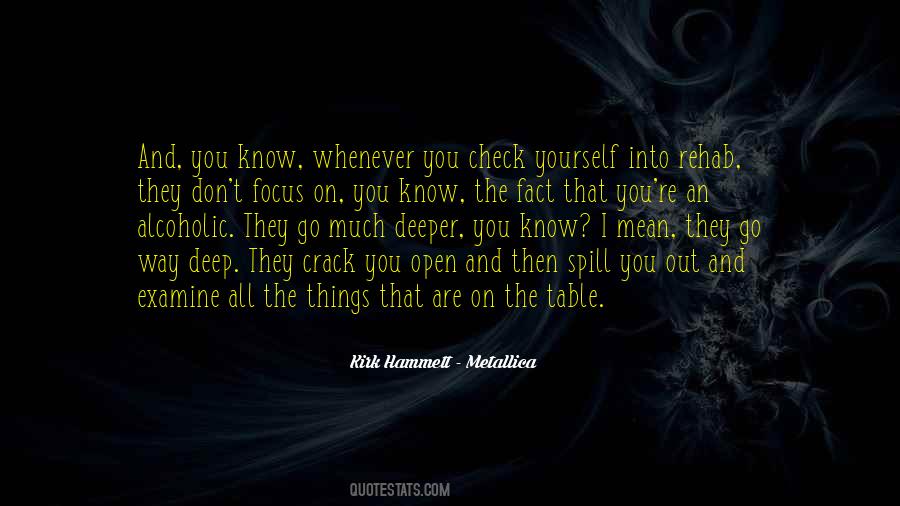 #39. So if you want a culture where people work hard, & pay attention to detail, focus on the customer, are frugal: you have to do it yourself. - Author: Sam Altman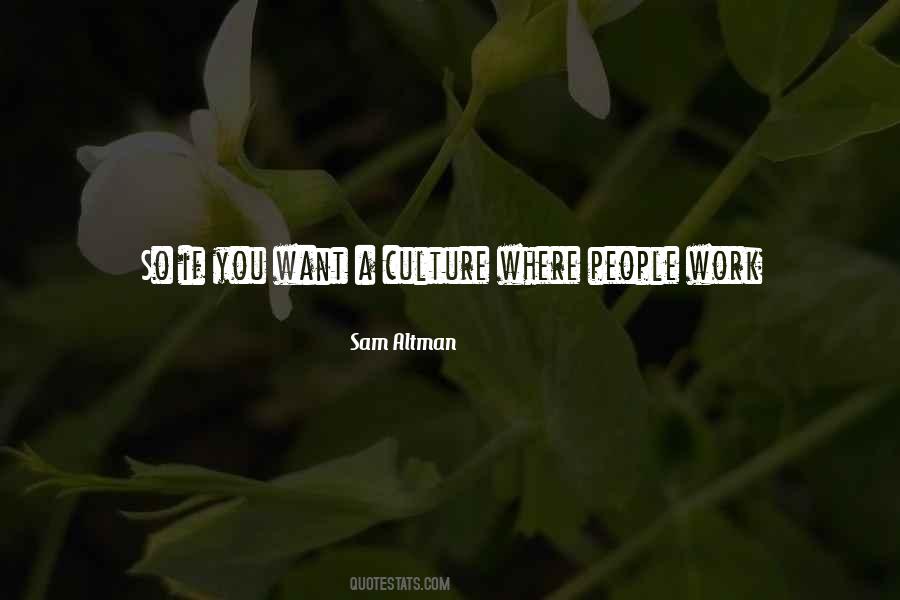 #40. The intrinsic path to success is to focus on being the person that you are, and put all of your energy and drive into being the best possible version of yourself. - Author: Paul Buchheit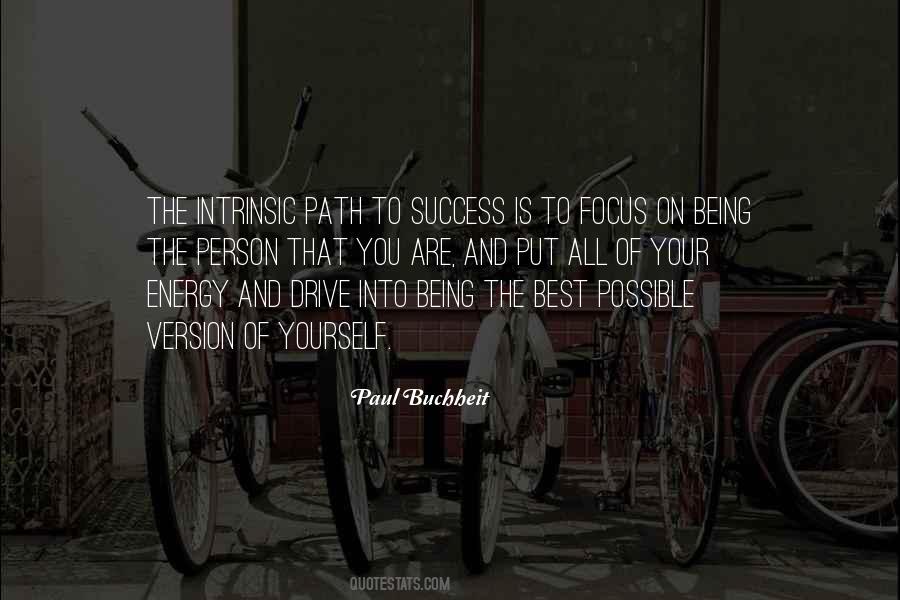 #41. Focusing on others will give you more influence and power than focusing on yourself. - Author: Kevin Eikenberry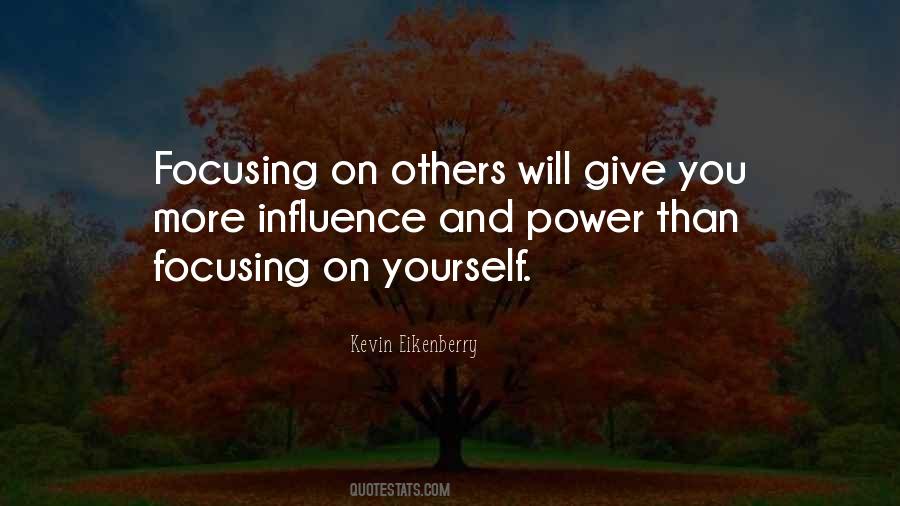 #42. Don't think about making life better for other people who don't even deserve you, rather, focus on making your life the best, for yourself and those who love you. - Author: C. JoyBell C.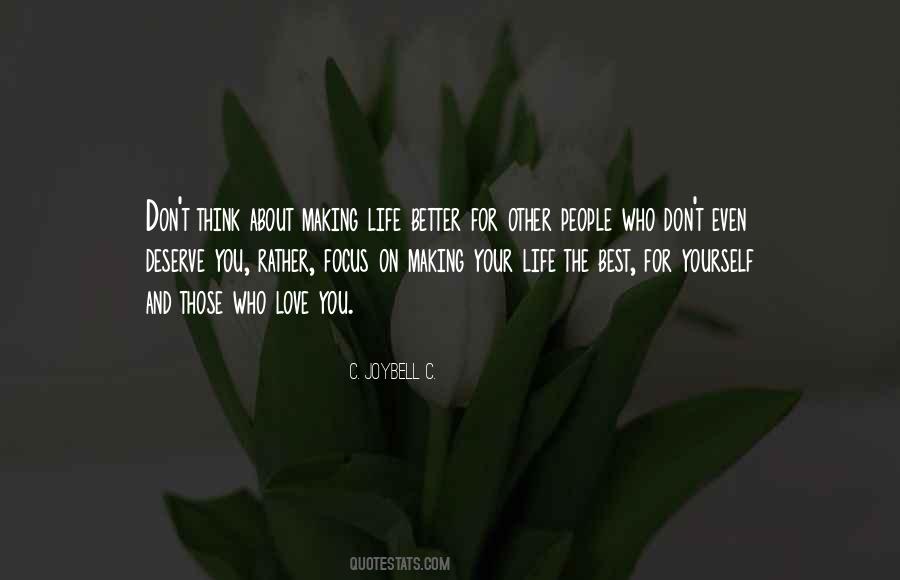 #43. Author C. S. Lewis wrote a beautiful and accurate definition of humility: "Humility is not thinking less of yourself ... it is thinking of yourself less." "It is about feeling safe so you can focus on other people. It is not about being in fear and seeing yourself as worthless! - Author: Kimberly Giles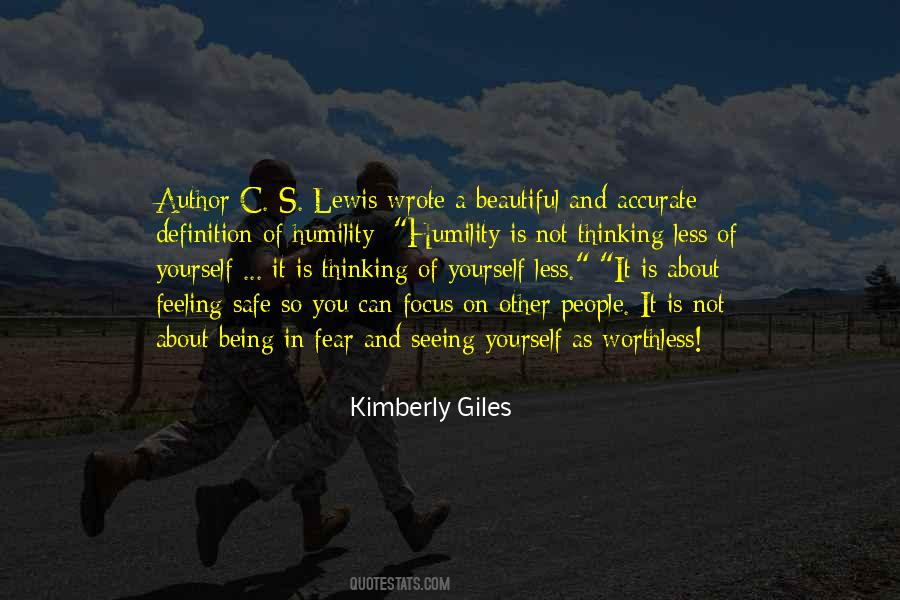 #44. There's a tendency, when you're directing yourself, not to give the performance as much care, because you feel like there's too much focus on yourself, or that all these people are just standing around setting everything up, waiting for you. - Author: James Franco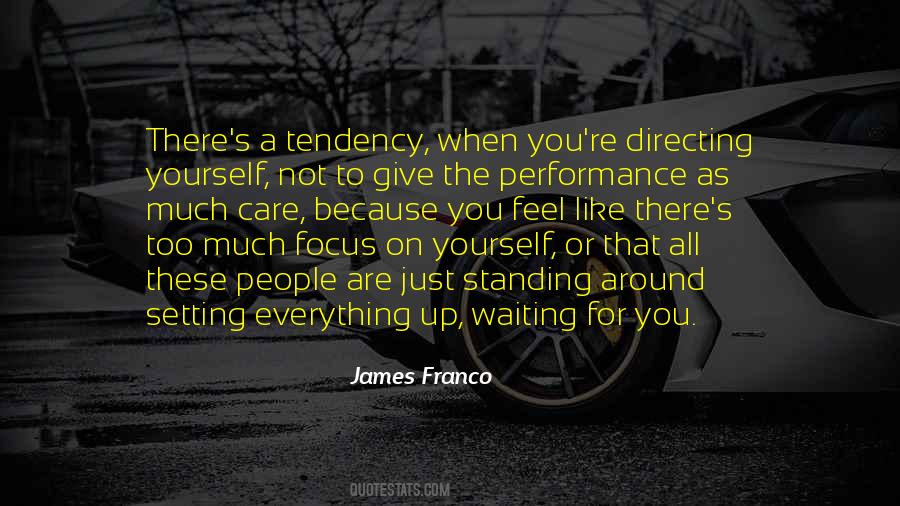 #45. Don't focus on being different, focus on being yourself - and your difference will naturally shine through! - Author: Kevin Eikenberry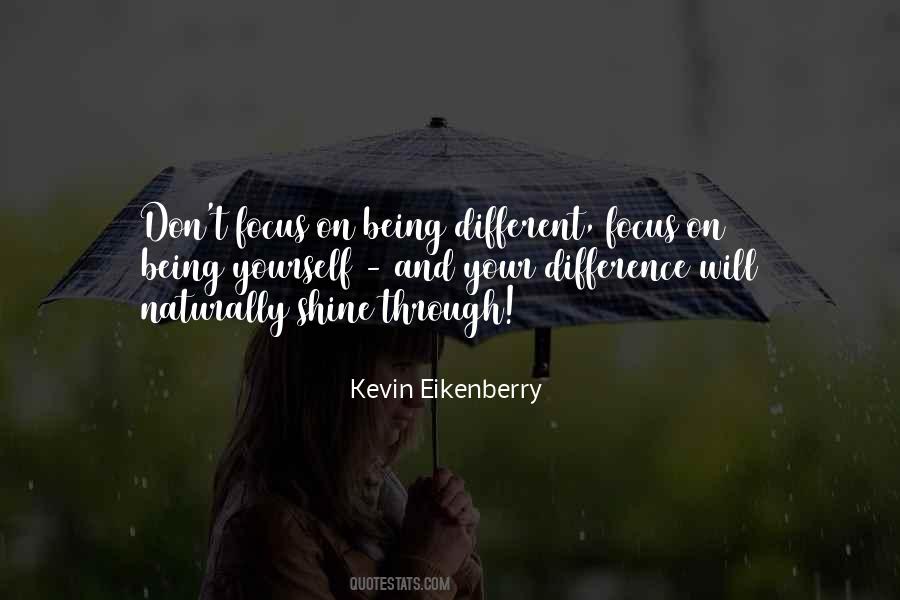 #46. You have to let go of the things that are darling to you. You have to take the focus off yourself and put it on the shape of the scene and the intention of what everyone else needs. - Author: Robert Downey Jr.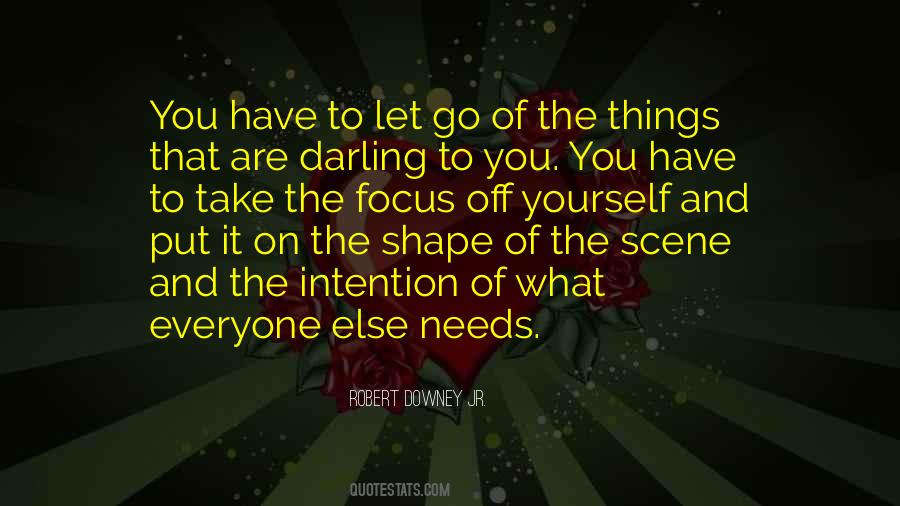 #47. No one wins when you compare. You don't win. Your family doesn't win. Your friends don't win. You must be in control and not let comparison take hold of your mind. Rather, focus on yourself, your family, and where God has you in your life. - Author: Jessica N. Turner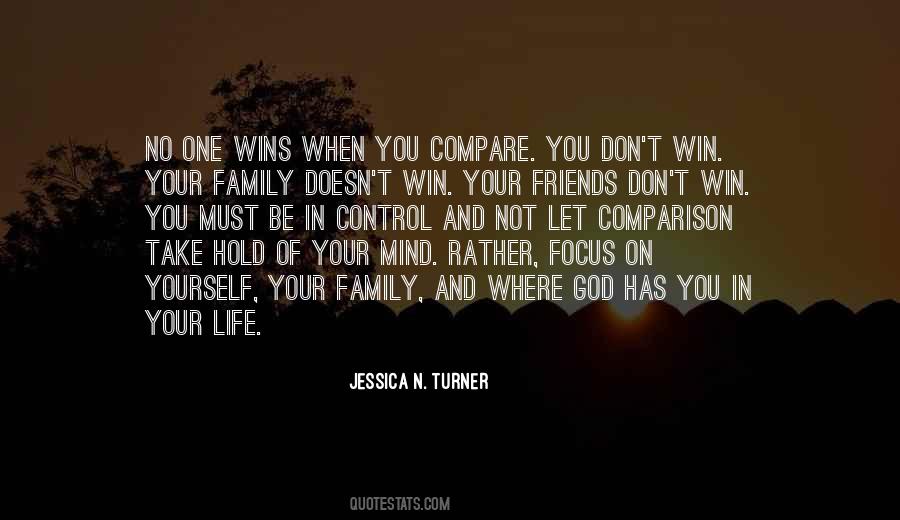 #48. I think the sensible thing would be to focus on one thing and be the best you can be at it. There is always that risk of spreading yourself too thin if you try to do too much. - Author: Doc Brown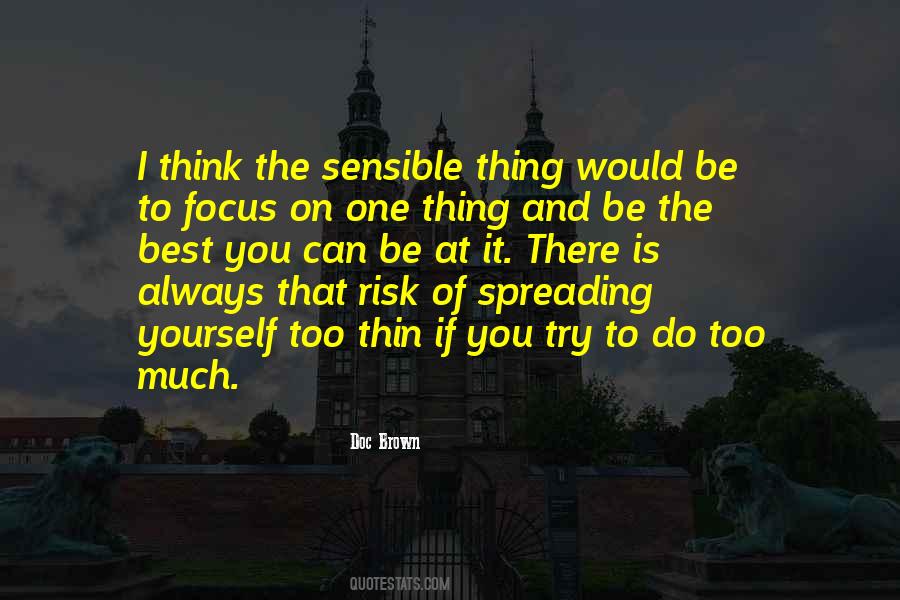 #49. Your life changes, when you focus on self-love, self-esteem, and self-confidence. Only your opinions of self love matter. Respect yourself. - Author: Auliq Ice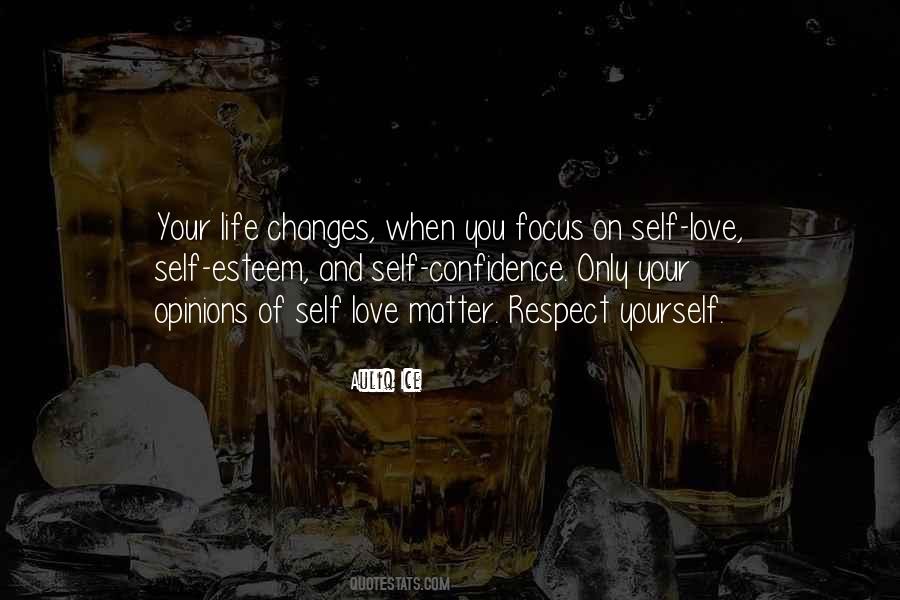 #50. You seem to make different concessions with yourself about what you want to focus on or not, and what you want to pay attention to. - Author: Julian Schnabel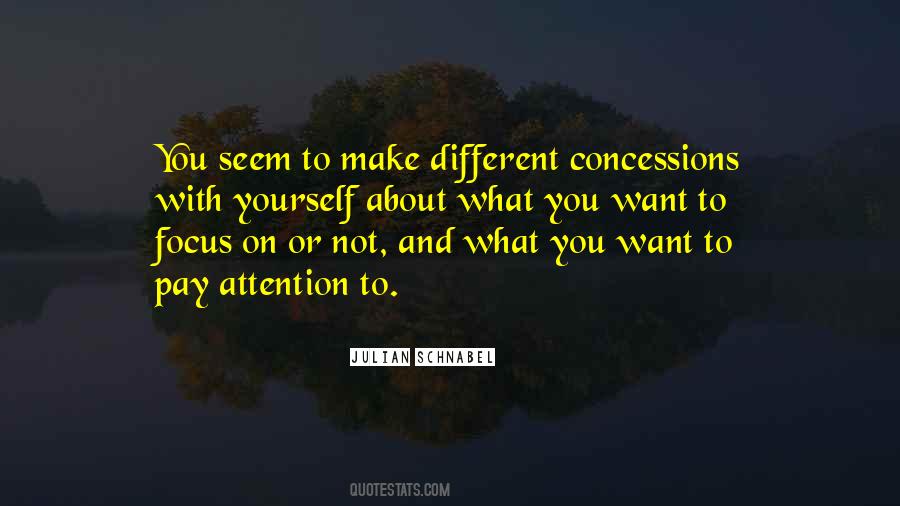 #51. All one's life as a young woman one is on show, a focus of attention, people notice you. You set yourself up to being noticed and admired. And then, not expecting it, you become middle-aged and anonymous. - Author: Doris Lessing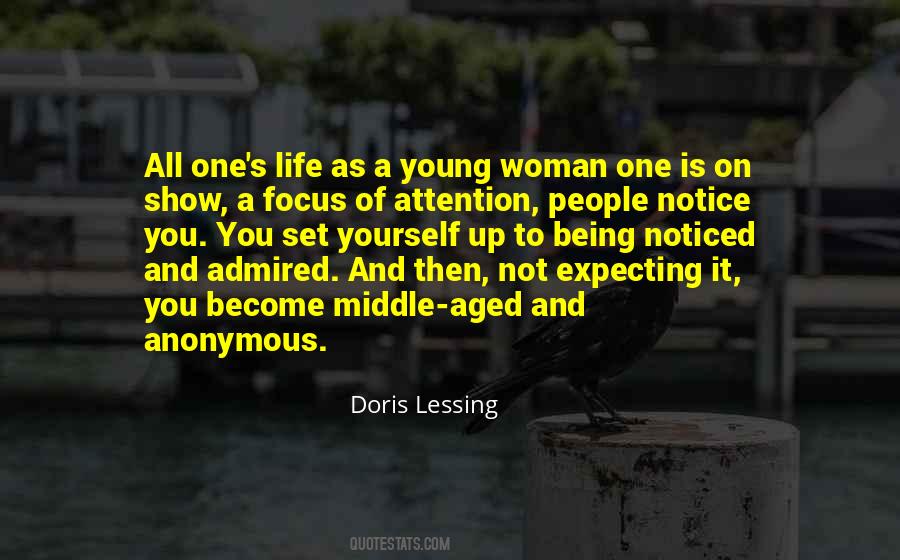 #52. Focus on winning the contest with yourself. - Author: John Kessel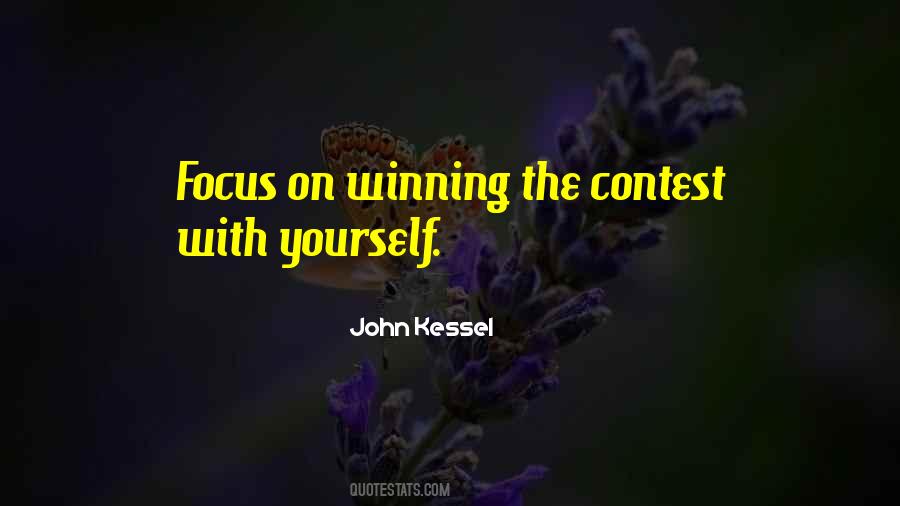 #53. Sometimes, I think, when you don't know how to take another step for yourself, you have to focus on someone else, and take the step for them. Live for them. Be strong for them, even when you have so much within yourself in need of healing. - Author: Jasinda Wilder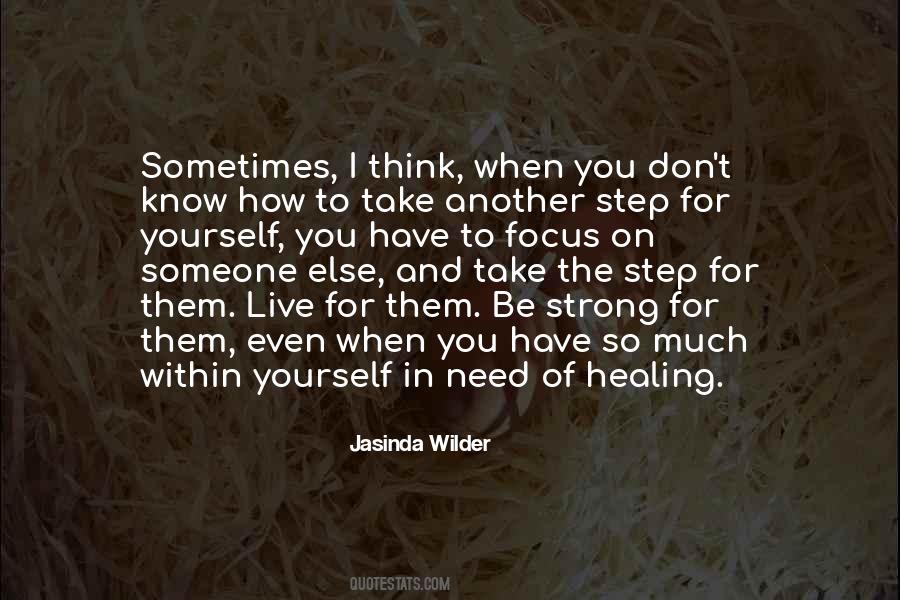 #54. Do not focus on your failings, for you will only encourage them. If you keep beating yourself up on the head over these, you will only reinforce them. - Author: Stephen Richards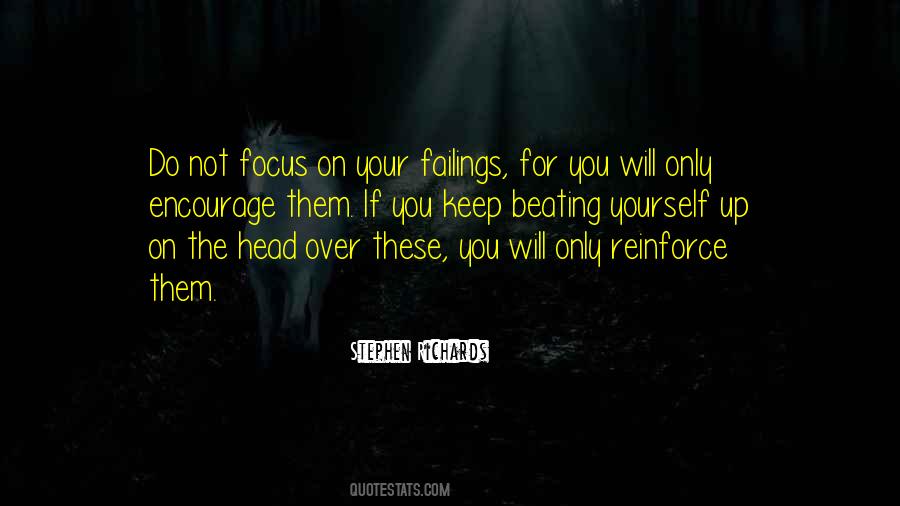 #55. Education is what people do to you. Learning is what you do to yourself. Focus on being connected, always learning, fully aware and super present. - Author: Joichi Ito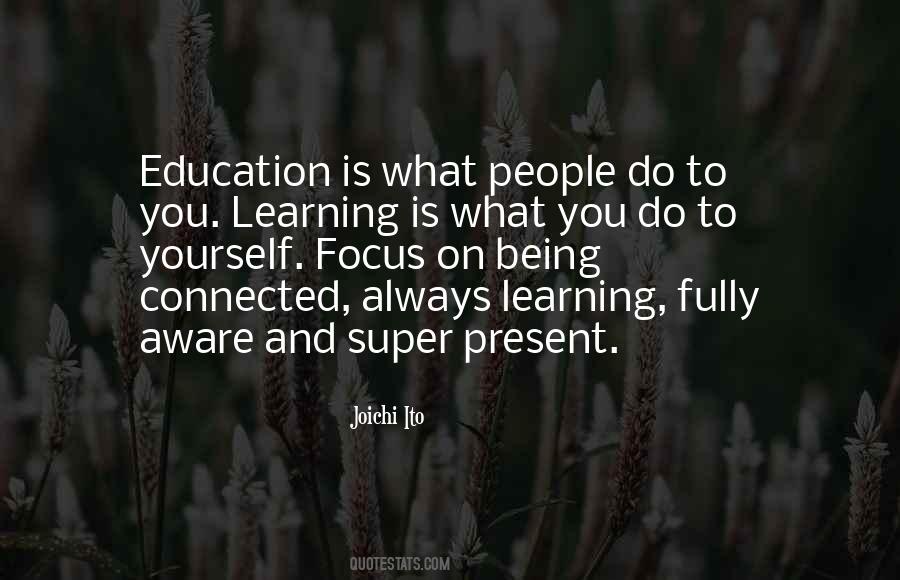 #56. People tend to measure themselves by external accomplishments, but jail allows a person to focus on internal ones; such as honesty, sincerity, simplicity, humility, generosity and an absence of variety. You learn to look into yourself. - Author: Nelson Mandela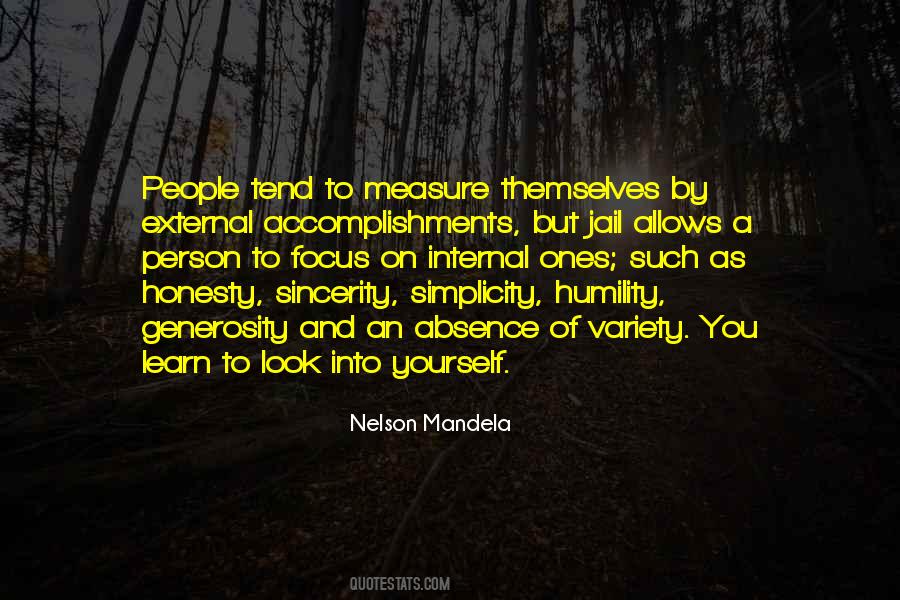 #57. Part of getting other people to focus on the future rather than being myopically focused on the present is about living that way yourself and showing that you can make choices today that are about future outcomes and still be having a great time into the present and enjoying your life. - Author: Hill Harper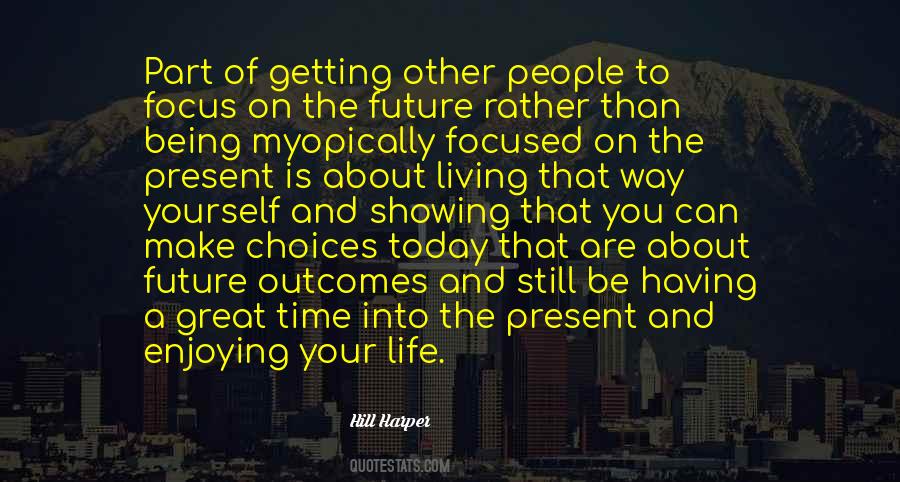 #58. I would tell 17-year-olds to be proud of who you are. Don't try to change yourself for others. Focus on school and your future. Boys and friends will come and go, just focus on you and your future. - Author: Lea Michele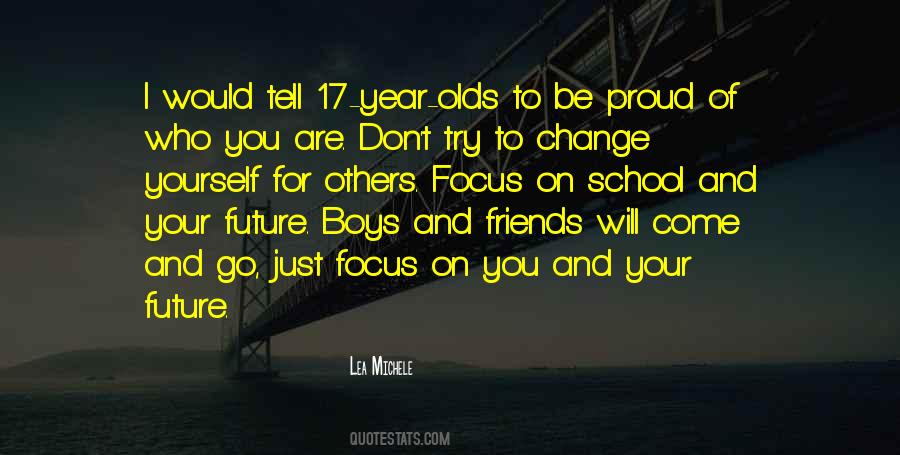 #59. People tend to focus on the things that they don't like about themselves. While that's important for change, it's equally important to focus on what they love about themselves. For every one thing you dislike about yourself, think of five things you like about yourself. It's a balancing act. - Author: Tom Giaquinto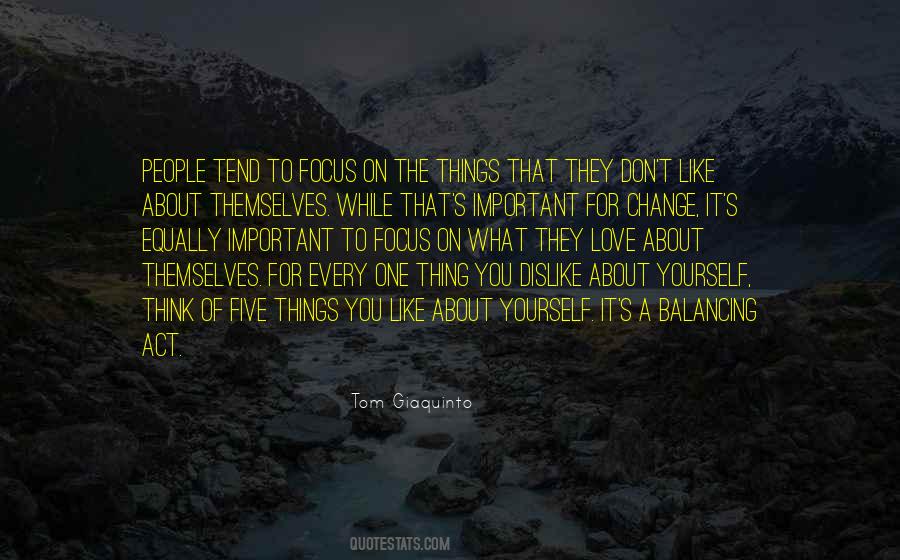 #60. Whenever your focus is on doing what you want and making yourself feel good, you can be confident that the Spirit of God is not the one leading the way. - Author: Leslie Ludy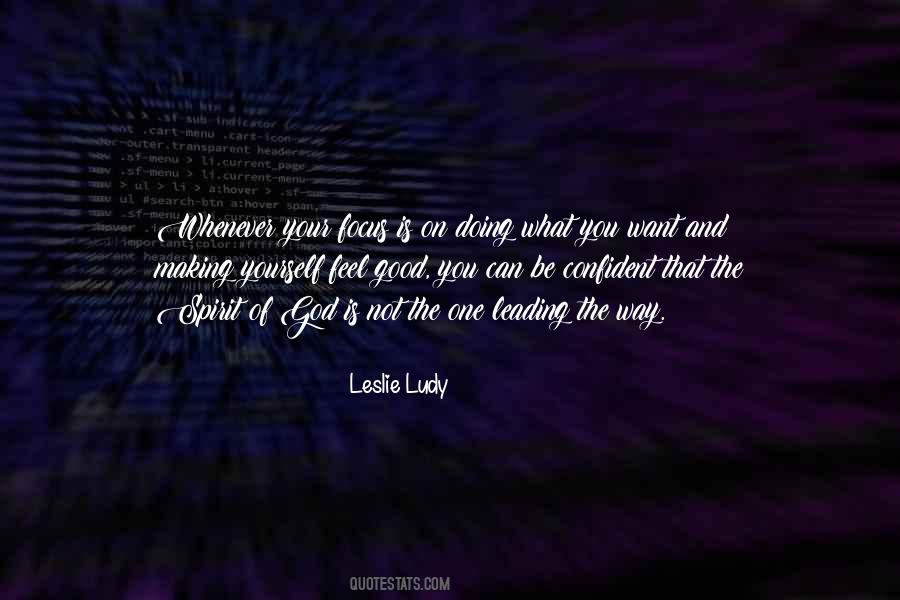 #61. If you focus on design, you can call yourself a designer. If you focus on the implementation of your design, you can call yourself an architect. - Author: Cameron Sinclair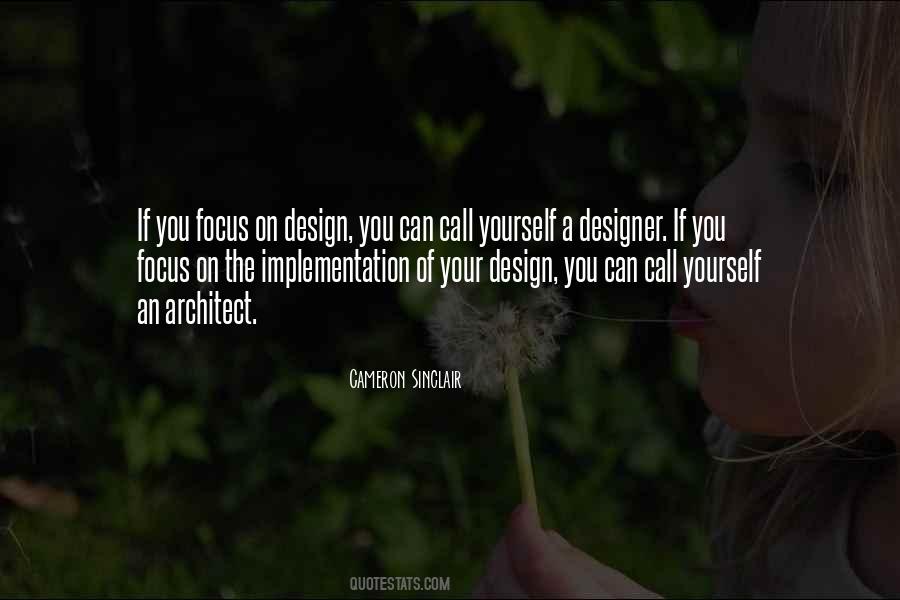 #62. I encourage myself - and everyone - to focus on how you feel and take care of yourself as opposed to your waistline. - Author: Kathryn Budig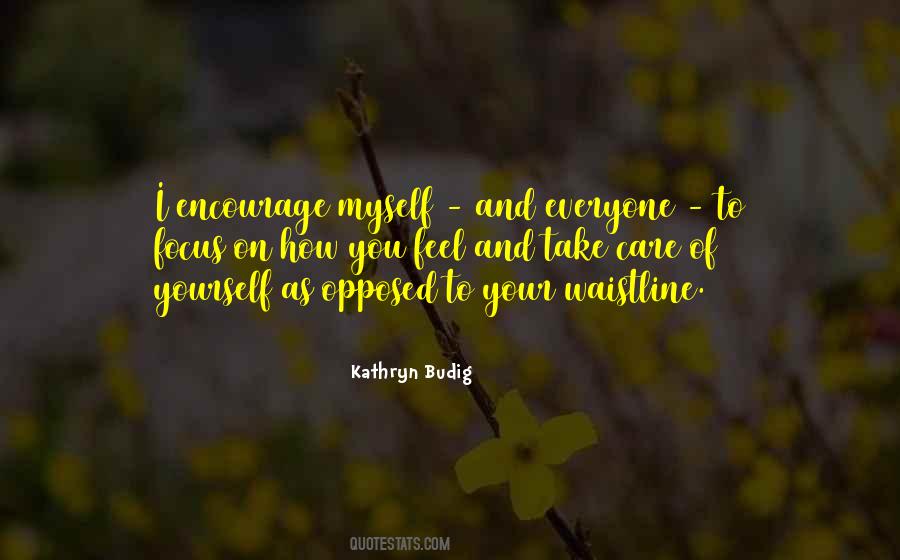 #63. Never be focused on yourself. - Author: Sunday Adelaja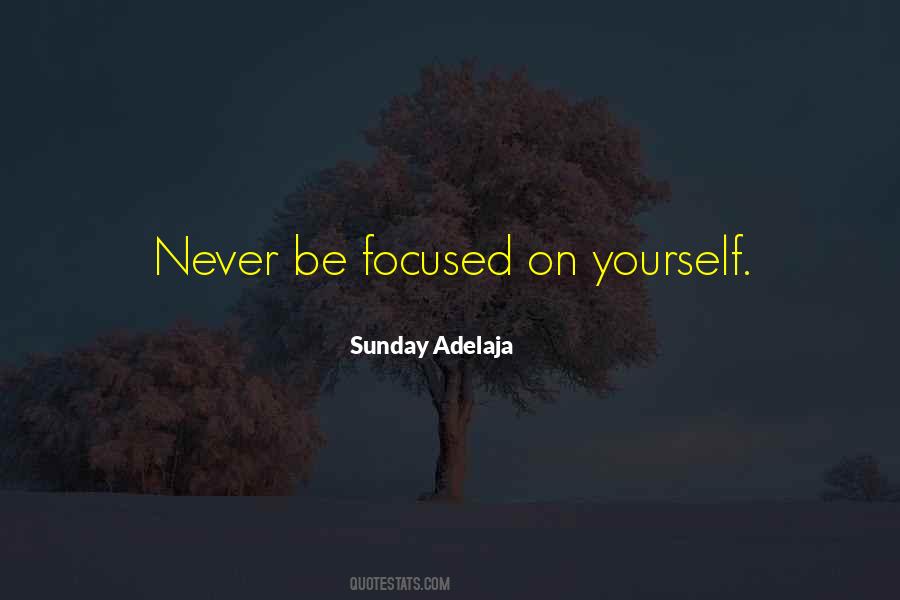 #64. FOCUS ON YOURSELF AT ALL LEVELS: BODY, MIND & SOUL. THUS, WHEN THE RIGHT MAN COMES TO YOUR SIDE, YOU WILL BE READY TO WIN HIS HEART. - Author: Linda Alfiori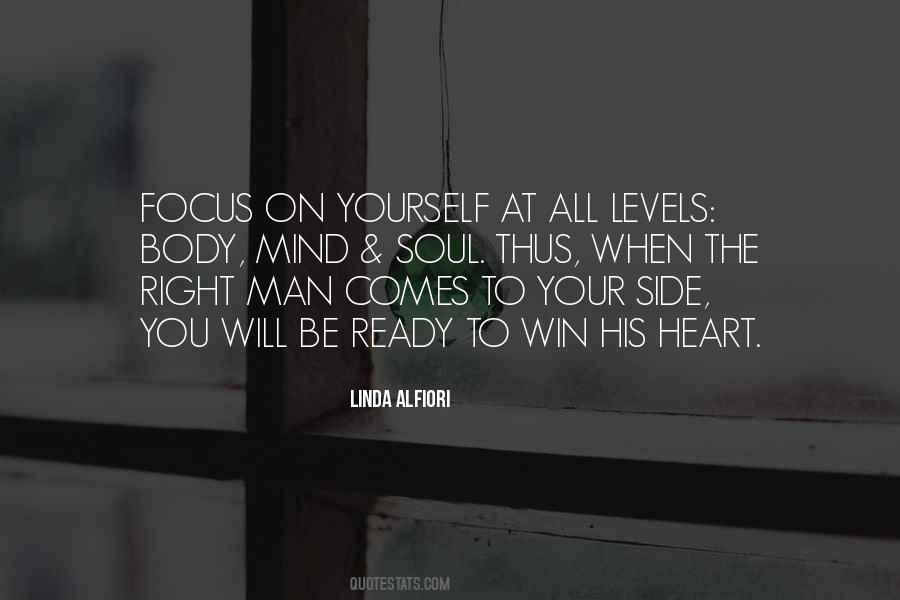 #65. Define yourself by your best moments, not your worst. Find one thing you did do right today, and focus on that. - Author: Trisha Ashworth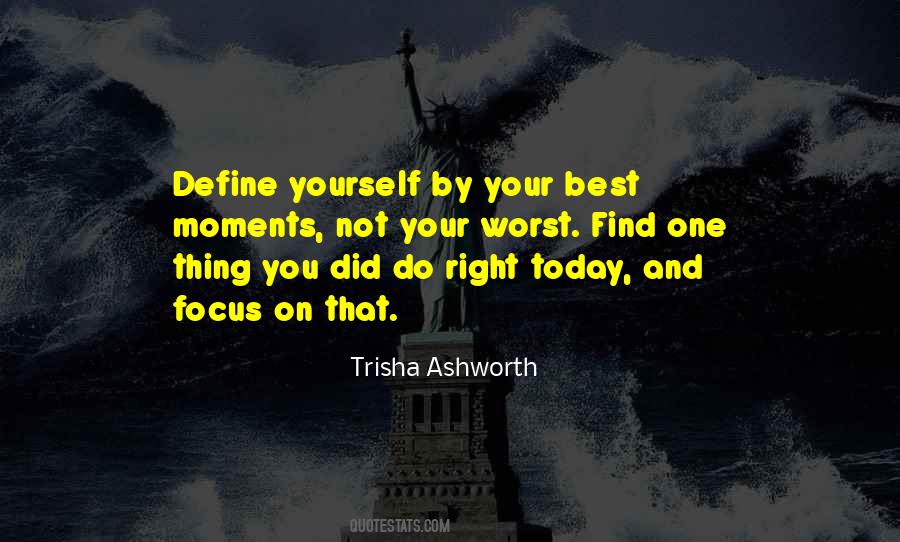 #66. When you face challenges, ask yourself what is the lesson here? Focus on the lesson and don't complain about the test. Everything happens for a reason. Every person you meet, may teach you something - good or bad. - Author: Rita Zahara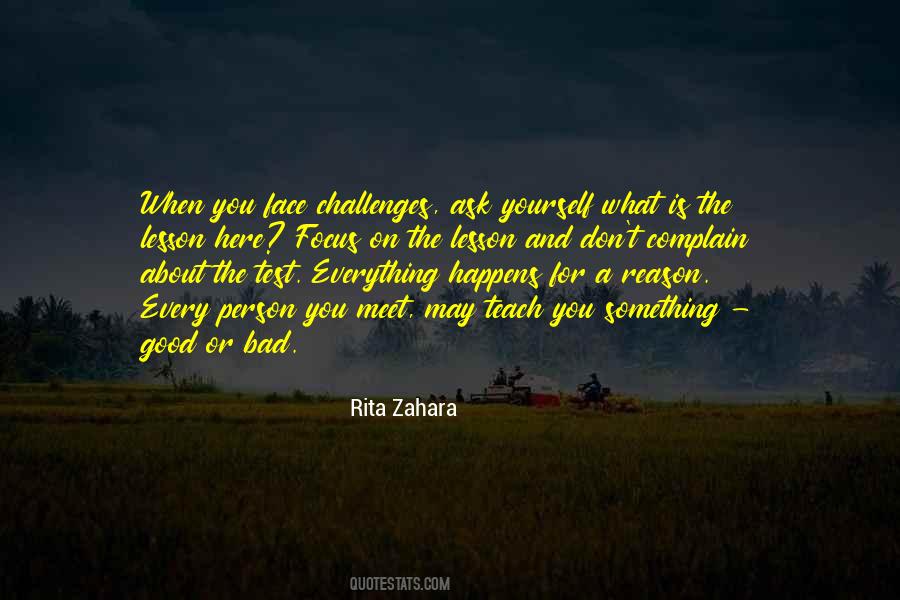 #67. Be true to yourself and follow your heart. Never bury yourself in disappointments or mistakes but learn from them and simply don't give it your energy. Focus on the positive and embrace the miracles life gives you. It's call the gift of HOPE. - Author: Jes Fuhrmann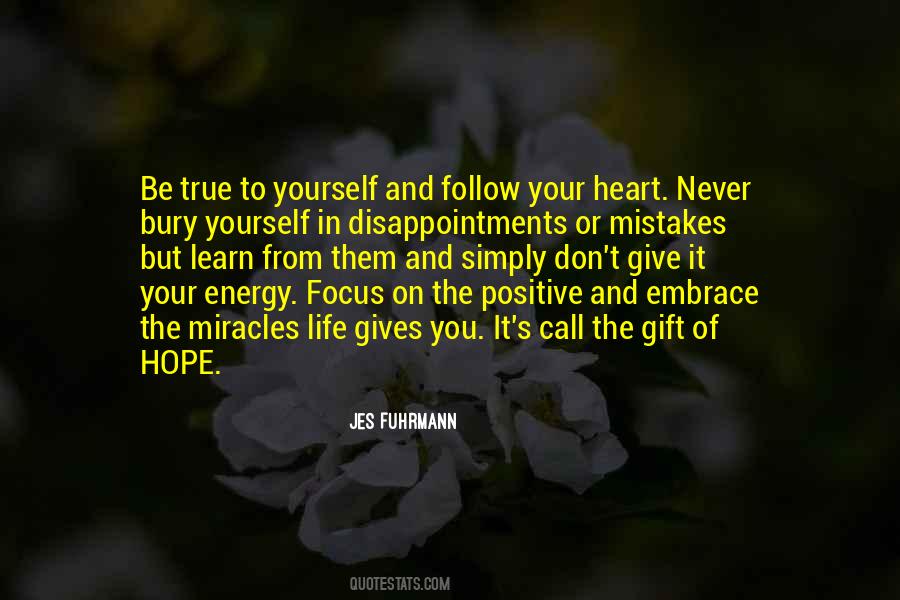 #68. In triathlon you don't get to race that much so when you're on the start line you just need to make sure you focus on the job in hand and enjoy yourself. - Author: Alistair Brownlee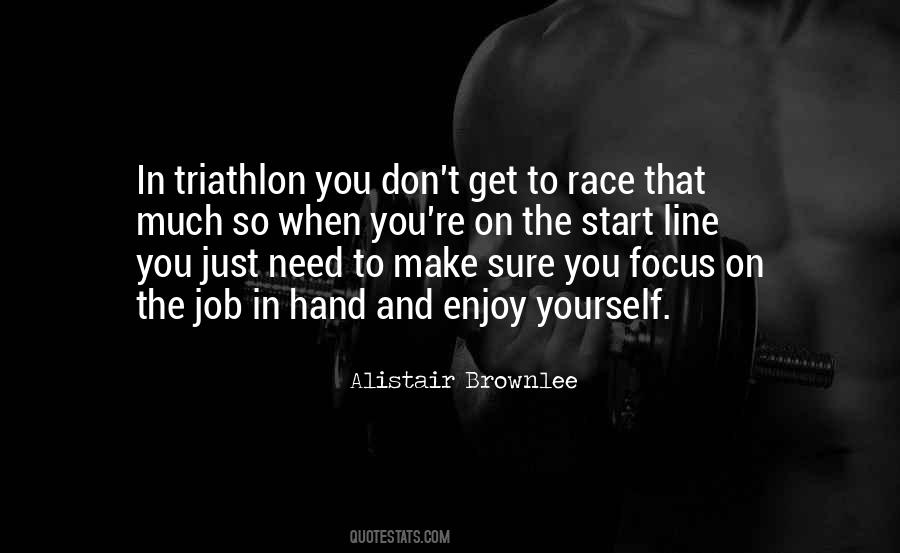 #69. I don't concern myself with thinking ahead to the finished product. I focus more specifically on what the character is experiencing. Once you relieve yourself of the very arbitrary and always punishing pressure of what an audience is expecting you to do, acting becomes a lot more fun and pure. - Author: Jesse Eisenberg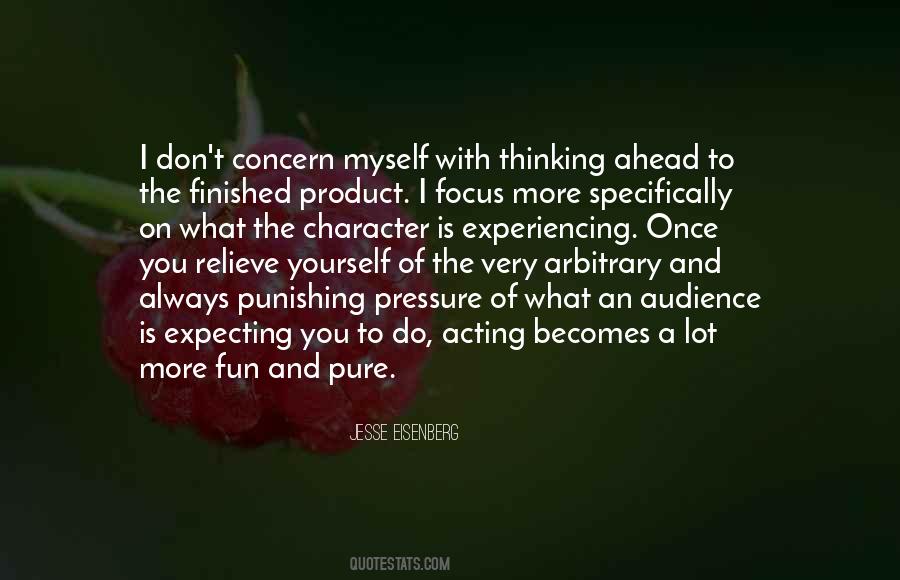 #70. So I don't really focus too much on that, and I think it's dangerous if your goal in life is to get the other guy, then you're not going to be doing a really quality job yourself. - Author: Katie Couric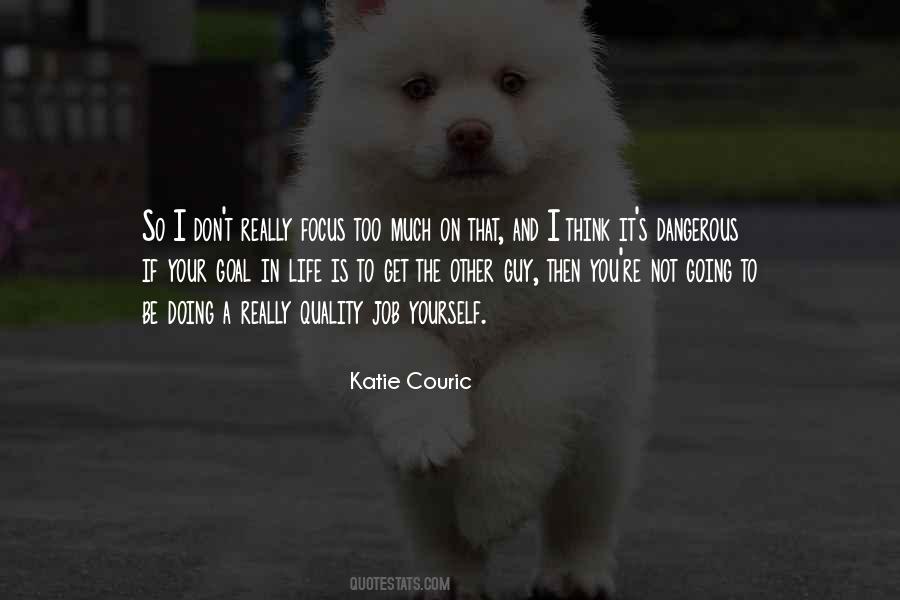 #71. Stay true to yourself because a lot of times women get so wrapped up in doing for a man that we forget to focus on us. A lot of times that is unattractive. They love us because we are independent and focused on the things that make us happy. Because when they see you happy, their happy! - Author: Gabrielle Dennis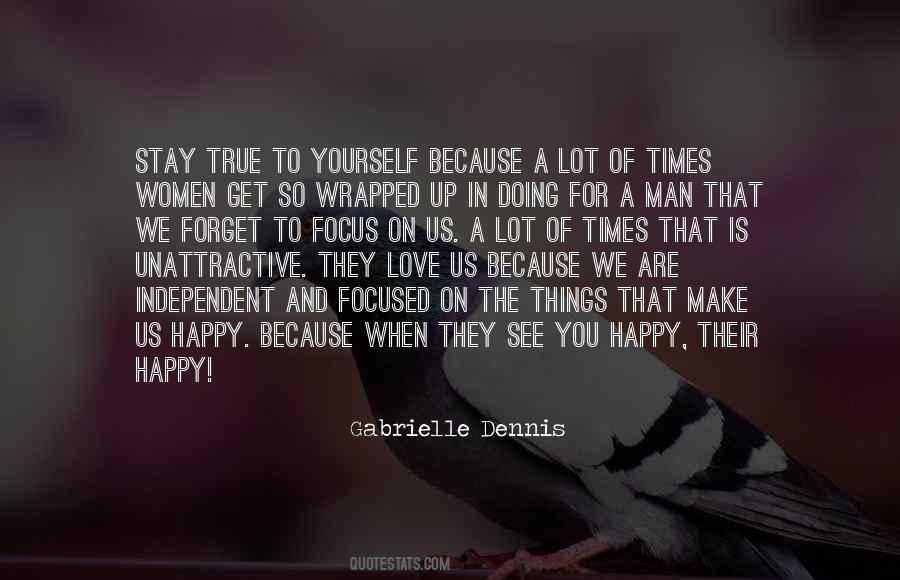 #72. Stop beating yourself up over all the days you didn't work on your story. Focus on what you can do today.

Sit down, and write. - Author: M. Kirin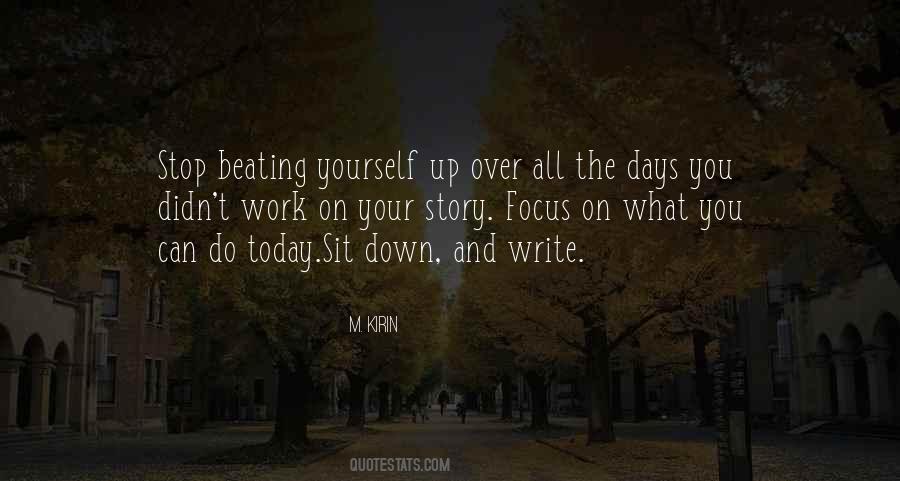 #73. Just be careful of forming close relationships, Craig. Focus on yourself." "Okay." "Only then does healing take place." "All right. - Author: Ned Vizzini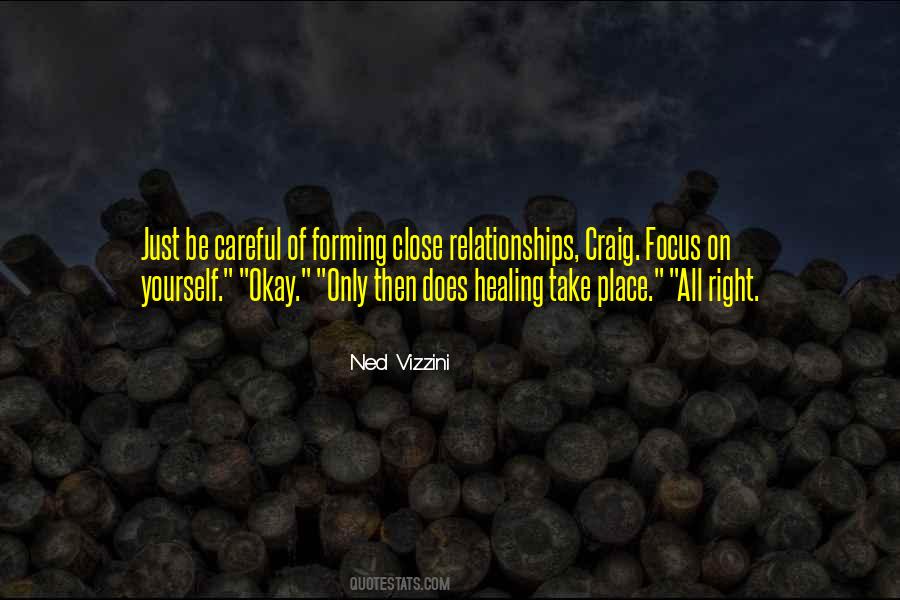 #74. Gratitude is more than just a simple "thank you" when you receive a gift. It is about keeping in mind that you live right now, allowing yourself to focus on the moment and appreciate the life you lead, to focus on all that you do have, not what you don't. Cliches? Totally. - Author: Meik Wiking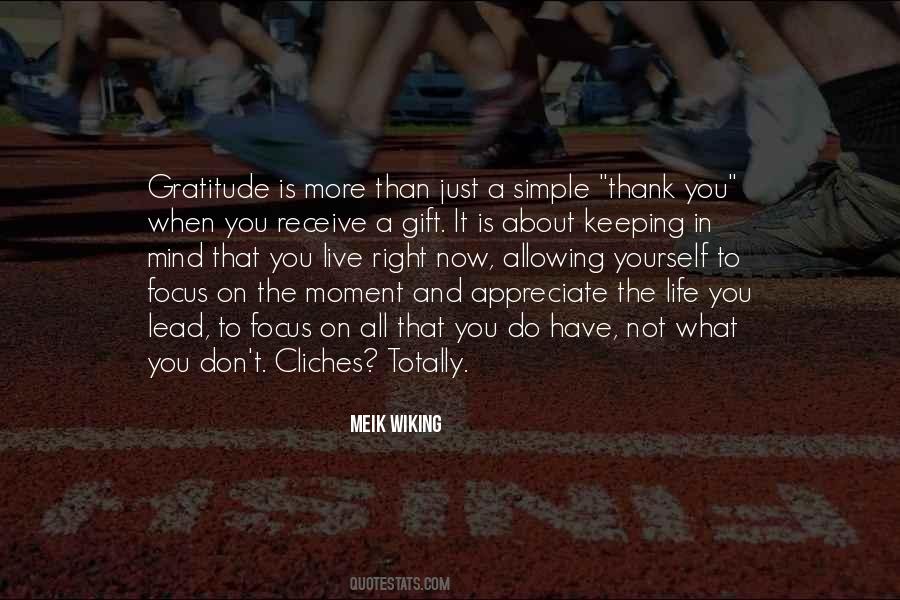 #75. You don't have to search so hard for meaning and destiny. If you focus on keeping yourself clear and in balance and you live from your heart, destiny and your highest-good path will unfold naturally at your feet. - Author: Melody Beattie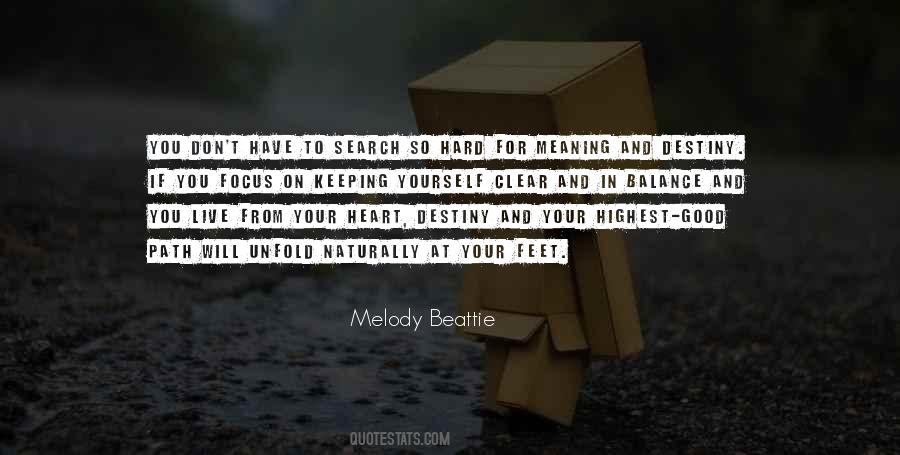 #76. I believe that as much as you take, you have to give back. It's important not to focus on yourself too much. - Author: Nicole Kidman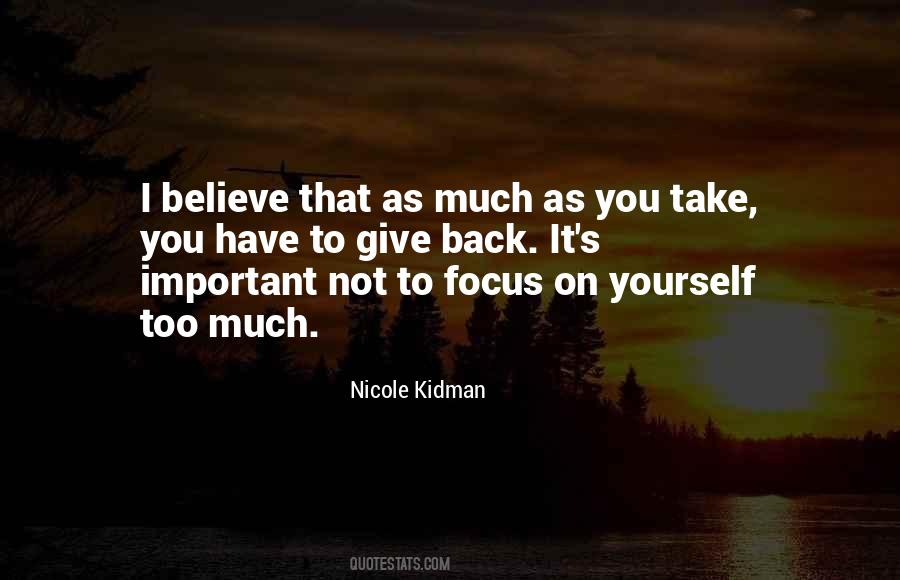 #77. It can be helpful simply to make a written or mental list of the things you do each day. Then give yourself a mental credit for each of them, however small. This will help you focus on what you have done instead of what you haven't gotten around to do. It may sound simplistic, but it works. - Author: David D. Burns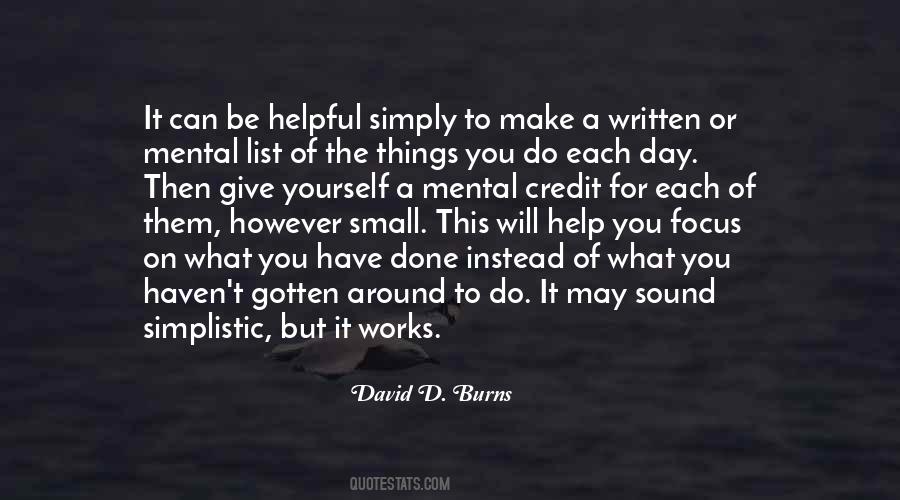 #78. There's always darkness around, and if you focus on the darkness, you don't know where to go. But if you direct yourself at the light - there it is! It's right there. - Author: Annie Lennox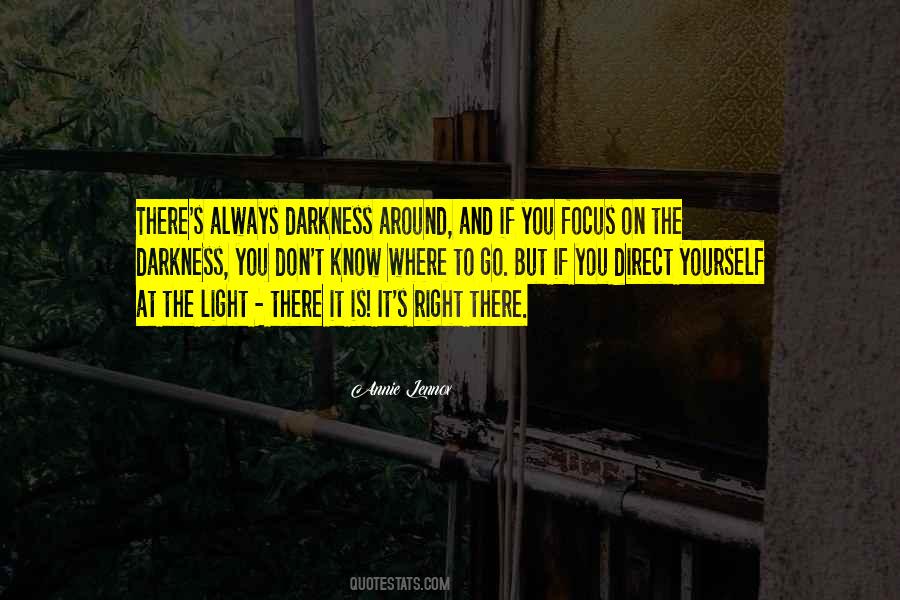 #79. Focus on keeping faith and growing your roots of light so strong and deep that no one, not even yourself, can make you believe something about yourself that is not good for your soul. - Author: Molly Friedenfeld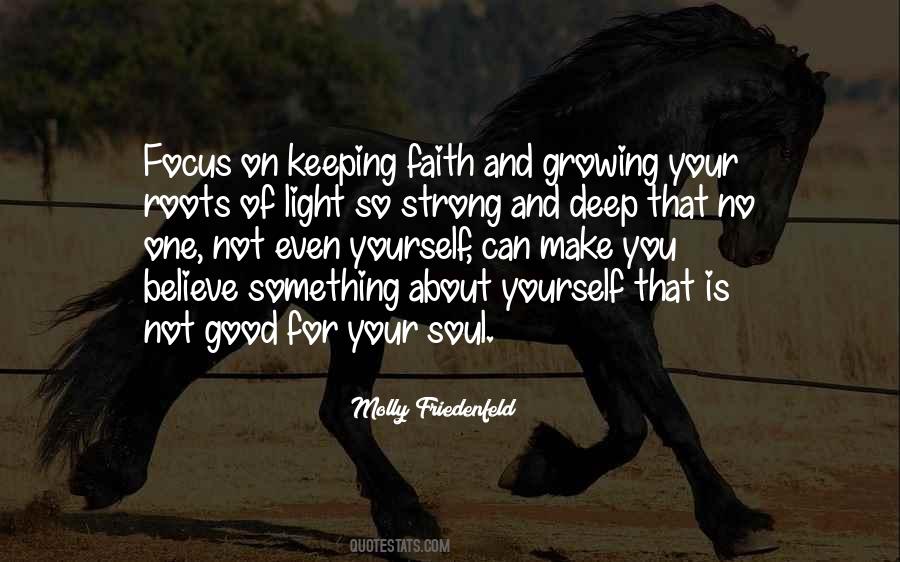 #80. To be successful, however, you must be brutal with yourself and focus on the flaws. - Author: Arnold Schwarzenegger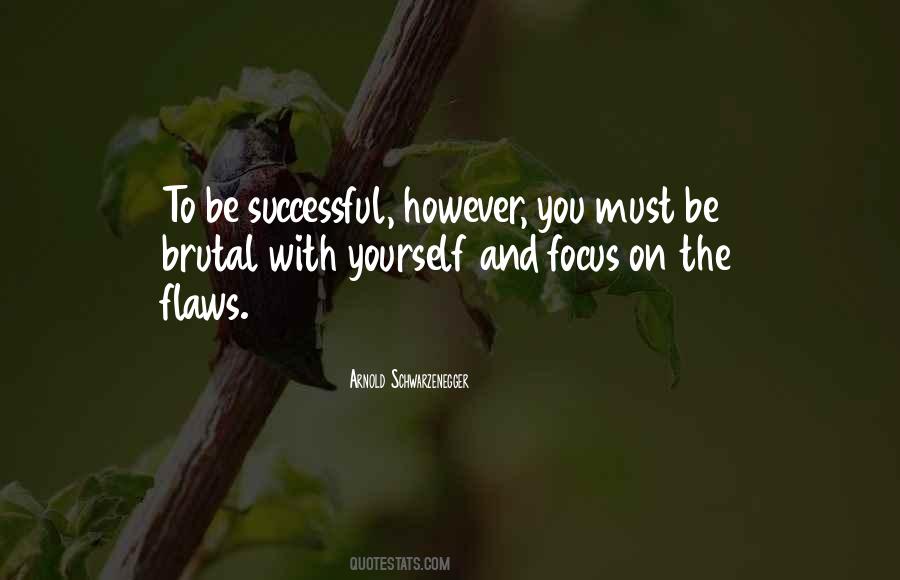 #81. Just be loving. You also have to recognize that you need to take the focus off yourself and put it on your children to give them a proper start in life. - Author: Benjamin Bratt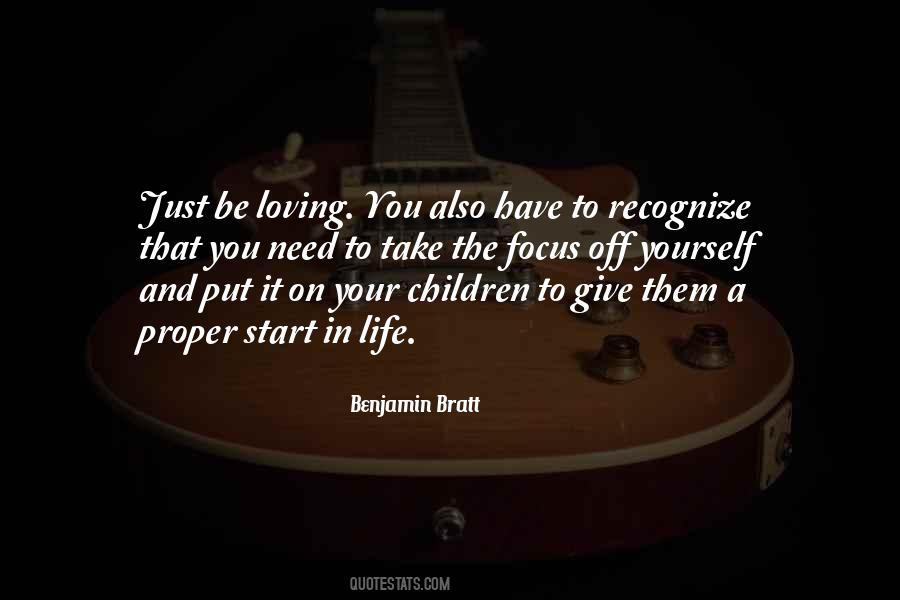 #82. Before you have kids, you just have much less to worry about. It doesn't feel that way, but it's true. Once you have kids, your focus has to change, I think, at least to raise kids right. You can't just focus on yourself; it's too hard. - Author: Christopher Gorham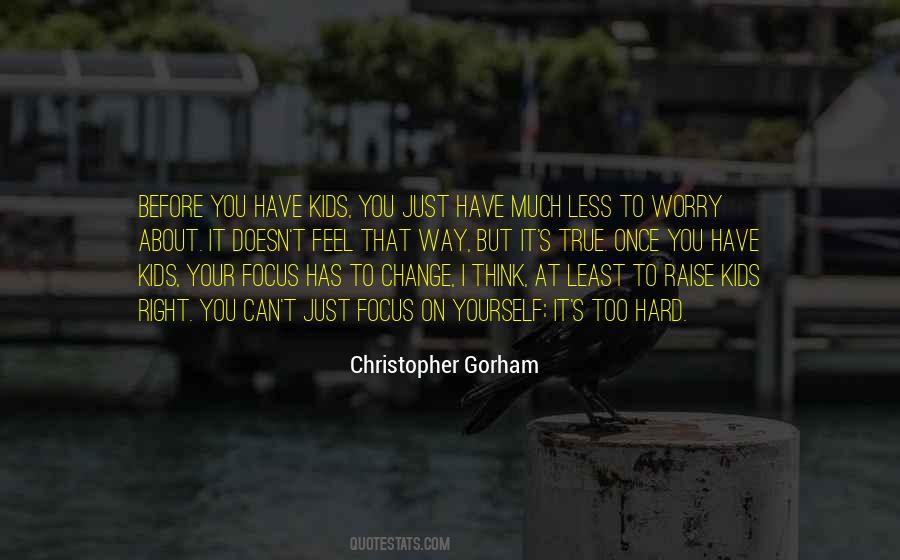 #83. When you focus on how wonderful God is and all the great things He's done ... is doing ... and even will do in your life, your natural response will be praise, adoration and awe. Don't let yourself ever get used to it ... stay amazed! - Author: Joyce Meyer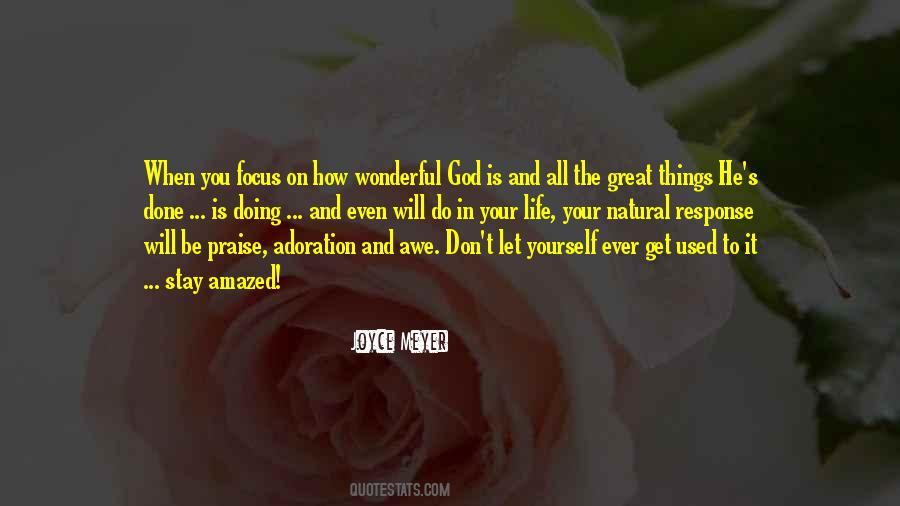 #84. You'll drive yourself crazy trying to control something that isn't yours to control. Let go. Free yourself. Allow your mind and energy to focus on something positive ... to build something beautiful. - Author: Steve Maraboli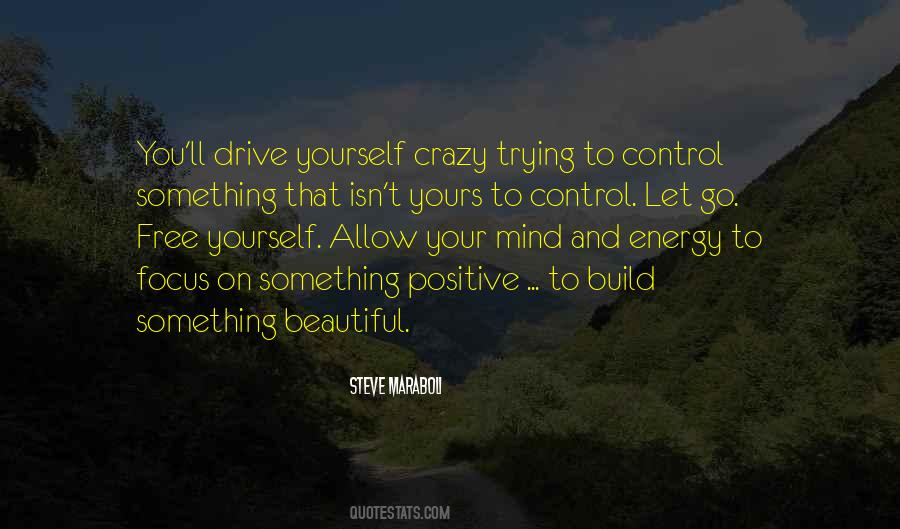 #85. Don't focus on it," she said. "Don't define yourself in terms of something which even many highly trained and gifted professionals do not fully understand. - Author: Elyn R. Saks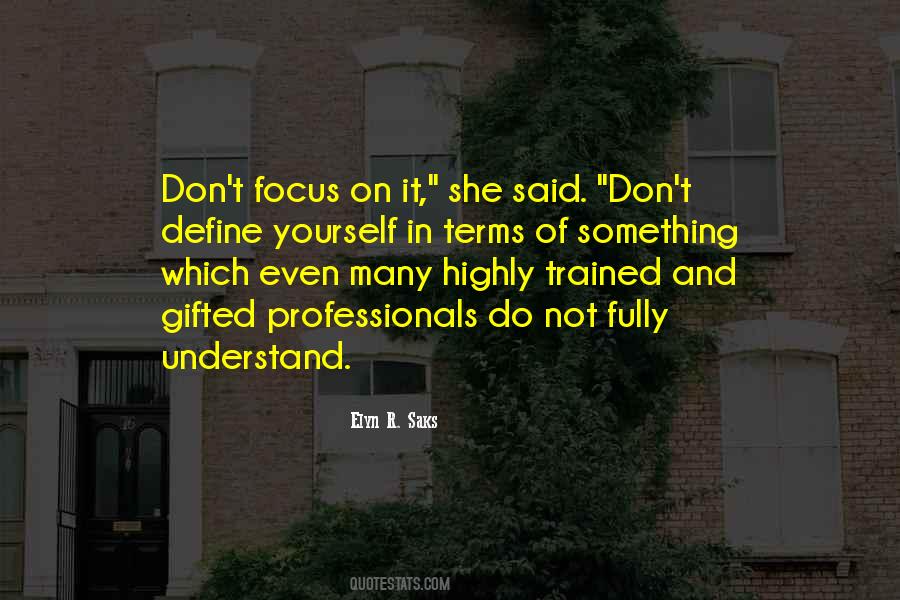 #86. When you feel confused or burdened by problems focus on THIS INSTANT and ask yourself: WHAT PROBLEM DO I HAVE RIGHT NOW? You will find that there is no problem NOW. A challenge that requires action, possibly, but not a problem. - Author: Eckhart Tolle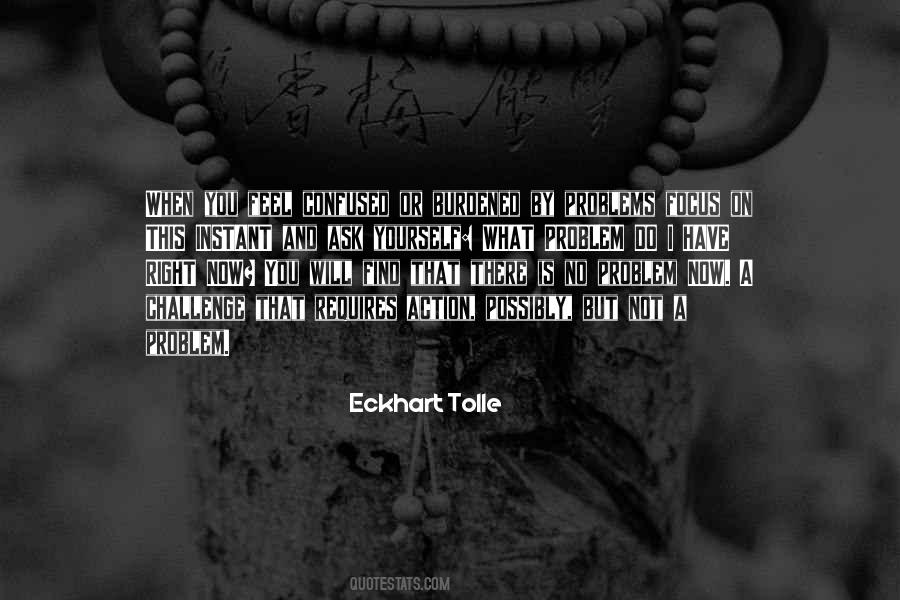 #87. Often, feelings of sadness, uneasiness, and loneliness are vague and unattached to specific events. This makes it more challenging to find ways to turn you mood around. When you find yourself in a funk, focus on what you're feeling. - Author: G. Alan Marlatt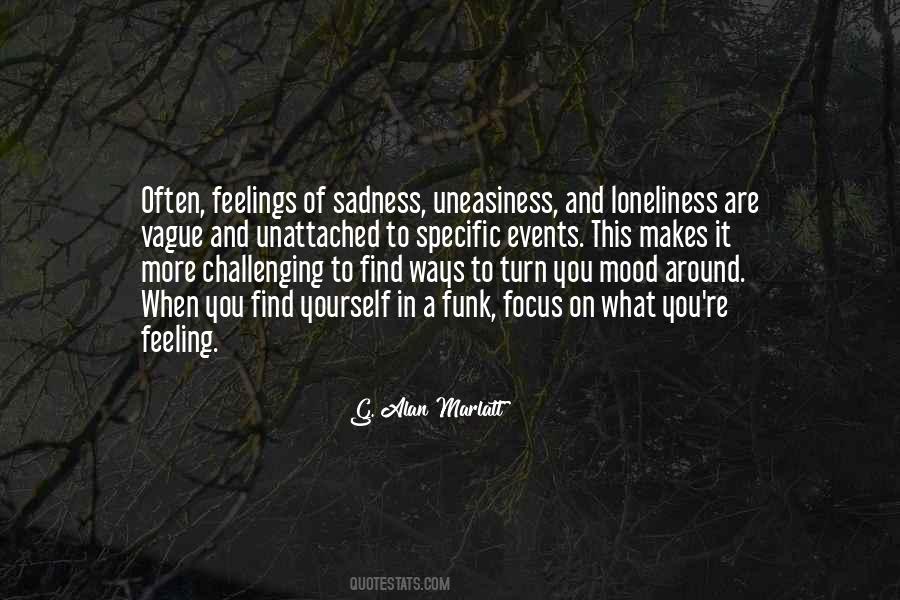 #88. I've been through a couple of mergers - they're not that fun. And it's easy to lose your focus on this grandiose mission you established for yourself as an independent company. - Author: Jeremy Stoppelman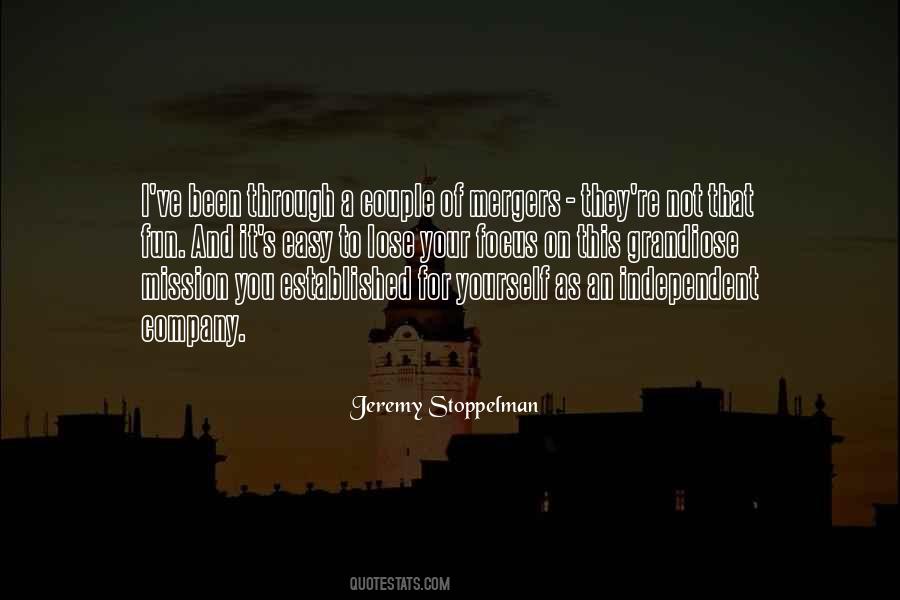 #89. Every single person in the world has something good about them. You just have to look inside of yourself and focus on it. - Author: Michelle McCool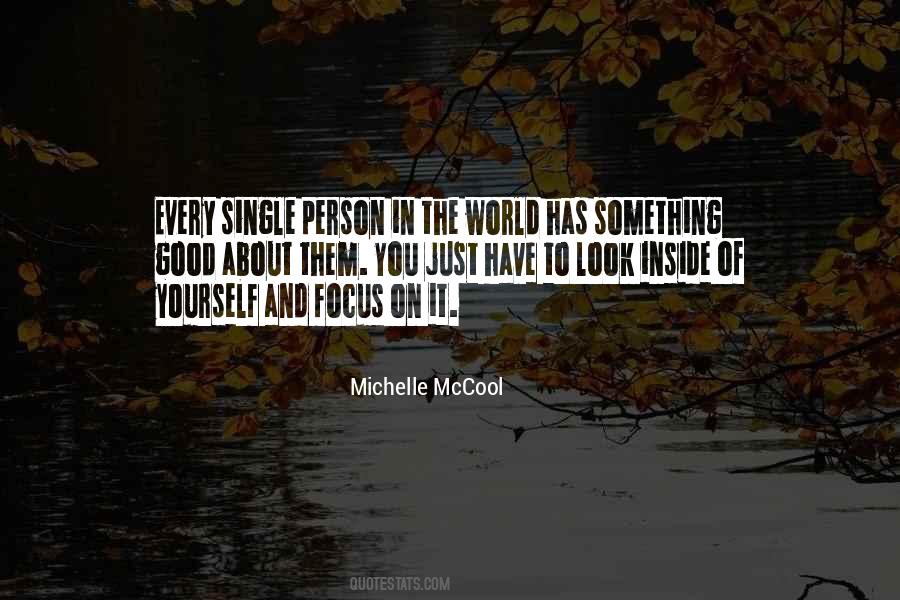 #90. Focus on other people, not on yourself. - Author: Randy Pausch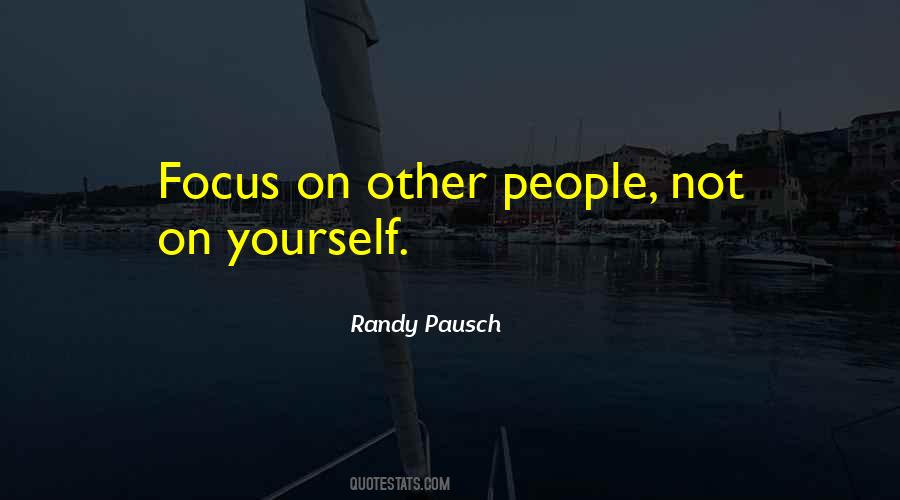 #91. People should accept being single, because those are the moments you can really focus on yourself, and learning who you are. Then when you get in a relationship, you will be stronger and have a little bit more self-awareness, self-love, and the other ingredients for a healthy relationship. - Author: Lauren London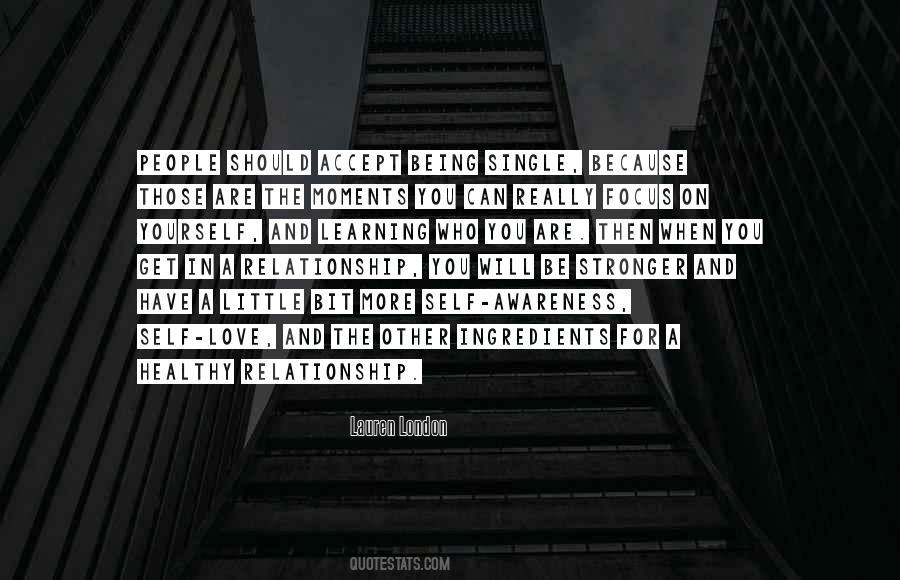 #92. Thoughts are slippery fish in a cold shallow stream.
If you are intent on capturing a worthwhile one, you need to stand very still, focus very hard on somewhere outside yourself, and then simply ignore it until it gets so close that it tickles your ankles.
Then, pounce. - Author: Vera Nazarian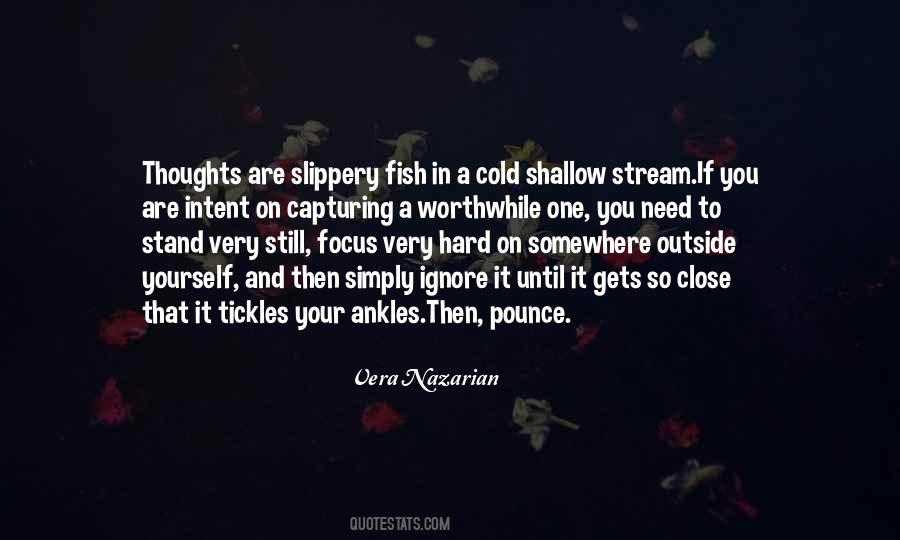 #93. For me, I've learned that the best thing is to focus on the team you play for and yourself and what you need to do. - Author: Sidney Crosby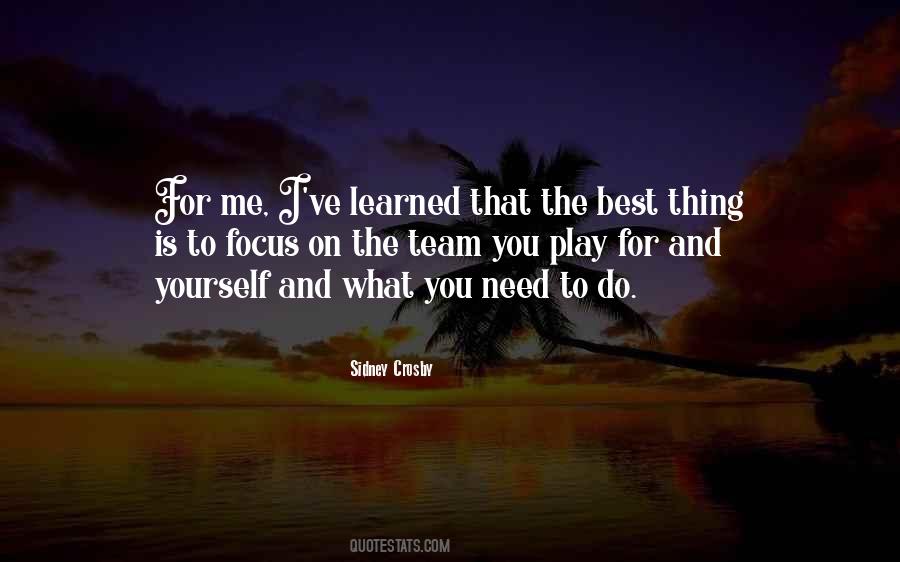 #94. Every day, or at least twice a week, take a few minutes and focus on seeing yourself in joy. Feel yourself in joy. Imagine only joy ahead in your life and see yourself basking in it. As you do this the Universe will move all people, circumstances, and events to bring you joy, joy and more joy. - Author: Rhonda Byrne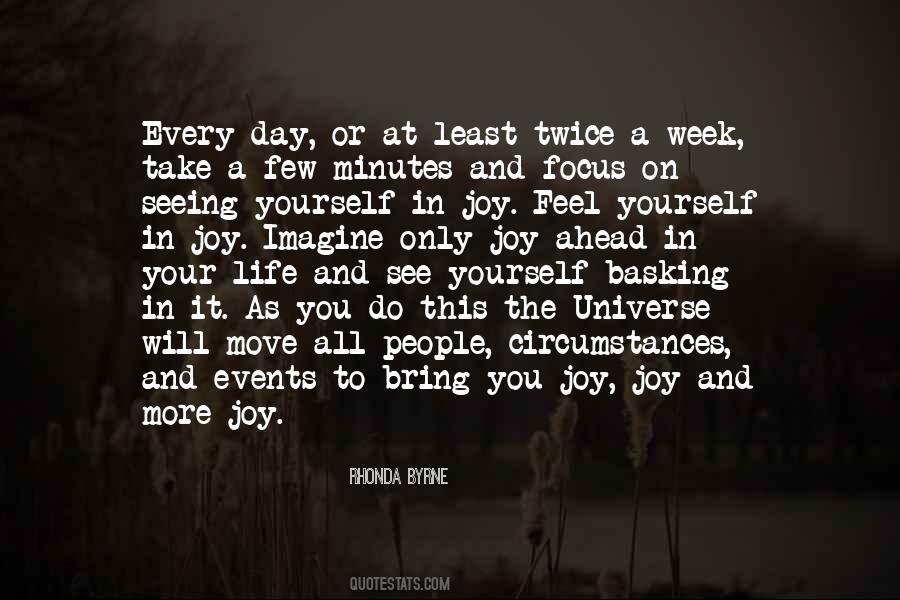 #95. Do you. Just focus on being the best version of yourself that you can be every day, and don't compare yourself to anyone else or worry about what they're doing. - Author: Angie Martinez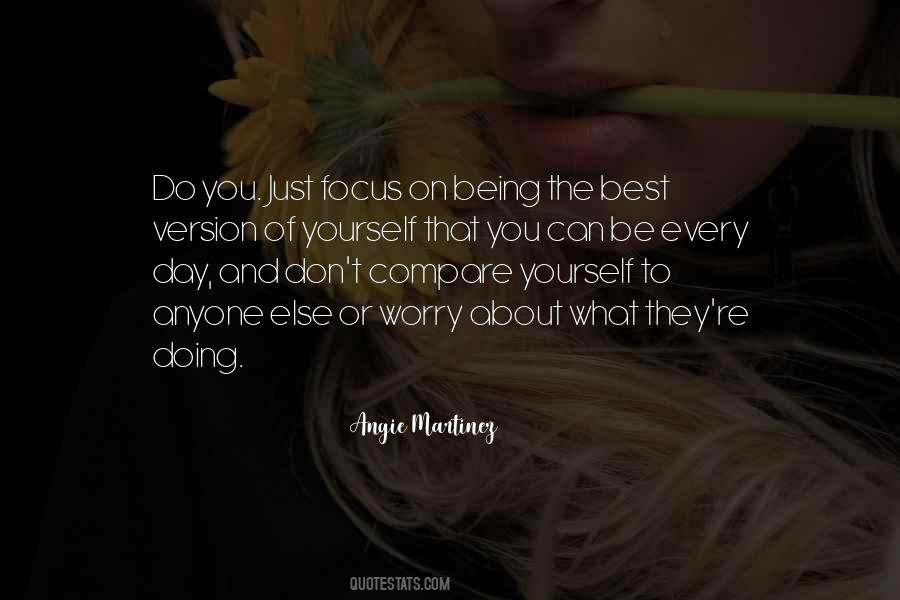 #96. Focus on making yourself better, not thinking you are better. - Author: Bohdi Sanders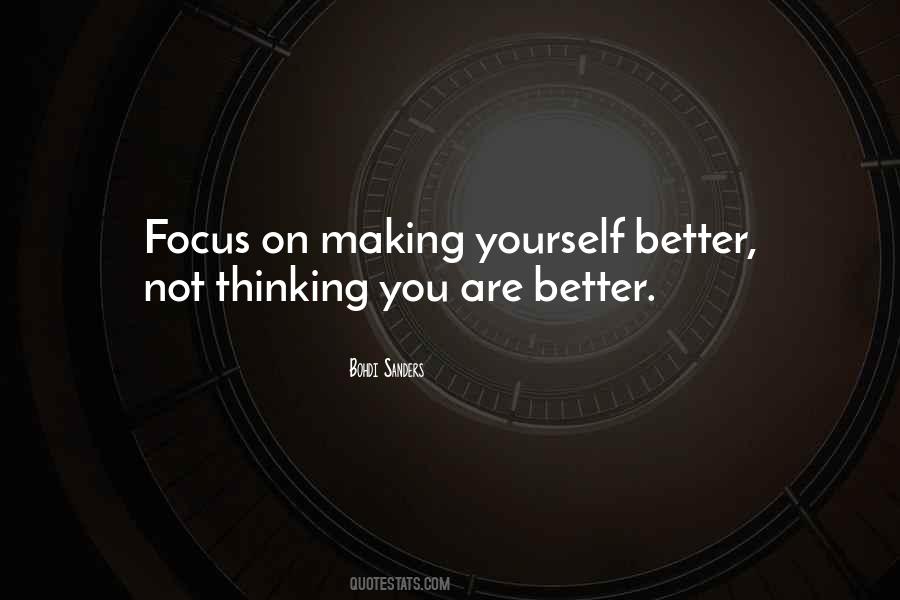 #97. It doesn't matter what others think. This is about YOU. Create a life that you genuinely love with your whole heart & start with yourself. - Author: Brittany Burgunder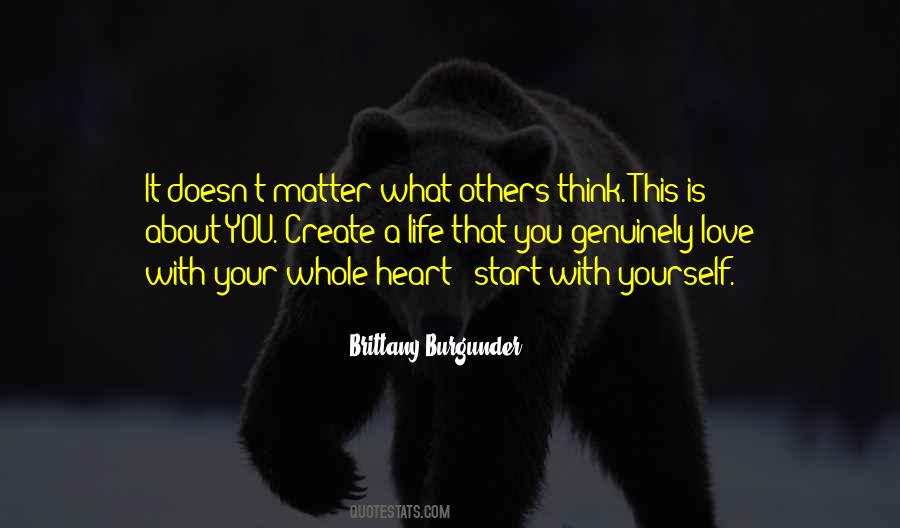 #98. Just focus on being the best possible version of yourself and quit worrying about your thighs, there's nothing wrong with them. - Author: Jennie Runk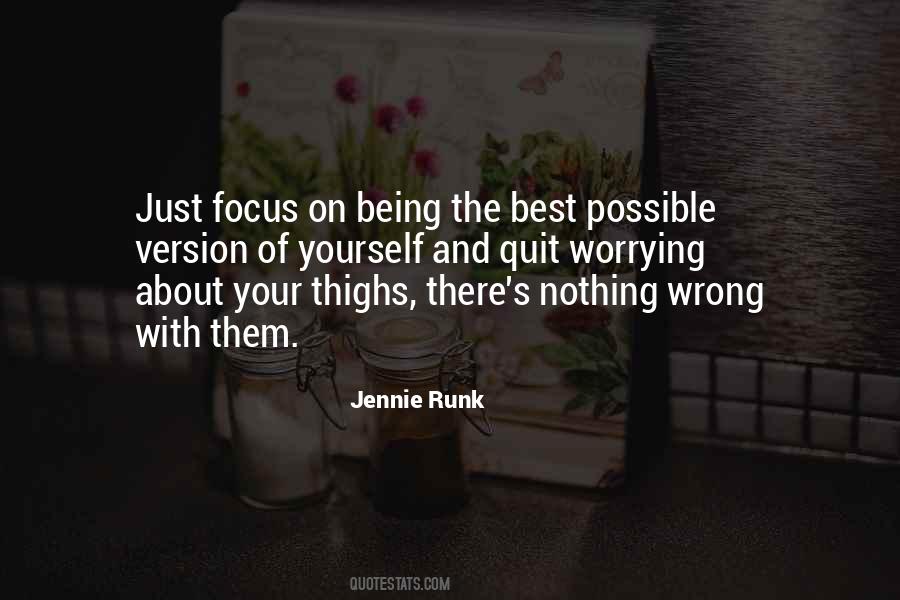 #99. The Human tendency, largely driven by ego, is to believe we can do it all ... It maybe humbling to admit there are only a few things you do really well ... you will free yourself to focus on those things which will lead to greater personal success and significance. - Author: Bob Buford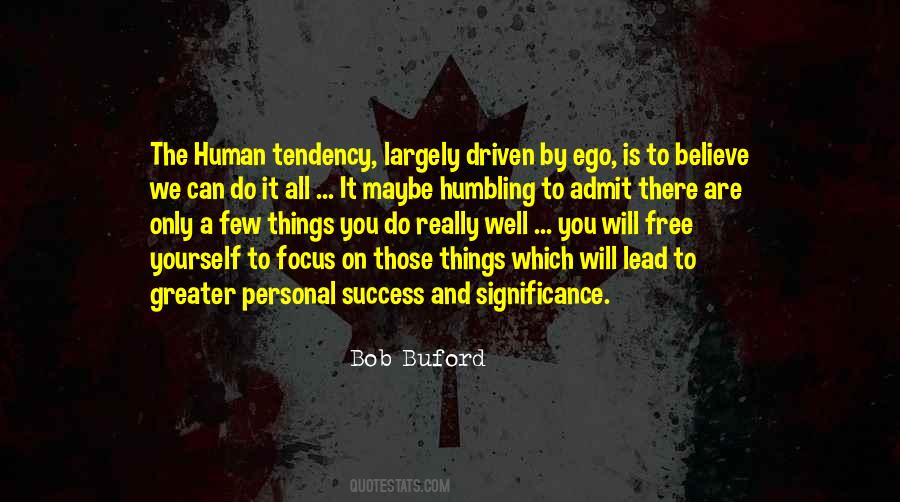 #100. When you're tired and have put no focus on yourself, the value you give isn't that valuable. And that means that value doesn't come back to you. - Author: Kate Northrup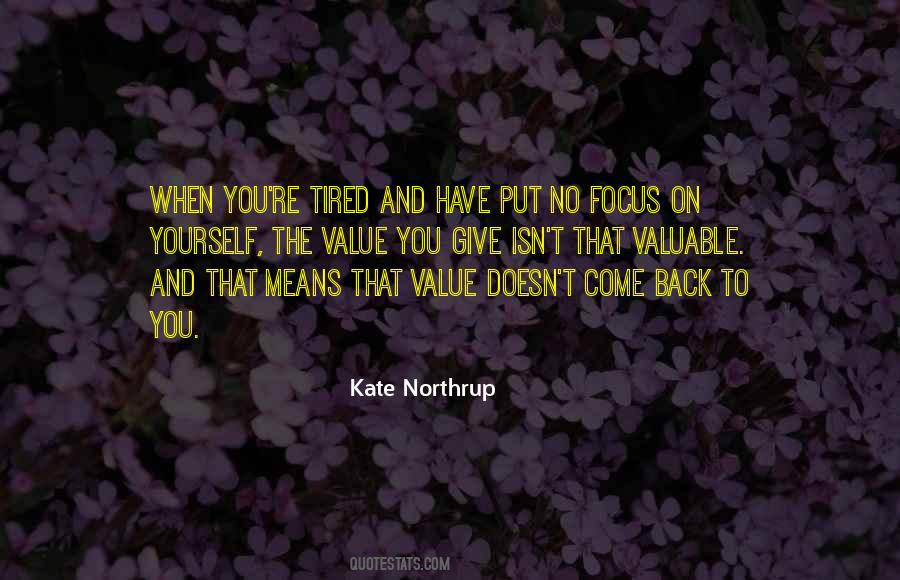 Famous Authors
Popular Topics