List of top 100 famous quotes and sayings about eyes with tears to read and share with friends on your Facebook, Twitter, blogs.
Top 100 Quotes About Eyes With Tears
#1. When I think about the fact that I get to work with stars like Will Ferrell or Kurt Russell my eyes fill with tears of joy and appreciation. I hope the ride keeps going.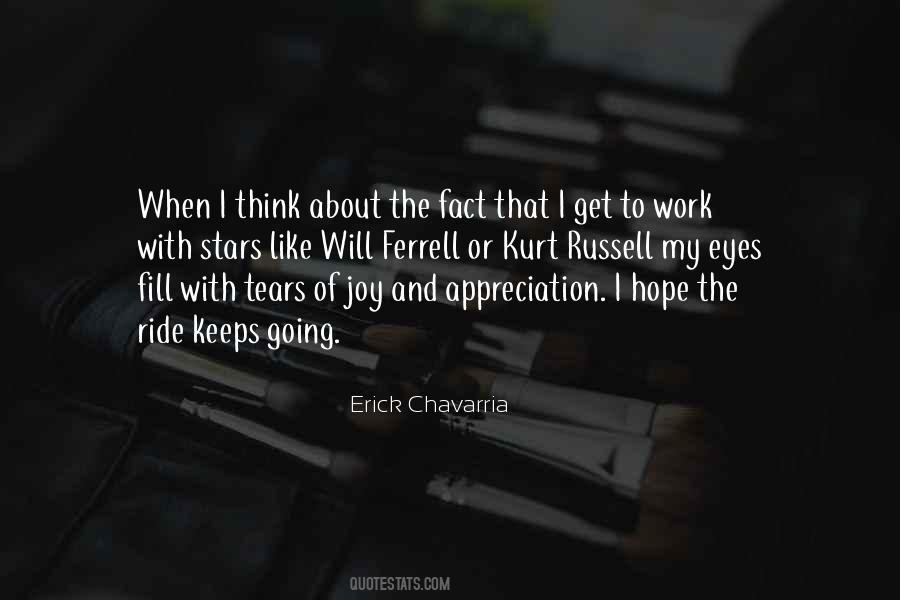 #2. When she heard this Sonya blushed so that tears came into her eyes and, unable to bear the looks turned upon her, ran away into the dancing hall, whirled round it at full speed with her dress puffed out like a balloon, and, flushed and smiling, plumped down on the floor.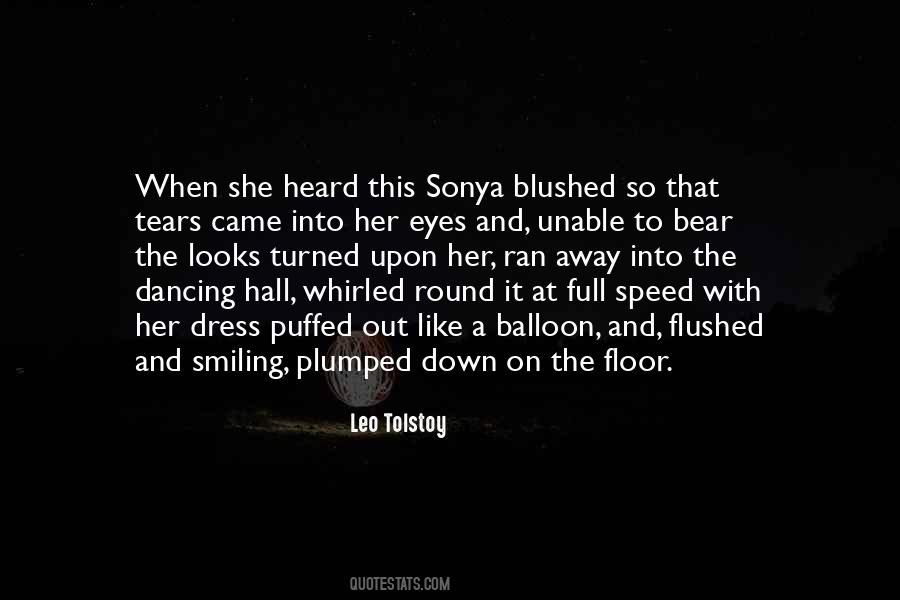 #3. She sensed it, saw my eyes wet with tears, and only then must have discovered I was no longer the man I had been, and I endured her glance with a courage I never thought I had.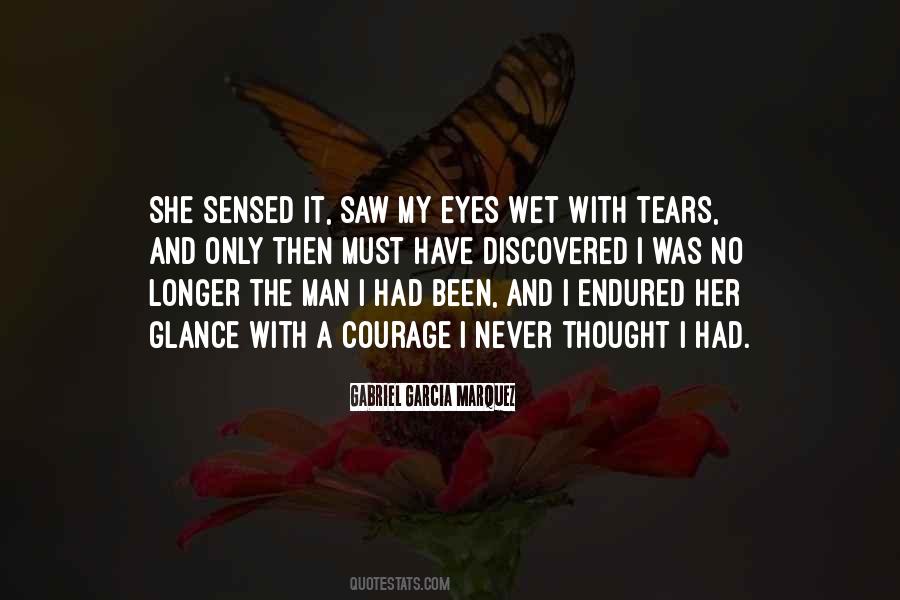 #4. What a great advantage a man can have over women, if he only knew what cold and calculating thoughts are going through her mind ... while her eyes are brimming with tears.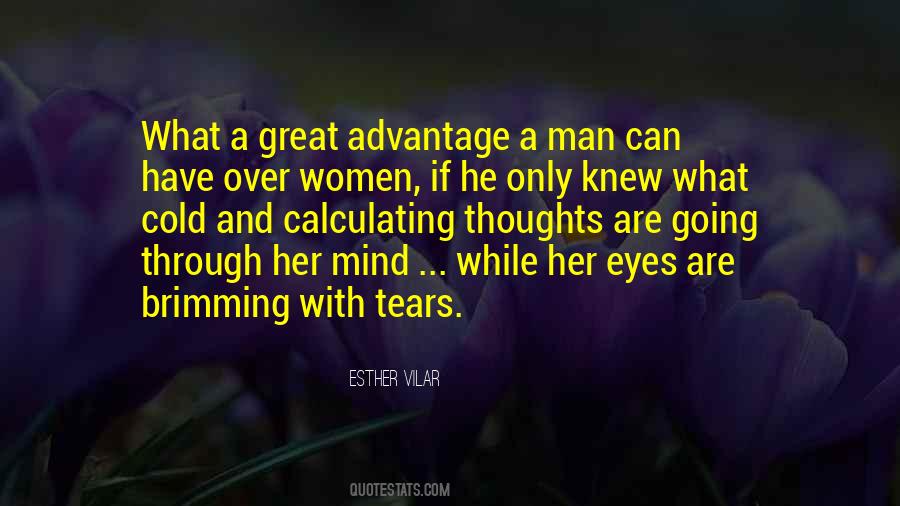 #5. Her face is a map of remembered trouble and absorbed guilt, The green eyes look broken, as if their glass has shattered. A motorway pile-up of wrecked mascara. Lashes jeweled with tears.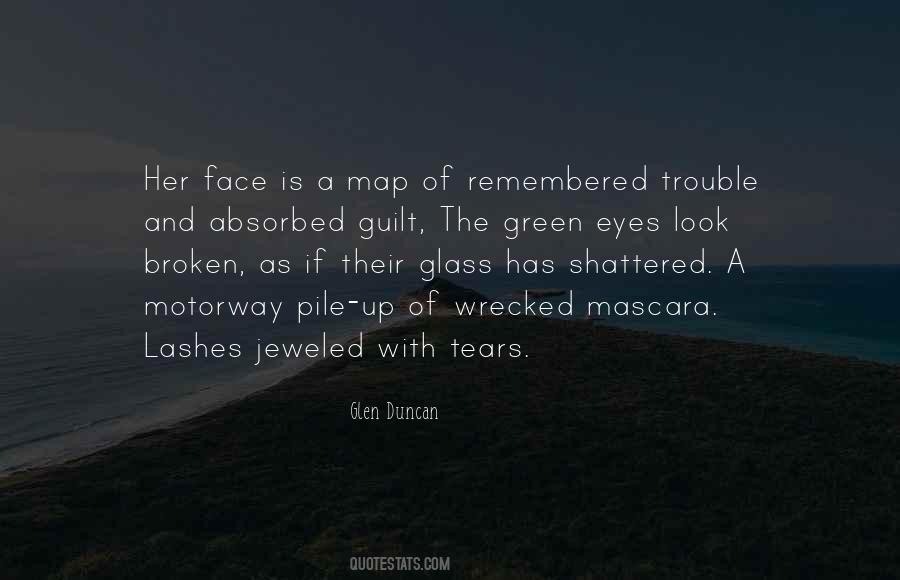 #6. That pistol I gave you is a piece of crap. You can't hit anything with it, not at that distance."
Staring at her with tears in his blinking eyes, he says, "I did."
Conversation between Alis K and Willy
The Informer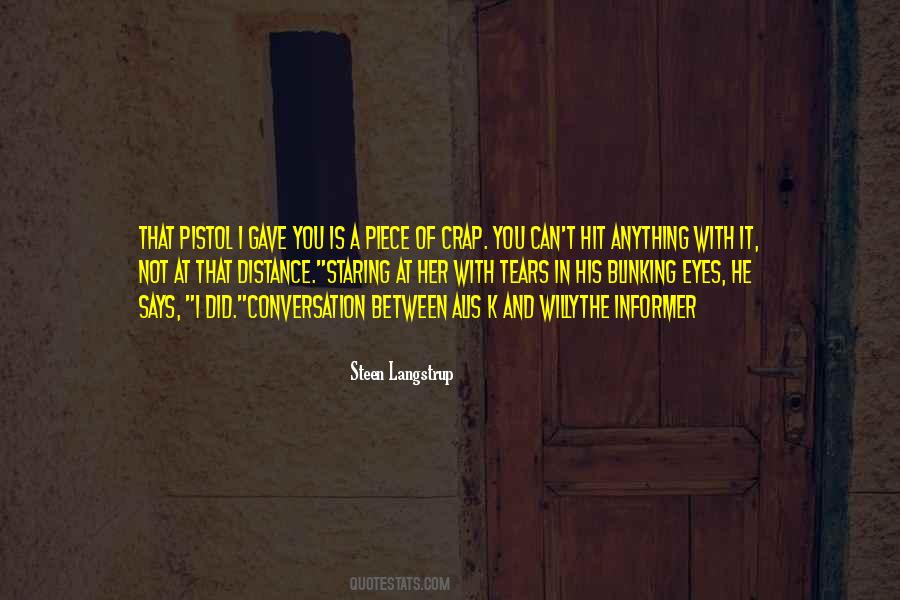 #7. You can't love me without growing old," she finally said. "And I can't know that about you without wanting to cry. And my tears are the end of the world."
Ander touched the corners of her eyes with his lips to reassure her they were dry. "Please don't be afraid of my love.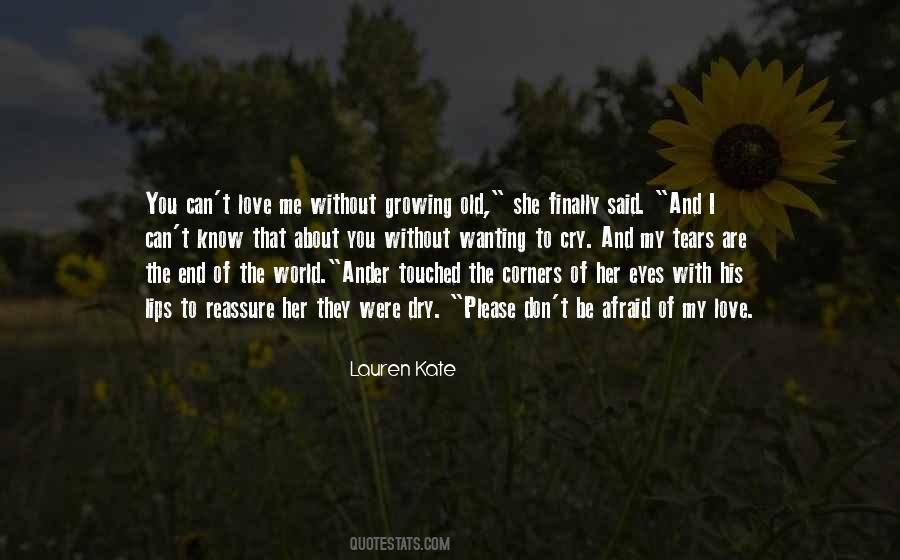 #8. I should have loved,' Hal said after a very long silence. Neville's eyes filled with tears. ' Aye. You Should have loved.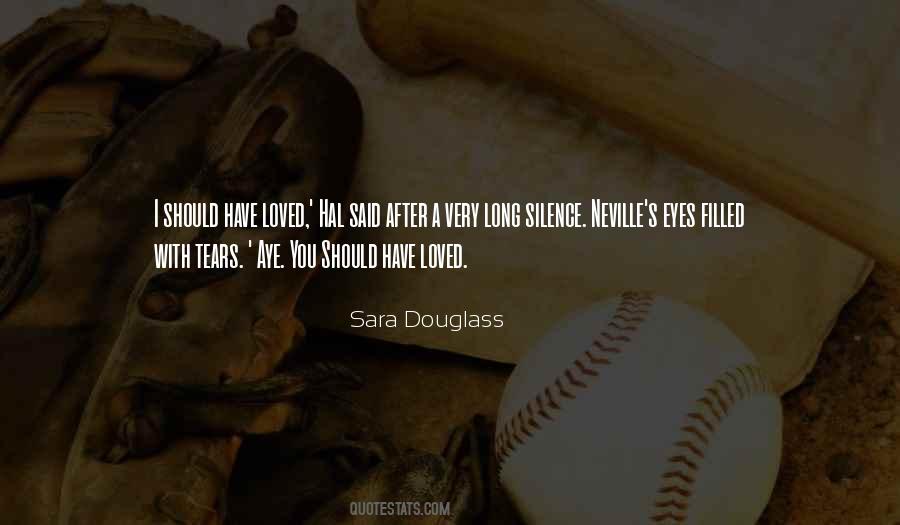 #9. We all did. But running away from it never made me feel better. Pretending it hadn't happened was slowly killing me." Sarah hugged the album to her chest, her eyes filling with tears again. "Thank you for this. Ignore the tears. You've made me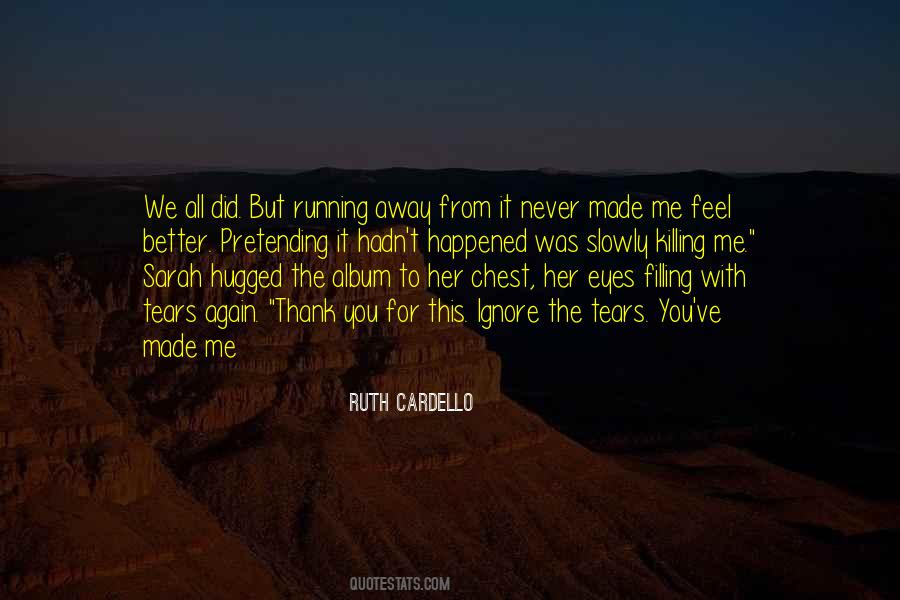 #10. So much for perfect love. Because you can blink your eyes and it can vanish, without explanation, leaving you with only your memories and your tears.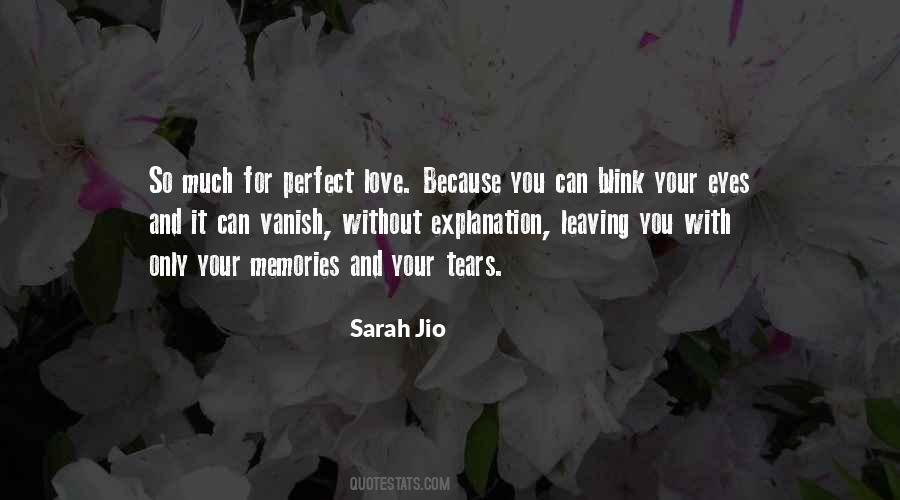 #11. Tears began to surge up into her eyes, and she found herself doubling up her fists, with the thumbs inside, as she had done as a child; she felt her jaw wobble, and when she spoke her voice could hardly be heard.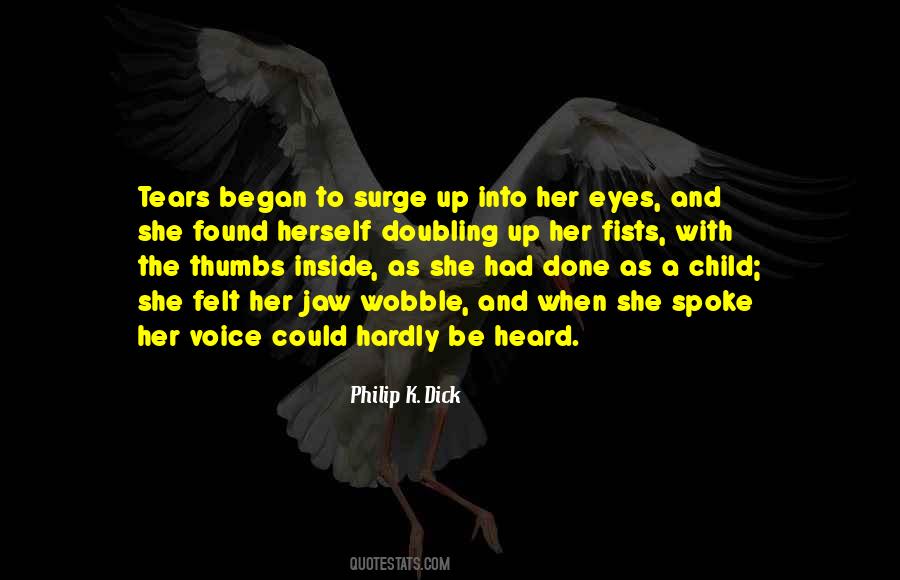 #12. You are quite mad." The smoke had filled her eyes with tears. "If you were better born, I'd marry you.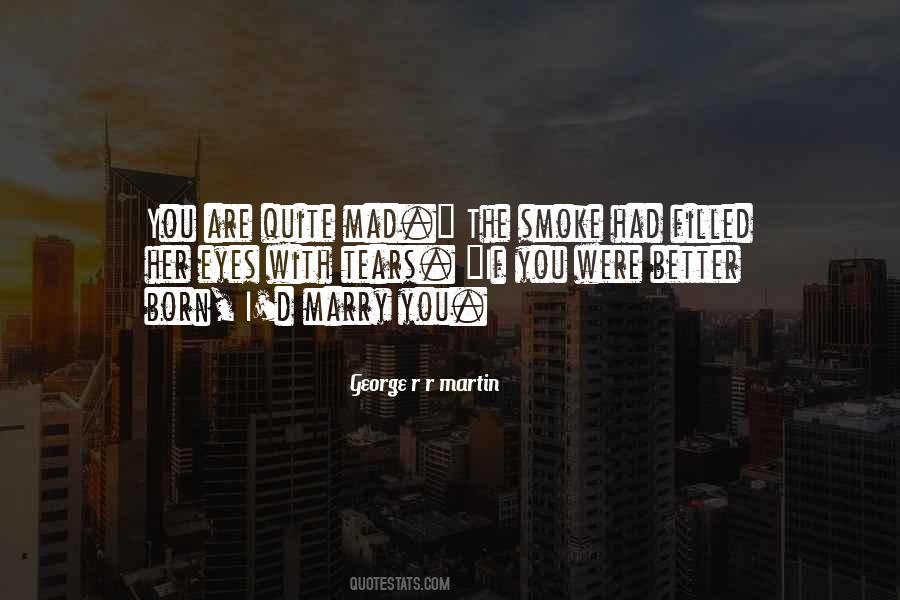 #13. And there is another thing he has in mind
like a grave Sienese face a thousand years
would fail to blur the still profiled reproach of. Ghastly,
with open eyes, he attends, blind.
All the bells say: too late. This is not for tears;
thinking.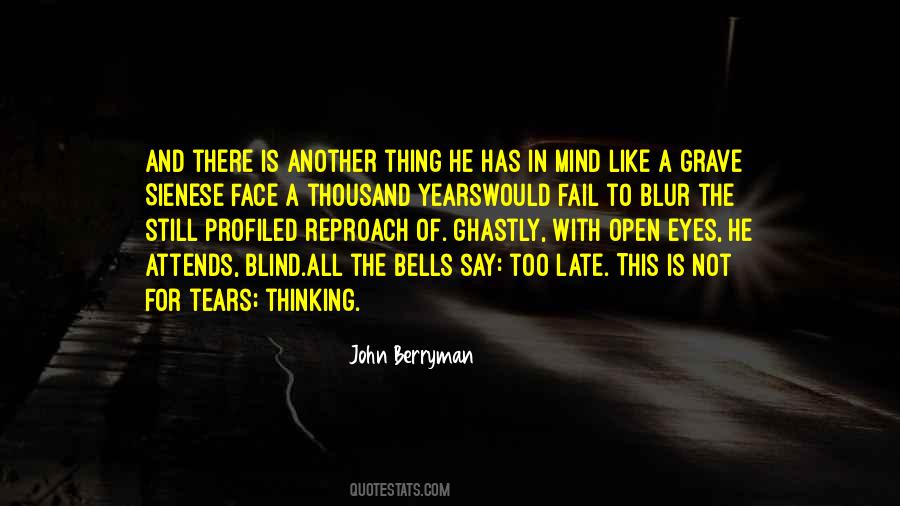 #14. Only one thing mattered: this was not a Horcrux. Dumbledore had weakened himself by drinking that horrible potion for nothing. Harry crumpled the parchment in his hand and his eyes burned with tears as behind him Fang began to howl.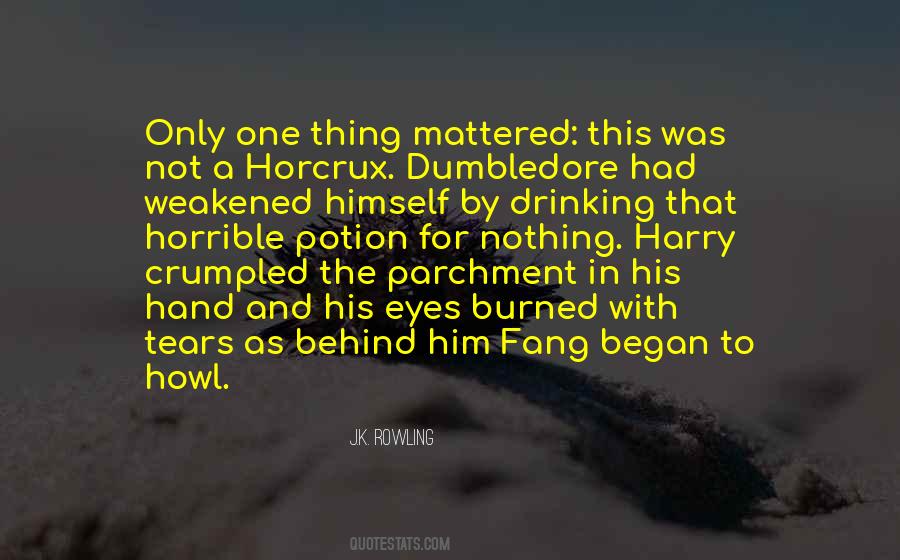 #15. Don't pray to me. Don't pray to me!" Kyle said, alarmed. "We're in this together. I've done things wrong too. We're human, Cole. We'll still make mistakes, but now we'll always have each other to hold when it hurts." Kyle's eyes filled with tears.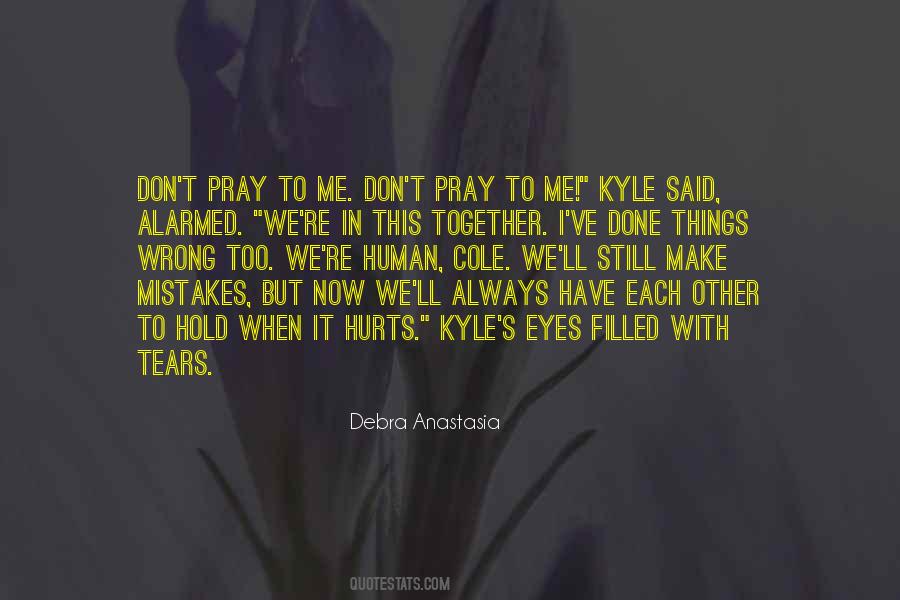 #16. He cupped my face in his hands and wiped my tears with his thumbs.
"Better?"
"Yes."
He looked into my eyes and said, "I'll never leave you alone, Anna. Not if I can help it.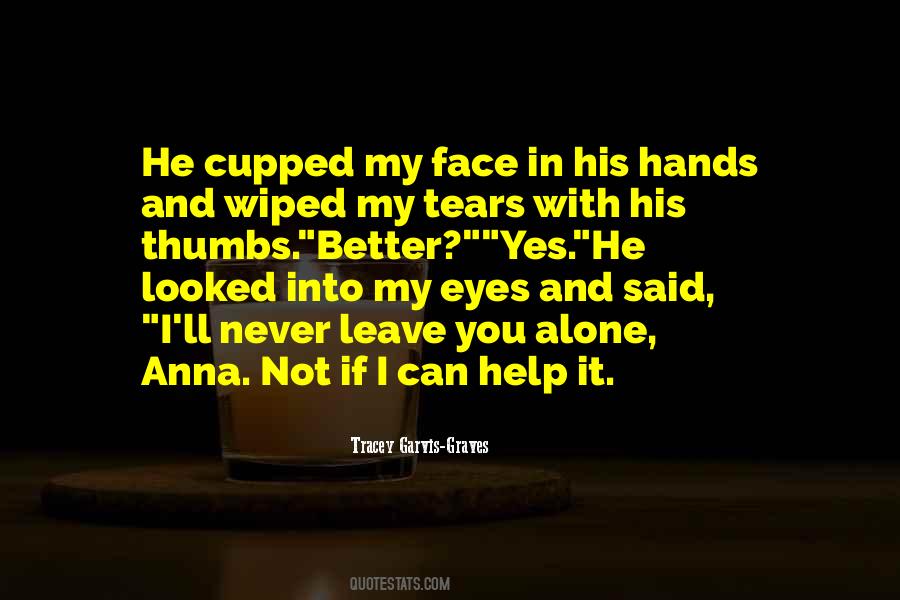 #17. Winston Churchill had grasped Eisenhower's hand and told him, with tears in his eyes, I am with you to the end, and if it fails we will go down together.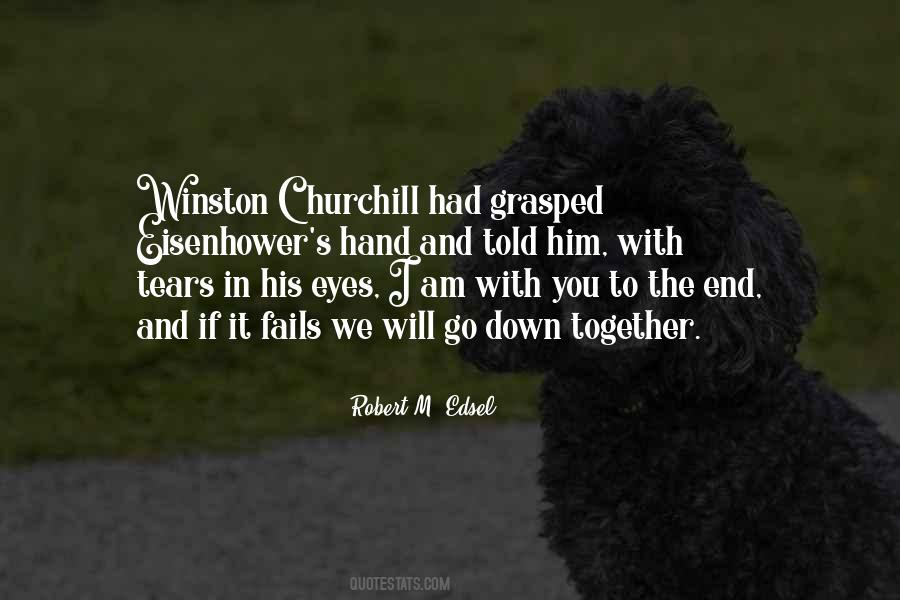 #18. She reached for Matty and embraced him. Ordinarily uncomfortable with hugs, he would have stiffened his shoulders and drawn back; but now, from exhaustion and affection, he held Kira and to his own amazement felt his eyes fill with tears.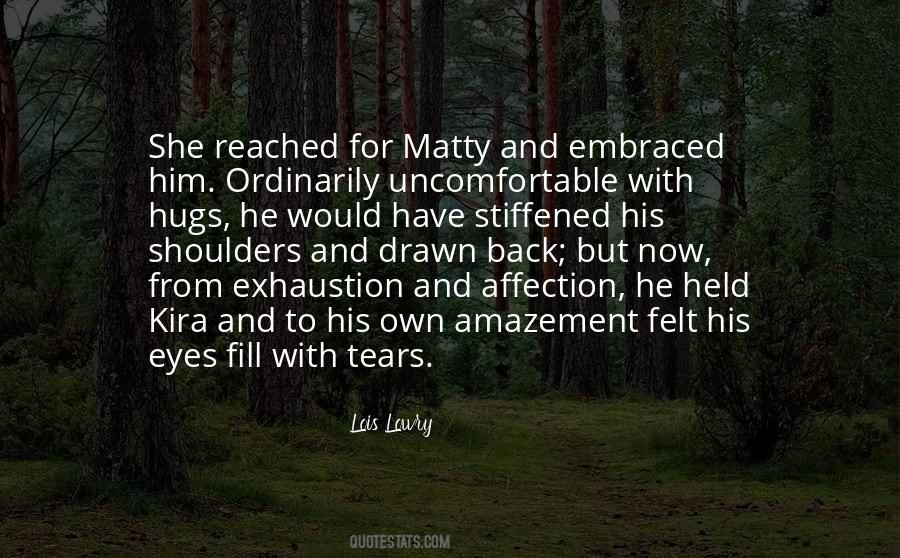 #19. She blinked against the sting of tears. Fury curled in her stomach. She narrowed her eyes, and slapped him. She gritted out "May you never find satisfaction with another woman.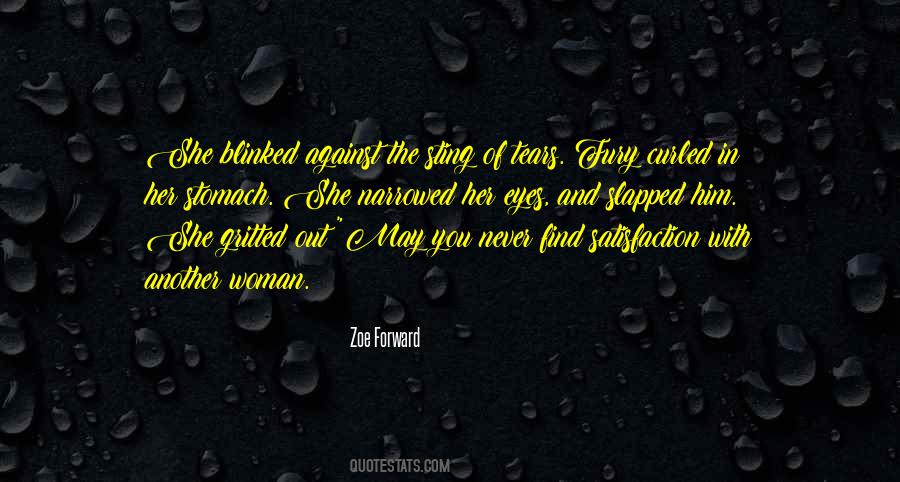 #20. My eyes are filling fast with tears and I blink and blink but the world is a mess and I want to laugh because all I can think is how horrible and beautiful it is, that our eyes blur the truth when we can't bear to see it.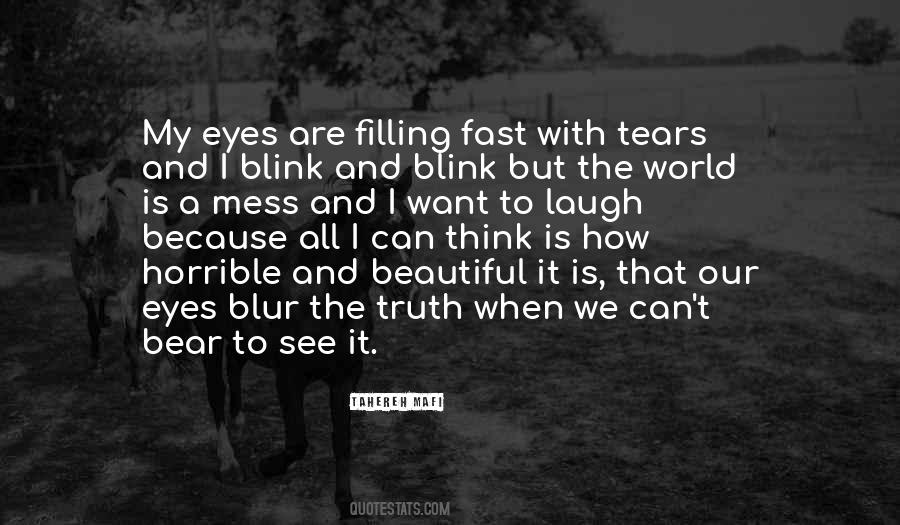 #21. Amy pulls away and looks into my face. Her pale skin is blotchy red, her eyes are veined and shadowed, and a shiny line of snot trickles from her nose to the top of her lip.
She wipes her face and with her arm, smearing tears and mucus. She never looked more BEAUTIFUL to me.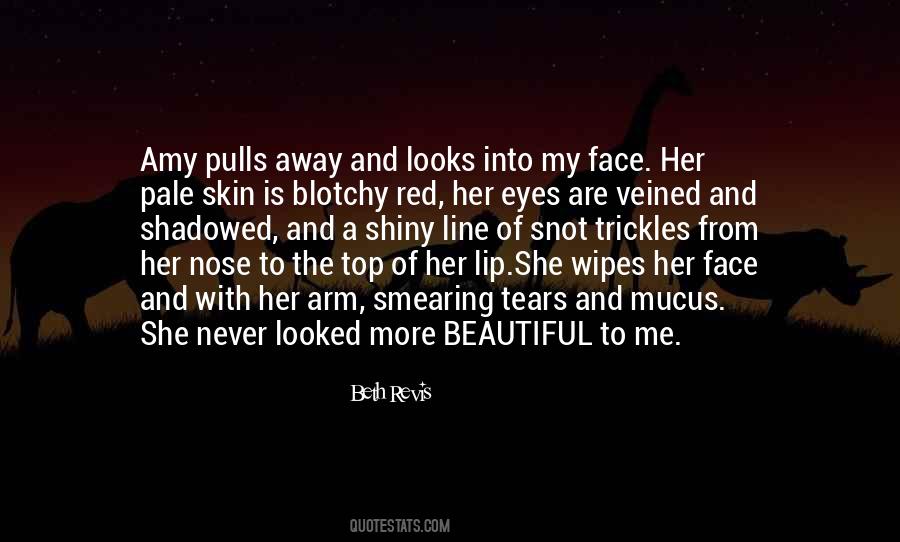 #22. I don't cry for humans. I cry for things that are so beautiful I just can't stand it, like Bonnie in front of me, all crusty from rolling in the sand, with a mouthful of half-chewed hay and eyes that knew everything I'd ever thought or felt or been.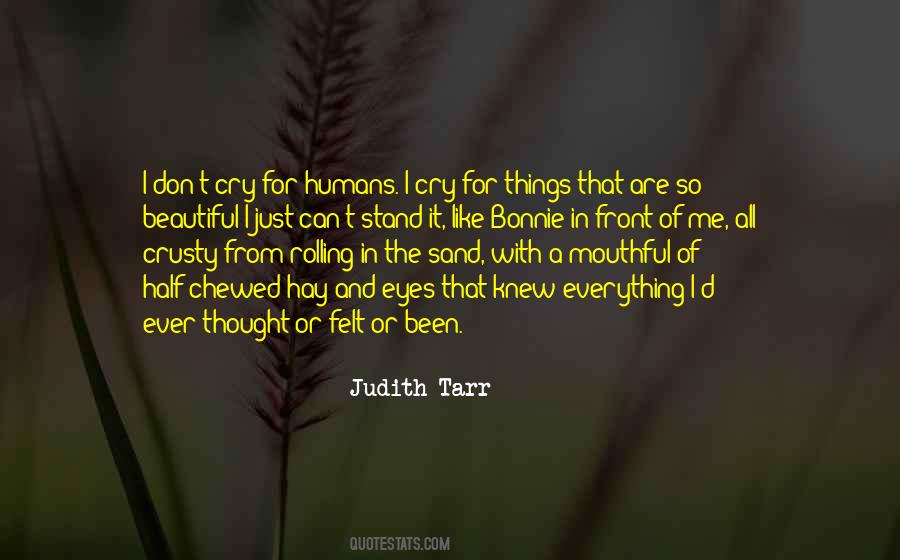 #23. Her eyes were clear; she hadn't been crying. She was a cop's wife first, a woman second; she wouldn't give in to tears as long as Wyatt was fighting for his life because she was fighting with him in spirit.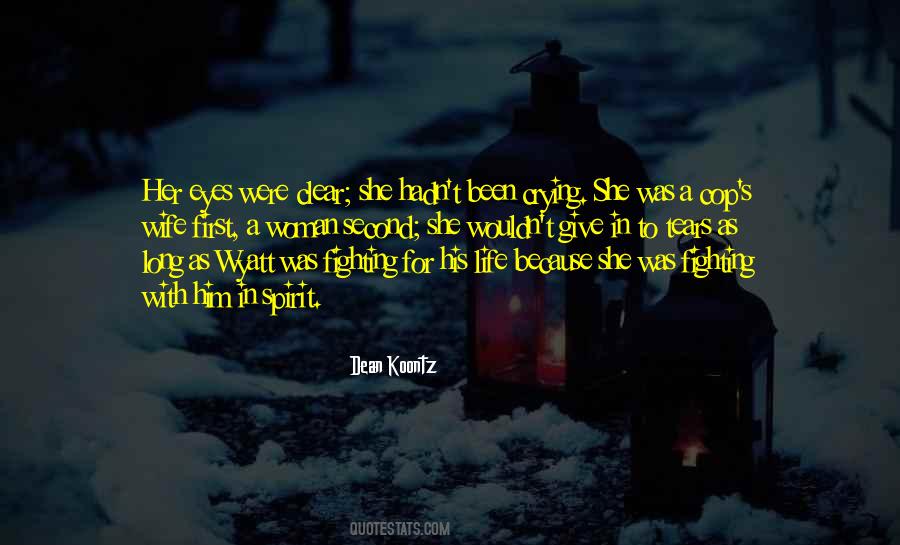 #24. My eyes are dim with childish tears, My heart is idly stirred, For the same sound is in my ears Which in those days I heard.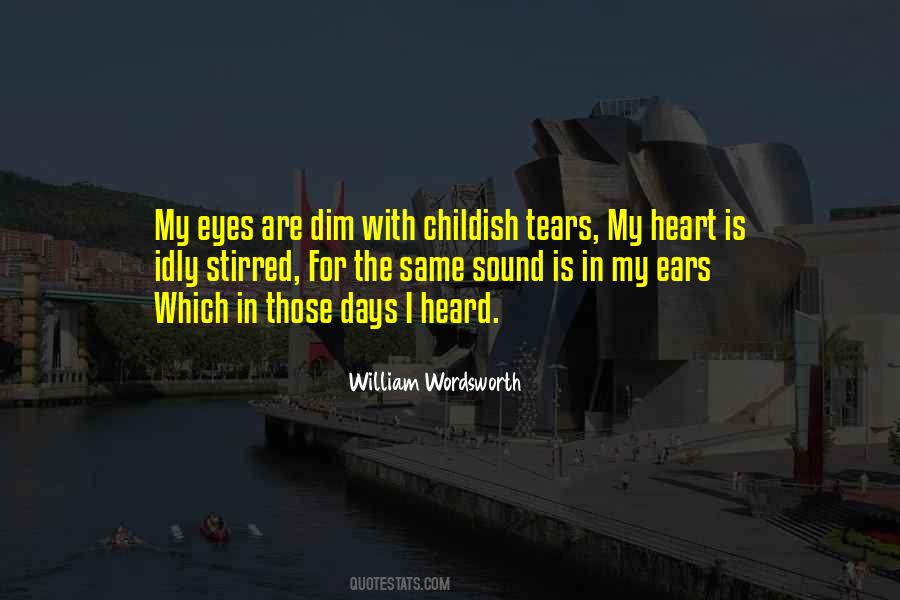 #25. I nursed a worthless, pint drinker for twelve years and when my lazy, life-sucking, daddy finally died, I swore to God with tears in my eyes I'd never marry one. And then I did.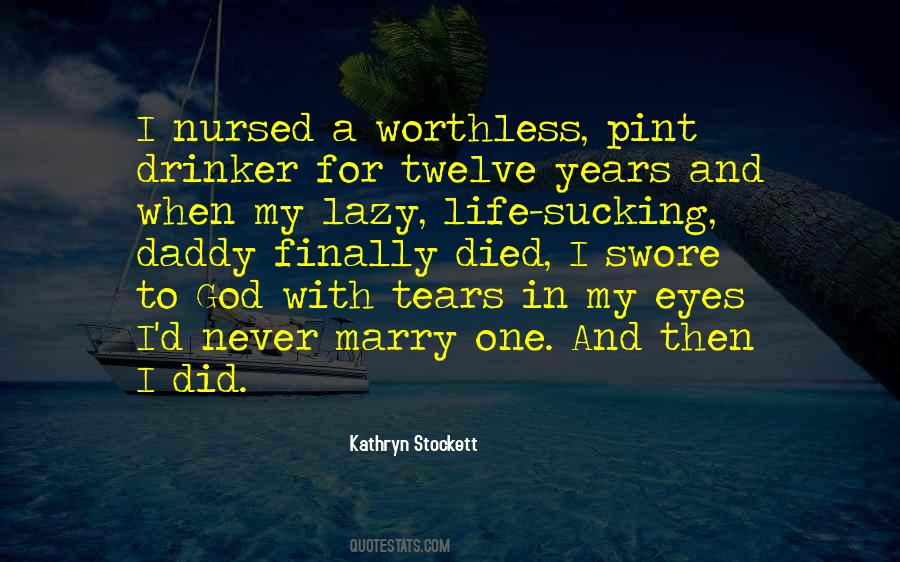 #26. One tires of a page of which every sentence sparkles with points, of a sentimentalist who is always pumping the tears from his eyes or your own.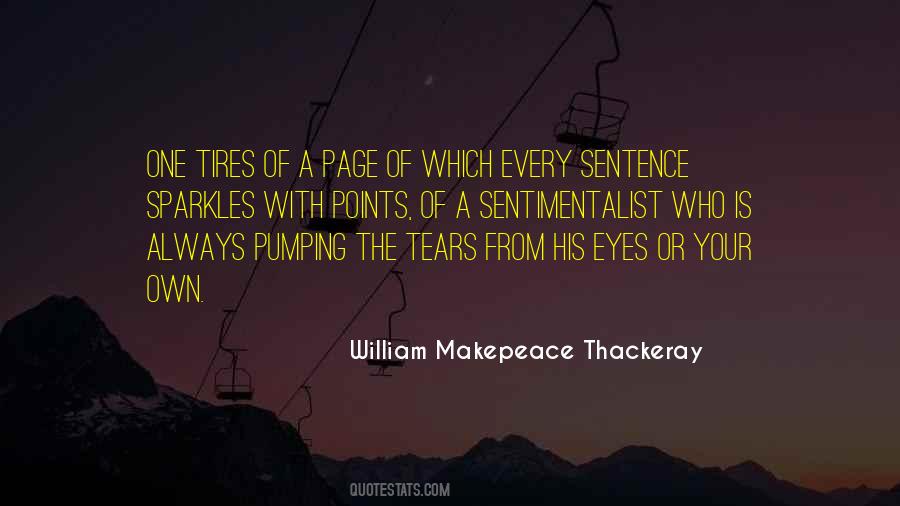 #27. The smile on her face was almost Dante's. Tears pricked his eyes, then hers, while all those impossible things passed between them. While the truth was sending down roots and throwing out branches until it filled the silent room with impossible blossoms.
I love him.
#28. You don't have a plan, do you? I knew it," he said, his eyes filling with tears. "I knew not to come to a ghost farm with you during a hurricane.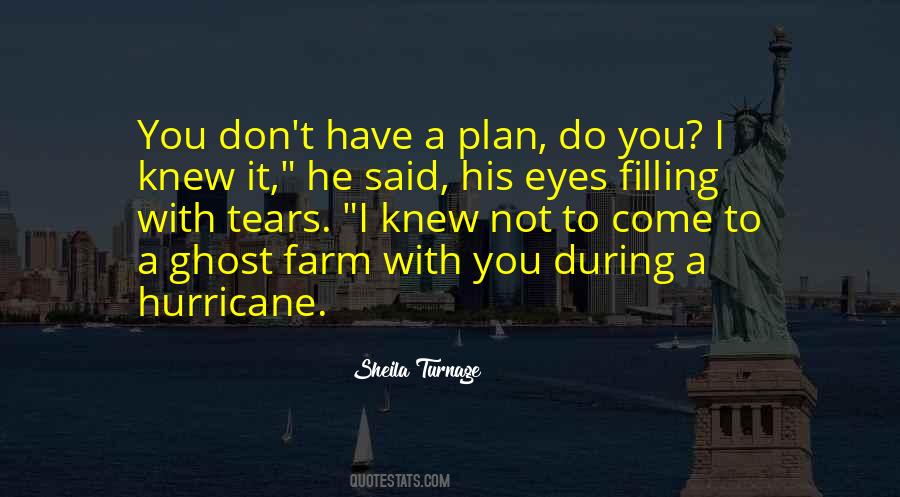 #29. Martin Silenus sniffed a jar, found a knife on the sandwich plate, and added great dollops of horseradish to his sandwich. His eyes sparkled with tears as he ate.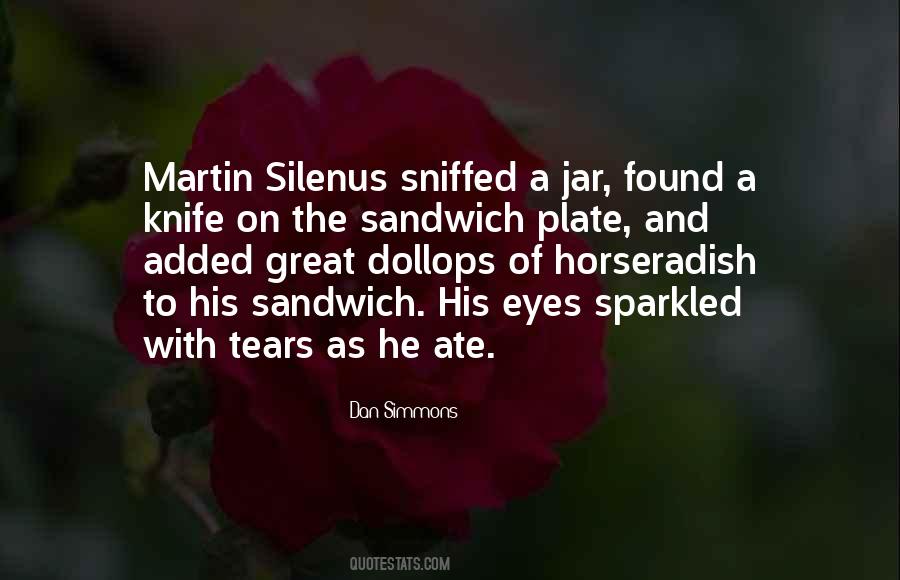 #30. I saw Diana shake her head, "Jonathon, we're here for you. Stop being a butt head."
We all started laughing. I was bent over at the waist with tears running out of my eyes.
Mason said, "Did you seriously just say 'butt head'?"
Diana blushed, "Well, he was being a butt head.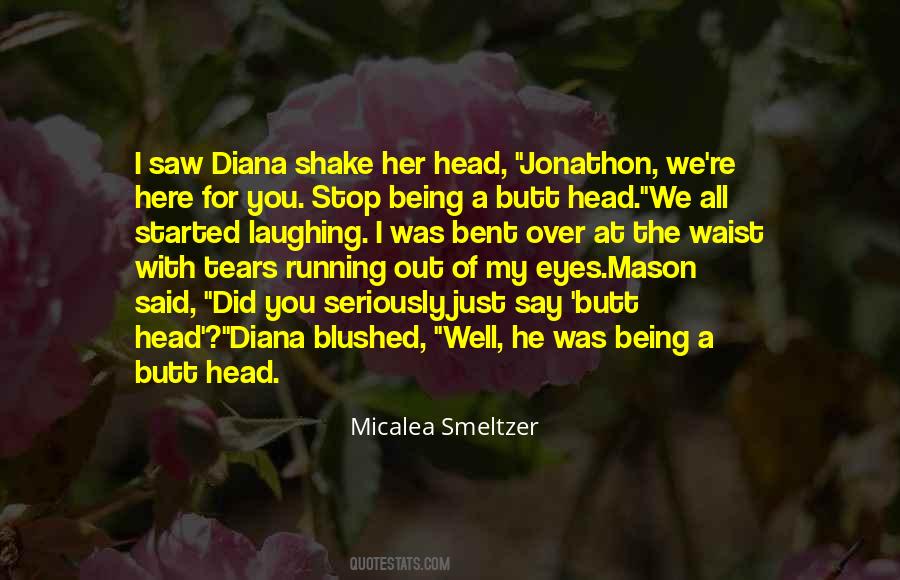 #31. I stand at a window, looking out at a dark world streaked
with light. And I see what you see,
my eyes filled with a constant threat of tears,
at all the desolate beauty in the world.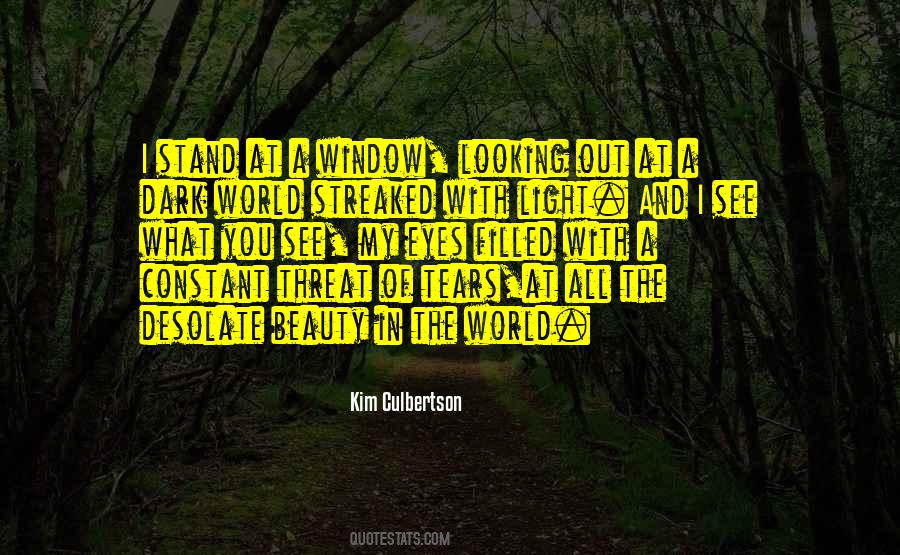 #32. He was lying there on his death bed, and he asked for her as his last wish.
She came with tears in her eyes. He held her hand and said with a smile," I wish I died daily", And then a flat line.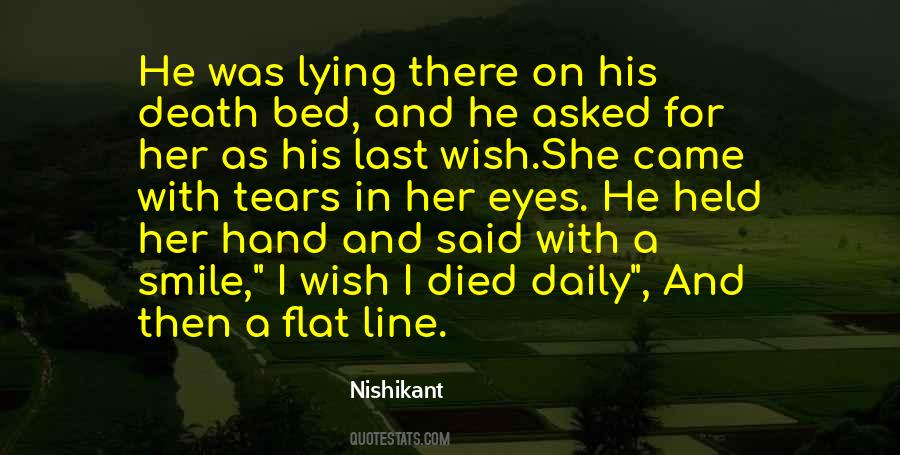 #33. The most beautiful things cannot be written, unfortunately. Fortunately. We would have to be able to write with our eyes, with wild eyes, with the tears of our eyes, with the frenzy of a gaze, with the skin of our hands.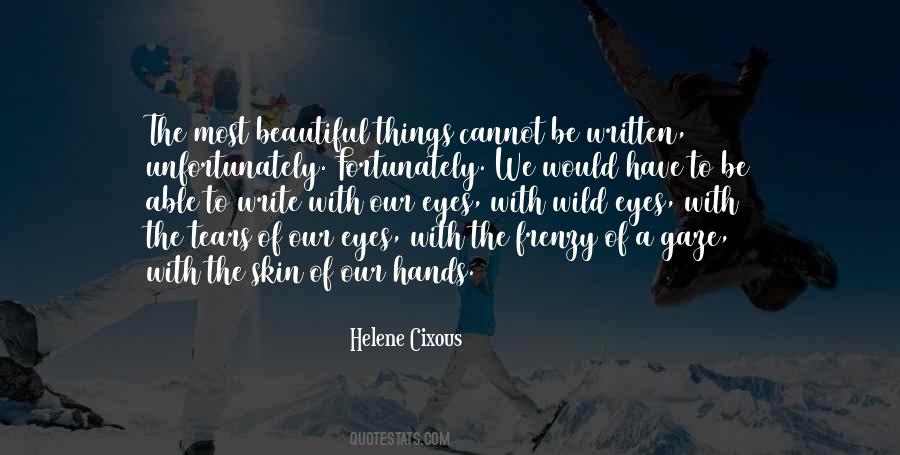 #34. Oh Freddy don't talk like that! she said, and her big eyes filled with tears. When Mrs. Wiggins cried, she made almost as much racket as when she laughed. You could hear her for miles.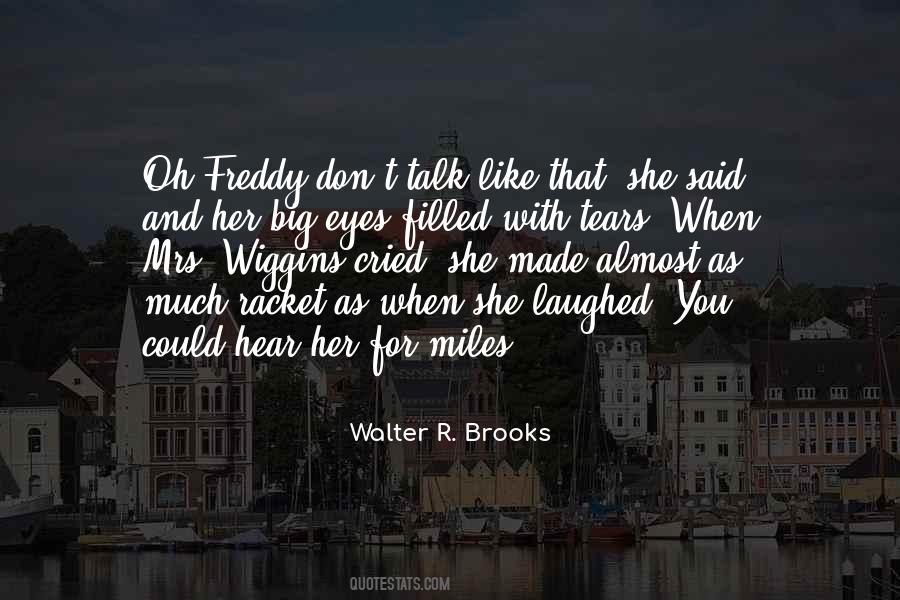 #35. Clearly through my tears I see
you striving to cope in this world
not so easy for a tender one
hard to stand with the wind
blowing all around
disheveling your hair
making your eyes squint so you
can't see where you're going.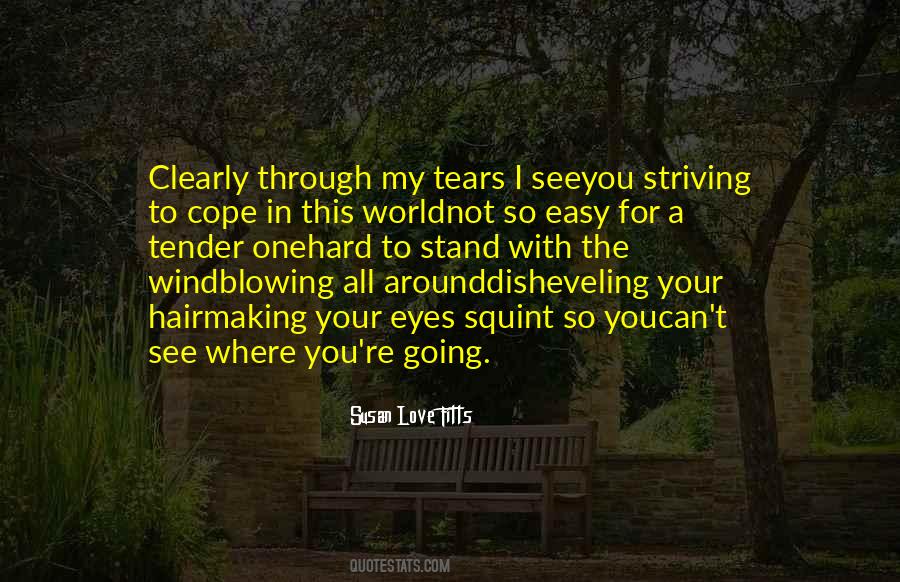 #36. Come to me in the silence of the night,
Come to me in the speaking silence of a dream.
Come with soft rounded cheeks and eyes as bright as sunlight on a stream.
Come back in tears,
O memory, hope, love of finished years.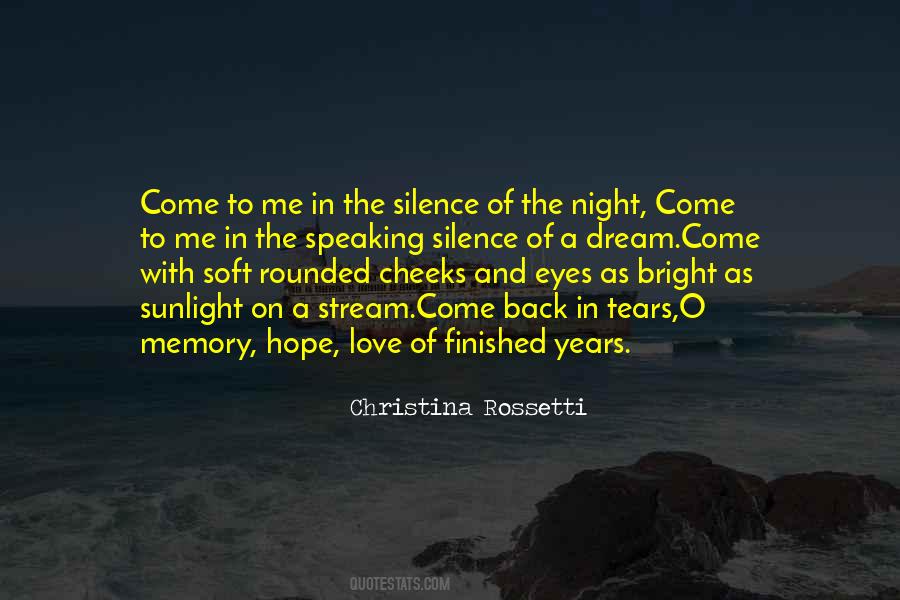 #37. Love discovered me all weaponless,
and opened the way to the heart through the eyes,
which are made the passageways and doors of tears:
so that it seems to me it does him little honour
to wound me with his arrow, in that state,
he not showing his bow at all to you who are armed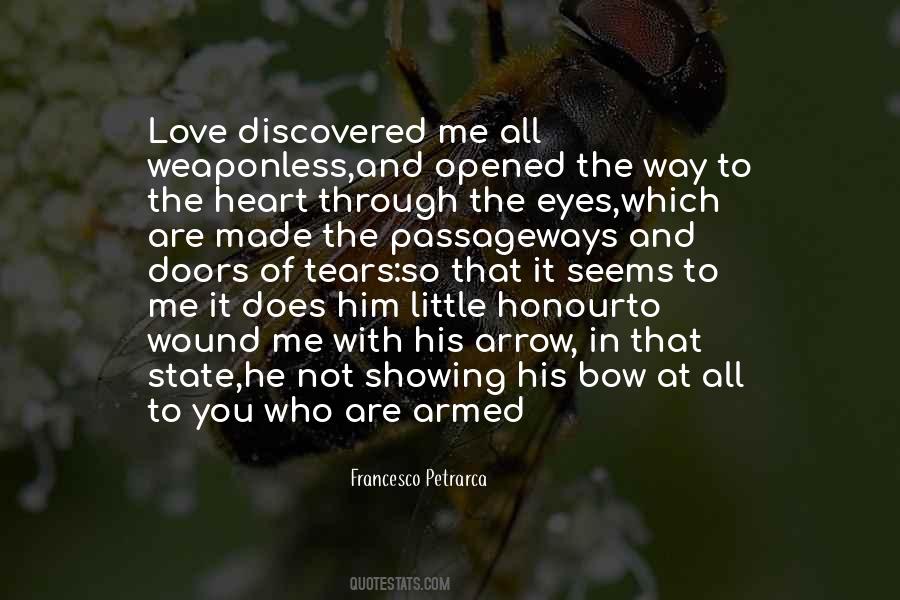 #38. Comfort came in and stood with an appearance of guilt and shame.
Her head bent, her eyes soaked with tears, her hands and legs, vibrating like a guiter string as perspiration covered her entire body, she felt like disappearing into the thin air, maybe to another mind creating world.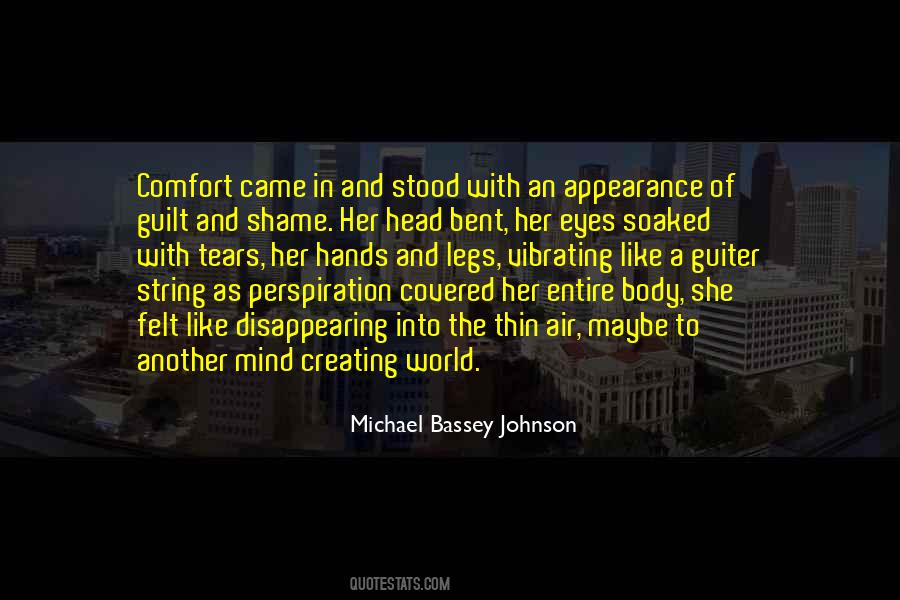 #39. Today, with tears in my eyes, I telephoned the mother of one of our children (aged thirteen) who had spoken for the first time since the age of three...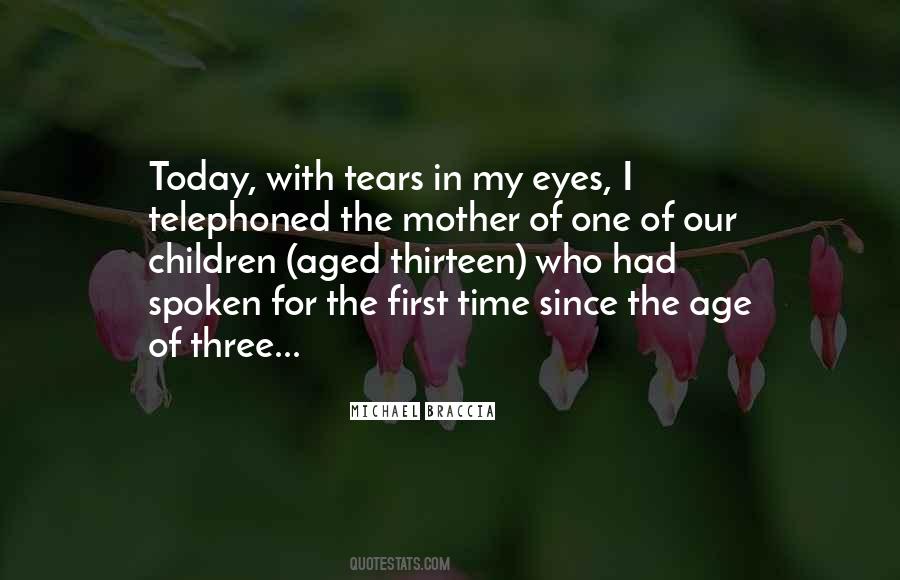 #40. tears are the feelings heart shares with eyes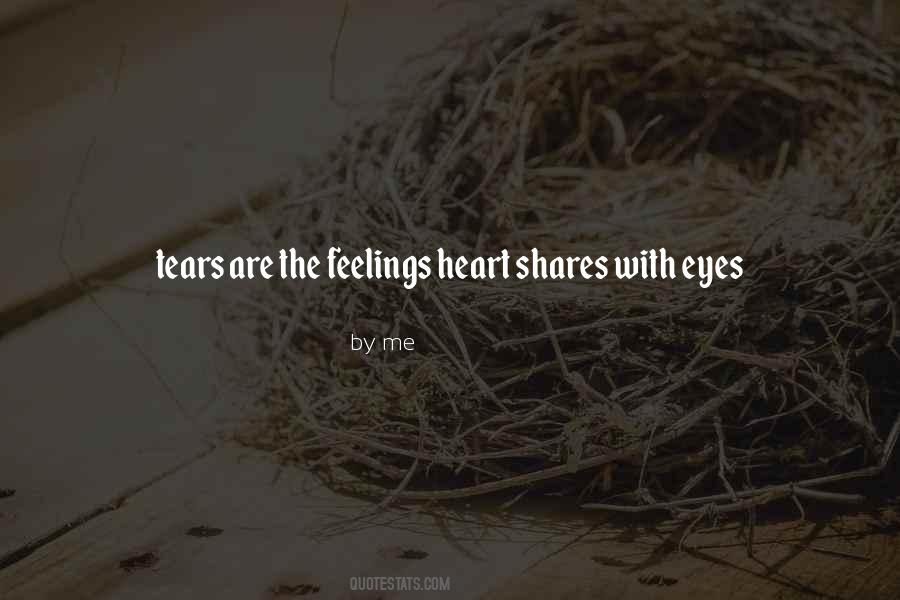 #41. You'd think a guy who has broken 35 bones in his body would have a high pain threshold, but mine is pretty low. I got hit in the shin with a golf ball once, and it almost brought tears to my eyes. I've had broken bones that didn't hurt as bad.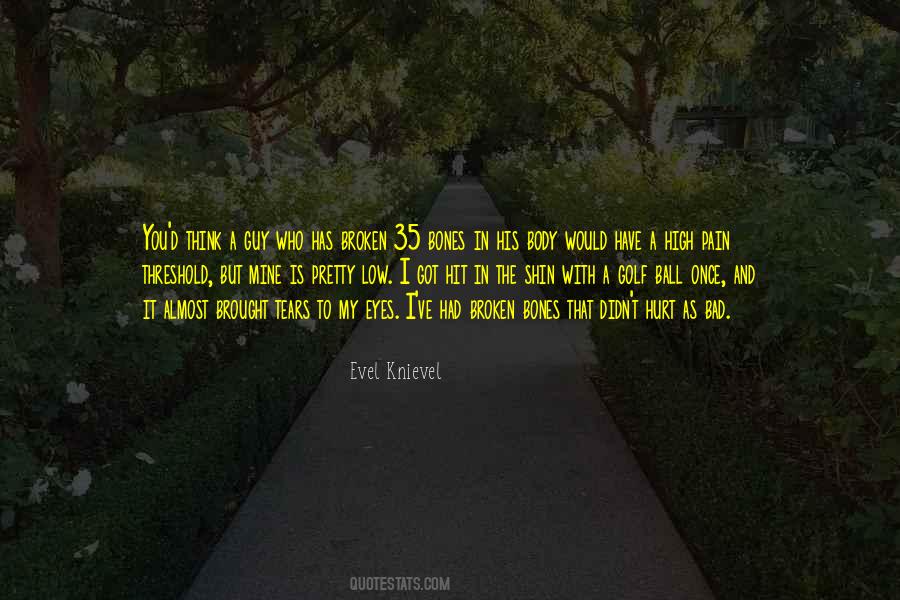 #42. Violet! sweet violet! Thine eyes are full of tears; Are they wet Even yet With the thought of other years?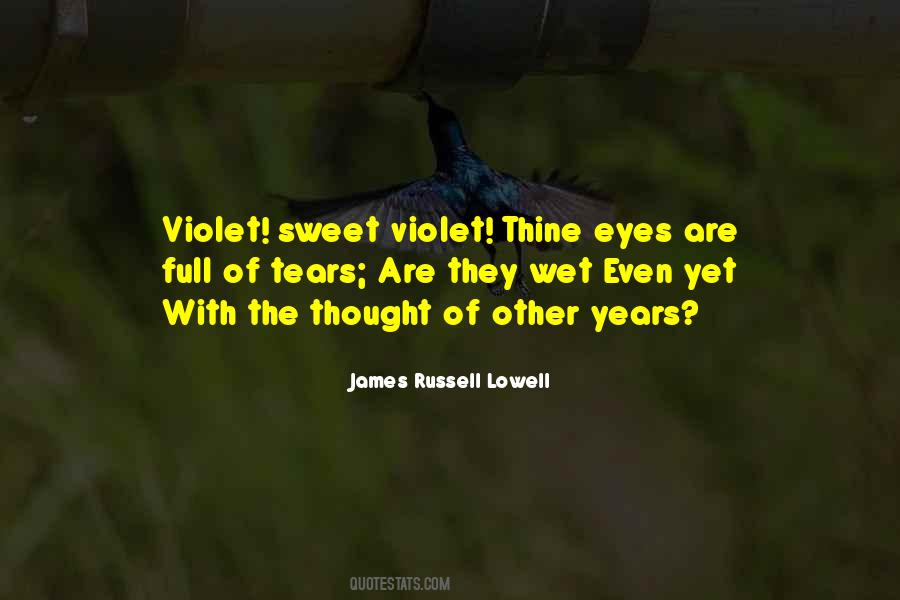 #43. With feet on solid ground, we walk across stumbling blocks, yet we survive! Through eyes that cloud with tears of pain or struggle, yet we survive! With hands that touch the thorns of life, yet we survive! Through faith and purpose and face as flint, YET WE SURVIVE!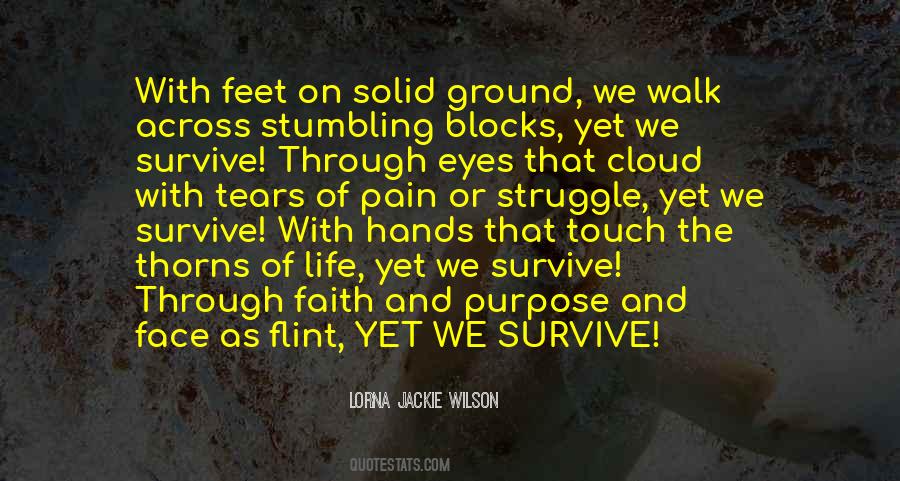 #44. You want company, sugar?"
Her eyes brimmed with tears, and she could only nod.
"Good answer. You saved yourself a fight.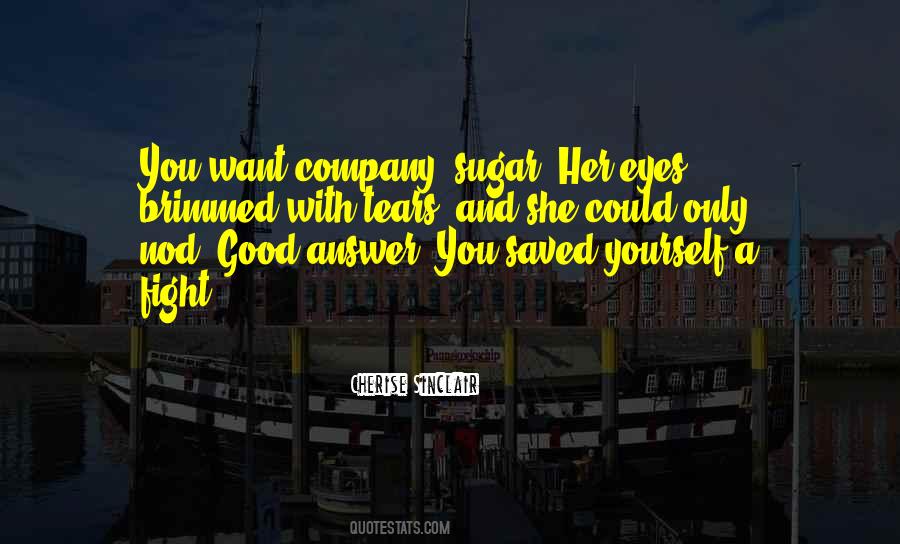 #45. The (editing) work was like peeling an onion. The outer skin came off with difficulty ... but in no time youd be down to its innards, tears streaming from your eyes as more and more beautiful reductions became possible.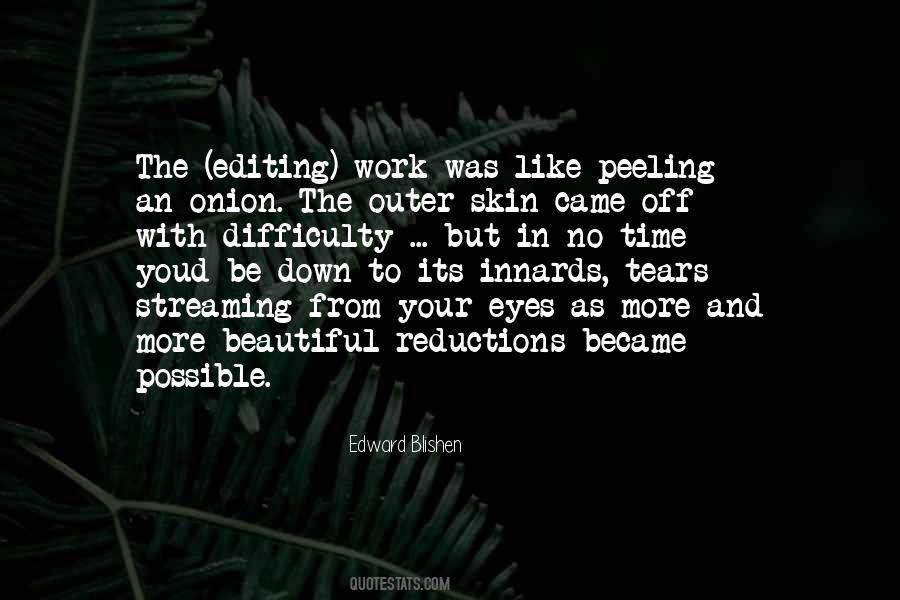 #46. I won't ever stop loving you," I promised him.
"Good," Jake replied, and upon hearing how hoarse his voice was with emotion, I felt tears prick my eyes.
"I won't ever stop loving you. No matter what.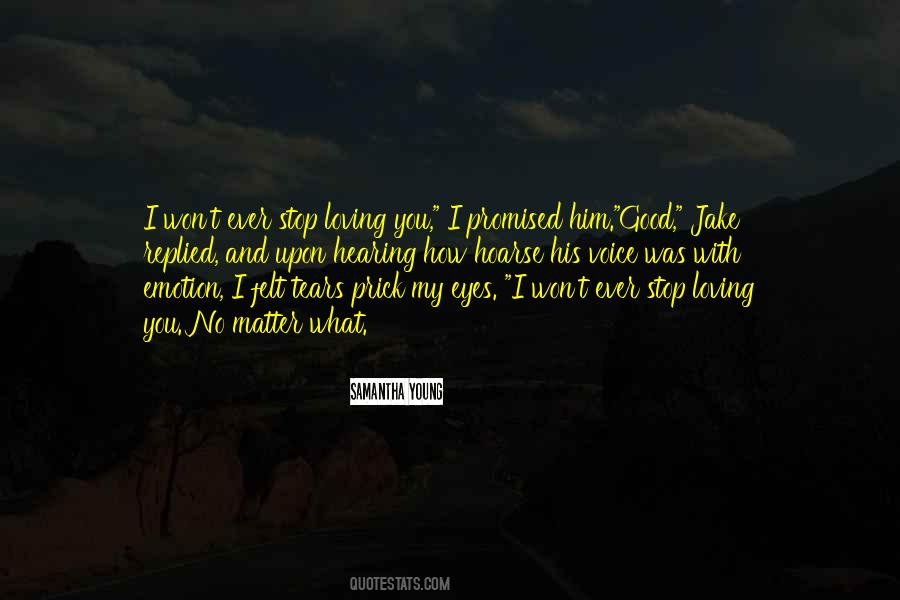 #47. Sometimes the fog in his eyes would clear, that fog caused by the pain and the killers of pain, and when it cleared, I saw regret and fear in those eyes swimming with tears and I was convinced that this was it, this was the end, this was surely the end.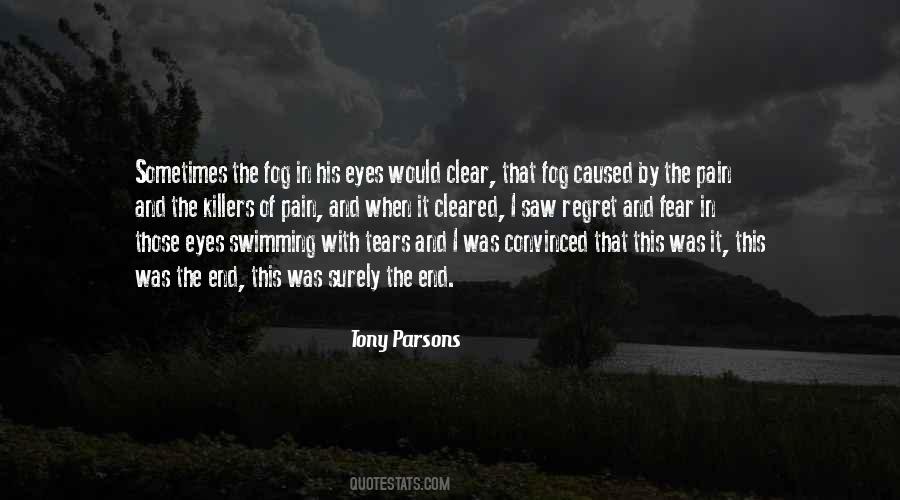 #48. The man with a heart cannot think about or see creatures without his eyes filling up with tears because of the immense compassion which seizes his heart.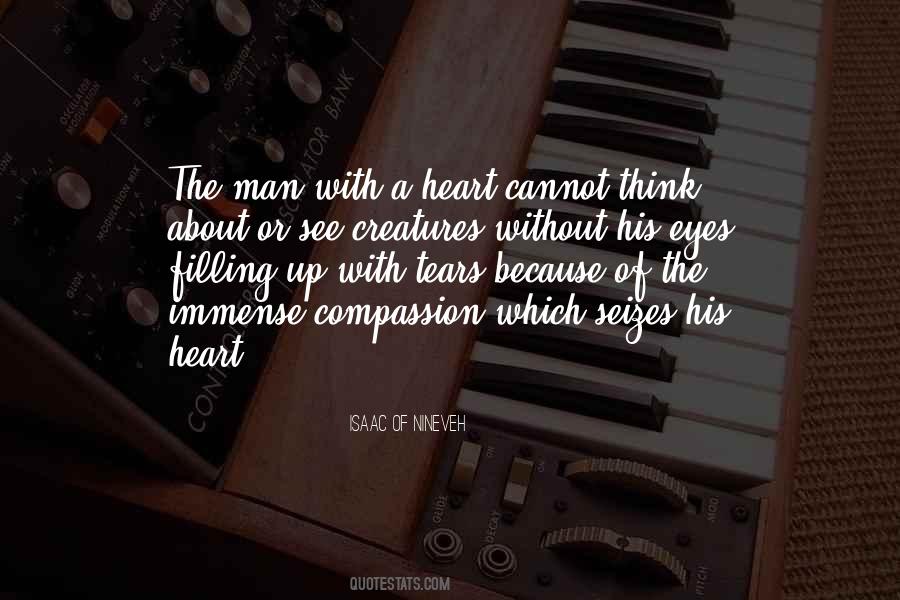 #49. Her eyes glimmered with unshed tears. "There is so much I want to say to you, but I know if I get started I'll start bawling, and I'm saving my tears for the pillow." I laughed. "You've been watching Dance Moms." "Possibly.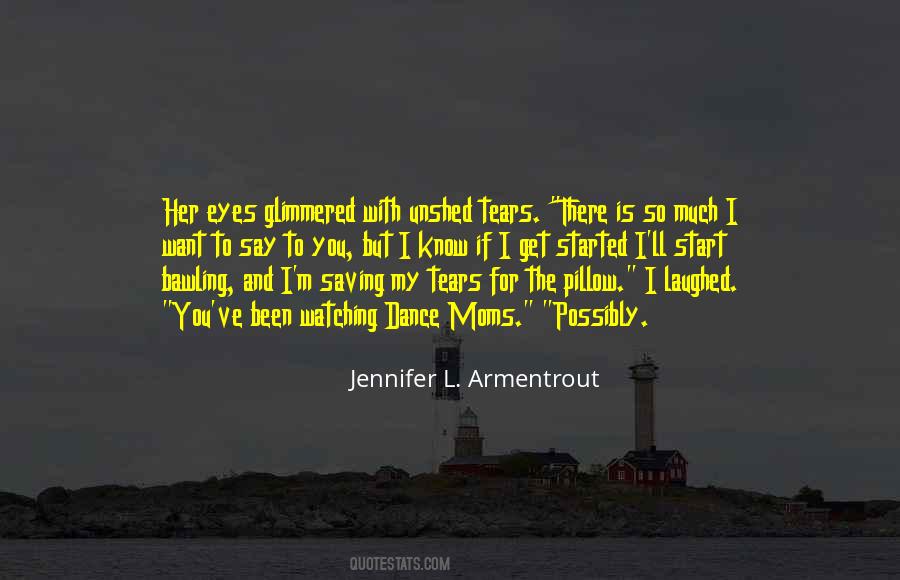 #50. It's what you deserve to hear," I say firmly, my eyes going cloudy with tears. "That you're whole, that you're worth loving, that you're the best person I've ever known.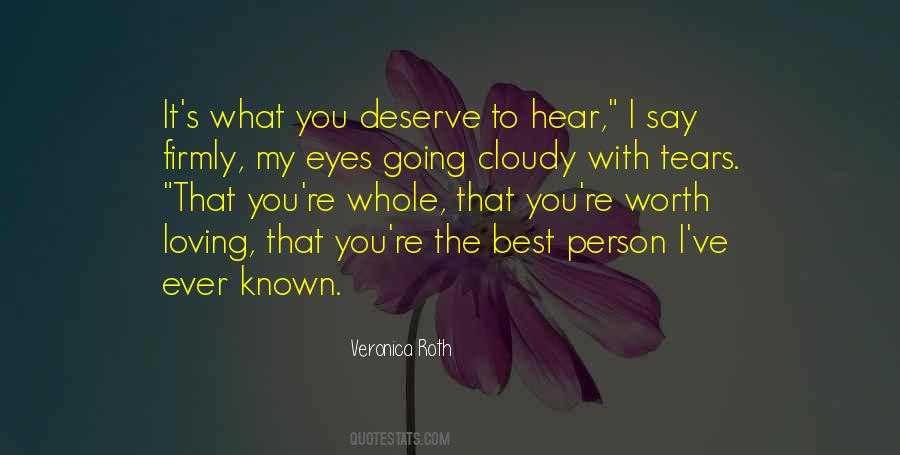 #51. Don't you find," he said, "judging from his picture, that his eyes are full of tears and that his lips are sad with a secret sorrow?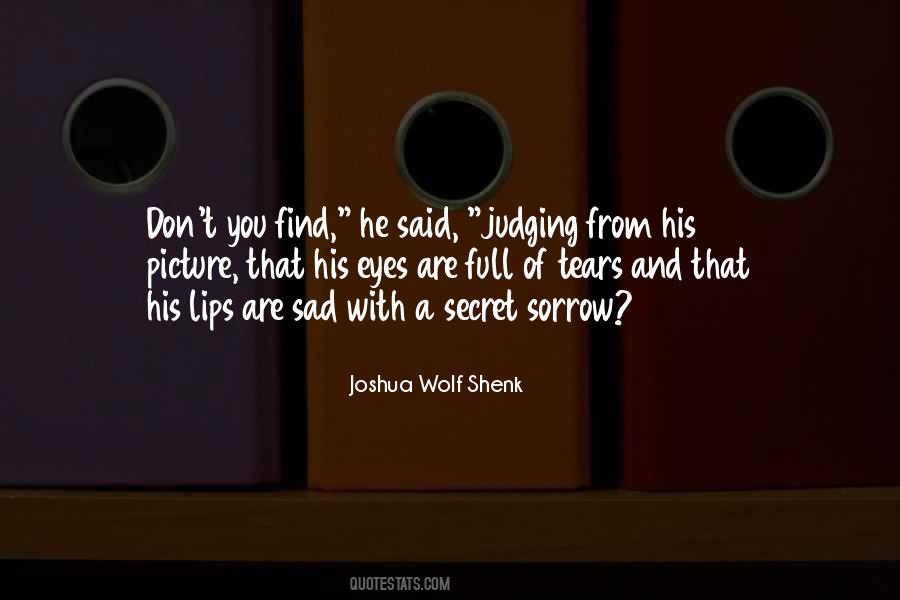 #52. And her eyes filled with heavy, regretful tears, yet she did not quite know for what she was weeping. She only knew that some great sense of loss, some great sense of incompleteness possessed her, and she let the tears trickle down her face, wiping them off one by one with her finger.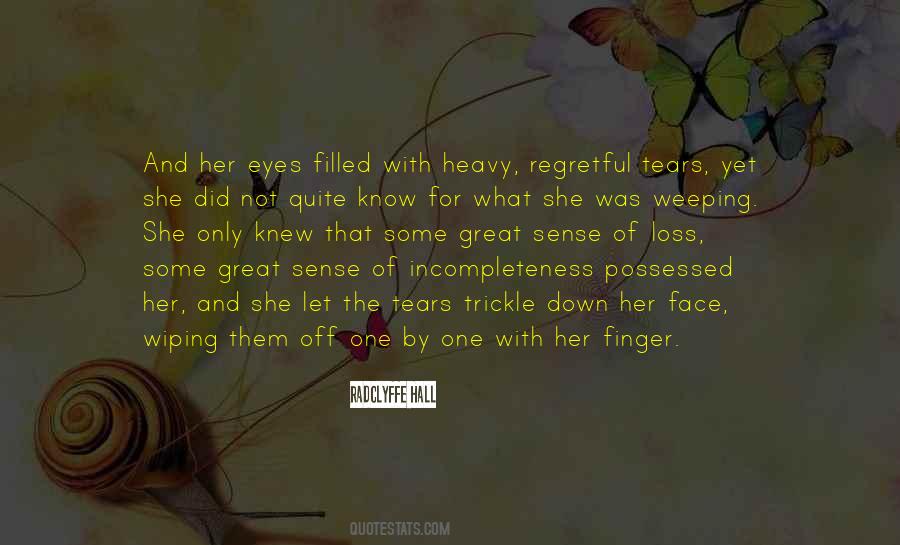 #53. Join with those who sing songs, tell stories, enjoy life ... because happiness is contagious. Join those who walk with their heads high even when they have tears in their eyes. Avoid those who ... have never shed a tear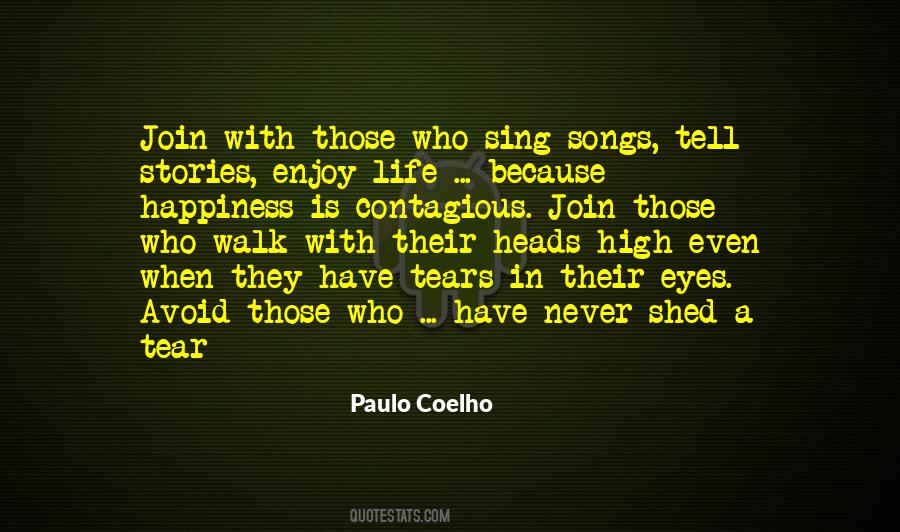 #54. One," I say, my eyes filling with tears. "I love you."
She nods, smiling, then reaches forward to touch my cheek. She's crying now too. "If I'd lived, I think ... " she says, "I think you really would have.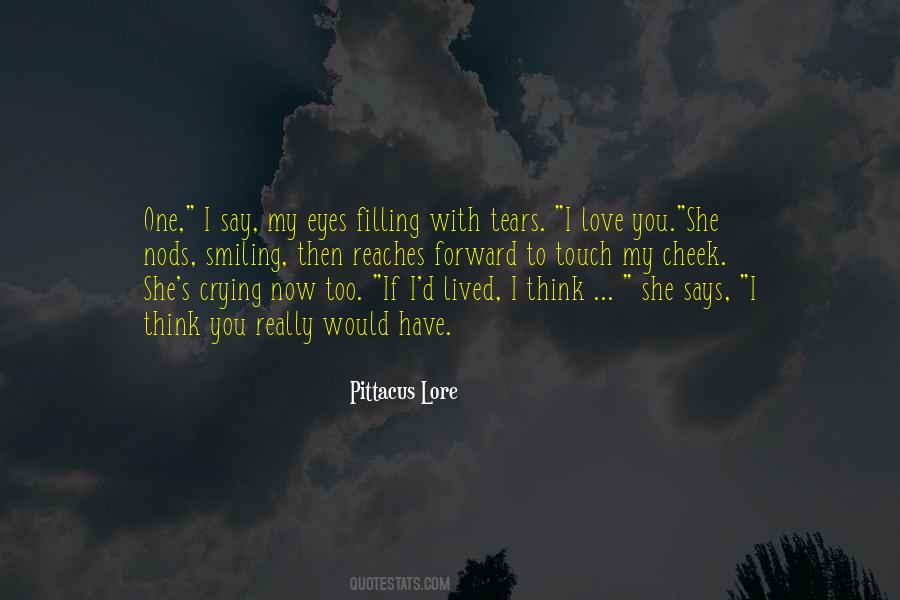 #55. Imagine Jesus today: He is leaning over, bending down close to someone who is hurt. He's listening. His eyes fill with tears as He hears that person's troubles. Then His hand gently brushes away a tear. He was hurt once too. He understands.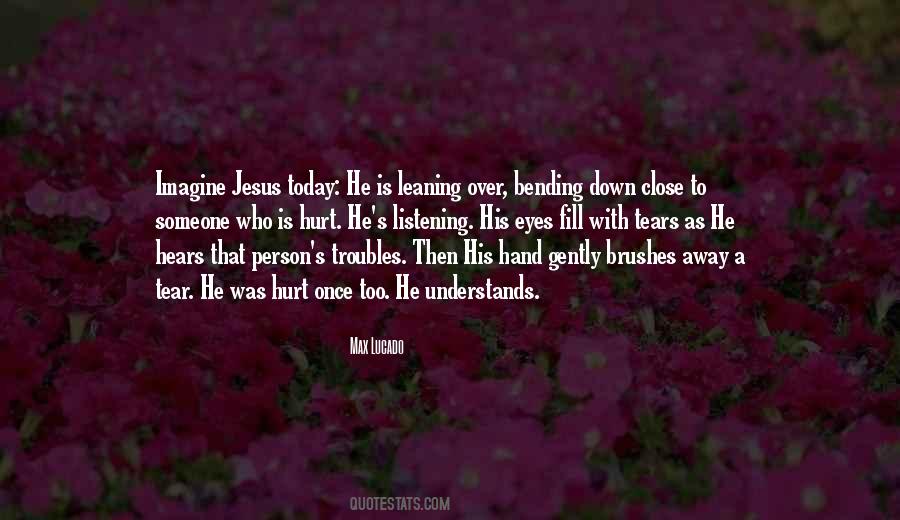 #56. In the mirror the brow furrowed in confusion, this was not her soul that she saw in the reflection. The eyes filled with tears of anguish. The face aches with despair.
Then the being retreats to her solitude, deliciously succumbing to the dissociation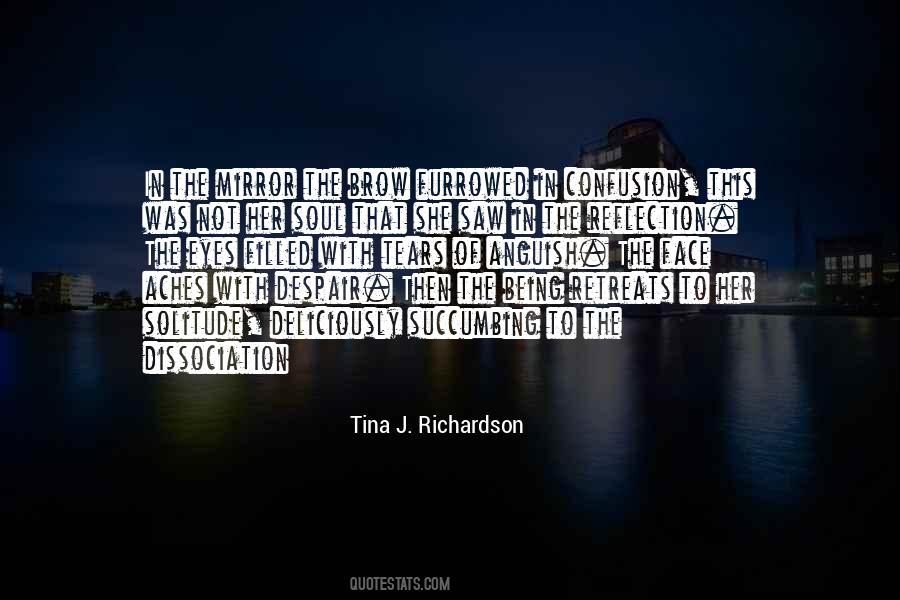 #57. You left and I cried tears of blood. My sorrow grows. Its not just that You left. But when You left my eyes went with You. Now, how will I cry?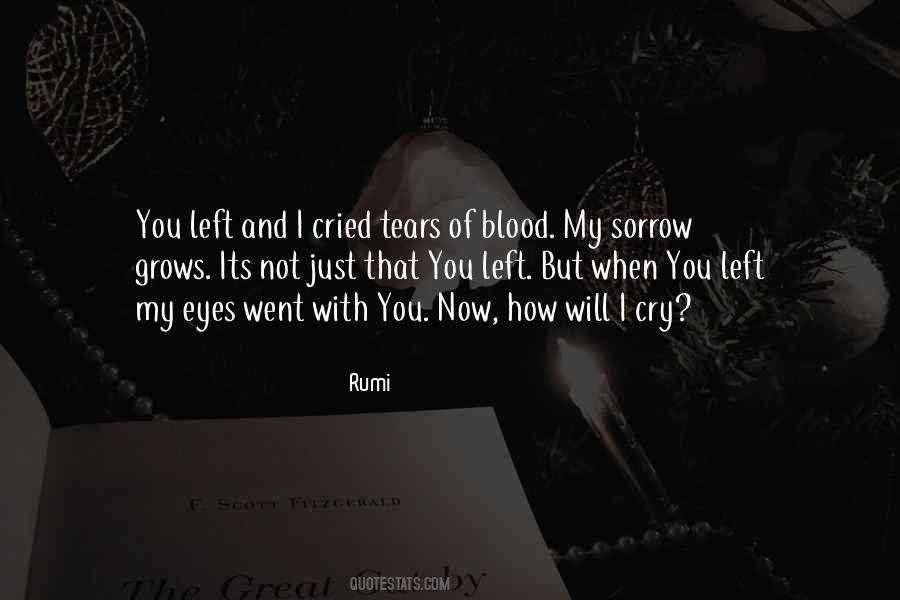 #58. When he asked if she was okay, her eyes welled with tears and she said, Like I'm always telling my brothers, if you gonna go into history, you can't do it with a hate attitude. You got to remember, times was different.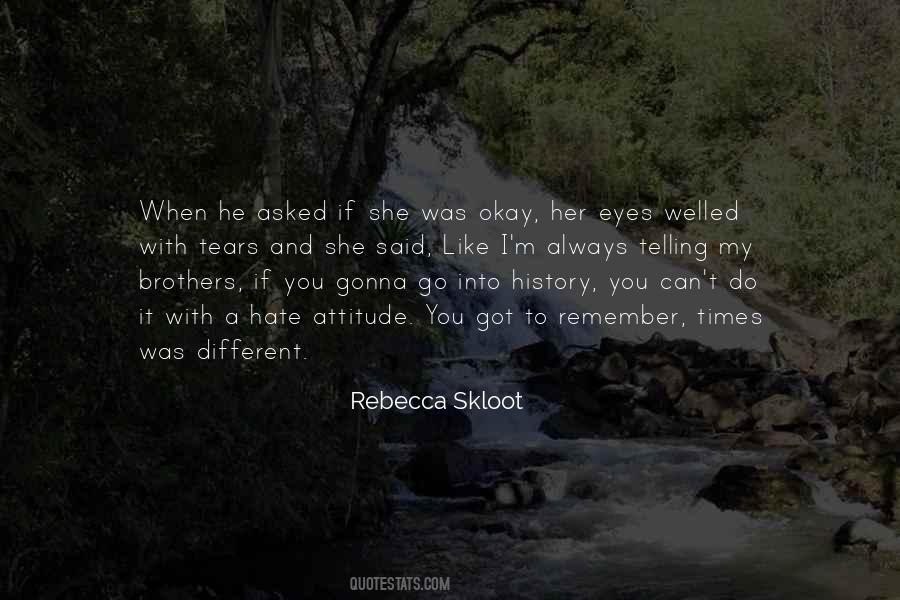 #59. His lips inch closer to mine and his words are soft and dripping with honesty. "You're never lost, Catherine. I'll always find you." His mouth crushes down on mine as his words resonate through me, bringing tears to my eyes. And there he is - my hero.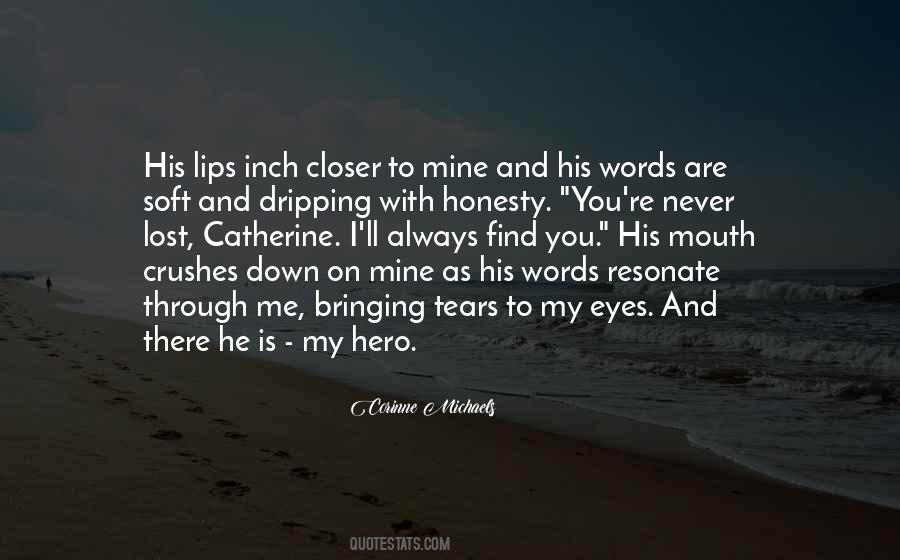 #60. Laughter and grief join hands. Always the heart Clumps in the breast with heavy stride; The face grows lined and wrinkled like a chart, The eyes bloodshot with tears and tide. Let the wind blow, for many a man shall die.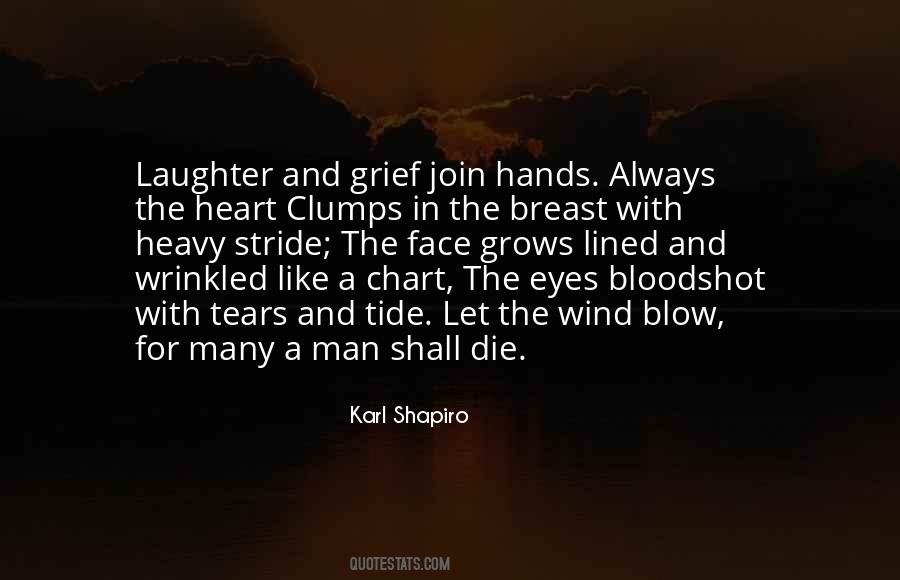 #61. Your husband is dead because you killed him," the professor said, stunning me into silence. "You are not what Simon Shaw thought you were," he added softly. My eyes brimmed with tears. "And what was that?" "A cure." "So, what am I?" His gaze dropped. "A disease.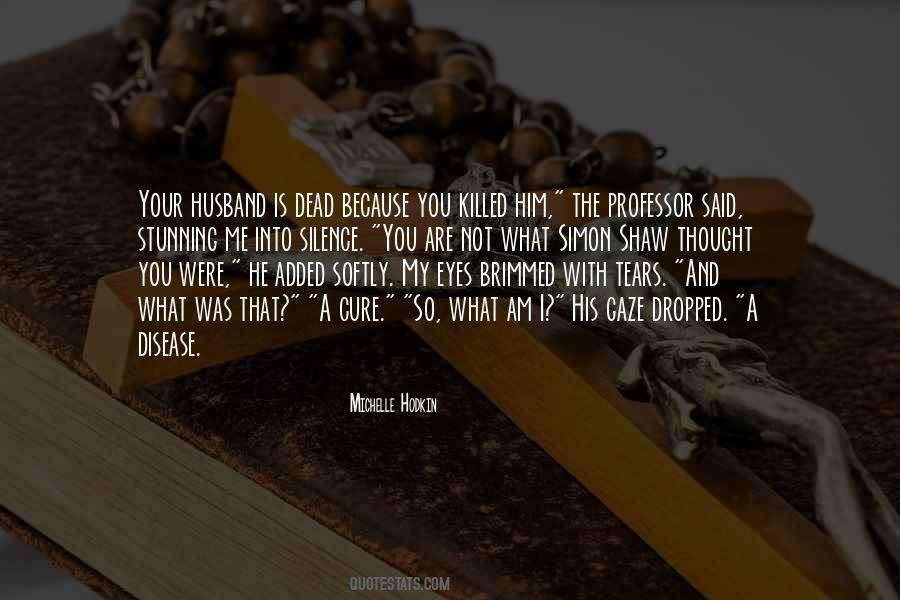 #62. The man who has not seen such tears in the eyes of his beloved does not know the height of happiness to which, with mingled joy and gratitude and modesty, a woman can attain.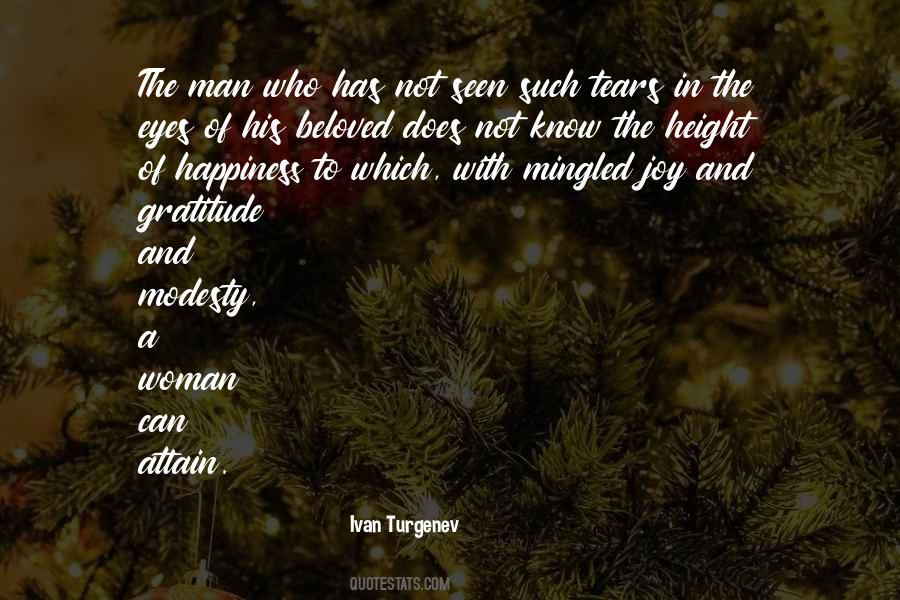 #63. Things were not so simple after all. She could not understand even her own feelings. She saw the most cherished of her convictions put into practice - and her eyes filled with tears. She had won fame and independence and the right to live her own life - and she wanted something different.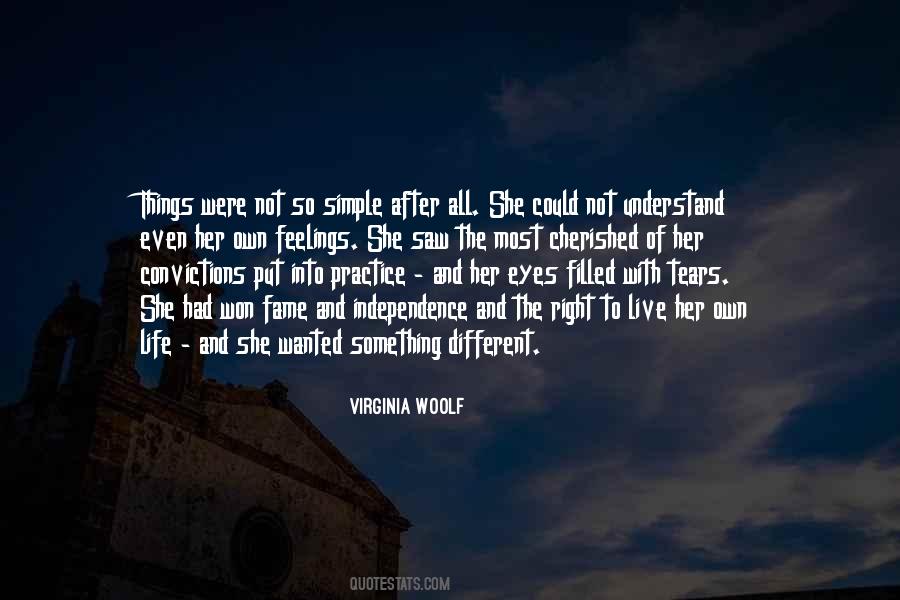 #64. I closed my eyes and tried to discover where the happy half of me was hiding. I felt the tears trickling through my tightly closed eyelids. I felt Whisper's claws tugging at my jeans. I wanted to be all alone in an attic like Skellig with just the owls and the moonlight and an oblivious heart.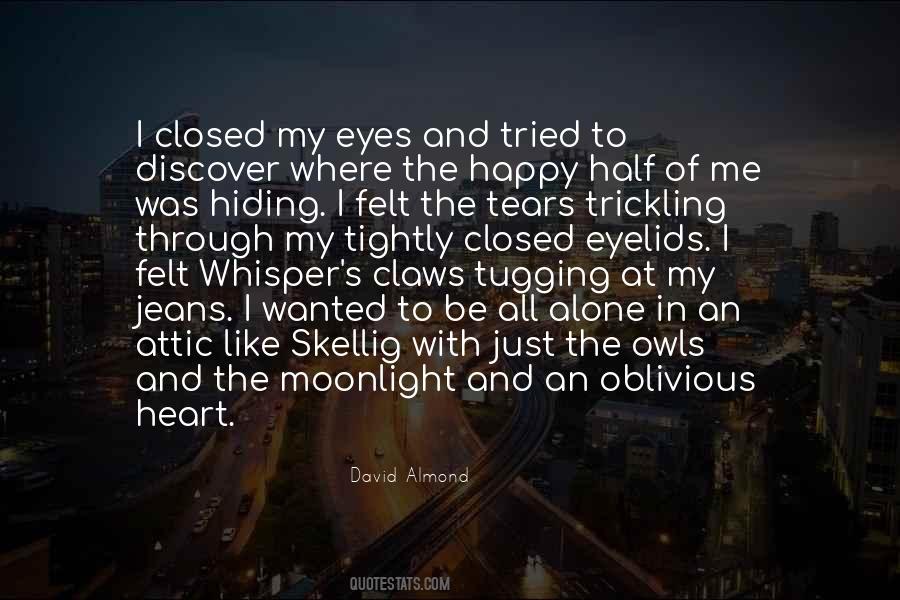 #65. Tears, happy tears, fell from my eyes as I held on to the only person in the world that could take away all of my hurting with a simple smile.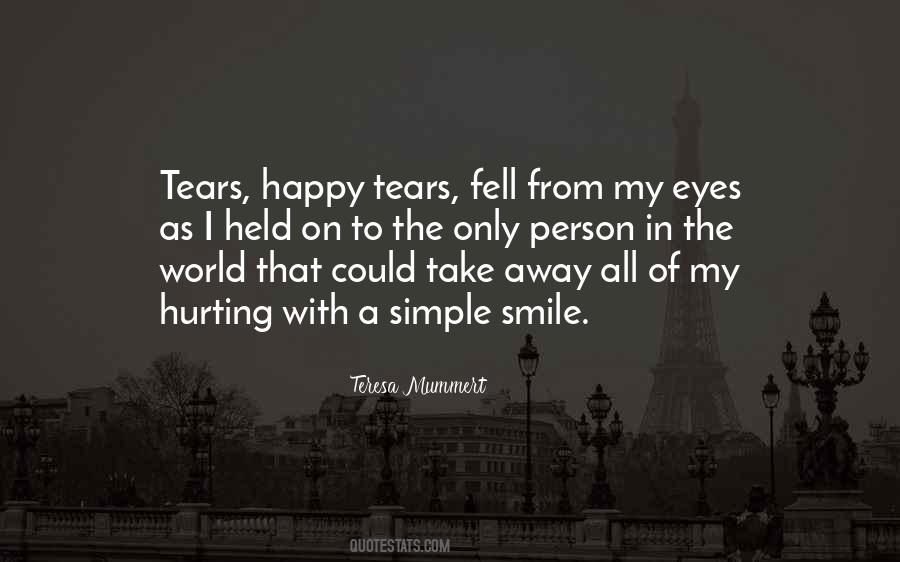 #66. A New World. A world where God has set up housekeeping, where God will live right with us, and we with Him. He'll wipe the tears from our eyes, and death will die. No more crying, no more sorrow, no more pain, no more.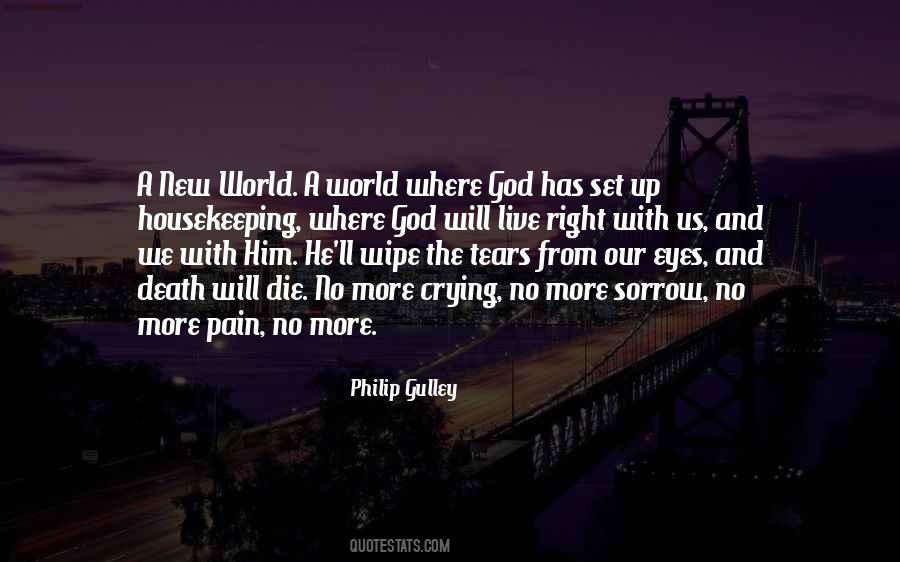 #67. I am writing history and i do so with my eyes almost always full of tears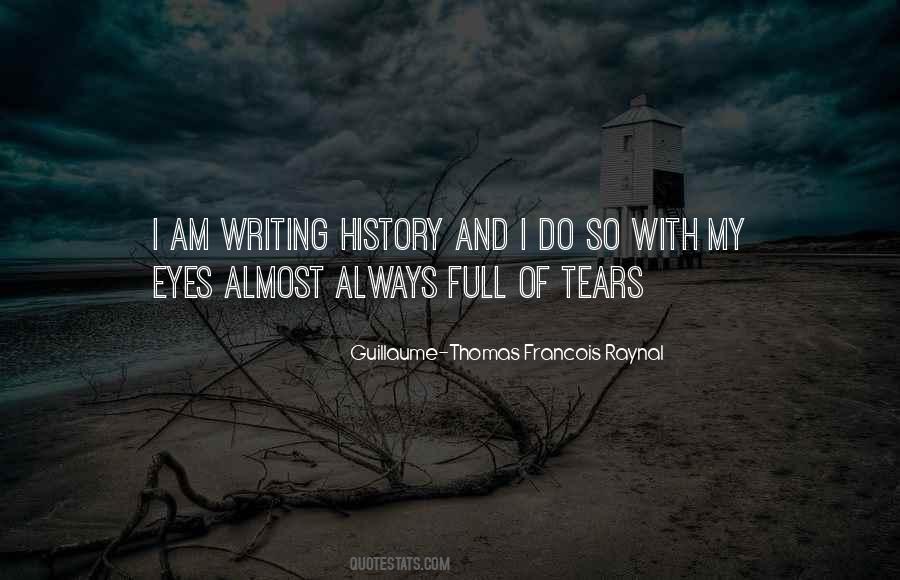 #68. Caspian sat there with me until my sobs died down to a slow hiccup.
Then he whispered, "I'd hold your hand right now if I could."
His eyes were so wide and earnest that I couldn't help but smile at him.
"Thanks," I said, trying to hold back more tears. "It's the thought that counts.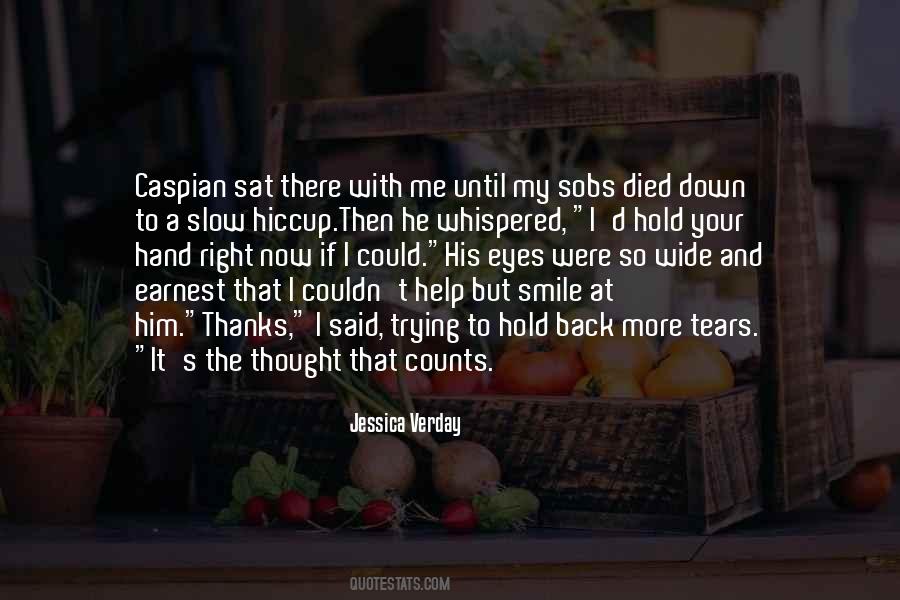 #69. My eyes filled with tears. "Get out."
"Pigeon," he said, taking a step toward me.
"Get OUT!" I said, grabbing the glass from the night stand and throwing it at him. He ducked, and it shattered against the wall in hundreds of tiny, glistening shards. "I hate you!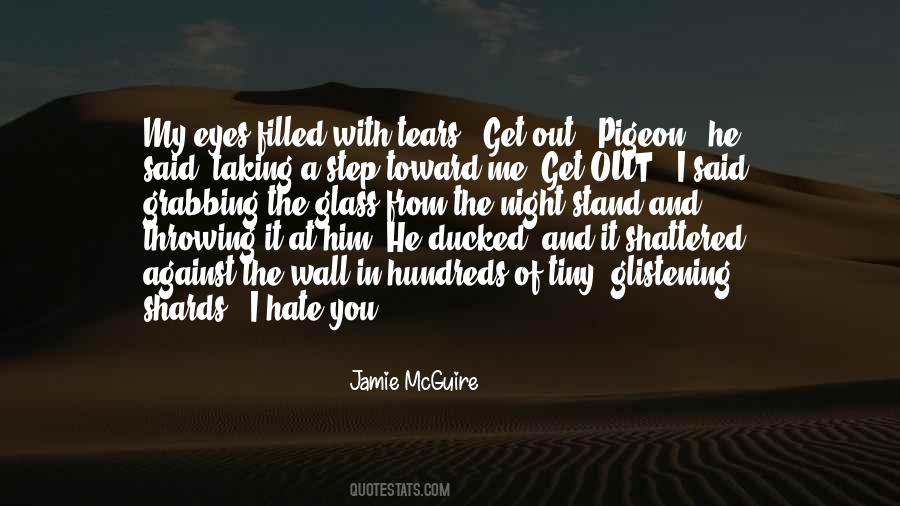 #70. Joy is a mystery because it can happen anywhere, anytime, even under the most unpromising circumstances, even in the midst of suffering, with tears in its eyes ...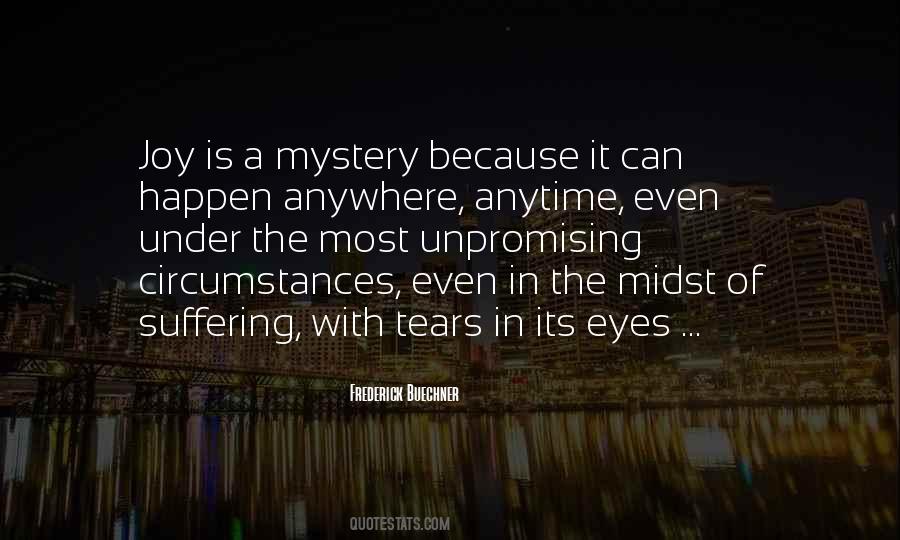 #71. I will never forget my beautiful days with you in Shanklin, they are certainly the most pleasant ones of my life. Look, I have tears in my eyes just to think about it. I am furious to be here, it is the end of happiness for a whole year.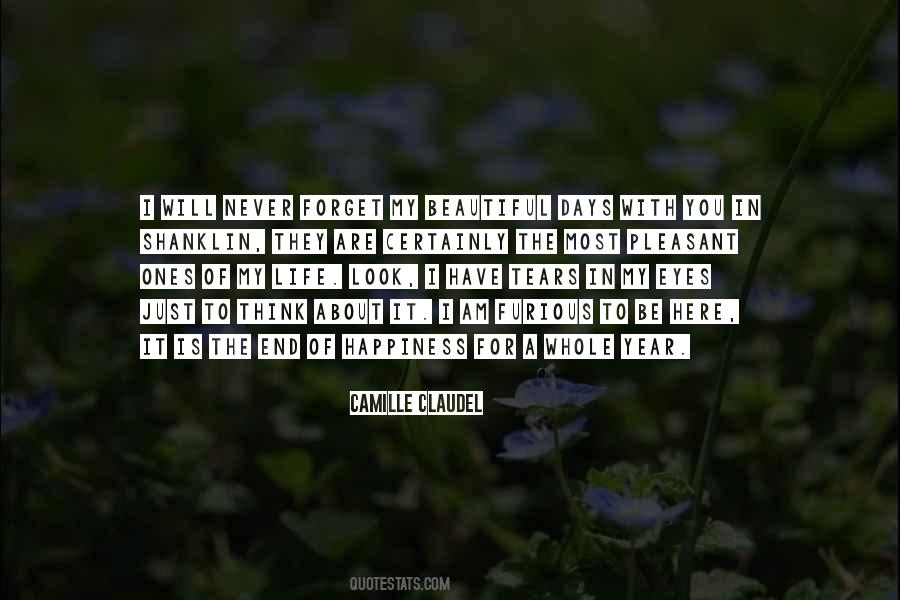 #72. They wanted to speak, but could not; tears stood in their eyes. They were both pale and thin; but those sick pale faces were bright with the dawn of a new future, of a full resurrection into a new life.
#73. Fuck, babe," Chocolate Eyes said, stepping forward. He grabbed her arm and hauled her to her feet off the tiled floor. "You look like crap ... worse, actually." He wiped her tears with the calloused pad of his thumb. "You want to get out of this pisshole or not?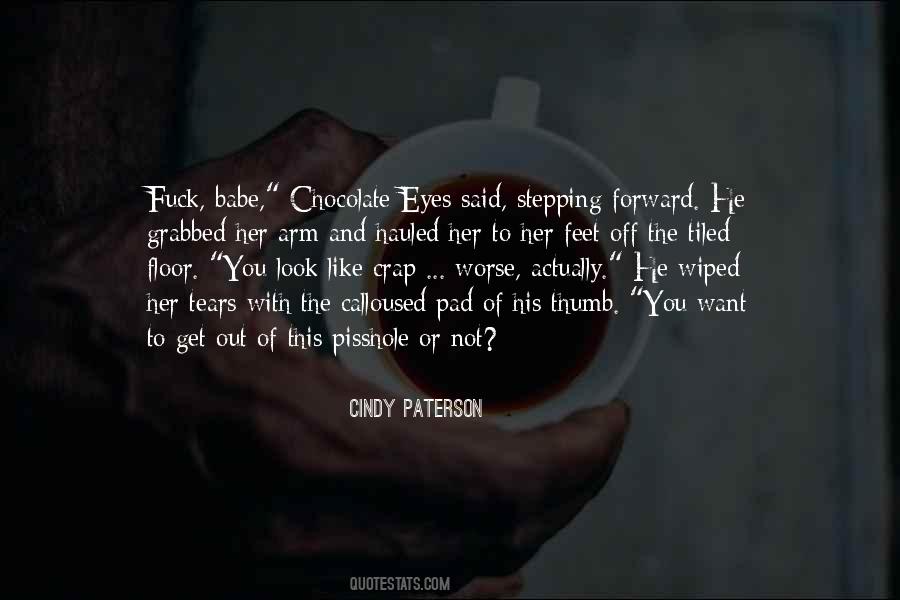 #74. Sometimes the truth is so deep that it takes someone with the same depth to see it, while others can't see past the level they have never moved from.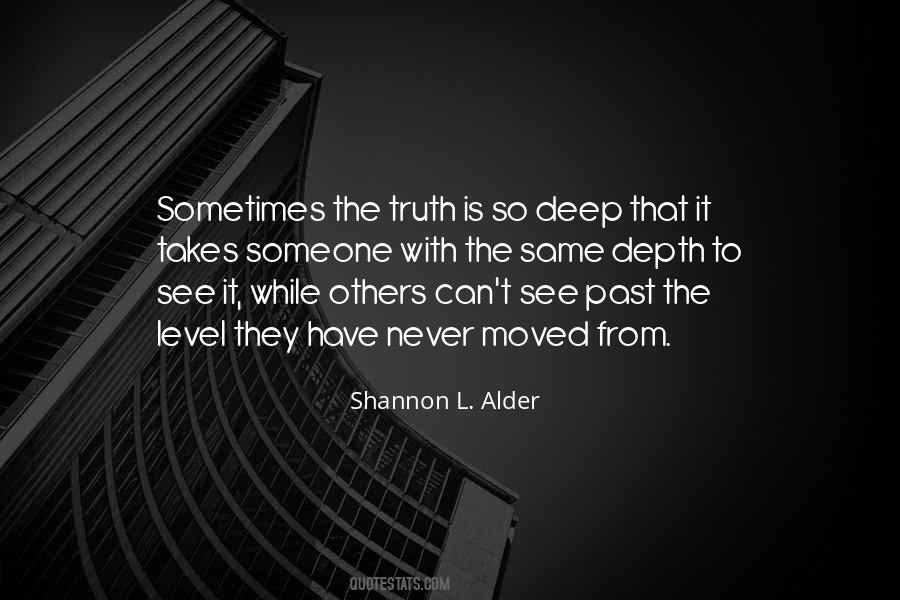 #75. Yes," she says, her eyes bright with tears. "My dear child, you've done so well.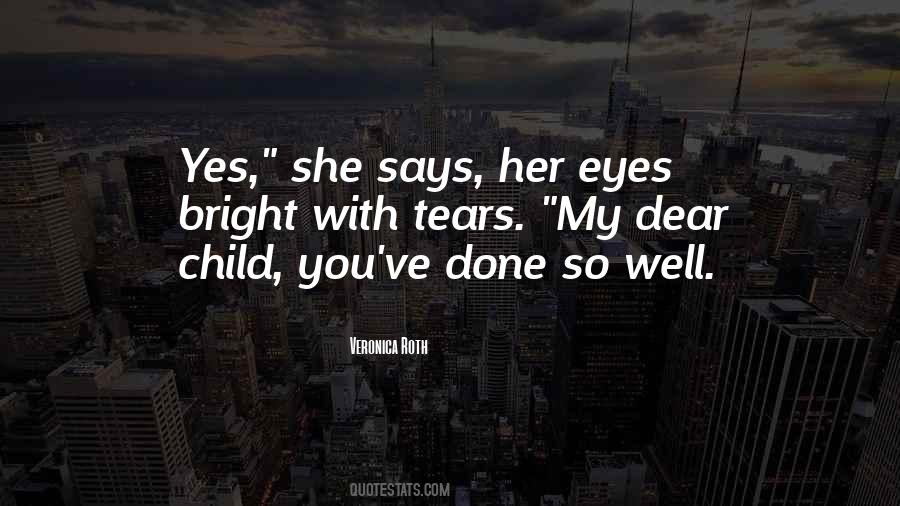 #76. She drew back from his embrace so she could look into his eyes, her own swimming with tears. The uncertainty in her face nearly killed him. She had no idea how lovable she was. How precious and brave and special.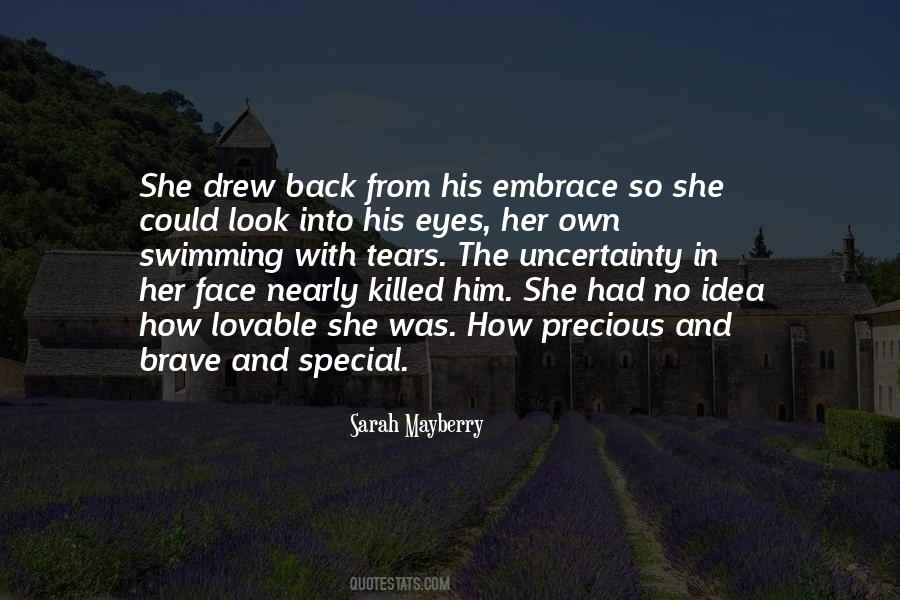 #77. Lloyd glanced over at Luxe as if to say 'do you belief this shit' but Luxe had tears in her eyes as she looked at Keisha with a sad expression on her face.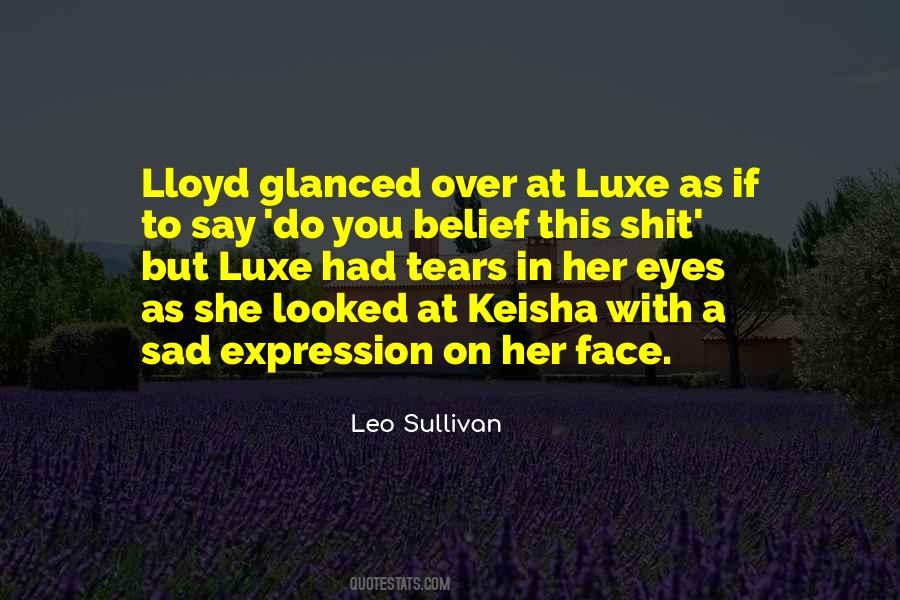 #78. My body is marked with you. My arms. My chest. My eyes. My head. My heart." Tears rolled down her cheeks. "I can't erase you. I'd have to die to be free of you. D-don't you see that, Gris? C-can't you see? There is only you for me.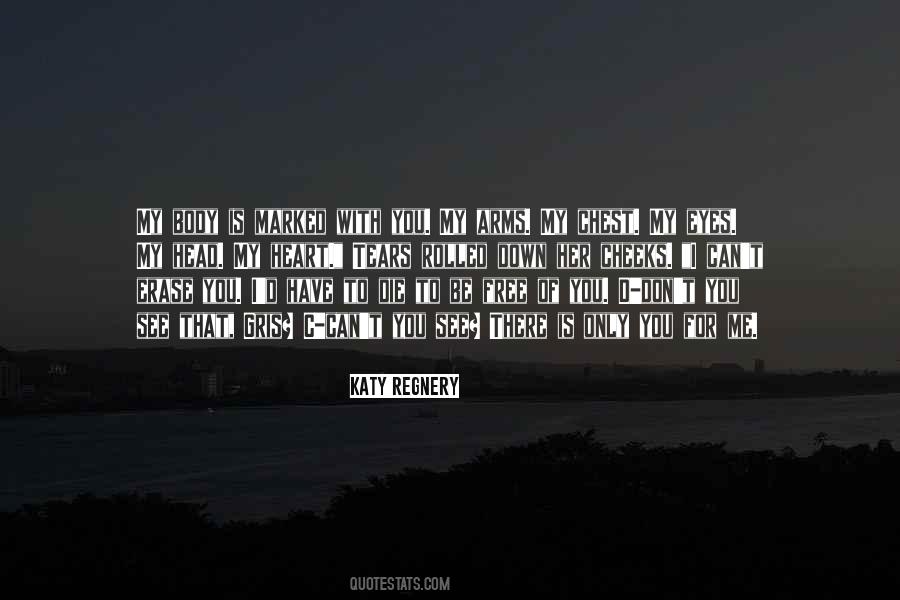 #79. She discussed her unhappiness with Mary Pereira, but the ayah only told her that there was no happiness to be gained from "the mens"; they made pickles together as they talked, and Amina stirred her disappointments into a hot lime chutney which never failed to bring tears to the eyes.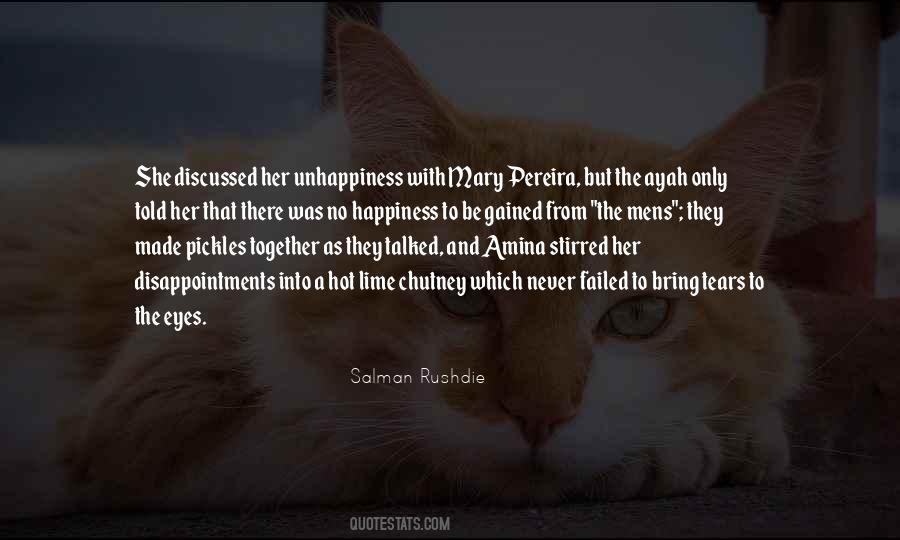 #80. Mothers are the place that we call home. On them we rest our heads and close our eyes. There's no one else who grants the same soft peace, happiness, contentment, sweet release, erasing righttime tears with lullabies, restoring the bright sun that makes us bloom.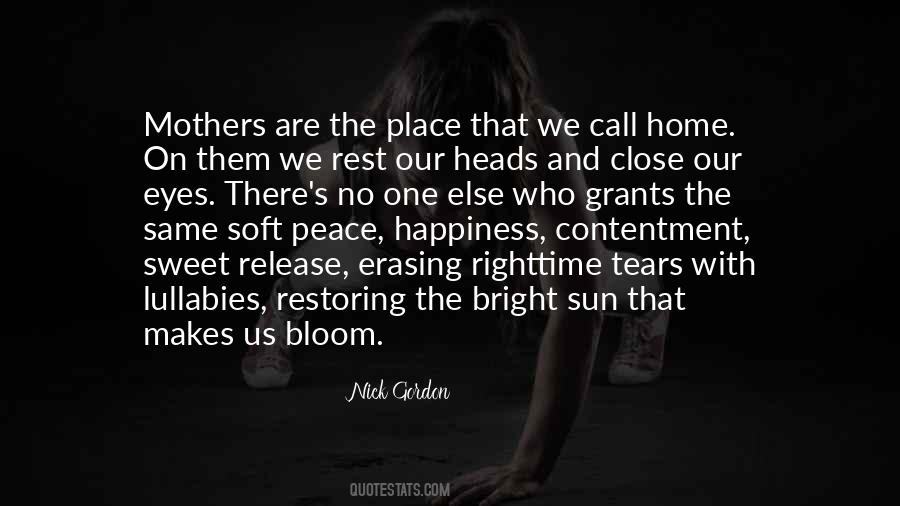 #81. Why did you have to jump out of the window?"
"You know why," Skulduggery said, walking away.
Axle looked up, tears streaming from his eyes. "Why did he do that? Why?"
Stephanie glowered. "Because doors are for people with no imagination," she said.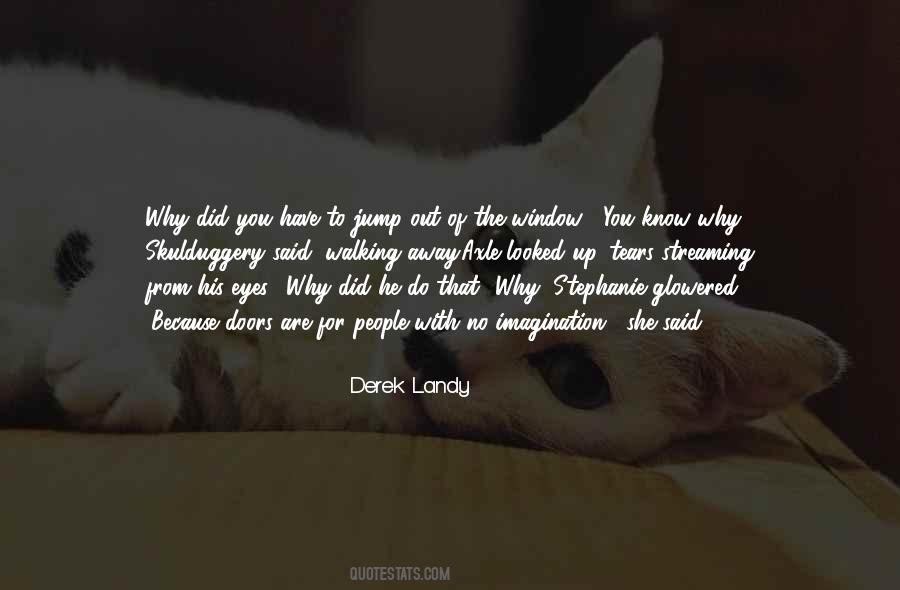 #82. I had to stop. I threw my kindle across the room. My eyes were so filled with tears that the words were becoming blurry toward the end.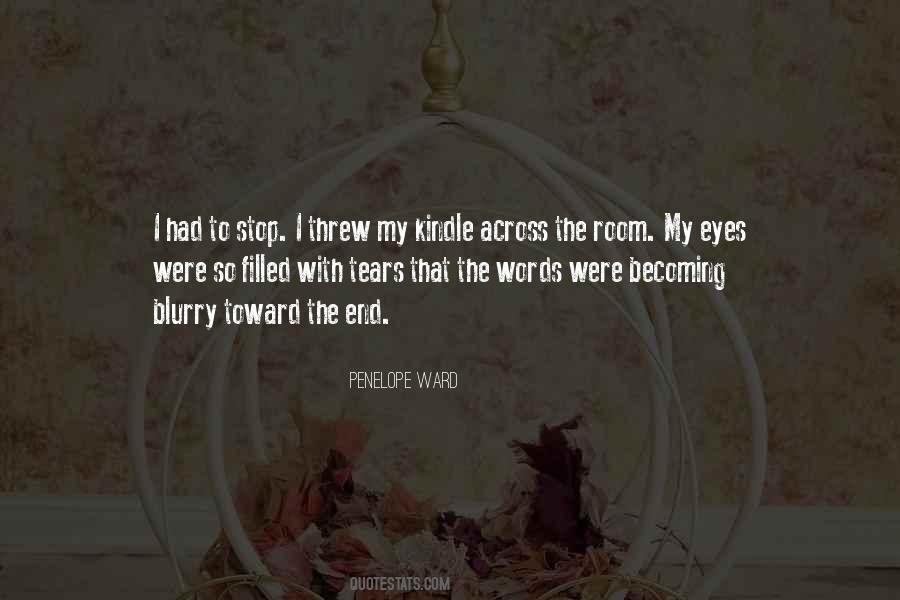 #83. Then she saw him stop and wipe his brow with his handkerchief. Once, twice. And then once again. But she did not see the grin of relief spread over his face. That she did not see because her eyes had filled with tears. And the geraniums, they were just as sad. In any case, that's how they smelled.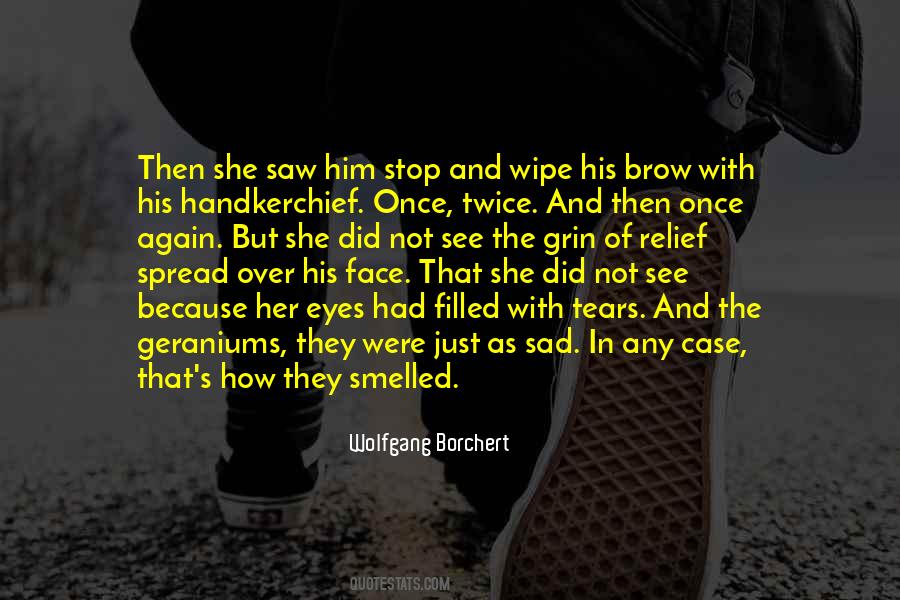 #84. You can't see anything properly while your eyes are blurred with tears.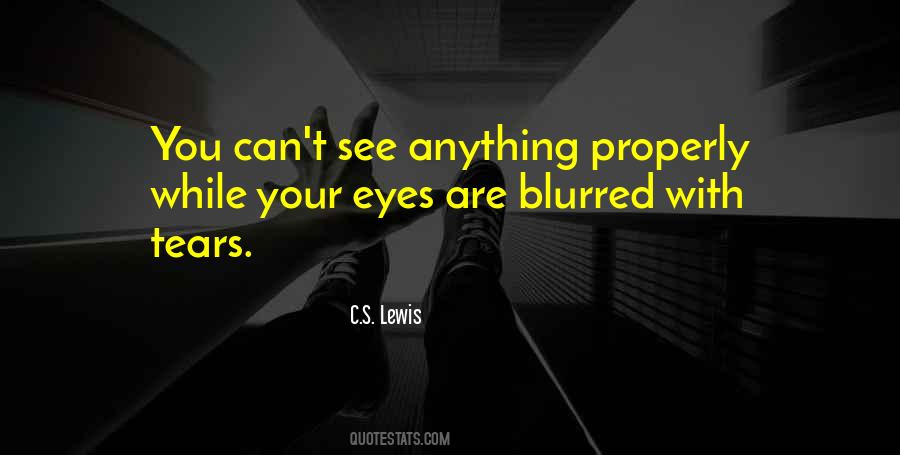 #85. Love laid his sleepless head
On a thorny rose bed:
And his eyes with tears were red,
And pale his lips as the dead.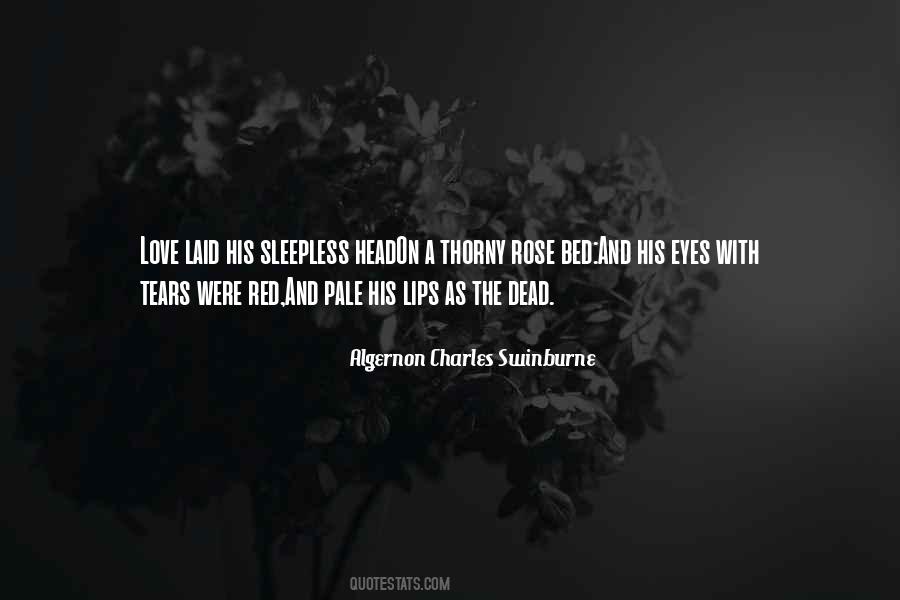 #86. Leave me in peace, let me sleep one night at least without my pillow being wet with tears, my eyes burning and my head throbbing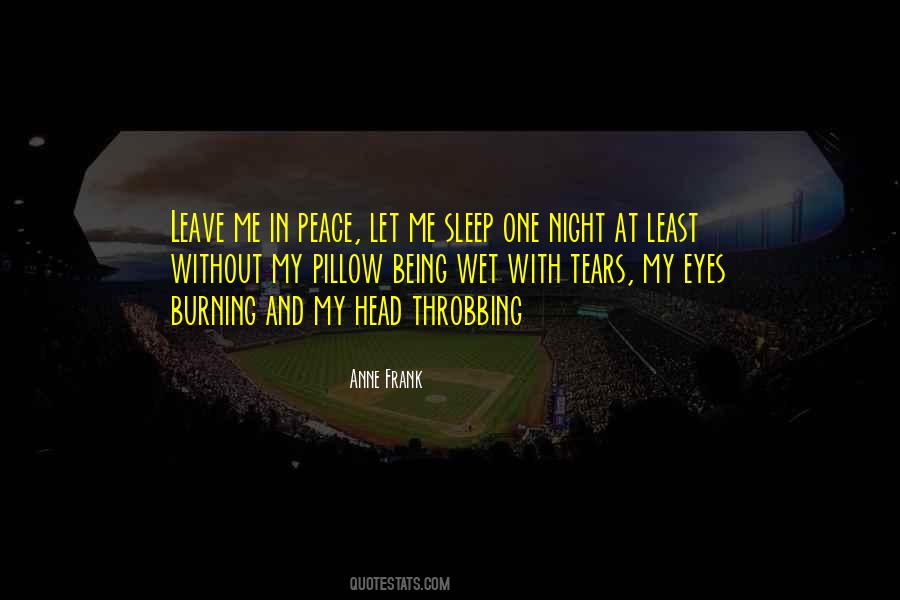 #87. How do you want us to tune the lens and our eyes are filled with tears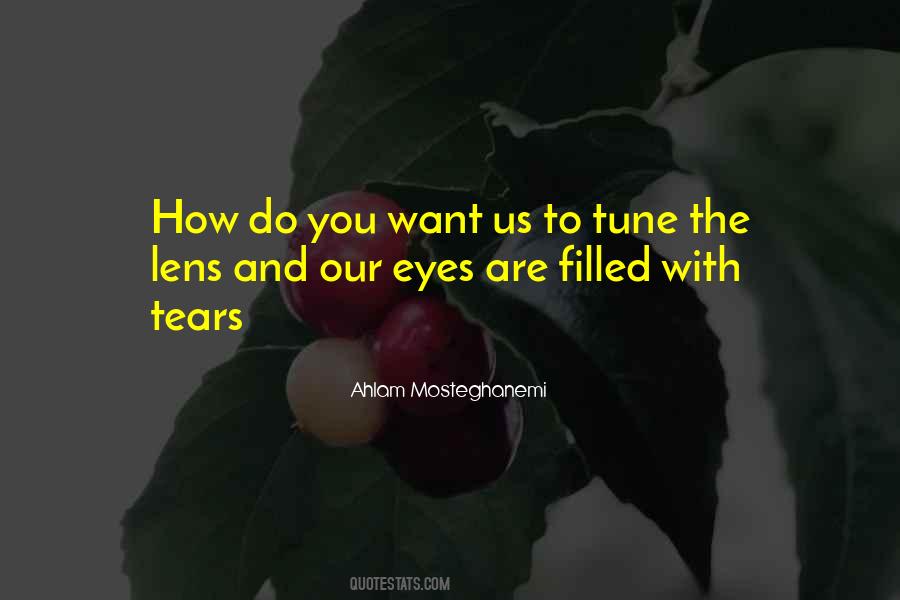 #88. This is it, Lake," I say pointing back and forth between us. "It's real now. I'm not walking away from you again. Ever."
Her eyes fill with tears. "Promise?" she whispers.
"I swear. I love you so much."
A tear rolls down her cheek. "Say it again," she whispers.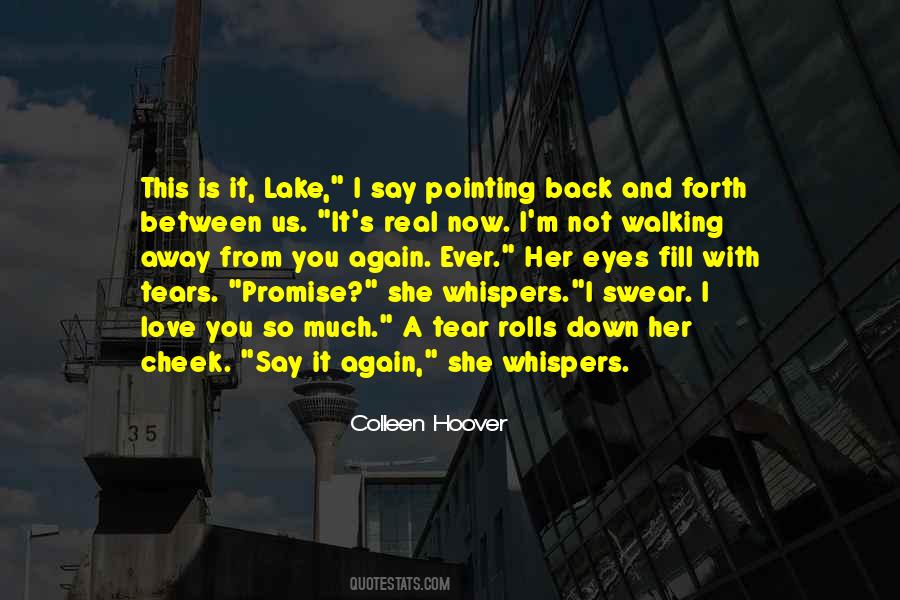 #89. I threw back my head, my hair falling about me like a great red curtain, and cried out. My eyes felt hot and burned with tears as my body trembled with the passion for blood.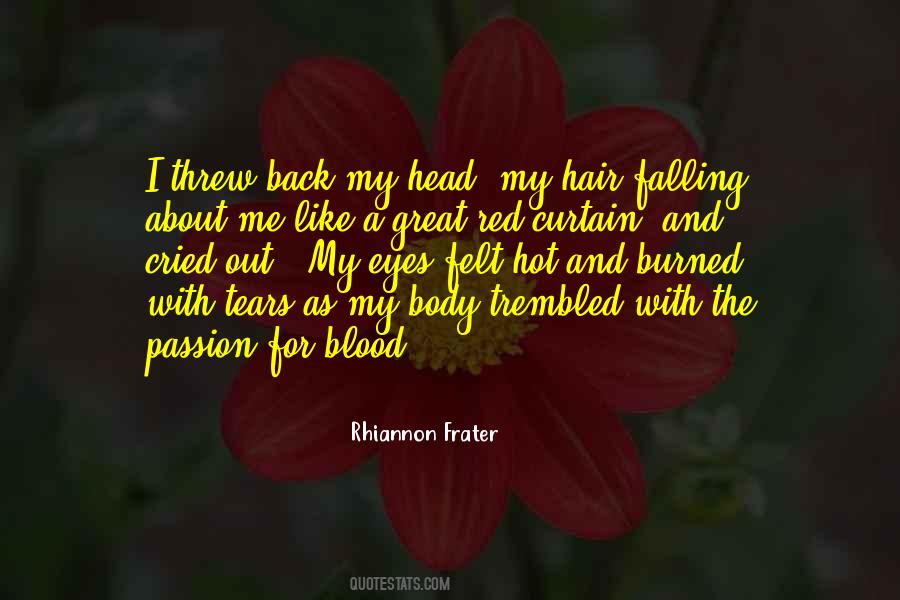 #90. Our sense of humor," said Mother, her eyes pooled with laughing tears. "They can't take that away from us, right?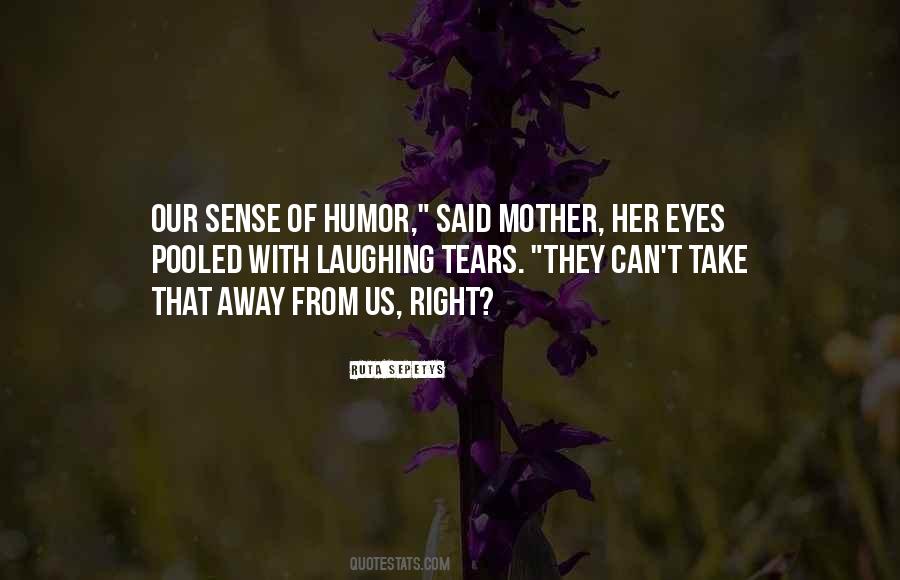 #91. Hiresha felt something she struggled to describe. Power and possibility swirled within her, along with a a sense of gasping potential in each moment. When she could a find a name for it, tears beaded her eyes. I am awake.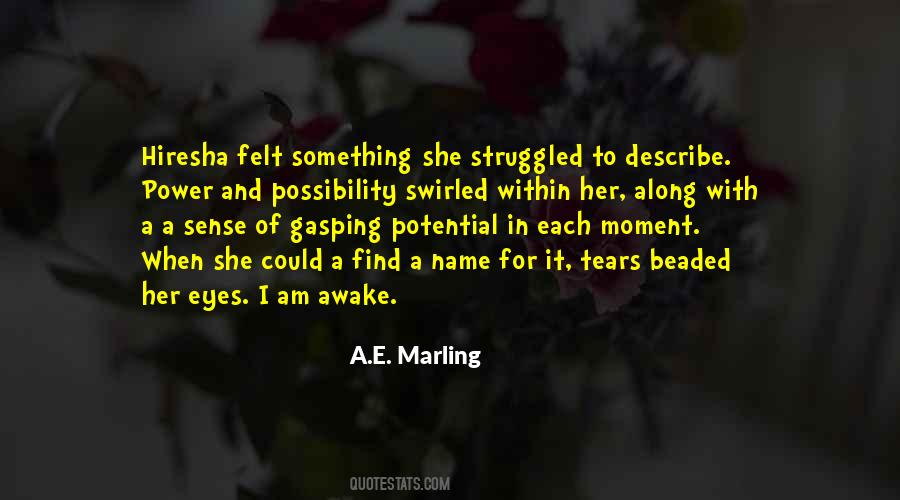 #92. Suddenly the reader's eyes were filled with tears, and a loving voice whispered in his ear: -Why are you crying if everything in that book isn't true?- And the reader replied: -I know; but what I feel is real.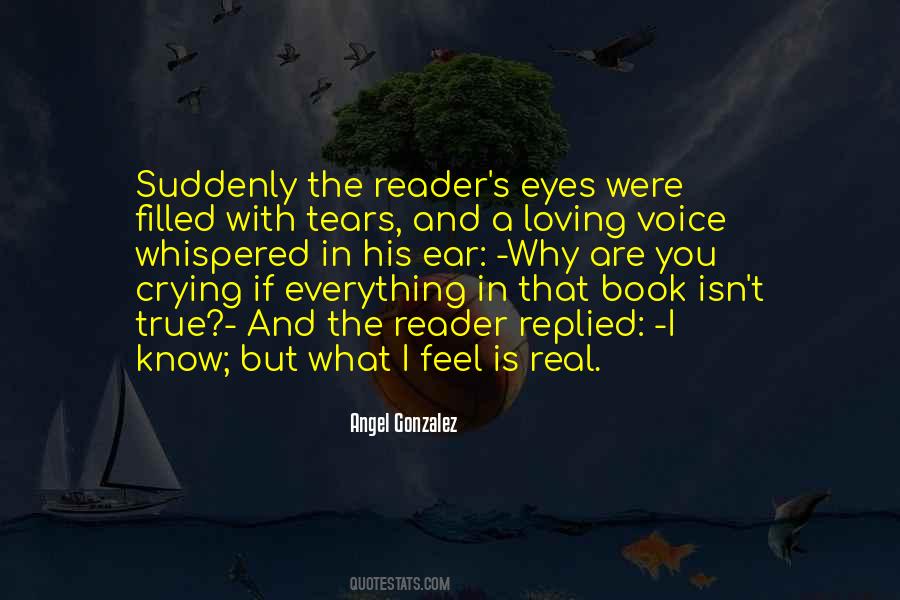 #93. And Ghastly became aware of Ravel's eyes, brimming with tears, those eyes that had many a lady swooning over him down through the centuries. Those golden eyes.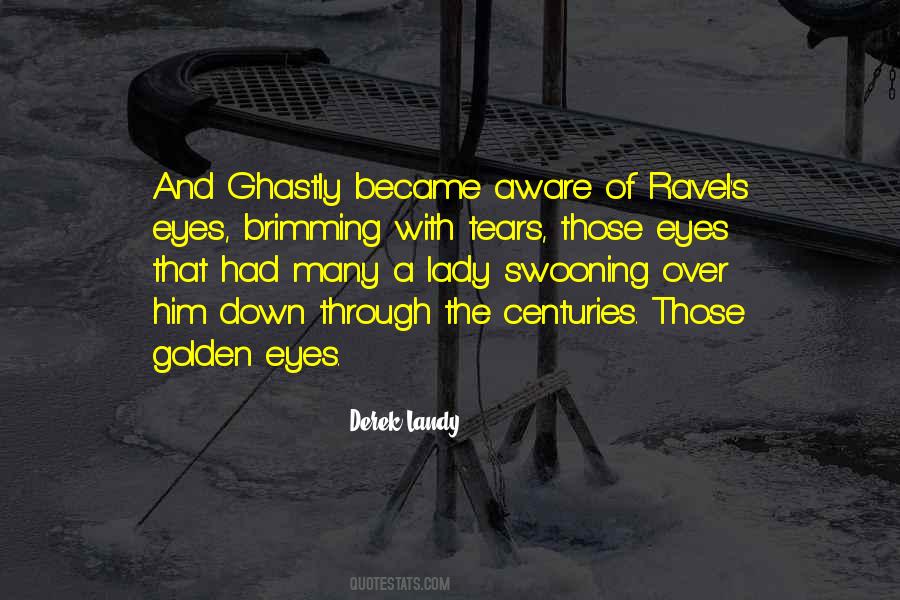 #94. Mathilde let him eat two doughnuts, and his eyes filled with tears because they were the most amazing doughnuts in the history of glazed doughnuts, food of the gods. He was full of joy.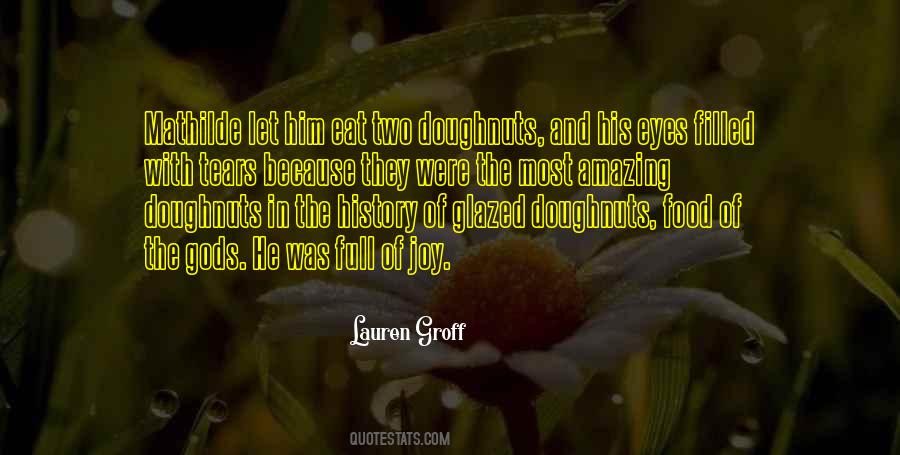 #95. Now I lay down on this tree and felt a lonely sadness coming over me in waves. Slow tears ran from my eyes and trickled into my ears. I thought, 'I even cry in a humble, common way, with tears flowing into my ears.' But the humble, common tears had relieved me[ ... ]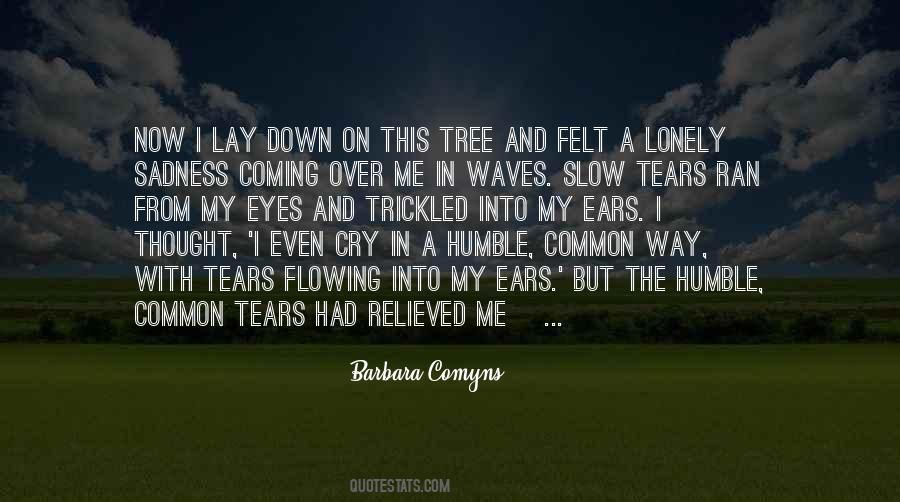 #96. A strong woman is a woman at work, cleaning out the cesspool of the ages, and while she shovels, she talks about how she doesn't mind crying, it opens the ducts of the eyes, and throwing up develops the stomach muscles, and she goes on shoveling with tears in her nose.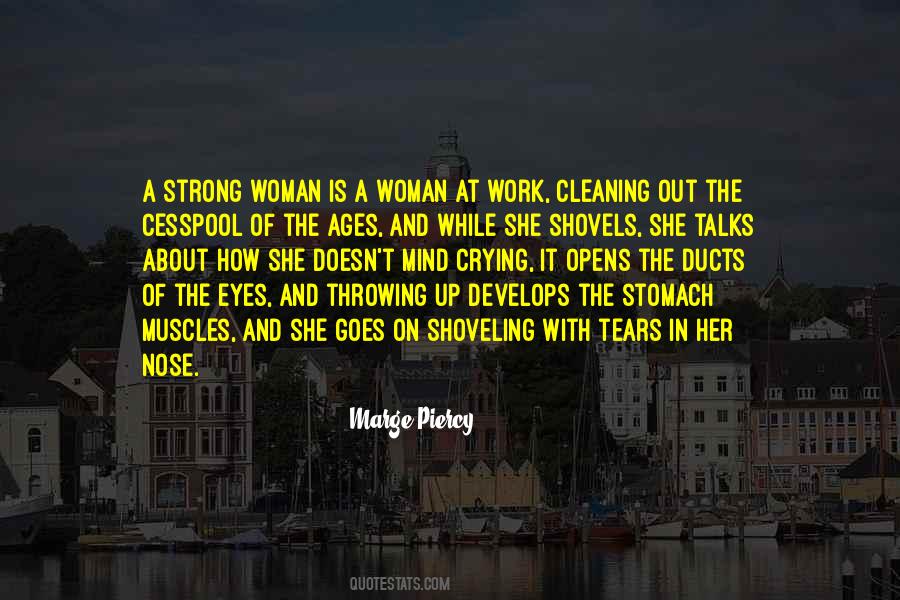 #97. There's nothing I find more sexy - more incredibly hot - than a strong, masculine man with tears in his eyes. You've no idea what you're doing to me, Grif.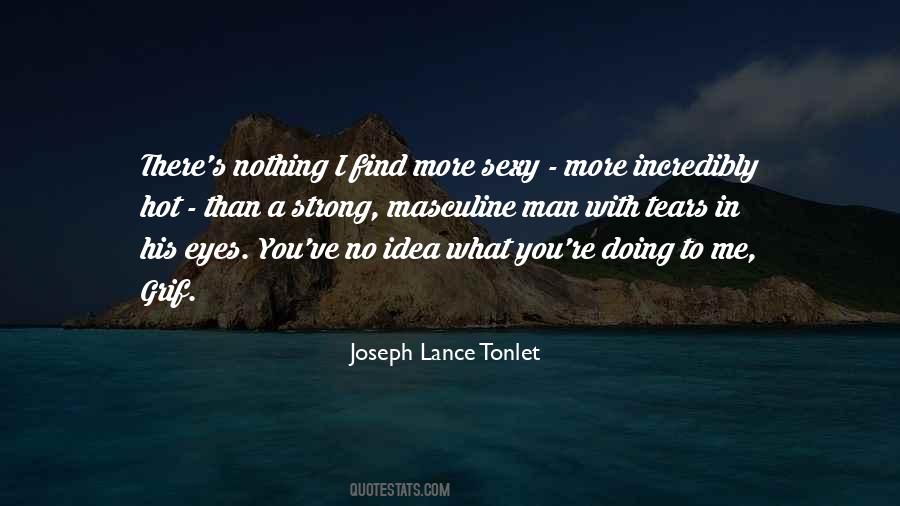 #98. Vera looked at me, and her eyes filled with tears. She does this sometimes, especially when I'm being hateful and difficult; she responds by having all the feelings I'm refusing to have. Now she reached over and took my hand, and we both began to cry.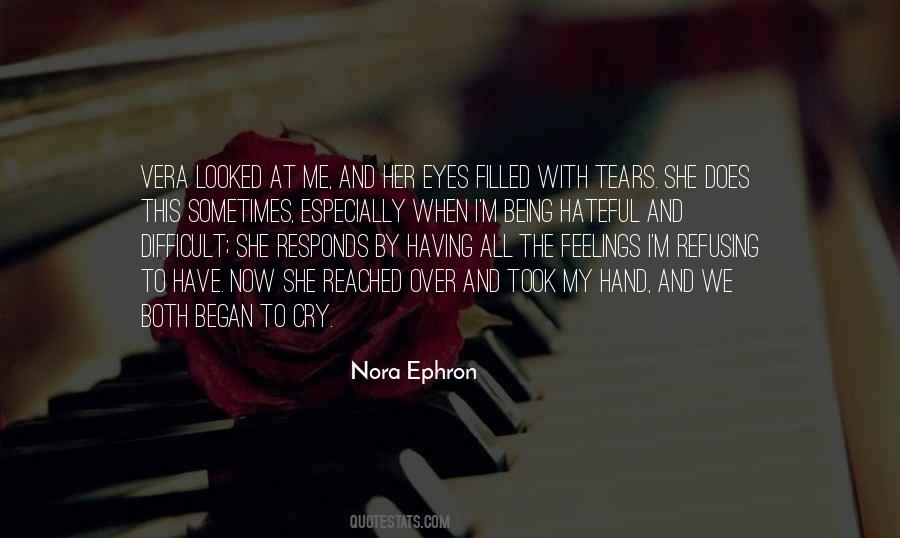 #99. You're quite wrong, you know. I am the most permanent person that you will eve meet," said Magnus, his voice breathless with laughter and his eyes stung a little by tears. "It is only that it never makes a difference.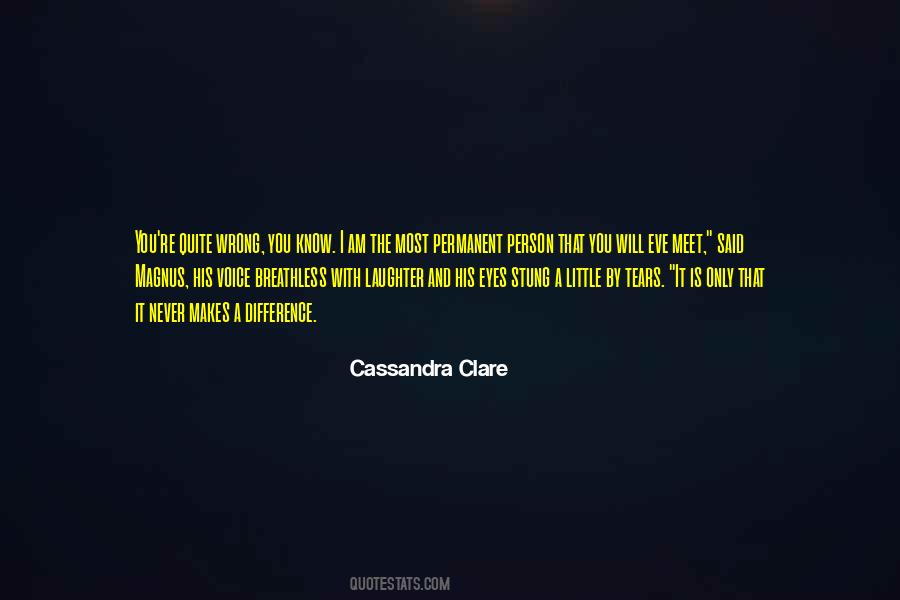 #100. Dad they think she has Down Syndrome." He smiled genuinely as his eyes welled up with tears. "That's okay. We love her.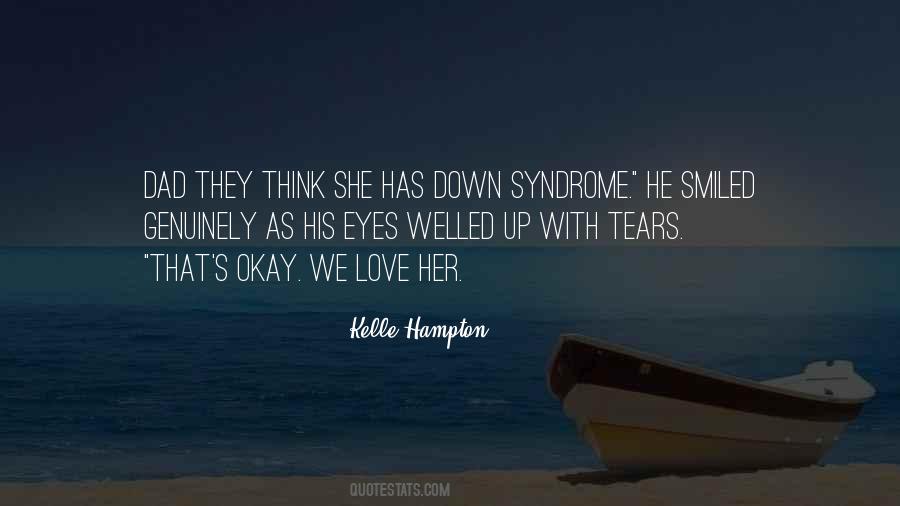 Famous Authors
Popular Topics