Eyes And Heart Famous Quotes & Sayings
List of top 100 famous quotes and sayings about eyes and heart to read and share with friends on your Facebook, Twitter, blogs.
Top 100 Quotes About Eyes And Heart
#1. Reading may affect or damage your eyes, but I'm damn sure it will give your heart strength to understand the world very closely and in well manner. - Author: Raj Singh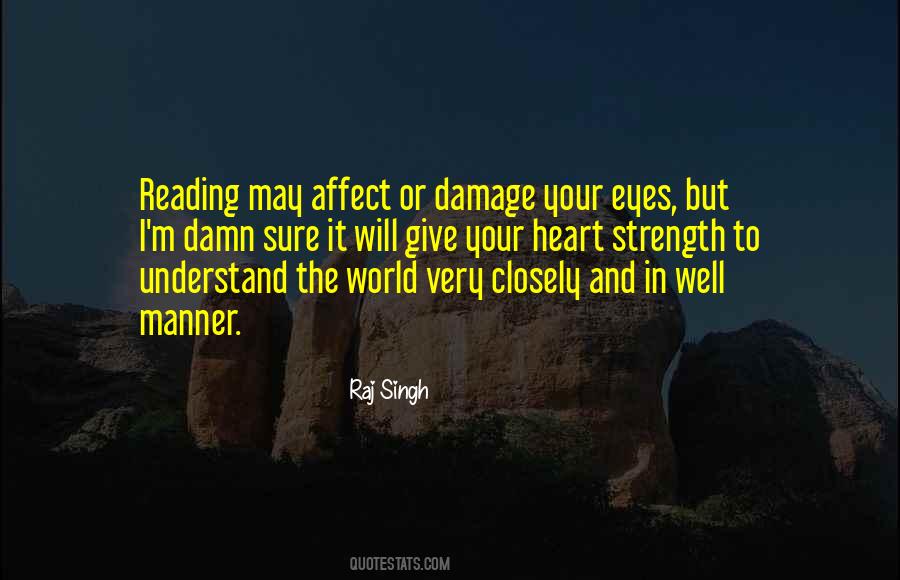 #2. He grabs the swing by the seat and it grinds to a halt. Oz's fingers brush along the skin of my thigh.
My heart stutters. Stupid heart. Stupid short skirt. Stupid deep blue eyes and wild charcoal hair. Stupid, stupid, stupid me for licking my suddenly dry lips. - Author: Katie McGarry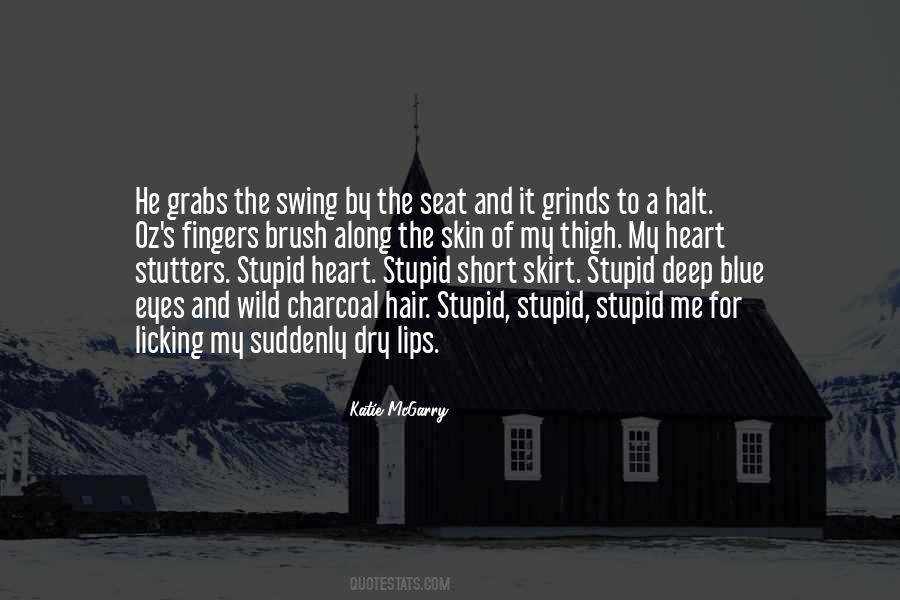 #3. She was few inches taller than him and when for the first time her promising eyes met with his, he knew it would be more than friendship. He was too young to name that feeling then. But love...above all relationships knows no age. - Author: Viraj J. Mahajan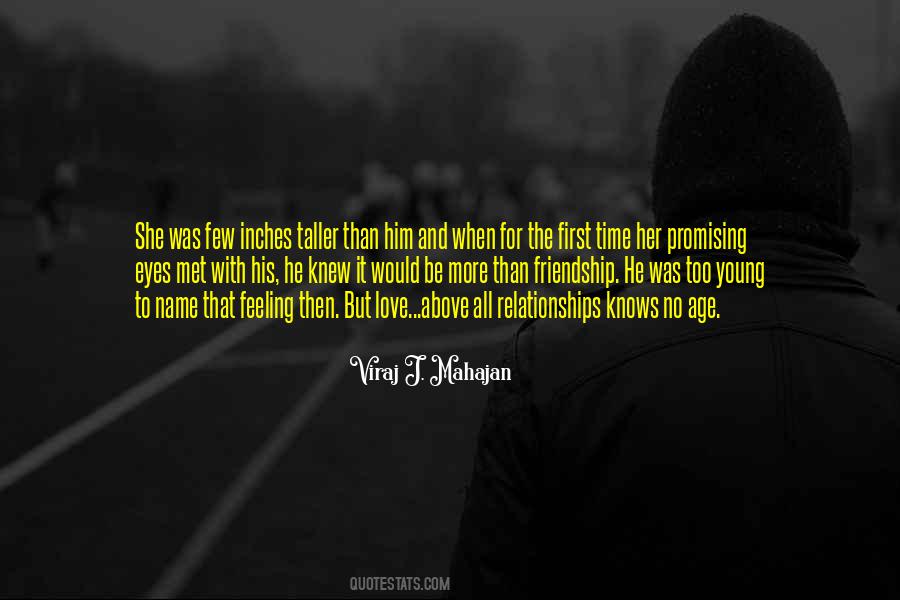 #4. Hath not a Sith eyes?
Hath not a Sith such feelings, heart and soul,
As any Jedi Knight did e'er possess?
If you prick us, do we not bleed? If you Blast us, shall we not injur'd be? If you Assault with lightsaber, do we not die? - Author: Ian Doescher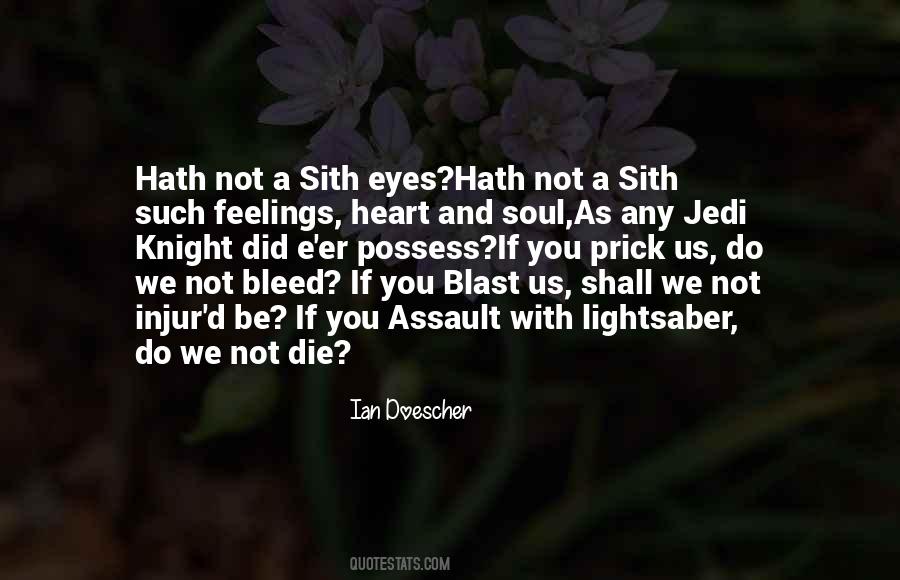 #5. We live under a prince who is an enemy to fraud, a prince whose eyes penetrate into the heart, and whom all the art of impostors can't deceive. - Author: Moliere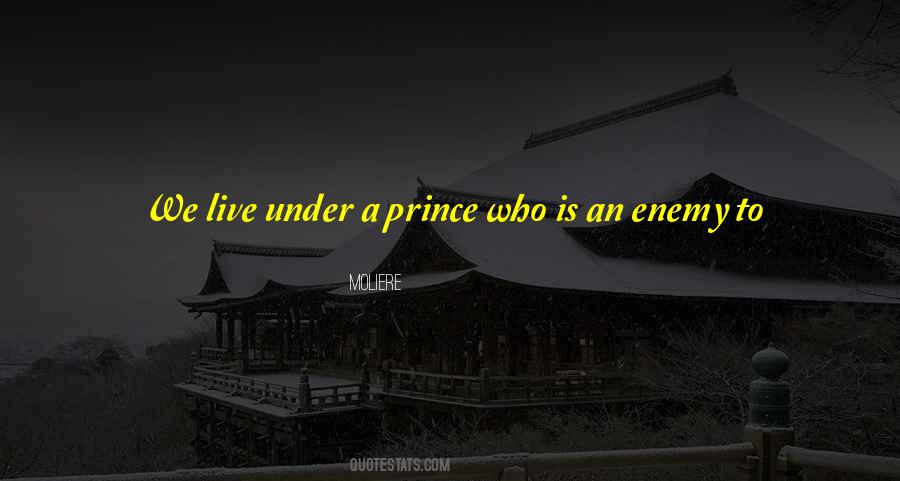 #6. Empathy is about standing in someone else's shoes, feeling with his or her heart, seeing with his or her eyes. Not only is empathy hard to outsource and automate, but it makes the world a better place. - Author: Daniel H. Pink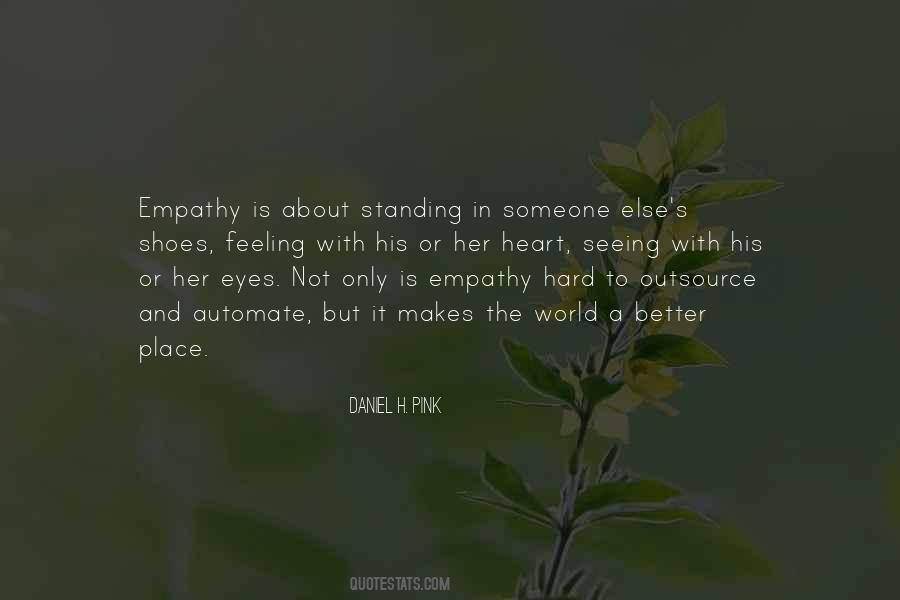 #7. I kept seeing Yolanda on the parquet, two men pinning her to the ground, her eyes loaded with hatred and madness combing her hair. I was stormed by her image and my heart could not bear it. We know so little about people. But about the people we love, we know even less. - Author: Nicholas Shakespeare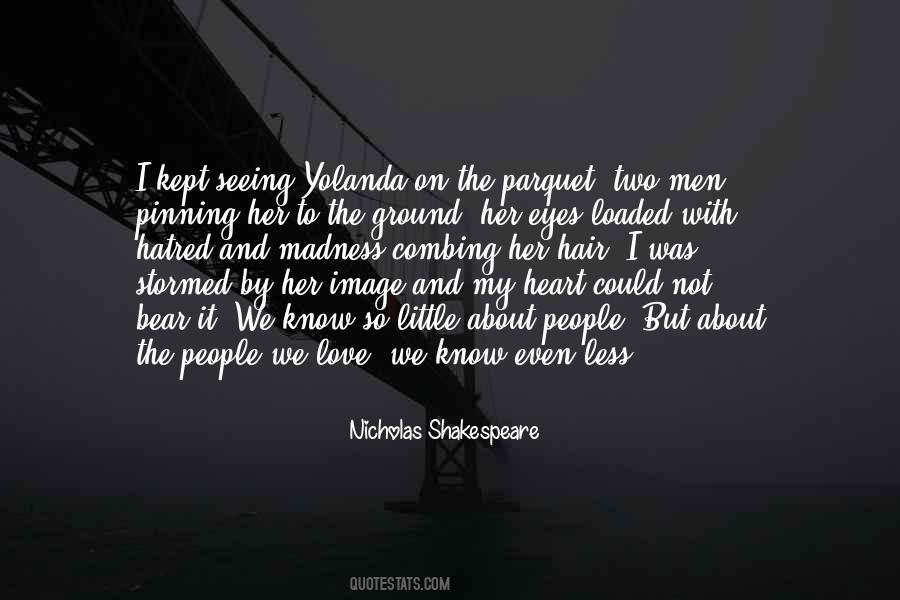 #8. He doesn't move a muscle except for his eyes that follow her path as though somehow he can see her contrails. His whole existence revolves around a girl who left his orbit, and he was the one who spun her off her axis. - Author: Kat Kruger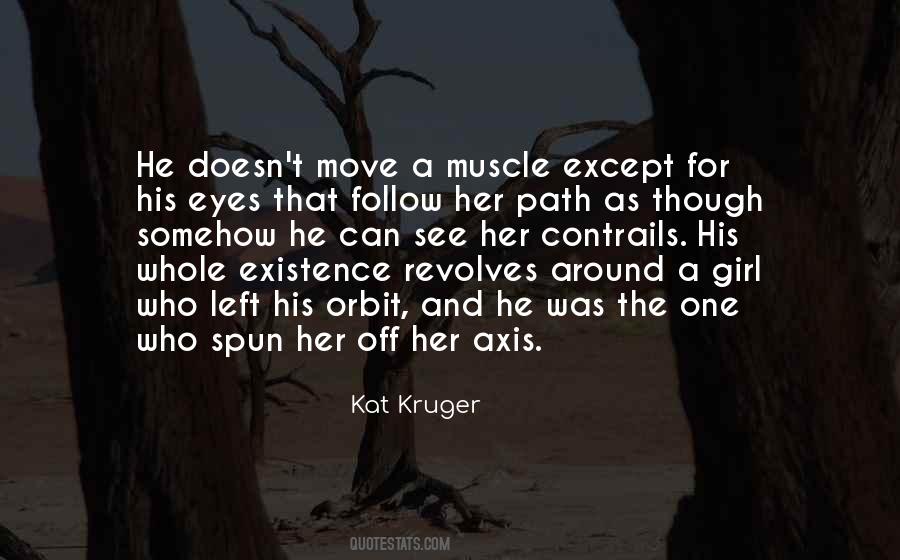 #9. Seenu rang the gong, and the eyes shut themselves in silence, and the brahmin heart and the weaver heart and pariah heart seemed to beat the one beat of Siva dancing - Author: Raja Rao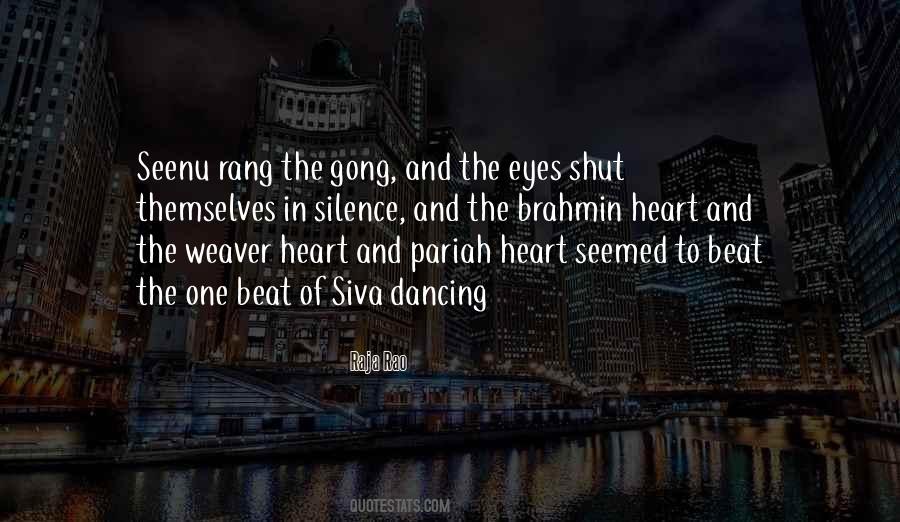 #10. His skin like grey bark, his eyes pale as a winter pool, time and age had worn my father to the bone. In our youth, he'd been a strict master lording over my lessons while tender with the flower of his heart, my sister Anabine. Ana, the lovely, blooming jewel. Zyndel, she of clever wit. - Author: Jamie Wyman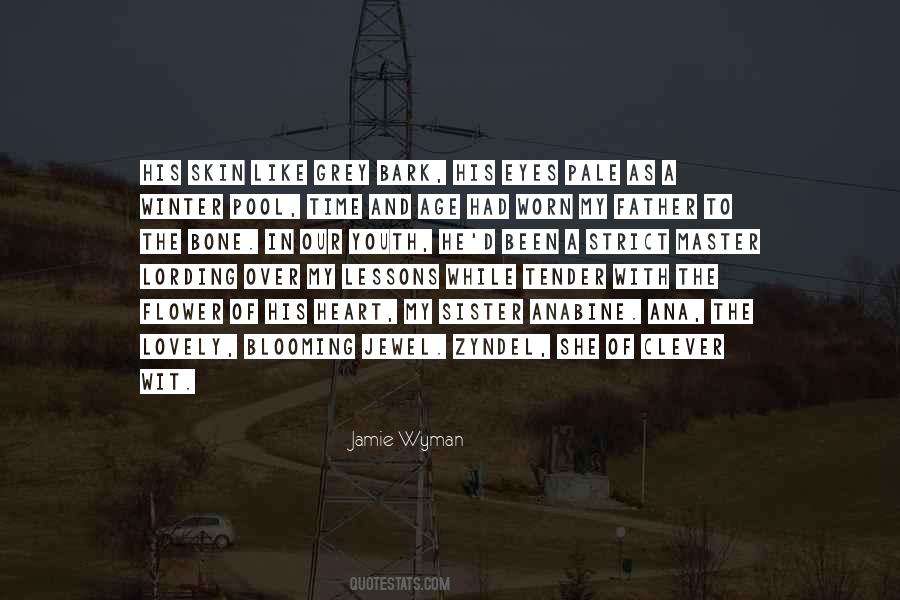 #11. Opening her eyes, she looked right at him. She saw her life, her heart echoed in his eyes, and she burst in a kaleidoscope of colors and emotion, unlike anything she'd ever felt. - Author: Jill Shalvis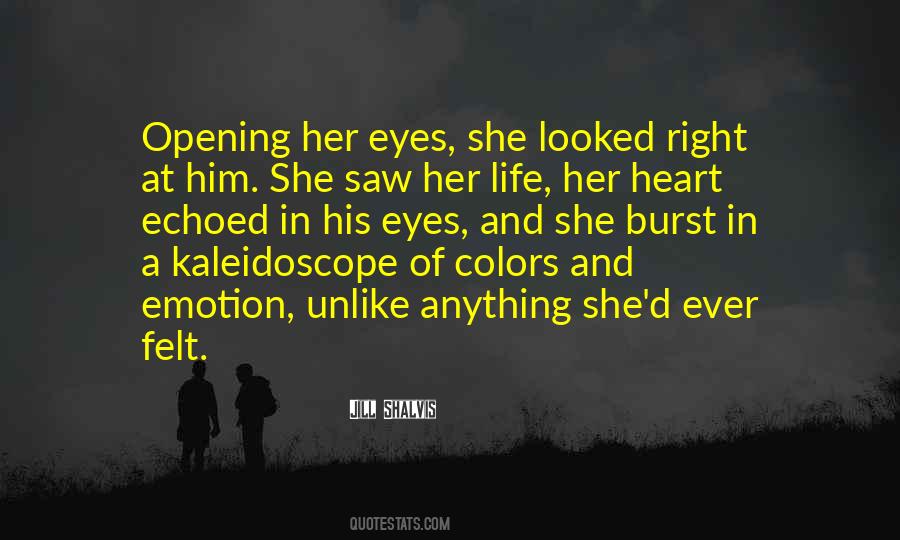 #12. Every one who has a heart and eyes sees that you, working men, are obliged to pass your lives in want and in hard labor, which is useless to you, while other men, who do not work, enjoy the fruits of your labor that you are the slaves of these men, and that this ought not to exist. - Author: Leo Tolstoy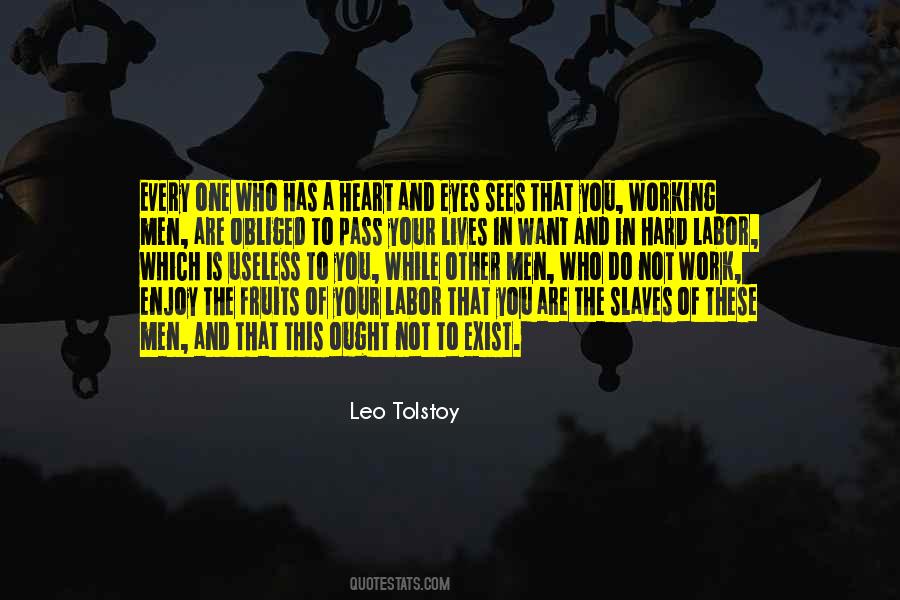 #13. My heart quickened when I caught a flash of red entering the lunchroom. At the corner door farthest from me, Echo paused and performed a quick scan. She held her books tight to her chest, sleeves clutched in her hands. Our eyes met. Her green eyes melted and she gave me that beautiful siren smile - Author: Katie McGarry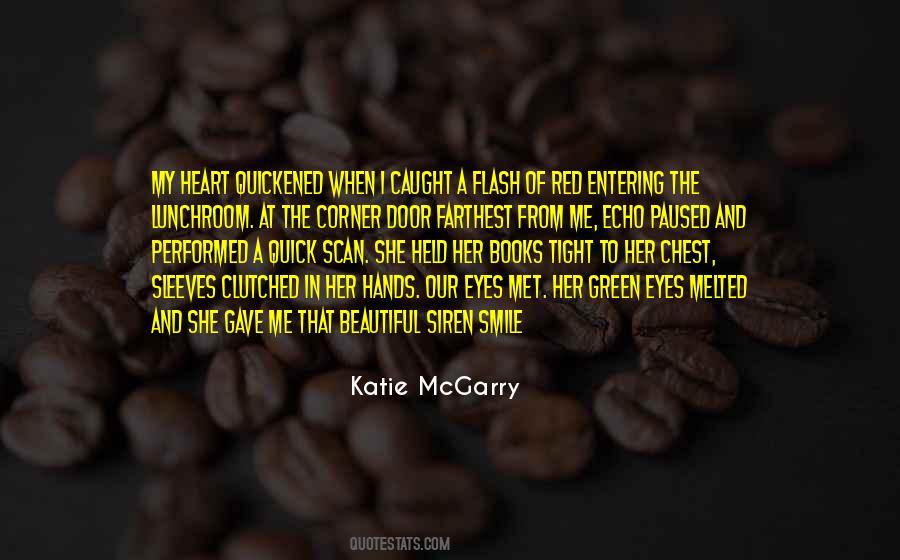 #14. What happens when you shut your eyes?
The images you have been accustomed to look at suddenly disappear.
See through the images by closing your eyes and opening your heart. - Author: J.R. Rim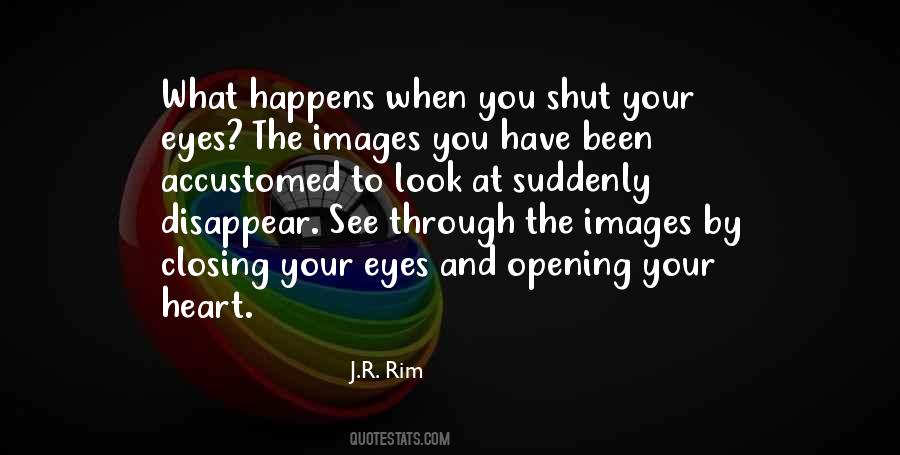 #15. He studied her expression, the look in her eyes. His heart contracted. He didn't know what love looked like. He knew she was capable of great self-sacrifice and loyalty, and maybe that was what love was. - Author: Christine Feehan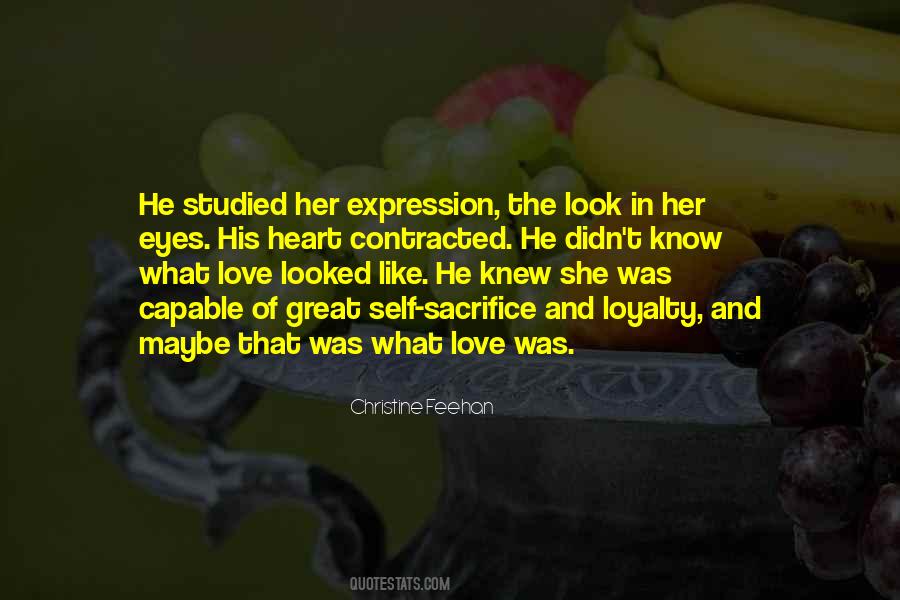 #16. Not, "He shall one day grant a revival, and then next day leave His Church to barrenness." His eyes never slumber, and His hands never rest; His heart never ceases to beat with love, and His shoulders are never weary of carrying His people's burdens. - Author: Charles Haddon Spurgeon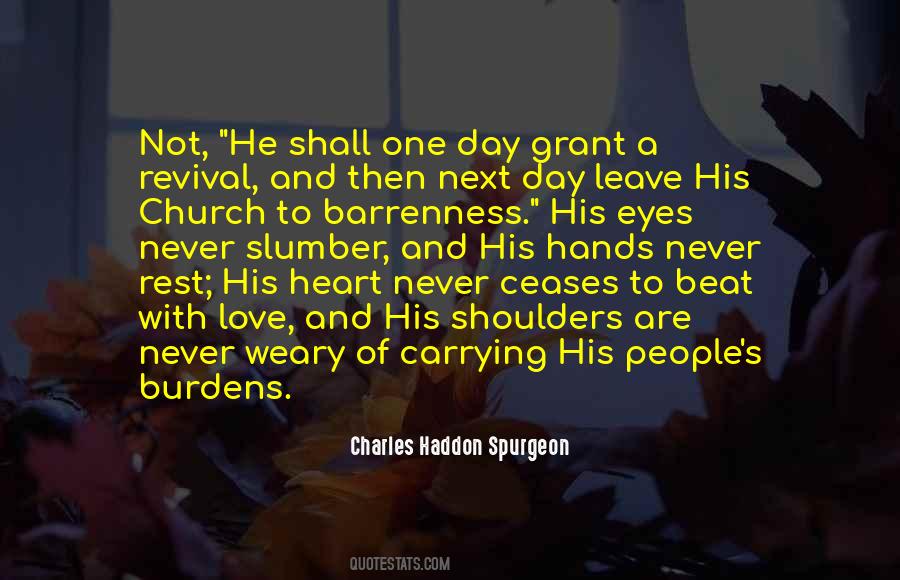 #17. Find something that reminds you of Jack ... "
"Like what?"
"The two of you were lovey-dovey. Didn't he ever give you.. I don't know ... a heart shaped locket necklace?"
"No."
"A teddy? With a T-shirt that says I LOVE YOU BEARY MUCH?
I rolled my eyes. "No. He wasn't like that. - Author: Brodi Ashton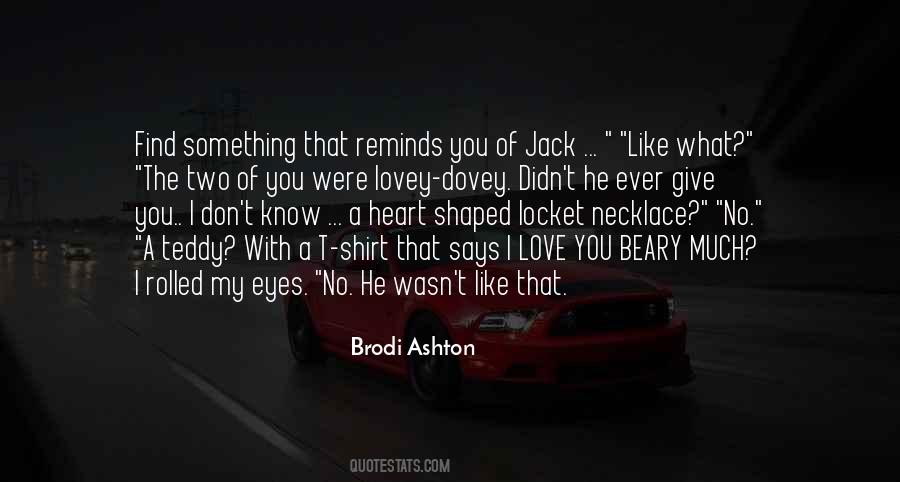 #18. What am I in the eyes of most people? A good-for-nothing, an eccentric and disagreeable man, somebody who has no position in society and never will have. Very well, even if that were true, I should want to show by my work what there is in the heart of such an eccentric man, of such a nobody. - Author: Vincent Van Gogh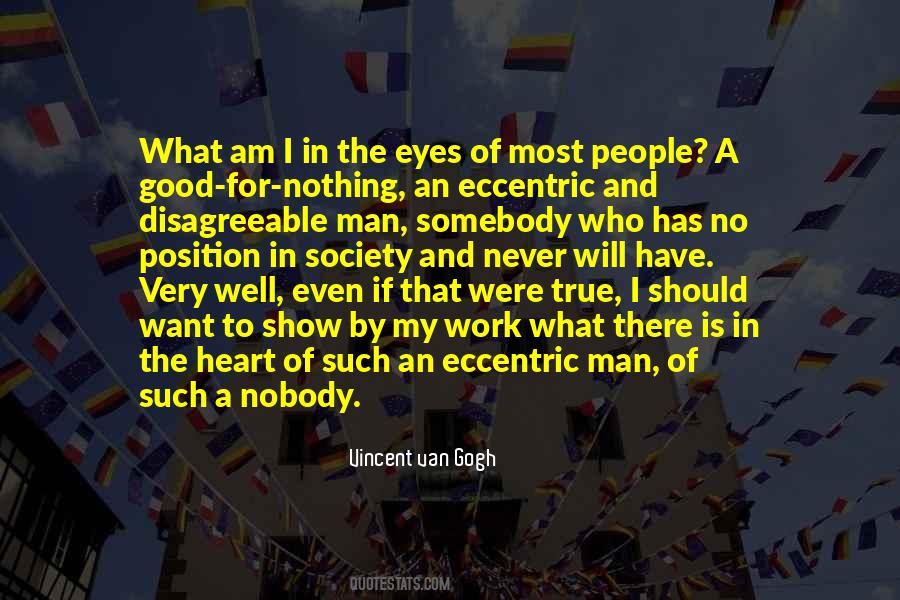 #19. What is it you would have of me?"
His amber eyes were shiny and bright and filled with his heart as he stared at her. "I would have you, my love," he breathed. "Every day for the rest of my life. I've come to marry you, Nyn. If you'll have me. - Author: Sherrilyn Kenyon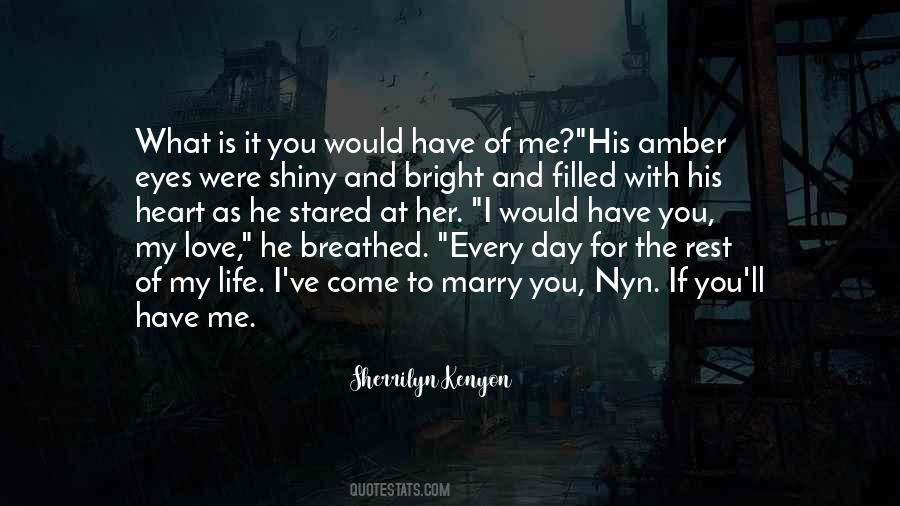 #20. With horror he saw that her hair was already afire as the tarred stake burned about her head. He held her agonized gaze with his fierce black eyes. "I'll love you forever, and beyond," he vowed as he raised both arms and plunged his sword into her heart.

~Marcus Magnus - Author: Virginia Henley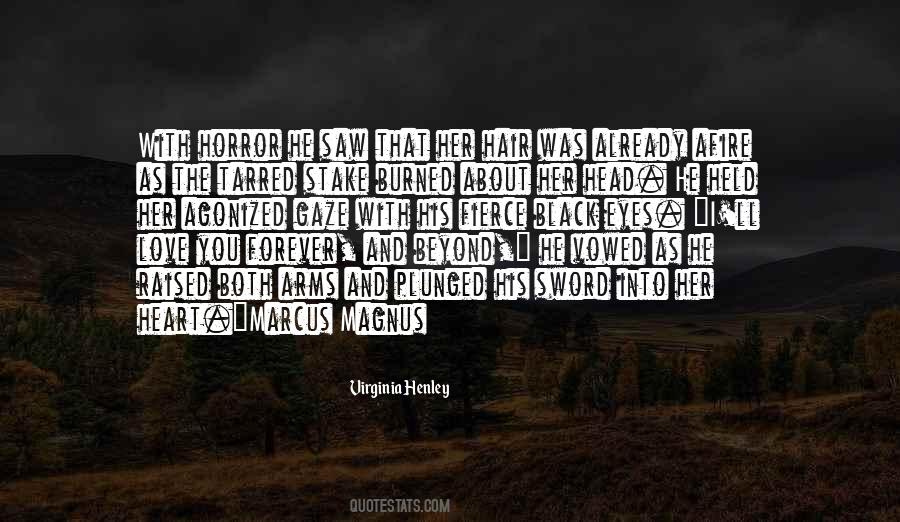 #21. Looking about me, listening and recalling what the day had been like, I suddenly felt a secret unease in my heart and raised my eyes to the sky, but even in the sky there seemed to be no tranquillity. Dotted with stars, it constantly quivered and danced and shivered. - Author: Ivan Turgenev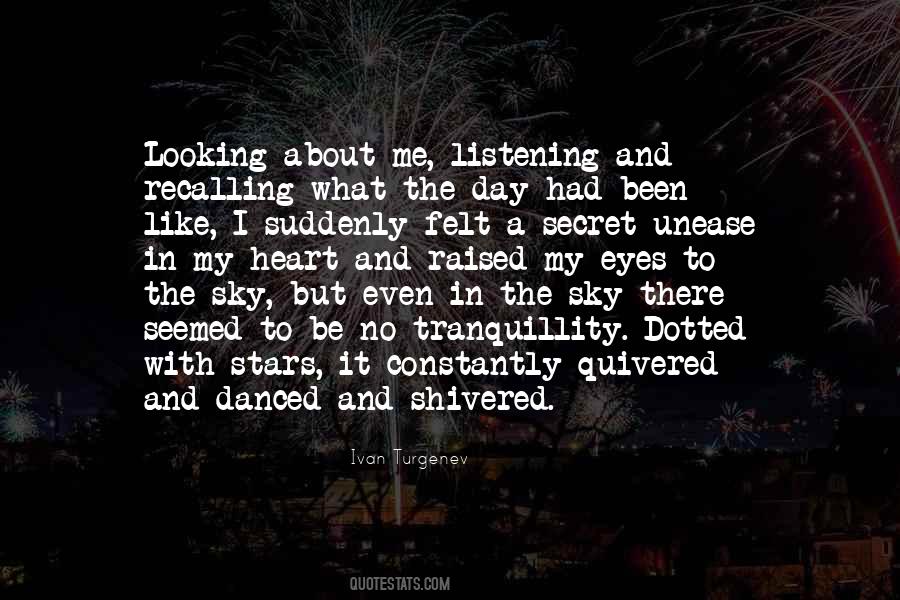 #22. You can fool the eyes and minds of the audience, but you cannot fool their hearts. - Author: Howard Thurston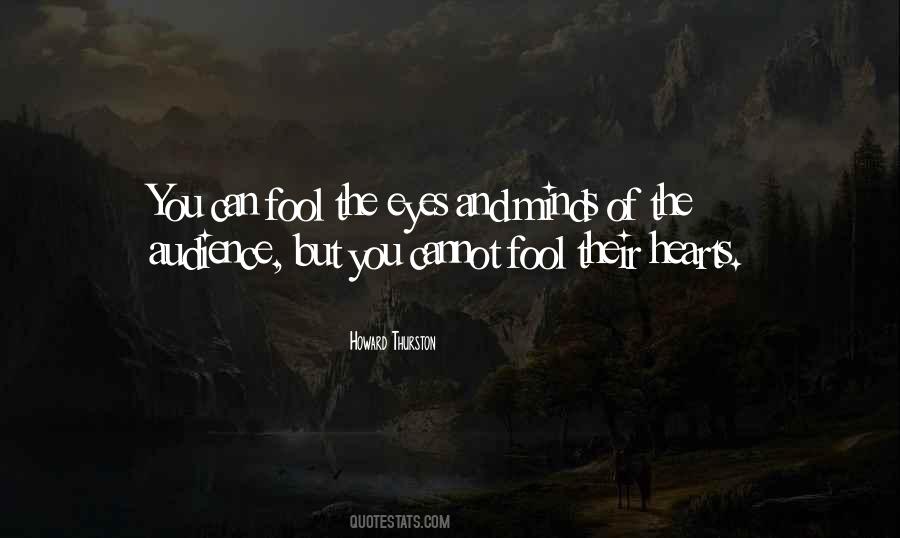 #23. Opening your eyes is all that is needing. The heart lies and the head plays tricks with us, but the eyes see true. Look with your eyes. Hear with your ears. Taste with your mouth. Smell with your nose. Feel with your skin. Then comes the thinking, afterward, and in that way knowing the truth. - Author: George R R Martin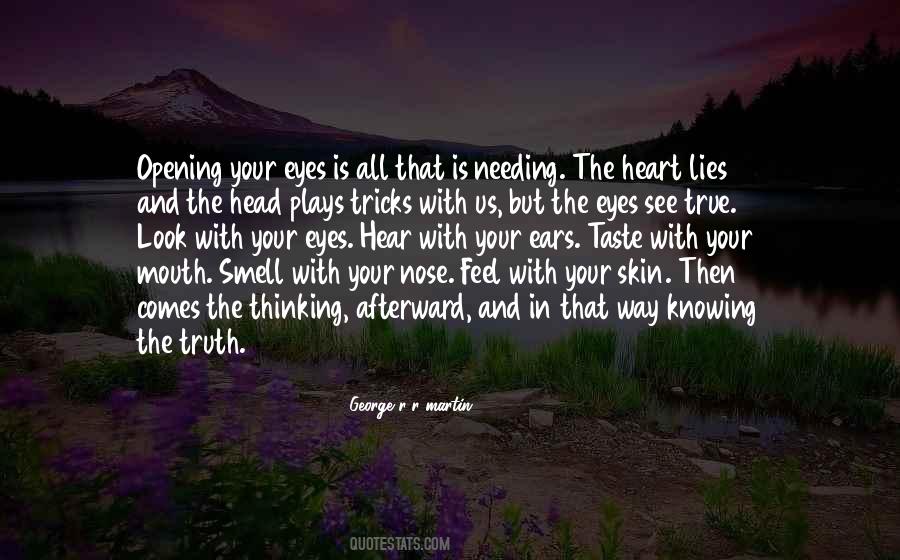 #24. We grew together, and now are grown. In her eyes, I see my heart. In her breath, I hear my soul. She is my land. She is my kin. My love. - Author: Pierce Brown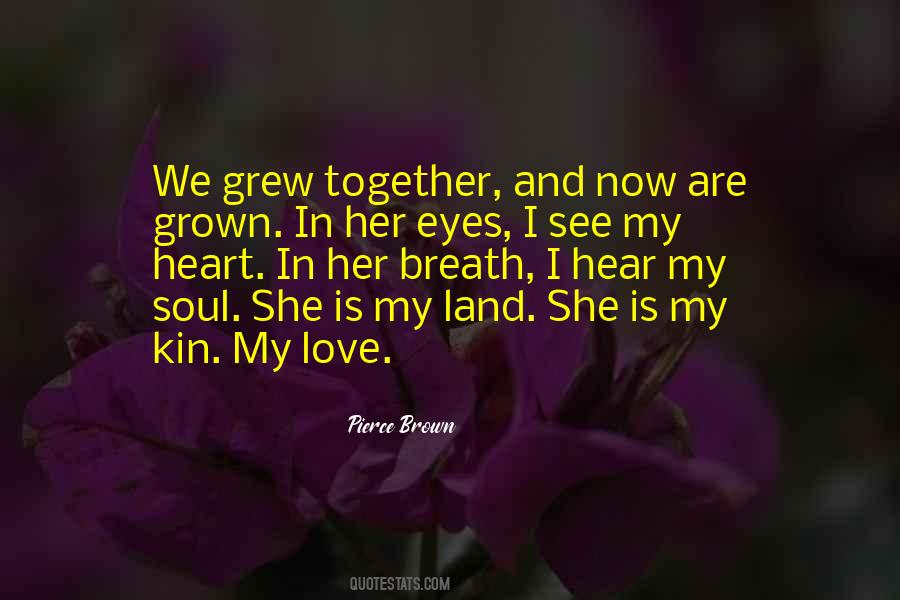 #25. Hope had been beaten to death. She dried her eyes, shut down her heart, and plunged herself into an emotional coma. So much easier not to feel. - Author: Shannon Hale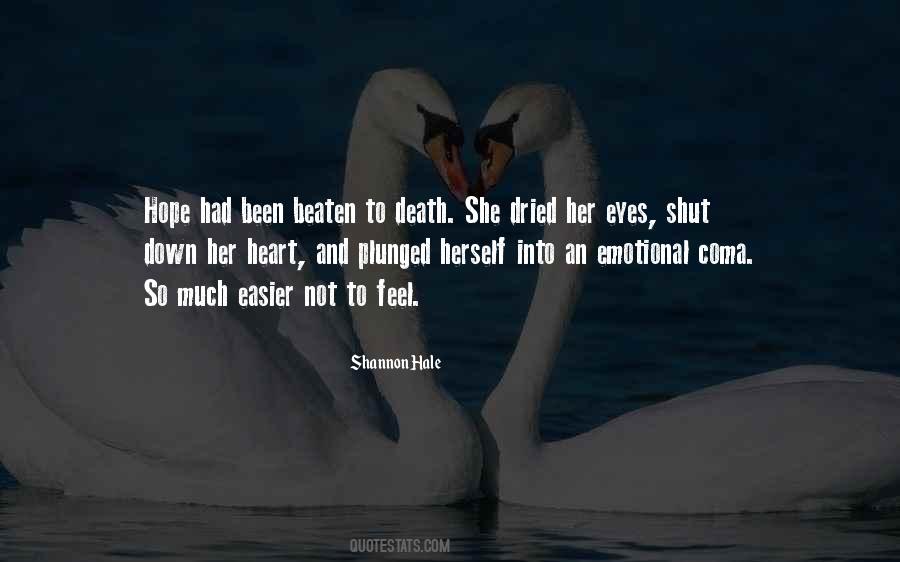 #26. Once more, I am watching the most powerful men in the kingdom bring their power to bear on a woman who has done nothing worse than live to the beat of her own heart, see with her own eyes; but this is not their tempo nor their vision and they cannot tolerate any other. - Author: Philippa Gregory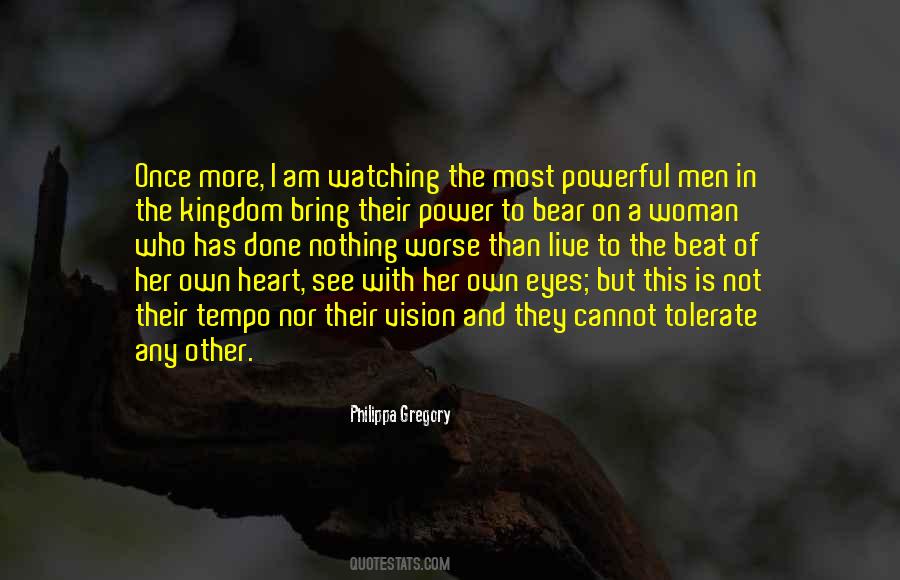 #27. We must imagine our lives well. We must engage our conscience. Conscience is the voice of God in the nature and heart of man. - Author: Laura Kasischke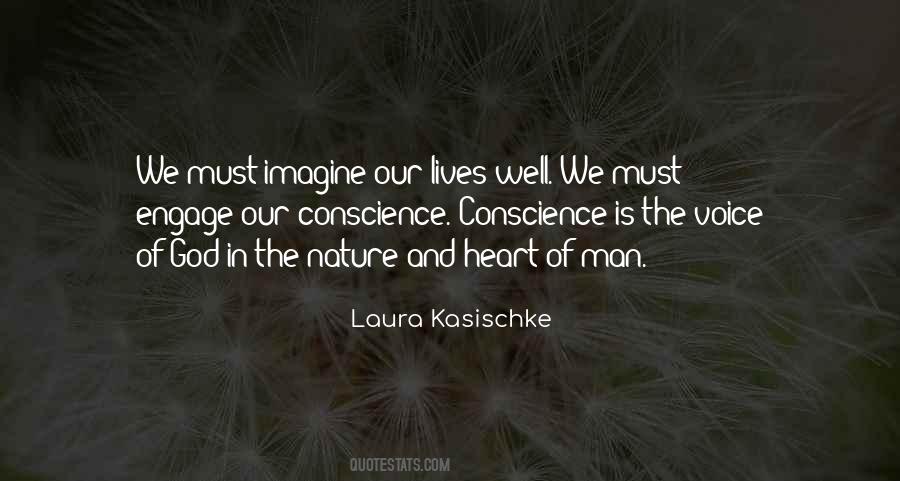 #28. Often the truth is in front of your face, but your eyes and heart are so full of lies that you can't see it. - Author: Shannon L. Alder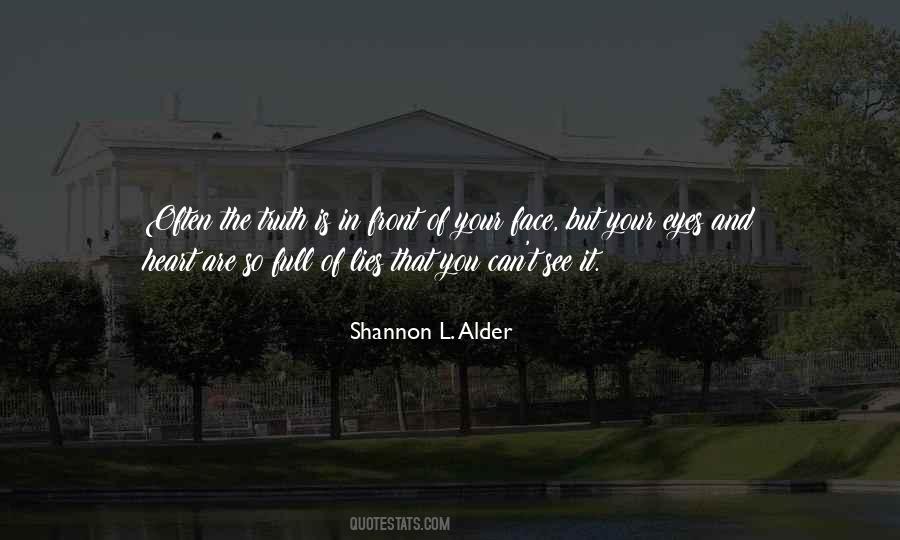 #29. This was a moment of magic revealing to us all, for a few moments, a hidden world of grace and wonder beyond the one of which our eyes told us, a world that no words could delineate, as insubstanttial as a cloud, as iridescent as a dragon-fly and as innocent as the heart of a rose. - Author: Elspeth Huxley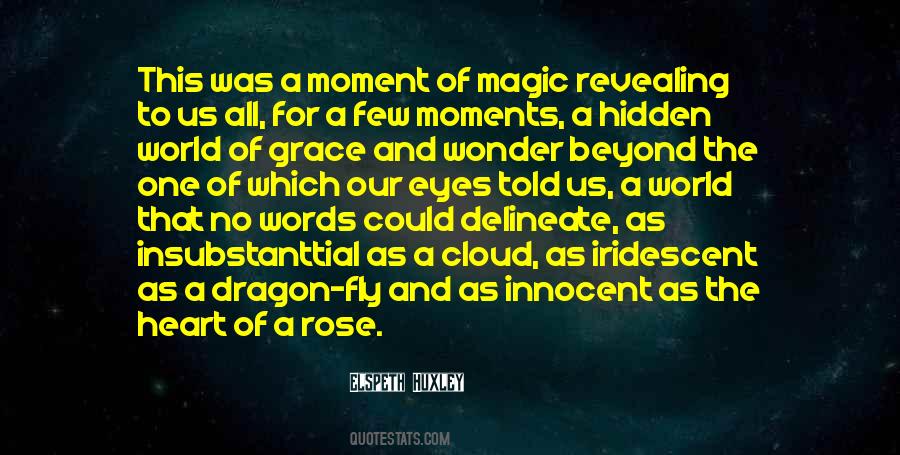 #30. Thou art my life, my love, my heart,
The very eyes of me:
And hast command of every part
To live and die for thee. - Author: Robert Herrick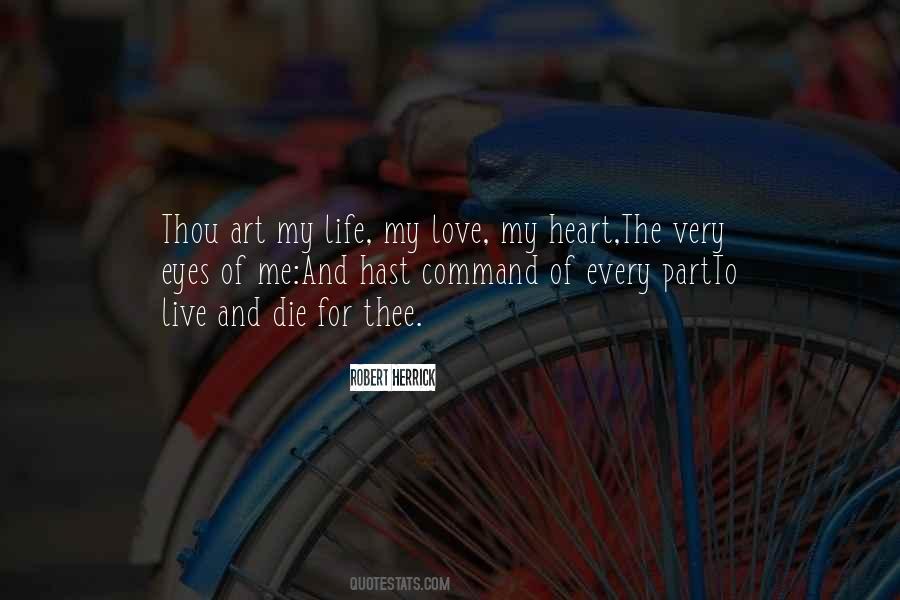 #31. BENEDICK: I will live in thy heart, die in thy lap, and be buried in thy eyes; - Author: William Shakespeare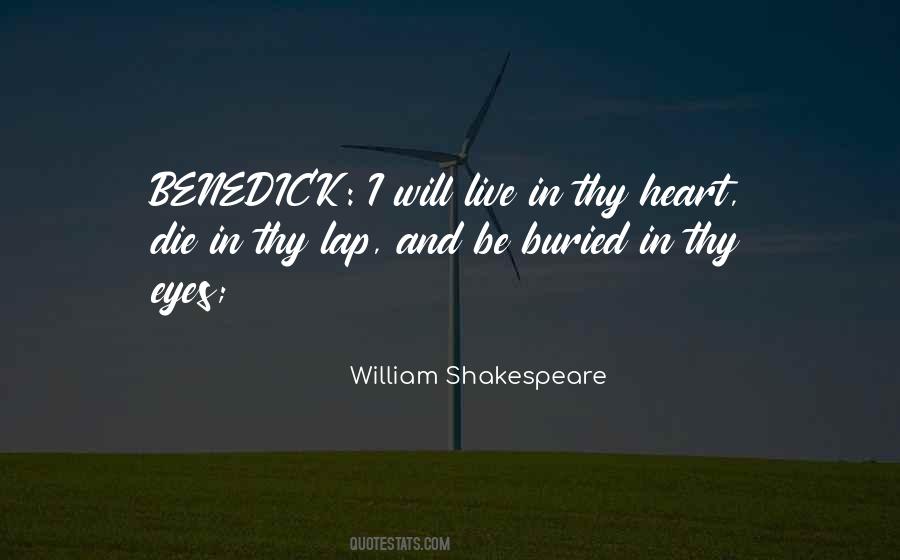 #32. I can't give you what you need right now, but I will promise you that one day I'll give you not only my heart, but my soul. I never want to see the sadness in your eyes, as I do right this moment. Let that fire shine, and one day soon I hope you take a chance on me again. - Author: A.M. Willard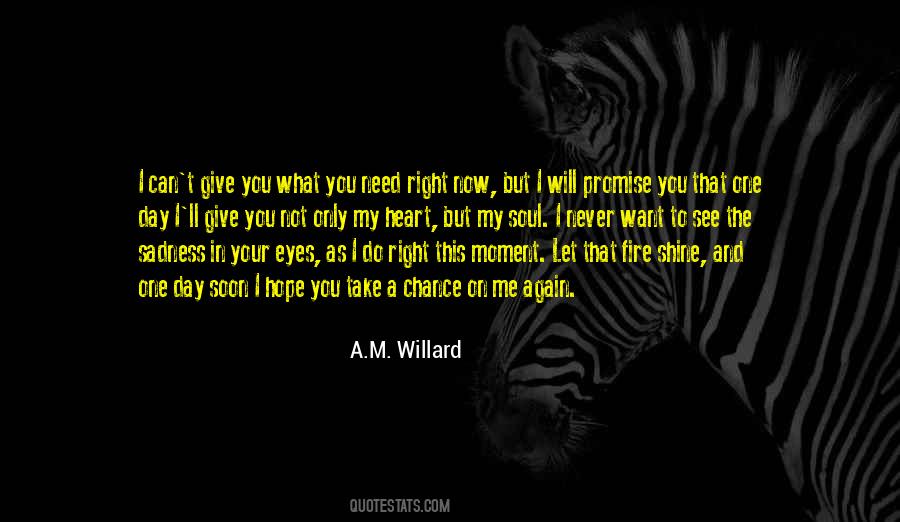 #33. Spirituality is about developing the inner sights by opening the third eye and the eyes of the heart. - Author: Amit Ray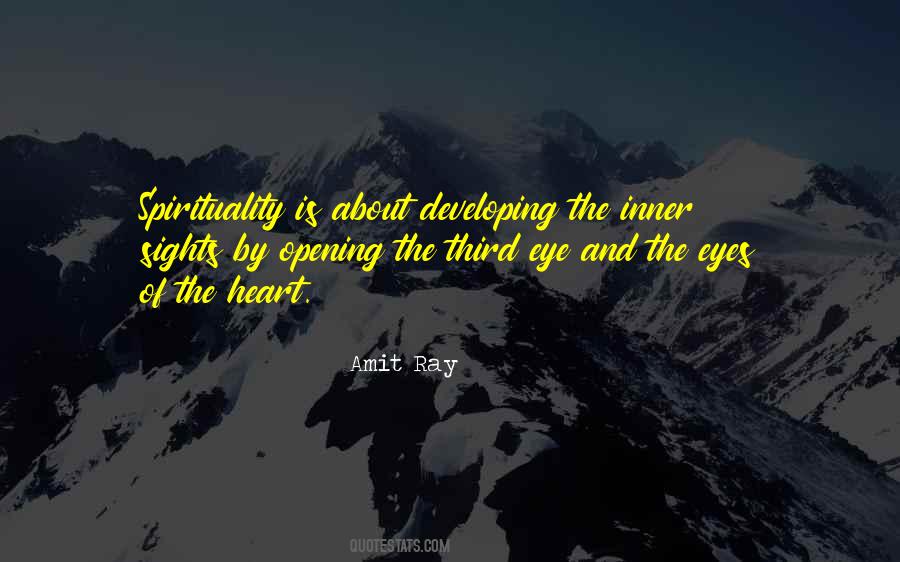 #34. And then I asked him with my eyes to ask again yes and then he asked me would I yes and his heart was going like mad and yes I said yes I will yes. - Author: James Joyce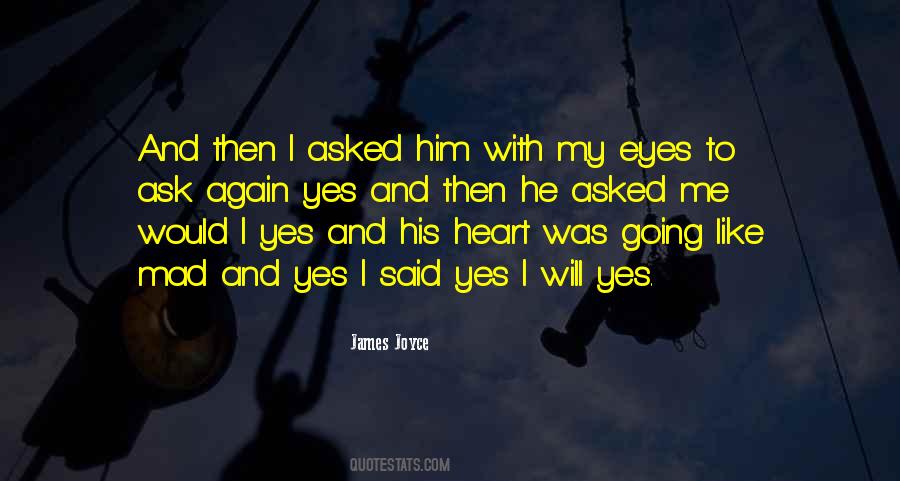 #35. Learn to see and love every human with the eyes and heart of God. - Author: Suzy Kassem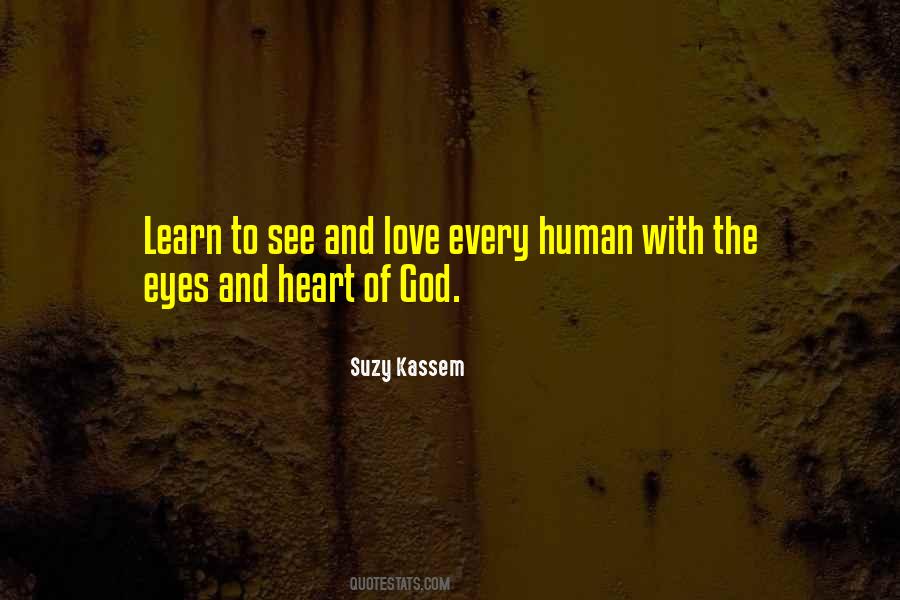 #36. If we open our eyes, if we open our minds, if we open our hearts, we will find that this world is a magical place. It is magical not because it tricks us or changes unexpectedly into something else, but because it can be so vividly and brilliantly. - Author: Chogyam Trungpa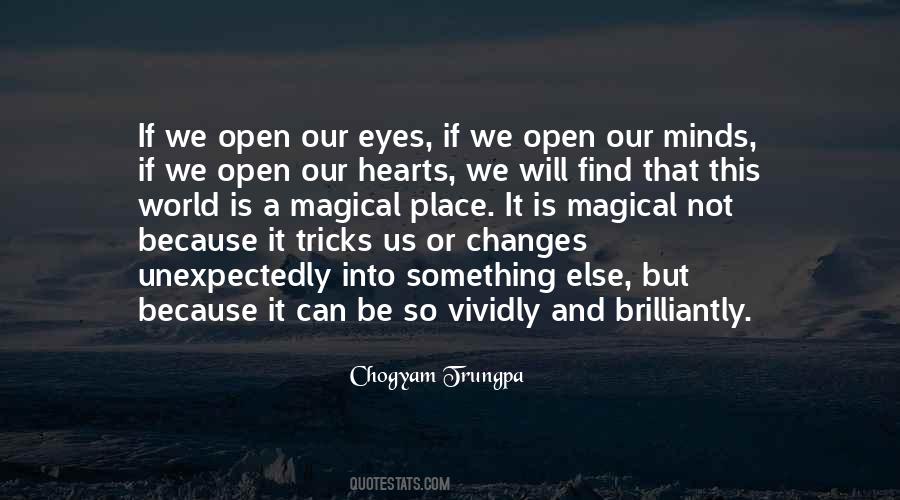 #37. Real tears are not those that fall from the eyes and cover the face, but those that fall from the heart and cover the soul. - Author: Christina Ricci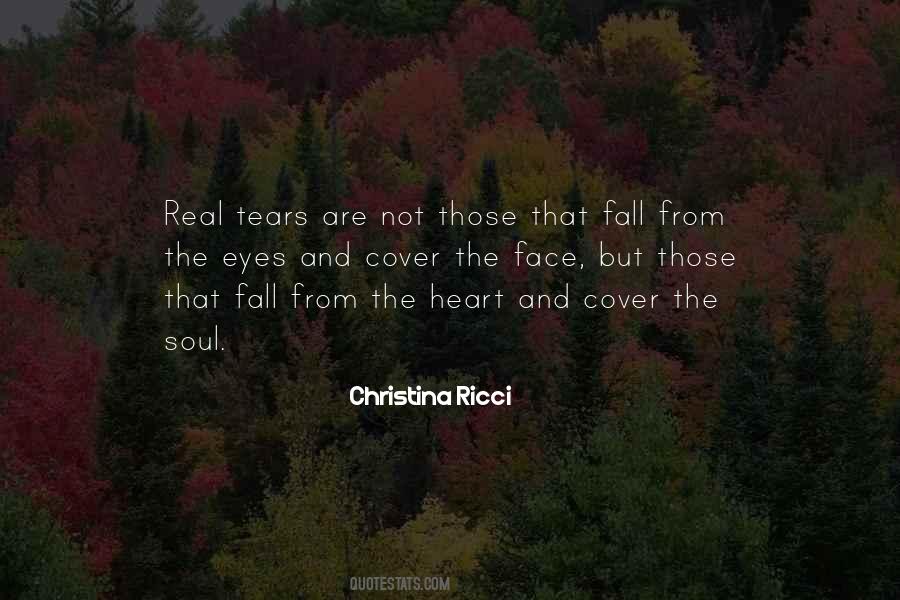 #38. My lips and eyes and heart were stinging when you kissed me in the dark. - Jack Garton to Jennifer Hammer, 2008 (age 24) - Author: Jeanette Lynes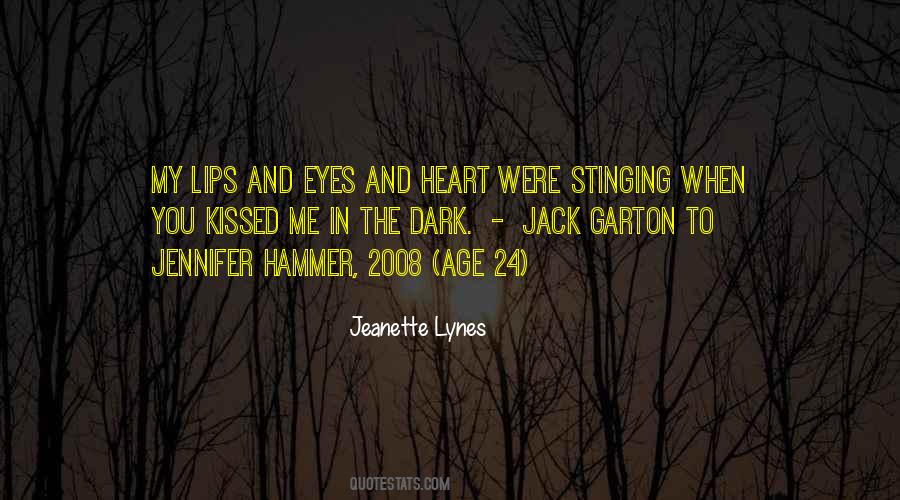 #39. He then eyed Tristan and took a step back, stumbling over his cloak. "You must be the earl's twin brother. But your eyes ... how are they so green?"
"They were brown until your heathen of a cousin shot me through the heart," Tristan said crossly. - Author: Chelsea Fine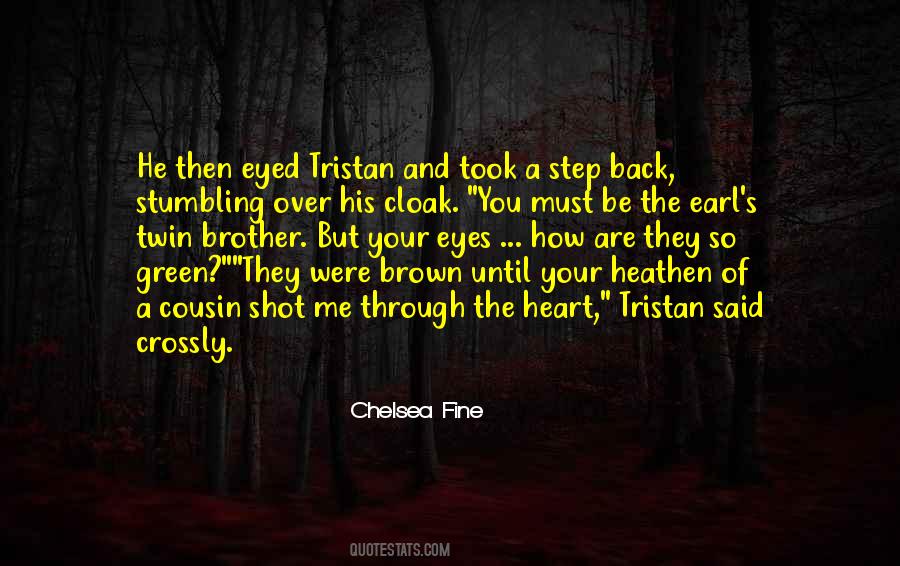 #40. From the very start in 1969, I wanted to be a part of helping our Special Olympics athletes succeed. I wanted to be on Eunice Shirver's team as another set of eyes, another set of hands and a heart working to be there for them, finding a way to help them be the best they can be. - Author: Rafer Johnson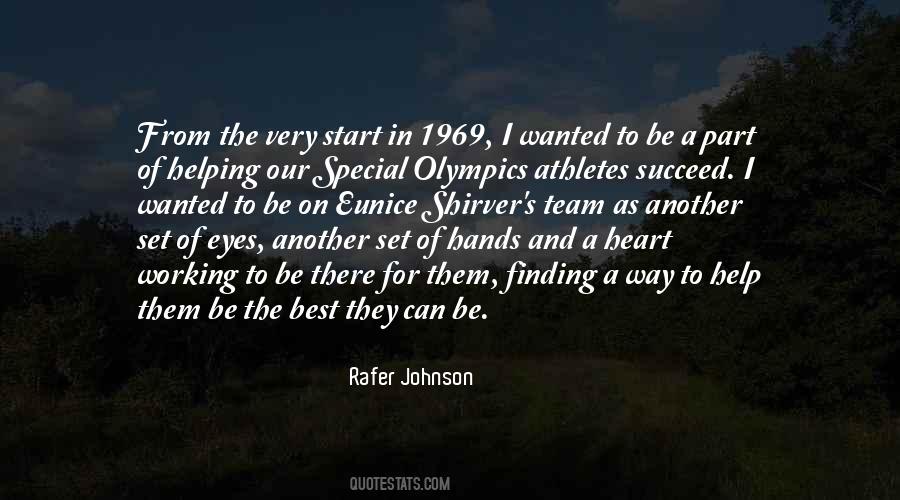 #41. He sat beside the window in the dark, with his eyes closed. Hearing to the sound of the rain. The whisky in his glass burnt his throat, while the smoke of his cigarette filled his lungs and the fire inside his heart consumed his soul slowly. - Author: Akshay Vasu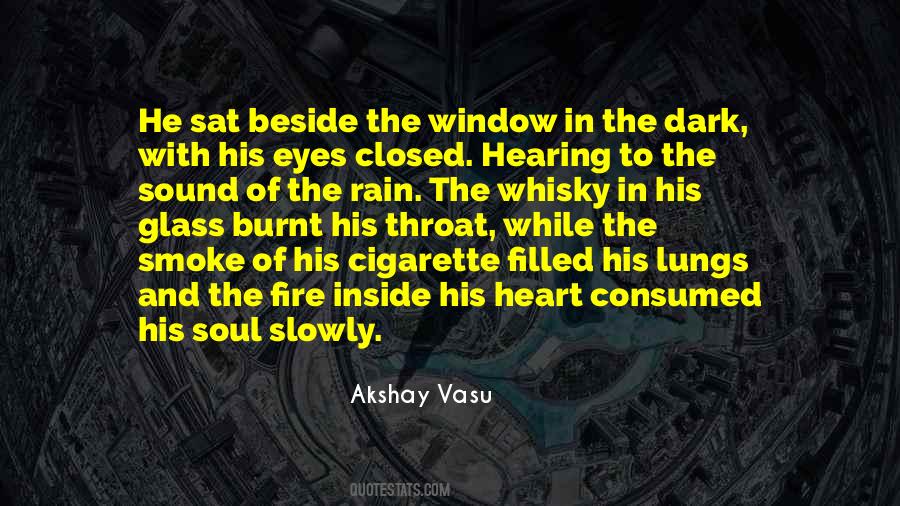 #42. I was heart broken, scared, I had a lot of anxiety, I was worried, I felt weak, and I had no idea how I was ever going to come up with the strength. But I just closed my eyes, and took a blind leap. I knew I had to get out of there. - Author: Bob Casey Jr.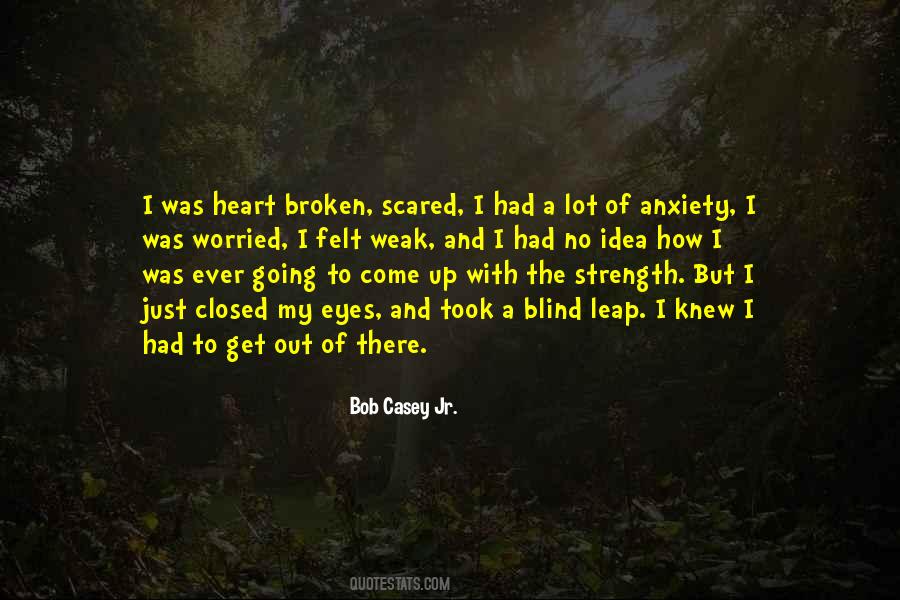 #43. A higher power does exist. The forces of day-to-day reality seem to take hold and become the truth for you, yet truth is not seen with the eyes or heard with the ears. It is felt as the peace in your heart and professes itself with health and well being. - Author: Shaman Elizabeth Herrera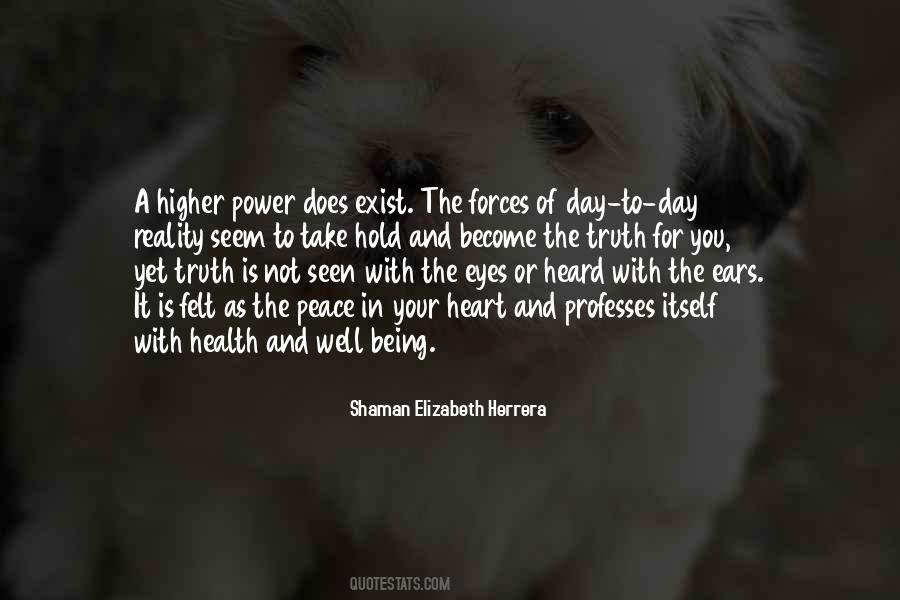 #44. But then his lips quirked up,and amusement flickered in his eyes.Something else,too - something that made my heart beat faster. - Author: Lauren Myracle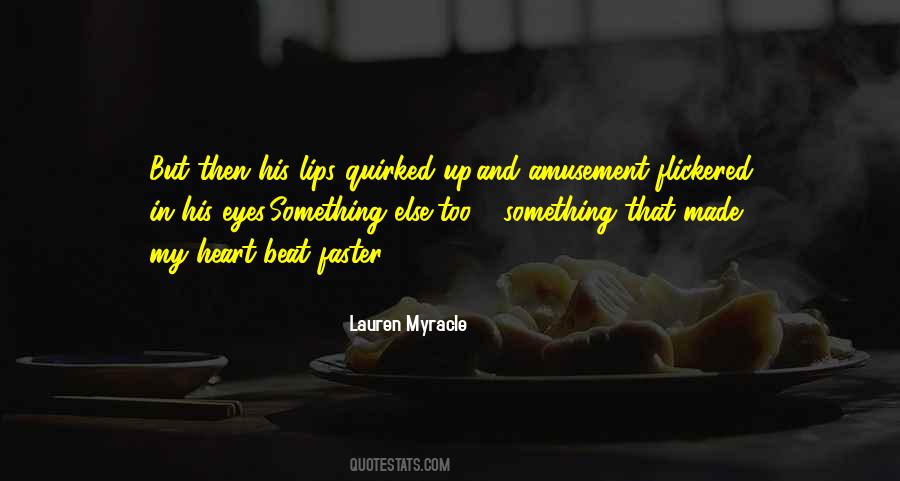 #45. Eyes as dark as her heart and as empty as her soul - Author: Shayna Rodriguez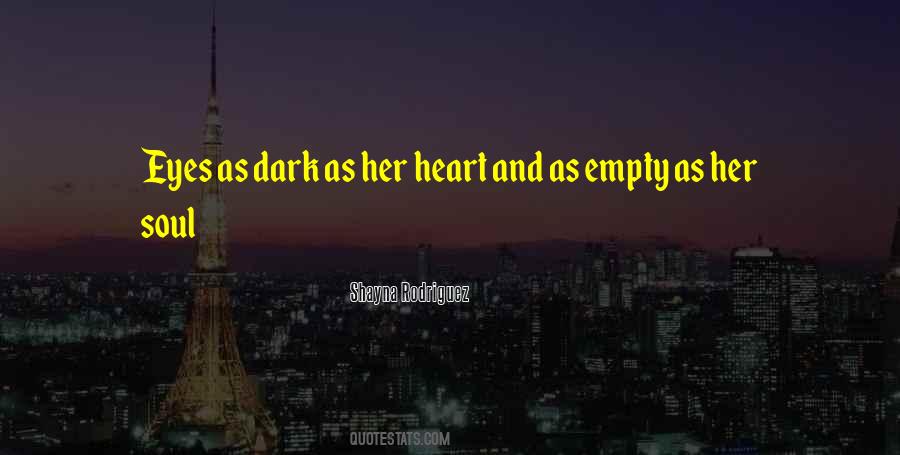 #46. His loyalty, so fierce and unwavering, makes my eyes water and heart ache. - Author: Emily Giffin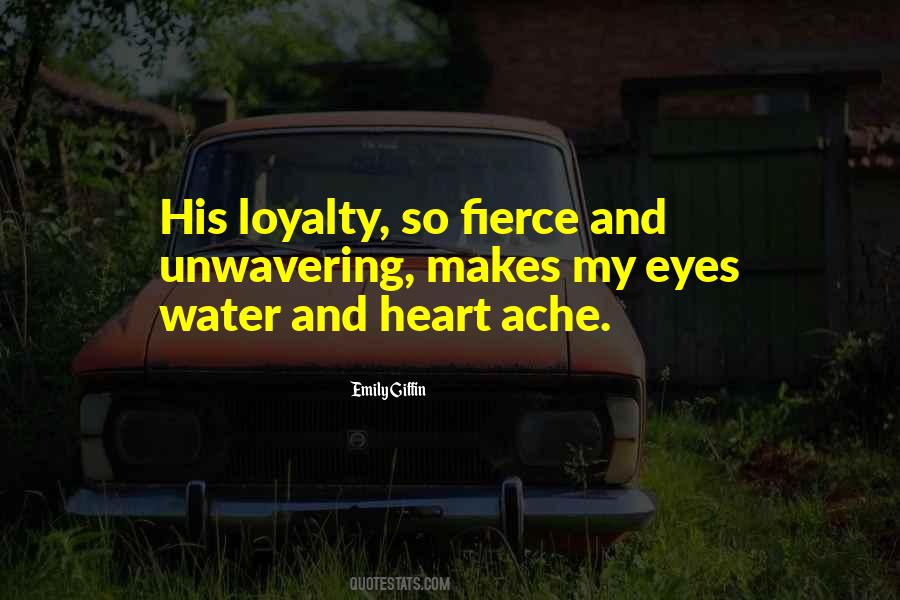 #47. But her eyes had had too much in them and his heart way too little for things to keep going. - Author: J.R. Ward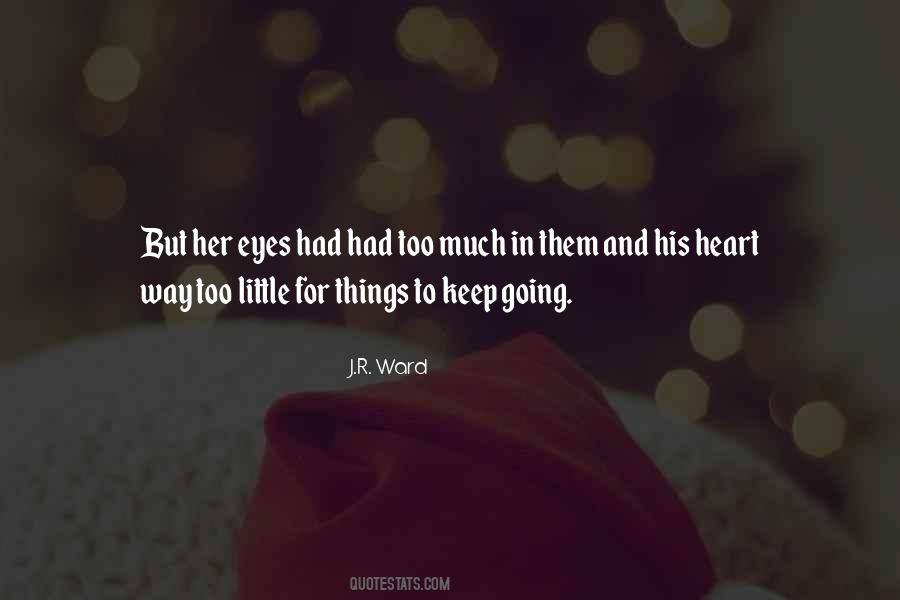 #48. God has hewn out a hidden path more glorious, tantalizing and adventuresome than the path trod by most, and it is a path seen only through the eyes of our wounds, felt solely through the heart of our losses, and singularly traversed by those with a limp in their step. - Author: Craig D. Lounsbrough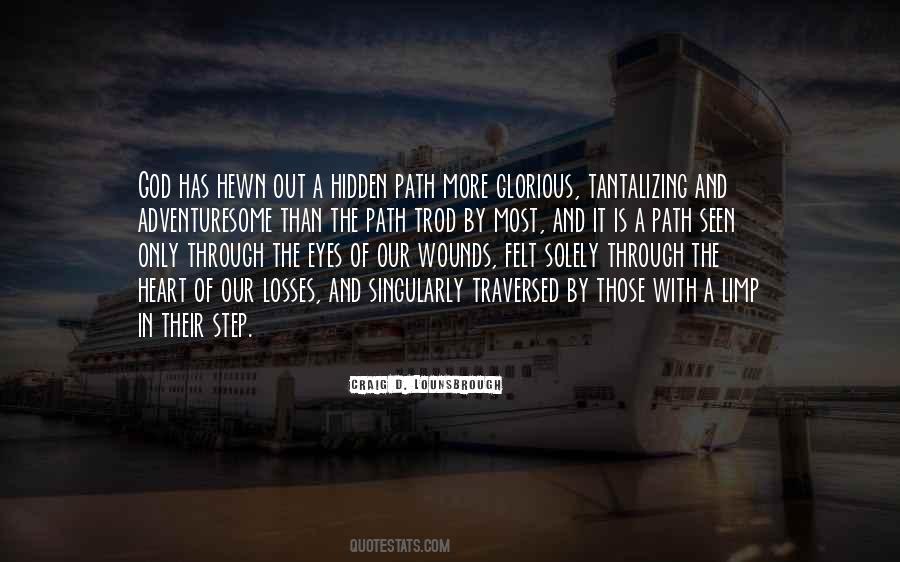 #49. Do not surrender your grief so quickly Let it cut more deeply Let it ferment and season you As few human or divine ingredients can Something is missing in my heart tonight That has made my eyes so soft And my voice so tender And my need of God so absolutely clear. - Author: Hafez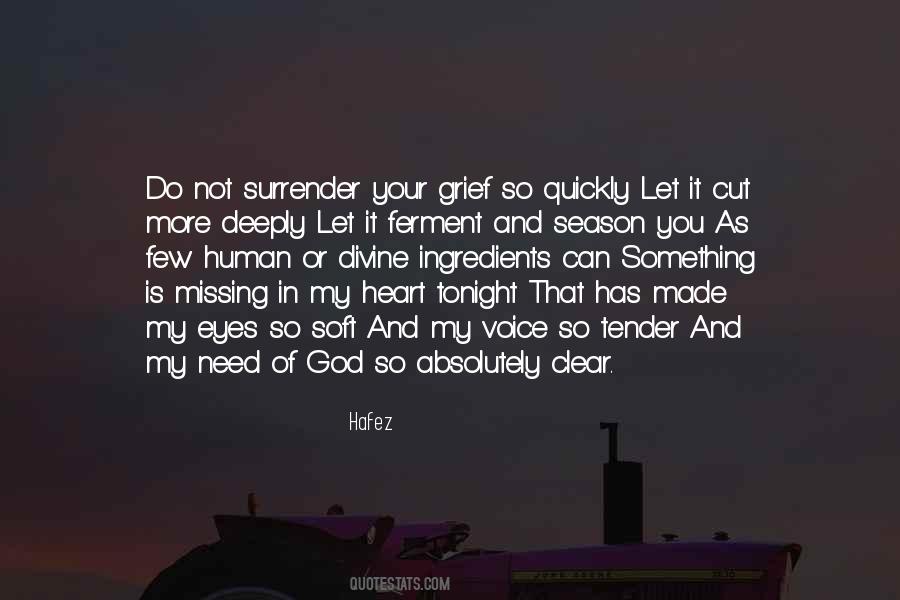 #50. Being happy at work is possible for all of us, anytime & anywhere, with open eyes and a caring heart - Author: Sharon Salzberg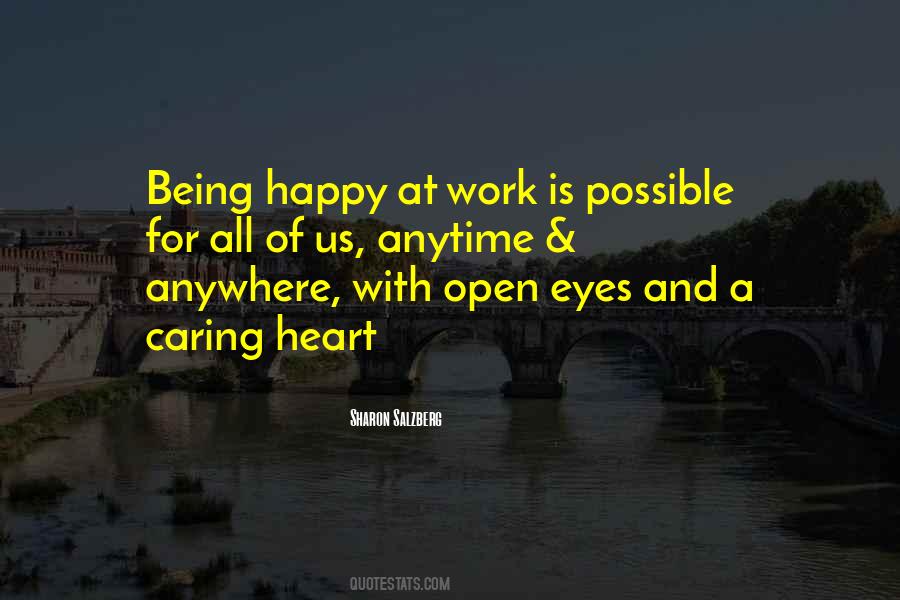 #51. You look at me but never see the love I feel for you. But in your eyes, I see the skies. The endlessness of time and blue. Like water that span the raging sea. And break upon the sandbar of your heart. - Author: Kristin Walker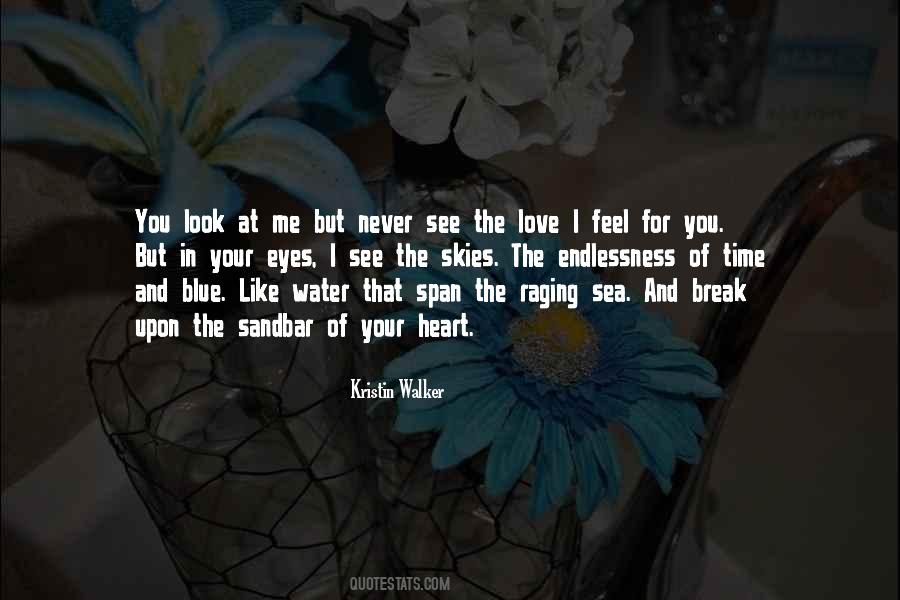 #52. The fundamentalists of every faith remain blind to the truth that the "sigh within the prayer is the same in the heart of the Christian, the Muslim, and the Jew." I have seen this unity with my eyes, heard it with my ears, felt it with all my being. - Author: David James Duncan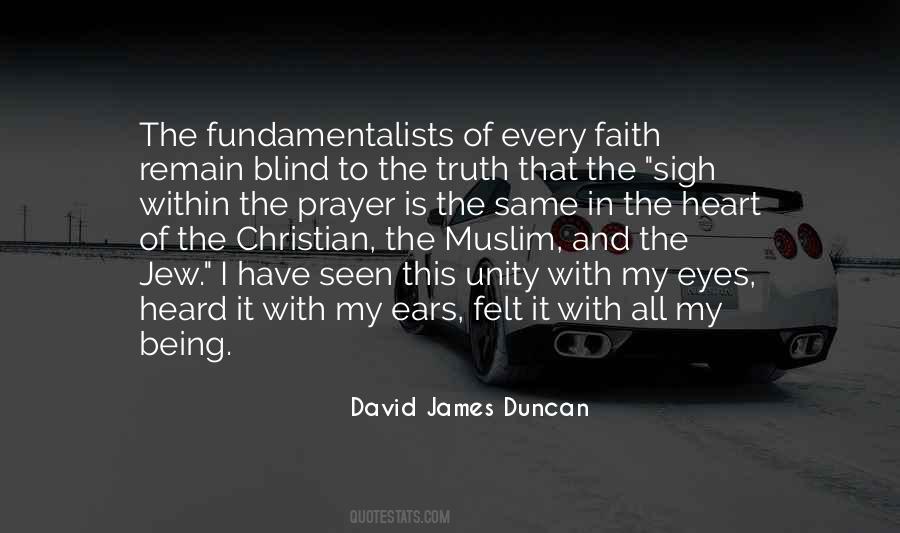 #53. Someone has said that the marks of a strong church are wet eyes, bent knees, and a broken heart. We'll never be powerful until we let God be God and jealously guard His honor. - Author: Erwin W. Lutzer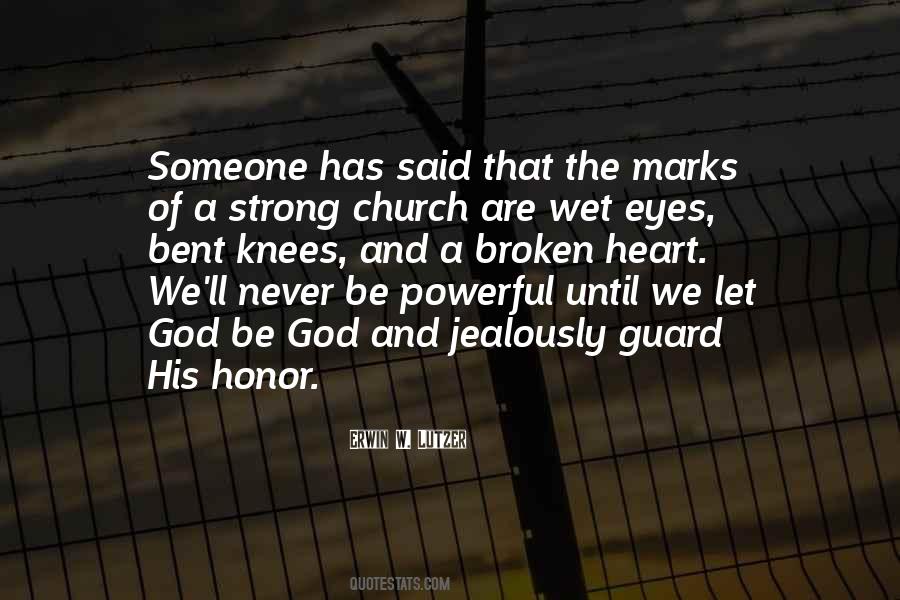 #54. Mel rolled her eyes. "You can't live your life based on 'what-ifs,' Liv. And change is inevitable. It's the one thing you can always count on. Stop worrying about what might or not happen and follow your heart. How can you expect to ever be happy if you don't? - Author: Alicia Kobishop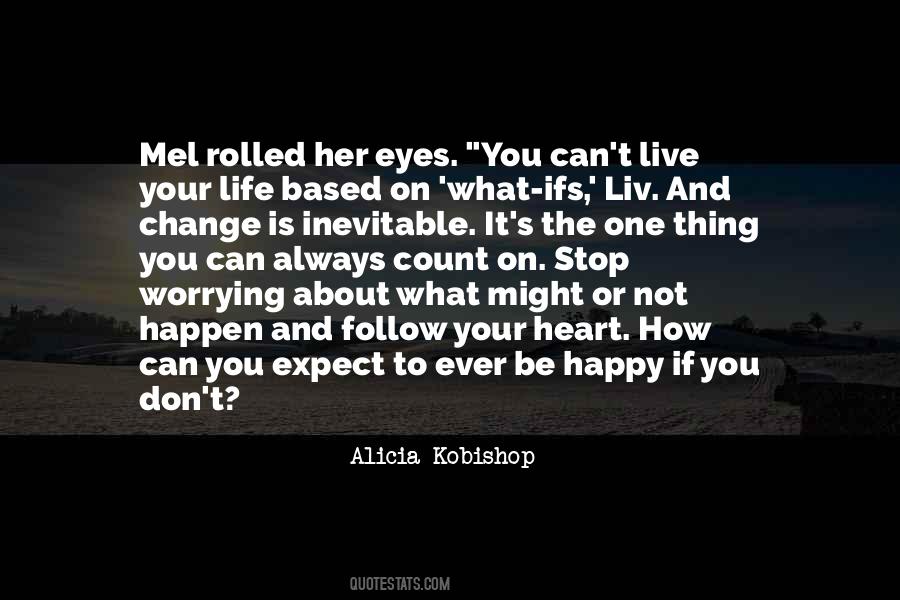 #55. He was now watching her, his dark eyes filled with an intensity that stilled her breath and made her heart beat faster - just - Author: Trudi Jaye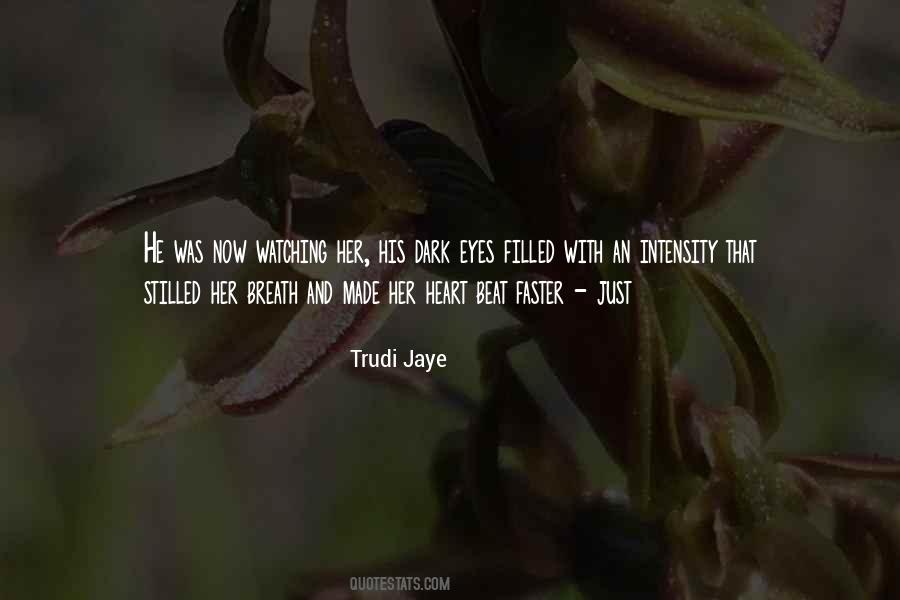 #56. Strive to close the eyes of the body and open those of the soul and look into your own heart. - Author: Teresa Of Avila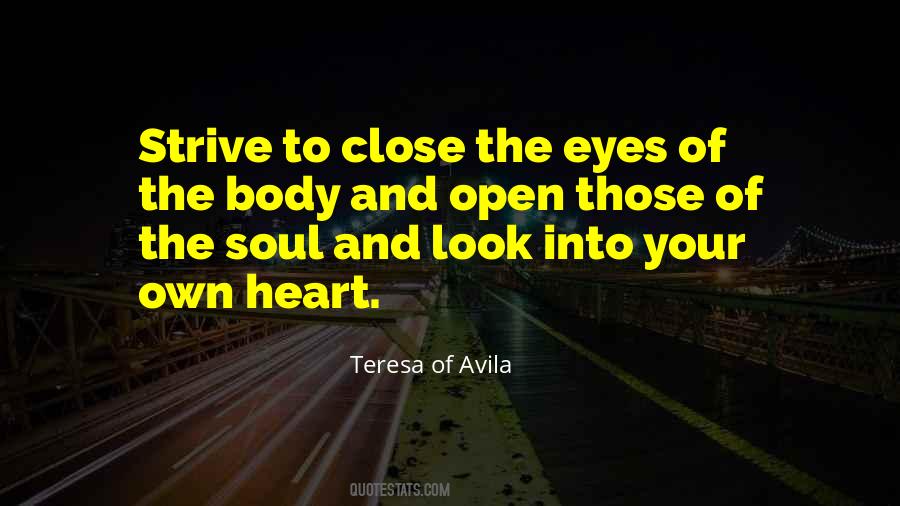 #57. Her jaw was firmly set, but her lips ... her full, perfect lips were slightly parted in an expression that matched the vulnerability in her eyes -frightened yet determined. His heart skippeed a beat, and he swallowed the lump in his throat. - Author: Melanie Dickerson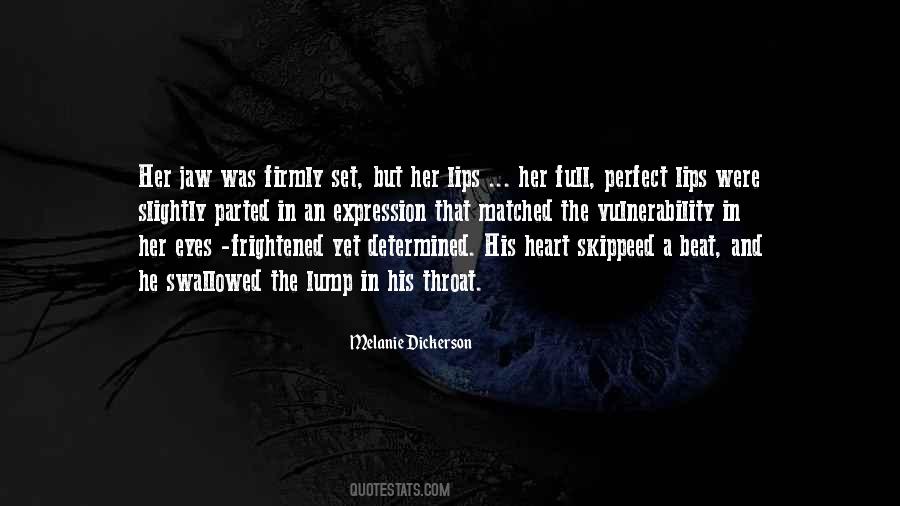 #58. It began with your eyes cast down, and mine looking right at you,
I watched you rule out hundreds of questions and accept only mine. I poured my stories into your eager heart, and you sparked faith inside the stubbornness of mine. Our beginning was written in the stars - how could it not be? - Author: Emalynne Wilder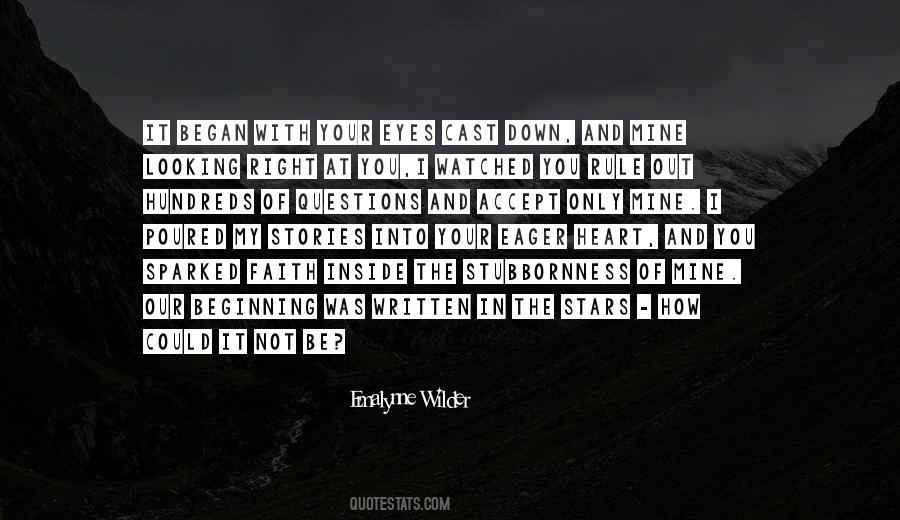 #59. If I have a dry spell ... I wait and live harder, eyes, ears, and heart open, and when the productive time comes, it is that much richer. - Author: Sylvia Plath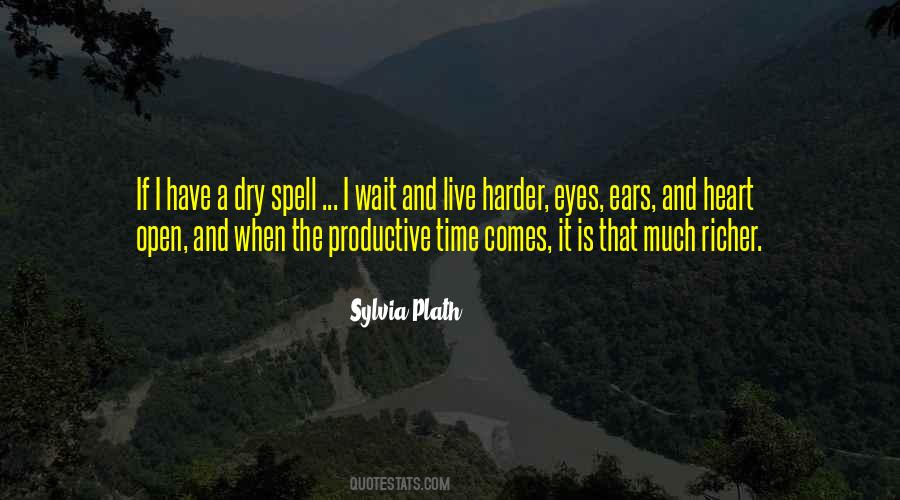 #60. Walk in the ways of thine heart, and in the sight of thine eyes: but know thou, that for all these things God will bring thee into judgment. - Author: Paulo Coelho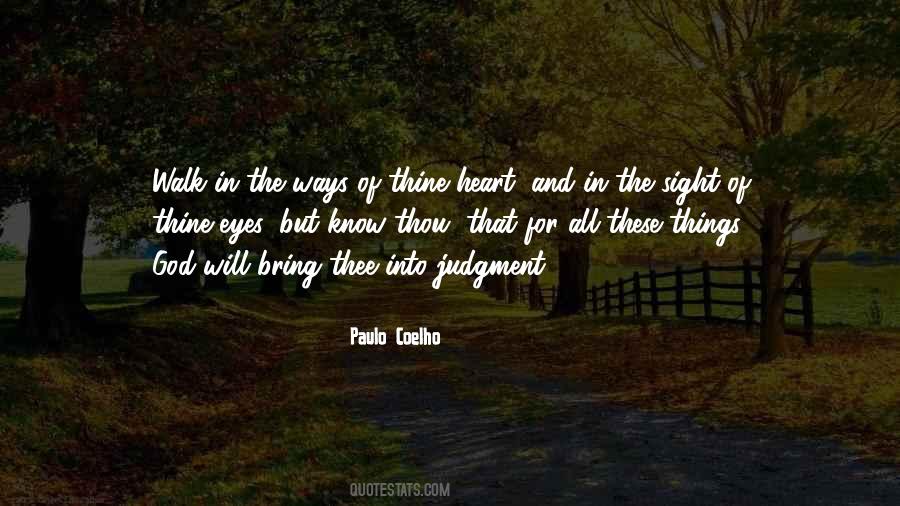 #61. The most important thing is to live an interesting life. Keep your eyes, ears and heart open. Talk to people and visit interesting places, and don't forget to ask questions. To be a writer you need to drink in the world around you so it's always there in your head. - Author: Michael Morpurgo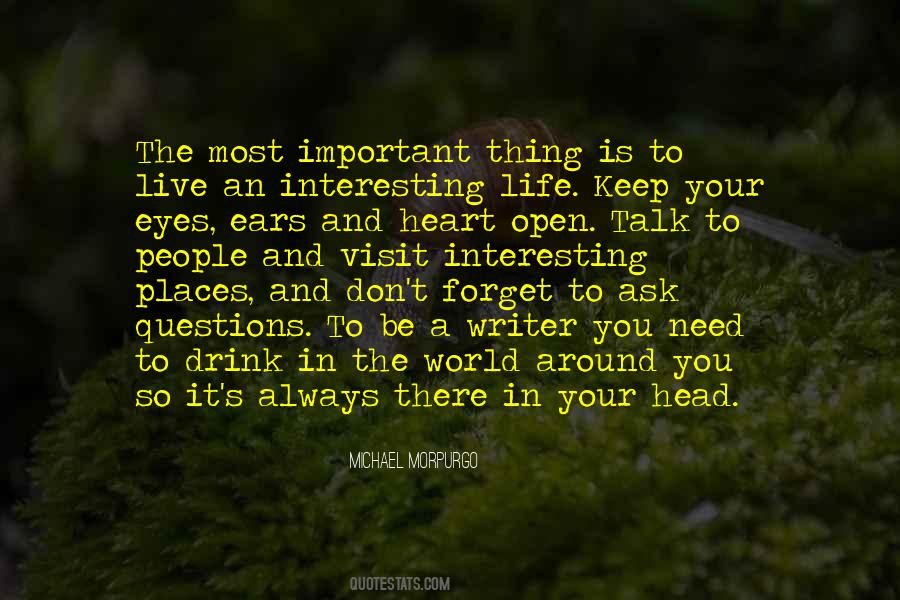 #62. Go forward in life with a smile on your face, a sparkle in your eyes, and with great and strong purpose in your heart. The best things in life are the people in your life, the moments we live, and memories we made along the way. - Author: Gordon B. Hinckley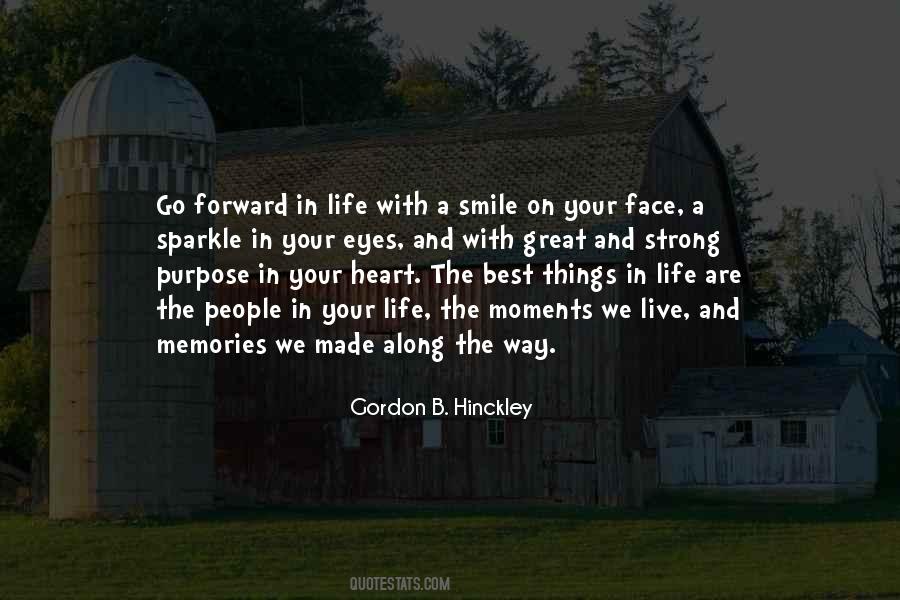 #63. Just friends? Alright friend we won't kiss goodnight, and I won't hold you tight and wish that you were mine just for one night. I will separate my dreams from my eyes, separate my heart from my spine, keep clean the lines between my hands and your innards. - Author: Coco J. Ginger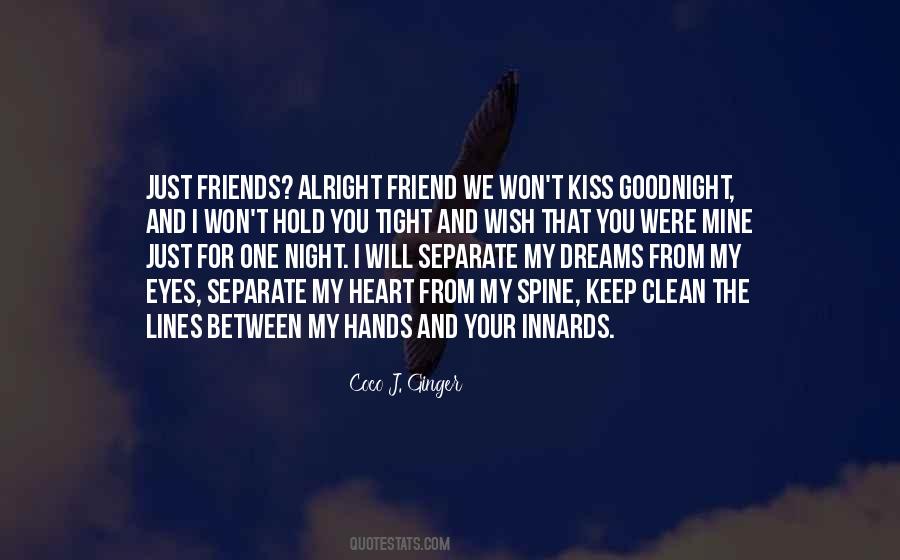 #64. She had on a blue bonnet, and with a pair of lovely eyes of the same colour, has contrived to make me feel devilish odd about the heart. - Author: Susanna Rowson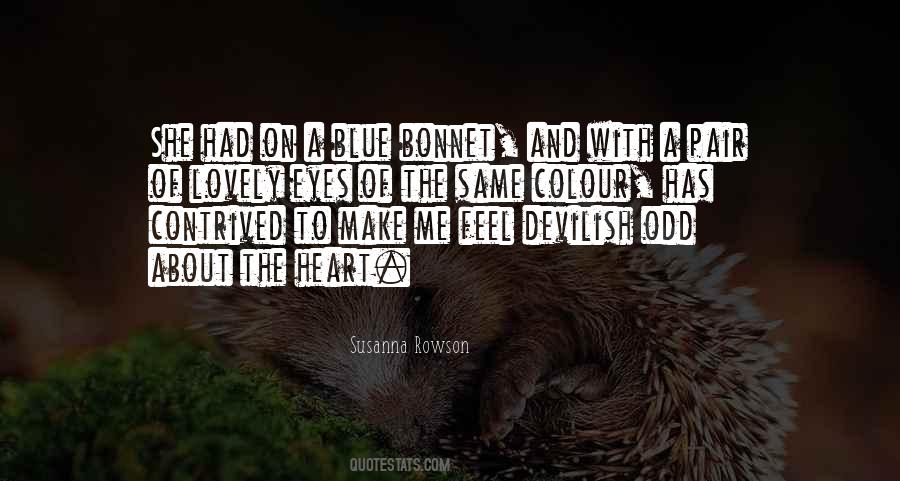 #65. I stop and look up at him. "Brad?" I whisper.
"What, baby?" he says as he continues nibbling on my neck.
"It's yours ... " I say breathlessly.
He pauses and looks up. "What is?"
I gaze into his brown hazy eyes. "My heart. - Author: Beth Michele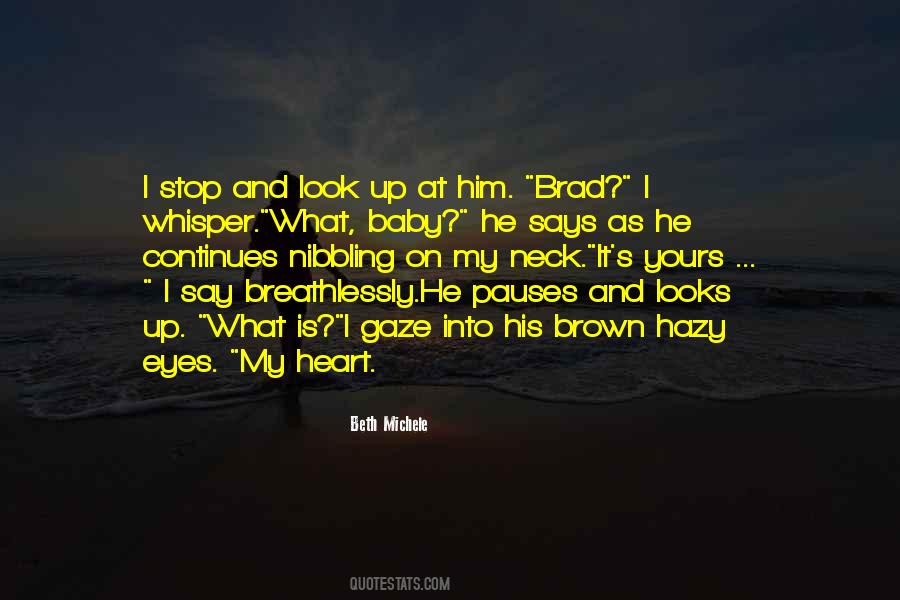 #66. I want him so badly it hurts. But I want all of him. Not just the sex. I want his smiles and his teasing, his smouldering looks. His sad eyes when he thinks nobody's watching. Most of all, I want his heart. - Author: L. H. Cosway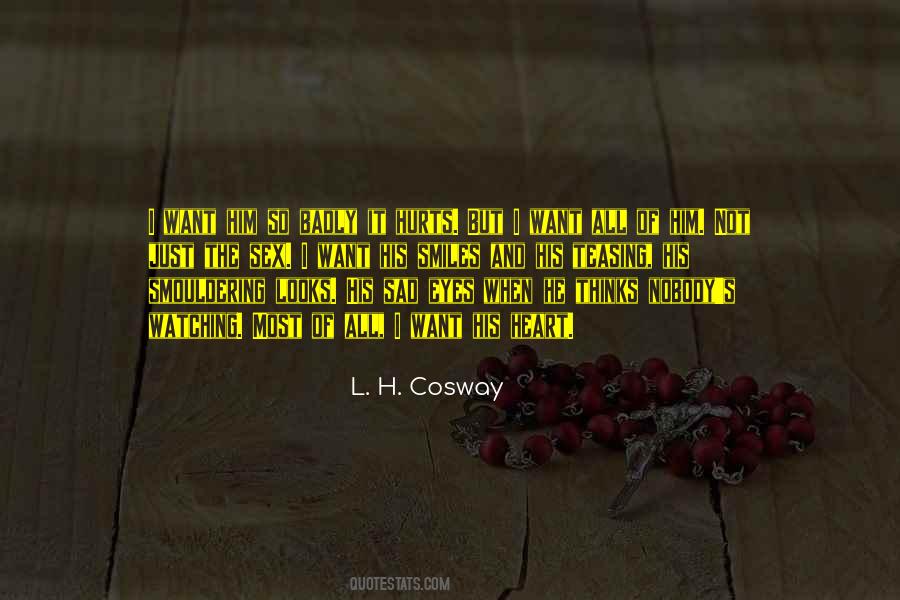 #67. Not all that tempts your wandering eyes
And heedless hearts, is lawful prize;
Nor all that glisters gold. - Author: Thomas Gray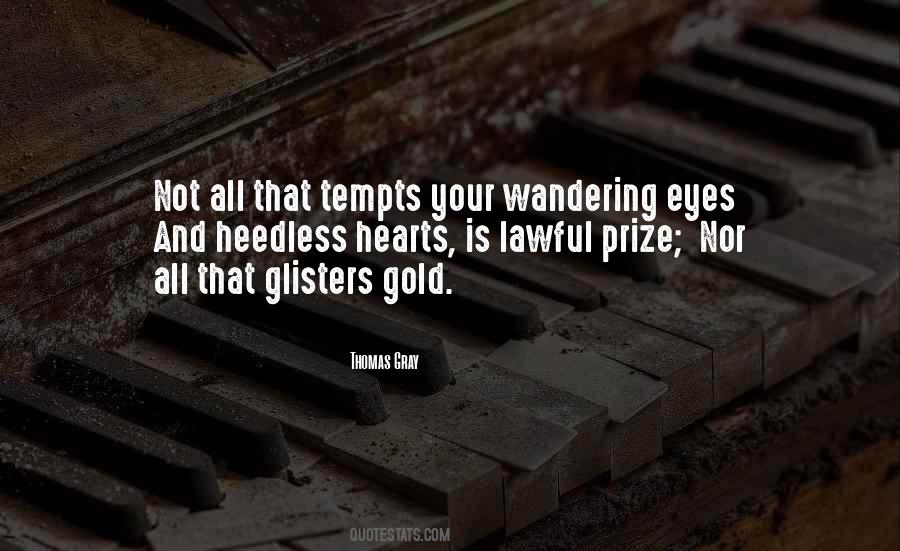 #68. If I close my eyes, I can see it tainting my blood, forcing my heart to pump faster and faster, until I feel dizzy from the beautiful poison in the air. - Author: C.M. Stunich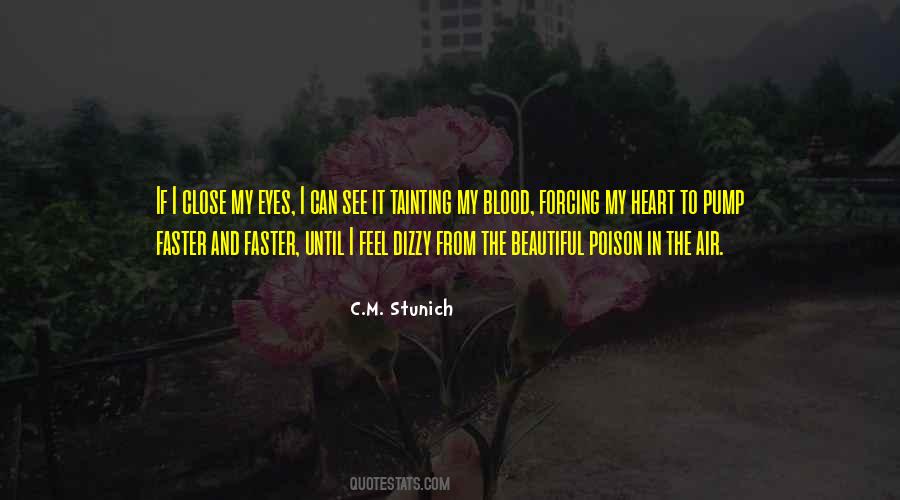 #69. All I knew was that he had the most beautiful eyes I'd ever seen and that his smile melted my heart like the sun melts butter - Author: Anonymous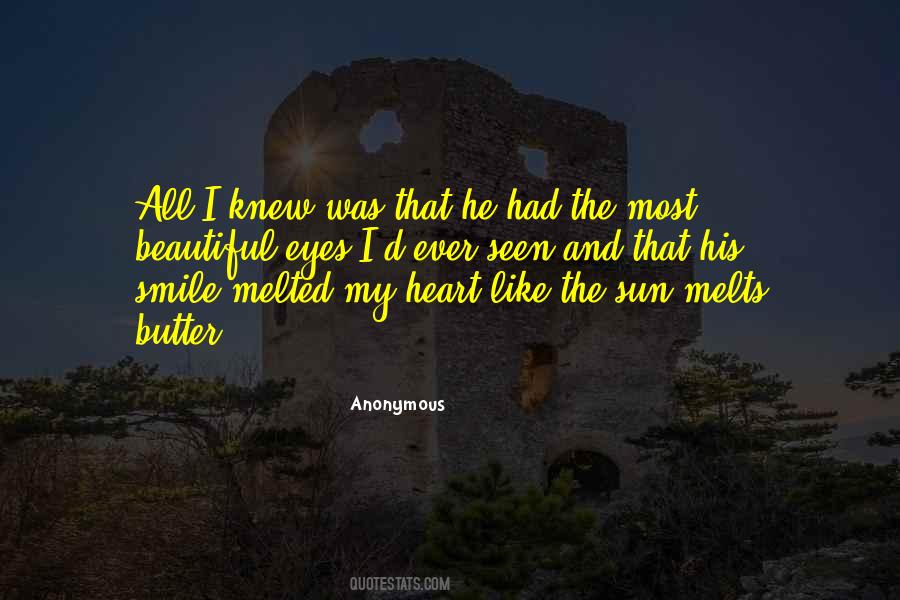 #70. You are
What you are looking for
In fragmented mirrors
Stop looking
Be Still
End the mind-noise
Silence Now
Eyes shut
Heart wide-open
And then you see
Everything! - Author: Gabriel Iqbal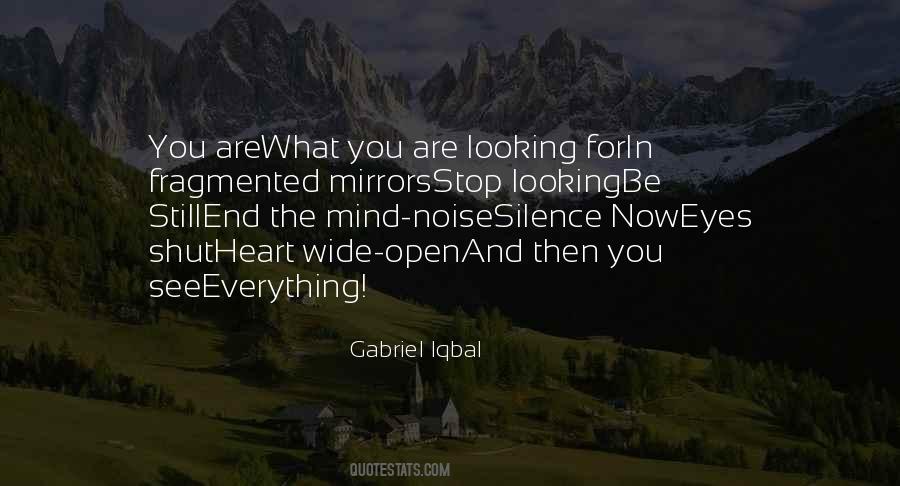 #71. Keep your heart in the game and your eyes on the prize. - Author: Nathania Gutierrez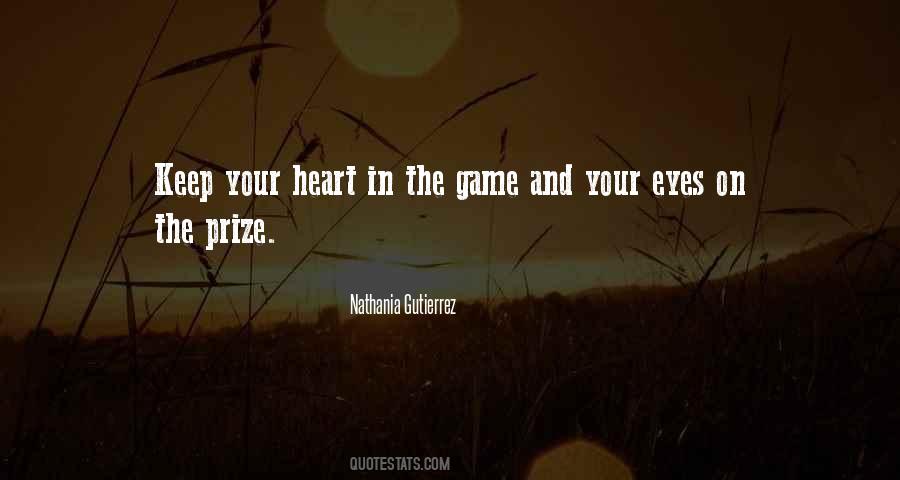 #72. Their eyes meet and her heart starts flopping around weakly, like a bunny in a Ziploc bag. He grins and waves. - Author: Neal Stephenson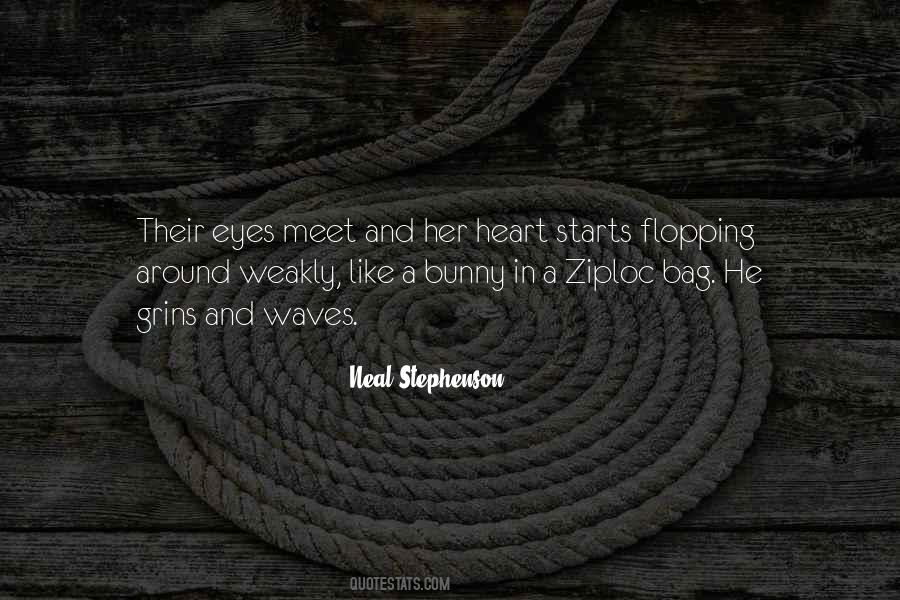 #73. From eternity to eternity, the beauty of God is pervasive and practical. Ask him to open the eyes of your heart (Ephesians 1:18). Give your life to this quest - seeing and savoring more and more of the happifying beauty of God. - Author: John Piper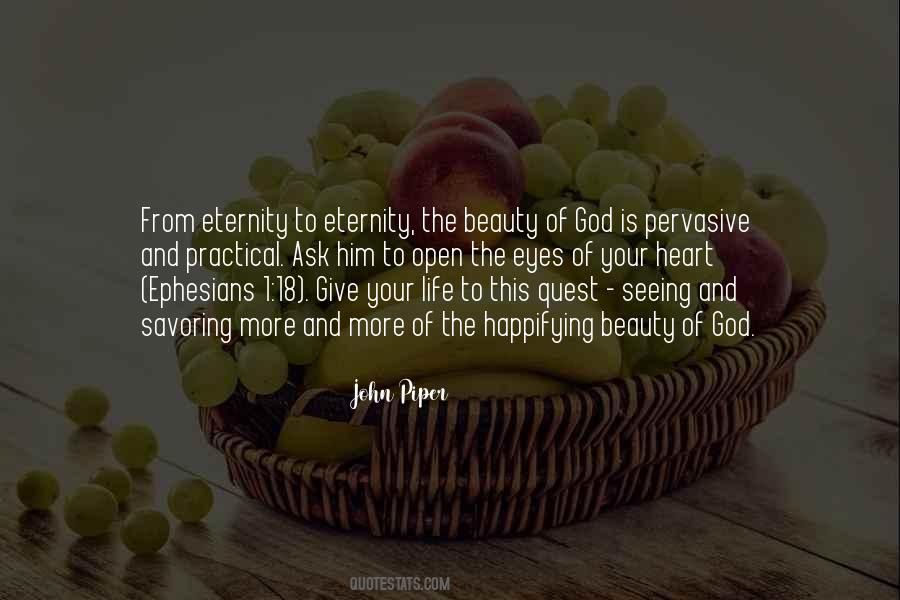 #74. A woman's belly is the garden of life. Her mind is the gateway to meaning. Her heart is the source of love. And her eyes are the light by which the whole world sees beauty. - Author: Toni Sorenson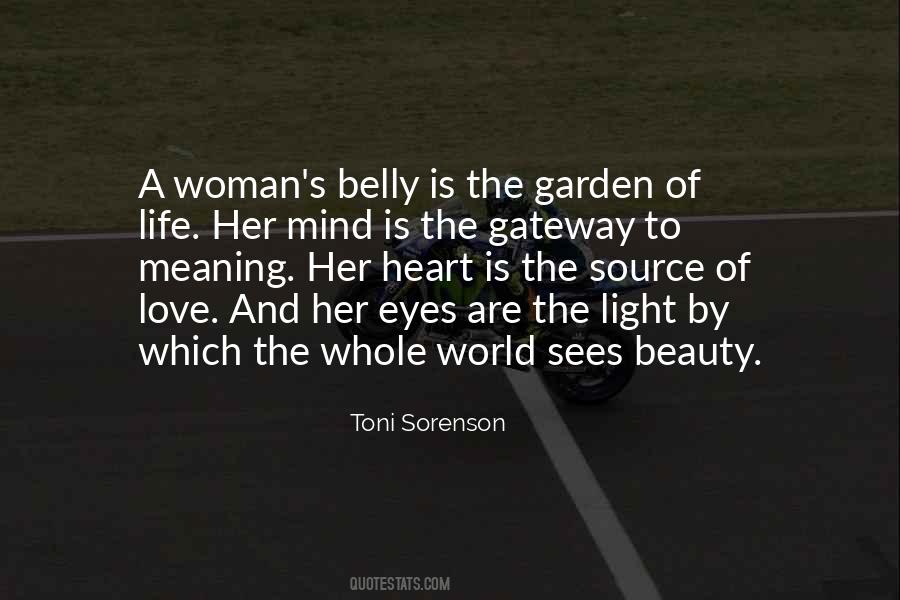 #75. She closed her eyes. Her rabbit heart slowed, curled up in its warren, and seemed to become fully itself: warm fur, soft belly. A thrum of breath in the dark. * - Author: Marie Rutkoski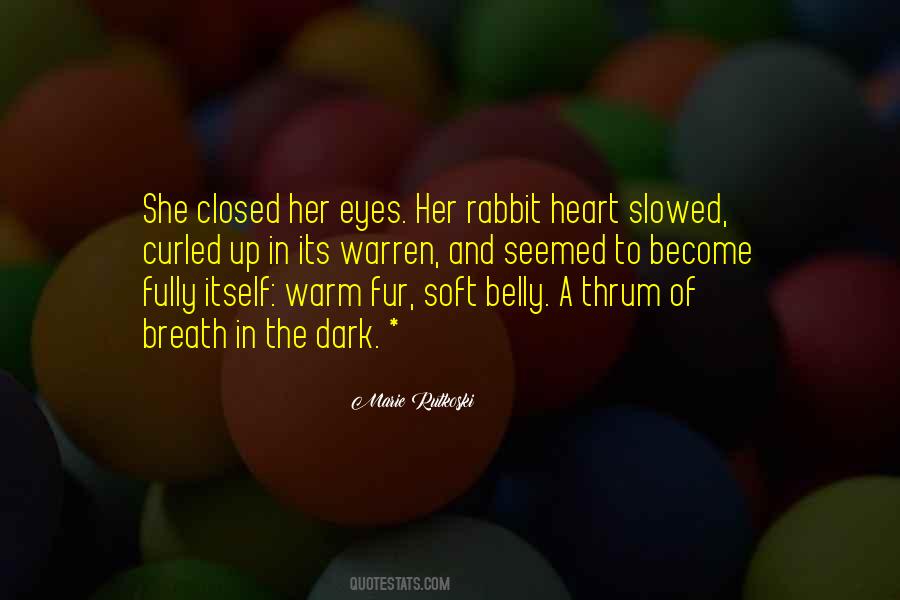 #76. I've learned some thing about my heart.
It can break.
It can ripped apart.
It can harden and freeze.
It can stop. Completely.
It can shatter in to million pieces.
It can explode.
It can die.
The only thing that made it start beating again?
The moment you open your eyes - Author: Colleen Hoover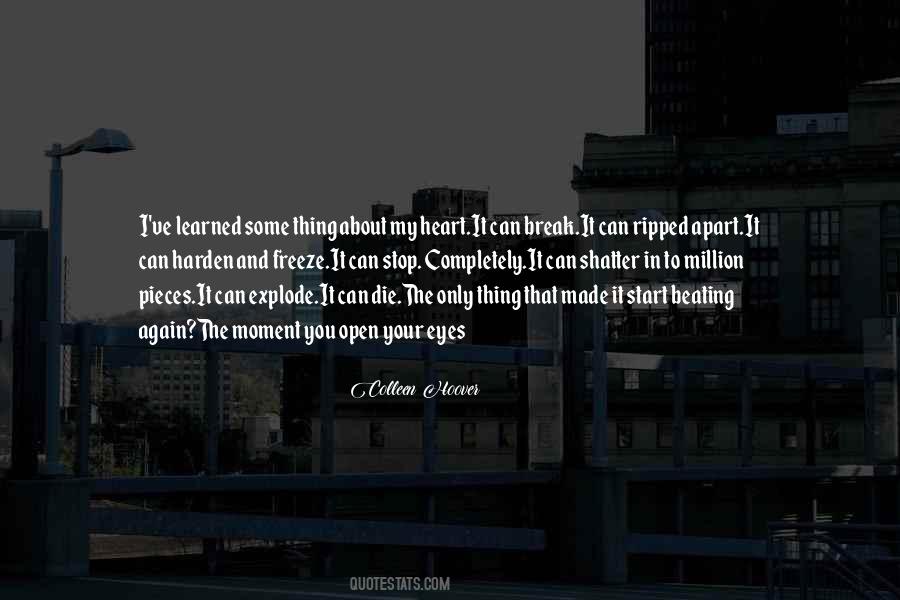 #77. That only shows you have no heart,' she said. But her eyes said that she knew he had a heart, and that was why she was afraid of him - Author: Leo Tolstoy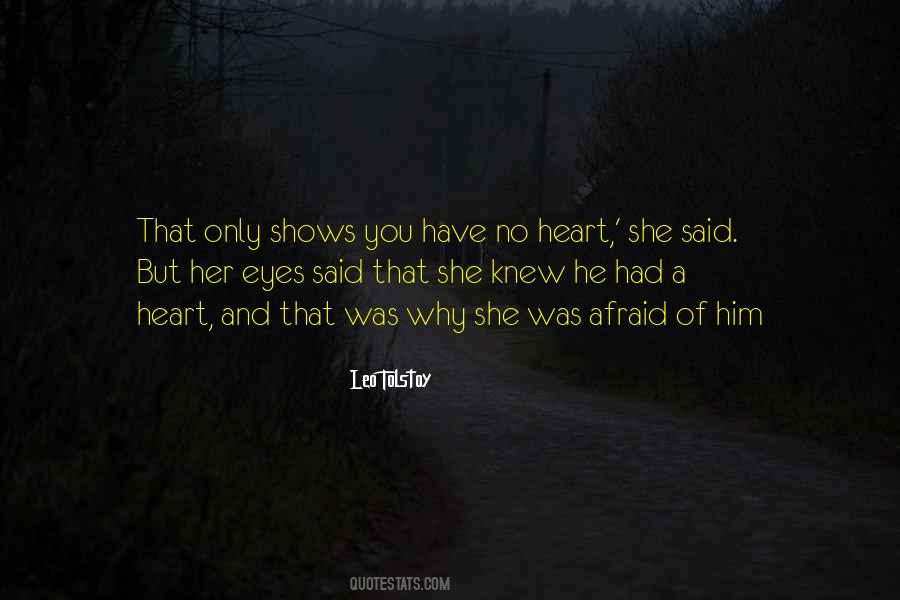 #78. Hearts are like tapers, which at beauteous eyes Kindle a flame of love that never dies; And beauty is a flame, where hearts, like moths, Offer themselves a burning sacrifice. - Author: Omar Khayyam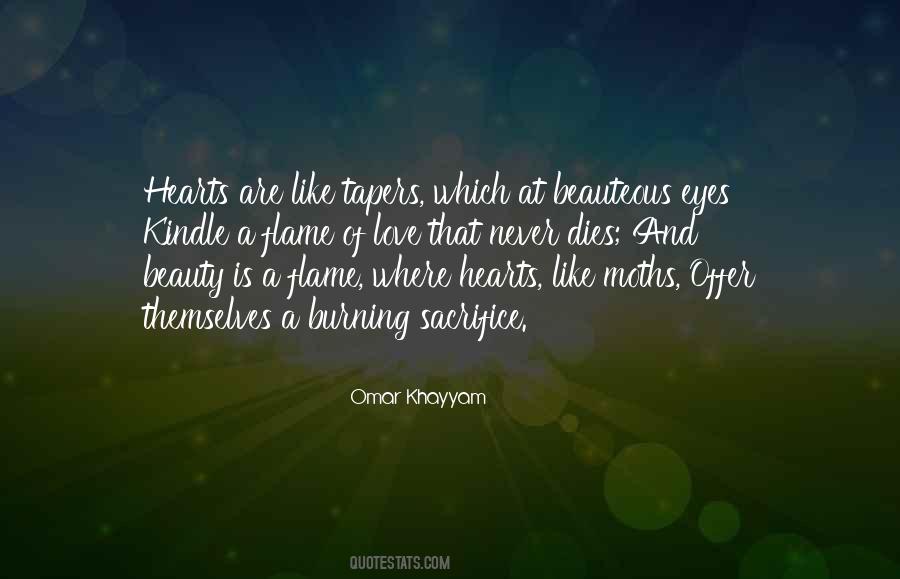 #79. The beautiful man-boy that held my heart in his memories, who claimed my soul with his smile. I knew that if I kept looking in those deadly eyes, I'd sink into their infinite depths, lost forever. And something in my brain, in my heart, allowed that to be okay. - Author: T. Torrest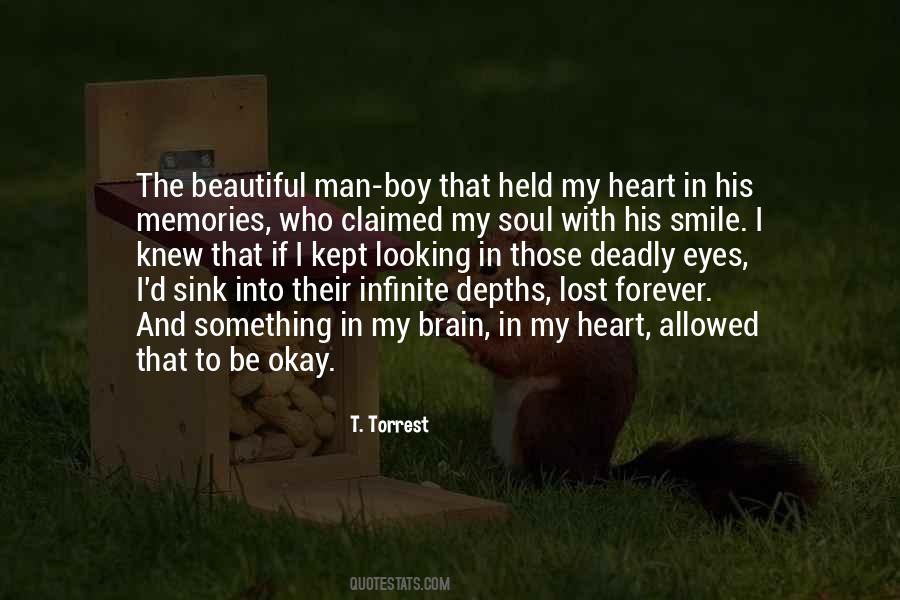 #80. There's something in your heart
And it's in your eyes
It's the fire, inside you
Let it burn
You don't say, "Good luck"
You say, "Don't give up"
It's the fire, inside you
Let it burn - Author: John Legend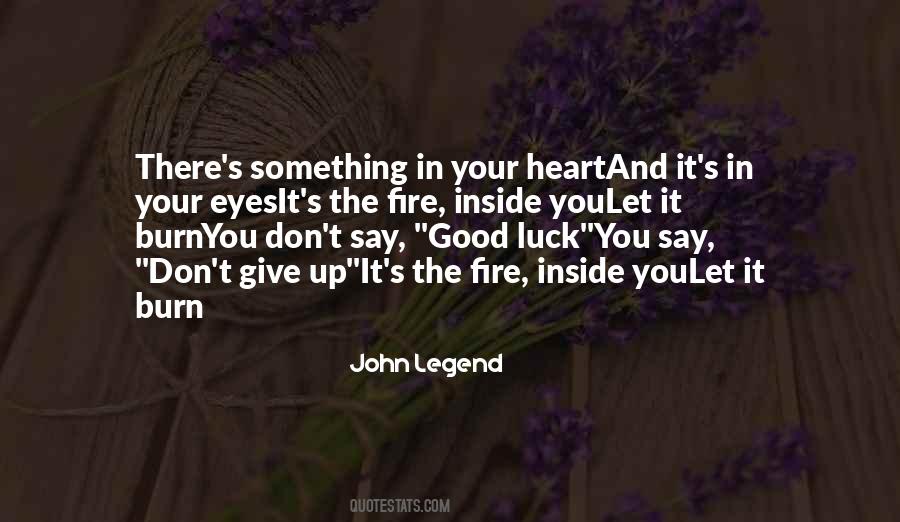 #81. May those who have touched our canvas with their eyes and hearts grow knowing the joy and wonder of an artist of life. - Author: Robert Regis Dvorak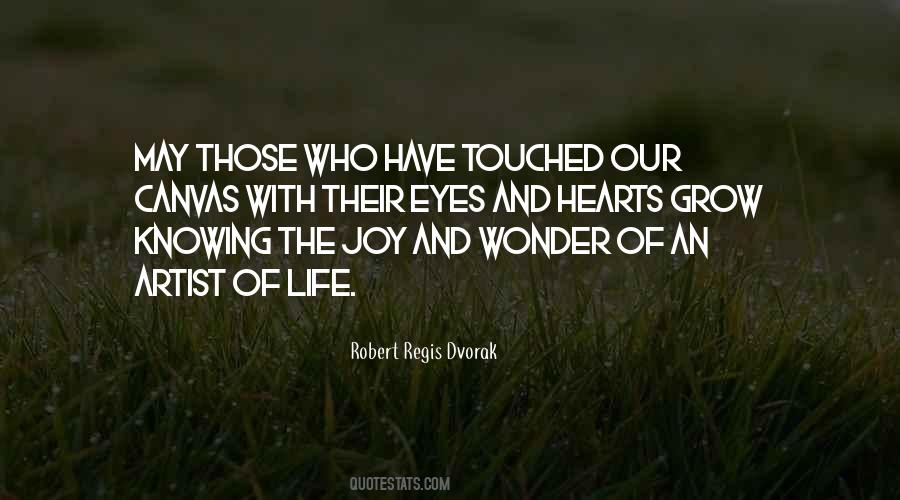 #82. Tears, idle tears, I know not what they mean, Tears from the depths of some devine despair Rise in the heart, and gather to the eyes, In looking on the happy autumn fields, And thinking of the days that are no more. - Author: Alfred Lord Tennyson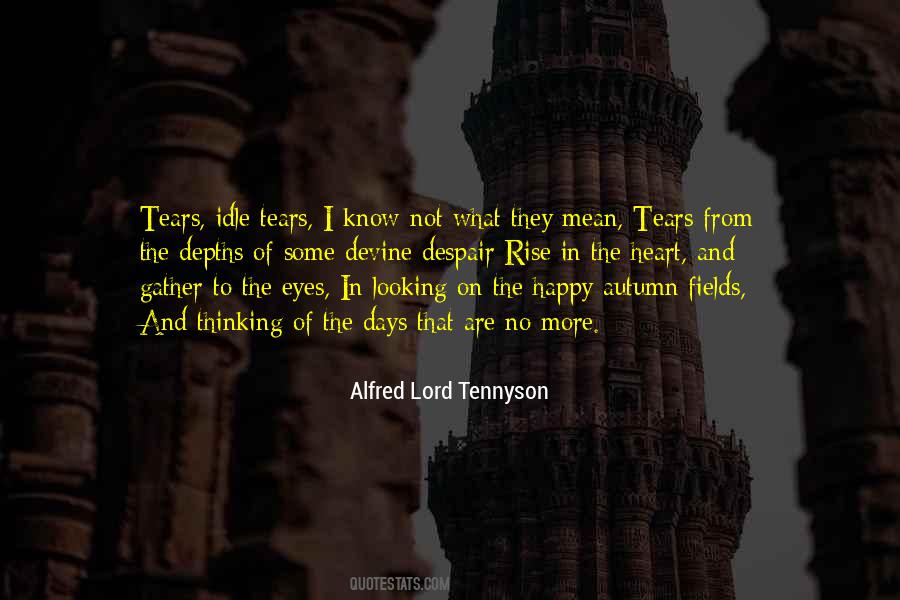 #83. Yes, red-to give warmth to that milk-white skin and those shining gray-green eyes of yours. Golden hair wouldn't suit you at all Queen Anne-My Queen Anne-queen of my heart and life and home. - Author: L.M. Montgomery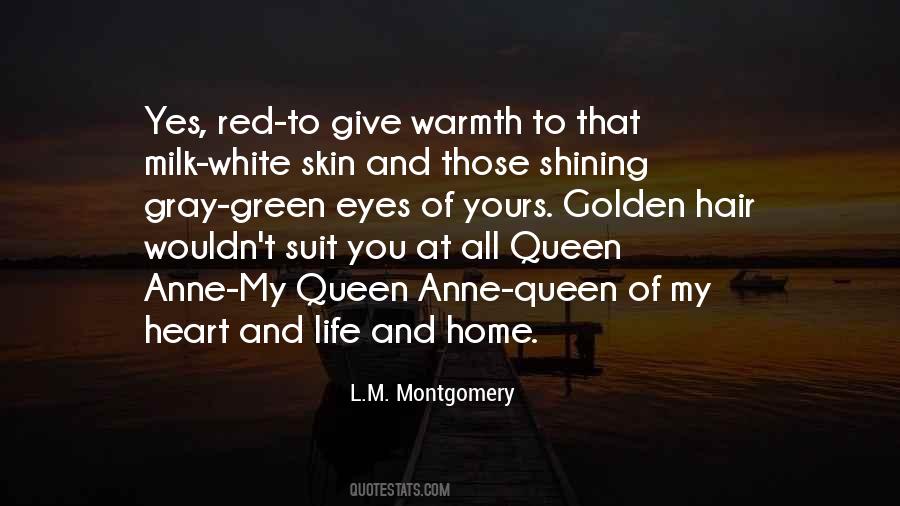 #84. The work of intimacy, of course, is to learn to both show your own illumination, and to see it in a way that the physical eyes cannot reveal. In a way that only the heart can reveal: the illumined beauty in another person. - Author: Marianne Williamson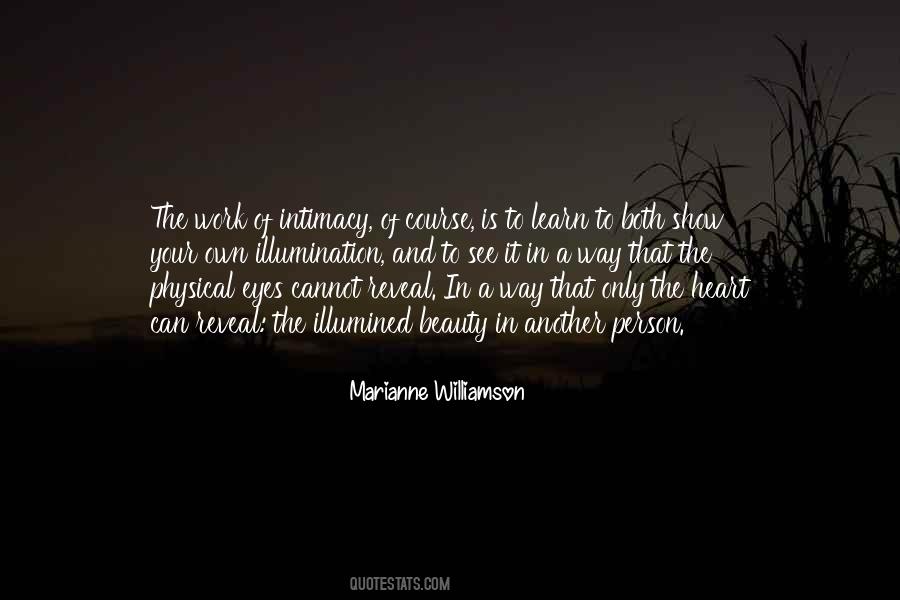 #85. Drifting off to sleep, I thought about her. How nobody is perfect. How you just have to close your eyes and breathe out and let the puzzle of the human heart be what it is. - Author: Sue Monk Kidd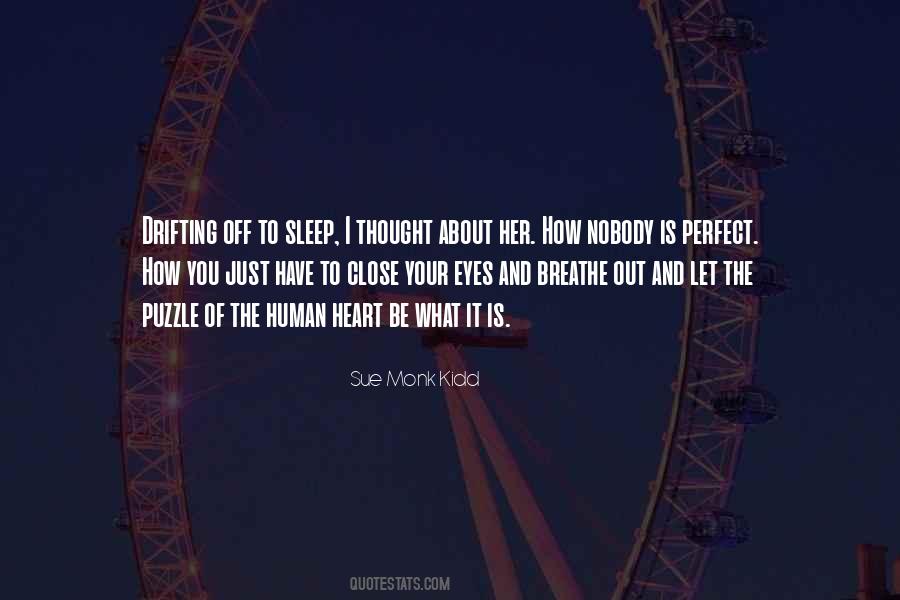 #86. It's not that they're small, the fair folk. Especially not the queen of them all, Mab of the flashing eyes and the slow smile with lips that can conjure your heart under the hills for a hundred years. It's not that they're small. It's that we're so far away. - Author: Neil Gaiman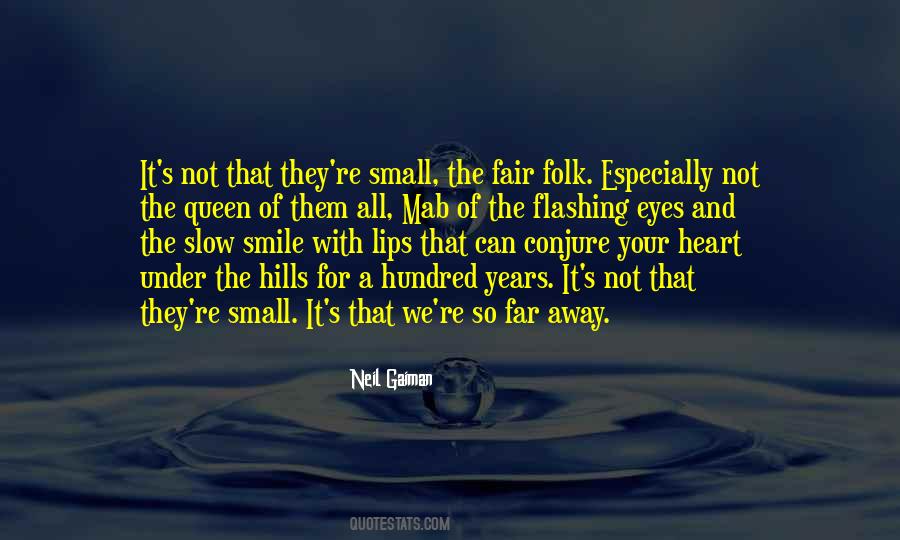 #87. My heart starts to pound as he gets closer and closer to the stands, never taking his eyes off me. - Author: Collette West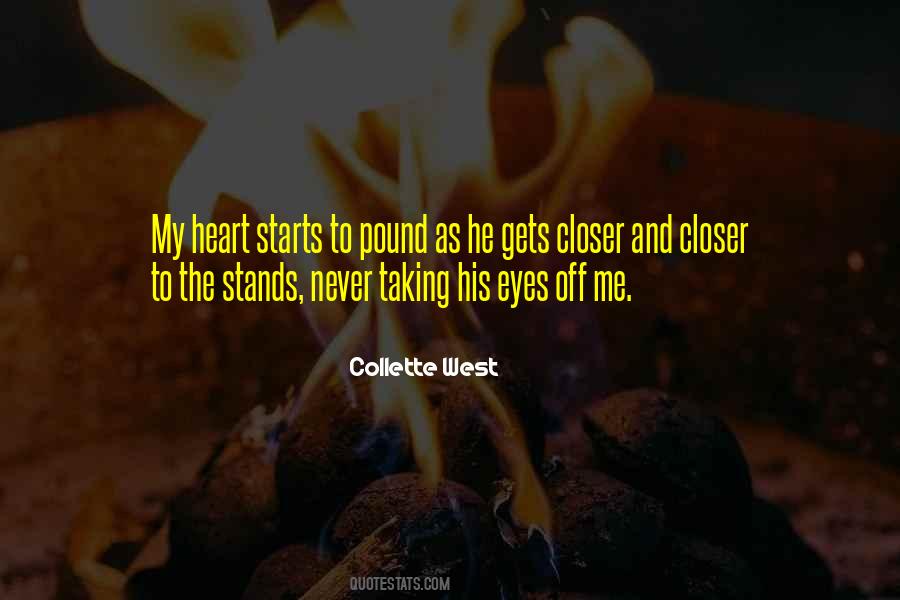 #88. I knelt in front of life, folded my hands and prayed for some more time; there couldn't be any. My heart bled and so did my tearful eyes.
Time, they say, flies, but I saw it slowly passing by taking each of my tardy breaths with it as it walked out of my life ... - Author: Sanhita Baruah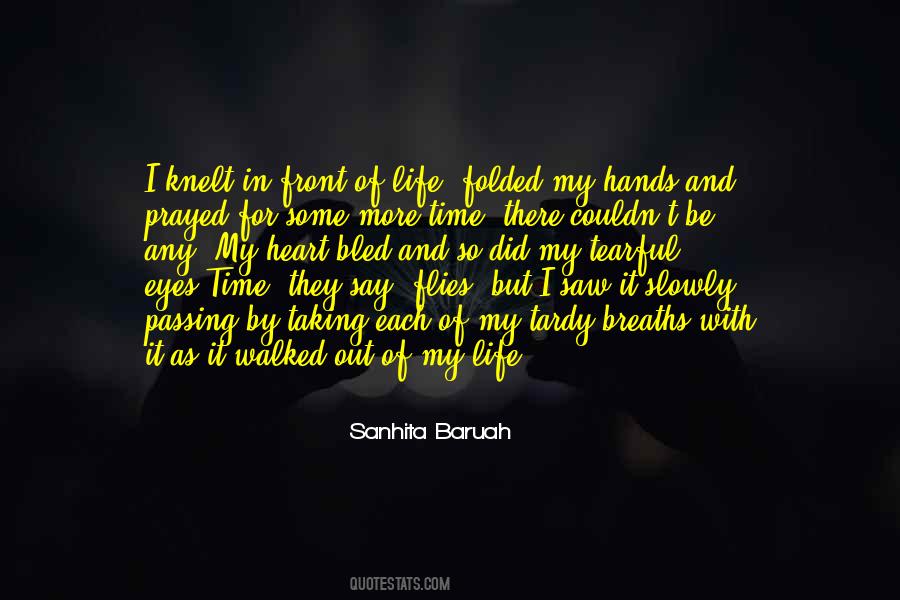 #89. Don't let your ears hear what your eyes didn't see, and don't let your mouth say what your heart doesn't feel - Author: Anonymous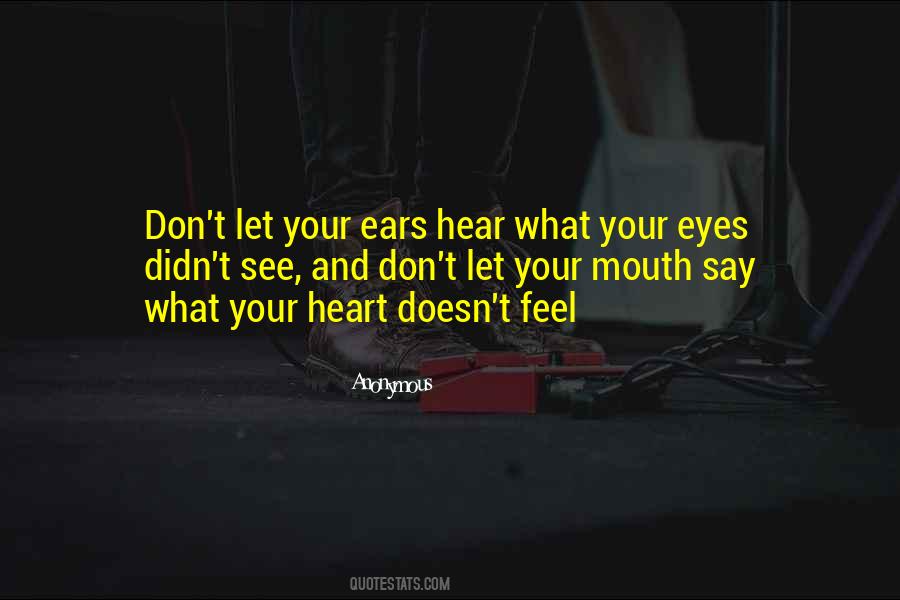 #90. To douchebags!" he said, gesturing to Brad. "And to girls that break your heart," he bowed his head to me. His eyes lost focus. "And to the absolute fucking horror of losing your best friend because you were stupid enough to fall in love with her. - Author: Jamie McGuire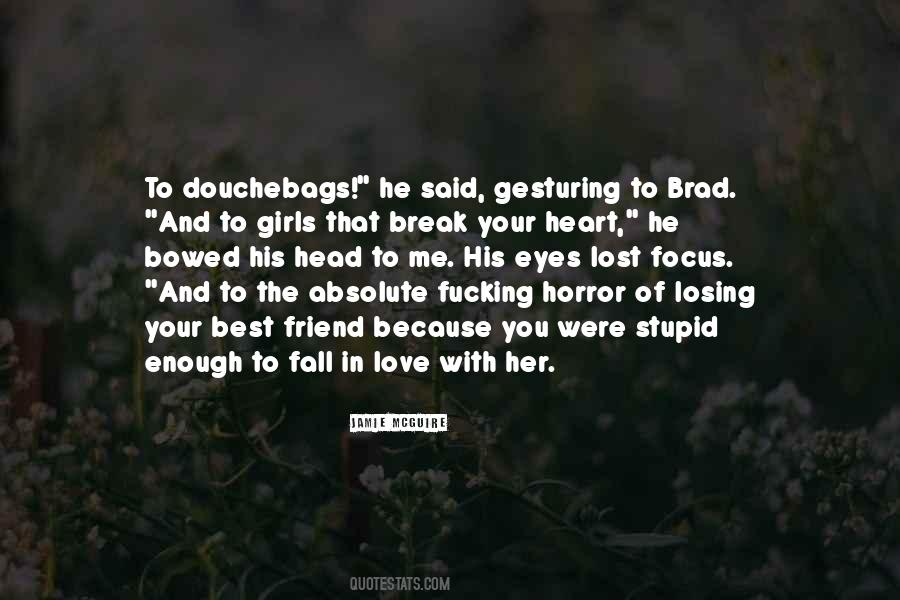 #91. Greek tragedy operates through the ear. It is through the ear primarily that it enters the eyes, the senses, the mind, the heart. It must be spoken aloud. It is designed for that. And until that is done these plays have not been read, have not been used, have not been born. - Author: Paul Roche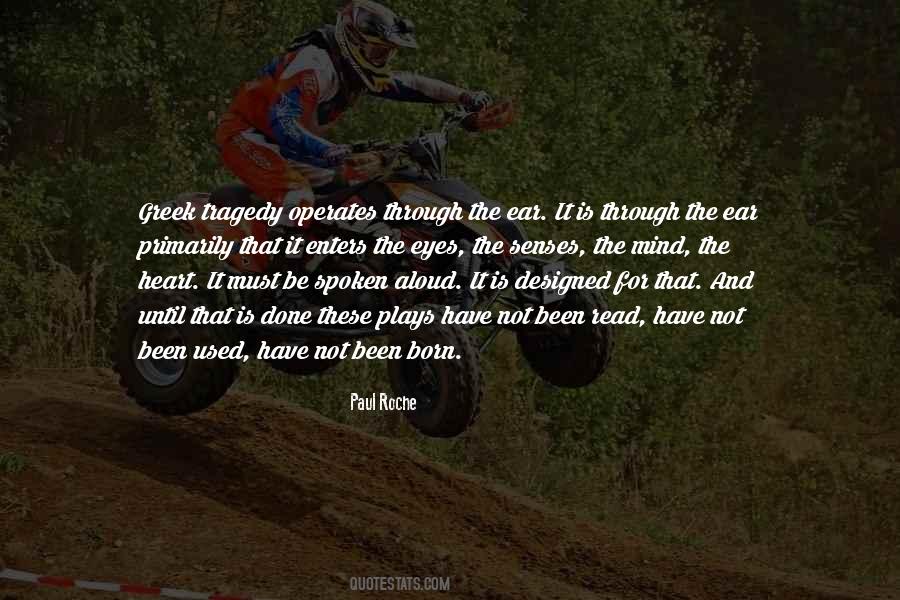 #92. If you ever find yourself presented with a fork in the road of life and you do not know the correct direction, close your eyes and listen to your heart. I have found more adventure, more love, more happiness, and more life by listening to who I am, rather than attempting to tell myself. - Author: Karen Hawkins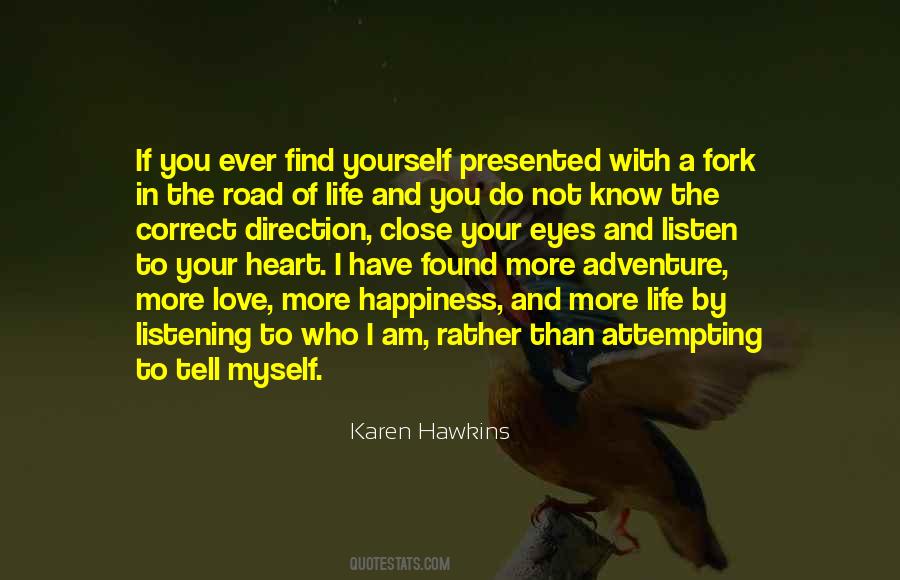 #93. Christ has no body now but mine. He prays in me, works in me, looks through my eyes, speaks through my words, works through my hands, walks with my feet and loves with my heart. - Author: Teresa Of Avila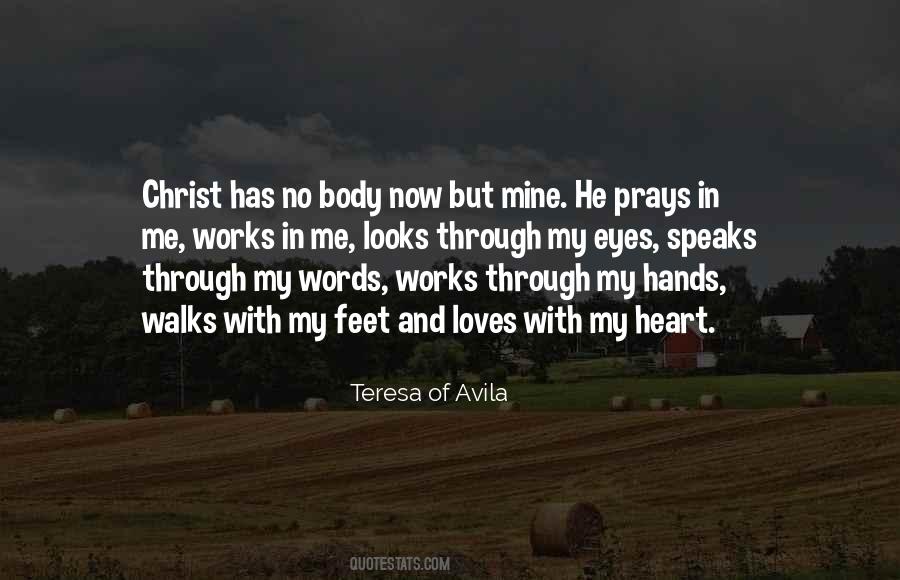 #94. When the heart is down and the soul is heavy, the eyes can only speak the language of tears - Author: Ikechukwu Izuakor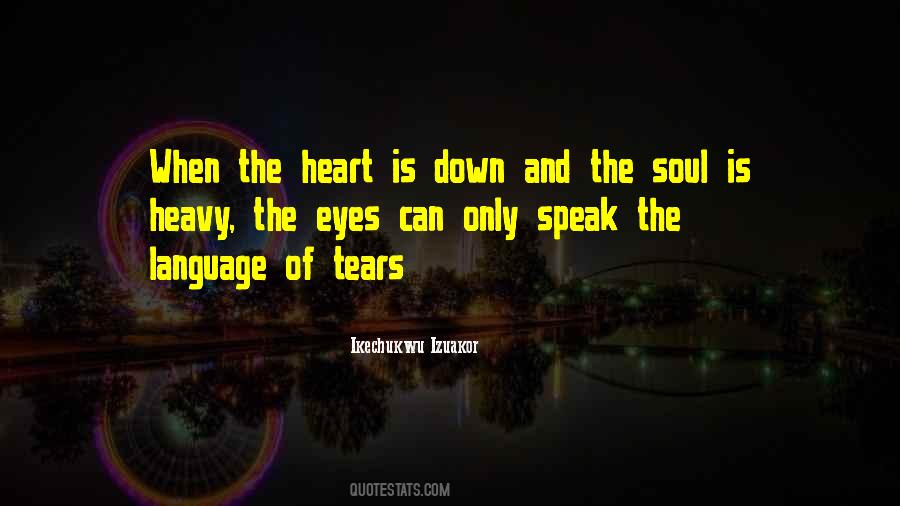 #95. I, I am my own woman. I have not been, quote, 'bred' to look the other way. I look at that man back there in the green room straight on, eyes wide open, and I look at him with an open heart. - Author: Maria Shriver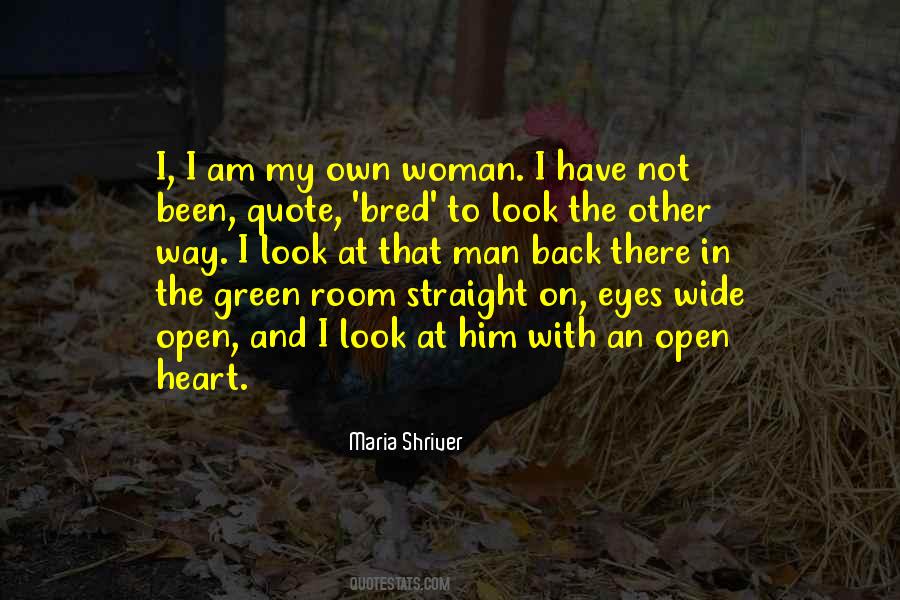 #96. His heart line was long and curved, and she traced it with her eyes over and over again. A person with a curved heart line was a person capable of great warmth and kindness, a person willing to give their whole selves to love, no matter the cost. - Author: Leslye Walton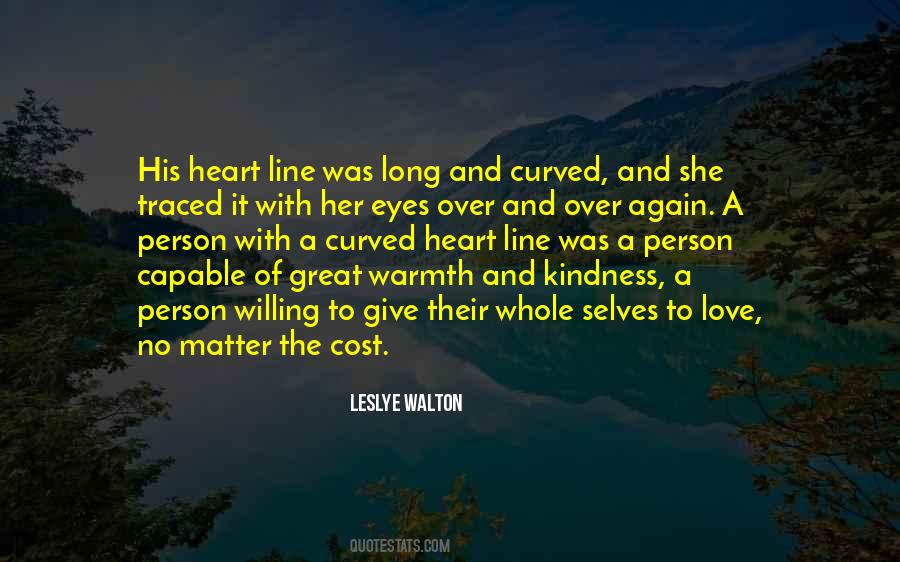 #97. I gazed into her beautiful green eyes and her fear melted. A shy smile tugged at her lips and at my heart. Fuck me and the rest of the world, I was in love. - Author: Katie McGarry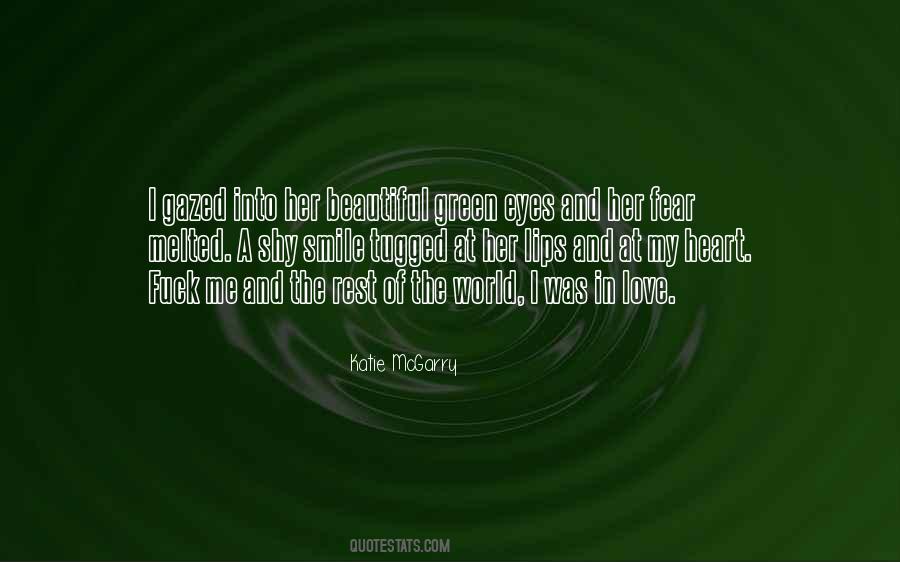 #98. If you seem to have stumbled, think that it was fated to be so. Your heart is shrewd as well as faithful, and saw clearer than your eyes. For - Author: J.R.R. Tolkien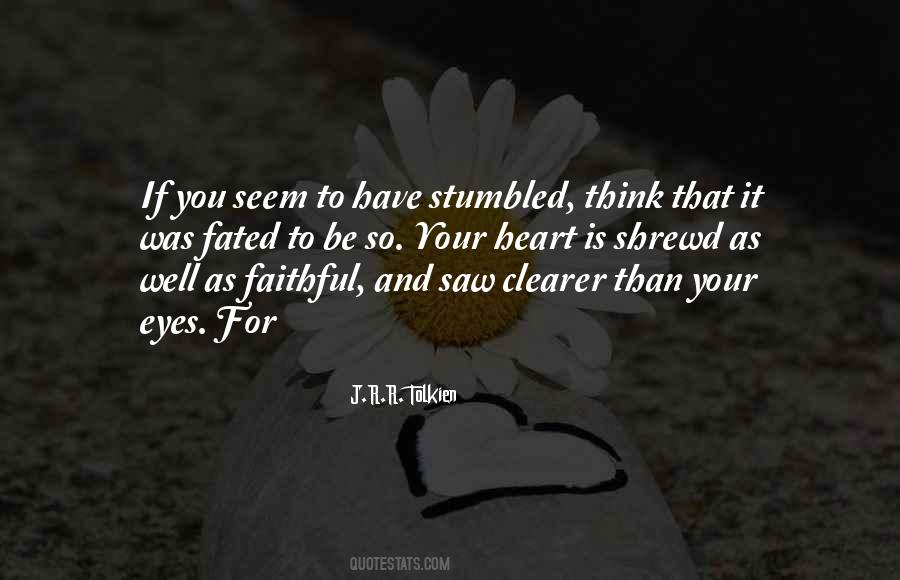 #99. Sebastian lay a few feet away from her, on his back. There was a great blackened hole across the front of his chest. He turned his head toward her, his face taut and white with pain, and her heart contracted.
His eyes were green. - Author: Cassandra Clare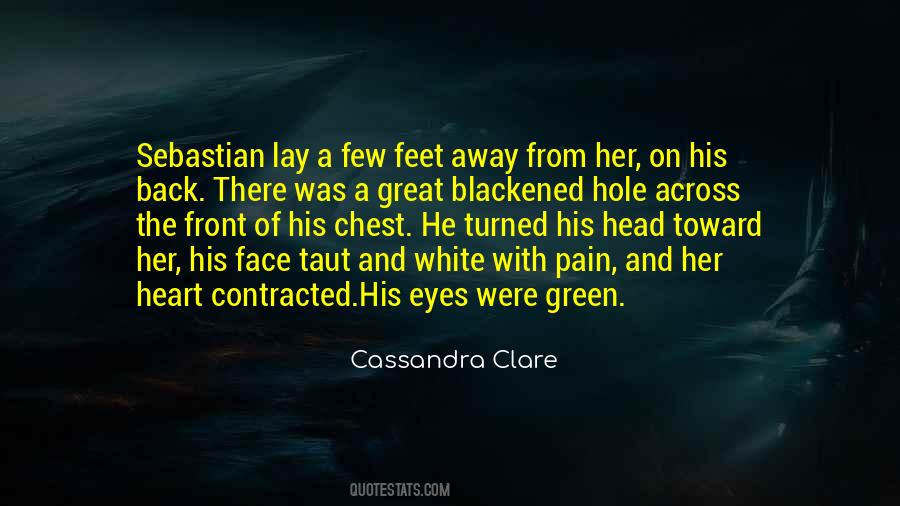 #100. They never get easier, never stop my heart from trip-trapping, never let me escape, this time, unscathed. But they teach me things, and they open my eyes, and if they hurt, they hurt in ways that make me think and grow and change. - Author: Neil Gaiman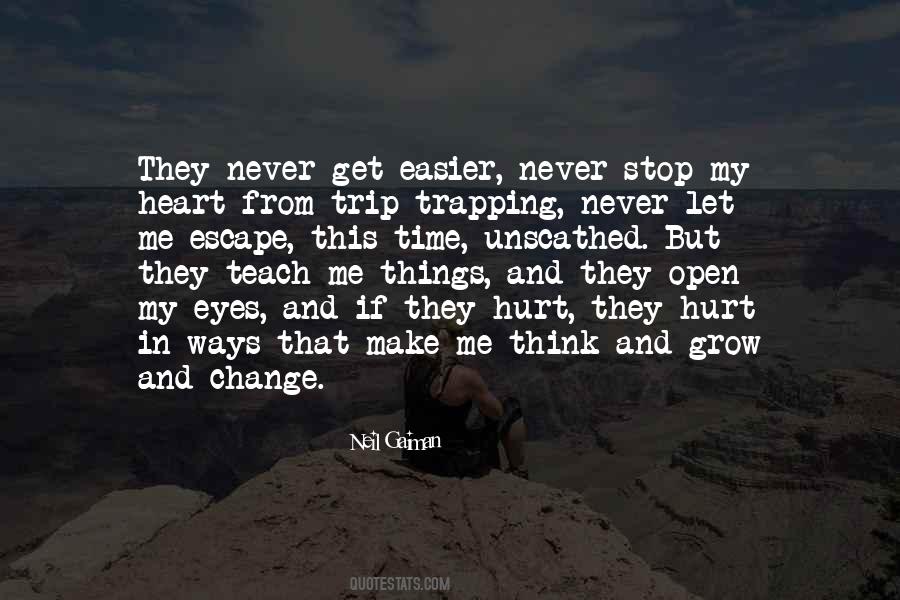 Famous Authors
Popular Topics