Difficult Things Famous Quotes & Sayings
List of top 100 famous quotes and sayings about difficult things to read and share with friends on your Facebook, Twitter, blogs.
Top 100 Quotes About Difficult Things
#1. I can't admit things; that's why I can't go to funerals and stuff like that. I find it very, very difficult to deal with that kind of reality. I shut myself off totally because it affects me so badly. - Author: Simon Cowell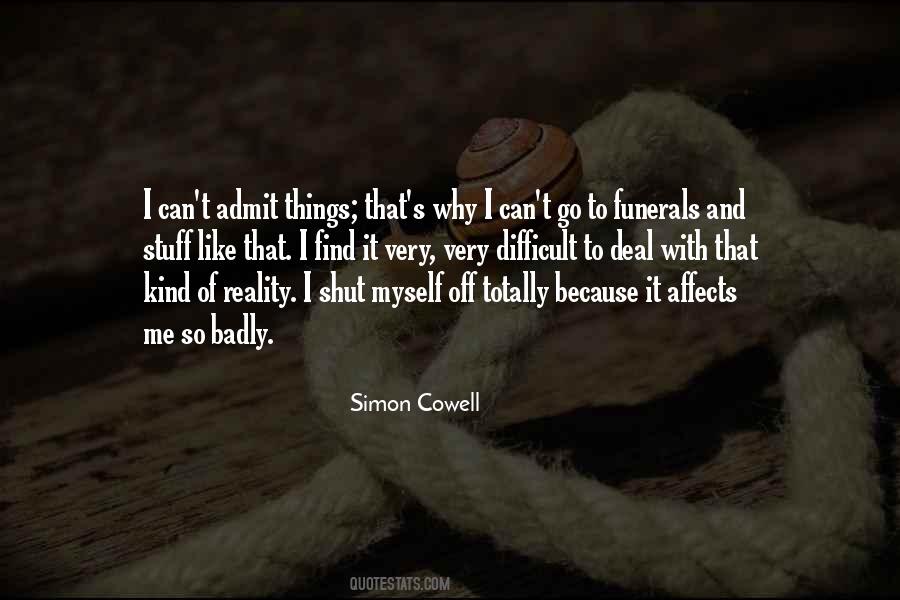 #2. Governance is complex, difficult, and on the whole, thankless - why ever should the Bright Young Things leave the management of their hotels, newspapers, banks, TV channels and corporations to join, like fleas on a behemoth, the government? Wherein lies the difference between the two worlds? - Author: Upamanyu Chatterjee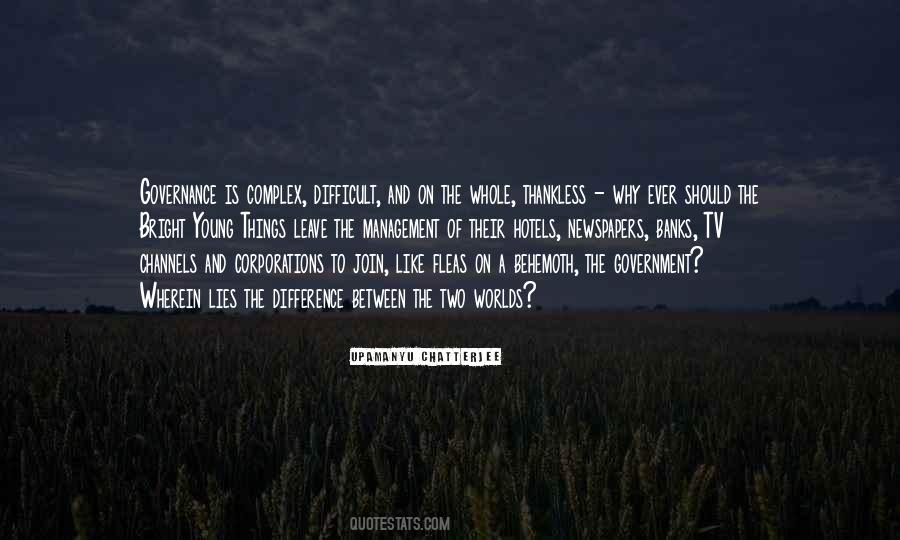 #3. Business, like life, is funny. We all go through difficult times, and we all have to face curve balls and challenges, each and every week. And we need to laugh when things are funny. - Author: Ronnie Apteker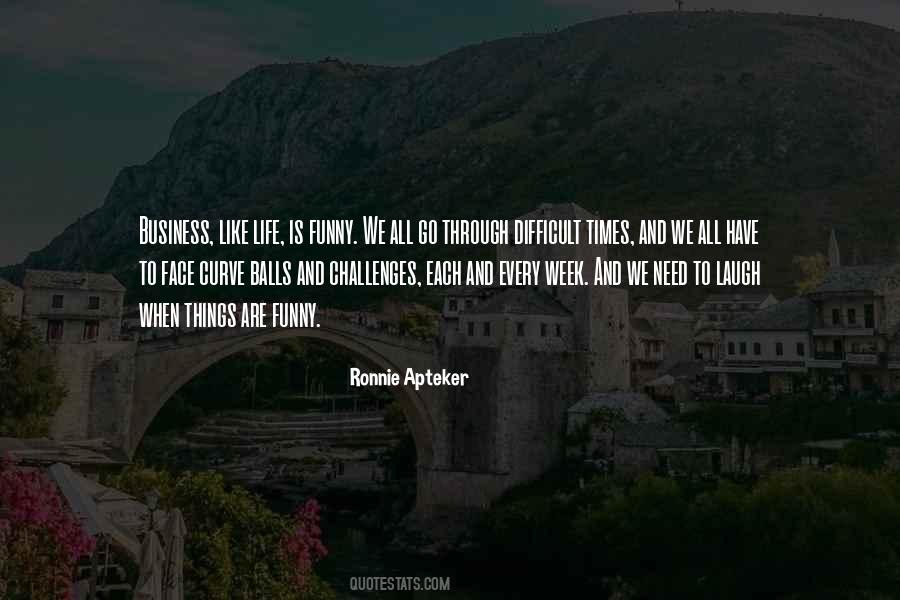 #4. The world is a fascinating, difficult place, and in order to take full advantage of what the planet has to offer, we need to see and hear natural things. - Author: Bill O'Reilly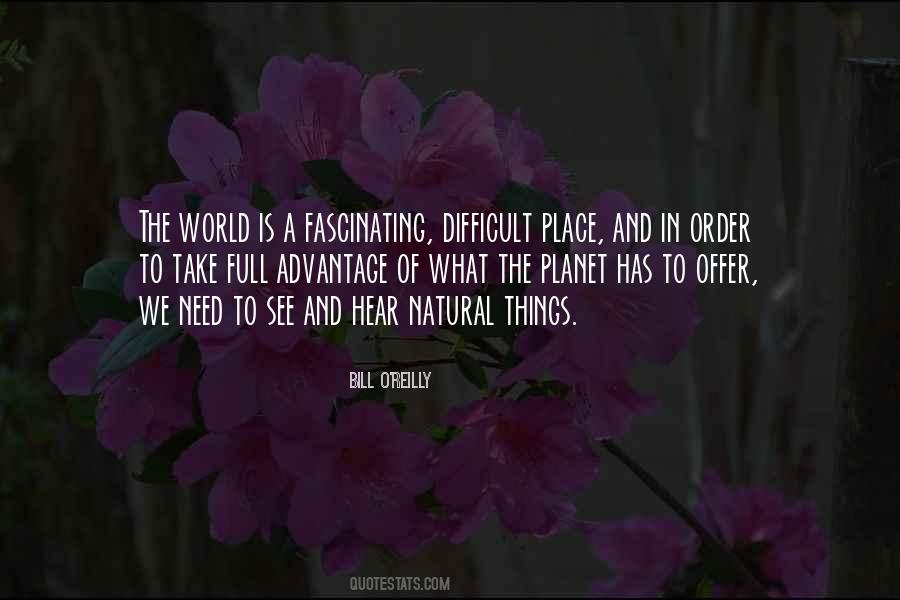 #5. I don't want to say that the poor are inherently cognitively diminished, but at the end of the day of making difficult, tough decisions, it's very hard to have the energy to think about things with the right mindset. - Author: Dan Ariely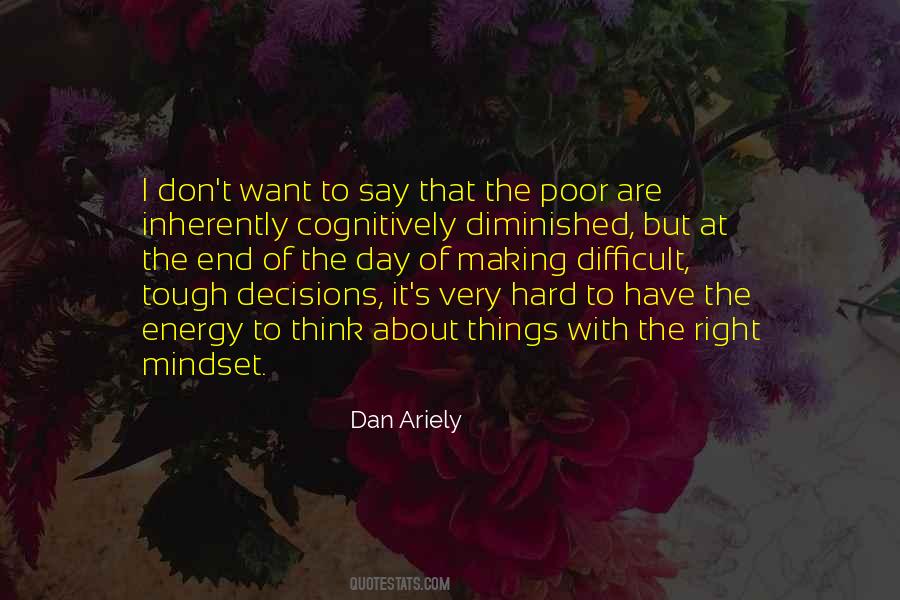 #6. It is difficult for young people to live things down. We will tolerate vice, grand larceny and the quieter forms of murder in our contemporaries ... but our children's friends must show a blank service record. - Author: F Scott Fitzgerald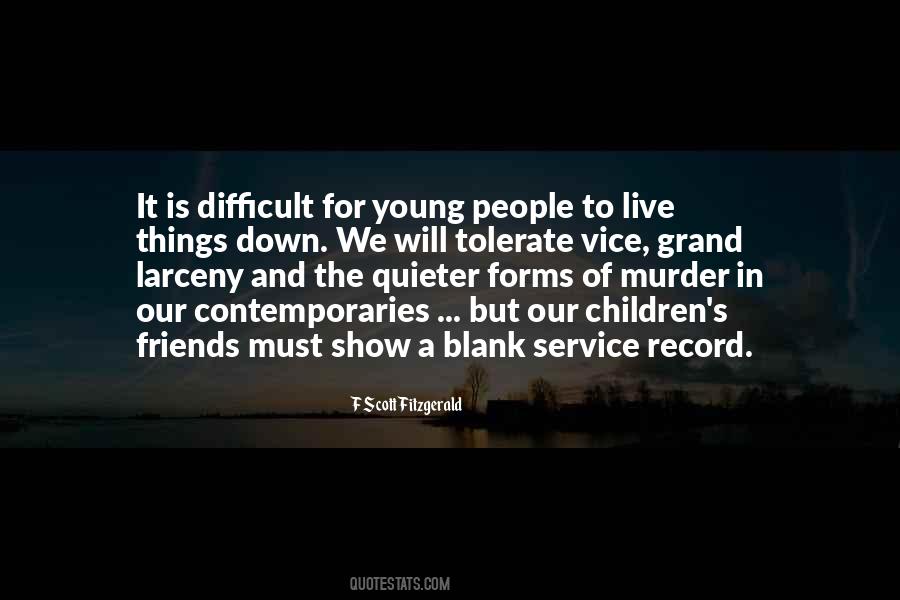 #7. He who regards many things easy will find many difficulties. Therefore the sage regards things difficult, and consequently never has difficulties. - Author: Laozi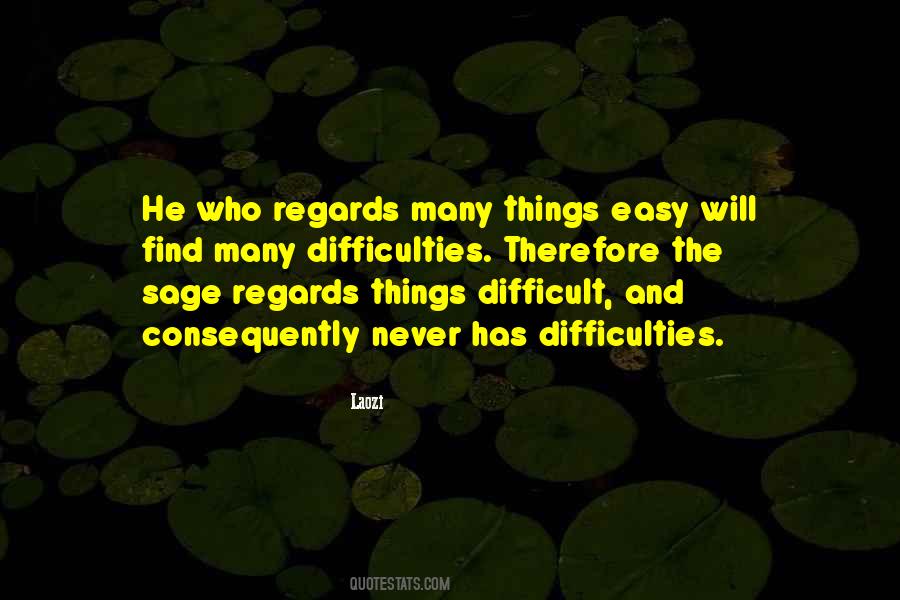 #8. It is not true that love makes all things easy, it makes us chose things that are difficult. - Author: George Eliot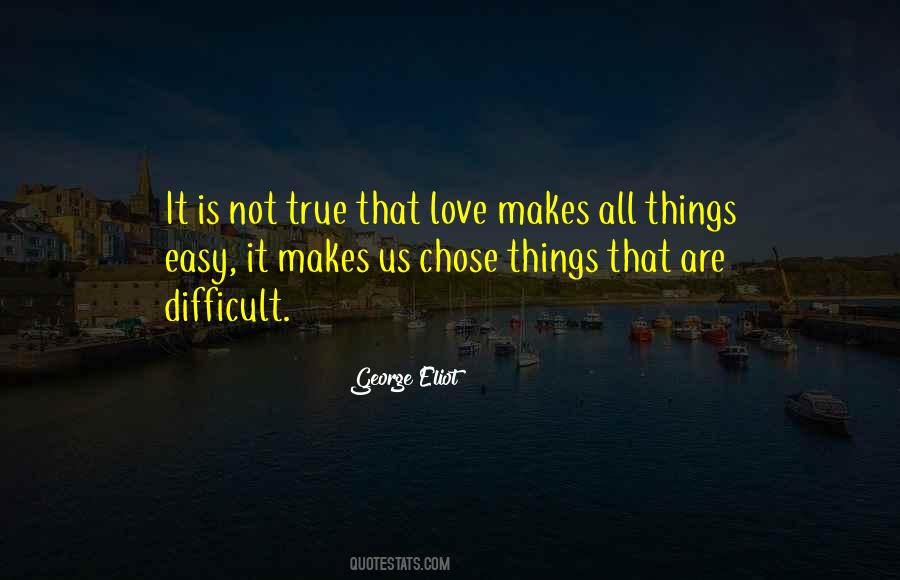 #9. I don't consciously try to make things difficult as much as I try to make them a little different. I like all kinds of laughs. I tried to make a show that elicit groans, guffaws, chuckles, boos. - Author: Bo Burnham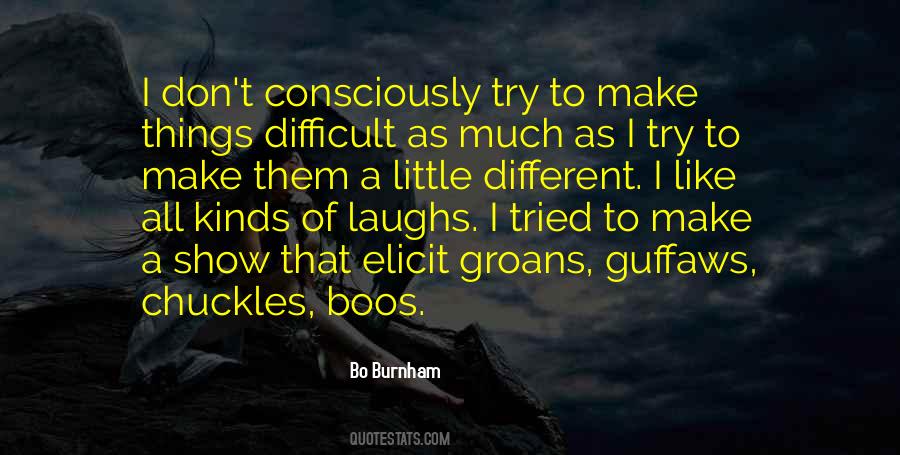 #10. Half of bravery is perspective. The first time I did this, it was one of the hardest things I had ever done. Now, preparing to jump off a moving train is nothing, because I have done more difficult things in the past few weeks that most people will in a lifetime. - Author: Veronica Roth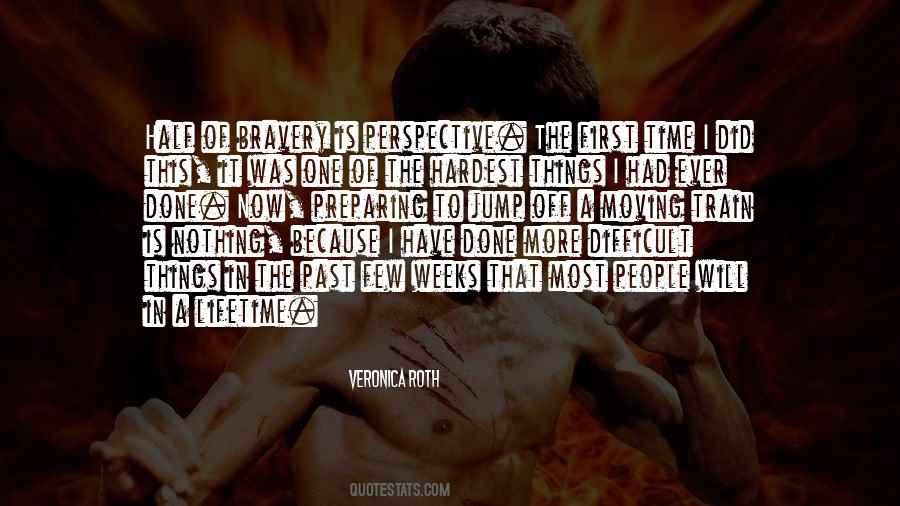 #11. As a beat reporter covering the CIA and intelligence world after the terrorist attacks of 2001, I could sense that many things I couldn't see or understand were changing, expanding, getting so big they were difficult to manage. - Author: Dana Priest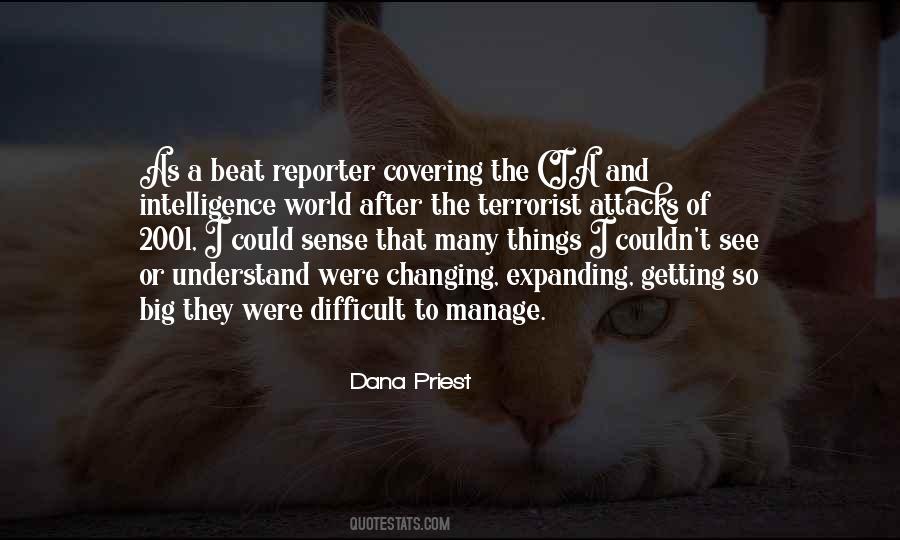 #12. I'm not a Republican, but I have some conservative views on certain things. I'm not a Democrat, either. It's just very difficult that these people hate each other over a belief. I think it all comes down to ego and competitiveness. - Author: Mike Tyson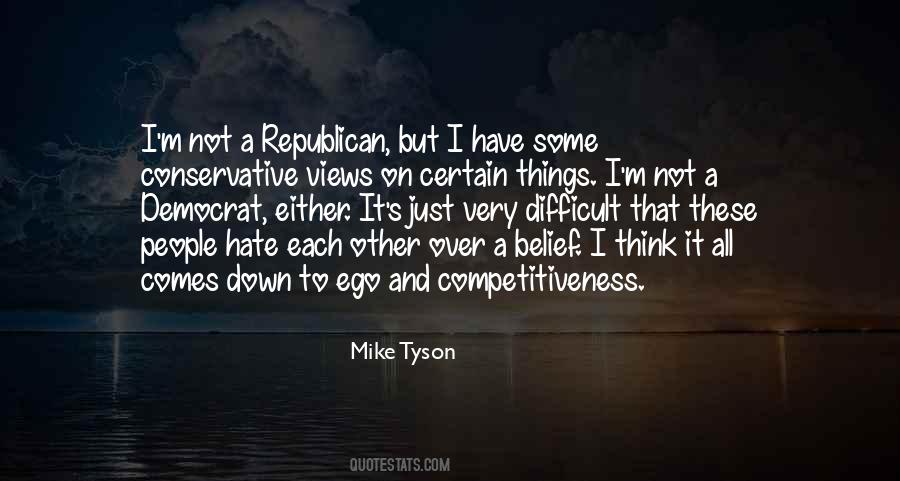 #13. Why wasn't it more difficult? ... Shouldn't some things be difficult? - Author: Brock Clarke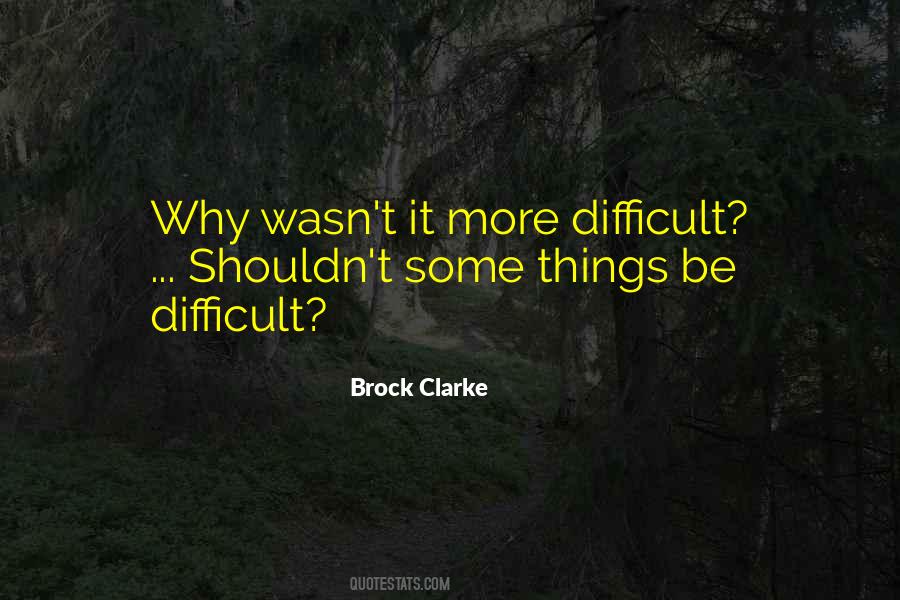 #14. Making a movie is still very difficult in Hollywood, regardless of what you have and what level you're at. It is a house of cards, and things have to perfectly align. - Author: Nat Faxon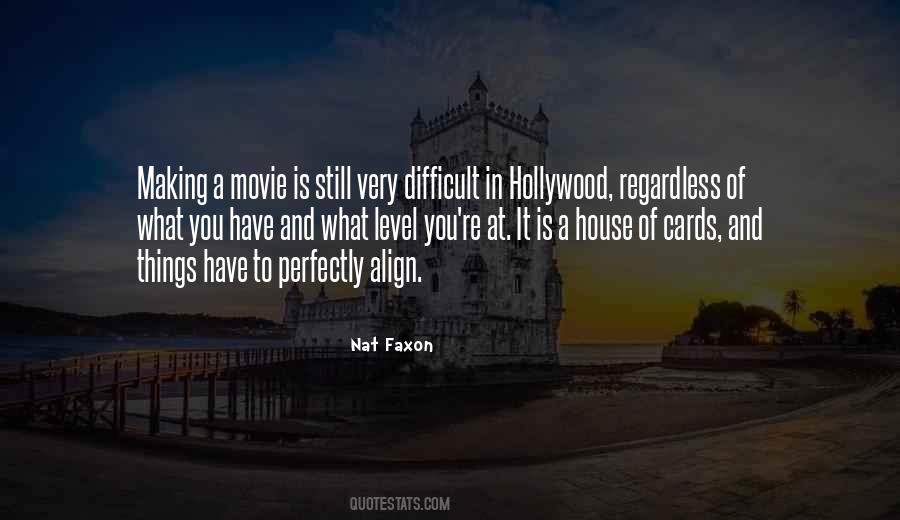 #15. Difficult things aren't easy, but they're worth it. - Author: Mia Love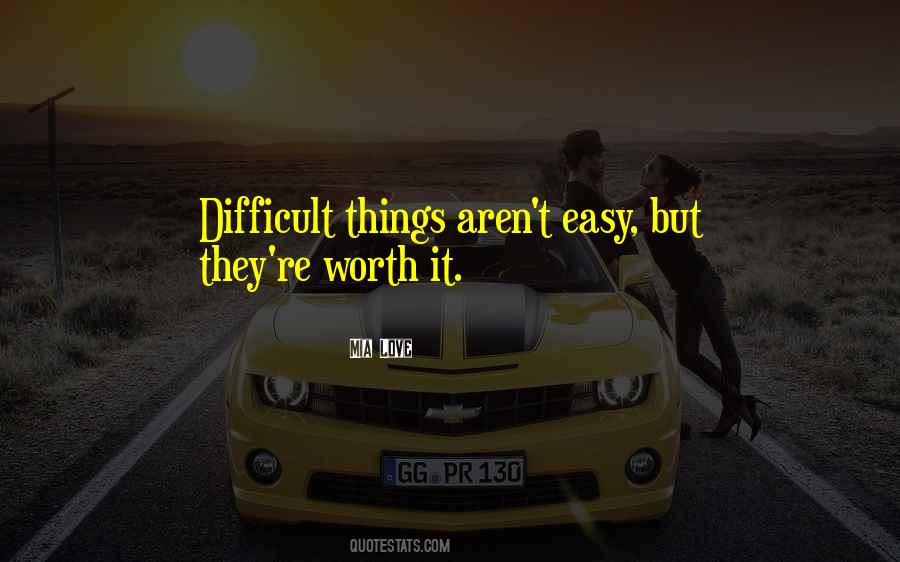 #16. It is difficult for me to talk about some of these things without reliving the extreme emotions and loss one always feels for the untimely deaths of acquaintances, family and friends, all because they stood up against the unlawful tyranny of non-Indian America. - Author: Leonard Peltier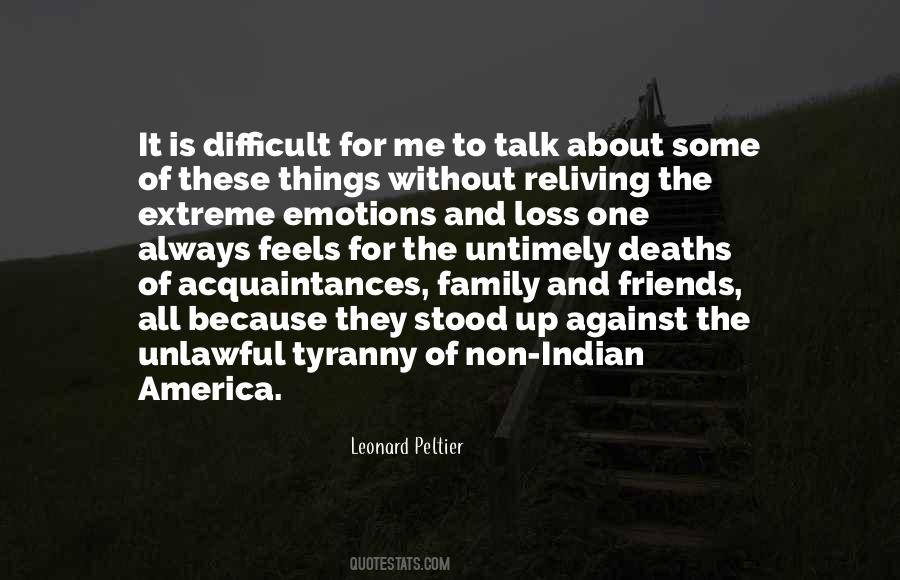 #17. Tackle the difficult things first in the morning; make changes in the way you network. Treat everyone with respect and dignity. This stops you from cynicism and negativity. End your day with that same attitude you started. Renew your contract with a day well completed. - Author: Rick Pitino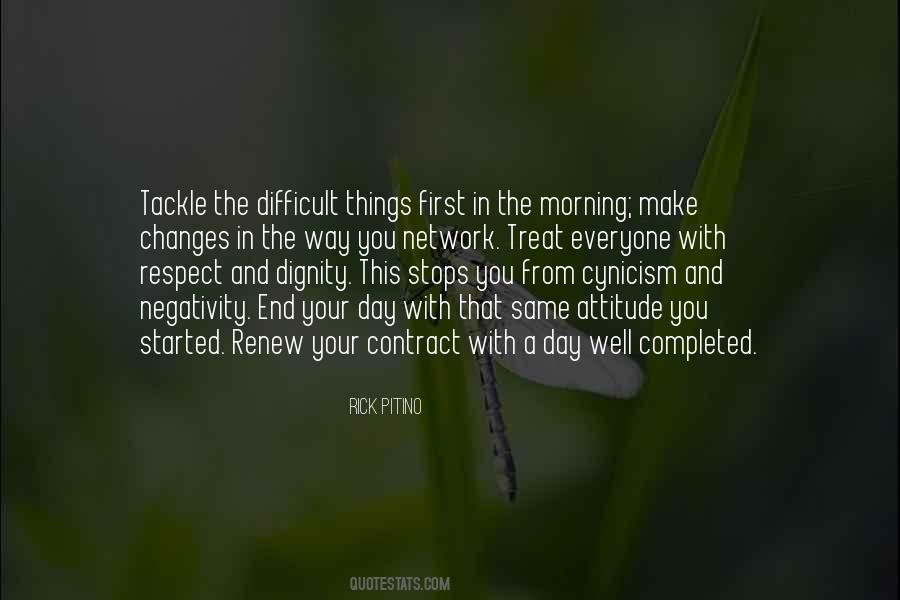 #18. I'm not quite that difficult, even though maybe I'm a little bit bossy. But you know, in order to get things done, you do have to be a little bit bossy sometimes or tell people what you really want. Otherwise, things just don't get done, do they? - Author: Heidi Klum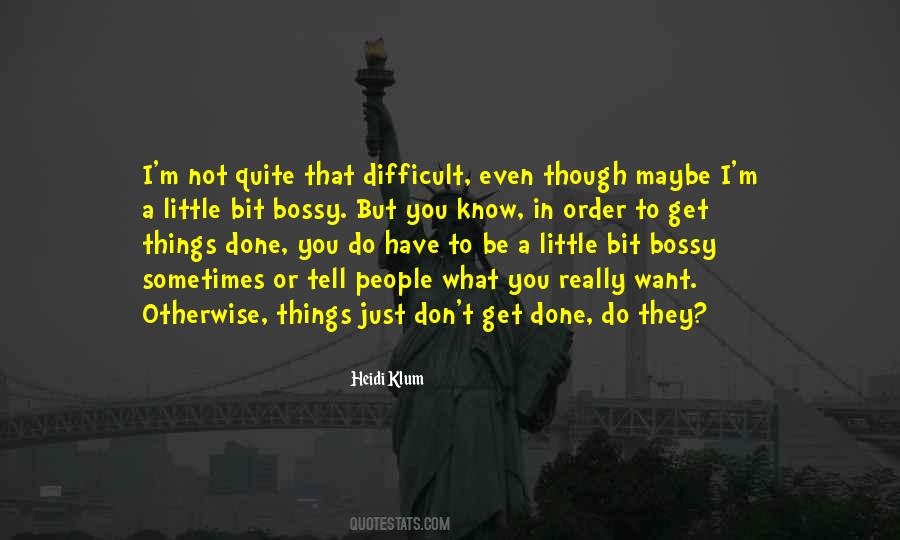 #19. There are so many difficult things we're living through in the world today, so many horrible events, but we cannot let them stop us. No matter what happens, I feel you must move forward with optimism and not get totally sideswiped. - Author: Gloria Estefan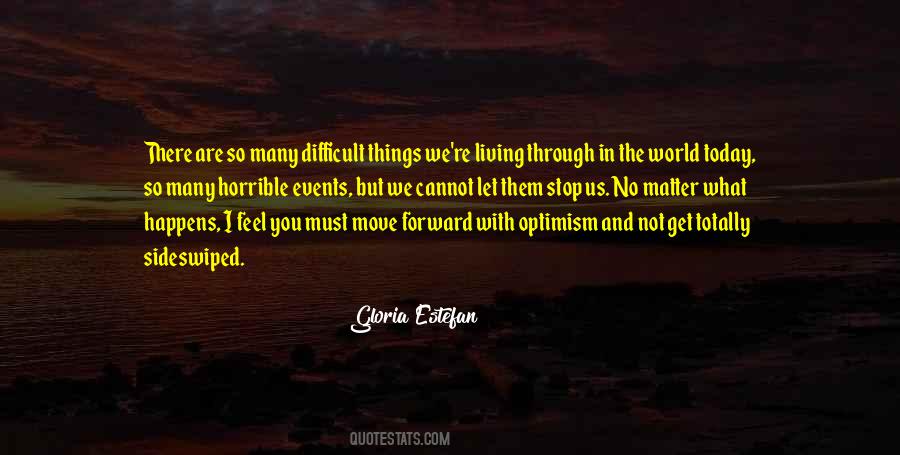 #20. Few things are as potentially difficult, frustrating, or frightening as genuine learning, yet nothing is so rewarding and empowering. - Author: Adam Robinson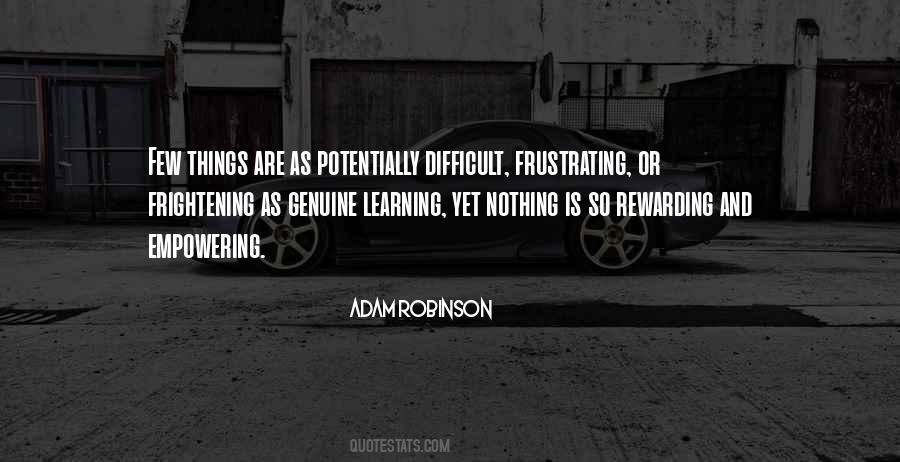 #21. take care, in reading the writings of philosophers or hearing their speeches, that you do not attend to words more than things, nor get attracted more by what is difficult and curious than by what is serviceable and solid and useful. - Author: Plutarch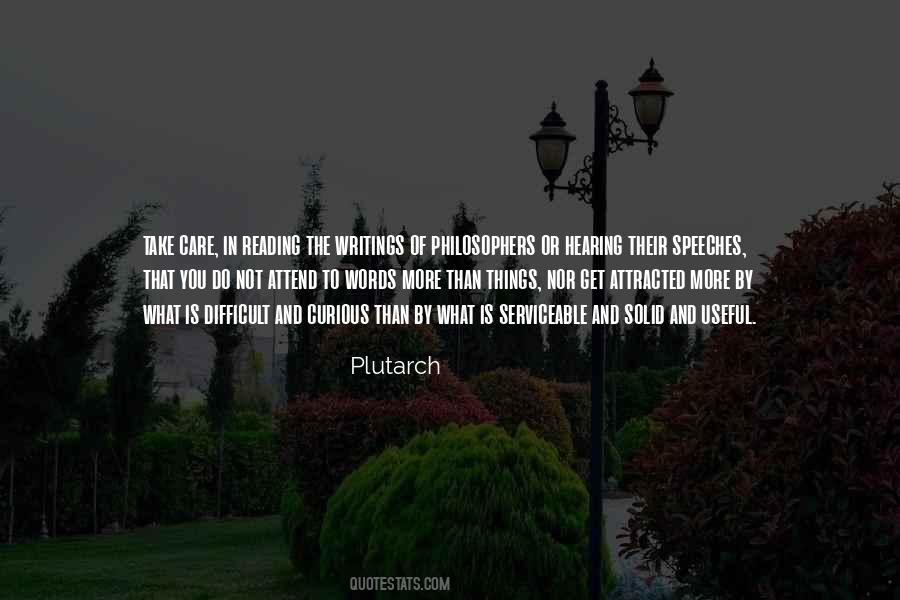 #22. My dear, I'm seldom sure of anything. Life at best is a precarious business, and we aren't told that difficult or painful things won't happen, just that it matters. It matters not just to us but to the entire universe. - Author: Madeleine L'Engle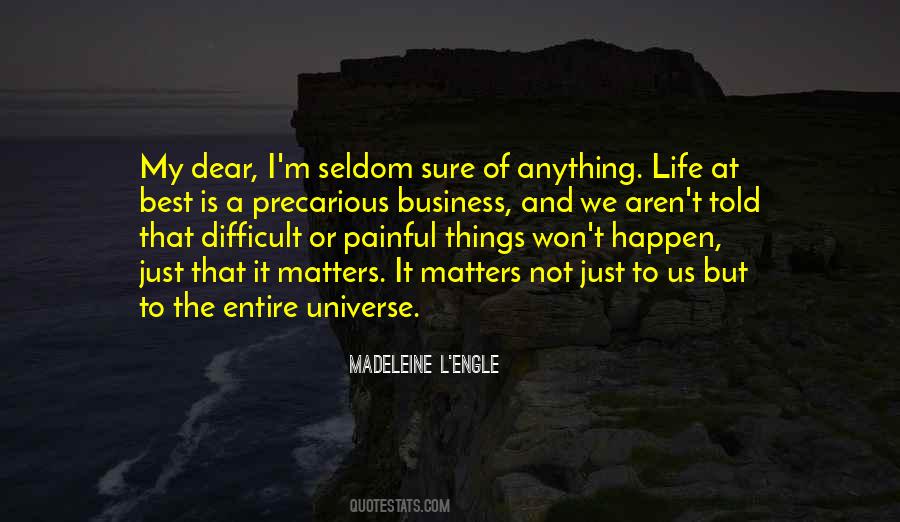 #23. Putting your ego aside and confronting your weaknesses and just letting things happen is hard. Not to use a Scientology term, but it's difficult to do an emotional or an artistic audit. - Author: Annie E. Clark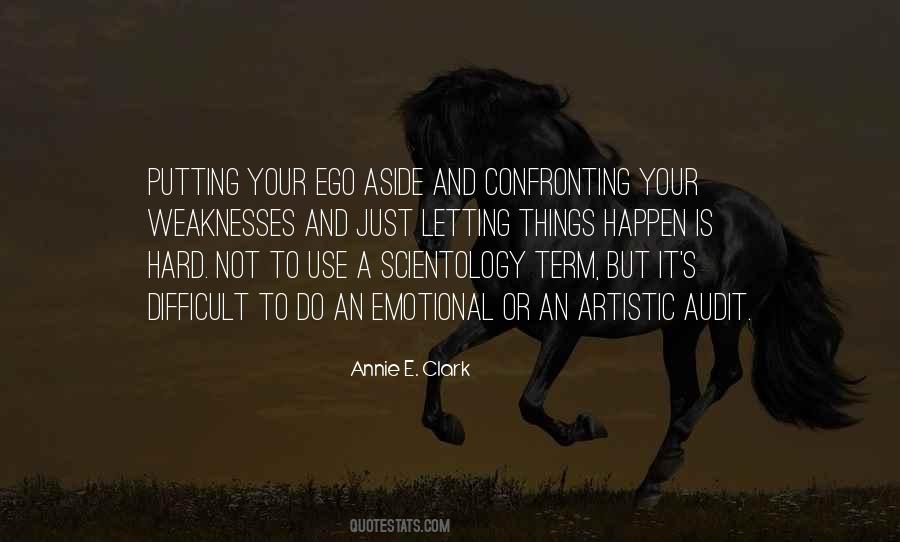 #24. When I was a child growing up in Maine, one of my favorite things to do was to look for sand dollars on the seashores of Maine, because my parents told me it would bring me luck. But you know, these shells, they're hard to find. They're covered in sand. They're difficult to see. - Author: Sarah Parcak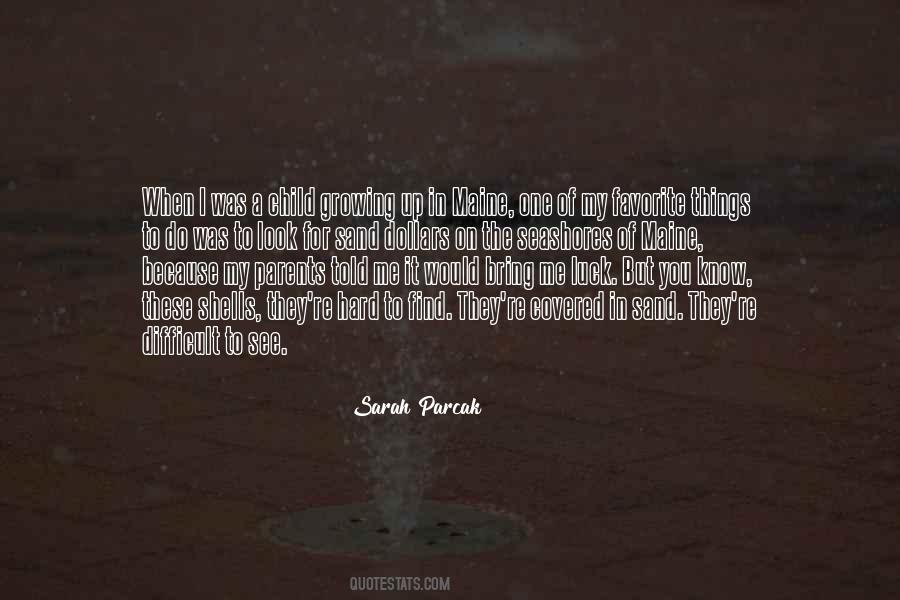 #25. It is not because things are difficult that we do not dare, it is because we do not dare that they are difficult. - Author: Seneca.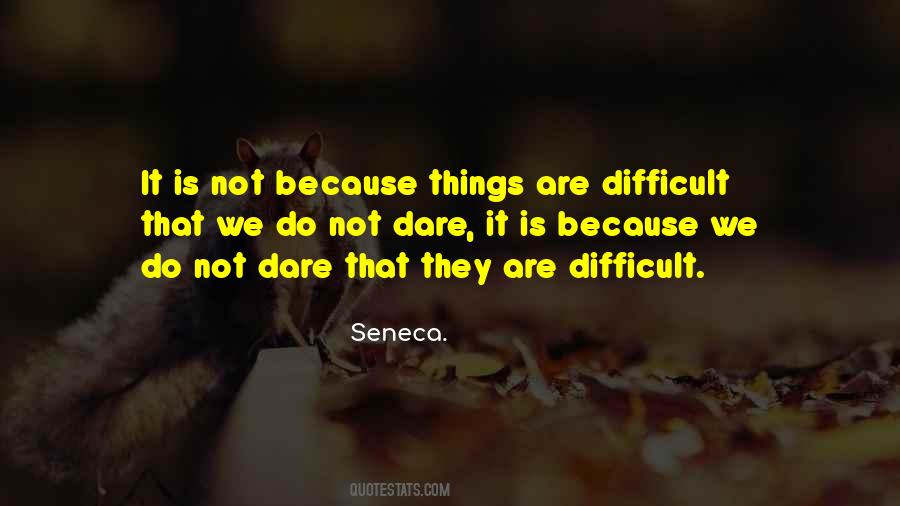 #26. When things are difficult, smile by faith. Don't wait until you feel better. - Author: Joel Osteen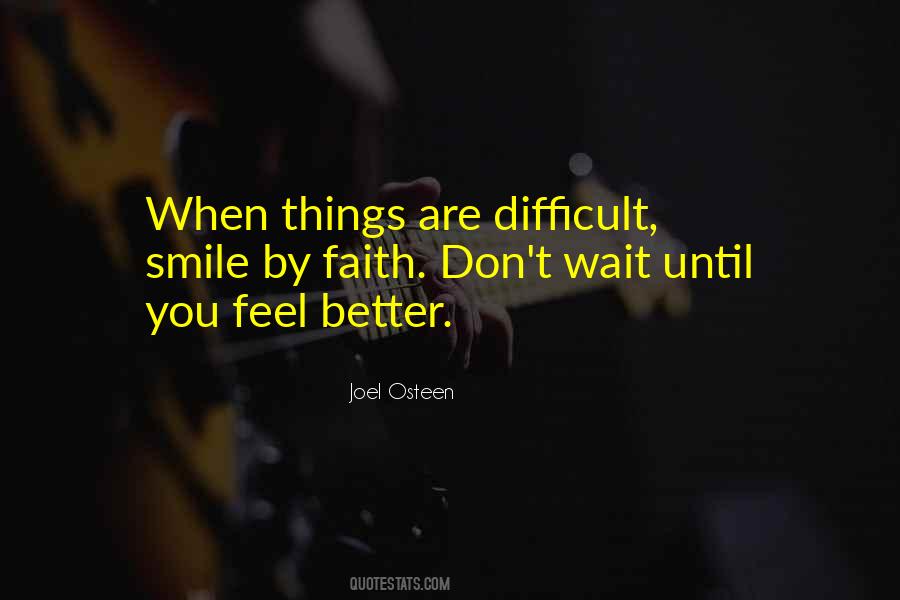 #27. It is easy to hate and it is difficult to love. This is how the whole scheme of things works. All good things are difficult to achieve; and bad things are very easy to get. - Author: Confucius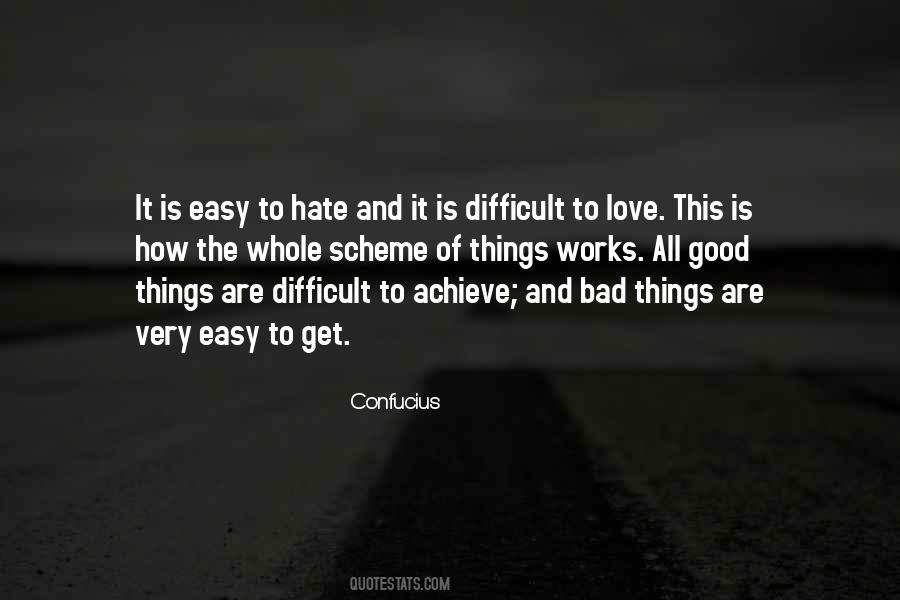 #28. It is not action or effort that we must surrender; it is self-will, and this is terribly difficult. You must do your best constantly, yet never allow yourself to become involved in whether things work out the way you want. - Author: Eknath Easwaran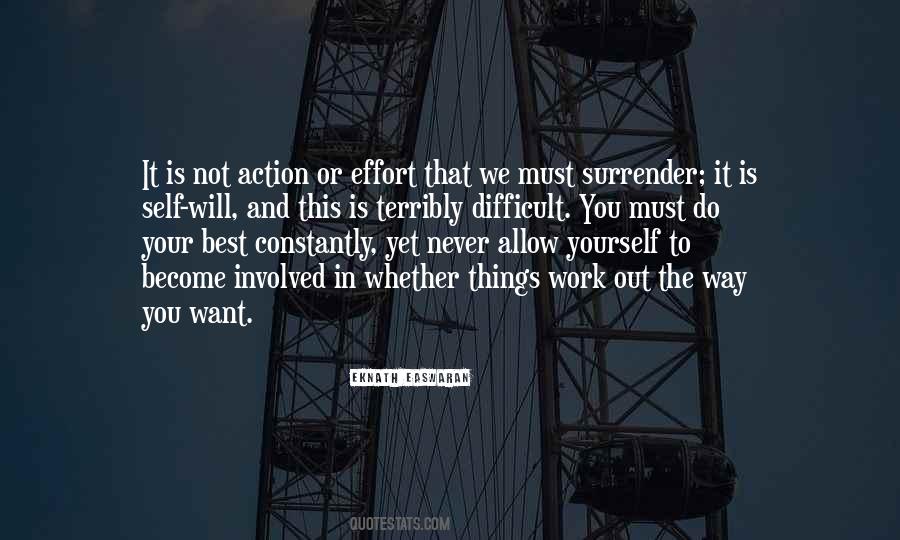 #29. I didn't mean that I'm a nonpareil now. But I'm different, yes. I've found out that I can do quite difficult things if I keep trying very hard, and at least I've discovered that if I don't keep myself occupied I'm unhappy and unpleasant. - Author: Madeleine Brent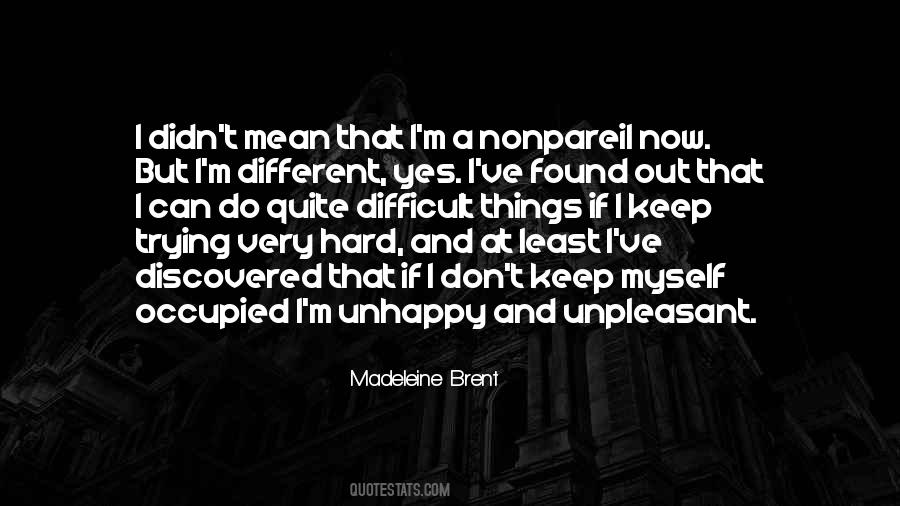 #30. To worry was as bad as to be afraid. It simply made things more difficult. He - Author: Ernest Hemingway,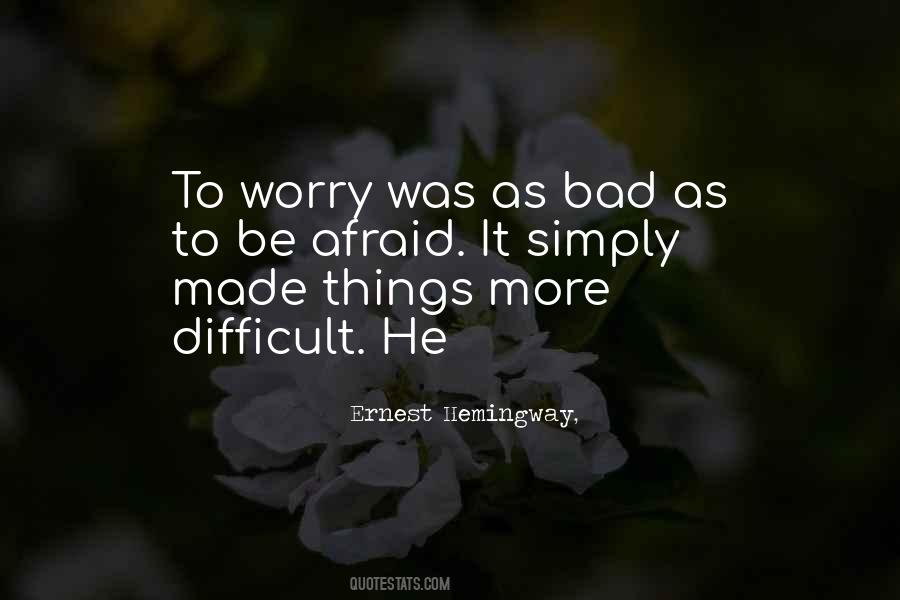 #31. It is very difficult to get people to focus on the most important things when you're in boom times. - Author: Jeff Bezos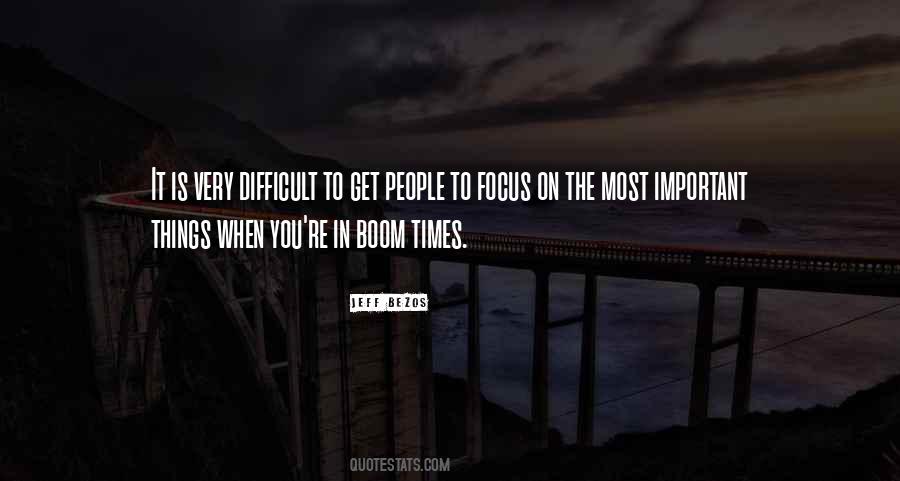 #32. Sometimes simple things are the most difficult things to achieve. - Author: Keanu Reeves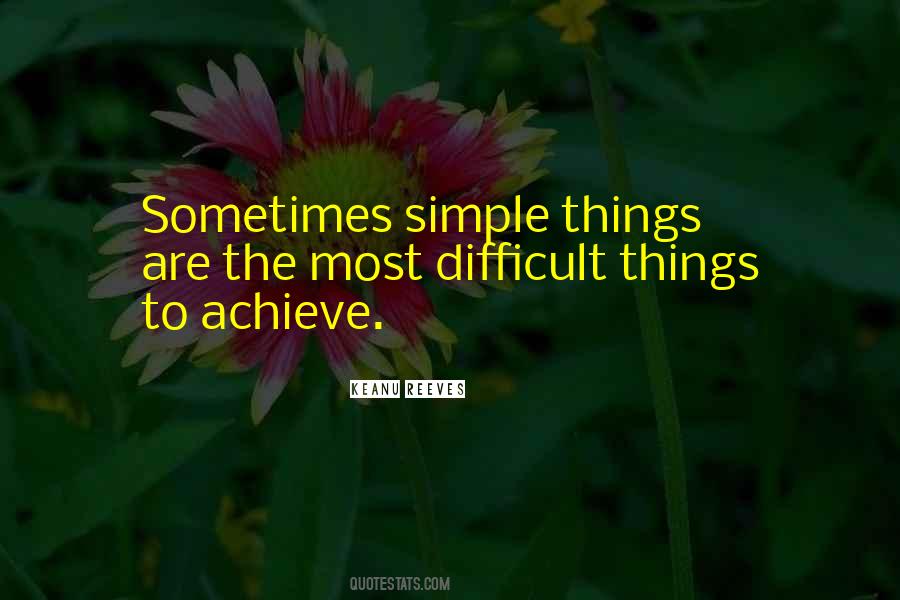 #33. Some things are difficult to adapt to. - Author: Ahmet Davutoglu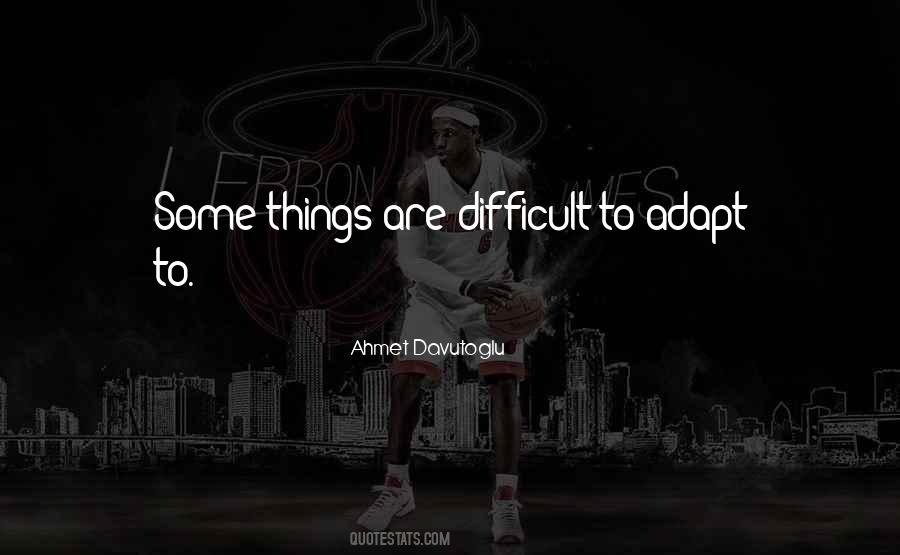 #34. It's been one of the greatest challenges that ever came along in my life; it was one of the more difficult things to do. - Author: Buzz Aldrin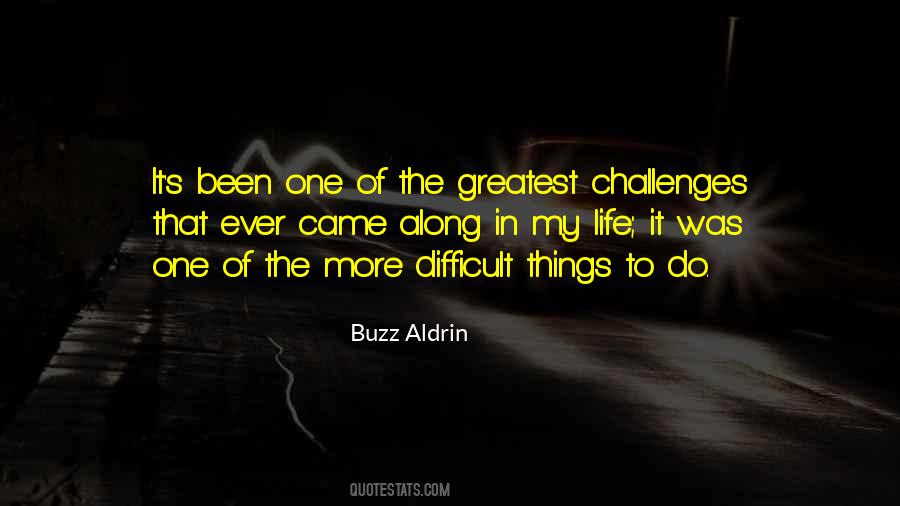 #35. One of the most powerful, though difficult, lessons we all need to learn on our spiritual pilgrimage is that even when bad things happen and we do not understand why, we can trust God to be present and working on our behalf. - Author: Henry Cloud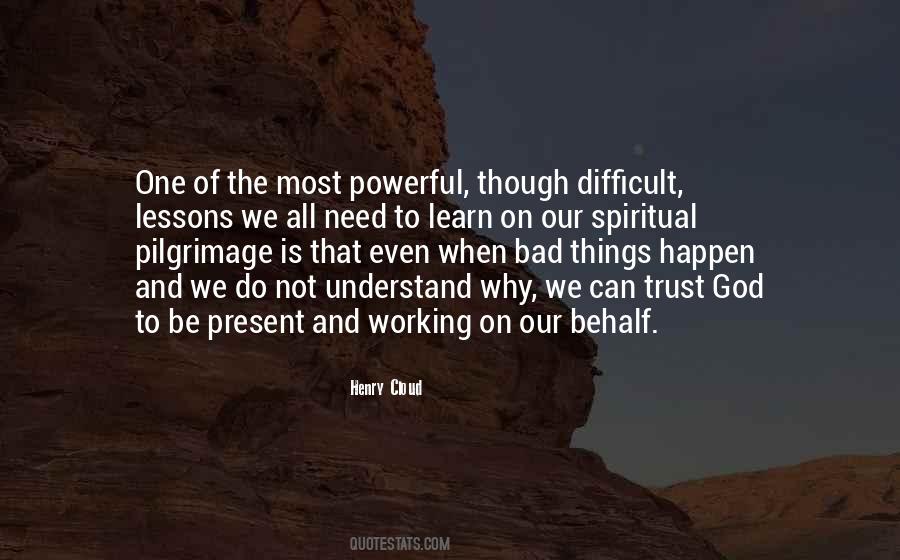 #36. And trust, yes, which is important, but that is what I aim towards. Now that is difficult for some people, and with that desire to get things as good as possible, I would say that I'm probably regarded as quite prickly to work with. - Author: Jeremy Irons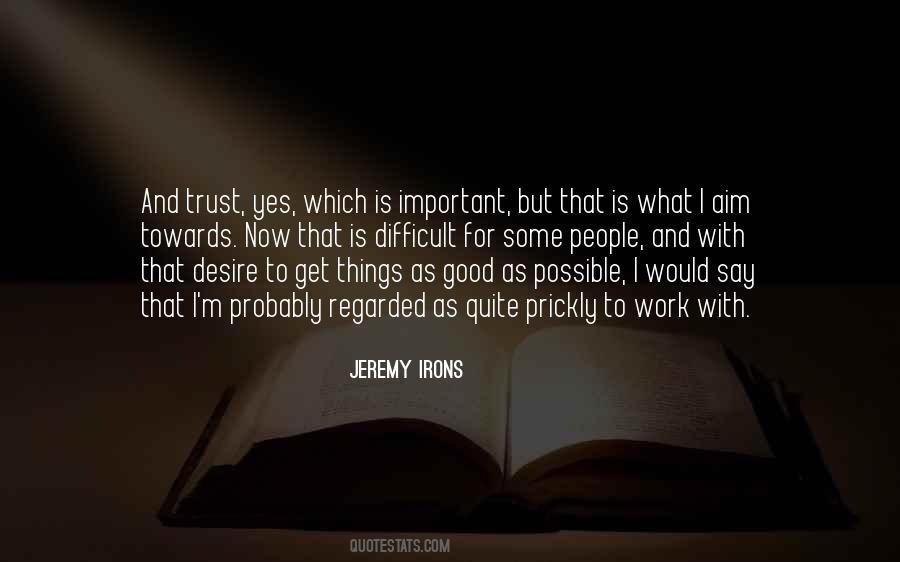 #37. As the CEO running my life, running Meghan Trainor, I have to say 'no' to things all the time, and it's been very uncomfortable and very difficult. I've said 'no' and it's actually worked - even when I never thought it would work. - Author: Meghan Trainor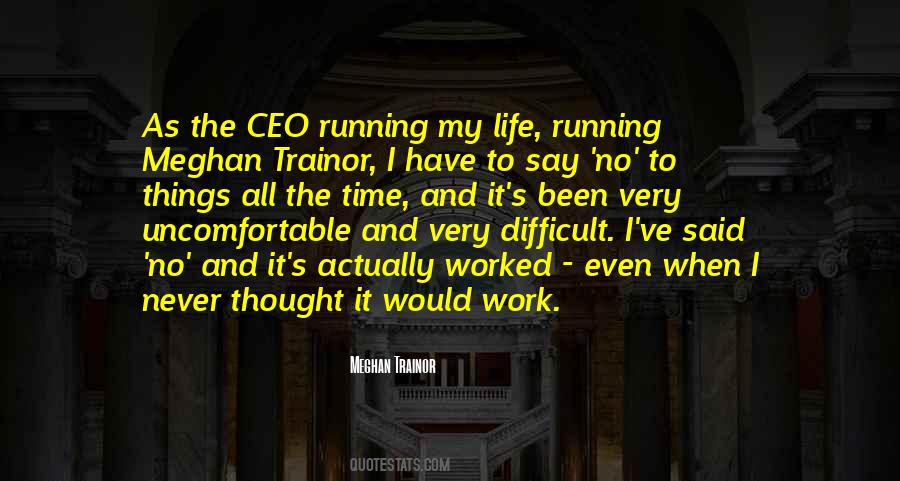 #38. The Enlightenment faith that things are getting a little bit better each decade becomes difficult to support. People recognized that there had just been a war that was worse than the war of 1812, and worse than the Revolution; things were clearly not getting better and better. - Author: Christine Jennings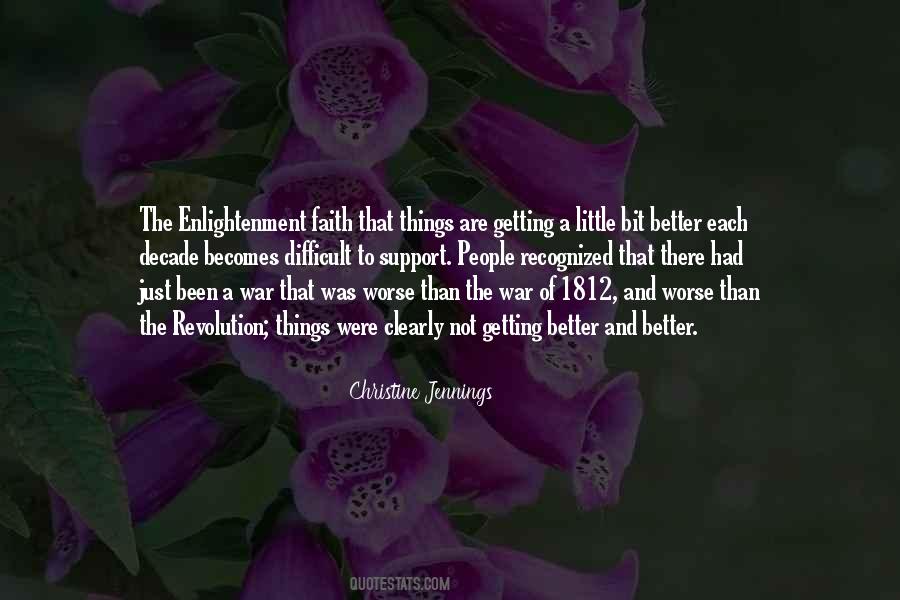 #39. The tremendous population increase has made meditation and psychic perception, things that come naturally to spiritually evolved people, difficult to practice and participate in. - Author: Frederick Lenz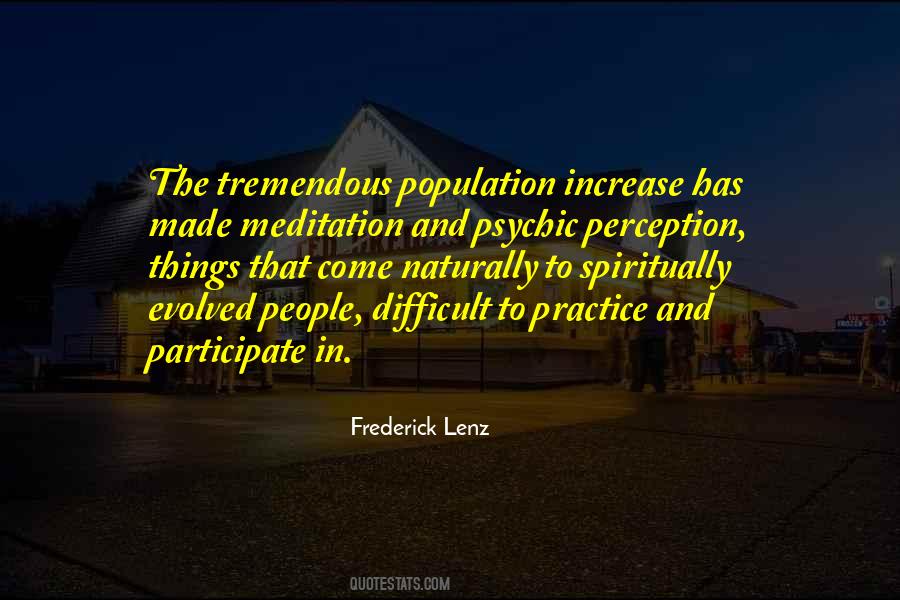 #40. Having the courage to say no when all your friends are saying yes is one of the most difficult things you'll ever have to do. Doing it, however, is one of the biggest charges you can ever make to your personal battery. I call this 'won't power.' - Author: Sean Covey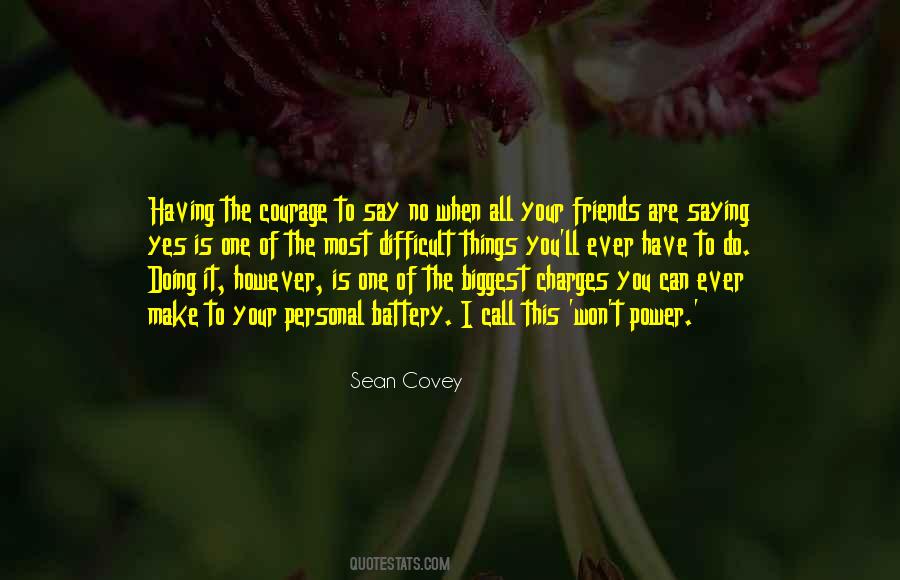 #41. I'm a very determined businesswoman ... I've got lots of things to do, and I don't have time to be classified as difficult, and I don't have time. - Author: Kim Basinger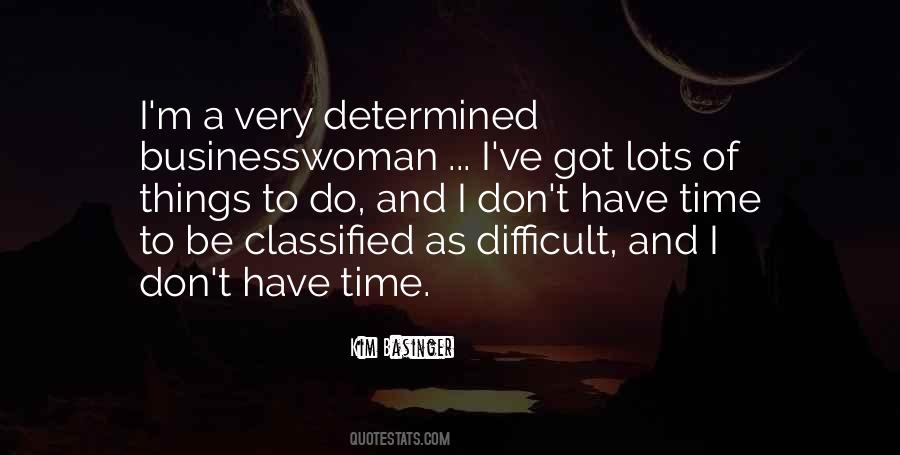 #42. It's difficult being a child actor. I don't think everything beautiful has to be exploited. Some things can be beautiful and left beautiful. - Author: Ricky Schroder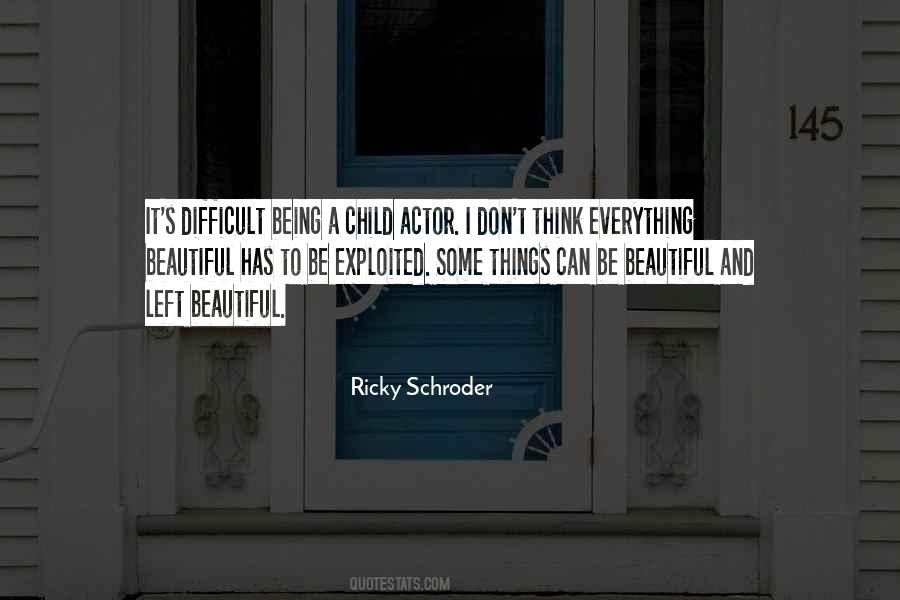 #43. Play difficult and interesting things. If you play boring things, you risk losing your appetite. Saxophone can be tedious with too much of the same. - Author: Steve Lacy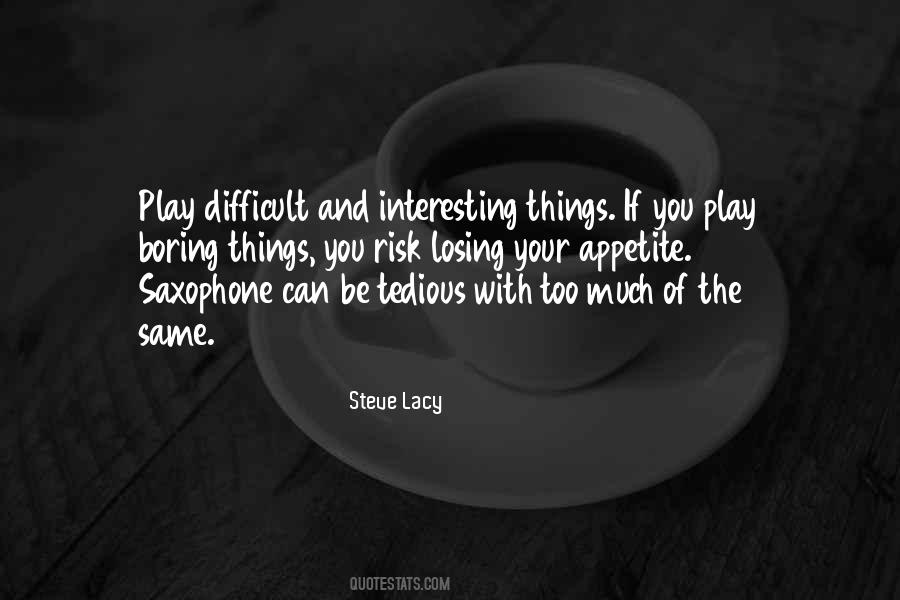 #44. At an emotional level, we feel that things should be happy and when things are difficult or painful, something is wrong. According to the Buddhist teachings this is what causes suffering. - Author: Krissy Pozatek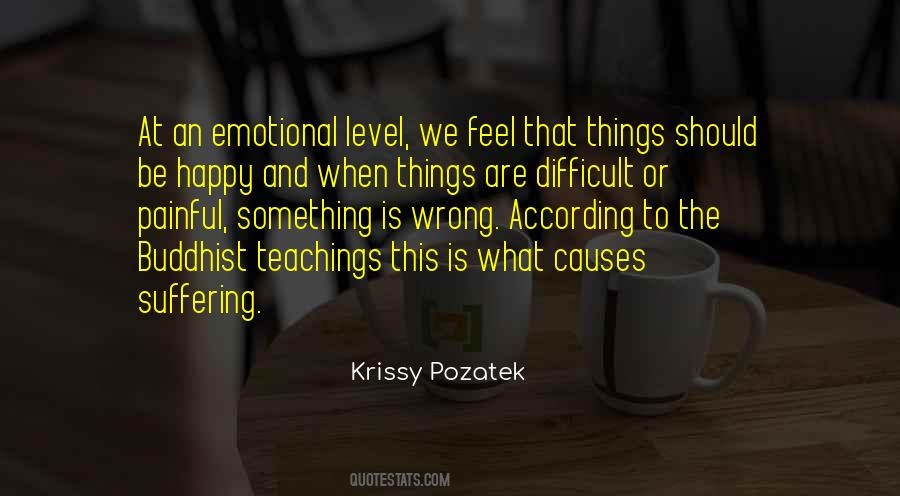 #45. My life has been extremely complicated. Not by choice at the beginning at all, but later on, I had become used to complication and went on accepting things that other people would have found too difficult to accept. - Author: Benoit Mandelbrot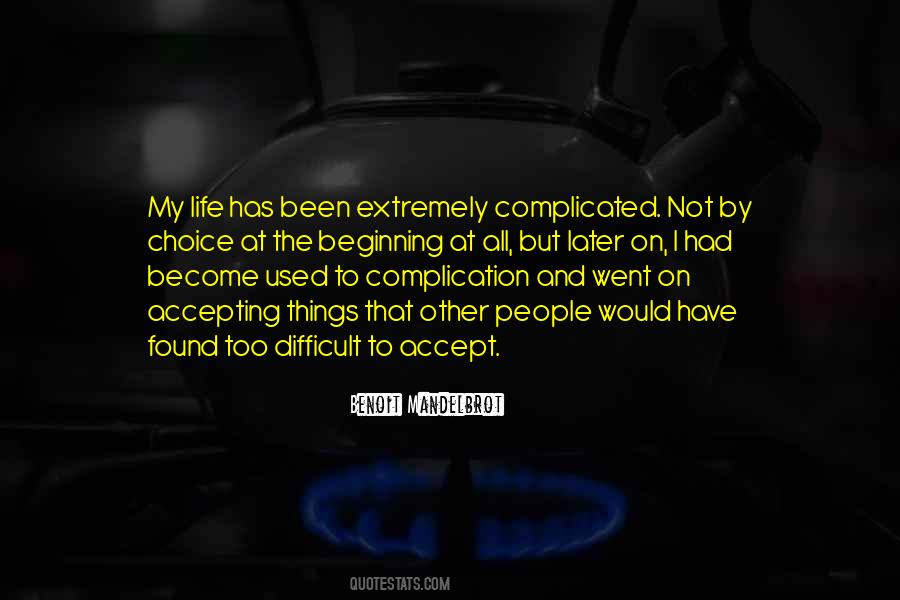 #46. In movies, there are some things the French do that Americans are increasingly incapable of doing. One is honoring the complexities of youth. It's a quiet, difficult undertaking, requiring subtlety in a filmmaker and perception and patience from us. - Author: Wesley Morris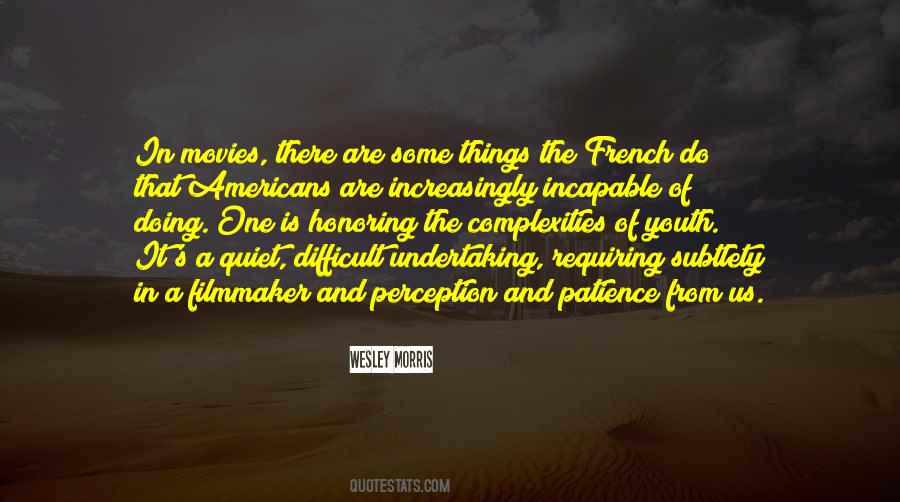 #47. So many things are difficult, said Miss Marple. It was a useful phrase which she used often. - Author: Agatha Christie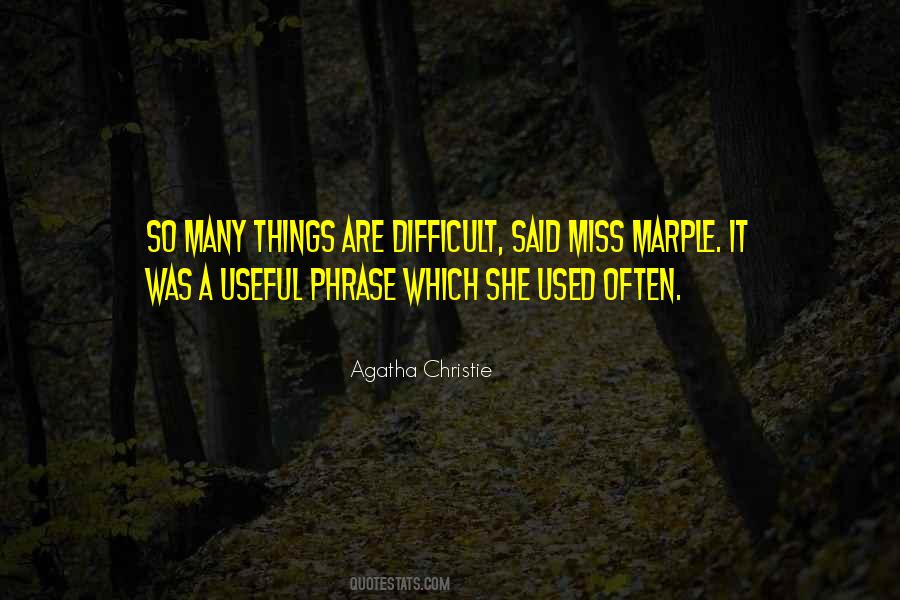 #48. Empowerment is constantly challenging oneself with something difficult that tests his power of nerve, knack, skill, aptitude, attitude and wisdom to do things diligently, delightfully but differently. - Author: Anuj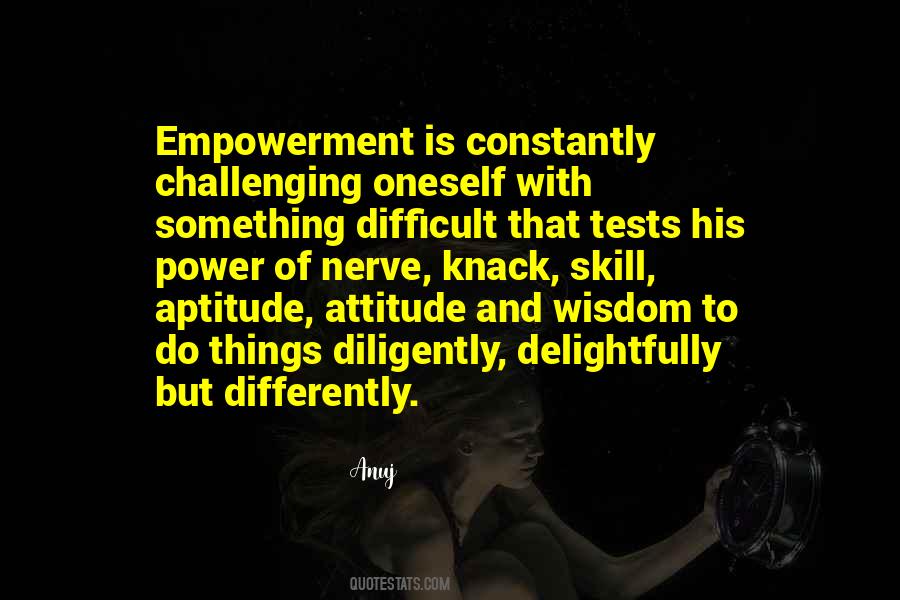 #49. As the time goes by, you change, your learn new things, your attitude is different. For the moment, I'm still enjoying ski racing so much that it would be difficult for me to think about ending my career. - Author: Hermann Maier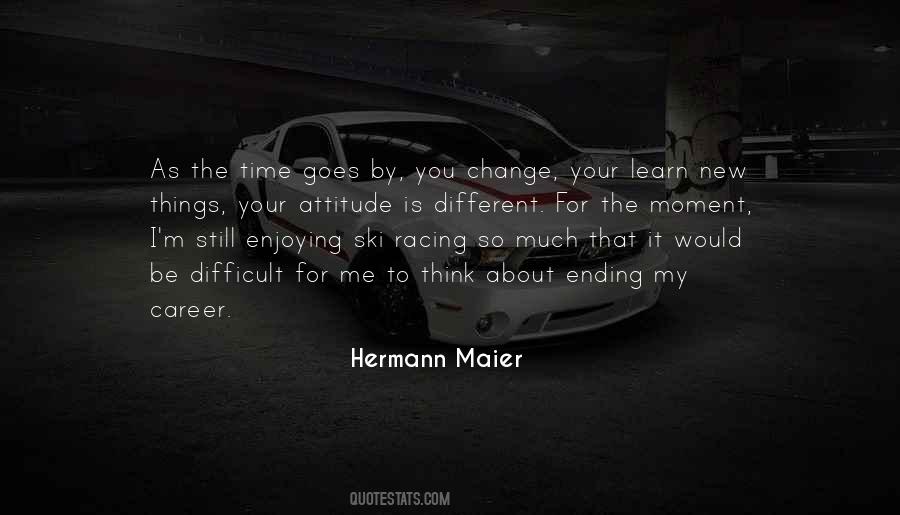 #50. In his experience with women, it was difficult to recover once things began to go wrong
once they had unreasonably decided that you were a person with whom they were not under any circumstances ever going to have sex. - Author: John Lanchester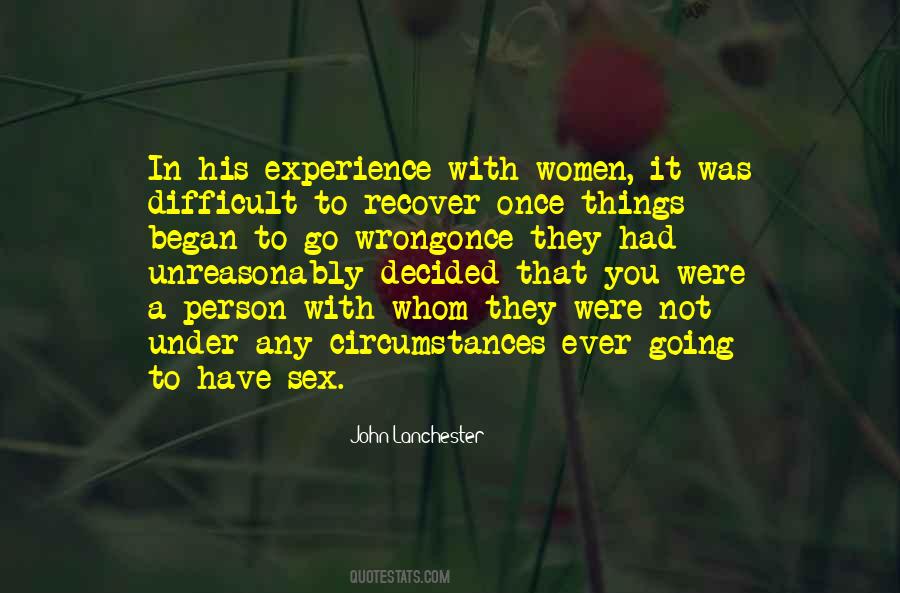 #51. When things are difficult, you have to be sure of who you are and what you want to achieve. - Author: Gordon Brown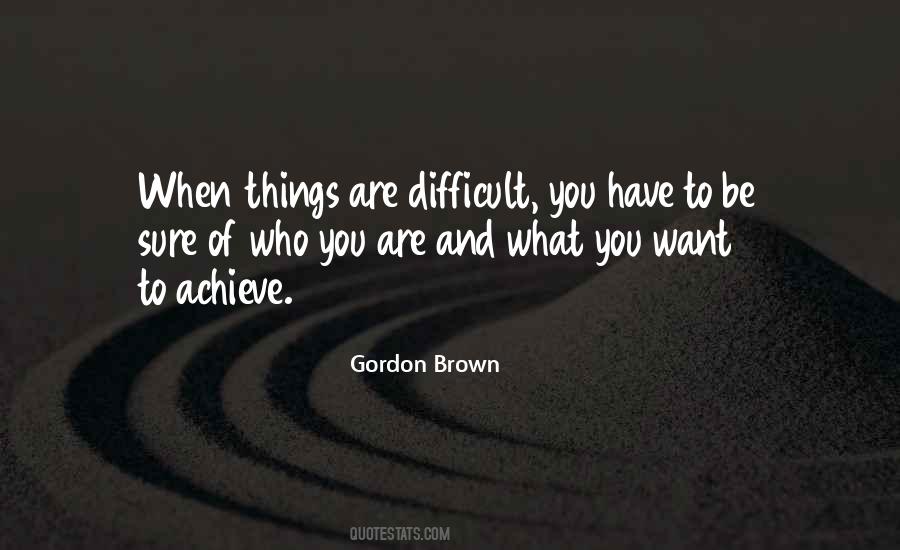 #52. It's a very complicated issue, this fame thing - I was not really cut out for it. There are some really fantastic things about it, but it's difficult for a private person like myself. - Author: Edie Falco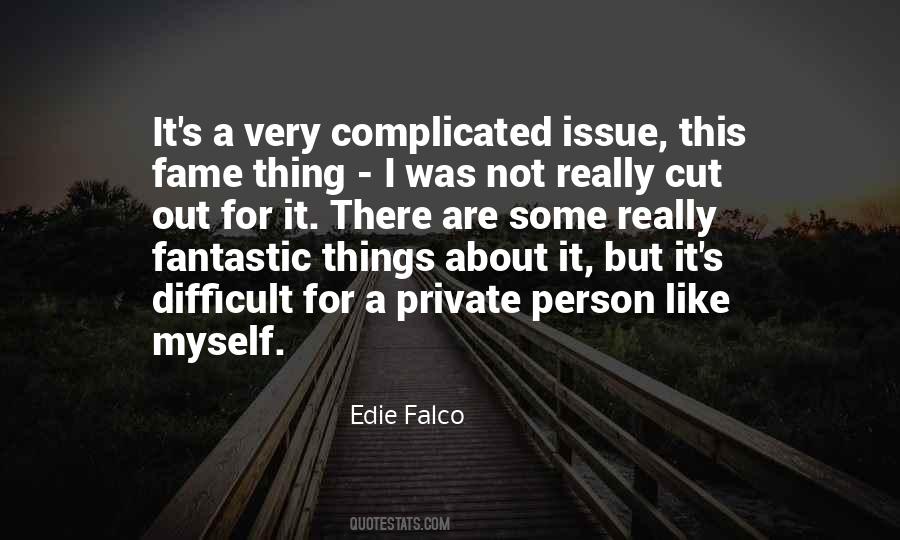 #53. No matter what happens or how difficult things become, you will eventually feel better. - Author: Chris Rock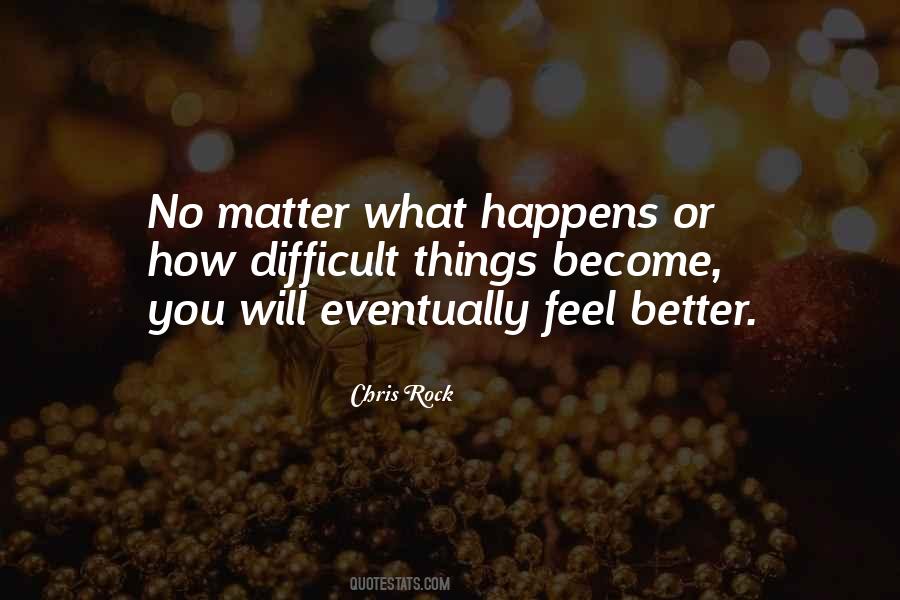 #54. We remember, also, how that it is becoming increasingly difficult in these strenuous days for those who are desirous of studying the deeper things of God to find the time which such study requires. - Author: Arthur W. Pink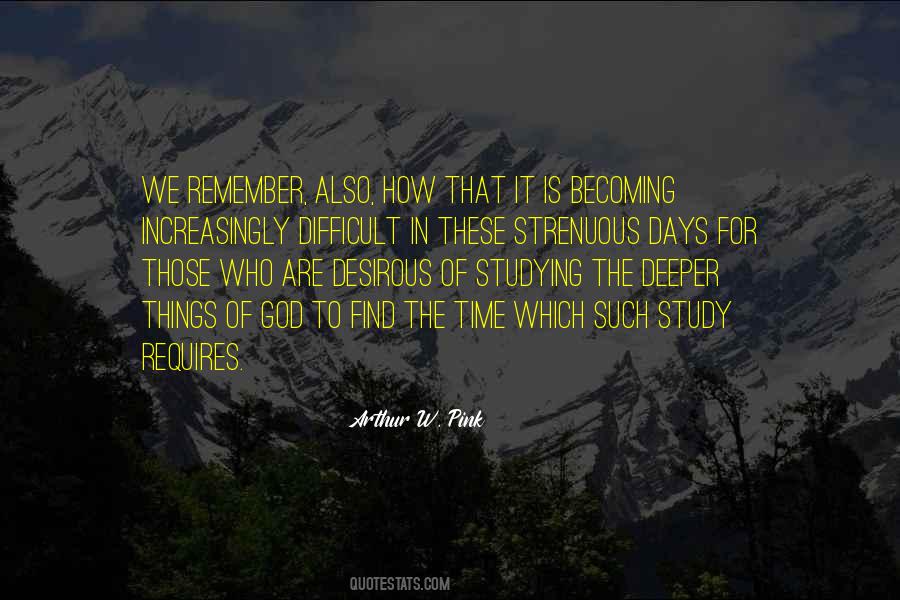 #55. He had a simple maxim for all competitive or adversarial situations: work out what the other party least wants you to do, and then do it. Relieving your feelings was fun, but the best course of action was to make things as difficult as possible for the person trying to make things difficult for you. - Author: John Lanchester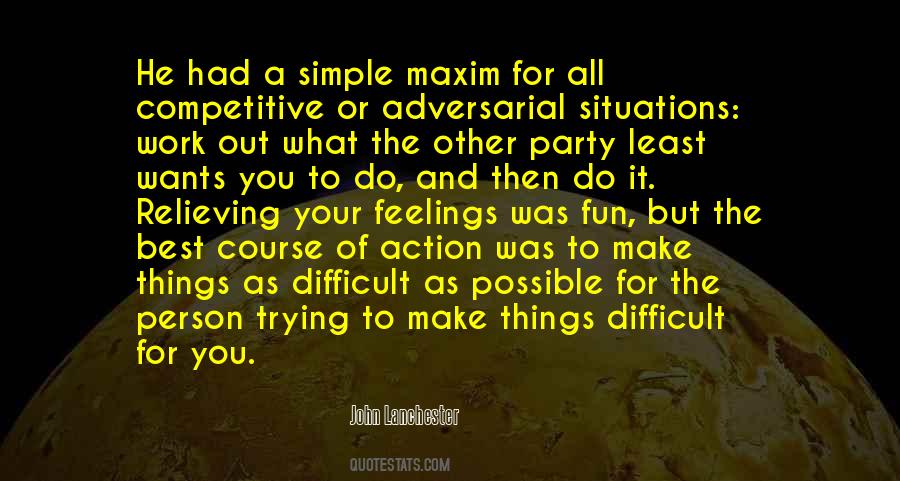 #56. Giving oneself permission to write to begin with is the first enormous challenge. But you discover that this permission involves a requirement: To write about things that are difficult because they are, in fact, your subject. - Author: Jonathan Galassi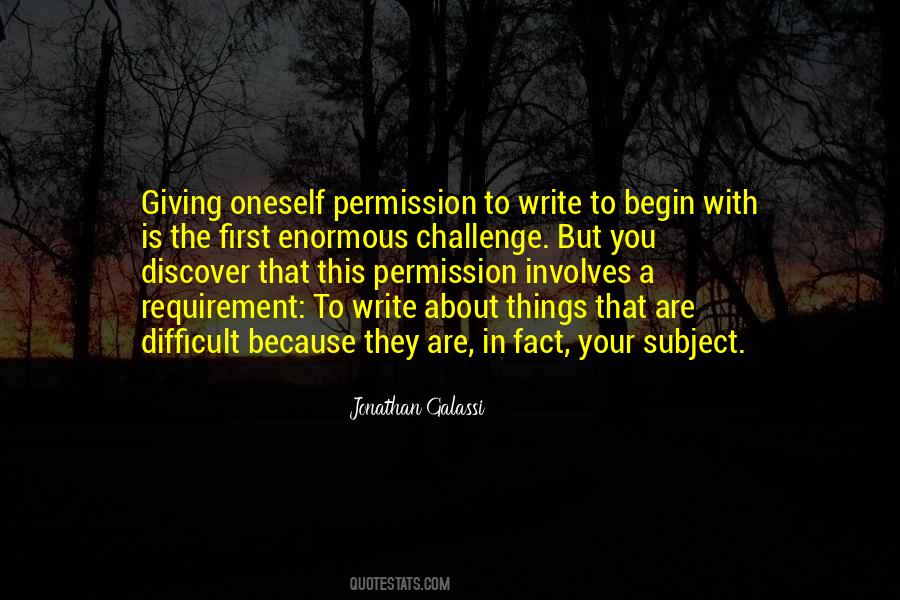 #57. If someone is facing a difficult time, one of the kindest things you can do for him or her is to say, I'm just going to love you through this. - Author: Molly Friedenfeld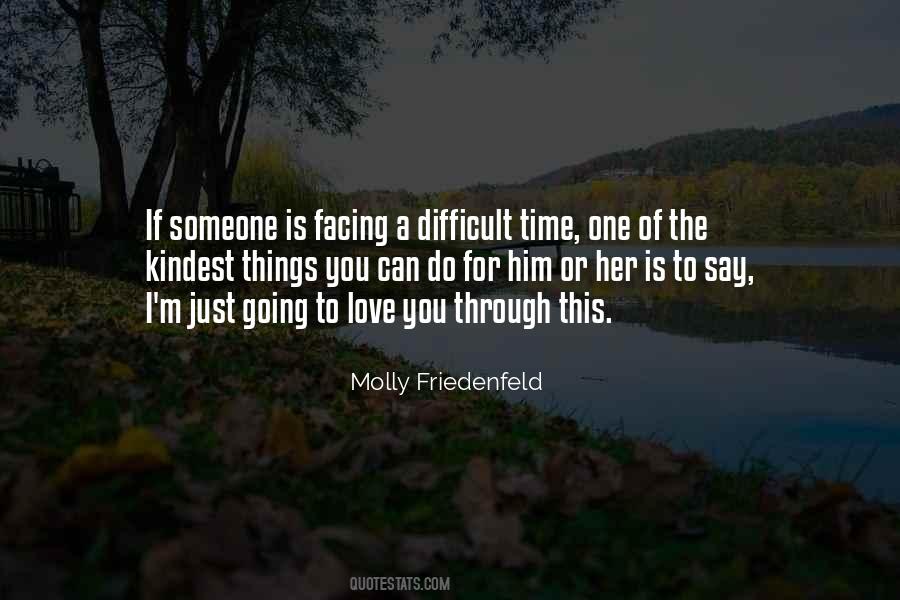 #58. Co-operation, like other difficult things, can be learned only by practice: and to be capable of it in great things, a people must be gradually trained to it in small. Now the whole course of advancing civilization is a series of such training. - Author: John Stuart Mill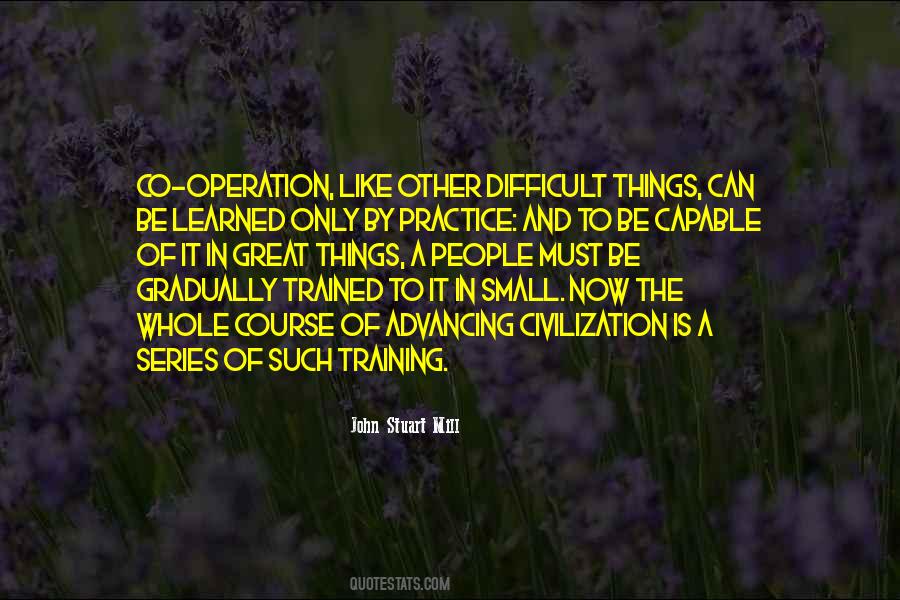 #59. There are many ways of understanding simple things, but generally the opposite is true for difficult ideas - Author: Miyamoto Musashi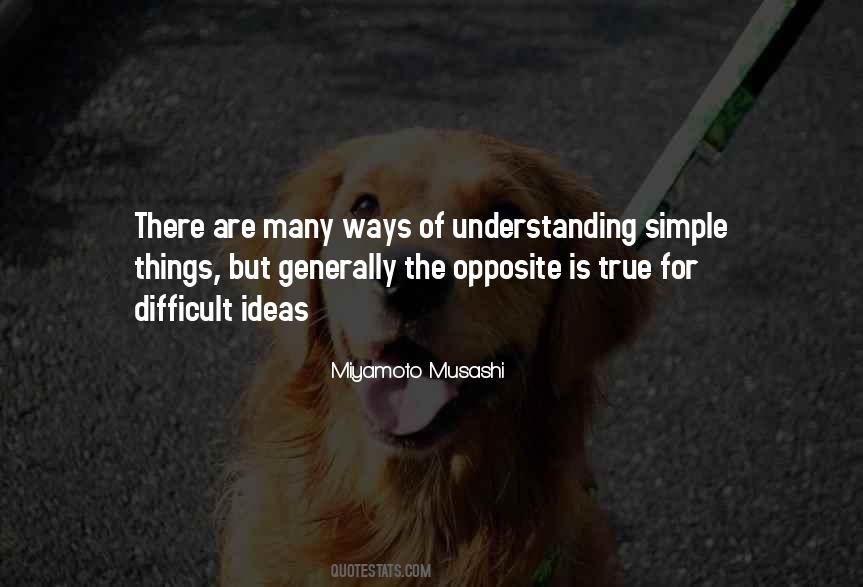 #60. There are two things you can't argue in film: comedy and eroticism. If something doesn't make you laugh, no one can tell you why it's funny, and it's difficult to reason someone out of an erection. - Author: Roger Ebert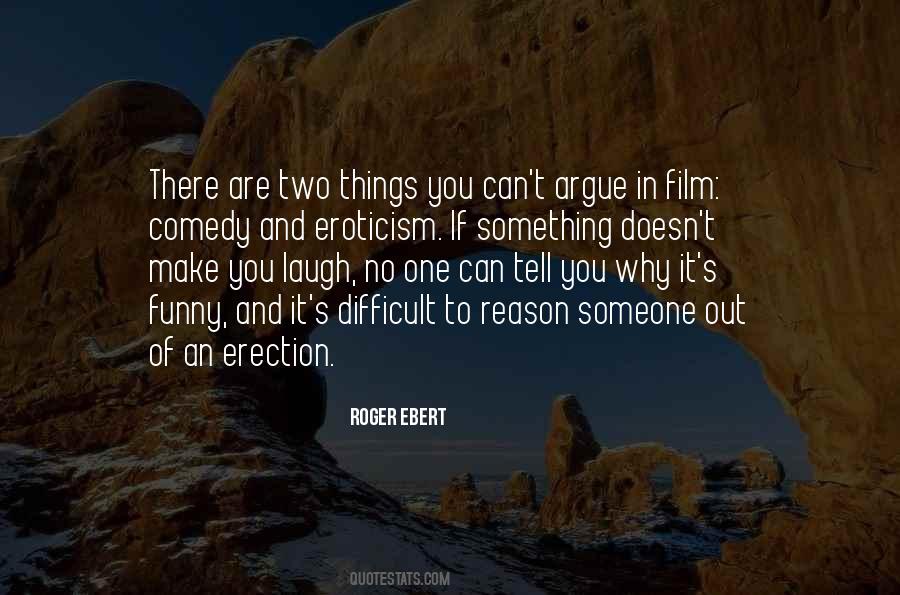 #61. Like a plant that starts up in showers and sunshine and does not know which has best helped it to grow, it is difficult to say whether the hard things or the pleasant things did me the most good. - Author: Lucy Larcom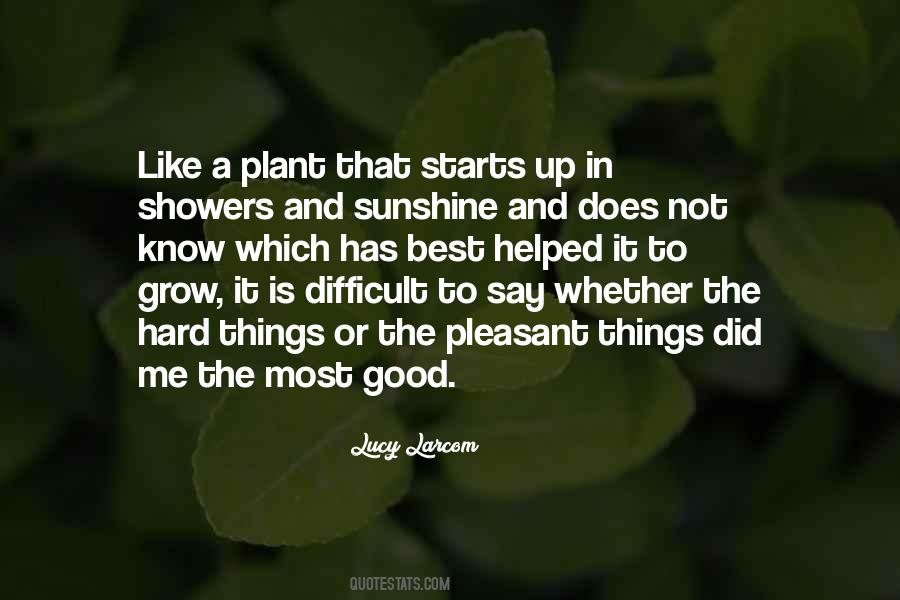 #62. My whole background as a social worker has allowed me to understand human behavior in difficult situations. Working in Kenya, I see the most desperate situations - things I could never believe possible - and then have to try to find solutions. - Author: Eric Walters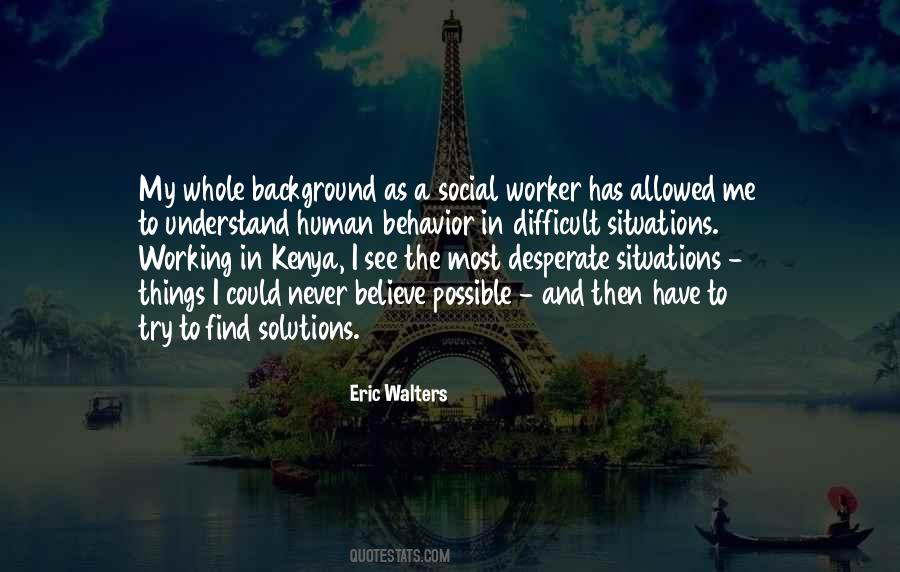 #63. I think one of the most difficult things for anyone who's played baseball is to accept the fact that maybe the players today are playing just as well as ever. - Author: Ralph Kiner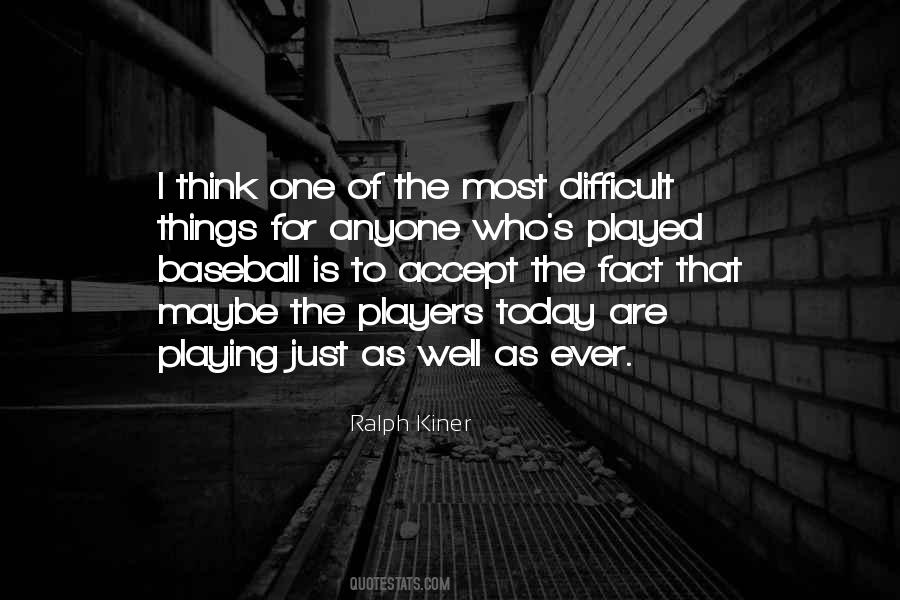 #64. It's easy to do what is not good And things that harm oneself. It's very difficult to do Things beneficial and good. - Author: Gil Fronsdal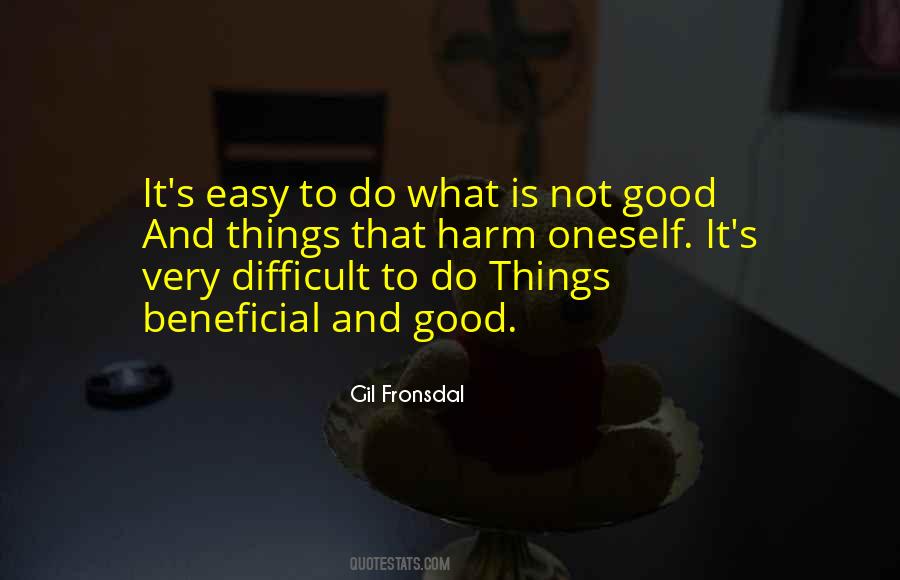 #65. It's very difficult when there are pictures taken on the red carpet. I find those things so terrifying that another persona just kicks in. I don't recognise myself. - Author: Joely Richardson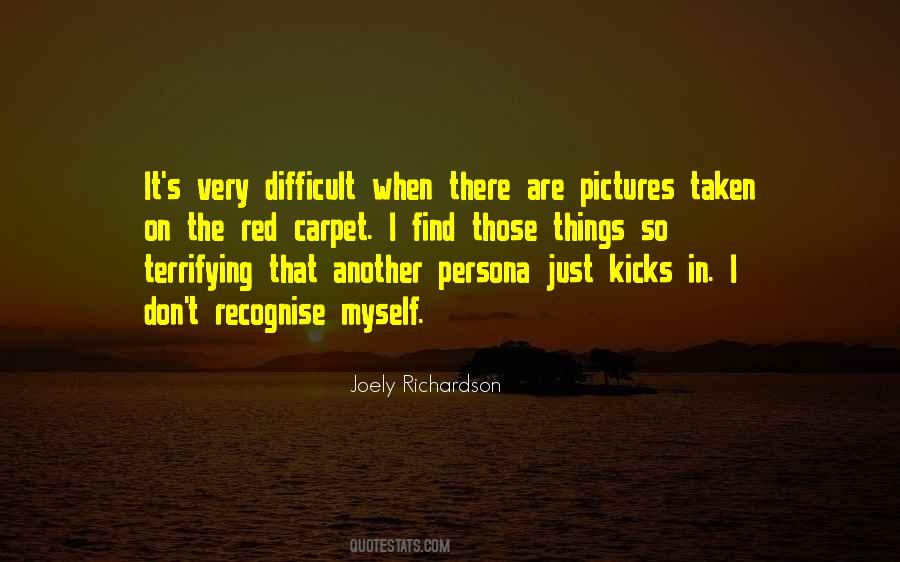 #66. buying into The ONE Thing becomes difficult because we've unfortunately bought into too many others - and more often than not those "other things" muddle our thinking, misguide our actions, and sidetrack our success. - Author: Gary Keller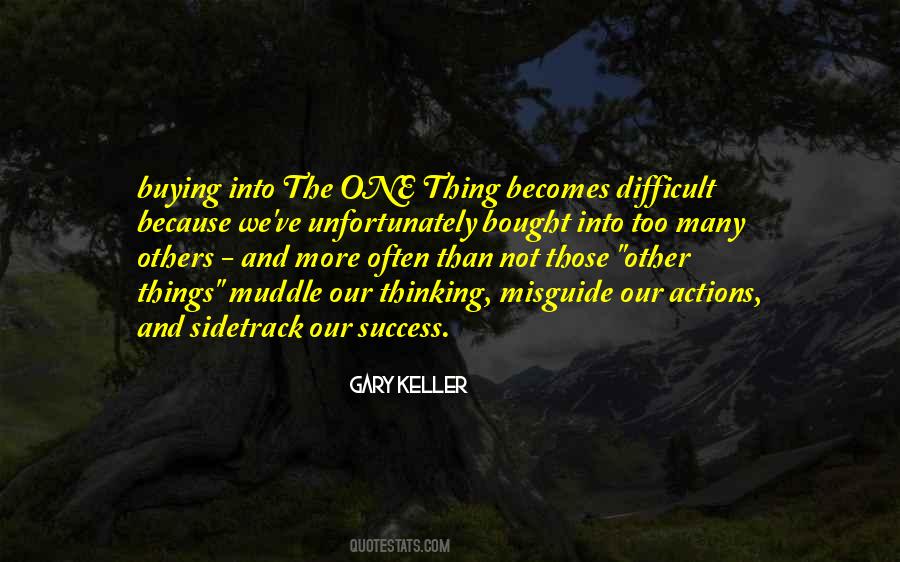 #67. I believe that they who wish to do easy things without trouble and toil must previously have been trained in more difficult things, - Author: Joshua Foer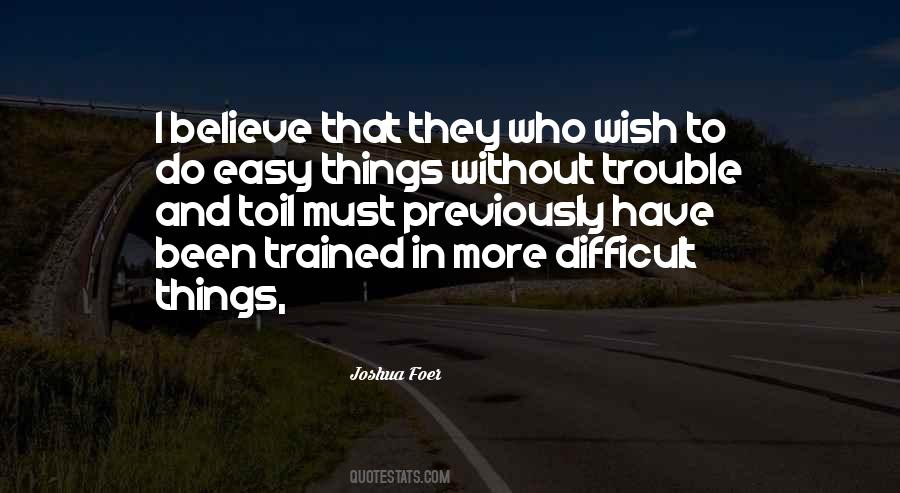 #68. From about eight years old I was always making things on the sewing machine. Friends would see me making dresses and costumes, and I'd use difficult fabrics such as Lycra and elastic. But you know, my dad was creative and my brother is inventive too. - Author: Melissa George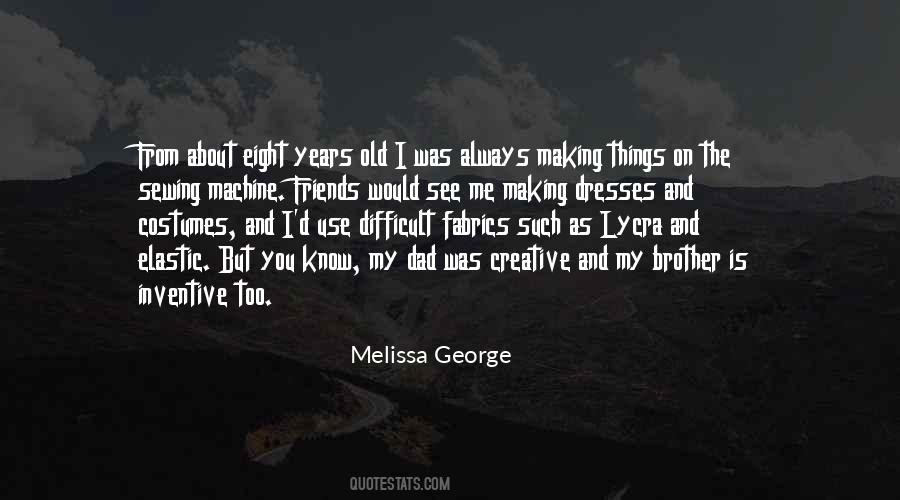 #69. I love creating new things. It's difficult to be creative once a restaurant's open. People want the same dishes. For me, the creativity is in opening a new place and starting a new menu. - Author: Jean-Georges Vongerichten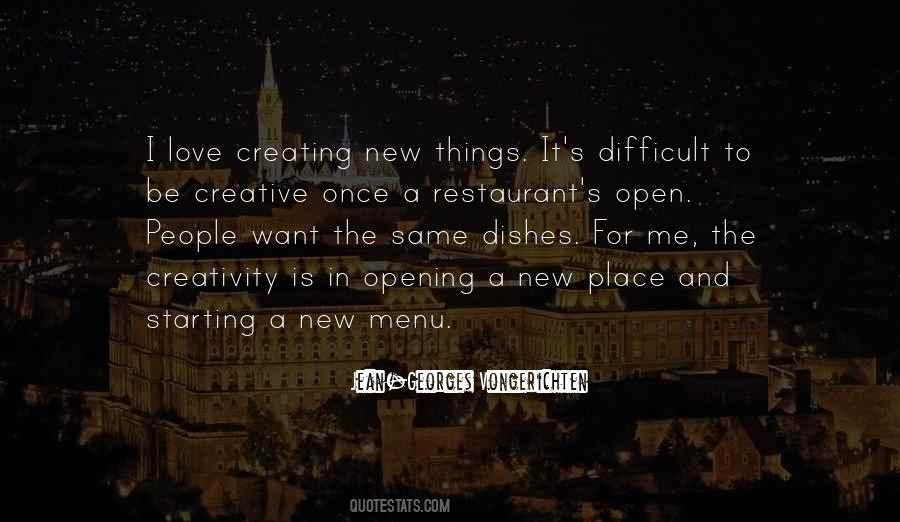 #70. Like the marathon, life can sometimes be difficult, challenging and present obstacles, however if you believe in your dreams and never ever give up, things will turn out for the best. - Author: Meb Keflezighi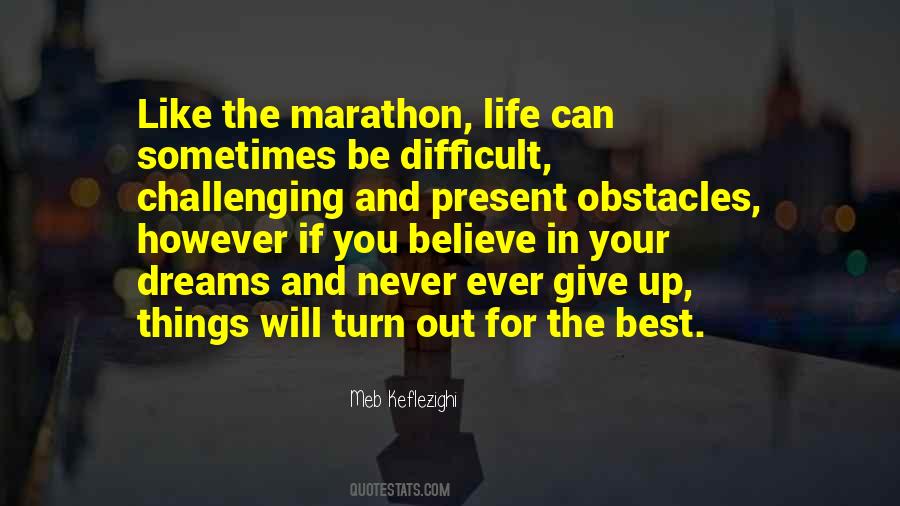 #71. In a vague way, I always knew neurosurgery was different - more delicate, more difficult, more demanding. After all, we say things like, 'I'm no brain surgeon,' for a reason. - Author: Sam Kean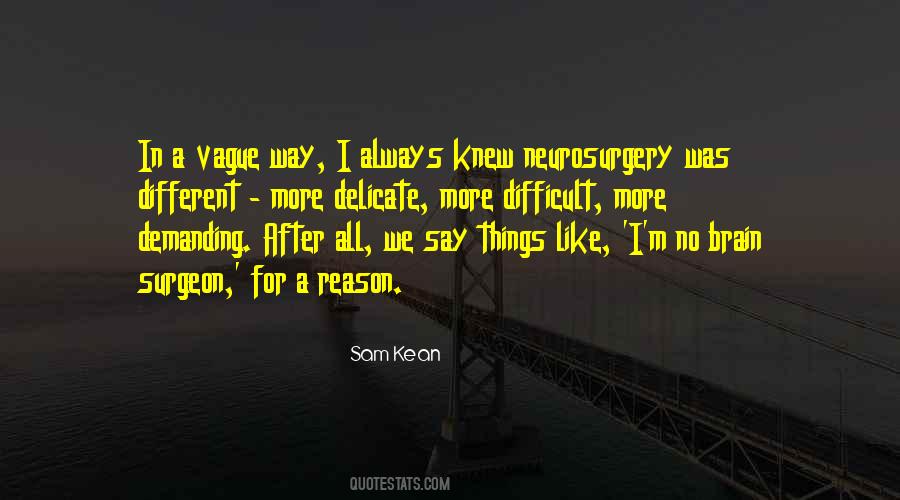 #72. One of the most difficult things to learn is to render service without bossing, without making a fuss about it, and without any consciousness of high and low. In the world of spirituality, humility counts at least as much as utility. - Author: Meher Baba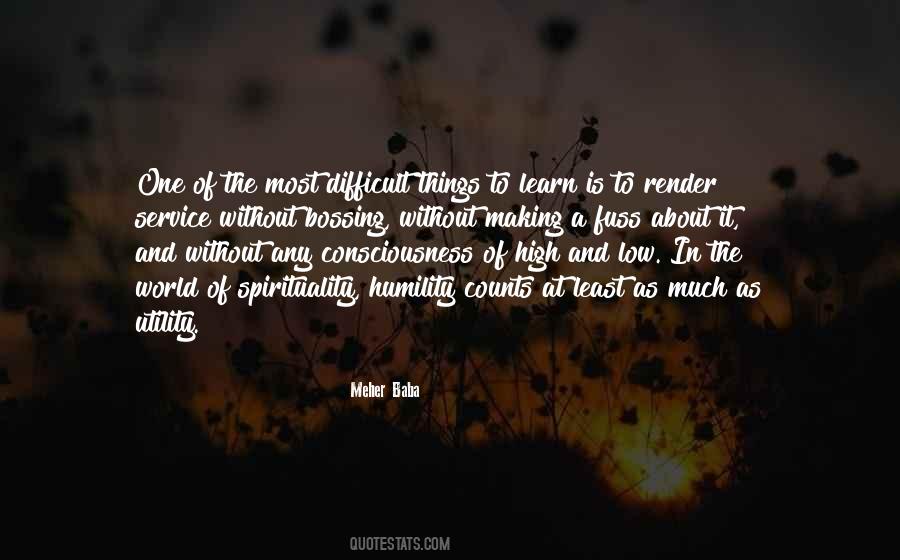 #73. All too often I try to skate away from the things I'm afraid of and things I don't like and am unwilling to accept. I'm selfish and difficult to handle. I give my men cause for concern. I worry them, but they haven't given up on me yet and I love them all the more for it. - Author: Gillibran Brown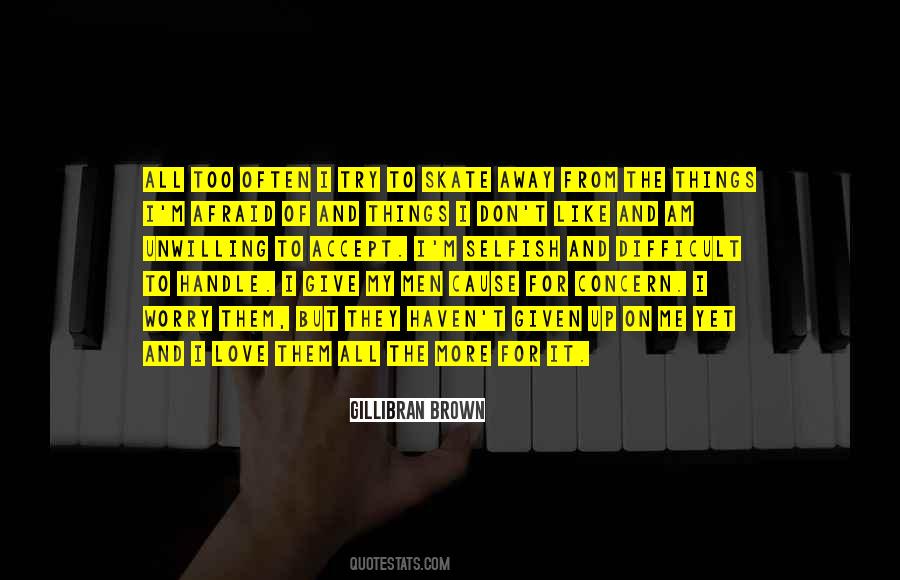 #74. If things look right on the surface the underside is rarely questioned. However, things may be great in reality, but if one perceives them to be amiss, it is difficult to change that perception. - Author: Aleatha Romig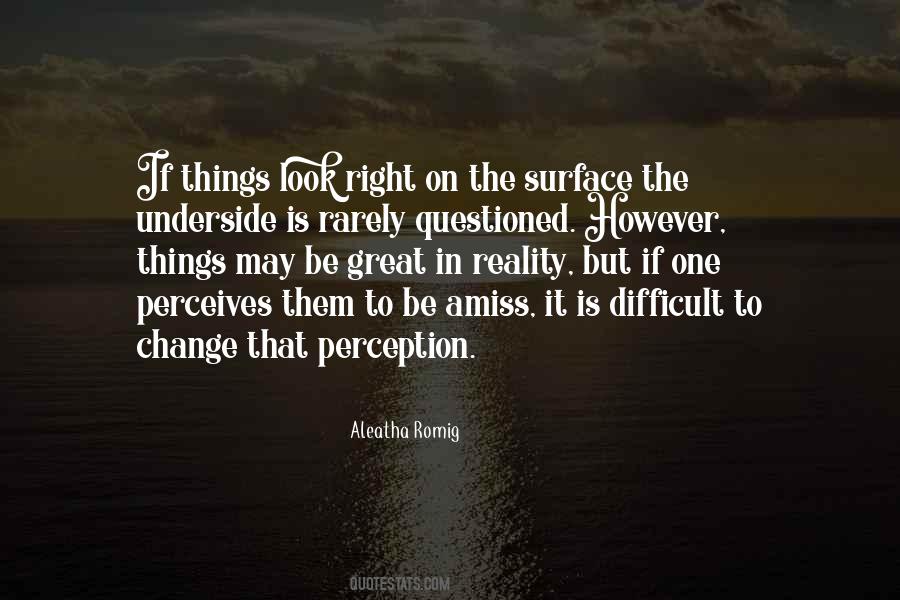 #75. The better you are as a parent, the richer the nest you've built, the more difficult it is for your kids to leave. So they have to invent things to dislike about you. And they're brilliant at it. - Author: Dustin Hoffman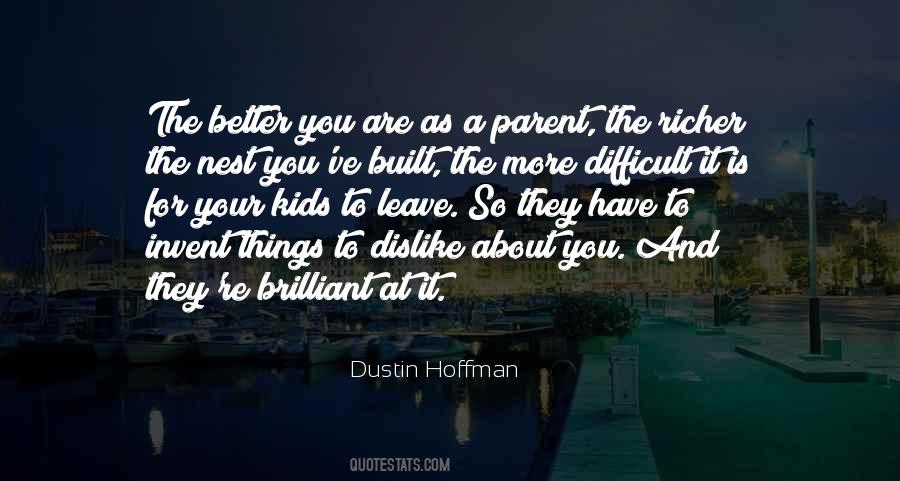 #76. I'm a firm believer that in the theory that people only do their best at things they truly enjoy. It is difficult to excel at something you don't enjoy. - Author: Jack Nicklaus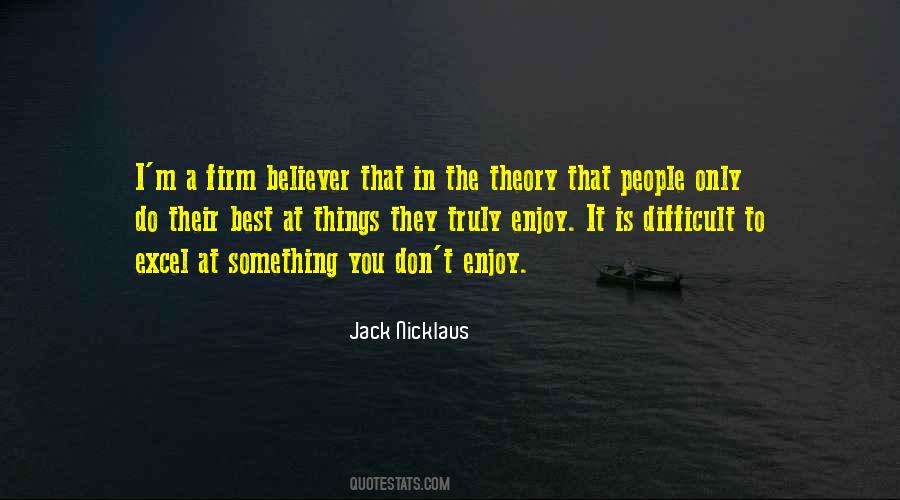 #77. That's one of the difficult things of being an actor that I'm still not used to. You have to go, you have to show up at these places where you know nobody, and sometimes with really impressive, high stakes people like Roman Polanski. - Author: John C. Reilly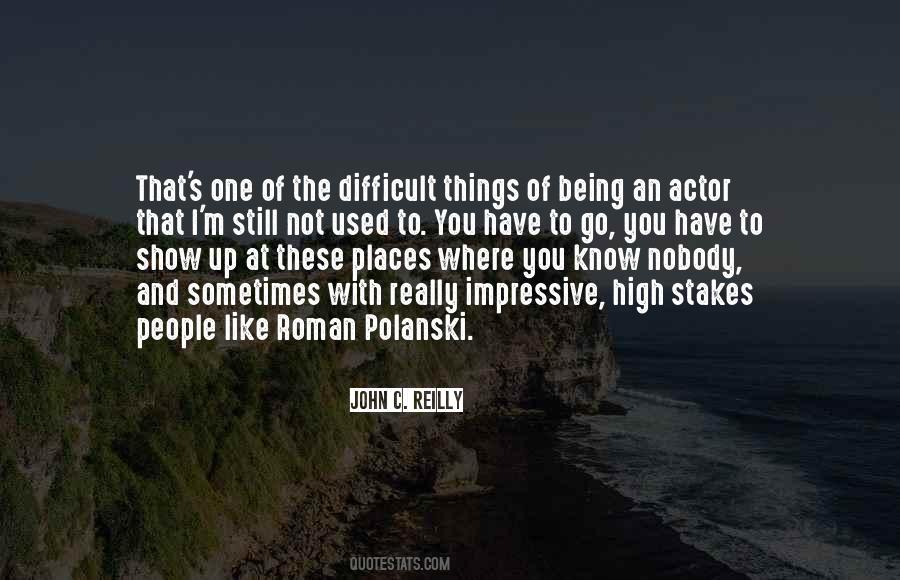 #78. I really enjoy being single again. I spent a lot of time in a relationship and the nearer we came to the end, the more difficult it got. You don't see things clearly as long as you're still involved. - Author: Dido Armstrong
#79. How difficult it is to see
The things we love
With all this shadow round us,
This brief time we're here. - Author: Ruth Padel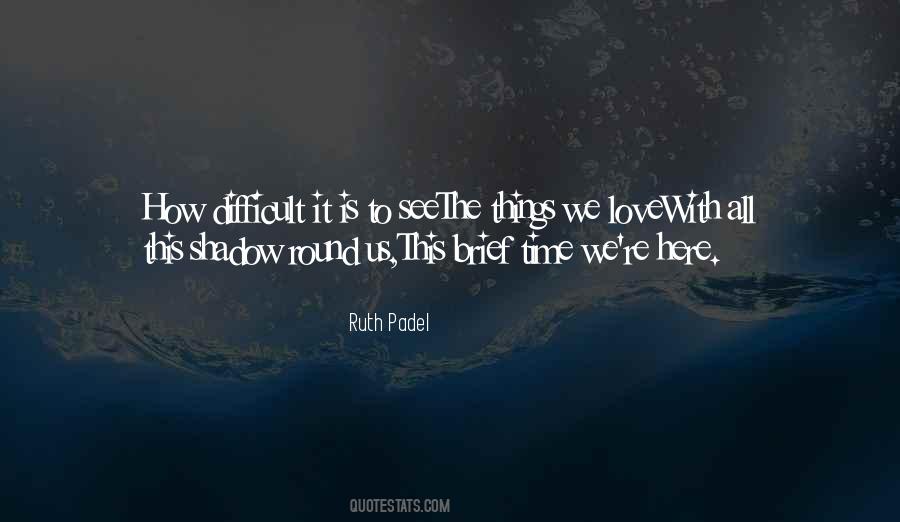 #80. It is a law of nature that you must do difficult things to gain strength and power. As with working out, after a while you make the connection between doing difficult things and the benefits you get from doing them, and you come to look forward to doing these difficult things. - Author: Ray Dalio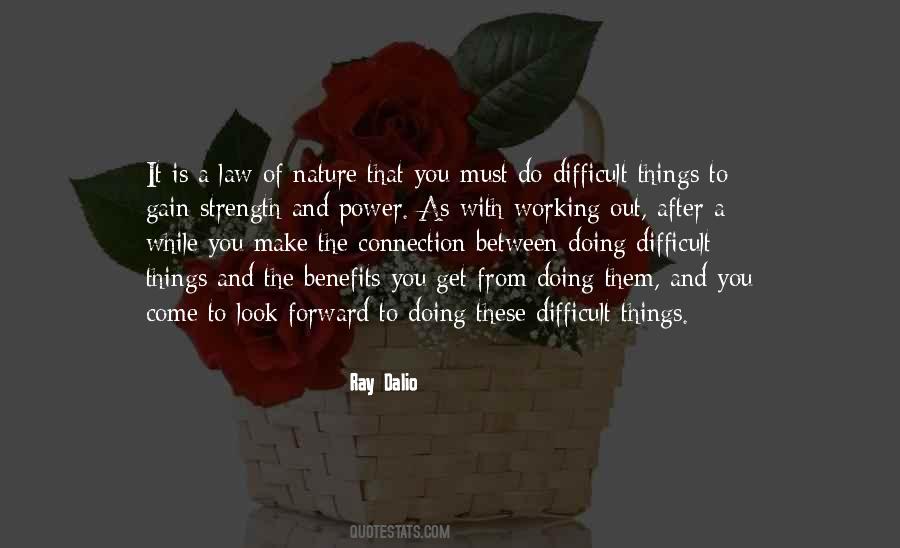 #81. Never give up on your dreams. No matter how many people say it's impossible, no matter how difficult your journey is, you can create your ideal life. Your heart's desires can become reality. Make things better now by taking steps every day to get closer to the life you want. And never, ever give up. - Author: Susane Colasanti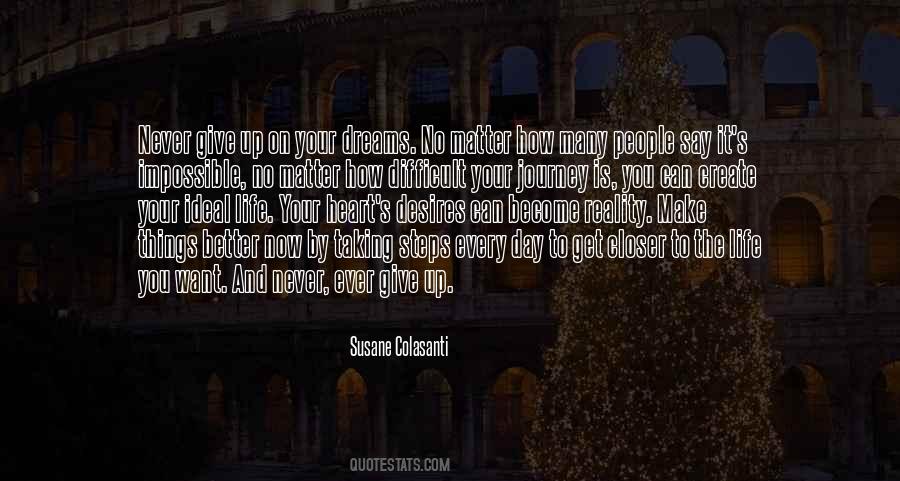 #82. I will say that comic books are not the easiest things to translate to film, number one. Even the most well meaning of filmmakers find what's acceptable on the printed page is very difficult to bring to film. - Author: Mark Hamill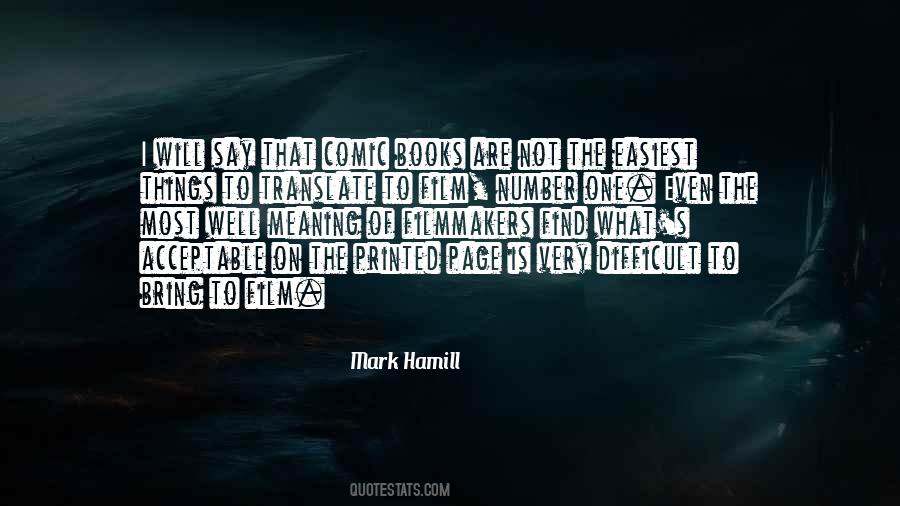 #83. Some kind of clutter is difficult - letting go of things with sentimental value, sifting through papers - but some clutter I find very refreshing to clear. I drive my daughters nuts because I'm always wandering into their rooms to clear clutter. - Author: Gretchen Rubin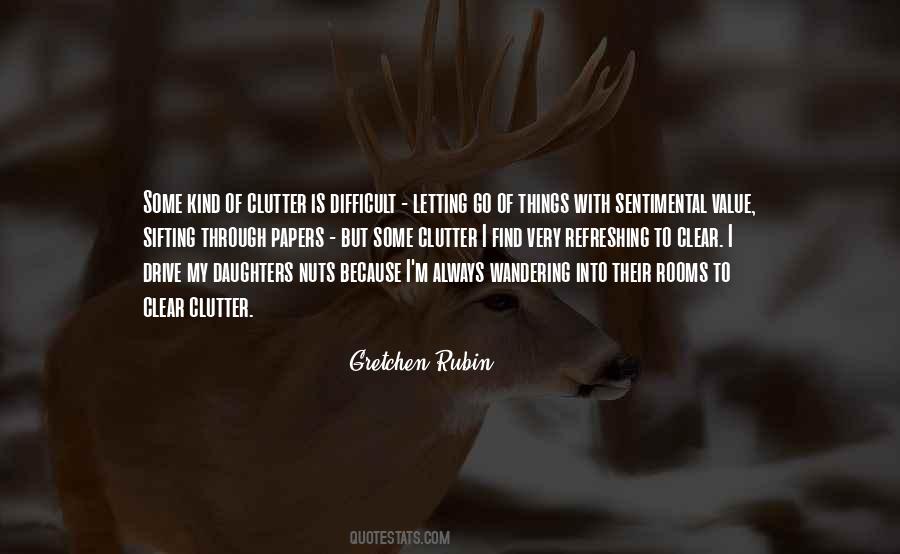 #84. Hitting a baseball well, as in cricket, is a very rare skill. One of most difficult things to do in the world to do, hitting a ball coming at you at ninety miles an hour with a round bat. Wonderful to watch. - Author: Peter Tork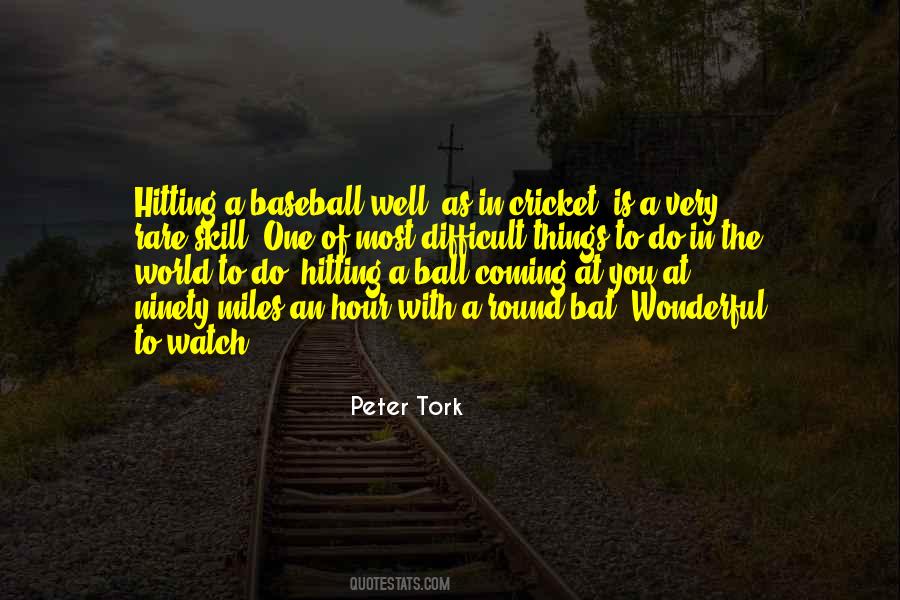 #85. Mental toughness is many things and rather difficult to explain. Its qualities are sacrifice and self-denial. Also, most importantly, it is combined with a perfectly disciplined will that refuses to give in. It's a state of mind-you could call it character in action. - Author: Vince Lombardi
#86. The more you turn down things, the more difficult it becomes to feel that the next one will be right. - Author: Charlotte Gainsbourg
#87. One of the more difficult things about being a judge is as you're listening to the evidence, you have to be formulating how you're going to explain your evaluation of that evidence. - Author: Steven Pacey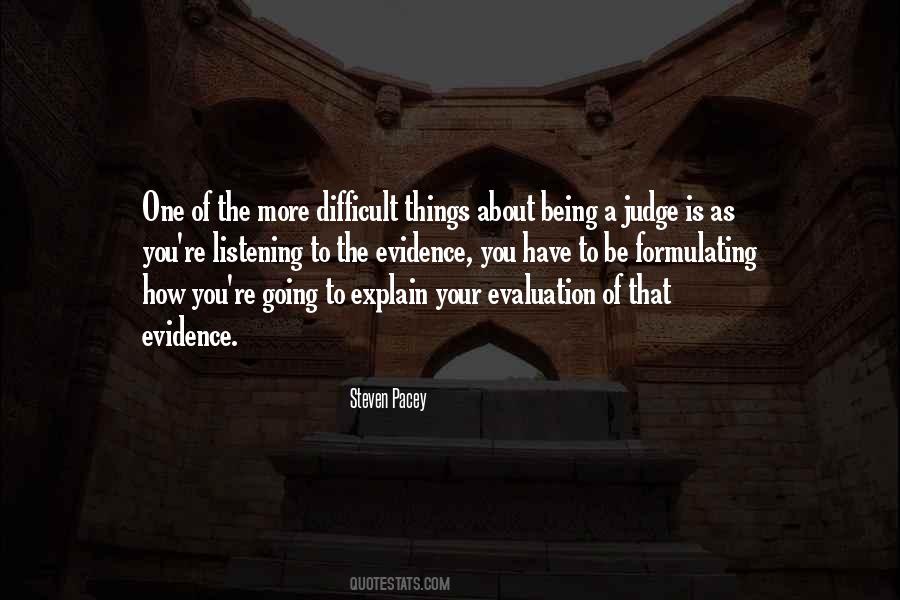 #88. I am thankful that thus far today I have not had any unkind thoughts or said any harsh words or done anything that I regret. However, now I need to get out of bed and so things may become more difficult. - Author: Sylvia Boorstein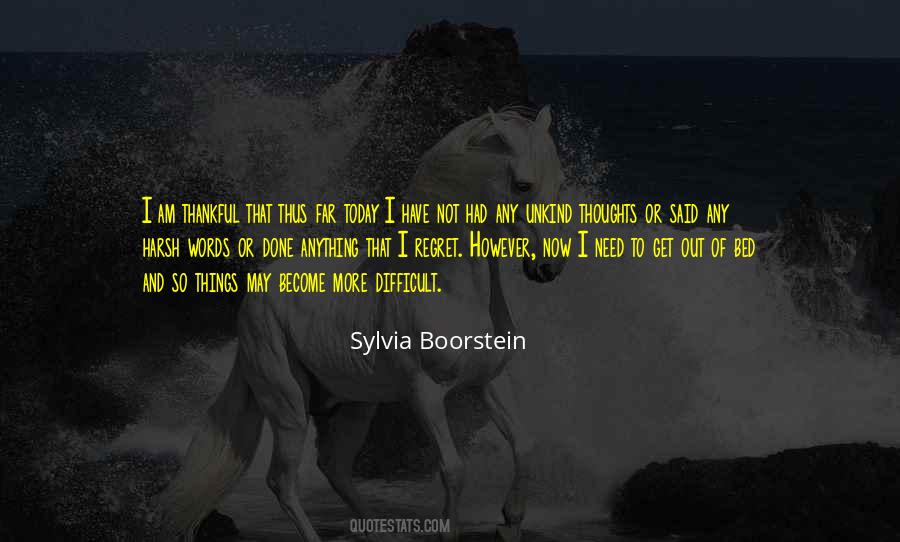 #89. We all have to start with ourselves. It is time to walk the talk. Take the journey of making very difficult decisions. Start removing things from your life that are not filling your cup and adding things that bring joy in to your life. - Author: Lisa Hammond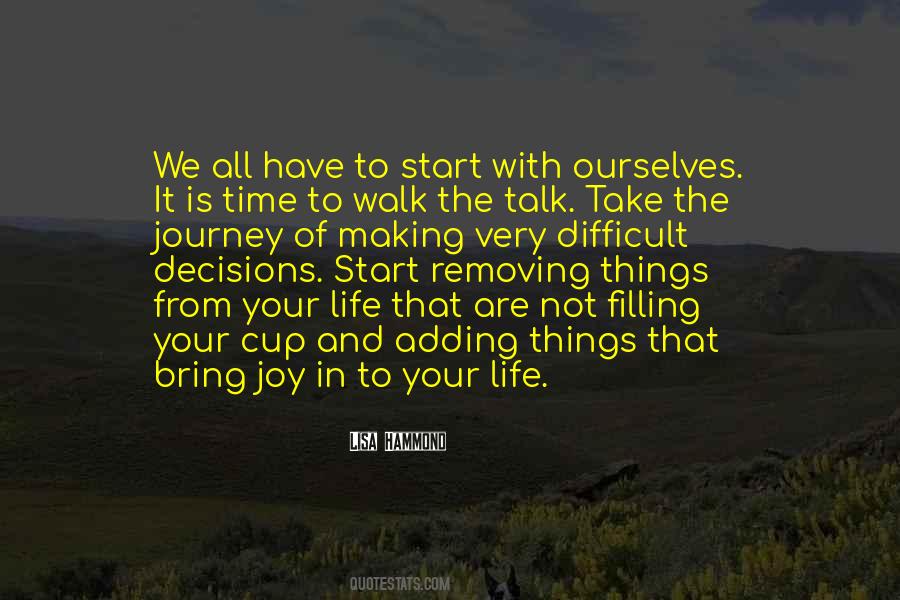 #90. To attain any assured knowledge about the soul is one of the most difficult things in the world. - Author: Aristotle.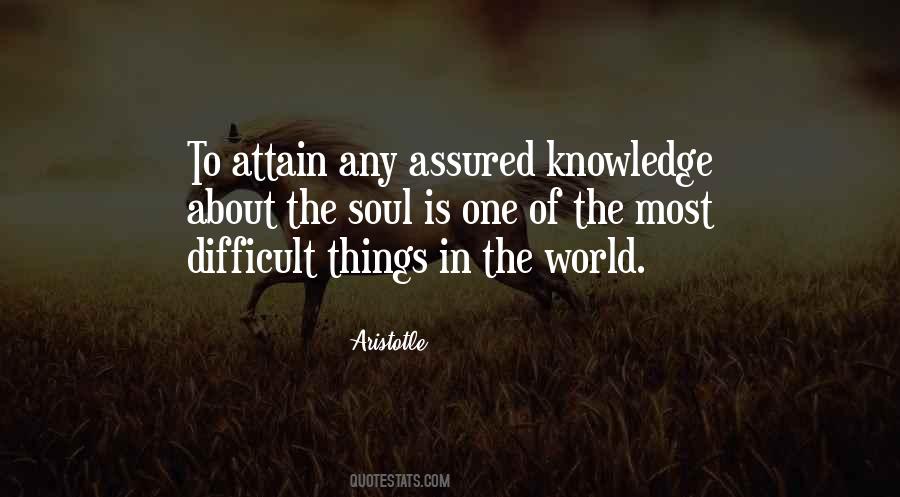 #91. It is true there are more important things than dinner, but it is difficult to keep those things in mind when you haven't had dinner. - Author: Lemony Snicket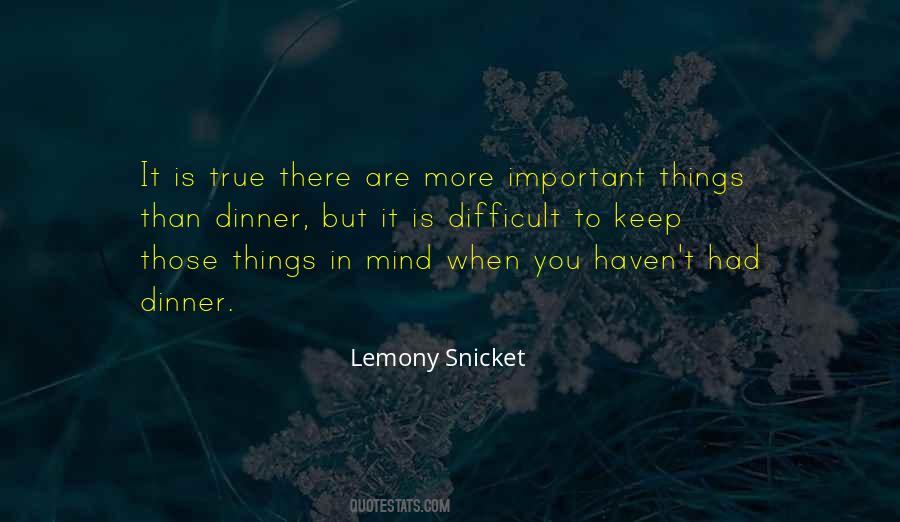 #92. Being married, I've got so many things to do that I am the last to do things for myself. Taking care of my body has been difficult, but I am doing the best that I can. - Author: Ian Ziering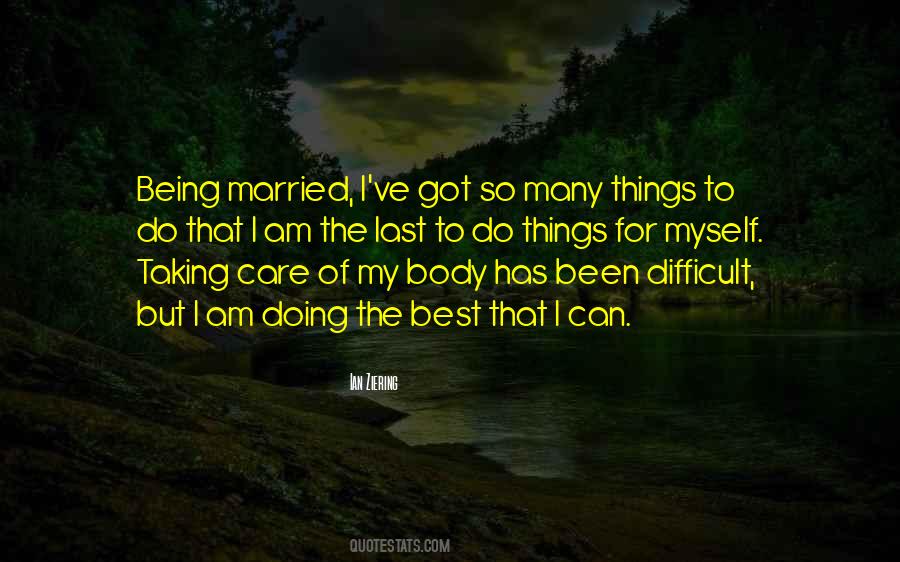 #93. It's easy to get rid of things when there is an obvious reason for doing so. It's much more difficult when there is no compelling reason. - Author: Marie Kondo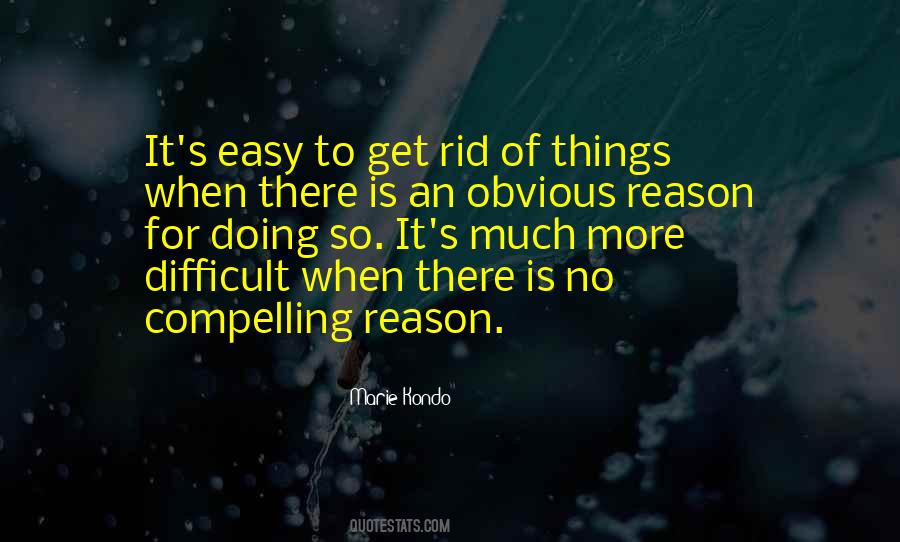 #94. They should know that just because things get difficult, it's no reason to believe God is on vacation. - Author: Harry H. Harrison Jr.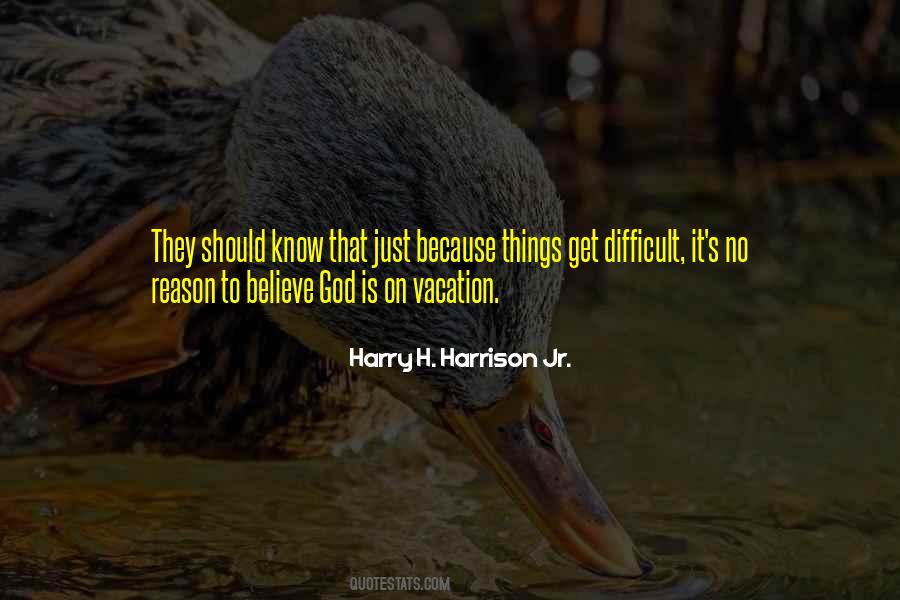 #95. Language is a very difficult thing to put into words. - Author: Voltaire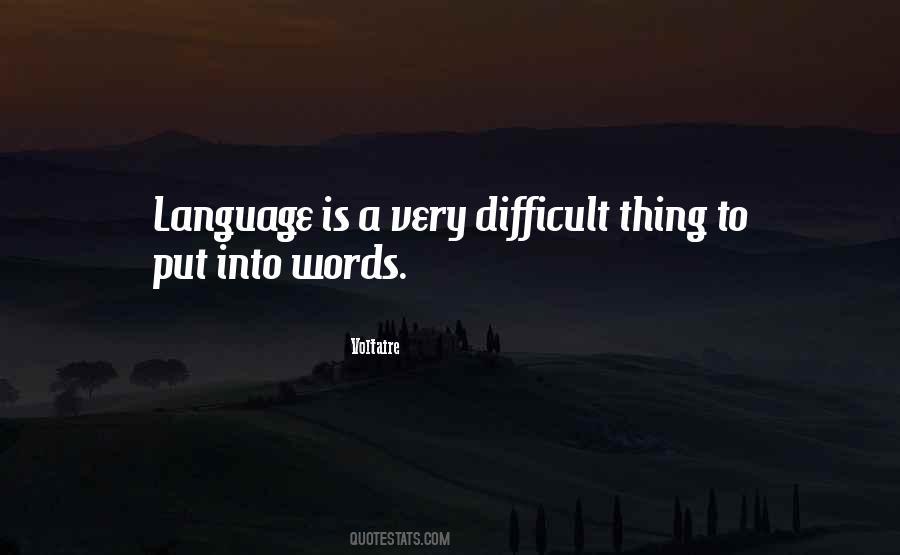 #96. Looking back, I remember my family laughing a lot. We were never the kind of people that dwelled on hard times. My family laughs when things are tough. Growing up like that, I got used to making jokes about things that were difficult. So when I started doing stand-up, that's what I went towards. - Author: Cristela Alonzo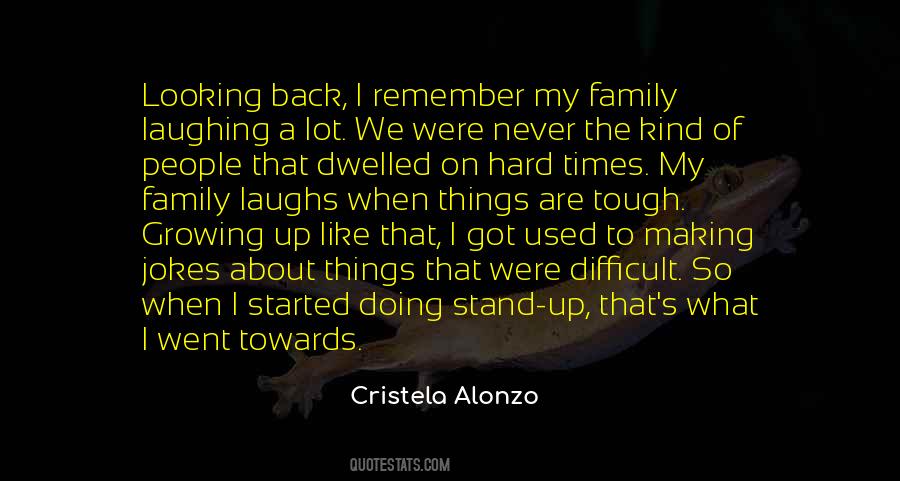 #97. Difficult times have helped me to understand better than before how infinitely rich and beautiful life is in every way, and that so many things that one goes worrying about are of no importance whatsoever. - Author: Karen Blixen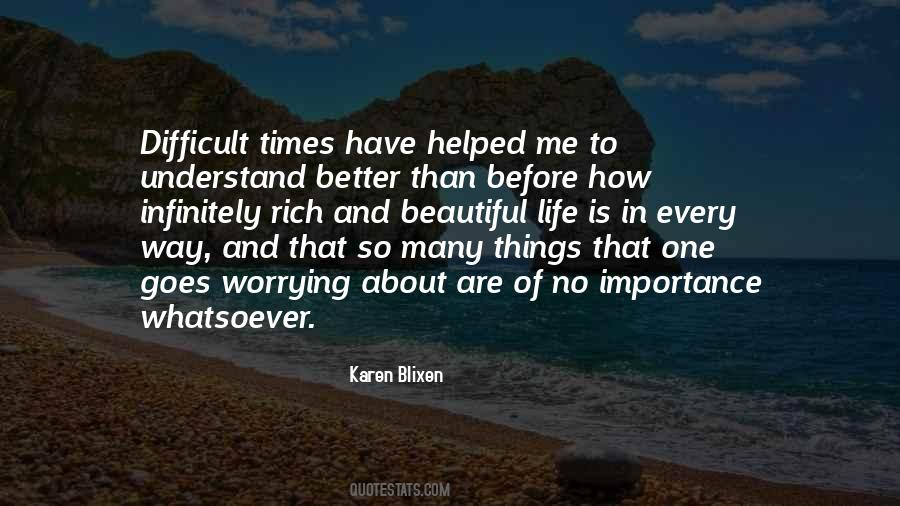 #98. Launching a new TV show is probably one of the most difficult things that a writer can do. - Author: George Meyer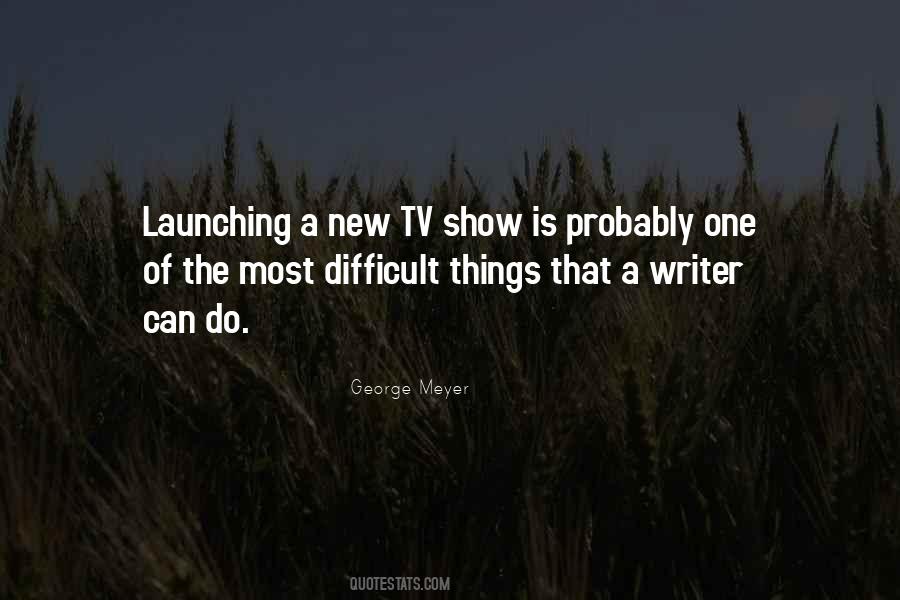 #99. One of the things I find very difficult about theatre is the repetition - that something can slide away from your original intentions. - Author: Ben Whishaw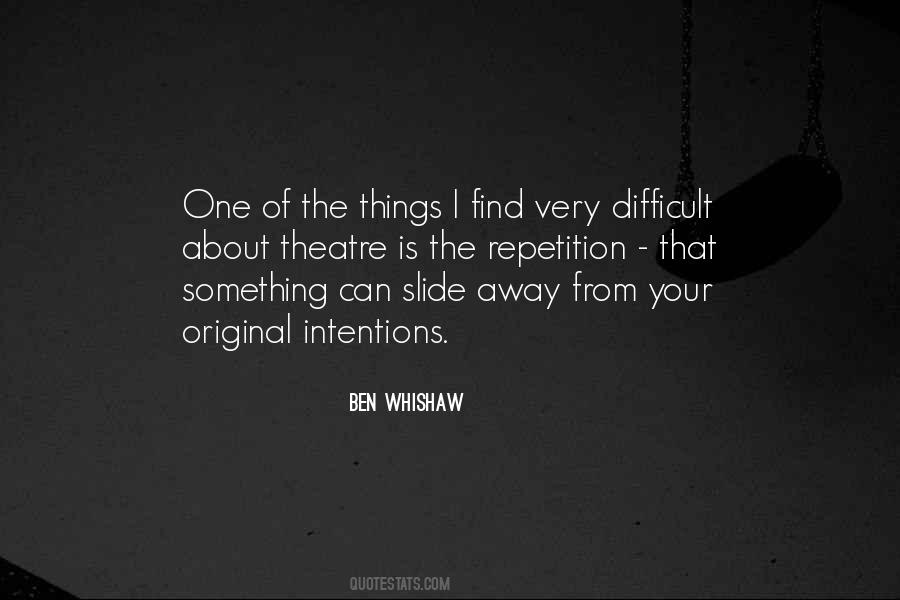 #100. Suffering is the price of being alive, and it is music and singing and art that has helped me live through some of the most difficult things that have happened to me. - Author: Judy Collins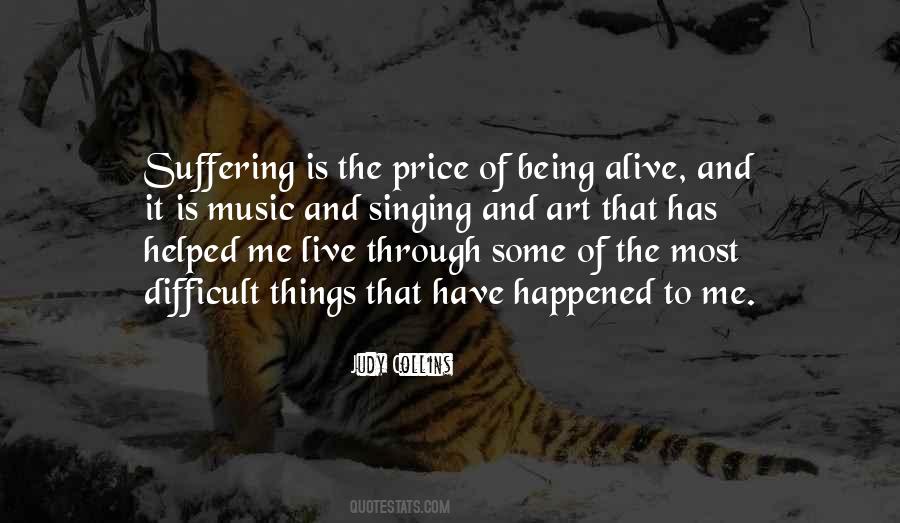 Famous Authors
Popular Topics