Conversations Famous Quotes & Sayings
List of top 100 famous quotes and sayings about conversations to read and share with friends on your Facebook, Twitter, blogs.
Top 100 Quotes About Conversations
#1. I kind of liked that, actually. You couldn't multitask while talking to him. The dialogue required one hundred percent focus. If all conversations were like that, I imagined people wouldn't say so much stupid garbage. - Author: Rick Riordan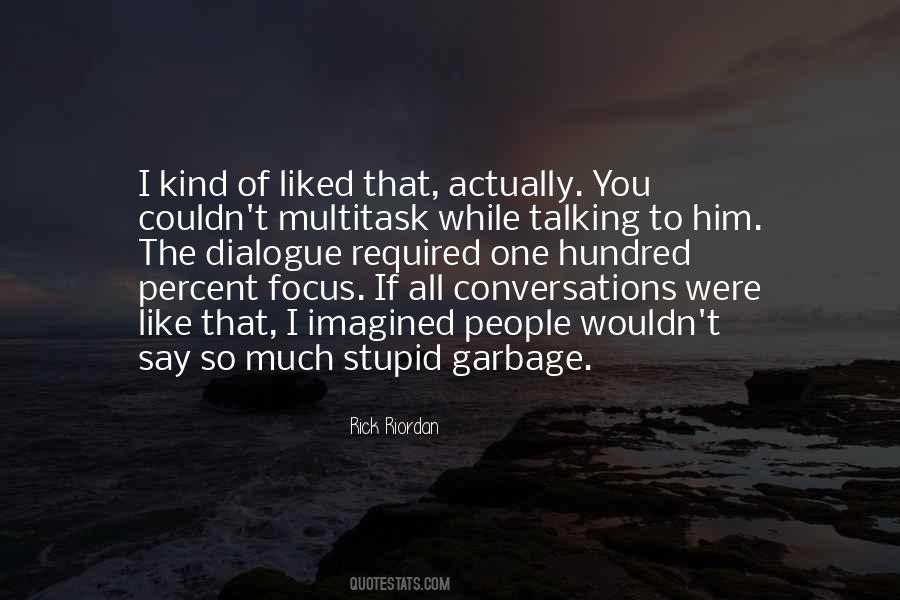 #2. You know, photo conversations are replacing verbal conversations. I don't know if that's a bad thing. A photo is worth a thousand words. - Author: Ashton Kutcher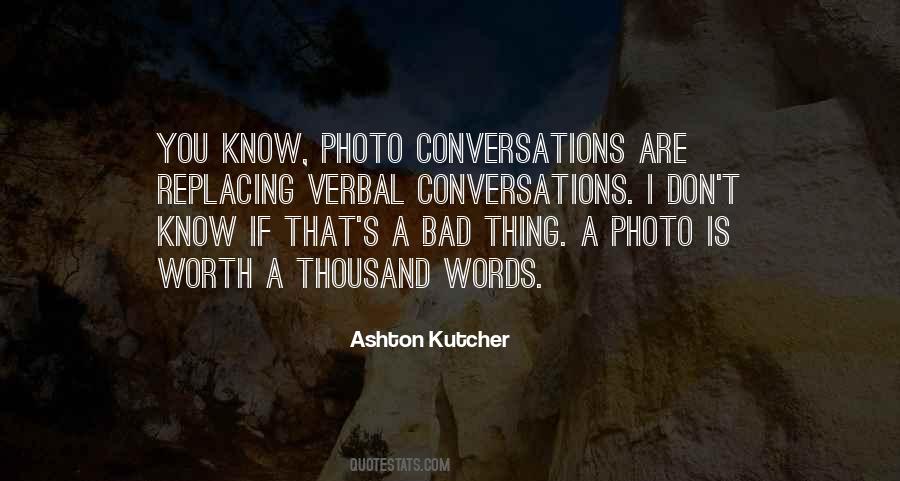 #3. Difficult conversations are always uncomfortable. But with the right person, you can have those conversations. - Author: Gina LaManna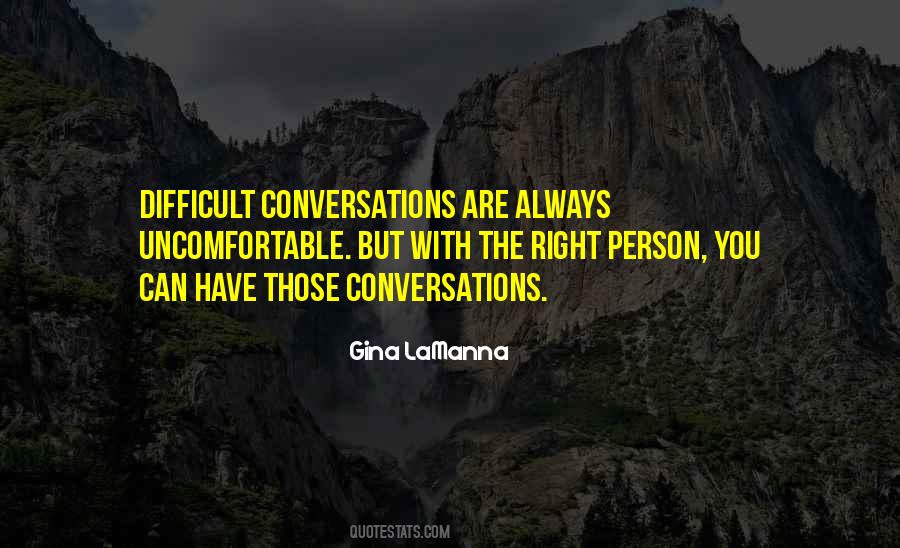 #4. My conversations with Trump supporters have left me with more questions than answers. - Author: Max Lucado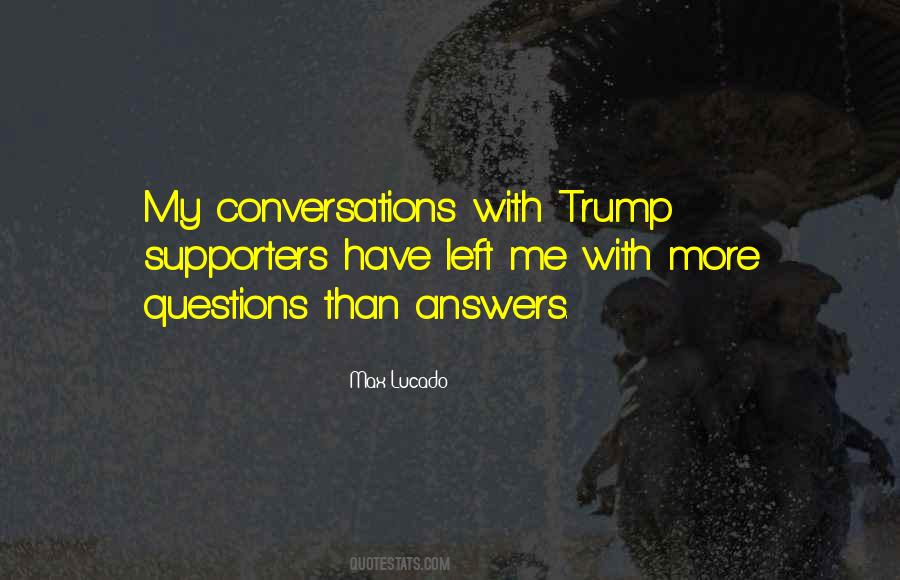 #5. sometimes when a friendship goes beyond normal borders and you find a sister, rather than an ordinary friend, conversations aren't necessary. - Author: J.L. Berg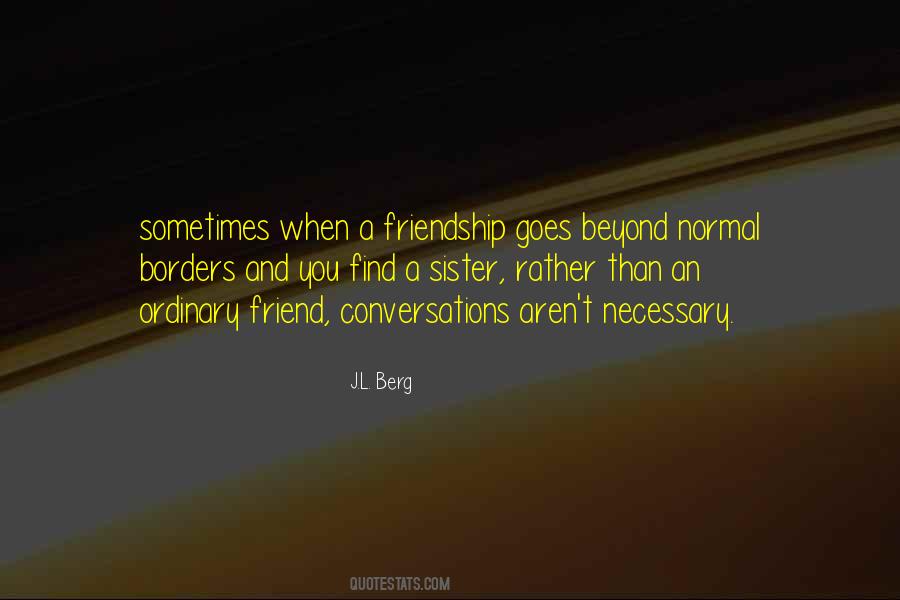 #6. Leah watches Natalie stride over to her beautiful kitchen with her beautiful child. Everything behind those French doors is full and meaningful. The gestures, the glances, the conversations that can't be heard. How do you get to be so full? And so full of only meaningful things? - Author: Zadie Smith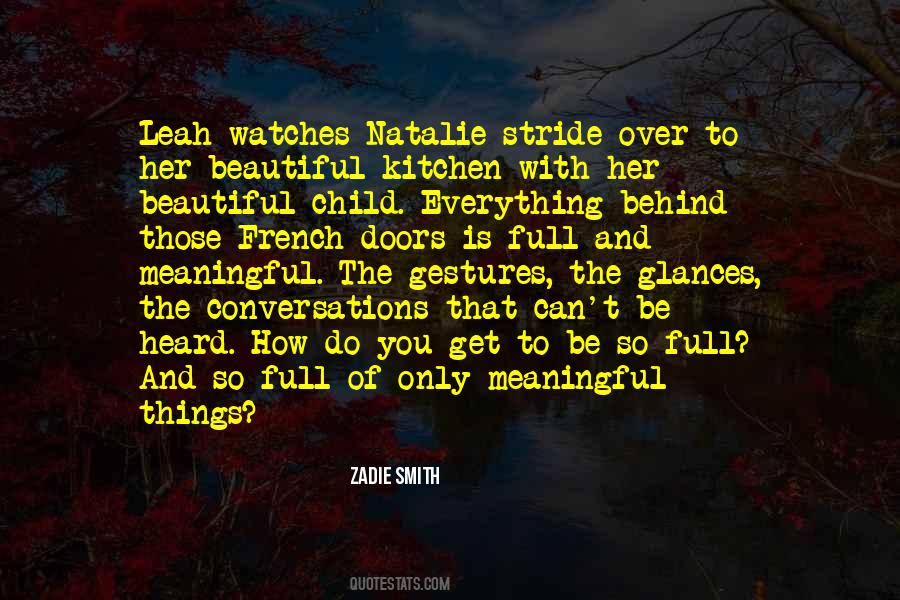 #7. The smaller the dinner table, the better the side conversation: you can gossip about the guests without fearing whether you will be overheard. It just isn't good table manners to exclude someone from their own ridicule. That's why the juiciest side conversations occur at a table for one. - Author: Bauvard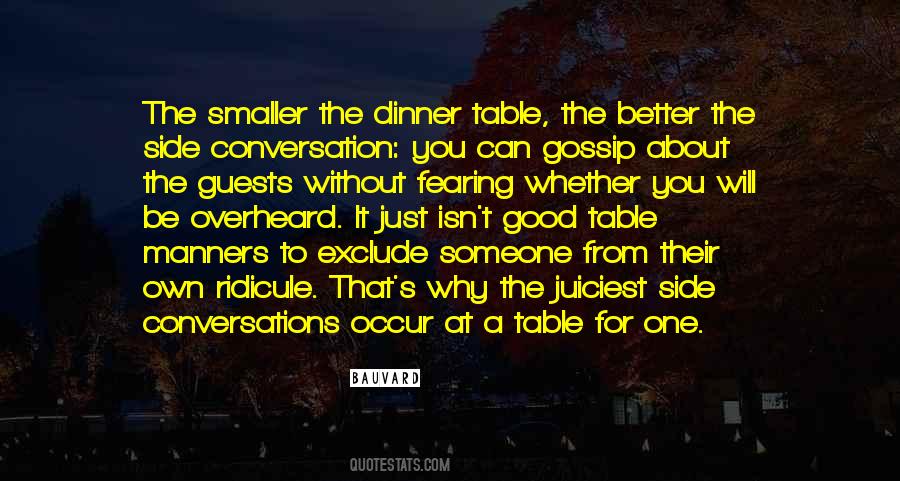 #8. Conversations and jokes together, mutual rendering of good services, the reading together of sweetly phrased books, the sharing of nonsense and mutual attentions. - Author: Robertson Davies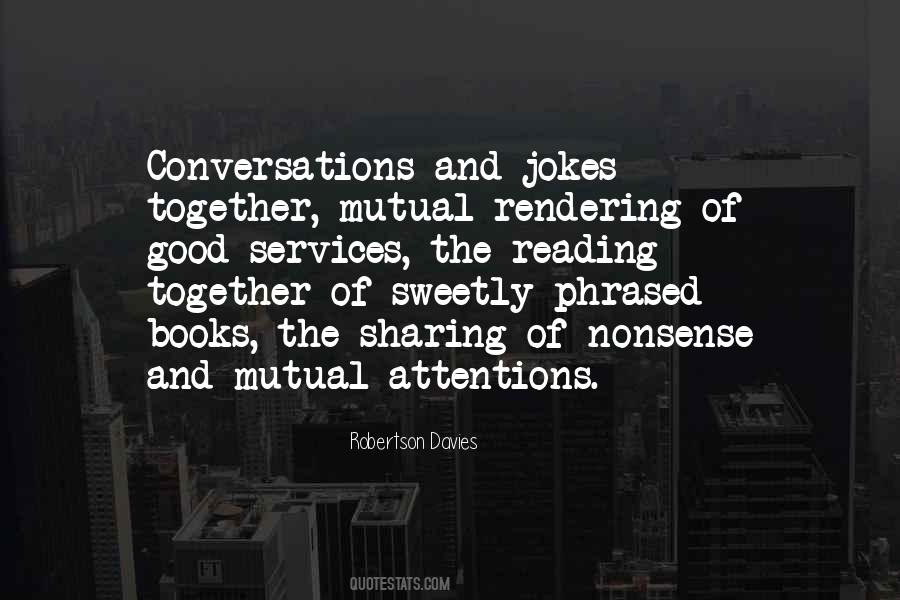 #9. You just can't win. Men have very recent land mines in their heads. Women have recorded conversations and photographs in their heads from 15 years ago. - Author: Denis Leary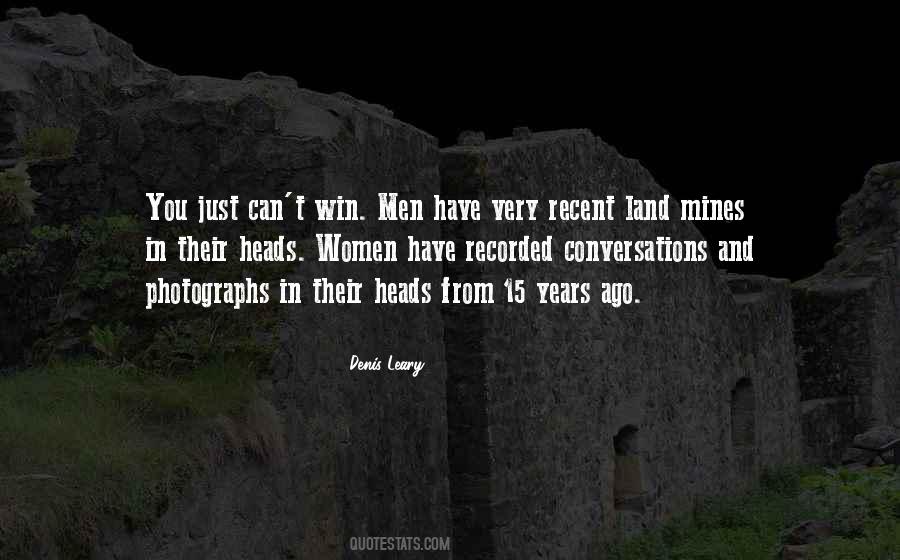 #10. Generative ideas emerge from joint thinking, from significant conversations, and from sustained, shared struggles to achieve new insights from partners in thought. - Author: Vera John-Steiner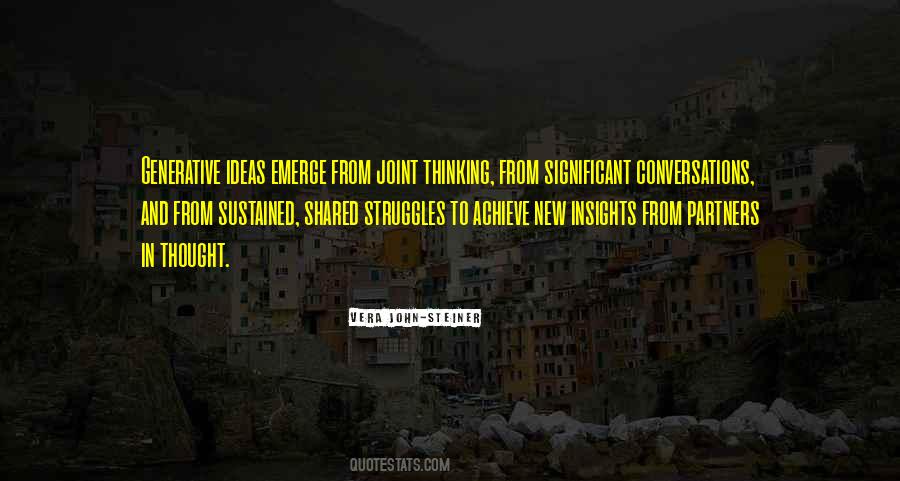 #11. What's interesting is, for myself, when I become really attracted to somebody, I find them in my dreams ... conversations, nothing more. - Author: Alice Englert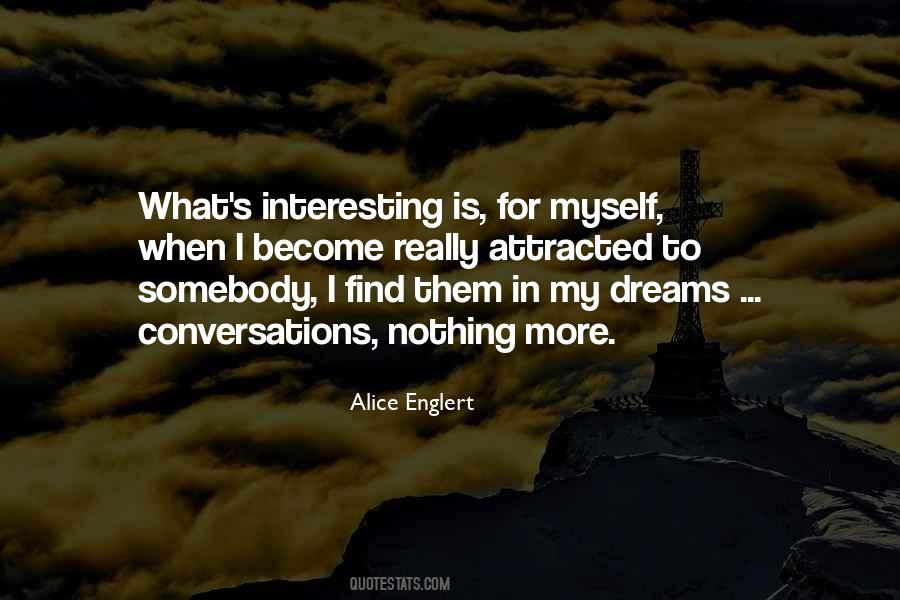 #12. Industry stakeholders have said to us, which we've heard loud and clear, as we move forward on the climate change discussions we need to do it with a clear eye on the fact that we are also having conversations around royalties and the two can't be separated. - Author: Rachel Notley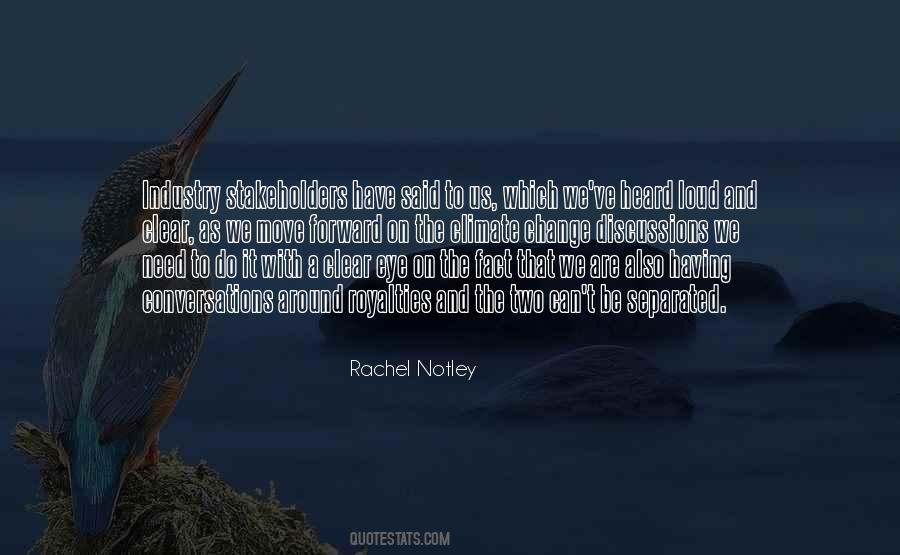 #13. I did put together the coalition to impose sanctions. I actually started the negotiations that led to the nuclear agreement, sending some much my closest aides to begin the conversations with the Iranians. - Author: Hillary Clinton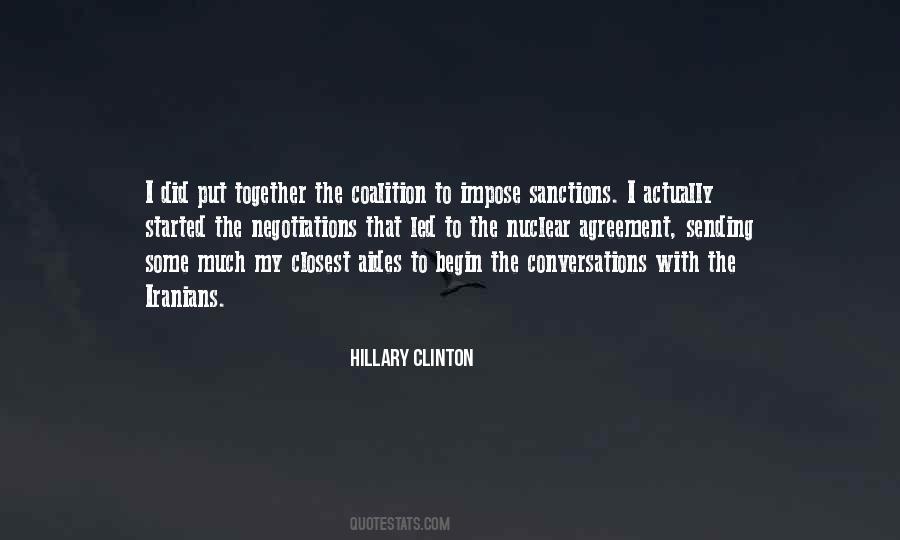 #14. Nakata never went into these conversations with cats expecting to be able to easily communicate everything. You have to anticipate a few problems when cats and humans try to speak to each other. - Author: Haruki Murakami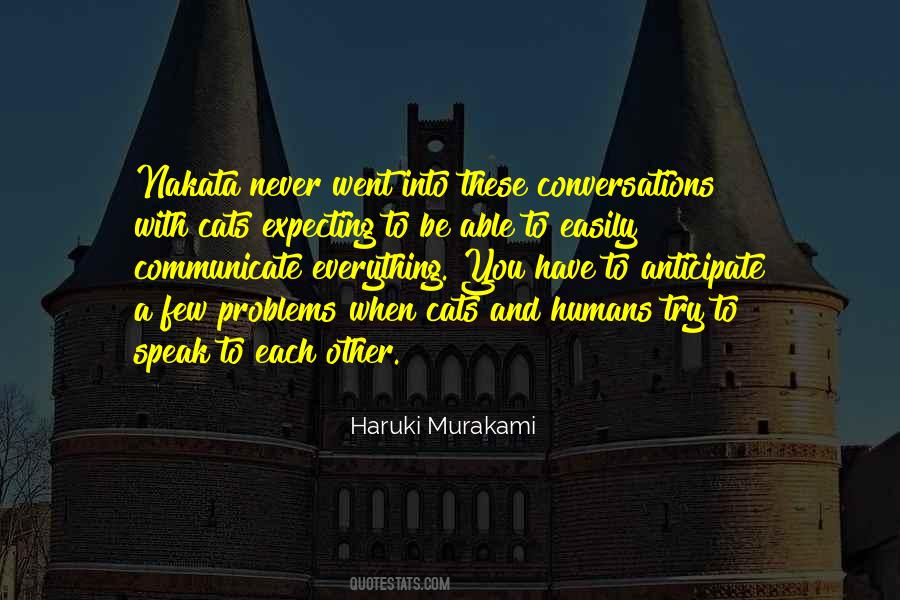 #15. I've had countless conversations with or about people who are "sleeping in separate bedrooms", as if sleeping in the same bed is all there is to staying married, but however bad things get, sharing a bed has never been problematic; it's the rest of life that horrifies. - Author: Nick Hornby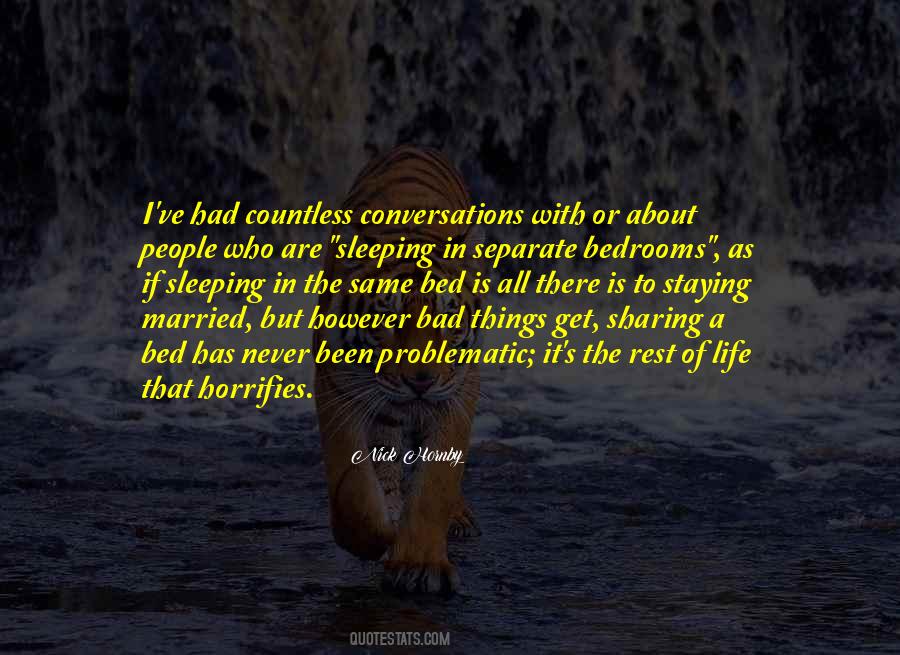 #16. Memory is like glass. A person who has died is still visible, very close. But we can no longer contact each other. Death is mute; it excludes conversations, only allows silence. - Author: Henning Mankell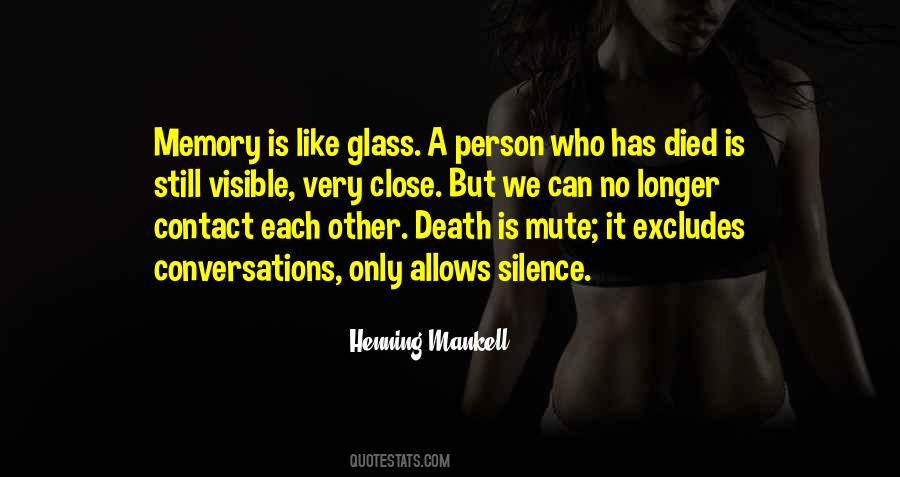 #17. Where did you go to school?" Piers inquired. "Your all together too literate for a butler. Most bulters I know say things like as you wish, my lord, and leave it at that. Our conversations should be along these lines: Prufrock, bring me a wench and then you would say, as you wish. - Author: Eloisa James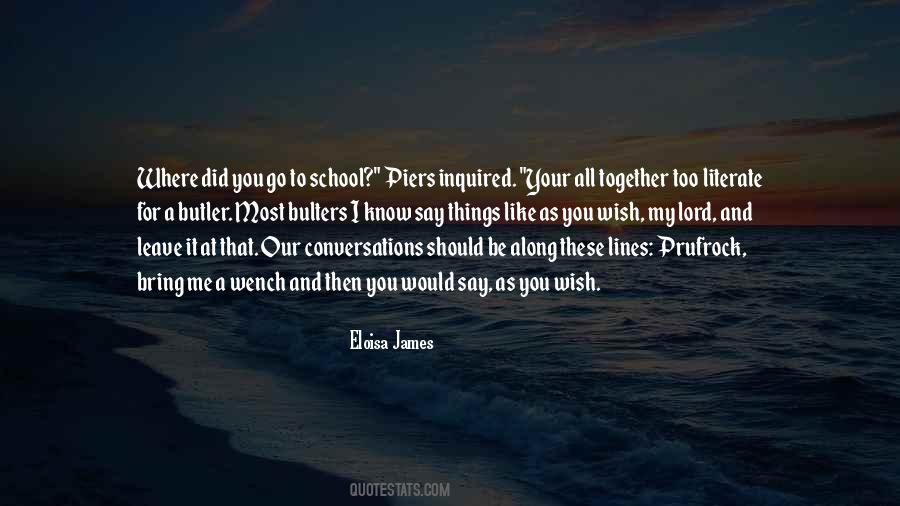 #18. 'The Tree of Life' is a collection of conversations that lost souls and true believers have with themselves while keeping their heads to the sky. But the movie is church via the planetarium. - Author: Wesley Morris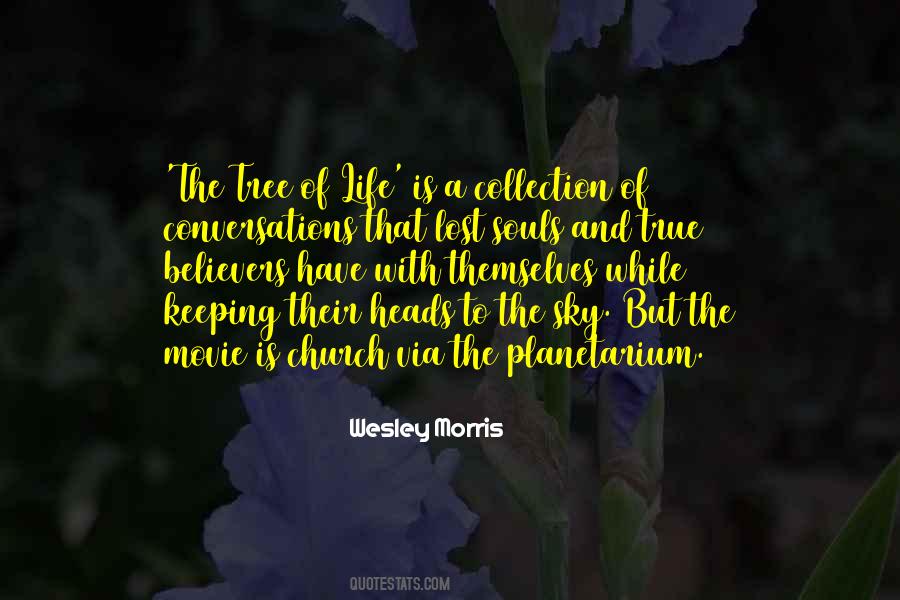 #19. If Nixon is not forced to turn over tapes of his conversations with the ring of men who were conversing on their violations of the law, then liberty will soon be dead in this nation. - Author: Earl Warren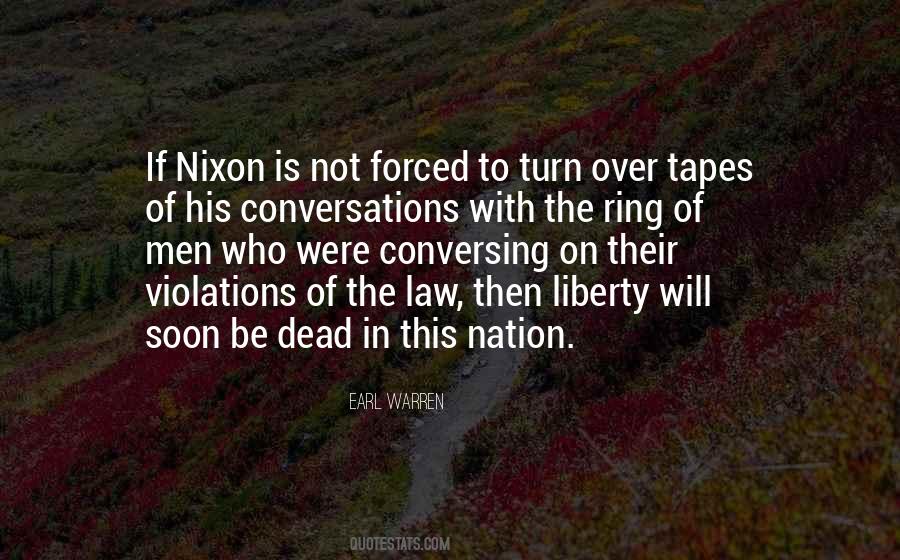 #20. Sometimes I feel that what used to be once casual conversations between friends are now being substituted with forced conversations containing none of the warmth it possessed earlier. It's better to not have any conversation at all than have forced conversations. - Author: Adhish Mazumder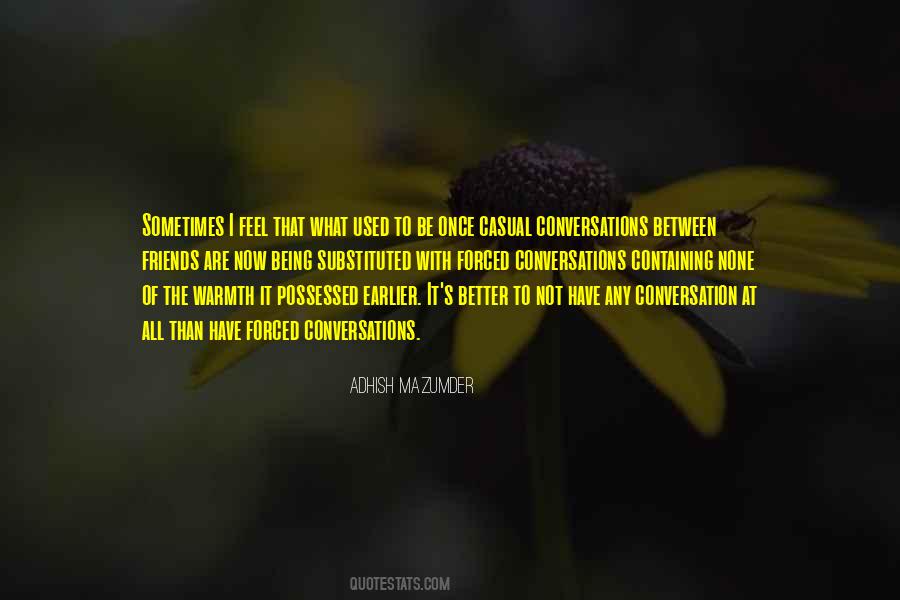 #21. Betty had forgotten how you only get slivers of stories from children - usually what they echo from overheard adult conversations. - Author: Molly Ringwald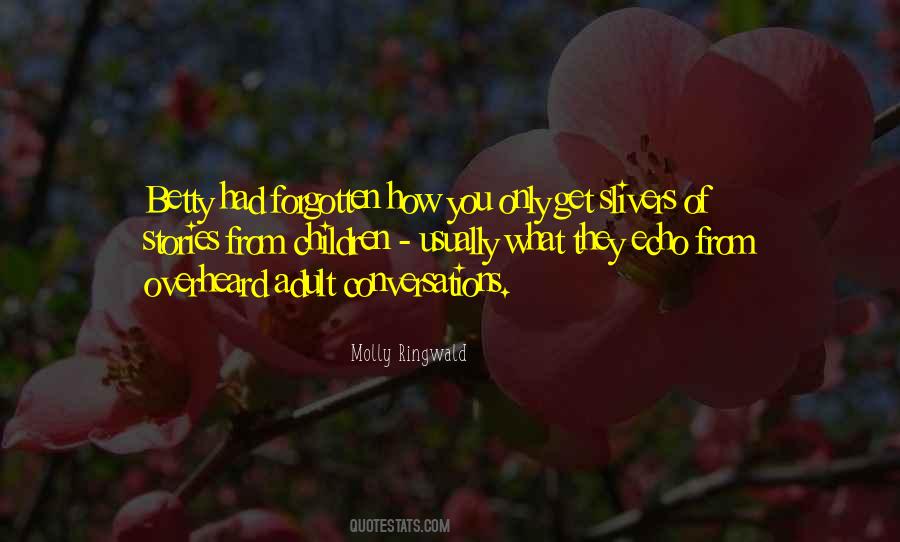 #22. There are many tough conversations, but one of the most difficult is between a parent and an adolescent daughter, partly because as a parent we are almost always attempting to relate to someone who is no longer there. - Author: David Whyte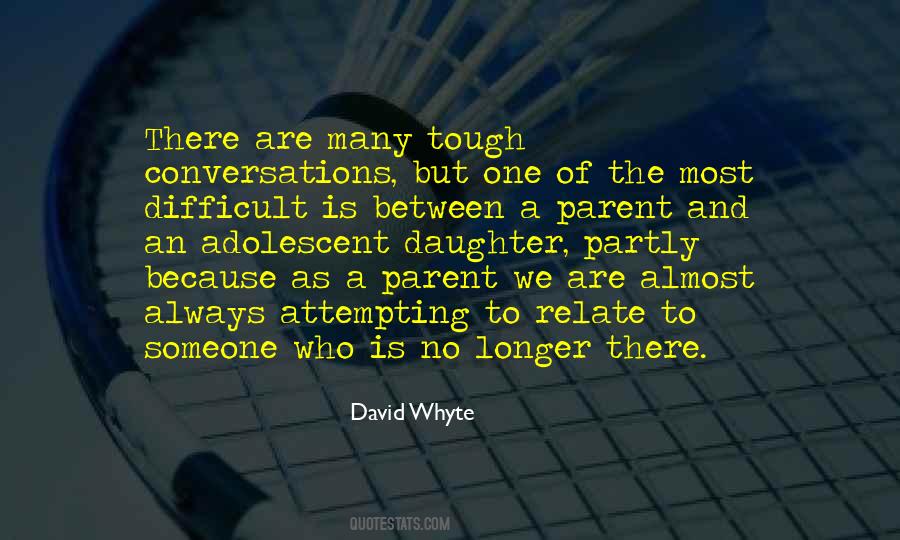 #23. You should know," he says. His whisper is low enough that even angels probably couldn't hear it beyond the background noise of conversations in the corridor. "I don't even like you. - Author: Susan Ee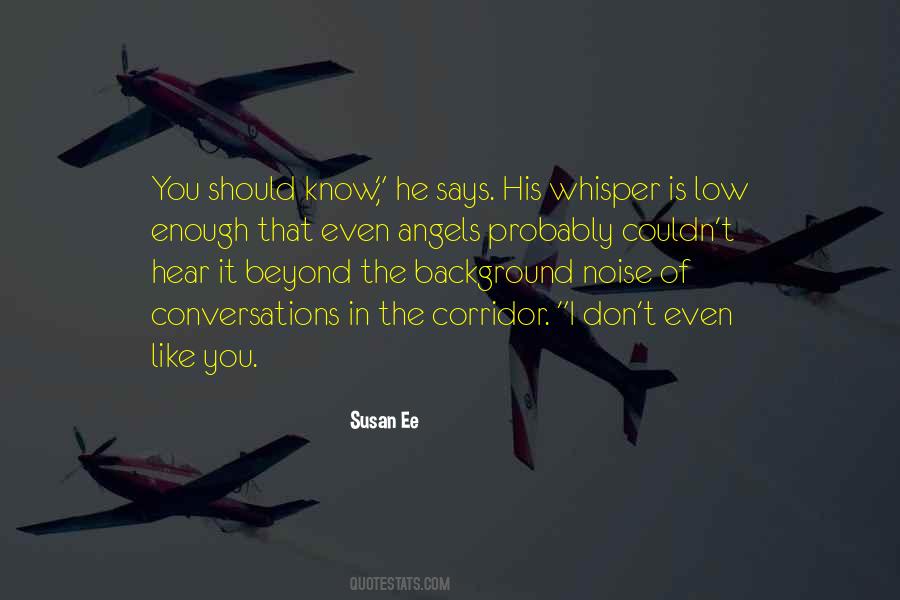 #24. Where do real conversations about citizenship occur? In our schools. Think about the things you learned in first grade. "My Country 'Tis of Thee," "I pledge allegiance to the flag," "America the Beautiful." - Author: Henry Louis Gates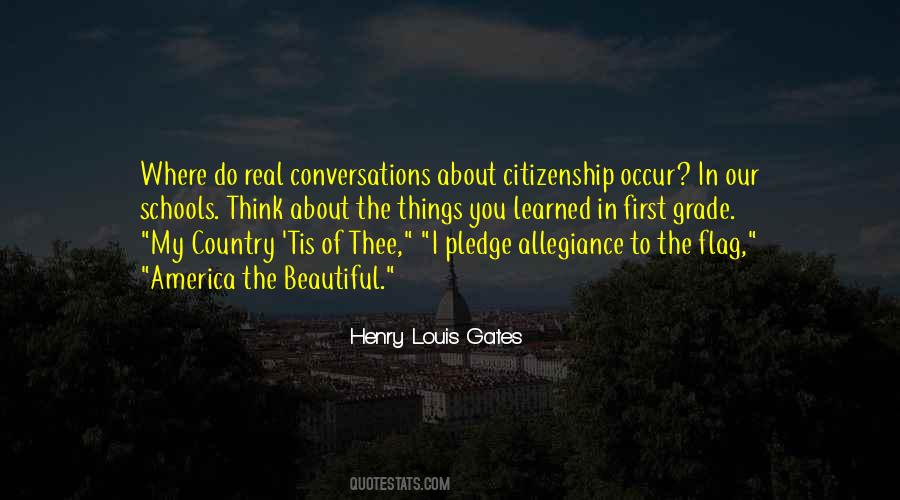 #25. He could not make conversations with strangers, and yet conversations with strangers were perhaps the first thing required of him in his new life. - Author: Alice McDermott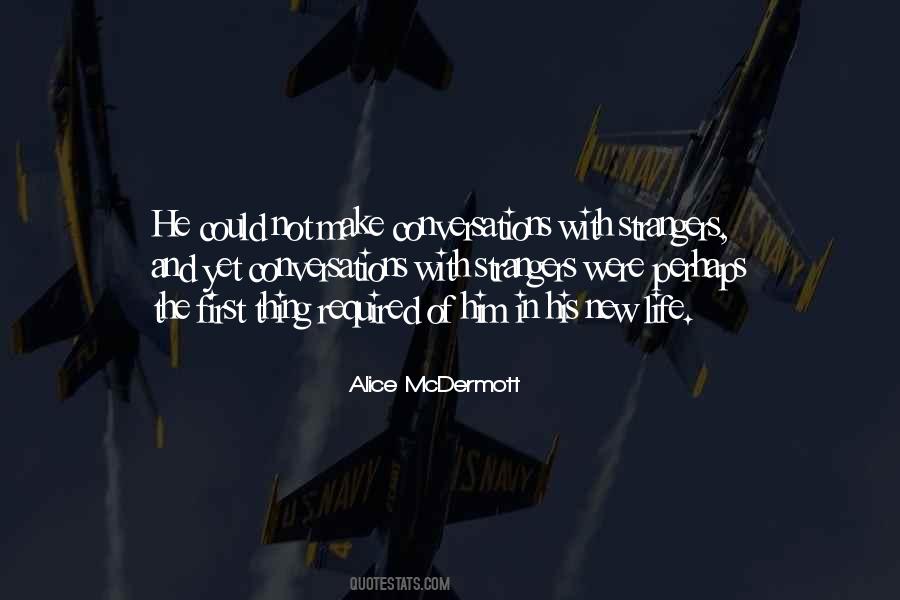 #26. Kids who don't eavesdrop on adult conversations are doomed to a childhood of ignorance. - Author: Kelley Armstrong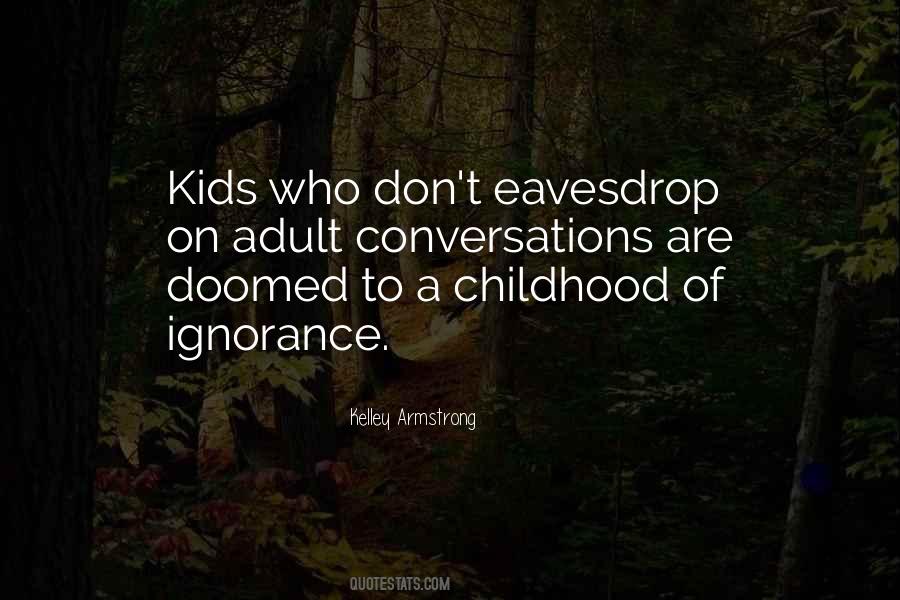 #27. I no longer have the energy for meaningless friendships, forced interactions or unnecessary conversations. If we don't vibrate on the same frequency there's just no reason for us to waste our time. I'd rather have no one and wait for substance than to not feel someone and fake the funk. - Author: Joquesse Eugenia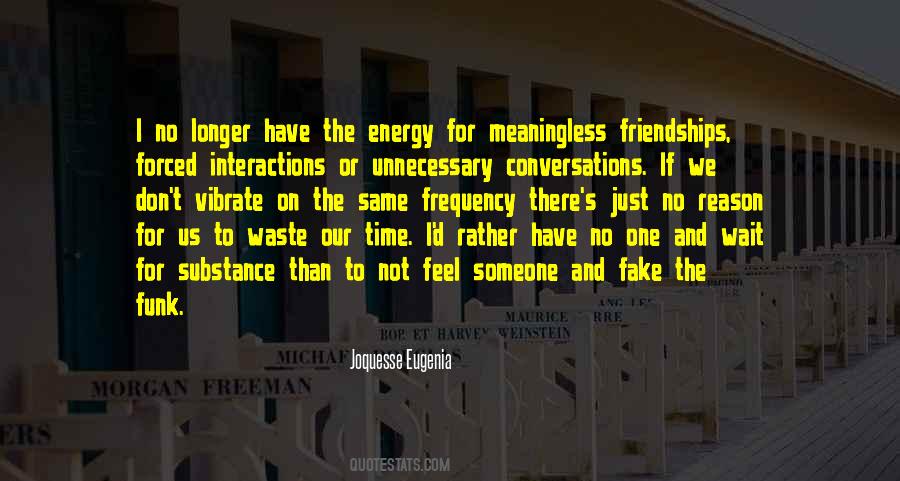 #28. He trailed through hallways, ducking under arms no longer there, excusing himself as he pressed through conversations long since ended. - Author: Maggie Stiefvater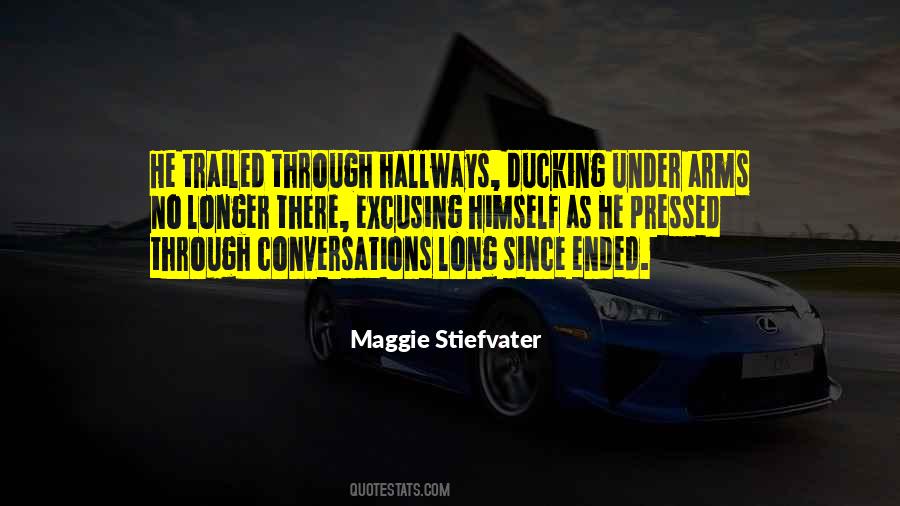 #29. I wonder if the conversations you've never had with someone count, if you've been over them a thousand times in your mind. - Author: Jodi Picoult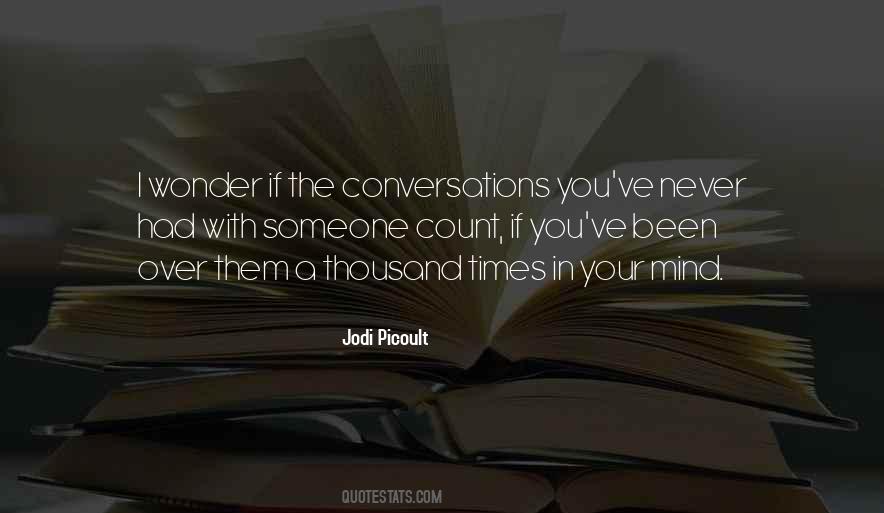 #30. Like most conversations and most chess games, we all start off the same and we all end the same, with a brief moment of difference in between. Fertilization to fertilizer. Ashes to ashes. And we spark across the gap. - Author: Brian Christian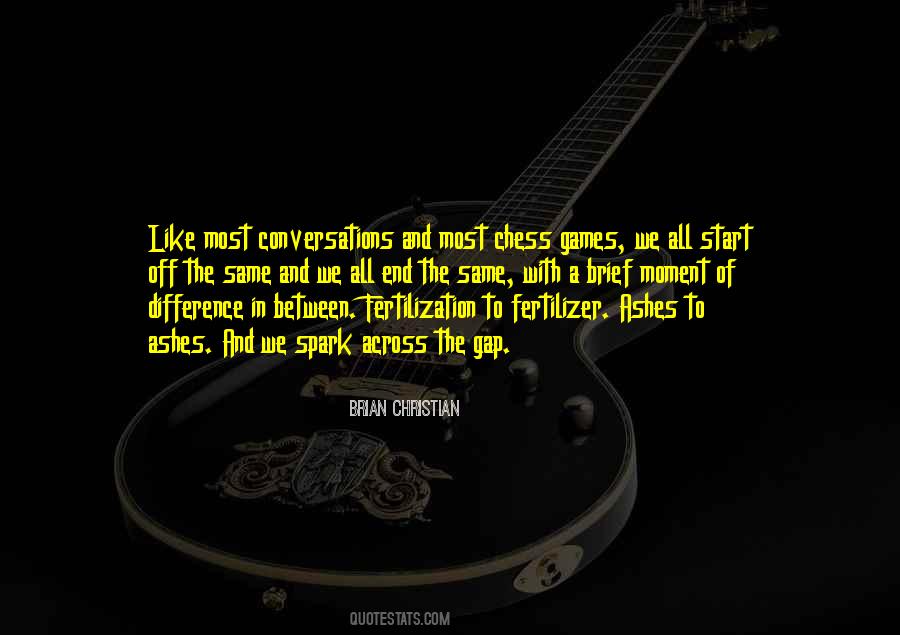 #31. A number of us had conversations with the Kerry campaign about what he was going to say about CAFE. What he told us was that he did not want to sacrifice jobs and that he wanted to work with the auto industry to achieve that goal. - Author: Jennifer Granholm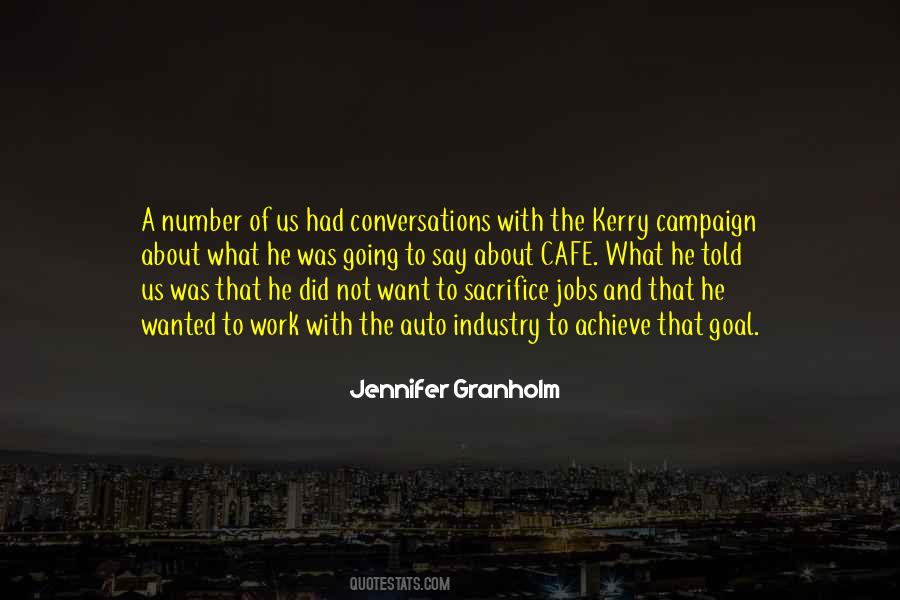 #32. I seem to get into situations that make people laugh, but I don't consider myself that funny of a person. I'm not witty. I'm kind of slow in conversations. I'm not that articulate with jokes. The first time I made stuff and screened it for an audience, I was surprised what people were laughing at. - Author: Nathan Fielder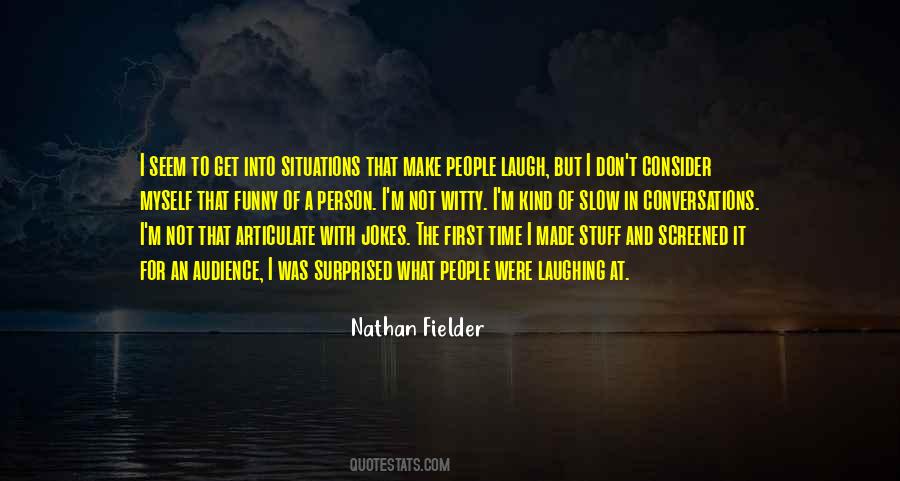 #33. Honestly, what I have the most fun with, I just hang out with my cat, and I go online, and I talk to my followers, and I have real conversations with them. - Author: Michelle Phan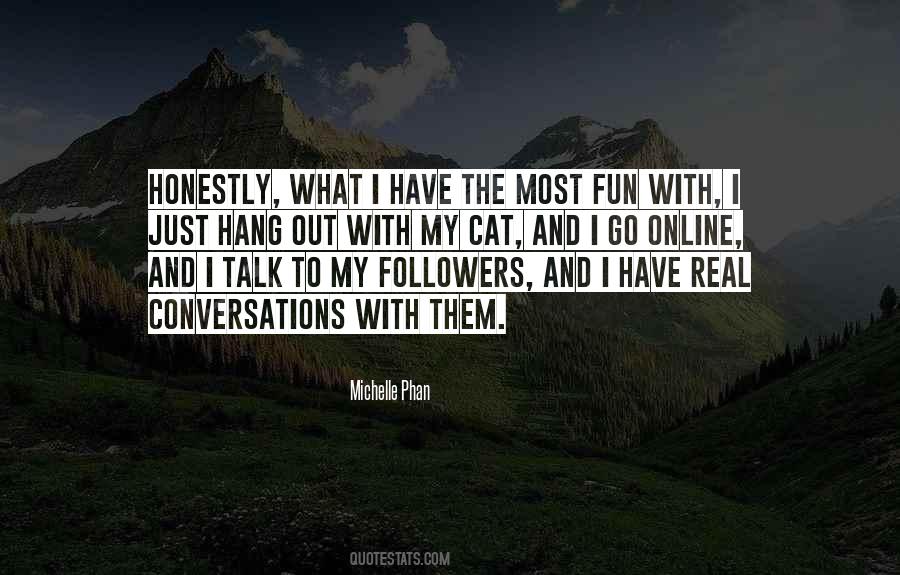 #34. I strike up conversations all the time and it is very interesting, finding out about things I know nothing about. - Author: Peter Ackroyd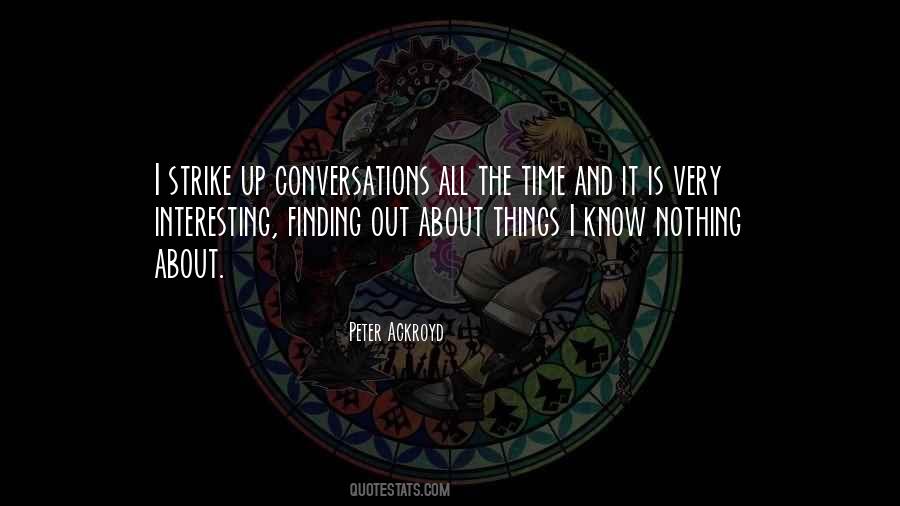 #35. When you completely extract yourself from anything familiar, you start reverting back to that state of mind where you're having conversations with yourself, and that's where the weirdest and most honest ideas come from. - Author: Alan Palomo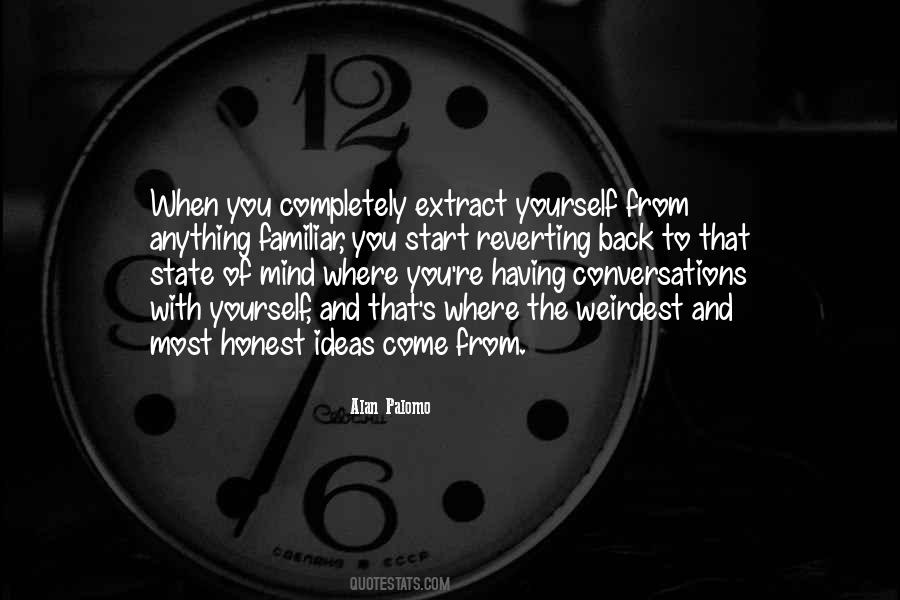 #36. Nicole will come up in conversations where it's in a part of the conversation. Or we may be somewhere and I would tell some story about their mother and I. You know, we always honor her birthday. - Author: O.J. Simpson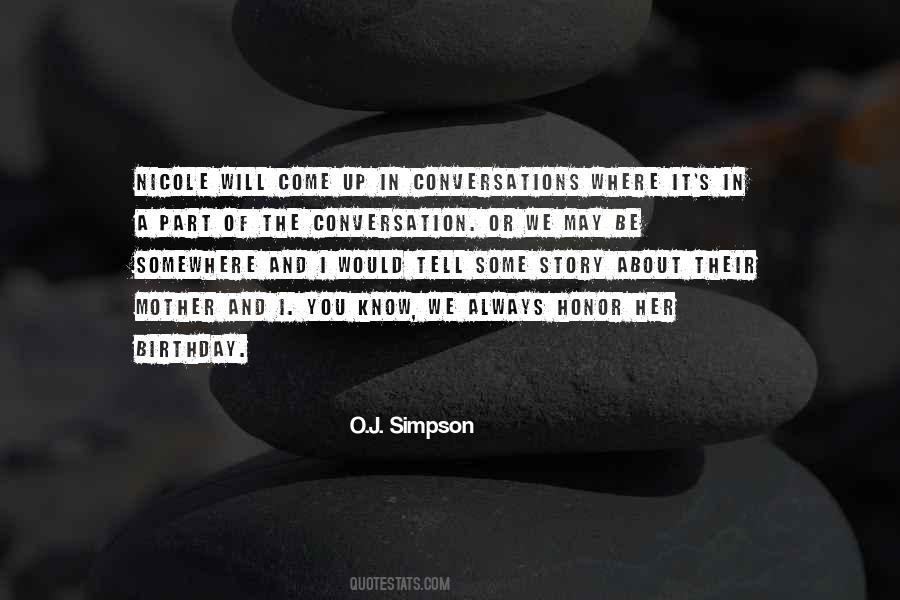 #37. It is true that despite occasional gleams of Churchillian eloquence he [Gen. Douglas MacArthur] usually spoke poorly. He was far more effective in conversations a deux. But those who dismiss him as shallow because his rhetoric was fustian err. - Author: William Manchester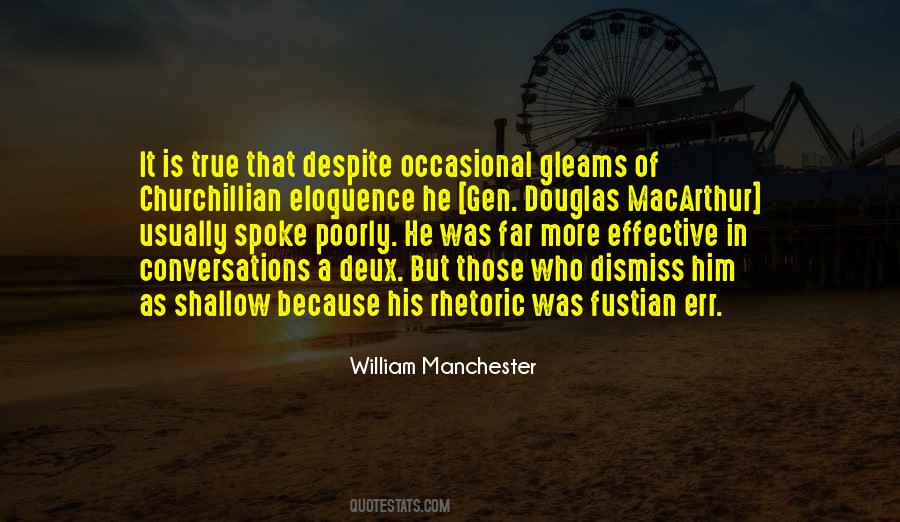 #38. I'm scared of becoming a noise crank, but I always just loved quiet. I love to have conversations without straining to hear... - Author: George Prochnik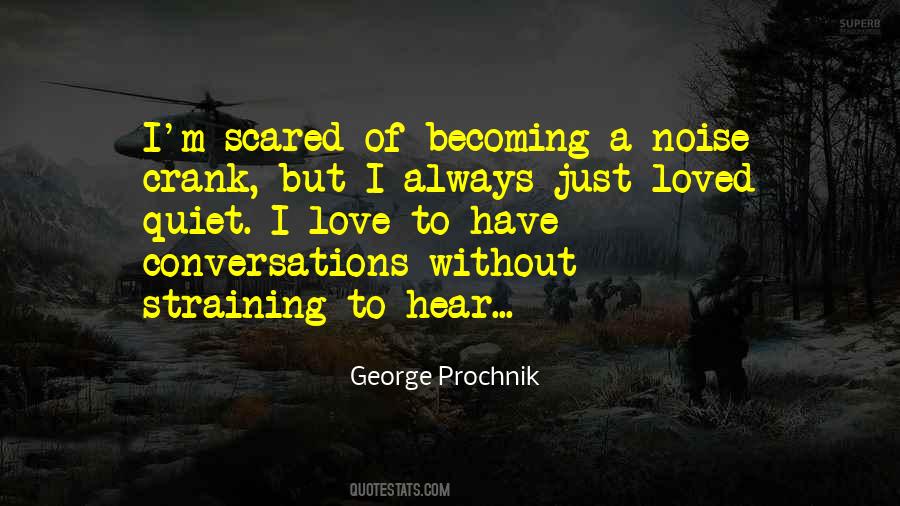 #39. I find myself having these conversations where I go ... You know, the guy, in that place. The guy in the place with the thing, you know. And it becomes this game of charades. And then finally, we realize that I mean the Pope. - Author: Dave Barry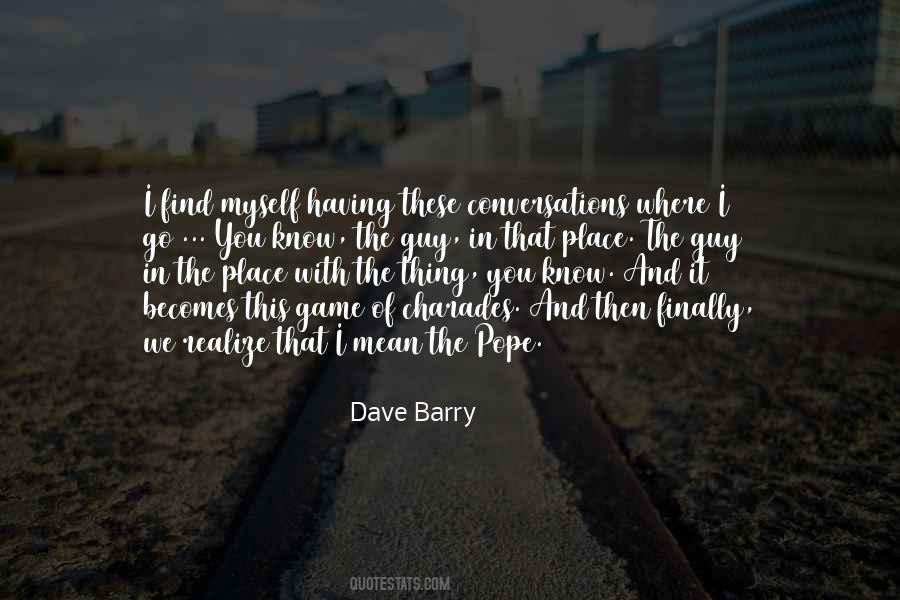 #40. I always found that if you handle a problem in a benevolent way and a transparent way and involve other people, so it's just not your personal opinion, that people get to the other side of these difficult conversations being more enthusiastic. - Author: David M. Kelley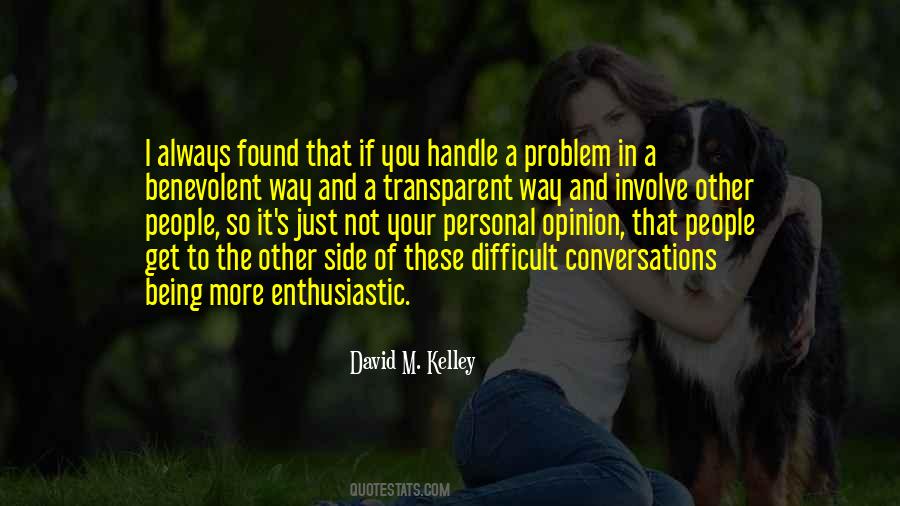 #41. Craig was a nice guy, don't get me wrong, but he was so low-key that once I'd gotten to know him, I was almost completely unable to have even imaginary conversations with him while cooking his recipes. Around - Author: Nora Ephron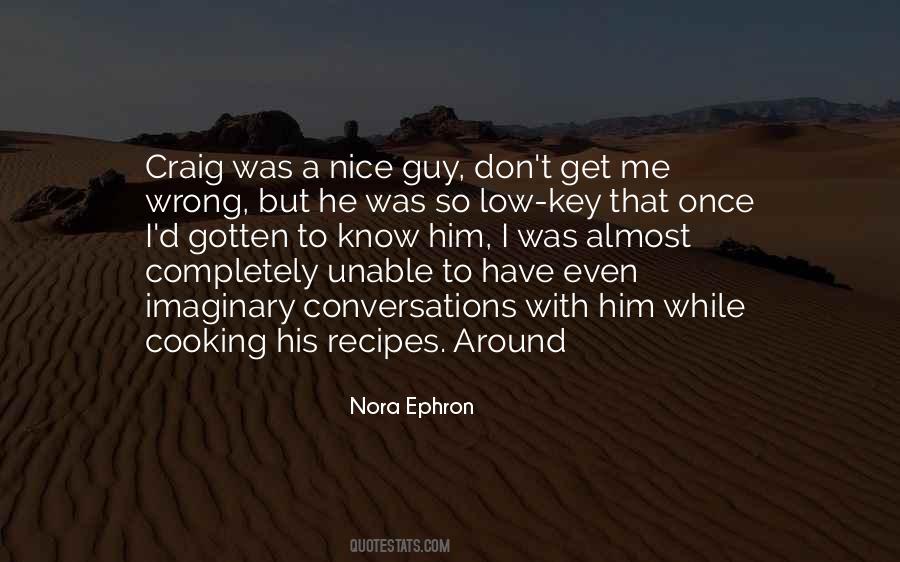 #42. I do have friends that are Republicans, and we have very spirited conversations on a whole range of issues. I am often baffled by why they are Republicans, but I enjoy the dialogue and can move beyond politics to find common ground in my personal relationships. - Author: Barbra Streisand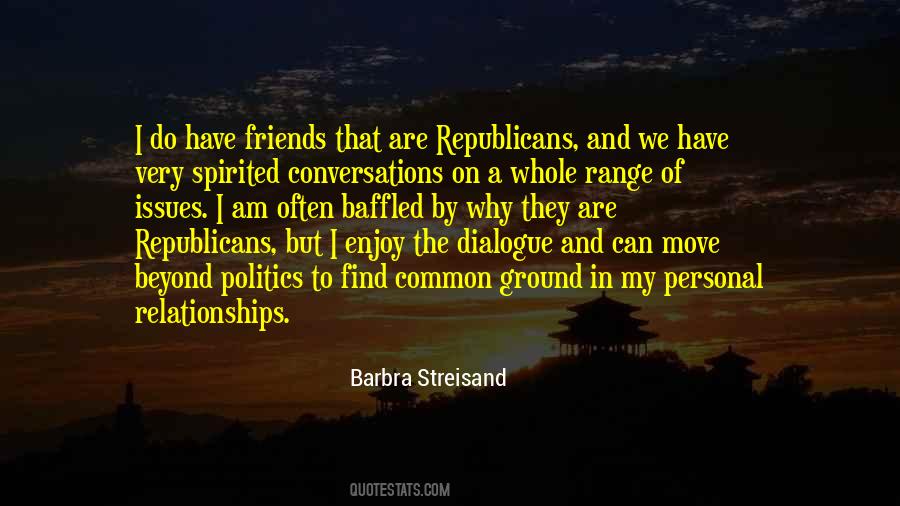 #43. I cannot imagine any other country in the world where the opposition would seek, and the chief executive would allow, the dissemination of his most private and personal conversations with his staff, which, to be honest, do not exactly confer sainthood on anyone concerned. - Author: Gerald R. Ford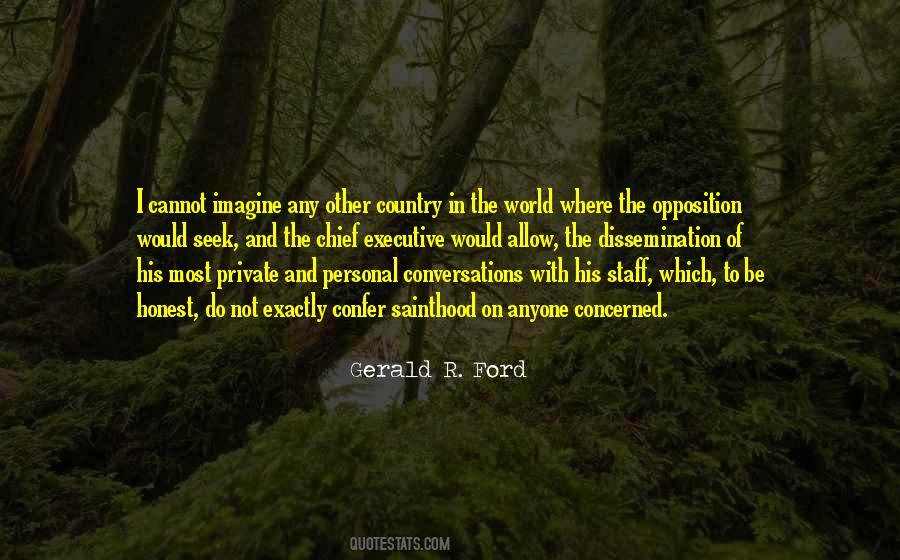 #44. The majority of the people I've taken photographs of, I've had conversations with. "What are your goals and aspirations?" "What are you about?" It's not just about me capturing the image; I want to know what you are about. - Author: Jamel Shabazz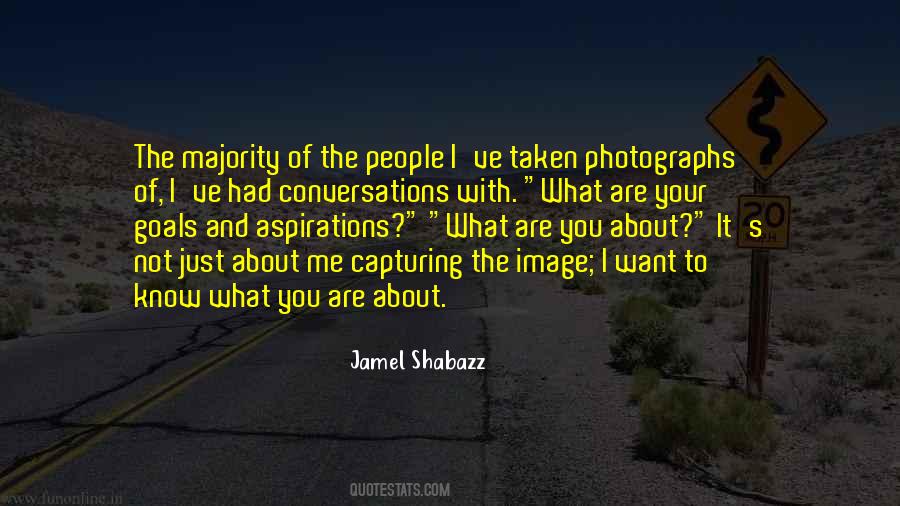 #45. Following Alyssa, they all walked over to the green clearing in front of the mess hall. It was where they'd held most of the all-camp activities, like games. Jenna sighed, remembering all the good times she'd had there---the gossip, the giggles, the crazy conversations. - Author: Melissa J. Morgan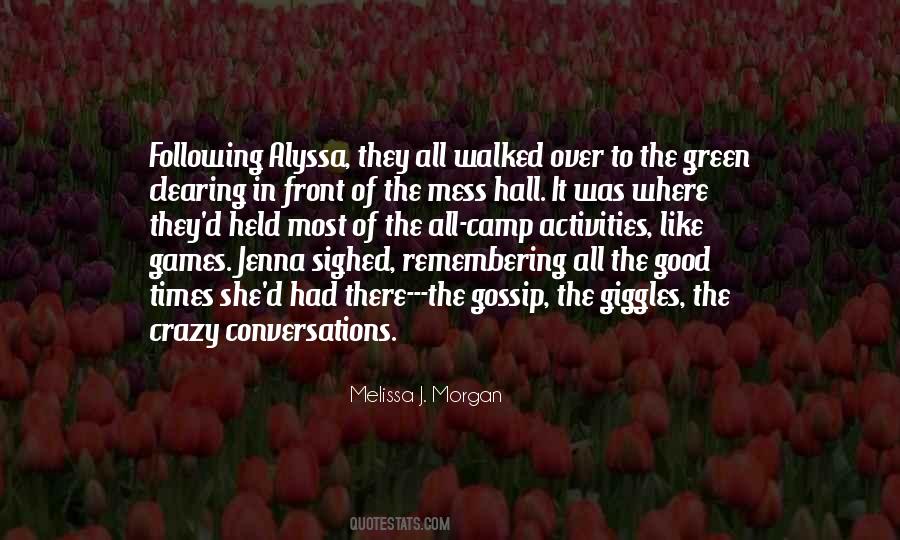 #46. There was silence on the other end. The static crackle from one hundred kilometres of telephone lines. Crows sitting on them, shivering, while people's conversations darted past under their feet. - Author: John Ajvide Lindqvist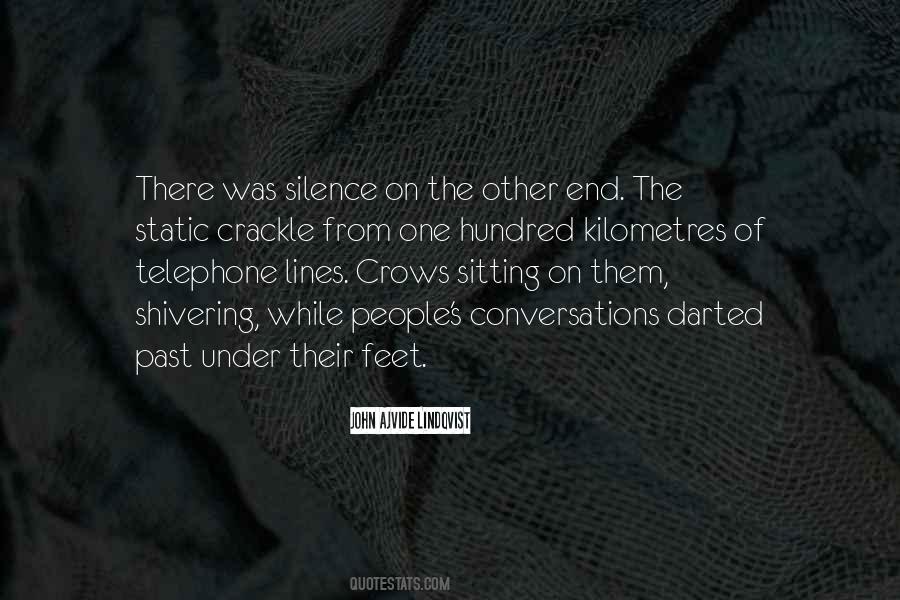 #47. God is working on your behalf today. Heaven is holding conversations about you. Angels have been assigned to you. Just breathe and be at peace. - Author: Unknown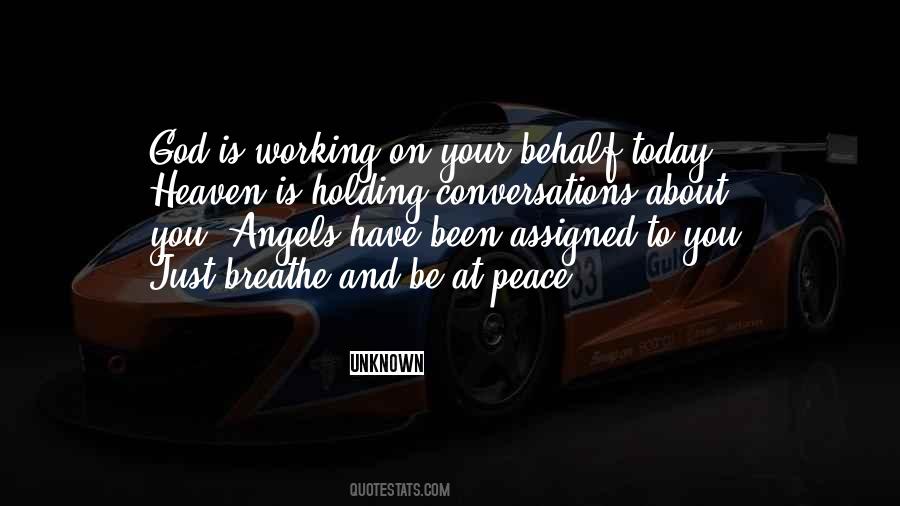 #48. I'm the only one in my family who is deaf, and there are still conversations that go around me that I miss out on. And I ask what's going on, and I have to ask to be included. But I'm not going to be sad about it. I don't live in sad isolation. It's just a situation I'm used to. - Author: Marlee Matlin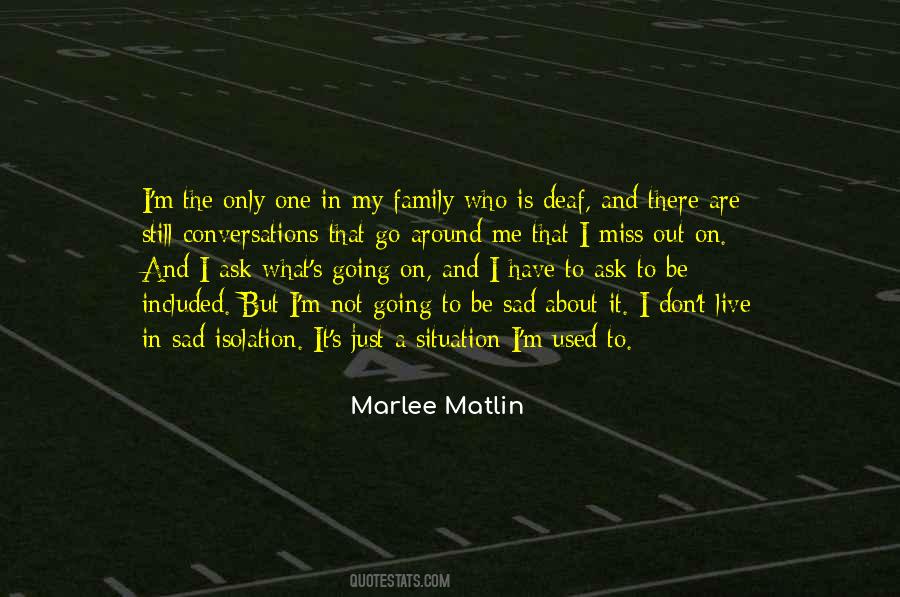 #49. When I sit down to interview people, I don't hold questions and I don't know the answers. They're more like conversations that become lessons. - Author: Dave Grohl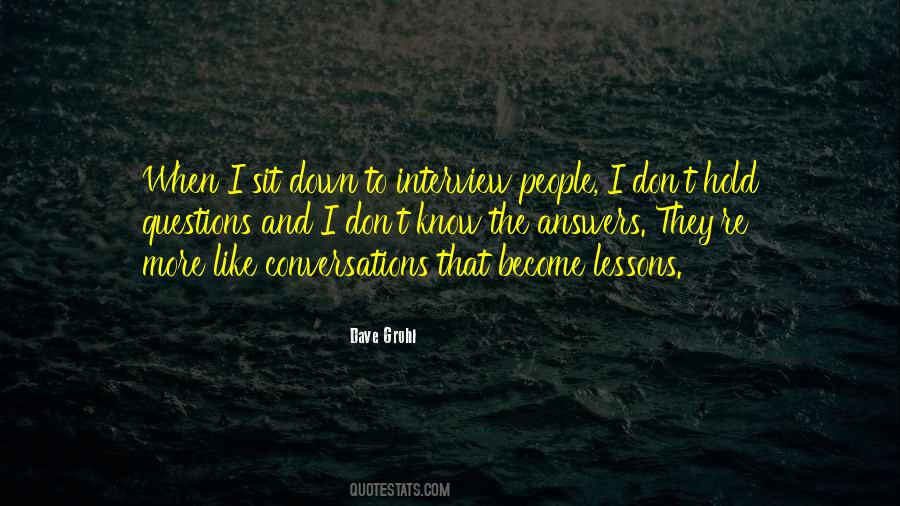 #50. surrounding yourself with what makes you laugh. Be intentional about hanging out with people you find amusing. Make a point to immerse yourself in media that generates positivity. Start conversations with people who smile a lot. Do something that makes you feel like yourself. You - Author: Tom Shepherd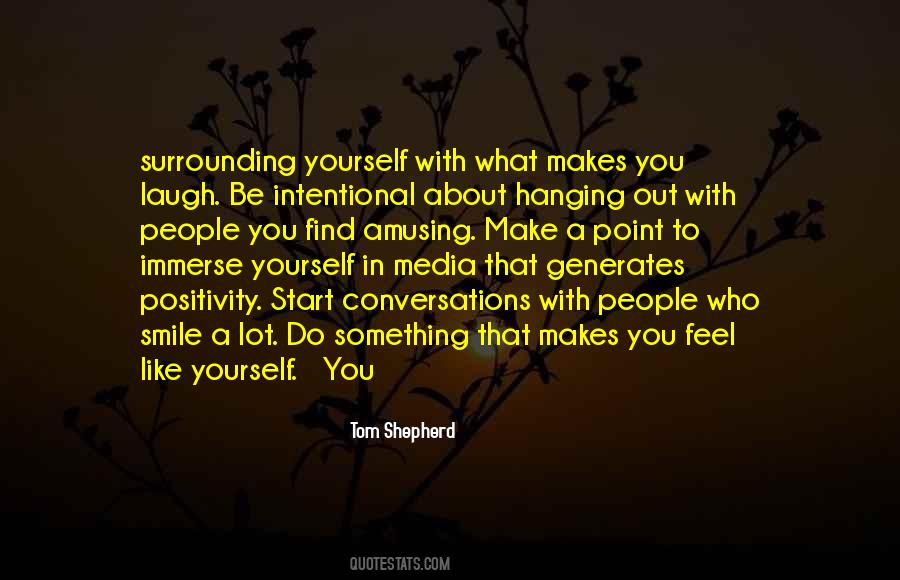 #51. When I visited the Water Institute's Baton Rouge offices overlooking the Mississippi River, I couldn't find a drop of the charged politics that drives so many environmental conversations in Washington. - Author: Nina Easton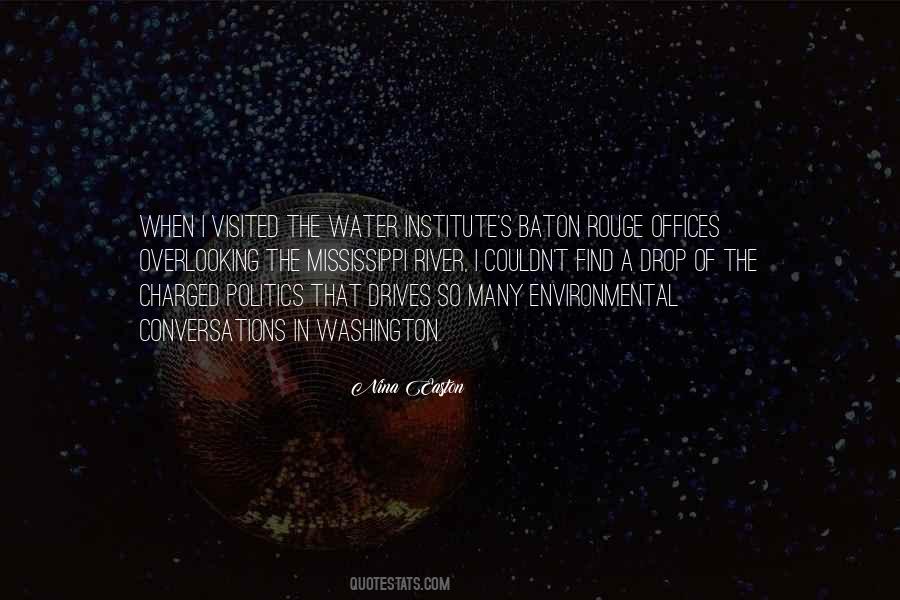 #52. In today's world of blogging and tweeting, conversation has become a bit more staccato. In many ways we're more efficient, but I think the amount of longer conversations that radiated more warmth may have gone down. - Author: Indra Nooyi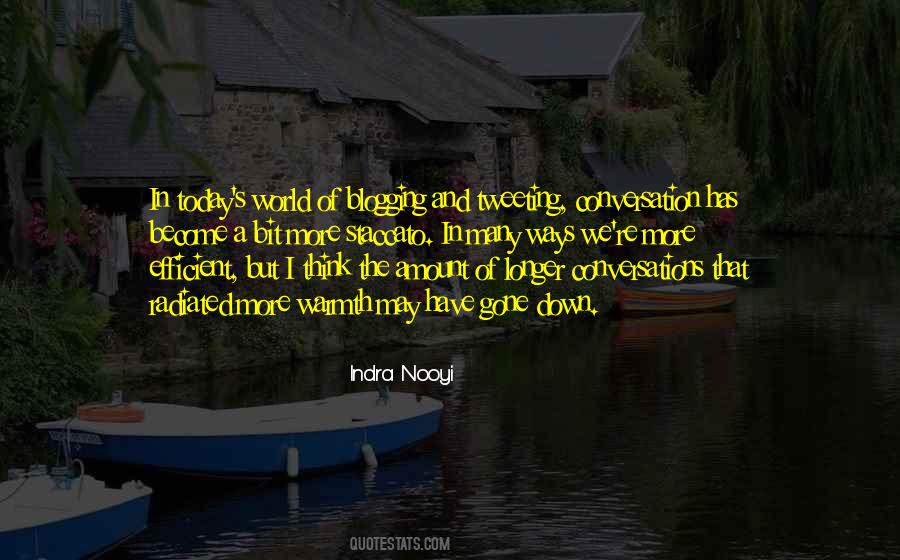 #53. I don't have 'The Jerry Springer Show'. I just got 'Family Feud', but some of them families, when they lose, man, they have some real conversations with each other back behind that wall, but I've never been involved in any of them. - Author: Steve Harvey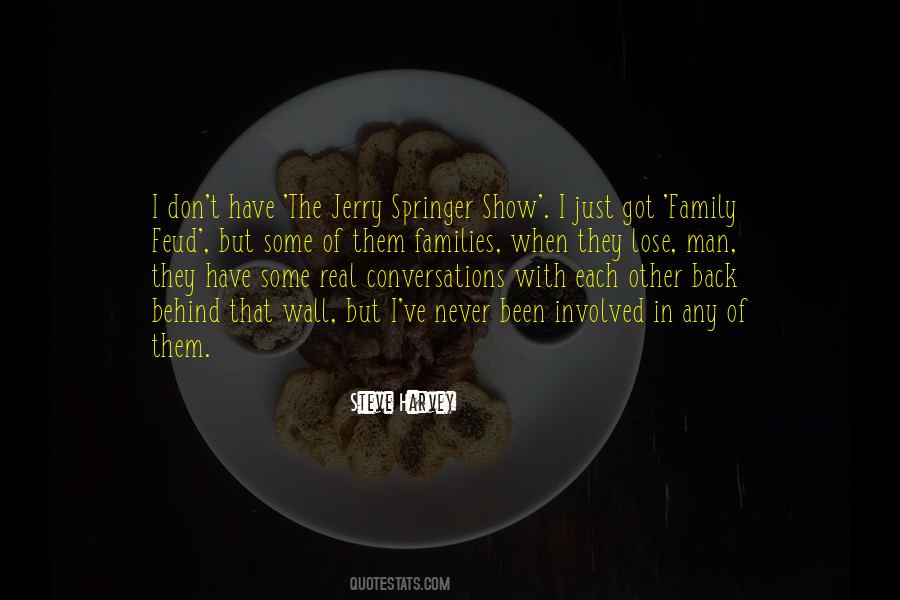 #54. Sometimes people think it's what you say when you're in a huge group that makes you a leader. But sometimes it's the one-on-one conversations you have with guys individually, just getting to know them. I think I've done that a lot. Not intentionally - it just happens. - Author: Robert Griffin III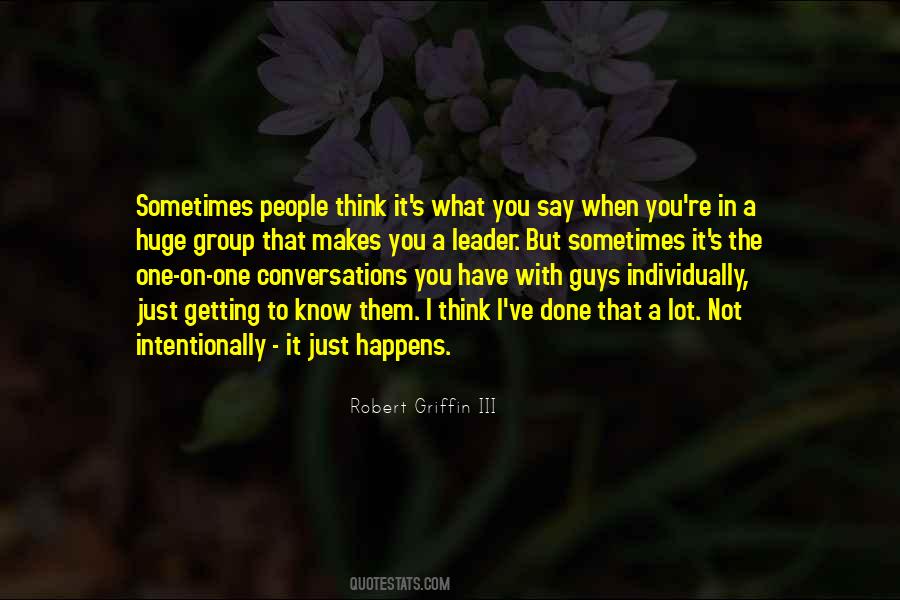 #55. Learning and teaching are not symmetrical. They are not the flip sides of the same coin, in spite of the fact that almost all papers and conversations on education assume they are. The working assumption - Author: Sugata Mitra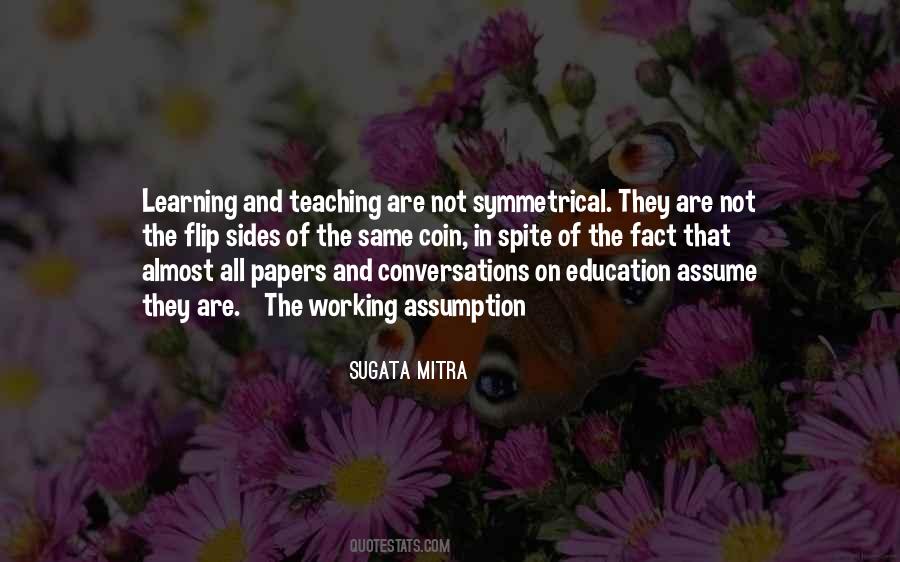 #56. Even if I live not in a big city, even if I detest to go to parties, I love street fairs and long conversations with people in the countryside. - Author: Paulo Coelho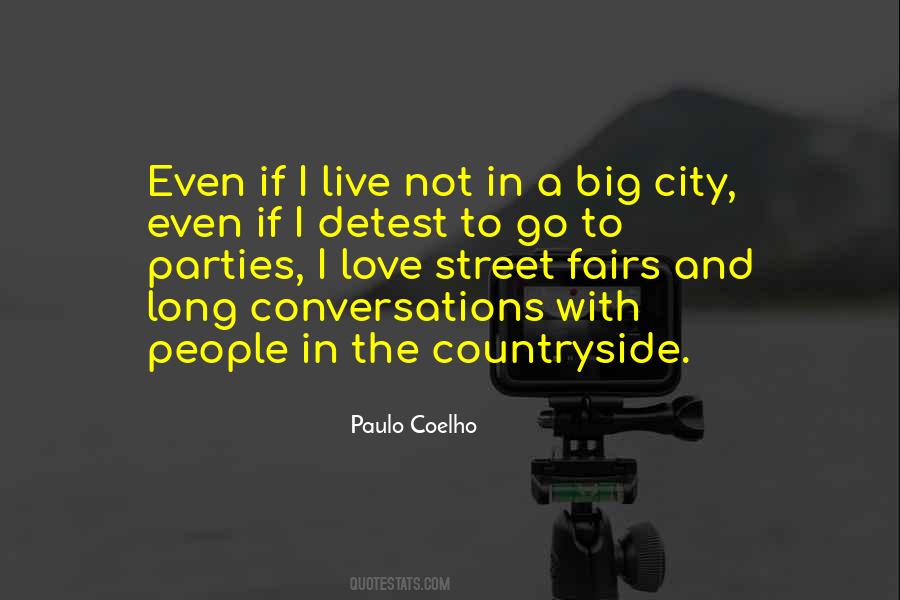 #57. There was something in the way he posed a question and followed it up with a generous pause, I think, that drew me out. I had never noticed all the pauses that were missing from most people's conversations. - Author: Suzanne Rindell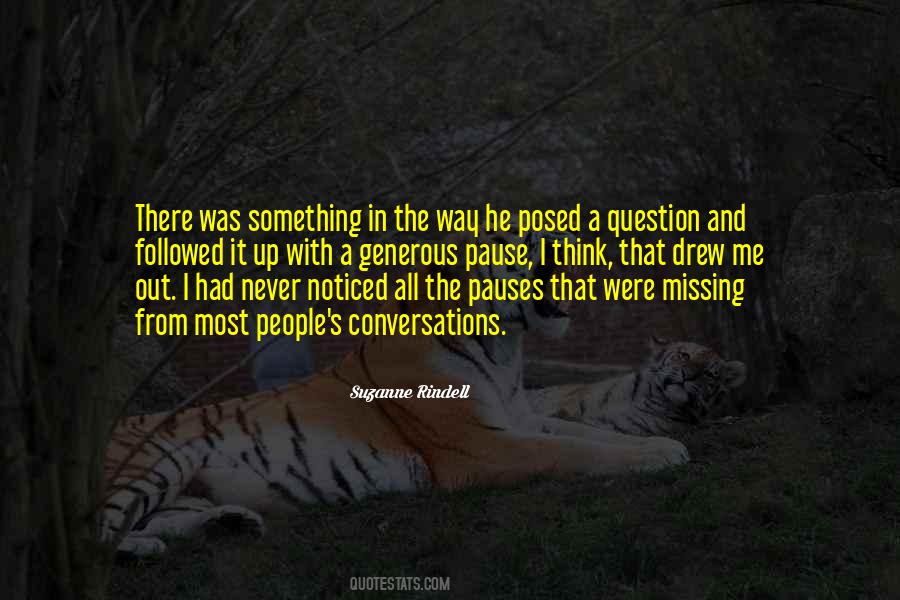 #58. There are few things harder to imagine than other people's conversations about yourself. - Author: Jonathan Franzen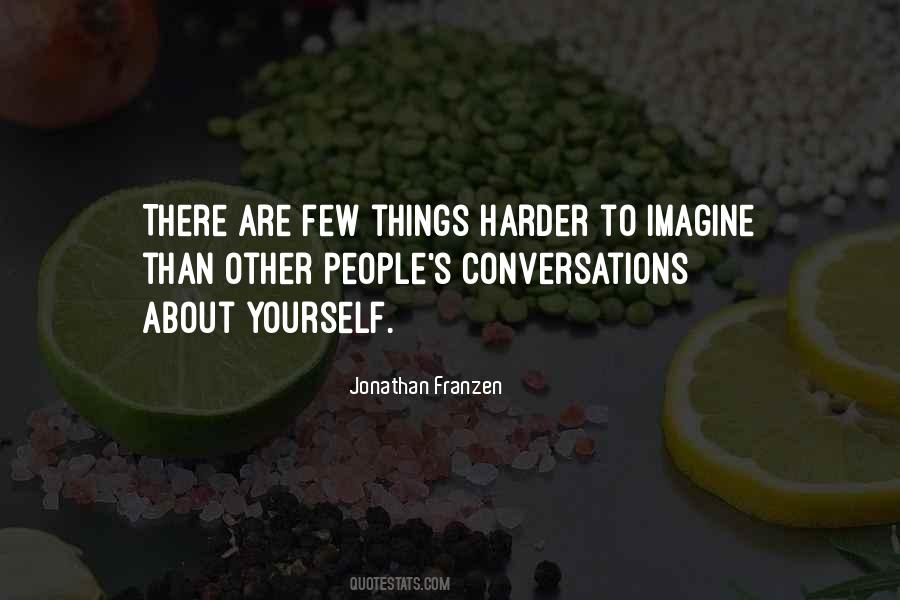 #59. Truth is felt in the heart. This is why your heart should always be your ultimate temple. Sitting inside on a blue altar, is you're where you find your conscience. This is where all conversations with God stream. - Author: Suzy Kassem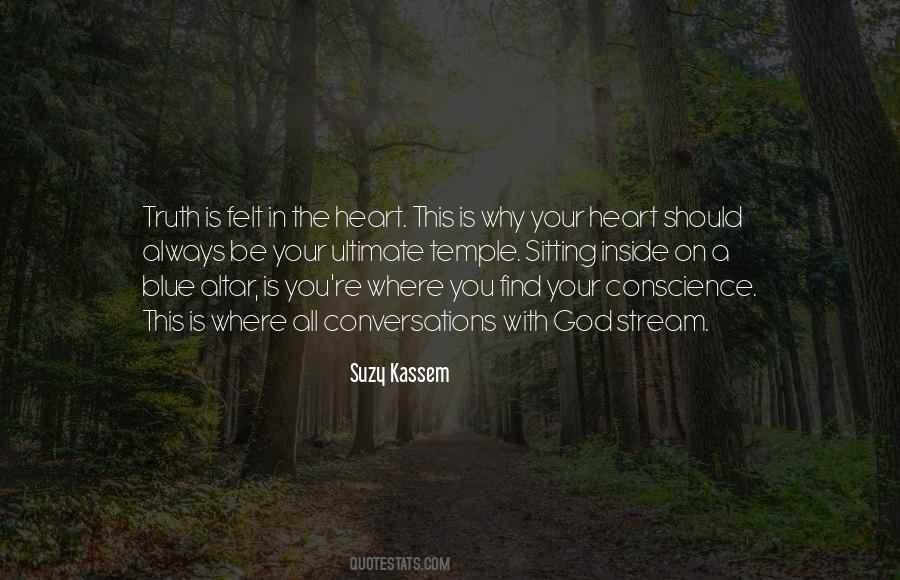 #60. People had long conversations with him, only to realize later that he hadn't spoken. - Author: Laura Hillenbrand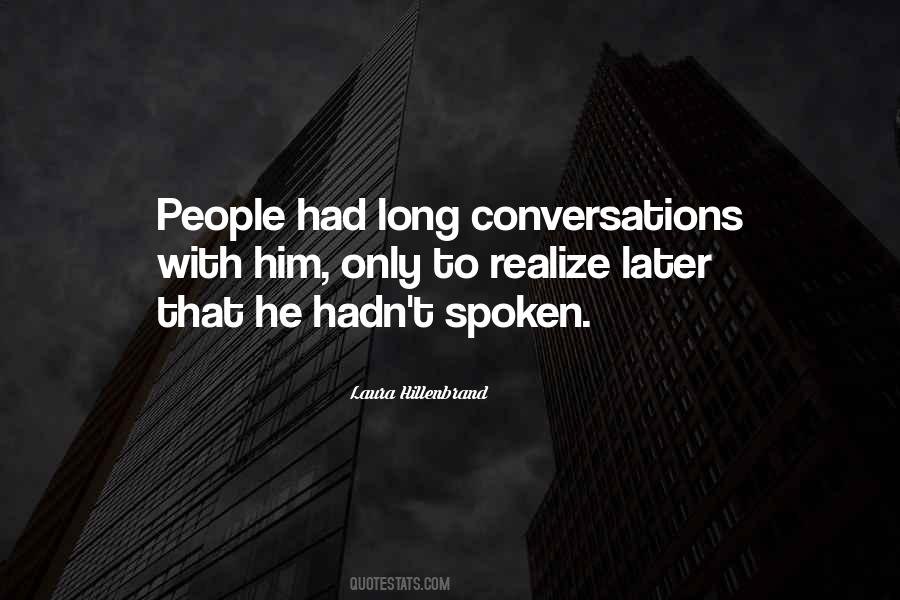 #61. We've all had those phone conversations. Things are heated, you're in a position where you're gonna say something nasty. Instead, you say, "Oh, I've got that thing in the oven." Lie. Get off the phone. Don't perpetuate a bad situation. - Author: Joe Manganiello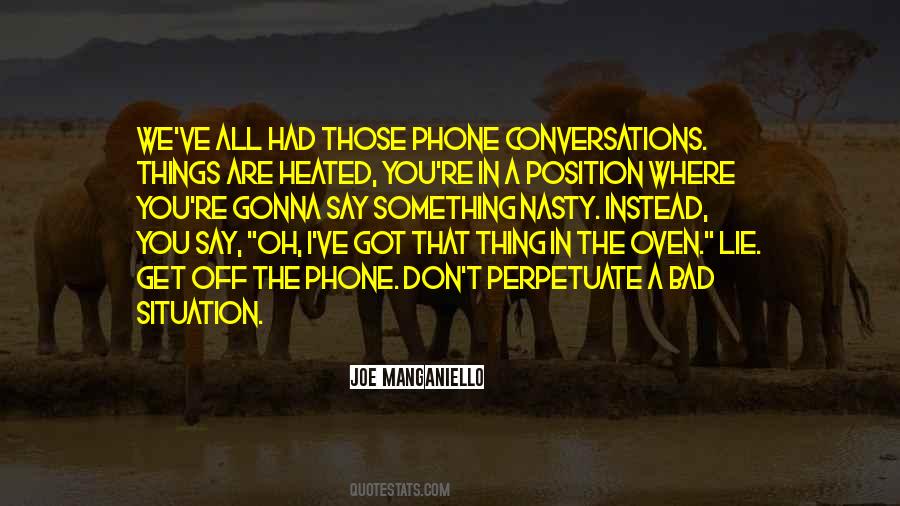 #62. I think the advice, regardless of gender, is always be open to conversations with people who do things differently than you do. If you're starting to work in tech, talk to the artists, talk to the lawyers, talk to the people who are interested in other things. - Author: Beth Simone Noveck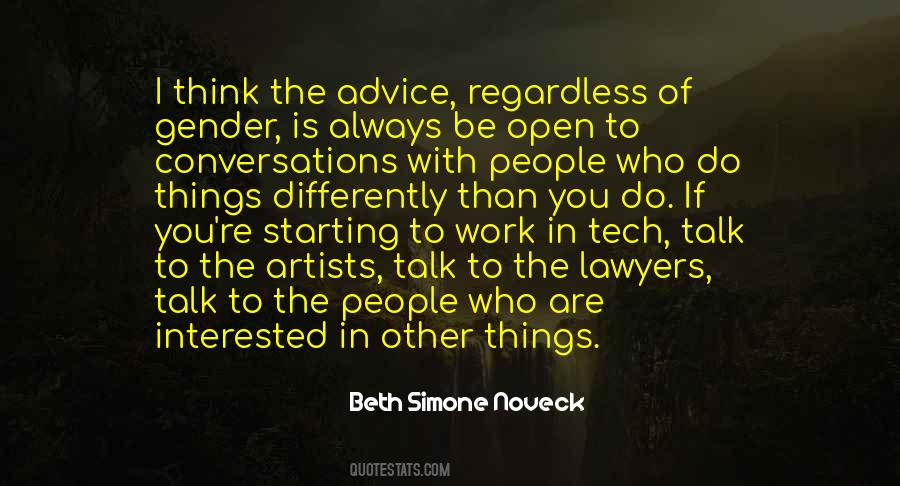 #63. Aside from their companionship, I'd brought Sage and Sky as ambassadors, hoping they would attract attention and open the door to conversations with strangers. In a moment, they fulfilled their diplomatic function. - Author: Philip Caputo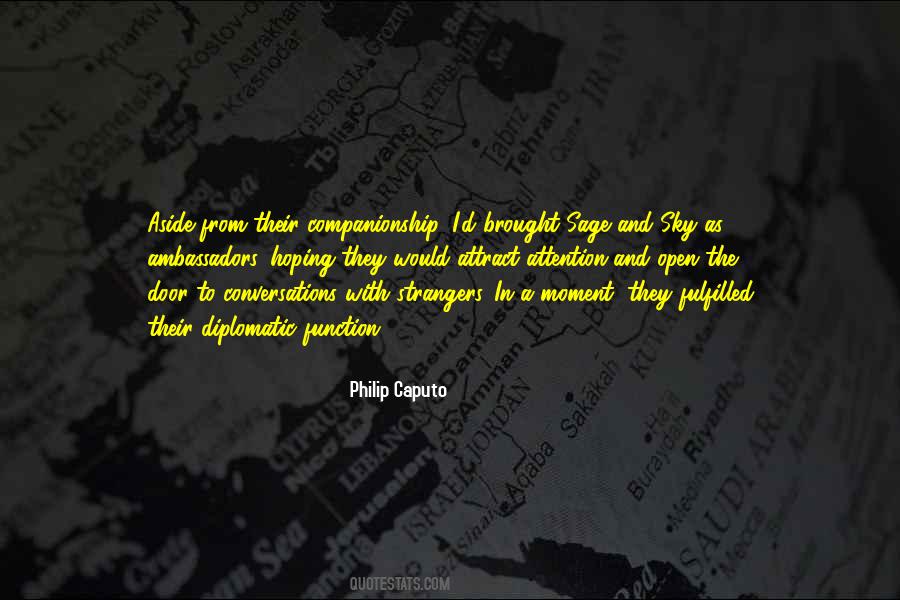 #64. Every man should know that his conversations, his correspondence, and his personal life are private. - Author: Lyndon B. Johnson
#65. Sometimes, it's not so bad to listen to some one talk about weapons or horses - or medicine. Honestly, when someone is trying to talk to you about those things, the important thing they're always saying is that they care enough about what you think to try to share themselves with you. - Author: Breeana Puttroff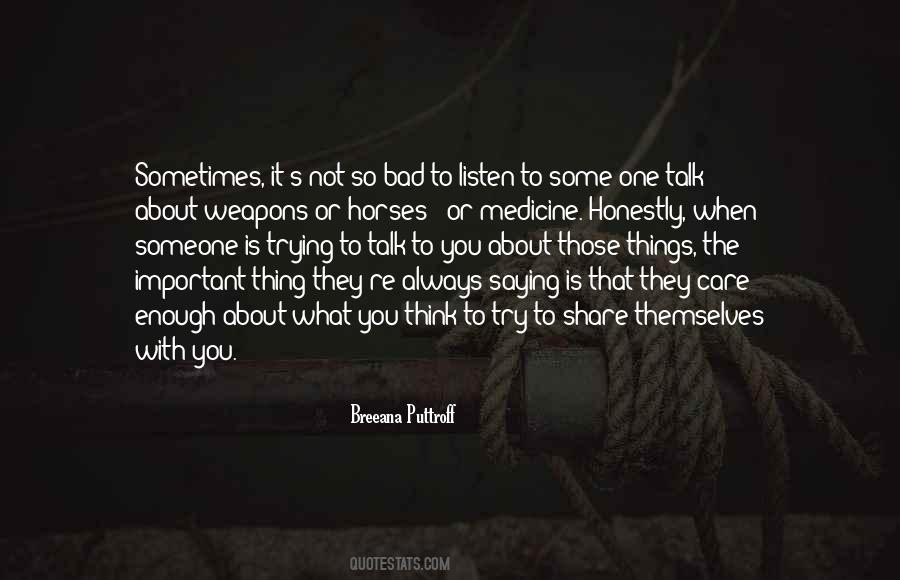 #66. When influential people speak, conversations spread like ripples in a pond. And those ripples are multidirectional; influencers inspire everyone around them to explore new ideas and think differently about their work. - Author: Travis Bradberry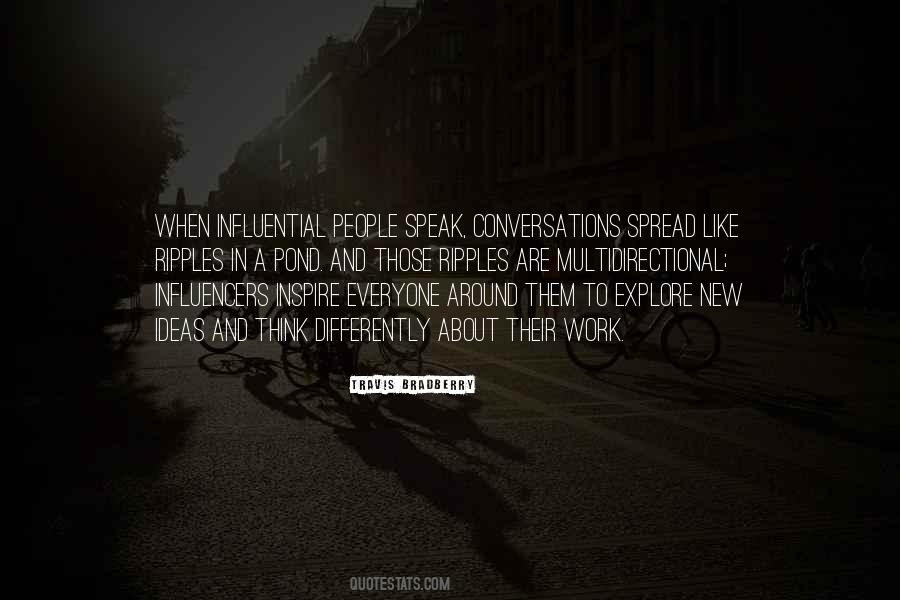 #67. When you're warm and approachable, you don't have to go up and talk non-stop to someone in a social situation. You just have to be open to the conversations you're already having - and warm and receptive to the people you're meeting. - Author: Karen Salmansohn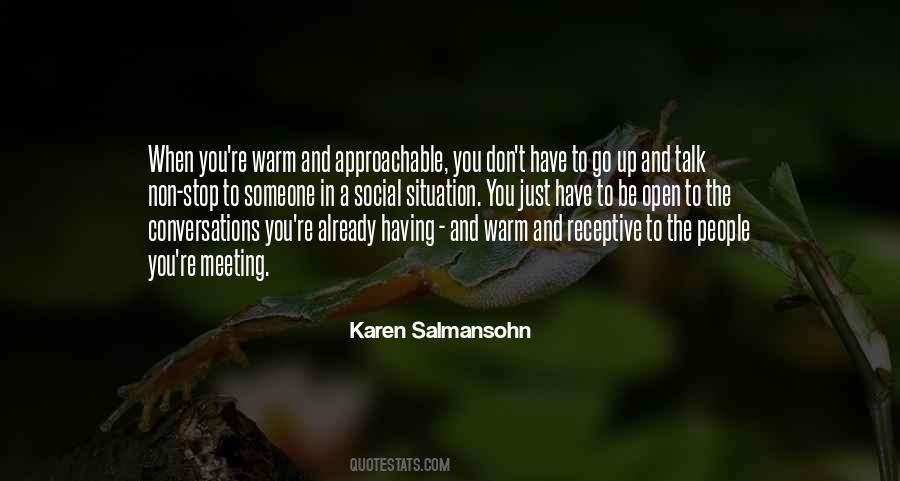 #68. I deal with this spiritual issue every day - either shooting or processing or sorting or discussing or having conversations - I'm in constant contact with it. - Author: Leonard Nimoy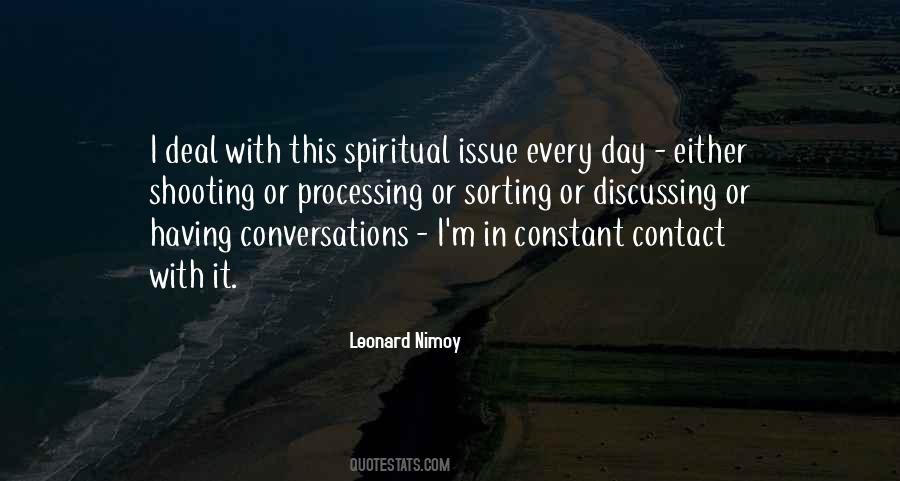 #69. We were going to call it "Star Trek: The Avengers", and for a while we were like, "People are going to love that title". No, we had a whole bunch of titles, we never had any official title until we came out with this, we had different conversations about other things. - Author: Bryan Burk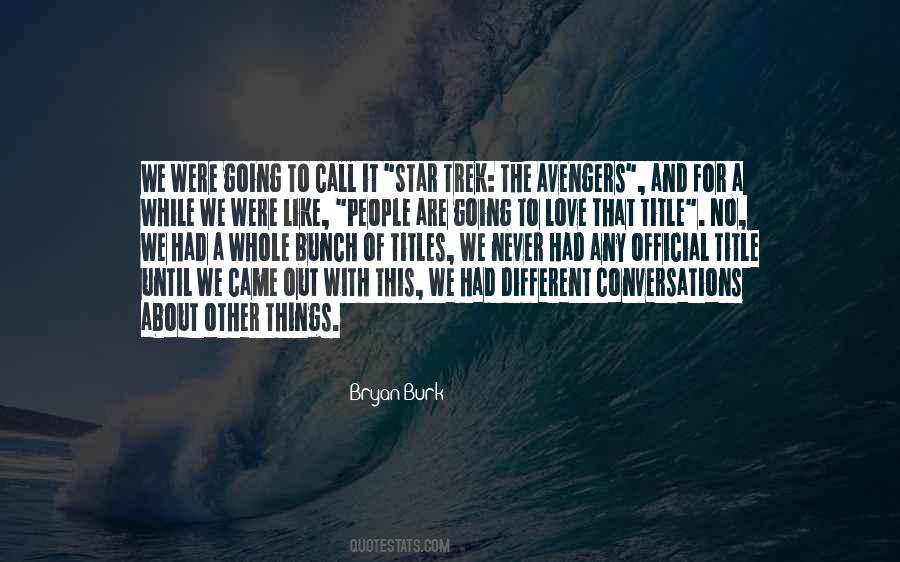 #70. When you shift conversations and explore the greatness of your team members, you're likely to be a person who creates opportunities for their strength to show up on the job. - Author: John Yokoyama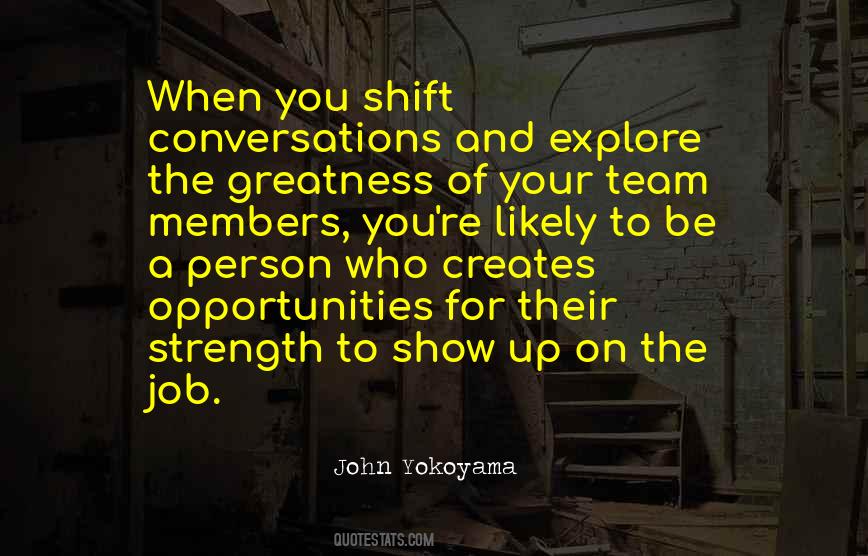 #71. The most significant conversations of our lives occur in silence. - Author: Simon Van Booy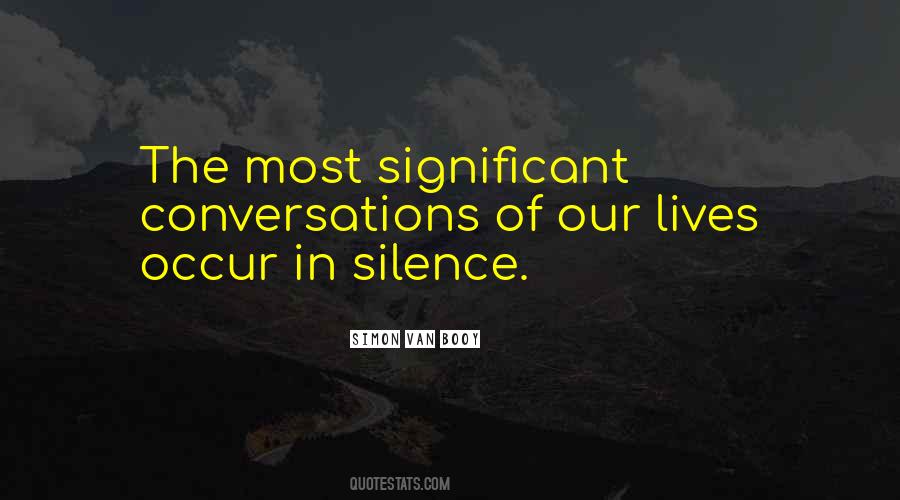 #72. Sometimes I pray when I really feel like I need God to help me with something, and sometimes we just have conversations. We just kick it. - Author: Queen Latifah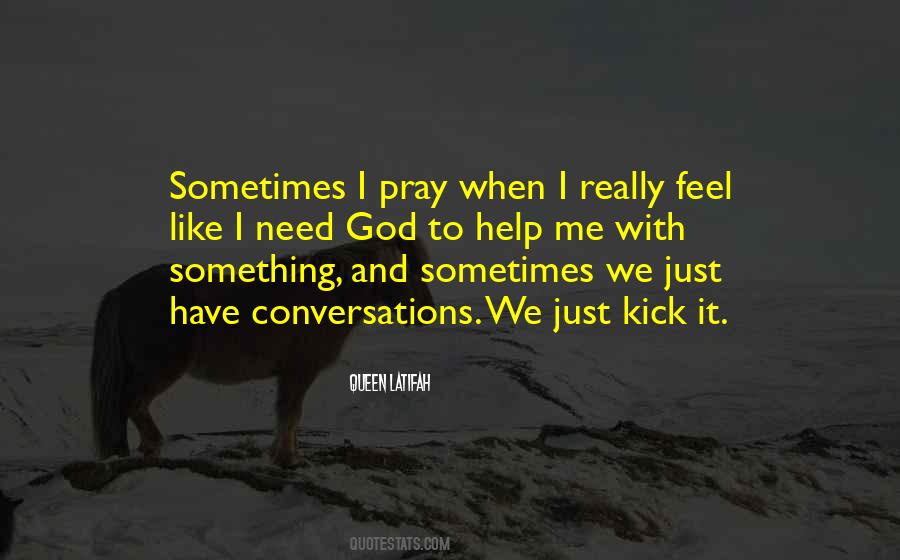 #73. I do not like the human race. I don't like their heads, I don't like their faces, I don't like their feet, I don't like their conversations, I don't like their hairdos, I don't like their automobiles. - Author: Charles Bukowski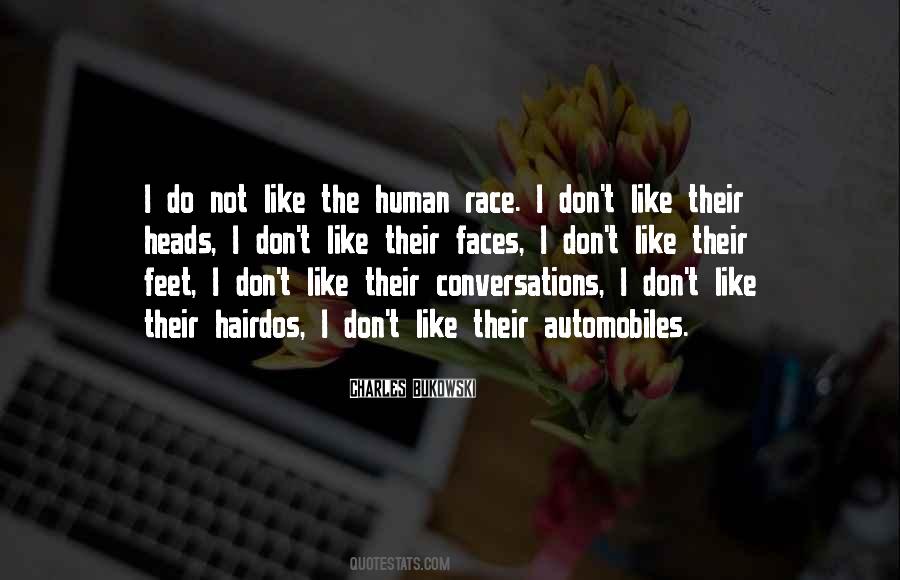 #74. The more you know, the more you see - Author: Aldous Huxley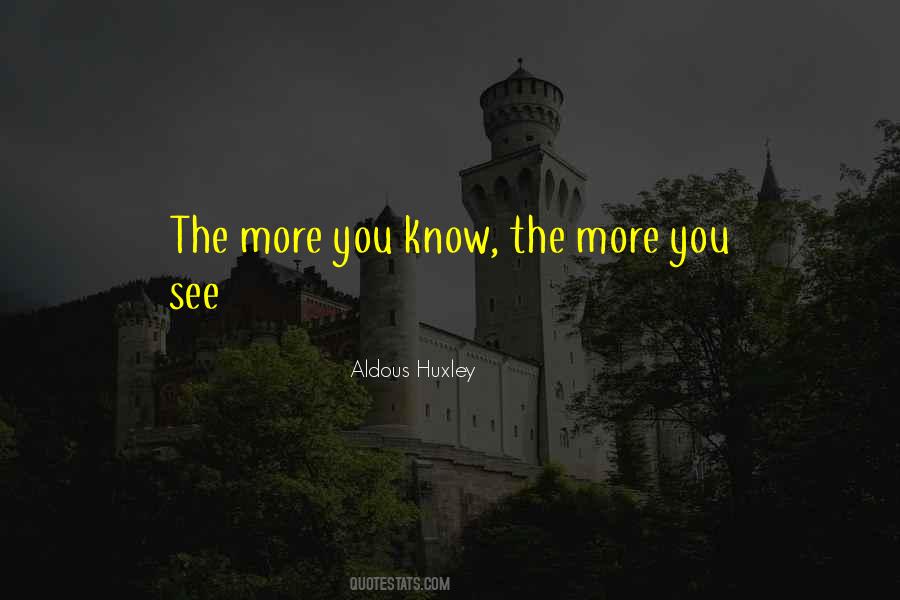 #75. I find my characters and stories in many varied places; sometimes they pop out of newspaper articles, obscure historical texts, lively dinner party conversations and some even crawl out of the dusty remote recesses of my imagination. - Author: Lynn Nottage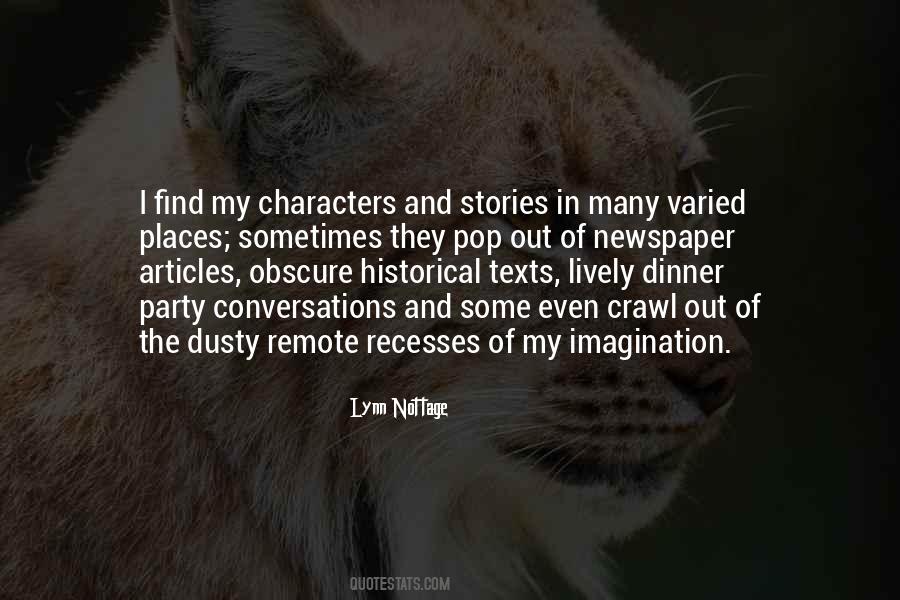 #76. Have a lot of conversations. Look at the implications of changing, but ultimately, you have to trust your gut. Test your conflicting advice as much as you can through research and conversations. - Author: JJ Ramberg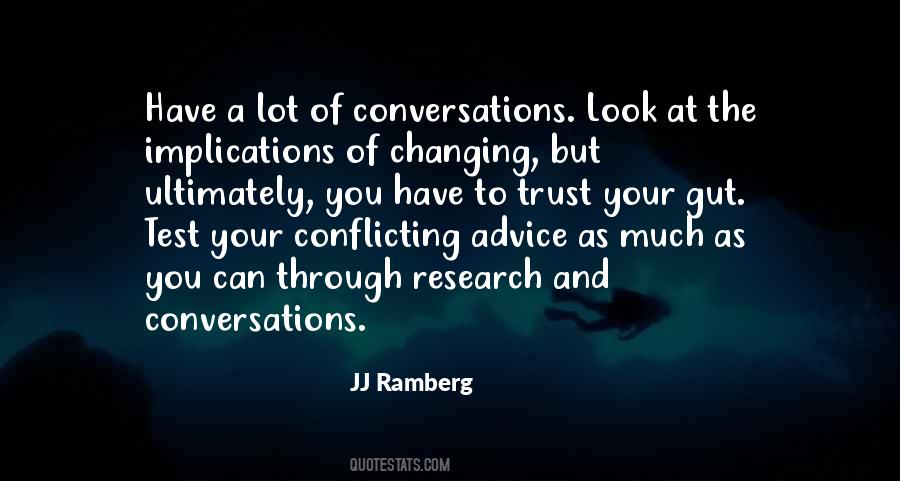 #77. Radio is more powerful the closer we mimic the way we actually speak to each other. That's why Howard Stern is such a great radio talent. People on his show are actually speaking to each other. You might not like what they're saying, but they're real conversations. - Author: Ira Glass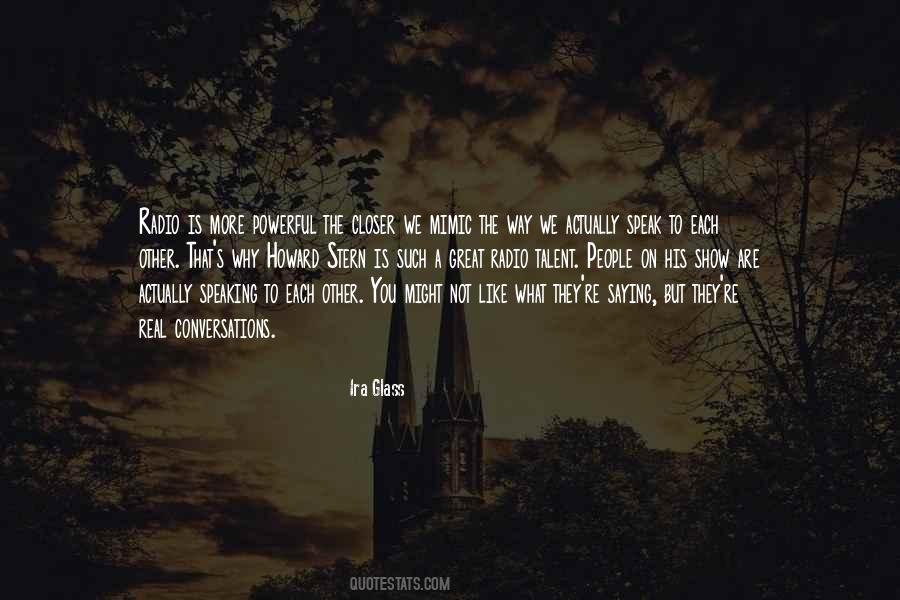 #78. I don't really want to be in the business of observing conversations. - Author: Brian Acton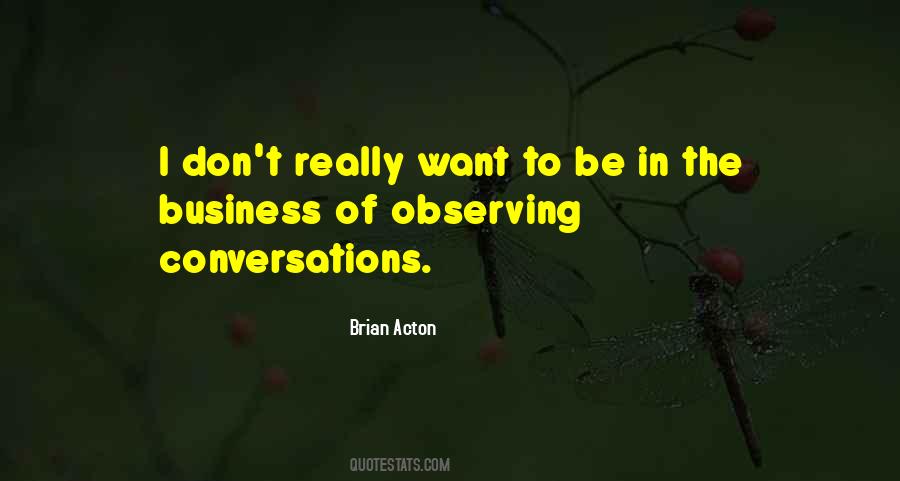 #79. I have seldom heard people engaging in deep intellectual conversations. Most chats are either about mundane life decisions [ ... ] or juicy gossip. - Author: Gad Saad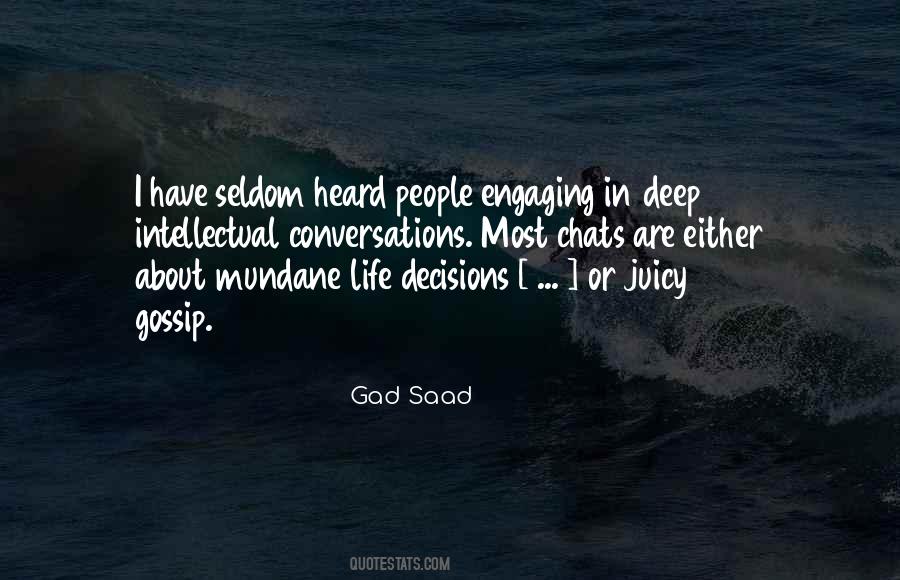 #80. We may not have computers or telephones or television, but we have books and conversations. And we talk to each other in person, not through e-mails and texts. - Author: Nancy Grossman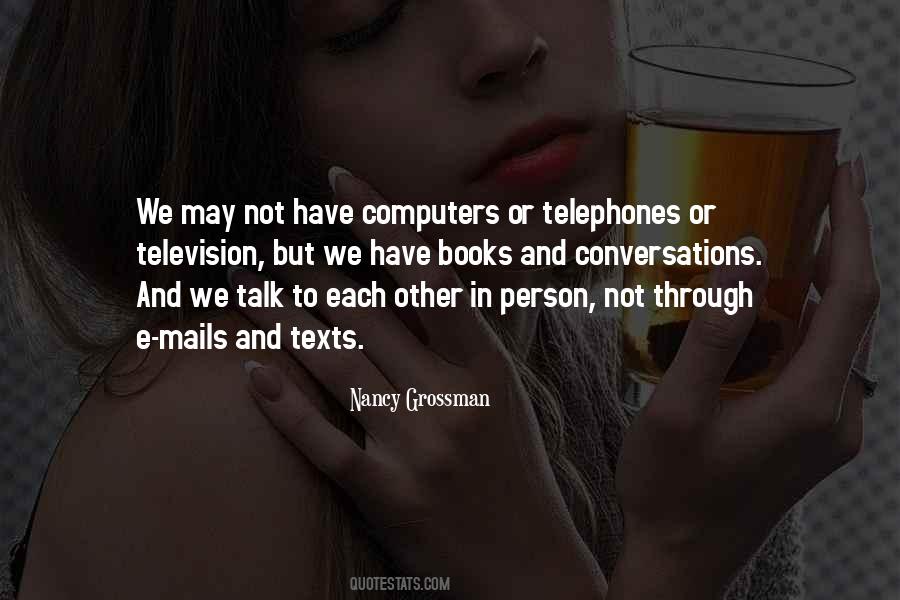 #81. I asked him about his enemies. He began to count them. The list went on and on ... - Conversations with Yahya Kemal - Author: Orhan Pamuk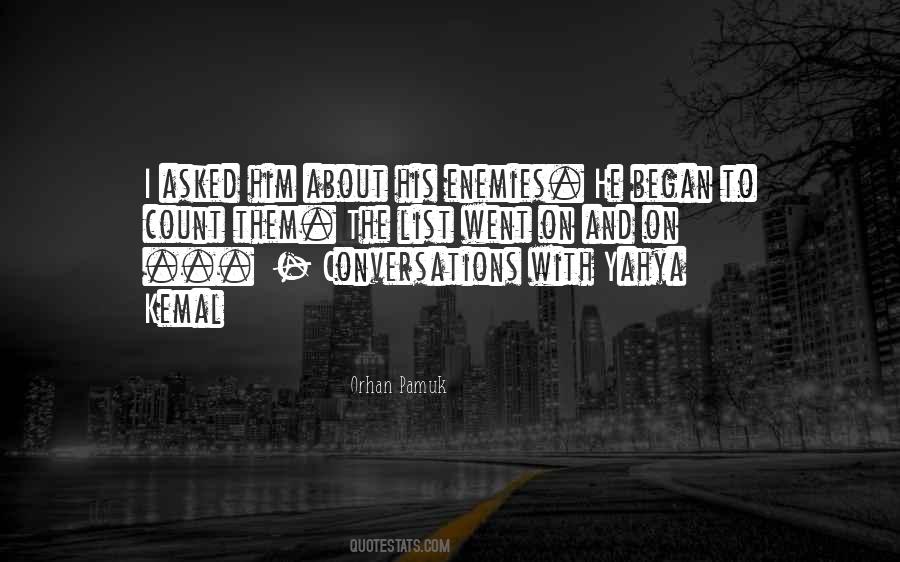 #82. In Brooklyn, it was as though you were in your own little bubble. You were all part of one big, but very close family, and the Dodgers were the main topic of everybody's conversations and you could sense the affection people had for you. I don't know that such a thing exists anymore. - Author: Don Drysdale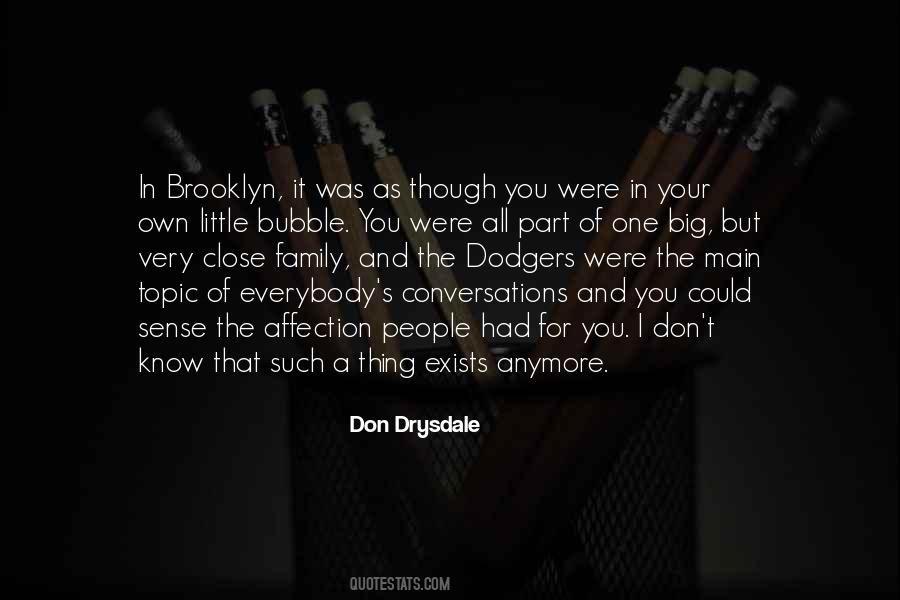 #83. In the Catholic Worker we must try to have the voluntary poverty of St. Francis, the charity of St. Vincent de Paul, the intellectual approach of St. Dominic, the easy conversations about things that matter of St. Philip Neri, the manual labor of St. Benedict. - Author: Peter Maurin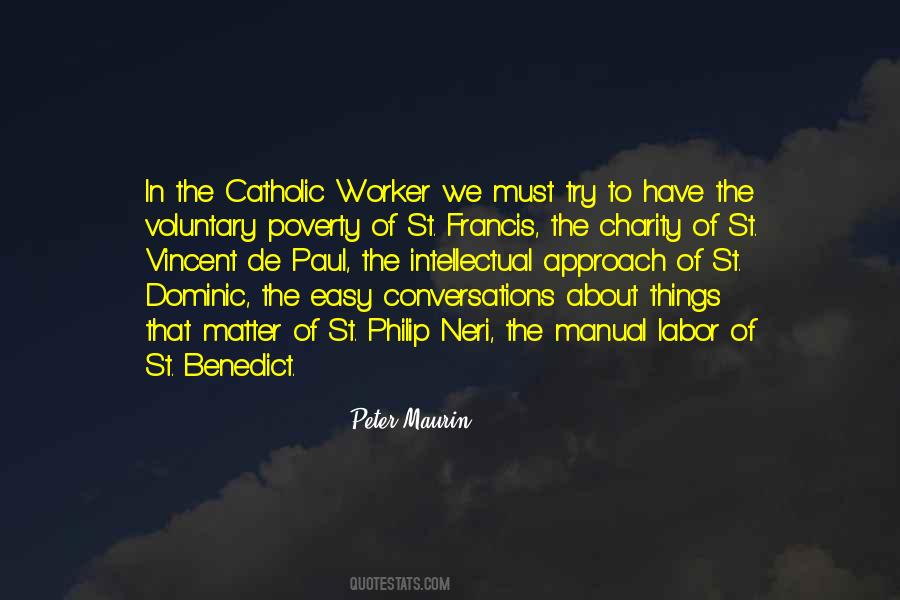 #84. Language was both his livelihood and his addiction and he was often preyed upon by a near irresistible compulsion to eavesdrop on conversations in public places. - Author: Amitav Ghosh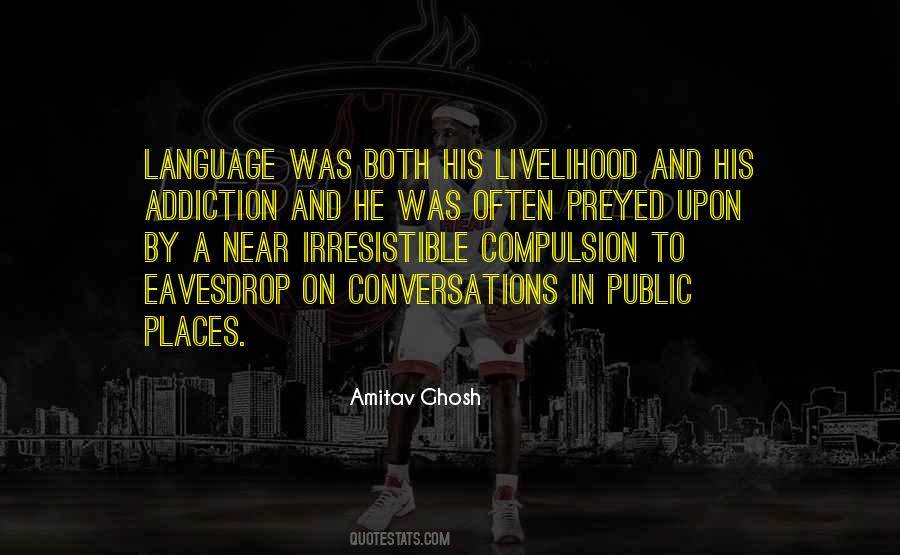 #85. I had no idea you could be a specialist at awkward conversations - Author: Sophie Kinsella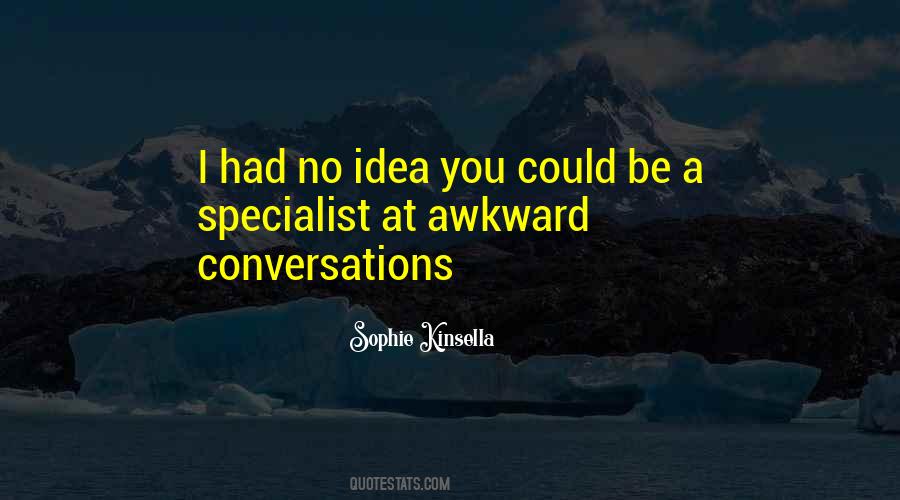 #86. I grew up with a lot of dinner table conversations about health care and ways in which the system was inadequate for the needs of many of the patients they took care of. - Author: Risa J. Lavizzo-Mourey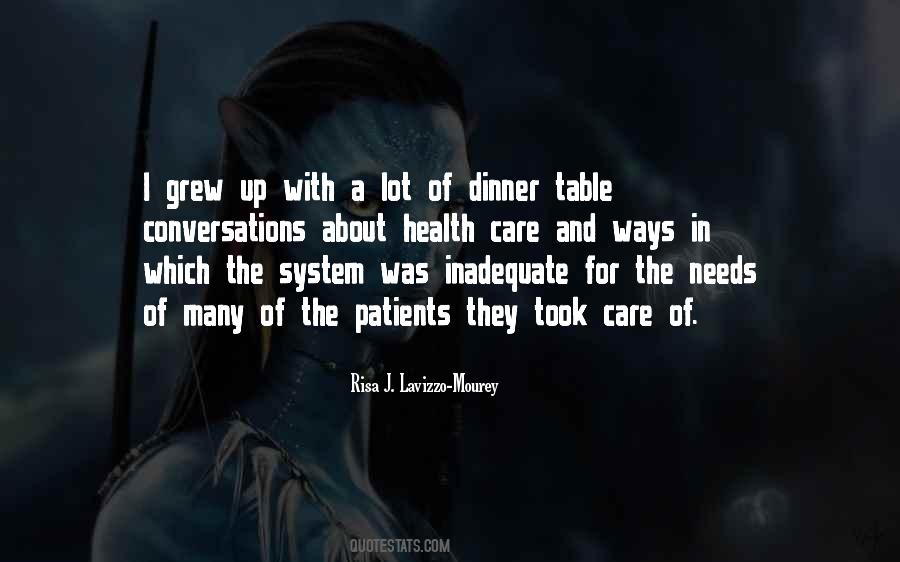 #87. The younger generation watches what's interesting, not whether it's presented by someone who is as old as I am or someone who is as old as a 21-year-old. It's the material. If I did a series of conversations on things most interesting to Millennials, they would respond to it, and I do. - Author: Charlie Rose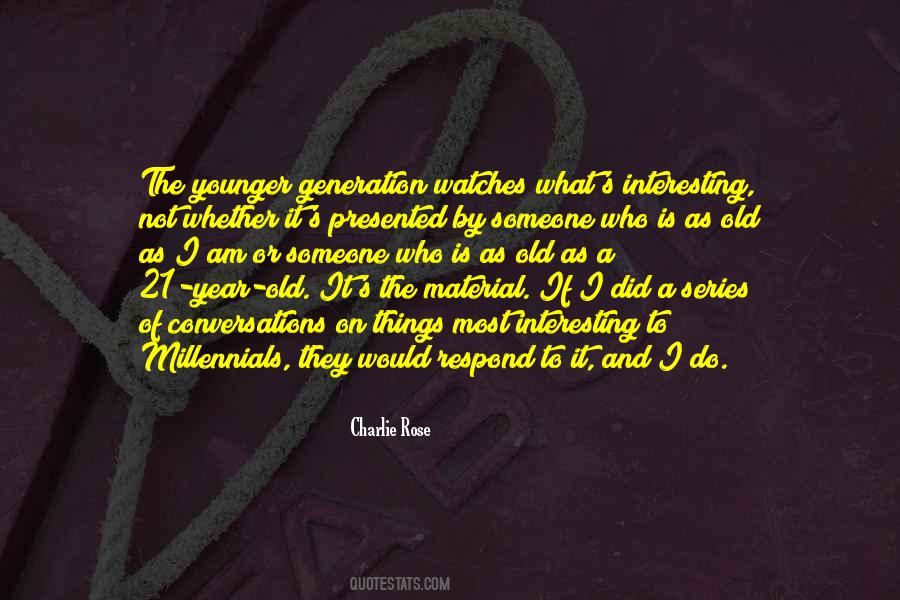 #88. Conversations will lift-off when your impulse for personal expression becomes secondary to your interest in hearing from your significant other. - Author: Jeremy Poland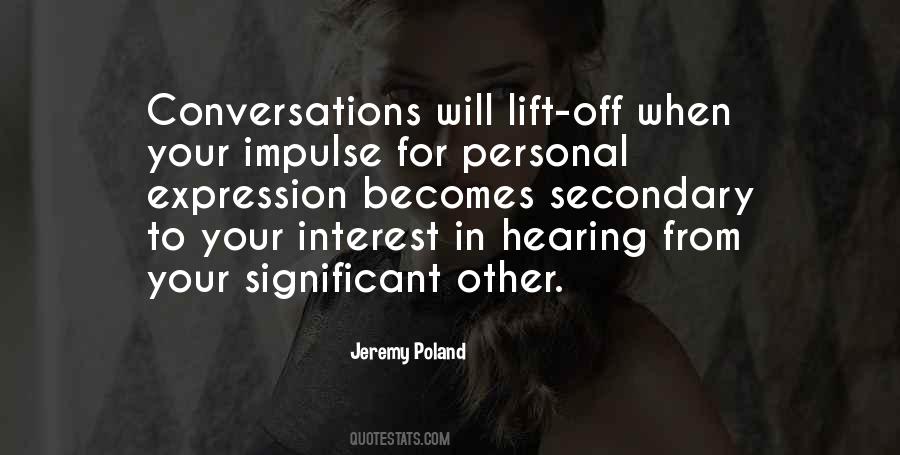 #89. I thought, possibly, that what I really needed was to go where nobody knew me and start over again, with none of my previous decisions, conversations, or expectations coming with me. - Author: Maggie Stiefvater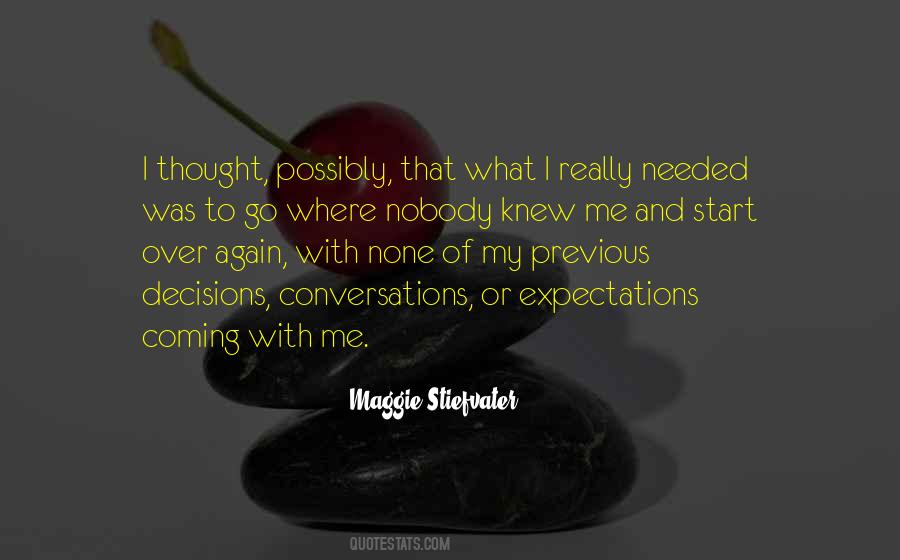 #90. A modern world, with so many choices for women, yet still very much a man's world, with little

place for compassion or community or flowery skirts. No, it was a world of business suits and

lawsuits, of committees and careful conversations. - Author: Debotri Dhar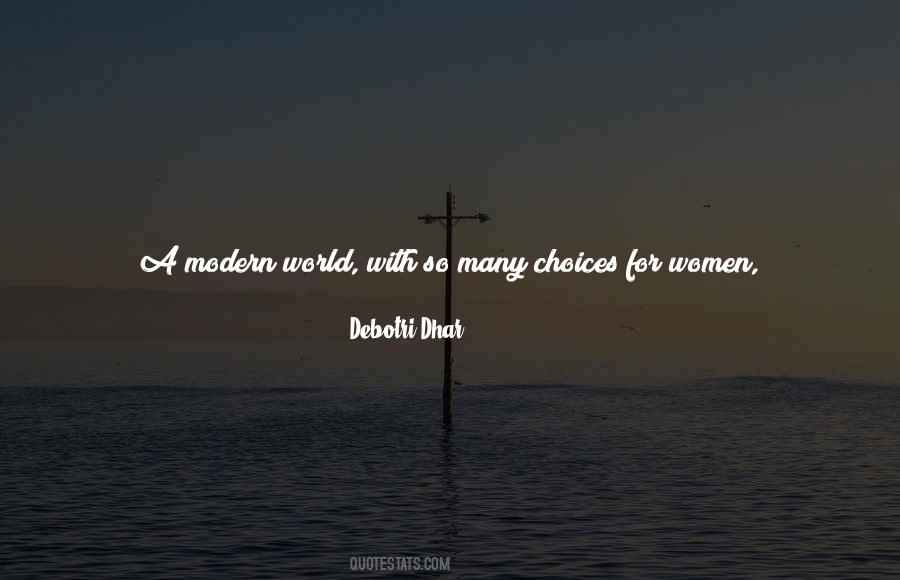 #91. To be influential in our conversations, we must first be aware of two things, (1) what do we want to bring to the conversation and (2) what do we want to bring out in others. - Author: Bill Crawford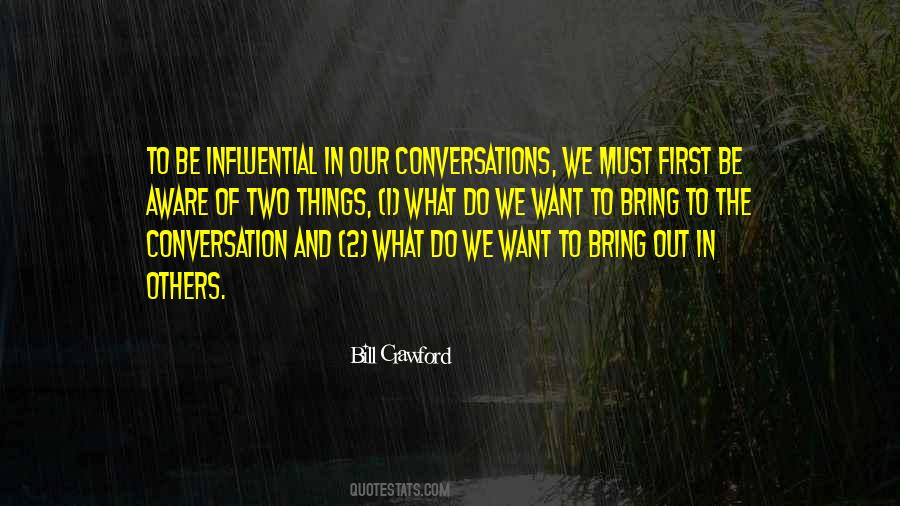 #92. We are ill-fated in that our society demands we engage in unworthy conversations and dances in order to seem courteous, and yet such actions are ultimately vulgar. - Author: Shannon Hale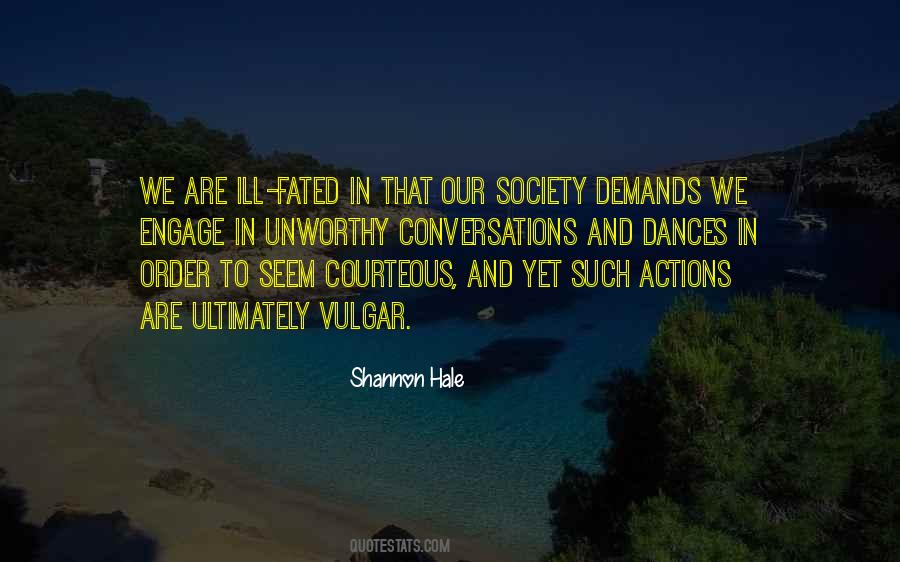 #93. I get energy from one-on-one conversations most often, and I lose energy from group conversations most often. - Author: Reid Hoffman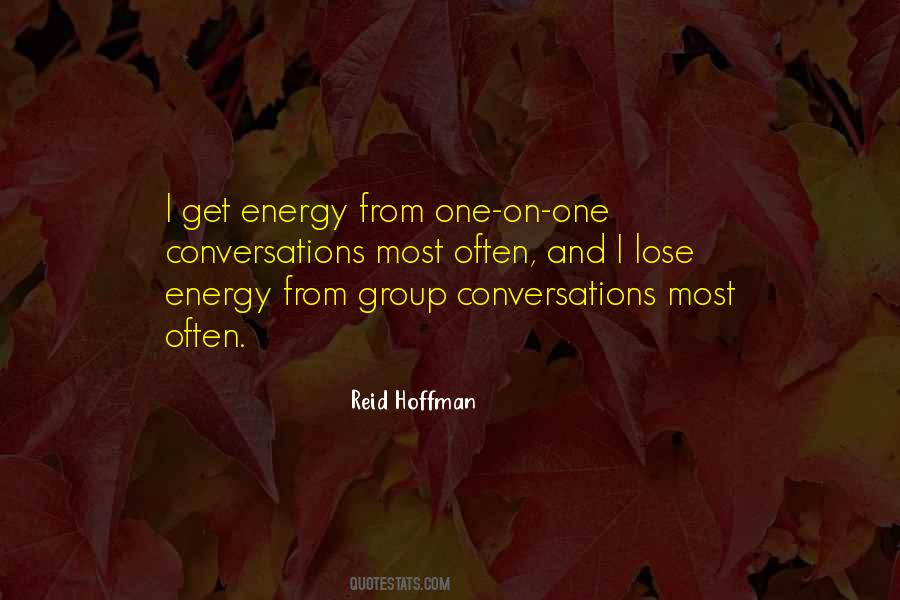 #94. I'd have conversations with the camera crew about what was going on in the scene, so that they were prepared to shoot it. I love the fact that when you work, you create this tribe. - Author: Susan Sarandon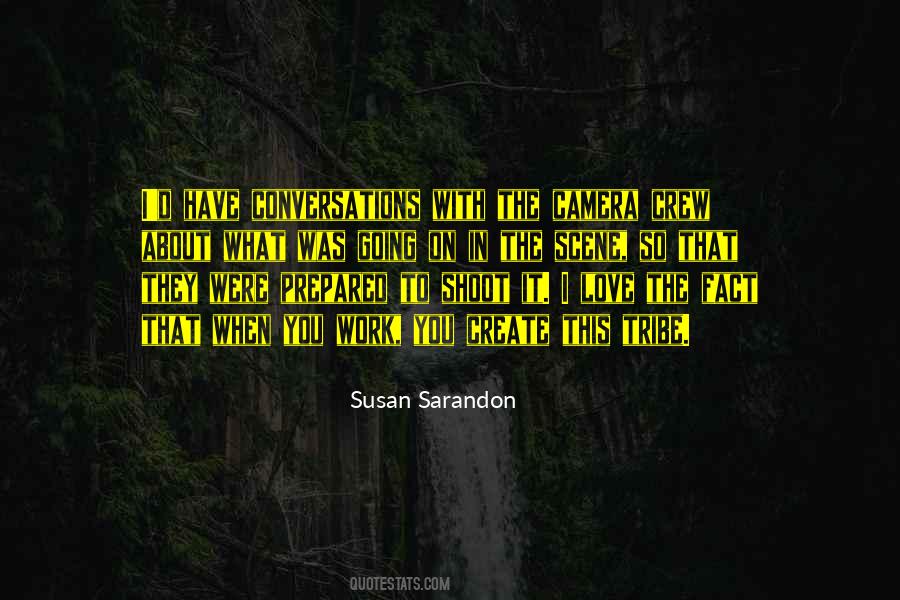 #95. Personally, I like to hang out in the kitchen. That's my safe space in a party environment. I feel like it's a little quieter so you can actually have conversations with people, and anybody else who's also in the kitchen is probably someone I can have a decent conversation with. - Author: Hannah Hart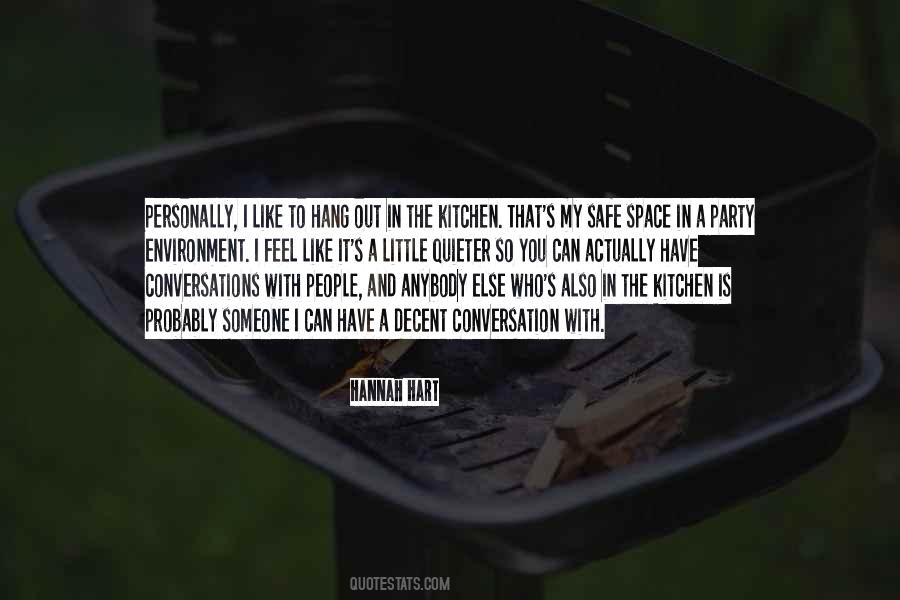 #96. To see great result let your conversations reveals ultimate priority of restoring the kingdom - Author: Sunday Adelaja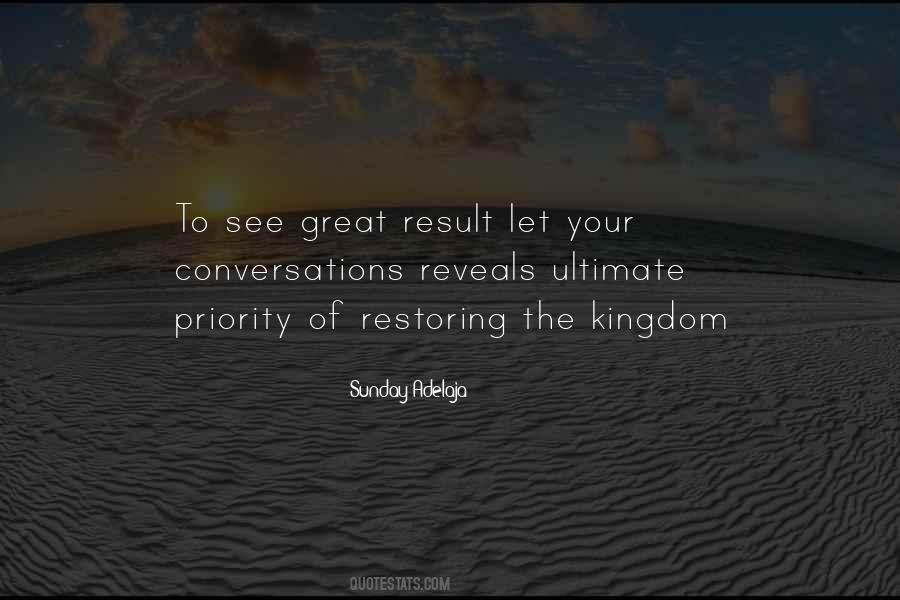 #97. Galinda didn't often stop to consider whether she believed in what she said or not; the whole point of conversations was flow. - Author: Gregory Maguire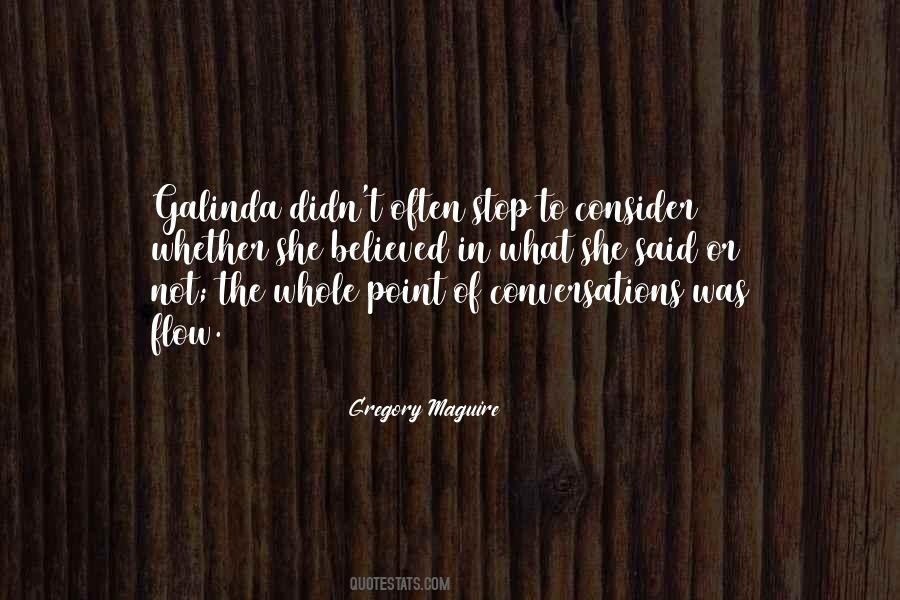 #98. Books are always obviously having conversations with other books, and some times they're amiable and sometimes not. - Author: China Mieville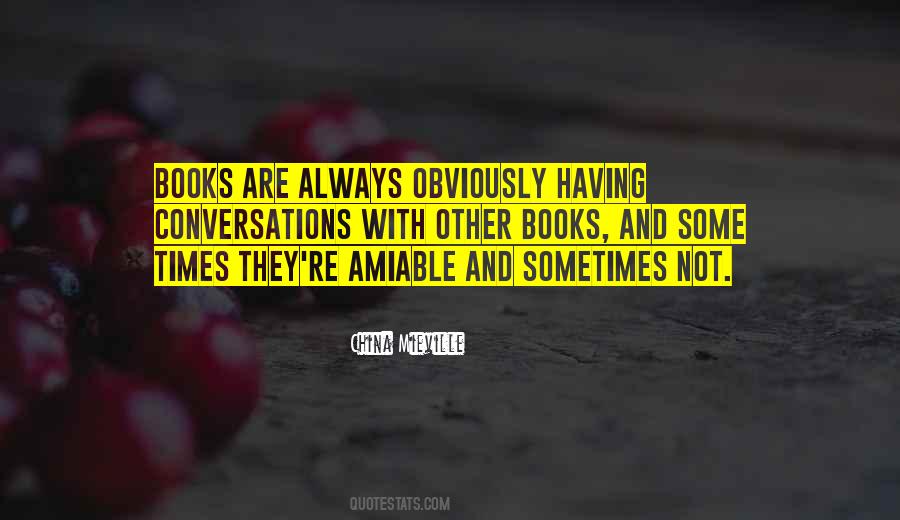 #99. It did matter to get out of bed. There were webs to weave. Strings to grasp. Packages to deliver. Conversations to start. Thoughts to be expressed. Sams to slam into. Oceans to swim. And sad little men hiding in electrical sockets, waiting to be born of the human imagination. - Author: Bud Macfarlane Jr.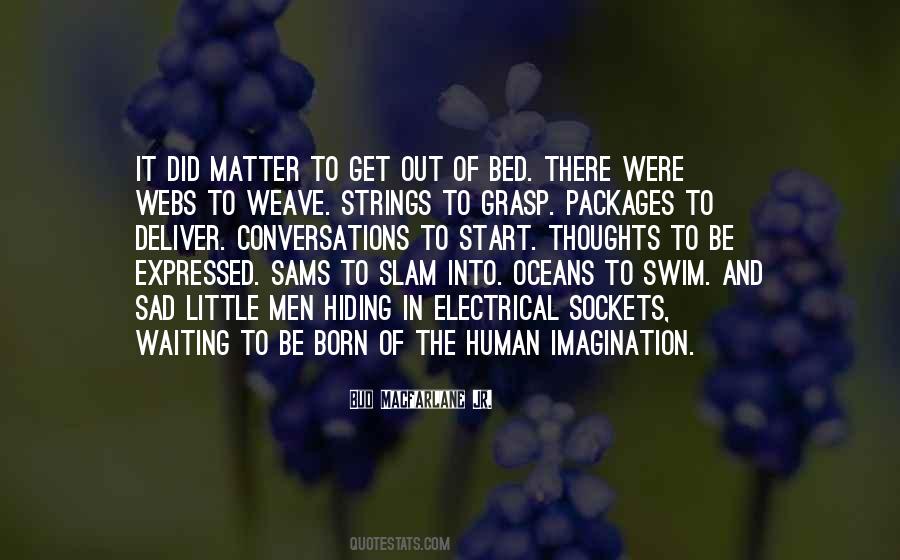 #100. Mma Ramotswe decided to go back into her office. There was a curious thing about male conversation that she had noticed - men often ended up poking fun at one another. Women did this only rarely, but men seemed to love insulting one another. It was very strange. - Author: Alexander McCall Smith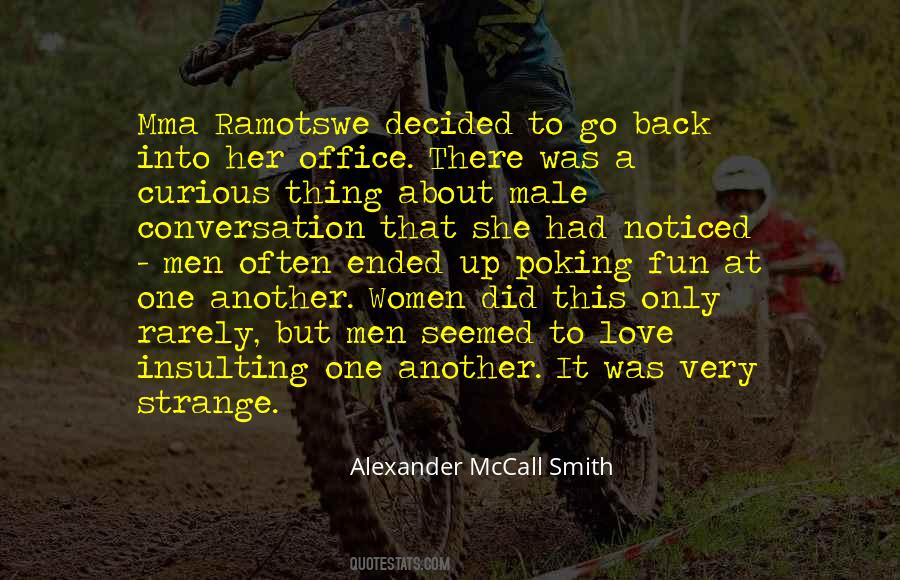 Famous Authors
Popular Topics