Connected Famous Quotes & Sayings
List of top 100 famous quotes and sayings about connected to read and share with friends on your Facebook, Twitter, blogs.
Top 100 Quotes About Connected
#1. Spirituality for me is recognizing that I am connected to the energy of all creation, that I am a part of it and it is always a part of me. - Author: Oprah Winfrey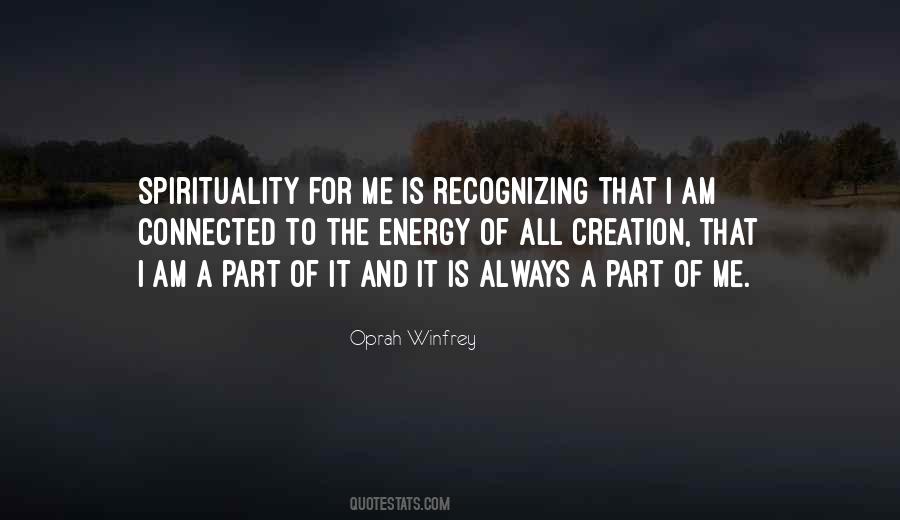 #2. We're all violent. Especially when it concerns the ones we love. They're intimately connected, love and hate. - Author: Tess Gerritsen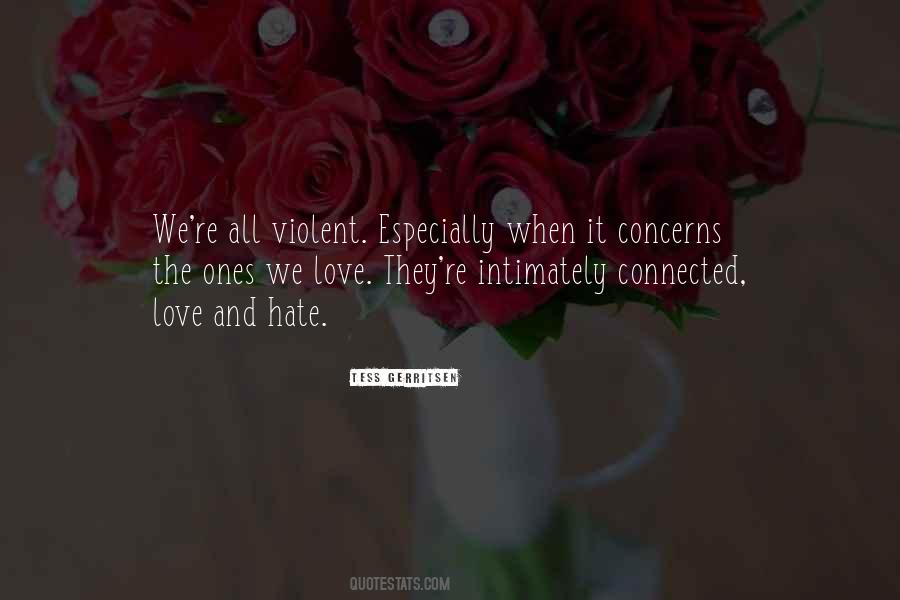 #3. I also know that Edison believed the moment between being awake and being asleep was a veil, and it was in that moment that we were most connected to our higher selves. - Author: Jodi Picoult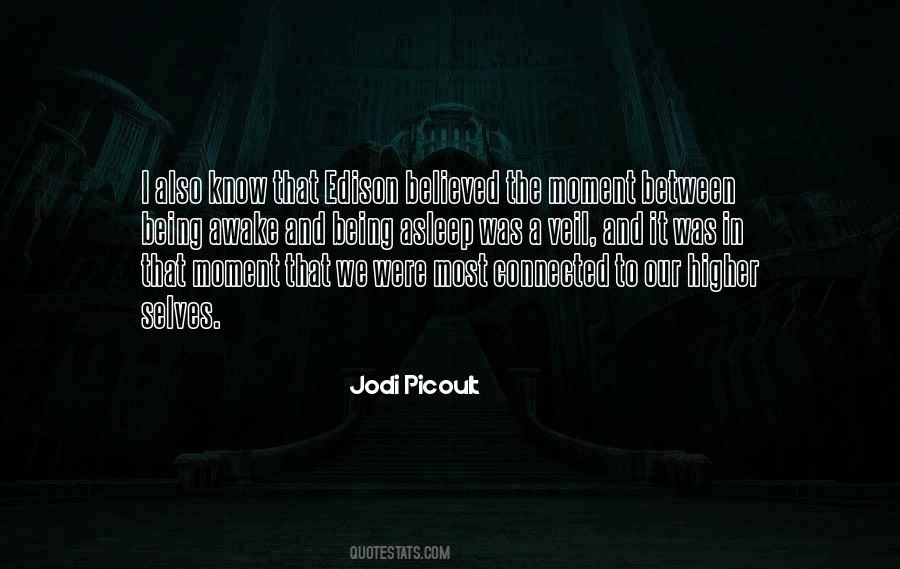 #4. A guitar is a very personal extension of the person playing it. You have to be emotionally and spiritually connected to your instrument. I'm very brutal on my instruments, but not all the time. - Author: Eddie Van Halen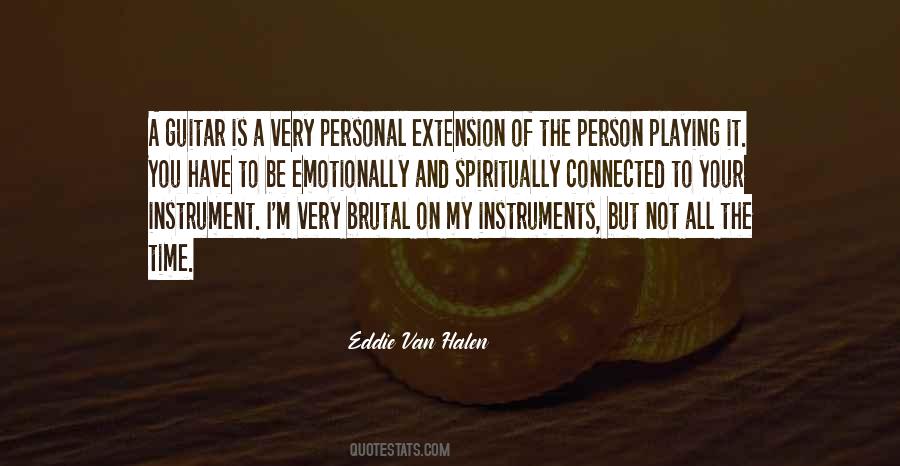 #5. People say, 'Why don't you just paint with paintbrushes?' I say that I feel more connected to my painting using my skin. It's very tribal in a way - savage! - Author: Meredith Ostrom
#6. Nothing is more favorable to the rise of politeness and learning, than a number of neighboring and independent states, connected together by commerce and policy. - Author: David Hume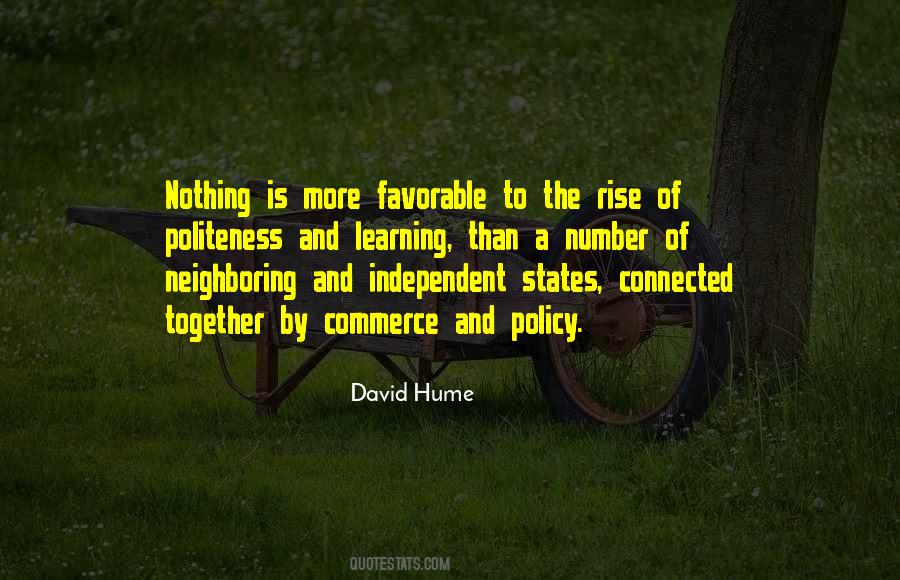 #7. She was sleeping a sleep that wasn't her own and the gadgets to which she was connected didn't make a sound. - Author: Paolo Giordano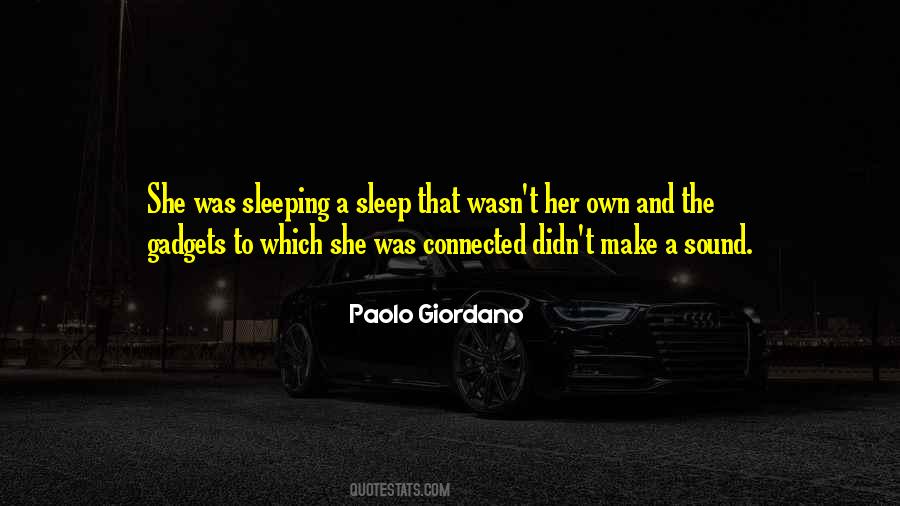 #8. There once was a demographic survey done to determine if money was connected to happiness and Ireland was the only place where this did not turn out to be true. - Author: Fiona Shaw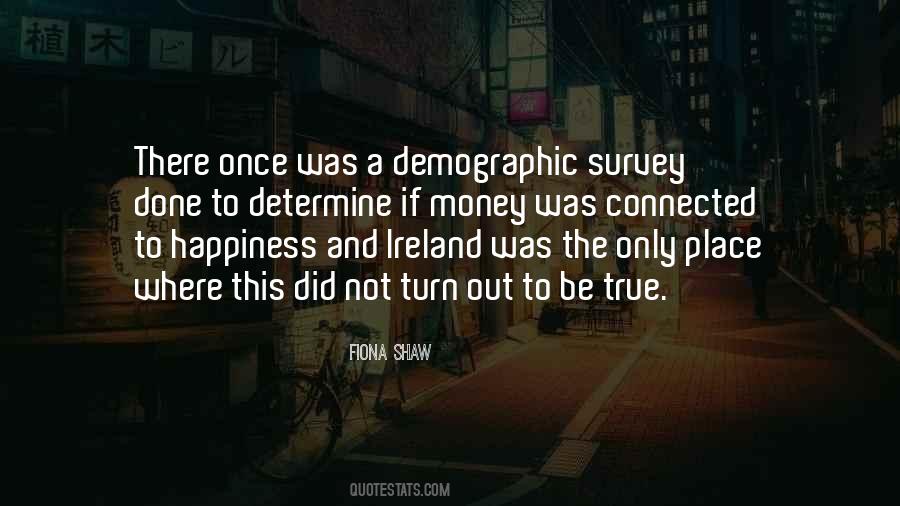 #9. Suffering through his classes, the young Igor steeped himself in angst. He would later describe his childhood as 'a period of waiting for the moment when I could send everyone and everything connected with it to hell. - Author: Jonah Lehrer
#10. I think that's what we all want on this earth - to feel that at some level we have connected with other human beings. - Author: Marianne Williamson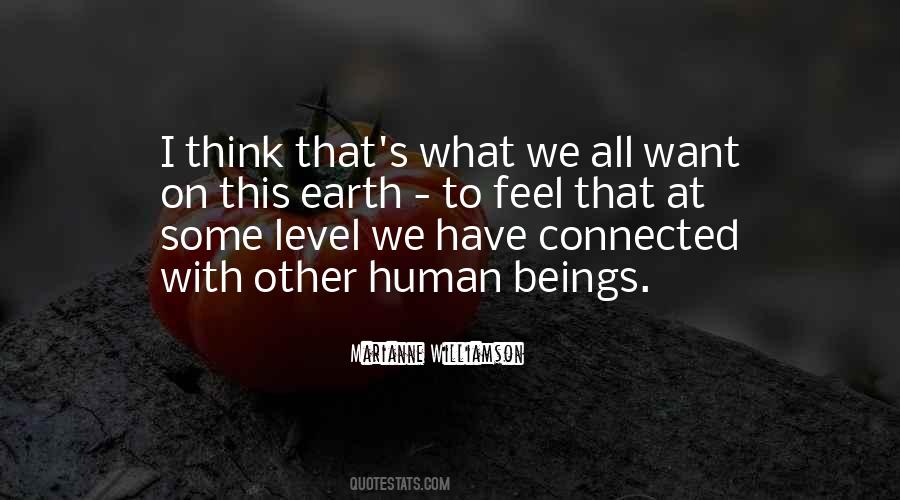 #11. All sciences are connected; they lend each other material aid as parts of one great whole, each doing its own work, not for itself alone, but for the other parts; as the eye guides the body and the foot sustains it and leads it from place to place. - Author: Roger Bacon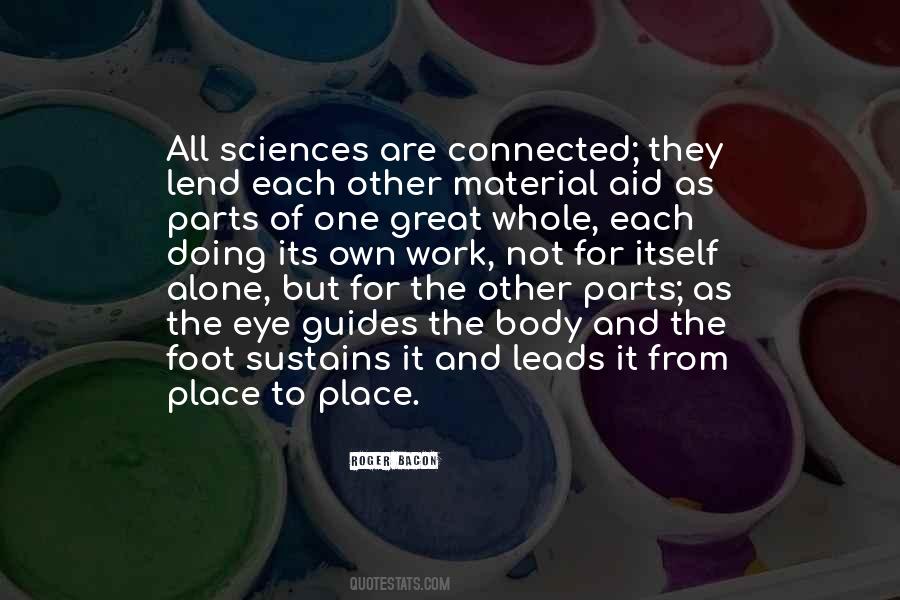 #12. Even in the heart of America, if a small city is not connected in some demonstrable fashion to other continents, it is dead. - Author: Robert D. Kaplan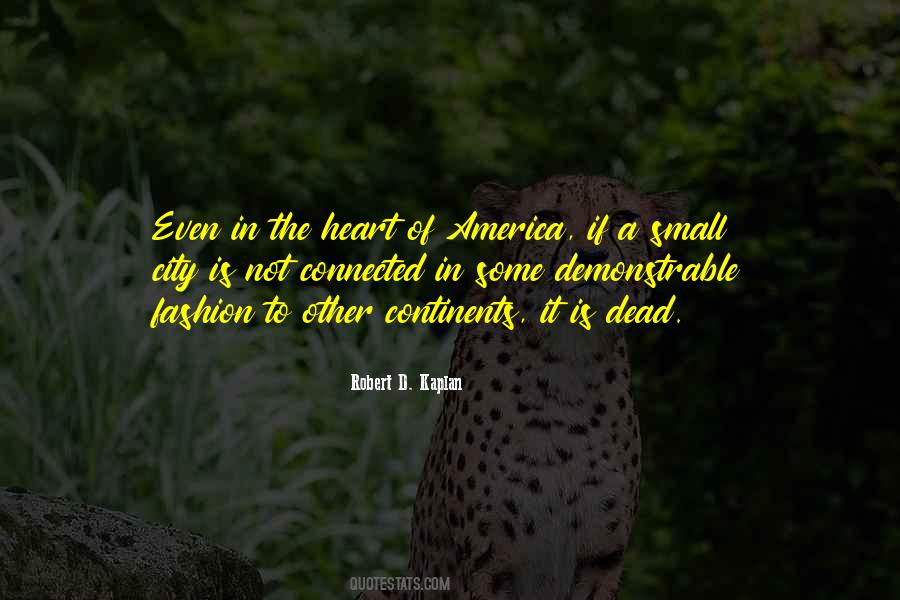 #13. Back then, the entire Internet consisted of two slow, boxcar-sized UNIVAC computers about 50 feet apart, connected by a wire. It would take one of these computers an entire day to send an email to the other one, which would immediately delete it, because it was a Viagra ad. - Author: Dave Barry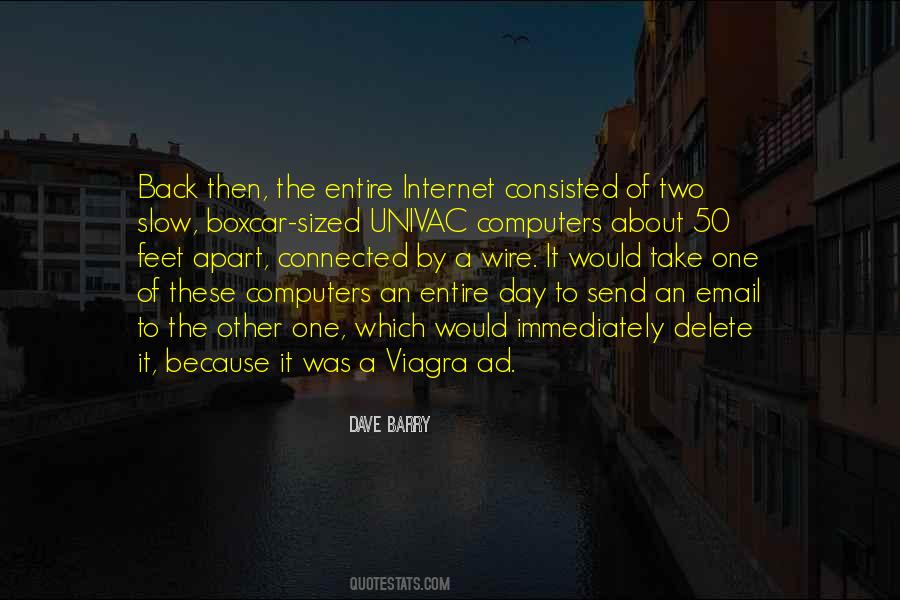 #14. As the Western world has invested every aspect of its waking life with visual order, with procedures and spaces that are uniform, continuous and connected, it has progressively alienated itself from needful involvement in its subconscious life. - Author: Marshall McLuhan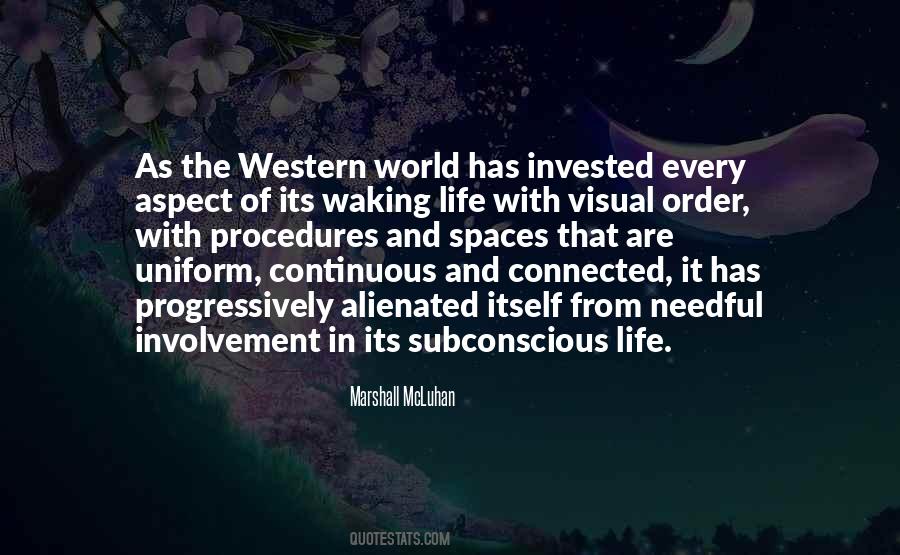 #15. At home the bookshelves connected heaven and earth. - Author: Lisel Mueller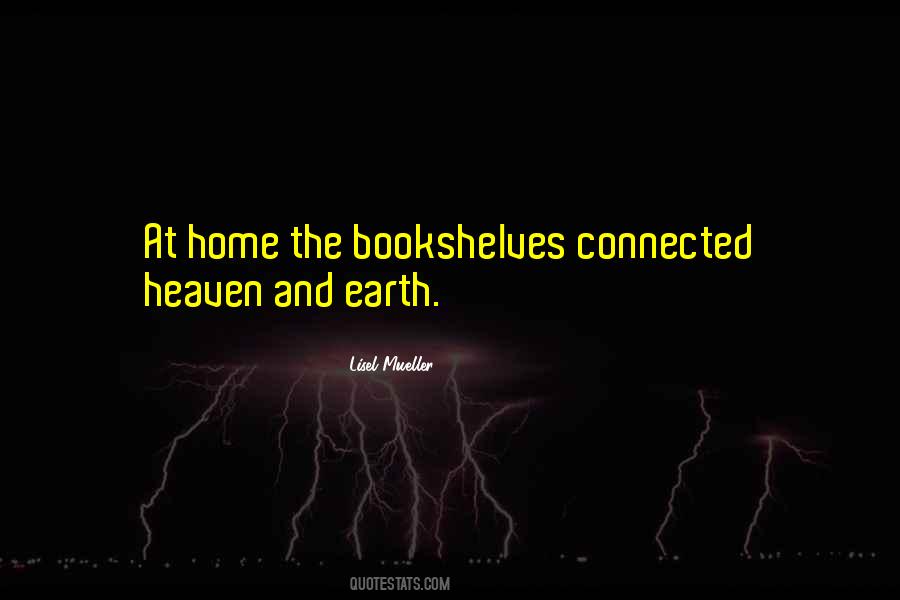 #16. the preferable way to treat one another is with love and kindness; that pursuit of material gain is ultimately empty when measured against eternity; and that somehow, as human beings, we are all connected spiritually. - Author: Christopher Moore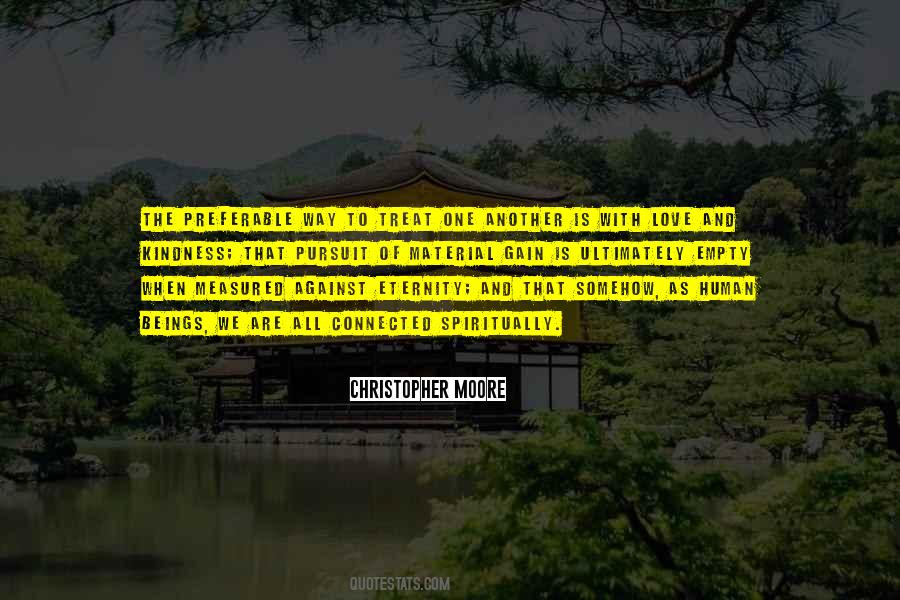 #17. Healing yourself is connected with healing others. - Author: Yoko Ono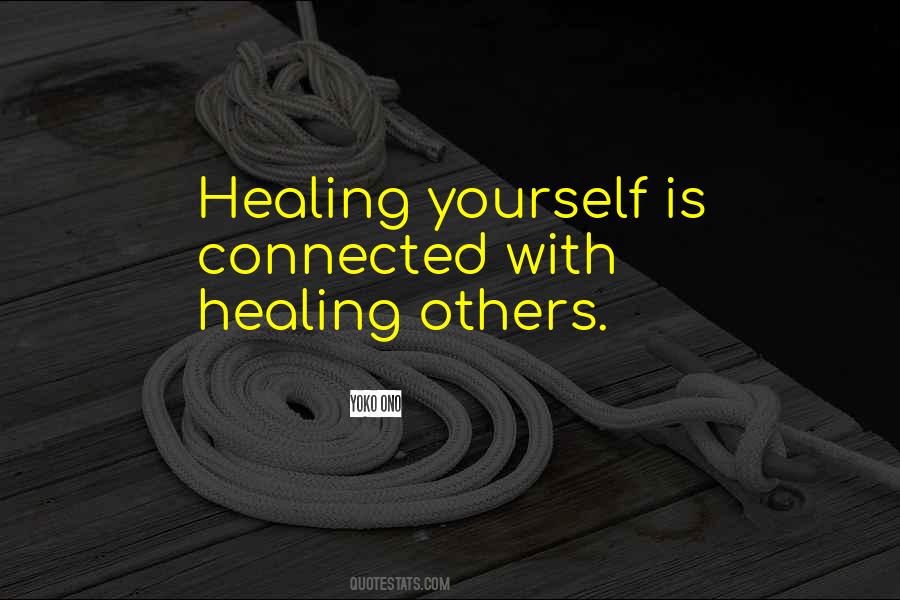 #18. The truth is, Hillary Clinton's ideas create more income inequality. Why? Because bigger government creates crony capitalism. When you have a 70,000 page tax code, you've got to be very wealthy, very powerful, very well connected to dig your way through that tax code. - Author: Carly Fiorina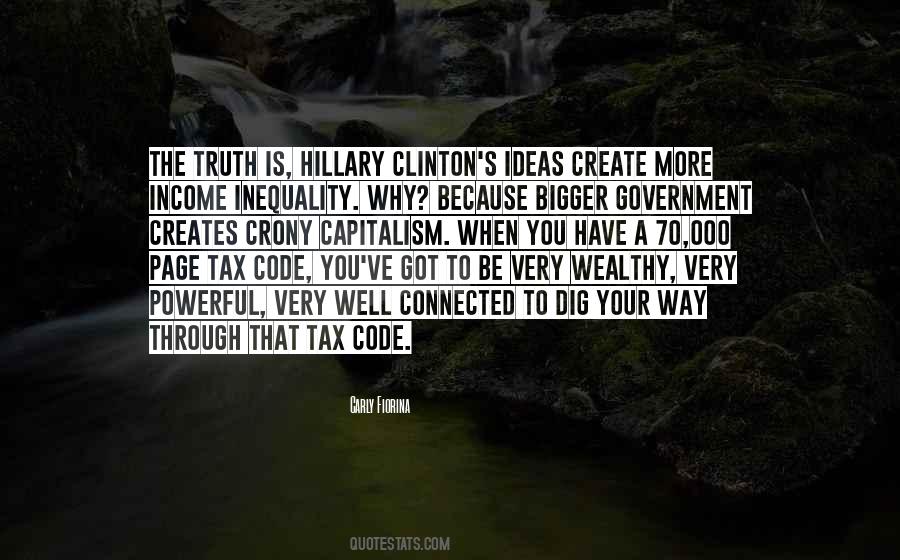 #19. Bebop and hip-hop, in so many ways, they're connected. A lot of rappers remind me so much of bebop guys in terms of improvisation, beats and rhymes. My dream is to see hip-hop incorporated in education. You've got the youth of the world in the palm of your hand. - Author: Quincy Jones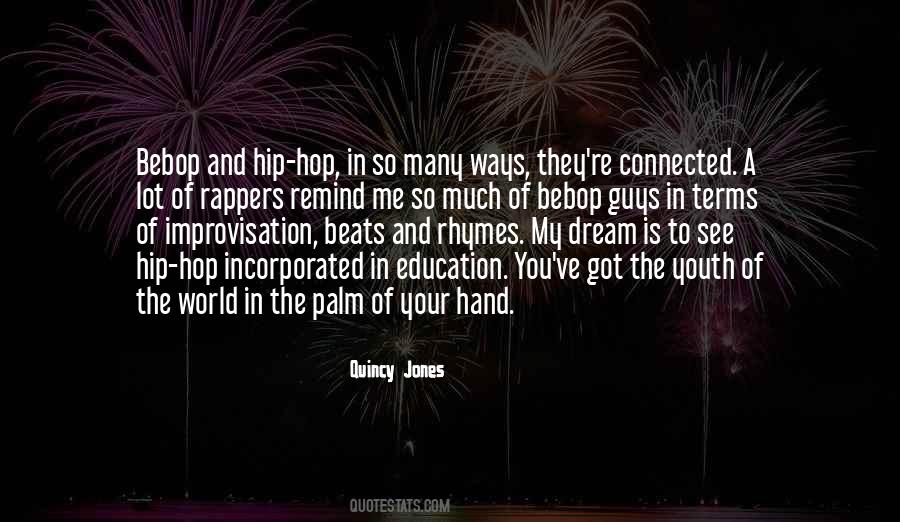 #20. He was slumped in the back, gazing out of the window, as though his parents were two people who had picked him up hitchhiking, connected to him merely by chance and proximity. - Author: J.K. Rowling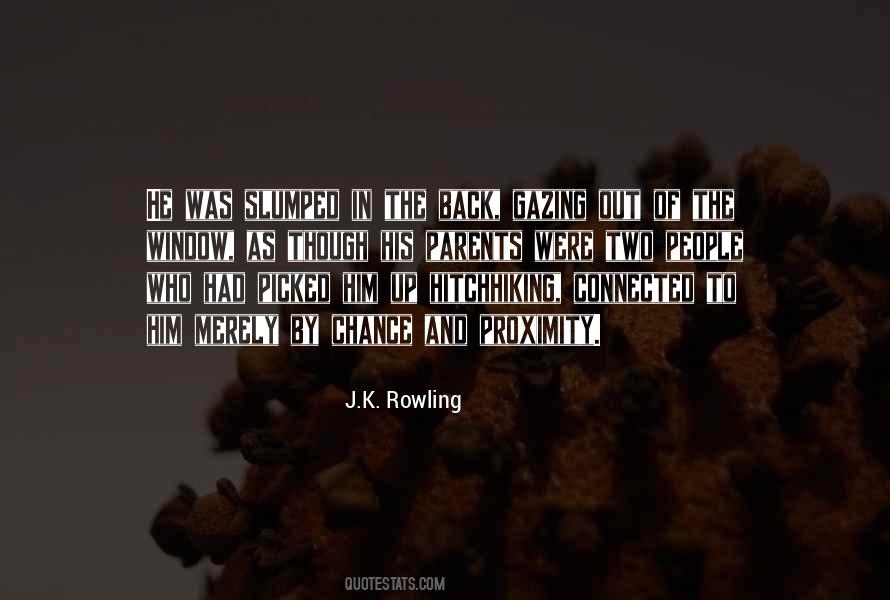 #21. The more we're connected to our chosen someone, the more we can pick up what they're feeling. It's instinctive, like breathing."
"You can't hold your breath? - Author: Julie Kagawa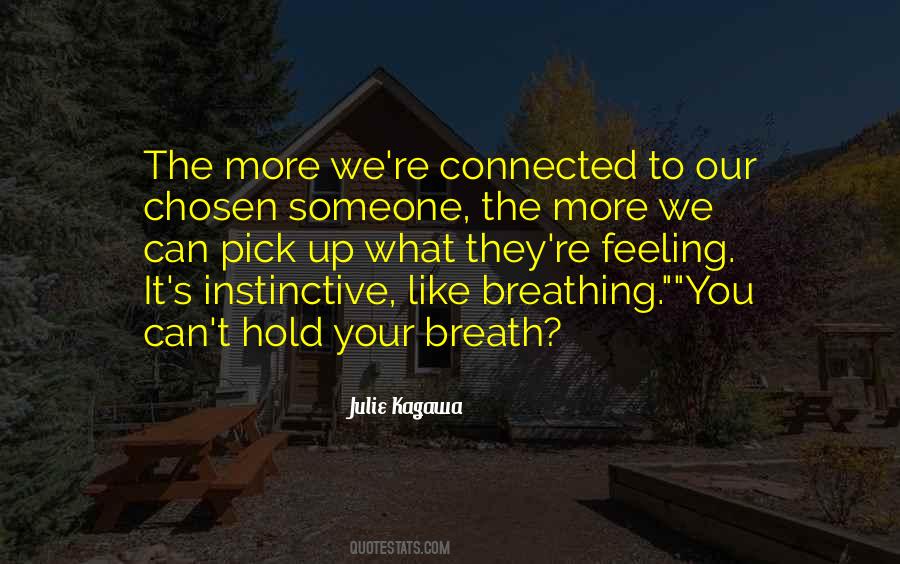 #22. I believe that two people are connected at the heart, and it doesn't matter what you do, or who you are or where you live; there are no boundaries or barriers if two people are destined to be together. - Author: Julia L. Roberts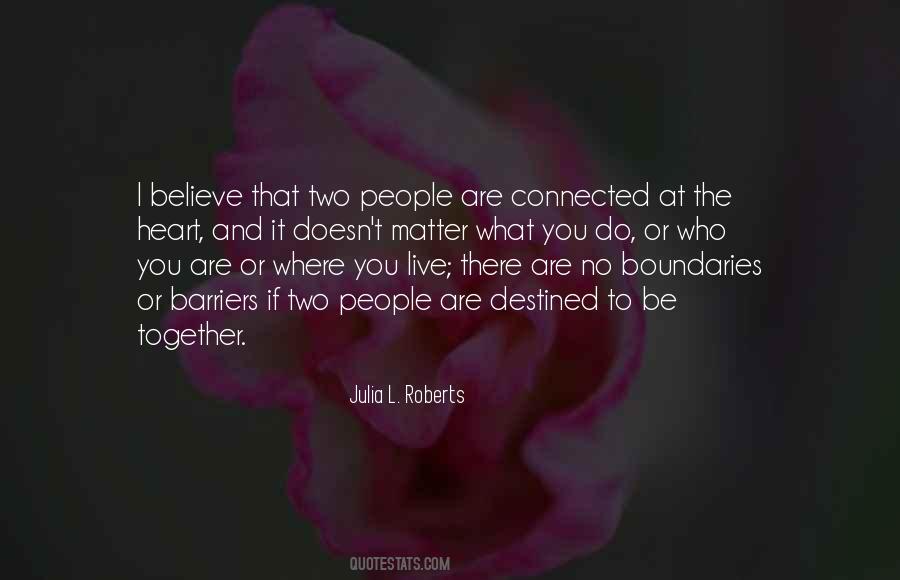 #23. We are all connected, and we are all One. - Author: Rhonda Byrne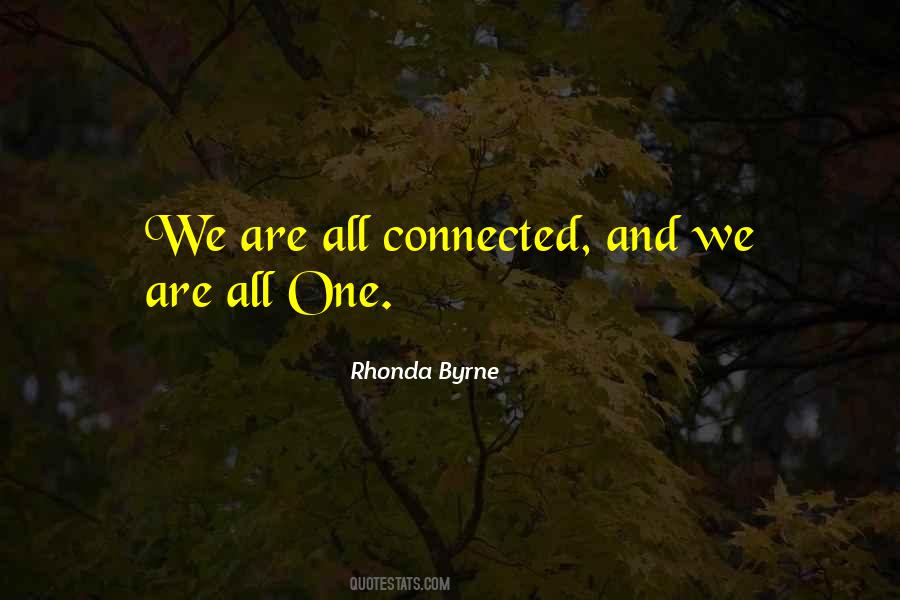 #24. With a blade at your throat, a well-connected uncle or a wealthy mother could not save you. Only you could save yourself. - Author: Natalia Marx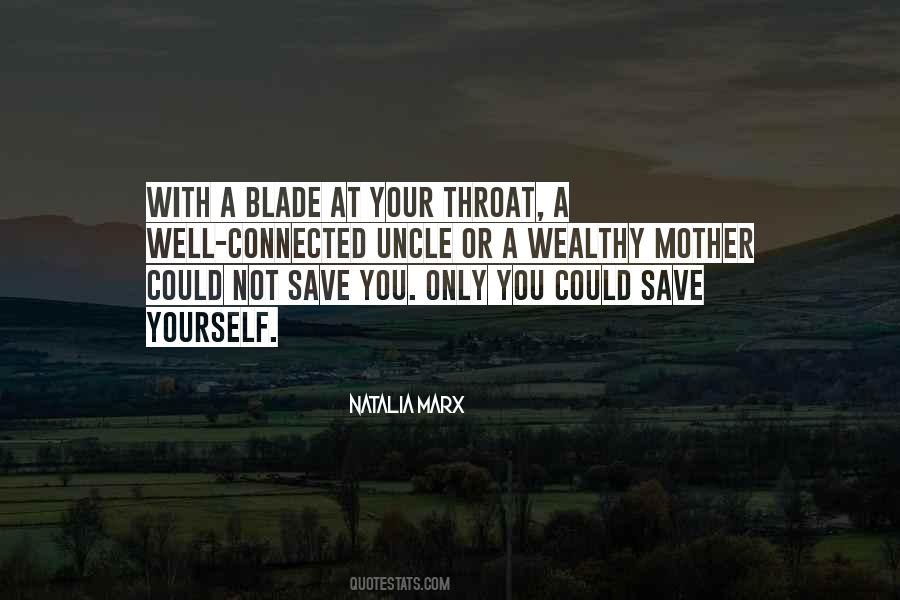 #25. I have always felt that if I am very personal and connected with what I myself am living, my writing will transcend ecclesial boundaries. - Author: Henri Nouwen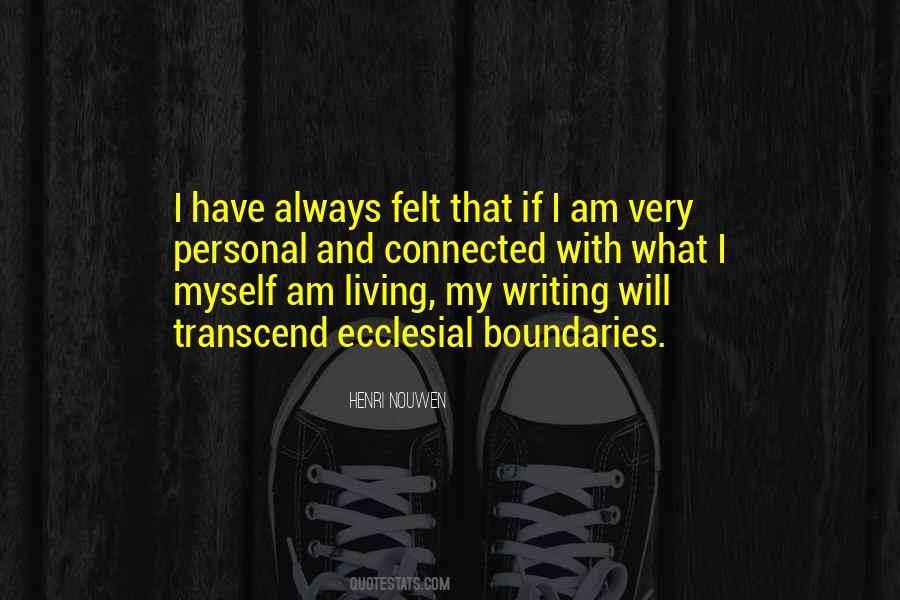 #26. Not much about California, on its own preferred terms, has encouraged its children to see themselves as connected to one another. - Author: Joan Didion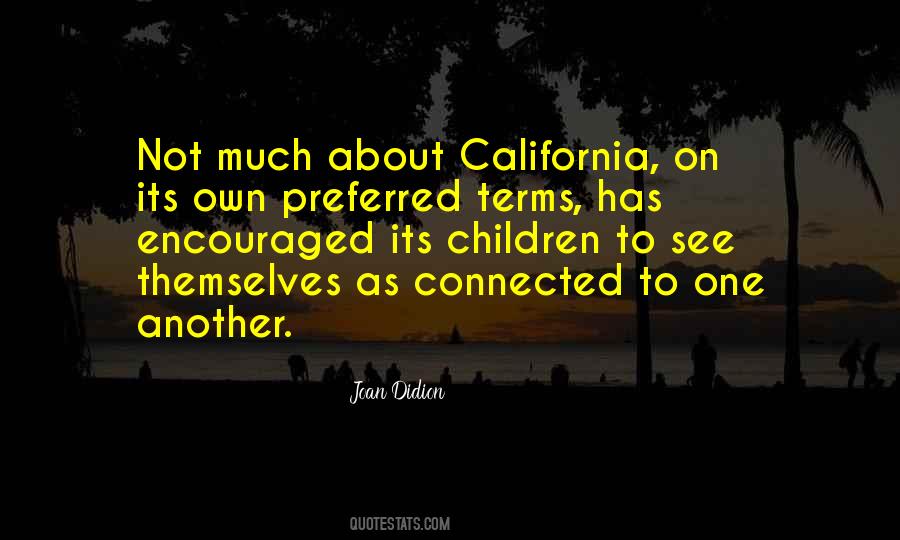 #27. It connected itself with other vaguely felt matters that had struck her outside observation and buried themselves in her flesh. - Author: Zora Neale Hurston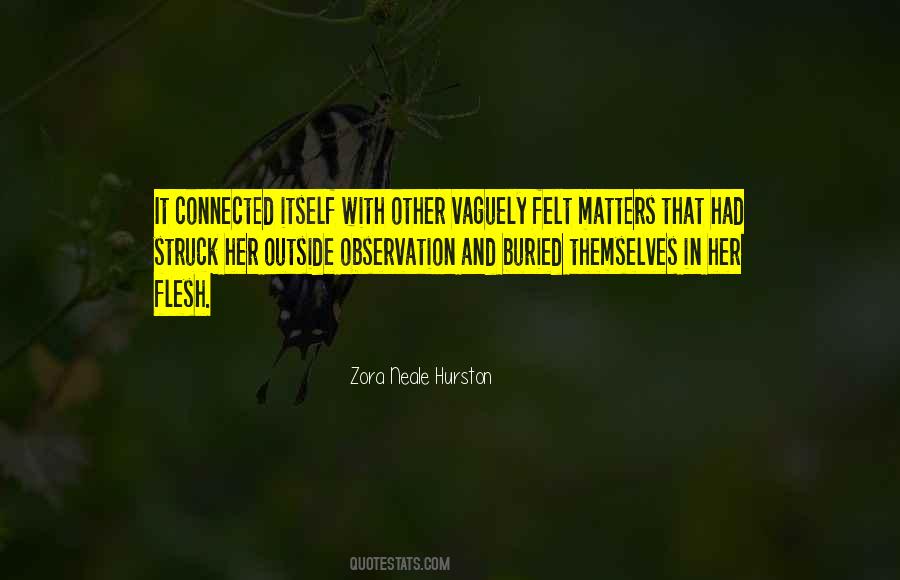 #28. Anxiety, as we know, is always connected with a loss ... with a two-sided relation on the point of fading away to be superseded by something else, something which the patient cannot face without vertigo - Author: Jacques Lacan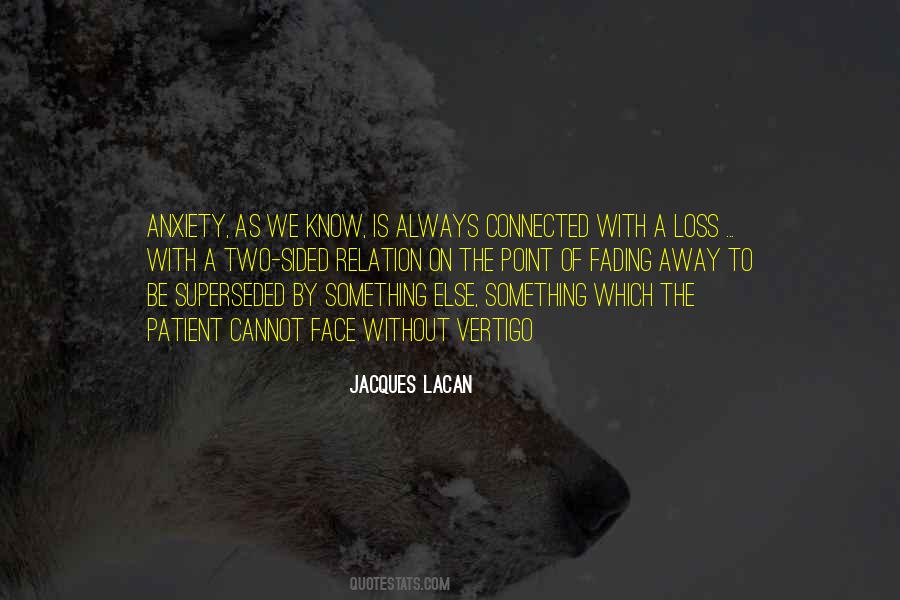 #29. A peasant becomes fond of his pig and is glad to salt away its pork. What is significant, and is so difficult for the urban stranger to understand, is that the two statements are connected by an and not by a but. - Author: John Berger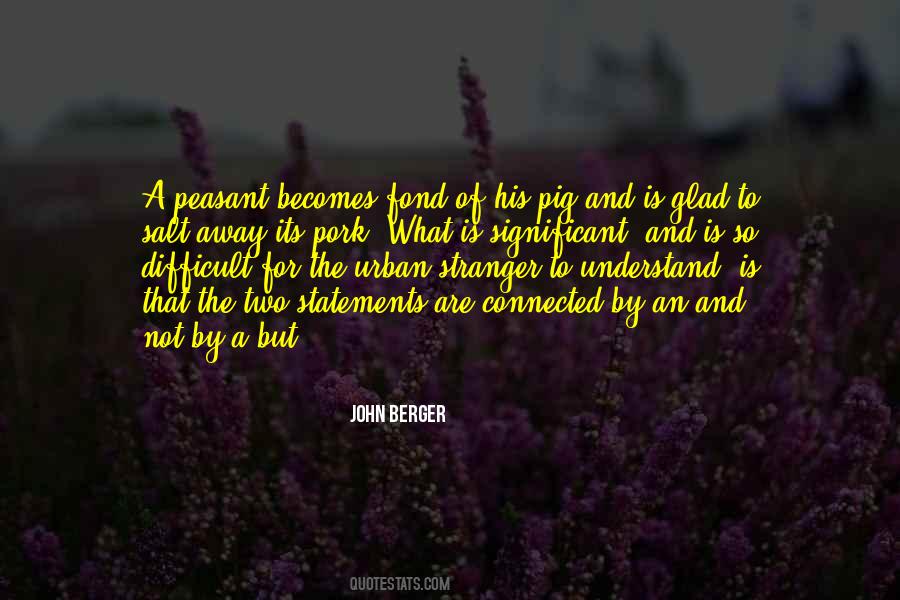 #30. The earliest memories I have of the ocean are actually stories - stories from my grandfather, the legendary ocean explorer and conservationist Jacques Cousteau. My passion for ocean conservation stems from learning at a very young age that we're all connected; we're all in this together. - Author: Philippe Cousteau Jr.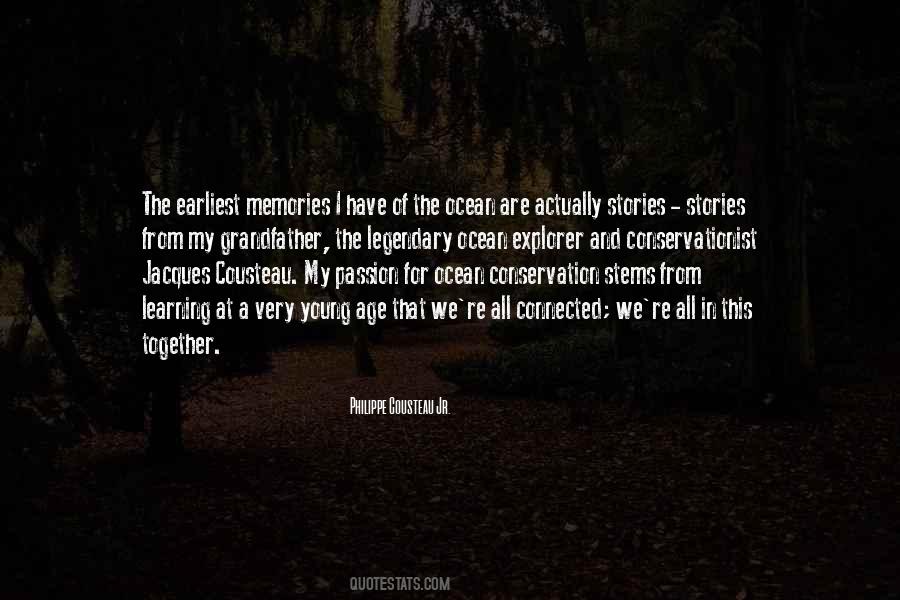 #31. I'm attracted to things that are in direct opposition to something that I've just done. It's not like I'm trying to make the right chess move. It's more just that personal thing where you get connected to something for so long and then you want to do something that's in opposition to that. - Author: Anna Kendrick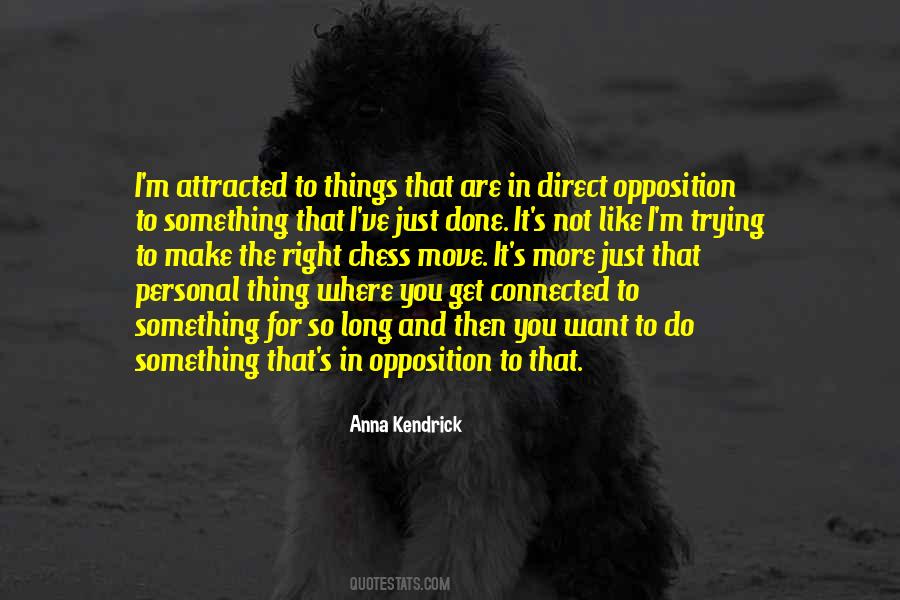 #32. And finally, there's the seventh doorway, the Doorway of Oneness, which corresponds to the crown center, located at the top of the head. This doorway has to do with feeling whole and connected to all of life, connected to spirit - Author: Marci Shimoff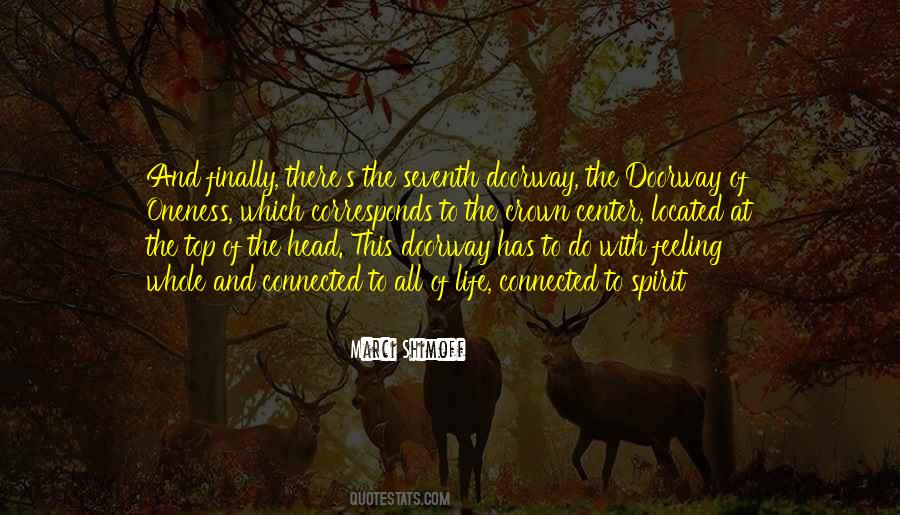 #33. Forgiveness is healing - everything is energy - thoughts create - we are all connected - what you resist persists - true love never dies - the soul's immortality is the only true immortality - - Author: Alyson Noel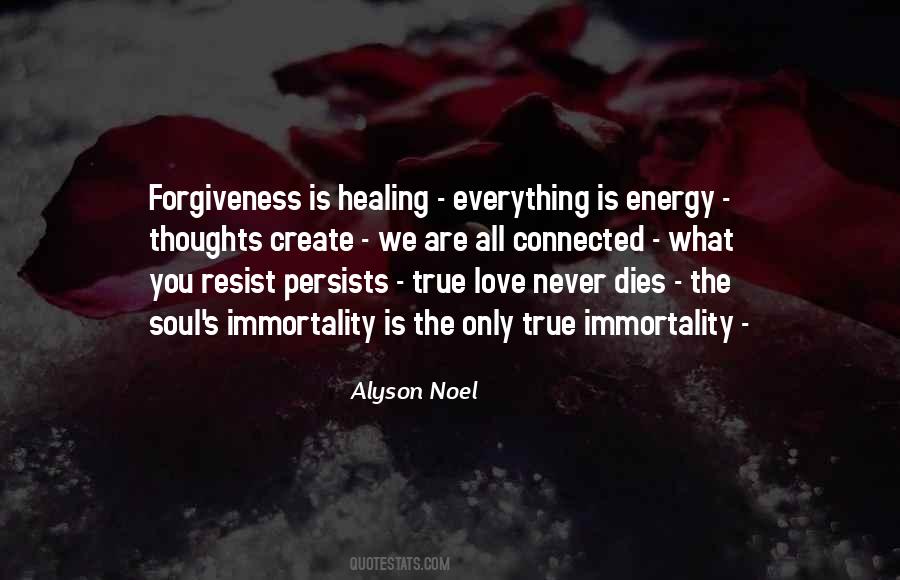 #34. Before there was a death there had been a life, and before that life a death and that there would be a life after this death too. The circles would continue on without end and everyone who was once connected would be connected again. - Author: M.J. Rose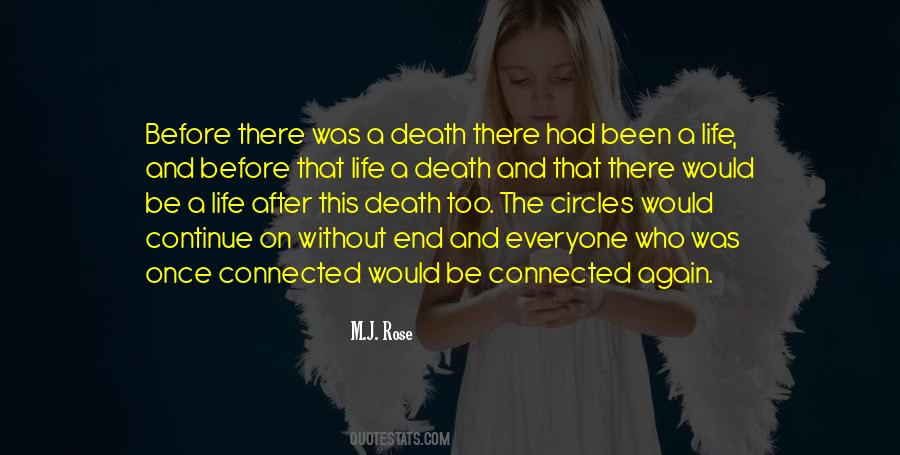 #35. I felt connected with Madonna from a very young age. I think I share a lot of qualities from her personality. I really respect her. - Author: Marina And The Diamonds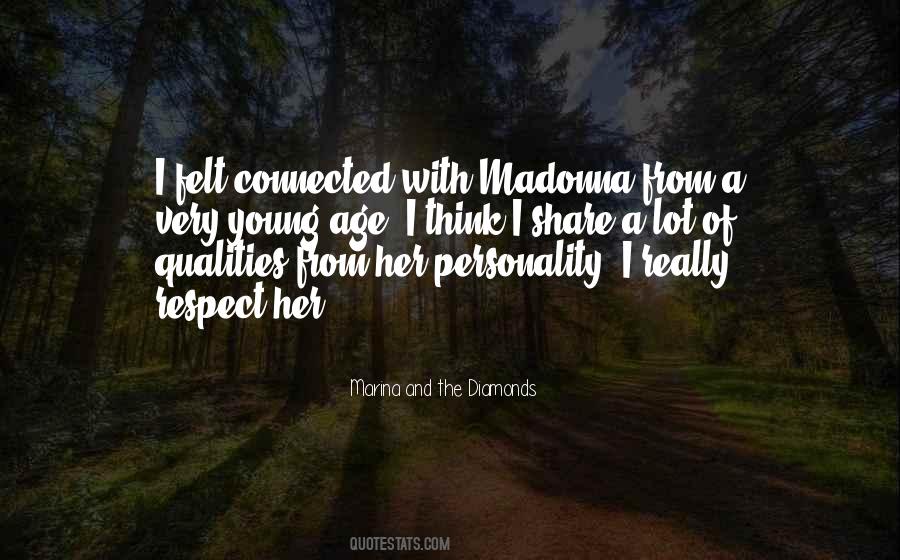 #36. Monogamy is desirable for many reasons, especially in creating a stable, emotionally connected home for children. But judging from centuries of human behavior, it is also a very difficult standard to meet. - Author: Mary Gaitskill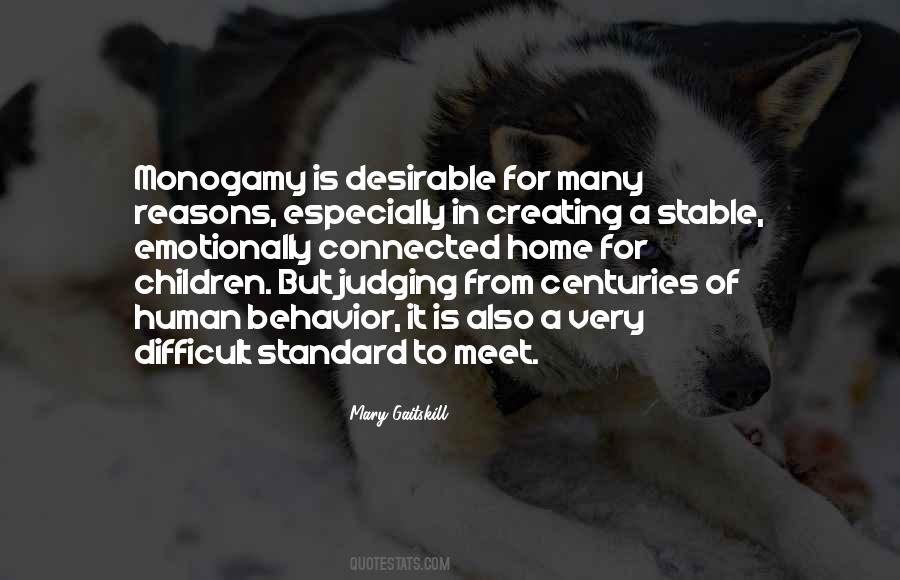 #37. In a society that almost demands life at double time, speed and addictions numb us to our own experience. In such a society, it is almost impossible to settle into our bodies or stay connected with our hearts, let alone connect with one another or the earth where we live. - Author: Jack Kornfield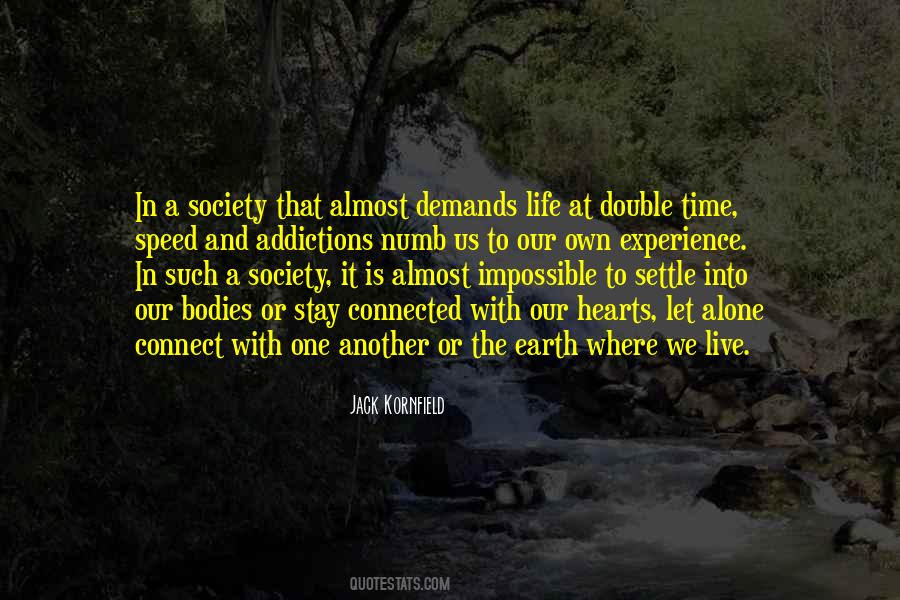 #38. Most men have a good memory for facts connected with their own pursuits. - Author: William James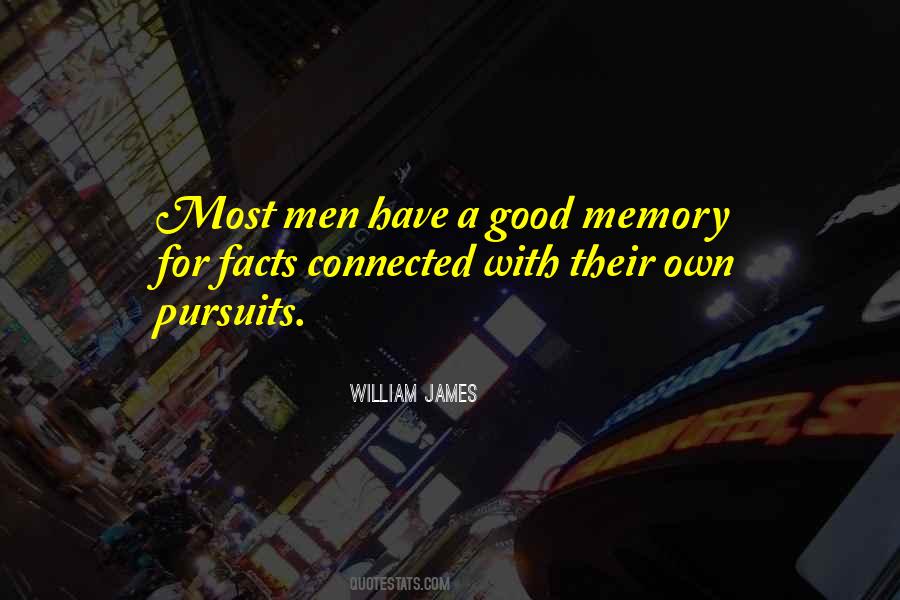 #39. The Danish phenomenon "hygge" is about creating an atmosphere that is warm, relaxed, friendly, close, loving, comfortable and welcoming - a state of feeling connected and loved. - Author: Iben Dissing Sandahl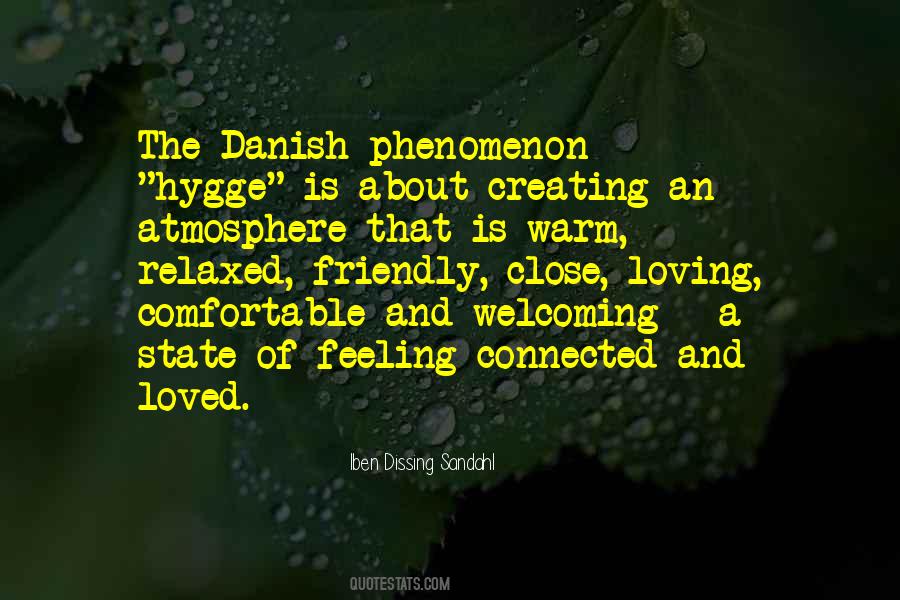 #40. Everything is connected. We see the signs every moment. There are miracles waiting to happen! - Author: Avijeet Das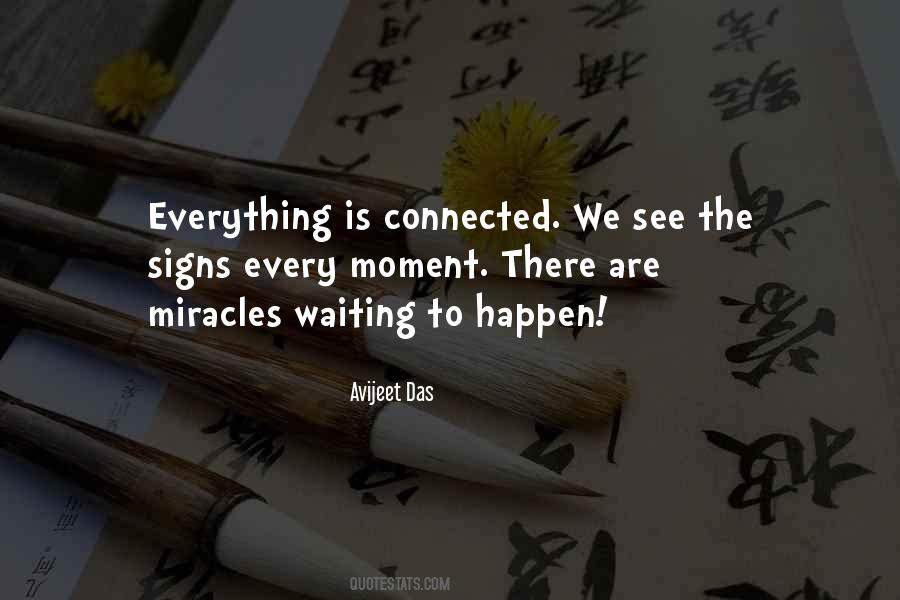 #41. If you ever shoot a great magical owl with an arrow, you should remember this, Ophelia. Everything is connected. If you touch the ground, you touch the tops of trees. If you touch the trees, you touch the wings of birds. - Author: Karen Foxlee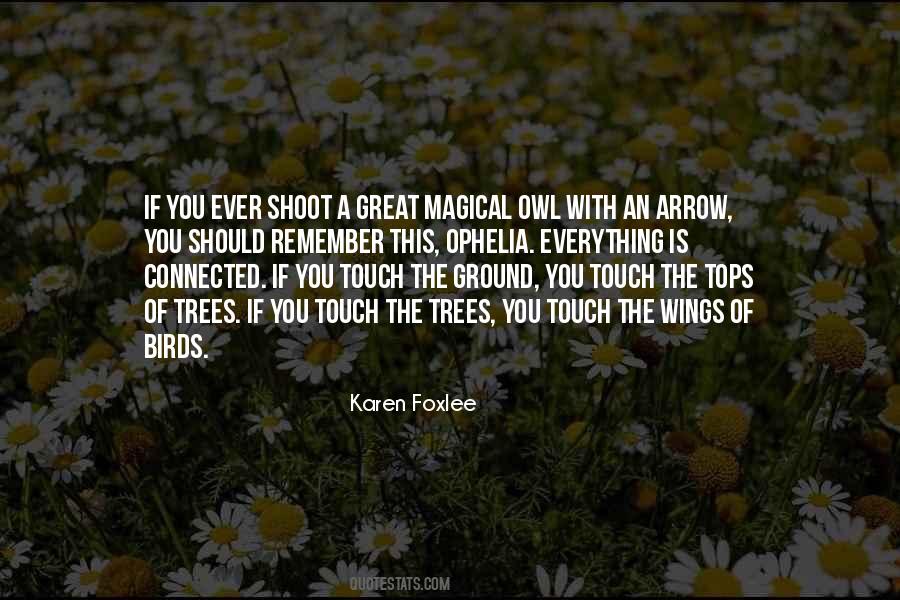 #42. The atoms that make up your body were once forged inside stars, and the causes of even the smallest event are virtually infinite and connected with the whole in incomprehensible ways. - Author: Eckhart Tolle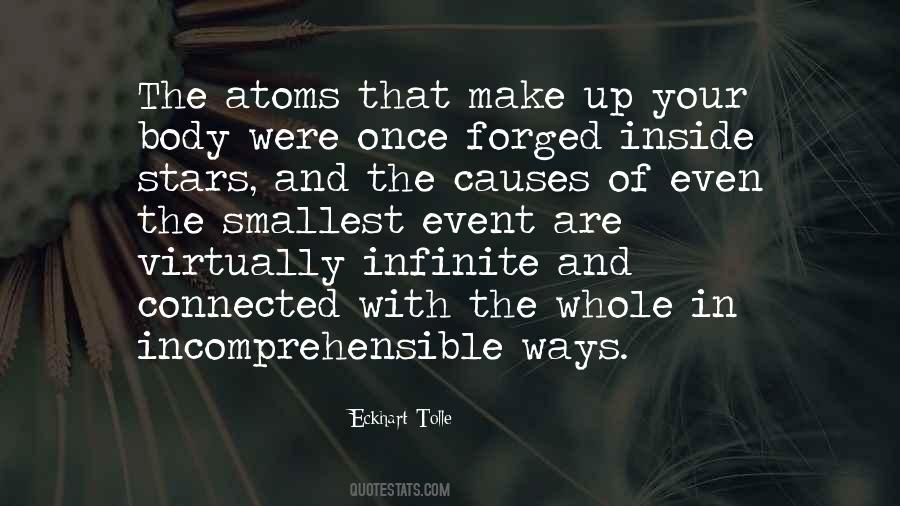 #43. Most people are almost blind and they don't see most things and there is lots of spare capacity in their heads and it is filled with things which aren't connected and are silly, like, I'm worried that I might have left the gas cooker on. - Author: Mark Haddon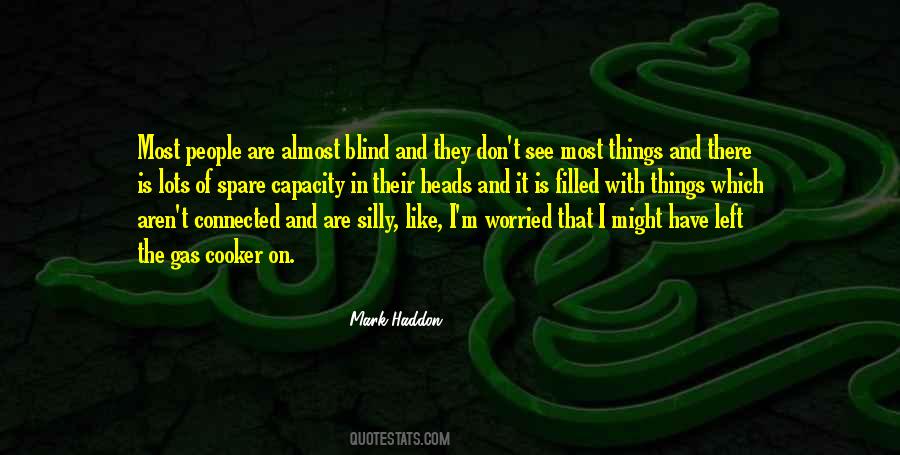 #44. Songs sometimes are so connected to the sociology of the time. - Author: Dan Hill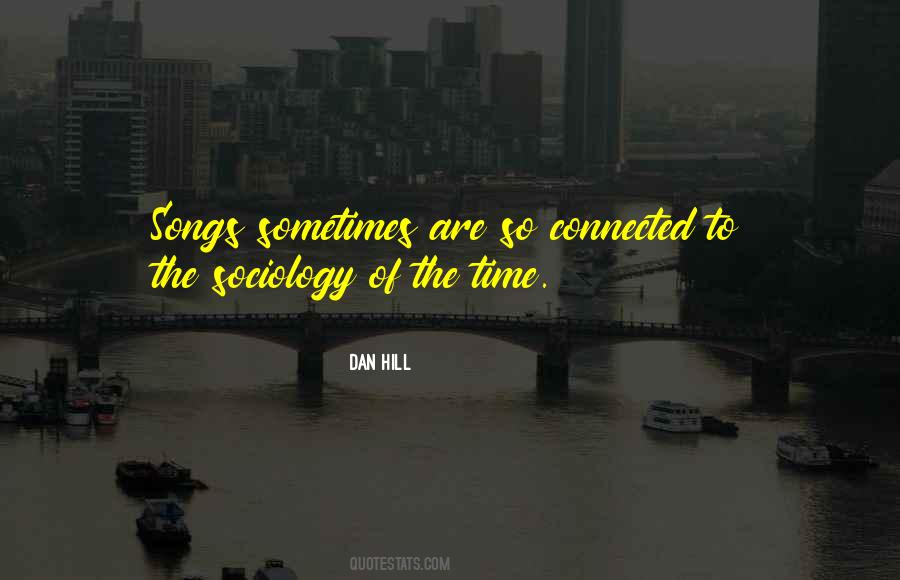 #45. Again he felt in a profound way that he was both inside and outside what he saw; that he was bith connected, and passing through. Harold began to understand that this was also the truth about his walk. He was both a part of things, and not. - Author: Rachel Joyce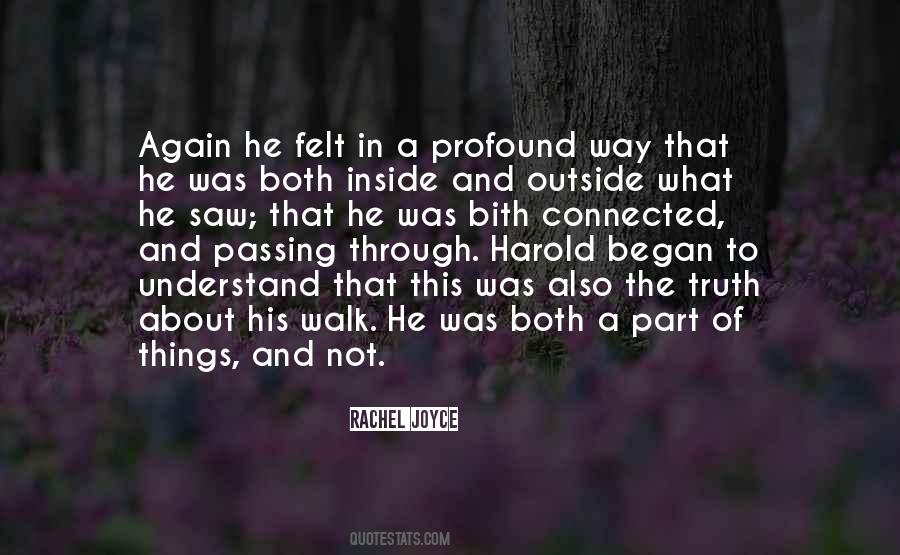 #46. A song is a song and, if I am emotionally connected to do it, whether it is sad or not sad, I am going to chase that song. - Author: Matt Berninger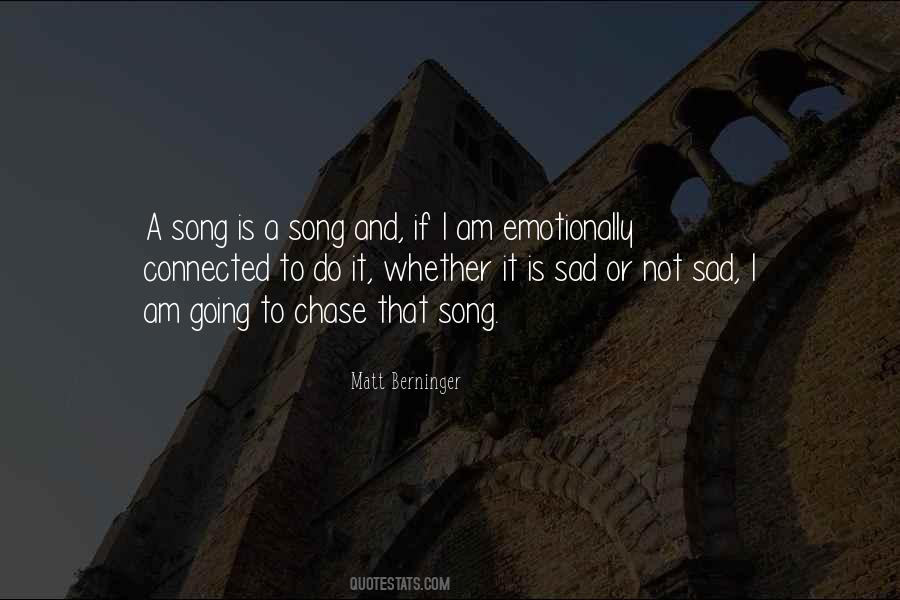 #47. For me, policy is best when connected to the roots, and roots are best when connected to policy. So I encourage you all to stay connected ... and walk with real people while doing the activism. Lord knows we need folks who are engaged. - Author: Simone Campbell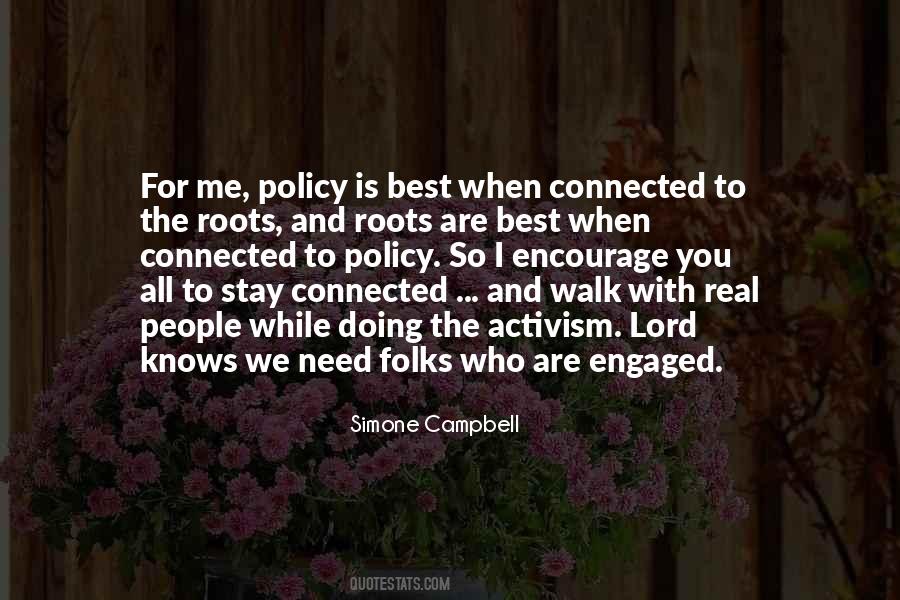 #48. We live in a society bloated with data yet starved for wisdom. We're connected 24/7, yet anxiety, fear, depression and loneliness is at an all-time high. We must course-correct. - Author: Elizabeth Kapu'uwailani Lindsey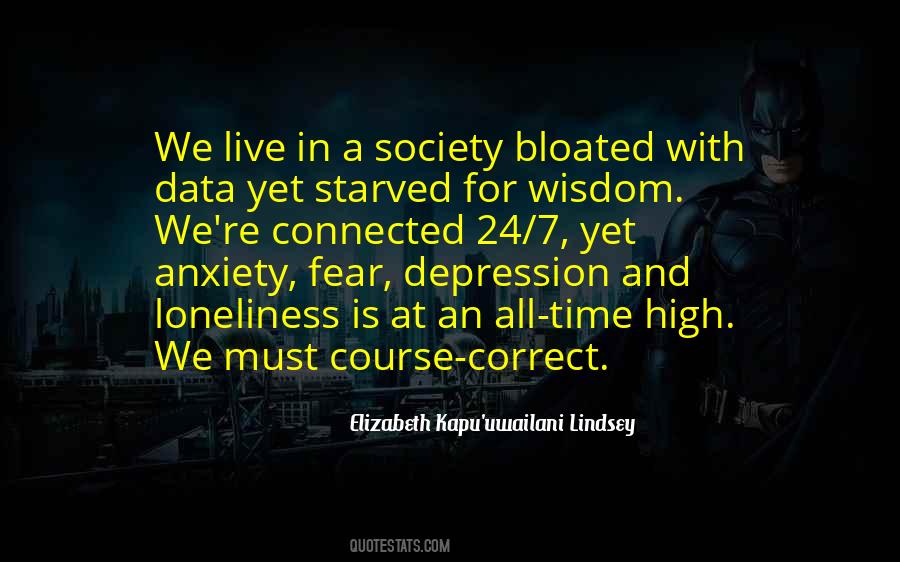 #49. Trust that you are connected to your being, which knows what to do at all times. - Author: Deepak Chopra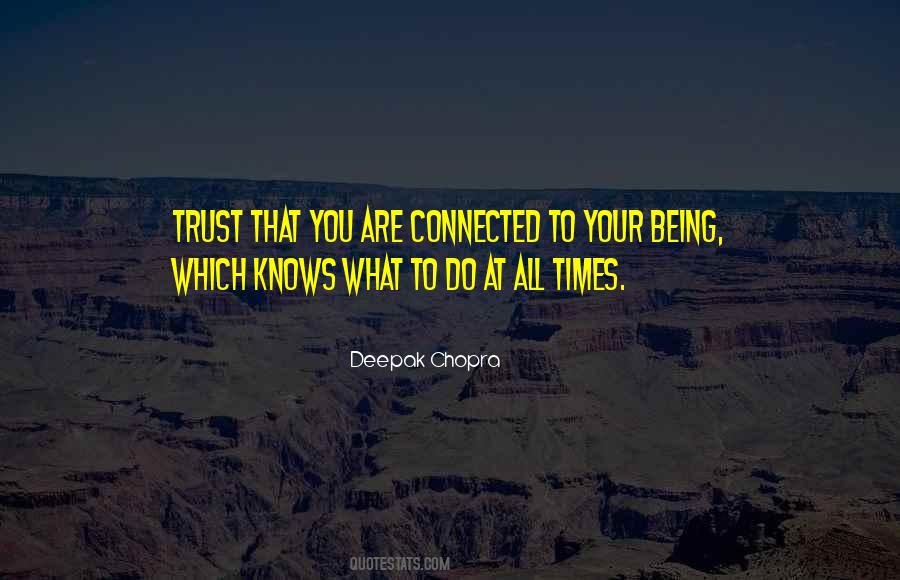 #50. Generation C (people born after 1990) as connected, communicating, content-centric, computerized, community-oriented and always clicking. - Author: Nicholas Ind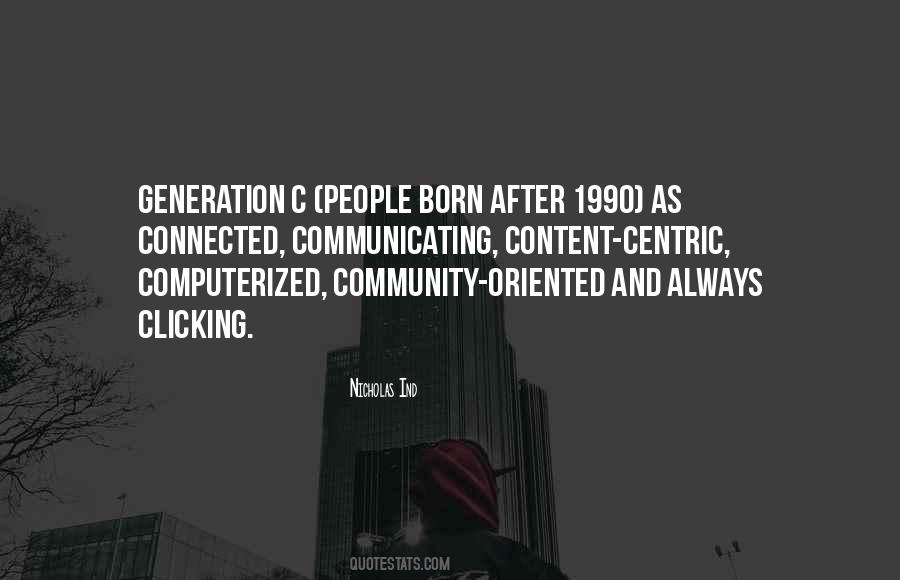 #51. In his homilies, this old Jesuit always talked about desire, and how we were connected by our desires. He said the most basic human desire was the desire to be desired by one you desire. - Author: Kate Klise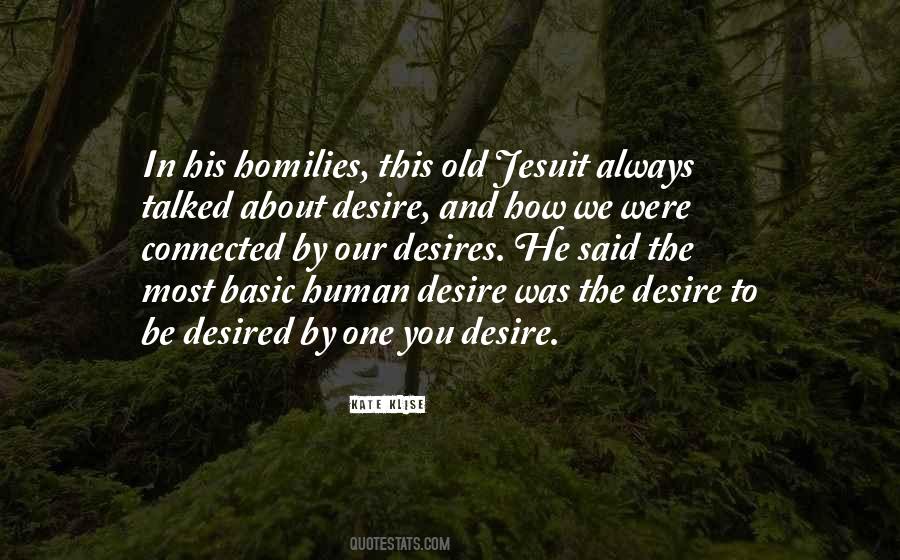 #52. Kids everywhere need to feel safe, hopeful, connected and appreciated. - Author: Michele Borba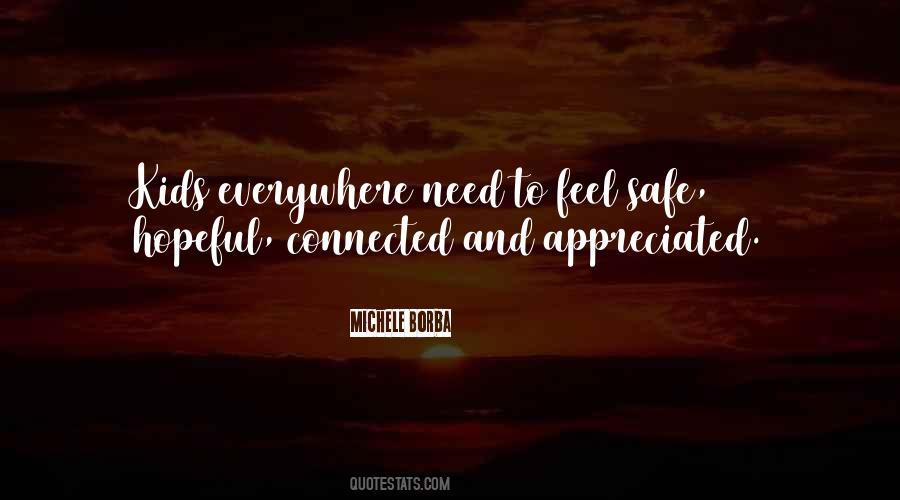 #53. There are no coincidences. The universe works in its own way to join those of us who need to be connected. - Author: Susan Barbara Apollon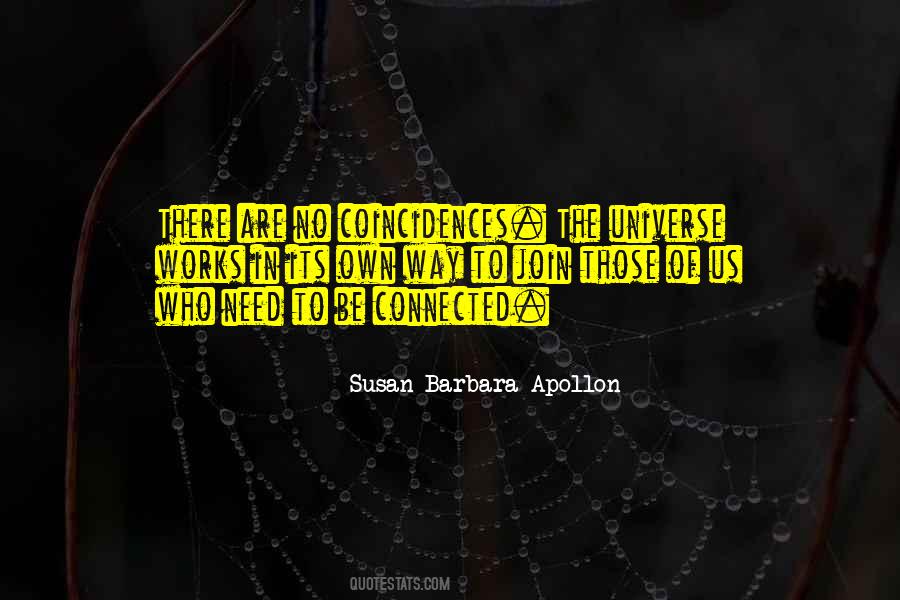 #54. When you strip hope from people, it leaves a void, and that void needs to be filled. And very likely, that void is going to be filled by an ideology ... Hope and faith are so connected. Now, when ideology connects with faith, the ideology becomes an item of faith, not a point of discussion. - Author: Alfonso Cuaron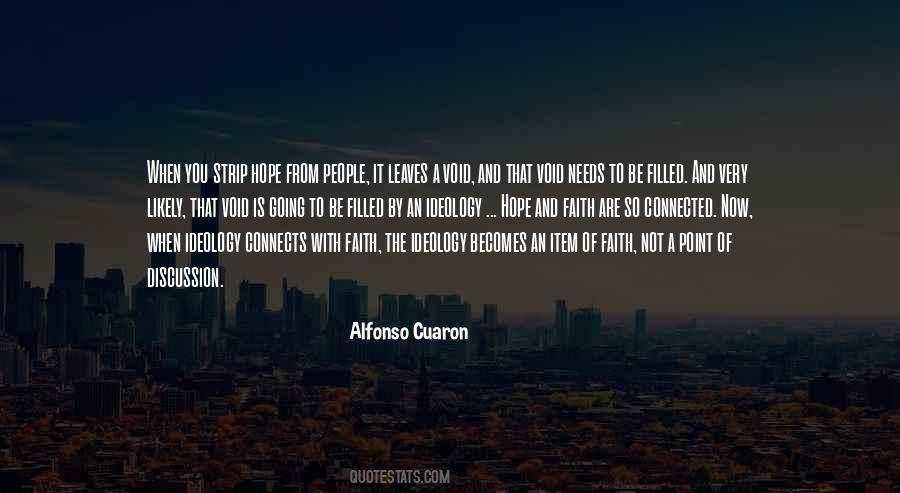 #55. Intercessory prayer for one who is sinning prevails. God says so! The will of the man prayed for does not come into question at all, he is connected with God by prayer, and prayer on the basis of the Redemption sets the connection working and God gives life. - Author: Oswald Chambers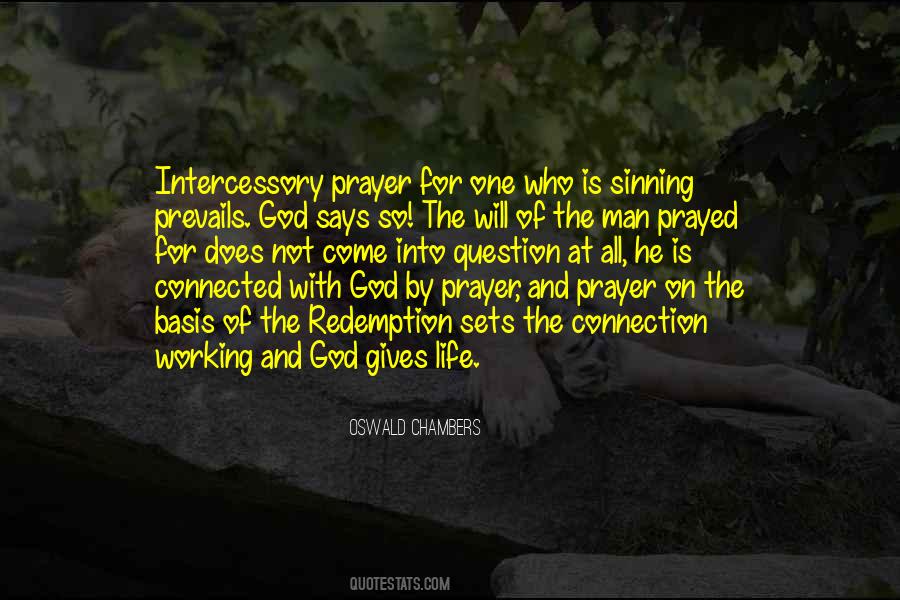 #56. Traveling is like gambling: it is always connected with winning and losing and generally where it is least expected we receive, more or less than what we hoped for. - Author: Johann Wolfgang Von Goethe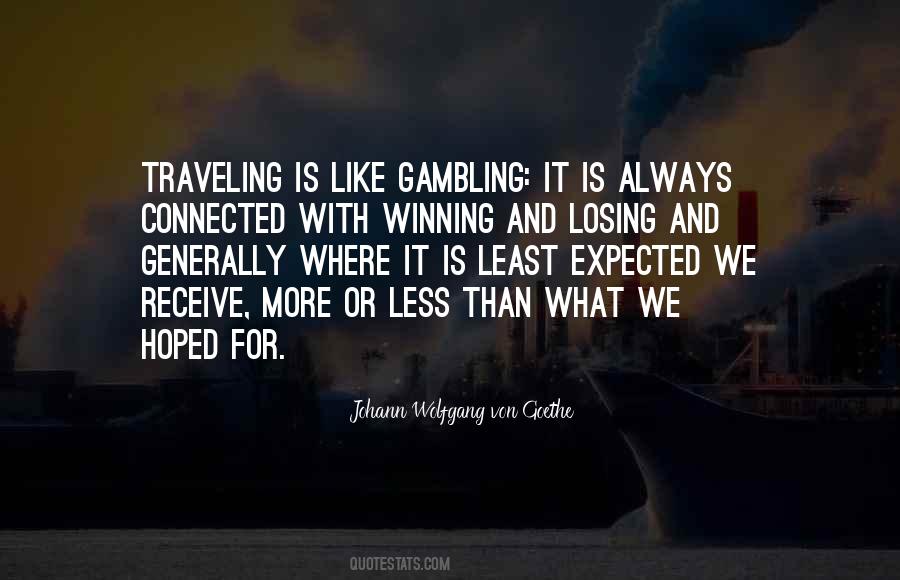 #57. Sharing lets us feel less isolated and puts us on a path of being connected. At the end of the day, that's what we all want. - Author: Jewel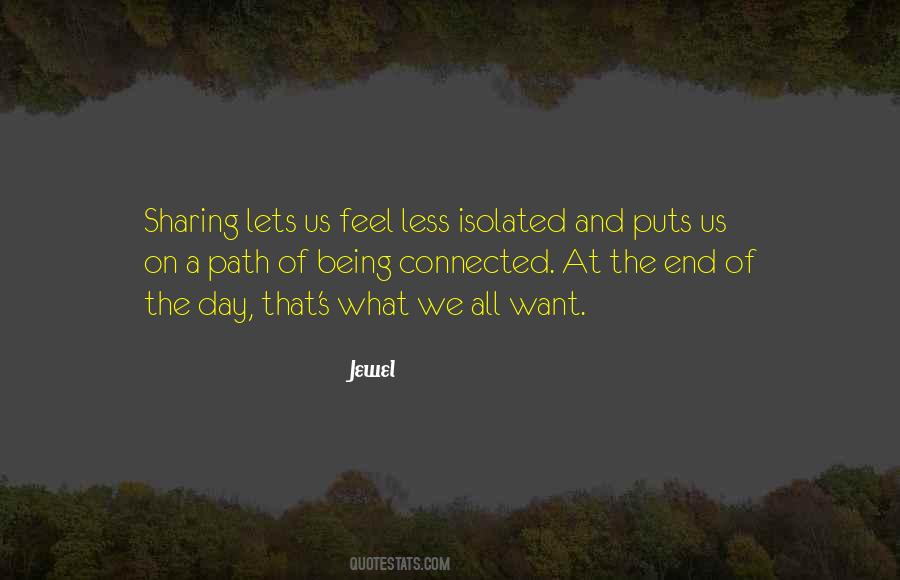 #58. That's how we're connected: through the hurt we inflict on one another. - Author: Carsten Jensen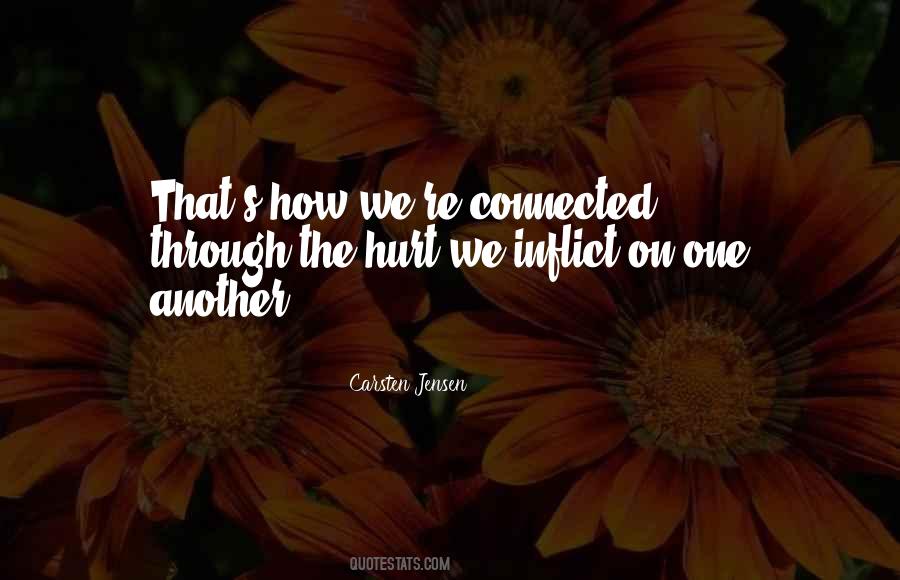 #59. This person should not be directly connected with the President Ford Committee nor should he be seen as a member of the liberal wing of the Republican Party. He should be someone like Laird or Rogers Morton. - Author: Robert Teeter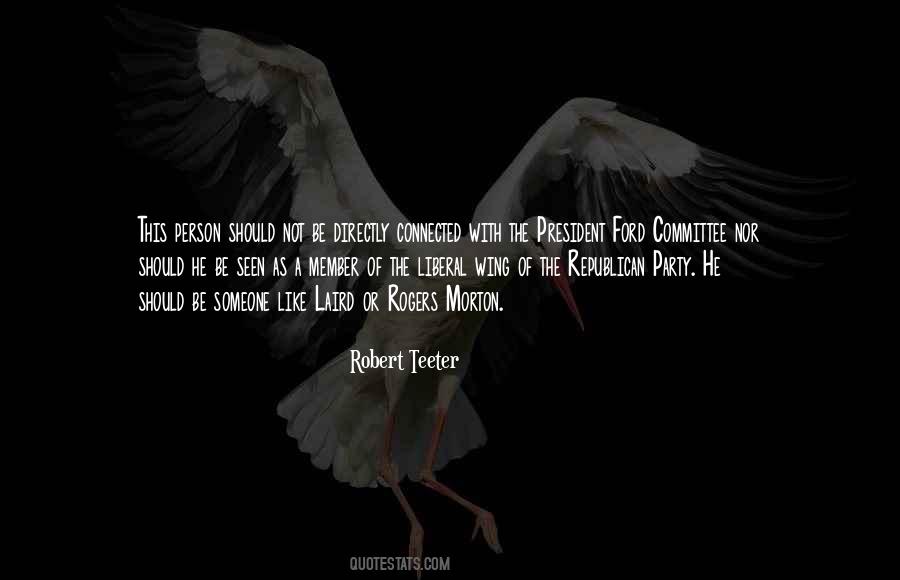 #60. Only when one is connected to one's inner core is one connected to others. And, for me, the core, the inner spring, can best be re-found through solitude. - Author: Anne Morrow Lindbergh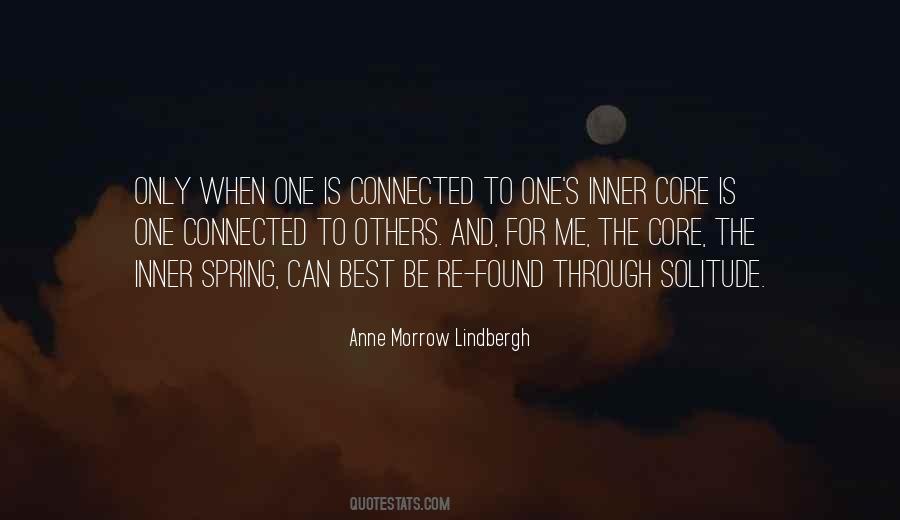 #61. The State idea is not according to my heart. I cannot understand why it is needed. It is connected with narrow-minded and economic obstacles. I believe it is bad. I have always been against it. - Author: Albert Einstein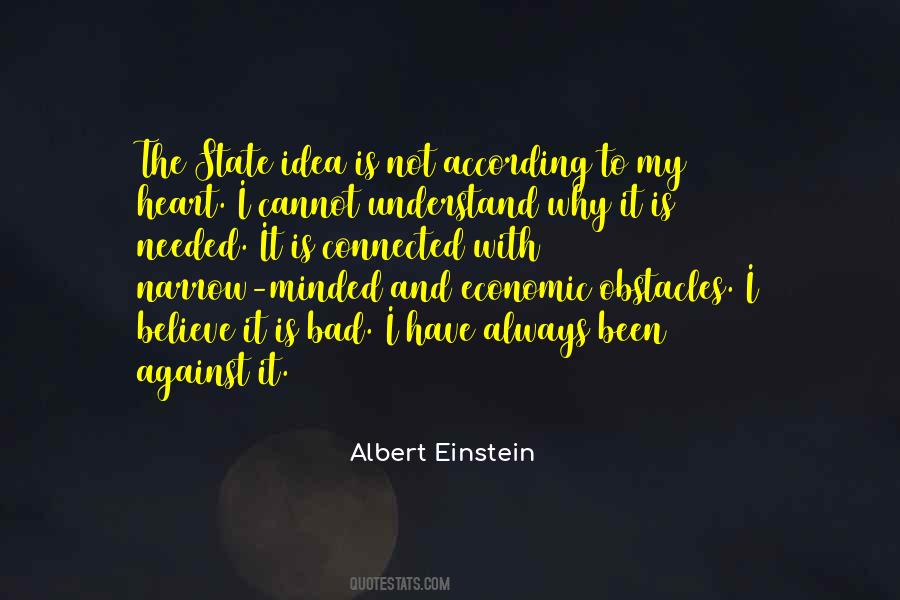 #62. The sublimity connected with vastness, is familiar to every eye. - Author: James F. Cooper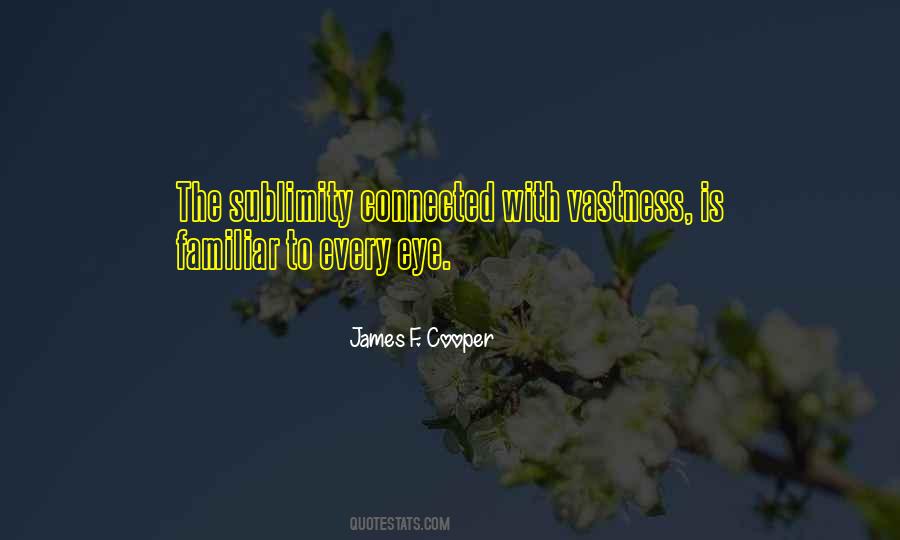 #63. In every election homophobia has been part of the landscape and in every campaign I've been able to become connected enough to my constituents that they know who I am and that I can be elected on my merits. - Author: Kathleen Wynne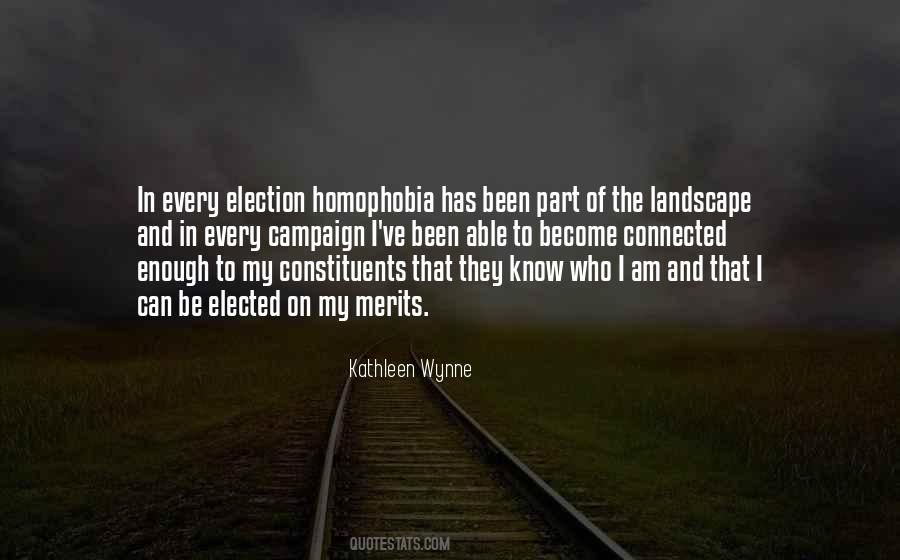 #64. The journey across the study carpet took forever. Did time seem slower to anyone else? "Lady Miranda," he said, executing a slight bow.
Miranda's fist connected with his nose. - Author: Kristi Ann Hunter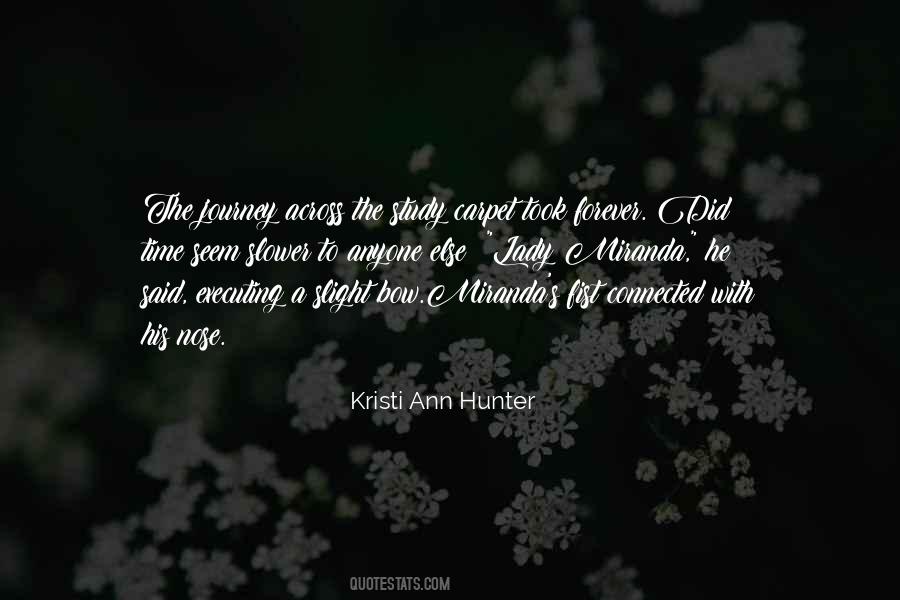 #65. The two sisters were connected by neither love nor mutual affinity but by a very small bathroom that could be entered from the bedroom on either side. - Author: Ann Patchett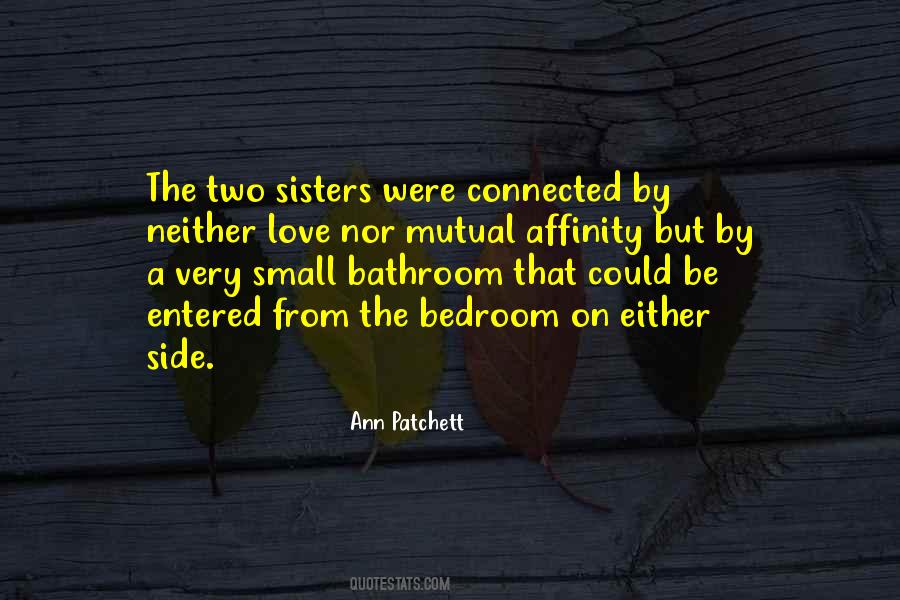 #66. Social networking inspires me a lot and how we are related and connected to each other. - Author: Nicola Formichetti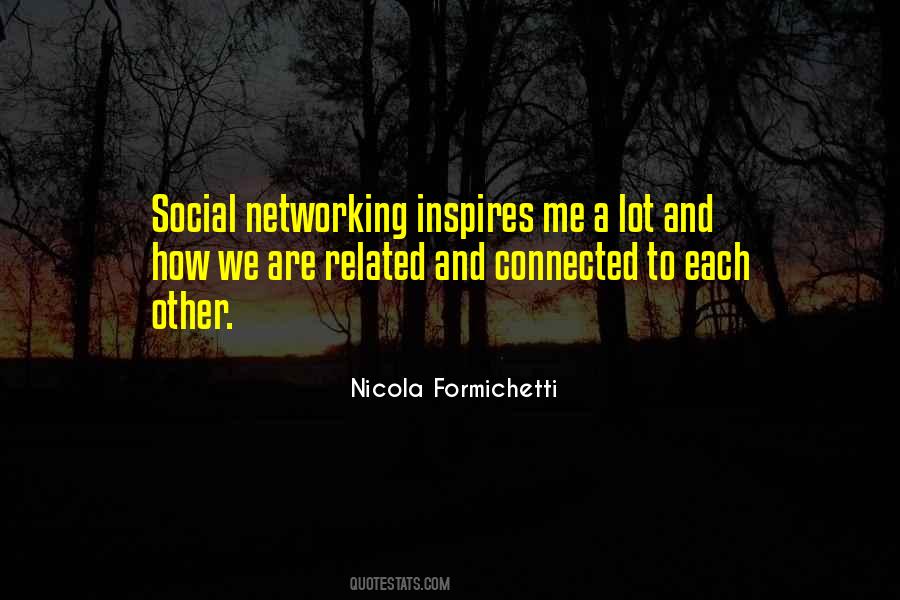 #67. The friendless, the weak, the victims of prejudice and public excitement are entitled to the same quality of justice and fair play that the rich, the powerful, the well-connected, and the fellow with pull thinks he can get. - Author: Harry S. Truman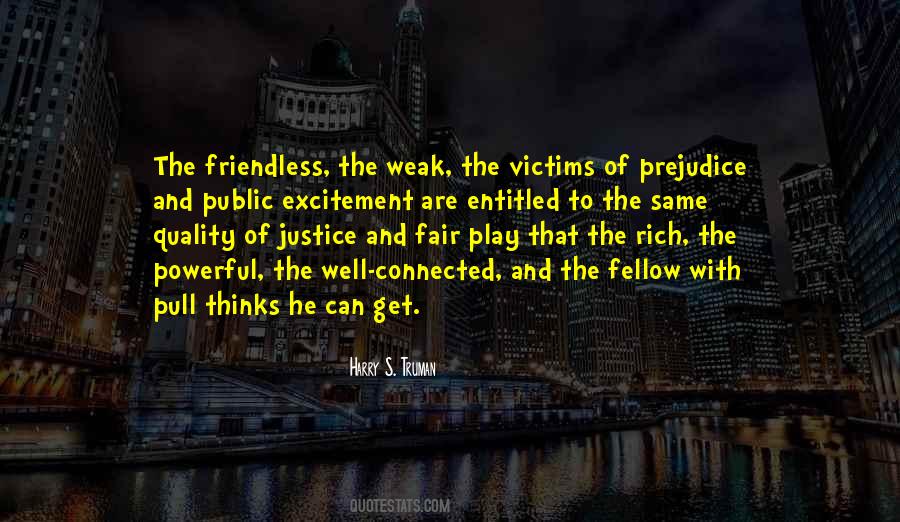 #68. Social networks are like grease - in some cases, gasoline - for our personal business networking machines. If you aren't plugged in, you will be out-done by better-connected, hyper-networked colleagues and competitors. - Author: Danah Boyd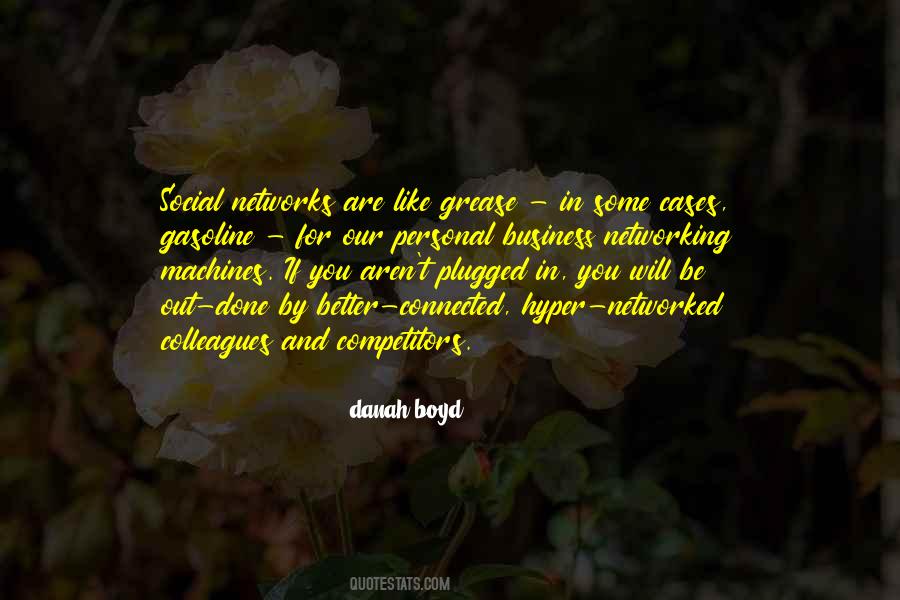 #69. I think, if you spend a day or as many people do a life working only with that aspect of your being, the cerebrum connected to a finger, I feel that the rest of you atrophies, essentially. - Author: Brian Eno
#70. We're both looking at the same moon, in the same world. We're connected to reality by the same line. All I have to do is quietly draw it towards me. - Author: Haruki Murakami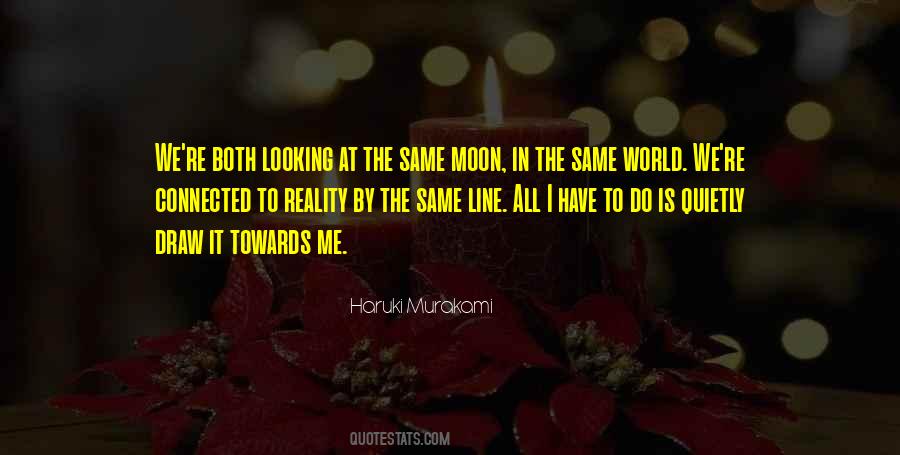 #71. It felt wrong for me to stay totally connected to that very strict way of approaching the heritage - what it can be, what it cannot be. That was also the period where I really thought, "No, let's open it up." - Author: Raf Simons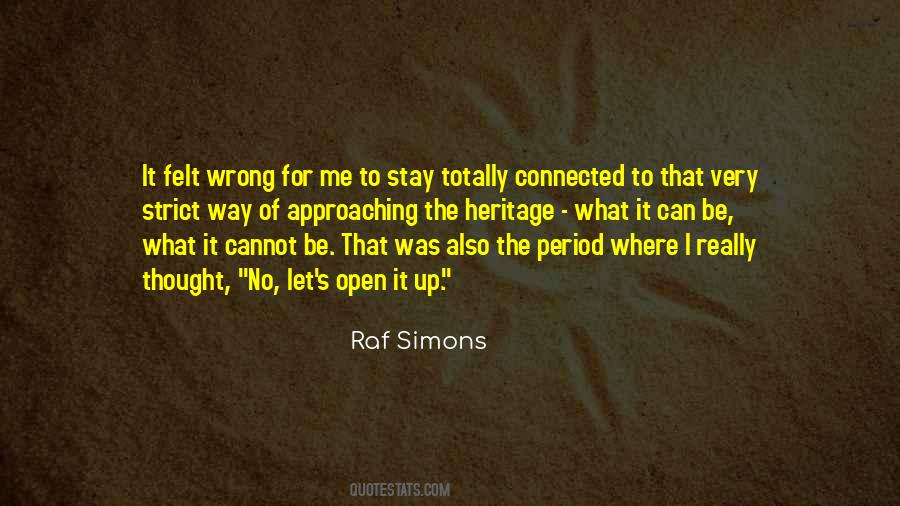 #72. May all beings everywhere with whom we are inseparably connected, be fulfilled, awakened, liberated and free. May there be peace in this world and throughout the entire universe, and may we all together complete the spiritual journey. - Author: Surya Das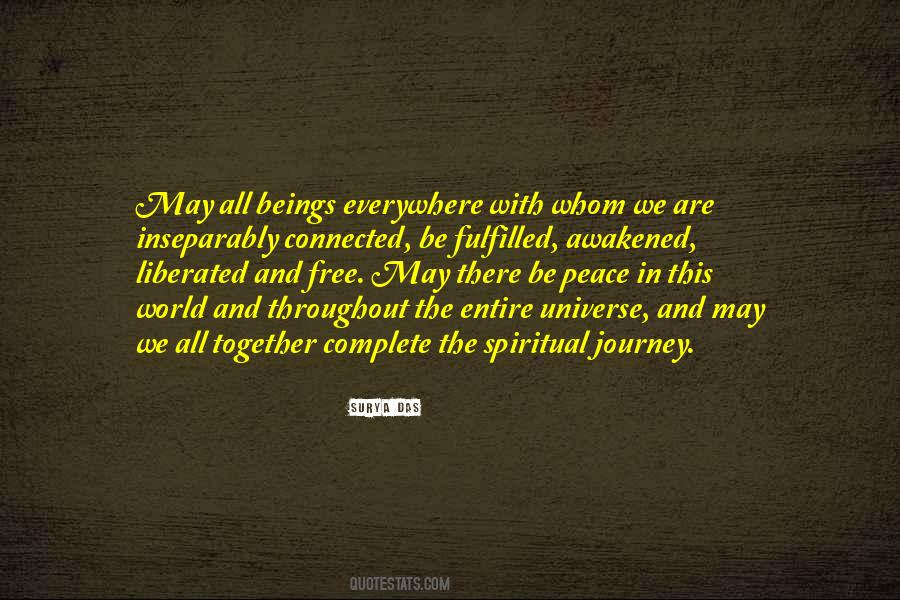 #73. Usually when we reason, our minds have a tendency to grab any information that seems to be related to the topic, in the process retrieving both relevant cues and those that seem somehow to be connected but may not actually matter - Author: Anonymous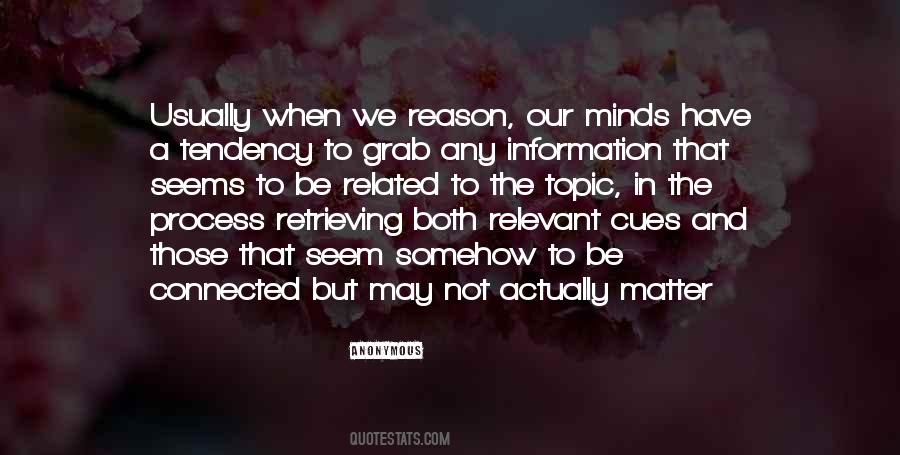 #74. We're on the same wavelength. We're connected that way, even if I'm away from her. - Author: Haruki Murakami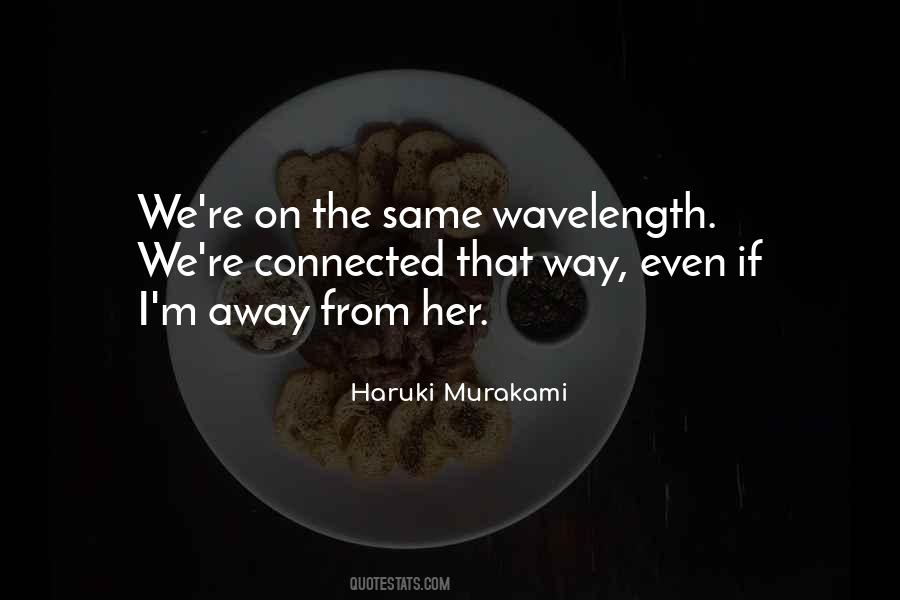 #75. It's nice that people can call me an artist and it's nice that I can refer to myself as such, but it also kind of separates me from the common man in a way that I don't wish to be, so craftsperson makes me feel a bit more connected. - Author: Matana Roberts
#76. They are learning a way of feeling connected in which they have permission to think only of themselves. - Author: Sherry Turkle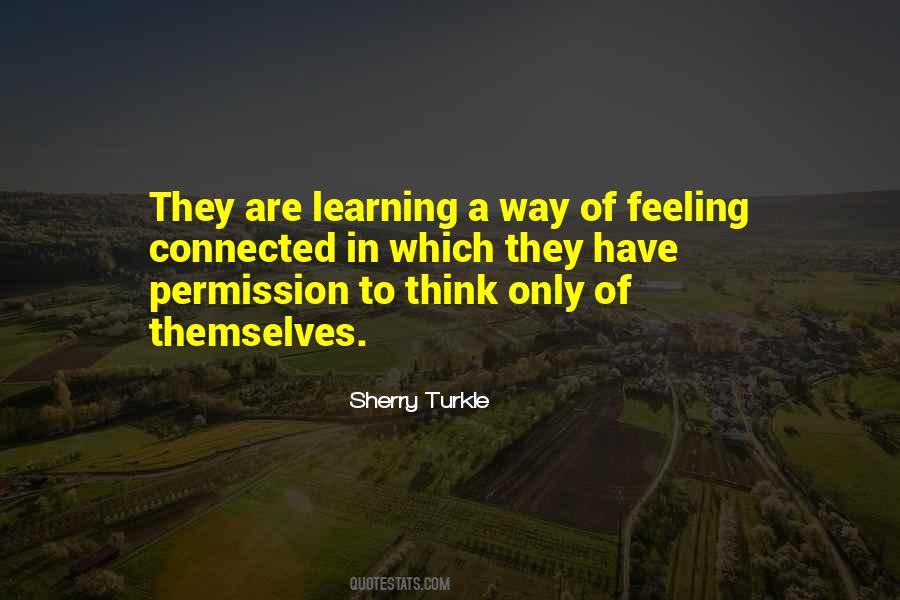 #77. It becomes possible to admit that plainness may coexist with nobility of nature, and fine features with baseness; and yet to hold that mental and physical perfection are fundamentally connected, and will, when the present causes of incongruity have worked themselves out, be ever found united. - Author: Herbert Spencer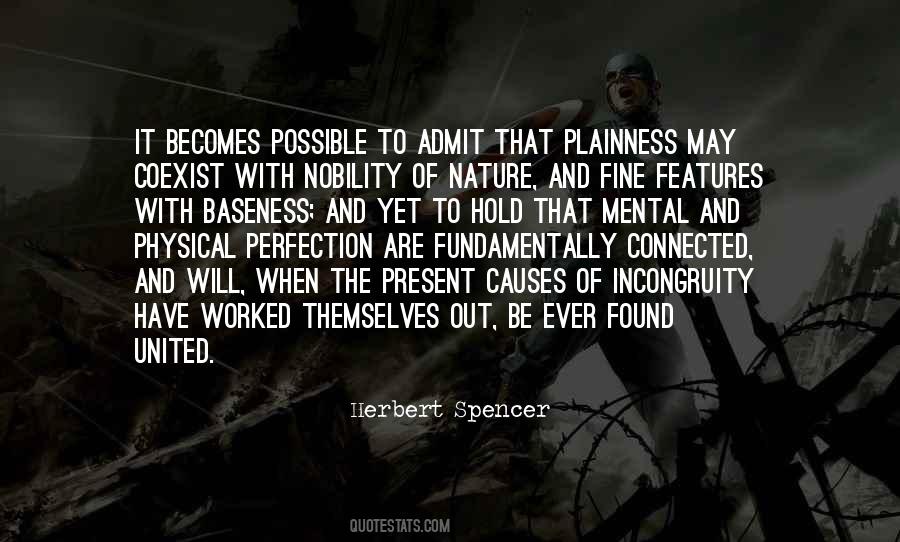 #78. The connected get more connected while the disconnected get more disconnected. - Author: Joshua Ferris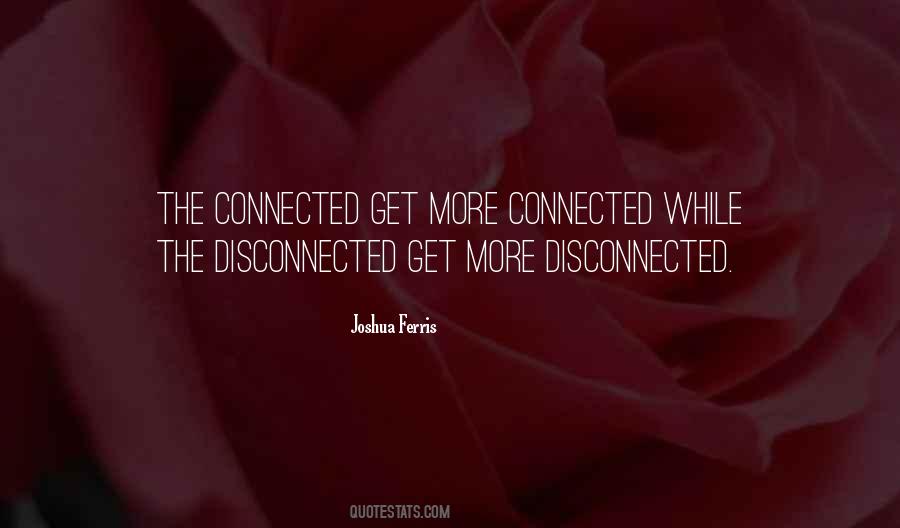 #79. It is a city of villages, closely connected, each village dedicated to a different way of life. - Author: Nancy Spain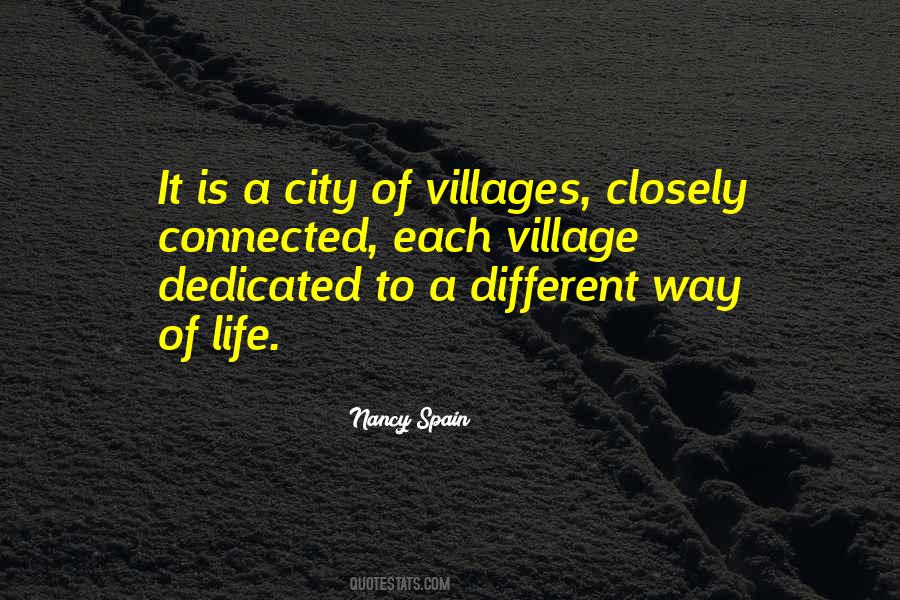 #80. While visiting places in the South with my heart really open, I realized how important people in certain geographical spots were to me, what they symbolize, how I'm still connected to them and how much they are a part of my ancestry, both musical and real. - Author: Rosanne Cash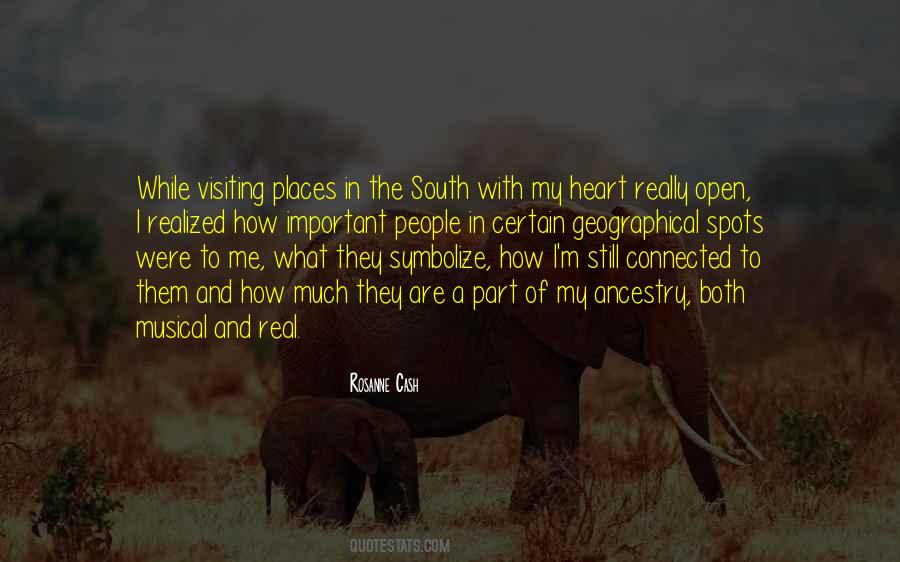 #81. It's possible to live without the Web. It's not possible to live without water. But if you've got water, then the difference between somebody who is connected to the Web and is part of the information society, and someone who (is not) is growing bigger and bigger. - Author: Tim Berners-Lee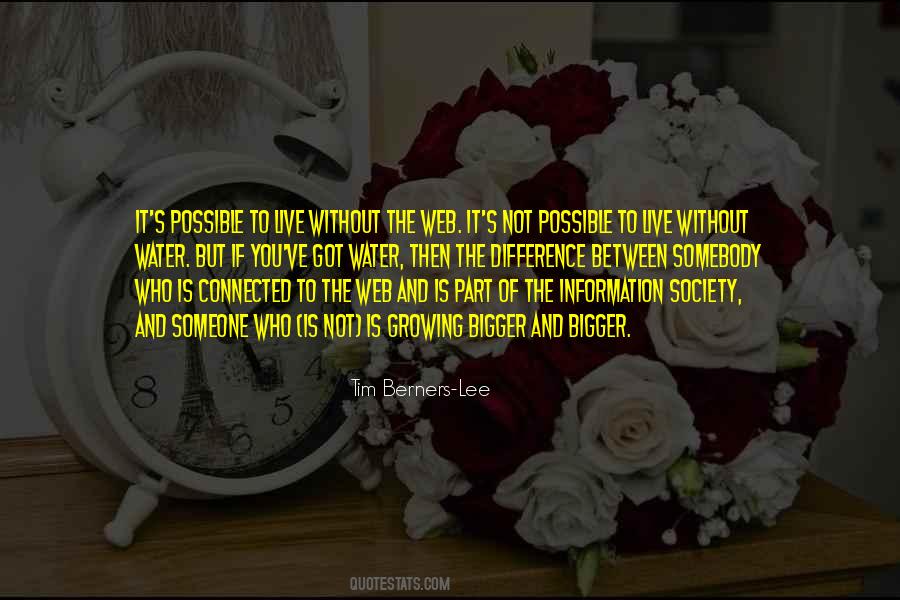 #82. What takes the place of the strict rules of the Strict Father model is clarity of expectations and empathy. What takes the place of reward and punishment is interdependence, communication, and a true desire to remain affectionately connected to those you live with. F - Author: George Lakoff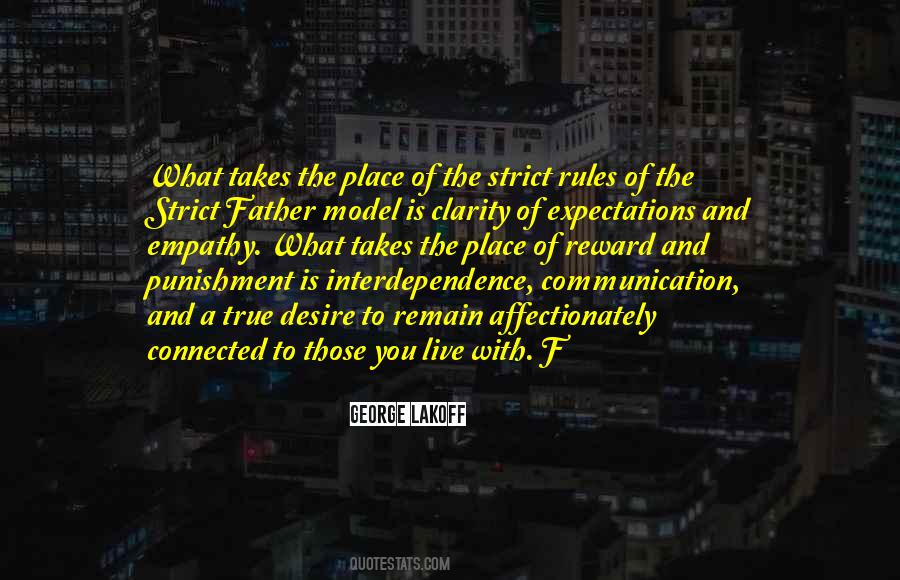 #83. For me, clothing has always been connected to history. That's what draws me in. - Author: Liz Goldwyn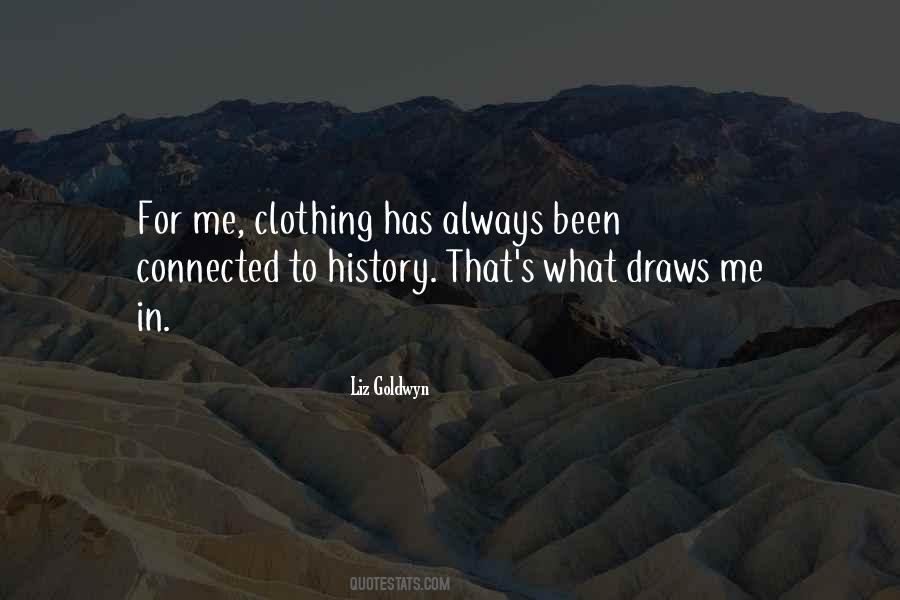 #84. The human brain has 100 billion neurons, each neuron connected to 10 thousand other neurons. Sitting on your shoulders is the most complicated object in the known universe. - Author: Michio Kaku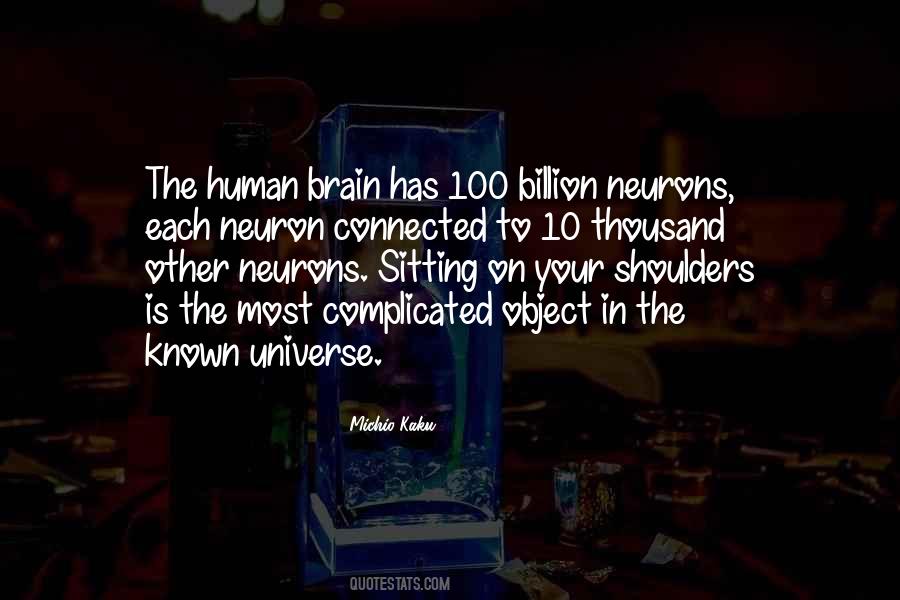 #85. Always make your work be personal. And, you never have to lie ... There is something we know that's connected with beauty and truth. There is something ancient. We know that art is about beauty, and therefore it has to be about truth. - Author: Francis Ford Coppola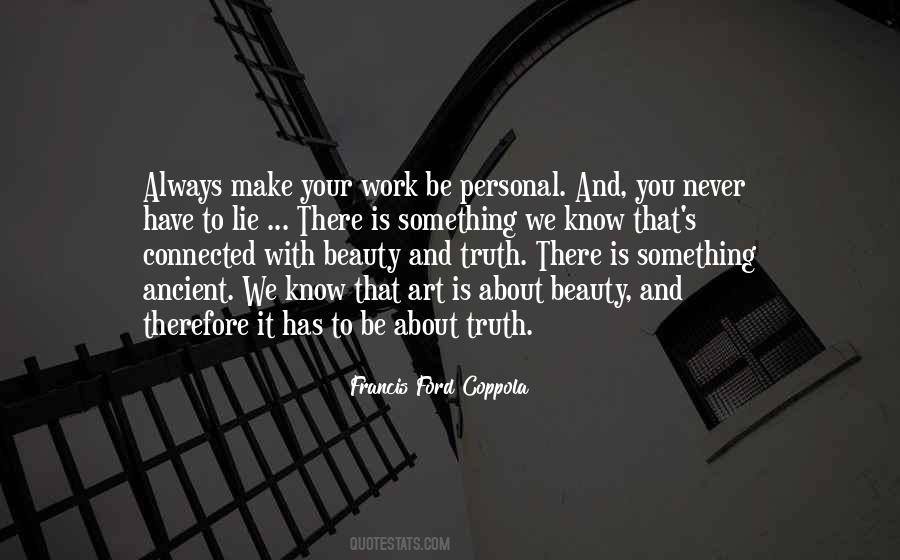 #86. Maia hated this town. Everything was connected. Everybody was somebody's cousin or childhood friend. A city of a million-plus people, and they still operated like a little country town. - Author: Rick Riordan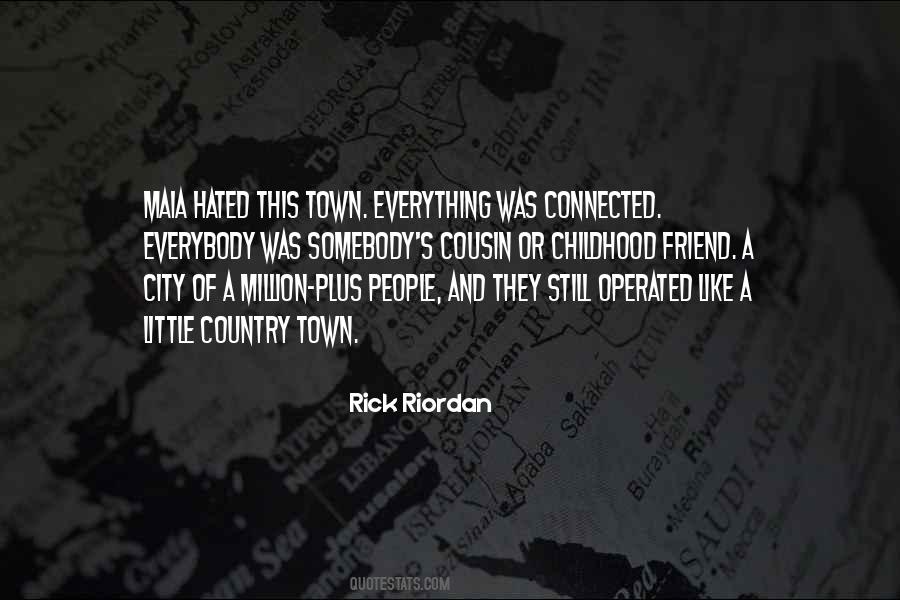 #87. Loving friendships provide us with a space to experience the joy of community in a relationship where we learn to process all our issues, to cope with differences and conflict while staying connected. - Author: Bell Hooks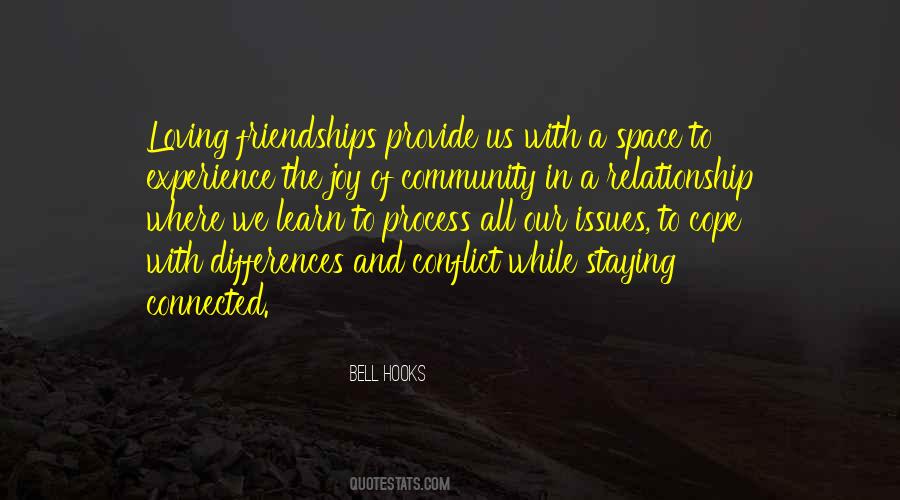 #88. I feel more beautiful than I've ever felt because I've given birth. I have never felt so connected, never felt like I had such a purpose on this earth. The best thing about having a daughter is having a true legacy. The word love means something completely different now. - Author: Beyonce Knowles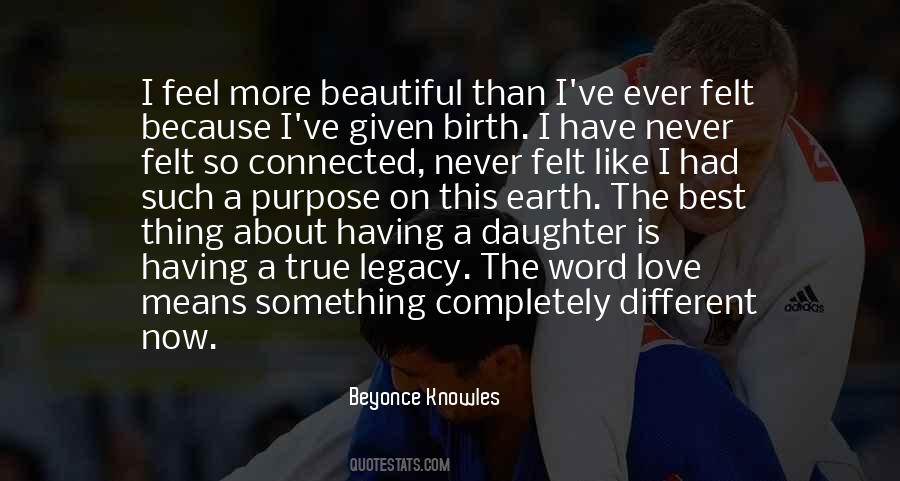 #89. Subsidies and mandates are just two of the privileges that government can bestow on politically connected friends. Others include grants, loans, tax credits, favorable regulations, bailouts, loan guarantees, targeted tax breaks and no-bid contracts. - Author: Charles Koch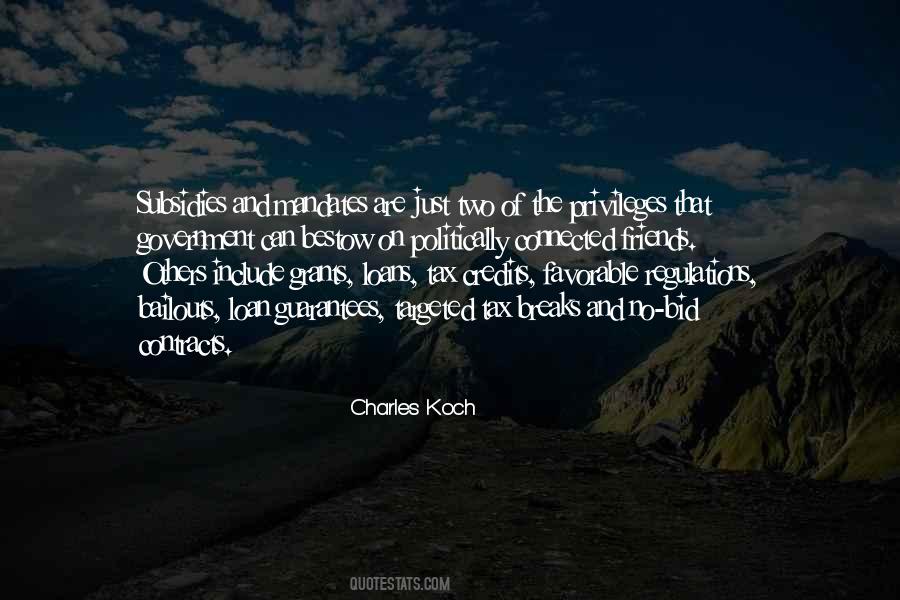 #90. Without compassion, we will never know anyone or anything, not even our own story. Too much judgment, too many ideas and attitudes will stand in the way of the fundamental principle that we are similar to, connected with, and part of everything else. - Author: Deena Metzger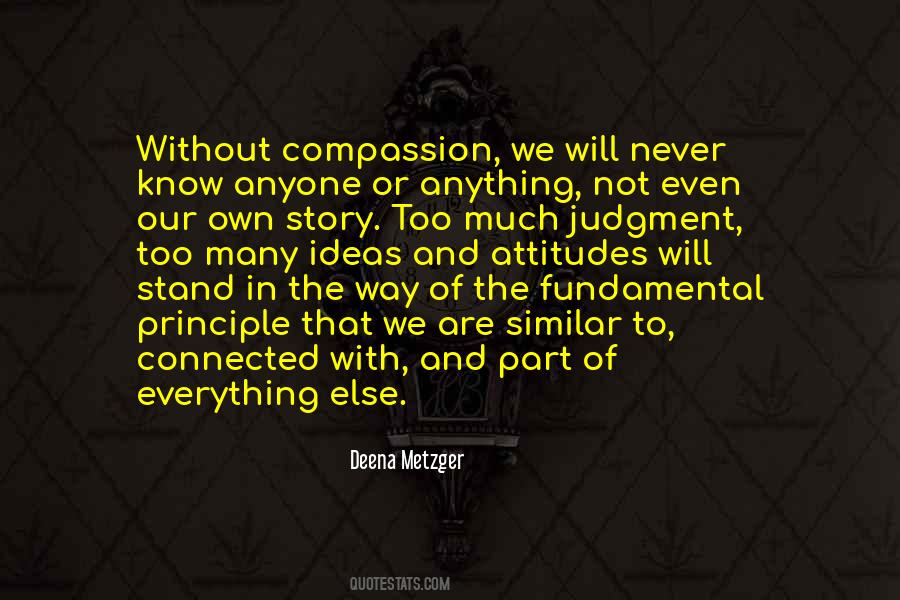 #91. I was continually connected with the whole world and never got any rest. At the moment, I spend only a few hours weekly on the net, that's just better for me. - Author: Peter Greenaway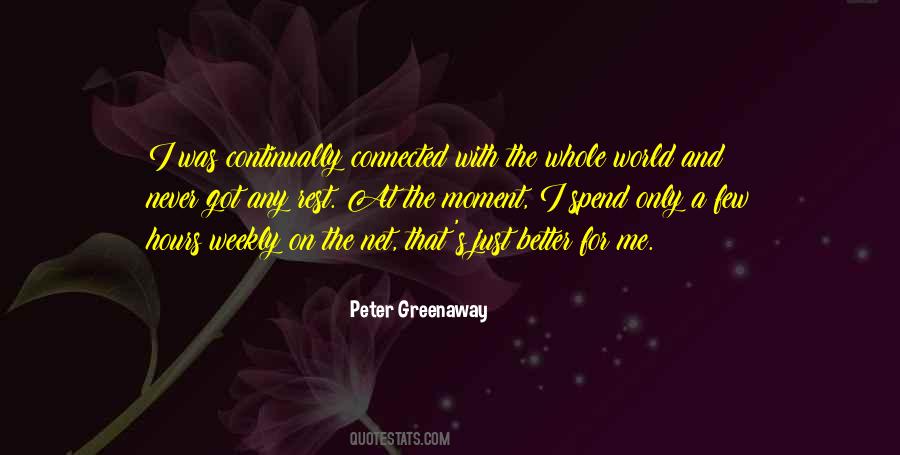 #92. It's like I was connected to the plumping system. - Author: Rick Riordan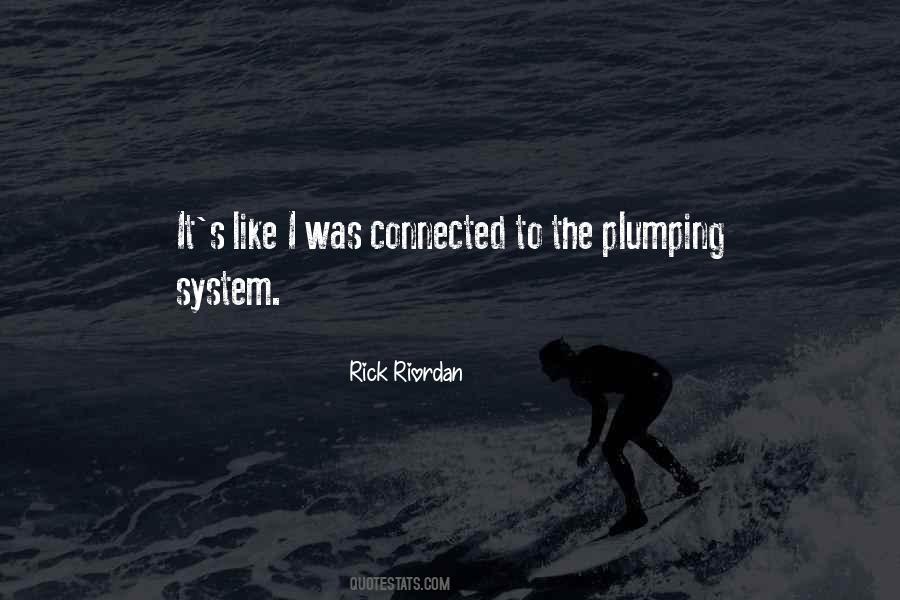 #93. To live in a spiritual dimension is to be connected to one's eternal destiny - Author: Sunday Adelaja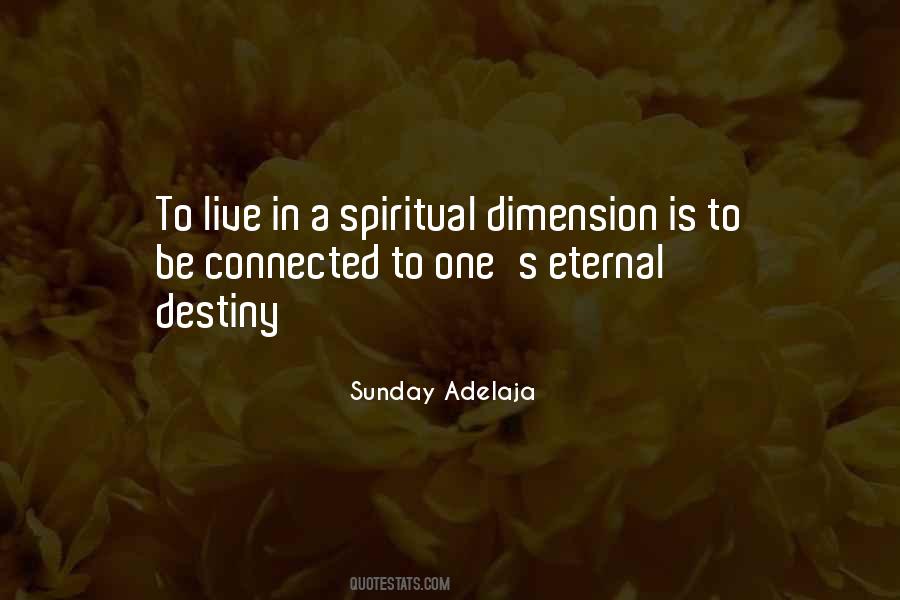 #94. In our technology-crazed world, we've confused being communicative with feeling connected. - Author: Brene Brown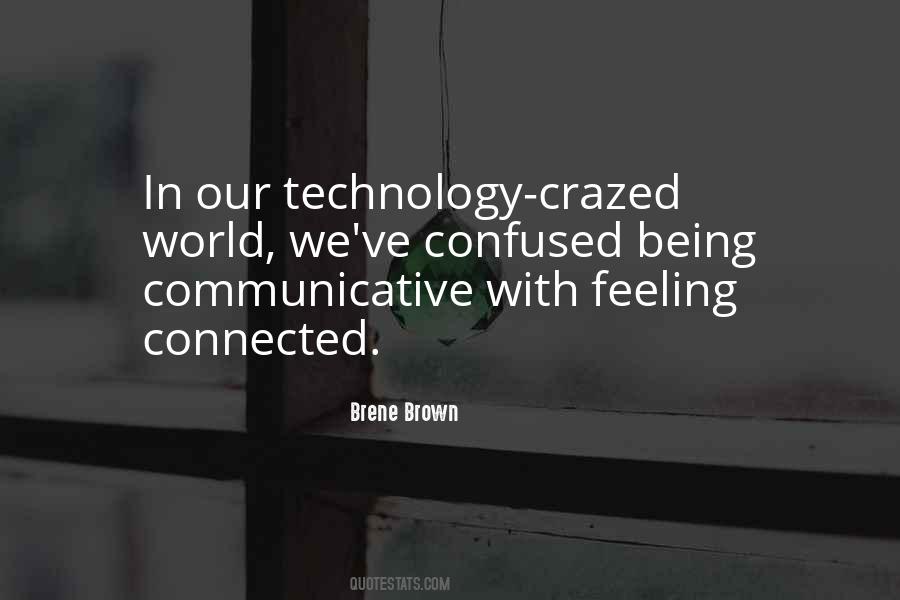 #95. Being connected in a shallow way to the entire world can prevent us from being deeply connected to those closest to us - including ourselves. - Author: Arianna Huffington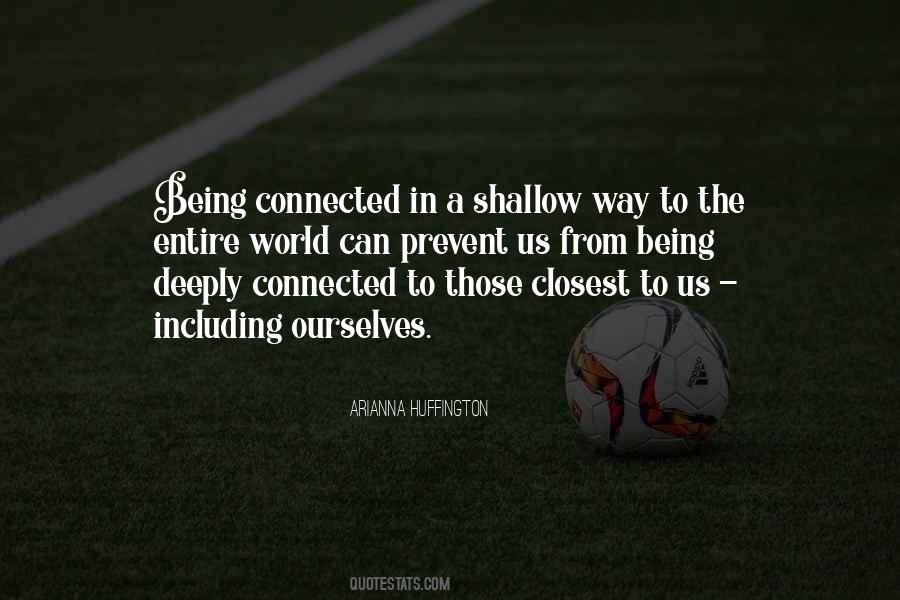 #96. Your depression is connected to your insolence and refusal to praise. - Author: Rumi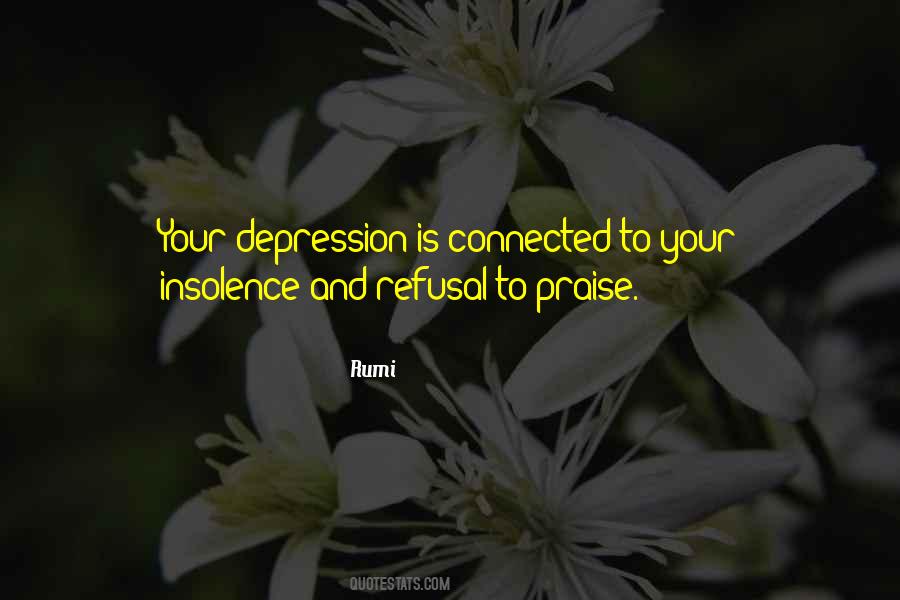 #97. I'm so honored to have been a part of something so meaningful that helped to keep so many families and loved ones connected. - Author: Oleta Adams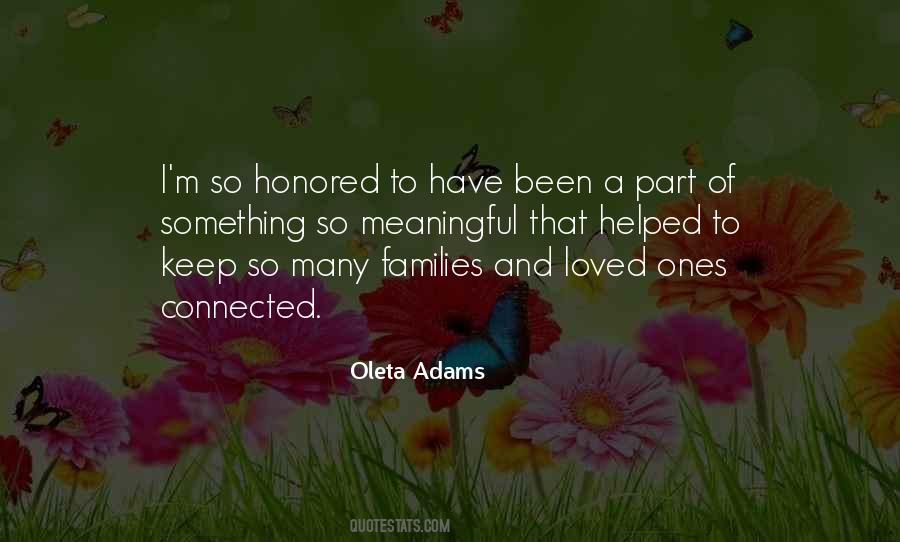 #98. Psycho-galvonic experiments show clearly that every emotion or thought is always connected with some electrical current. - Author: Alfred Korzybski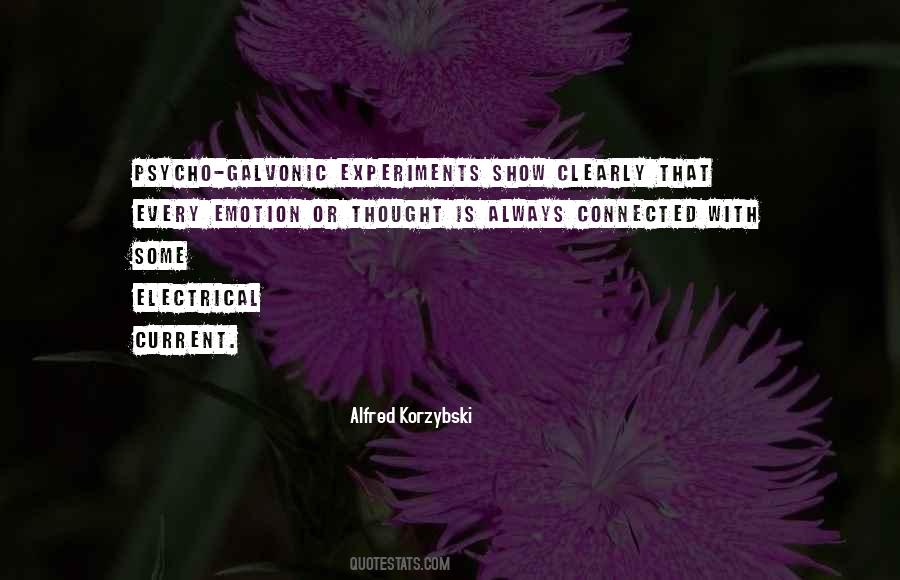 #99. In nature everything is connected, interwoven, subject to natural law. We cannot separate ourselves from that, no matter how hard we try. - Author: Jeffrey R. Anderson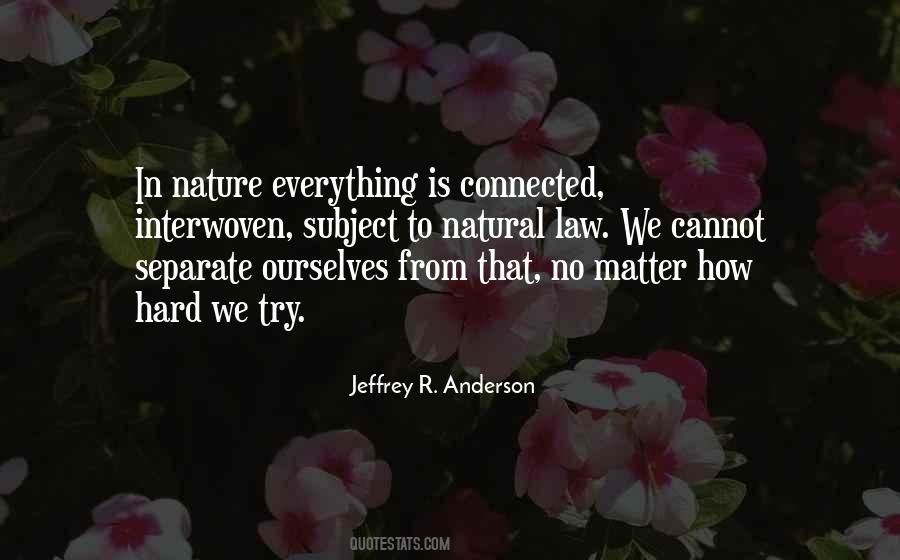 #100. Meditation has been an anchor throughout my life - it helps me feel balance, connected and at peace. - Author: Mallika Chopra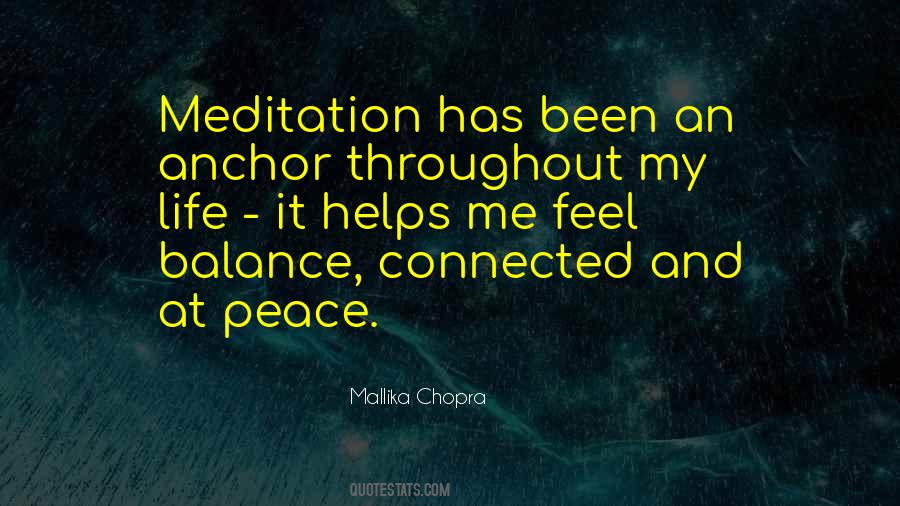 Famous Authors
Popular Topics