Chore Famous Quotes & Sayings
List of top 100 famous quotes and sayings about chore to read and share with friends on your Facebook, Twitter, blogs.
Top 100 Quotes About Chore
#1. I'd made these experimental films but I thought the major chore of a filmmaker was to relate to actors. - Author: Bill Forsyth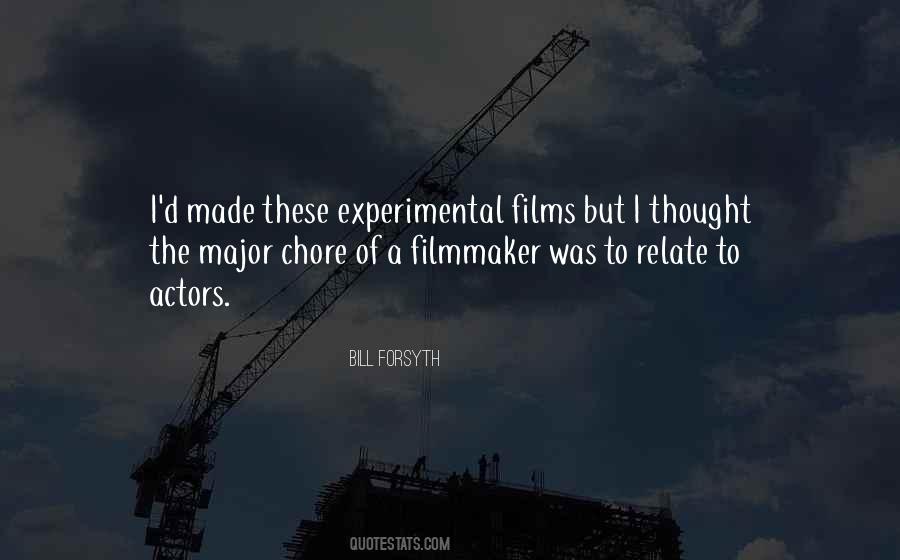 #2. Practice, which some regard as a chore, should be approached as just about the most pleasant recreation ever devised. - Author: Babe Didrikson Zaharias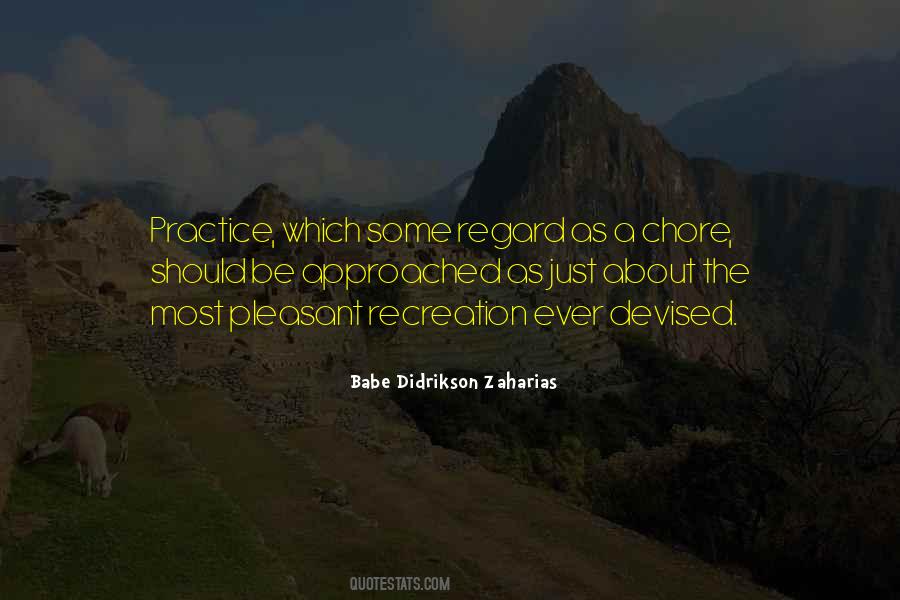 #3. Actually, what will be shown from here to eternity will be Burt Lancaster and Deborah Kerr cavorting on the beach. 'From Here to Eternity' must have seemed like a chore to its director, Fred Zinnemann. - Author: Manny Farber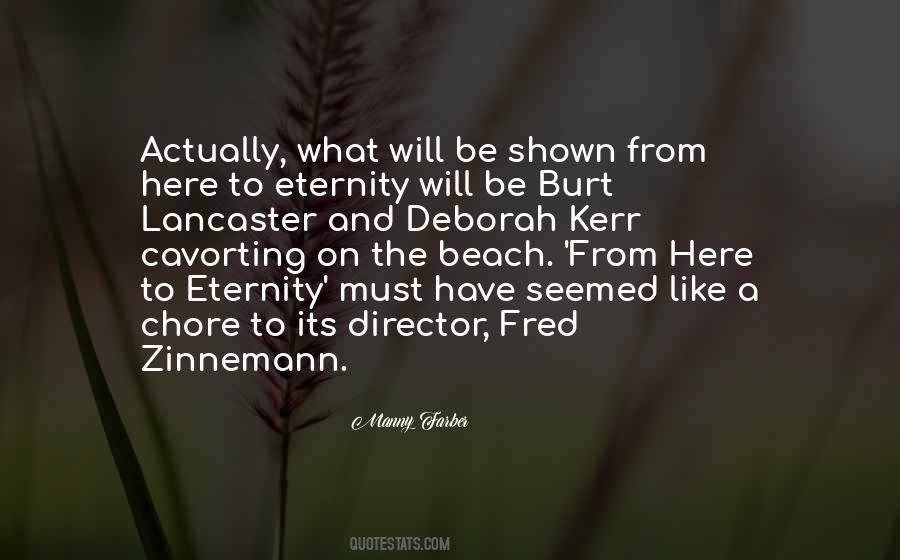 #4. Some people are a natural administrator. They actually enjoy doing it. I find it a chore. I'm not a details person. I go for the big sweep. - Author: Peter Hollingworth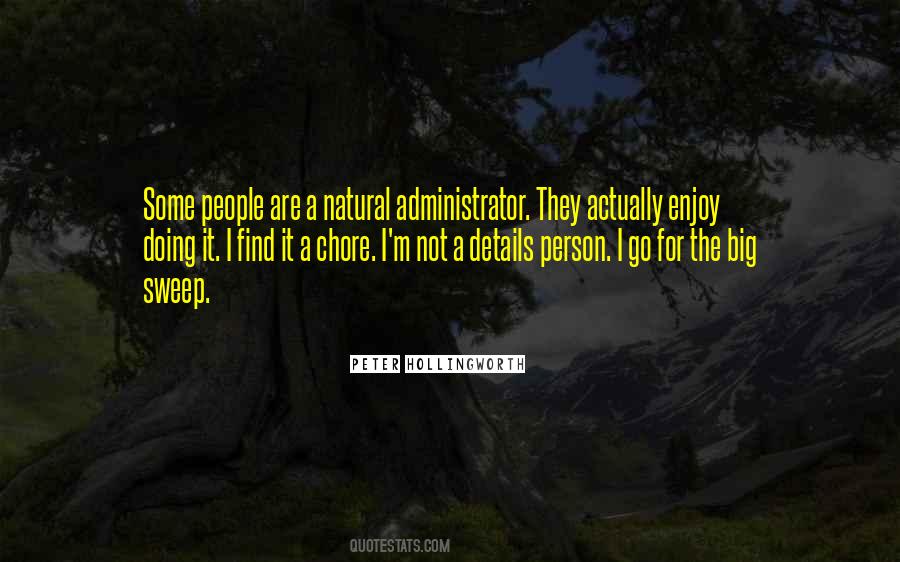 #5. When you're a father in a marriage, you sort of become the mother's assistant. And you sort of get a list from her every day and you run down the list and it feels very much like a chore. - Author: Louis C.K.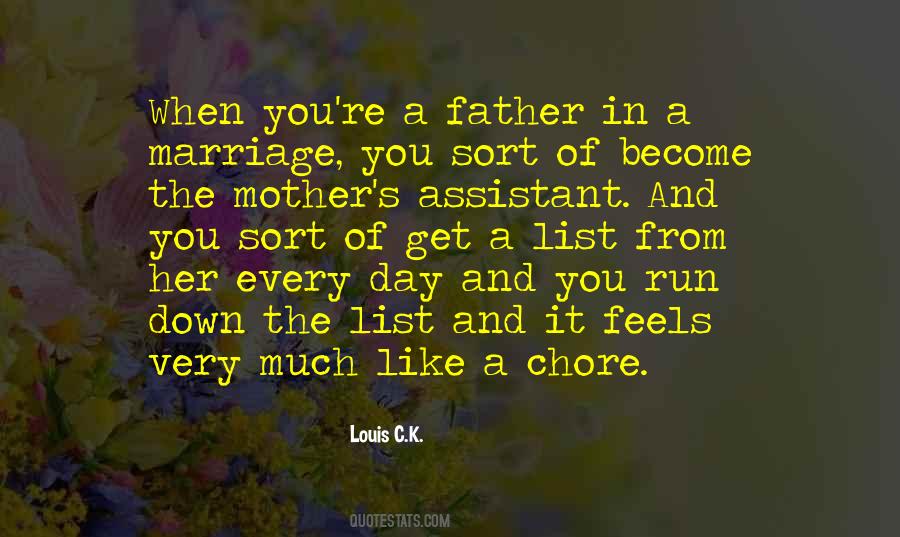 #6. To the old saying that man built the house but woman made of it a 'home' might be added the modern supplement that woman accepted cooking as a chore but man has made of it a recreation. - Author: Emily Post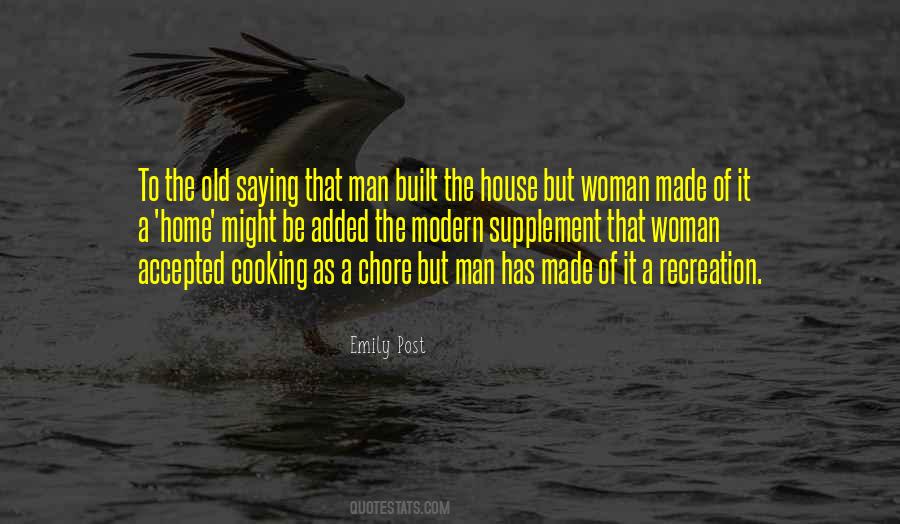 #7. she'd forgotten snow could be quite so beautiful. Snow, in her experience, was something that needed to be removed. It was a chore that fell from the sky. But - Author: Louise Penny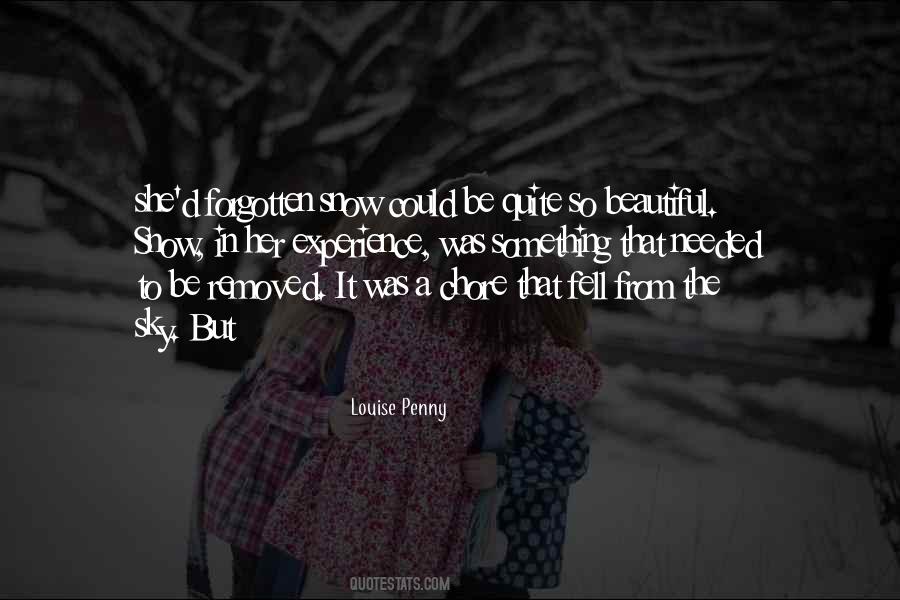 #8. Breathing became a painful chore. Her lips turned down while her warm fingers caressed my cheek. That touch typically brought me to knees, but now it cut me open. - Author: Katie McGarry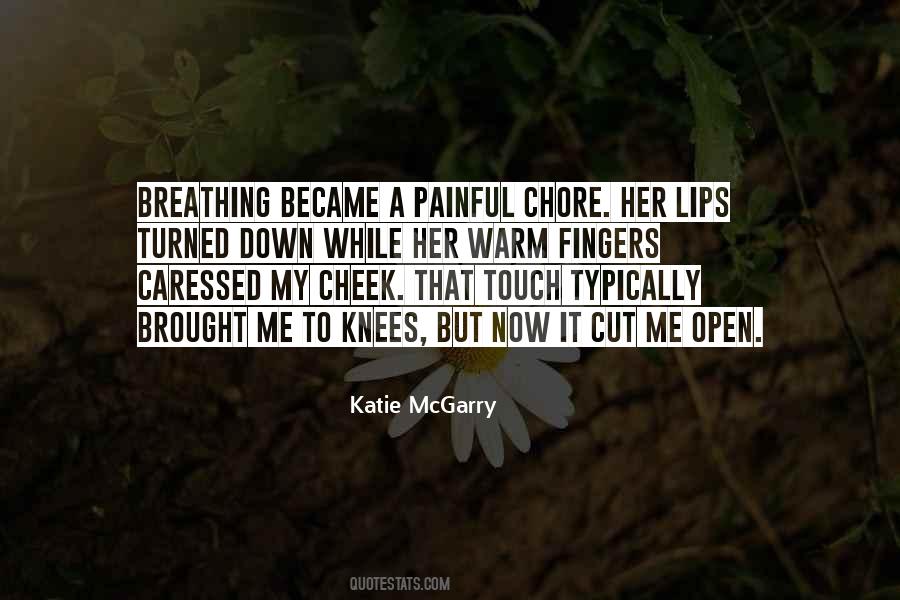 #9. Sometimes we make being happy so difficult. And being thankful such a chore. - Author: Carew Papritz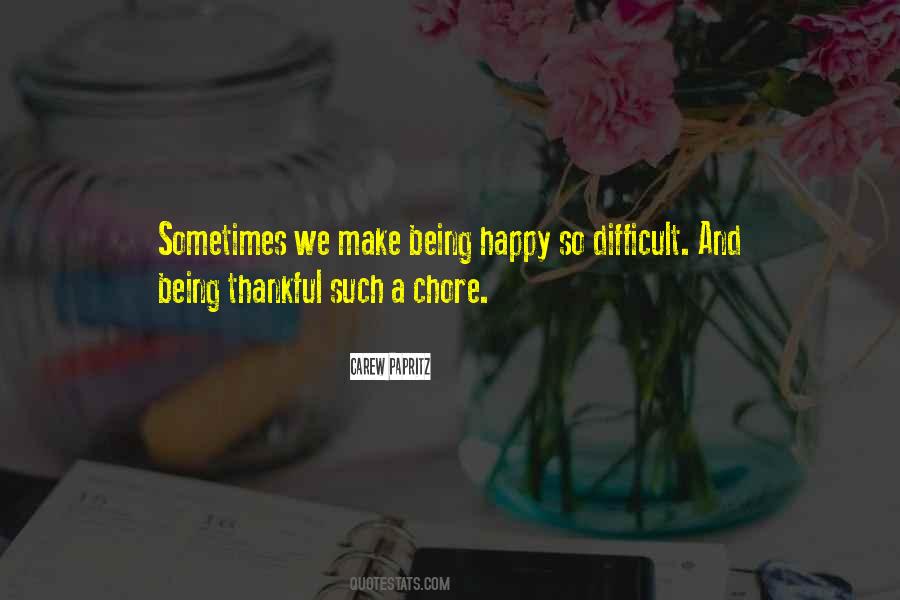 #10. To the right person, the person who is truly born to it, duty is a form of love, through which all is possible. Duty is not always a denial of things, but an expansion of them to others. Duty is not always a chore, but is best carried out with love. - Author: Terry Goodkind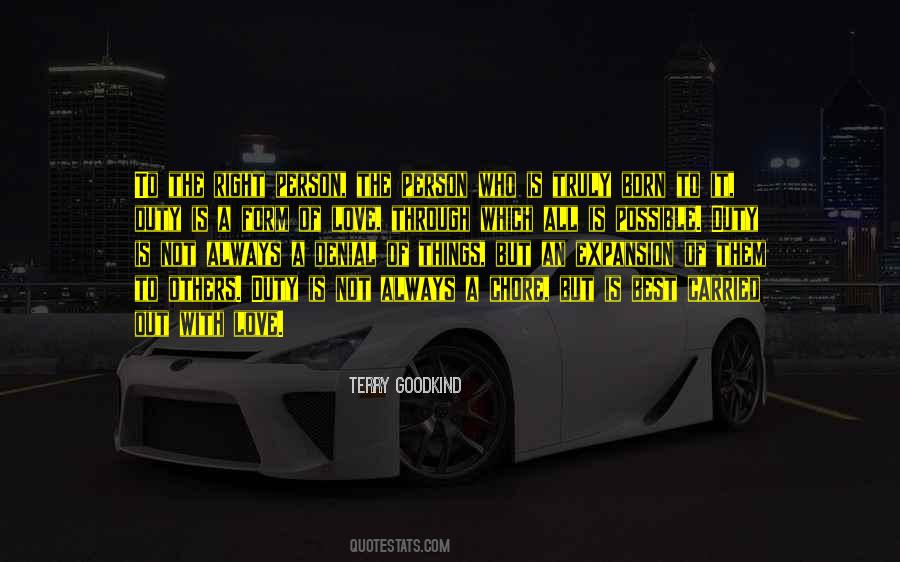 #11. Standing is stupid,
Crawling's a curse,
Skipping is silly,
Walking is worse.
Hopping is hopeless,
Jumping's a chore,
Sitting is senseless,
Leaning's a bore.
Running's ridiculous,
Jogging's insane-
Guess I'll go upstairs and
Lie down again. - Author: Shel Silverstein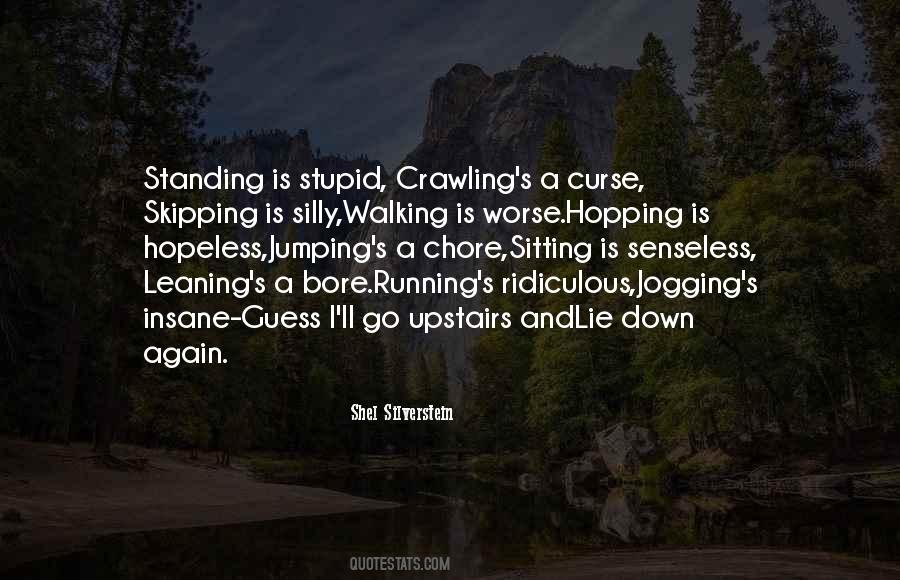 #12. We've been conditioned to think of work as drudgery, a chore you endure in exchange for a paycheck. And this is a problem. When - Author: Jeff Goins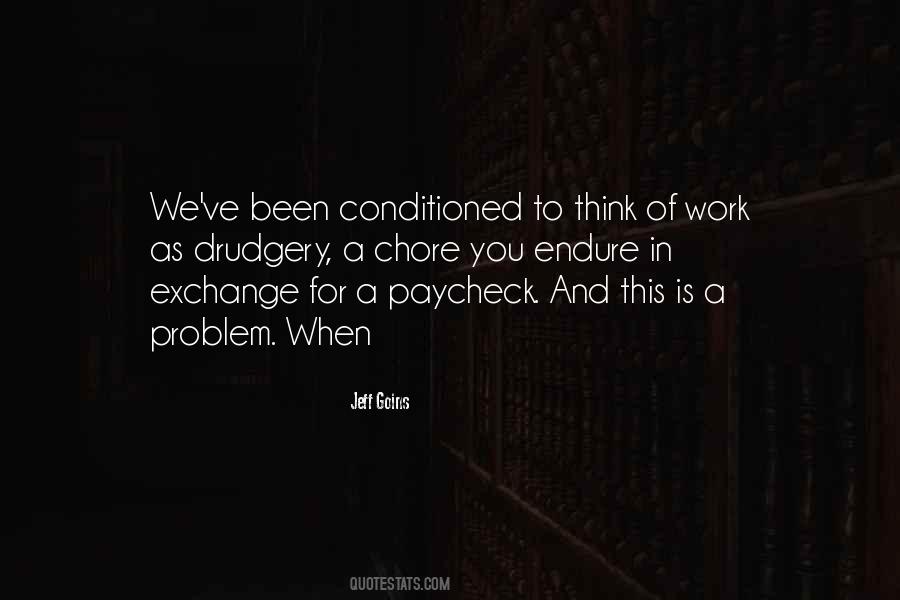 #13. I've always worked out. I've always gone to the gym. But it was always a chore, and it was always, like, 'Man, I've gotta go do this because if I don't I'll get all dumpy and out of shape and then no one will hire me for good roles.' - Author: Michael Cudlitz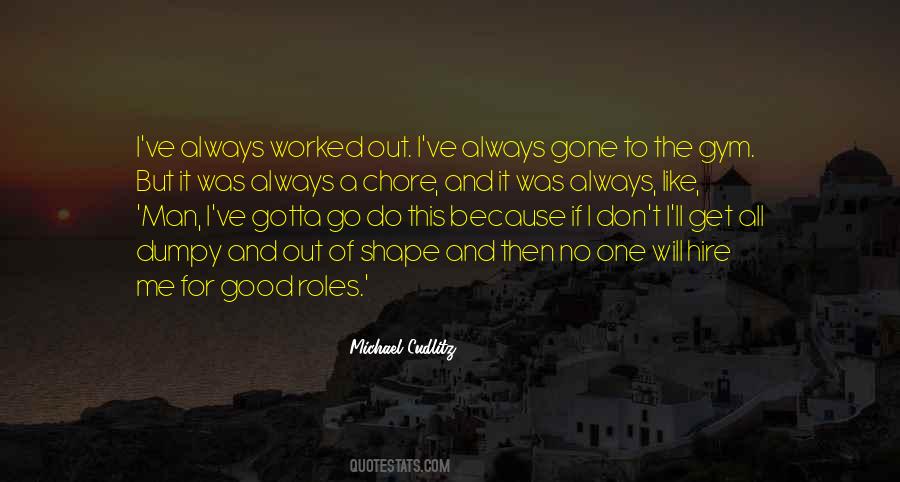 #14. My second favorite household chore is ironing. My first being hitting my head on the top bunk bed until I faint. - Author: Erma Bombeck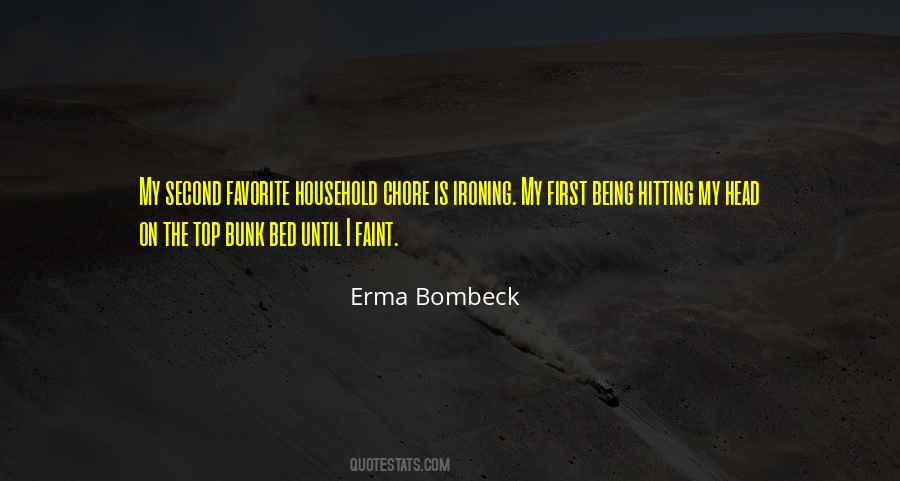 #15. It is in recognizing the actual presence of God that we find prayer no longer a chore, but a supreme delight. - Author: James Gordon Lindsay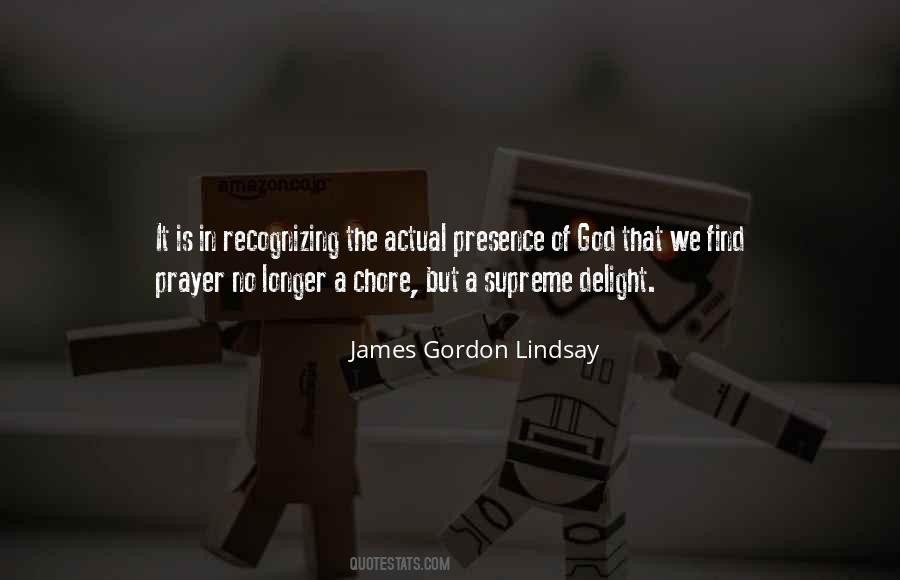 #16. When we start a new task, or confront an unpleasant chore, we should take a moment to ask ourselves "why. - Author: Charles Duhigg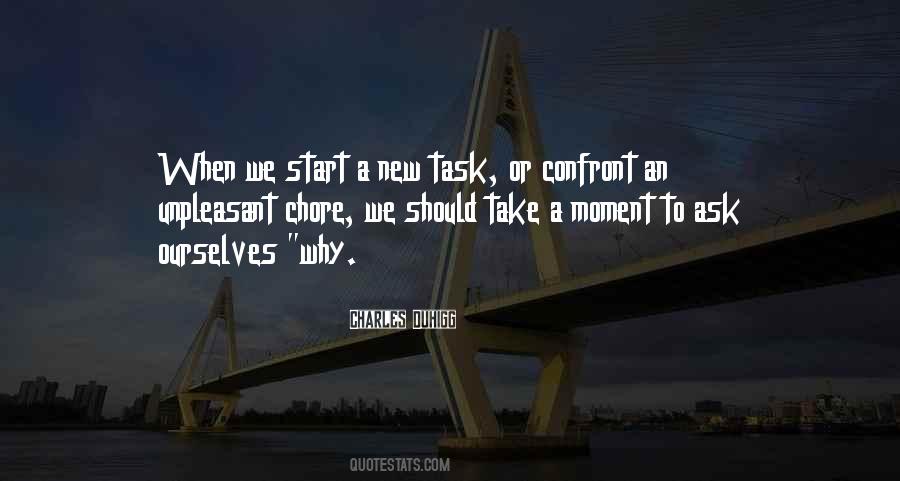 #17. Continuous exercise can wear you down and wear you out. What once was a passion has now become just a chore that you dread. - Author: Helen M. Ryan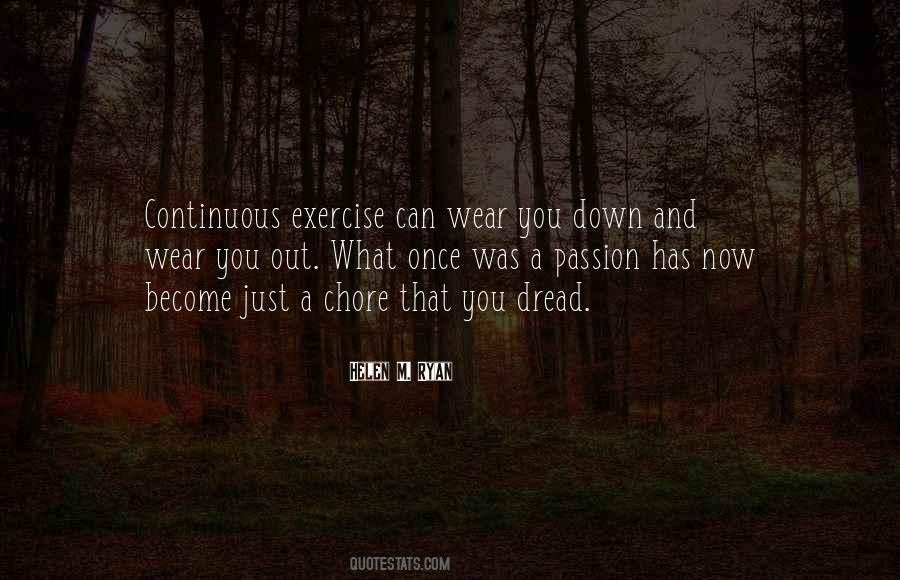 #18. Do not be duped by little duties. Do not be a chore man all your days. - Author: Henry Miller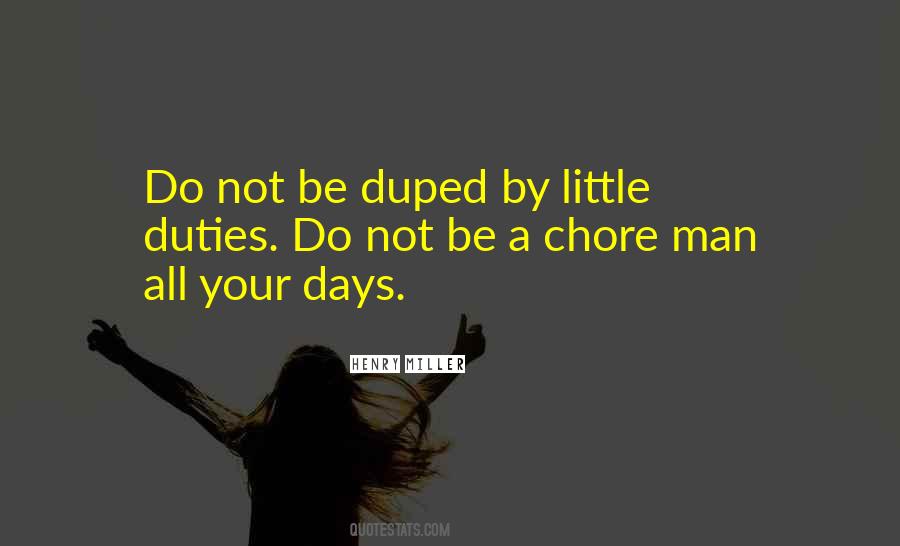 #19. Turn it over to the universe daily.. but it should never be a chore. - Author: Rhonda Byrne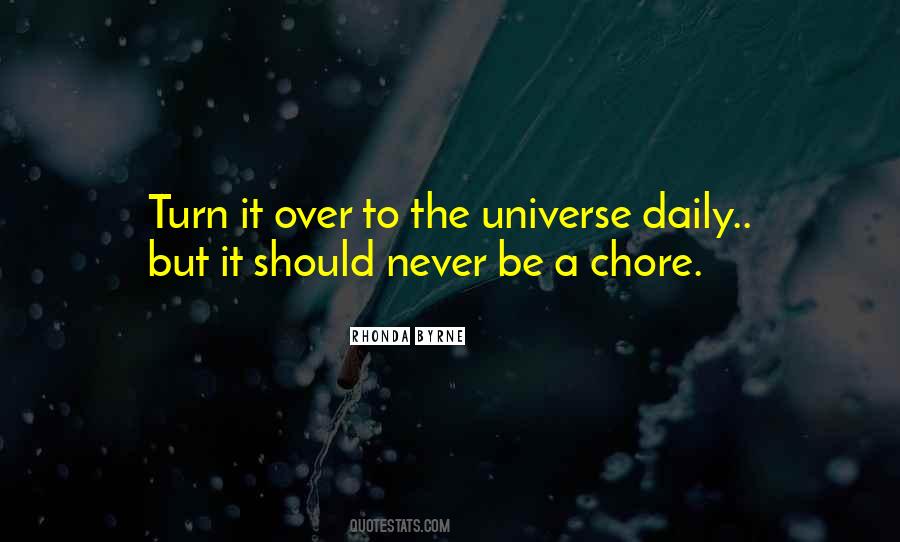 #20. Noise and crowds have a way of siphoning our energy and distracting our attention, making prayer an added chore rather than a comforting relief - Author: Charles R. Swindoll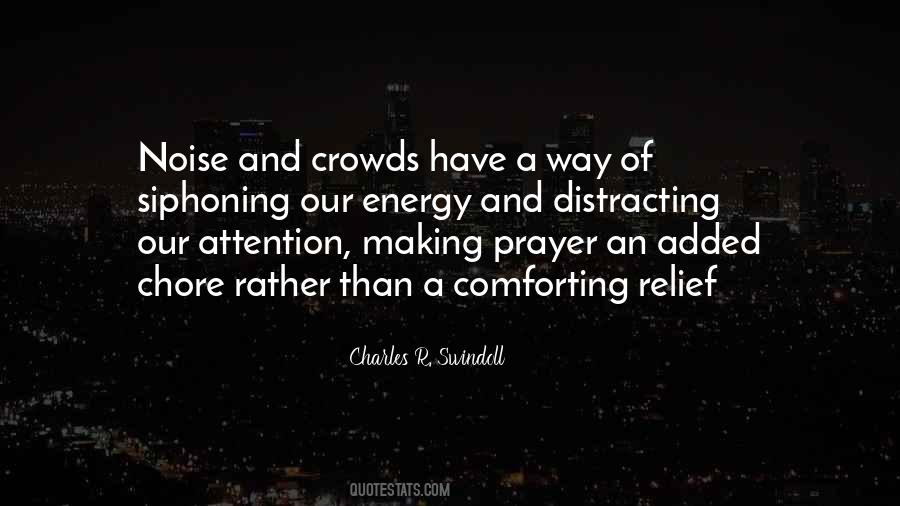 #21. The pedometer doesn't just spur us to move, though it certainly does that. It changes the way we think about movement. What was once a chore becomes a game. - Author: A. J. Jacobs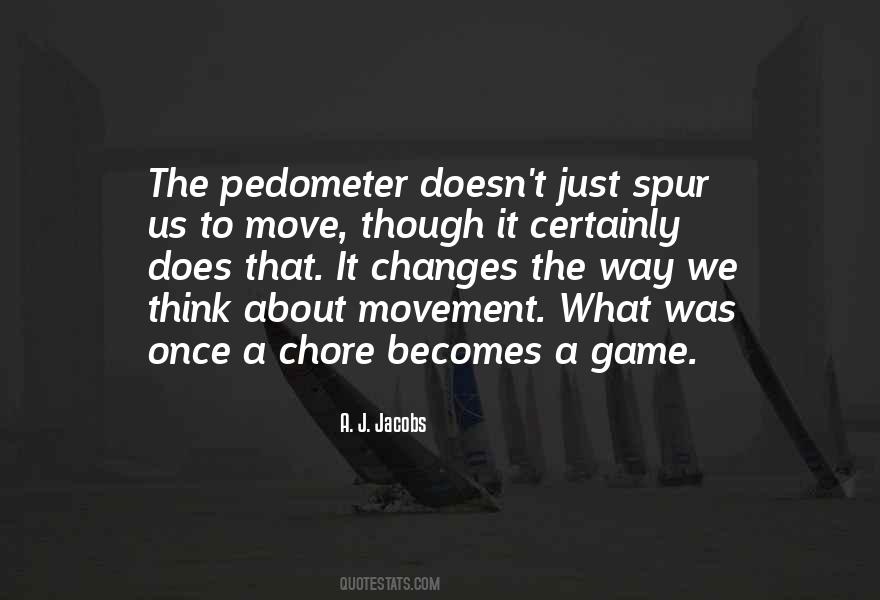 #22. If you want to cure boredom, be curious. If you're curious, nothing is a chore; it's automatic - you want to study. Cultivate curiosity, and life becomes an unending study of joy. - Author: Tony Robbins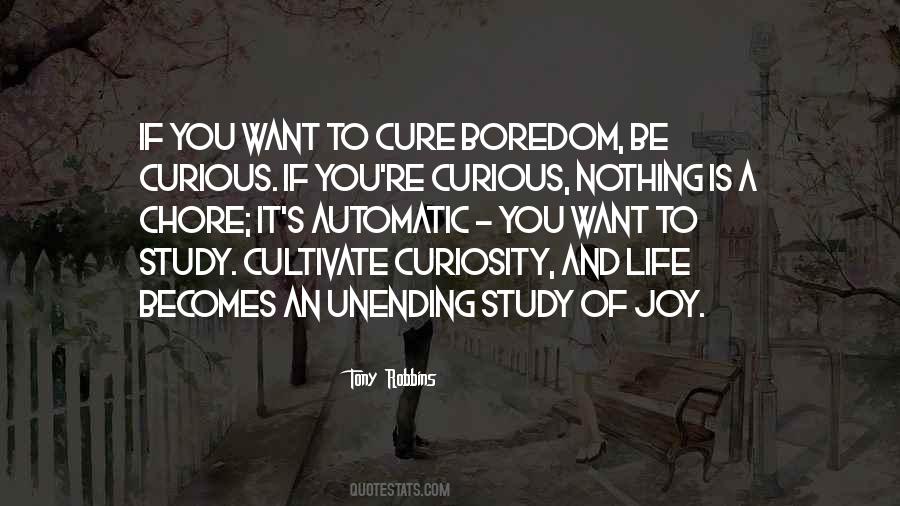 #23. If you aren't having fun, you are doing it wrong. If you feel like getting up in the morning to work on your business is a chore, then it's time to try something else. - Author: Richard Branson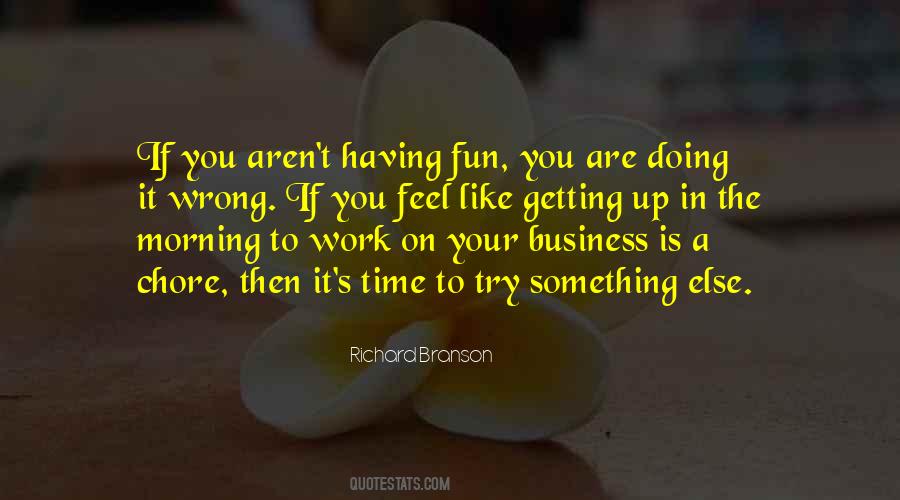 #24. For me, living and making music, they're one thing. It's not like a job that I go to a studio to do, or a chore that I have to get myself in the mood to do, or something. It's the thing that I need to do every day. - Author: John Frusciante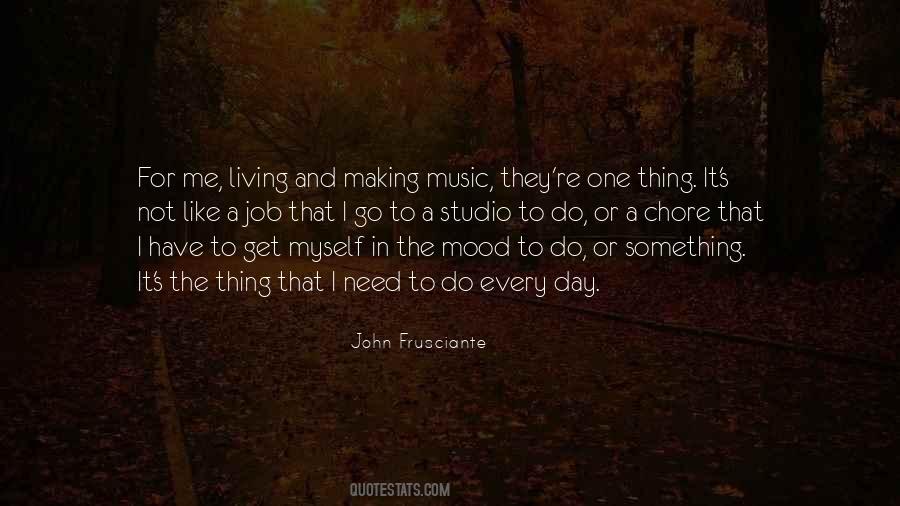 #25. Life is one big chore. - Author: Jemina Akhtar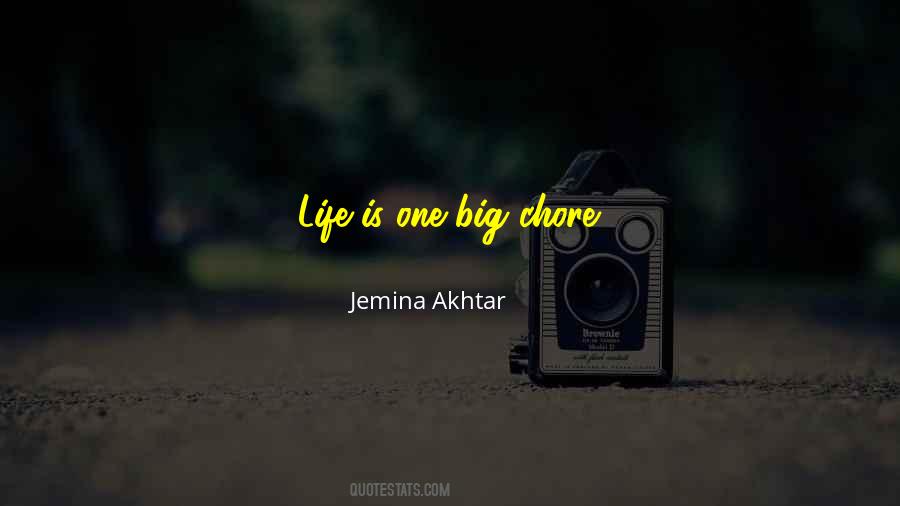 #26. I never want the art of reviewing to ever feel like a chore. - Author: Queen Of Spades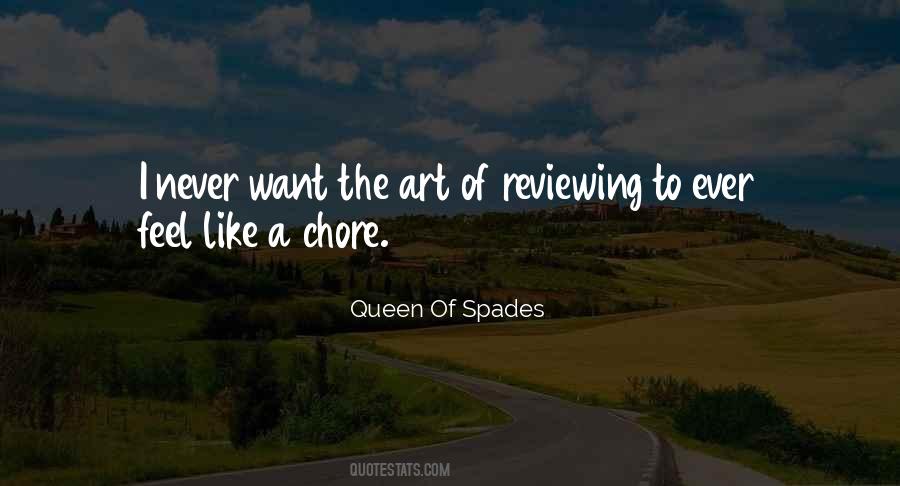 #27. Creativity is a crushing chore and a glorious mystery. The work wants to be made, and it wants to be made through you. - Author: Elizabeth Gilbert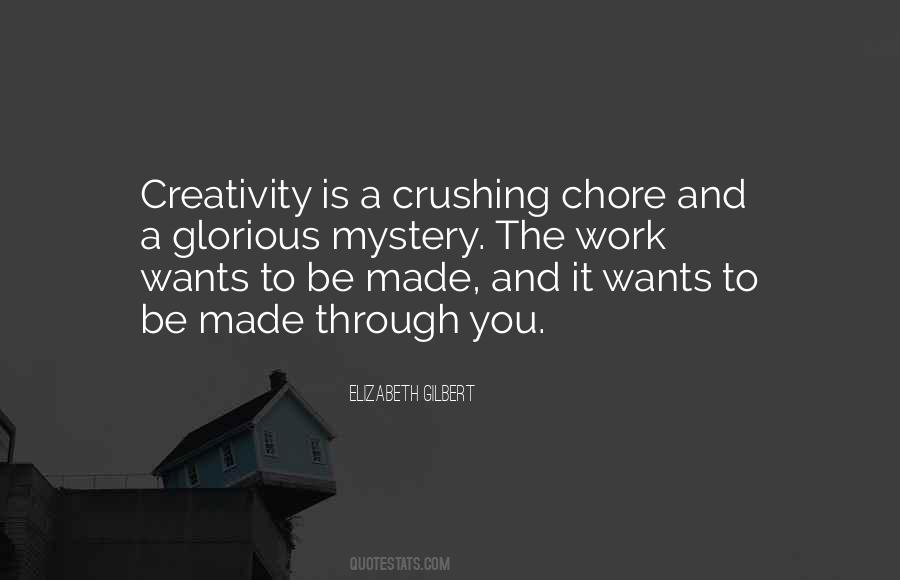 #28. Bolshoi ... A mother's life, one long errand. One enormous chore. - Author: Daphne Kalotay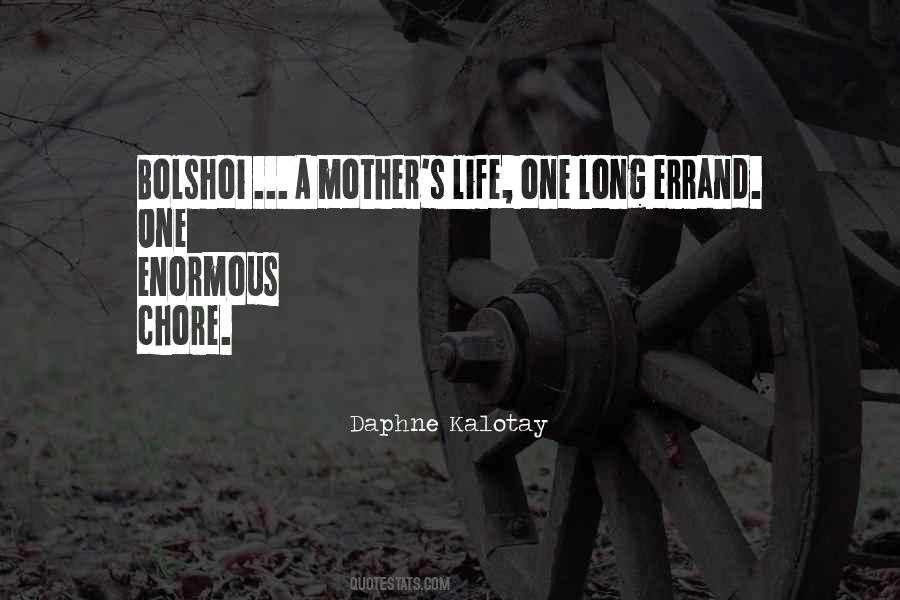 #29. The recognition thing started to happen in 2009 when 'Skins' season three had come out and we were on TV. It used to happen much more when we were in the height of our success, but I never really saw it as a chore or anything like that. It was just quite exciting - you had fans. - Author: Luke Pasqualino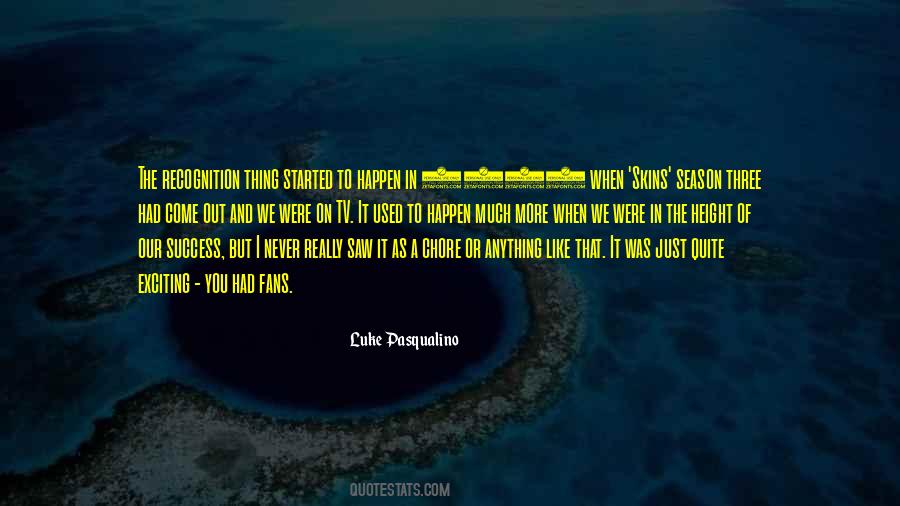 #30. If I'm home with no chore at hand, and a package of books has come, the television set and the chess board and the unanswered mail will have to manage without me if one of the books is a detective story. - Author: Rex Stout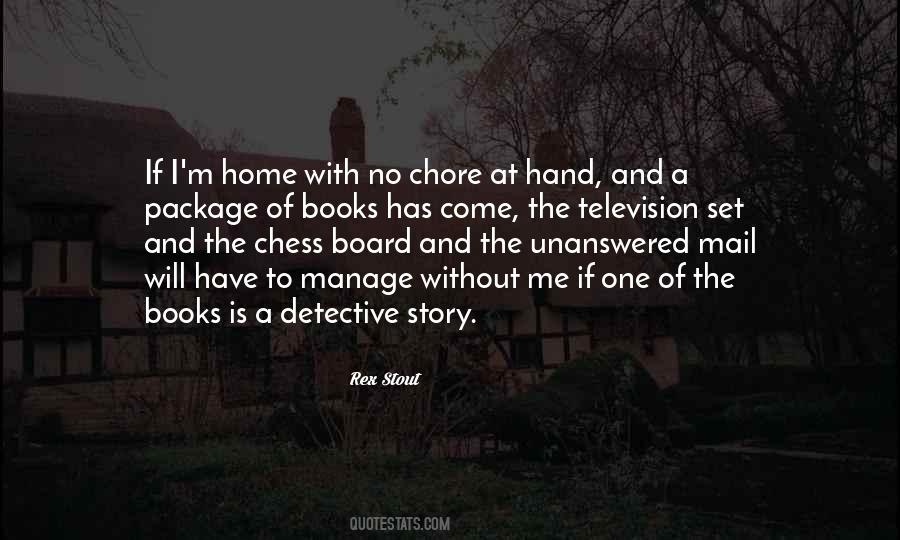 #31. I love the finished product, but I find working in the studio a chore - I use an old-fashioned setup, so the recording process can be frustrating. - Author: Max Tundra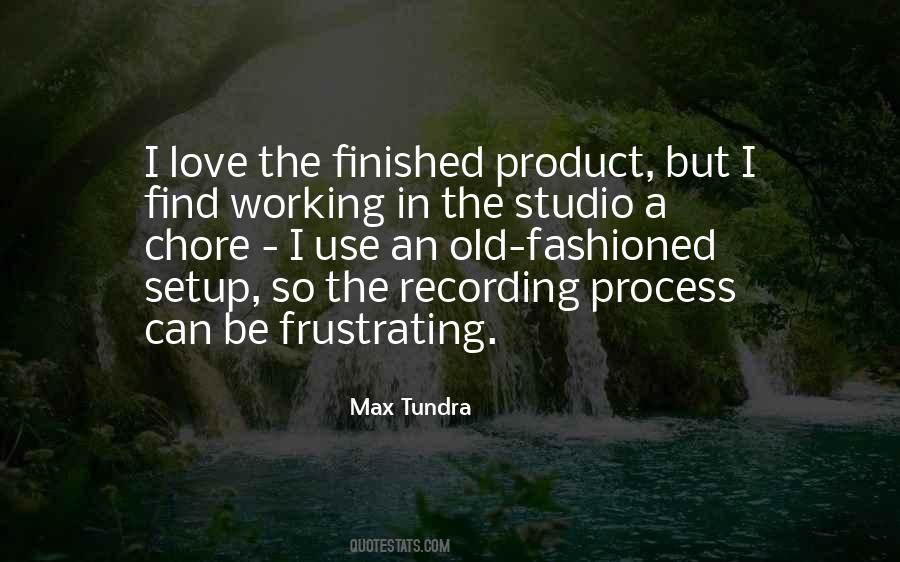 #32. Some people regard discipline as a chore. For me, it is a kind of order that sets me free to fly. - Author: Julie Andrews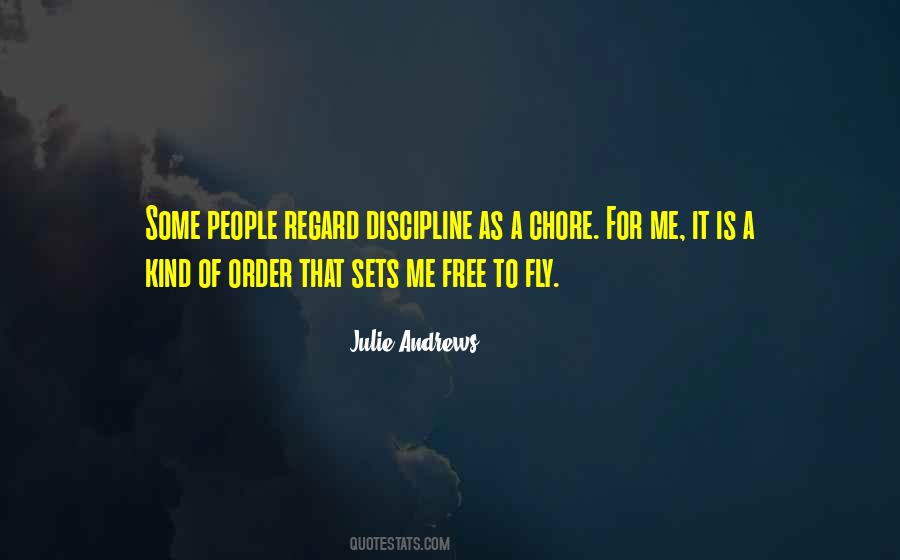 #33. I think for me I've always loved being in the water and I love training and I love being at the pool so you know it's not a chore for me to go training, but come race day I would never just train to train - I train to race. - Author: Stephanie Rice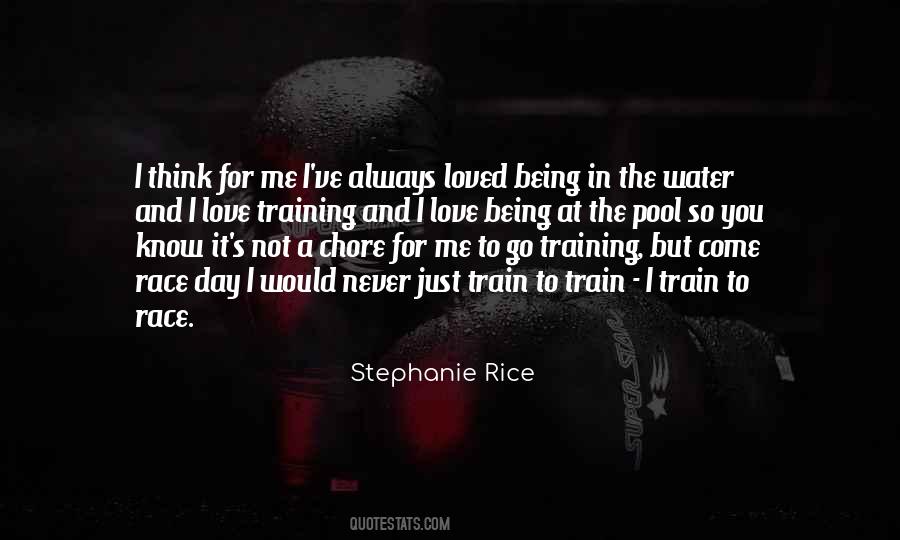 #34. I always say that keeping abreast of science should never be seen as a chore. It should be something you do naturally. I don't sit there reading 'New Scientist,' putting post-it notes next to ideas. - Author: Alastair Reynolds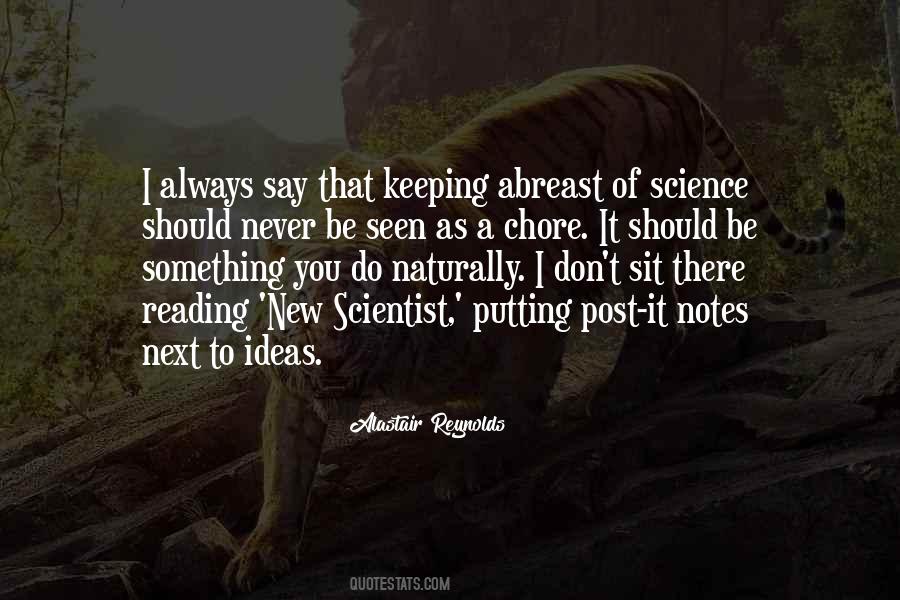 #35. Once you've stopped loving someone breaking his or her heart's just an unpleasant chore you have to get behind you. My God, you really don't love me anymore, do you? No matter your decency the victim's incredulity's potentially hilarious. You manage not to laugh. - Author: Glen Duncan
#36. Politics is not like an ocean voyage or a military campaign ... something which leaves off as soon as reached. It is not a public chore to be gotten over with. It is a way of life. - Author: Plutarch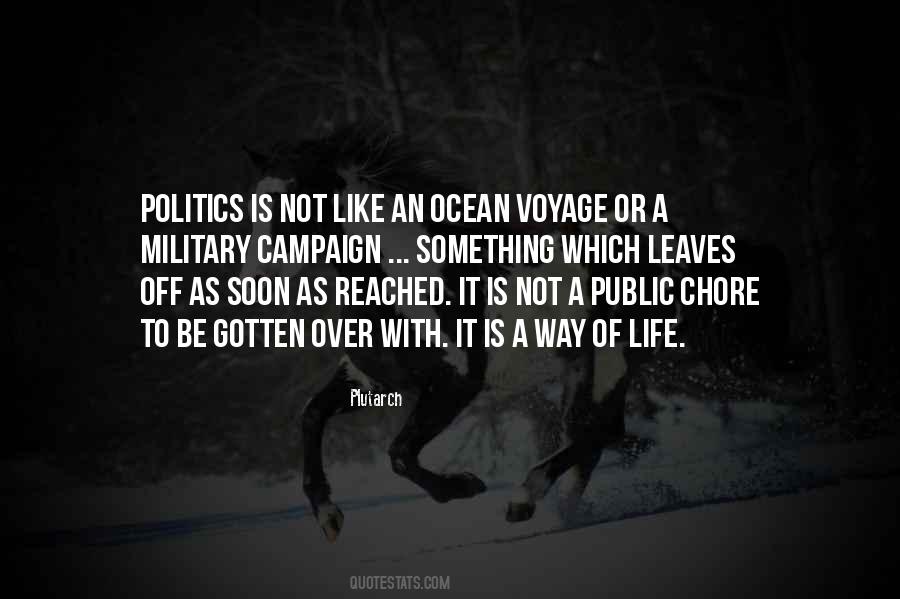 #37. I'll have periods when I write and periods when I don't. But you don't want it to become a discipline, really. If it becomes a discipline, it becomes a chore, and that's no good. To make art you need to be inspired. - Author: Greg Lake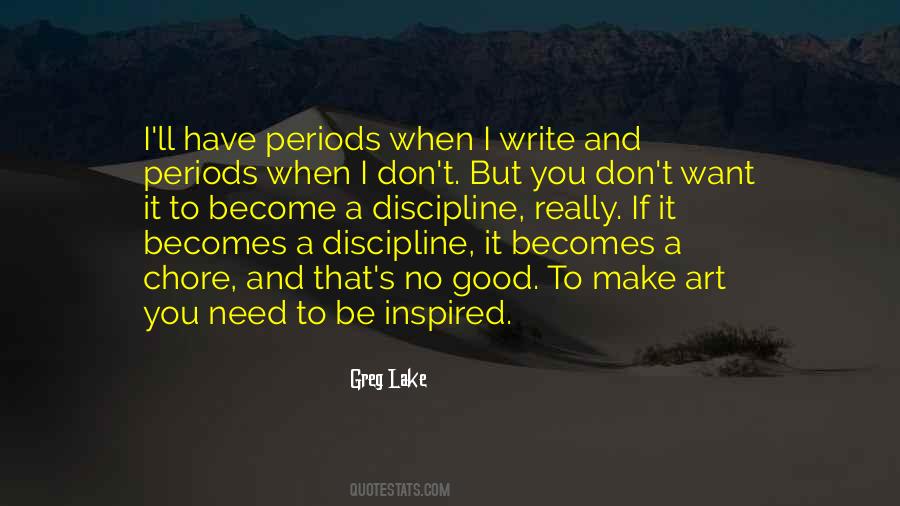 #38. I know writers for whom the act of writing is a necessary chore. They suffer to write great work. I am very lucky that for me writing is a delight. - Author: Denise Duhamel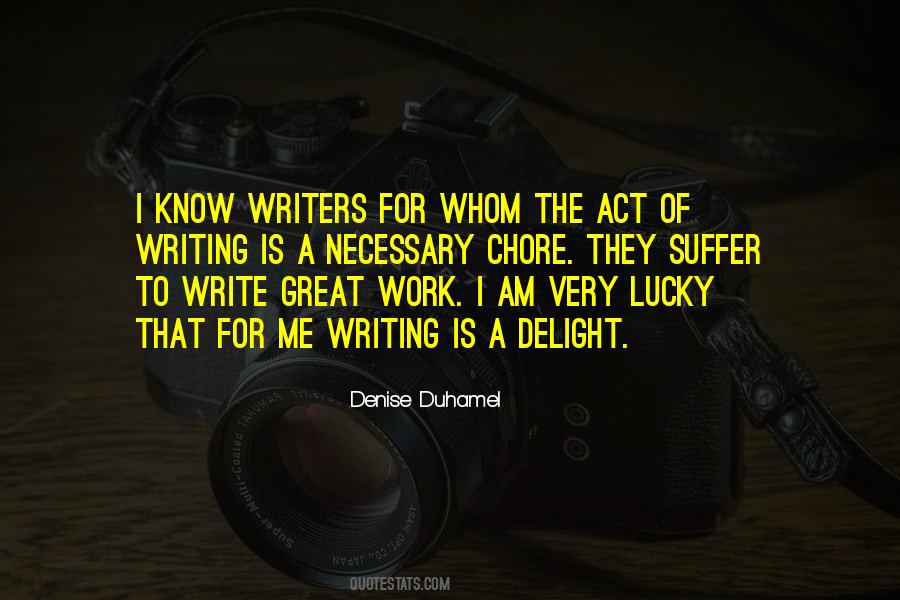 #39. The other thing that distinguishes a project from a chore is that a project is supposed to be fun. For - Author: J. David Cox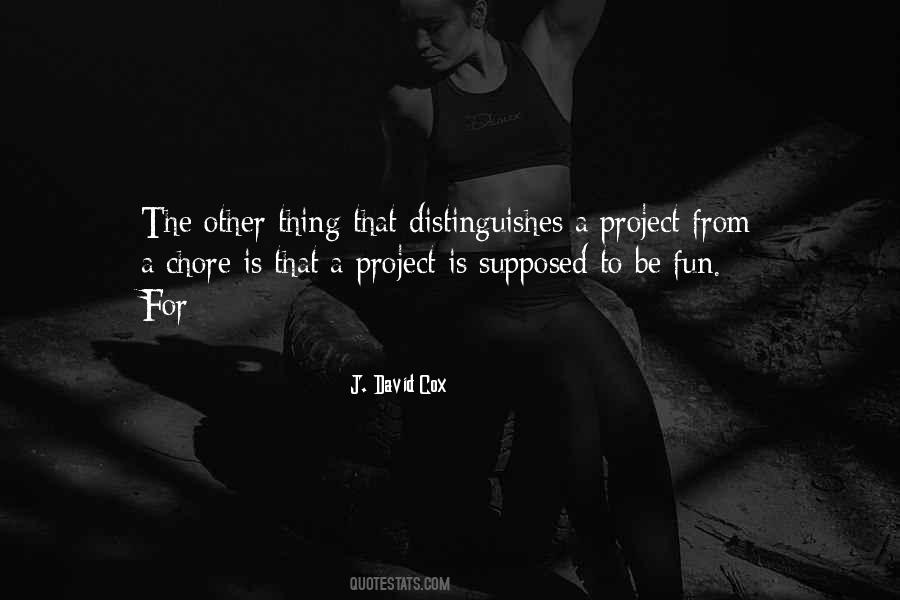 #40. Getting healthy doesn't have to be a chore. The Five Rivers Journey requires minimal extra effort for the maximum results! - Author: Dev Lahli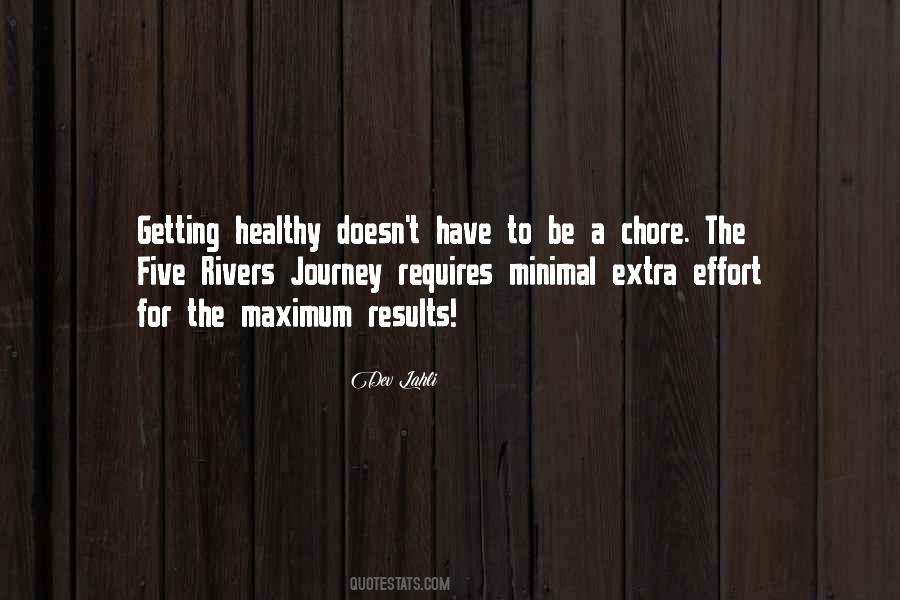 #41. I have so much to learn when it comes to running. I just don't ever want it to feel like a chore. When I choose to sign up for a race or go out for a run, it's to make myself feel good, and I almost always do. - Author: Summer Sanders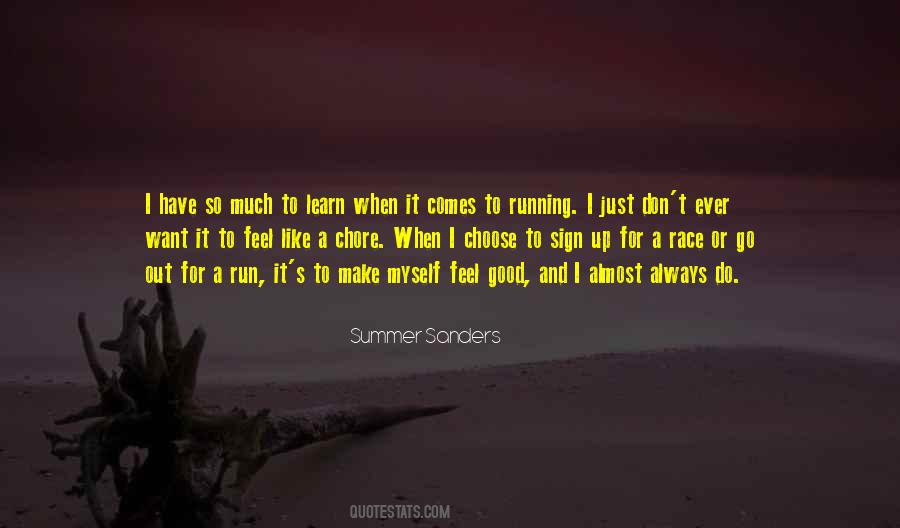 #42. I'm not saying I didn't have a great 2008. I just made it a chore. I made it look laborious. - Author: Katie Hoff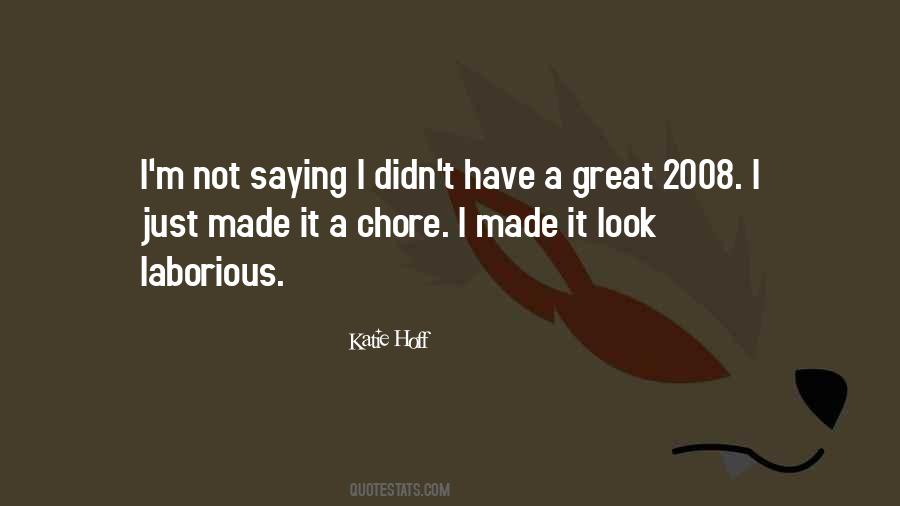 #43. Maybe if we all just tried to put pieces back together as soon as they fell out of place, the puzzles in our lives would feel more like an accomplishment than a chore - Author: Megan Bostic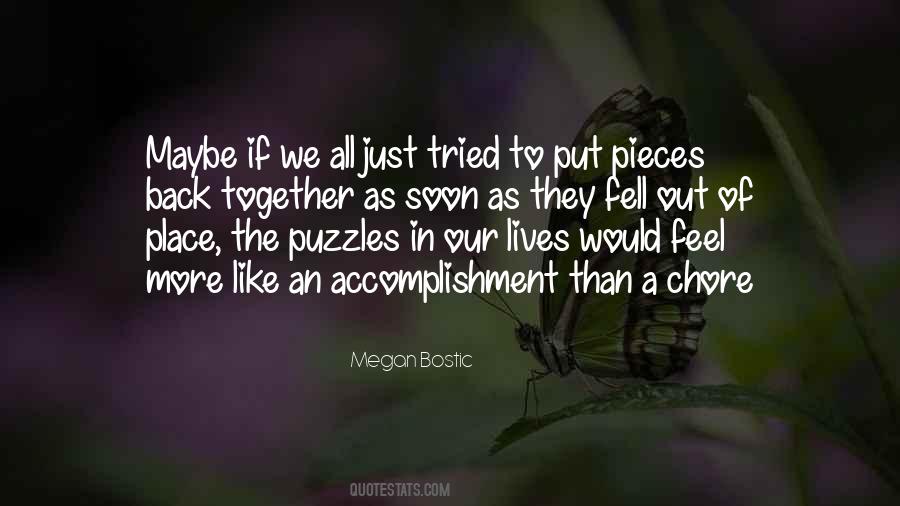 #44. Dog training should not be a chore! - Author: Tony Cruse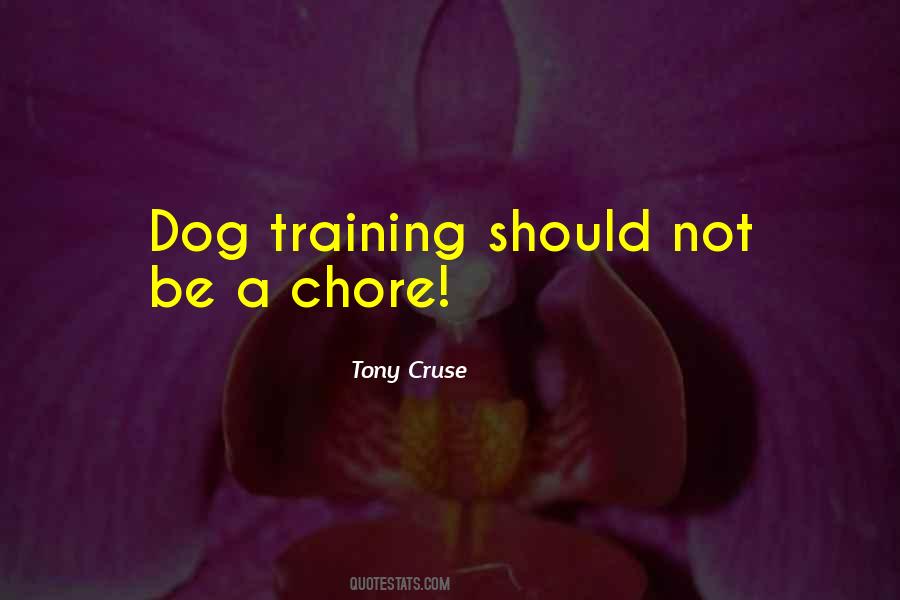 #45. On my long list of hates about RPGs, one of them was, I always felt it was an unnecessary chore to make you care about a world when, in fact, what most players care about is their own personal experience. - Author: Chris Avellone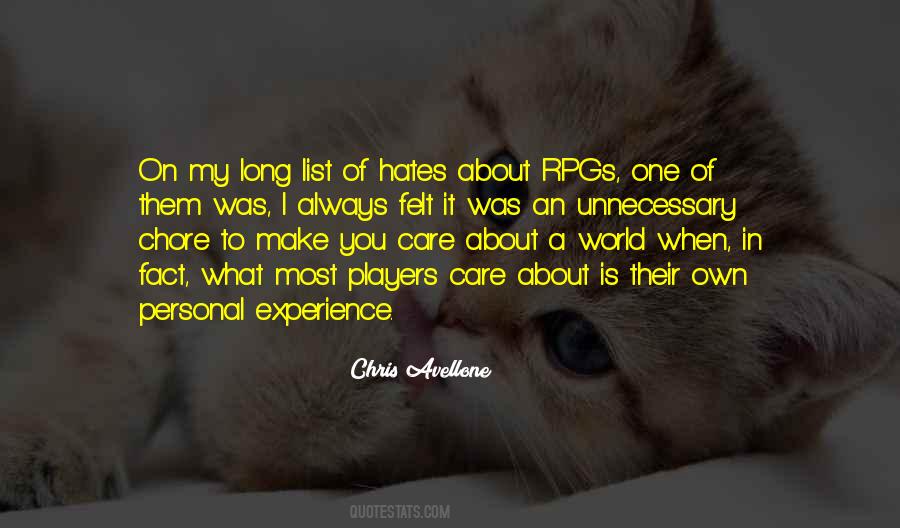 #46. The goal is to be both disciplined and loose, so that the writing does not turn into a task or a chore. To leave myself behind, along with the mechanics, and disappear into the lives of my characters. - Author: Pete Hamill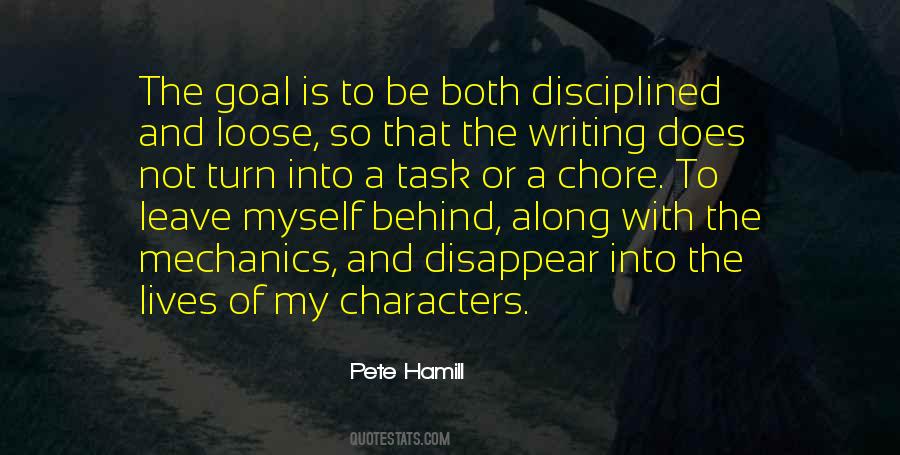 #47. Occasionally I go shopping for clothes, but I find the whole thing a real chore. - Author: Catherine McCormack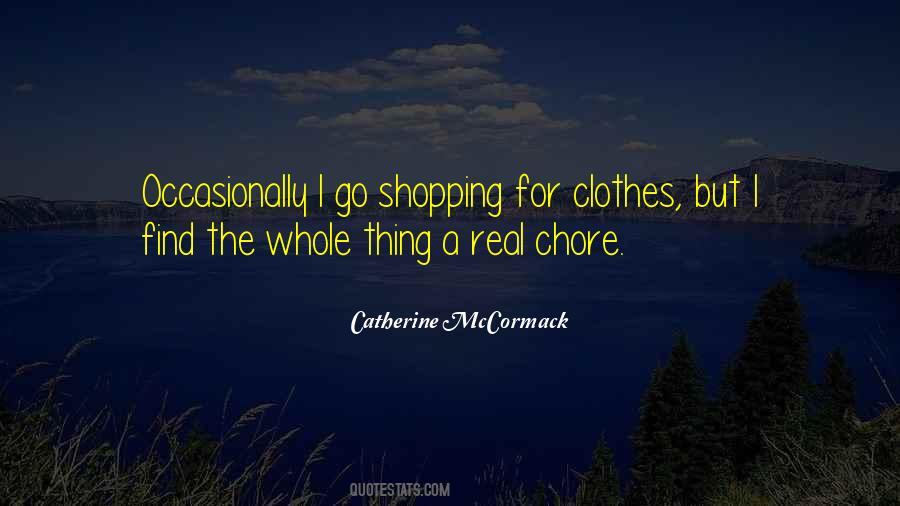 #48. The washing up liquid smells of sweeties. It tells me that it is ginger and peach. It smells of something we should still be eating. This seems wrong: it should smell of something after, whatever it is that comes after. - Author: Joanna Walsh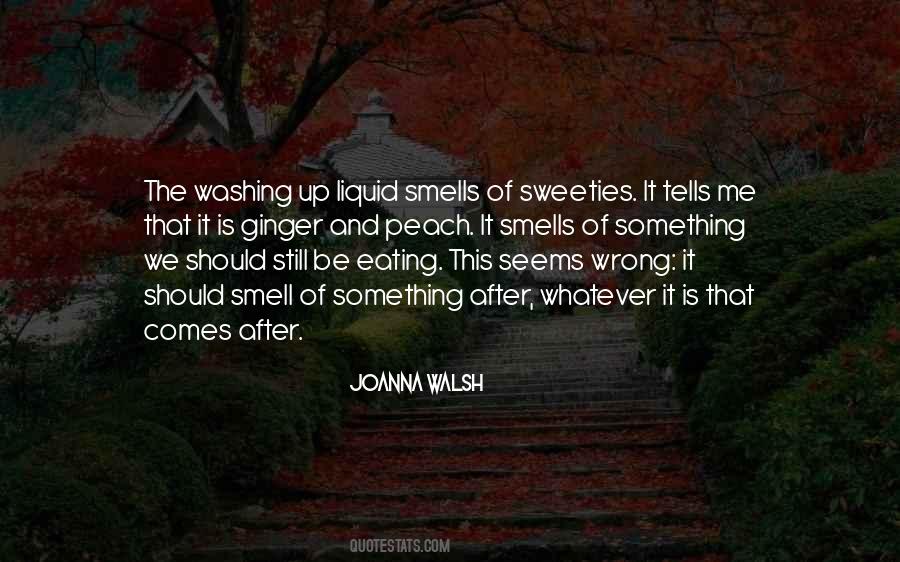 #49. You've got a lot of choices. If getting out of bed in the morning is a chore and you're not smiling on a regular basis, try another choice. - Author: Steven D. Woodhull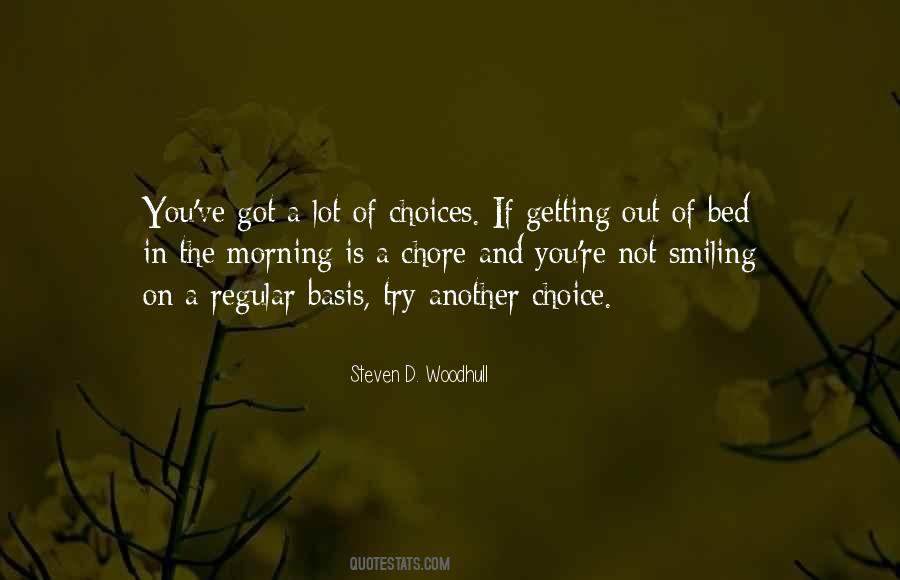 #50. Life and whatever you do in your time in this world should not be a chore. You will be spending a lot of time doing it anyway. Every moment should be fuelled by your passion. It's your reason. It's your why. - Author: Kevin Abdulrahman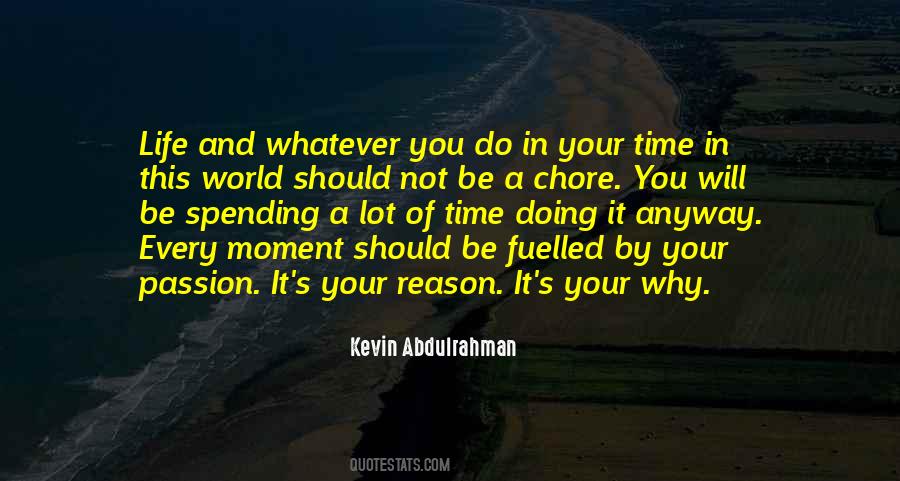 #51. I enjoy talking to young people, and talking to people about helping young people. That part is not a chore. It's pretty fun, and something I like to do because I think it's important. - Author: Tony Dungy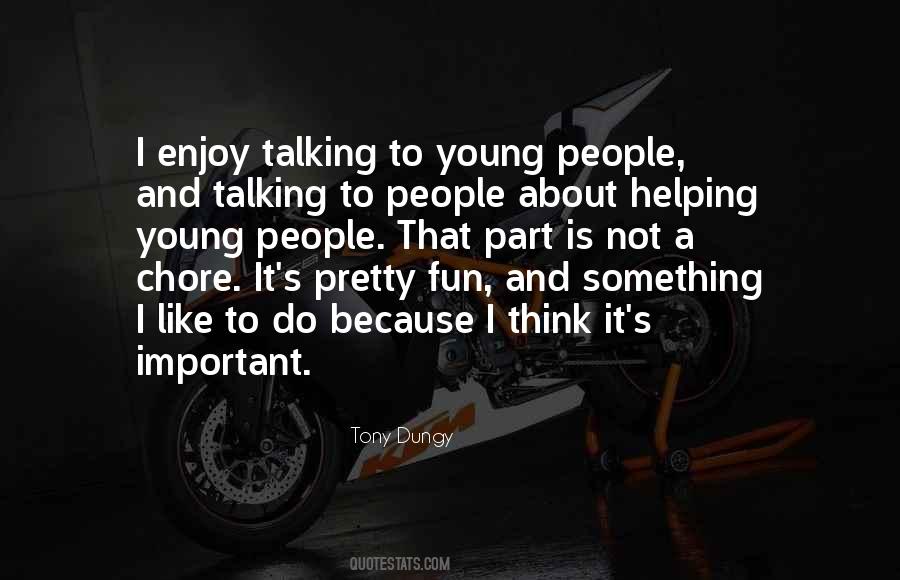 #52. Then I reminded myself that I was always willing to listen to arguments in favor of avoiding an unpleasant chore, and I shook my head. - Author: Michael Chabon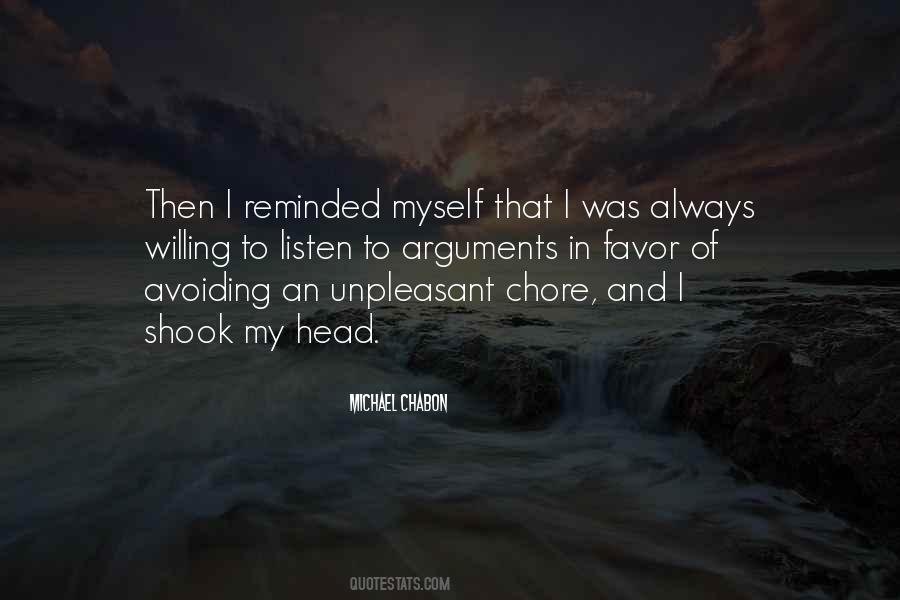 #53. The written word isn't necessarily a chore but can be a window into new worlds - Author: Wes Moore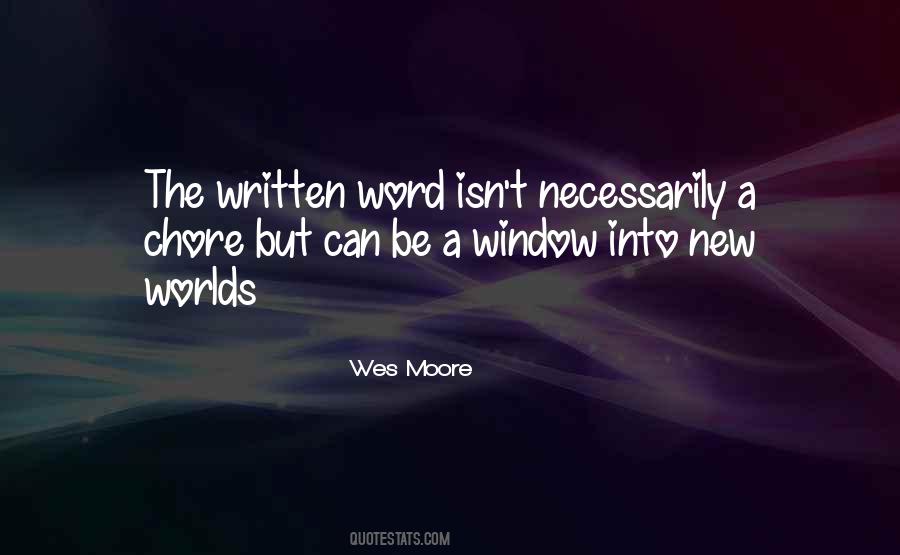 #54. EXERCISE IS A PART OF LIFE, NOT A CHORE - Author: Jennifer L. Scott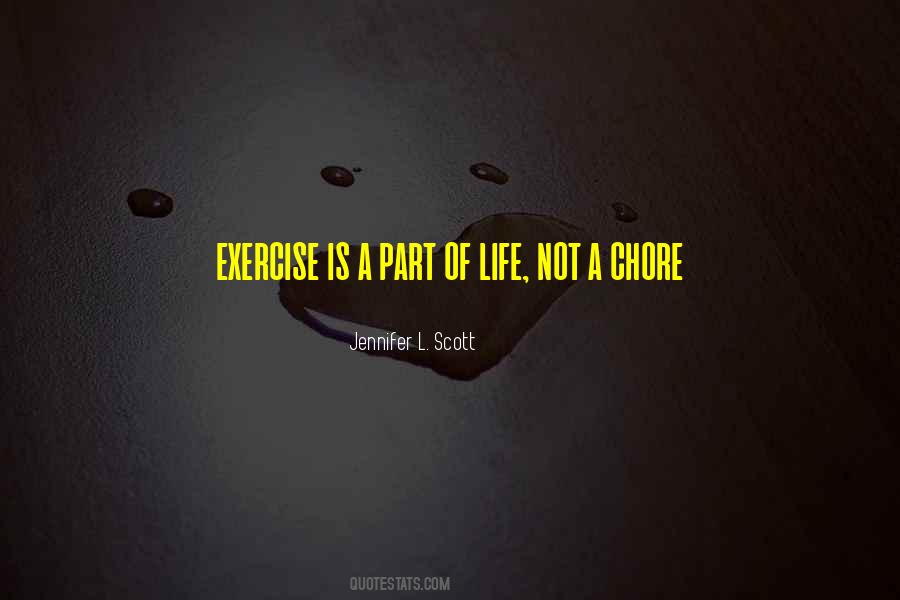 #55. It won't be a chore, it will be a garden,' Holena said. - Author: Jeannie Mobley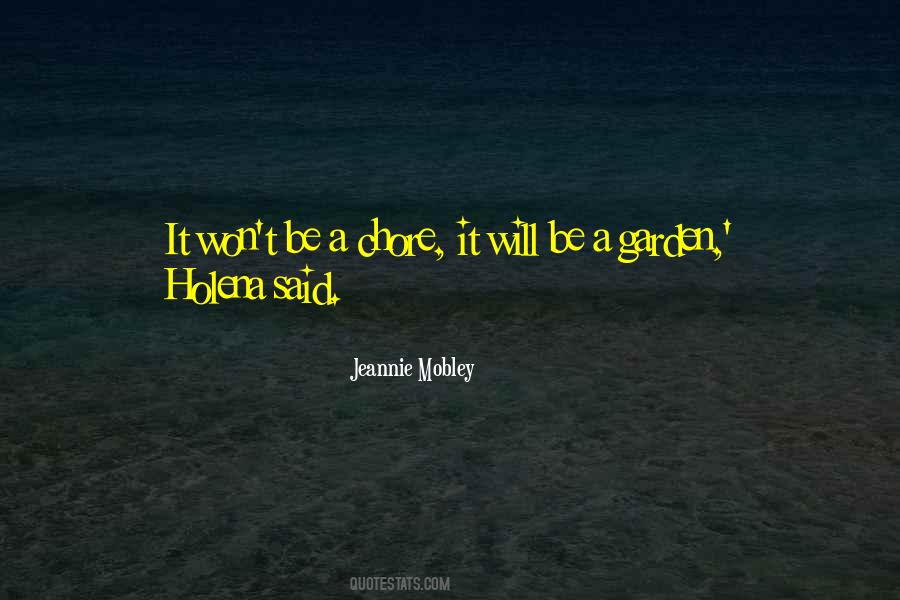 #56. I try to read, but my attention span is so bad, and ever since Netflix was invented, that's all I do in my spare time, which is really bad, but it's like a chore to read for me. - Author: Eliot Paulina Sumner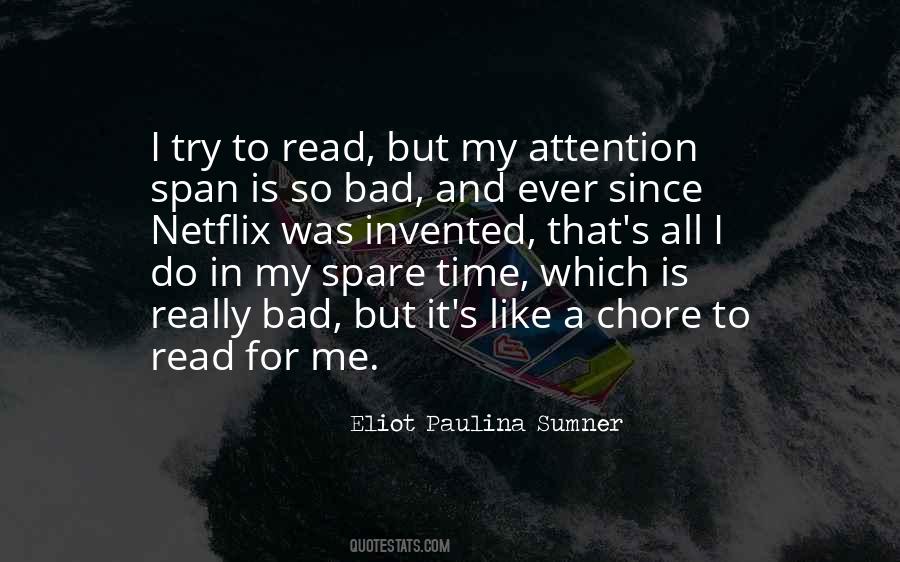 #57. Cleaning cat litter is an unpleasant daily chore for me, but the DuraScoop makes it much less unpleasant. - Author: Mark Frauenfelder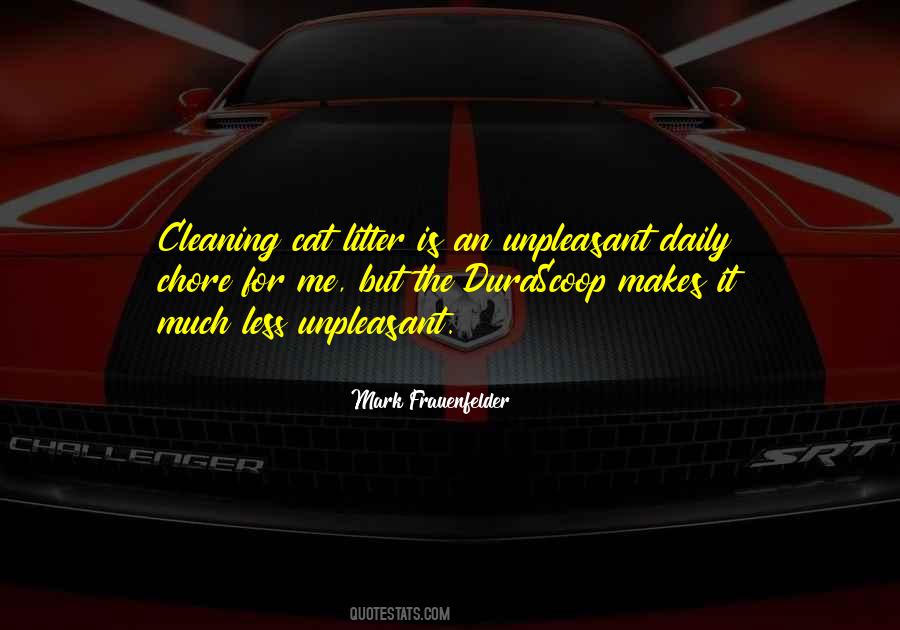 #58. I approached the bulk of my schoolwork as a chore rather than an intellectual adventure. - Author: Steven Chu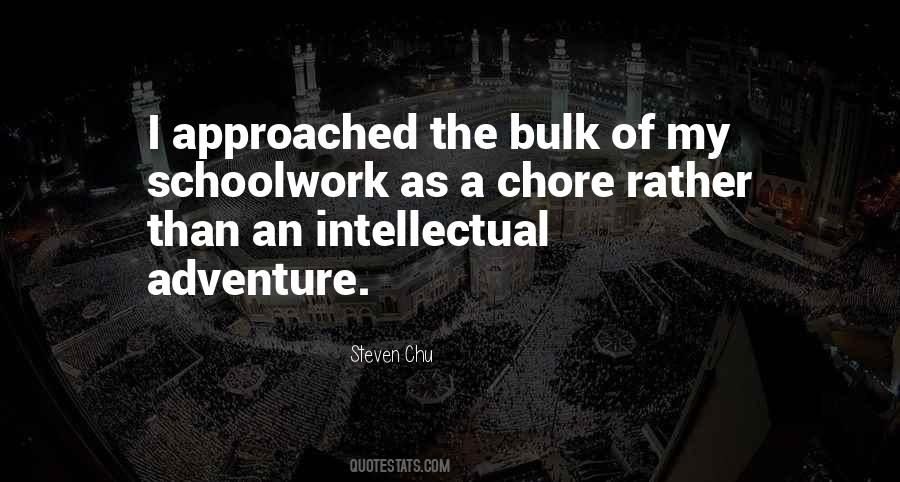 #59. A successful local food economy implies not only a new kind of food producer, but a new kind of eater as well, one who regards finding, preparing, and preserving food as one of the pleasures of life rather than a chore. - Author: Michael Pollan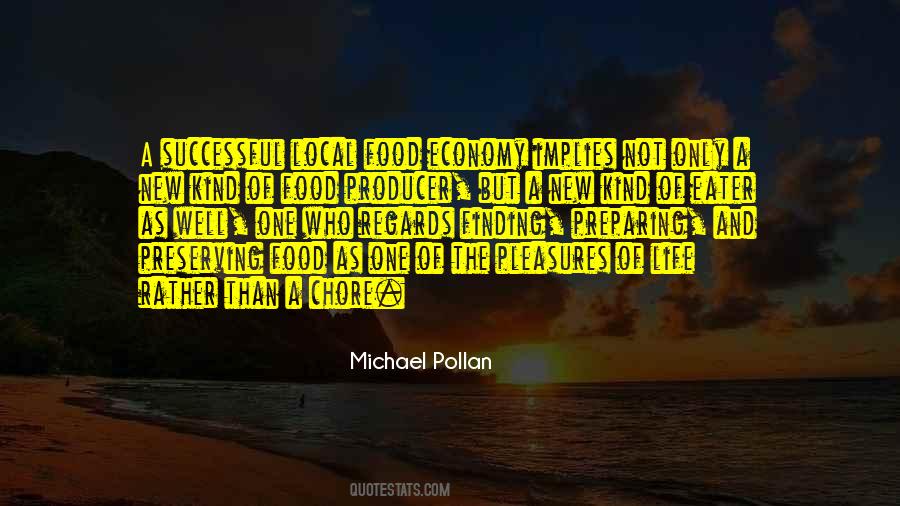 #60. Normal person's weekly chore list: 1. clean kitchen. 2. clean bathroom. 3. clean entire rest of domicile. cleaning impaired person's weekly chore list: 1. don't get peanut butter on sheets. - Author: Dave Barry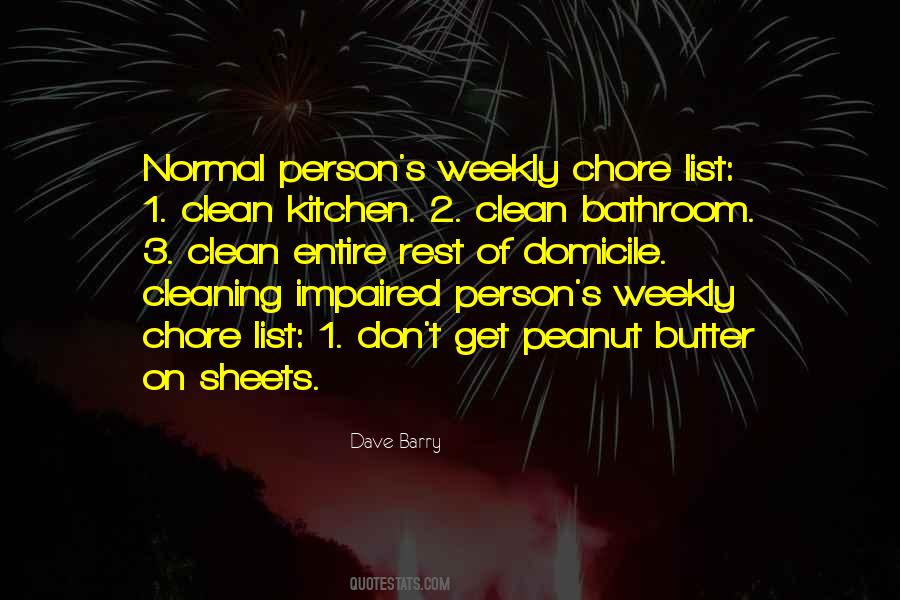 #61. It's a chore for a fellow to fear for his life more than once in an evening. - Author: T. R. Pearson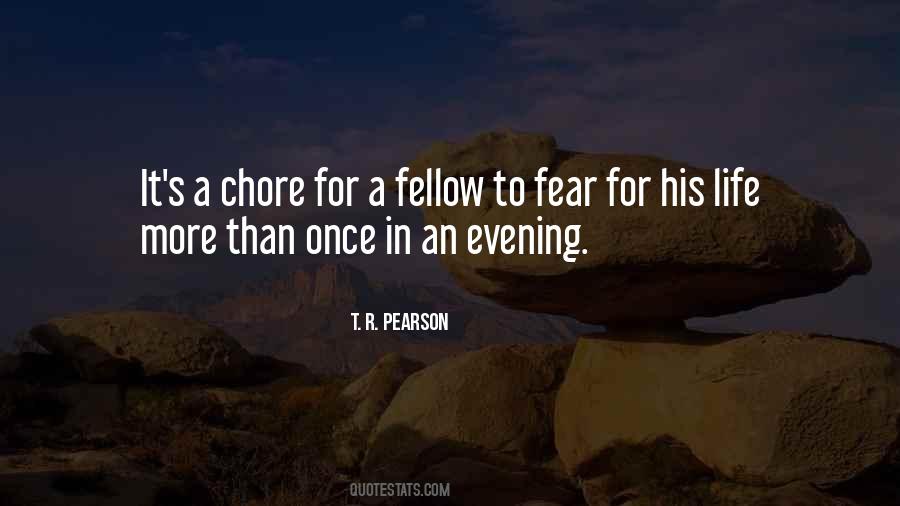 #62. Writing is a holy chore. - Author: Harlan Ellison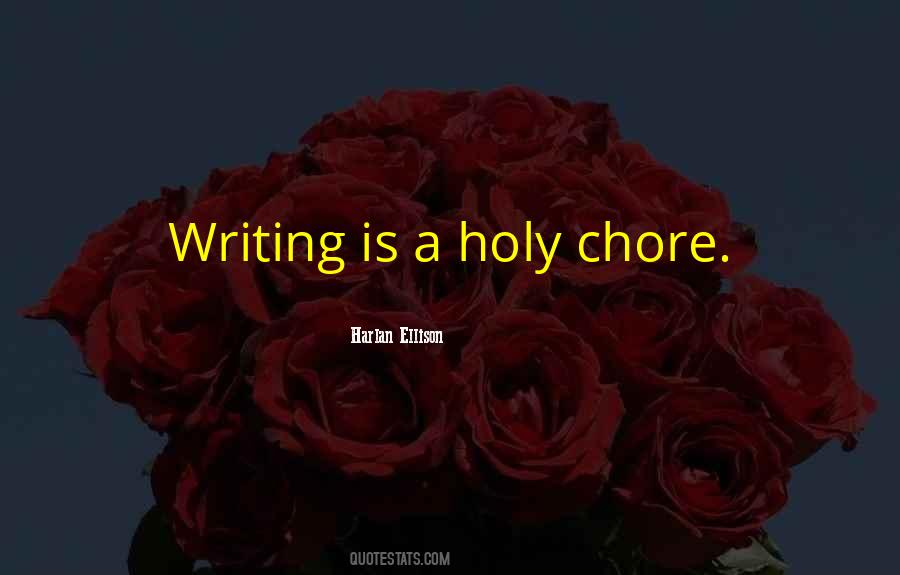 #63. Whatever course you have chosen for yourself, it will not be a chore but an adventure if you bring to it a sense of the glory of striving. - Author: David Sarnoff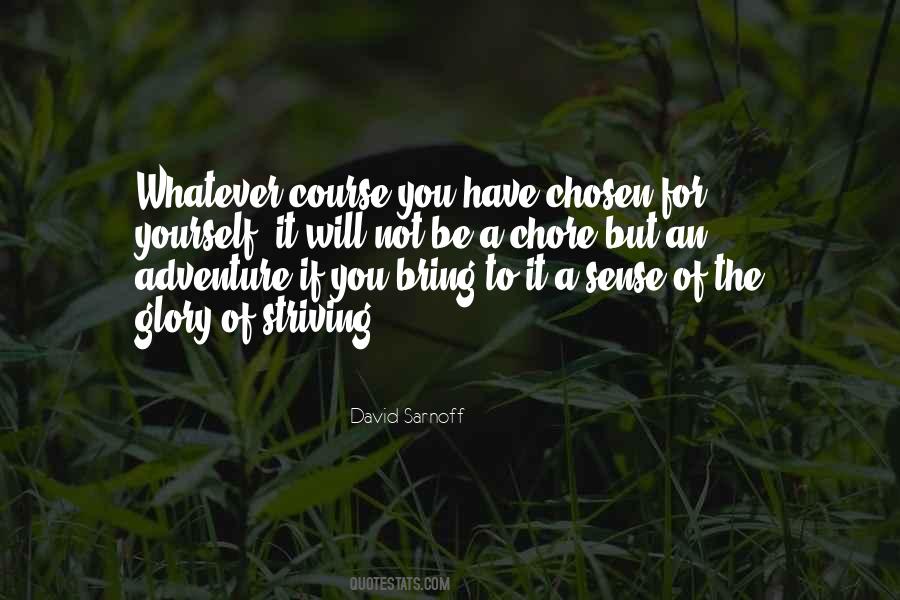 #64. One little chore to do, one little commission to fulfil, one message to carry, would spoil heaven itself. - Author: Henry David Thoreau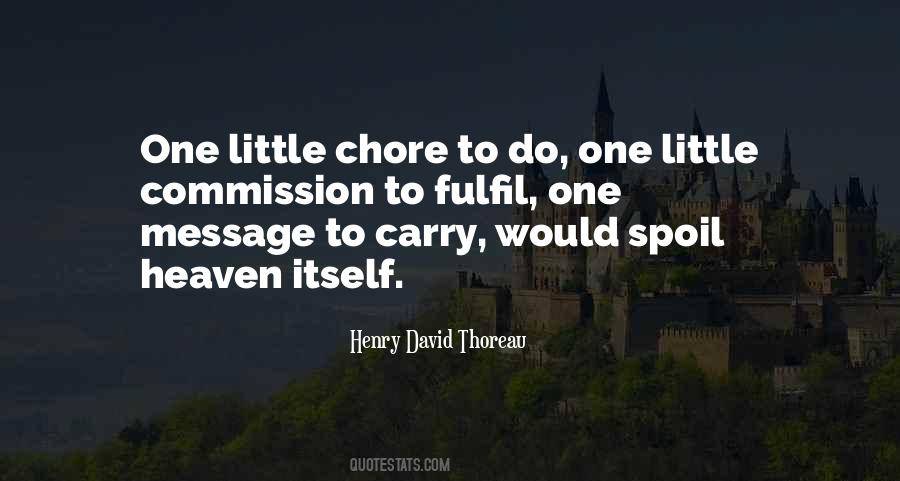 #65. My campaign is about getting pets to be more active, and exercise with your animal is a great way for people to exercise. When you're out with your pet, it becomes fun. You don't think of it as a chore. For me, taking my dog out for a walk is very relaxing. - Author: Misty May-Treanor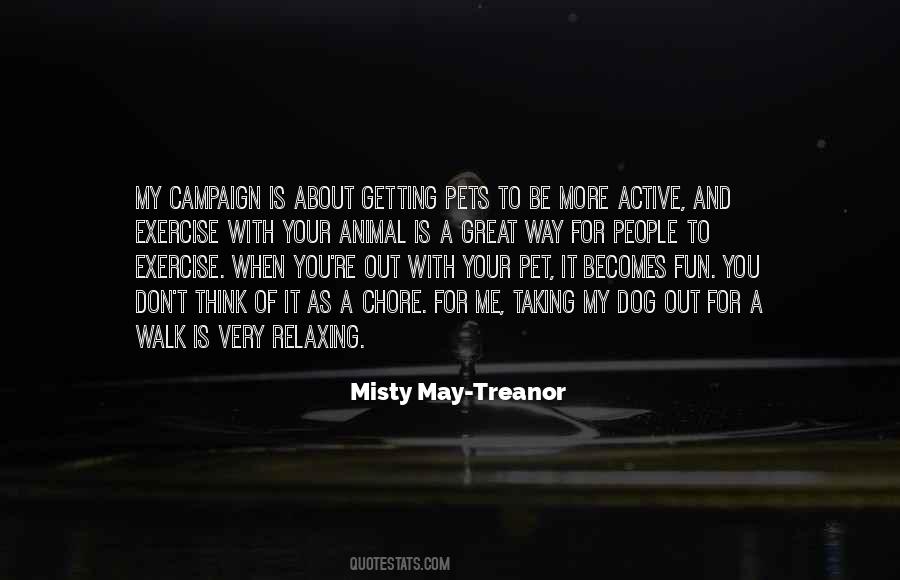 #66. You listen to the street traders any morning. They don't shout, 'Nearly-fresh oranges, only slightly squashy, reasonable value,' do they? No, they shout, 'Git chore orinjes, they're luvverly.' Good business sense." He - Author: Terry Pratchett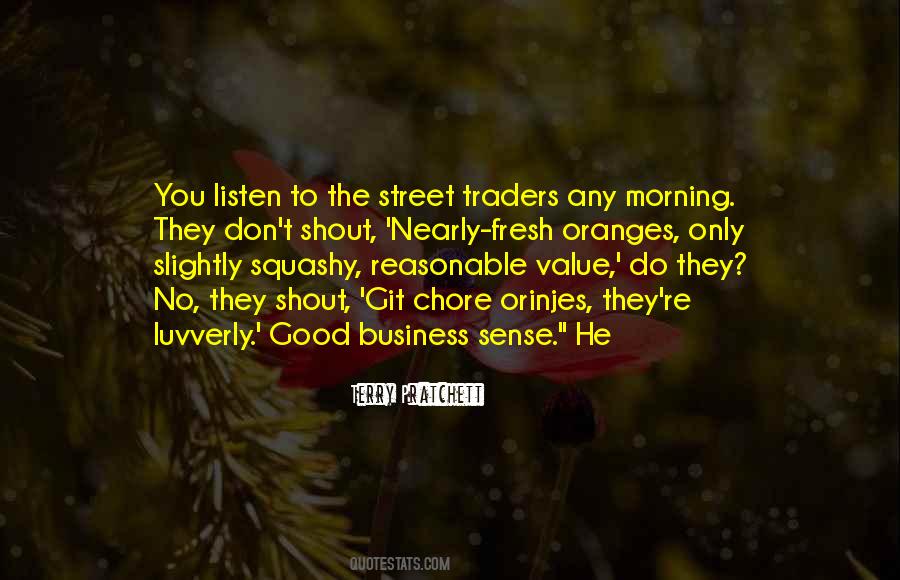 #67. Loving someone isn't a hard task, it's not a chore, you don't wake up one day and decide to break their heart because you got all hot and bothered, that doesn't happen! he boomed. - Author: Holly Hood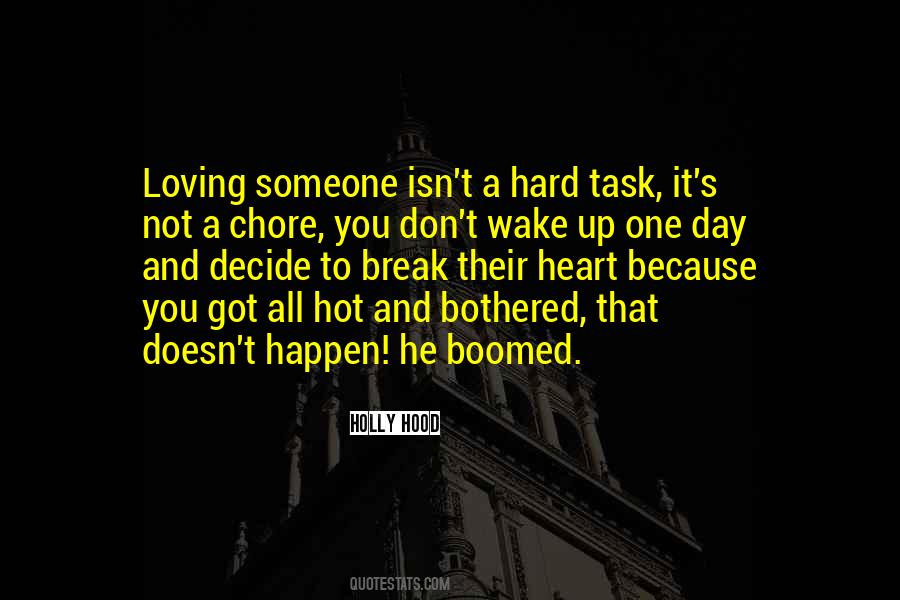 #68. It's a chore sometimes, isn't it? Wake up. Prepare food. Eat. Every day is just something checked off the long 'to do' list until we die, - Author: Zoe Perdita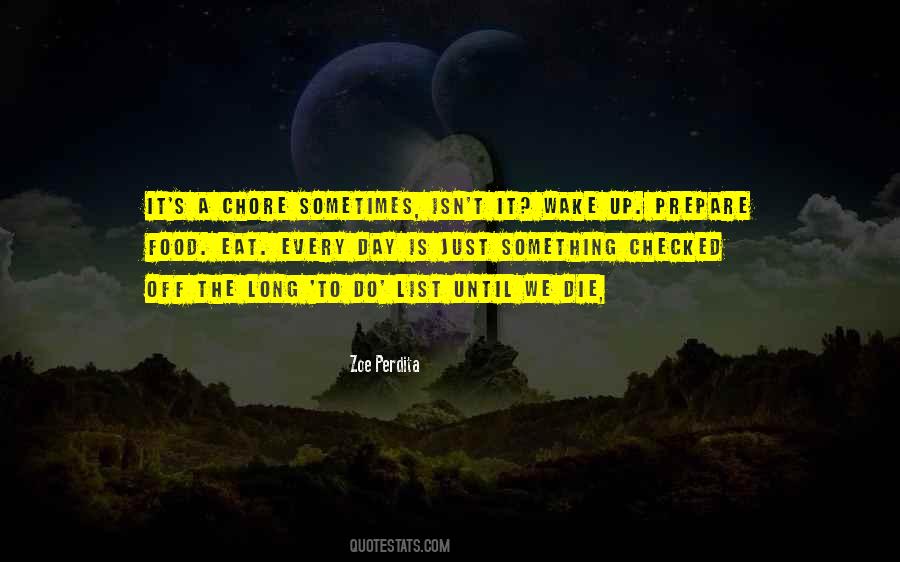 #69. It happens all too often - people regret that their language and culture are being lost but at the same time decide not to saddle their own children with the chore of preserving them. - Author: Andrew Dalby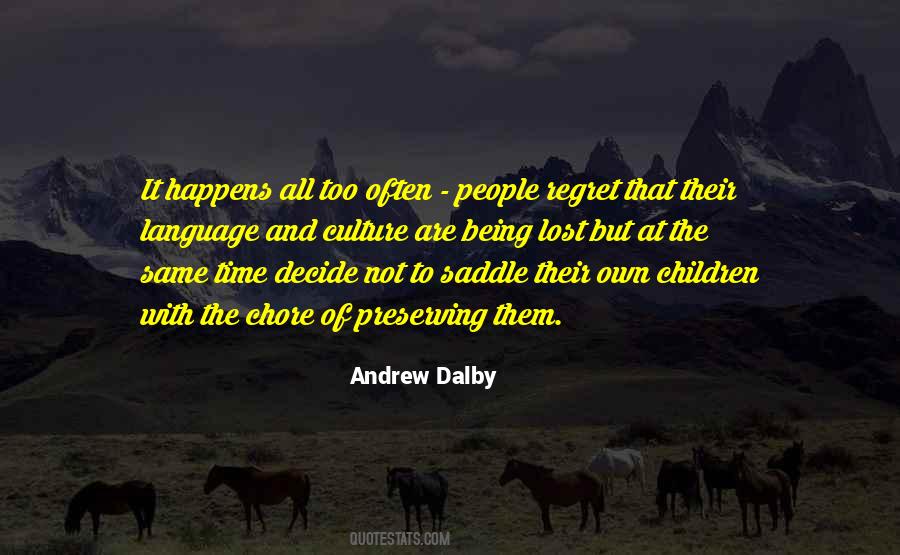 #70. To write lyrics and sing stuff used to be a real chore for me, especially before this 'Diamond Eyes' record. I was spending years making records. - Author: Chino Moreno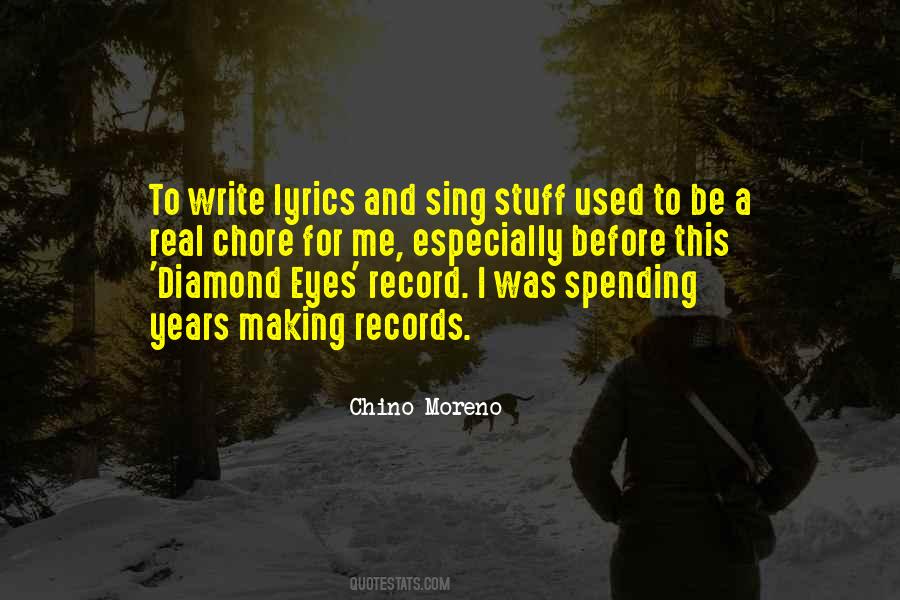 #71. Miami drivers have long ago take the simple chore of going from one place to another and turned it into a kind of high-speed, heavily armed game of high-stakes bumper cars. - Author: Jeff Lindsay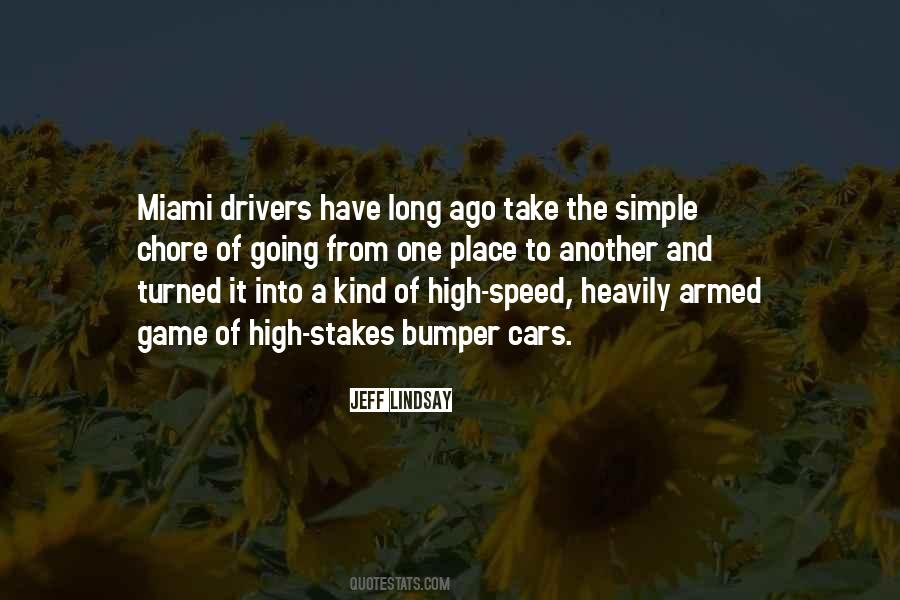 #72. Helping others isn't a chore; it is one of the greatest gifts there is. - Author: Liya Kebede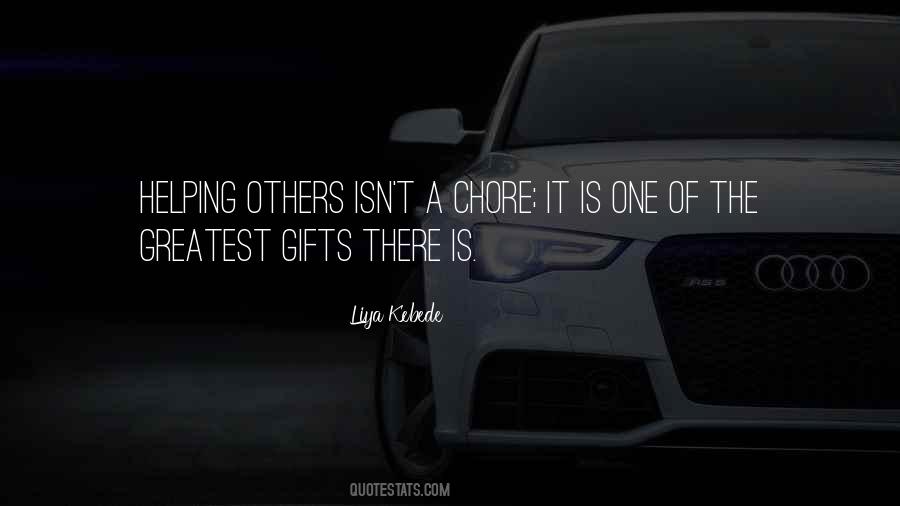 #73. Reading is not work, not a chore, not a drudgery; reading is the most joyful thing, yet, in the world. - Author: James Patterson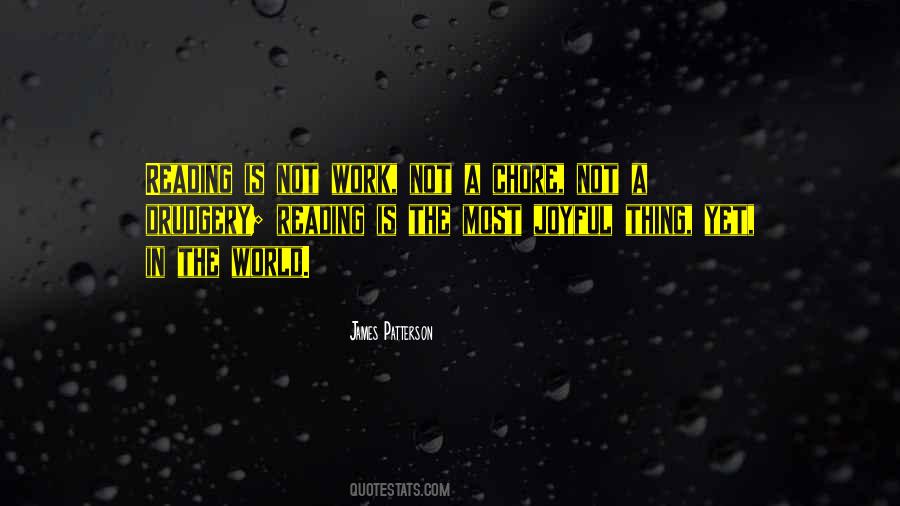 #74. Every time a child organizes and completes a chore, spends some time alone without feeling lonely, loses herself in play for an hour, or refuses to go along with her peers in some activity she feels is wrong, she will be building meaning and a sense of worth for herself and harmony in her family. - Author: Barbara Coloroso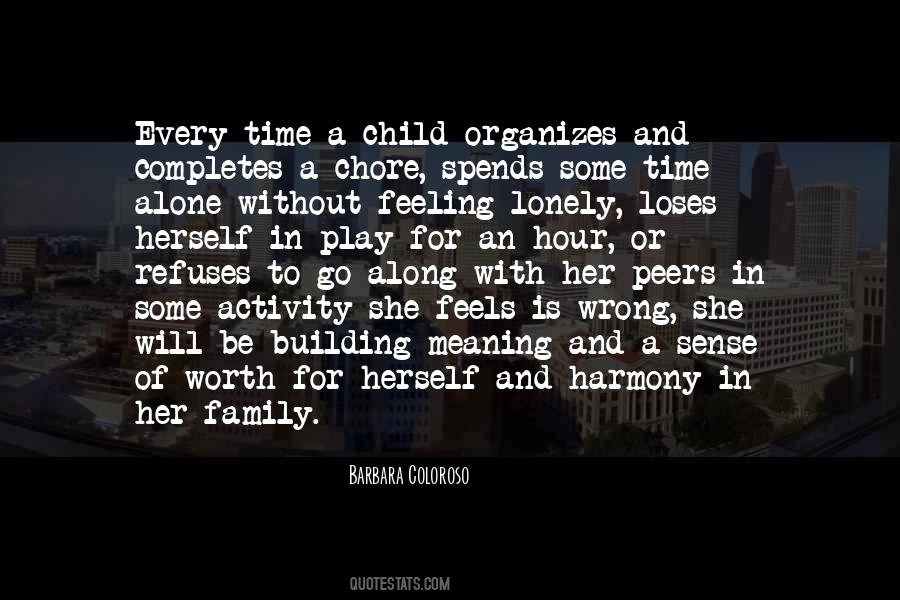 #75. I don't enjoy killing, but when done righteously, it's just a chore, like any other. - Author: Joshua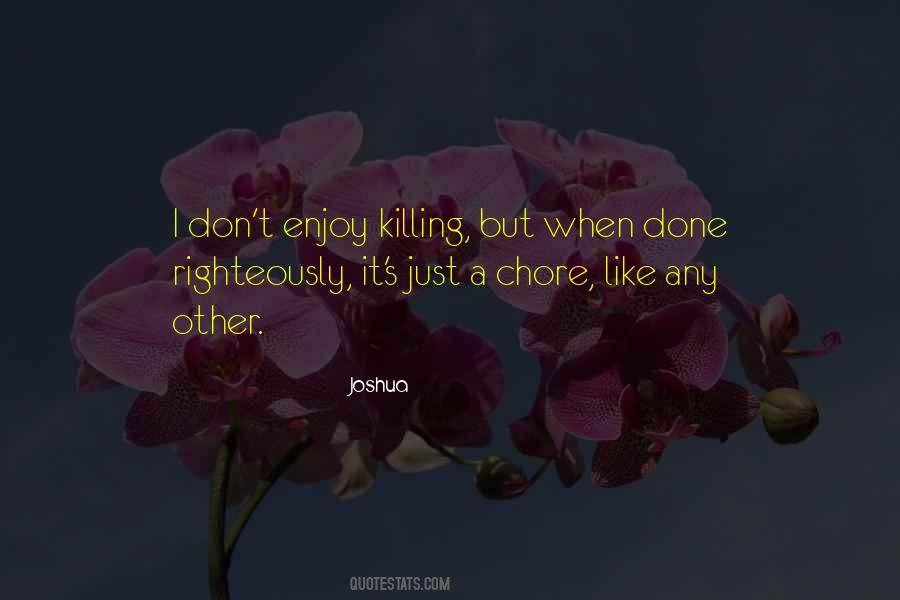 #76. It's hard to shoot anything in L.A.; it's just a chore, but they're great here. - Author: Joel Silver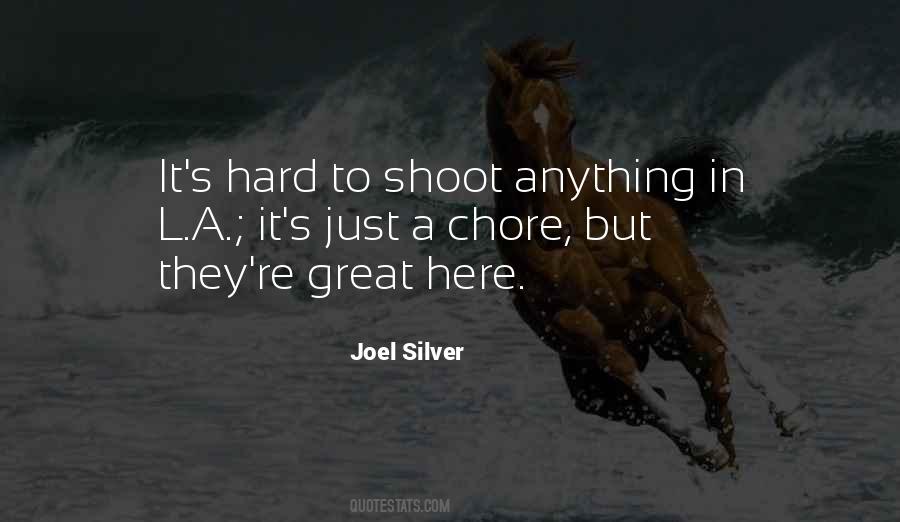 #77. Maintaining one's vigilance against biases is a chore - but the chance to avoid a costly mistake is sometimes worth the effort. - Author: Daniel Kahneman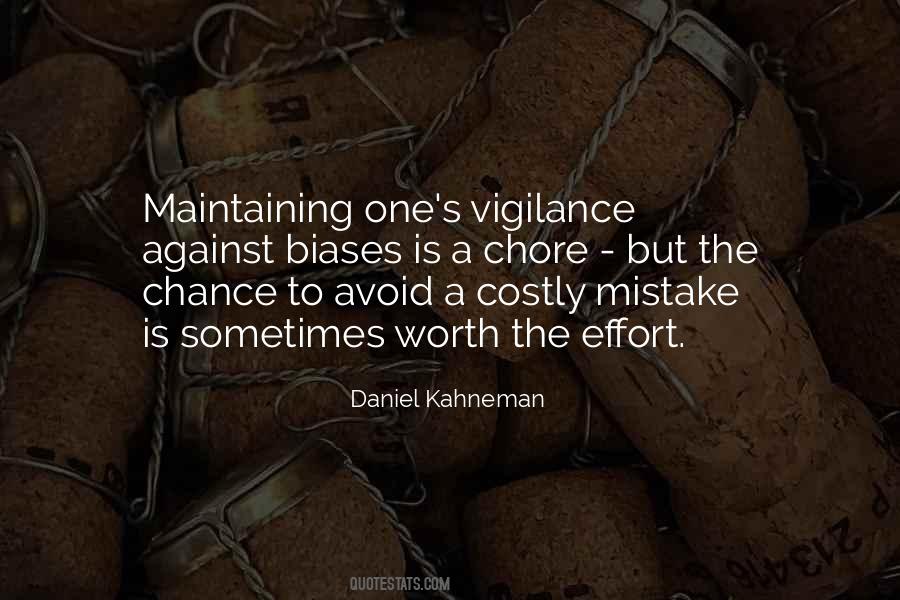 #78. I used to hate, with a capitol H, making videos. It was nothing but a chore. It was something you had to do to have your music accepted in the visual medium. - Author: Sheena Easton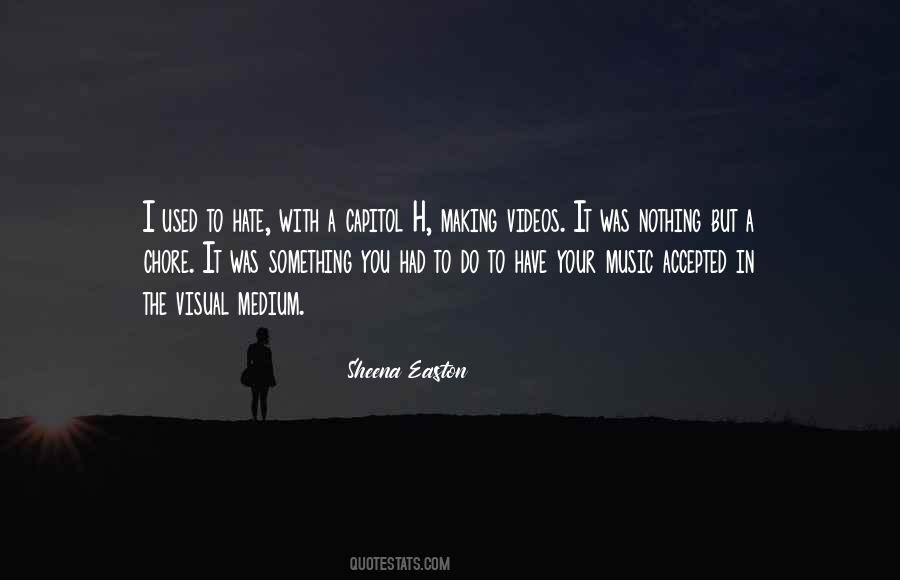 #79. The middle-class ladder has rungs that no longer exist for many trying to climb higher. Instead, for too many, in too many places, their chore is simply trying to hang on. - Author: Mike Barnicle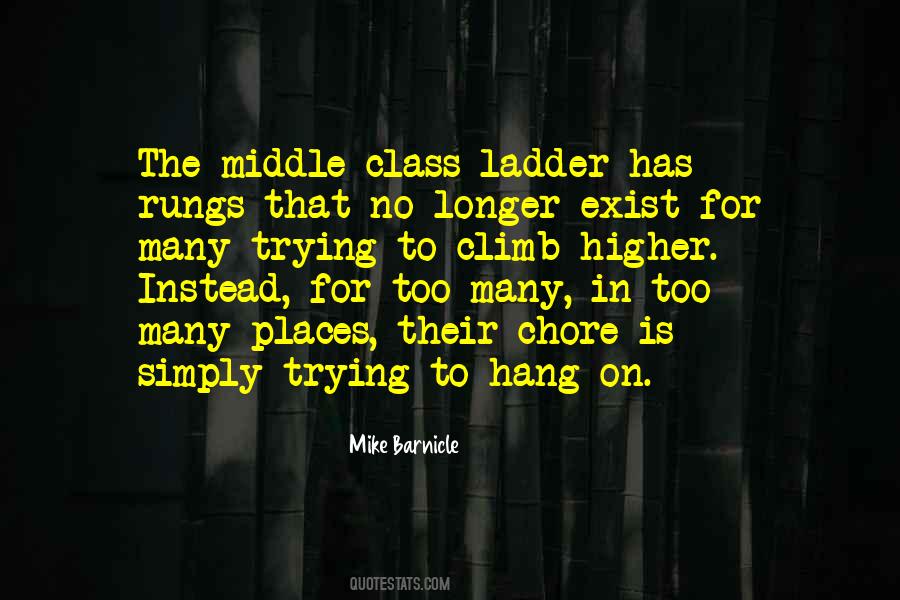 #80. People will wake up in the dark and pad to their kitchen needing strength, and the reassurance that something delightful is about to happen - and hoping that this small chore of making coffee might set the tone for a day filled with difficult, wonderful things. - Author: James Freeman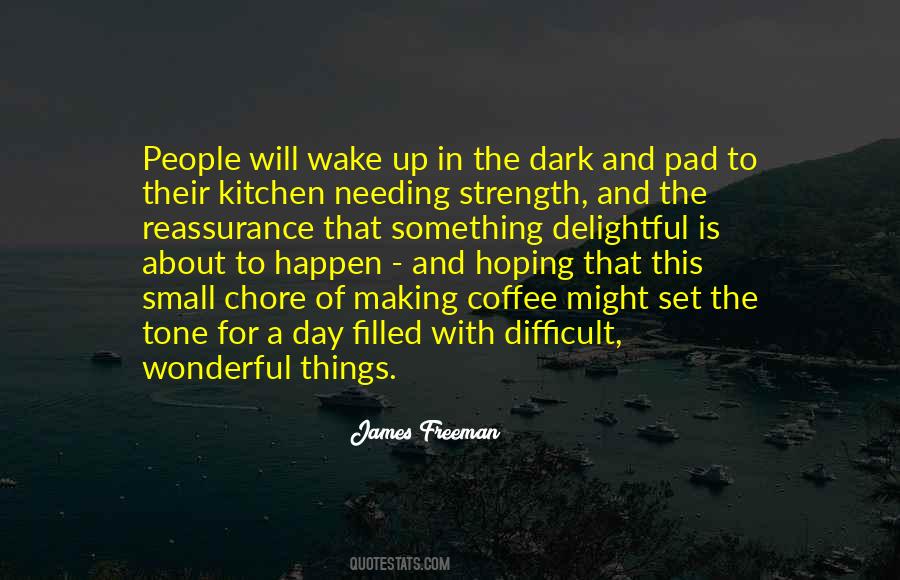 #81. You could never tell if he was with you or not, so Cooley liked to talk to him just in case. Just to remind them both that this was still a human being. He never wanted to catch himself treating Jack like a thing, a chore to be done. - Author: Leonard Pitts Jr.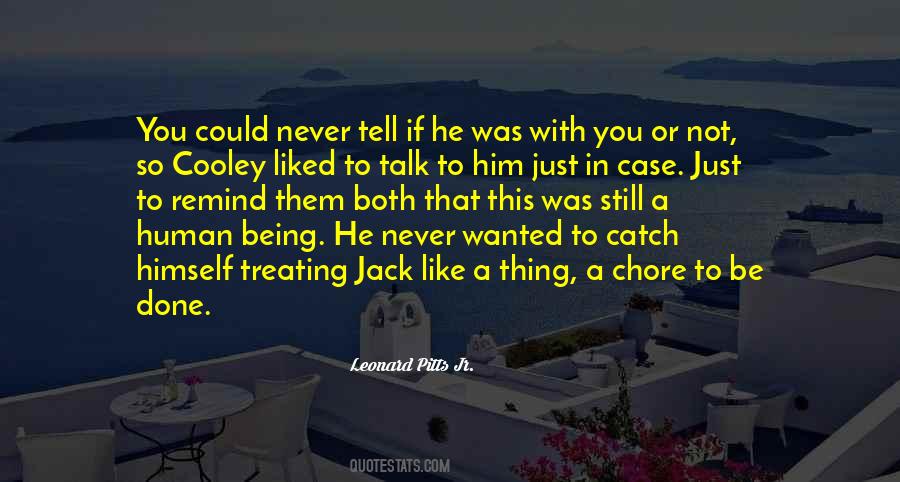 #82. [S]tudies show that one of the best ways to lift your mood is to engineer an easy success, such as tackling a long-delayed chore. - Author: Gretchen Rubin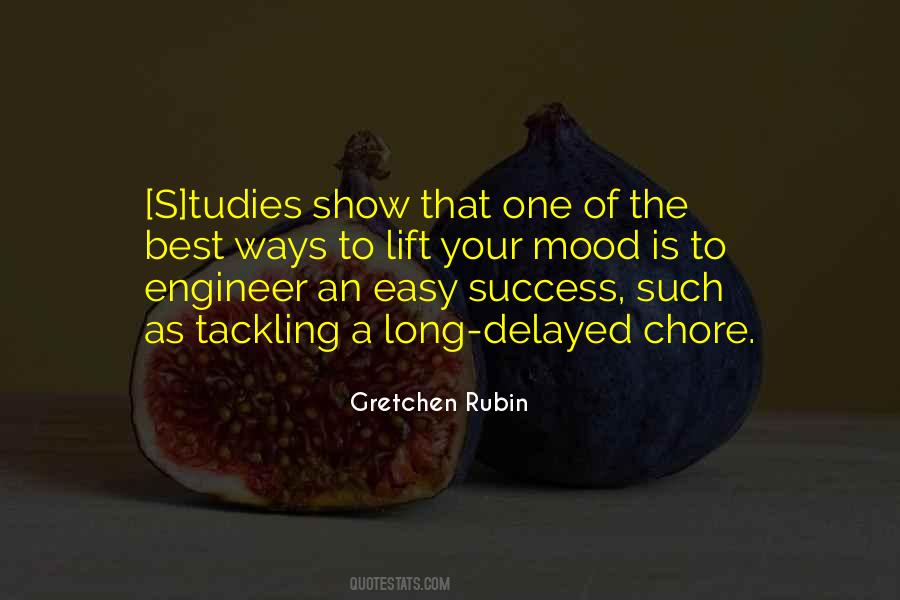 #83. Cooking was not a chore for Tengo. He always used it as a time to think - about everyday problems, about math problems, about his writing, or about metaphysical propositions. He could think in a more orderly fashion while standing in the kitchen and moving his hands than while doing nothing. - Author: Haruki Murakami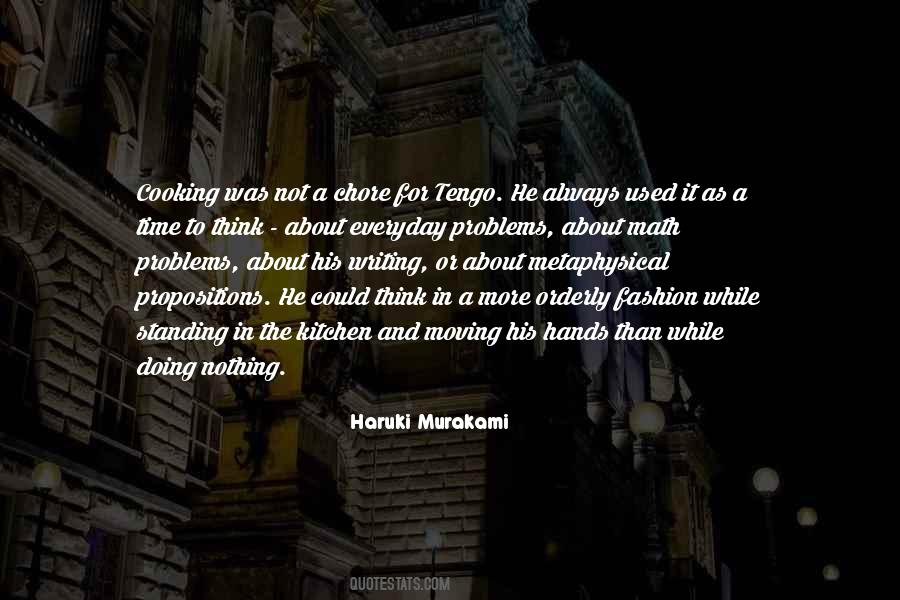 #84. Because the chief commodity a writer has to sell is his courage. And if he has none, he is more than a coward. He is a sellout and a fink and a heretic, because writing is a holy chore. - Author: Harlan Ellison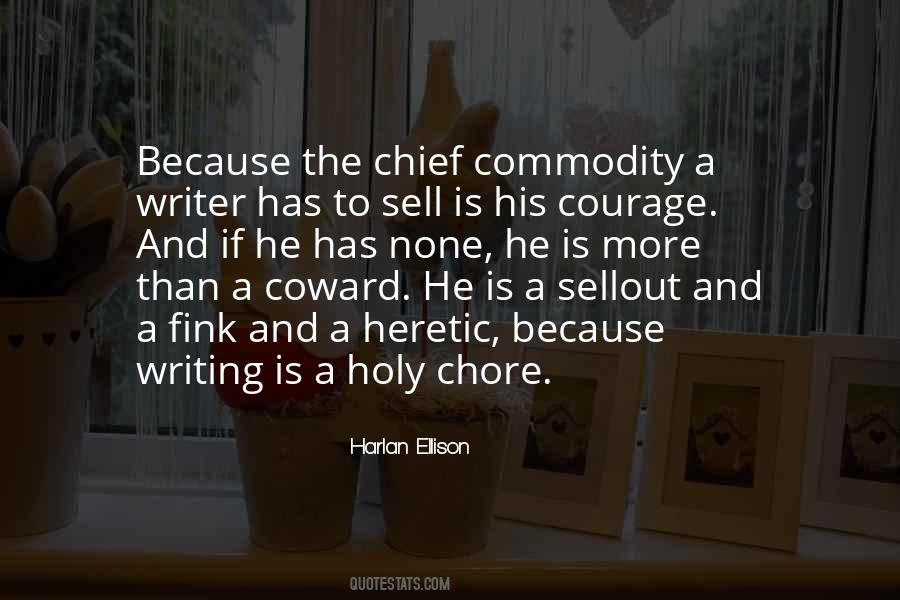 #85. So the writer who breeds more words than he needs, is making a chore for the reader who reads. - Author: Dr. Seuss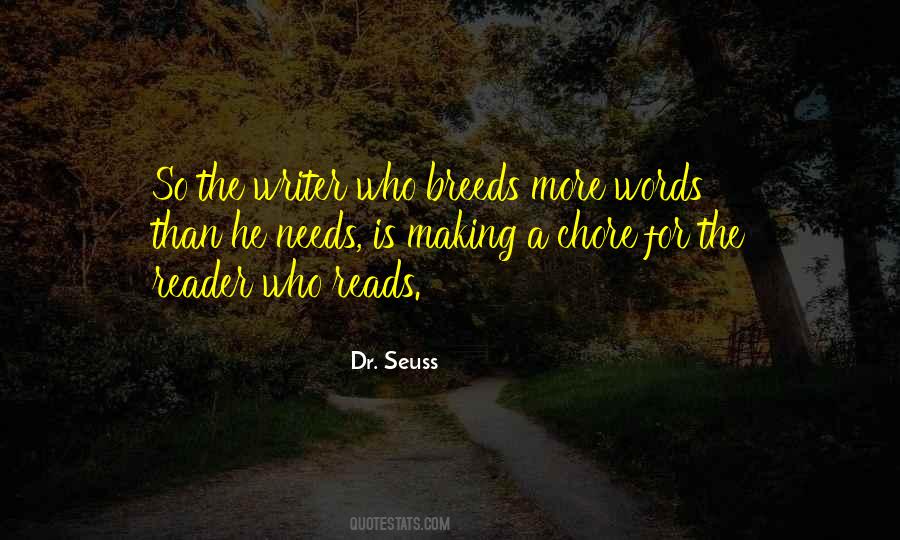 #86. READING SHOULD NOT BE PRESENTED TO CHILDREN AS A CHORE OR A DUTY. IT SHOULD BE OFFERED TO THEM AS A PRECIOUS GIFT. - Author: Kate DiCamillo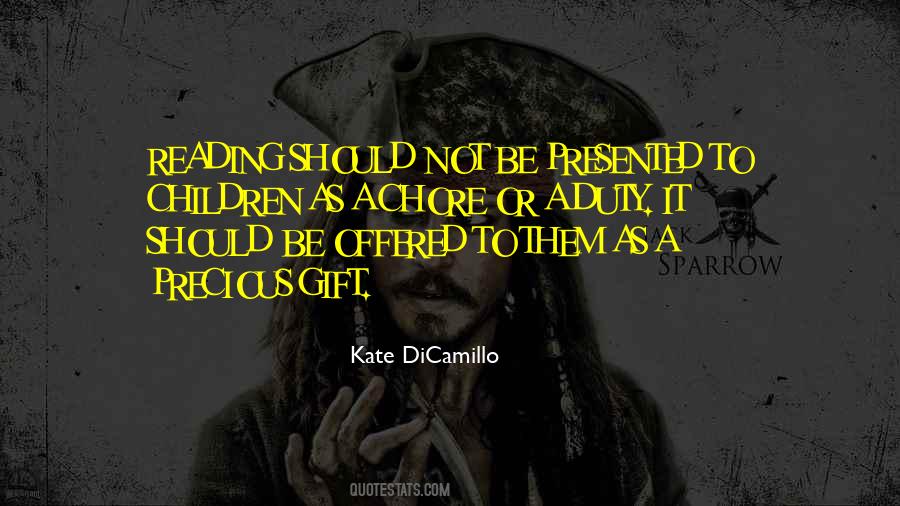 #87. Without love, all worship is a burden, all dancing is a chore, all music is mere noise. - Author: Rumi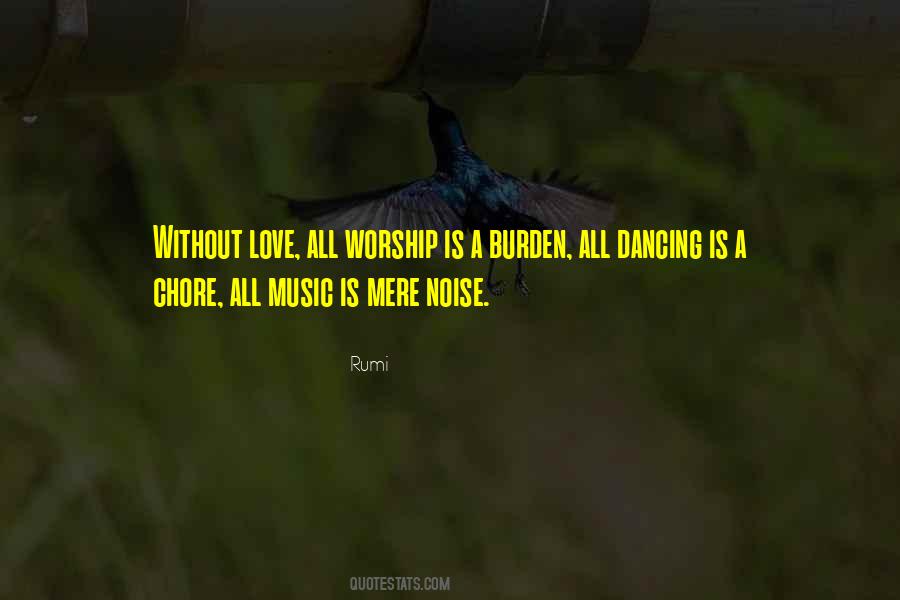 #88. If I give myself a chore, for instance, when I was writing the songs for Shameless, I said to myself, Now, every day for 90 days you have to write a song; good, bad or indifferent. So that was really helpful. - Author: Judy Collins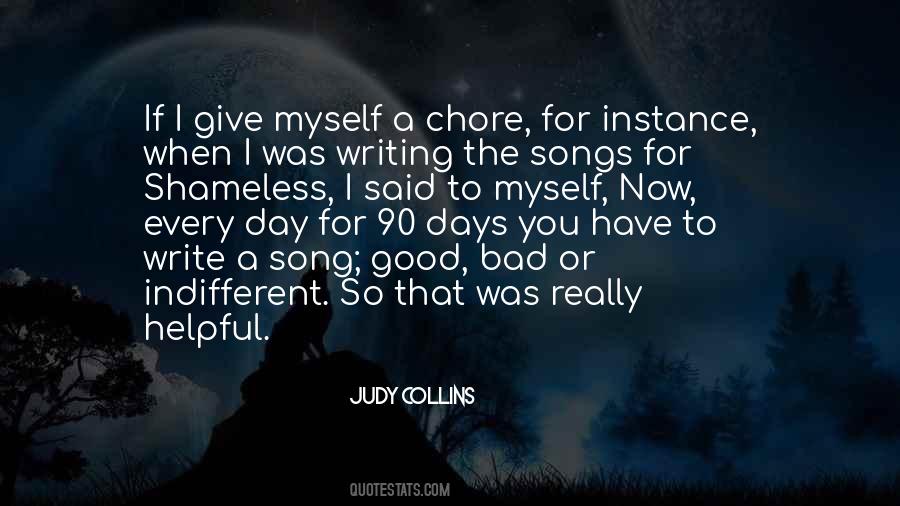 #89. I held a nail in place and slammed it with the hammer. Best. Chore. Ever. - Author: Cate Tiernan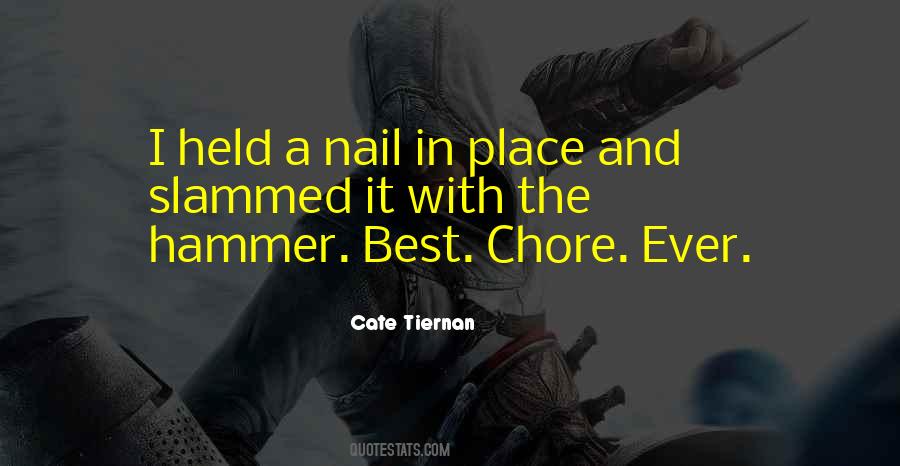 #90. I used to tell my three younger siblings stories because that was my household chore, and I told long stories in installments because it was easier and more fun than making up a new story every night. I loved it. - Author: Kerry Greenwood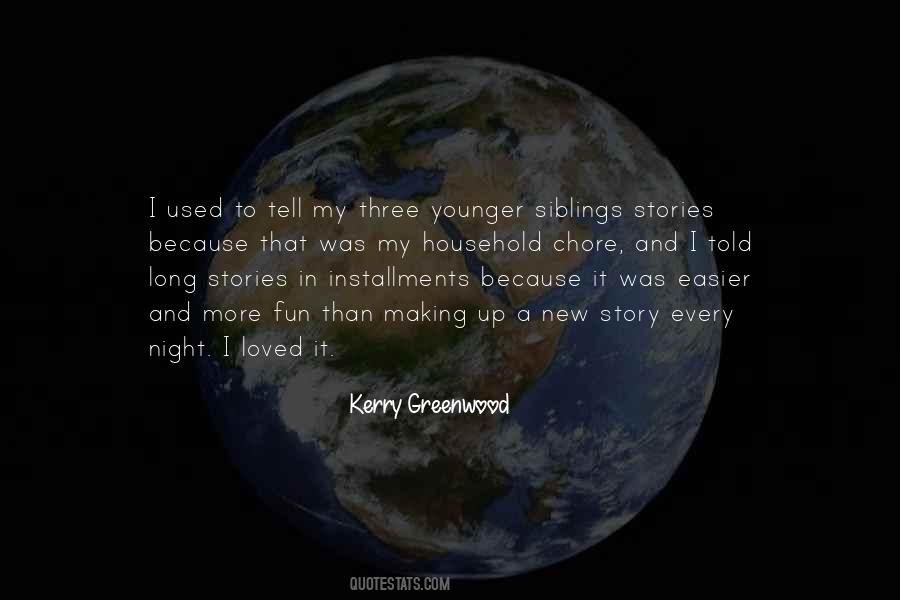 #91. Whatever work you undertake to do in your lifetime, it is very important that first you have a passion for it - you know, get excited about it - and second, that you have fun with it. That's important. Otherwise, you see, your work becomes nothing but an idle chore. Then, you hate the life you live. - Author: Julius Sumner Miller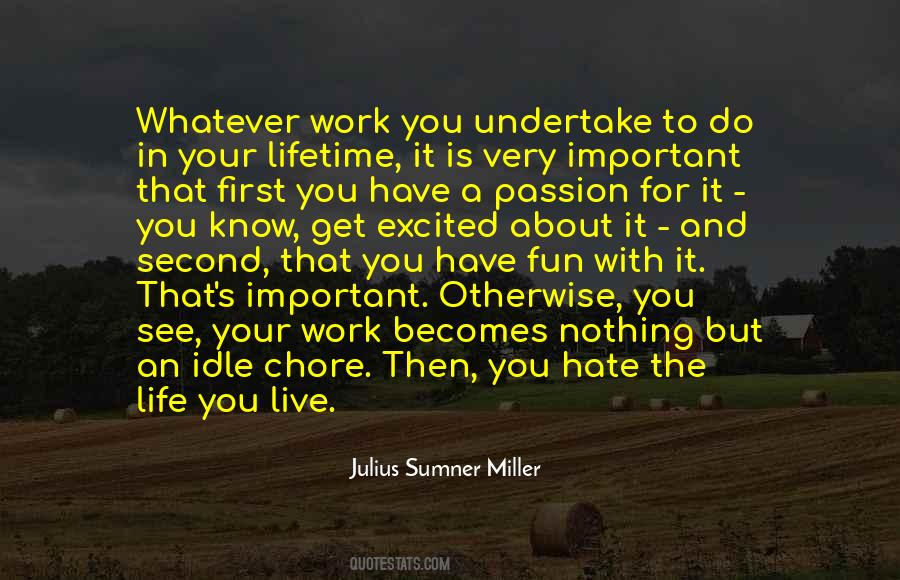 #92. In the end, the real wisdom of menopause may be in questioning how fun or even sane this chore wheel called modern life actually is. - Author: Sandra Tsing Loh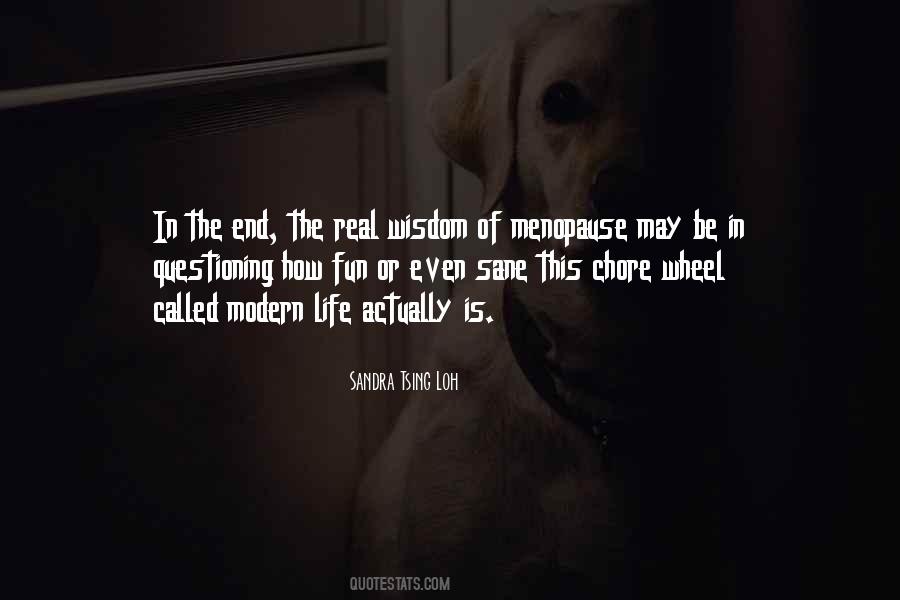 #93. There are some subjects in school that I love, but it can still feel like a chore. Acting never feels like a chore. - Author: Sierra McCormick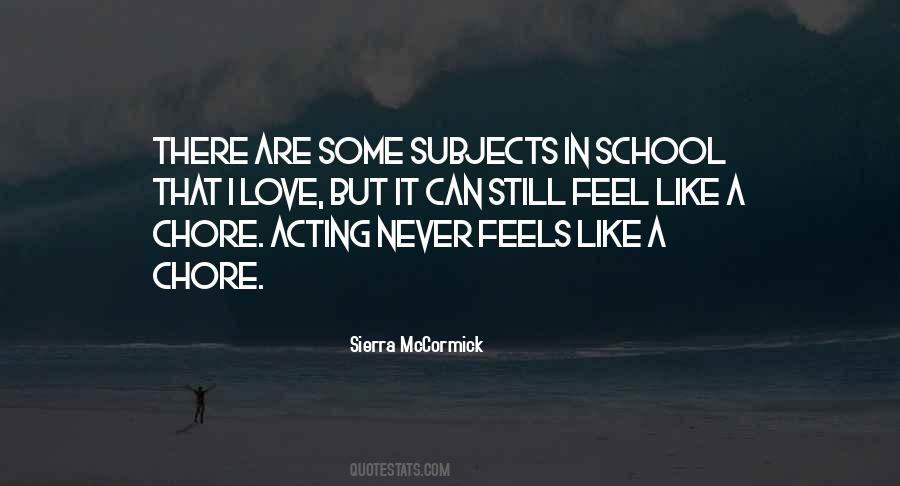 #94. I continue to write. It's just one of those things that I do. I'll have periods when I write and periods when I don't. But you don't want it to become a discipline really. If it becomes a discipline, it becomes a chore and that's no good. - Author: Greg Lake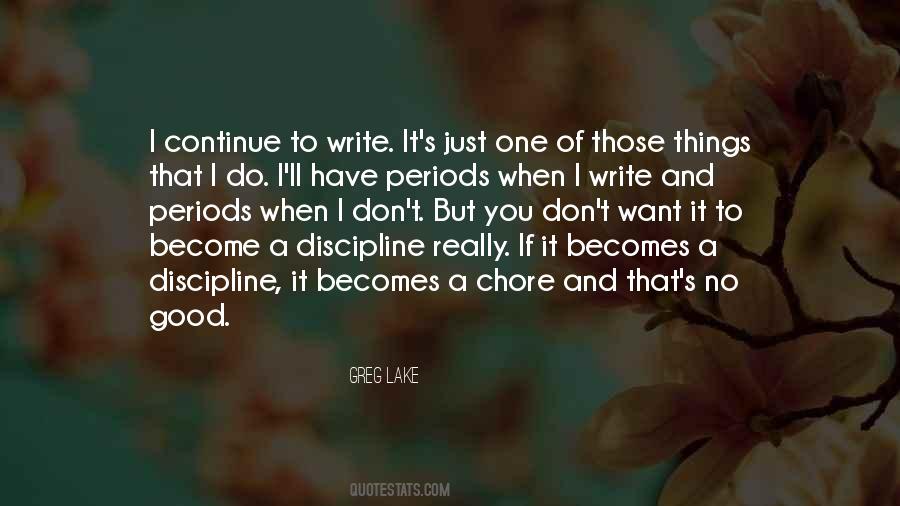 #95. That's why they asked each other questions starting with "why." Make a chore into a meaningful decision, and self-motivation will emerge. - Author: Charles Duhigg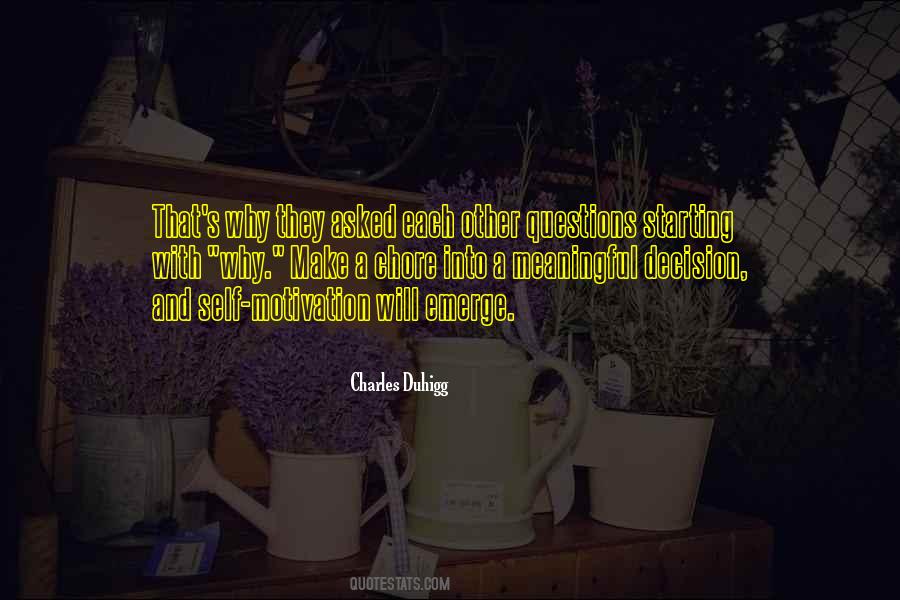 #96. To combat the monotony of gym workouts, I started playing soccer. I looked at workouts as training sessions. My soccer training includes squats, pushups, resistance-band work, and sprints. Ninety minutes of running became part of my love of the game rather than a chore. - Author: Adam Richman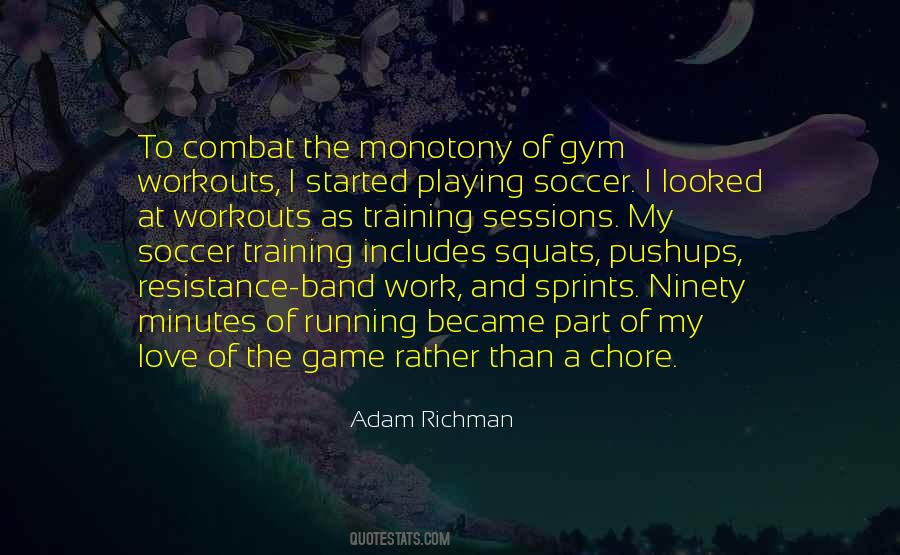 #97. I do have a chore schedule - in my mind. I don't tell anyone I have it, but it's in my mind. - Author: David Alan Basche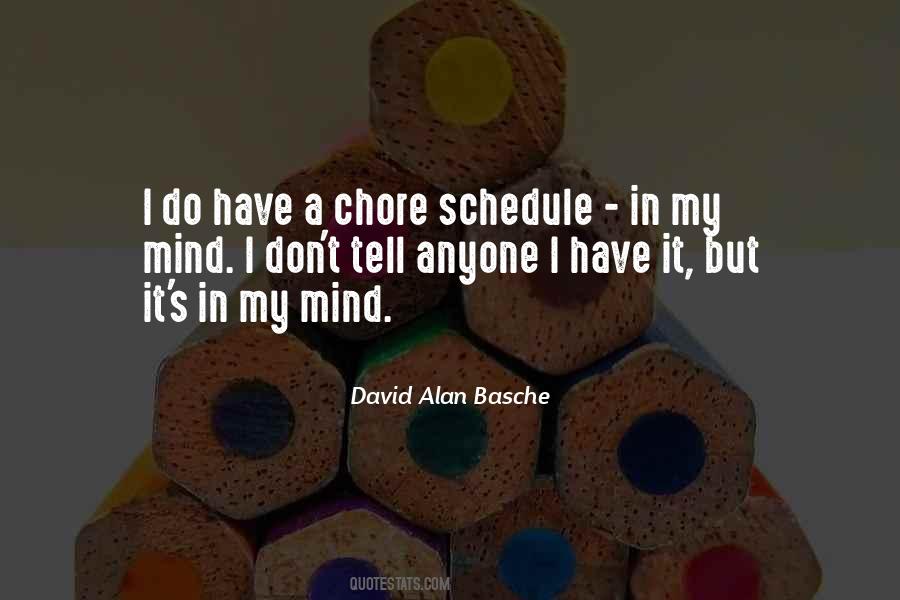 #98. I have a friend who loves housework. Honest, she loves all housework. All day long she moves from one chore to the next, smiling the whole time. I went over there one day and begged her to tell me her secret. It's simple, she said, right after breakfast you light up a joint. - Author: Gabrielle Burton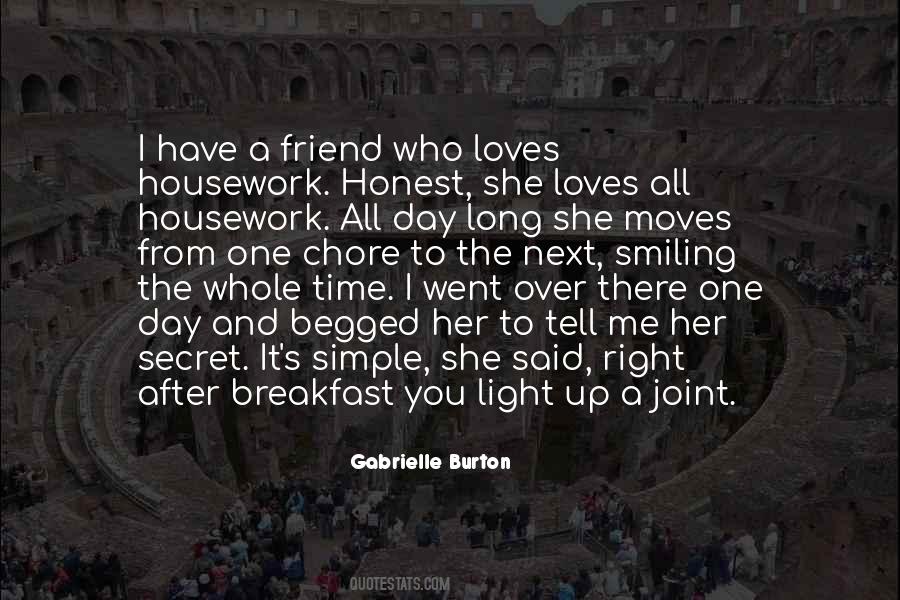 #99. I have said time and again there is no place on this earth to which I would not travel, there is no chore I would not undertake if I had any faintest hope that, by so doing, I would promote the general cause of world peace. - Author: Dwight D. Eisenhower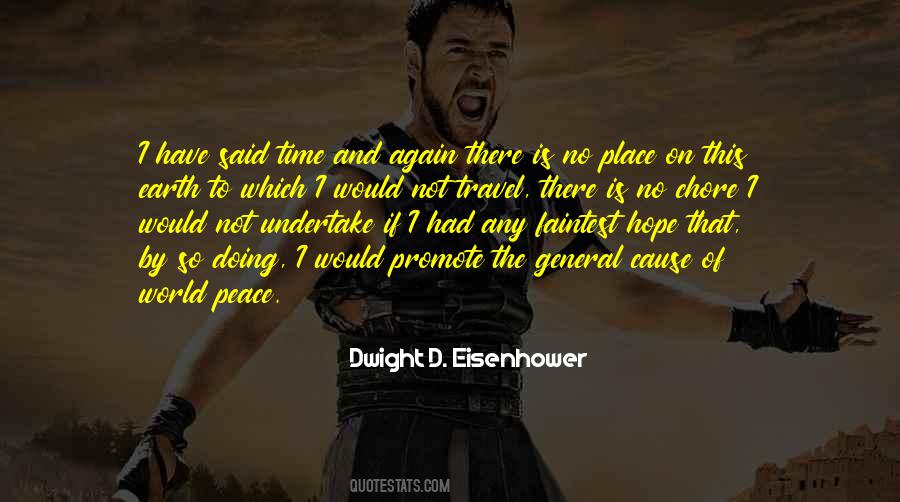 #100. One day you'll meet someone who will consume your very soul. When you meet that person, you'll know. And if that person ever tries to leave you, fight for them, because once they're gone, life will become a chore. - Author: Belle Aurora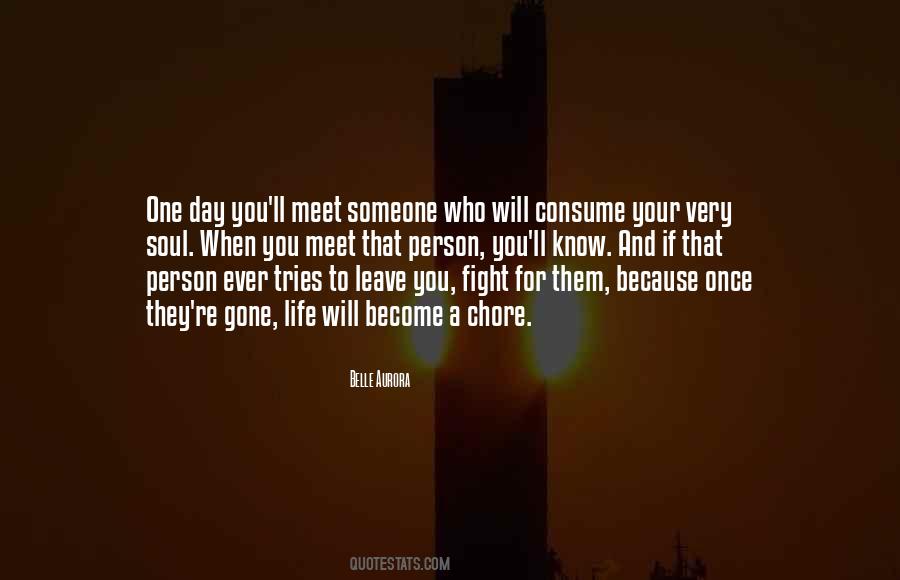 Famous Authors
Popular Topics