Camera Famous Quotes & Sayings
List of top 100 famous quotes and sayings about camera to read and share with friends on your Facebook, Twitter, blogs.
Top 100 Quotes About Camera
#1. I'm used to having a camera in my face but not a camera following me. - Author: Zlatan Ibrahimovic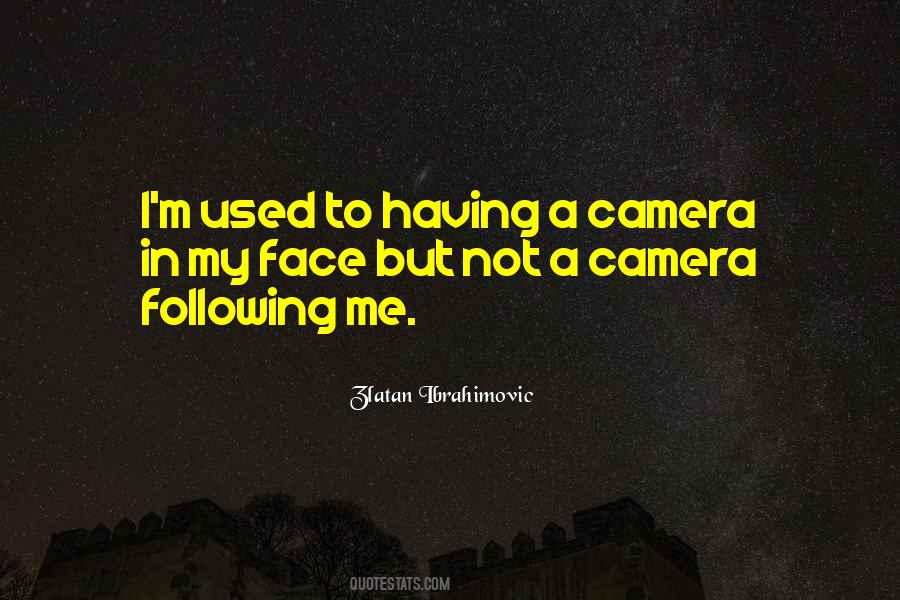 #2. I love the camera; there's something very special and sensual about it, and I have a tendency to call it a he, like it was a man. But, unlike a man, a camera is accepting of everything I do. - Author: Lena Olin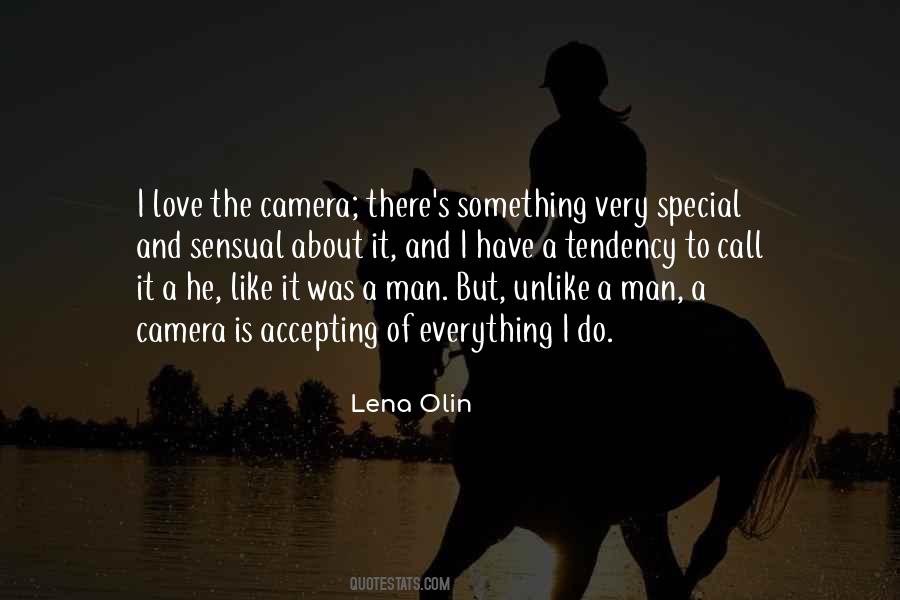 #3. 'Planet Earth' was such an extraordinary series and the 'Making Of' ... is fascinating: the creatures and stories behind the camera are just as fascinating as those in front. It's a bit of a dream come true to be a part of the team in some small way. - Author: Dan Stevens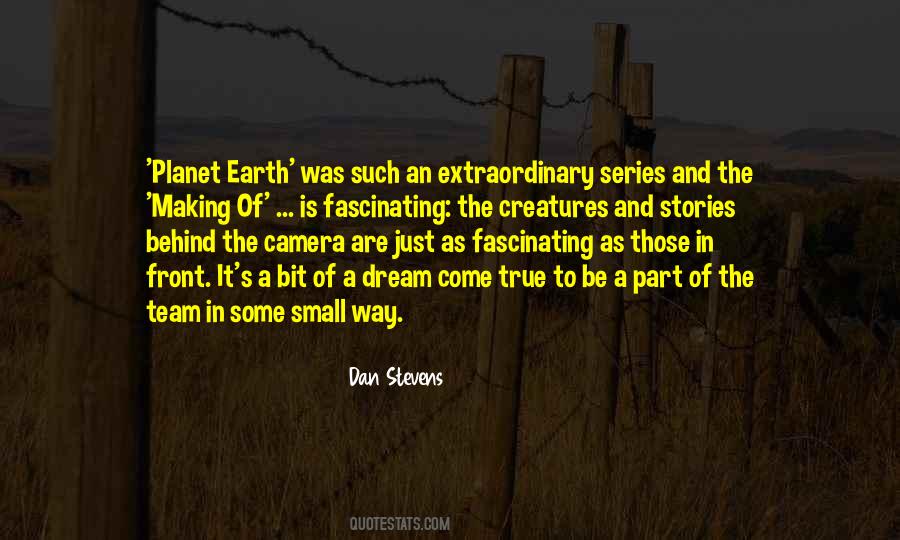 #4. I only shoot on film. I like the quality, the grain and the imperfections. It offers me something much more rewarding than any digital camera can give me. I believe the extra expense is worth it. - Author: Guy Berryman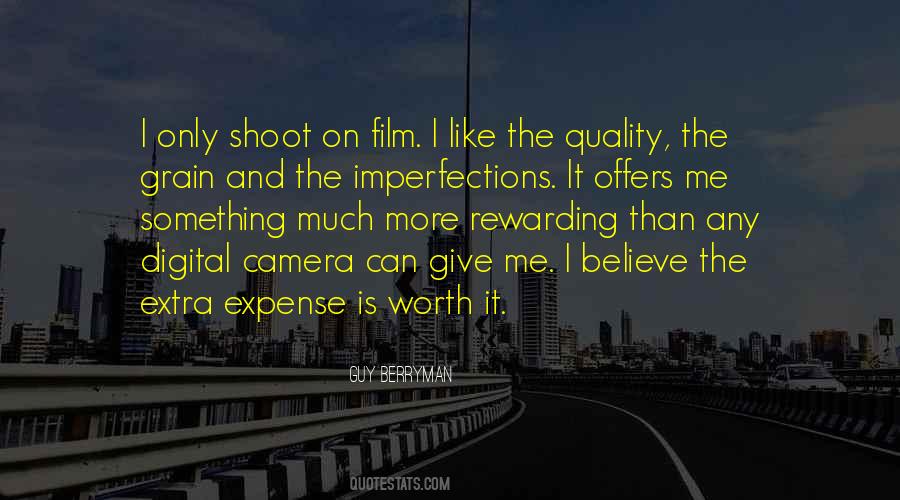 #5. I think at some point I am going to throw in the belt and decide to stick behind the camera. - Author: Brody Jenner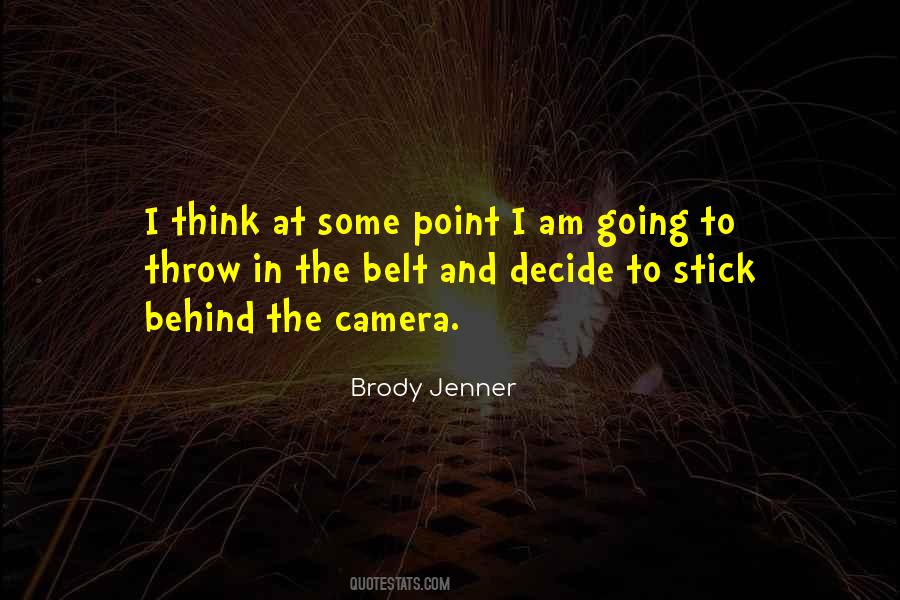 #6. The common ancient ancestor of mulluses and chordates could not possibly have possessed a camera eye, so quite clearly they have evolved independently. The solution has been arrived at by completely different routes. - Author: Simon Conway Morris
#7. My father had a Super 8 camera when I was a kid and sometimes he would use it. I did some animation with it. I did a lot of flipbooks. - Author: Michel Gondry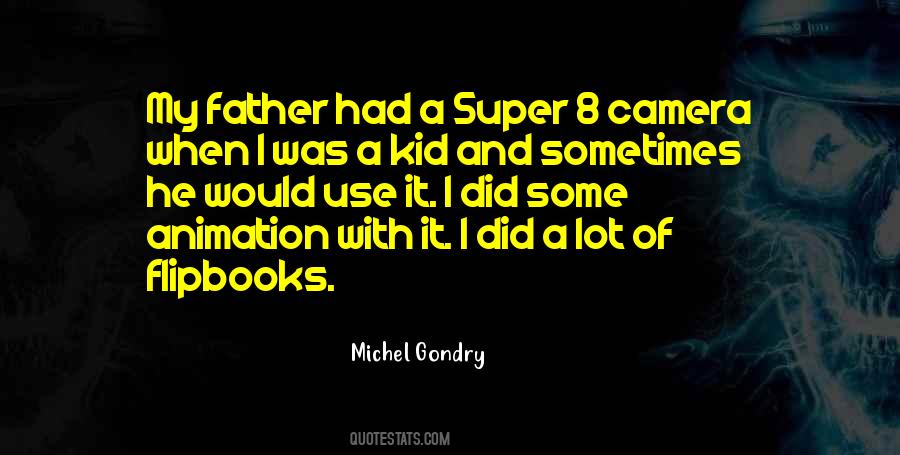 #8. I was able to shoot a movie like 'Tree of Life' because I had done 'Y Tu Mama Tambien.' The camera needed to capture that sense of freedom and joy and life you have when you're young. - Author: Emmanuel Lubezki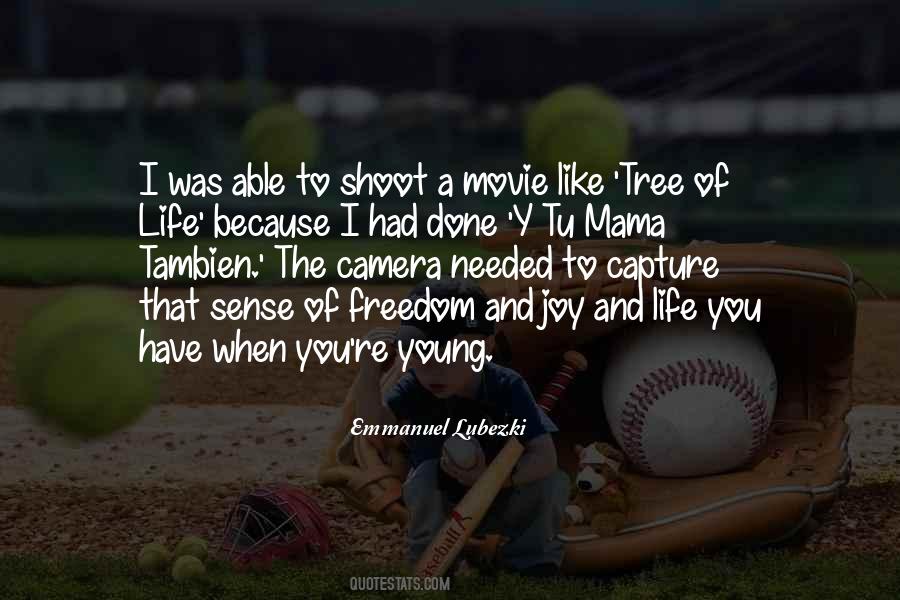 #9. I hate seeing fat girls on TV or in movies, because the only way the world seems to be okay with putting a fat person on camera is if they're miserable with themselves or if they're the jolly best friend. Well, I'm neither of those things. - Author: Julie Murphy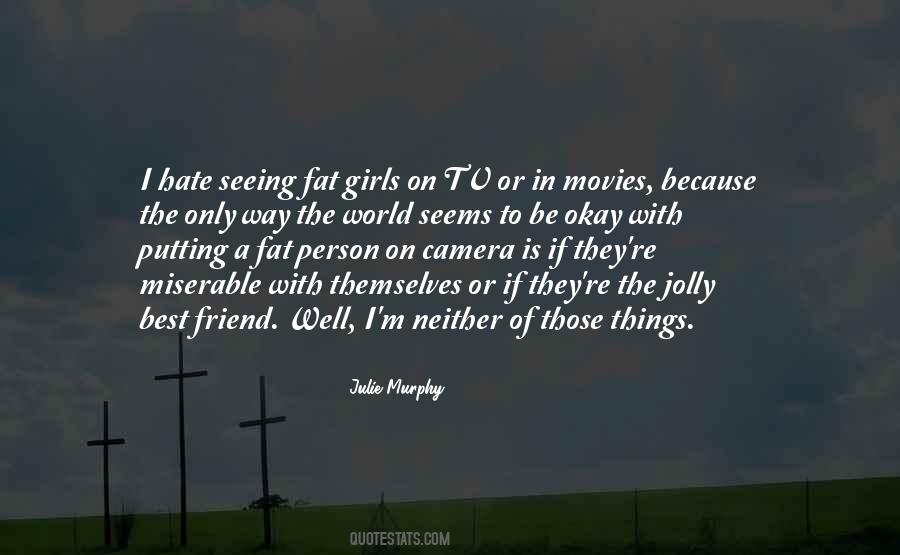 #10. Bruce Willis. Pain in my ass, no problem about that. We just didn't get along. We got along off camera, but shooting we just didn't get along. - Author: Antoine Fuqua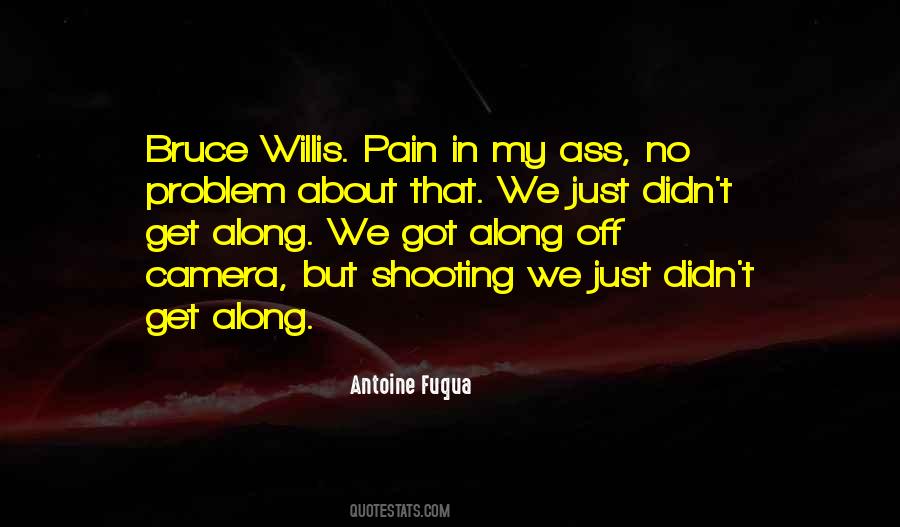 #11. I remembered a mantra that one of my teachers used to tell me at drama school, that every thought will pass across your face. Even if you're thinking about Shreddies the camera will read it. - Author: Ruth Wilson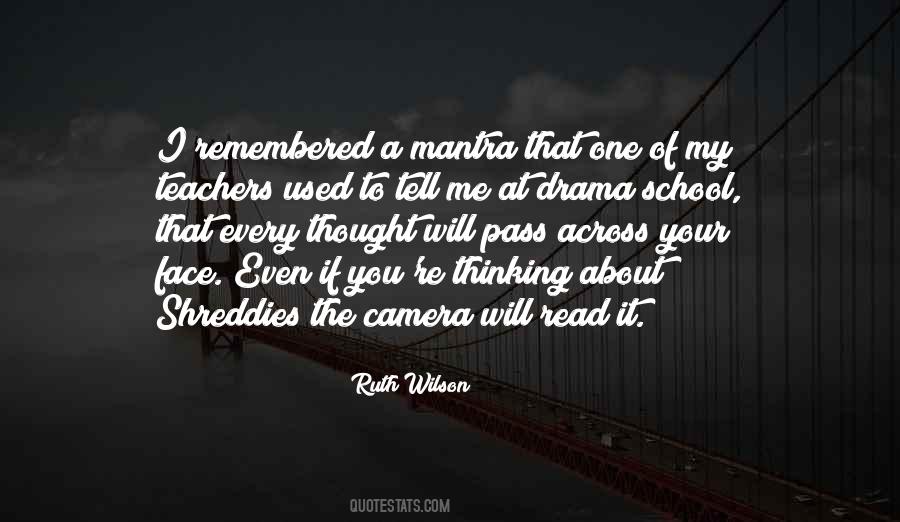 #12. We had a script that was really solid and we knew how we were going to shoot and how the energy of it was going to go. So it gave us a lot of freedom to use the camera as a character. - Author: Marguerite Moreau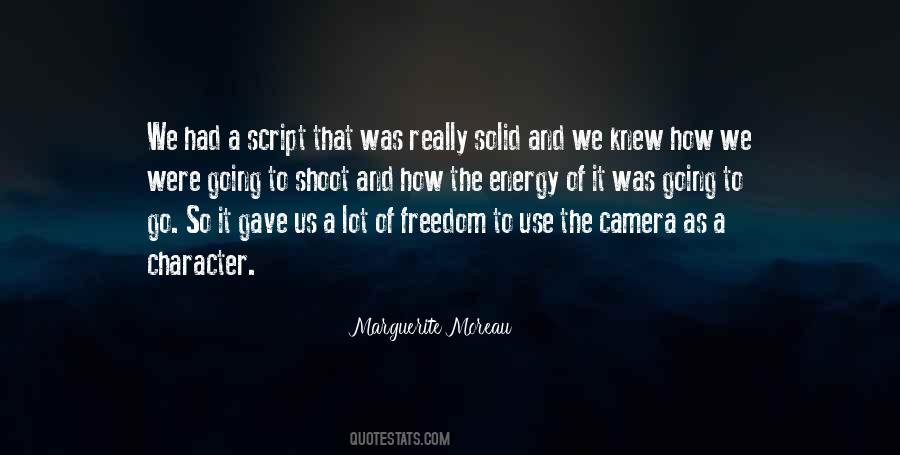 #13. People who wouldn't think of taking a sieve to the well to draw water fail to see the folly in taking a camera to make a painting. - Author: Edward Weston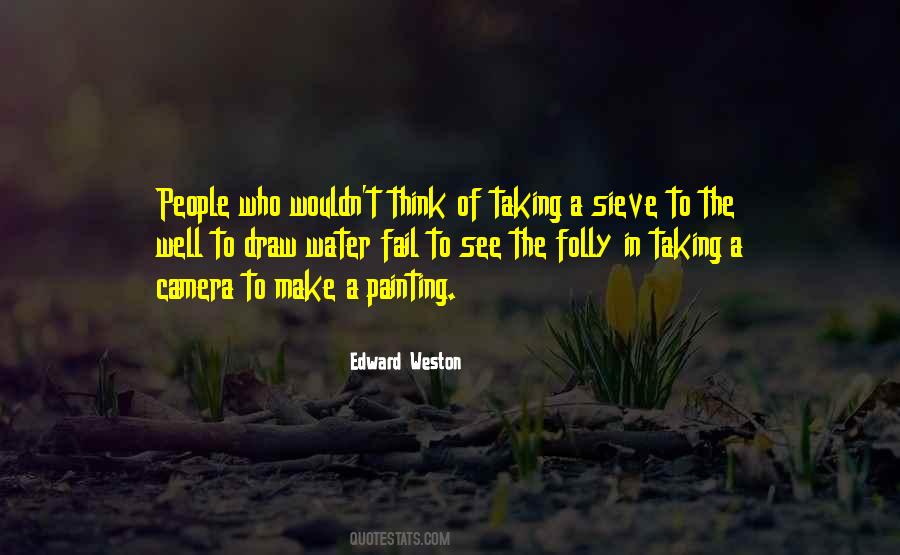 #14. Leica, schmeica. The camera doesn't make a bit of difference. All of them can record what you are seeing. But you have to see. - Author: Ernst Haas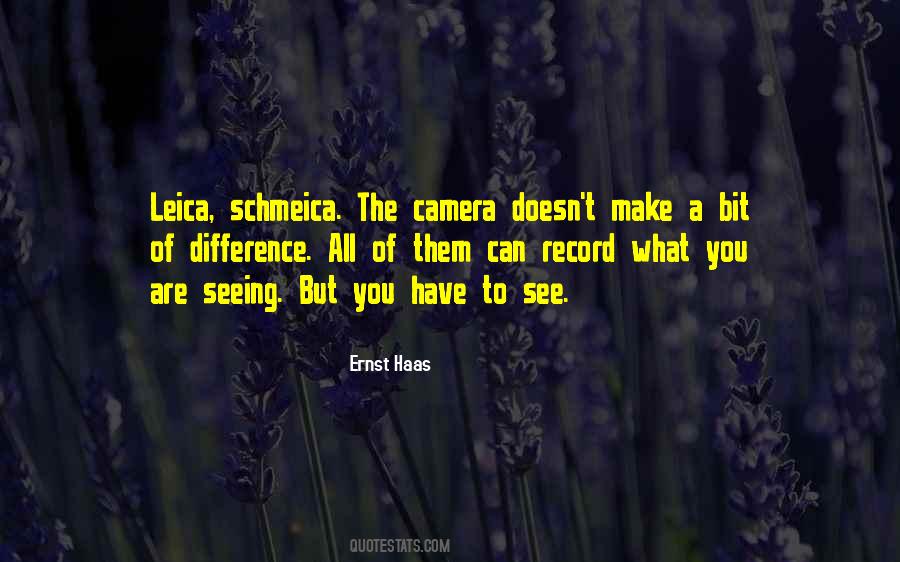 #15. Why should not the camera artist break away from the worn out conventions and claim the freedom of expression which any art must have to be alive. - Author: Alvin Langdon Coburn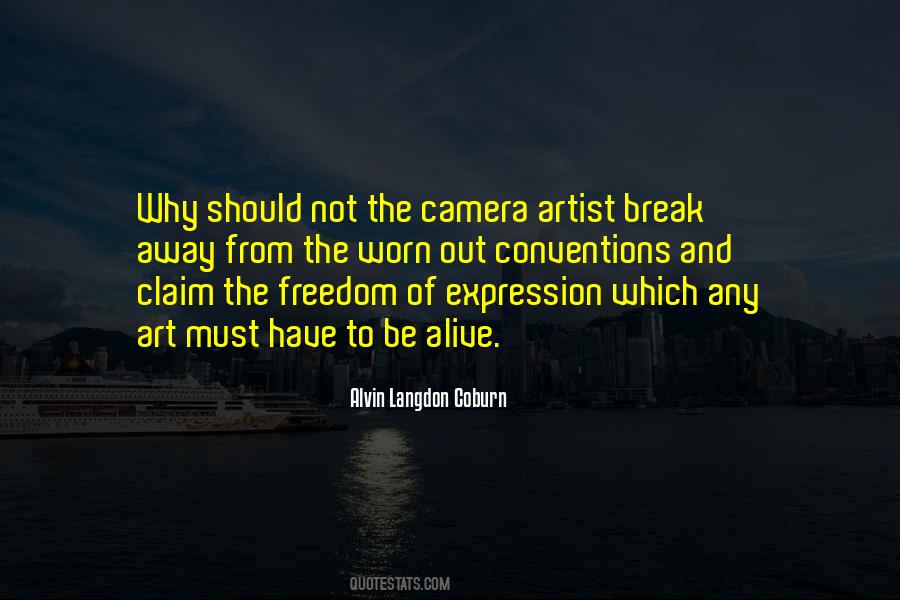 #16. They don't tell you how to be on TV - they put the camera on you, and they turn it on, and you sink or swim. - Author: Michael Strahan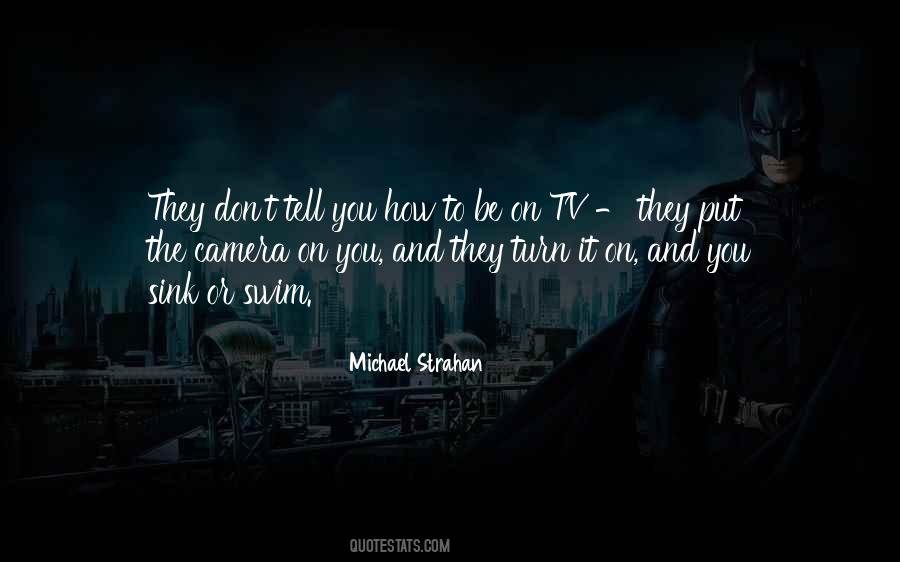 #17. As women, we do feel like we have to live up to an expectation, whether it's on camera or going to the market or whatever it is. And the truth of the matter is, that's not always the way it is. We don't always have our high heels on, we don't always have our makeup on. - Author: Jennifer Aniston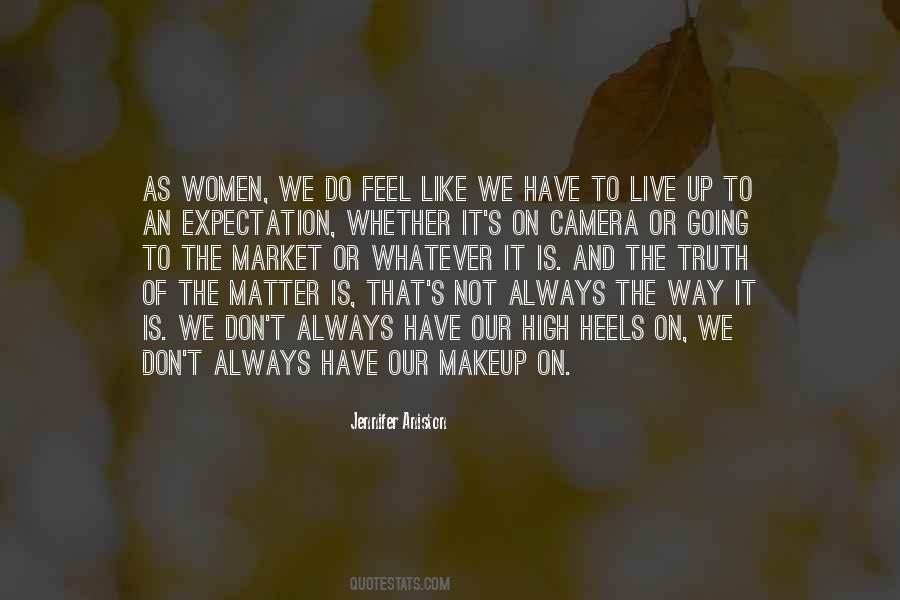 #18. I was a loser, a bad kid, I wasn't really into anything, and then someone gave me a camera and I found that this was the thing I wanted to do. - Author: Steven Klein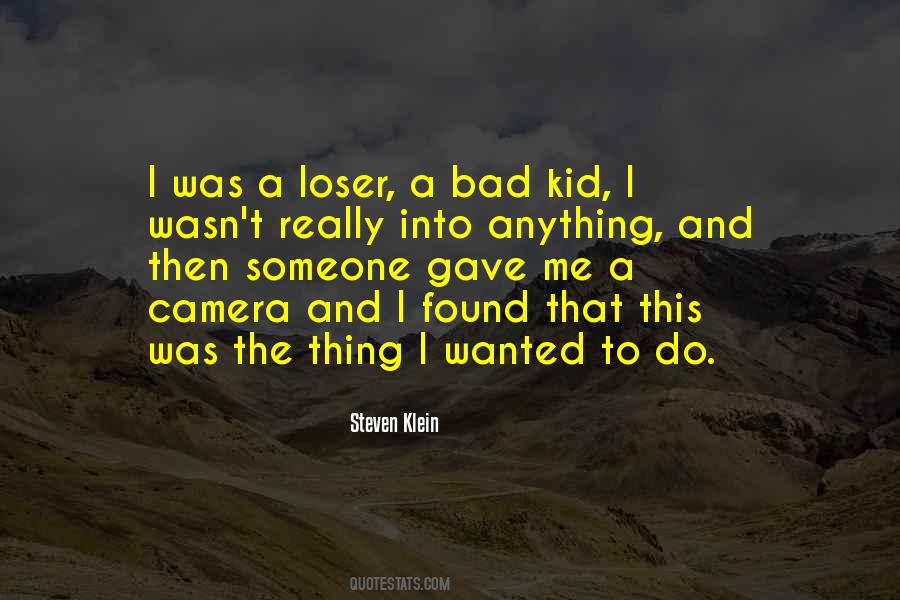 #19. Sometimes you just create a joke out of thin air in the editing room. So I'm really glad I've had that experience. It gives me a little more confidence in front of the camera. - Author: Ed Helms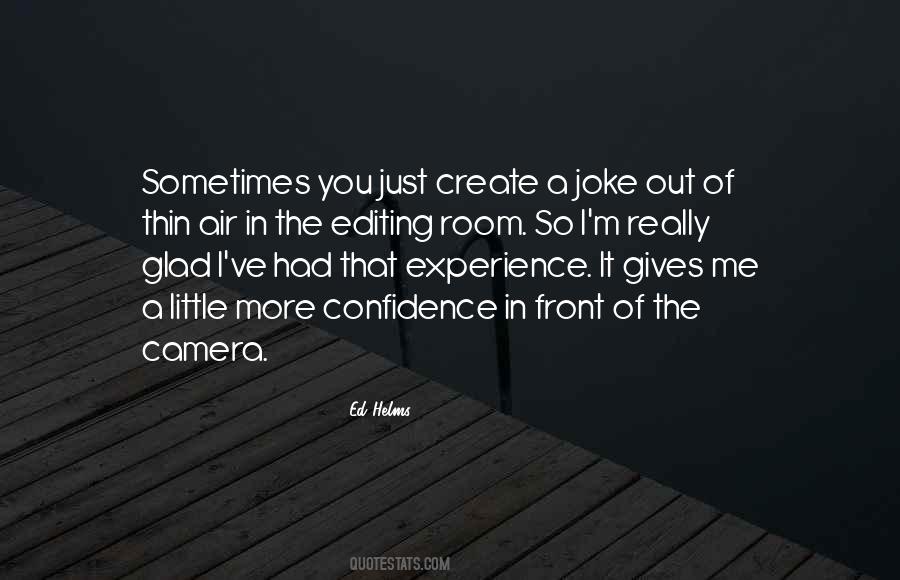 #20. Camera-phones are like nuclear power plants: bad people will turn them into evil, good people will put them to good use. - Author: Philippe Kahn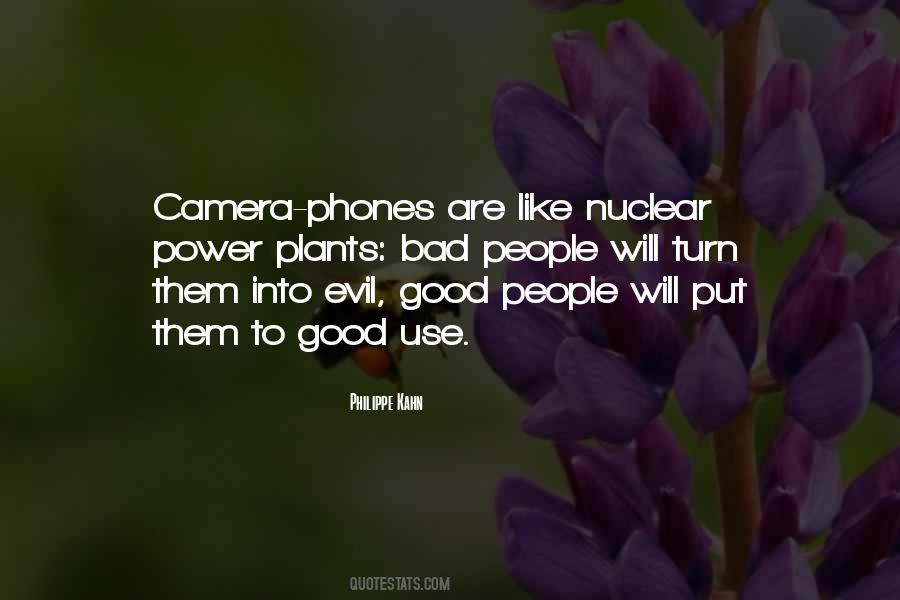 #21. I don't like acting; not in front of the camera. - Author: Spike Lee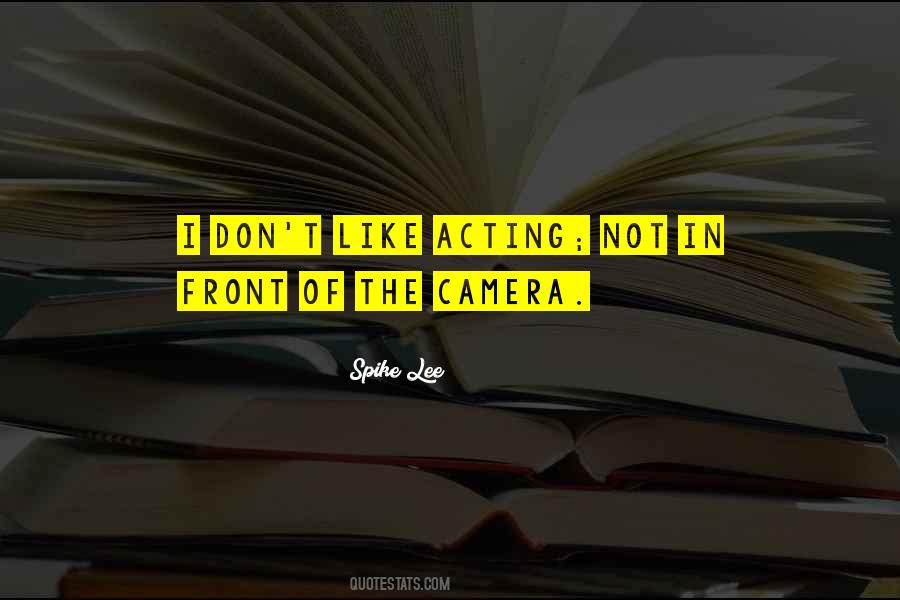 #22. Theatre is liberating because it only works if it's truthful - that's what it requires. That's not true of film: the camera does lie. - Author: Helen McCrory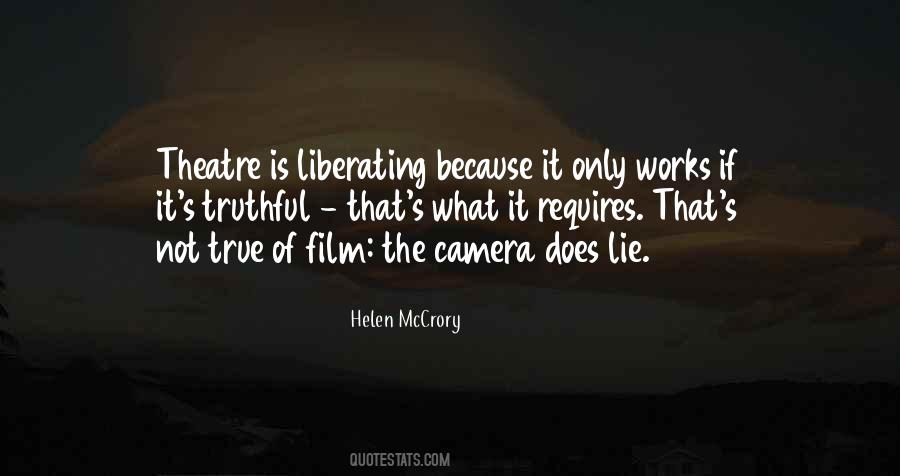 #23. I'd grab the camera and tell people what to do, and when I was 14, someone told me that it was called directing. - Author: Guillermo Del Toro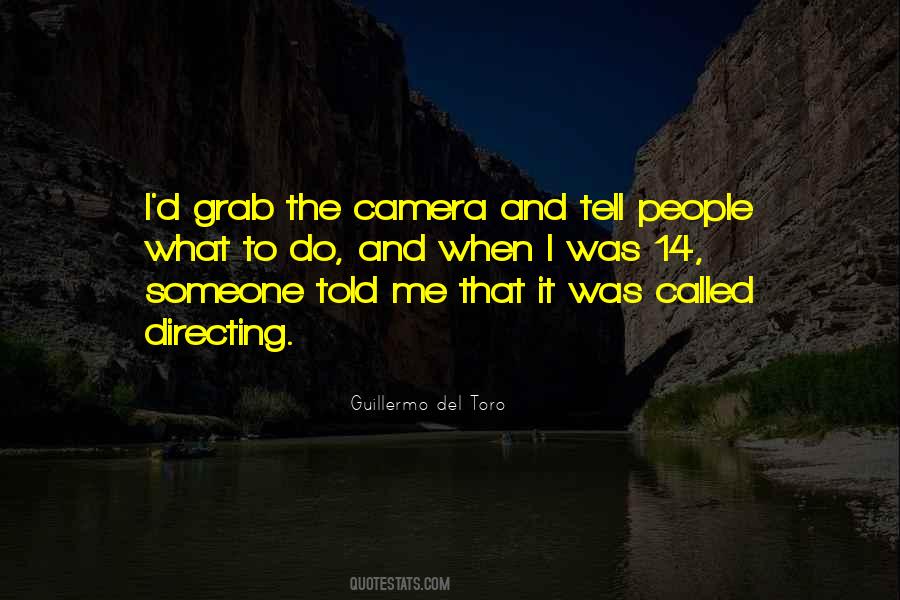 #24. Filmmakers, they tell me they want to make movies. I say, 'Good, go out, buy a $500 camera, get some friends and make a movie. Don't go to Hollywood. Stay wherever you are.' - Author: Alan Arkin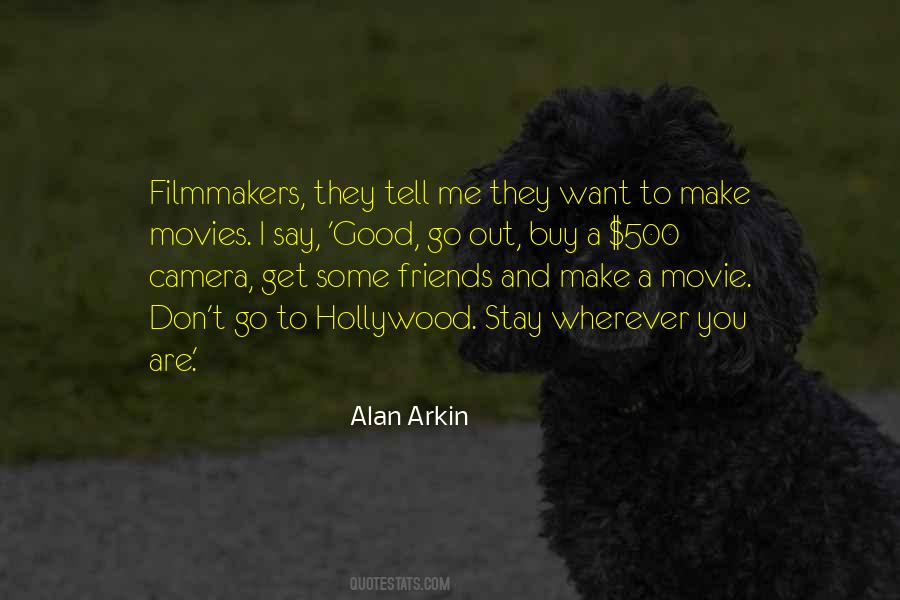 #25. I don't know if I always want to be in front of the camera. I love producing, I love the camaraderie. I love the adventures. I love the stress. - Author: Sandra Bullock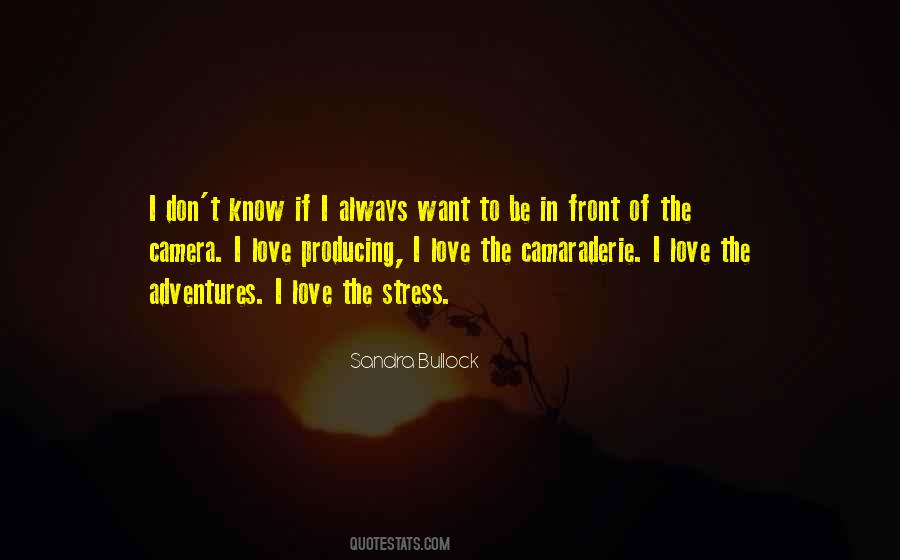 #26. The camera can move, you can make the shots, blah blah blah, but as long as the actors are good, you have something. - Author: Julie Delpy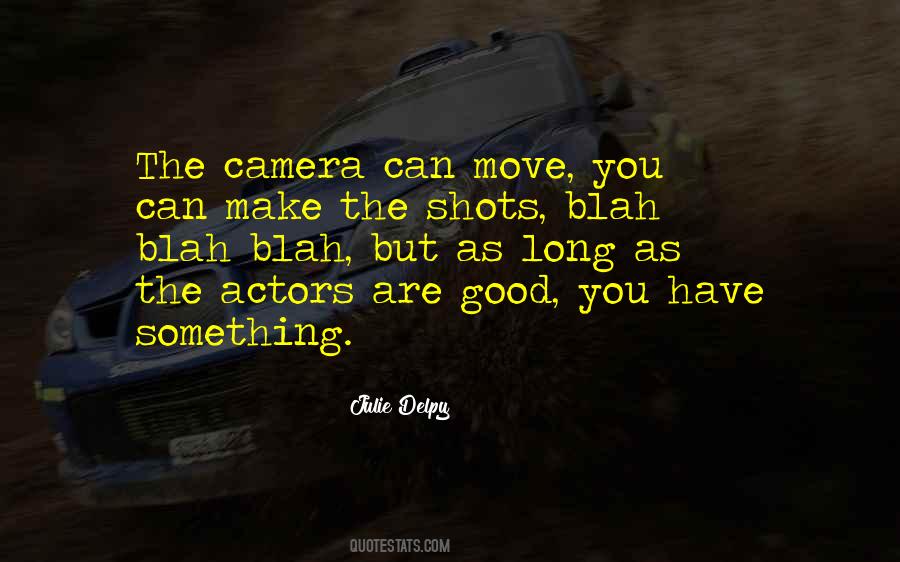 #27. Well, I mean, you have an emotion, you want to express it. You don't just look in the camera and do it. You want to hide from the embarrassment of your brother saying you're not allowed to come into my town. - Author: Anthony Quinn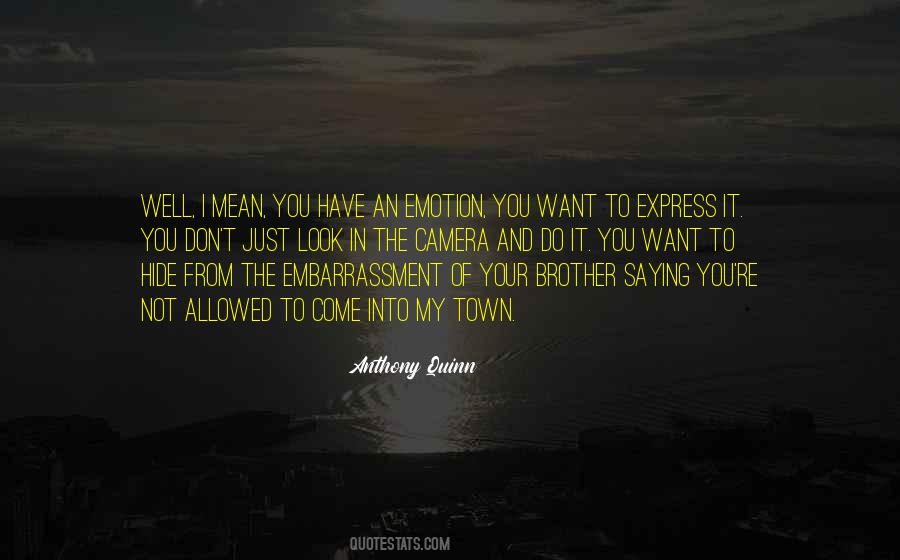 #28. Whenever there's a camera around, a video or film camera, it's a great deal harder for those in power to bury the story. - Author: Peter Gabriel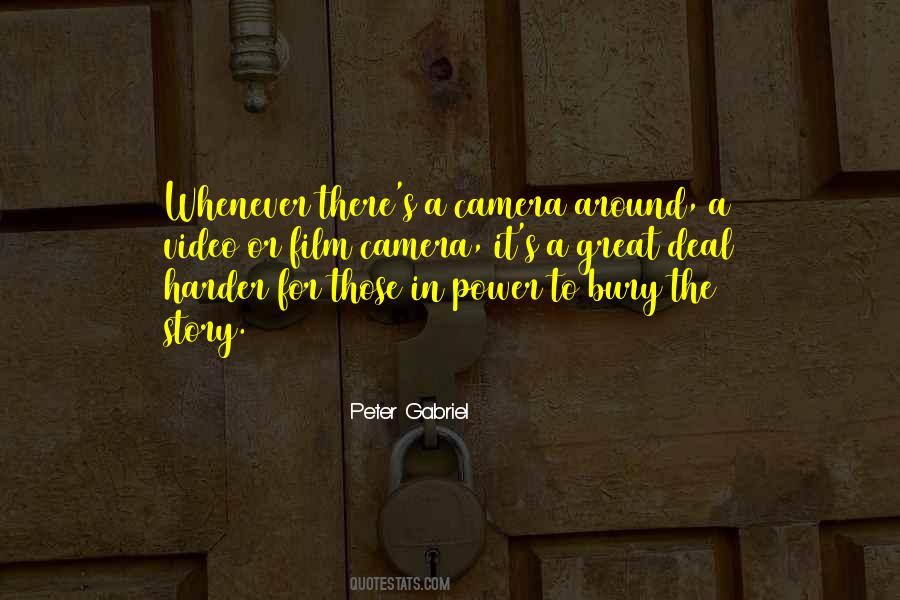 #29. There is an expression here on Capitol Hill," Issa told me. "'Don't ever get between a member and a camera.'" That can be particularly harrowing in the case of Issa, who had purchased a T-shirt for Bardella that said: "It's all about me. - Author: Mark Leibovich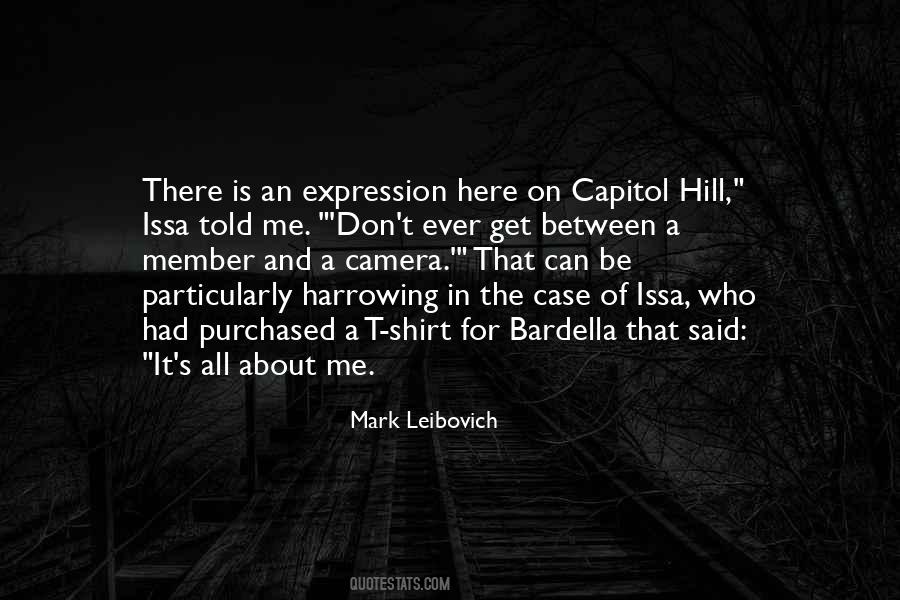 #30. I'm an actor, and I like having attention, I guess. There's a reason I like being on stage. There's a reason I like being in front of a camera. It's that interaction. - Author: Tatiana Maslany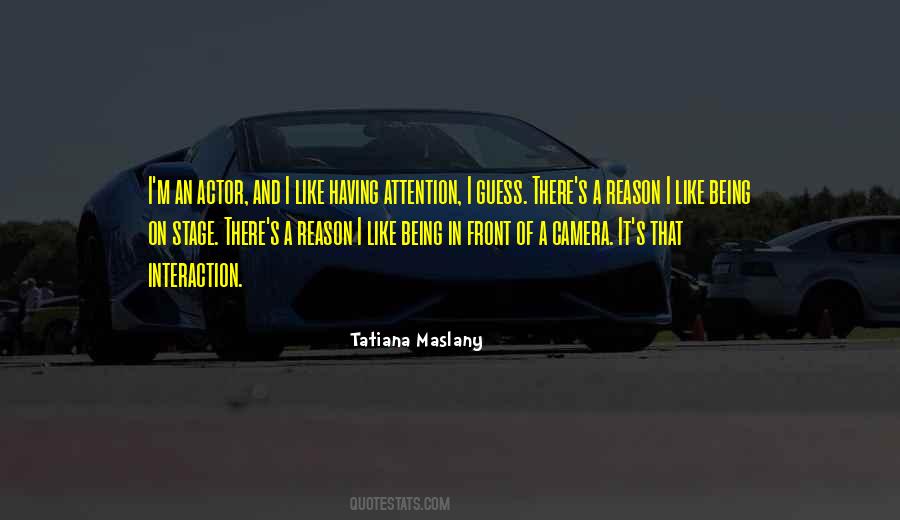 #31. Famous in our circles is the story of the visiting English banker who in 1948 upon seeing our model 95 camera commented, 'Very interesting, but why would one want a picture in a minute?' - Author: Edwin Land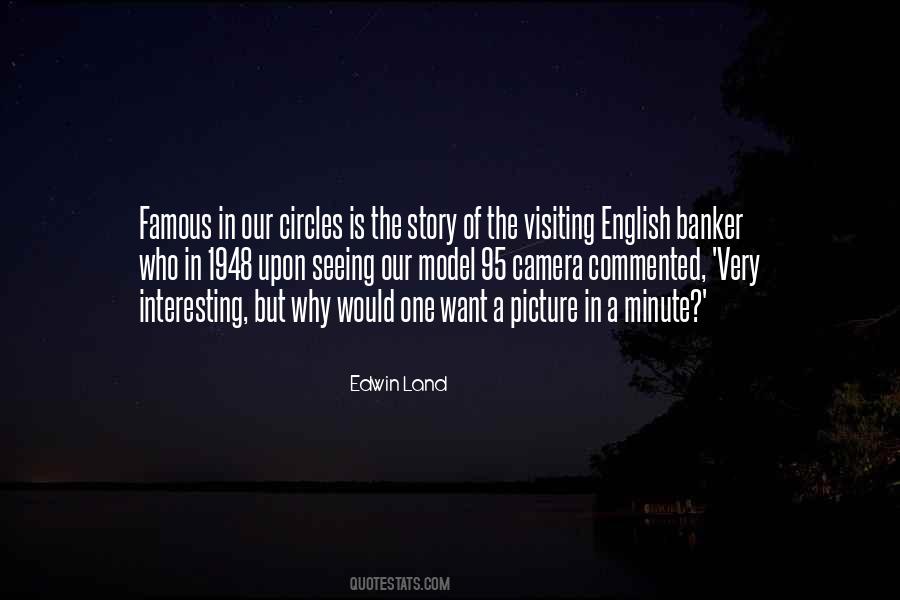 #32. The camera is the eye of history. - Author: Mathew Brady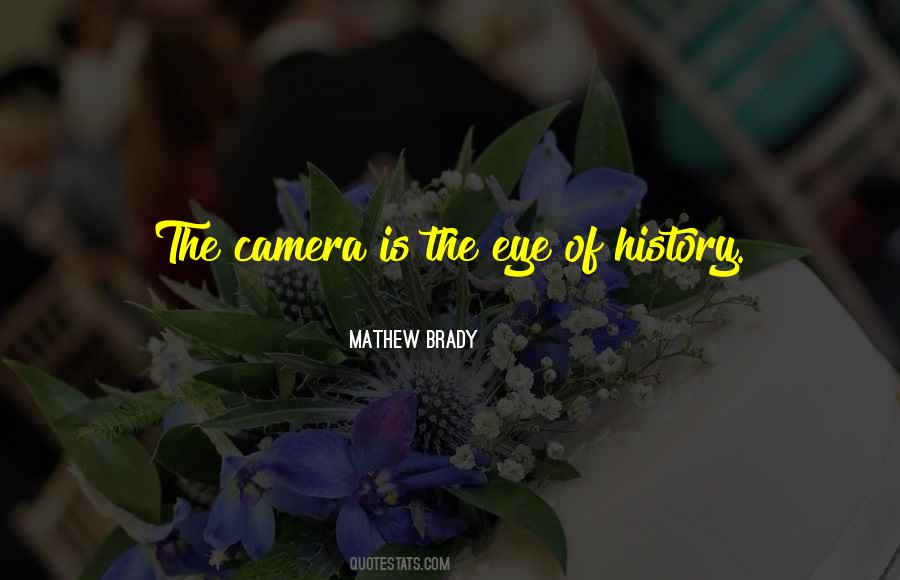 #33. I don't remember the first picture I took, but I actually found a picture of myself on a trip back to my old family home in Malaysia. I'm five years old, sitting on the floor with the family camera in my hand. It was a film camera - not a DSLR - with a fixed lens and a nice manual zoom. - Author: Ren Ng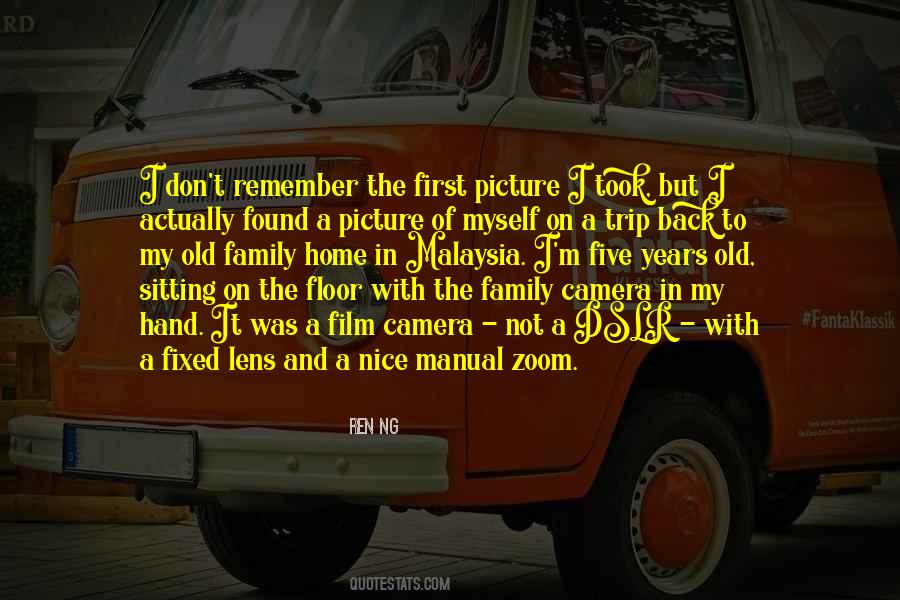 #34. It had rained on some vivid green ferns in Maine and it was quite beautiful. I was moving the camera slightly and studying the ground glass. Looking at those 20 square inches, trying to find out just what were the right elements to include. - Author: John Sexton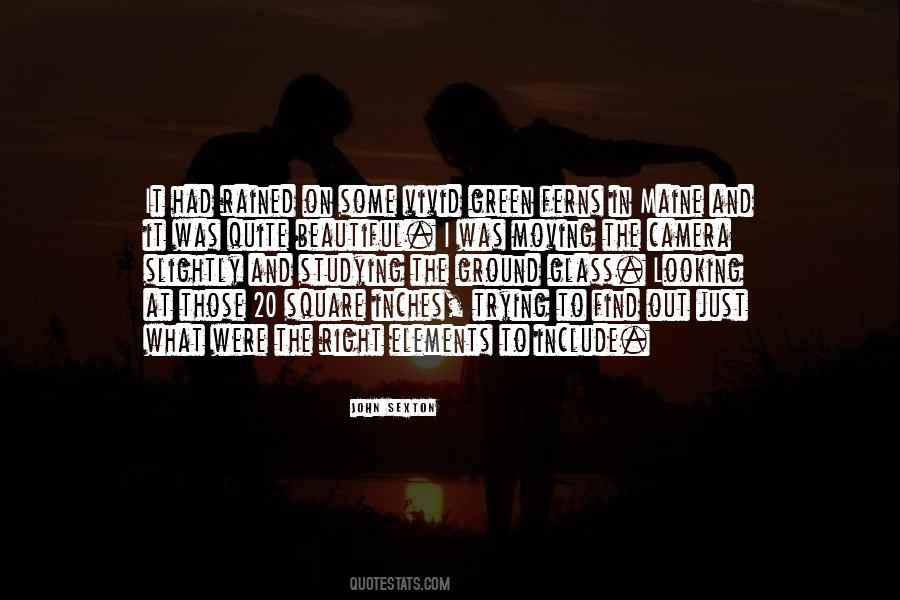 #35. Everything about acting is a challenge. I'm self-conscious. You couldn't do anything to cause me to be more self-conscious than to stick a camera in my face and have 60 people standing behind it, waiting for me to perform. - Author: Billy Campbell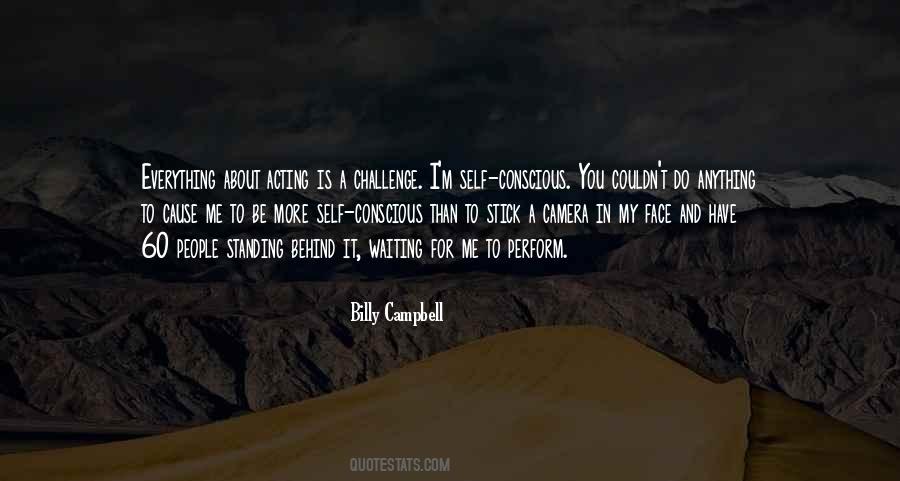 #36. The possession of a camera can inspire something akin to lust. And like all credible forms of lust, it cannot be satisfied. - Author: Susan Sontag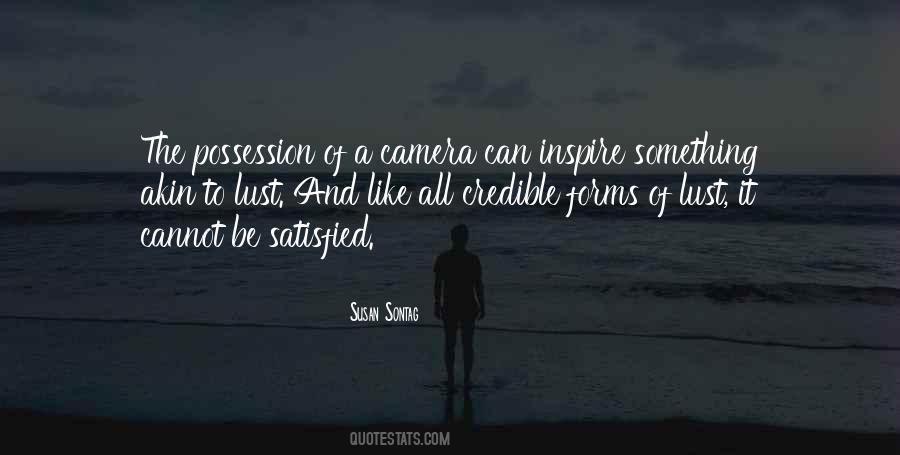 #37. I tried to keep both arts alive, but the camera won. I found that while the camera does not express the soul, perhaps a photograph can! - Author: Ansel Adams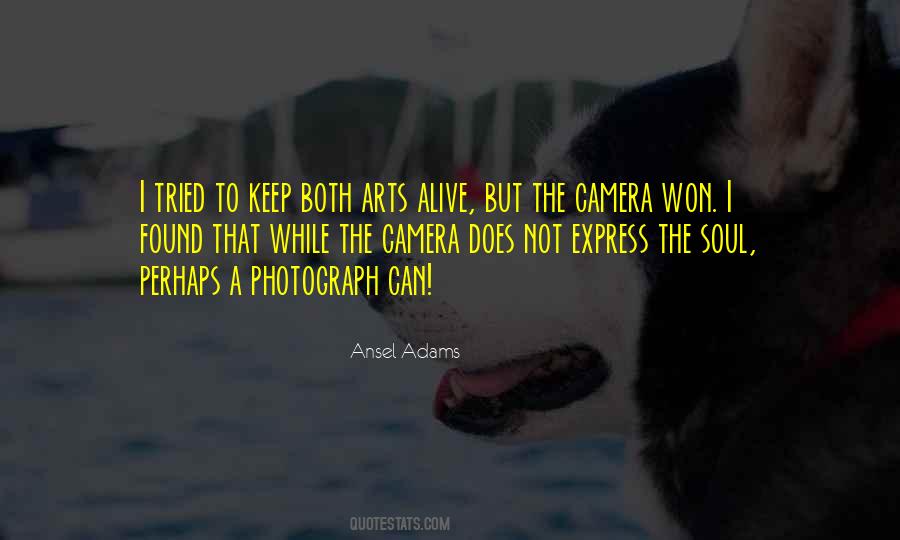 #38. I have dreams of being a producer, being behind a camera, eating seven tacos for every meal, and making movies that affect people the way they affect me. I don't even need to be in them. - Author: Emma Stone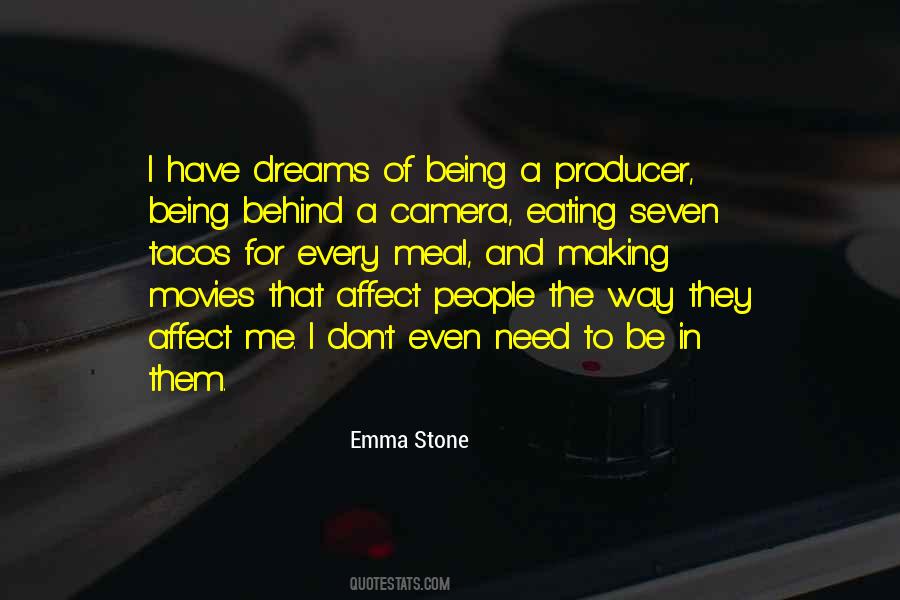 #39. I moved to California when I was twelve and I got a video camera and made little movies because I didn't have any friends yet. I would force my sister to make these movies with me - which became my YouTube channel. - Author: Dylan O'Brien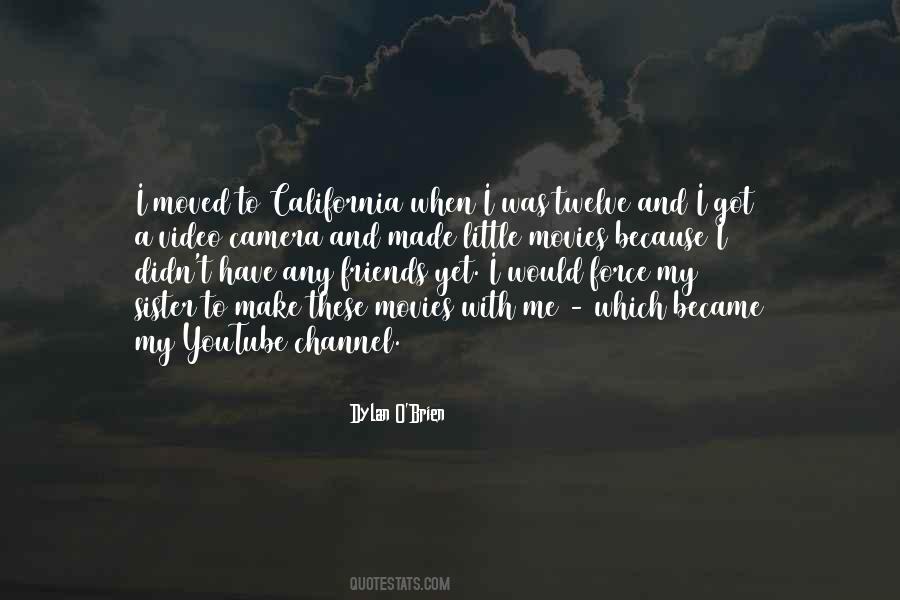 #40. When I was working on 'Men of Honor' with Robert De Niro, there's a pipe that he has in the movie, and it took us about six weeks to find the right pipe for him to use and feel comfortable with. It was a great choice, because it was really about what worked with the camera at that time. - Author: George Tillman Jr.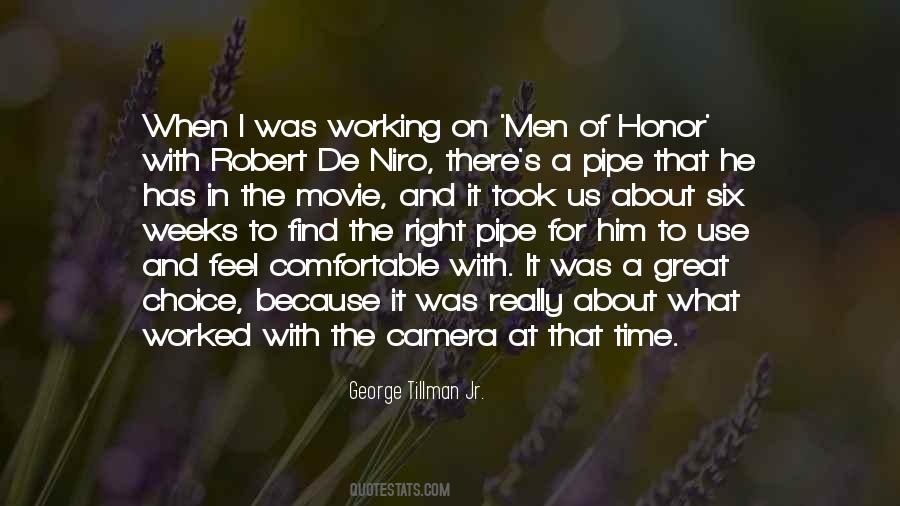 #41. Animals give me more pleasure through the viewfinder of a camera than they ever did in the crosshairs of a gunsight. - Author: James Stewart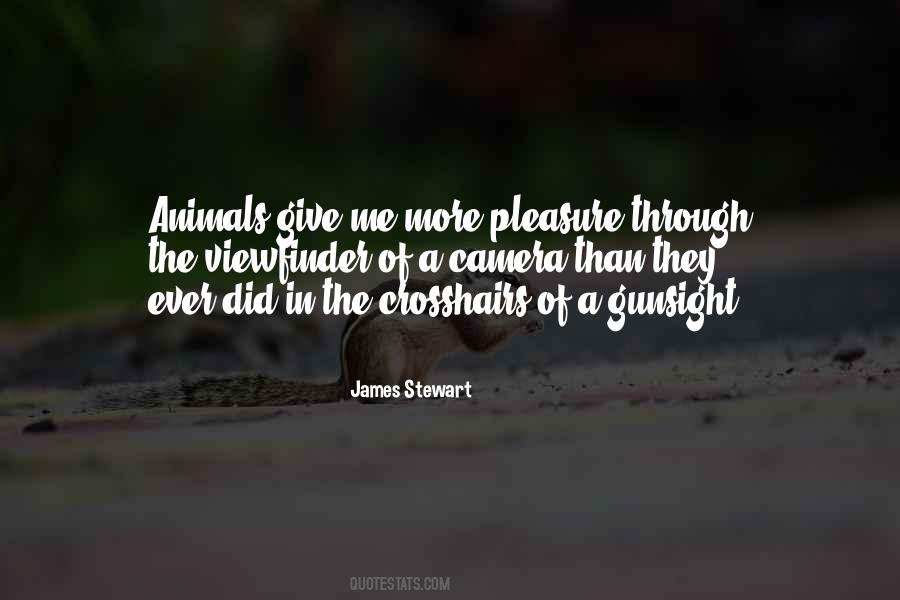 #42. The camera doesn't intimidate me. - Author: Mitch Gaylord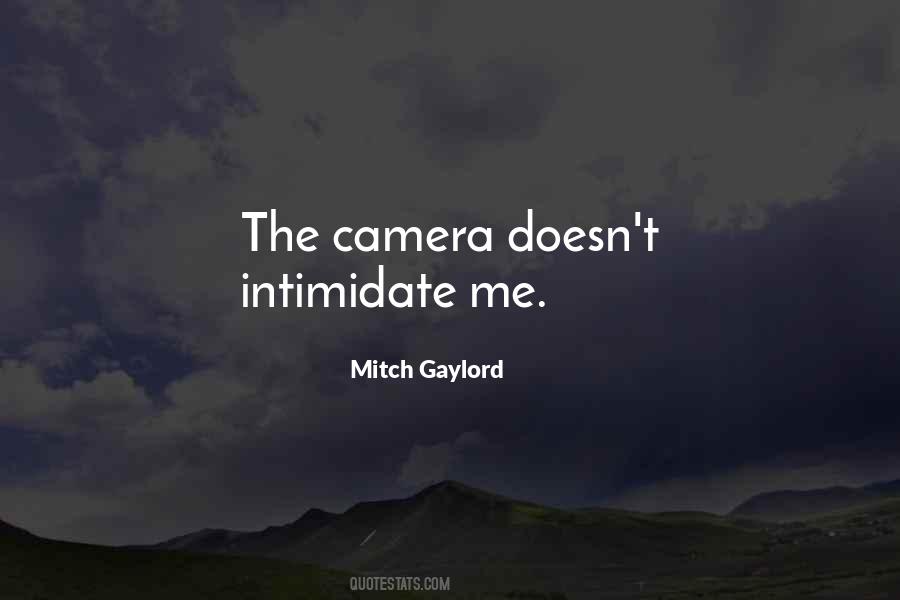 #43. You see the world much better through a camera - Author: Louis Malle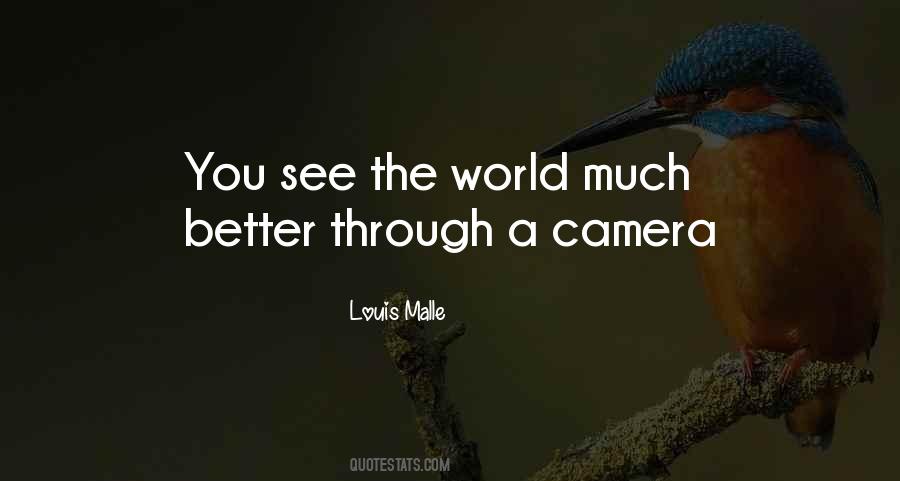 #44. No one forgets the presence of the camera, no matter how long it's there. - Author: Joshua Oppenheimer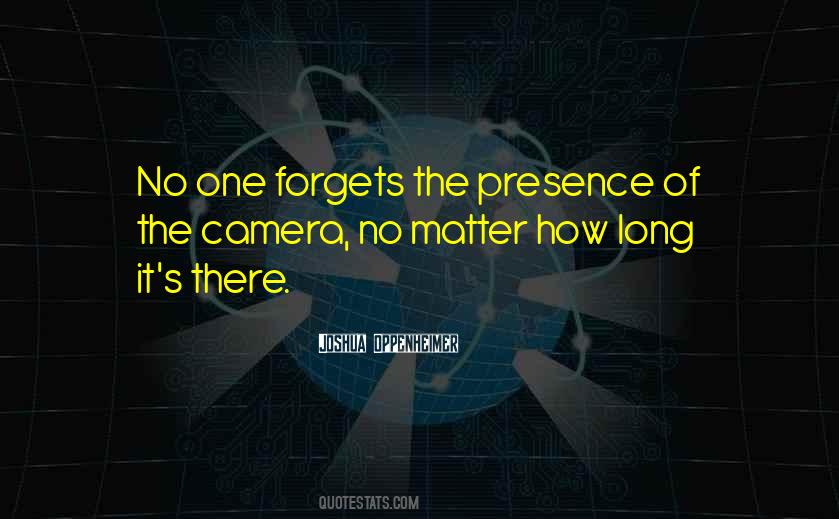 #45. In the editing room, 20 percent of the time you're using stuff from before the actor knew the camera was rolling or you're taking a line from somewhere else and putting it in his mouth. - Author: Campbell Scott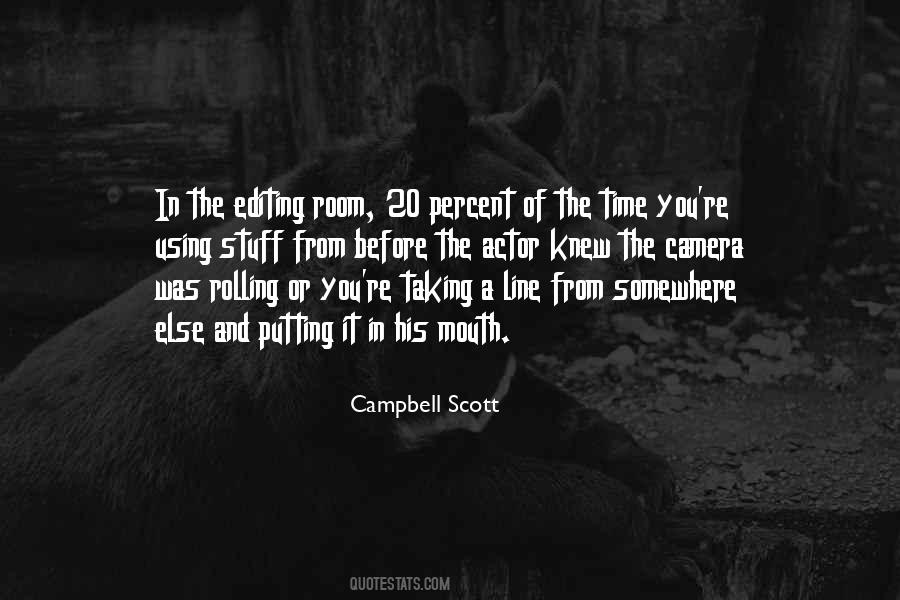 #46. I had prepared myself for the second half of my life [to be] filled with other passions that don't include being in front of the camera. And then all of a sudden I got more work and more work and more work. And I went, "Well maybe things have shifted." And I think they have. - Author: Sandra Bullock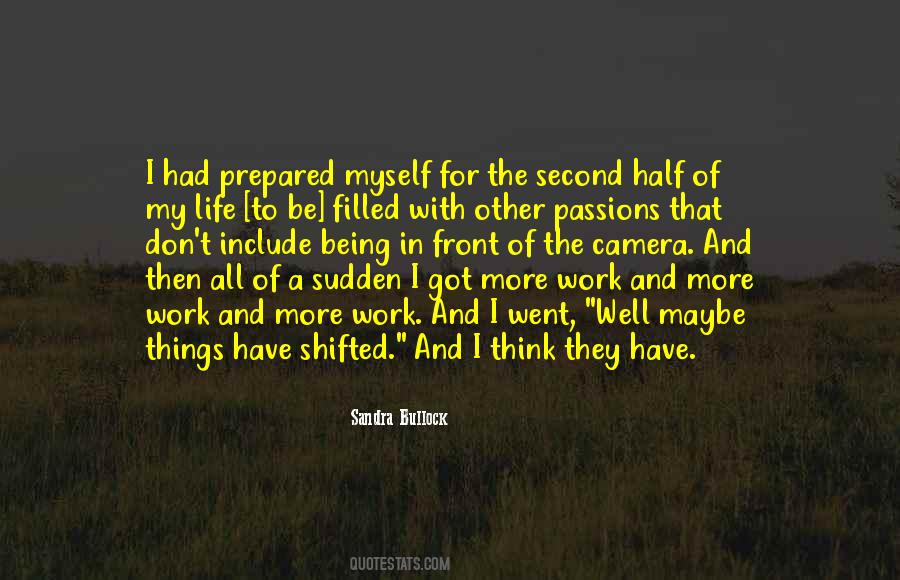 #47. There are three possible scenarios when it comes to your stilettos and sex: (1) You could wear your stilettos without having sex. (2) You could have sex without your stilettos on. And (3) you could have sex with your stilettos on, preferably at my house, and bring a camera. - Author: Michael Makai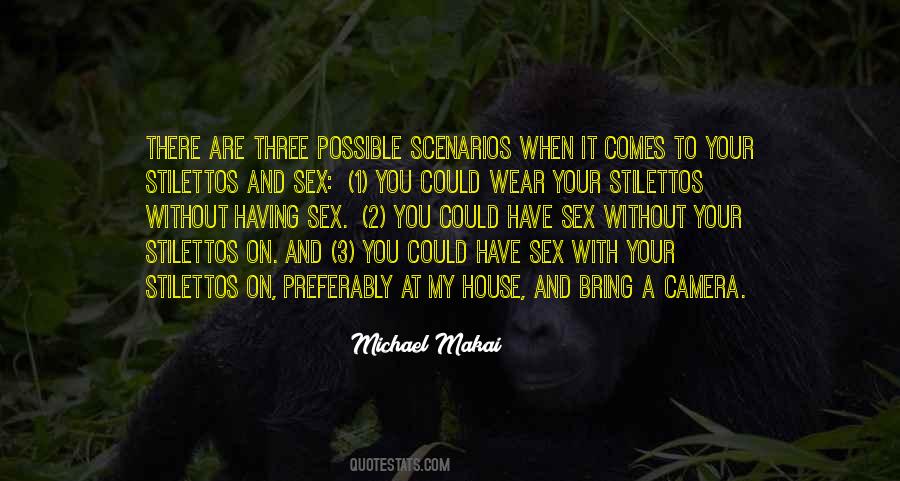 #48. Of course, it's wonderful to film any period piece - but especially 'Foyle's War' because the art direction is so imaginative and yet at the same time so real. You can open a drawer on set, and even though the camera never sees what's inside, it'll be filled with genuine 1940s documents. - Author: Honeysuckle Weeks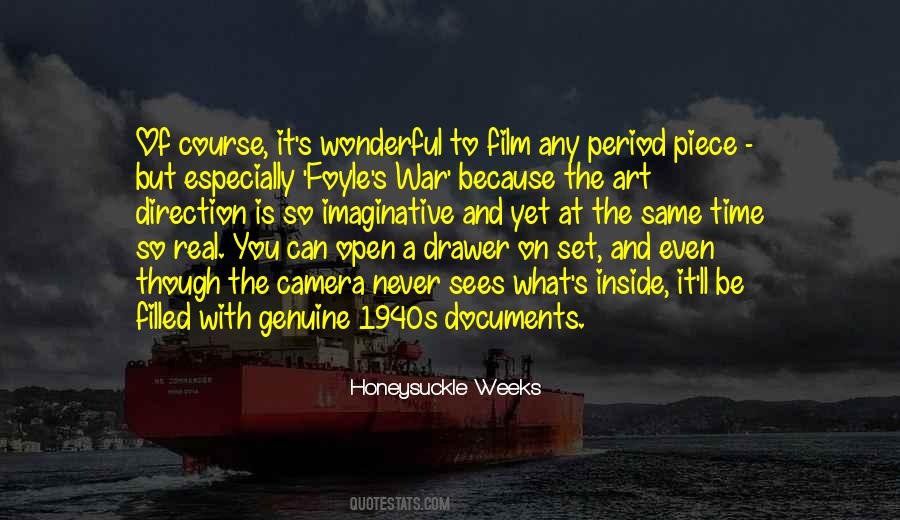 #49. There is only you and your camera. The limitations in your photography are in yourself, for what we see is what we are. - Author: Ernst Haas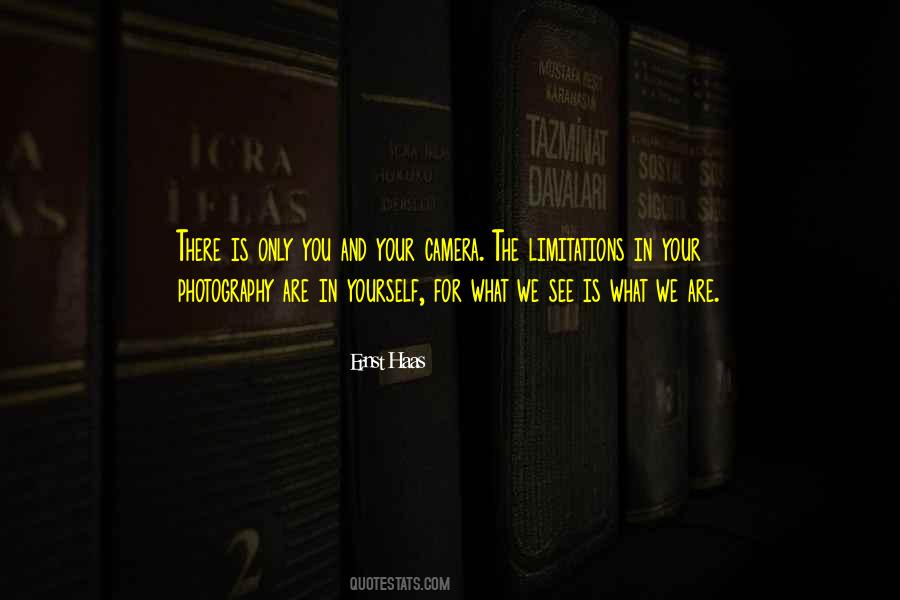 #50. If I could tell the story in words, I wouldn't need to lug around a camera. - Author: Lewis Hine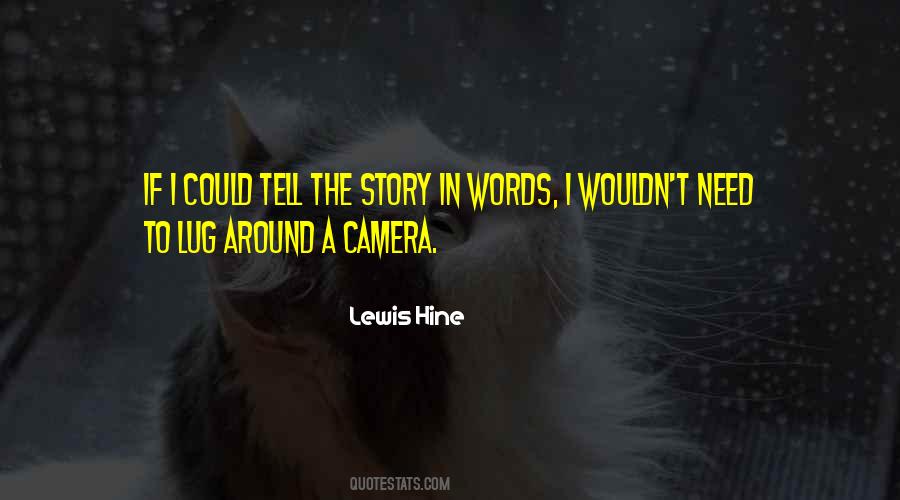 #51. Things develop in front of my camera, and then I will try to do the best out of it. I am close, but in most of the scenes, I am trying not to be seen. I think that's the trick. I think it starts in your heart, goes to the head, and the head puts it into the finger. - Author: Anja Niedringhaus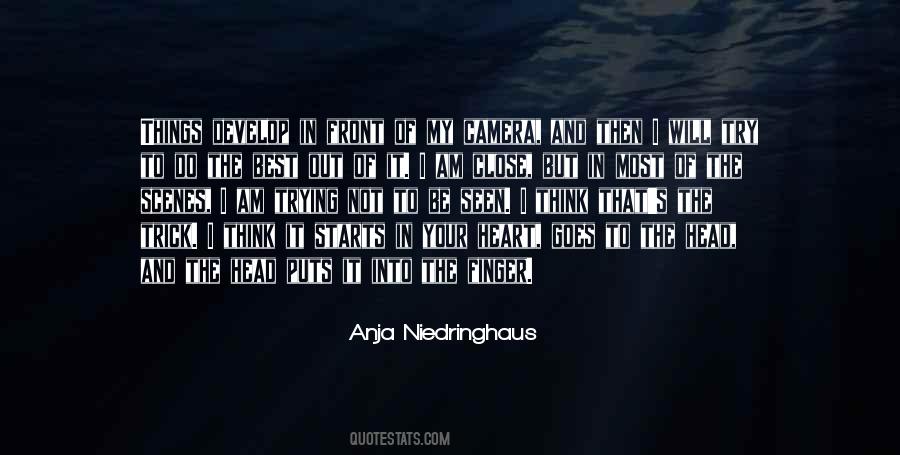 #52. I couldn't stand in front of any camera, and I couldn't go to places where there were a lot of people. I thought people would criticize me if I smiled, or even if I just stayed still. - Author: Im Yoona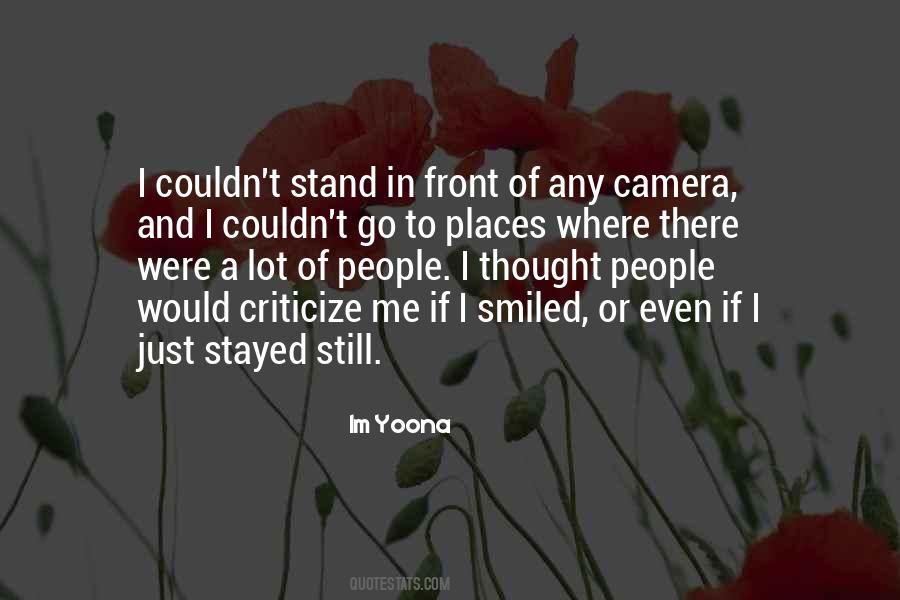 #53. I picked up a camera because it was my choice of weapons against what I hated most about the universe: racism, intolerance, poverty. - Author: Gordon Parks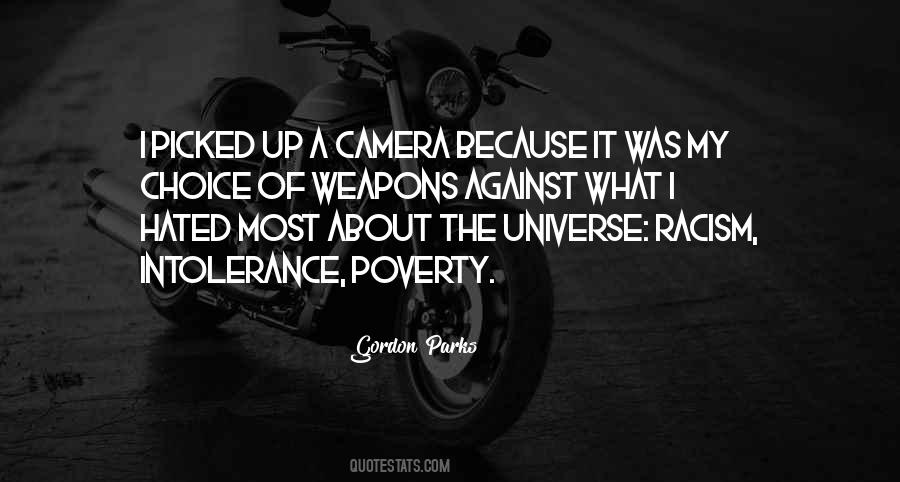 #54. I wish I could be the black woman Soderbergh, and put the camera on my shoulder and shoot beautifully while I directed. - Author: Ava DuVernay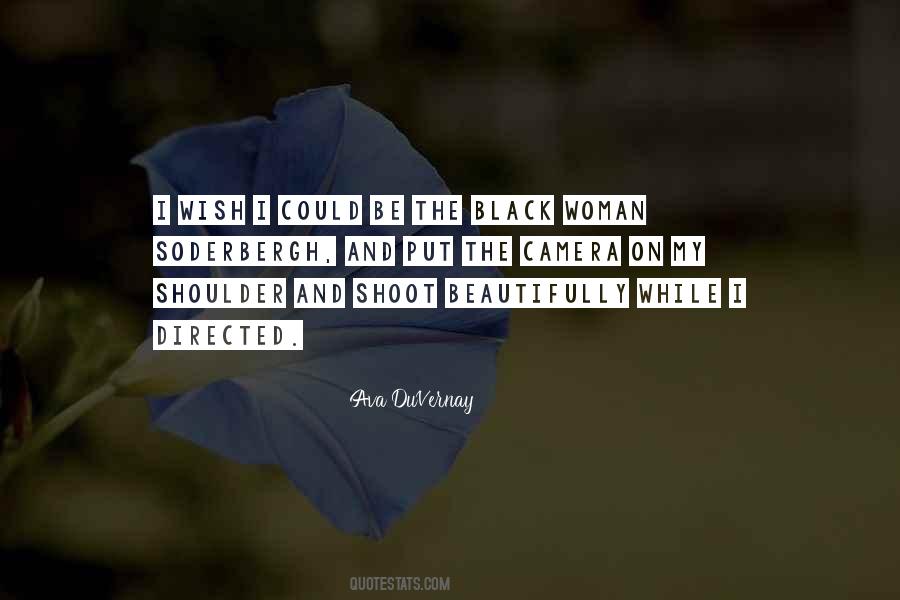 #55. It rubs me the wrong way, a camera ... It's a frightening thing ... Cameras make ghosts out of people. - Author: Bob Dylan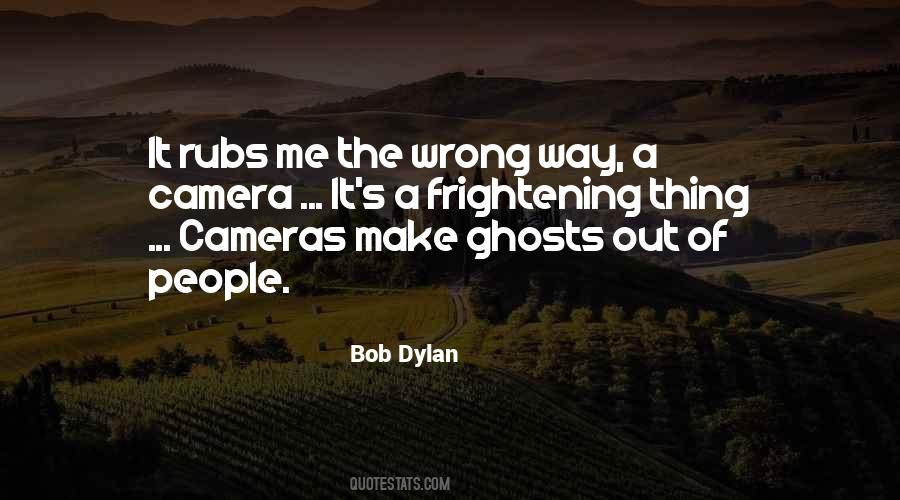 #56. As a young person, and I know it's hard to believe that I was shy, but you could take your camera, and it would take you to places: it was like having a friend, like having someone to go out with and look at the world. I would do things with a camera I wouldn't do normally if I was just by myself. - Author: Annie Leibovitz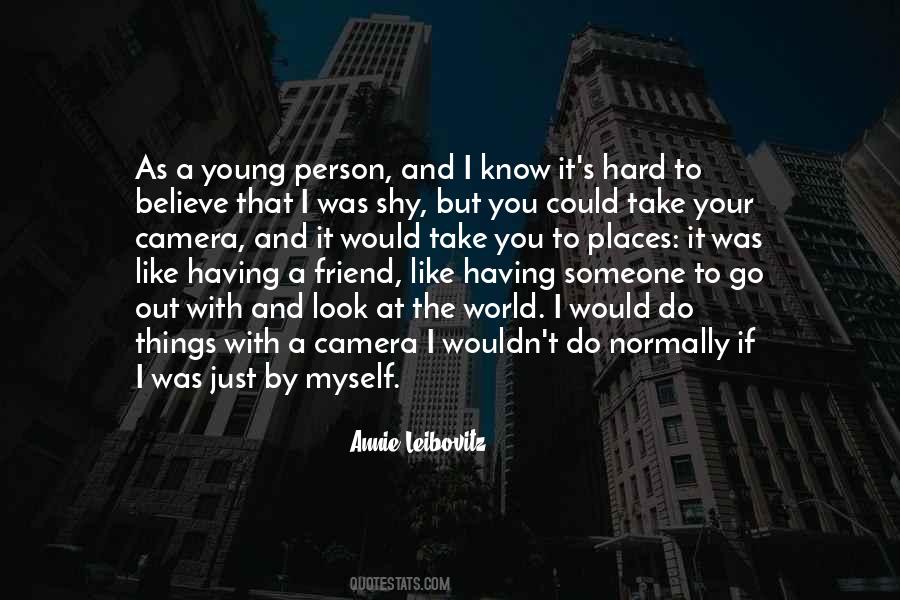 #57. I hate cameras. I hate cameras and I hate camera phones. The camera's my worst enemy and my best friend. It's the way I convey my emotions to the world without saying a word, so I use it. People always say, 'You come alive as soon as the camera's on!' - Author: Nicki Minaj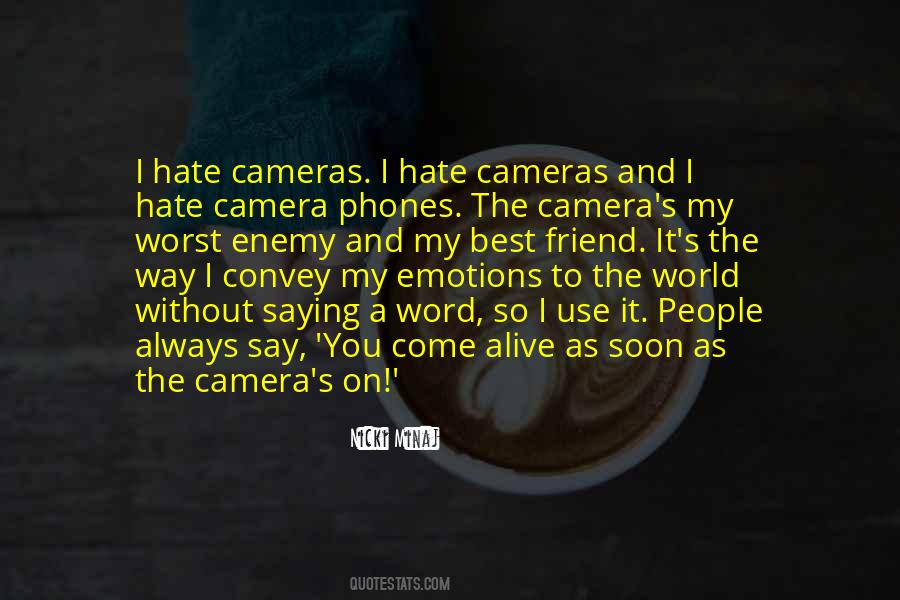 #58. I began to learn about the camera and the actors. That gave me a lot of the skills. At the same time, advertising gives you a lot of vices, for example, an obsession for a superficial look, but at the same time, it gives you the capacity to synthesize the story - tell a story in one minute. - Author: Alejandro Gonzalez Inarritu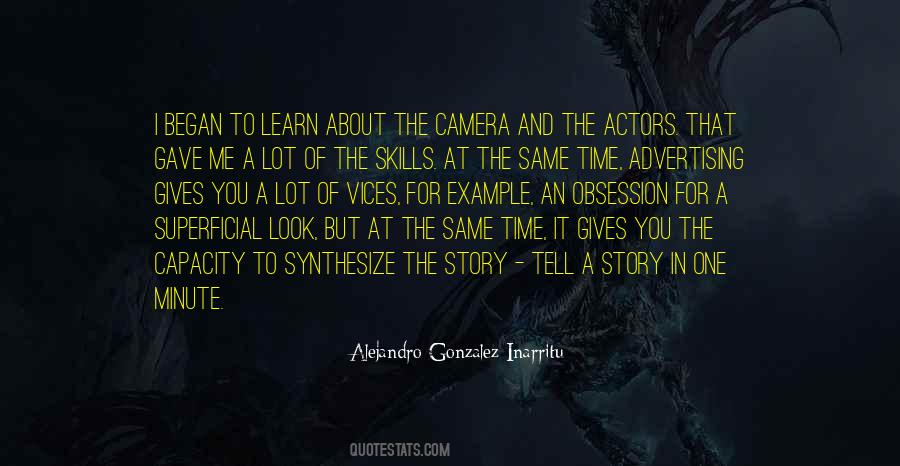 #59. Karl Malden was quite a mentor. He taught me things he had learned from being in front of a camera so long. - Author: Gary Cole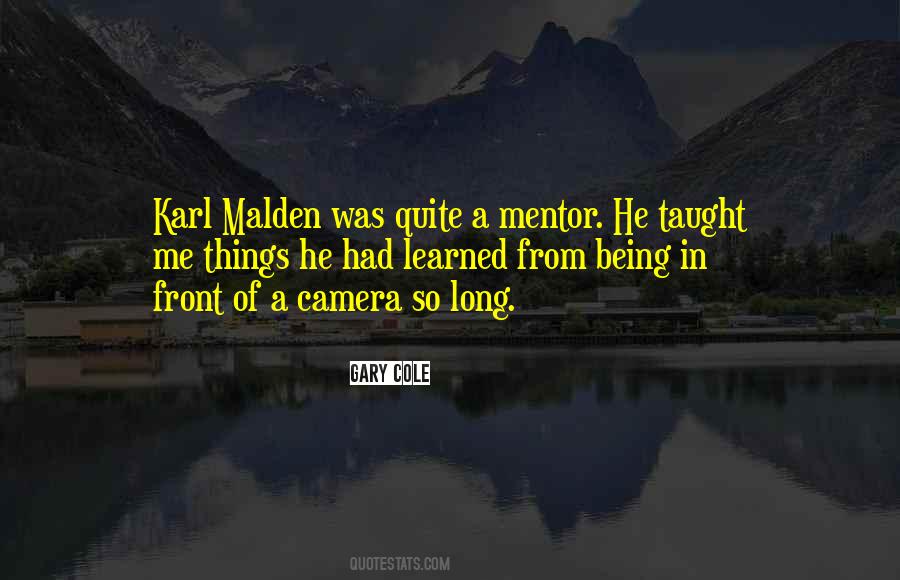 #60. Sanguine: You mind if I take pictures? Brought my own camera and everythin'
Valkyrie: Knock yourself out
Sanguine: Thanks
Valkyrie: No, really, run head first into a wall and knock yourself out - Author: Derek Landy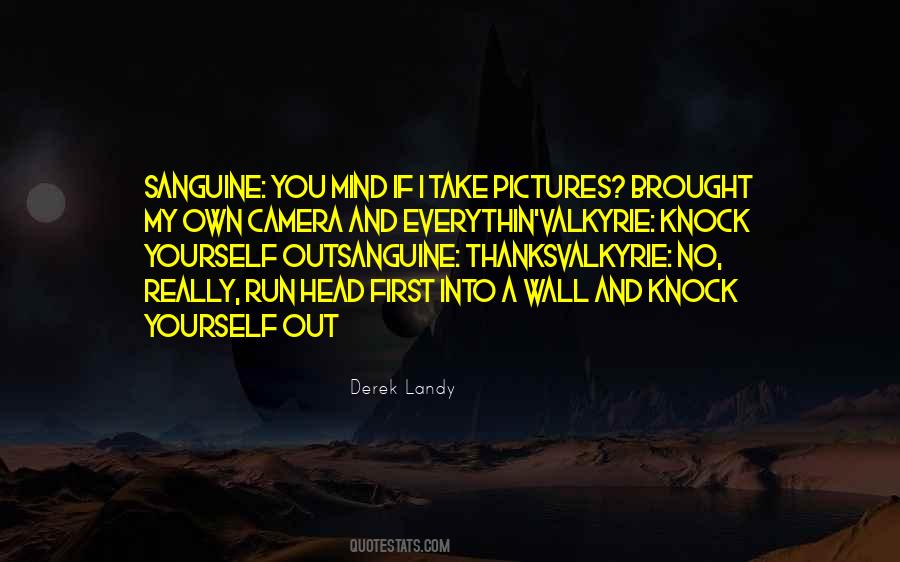 #61. It's such an awkward, strange thing that was concocted, to have auditions. Back in the old days, you'd just have a screen test, and they'd say, 'Oh, you seem natural in front of the camera,' and you'd just go do 10 pictures for Paramount or whatever. - Author: Vinessa Shaw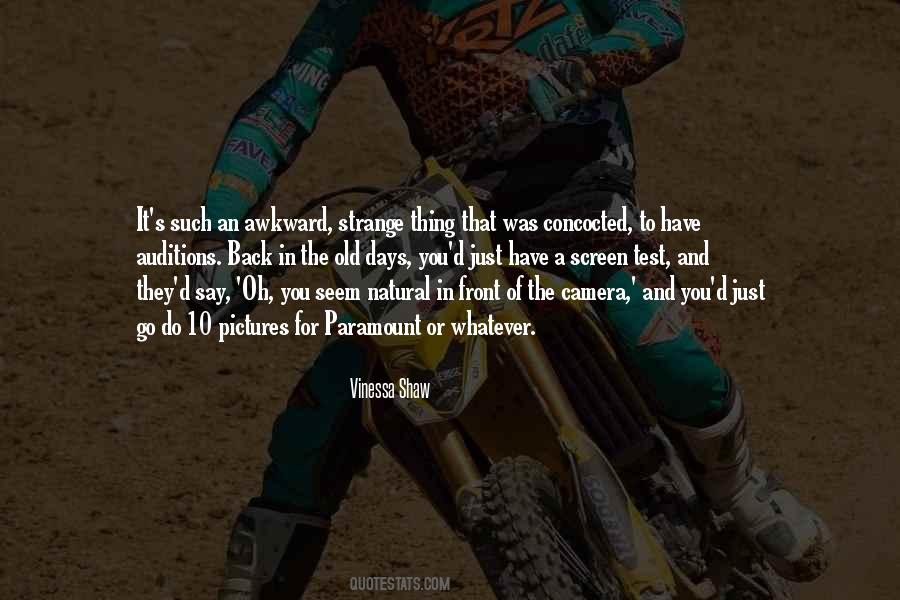 #62. I had no education in filmmaking. I started with a 8mm camera. I made 34 films, and little by little I gained more experience in filming. - Author: Bahman Ghobadi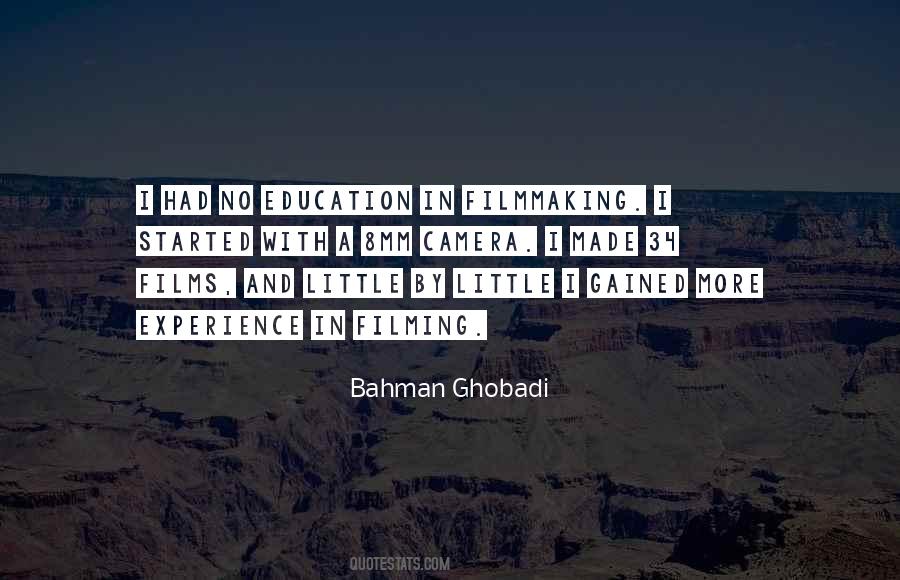 #63. I don't click pictures. People carry a camera with them while travelling, take pictures, keep them as memories, but I don't. I don't even have a camera. - Author: Katrina Kaif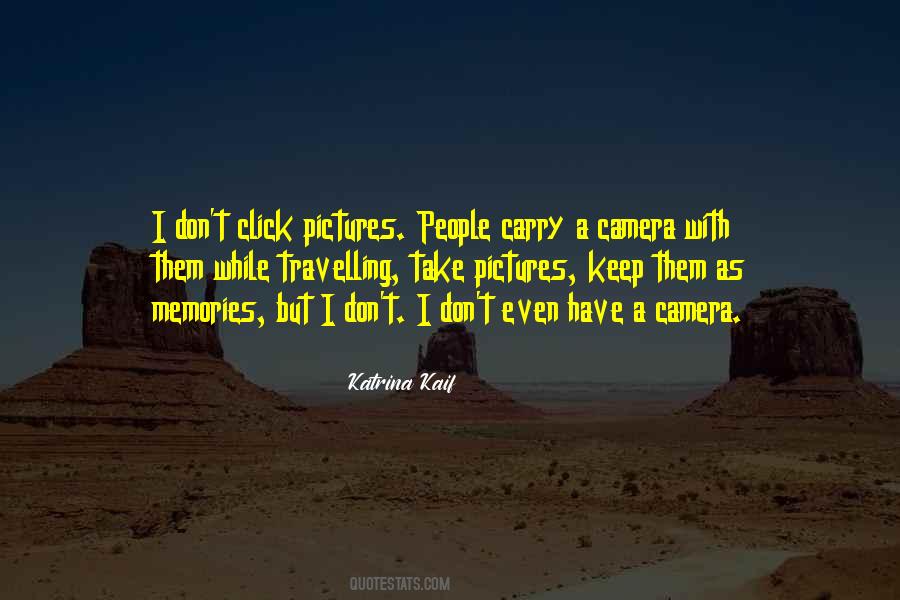 #64. The first dolly track was somebody who had the idea to put the camera on a boat on a canal. So the boat would move very slowly but steadily. So they would see all that surrounds you and you'd see the landscape changing slowly. So that was the first time. - Author: Michel Gondry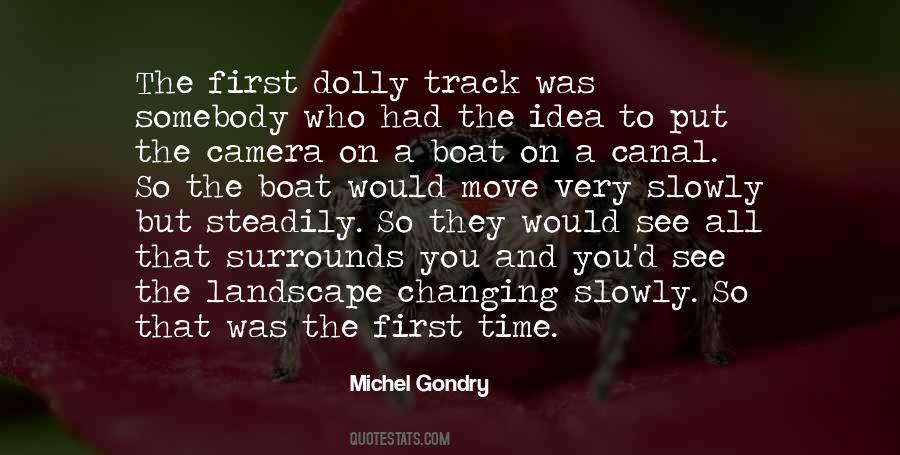 #65. The less friendly your relationship is on camera, the more useful it is to be friends with them off camera. - Author: Harry Lloyd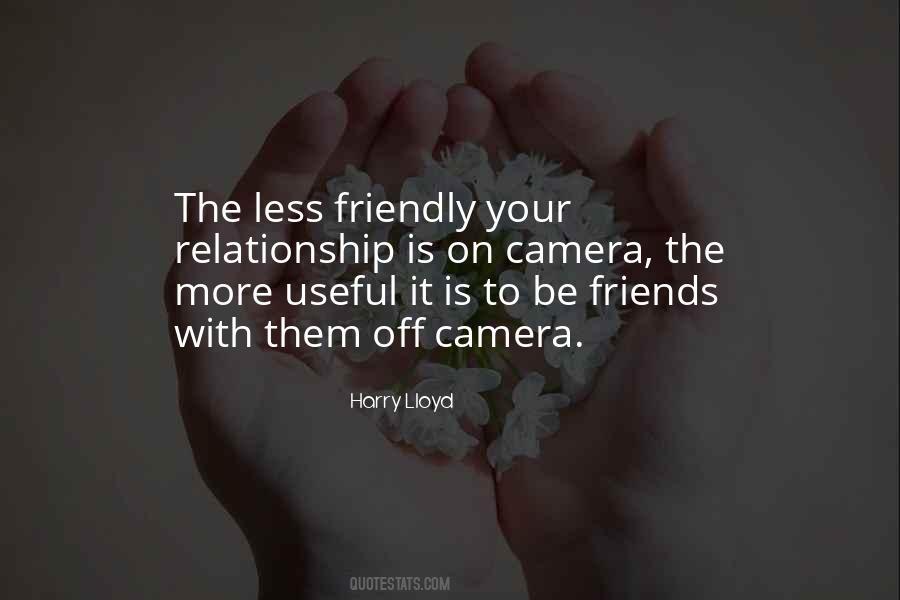 #66. With modeling, you pose. You want to look your best all the time. With acting, you have to be aware of the camera, but the more you show your imperfections, the better you're going to be. - Author: Diane Kruger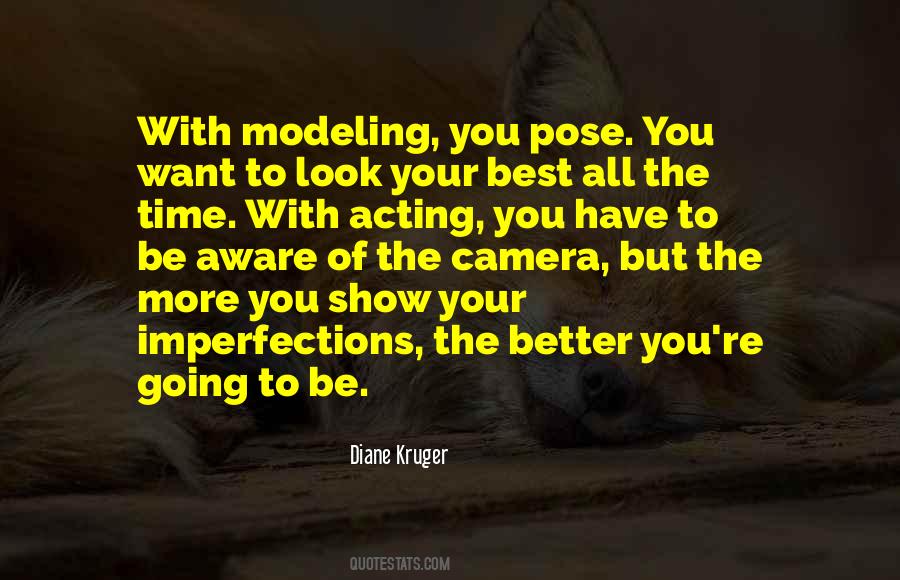 #67. The thrill of being in front of a camera remains exactly the same. - Author: Julie Andrews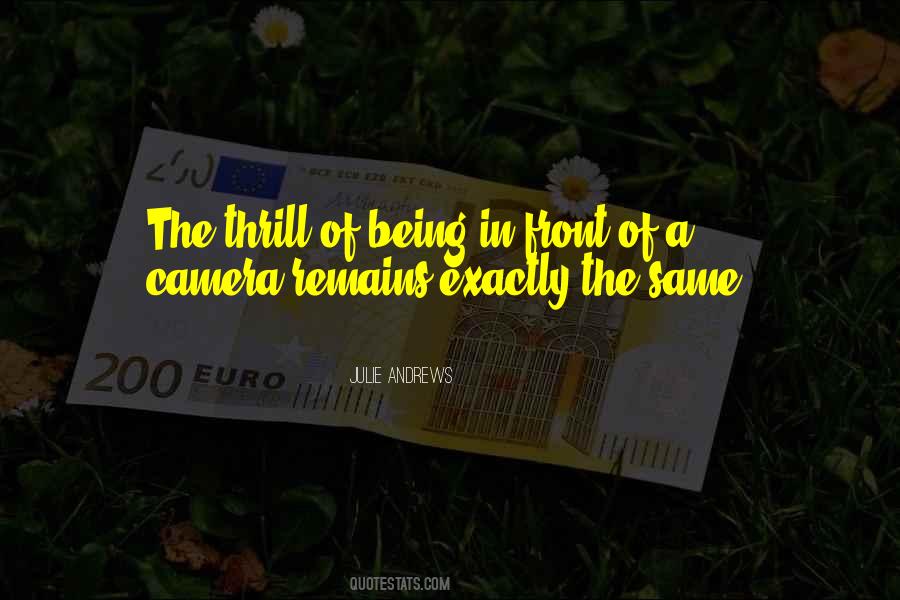 #68. Remember when vacation photos meant toting along a bulky camera? - Author: Peter Diamandis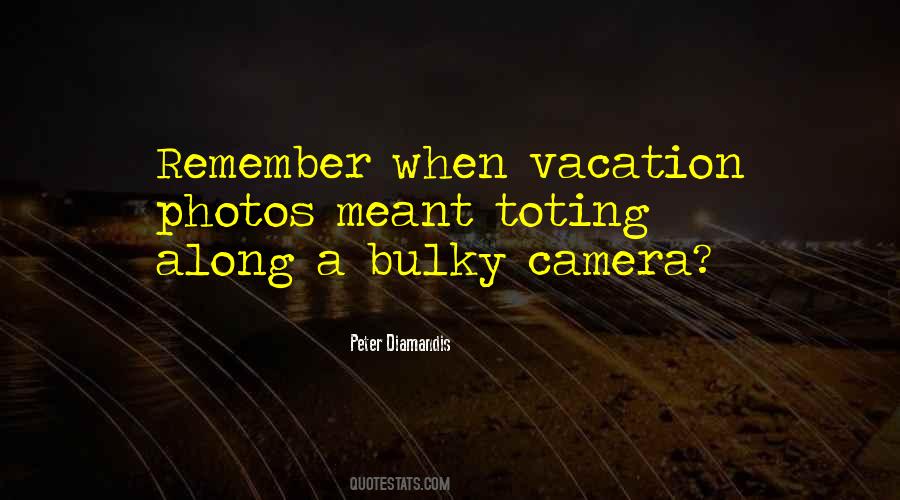 #69. I like acting too much and it's too, I'm just too busy doing that and I'm too hungry for it, to get behind the camera. I mean, unless I could act in it, too. I don't think I've got the right brain. I'm too disorganized. - Author: Rachel Weisz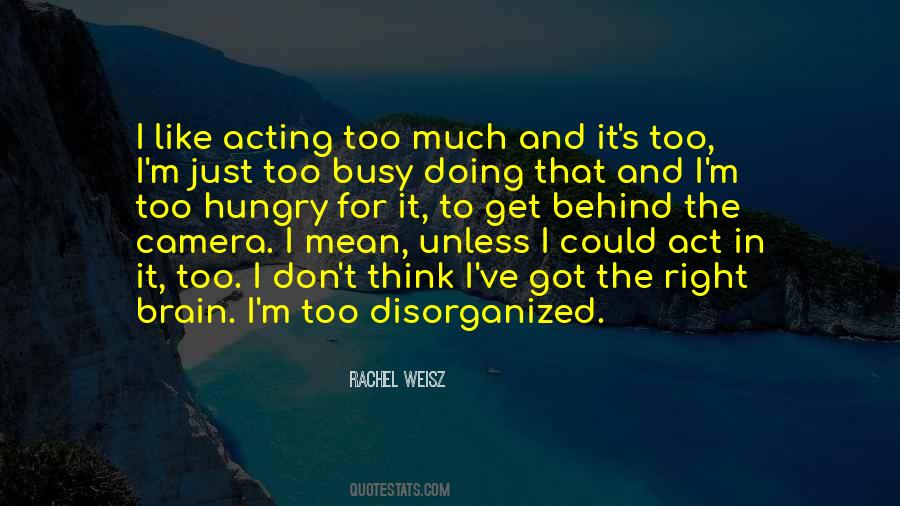 #70. People who have never done theatre before, and have only worked in front of a camera, would find it very difficult, I think, to know how to command a stage and work with the logistics of being on stage. They're very different. The theatre is quite tricky, actually. - Author: David Wenham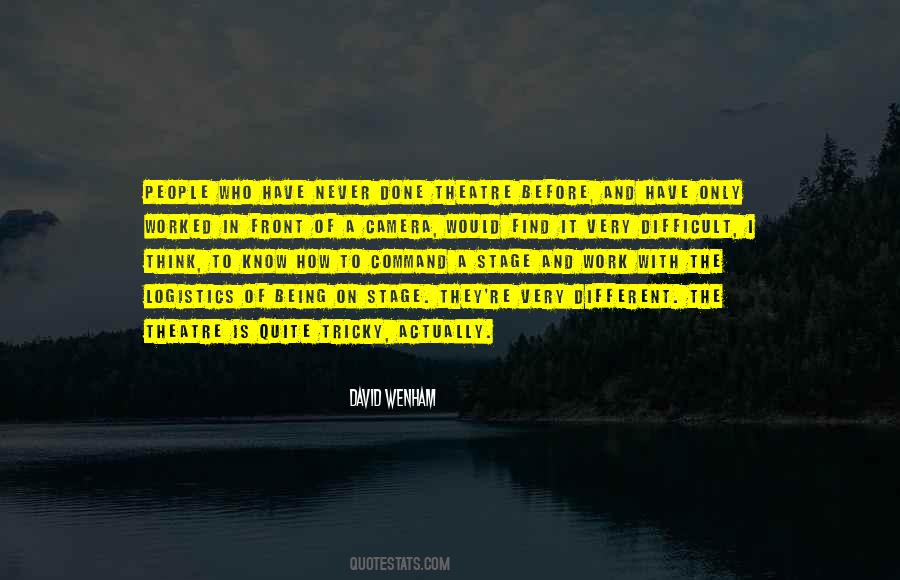 #71. I tend to always carry a camera with me. I live next to a fire station, and I've got lots of photos of the hook and ladder coming out of the house. And I like food, so I tend to photograph wonderfully presented food all the time. To me those are very pleasant memories. - Author: Gordon Bell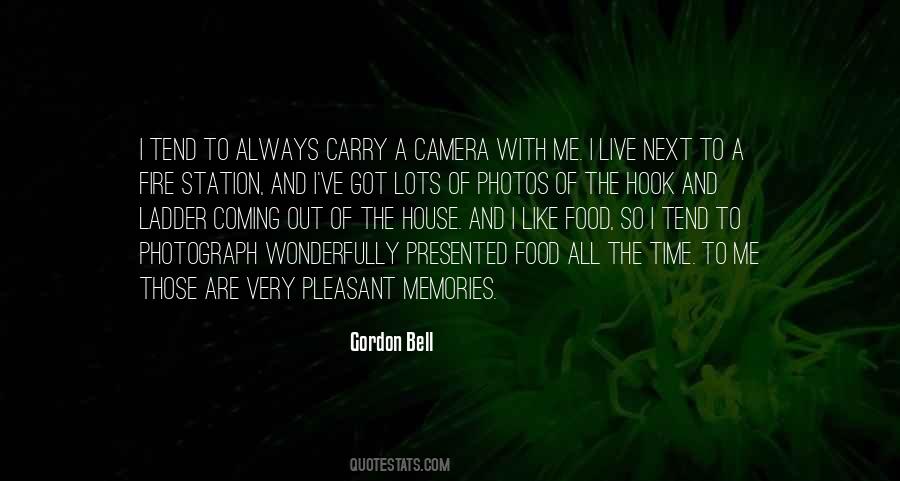 #72. I spent every day just praying that I didn't look like a big dork on camera. - Author: Lara Flynn Boyle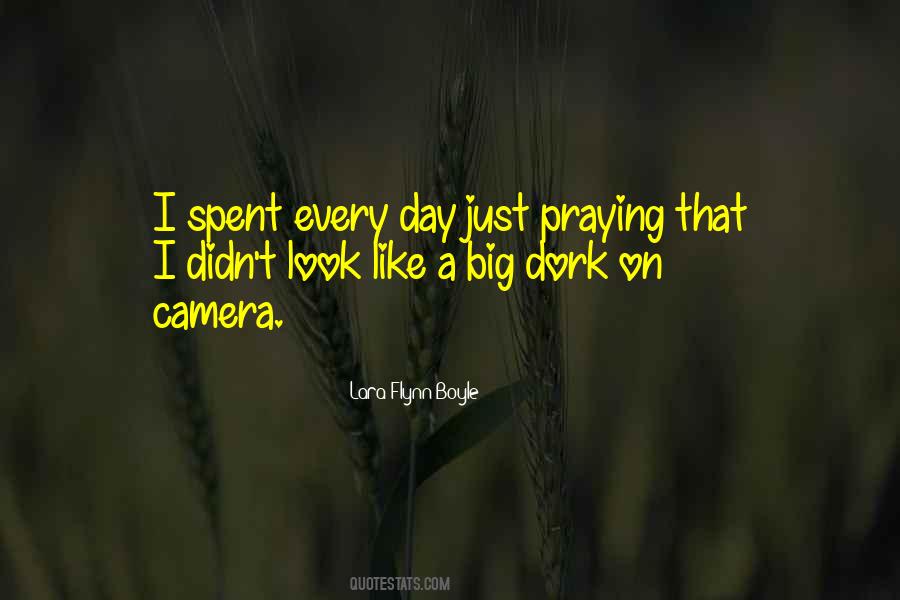 #73. About shadows: do we see shadows? Loads of people don't. A camera will notice a shadow, but how many people have got a shadow in front of them when they take a picture and don't notice it, and then they see it in the photograph because the photograph will catch the shadow. - Author: David Hockney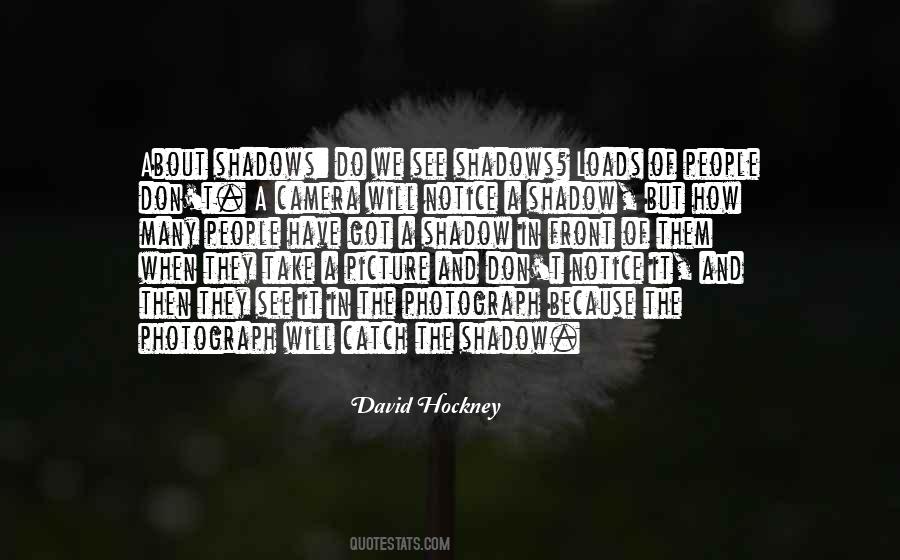 #74. I'd have conversations with the camera crew about what was going on in the scene, so that they were prepared to shoot it. I love the fact that when you work, you create this tribe. - Author: Susan Sarandon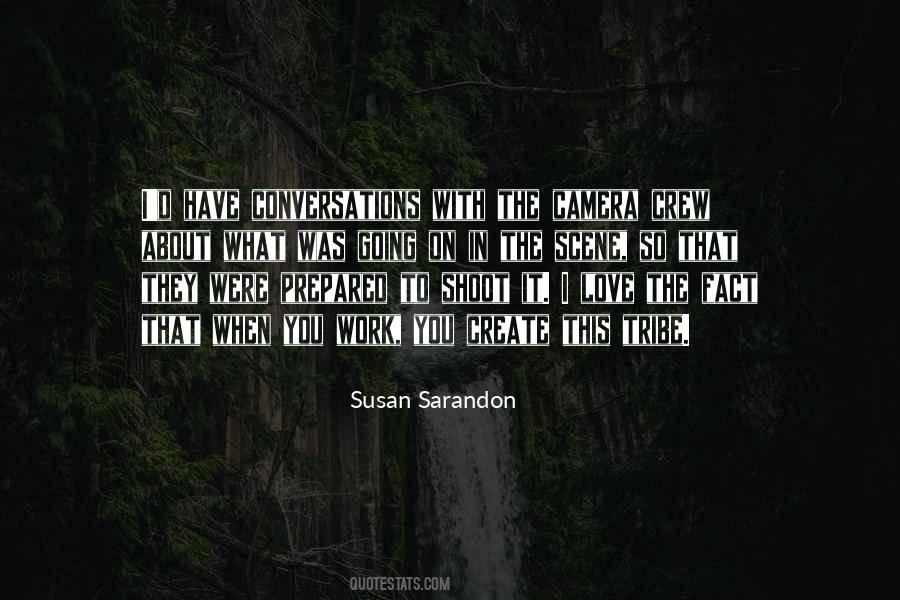 #75. Someone comes and drags you in front of the camera, and they're already saying, "Okay, we got it. Moving on." You get one or two takes. So it's a tough job. - Author: Kurt Voss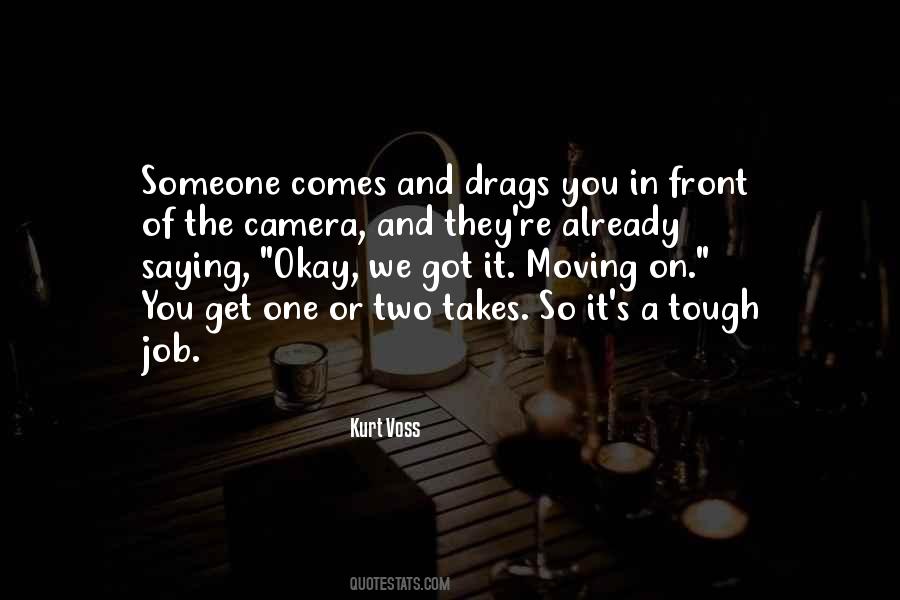 #76. Think about it; the quicktank is given a job most of us would laugh out of town. Build a sophisticated camera capable of full 3-D input and peripheral pickup, using only water and jelly.
Build an eye. - Author: Warren Ellis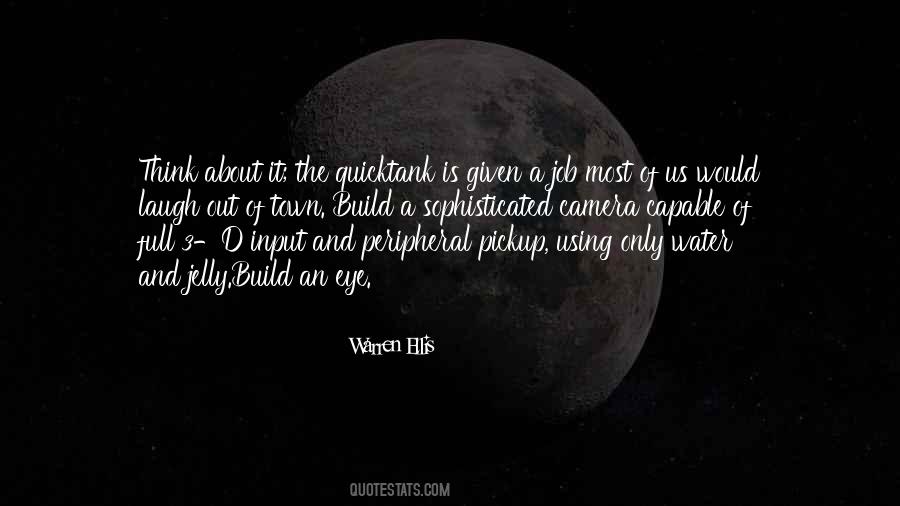 #77. I don't think there is any advantage to digital unless it's in a case like Slumdog Millionaire, where you have to get a shot and a big bulky film camera is out of the question. - Author: Vilmos Zsigmond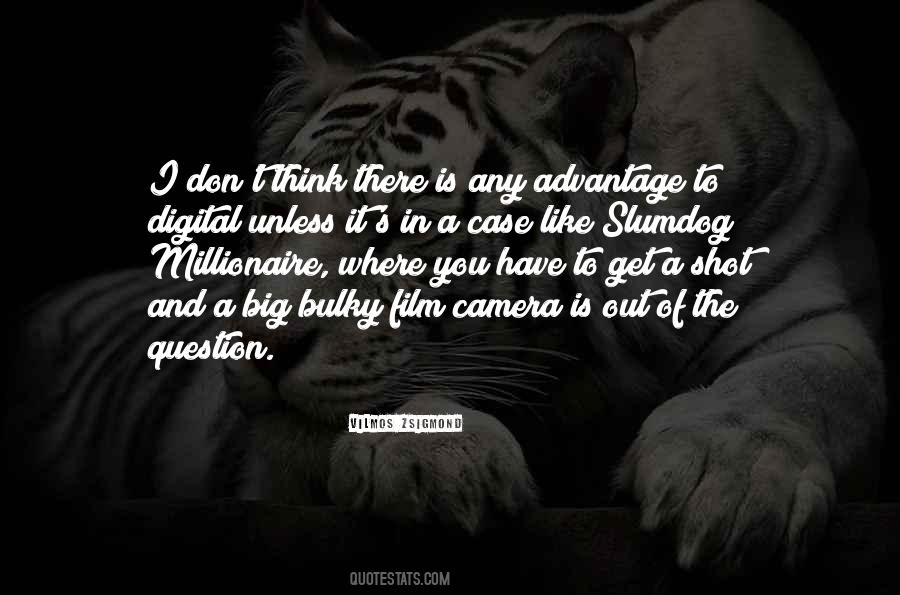 #78. I realized that my camera work could help me in a lot of ways to put the audience in the driver's seat, so to speak, to get them in there with the action, and to get them as close and be as intimate with what was going on on-screen as possible. - Author: James Wan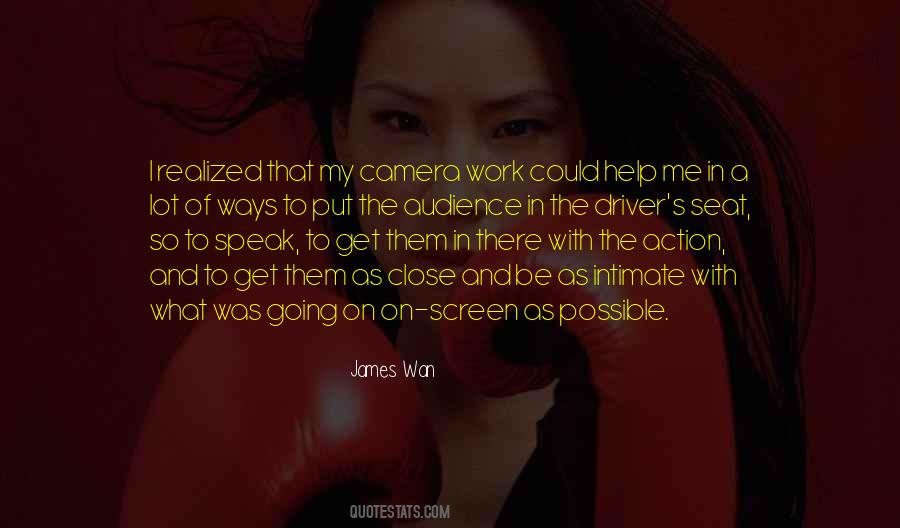 #79. A camera can get you close without the burden of commitment. It's a nifty device that way, a magical passport into people's lives with no permanent strings attached. - Author: Nina Berman
#80. The first picture of his I ever saw was during a lecture at the Rhyl camera club. I was 16 and the speaker was Emrys Jones. He projected the picture upside down. Deliberately, to disregard the subject matter to reveal the composition. It's a lesson I've never forgotten. - Author: Philip Jones Griffiths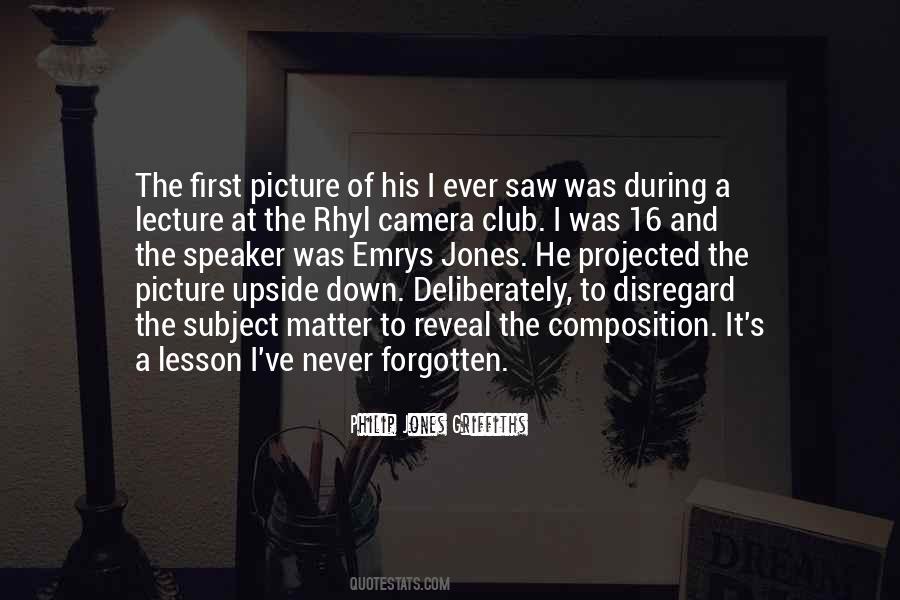 #81. The stage and working in front of a camera are two completely different mediums. Each requires different techniques. - Author: Tamara Tunie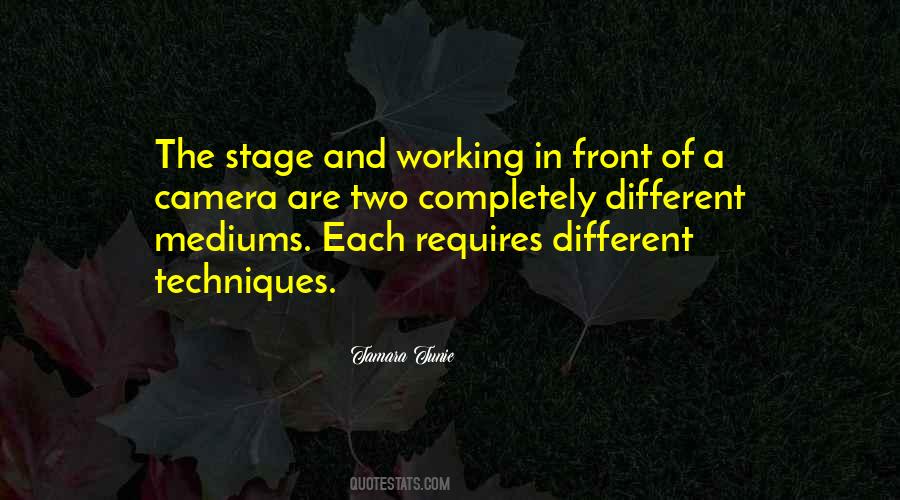 #82. When you're modeling you're actually acting for the camera and the photographer. It's more fun, too because there are no lines to memorize. - Author: Cindy Margolis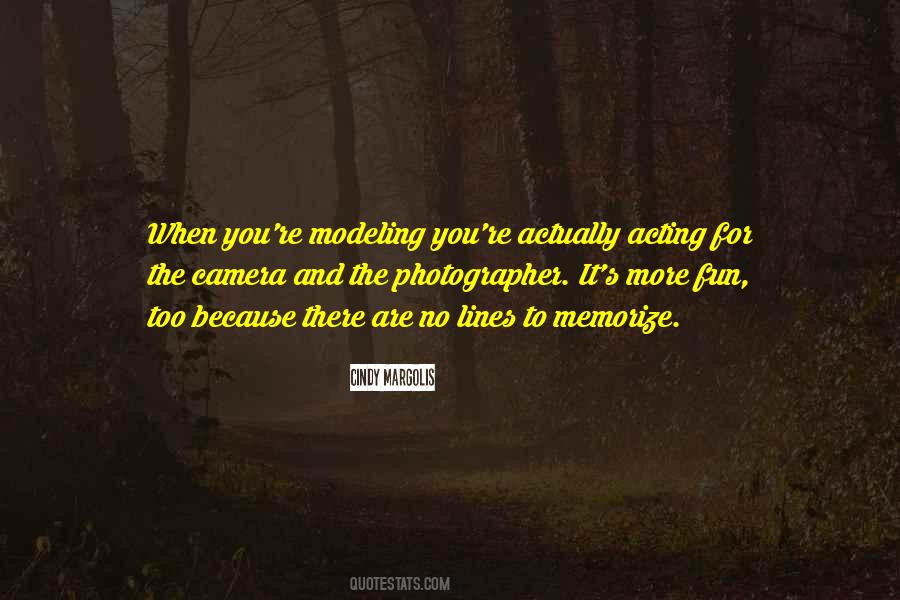 #83. I went to USC and tried to learn about the other side of the camera a little bit. - Author: Joseph Mazzello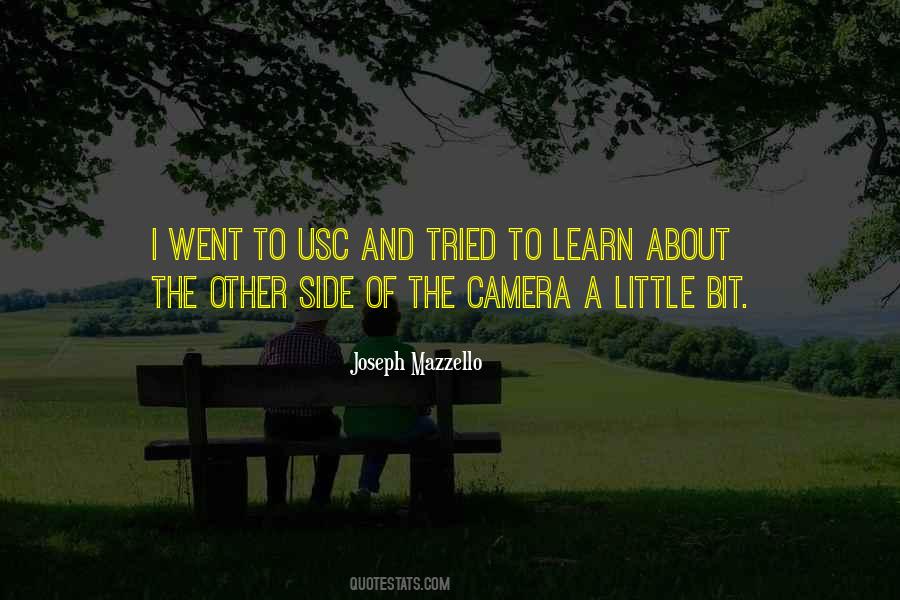 #84. I loved being on the other side of the camera. I loved watching another actress in the spotlight, do an extraordinary job, and I loved making her beautiful and interesting, protecting her emotions, and showing people her talent. - Author: Angelina Jolie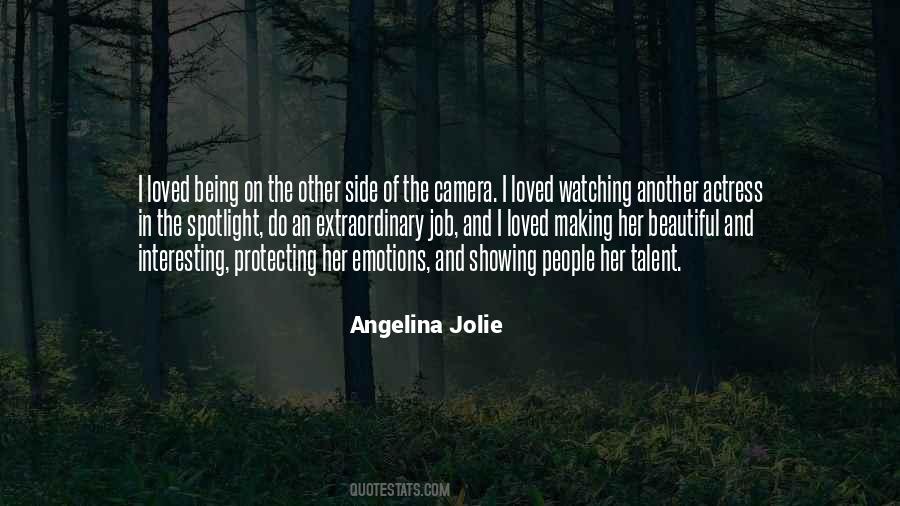 #85. It was hard to see where he was going, and he was careful not to damage the camera, so expensive that his father made him name it (Carl), so he would treat it more carefully. - Author: Kevin Wilson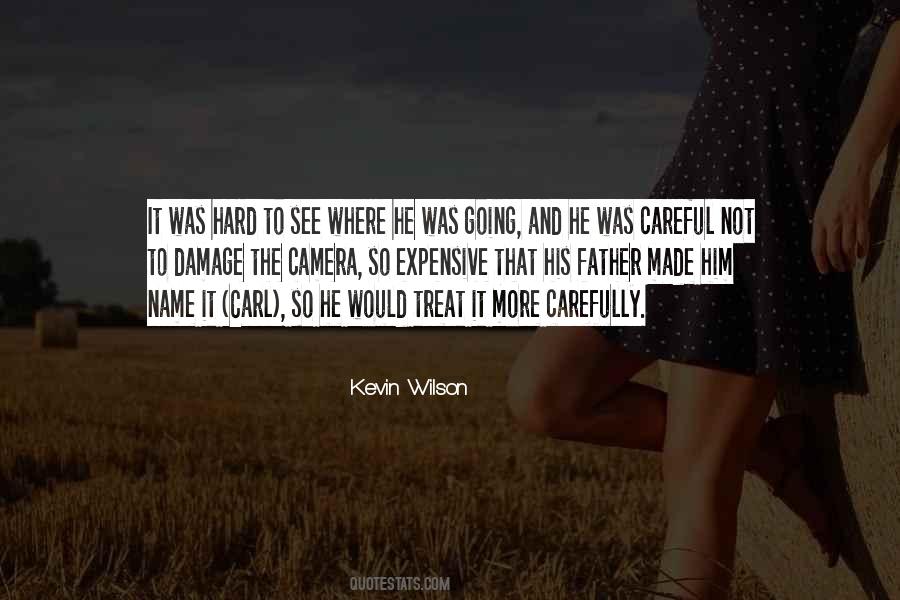 #86. [ ... ] there exists something beyond what we have in front of us. Something equally real, but that a camera cannot perceive. So I have to learn that sometimes it is necessary to give oneself up to the mystery. And accept that it is not granted to us to understand everything. - Author: Donato Carrisi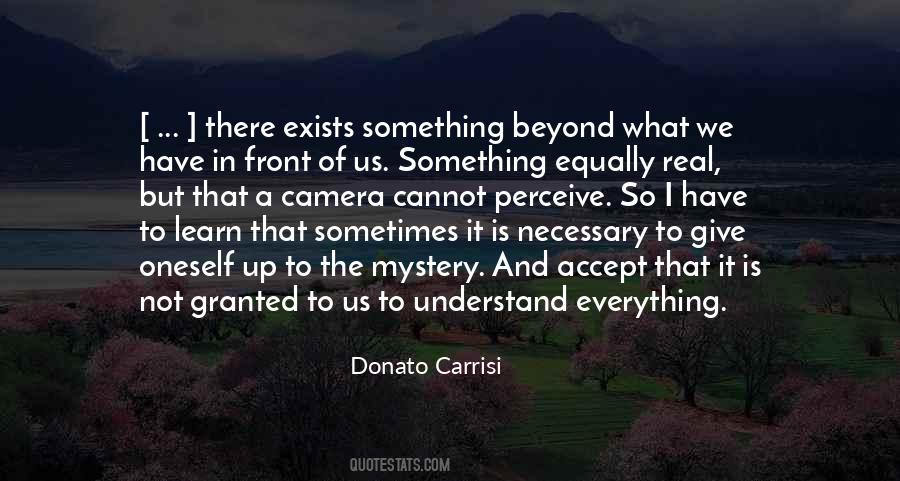 #87. Richard Leacock and I ran into a guy who knew how to carve up a camera, and we had him carve one up for us. We had him chop it down and change the gears from metal to plastic, which would cut down on the sound it made when it was running. - Author: Robert Drew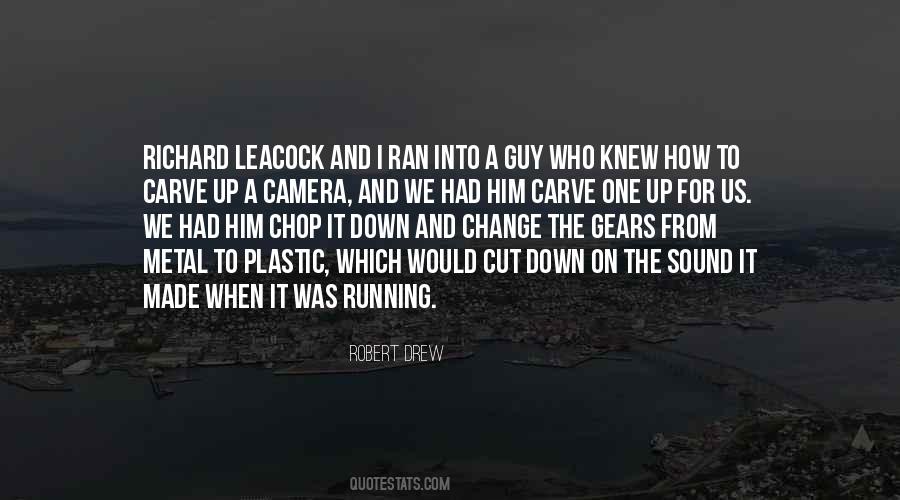 #88. The head of the photographer is more important than his camera - Author: Philippe Halsman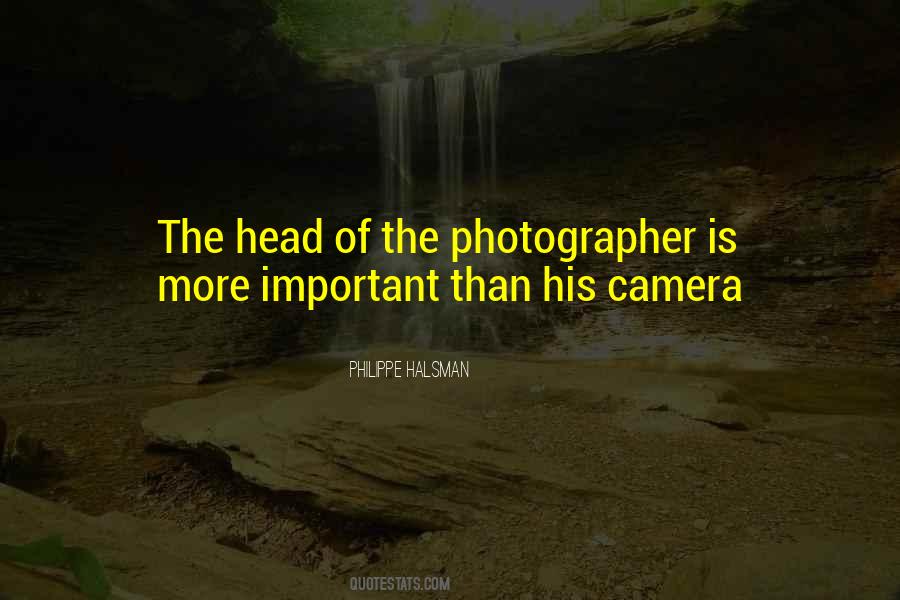 #89. I love improvisation. You can't blame it on the writers. You can't blame it on direction. You can't blame it on the camera guy ... It's you. You're on. You've got to do it, and you either sink or swim with what you've got. - Author: Jonathan Winters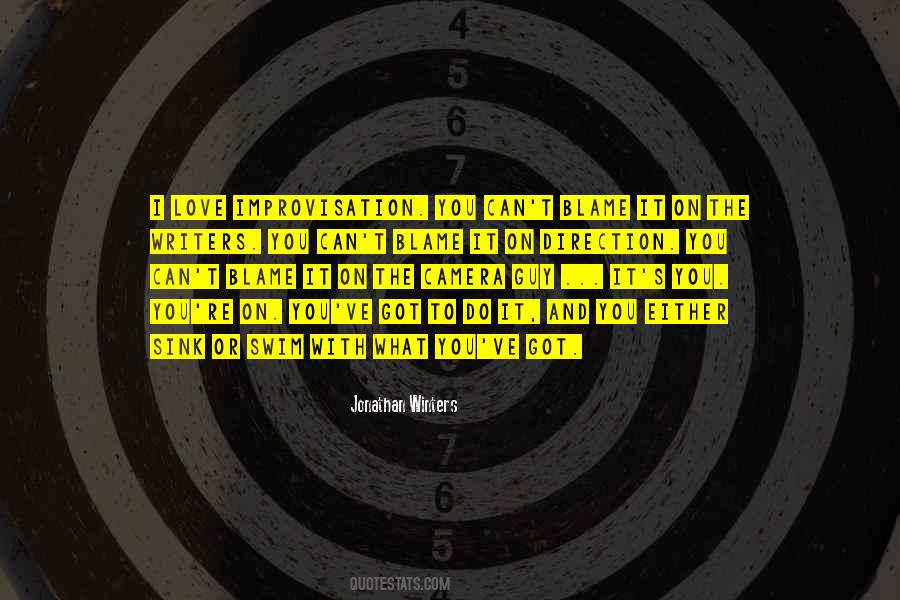 #90. It's more important for a photographer to have very good shoes, than to have a very good camera - Author: Sebastiao Salgado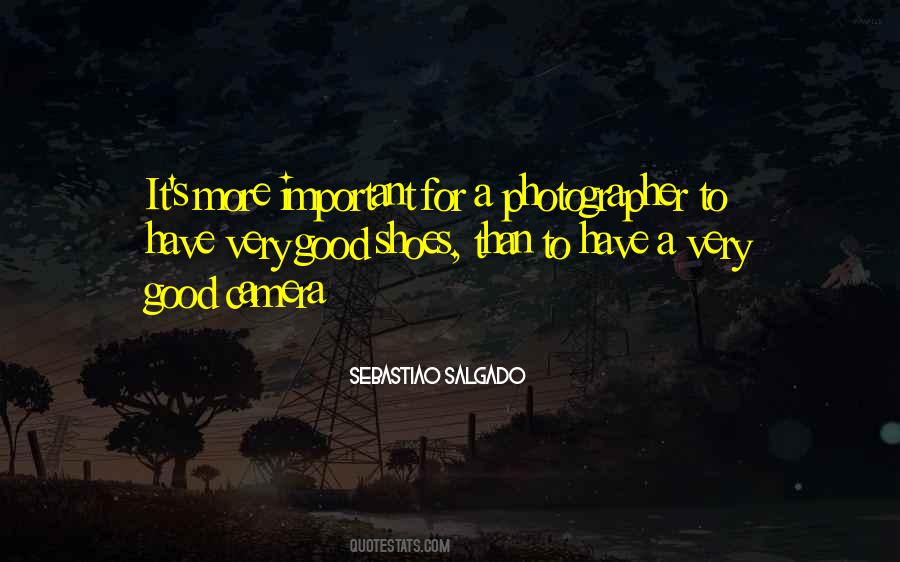 #91. You think the only thing looking at you is this steel thing, but behind the camera is this living, breathing person operating the camera whose job it is to watch you. - Author: Uzo Aduba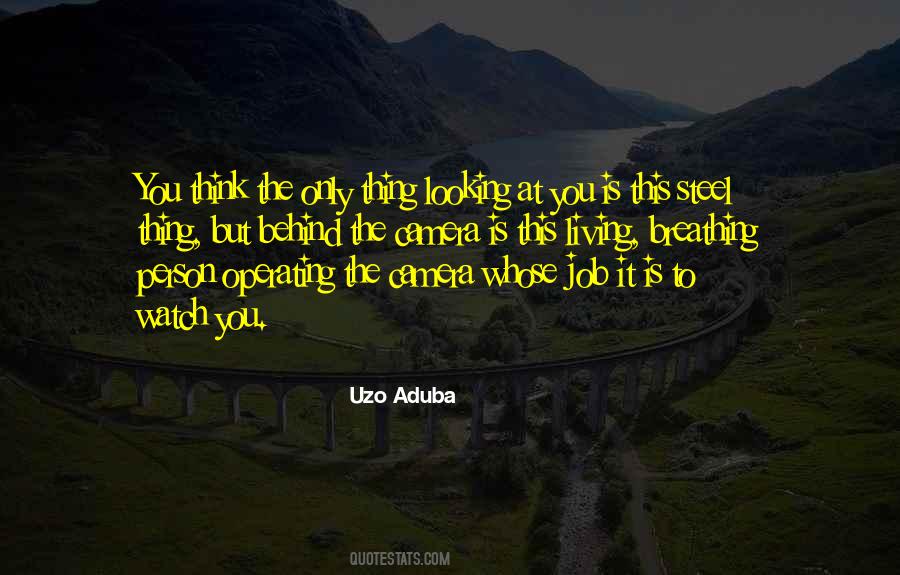 #92. Biologically, I'm lucky - an angular face and dark colouring which shows up well on camera. - Author: Robert Carlyle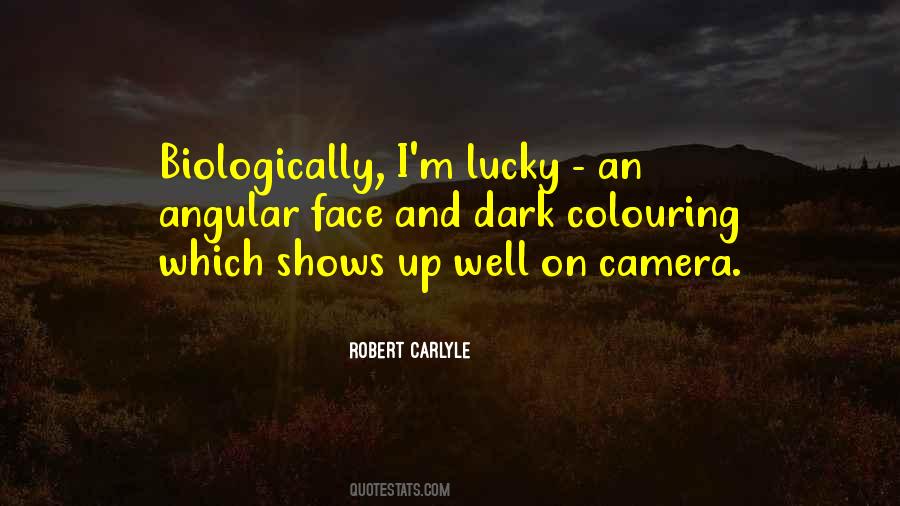 #93. When you're in front of a camera, it's not the words that count but the way they sound. It hardly matters what you say as long as you say it with a smile. - Author: Marc Levy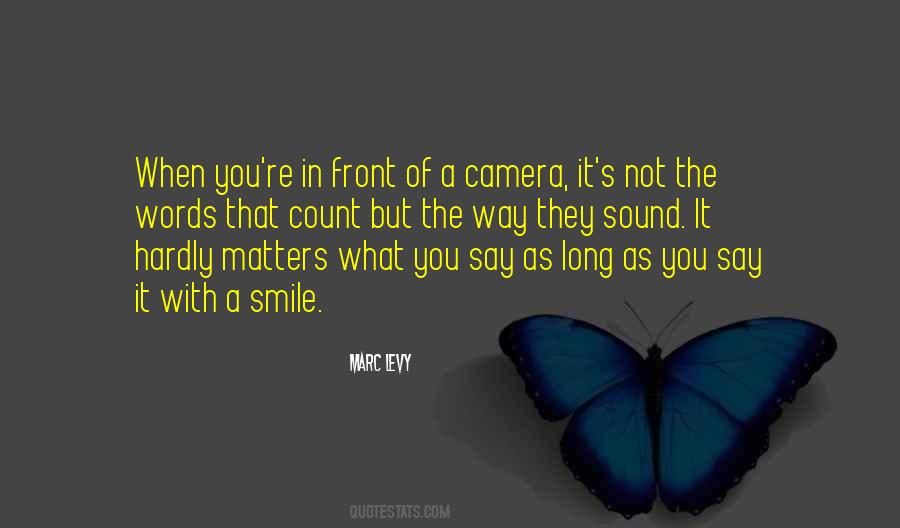 #94. Years ago - in the 70s, for about a decade - I carried a camera every place I went. And I shot a lot of pictures that were still life and landscape, using available light. - Author: Leonard Nimoy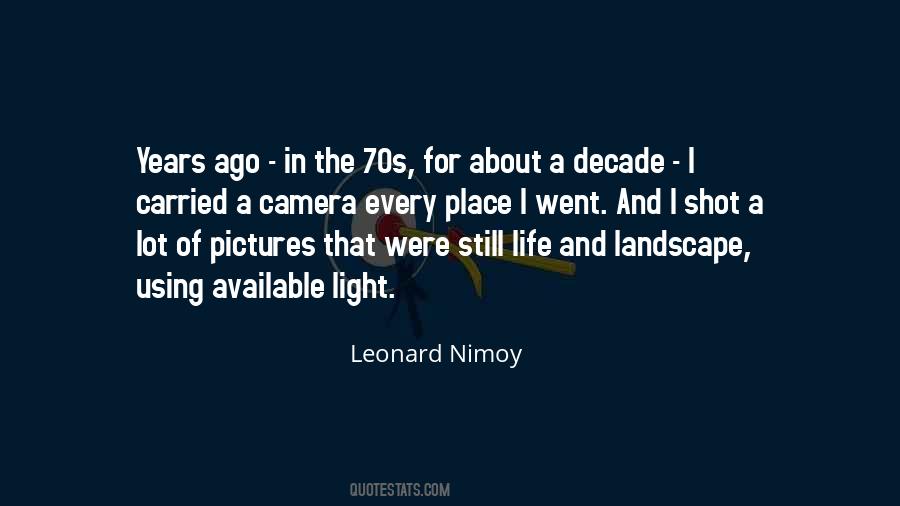 #95. We did a 60 page book in one day. She's one of the most photogenic, easy to shoot, inspiring, extraordinary people in front of the camera who I've ever photographed. Yes Taylor Swift has it all. My goodness that girl has it all, what can I say she's extraordinary. - Author: Nigel Barker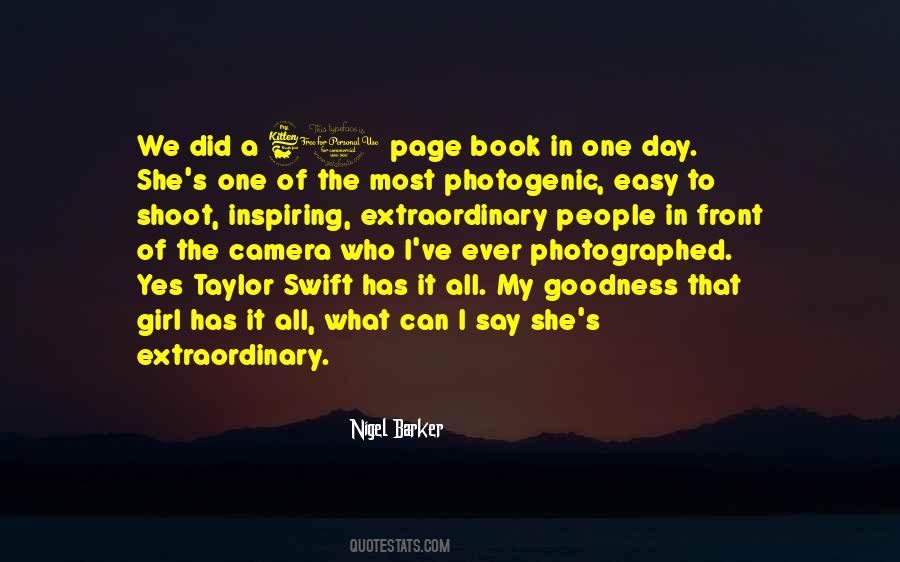 #96. Sam's eyes wandered up to the camera again. "Are we being recorded?" "Yes." "Who's watching us right now?" The detective sighed. "A couple of really experienced police officers. Actually, I have no idea. Wave if you want to." Sam lifted a hand and wiggled a few fingers. - Author: Jennifer Hillier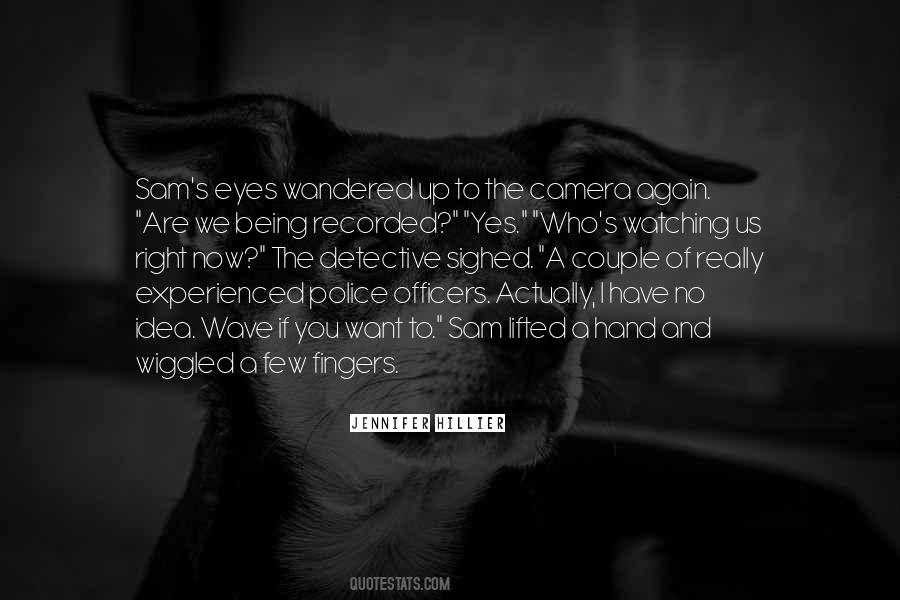 #97. Camera but no selfies, which represent selfishness and egotism. Social media? Again: not really me. - Author: Maurice Levy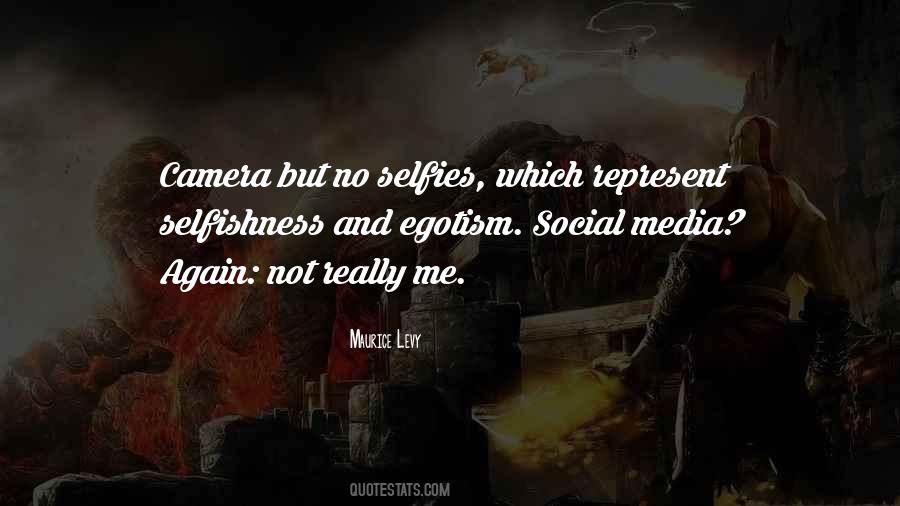 #98. As a little girl, I was always shy, but in front of the camera I wasn't. - Author: Bar Refaeli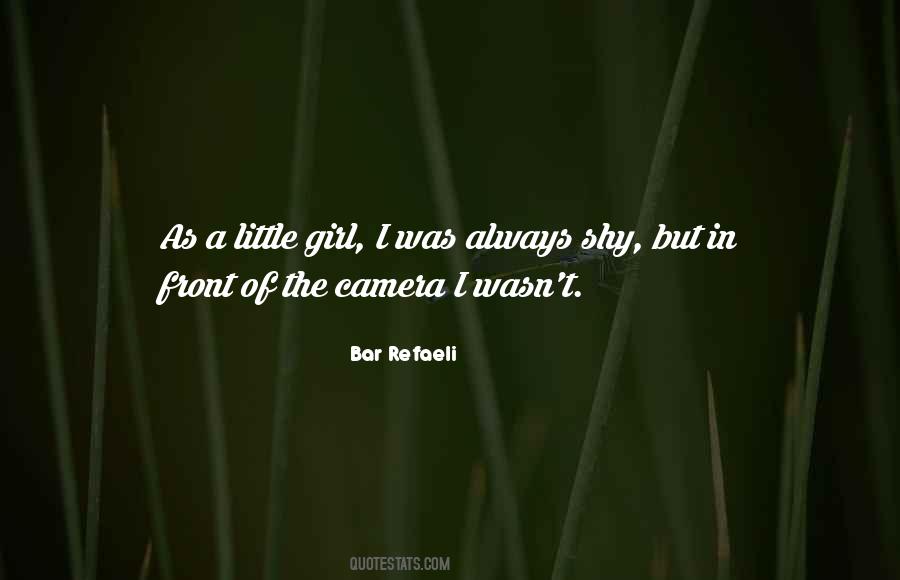 #99. Sometimes we work so fast that we don't really understand what's going on in front of the camera. We just kind of sense that, 'Oh my God, it's significant!' and photograph impulsively while trying to get the exposure right. Exposure occupies my mind while intuition frames the images. - Author: Minor White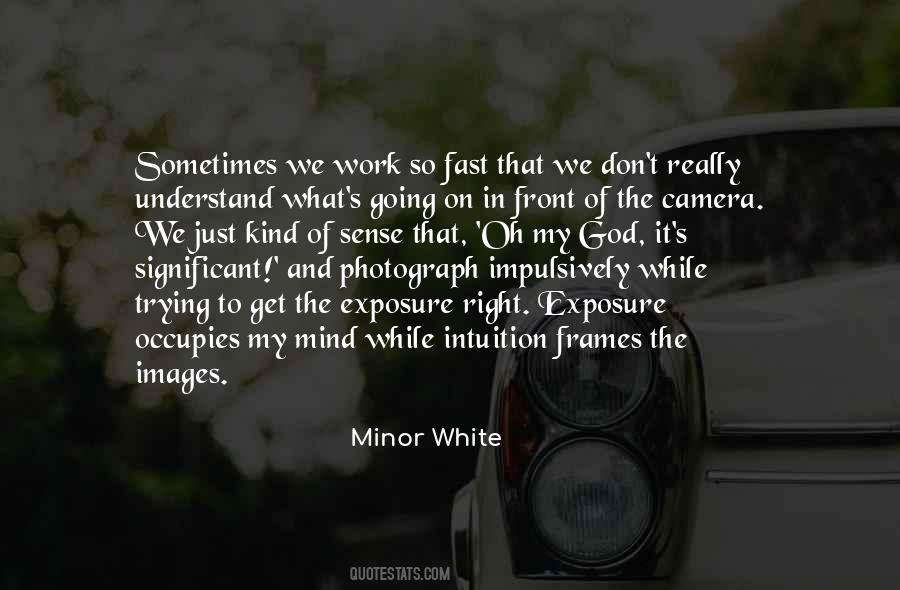 #100. Death Race was a very modern action movie and it used all of those modern action techniques with lots of hand-held camera, lots of punchy zooms, and lots of quick movements and quick cuts. In 3D, I didn't want to do that anymore. - Author: Paul W. S. Anderson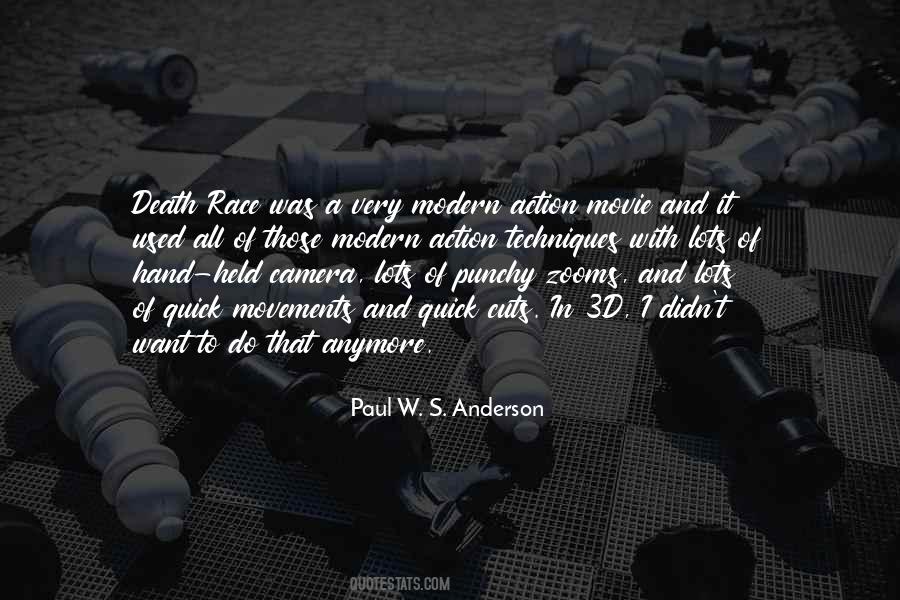 Famous Authors
Popular Topics