Better Days Famous Quotes & Sayings
List of top 100 famous quotes and sayings about better days to read and share with friends on your Facebook, Twitter, blogs.
Top 100 Quotes About Better Days
#1. You might think you're a good liar, but you're not. I'm better at this than you are. Your professional lying days were limited to junkies and whores, but I routinely lie to Congress . . . Well, never mind. I suppose we're not that different after all. - Author: Larry Correia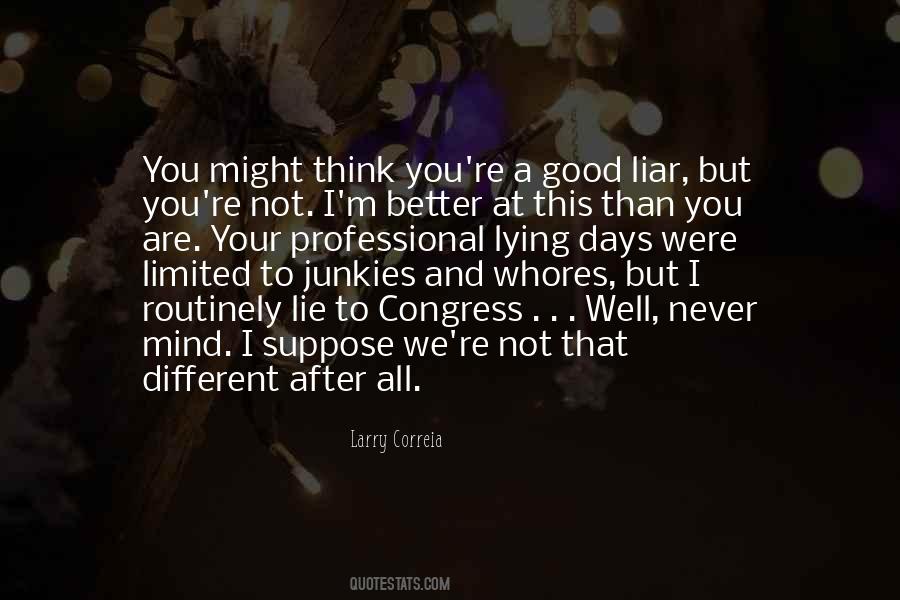 #2. But what's regret anyway? Regret, I am learning these days, is a lot of things. But mostly, it's a slippery seed of longing, of looking back and asking yourself why you didn't know better when the answers were so obvious all along. - Author: Allison Winn Scotch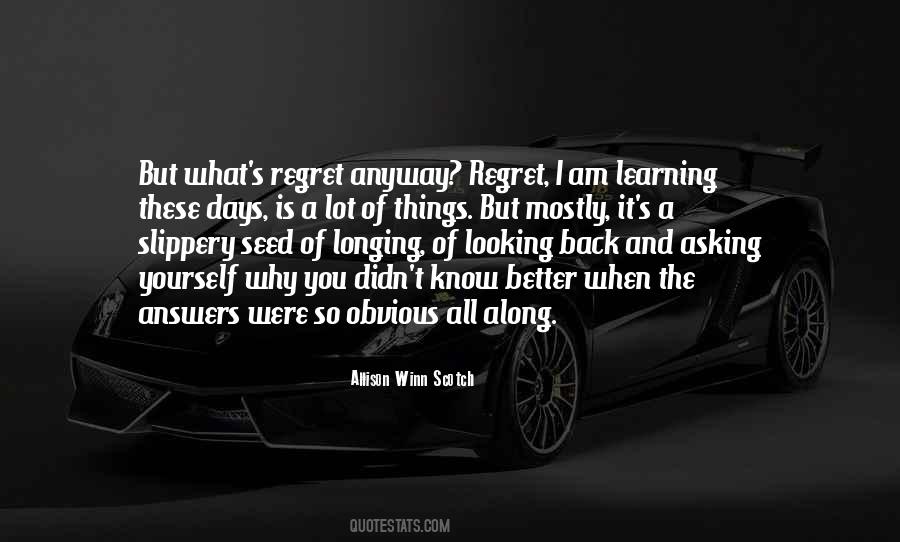 #3. I cannot think of a thing that was better in those good old days. - Author: Rose Schneiderman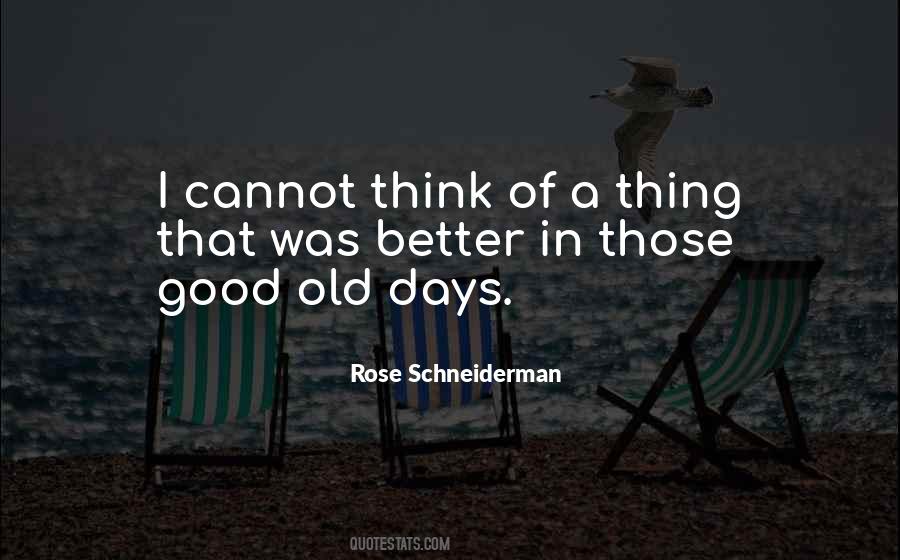 #4. If it seems like I've been lost in 'lets remember', If it seems I'm gettin' older and missin' my younger days, well you shoulda known me much better, cause the past is something that never got in my way. - Author: Billy Joel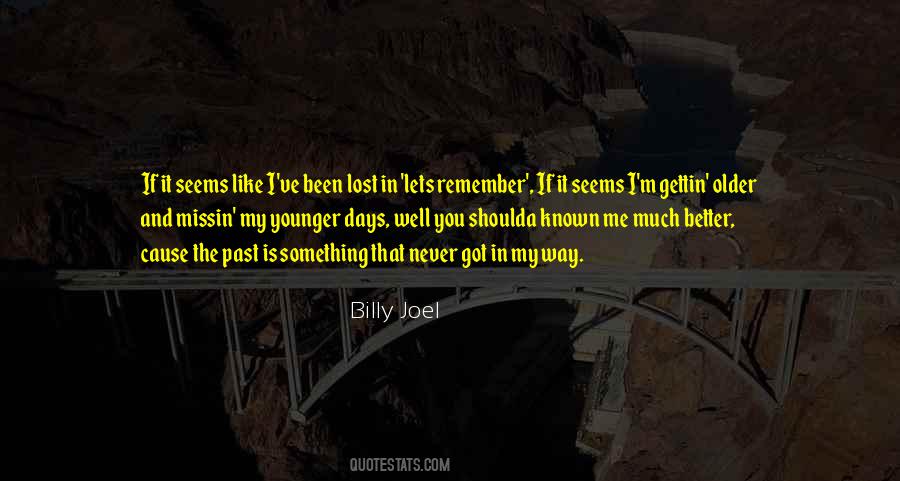 #5. I had feelings: passive as I lived, little as I spoke, cold as I looked, when I thought of past days, I could feel. About the present, it was better to be stoical; about the future - such a future as mine - to be dead. - Author: Charlotte Bronte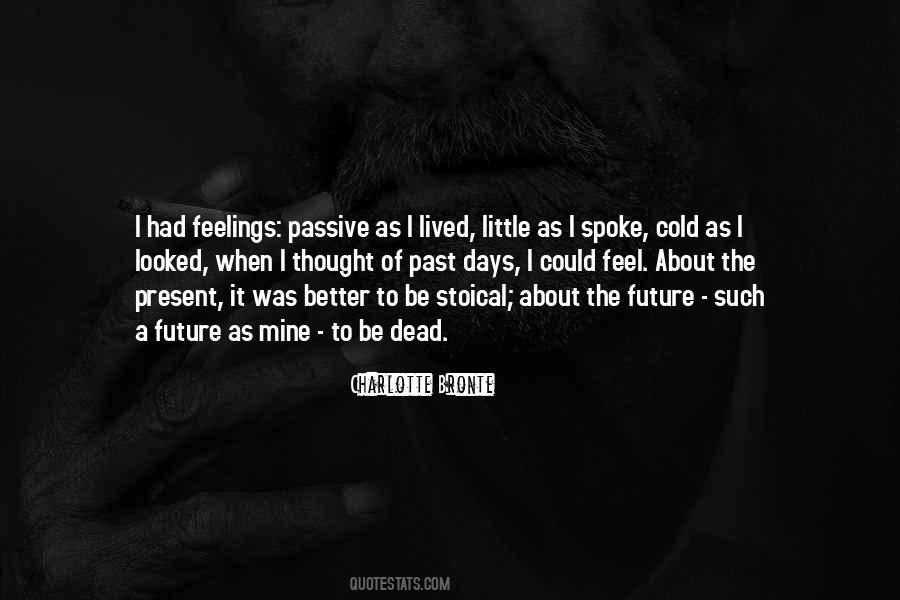 #6. No hunter of the sky should end his days as prey. Better to die on the wing than pinned to the ground. [Saphira] - Author: Christopher Paolini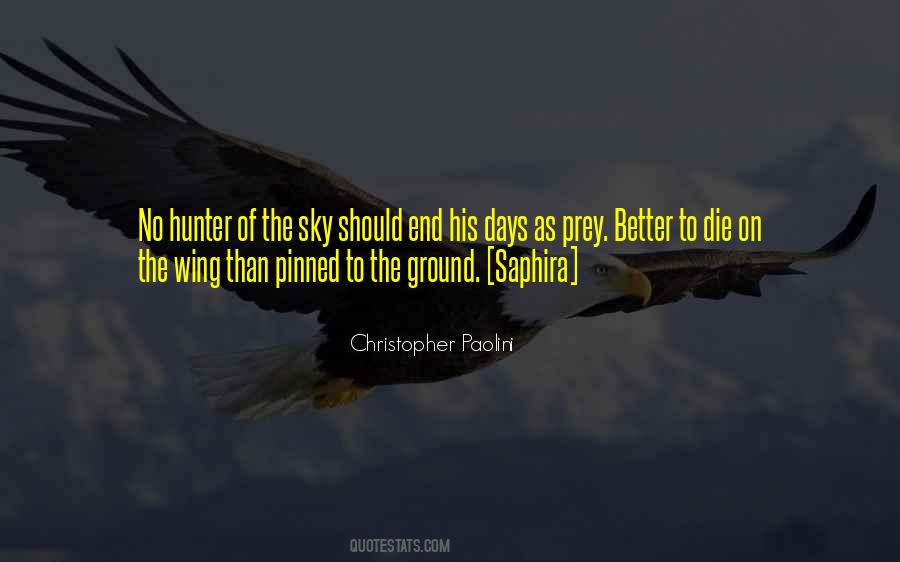 #7. If Solomon counts the day of one's death better than the day of one's birth, there can be no objection why that also may not be reckoned amongst one's remarkable and happy days. - Author: John Aubrey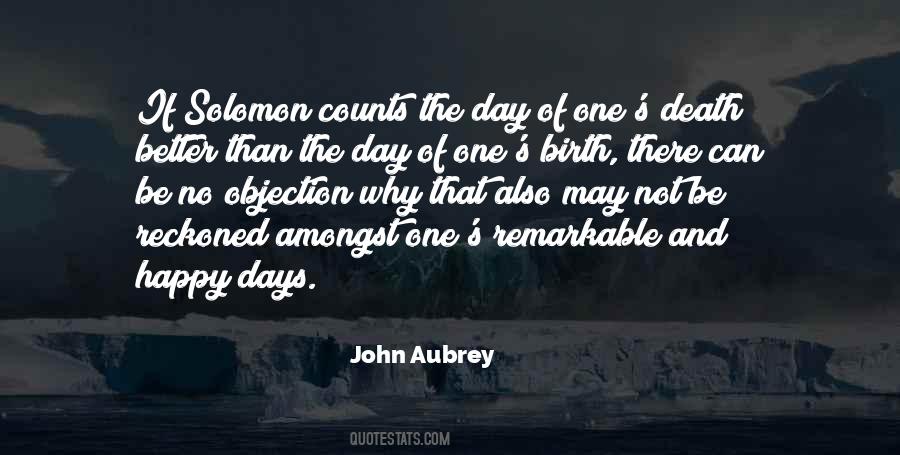 #8. The ideal situation for a parent is one that no one has - having a fulfilling job that requires you to work three days a week. It's better for the parents, because they get to spend time with the children and also have a source of pride and achievement - and income - outside the home. - Author: Tina Fey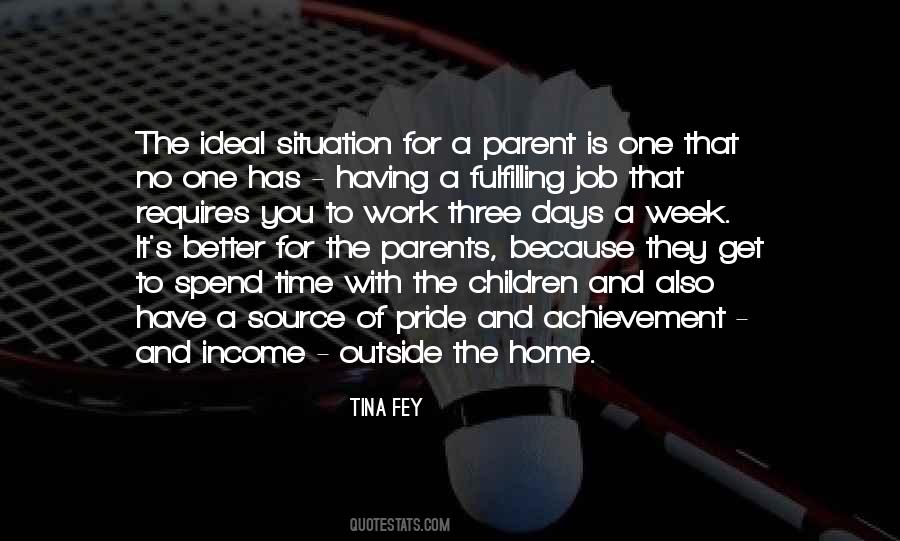 #9. The challenges are gonna go, and your children are gonna grow, so try to enjoy this moment, and try to look at what's good, and be grateful for what you have because you will see better days. - Author: Victoria Osteen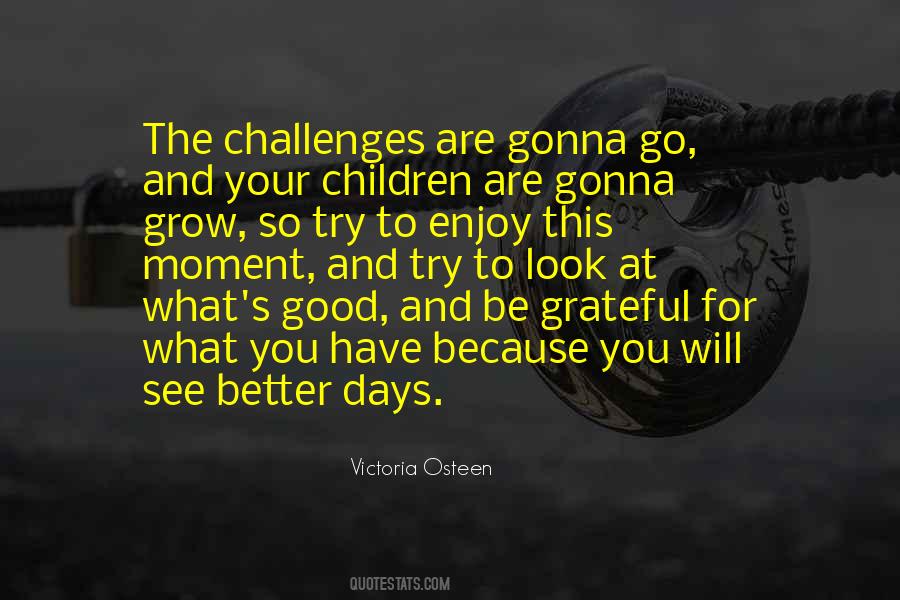 #10. These days the technology can solve our problems and then some. Solutions may not only erase physical or mental deficits but leave patients better off than 'able-bodied' folks. The person who has a disability today may have a superability tomorrow. - Author: Daniel H. Wilson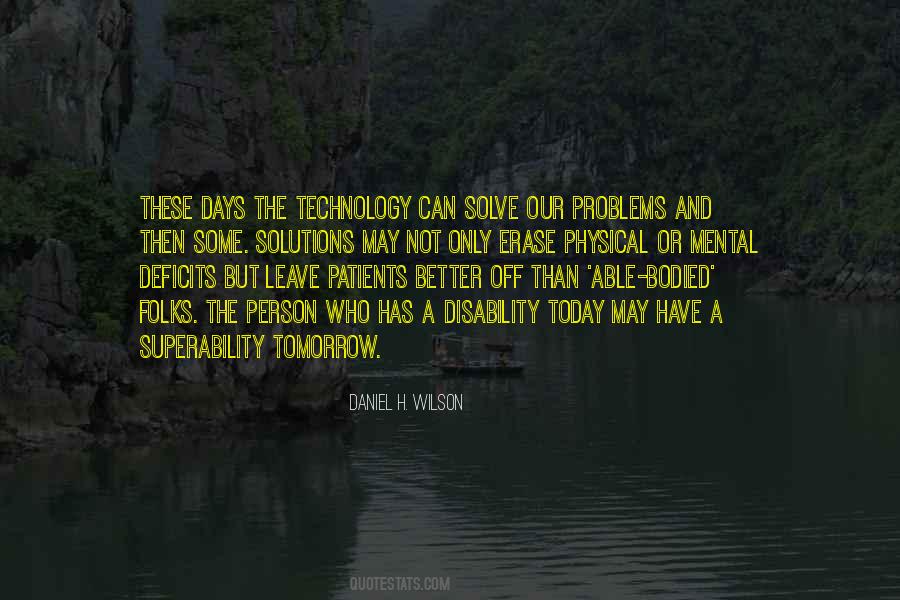 #11. Pause and remember - Nothing lasts forever. Better days are coming, but they will come faster with faith. - Author: Jennifer Young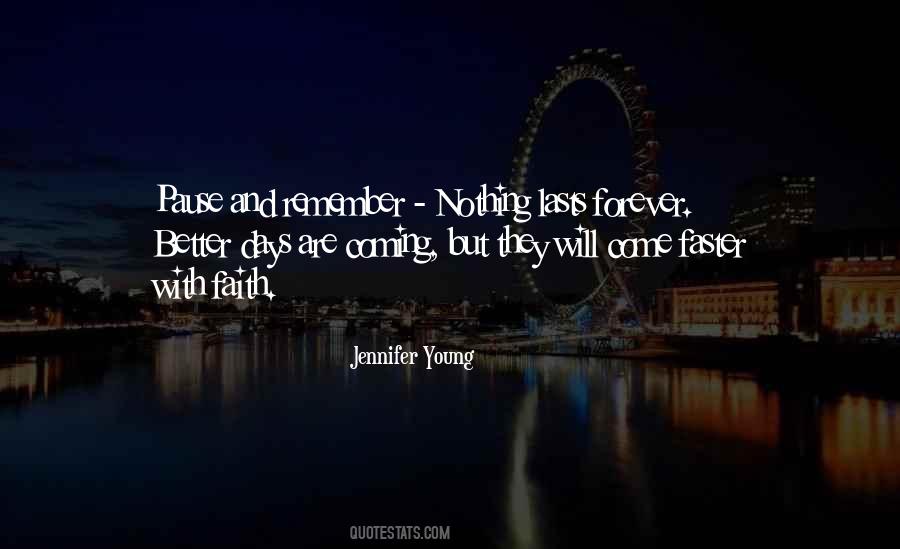 #12. They've loved you your whole life and you've been gone for days. I've just loved you for the better part of a week and losing you just 'bout drove me crazy. - Author: Amanda Lance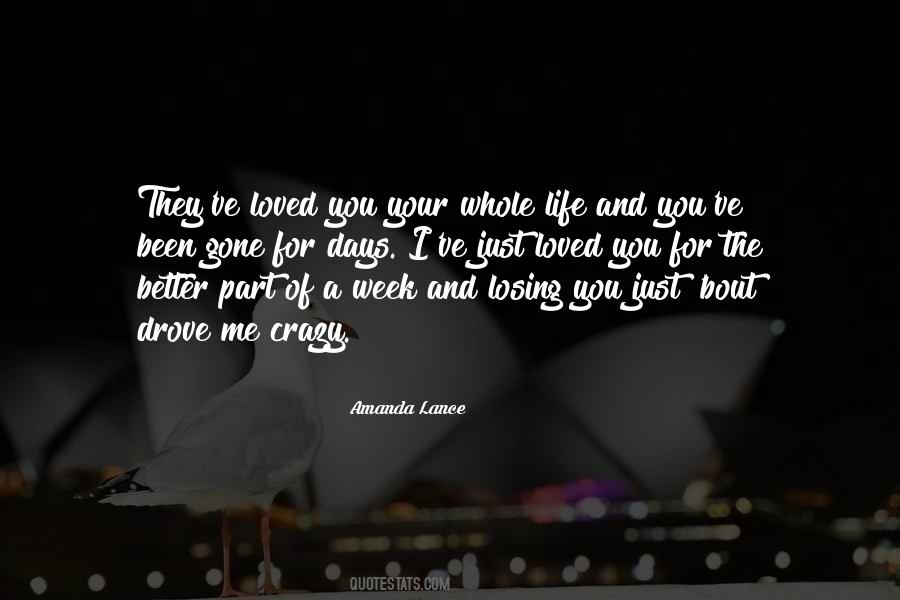 #13. Back in the Rat Pack days, we'd take Frank's plane and sit dead center, because of Nancy. We'd watch the Rat Pack in the center ring and you couldn't ask for a better thing. - Author: James Darren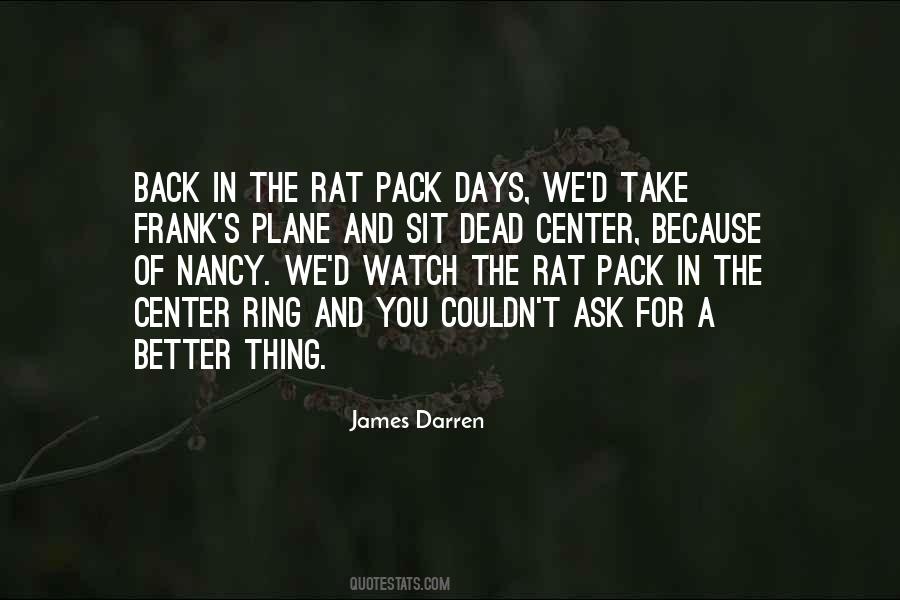 #14. Our complimentary dinner that evening was really quite nice. I have always found that free meals taste just a little bit better, and after two days of the rapacious greed of the Key West economy, this was succulent indeed. And - Author: Jeff Lindsay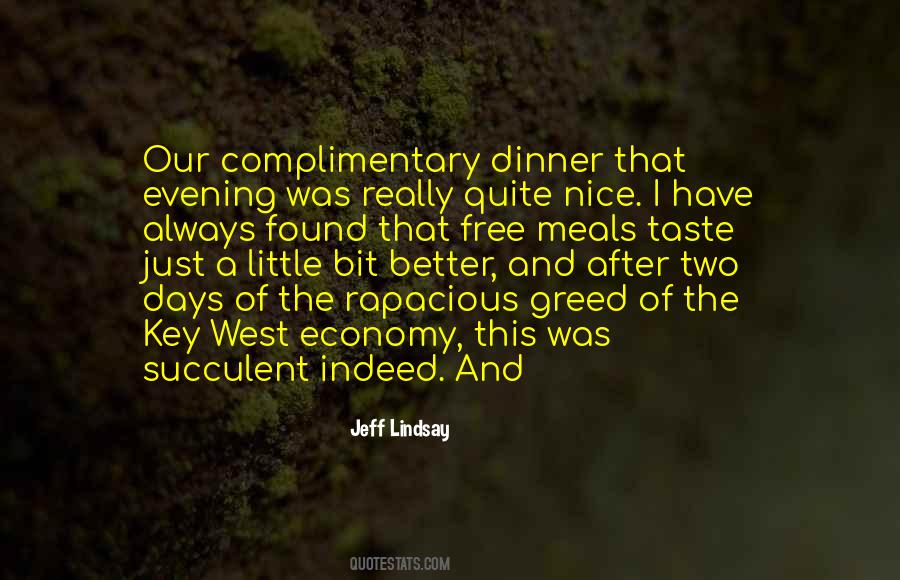 #15. Sometimes I have to pretend I feel brave before I actually do. Sometimes I never make it past the pretending part. But those days are getting fewer and further between. - Author: Nicole Williams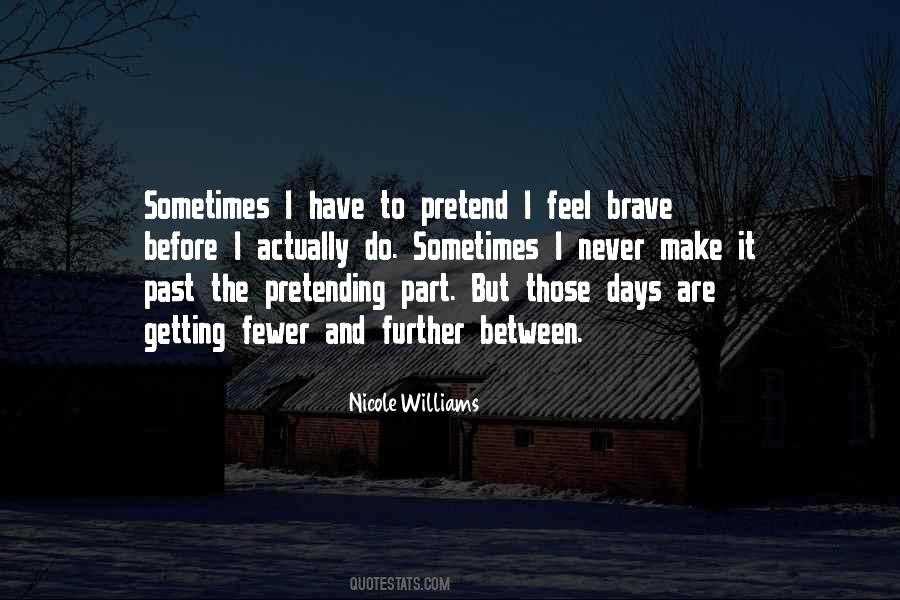 #16. They are the living dead and we have many of those among us, spending their days whining and complaining and never making any attempt to change their lives for the better. - Author: Og Mandino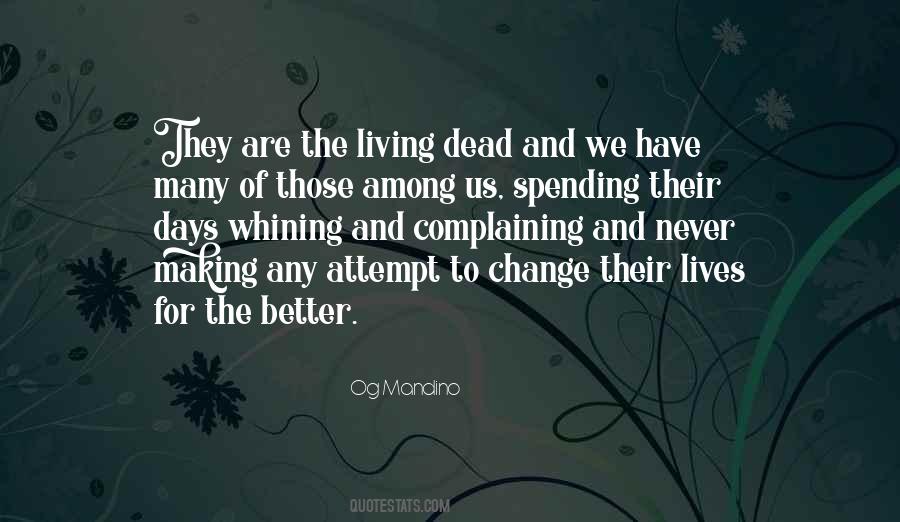 #17. Bad nights lead to better days - Author: Ryan Adams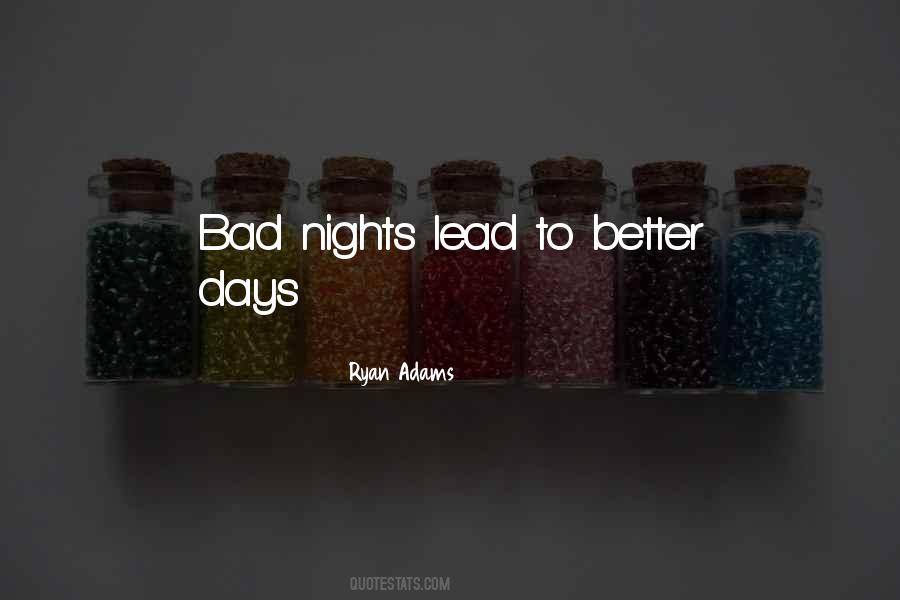 #18. What made Olive the saddest about the Gardners was that everyone wanted to be enshrined in someone's memory. It was the only way of living on after death, really: in the minds of loved ones. Memories were the only things that made aging bearable, a way of reverting to better, simpler days. - Author: Andrea Lochen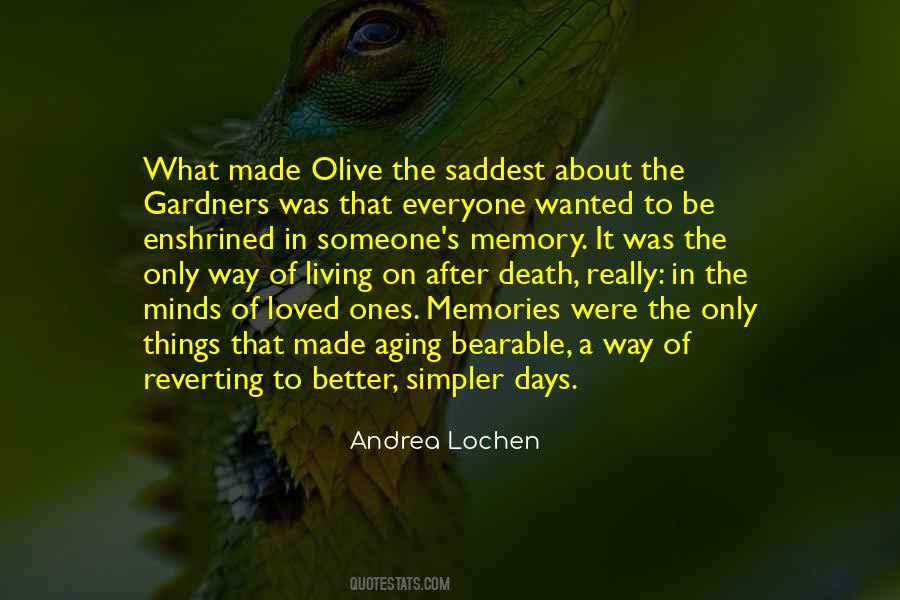 #19. There's still a place for someone to come up with a strong headline, some copy in a commercial that's well written. I'm not saying it was better in the old days; it's just a totally different way of communicating. - Author: Jerry Della Femina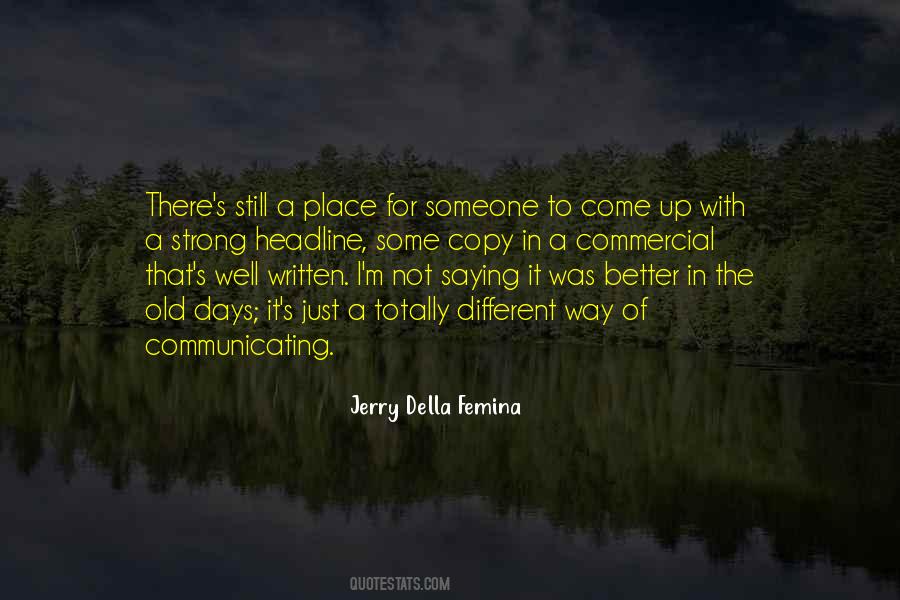 #20. A person can get ... stuck, for lack a better word, in a life. It's surprisingly easy, really. Hours bleed into days; days fade into months. Before you know it, years have passed, and you're just this person, someone your younger self wouldn't even recognize. - Author: Kristen Callihan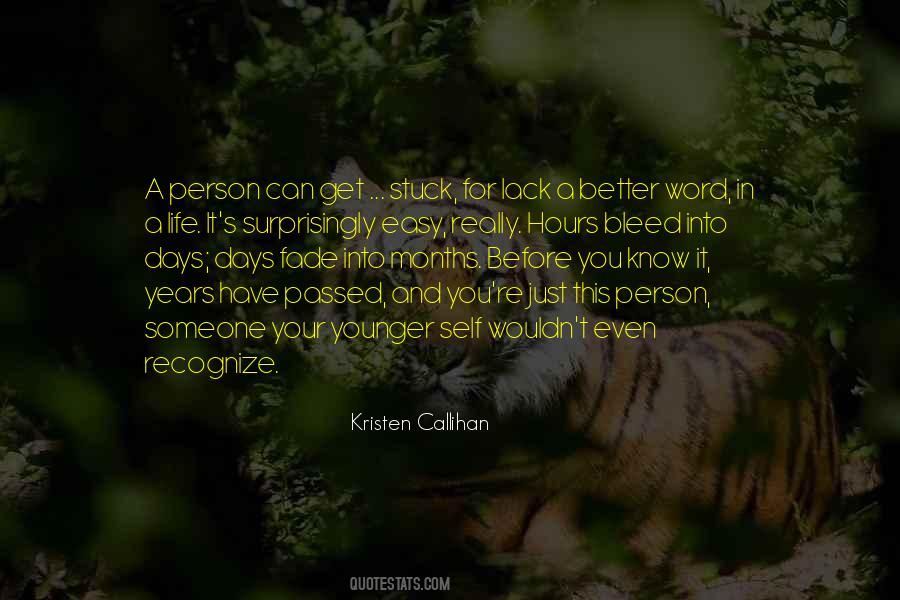 #21. A novel is like an animal you have to hunt down and kill. If you let it sit for two days, it's got a two-day head start. So, if I just look at it every day, I'm so much better off. - Author: Daniel Alarcon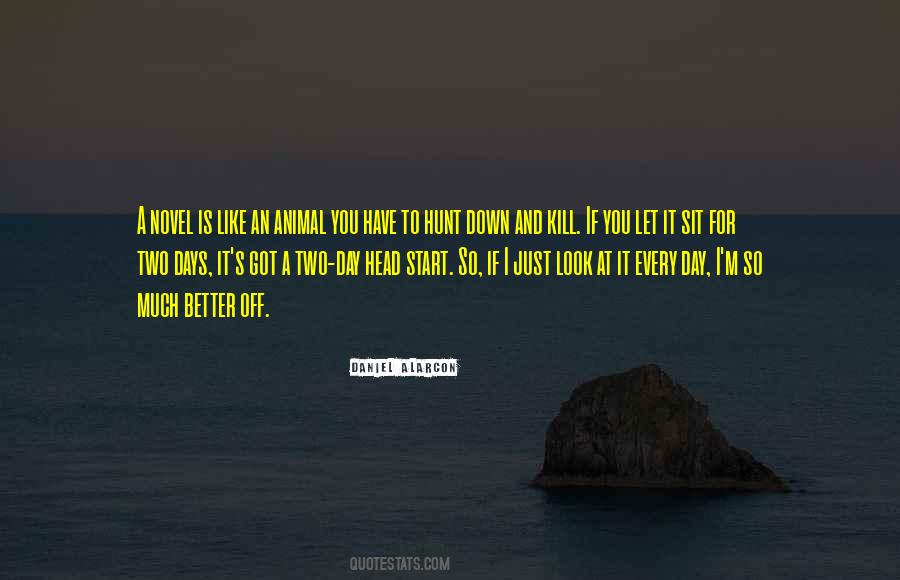 #22. There were only two men on the planet better educated in the various martial arts than Butler, and he was related to one of them. The other lived on an island in the South China Sea, and spent his days meditating and beating up palm trees. You had to feel sorry for the B'wa Kell. - Author: Eoin Colfer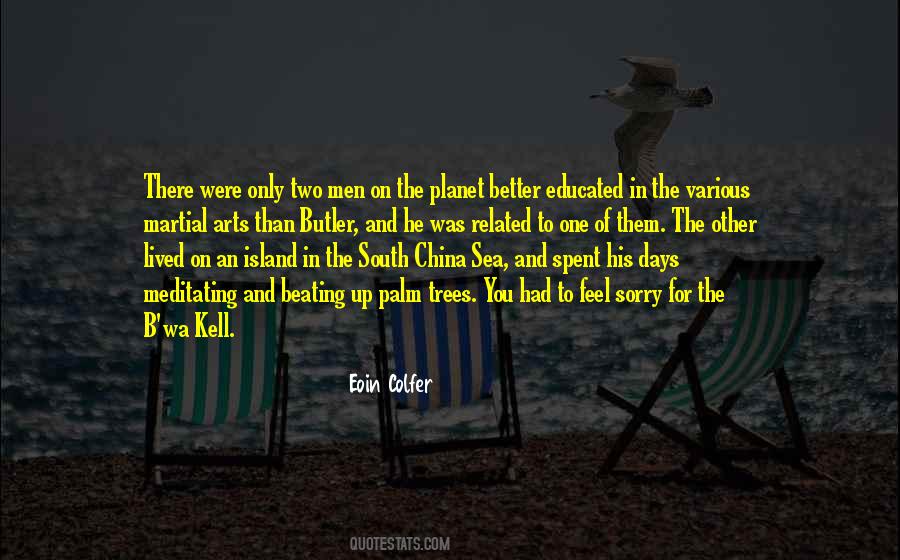 #23. Expressions like "the good ole days" implied that life used to be of a higher quality than it is now, but I think everything looks better in retrospect. - Author: Penelope Douglas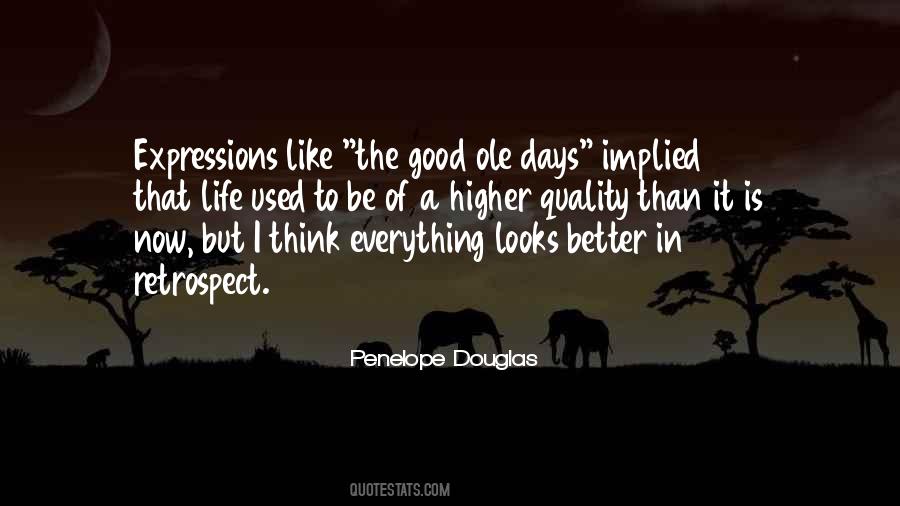 #24. There's no reason why a player is done at 33, 34. They train better, they eat better, they drink better. This isn't the old days when everybody sat around and drank beer. - Author: Bobby Clarke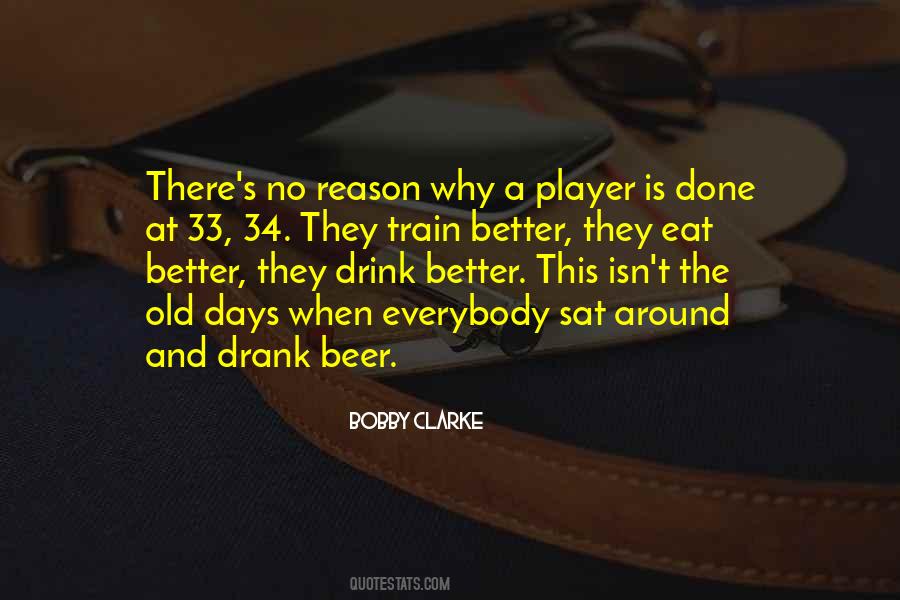 #25. Baseball has better opening days and All-Star Games than the N.F.L. does. Ours stink. - Author: John Madden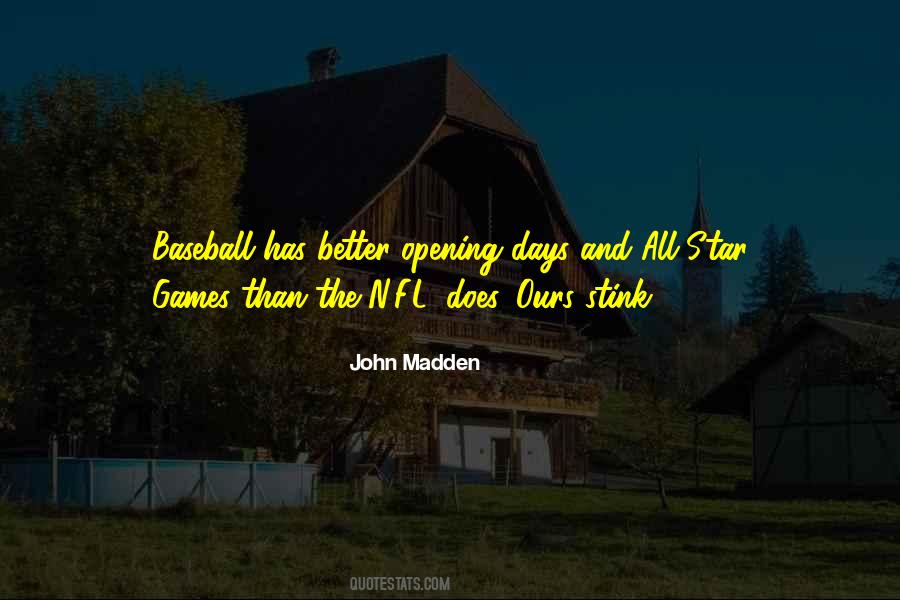 #26. Head up, heart open. To better days! - Author: T.F. Hodge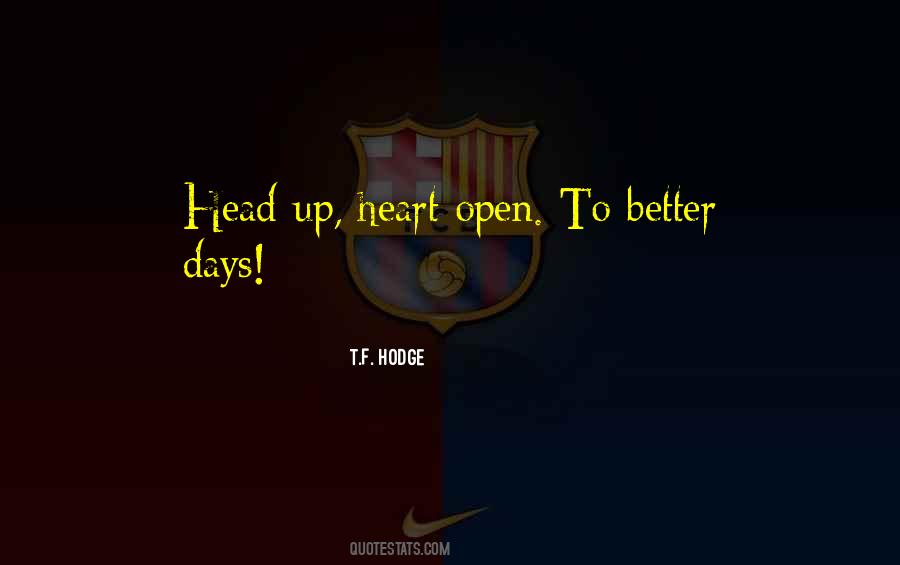 #27. The Palestinians are the only nation in the world that feels with certainty that today is better than what the days ahead will hold. Tomorrow always heralds a worse situation. - Author: Mahmoud Darwish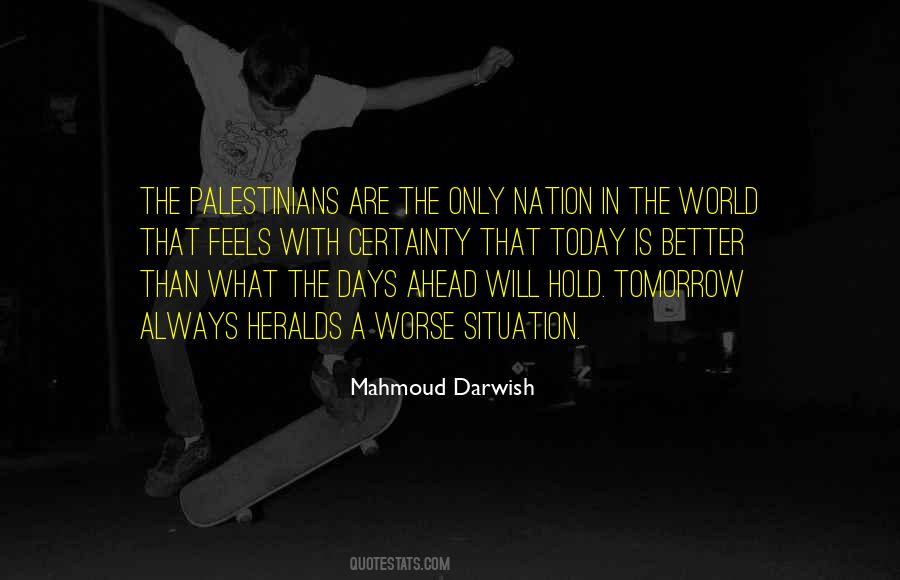 #28. You can write about relationships all you want. Get as personal as you want. Your serial dating days are over, Ms. Greene. From here on out, anything related to your personal relationships better be about me. - Author: Lauren Layne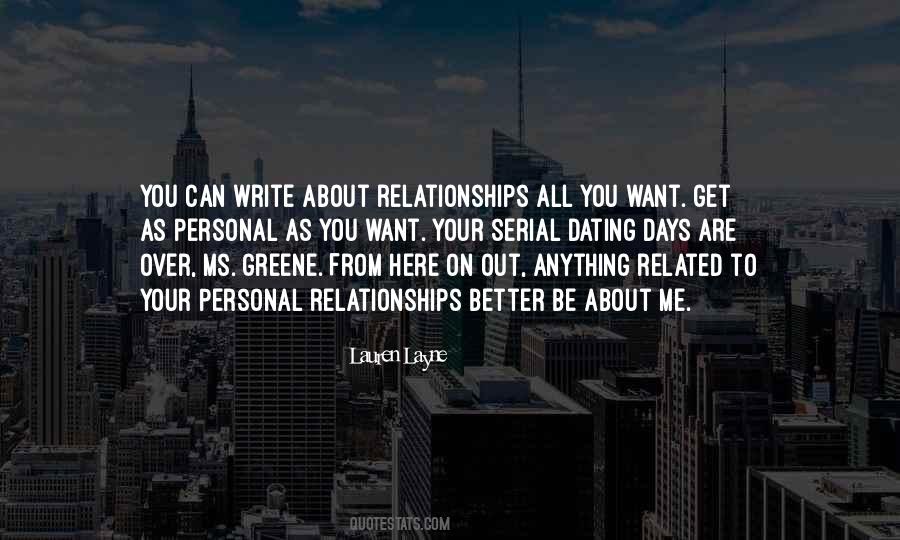 #29. I like to believe that people in the long run are going to do more to promote peace than our governments. Indeed, I think that people want peace so much that one of these days governments had better get out of the way and let them have it. - Author: Dwight D. Eisenhower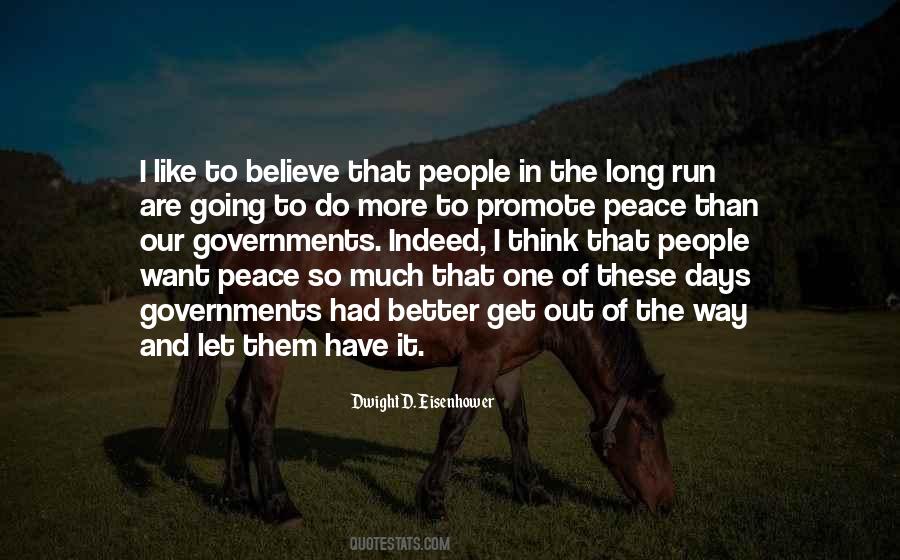 #30. Buying flowers is not just a way to bring home beauty. It's an expression of confidence that better days are coming. It's a defiant finger in the face of those naysayers who would have you believe your fortunes will never improve. - Author: Pearl Cleage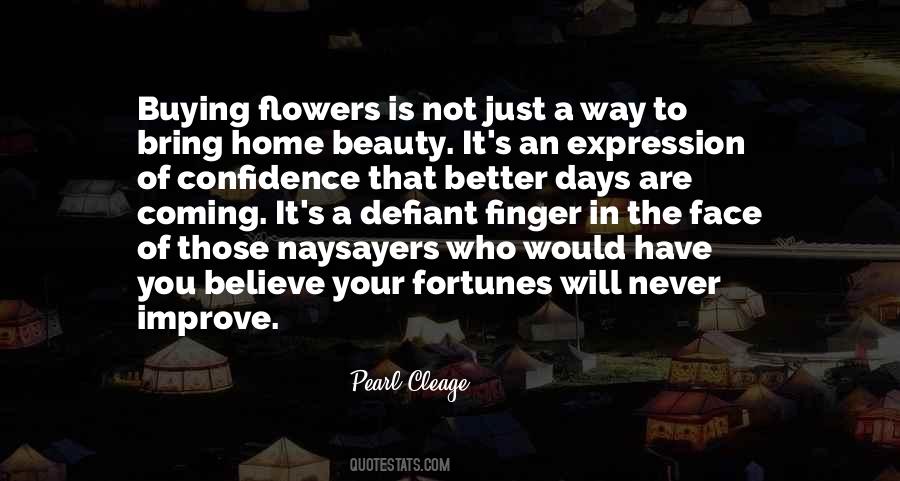 #31. First let me report that the art in the Barnes Collection has never looked better. My trips to the old Barnes were always amazing, but except on the sunniest days, you could barely see the art. The building always felt pushed beyond its capacity. - Author: Jerry Saltz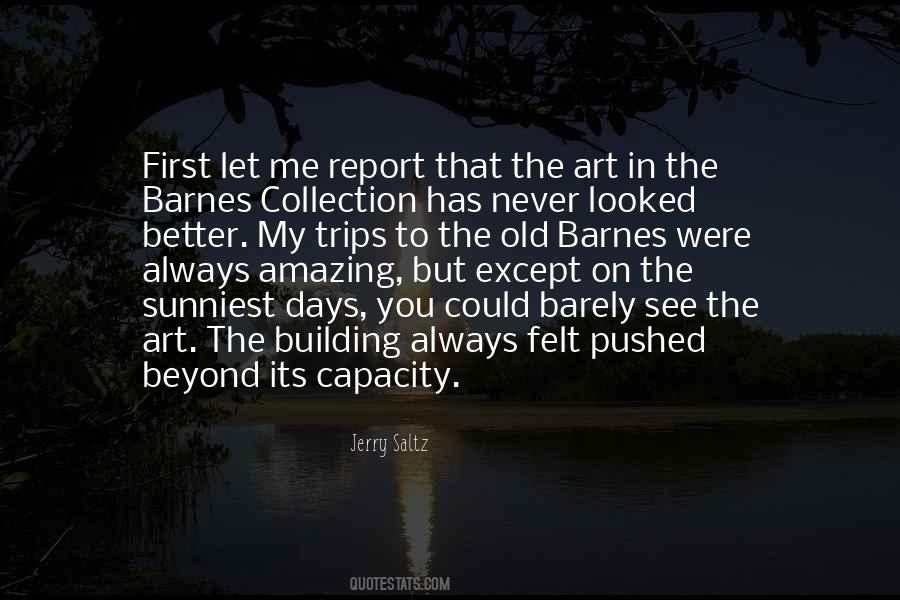 #32. On behalf of the newspaper industry I wish to announce some changes we're making to serve you better. When I say 'serve you better,' I mean 'increase our profits.' We newspapers are very big on profits these days. We're a business, just like any other business, except that we employ English majors. - Author: Dave Barry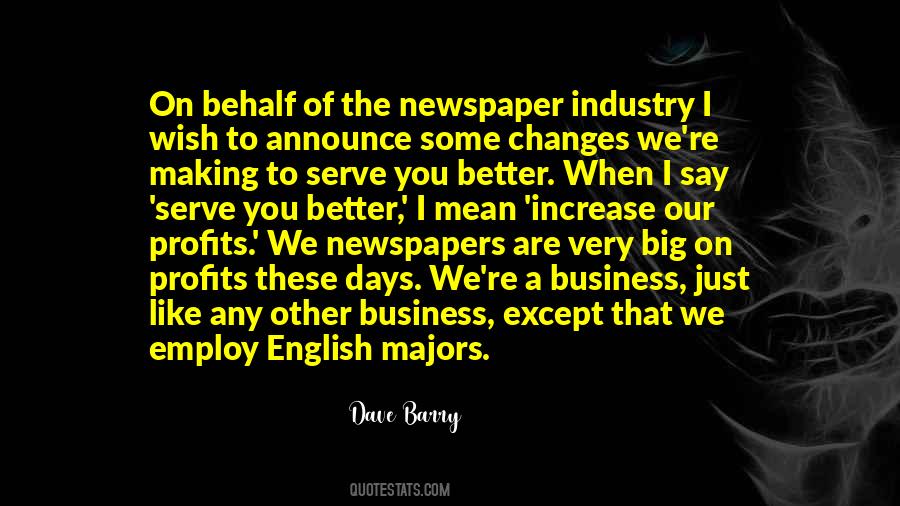 #33. I started slow, and eventually I started working out 4 to 5 days a week. We all have to start somewhere, and doing something is better than nothing at all. - Author: Khloe Kardashian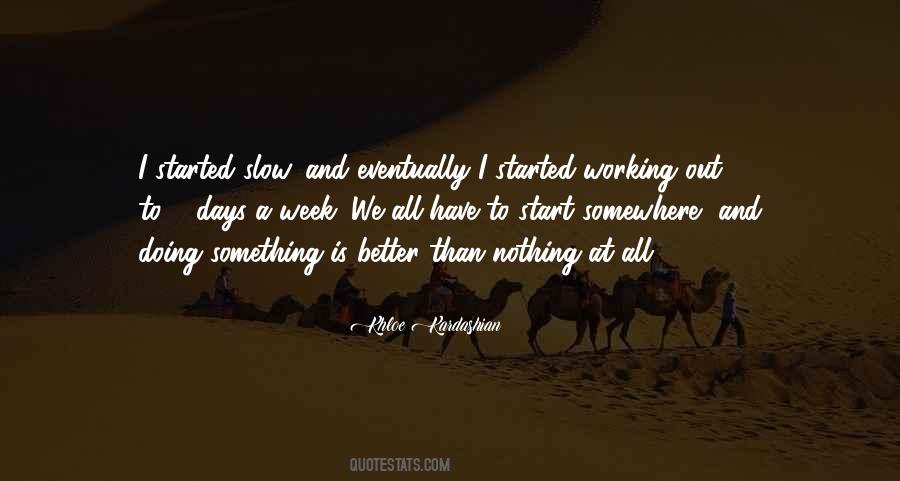 #34. A good watch may serve to keep a recconing at Sea for some days and to know the time of a Celestial Observ[at]ion: and for this end a good Jewel watch may suffice till a better sort of Watch can be found out. But when the Longitude at sea is once lost, it cannot be found again by any watch. - Author: Isaac Newton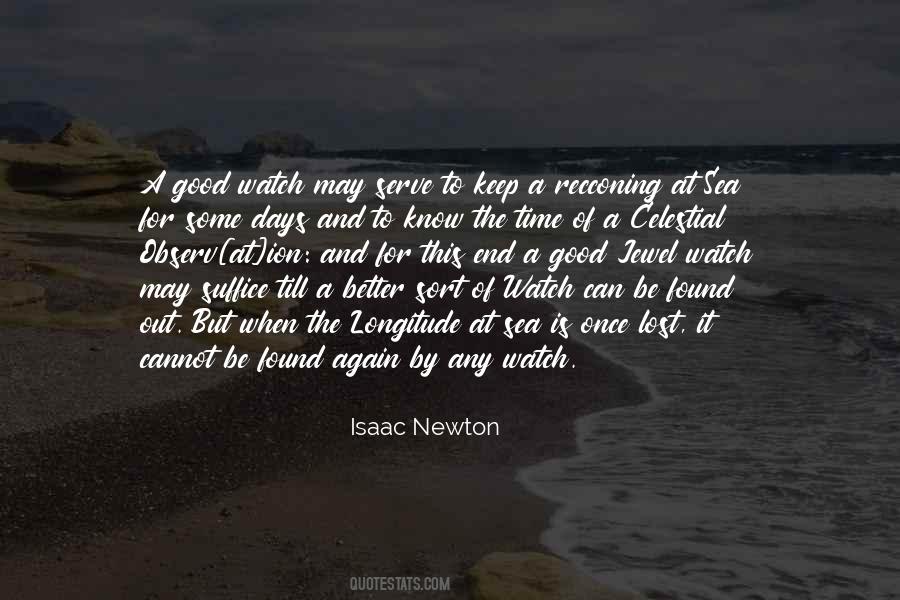 #35. A few days of idleness have completely sickened me, and given me what is called the blue-devils so severely, that I feel that the sooner I go to work and drive them off, the better. - Author: John James Audubon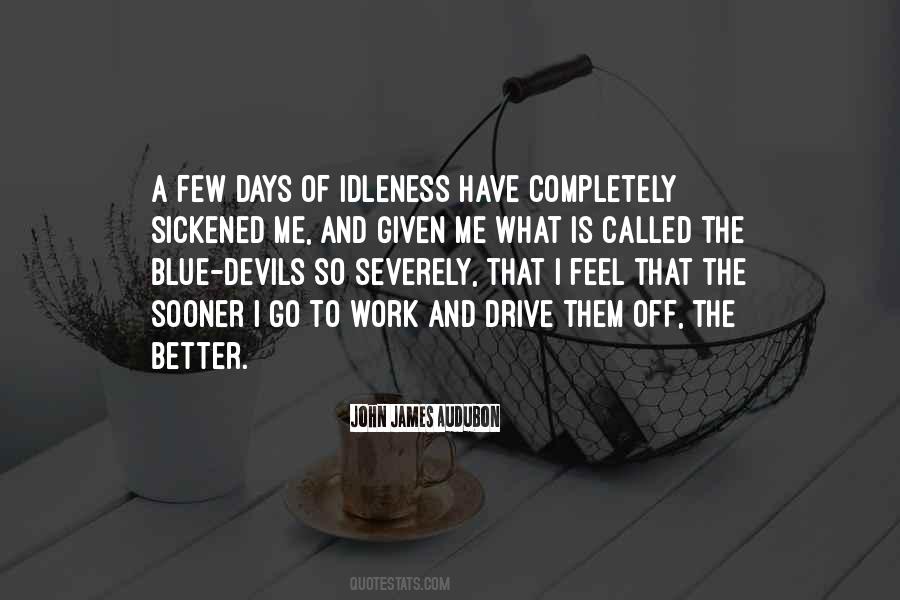 #36. God does not judge us by the multitude of works we perform, but how well we do the work that is ours to do. The happiness of too many days is often destroyed by trying to accomplish too much in one day. We would do well to follow a common rule for our daily lives
DO LESS, AND DO IT BETTER. - Author: Dale E. Turner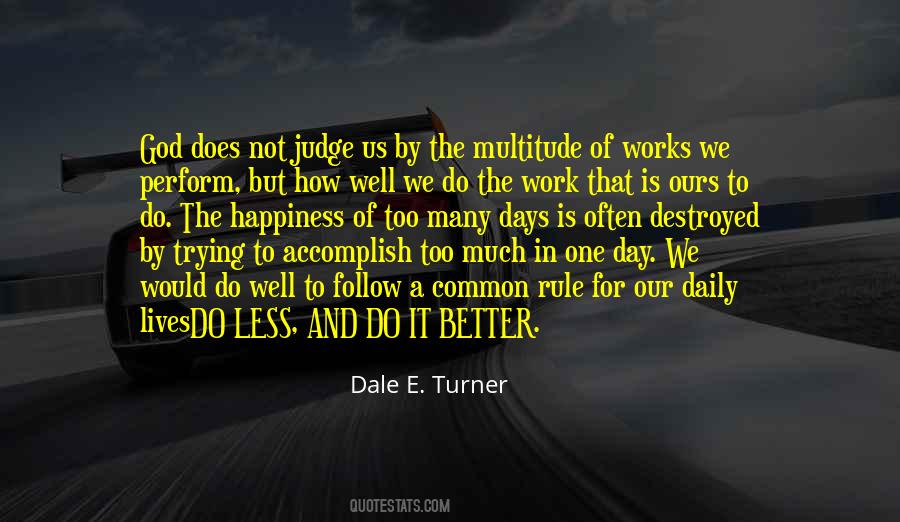 #37. I don't know that you ever get over this kind of loss. The fact that Chris is gone is a sharp hurt I feel every single day. It's really hard. Some days are better than others, but it's going to be hard every day for the rest of my life. - Author: Jon Krakauer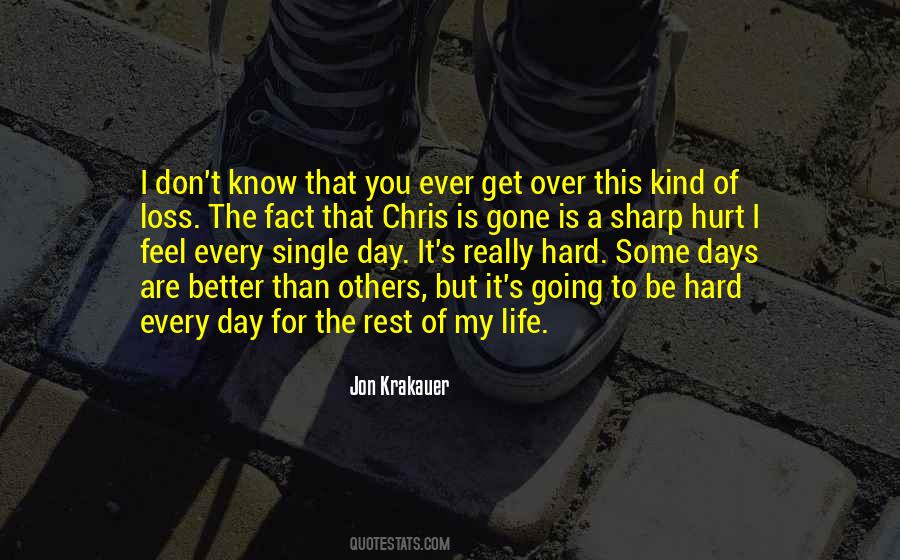 #38. It was a tradition between them that they should never be too tired for anything, and they found it made the days better on the whole and put the evenings more in order. - Author: F Scott Fitzgerald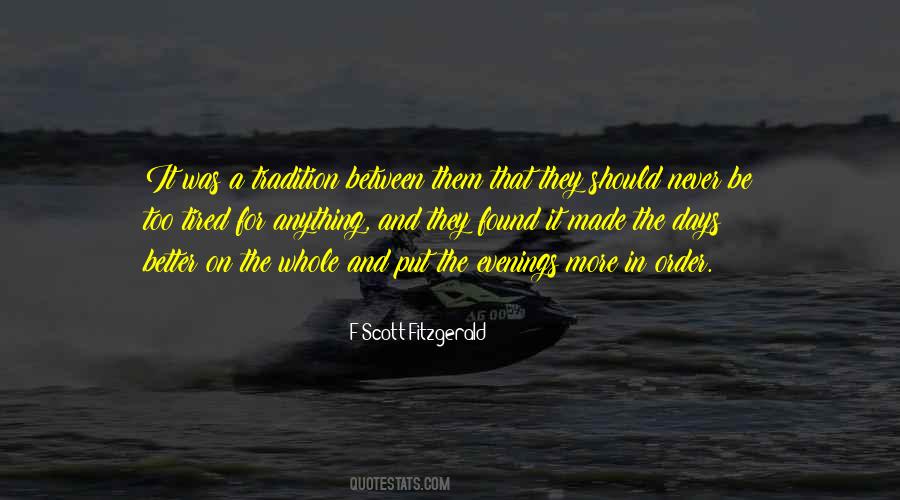 #39. I couldn't be bothered to deal with fixing things. I preferred to wallow in the problem, dream of better days. - Author: Ottessa Moshfegh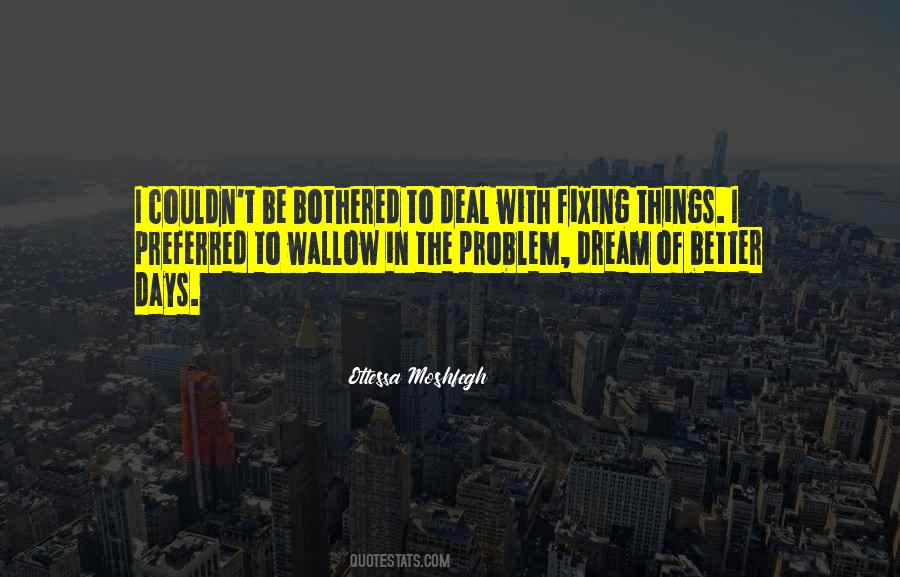 #40. For pragmatic reasons, I love the routine. I love the structure of it. I love knowing that my days are free. I know where I'm going at night. I know my life is kind of orderly. I just like that better. - Author: Andrea Martin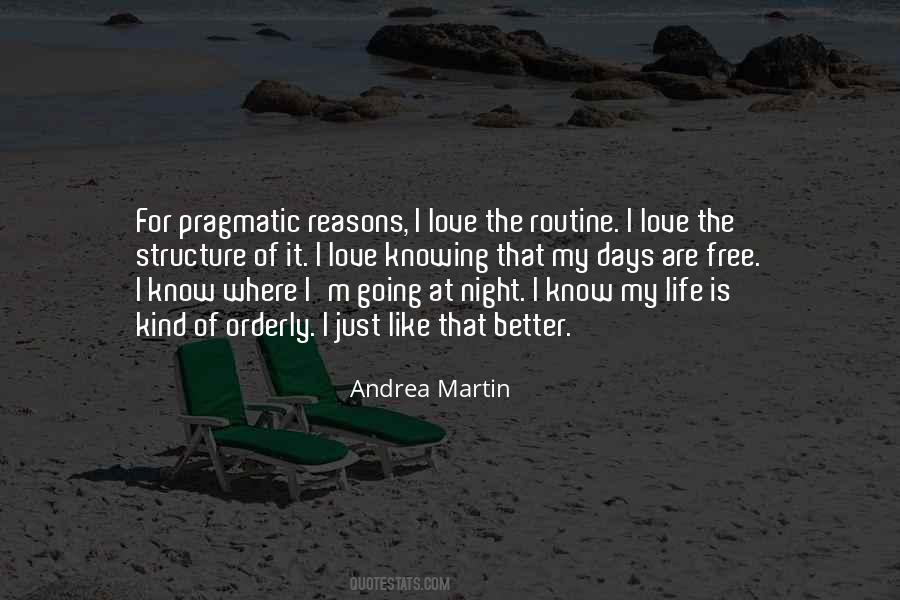 #41. If you take a few days to write an outline, you're just making up scenes that you think will work, that you think will be interesting. But as you write it, other ideas occur - better ideas that have to do with what you're writing. - Author: Elmore Leonard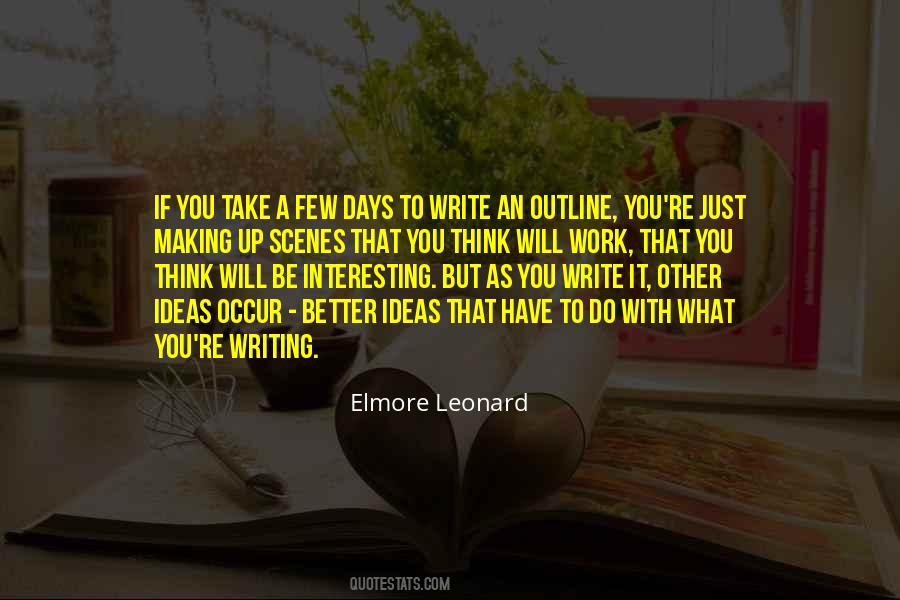 #42. When you feel sad, it's okay. It's not the end of the world. Everyone has those days when you doubt yourself, and when you feel like everything you do sucks, but then there's those days when you feel like Superman. It's just the balance of the world. I just write to feel better. - Author: Mac Miller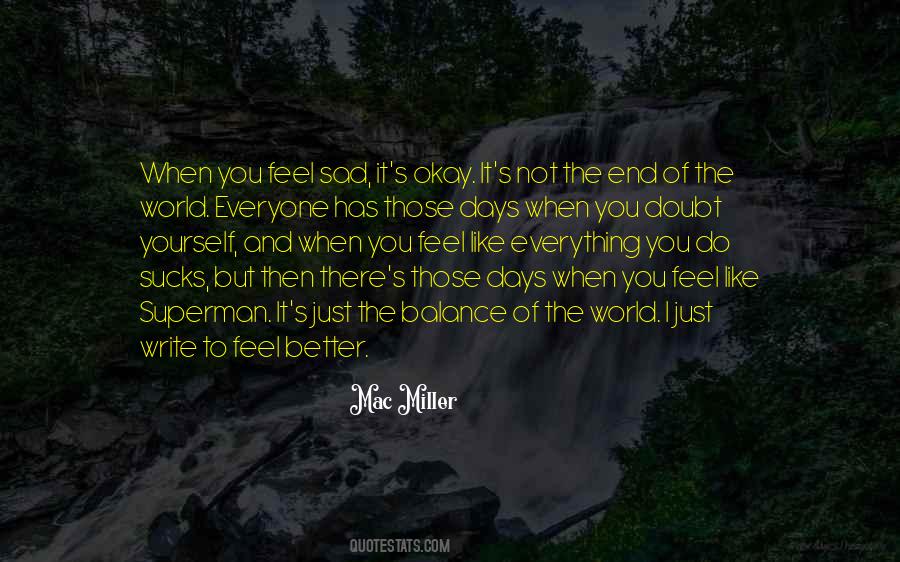 #43. bluntly, a transfer of power could hardly have occurred at a better time: there were no important decisions to be made; there was nothing of consequence for the new President to consider for the next couple of days. - Author: Jim Bishop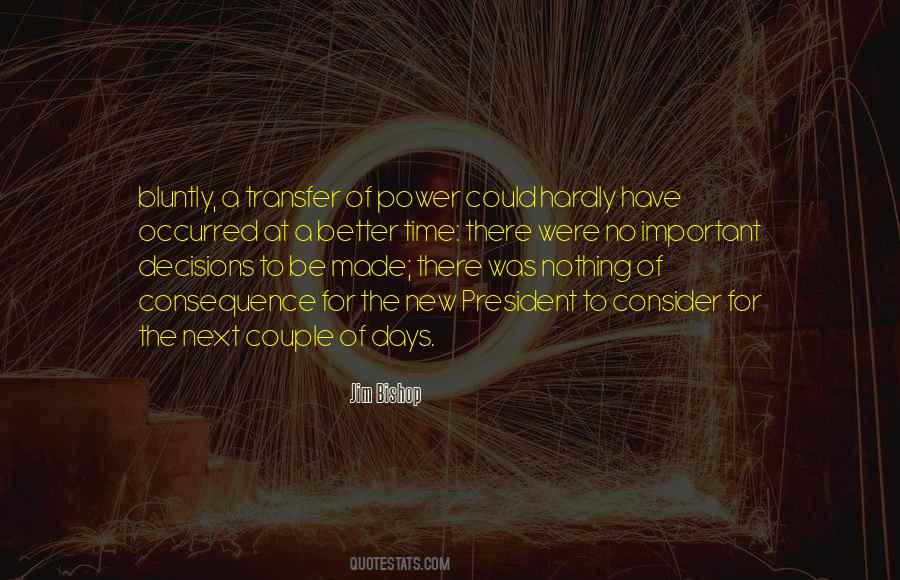 #44. I spent three days a week for 10 years educating myself in the public library, and it's better than college. People should educate themselves
you can get a complete education for no money. At the end of 10 years, I had read every book in the library and I'd written a thousand stories. - Author: Ray Bradbury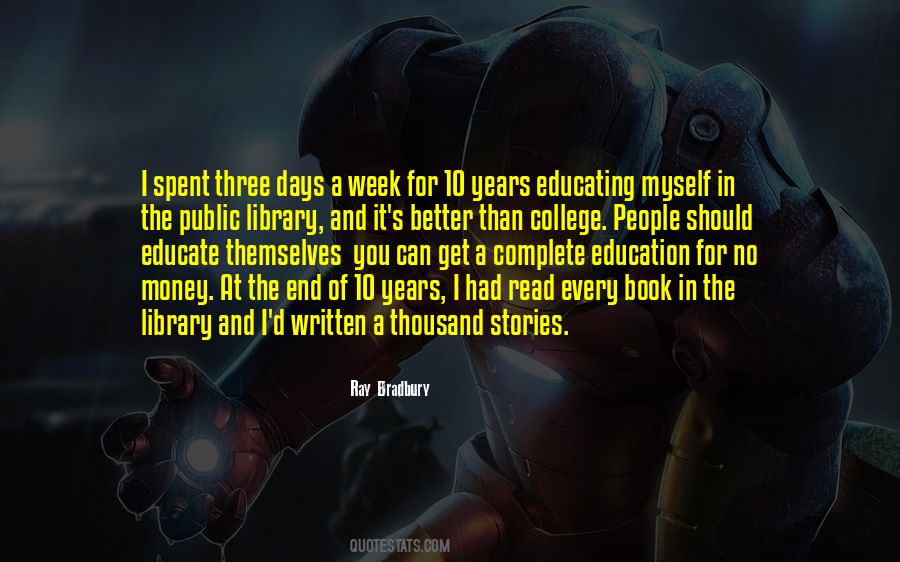 #45. Depression is a lying bastard.

You'll have better days, I promise you. - Author: Sue Fitzmaurice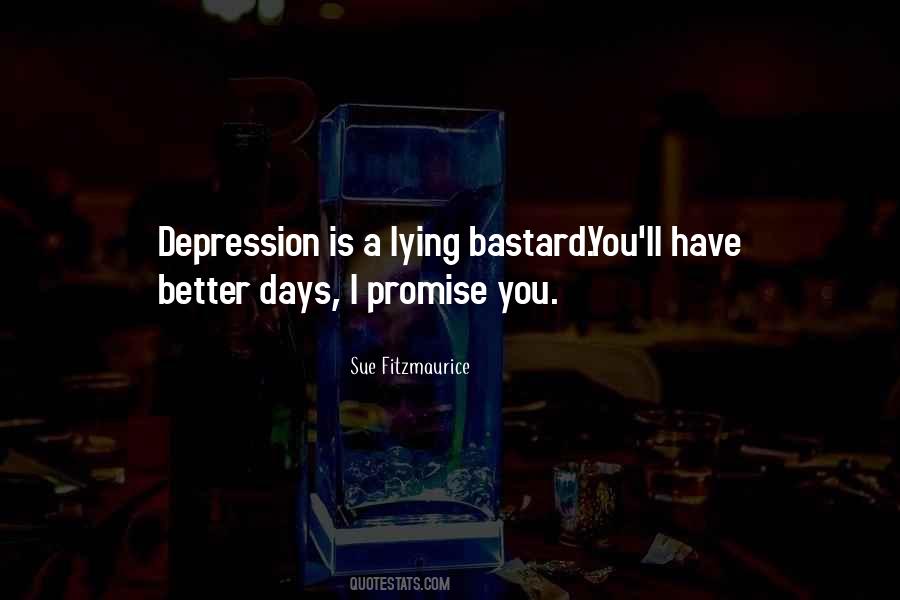 #46. What better way could they spend the last days of the world, than falling in love? - Author: Philippa Gregory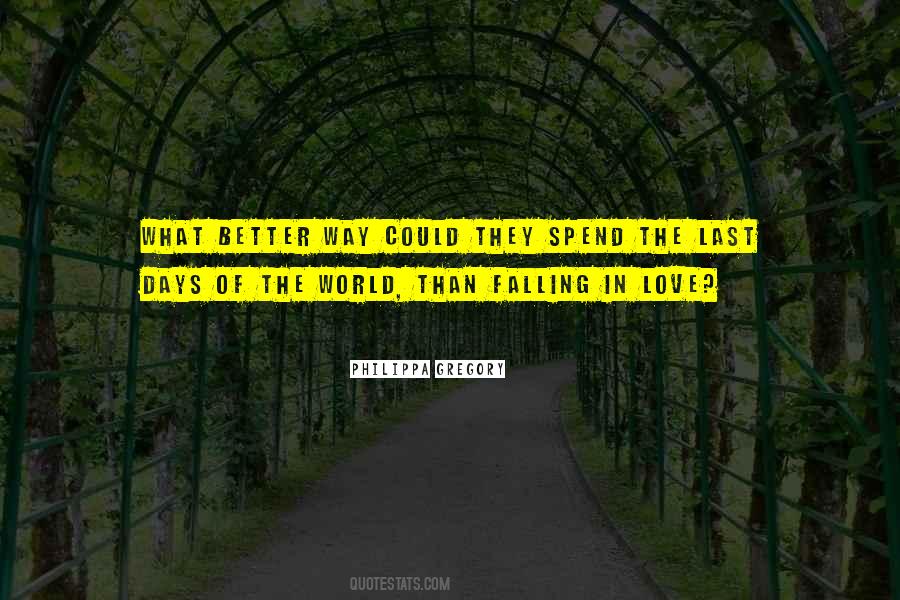 #47. An Indigo Bunting let out a trill, a cheery song, reminding me of better days, of hope and happiness and all the lofty promises a blue canary can sing about. I closed my eyes and took a deep breath of the heady morning air. Looking within myself, I searched for the man I once was. - Author: Cheryl R Cowtan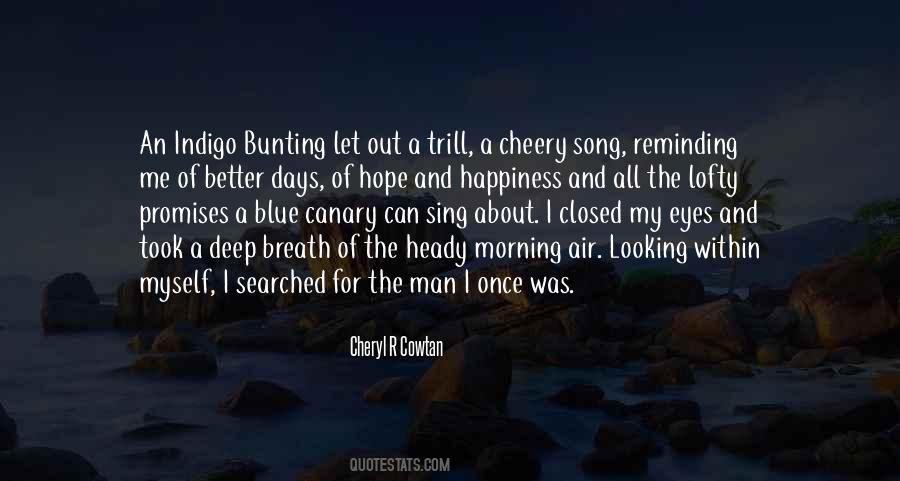 #48. Great matter-days remain on the day stone balance, affecting your life on the day the occur and every day thereafter. So the earlier they happen, the better; waiting means potentially sacrificing years or even decades of benefit. - Author: Ron Lizzi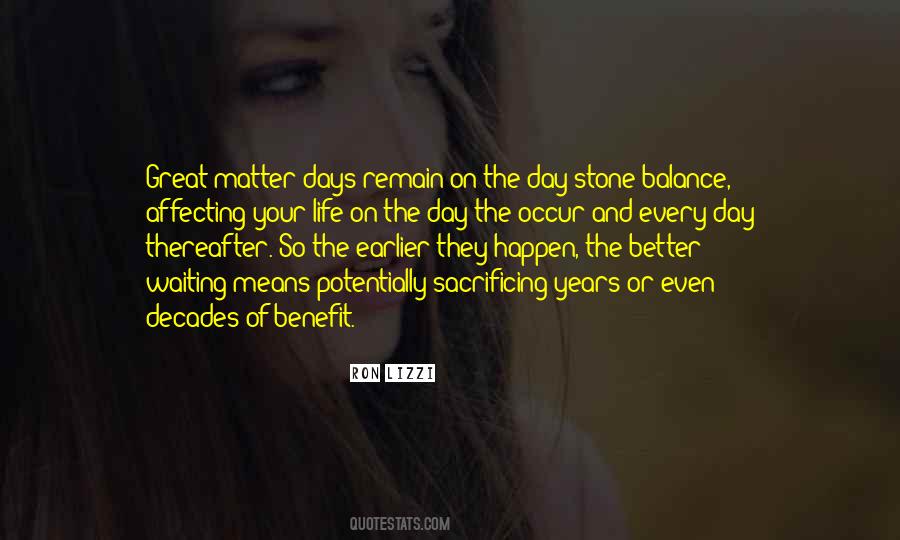 #49. Better the little that the righteous have than the wealth of many wicked; 17 for the power of the wicked will be broken, but the LORD upholds the righteous. 18 The blameless spend their days under the LORD's care, and their inheritance will endure forever. - Author: Anonymous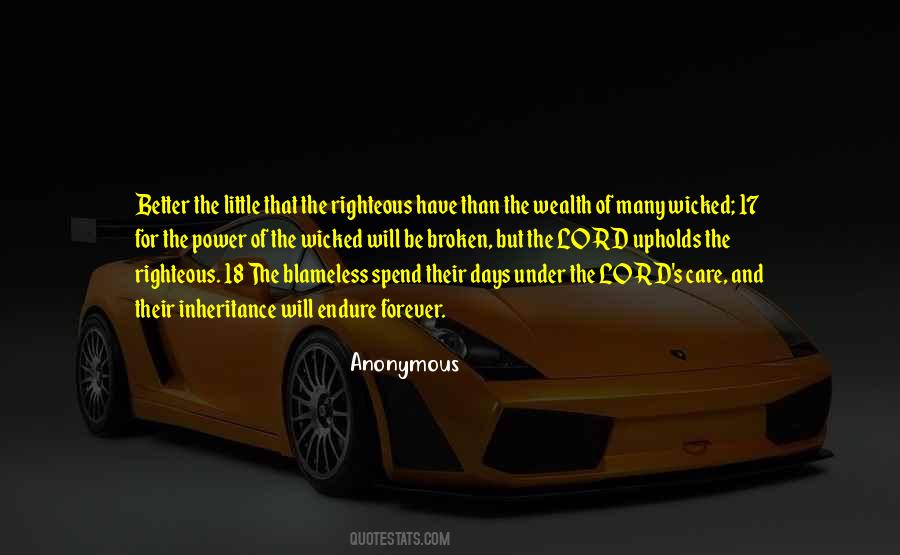 #50. I am happy that the young girls have a lot more choices these days and an opportunity to feel better about themselves. - Author: Mia Hamm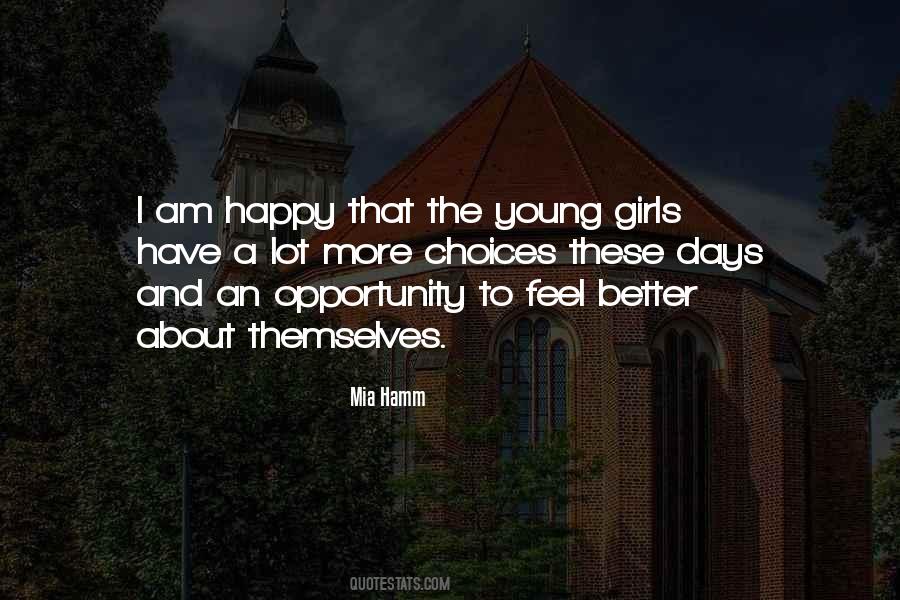 #51. A brave world, sir, full of religion, knavery, and change: we shall shortly see better days. - Author: Aphra Behn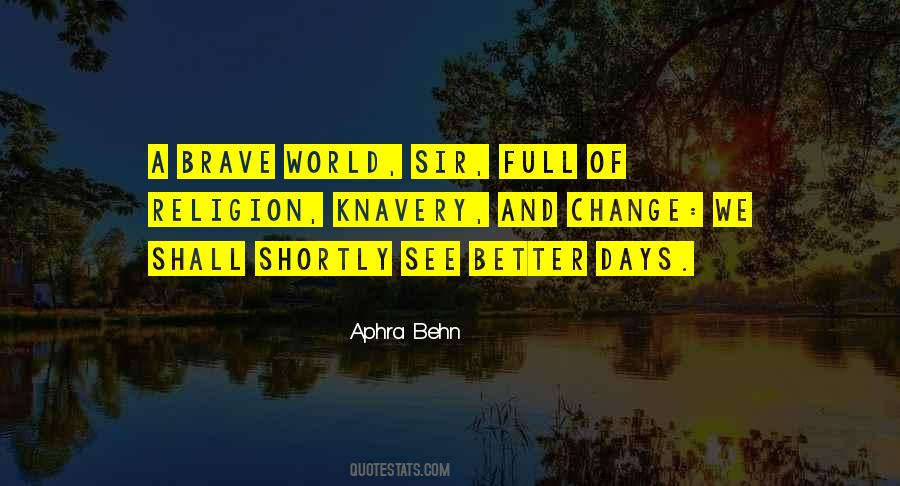 #52. Sailing is the closest I can get to nature - it's adrenaline, fear, a constant challenge and learning experience, an adventure into the unknown. And of course there is nothing better than wearing the same T-shirt for days and not brushing my hair for weeks. - Author: Daria Werbowy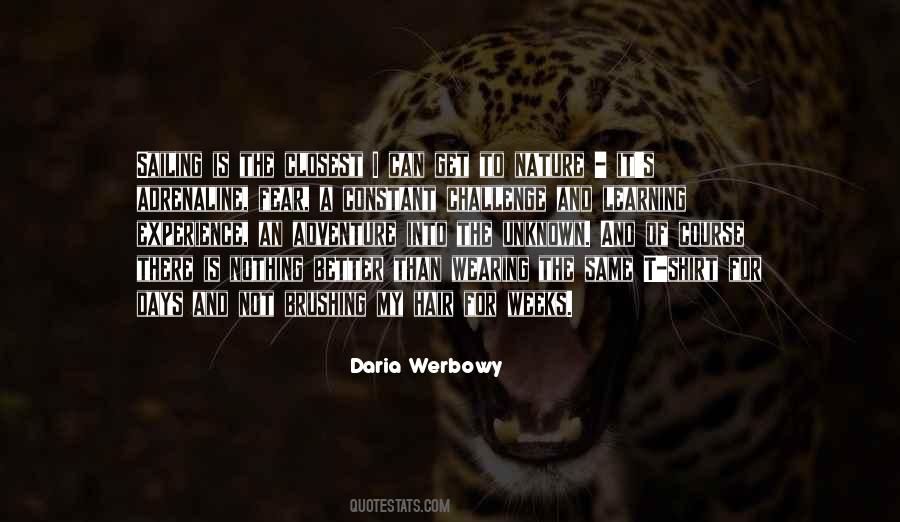 #53. Anyway, Phillip isn't like that. From what I can see, Phillip has good judgement and he genuinely cares about me. And those might be rare qualities in seventeen-year-old boys these days. Not that I'm an expert. Although I am getting better at it. - Author: Melody Carlson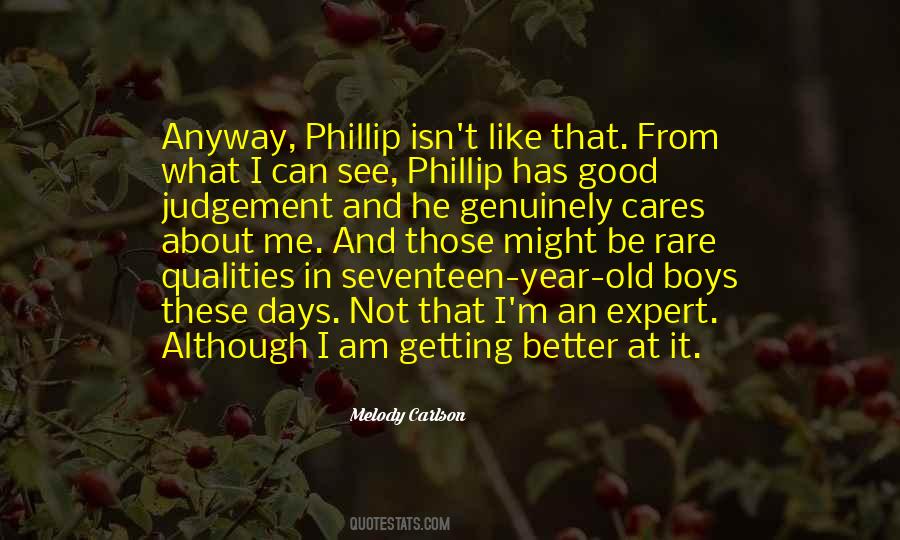 #54. The future is no place to place your better days - Author: Dave Matthews Band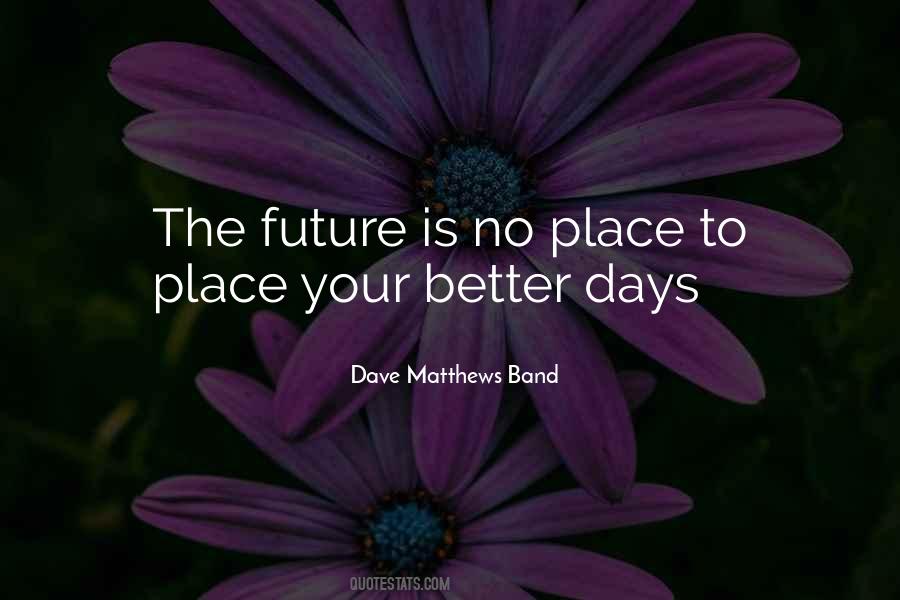 #55. Meditation puts the telescope to the eye, and enables us to see Jesus after a better sort than we could have seen Him if we had lived in the days of His flesh. - Author: Charles Haddon Spurgeon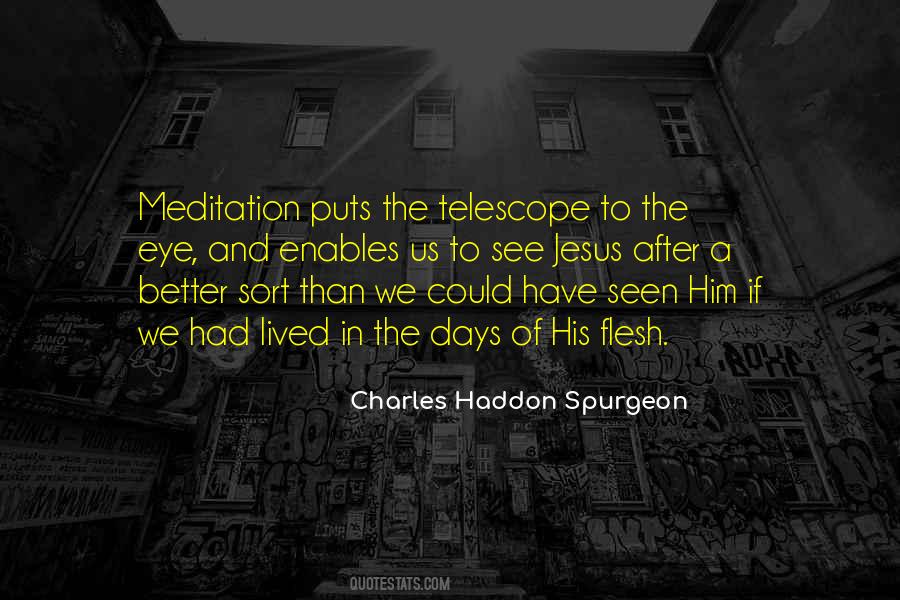 #56. Wow," Miranda said, "You'd better be careful Della. In the last few days, I think you've used up your vampire quota of apologies for the next ten years."
"Kiss my apologetic ass!" Della snapped. - Author: C.C. Hunter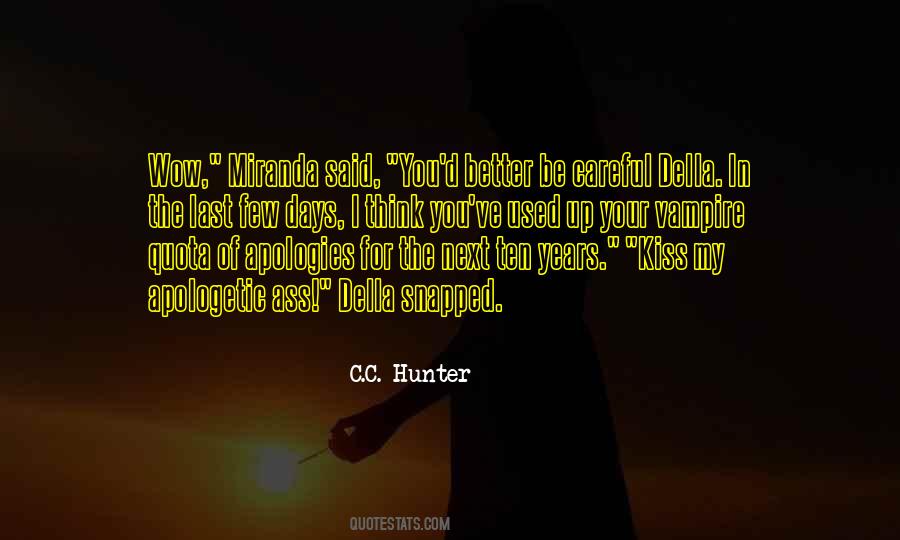 #57. I think that people want peace so much that one of these days government had better get out of their way and let them have it. - Author: Dwight D. Eisenhower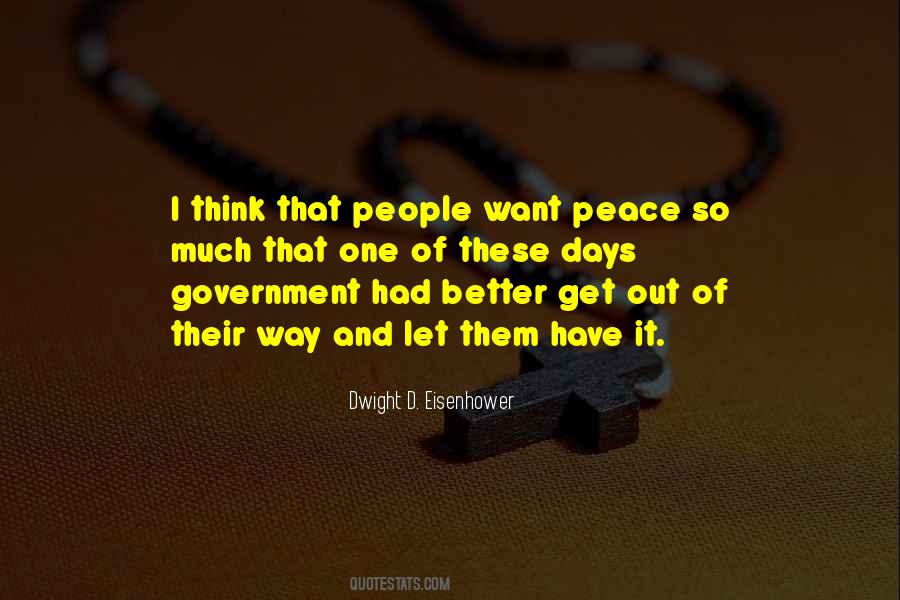 #58. The good television of today is probably better than the best television of the old days. The bad television of today is worse. It is not only bad, it is damaging, meretricious, seedy and cynical. - Author: John Humphrys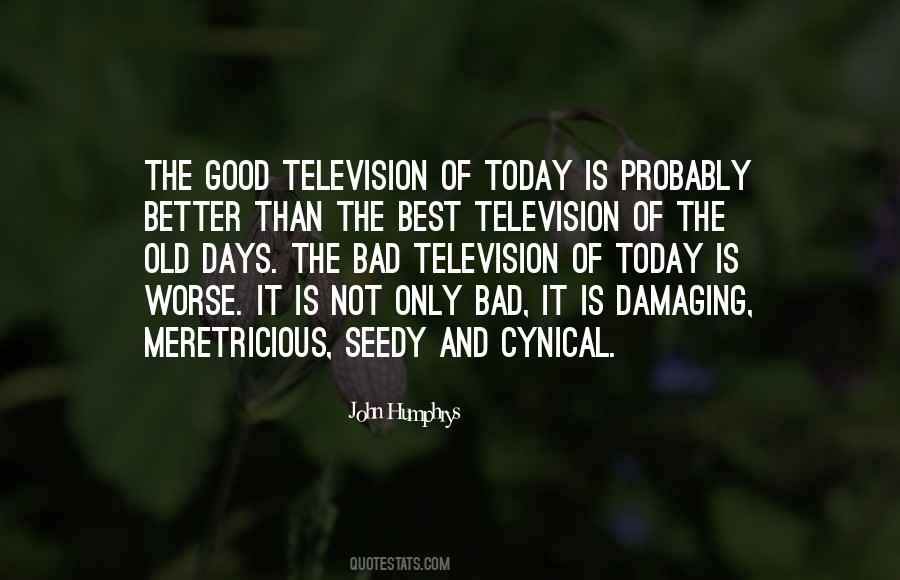 #59. I know it's not good for a girl to be without a father these days. But is it any better for a father to be without a daughter? - Author: Gavriel Savit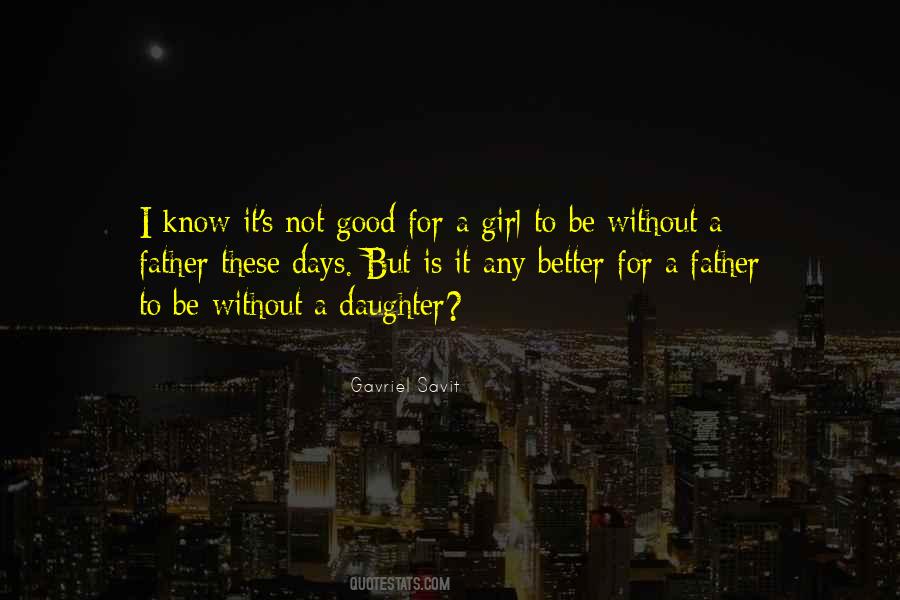 #60. Don't ever lose hope because better days will come. - Author: Ana Monnar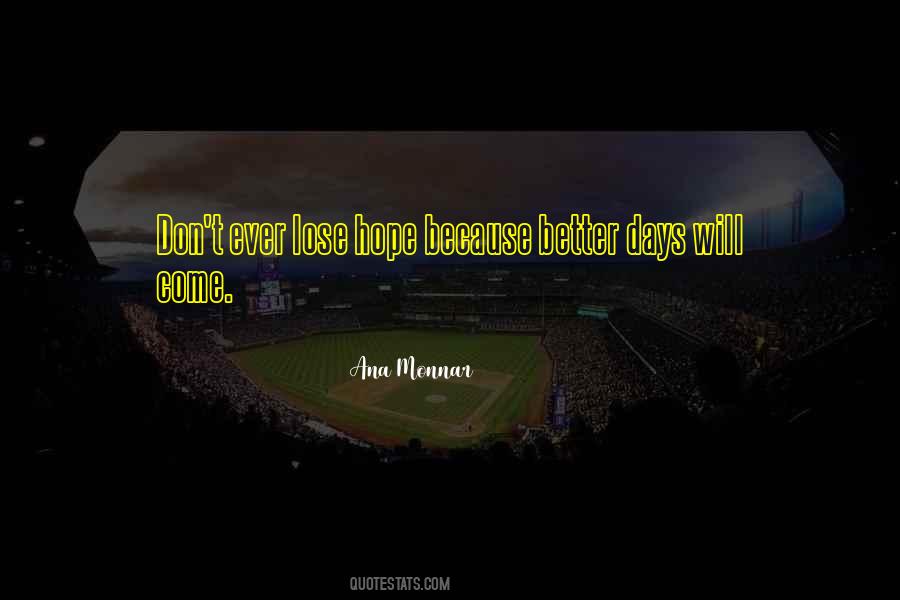 #61. Every single day I wake up and commit myself to becoming a better player. Some days it happens, and some days it doesn't. Sure, there are games I'm going to dominate and there are going to be games when I struggle. But it doesn't mean I give up. - Author: Mia Hamm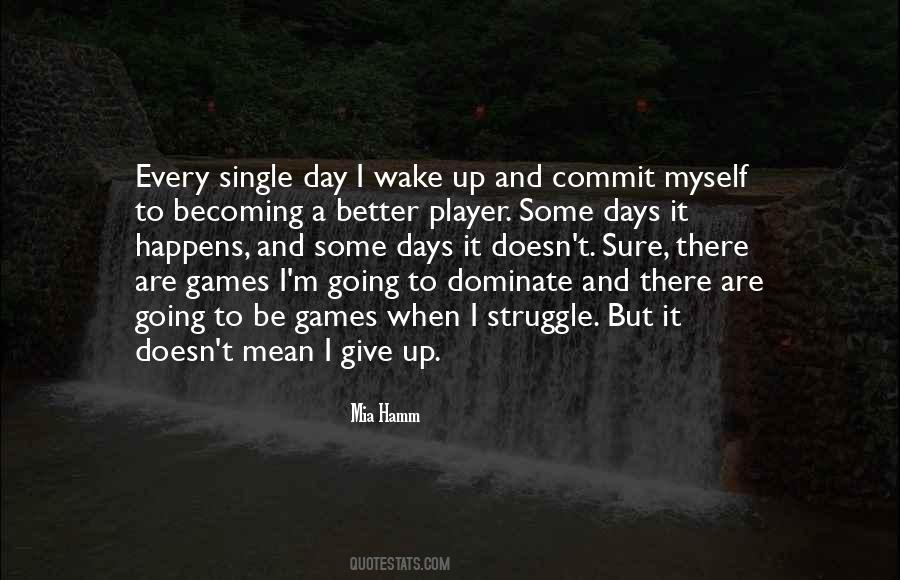 #62. I've been told my whole life that I've got all the power. But it's only now that I'm beginning to believe it. My days of selling junk food and perfume are over. If the world is going to listen to me, I better start saying things that are worth hearing. - Author: Megan McCafferty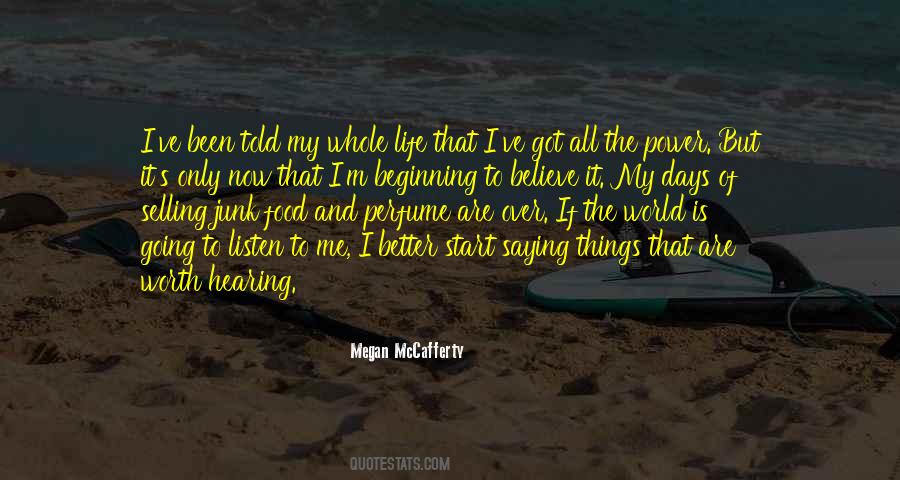 #63. I like the guitar better these days. I like the bass, too, but it's hard to fit a bass amp in a small car. - Author: Dee Dee Ramone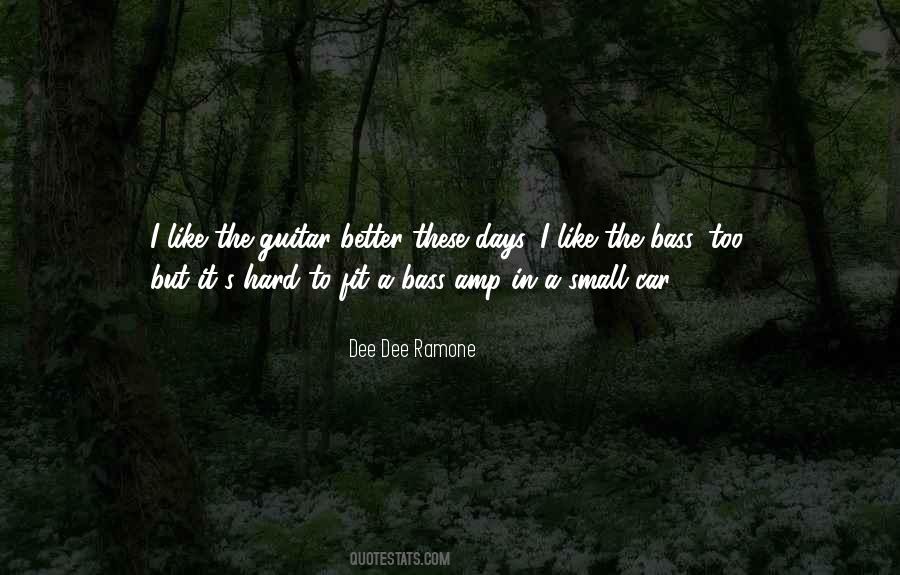 #64. If everything that looks like love really were love, my God, this would be a different and better world and even the darkest nightmares would be followed by unbearably happy days. - Author: Ray Loriga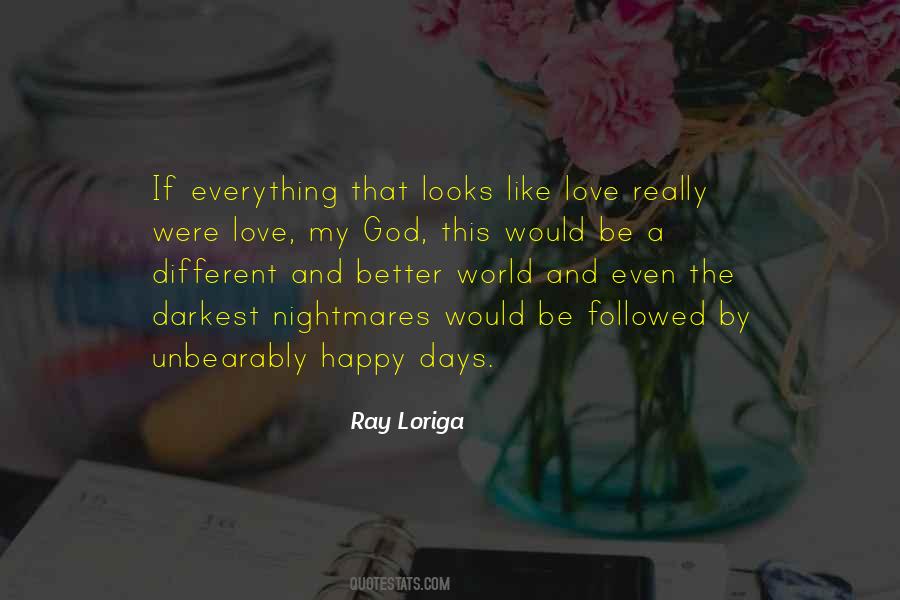 #65. When George Graham was there they complained, harking back to better days, but I think that's a fantasy. - Author: Alan Hansen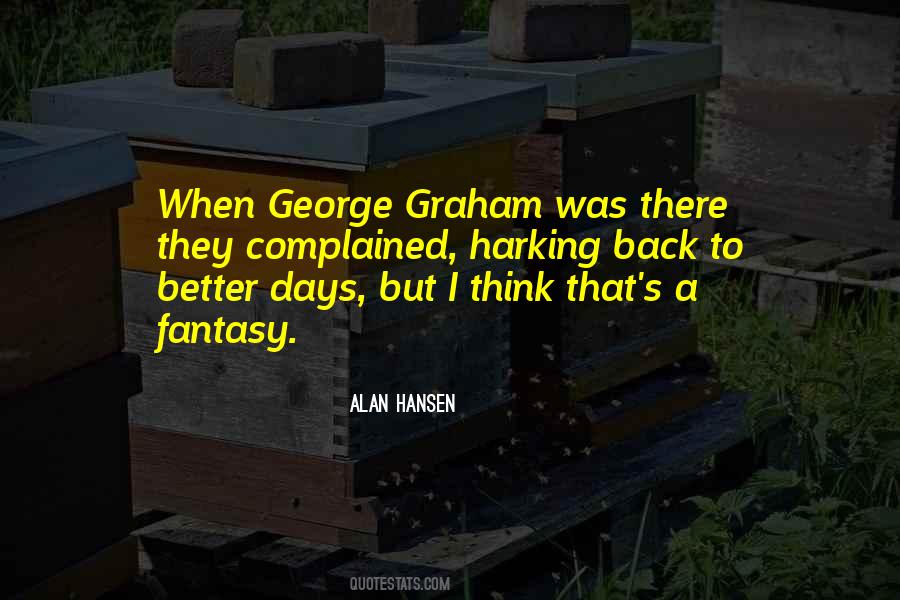 #66. You'd better hurry up, they'll be waiting for 'the Chosen Captain' - 'The Boy Who Scored' - whatever they call you these days. - Author: J.K. Rowling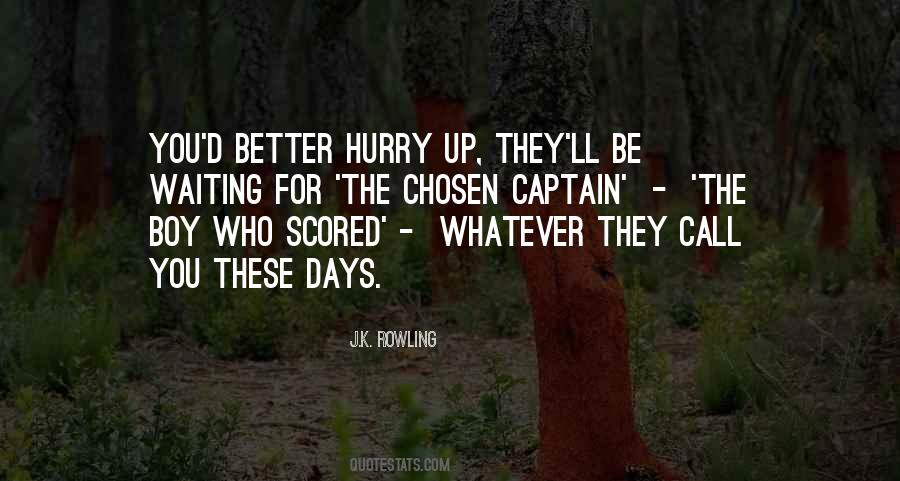 #67. If we make every day better than the one before, today will be the best day yet, and the greatest days ever will await us in every tomorrow. - Author: Wes Fesler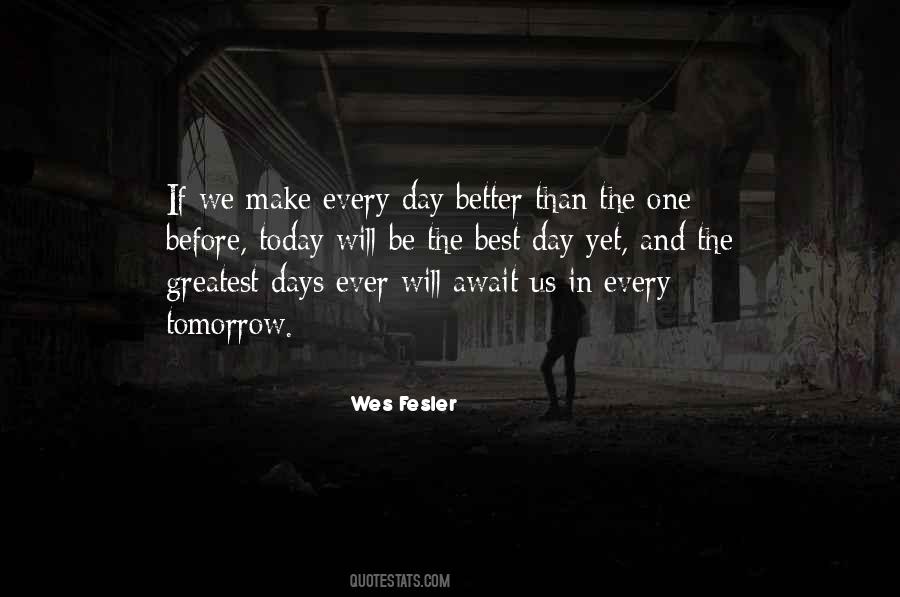 #68. Whether you're replacing one appliance that's seen better days, or many because you're moving or renovating, you probably know to look for the Energy Star label. That's good advice. - Author: Jean Chatzky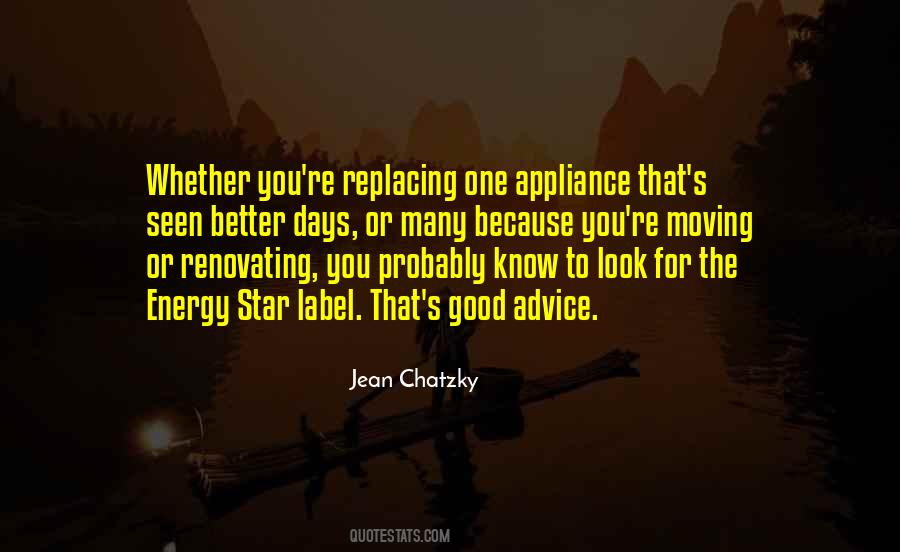 #69. Bad days my memory functions no better than an out-of-focus kaleidoscope, but other days me recall is painfully perfect. - Author: Mordecai Richler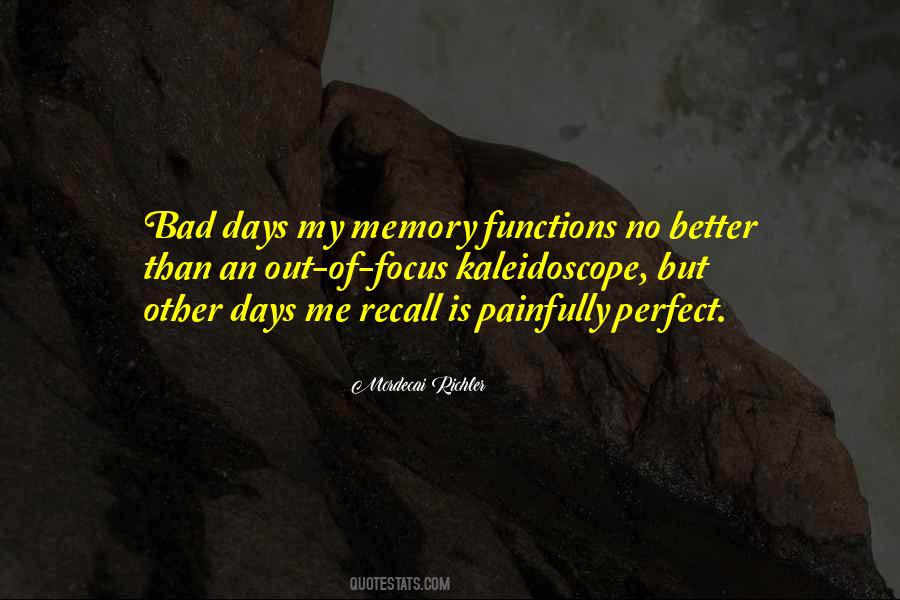 #70. Jo claimed that the reason people survived breakups was that within days of the amputation, Mother Nature started reminding you of what you had been doing without, what could have been better, all the samll discontents you had been filing away. - Author: Emma Donoghue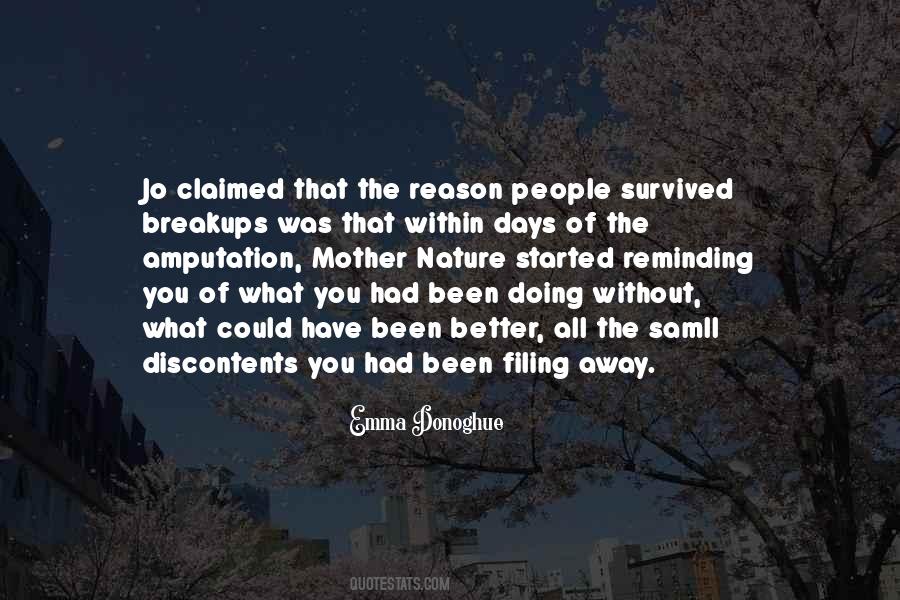 #71. I'm just a dreamer
I dream my life away
i'm just a dreamer
Who dreams of better days - Author: Ozzy Osbourne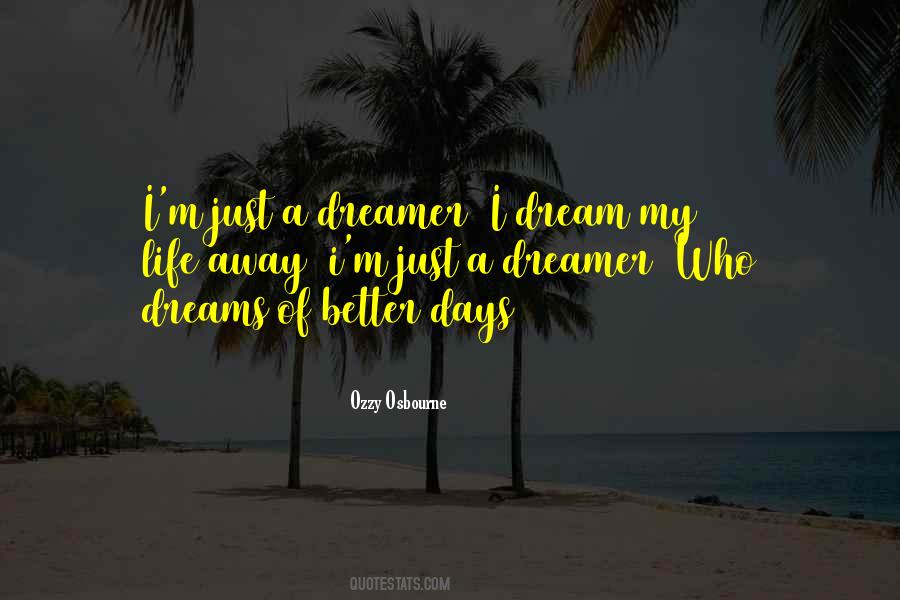 #72. Many other means there be, that promise the foreknowledge of things to come: besides the raising up and conjuring of ghosts departed, the conference also with familiars and spirits infernal. And all these were found out in our days, to be no better than vanities and false illusions ... - Author: Pliny The Elder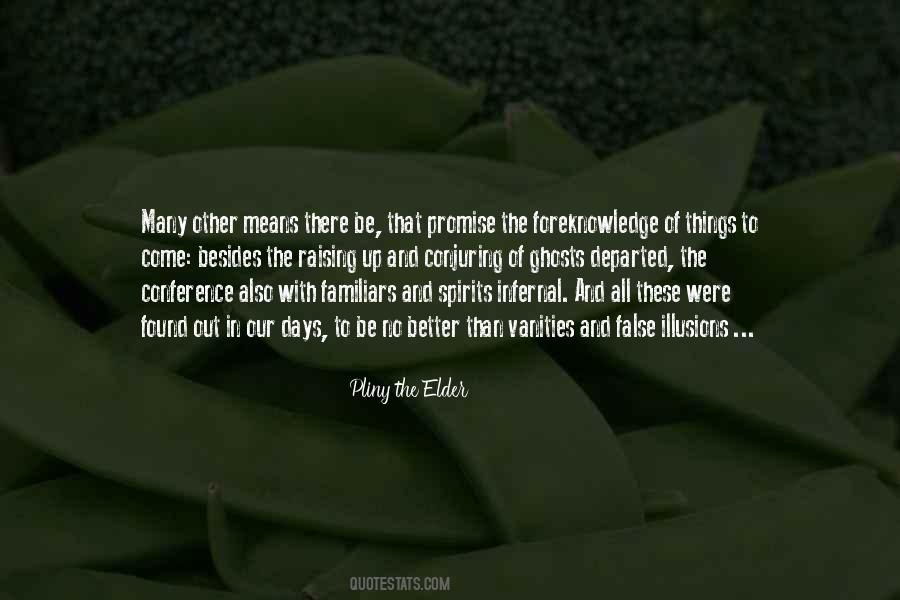 #73. I am here for readers to see parts of themselves during my dark days, but also for a better way of living in my triumphs and gained wisdom. - Author: Theia Mey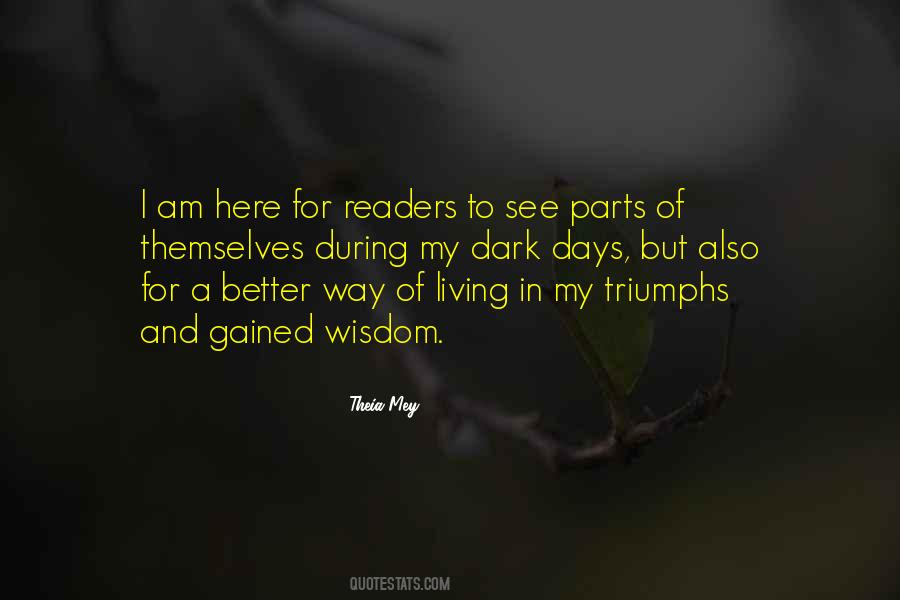 #74. A finished product is one that has already seen its better days. - Author: Art Linkletter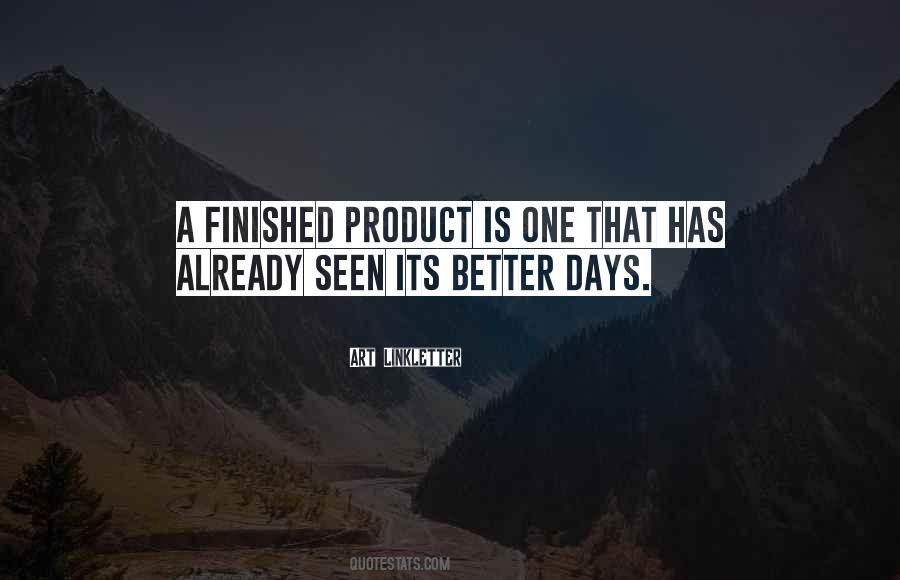 #75. The thing about curly hair is that it's a toss-up. Some days you can let it air dry and it's better than a hair-do, but some days you just look like a sloppy person. I'm really resistant to a trim. I only do it when it gets hard to brush out in the shower, then I'll submit, begrudgingly. - Author: Natasha Lyonne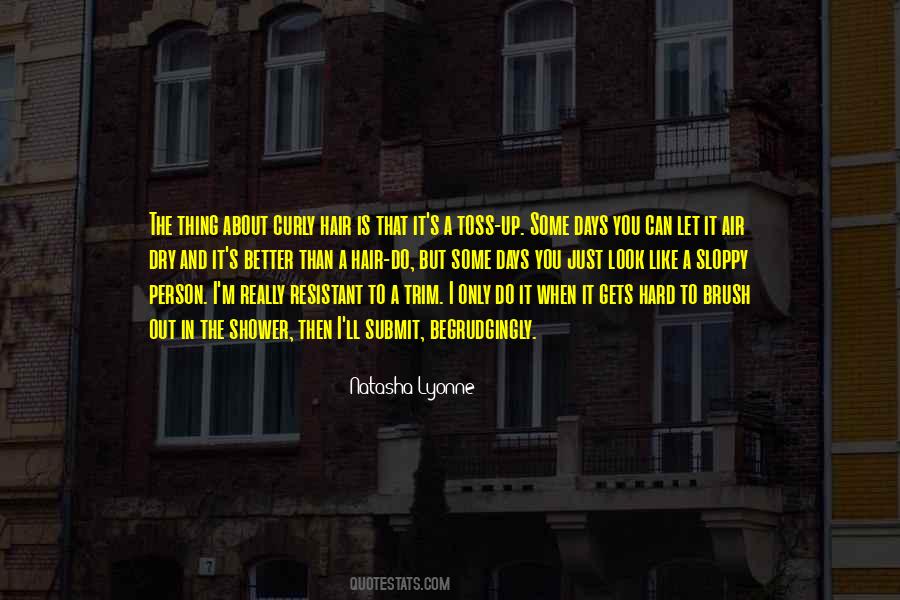 #76. I have to say, passive aggression gets a bad rap these days. It may not be appropriate in all occasions, but it's a lot better than aggressive aggression. - Author: A. J. Jacobs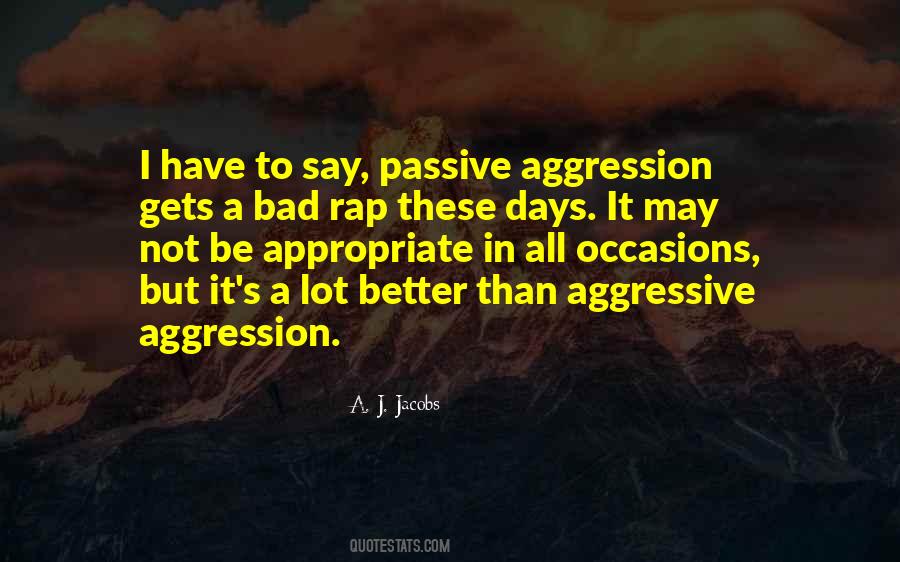 #77. Was that a bad lady, Papa?" she asked eagerly.
No."
But she looked bad."
There are very few bad people. There are just a lot of people that are unlucky."
But she was all painted and ... "
She was one who had seen better days. - Author: Betty Smith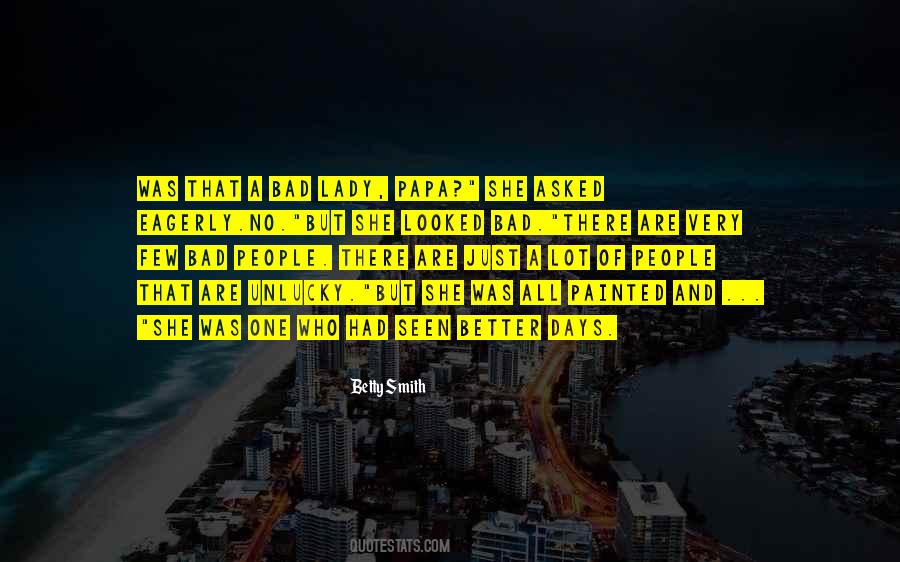 #78. Today can be better than the worse of yesterdays, but tomorrow can never replace the best of yesterdays. - Author: Anthony Liccione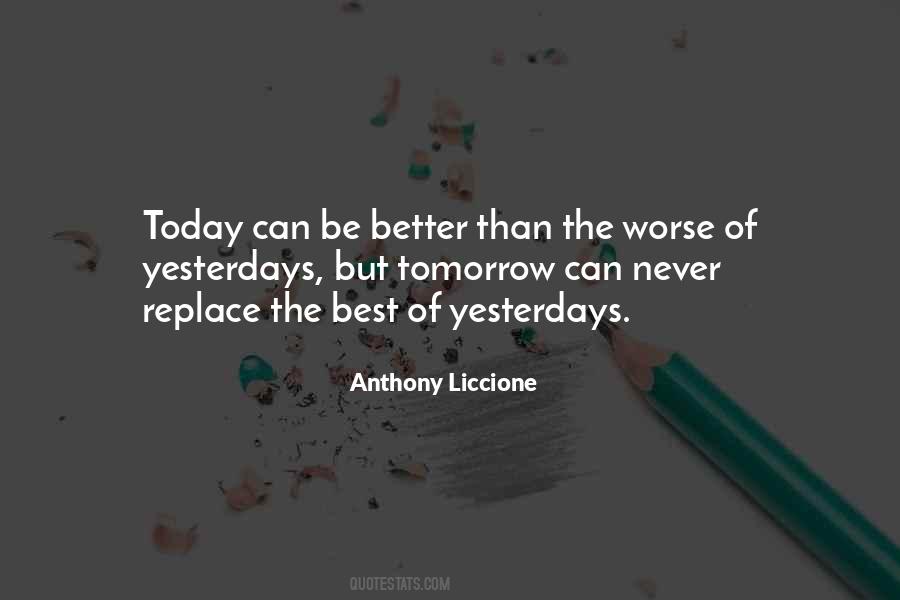 #79. The people behind me are the people behind Aristide. They are just looking for better days. - Author: Michel Martelly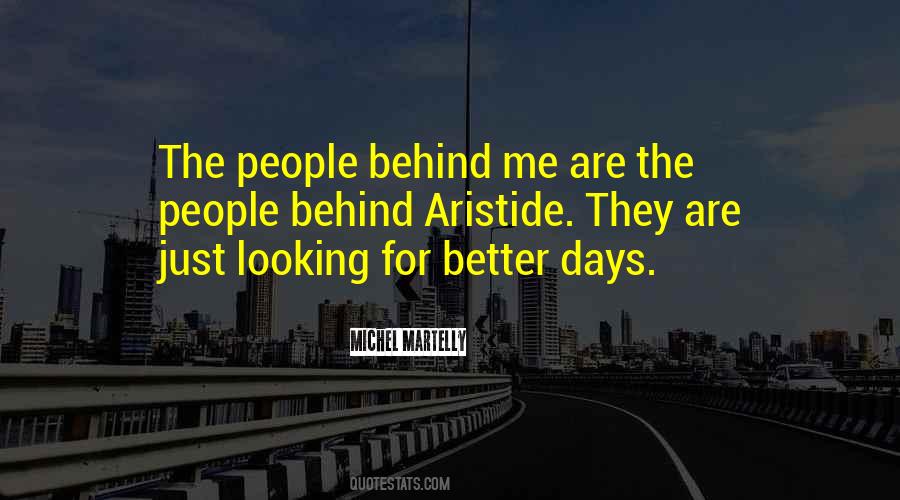 #80. The world was full of such madmen in those days. Imprisonment is not the way to deal with such people; half measures merely feed their pride. Leave 'em alone or hang 'em, in my opinion. Or better still, pack them off to the Americas, and let them starve. - Author: Iain Pears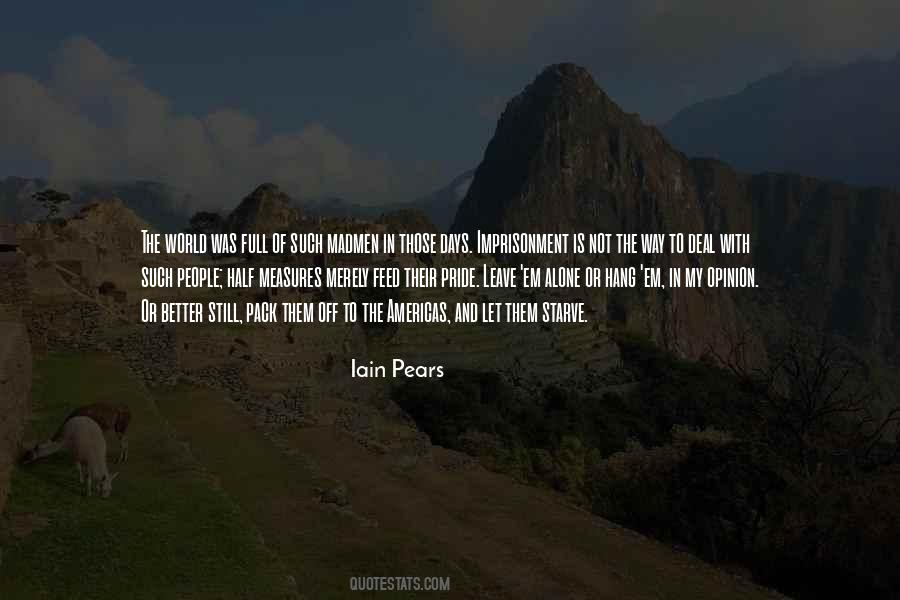 #81. For humans as well as for ships, dark stormy nights are better teachers than tranquil sunny days. - Author: Mehmet Murat Ildan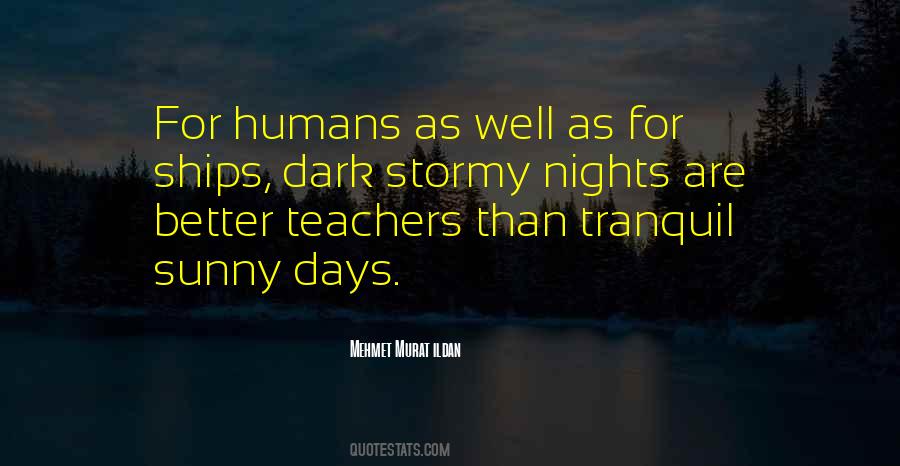 #82. Champagne makes you feel like it's Sunday and better days are just around the corner. - Author: Marlene Dietrich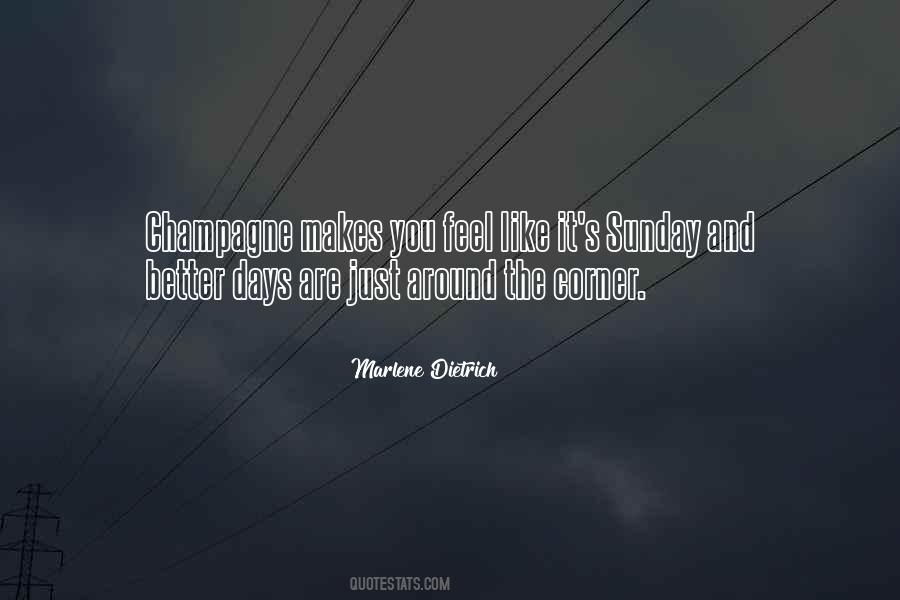 #83. People are always talking about the old days. They say that the old movies were better, that the old actors were so great. But I don't think so. All I can say about the old days is that they have passed. - Author: Kirk Douglas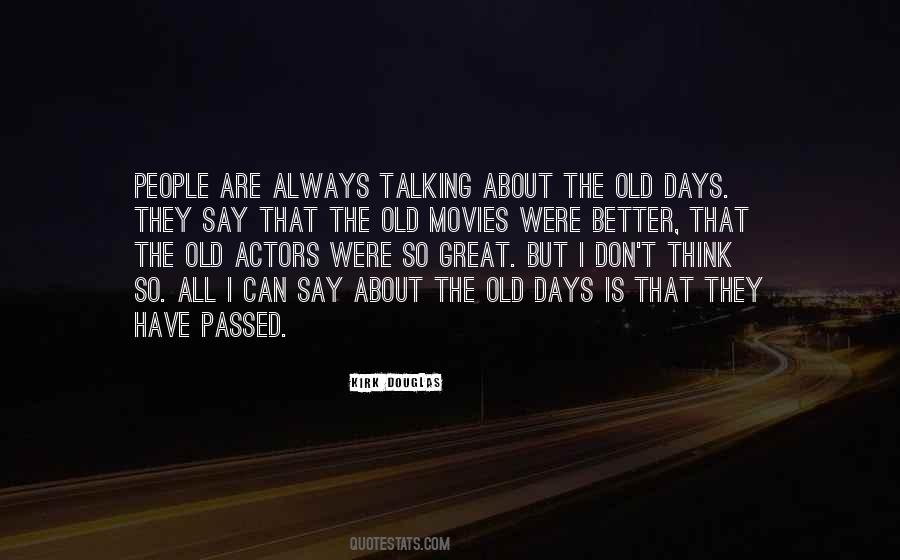 #84. Communications are better now than in my Vietnam days. - Author: R. Lee Ermey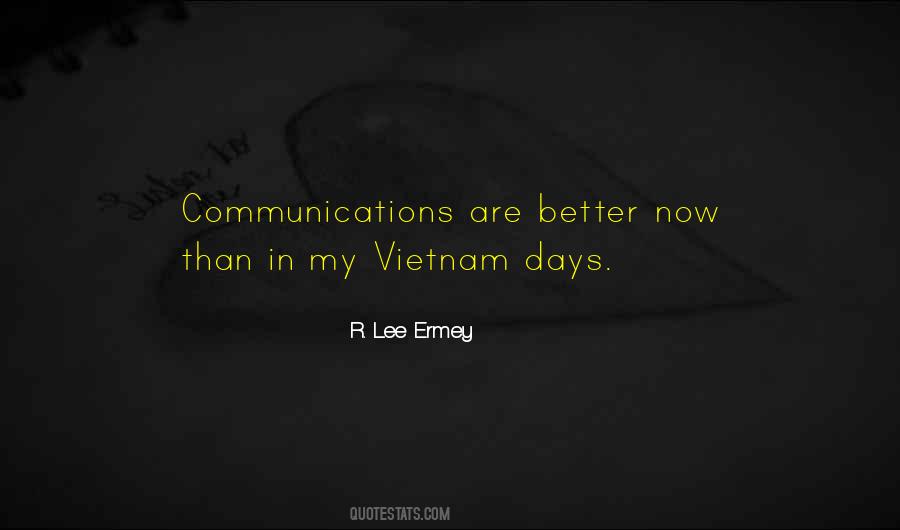 #85. The days of languorous shore leave are long gone. Overnight stays are unheard of and sailor towns a distant memory. In better ports, seafarers head for a seamen's mission. - Author: Rose George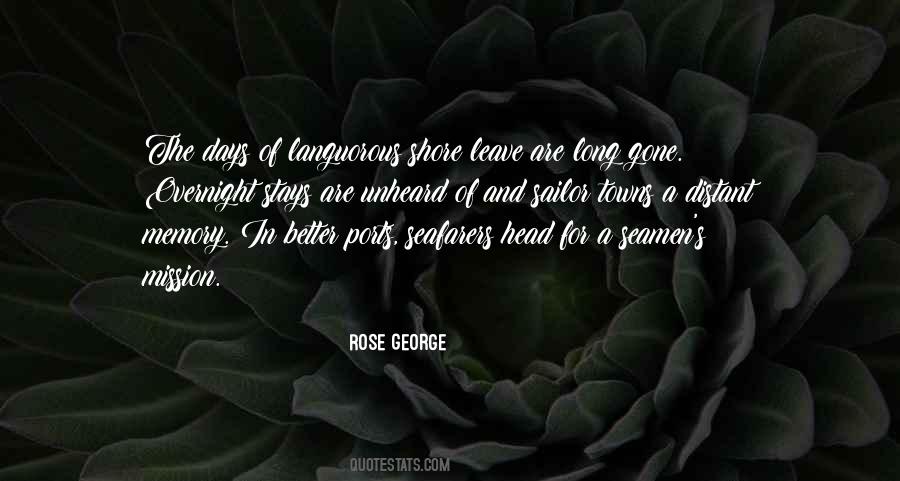 #86. The world awakens on the run And will soon be earning With hopes of better days to come It's a morning yearning. - Author: Ben Harper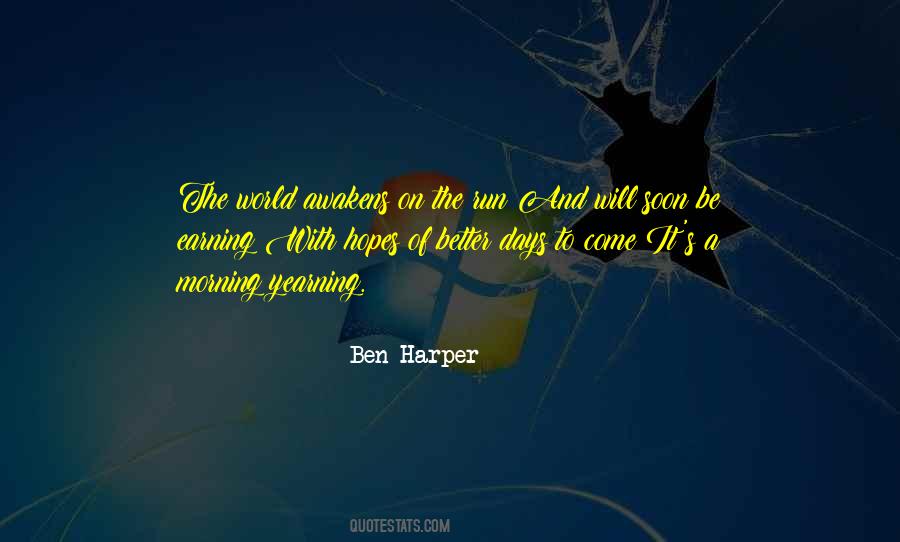 #87. I just have to express myself somehow, either through singing, dance or fitness. You get sick of it; you have days where you think you don't want to do it, but generally after I've done something, I feel better. That's why I do the exercise: to earn my bar of chocolate and cappuccino. - Author: Bonnie Langford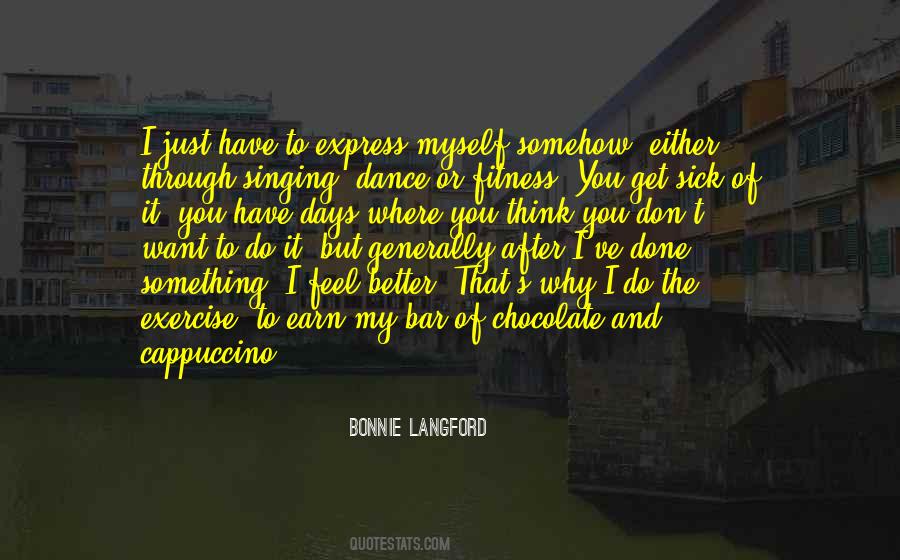 #88. These days, government employees are better off in almost every area: pay, benefits, time off, and security, on top of working fewer hours. They can thrive even in a down economy. - Author: Mortimer Zuckerman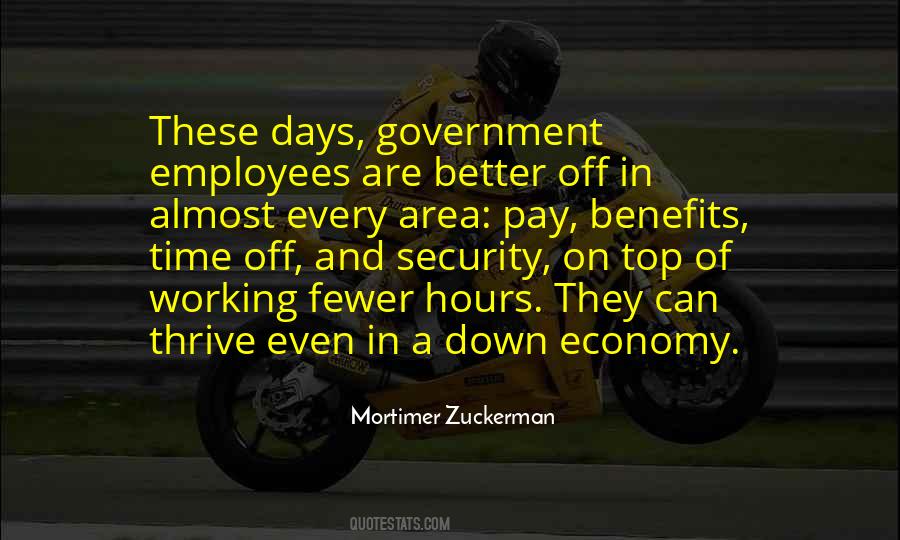 #89. We all have negative days, but that doesn't mean we are pessimistic. We all do stupid things, but that doesn't mean we are stupid. It's important to be able to distinguish between what happens to us and who we are, and look forward with hope for new and better days ahead! - Author: Lindsey Stirling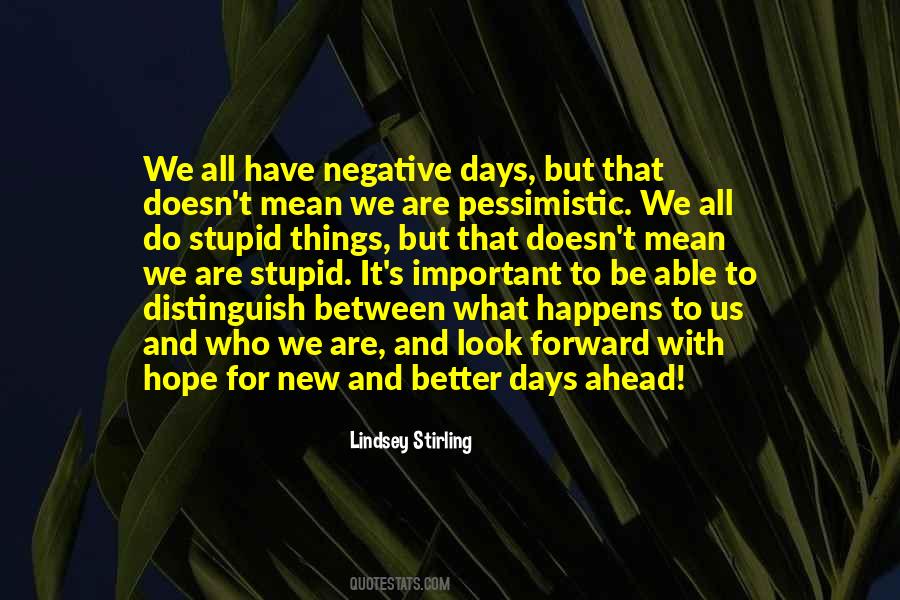 #90. The press these days should be rather careful about its role. We may have acquired some tendencies about over-involvement that we had better overcome. - Author: Katharine Graham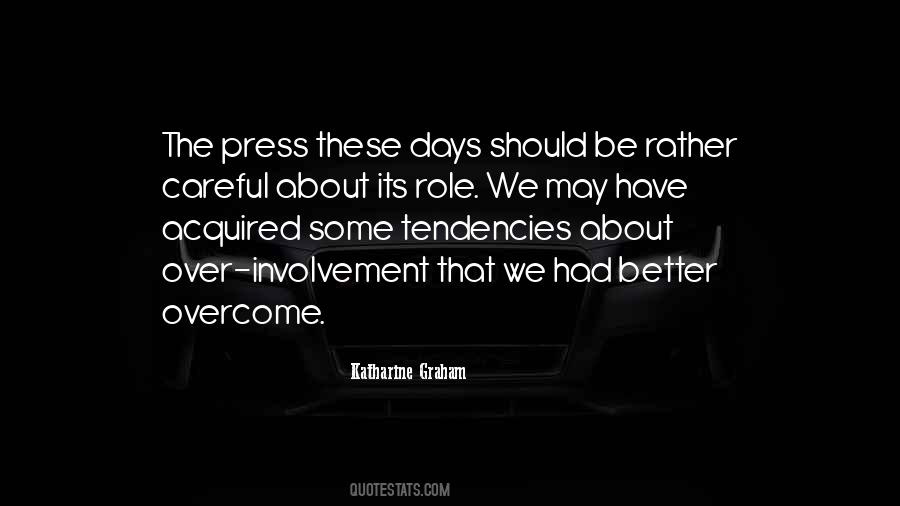 #91. The way of the nomad is to accept everything as it comes: there is no anticipation of better days, no longing for the unrequited, no despair for loss. - Author: D.J. Niko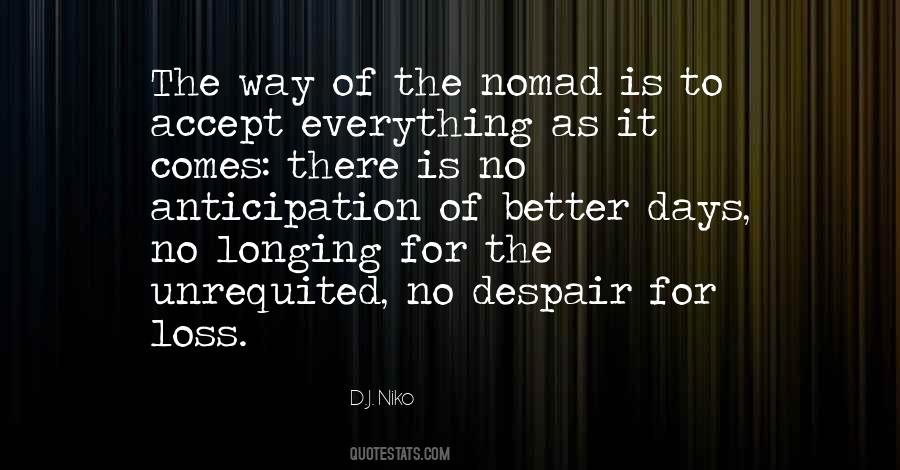 #92. You've always got to have that inner confidence in you. That's where it all starts. You're gong to have good days, you're going to have bad days. You've got to have the same desire and try to get better each day. - Author: Scott Tolzien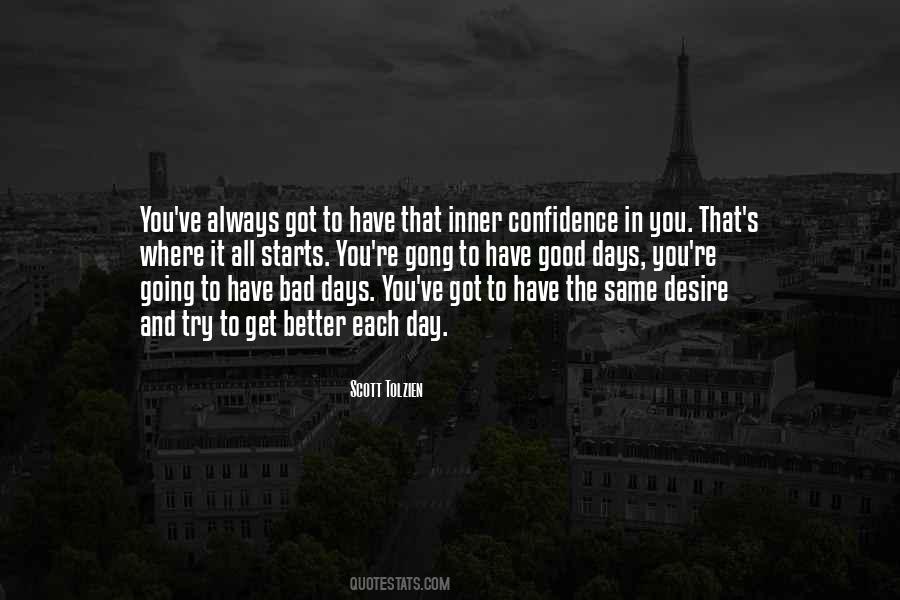 #93. Better a days catch of fish than a lifetime of crabs. - Author: Phil Robertson
#94. Bad days will come for each one of us, and the more we've thought these things through ahead of time, the better prepared we'll be when tragedy strikes or struggles emerge. - Author: Terri Blackstock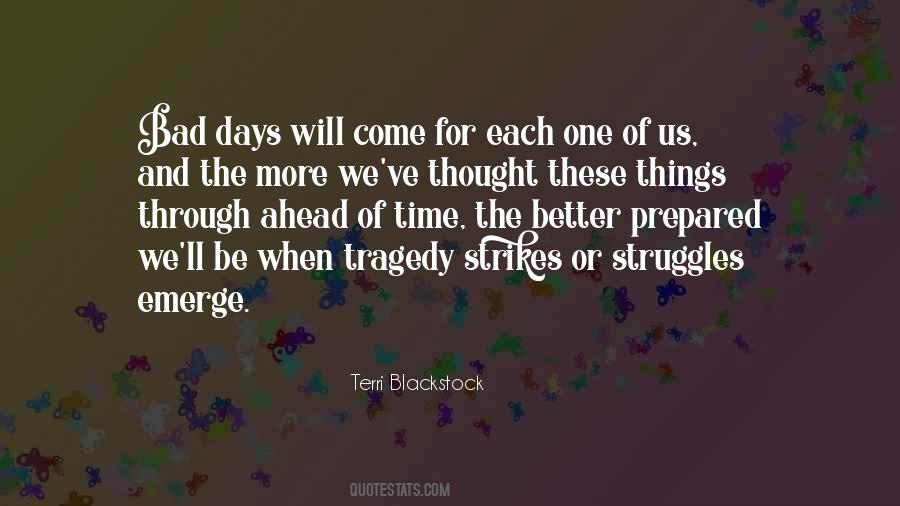 #95. I'm slower and some days are better than others, but I'm a fighter. - Author: Richard Pryor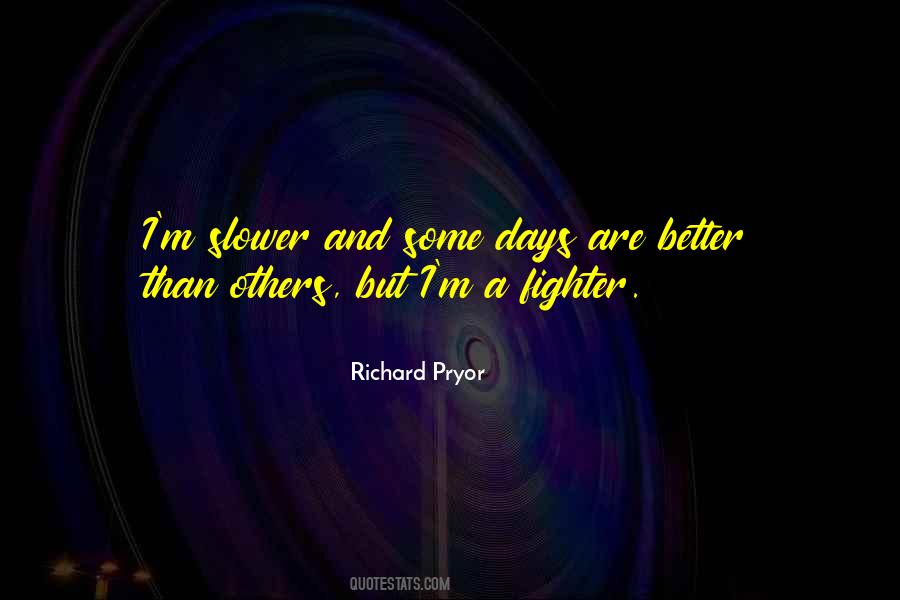 #96. How the fuck do I know that my better is anything more than the great big fat lie we tell ourselves to justify the slow fat nothing of our days. - Author: Claire North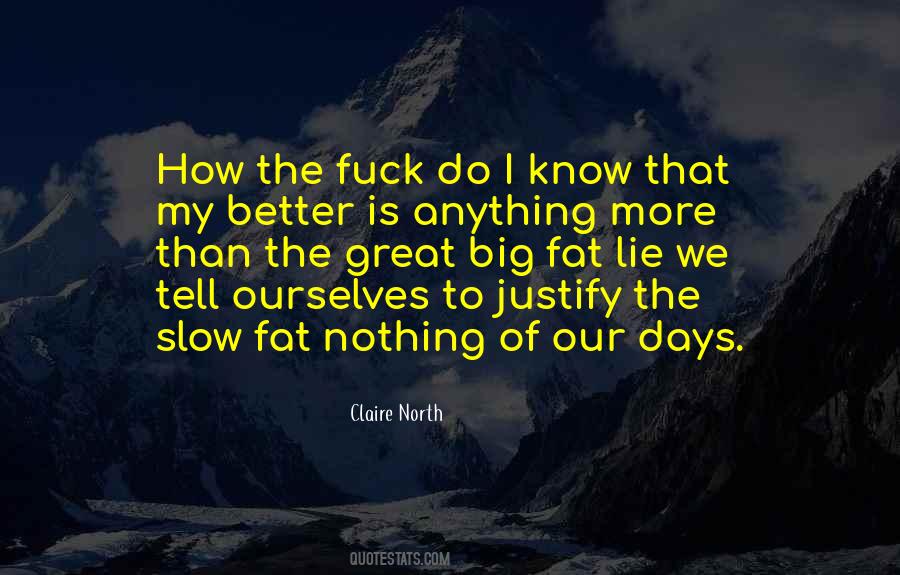 #97. It was Simone who used to say, on her better days, "Don't worry, little one, none of this will leave a scratch. - Author: Stephanie Danler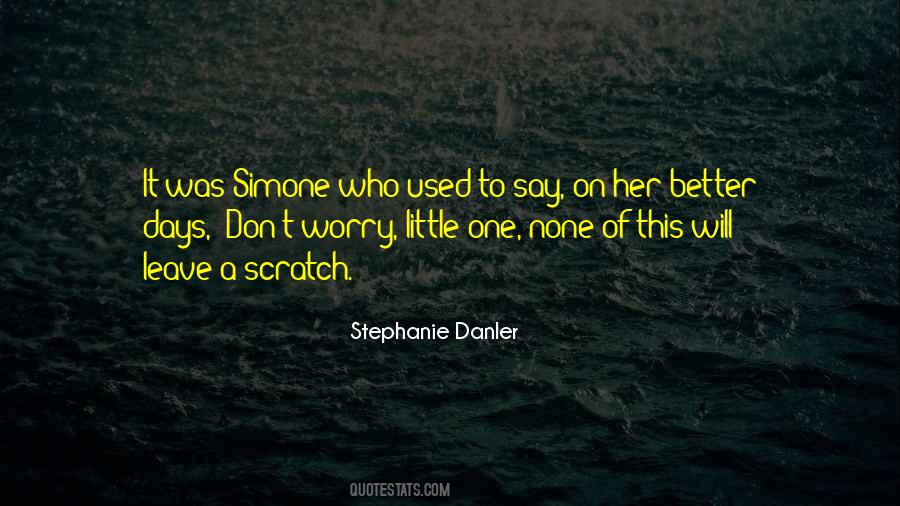 #98. As a self-employed person, the idea of a break is completely foreign to me. If I completely switch off for any period of time, I know I'm going to pay for it several times over. For me, it's a lot better and easier to stay in touch and know what's going on seven days a week than to switch off. - Author: Stelios Haji-Ioannou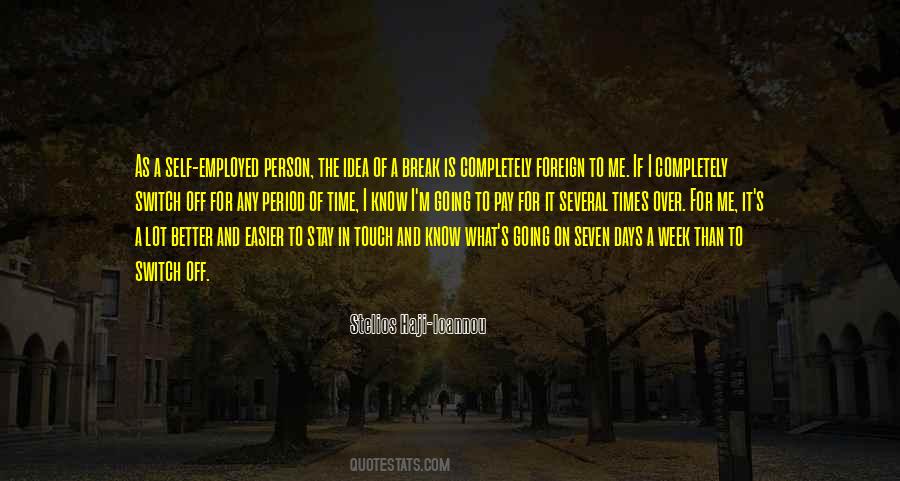 #99. Also by my earliest days, I was fascinated by a utopian vision of what the world could be like. I've thought that science could be the basis for a better world, and that's what I've been trying to do all these years. - Author: George E. Brown Jr.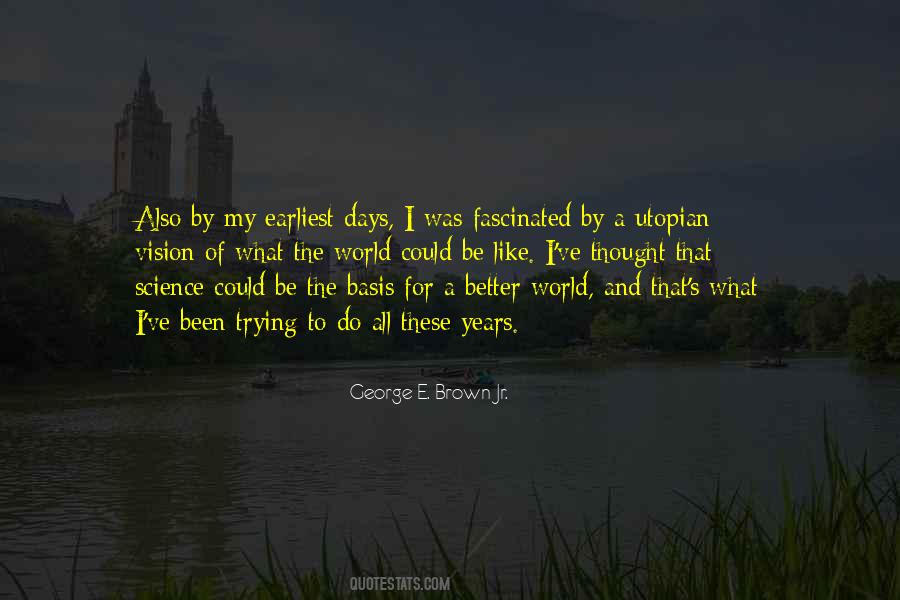 #100. A worm tells summer better than the clock,
The slug's a living calendar of days;
What shall it tell me if a timeless insect
Says the world wears away? - Author: Dylan Thomas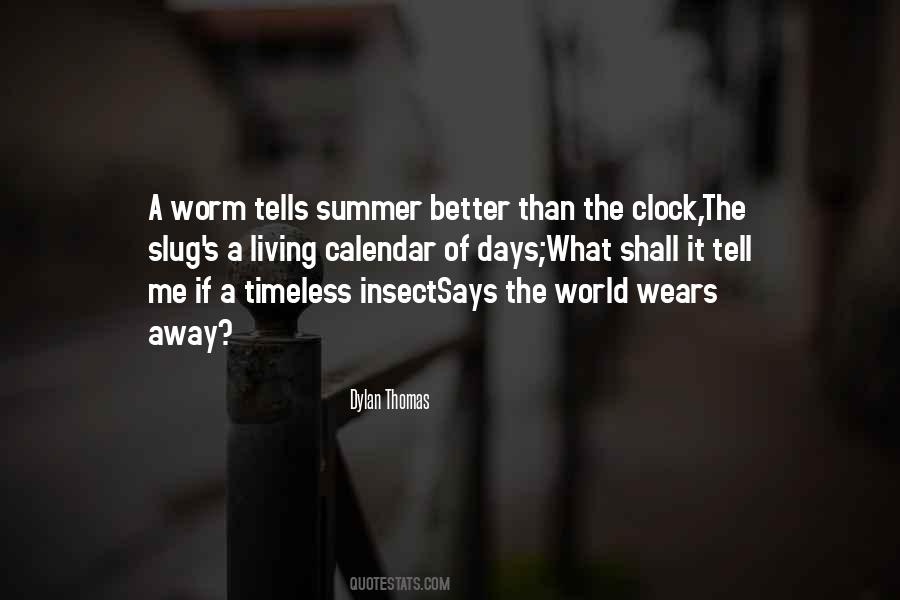 Famous Authors
Popular Topics