Being Good Famous Quotes & Sayings
List of top 100 famous quotes and sayings about being good to read and share with friends on your Facebook, Twitter, blogs.
Top 100 Quotes About Being Good
#1. Good people don't spend their time being good. Good people want to spend their time mowing the lawn and playing with the dog. But bad people spend all their time being bad. It is all they think about. - Author: Alan Furst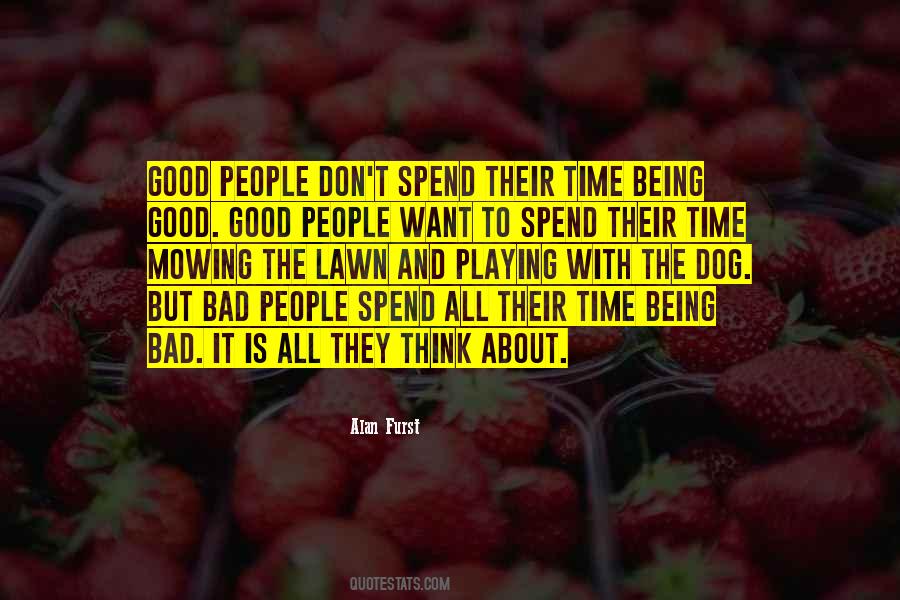 #2. Canadian weather resembles a slightly spoiled beautiful girl with a good heart, but a bad disposition. After being horrid for much too long a time, she suddenly turns right about and makes up for everything with so much charm that you vow again you always loved her! - Author: Wilder Penfield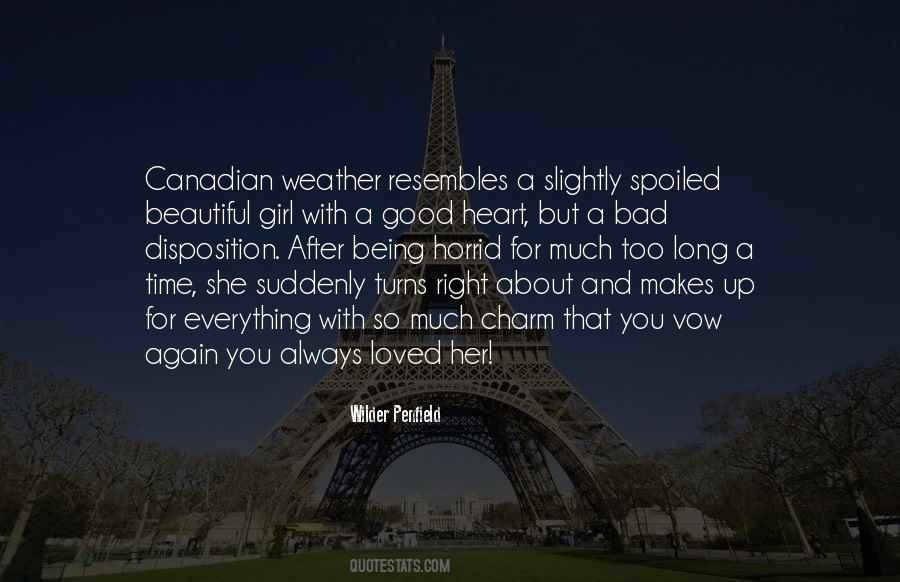 #3. When I work as a model, it feels like holiday. Doing a shoot is so light in a way that it's really a good break from being a mother or running a charitable organization and other philanthropic projects that I'm really passionate about. - Author: Natalia Vodianova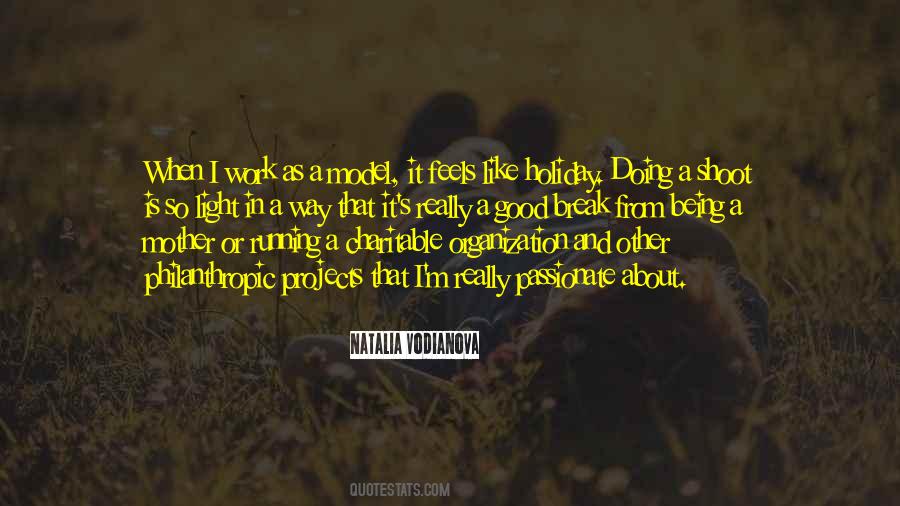 #4. Unfortunately, the simplest things - such as thinking for myself, creating my own reality and being whatever the hell I want to be each day of my life - are a sin. To be a good Christian basically means to give up the reigns of your life and let some unseen force do it for you. - Author: Brandon Boyd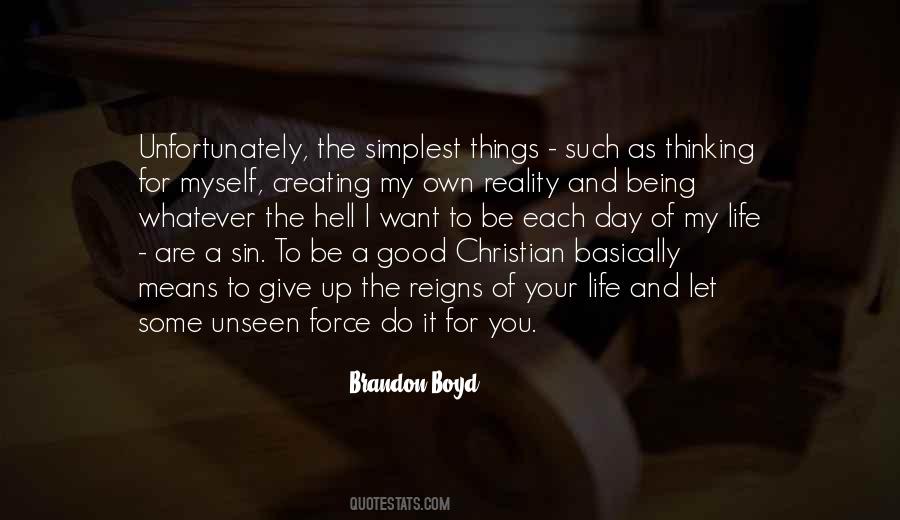 #5. We are continuing to look for ways that we can do something that's good for both of us. Good for both of us being the Cowboys relative to relief as to our cap management and good for him that would maybe be some pluses for him on his contract. - Author: Jerry Jones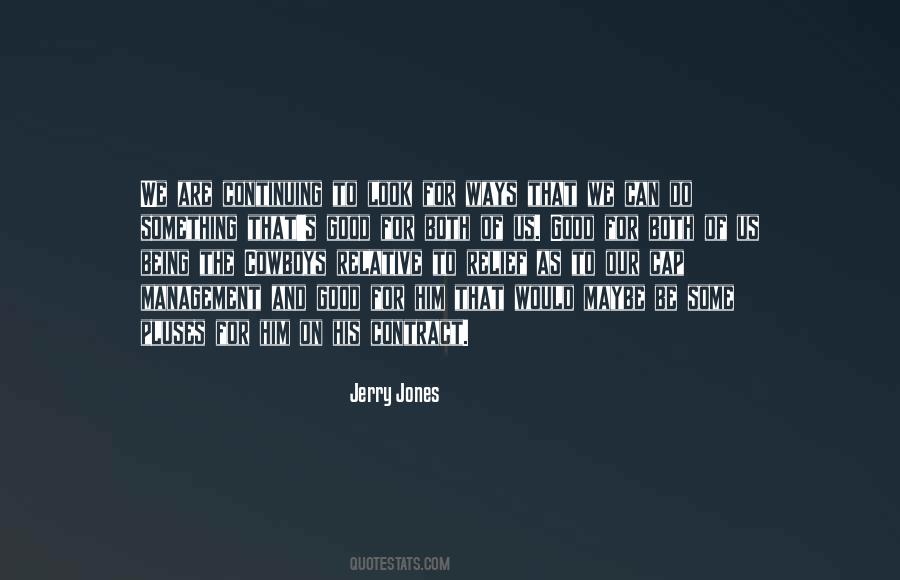 #6. Running for president is hard. But it's good preparation. Because being president is a lot harder. - Author: Mark McKinnon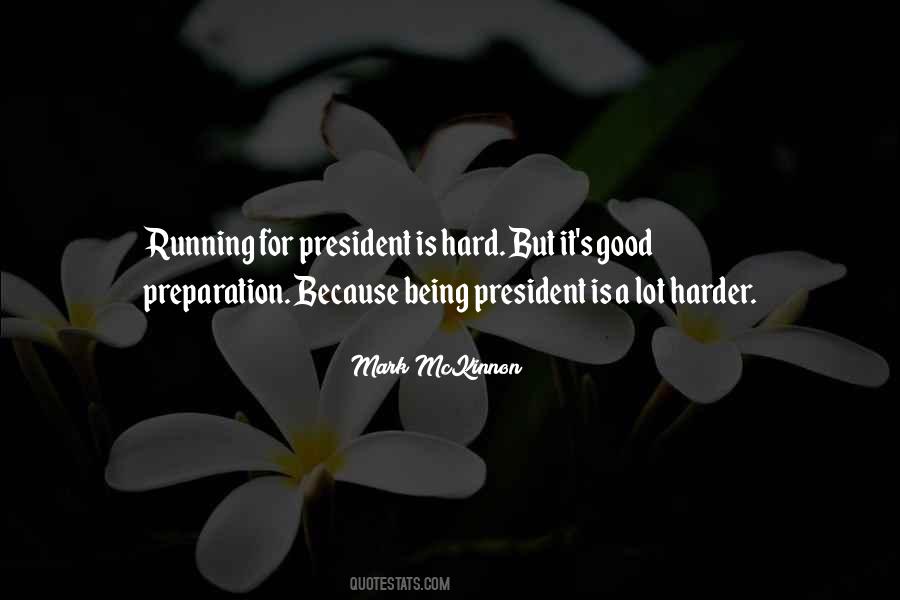 #7. Sexiness is all about your personality, being genuine and confident, and being a good person. - Author: Erin Heatherton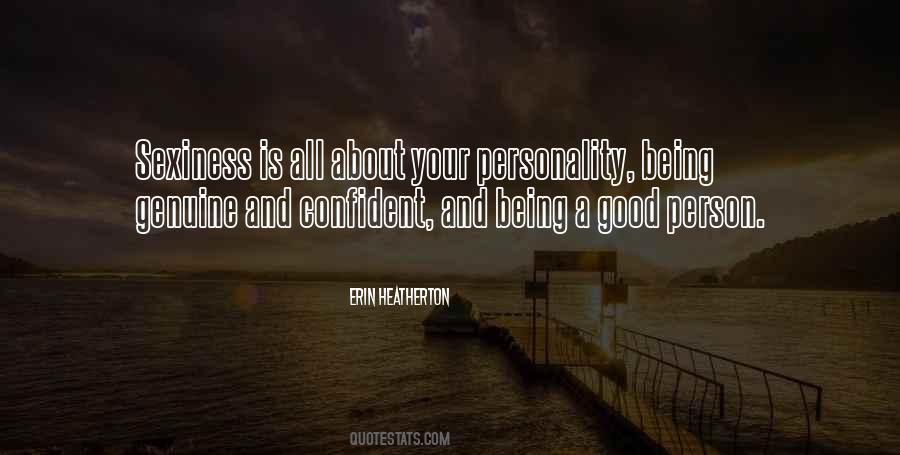 #8. Today I will learn to reject shame. Shame is an overwhelming sense that who I am isn't good enough. I realize that I am good enough, and that my imperfections are part of being human. I let go of shame. - Author: Melody Beattie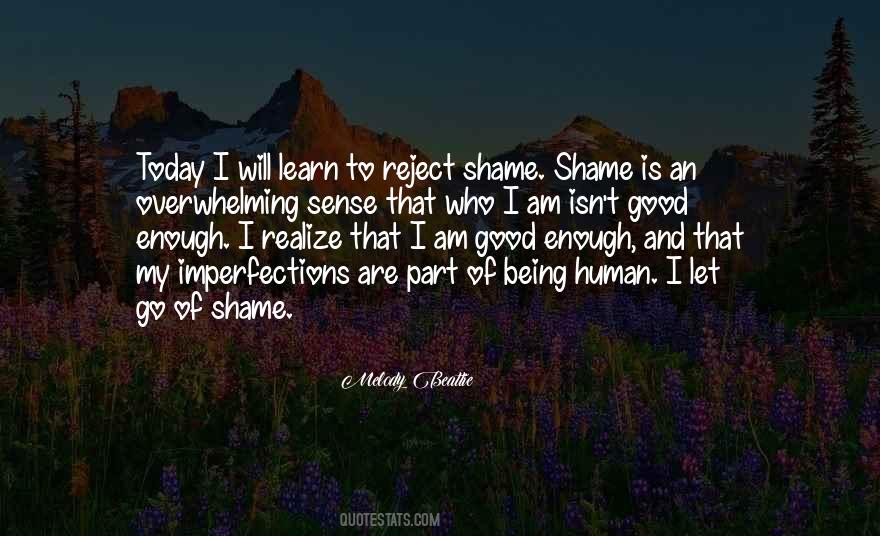 #9. I can't. I'm not a good influence on him. I keep getting him shot. I swear too much, I don't brush my teeth every time I go to bed, and I never remember to eat a balanced breakfast. You want someone with culture. Poise. A lack of gunfire.
-Toby - Author: Seanan McGuire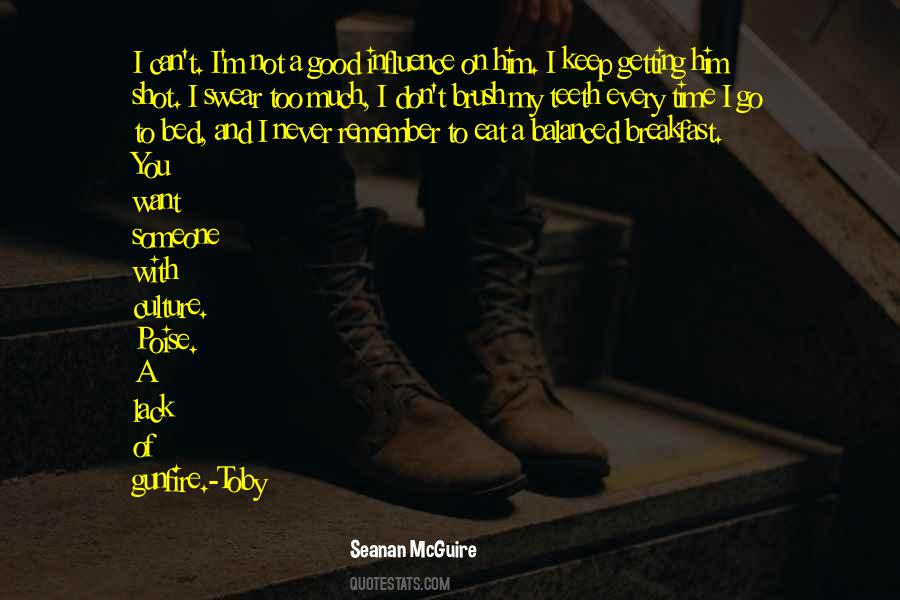 #10. There's one good thing about being in the bomb disposal unit: No superior officer is ever looking over your shoulder. - Author: Robert M. Edsel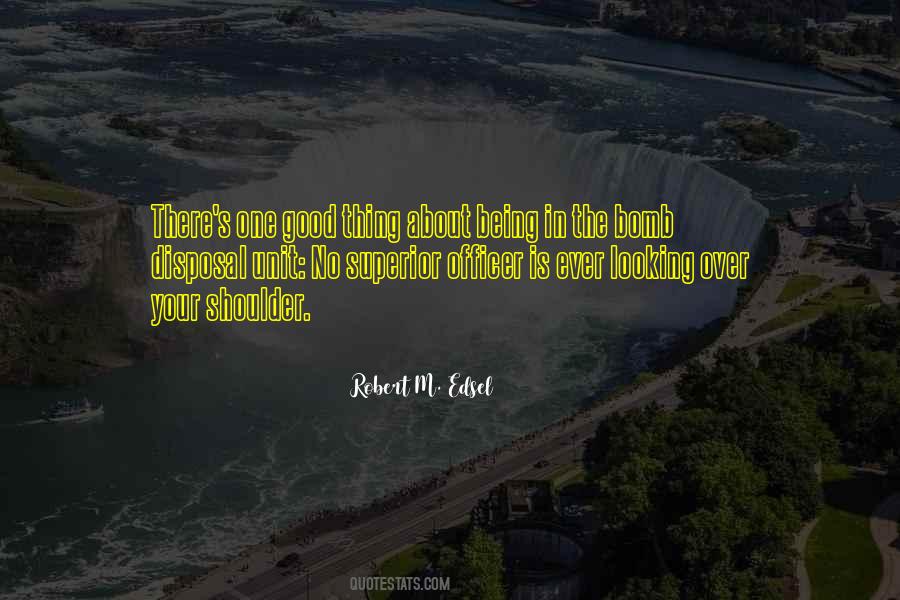 #11. It turns out that the 'Cry It Out' method of baby sleep training, where you ignore that your kid is screaming, crying and turning 40 shades of purple so that she can break herself out of the habit of being spoiled and cuddled to sleep, does more harm - way more - than good. - Author: Denene Millner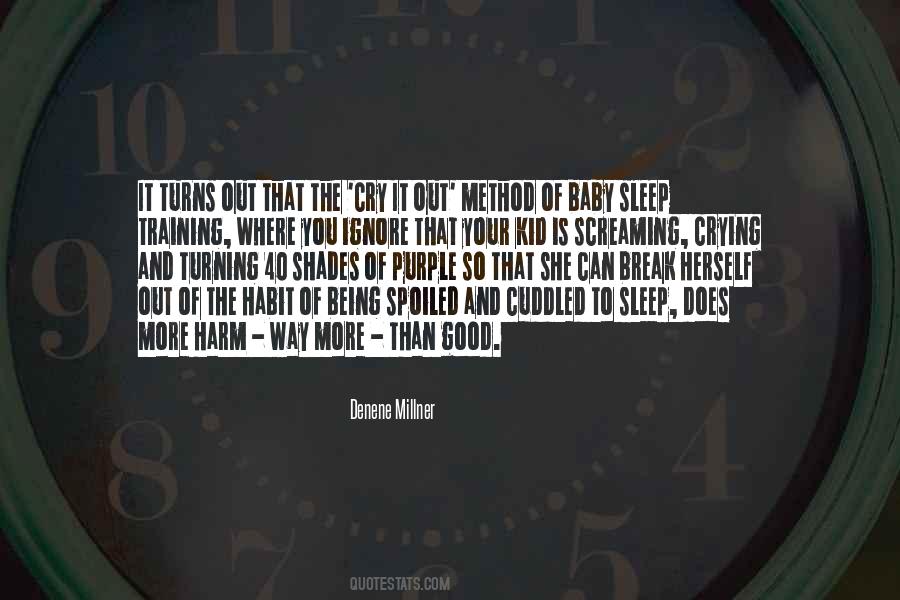 #12. Most couples get married because it's time, not because they're in love. They might have money issues, parental pressure, or they're simply tired of being alone - so they pick Mr. Good Enough and tie the knot. - Author: H.M. Ward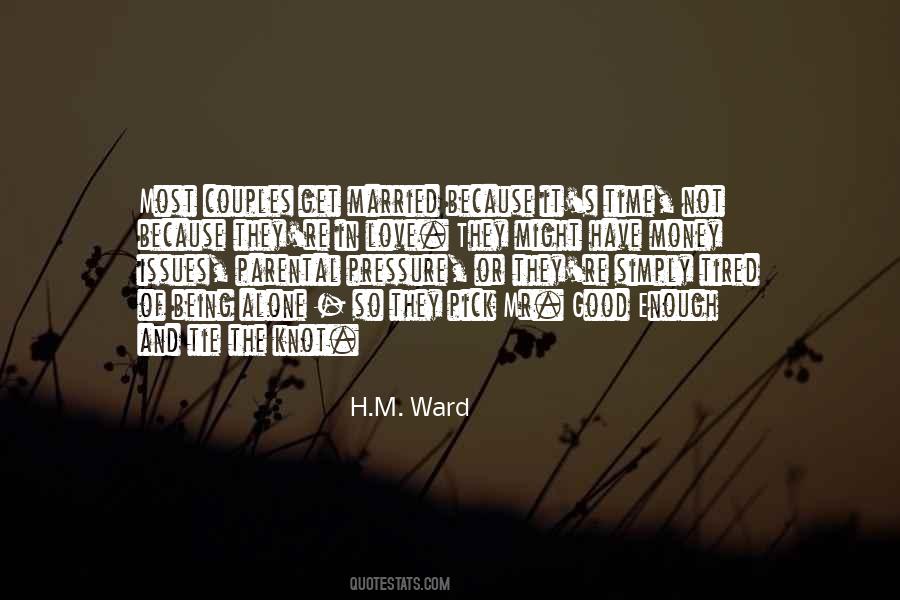 #13. I'm not good at living in the grim places ... when we did Gatsby, I lived in Claridges, that's where I wanted to live. I can't live in grimness and then go play a classy human being. - Author: Bruce Dern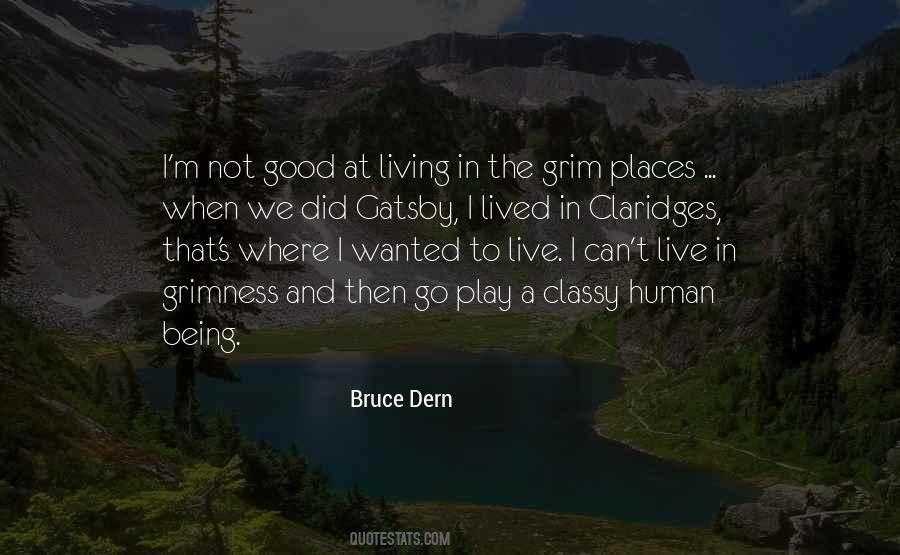 #14. The primary thing I should do, apart from being a good husband, brother, son, and friend, is to be a citizen activist. But I'm afraid it takes away from the writing. Not that anything depends on whether I put an essay in 'The Nation' or not. But you want to participate. - Author: Tony Kushner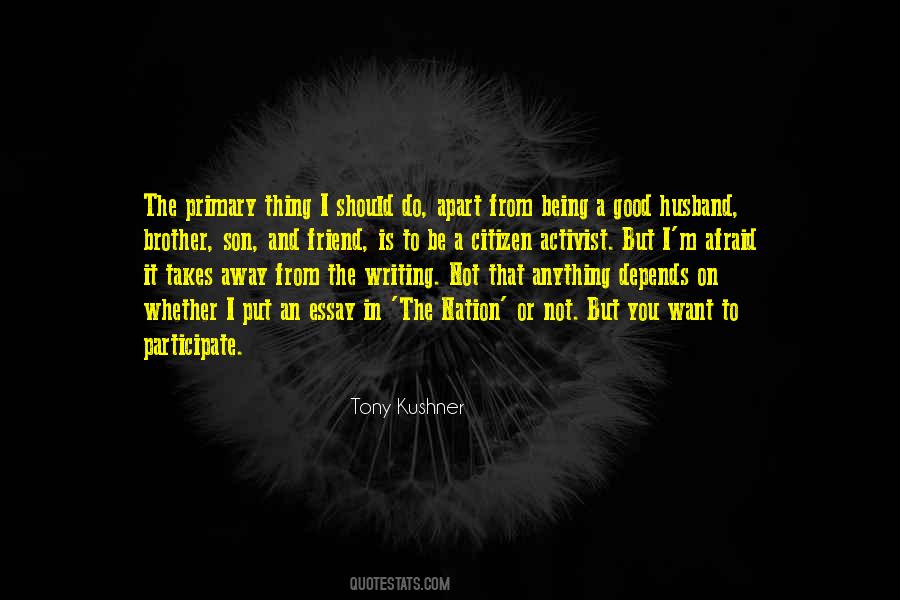 #15. Tapping into the aether, well, it was like coming home at the end of the day and finally being able to take a bra off.
It was that good. - Author: Jennifer L. Armentrout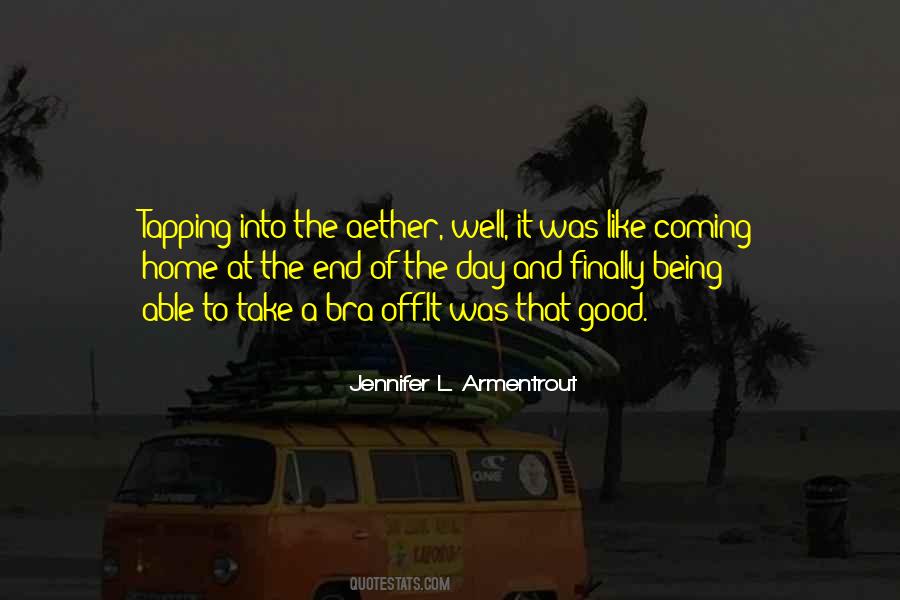 #16. Any human being is really good at certain things. The problem is that the things you're good at come naturally. And since most people are pretty modest instead of an arrogant S.O.B. like me, what comes naturally, you don't see as a special skill. It's just you. It's what you've always done. - Author: Stephen Jay Gould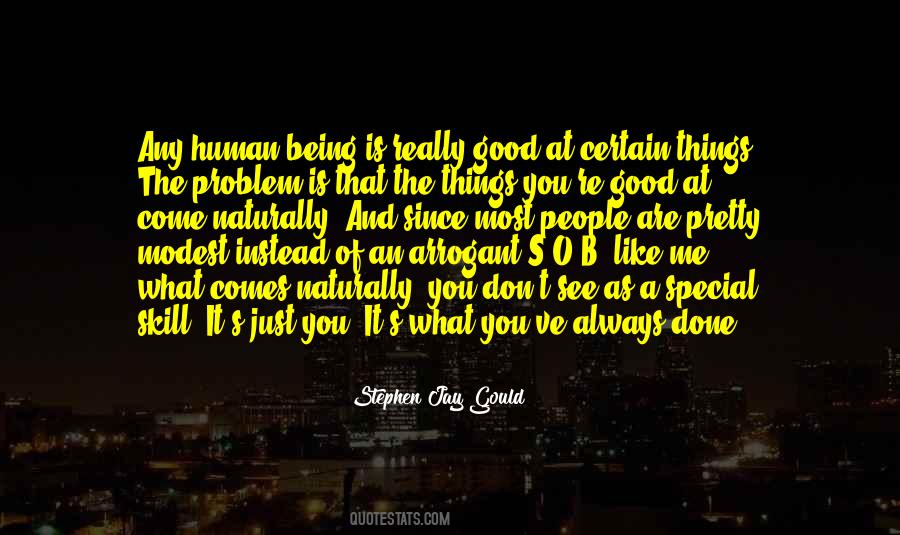 #17. I don't trust men everybody likes. Being nice isn't the same as being good. - Author: Sarah Rees Brennan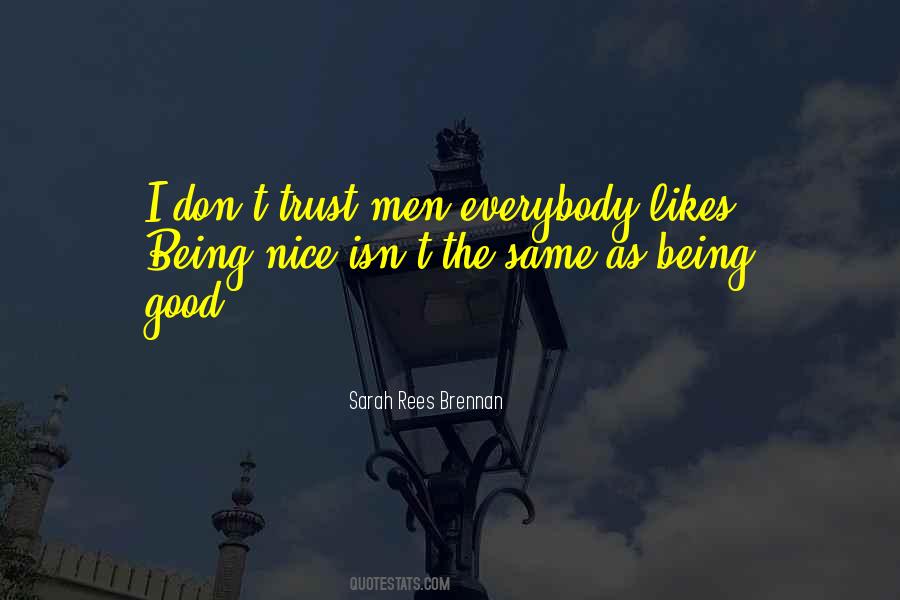 #18. What would have been the good of my being plunged into a lot of naked suffering and emotional crisis without any prayer, any Sacrament to stabilize and order it, and make some kind of meaning out of it? - Author: Thomas Merton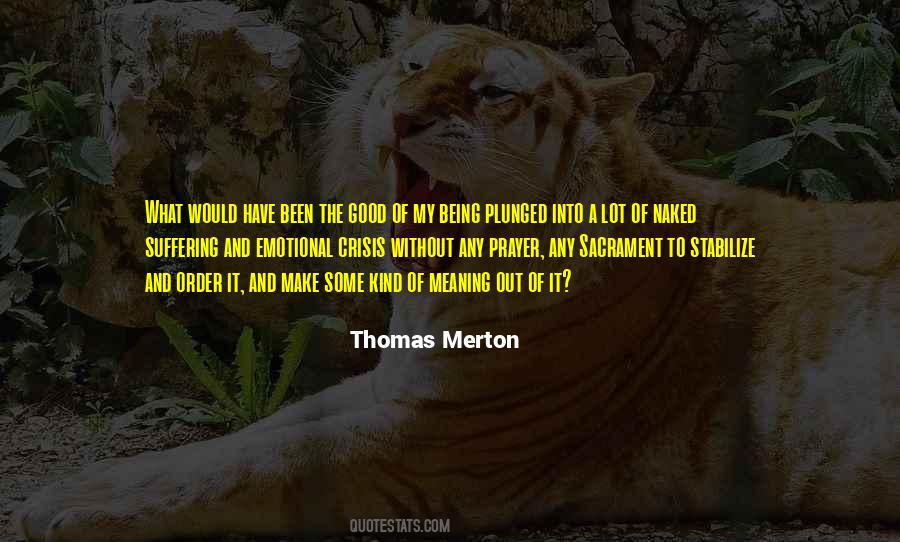 #19. Being a celebrity you always get really good seats to sporting events but you never get as good seats as the photographers get. And I really love sports. So one of the scams I have going now is I want to learn sports photography so I can get better seats at a sporting event. - Author: Drew Carey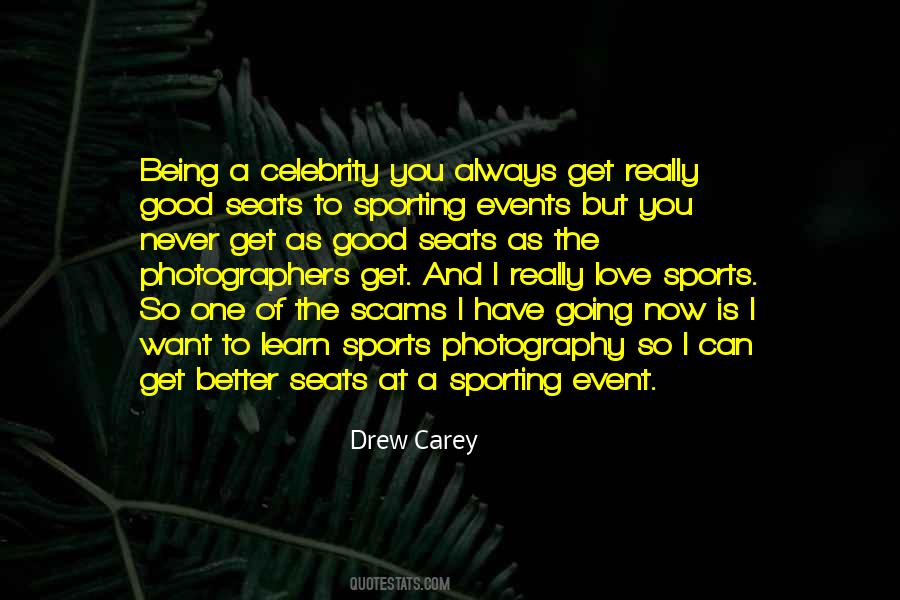 #20. Almost 30 years ago, I started seeking help from a counselor with a master's of social work in New York City, but we were never a good match. It was like being in a bad relationship, except the guy could actually bill my health insurance company for lousy dates. - Author: Gina Barreca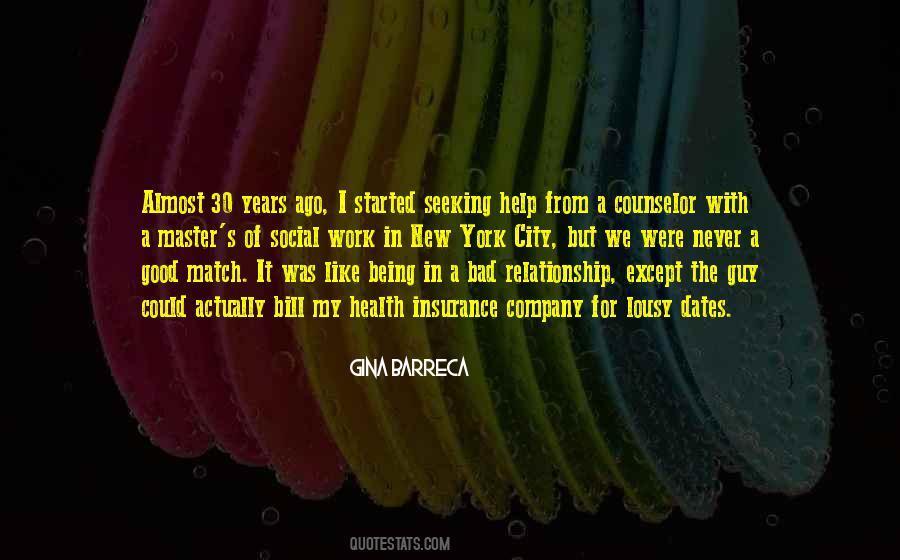 #21. This is good, life must continue, we are fighting barbarians, but we must remain human. - Author: David Benioff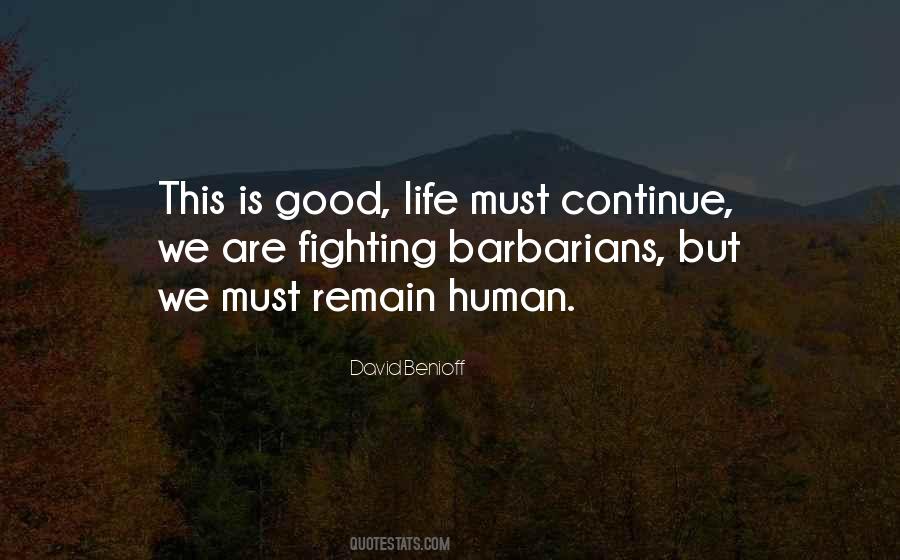 #22. What I look for in a voice is for it to be unique. I don't really care if a singer sings well. Really, it's about emotion, or being able to sing the lyrics and actually mean it. A lot of singers sing good notes but forget about what words they use. - Author: Zedd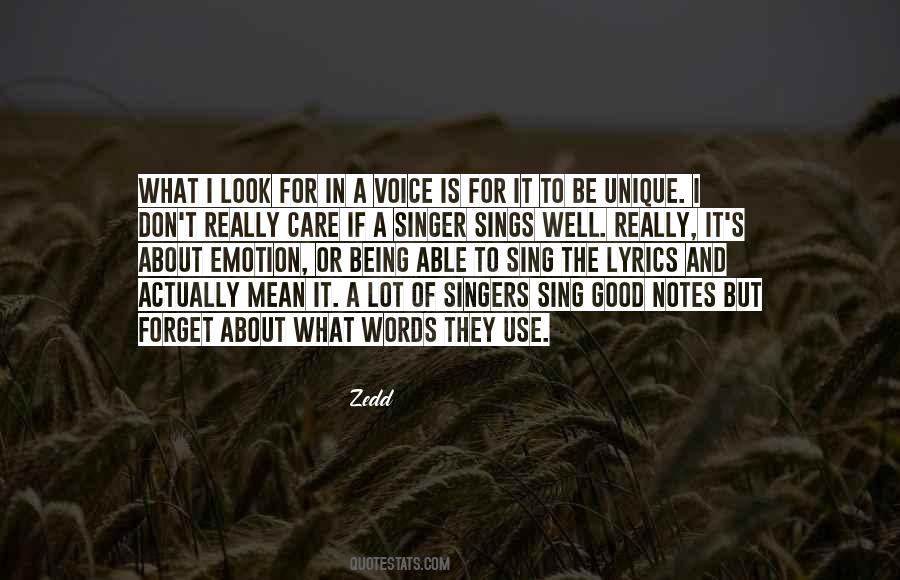 #23. I always knew I wanted to have children. When I met my husband, Rande, I thought, 'This is the guy.' When you are getting ready to become a mom, being in love with someone just isn't enough. You need to think about whether he would be a good parent and raise your children with similar beliefs. - Author: Cindy Crawford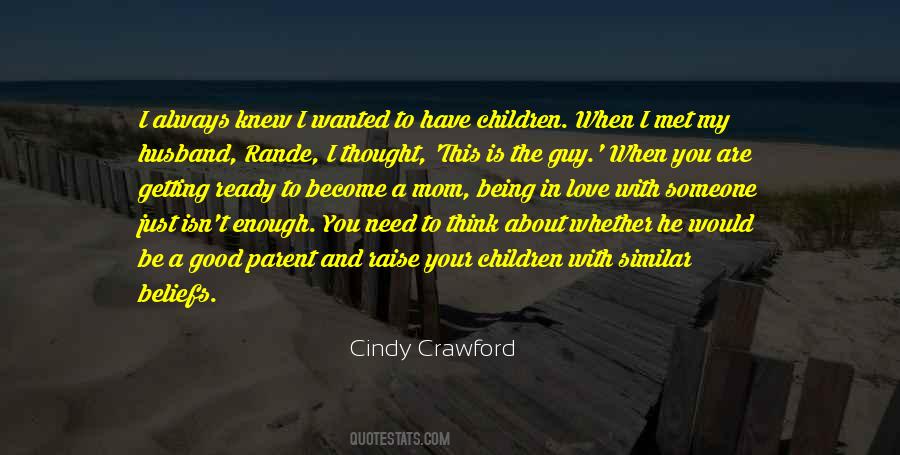 #24. Like ageism and sexism, lookism was everywhere, resulting in the good-looking getting the best jobs, winning all the plaudits, being let off the most parking tickets by soft-hearted traffic wardens; being generally favoured. - Author: Alexander McCall Smith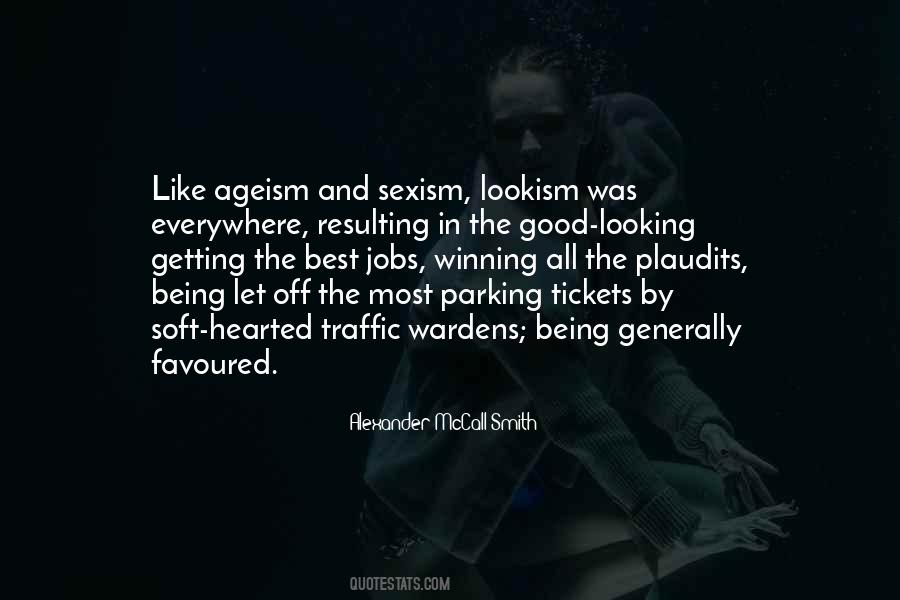 #25. never, never, ever force the patient to eat, as it will do them more harm than good, even though your intentions for their well-being are sincere and honorable. - Author: Bob Mcdowell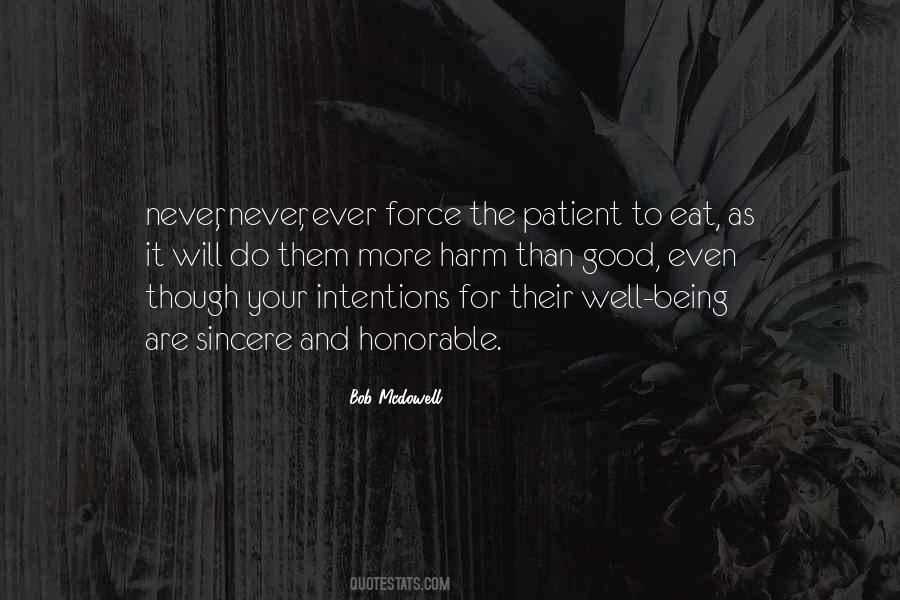 #26. Puzzles are like songs - A good puzzle can give you all the pleasure of being duped that a mystery story can. It has surface innocence, surprise, the revelation of a concealed meaning, and the catharsis of solution. - Author: Stephen Sondheim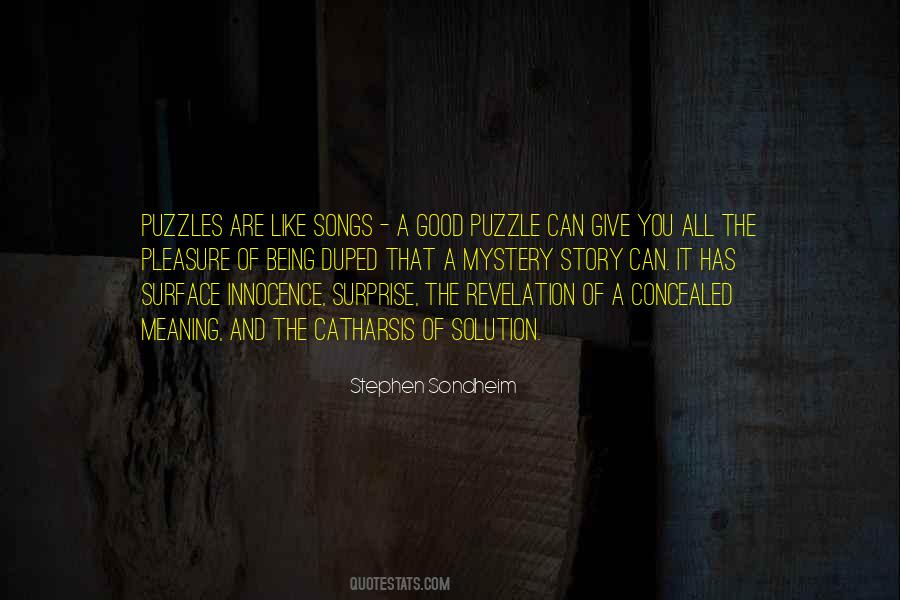 #27. It's not a hard-and-fast rule, but I believe that one of the key factors in being a good sister wife is having the ability to see the needs of another sister wife and considering her needs more important than your own. - Author: Meri Brown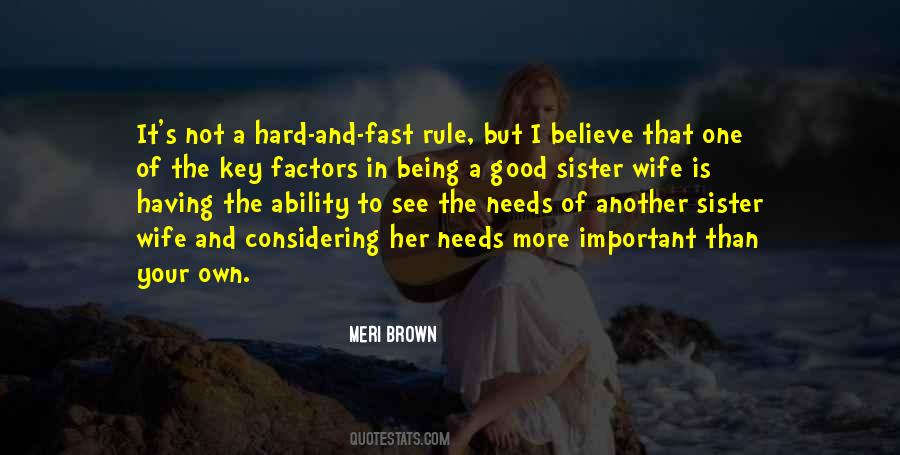 #28. Being able to hear an opinion. And then how to apply that opinion is something I am learning and working with every day. What can be tricky is how to differentiate a good suggestion that you should apply to your work [from] someone's personal taste at their opinionated best. - Author: Tori Amos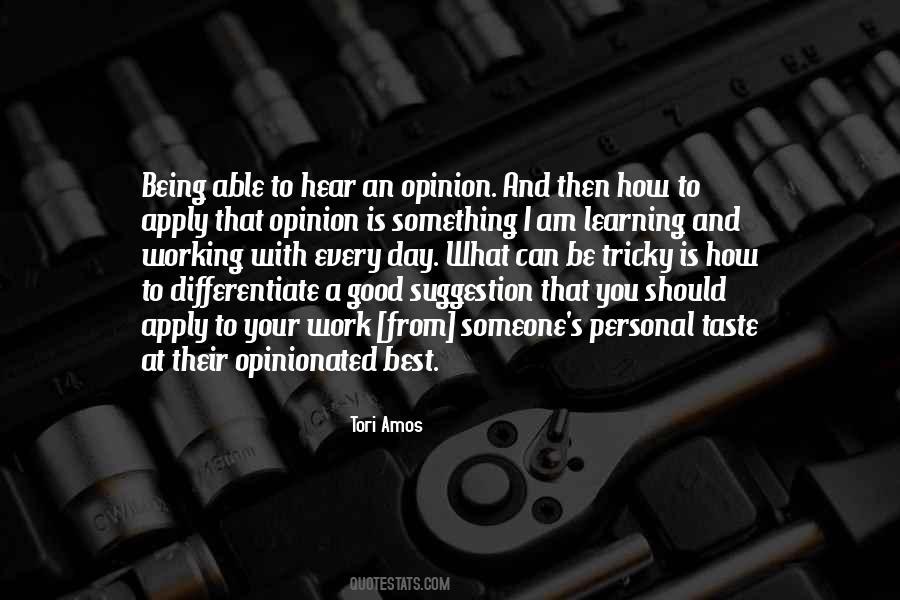 #29. It is clear that those constitutions which aim at the common good are right, as being in accord with absolute justice; while those which aim only at the good of the rulers are wrong. - Author: Aristotle.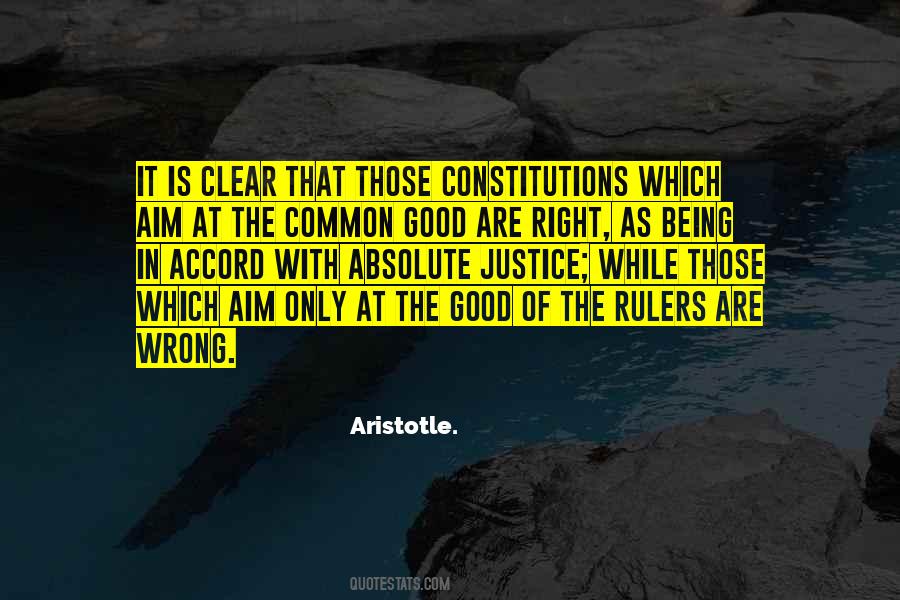 #30. I grew up hiking and horseback riding in Tennessee, so I love being outside. I will joyfully run 12 miles, but I'm not very good at boot camps. When they start yelling, I start laughing. - Author: Rachel Boston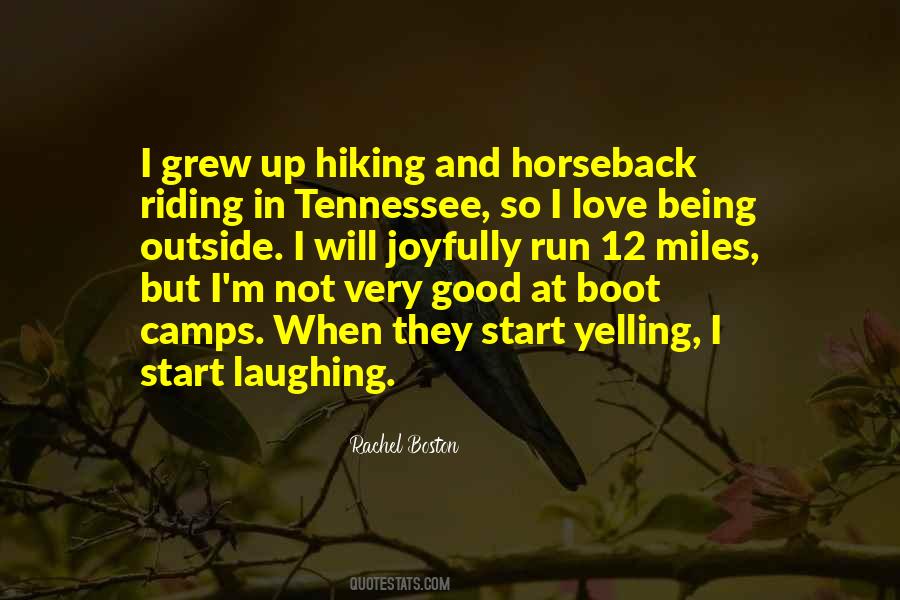 #31. I love being around people that contribute. It doesn't matter where the good idea comes from. A good idea is a good idea. - Author: Milo Ventimiglia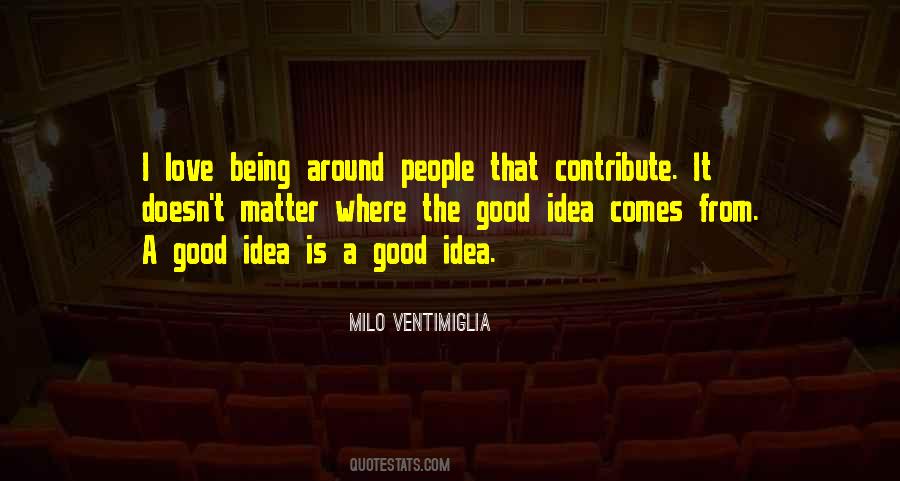 #32. Although a man may wear fine clothing, if he lives peacefully; and is good, self-possessed, has faith and is pure; and if he does not hurt any living being, he is a holy man. - Author: Denis Diderot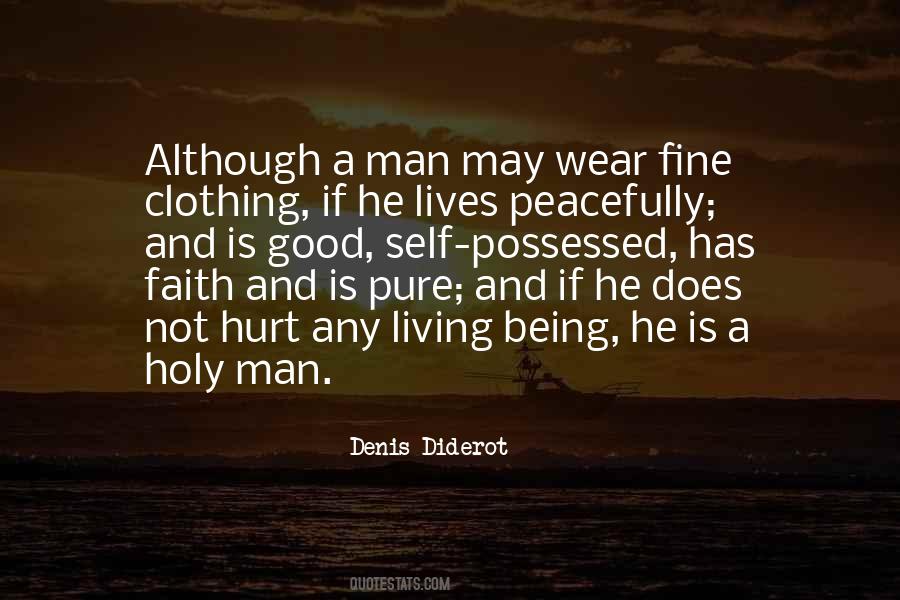 #33. When you first start out as an actor, you're just looking for a good part. As time goes on, if you're being held responsible for the movies themselves, you're looking for a good script all around. - Author: George Clooney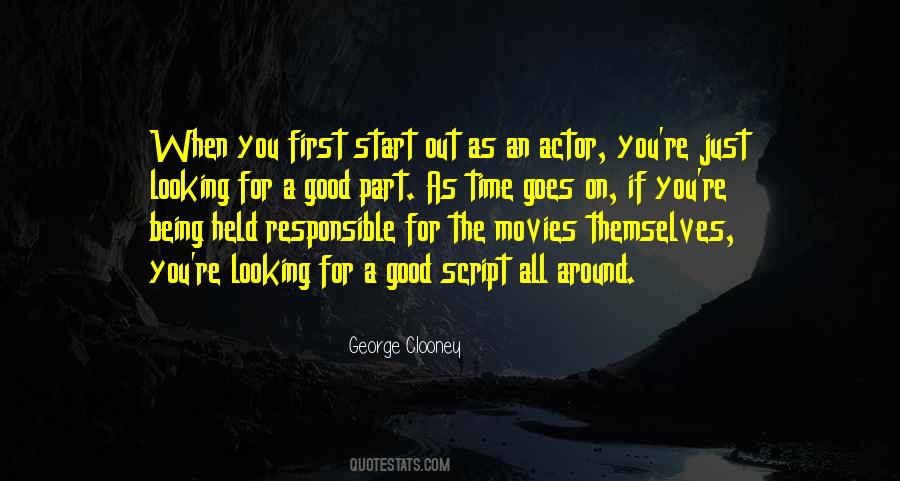 #34. It's funny being the big news every day - and the good news every day. - Author: Charlie Adam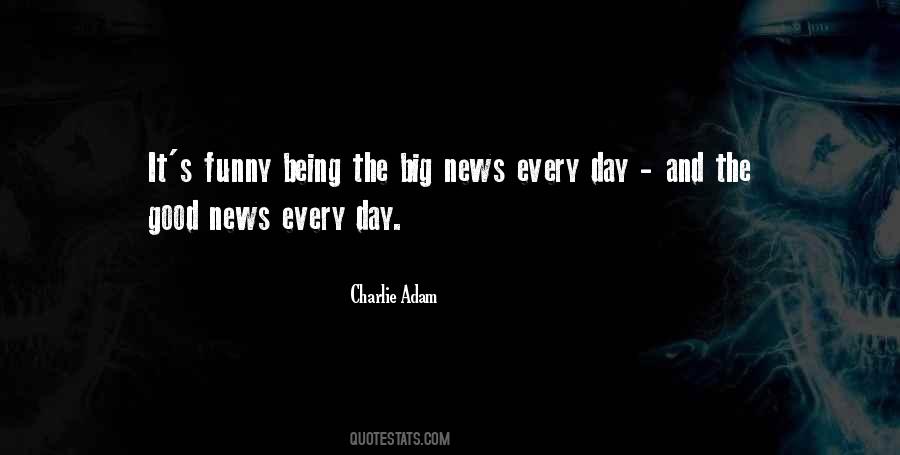 #35. Independent dance - and, fine, it's a very good thing that it remains independent - is a much tougher life: all dancers expect that, and accept that there will be periods of not being able to work, provided there are choice moments during the year when they really can work. - Author: Siobhan Davies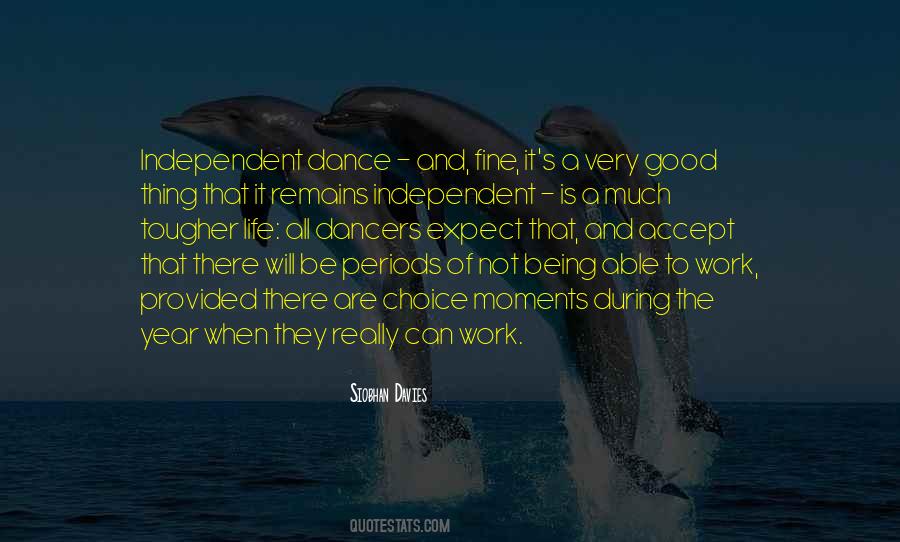 #36. I don't think of myself as being a celebrity, it's too mortifying. I have a hard time watching myself on screen and it's getting worse. I can't tell whether my work is good or not. - Author: Johnny Depp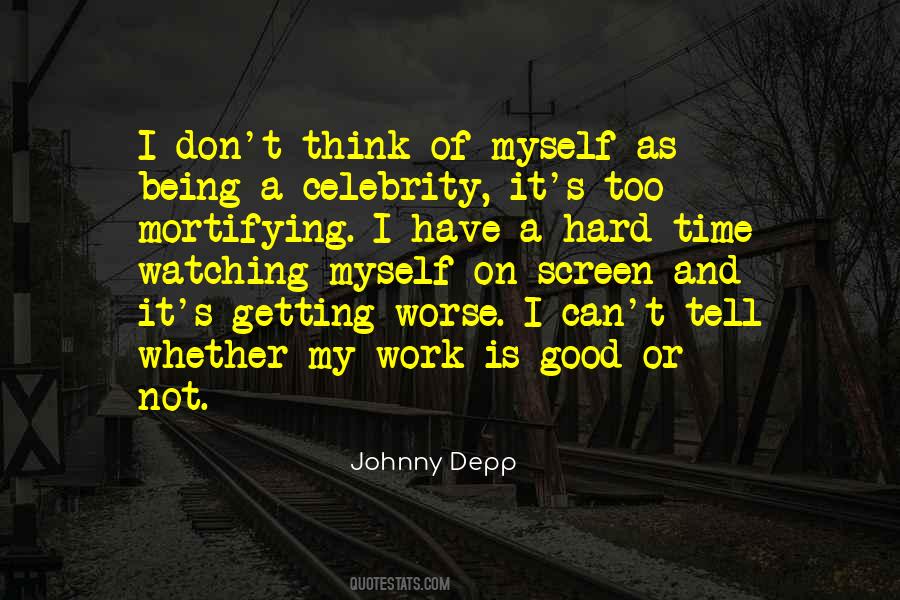 #37. I don't care what I do - act, stand-up, write, direct - it doesn't matter as long as I'm being creative and it's good work. - Author: Jeff Garlin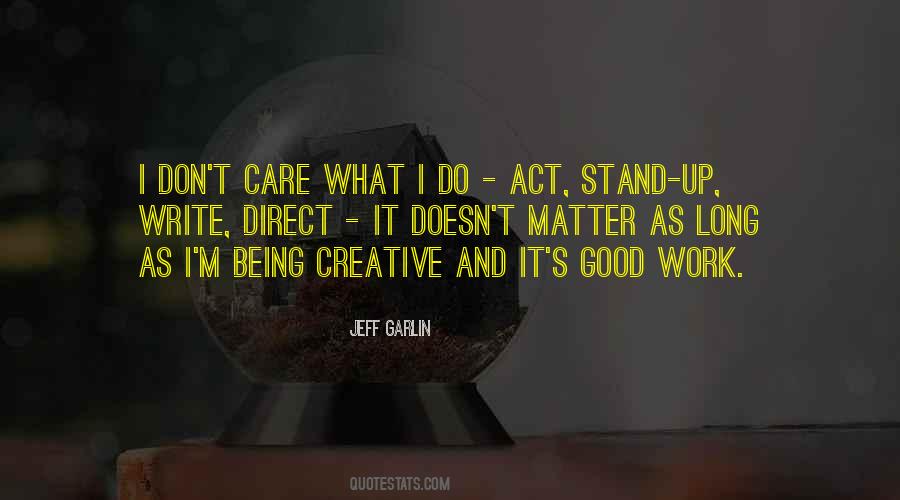 #38. A big part of being a well-adjusted person is accepting that you can't be good at everything. - Author: Kelly Williams Brown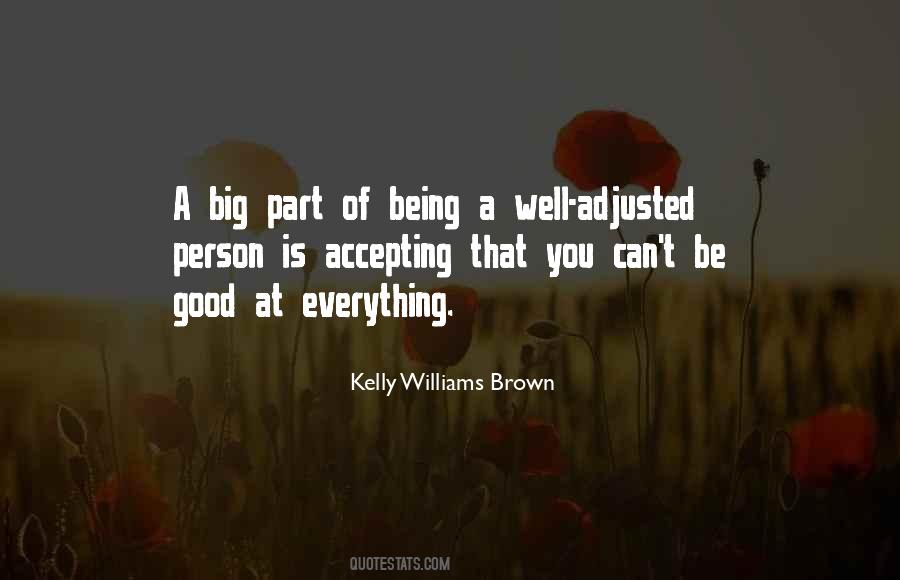 #39. I've always felt like an artistic person. I can't draw or paint or sculpt. I never really had technical skills, but I've always felt like I appreciate really beautiful things, and part of taking a good photograph is being able to recognize beauty. - Author: Brandon Stanton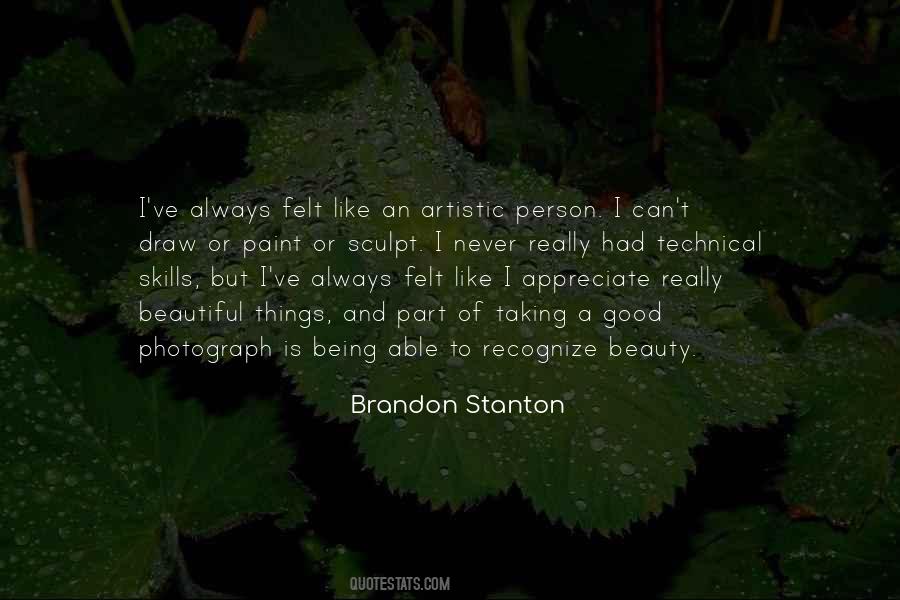 #40. Being a good example is the best form of service. - Author: Sathya Sai Baba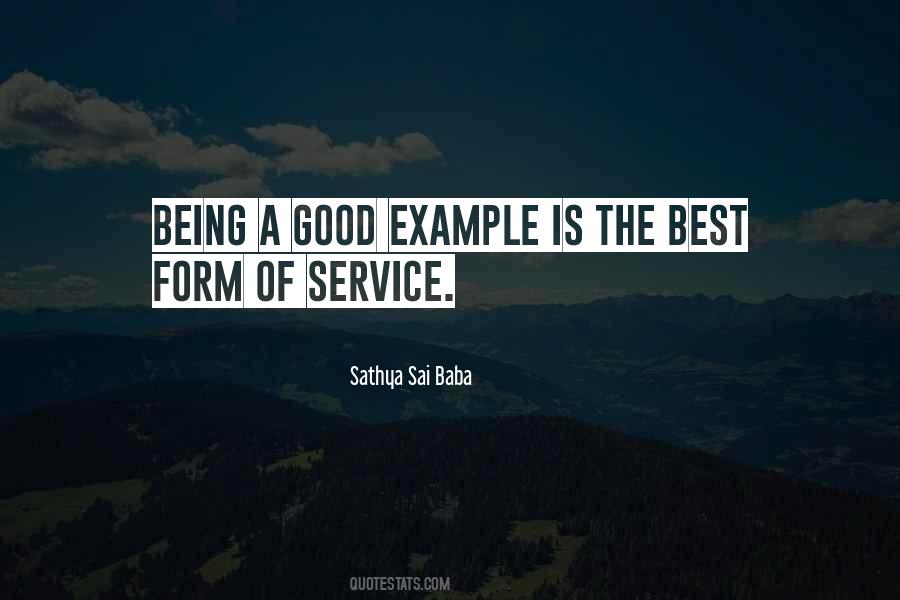 #41. I think there should be a good balance between being a good student and being able to enjoy your high school life. - Author: Vanessa Minnillo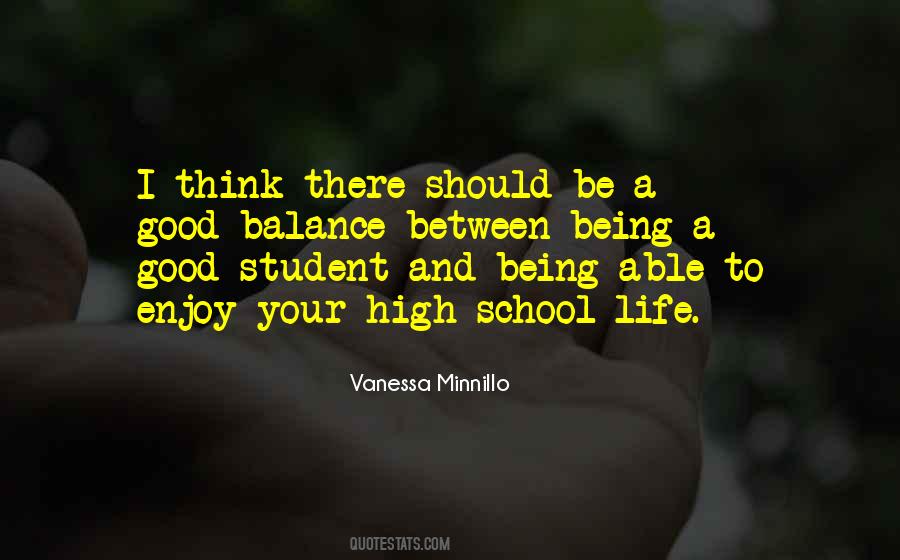 #42. What I feel most strongly here being in Congress is kind of the burden - the good burden - of representing all of our military. - Author: Duncan D. Hunter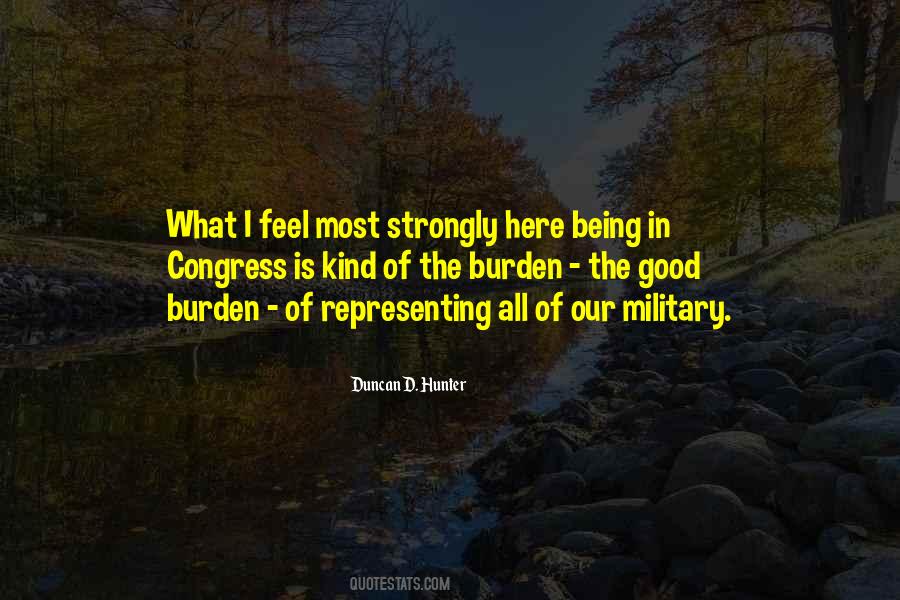 #43. Be careful what you wish for - getting to be a successful business and maintaining it is so hard. Anyone can be good one night; being good over several years is incredibly difficult. - Author: David Chang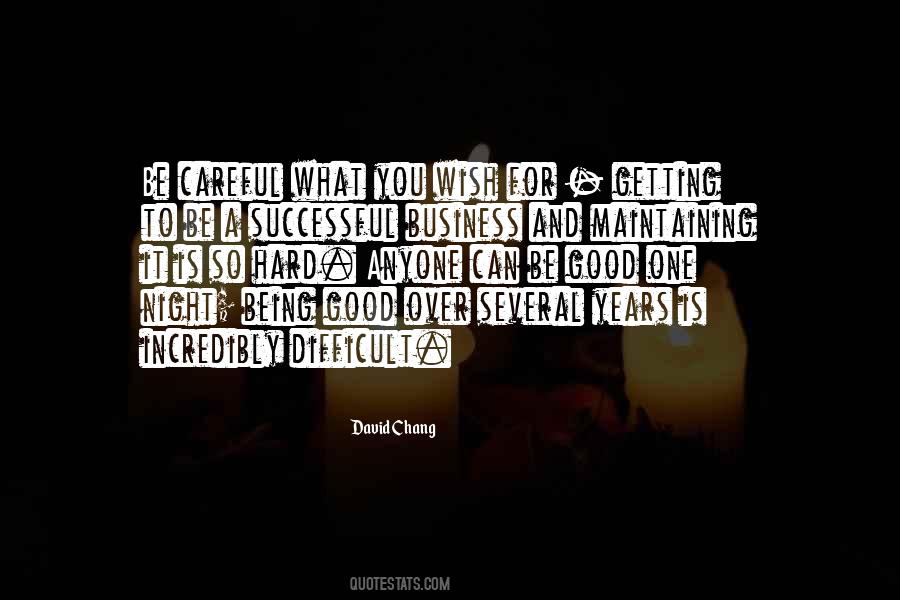 #44. It was an experience being on a Beatles tour. They weren't very good. The singing was great, but the playing was a bit weak. - Author: Robin Trower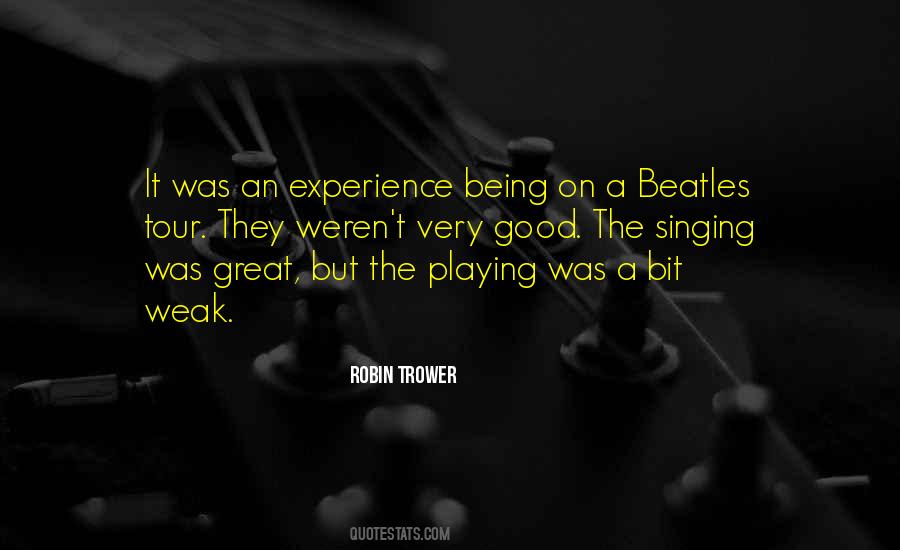 #45. In the end, Ted Kennedy was a politician, plain and simple. Yet he embodied how politics and public service can be successfully intertwined. You can't be a good public servant without being a good politician. Kennedy was both. - Author: Chuck Todd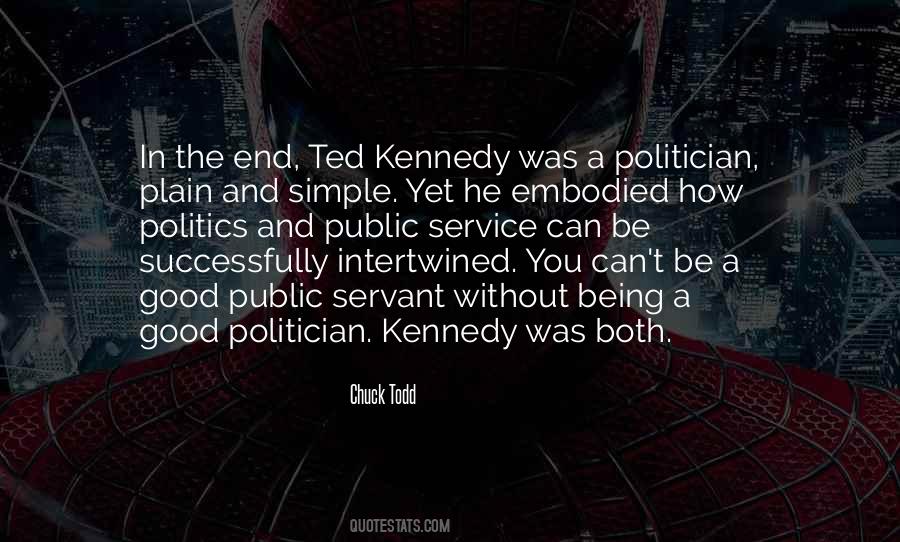 #46. The good thing about being an actress is that it's very children-friendly. I can work for three months and then I can have six months off. And then I can work for six months and have six months off. - Author: Gal Gadot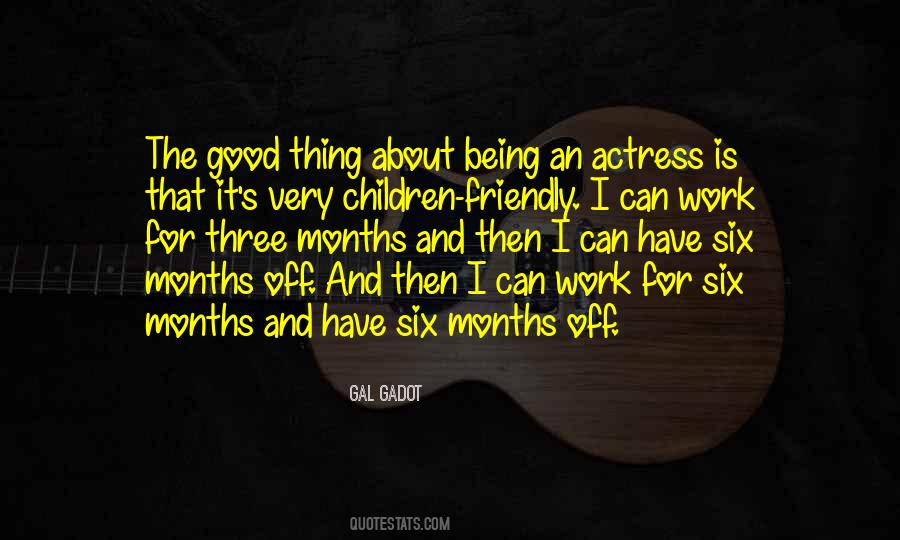 #47. Sometimes being a good friend is about saying no, about trying to do what's best for your friend regardless of what they say. - Author: Gitty Daneshvari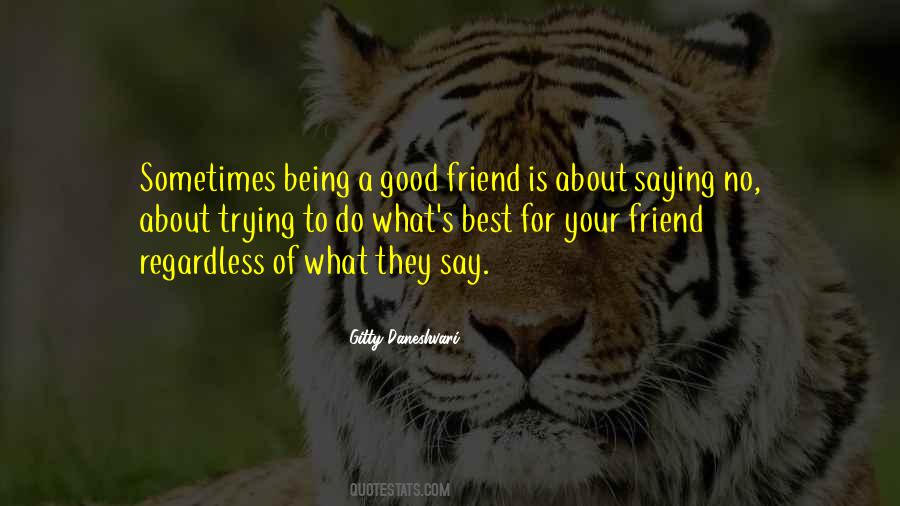 #48. Real success in the kingdom of God is not about being strong and looking good and knowing all the right answers. It's about continually yielding oneself to Jesus and determining to take purposeful little steps of obedience, and the ragged reality that it's all about God and His grace at work in us. - Author: Mary Beth Chapman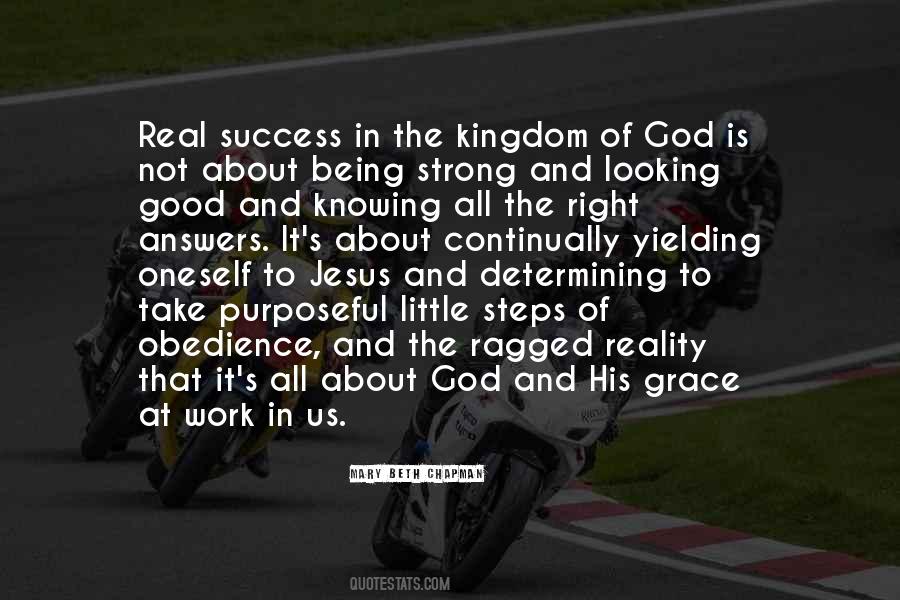 #49. Angry is good.
Angry is better than being tearful - Author: E.L. James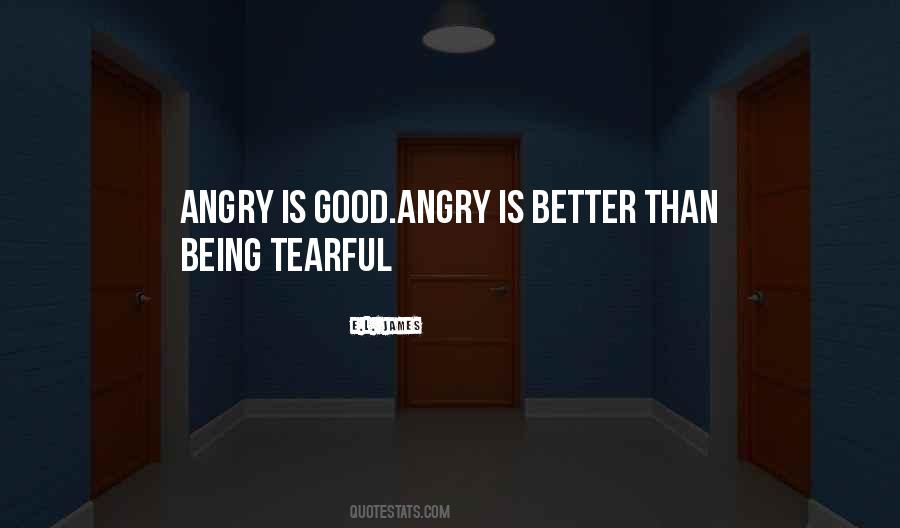 #50. It feels good to watch TV and know that you're being represented on somebody's network and for certain communities, it feels even better to know that you're being depicted truthfully. - Author: Aeriel Miranda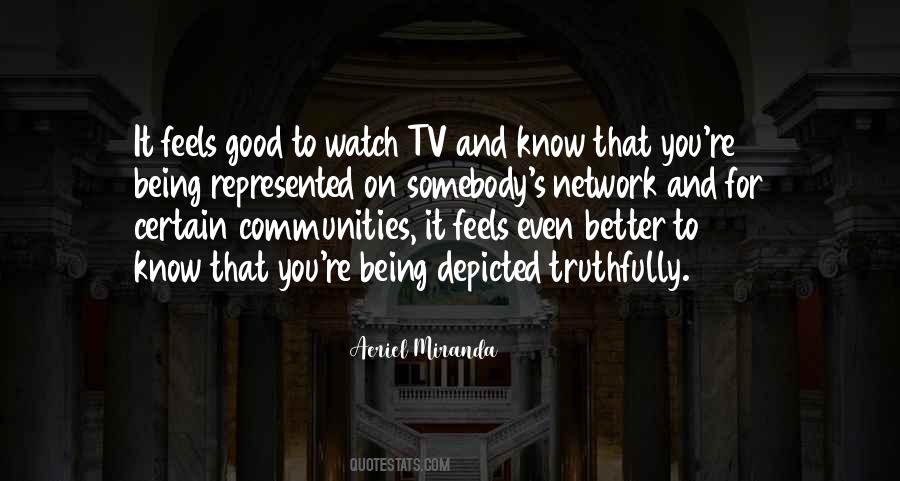 #51. I don't care about names attached to the script. That doesn't matter to me. All things being equal, I would like to work with a good script with a good director, and the part I play is of less important than those two factors. - Author: Alan Arkin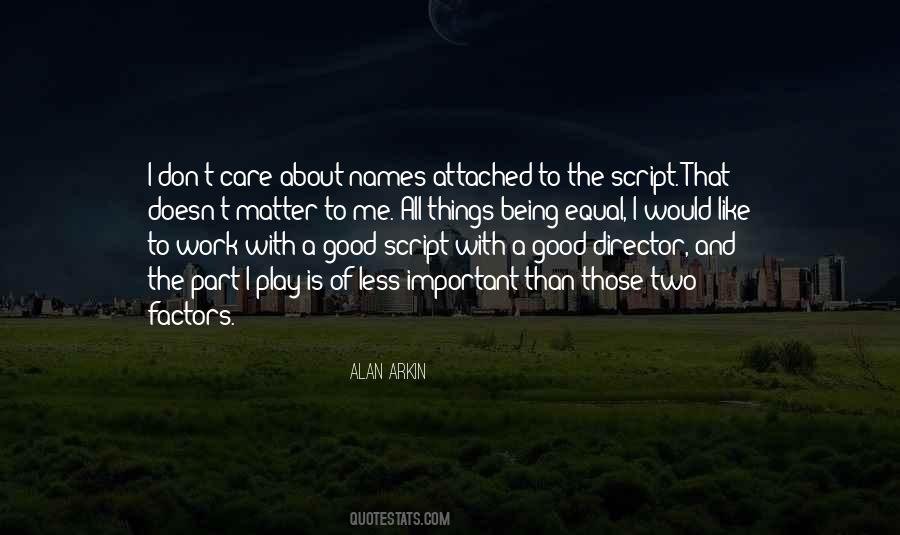 #52. Where I come from, being a hard man is being able to take a good beating and then get back up again and carry on fighting. - Author: Mickey Rourke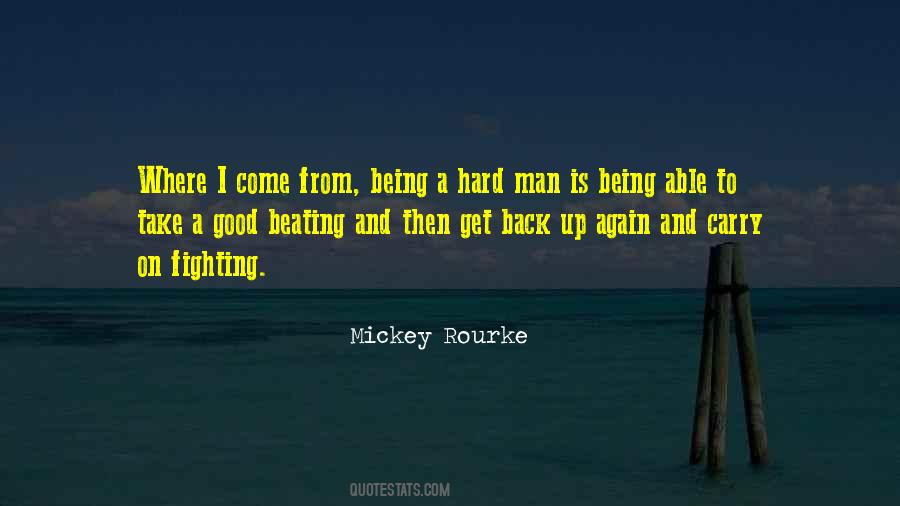 #53. Chemistry is good for fun - it's like baseball. It has its role for small children, but I can't see an adult being concerned with it. - Author: Sheldon Lee Glashow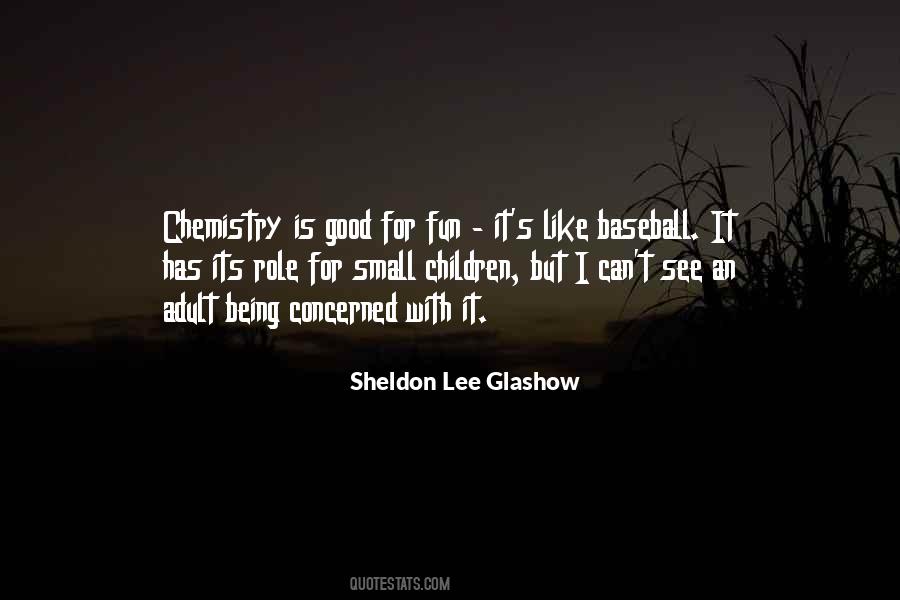 #54. People have said to me for a long time, "Man you're funny." I say, "Well, I'm quick," but being funny on purpose, take after take - that's why I said for me it was new territory, and so by improvising something might come out that might be good. And it's film, so they can cut it if it isn't. - Author: Denzel Washington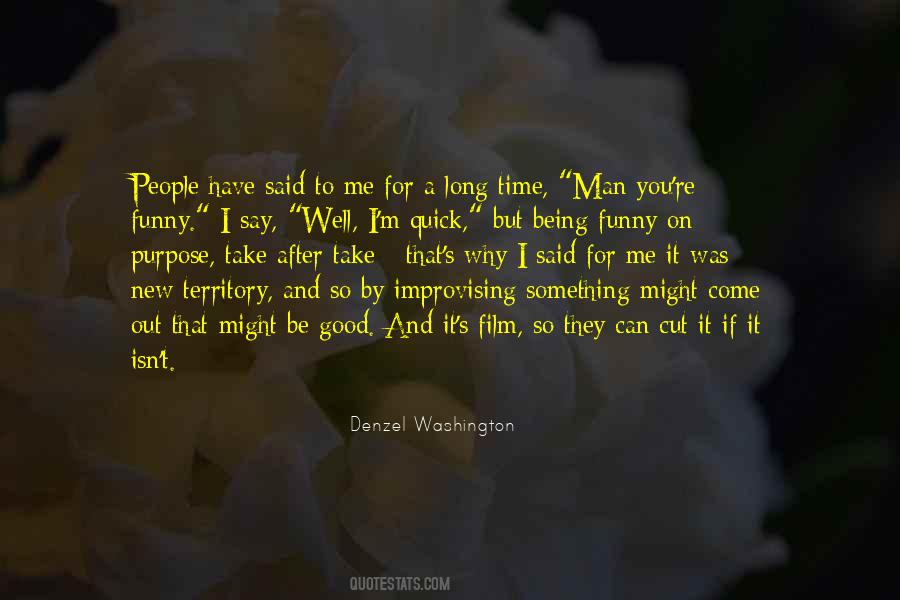 #55. She loved him for doing things like calling her such a goof. He said it with such warmth and affection, as though her being silly meant something good, instead of how her other boyfriends had felt about it - that being goofy or silly made her a scattered flake who didn't fit into their career plans. - Author: Charlotte Stein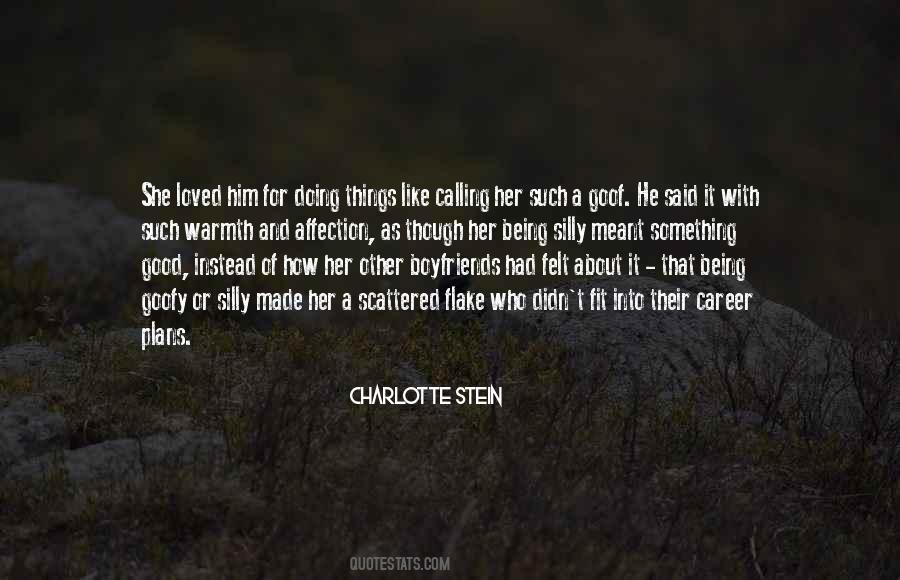 #56. Ah. I suppose." Oh, this was deeply unpleasant. Being trapped into meaningless small talk with an idiot had never intrigued him, even on a good day. Which this wasn't. - Author: Morgan Rhodes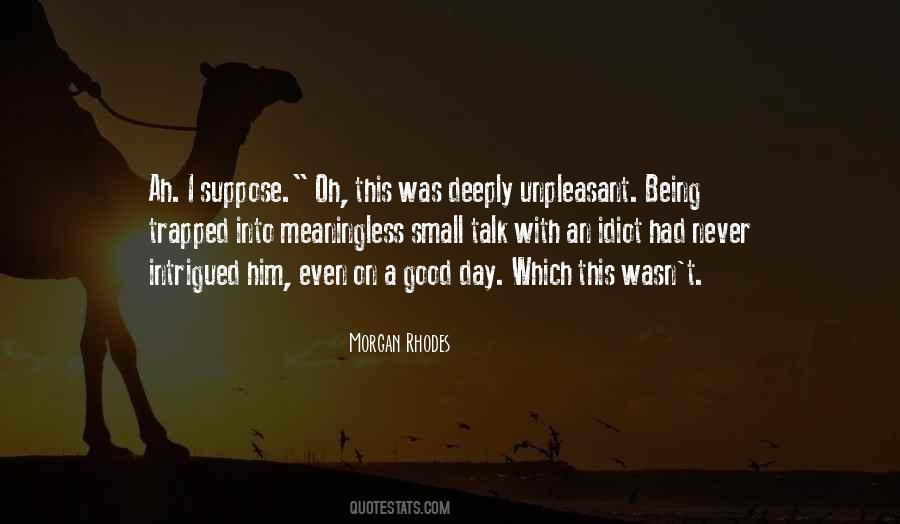 #57. Being deceived into thinking the perks of slavery are a good thing, we can easily aquire a preference for chains and a taste for the slaves rations. - Author: Dennis Green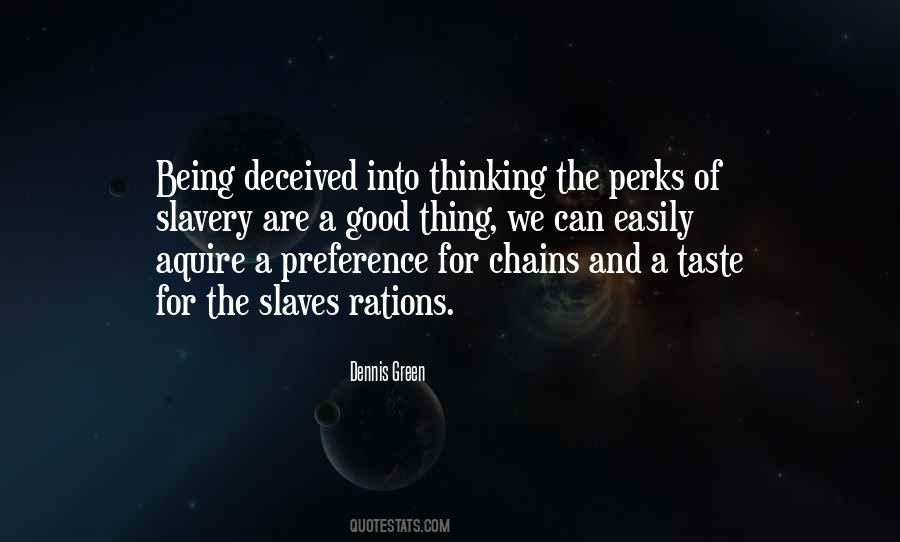 #58. I don't know if I'm embarrassed because I think it's a funny show, but I could imagine there being a snootiness about it, but I do find 'The Big Bang Theory' very funny. I think that's a good show. I think it's fun, I like the actors; I think they're all doing a great job. - Author: Stephen Merchant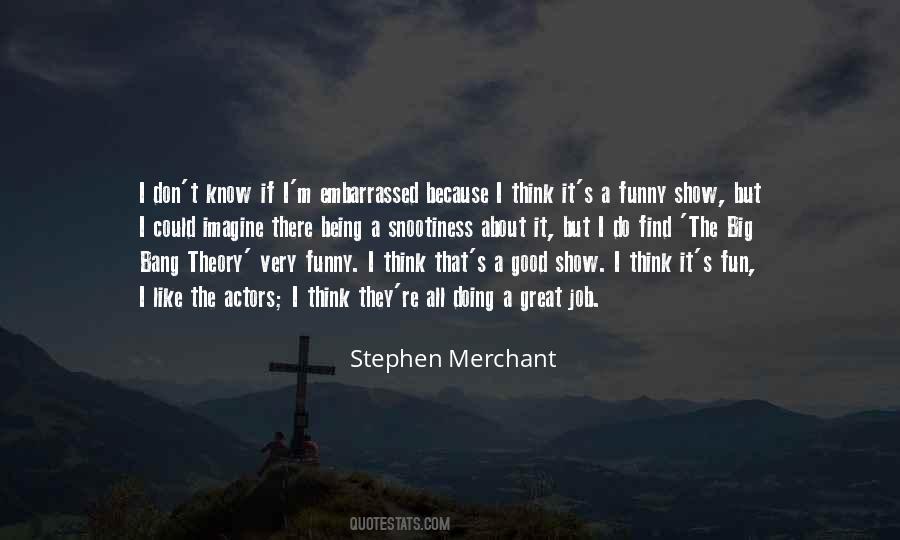 #59. My husband doesn't have to try to add to my comedy he just does being himself and saying & doing the things he does. We have a good friendship & I think couples can relate to our dynamic and sometimes out lack of dynamics too. - Author: Heather McDonald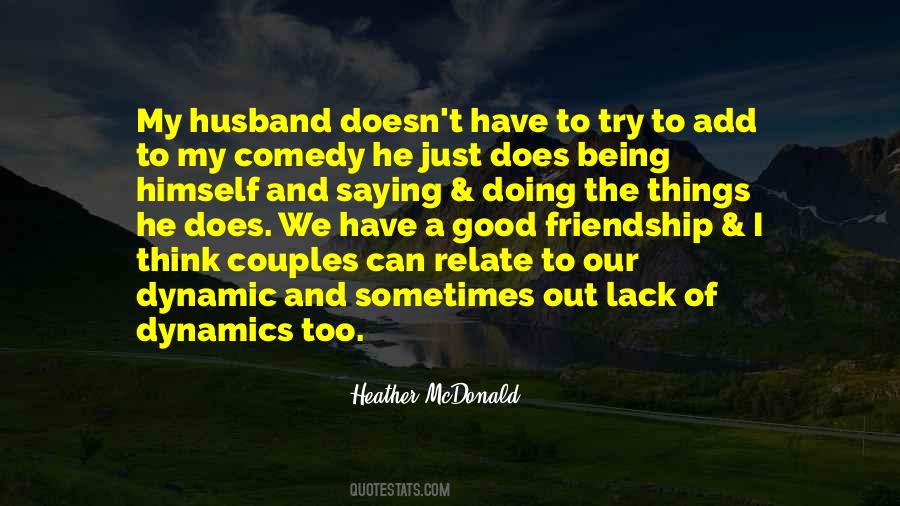 #60. You see, things being good has nothing to do with how you feel outside, it is all to do with how you are inside. - Author: Helen Fielding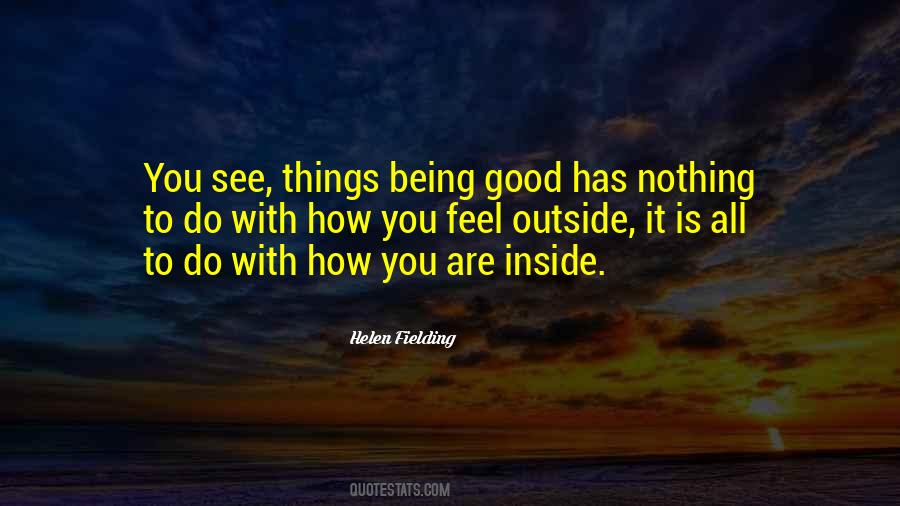 #61. Being content isn't good enough. You deserve so much more - passion, joy, and excitement... - Author: Nancee Cain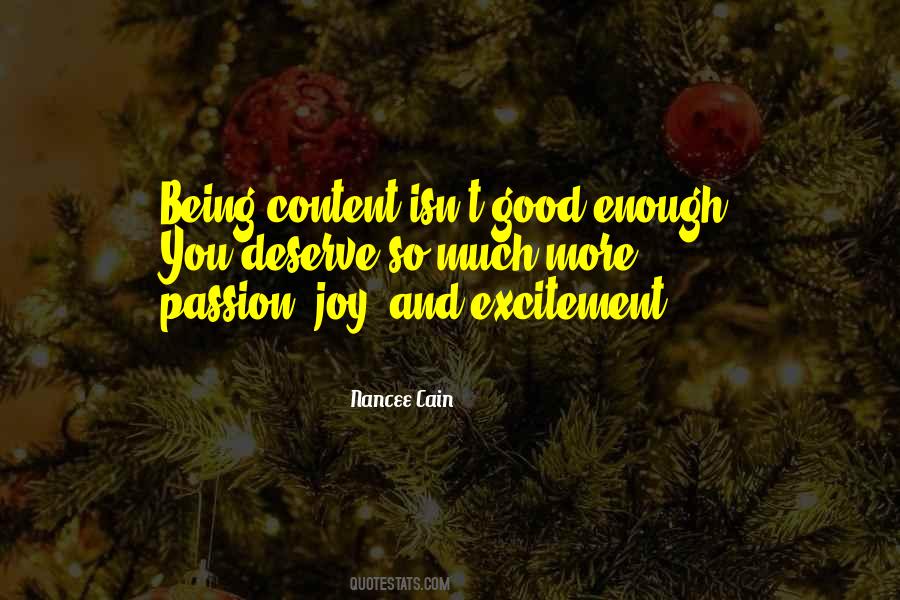 #62. (1)BEING A POET
is like opening a car door
& exposing yourself.
(2)BEING A GOOD POET
is like opening the door
& exposing the passenger
as well. - Author: Chocolate Waters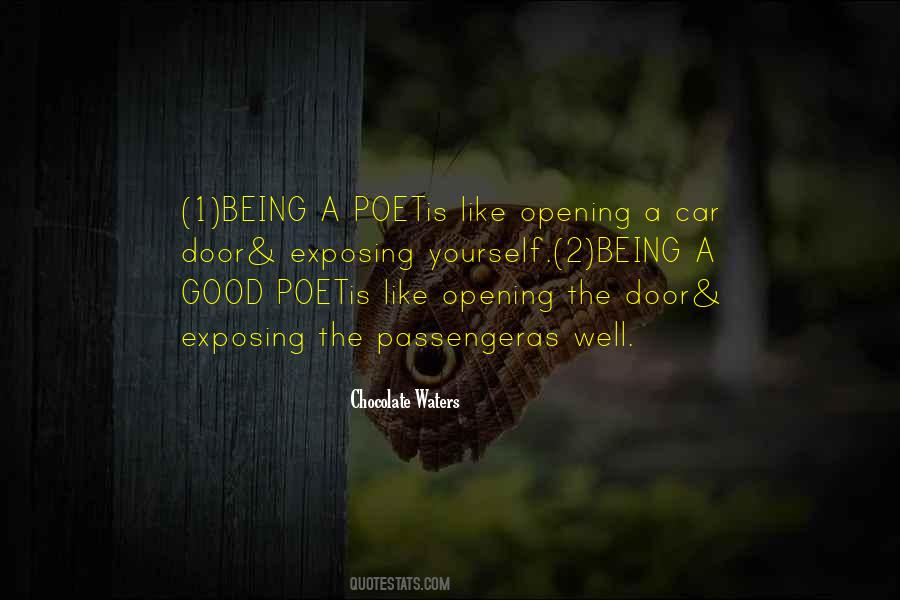 #63. Design, in its broadest sense, is the enabler of the digital era - it's a process that creates order out of chaos, that renders technology usable to business. Design means being good, not just looking good. - Author: Clement Mok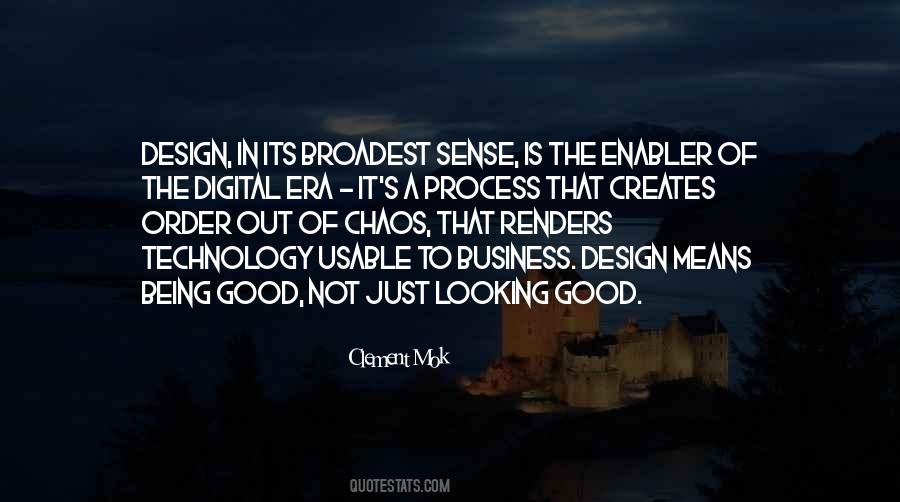 #64. It's no good being great in something that goes straight to video. - Author: Tom Wilkinson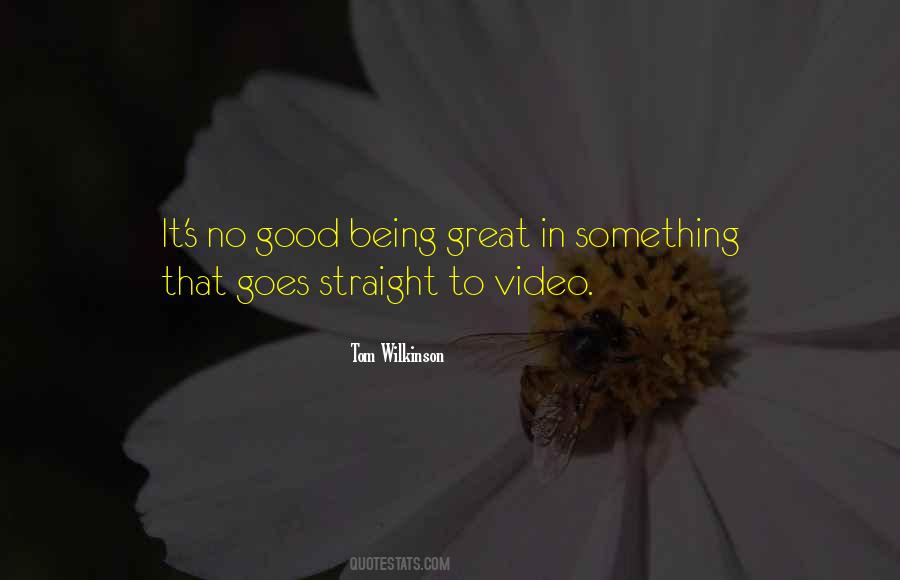 #65. Sometimes things seem too good to be true. - Author: Keke Palmer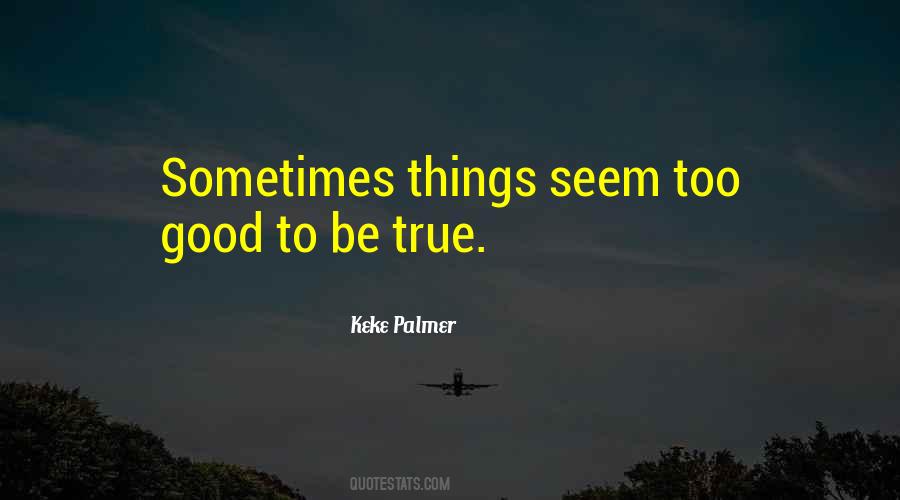 #66. It is hard to tell whether he's being honest or following the high school commandment of Thou shalt not show thy uncoolness by openly caring about something, which I have never been good at. - Author: Anna Breslaw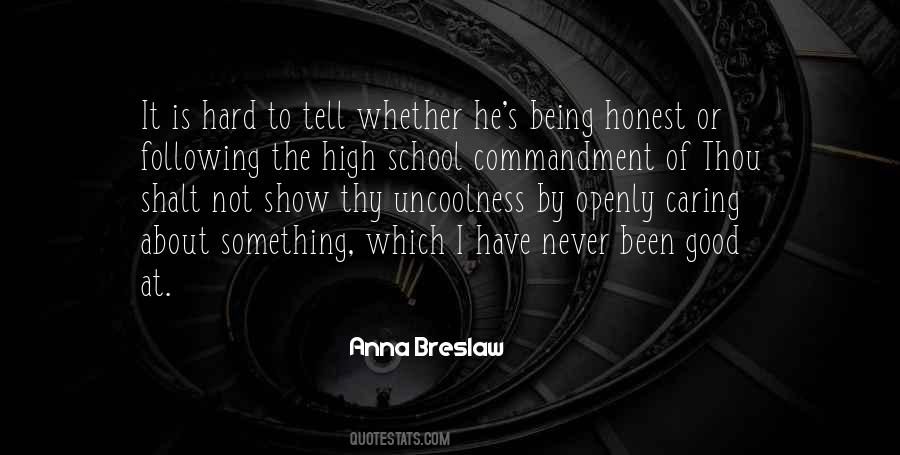 #67. I'm so single. It's funny. I'm usually a relationship girl. I love being in love and having a partner in crime. But it's good to be your own partner in crime. God, that makes me sound like I have multiple-personality disorder. - Author: Brittany Snow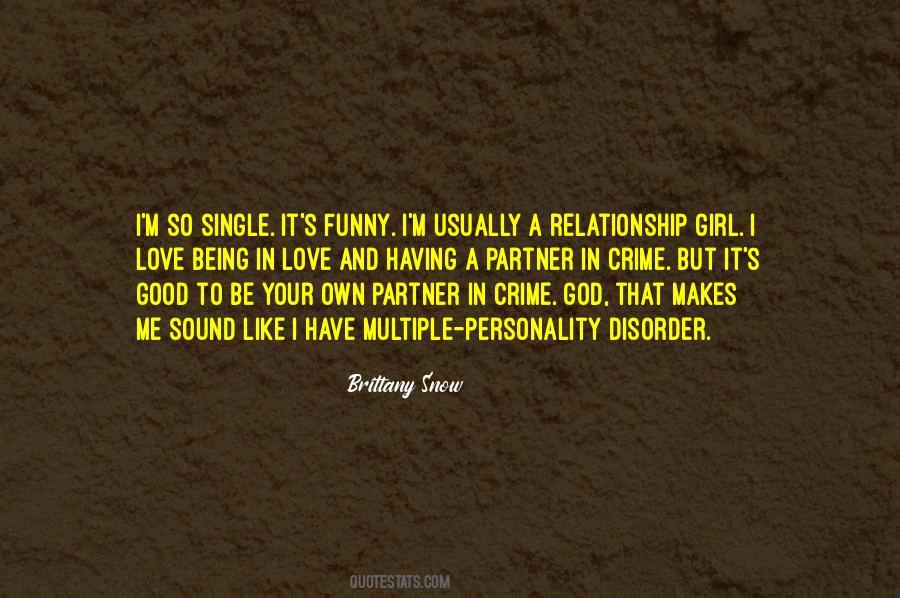 #68. One thing that took a while to really adjust to was, you do it for the the art, for the money, for being together and having a good time, but you do it for all those people out there who really care about the show. We are now talking about a show we did over 20 years ago. - Author: Steve Kanaly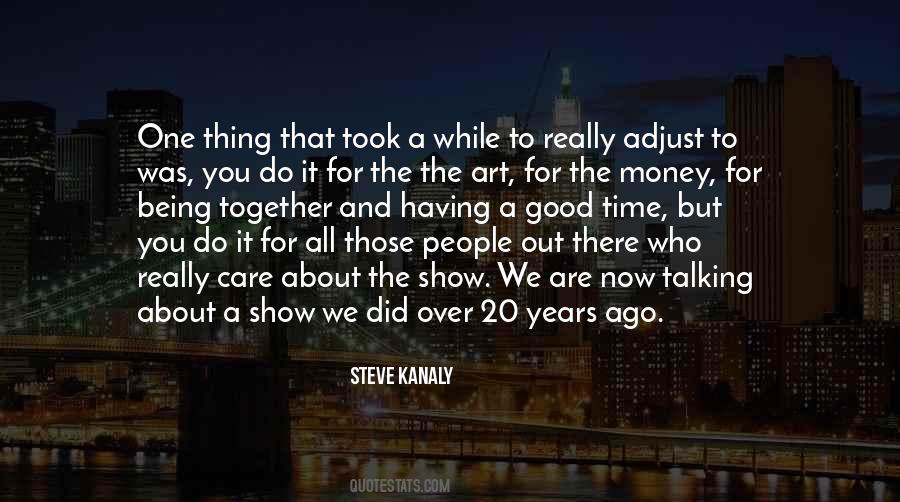 #69. It's okay to be proud of your good English. But don't be proud of being poor at your Mother tongue. Only the scum of the earth do that. - Author: Manasa Rao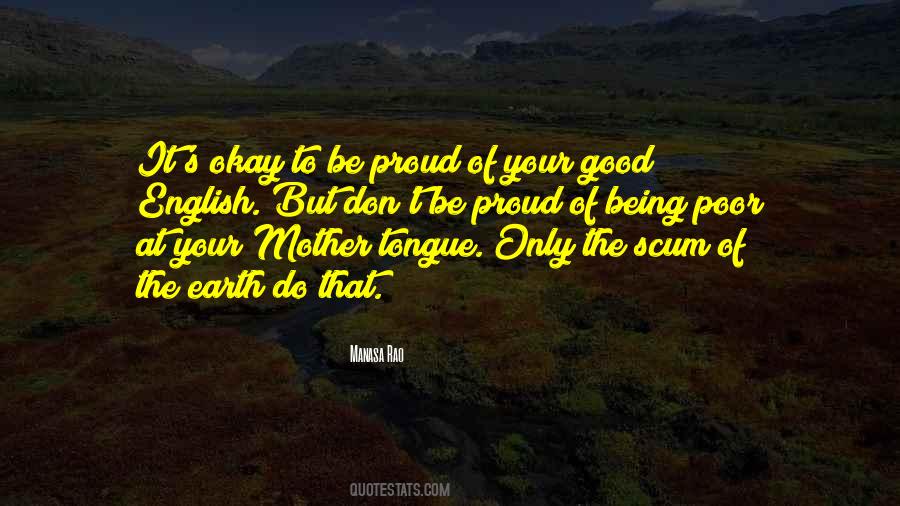 #70. Man is not a mind that thinks, but a being who knows other beings as true, who loves them as good and who enjoys them as beautiful. For all that which is, down to the humblest form of existence, exhibits the inseparable privileges of being, which are truth, goodness, and beauty. - Author: Etienne Gilson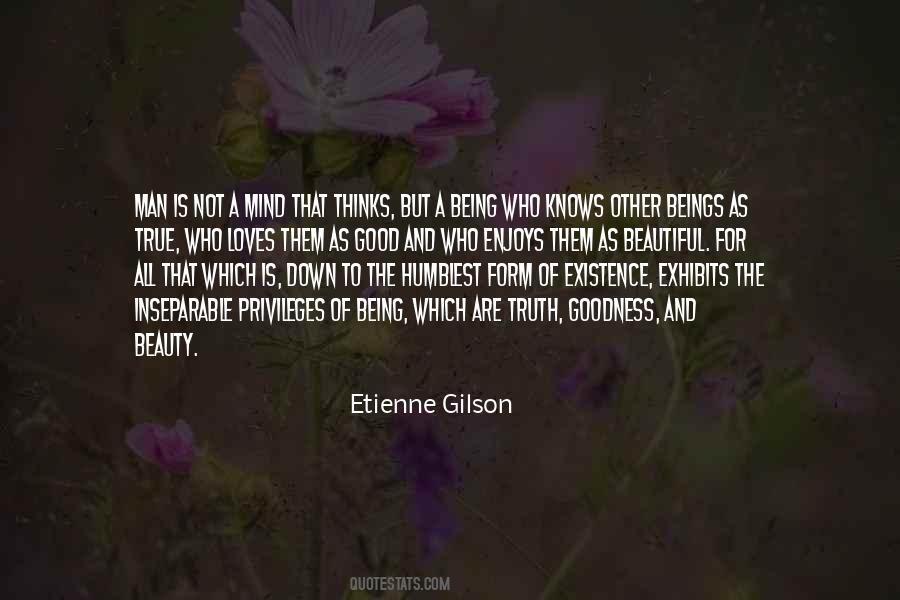 #71. But I was in this bowling league with a good number of friends who came from across the line. We got the phone call that the border had been closed, and that absolutely nobody was being allowed to cross
not parents, not children, not anybody. Who knew what disguise the assassin had used. - Author: Alberto Alvaro Rios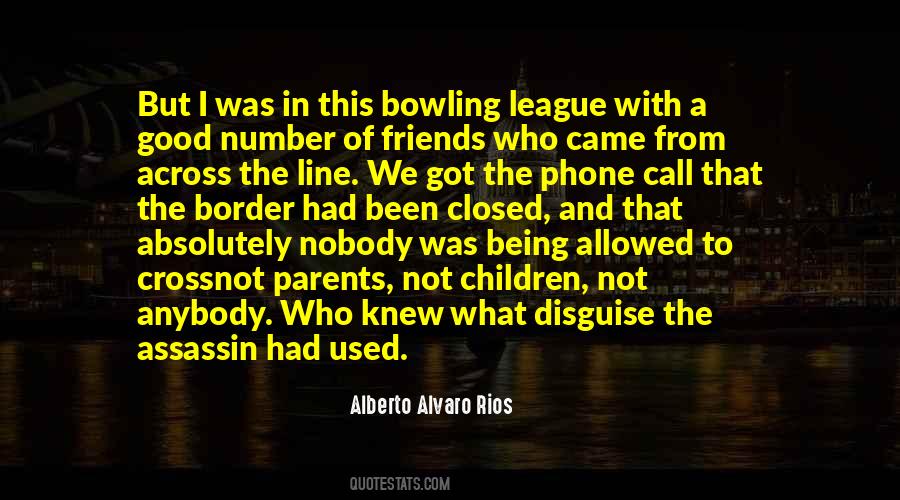 #72. Being polite to a person is not a sign of respect for them. It is merely a sign of a good upbringing and a balanced nature. - Author: Brandon Sanderson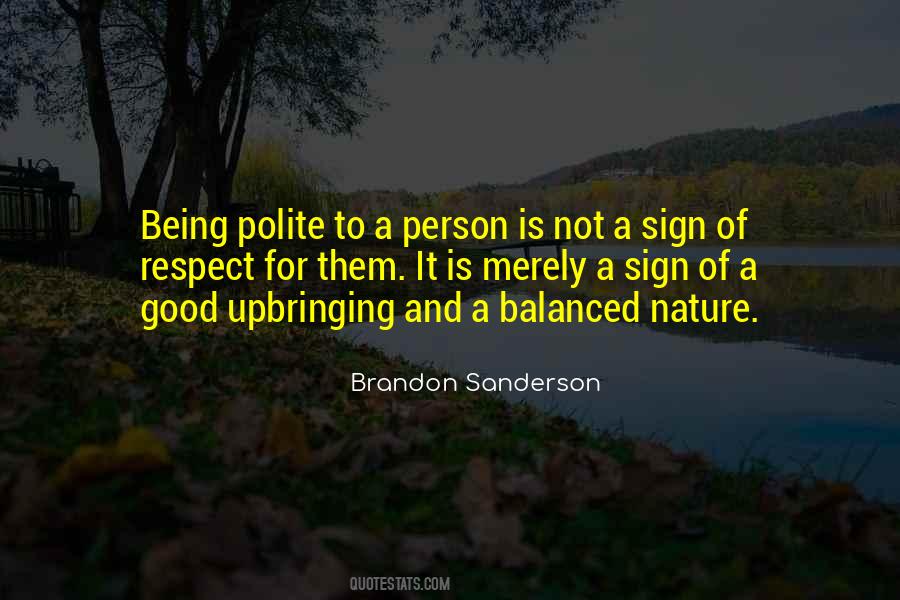 #73. One good thing about being a woman is we haven't too many examples yet of what a genius looks like. It could be me. - Author: Sheila Heti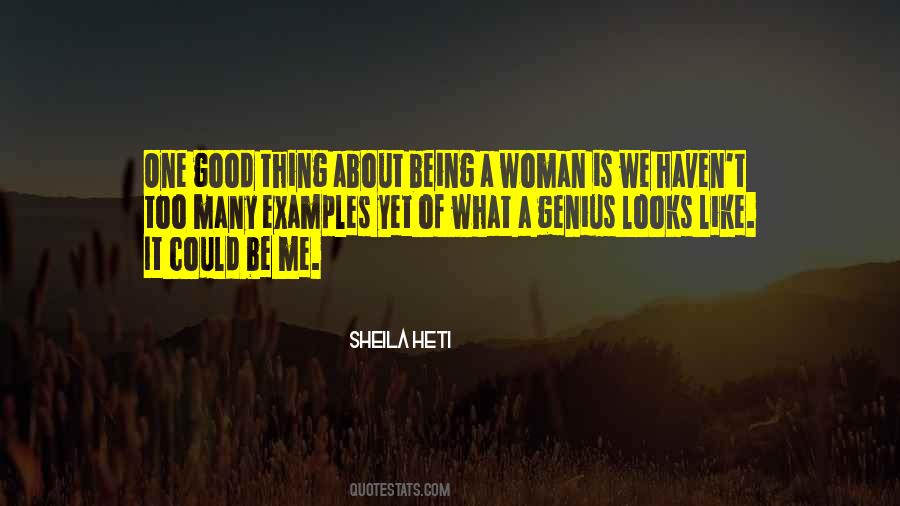 #74. I was in fact anxious about whether I would be any good at being a father. And then I met so many people who had been good parents under difficult circumstances, and I felt inspired by them. - Author: Andrew Solomon
#75. I hate being good.
-Mary Poppins - Author: P.L. Travers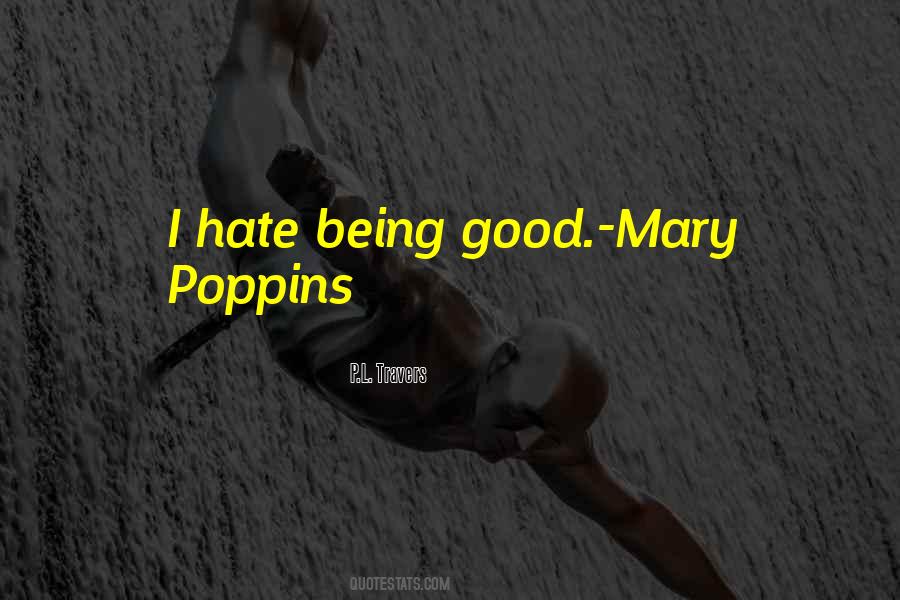 #76. The Singapore Open is the flagship event of the Asian Tour, it is a massive event and it is being played in a great place. I love coming here and it is good to be back. - Author: Lee Westwood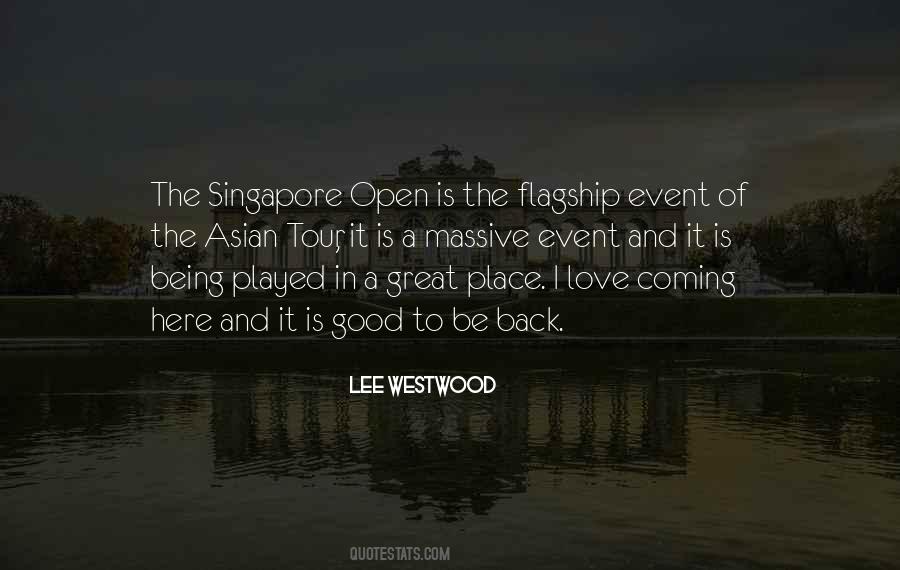 #77. When I'm in London I do have the convenience of being close to St James Park which is also good for me because it gives me an excuse to get out and get some much needed exercise! - Author: David Blunkett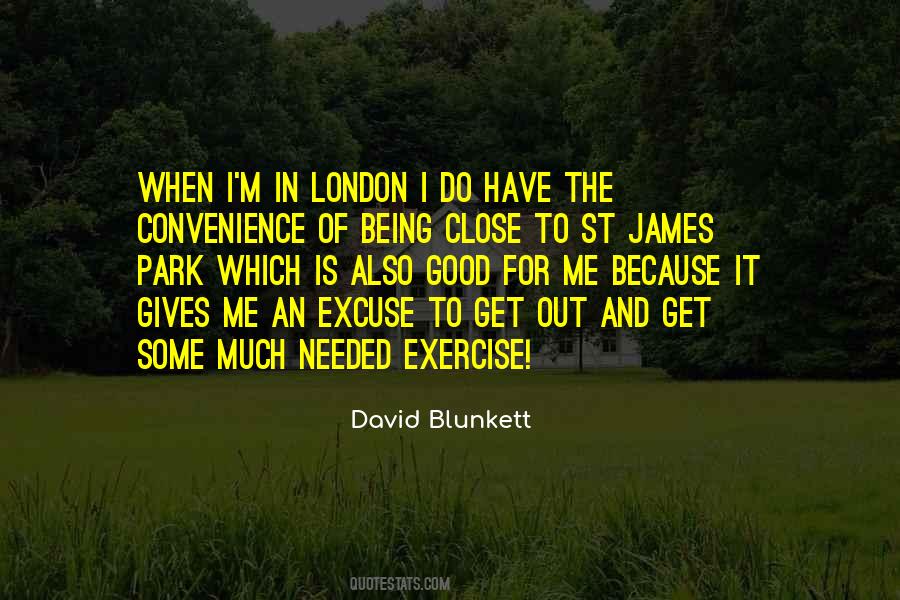 #78. Good deeds are the richest harvest of our human being. - Author: Kristian Goldmund Aumann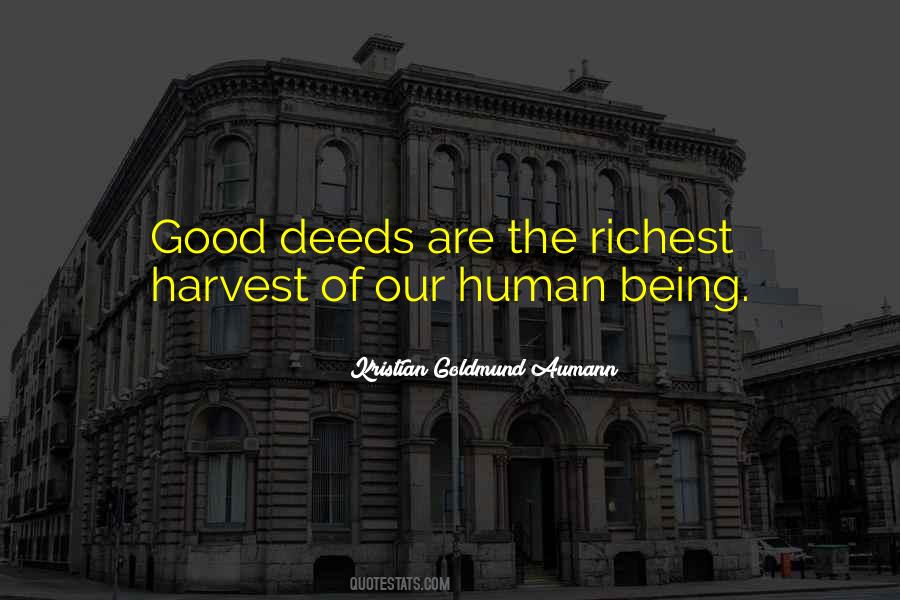 #79. Christian living does not mean to be good but to become good; not to be well, but to get well; not being but becoming; nor rest but training. We are not yet, but we shall be. It has not yet happened, but it is the way. Not everything shines and sparkles as yet, but everything is getting better. - Author: Martin Luther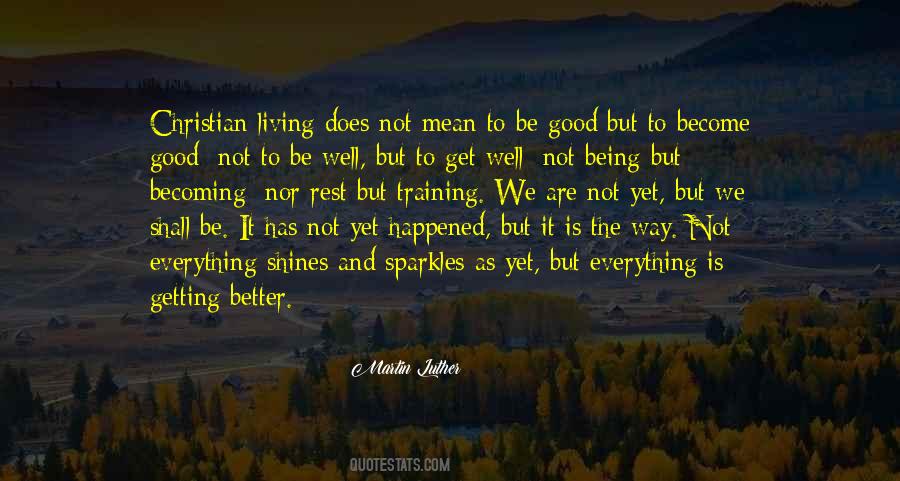 #80. I fail too much to be good as a real person, being anonymous makes me less real. - Author: Jennifer Megan Varnadore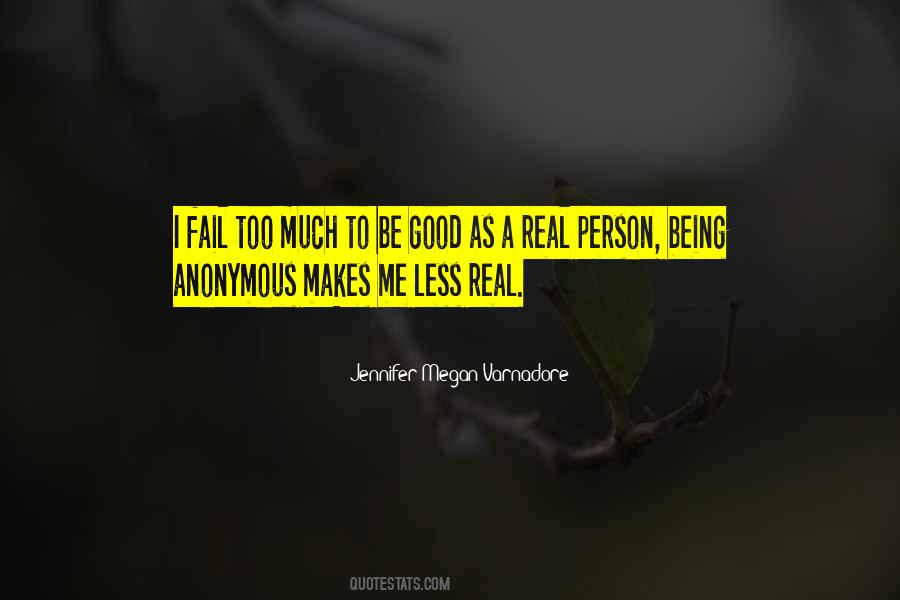 #81. It's always good to be recognized being the best new cat and then when I hold down my position and stay in the game for a minute, I want to see what kind of (expletive) I'm winning then. - Author: Wiz Khalifa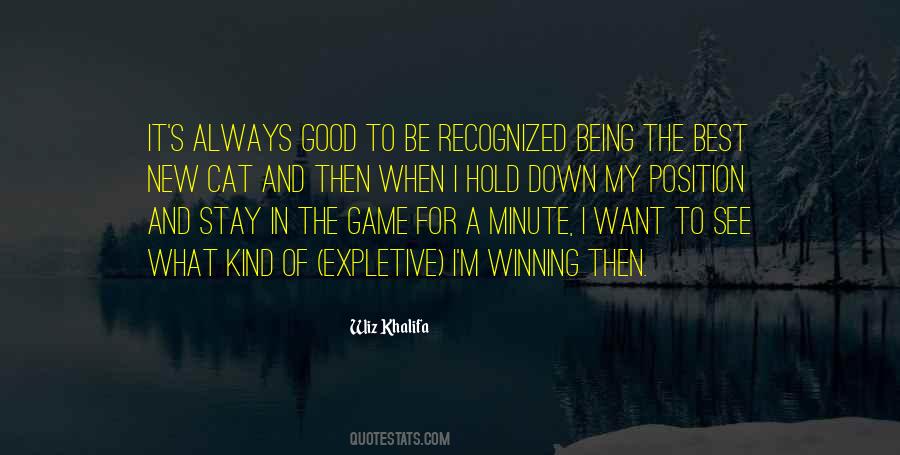 #82. Feeling good is a natural outcome of doing good; and doing good is a natural outcome of being good. - Author: Shiv Khera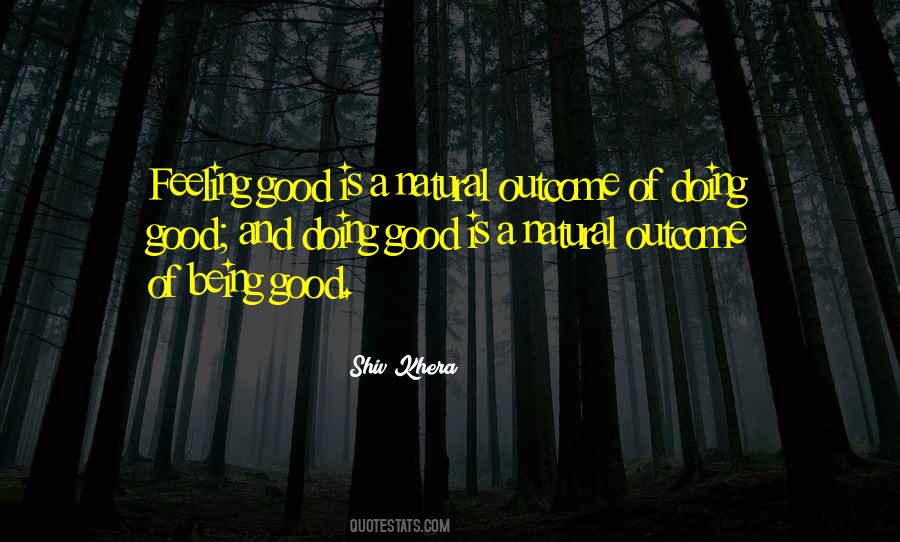 #83. One pattern to help yourself fight the mad dash for the mirage of being done is to think of a good day's work. Look at the progress of the day towards the end and ask yourself: 'Have I done a good day's work?' - Author: David Heinemeier Hansson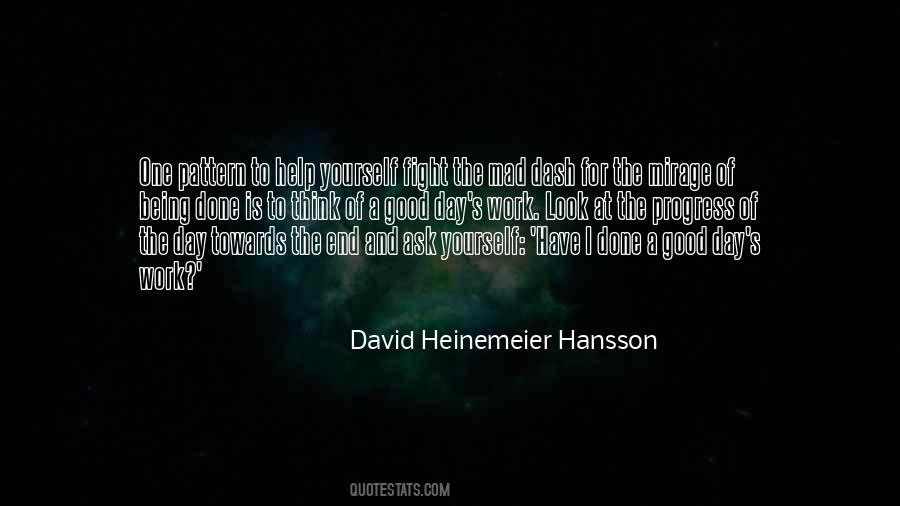 #84. Or why it is acceptable to train fast runners and high jumpers but not to breed them. I can think of some answers, and they are good ones, which would probably end up persuading me. But hasn't the time come when we should stop being frightened even to put the question? - Author: Richard Dawkins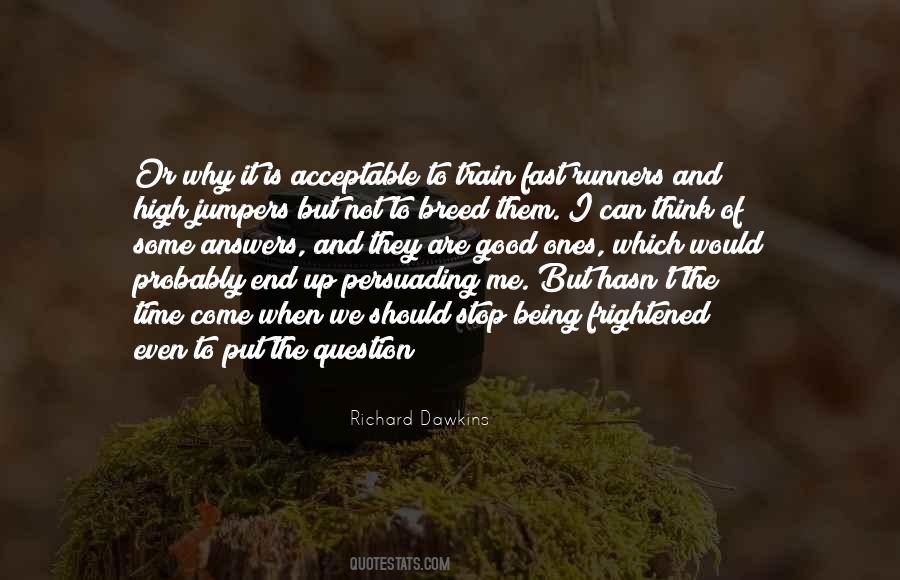 #85. I guess if you're independent, not afraid of much, and extremely stylish, that makes you a pretty good candidate for being a New Yorker. - Author: Mark Indelicato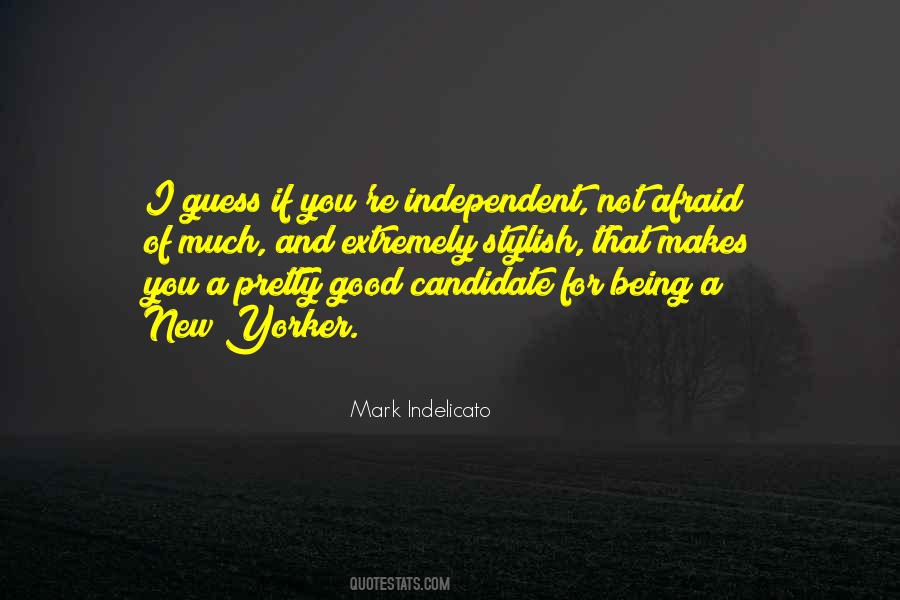 #86. But it's our land. We measured it and broke it up. We were born on it, and we got killed on it, died on it. Even if it's no good, it's still ours. That's what makes it ours- being born on it, working it, dying on it. That makes ownership, not a paper with numbers on it. - Author: John Steinbeck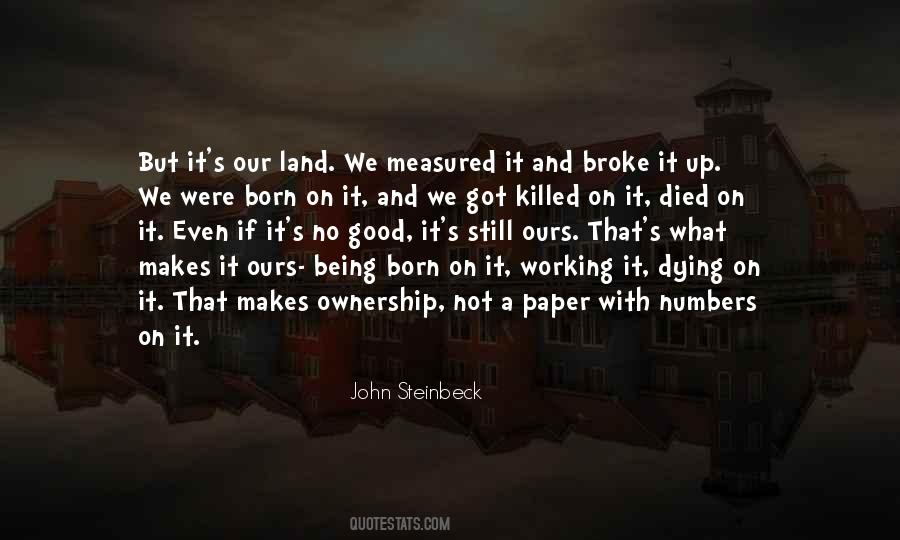 #87. What is the good of a man being honest in his worship of dishonesty? - Author: G.K. Chesterton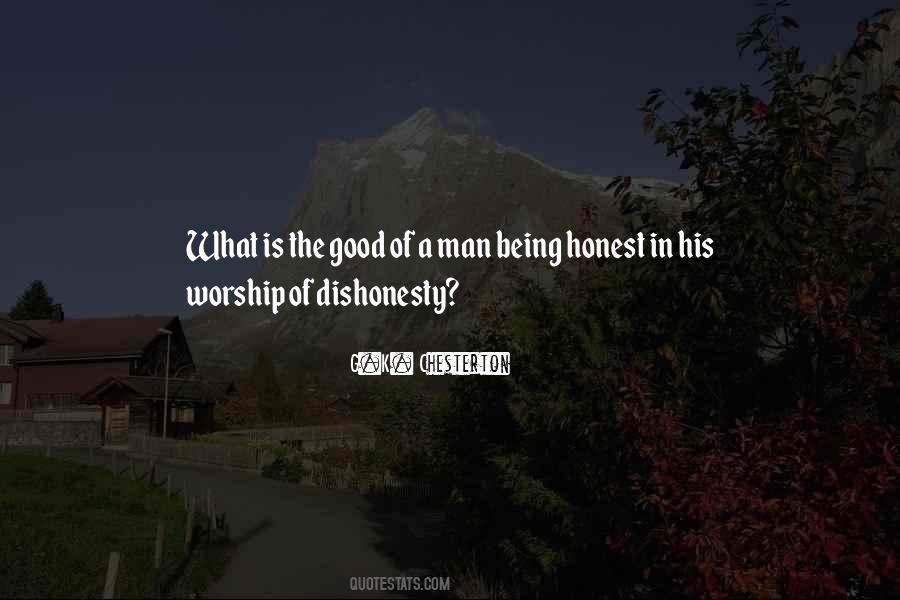 #88. Being rejected from something good just means that Allah is pointing you to something better - Author: Boonaa Mohammed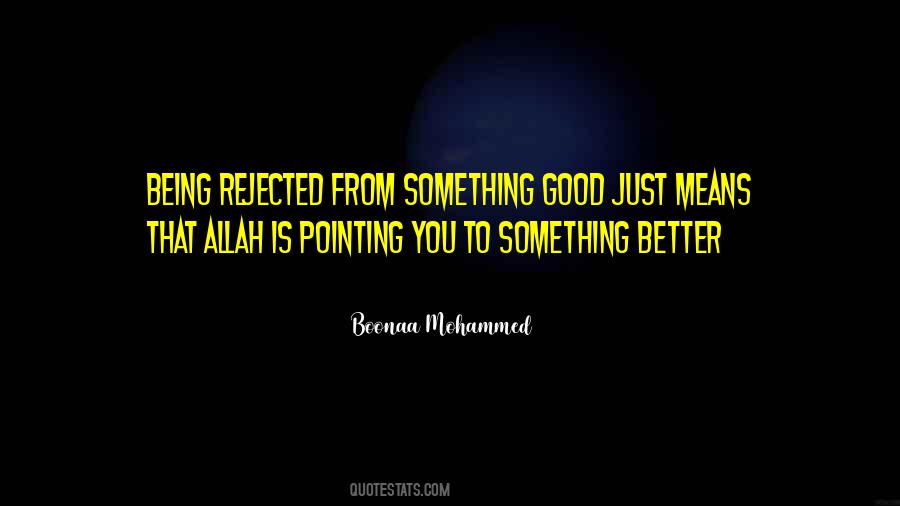 #89. If you're working for a good company and you're happy there, and you're being compensated accordingly, and your work satisfies you, you should stay there. - Author: Robert Kiyosaki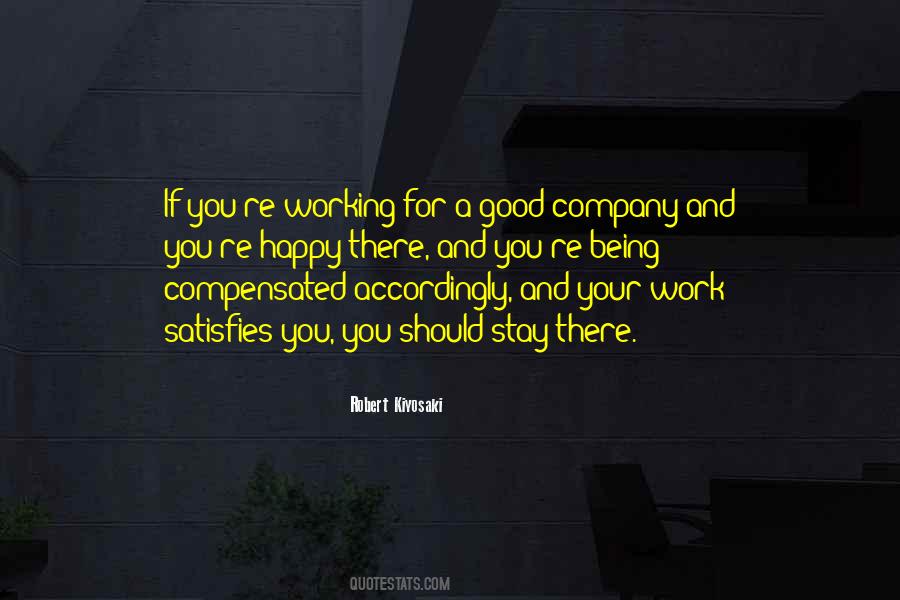 #90. Sometimes it is extremely good for you to forget that there is anything in the world which needs to be done, and to do some particular thing that you want to do. Every human being needs a certain amount of time in which he can be peaceful. - Author: Eleanor Roosevelt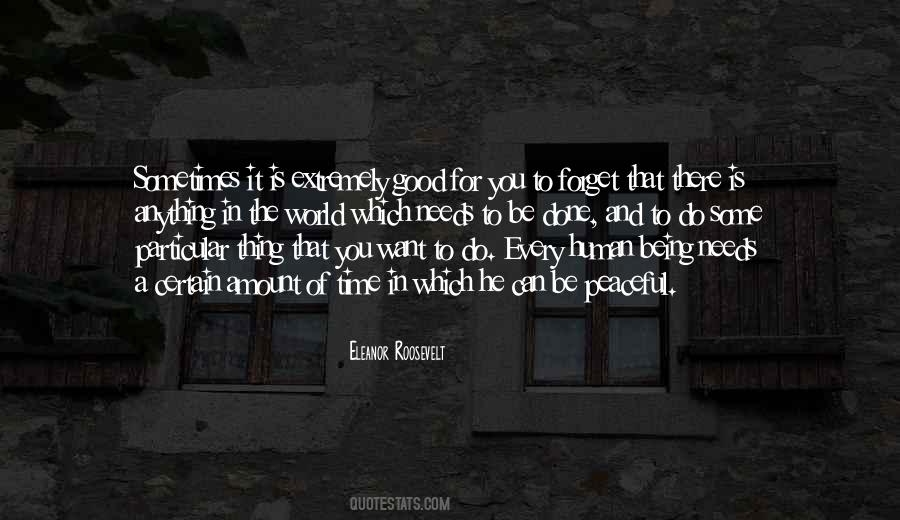 #91. I have never admired a woman for being good and I have never admired a woman for being bad. I have, however, admired other women, for believing in themselves. - Author: C. JoyBell C.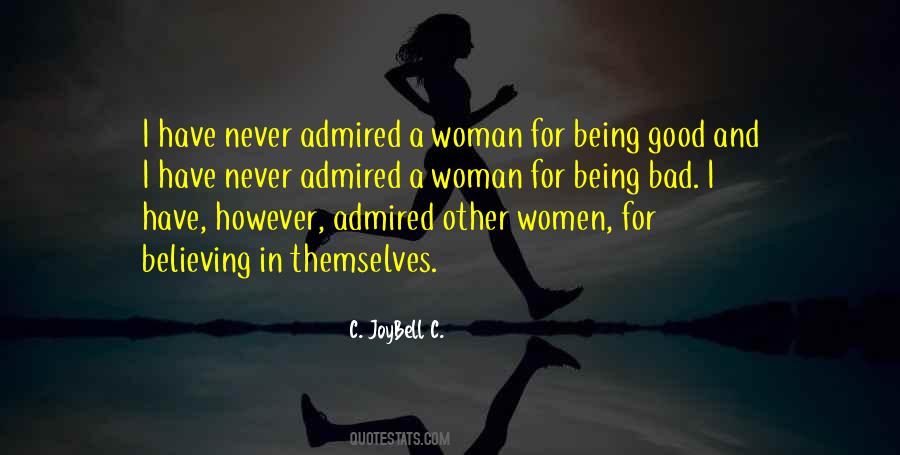 #92. Usually, there's nothing being thrown toward the stage or at me. Then I feel pretty good about it. - Author: Wanda Sykes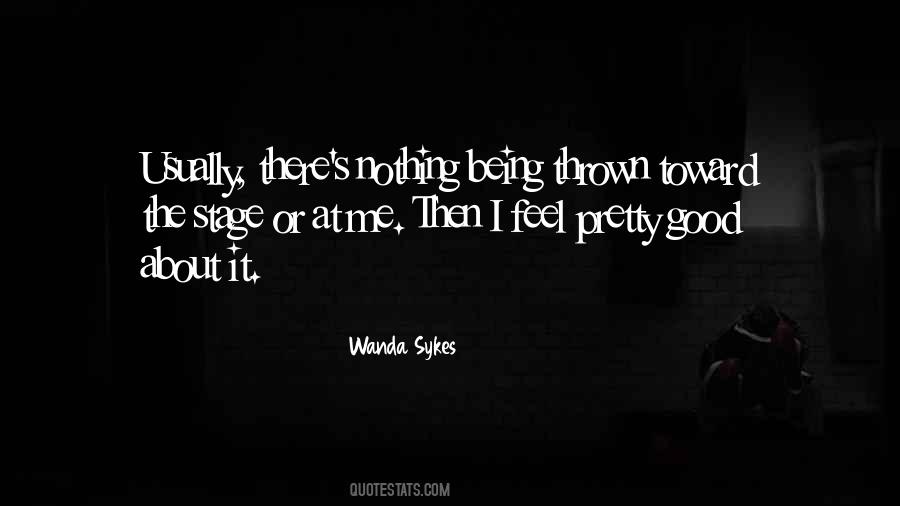 #93. I never thought of myself as being a good songwriter. There are a ton of other people that are good songwriters, but I don't think I'm in the club. What I do well is perform, sometimes sing pretty good, and accompany myself well and arrange fairly well. - Author: Alex Chilton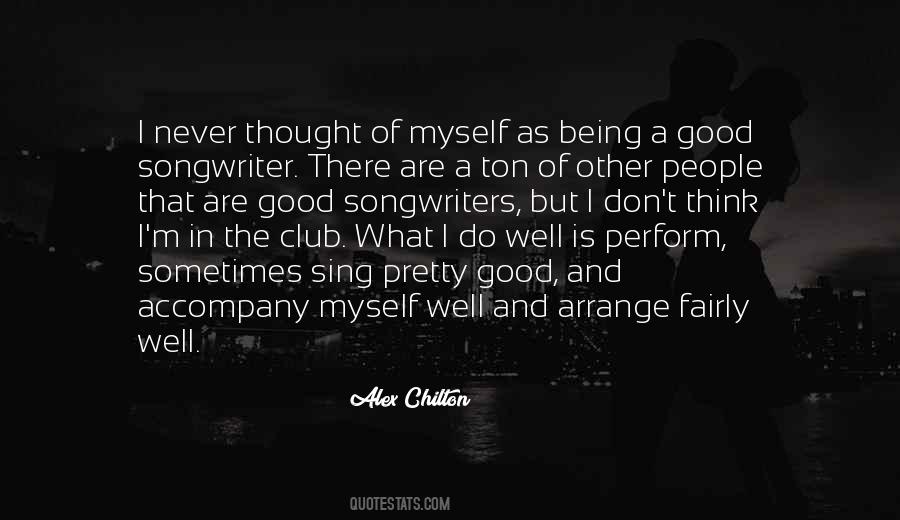 #94. I love the live performances and Las Vegas. I also like making films that are being discovered by another generation. Having been a teen idol of the '60s is great because you realize you left your generation with a smile and good memories. - Author: Connie Stevens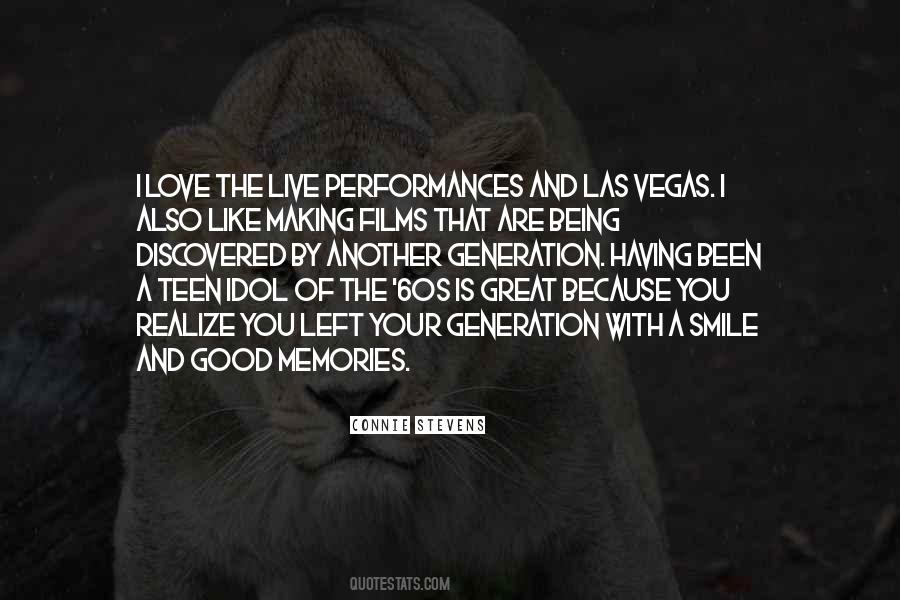 #95. The Gods being good and making all things, there is no positive evil, it only comes by absence of good; just as darkness itself does not exist, but only comes about by absence of light. - Author: Sallust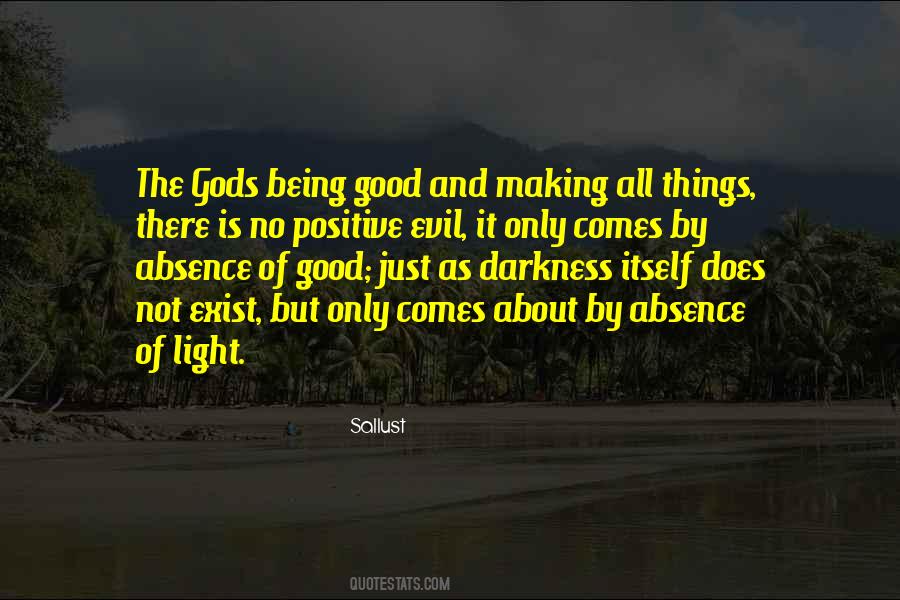 #96. Yes, to be a good parent, you have to sacrifice, but this is not a requirement of parenting, it is a requirement of being good at something. - Author: Robert Breault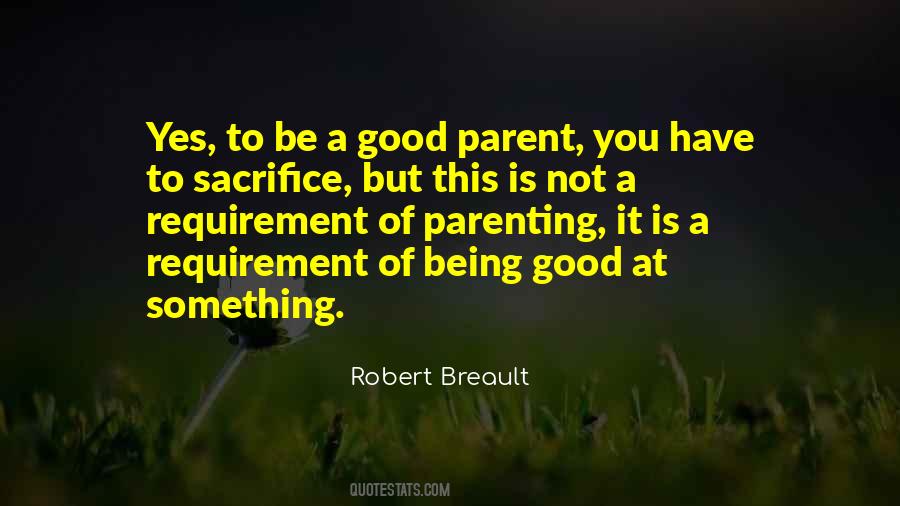 #97. What is the largest addiction in the world? Looking good and being right! - Author: David W. Earle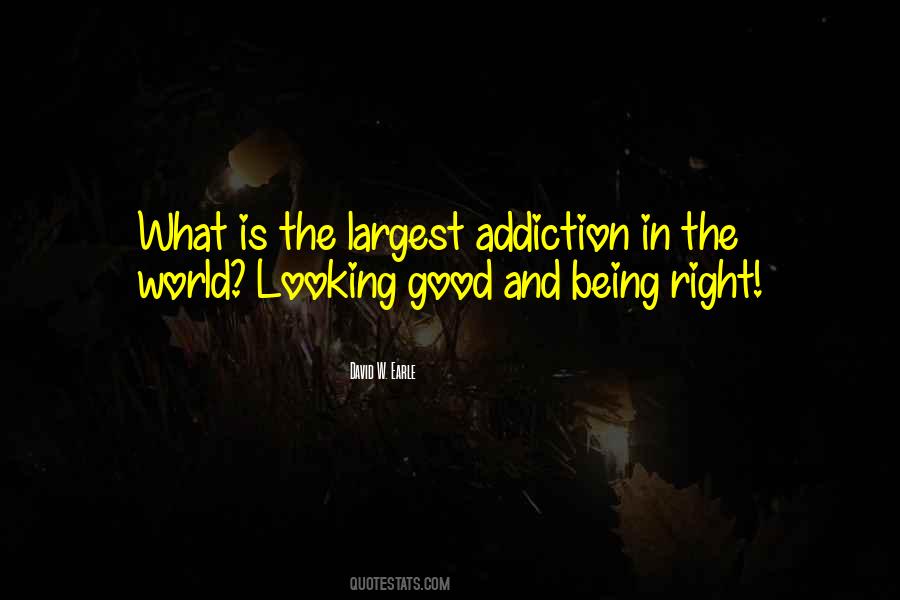 #98. Calling us men doesn't make us men. No creature on earth has a right to think himself a human being if he doesn't know at least one good book. - Author: Christopher Morley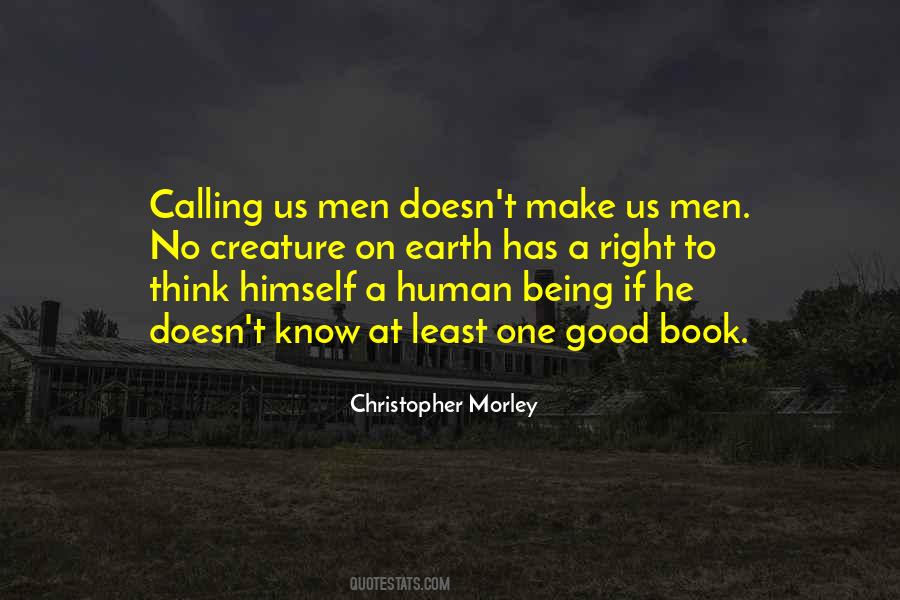 #99. They're not going to come between us, though, because I'm crazy about you and have been for a long time."
"That's not good enough for me. Although, being crazy for me is a good start. It's just not enough for me since I happen to love you. - Author: Lynetta Halat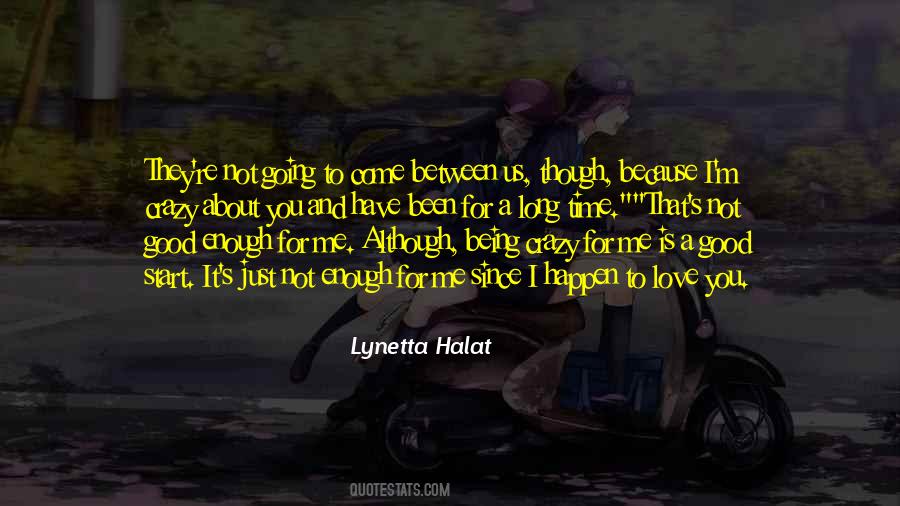 #100. It has always been, and will always be true; those who do the most good suffer more than most do. - Author: Wes Fesler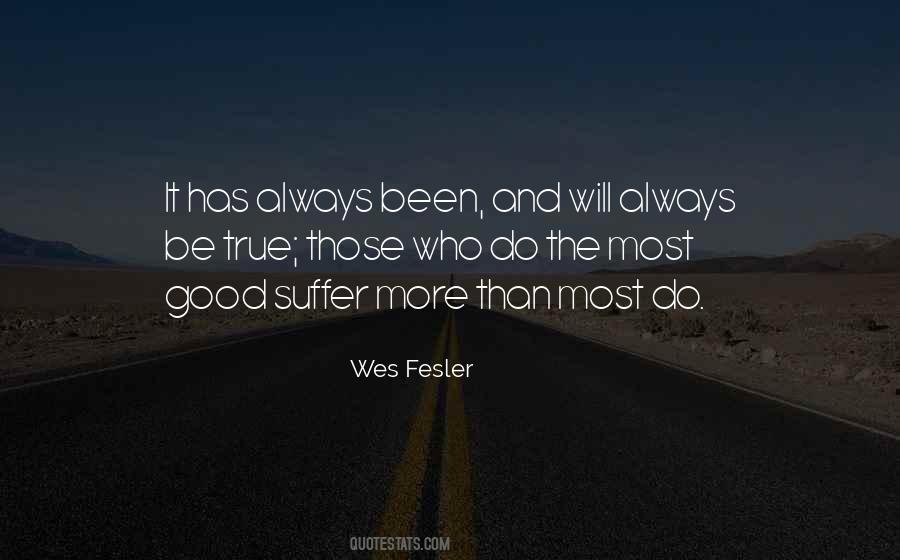 Famous Authors
Popular Topics