Baptized Famous Quotes & Sayings
List of top 100 famous quotes and sayings about baptized to read and share with friends on your Facebook, Twitter, blogs.
Top 100 Quotes About Baptized
#1. To be baptized is to recover the humanity that God first intended. What did God intend? He intended that human beings should grow into such love for him and such confidence in him that they could rightly be called God's sons and daughters. Human - Author: Rowan Williams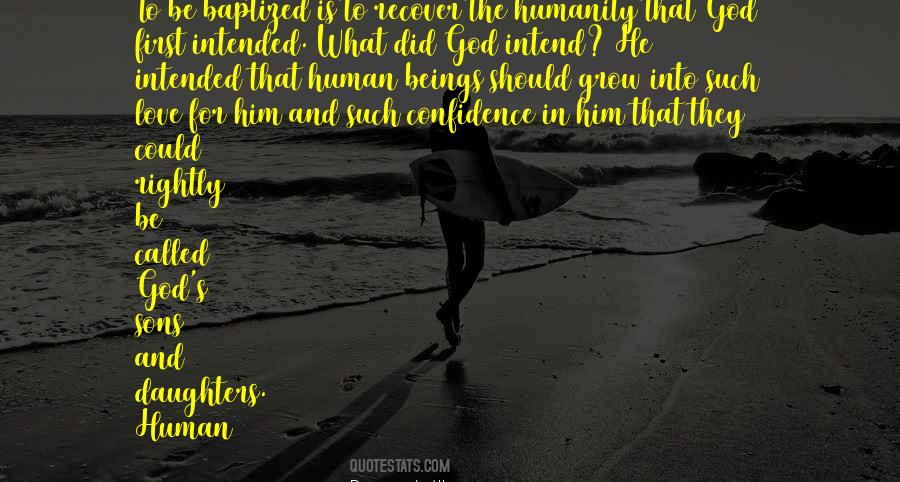 #2. I gave my life to the Lord at 12. I was baptized at 12. - Author: Chuck Norris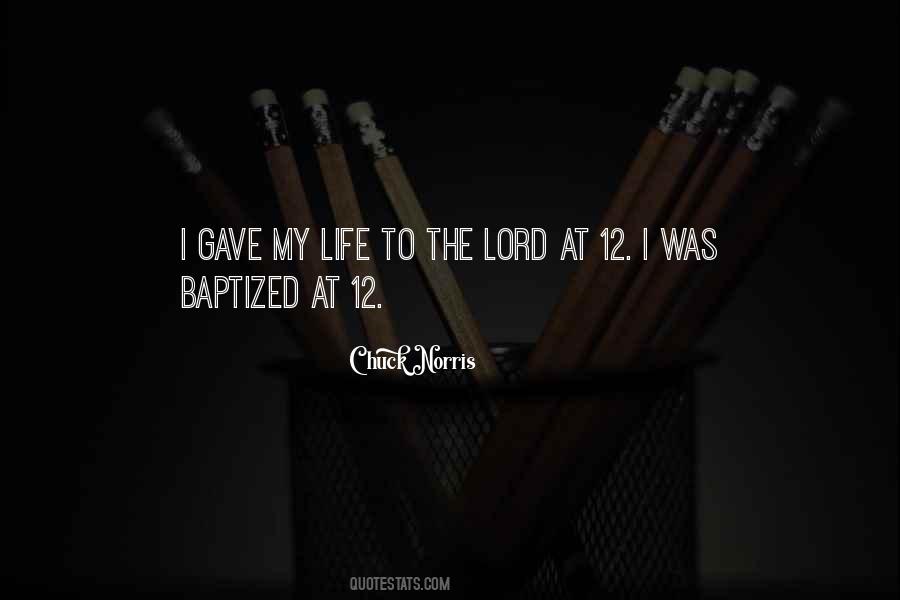 #3. From the beginning, our community has been focused on people outside of Christianity. But that emphasis means that a lot of hard work is represented in every person who is baptized. - Author: Erwin McManus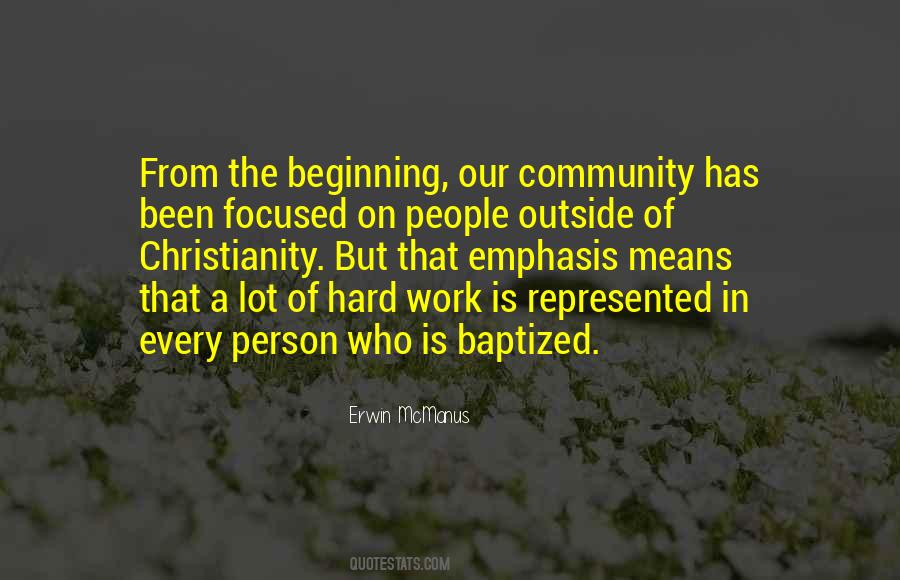 #4. Liturgy is the means that the church uses to keep baptized Christians in living touch with the entire living holy community as it participates formationally in Holy Scripture. - Author: Eugene H. Peterson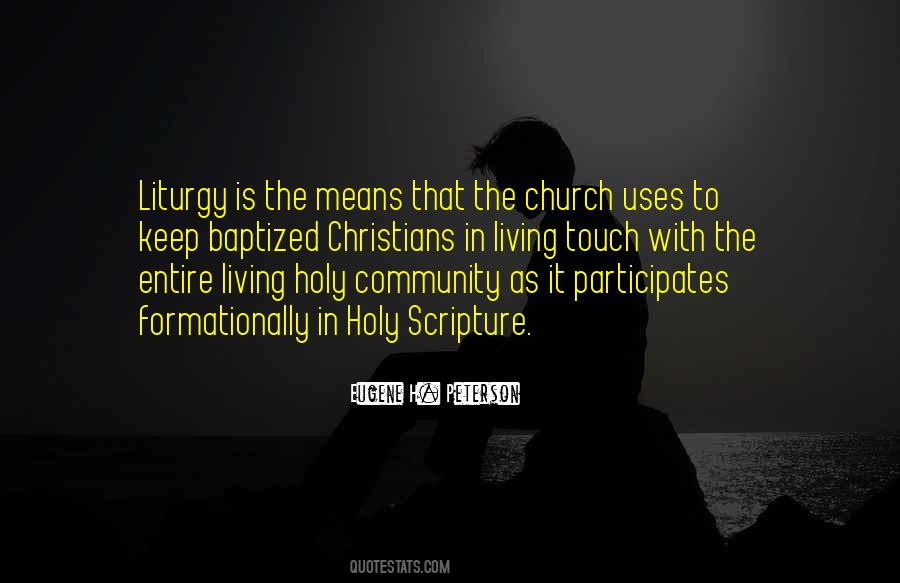 #5. A perversion must be baptized and patronized (the Marquis De Sade and Leopold Von Sacher-Masoch were on to something). - Author: Philippe Lejeune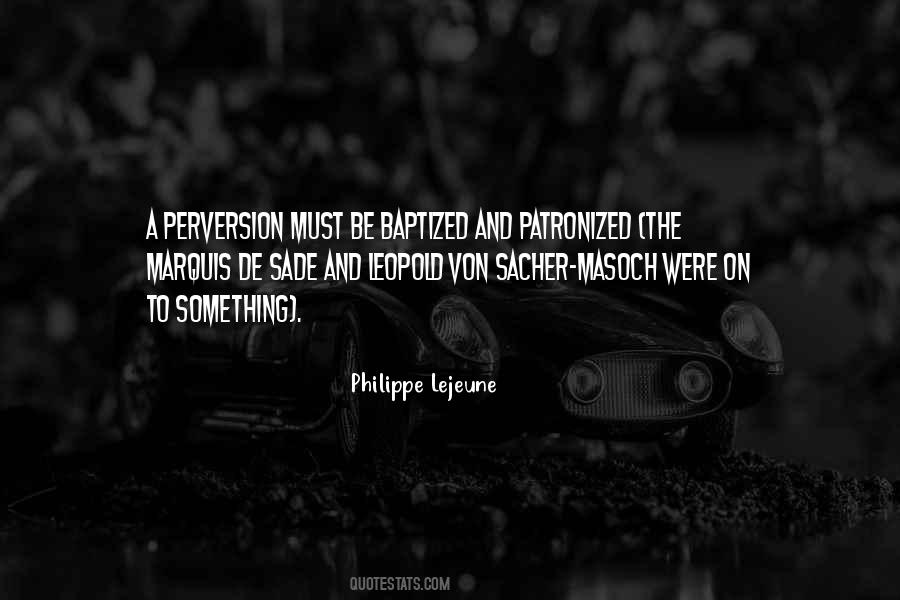 #6. ACT11.15 And as I began to speak, the Holy Ghost fell on them, as on us at the beginning. ACT11.16 Then remembered I the word of the Lord, how that he said, John indeed baptized with water; but ye shall be baptized with the Holy Ghost. - Author: Anonymous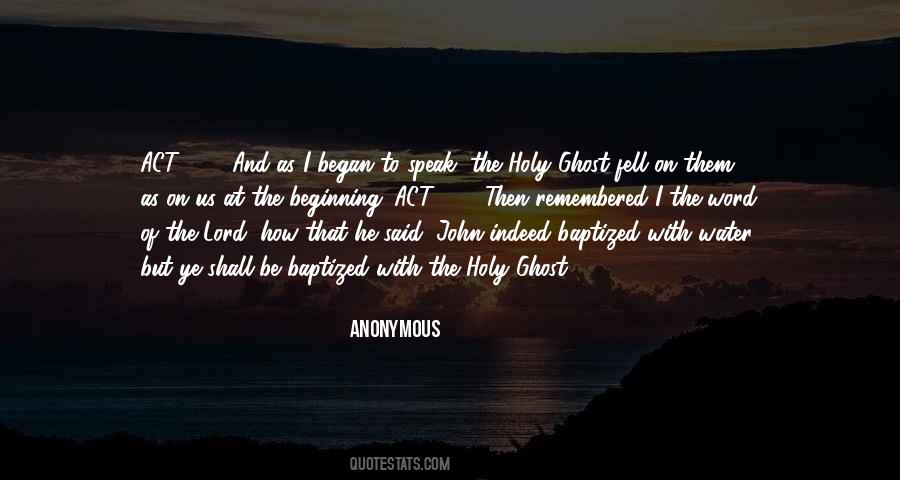 #7. William Shakespeare ... was baptized on April 26, 1564. When he was born is disputed, but anyone who argues that it was after this date is just being difficult. - Author: Richard Armour
#8. I take thee at thy word:
Call me but love, and I'll be new baptized;
Henceforth I never will be Romeo. - Author: William Shakespeare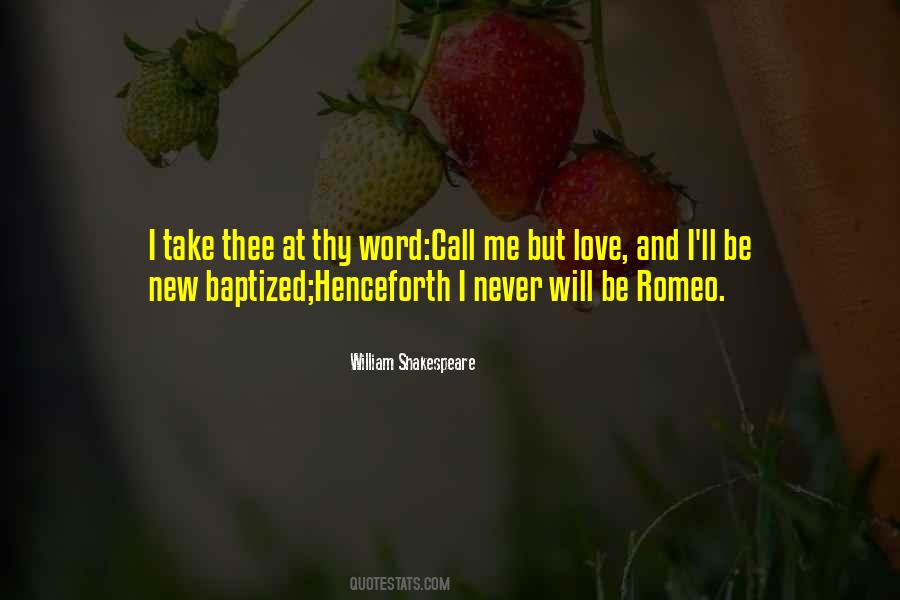 #9. 24 And if they will not repent and believe in his name, and be baptized in his name, and endure to the end, they must be damned; for the Lord God, the Holy One of Israel, has spoken it. - Author: Joseph Smith Jr.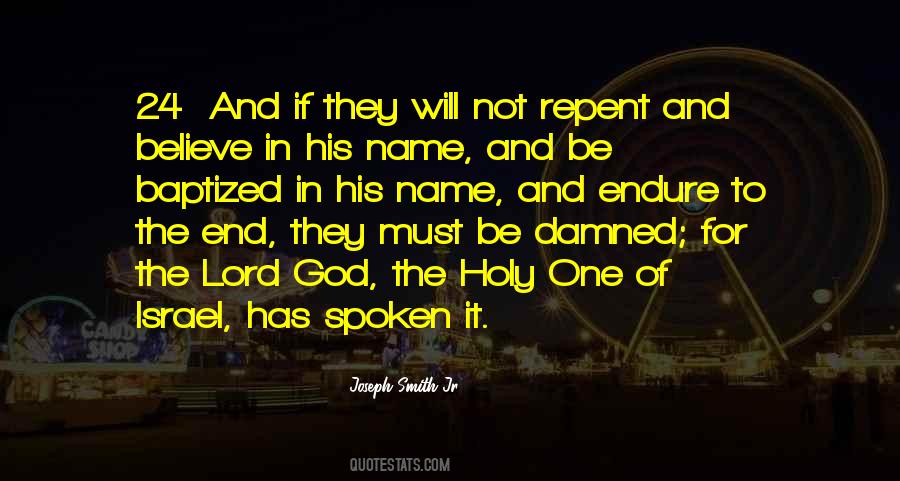 #10. Spirituality is no different from what we've been doing for two thousand years just by going to church and receiving the sacraments, being baptized, learning to pray, and reading Scriptures rightly. It's just ordinary stuff. - Author: Eugene H. Peterson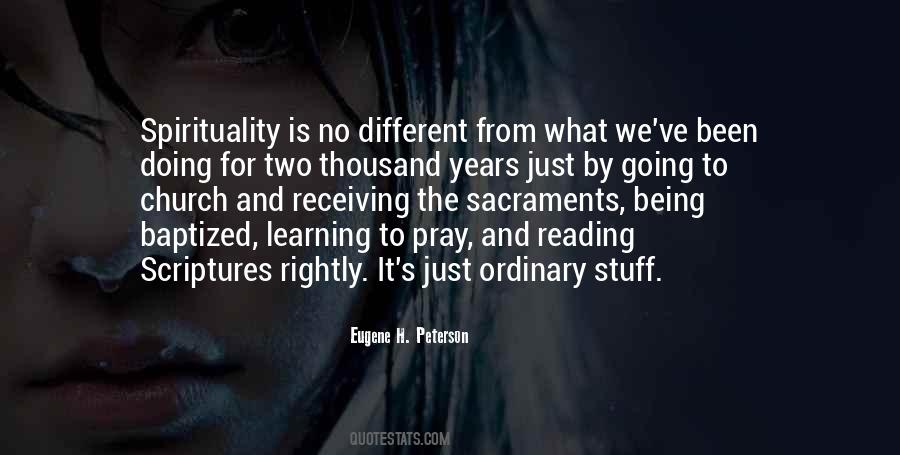 #11. When we are baptized and confirmed, when brethren are ordained to the priesthood, when we go to the temple and receive our endowment, when we enter into the new and everlasting covenant of eternal marriage - in all these sacred ordinances, we make solemn commitments to keep God's commandments. - Author: Joseph B. Wirthlin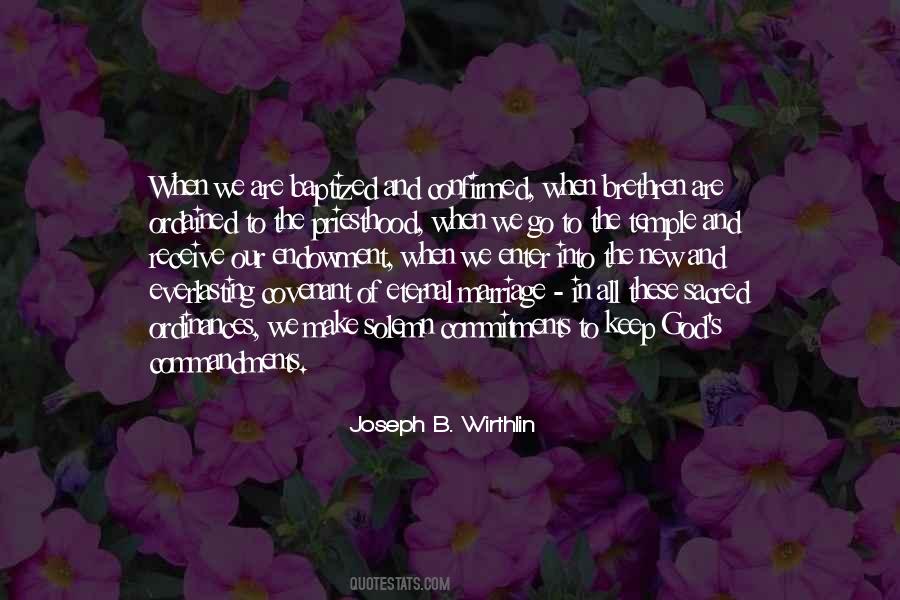 #12. The conviction which we must share and spread is that the call to holiness is directed to all Christians. This is not a question of privilege or of spiritual elitism. It is a question of a grace offered to all the baptized. - Author: Pope John Paul II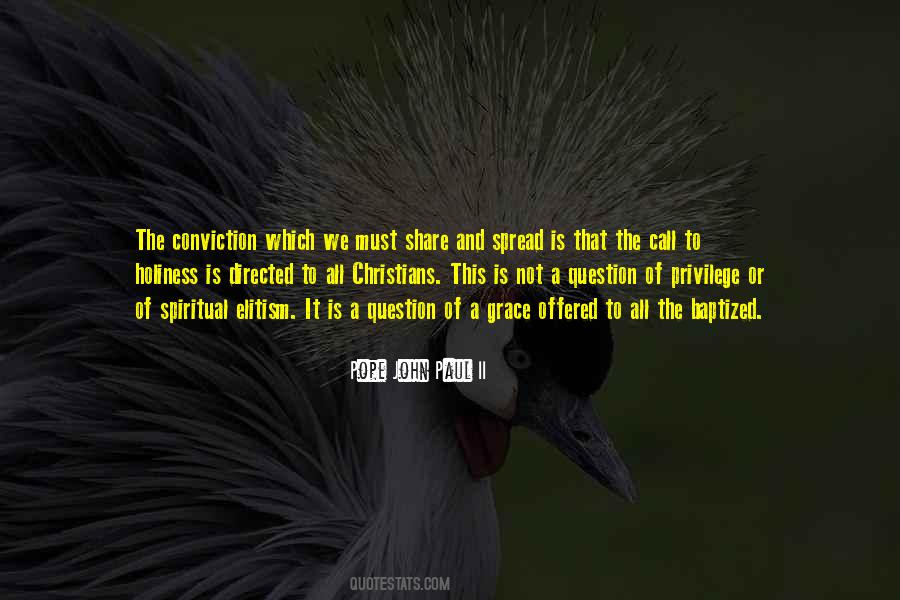 #13. Somewhere along the way we have subtly and tragically taken the costly command of Christ to go, baptize, and teach all nations and mutated it into a comfortable call for Christians to come, be baptized, and listen in one location. - Author: David Platt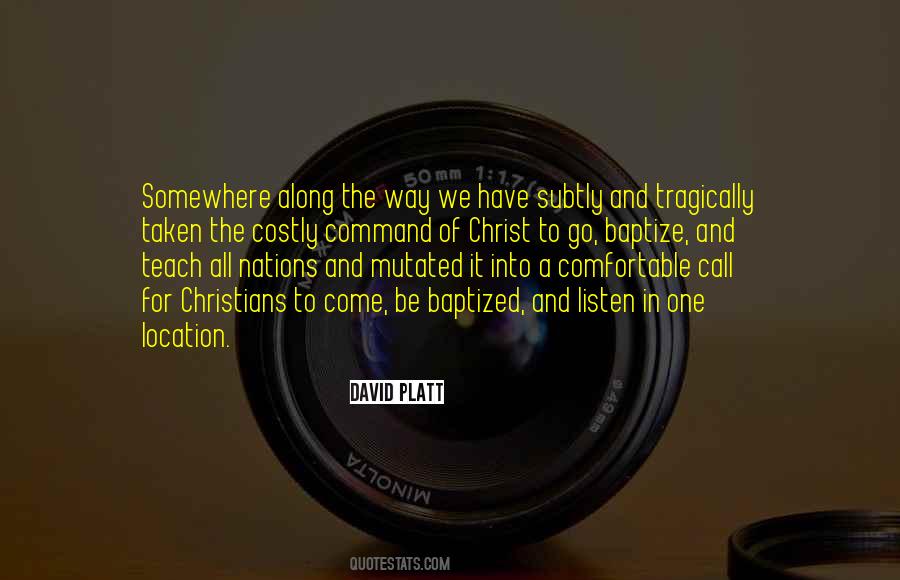 #14. True believing Christians are sheep among wolves, sheep for the slaughter. They must be baptized in anxiety, distress, affliction, persecution, suffering, and death. - Author: William Roscoe Estep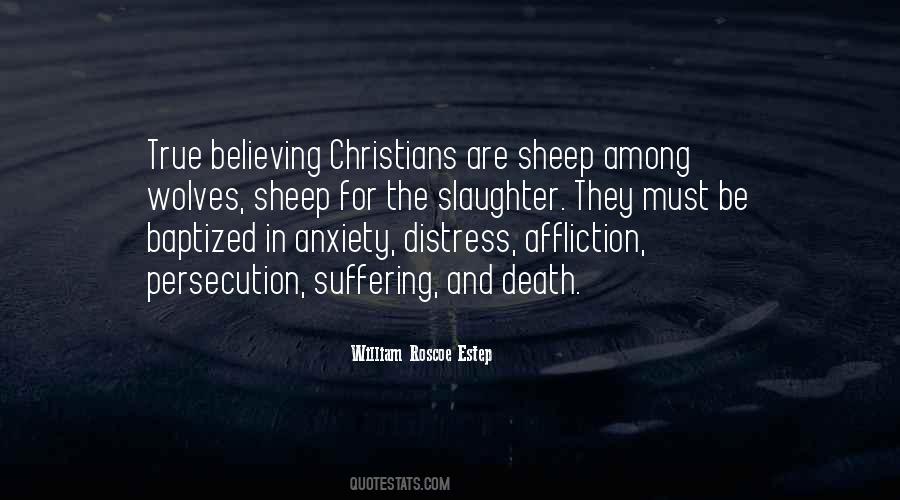 #15. I want to remember warming your two a.m. bottle, clipping your locks, watching you be baptized, bathing you in the big porcelain sink ... how I often laid you against my chest and felt the cradlesong of your tiny breaths as you fell asleep ... - Author: Carew Papritz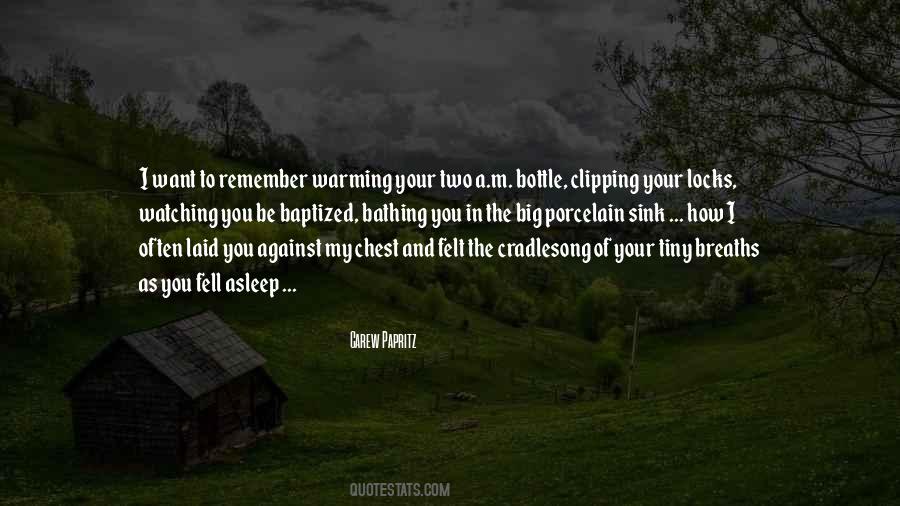 #16. A news event in 1995 shocked both sides in the culture war controversy. Norma Leah McCorvey, the "Jane Roe" in the famous Supreme Court case of 1973, converted to Christ, got baptized, and joined the pro-life campaign. - Author: Philip Yancey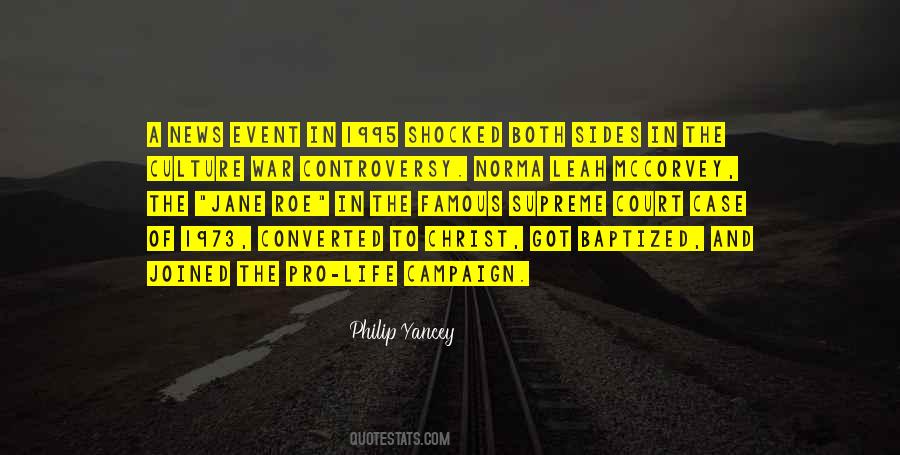 #17. When Jesus stepped into the waters of the Jordan and was baptized by John the Baptist, he did so not because he was in need of repentance, or conversion: he did it to be among people who need forgiveness, among us sinners, and to take upon himself the burden of our sins. - Author: Pope Francis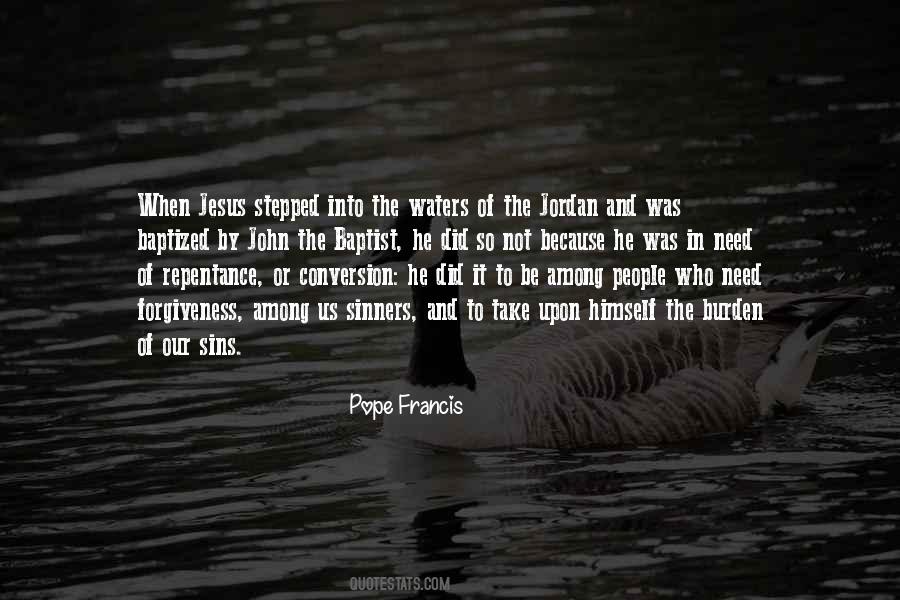 #18. He that believeth and is baptized shall be saved;
but he that believeth not shall be damned".
"JESUS - Author: Anonymous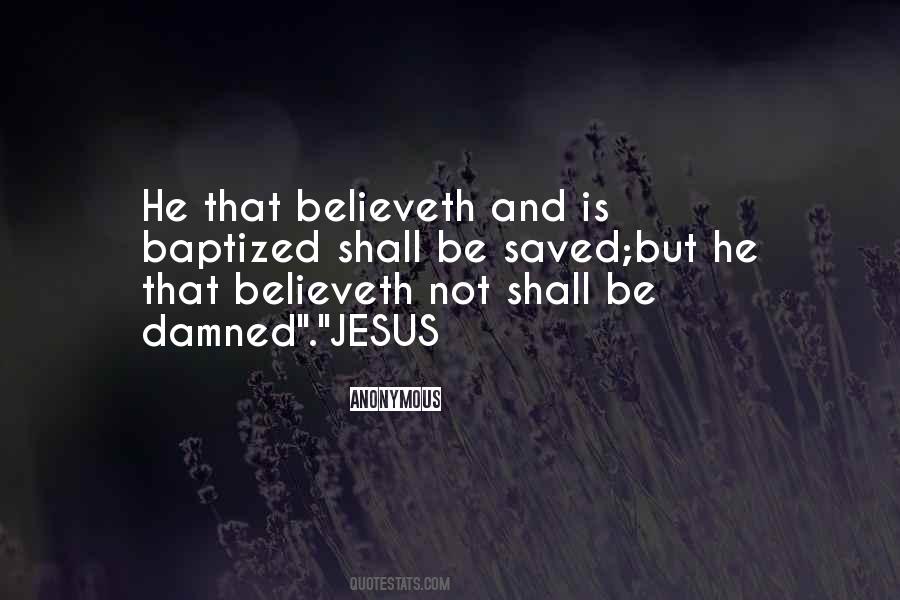 #19. Held on to me like I was a baby. And she kept crying. So many tears. My clothes and hair were soaked with her tears. It was, like, my mother had given me a grief shower, you know? Like she'd baptized me with her pain. - Author: Sherman Alexie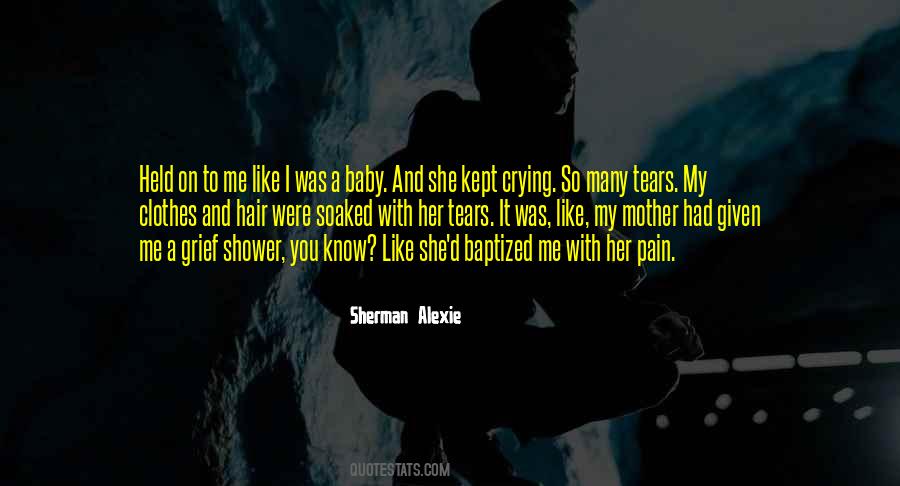 #20. The white men are landing. Cannons! Now we must be baptized, get dressed, and go to work. My heart has been stabbed by grace. Ah! I hadn't thought this would happen! - Author: Arthur Rimbaud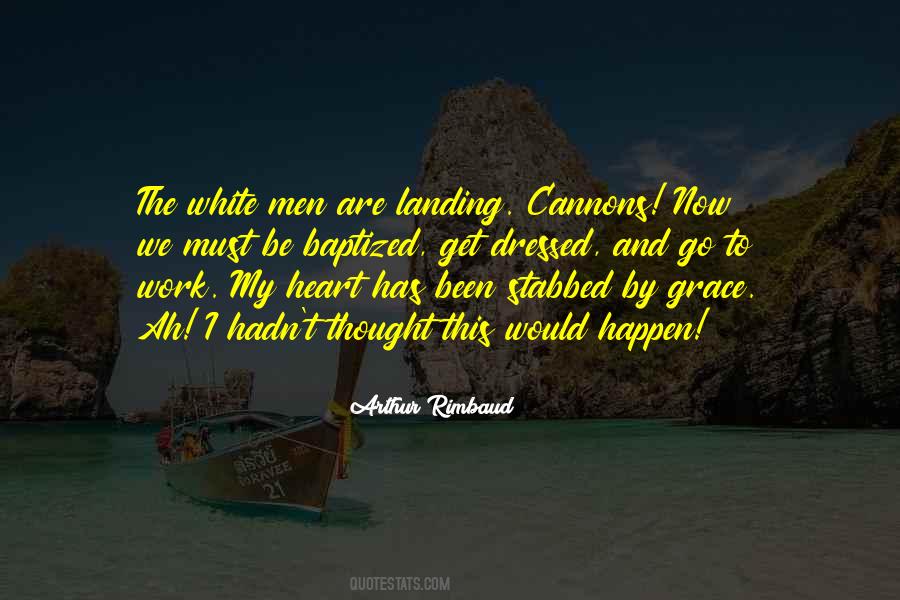 #21. Faith cannot be inherited or gained by being baptized into a Church. Faith is a matter between the individual and God. - Author: Martin Luther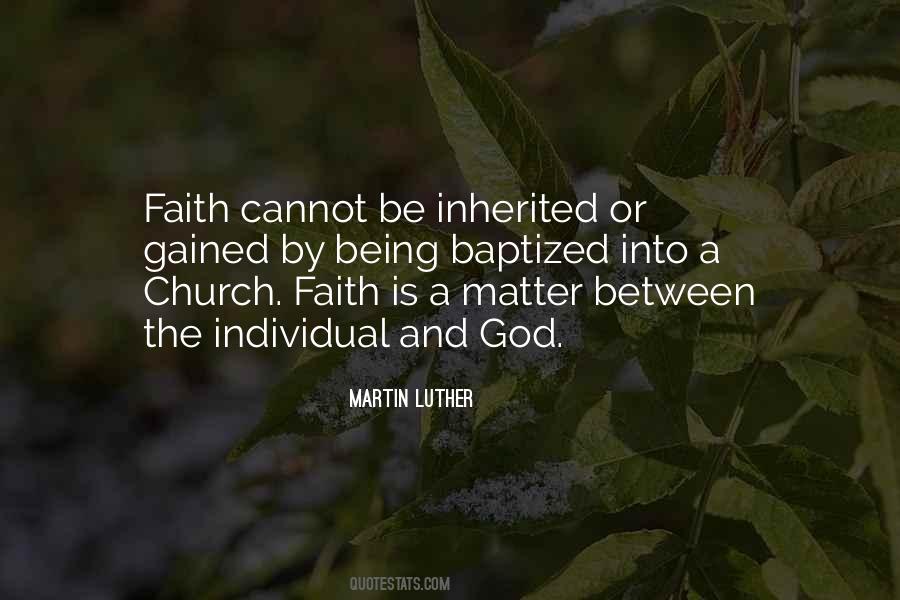 #22. I was baptized a Baptist, but I'm just Christian, as far as I'm concerned. I could go in any church, doesn't matter if it's Baptist, Protestant, Episcopal, or Catholic. - Author: Queen Latifah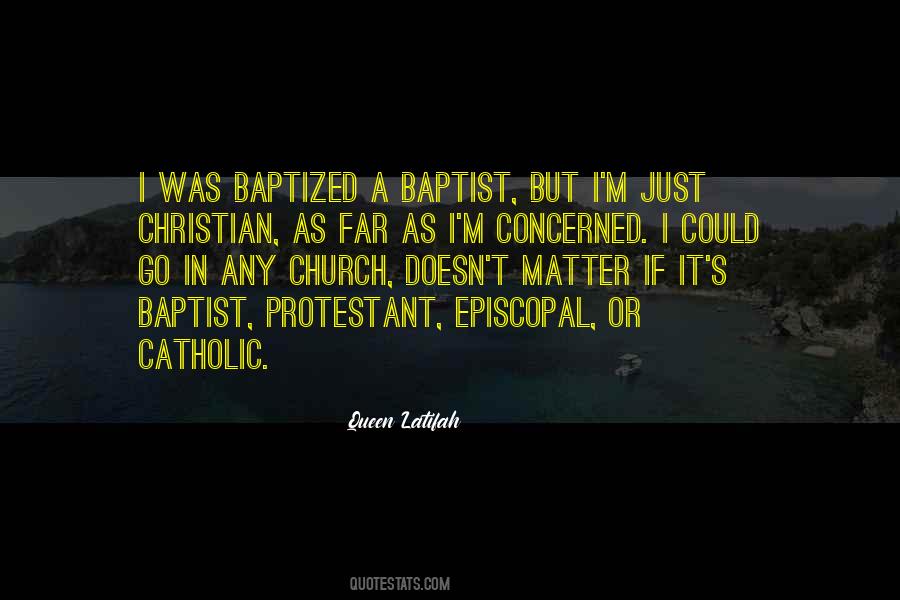 #23. All I know is that after 10 years of being sober, with huge support to express my pain and anger and shadow, the grief and tears didn't wash me away. They gave me my life back! They cleansed me, baptized me, hydrated the earth at my feet. They brought me home, to me, to the truth of me. - Author: Anne Lamott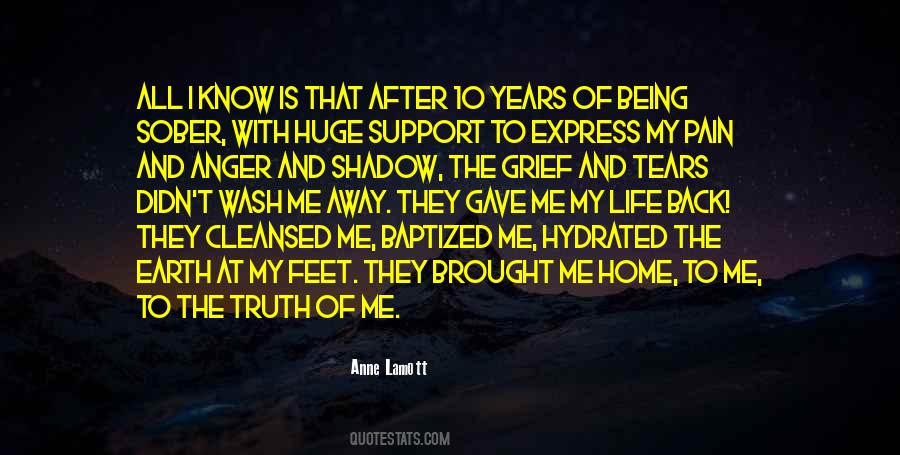 #24. I was influenced by my children's education in Quaker schools in the Philadelphia area. I experienced a spiritual awakening and became a Christian, was baptized, and joined a church. - Author: Mike Berenstain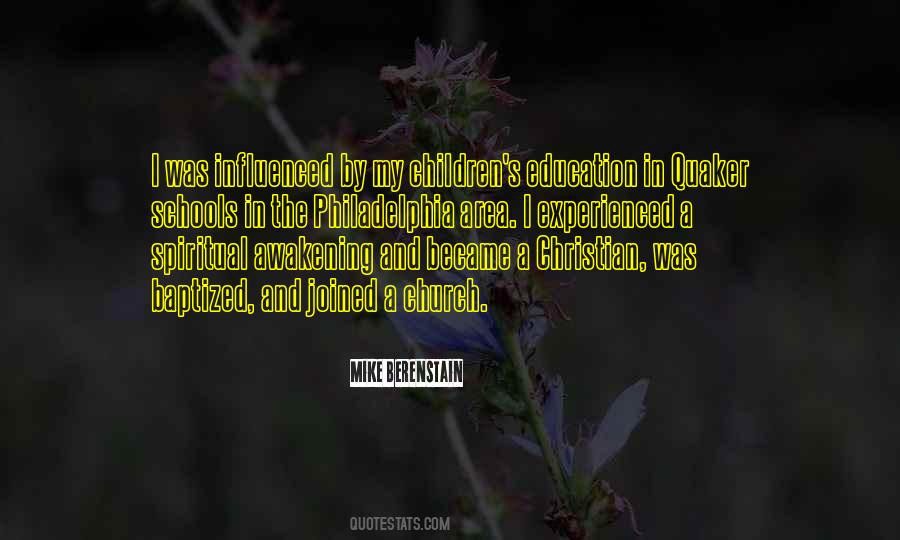 #25. We begin the process of being born again through exercising faith in Christ, repenting of our sins, and being baptized by immersion for the remission of sins by one having priesthood authority. - Author: David A. Bednar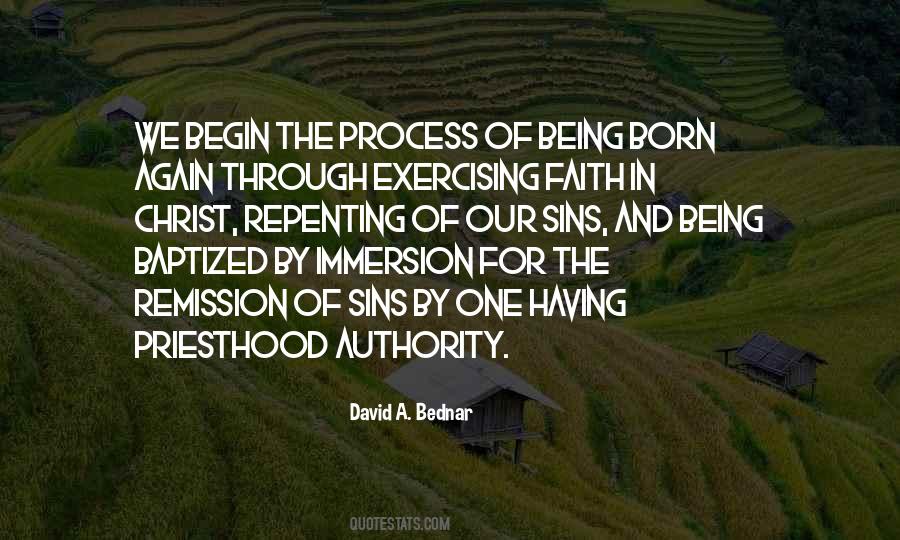 #26. The baptized in their sense of mission, through prayer, the witness of life and Christian commitment in all its forms, so that all the faithful may become missionaries in the places where they live and that vocations will come forth to proclaim the Gospel to men who do not yet know it. - Author: Pope Benedict XVI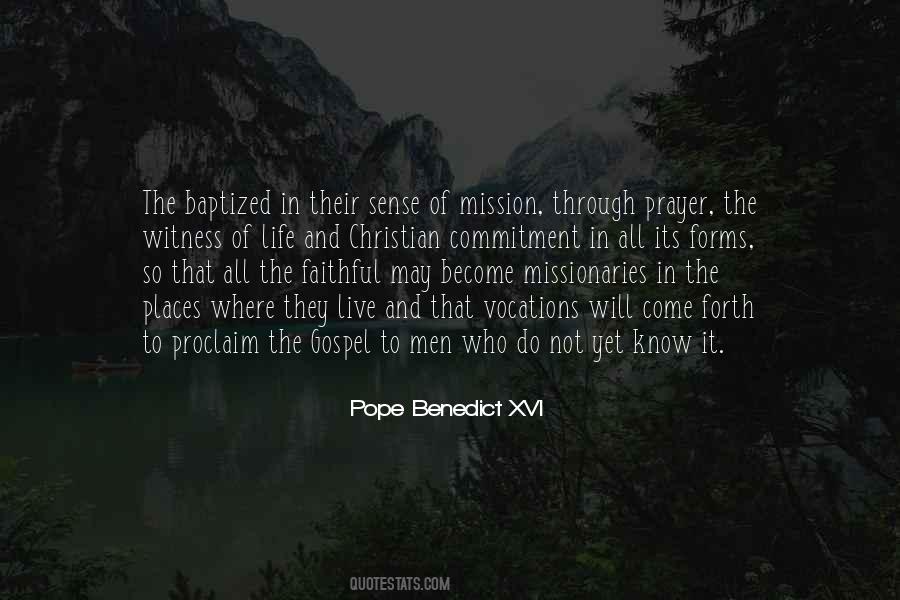 #27. When soldiers have been baptized in the fire of a battle-field, they have all one rank in my eyes. - Author: Napoleon Bonaparte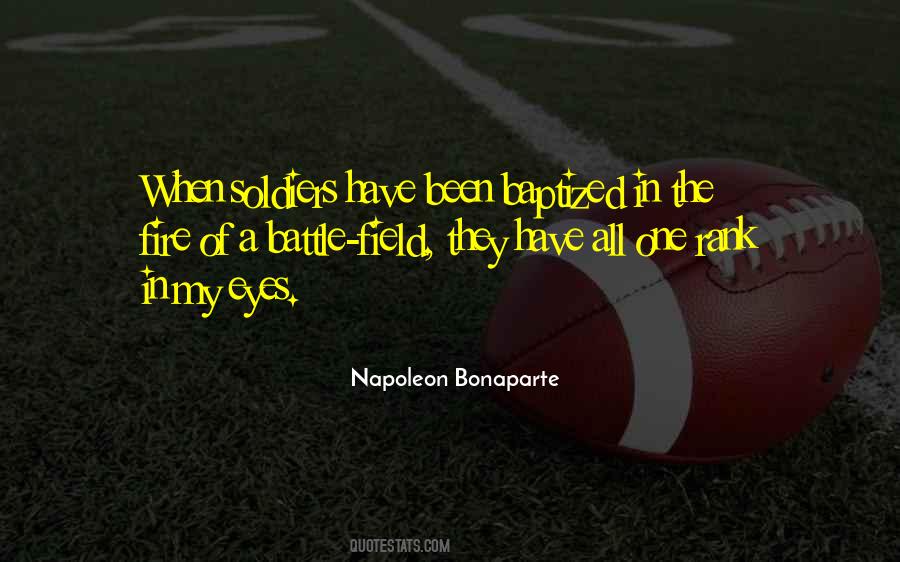 #28. Orthodoxy is like an abyss of beauty that's just endless. I have read the Bible many times. But after fasting, and being baptized Orthodox, it's like reading a whole new Bible. You see the depth behind the words so much more clearly. - Author: Troy Polamalu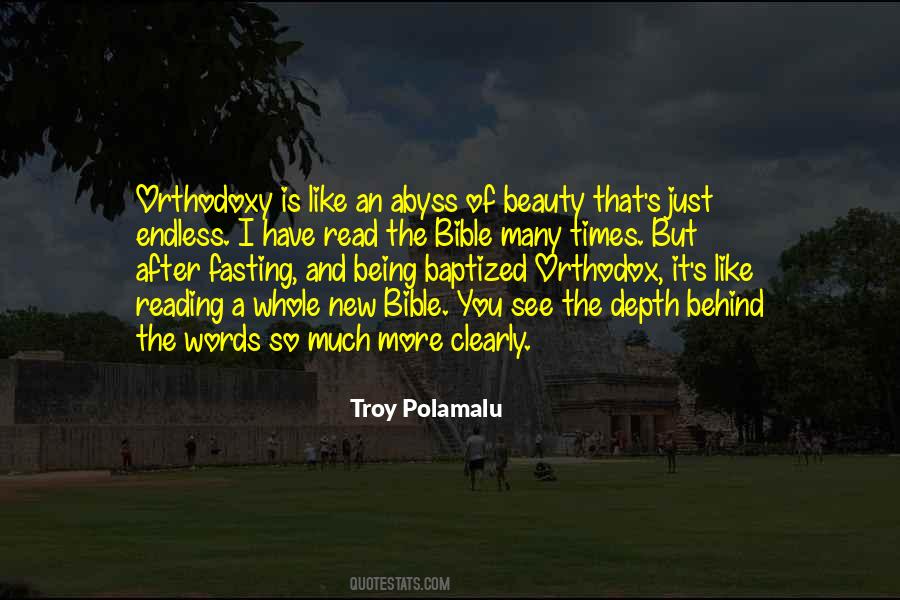 #29. To be baptized means to make the passage with the people of Israel and with Jesus from slavery to freedom and from death to new life. It is a commitment to a life in and through Jesus. - Author: Henri Nouwen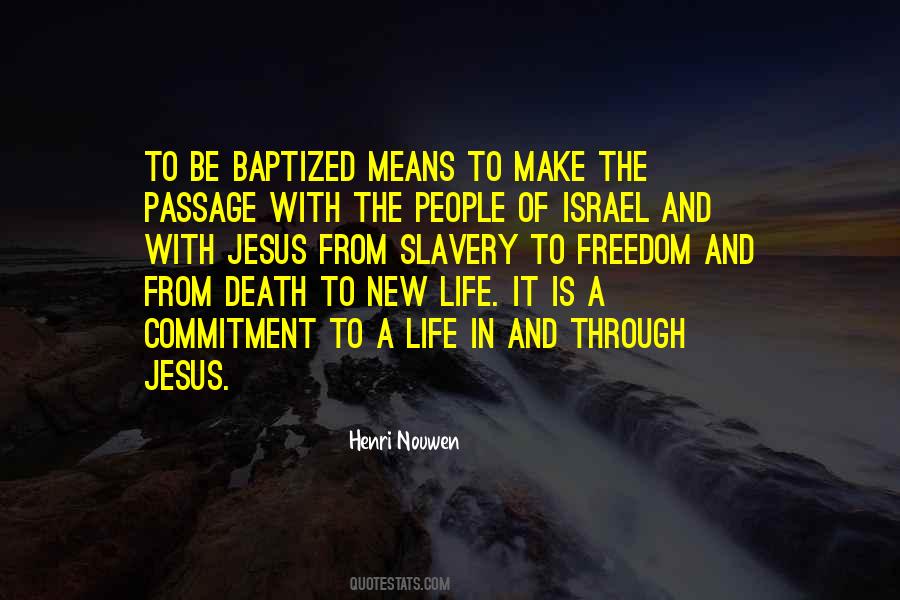 #30. You can wake up every day looking forward to new adventures with hope smiling brightly before you because you have a Savior. You are baptized in His Church ... You just need to stay in, pressing forward with a brightness of hope to your heavenly home. - Author: Julie B. Beck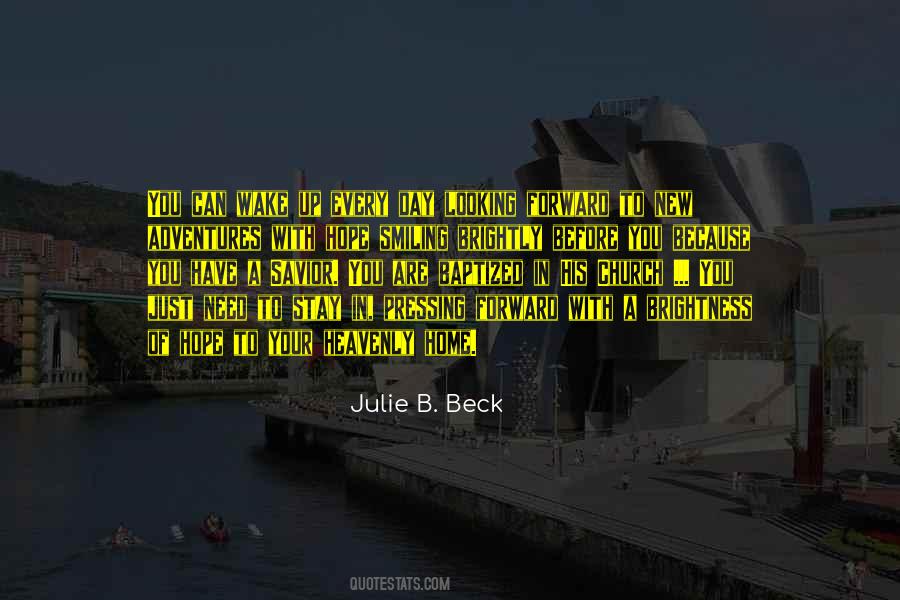 #31. Live counterculturally when the culture, baptized or secular, does not affirm truth, love, faith, mercy, and justice. - Author: Sarah Bessey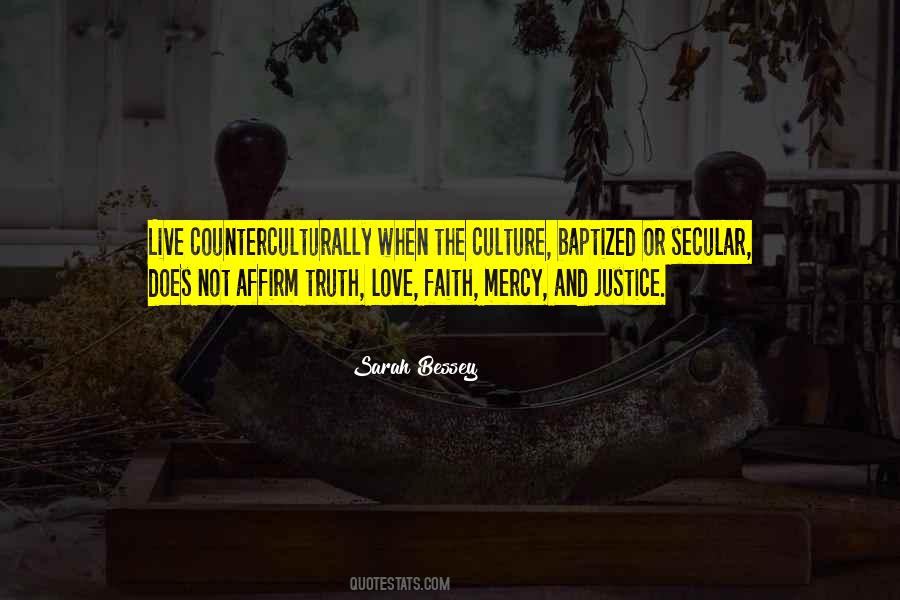 #32. Ten thousand people were baptized in the Han river in Seoul, Korea. Imagine! 10,000 people giving their lives to Christ at one time! I will never forget it! ----I felt that the constant prayers of the Korean people had made the difference. I think we in the west should take prayer more seriously. - Author: Helen Goldie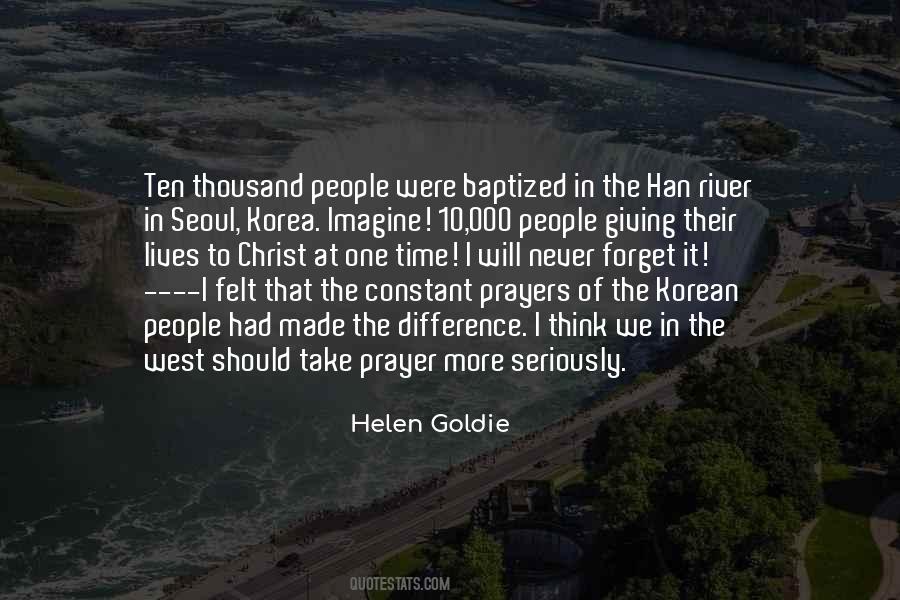 #33. However, ironically, I was baptized Presbyterian, and went to a Quaker school for twelve years. - Author: Brian De Palma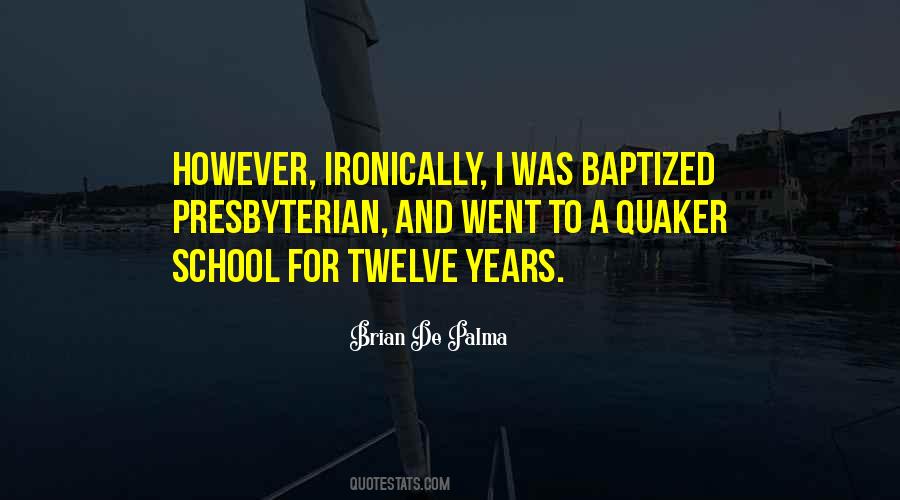 #34. For in Christ Jesus you are all children of God through faith. As many of you as were baptized into Christ have clothed yourselves with Christ. There is no longer Jew or Greek, there is no longer slave or free, there is no longer male or female; for all of you are one in Christ Jesus. - Author: Anonymous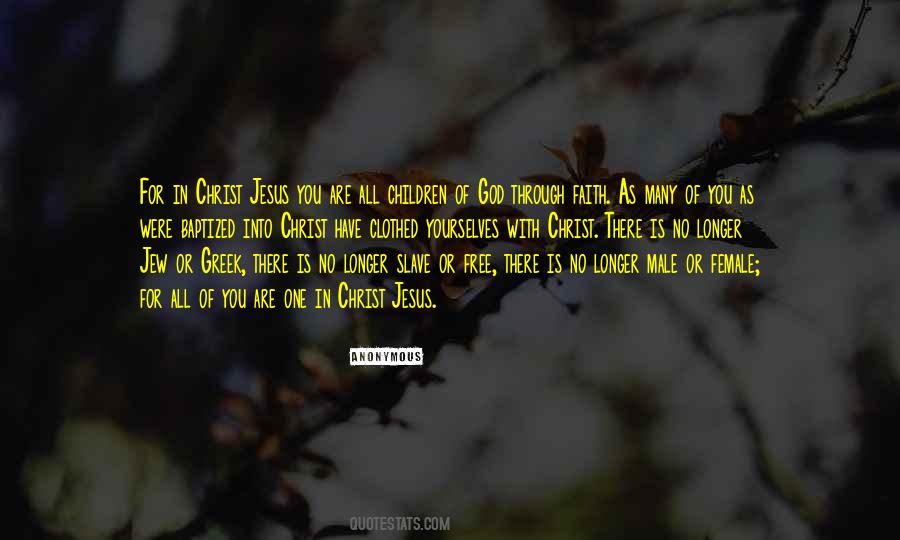 #35. I was brought up Roman Catholic. I'm not even baptized. - Author: Billy Corgan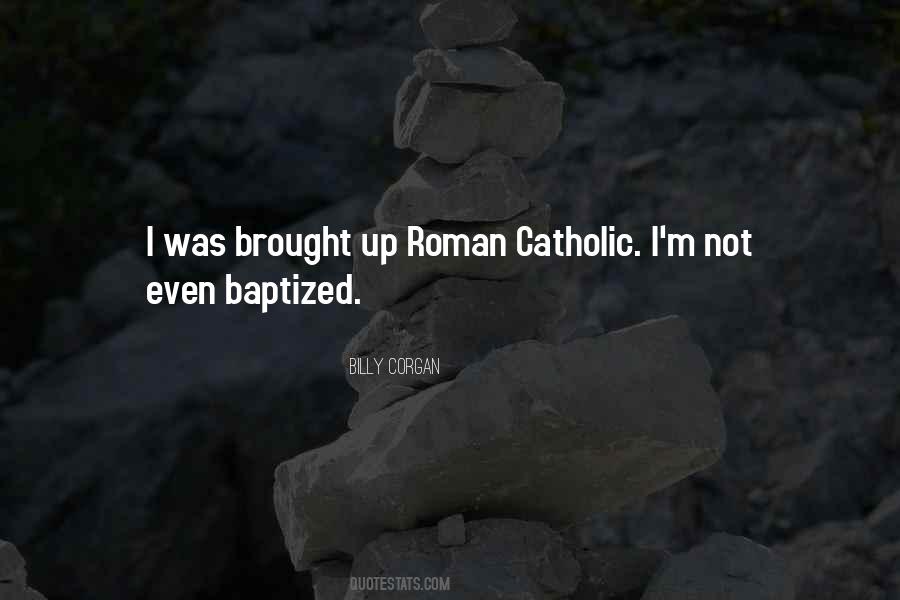 #36. It was about 5 years after I was baptized before the pull of sin finally stopped. - Author: Phil Robertson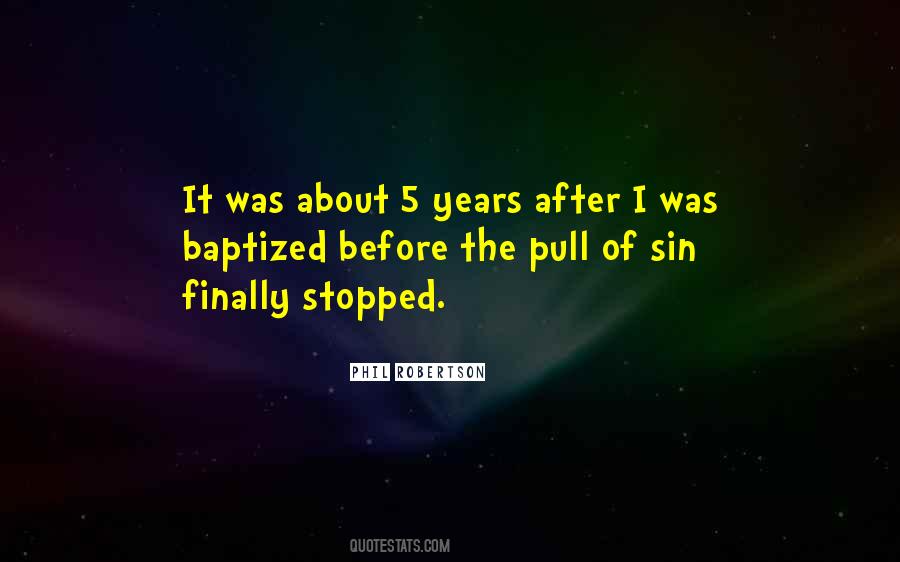 #37. I remember the day of my baptism very vividly. I was baptized in the baptismal font in the Tabernacle on Temple Square. Those who were being baptized put on white coveralls, and one by one were gently taken down the steps into the water. - Author: James E. Faust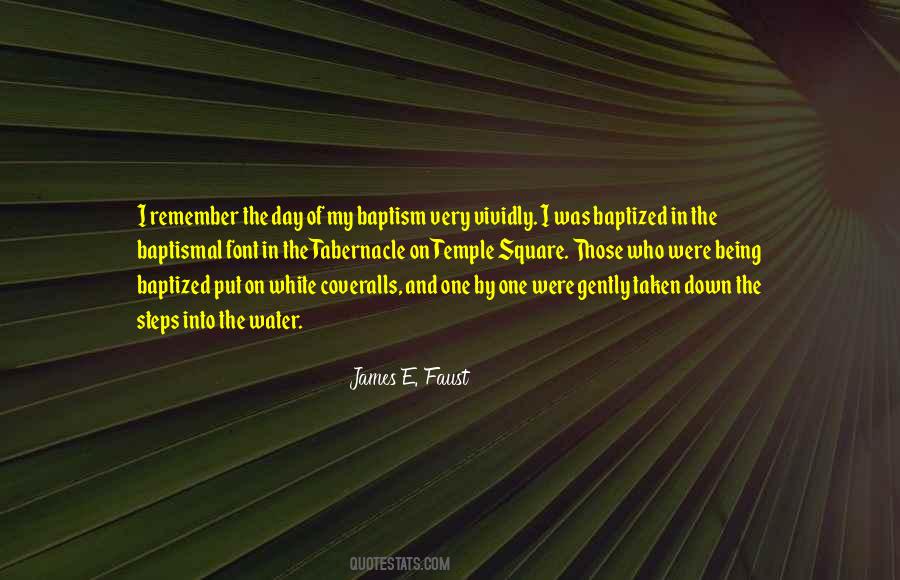 #38. We should not have full fellowship with Christ if we did not for awhile sojourn below, for he was baptized with a baptism of suffering among men, and we must be baptized with the same if we would share his kingdom. - Author: Charles Haddon Spurgeon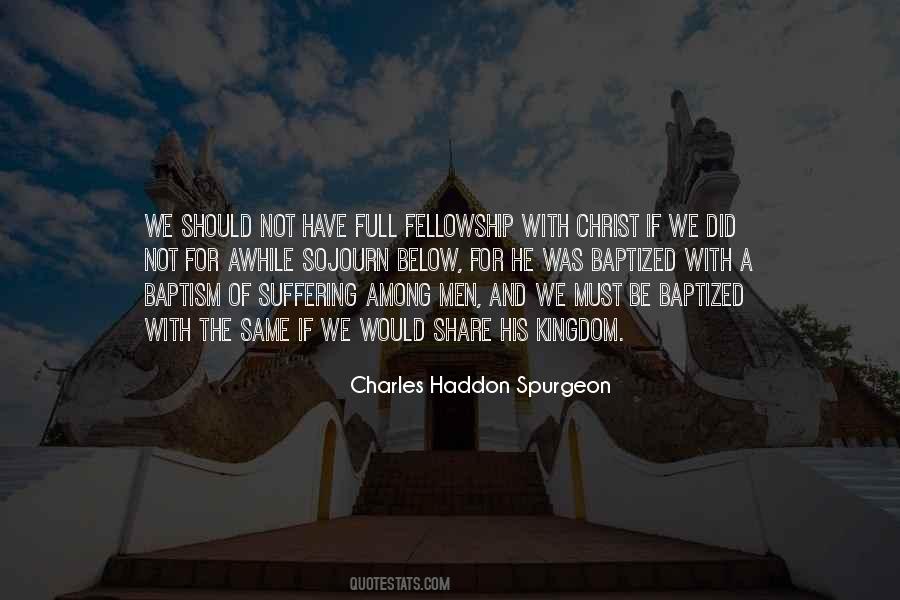 #39. When we are baptized and confirmed, the promised blessing is that we may always have the Holy Ghost to be with us. If you are consistently good, you will have the companionship of the Holy Ghost much of the time. - Author: David A. Bednar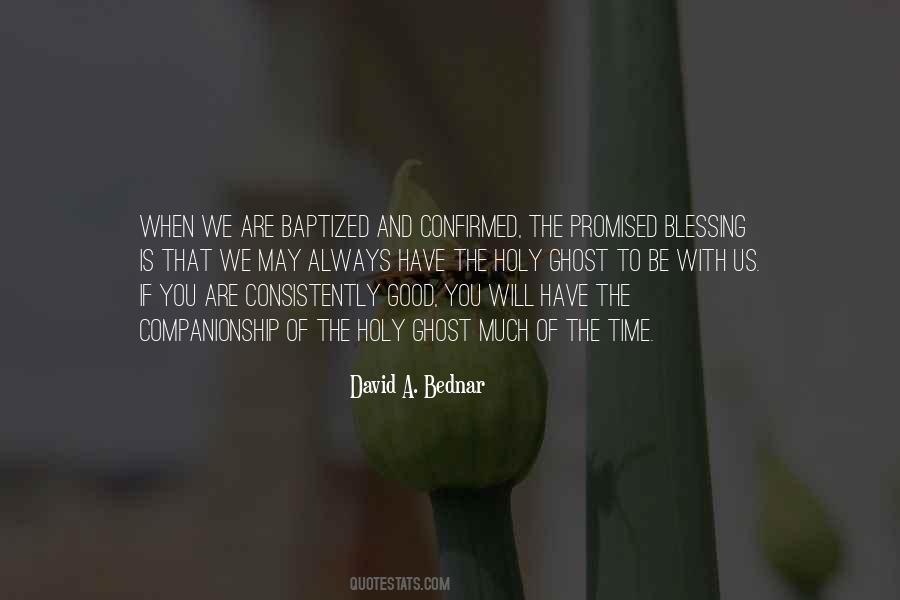 #40. And as the circumcised in the flesh, and not in the heart, have no part in God's good promises; even so they that be baptized in the flesh, and not in heart, have no part in Christ's blood. - Author: William Tyndale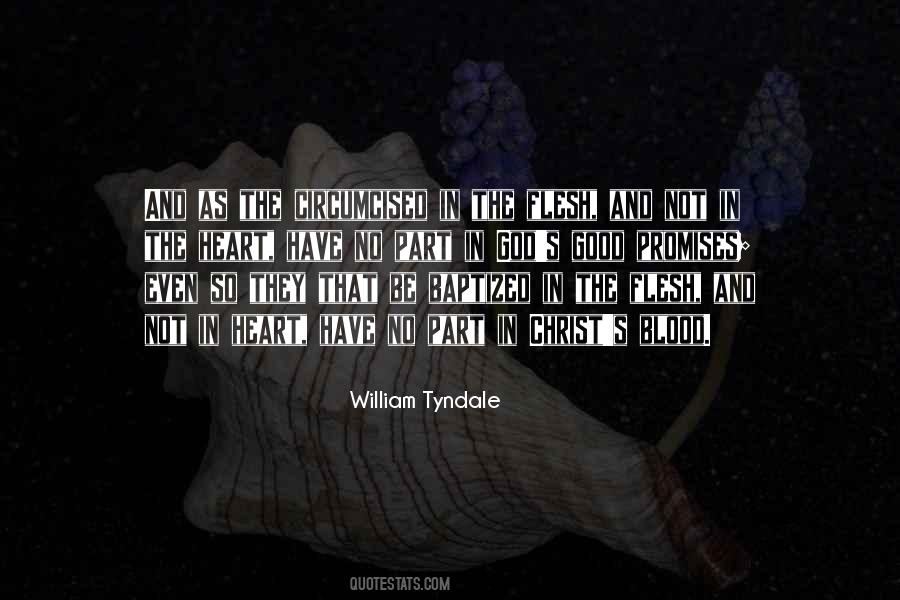 #41. I was raised in church by Christian parents and I was baptized when I was 11 years old. But I didn't really have a good understanding of what the Gospel was really all about until college. - Author: Lance Berkman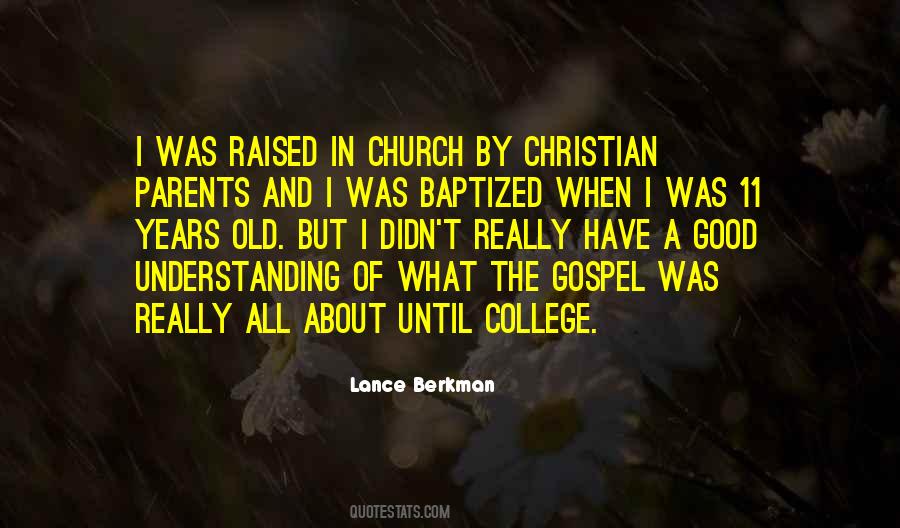 #42. The priest has just baptized you a Christian with water; and I baptize you a Frenchman, daring child, with a dewdrop of champagne on your lips. - Author: Paul Claudel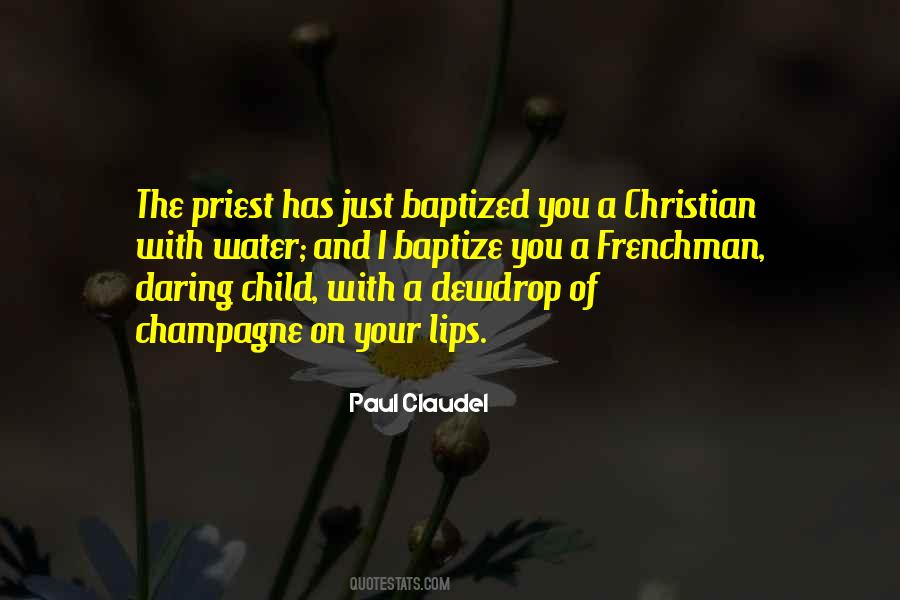 #43. These three things God requires of all the Baptized: right faith in the heart, truth on the tongue, temperance in the body. - Author: Gregory Of Nazianzus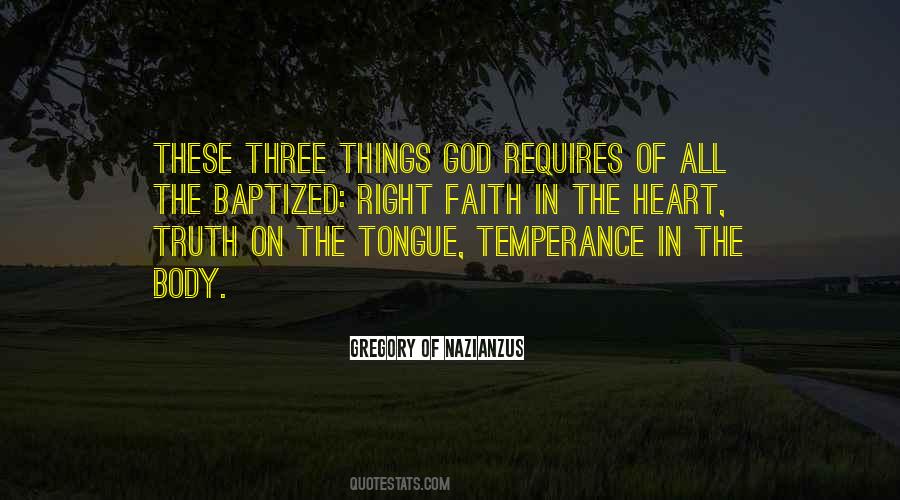 #44. 2. The second partner in the meeting is the baptized. - Author: Walter Brueggemann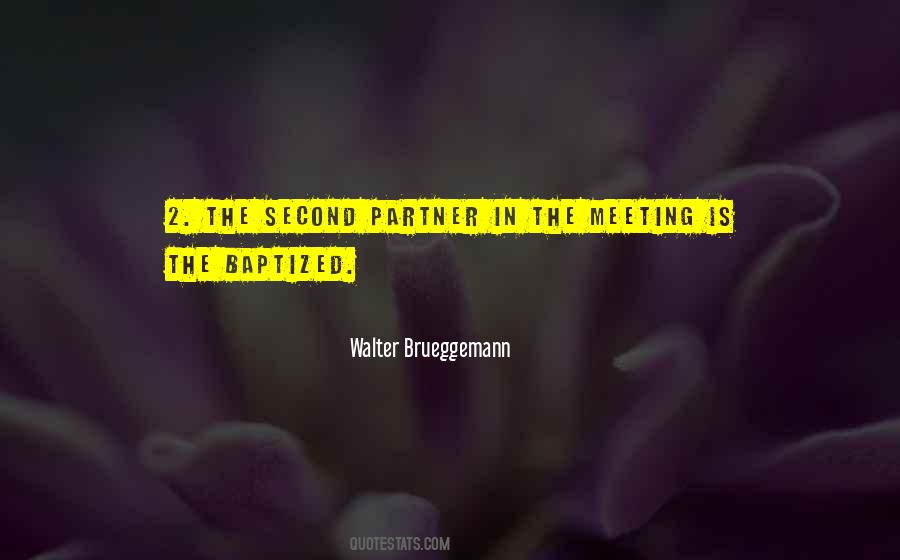 #45. In order to be a deliverer you need to make a decision to be baptized into the nation - Author: Sunday Adelaja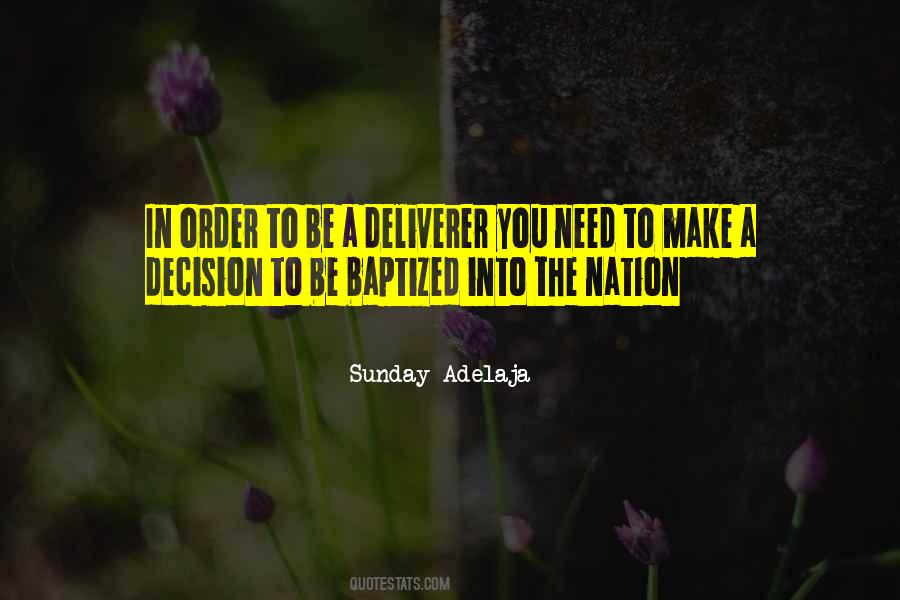 #46. For all things are baptized at the font of eternity, and beyond good and evil; good and evil themselves, however, are but intervening shadows and damp afflictions and passing clouds. - Author: Friedrich Nietzsche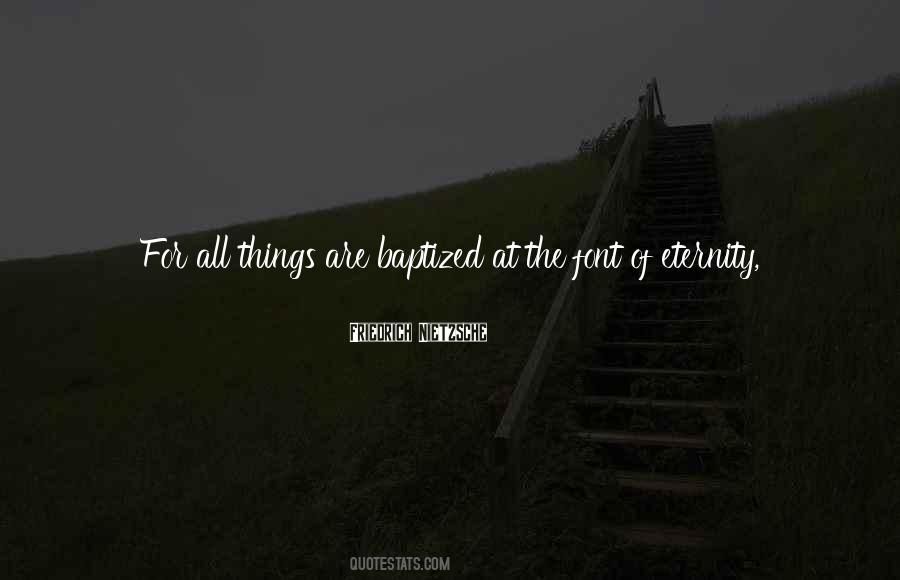 #47. How do you know yourself to be a son of God in fact as well as in name?"
Answer: "Because I am baptized in the name of God the Father, and of the Son, and of the Holy Ghost." - John Calvin (from his catechism) - Author: John Calvin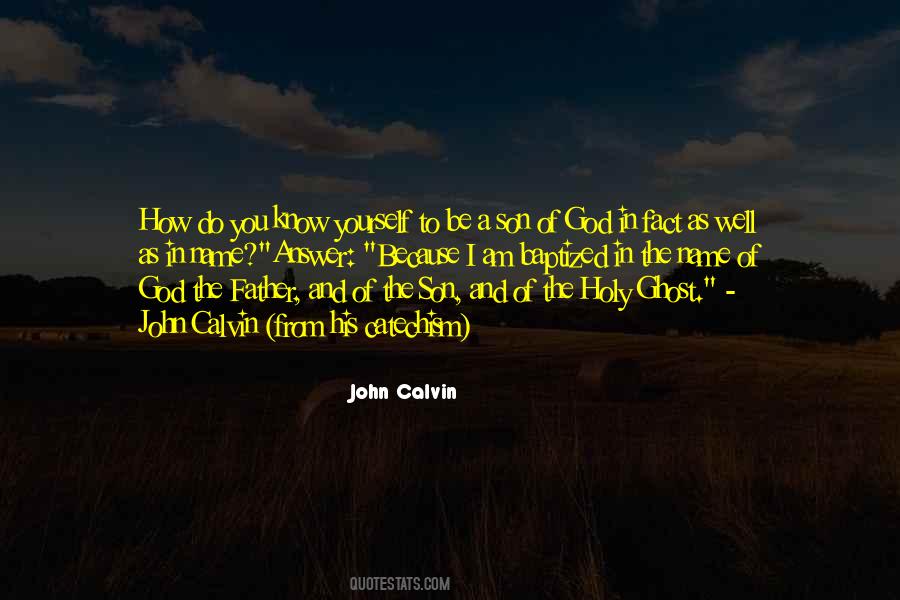 #48. My life is in denial. And when I die, baptized in eternal fire, I'll shed many tears. - Author: Tupac Shakur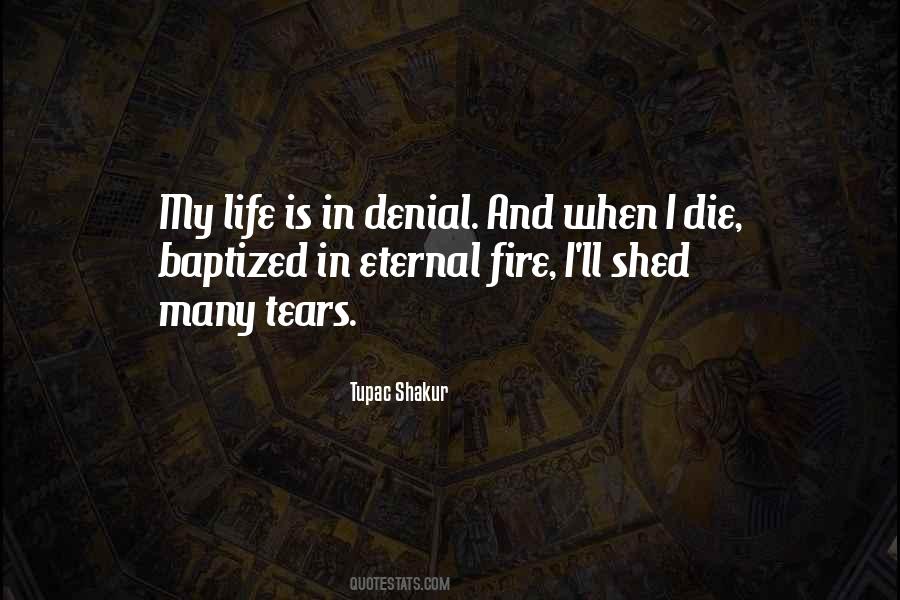 #49. There is no greater blessing that you can have than to stand as a proxy in a great service to those who have gone beyond. And it will be your privilege and your opportunity and your responsibility to live worthy to go to the temple of the Lord and be baptized in behalf of someone else. - Author: Gordon B. Hinckley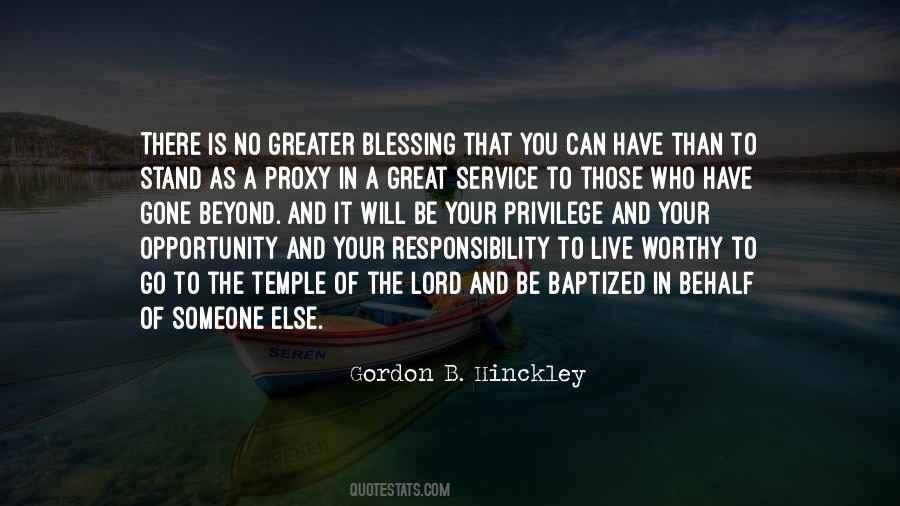 #50. I was baptized Methodist, but I was mainly raised First Church of NFL, which is to say that my family, especially my father, was much more concerned with watching football on Sundays than attending services. - Author: Christopher Moore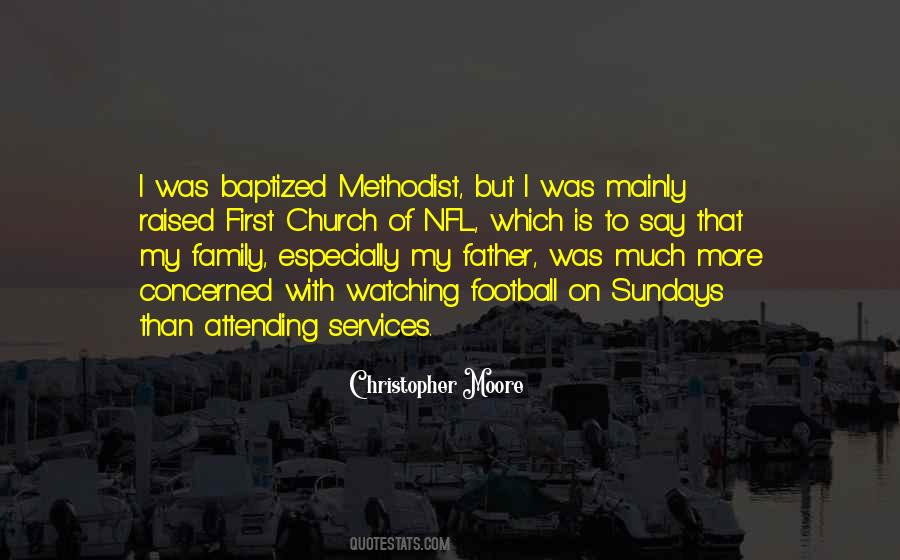 #51. In Colossians 2:12 and 1 Peter 3:21 baptism is an expression of the faith of the person being baptized. I [do] not see how an infant could properly receive this ordinance as an expression of his or her faith. - Author: John Piper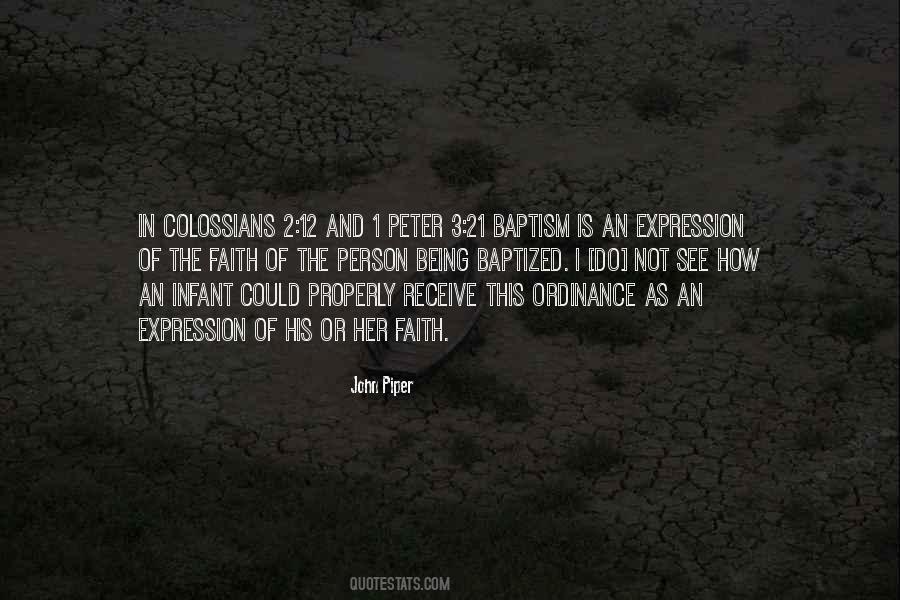 #52. I was raised in an evangelical Methodist church. Evangelical meant that though you had been baptized and made a member of the church on Sunday morning, you still had to be 'saved' on Sunday night. I wanted to be saved, but I did not think you should fake it. - Author: Stanley Hauerwas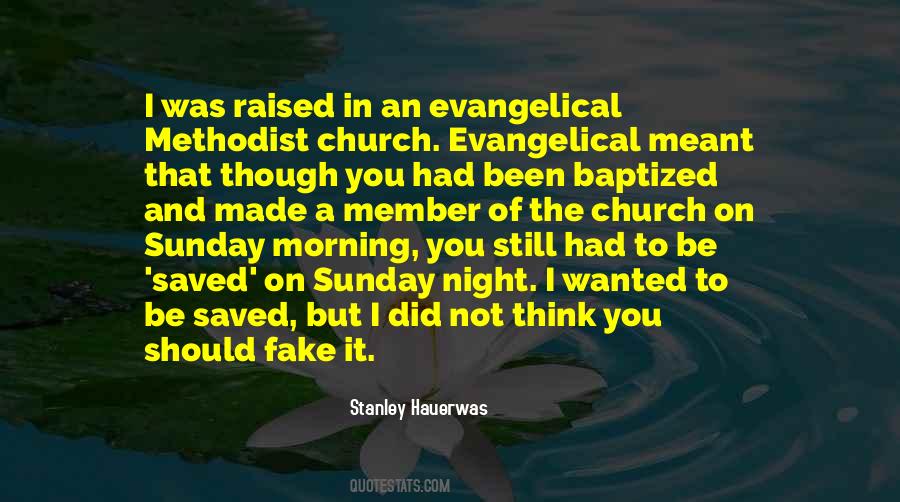 #53. John baptized with[37] water, but you will be baptized with[38] the Holy Spirit. - Author: Anonymous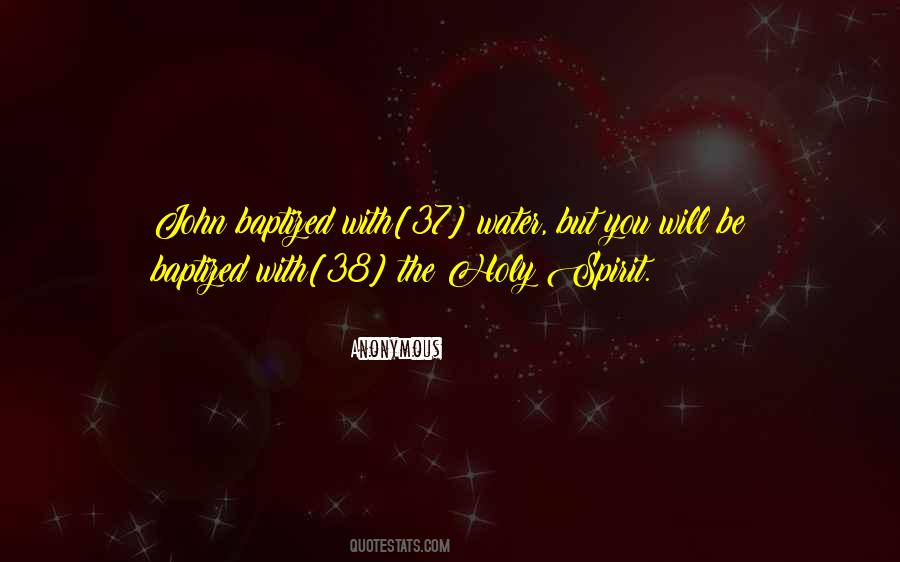 #54. No one goes to heaven by parroting a prayer, being baptized, or joining a church, but by believing in Jesus Christ with humble submission. - Author: Steven J. Lawson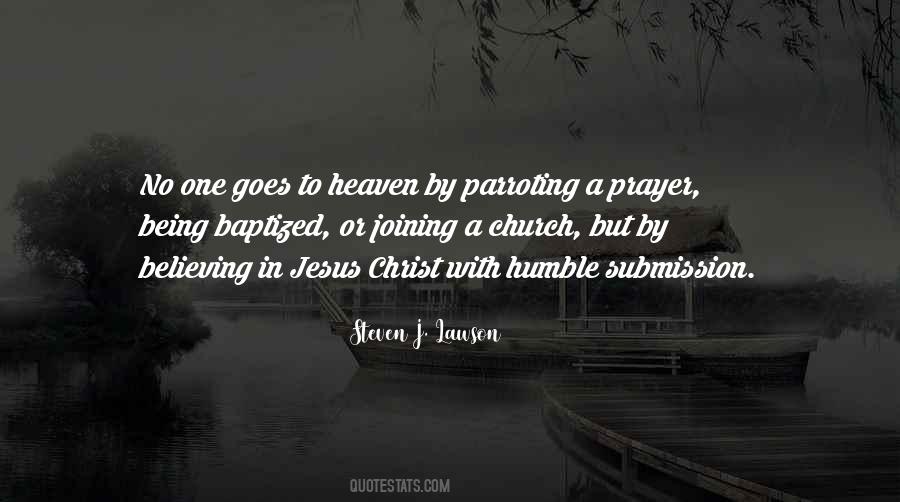 #55. Lady, if you don't wake up, I'm going to have you baptized. - Author: Erika Johansen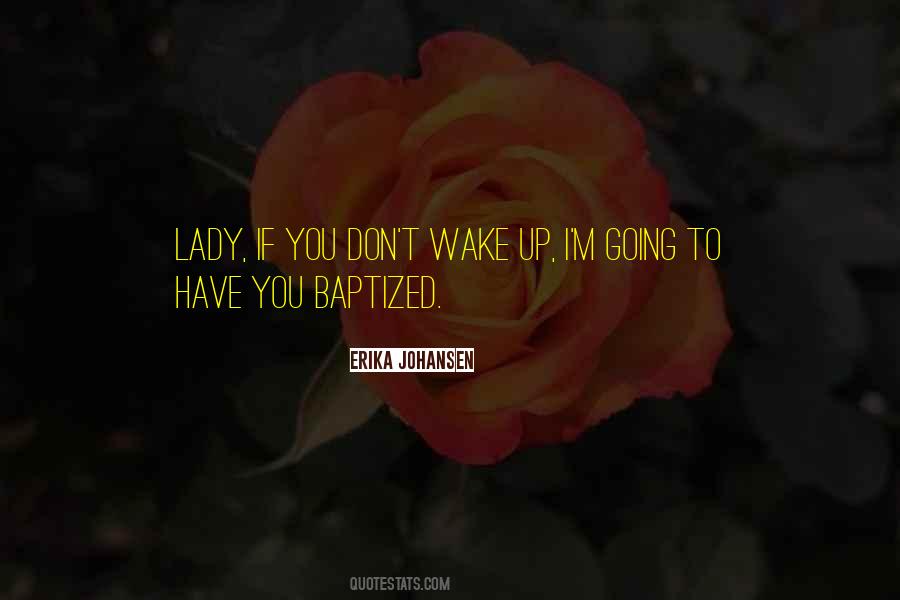 #56. I was baptized Episcopalian when I was maybe two years old and we went to an Episcopalian church. When we moved to Georgia, we started going to a Lutheran church and I fell in love with the church there - Lutheran Church of the Good Shepherd in Douglasville, Georgia. I really have a home there. - Author: Elana Meyers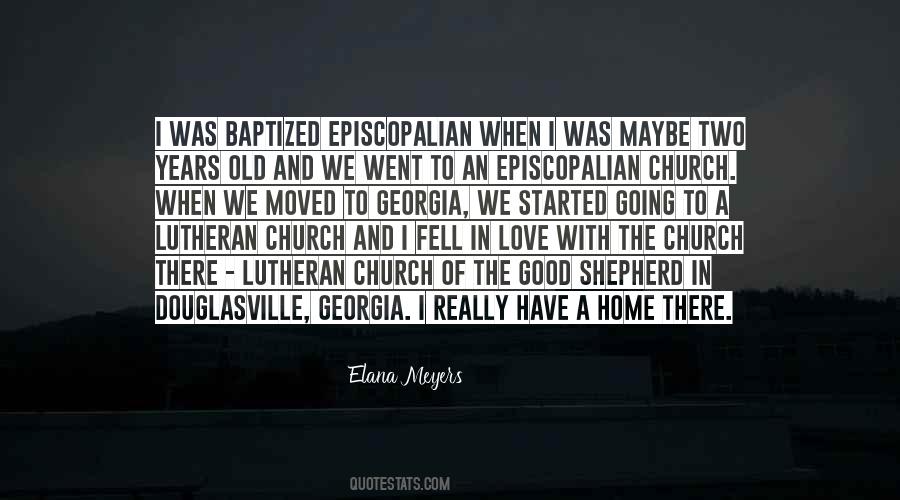 #57. We are all welcome to come into the waters of baptism. He was baptized to witness to His Father that He would be obedient in keeping His commandments. He was baptized to show us that we should receive the gift of the Holy Ghost. - Author: Robert D. Hales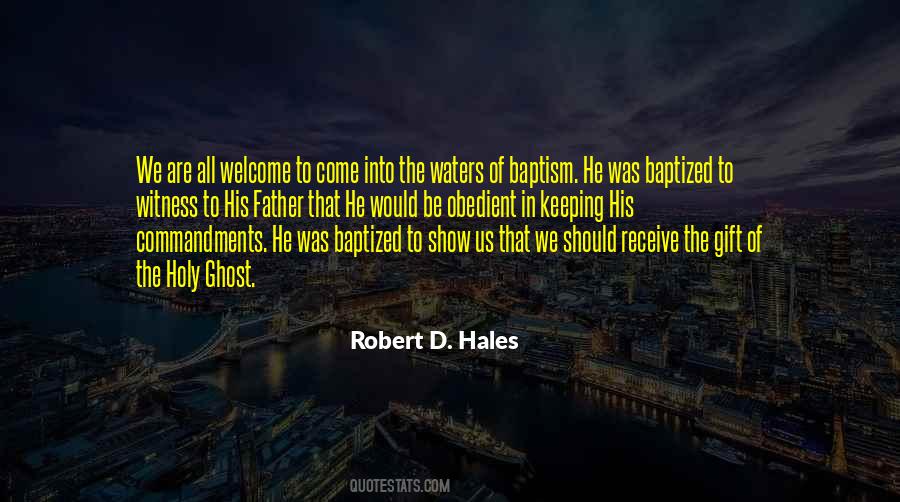 #58. I was probably toward 8 1/2 when I actually joined the church and was baptized - and, my God, did I take it seriously! I was a zealot who irritated every one of my third-grade friends. They didn't beat me up, but I got labeled "the preacher girl." - Author: Oprah Winfrey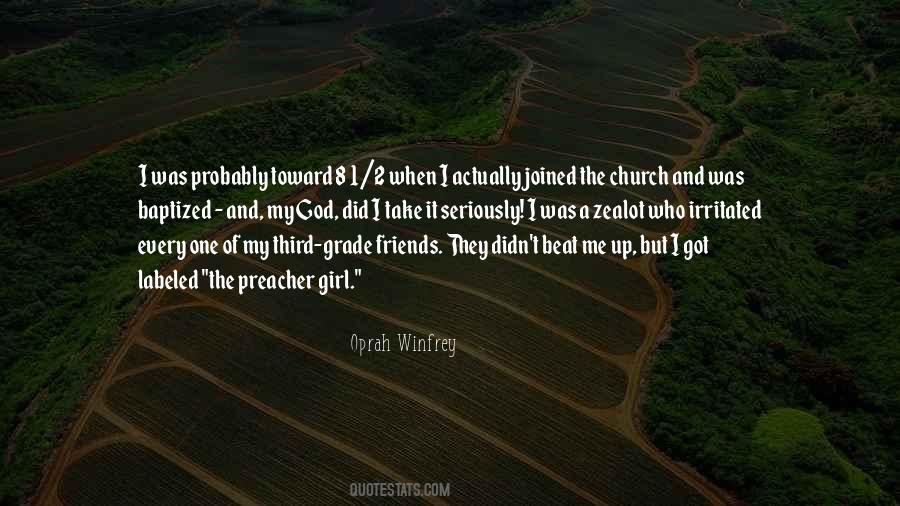 #59. Baptism is done at the beginning of your faith journey, not the middle or the end. You don't have to have everything together to be baptized ... You just have to grasp God's grace. God's grace is enough. - Author: Rachel Held Evans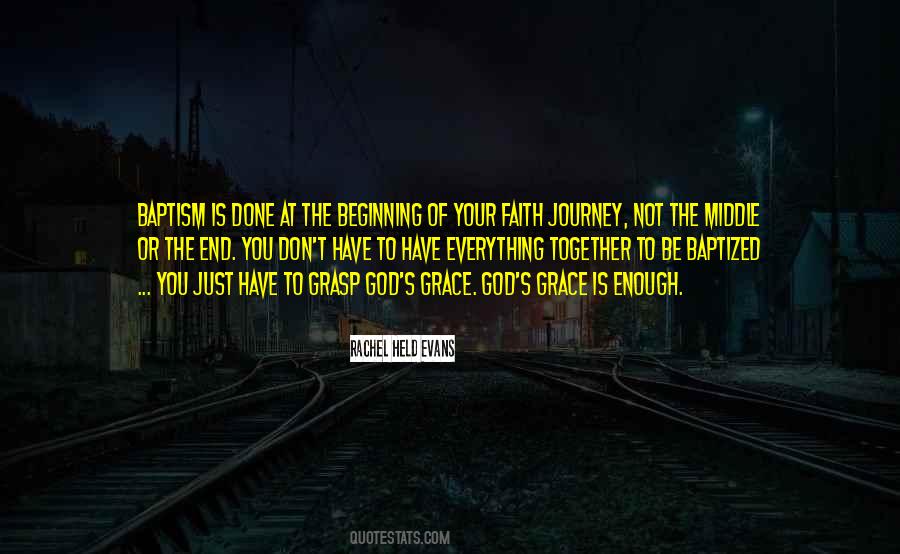 #60. A man who knows that he is saved by believing in Christ does not, when he is baptized, lift his baptism into a saving ordinance. In fact, he is the very best protester against that mistake, because he holds that he has no right to be baptized until he is saved. - Author: Charles Spurgeon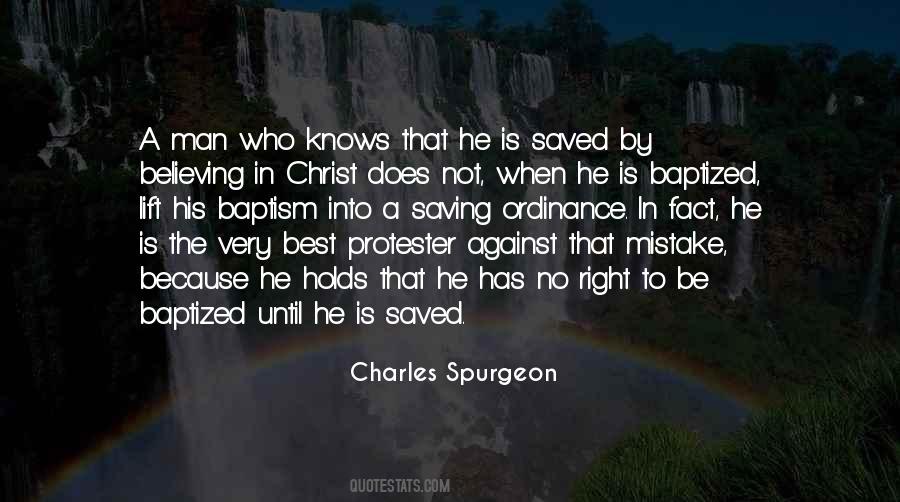 #61. [Jesus] was born and baptized that by his suffering he might purify the water. - Author: Ignatius Of Antioch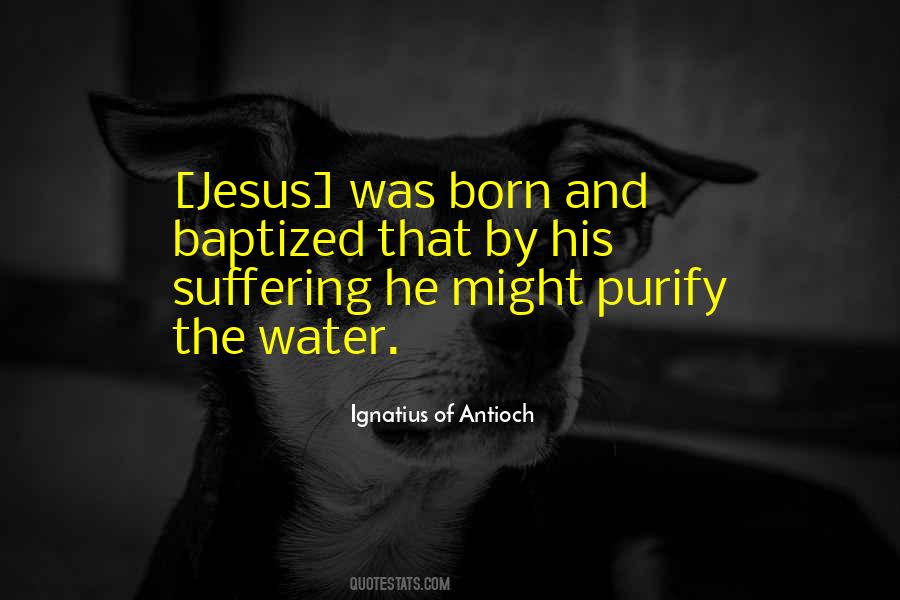 #62. I wanted to be baptized in his skin, purified in his love. I was a sinner, or worse. - Author: Stylo Fantome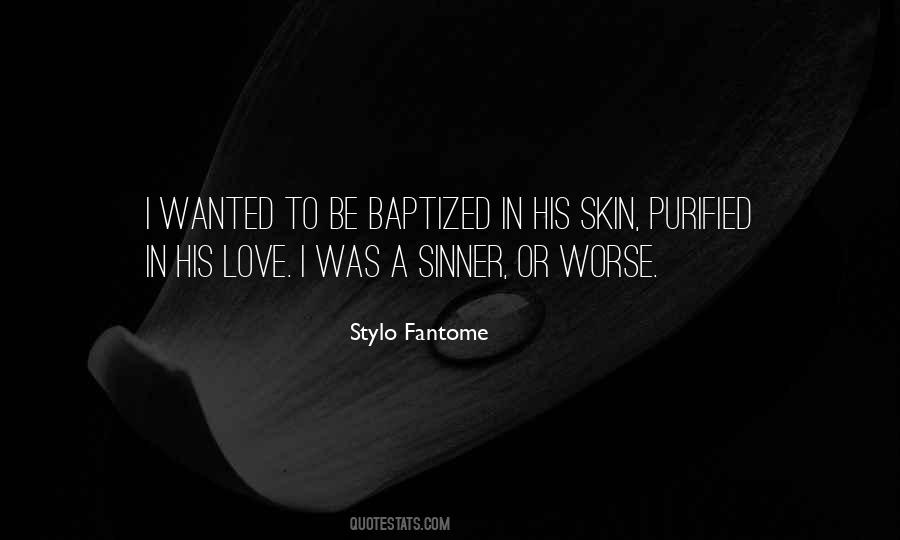 #63. All diseases of Christians are to be ascribed to demons; chiefly do they torment freshly-baptized Christians, yea, even the guiltless new-born infants. - Author: Saint Augustine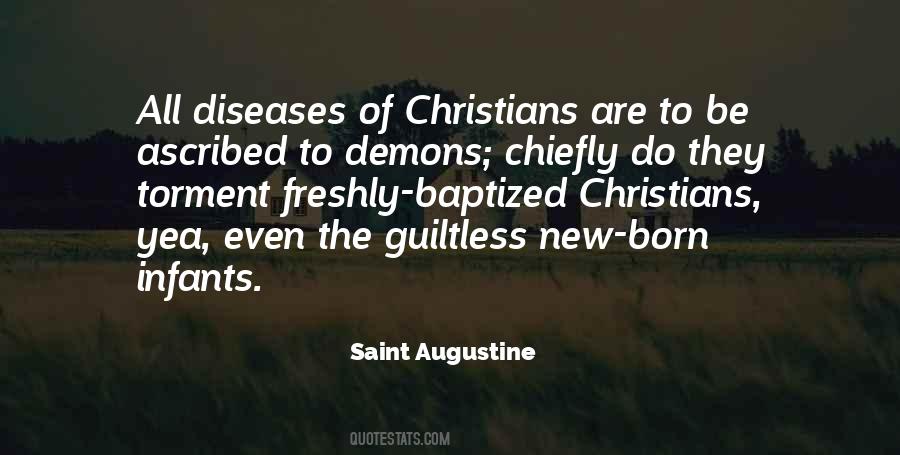 #64. I didn't want her to be like me, robbed of innocence and idealism, baptized in the bloody waters of randomness and cruelty, the fabric of trust forever torn. - Author: Patricia Cornwell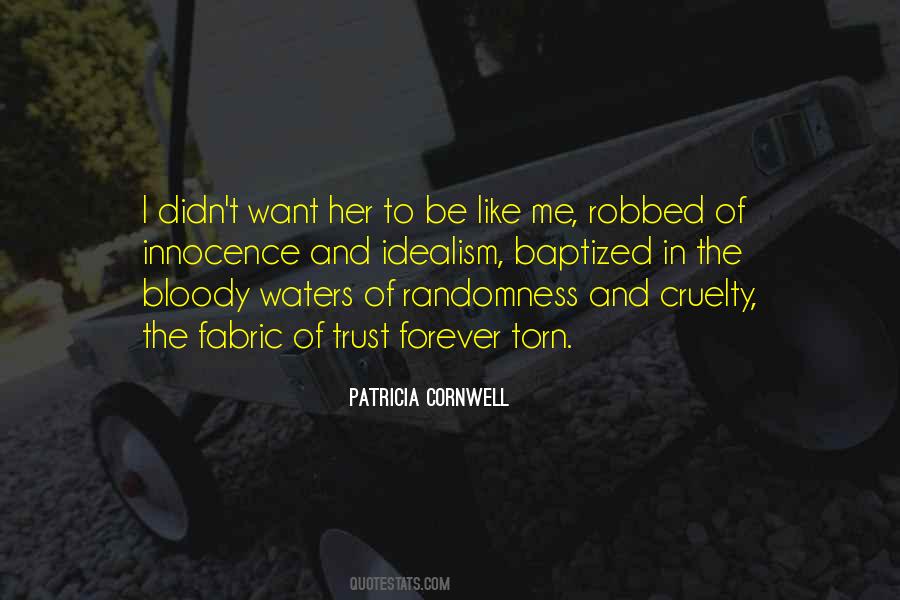 #65. Prominent Christians in Constantine's time waited to be baptized until their deathbeds lest they commit a "major"sin that couldn't be forgiven of those already baptized. Others felt anyone who did anything to avoid martyrdom were apostates had no valid subsequent ministry. - Author: Thomas F. Madden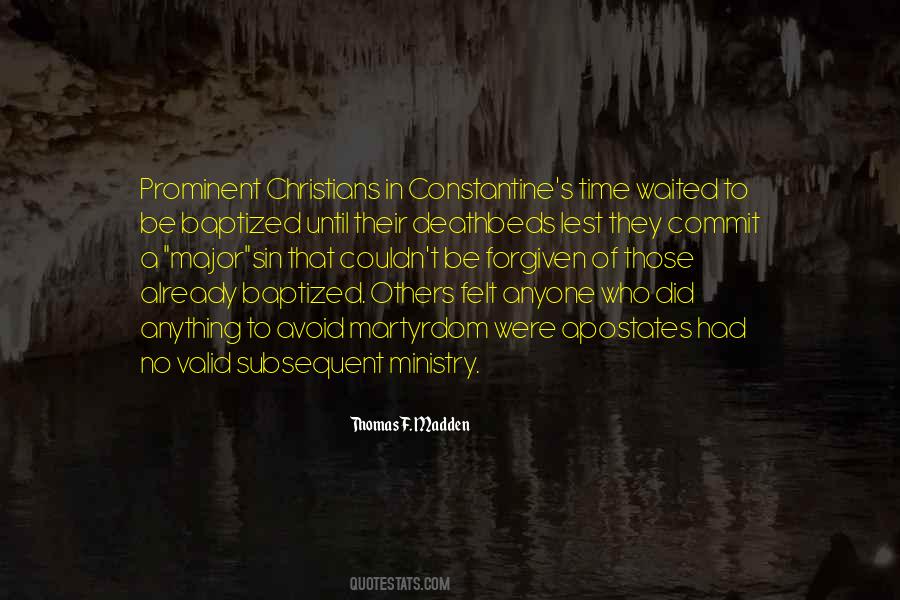 #66. Well, ain't it a small world, spiritually speaking? Pete and Delmar just been baptized and saved. I guess I'm the only one that remains unaffiliated. - Author: Joel Coen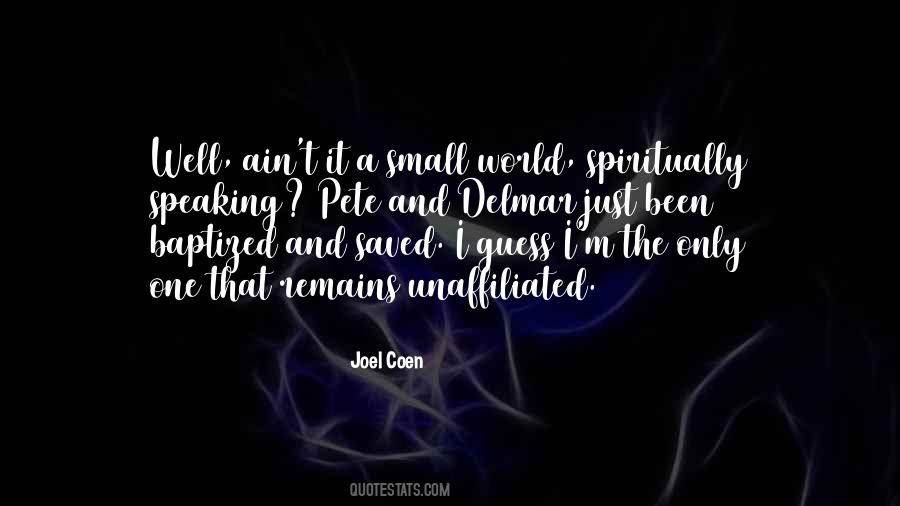 #67. I was musically baptized by the black founding fathers of rock-and-roll, and like all real music lovers, the music changed, enriched, upgraded and fortified our lives forever. - Author: Ted Nugent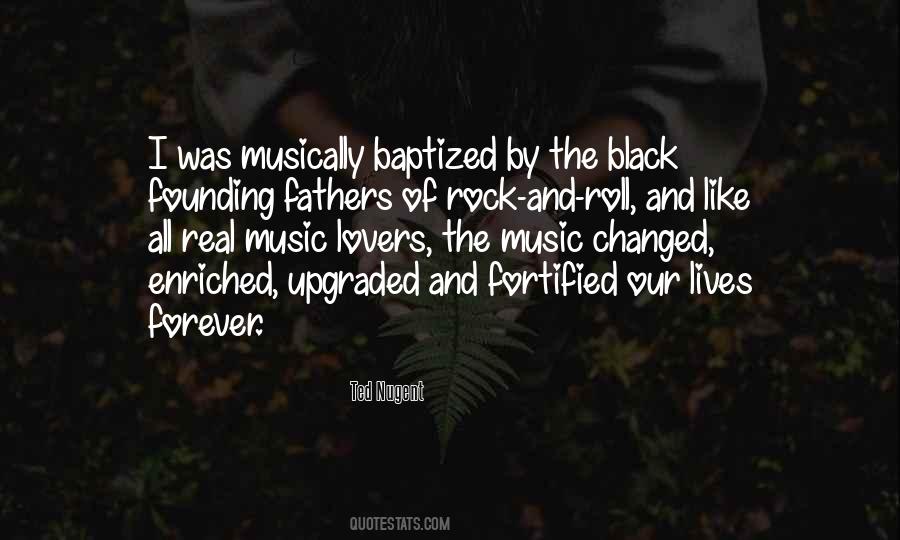 #68. A person may be Baptized, and yet not born again to grace, in consequence of not having the necessary dispositions at Baptism. - Author: Alphonsus Liguori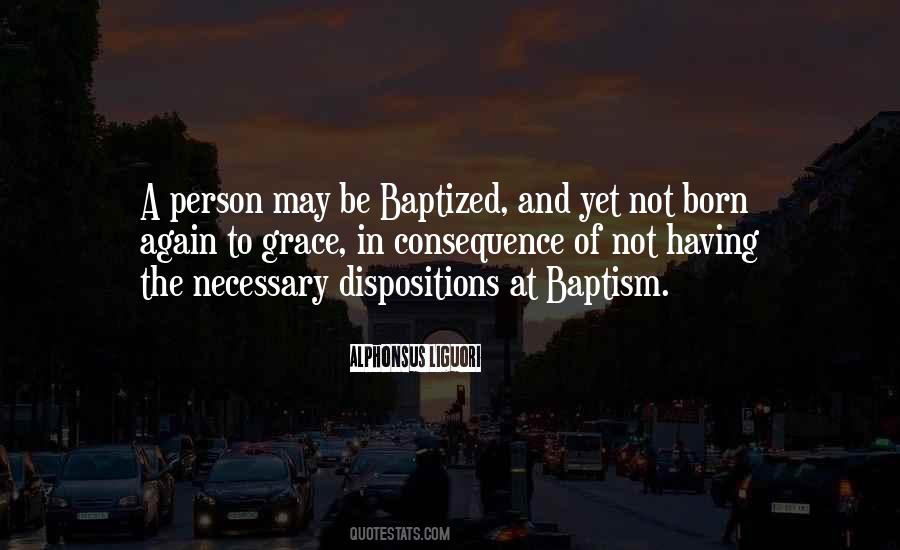 #69. I was baptized Catholic but I was Church of Oprah. If you are a person on - Author: Shonda Rhimes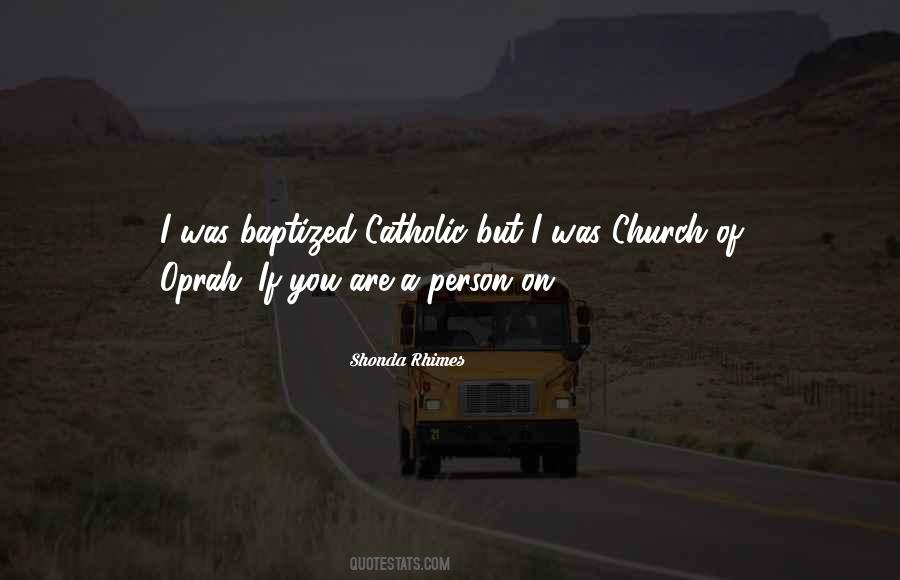 #70. You won't cut my son's throat,' said the Unseelie King, gazing down at Julian with a look of disdain. 'You're a Shadowhunter. You have a code of honor.'
'You're thinking of Shadowhunters the way they used to be,' said Julian. 'I came of age in the Dark War. I was baptized in blood and fire. - Author: Cassandra Clare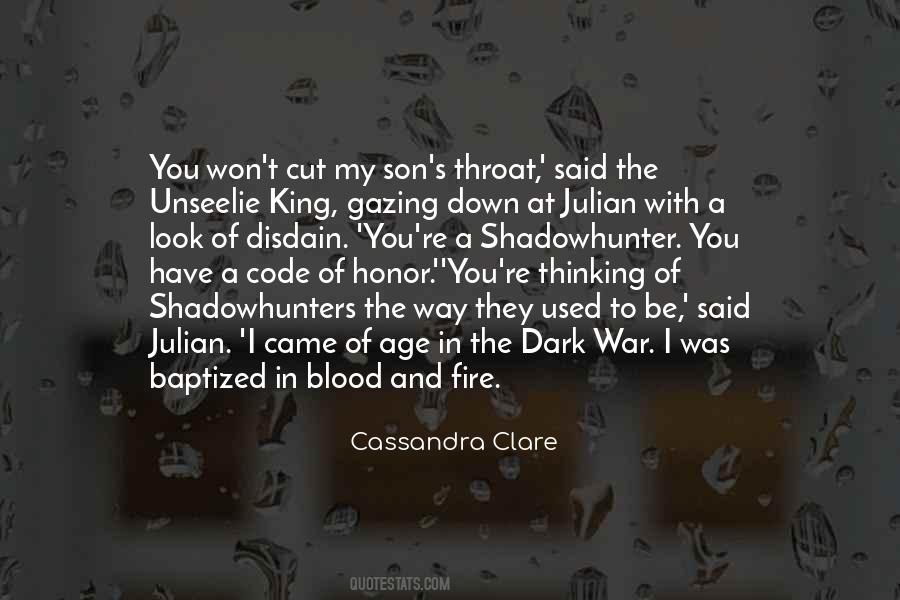 #71. The grief and tears didn't wash me away. They gave me my life back! They cleansed me, baptized me, hydrated the earth at my feet. - Author: Anne Lamott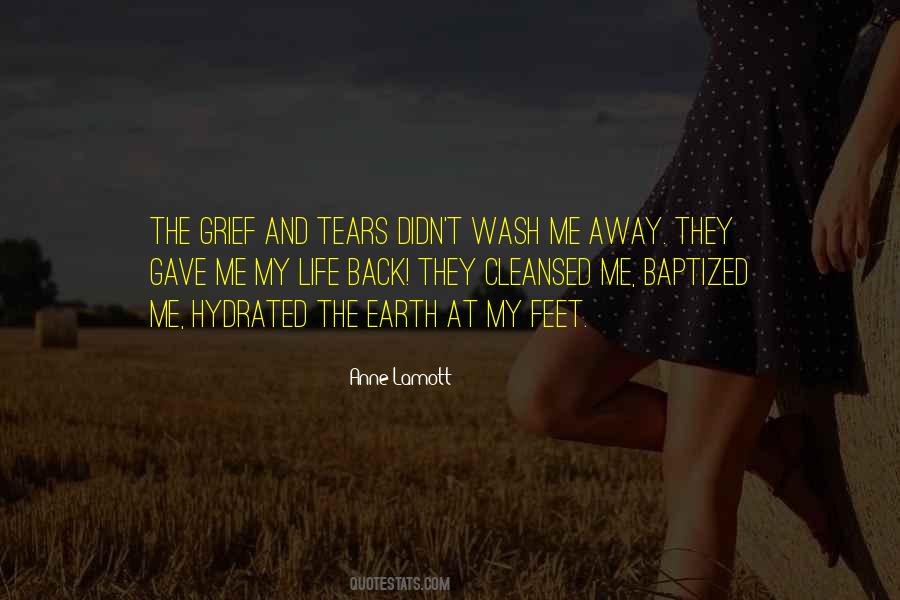 #72. Even if Christians are completely surrounded by sin, they should still fight against it. Some people think they're Christians because they've been baptized. These people give their desires free rein and don't care about conquering their sins. They merely follow their own cravings. - Author: Martin Luther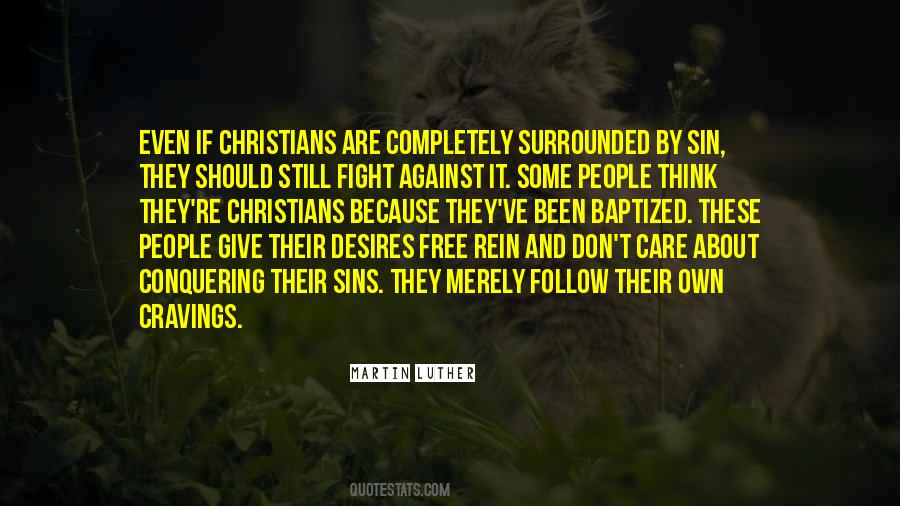 #73. The Church is everywhere represented as one. It is one body, one family, one fold, one kingdom. It is one because pervaded by one Spirit. We are all baptized into one Spirit so as to become, says the apostle, on body. - Author: Charles Hodge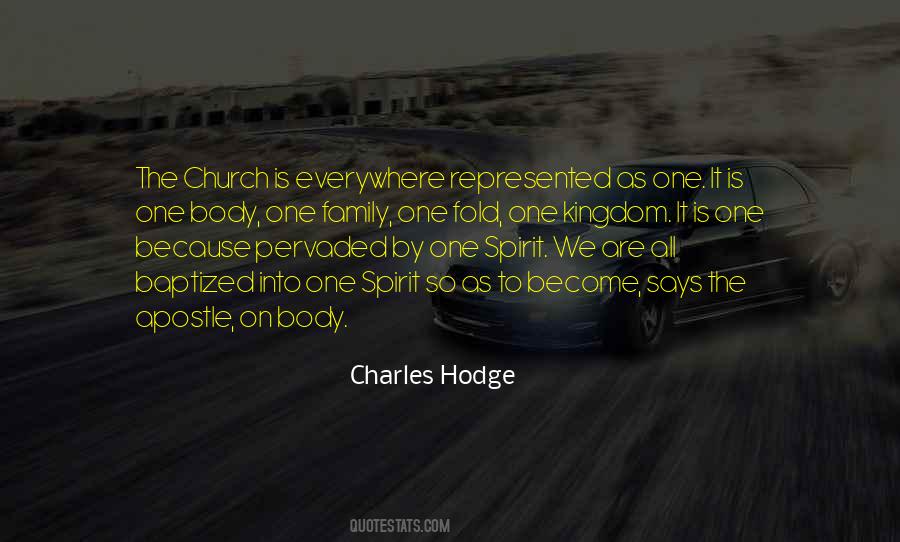 #74. [Peter] testified to [the Jews in Acts 2] that Jesus Christ was the Son of God, the Judge of the living and dead, into whom he did also command them to be baptized for the remission of sins. - Author: Irenaeus Of Lyons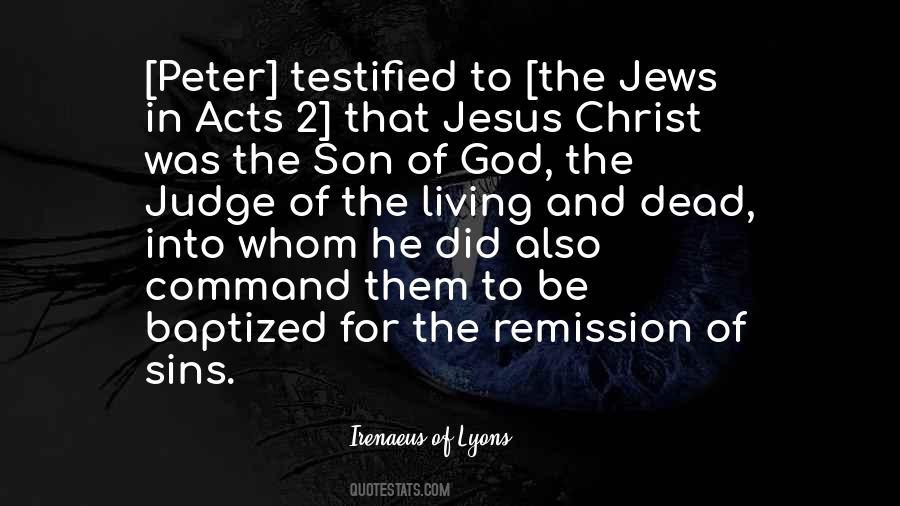 #75. I'm always happy when I'm surrounded by water, I think I'm a Mermaid or I was a mermaid.
The ocean makes me feel really small and it makes me put my whole life into perspective ... it humbles you and makes you feel almost like you've been baptized. I feel born again when I get out of the ocean. - Author: Beyonce Knowles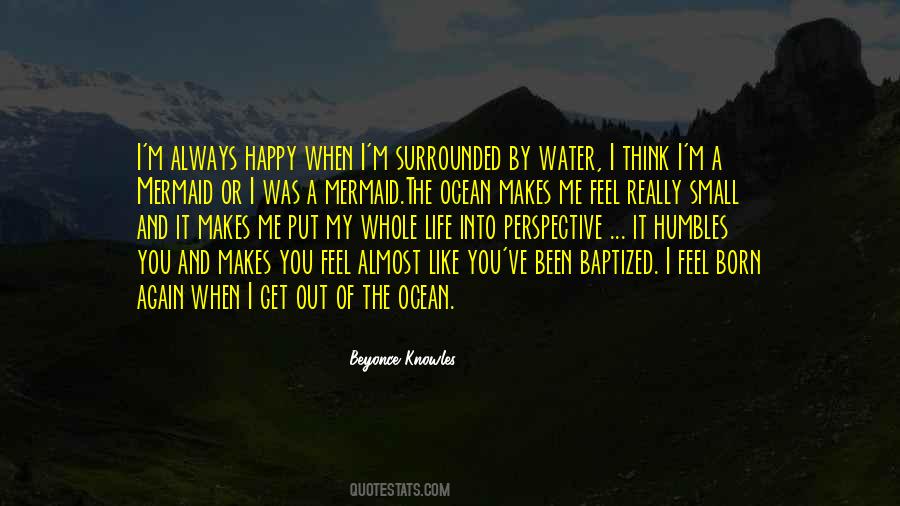 #76. I'm a child of God first. Before I became a celebrity, I was baptized a Christian. - Author: Mr. T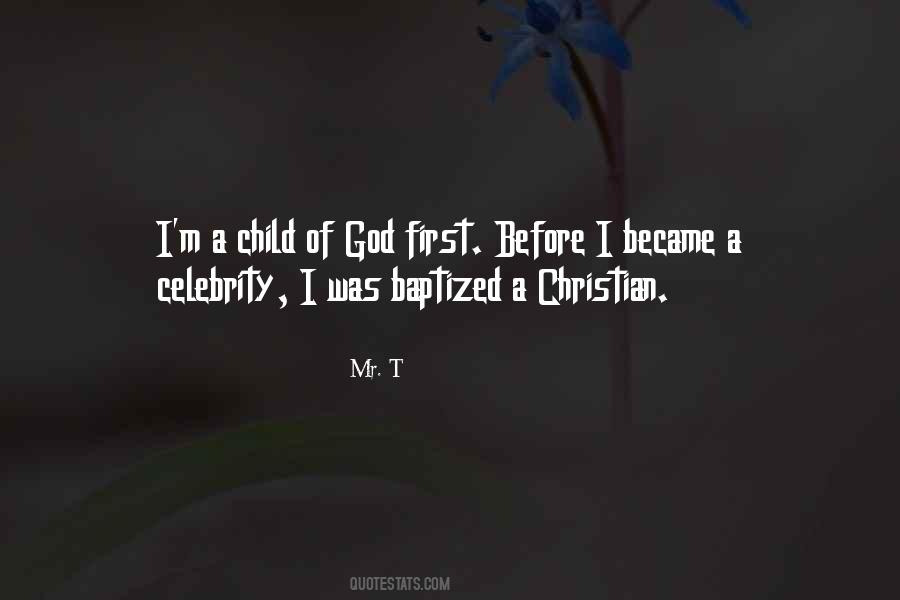 #77. I was baptized into Christ. I died when He died. Sin's power over me has been broken, in Jesus' name! - Author: T. B. Joshua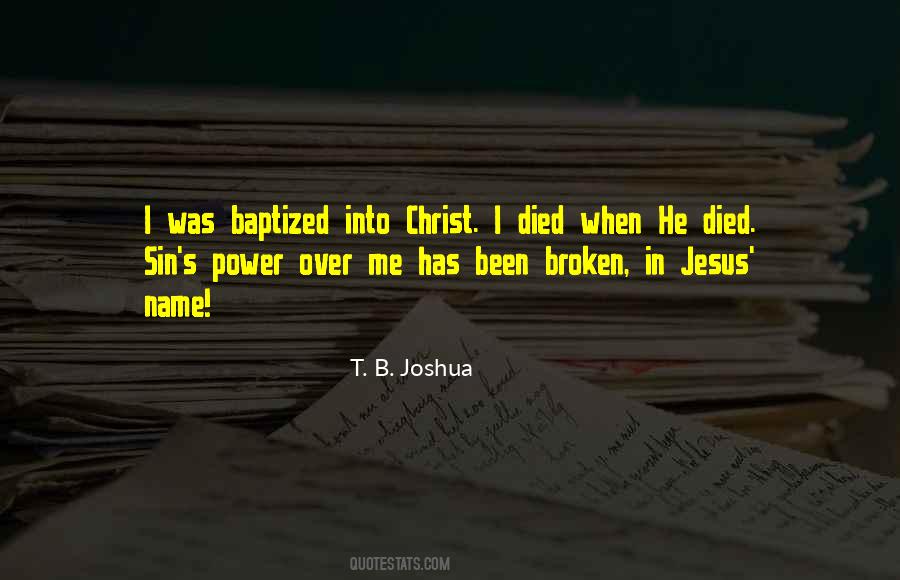 #78. I am living and having supernatural experiences. A lot of people get really freaked out about that. I speak in tongues; I've been baptized in the Holy Spirit. - Author: Stephen Baldwin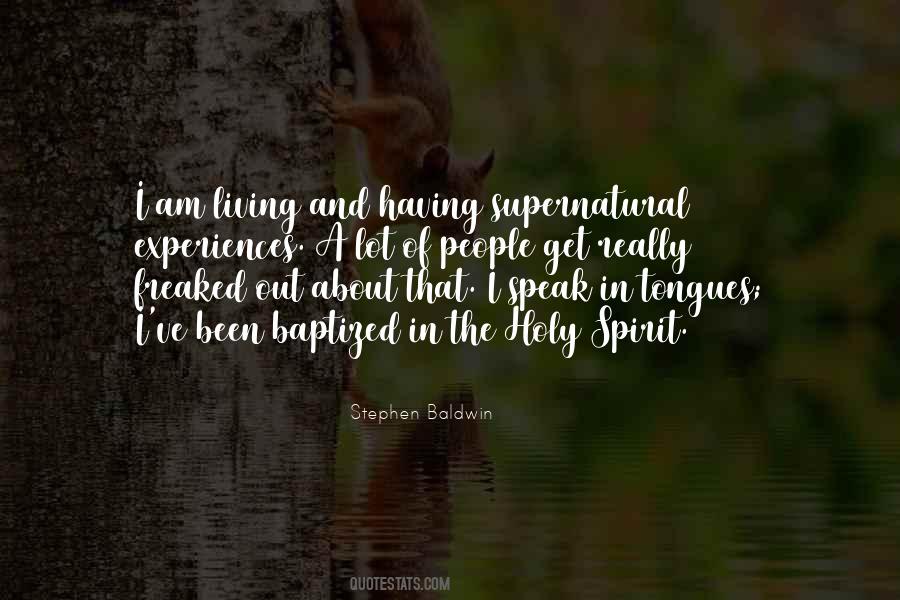 #79. We don't recount our dreams; we construct them with the materials of reality. We aren't looking for God, psychic truth or authenticity, but for esthetic effect. That's why I baptized our movement Structural, or Esthetic, Onirism. Dreams and music were our models. - Author: Dumitru Tepeneag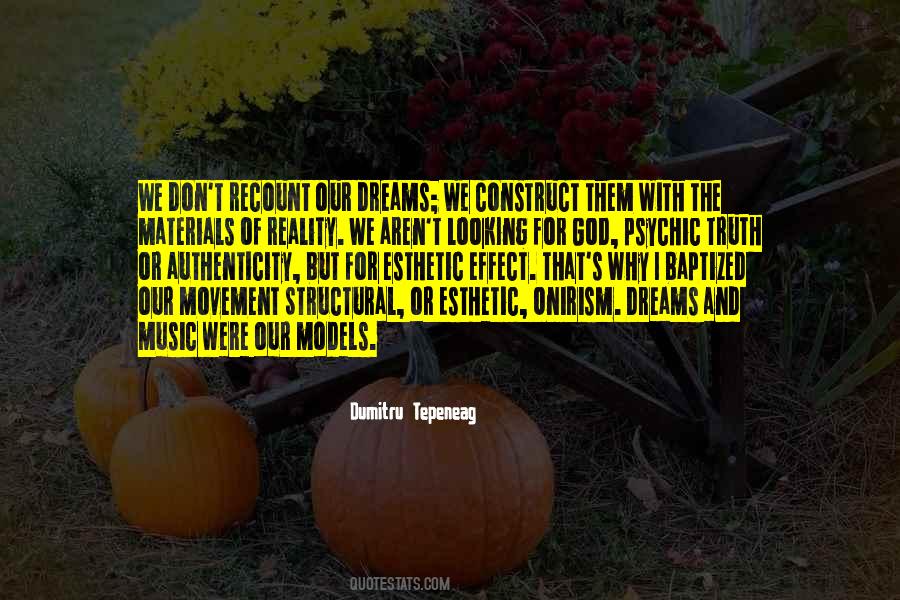 #80. Salvation has nothing to do with your religious identity, where you were baptized or where you are a member. It has everything to do with if you have faith in Jesus Christ. - Author: Philip Roberts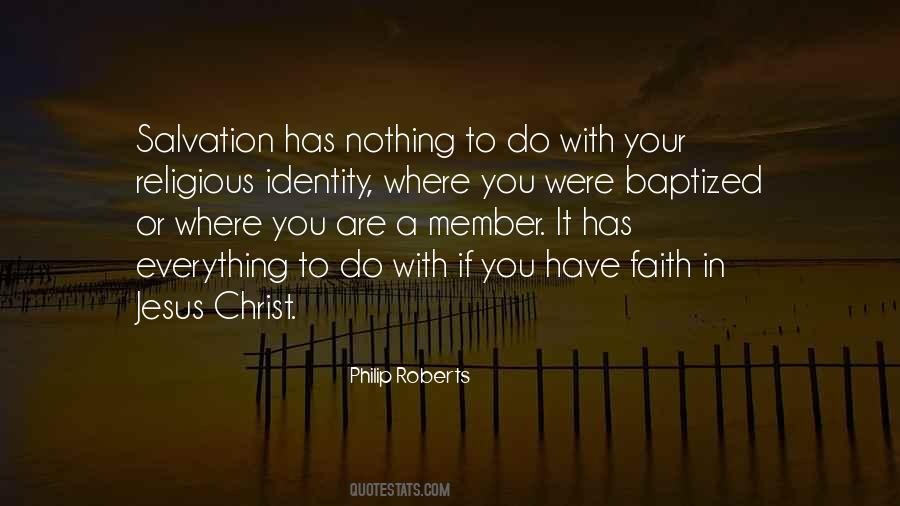 #81. She went by the name of Belisa Crepusculario, not because she'd been born with it or baptized it, but because she herself had searched until she found the poetry of 'beauty' and 'twilight' and cloaked herself in it. She made her living selling words. - Author: Isabel Allende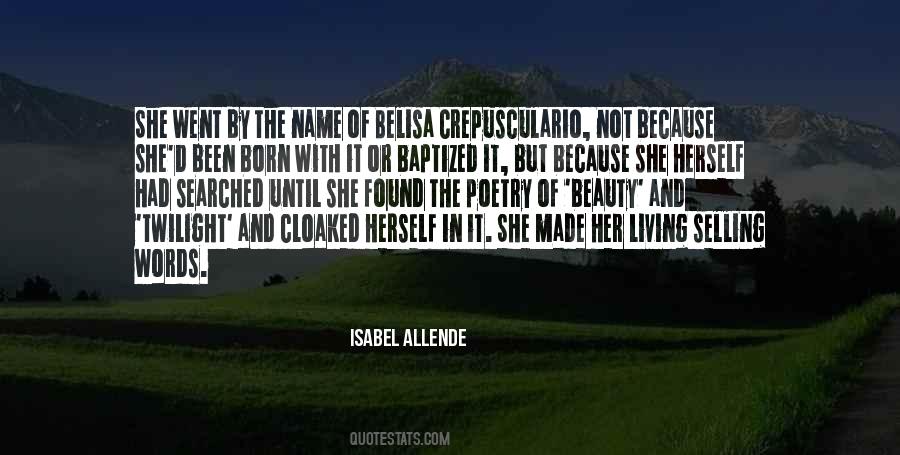 #82. I live on the same block where I grew up. We belong to the same parish where I was baptized. Janesville is that kind of place. - Author: Paul Ryan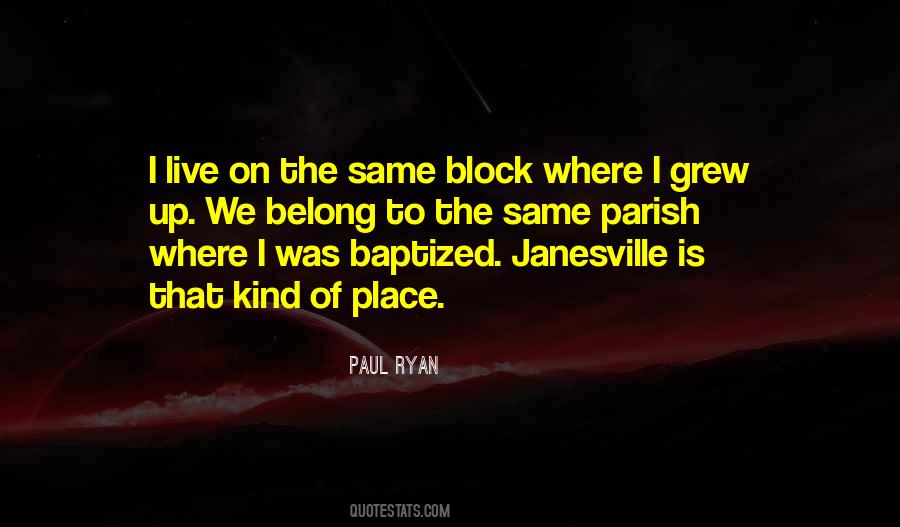 #83. Alas, I have begun my loneliest walk. But whoever is of my kind, cannot escape such an hour, the hour which says to him, 'Only now are you going your way to greatness. Peak and abyss, they are now joined together, for all things are baptized in a well of eternity, and lie beyond good and evil. - Author: Friedrich Nietzsche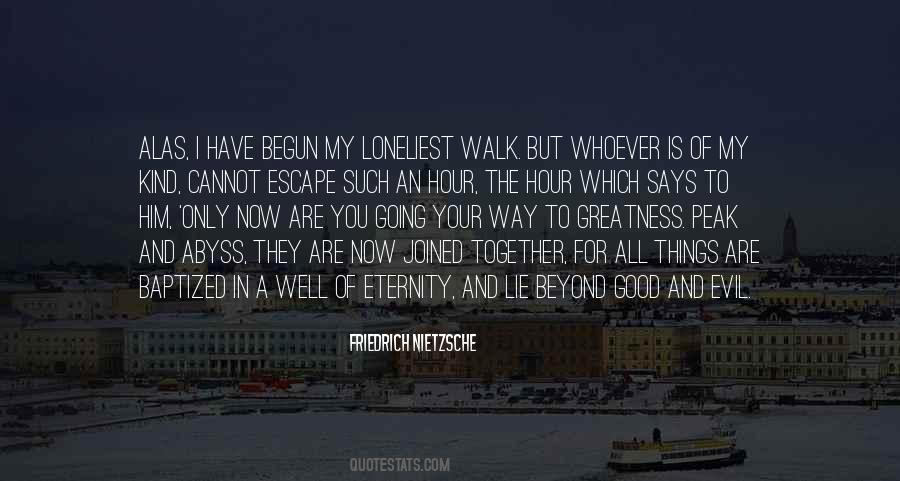 #84. In this way he will draw men to him by the strong cords of their passions, made reason-proof by being baptized with the name of piety. - Author: Christopher Hitchens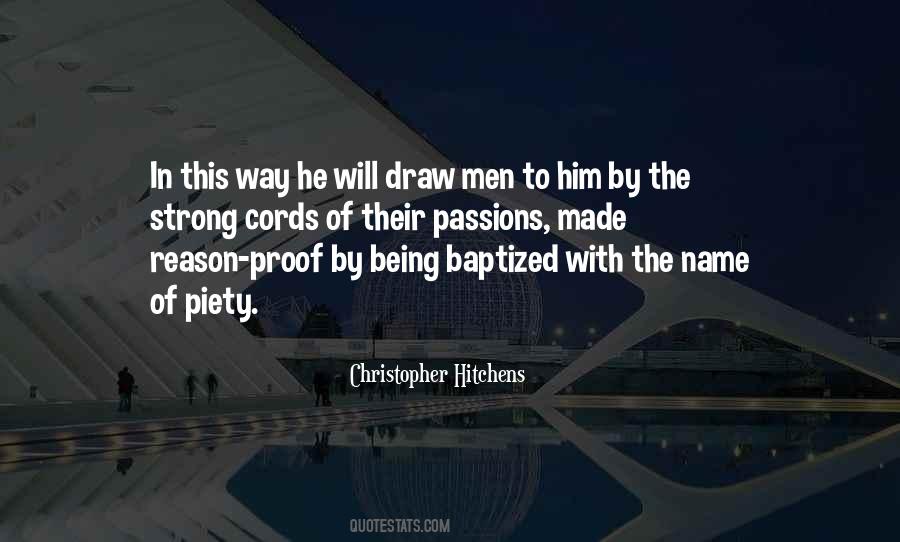 #85. God's people should be baptized because God commanded it, not because some church requires it. - Author: John R. Rice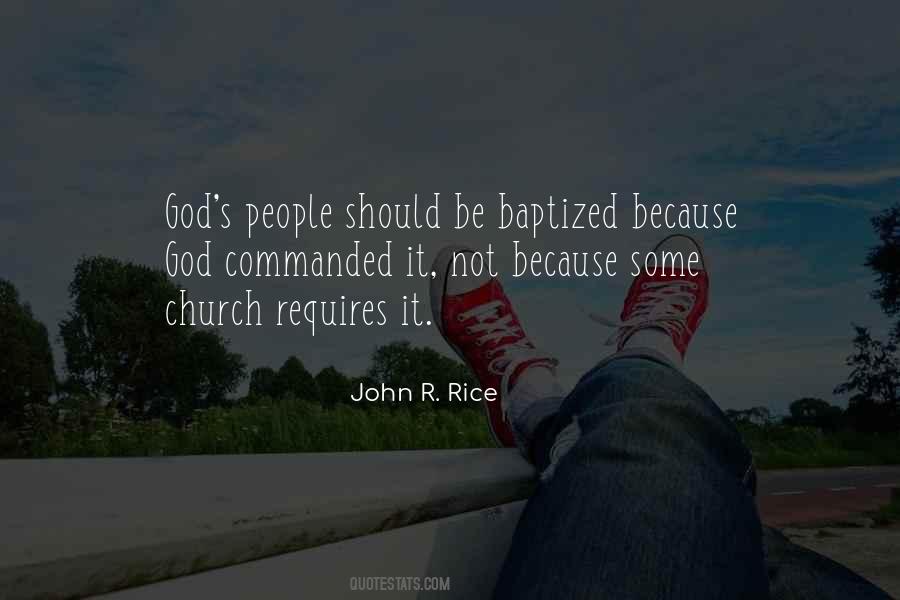 #86. The Lord was Baptized, not to be cleansed Himself, but to cleanse the waters, so that those waters, cleansed by the flesh of Christ which knew no sin, might have the power of Baptism. - Author: Ambrose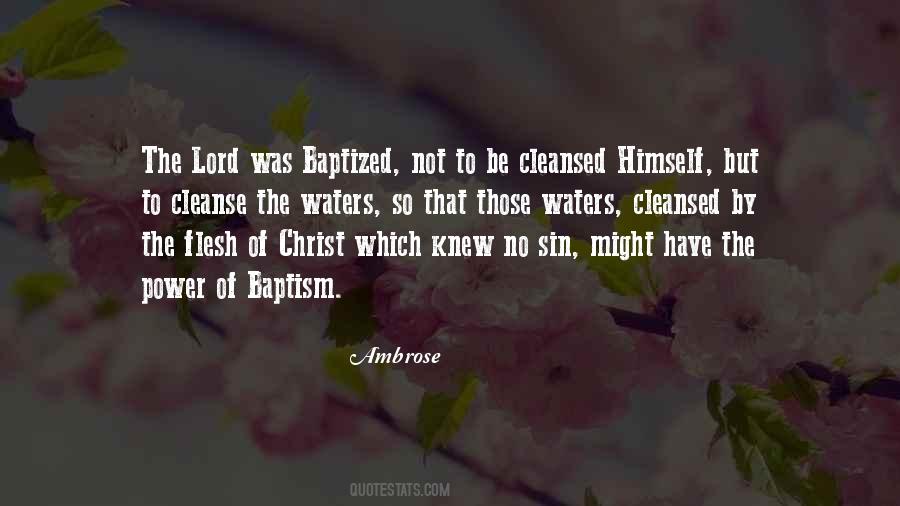 #87. When Joseph received the revelation that we have in our possession concerning the [baptism of the] dead, the subject was opened to him, not in full but in part ... Then women were baptized for men and men for women, & c. - Author: Brigham Young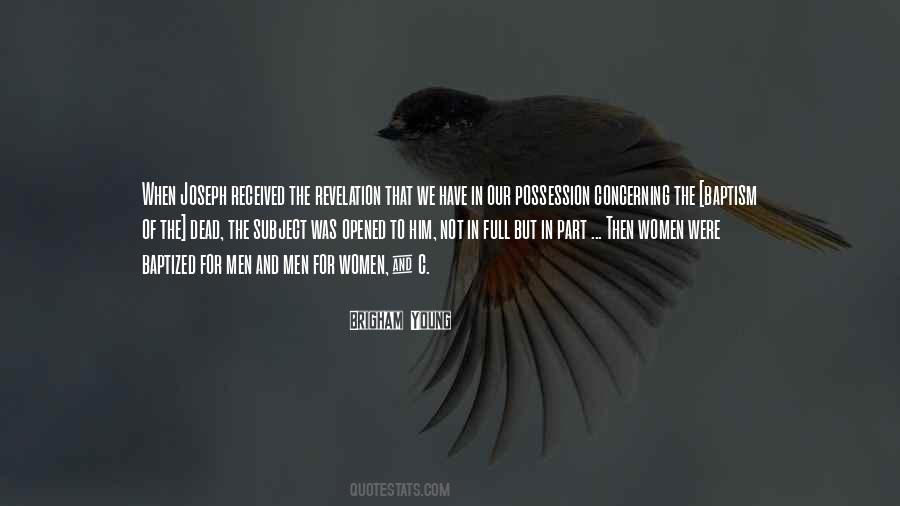 #88. My sisters have been baptized and my dad is a deacon at his church now. Sadly my mother passed away but what I can say is that the Jehovah Witnesses took very good care of her up until she died. - Author: Sherri Shepherd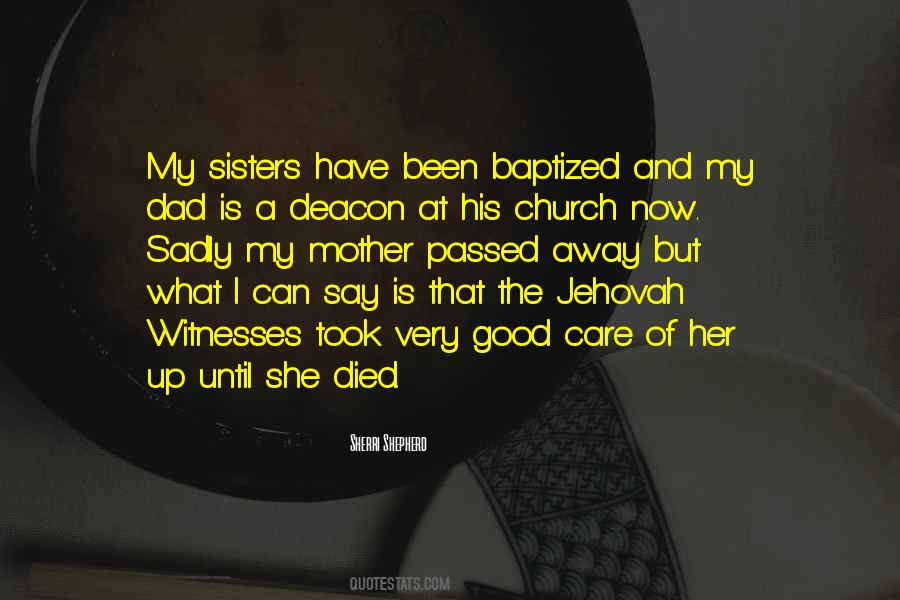 #89. That's what wrong. We've got people whose wallets have not been baptized. - Author: Johnny Hunt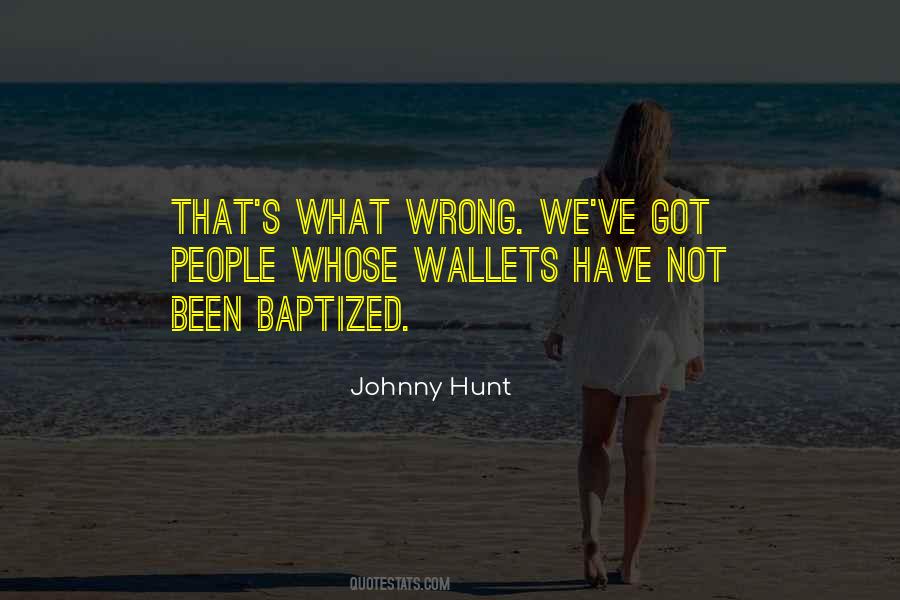 #90. [Multitudes] have never been born again. They will go into eternity lost - while thinking they are saved because they belong to the church, or were baptized. - Author: Billy Graham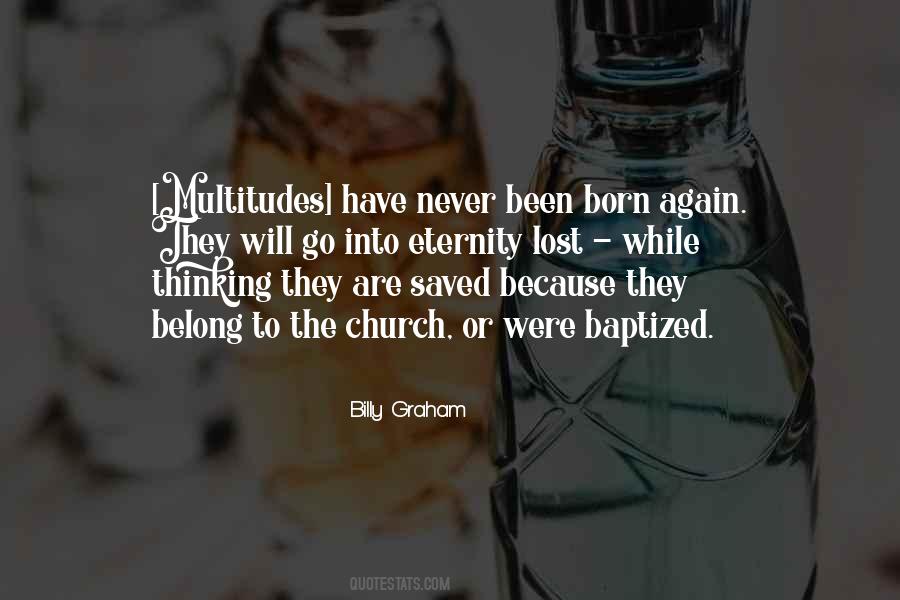 #91. For whenever unbaptized persons die confessing Christ, this confession is of the same efficacy for the remission of sins as if they were washed in the sacred font of baptism. - Author: Saint Augustine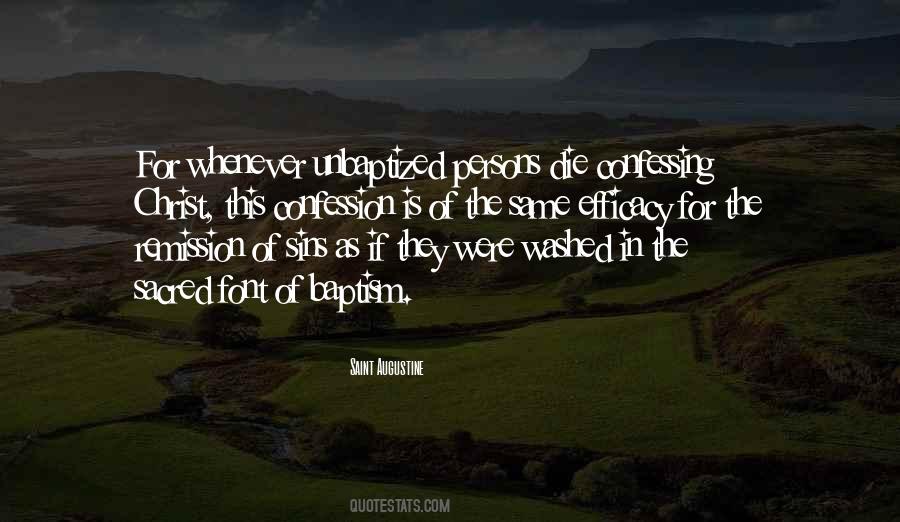 #92. If you haven't been baptized as an expression of your faith in Christ, do so as soon as possible, as Jesus commanded. - Author: Rick Warren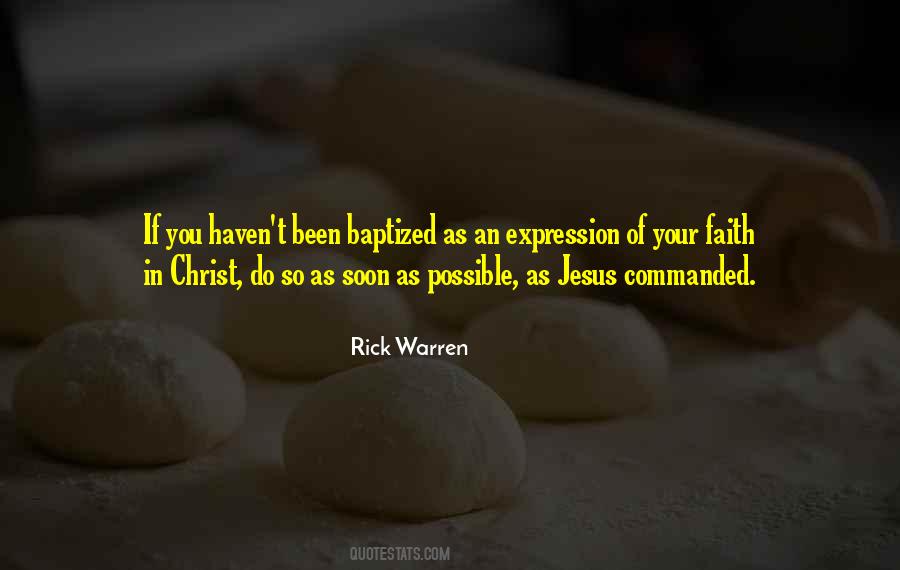 #93. Everything a baptized person does every day should be directly or indirectly related to the Corporal and Spiritual Works of Mercy. - Author: Dorothy Day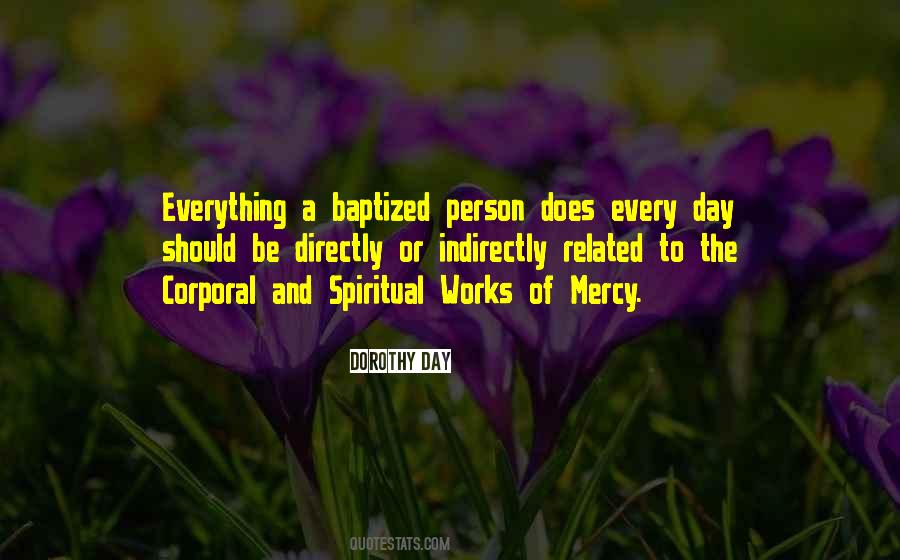 #94. By all of your beauty I am so inspired. Your love has baptized me by fire. - Author: India.Arie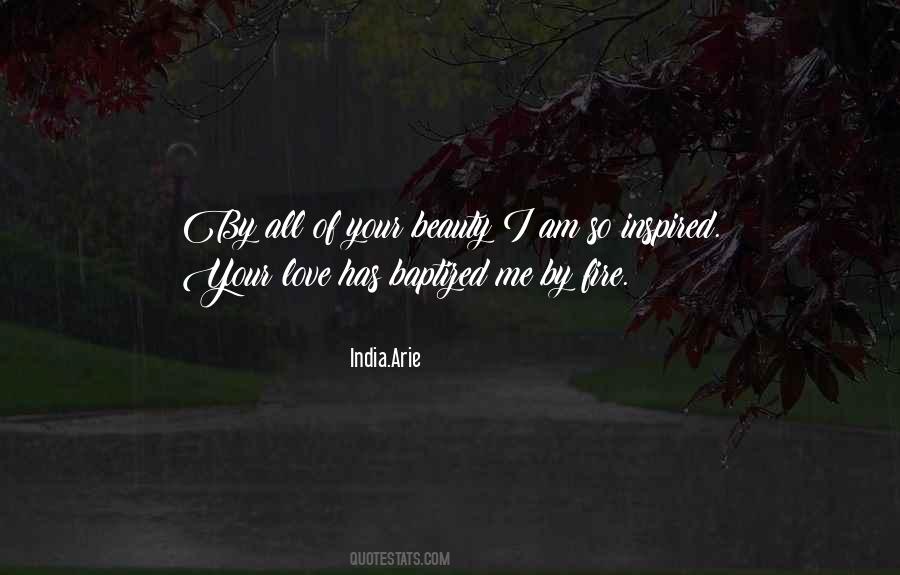 #95. She gave me another piece of information which excited other feelings in me, scarcely less dreadful. Infants were sometimes born in the convent; but they were always baptized and immediately strangled! - Author: Maria Monk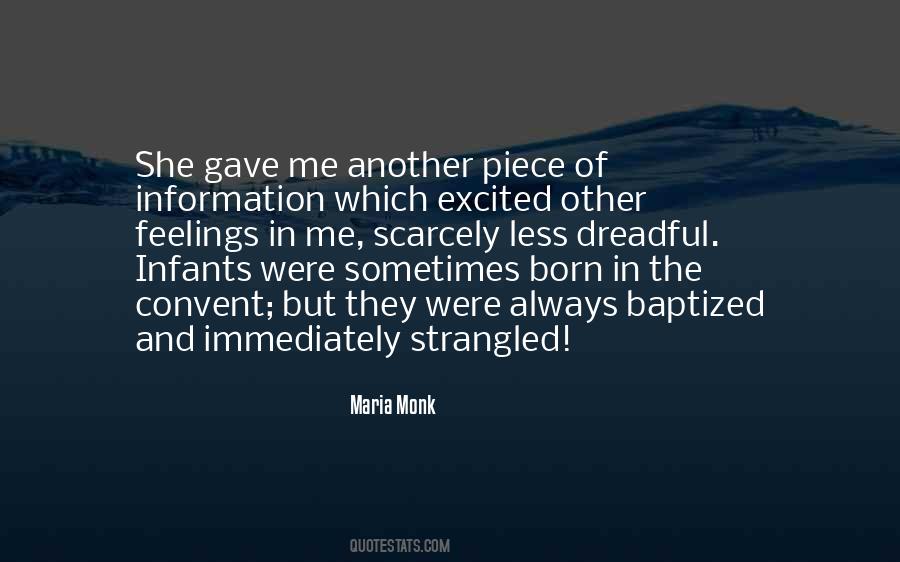 #96. Brave rifles! Veterans! You have been baptized in fire and blood and have come out steel! - Author: Winfield Scott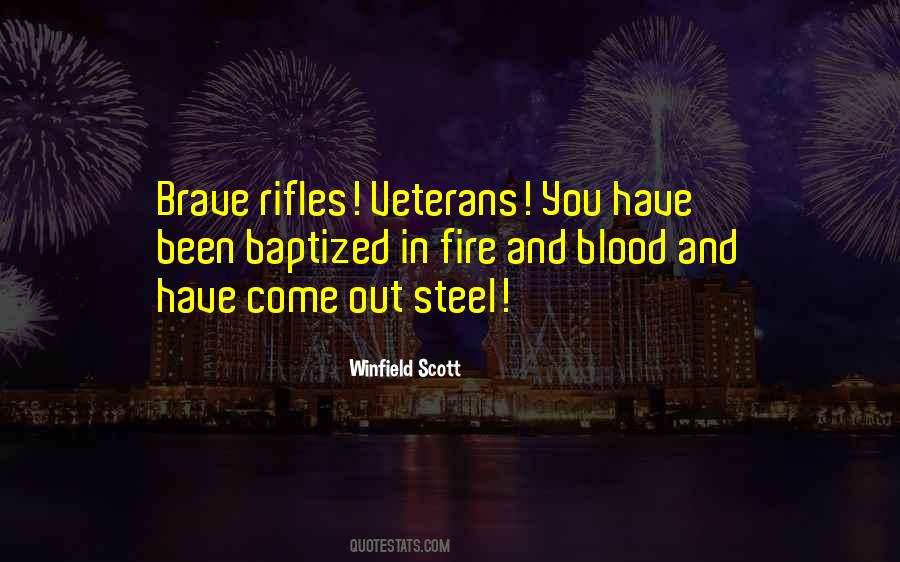 #97. I thought he jaunted around on yachts and baptized babies all day. Babies that would one day grow up to be swimsuit models, thanks to his touch. - Author: R.S. Grey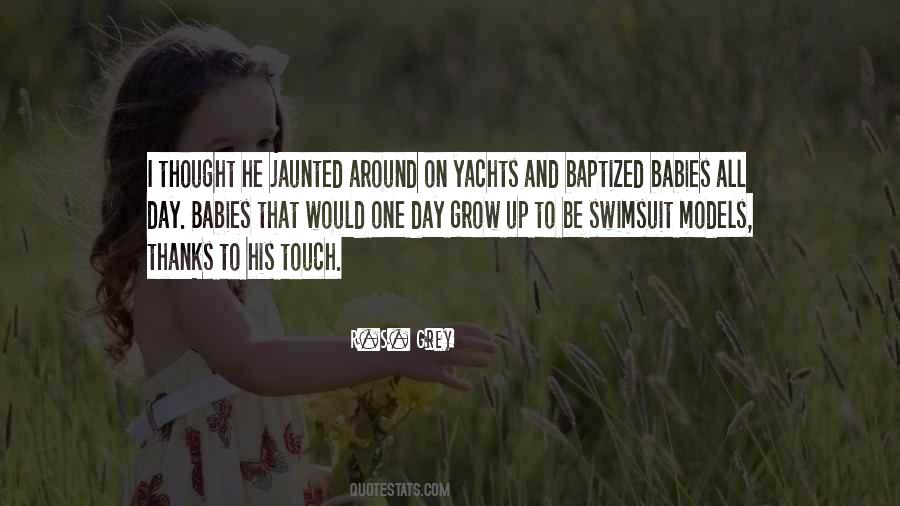 #98. There are three ways in which sins are forgiven: in baptism, in prayer, and in the greater humility of penance; yet God does not forgive sins except to the baptized - Author: Saint Augustine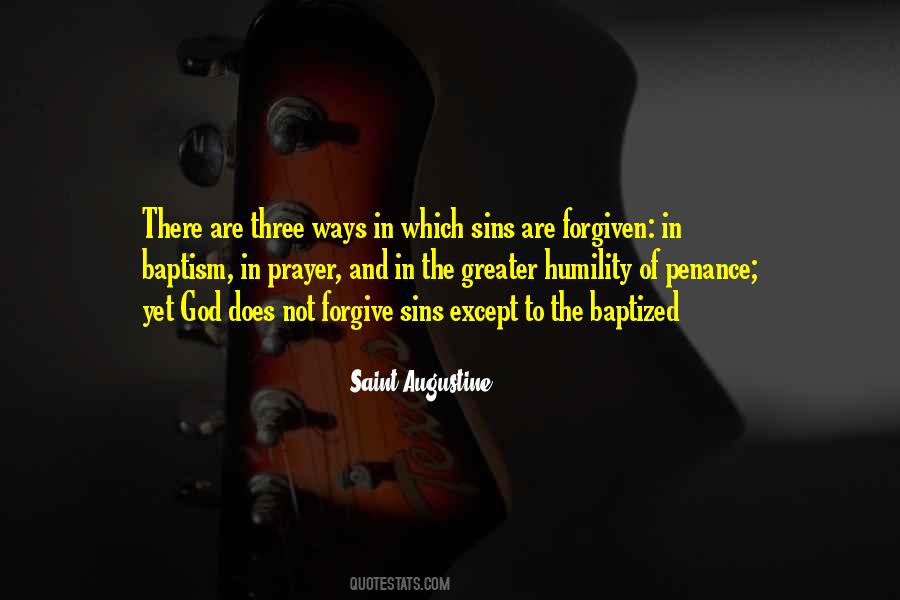 #99. My number is 174517; we have been baptized, we will carry the tattoo on our left arm until we die. - Author: Primo Levi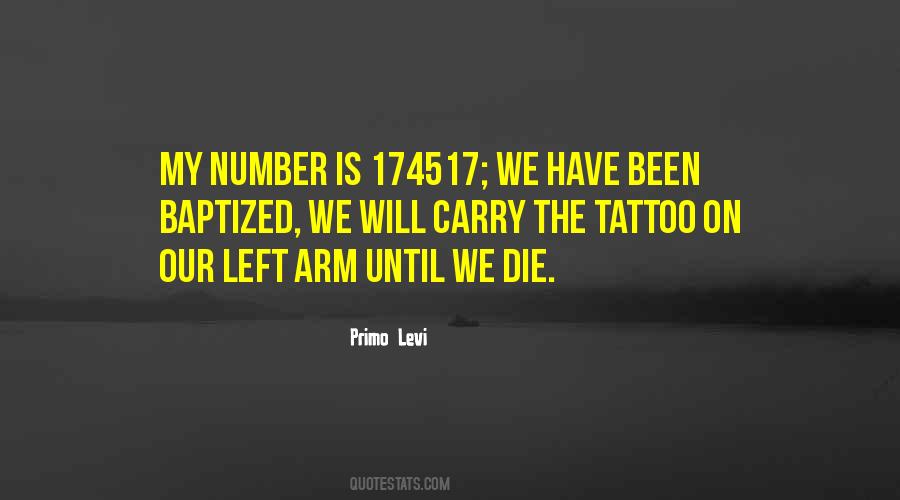 #100. The saints show us that being a baptized Christian means living as a new creation, rejoicing in a life radically different from the status quo of the world. All the holy people, whose lives fill this book, show readers how to let the grace of God in the sacraments create their lives anew. - Author: Stephen J. Binz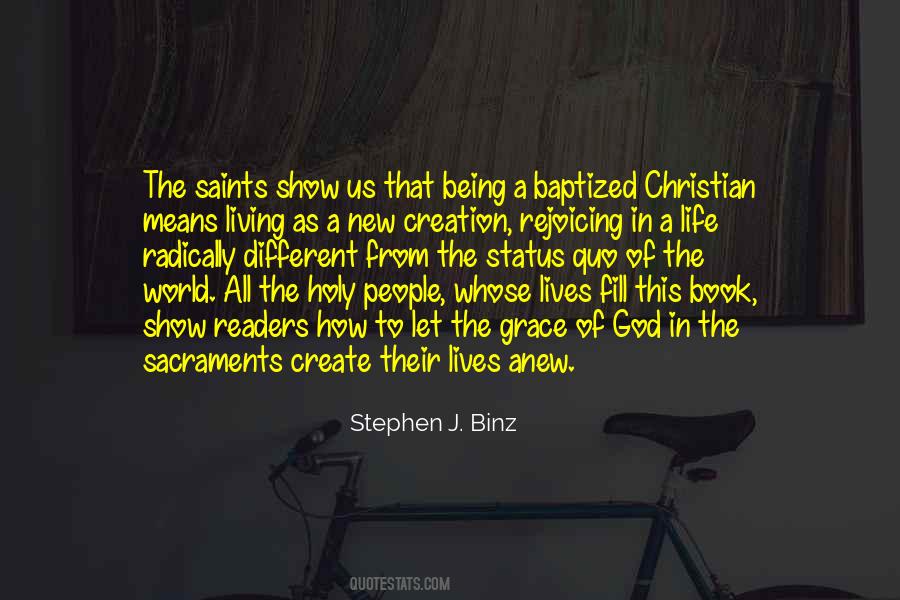 Famous Authors
Popular Topics