List of top 100 famous quotes and sayings about a meeting to read and share with friends on your Facebook, Twitter, blogs.
Top 100 Quotes About A Meeting
#1. Charity is a fine thing if it's meeting a gap where needs must be met and there are no other resources. But in the long term we need to support people into helping themselves.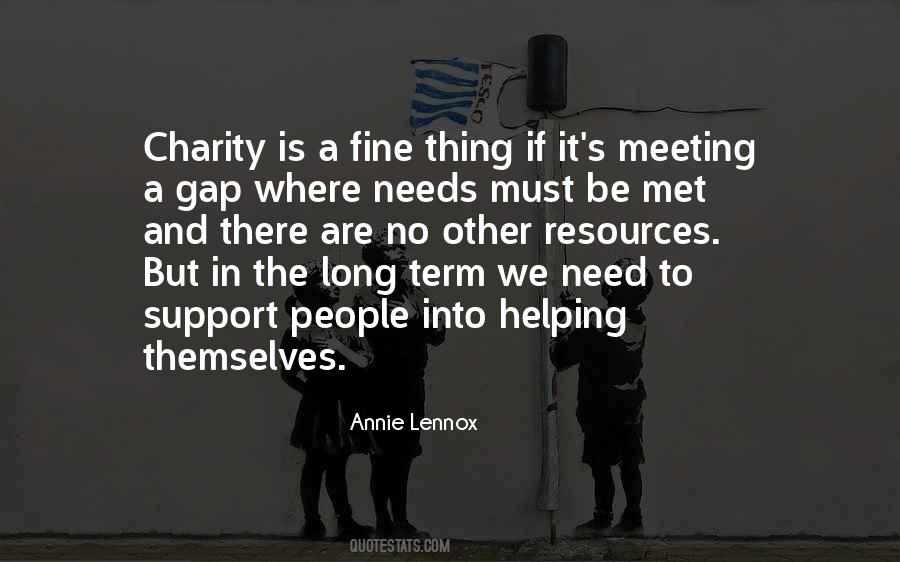 #2. All these many-coloured feelings fell... like light on a black surface, producing no change, meeting no return.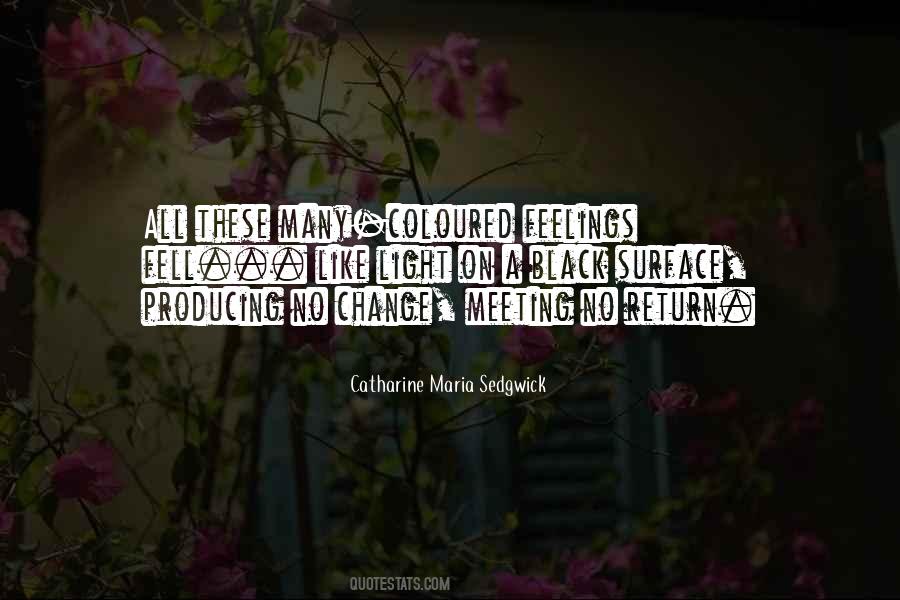 #3. A man should swallow a toad every morning to be sure of not meeting with anything more revolting in the day ahead.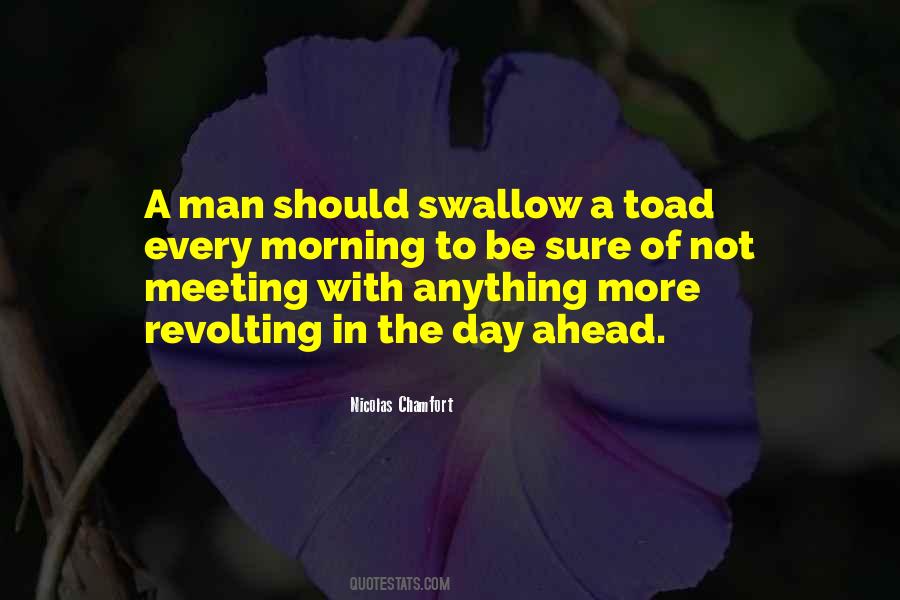 #4. Story is a yearning meeting an obstacle.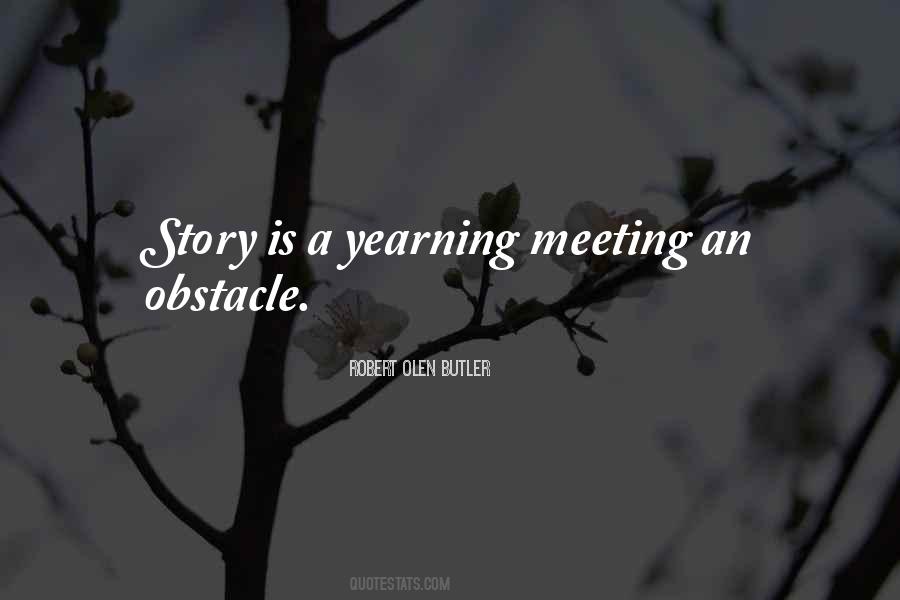 #5. A good teacher always refuses to have disciples! Let everyone goes his own way, in his own path instead of following others! If the direction is correct, there will be a meeting in the same place!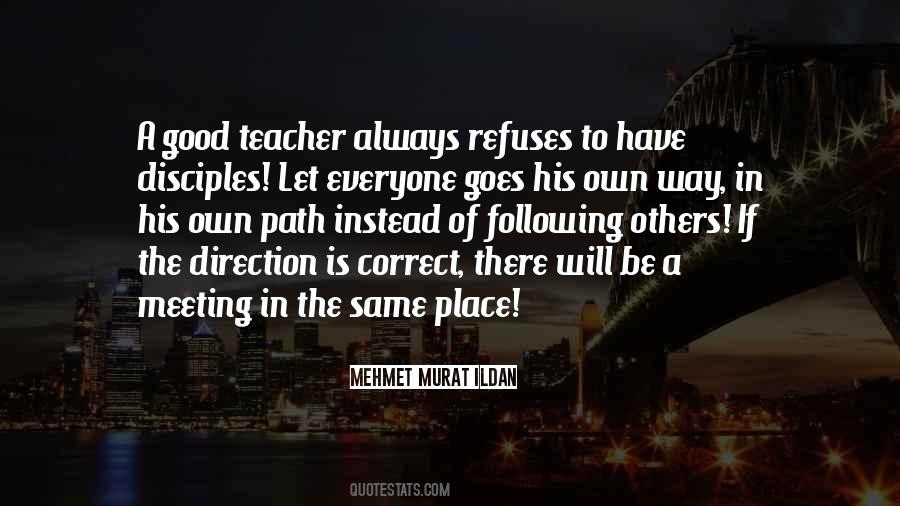 #6. My lesson from Soros is to start every meeting at my boutique by convincing everyone that we are a bunch of idiots who know nothing and are mistake-prone, but happen to be endowed with the rare privilege of knowing it.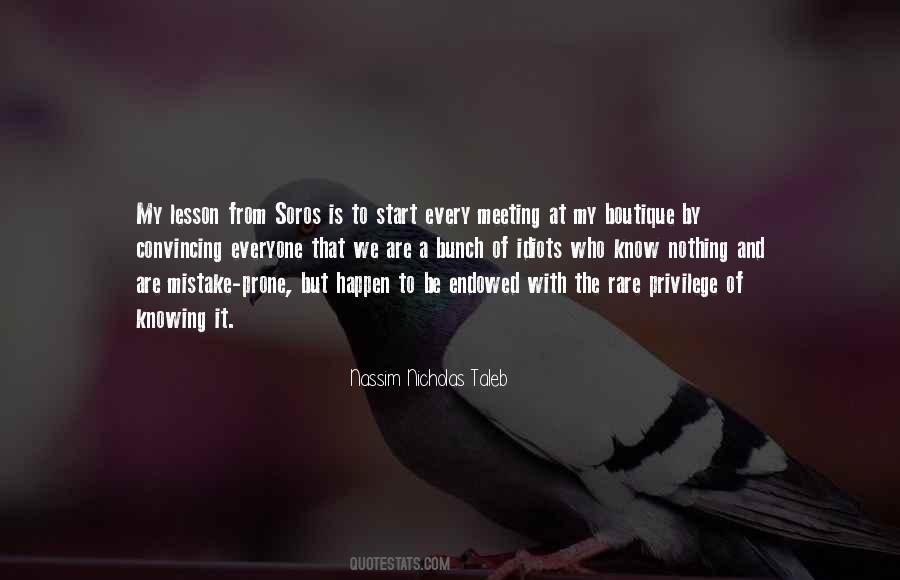 #7. Having all those women together in one place was like looking through a photo album of my life: from when I was a baby to the Saturday Club to Rockport Lodge to working at the newspaper to meeting Aaron.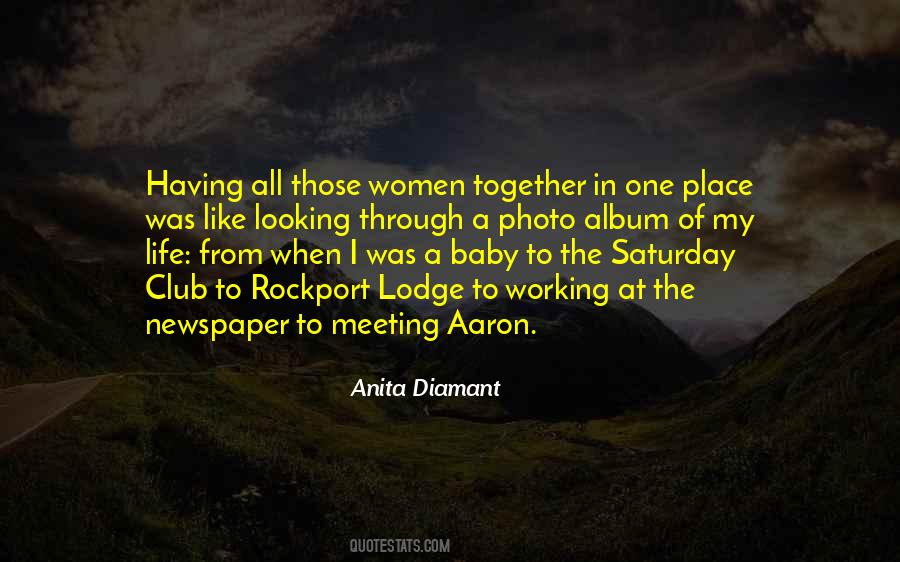 #8. Every third night a commitee holds a meeting in my head.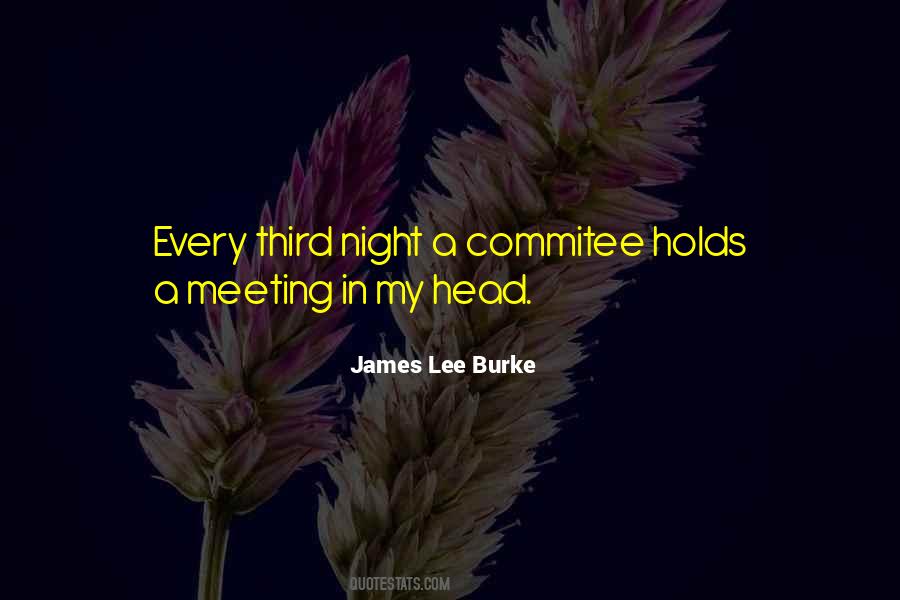 #9. So, when there is a strife of tongues, at some meeting, the chairman, to obtain unity, suggests that every one shall speak in French. Perhaps it is bad French; French may not contain the words that express the speaker's thoughts; nevertheless speaking French imposes some order, some uniformity.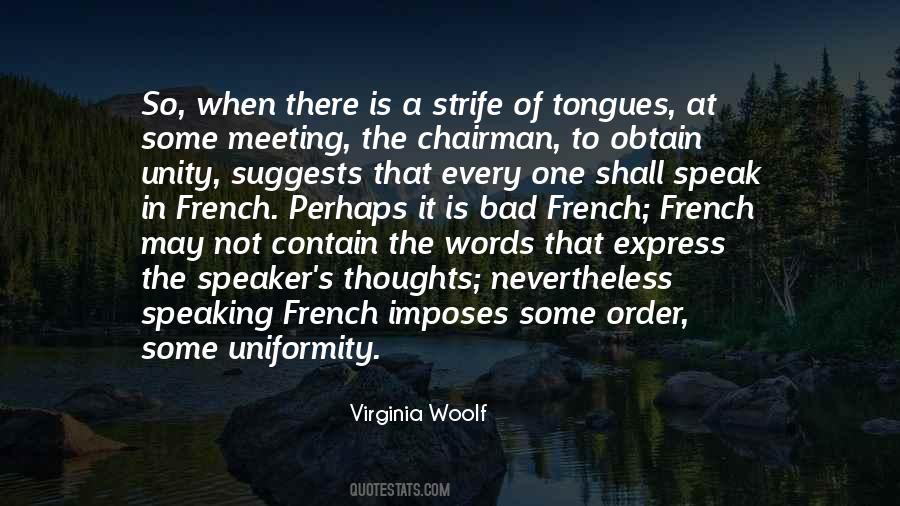 #10. When you're warm and approachable, you don't have to go up and talk non-stop to someone in a social situation. You just have to be open to the conversations you're already having - and warm and receptive to the people you're meeting.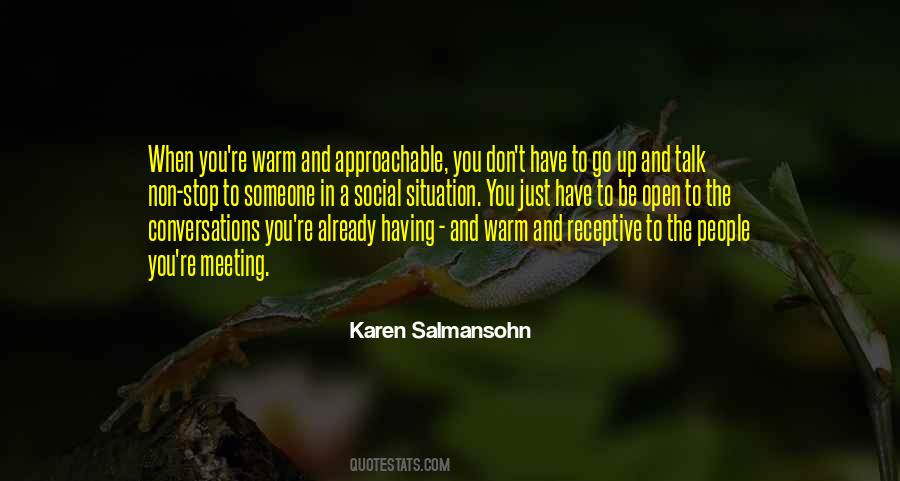 #11. Then she realizes there's nothing meaningful or particularly interesting about seeing a celebrity in person, or even meeting one briefly.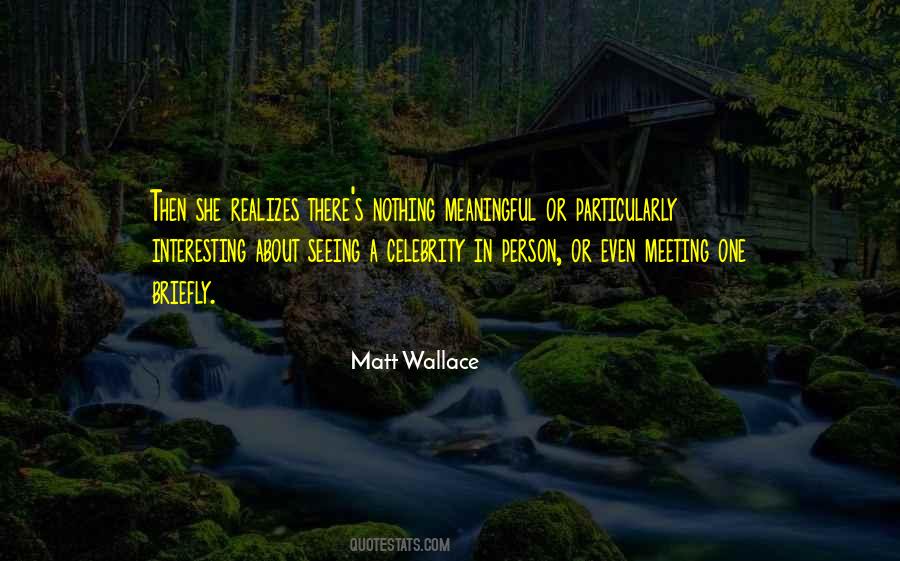 #12. It could be a meeting on the street, or a party or a lecture, or just a simple, banal introduction, then suddenly there is a flash of recognition and the embers of kinship glow. There is an awakening between you, a sense of ancient knowing.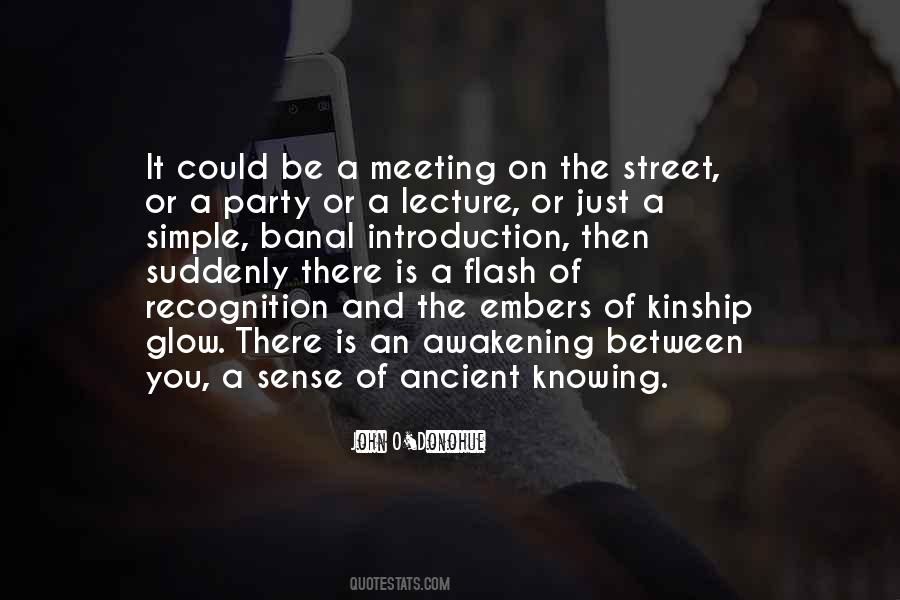 #13. The disadvantage of not being together at same place, not meeting each other personally, not able to talk with each other eye into eye, not able to feel each others touch; makes it difficult for a Long Distance Relationship to work.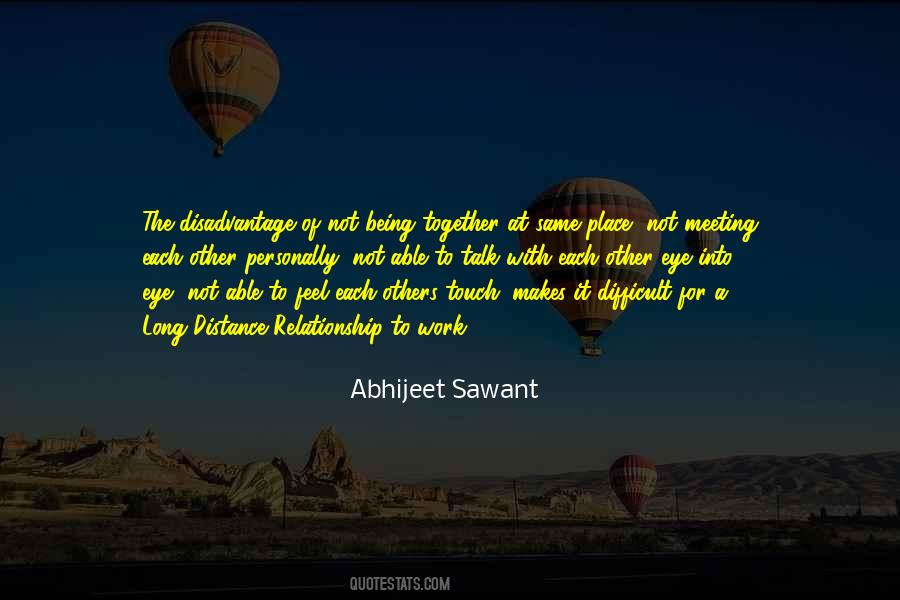 #14. I lead a simple life. I feed the fish. I walk the dogs. I cook dinner. Occasionally I take a meeting.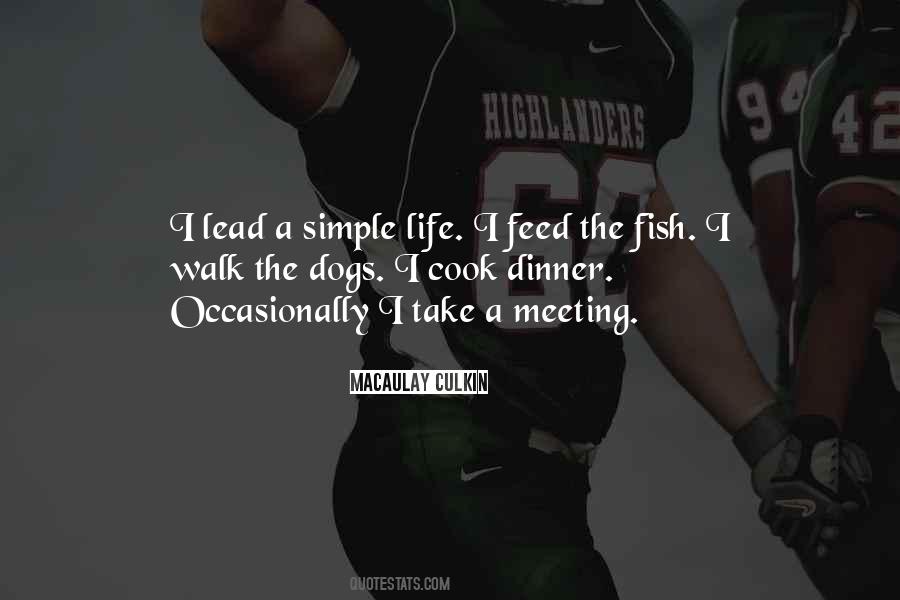 #15. The meeting of science and art is definitely interesting for the 21st century, and I think to use scientific expertise and knowledge to preserve an artistic statement is very interesting. It takes things a step further.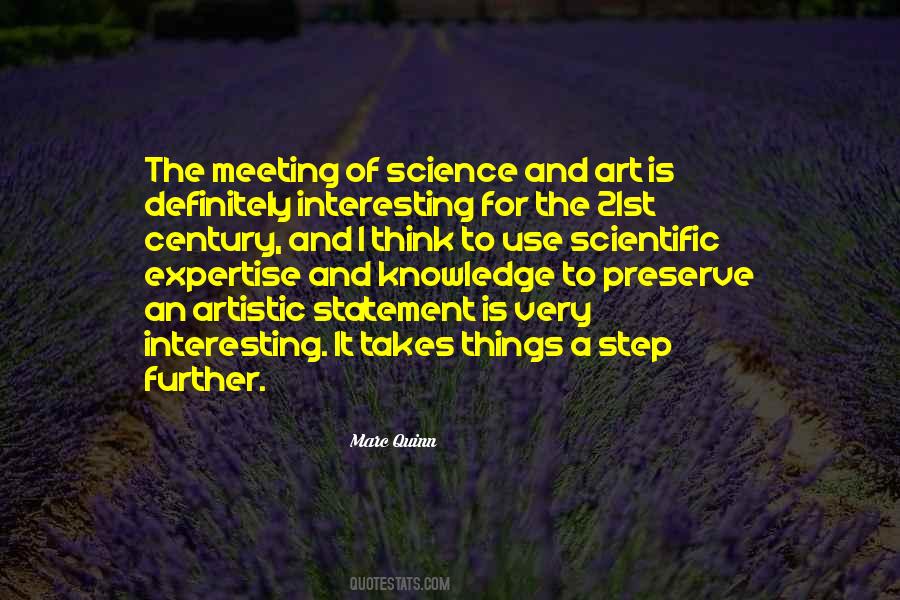 #16. It wasn't the type of CIA job you'd find an application for on Jobs/CIA.Gov. It was a deep black-ops organization that hadn't been to a Senate Committee meeting since the Reagan Administration, and even then it was falsely presented as a training program.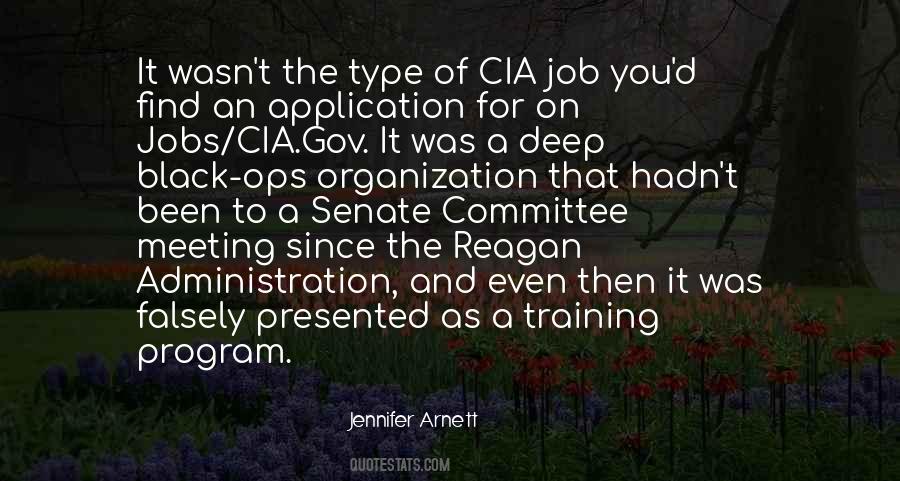 #17. Women were gravitating towards him from all directions like a planetary orbit.
(Zoe on meeting Justus)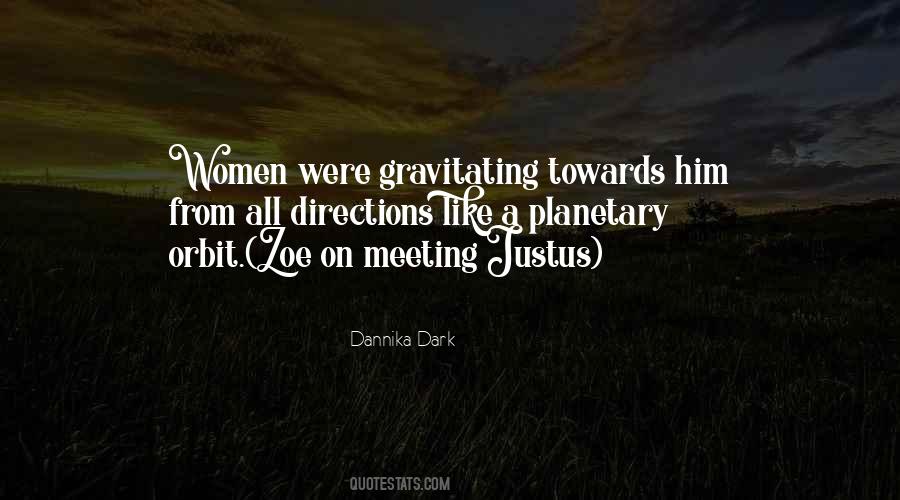 #18. We may differ widely in environments, education, learning, knowledge, or lack of it, and in our personalities, our likes and dislikes. But if we set ourselves the task, we'll find a meeting place somehow and somewhere.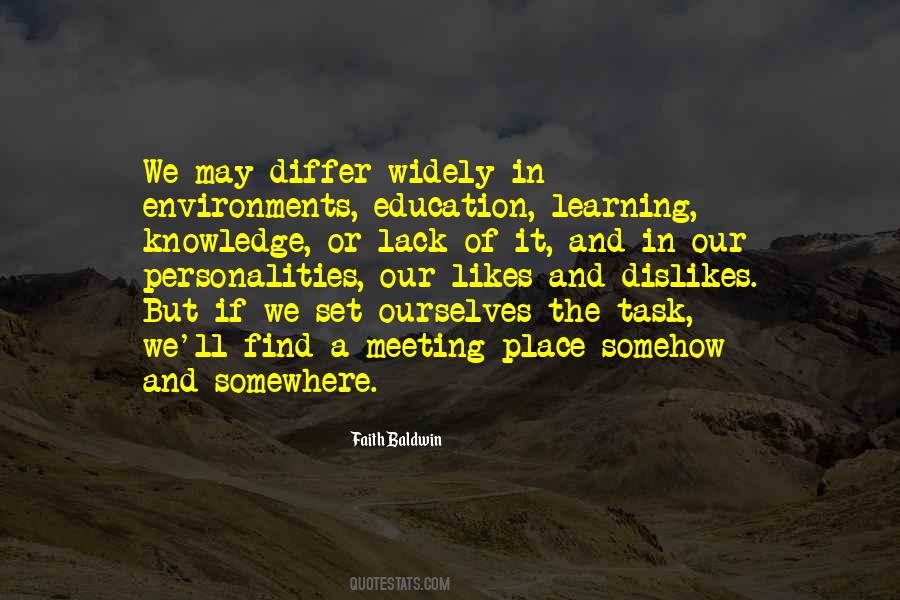 #19. Sietch: a meeting place in time of danger.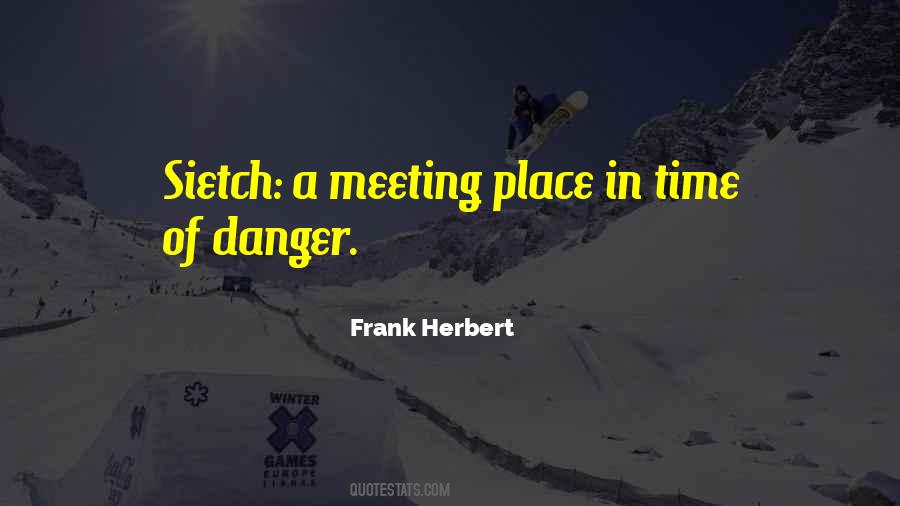 #20. I've always thought that one of the least successful encounters is meeting a writer one admires. For one thing, writers are generally much kinder, more empathetic, more generous people on the page than they are in person.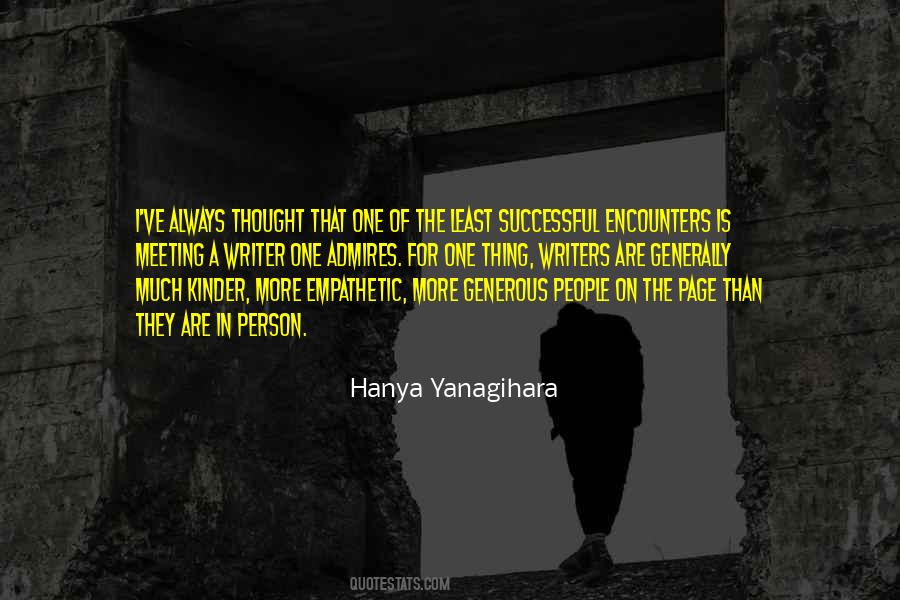 #21. A lot of people think that as a player, during the lockout, you just have your whole day free. It's not like that - especially for me. I wake up everyday, train in the morning from 9 a.m. to about 2 p.m. Then I have a business meeting here, have to meet this person there, it's non-stop for me.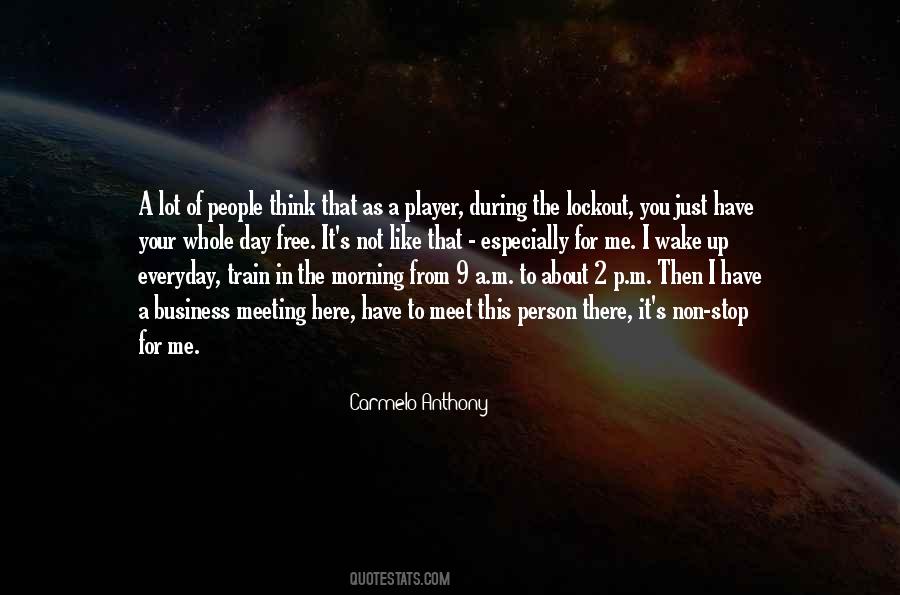 #22. I think meeting someone like, meeting Sam Shepard, that was someone who was kind of important for me, because I'd read so much of his work and watched him as an actor since I was a kid, then being on set doing a scene with him and thinking, 'This is really surreal.'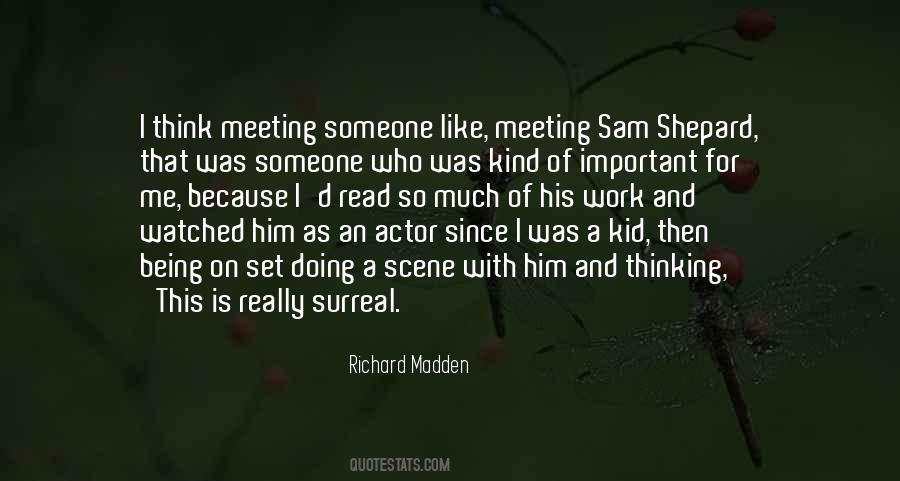 #23. We each have a litany of holiday rituals and everyday habits that we hold on to, and we often greet radical innovation with the enthusiasm of a baby meeting a new sitter. We defend against it and - not always, but often enough - reject it. Slowly we adjust, but only if we have to.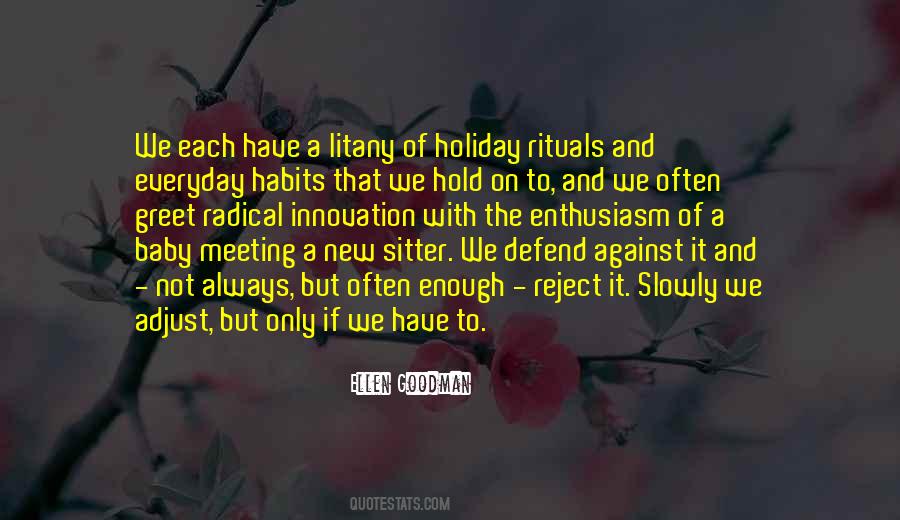 #24. Traveling has a major impact on what I do, cause all over the world I'm meeting all kinds of people. And relationships is the second major impact that I have. I just enjoy the variety that the world has to offer.
#25. Alfred," Merryweather said. "OIPEP is the only organization of its kind in the world, with practically unlimited resources and an intelligence network that spans every country in the planet. We shall do what any powerful, multinational bureaucracy would do in such a crisis. We shall hold a meeting!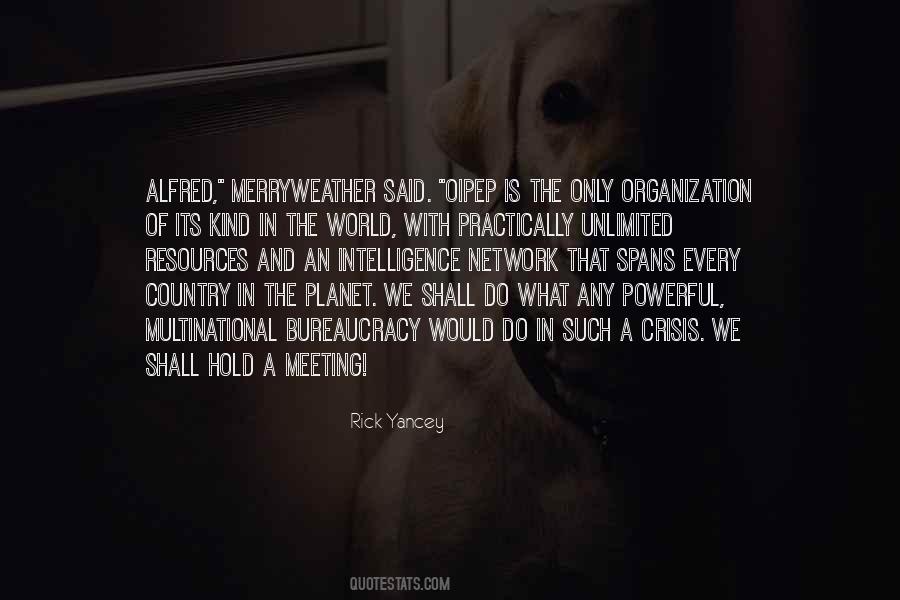 #26. For a man it's like if something goes on on-stage you'll have a drink at the bar and talk about it. With a female artist it's a big deal, you have a meeting and she's mad at you for the next couple of shows!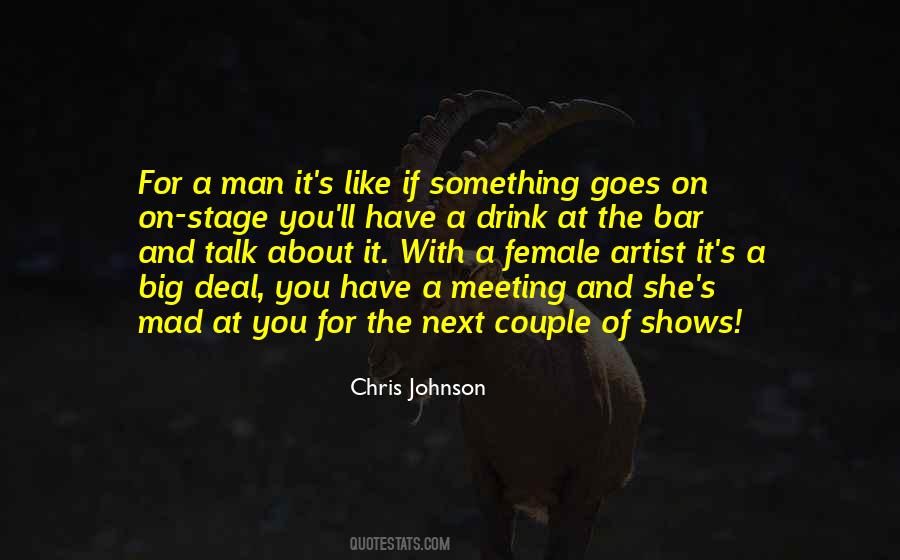 #27. J. Edgar Hoover very famously denied the existence of organized crime up until the Appalachian Meeting, I think, in 1957. It was interesting to me that he clearly had to know that there was such a thing as organized crime and organized criminals as far back as the '20s.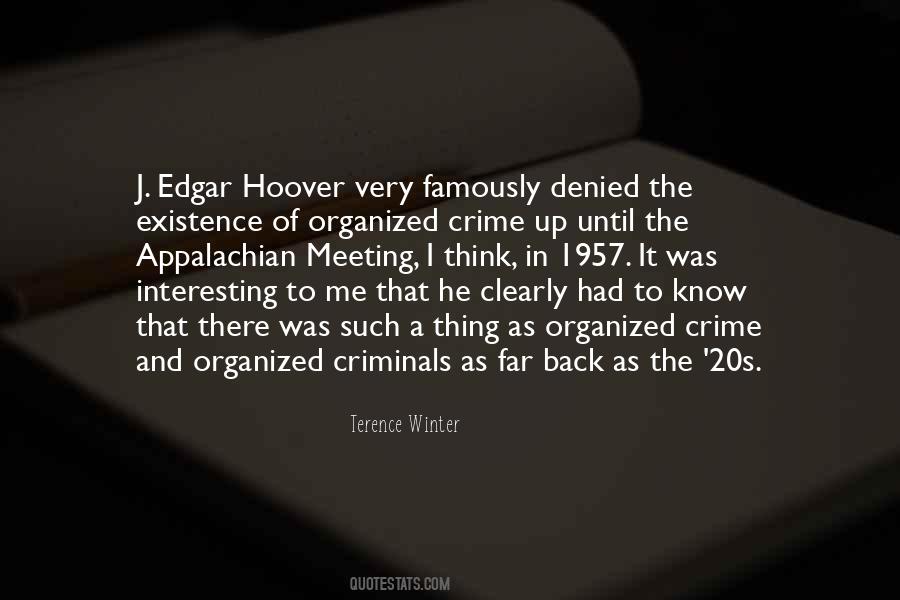 #28. In meeting again after a separation, acquaintances ask after our outward life, friends after our inner life.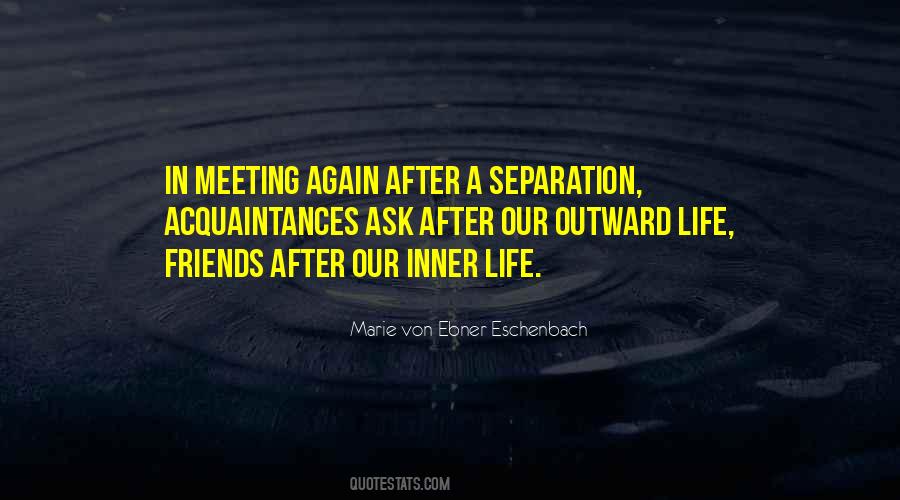 #29. Fucking drunk driver had the balls to die too, so there's really no one left to hate. The asshole was speeding and ran a stop sign while driving home, loaded, from some business meeting.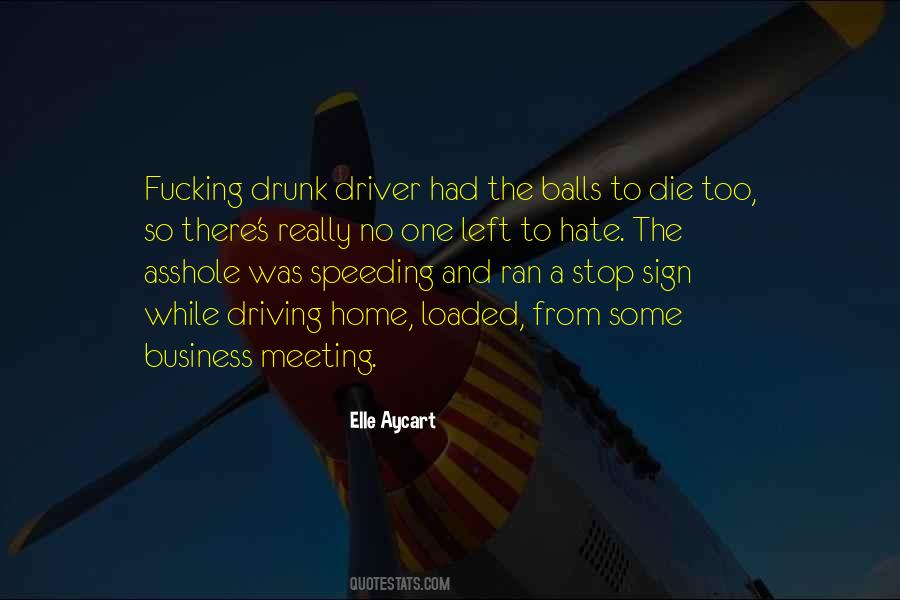 #30. When I first joined Google in October of 2005, I was warned that I shouldn't be offended if people were doing their e-mails while a meeting was going on.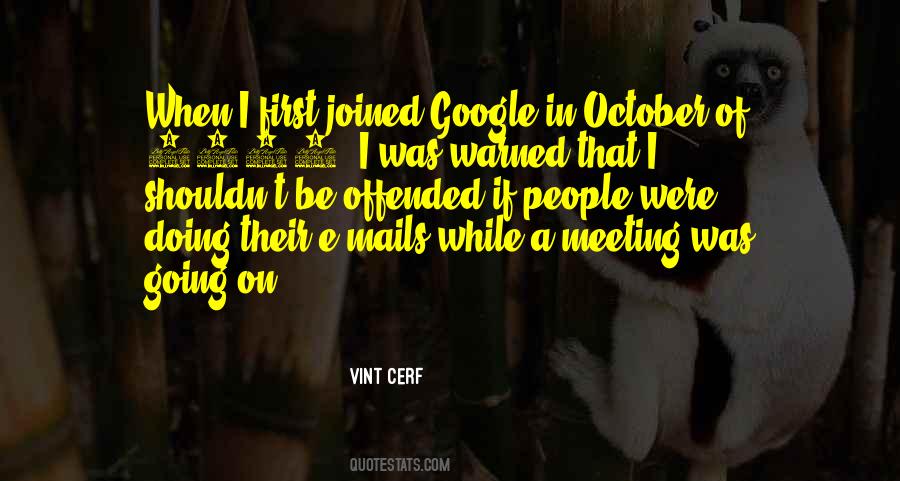 #31. One thing we've talked a lot about, even in the first leadership meeting, was, what's the purpose of our leadership team? The framework we came up with is the notion that our purpose is to bring clarity, alignment and intensity.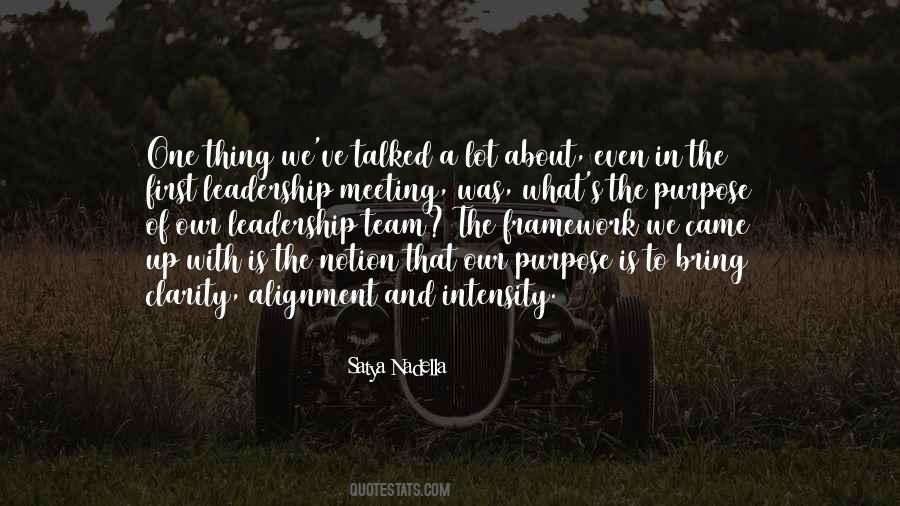 #32. He's meeting his girl now, a girl not much older than 14. A five-and-ten-cents store Cleopatra, a four letter word.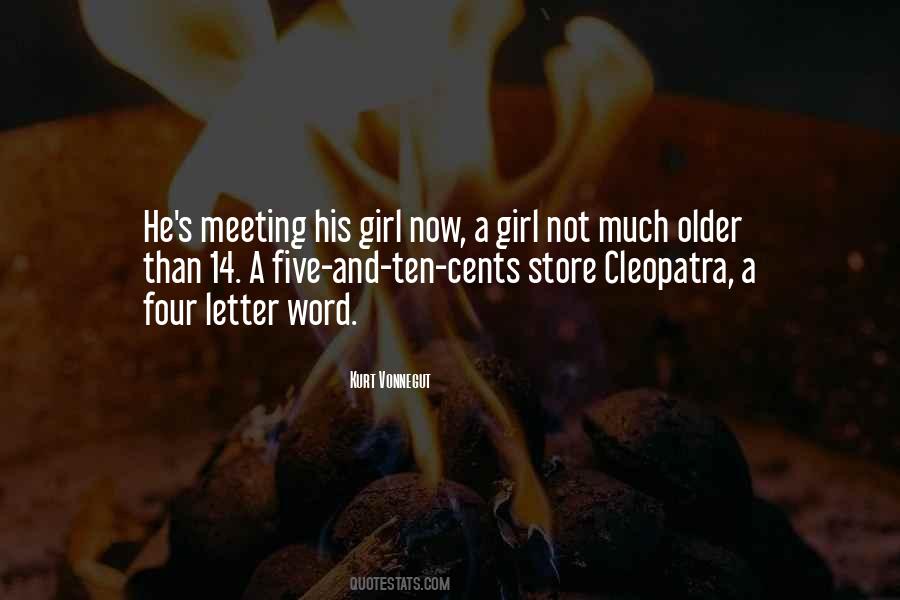 #33. At that meeting he was struck for the first time by the endless variety of men's minds, which prevents a truth from ever presenting itself identically to two persons. Even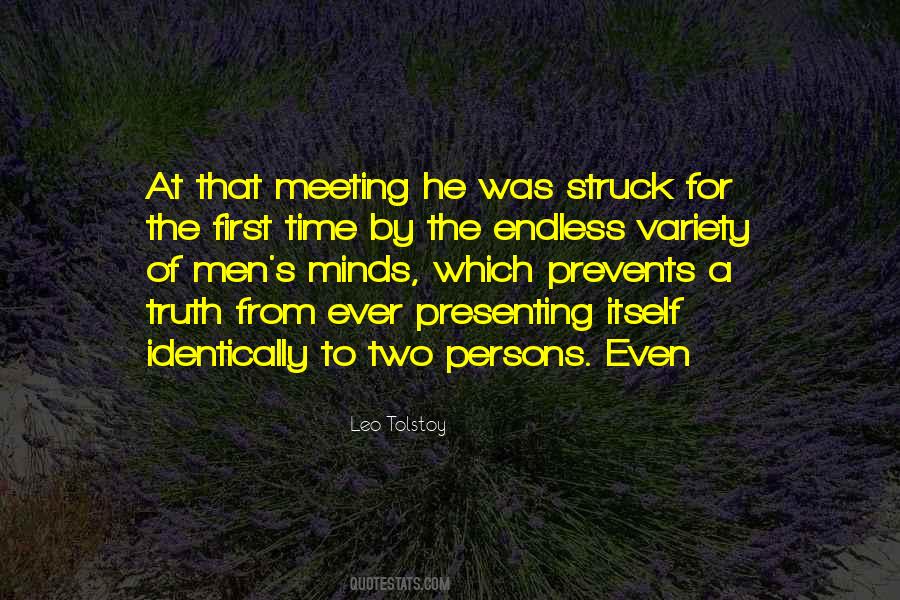 #34. If they can't start a meeting without you, well, that's a meeting worth going to, isn't it? And that's the only kind of meeting you should ever concern yourselves with.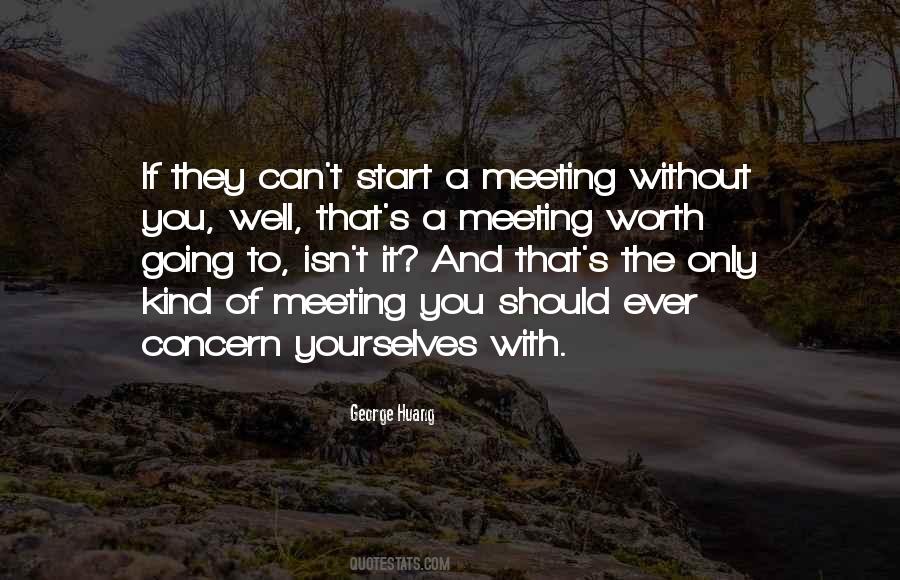 #35. When the higher officers are angry and insubordinate, and on meeting the enemy give battle on their own account from a feeling of resentment, before the commander-in-chief can tell whether or not he is in a position to fight, the result is ruin.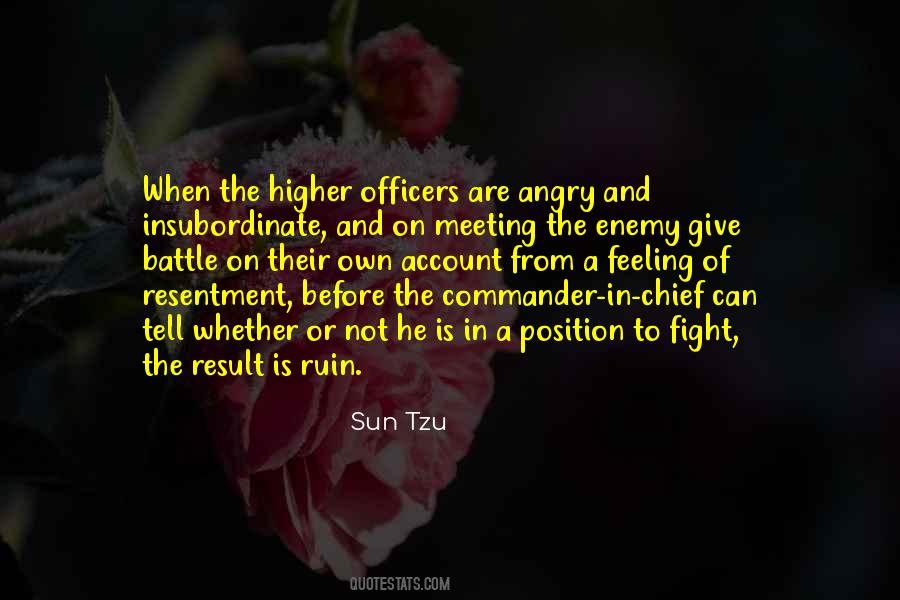 #36. Renaissance cowboy/raconteur Pop Wagner ... deadpan funny ... his presence is like meeting Woody Guthrie and Will Rogers riding a single, many colored horse. Pop is a kind of 'textile genius' who is able to spin, at once, both yarn and rope.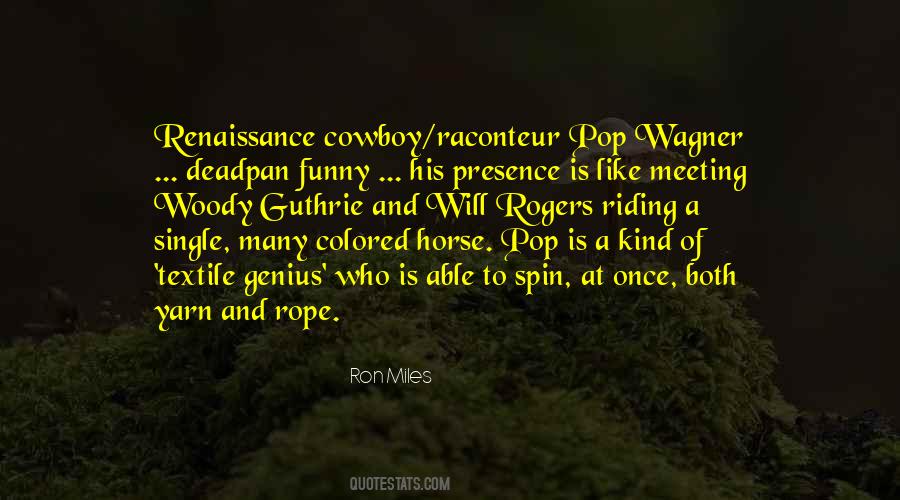 #37. Like any small business owner, I experienced the pressures of building a company from the ground up - developing a business plan, balancing the books, meeting payroll and building a customer base.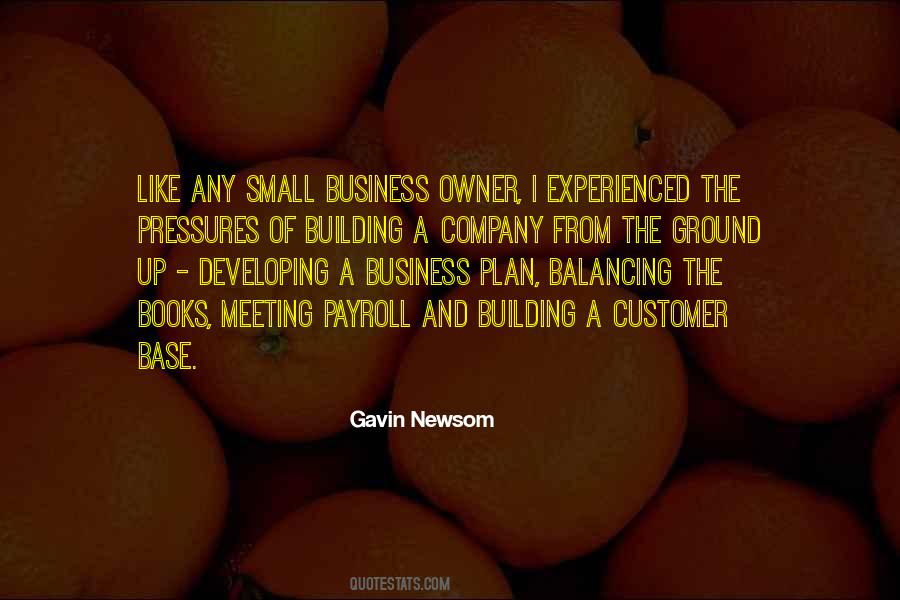 #38. I wanted to be a Priest at one point. I was pretty religious. I was an altar boy, and I was good at it. Then, I started meeting girls and I'm like 'You know, maybe I shouldn't be a Priest.'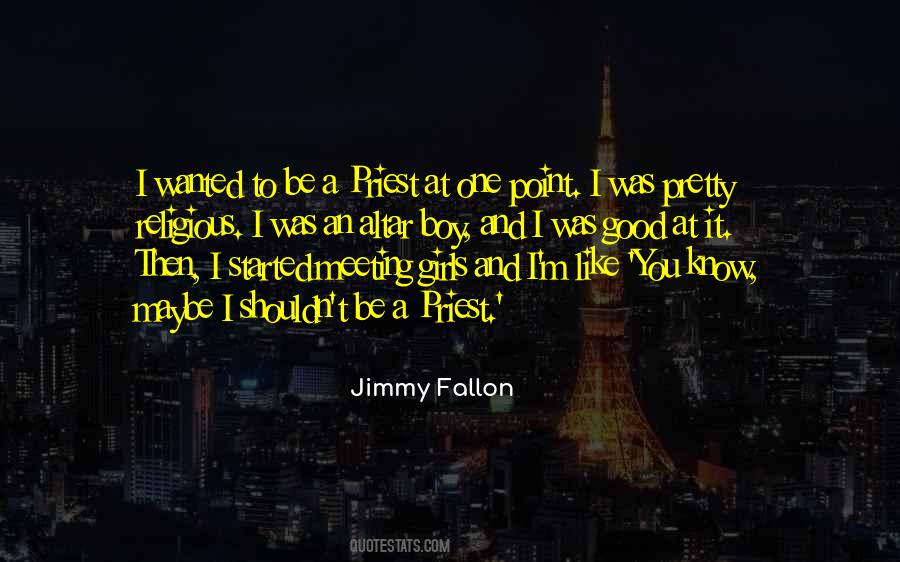 #39. It's rare to be treated like a friend you haven't met in a Hollywood meeting.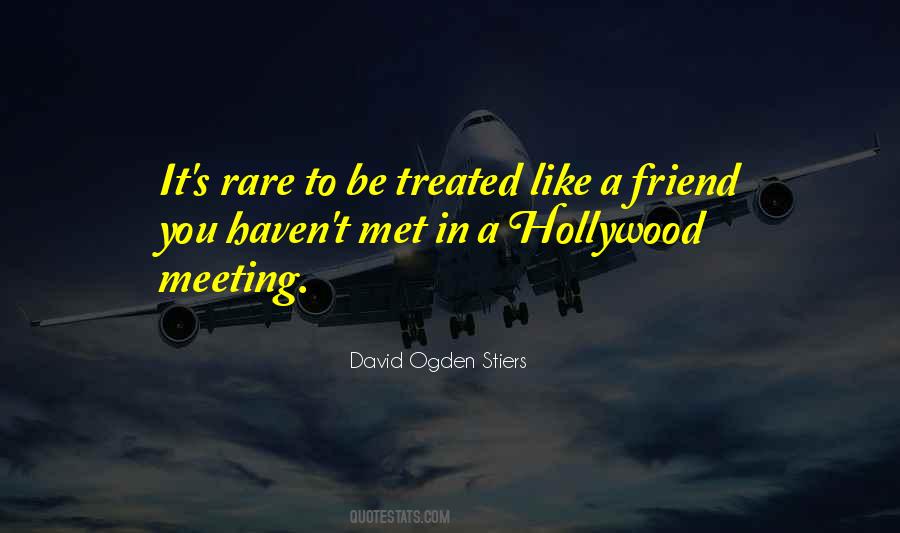 #40. You can't treat an illness with cosmetic surgery, and that's why it would be great if there were qualified therapists in plastic surgeons' offices, and that people would go to a therapeutic meeting before plastic surgery. I think that should be part of the FDA requirement.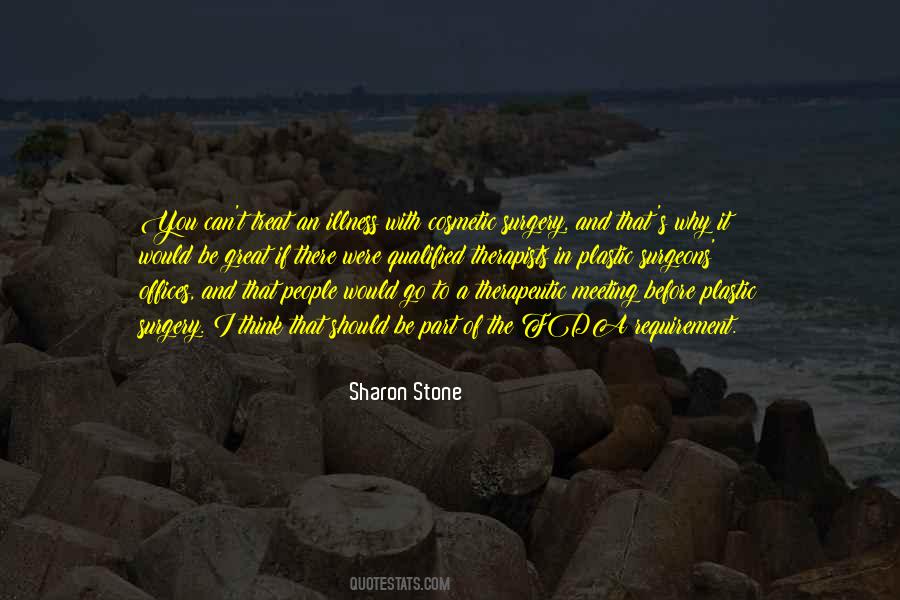 #41. Meeting Hettie again made him achingly conscious once more of the irrefutable nature of his obsession with her. Obsession - or love? Or was it something more unhealthy - a kind of craving, an addiction?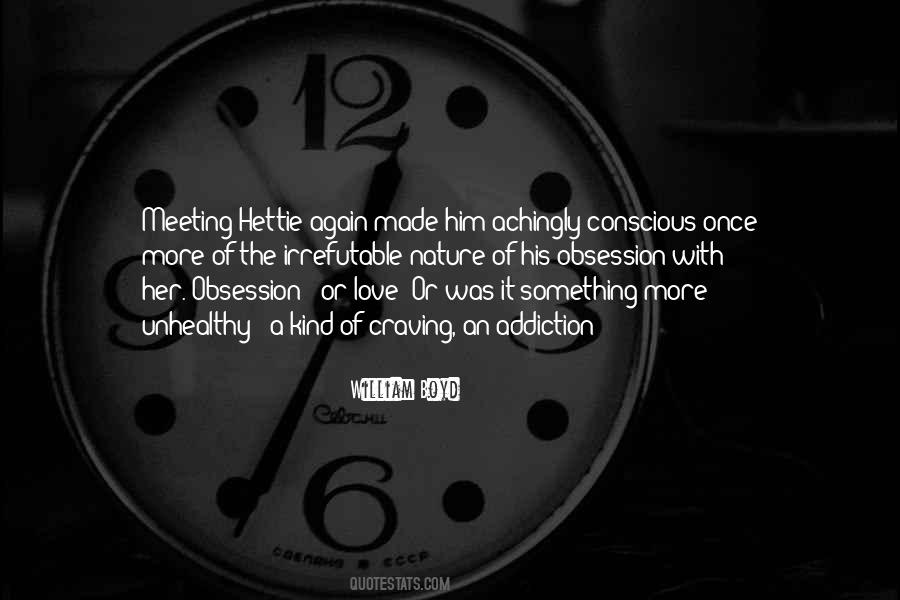 #42. Mike Hawk!" Bennett practically yelled at me, dropping his hand. His eyes were red from laughing. "How am I supposed to keep it together over that? That's like meeting a fucking unicorn.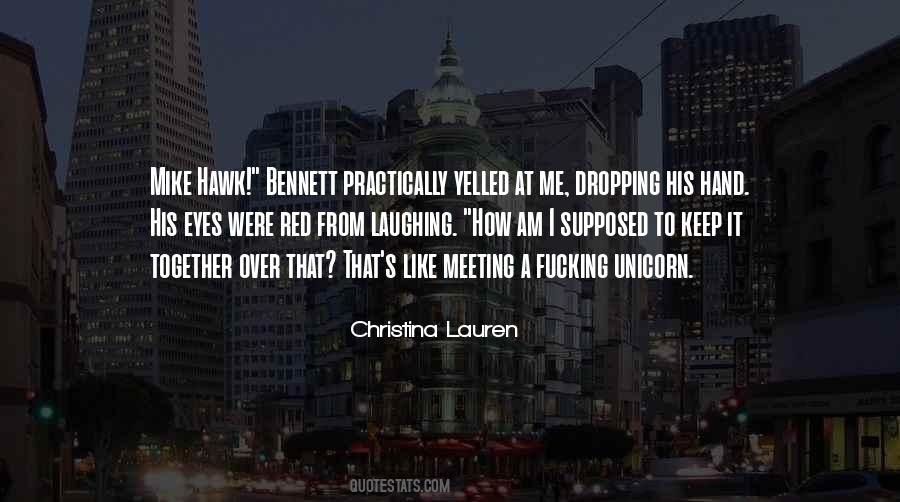 #43. I have a senior staff meeting every day, with key personnel who interface with the players - coaches, the medical staff, our analyst department. This is a useful exercise as it means we are all across what is happening and they are aware of my expectations.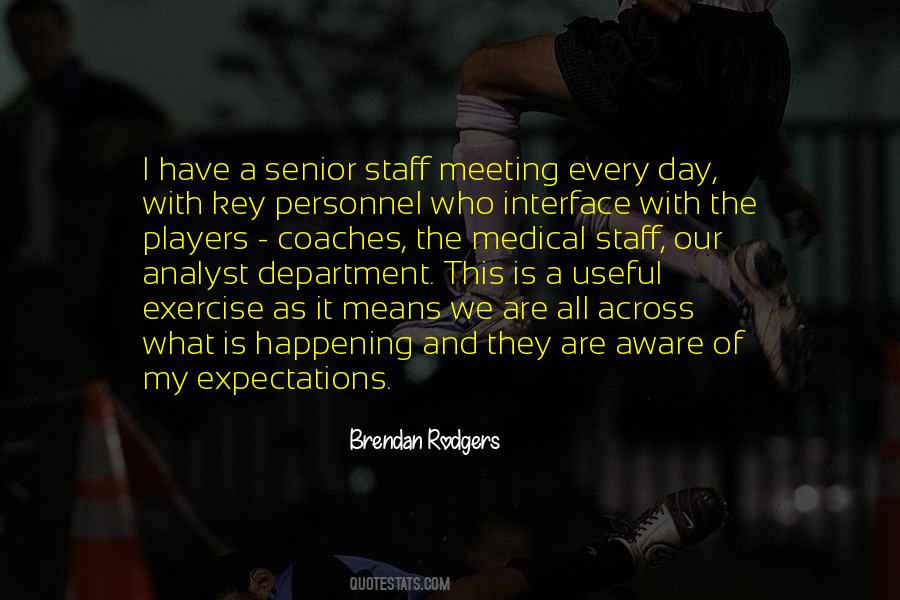 #44. If the article mentions some celebrity-perhaps a recently dead politician-the author will want to mention some pointless detail from her last meeting with that person or the emotions she experienced when learning of the subject's death.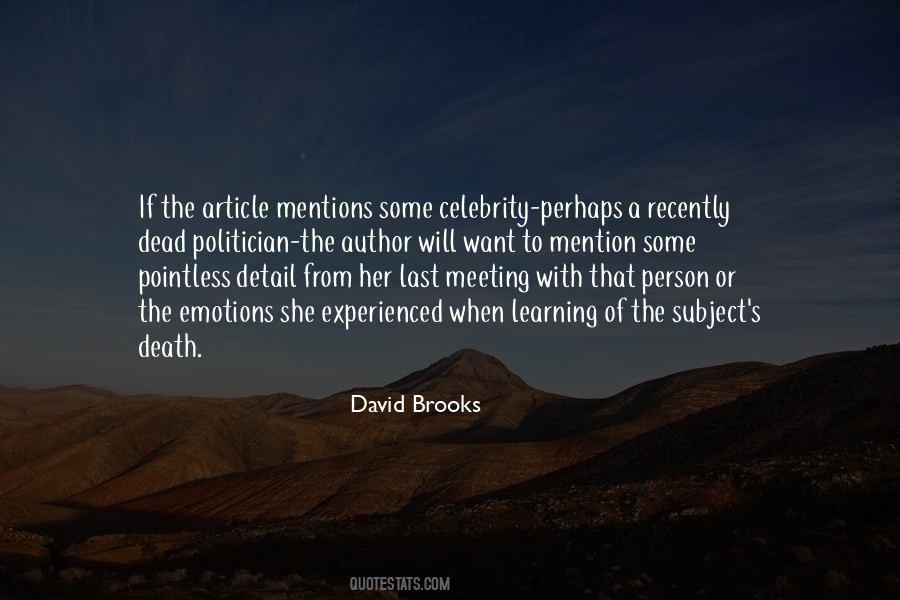 #45. Honest good humor is the oil and wine of a merry meeting, and there is no jovial companionship equal to that where the jokes are rather small and laughter abundant.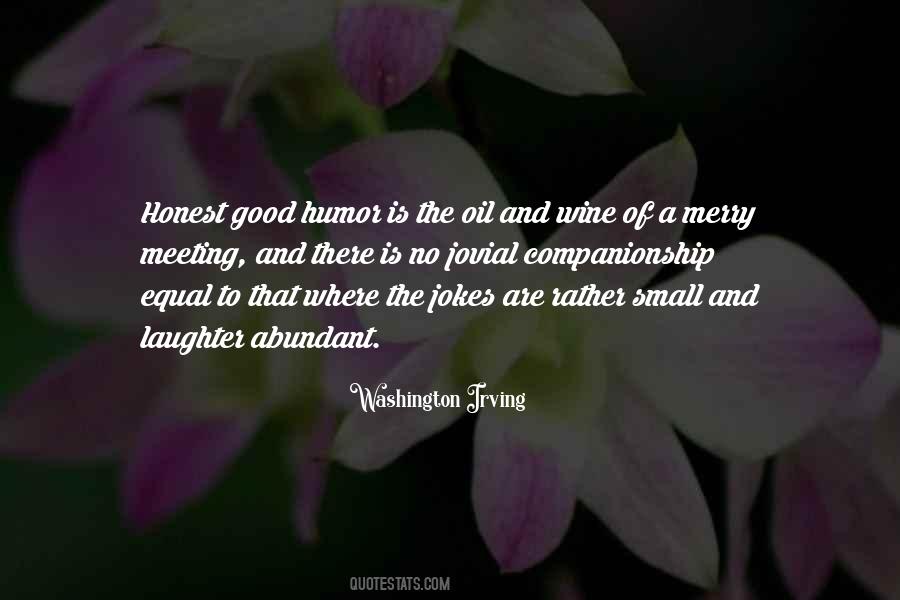 #46. You've always had me, Ezekiel," I managed, meeting his bright blue stare. "Time never mattered. Vampire or human, if we had forever or just a few years, I'd always choose to spend it with you.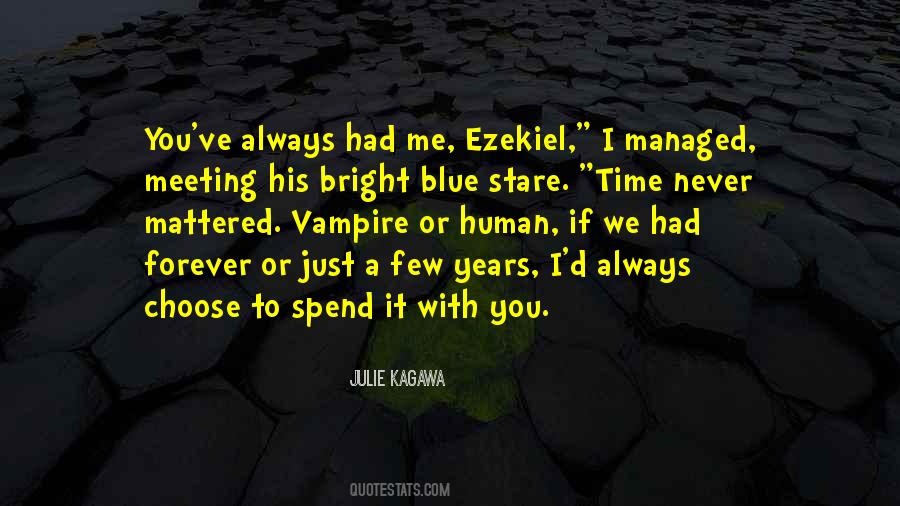 #47. Over the meeting of the lovers I draw a veil. The burst of rapture with which they clasped each other in a wild embrace
the many inquiries
the fond regrets and thrilling hopes
it is out of my power to convey. Let me, therefore, leave them to their happiness.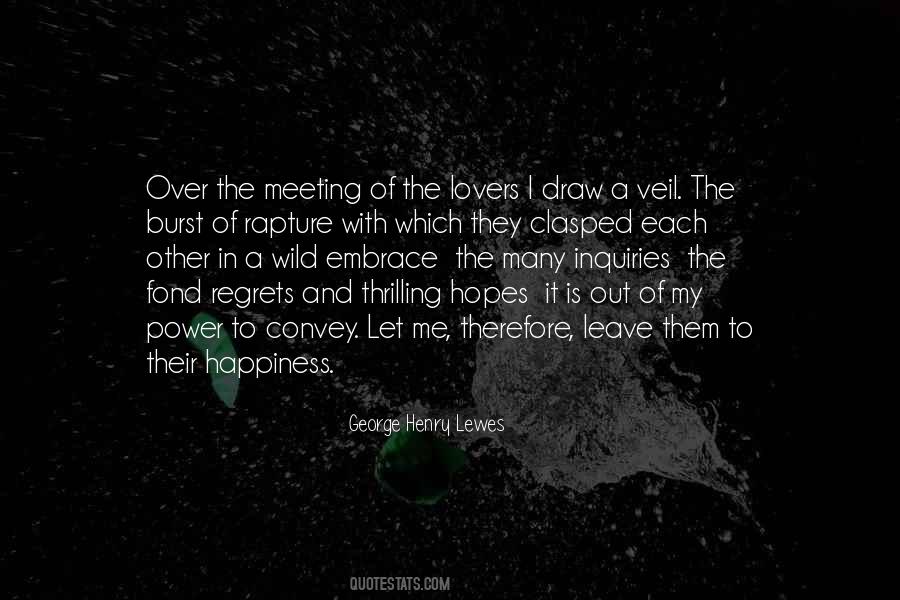 #48. The women that I played with since meeting James were for his fulfillment. Sure, I enjoyed it, but it wasn't a necessity of mine. This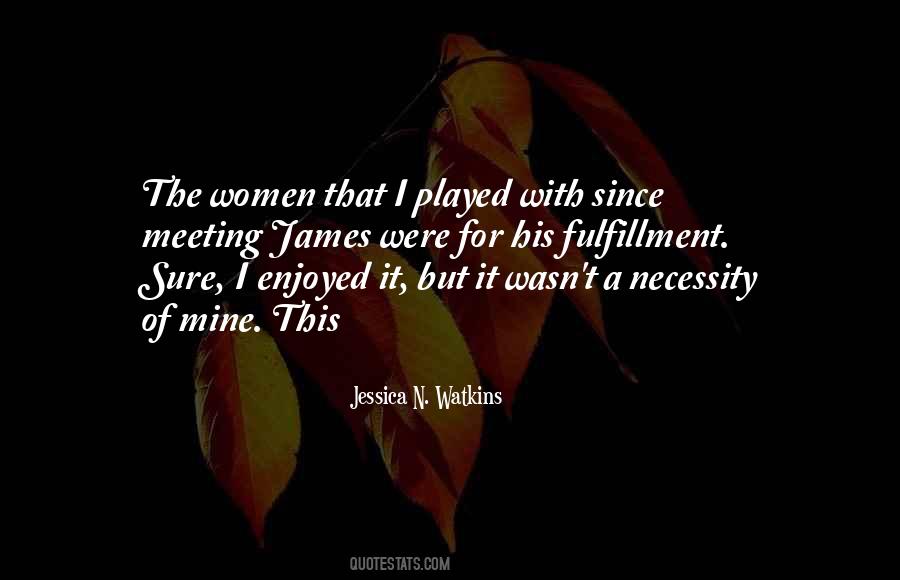 #49. There was absolutely zero discourse between me or anybody at the studio with the NFL. None. The only exchange was one-sentence e-mails trying to arrange a meeting, before deciding to cancel the meeting. Period. End of story.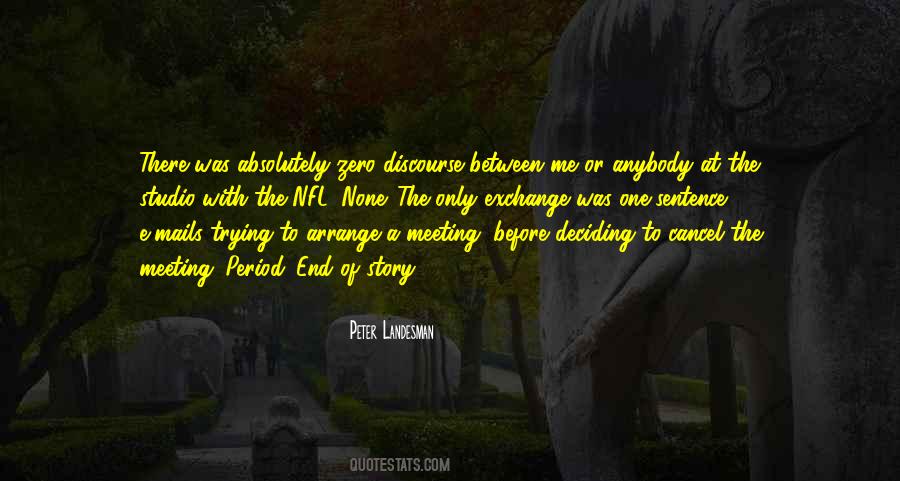 #50. He's like a song she can't get out of her head. Hard as she tries, the melody of their meeting runs through her mind on an endless loop, each time as surprisingly sweet as the last, like a lullaby, like a hymn, and she doesn't think she could ever get tired of hearing it.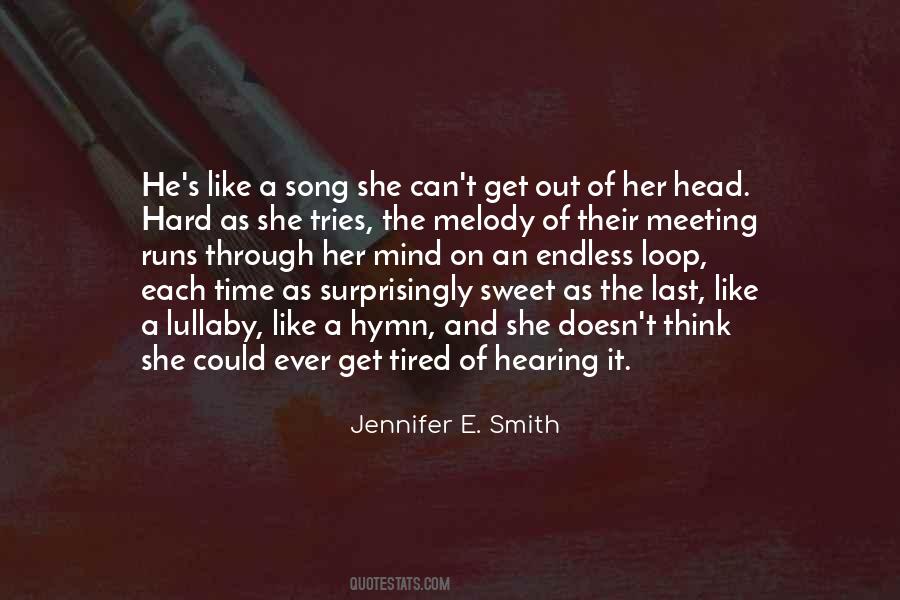 #51. A lot of people don't put the numbers together correctly. But Underworld, honestly, the way it came about - the real way it came about - I took a meeting with Dimension, and they were looking to do just a werewolf movie, and I wasn't too interested in doing just a werewolf movie.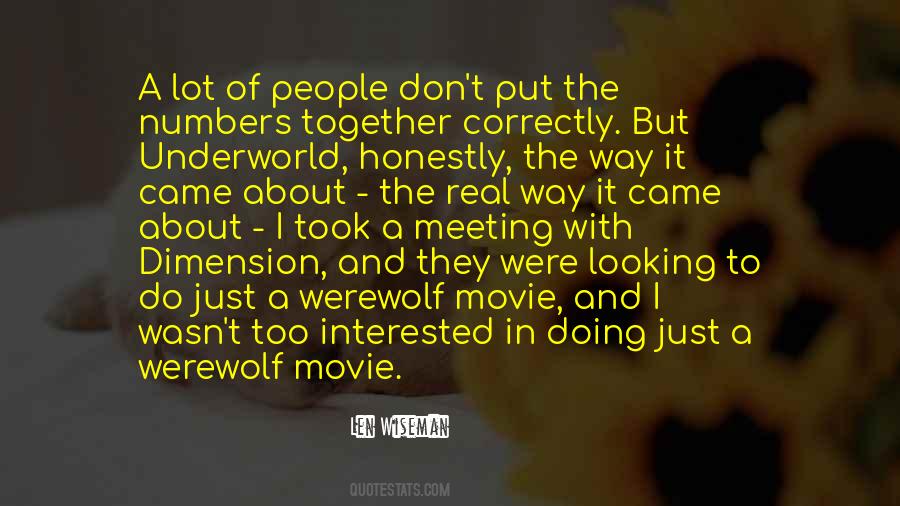 #52. The brevity of a human lifespan tormented them as never before, and their hearts soared above the vault of time to join with their descendants and plunge into blood and fire in the icy cold of space, the eventual meeting place for the souls of all soldiers. *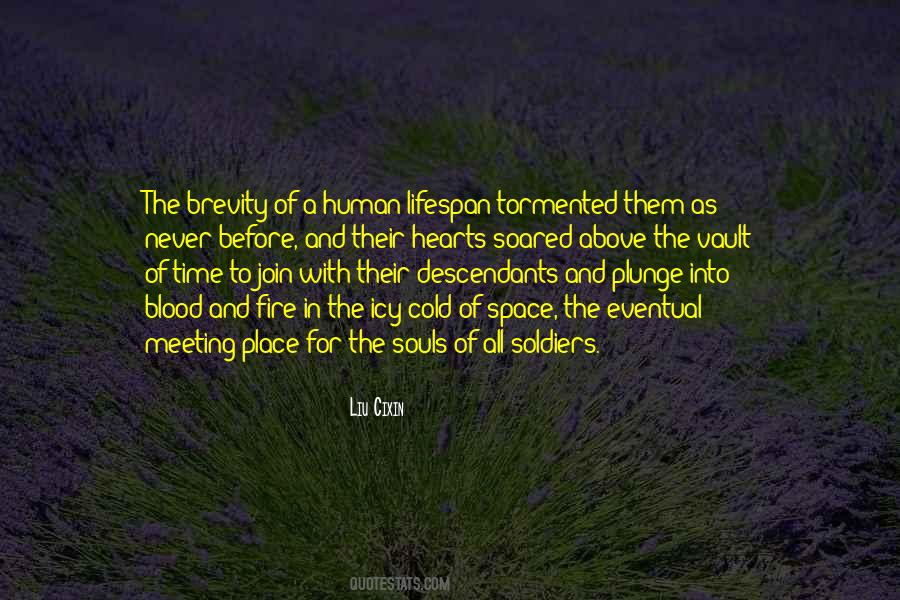 #53. Simon, the fisherman, before his meeting with Christ, however thoroughly he might have searched within himself, could not possibly have found a trace of Peter.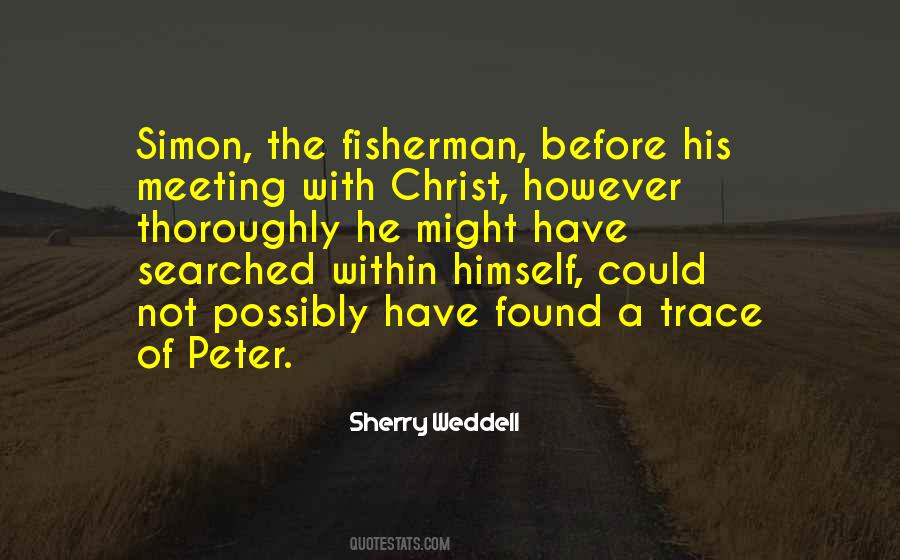 #54. The Christians think I am making a mistake by not trying the New Testament and meeting Jesus. The Jews tend to think I am making a mistake by reading without support from educated people. After all, there is 2,000 years of scholarship about the book, they say, so it's perverse of me to ignore it.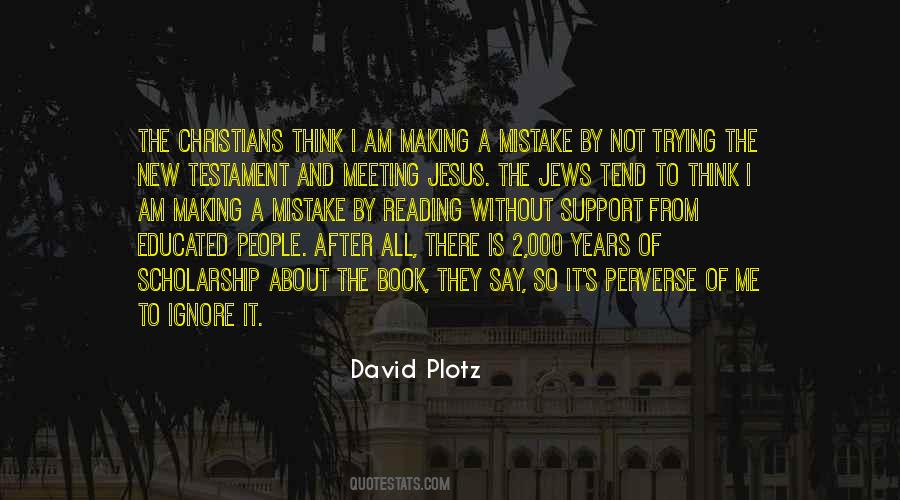 #55. There is really nothing you gain from being a pauper rather you loose every thing.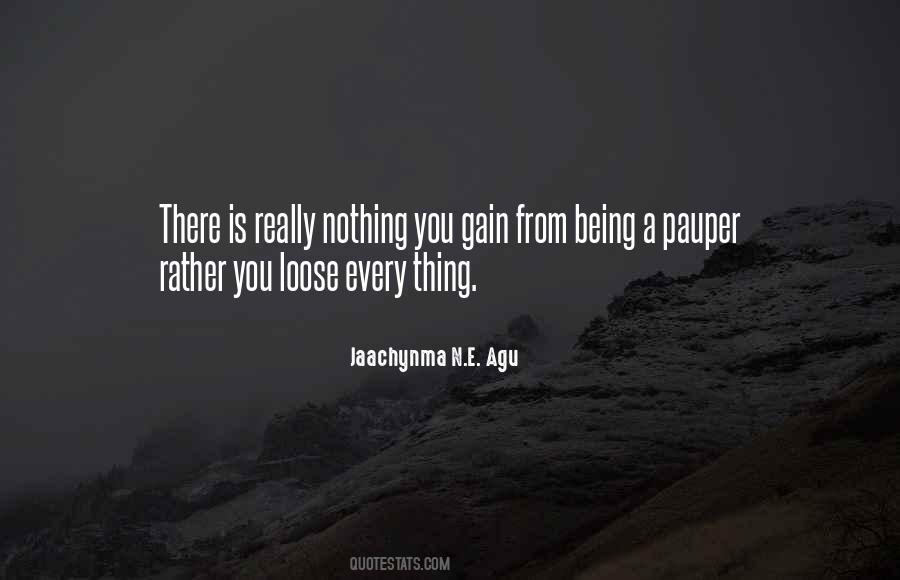 #56. Work is of utmost importance in a person's life and not only as a means of meeting one's needs at various levels of Maslow's pyramid. Believe me, I speak from experience when I say that good, focused hard work is also one of the most effective remedies for depression.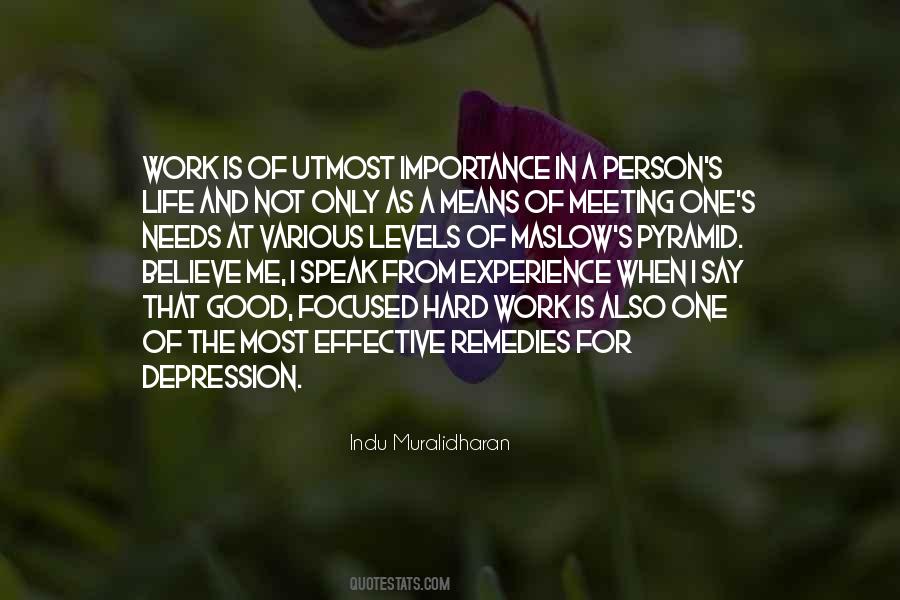 #57. It was like traveling back in time, meeting the person you used to be, and recognizing her as a friend.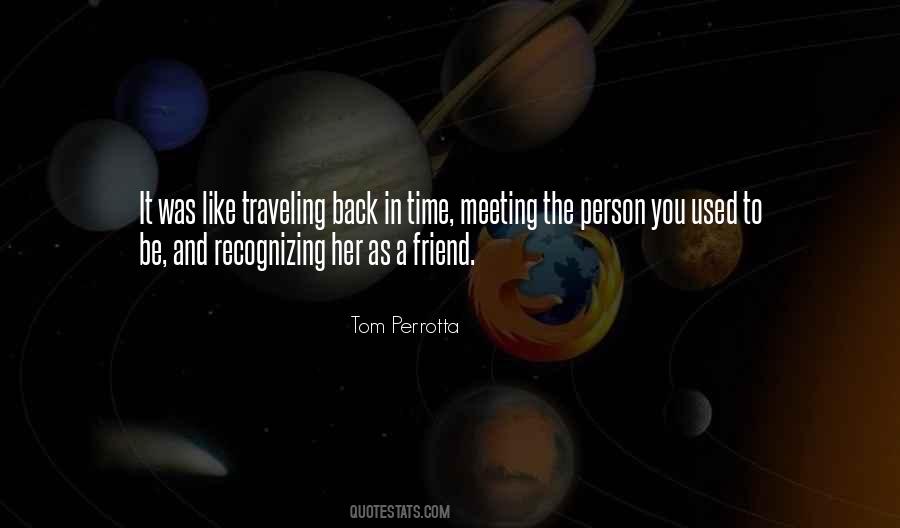 #58. You can't change where you from. You can't take a person out of their zone and expect them to be somebody else now that they in the record industry. It's gonna take years. Years of travelling. Years of meeting people. Years of seeing the world.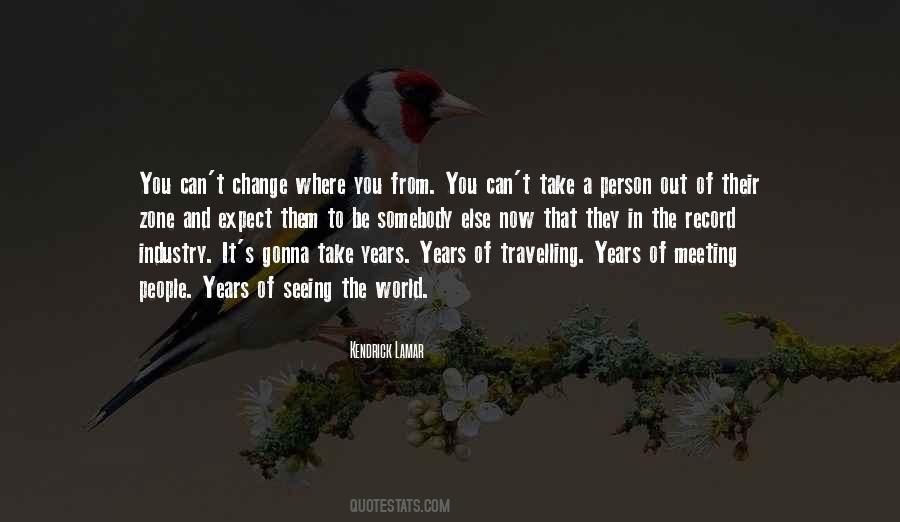 #59. From the instant of our first meeting I judged him so, though it could be said that I was prejudiced. When one is standing naked on a slave-auction block in a wind cold enough to freeze a demon's backside, one is unlikely to have a fair impression of anyone.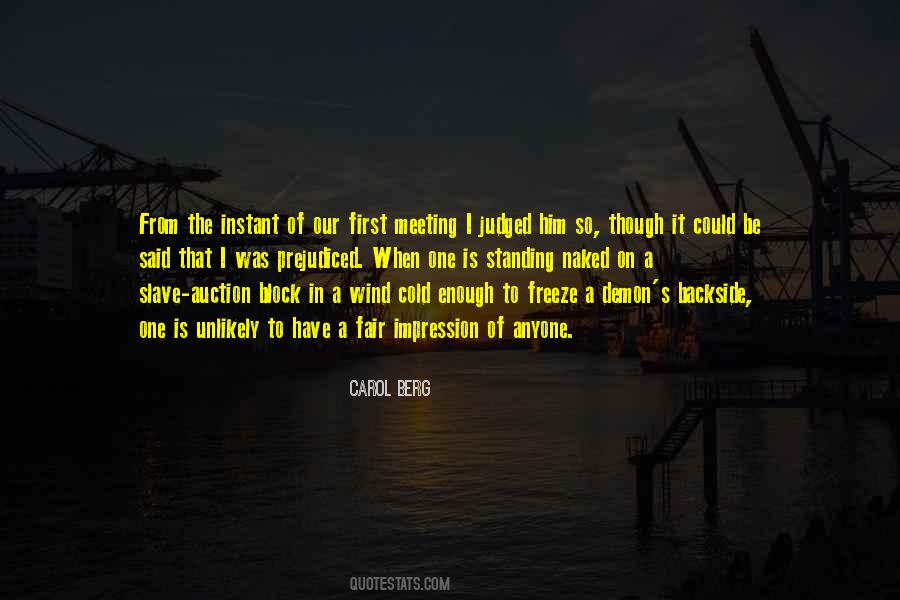 #60. I'd like a stocking made for a giant, And a meeting house full of toys, Then I'd go out in a happy hunt For the poor little girls and boys; Up the street and down the street, And across and over the town, I'd search and find them everyone, Before the sun went down.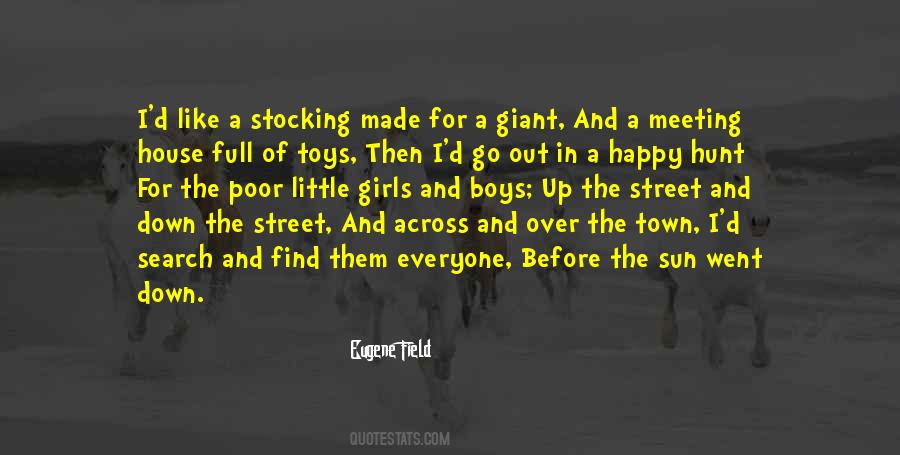 #61. manage the community outside of the CIA. An official observed, "The CIA director managed the CIA; it was the best job in the world. Managing the IC meant going out to the NRO and sitting through a three-hour meeting about satellite specifications. So it just was not done well."3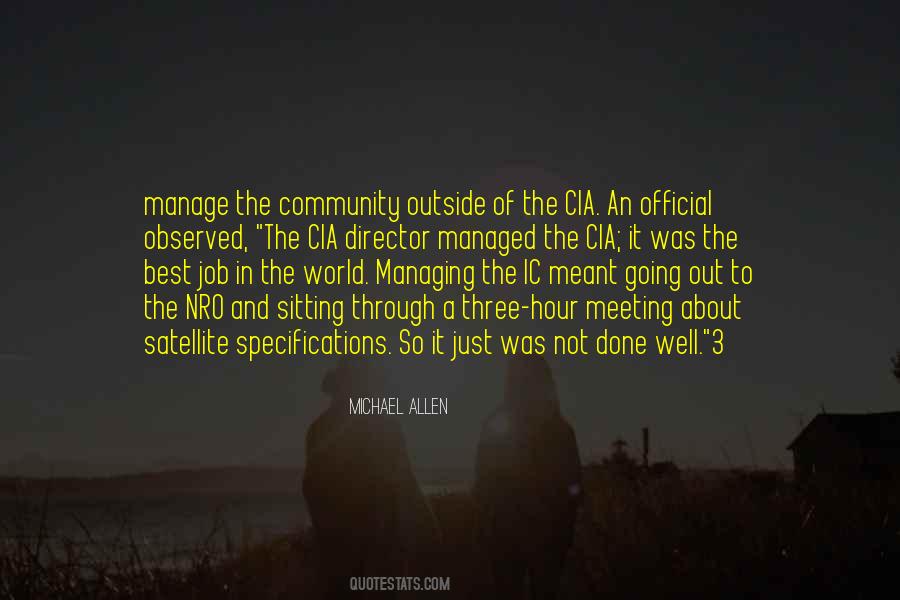 #62. Before the 1975 fight in Manila, Ali bragged about attending a Ku Klux Klan meeting; he met with the KKK's leadership because they agreed on the issue of interracial marriage (both sides saw it as an atrocity). The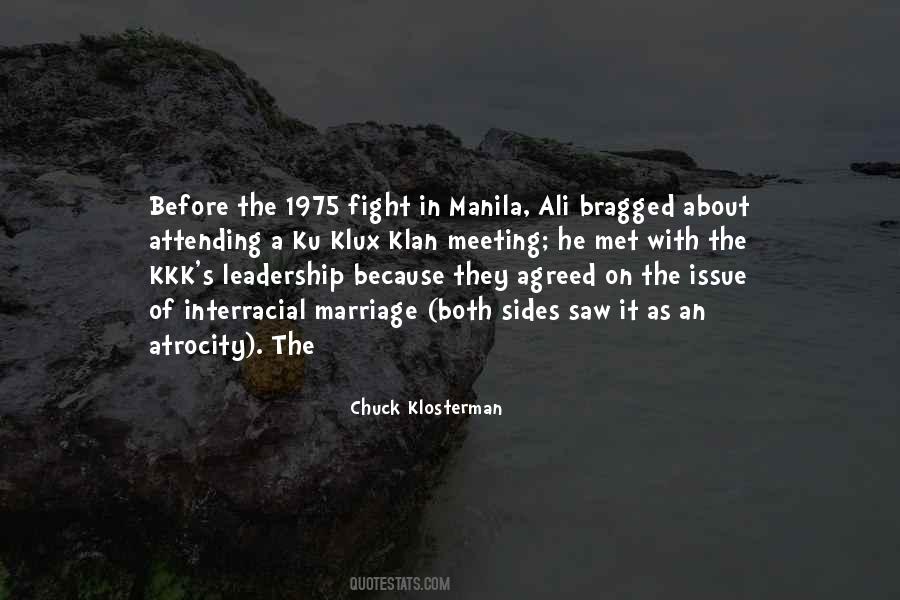 #63. As she nurtured her business relationships, Hall spent less time meeting teachers and parents and visiting schools. Often, she seemed to approach her job more as a CEO than an educator.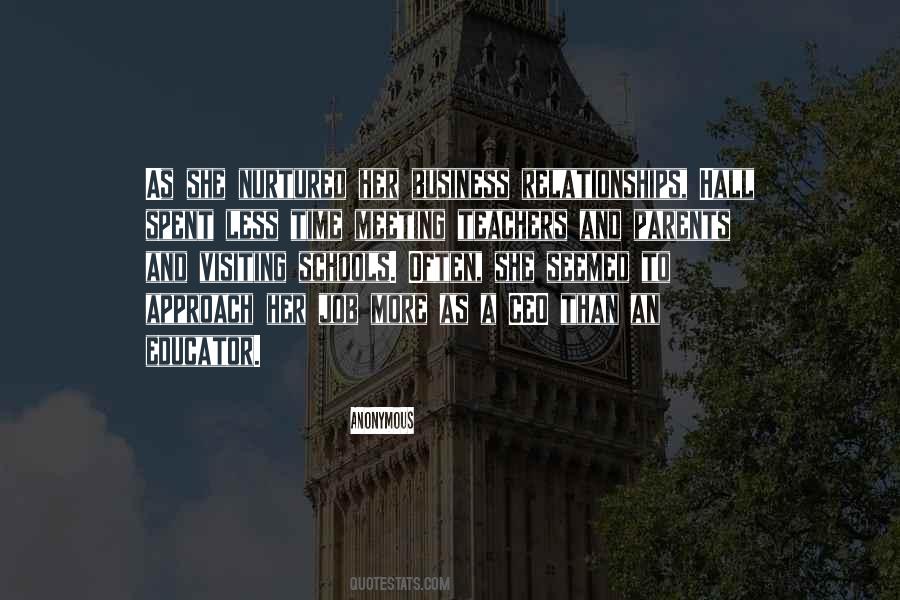 #64. Thus rhetoric, it seems, is a producer of persuasion for belief, not for instruction in the matter of right and wrong ... And so the rhetorician's business is not to instruct a law court or a public meeting in matters of right and wrong, but only to make them believe.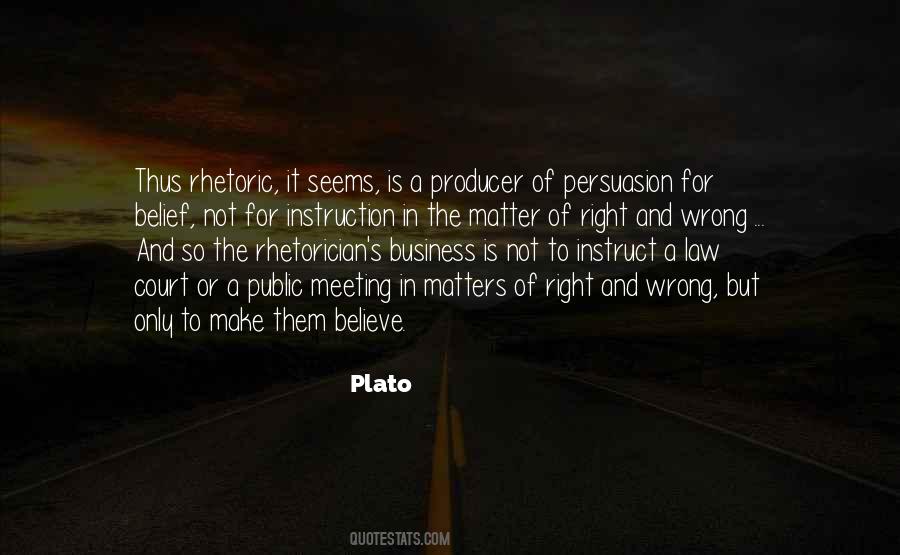 #65. She set her shoulders back, meeting his gaze with a challenge. "You call that a kiss?" One corner of his mouth quirks up. "We haven't the time for a proper one, pirate. Now tell me, where precisely are we?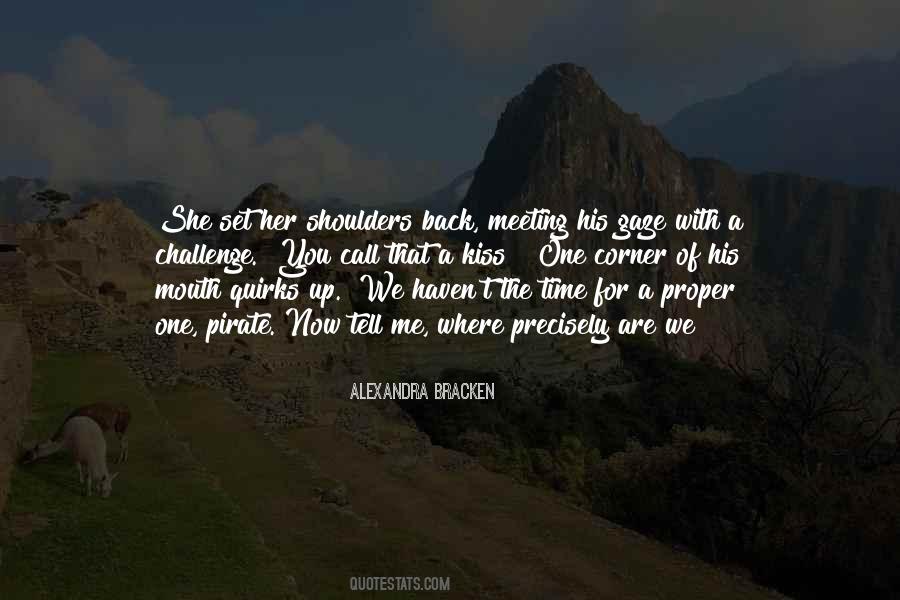 #66. Chart positions are for people with manbags who get to work at 11 A.M. because they've been at a digital meeting.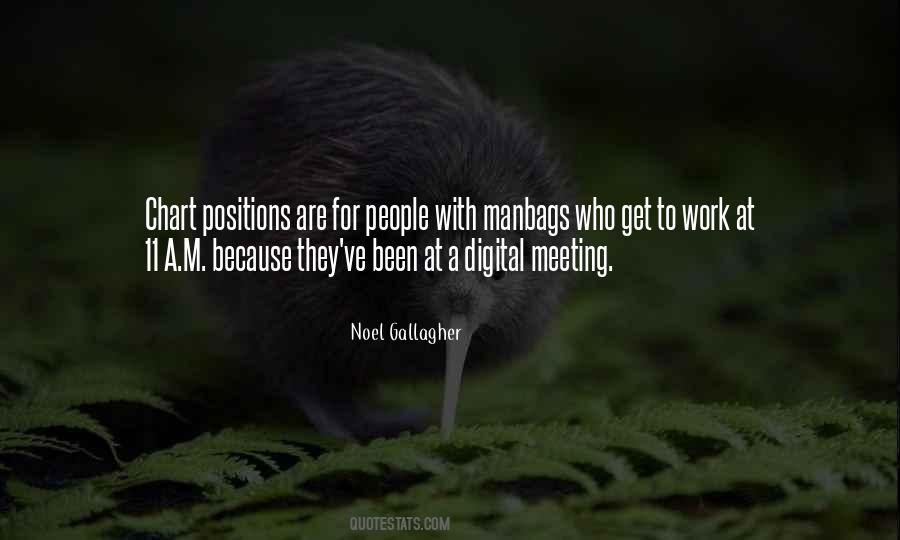 #67. In the midst of meeting new people and making plans, I forgot that my plan is to walk straight into a battle that could claim my life. Right after I realized that my life was worth living.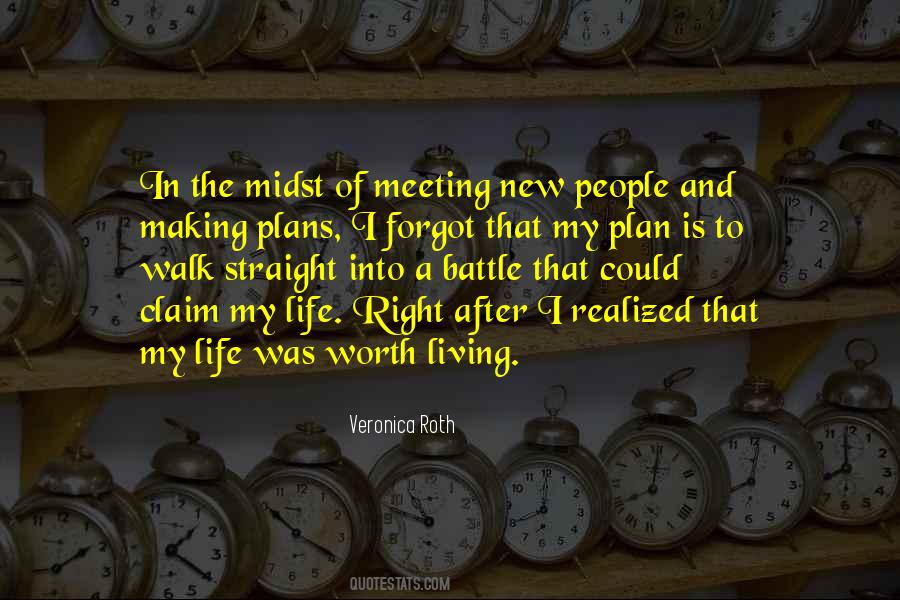 #68. A discovery is said to be an accident meeting a prepared mind.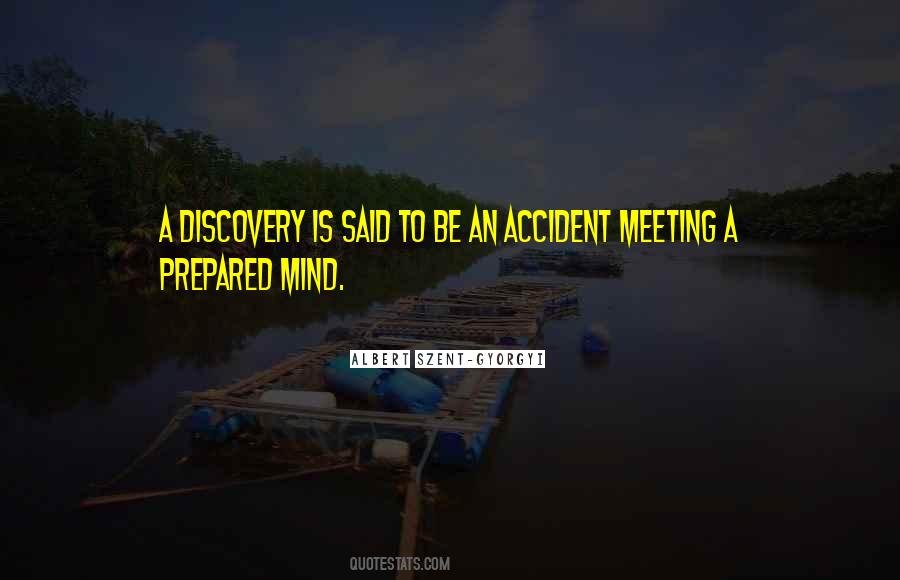 #69. You always try to play it off cool, but even if I think I have a certain laidback body language when I'm meeting someone who I greatly admire, I still have this horrible tendency to go bright red.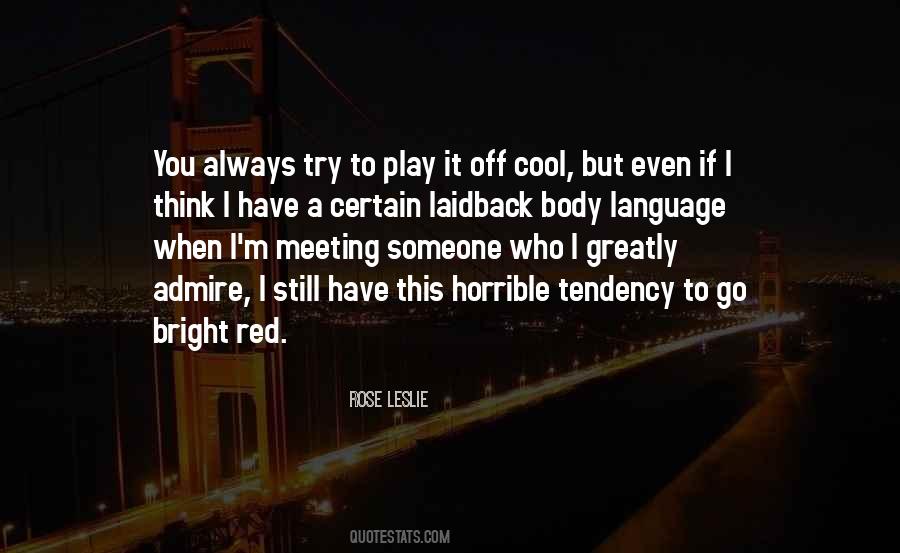 #70. After spending time in the East and meeting with ordinary Afghans there, it's hard to imagine how a future Afghan government will retain control of provinces such as Khost or Paktia once U.S. forces are gone.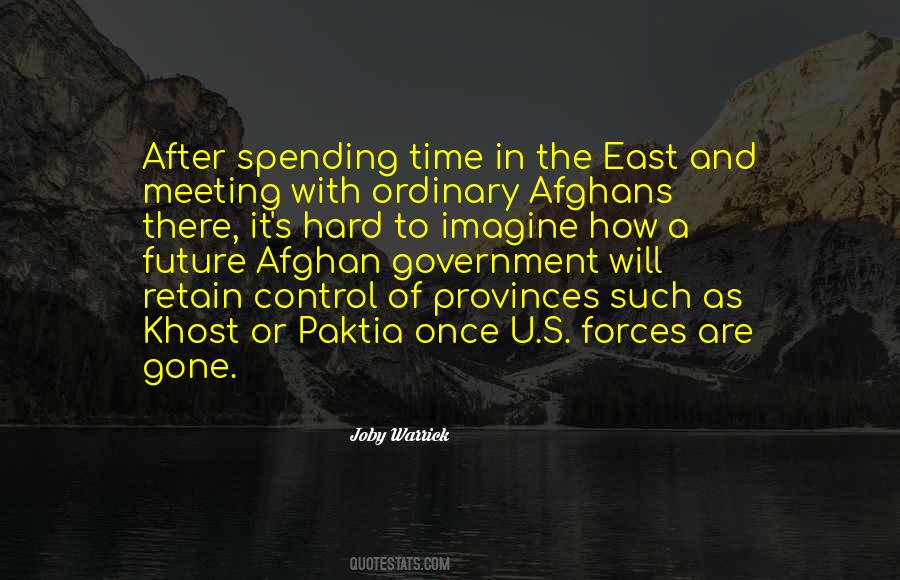 #71. Being a director, whether you're in rehearsal or you're in auditions or you're in a creative meeting, is so much to me about being present in the moment. There's a sense of time stopping.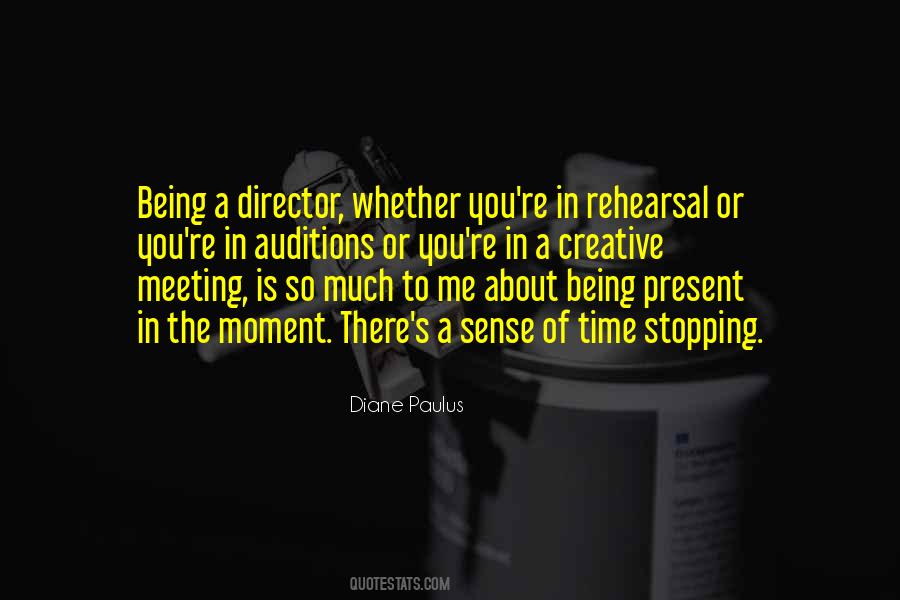 #72. Meeting Justin Bieber was interesting. We were backstage at The Voice, and he was there premiering his "Boyfriend" music video. I was in six-inch heels, so I was towering over him like a giant.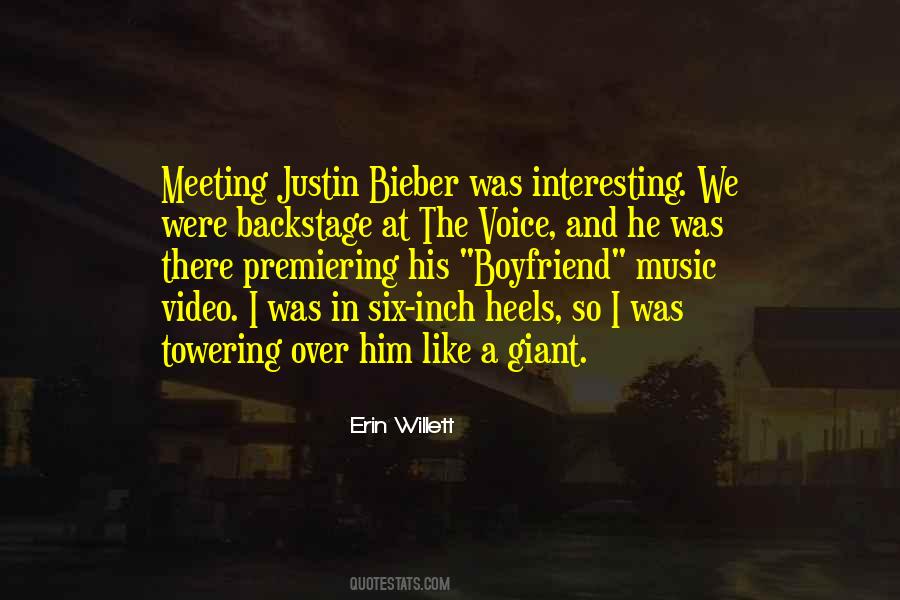 #73. The music goes into people in a totally different way than words. There's air, there's the sound of words, there's touch, there's music. All of those things have a really distinct way of meeting and entering people's bodies and souls. It's the most beautiful part about humans; that we make music.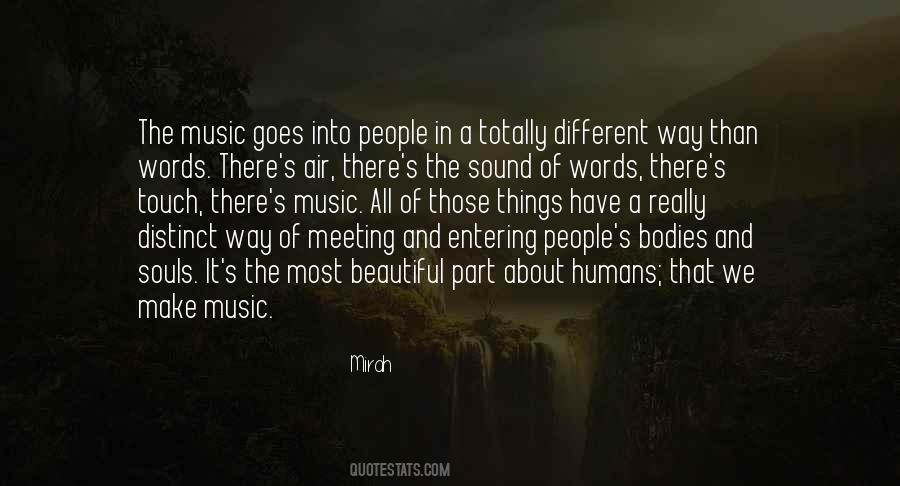 #74. Around her the tables were filling with people, tourists planning their next stop over a coffee, businessmen meeting for luncheon, well-heeled women taking a break from their sprees, leaning in to gossip with one another, shopping bags piled at their feet.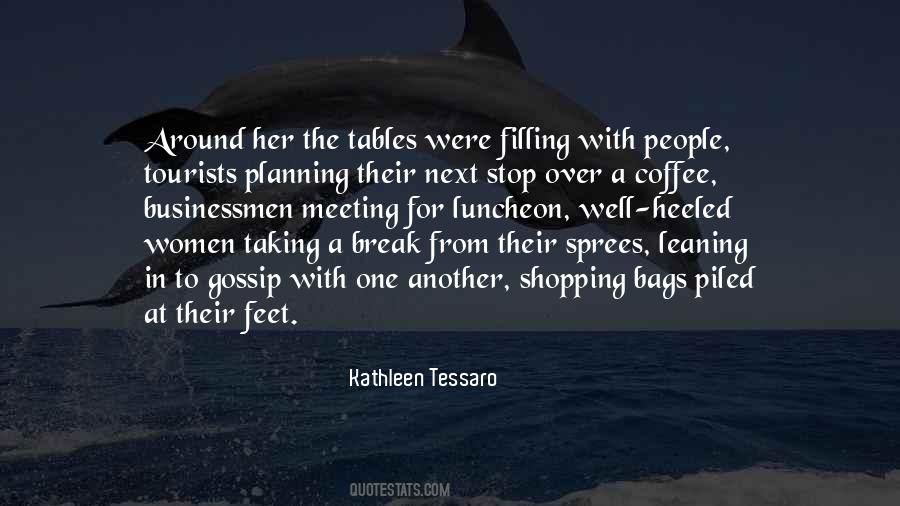 #75. I think if I could do it over again - as much as I loved meeting the people I did on the films after 'Matilda' - I wish that I had stopped after 'Matilda.' I wish that I had just focused on my own life for a while.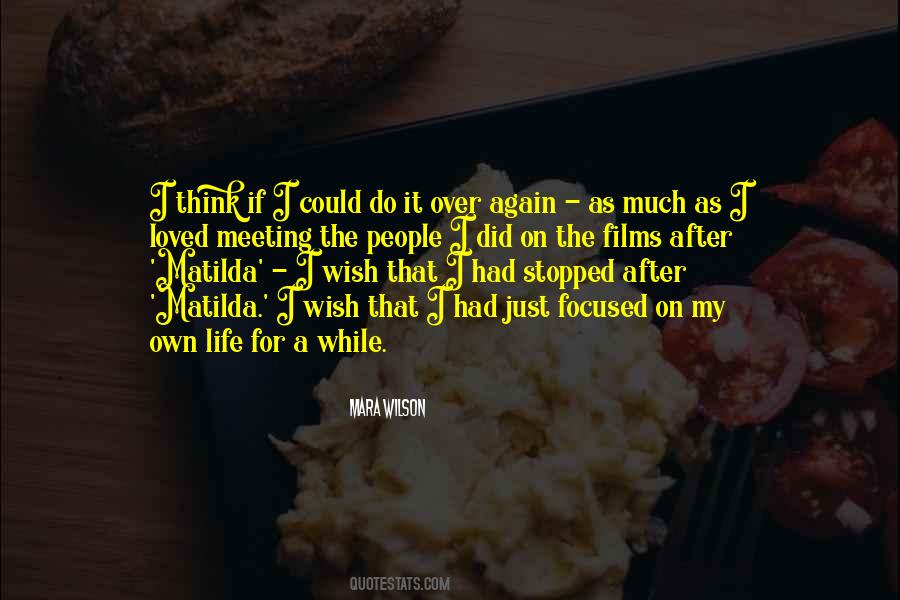 #76. Before a performance, a sales presentation, a difficult confrontation, or the daily challenge of meeting a goal, see it clearly, vividly, relentlessly, over and over again. Create an internal "comfort zone". Then, when you get into the situation, it isn't foreign. It doesn't scare you.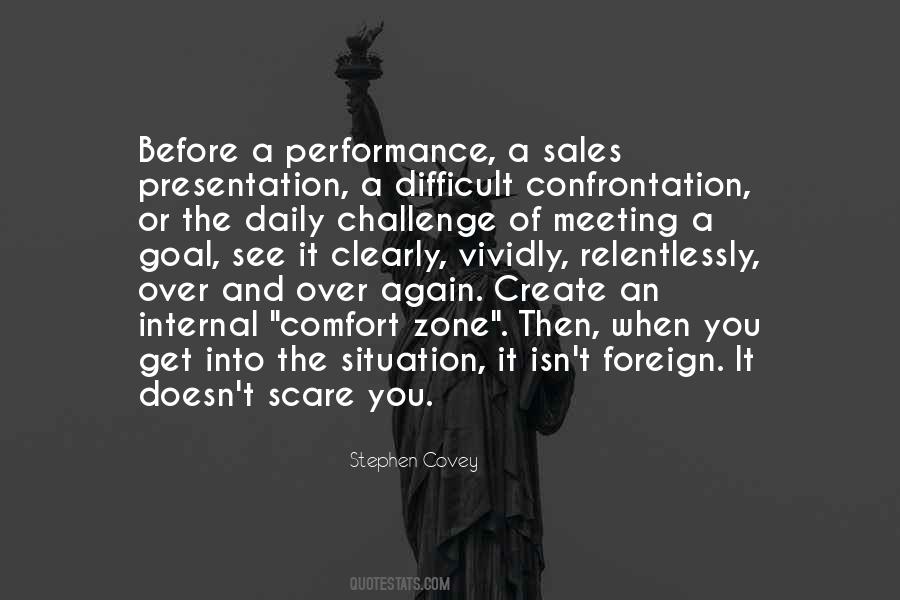 #77. It's fine, Mencheres. Though if you'd told me I was about to meet such a legendary vampire, I would have grabbed the nicer silk drapery to wear instead, she replied, meeting Vlad's coppery green gaze with an arched brow.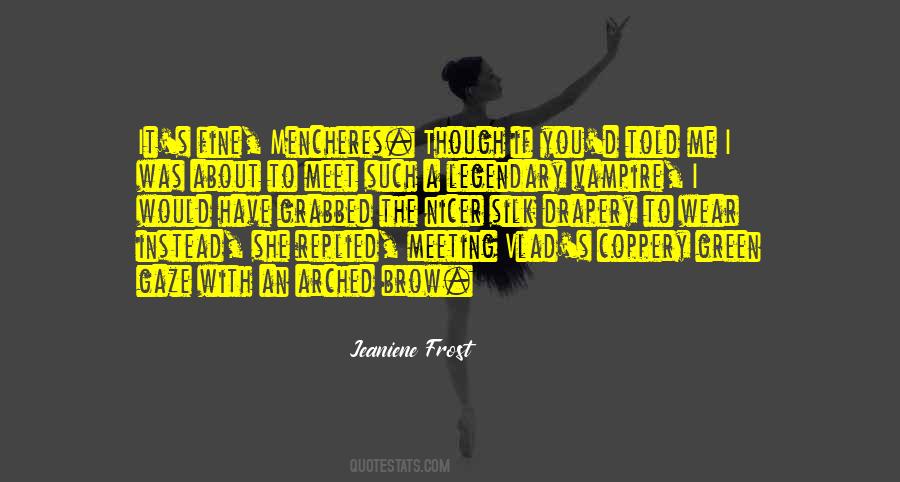 #78. It's always been easy with Mark, he's a rock fan and we speak the same language. He's a big Beatles fan too. We worked a lot via CLI calls, though only meeting up once every couple of months.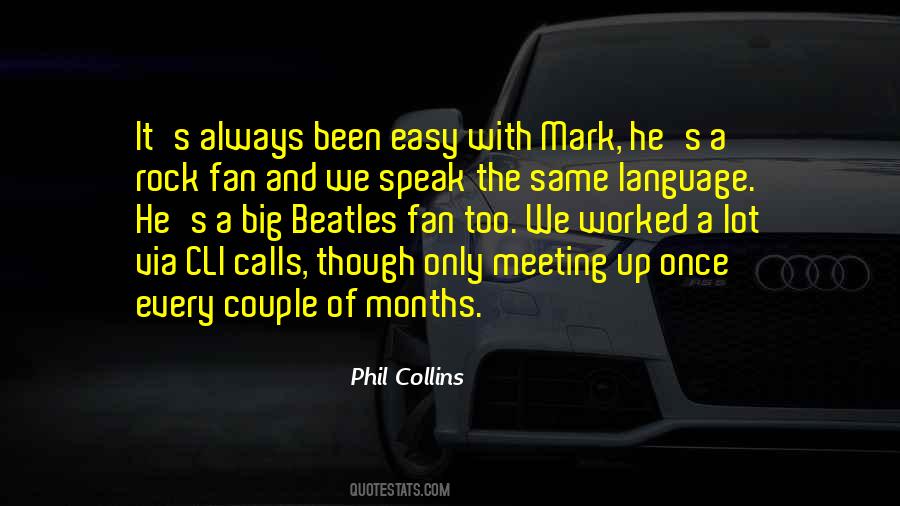 #79. There are plenty of violent people, but for any randomly selected person today the chances of meeting a violent death at the hands of his or her fellow humans is lower now than it has ever been in human history.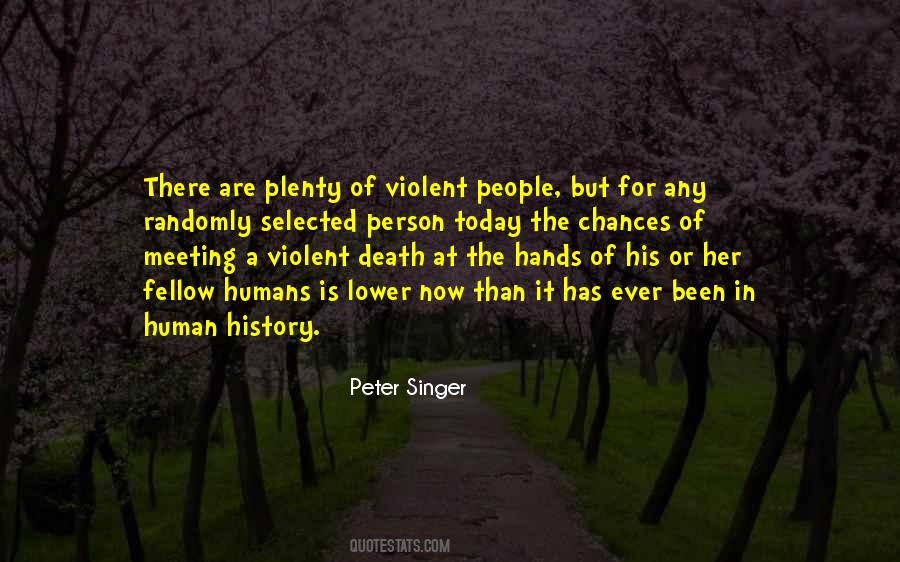 #80. We live in a world where it's so accessible to date now, which is great. I don't judge that. We have so many ways of meeting people. I like to meet someone and have that chivalry, to take them out on a date and actually be a gentleman. I think that's becoming rarer and rarer.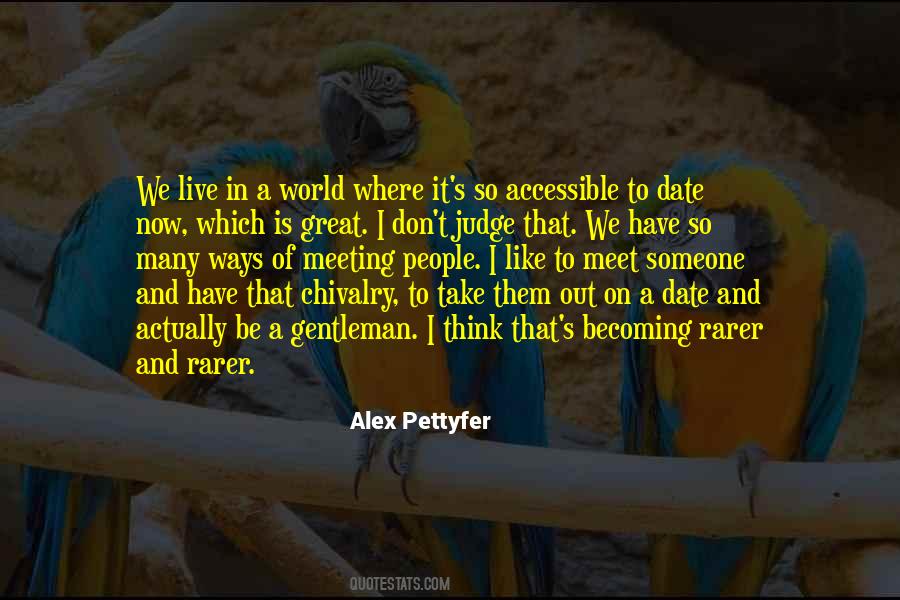 #81. There was no hiding the fact that they were in a predicament, but there was no hesitation to mention failings that might reflect poorly on any department. That made it easier for the captain to assess the situation. He doubted a similar meeting aboard his own ship would have progressed as well,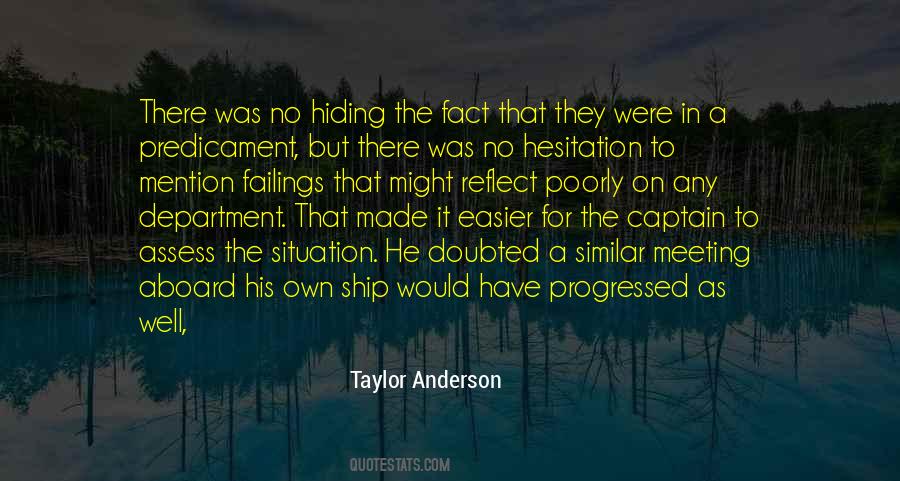 #82. One of the earliest institutions in every New England community was a pair of stocks. The first public building was a meeting-house, but often before any house of God was builded, the devil got his restraining engine.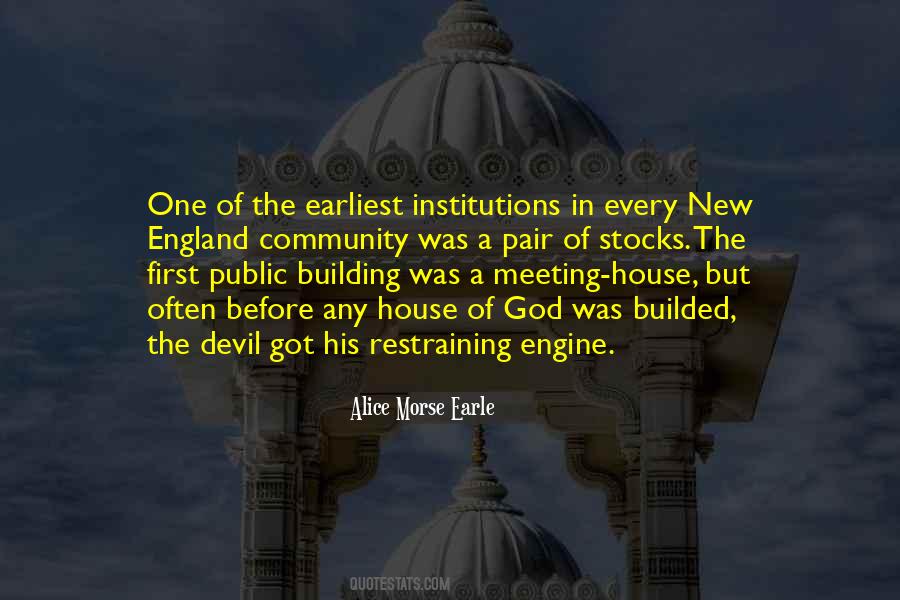 #83. I'm really not a party person. I'm in the business of working with 100 people every day, so I don't revel in meeting a roomful of people in my leisure time.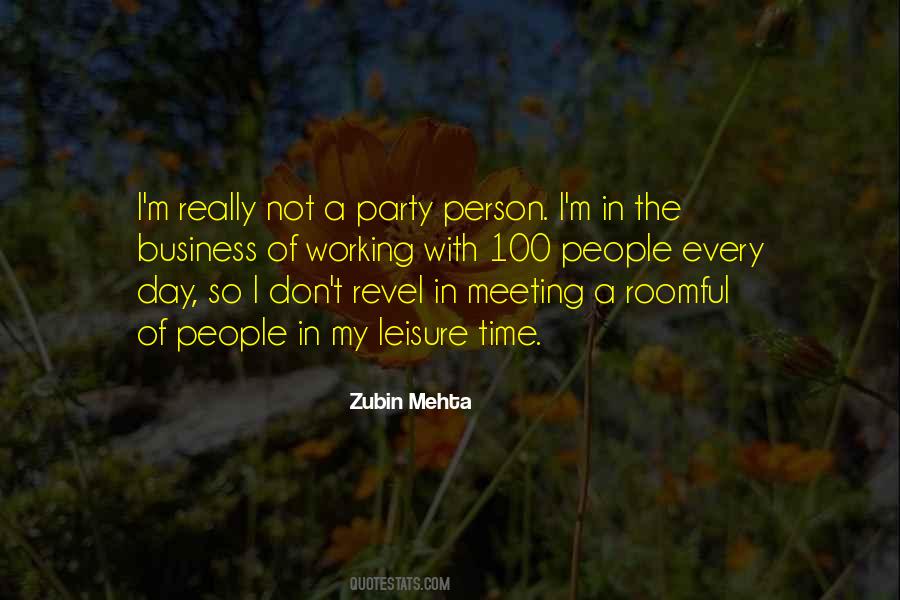 #84. [She] had felt straight away that she wasn't meeting a new friend, but recognizing an old one.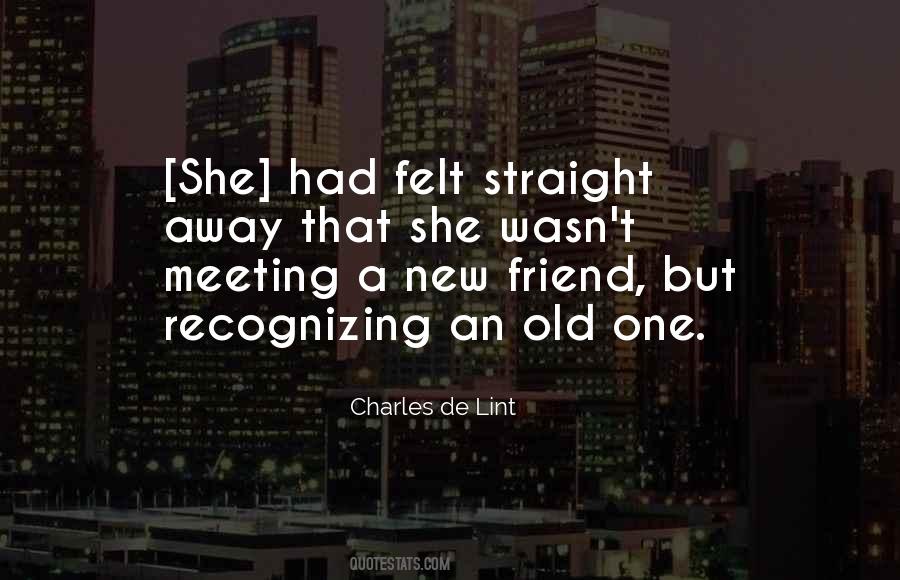 #85. I believe we should reframe our response to climate change as an imperative for growth rather than merely being a way of being green or meeting environmental commitments.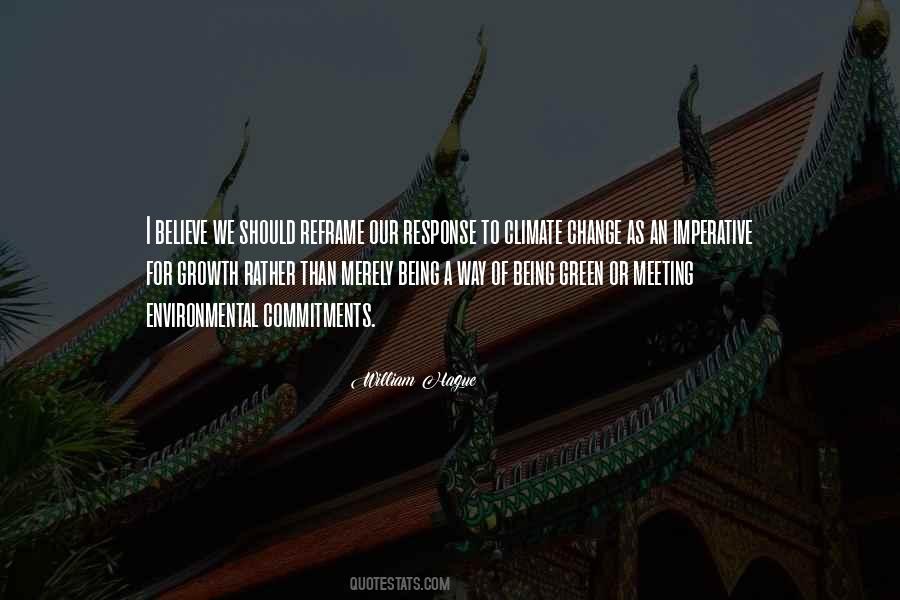 #86. New York is the meeting place of the peoples, the only city where you can hardly find a typical American.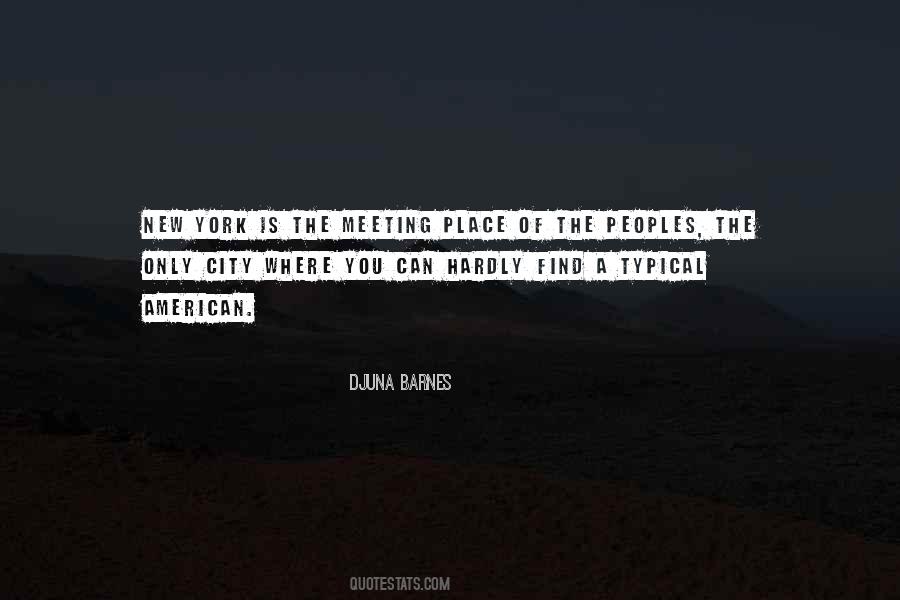 #87. Carry always your earplugs with you in case of emergency, like meeting with a politician!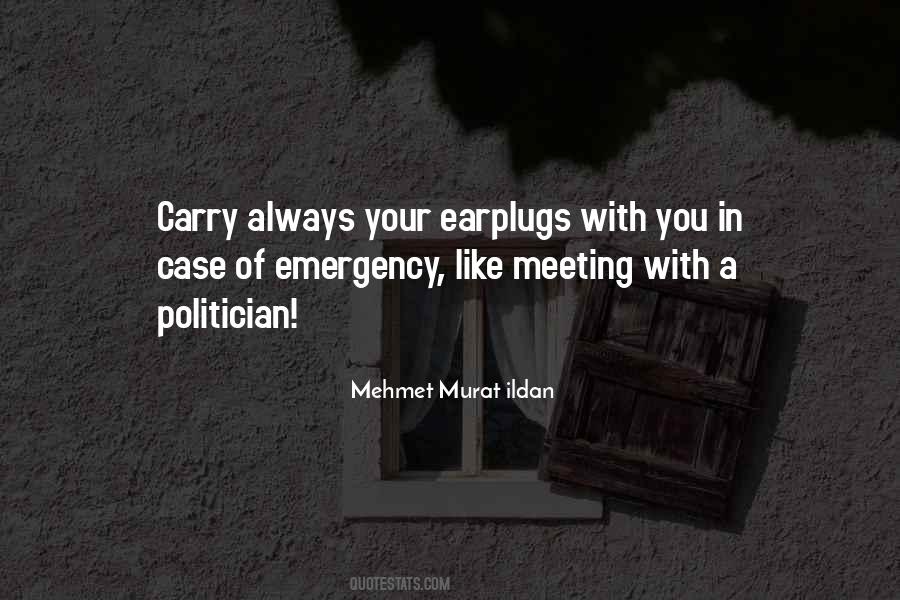 #88. The first time I read an excellent book, it is to me just as if I had gained a new friend. When I read a book over I have perused before, it resembles the meeting with an old one.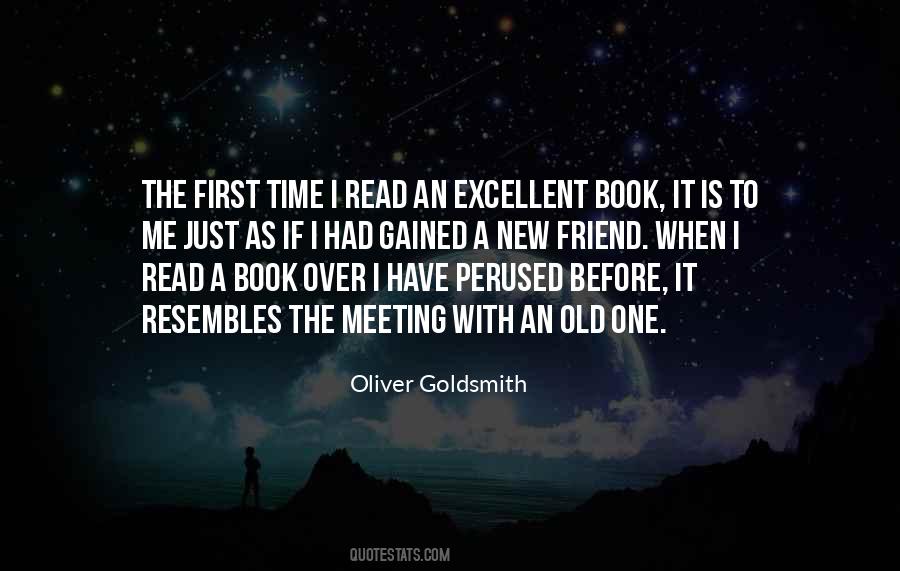 #89. I've always had the dream of going to New Zealand and meeting a lovely New Zealander in a bar.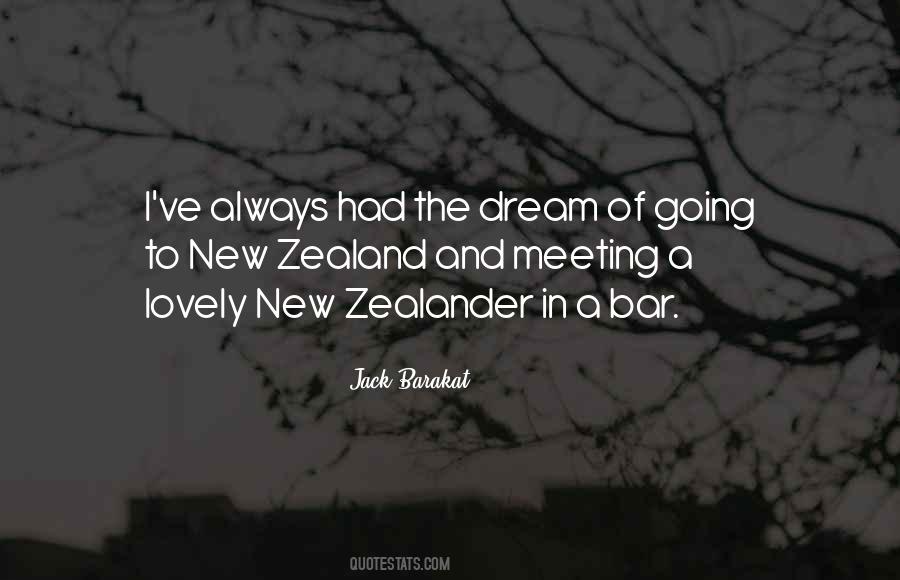 #90. We were all thrown together on this show very rapidly, there was casting then a few days later a meeting where we all got to read the scripts and meet each other. Literally days after that we were on our way to Dallas.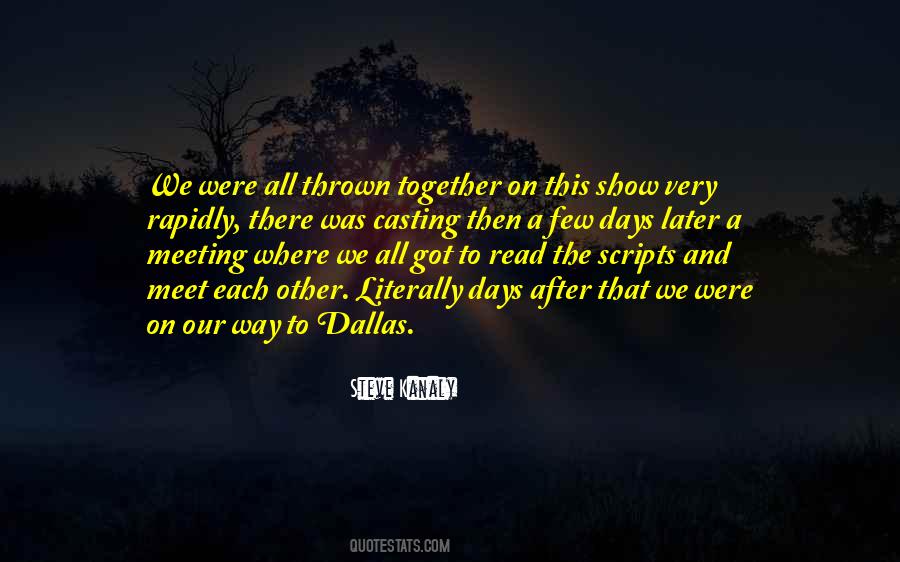 #91. Books are something social - a writer speaking to a reader - so I think making the reading of a book the center of a social event, the meeting of a book club, is a brilliant idea.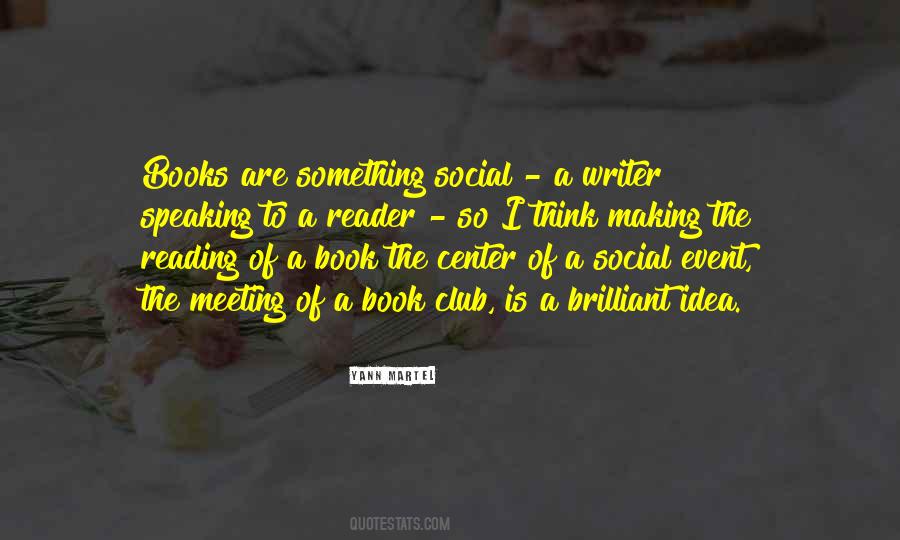 #92. Most of my material is , it doesn't necessarily involve a lot of editing. So even the show with the World Meeting of Families in Philadelphia, I don't have to worry about some of the material being inappropriate.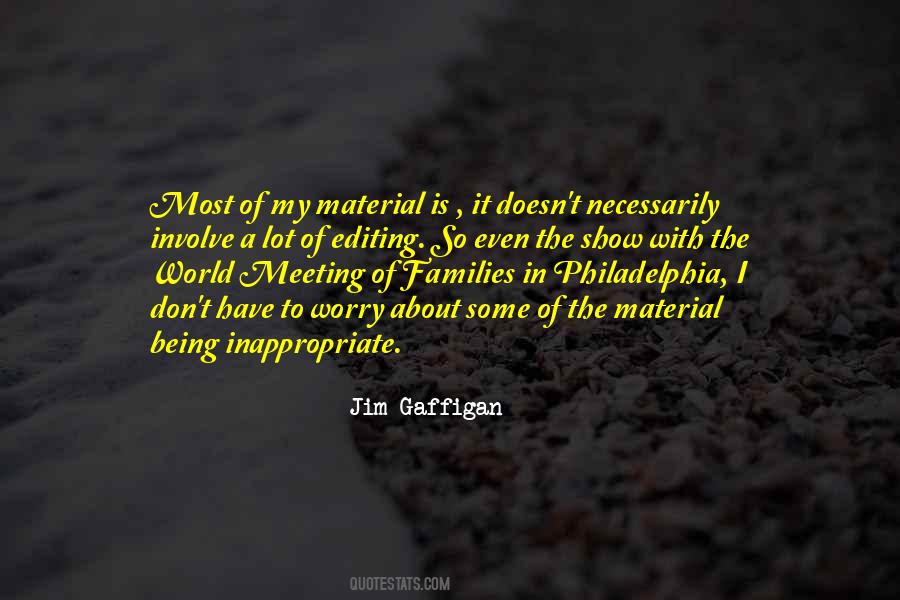 #93. And so we go and I meet his parents. And it's a very strange thing meeting your girlfriend's boyfriend's parents for the first time. Part of you is angry for obvious reasons and part of you still wants to make a good impression. On a side note, they seemed in perfect health.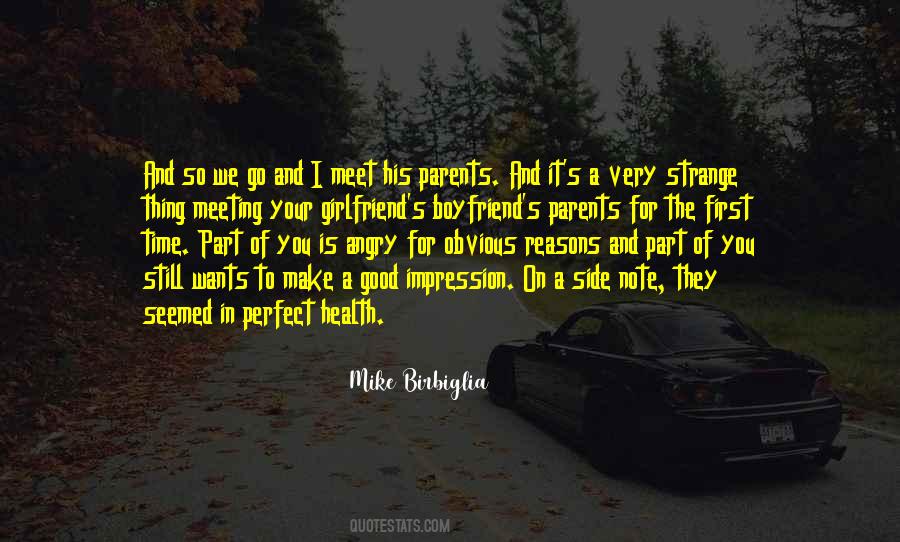 #94. They parted at last with mutual civility, and possibly a mutual desire of never meeting again.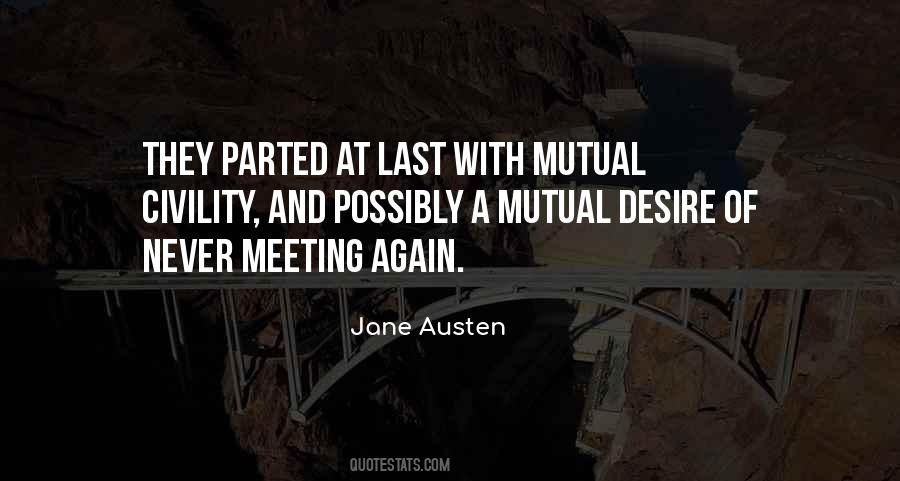 #95. Upon first glance I felt a sense of familiarity with you. Like we had been down this road a thousand times before, why I felt this with a complete stranger I am yet to know but I trust further down the road our chance meeting will make perfect sense.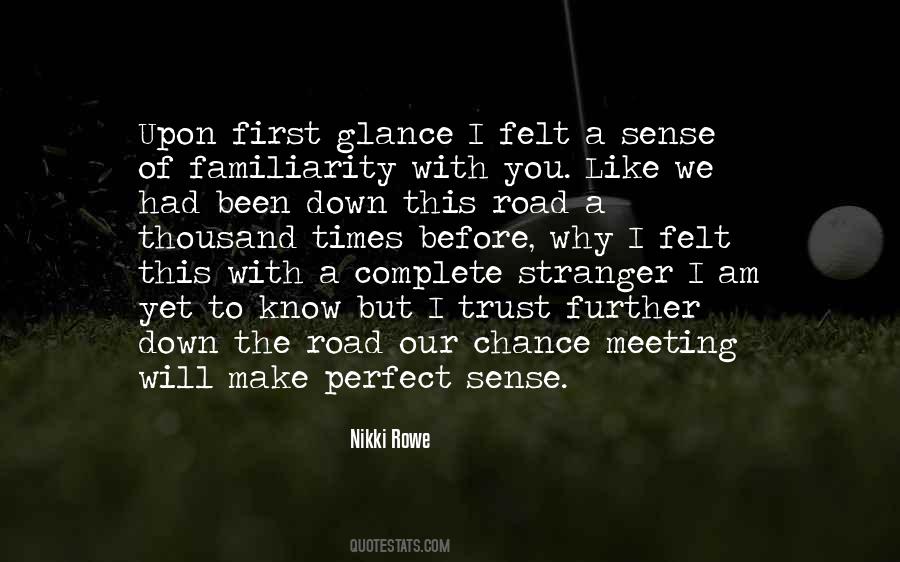 #96. Every epic collapse, the provost believed, could be traced back to a single moment - a chance meeting, a bad decision, an indiscreet glance.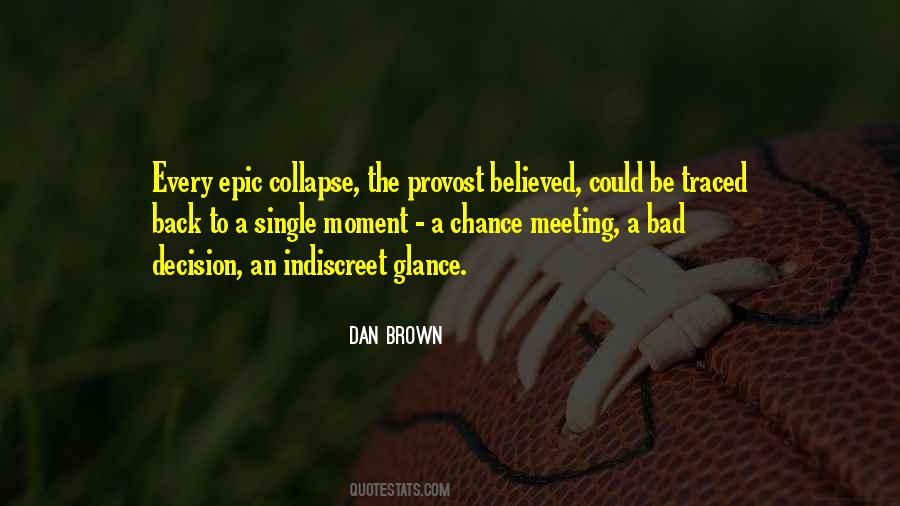 #97. I envision a world filled with women traveling alone and meeting each other on the path.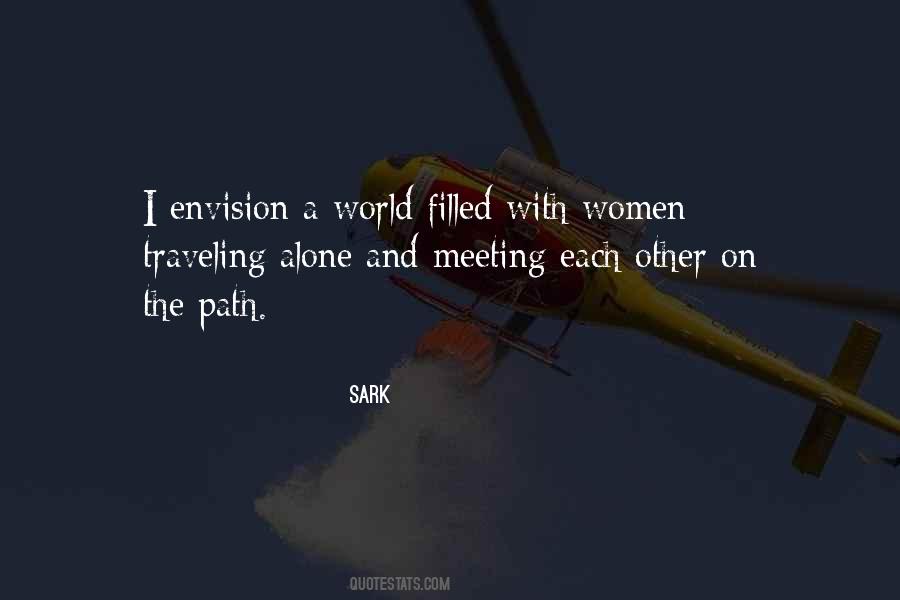 #98. Upon arriving, meeting their teachers and signing up for classes, these students began to realize that their attendance at Delaware State University was not a goal achieved, but rather a dream being sewn - a first step, if you will.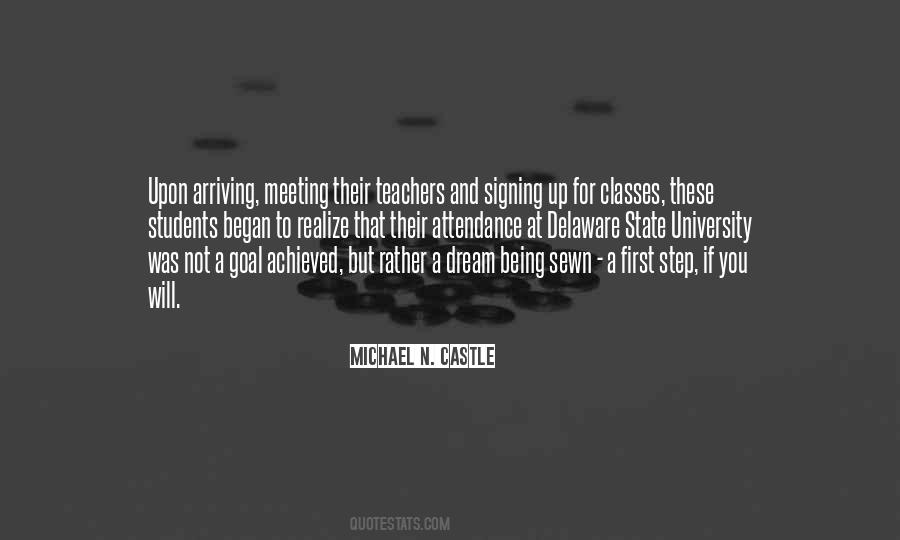 #99. All in all, it would be a perfect afternoon, if not for the fact that I have a meeting coming up at which I am concerned that I could be killed.
There's always something ...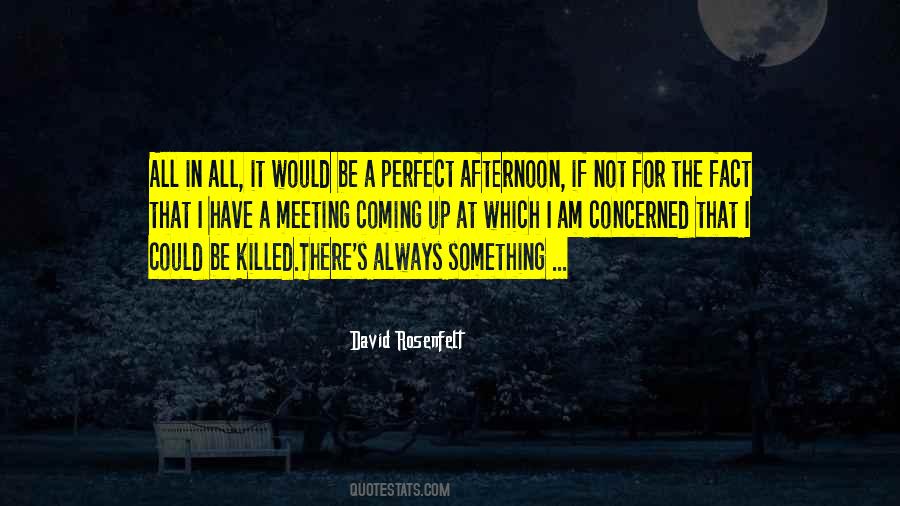 #100. People imagine that actors are being offered everything and you are not. So things come in and sometimes there are things that I want and can't get a meeting on, or go to a different actors.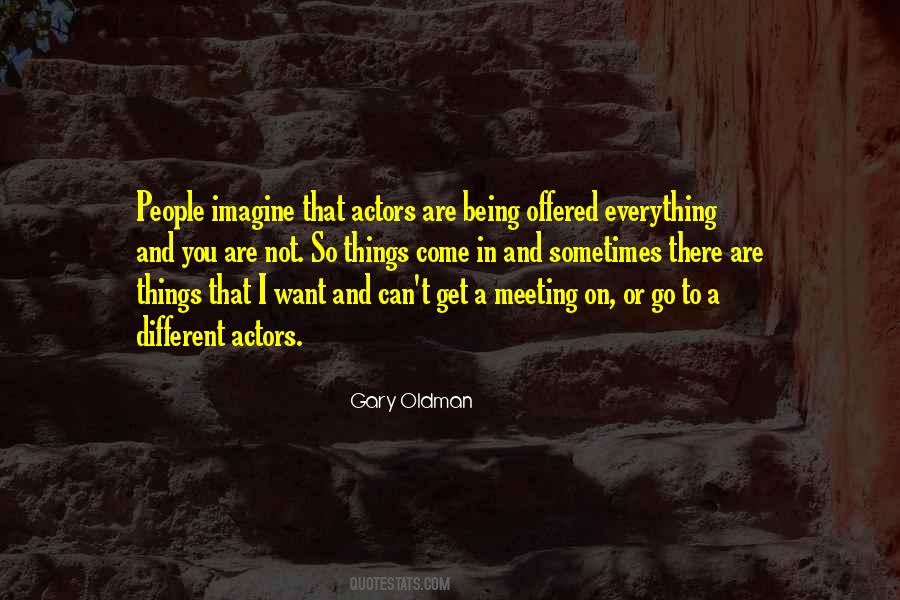 Famous Authors
Popular Topics