A Crazy Life Famous Quotes & Sayings
List of top 100 famous quotes and sayings about a crazy life to read and share with friends on your Facebook, Twitter, blogs.
Top 100 Quotes About A Crazy Life
#1. AMELIA: To my friends, and family: You all may be batsh*t crazy, but even if I got to choose, I'd still choose to be with you. Life is fragile, and tomorrow is never a sure thing, so thanks for sharing your lives with me..... - Author: Amelia Hutchins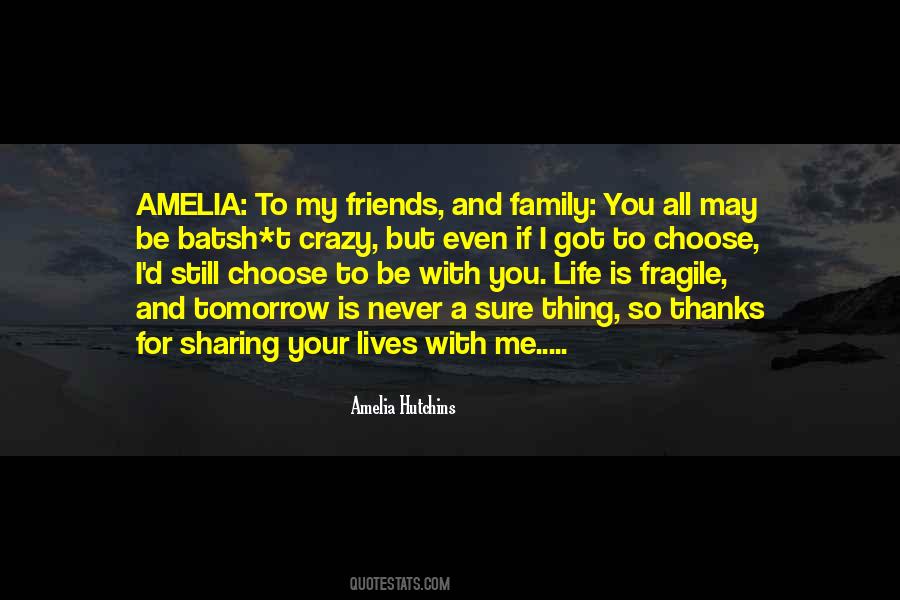 #2. I have a responsibility to not look crazy in public. I don't want to be the person where later in life when I have kids, to say, 'Don't do this' and my kids go, 'But Mom, you did it.' - Author: Raven-Symone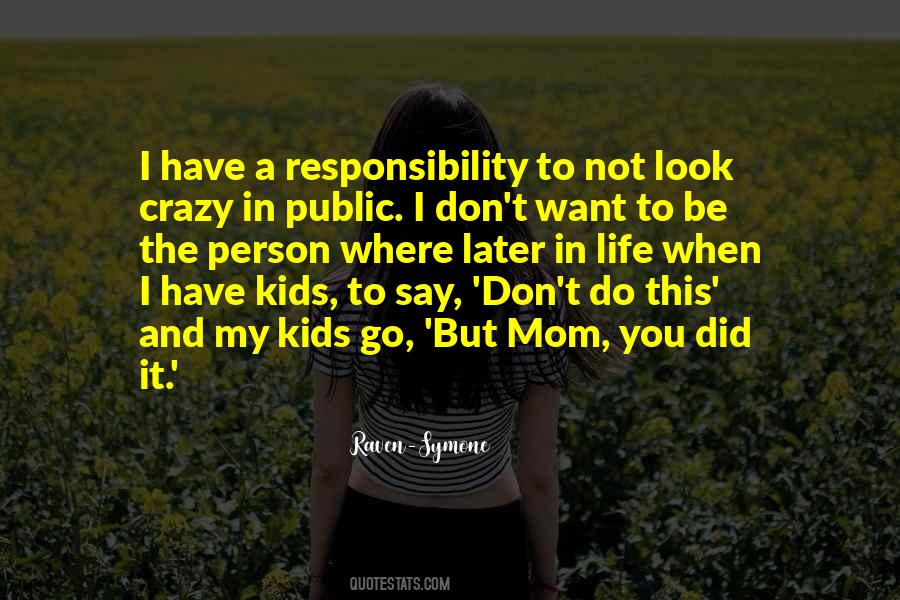 #3. On the one hand, there is no reason that a black person needs to live a portion of his or her life being concerned about the people of color around him. On the other hand, if you don't you're crazy. - Author: Henry Hampton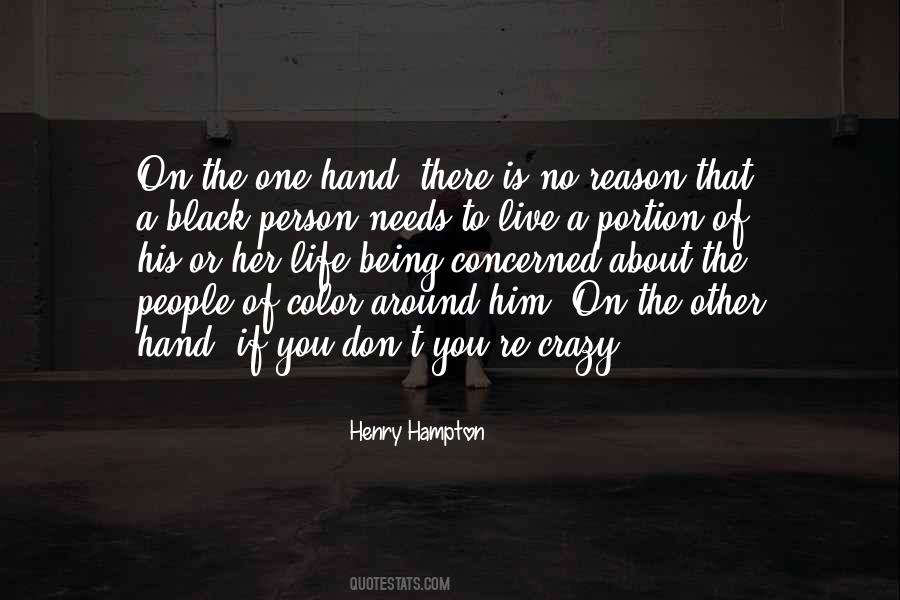 #4. Life's a little bit too crazy for my liking right now. - Author: Jeremy Jones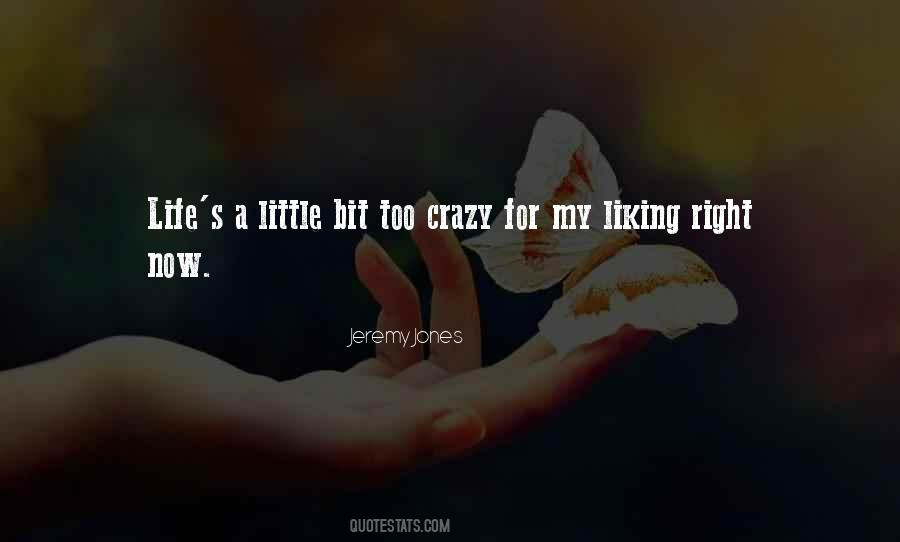 #5. maybe the American Psychiatric Association had a crazy desire to label all life a mental disorder. I - Author: Jon Ronson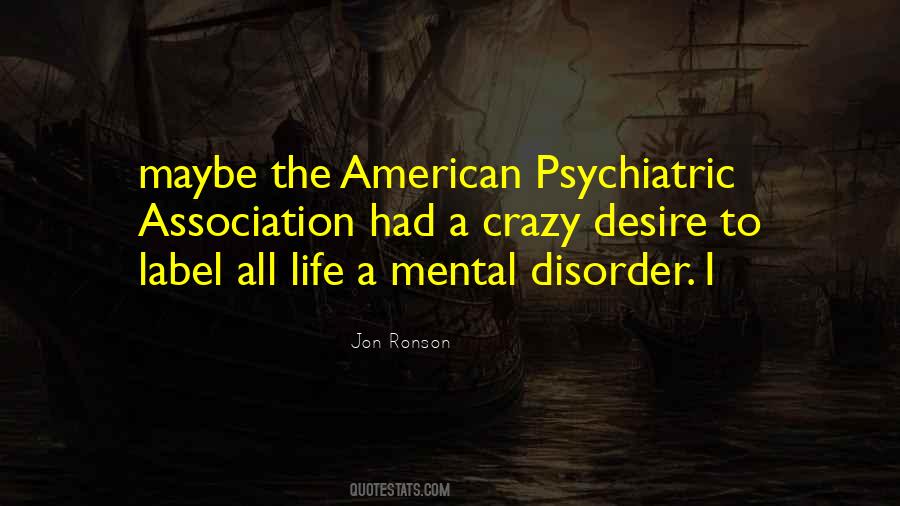 #6. I read like a crazy person, I play the piano, and I'm a photographer. I always say my photography keeps me sane. I spend a lot of time in the darkroom. It's a very solitary, quiet life when I'm not working. - Author: Alaina Huffman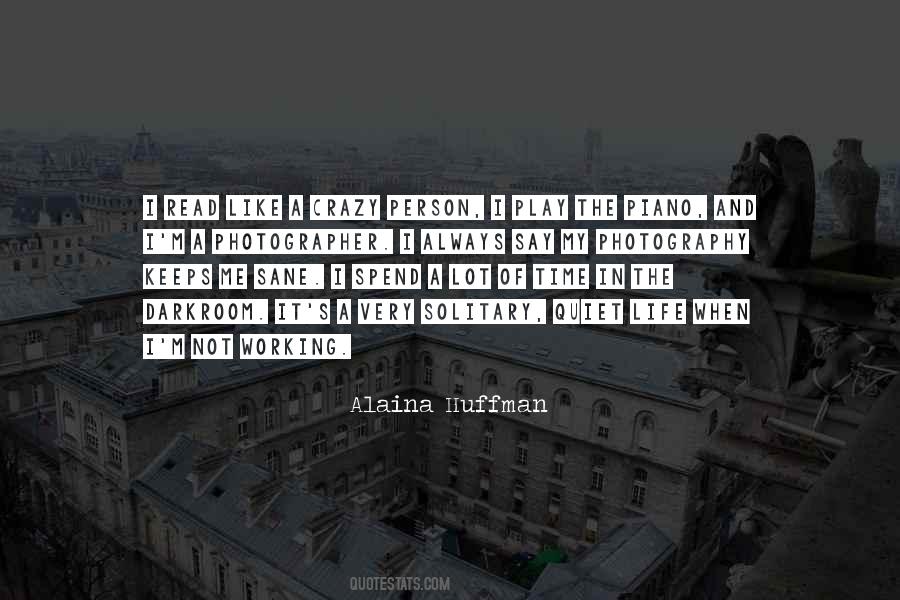 #7. They've loved you your whole life and you've been gone for days. I've just loved you for the better part of a week and losing you just 'bout drove me crazy. - Author: Amanda Lance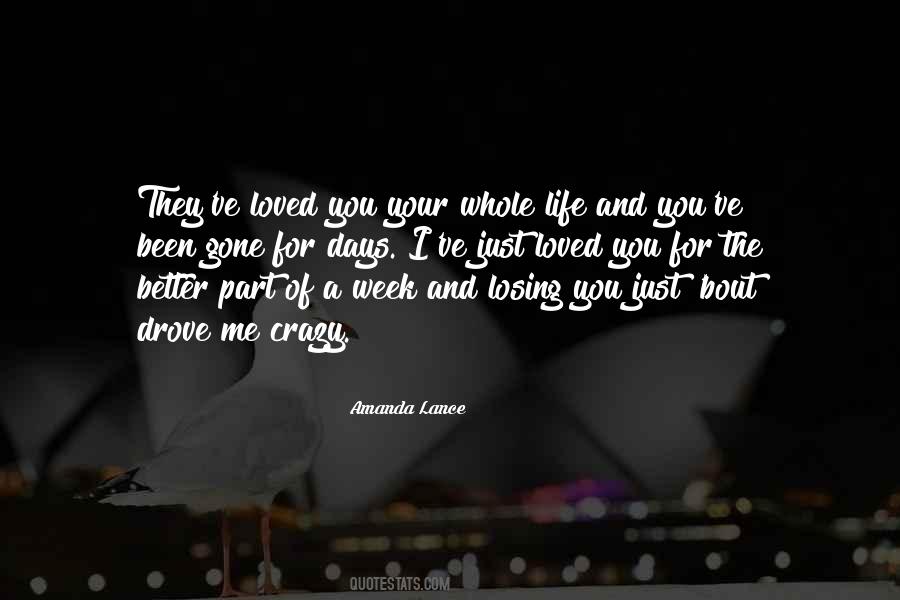 #8. The myth of 'You have to be a tortured artist' is a myth," says Lin. "You can have a happy, healthy life and still go to all these crazy dark places in your writing, and then go play with your child and hug your wife. - Author: Jeremy McCarter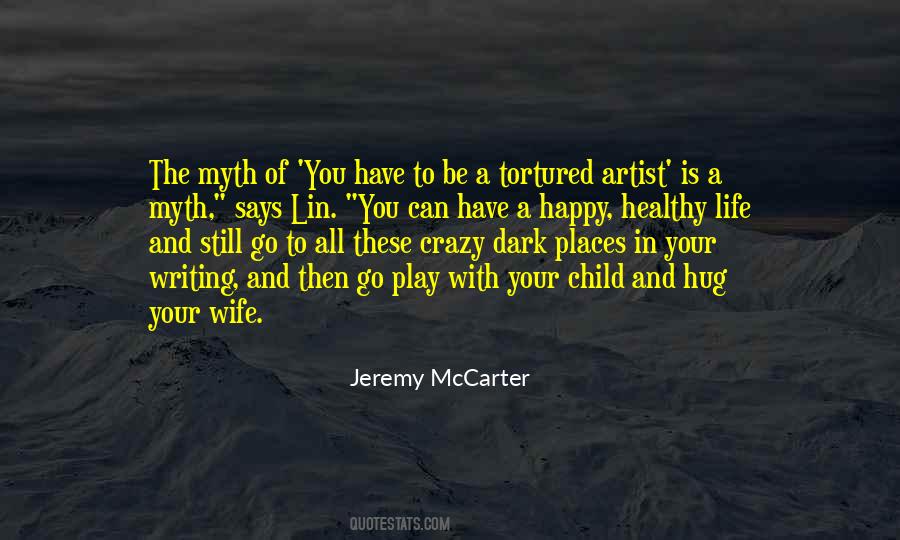 #9. From a young age, I had done a lot of theater and musical theater. I wasn't really sure what I wanted to do with my life, but every time I was away from acting, I just felt very incomplete and a little stir crazy. - Author: Alexander Koch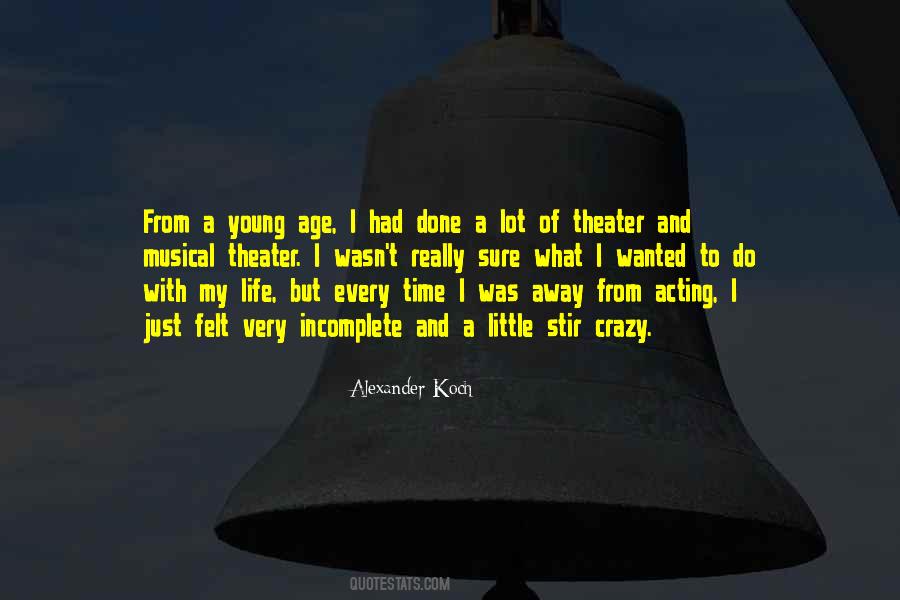 #10. ...there are a lot of self-righteous people out there. And if you try to adjust your life to please them...you're just going to go crazy and risk being as unhappy as these self-righteous kooks are. - Author: Ellen DeGeneres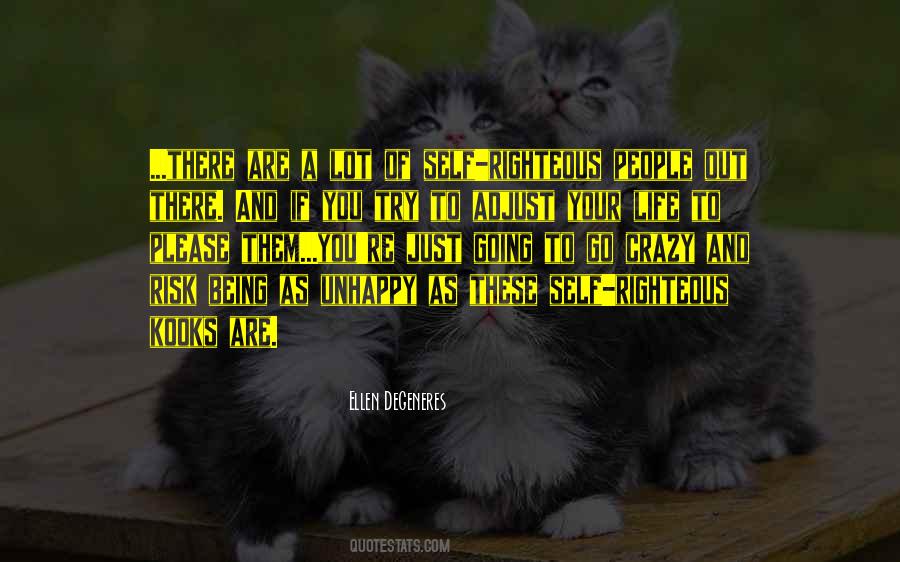 #11. We all feel that if we have a crazy idea that might get laughed at, there's nothing wrong with seeing if there's a crazy writer out there who agrees with us and can take it to a crazy network and somehow bring something that's a little bit daft and edgy to life. - Author: Steven Spielberg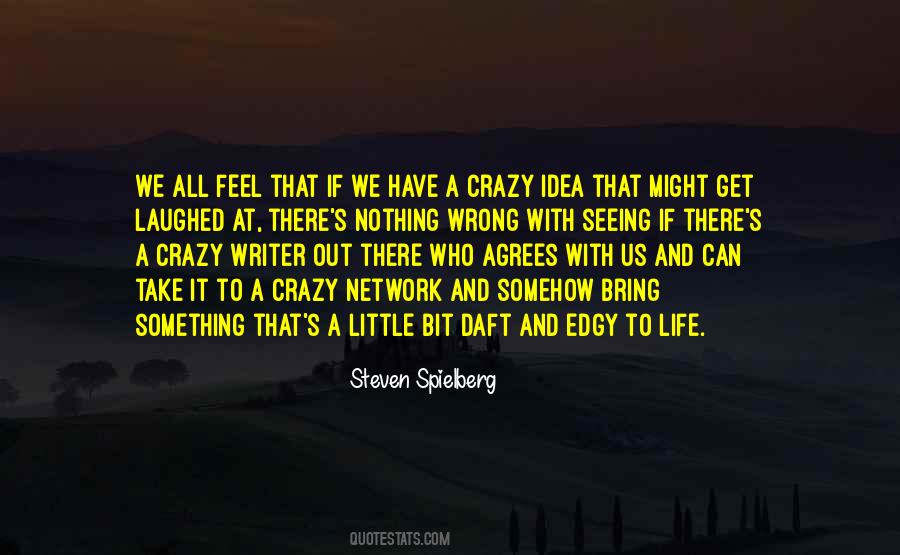 #12. In the middle of a crazy and drunk life, you have to hang onto the good and sober moments tightly. - Author: Sherman Alexie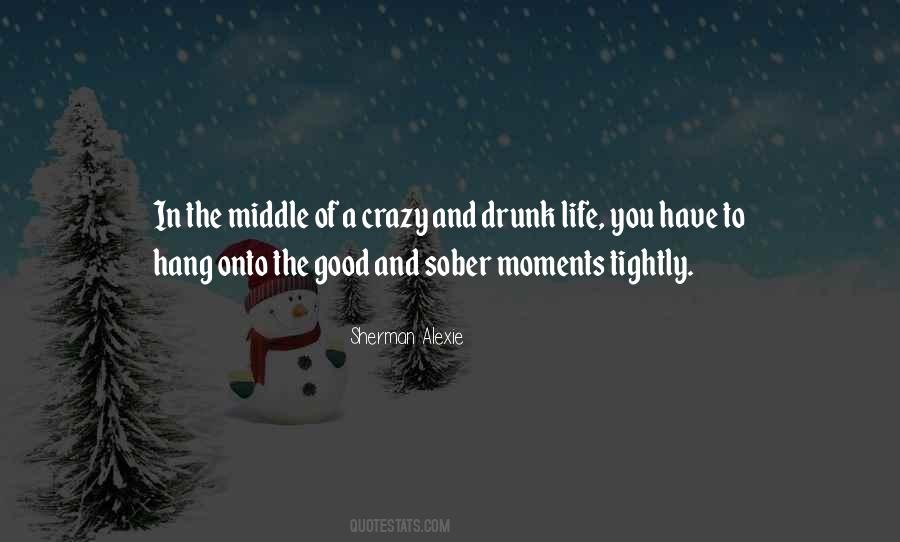 #13. I think it's only right that crazy people should have their own city, but I cannot for the life of me see why a sane person would want to go there. - Author: Bill Bryson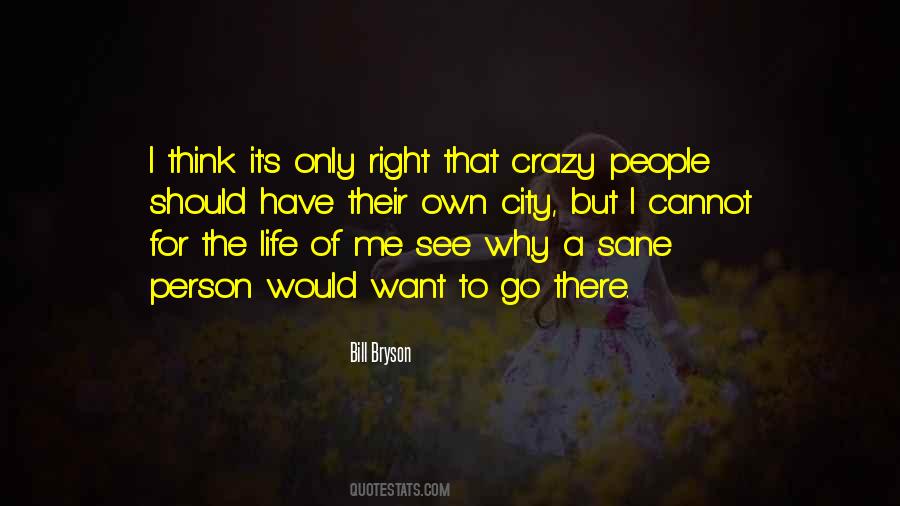 #14. I did 'Degrassi' for five years in Toronto, and I made the decision to quit the show to go to theatre school, which a lot of people thought I was really crazy to do, but it was one of those major decisions in my life that I haven't regretted - hopefully I won't! I really wanted to go to school. - Author: Jake Epstein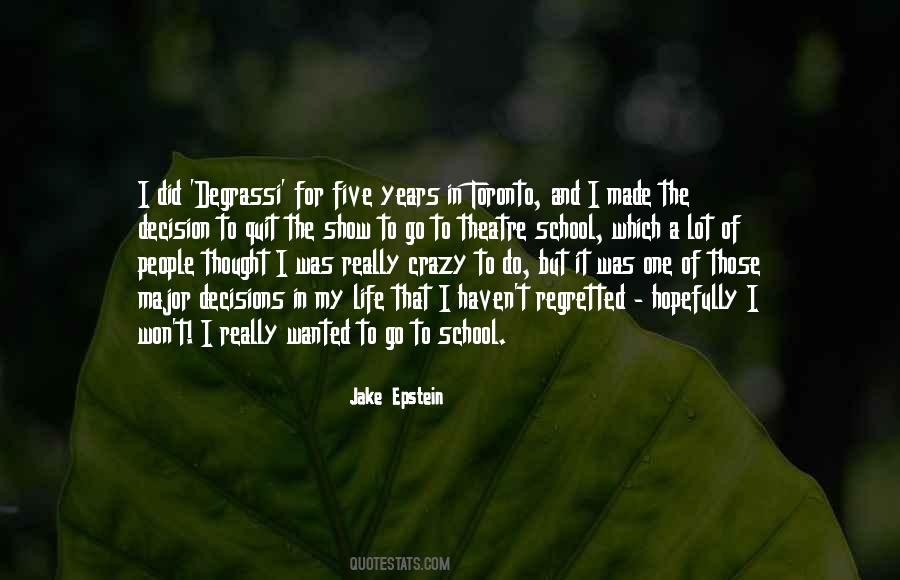 #15. I came up with this really crazy idea, this really small personal story that takes place in a universe that we are familiar with. Rocky is retired, kind of set adrift. He's very lonely in his world. His life has gone by waiting for the inevitable. It's not 'Rocky 7.' - Author: Ryan Coogler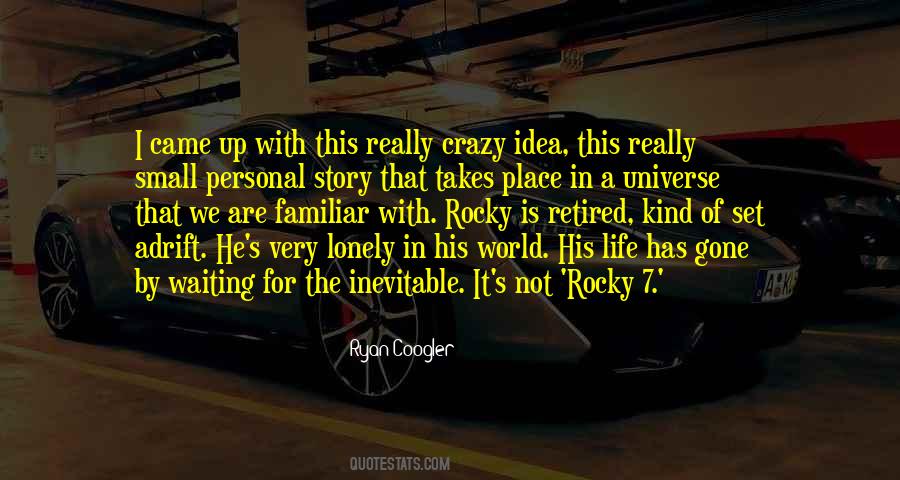 #16. He'd spent enough time thinking he was a mistake - as a demigod, on this quest, in life in general. He didn't need a random crazy goddess reinforcing the idea. - Author: Anonymous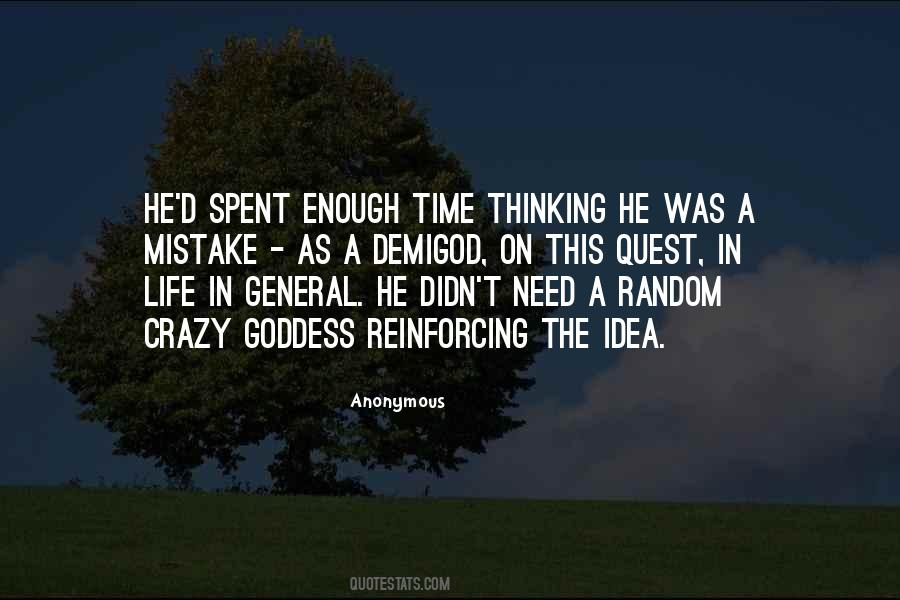 #17. I see a time of Seven Generations when all the colors of mankind will gather under the Sacred Tree of Life and the whole earth will become One Circle again. - Author: Crazy Horse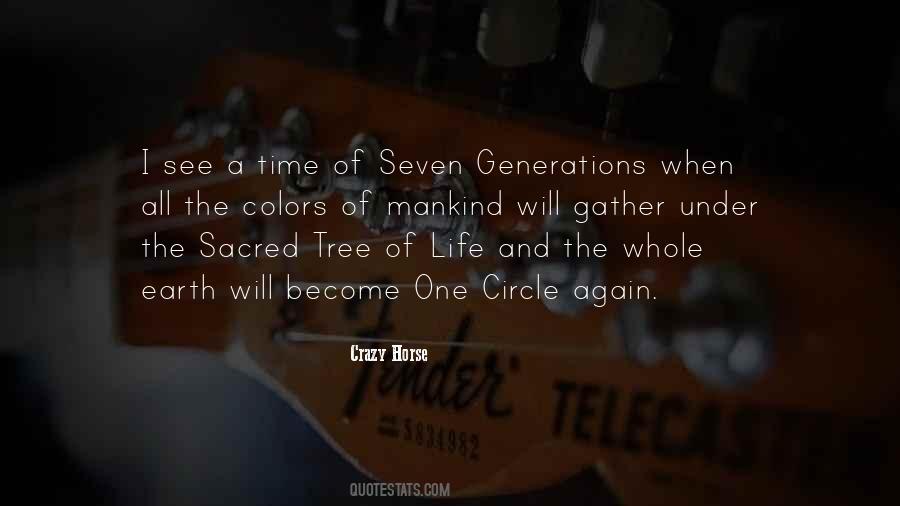 #18. The way I see it, we're all a little bit crazy, and that's what makes life interesting. - Author: H.M. Ward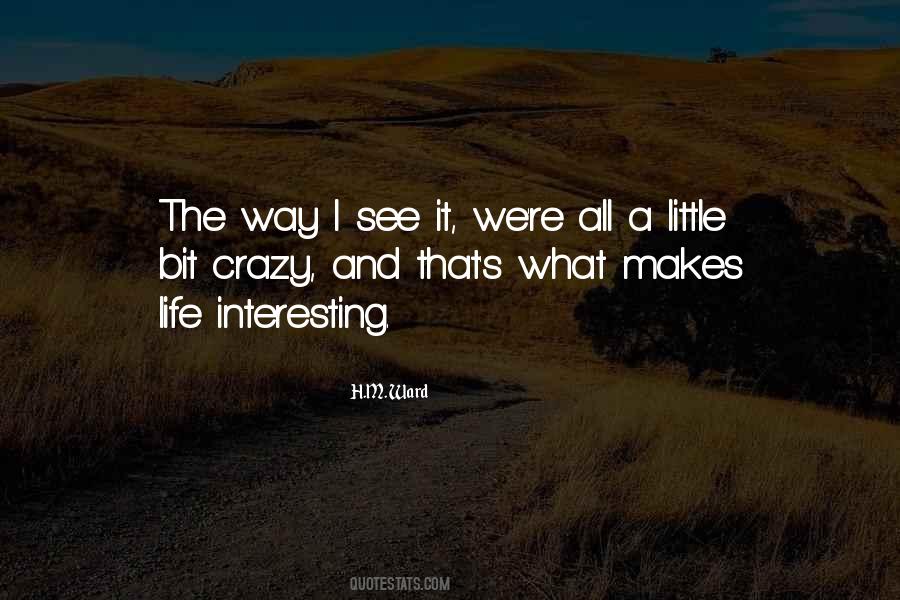 #19. The human animal is a beast that eventually has to die. If he's got money, he buys and he buys and he buys. The reason he buys everything he can is because of some crazy hope that one of the things he buys will be life everlasting. - Author: Burl Ives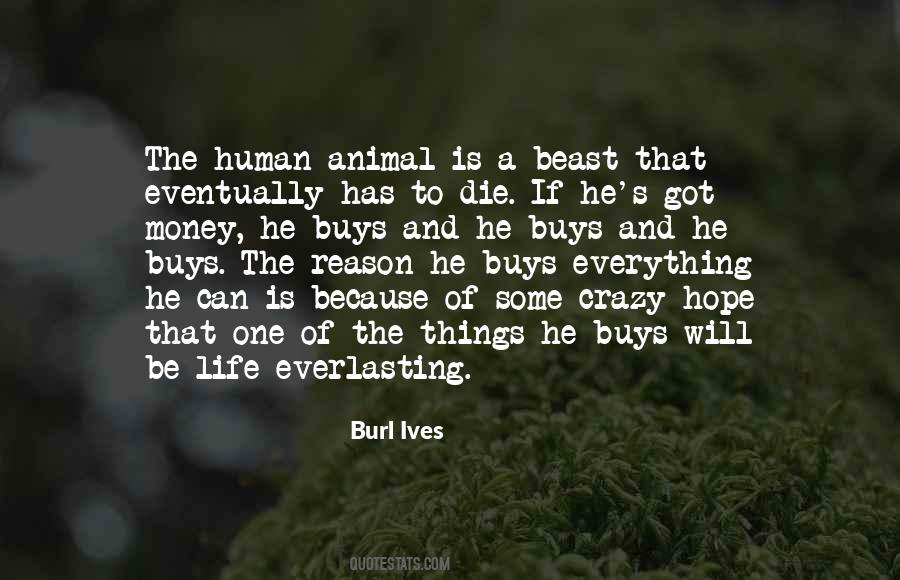 #20. I can get where some scientists would say comedians are crazy. What you have to understand: A lot of comedians are dealing with a dark passion. A lot of these are guys coming from a tumultuous life, including myself. Some people need outlets, a way to express yourself. - Author: Kevin Hart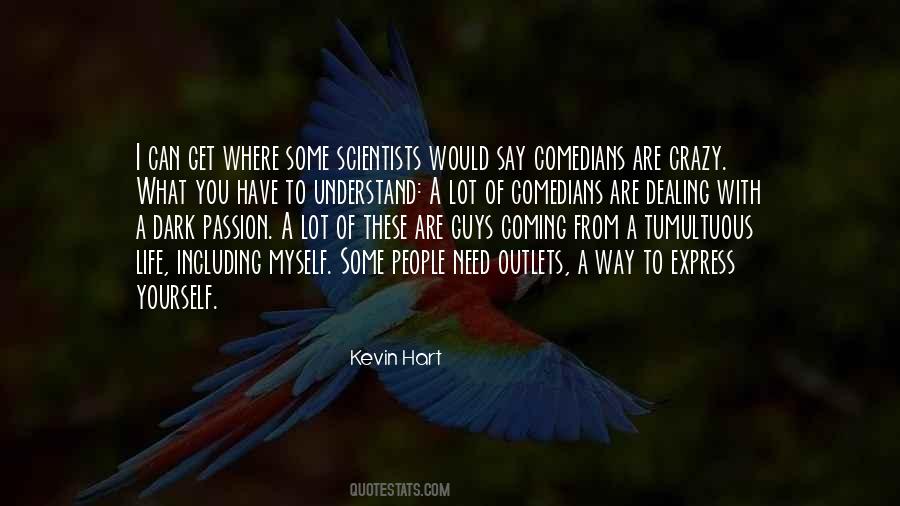 #21. I had the best sex of my life with a girl I had thought was way out of my league and in love with my dead brother. Yeah, Nash was probably right, if anybody could put up with all the crazy I was rocking I should probably lock her in quick because even I could see how seriously screwed up I am. - Author: Jay Crownover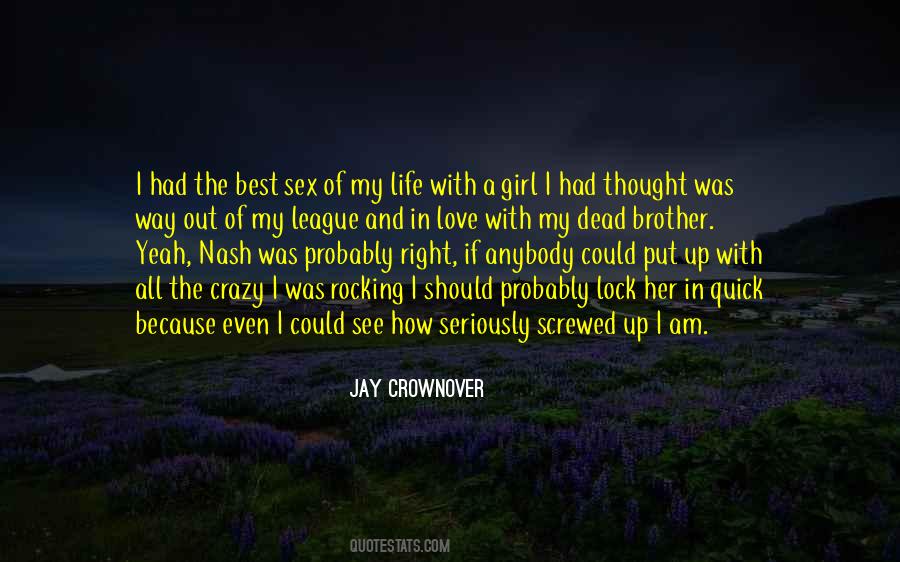 #22. I have followed my heart my whole life - the crazy kid, a contrarian by nature, and I've been in trouble in points in my career. - Author: Sarah Carter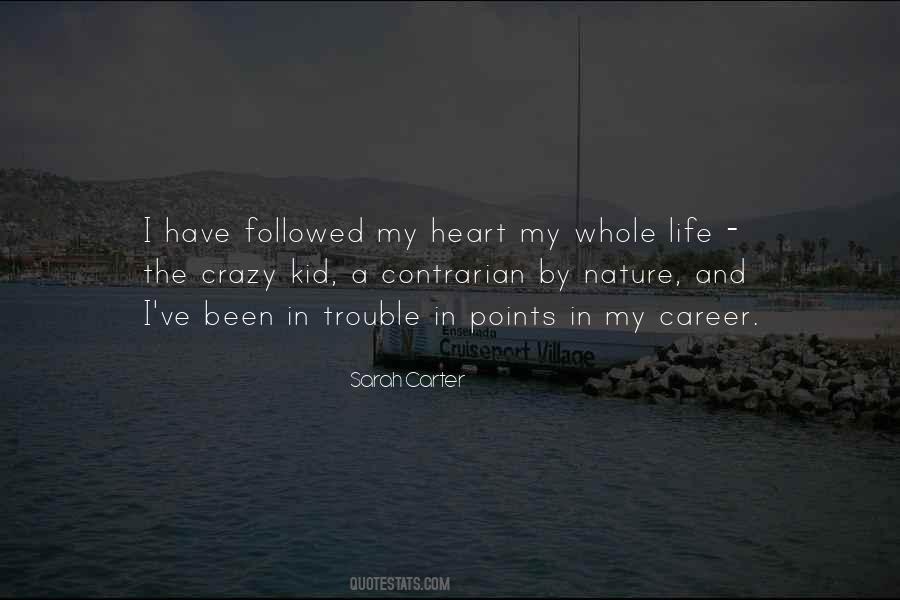 #23. There are many predicaments in life that one must be a bit crazy to escape from. - Author: Francois De La Rochefoucauld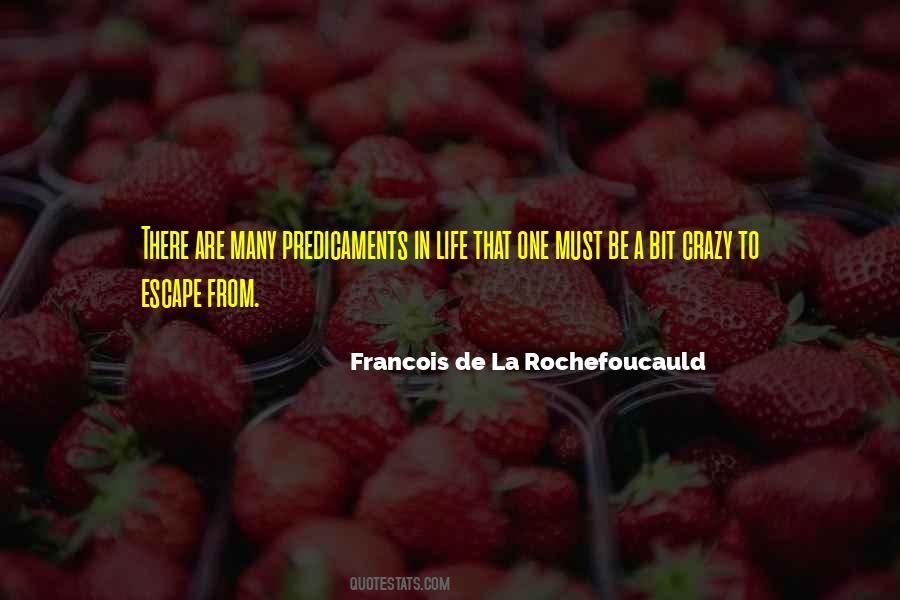 #24. Soccer has given me a place to express myself, fully and openly. To not be shy. To feel. To be crazy. To try things I might not try. To be honest in relationships. To make mistakes and realize that they're not life-shattering. - Author: Brandi Chastain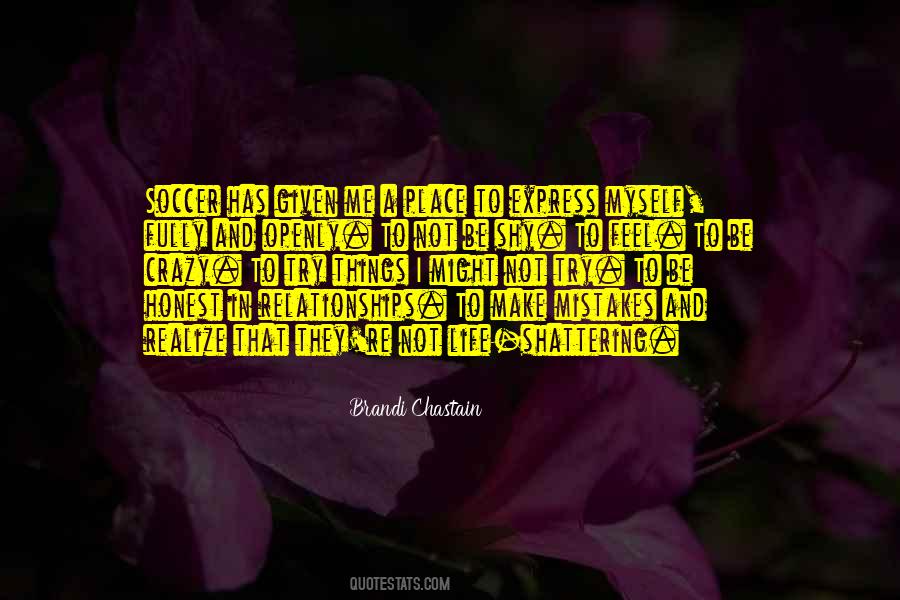 #25. Life is like reading a third-rate novel written overnight upside down by a crazy drunk.

You're not supposed to try to get it.

Said by E-Wan - Author: Ji-Sang Shin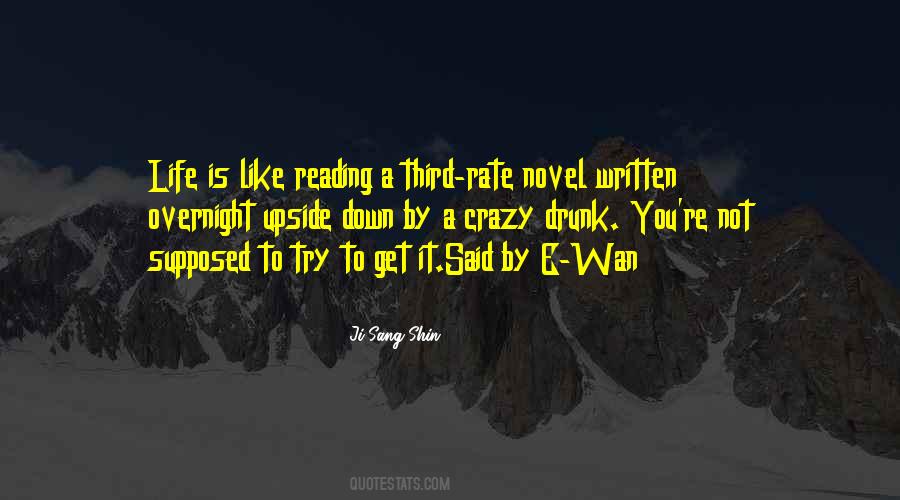 #26. In the big picture, life has a gap in it. It just does. You don't go crazy trying to fill it. - Author: Sarah Silverman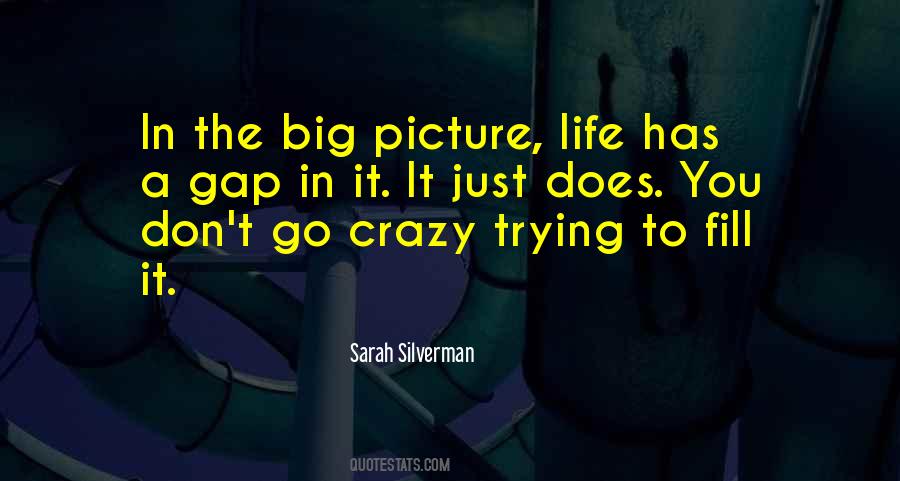 #27. It is only too true that a lot of artists are mentally ill - it's a life which, to put it mildly, makes one an outsider. I'm all right when I completely immerse myself in work, but I'll always remain half crazy. - Author: Vincent Van Gogh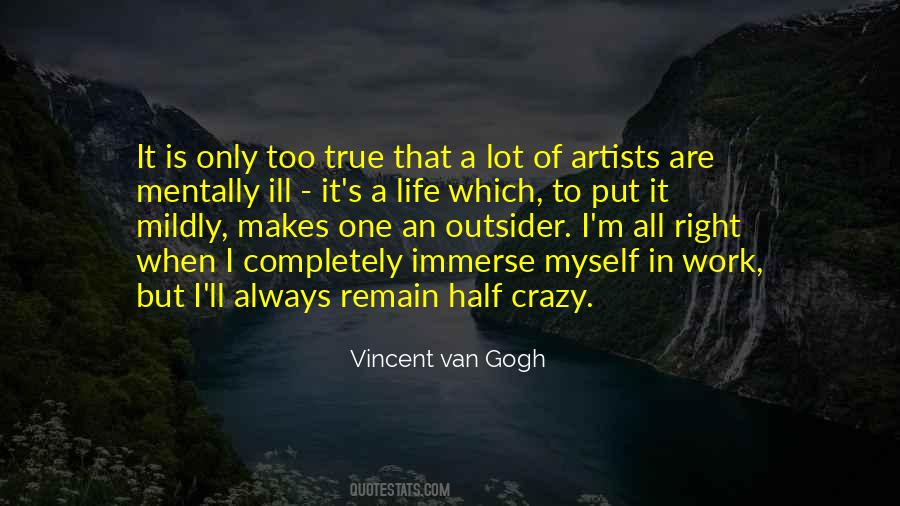 #28. Imagine people calling you to find out if you're dead. I've led a real crazy life at times, and I've had many strange things happen to me, but that was one of the strangest. - Author: Richard Pryor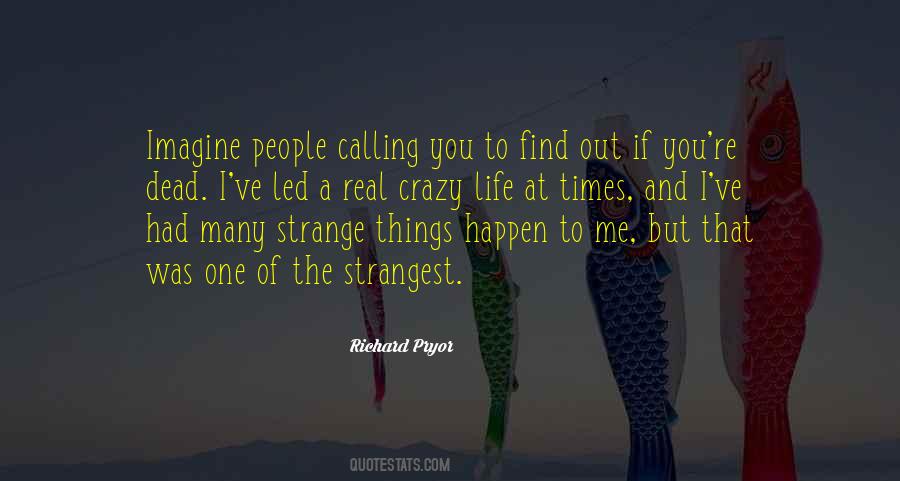 #29. Americans are crazy. They have this fascination with throwing their shoes on stage. I've been to a lot of shows in me life, some good and some bad. But I was never moved to take off me shoes and throw it at the lead singer. - Author: Noel Gallagher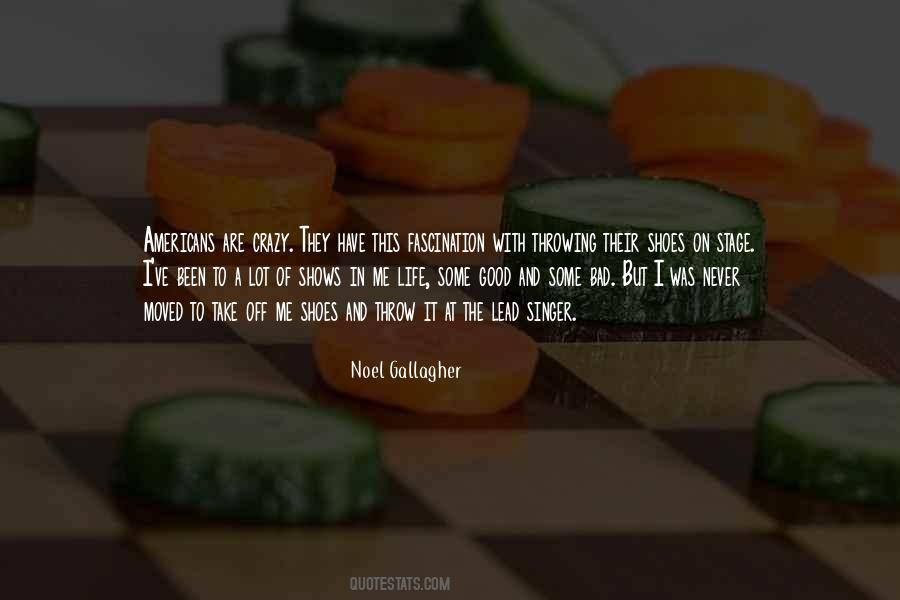 #30. These guys are tough, this world is crazy and the wind here is crazy strong! However if I want a normal life for once I have to try harder! Angel - From Revenge of the Gloobas. Coming soon! - Author: Angel Ramon Medina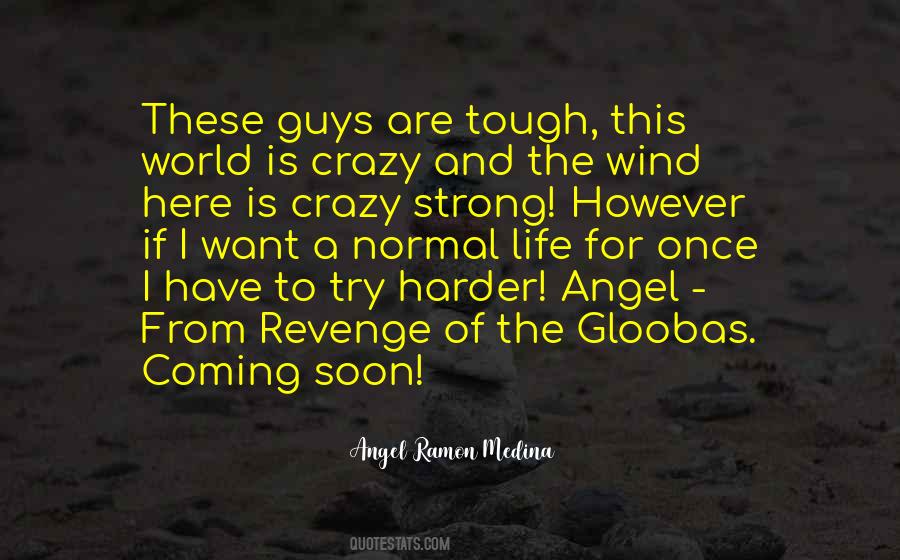 #31. One of the secrets of a successful life is to know how to be a little profitably crazy. - Author: Josephine Tey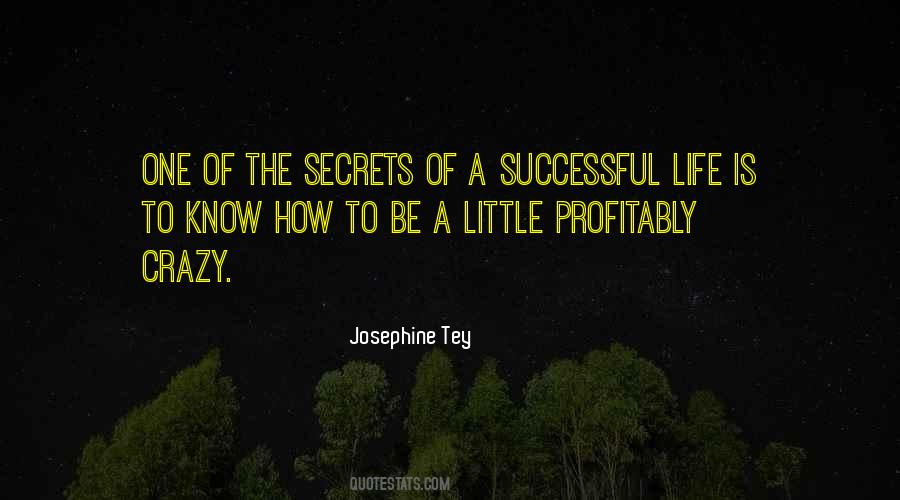 #32. Crazy by definition is
Knowing that true sanity is
A figment of the educated mind - Author: Caleb Warta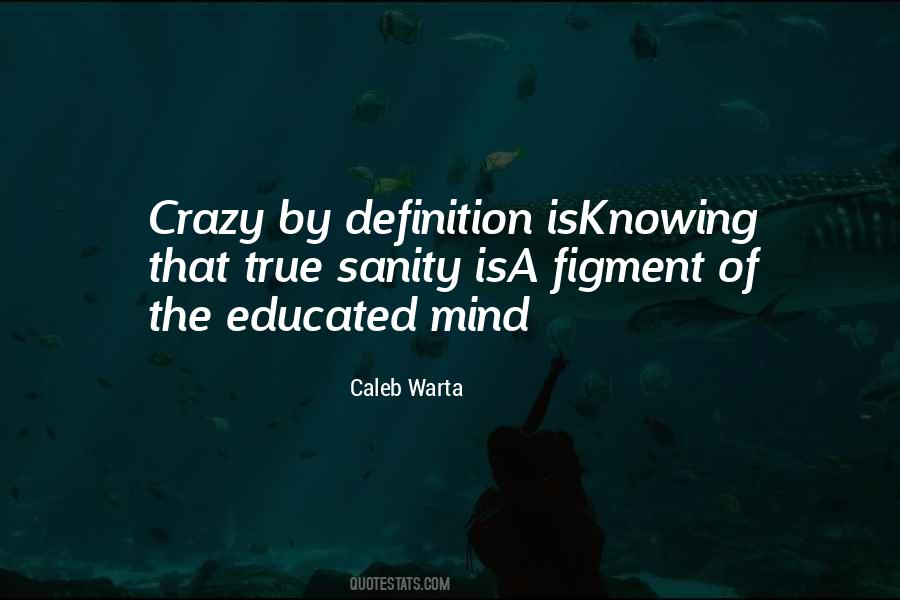 #33. you think about it, being crazy isn't such a bad place to start when you need some novelty in your life. - Author: Elgon Williams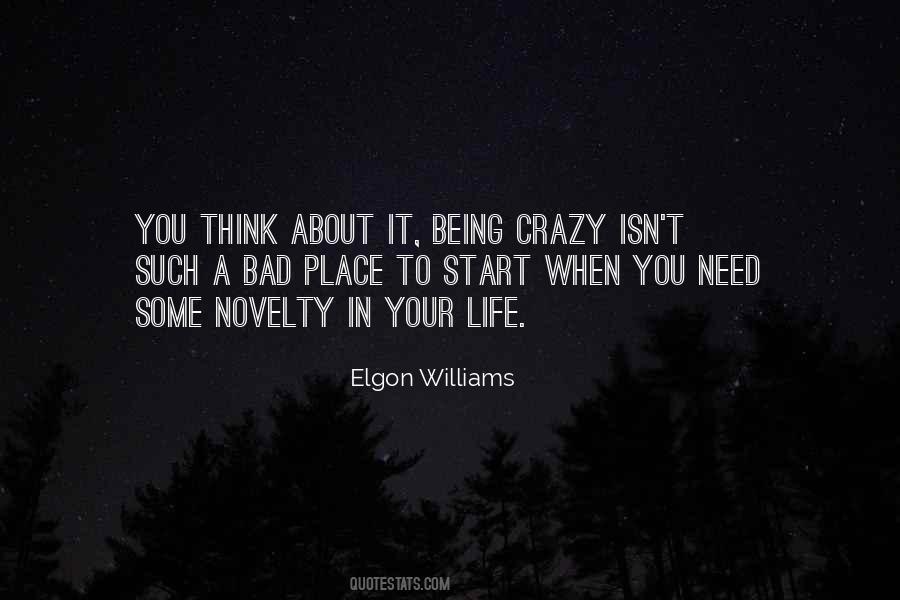 #34. Buffett and Munger joke that envy is the only one of the seven deadly sins that isn't any fun. "Envy is crazy," remarks Munger. "It's 100 percent destructive. . . . If you get those things out of your life early, life works a lot better. - Author: Guy Spier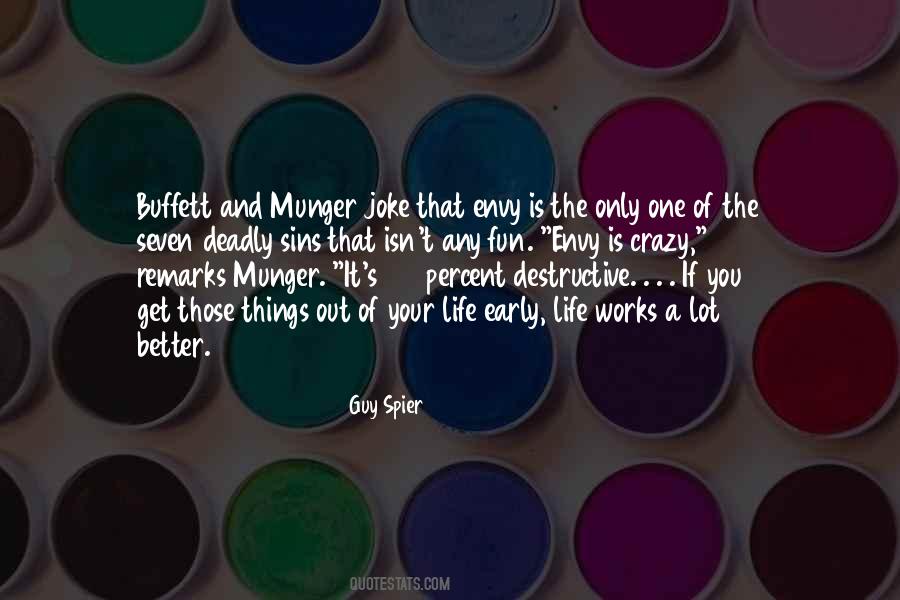 #35. that I wasn't going crazy. For a long time I thought that this story should begin with what happened to me at the church, when my life - Author: Dani Atkins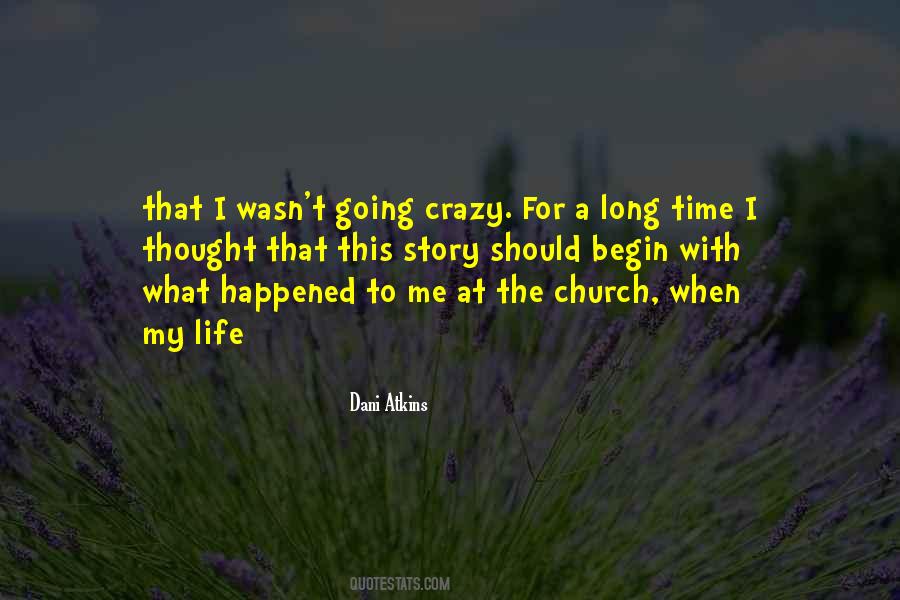 #36. [S]he was in a pretty crazy place, screaming and waving the bucket-knife around, spattered with blood from head to toe. Lee was lying on the floor, quietly pumping out his life through his throat. - Author: Max Barry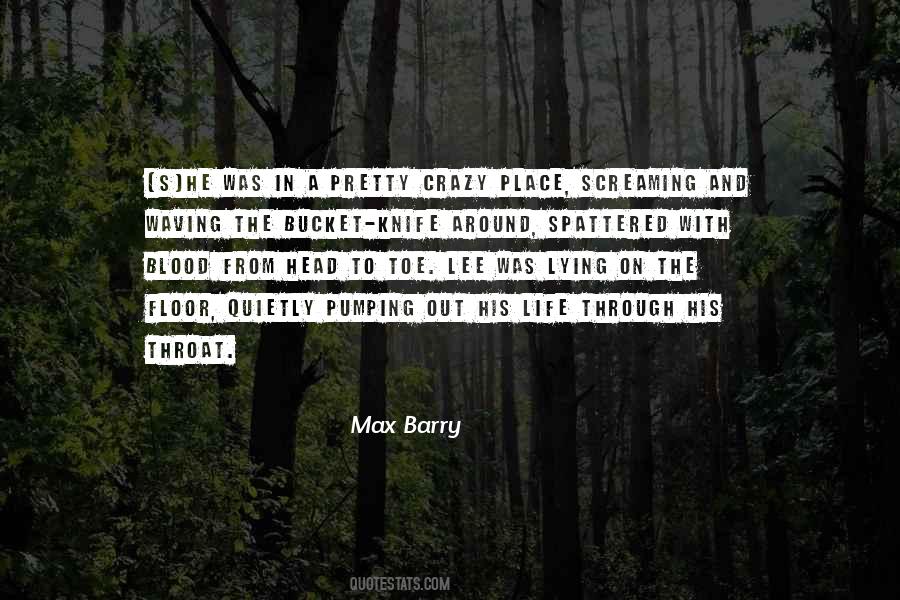 #37. I like frogs. I am not crazy about their legs in a buffet, but I like their casual approach to life. - Author: Sandi Toksvig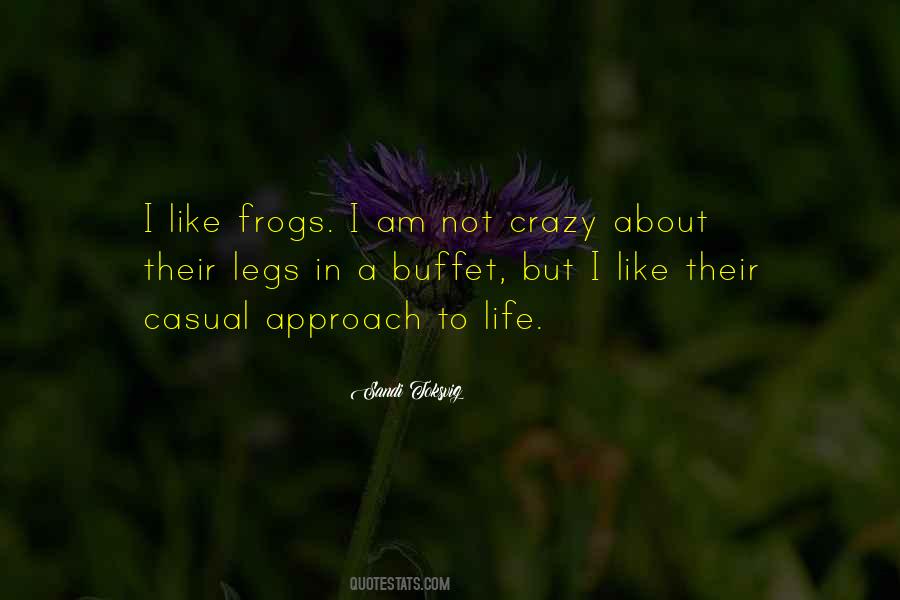 #38. Policeman says, "Son you can't stay here"
I said, "There's someone I'm waiting for if it's a day, a month, a year"
Gotta stand my ground even if it rains or snows
If she changes her mind this is the first place she will go - Author: The Script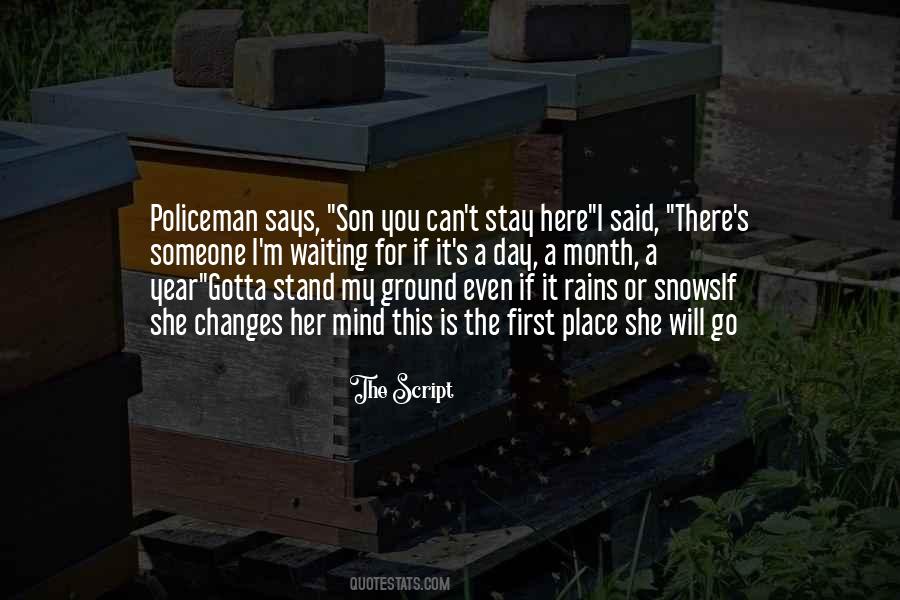 #39. I was such a private person before I started 'The Talk.' I don't know what happened! It almost feels like I've started a second life. In my previous lifetime, I didn't talk about stuff. Now I'll discuss anything. It's crazy! - Author: Sara Gilbert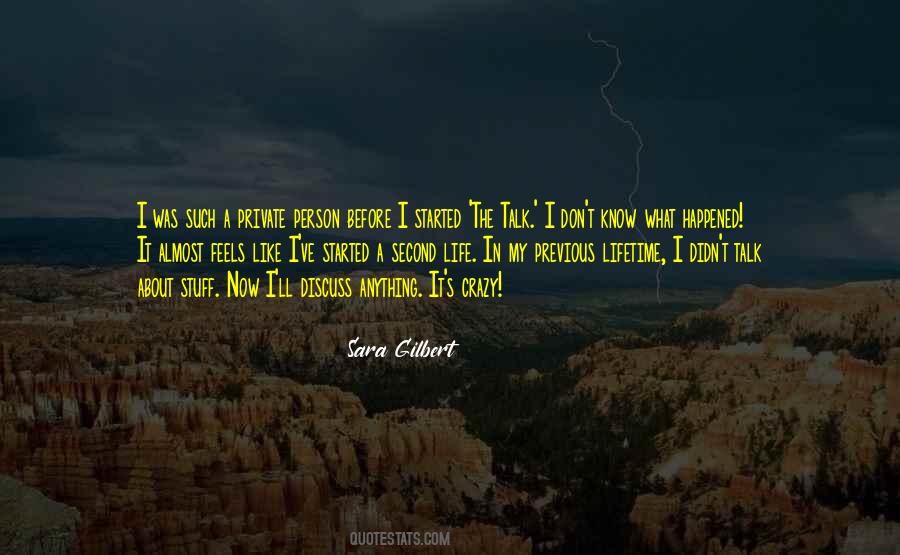 #40. There appear to be many people who chose to go crazy (or become alcoholics, addicts, criminals, suicides) rather than have to bear the pain and ambiguity of a life situation that they have decided that they cannot stand. (98) - Author: Sheldon B. Kopp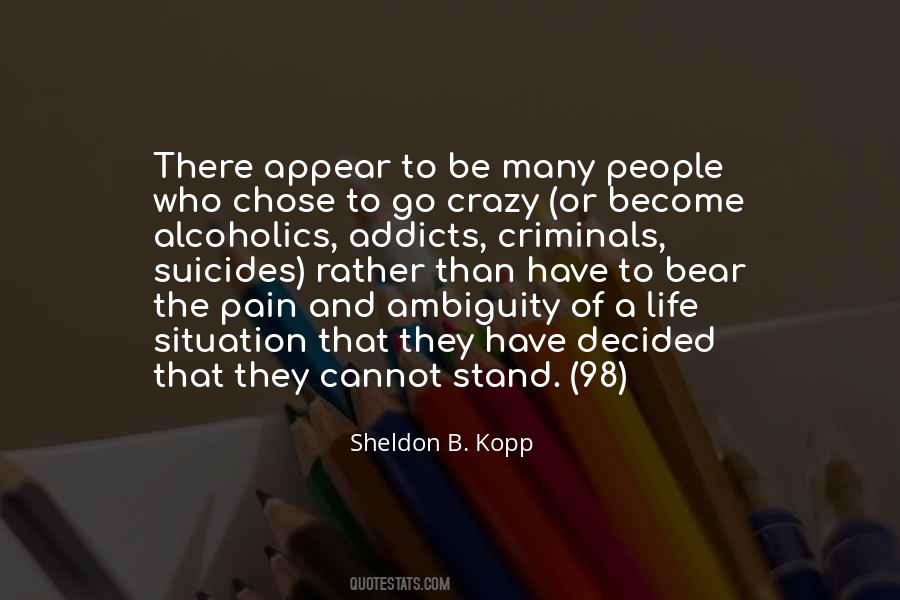 #41. One of the biggest indicators for success in life is having a few crazy relatives. So long as you get only some of the crazy genes, you don't end up crazy; you merely end up different. And it's that difference that gives you an edge, that makes you successfull. - Author: Douglas Coupland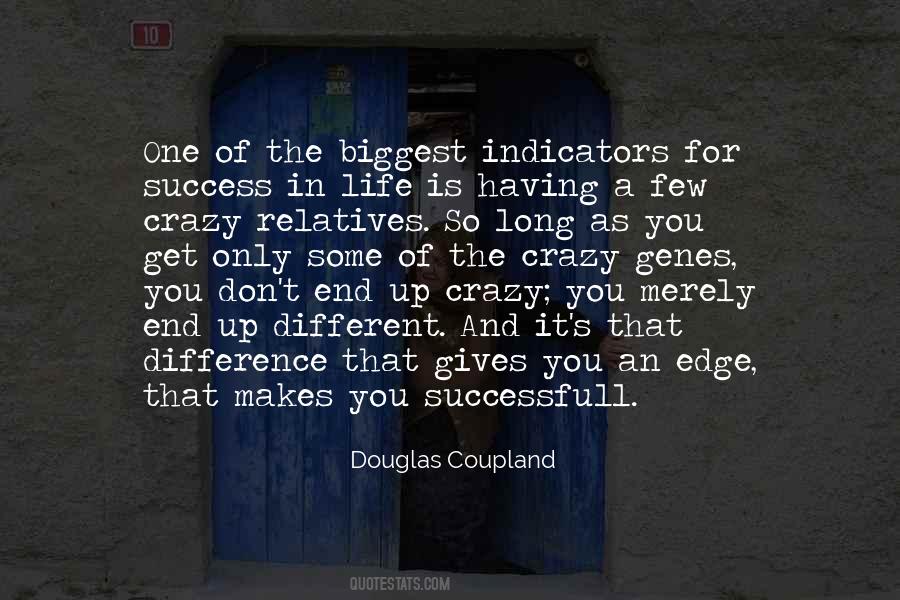 #42. Silence, that inspired dealer, takes the day's deck, the life, all in a crazy heap, lays it out, and plays its flawless hand of solitaire, every card in place. Scoops them up, and does it all over again. - Author: Patricia Hampl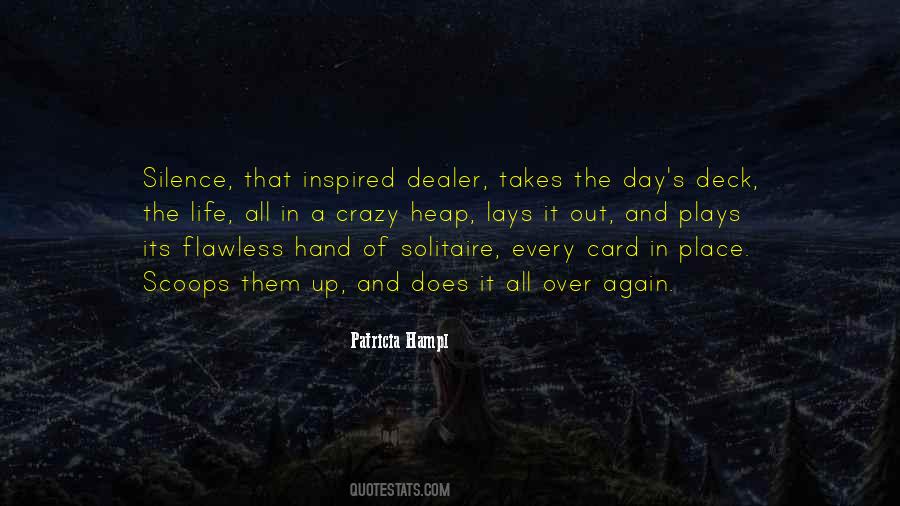 #43. I was tired and crazy and rushed, and every time I boarded a plane, I wanted the plane to crash. I envied people dying of cancer. I hated my life. I was tired and bored with my job and my furniture, and I couldn't see any way to change things.
Only end them. - Author: Chuck Palahniuk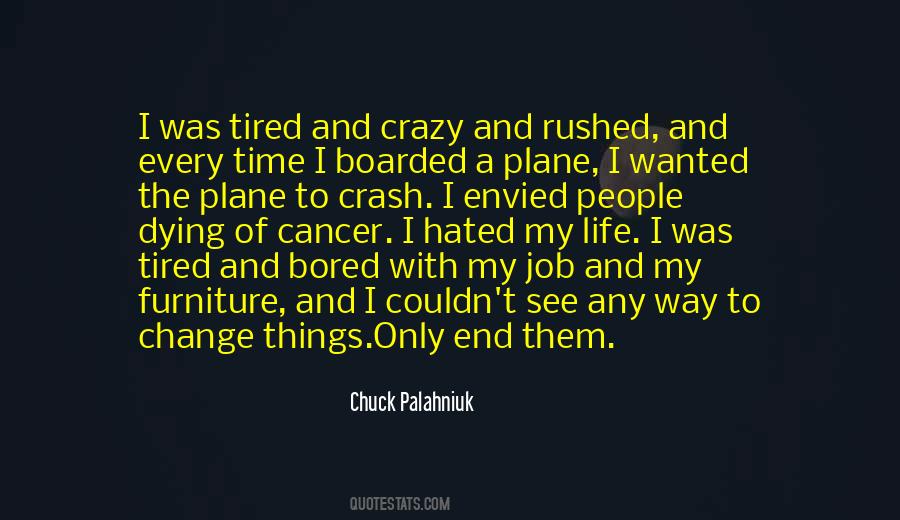 #44. It's a comforting thought to know that I've got my partner by my side walking through life and all the ups and the downs. I know we can handle it. There's nothing too big or too crazy that's going to tear us apart. - Author: Vanessa Minnillo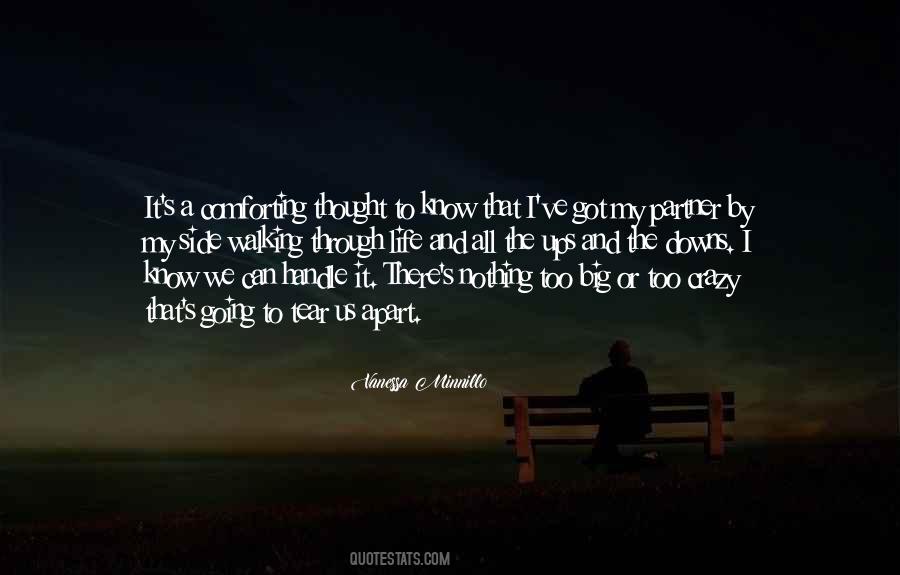 #45. I realised that despite the hangups, despite the crazy drama he created, I would love him always. Clay was mine just as surely as I was his. My life and his were inexplicably intertwined and there was no denying the intense connection we shared. - Author: A Meredith Walters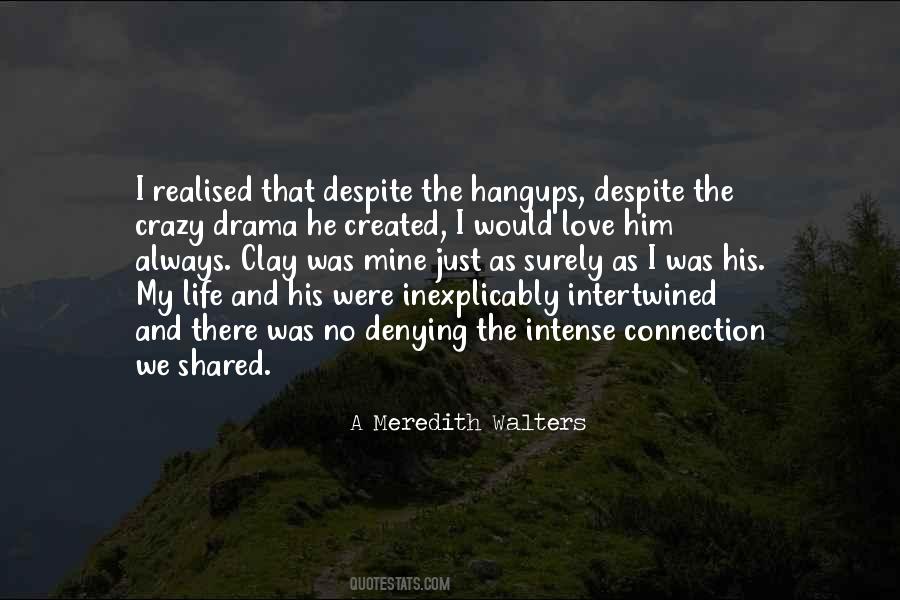 #46. Sometimes we don't believe what we see, another time We no want to see something, but there is a Time we are happy to see Something.
Happy day my Friend I know I'm crazy, but in my Dreams I'm happy and that nobody can buy.
Jan Jansen - Author: Jan Jansen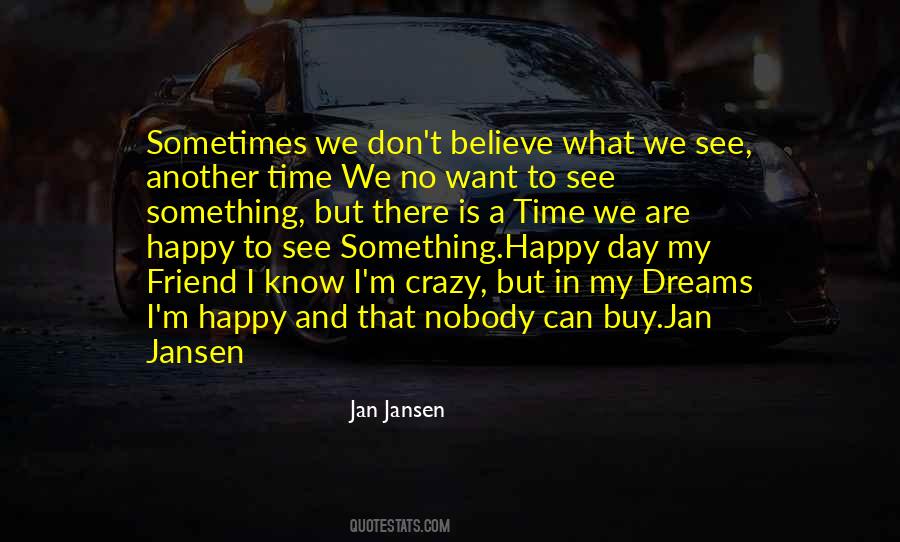 #47. It is so hard for us little human beings to accept this deal that we get. It's really crazy, isn't it? We get to live, then we have to die ... What spirit human beings have! It is a pretty cheesy deal - all the pleasures of life, and then death. - Author: Gilda Radner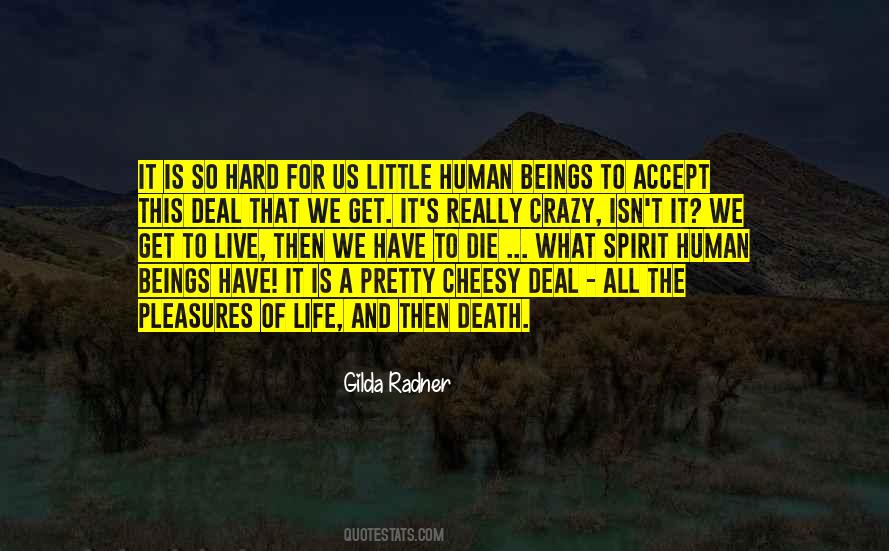 #48. There's a very real possibility in this industry of going out and leading your life and then going home and being a voyeur of your own life. You can literally go watch yourself - where you went last night, what you did, what the things that people presuppose about you. It's kind of crazy. - Author: Ryan Reynolds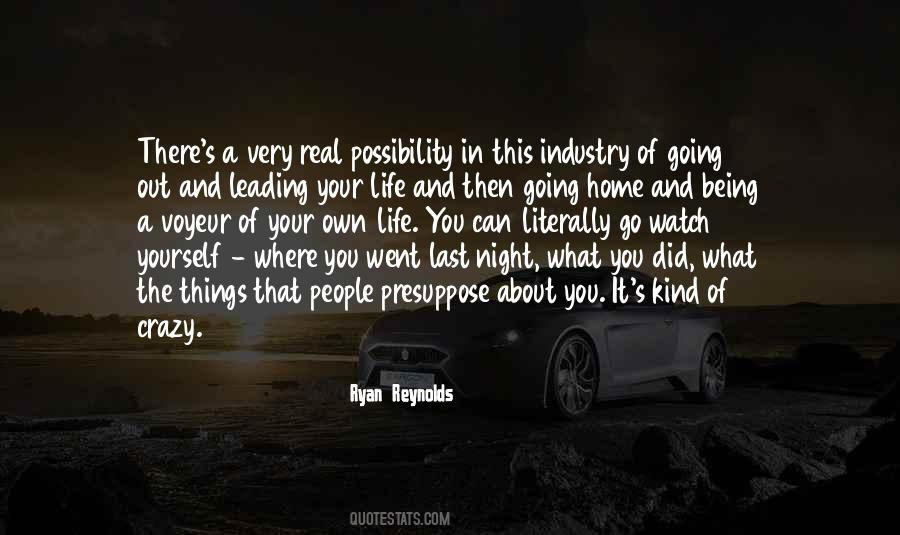 #49. You just go a little crazy, you know. Sometimes. And why? Well only because your soul is just too big for you, it flies away somehow. - Author: C. JoyBell C.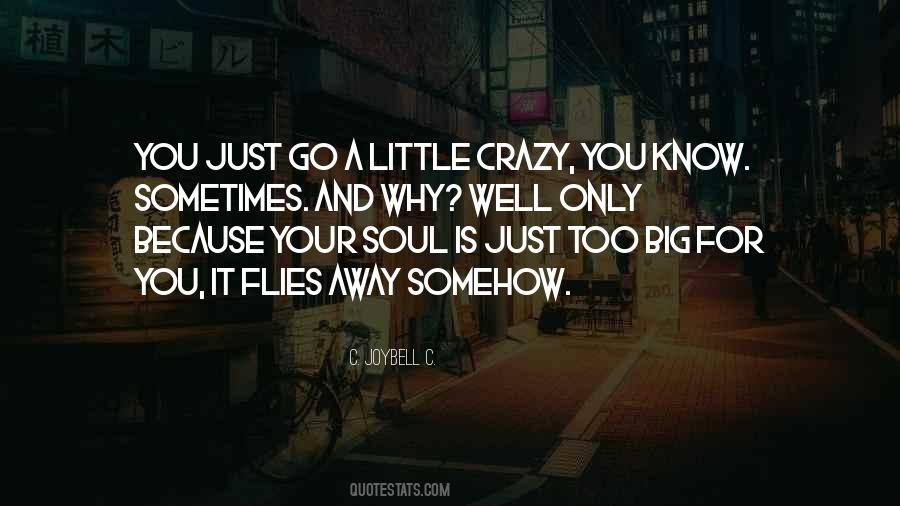 #50. Never go for someone that represents something that is more of a fantasy than reality in this crazy world of lonely people, unless it is for the shortest time possible, and unless you have clearly figured out an exit strategy. - Author: Janvier Chouteu-Chando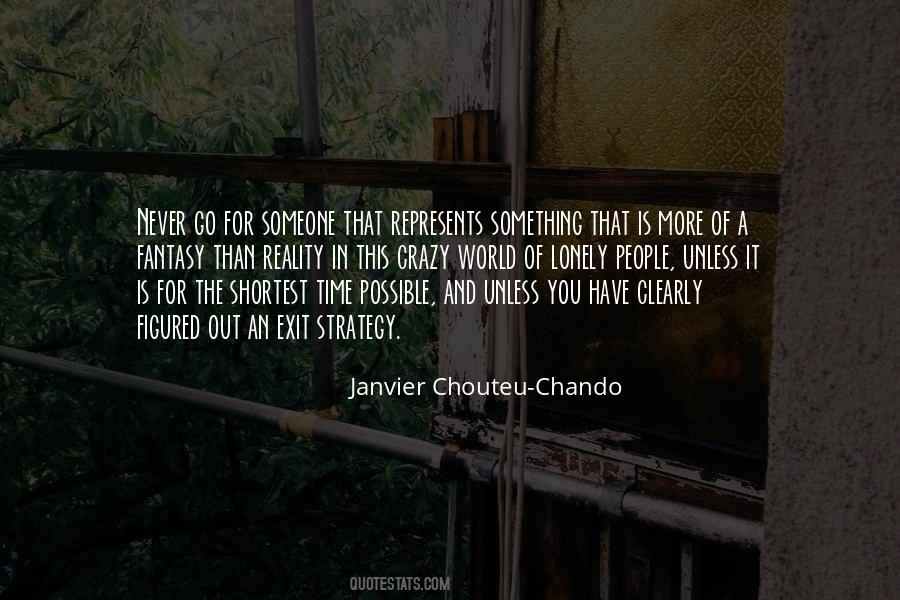 #51. Does that new man in your life call his ex "a slut", "a whore", "a bitch", "psycho" , "crazy", "a nutter" etc etc. Chances are, whatever he's calling his ex right now, he'll be calling you when things don't go his way. Be warned. - Author: Miya Yamanouchi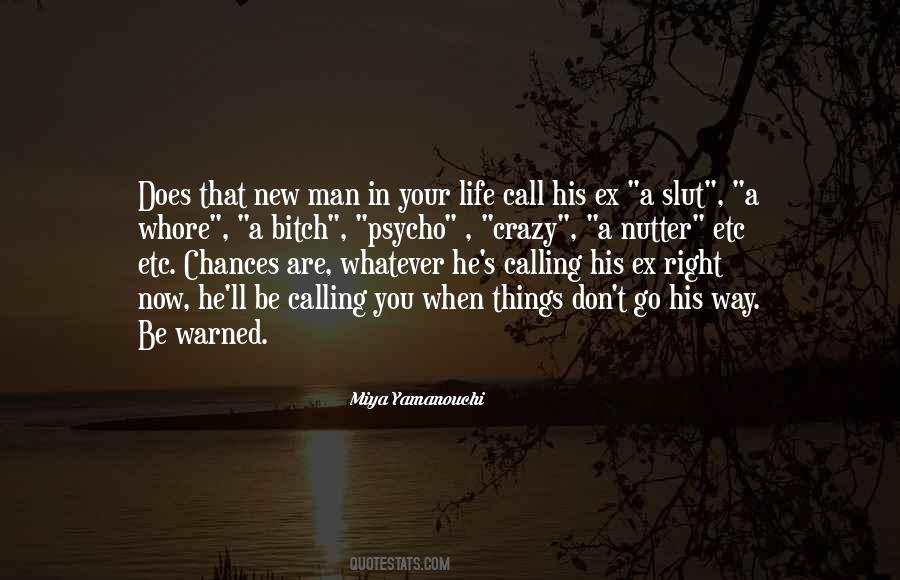 #52. I loved throwing a baseball. It is so important to find something in life you feel crazy about. Because you are so passionate you naturally practice. The hard work that it takes to do something well will come easily. - Author: Jim Abbott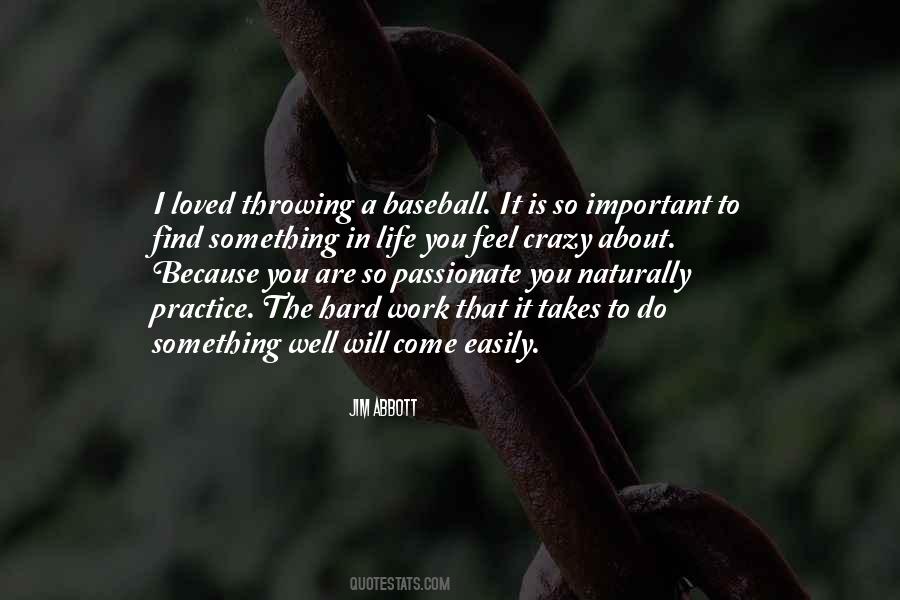 #53. As if they were supposed to have made a direct hit, to have a long, full, crazy, wild, passion-filled, child-strewn life together, but somehow they'd come at each other from the wrong angle, and missed what could have/would have/should have been. - Author: Karen Marie Moning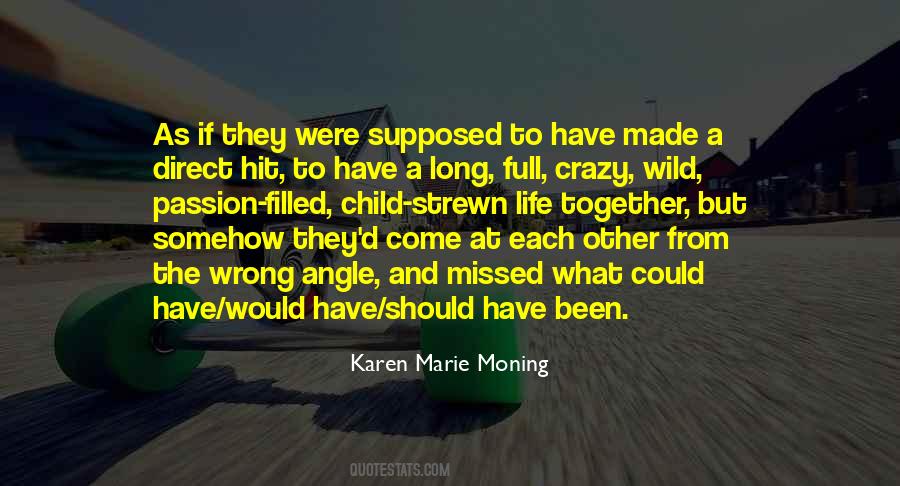 #54. I've done four other films since 'Submarine,' so that's quite cool. It's just good to have people respect your work; I've never had that before. Yeah, my life has changed crazy. I'm a kid from a small town in south Wales, I play my Xbox usually and all that sort of stuff, and it's a whole new world. - Author: Craig Roberts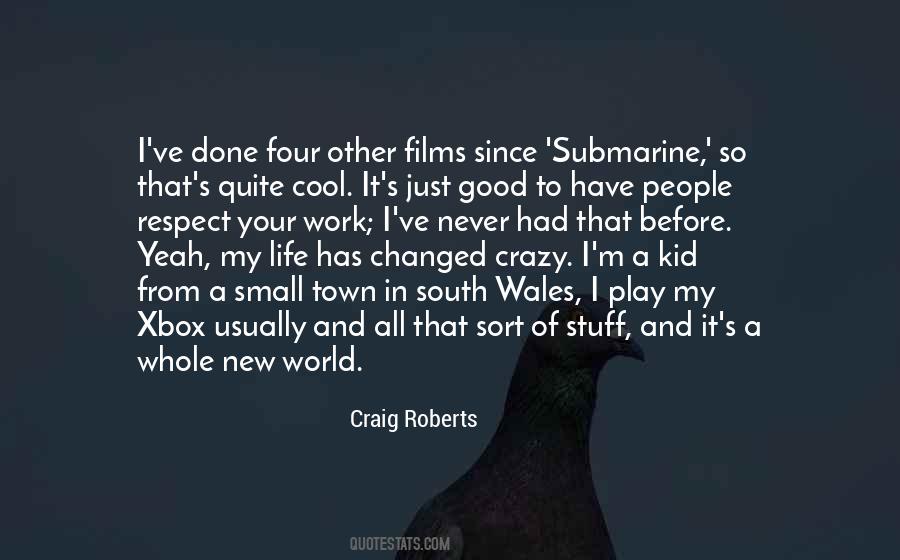 #55. Ask questions then talk over answers, shout loudly you love everyone, try and hug people, confide in them that you are a sheep, offer them the last grass in your pockets.
Then watch with a smile as they pretend you aren't there, and whisper you must be crazy, because you want to make friends. - Author: Craig Stone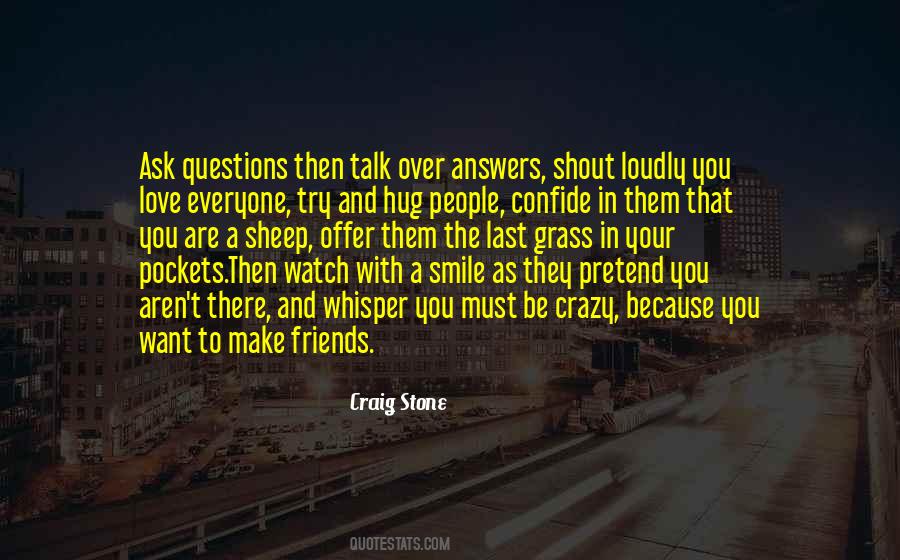 #56. If just one of [those people] experiences life as a crazy adventure
and I mean that he, or she, experiences this every single day ... Then he or she is a joker in a pack of cards. - Author: Jostein Gaarder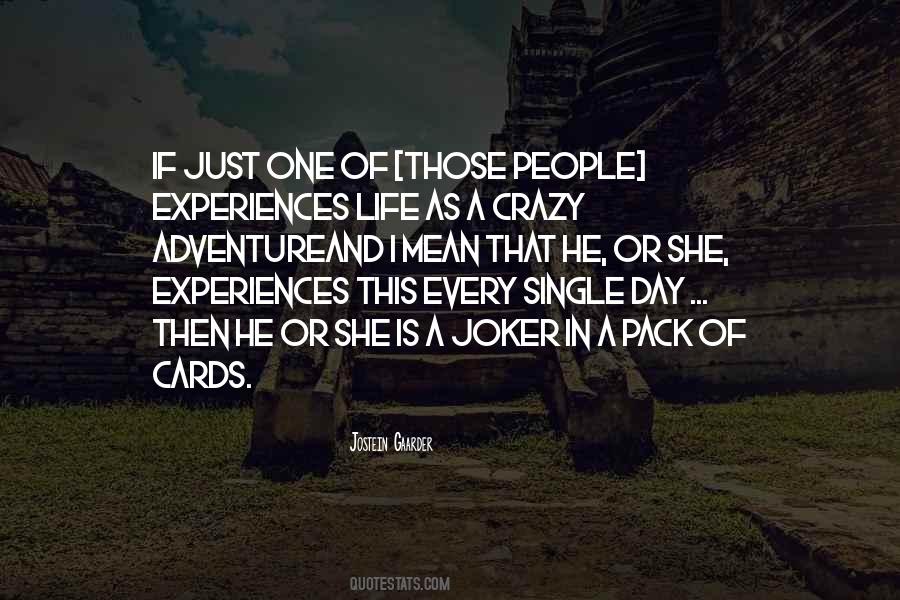 #57. I cried for it. That's how I see life too. I was so interested in the opera that for a while I forgot the circumstances of my crazy life and got lost in the great mournful sounds of Beethoven and the rich Rembrandt tones of his story. - Author: Jack Kerouac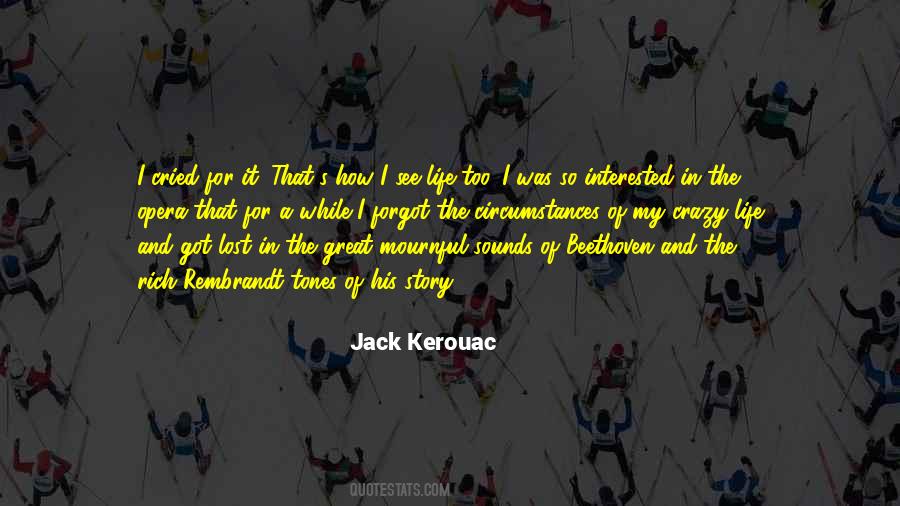 #58. We'll be out of business in a few years. We got savings put aside for the lean years, but the lean years have been here for a long while, and every year they just get leaner. Horus is crazy, really bugfuck crazy, spends all his time as a hawk, eats roadkill, what kind of a life is that? - Author: Neil Gaiman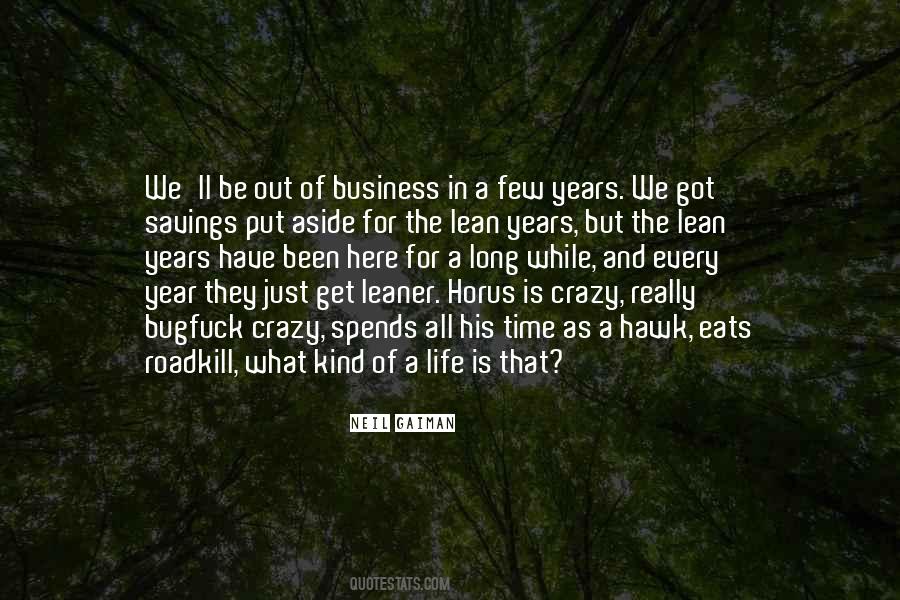 #59. On a shirt, every button has its own button-hole. Fix a button elsewhere and your dressing goes crazy and nasty! On earth, everyone has his/her dreams. You have your own. Fix yourself there and your life will be fully fulfilled! - Author: Israelmore Ayivor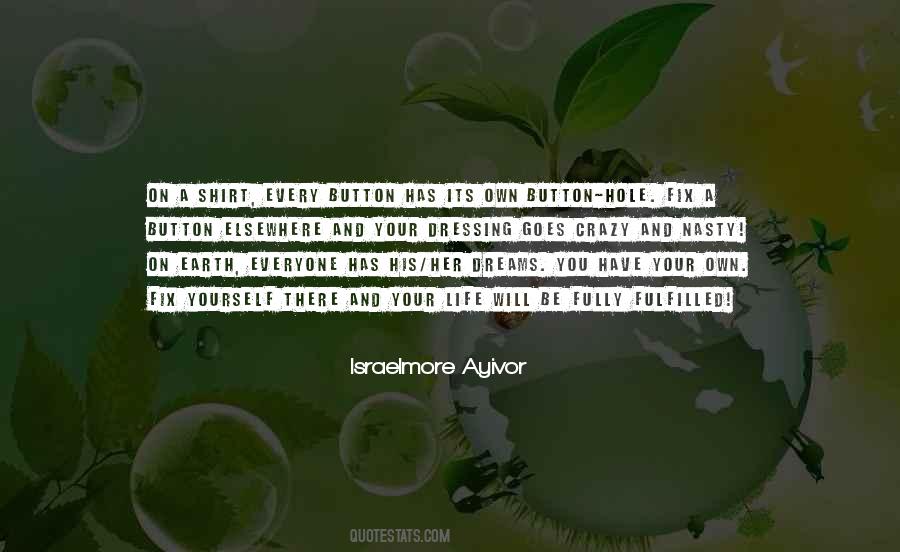 #60. Whatever you do, it will be a path. Life does not work like a light switch - on/off, fat/skinny, miserable/happy, crazy/sane. All things take time, patience, and practice. Anyone who tells you different is profiting off your fearful ignorance of the truth. - Author: Vironika Tugaleva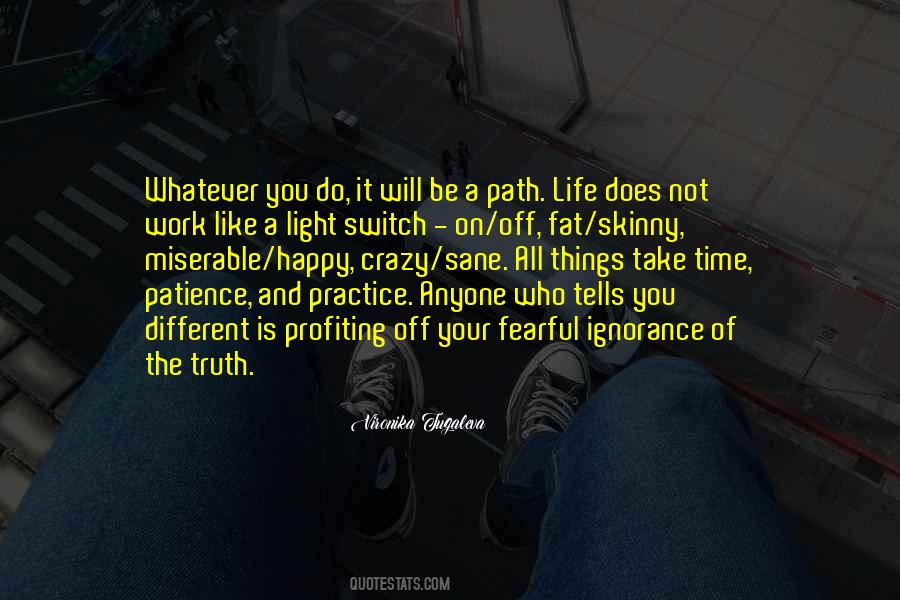 #61. It's a wonderful time when you sit down around the table for dinner and discuss life. No matter where you are, it gives the semblance of normalcy to my crazy world. - Author: Melina Kanakaredes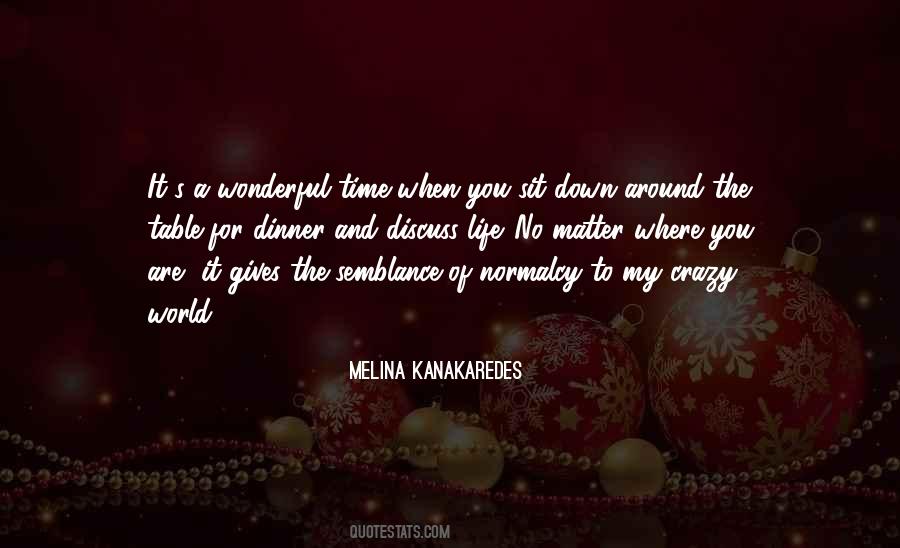 #62. I'm not crazy, but it's a crazy life. I was raised in a crazy family and it took 31 years to get the crazy out of me. - Author: Anne Heche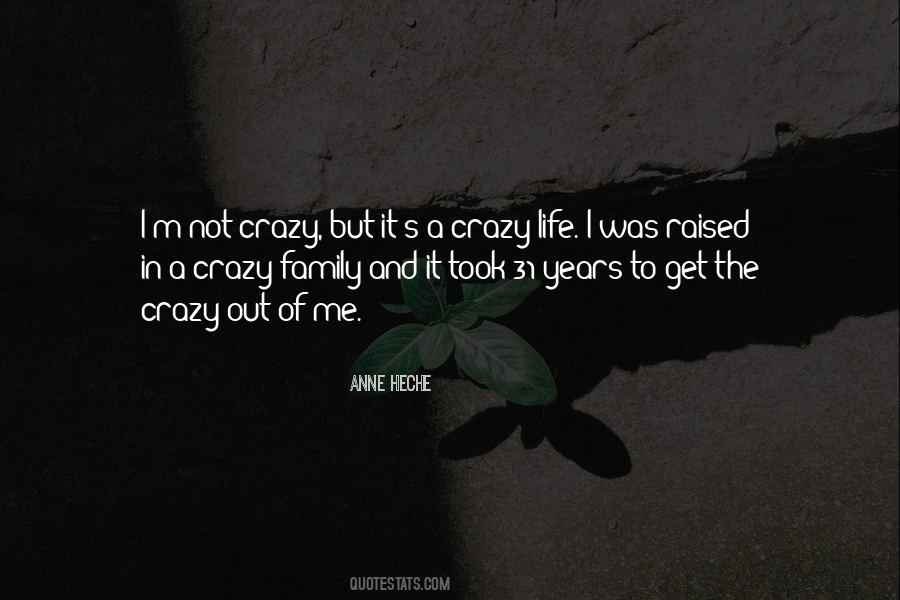 #63. People think that we're crazy because we do six nights a week. I would physically not be able to take it, especially when you see how much he put into every show ... He created this larger than life style and he pulled it off. - Author: Rob Thomas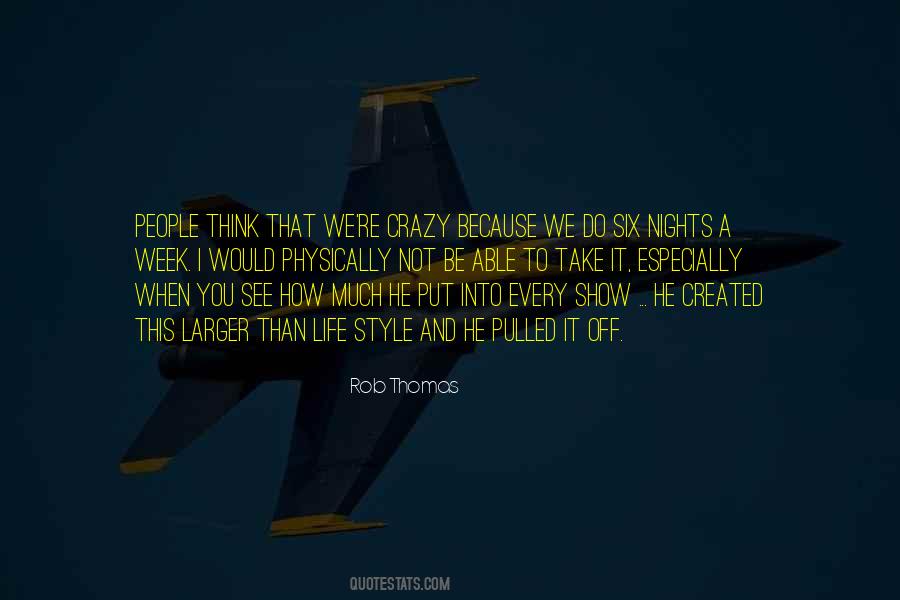 #64. Your life will have chapters, complete with crazy characters, villains and a plot you can't even imagine as you sit here today. It's a lot like a Scooby Doo episode. - Author: Sharyn Alfonsi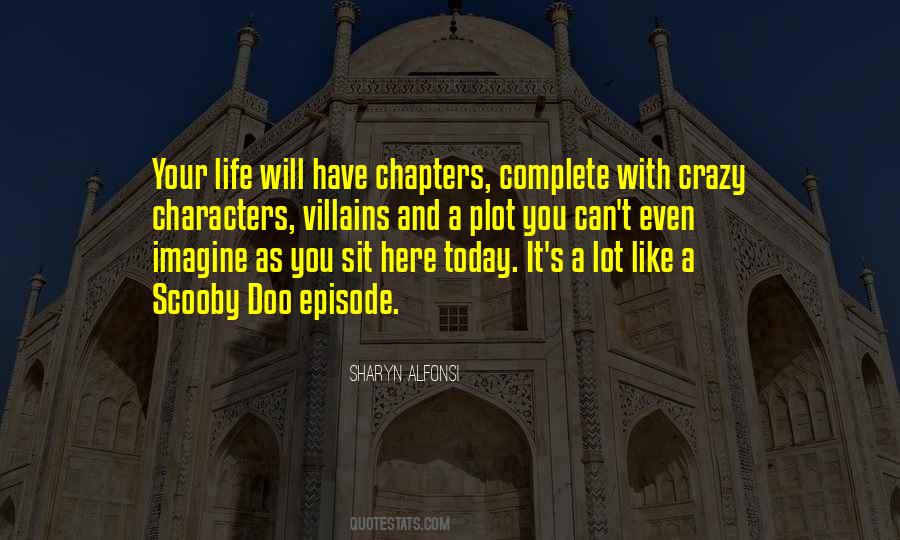 #65. Life's a crazy trip. Make it worth the ride. - Author: Sheila Renee Parker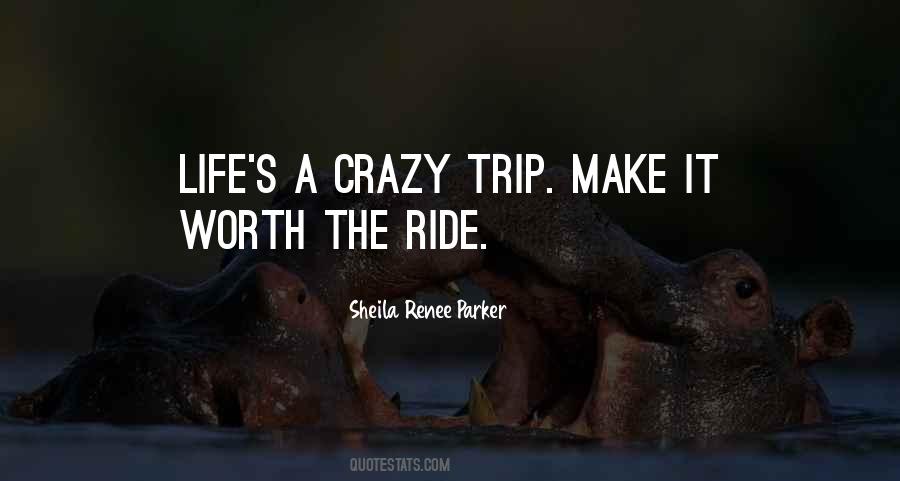 #66. But I can hardly sit still. I keep fidgeting, crossing one leg and then the other. I feel like I could throw off sparks, or break a window
maybe rearrange all the furniture. - Author: Raymond Carver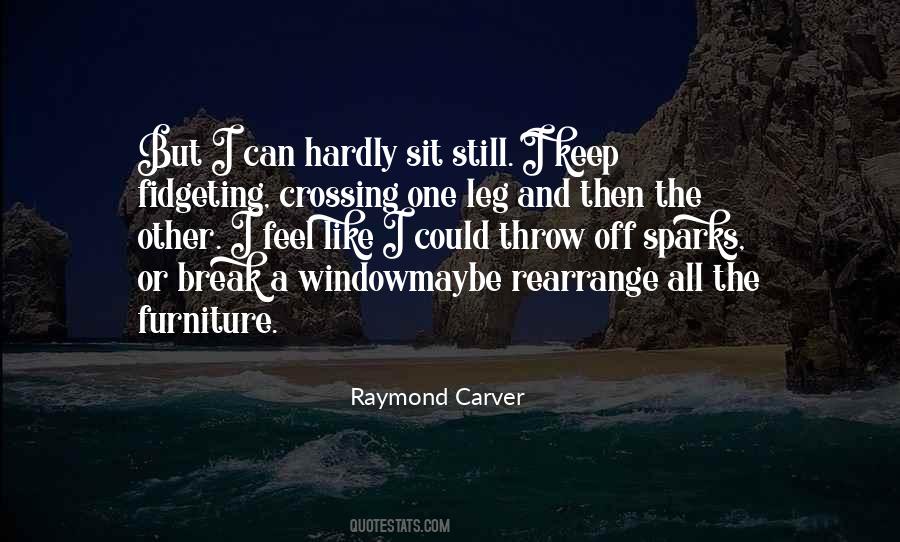 #67. Let's hold hands and brave this beautiful, crazy life together with a sweet smile and a calm breath. - Author: Colleen Saidman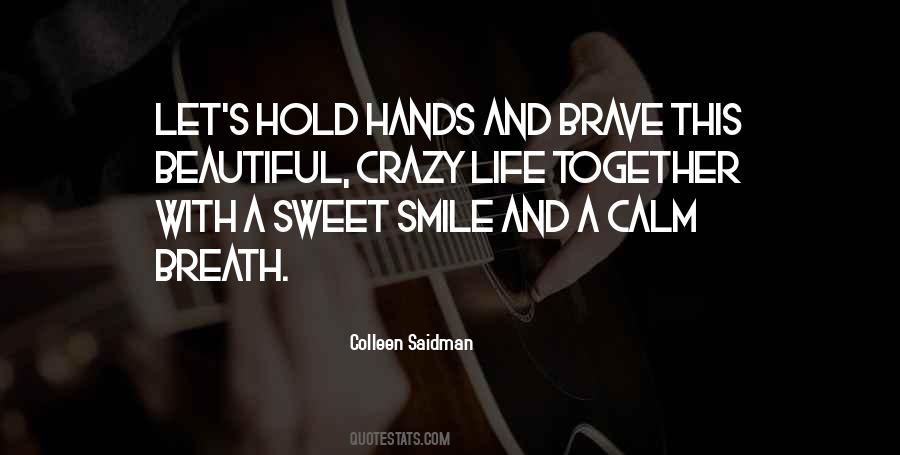 #68. You can take all the precautions in the world and worry yourself like crazy, but each individual comes to this world with a life to live, no matter how long or how good or how scary it might be. - Author: Barbara Freethy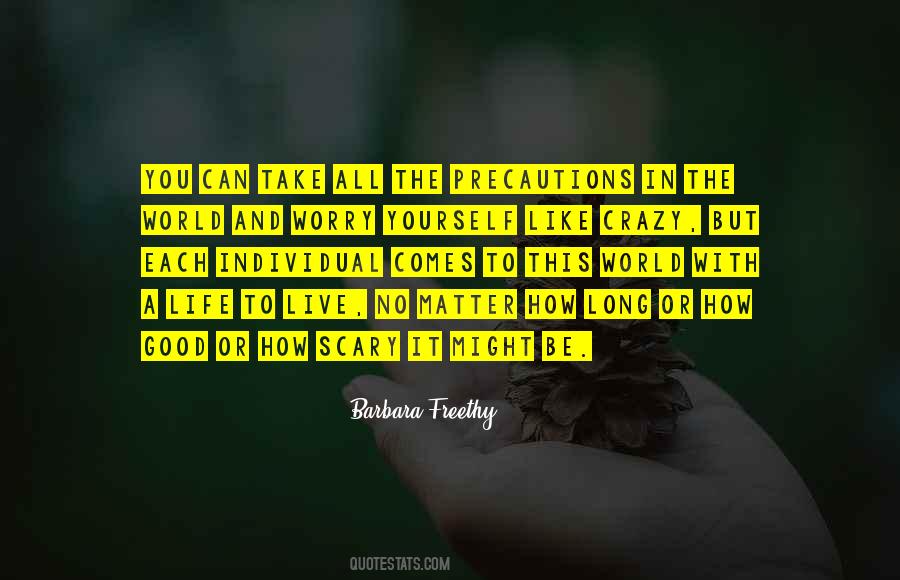 #69. I went to NYU Tisch for undergrad, and it was amazing. My life then was extremely experimental with acting. I did crazy theater where we would be rolling around on the floor. I would be playing grandmothers, and clowns, and all this crazy stuff. Then I would be doing Shakespeare eight hours a day. - Author: Katie Lowes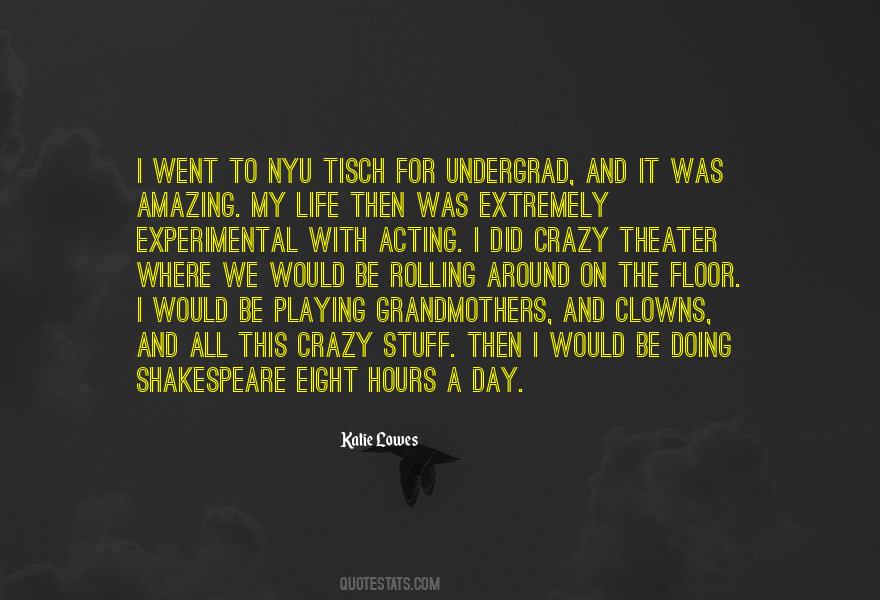 #70. This was exhausting. If she was going to make this kind of emotional investment in someone, he should at least be a proper boyfriend. But for a casual fling? She could drive herself crazy. - Author: Lauren Weisberger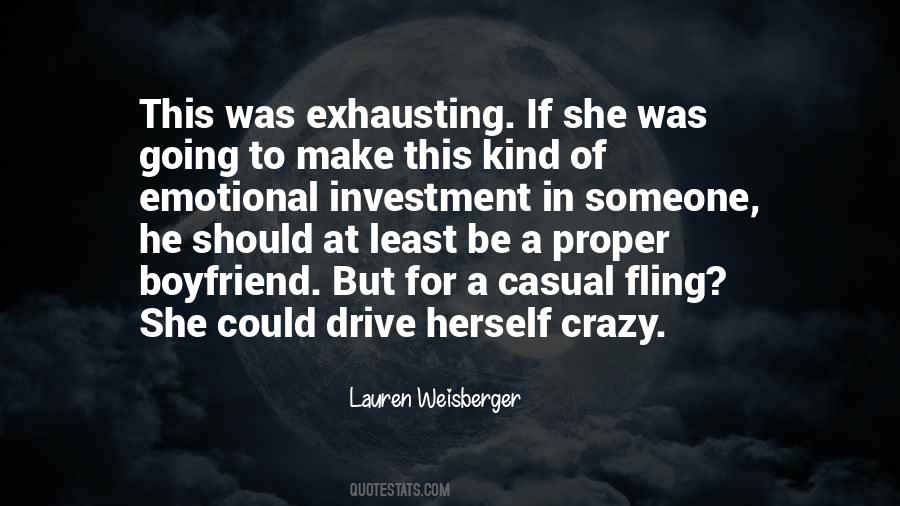 #71. To say that a writer's hold on reality is tenuous is an understatement-it's like saying the Titanic had a rough crossing. Writer's build their own realities, move into them and occasionally send letters home. The only difference between a writer and a crazy person is that a writer gets paid for it. - Author: David Gerrold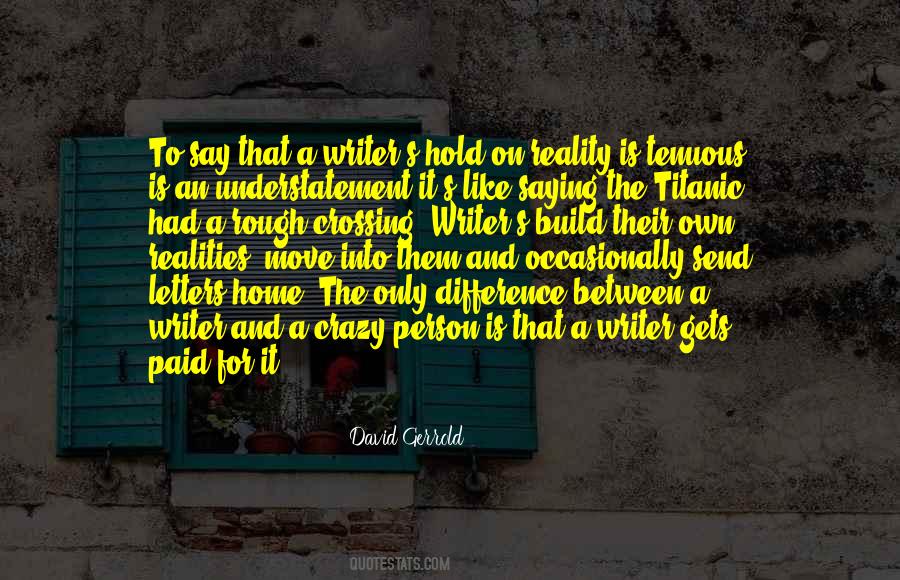 #72. I believe that when Crazy Horse was killed, something more than a man's life was snuffed out. - Author: Ian Frazier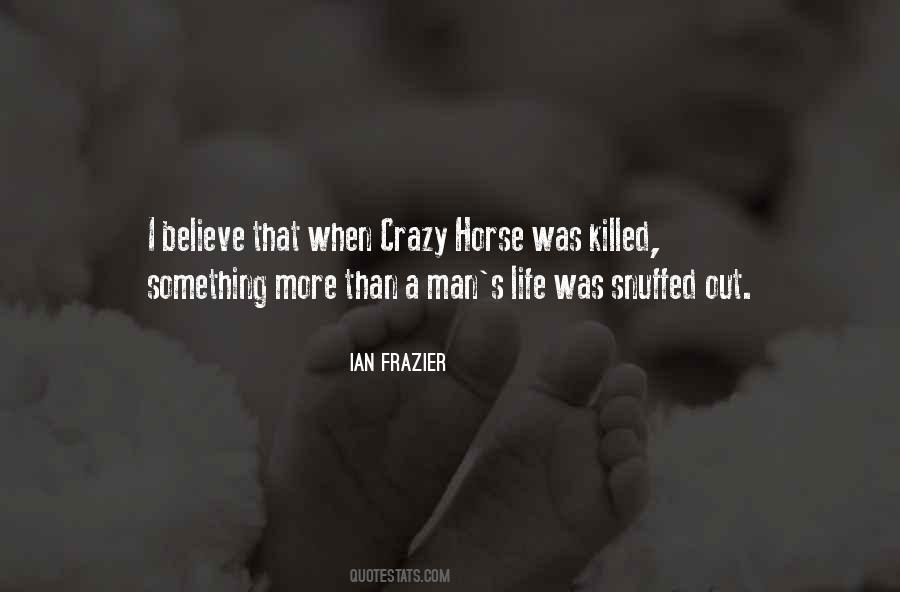 #73. They have had such a crazy life living with me as their dad. Not crazy but different from their friends. - Author: Sebastian Bach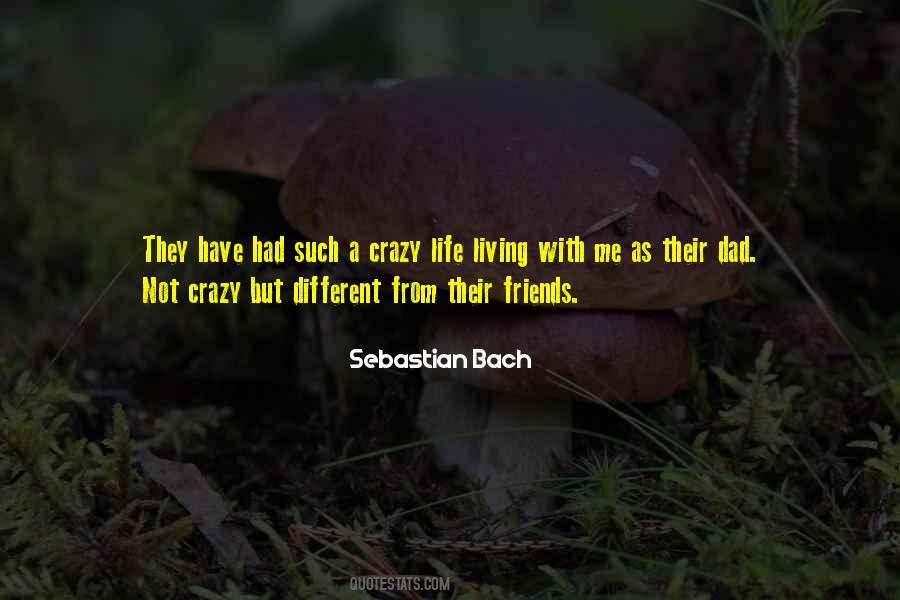 #74. I'm interested in the ideas that sound a little crazy, such as radical life extension, curing cancer, being able to create a simulation of the human brain and map every neuron. - Author: Bill Maris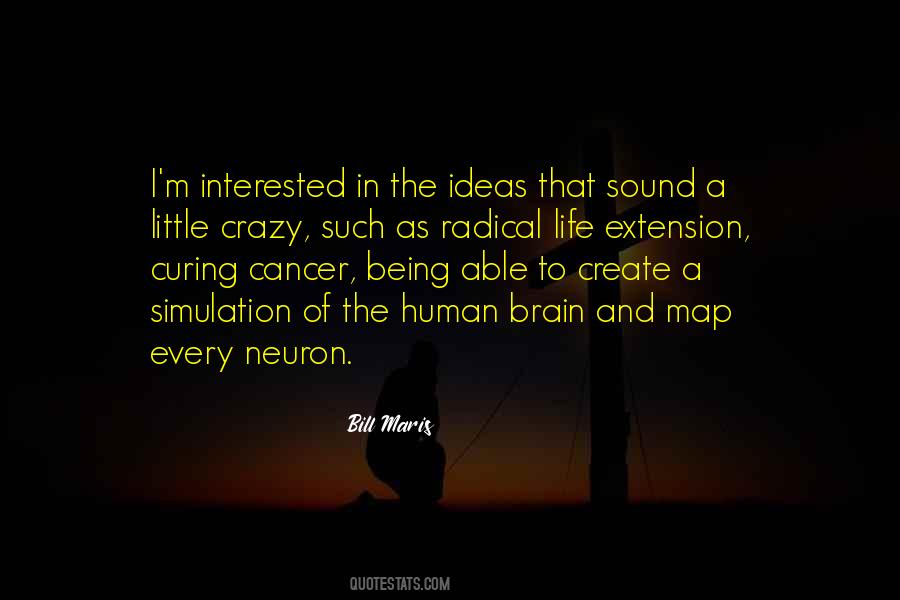 #75. I think my fans would probably be surprised to know I'm not insane - I'm not a crazy person in real life. I'm a pretty low-key dude. I like chilling at home and playing with my dog. - Author: Jerry Trainor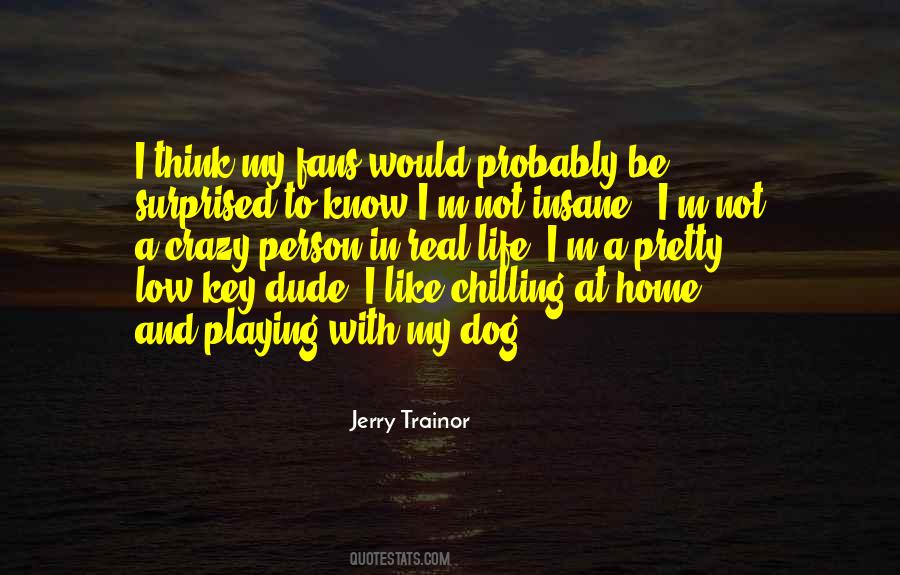 #76. I'm not talking about Russia in my music. I've never been to Russia. I'm not talking about Africa, Switzerland, China. I'm talking about me being American and growing up in a crazy world and helping to reflect all different sides of life. - Author: Nas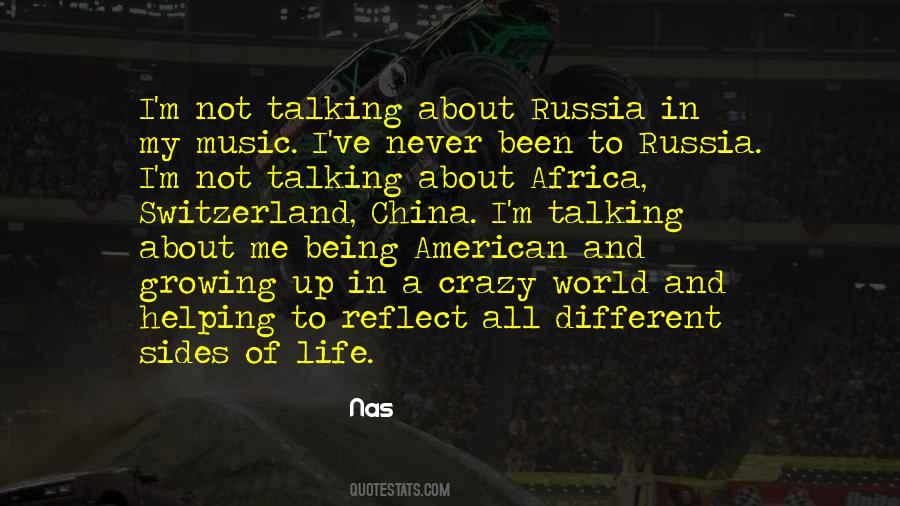 #77. You deserve a man who makes you feel butterflies. Love isn't safe. Love is crazy and scary and unpredictable. You can't control it and you sure as hell can't fight it. It's one of life's greatest risks ... but it's also one of life's greatest gifts. - Author: Karli Perrin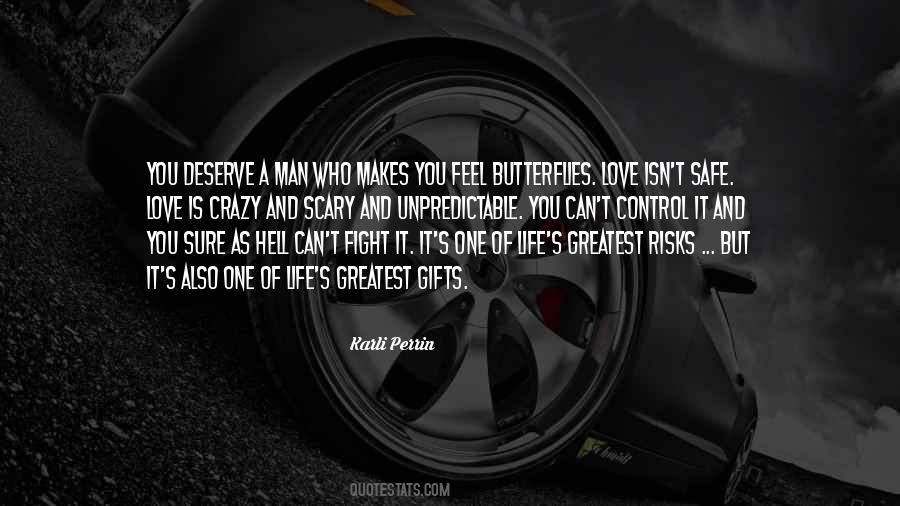 #78. My life may be a pretty crazy life at times, but it's a very privileged one - being able to earn a good living doing what you love. Not many people have such an opportunity. - Author: Julianne Moore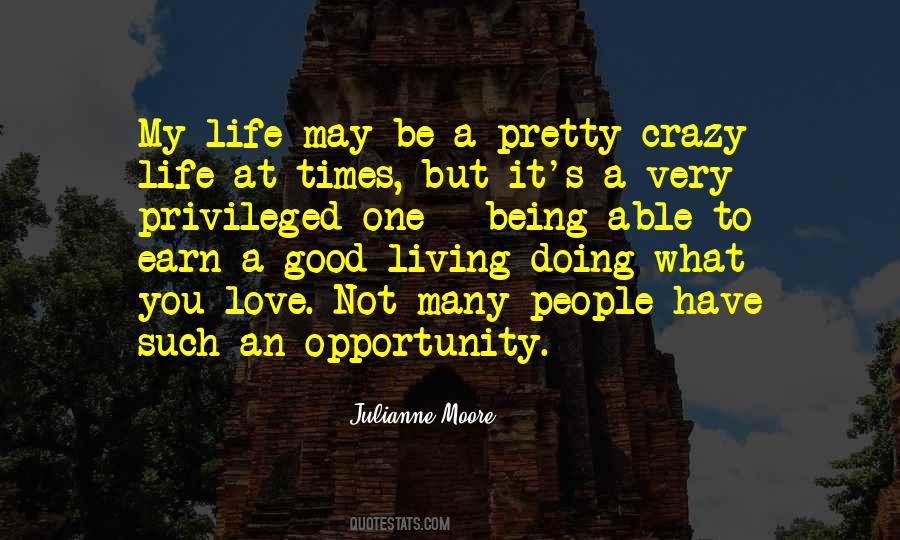 #79. I've still got lots of writing in me. I have not left journalism, but I put it on hold to focus on acting. I love actors. I think it's a crazy thing to do with your life, and I have a tremendous amount of respect for them. - Author: Liane Balaban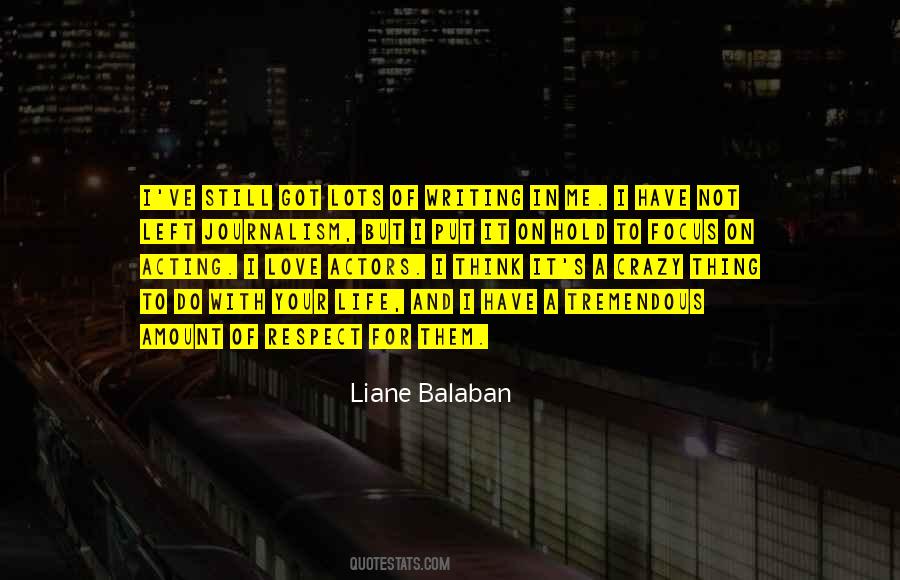 #80. Feeling lost, crazy and desperate belongs to a good life as much as optimism, certainty and reason. - Author: Alain De Botton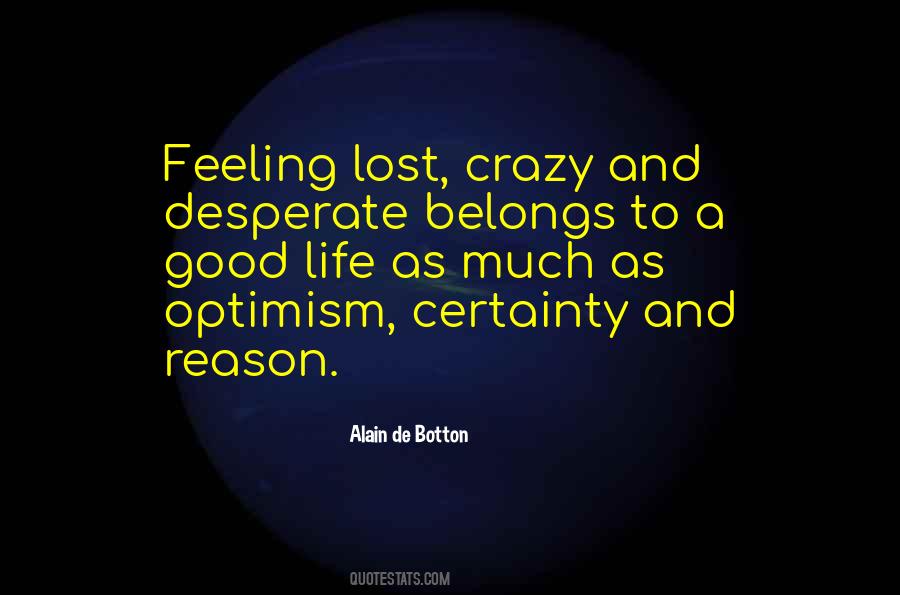 #81. Some men enjoy the constant strife Of days with work and worry rife, But that is not my dream of life: I think such men are crazy. For me, a life with worries few, A job of nothing much to do, Just pelf enough to see me through: I fear that I am lazy. - Author: James Weldon Johnson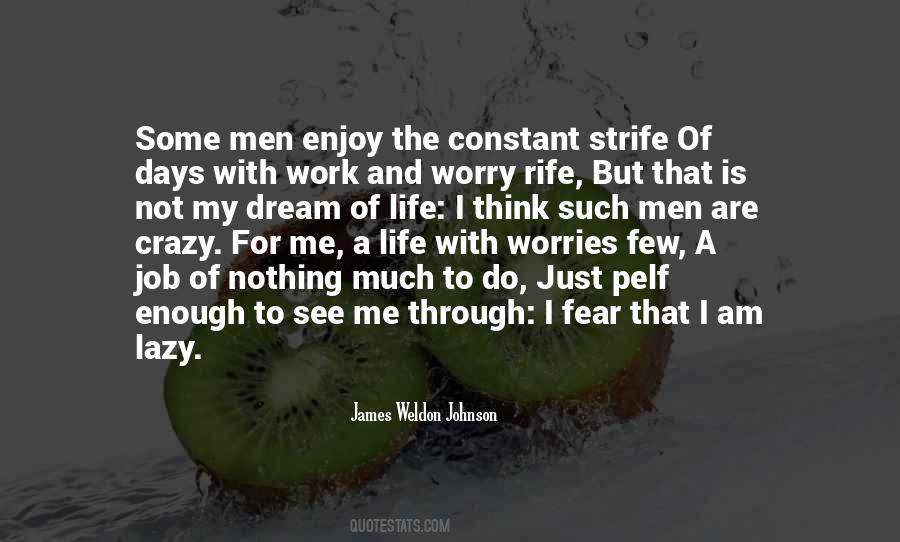 #82. Crime is one of the leads of the show. If there's ever anything that deals with a character's personal life, you don't have to worry about it getting too crazy. People don't have to worry about character arcs. Each episode is a self-contained unit. - Author: Christopher Meloni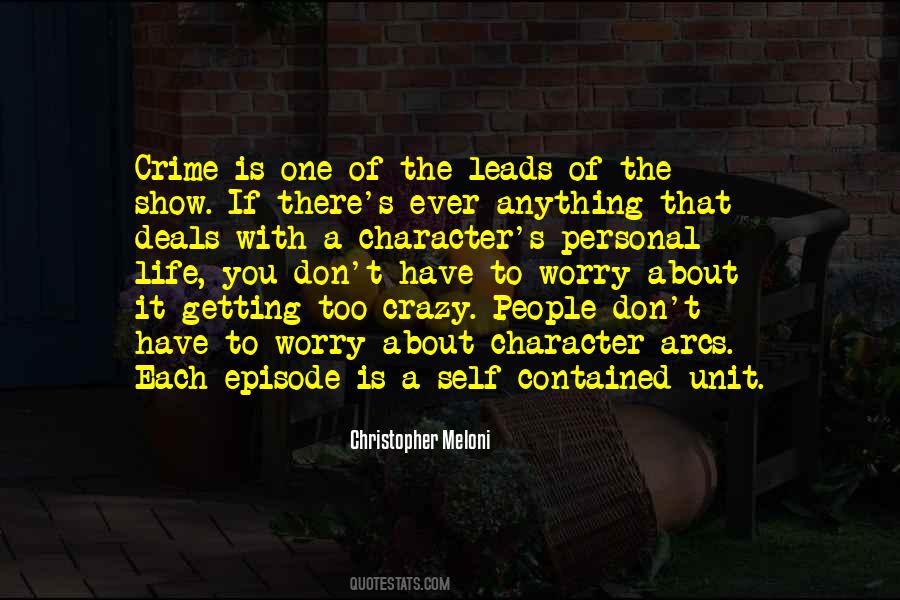 #83. Reflection is nothing more than what it sounds, and pondering one's own life is about as productive as talking to one's image in a mirror: both acts are egocentric and neither produces a dialog. People who talk to themselves in public are not self-actualized; they're crazy. - Author: Anthony Marais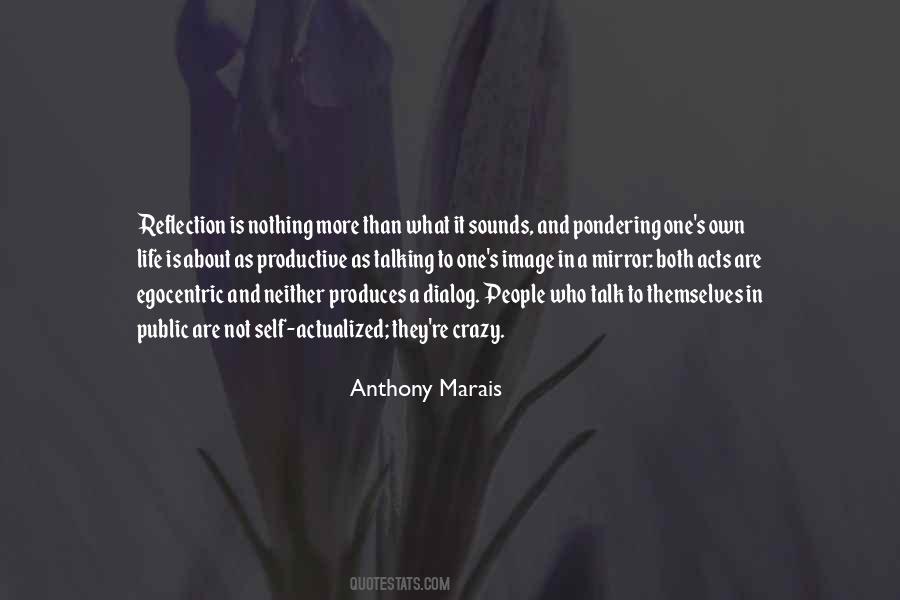 #84. The part you don't expect when you start out is all the people who come into your life wanting a piece of you, not caring about your wellbeing. The insane schedule is very difficult. Touring looks very glamourous but it's hard and gruelling - the travelling, the meet-and-greets - it was too crazy. - Author: Cheryl James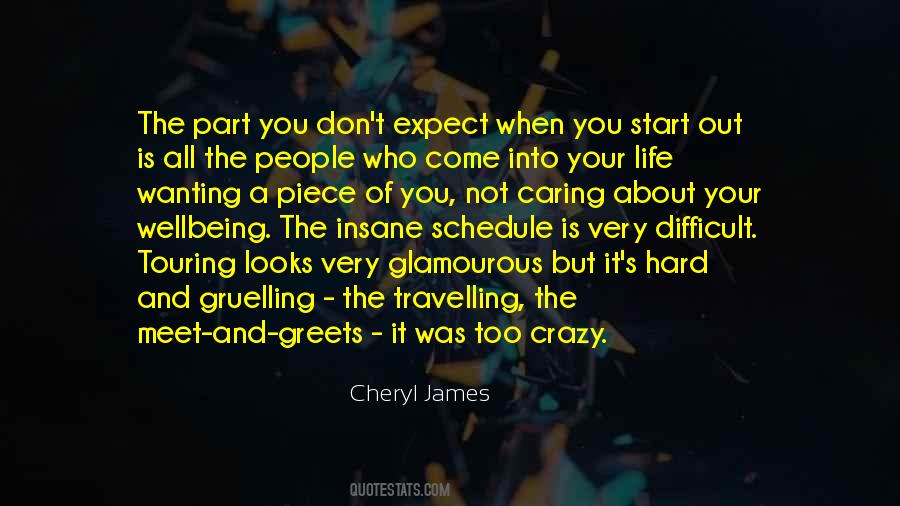 #85. It's strange, isn't it? No matter how quiet and conformist a person's life seems, there's always a time in the past when they reached an impasse. A time when they went a little crazy. - Author: Haruki Murakami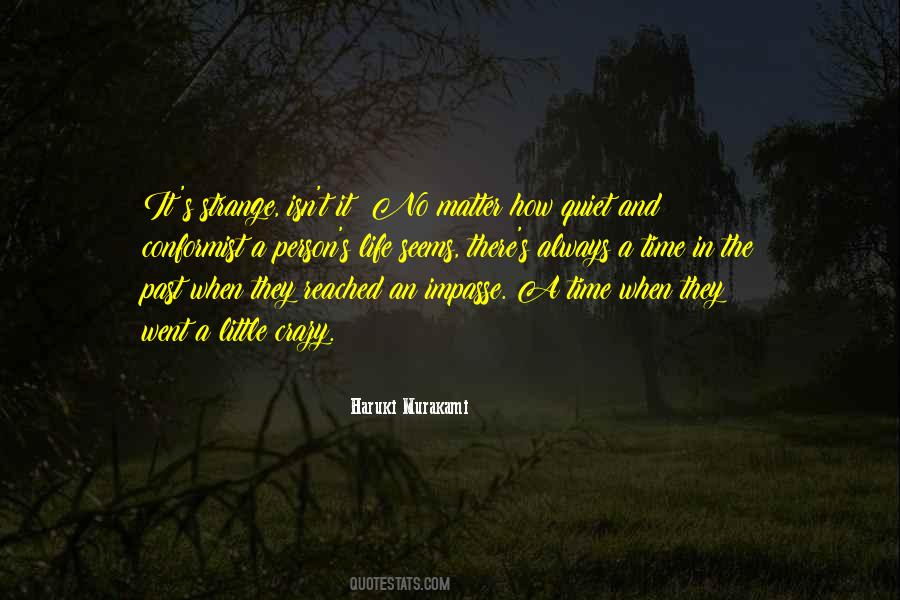 #86. I was crazy. I was crazy in the way a child is crazy, in the way of someone who believes, with rash fervor, that life can be - that it will yet be, and most certainly - as you would wish it. How could I have been so foolish? - Author: Claire Messud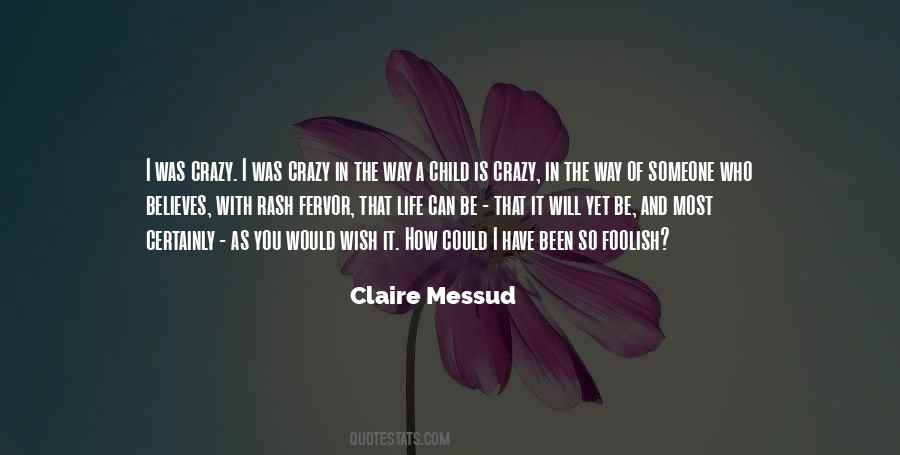 #87. The conundrum of sanity and insanity, is that it serves us to be some of each. It's really only a question of degrees. You cannot possibly be 100% adjusted and live in this INSANE world. A little bit of crazy is a coping skill. - Author: Kelli Jae Baeli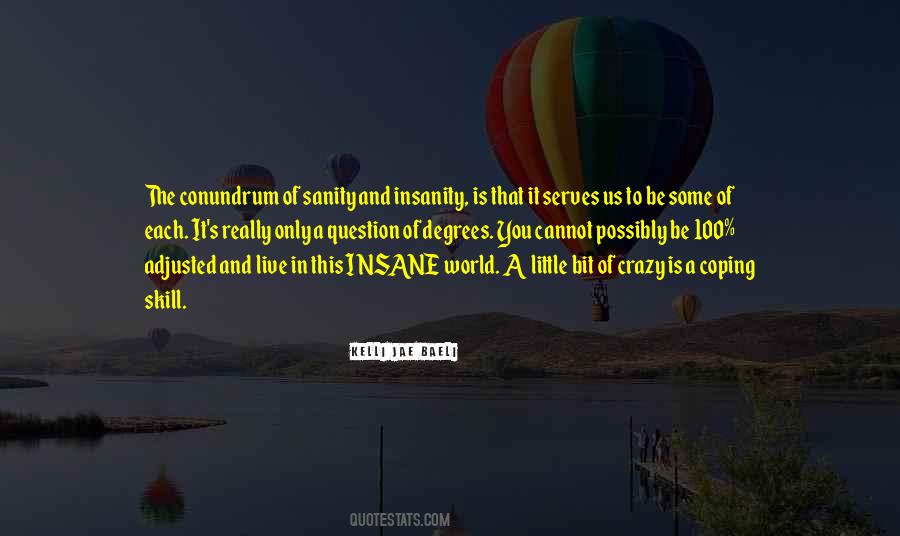 #88. The funny thing is a lot of people assume that my parents are the ones pushing me to make music. The truth is that I'm the one dragging them along on this crazy ride. They'd much rather have a normal life, but it doesn't look like that's in the cards. - Author: Cheyenne Kimball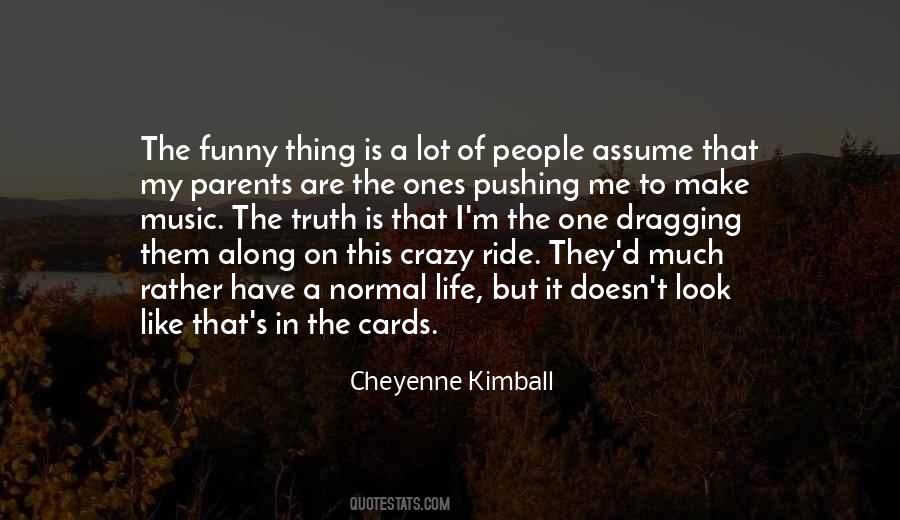 #89. Florida is a crazy place, and I have played some of the wildest shows of my life here. - Author: Henry Rollins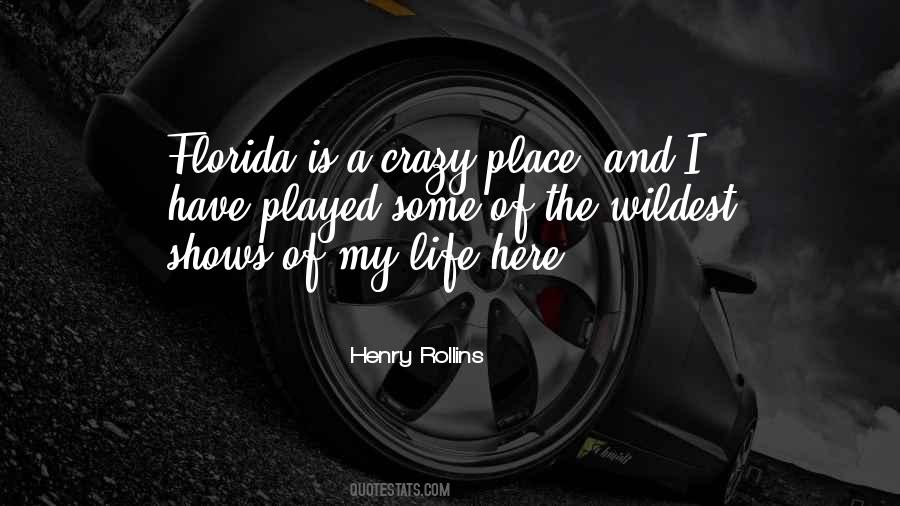 #90. It's like my whole life never happened, When I see you, it's as if I never had a thought. I know this dream, it might be crazy, But it's the only one I've got. - Author: Bob Dylan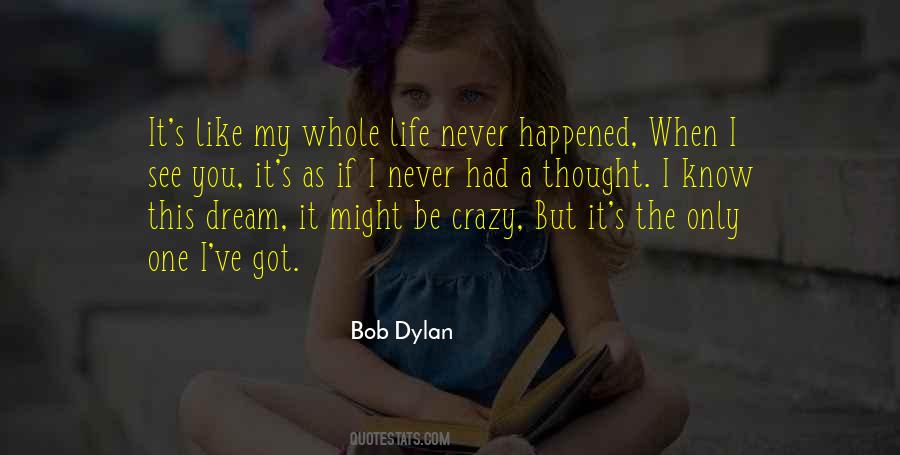 #91. I have spent my entire life living in a zoo, which is pretty crazy. Not many kids get to say that, and it took me until I was about three years old to realize that we didn't just come to the zoo every day, that we actually lived here. - Author: Bindi Irwin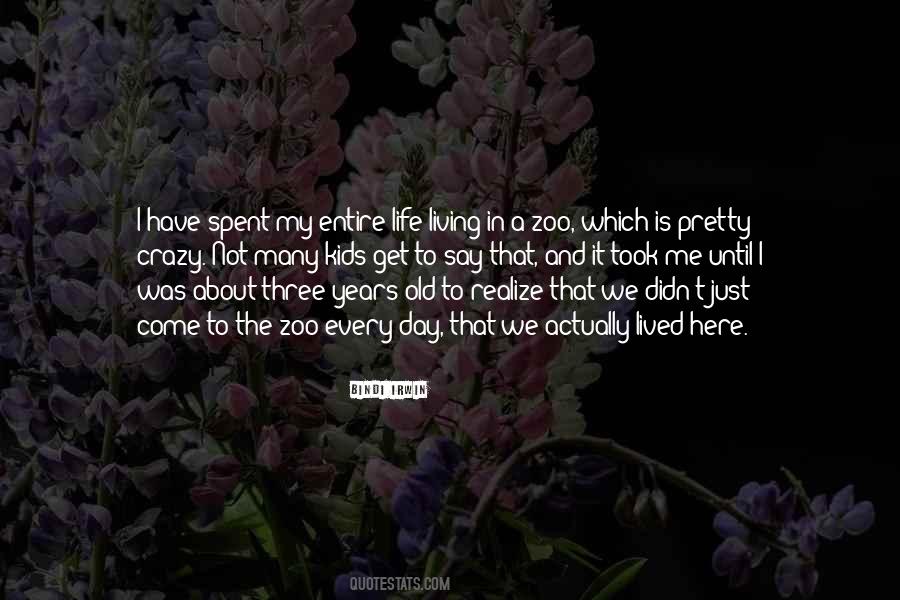 #92. I think everyone thinks their dad is a little bit odd or crazy. As they get older, they develop their own little habits. They have a certain way that they like to live their life, and nothing is going to interrupt that. - Author: Simon Bird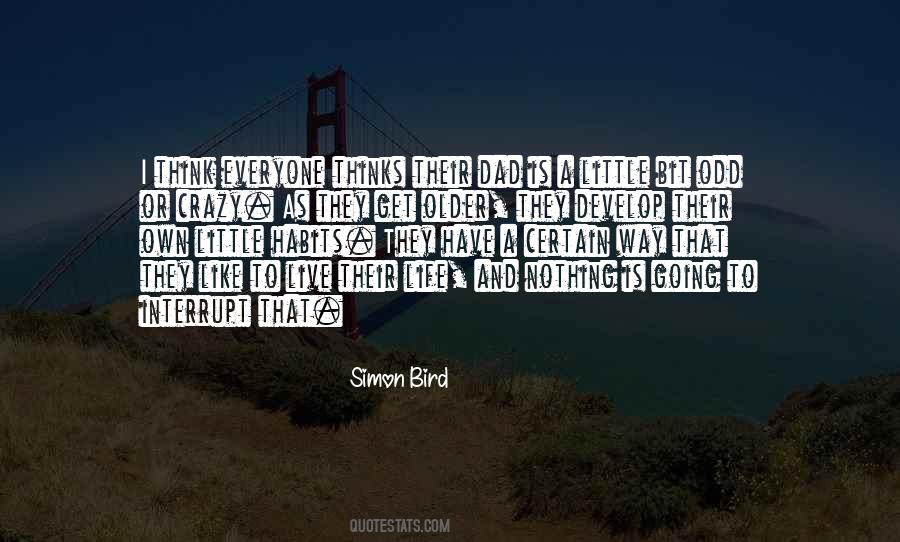 #93. I swear, you're a crazy person. You go around up to your eyeballs in snakes and dead people and exploding beavers. It's just not normal. Even when I was a 'ho, my life wasn't that freaky. - Author: Janet Evanovich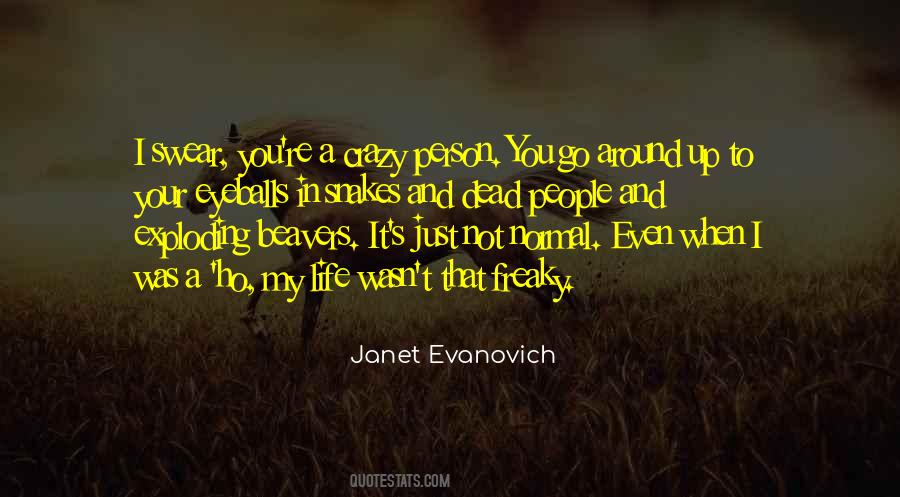 #94. Crazy as it sounds, I'm a believer in destiny and serendipity, and I have had cosmic experiences all my life. Something told me I was meant for greater stuff. And look, I've had a baby! And I've written an opera! - Author: Rufus Wainwright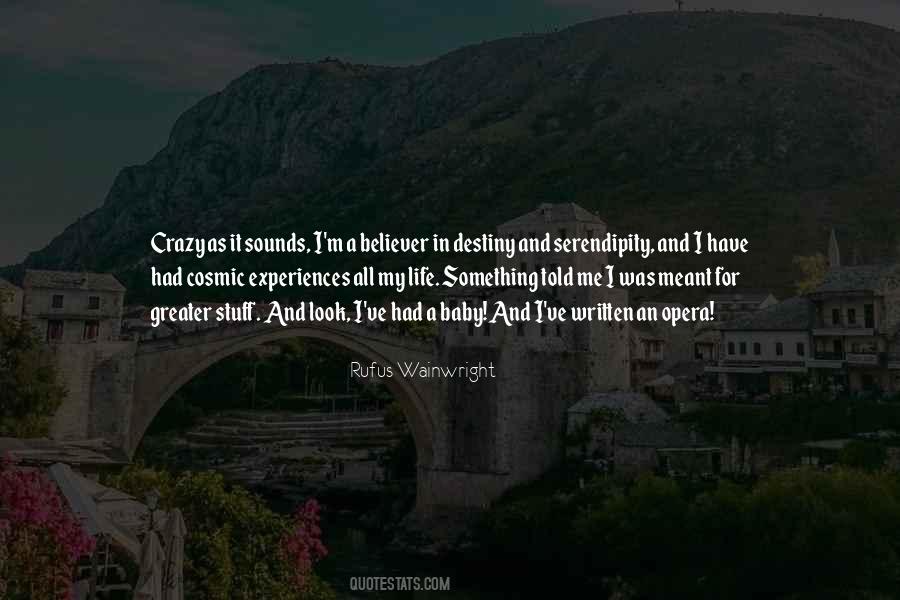 #95. He showed a video of a seemingly crazy man dancing all by himself at an outdoor concert. The man stands on the side of a hill, shirtless and barefoot, gesticulating wildly and having the time of his life. - Author: Eric Schmidt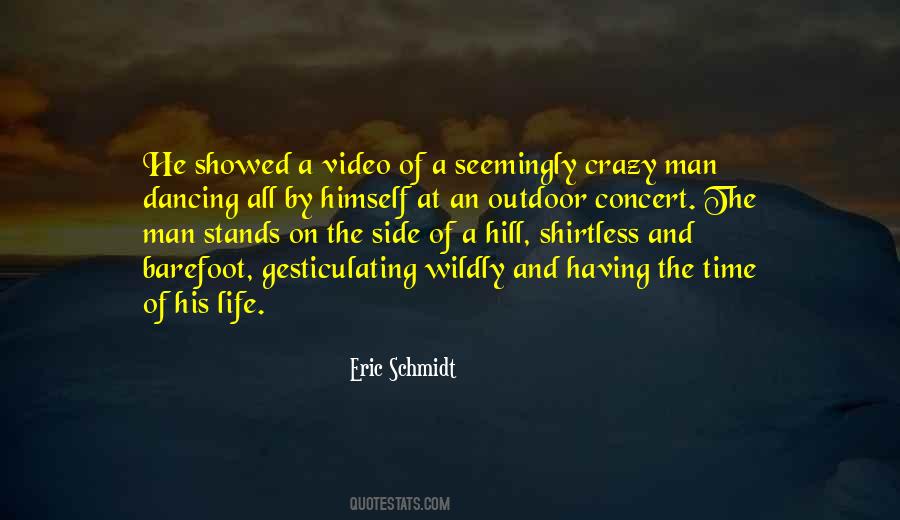 #96. The celebrity thing's completely crazy. I think I just have to move away or give it up altogether. I couldn't have kids in the situation I'm in now. But I could just do something else. That's probably what's going to happen. I made a decision very recently that I want a life instead. - Author: Keira Knightley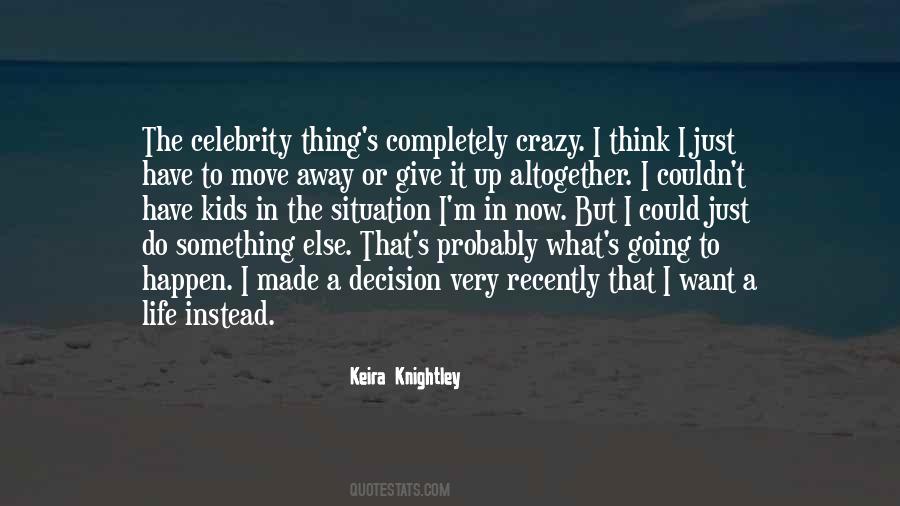 #97. I have voices in my head
I'm a slave to imaginary people
I feel what they feel
I experience what they experience
I live in their world
And I'm devoted to translating their stories
I'm not crazy, I'm a writer - Author: Charisse Spiers
#98. I really got consumed with the idea of how people who are deemed crazy or insane often have a firmer grasp on reality than normal people. The average person goes through life thinking it will go on forever. - Author: Youth Lagoon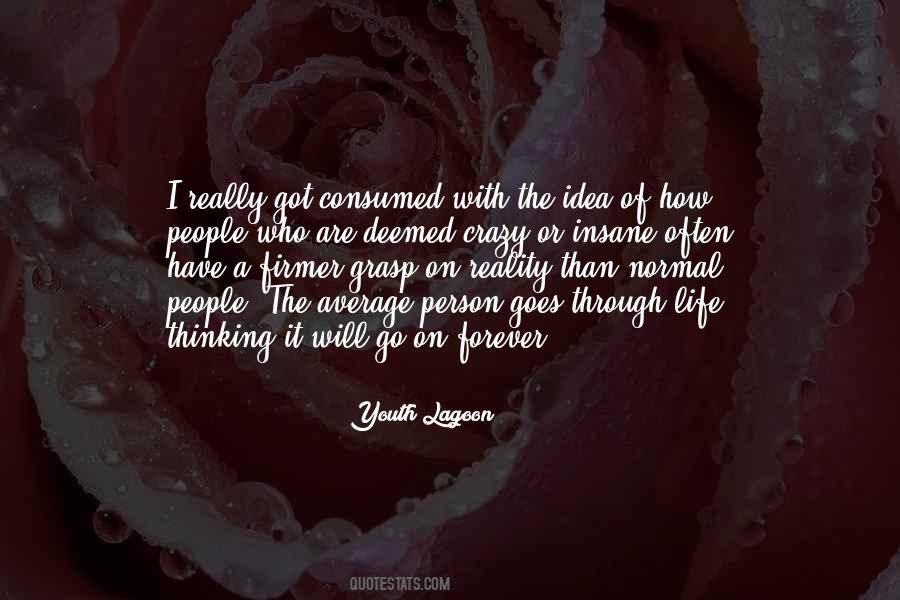 #99. Love isn't poison. It won't kill you. It's natural, it's complicated, it's crazy-making, but it's a fact of life. - Author: Ally Blake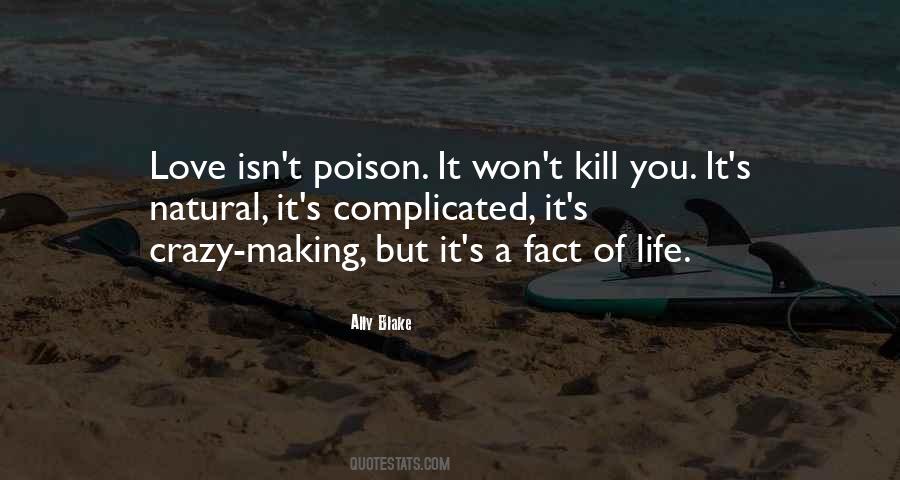 #100. People say that having three orchestras is a crazy life, but it's better because you have three families. I want to have my own kids very soon. In future, I still want to conduct a lot, but less, to be with my family. - Author: Gustavo Dudamel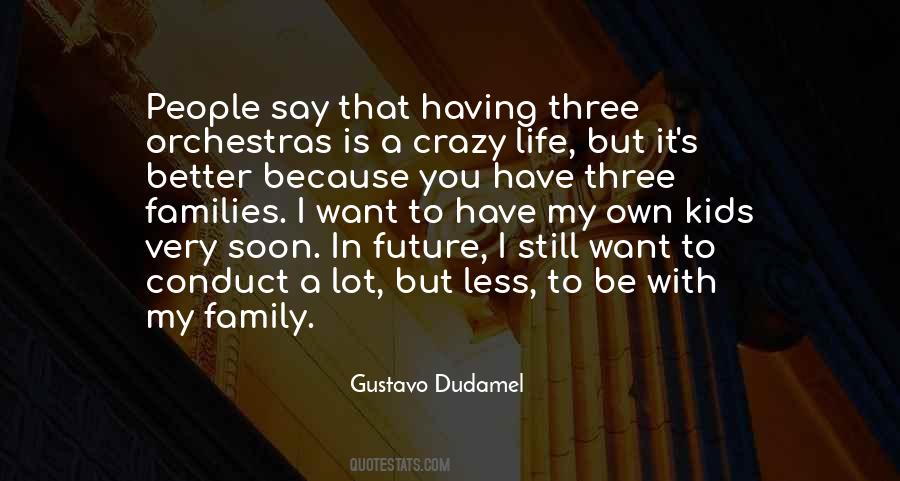 Famous Authors
Popular Topics