Powerful Than Famous Quotes & Sayings
List of top 100 famous quotes and sayings about powerful than to read and share with friends on your Facebook, Twitter, blogs.
Top 100 Powerful Than Quotes
#1. Maybe the questions are more powerful than the answers. - Author: Dan Brown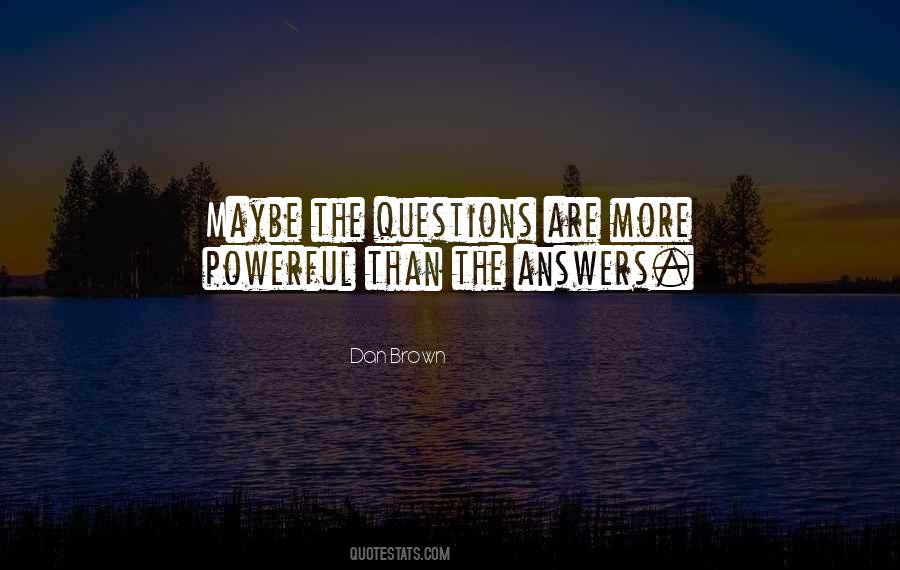 #2. The strength of the saviour is much more than the strength of the person who kills. - Author: Narendra Modi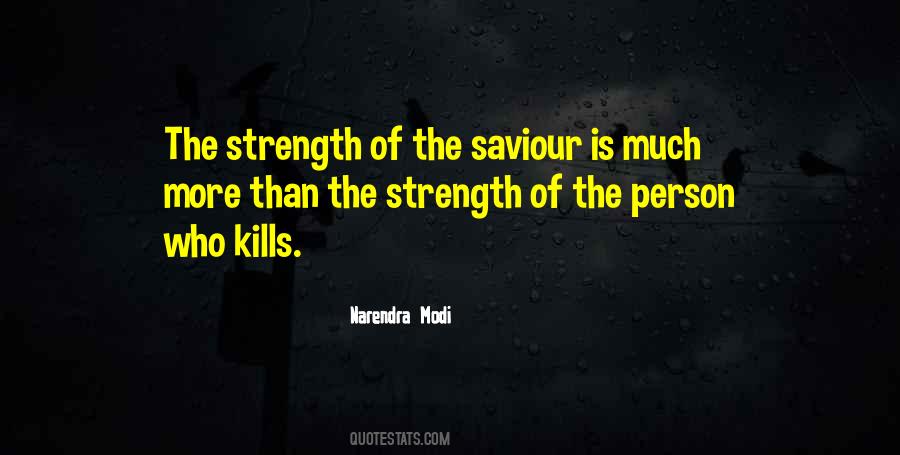 #3. Today's gardens have become far more than things of beauty. And today's generation is fast finding out that backyards can be an extremely resourceful and powerful tool in not just providing food for the family but also a brilliant way of connecting children with the natural world. - Author: Jamie Durie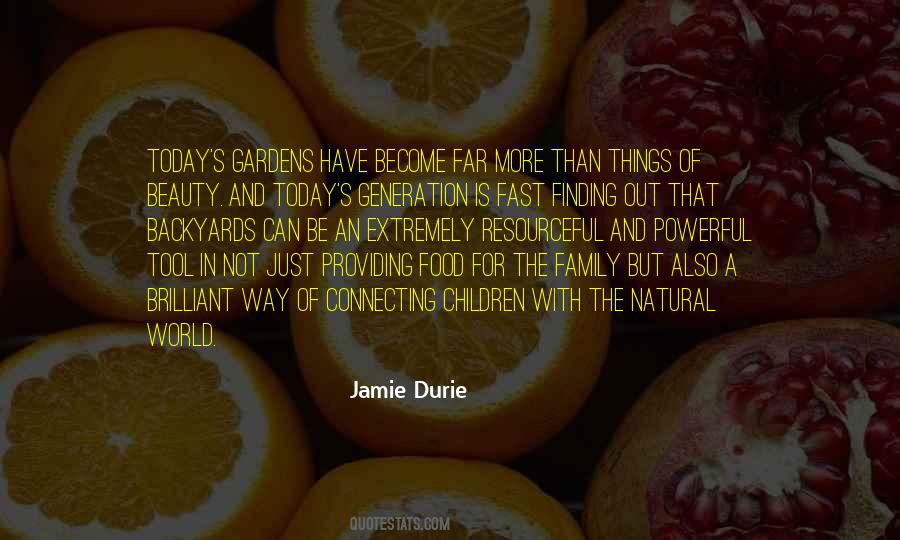 #4. The old ploy of the powerful: never refuse when you can confuse. Distraction and delay are always better than obstruction. - Author: Helen McCloy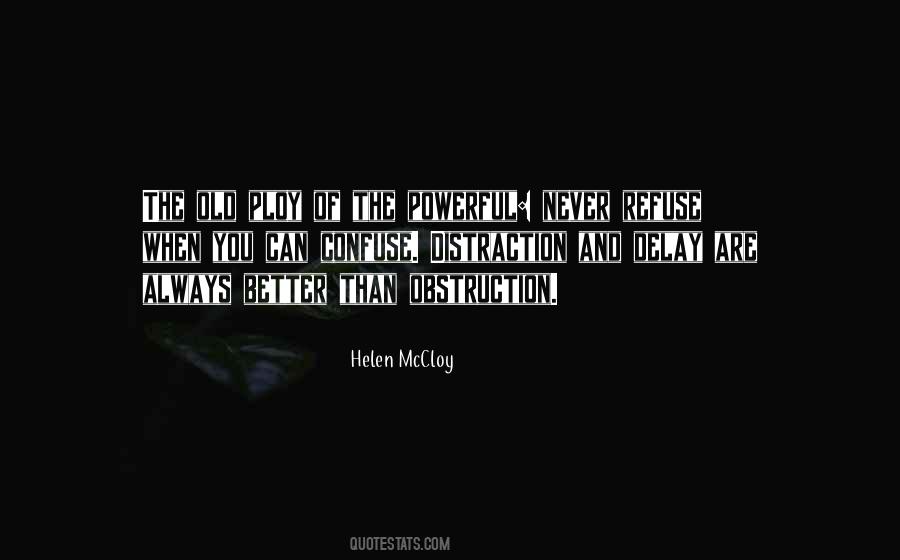 #5. We are so much more powerful and important than we realize. In each moment that we connect with another, we have the opportunity to etch a memory into their heart. - Author: Robin Lee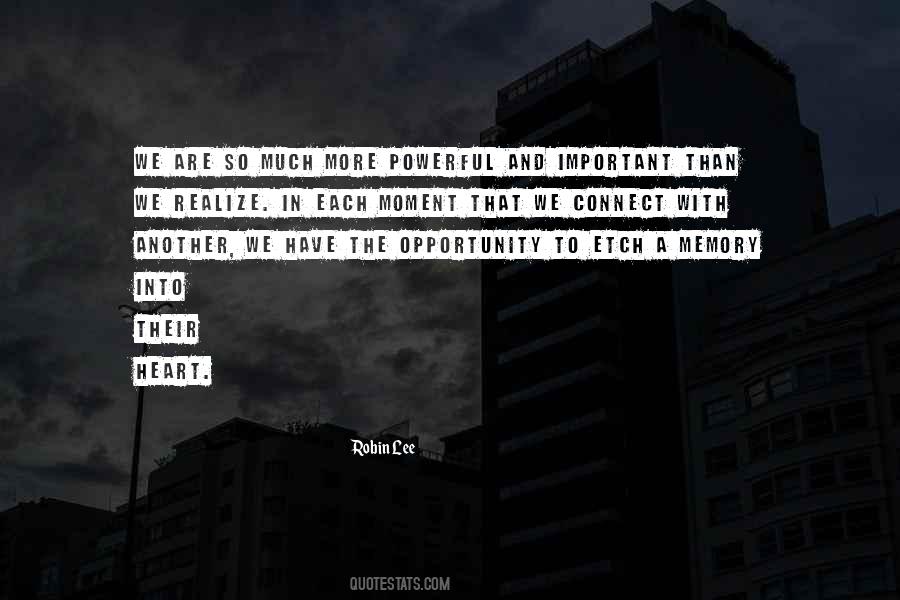 #6. It was less like seeing than like being for the first time seen, knocked breathless by a powerful glance. - Author: Annie Dillard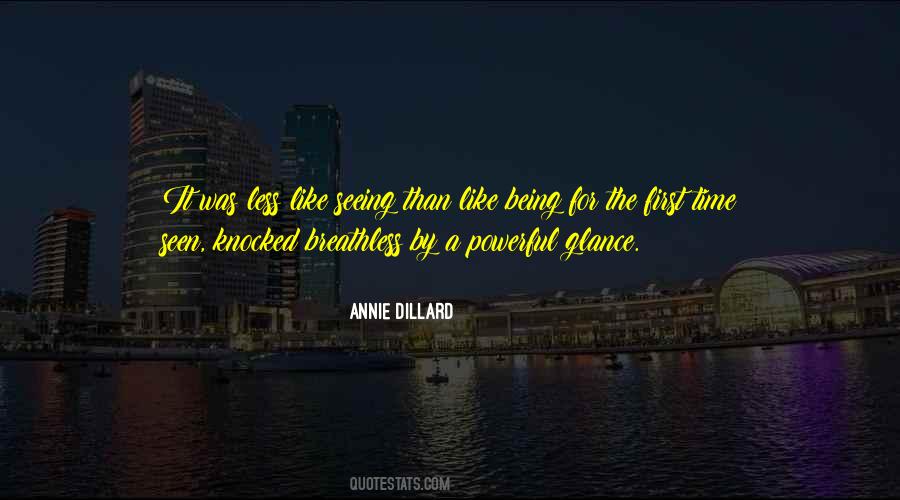 #7. But if you must know, your moon here is rather more powerful than the ones around my own world."
"The moon?" said Twoflower. "I don't under-"
"If I've got to spell it out," said the troll, testily, "I'm suffering from chronic tides. - Author: Terry Pratchett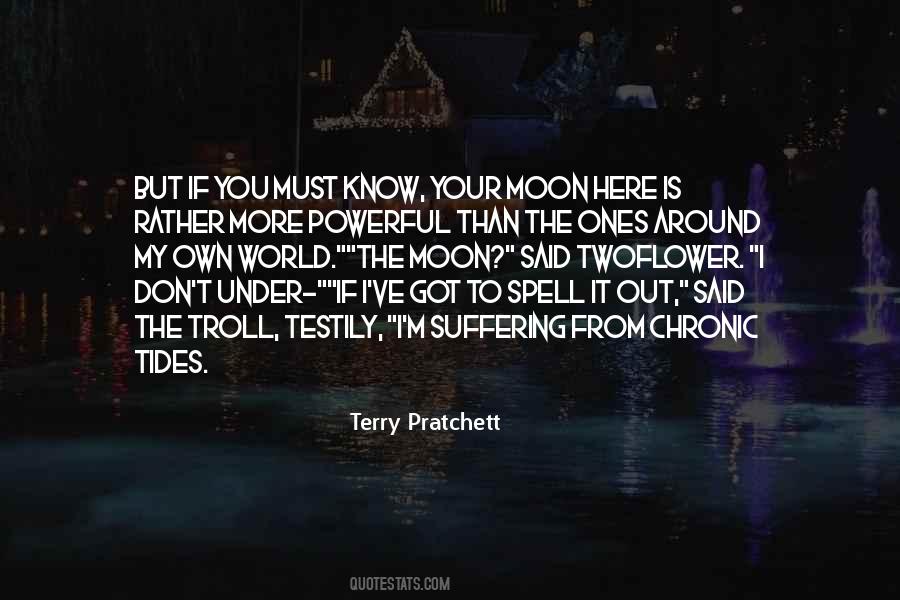 #8. You are more powerful than you think. - Author: Tim Cook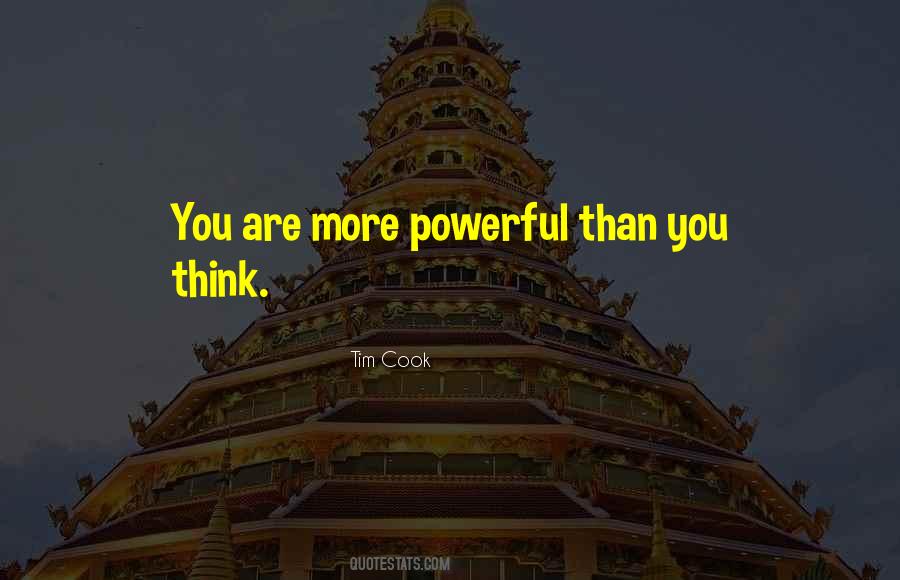 #9. There's nothing more powerful than a woman who knows how to contain her power and not let it leak, standing firmly within it in mystery and silence. A woman who talks too much sheds her allure. - Author: Marianne Williamson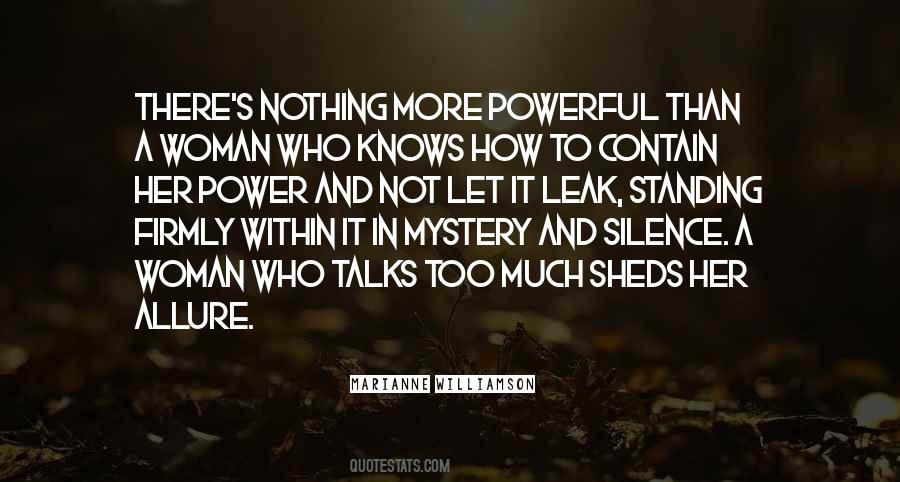 #10. I'm terrified of Elena's ghost, but at the same time, I feel strongly that it's the right thing to do. I can help, and I said I would, so I will. Besides, love is a powerful force. More powerful than reason. Even if that love, as strong as it is, isn't yours. - Author: Jael McHenry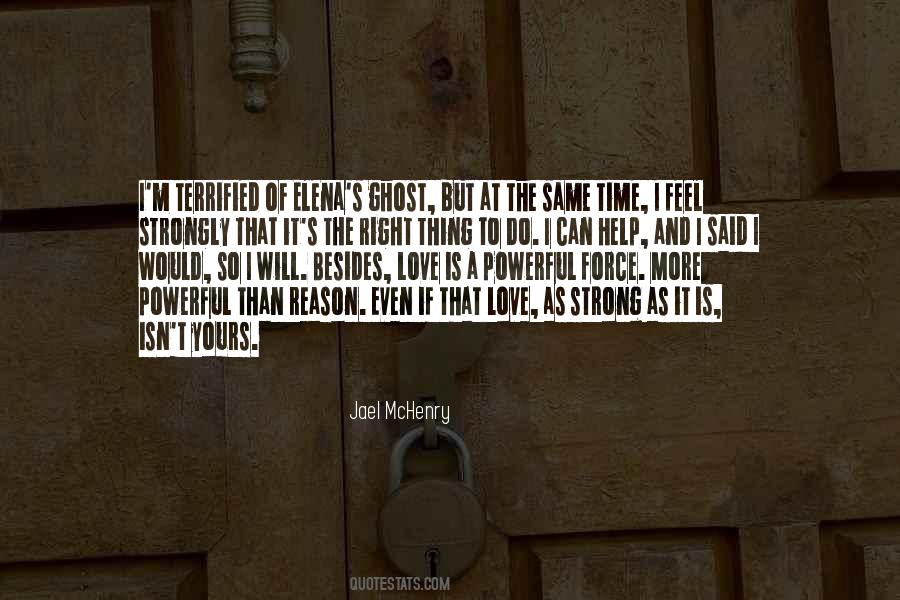 #11. If a powerful and benevolent spirit has shaped the destiny of this world, we can better discover that destiny from the words that have gathered up the heart's desire of the world, than from historical records, or from speculation, wherein the heart withers. - Author: William Butler Yeats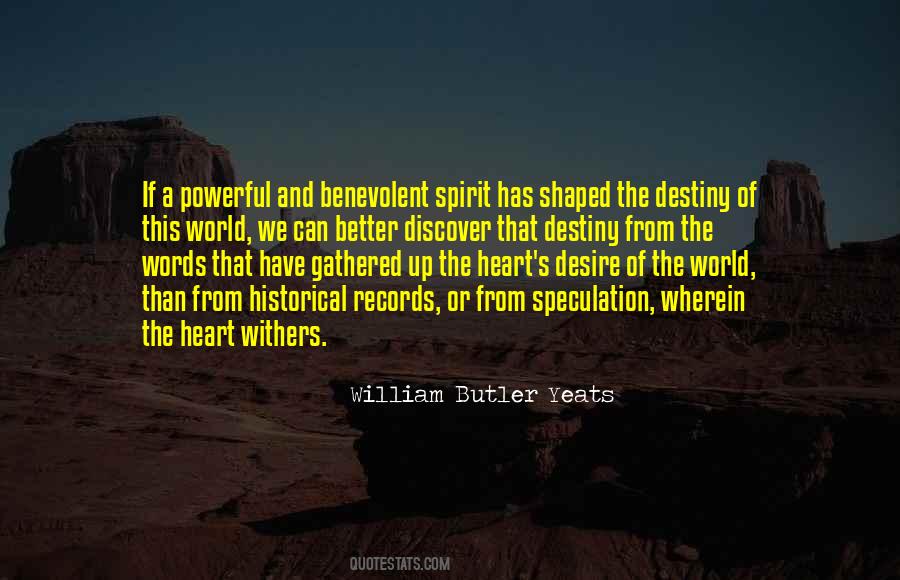 #12. I am more powerful than that disgustingly well-intenioned niece of mine!
Redd Heart - Author: Frank Beddor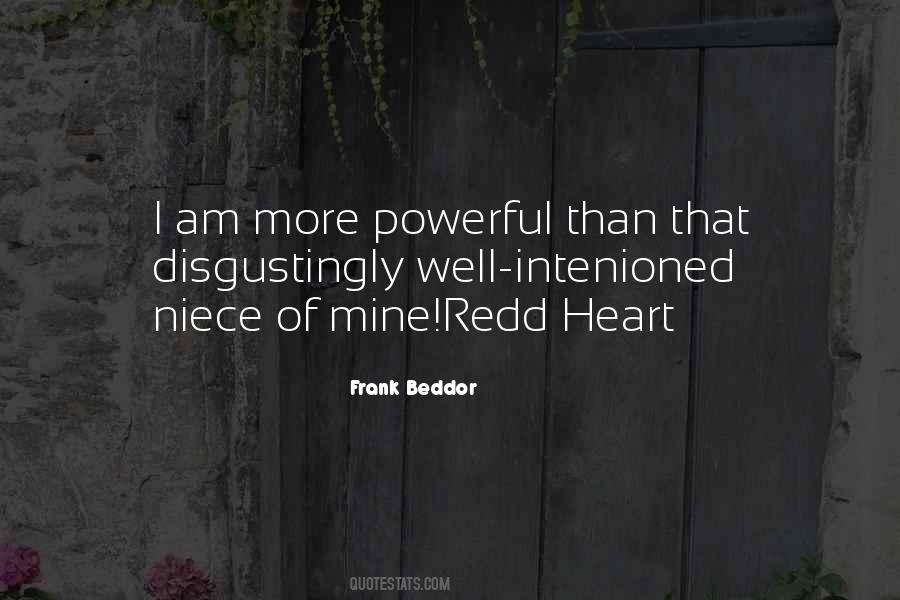 #13. Smell is the primordial sense, more powerful, more primitive, more intimately tied to our memories and emotions than any other. A scent can trigger spiritual, emotional or physical peace and stimulate healing and wellness. - Author: Donna Karan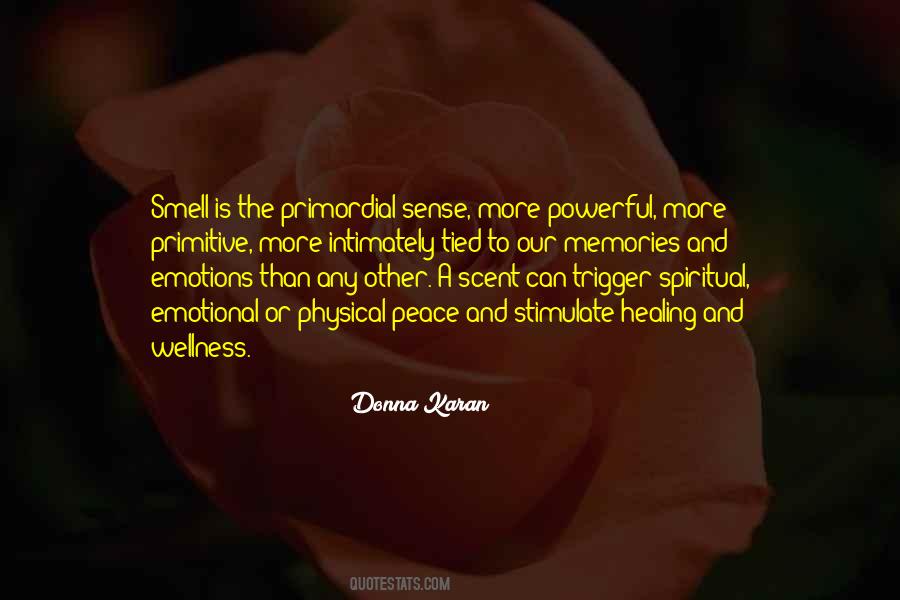 #14. The powerlessness of people with pure intentions, in the long run, can sometimes be more powerful than power in the hands of those blinded or depraved by evil tempers. - Author: Widad Akreyi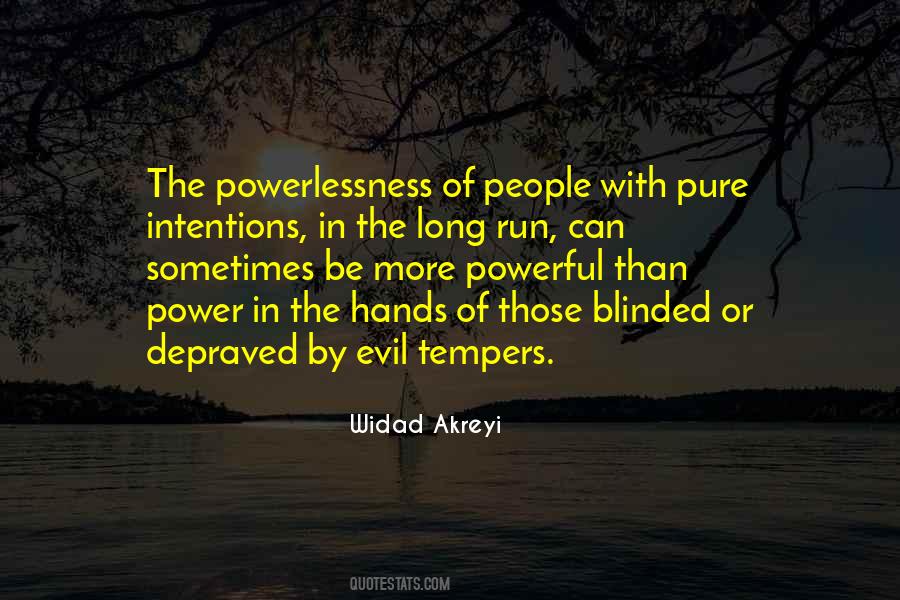 #15. If you are humble, you will always learn the most from whatever you perceive to be less powerful than you. It doesn't matter what or who it is: - Author: Bryant McGill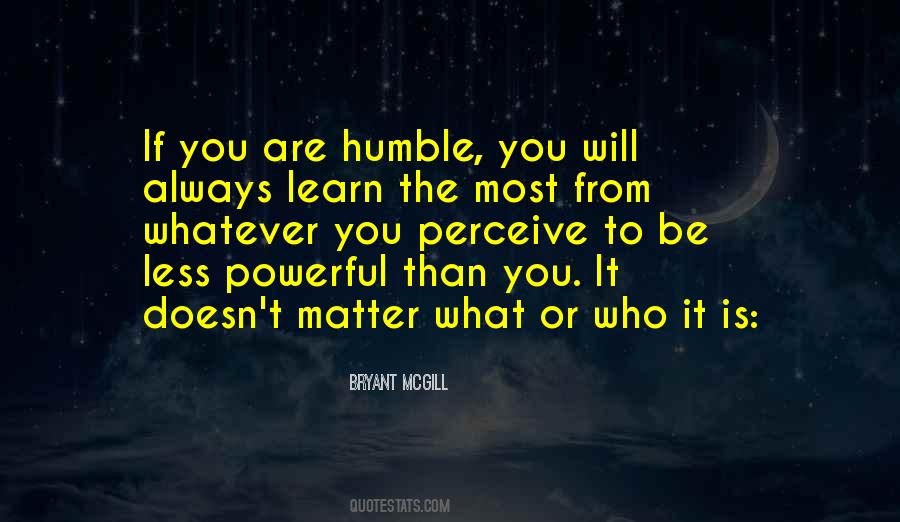 #16. Nothing. Nothing. Nothing is more powerful in deciding the quality of life than attitude. - Author: Toni Sorenson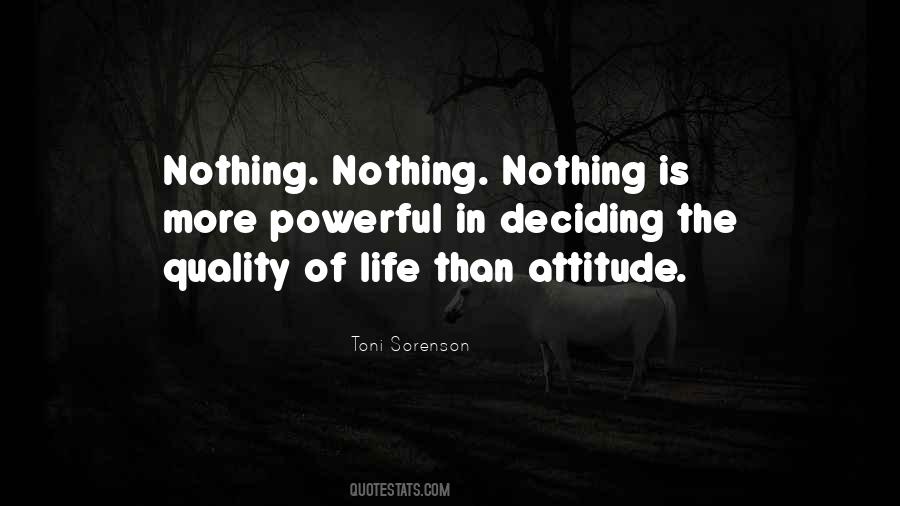 #17. A prayer couched in the words of the soul, is far more powerful than any ritual. - Author: Paulo Coelho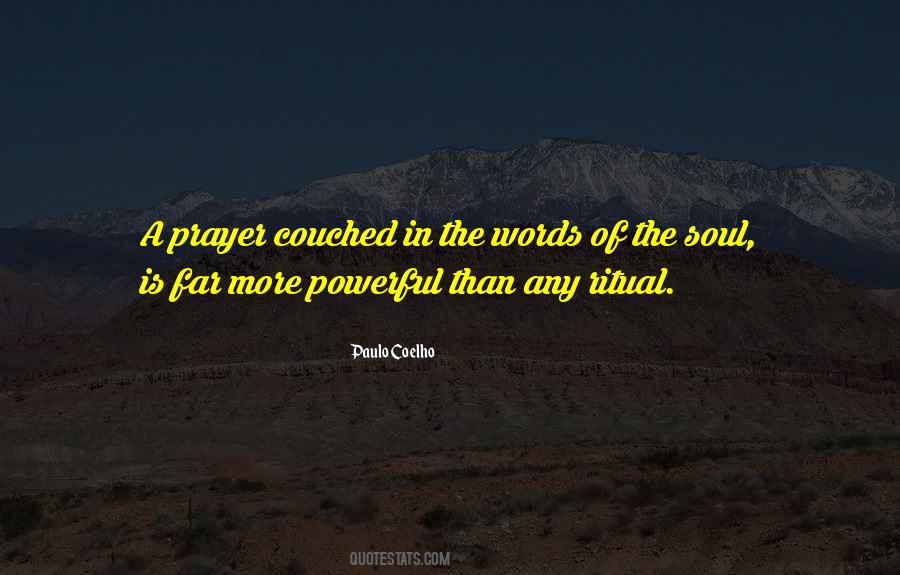 #18. The act of concealment had become more powerful than what it concealed. - Author: G. Willow Wilson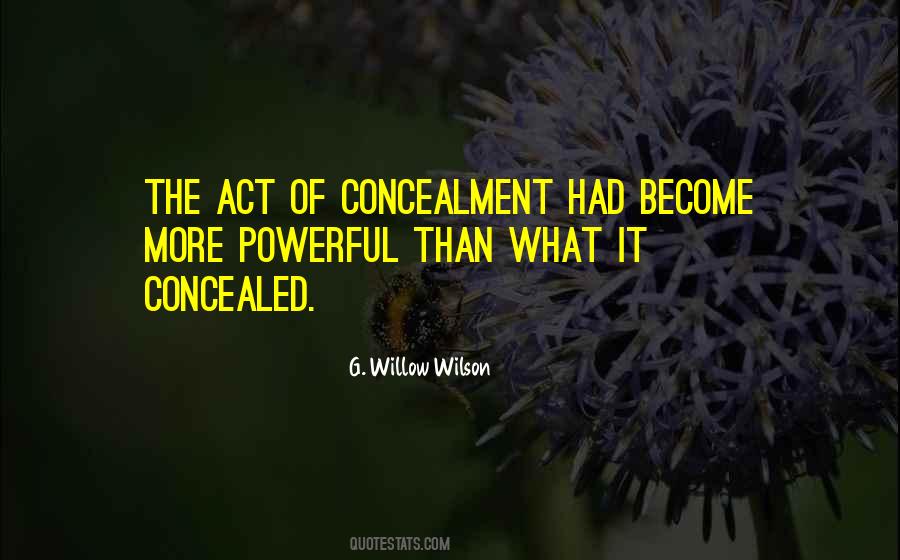 #19. Change, no matter how small, requires loss. And the prospect of loss is far more powerful than potential gain. It's difficult to imagine what a change will do to us. This is why we need stories so desperately. - Author: Shawn Coyne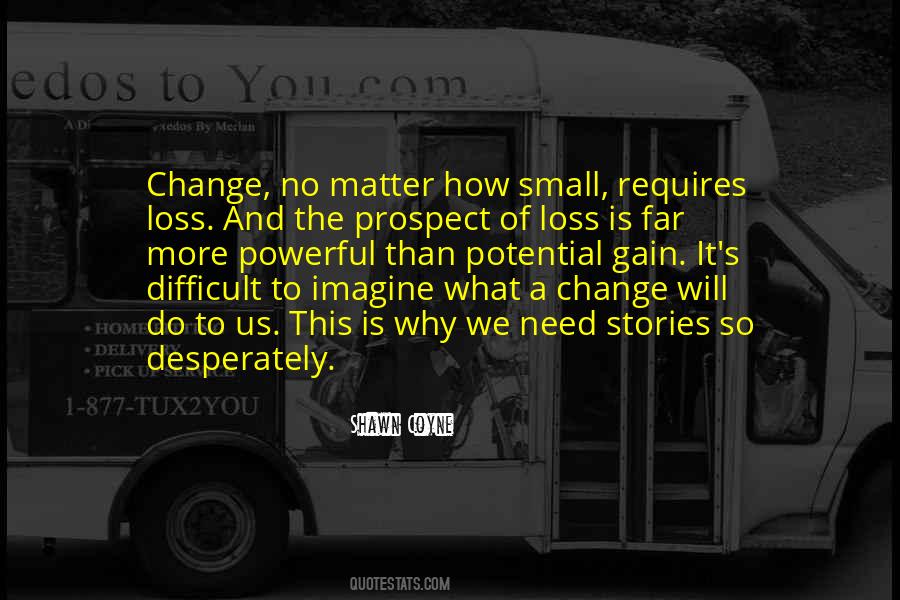 #20. Better to be patient than powerful; better to have self-control than to conquer a city. - Proverbs 16:32 - Author: Gary Chapman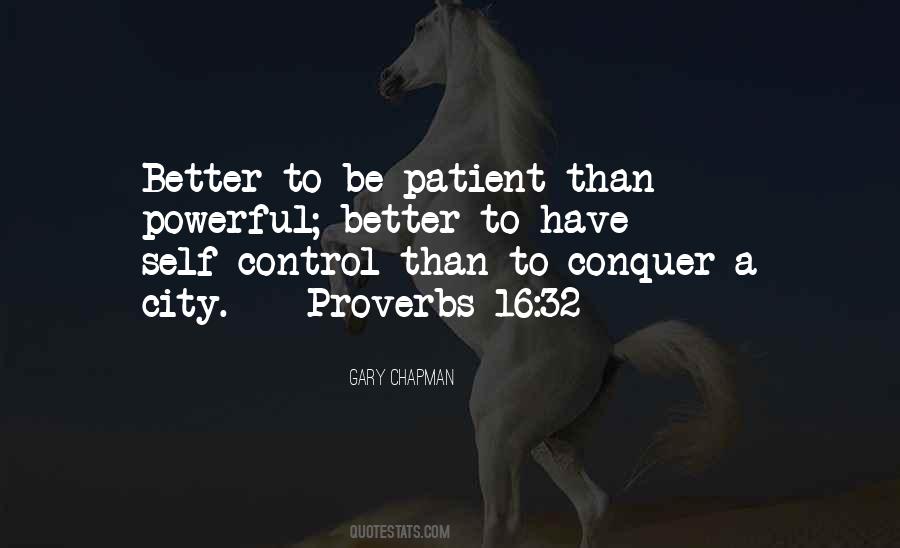 #21. A small step is much more powerful than the mightiest intentions. - Author: Abhishek Kumar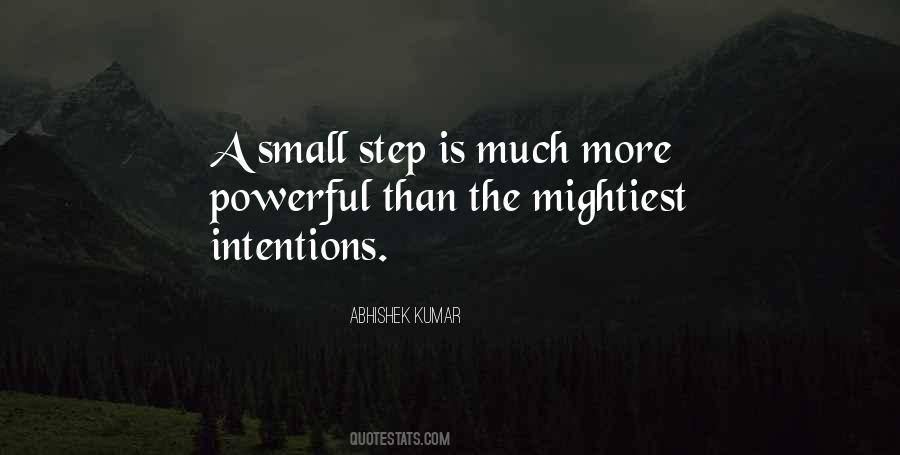 #22. Nothing's changed. When people read The Highwayman , they see it all in their heads. Their imagination is way more powerful than anything you can throw onto the screen. Look at the great graphic novels they've already butchered. - Author: Glenn Benest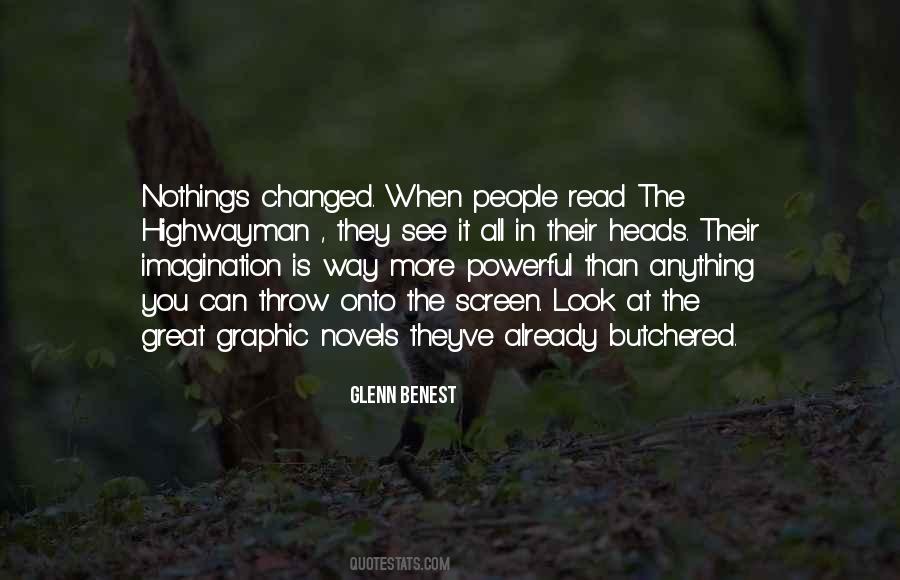 #23. One just principle from the depths of a cave is more powerful than an army. - Author: Jose Marti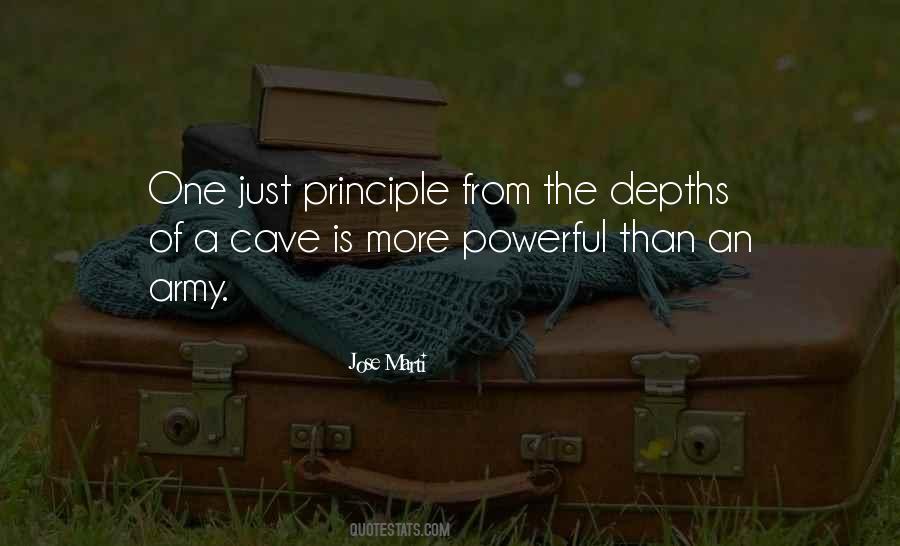 #24. All over the U.S. there are people whose lives are being destroyed for lack of proper health care provision, and there is no sight more odious than the rich, powerful and arrogant trying to keep it that way. - Author: Simon Hoggart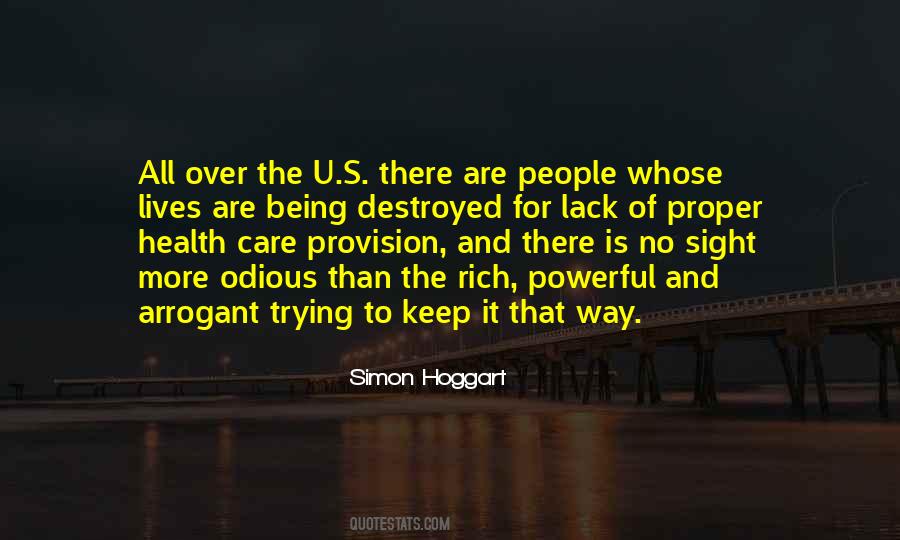 #25. [Censors] rake through the entrails of many an old good author, with a violation worse than any could be offered to his tomb. - Author: John Milton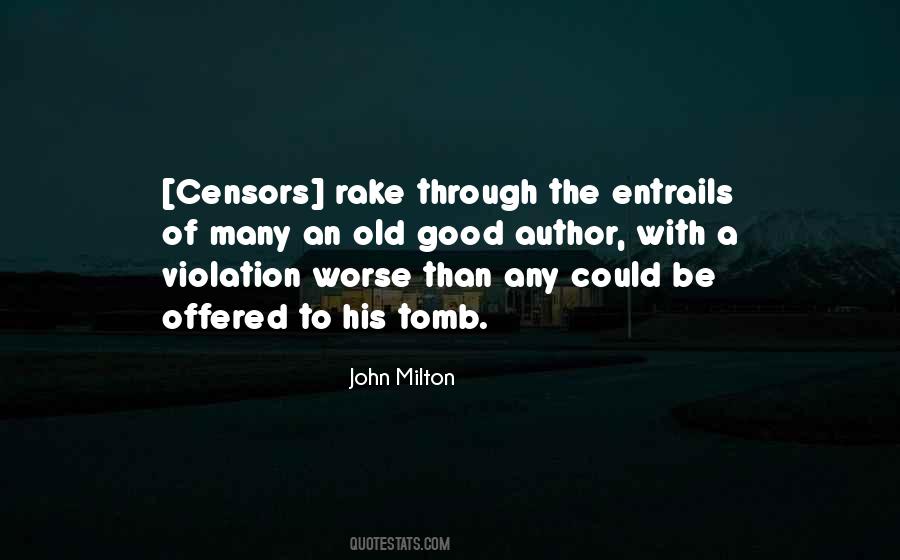 #26. God is better than the best,more intelligent than the most intelligent,more powerful than the most powerful and bigger than the biggest. - Author: Osunsakin Adewale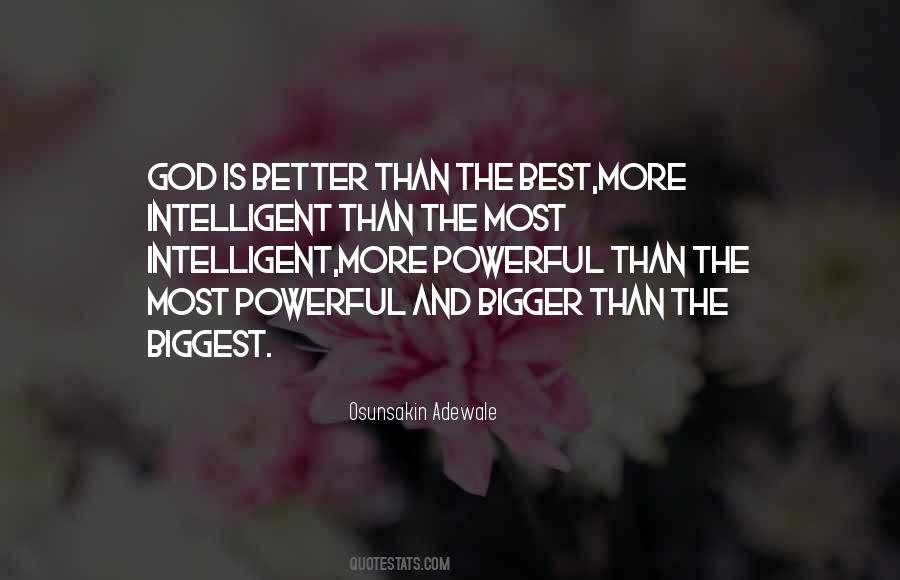 #27. Dov Frohman, the founder of Intel Israel, later said that to create a true culture of innovation, "fear of loss often proves more powerful than the hope of gain. - Author: Dan Senor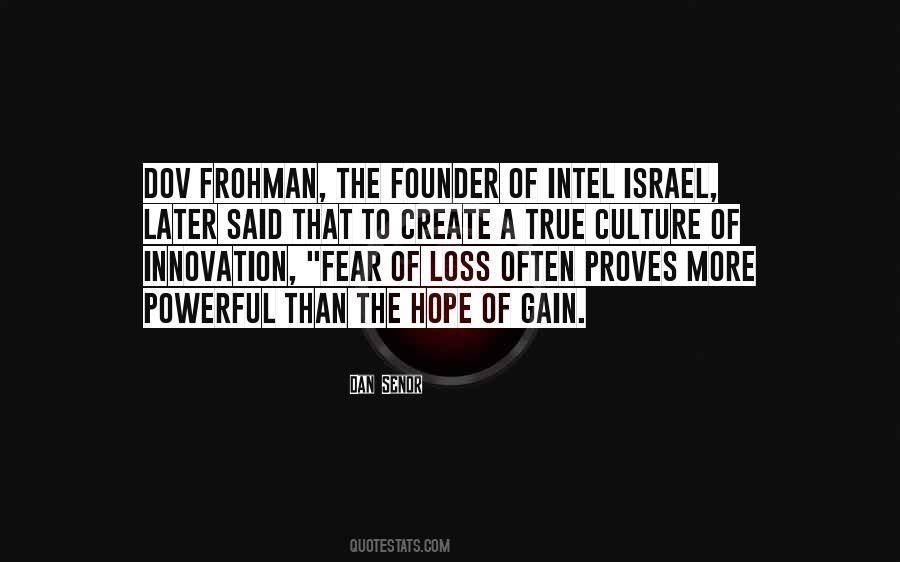 #28. In terms of addiction, there is nothing more powerful than men's toys. - Author: Sammy Davis Jr.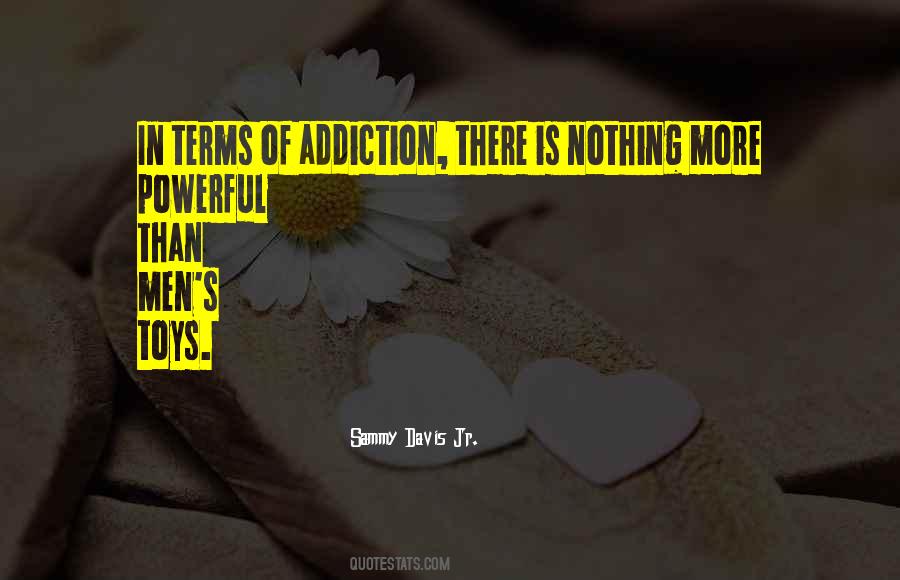 #29. Improper breathing is a common cause of ill health. If I had to limit my advice on healthier living to just one tip, it would be simply to learn how to breathe correctly. There is no single more powerful -or more simple- daily practice to further your health and well being than breathwork. - Author: Andrew Weil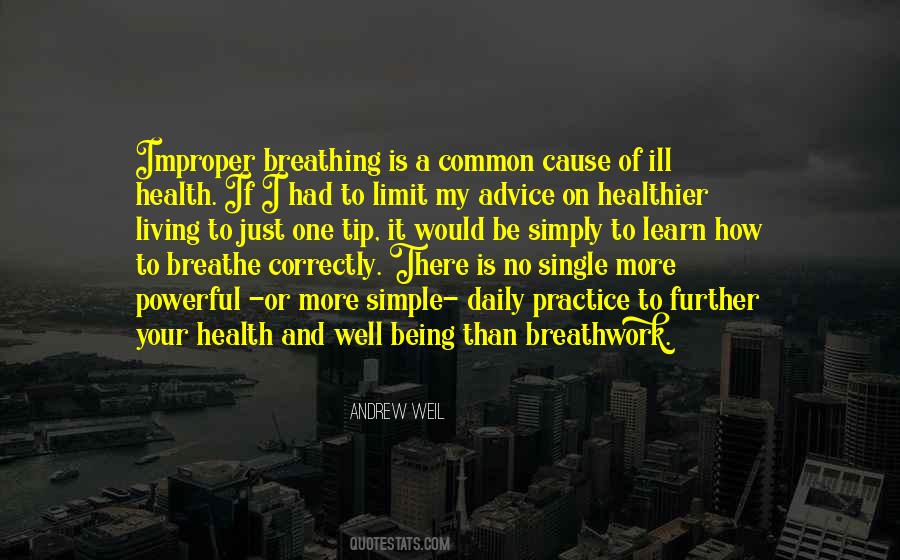 #30. Powerful people initiate speech more often, talk more overall, and make more eye contact while they're speaking than powerless people do. When we feel powerful, we speak more slowly and take more time. We don't rush. We're not afraid to pause. We feel entitled to the time we're using. - Author: Amy Cuddy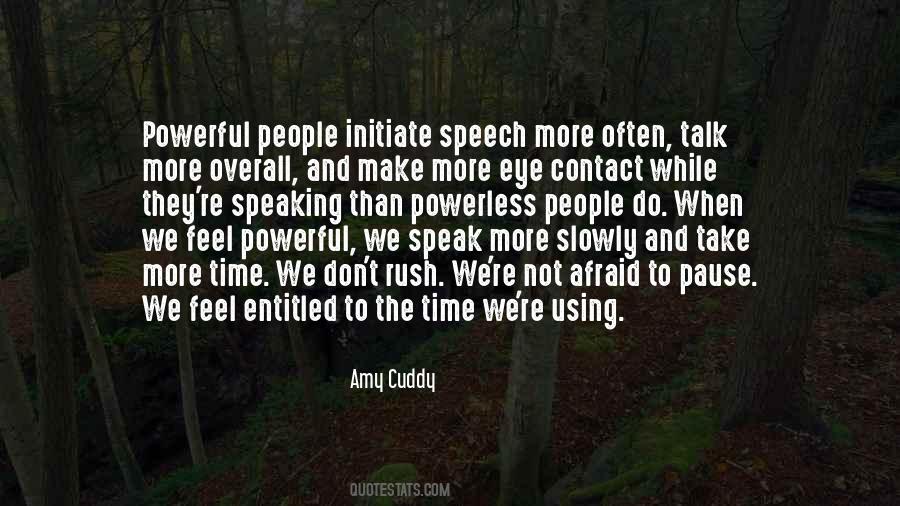 #31. Stronger than thunder's winged force All-powerful gold can speed its course; Through watchful guards its passage make, And loves through solid walls to break. - Author: Horace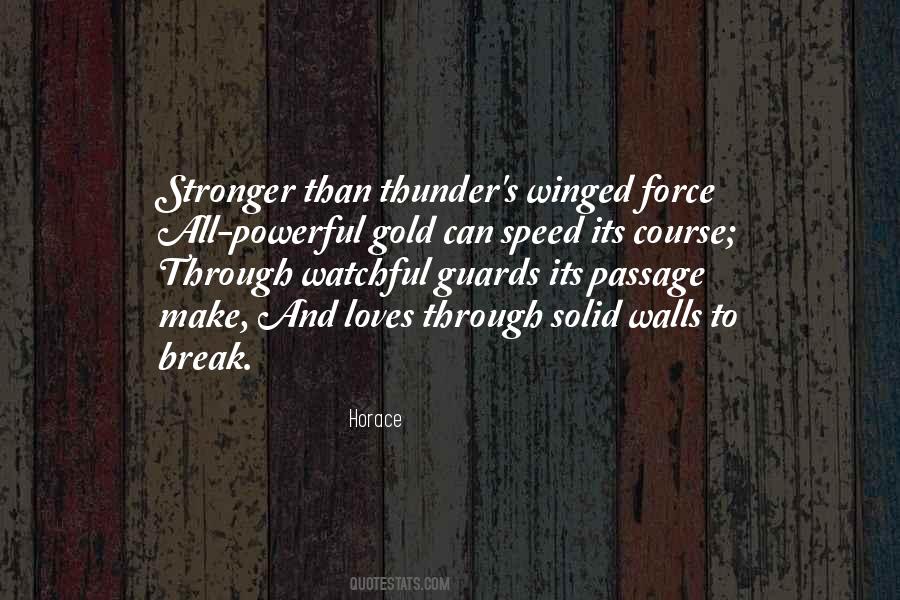 #32. We all know the protocol. But more powerful than our protocol is our grooming to believe in something more. - Author: Danielle Valenilla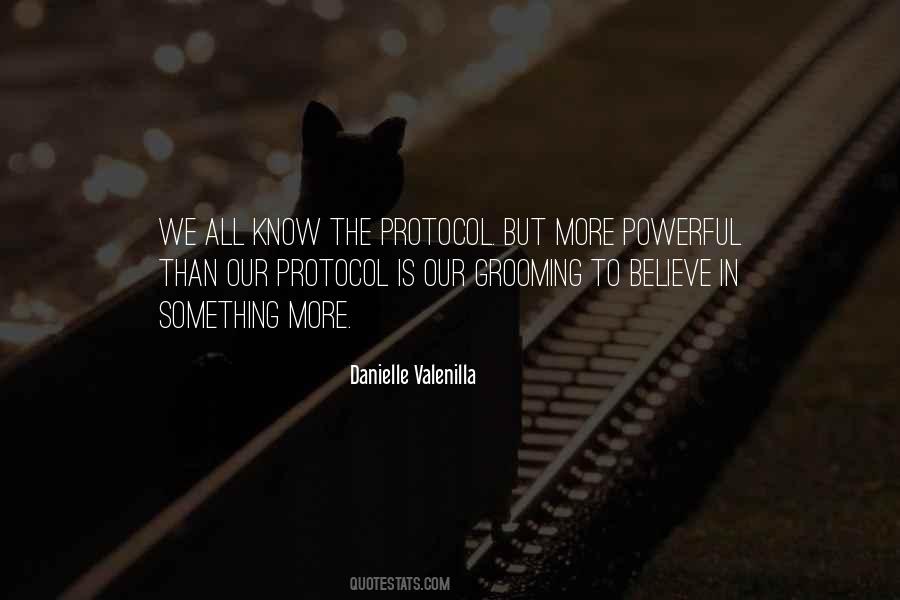 #33. Only those moments count, when the desire to remain by yourself is so powerful that you'd prefer to blow your brains out than exchange a word with someone. - Author: Emil Cioran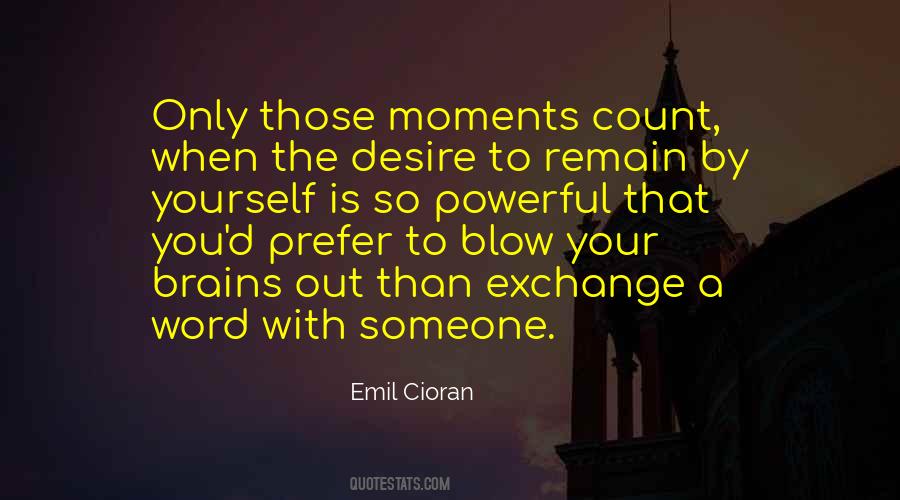 #34. Most powerful of all powers in its holy insinuation is _being_. _To be_ is more powerful than even _to do_. Action _may_ be hypocrisy, but being is the thing itself, and is the parent of action. - Author: George MacDonald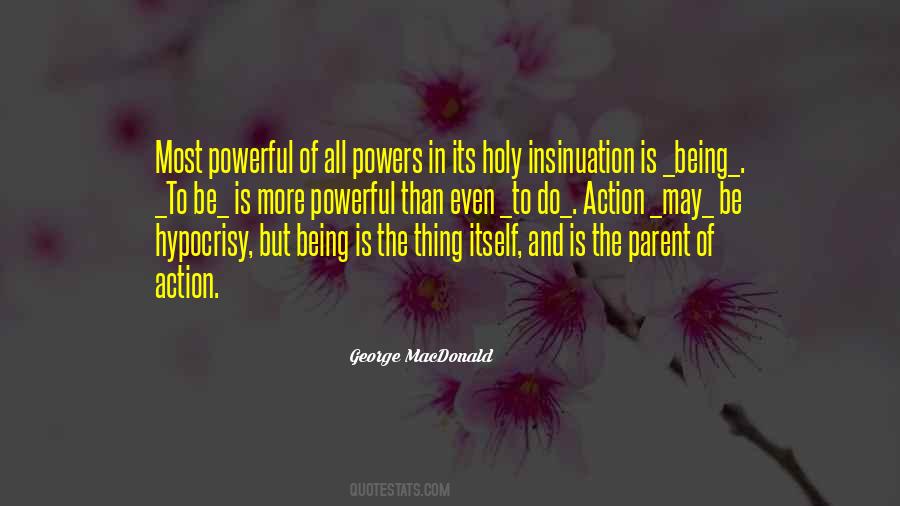 #35. Love is more powerful than the pressure to be perfect. - Author: Demi Lovato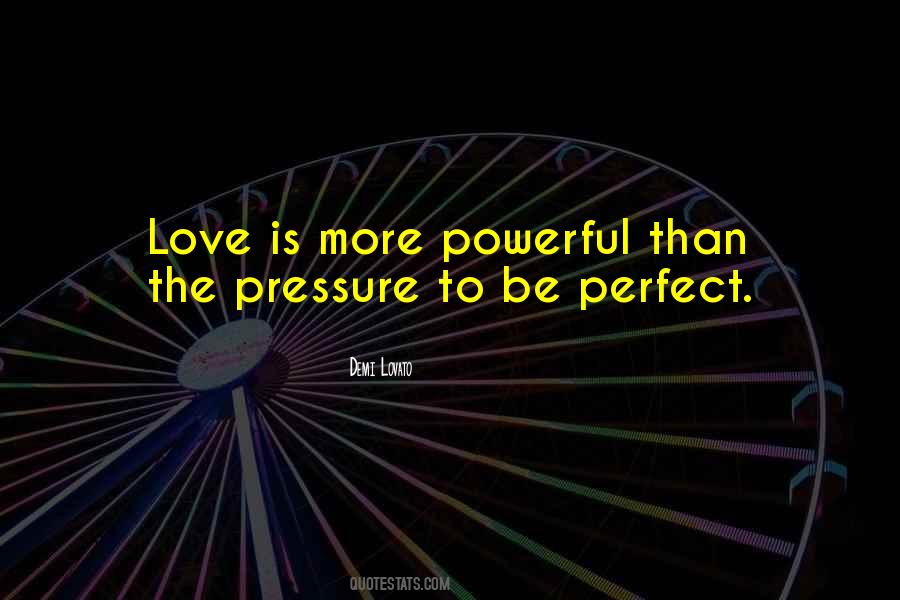 #36. Silence is most powerful. Speech is always less powerful than silence. - Author: Ramana Maharshi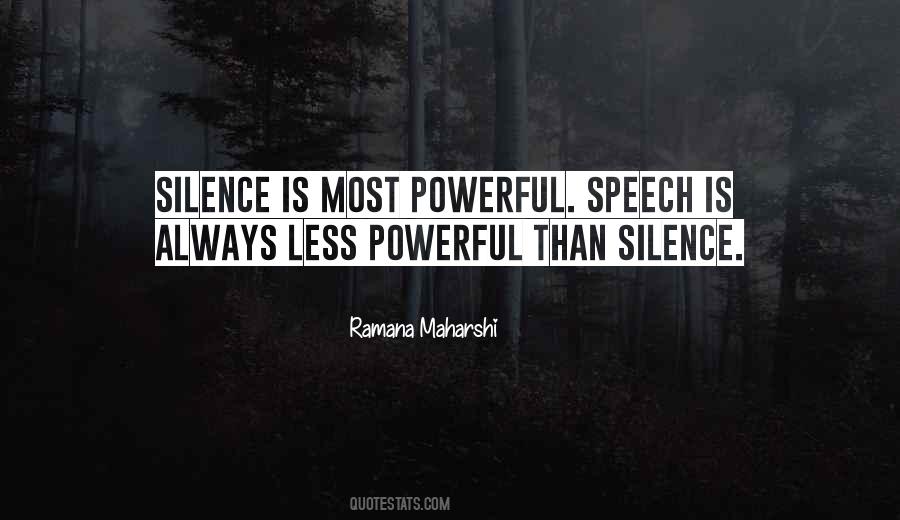 #37. Sadly, there are many forces more powerful and devestating than love... Among them for example, the anger and jealousy of a spurned husband or lover. Fire begets passions, but it also burns. - Author: Hub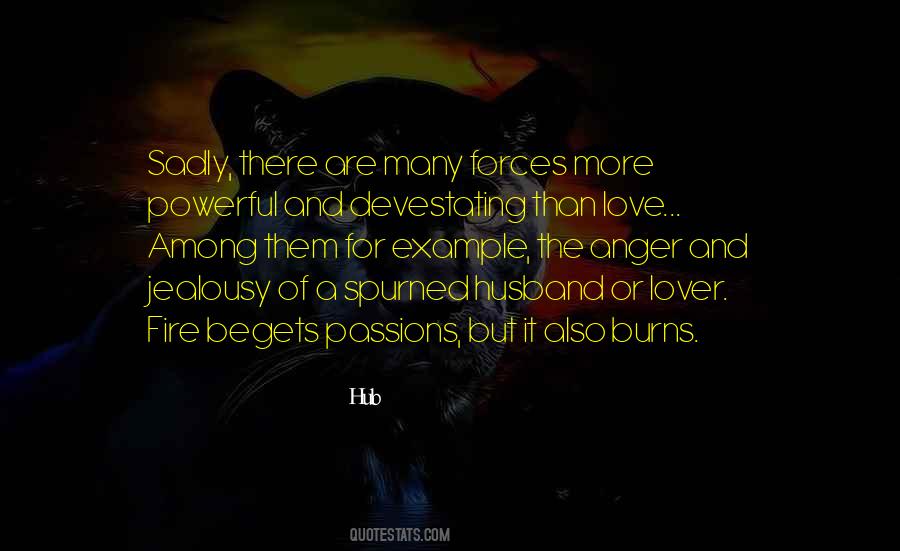 #38. The world was created by someone
more powerful than we are.
We are here to make it better
or worse. - Author: Vesna Dencic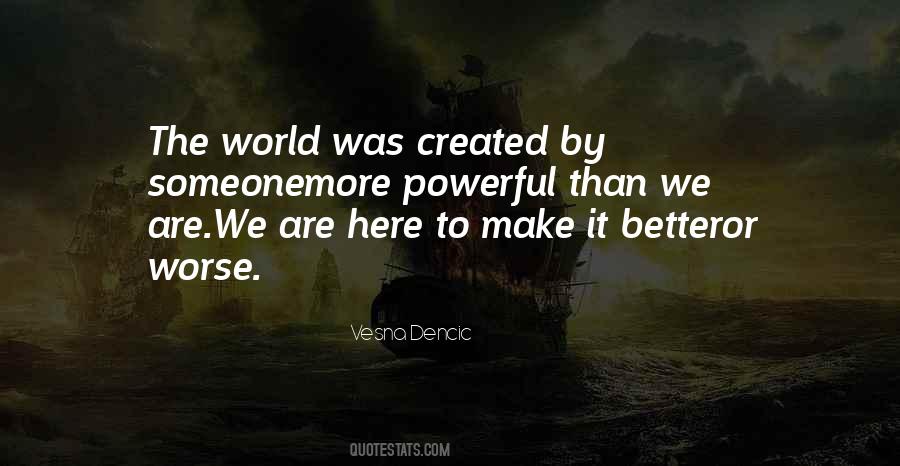 #39. A power has risen up in the government greater than the people themselves, consisting of many and various and powerful interests, combined into one mass, and held together by the cohesive power of the vast surplus in the banks. - Author: John C. Calhoun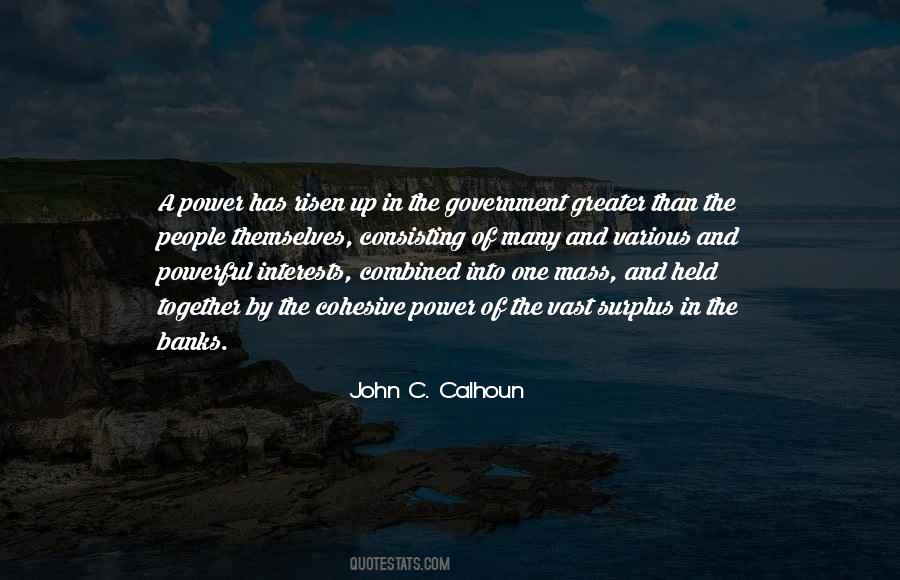 #40. Words that are not spoken are much more powerful than words that are spoken in unbelief. - Author: Charles Capps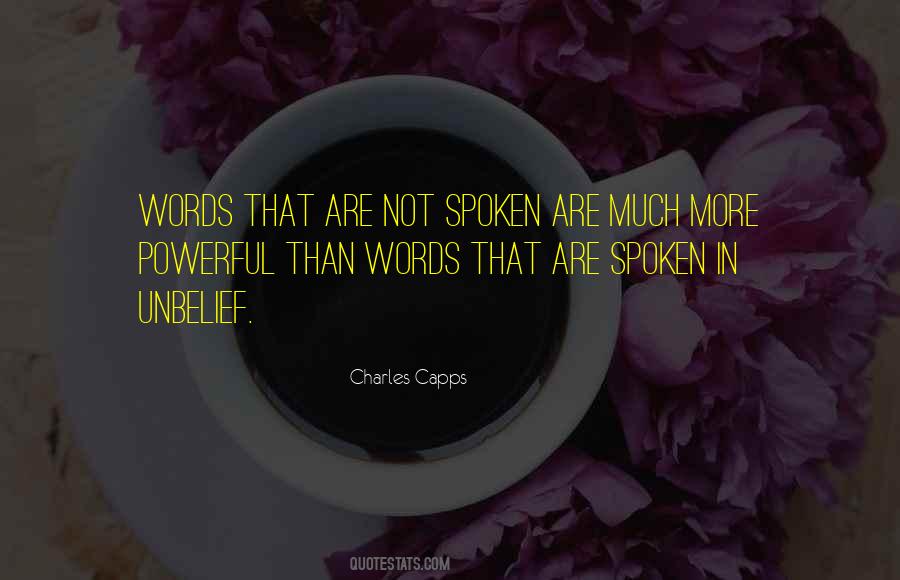 #41. We Indians know about silence," he said. "We aren't afraid of it. In fact, to us it is more powerful than words. - Author: Kent Nerburn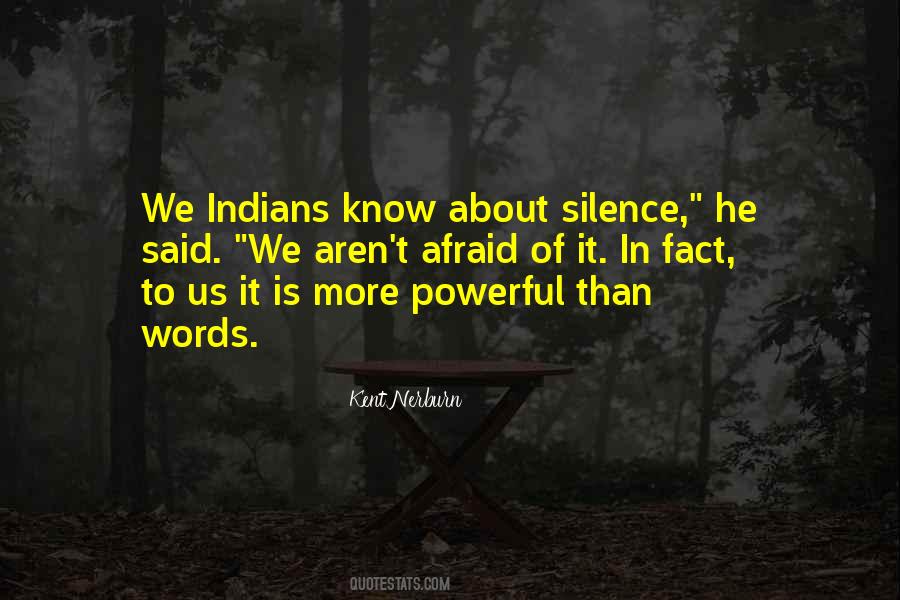 #42. There is no punishment man can bring down on another man's head more powerful than forgiveness - Author: K.R. Albers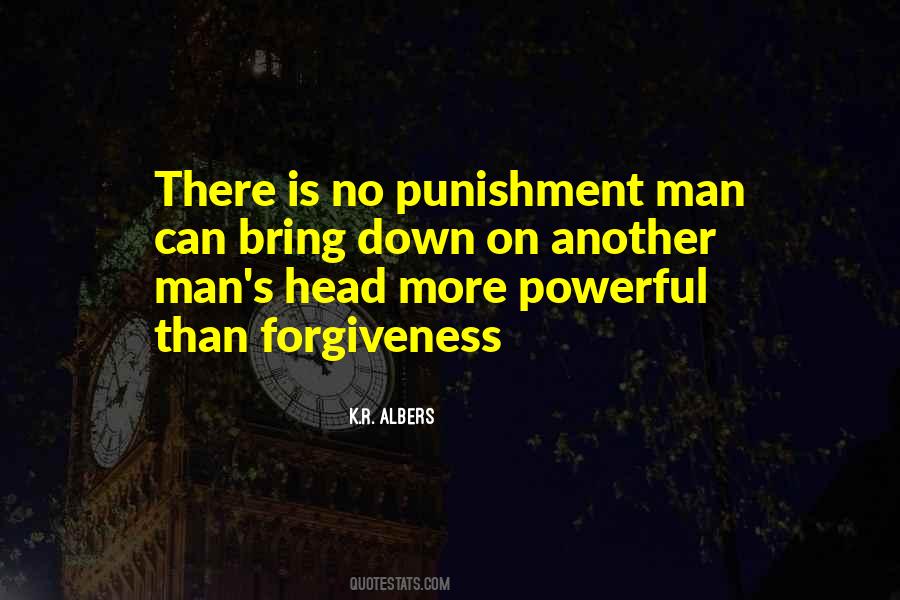 #43. Our thoughts and imaginations are much more powerful than our feelings or actions. - Author: Debasish Mridha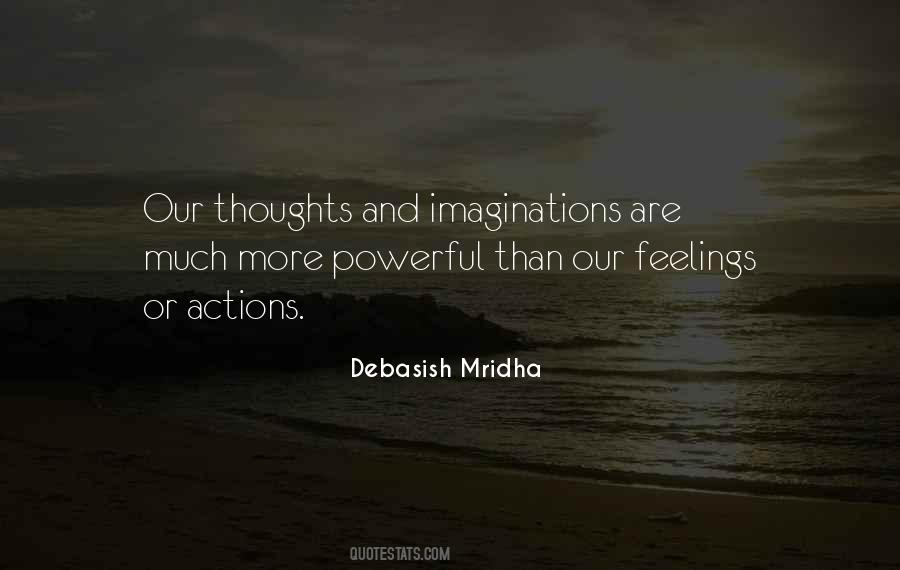 #44. The sensation of never feeling good enough or pretty enough will always be there. It's a constant dialogue, and you just learn to be more powerful than that other voice. When you hear it come up, you shut it down. - Author: Shirley Manson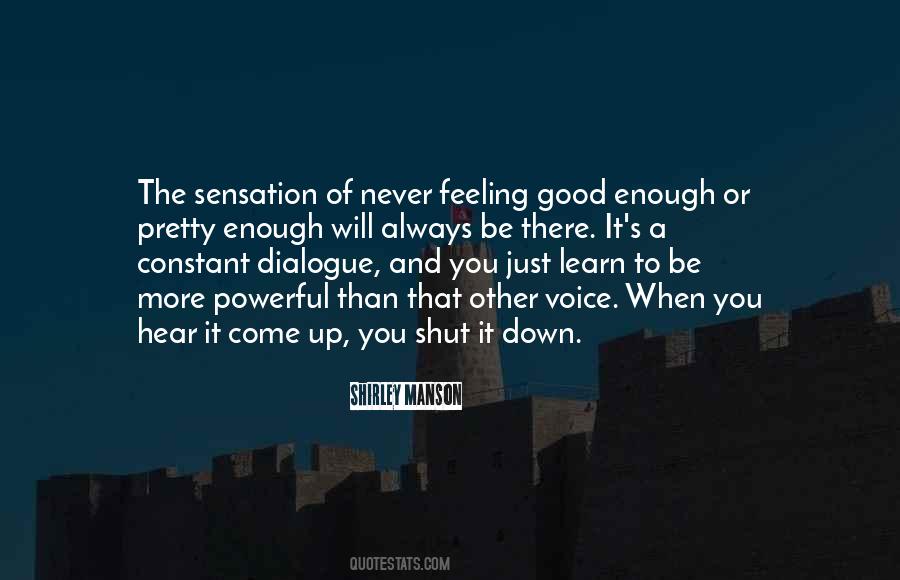 #45. Your brand image is primarily an emotional construct. Emotion is probably always more powerful in swaying people than reason, but people like to be able to rationalize their choices. - Author: Drayton Bird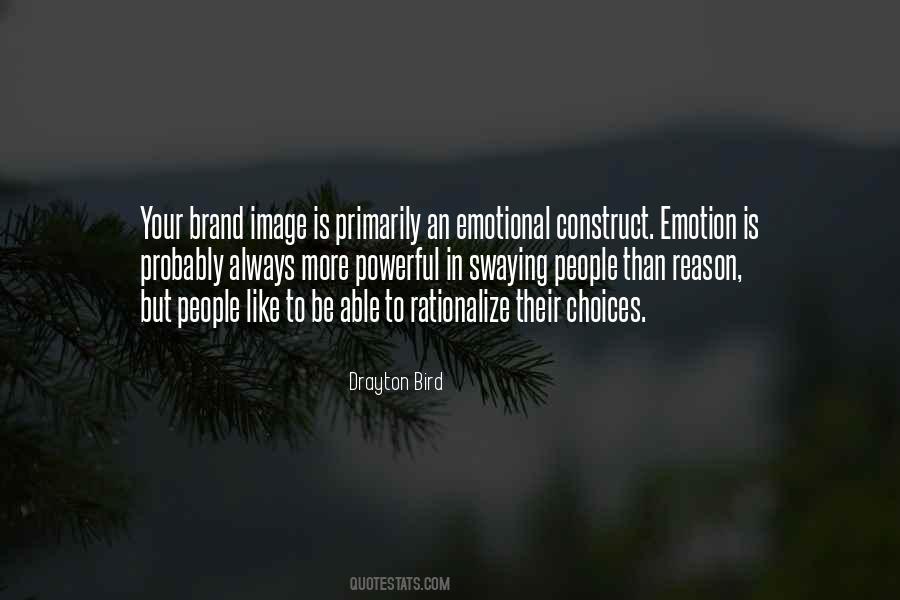 #46. You see, Firestar? I am even more powerful than Starclan, for I have changed the clans in the forest from four to two ... -The Darkest Hour, Page 227 - Author: Erin Hunter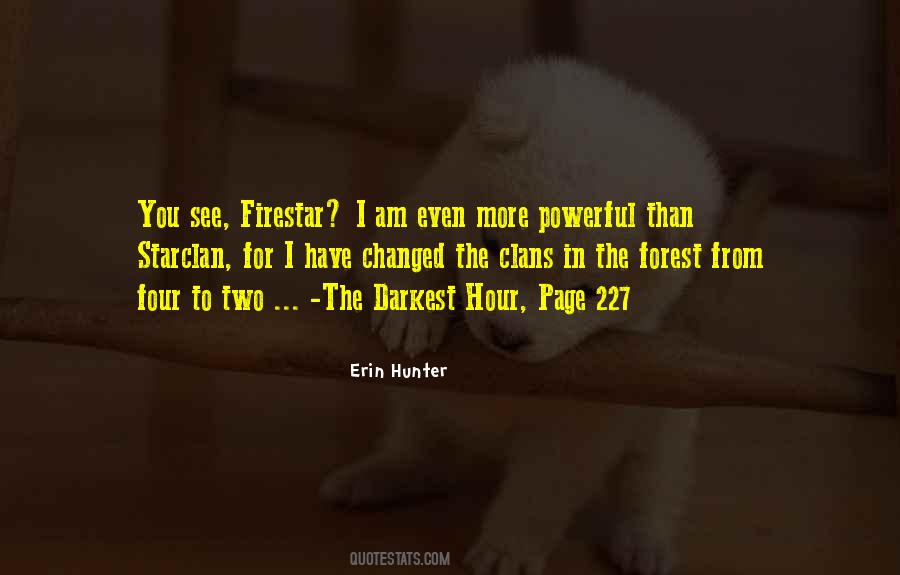 #47. Knowledge was more powerful than fear. Love was stronger than hate. - Author: Lauren Myracle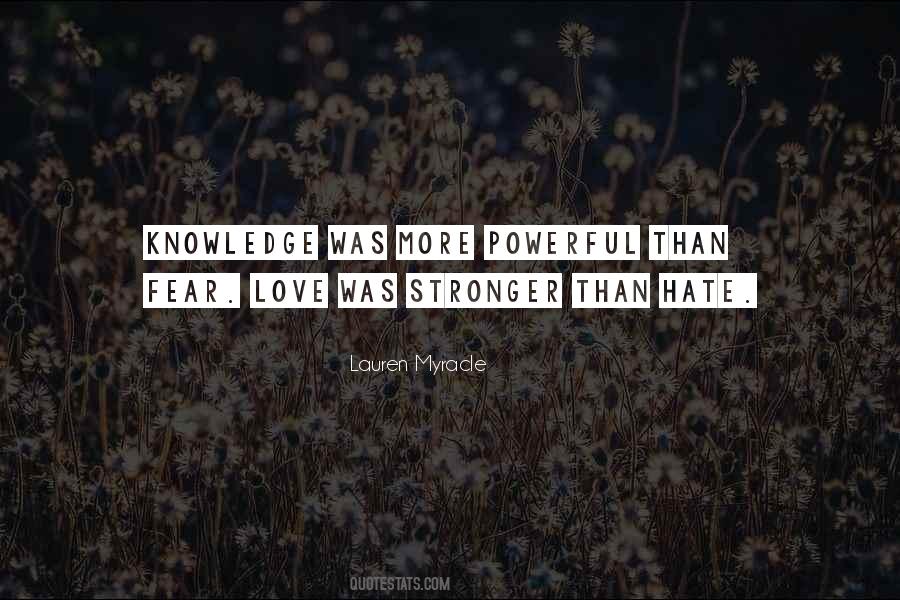 #48. Positive and powerful: Sometimes people won't like me, and it's okay. Positive and powerful: I like me, and that's all that matters. Positive and powerful: It's more important what I think of me than what someone else thinks of me. - Author: Beverly Engel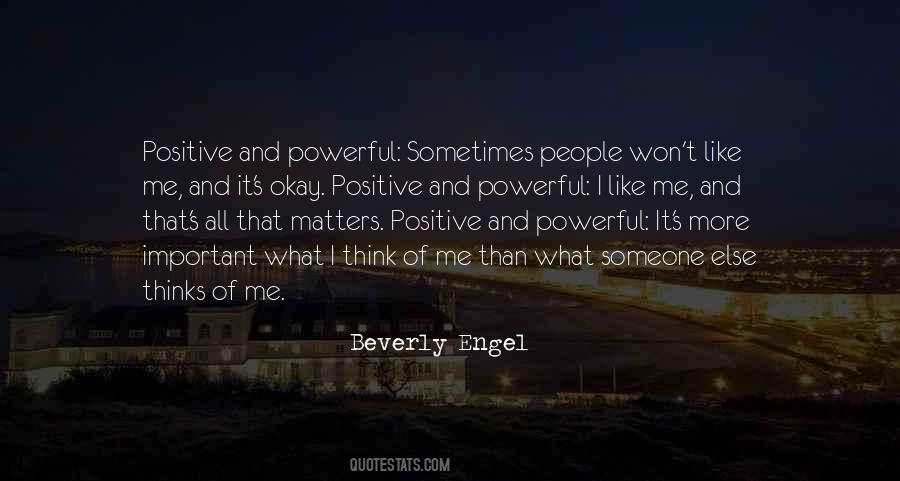 #49. It is not an accident that developing countries - virtually the whole of East Asia, for example - view the role of the state in a far more interventionist way than does the Anglo-Saxon world. Laissez-faire and free markets are the favoured means of the powerful and privileged. - Author: Martin Jacques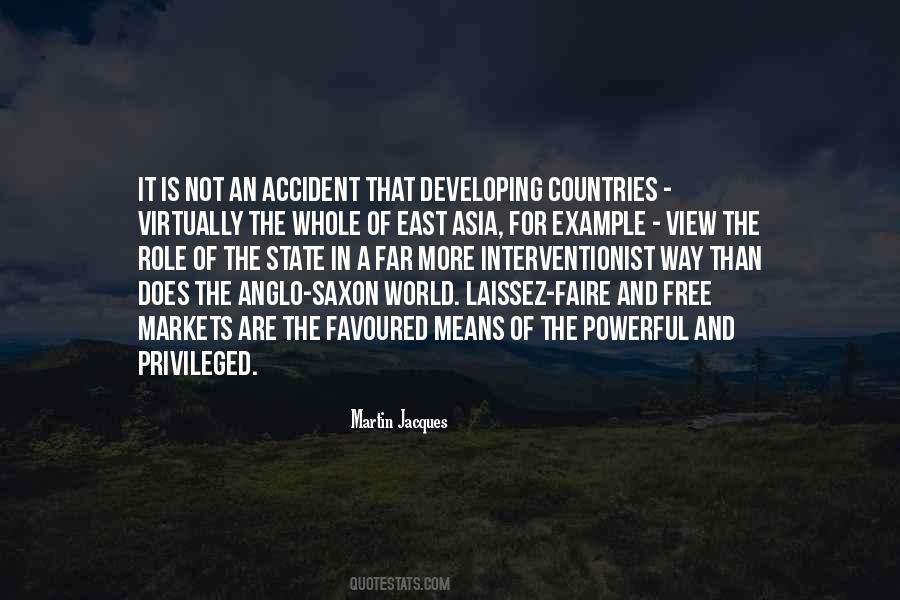 #50. He remembers noticing his dad's shadow was shorter than the others, and he had a visceral sense his father was weaker than the rest, and that he was more dangerous as a weak person with a lot of power than a powerful person with a lot of power. - Author: Jardine Libaire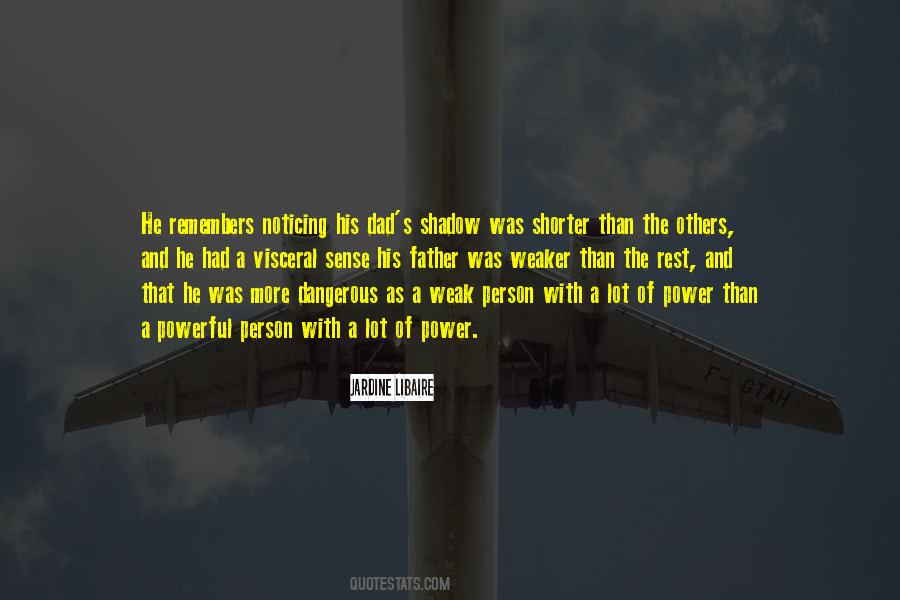 #51. God never gives us more than what we can carry. - Author: Regina Brett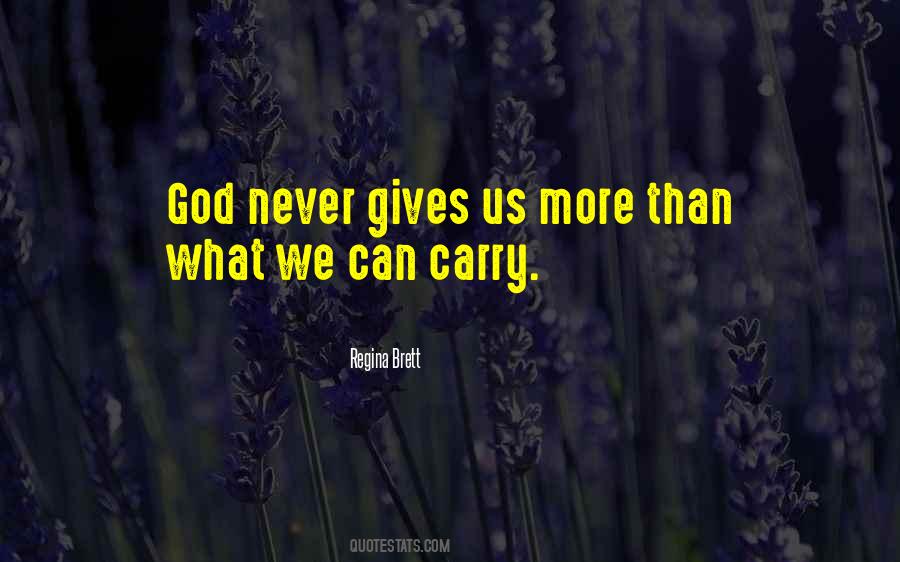 #52. They forgot who she was:
Something fantastic we could never explain. Someone better and bolder than every one of us. Someone to paint murals and build bridges for. Someone worth every ounce of our love.

Someone powerful, but in the end not powerful enough. - Author: Nova Ren Suma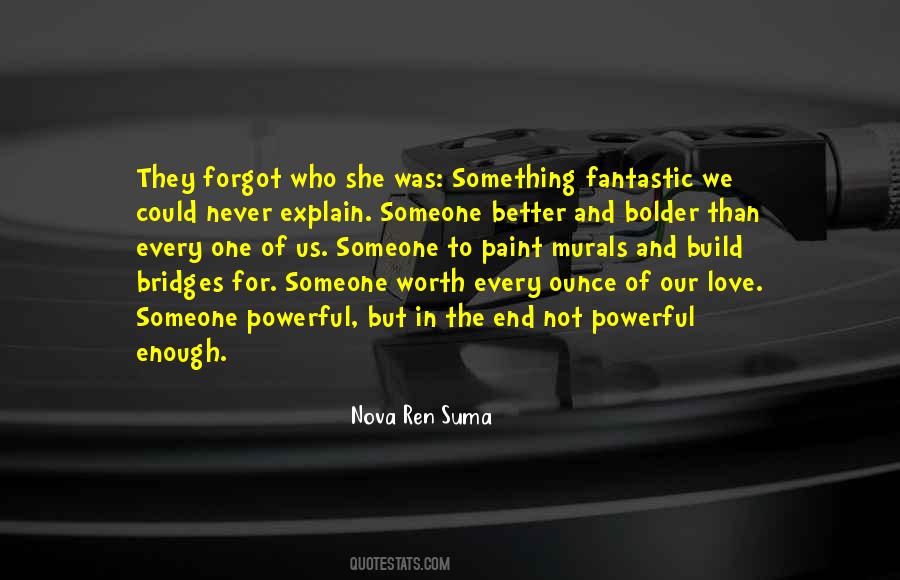 #53. The World's a dangerous place. It doesn't matter where you are, your'e always at risk of being approached by people who have no scruples about attacking, destroying, killing. And we never learn how to defend ourselves. We're all in the hands of those powerful than us. - Author: Paulo Coelho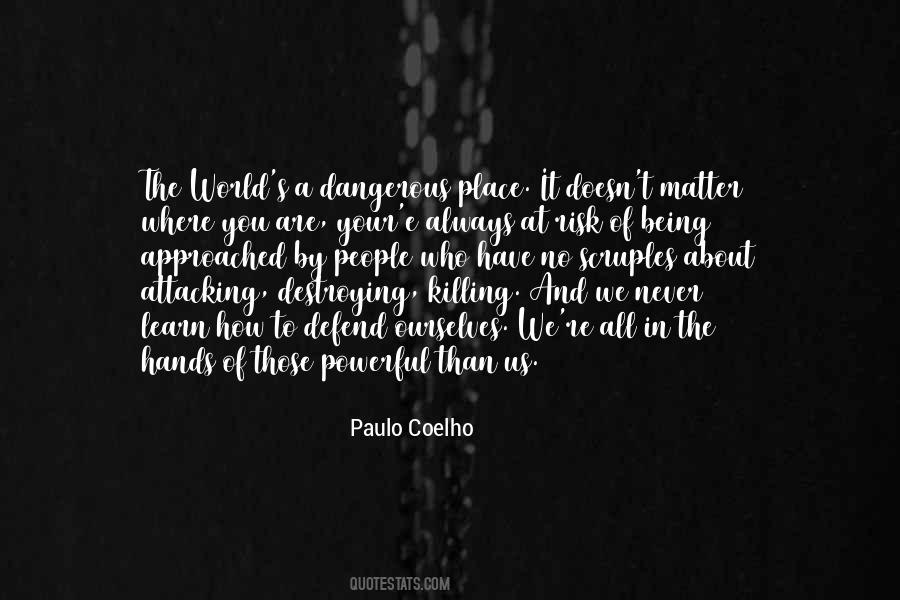 #54. Innocence can be more powerful than experience. - Author: Alejandro Gonzalez Inarritu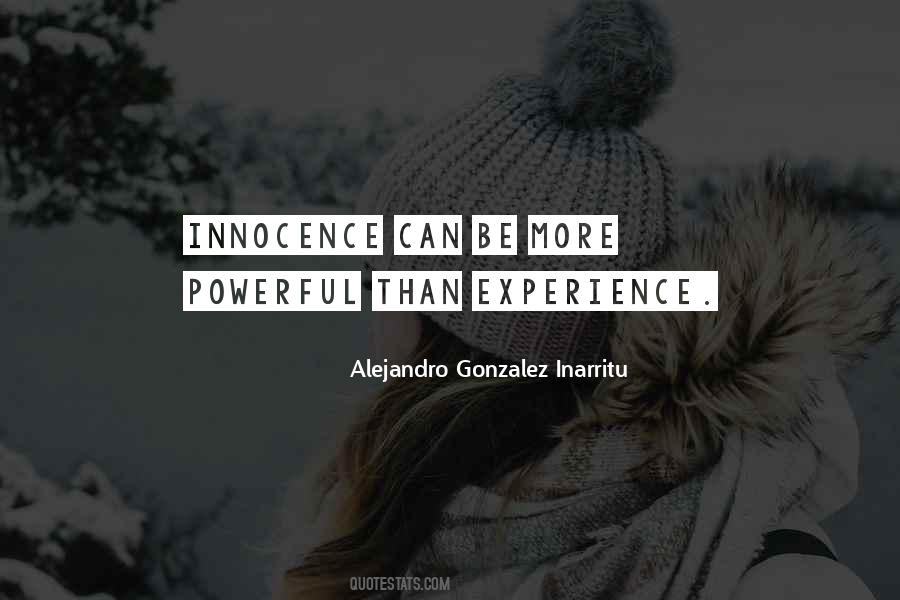 #55. I want my son to grow up in a place where the people are more powerful than the government and not the other way around. - Author: Tony Blair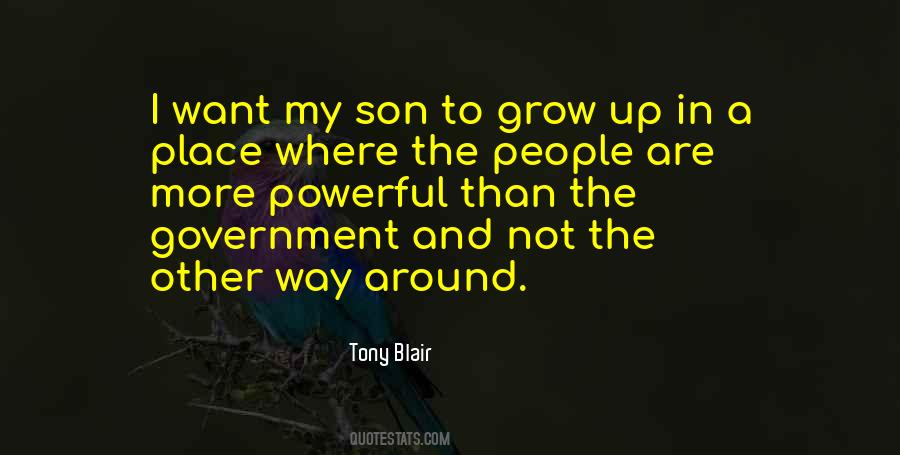 #56. We are vastly more powerful than we think we are. With a little support from flowers, we can recognize how deeply we affect others with our own energy and presence. We can cultivate a sharper awareness of our impact in the world. - Author: Katie Hess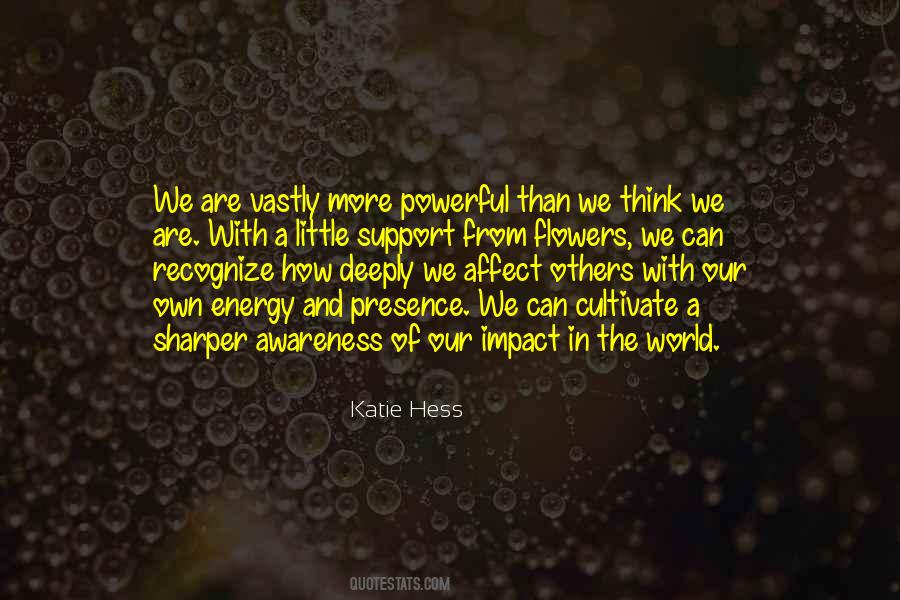 #57. ...it is easier to make powerful ideas practical than it is to make pedestrian ideas powerful. - Author: David Novak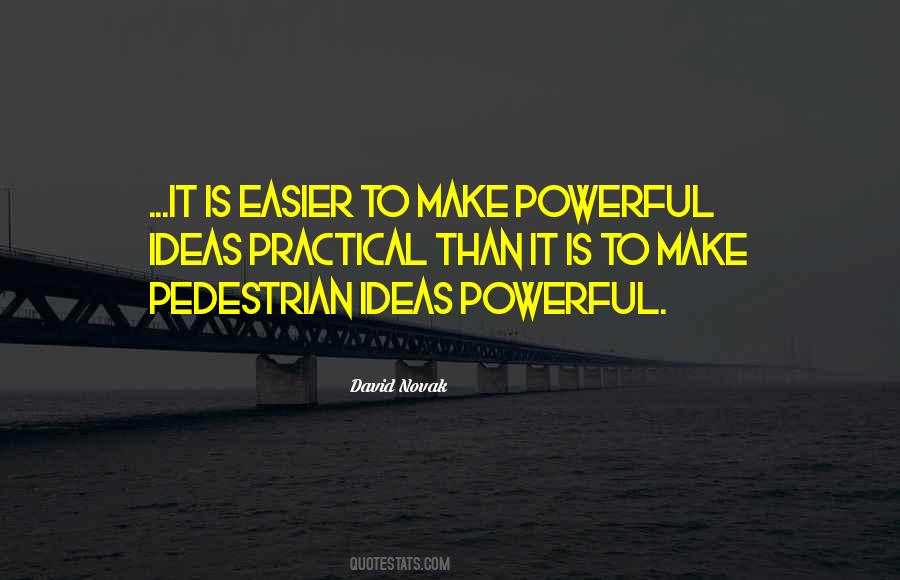 #58. Dr. King's Nobel Prize had a more powerful transforming effect on him than I think he realized at the time. - Author: Henry Louis Gates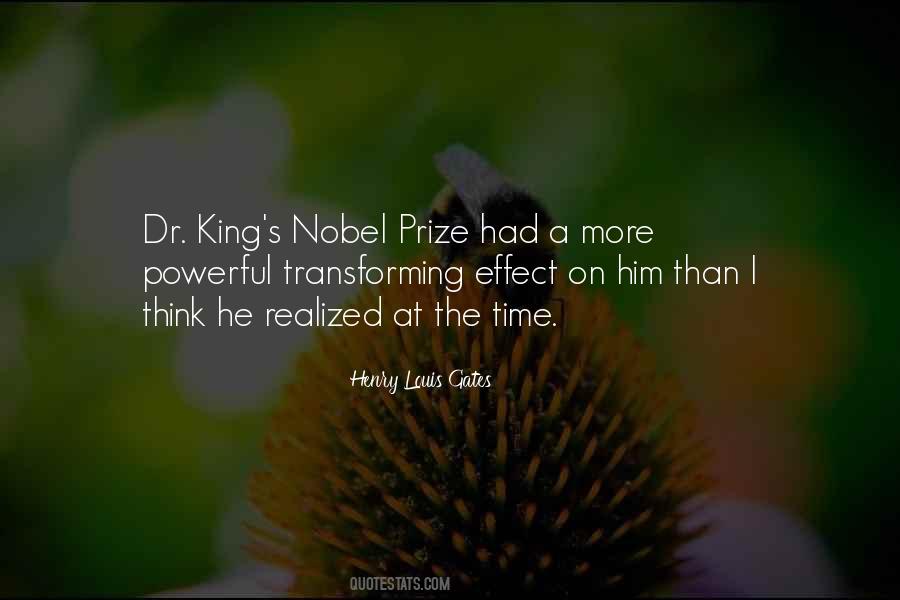 #59. You win when your determination is more powerful than hurdles; otherwise you lose. - Author: Vinita Kinra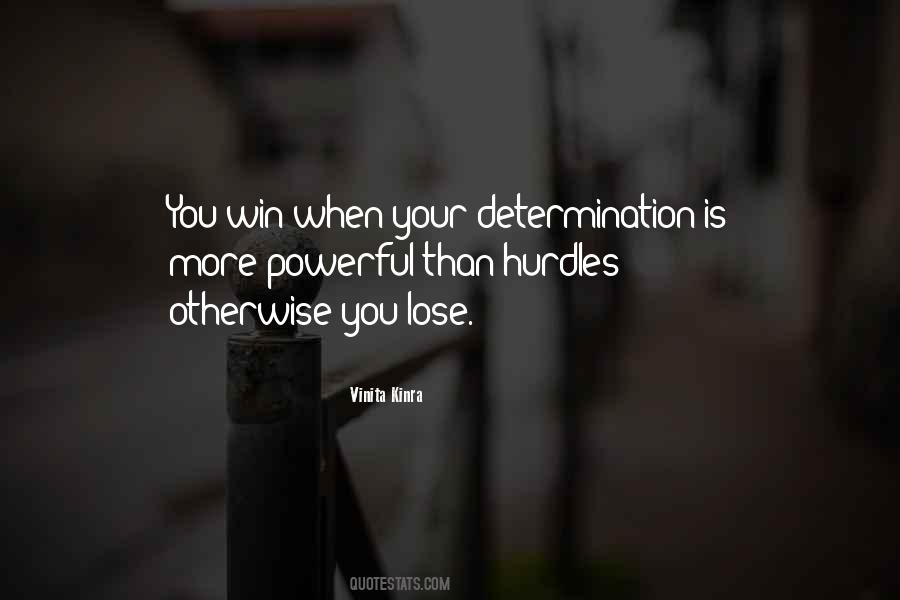 #60. I have always been a big fan of the character and am more of a moviegoer than a comic book guy, there is always something about the character of Batman that is very elemental. There is a great powerful myth to the character and romantic element that draws from a lot of literary sources - Author: Christopher Nolan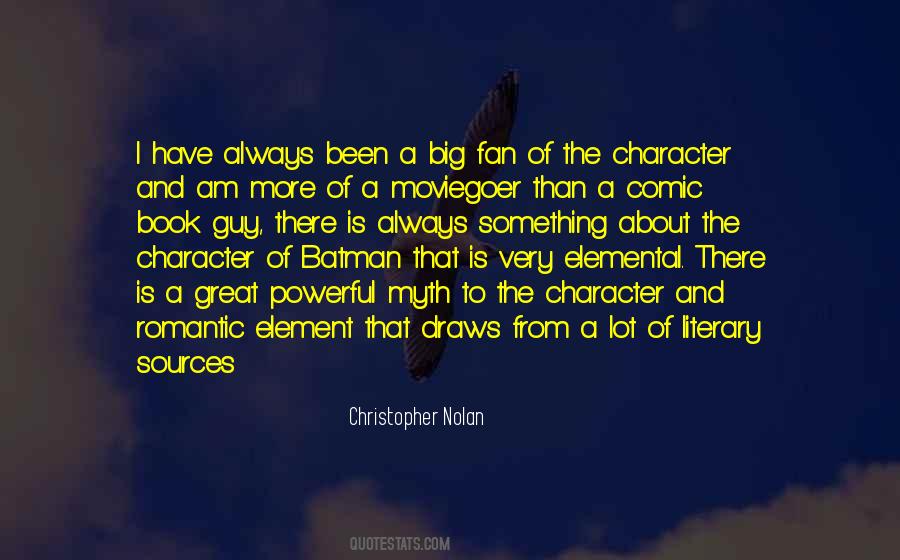 #61. The one thing in me more powerful than a general misanthropy is an inescapable compassion for individuals. - Author: Jasper Sole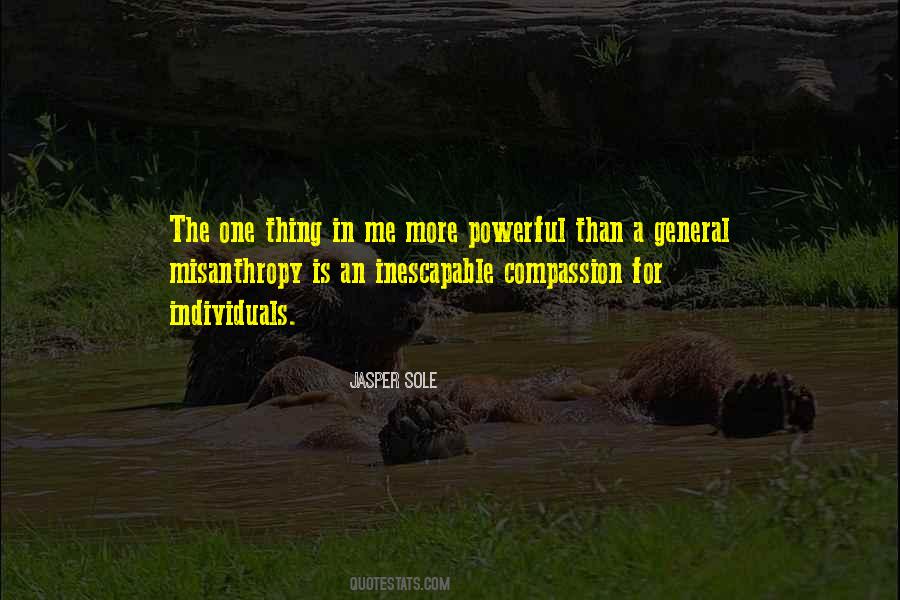 #62. Fear," she says, "is more powerful than pain. - Author: Veronica Roth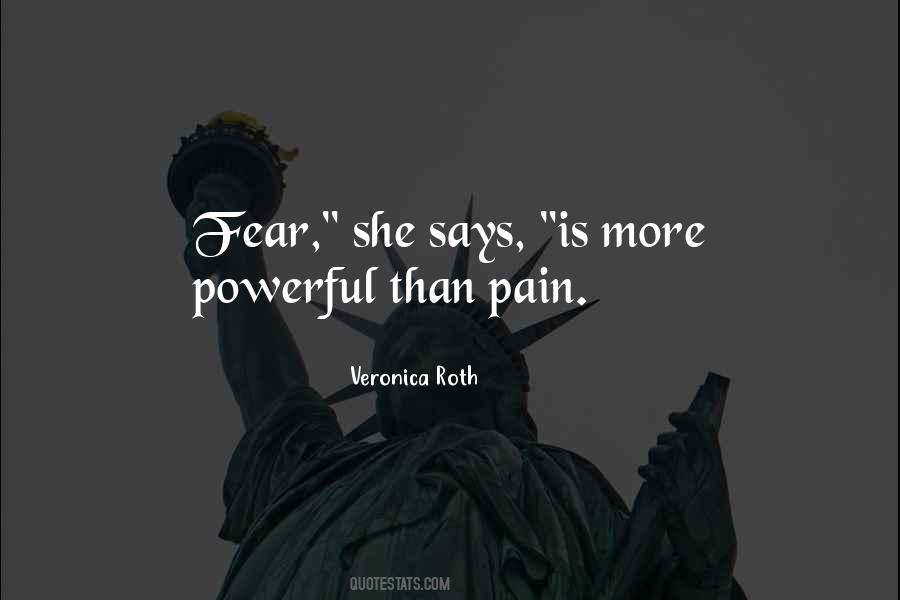 #63. There's nothing more narcissistic than being sure that you are built in the image of an all-powerful Creator-God, and that same God answers your prayers, knows your name, and has a personal relationship with you. - Author: David G. McAfee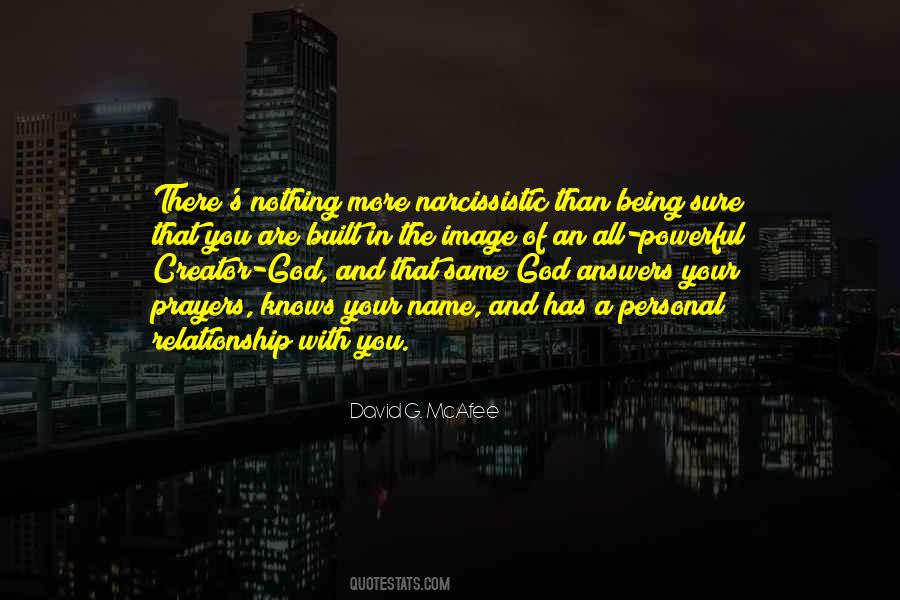 #64. A myth is more powerful - and more lasting - than reality. - Author: Gloria Naylor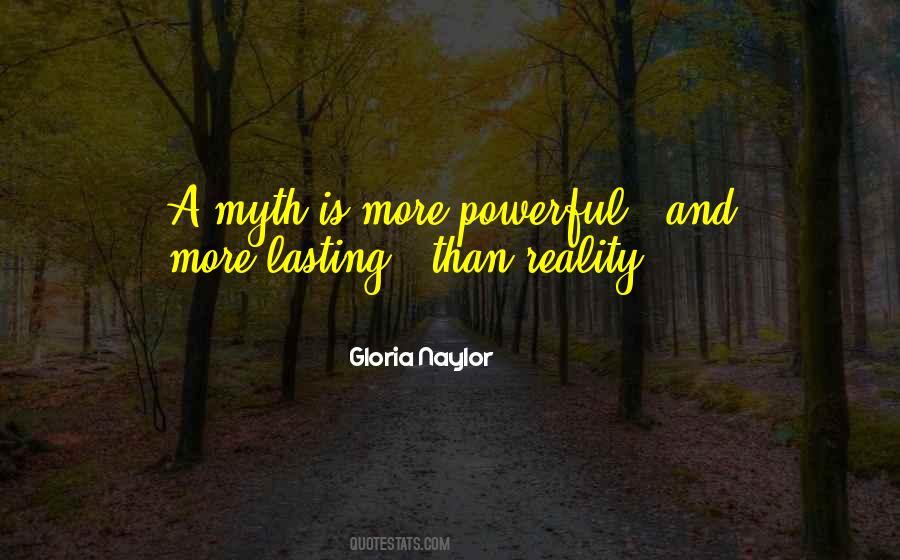 #65. Love is the strongest medicine. It is more powerful than electricity. - Author: Neem Karoli Baba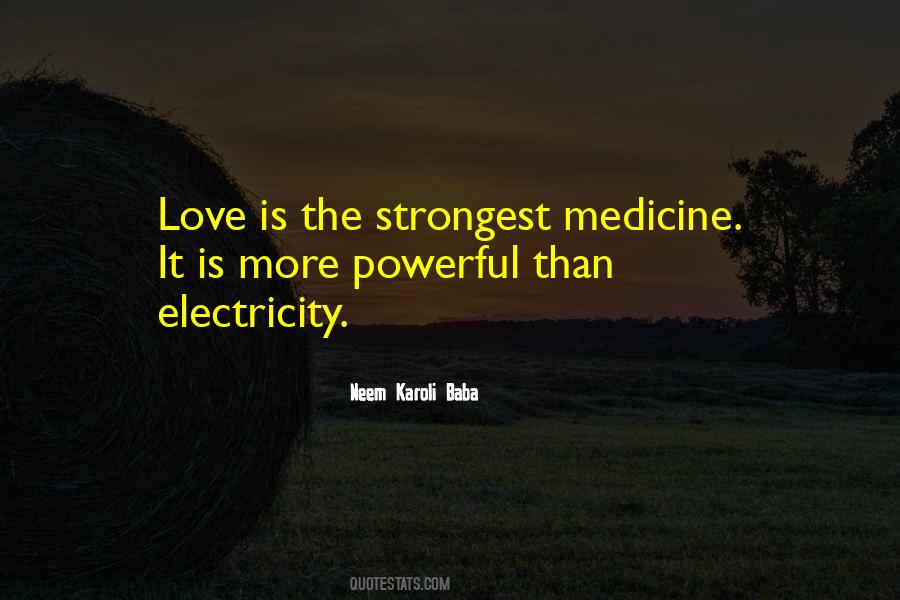 #66. I had thought Felicity dangerous a moment ago, when she felt powerful. I was wrong. Wounded and powerless, she is more dangerous than I could imagine. - Author: Libba Bray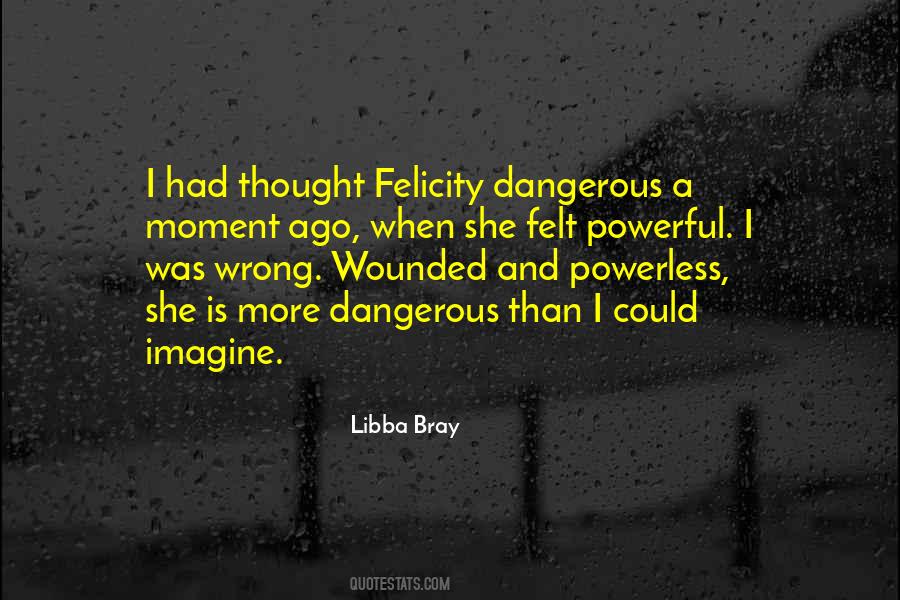 #67. In the heraldry of heaven goodness precedes greatness; so on earth it is more powerful. The lowly and the lovely may frequently do more in their own limited sphere than the gifted. - Author: Thomas Hartwell Horne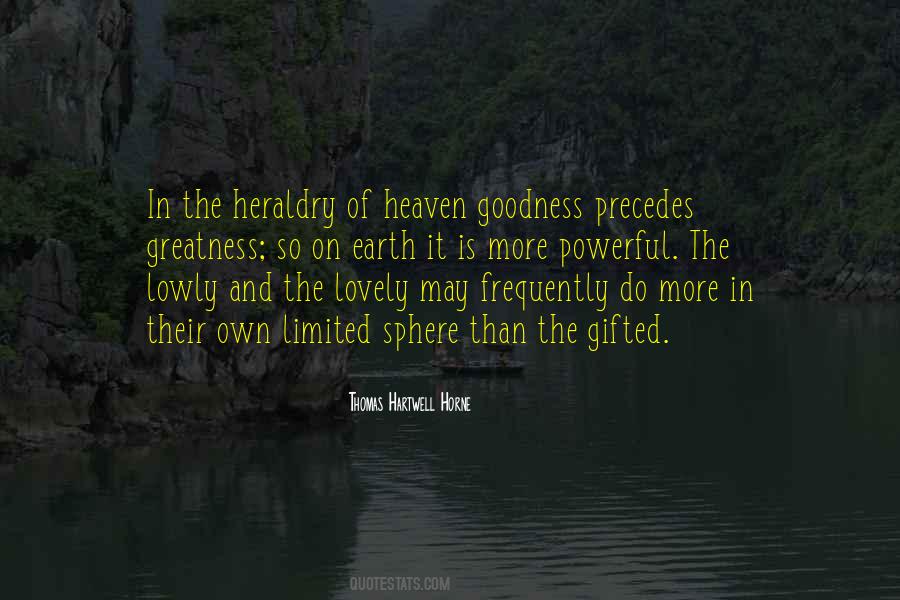 #68. There are many organizations and individuals advocating for the public interest online - what's good for ordinary people - but other interests are more numerous and powerful than they are. I want that to change. And that's what I want to do next. - Author: Sue Gardner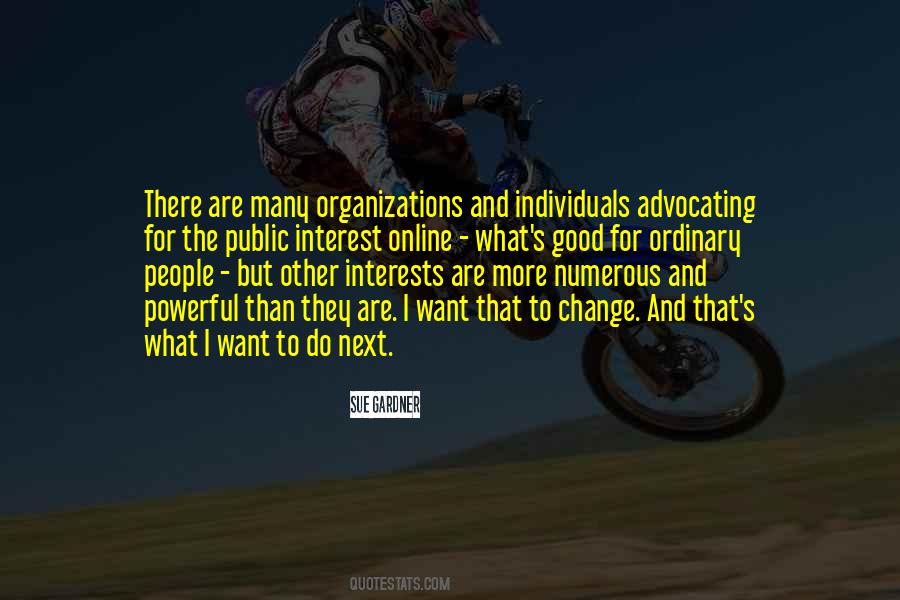 #69. And now, because of a song, Vimes, a simple piece of music, Vimes, soft as a breath, stranger than a mountain, some very powerful states have agreed to work together to heal the problems of another autonomous state and, almost as collateral, turn some animals into people at a stroke. - Author: Terry Pratchett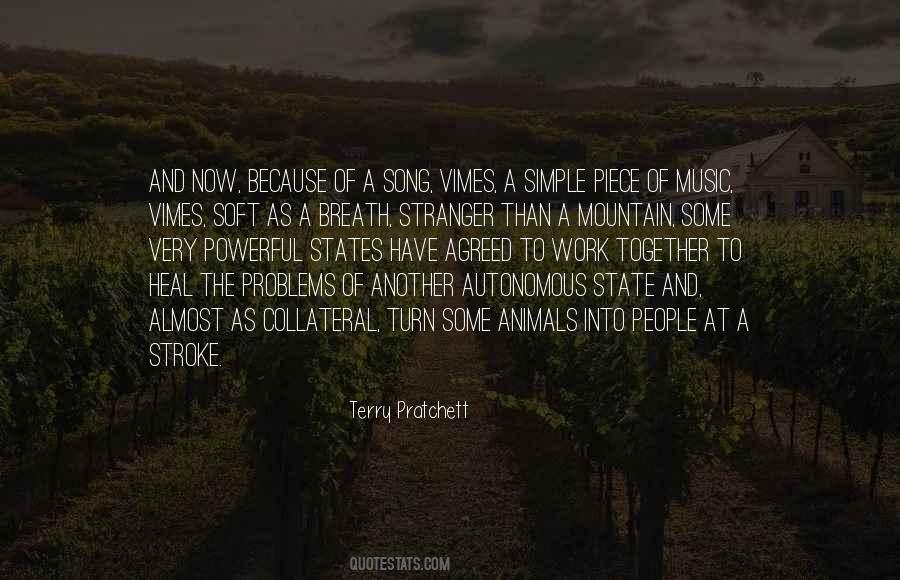 #70. Unholy delight lit Giles's dark face to flashing brilliance. She realized that while he mightn't be handsome, he was breathtakingly attractive and brimming with potent masculinity more powerful than mere good looks. - Author: Anna Campbell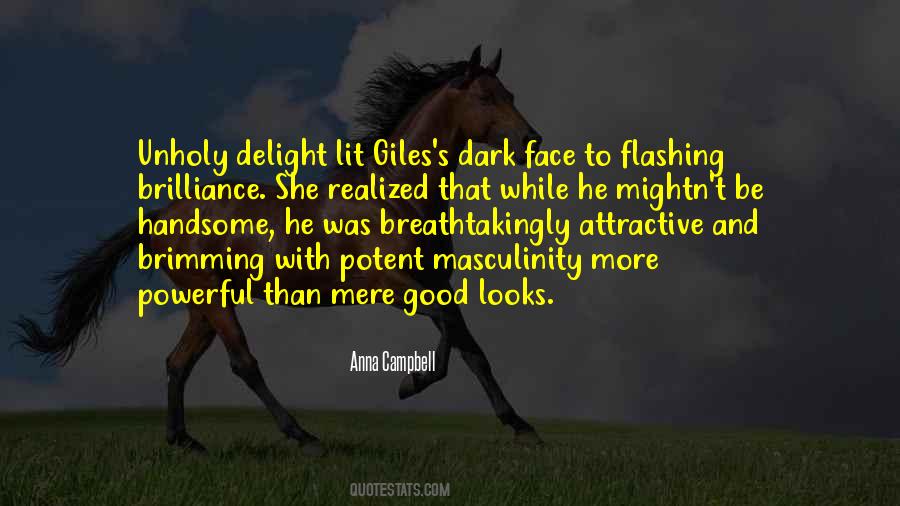 #71. We're pieces on a gameboard, Dr. March, and some of us are more powerful than others. You. Me. Her. We're the ones the gods want. We're the ones they're fighting over. - Author: Richelle Mead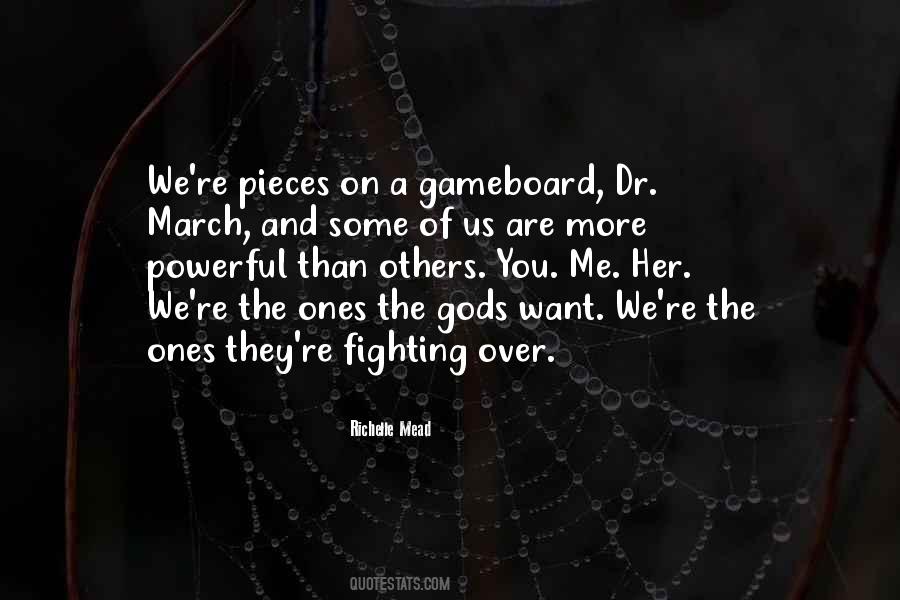 #72. Bush has done more to create passions for what they call terror than any other Administration in this nation's history. I get rather afraid when the most powerful man in the world talks to, and gets answers back from, God. - Author: Randall Robinson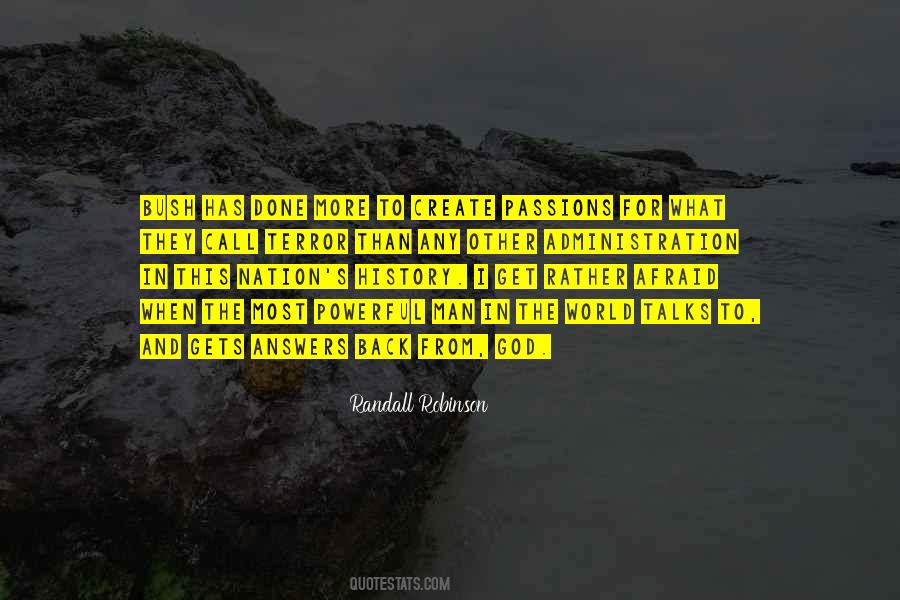 #73. There is nothing in this world more powerful than the connection a person feels for another. - Author: Rinda Elliott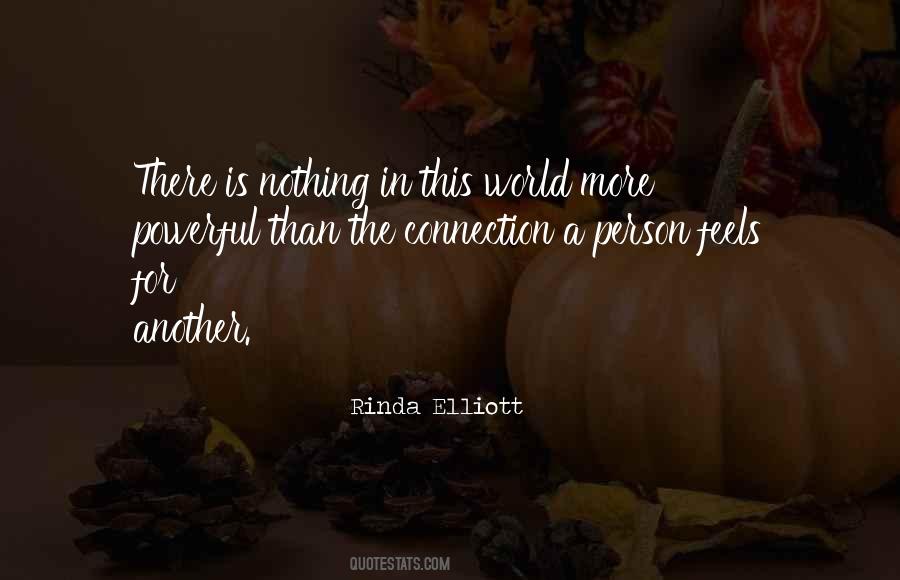 #74. I reckon it does take a powerful trust in the Lord to guard a fellow, though sometimes I think that Cora's a mite over-cautious, like she was trying to crowd the other folks away and get in closer than anybody else. - Author: William Faulkner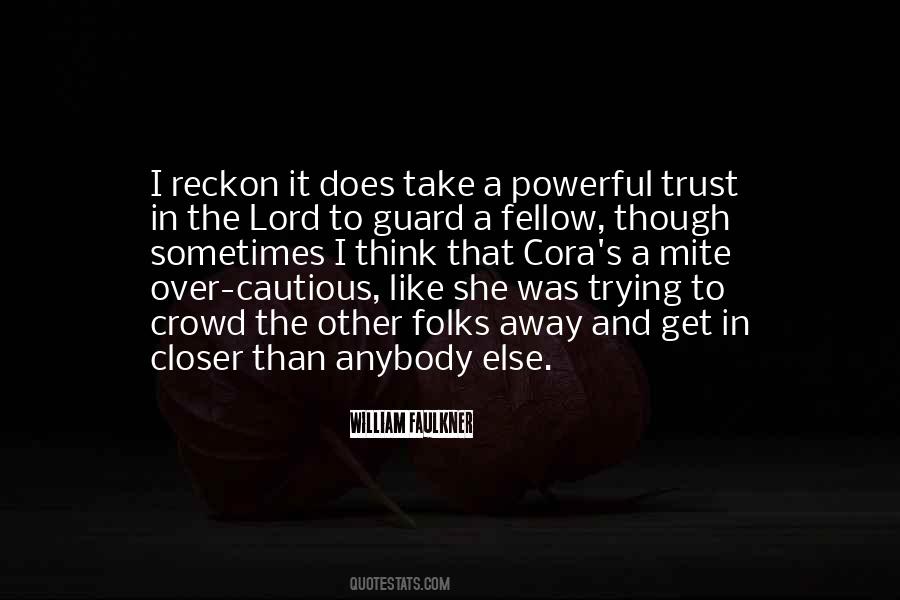 #75. She understood now why pain was the tithe for magic: It was more powerful than joy. Than anything.
Than hope? - Author: Laini Taylor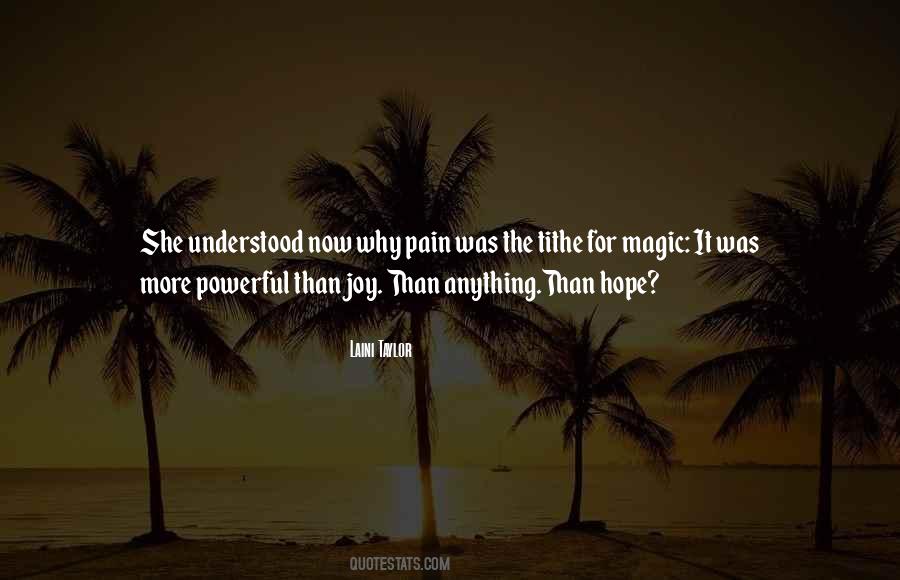 #76. I believe deeply that children are more powerful than oil, more beautiful than rivers, more precious than any other natural resource a country can have. - Author: Danny Kaye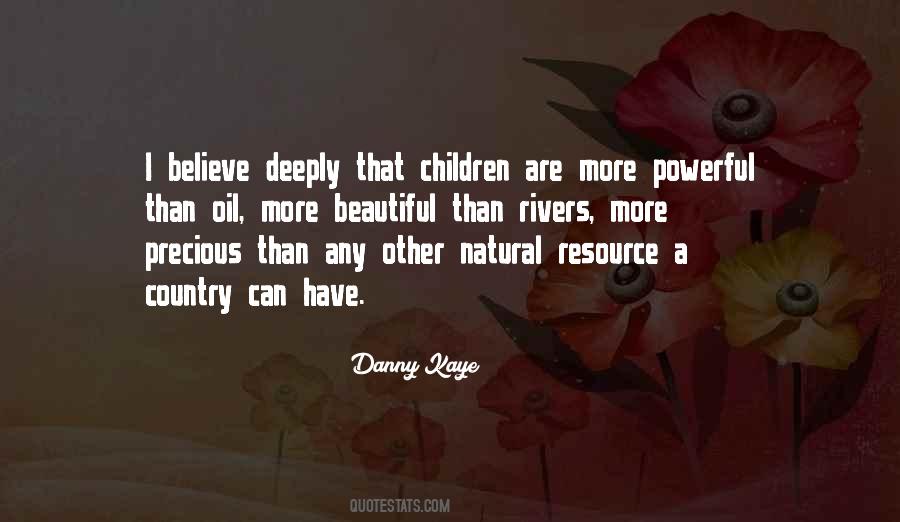 #77. A thunderous boo is one thousand times stronger, nobler, and more powerful than a standing ovation. Admiration corrupts. - Author: Nelson Rodrigues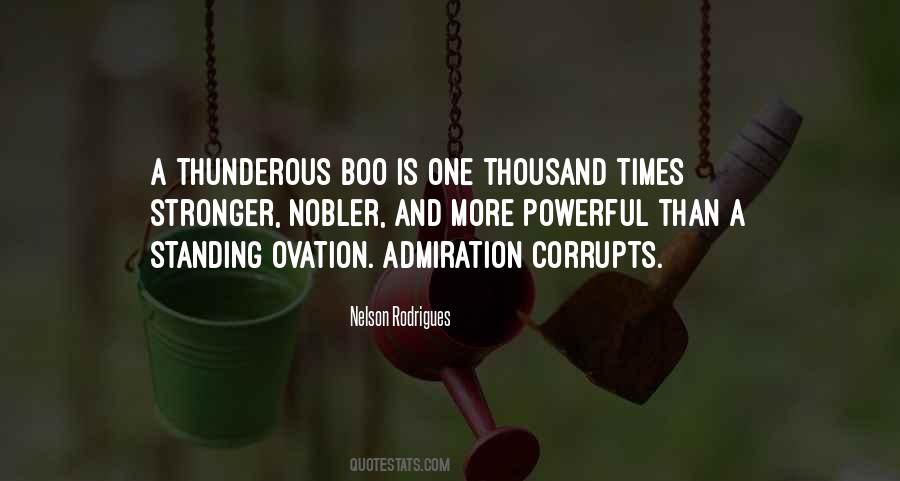 #78. If God is all-powerful, then the Devil must be nothing more than a darkness in the mind of God. But if the Devil is something real and separate, than perfection is impossible, and there can be no God ... except for the aspirations of fallen angels ... - Author: Tad Williams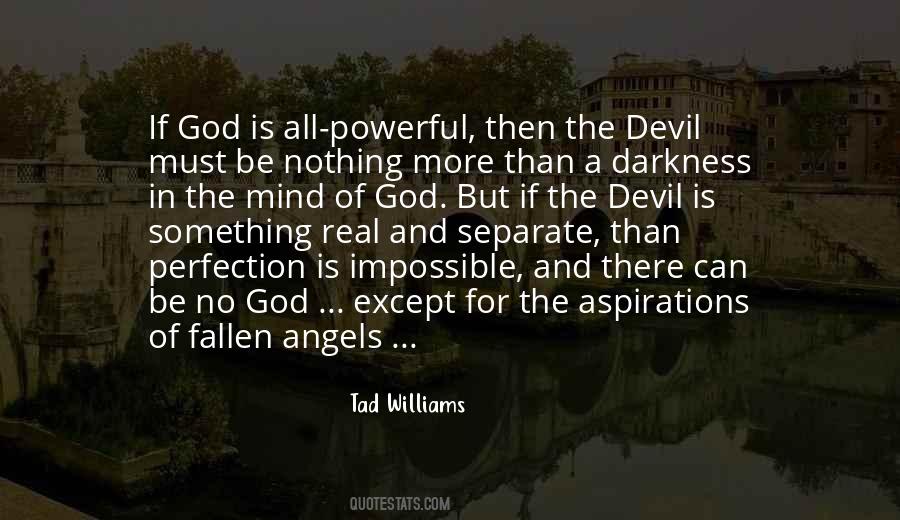 #79. Collaboration is far more powerful than competition. Do not think that only if you are pushed to the wall, you will do your best. - Author: Jaggi Vasudev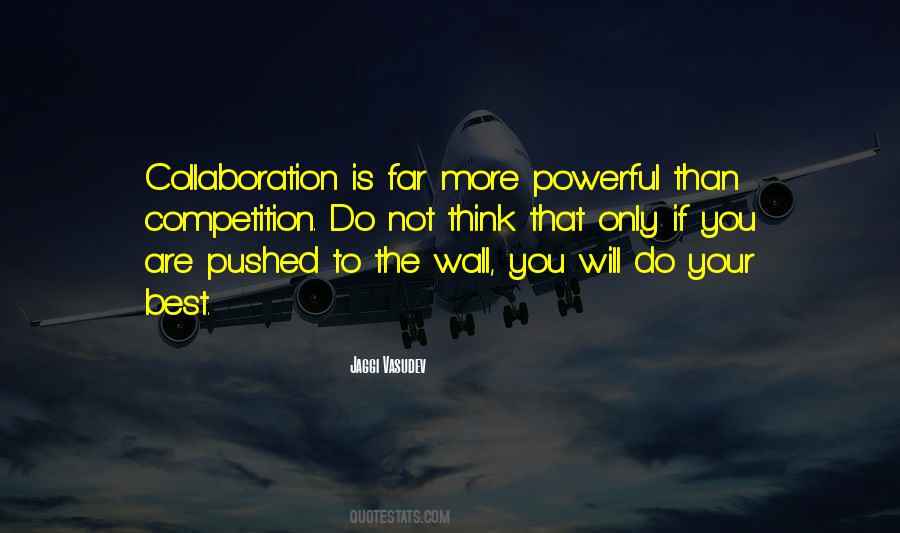 #80. The mind is powerful, and you have more control than you think. - Author: Scott D. Lewis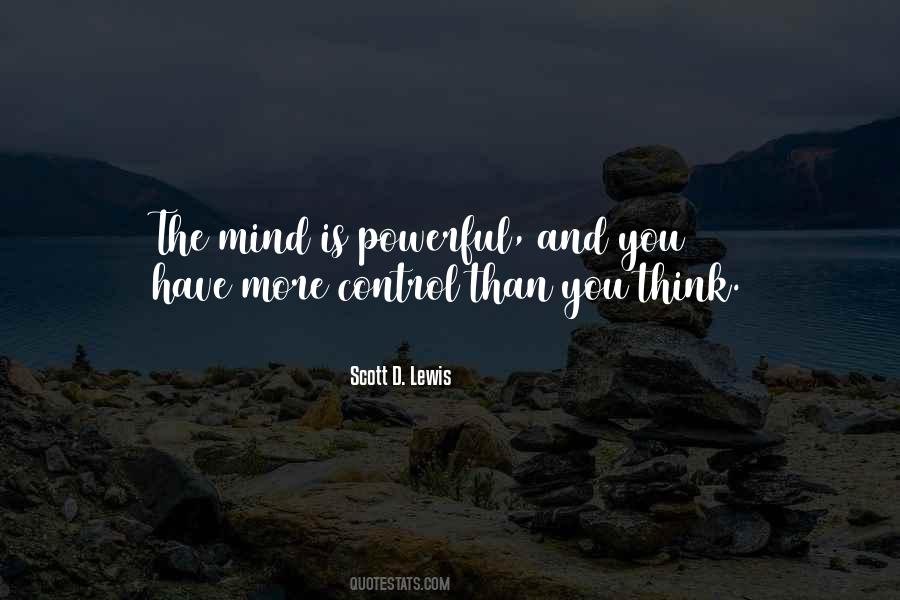 #81. The mind creates so many temptations - so alluring they are, so magnetic is their power - that unless you are in the power-field of someone whose magnetism is far more powerful than any other kind of temptation, it is impossible to reach. That is the meaning of disciplehood. - Author: Rajneesh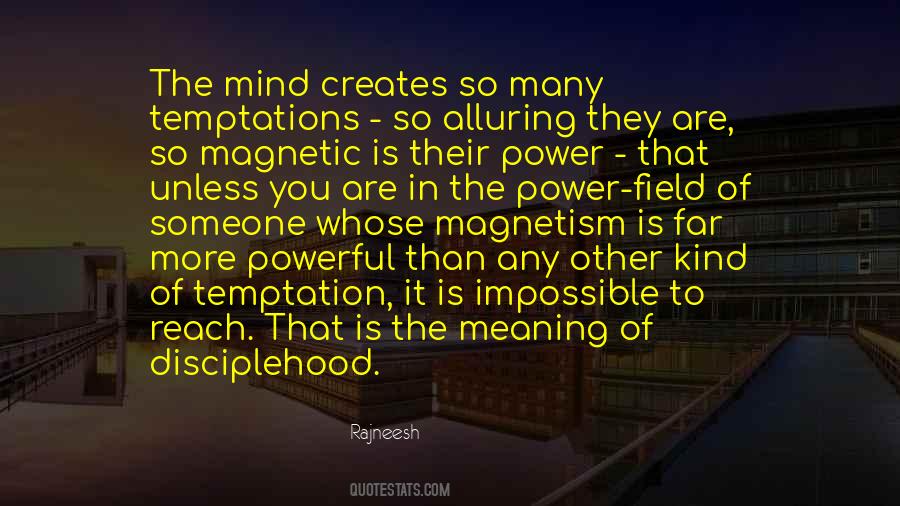 #82. Henry M. Jackson, congressman and senator from 1941 until his death in 1983, achieved far greater renown than most legislators, ran for president in 1972 and 1976, and was for much of the 1970s and 1980s one of the most powerful men in America. - Author: Elliott Abrams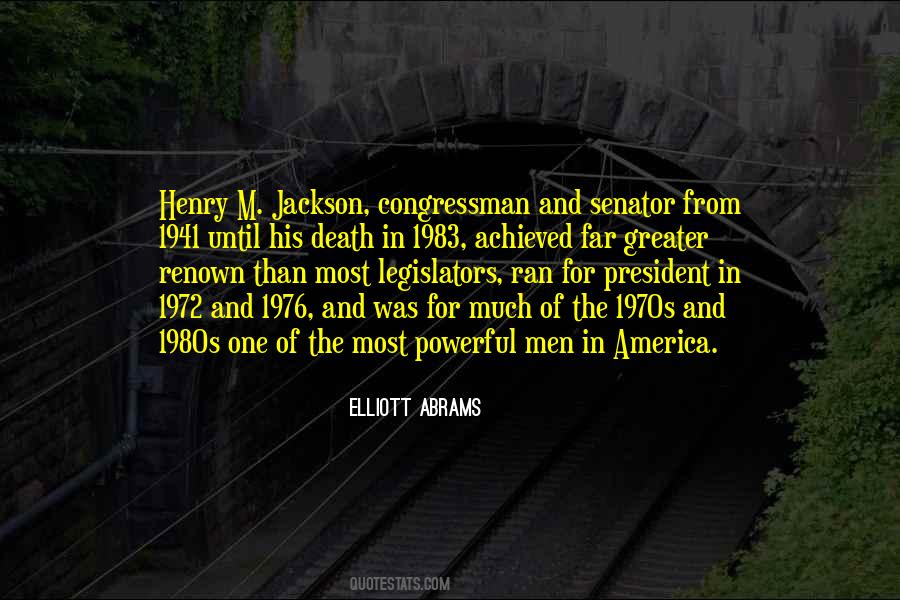 #83. If you wanted to build the most powerful computer you could, you can't do better than including everything in the universe that's potentially available. - Author: Seth Lloyd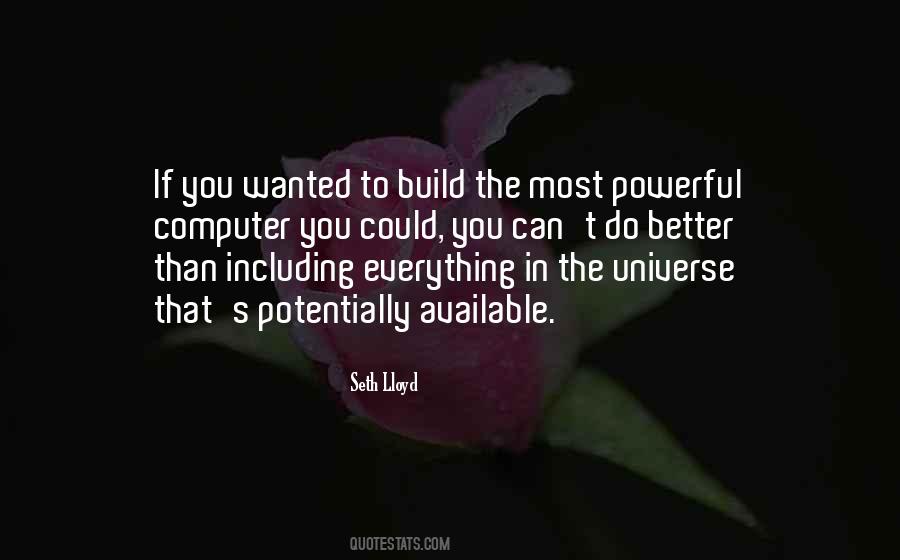 #84. A single dream is more powerful than a thousand realities. - Author: J.R.R. Tolkien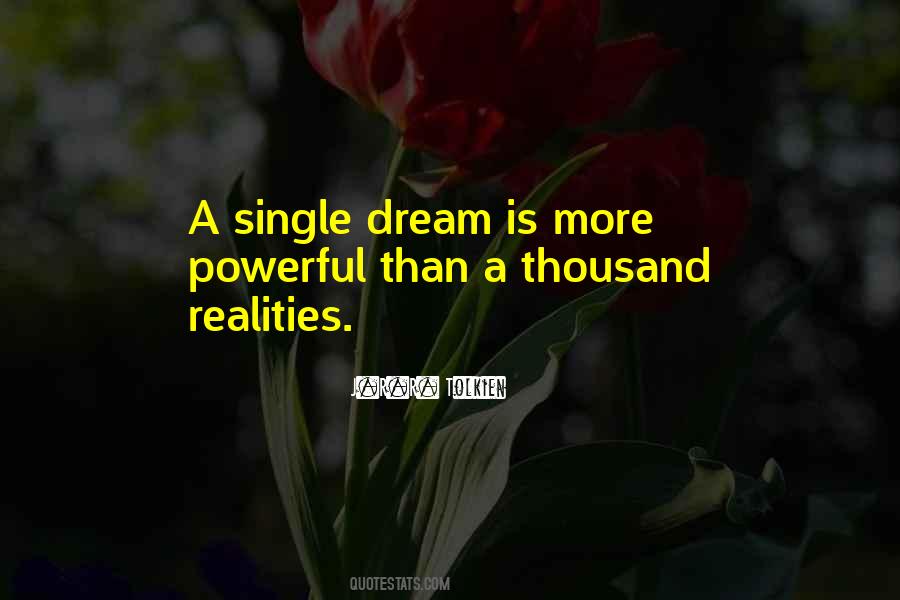 #85. Society must be made to operate in such a way that it eradicates once and for all the desire of a man to become richer, or wiser, or more powerful than others. - Author: Francois-Noel Babeuf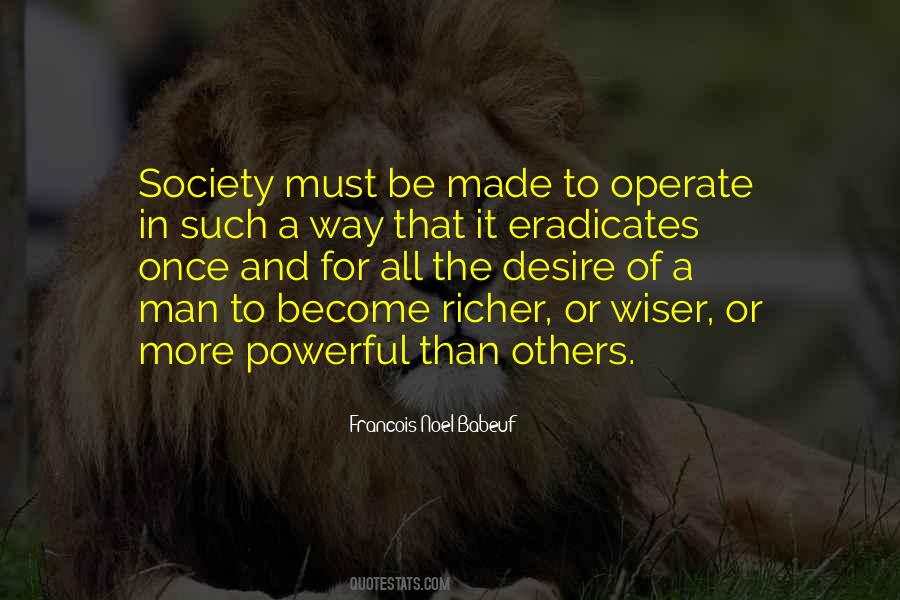 #86. Their humor is underdog humor, a put-down of what is more powerful than they. - Author: Wallace Stegner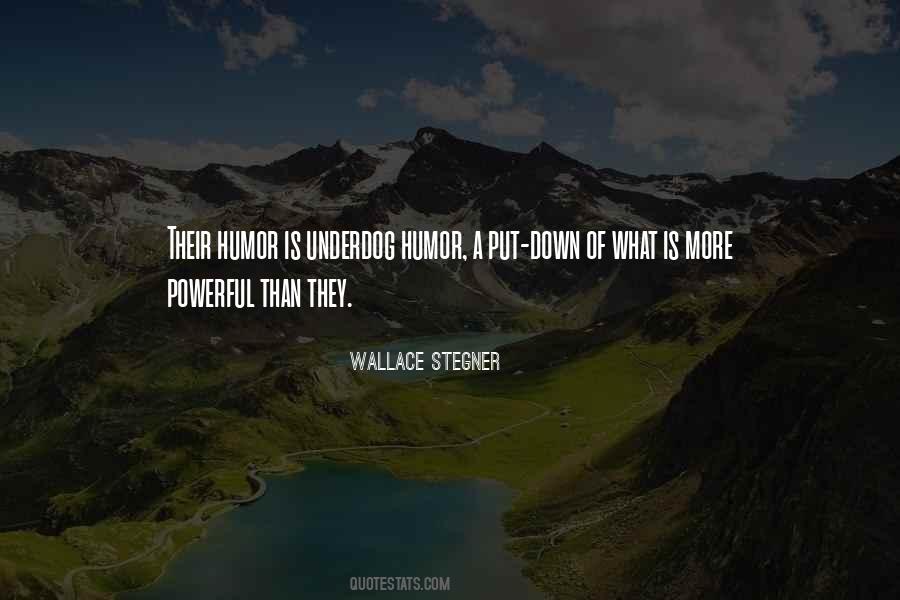 #87. I've got so much wisdom and have lived through so much life that I feel more powerful than I ever have. - Author: Sharon Osbourne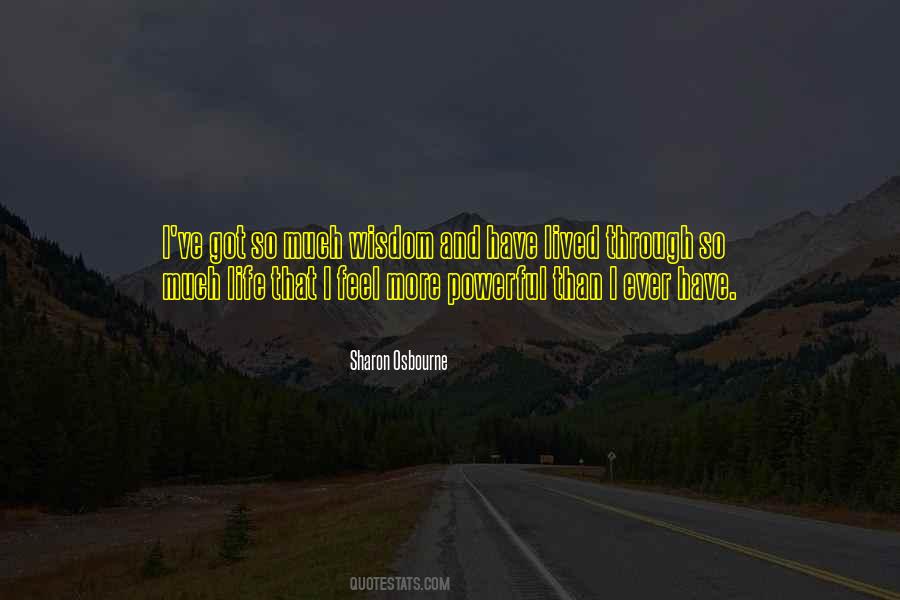 #88. Take care-there is no force more powerful than that of an unbridled imagination. - Author: Michael Chabon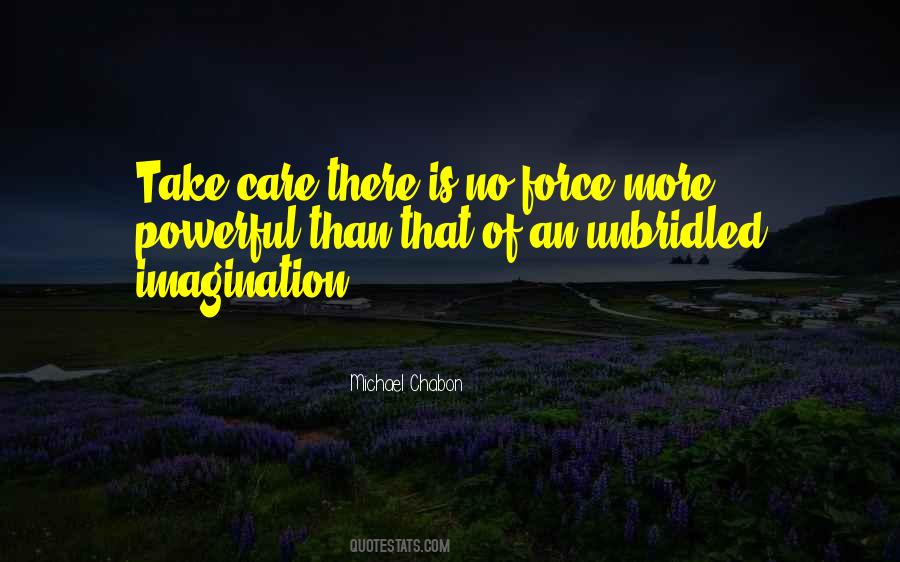 #89. Learn to recognize true wealth. Money itself will not make you financially free. That comes as a result of only that powerful state of mind which tells us that we are worth far more than our money. - Author: Suze Orman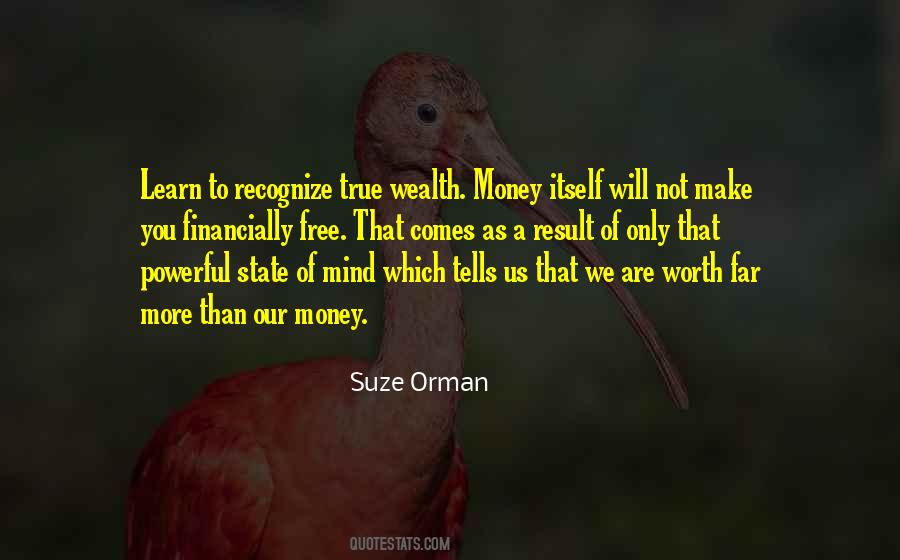 #90. But this...her...she's more than warmth. She's fire, a soul, a name. Mei Yee reverbs through my head, my veins. Lodges like shrapnel in the far reaches of my chest. More powerful than a pound of C-4. Uncontrollable. - Author: Ryan Graudin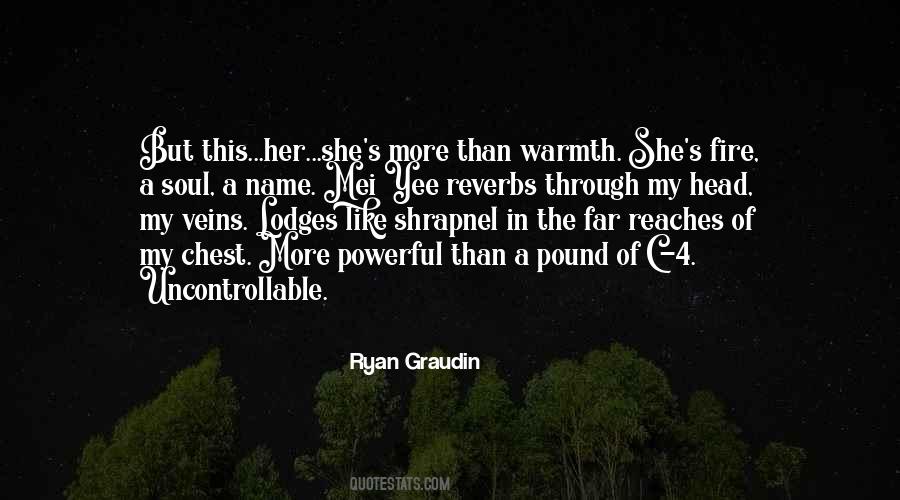 #91. We think we're powerful because of what we've achieved rather than because of what we are. - Author: Marianne Williamson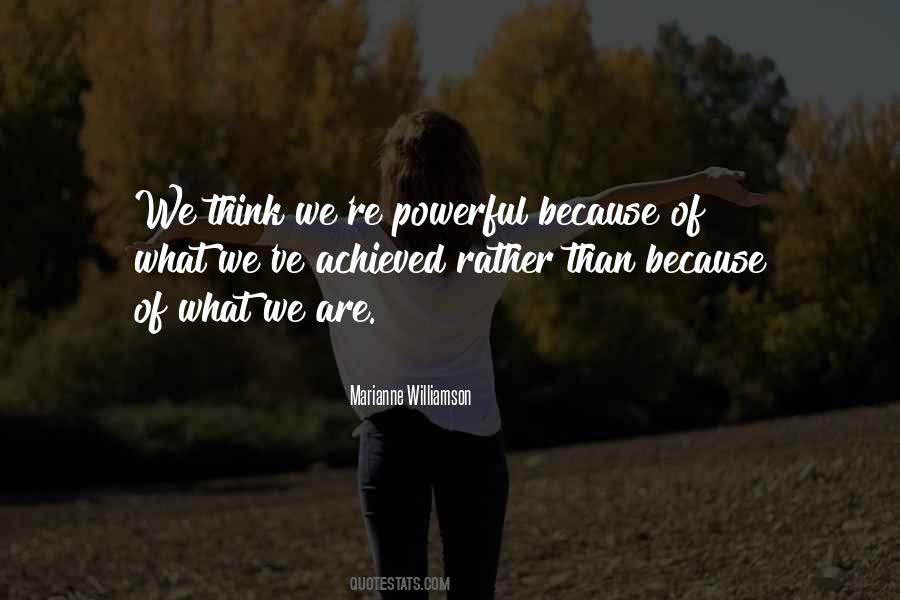 #92. There is nothing more powerful than this moment your living, now, more powerful than your convictions and truths, spend time with what your heart desires and souls screams for. Life ends a day before we know it, it's so important to chase everything that matters to you. - Author: Nikki Rowe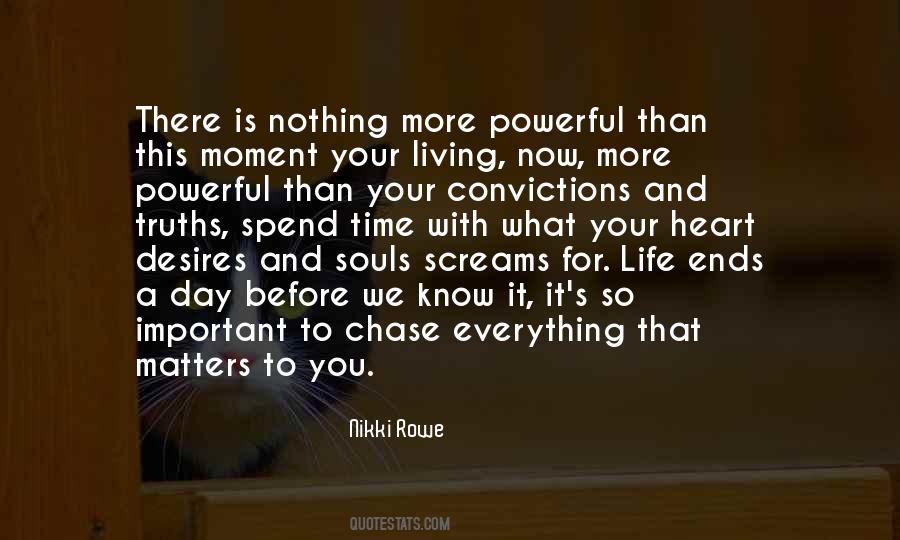 #93. no doubt that evil is more contagious than good, therefore, it's more powerful. - Author: Anonymous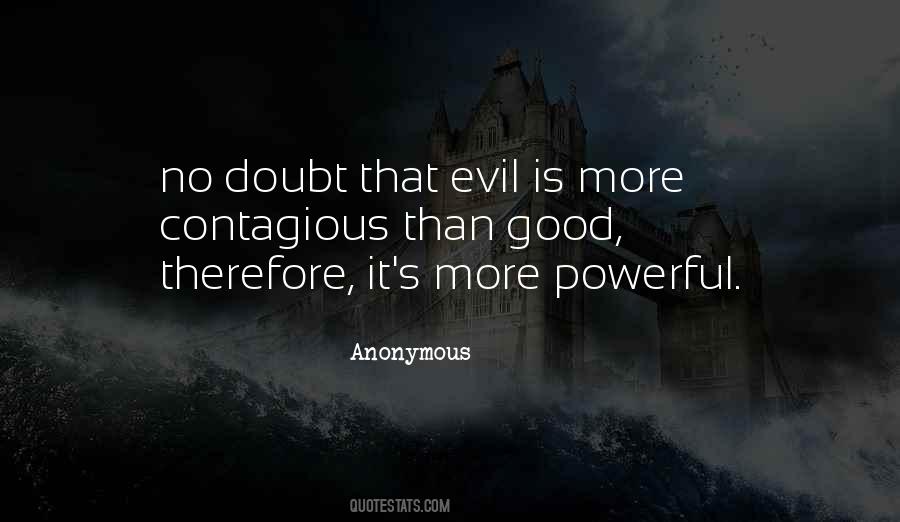 #94. God is more powerful than anybody's past, no matter how wretched. He can make us forget - not by erasing the memory but by taking the sting and paralyzing effect out of it - Author: Jim Cymbala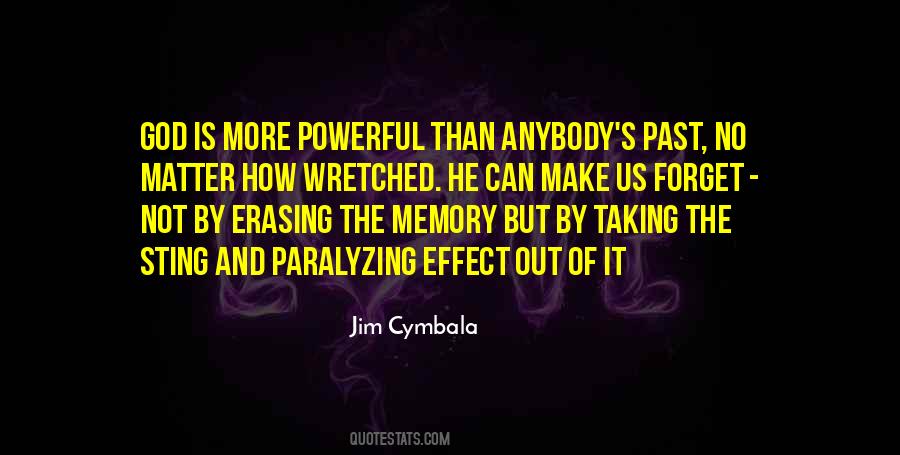 #95. I was so much more powerful than anyone knew. I was an animal learning to fight back, instinctively, fiercely. I was a brave girl. I was a fit fox.

I realized that the most empowering important thing was actually simply taking care of myself. - Author: Aspen Matis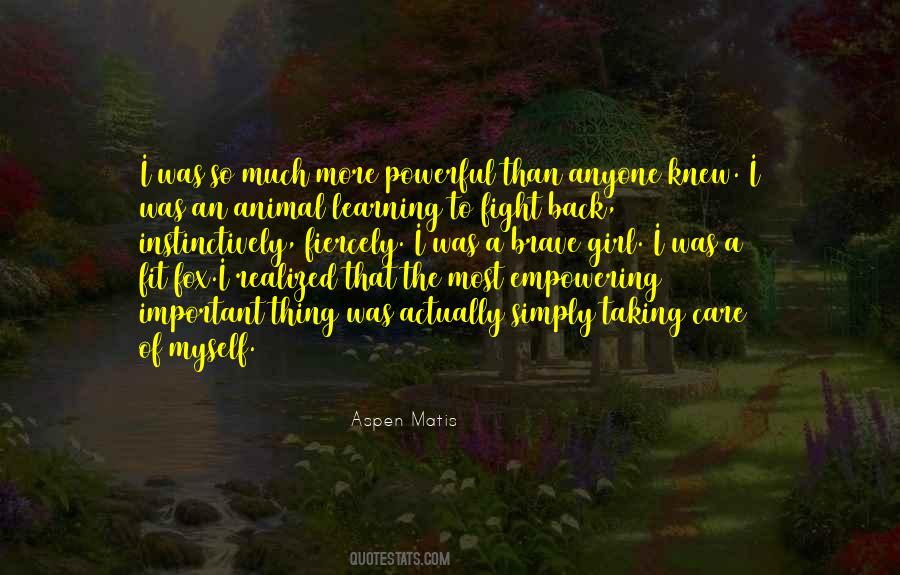 #96. If you want to change your life - right now - there is nothing more powerful than changing what you believe! - Author: Ray Dodd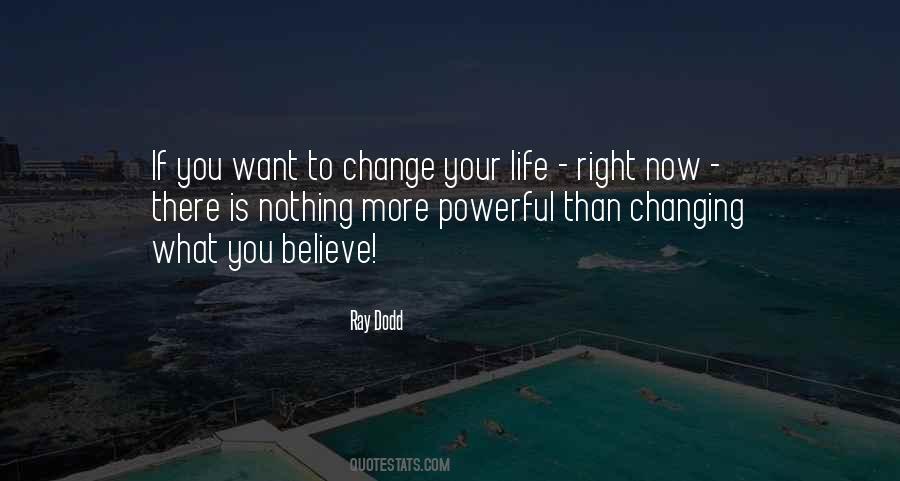 #97. Love is more powerful than kicking ass. - Author: Jet Li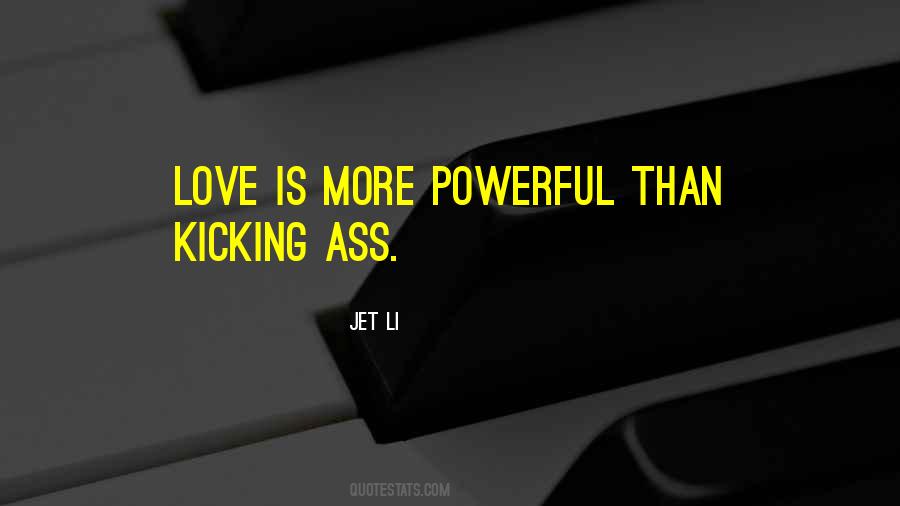 #98. She had a womanly instinct that clothes possess an influence more powerful over many than the worth of character or the magic of manners. - Author: Louisa May Alcott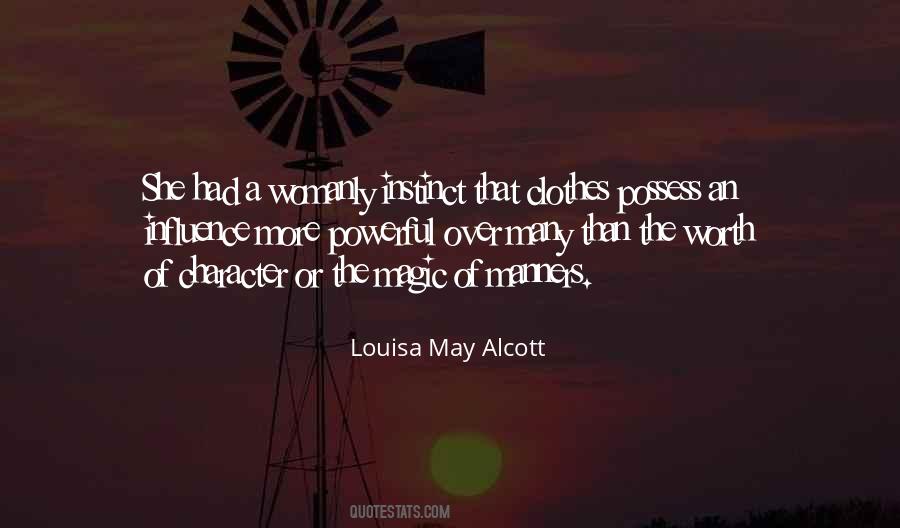 #99. Dreams are more powerful than facts. - Author: Robert Fulghum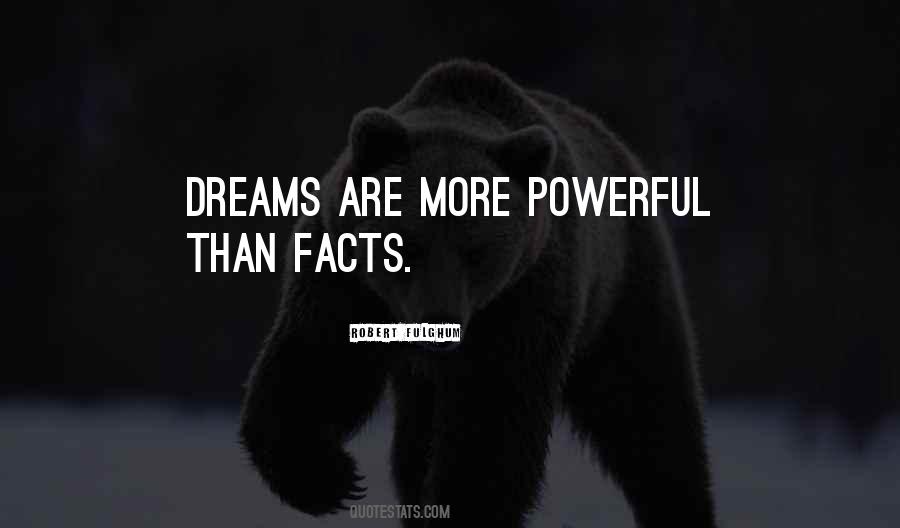 #100. Is there an aphrodisiac more powerful than forbidden fruit hanging just out of reach? - Author: Lynn Cullen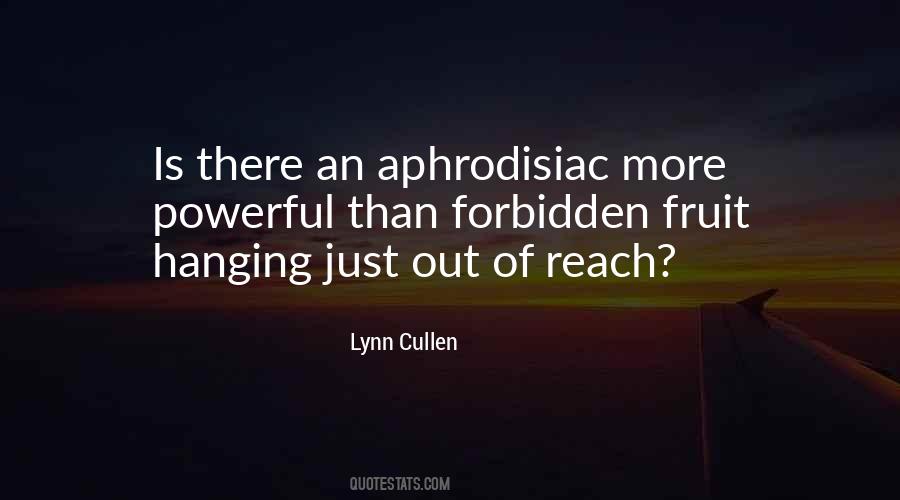 Famous Authors
Popular Topics