Please Don't Worry Famous Quotes & Sayings
List of top 54 famous quotes and sayings about please don't worry to read and share with friends on your Facebook, Twitter, blogs.
Top 54 Please Don't Worry Quotes
#1. In terms of evolutionary history, it was only yesterday that men learned to walk around on two legs and get in trouble thinking complicated thoughts. So don't worry, you'll burn out. - Author: Haruki Murakami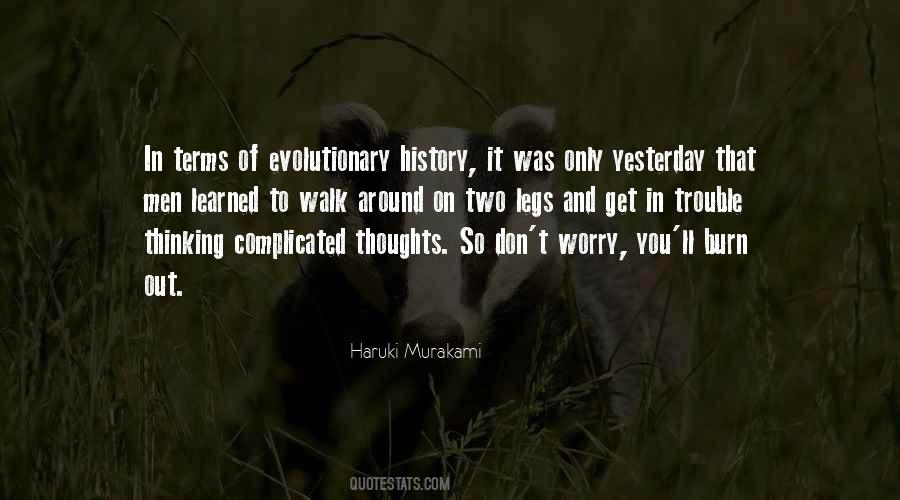 #2. Don't worry about what others think of you. It doesn't matter as long as you have your own Convictions and are proud of what you do.-RVM - Author: R.v.m.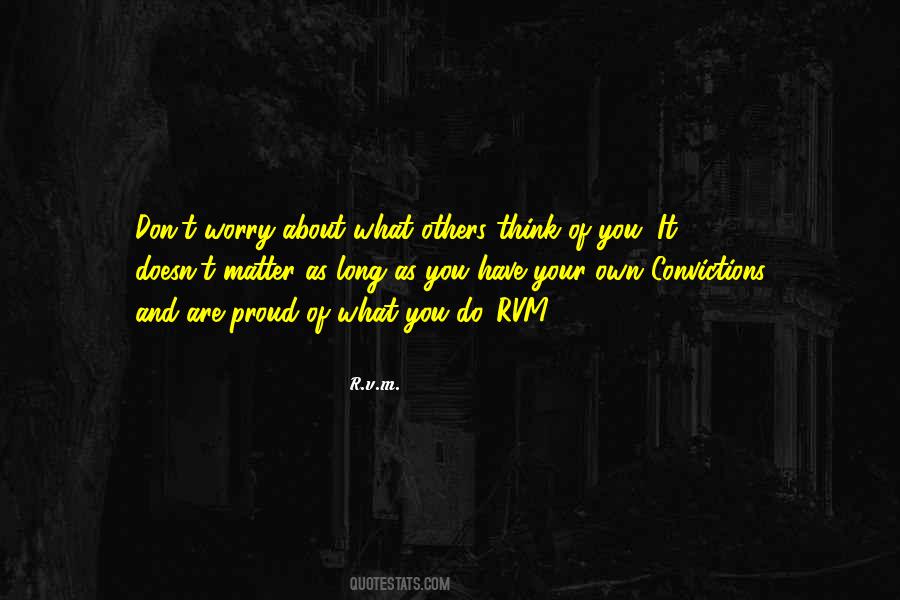 #3. In some ways, it was far easier to be bad than good. When you're bad, you don't care what happens to anyone other than yourself. When you're trying to do god, you have to worry about everyone. - Author: David Baldacci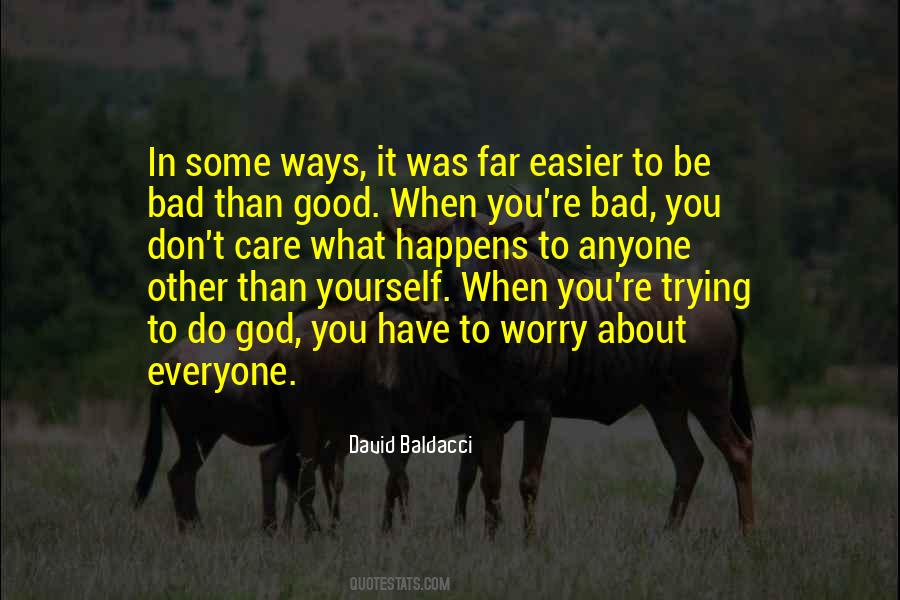 #4. Even if I would have left on a good note, there is still going to be people who don't like you, who don't like what you stand for. I can't worry about that. - Author: Antonio Davis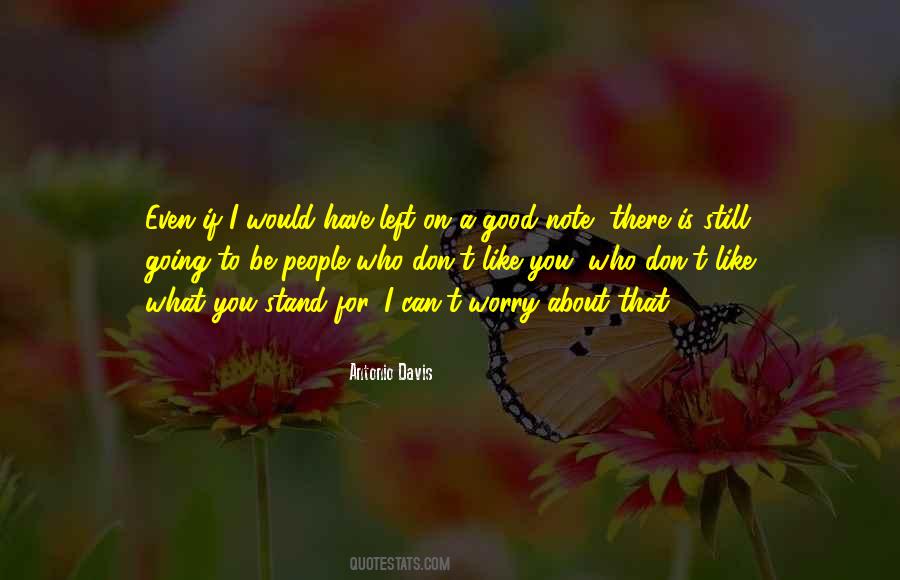 #5. The other day, a friend of a friend said that everyone started out as girls, but boys evolved ... But don't worry girls, I hit him. - Author: Ben Mitchell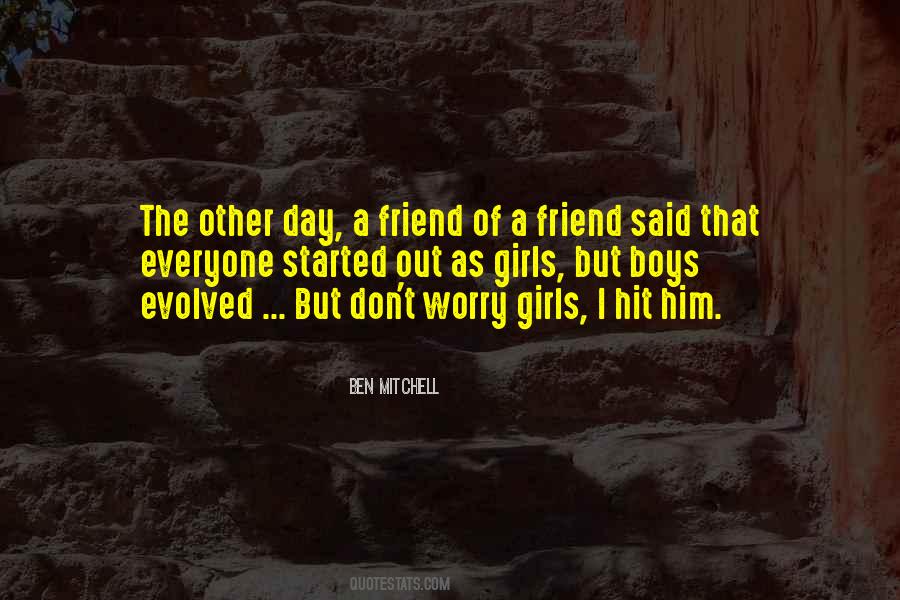 #6. I'm not a real film buff. Unfortunately, I don't have time. I just don't go. And I become very nervous when I go to a film because I worry so much about the director and it is hard for me to digest my popcorn. - Author: David Lynch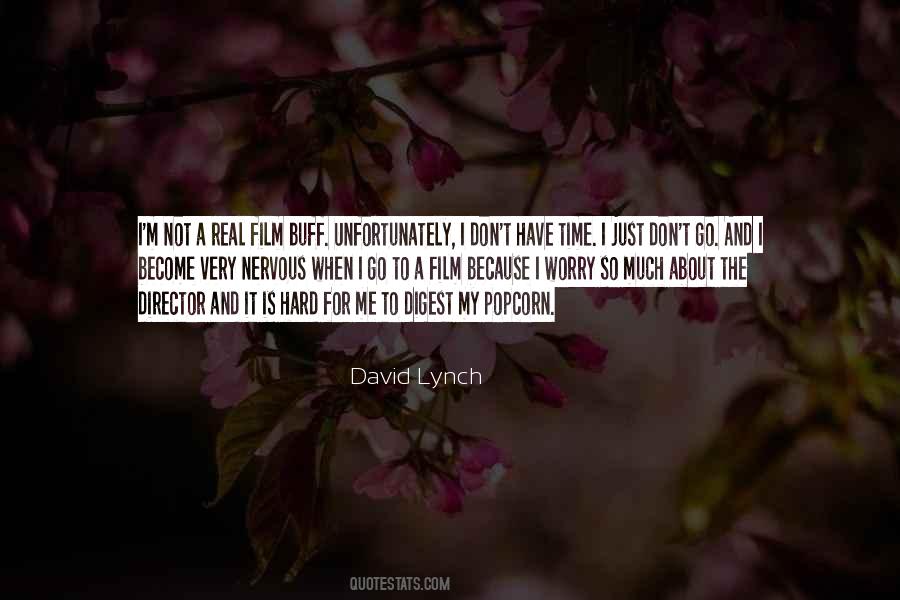 #7. Nancy Herman, my new gym partner and locker neighbor, puts her hand on my shoulder and whispers, Don't worry April. I have foot fungus too. - Author: Amy Holder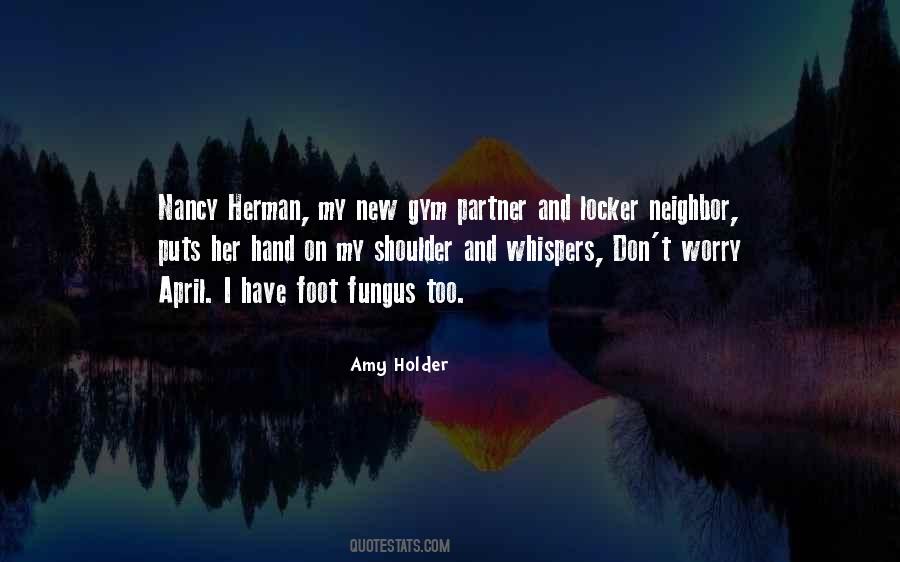 #8. Never boyfriends? You've NEVER been in LOVE?"
As I shake my head no, I look out the window, yearning to see Cole's sun-filled eyes again looking into mine.
"Don't worry," Tiger said. "Love isn't easy- and it happens on its own time. Just hang in there. He'll come around. - Author: Giorge Leedy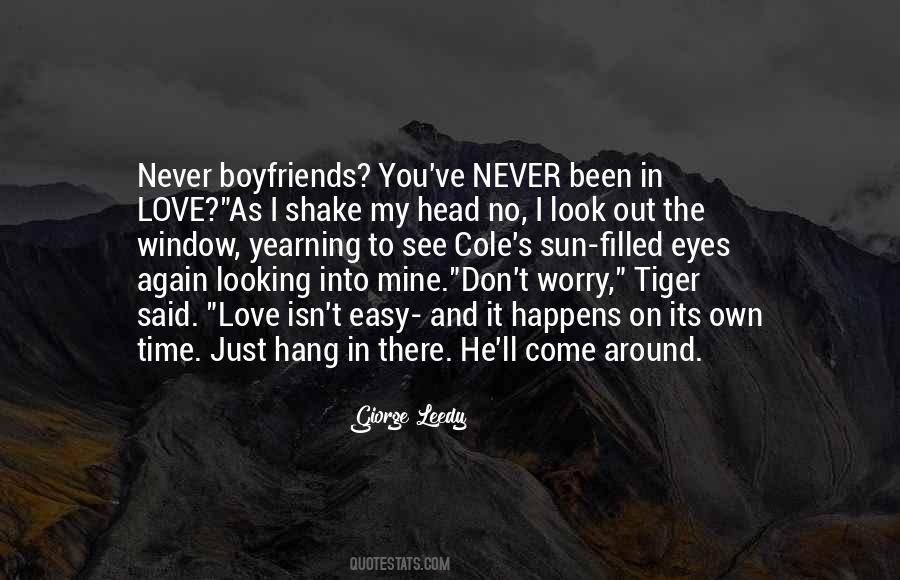 #9. I don't clean, I don't make the bed. I spend my salary. I worry a lot. I just don't worry about socks on the floor. - Author: Amanda Peet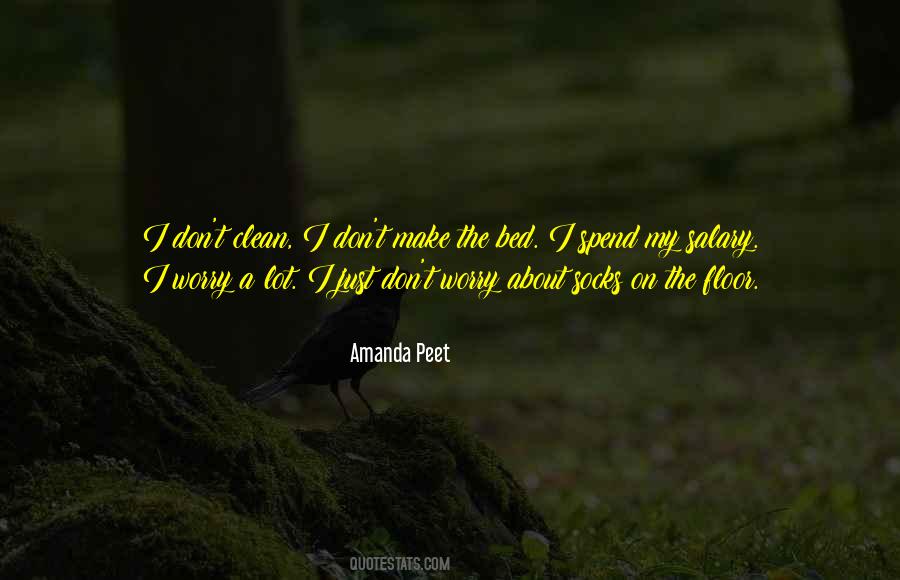 #10. Don't worry me now, Fagin!' replied the girl, raising her head languidly. 'If Bill has not done it this time, he will another. He has done many a good job for you, and will do many more when he can; and when he can't, he won't, so no more about that. - Author: Charles Dickens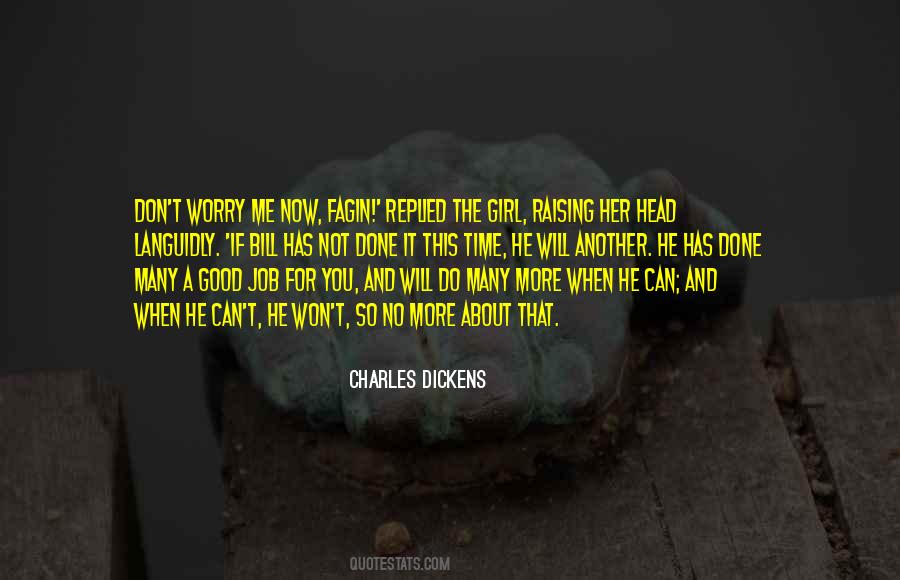 #11. Oh my god, you really are insane." "Probably," he said with a shrug, "but don't worry I doubt it's hereditary so the baby should be fine. - Author: R.L. Mathewson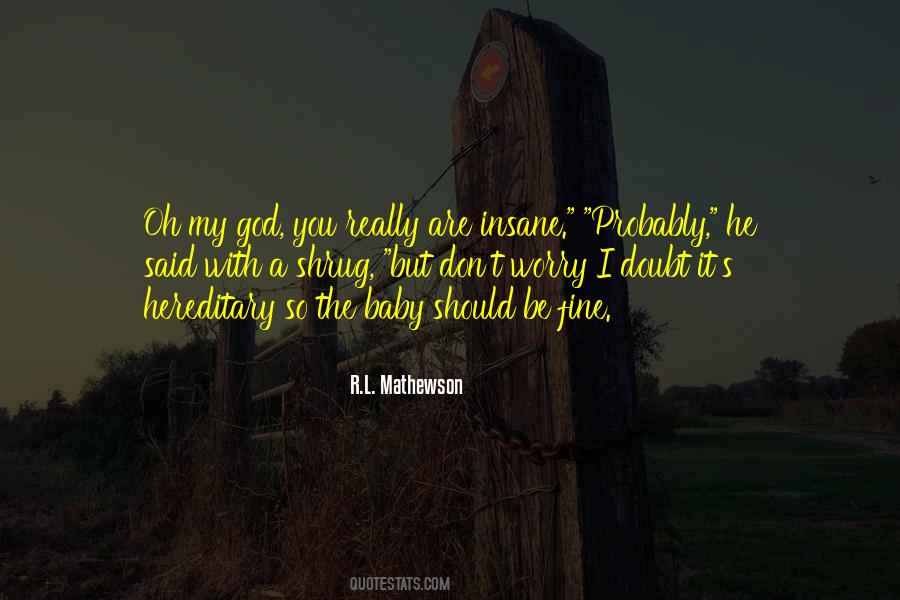 #12. On the principle laid down by Gilbert and Sullivan that when everybody is somebody, nobody is anybody; if everybody is abnormal, we don't need to worry about anybody. - Author: Robert M. Hutchins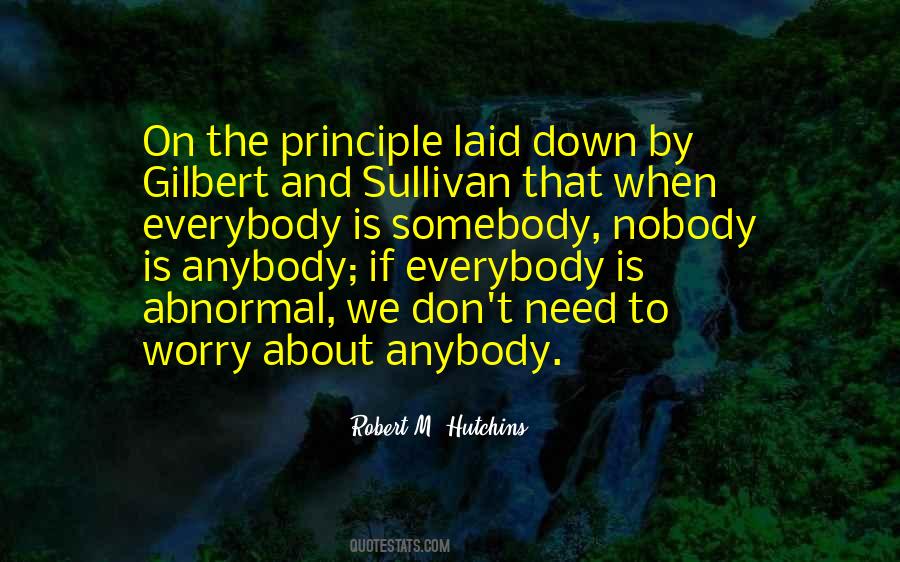 #13. Don't fight fair; don't worry what you look like," Joshua continued. "Do whatever you have to do to stop our enemy, no holds barred."
"Like a sale at Loehmann's," Brynne said. - Author: Cate Tiernan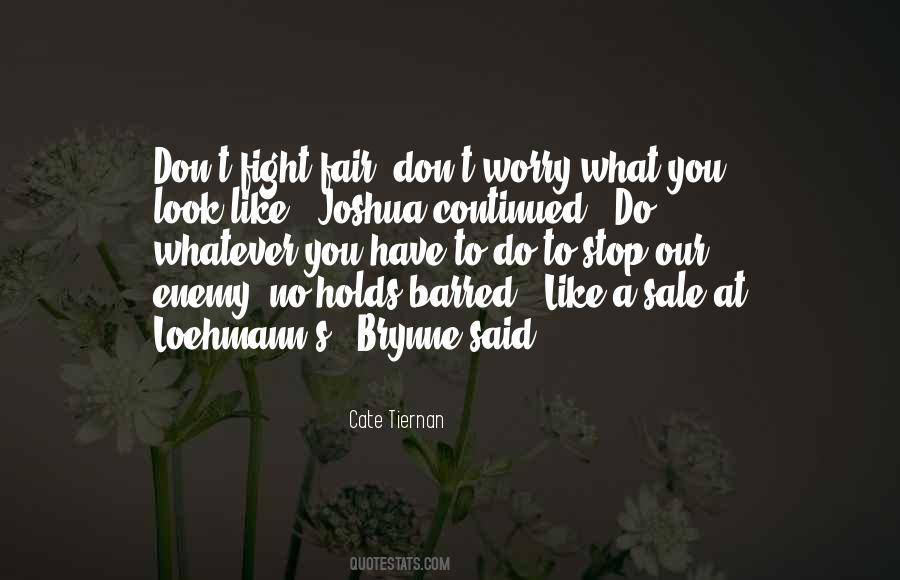 #14. You just live in the place you're in, you don't worry about where you used to be or where you wish you were, here is where you are and here's where you've got to find a way to survive - Author: Orson Scott Card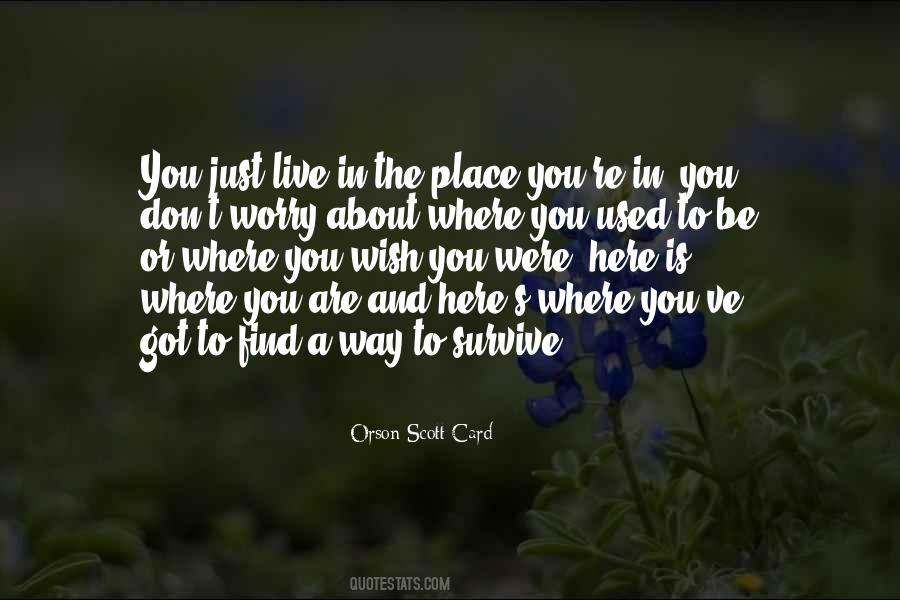 #15. Sometimes I worry I don't want to get married as much as I'd like to be dipped in a vat of warm, rising bread dough. - Author: Maria Bamford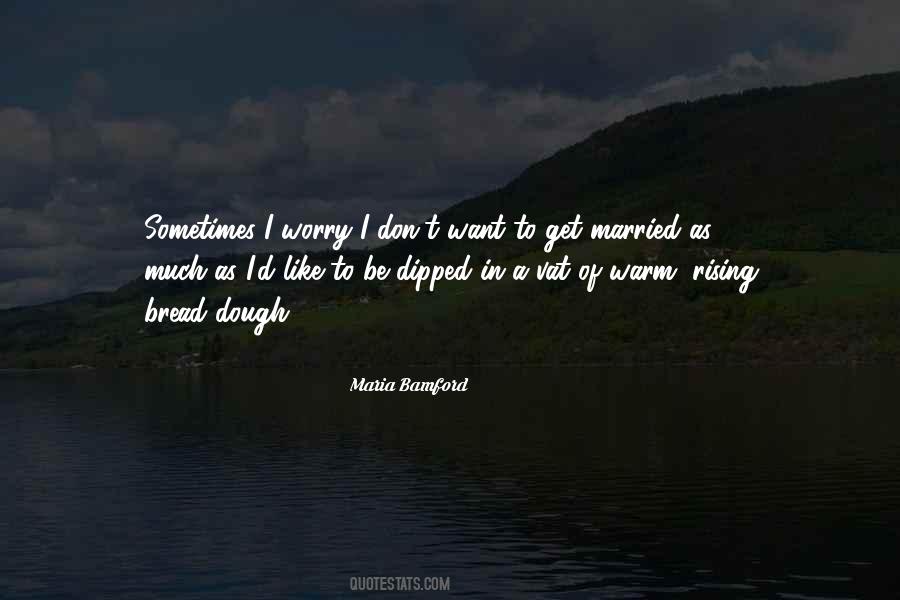 #16. Please don't worry. It's a psychological complaint, common amongst ex-librarians. You see, she thinks she's a coffee table edition ... - Author: Alan Moore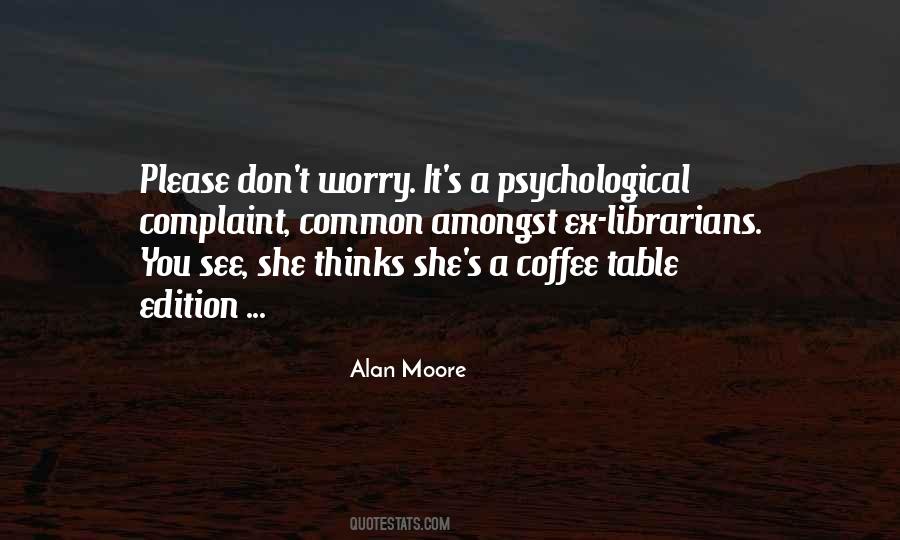 #17. Look for, and work on becoming, a man or woman who, as a single, seeks God wholeheartedly, putting Him before anything else. Don't worry about impressing the opposite sex. Instead, strive to please and glorify God. Along the way you'll catch the attention of people with the same priorities. - Author: Joshua Harris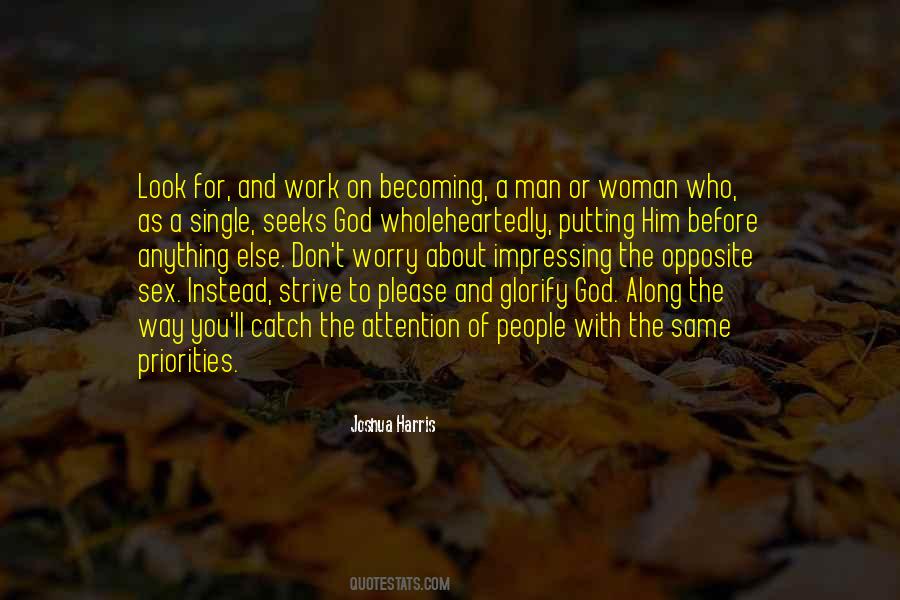 #18. Beckett's gruff voice moved her veil as he spoke, Happy wedding, Whitebread. But please, don't worry about this. - Author: Debra Anastasia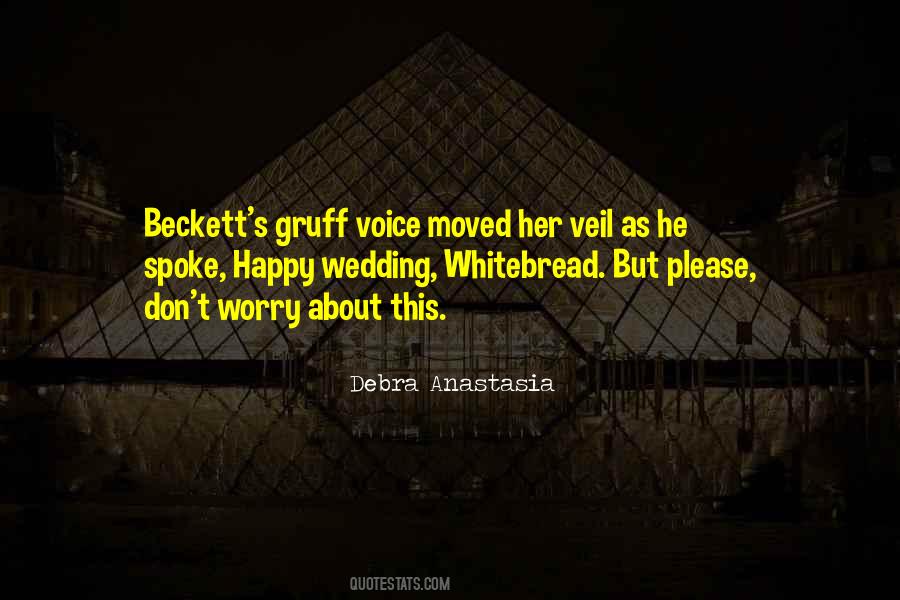 #19. I don't worry about what everyone wants to see. I make movies that please a writer, director and myself. I always think there are enough people smart as me and sensitive as me. - Author: Saul Zaentz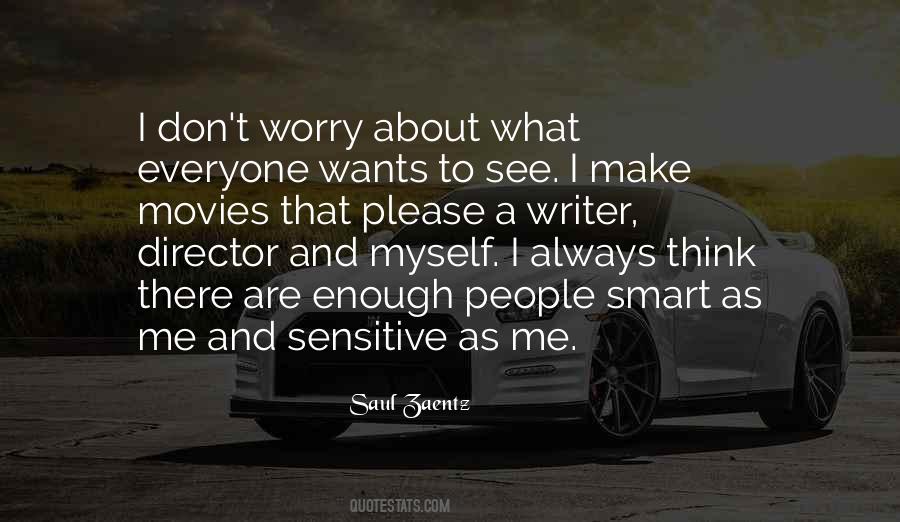 #20. Please don't worry that yoga will contradict your religious belief systems, as Pranashama Yoga embraces all religions and beliefs systems. I believe we are all One and that Love is the highest truth. Love is my Religion. - Author: Dashama Konah Gordon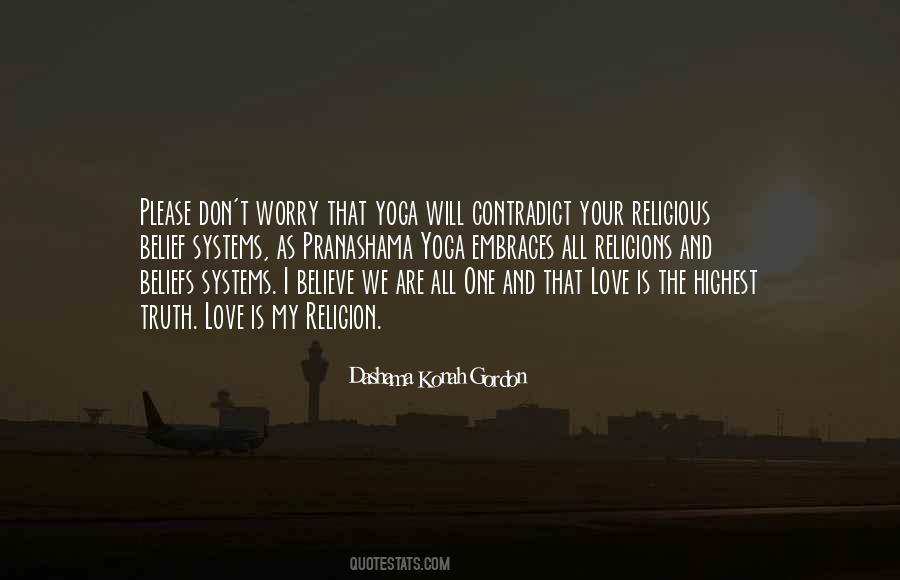 #21. Stop caring what people think about you. People will always have their opinions. Don't worry about it. What you think about you (and what God thinks about you) is all that matters. You can never please everyone, so stop trying so hard to please people. - Author: Lisa Bedrick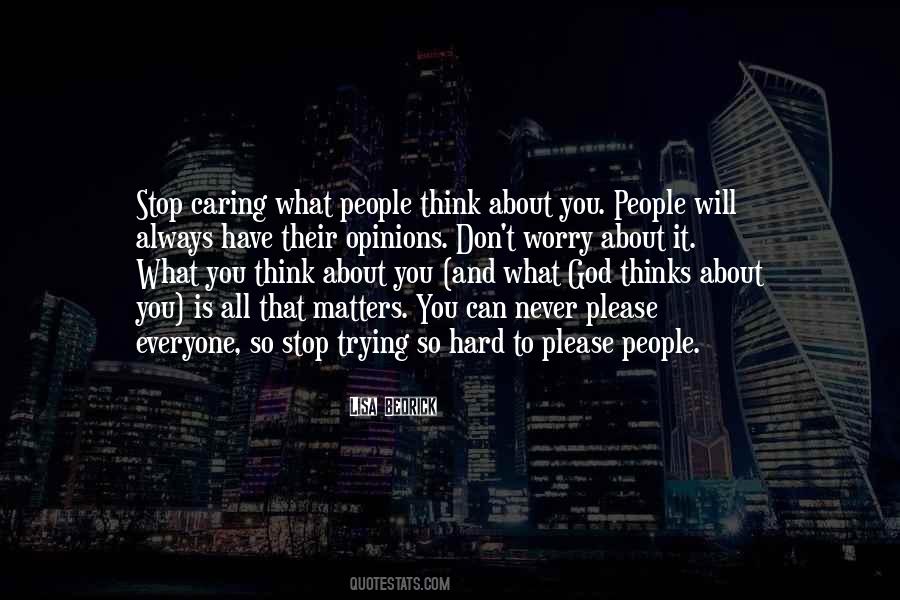 #22. Please don't worry about me. My suffering is over. In the wise words of Dylan Thomas ... After the first death, there is no other. - Author: Colleen Hoover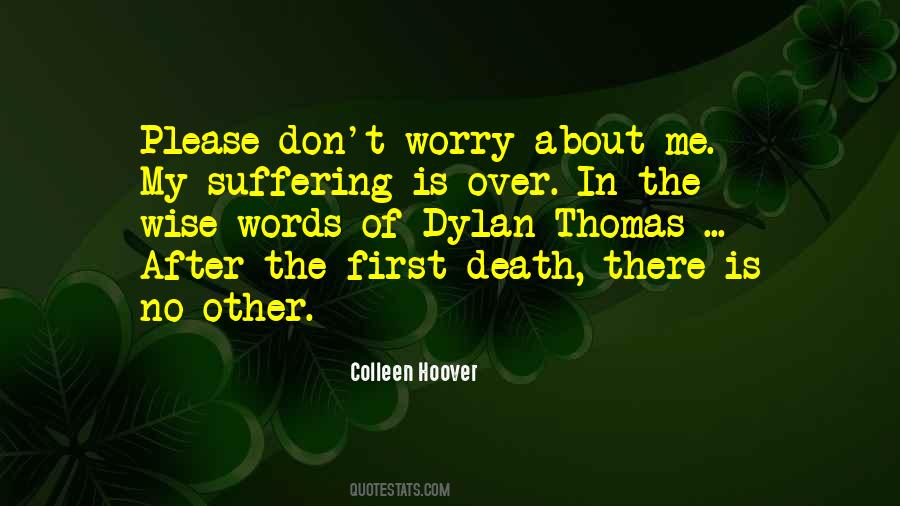 #23. don't worry please please how many times do I have to say it
there's no way not to be who you are and where. - Author: Ikkyu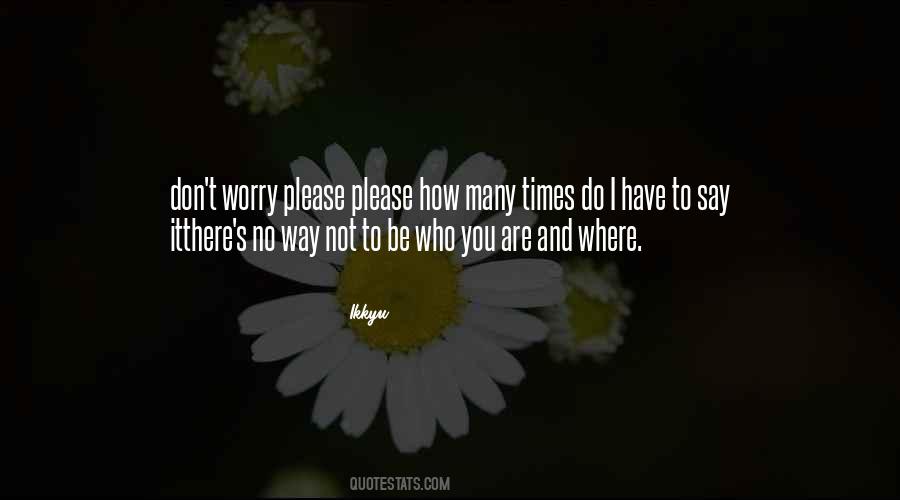 #24. Please don't worry. I will always come for you. I won't let you go until you understand that."
"Then I refuse to understand," she said. - Author: Lauren Kate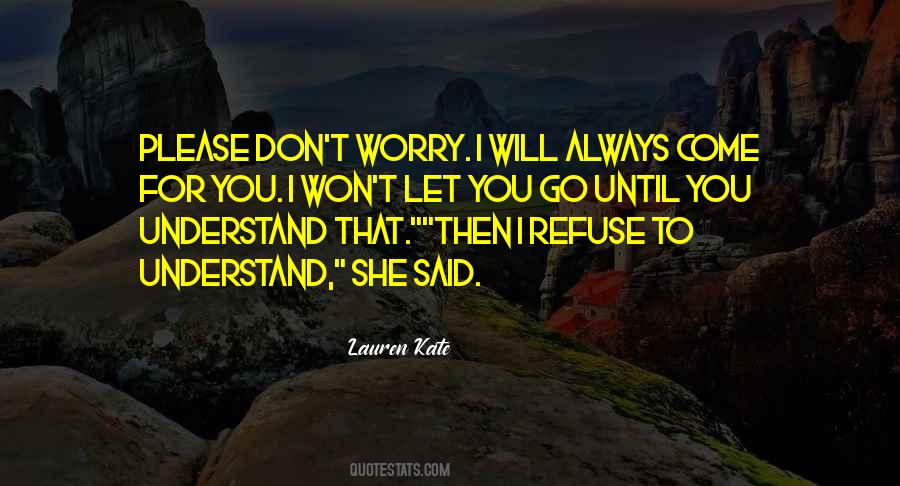 #25. Will you please get that look off your face? You're gonna make me cry. Don't worry, I know you're in love with somebody else. I'm not expecting anything from you. - Author: Haruki Murakami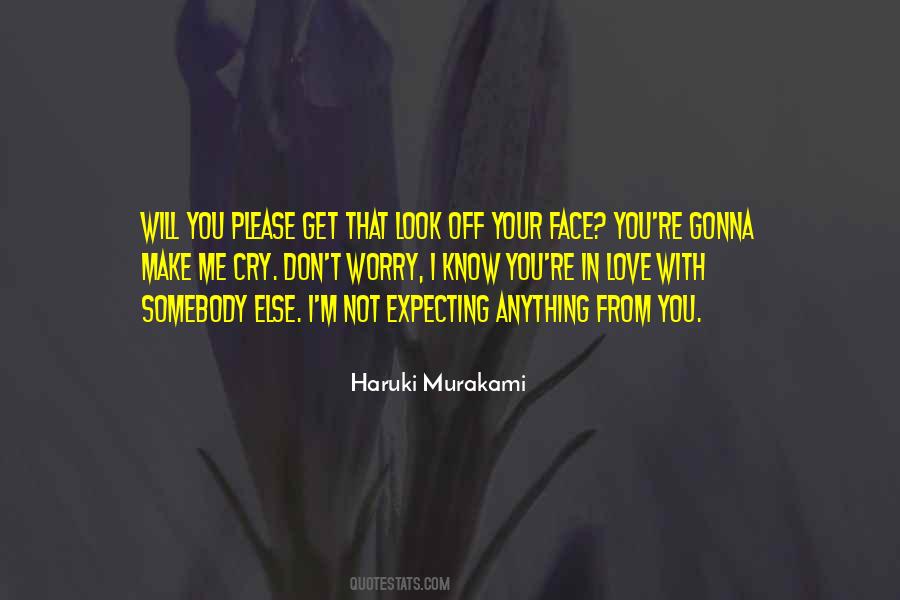 #26. Please don't tell me there's no need to worry, it's the only thing I'm any good at. - Author: Ashleigh Brilliant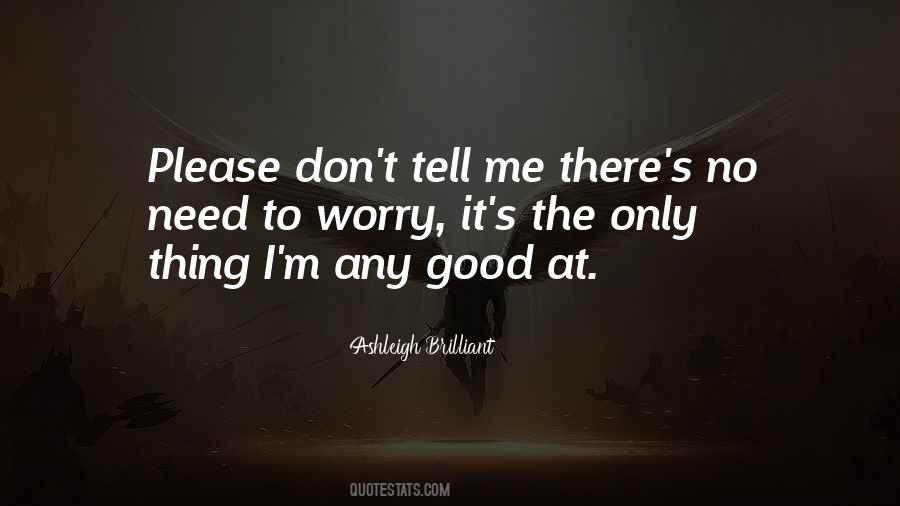 #27. Monk: Forgive our rudeness
Hakkai: Please, don't worry about it. A little purity is good for them.
Sanzo: You saying I'm corrupt? - Author: Kazuya Minekura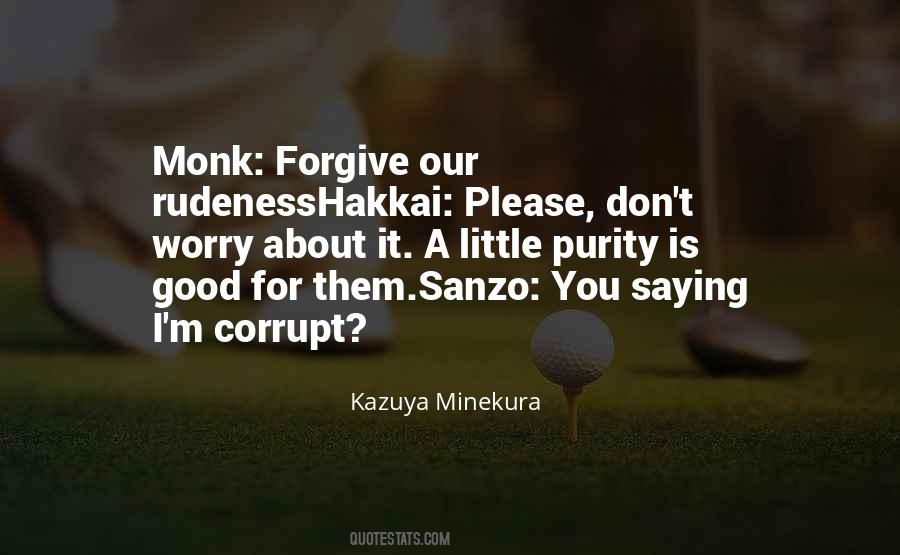 #28. Here," he said,holding out a dark mink coat. "Thought you might be cold."
"Where did you-"
"I yoinked it off a broad coming home from the market back there.Don't worry,she had enough natural padding already."
"Bill!"
"Hey,you needed it!" He shrugged. "Wear it in good health. - Author: Lauren Kate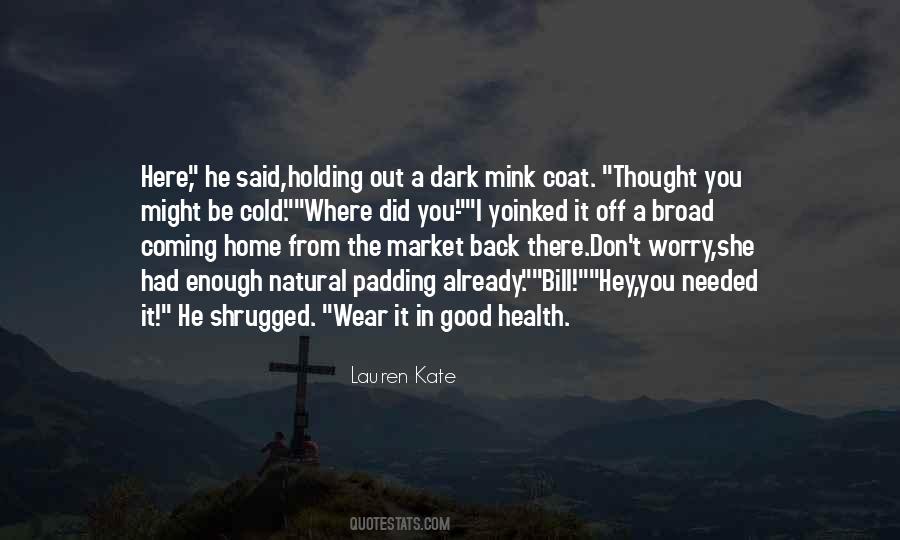 #29. Have you lost your hope? Have you remained inside the fog? Don't worry; even if you can't find it, a new hope will come and find you! - Author: Mehmet Murat Ildan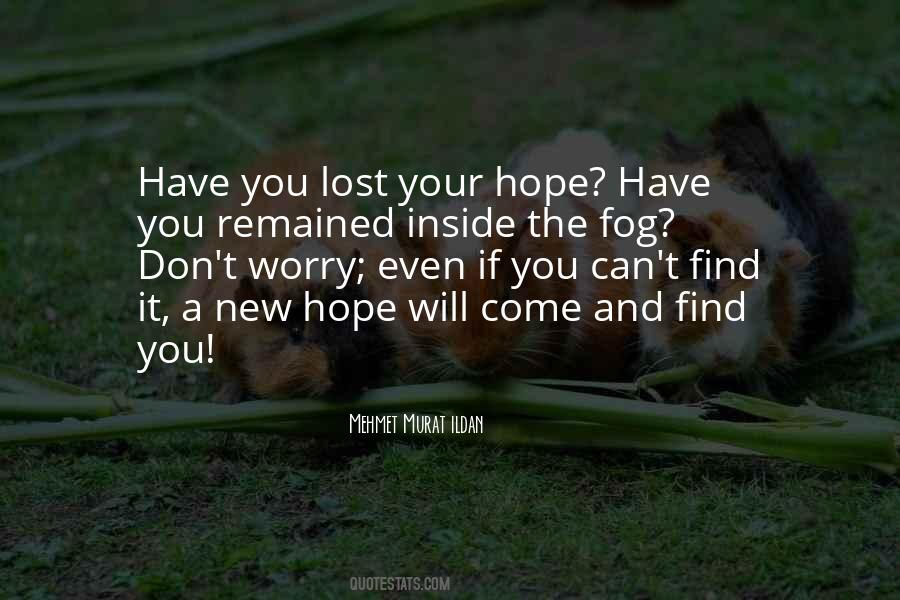 #30. We had all these things to deal with - houses full of people and John going to jail, guys from New York saying 'don't worry about anything.' So it was really confusing. - Author: Michael Davis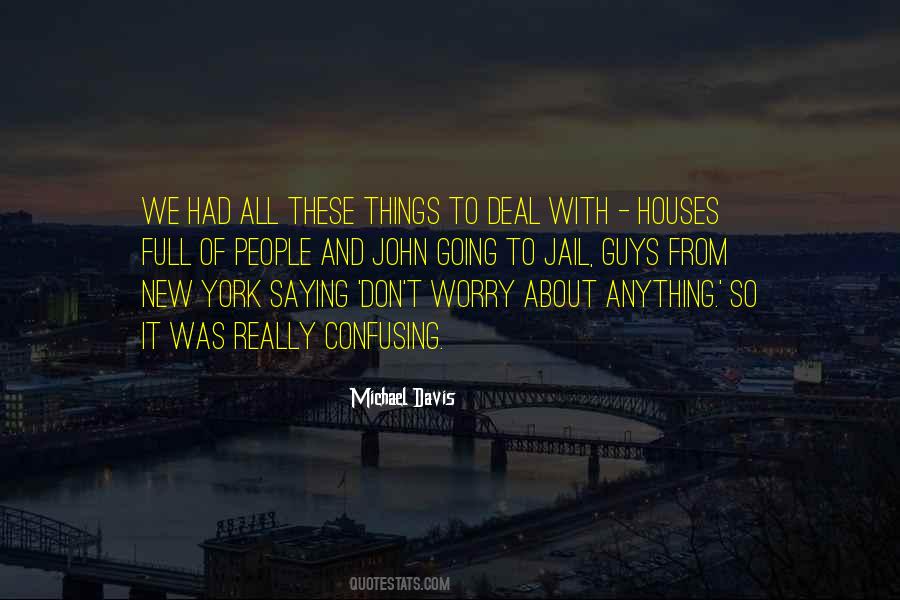 #31. Don't worry about how bad things look right now. It's all going to fall into place. You'll see. - Author: Melody Carlson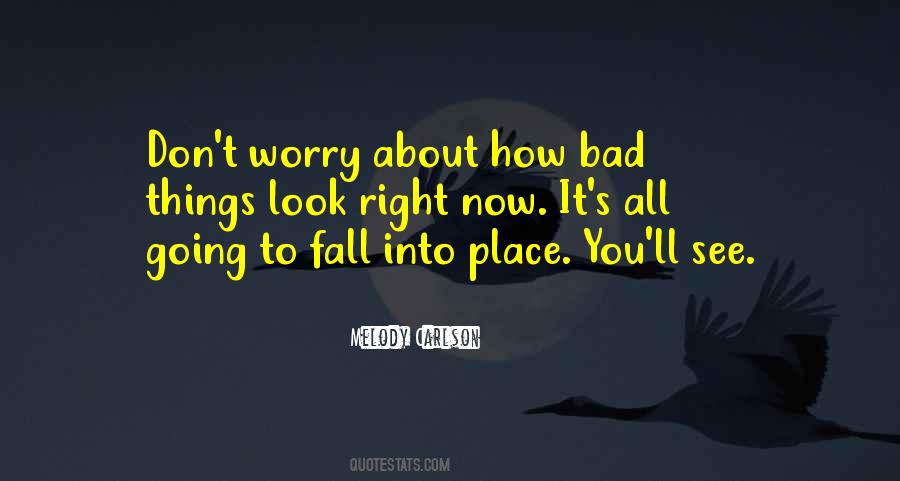 #32. When I started performing, I played acoustic music, partly because that way you don't have to worry about interacting too much with other people creatively. Asserting myself in that way was not really a strong point for me. - Author: Patty Griffin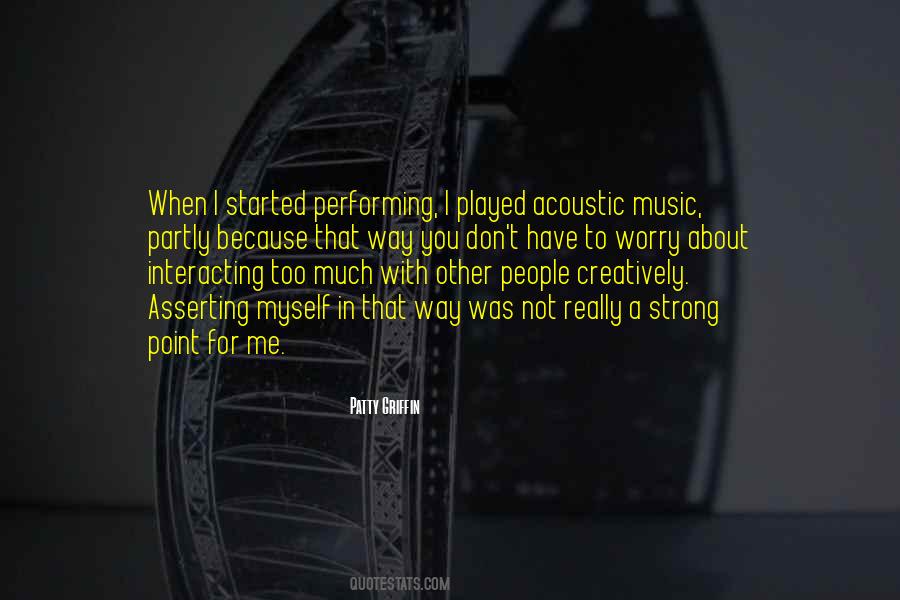 #33. All too often I try to skate away from the things I'm afraid of and things I don't like and am unwilling to accept. I'm selfish and difficult to handle. I give my men cause for concern. I worry them, but they haven't given up on me yet and I love them all the more for it. - Author: Gillibran Brown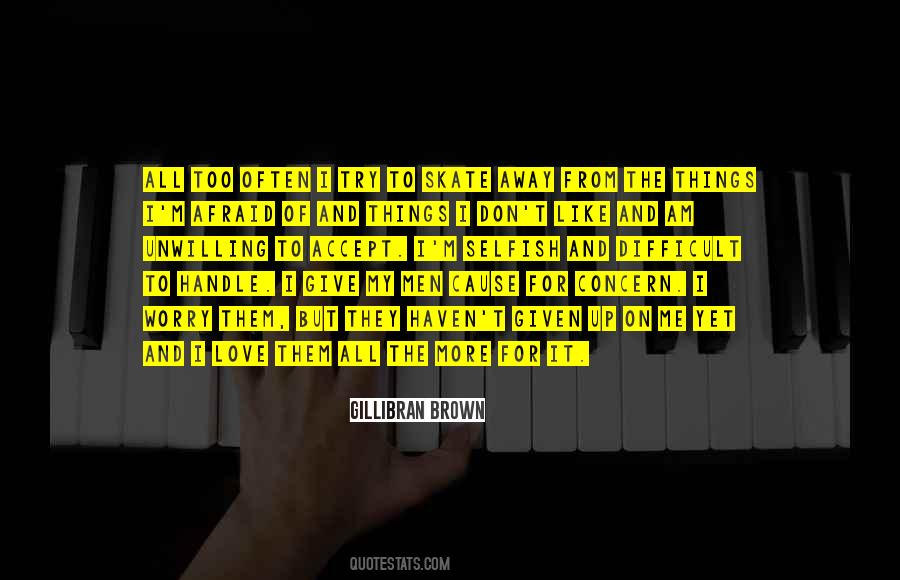 #34. I tell people if it's in the news don't worry about it. Because by definition news is something that almost never happens. - Author: Bruce Schneier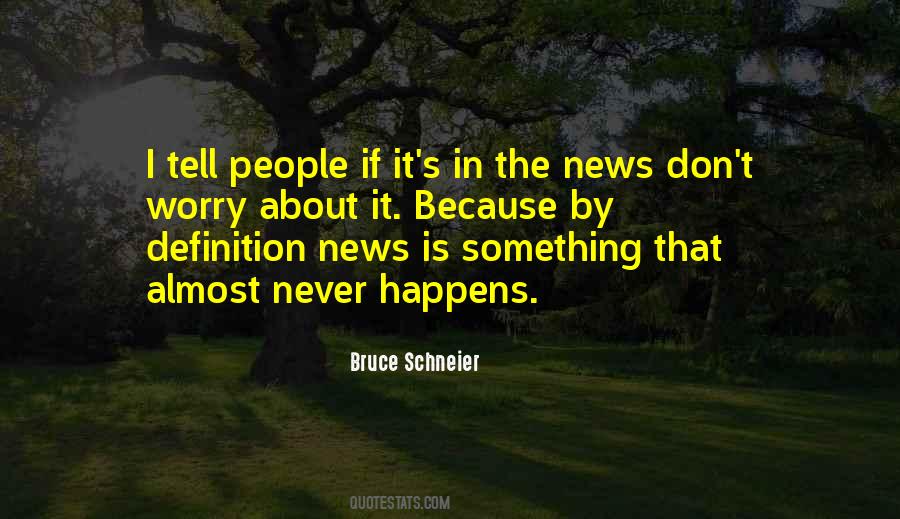 #35. Don't worry kids, you'll find work. After all, my machine will need strong chess player-programmers. You will be the first. - Author: Mikhail Botvinnik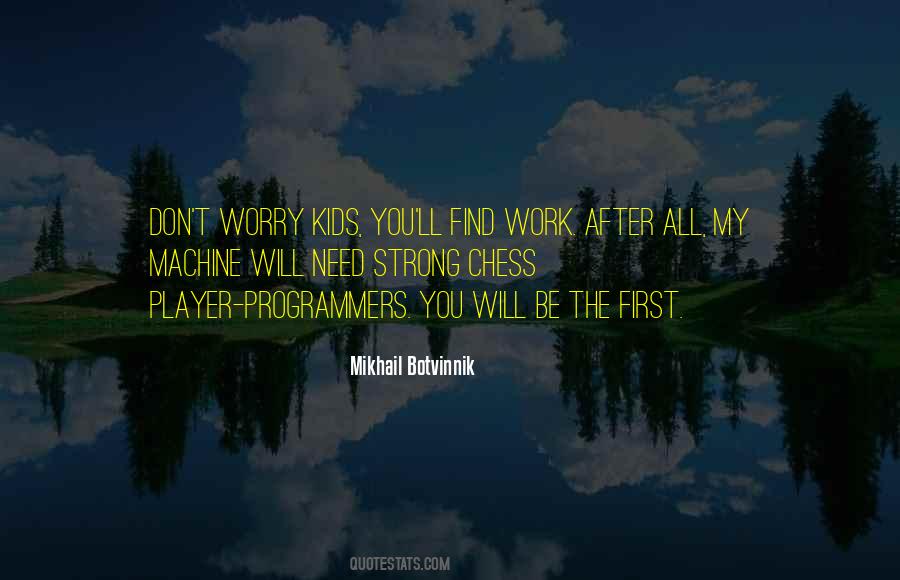 #36. Don't worry about what others think about you; worry about what they think of themselves when they're with you. - Author: Hilary Weeks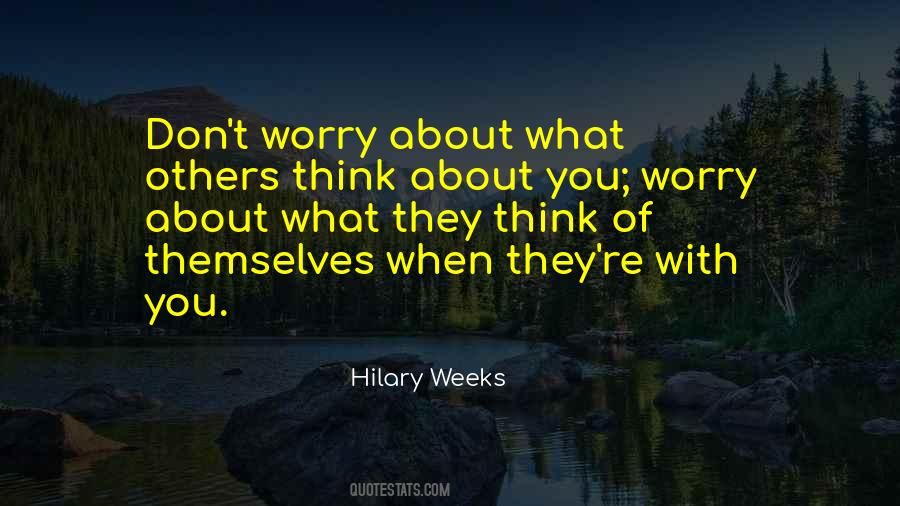 #37. People are always saying: 'They'll take care of it. The government will. Don't worry, they will'. They who? It starts with us. It's us. Or else it'll never be done. - Author: Michael Jackson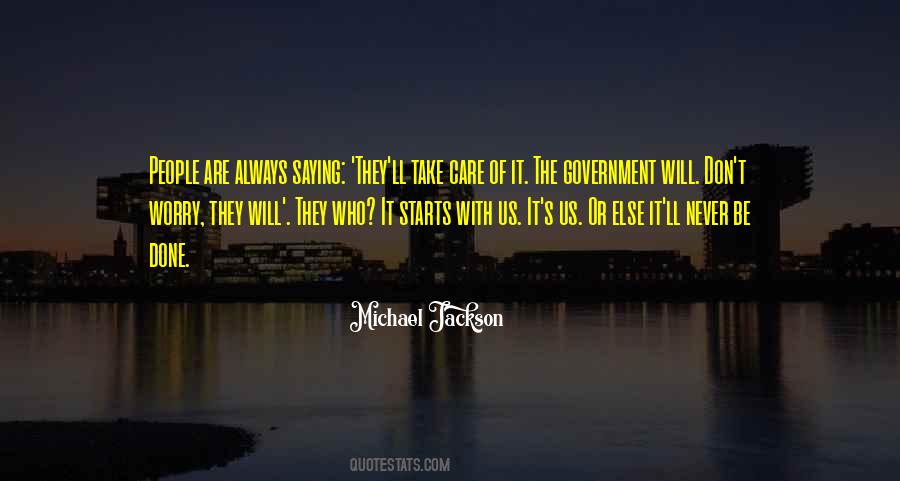 #38. Do a good job. You don't have to worry about the money; it will take care of itself. Just do your best work then try to trump it. - Author: Walt Disney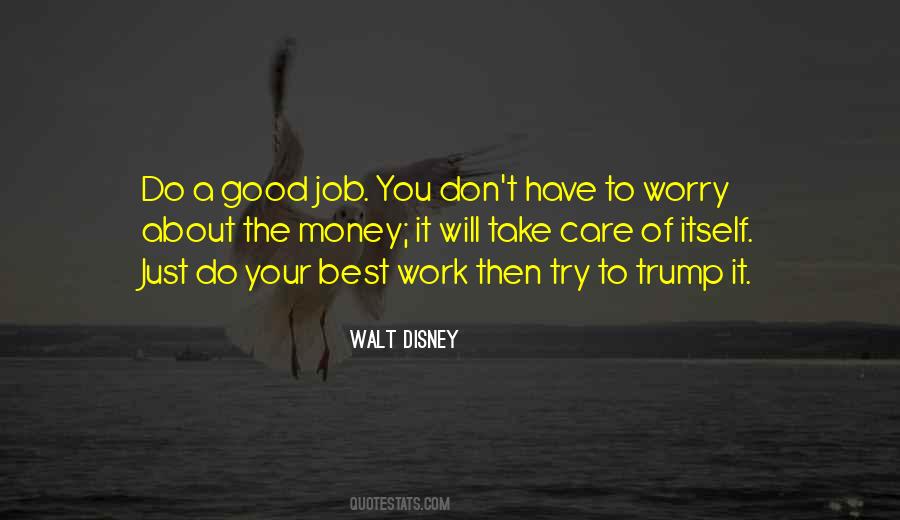 #39. Don't worry about the consequences, just be a writer! - Author: Samuel Colbran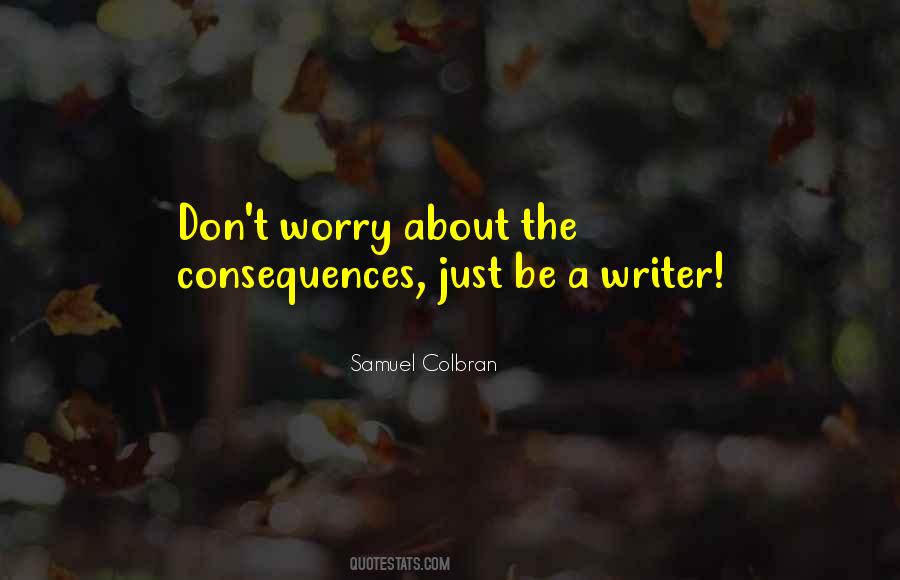 #40. As you get ready to walk out under the bright lights of the improvisational stage of the rest of your life be bold. Don't always worry about what your next line is going to be. - Author: Dick Costolo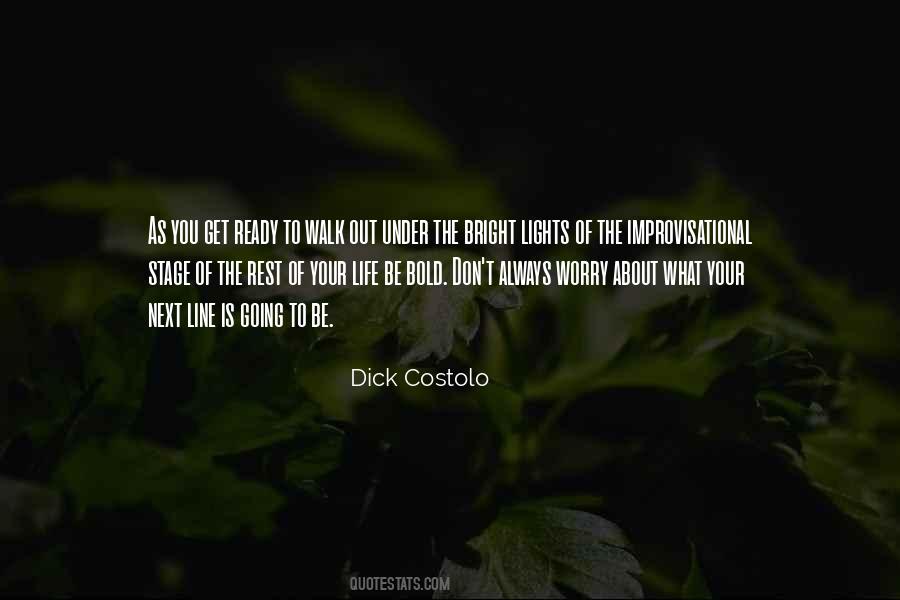 #41. So what I'm saying is why don't we think about changing Schrodinger's equation at some level when masses become too big at the level that you might have to worry about Einstein's general relativity. - Author: Roger Penrose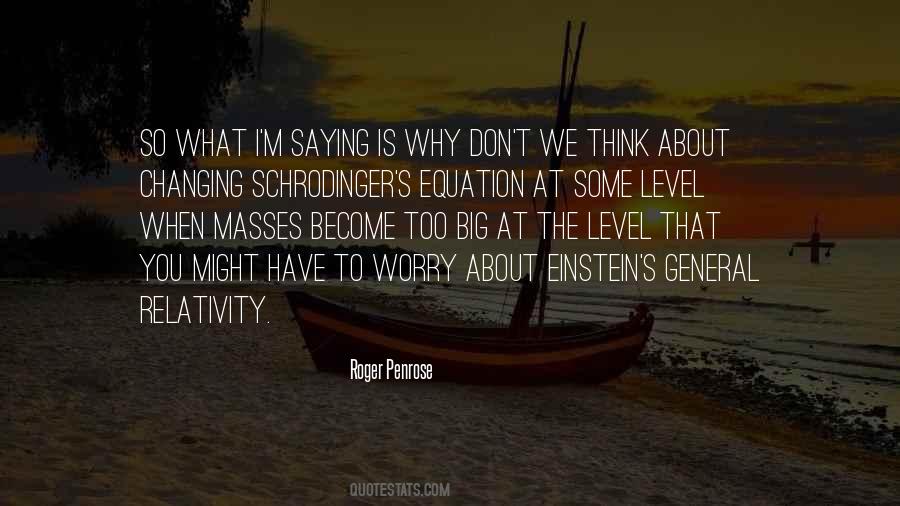 #42. It's midnight Cinderella, but don't worry none. Cause I'm Peter the Pumpkin Eater and the party's just begun. - Author: Garth Brooks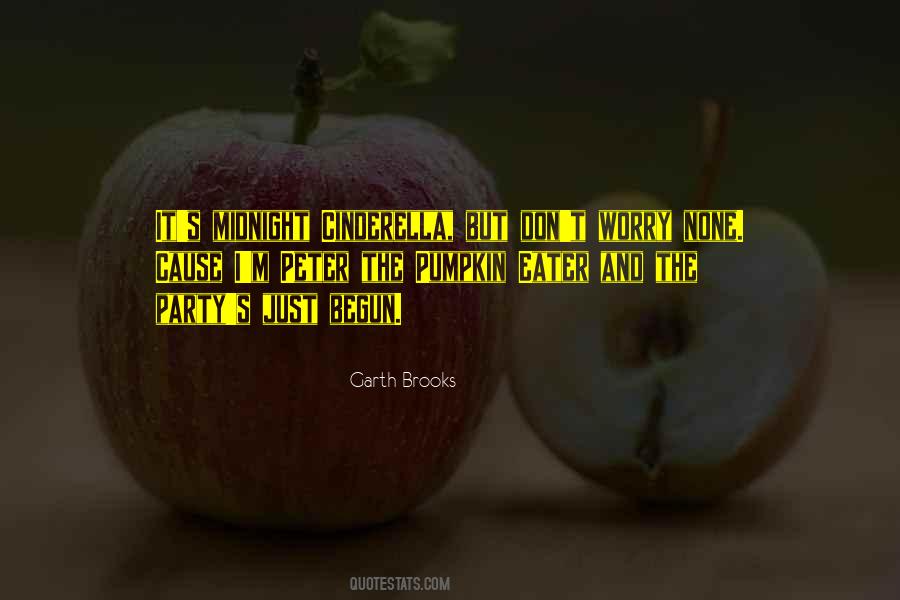 #43. Don't worry if you fall, sweet girl. Youth is made for bruises. - Author: Shannon Celebi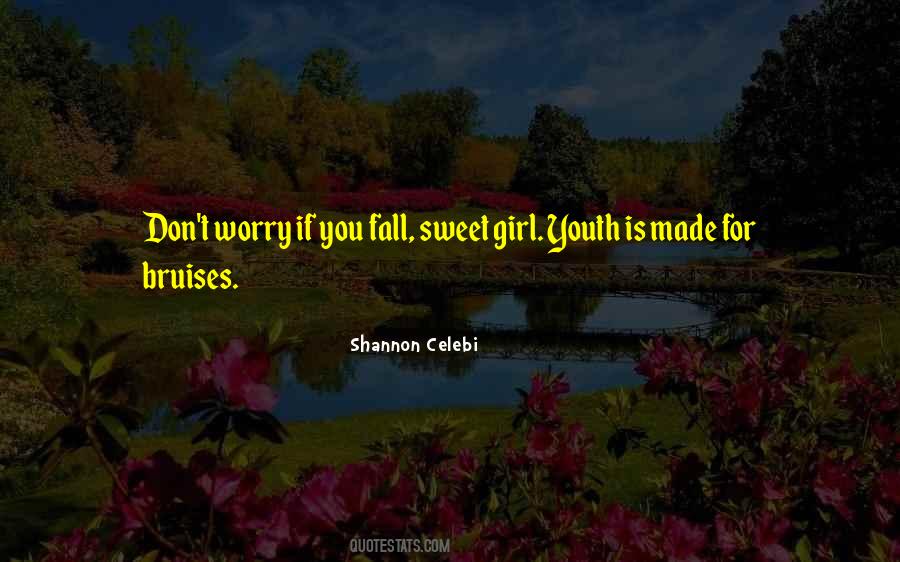 #44. Don't worry, little bunny, we only use our triplet telepathic powers for good. - Author: Elle Lothlorien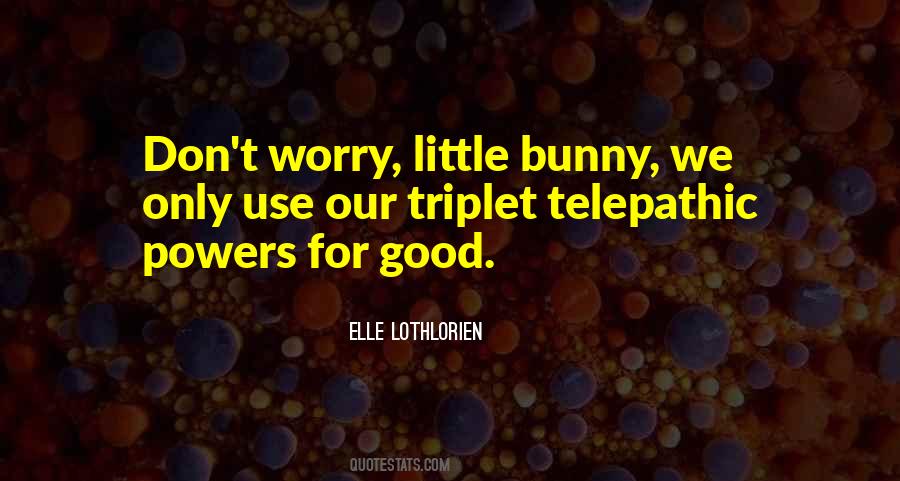 #45. I am totally fearless! Well, of course, I'm not totally fearless. I worry constantly and obsess over things, but I just don't let fear stand in the way of doing something that I really want to do. - Author: Tom Ford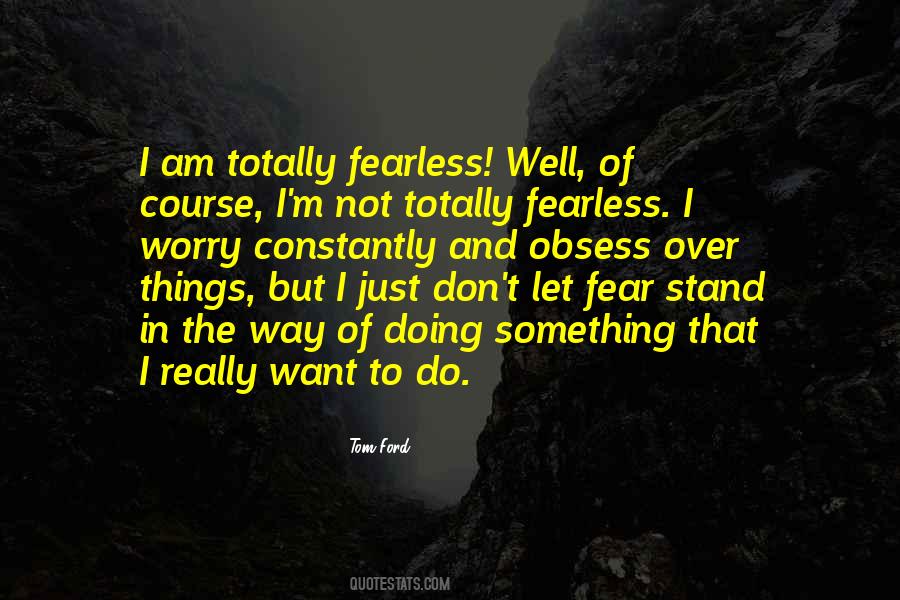 #46. Don't worry, goat boy. The milkman is dead. - Author: Rick Riordan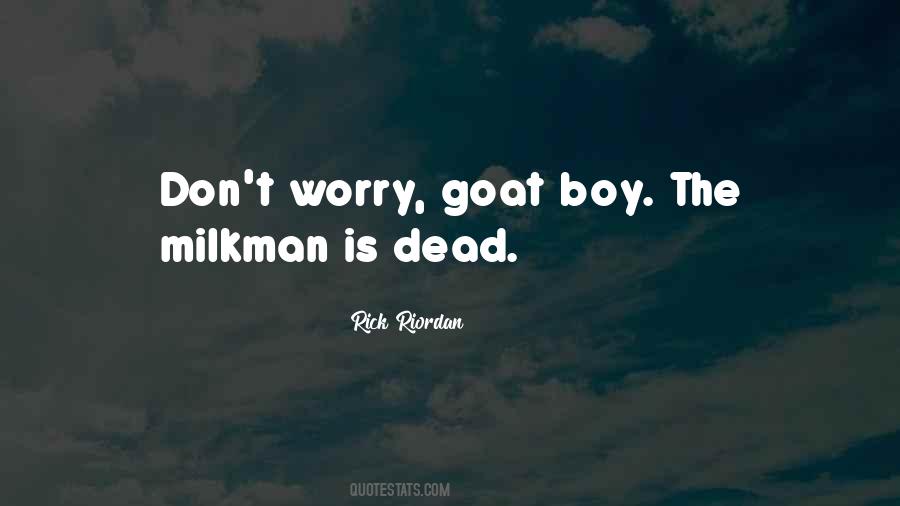 #47. Don't worry. I have insurance. And battery-operated accessories that don't cheat on me or stalk me. Can't beat that! - Author: Lex Martin
#48. People roll their eyes and say, "Oh god, he's not rich or famous." I say it's relative. I mean, look at me: I'm 115 pounds and I grew up without money. To me, I'm rich because I don't have to worry about paying rent. I don't think about money now. - Author: Bradford Cox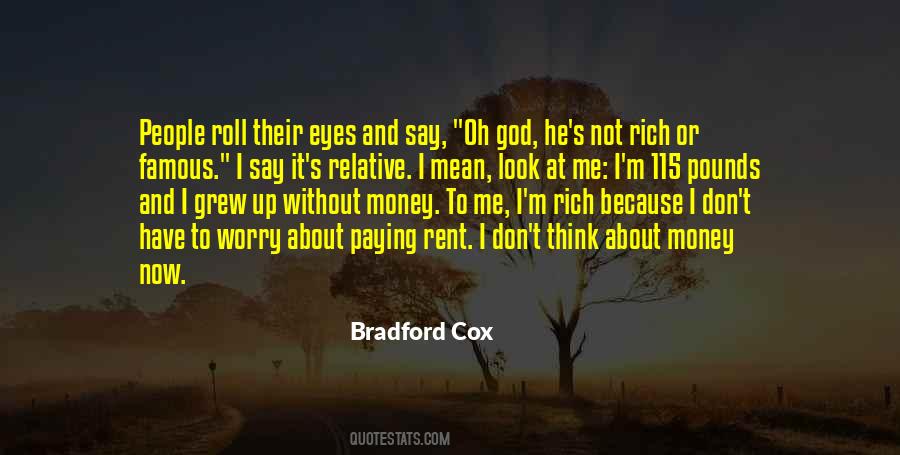 #49. You women are all the same. You worry about the wrinkles and the half stone and your boobs dropping, but you don't worry about the sparkle, and that's the best bit. You shouldn't let that go. - Author: Elizabeth Noble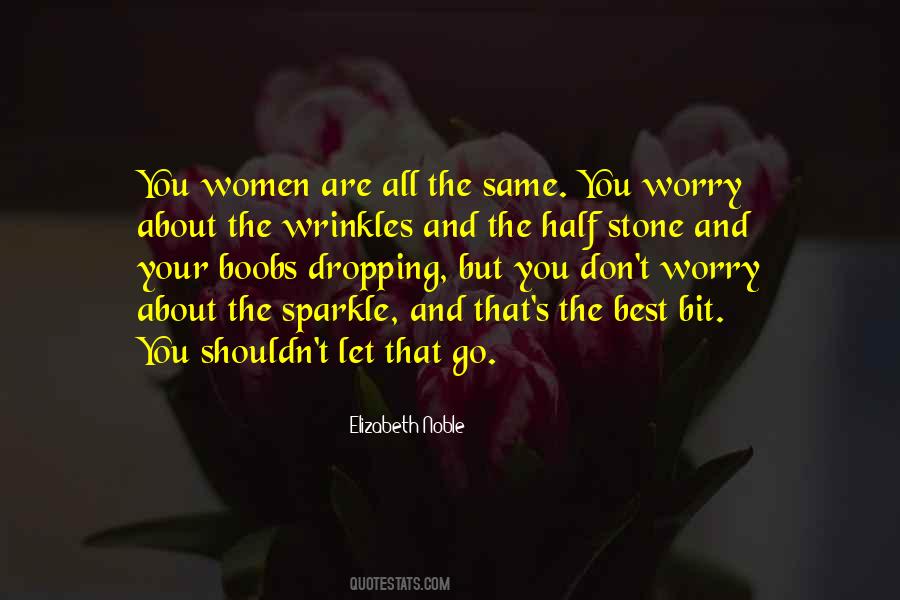 #50. I'm a five-seasons griller! Did you know I added a new season? Living in Cali, I'm cooking in the yard all the time. I don't care what the weather is like. My hair is impervious to any kind of dampness, so I don't have too much to worry about. - Author: Guy Fieri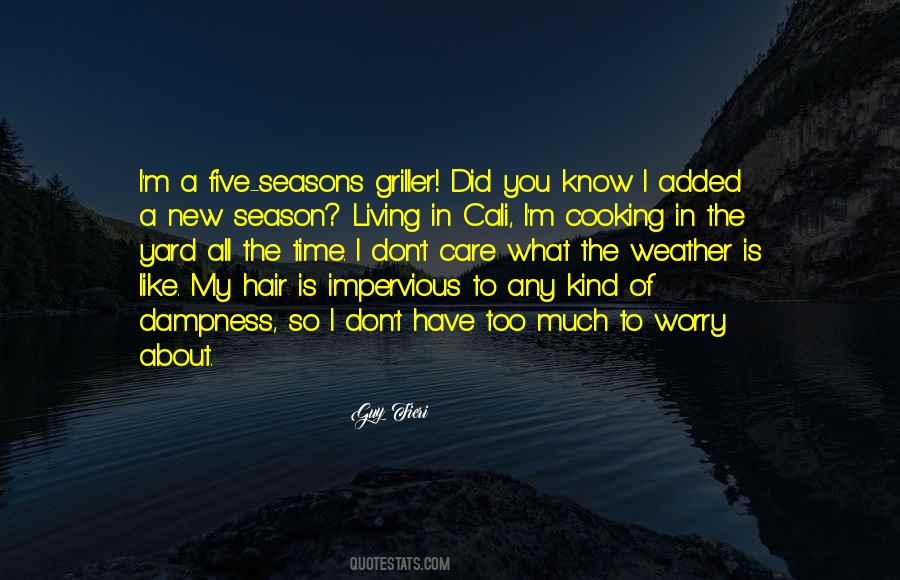 #51. I don't have to worry about any pop sensibility. I can write adult songs, and I don't have to worry about choruses and hook lines. - Author: John Mellencamp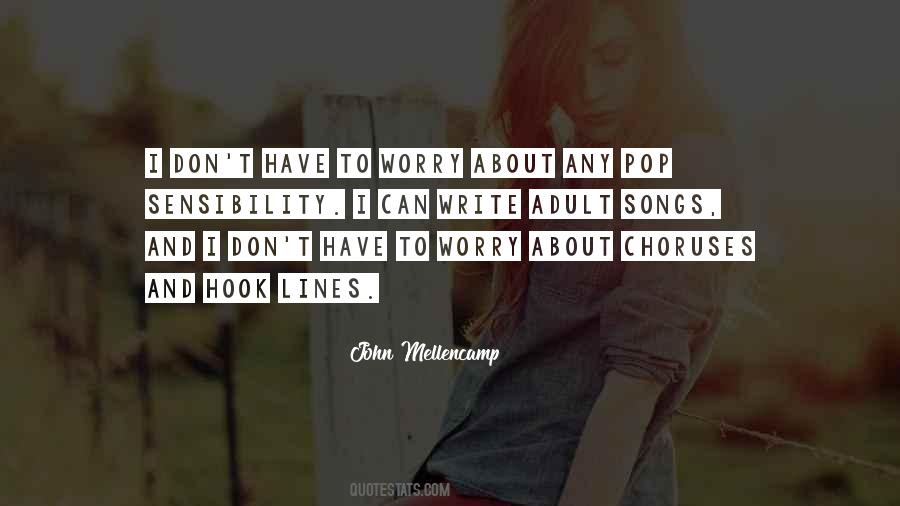 #52. We writers don't really think about whether what we write is good or not. It's too much to worry about. We just put the words down, trying to get them right, operating by some inner sense of pitch and proportion, and from time to time, we stick the stuff in an envelope and ship it to an editor. - Author: Garrison Keillor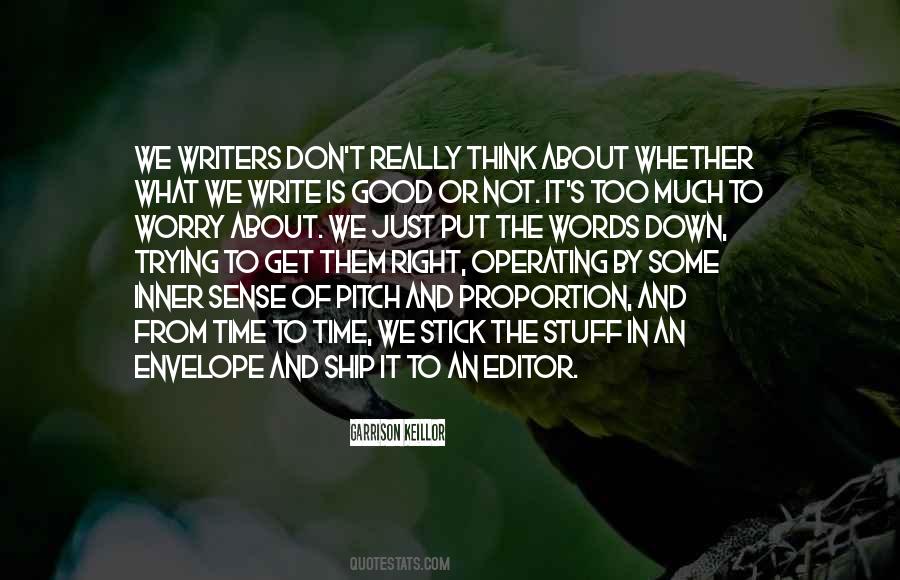 #53. I'm afraid we shall waste an awful lot of time."
"Don't worry," answered Snufkin, "we shall have wonderful dreams, and when we wake up it'll be spring. - Author: Tove Jansson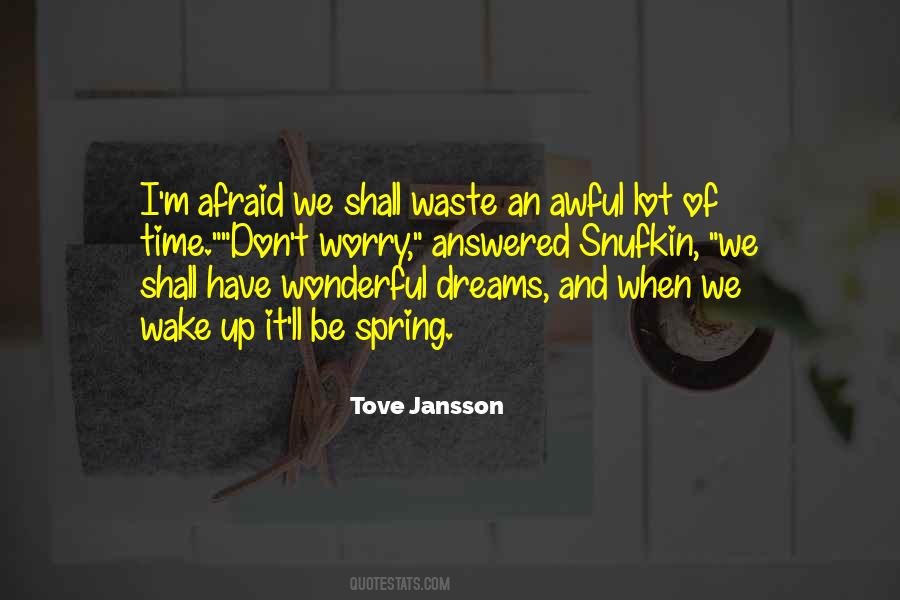 #54. Everyone needs love, never hurt a living thing [and] don't worry about the choices you make because everything will be fun because life is a closet filled with pool toys, - Author: Amy Poehler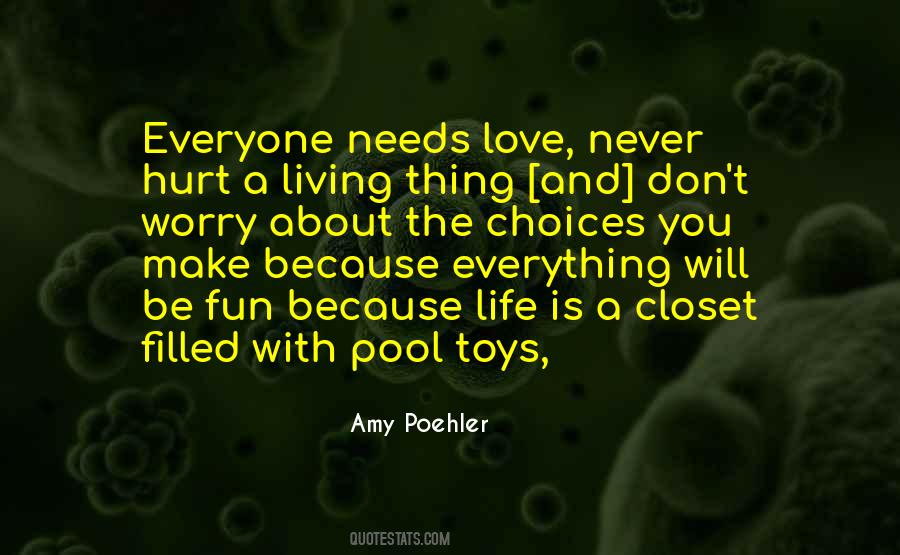 Famous Authors
Popular Topics