Own A Business Famous Quotes & Sayings
List of top 100 famous quotes and sayings about own a business to read and share with friends on your Facebook, Twitter, blogs.
Top 100 Own A Business Quotes
#1. By the Nineties, so many people were moonlighting and creating their own professional identities that China generated a brisk new business in the printing of business cards. - Author: Evan Osnos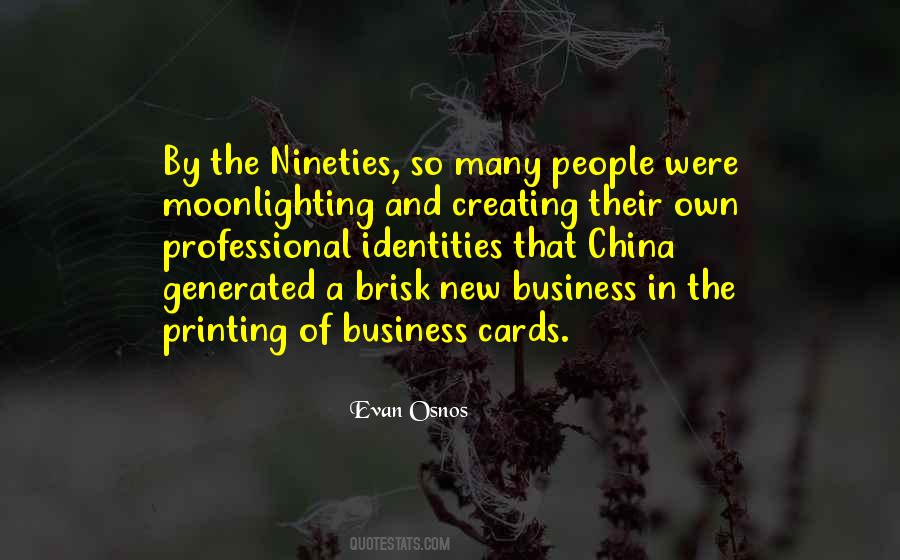 #2. Asking someone to make for you money is like asking them to make for you a baby: they will own the money just as they will own the baby - Author: Agona Apell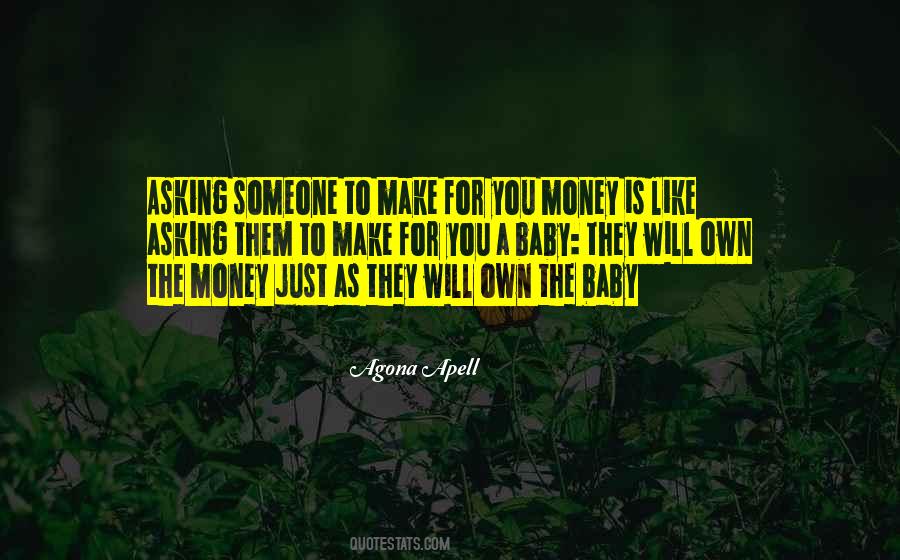 #3. Every one has time if he likes. Business runs after nobody: people cling to it of their own free will and think that to be busy is a proof of happiness. - Author: Seneca The Younger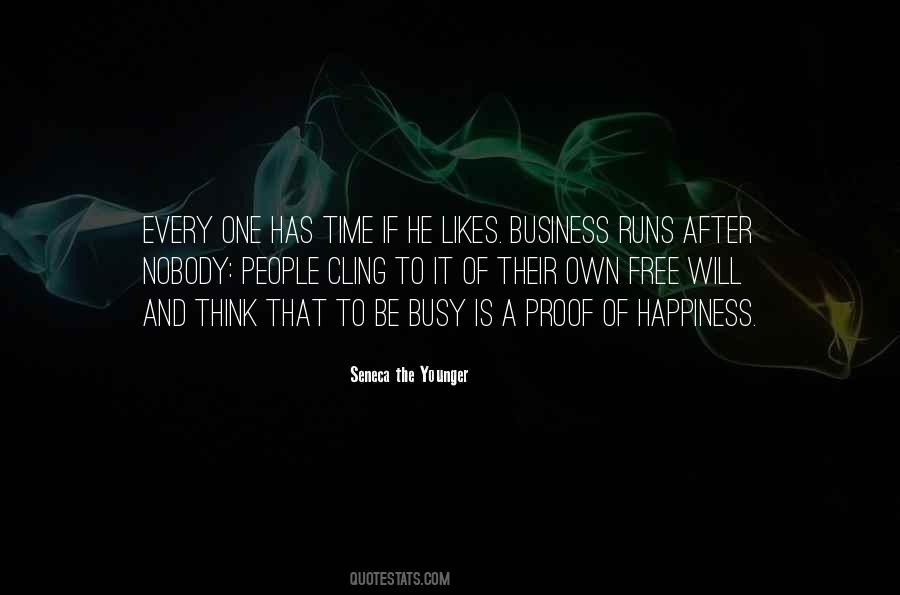 #4. I watch a TV show called 'Shark Tank.' It's one of my favorite TV shows. It's basically self-made millionaires who have either come up with their own business or clothing ... I came up with the idea of designing clothes. - Author: Jacob Dalton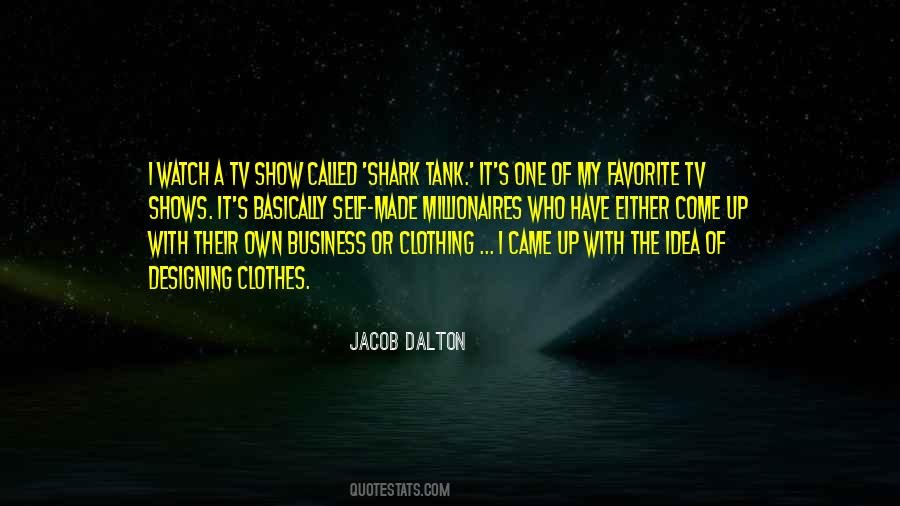 #5. As a member of the House Committee on Small Business and because of my own experience as a small business owner, I am appreciative of the impact these small businesses have on our local economies. - Author: Melissa Bean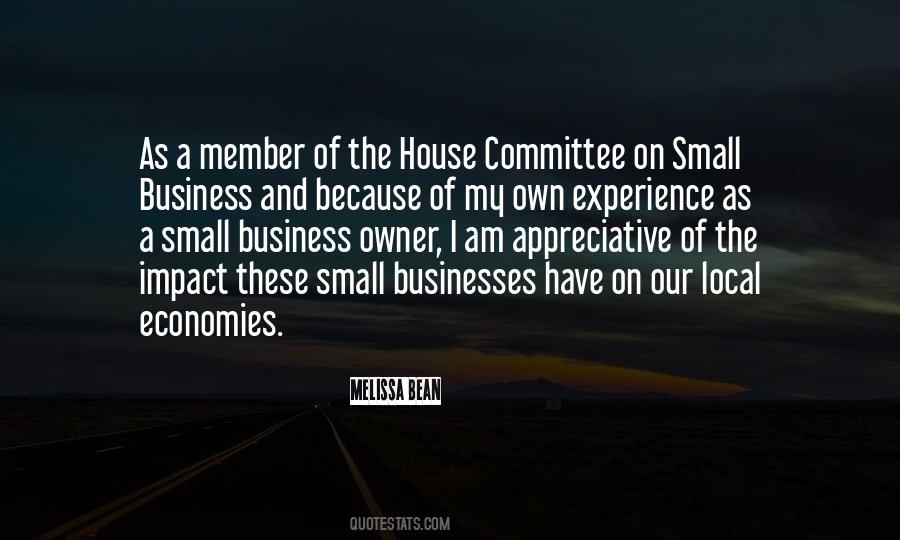 #6. A sure way to start your own business is to stay out of everyone else's. - Author: Kathy McClary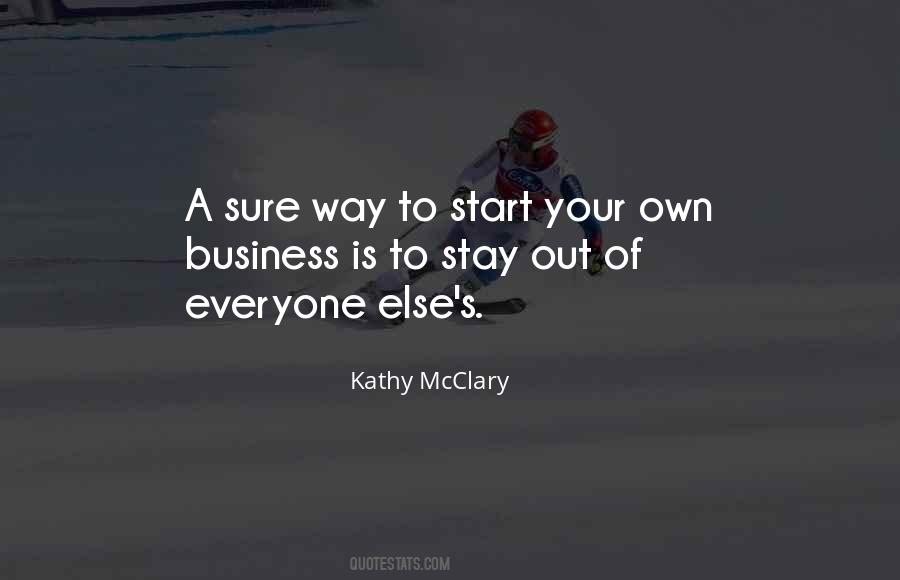 #7. Those back-to-back experiences confirmed what I already knew: That I was a shitty-ass employee and I'd better start my own business. - Author: Mark Cuban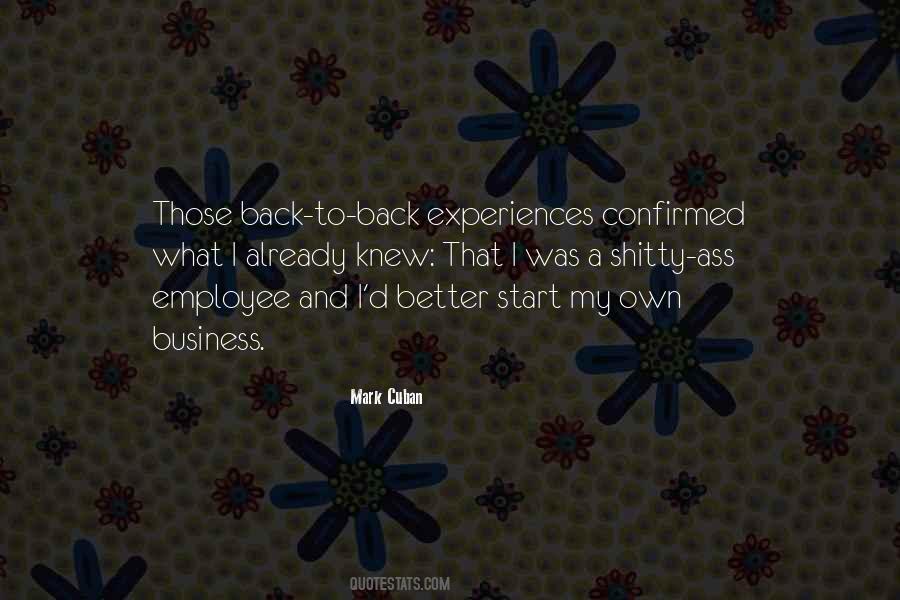 #8. I agree that [marriage] should be treated like a business deal. But every business deal has to have its own terms and its own kind of currency. - Author: Ayn Rand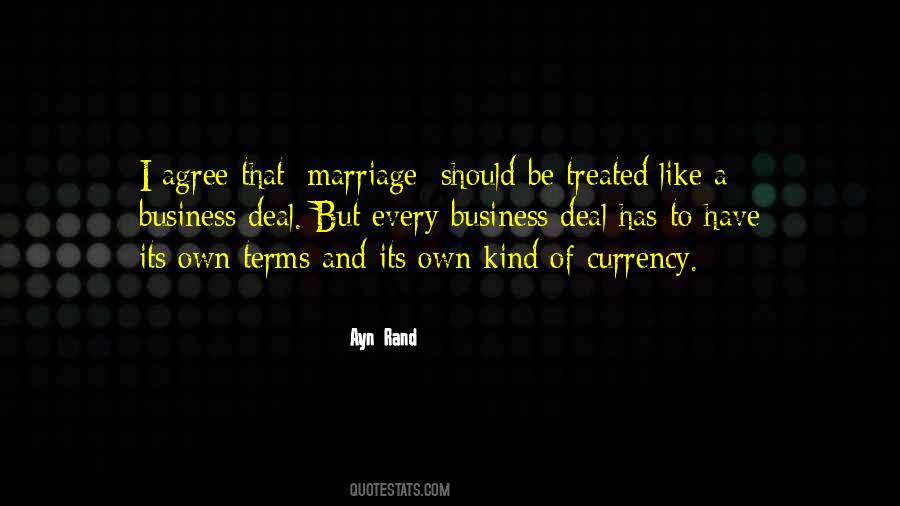 #9. A man is likely to mind his own business when it is worth minding. When it is not, he takes his mind off his own meaningless affairs by minding other people's business. - Author: Eric Hoffer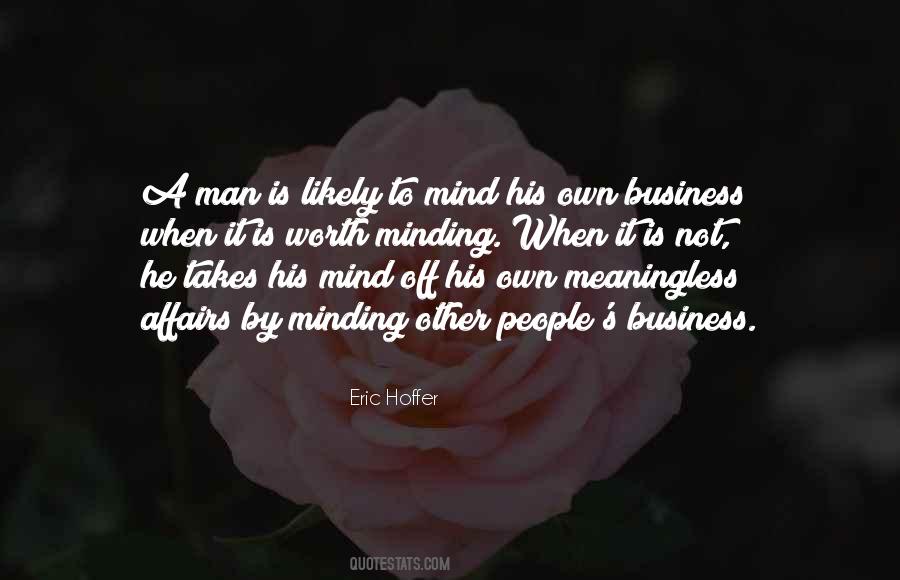 #10. If I could set a world record, it would be that I have 150 business partners, all with thriving businesses of their own that started with nothing and I made the difference to make them all billionaires. - Author: Barbara Corcoran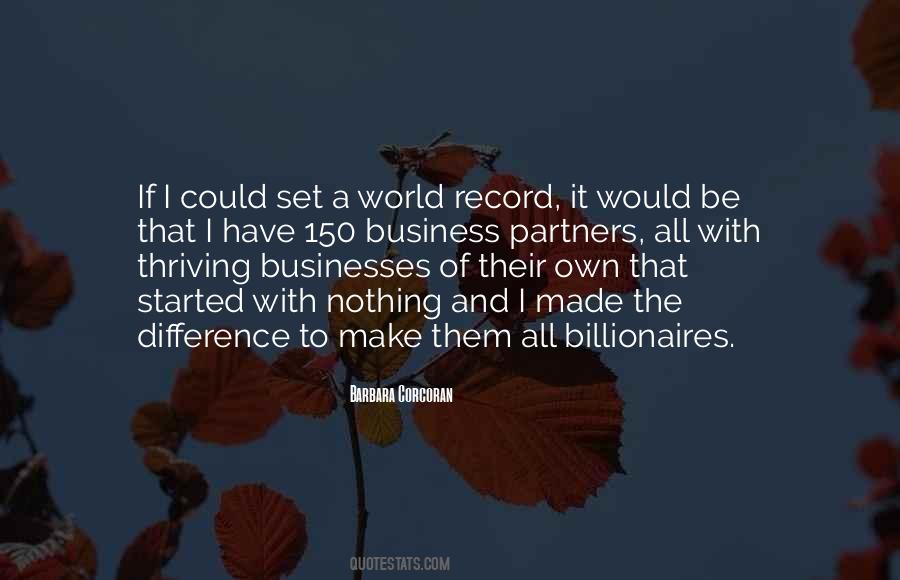 #11. Property should be in a certain sense common, but, as a general rule, private; for, when every one has a distinct interest, men will not complain of one another, and they will make more progress, because every one will be attending to his own business. - Author: Aristotle.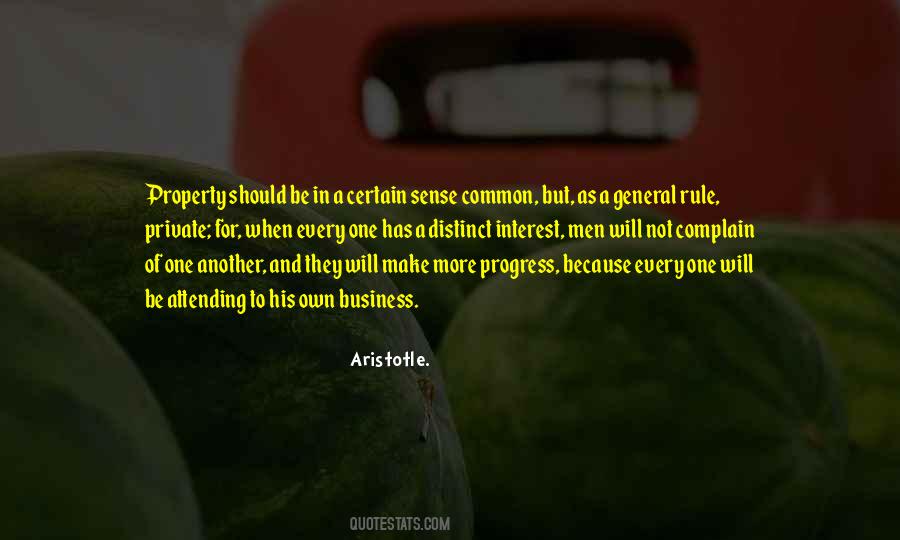 #12. One of the best things about Kickstarter and crowdfunding and the collapse of the music business is a lot of artists like me have been forced to face our own weird mess about ourselves and what we thought it meant to become musicians. - Author: Amanda Palmer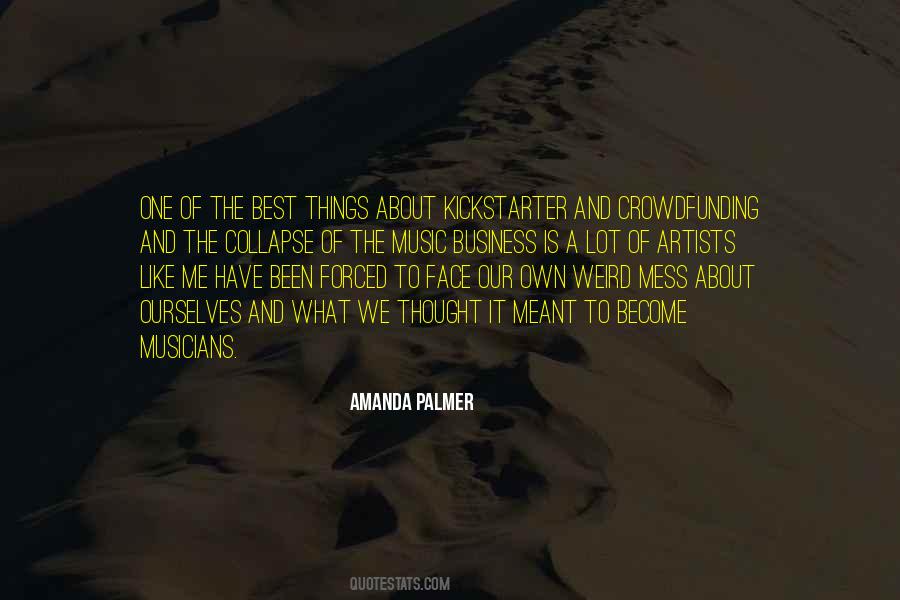 #13. I feel the one sensible thing you can do is try to live in a way that pleases you. If you don't hurt anybody else, what you do is your own business. - Author: Johnny Carson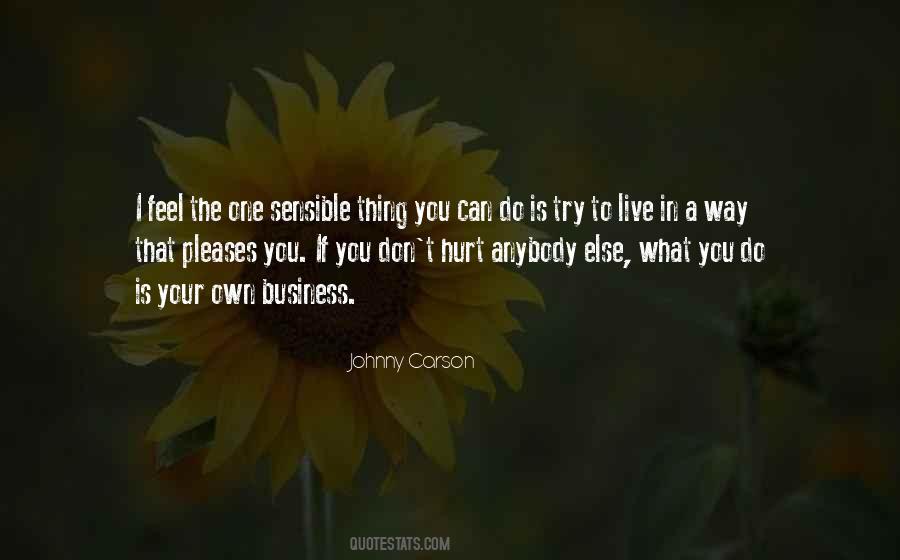 #14. It's a good note for any young hopeful in this business to take: study up and make sure you are informed at all times because knowing how to anticipate someone's subtle nuances in a performance will only elevate your own art! - Author: Tisha Campbell-Martin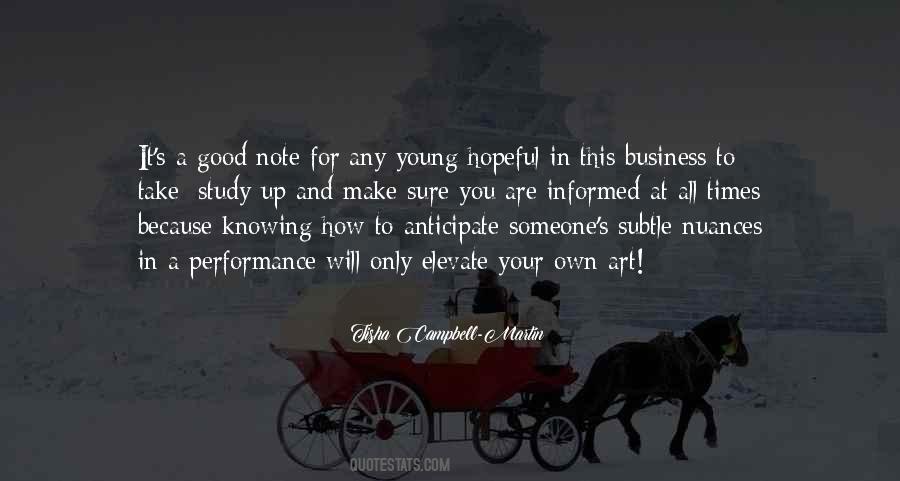 #15. I don't really plan on working a 9-to-5 job. I want to own my own business. - Author: Seimone Augustus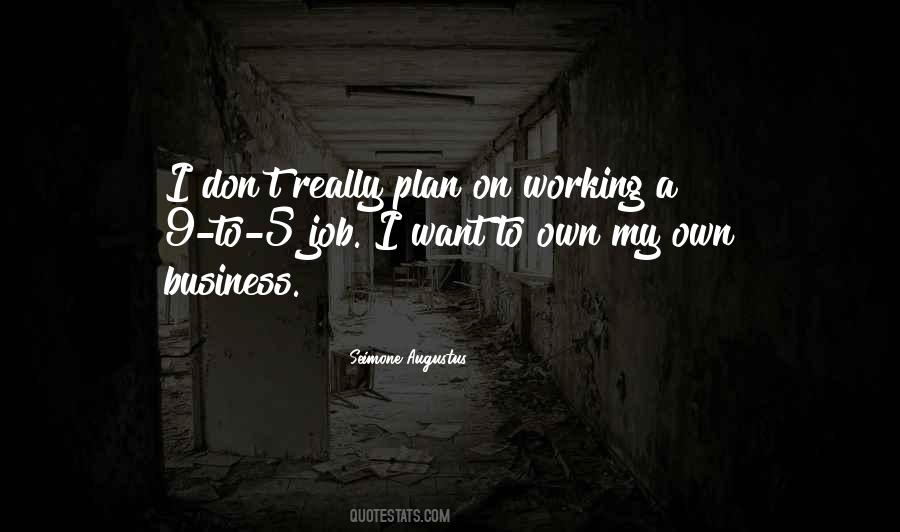 #16. What men have called friendship is only a social arrangement, a mutual adjustment of interests, an interchange of services given and received; it is, in sum, simply a business from which those involved propose to derive a steady profit for their own self-love. - Author: Francois De La Rochefoucauld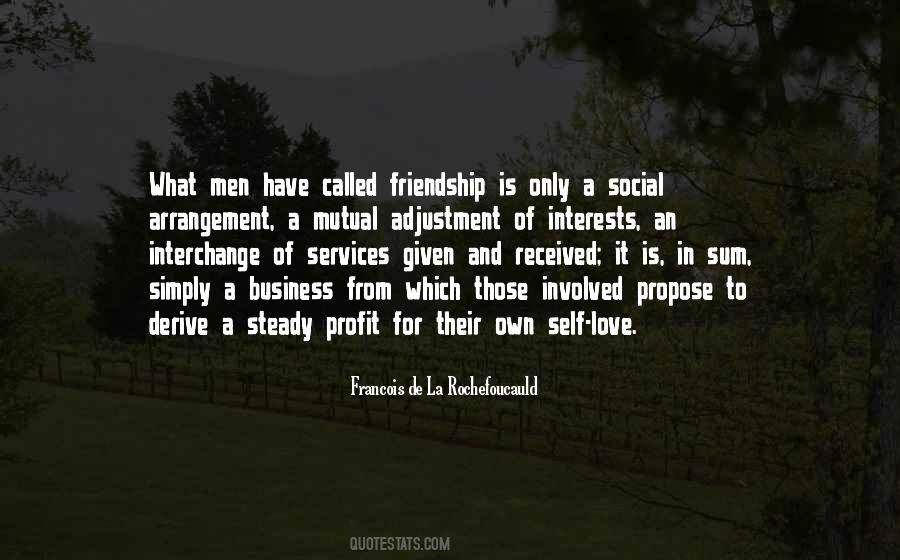 #17. If someone shows promise in a trade, why not give them practical business advice, teach them how to handle money, show them the ways they can start their own business, and help them to become fully trained? - Author: Erin Osborne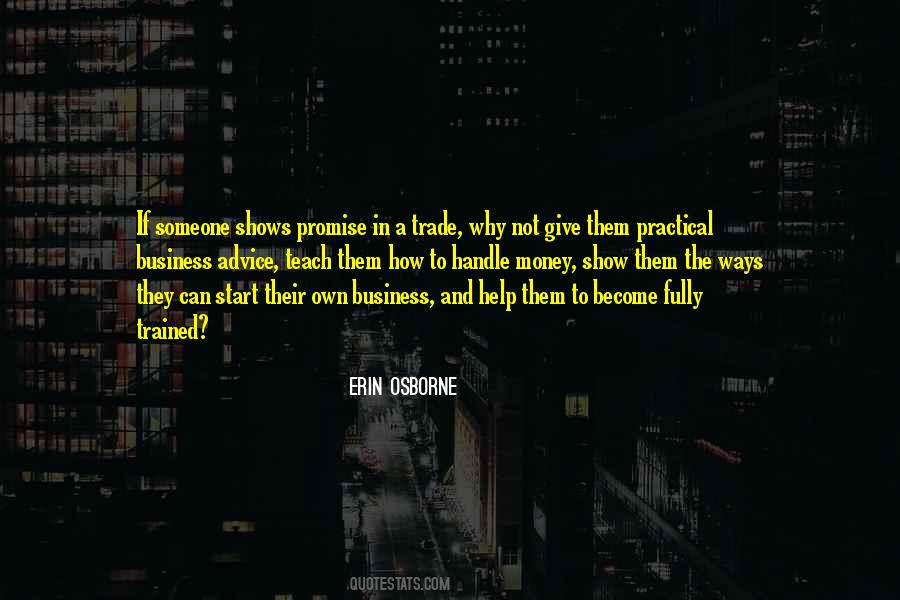 #18. Age should never meddle with such a matter. Mind your own business. - Author: Soseki Natsume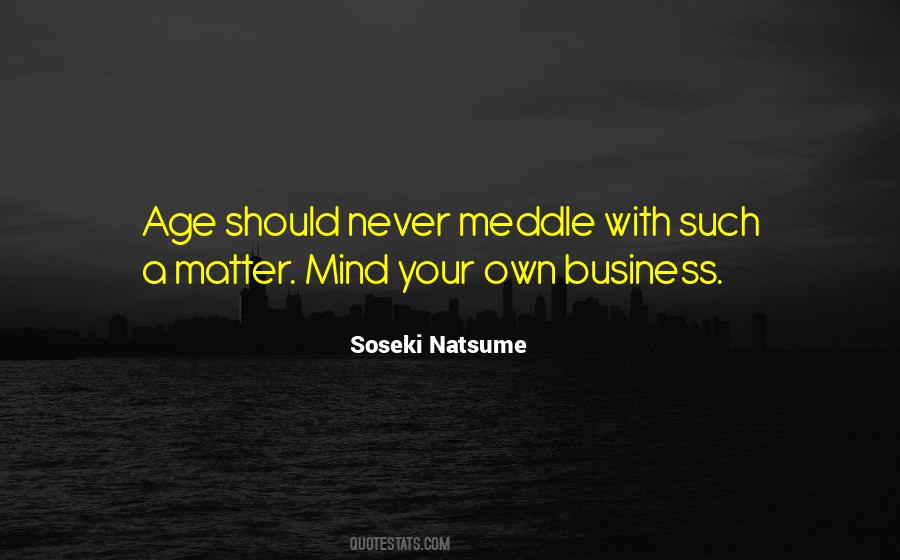 #19. I was the youngest of four kids, and Dad, who had a garden centre before he retired, came from a large Lancashire family. Every one of my uncles had their own business, including a post office, two fish and chip shops and a painting and decorating business. - Author: Rick Astley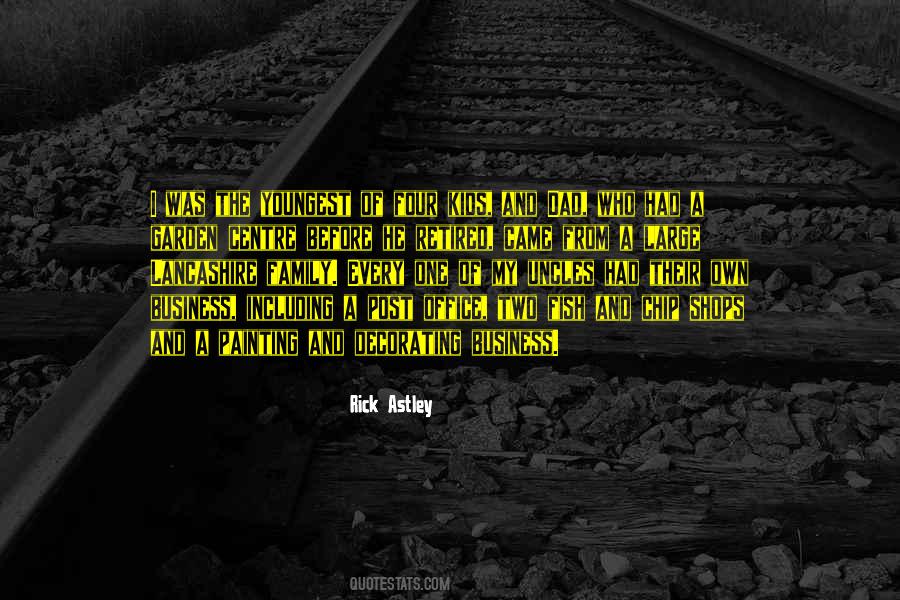 #20. Show business is one of the few businesses that the devil will actually agree to own just a portion of your soul because he knows if you have a performer's ego you were probably working for him all along. - Author: Marc Maron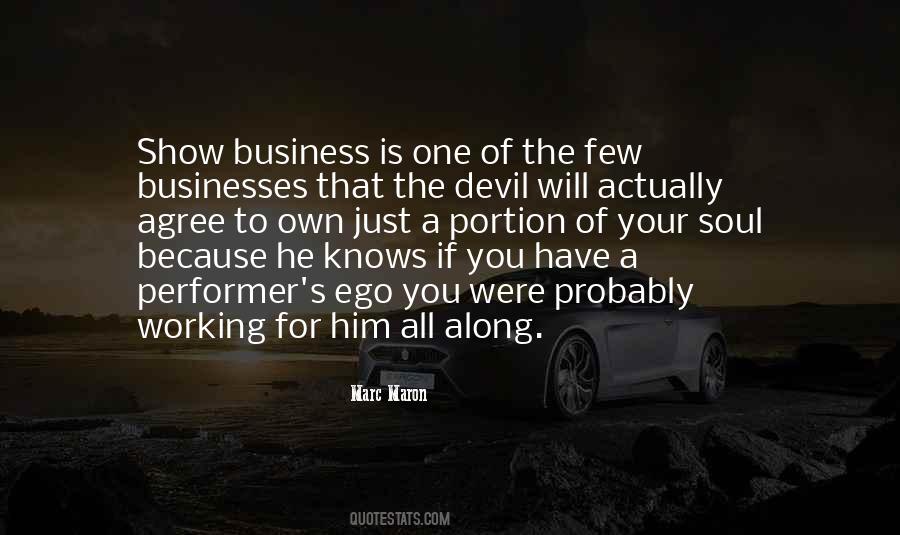 #21. This summer is going to be a different summer for a lot of people. Everyone is going to take care of their own business and everyone is going to do what's best for them, including me. - Author: Shaquille O'Neal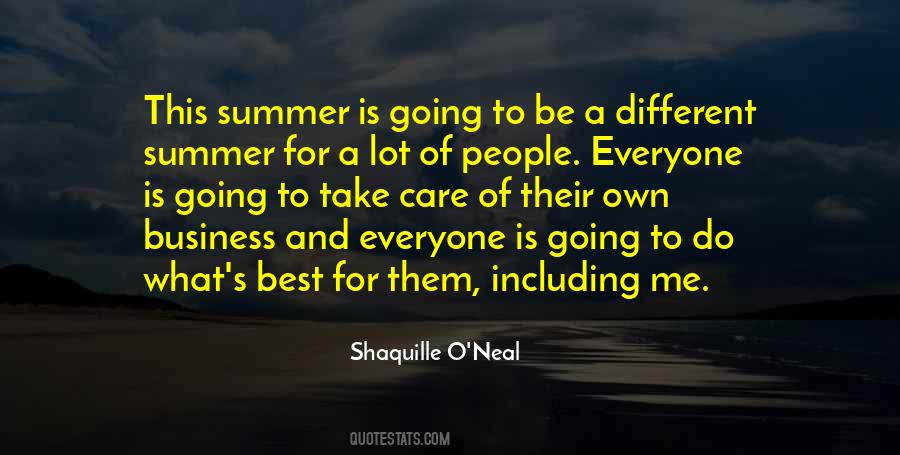 #22. It's all been a bad joke that just ran out of control. I got into food for fun but the business got a mind of its own. Now - my good Lord - look where it has gotten me. My products are on supermarket shelves, in cinemas, in the theater. And they say show business is odd. - Author: Paul Newman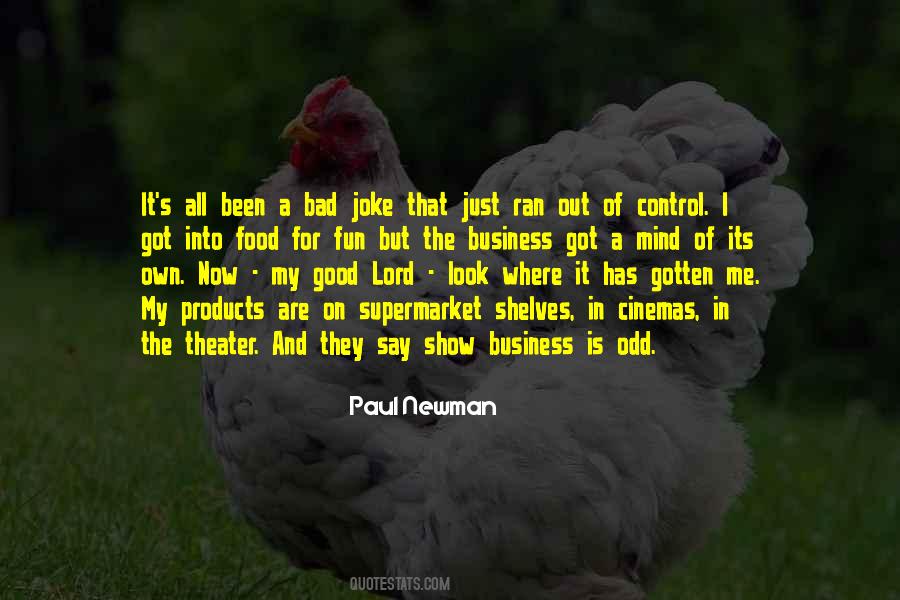 #23. If you are an entrepreneur planning to start your own company, I can't think of a better place to begin than by operating your business by the Golden Rule. Make this a high priority; never make a decision that contradicts the Golden Rule. - Author: Mary Kay Ash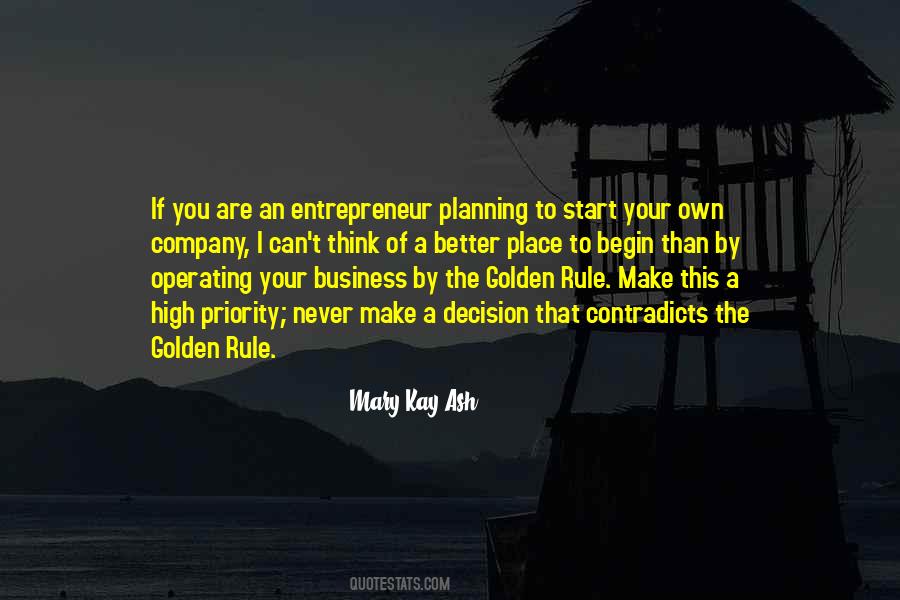 #24. I know from my own experience and from other people in the business that when you come from a place where nobody knew who you were and then there is this sudden shift to where everybody now knows who you are, there's an adjustment that you have to make. - Author: Kristen Wiig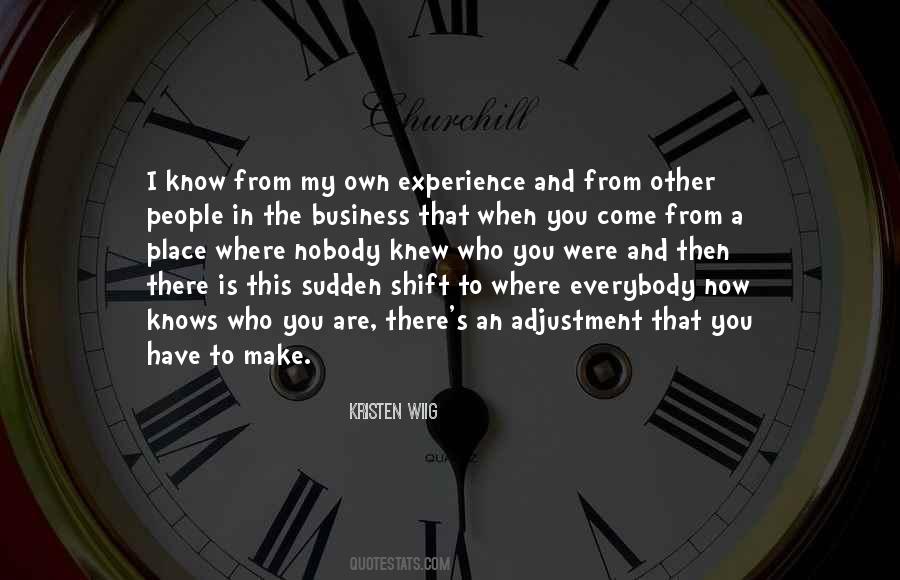 #25. To be calm becomes a kind of revolutionary act. To be happy with your own non-upgraded existence. To be comfortable with our messy, human selves, would not be good for business. Yet we have no other world to live in. And - Author: Matt Haig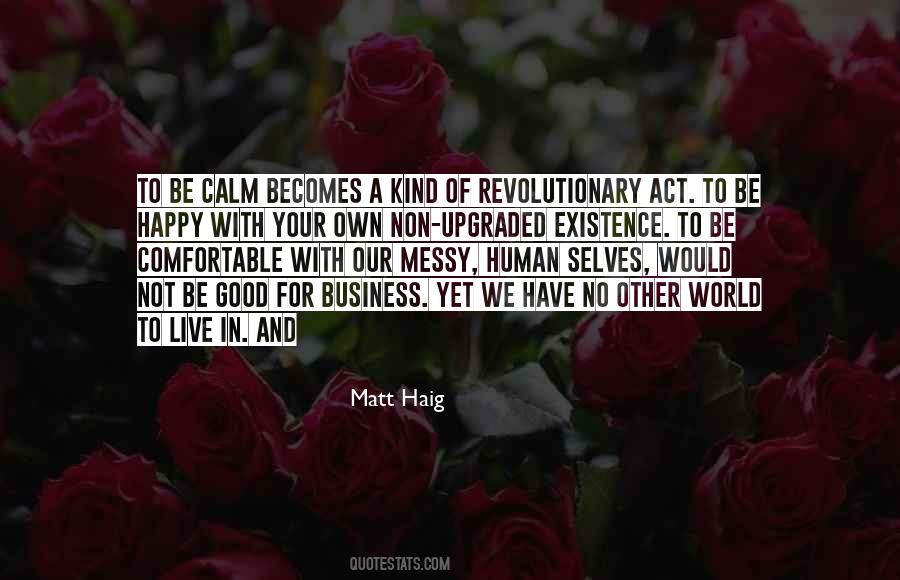 #26. I'm sitting in the bus station, minding my own business, reading 'Ta-Da!' magazine; a magazine by and for gay magicians, but that's a different story. - Author: Dave Attell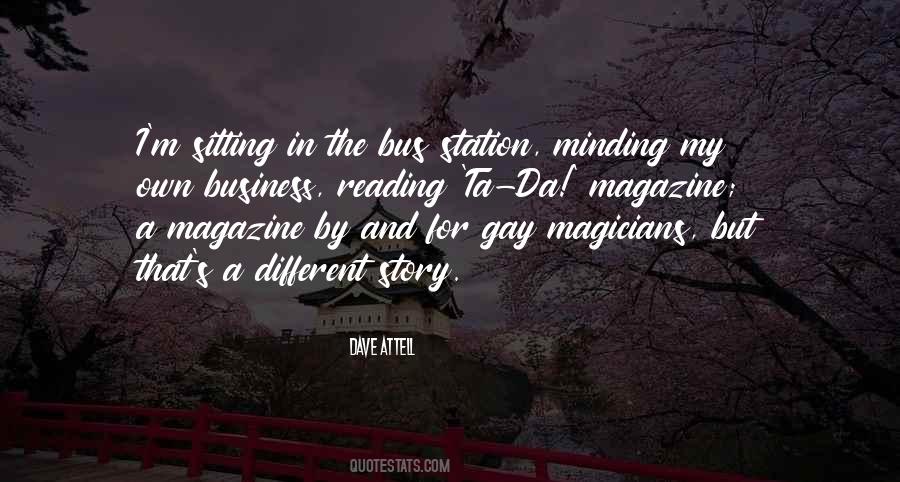 #27. It's not your business to decide if a woman you love should, or should not, marry you. It's her business. Tell her all about yourself and leave the decision to her. God knows it's trouble enough having to make one's own decisions in life without having to make other people's too. - Author: Elizabeth Goudge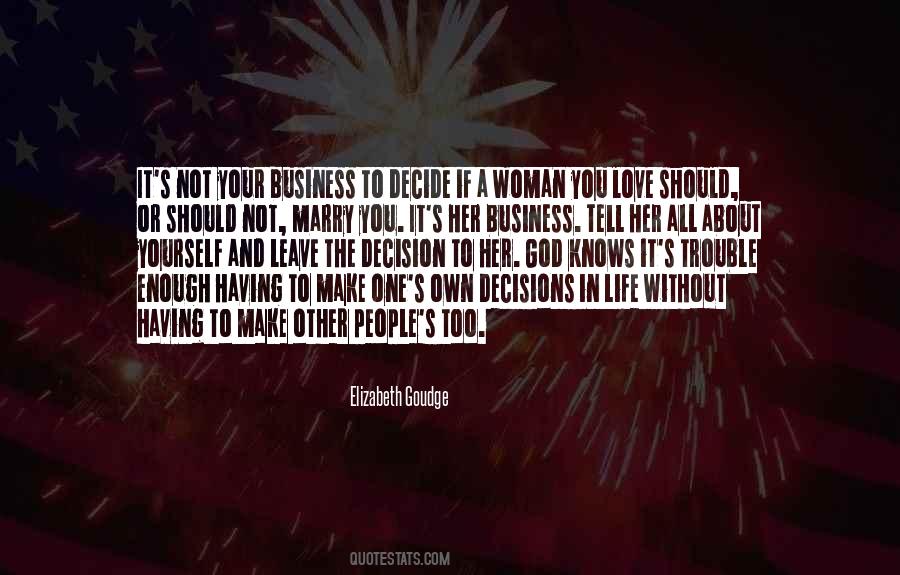 #28. To you, being rich might mean owning a goat farm in South Carolina. For your best friend, it might mean being able to start her own business selling wine over the Internet. Whatever the case, youre probably not motivated by the money itself, but by what the money could let you be and do. - Author: J.D. Roth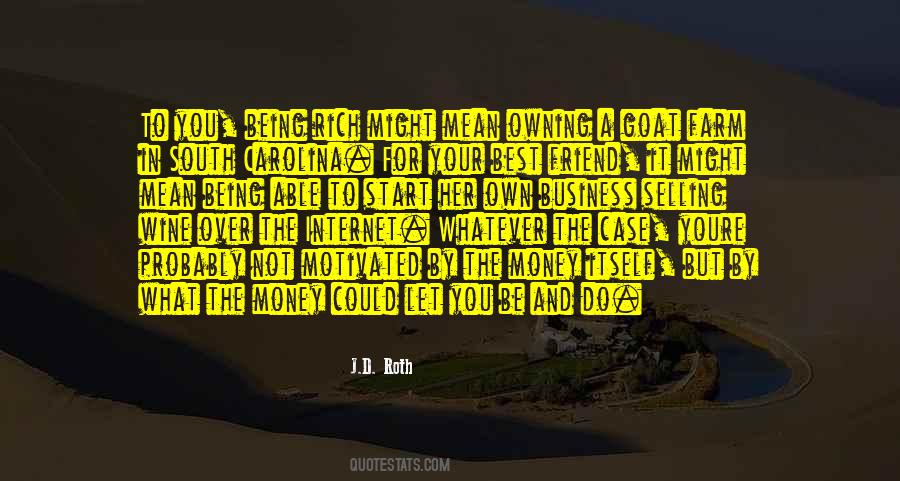 #29. Let's all commit ourselves to the basic civility of minding our own business. Failing that, let's go back to a time when we were nasty and judgmental, but only behind one another's backs. - Author: Ayelet Waldman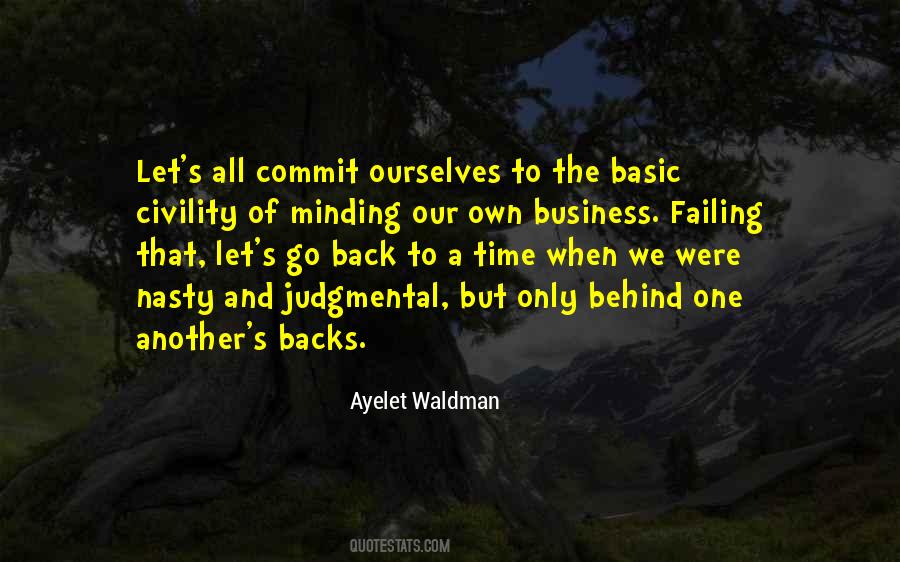 #30. What are you looking at?" I asked ...
"City slicker. What are you looking at?"
"A stupid wookie man-bear-pig who doesn't know how to mind his own business. - Author: Elle Casey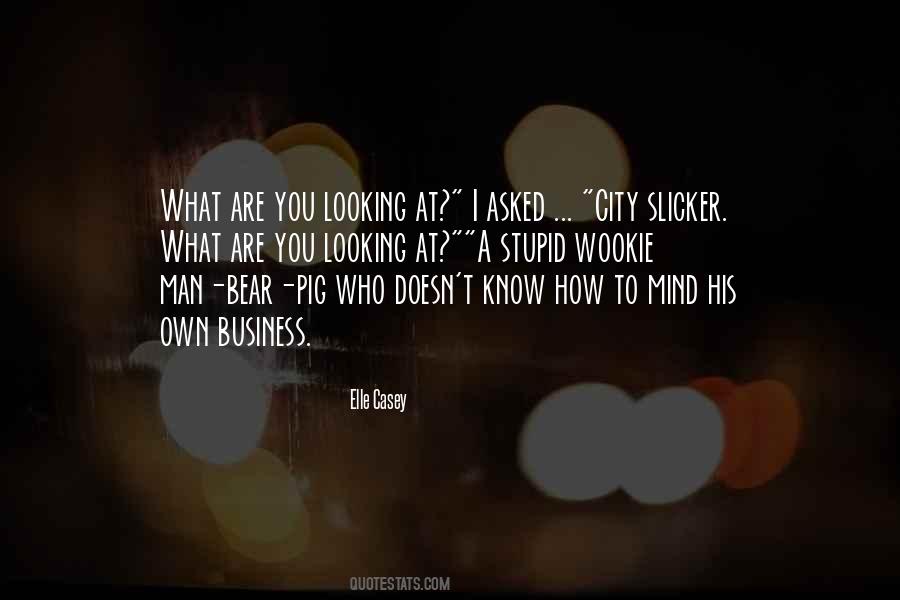 #31. After more than two decades here, I know that kindness is not a value that's encouraged. It's often seen as a weakness. Instead, the culture encourages keeping your head down, minding your own business, and never letting yourself be vulnerable. - Author: Dan Gediman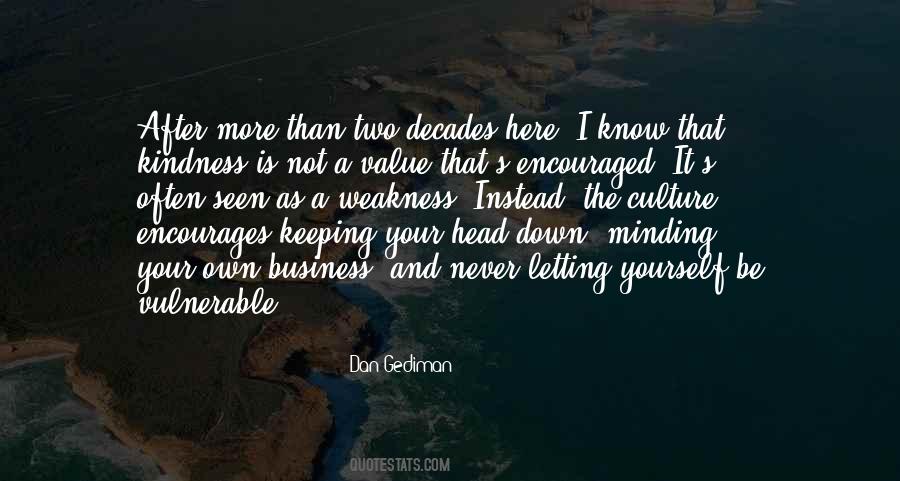 #32. I want 'Vogue' to be pacy, sharp, and sexy - I'm not interested in the super-rich or infinitely leisured. I want our readers to be energetic executive women, with money of their own and a wide range of interests. There is a new kind of woman out there. She's interested in business and money. - Author: Anna Wintour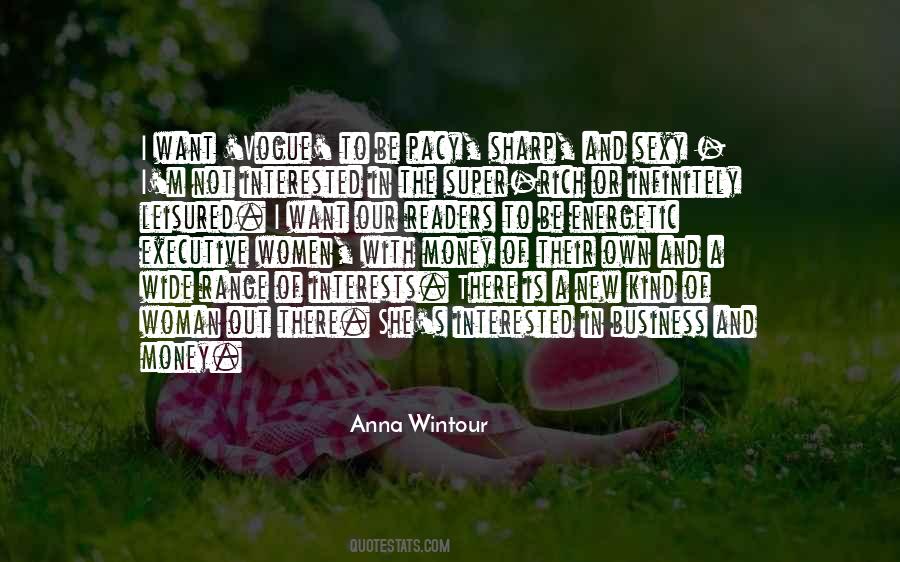 #33. I started my own business because my parents had no dowry for me, and I was worried. I ran it from their Martha Vineyard's summer house. I baby-sat for a 14-year-old boy all summer and was giving him time-outs, even though I was two years younger than him. - Author: Chelsea Handler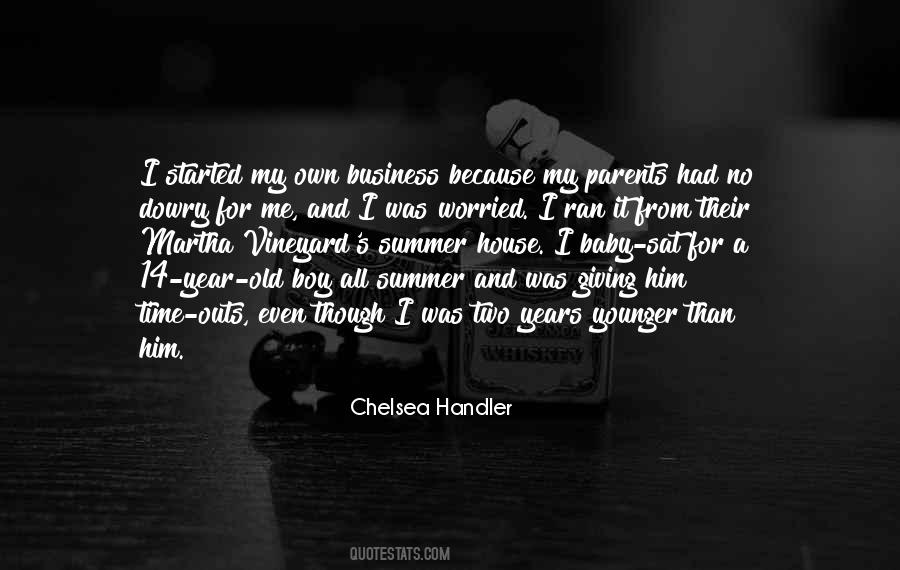 #34. Bread and beauty grow best together. Their harmonious integration can make farming not only a business but an art; the land not only a food-factory but an instrument for self-expression, on which each can play music to his own choosing. - Author: Aldo Leopold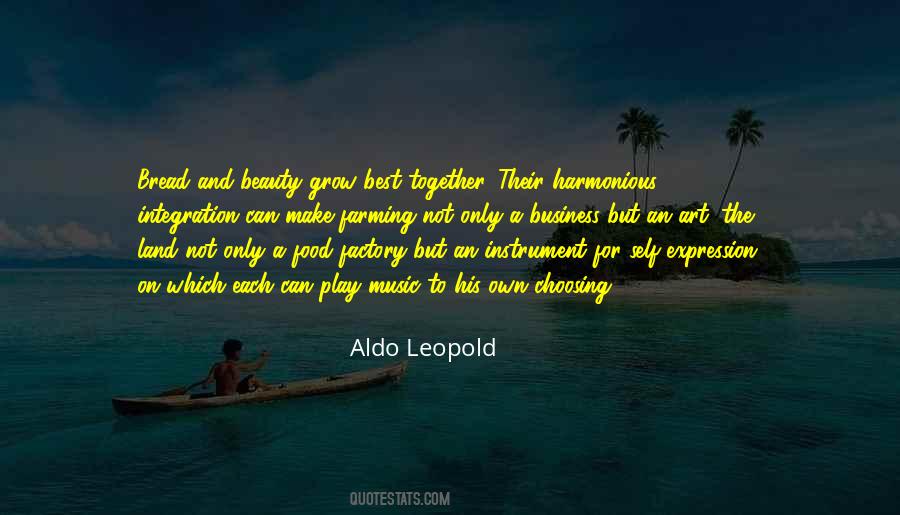 #35. I know myself, from my own background, the E.U. depresses employment and destroys jobs. My father had a business destroyed by the common fisheries policy. - Author: Michael Gove
#36. Examining other people's motivations, other people's language and other people's way of interacting is much more fascinating to me than spending a lot of time worrying about my own. I've said, 'What other people think of me is none of my business.' - Author: Beth Broderick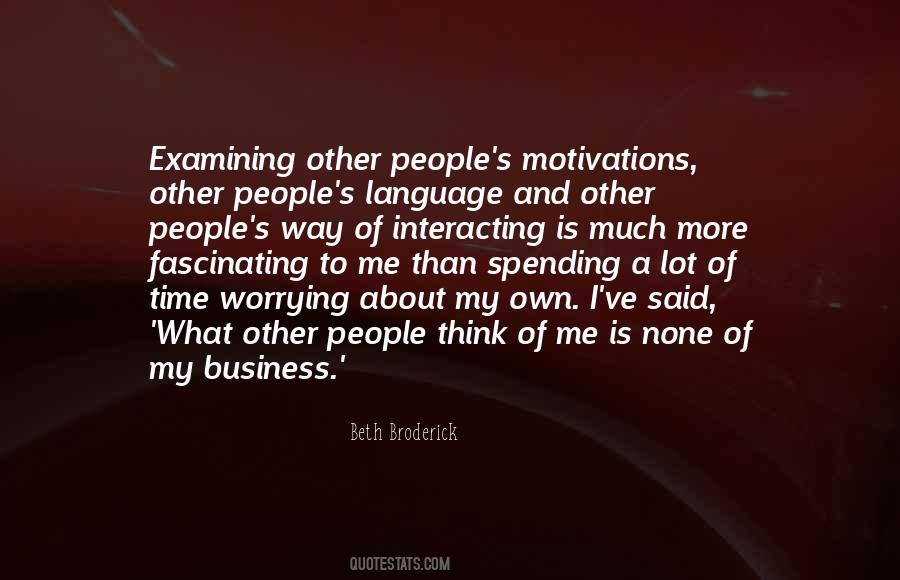 #37. The sad news is, nobody owes you a career. Your career is literally your business. You own it as a sole proprietor. You have one employee: yourself. You need to accept ownership of your career, your skills and the timing of your moves. - Author: Andy Grove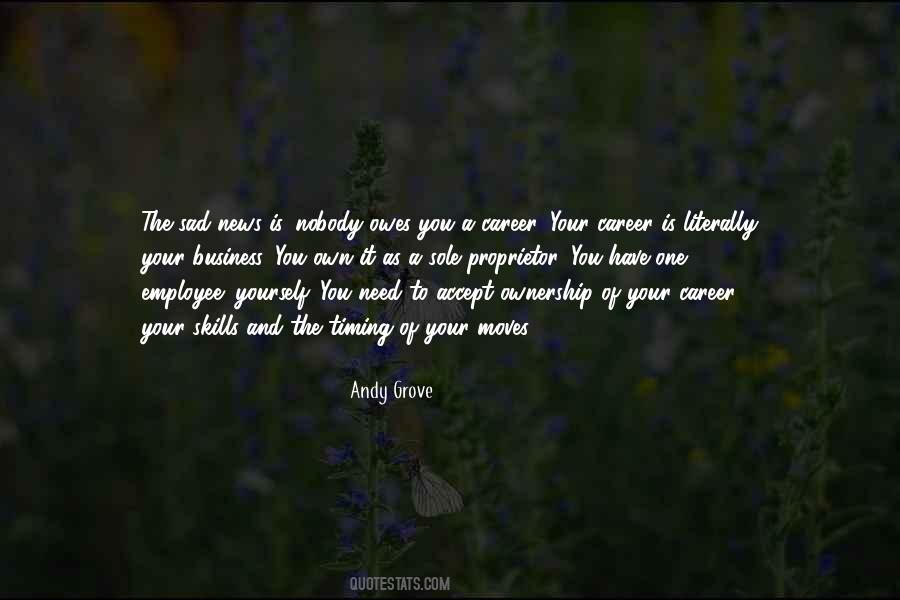 #38. Societies or companies that expect a glorious past to shield them from the forces of change driven by advancing technology will fail and fall. That applies as much to my own, the media industry, as to every other business on the planet. - Author: Rupert Murdoch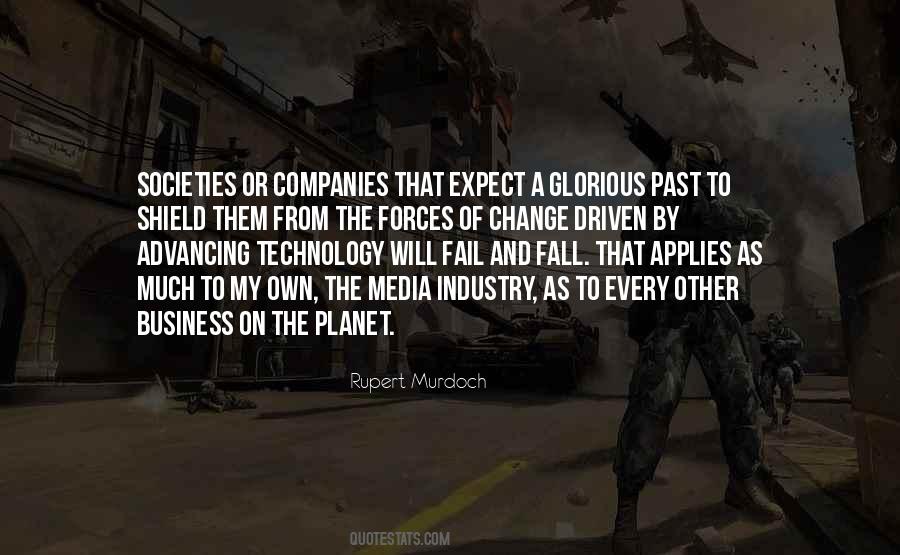 #39. People who have come from nothing and started their own business or opened up a whole new niche in a particular industry, they truly inspire me. - Author: Benjamin Stone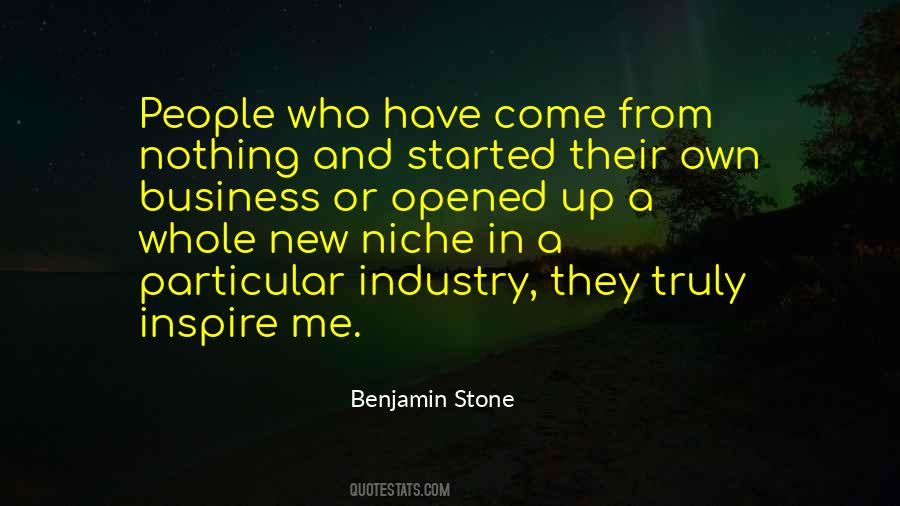 #40. A smart entrepreneur knows they cannot run a business on their own. They know that business is a team sport. - Author: Robert Kiyosaki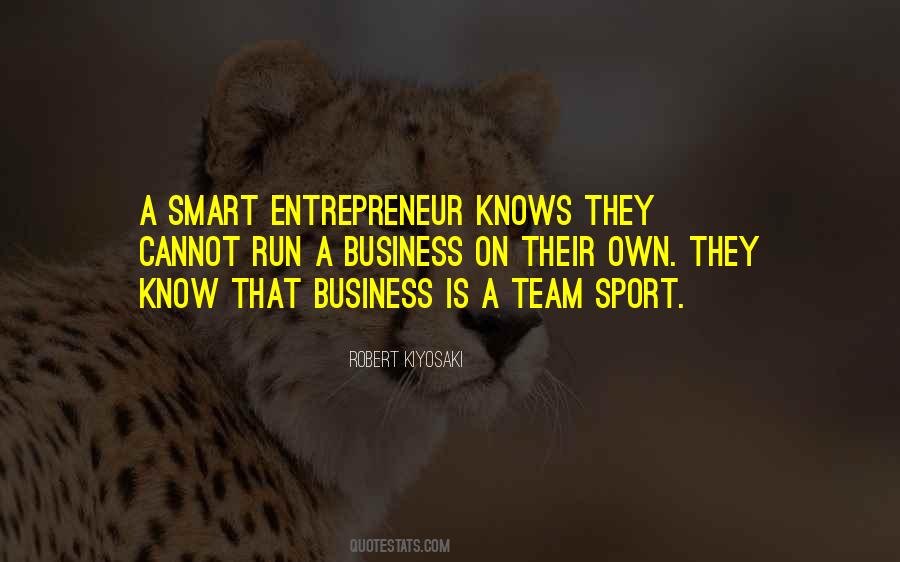 #41. The Puritan's idea of hell is a place where everybody has to mind his own business. - Author: Wendell Phillips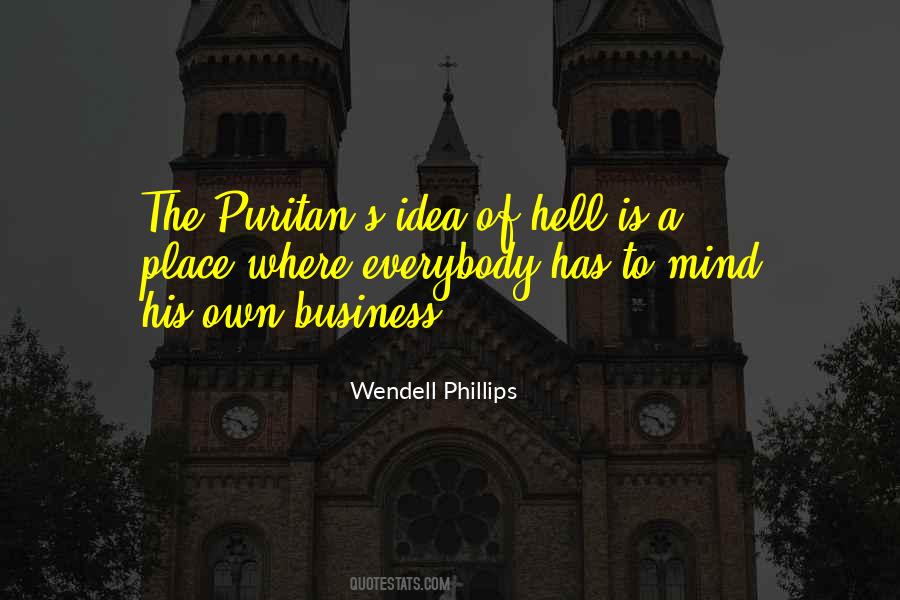 #42. The world is full of people who have dreams of playing at Carnegie Hall, of running a marathon, and of owning their own business. The difference between the people who make it across the finish line and everyone else is one simple thing: an action plan. - Author: John Tesh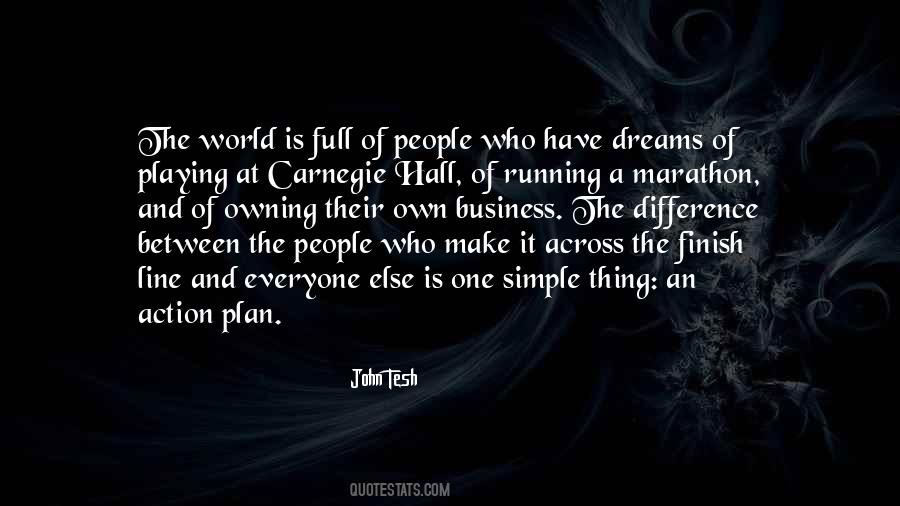 #43. It is the main earthly business of a human being to make his home, and the immediate surroundings of his home, as symbolic and significant to his own imagination as he can. - Author: G.K. Chesterton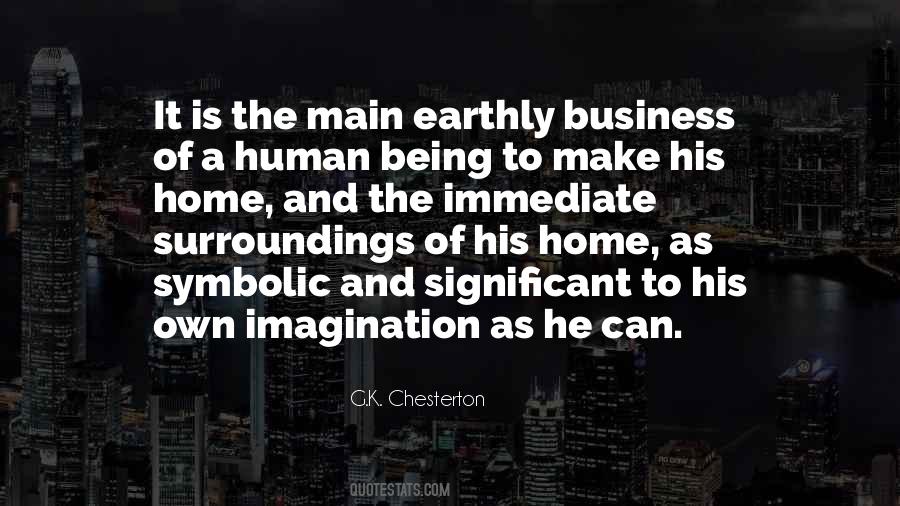 #44. I want to start my own airplane business. I'm going to buy two Dakotas, paint them up in war colours and do, er, nostalgia trips to Arnhem - you know, where the old paratroopers used to go - and charge them about 20 quid a time. - Author: Gary Numan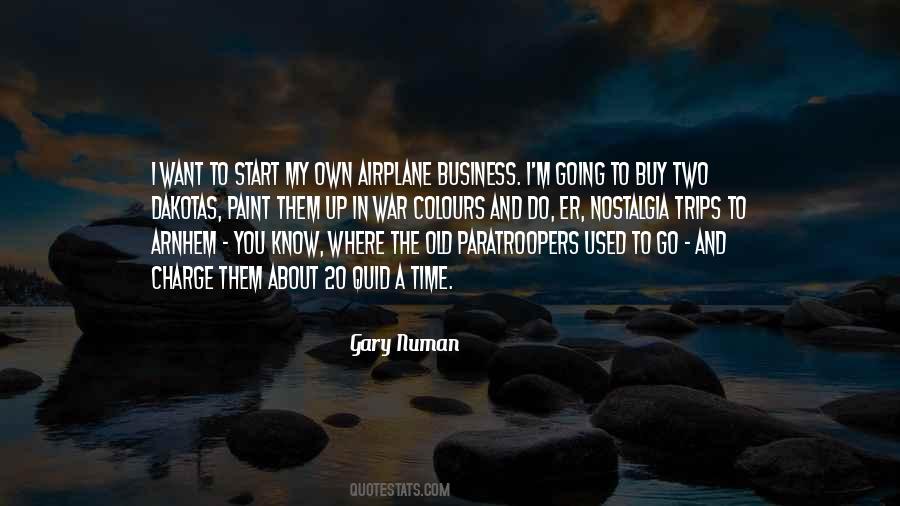 #45. I think that saving a little child And bringing him to his own, Is a derned sight better business Than loafing around the throne. - Author: John Hay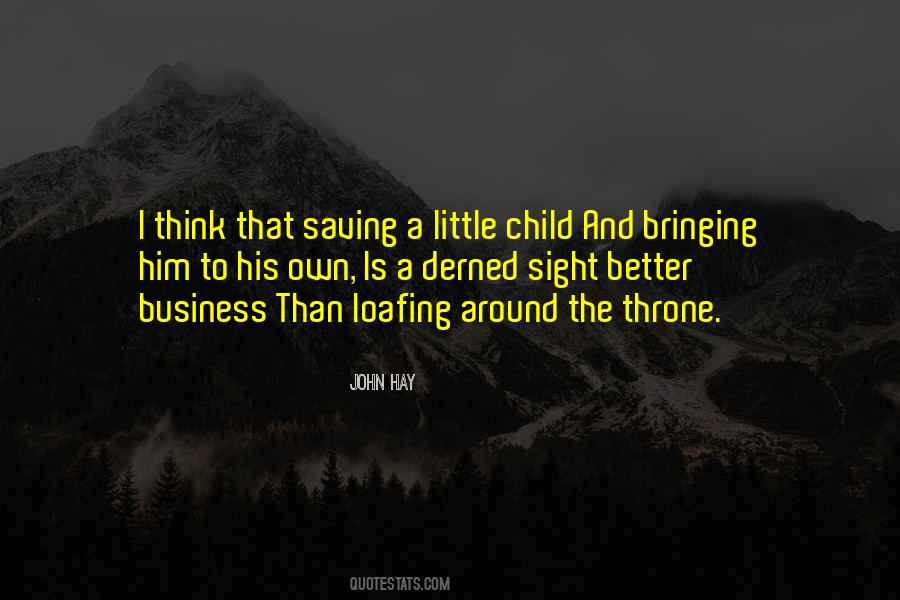 #46. I was minding my own business, really, and then all of a sudden, Hollywood approached me. - Author: Kelly Brook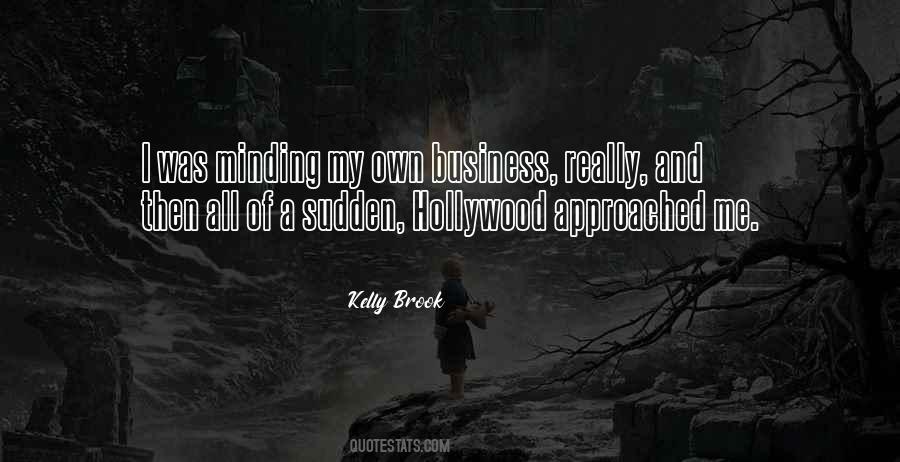 #47. The good thing about being a writer is that you don't need anything except for a laptop. You can really do your own work and if you're not manically compelled to write all the time before you do it professionally, it's probably not a business for you anyway. - Author: Thomas Lennon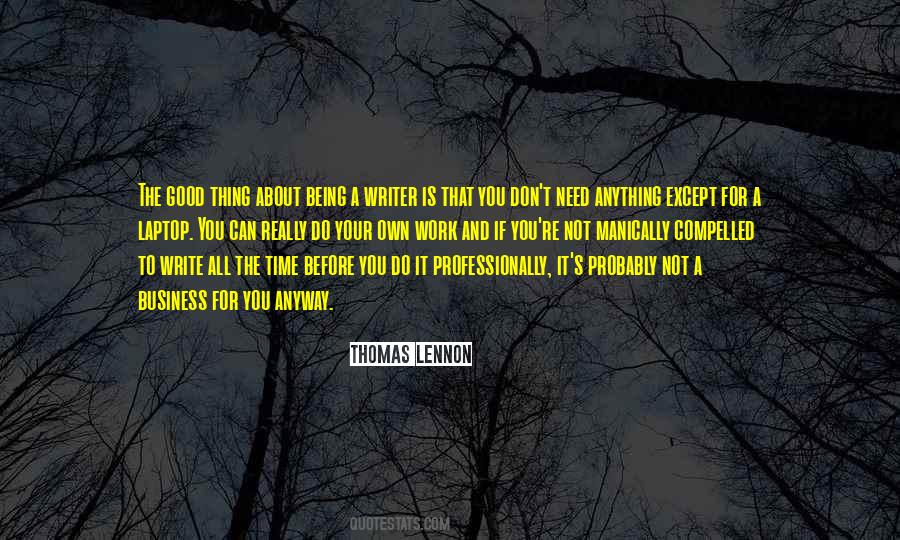 #48. It is very difficult to reconcile the American ideal of a sovereign people capable of owning and managing their own government with an inability to own and manage their own business. - Author: Calvin Coolidge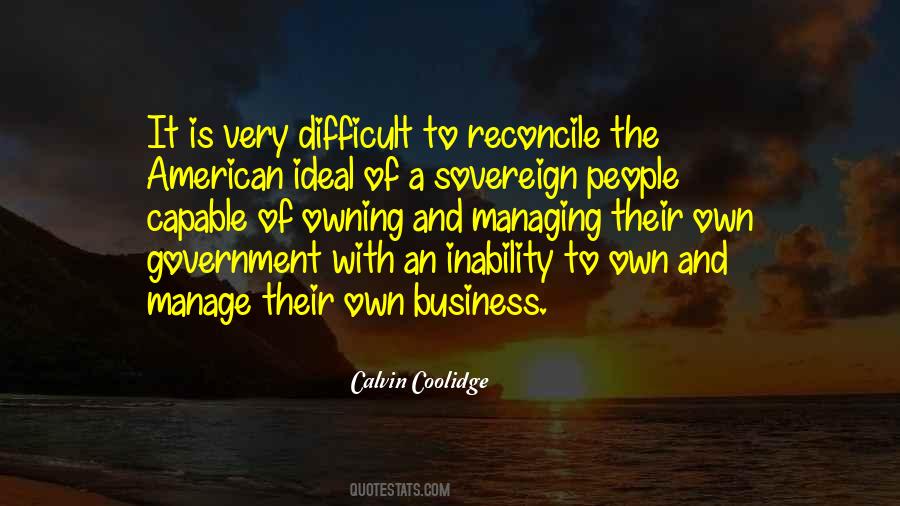 #49. So while she wasn't worried about mobs with pitchforks, not just yet anyway, she wasn't exactly shouting from the rooftops that her husband was a werewolf. She didn't want any nasty surprises either. Besides, she figured it was nobody's business but their own. Well, theirs and their therapist's. - Author: Rosabel Darke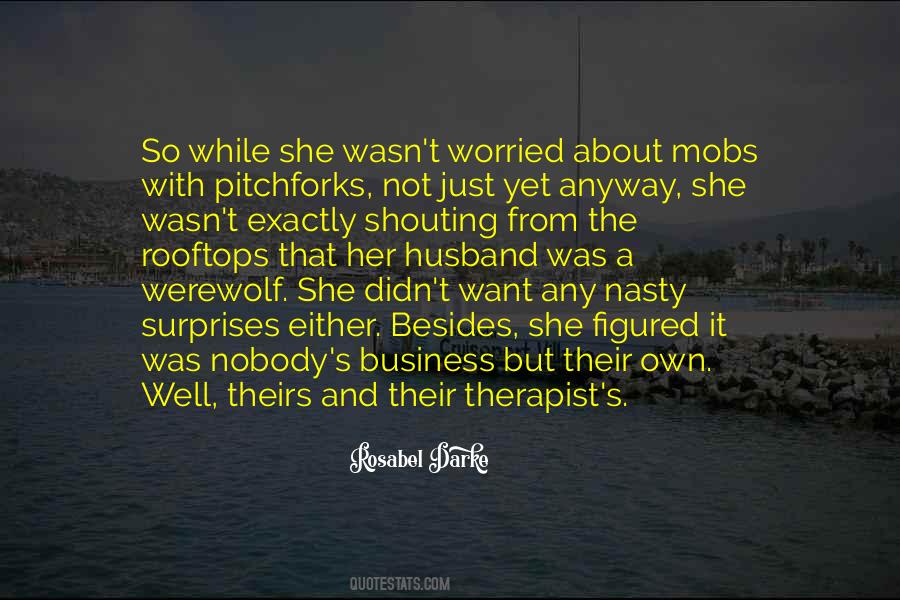 #50. My mom taught me a lot. A lot about minding your own business and leaving other people's business alone. And let them think what they want. - Author: Ray Charles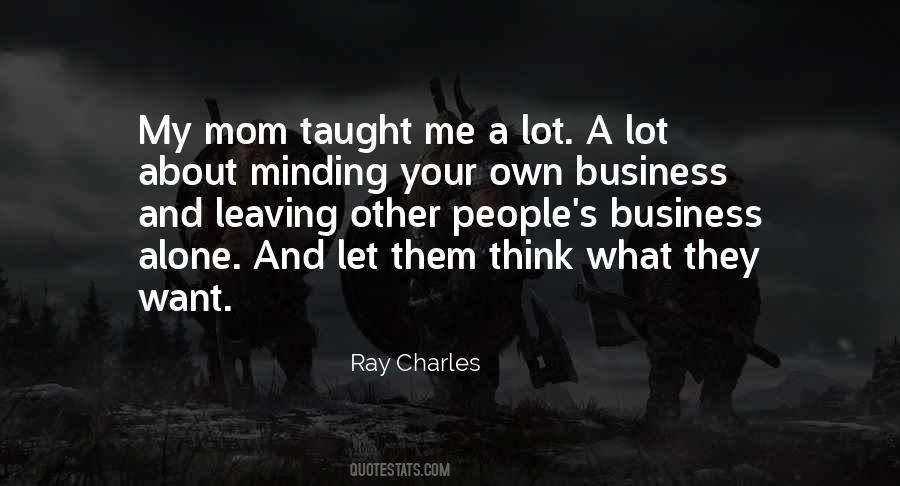 #51. I spend a lot of time thinking about this business of letting go - letting go of the children God gives to us for such a brief time before they go off on their own; letting go of old homes, old friends, old places and old dreams. - Author: Susan Estrich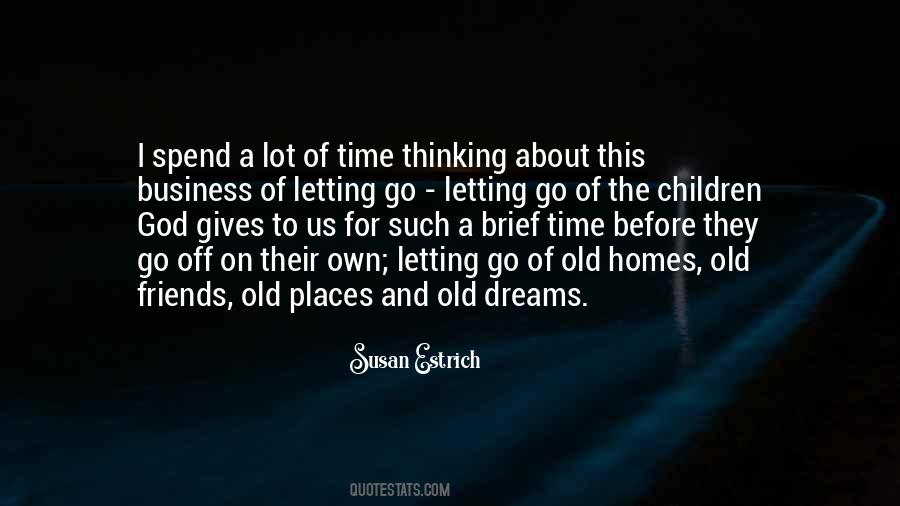 #52. Now public business takes up so much of my time that I must get time a Sundays or a nights to look after my own matters. - Author: Samuel Pepys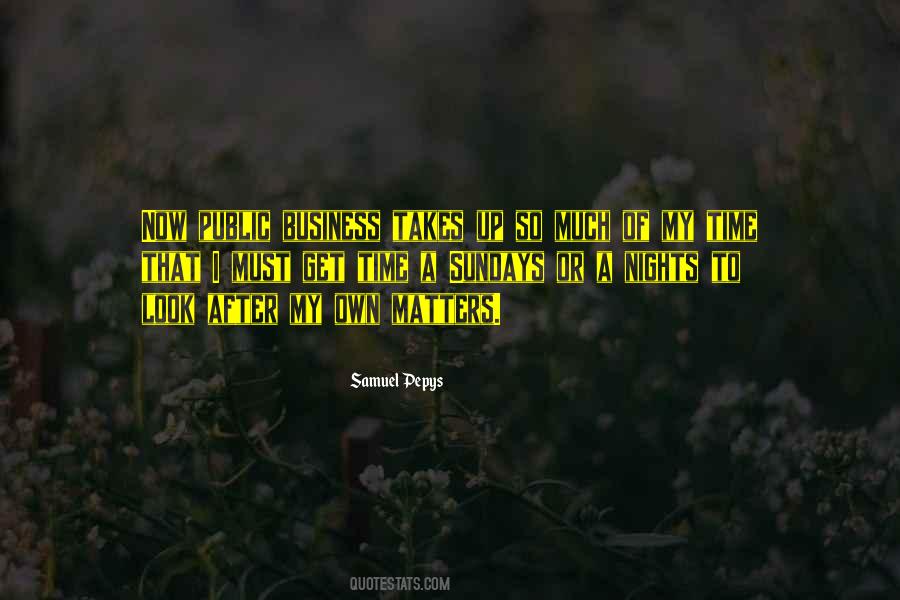 #53. I marvel at her - a woman with stocks and business suits and her own house. - Author: Matthew Quick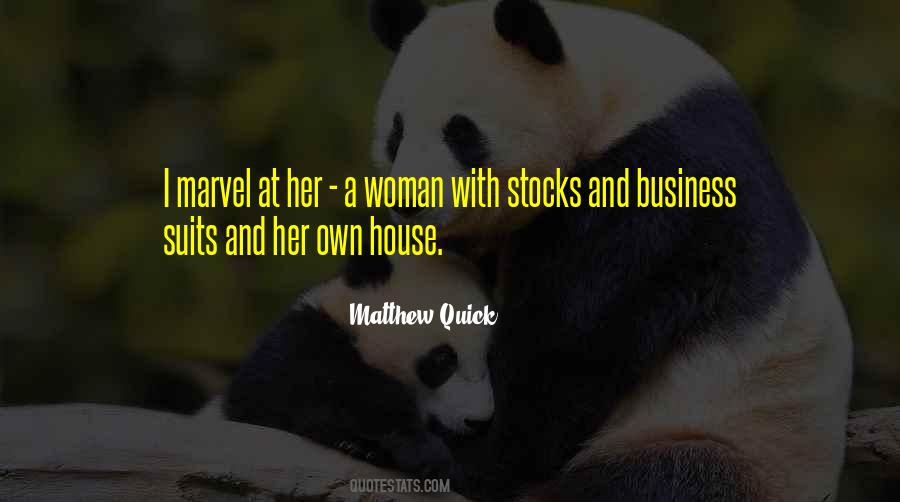 #54. The Jews had, as a matter of fact, long been all along the most ingenious entrepreneurs. It was only our own future that we had never built upon a business basis. - Author: Theodor Herzl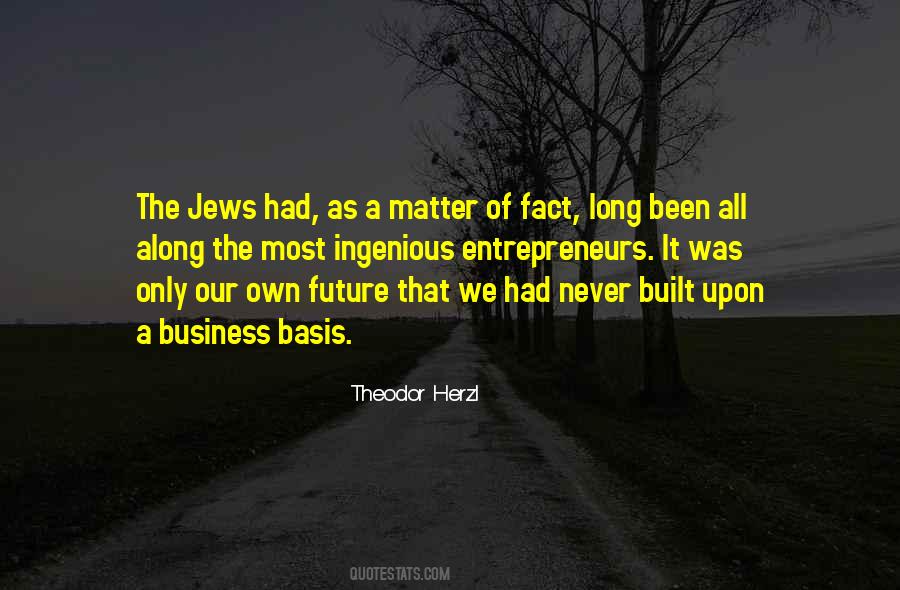 #55. I am someone who's very positive about business, as a social Democrat. I do like the safety net of the welfare system and people setting things and creating business, and that's what I try to do with my own work: export it around the world from the U.K. - Author: Eddie Izzard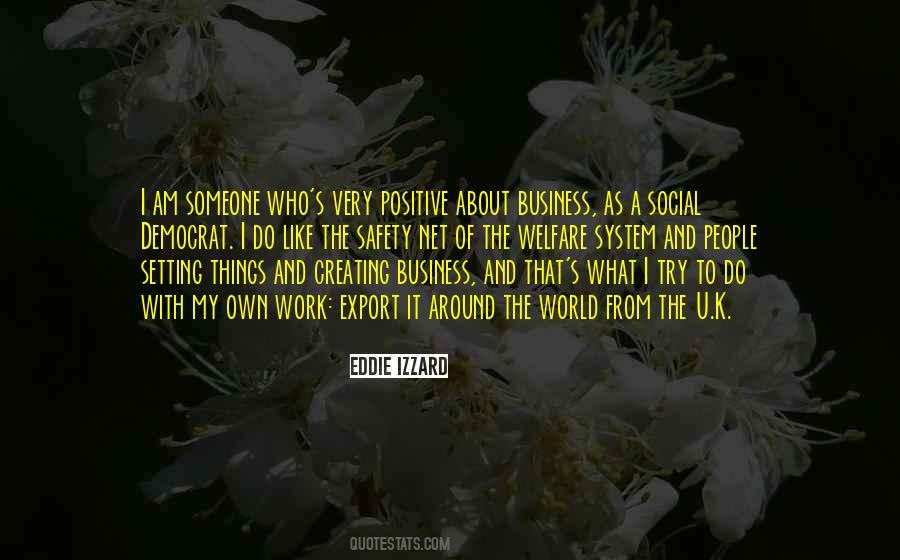 #56. I don't care about awards. I want to make money. I want to own a business. - Author: Ryan Kavanaugh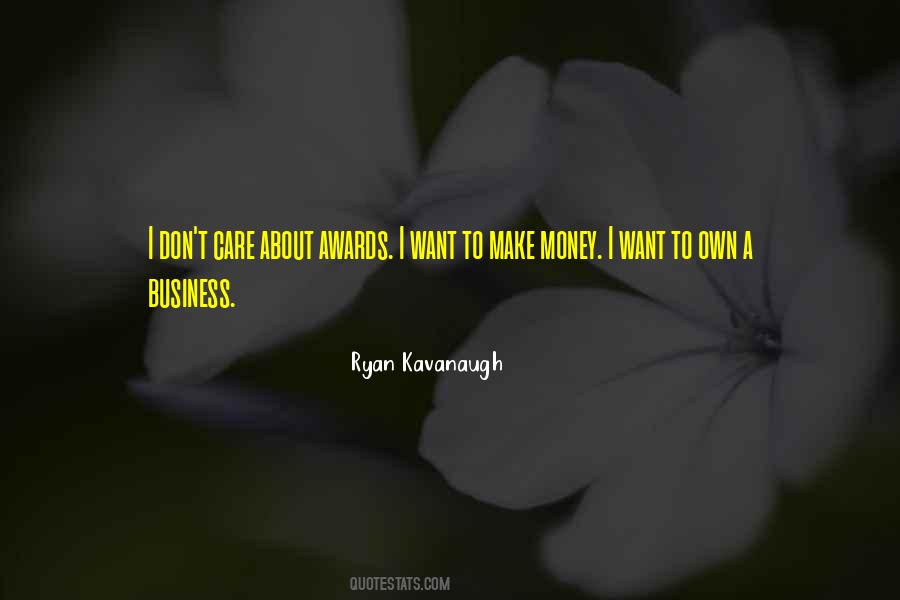 #57. I have wanted to run my own business since my time at Clitheroe grammar school. I remember thinking if I could get a penny from everyone in Britain, I would earn £208,000 a year. - Author: Peter Hargreaves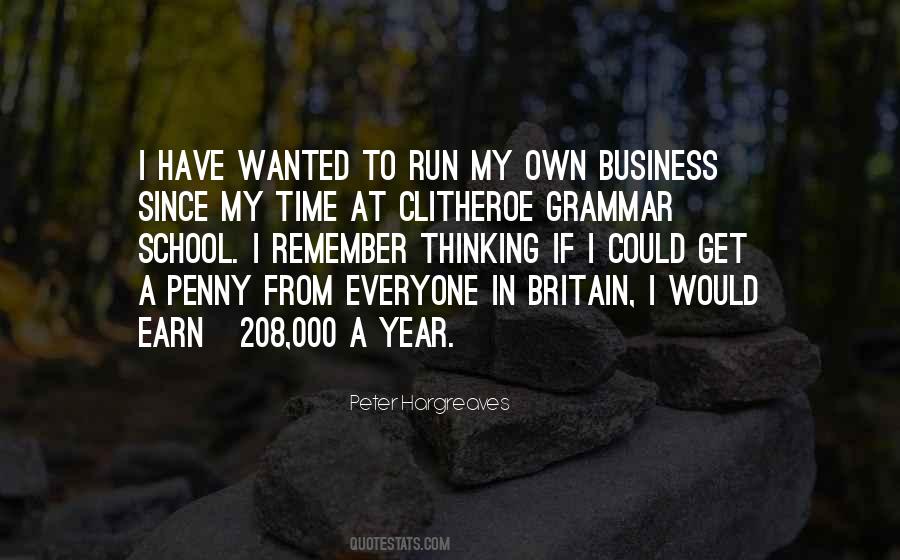 #58. The ability to lead a happy life is made, not found - Author: Martin Luther King Jr.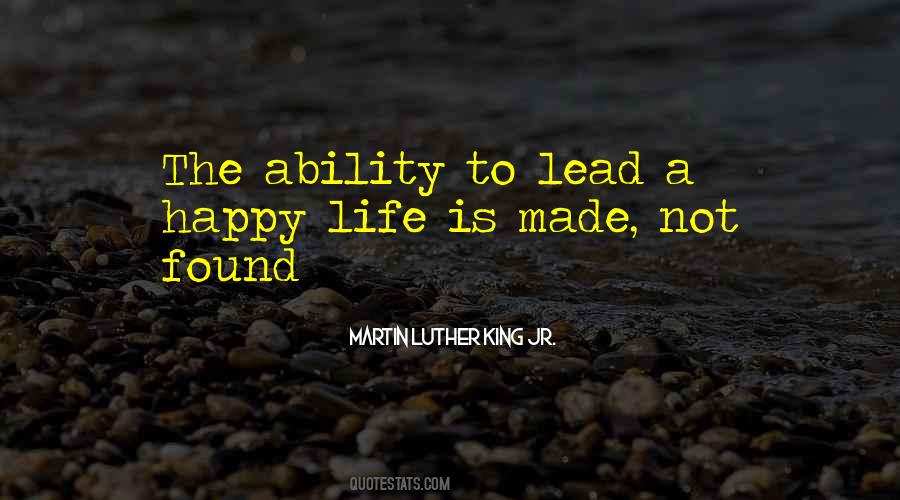 #59. Dishonesty in government is the business of every citizen. It is not enough to do your own job. There's no particular virtue in that. Democracy isn't a gift. It's a responsibility. - Author: Dalton Trumbo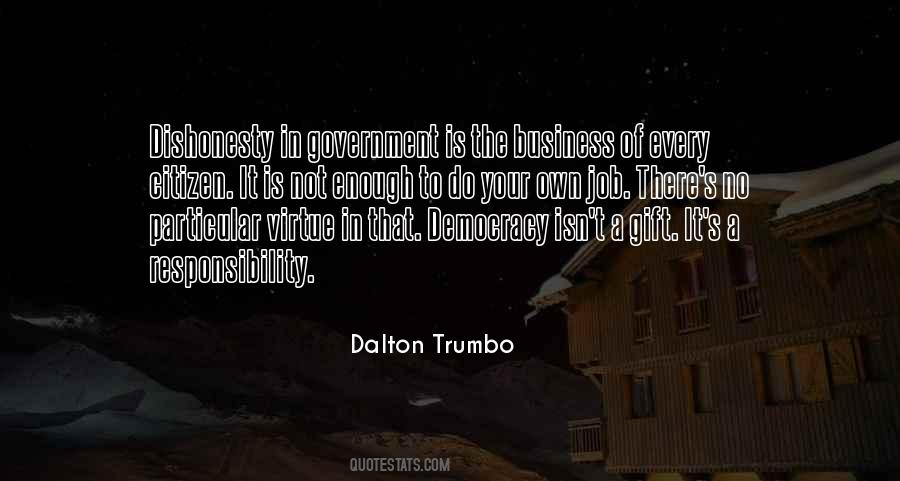 #60. In many countries, laws still work to women's disadvantage - for example, by requiring married women to obtain their husbands' permission to register a business, own property, or work. - Author: Sri Mulyani Indrawati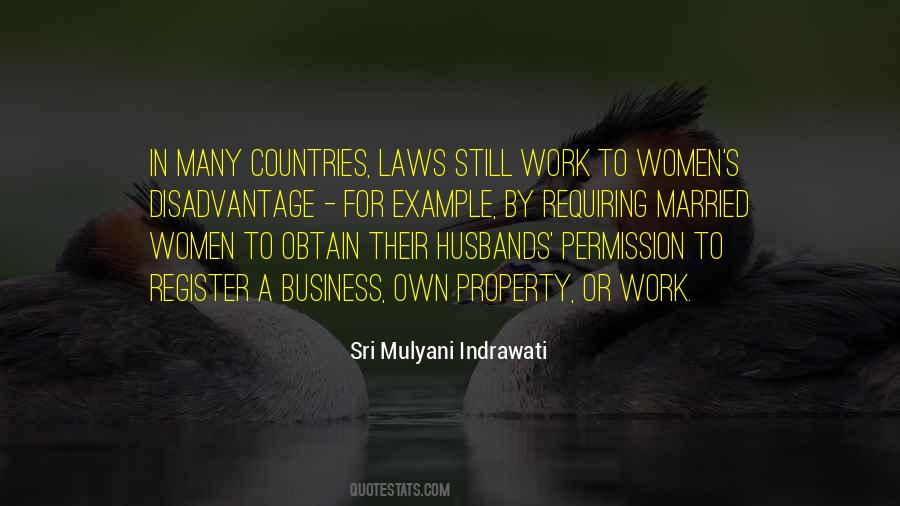 #61. Art is a severe business; most serious when employed in grand and sacred objects. The artist stands higher than art, higher than the object. He uses art for his purposes, and deals with the object after his own fashion. - Author: Johann Wolfgang Von Goethe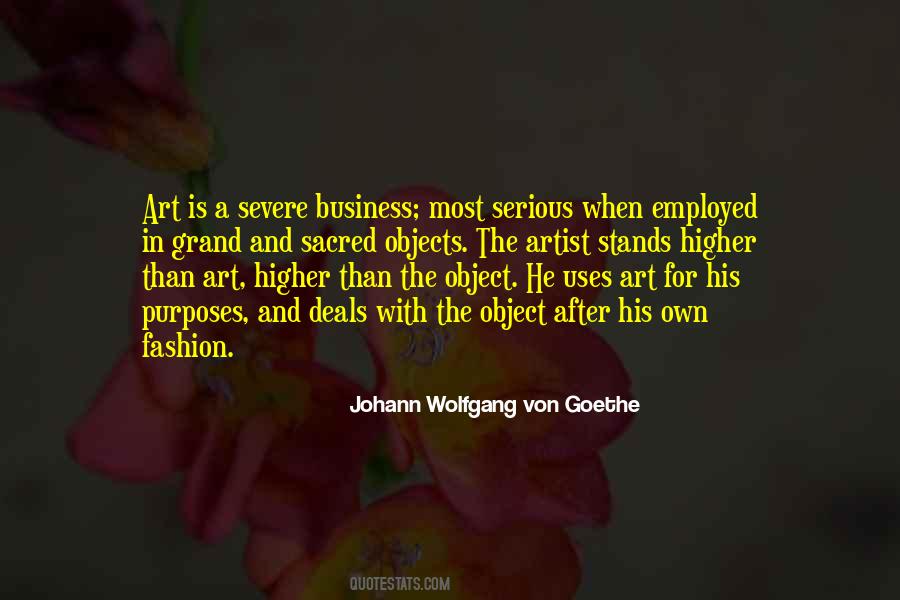 #62. God pays all bills He authorizes." When we take chances on our own, in ministry or business or finances, we take a risk. But if God directs us to do something, He will provide the desire, the means, the tools, and the wherewithal - and perhaps an angel - to help us. - Author: Betty Malz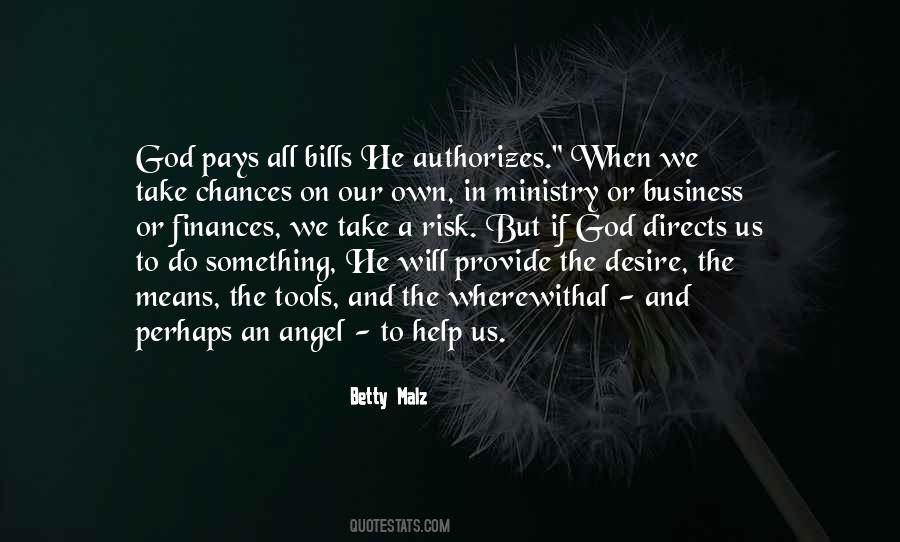 #63. I have a business background. I have always wanted to open my own business. - Author: Nathan Fielder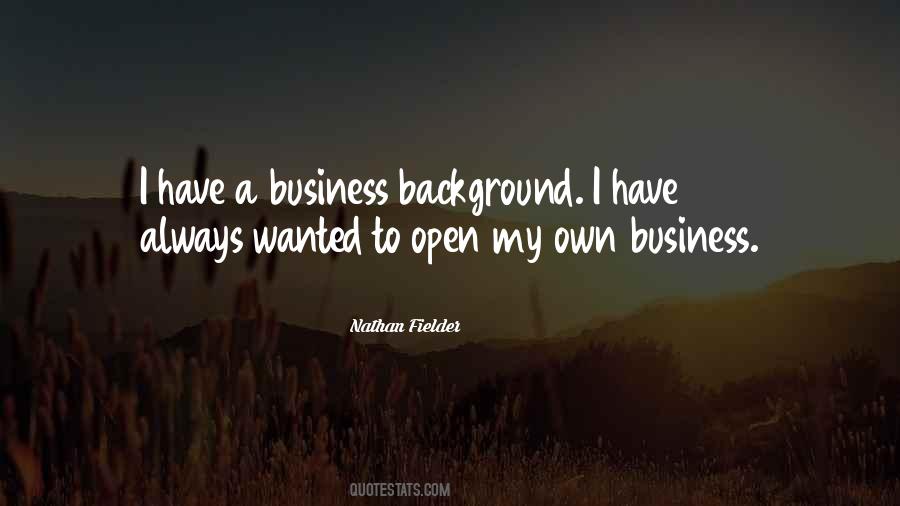 #64. It is better just to get on with the business of living and minding your own business and maybe, if God likes the way you do things, he may just let you flower for a day or a night. But don't go pestering and begging and telling him all your stupid little sins, that way you will spoil his day. - Author: Bryce Courtenay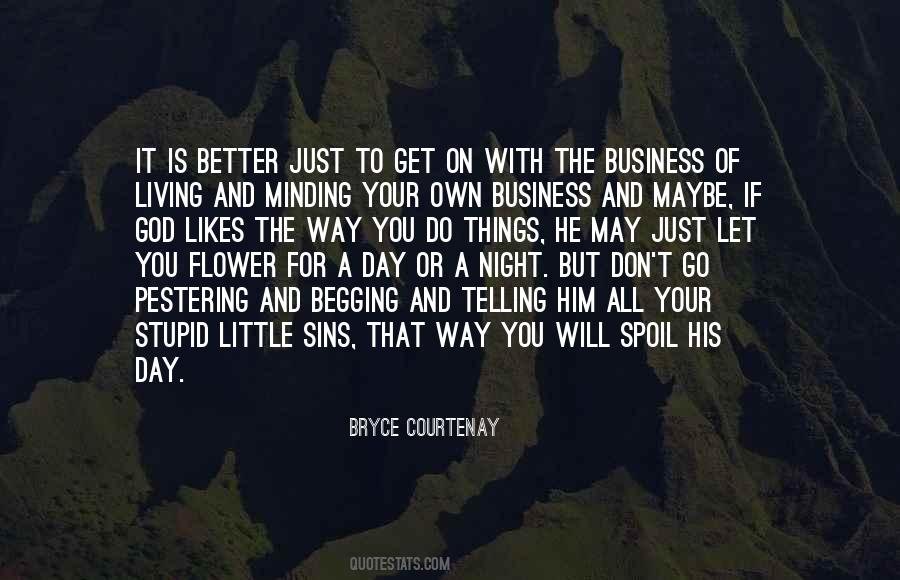 #65. Ninety percent of all human wisdom is the ability to mind your own business. - Author: Robert A. Heinlein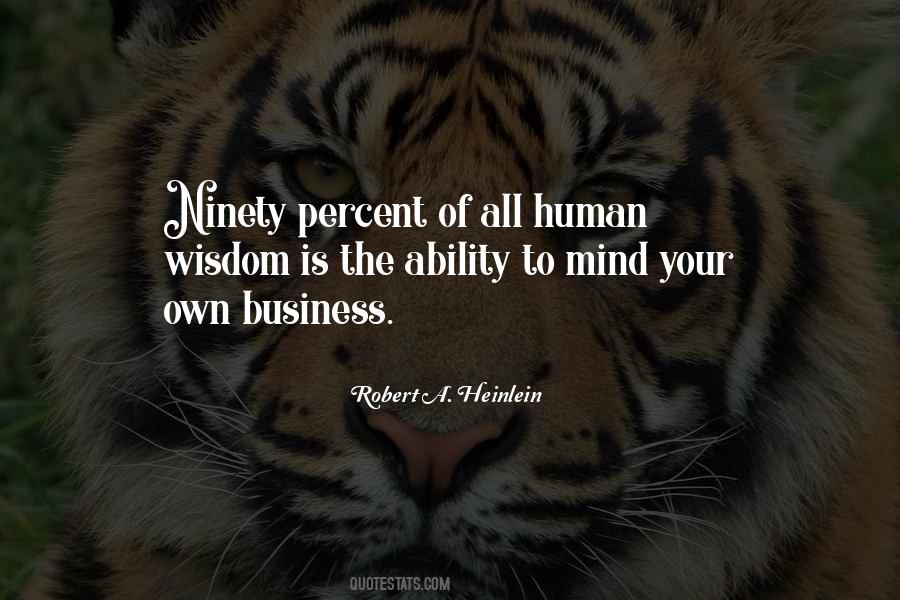 #66. Being a famous singer or an international singer - that's my dream, too, but my main goal is to be a real student and be able to graduate and be a lawyer and have my own business. - Author: Charice Pempengco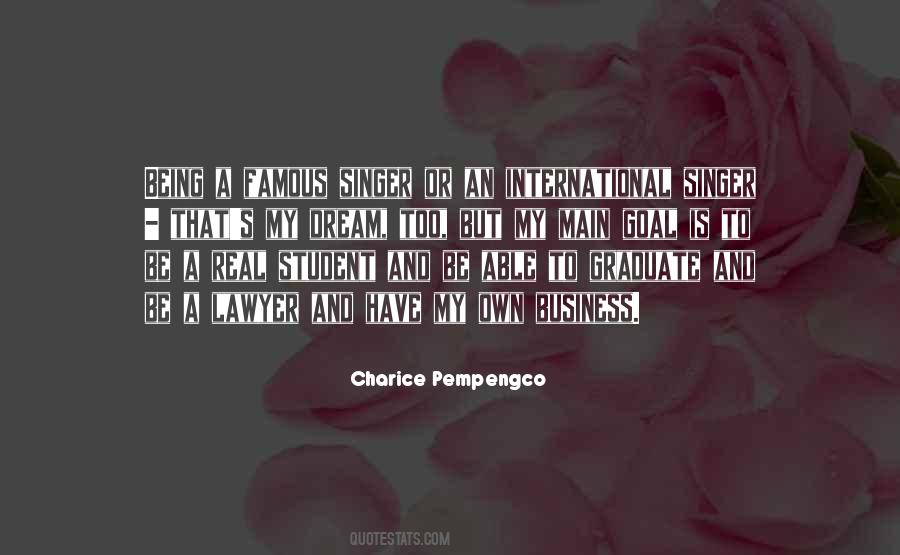 #67. What the State can usefully do is to make itself a central depository, and active circulator and diffuser, of the experience resulting from many trials. Its business is to enable each experimentalist to benefit by the experiments of others, instead of tolerating no experiments but its own. - Author: John Stuart Mill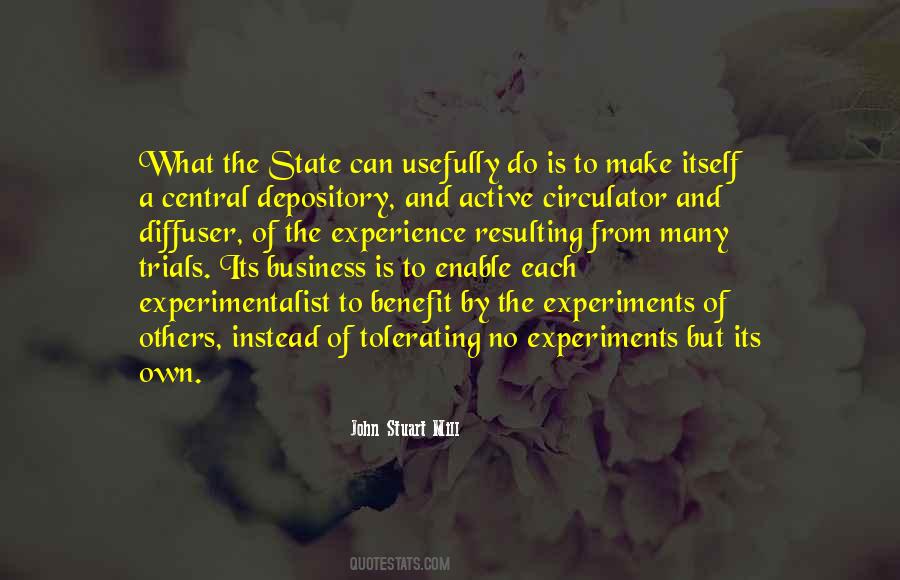 #68. Who people like is their own business. It don't concern me. I know what I do - and I'm having a lot of fun with the women that I'm with. - Author: ASAP Rocky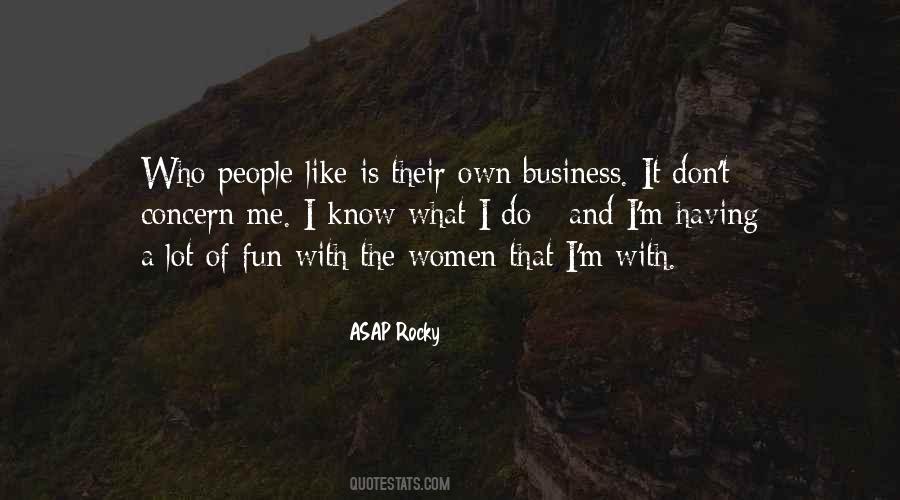 #69. Now everybody's got a crazy notion of their own. Some like to mix up with a crowd, some like to be alone. It's no one elses' business as far as I can see, but every time that I go out the people stare at me, with me little ukulele in me hand. - Author: George Formby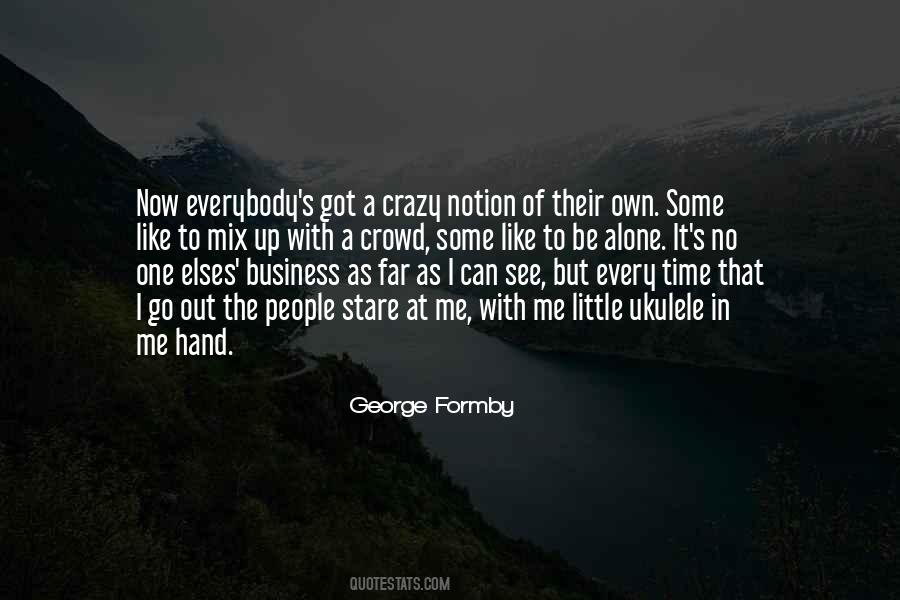 #70. I was at this casino minding my own business, and this guy came up to me and said, 'You're gonna have to move, you're blocking a fire exit.' As though if there was a fire, I wasn't gonna run. If you're flammible and have legs, you are never blocking a fire exit. - Author: Mitch Hedberg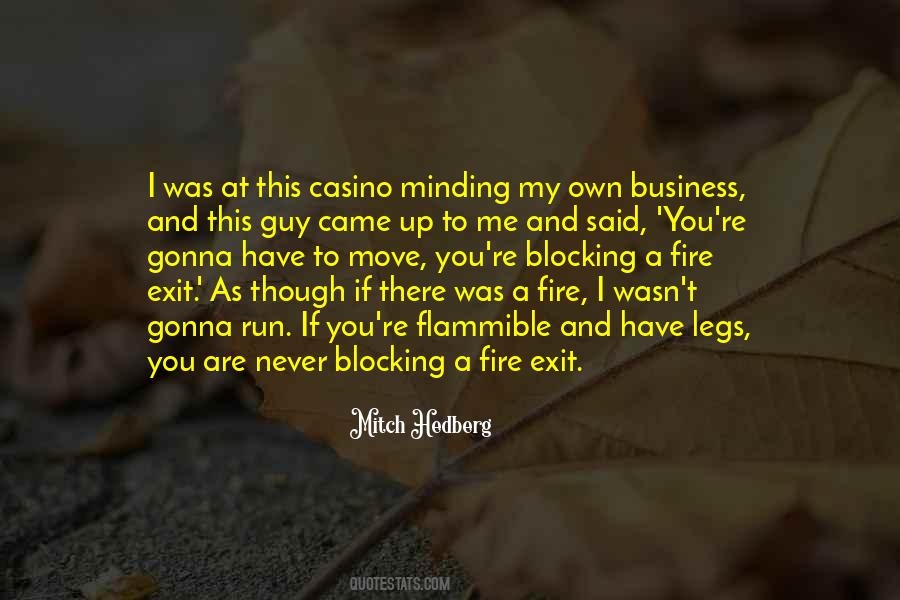 #71. Google's motto - "Don't be evil" - is in part a branding ploy, but it's also characteristic of a kind of business that's successful enough to take ethics seriously without jeopardizing its own existence. - Author: Peter Thiel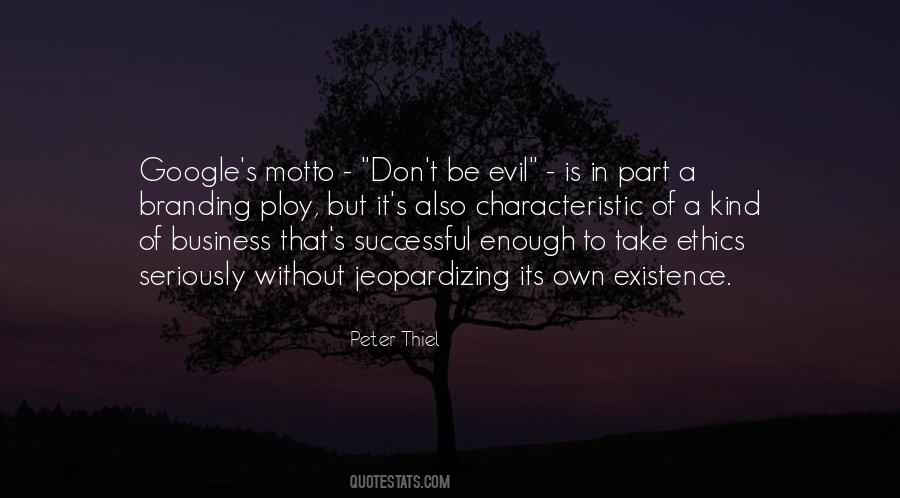 #72. Hollywood is great for entertaining people, it's a wonderful business but it's make-believe, you must remember that. That's one of the most important things to remember and the distinction in your own life, otherwise people get lost in their own fame, and it makes them unhappy. - Author: Dolph Lundgren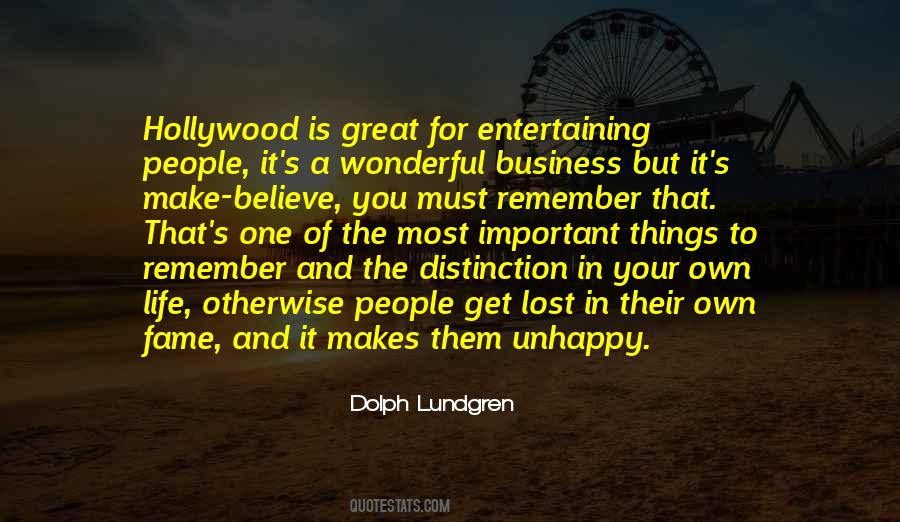 #73. Cable is a niche business. If you can own a niche, that can be a very strong business. - Author: David Zaslav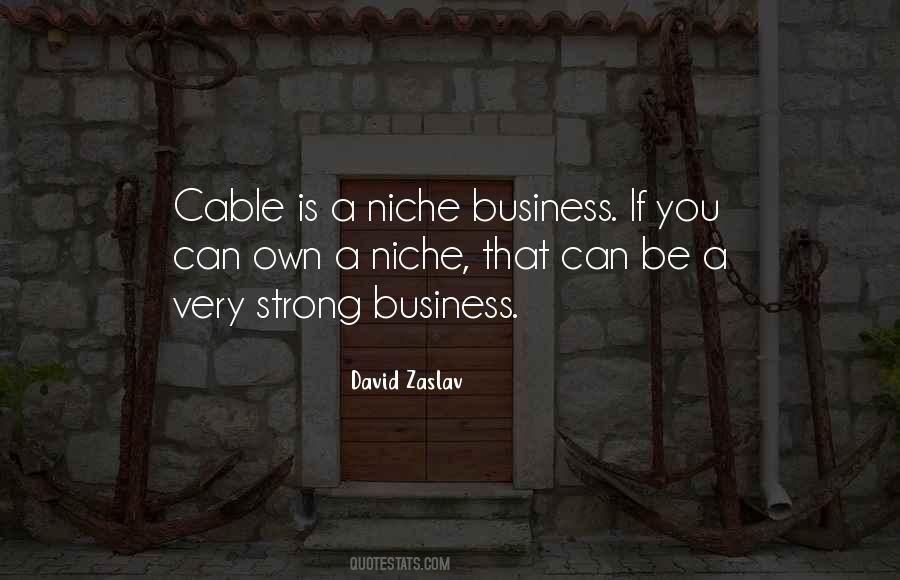 #74. I like the city. I like the concrete. I like big business. I like being a CEO of my own company and having a lot of responsibilities. At the same time, when I can go off with a backpack or off on a surfboard or even off on a run somewhere in the woods - that's where I'm really happy. - Author: Matthew McConaughey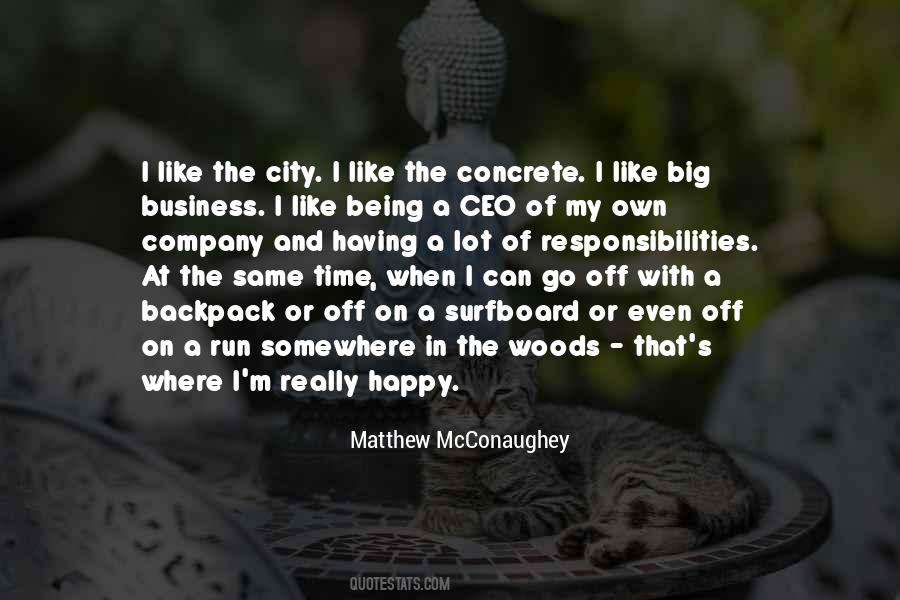 #75. Good business leaders create a vision, articulate the vision, passionately own the vision, and relentlessly drive it to completion. - Author: Jack Welch
#76. Thanks for the American dream, to vulgarize and falsify until the bare lies shine through. Thanks for a country where nobody's allowed to mind their own business. - Author: William S. Burroughs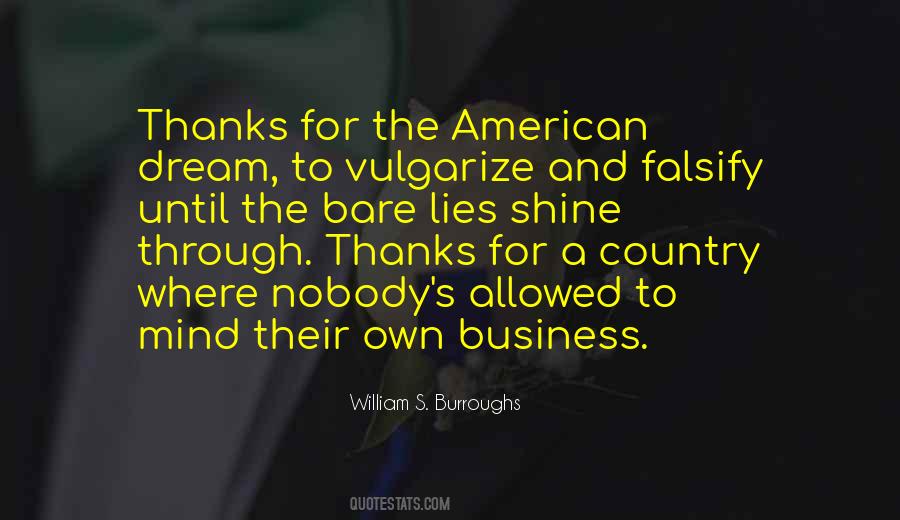 #77. If a man can't manage his own life, he can't manage a business. - Author: S. Truett Cathy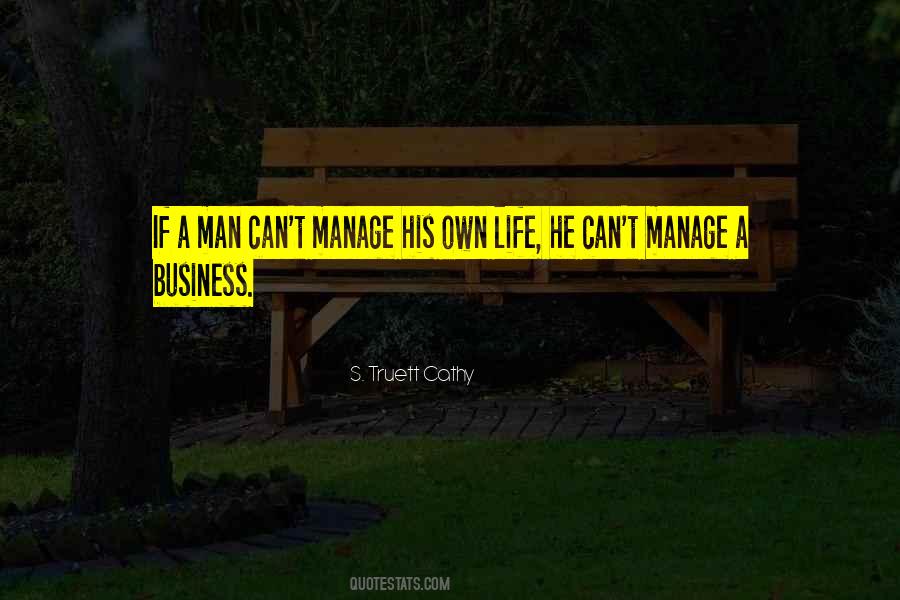 #78. At a young age I always had an entrepreneurial spirit. So I'm trying to develop things on my own, too, and there are a couple things that have absolutely nothing to do with the entertainment business that I'm trying to tackle. We'll just sort of see. - Author: Jennifer Carpenter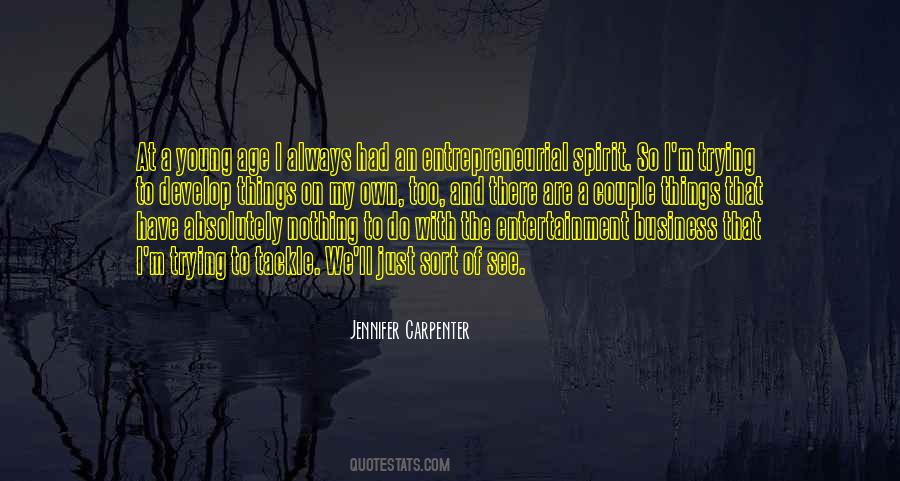 #79. There were six kids in our family, and I grew up fast. I had to do a lot of things on my own. I was a rebellious teenager. That's why coming into the film business was good for me because it gave me some discipline. Once I became an actor, I had to grow up a little more. - Author: Matt Dillon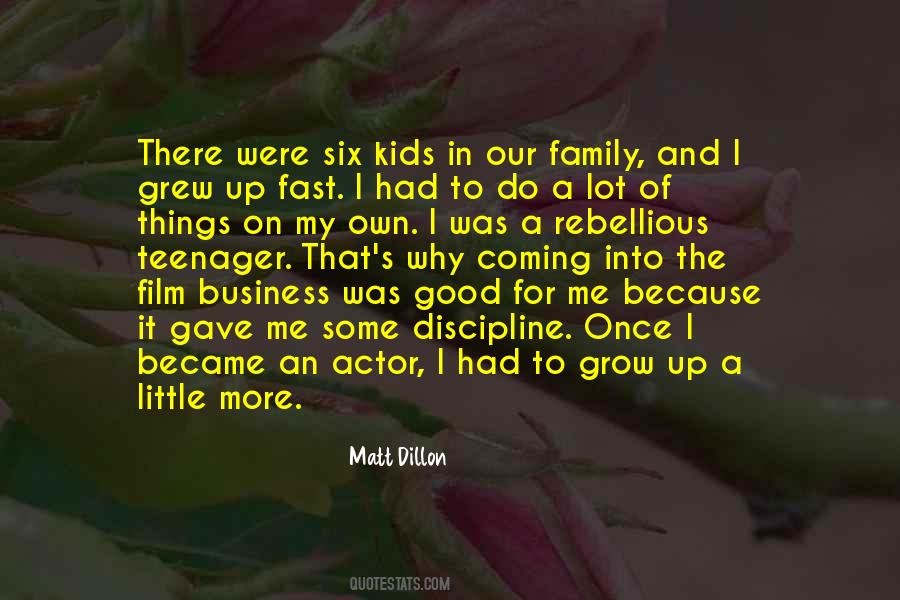 #80. Intelligent men never do a business; only a fool kills his own beautiful instincts for the sake of a word profit. - Author: Thiruman Archunan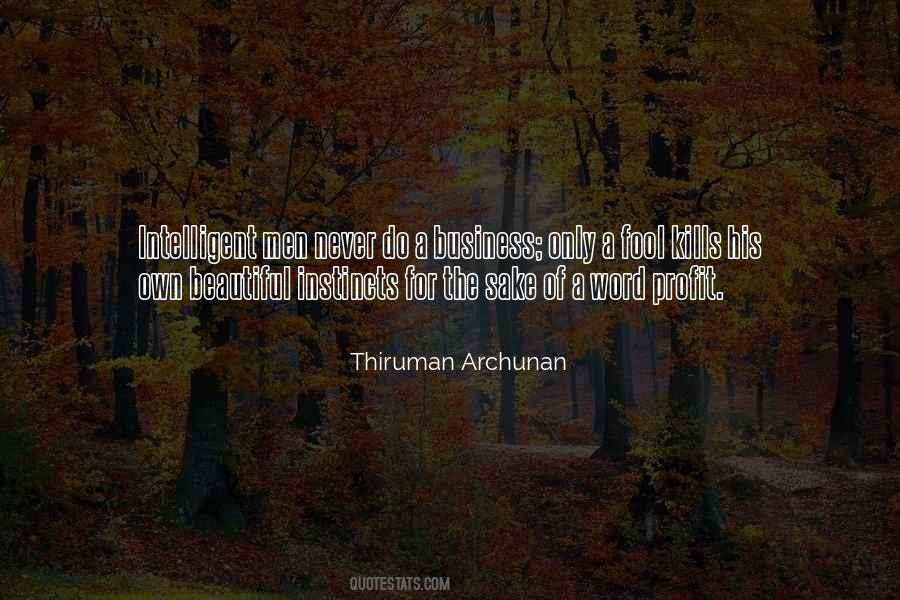 #81. My dad has been a big influence on me, because he's always had his own business. He really taught me business sense and how to be a focused individual, but also how to have fun and make everyone around you have fun. - Author: Wiz Khalifa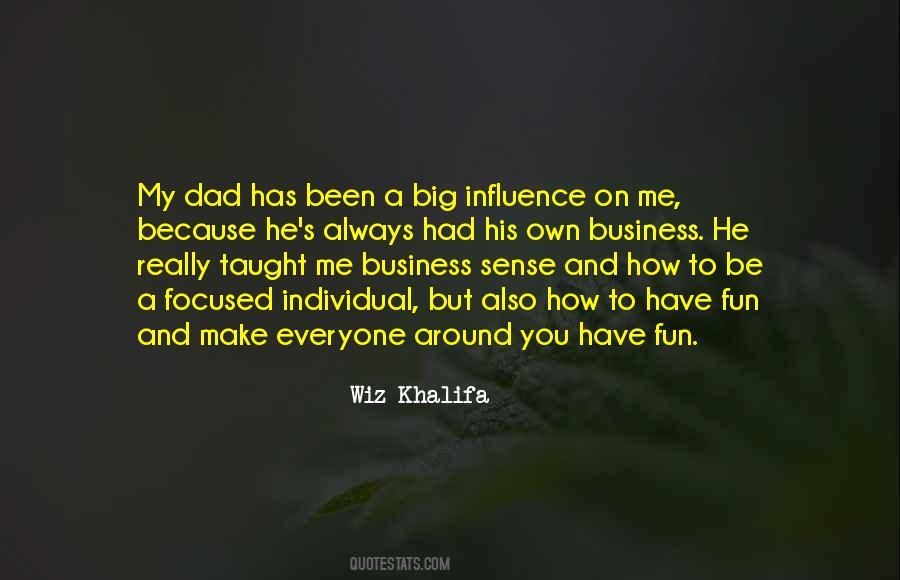 #82. My old man taught me two things: 'Mind own business' and 'Always cut cards.' - Author: Robert A. Heinlein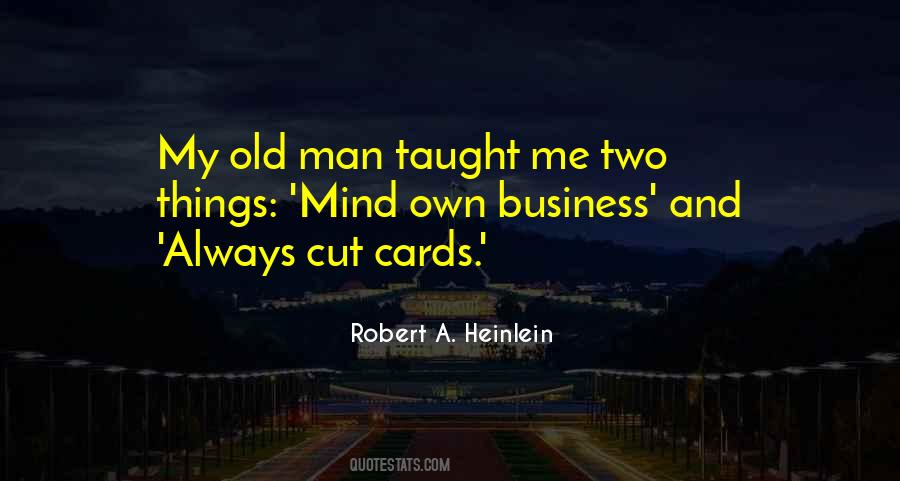 #83. I knew that if I had gone to the media or a publisher saying that I wanted my books and stories to be published to help other women start their own business~ that I would be rejected by them.
I know this because it has already happened to me many times. - Author: Nina Montgomery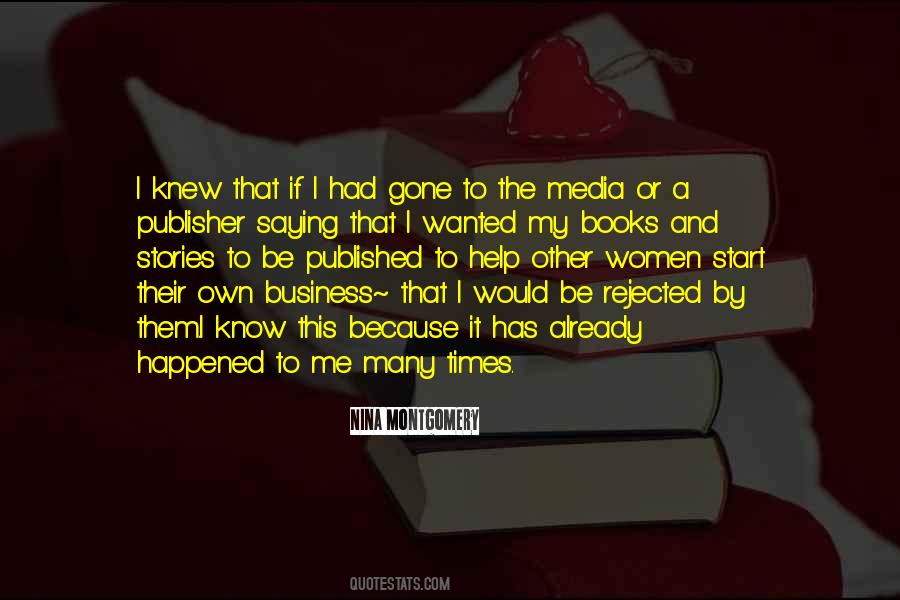 #84. [Government] is apprehended, not as a committee of citizens chosen to carry on the communal business of the whole population, but as a separate and autonomous corporation, mainly devoted to exploiting the population for the benefit of its own members. - Author: H.L. Mencken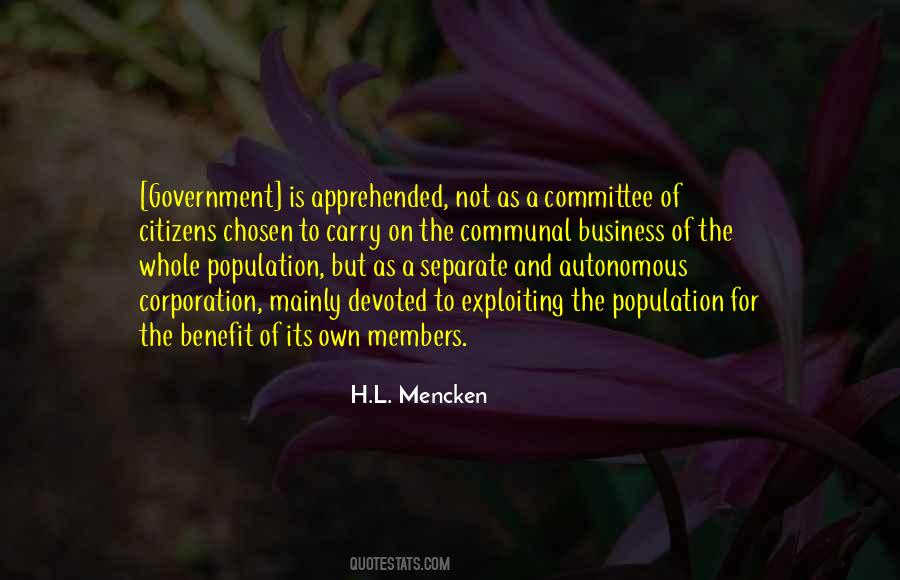 #85. I come from a really big family, my father was a businessman and what he always instilled in us was to be your own boss. My father built up his business, and he was by no means a rich man, but he figured out how to work four-and-a-half days a week. - Author: Tony Shalhoub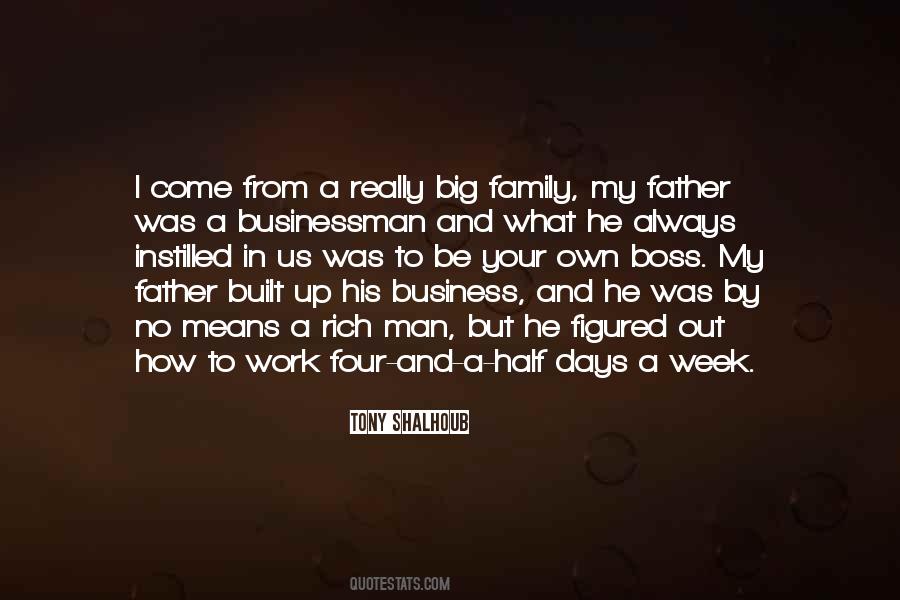 #86. The sooner we realize that the world has changed, the sooner we can accept it and make something of what we've got. Whining isn't a scalable solution. - Author: Seth Godin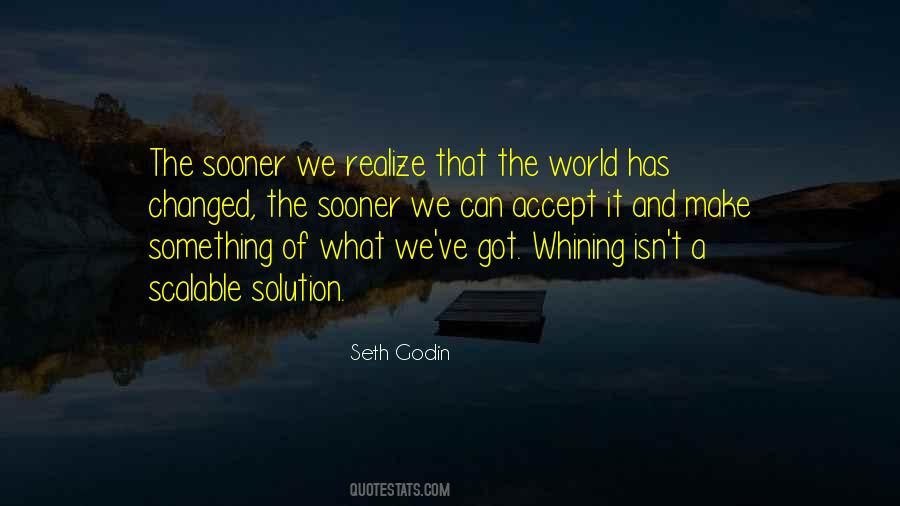 #87. From the time I was wee big, my mother was one of the first members of Mary Kay Cosmetics. Women going door-to-door and letting housewives have their own business - that was really a breakthrough. It was huge. - Author: Robin Wright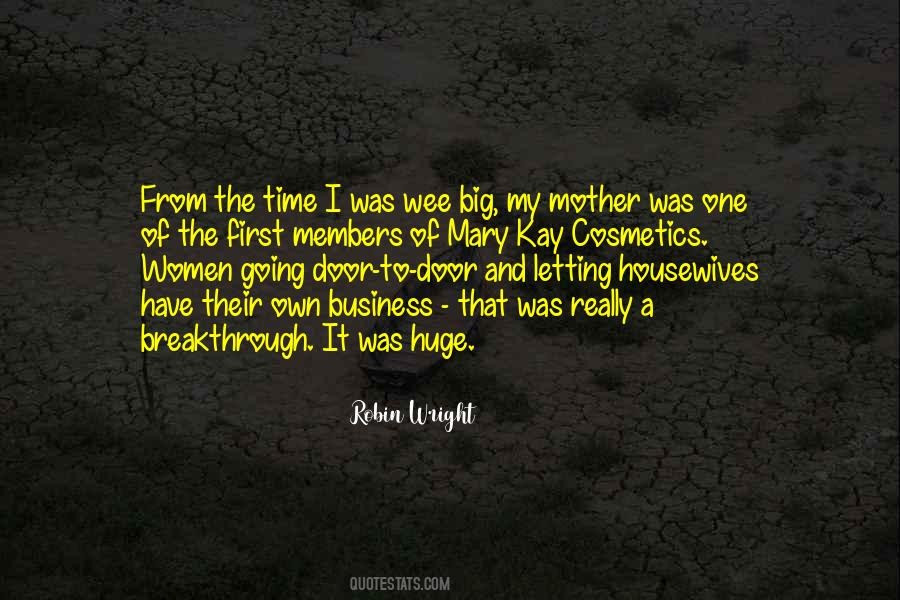 #88. a new biological species, the hit-and-run businessmen, who did not stay in any line of business longer than the span of one deal, who had no payrolls to meet, no overhead to carry, no real estate to own, no equipment to build, whose - Author: Ayn Rand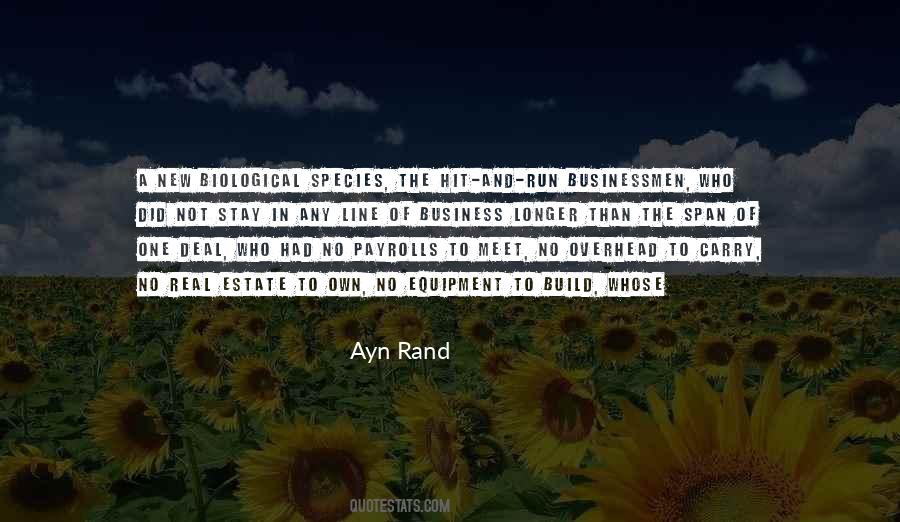 #89. A year after Hemingway died on the front page, Faulkner went off after a binge, as if dying was nobody's business but his own. - Author: Alfred Kazin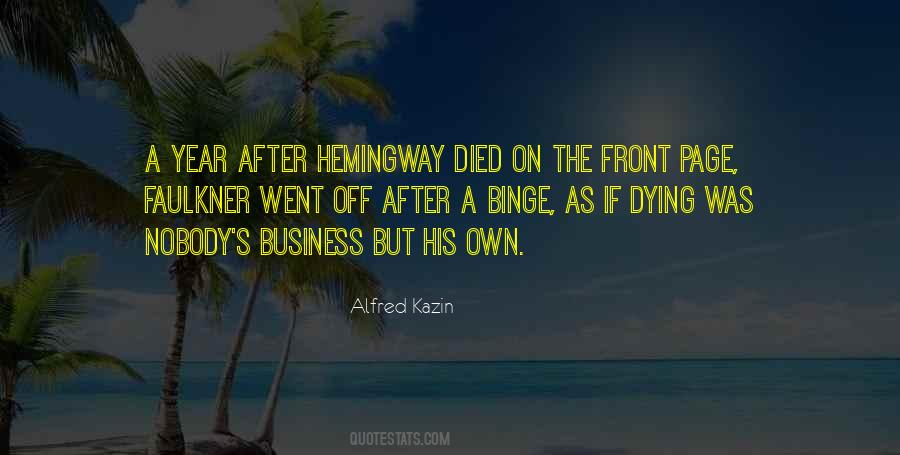 #90. I believe that if we had would keep our dirty, bloody, dollar-crooked fingers out of the business of these nations so full of depressed, exploited people, they will arrive at a solution of their own. - Author: David M. Shoup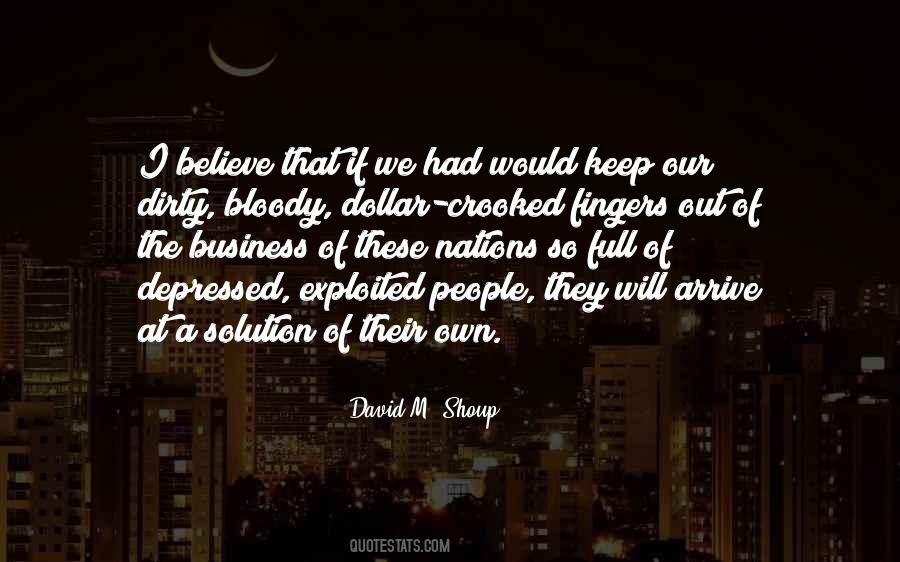 #91. At a career peak, there is certainly the specter of competition from below, but just as importantly, there's the risk that if we aren't on a curve that satisfies us emotionally, we may be the cause of our own undoing. - Author: Whitney Johnson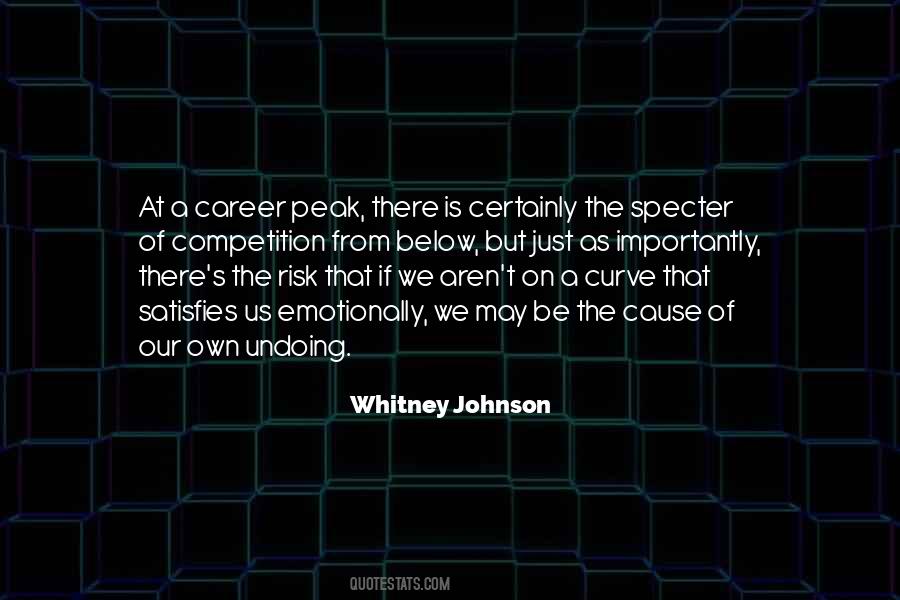 #92. If you want a solid future, you need to create it. You can take charge of your future only when you take control of your income source. You need your own business. - Author: Robert Kiyosaki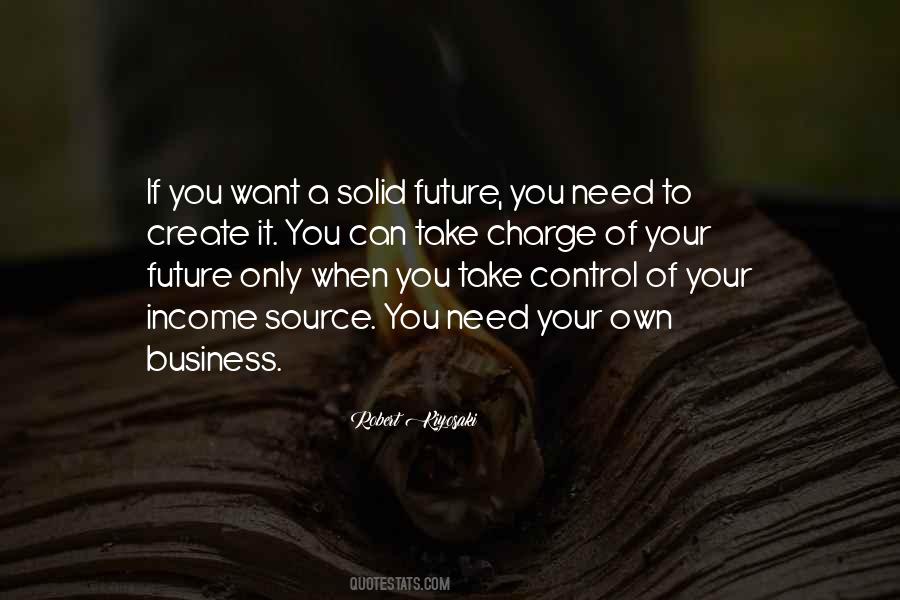 #93. Everyone told me it was a really stupid idea to start my own hedge fund right out of business school,' says Ackman of the idea. 'That's how I knew that it was a good idea. - Author: Maneet Ahuja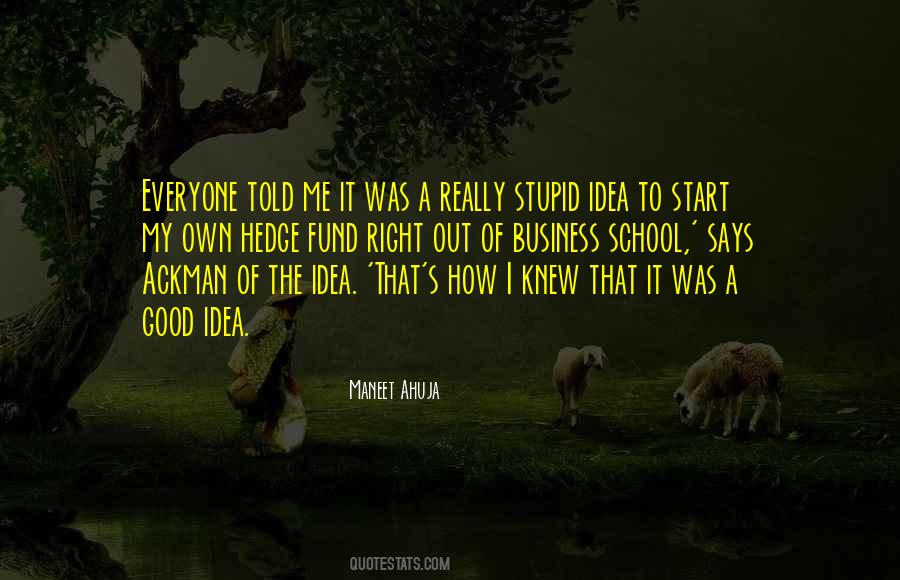 #94. Freedom. Freedom of religion. Freedom to speak their mind. Freedom to build a life. And yes, freedom to build a business. With their own hands. This is the essence of the American experience. - Author: Mitt Romney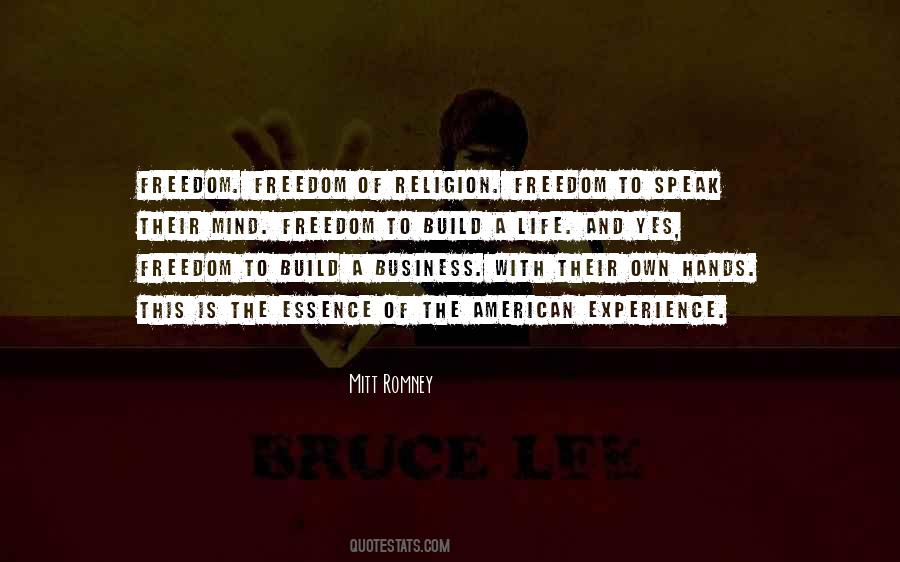 #95. We came from a family where we ran our own small business. Our dad made his own products. We made our own sausages, our own meatloafs, our own pickles. Dad had to do everything himself. He had to figure out how to finance his business. - Author: Marcy Kaptur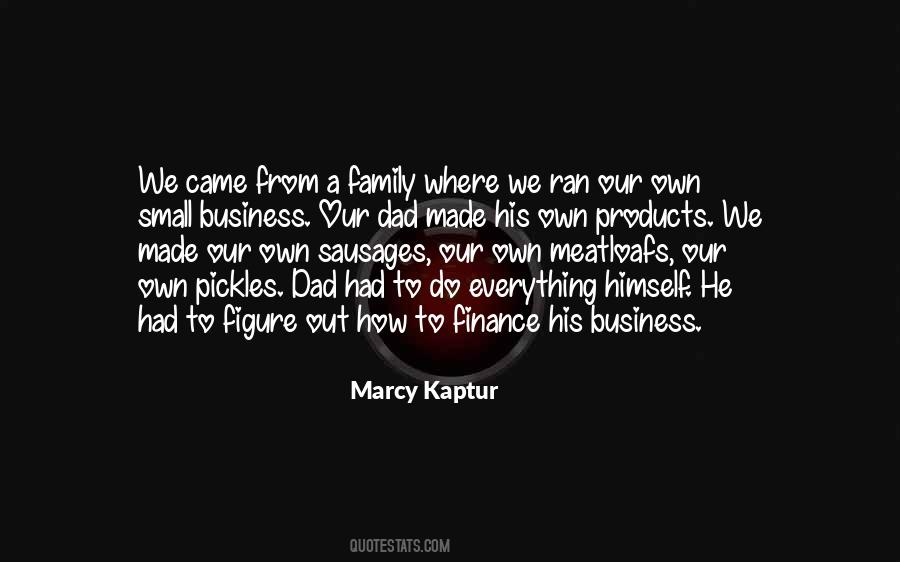 #96. Lots of my dying patients say they grow in bounds and leaps, and finish all the unfinished business. But assisting a suicide is cheating them of these lessons, like taking a student out of school before final exams. That's not love, it's projecting your own unfinished business - Author: Elisabeth Kubler-Ross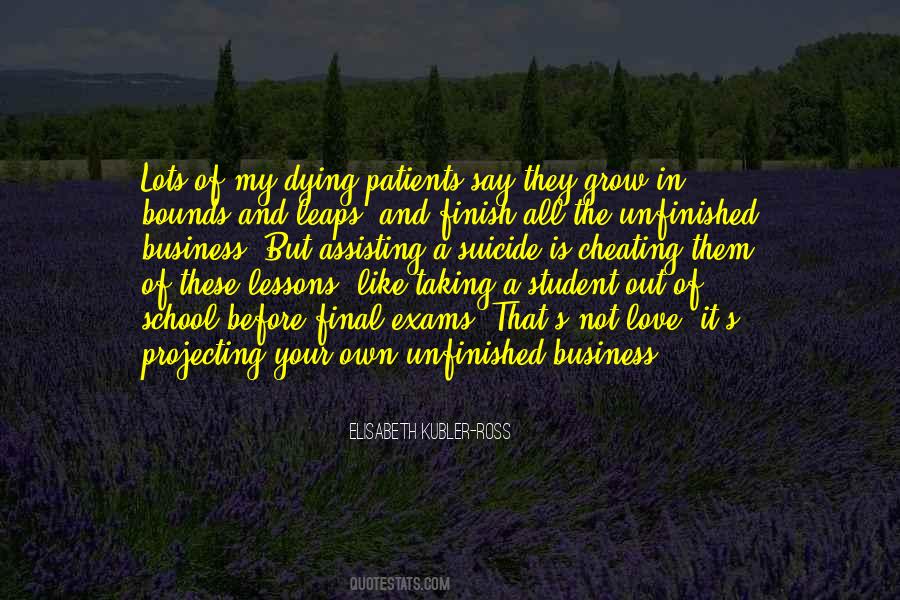 #97. What is important in self-discovery is the person who keeps going, who has a smile, who is kind to others, who works hard at everything, and who keeps their mind on their own business and not everybody else's. - Author: Frederick Lenz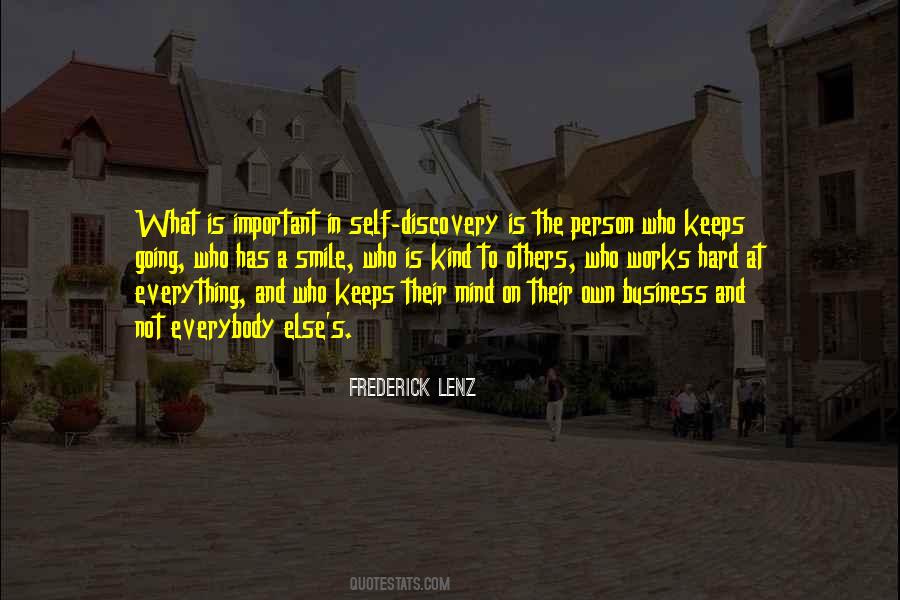 #98. Until 'Scrubs,' I didn't have a business manager. I learned everything on my own - and I learned the hard way. - Author: Donald Faison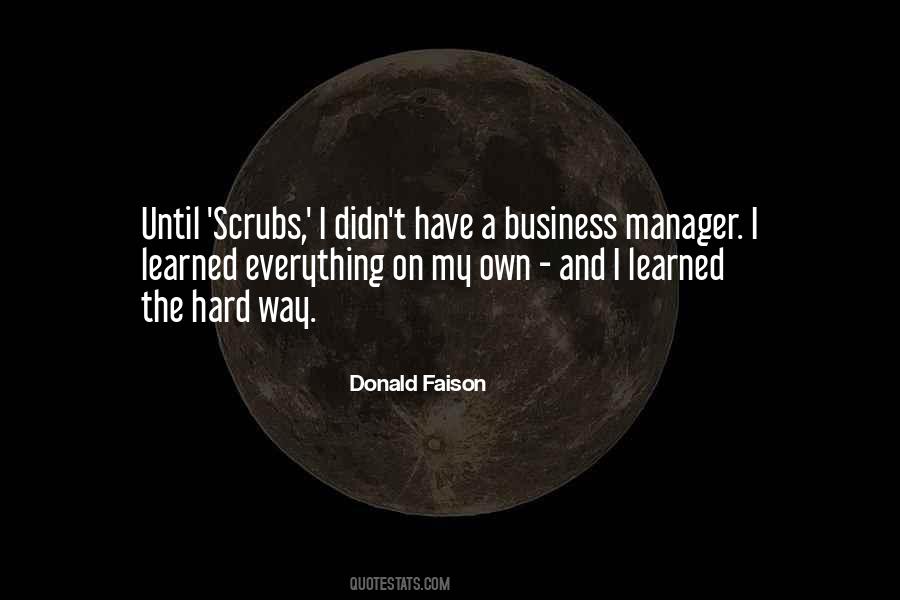 #99. I was one of those guys who never wanted to start their own business. I never saw myself as a leader. I saw myself as a great No. 2. - Author: Robert Herjavec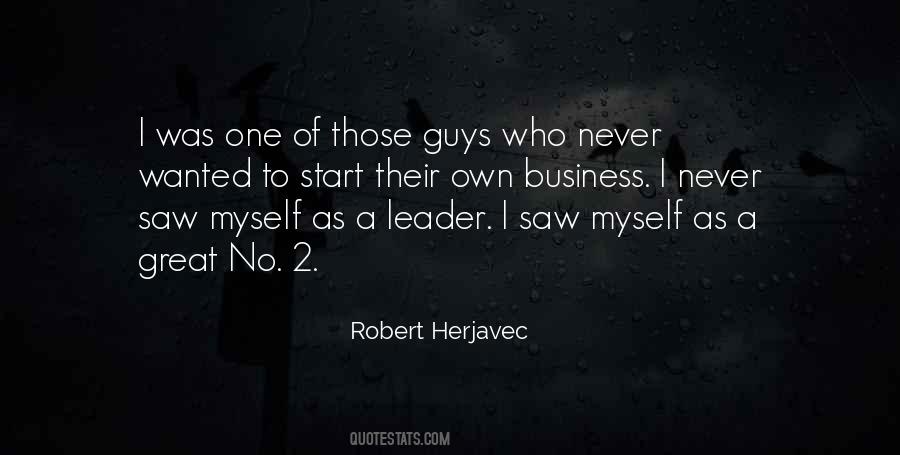 #100. Your business and results are a reflection of you. Your business and results will grow in direct proportion to your own growth. - Author: James Arthur Ray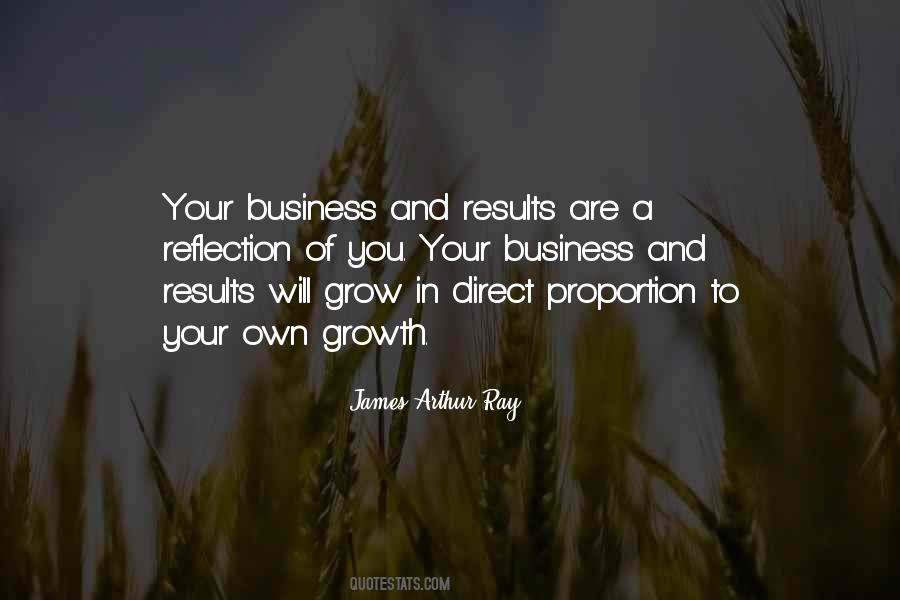 Famous Authors
Popular Topics