Open To Love Famous Quotes & Sayings
List of top 100 famous quotes and sayings about open to love to read and share with friends on your Facebook, Twitter, blogs.
Top 100 Open To Love Quotes
#1. When we open our hearts to the breadth of our experiences, we learn to tune into our needs, unique perceptions, thoughts & feelings - Author: Sharon Salzberg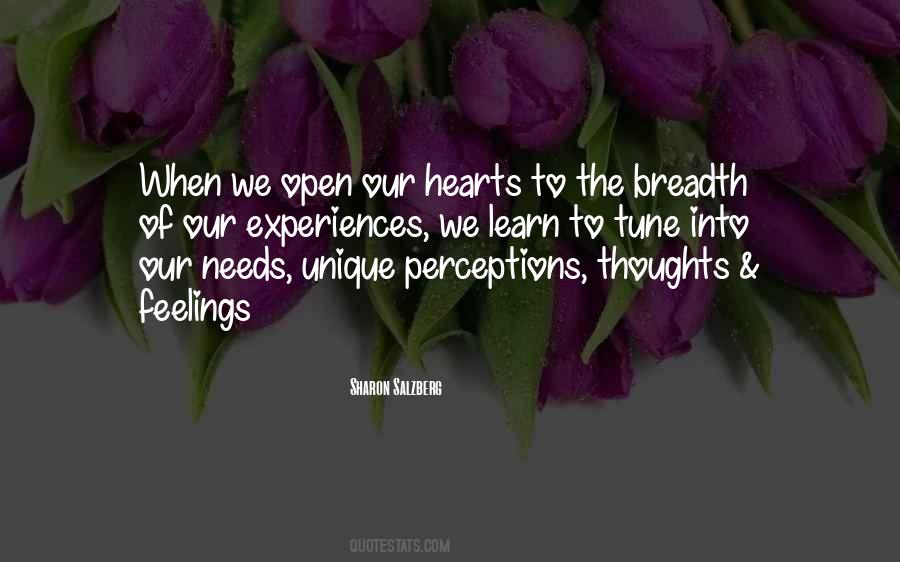 #2. I was always aware that Jack loved women not only for their bodies but for the stories that came into being as they interacted with him
they were part of his "road," the infinite range of experience that always had to remain open to fuel his work. - Author: Joyce Johnson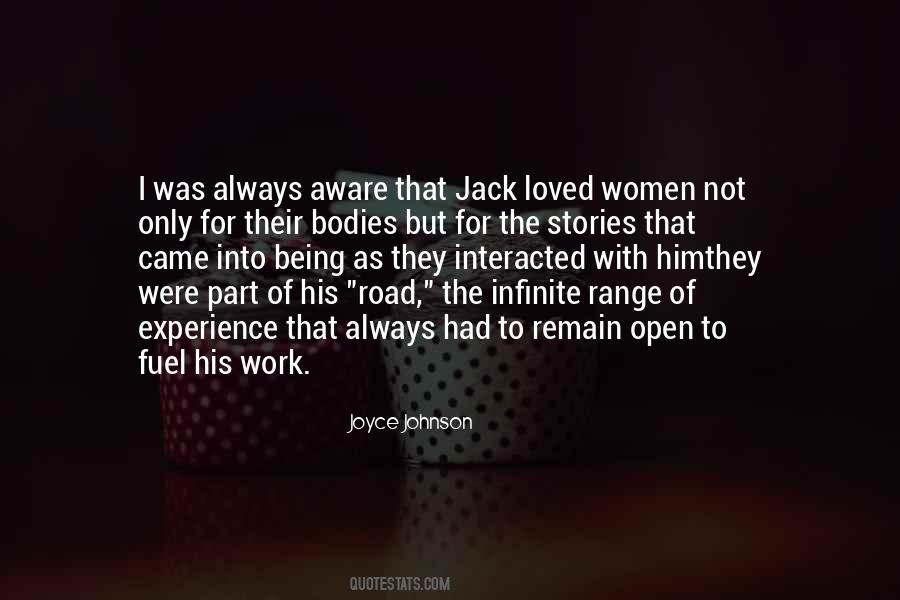 #3. Open your window with joy and allow all of the love come in to touch your heart. - Author: Debasish Mridha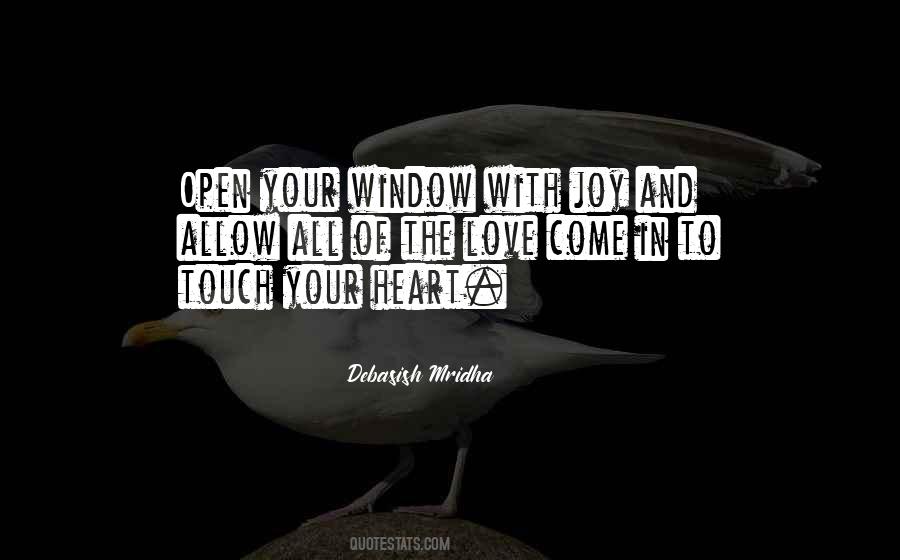 #4. I'd love to do radio plays. I think that one should be open to everything and shouldn't limit oneself. - Author: Malcolm McDowell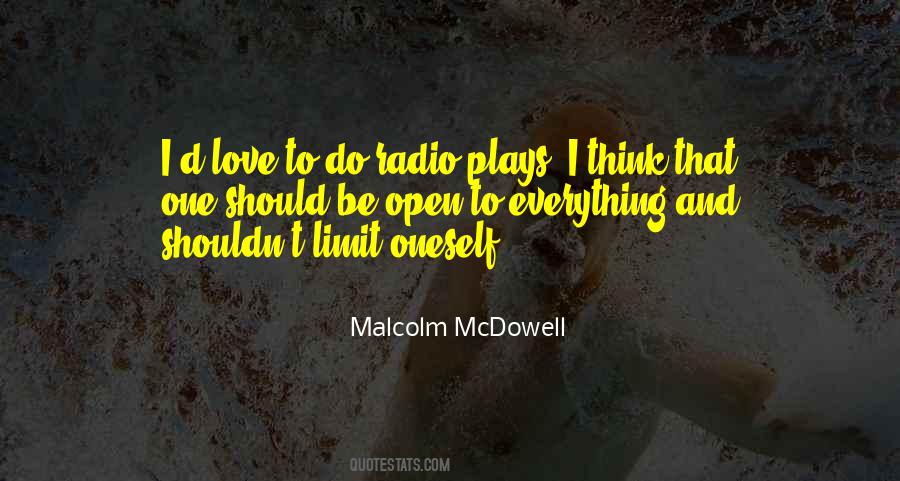 #5. Rarely are opportunities presented to you in a perfect way. In a nice little box with a yellow bow on top. 'Here, open it, it's perfect. You'll love it.' Opportunities
the good ones
are messy, confusing and hard to recognize. They're risky. They challenge you. - Author: Susan Wojcicki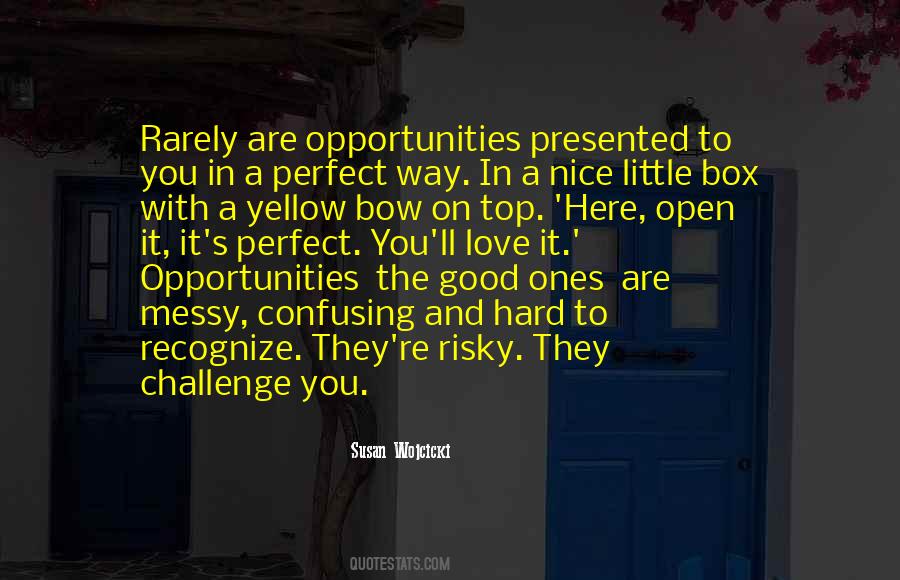 #6. His eyes flashed open. Is it so unbearable to have me love you? Is that it? - Author: Stephenie Meyer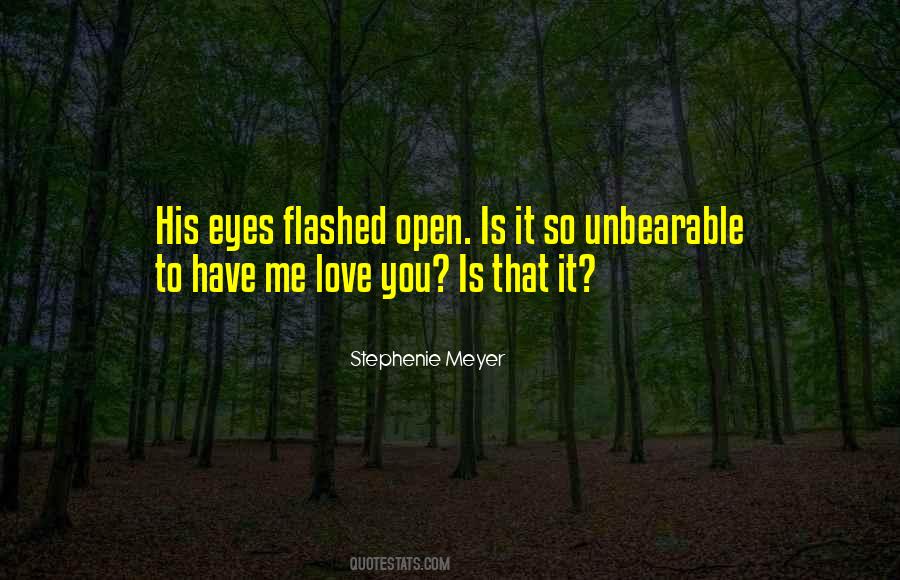 #7. Independent film is almost nonexistent right now, because all the distributers that used to love to put out these little art films are all out of business right now, because it costs so much to open a movie. - Author: Ron Perlman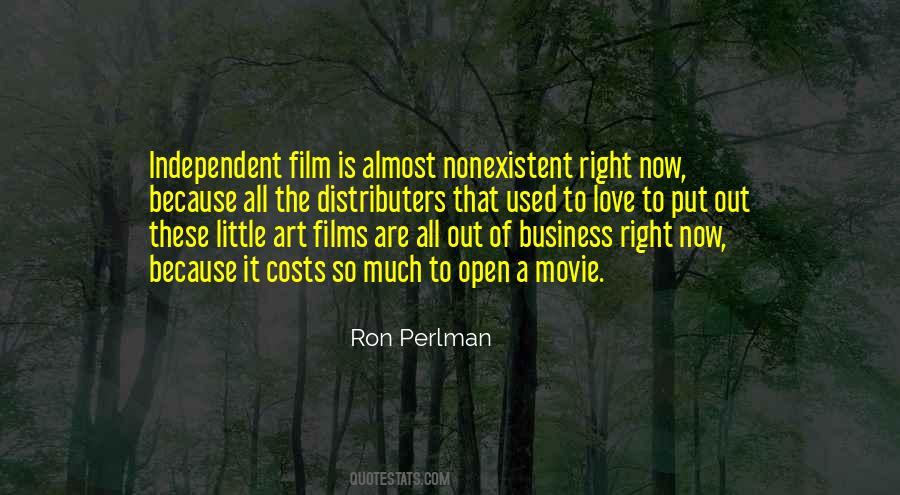 #8. I really wanted to raise my boys in a place where 'celebrity' wasn't important, and where I could be closer to where I grew up (upstate NY). I love it here - it reminds me of my childhood. It seems more open minded and inclusive, and I love the seasons. - Author: Lauren Holly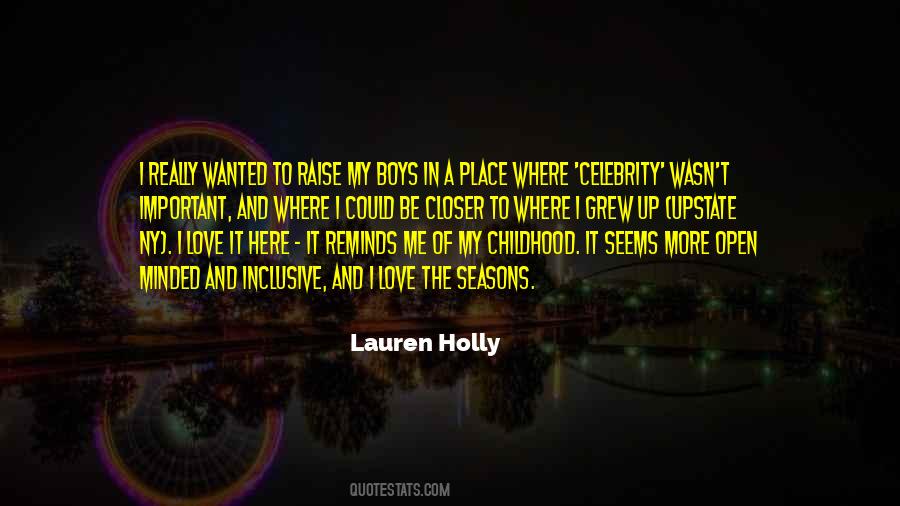 #9. I love looking at you, hundred-year-old tree, loaded with shoots and boughs as though you were a stripling. Teach me the secret of growing old like you, open to life, to youth, to dreams, as somebody aware that youth and age are merely steps towards eternity. - Author: Helder Camara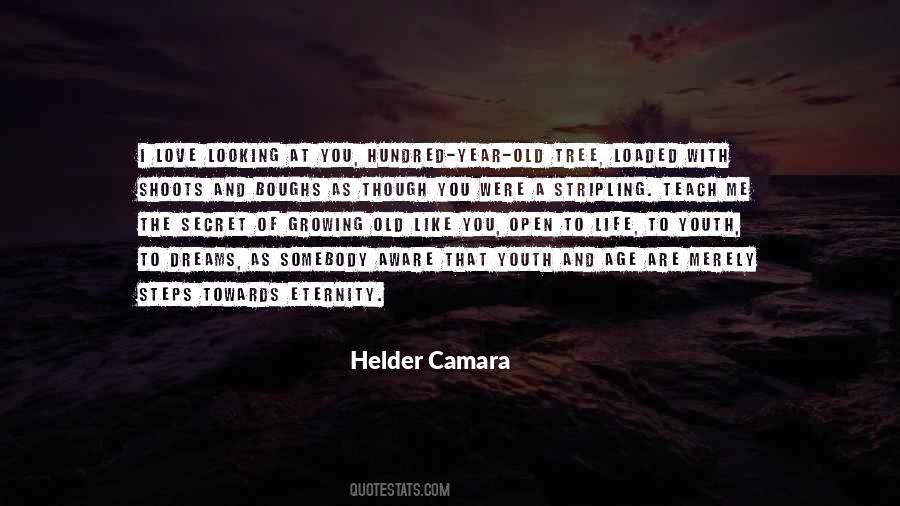 #10. When we are being compassionate, we consider another's circumstance with love rather than judgement ... To be compassionate is to move into the right here, right now with an open heart consciousness and a willingness to be supportive. - Author: Jill Bolte Taylor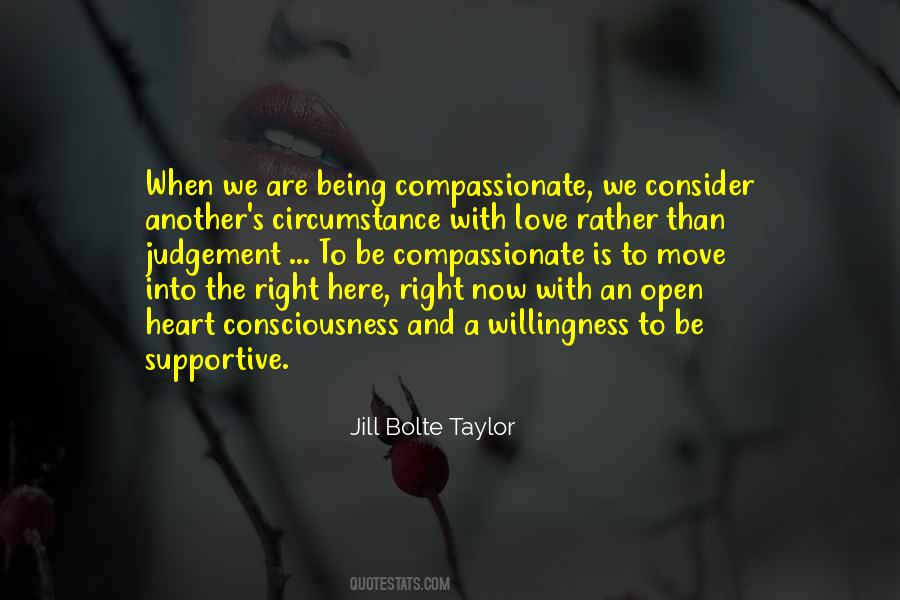 #11. When you open the door which you shut in order to pray to God, the first person you meet as you go out is your neighbour whom you shall love. Wonderful! - Author: Soren Kierkegaard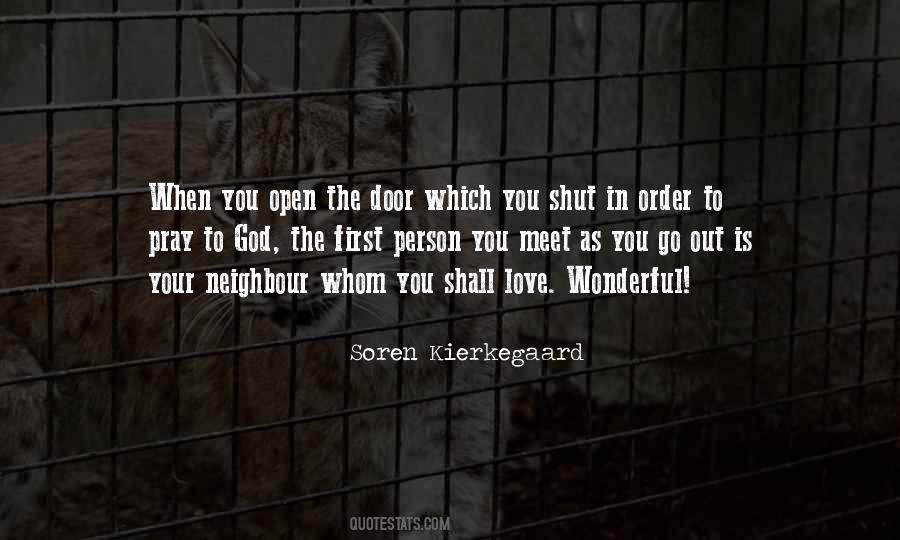 #12. My love has saved me. It wraps strong arms around me when I cry with despair;it gives me the routine of a working week to lend vicarious structure to my shapeless days. It brings me daily laughter, a reason to keep washing...and it slices me open with guilt. - Author: Anna Lyndsey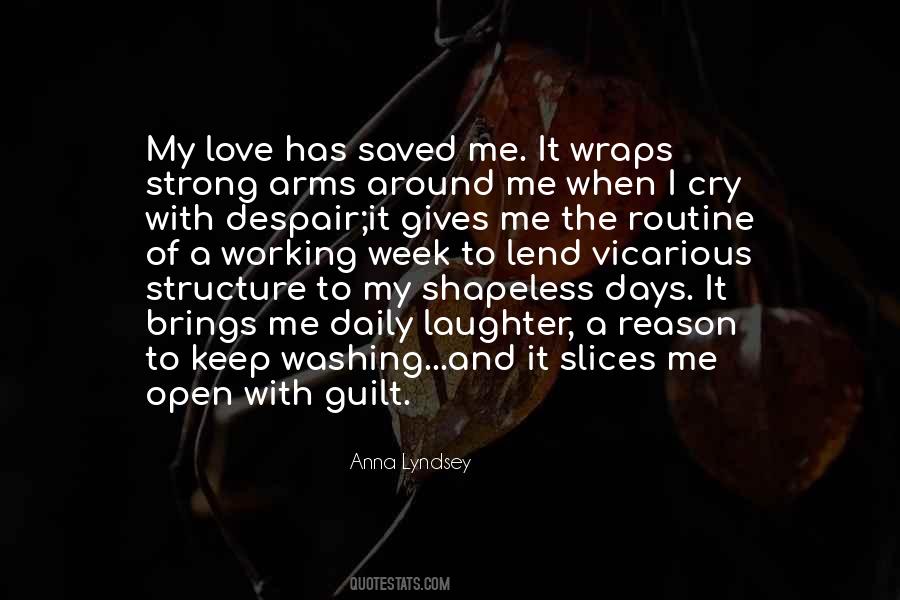 #13. Be open to the fact that Spirit answers prayers three ways: "Yes!" and "Not now" and "No, because I love you too much. - Author: Christiane Northrup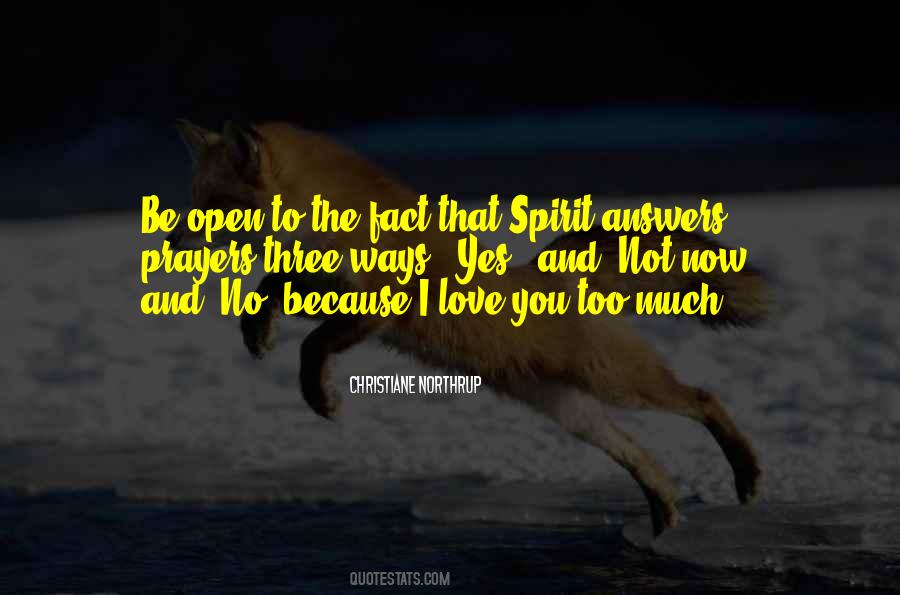 #14. I think that what influences us in literature comes less from what we love and more from what we happen to pick up in moments when we are especially open. - Author: Ann Patchett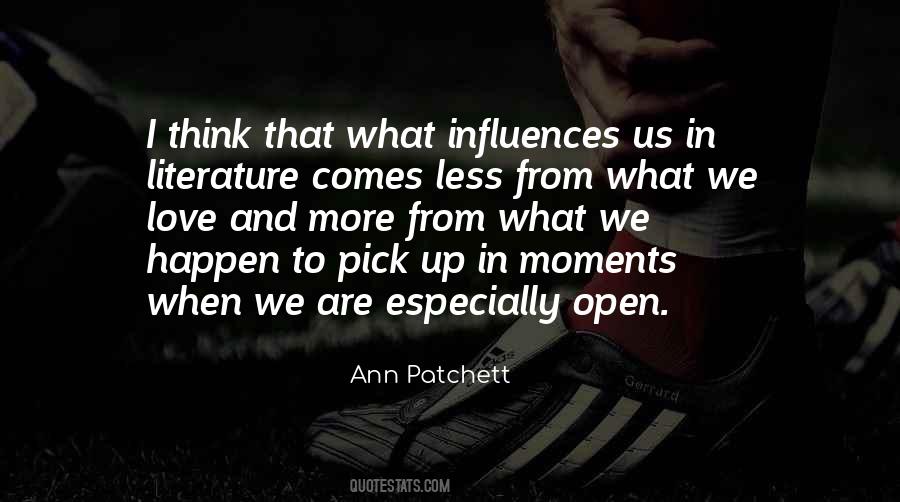 #15. The familiar (if loud) churn of the engine made it hard to talk, especially with the windows open (the air-conditioning didn't work), but the day was warm and they blasted the music and sang along. Nessa loved singing at full volume. She couldn't carry a tune, but with Bree it didn't matter. - Author: C.D. Bell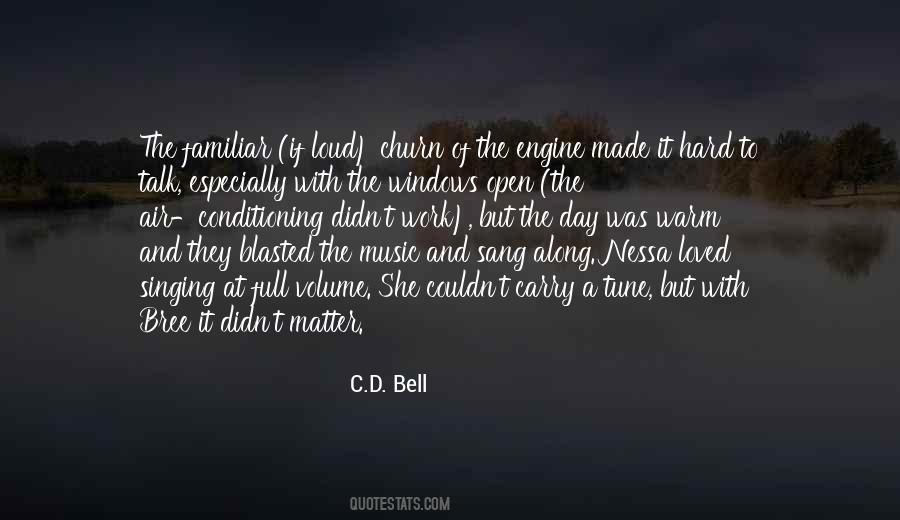 #16. [I'll teach you] how not to leave the windows of your heart open when it looks like rain and how everyone has a stump where something necessary was amputated. - Author: Steve Toltz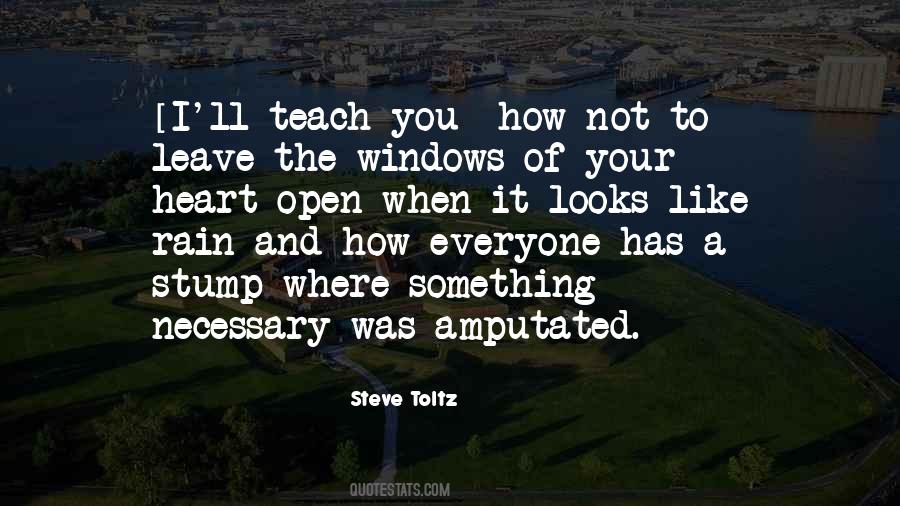 #17. He smiled the most wicked smile she'd ever seen himi unleash.

"No. Just keep your eyes open. I want you to see who you're making love to."

~Dante - Author: Tina Folsom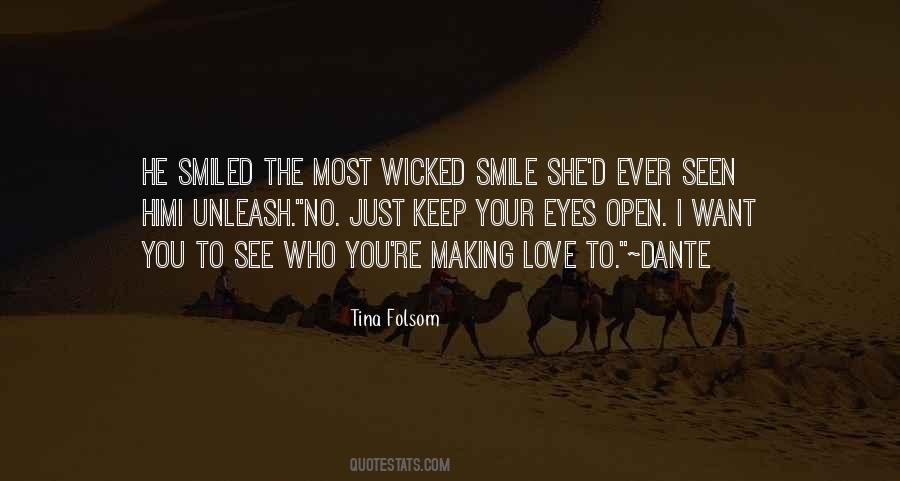 #18. You are not only a man, you are a superior man: a man who does his best to live as love in the world and in his intimacy, a man whose heart remains open and whose truth remains strong ... - Author: David Deida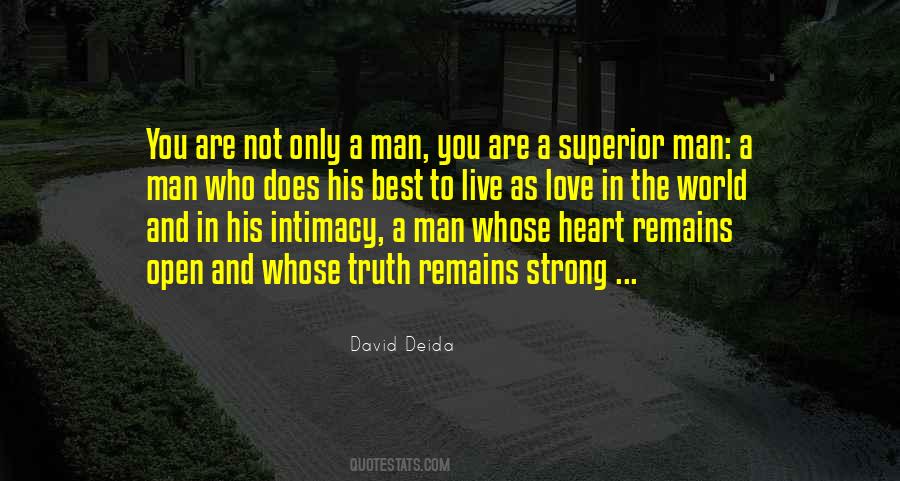 #19. The only people who can really drain your power effectively are people you are very close to, you are open to, you love, or people you are afraid of, you fear. - Author: Frederick Lenz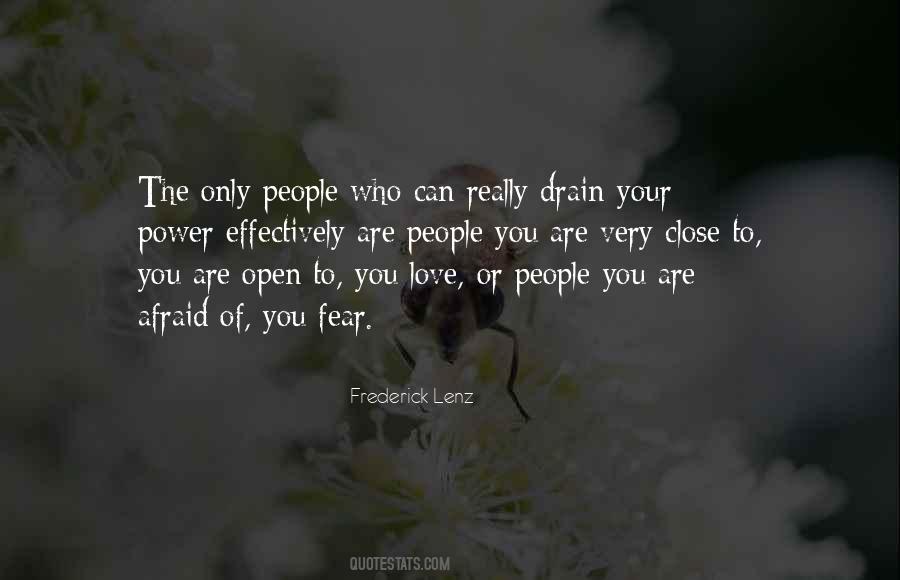 #20. Of all bugs, growing up I just loved the pill bugs. They roll up, you play with them, you wait for them to open up, and then when you touch them they roll up again. I just love that. - Author: John Lasseter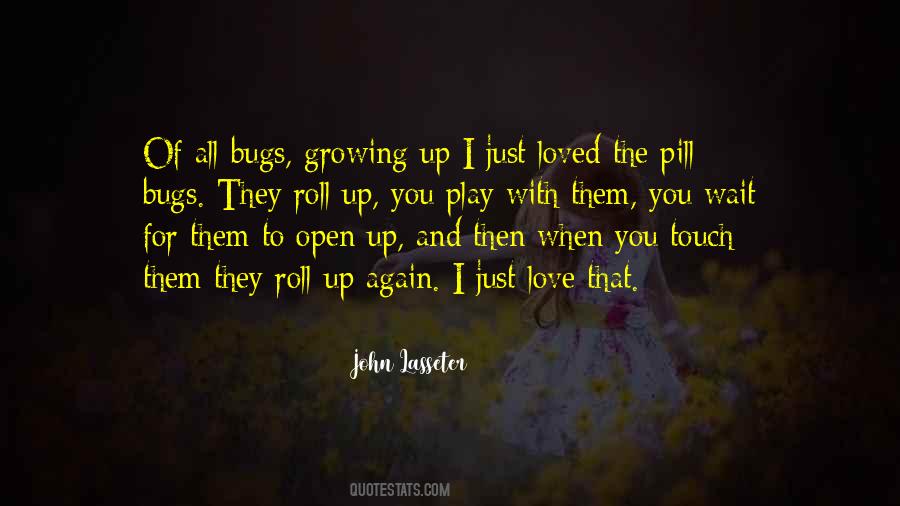 #21. Love is everywhere, but if our eyes aren't open to see it, we miss out. Who among us hasn't missed out on love because we were looking for it in one package and it came in another? Our problem is rarely a lack of love so much as a mental block to our awareness of its presence.* - Author: Marianne Williamson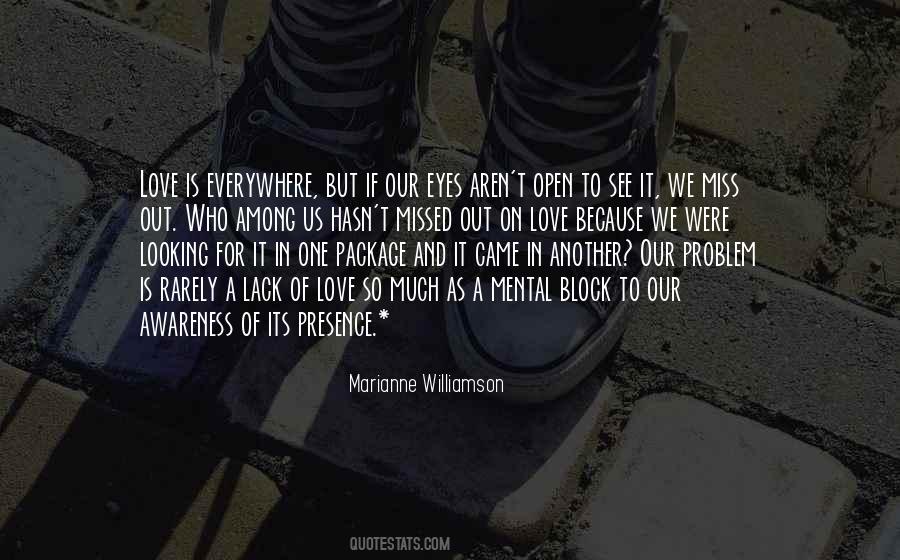 #22. At this moment, life is trying to love you and give to you in a million wonderful ways. When you say Yes, you allow love to flow, which is the greatest gift you can give yourself and the universe ... What do you want that you could be more open to receiving? - Author: Alan Cohen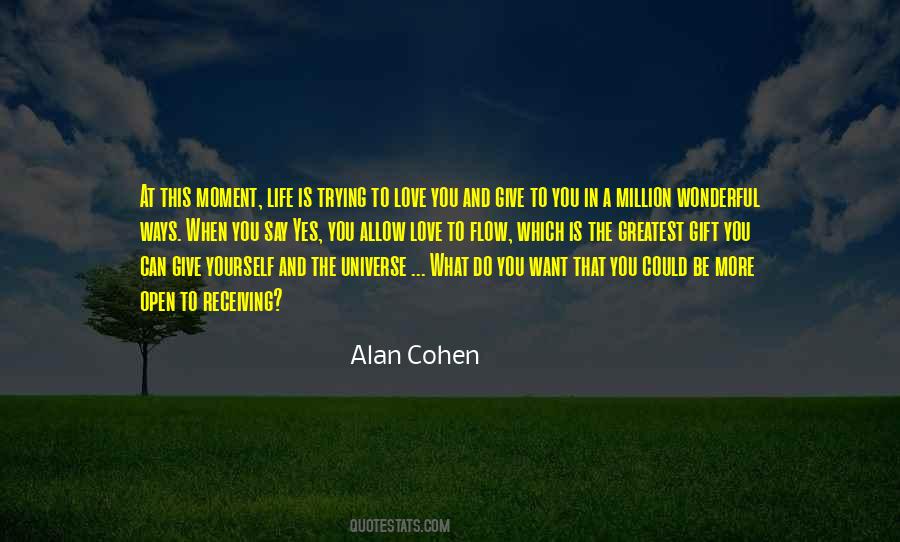 #23. God saw your entire life from beginning to end, birth to hearse, and in spite of what he saw, he still dreams of having you by his side. Even with your faults and failures. Despite your muddles and missteps. He still stands near, arms open wide, ready to embrace you with a Father's love. - Author: Max Lucado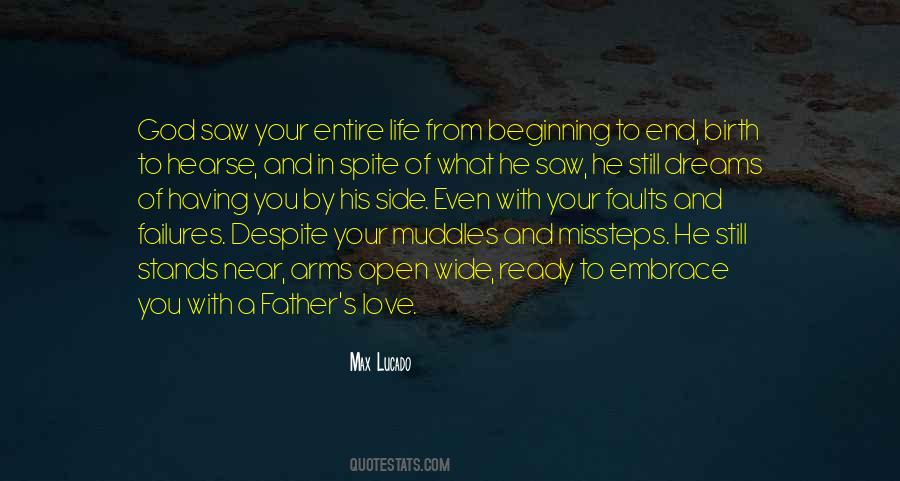 #24. You know you have the key to my heart and no one but you can open it. - Author: Auliq Ice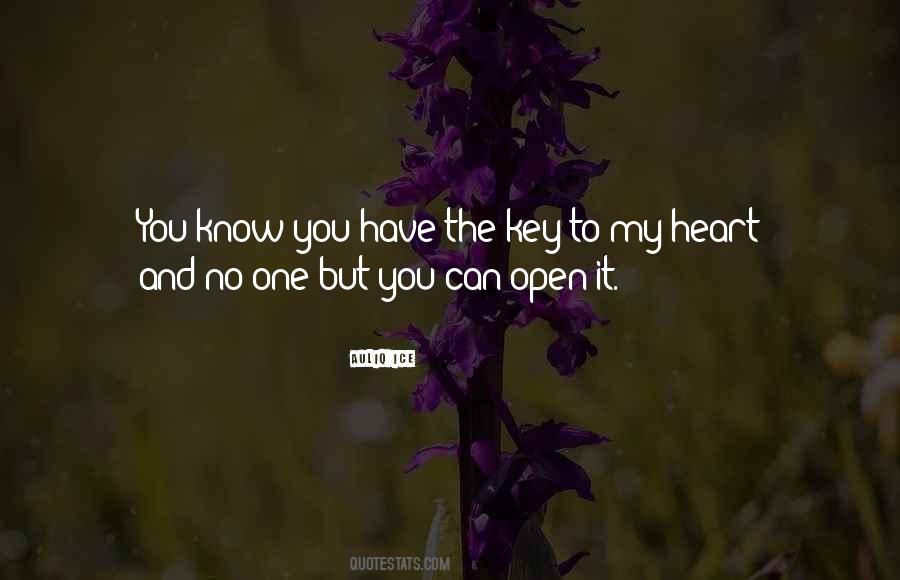 #25. Our ability to understand, to embrace, to help, to know, to feel and to love is bounded only by our own emotional ambitions. The capacity to open ourselves up to one another is as huge as we dare to make it. - Author: Anna Quindlen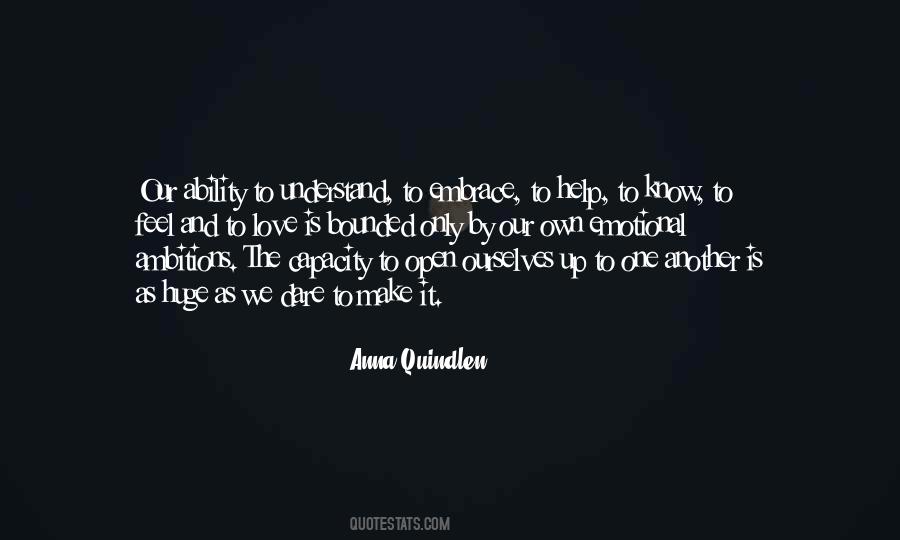 #26. The cemetery is an open space among the ruins, covered in winter with violets and daisies. It might make one in love with death, to think that one should be buried in so sweet a place. - Author: Percy Bysshe Shelley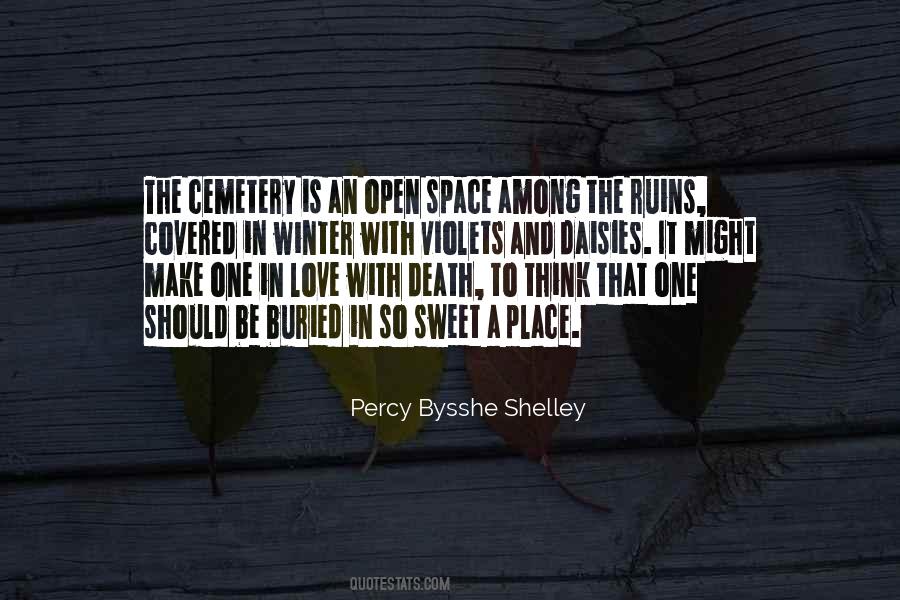 #27. A generous heart is always open, always ready to receive our going and coming. In the midst of such love we need never fear abandonment. This is the most precious gift true love offers - the experience of knowing we always belong. - Author: Bell Hooks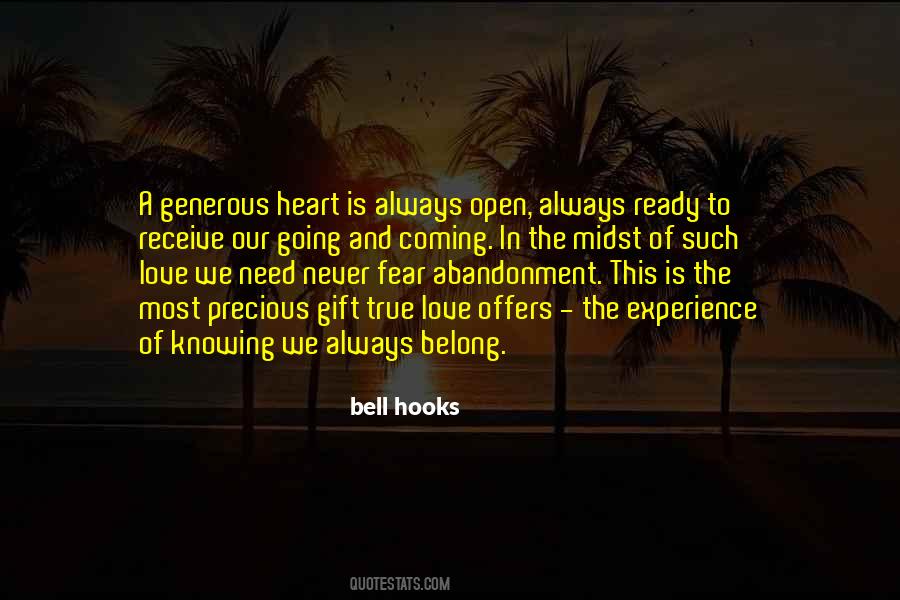 #28. Turning the pages of this encoded codex, I realize that the books I love most are like open cities, with all sorts of ways to wander in. This thing is a fortress with no front gate. You're meant to scale the walls, stone by stone. - Author: Robin Sloan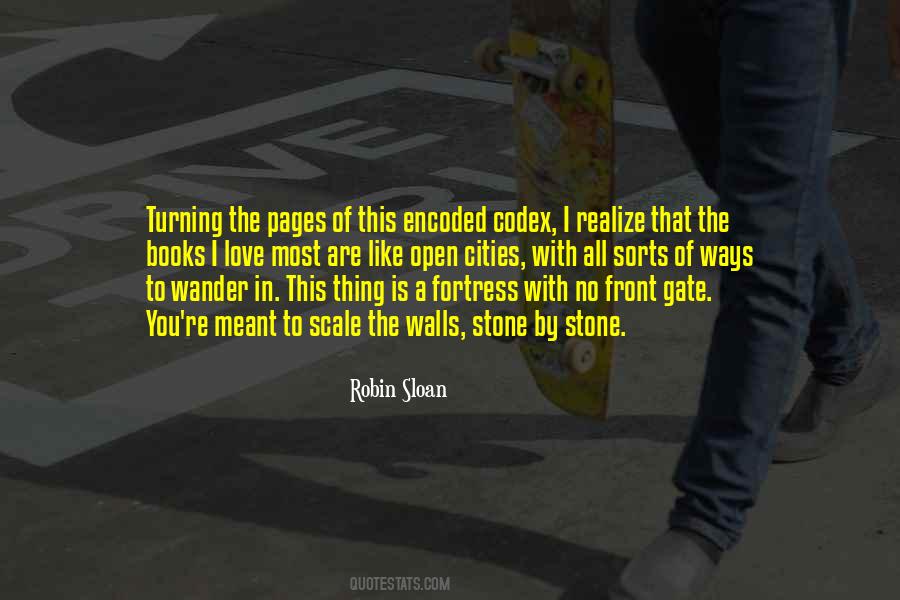 #29. Do you have to open graves to find girls to fall in love with? - Author: John L. Balderston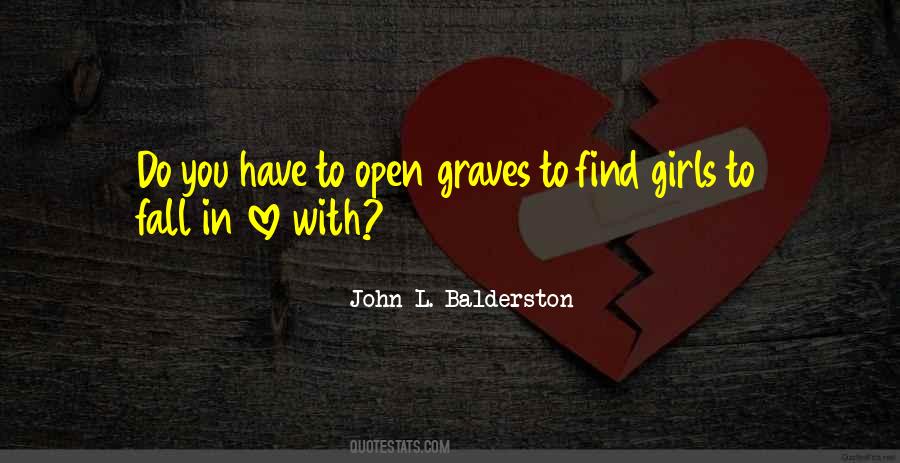 #30. I've written a number of songs over the years and it's a big part of my life, this sort of tension between a longing for home and the call for the open road. It's sort of like a tug between two families. I even love to miss my home. - Author: James Taylor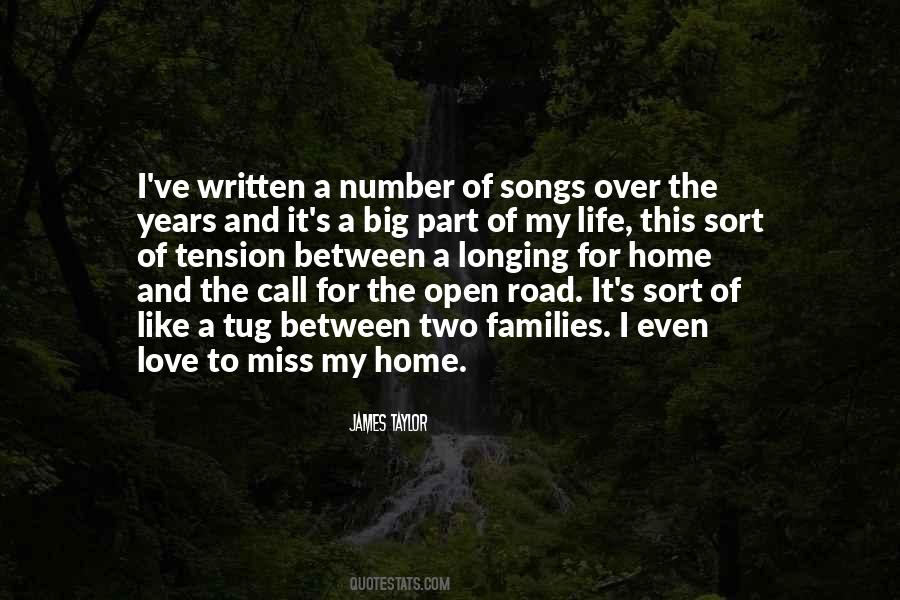 #31. Unconditional Love is a perpetual emotion machine. It inspires us to include others. The longer I am bathed in its radiance, the more I find myself looking at others with an open heart. I can look past their faults and love them. I can say, "I may not like the things you do, but I love you. - Author: Rosa Marchisella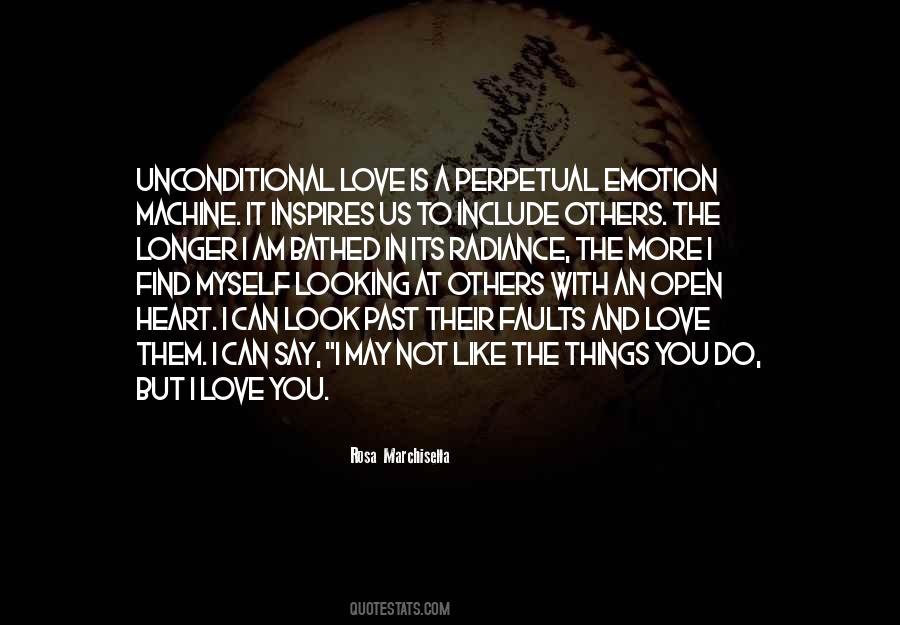 #32. To love is to battle, to open doors. The world changes if two can look at each other and see. - Author: Octavio Paz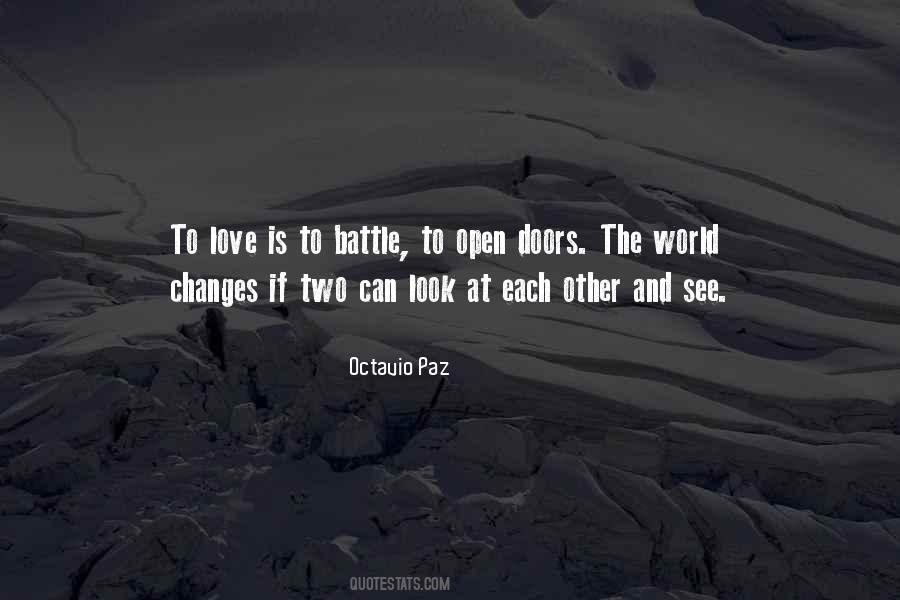 #33. It's like I'm trying to keep the bad away with one hand while holding on to the good with the other, and it just doesn't work. It's stupid. I need both hands. So I guess I just have to spread out my arms and accept the bad with the good. - Author: Andrea Lochen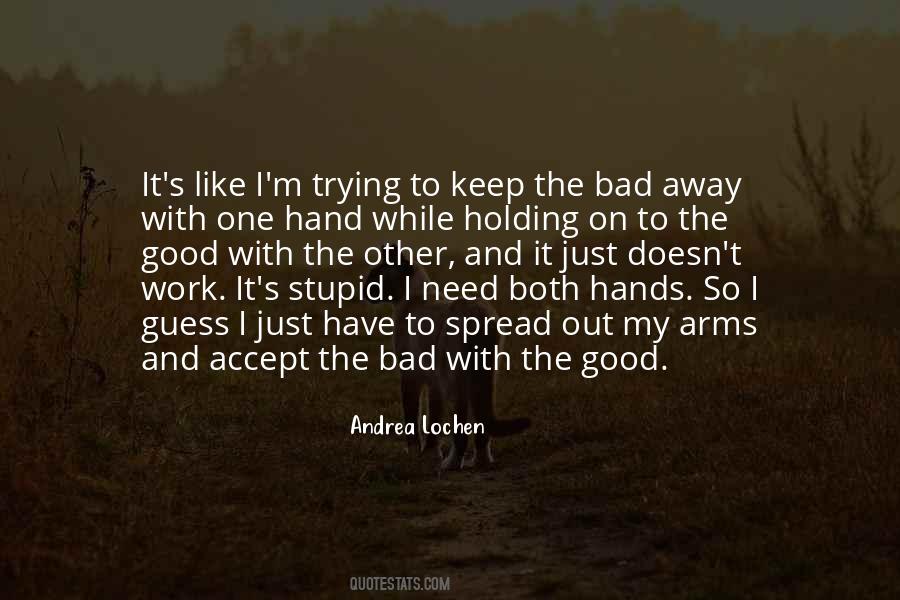 #34. I swear I will never mention love or death inside a house,
And I swear I never will translate myself at all, only to him or her who privately stays with me in the open air. - Author: Walt Whitman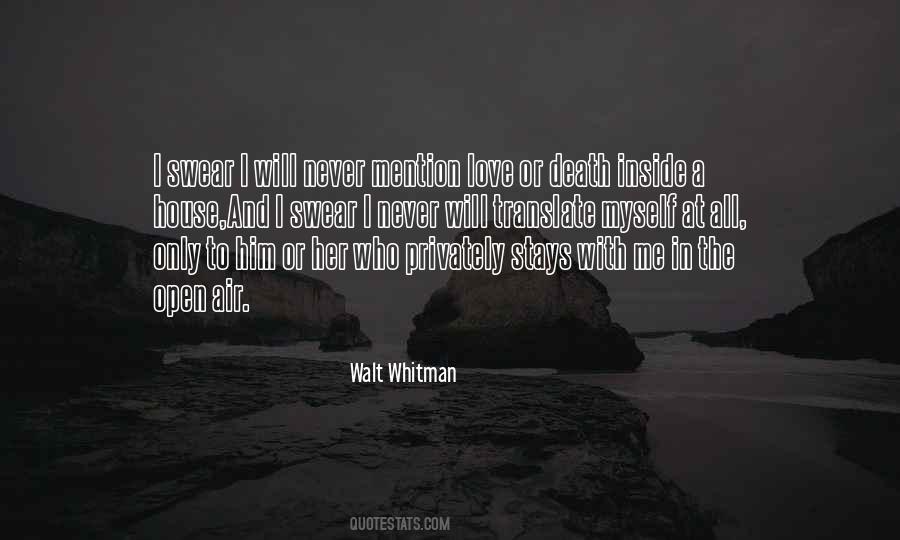 #35. One of the greatest gifts my brother and I received from my mother was her love of literature and language. With their boundless energy, libraries open the door to these worlds and so many others. I urge young and old alike to embrace all that libraries have to offer. - Author: Caroline Kennedy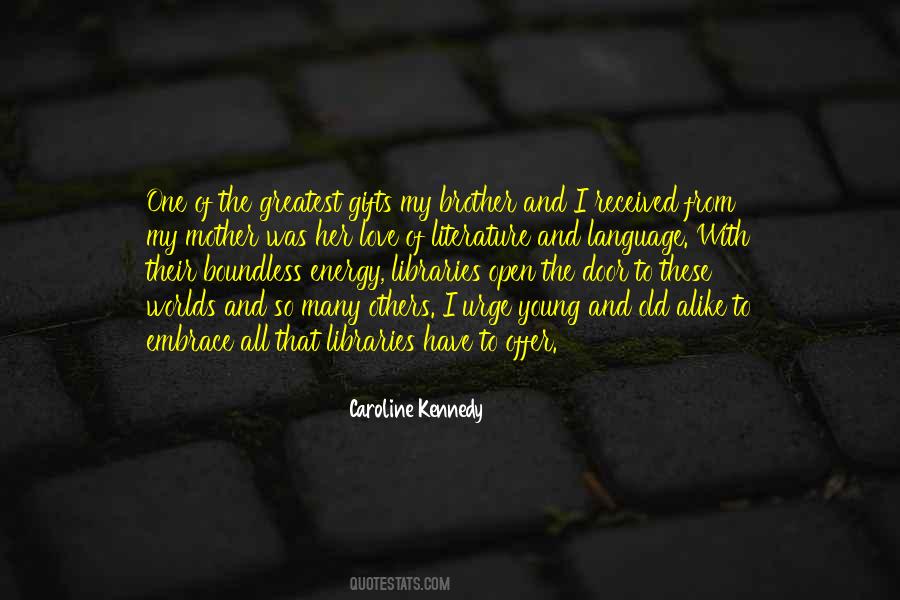 #36. The truth is you can learn to love unconditionally and, in the process, open up your own intuition to heights you may never before have deemed imaginable. - Author: Catherine Carrigan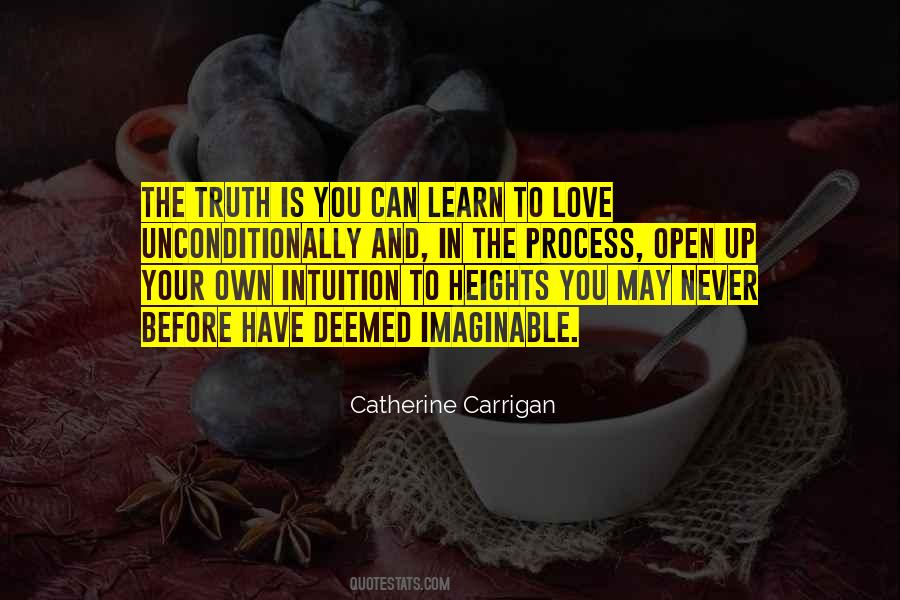 #37. Why is the truth, it would seem, revealed to some and not to others? Is there a special organ for receiving revelation from God? Yes, though usually we close it and do not let it open up: God's revelation is given to something called a loving heart. - Author: Seraphim Rose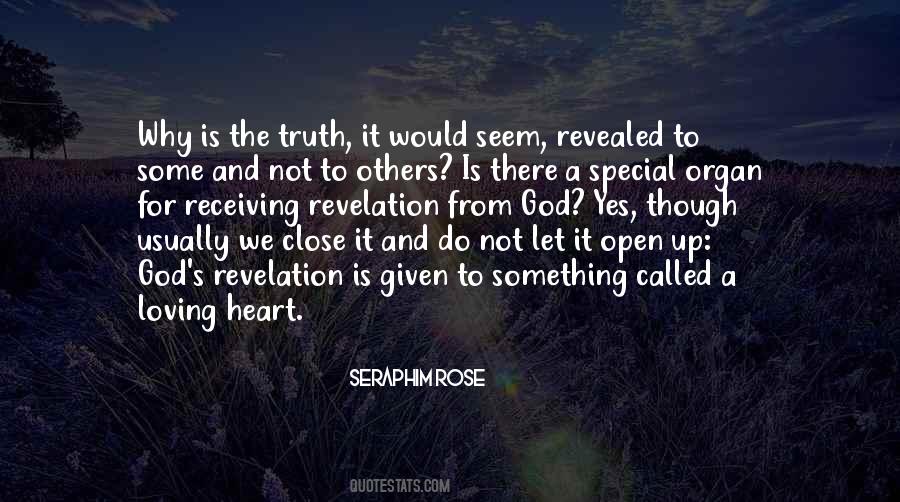 #38. I try very hard to keep my eyes open so that I can look at my beloved. - Author: Shan Sa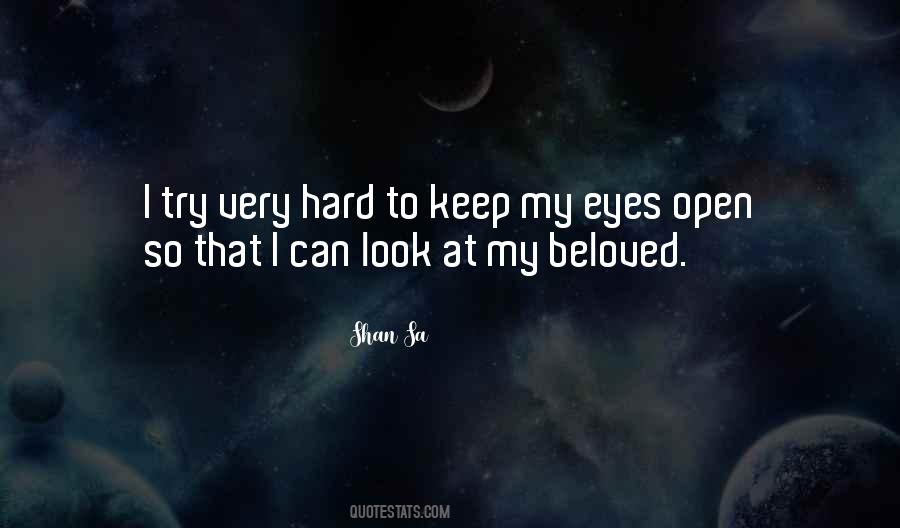 #39. You have to love with an open hand. The heart is like a bird and you have to let this bird fly freely, you cannot possess it. - Author: Brandon Bays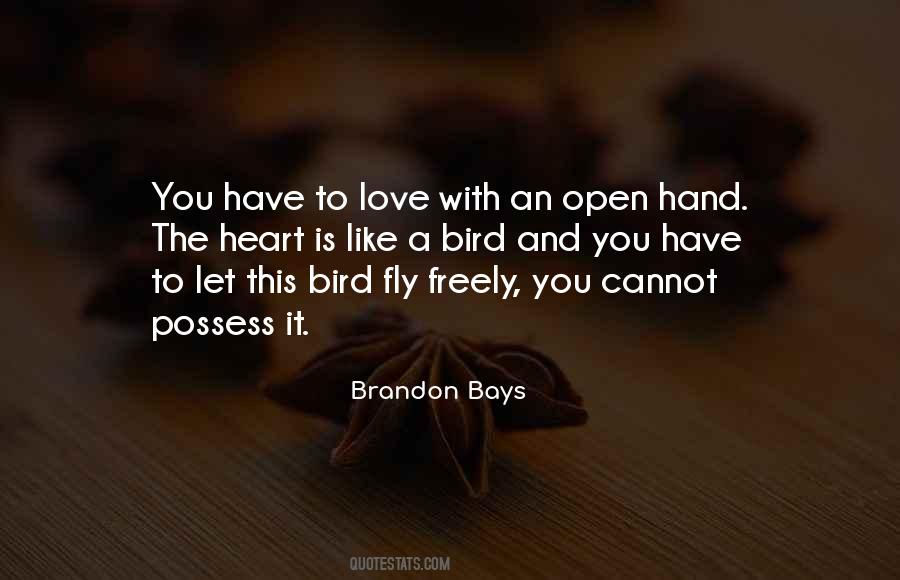 #40. Love was dangerous. It made one too vulnerable, too open to the pain of loss and betrayal. - Author: Lauren Royal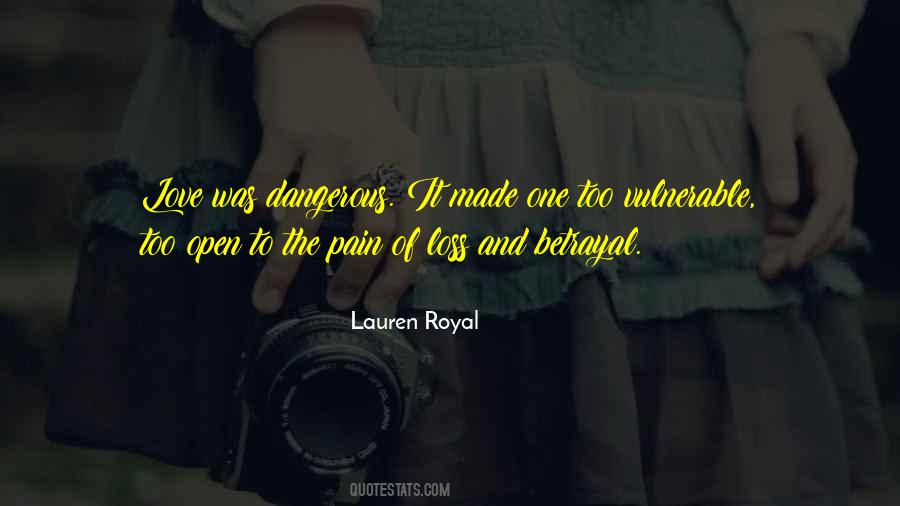 #41. Open her heart to me, please, God. After the mess I've made of things, I can't do this on my own. - Author: Karen Kingsbury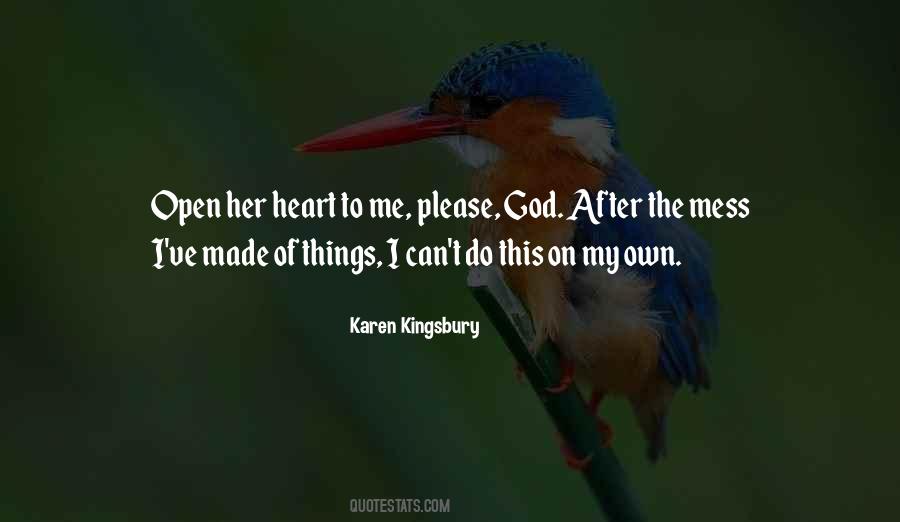 #42. Let us make this world a house of love and peace.
Let us forget and forgive all hate and prejudice.
Let us break all the walls of pride and prejudice.
Let us open our door to welcome joy and peace. - Author: Debasish Mridha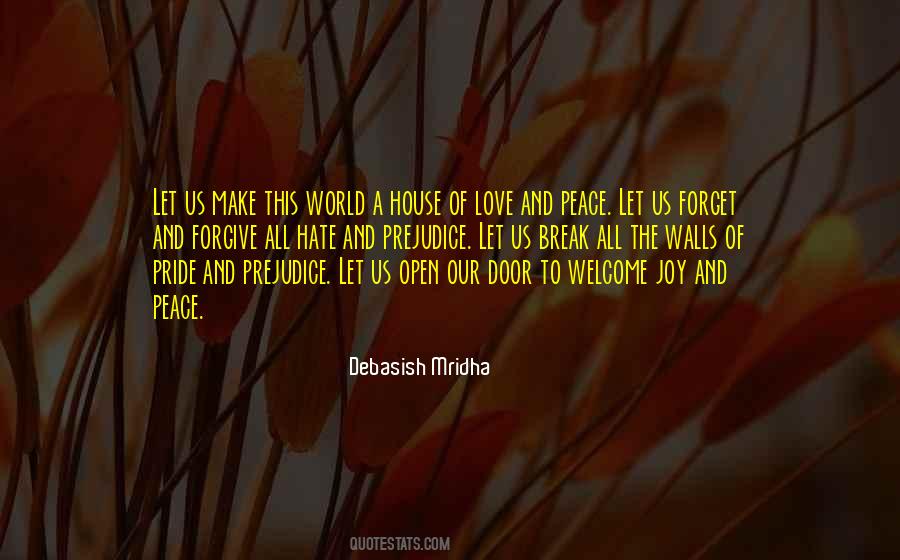 #43. She was sad about what happened to Kostos. And someplace under that, she was sad that people like Bee and Kostos, who had lost everything, were still open to love, and she, who'd lost nothing, was not. - Author: Ann Brashares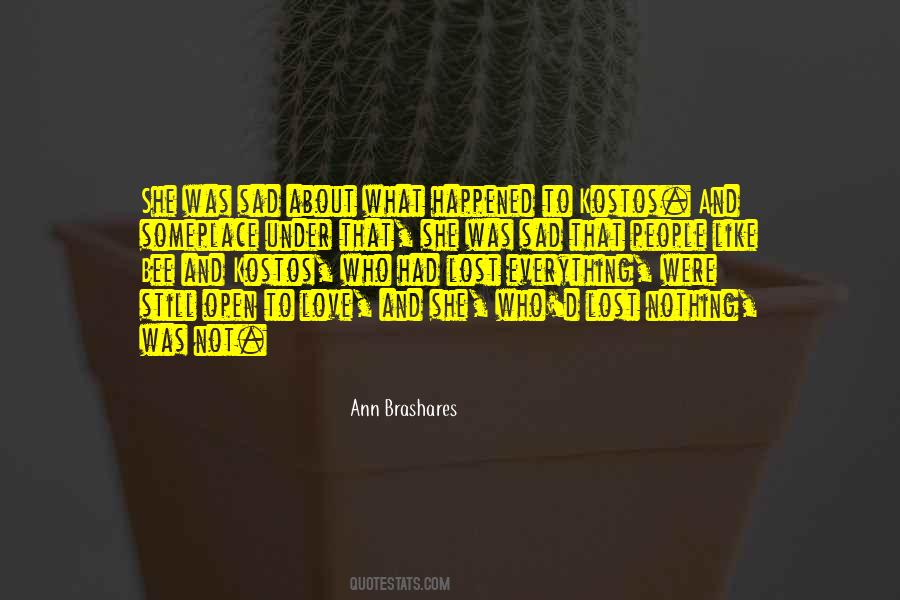 #44. I love the razor's edge. I want to be cut open. My terror is of a bourgeois, ordinary life. I can't bear the everyday constraint. I believe that ordinariness would put out my spark, such as it is. - Author: Hanif Kureishi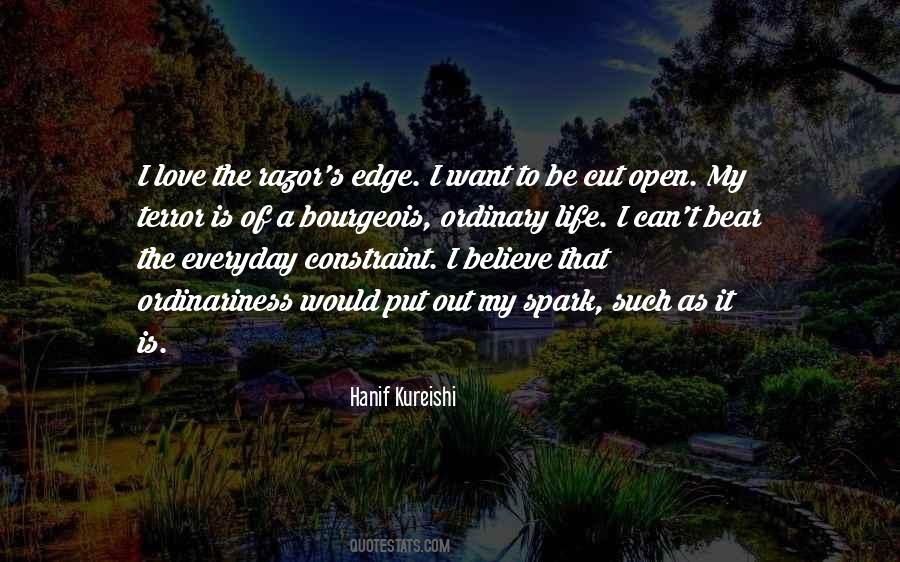 #45. Modern science has its value in terms of utility, but it cannot open up existence to human experience. - Author: Jaggi Vasudev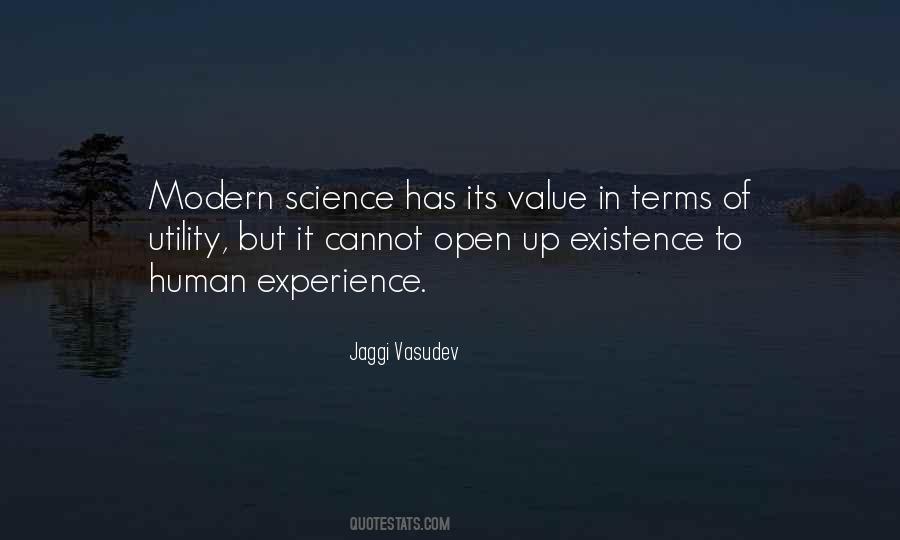 #46. Can you train yourself to love the right man? Of course you can. The problem is forgetting about the wrong man, the one passing by who came in a door that was left open without asking permission. - Author: Paulo Coelho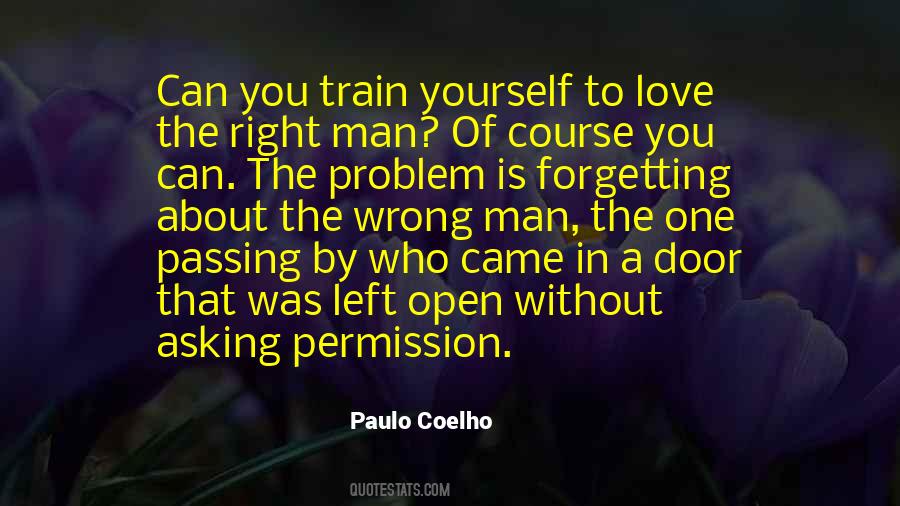 #47. The words "I love you," spoken in moments of genuine appreciation, wonder, or caring arise from something perfectly pure within us - the capacity to open ourselves and say yes without reserve. Such moments of pure openheartedness bring us as close to natural perfection as we can come in this life. - Author: John Welwood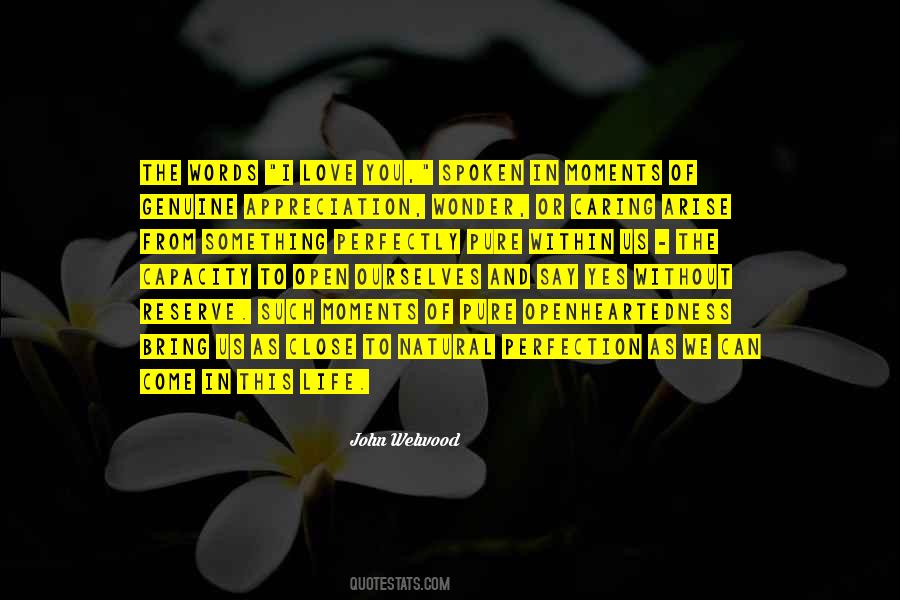 #48. To love means to open ourselves to the negative as well as the positive - to grief, sorrow, and disappointment as well as to joy, fulfillment, and an intensity of consciousness we did not know was possible before - Author: Rollo May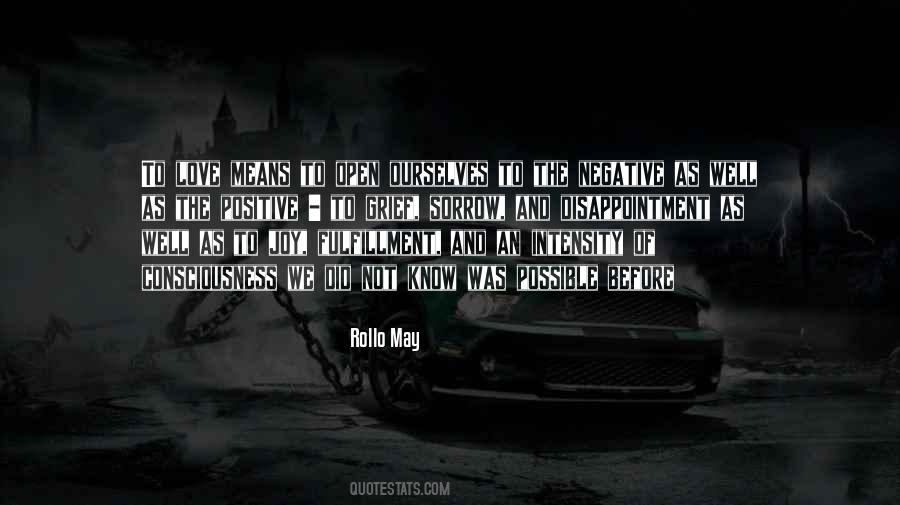 #49. I've been playing in the field of life on my own for a while now and it's fair to say I have gained myself along the way, I gotta admit though, after all this time I am damn well excited to fall insanely inLove with someone who knows how to take my breath away. - Author: Nikki Rowe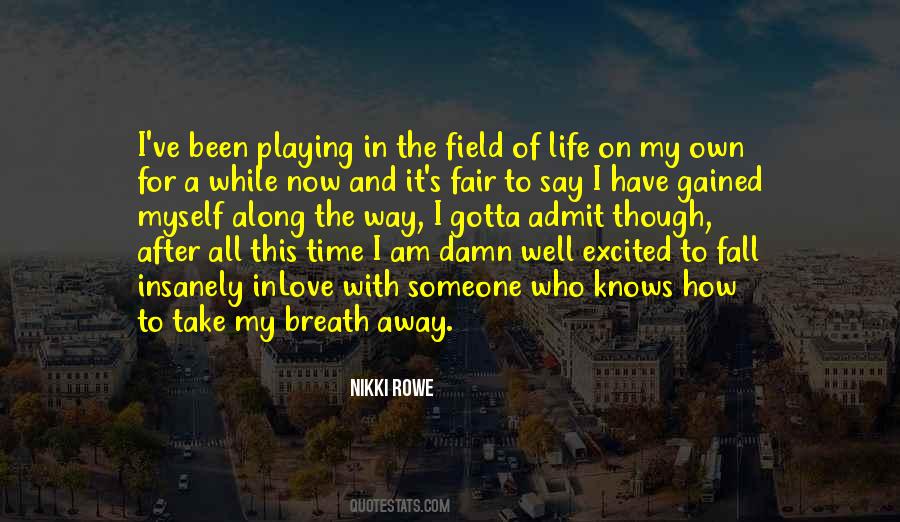 #50. To know true love, even though it was impossible to keep, had finally cracked her heart open enough to let someone else in. - Author: Andrea Hurst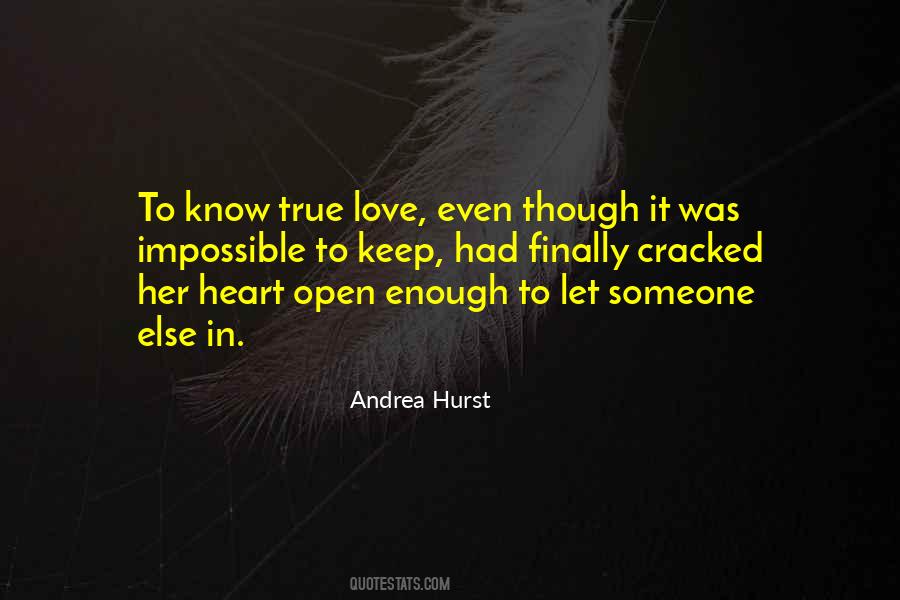 #51. Love is the best medicine, and there is more than enough to go around once you open your heart. - Author: Julie Marie Berman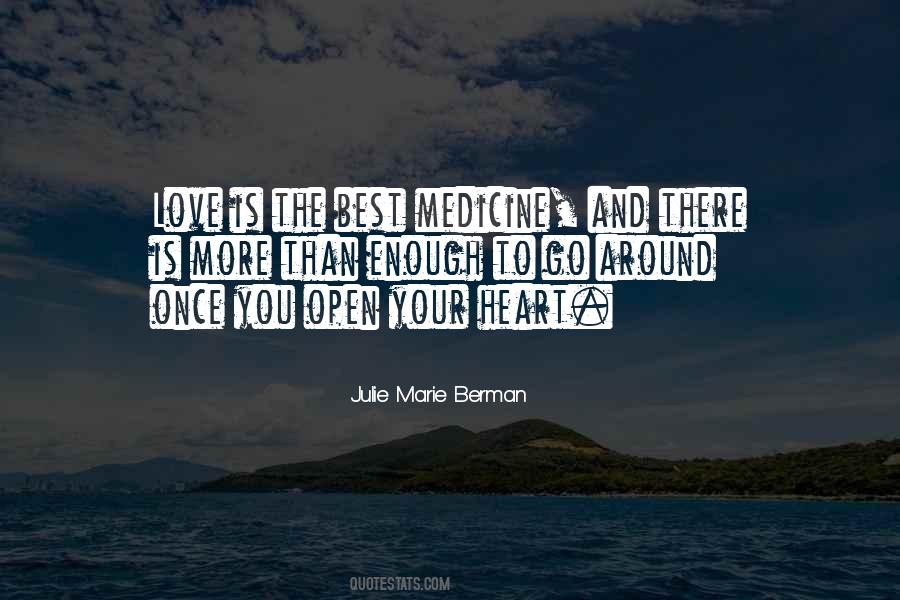 #52. Love was never enough, not without mutual respect and a great deal of drudgery and effort. And even then, it wasn't enough. Wanting each other, being open to change, pushing each other to improve and grow
for the better
working to deserve each other, was the key. - Author: Penny Reid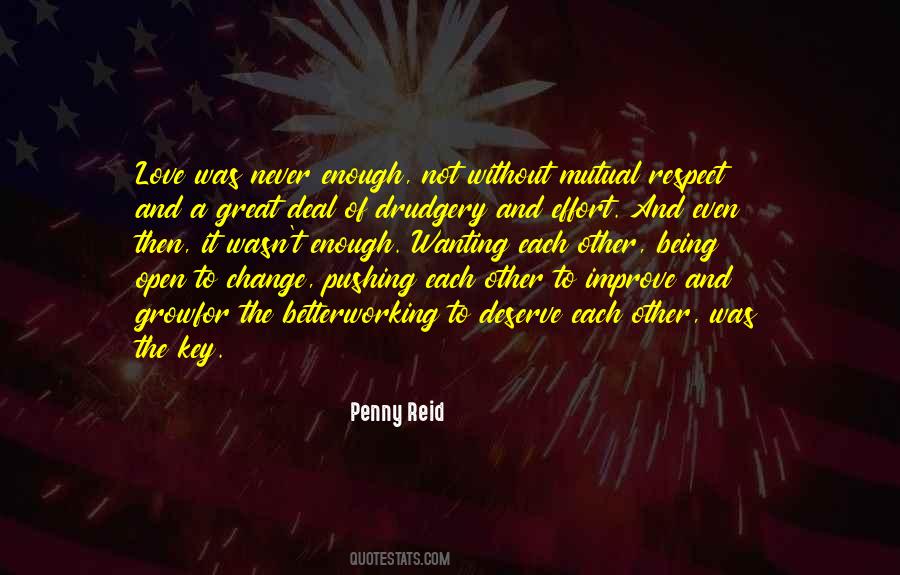 #53. The sixth doorway is the Doorway of Vision. This relates to seeing with the eyes of love and corresponds to the energy center located in the third eye area of our forehead. When this doorway is open, we're more able to see life through love instead of differences. - Author: Marci Shimoff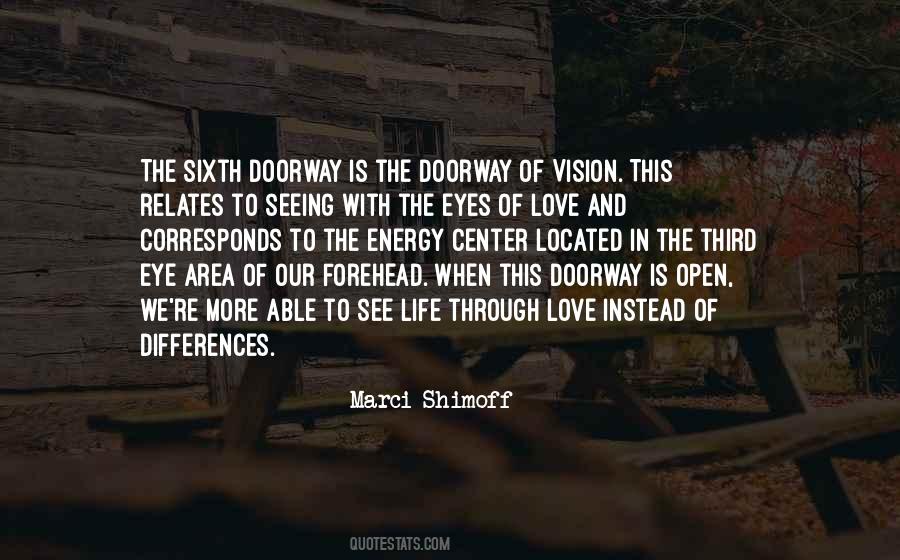 #54. The window of opportunity is always open, just you have to find it. - Author: Debasish Mridha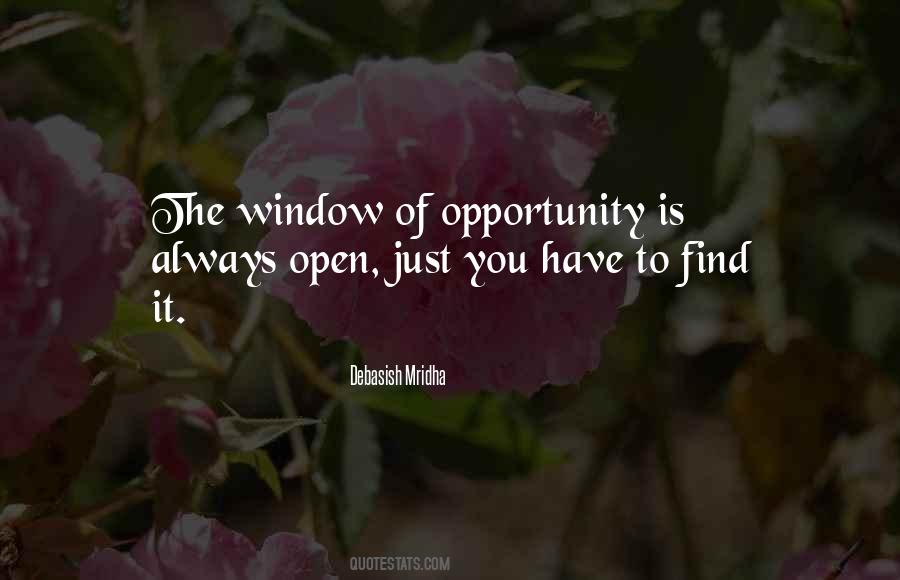 #55. Alas, I have grieved so I am hard to love.
Yet love me
wilt thou? Open thine heart wide,
And fold within, the wet wings of thy dove. - Author: Elizabeth Barrett Browning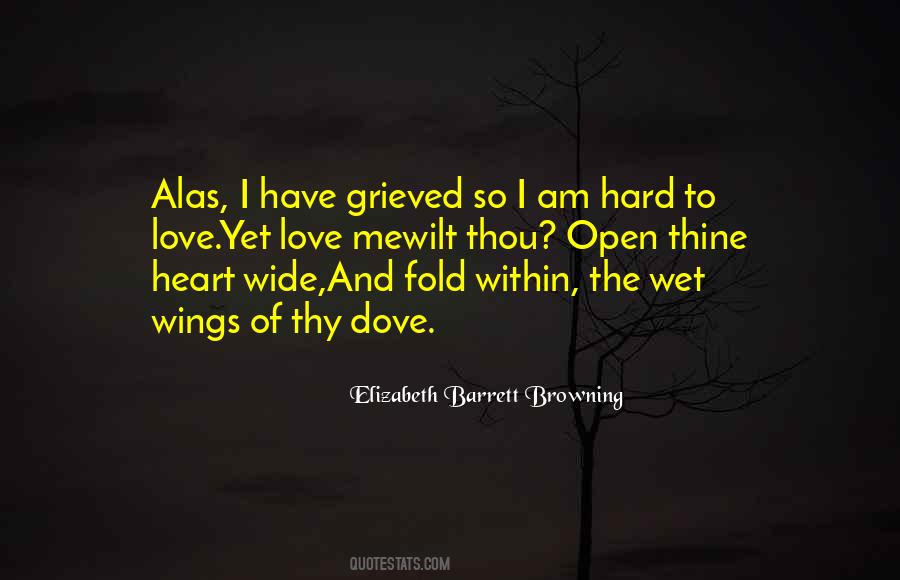 #56. Everyone says that getting over somebody 'just takes time' and that one day it will stop hurting and the door will open for you to move on. We are also told that love is eternal; something extraordinary that will stay with you forever... The contradiction is immense. - Author: Natasha Preston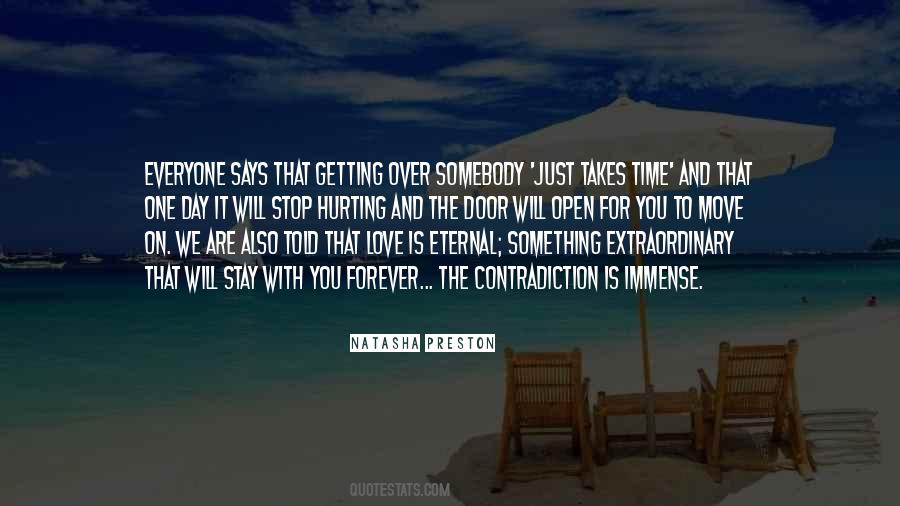 #57. It is hard to open yourself to someone who might really love you. I kept trying to drive Ken away and he kept passing the test by staying. - Author: Erica Jong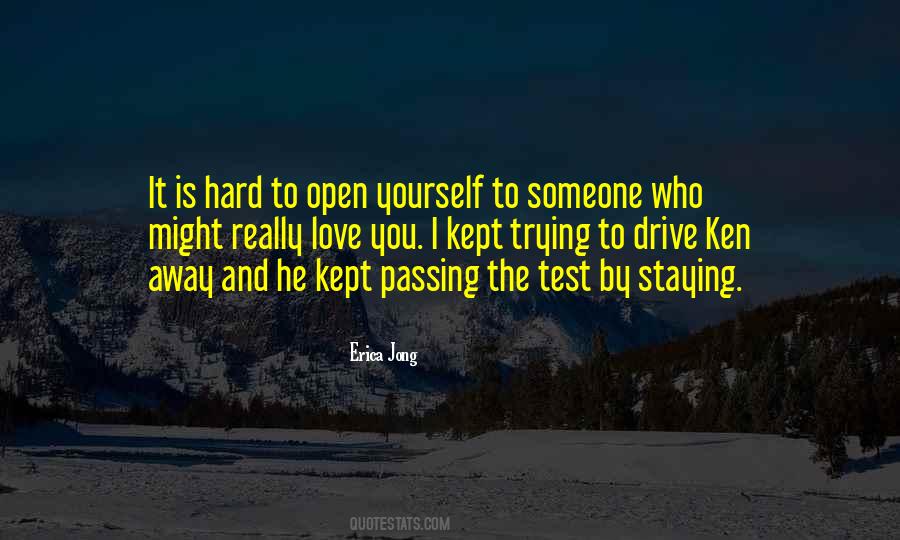 #58. Understand your driving force, whether you're operating out of fear or love. When we operate in fear, we tend to hold back and not get the most from life. When we operate in love, we open new avenues and experience life more abundantly. - Author: Amaka Imani Nkosazana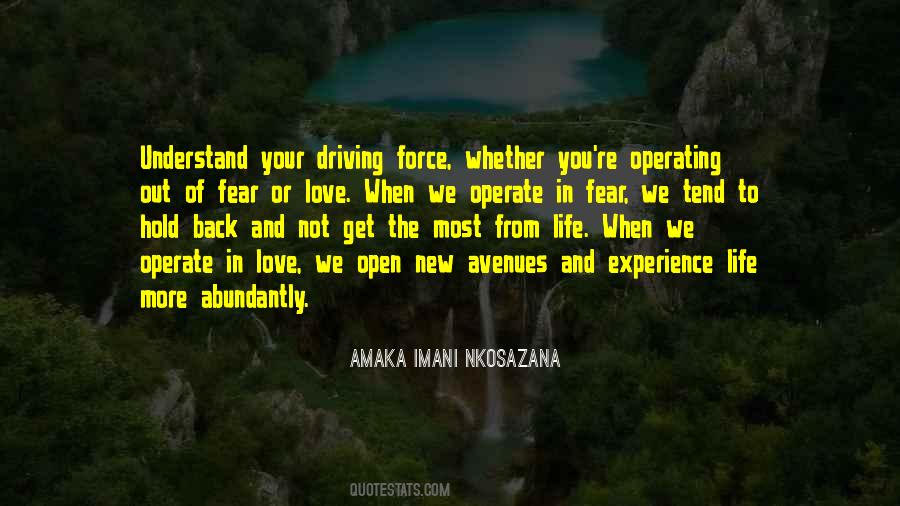 #59. The Singapore Open is the flagship event of the Asian Tour, it is a massive event and it is being played in a great place. I love coming here and it is good to be back. - Author: Lee Westwood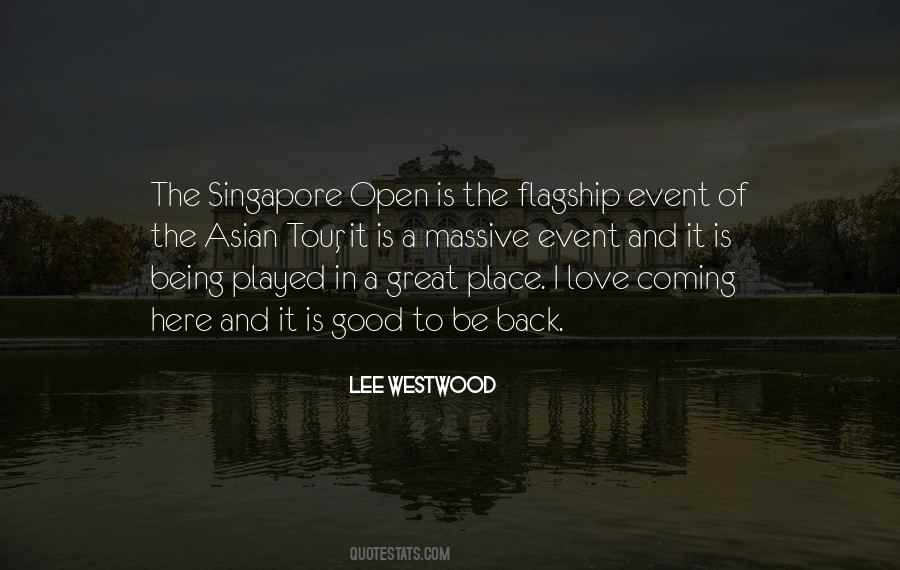 #60. Will you dance with me?" The charms on Sahara's bracelet clinked against one another as she lifted her arms to link them around his neck, her love for him proud and open.
Deep inside, even the part of him that was the void, merciless and dark and broken, knew happiness, knew joy. - Author: Nalini Singh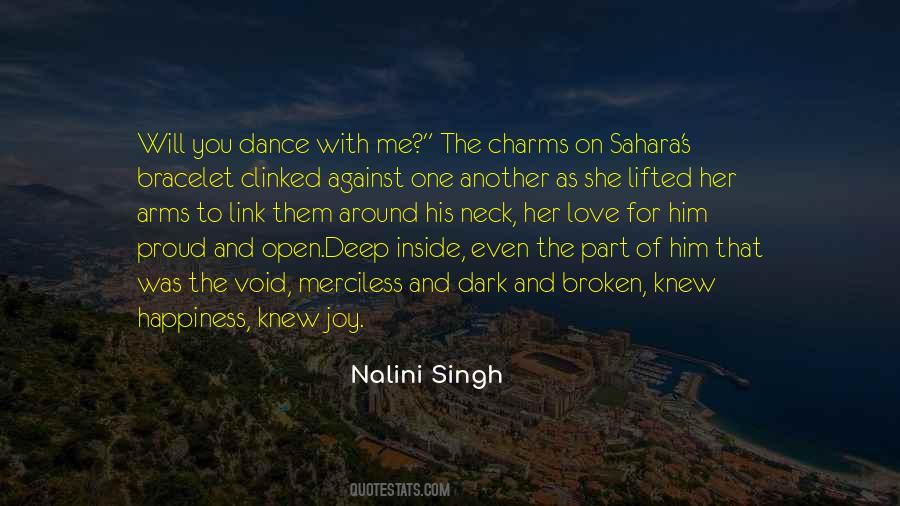 #61. Think Positively.
Network well.
Eat healthy.
Work Smart.
Stay Strong.
Build faith.
Worry less.
Read more.
Be happy.
Volunteer freely.
Relax often.
Love always.
Live eternally
and you will see doors open to your favor. - Author: Ifeanyi Enoch Onuoha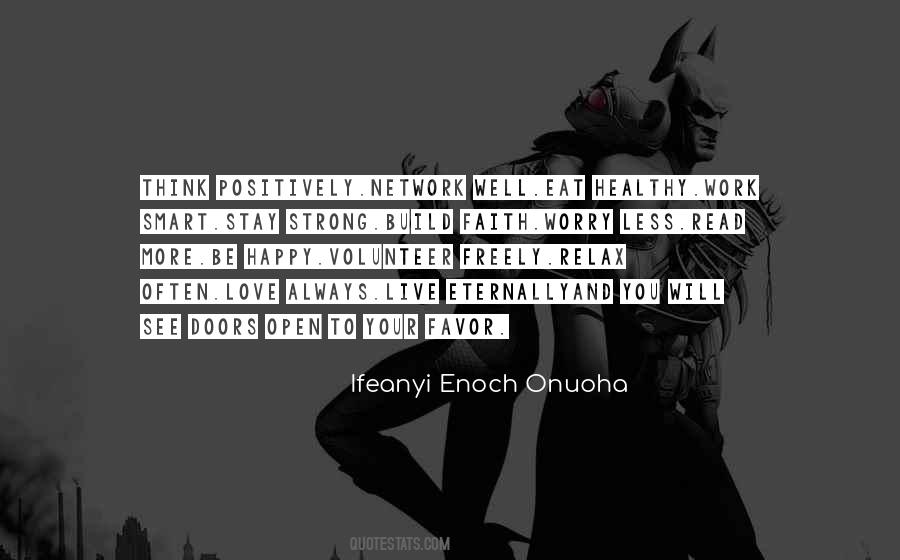 #62. When I think about you with him, it guts me. I feel like you ripped open my chest and tore out my damn heart. Do you even realize that? I know I should want you to be happy, but I can't wish it for anyone else other than me. I belong to you, and that's never going to change. - Author: Ashleigh Z.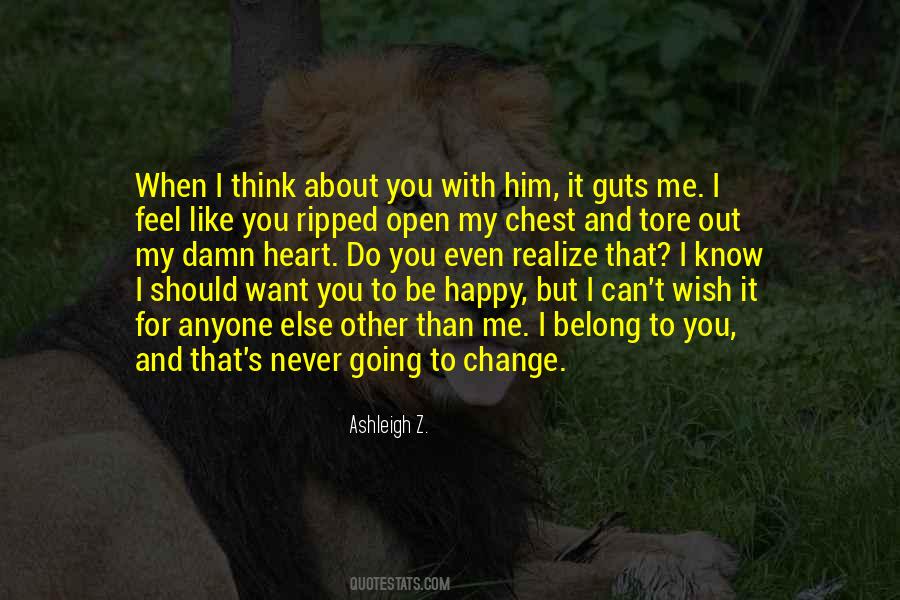 #63. I really just love to open a blank document and spew, whereas with a screenplay I have to be more judicious. - Author: Diablo Cody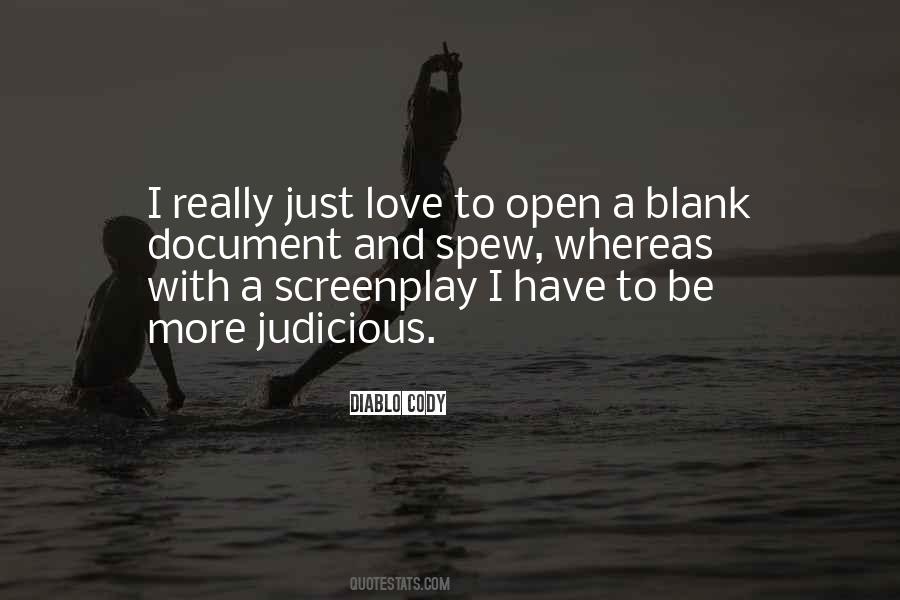 #64. This is complicated," you said, back on the napkin, and then looked at me. You wanted to pry me open, I could see it, drag me across our boundaries so we could feast together in secret from the rest of the world. "But," you said, "no, not but. I love you. - Author: Daniel Handler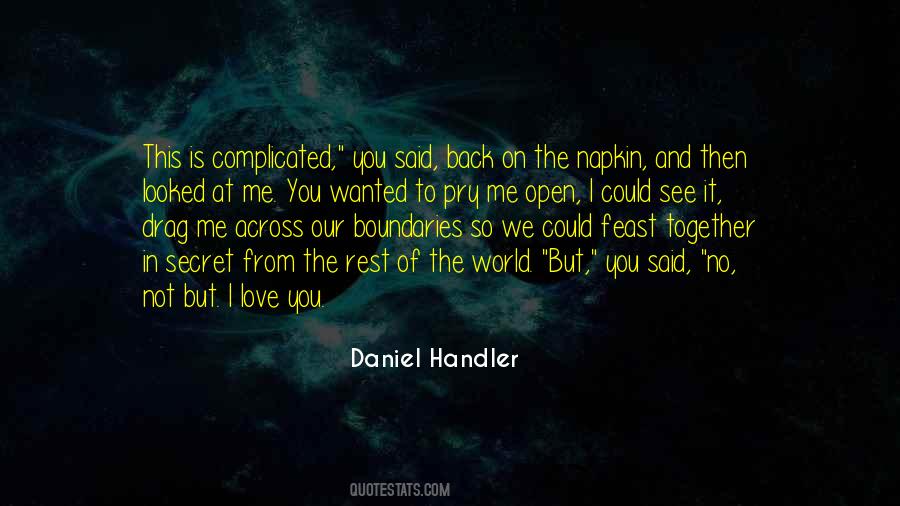 #65. Love won't come through unless the heart is open. To work with an open heart is to love or care for something or someone more than you do for yourself. This is the first step to the divine love that we all are looking for. - Author: Harold Klemp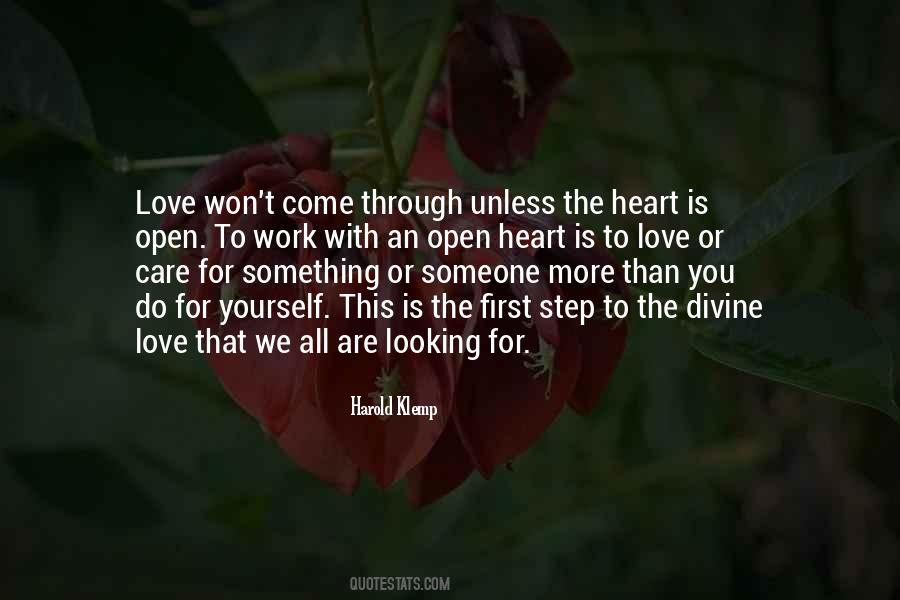 #66. Losing something she loved had ripped her open in a way she had not expected. The pain hurt, but the pain was right. The Order had wrought a galaxy in which good capitulated to evil, where human feelings - Aryn's feelings - were crushed under the weight of Jedi nonattachment. - Author: Paul S. Kemp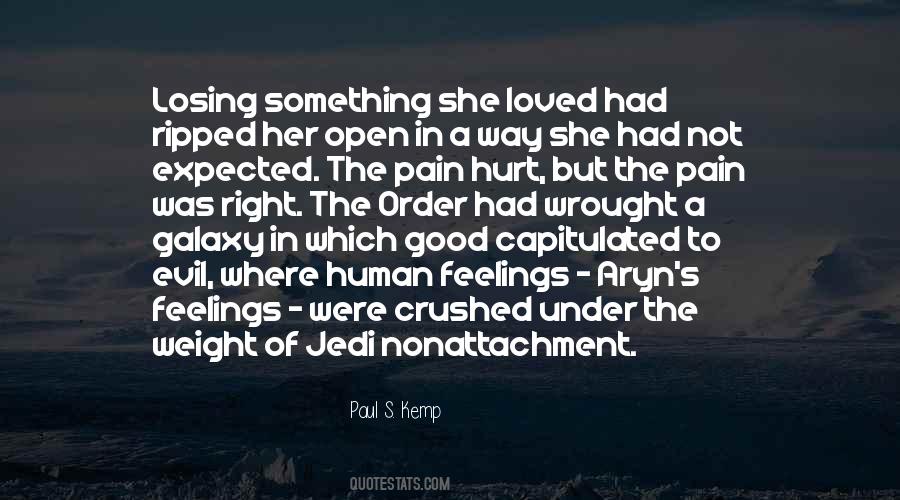 #67. A pure woman is better than a hundred yogis. Women are more open to love God. - Author: Neem Karoli Baba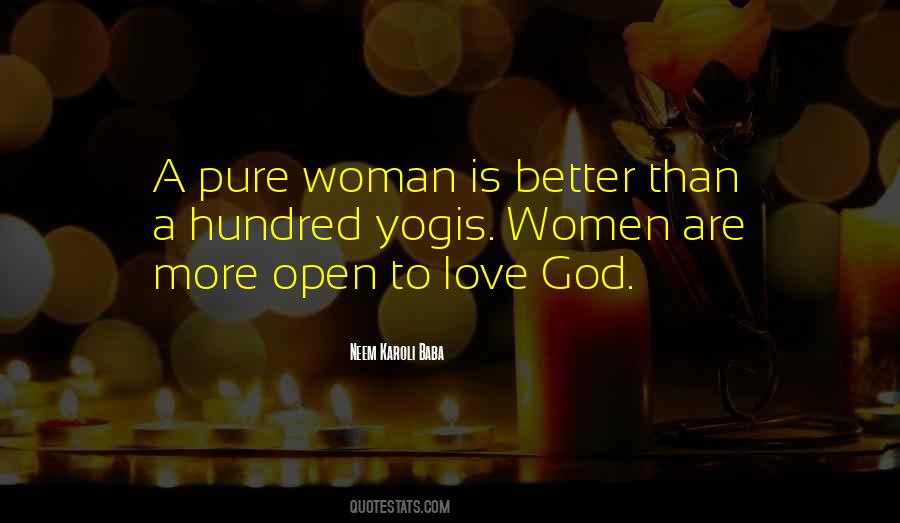 #68. Please maintain an open mind while exploring the depth and wealth of wisdom that is available through the practice of yoga. You may soon come to see the Union of all religions and philosophies if you maintain an open mind and heart. - Author: Dashama Konah Gordon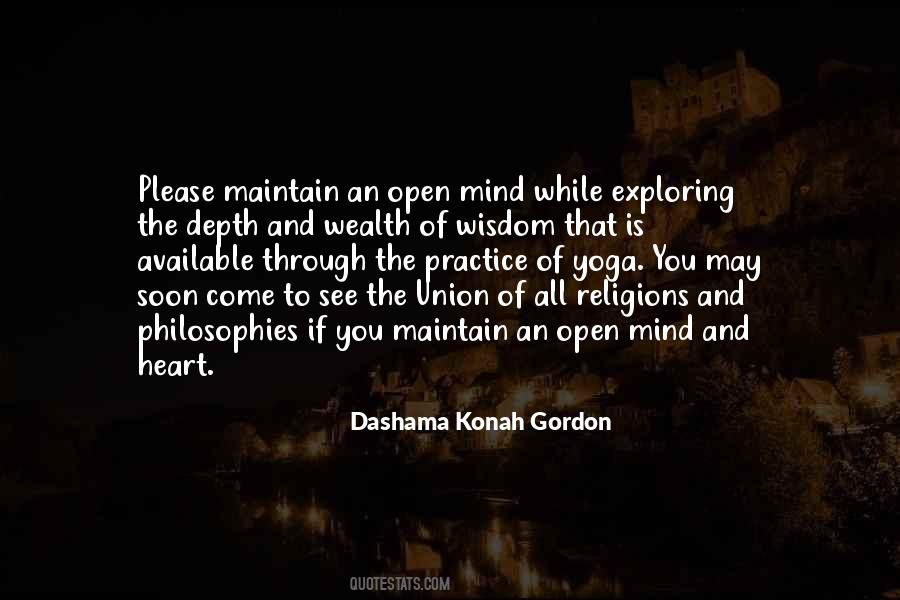 #69. I love creating new things. It's difficult to be creative once a restaurant's open. People want the same dishes. For me, the creativity is in opening a new place and starting a new menu. - Author: Jean-Georges Vongerichten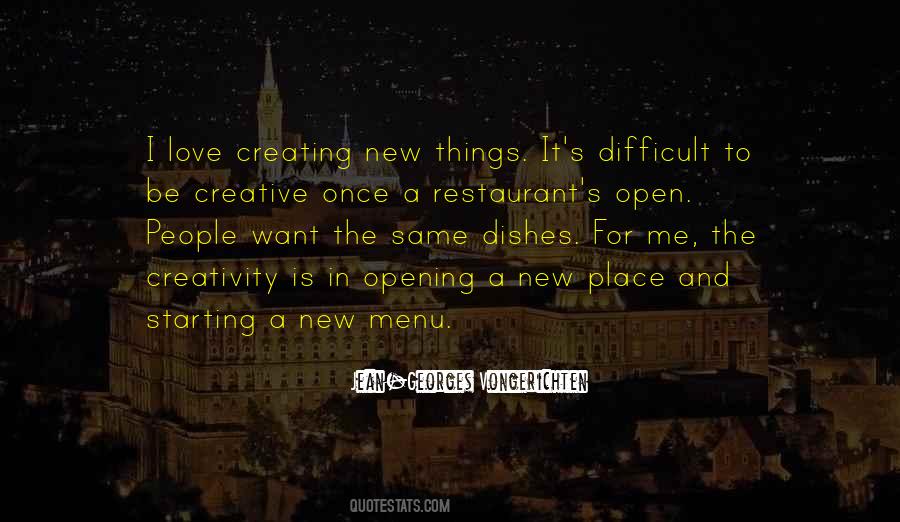 #70. When you wonder what is coming, tell yourself the best is coming, the very best life and love have to offer, the best God and His universe have to send. Then open your hands to receive it. It's yours. - Author: Melody Beattie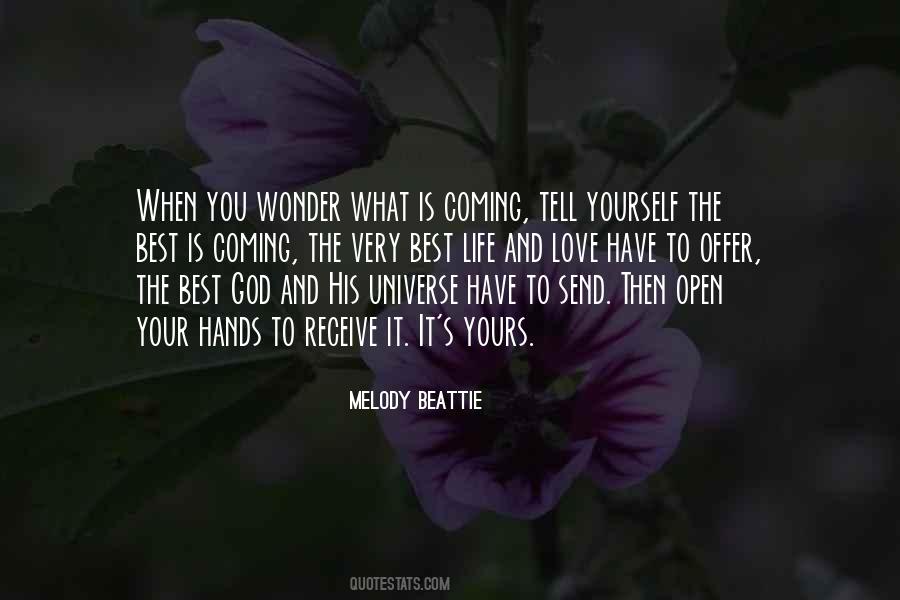 #71. Unless and until your Sahasrara is open, all the blessings of the Divine Power cannot come to you. - Author: Nirmala Srivastava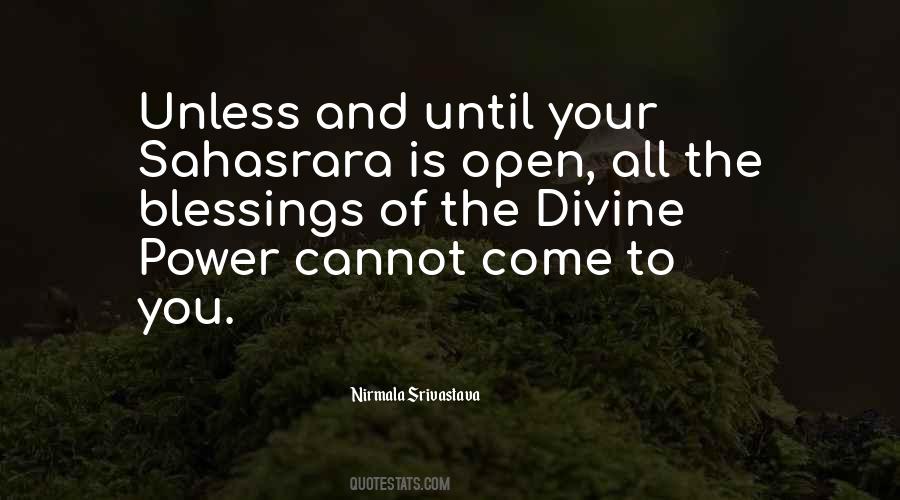 #72. To allow someone to come into your heart-house, you have to open the door. Most doors open from the inside. - Author: Annette Vaillancourt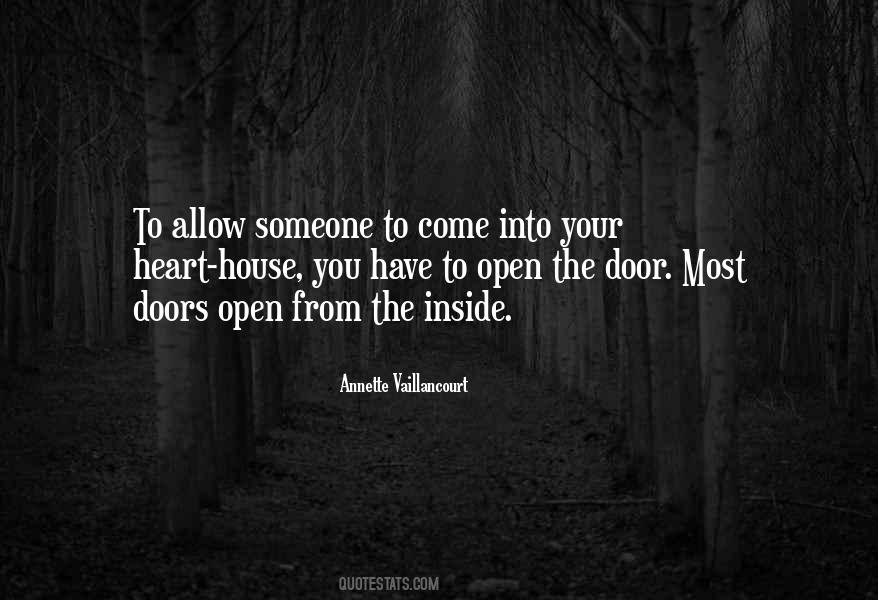 #73. We are not trapped or locked up in these bones. No, no. We are free to change. And love changes us. And if we can love one another, we can break open the sky. - Author: Walter Mosley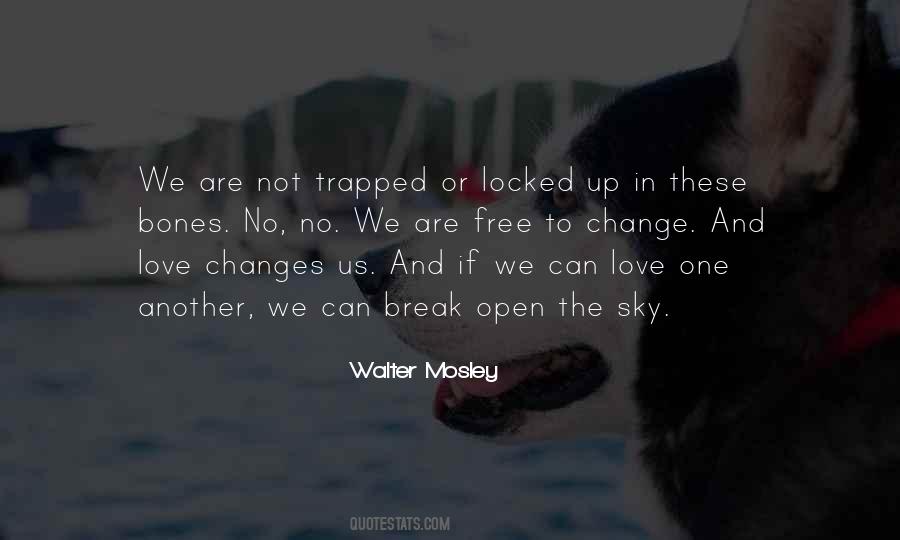 #74. By the time we were knit in our mothers' wombs, our lives were like open books before Him
every sentence read, every paragraph indented, every chapter titled, every page numbered. He knew it all in advance
all the sin, all the selfishness, every weakness. Yet He chose to love us
lavishly. - Author: Beth Moore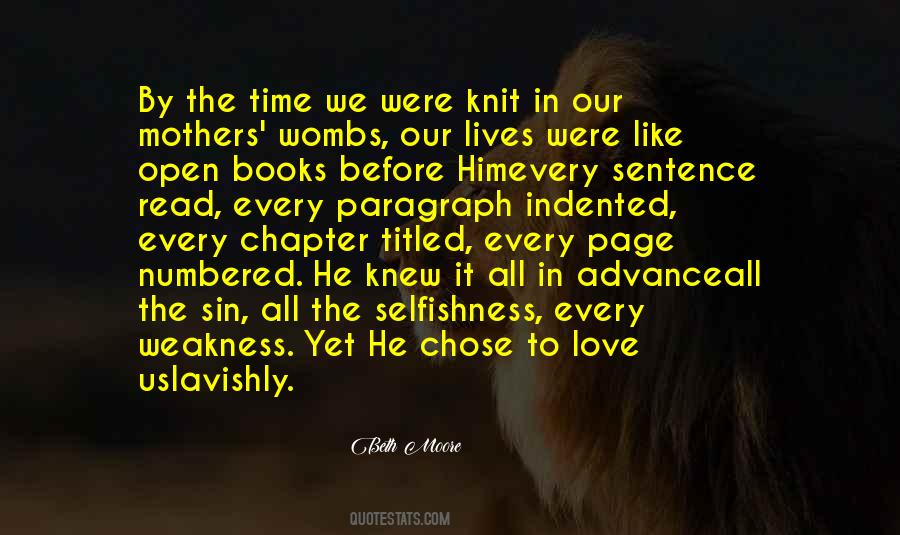 #75. The secret of attraction is to love yourself. Attractive people judge neither themselves nor others. They are open to gestures of love. They think about love, and express their love in every action. They know that love is not a mere sentiment, but the ultimate truth at the heart of the universe. - Author: Deepak Chopra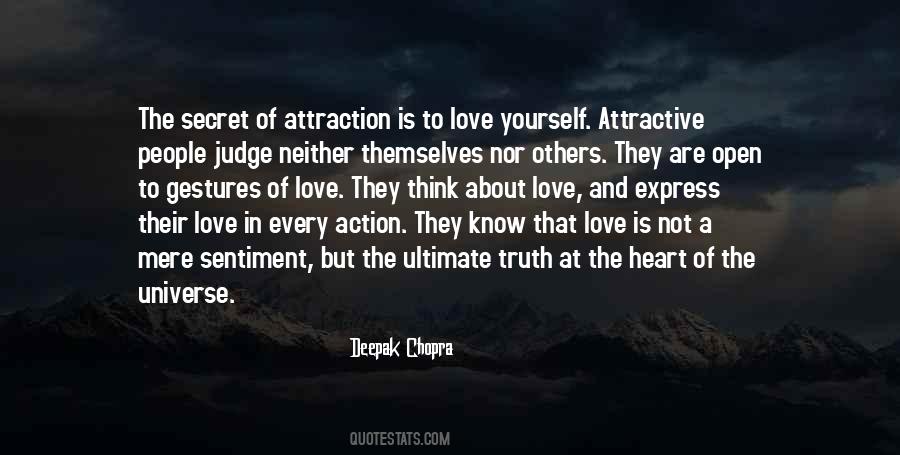 #76. You are afraid to let anyone in, but you still leave the door open, hoping someone good will shut the door behind him and throw away the keys. - Author: Jenim Dibie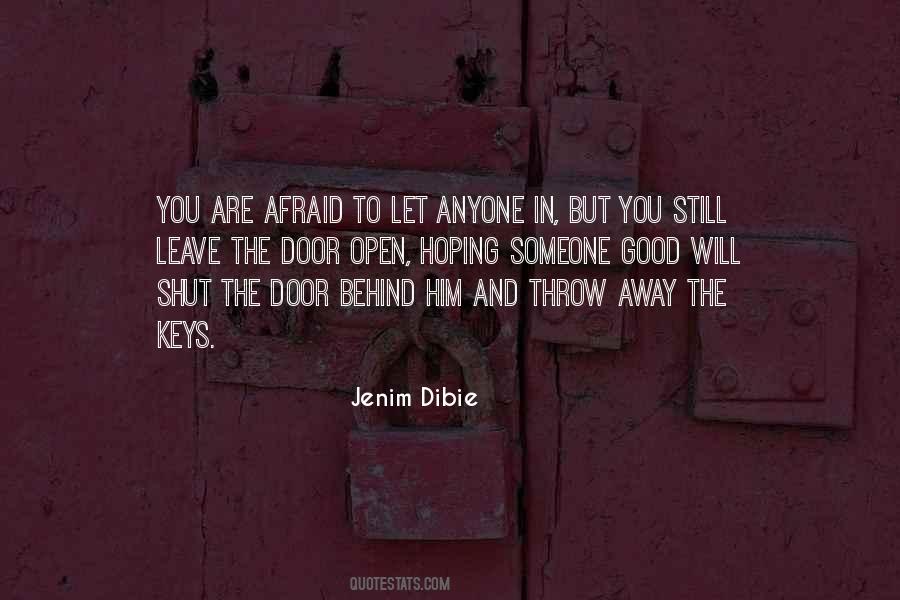 #77. I'd love to go back to Broadway; I'd love to do animation; I'd love to do hair and make-up campaigns because I love hair and makeup - and, I'd love to do film. I mean, there are a lot of doors I'd love to open up! - Author: Brooke Elliott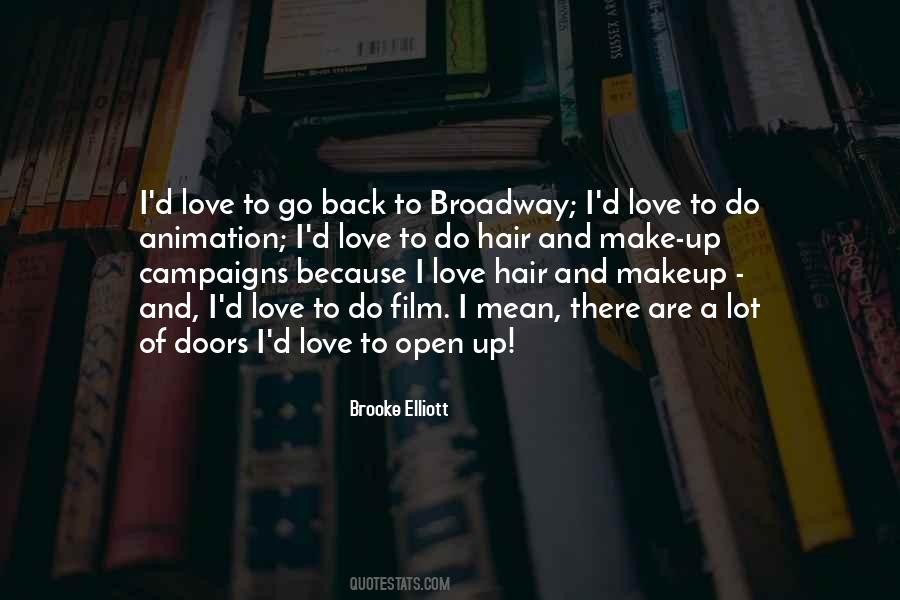 #78. One of the things I love about art, is that it can say number of things to people. I broad hope is that it would just open people's hearts and that they would experience love, and that that would experience God. - Author: Michael Gungor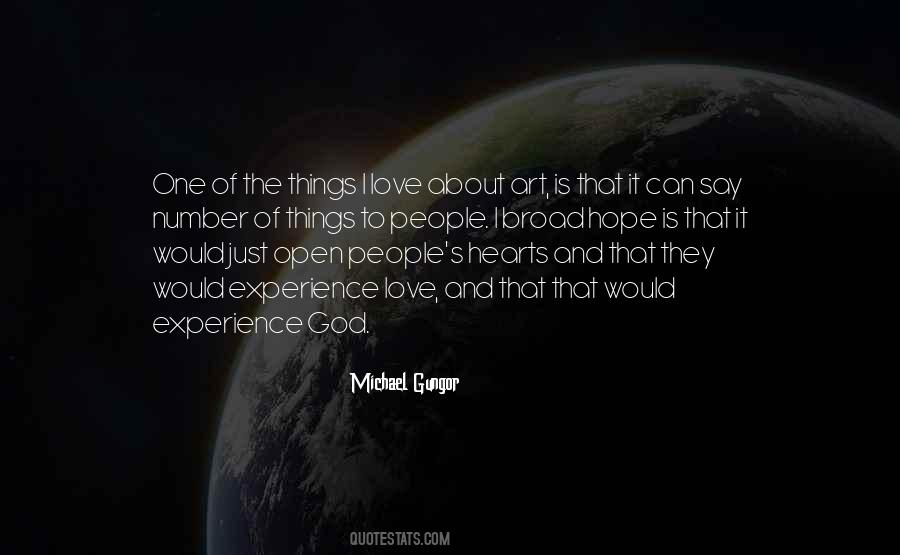 #79. Whatever situation you're in: Send love, place it in God's hands, open your heart to everyone involved - and it will turn out miraculously. - Author: Marianne Williamson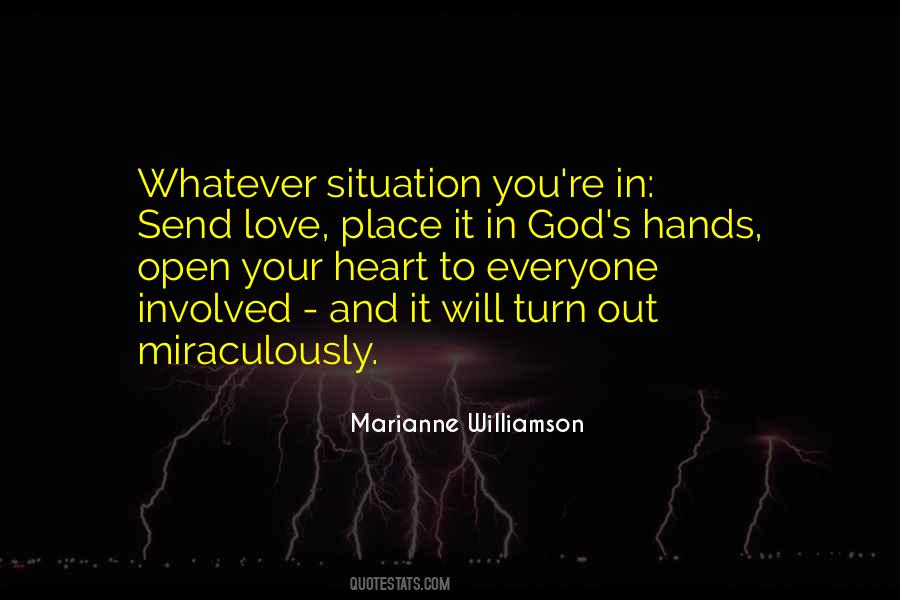 #80. It's time that we finally admitted that we can see the love that's everywhere, filial and romantic and platonic and shared by all different types of people, in all different combinations. This is the future. All we have to do is open our eyes, and see. - Author: Seanan McGuire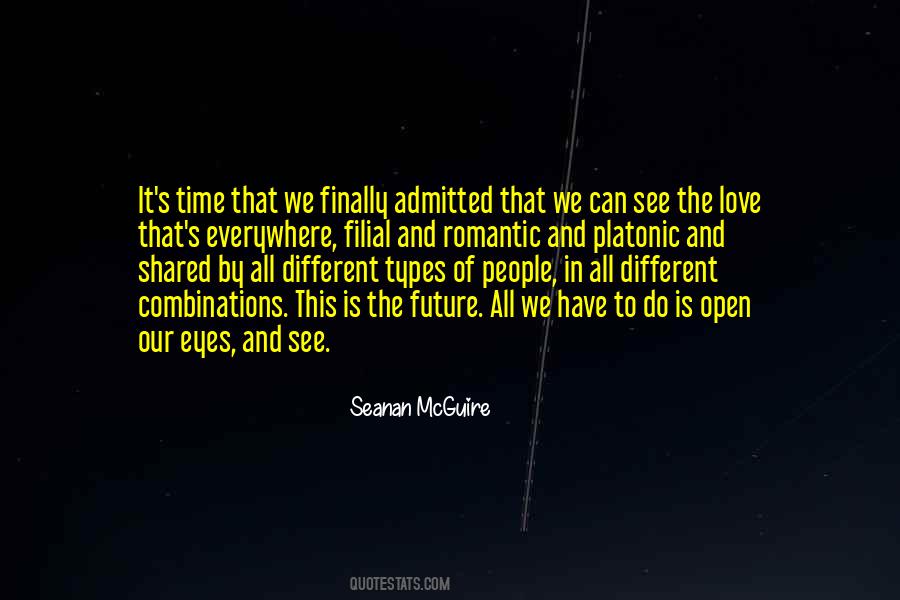 #81. A Soul Mate offers an invitation to fall in love with yourself, so that you are able to open your heart to another. Do you dare? - Author: Catherine Maguire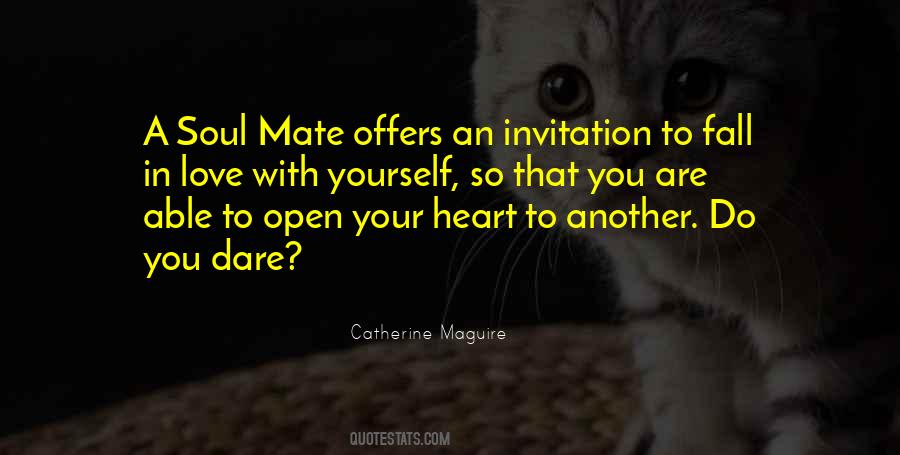 #82. There is nothing noble about suffering except the love and forgiveness with which we meet it. Many believe that if they are suffering they are closer to God, but I have met very few who could keep their heart open to their suffering enough for that to be true. (124) - Author: Stephen Levine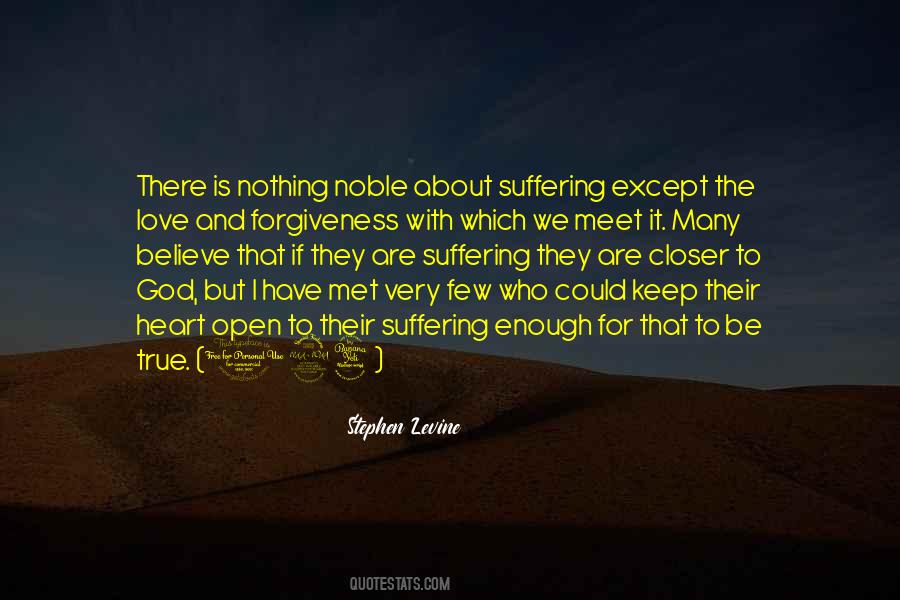 #83. I wish you wouldn't have given the sundial bracelet to Terease"

"Why?" I question and press my head onto his chest, pushing my arms back into his open jacket and around his back.

"If I had it to lead me to my deepest desire, I know it would always be a direct path to you. - Author: Michelle Warren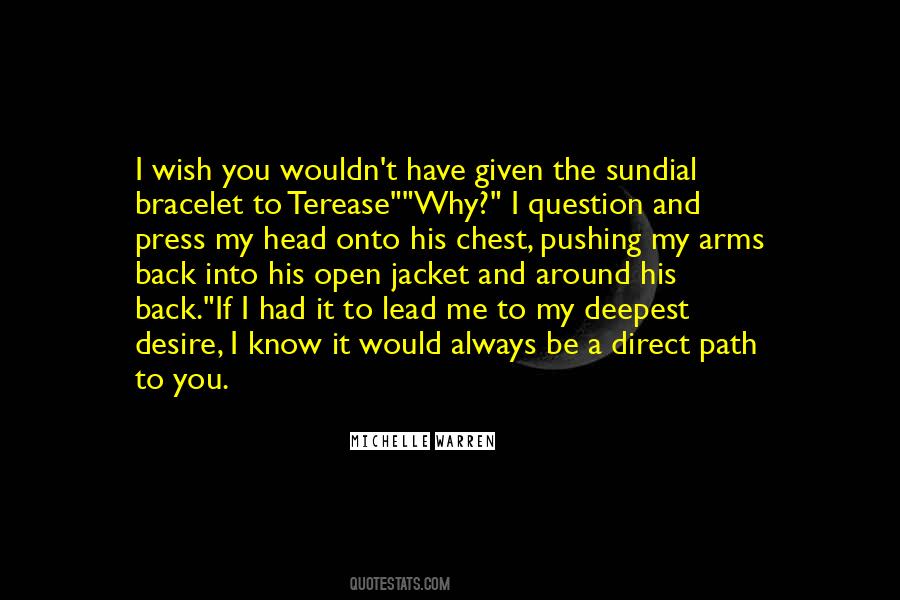 #84. My advice for girls who are waiting for their Prince Charming is to be open for anything. Be open to new experiences, be open to the idea that it may take longer than you want, but if you're open to meeting new people and new adventures, then love will come along. - Author: Lily Collins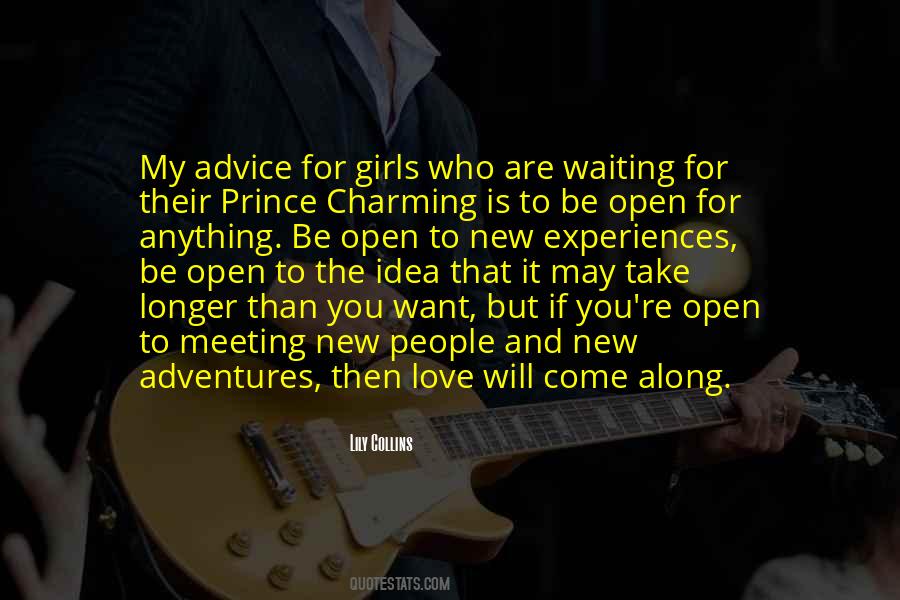 #85. When we make ourselves vulnerable, we do open ourselves to pain, sometimes excruciating pain. The more people we love, the more we are liable to be hurt, and not only by the people we love, but for the people we love. - Author: Madeleine L'Engle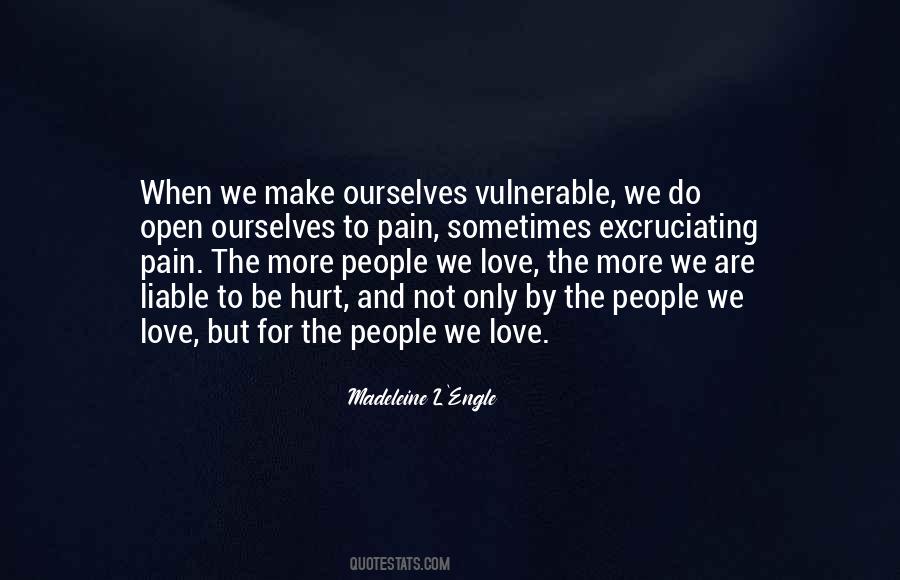 #86. His love became a prison from which he longed to escape, but he had not the strength merely to open the door-that was all it needed-and walk out into the open air. It was torture and at last he became numb and hopeless. - Author: W. Somerset Maugham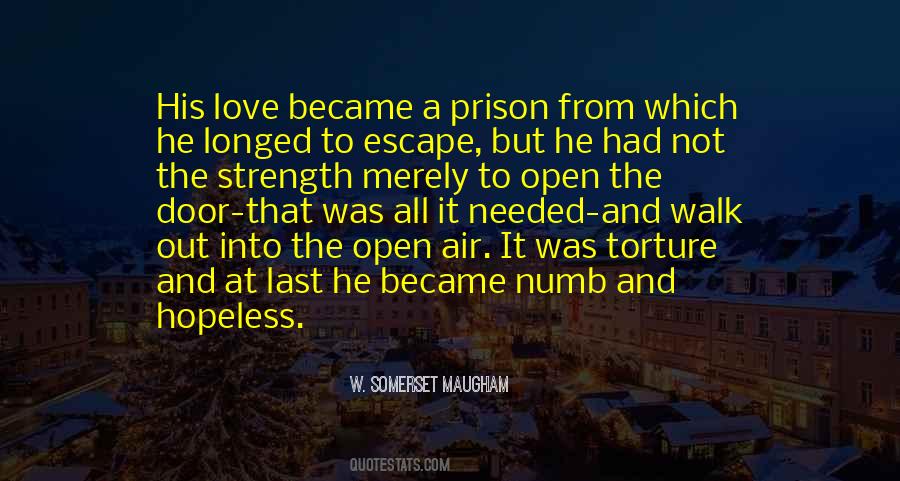 #87. Syldor was not a land of oppressive rules, roles, and labels. Here, love and power were open to, for, and between all; woman or man, rich or poor. What mattered was the sharpness of your mind, the speed of your blade, and the heat of your touch. - Author: Natalia Marx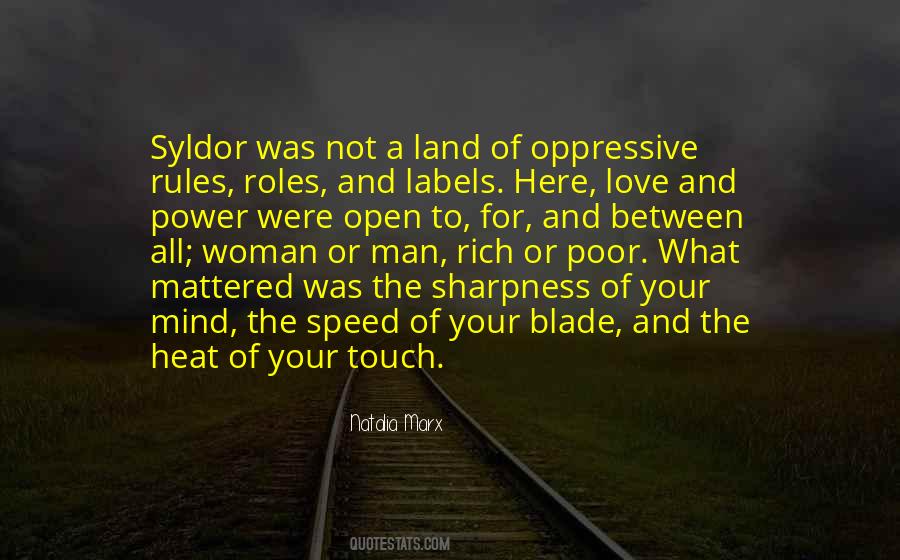 #88. I'm a little frightened, perhaps. We always are, aren't we? When we have to open a door that's always been there...but we've never opened. [...] I mean frightened by the immensity of what lies beyond the door. A God of Love--infinite and eternal. How could I ever be worthy of that? - Author: Tony Hendra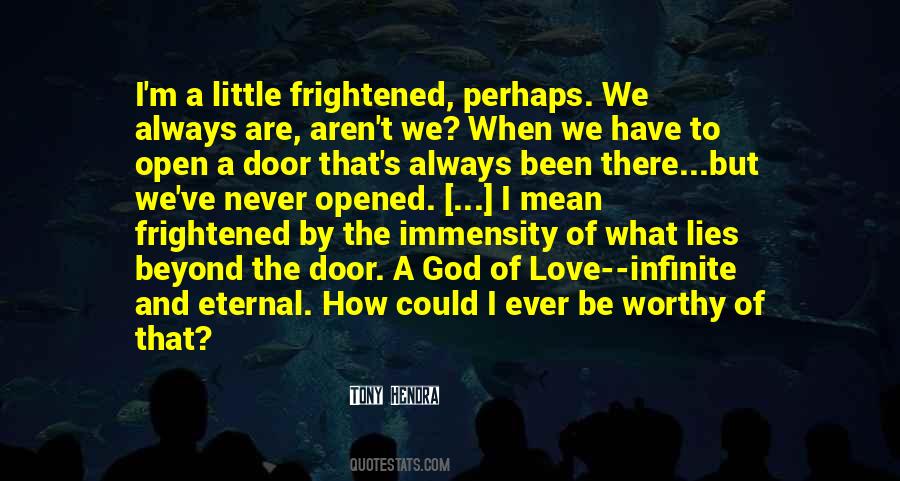 #89. I'd love to open a restaurant that changes every month. One month it would be a mom and bar spaghetti-and-meatball, Red Sox place, and the next it would be a British pub, and everyone gets in a fight. - Author: Graham Elliot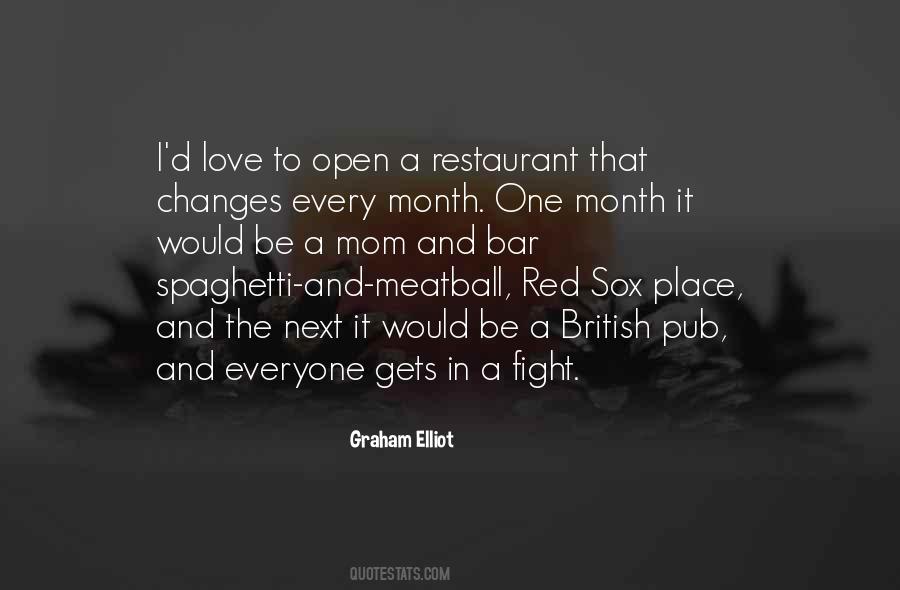 #90. The way is open, comrades, free as Space
Alone is free. The only gold is love,
A coin that we have minted from the light
Of others who have cared for us on Earth
And who have deposited in us the power
That nerves our nerves to seize the burning stars. - Author: Philip Jose Farmer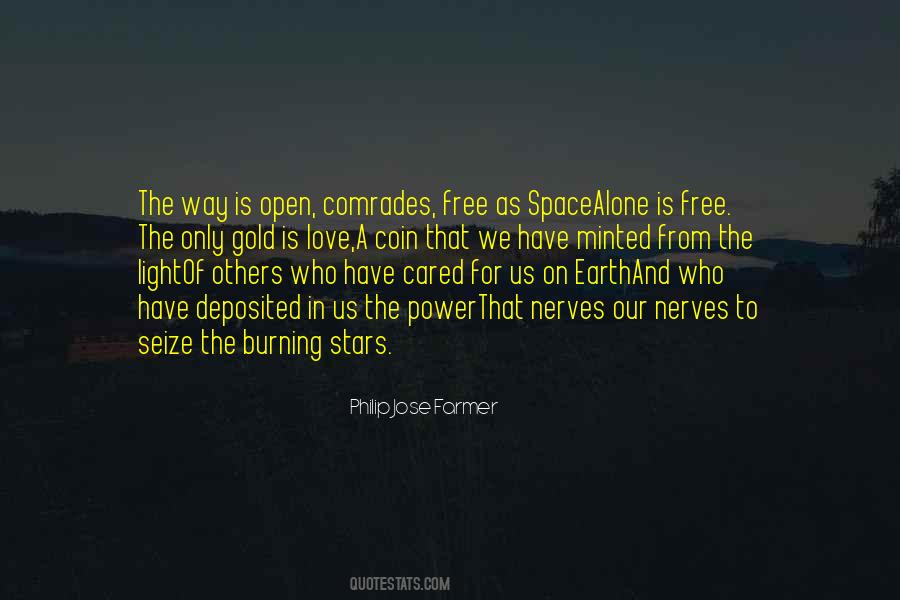 #91. I name you today, heart fears. I am small, but you are smaller. You will not stop me. You have a voice, fears, and I must listen, but then I will open my heart. I will love you right to death. - Author: Anna White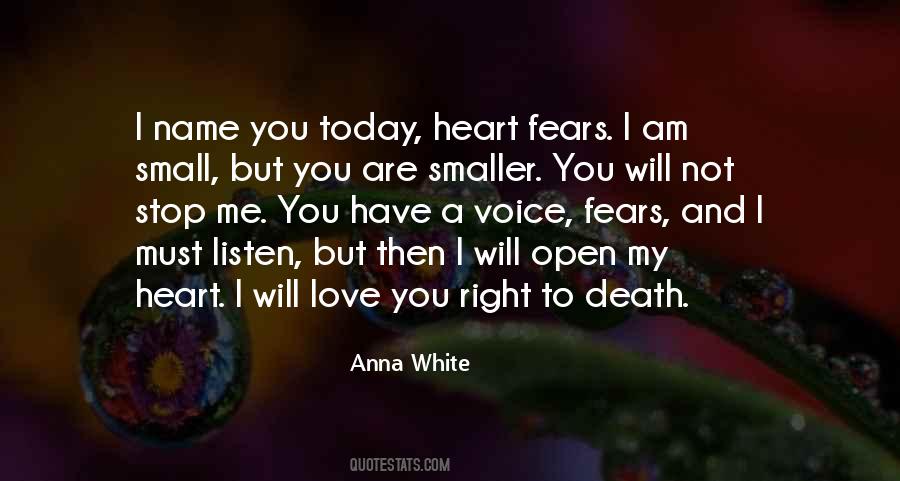 #92. To love is not to be fragile; it is to be unlocked and open. And when something is open, other things can come in. - Author: Susan Meissner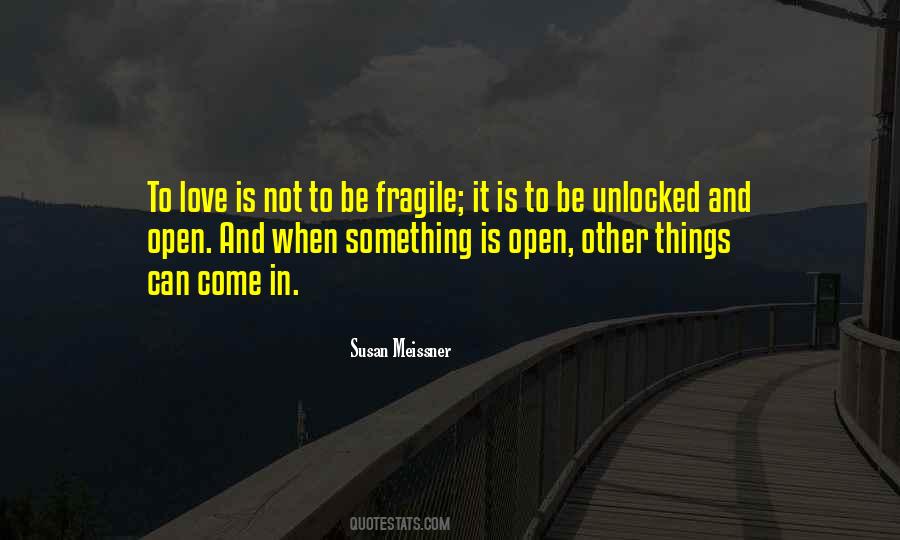 #93. La Maga did not know that my kisses were like eyes which began to open up beyond her, and that I went along outside as if I saw a different concept of the world, the dizzy pilot of a black prow which cut the water of time and negated it. - Author: Julio Cortazar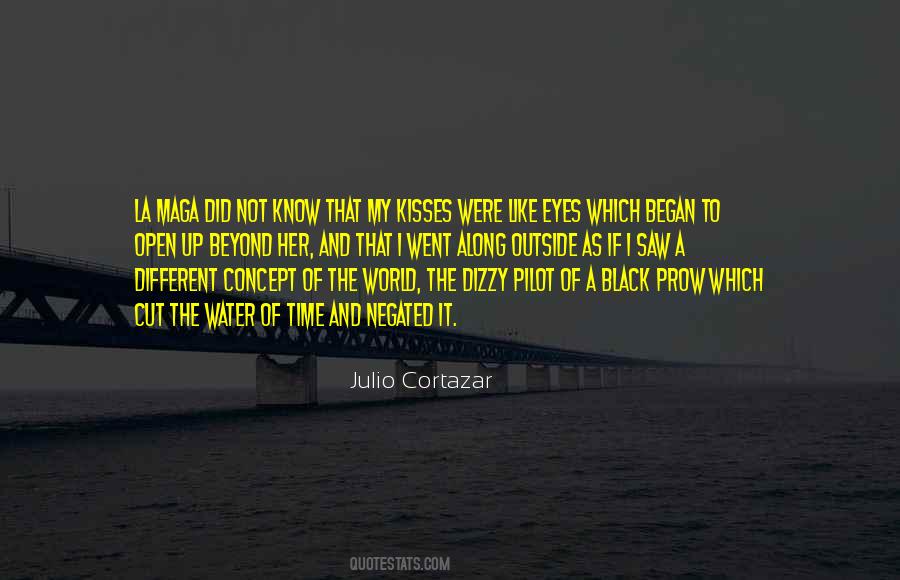 #94. I'm very open, I love music and I love people so you need to know what's going on. - Author: Ledisi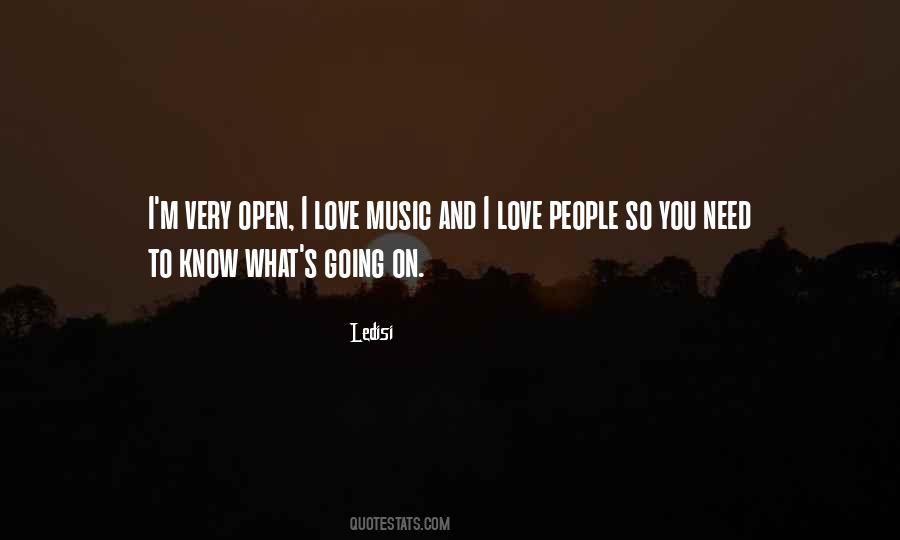 #95. Don't hold on too long;to which does not belong,
Don't shed a tear; for all the pain that's gone,
Create a new;from the wisdom of the past,
Open your heart wider, as storms do not last. - Author: Nikki Rowe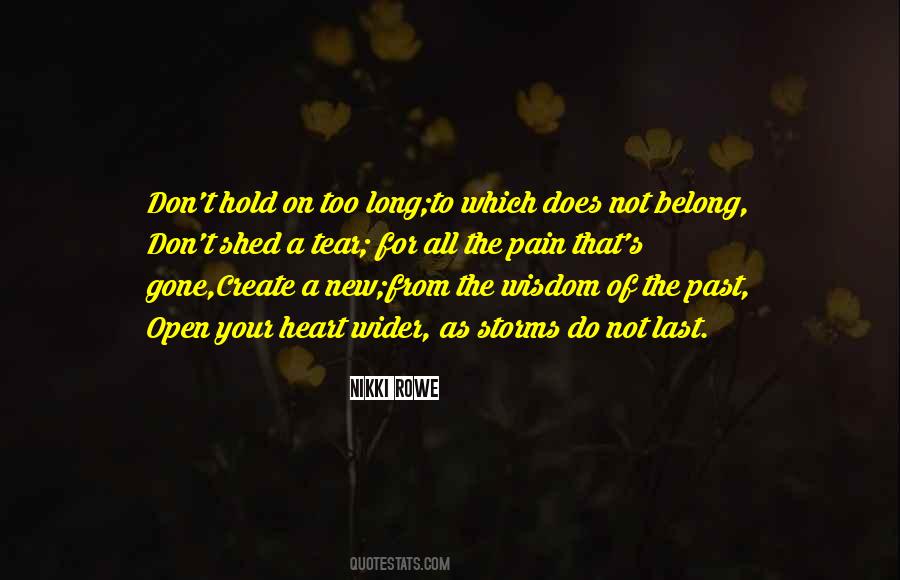 #96. Love is waiting for you lifting to hand, open your heart, and accept it. - Author: Debasish Mridha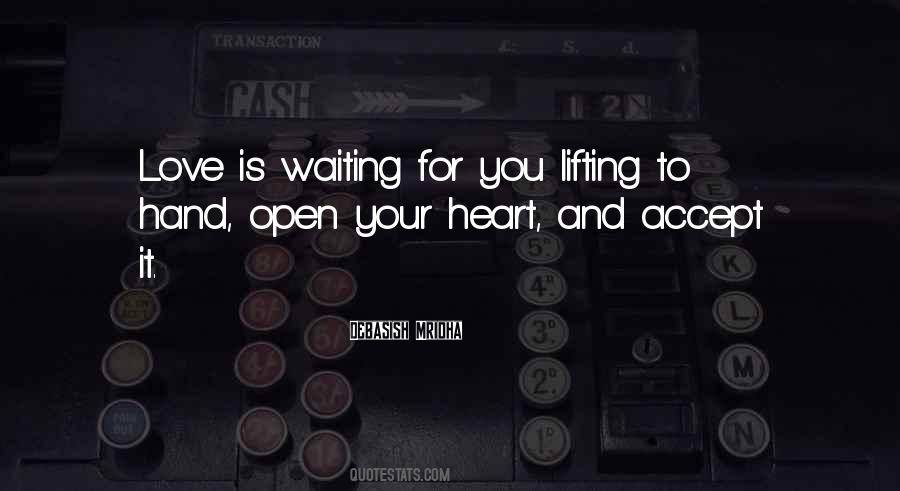 #97. If our hearts are ready for anything, we can open to our inevitable losses, and to the depths of our sorrow. We can grieve our lost loves, our lost youth, our lost health, our lost capacities. This is part of our humanness, part of the expression of our love for life. - Author: Tara Brach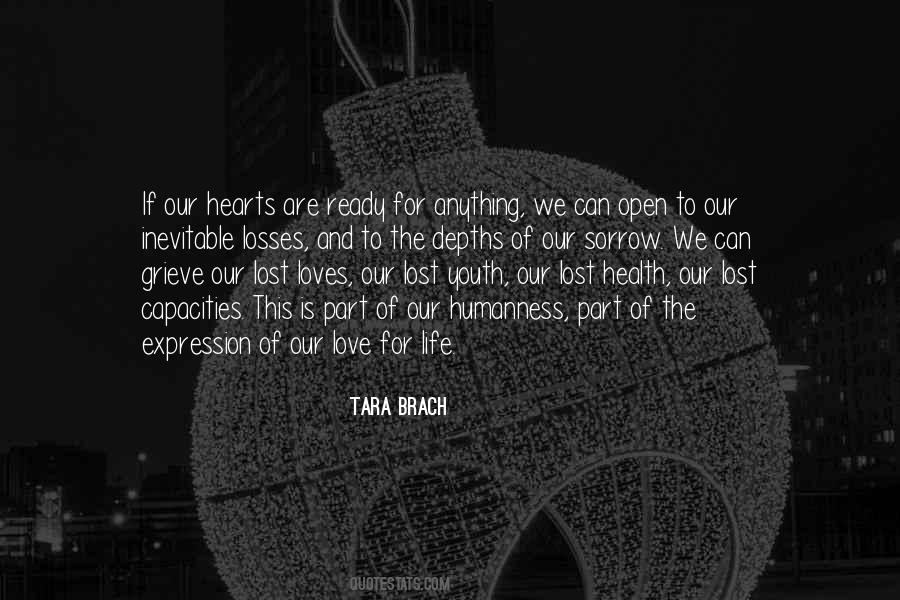 #98. When one becomes centered in love, then and only then will all paths become open to them - Author: Timothy Moran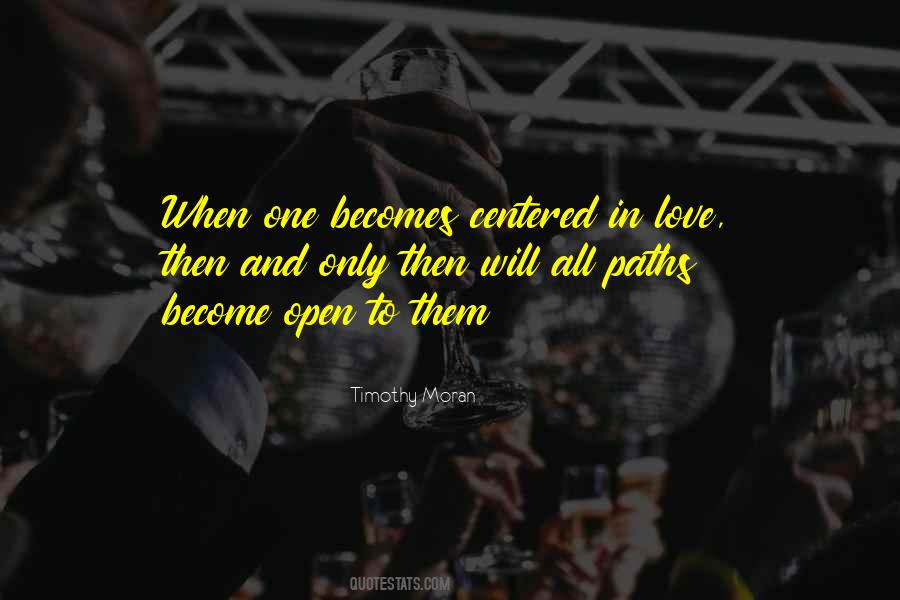 #99. Goodbye, Lord Rohan," she said. The door to Lina's house stood open, the footman waitig patiently. "I don't expect we'll see each other again."
His smile was slow, mocking, irresistibly devilish. "Would you care to wager on that, my love? - Author: Anne Stuart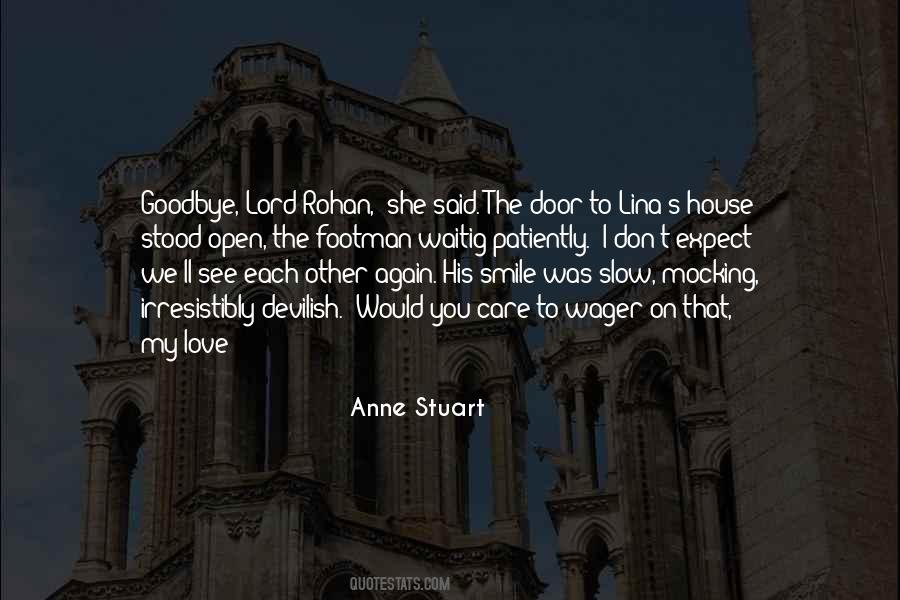 #100. The will to love, the desire to help, and an open mind with gratitude can unlock the door to eternal happiness. - Author: Debasish Mridha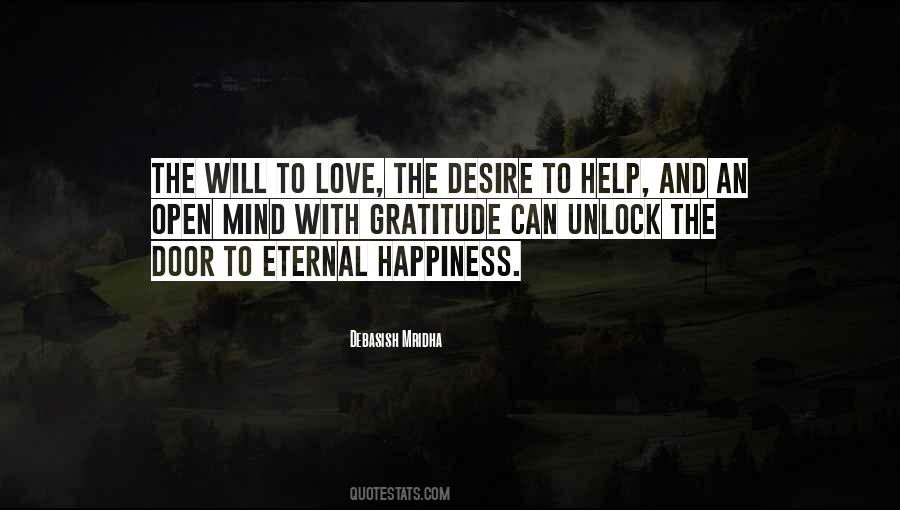 Famous Authors
Popular Topics